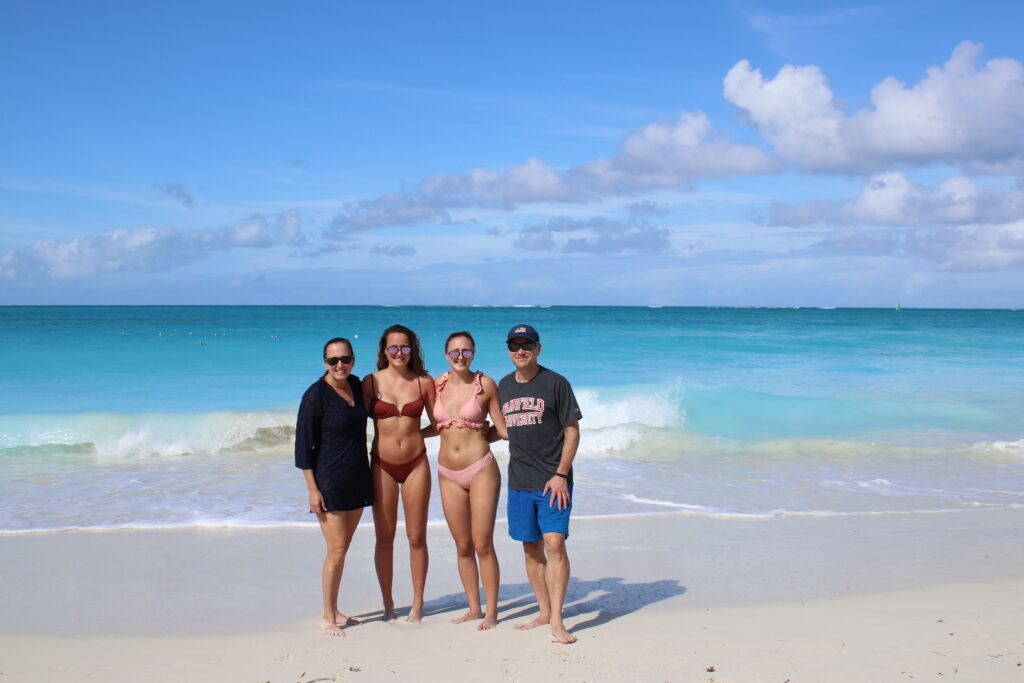 Days 1-3 – Travel, Beach Time
Update 2022
For a trip to Iceland and St. Martin in late 2021, Michele upgraded our waterproof camera to this Olympus model. It has amazing reviews and takes a great photo. We also like this affordable, easy-to-use tripod.
Michele also upgraded her iPhone to the iPhone 13. The camera is amazing.
We like these vaccination card holders for travel.
We upgraded our masks/snorkels to these.
We went to Providenciales in Turks and Caicos from December 20-29, 2019. We flew from Providence, Rhode Island via Charlotte on American Airlines. It was quick and easy.
Upon exiting the aircraft, our family just got unlucky. It took us 90 full minutes to get our passports stamped. We got into the Hertz van and rented a car. That process took another hour. Painful.
We highly recommend renting a car. Taxis are incredibly expensive on Turks. The costs are regulated by the government. It cost us $1000 for a week to rent a car through Hertz. That cost included unlimited miles, insurance and a prepaid full tank of gas (do not do this – even with all our driving around, we barely used a half a tank. Gas costs over $5/gallon. We would have saved money by purchasing gas before we returned the vehicle.)
We stayed at the Ocean Club East. It was a nice, but expensive resort. Everything is expensive on Turks and Caicos. Everything. We had a one bedroom condo on the first floor. Our kids slept on the pull out sofa and a roll away bed. It was fine. During Christmas week, it was simply too expensive for us to rent a two bedroom place on the beach really anywhere. We basically only sleep in our room, so we made it work.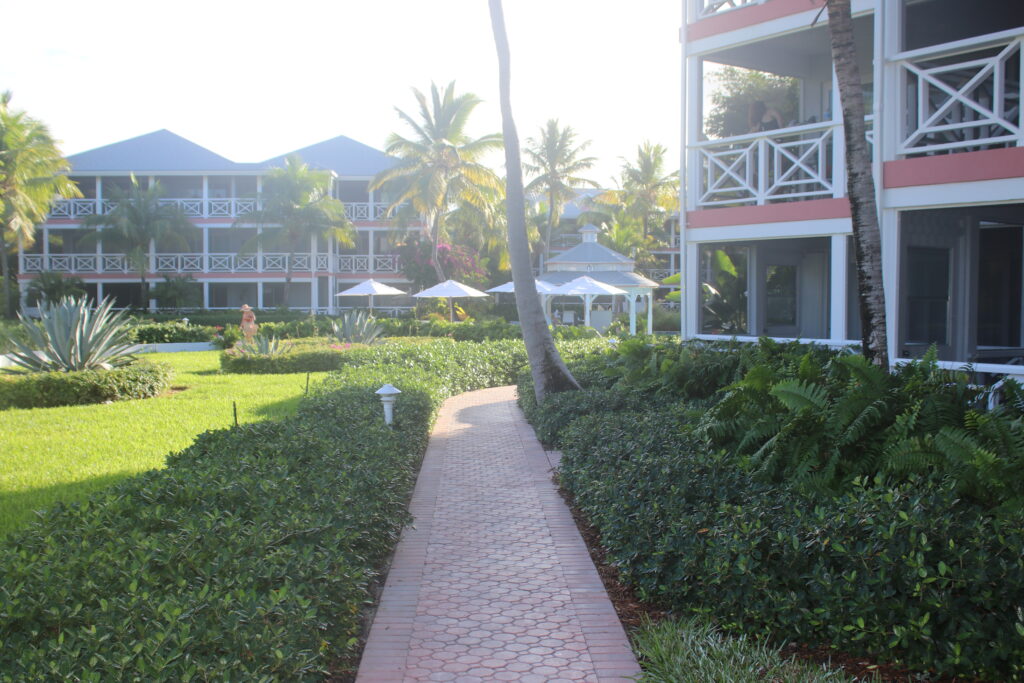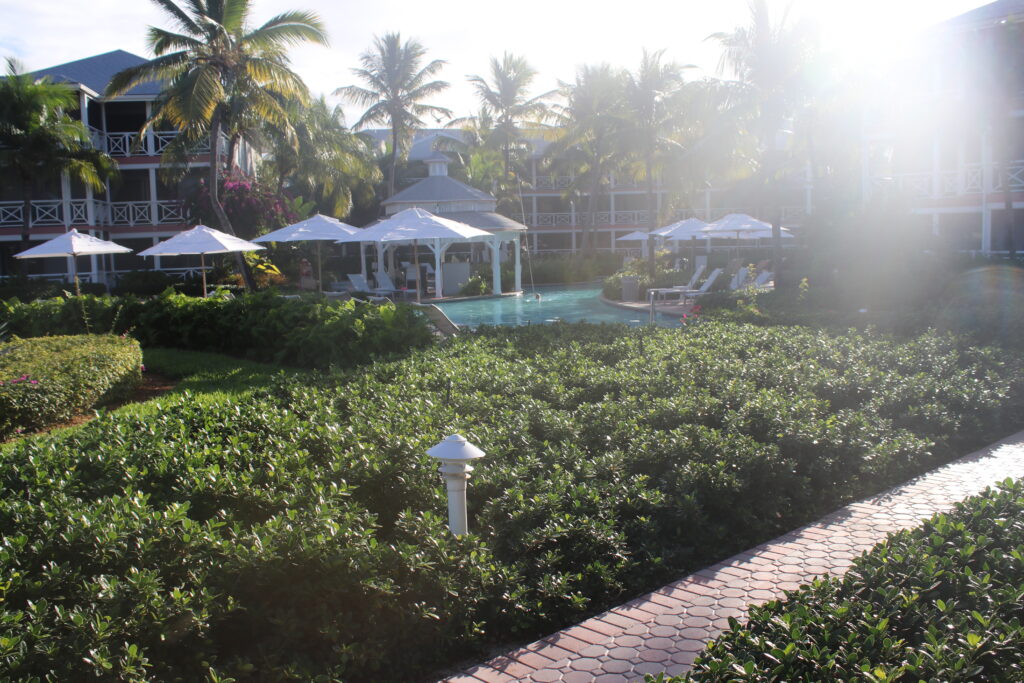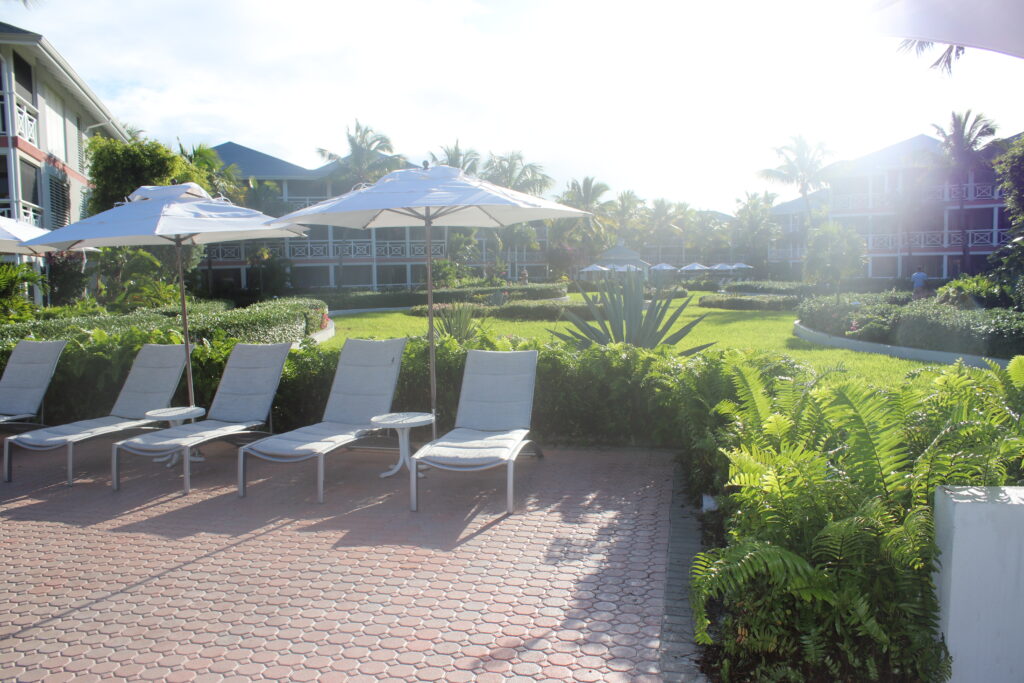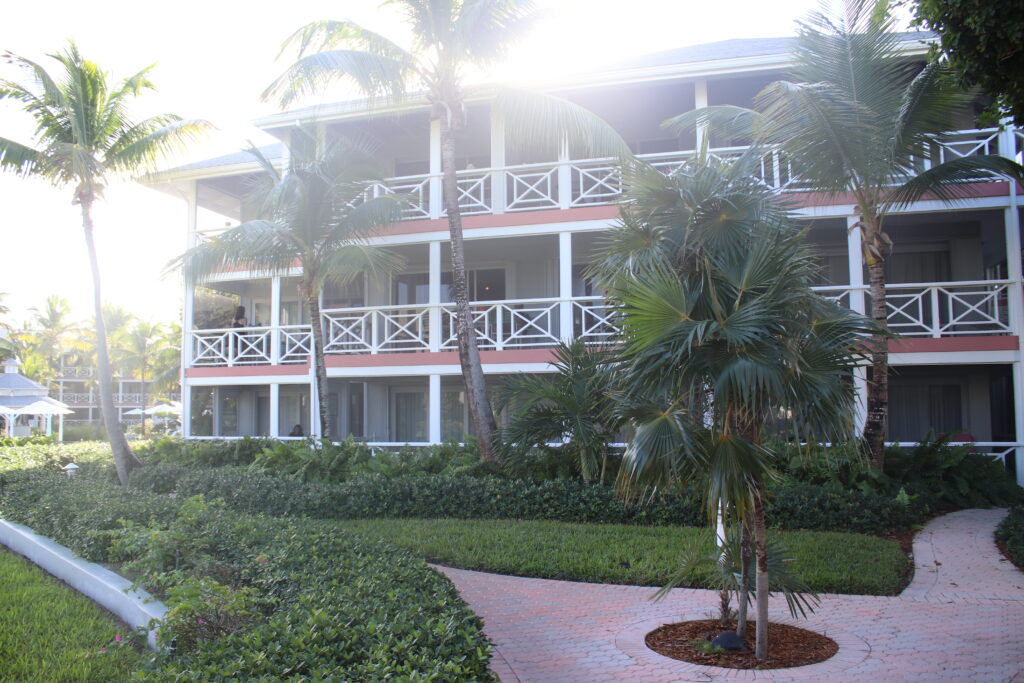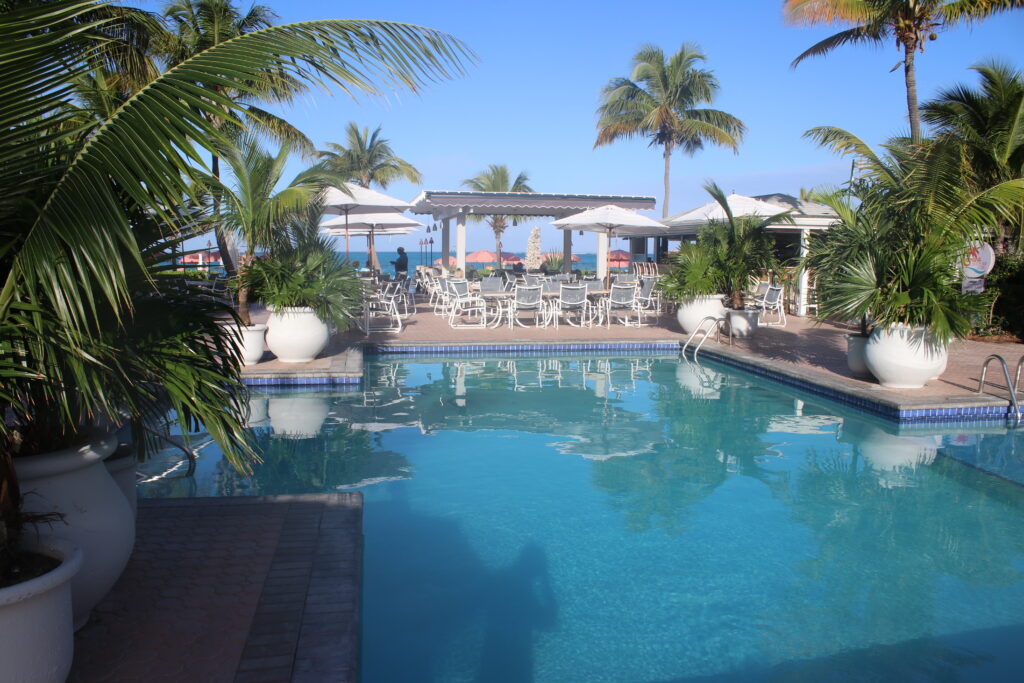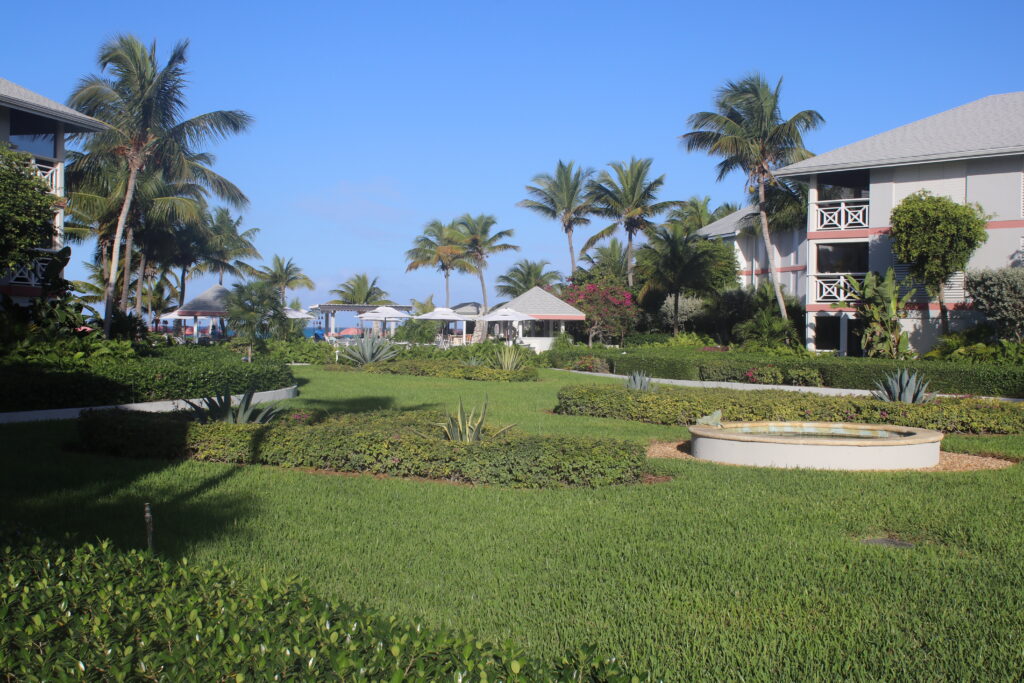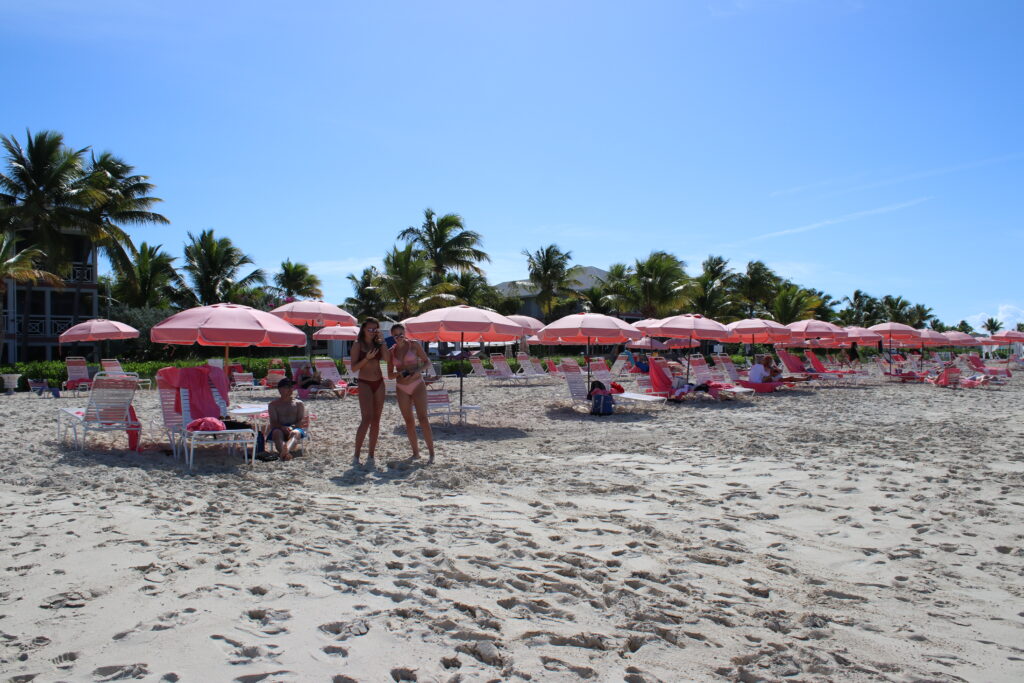 The Ocean Club (both east and west properties) sit right on Grace Bay beach. The beach is gorgeous. We had a lot of wind during our stay. So, the ocean was not a flat, blue lake. There was a shore break during our time there. I could see how this could be a problem for young children. For us, we just needed to "time" our entry into the water between the waves.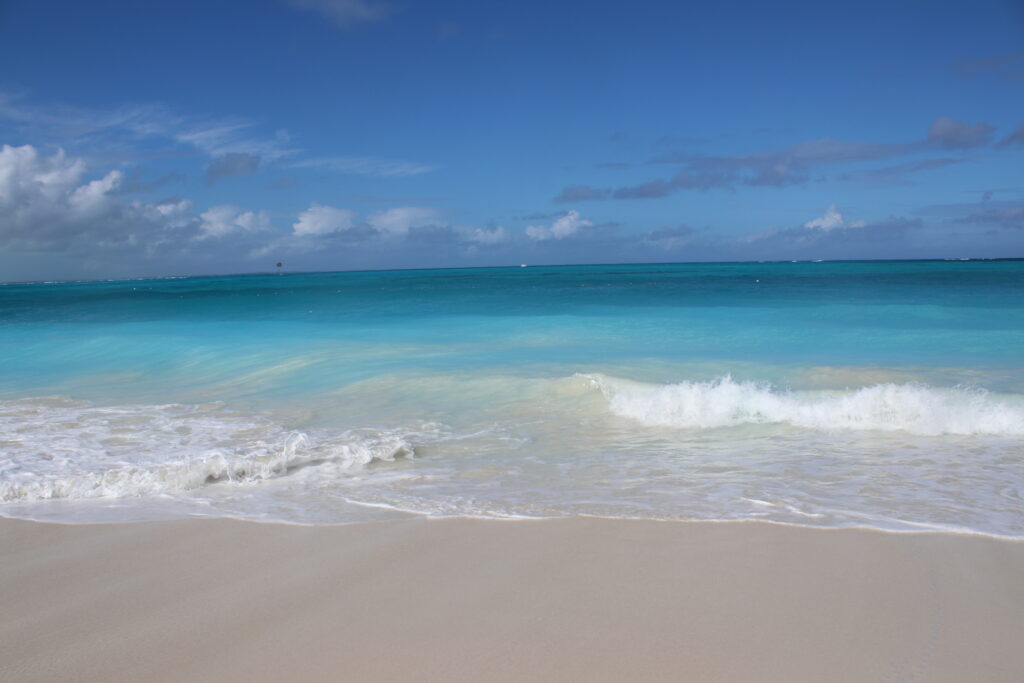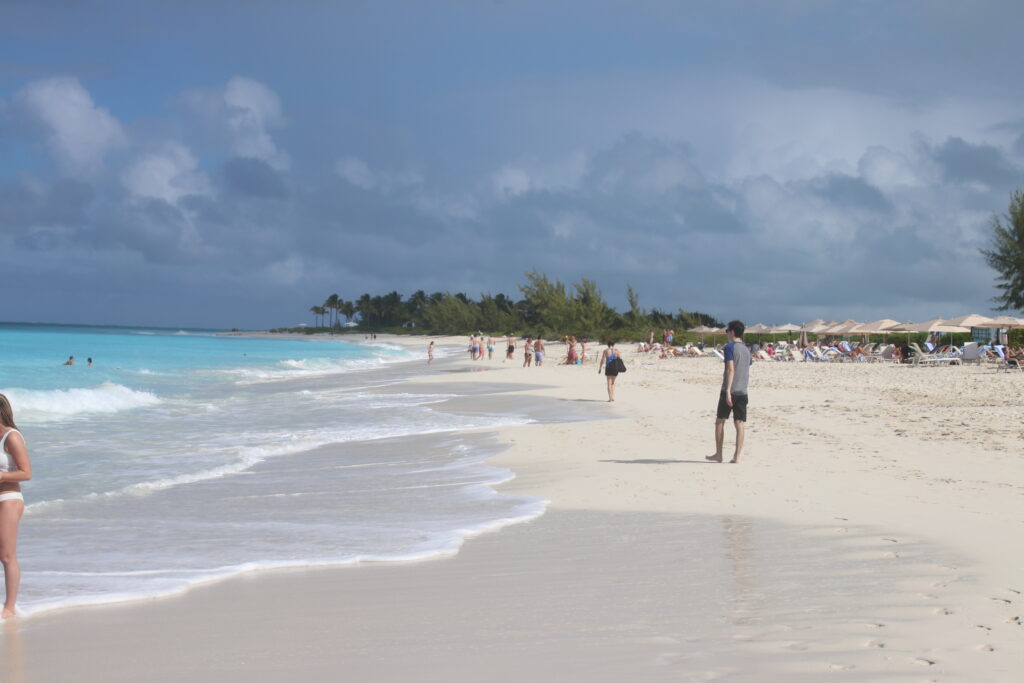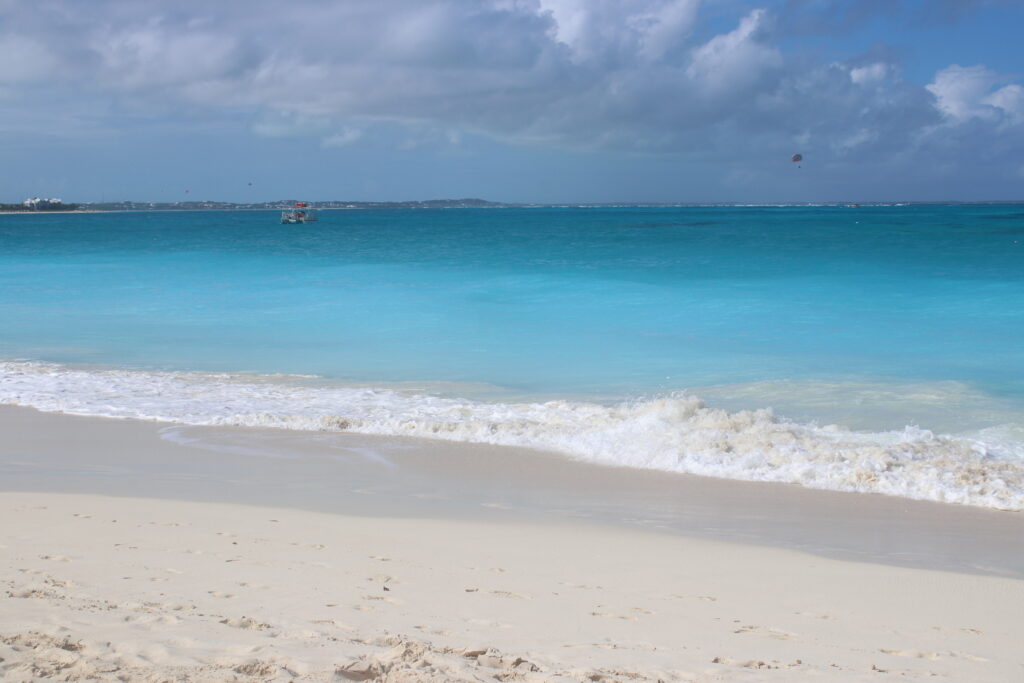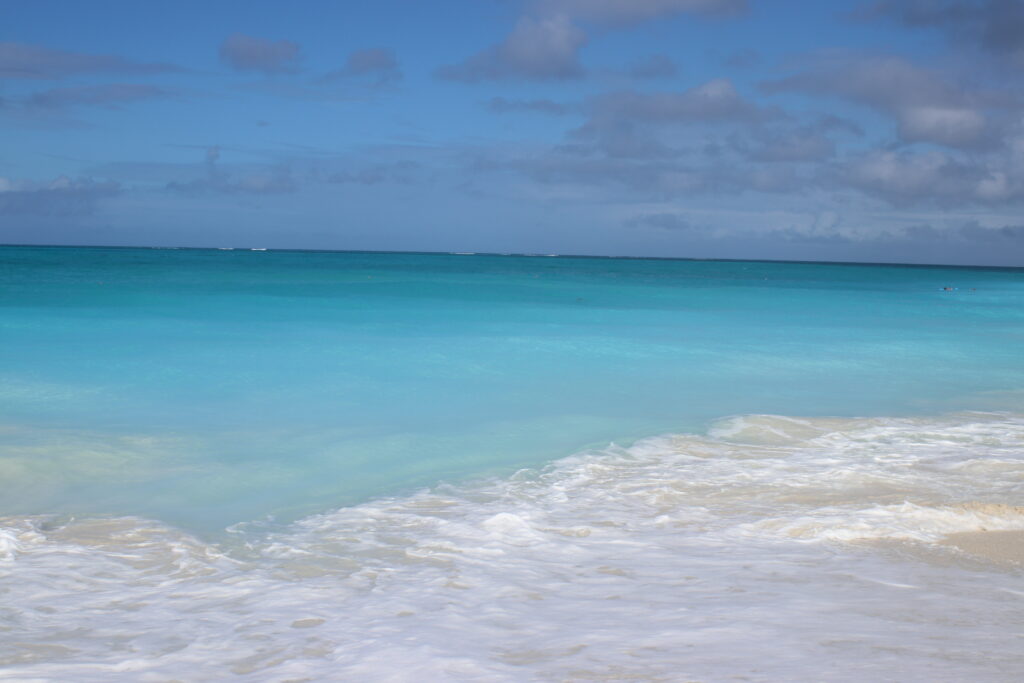 The Ocean Club has daily maid service and plenty of fresh towels available. The beach is not crowded and there are lots of umbrellas and chairs. The condos are all decorated differently as the are independently owned. All the condos have hurricane shutters, so if you close them when the air conditioning is on, it is as dark as a closet in your condo. This is great for people who like to sleep with total darkness. We like to sleep with windows open and the noise of the ocean. All units have a washer/dryer and a screened in porch. Wifi was good all around the property, even on the beach.
The resort was not noisy. Any music from the bar ends by 10pm. However, on two nights we could hear LOUD music coming from Club Med next door. If you close all your hurricane shutters and crank the AC, you would not be able to hear the music. Because we like fresh air, we could hear the music on two of our nine nights.
Ocean Club East has an onsite beach bar called Cabana Bar. They also have a courtyard restaurant called Opus.
After we arrived, we went out to The Landing. It was about a mile away in Grace Bay. All restaurants are expensive. We were starving from our long travel day, and ate a bunch of appetizers and entrees. Dinner cost $300. We liked the setting of this place. Across the street from the resorts. Hip vibe. The girls enjoyed it, too.
On Saturday morning, we woke to some sun and some clouds. Michele and Jim went to the IGA for groceries. The IGA is cheaper than the closer Graceway Gourmet, but it is staggeringly expensive to purchase staples in Turks. We bought lots of water, breakfast items, four bottles of wine, 12 beers, hummus, chips, pretzels, fruit, cooking spray and plastic baggies. It totaled $400. We talked to some locals. They said they shop at the Quality or P&K Spendless for most items and use the IGA for meat and fresh fruits. Our normal approach to a day on vacation is to eat breakfast at "home" and then lunch and dinner out.
We worked out and sat on the beach. We ran on Grace Bay Road (also called Governor's Road). There is a sidewalk on both sides. The Ocean Club has a small workout facility that was fine. Kendall ran on the treadmill several times. Mid-day, it began to rain, so we ended up at Jack's Fountain for lunch. The salads and fish tacos were great. We liked the friendly atmosphere. Located on the side of the road, across from the Casablanca Casino, Jack's Fountain was a good stop on a rainy day. Our ideal place for any meal is to eat with our feet in the sand and a view of the water. However, we do not enjoy eating at resorts as the prices are often so high. Occasionally, we will eat at a resort, but we try to find other options. "Feet in the sand" and "not at a resort" is hard to find in Providenciales.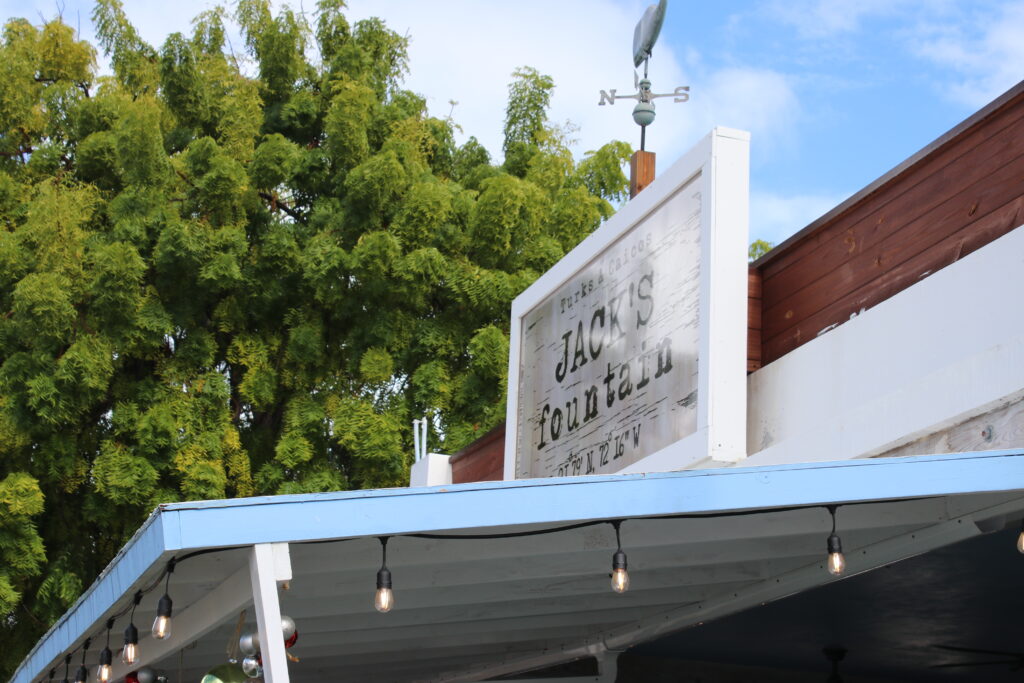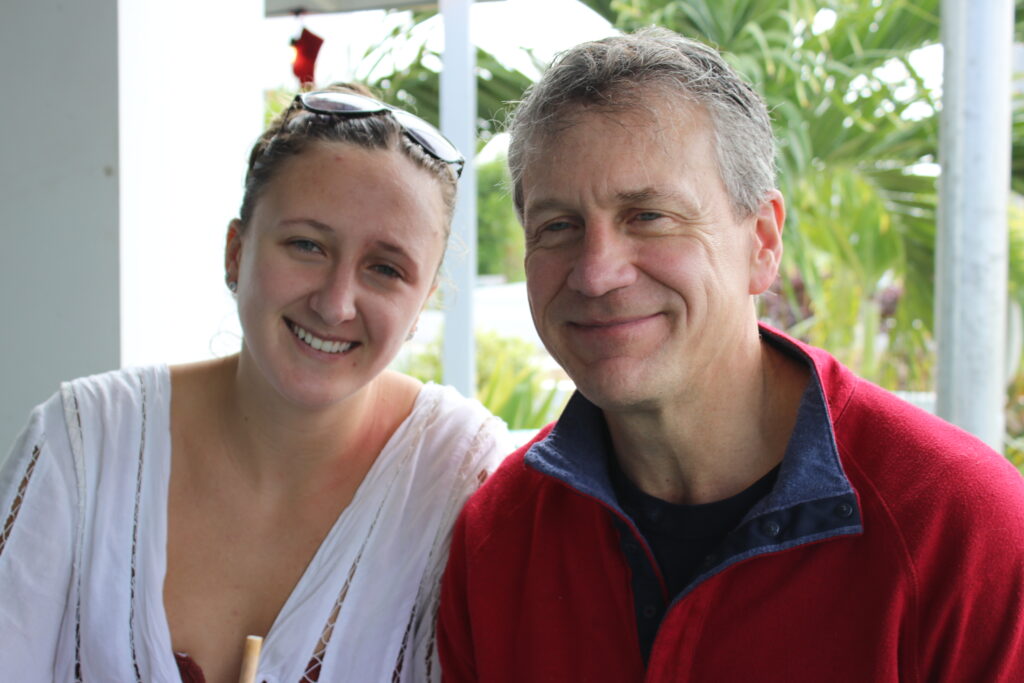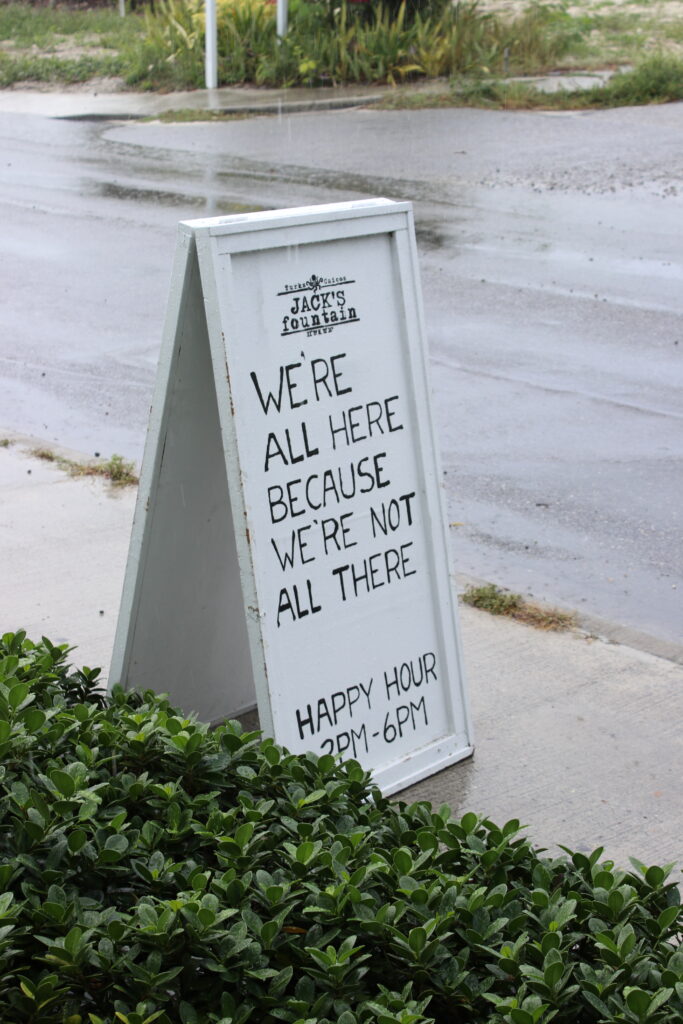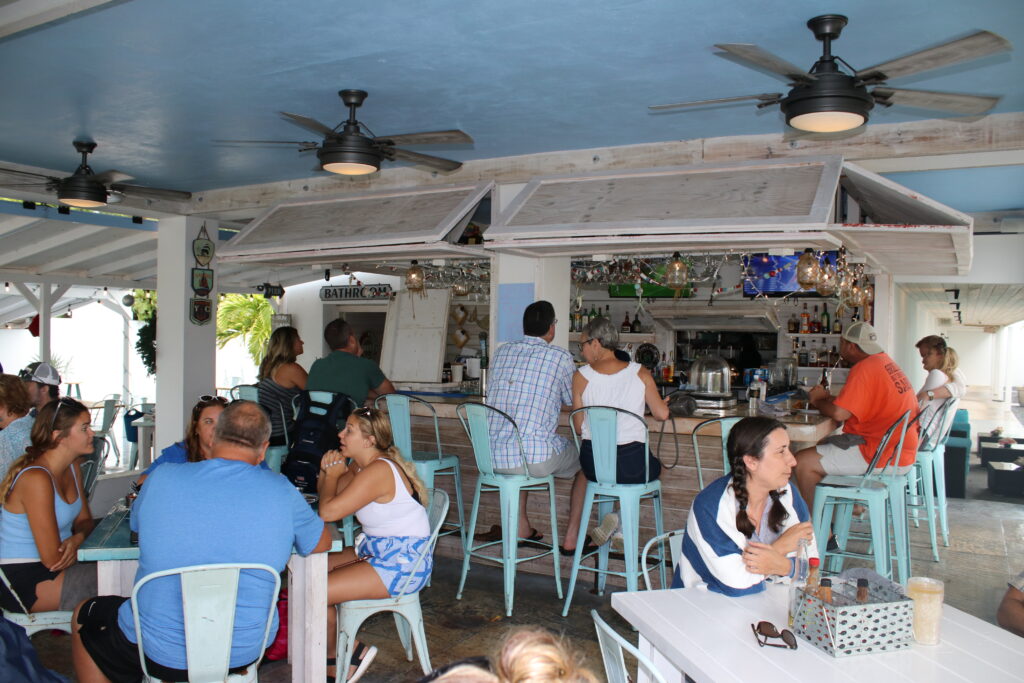 The rain started and stopped again all afternoon. I had made reservations at Magnolia's above Turtle Cove long before I left home. They have a very strict reservation and reconfirmation policy. As soon as we left the hotel, we were battered with heavy, heavy rain. A 10 minute drive took us at least 20 minutes.
I booked Magnolia's early as they have a nice view. Our view was obscured by clouds and rain. The food was good. Jim and Kendall had the zucchini noodles. The tuna poke appetizers were good as was the chicken. This is a nice restaurant with fine food. Our server was not that friendly, though. Dinner for four was $273.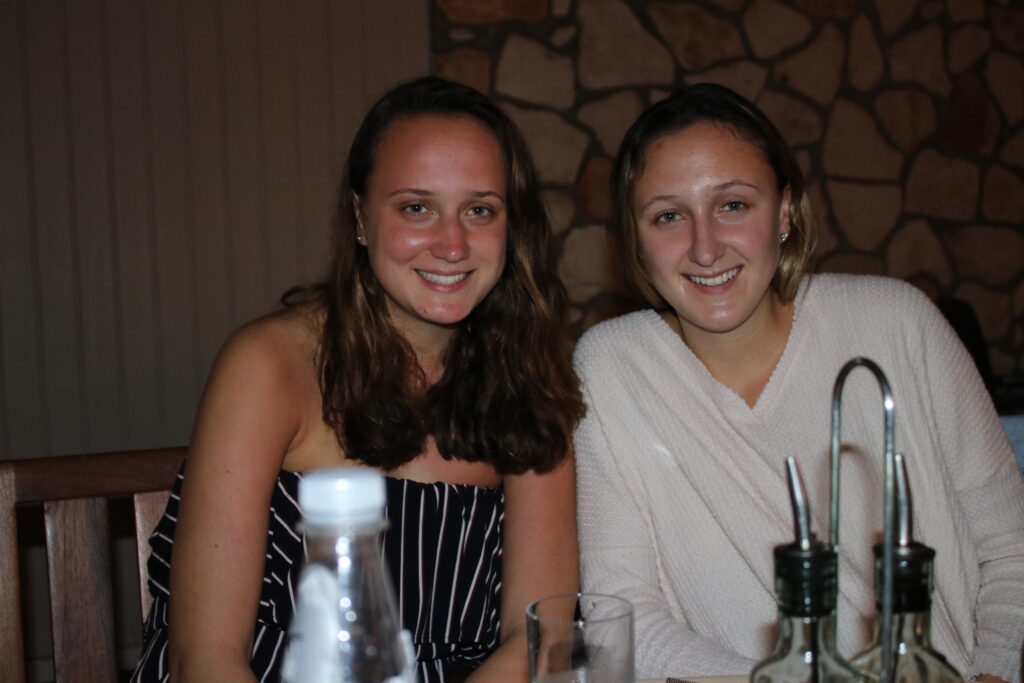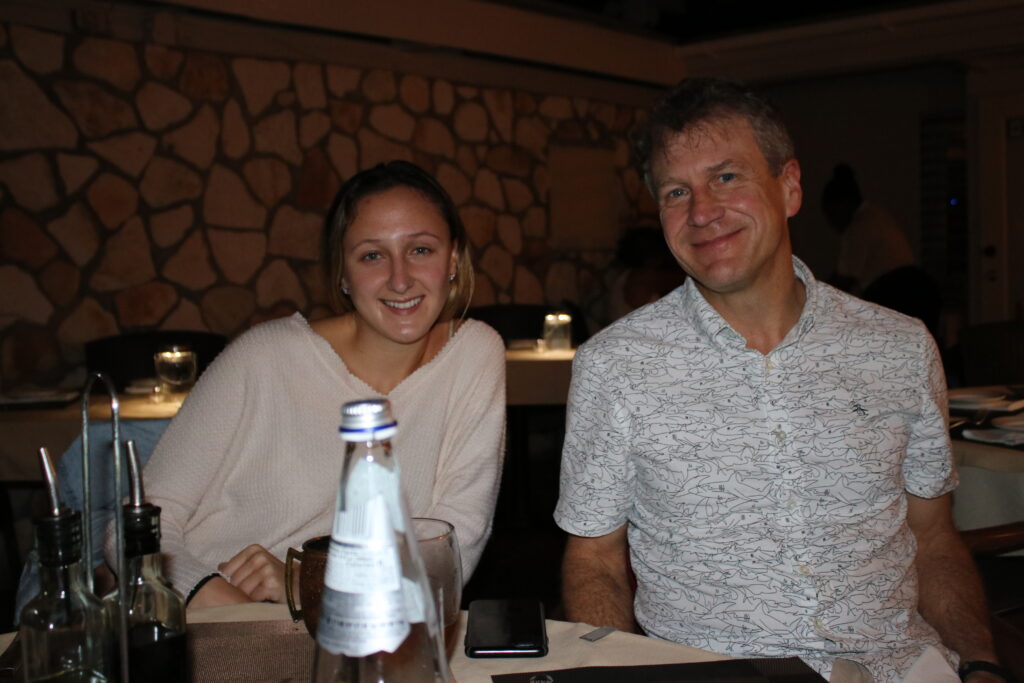 The sun returned! Yay! Our morning was spent working out, walking on the beach and enjoying time relaxing and reading.
Lunch brought us to the Five Cays Settlement and Bugaloo's. It was terrific. Pretty setting on the beach, great conch and delicious frozen drinks. You drive close to the airport through the "local" parts of town. We highly recommend a stop here. Lunch for four – one appetizer, two conch salads, a veggie burger (which was split) and three cocktails cost $132.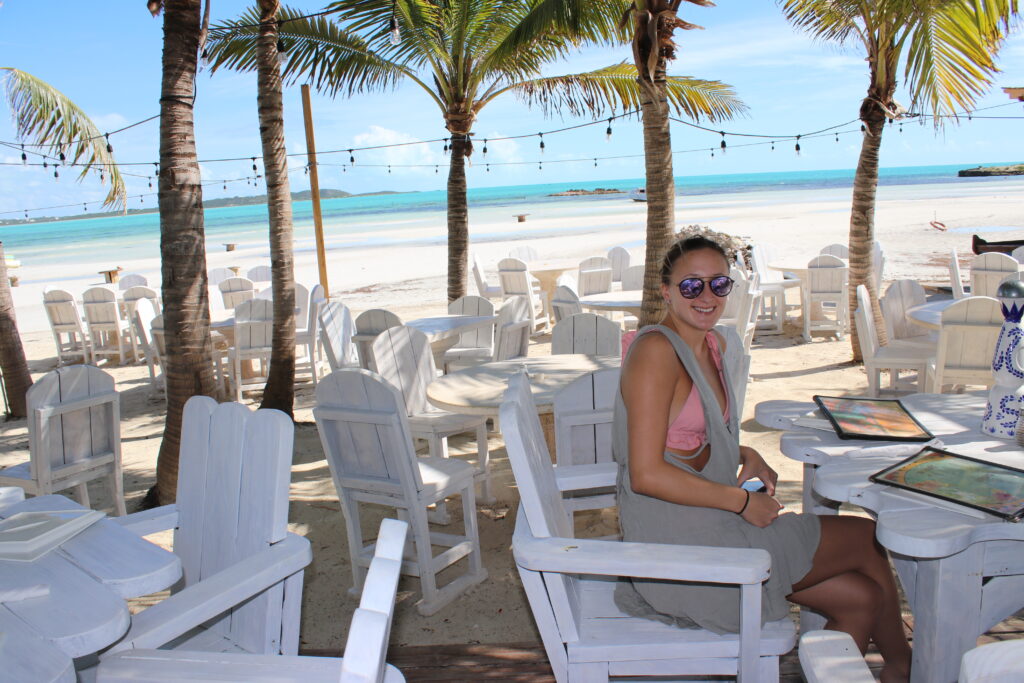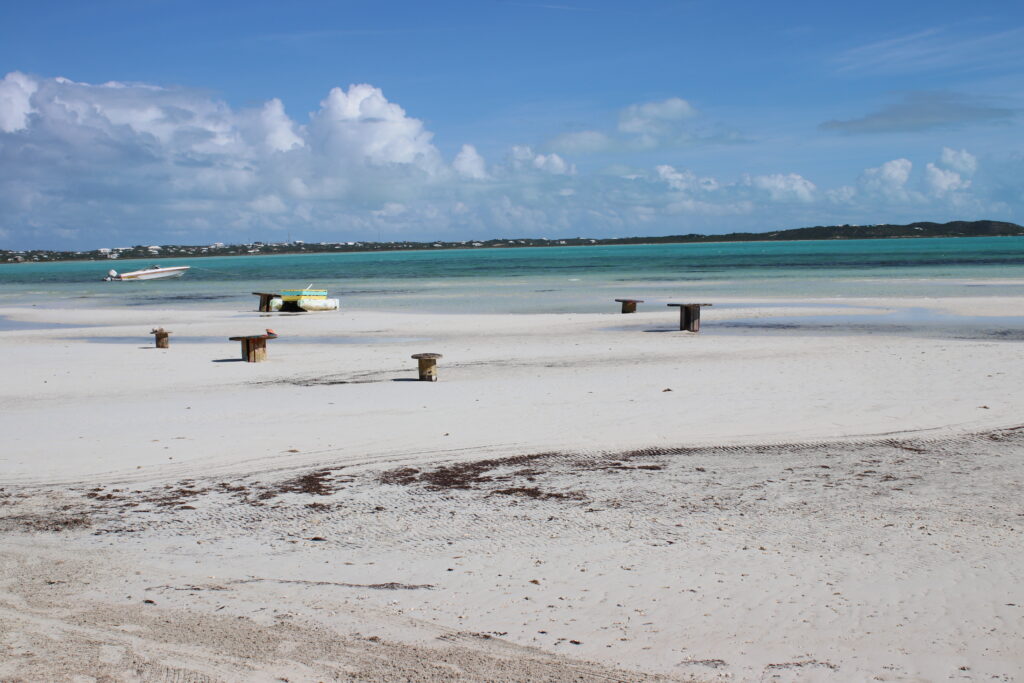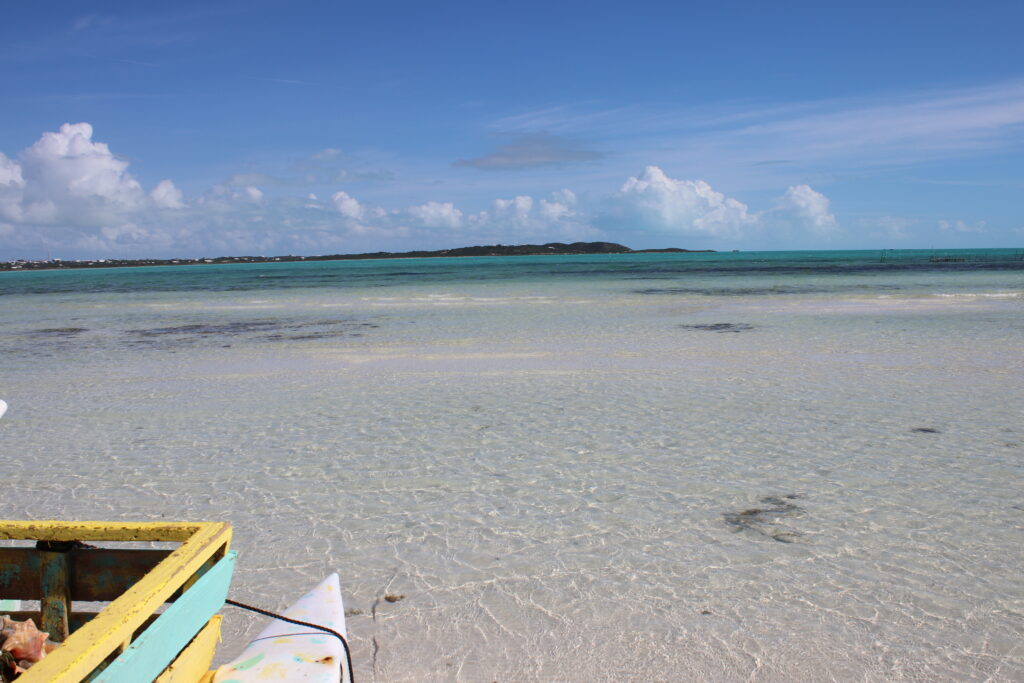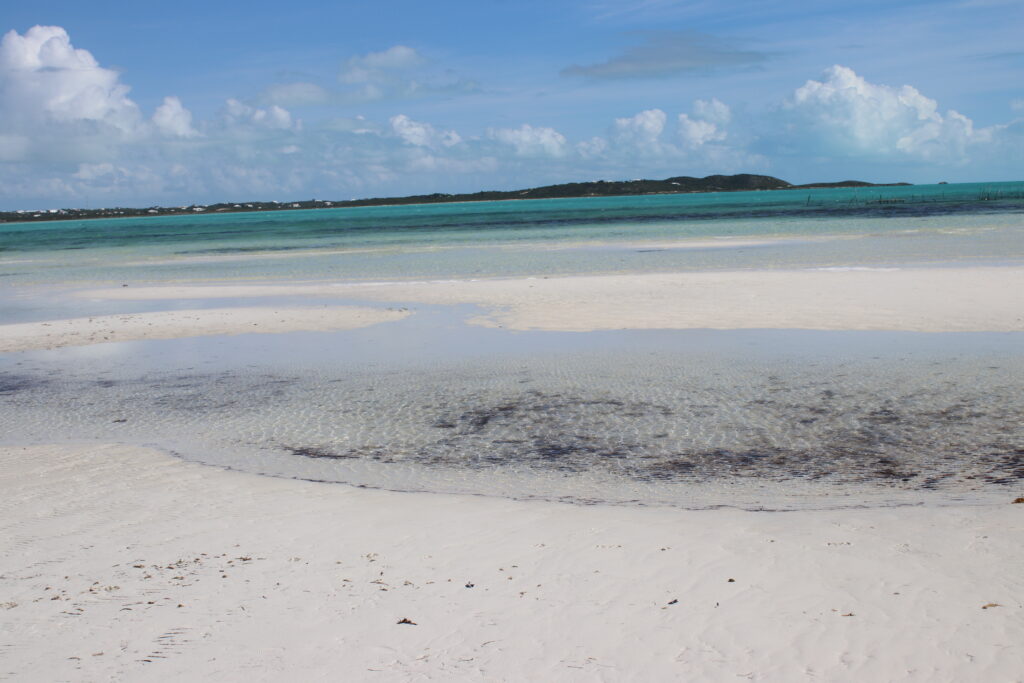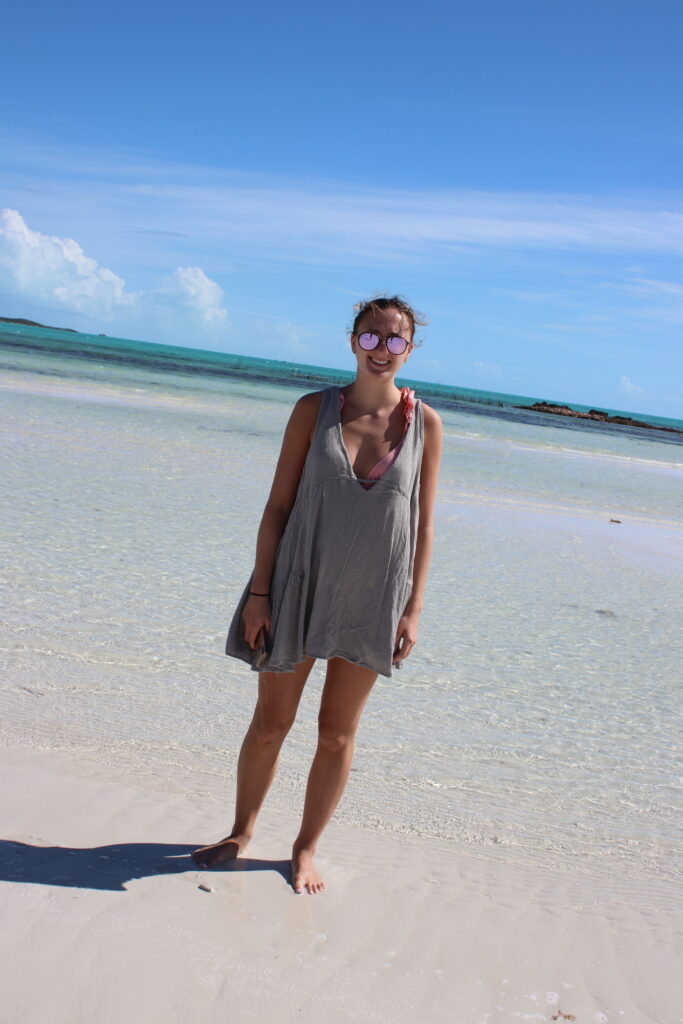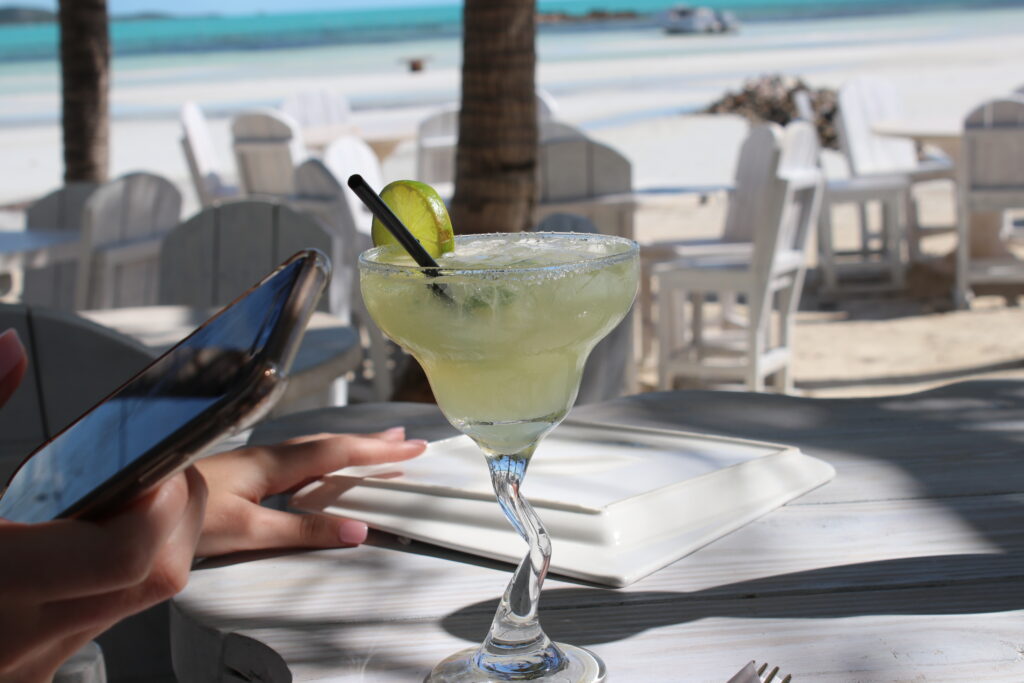 After lunch, we walked, read and enjoyed Grace Bay. The sunsets can be spectacular. These photos were taken from our beach at the Ocean Club.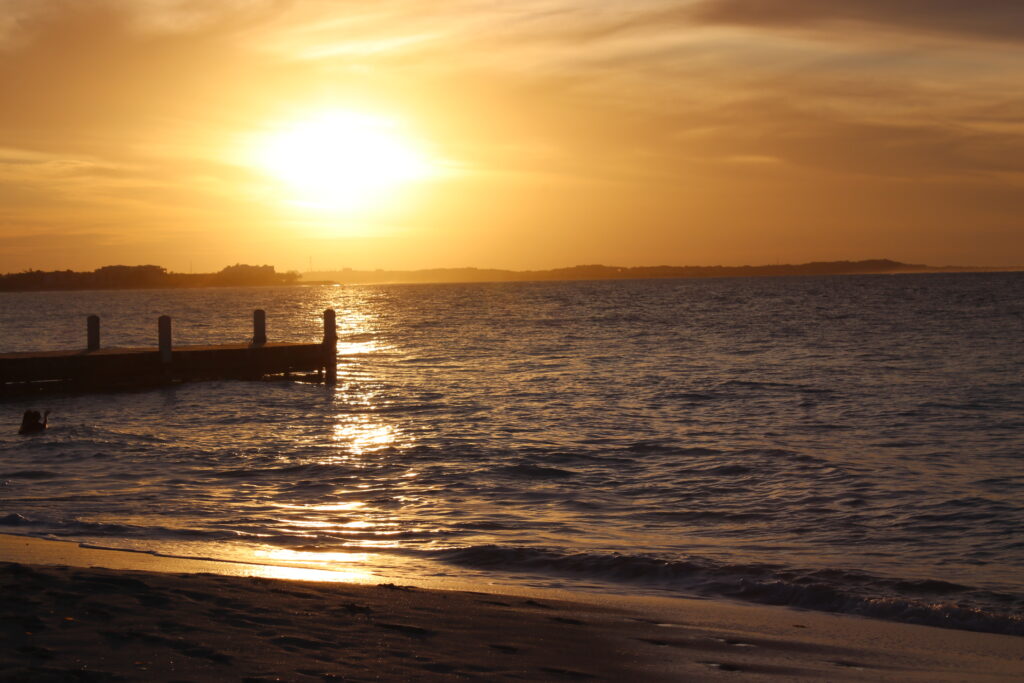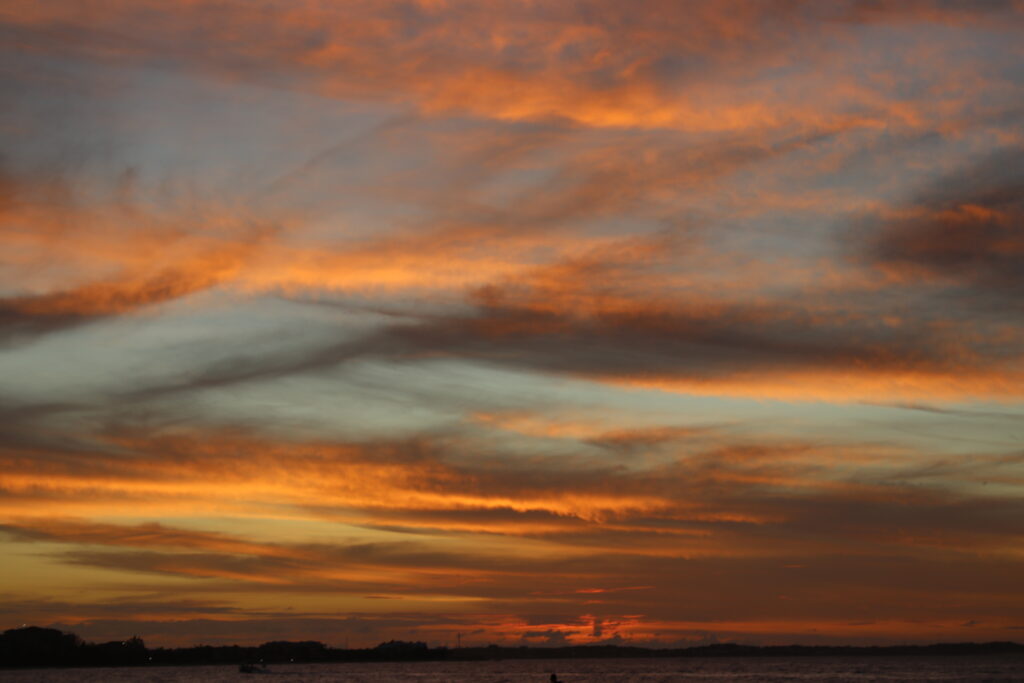 For dinner we went to Pelican Bay. It is at the Royal West Indies Resort which was a five minute drive from our resort. The restaurant has inside and outside dining. We ate by the pool, and it was a very nice setting. Dinner for four cost $148 as we mostly had salads and one risotto.
Day 4 – On the Boat with AJ and Talbot's Adventures
I do not like crowds, crowded boats or booze cruises. In the past, I have chartered a boat for either a full or half day to take us to places we want to see. Chartering a boat is exceptionally expensive on an exceptionally expensive island.
I booked, in advance with a company called Talbot's Adventures. For four hours on their smallest ski boat, it cost $819.
We met AJ from Talbot's Adventures at 8am at the dock at the Blue Haven Resort. I was 1.5 miles from our resort on the Leeward side of the island. AJ was friendly, and he was a wonderful guide.
We immediately decided to go outside the reef to do some snorkeling. We did have some wind. AJ did a great job of minimizing the bumps. Our first snorkel stop was great. The waves were quite large, but you did not notice them while snorkeling. We bring our own masks and snorkels. This brand is excellent and comfy. We used Talbot's fins. They had masks, too if you need them.
If you have a waterproof camera, attach it to a lanyard, so you can swim with it around your neck. When I am not using it, I tuck it into the top of my bathing suit, so it does not hit me when I swim!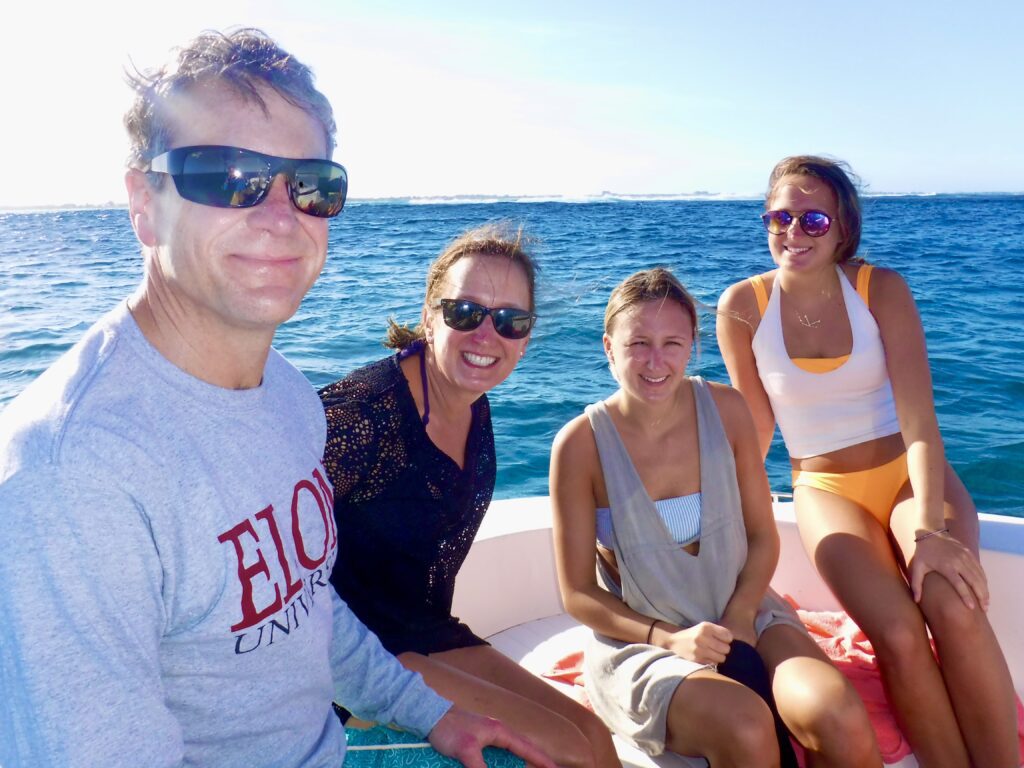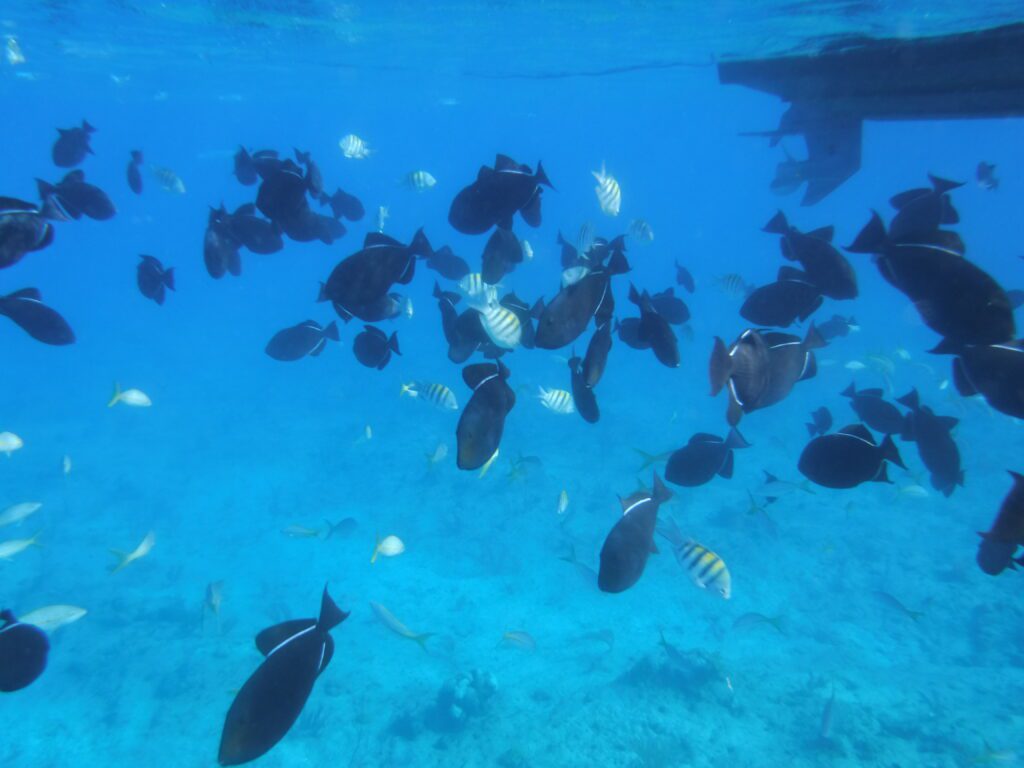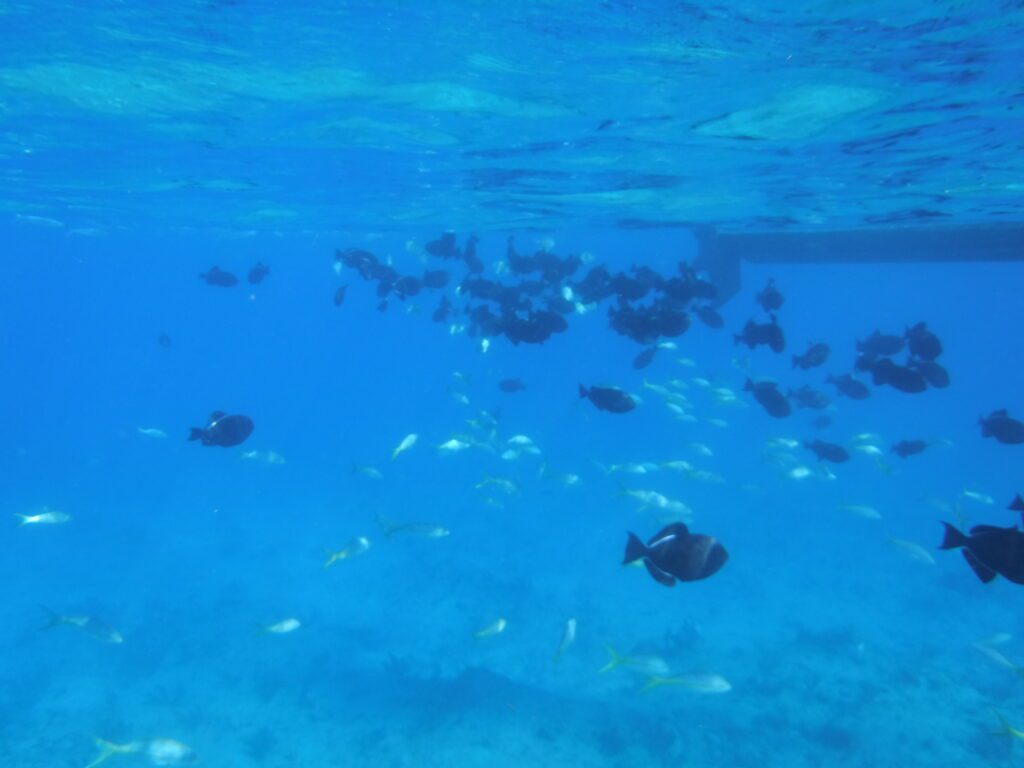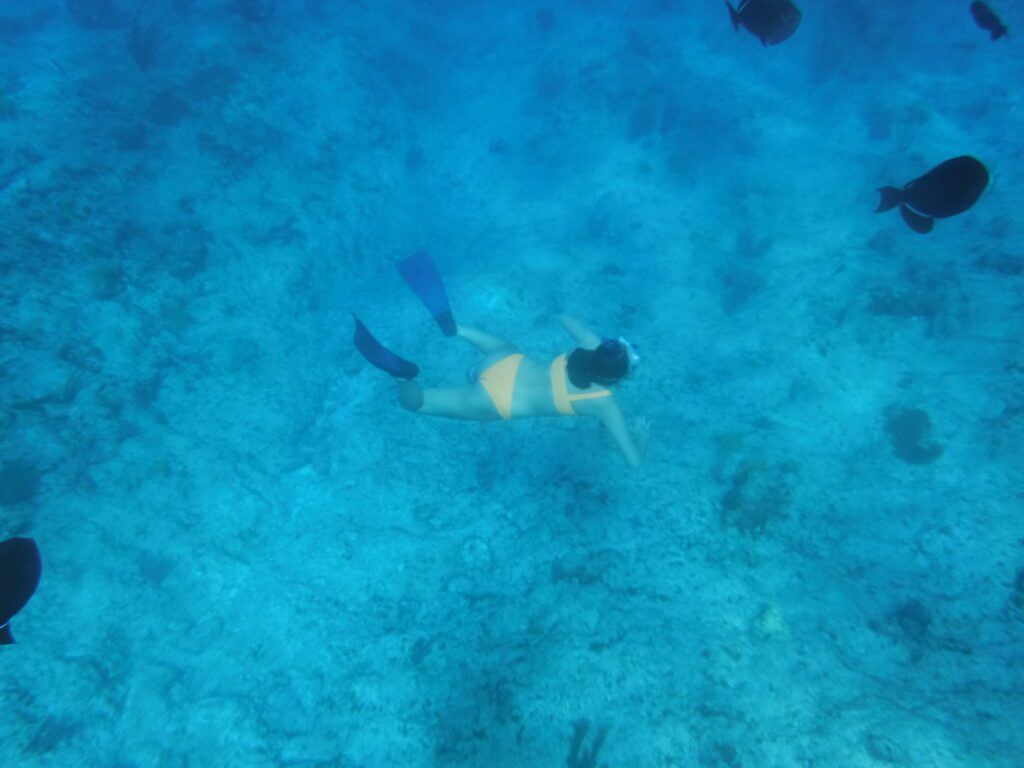 AJ was a delight – very personable, fluent in several languages and willing to take photos of us! Our second snorkel stop was not as good. The reef and corals were super healthy, so that was fun to see. My photos are not great due to the lighting at that time.
We drove back inside the reef and motored to Fort George Cay. This is a deserted little island. Many boats do stop here. There was only one other when we were there. It is gorgeous. Amazing beauty. Truly spectacular. Makes for great photos.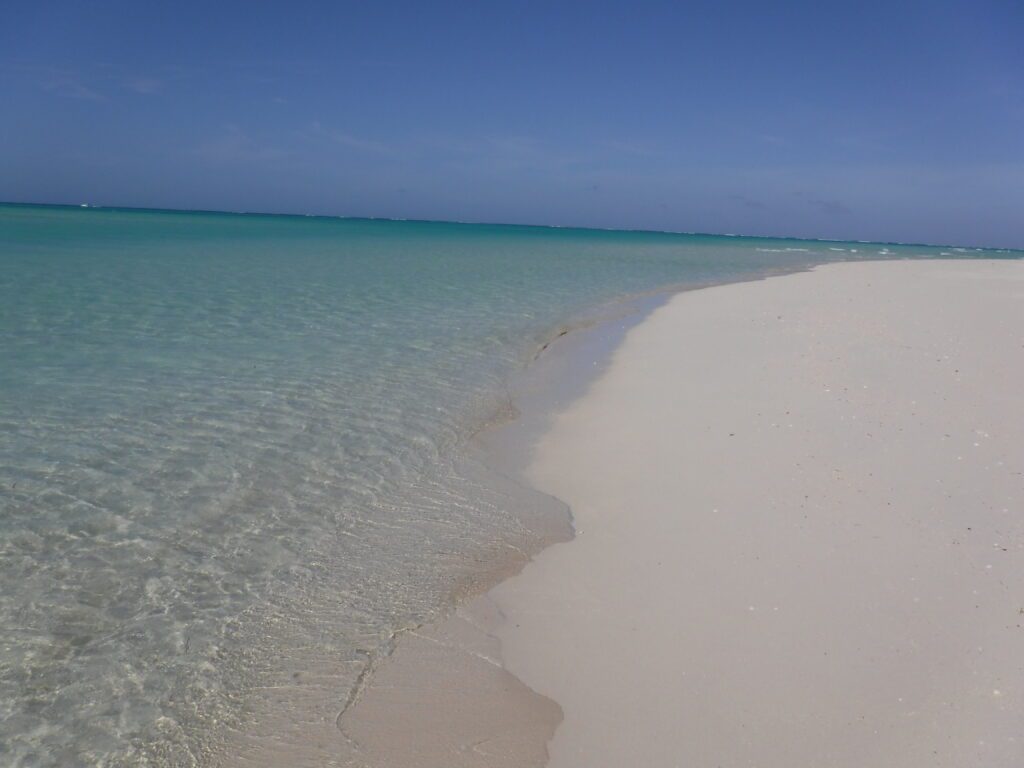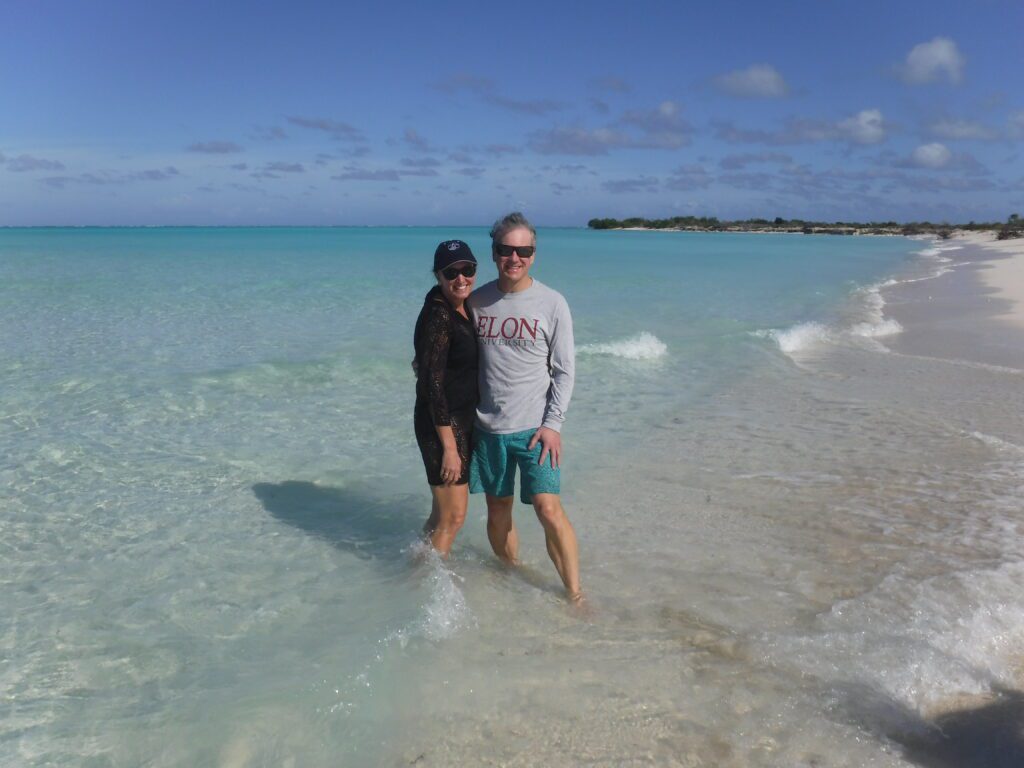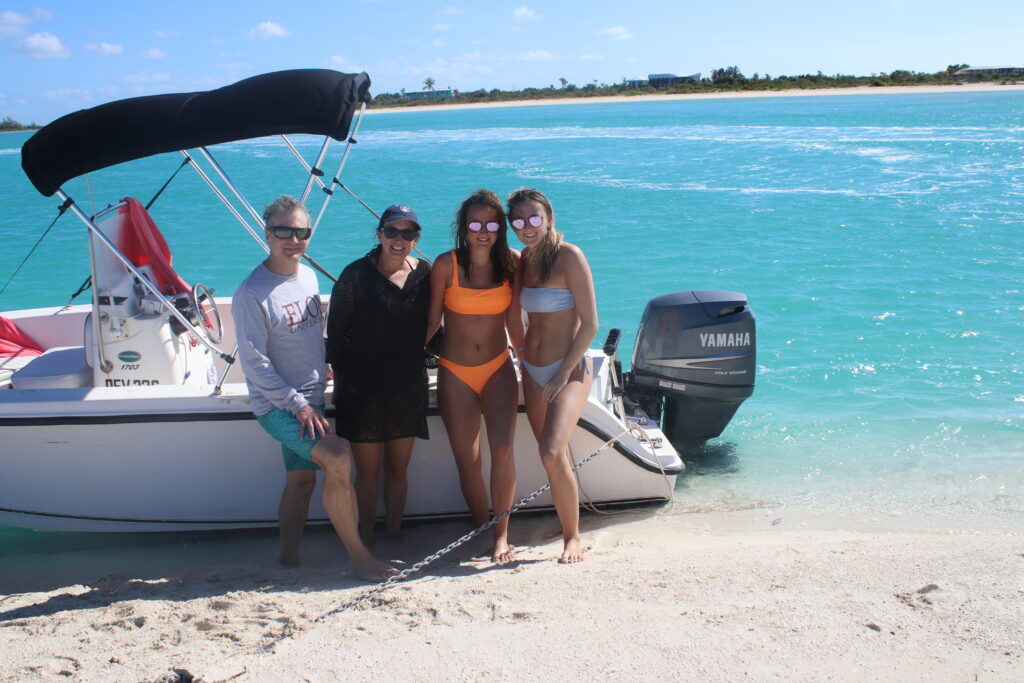 AJ is a fisherman. Soon after leaving the cay, he spotted a large lemon shark. Very cool! The photo is not great!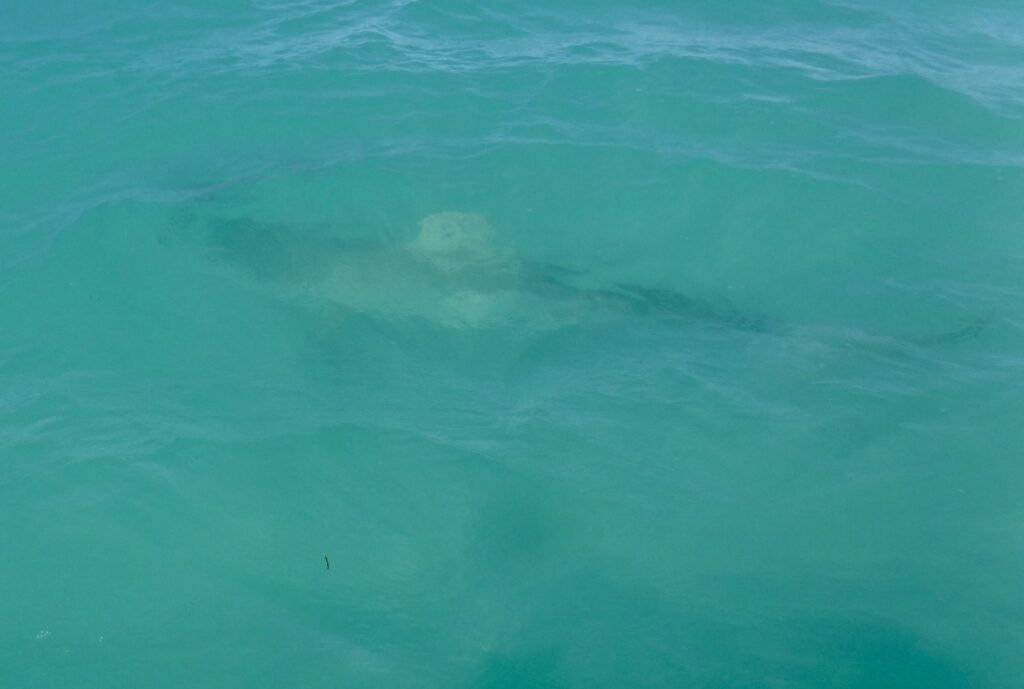 We motored through the bluest water we have ever seen. It was spectacular.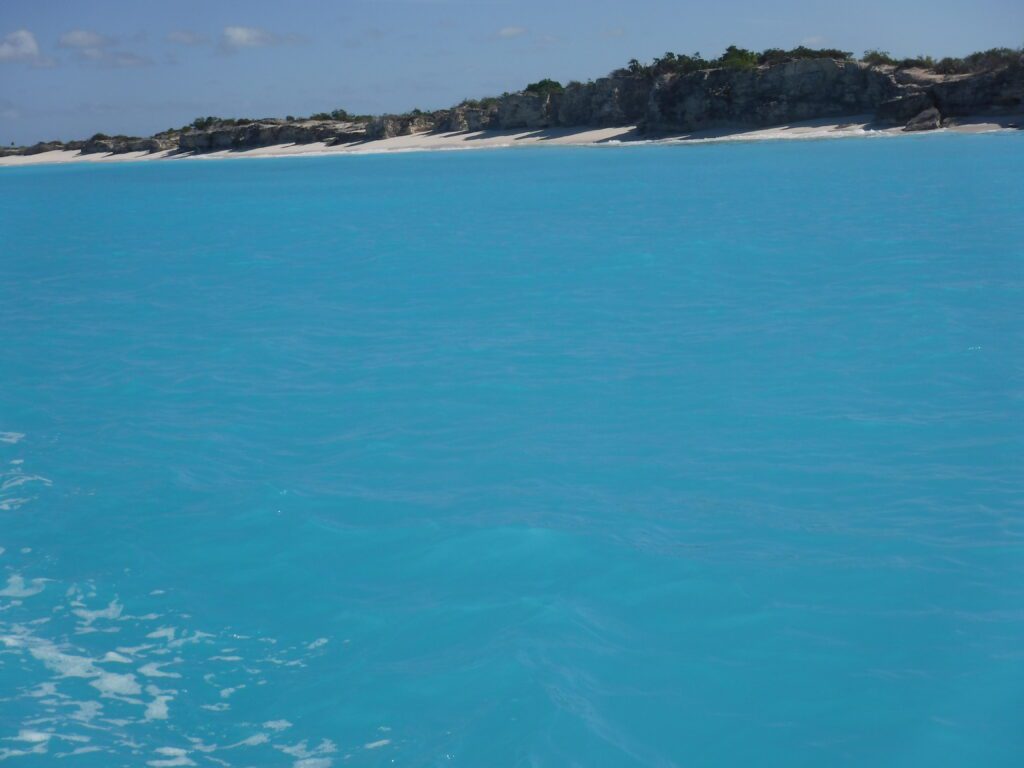 We motored to Pine Cay. Pine Cay is named after the small forest of endemic Caicos Pines , a subspecies of the Caribbean Pine that surrounds the interior fresh water ponds. We walked across the cay to Half Moon Bay. Some scenes from the movie Cast Away were filmed here. It is gorgeous. You must wear shoes as there are some prickly prickers on the ground. We saw iguanas and sheer natural beauty.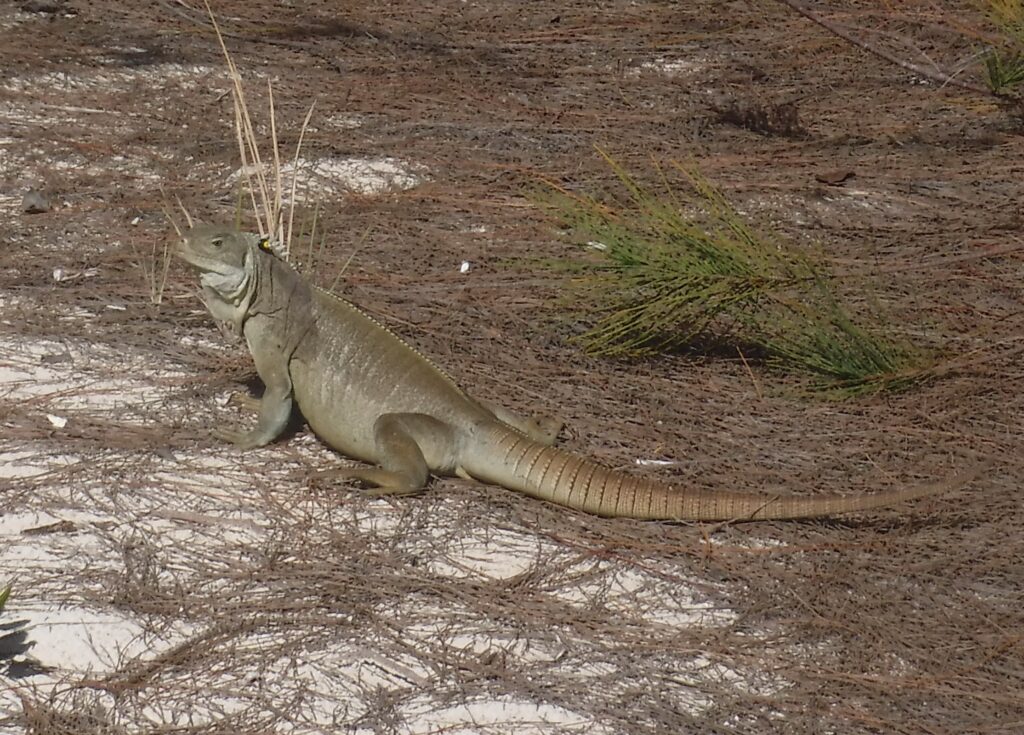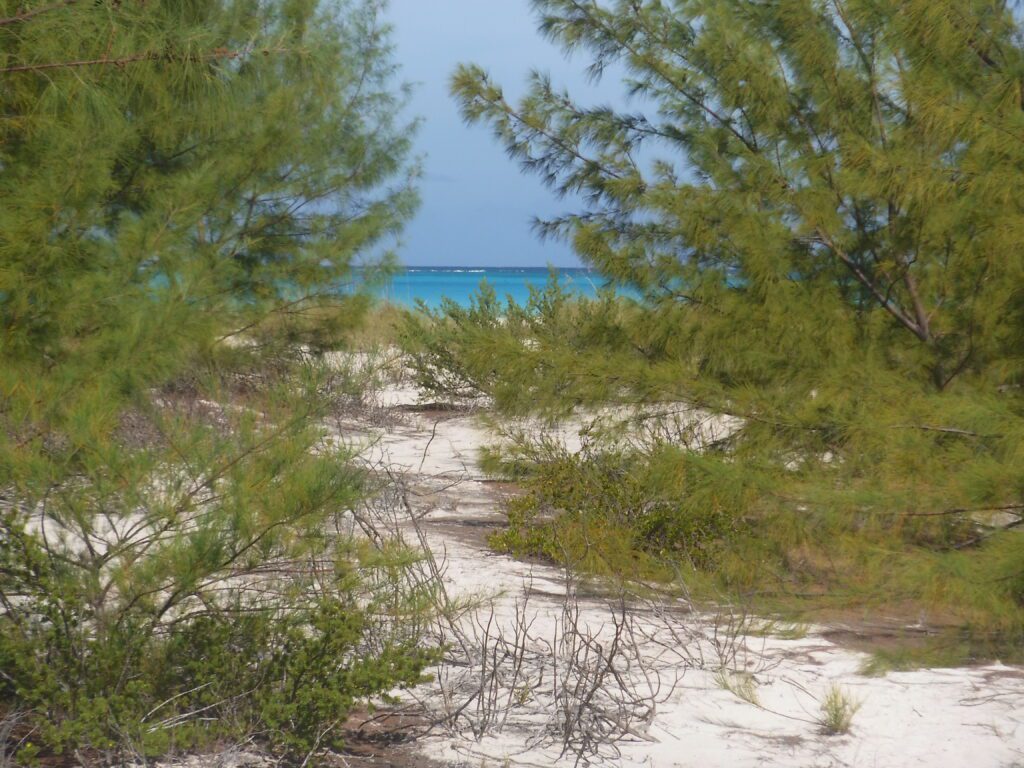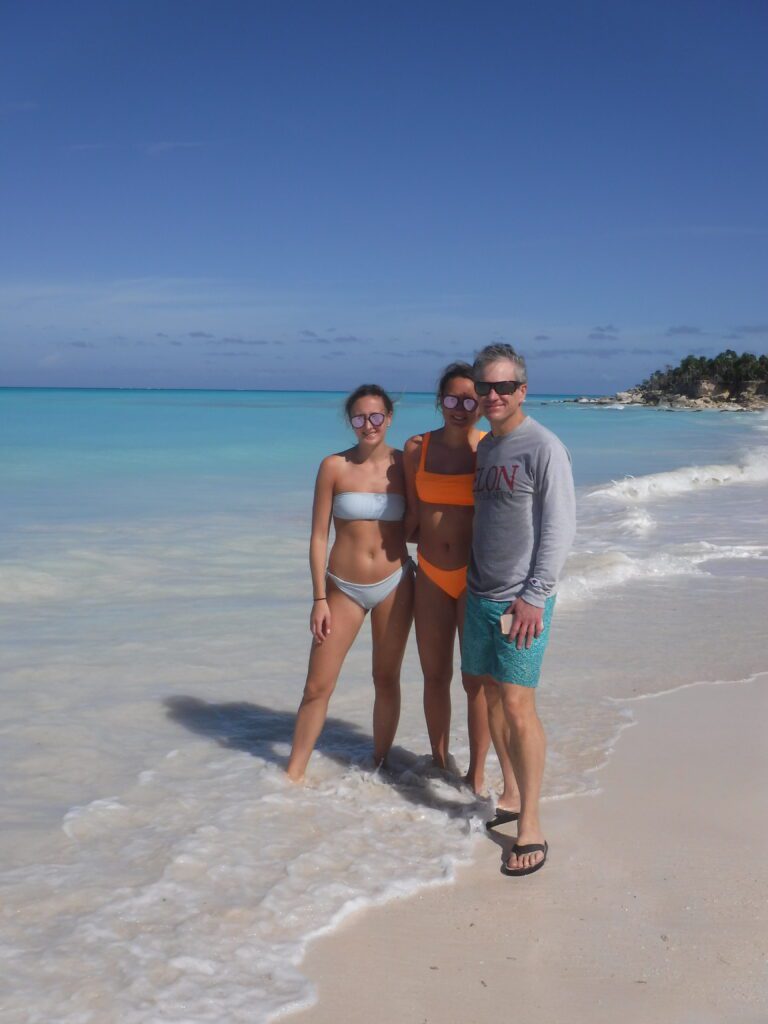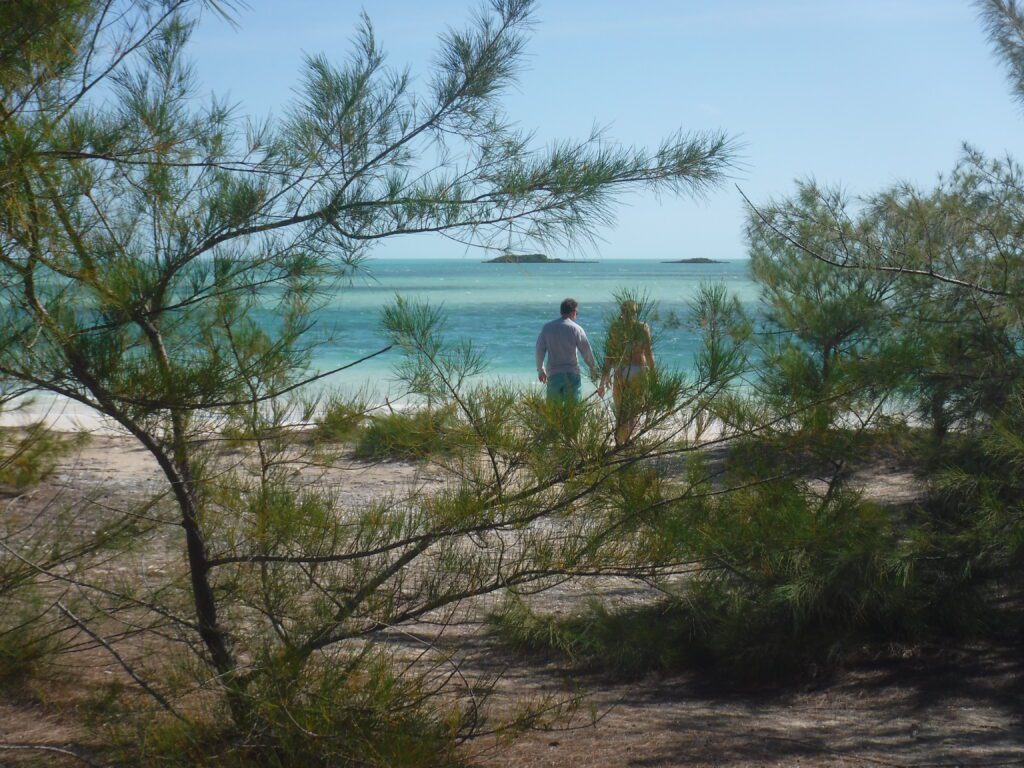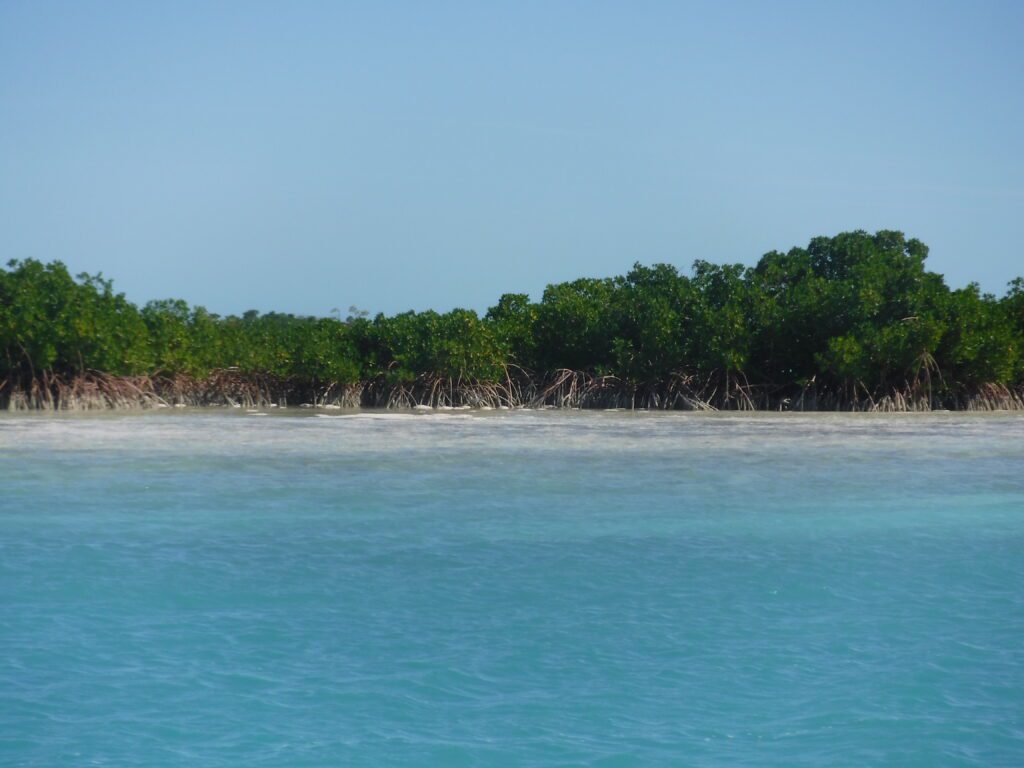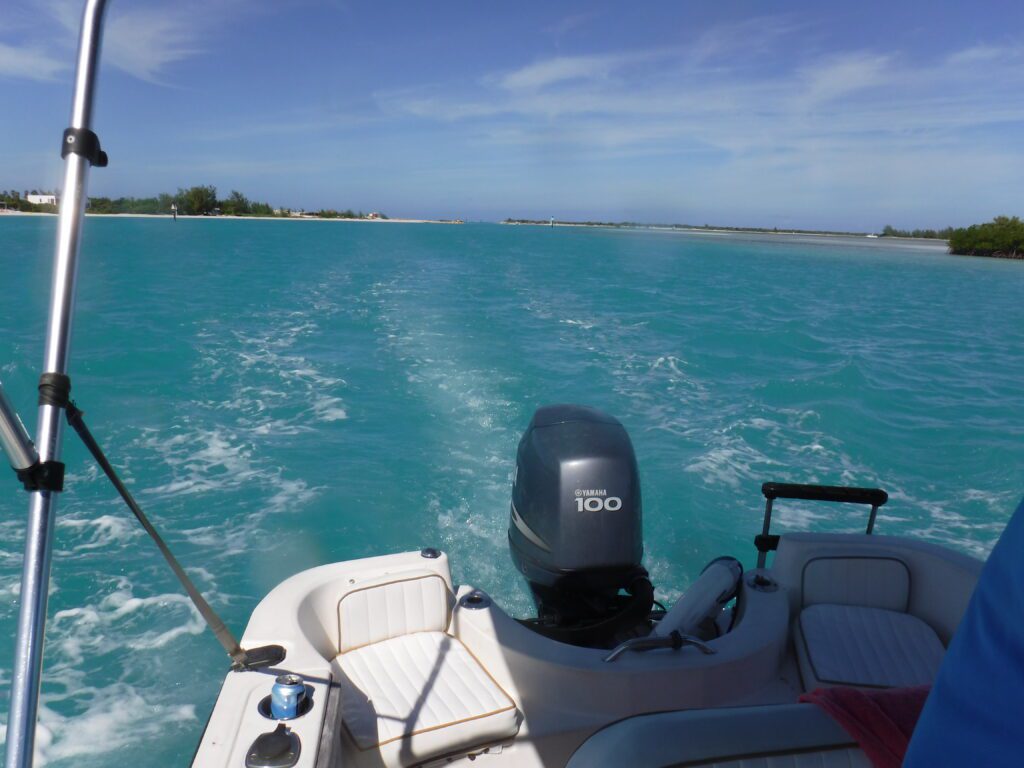 AJ had local Turks Head beers and waters for us. We enjoyed some while heading back to the marina. It was a wonderful day. AJ was a fantastic guide, and we had so much fun! We would highly recommend renting a boat with AJ for a half day.
For lunch, we drove to Somewhere Cafe. This on-beach restaurant is located in the Coral Gardens area of Grace Bay. Lunch was fantastic. For two salads, fish tacos and sparkling water, we paid $81. We highly recommend this restaurant. It had good food on a beautiful, calm part of Grace Bay. You could walk right off the beach and snorkel. The Coral Gardens condo development looked very, very nice from the outside!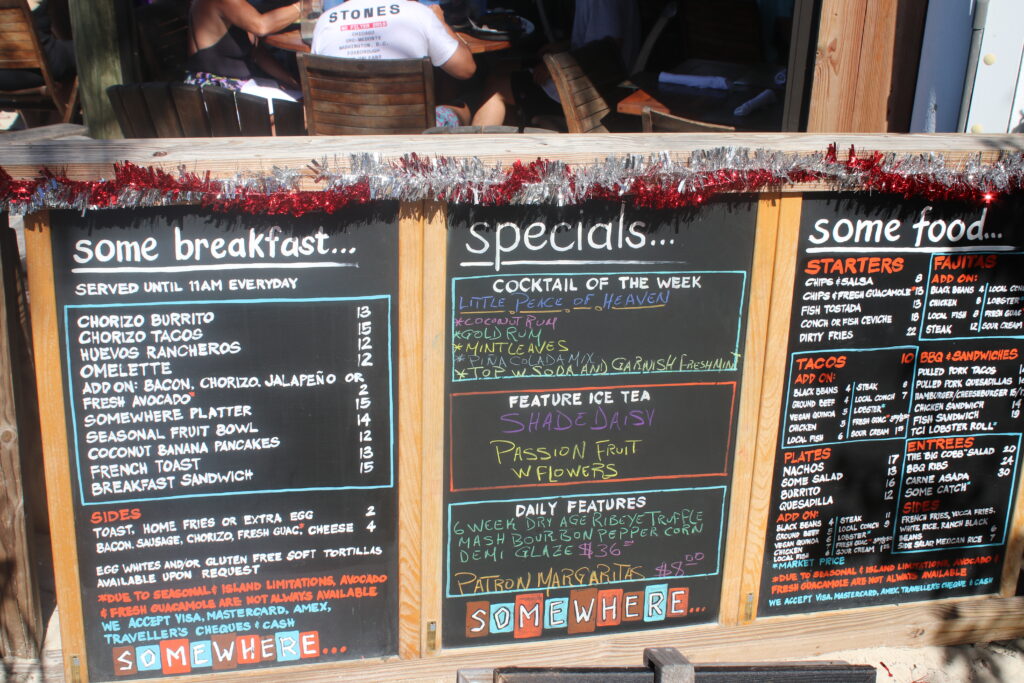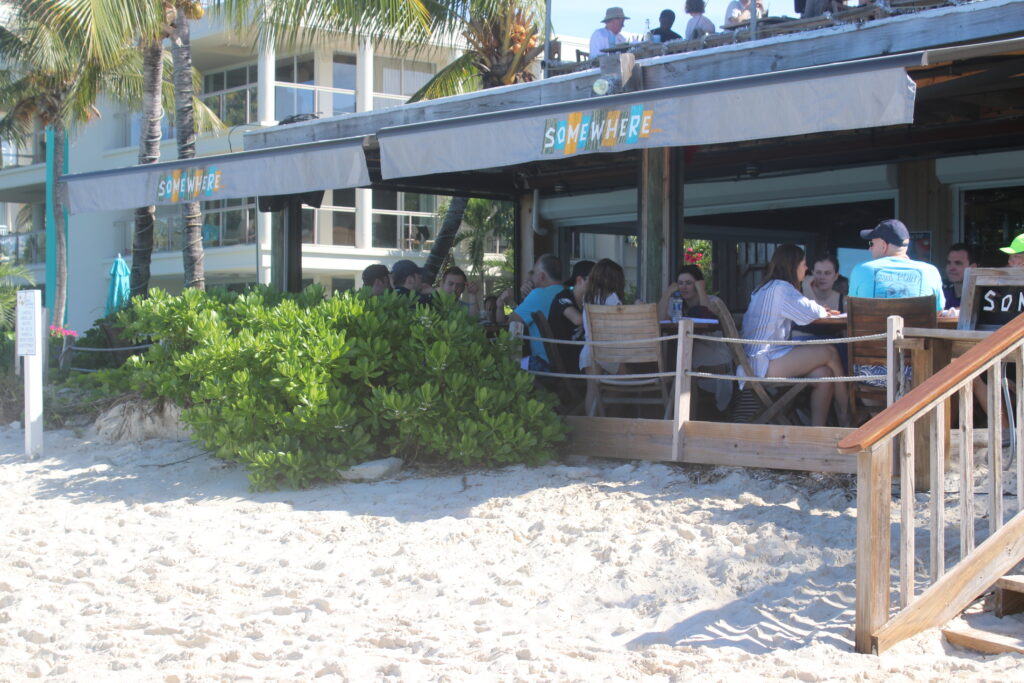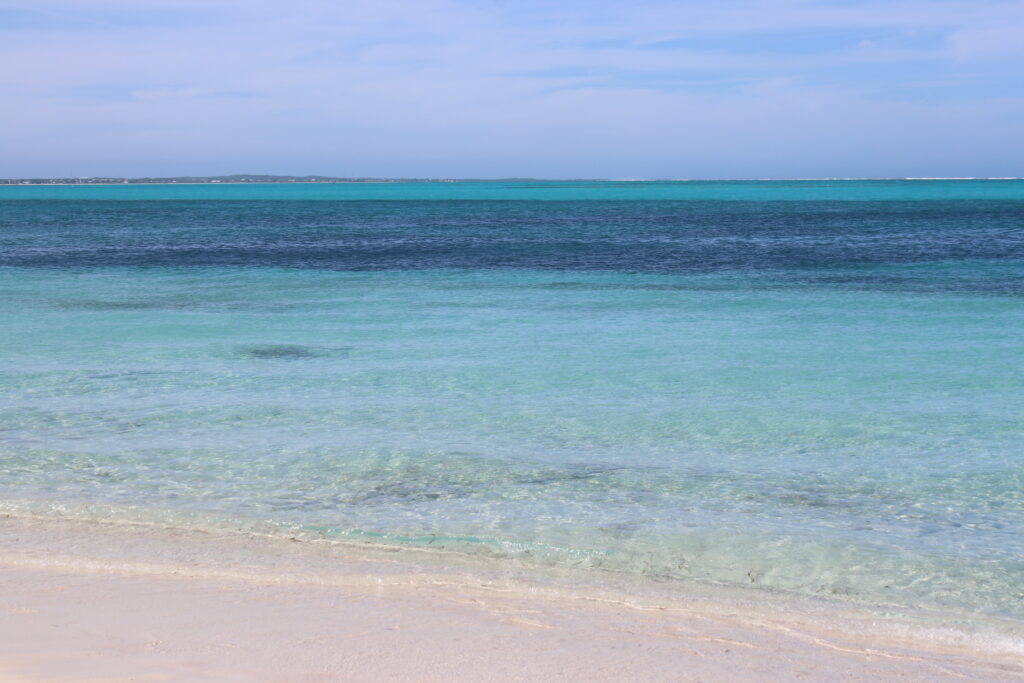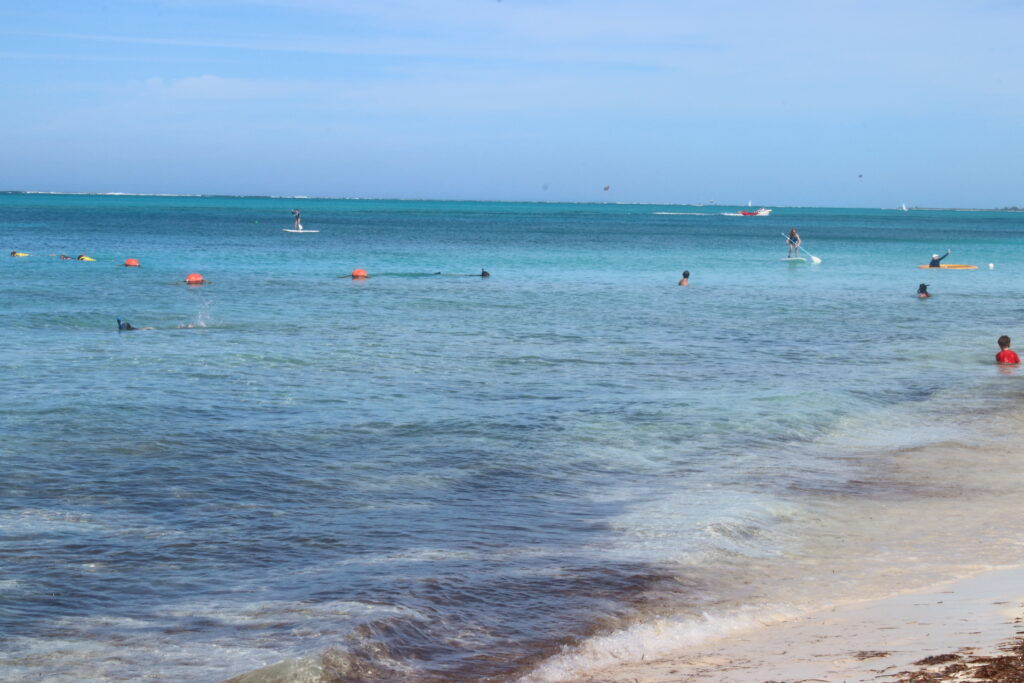 For dinner, we drove to Turtle Cove Marina and the waterfront Baci. Make a reservation in advance. We loved the ambiance, the food and the service. Since I reserved well in advance, we had seats along the outdoor deck. We highly recommend a visit to Baci. Our dinner cost $185.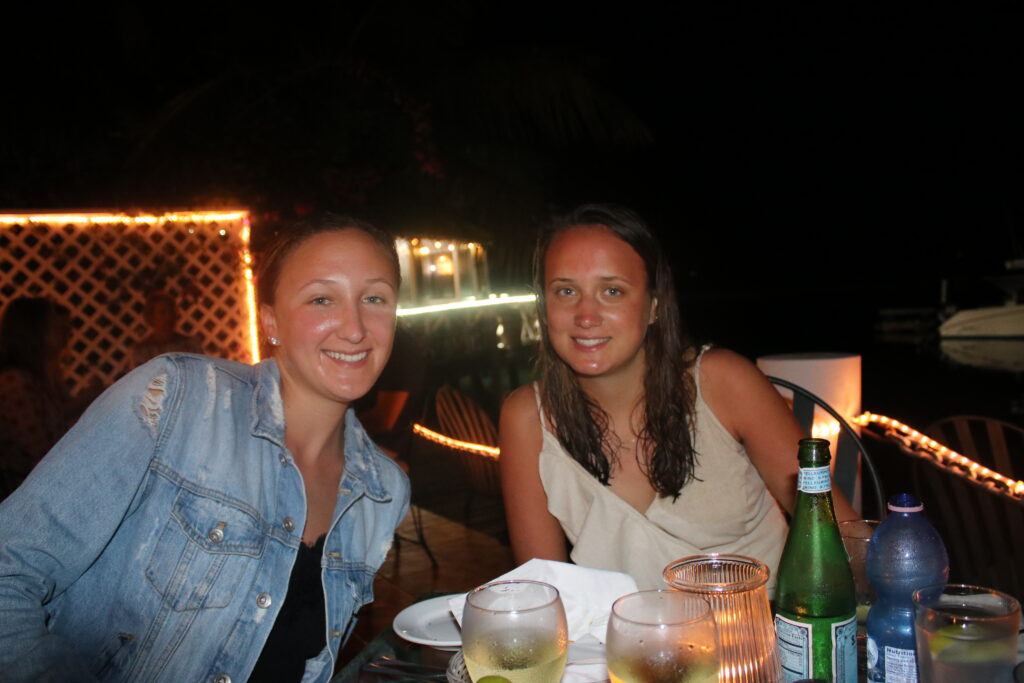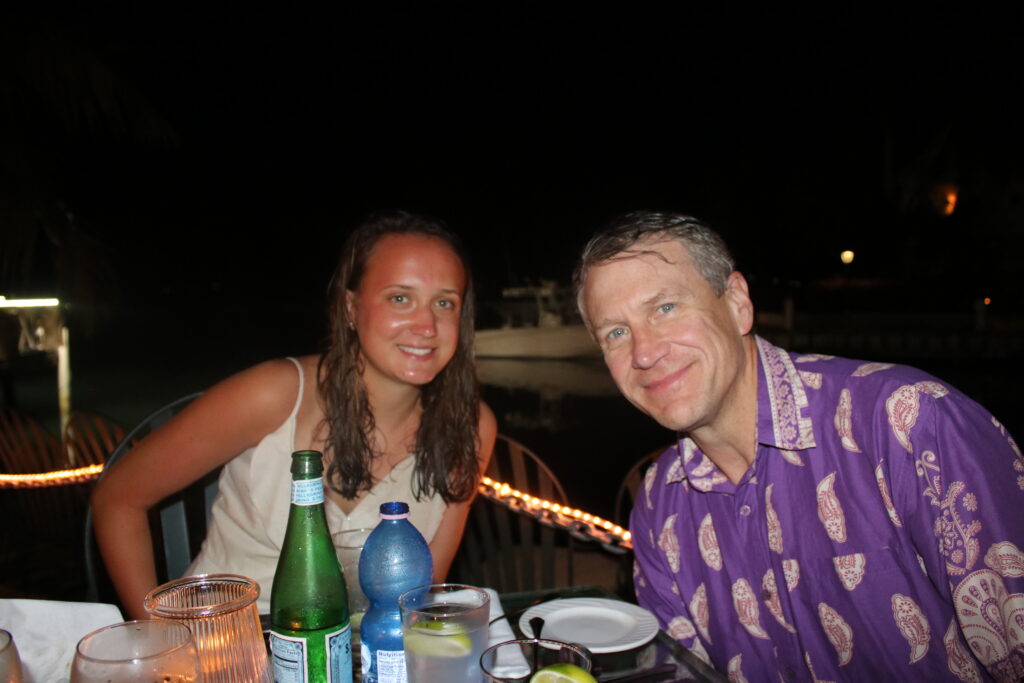 Day 5 – North and Middle Caicos
Today, was an adventure to North and Middle Caicos islands. These islands are a 30 minute ferry ride from the Leeward side of Provo. The islands are largely undeveloped and somewhat abandoned. Several hotels and housing sites sit unused. We went on Christmas Eve and almost nothing was open. Sunday is not the best day for a day trip to North Caicos and Middle Caicos, as the ferry schedule is limited, and many shops, gas stations and restaurants are closed.
We booked a trip on the TCI Ferry before we left home. We also booked a car through the TCI Ferry. Our ferry left the dock at Heaving Down Rock Walkin Marina (Leeward side of the island) at 9:30am. The car was waiting for us when we arrived. The car was in so-so shape, but it was way, way cheaper than taking taxis around the islands.
You arrive in Sandy Point where car rental people and taxis await you. We immediately began our drive to Mudjin Harbor.
We drove through North Caicos, over the causeway and stopped at the Dragon Cay resort. Dragon Cay has free parking and the best access to Mudjin Harbor. There is also a nice restaurant there called Mudjin Bar and Grill . We were not hungry yet. We should have eaten there as it was one of the only open places on Christmas Eve.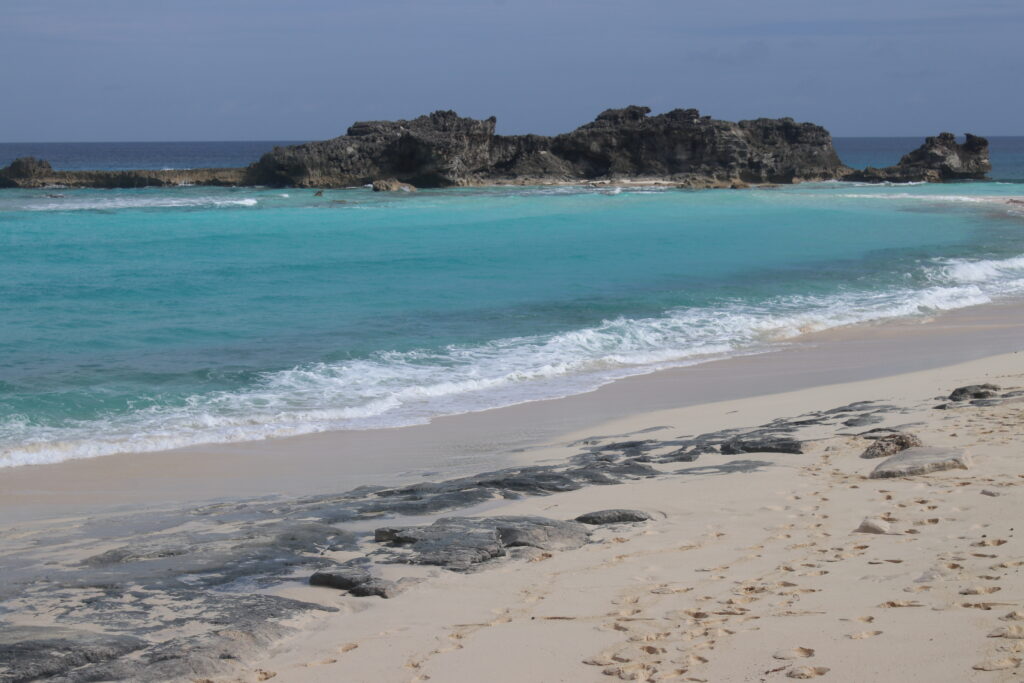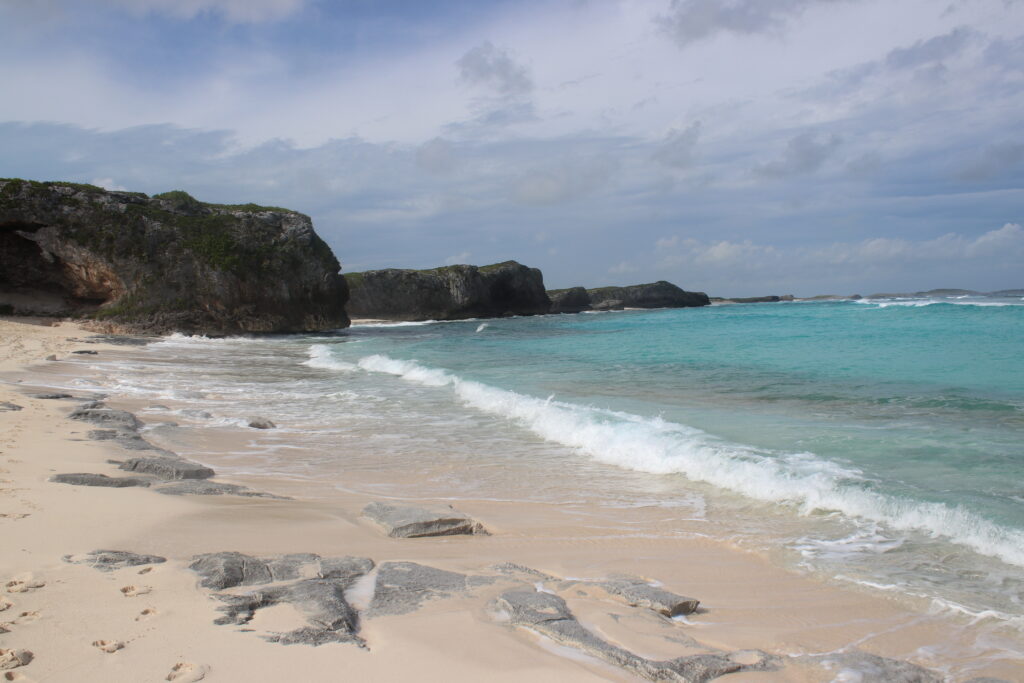 We were told to walk the Crossing Place Trail. However, we did not bring the right shoes. You need sneakers or hiking boots. Flip flops and water shoes did not cut it near Mudjin Harbor. Too much coral and stone. However, the portion that we did walk offered nice views.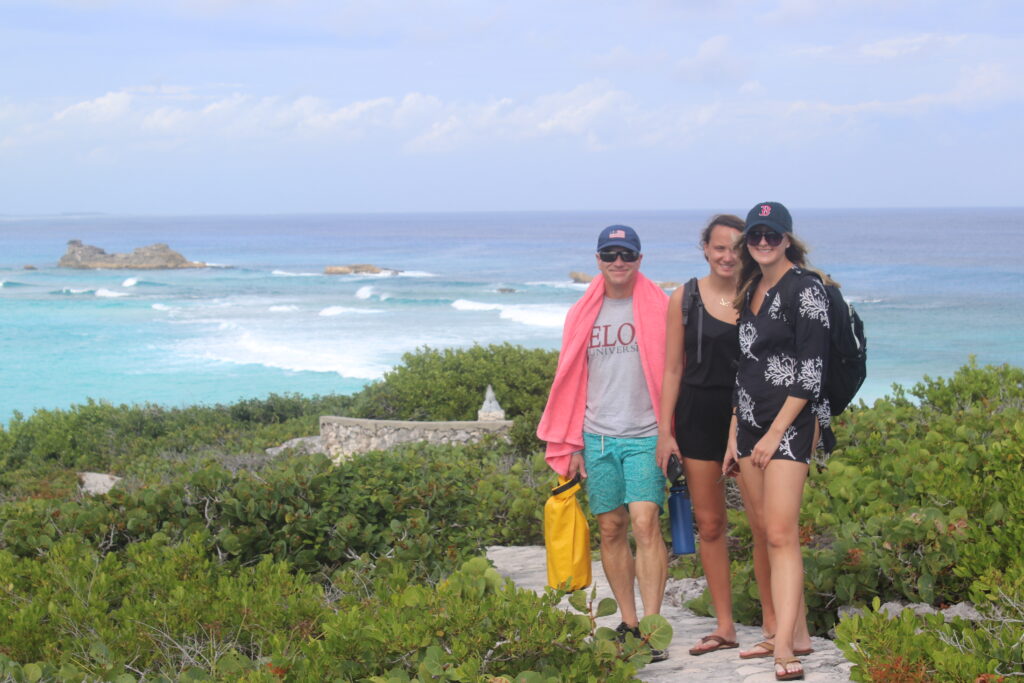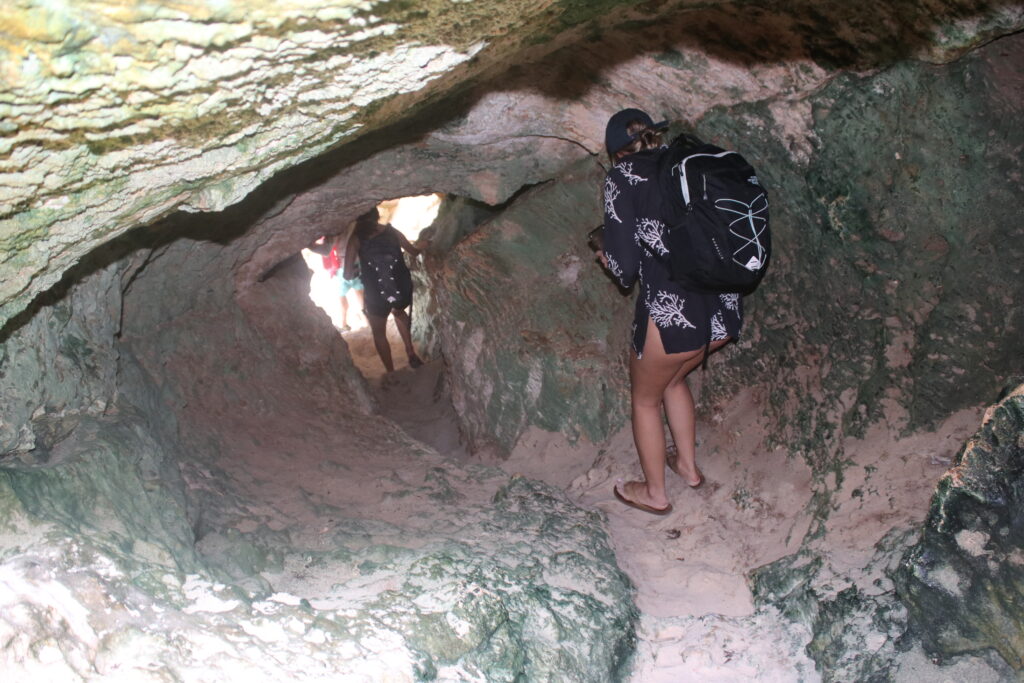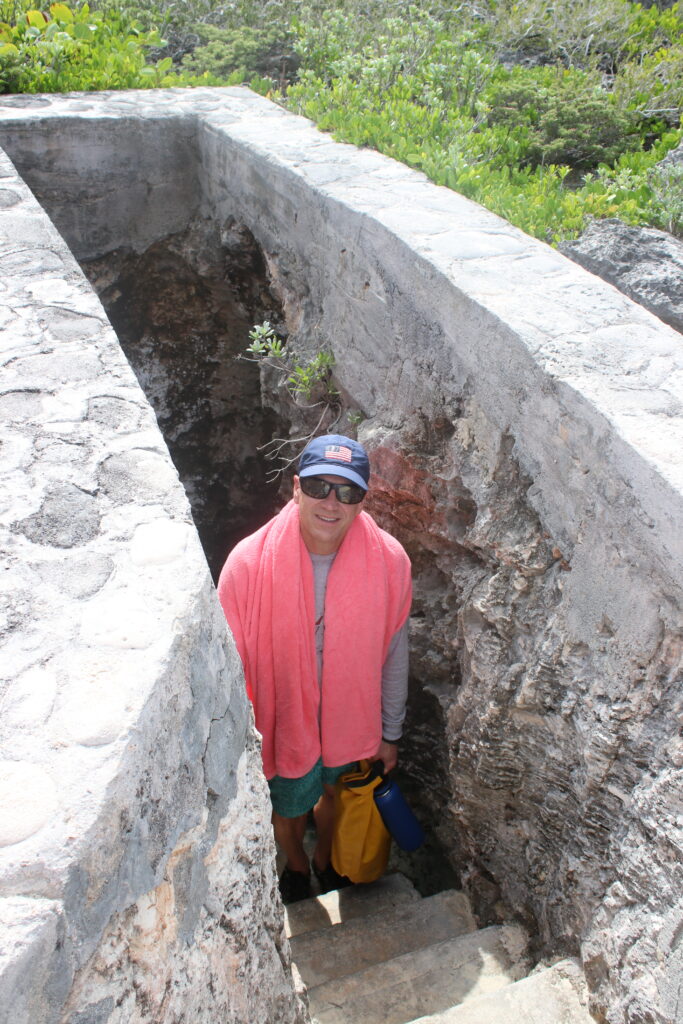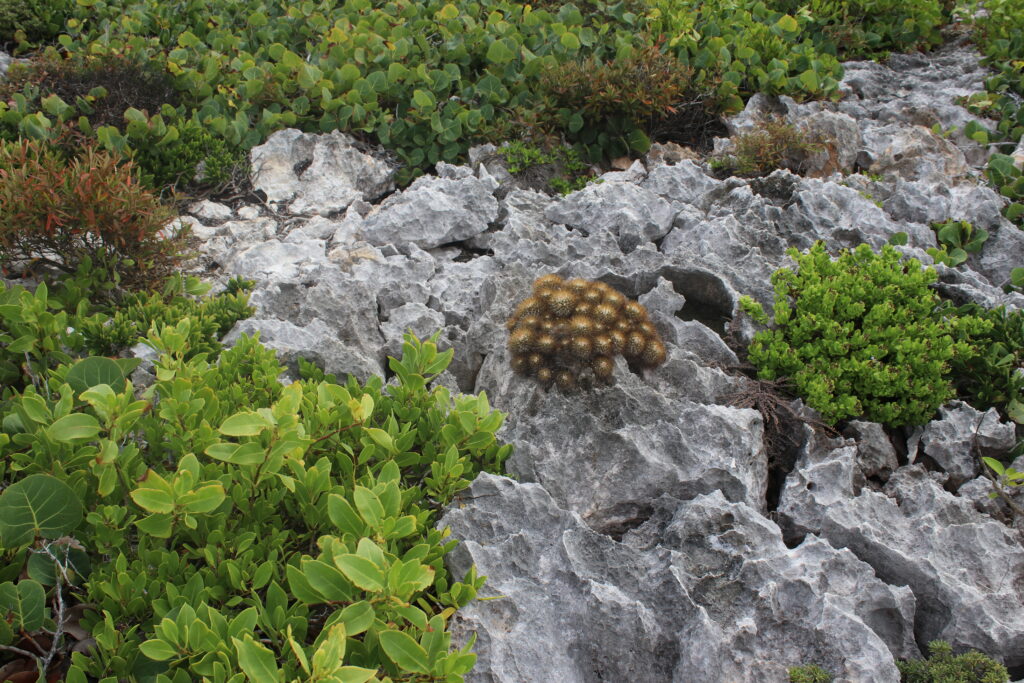 Our next stop was Bambarra beach. Everything is easy to find on North and Middle Caicos as there are few roads. Bambarra is so lovely. You can walk and walk and walk and the water will never get deep. It is placidly calm. We highly recommend a visit to Bambarra.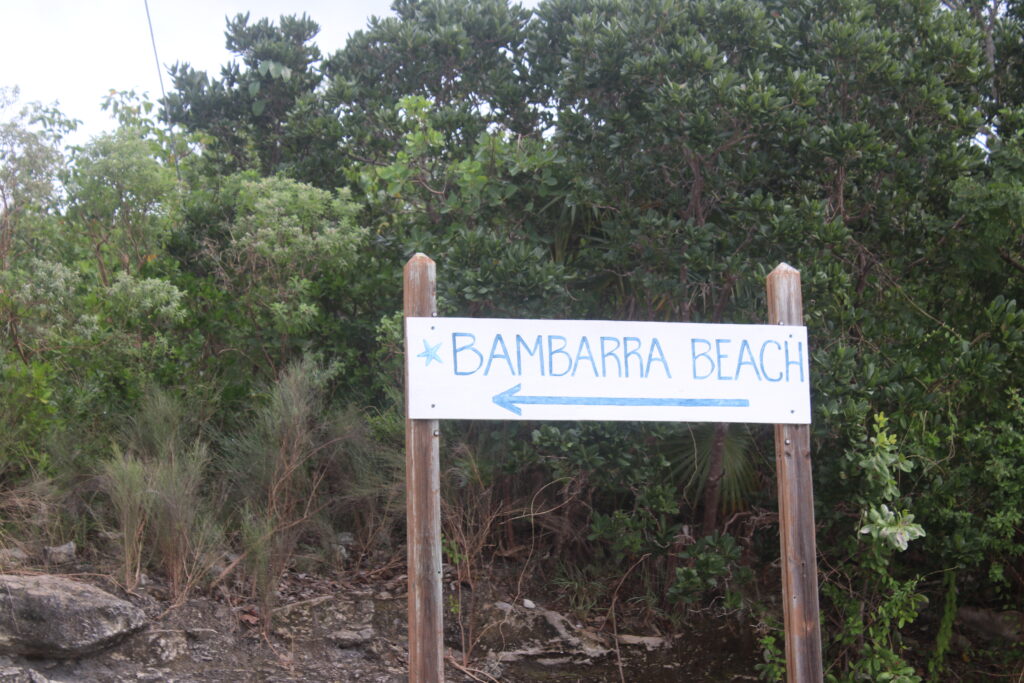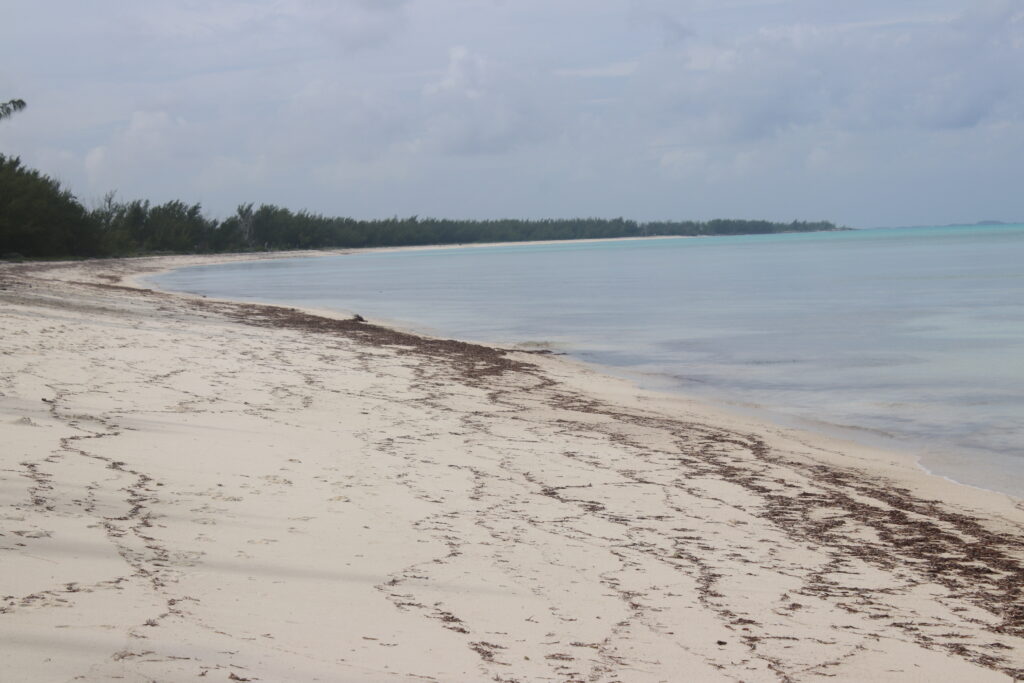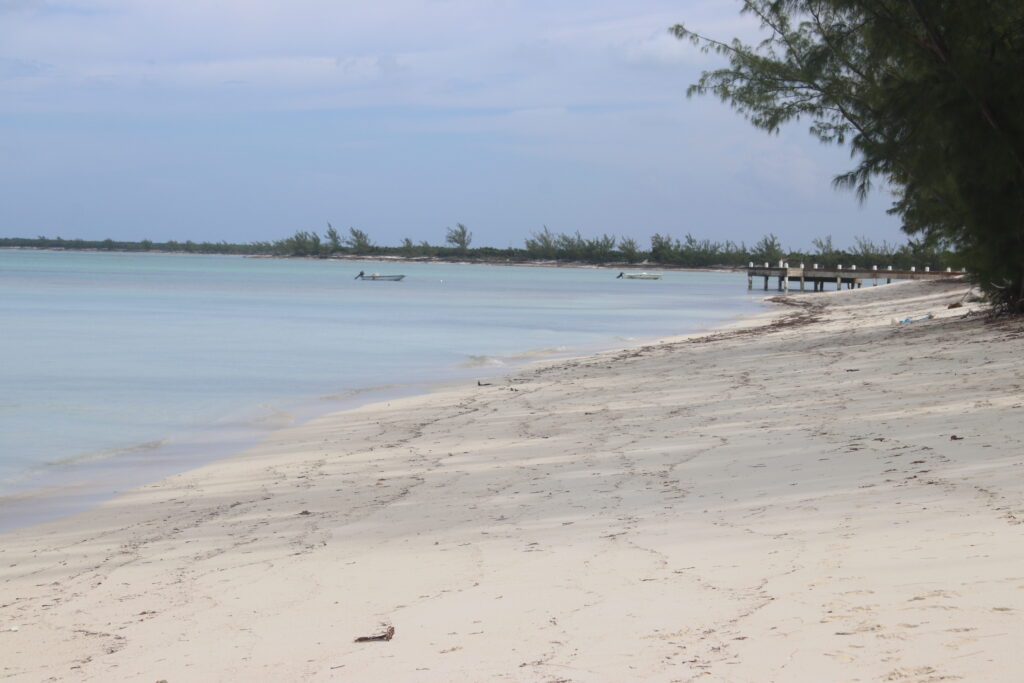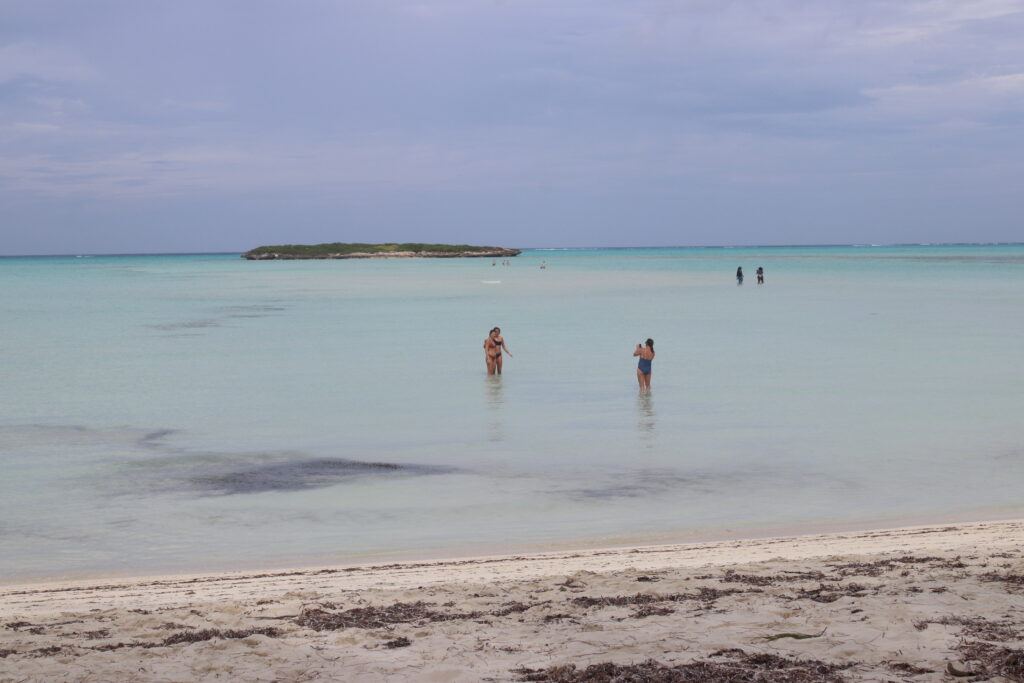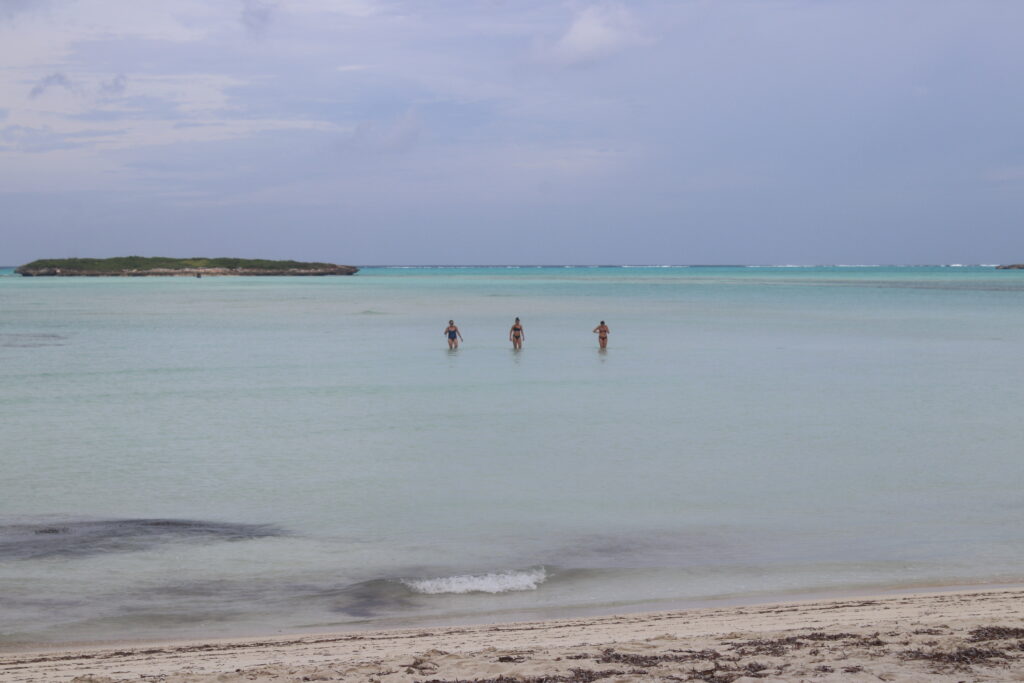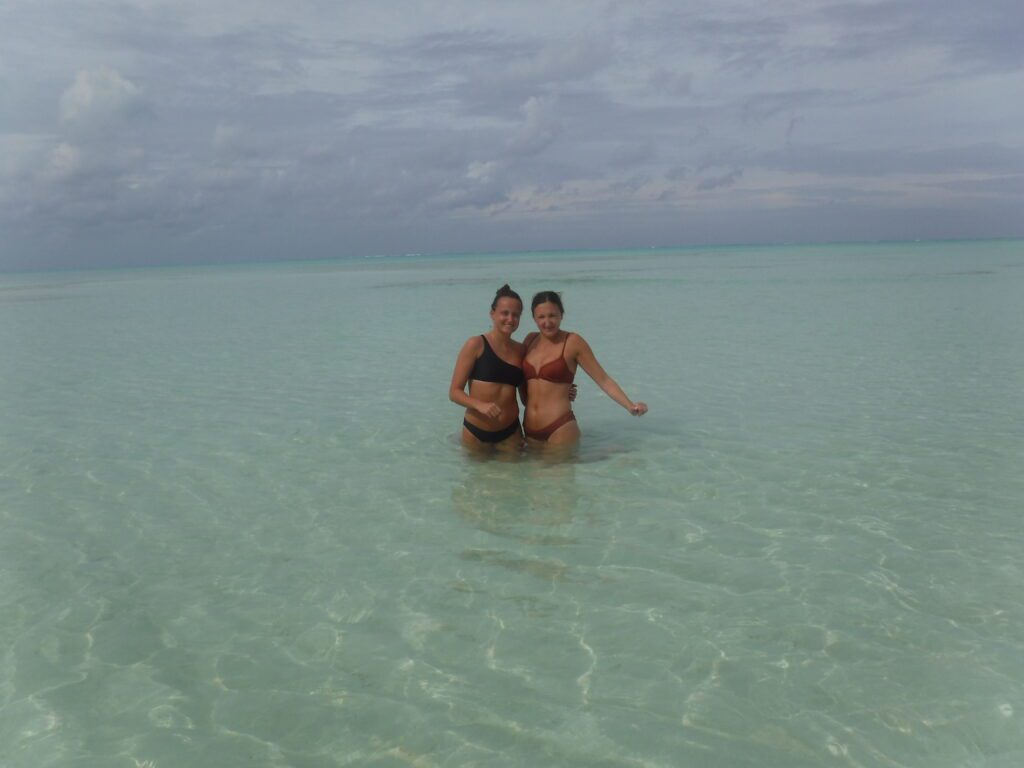 We drove to the end of the road at Lorimer's Landing. Not much to see. We tried to then find food, which proved challenging on Christmas Eve. We should have eaten at Mudjin Harbor, but we passed by it and decided to try the Last Chance Bar and Grill in North Caicos. Sadly, it was closed. It looked like a beautiful setting.
We then found almost nothing open. We drove up to the Barracuda Beach Bar. It is tiny and run down. People staying at the hotel were taking up all four tables, so we left. We never saw a waiter or anyone who appeared to be working. The Trip Advisor reviews are good, though!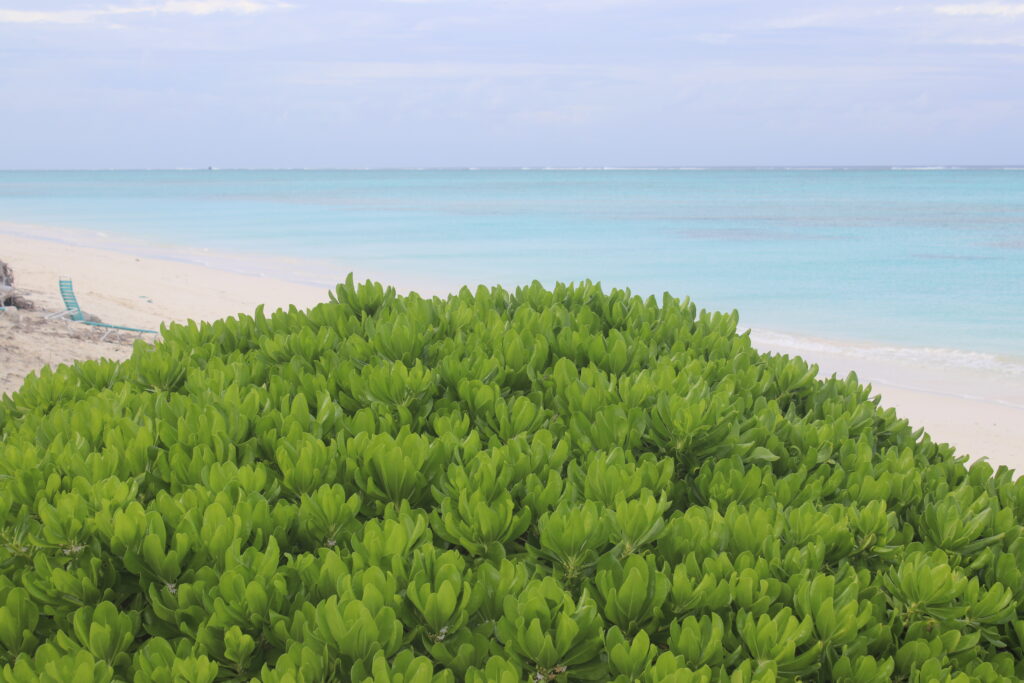 We then tried the Silver Palm restaurant. It did not appear to be open. The Trip Advisor reviews are great.
We took the 3:30 ferry back to Provo. The ferry was not full and it left 10 minutes early! So, be early! Returning our car was effortless. There is a snack bar at the ferry dock that was open, so we bought some waters and chips.
We ate at the delightful Kalooki in Grace Bay. We loved everything about this restaurant! It was delicious especially the tofu and the tuna tartare.
Day 6 – Kayaking in the Mangroves
Christmas morning had us up early! We drove, again, to the Leeward side of the island and Big Blue Collective. Big Blue Collective does many, many trips around the islands. Their reviews are fantastic, and we were thrilled with our morning.
Today's adventure was a three-hour Kayak Eco-Tour, kayaking through the mangroves and a visit to Iguana Cay. We were a group of nine – our family, another family of four and Nik, our BBC guide. Nik gave us a safety briefing and off we went.
First we had to leave the marina and cross a busy channel to get to the mangroves. It was not difficult to cross. The girls were in one kayak and Jim and Michele were in the second.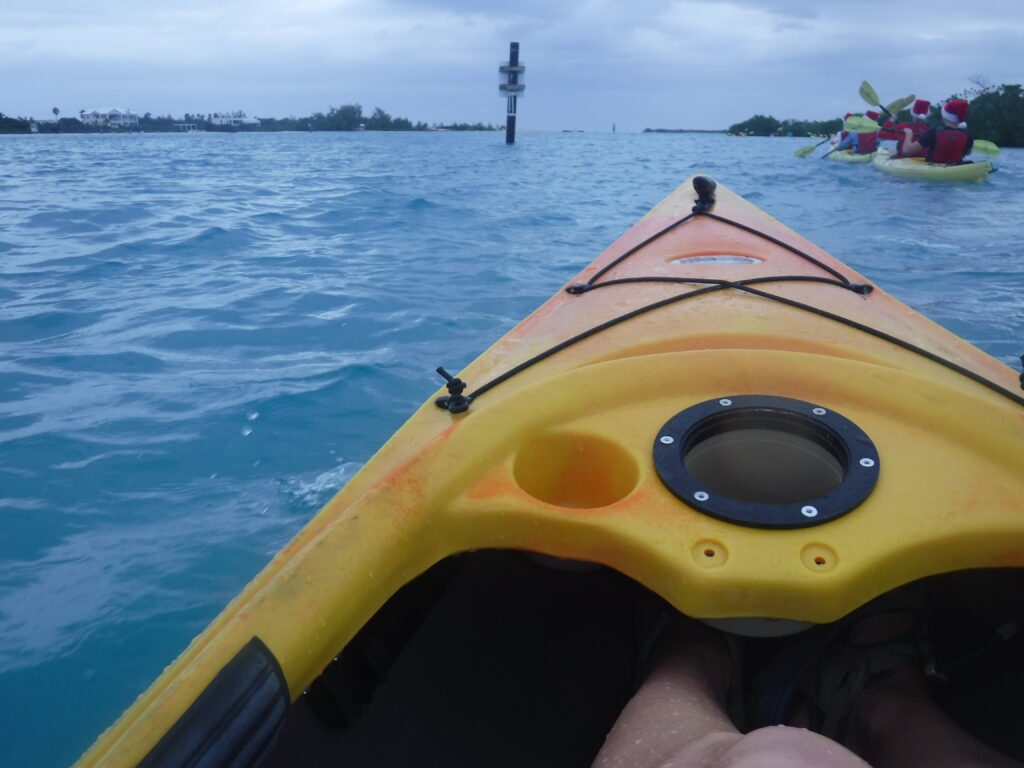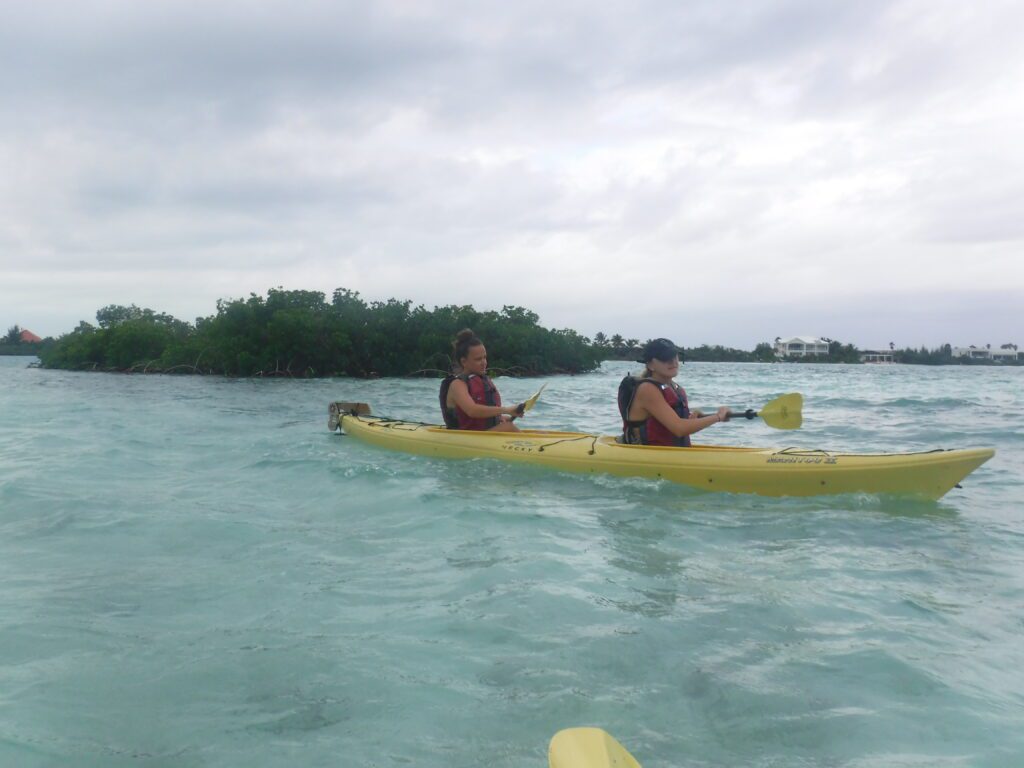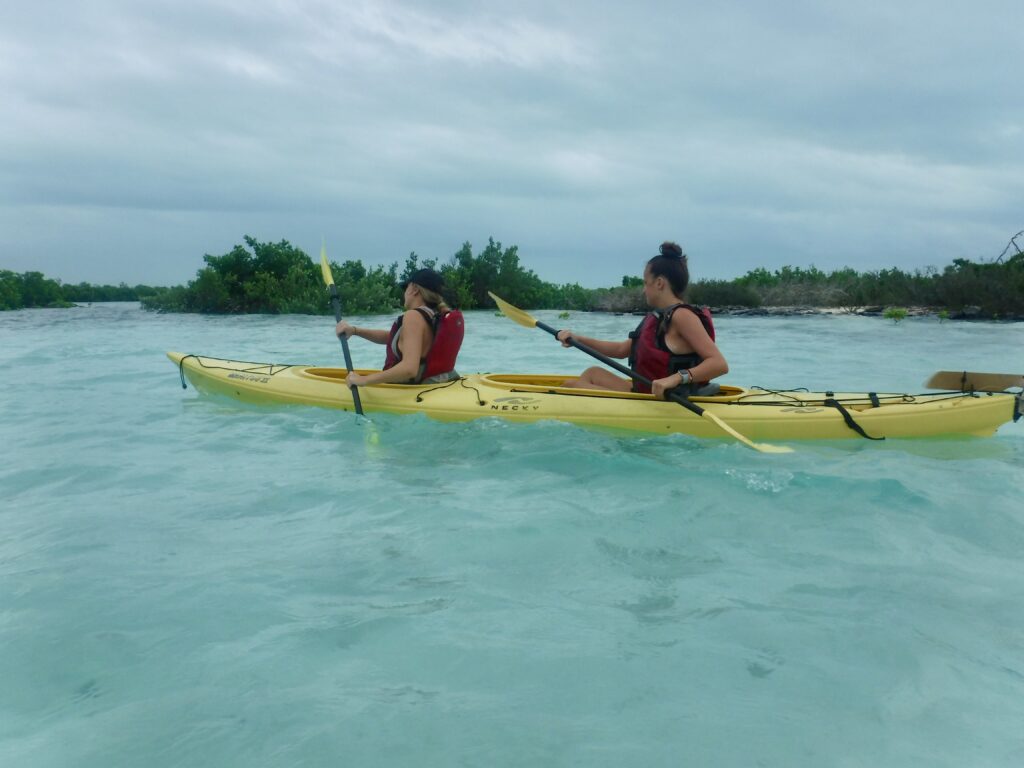 Nik was a wonderful guide. The kayaks, paddles and life jackets were all in good shape. We learned about flora, fauna, hurricanes and tides. The water is so clear that you can see fish, turtles and baby sharks.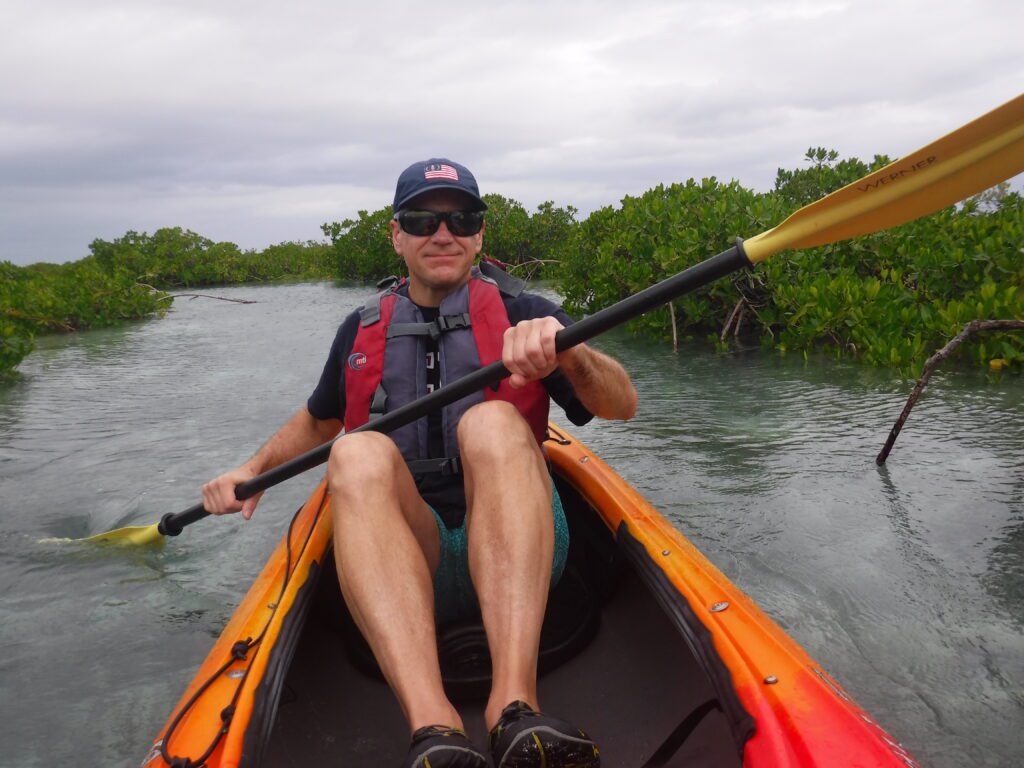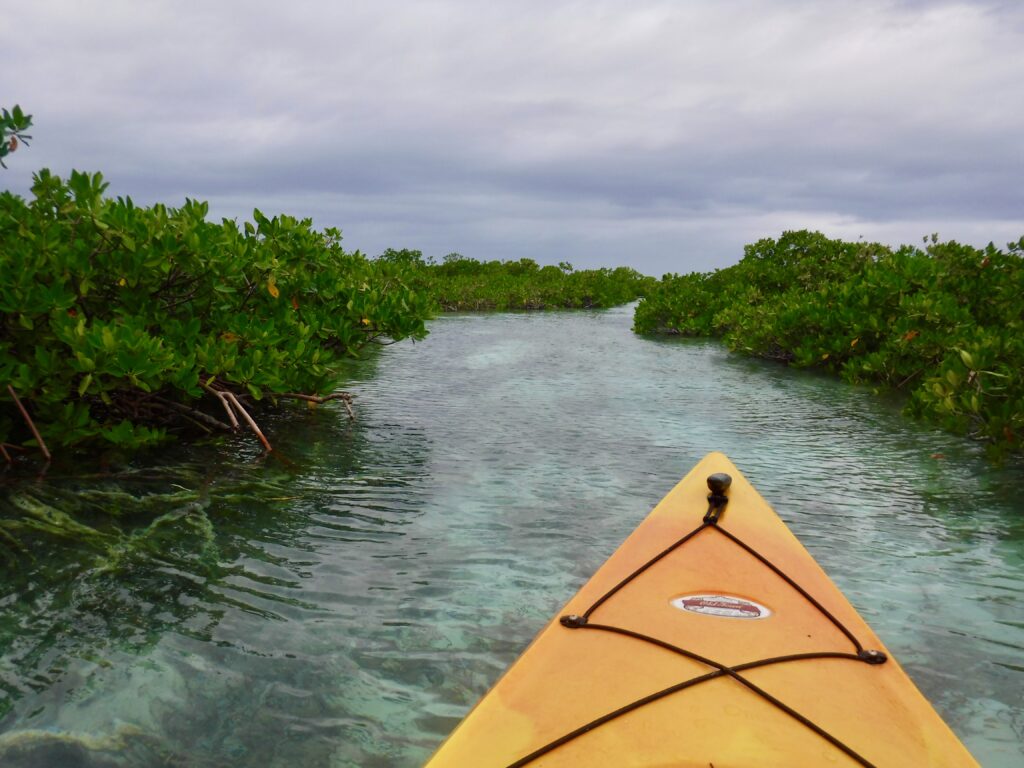 There were other guided tours on paddle boards and kayaks in the mangroves. Only a few times did it feel "crowded." Mostly, we were alone with the other family and our guide. We spotted a family of six kayaking alone. They seemed to be having fun, but our guide spotted way more wild life. They asked us how to find the turtles. Go with a guide – you will learn more! While in the mangroves, an employee of BBC brought us all cold water in hydroflasks. We were thrilled that they did not use plastic!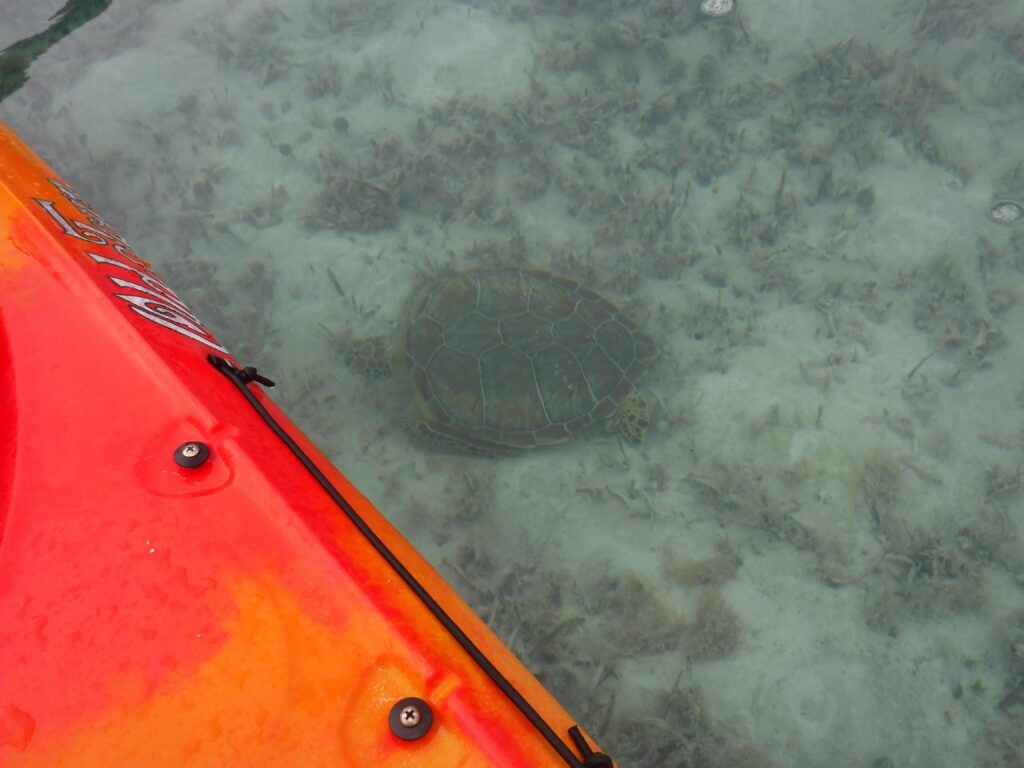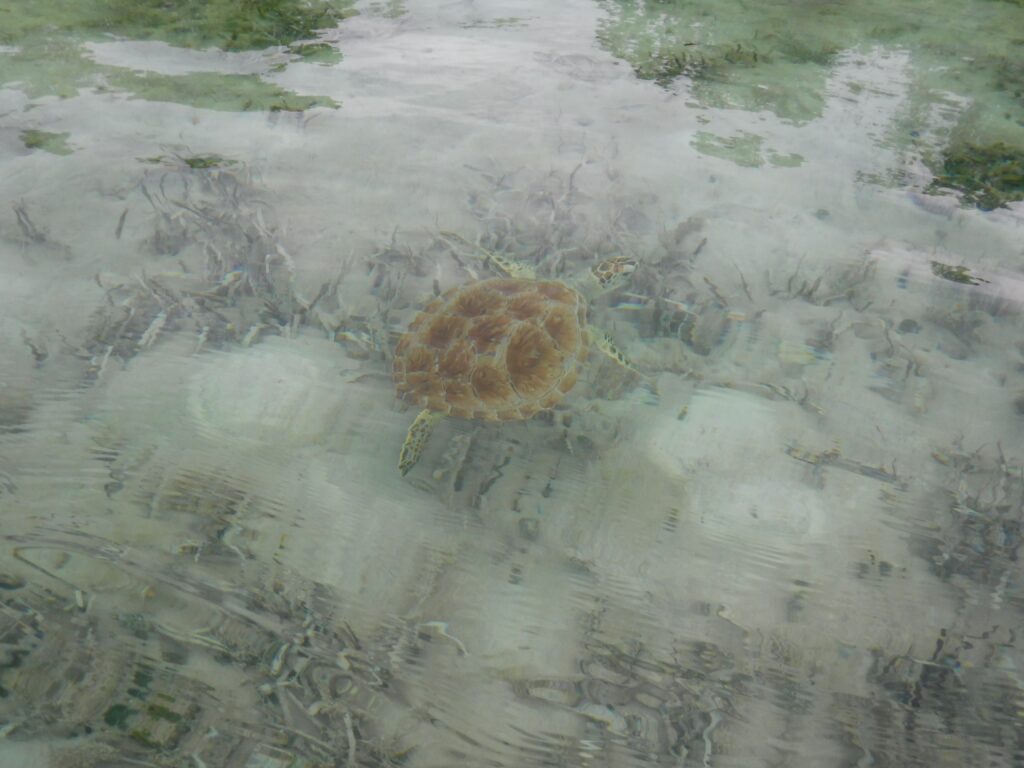 We crossed to a small cay which took about 10 minutes in the wind. Once we were all together at the small cay, Nik had us cross to Iguana Island also know as Little Water Cay. The island is home to the Turks and Caicos Rock Iguanas (Cyclura carinata), which are basically big lizards.
Upon completing our crossing, Nik offered us a great snack of cantaloupe, strawberries, pineapple, brownies and muffins. It was a perfect snack! We had our hydroflasks with water. Nik told us about the iguanas and the conservation efforts. We walked around the island. It was delightful.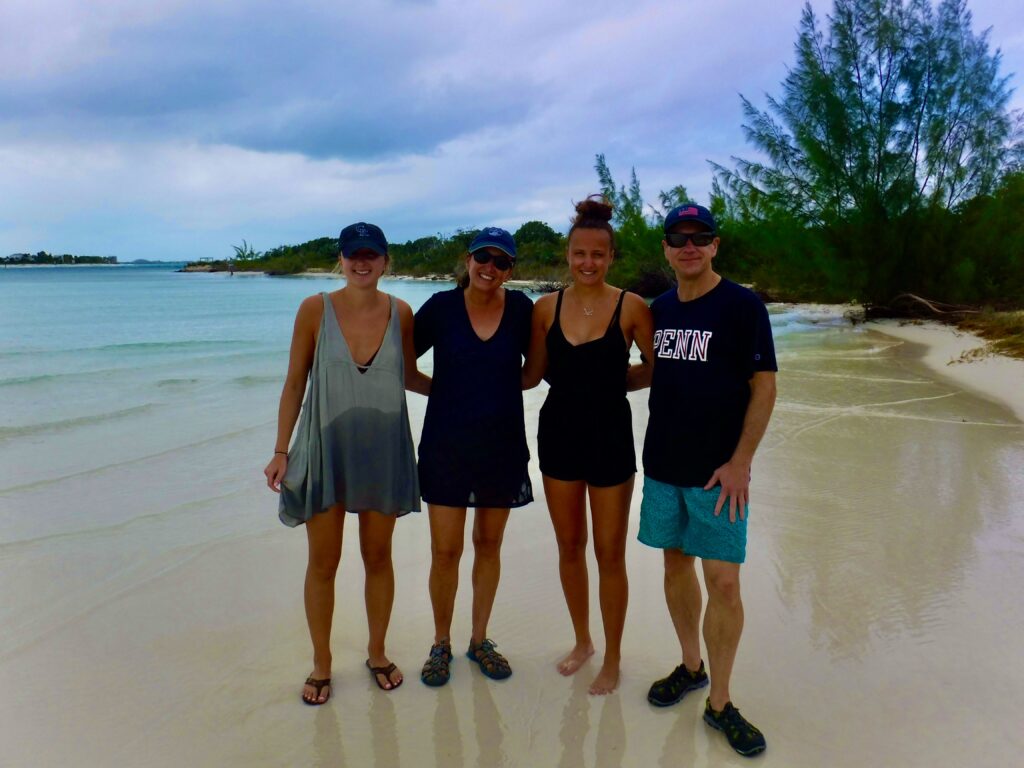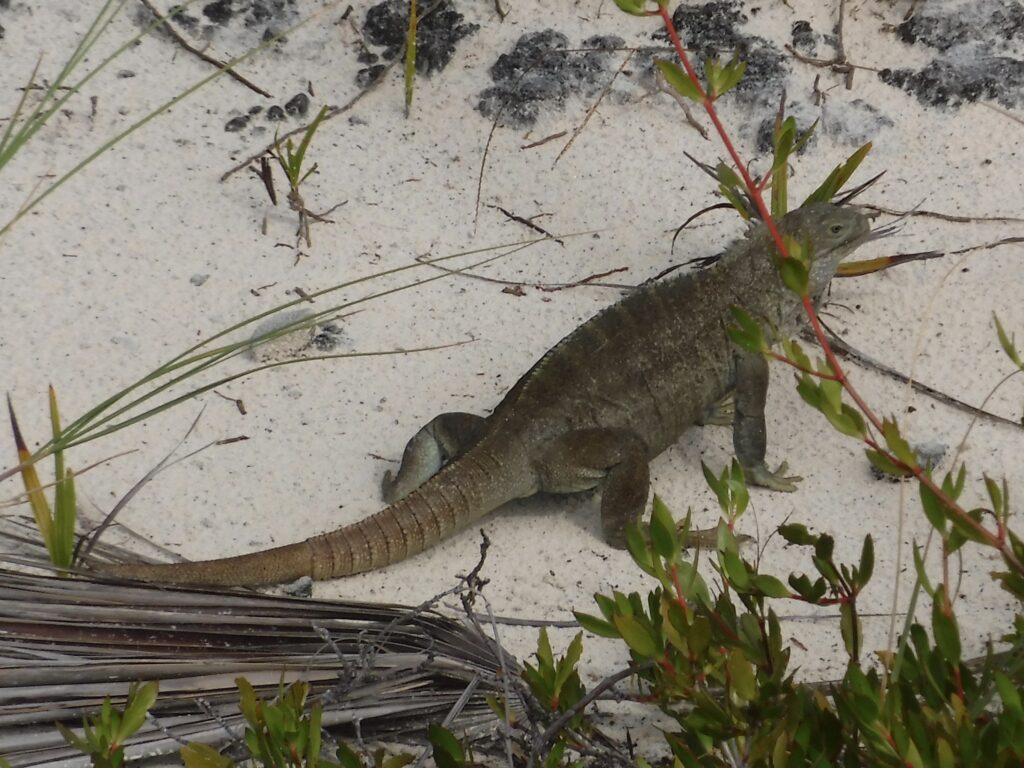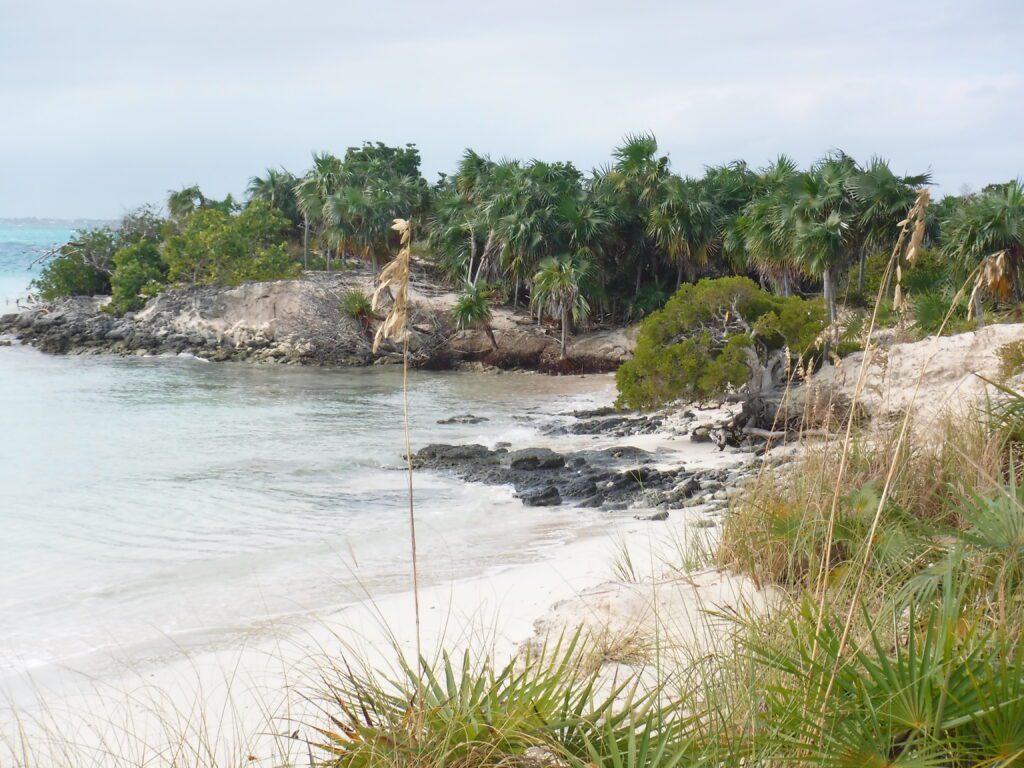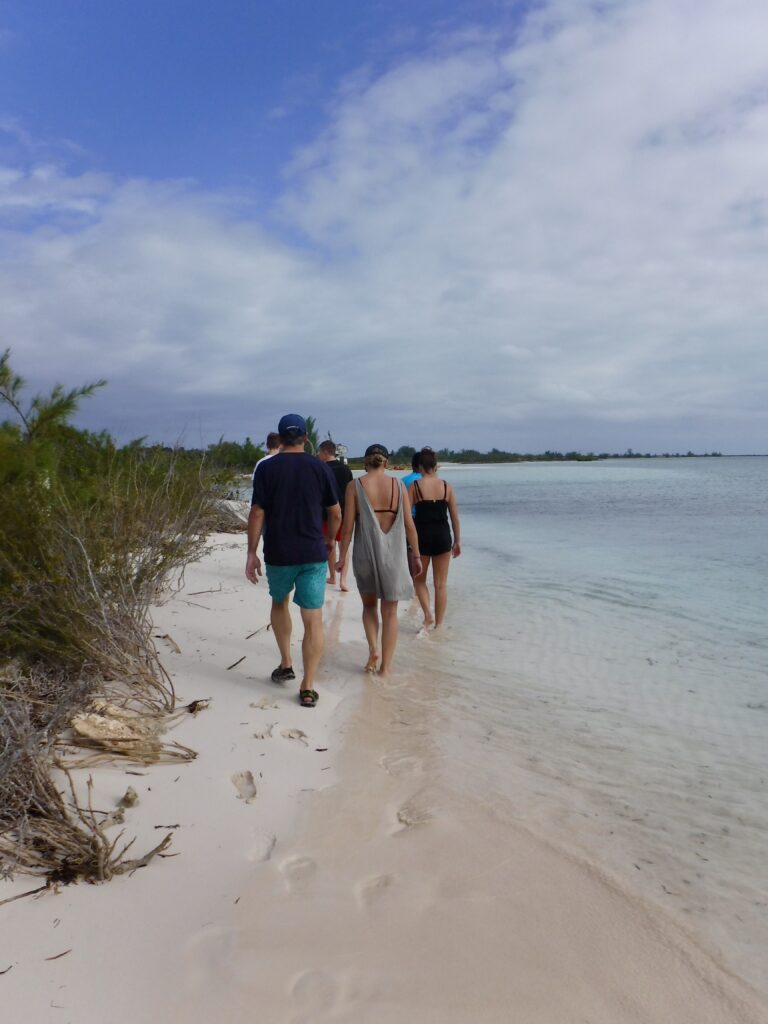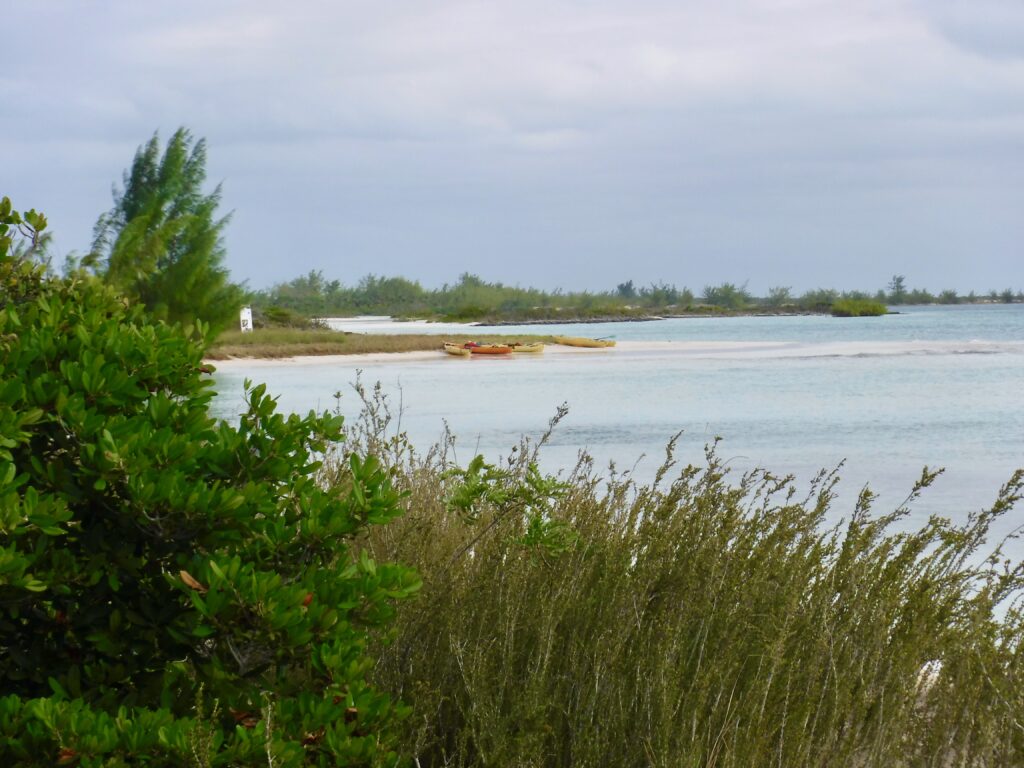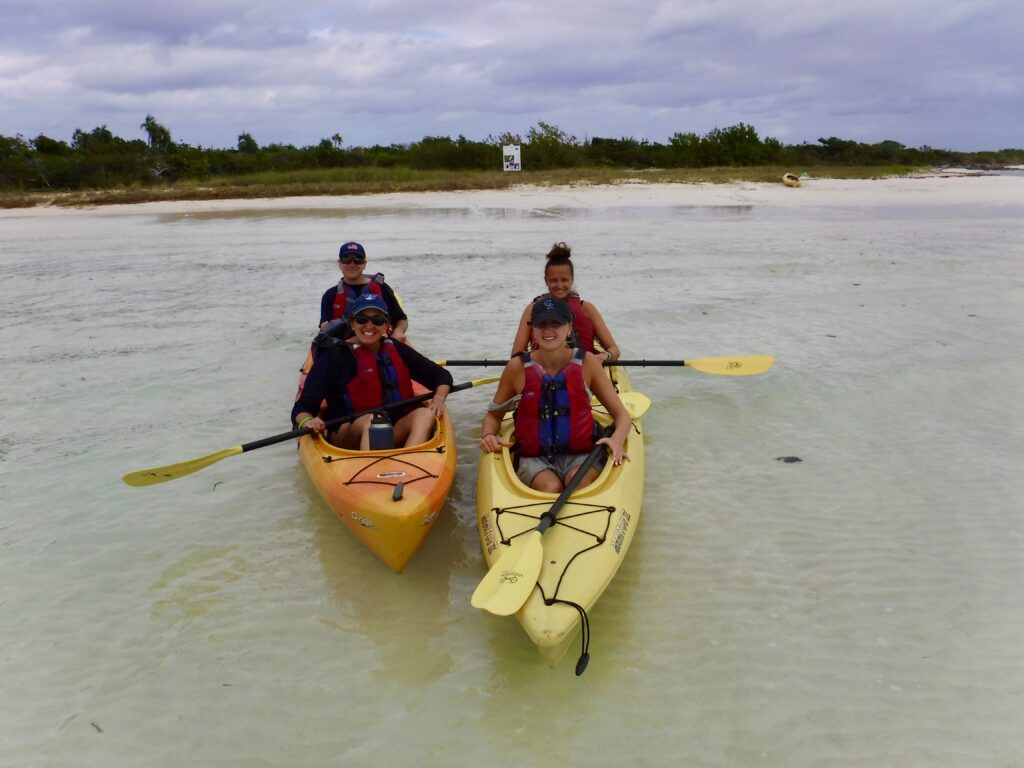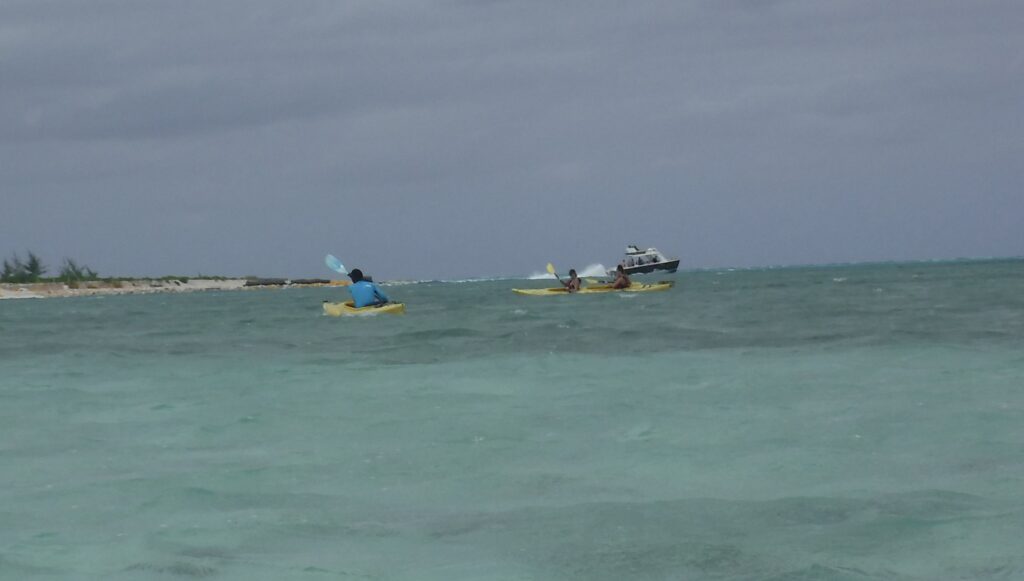 We crossed back to the mangroves. Almost immediately we spotted a baby Lemon shark. My photo is not great. We crossed the channel back to the harbor. The tour took three hours, and we highly recommend doing this adventure. Big Blue Collective was a great company.
Lunch had us stopping at Skull Rock. Jim was not hungry, so the girls and I ordered two taco salads and one fajita salad. They were ok. My salad was VERY overdressed. The service was painfully slow. And, this place was pricey – we spent $90 for a water and three salads.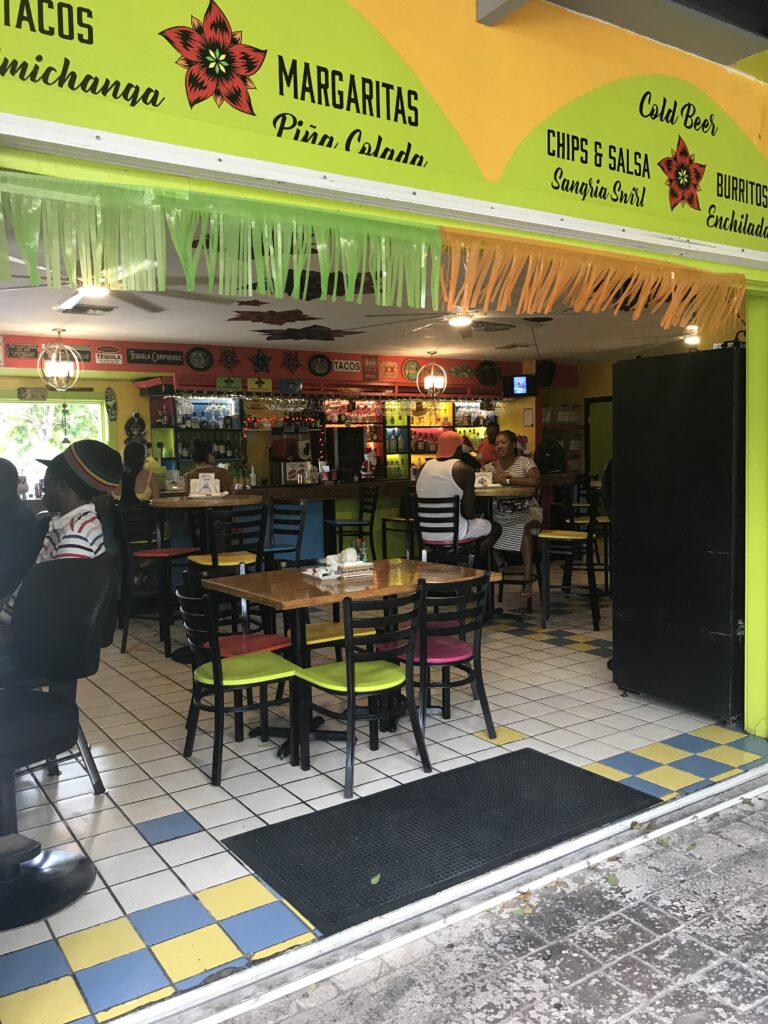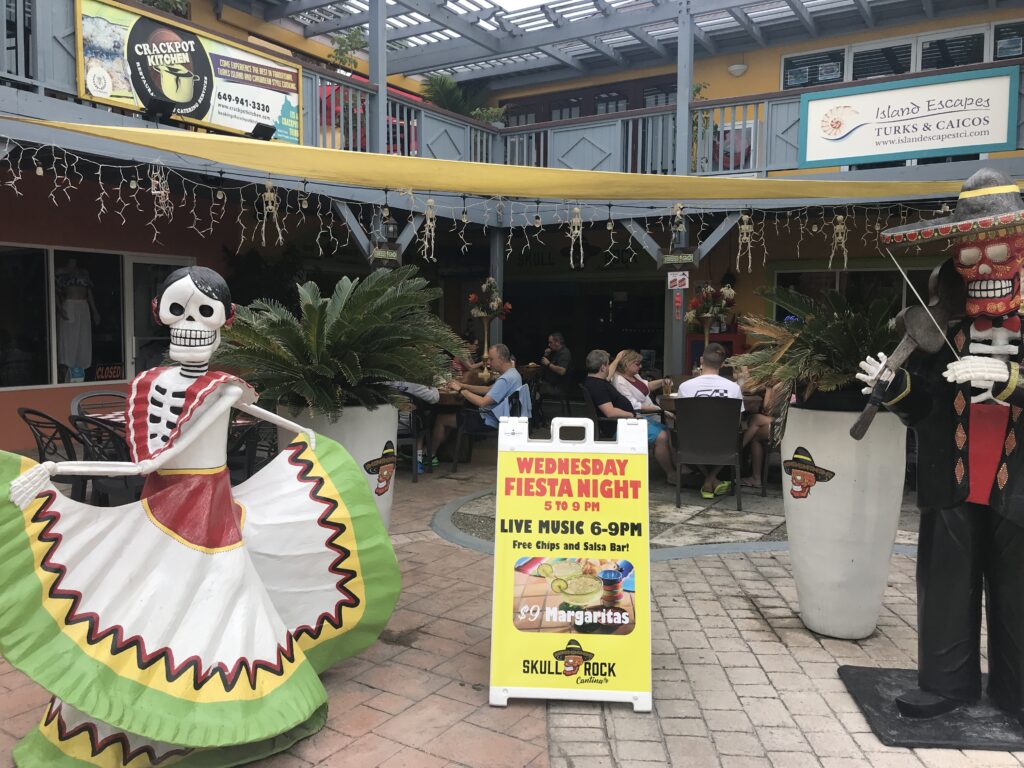 For dinner on Christmas, we headed to Bella Luna. The upstairs restaurant will take a reservation, but the downstairs pizzeria will not. Make a reservation if you plan to eat at the fancier, pretty spot upstairs. We walked in about 7pm and were told to expect a 15 minute wait. So, we sat at the bar and ordered drinks.
We LOVED Bella Luna. They had gluten free pizza crust, yummy salad and breads. The setting of the pizzeria was divine. We highly recommend a visit here. Our dinner cost $130.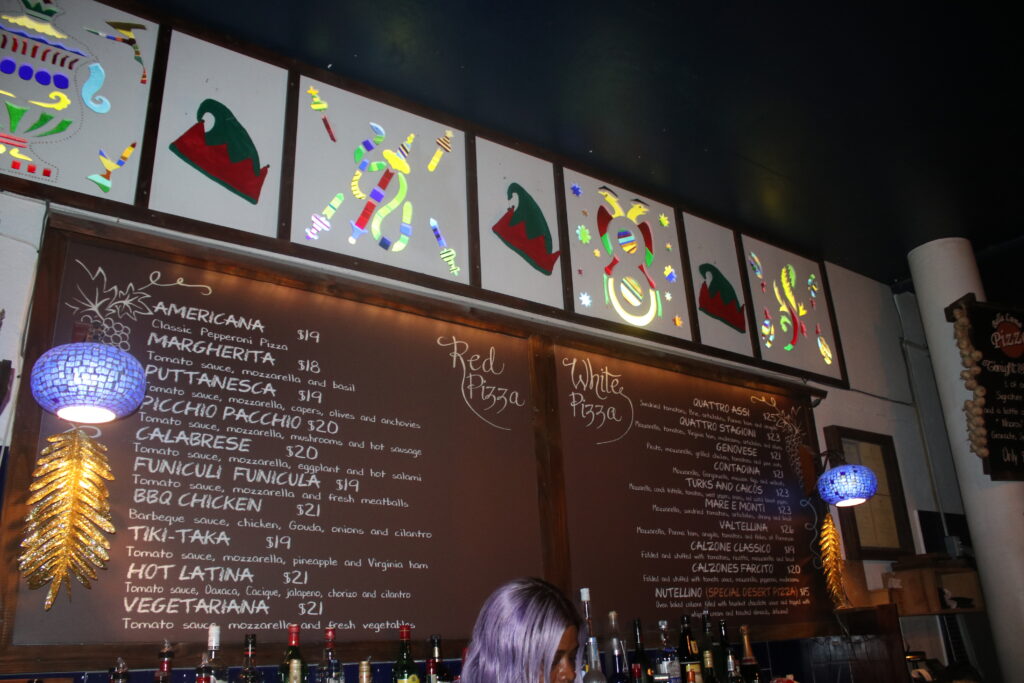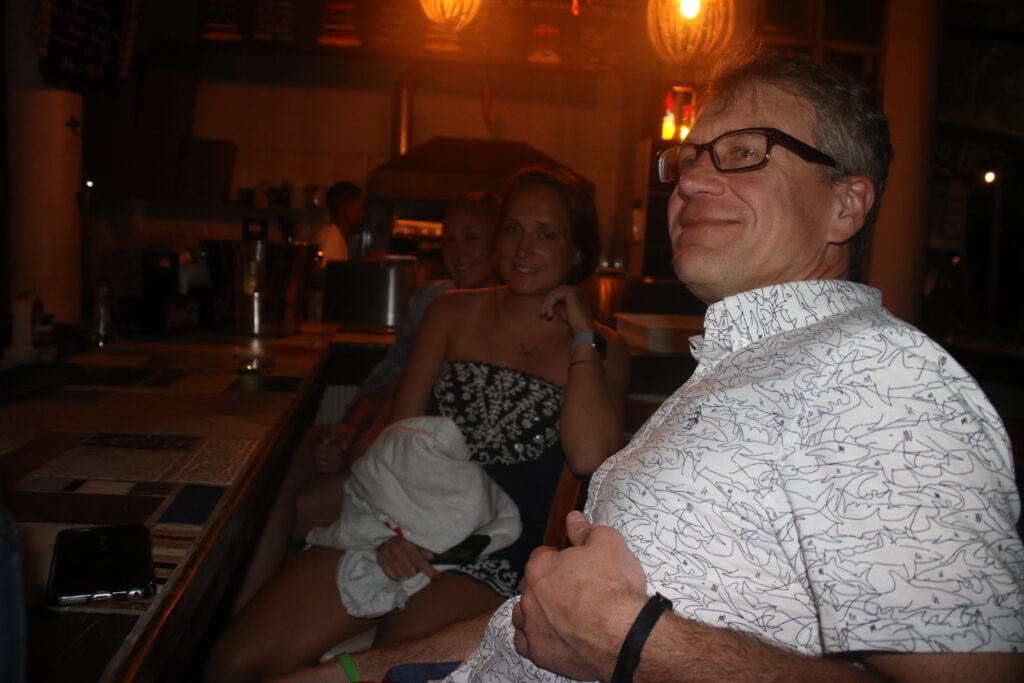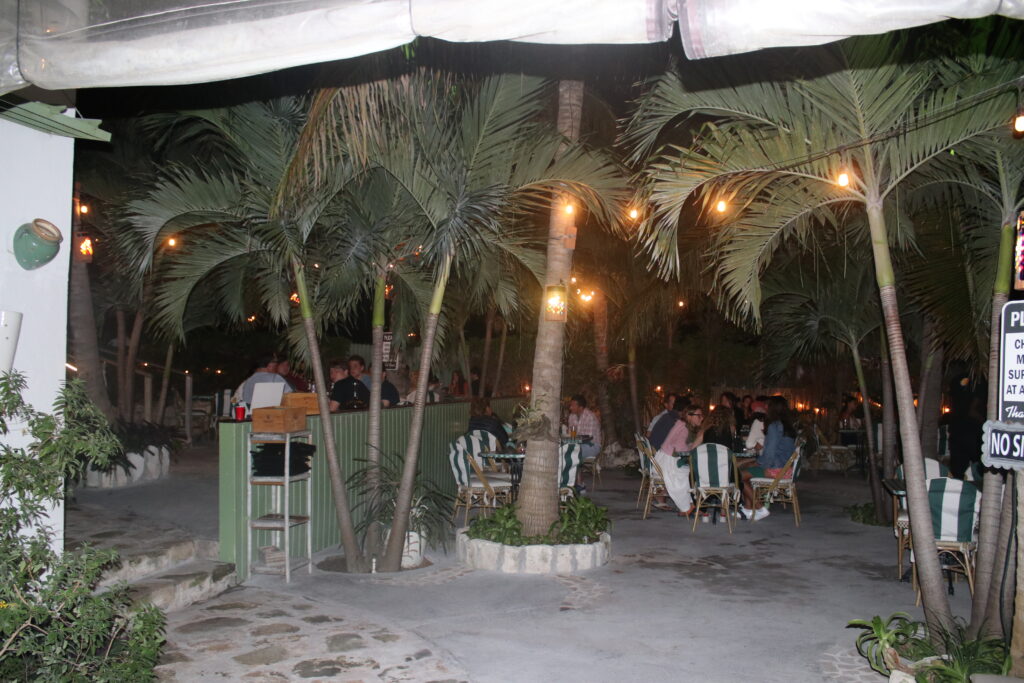 Day 7 – Chalk Sound and Las Brisas
After working out, we enjoyed a morning on our beach. Kendall asked for a massage for her Christmas gift. Spatropique has a treatment room in the fitness center at the Ocean Club. The owner was pleasant to work with, and Kendall enjoyed the treatment.
We decided to head to Las Brisas which sits on Chalk Sound. Chalk Sound is a highly scenic natural lagoon on the southwest of Providenciales. This national park features shallow and brilliant turquoise water with hundreds of small rocky islands. Chalk sounds looks like a great place to kayak. I've read finding a place to launch can be difficult. Pontoon boat tours are offered at the restaurant, and they looked fun.
The restaurant and the sound are gorgeous. Lunch was four salads and bottle of water. We all enjoyed our food. Our bill totaled $93.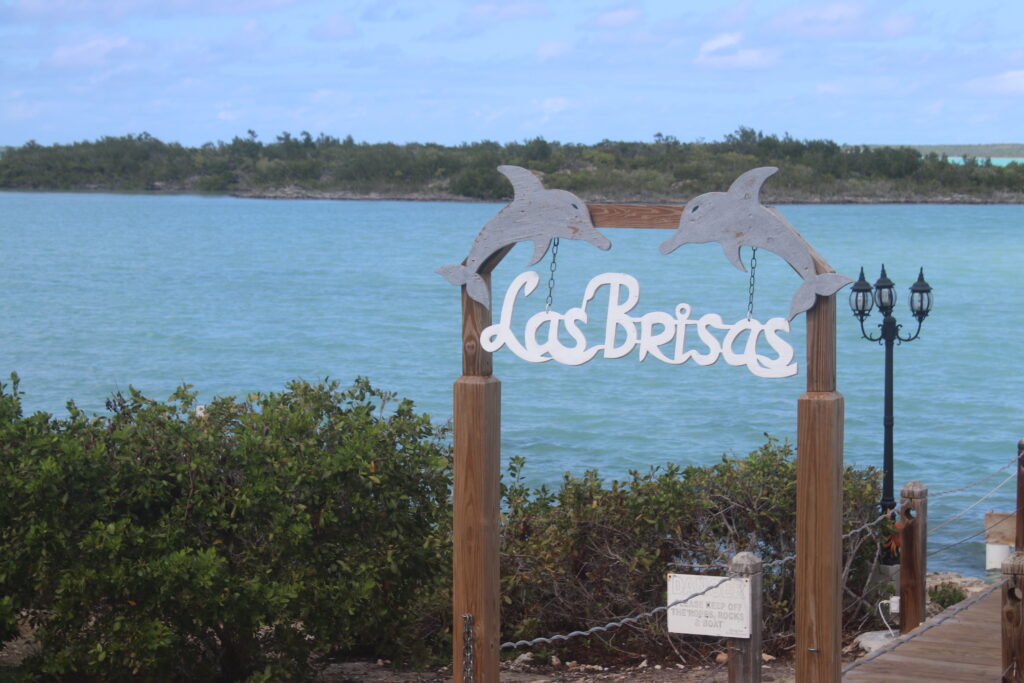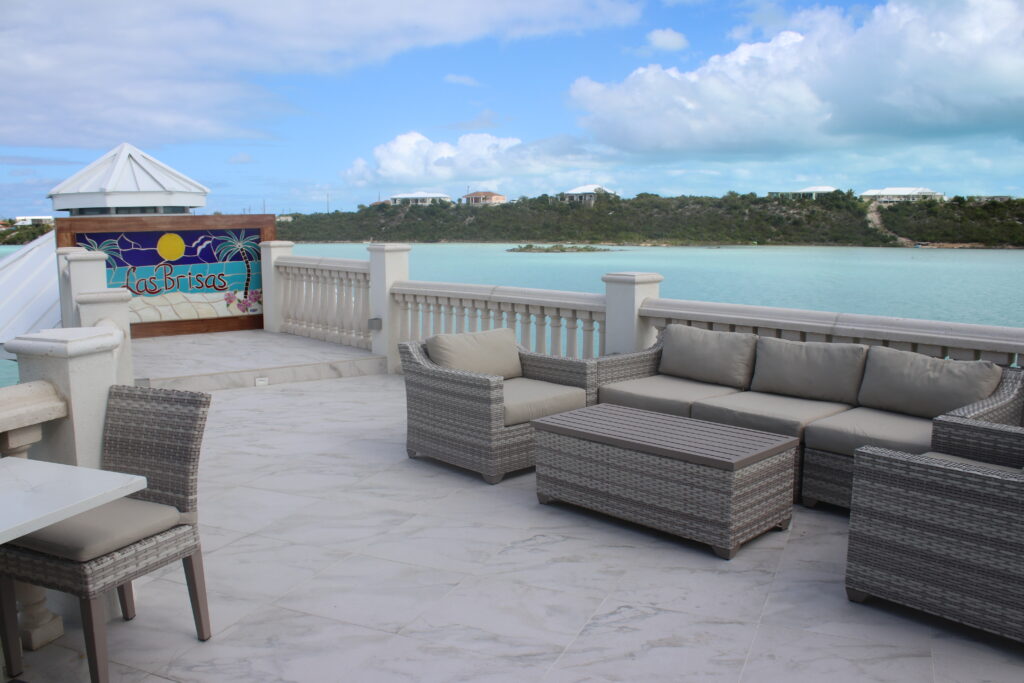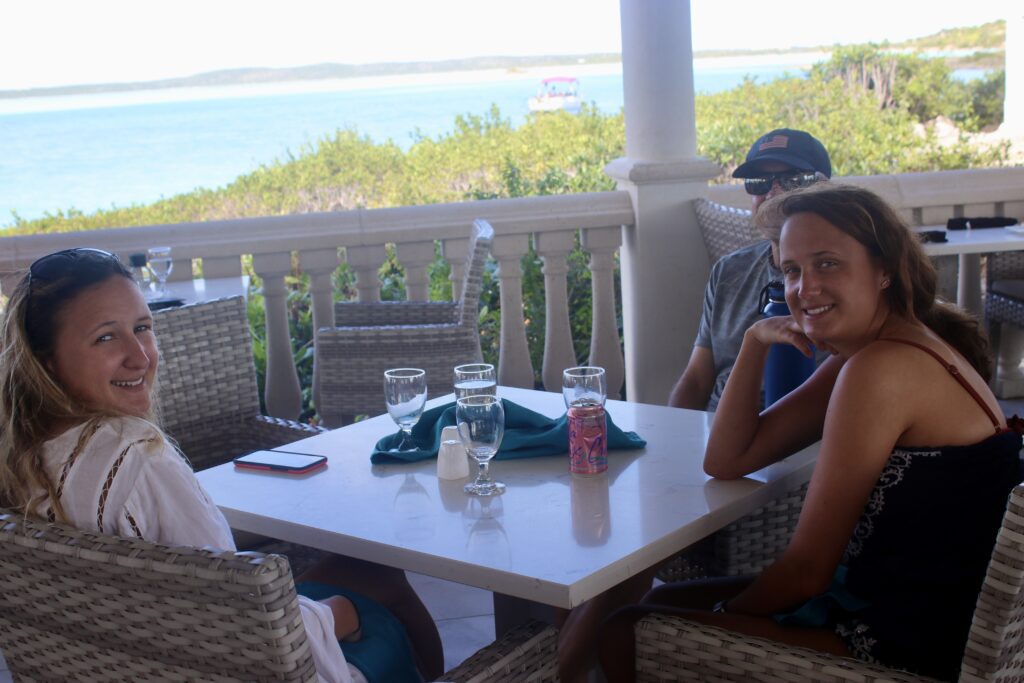 Following lunch, we walked down the beach to Sapodilla Bay beach. It was calm, but there was a lot of activity there – jet skiers, volleyball, vendors. Too busy for my taste.
We drove all the way up Chalk Sound Road until it ended. Lots of homes in various state of construction. We stopped at a few lots and took photos of the sound. It is gorgeous.
After stopping for more water at the IGA, we hit our beach again. We enjoyed drinks at the Ocean Club's Cabana Bar.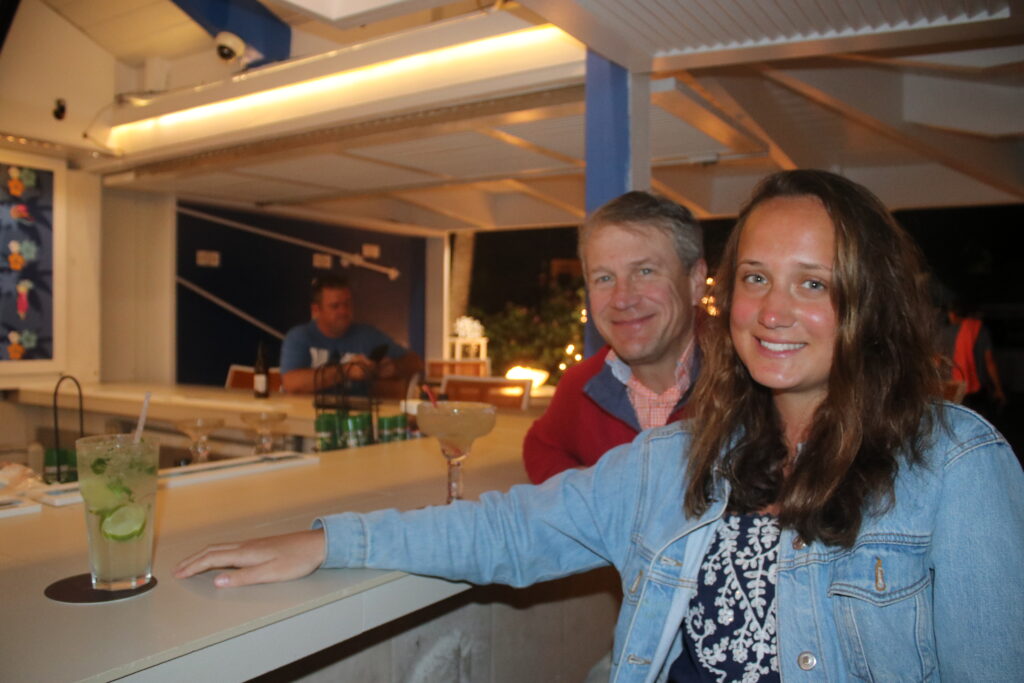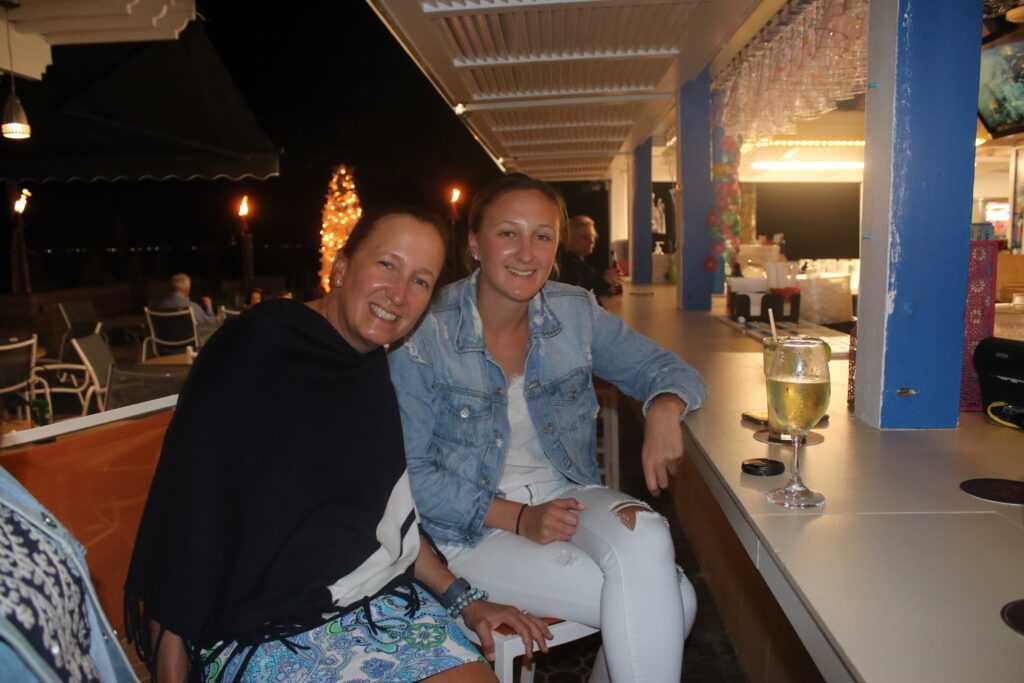 We walked over to the Ocean Club's on-site restaurant, Opus, for dinner. It was fine. Nothing special. Dinner cost $291 – very expensive. We all had one more drink, a bottle of water, three entrees and Jim had four side dishes. Pricey! We ate outdoors in the courtyard.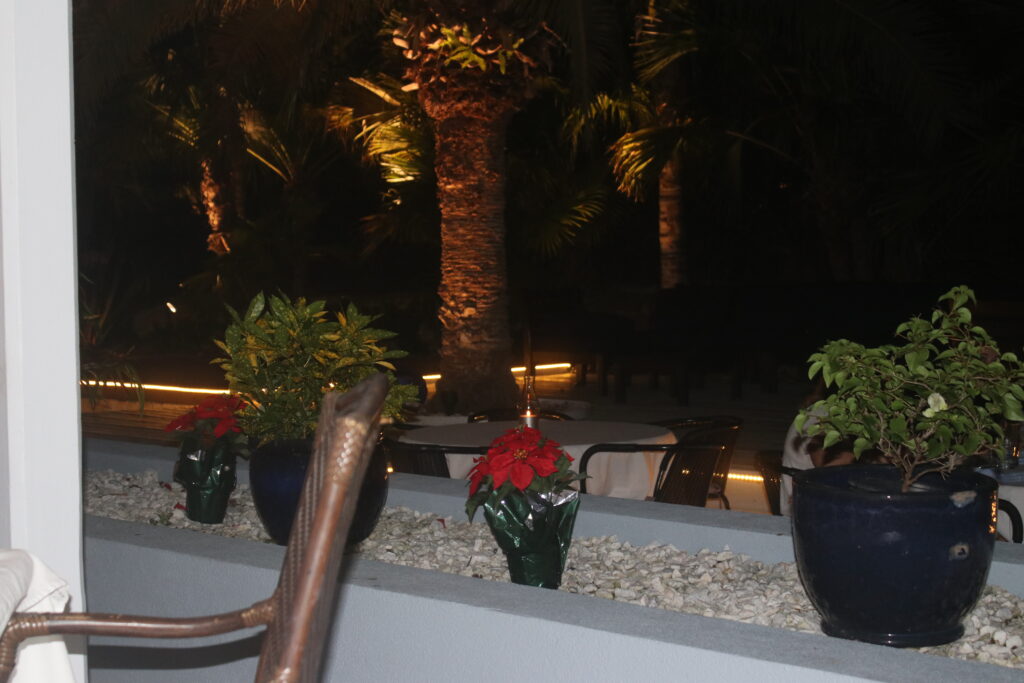 Day 8 – Captain Jack Saves the Day
We made plans, well in advance to do The Edge of the Banks tour with Big Blue Collective. They only take 10 people maximum on an all-day snorkel adventure. The Trip Advisor reviews were beyond fantastic. We really enjoyed our kayak adventure with BBC. For the entire family, this was the tour we were most excited about. The cost was $275/person – with tax I prepaid $1232.
I received a call from BBC at 5pm on Thursday night. Our tour was cancelled on Friday due to a mechanical problem with the boat. To say we were disappointed was an understatement. They promptly refunded my money.
I began to scramble to find a Friday activity for us. Kayaking on Chalk Sound? Finding another all day tour that goes on Friday and had space? I hate booze cruises! After much scrambling, we found Captain Jack from Grace Bay Adventures. He could take us out from 1:30-5:30 on Friday for $1100. The cost included a boat for the four of us, a customized itinerary, snorkel gear (we only needed fins), rum punch, water, beer and sandwiches.
We spent the morning at the hotel disappointed that we could not do a full day trip. We drove to Turtle Cove, met Jack and his mate Deon, and things started to change. Their infectious energy and enthusiasm set us on a great path. My TripAdvisor review can be found here.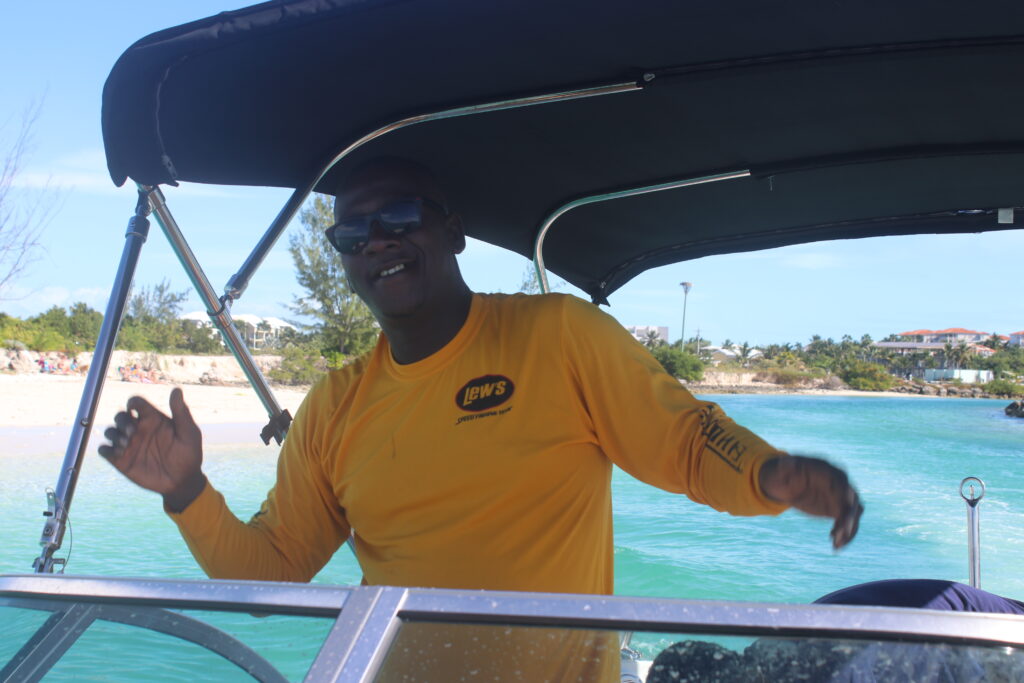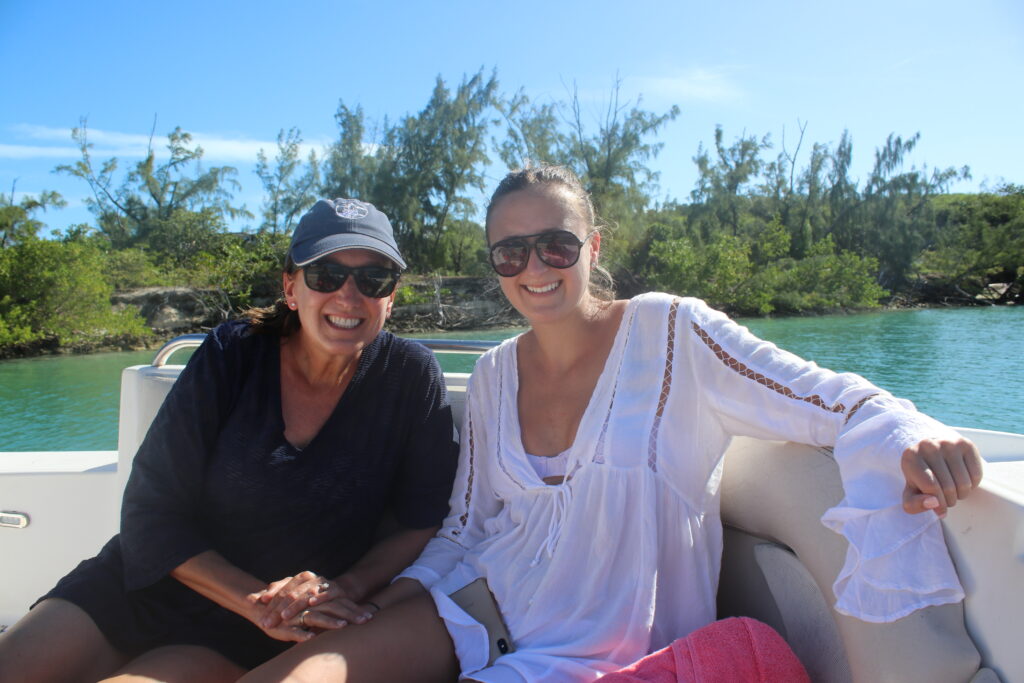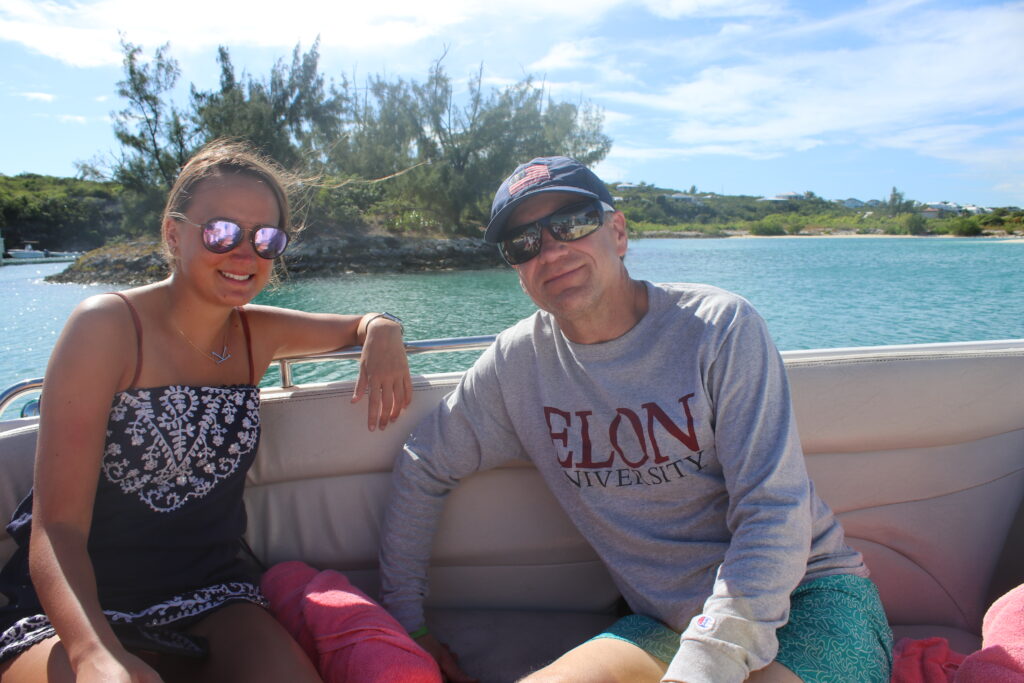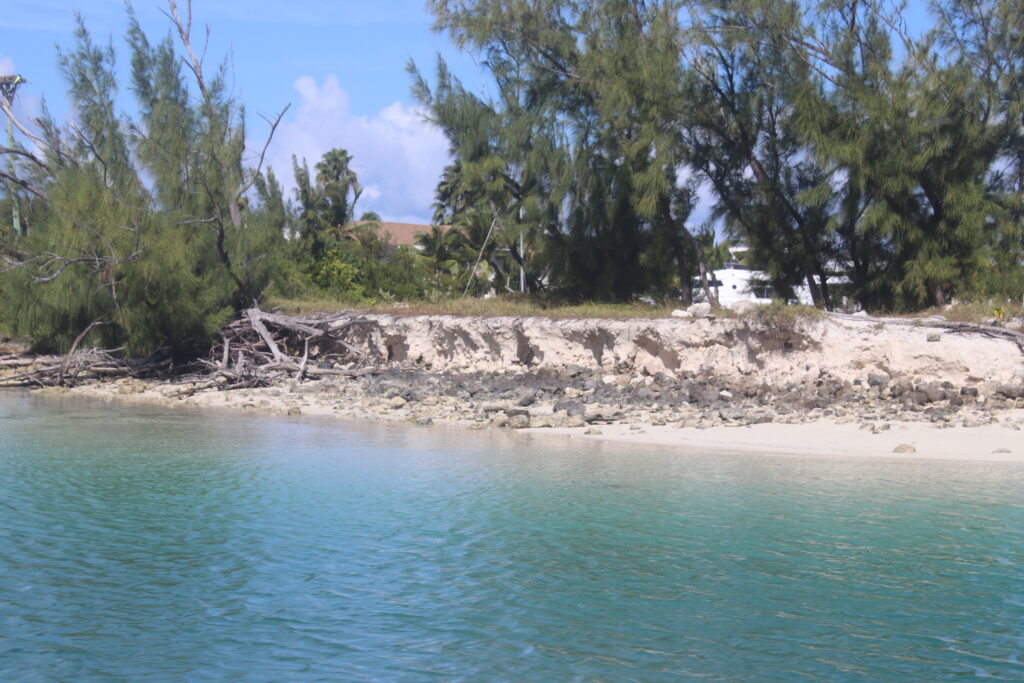 Within 10 minutes of leaving the dock, we encountered two adult dolphins and one baby dolphin. We put on our snorkel gear and jumped in. It was amazing to swim that close to wild dolphins. Amazing. Deon took photos of us. It was a highlight of our week in Grace Bay.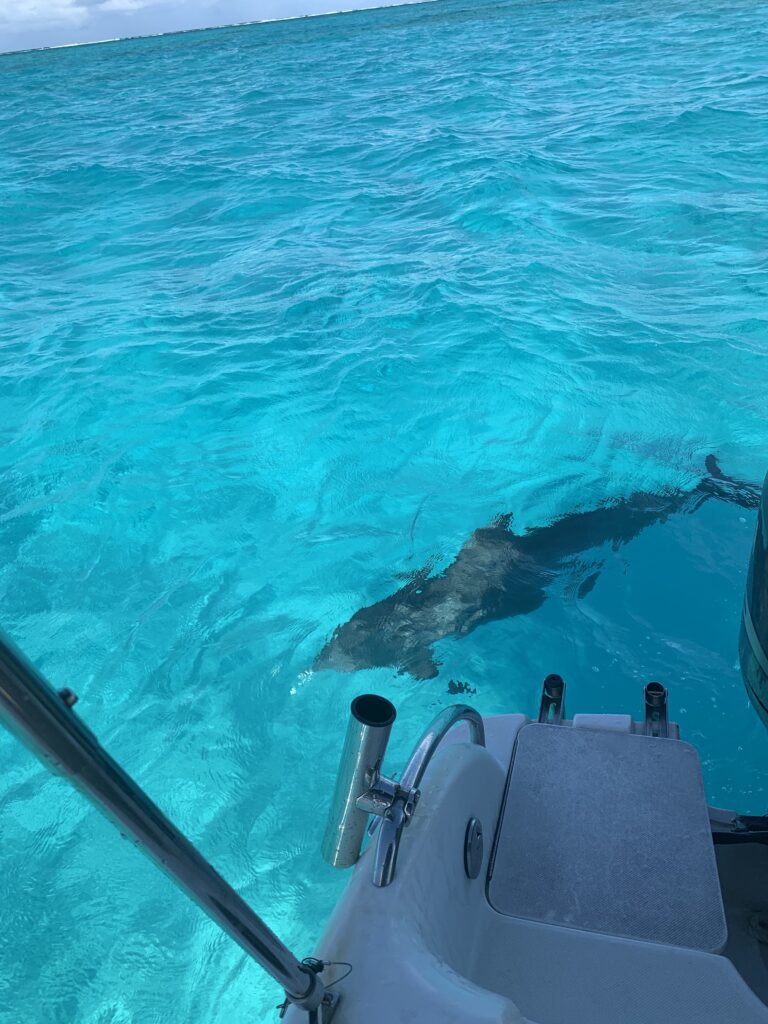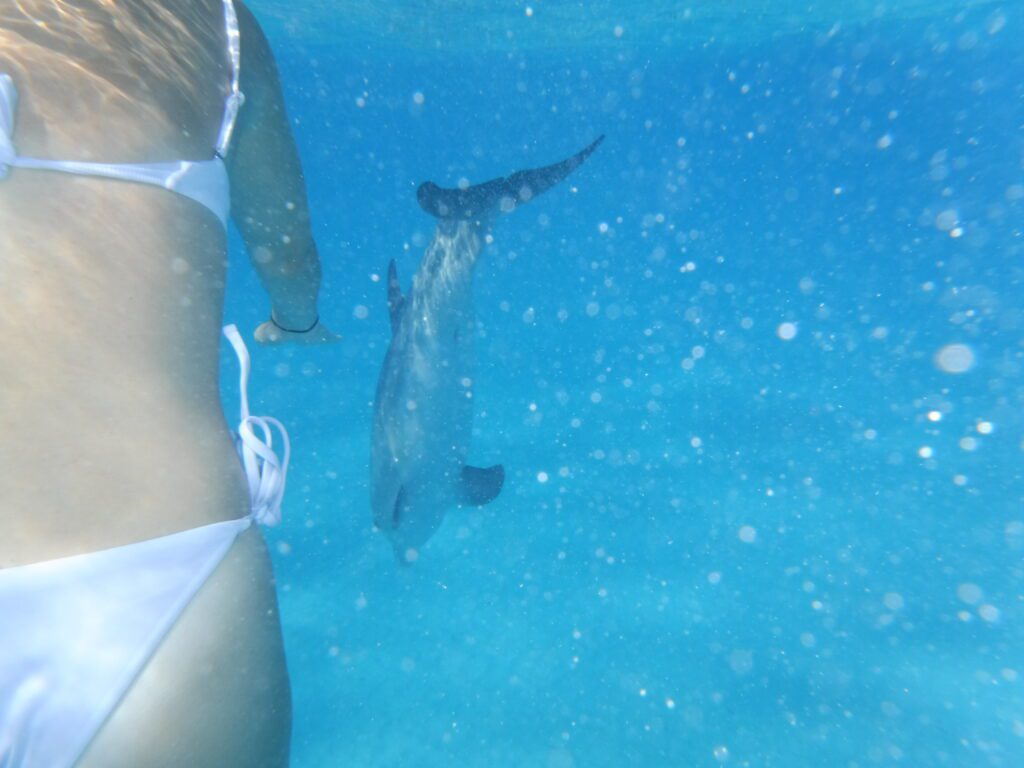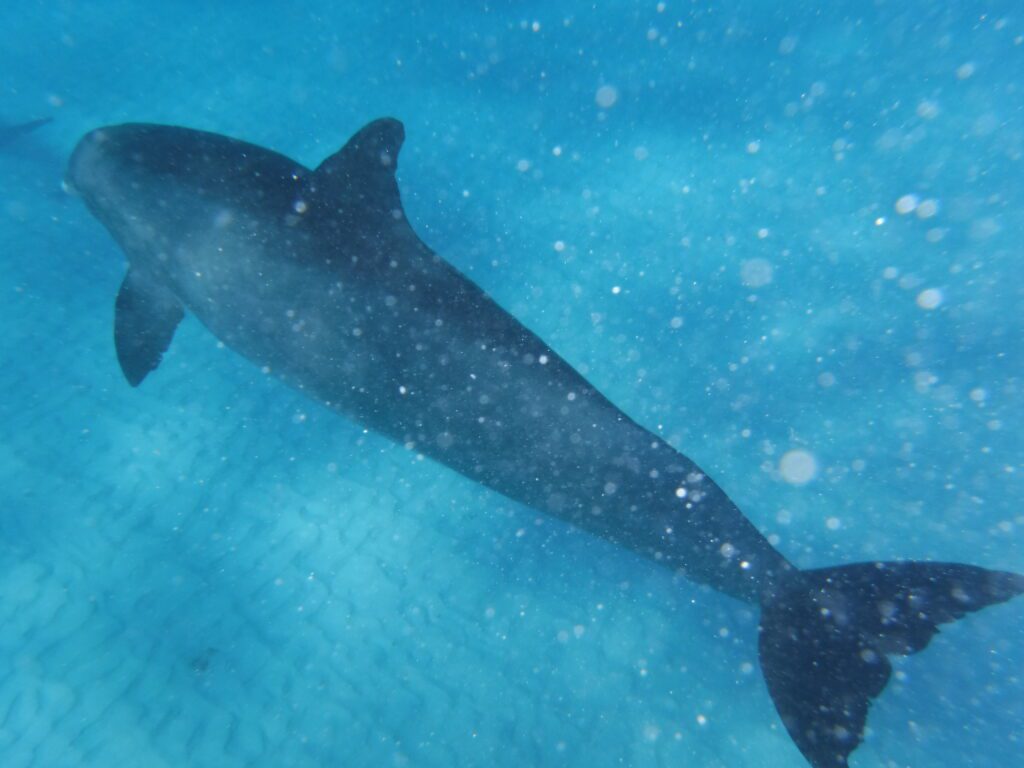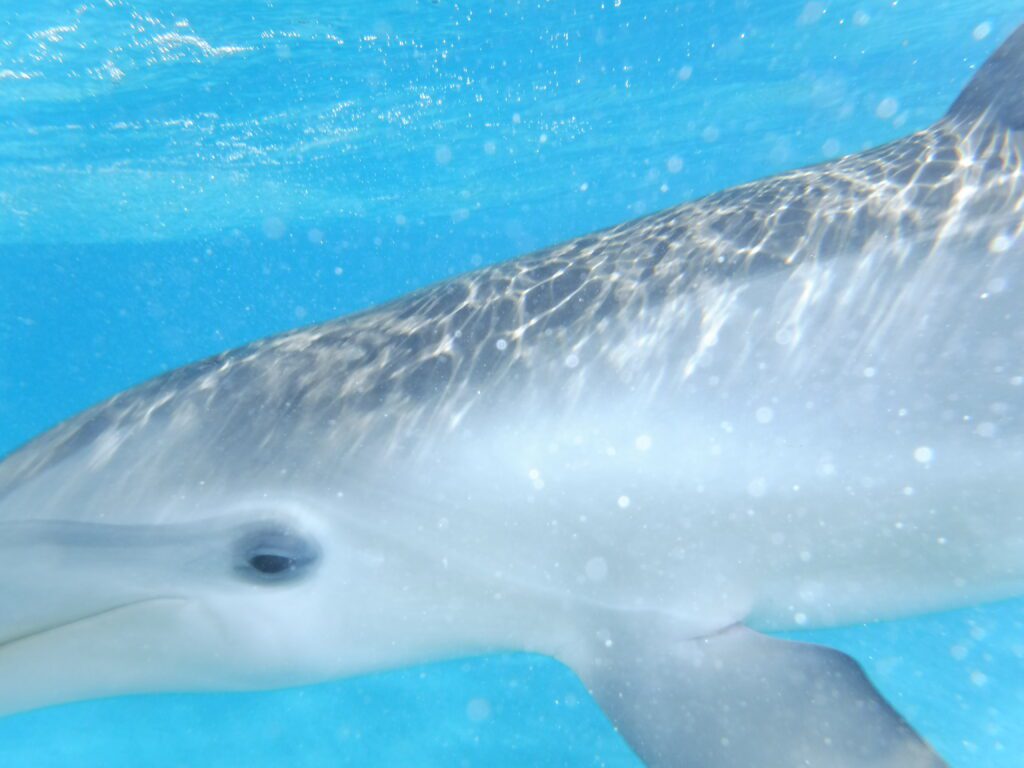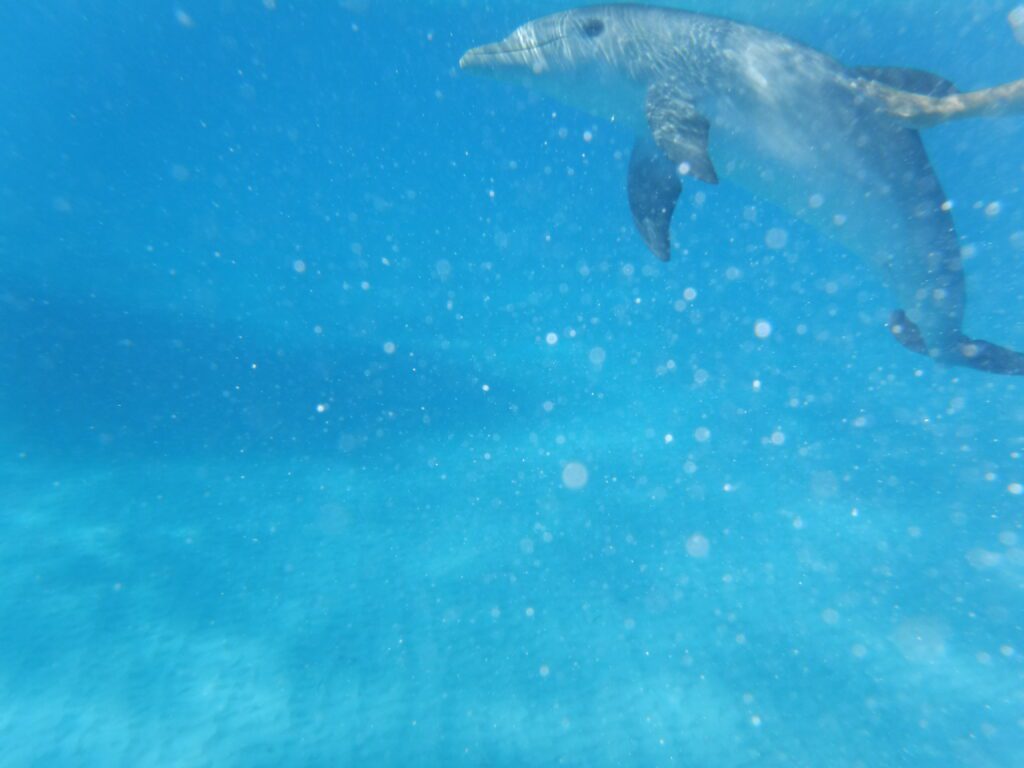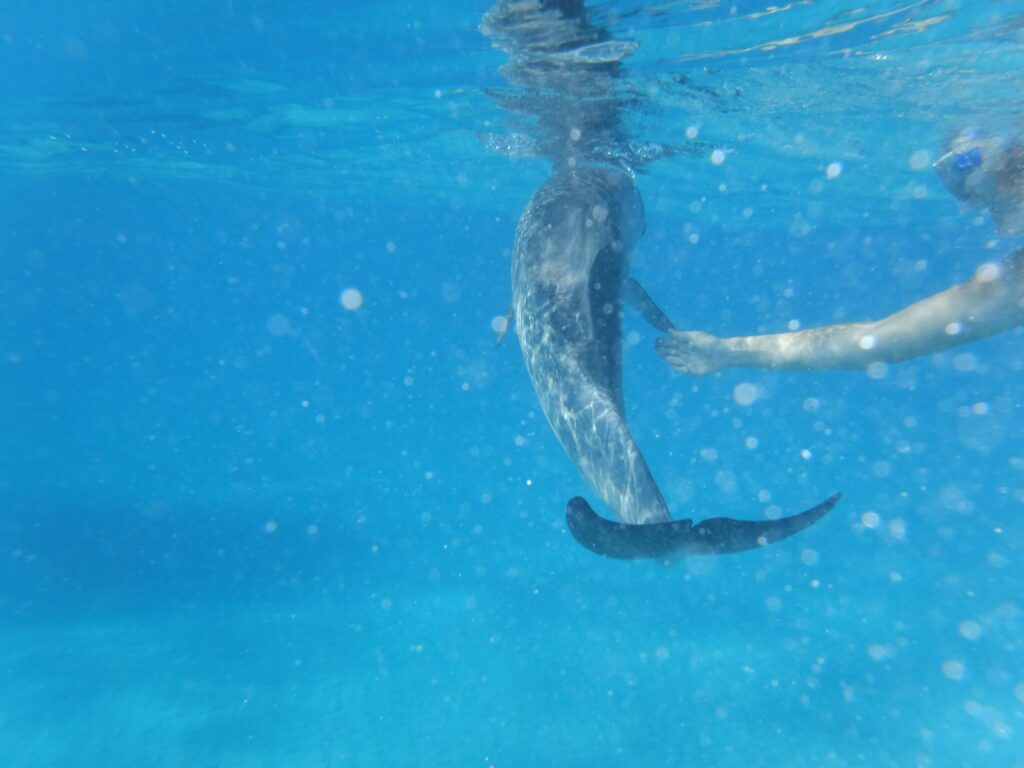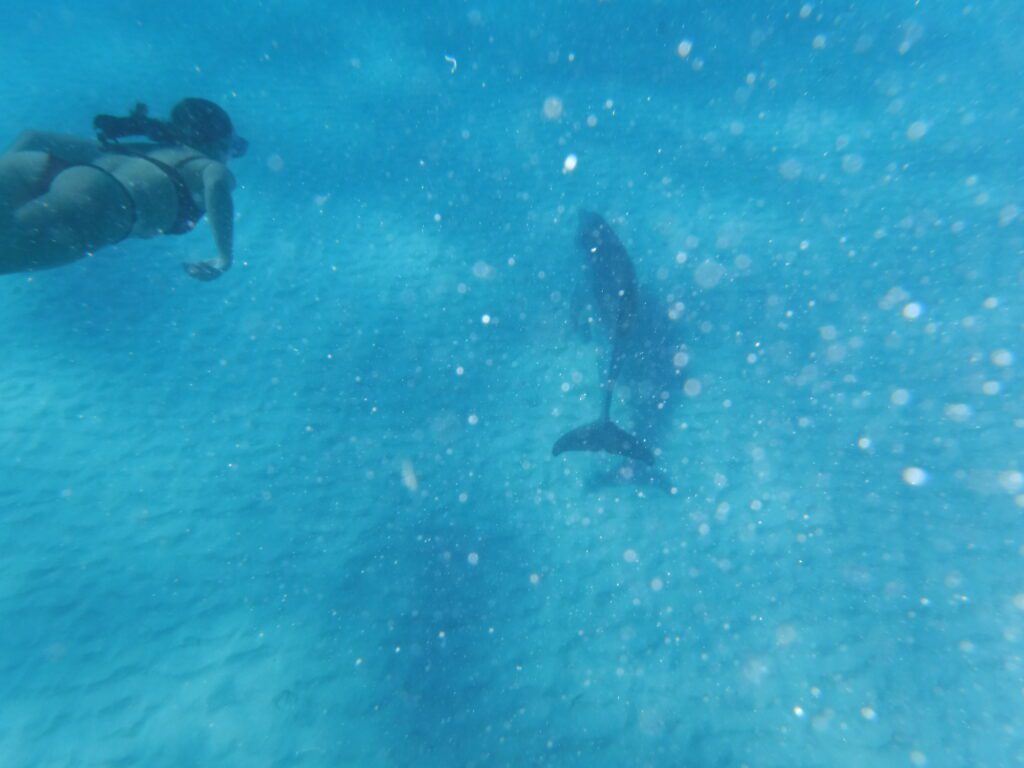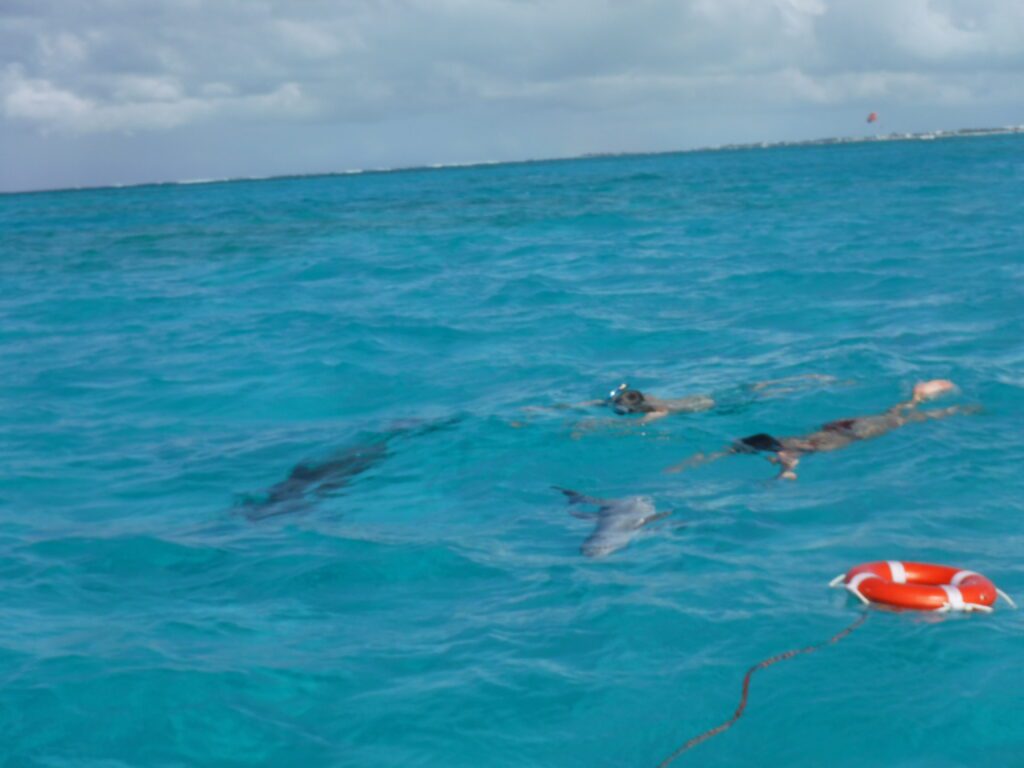 We next stopped for a snorkel at the Coral Gardens part of Grace Bay. We had seen Coral Gardens when we ate at Somewhere. The snorkeling was excellent, but my pictures are terrible! We saw three young turtles.
We motored along Grace Bay. We saw the Ocean Club from the water.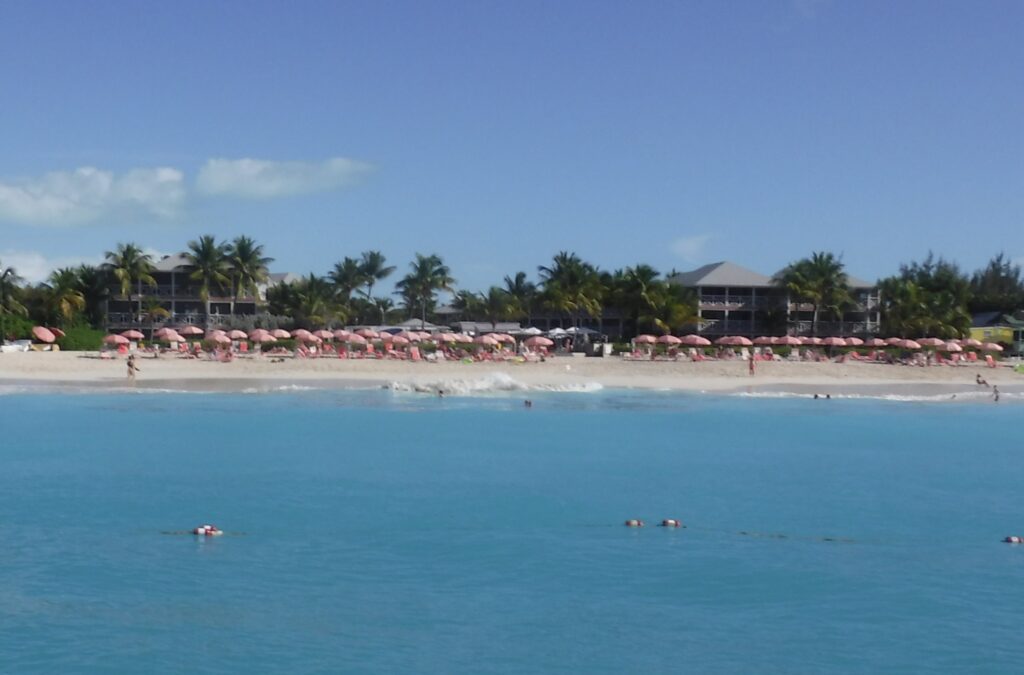 Our weather was unsettled all week. Captain Jack managed to keep us out of the rain the entire afternoon. We headed East, past Grace Bay and into the Leeward channel. Rainbows and storm clouds in the distance, but not on us!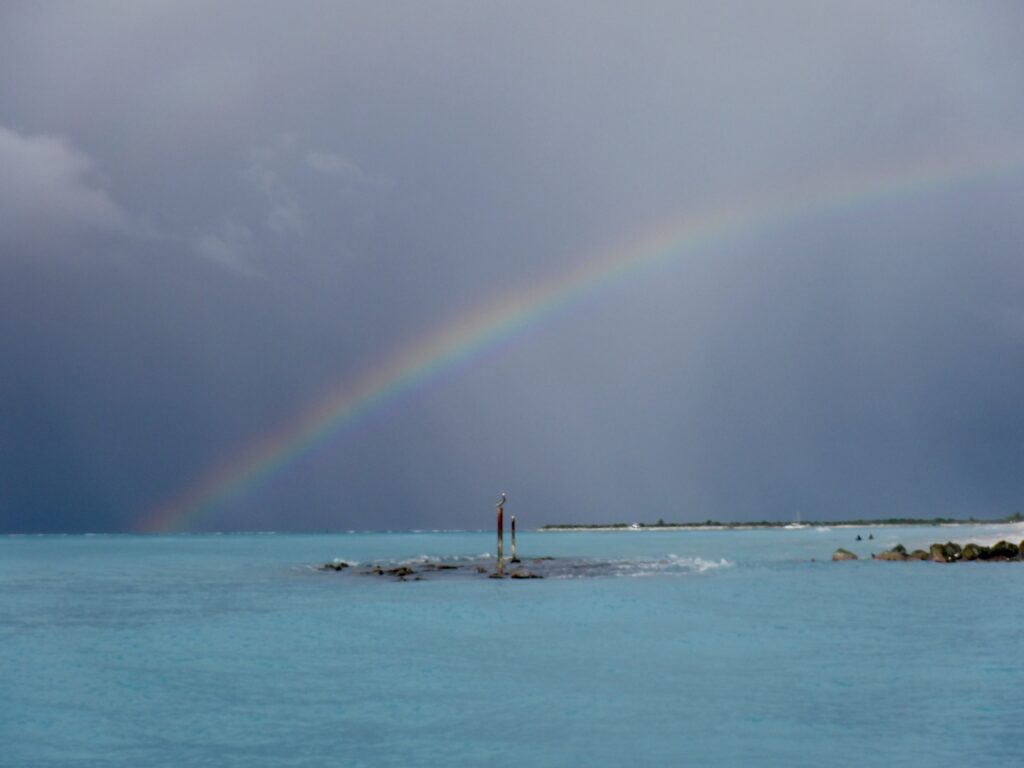 We rounded the Leeward side of the island and headed to Long Bay. Long Bay is on the South Side and the water never gets deep. We motored out to the La Famille. It accidentally grounded in 2002. Honestly, this boat was not on my list of things to see. However, Captain Jack said we could jump off it. SOLD! Our family loves a good jump (wear shoes). Jack and Deon were awesome!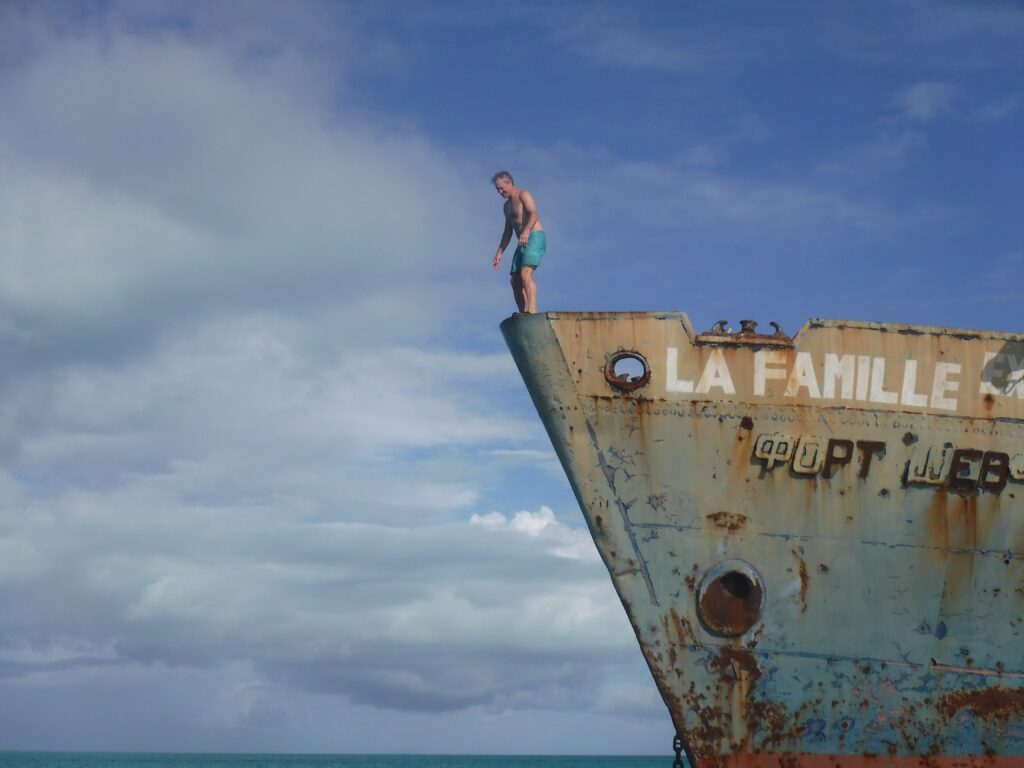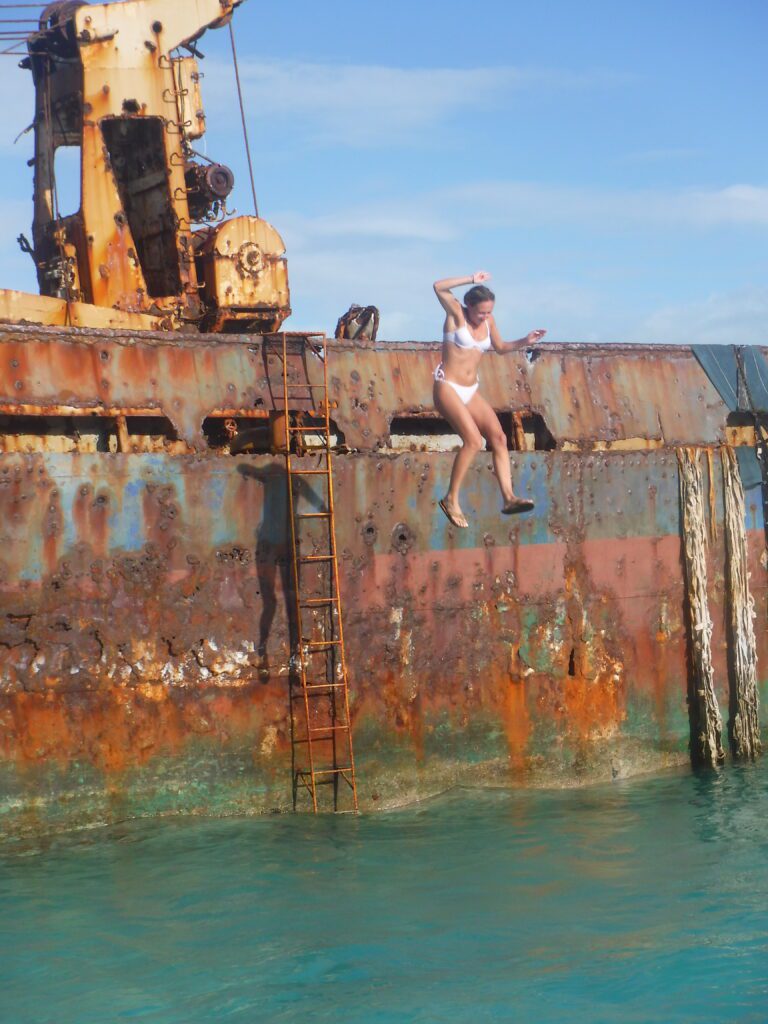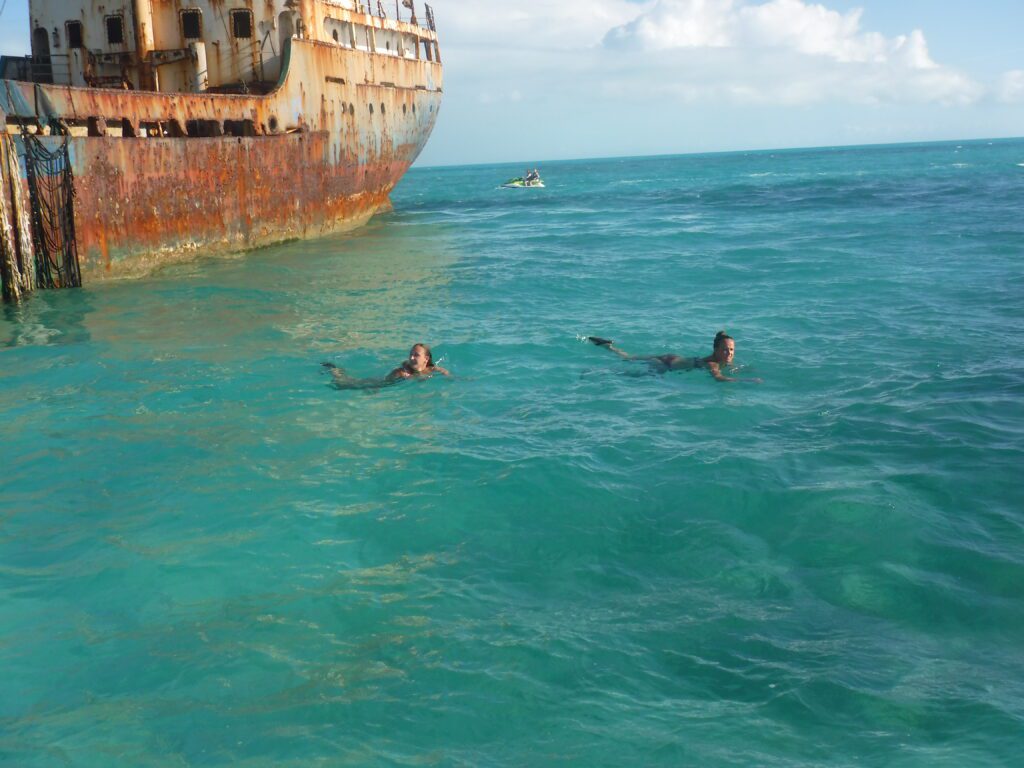 Captain Jack then took us through Long Bay to see some fabulous homes. The pink one belonged to Prince. We poured some rum punch and enjoyed the ride!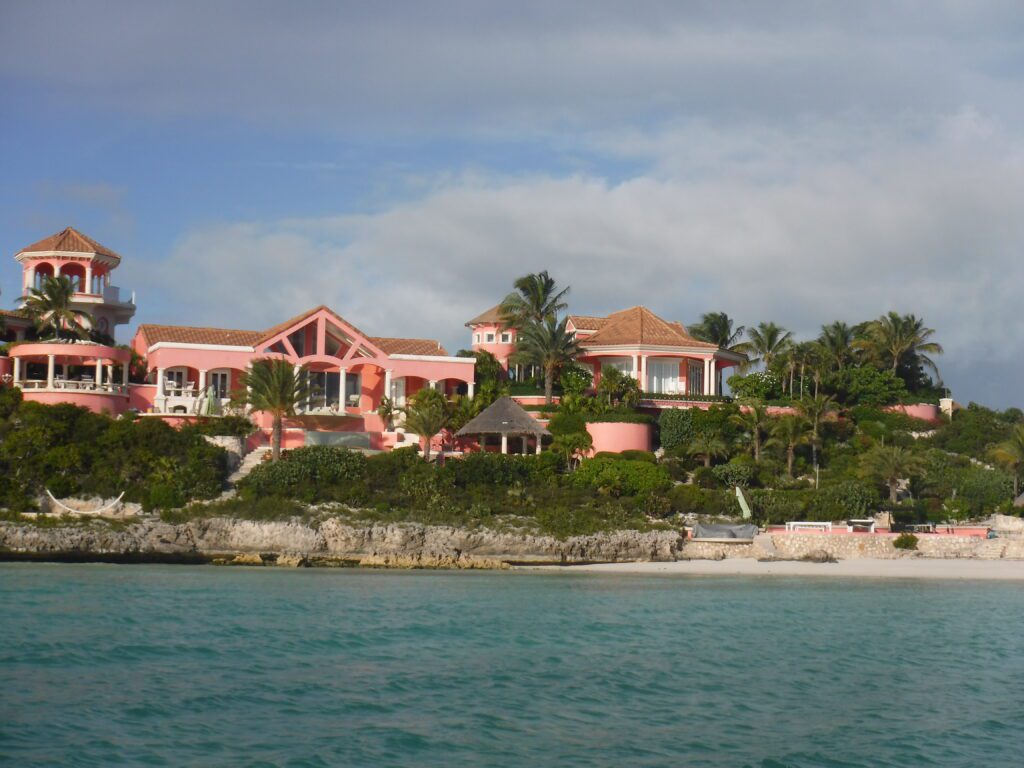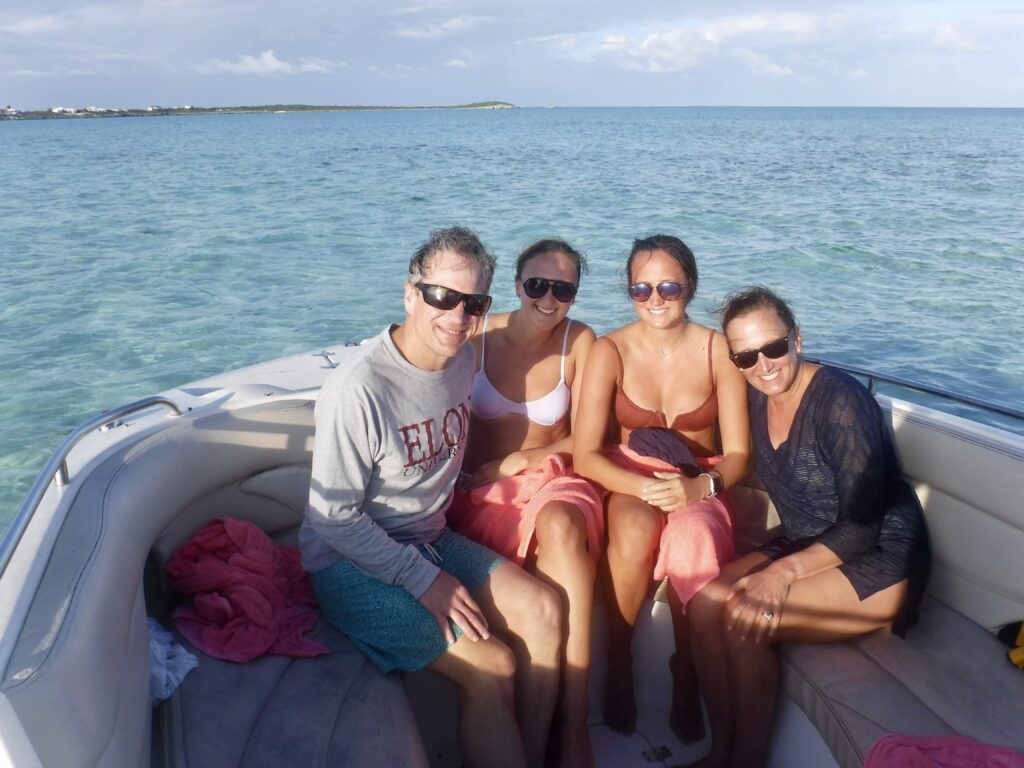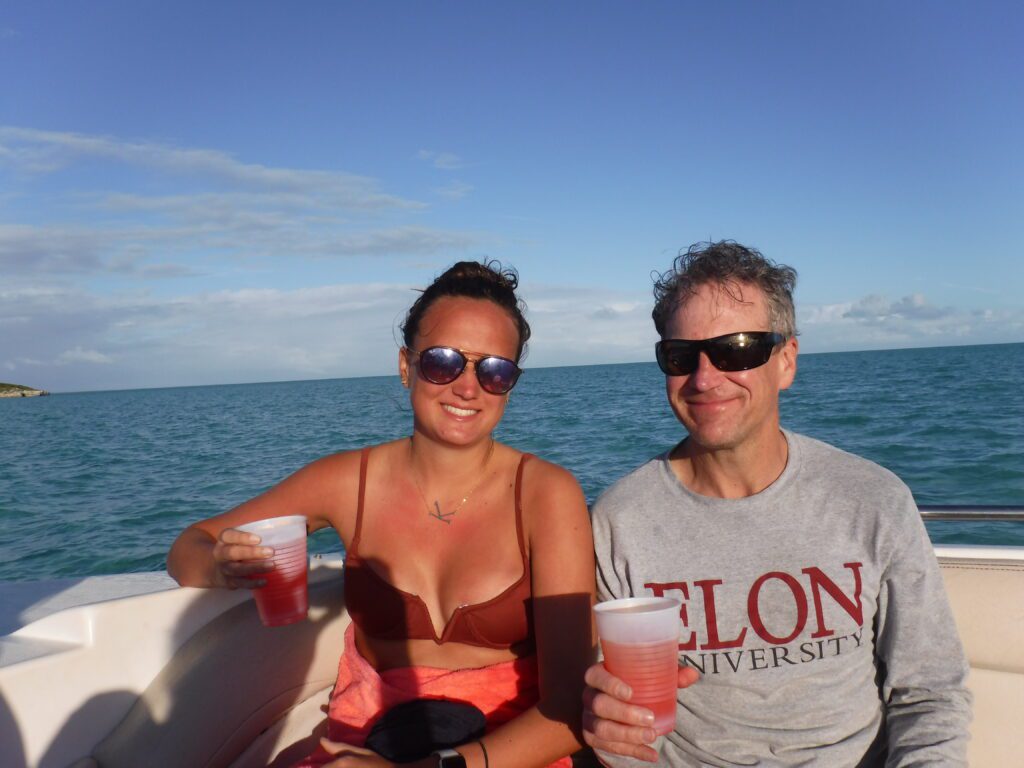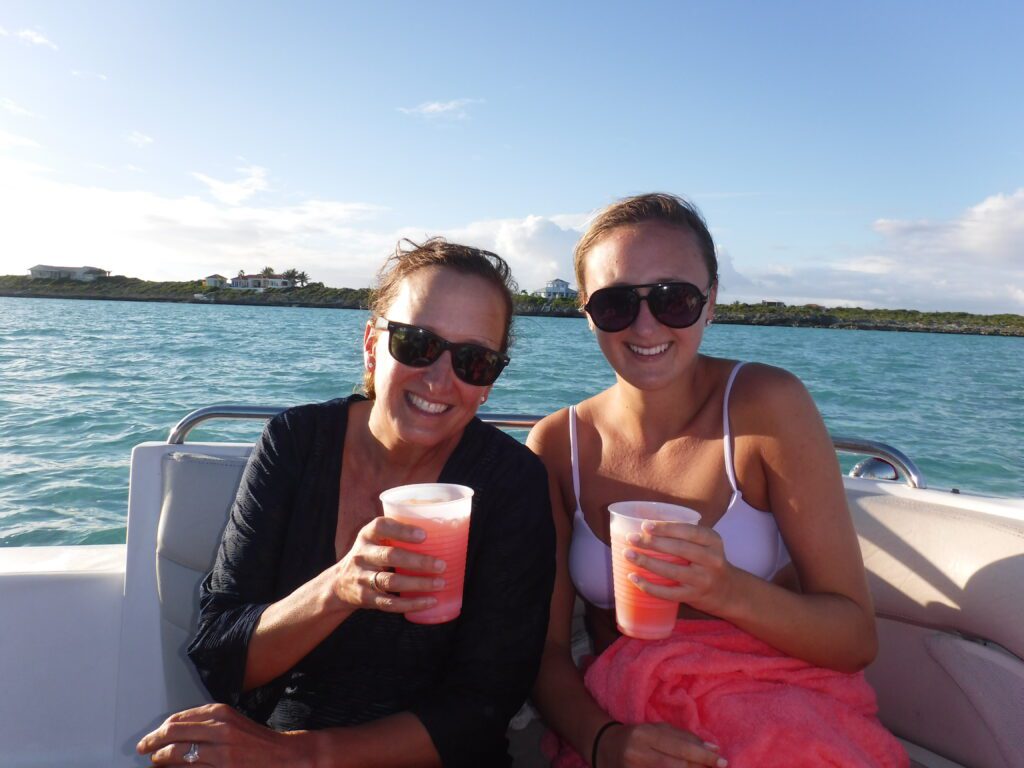 We rounded past the Leeward marinas and headed to Pine Cay. We had seen Pine Cay before, but it was a good stopping place to eat, drink and wait for the sun to set. Jack and Deon gave us sandwiches and snacks. It was delightful.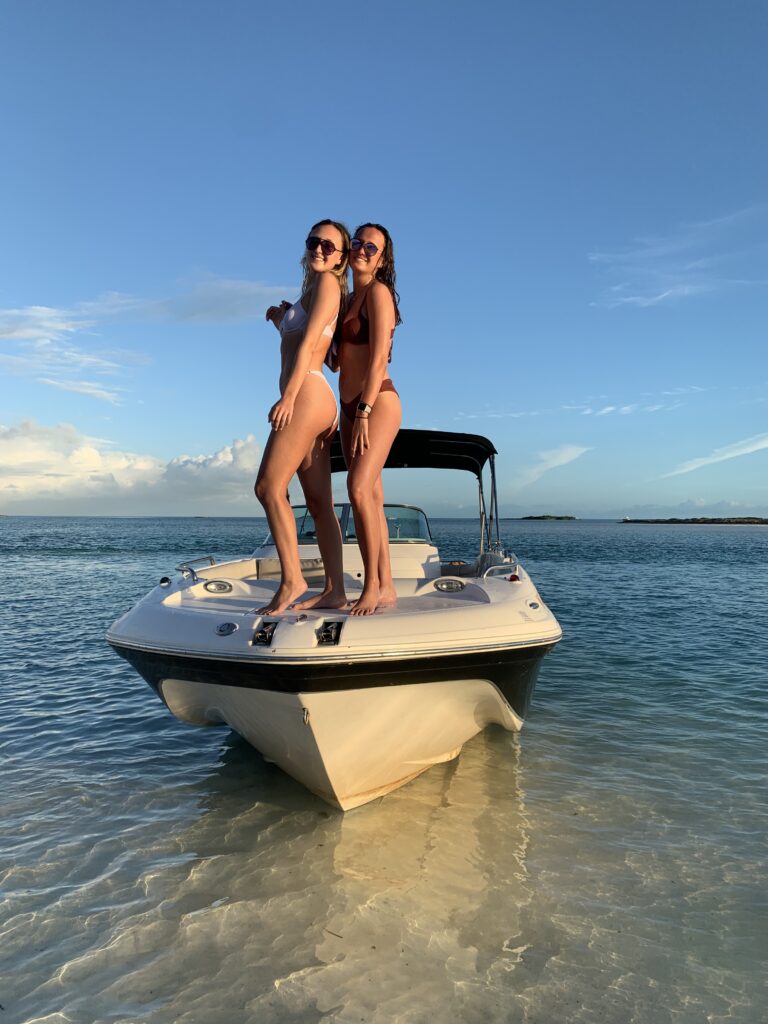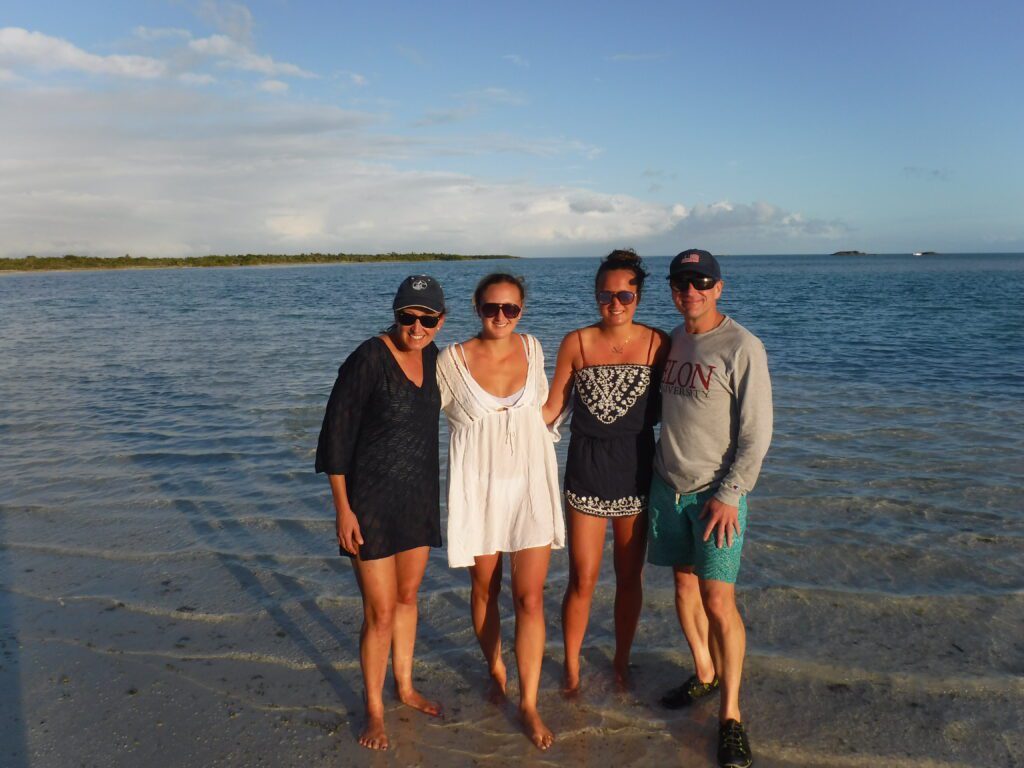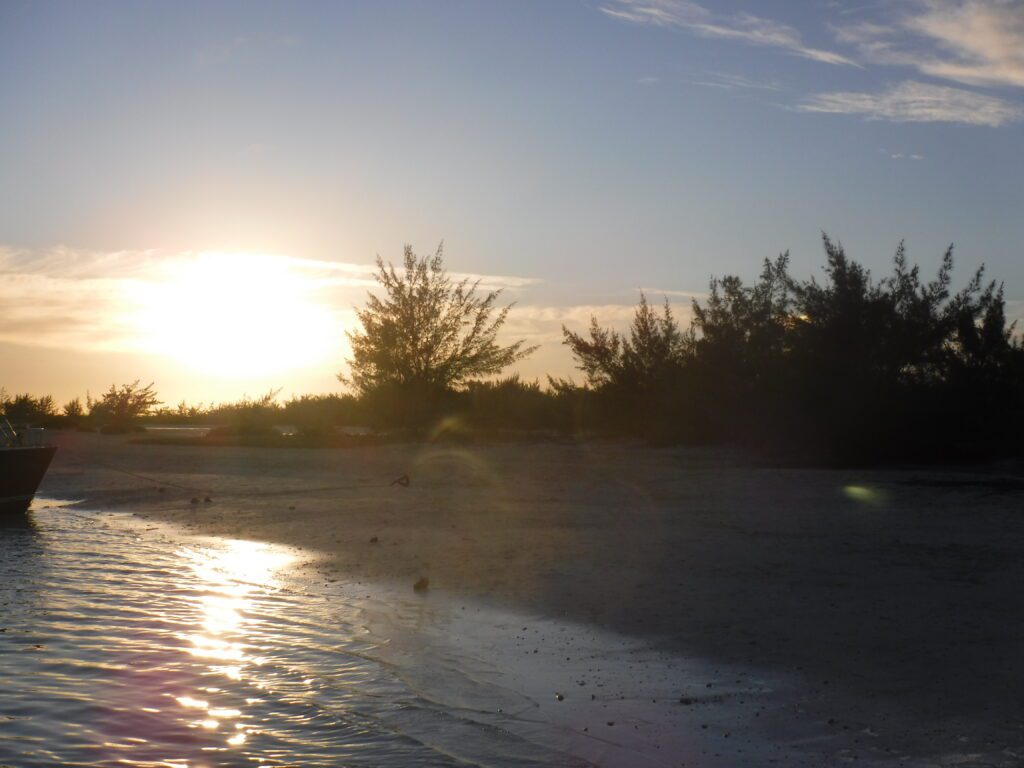 The sun set at 5:10pm, so we motored into Grace Bay to watch. It was glorious!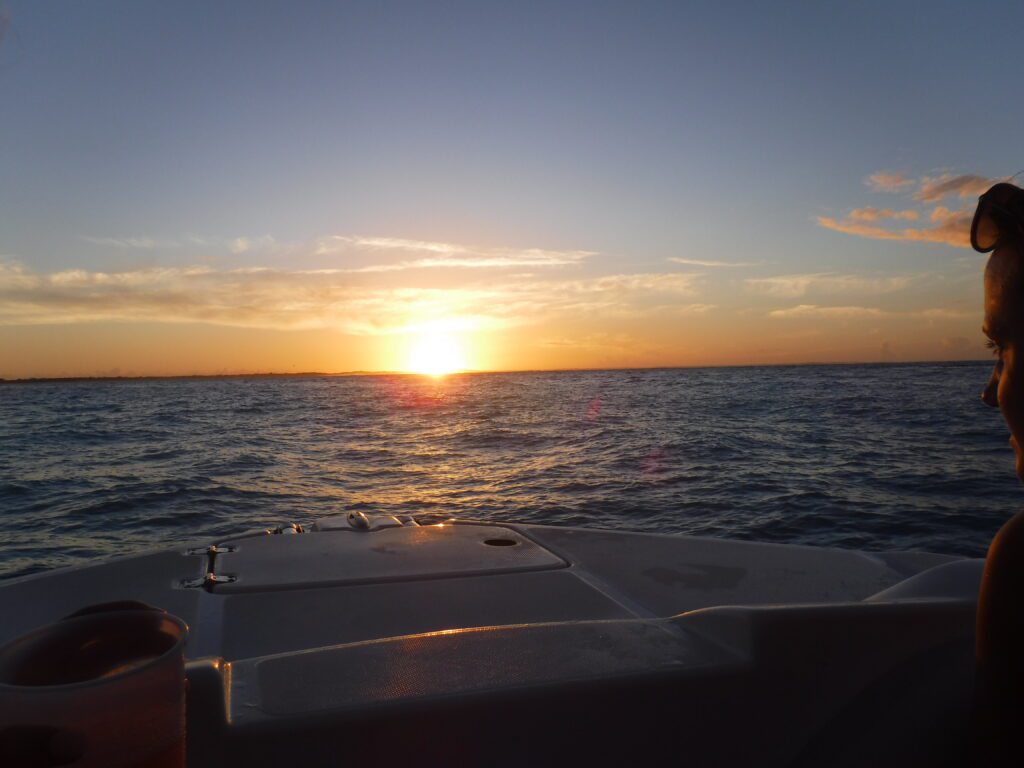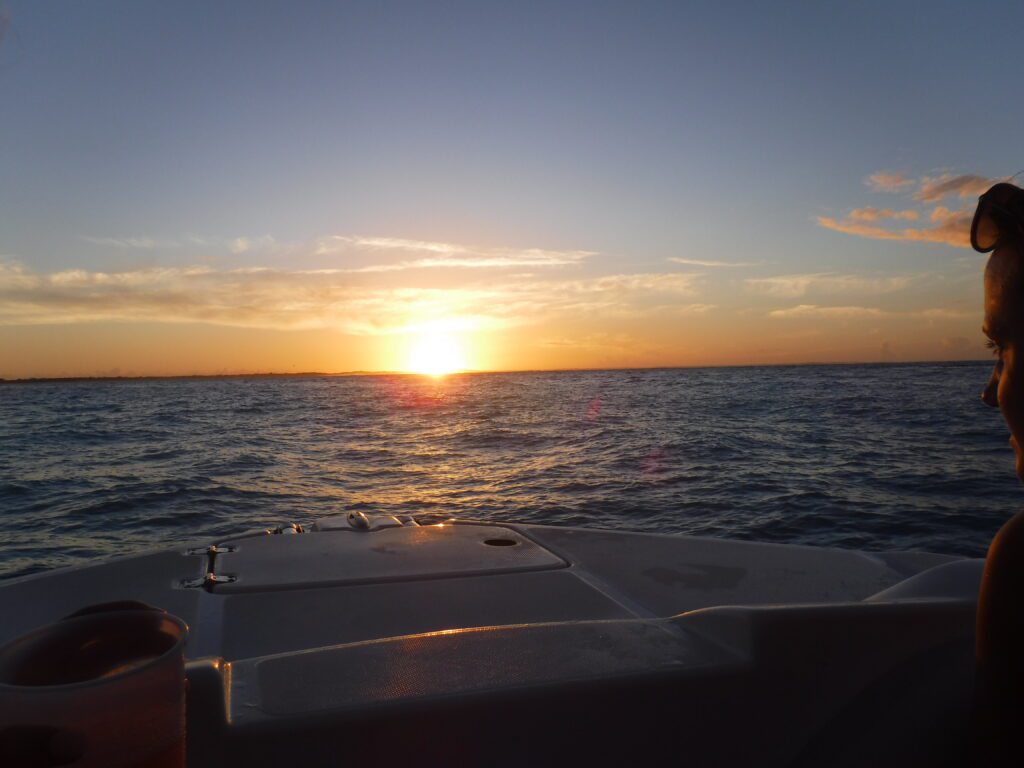 We were back at Turtle Cove Marina at 5:30. We thanked Jack and Deon for a wonderful day, and paid for our adventure with a credit card.
Dinner was at 7:30pm at Caicos Cafe. The burrata salad and escargot were delicious. It is a pretty setting in the town of Grace Bay.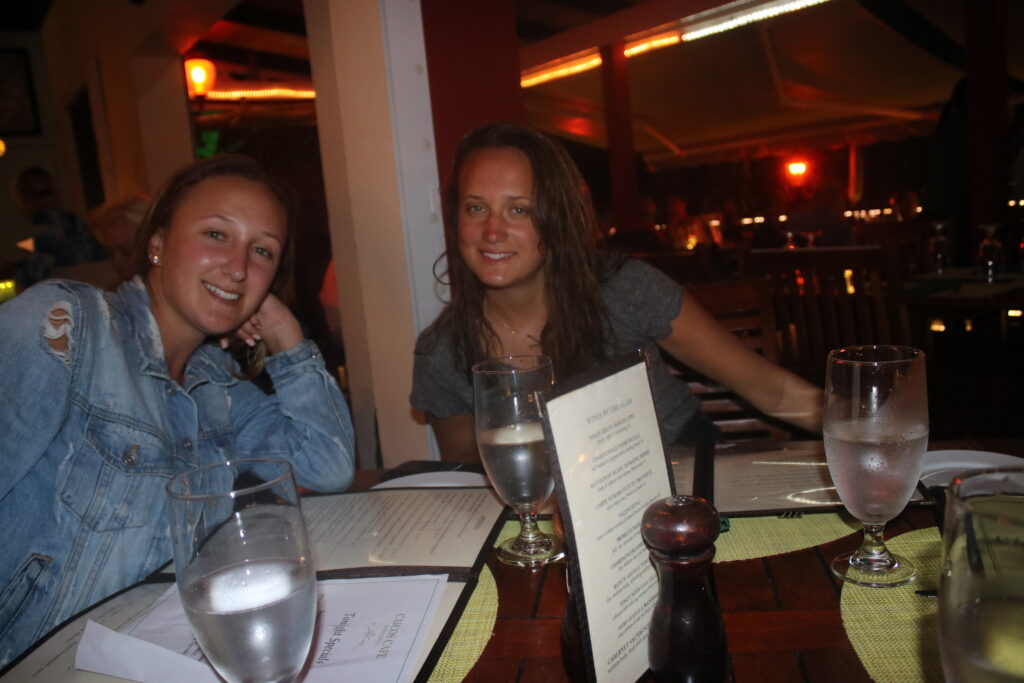 Day 9 – A Bike Ride to Long Bay
The weather today alternated between gorgeous and rainy! During the rainy times, we decided to find our Christmas ornament and gifts for our family.
We loved Anna's Art Gallery on the main street in Grace Bay. I found an ornament with a turtle on it, a necklace for my sister-in-law and a small glass dolphin to remember our swim with the wild dolphins.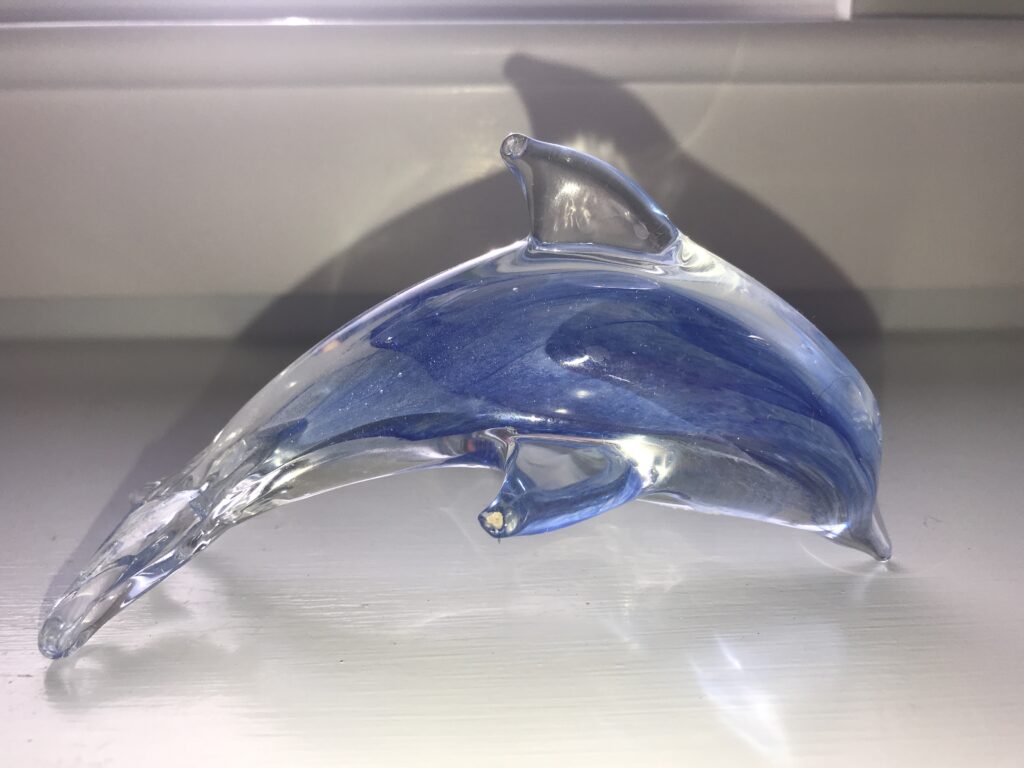 We found t-shirts and bracelets for family at Goldsmith in Grace Bay. Madison wanted a ring for her Christmas gift. The salespeople at Jais were very nice and helpful. Duty free shopping. Ask for a discount! To celebrate our purchase, they gave us a glass of champagne (it was not a big purchase!).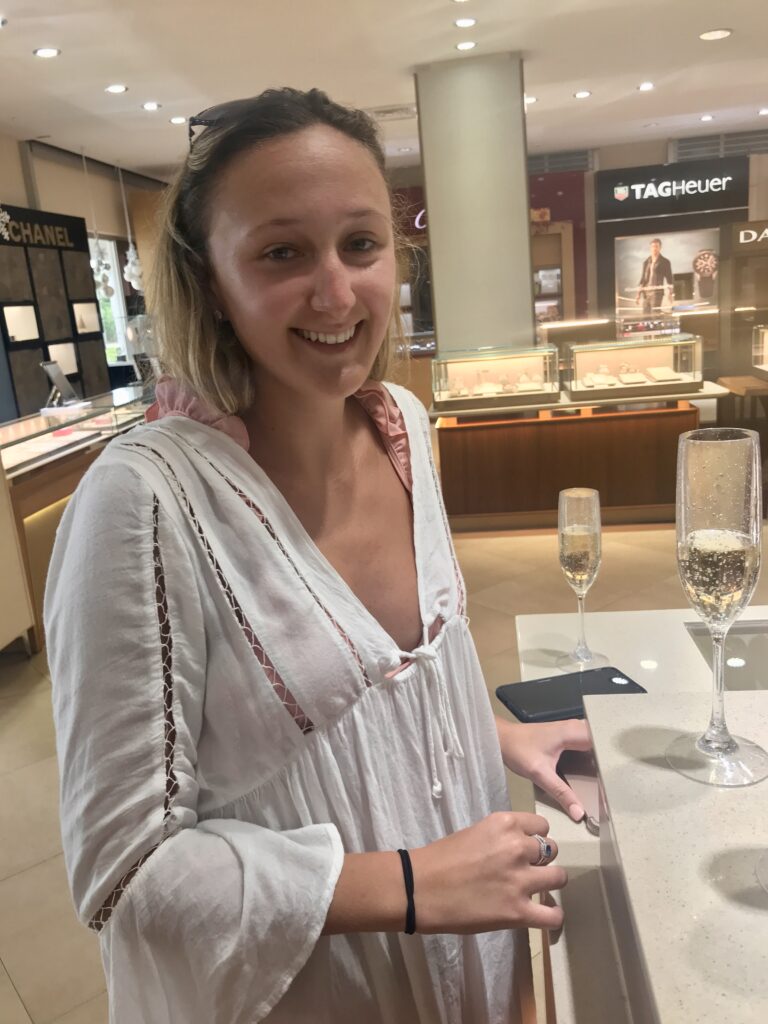 Lunch was had at Lemon2Go and Turkberry! Lemon2Go is an adorable coffee shop, and Turkberry sells yummy frozen yogurt. We recommend both!
The girls wanted to read, so Jim and I took bikes from the Ocean Club and rode over to Long Bay. It was a pleasant ride. The bikes are free. We rode as far as The Shore Club (which looks lovely). The girls should have joined us!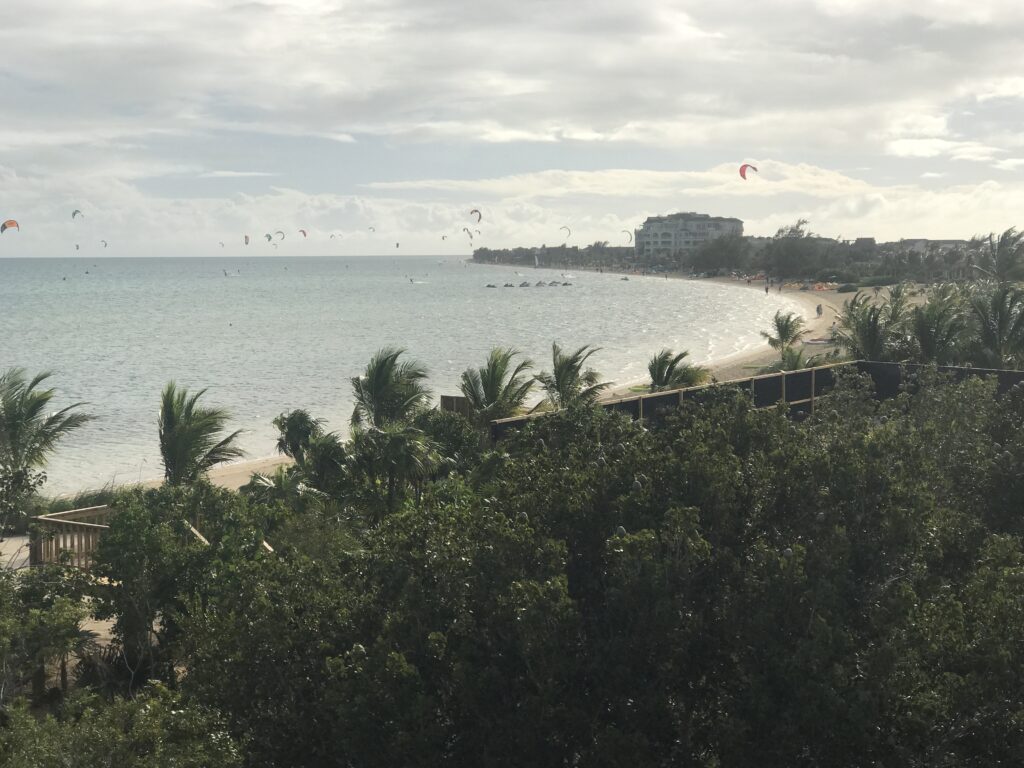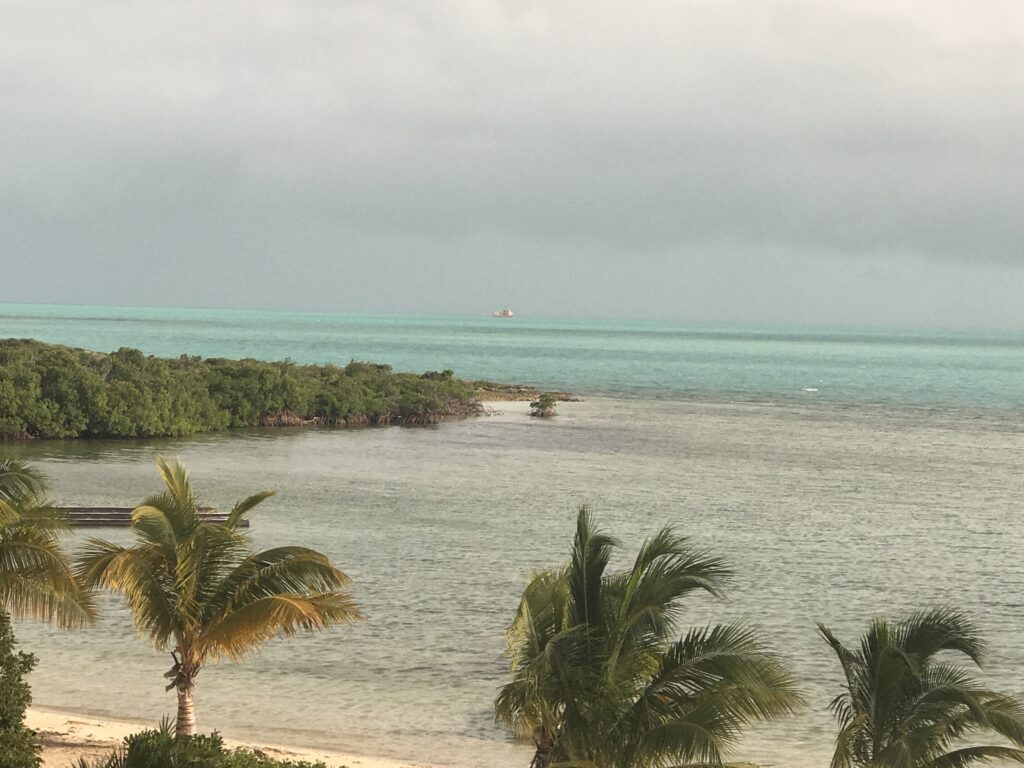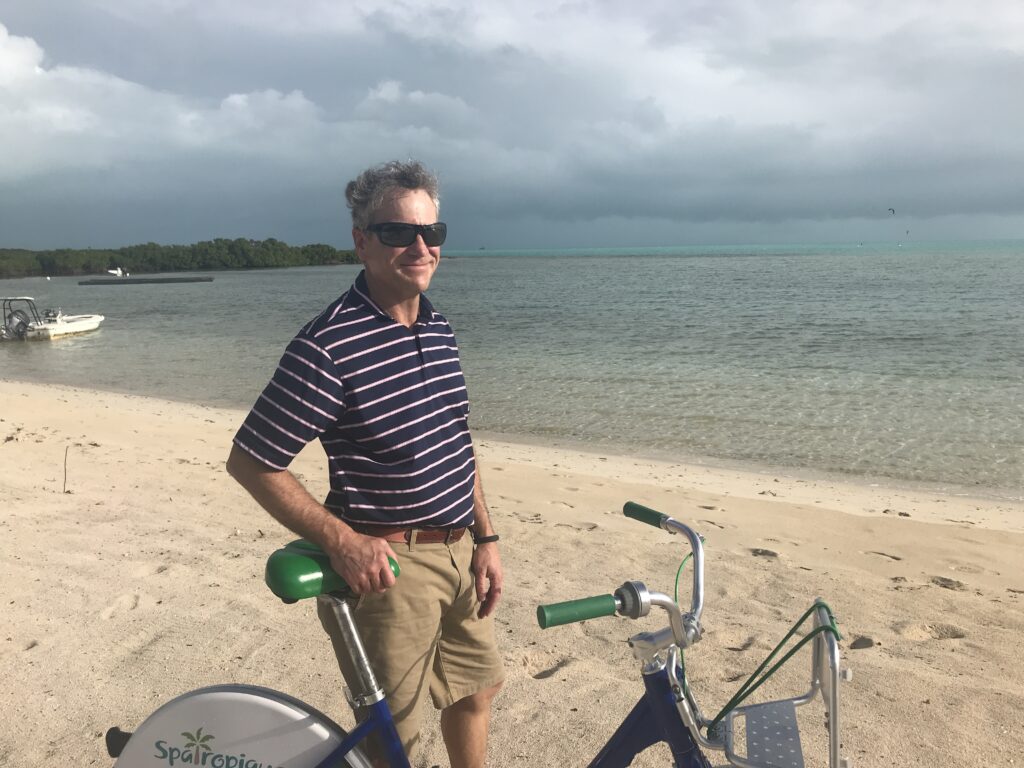 We returned to our favorite, Bella Luna pizzeria for dinner. It was fantastic. It was raining, so the patio was not open. Zillions of people were getting take out, but we lucked into a table! We loved it all, and for the first time all week we had dessert.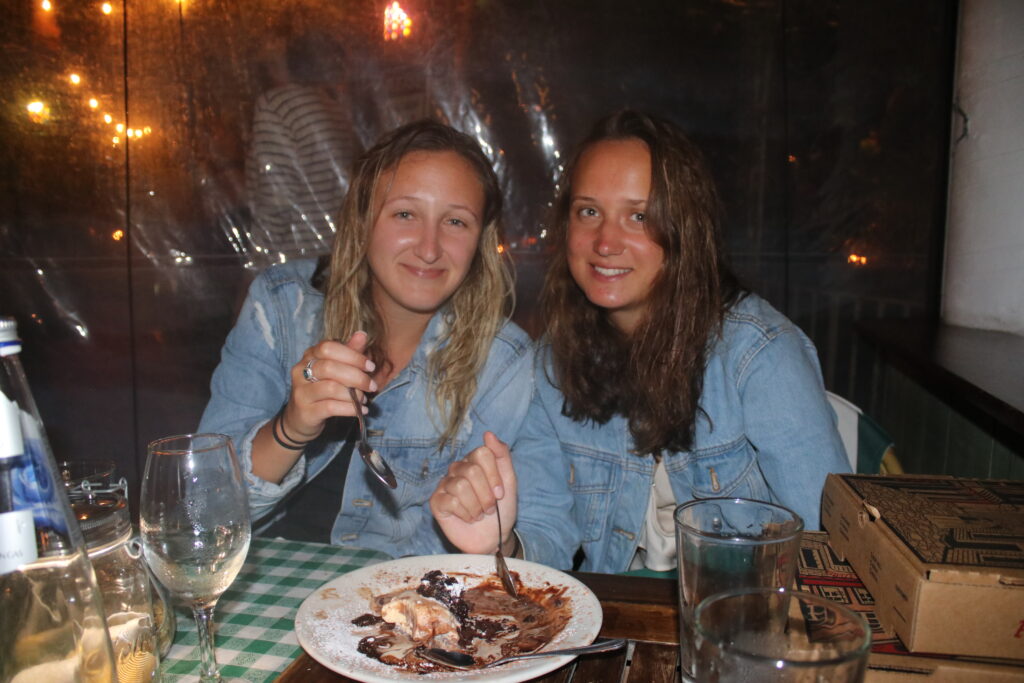 Day 10 – We fly back to reality
We had a 3:46 pm flight on Sunday, December 29, so we enjoyed the beach.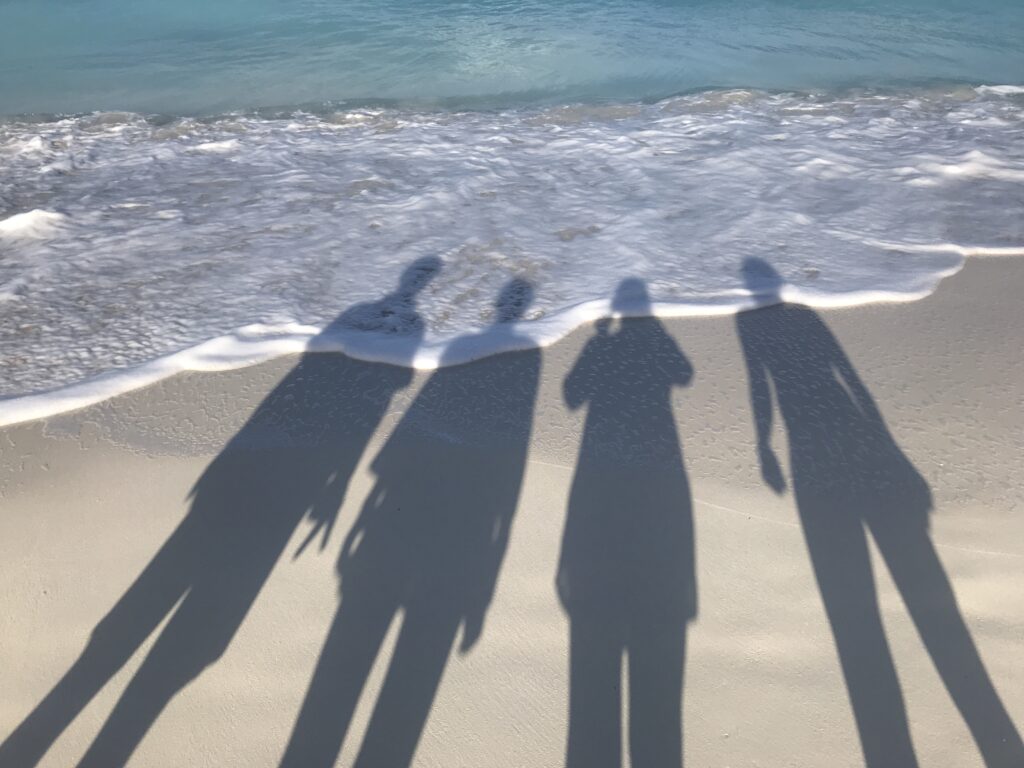 We had to check out at noon, so we did that and drove through the Blue Hills neighborhood to kill some time. We also stopped at Lemon2Go again. Blue Hills is where a lot of locals live, and is home to Da Conch Shack which sits on the water and looked like lots of fun. We just were not hungry.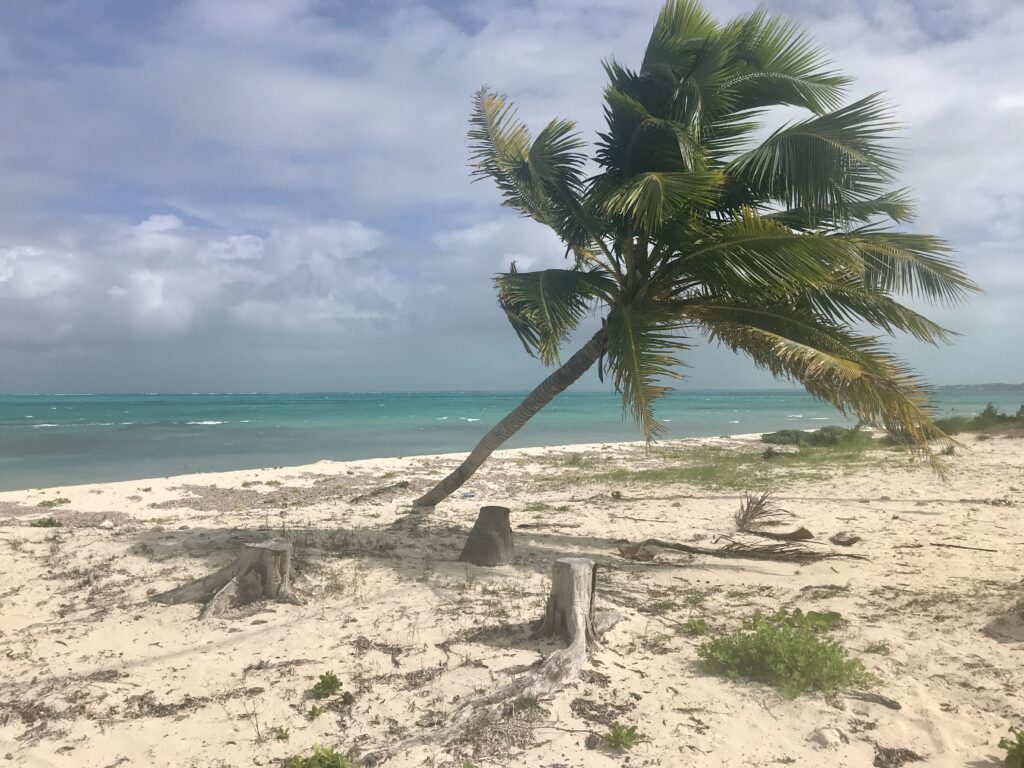 We returned the car to Hertz and took the shuttle to the tiny airport. Security was fairly easy (no TSA pre-check). The terminal is TINY. We found some seats upstairs. There is a bar with TVs where we watched our Patriots lose to the Dolphins. Plenty of food and drink choices. Tons of Christmas ornaments at the shops. We flew out over Turtle Cove back to Charlotte and home to Providence. Both our flights were late to due weather on the East Coast. It was a great trip!