Plan Ahead – Tickets and Passes
We lived in Boulder, Colorado for five ski seasons. We have dozens of days at Keystone under our belts. It is a gorgeous mountain, a fun Western town, and it is part of Vail resorts. Our Epic Passes worked there, too.
Plan ahead. If you are going to the Keystone resort, decide early enough to buy either an Epic pass (there are several choices) or lift tickets in advance. This can save a family thousands of dollars. If you plan to ski at Keystone (or any Vail resort) for more than six days, the Epic Pass is the way to go! Visit epicpass.com before September 1. Prices usually go up on the passes around Labor Day and continue to go up during the fall months. Vail stops selling epic passes in mid-November. After that your only option is to purchase tickets in advance online, which can save you money, too.
For an adult, the walk-up price on a weekend is now about $189/person!!!!! The Epic Pass we purchased in the Fall of 2019 cost $970/person. That pass gaves me unlimited skiing at over 30 resorts Vail owns around the country and the world.
If you were not early enough to buy a pass, purchasing tickets online will save you money. The walk up price is reduced from $189 to $176/day with deeper discounts if you buy multiple day tickets at least three weeks in advance. With covid restrictions in place, you must also make a reservation to be on mountain.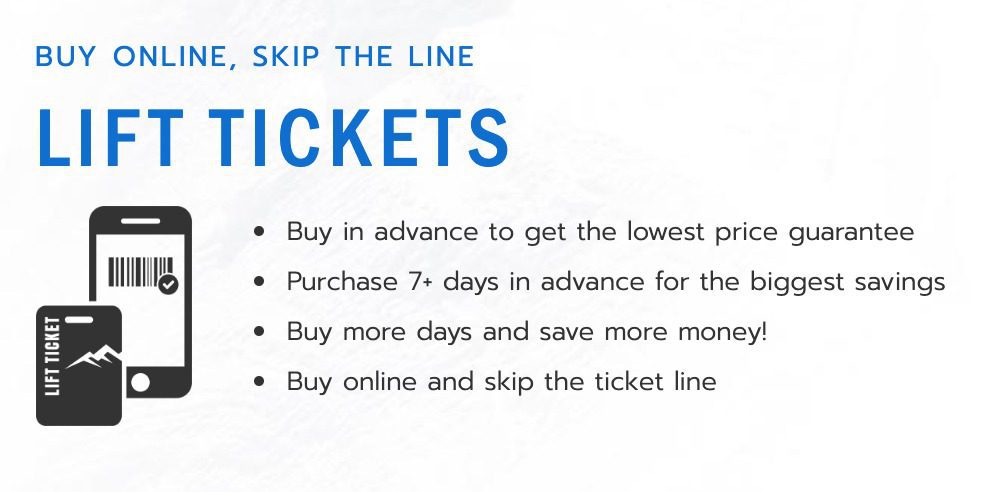 Getting to Keystone
Keystone is 106 miles from the Denver International Airport.  Navigate to I70 West and then exit at 205.  Drive six miles to the resort.  Alternatively, if the weather is nice, exit at 216 and climb up Loveland pass for awesome views of the Continental Divide.
Eagle County Regional Airport is 79 miles from Keystone.  You would take I70 East and exit at 205, then drive six miles to the resort.
If you are flying, this boot bag is amazing.  We have four of them.  We can fit three pairs of skis in this bag for travel.  Someone in our family is always demo-ing a new pair of skis or she is at school and the vacation times do not line up!
We do recommend a car for getting groceries and going out for meals.  However, if you choose not to drive from the airport, Epic Mountain Express is owned by Vail resorts and is very reliable.
2022 Update – Michele also upgraded her iPhone to the iPhone 13.  The camera is amazing.  Seriously amazing.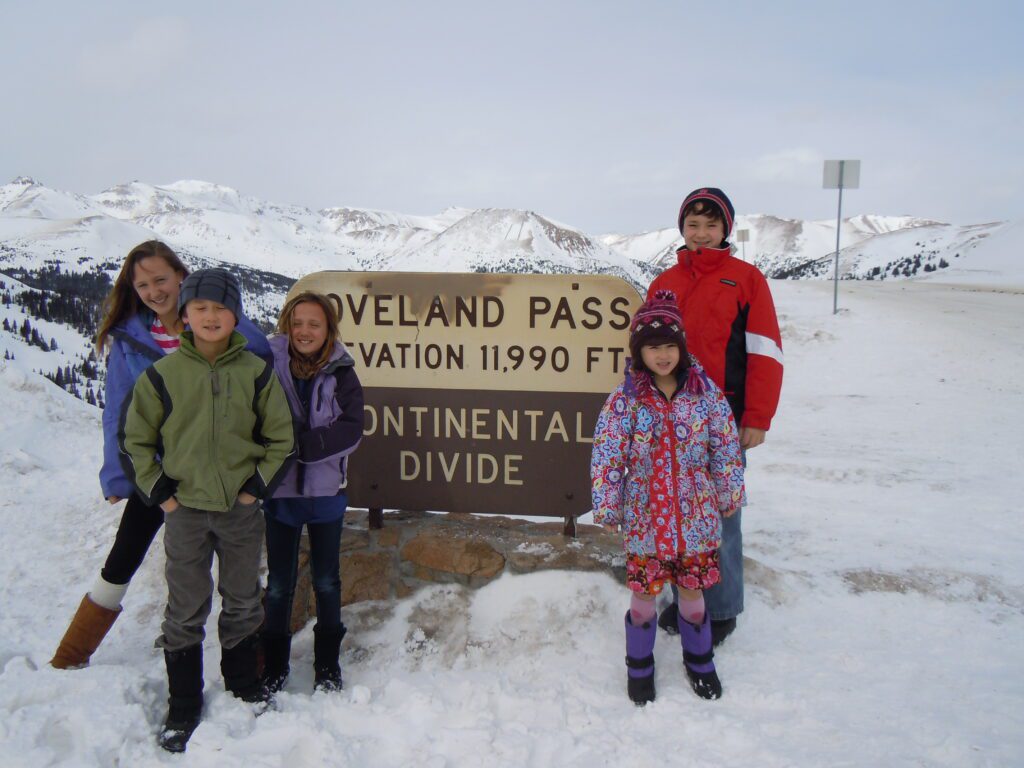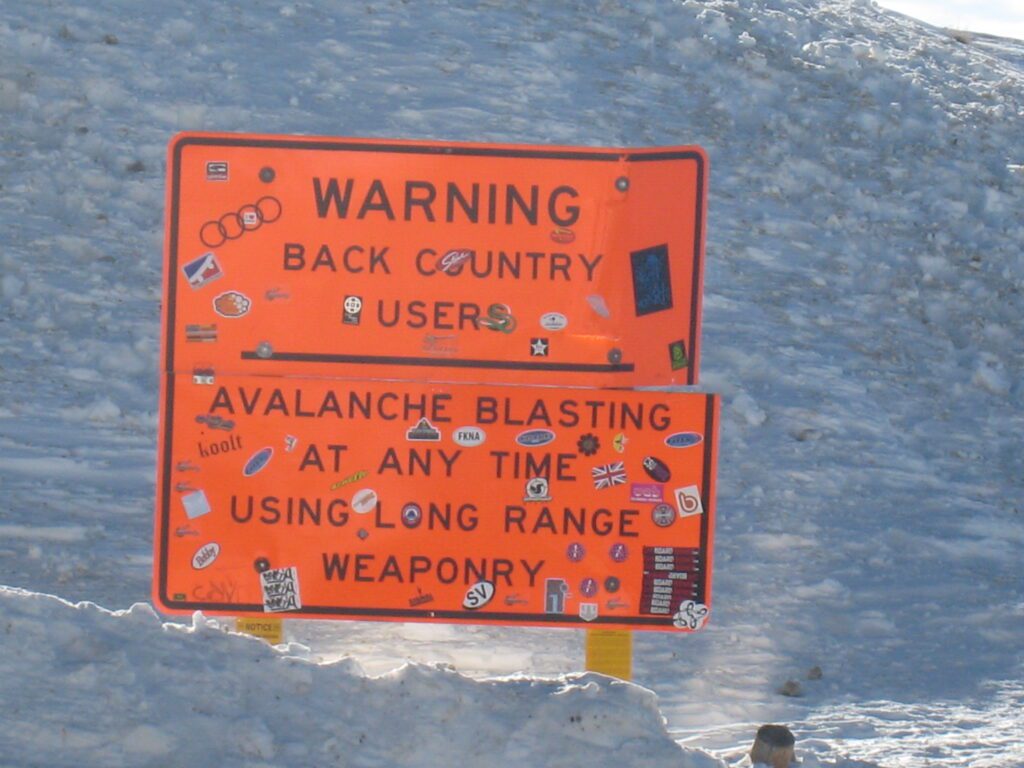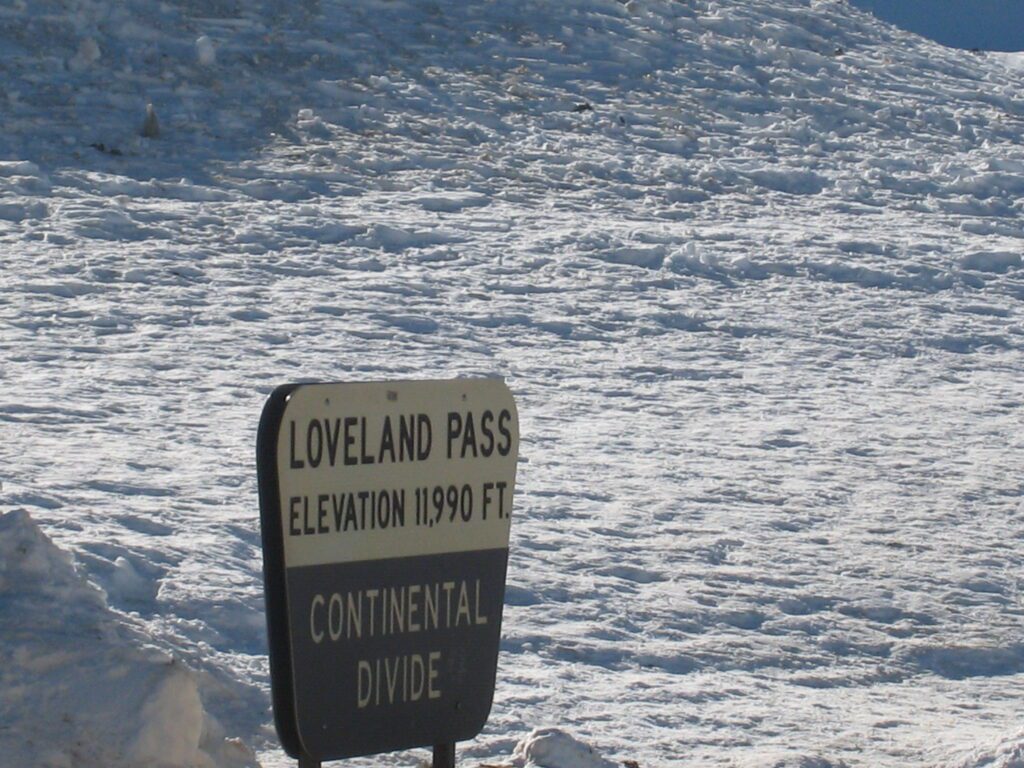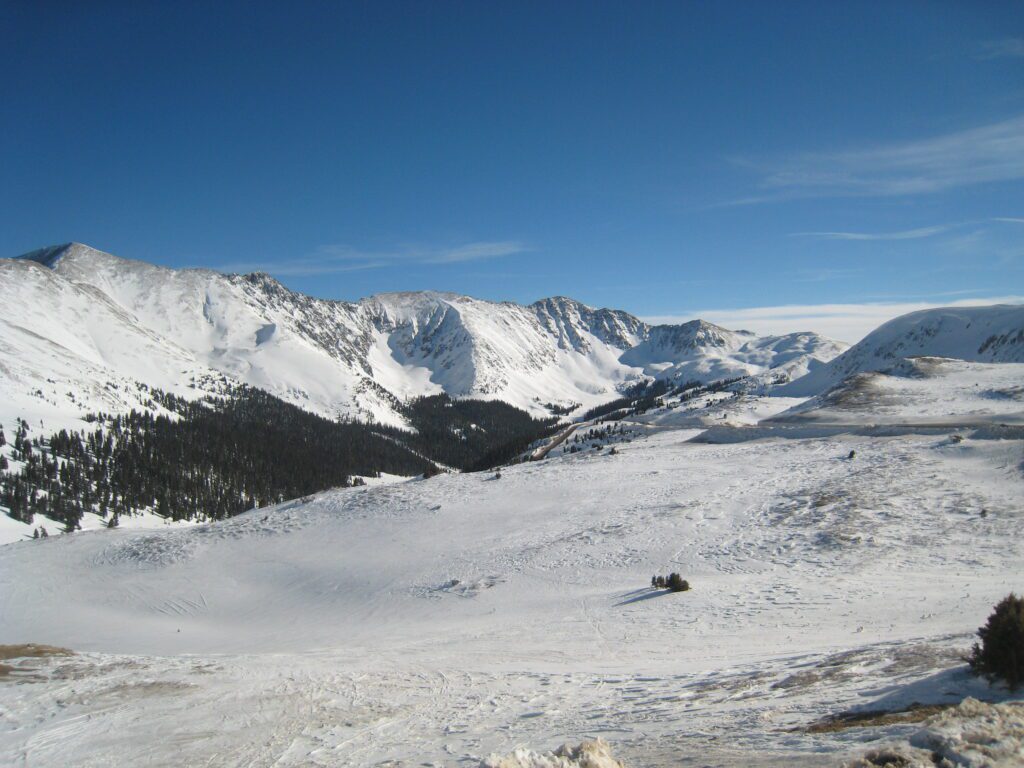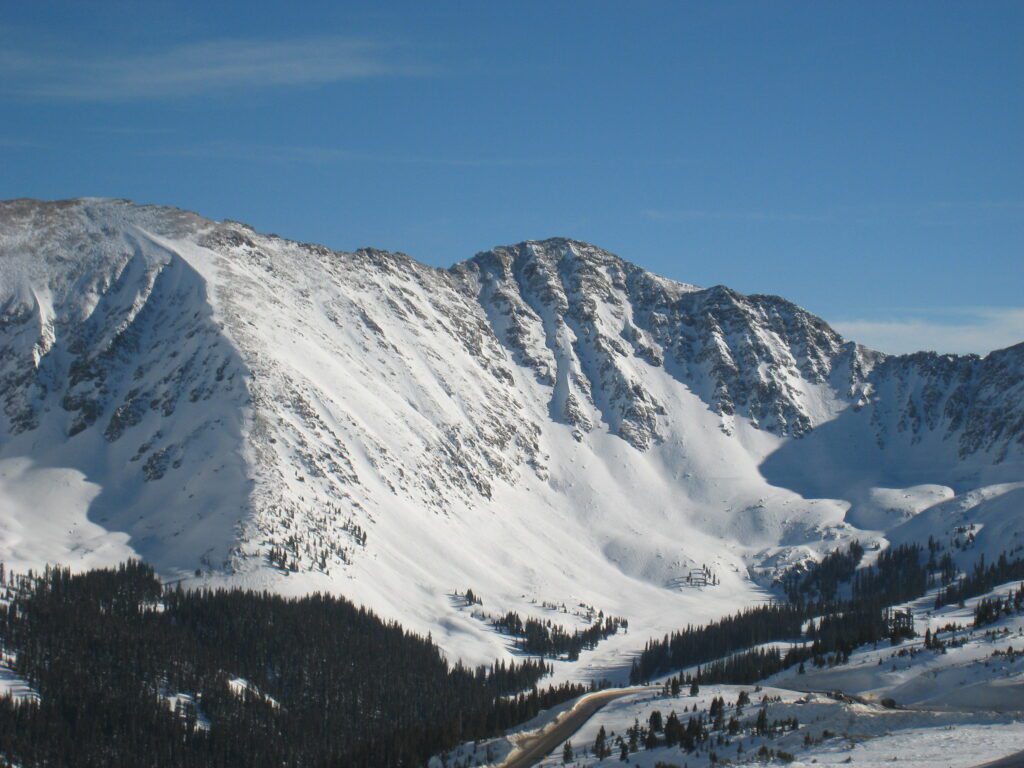 Where to Stay
There are hundreds of options of places to stay in Keystone that can fit every budget.
On Mountain Lodging – Vail resorts has plenty of ski in/ski out hotels, homes and condos that you can rent. Most are premier properties and very convenient. If you want to splurge, book directly through Vail. We like the village of River Run for easy access to the mountain and bars/restaurants and shops. The Ski Tip Lodge is very close to the Keystone ski resort. This bed and breakfast also serves amazing food and drink in a delightful setting. It is worth a drive or an overnight stay. The gardens are delightful. Both times we visited in the fall months, not during ski season.
In the Villages of Keystone – We have stayed several times at Red Hawk townhomes and River Meadows condos just off Montezuma Road. Affordable as they are not ski in/ski out, but they are a two minute drive to the free parking. Summit Cove Properties, VRBO, AirBnB and HomeAway get find you many properties in these areas.
We also like the area of West Keystone and Soda Ridge Road. We stayed multiple times at a friend's home in that area and took a quick free, five minute ride to the mountain. There are luxury properties here!
Budget Friendly Options – There are thousands of condos in the towns of Dillon, and Silverthorne just six miles from Keystone. Many affordable options, grocery stores, bars, restaurants and movie theaters. Many will have views of the Dillon reservoir. Budget friendly hotels are found here including a Best Western, Super 8, Comfort Suites, La Quinta and Quality Inn among many others.
Parking
Keystone has free parking and pay parking. Hunki Dori, Gold Bug and Mountain House A and B all charge at least $35/day and $20/night to park. Every single time we skied Keystone, we parked at the free River Run Gondola lot and walked about five minutes to the lift. We used our car as our locker, and it was completely doable even when our kids were little. They have some wagons to carry your gear, but they are not always easy to find.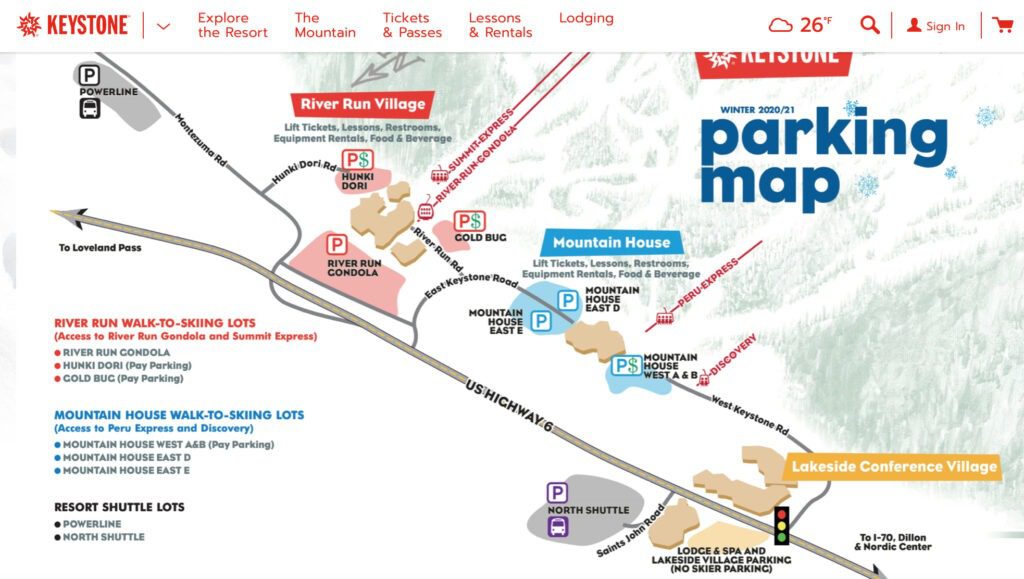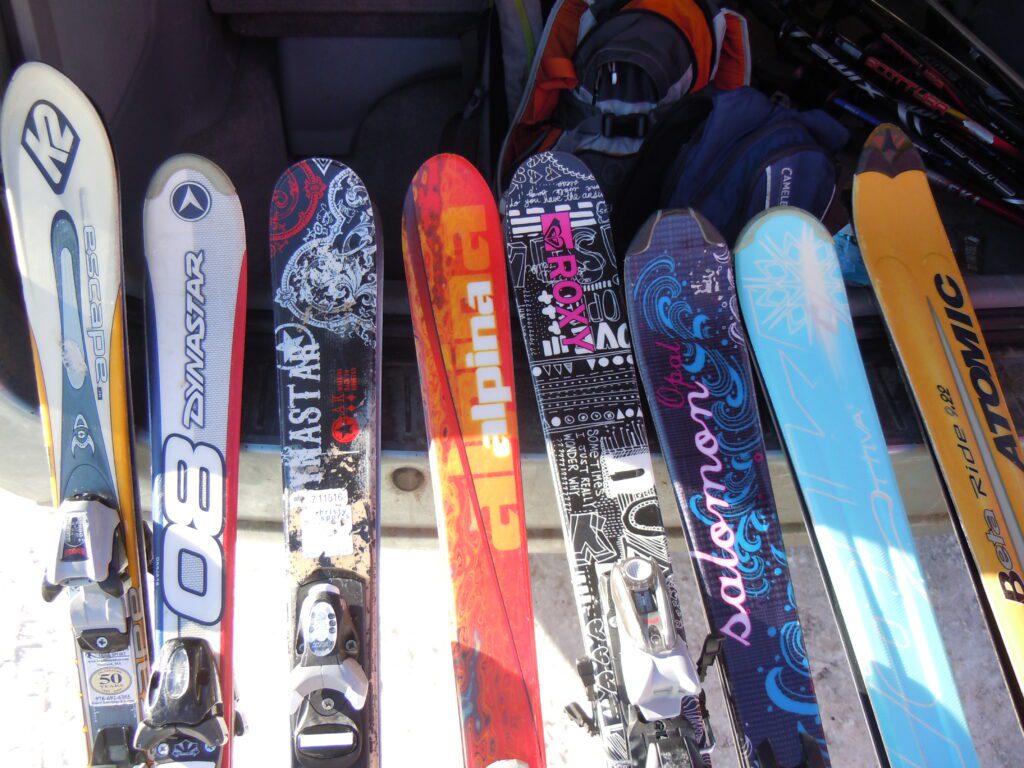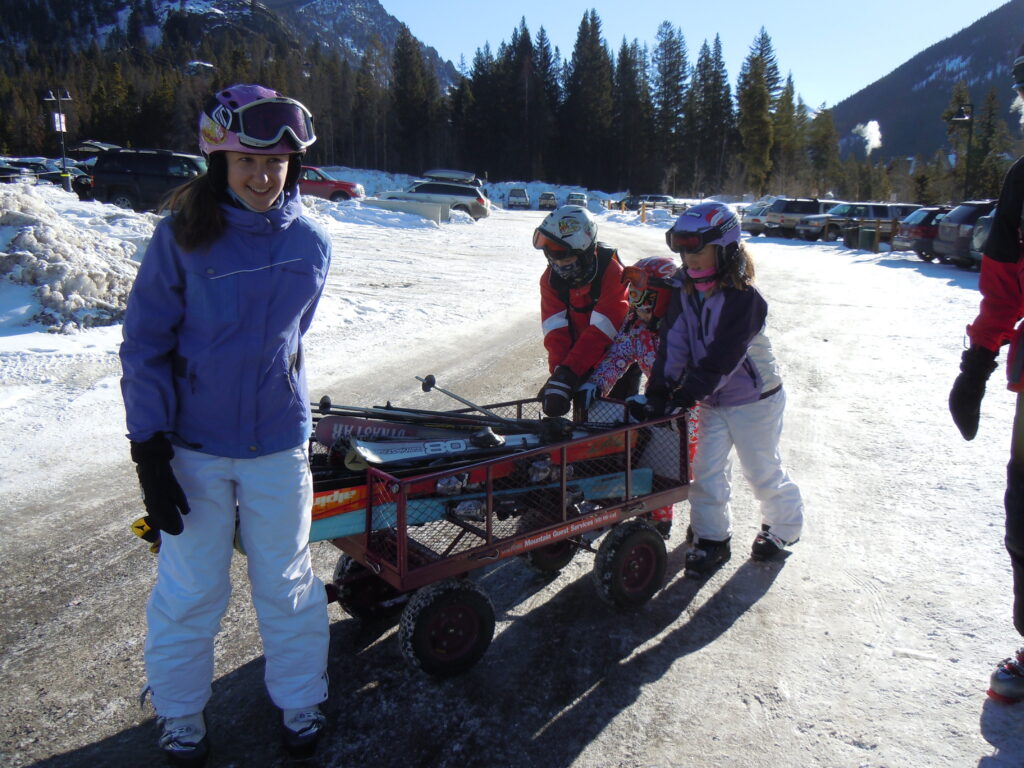 The Mountain
Keystone has three peaks – Dercum, North Peak and the Outpost. You can only drive to the base area of Dercum and park either at the River Run base area or the Mountain House base area. North Peak and the Outpost are only accessibly by ski or snowboard.
We love all three areas. On Dercum, If you like long blue and green groomers, then skiing top to bottom from the top of the gondola or the Montezuma Express is for you. The Frenchman's run is usually groomed again mid-day, and it is a long, fun run. Dercum mountain has night skiing on select trails; however, due to covid they was no night skiing in the 20/21 season. Hopefully, it will resume in 2021/2022!
Keystone has an excellent New Year's Eve celebration in non-covid times. They have an enormous fireworks display and ski patrol coming down the mountain in formation with torches. It is something to see!
North Peak and the Outback have blue and black trails only. And, the outback does offer cat skiing for a fee. Both North Peak and the Outback have numerous glades and chutes. Many more mogul runs on these two peaks. But, you can find grooming if you need it.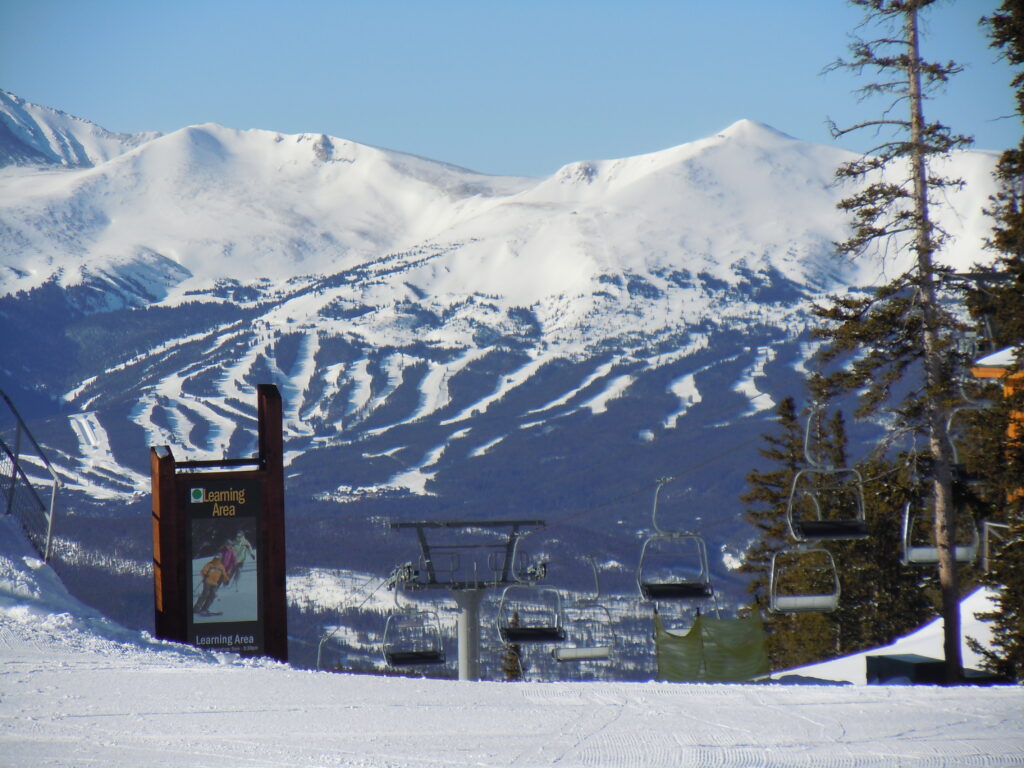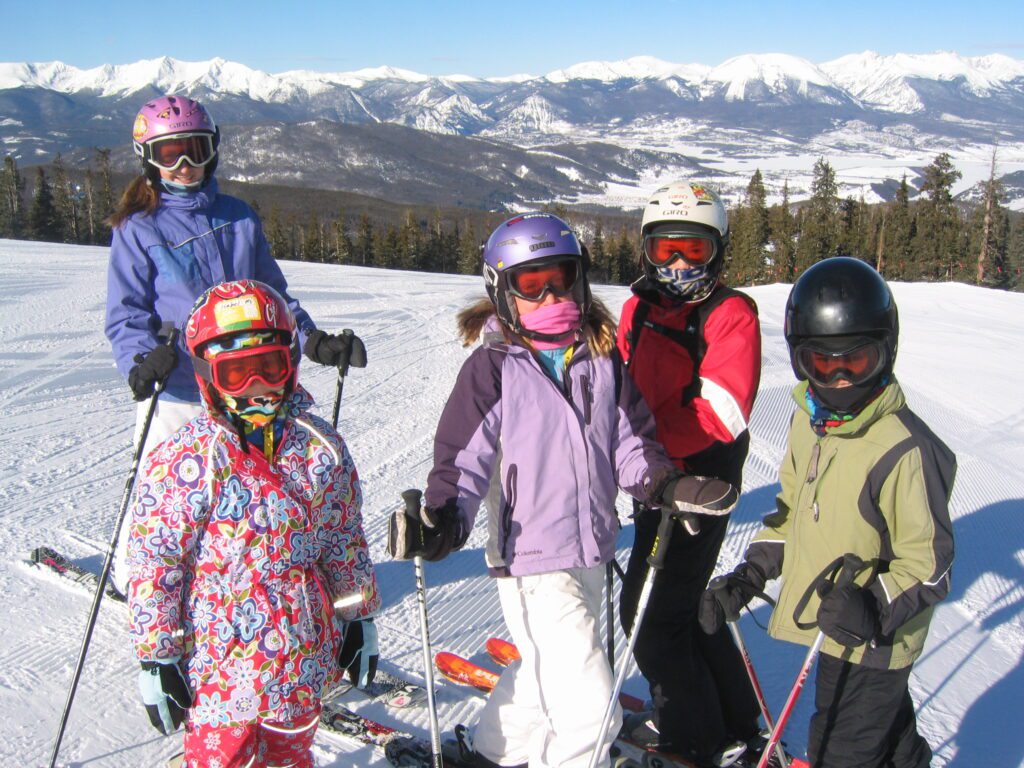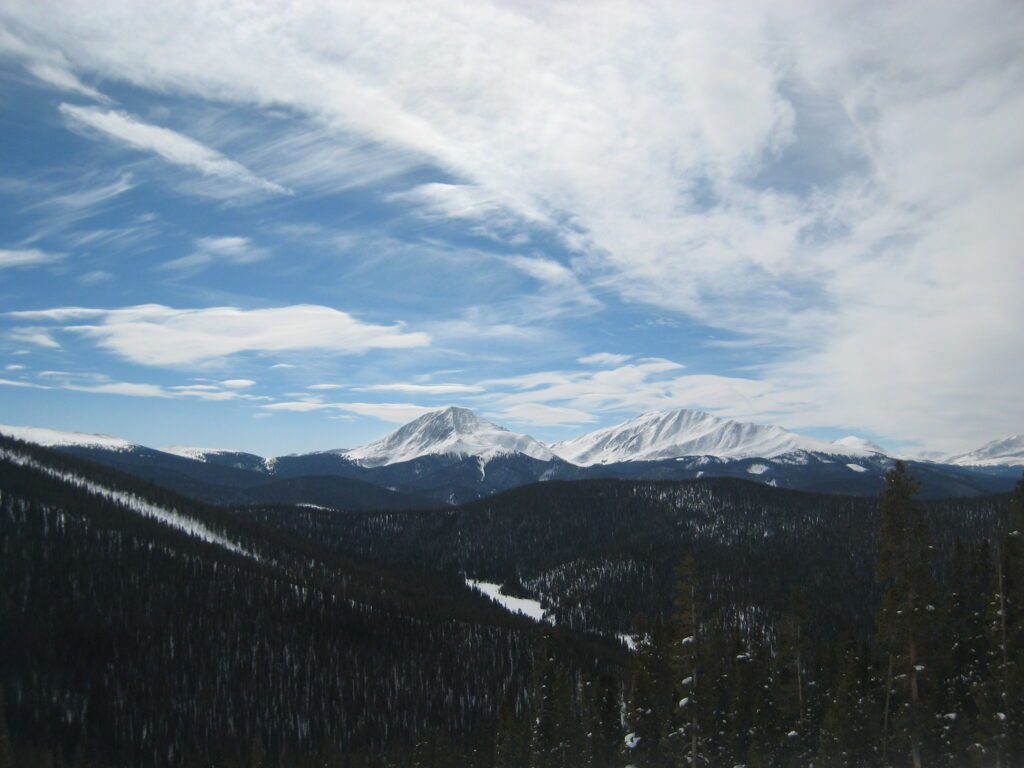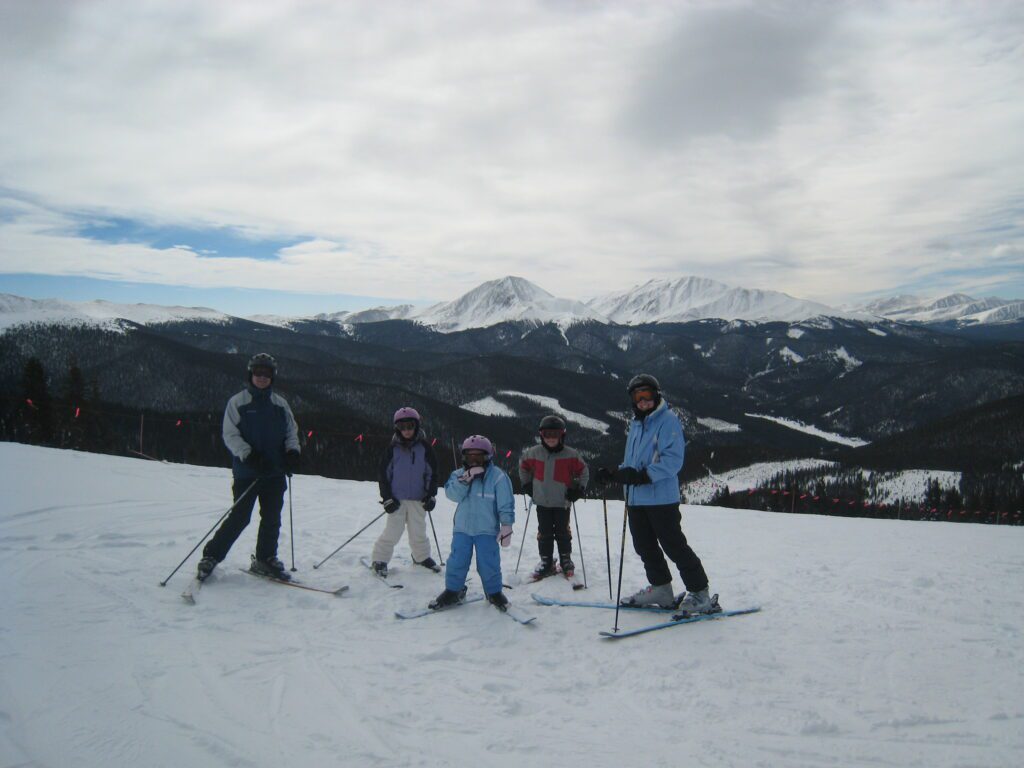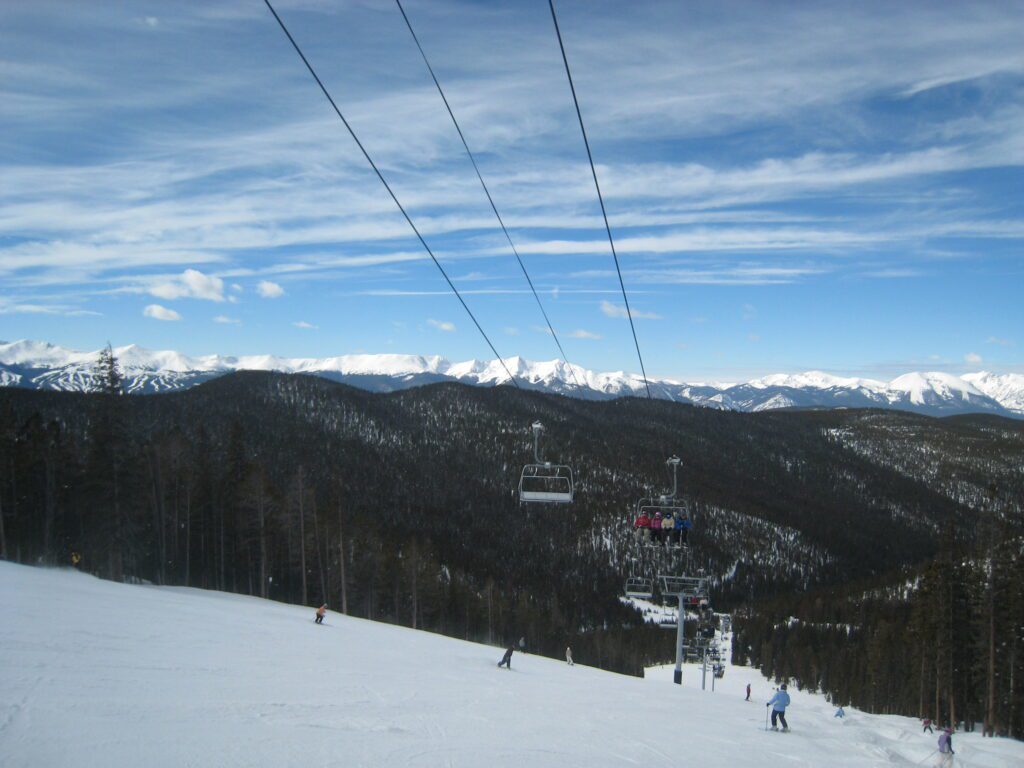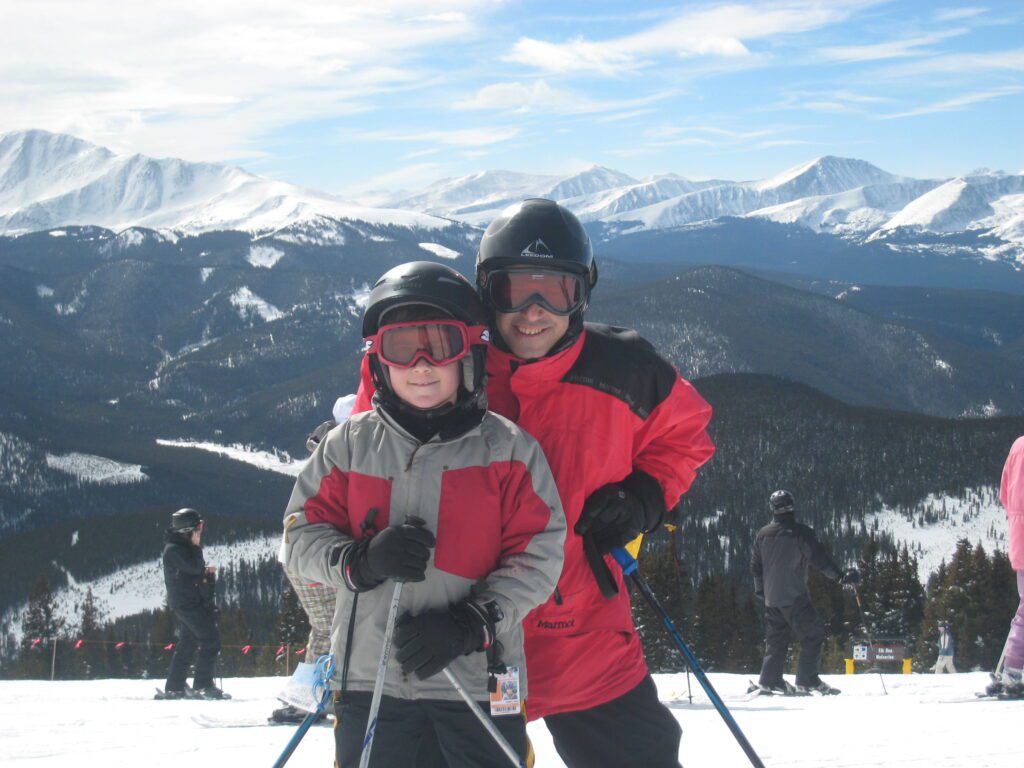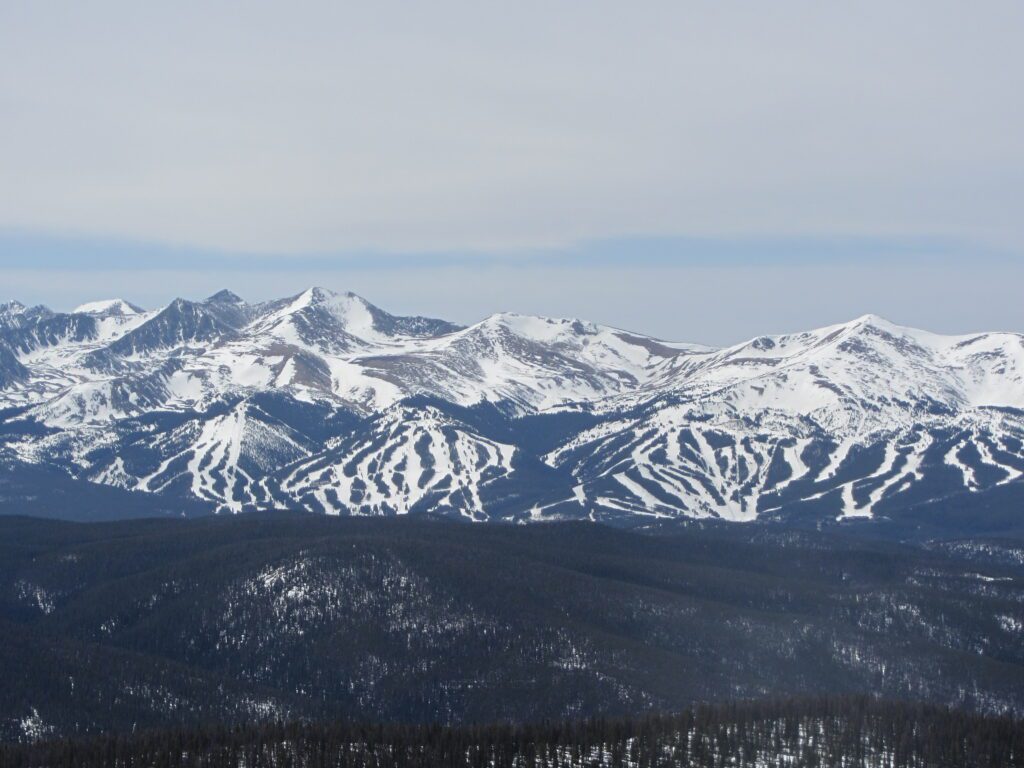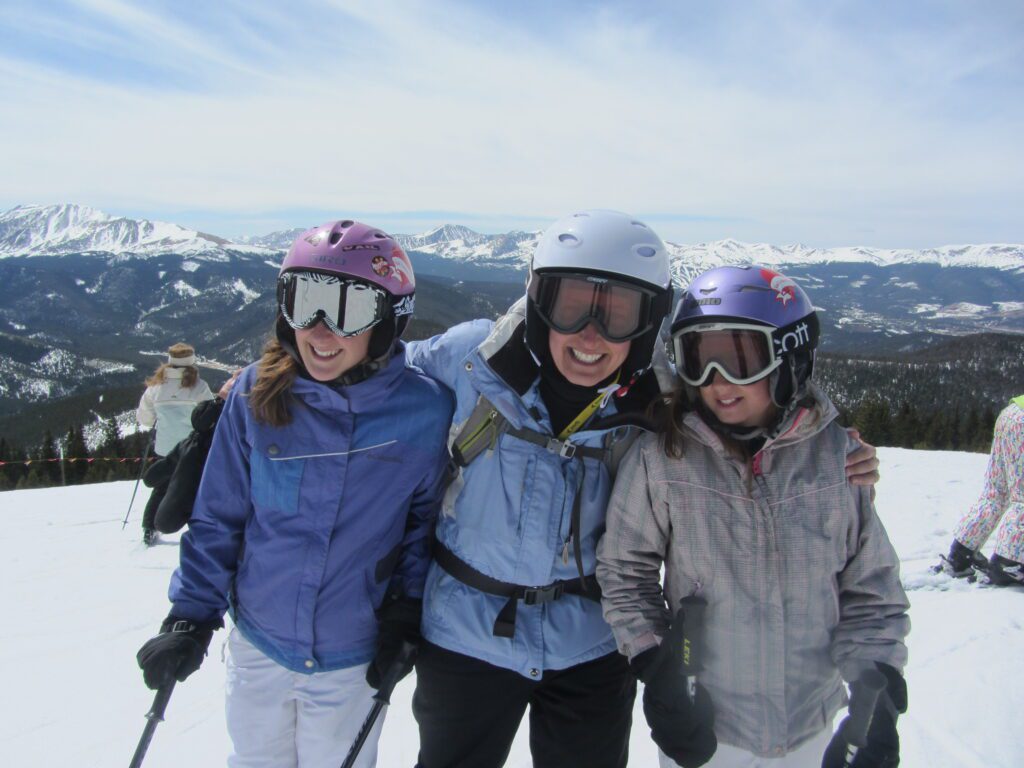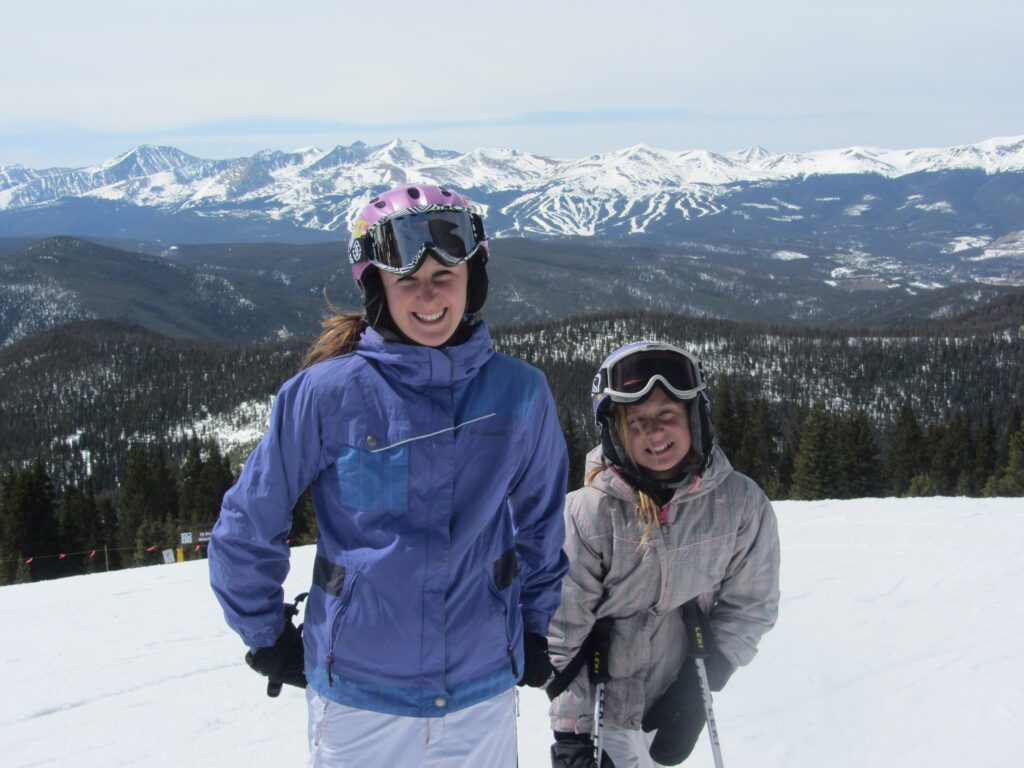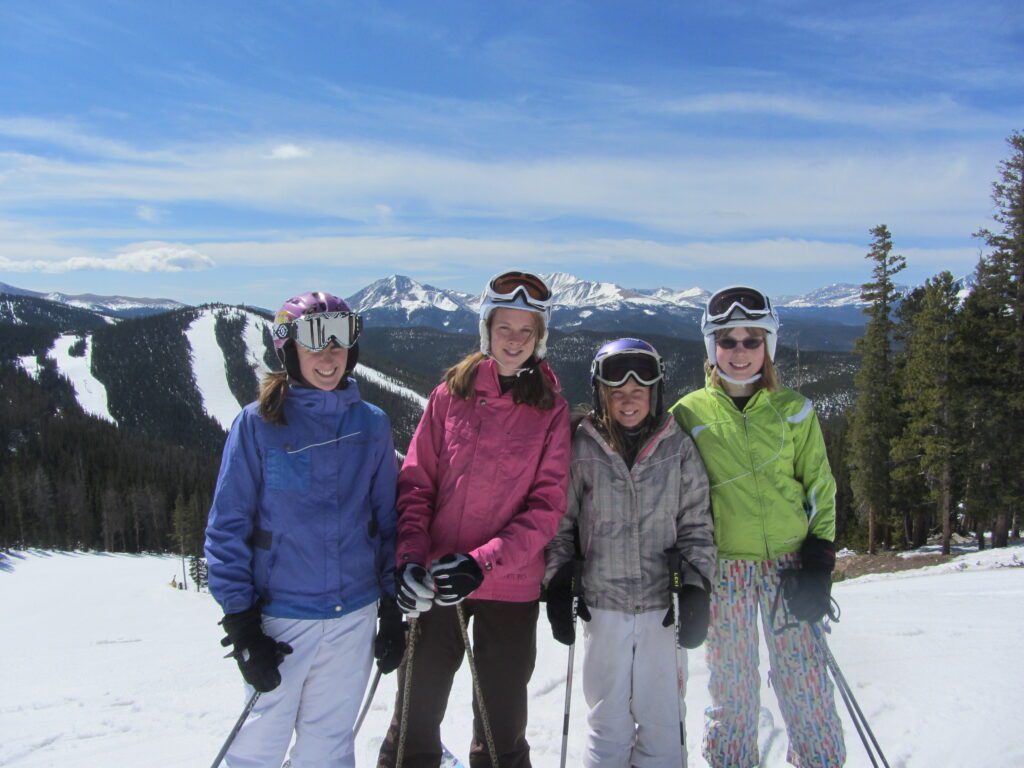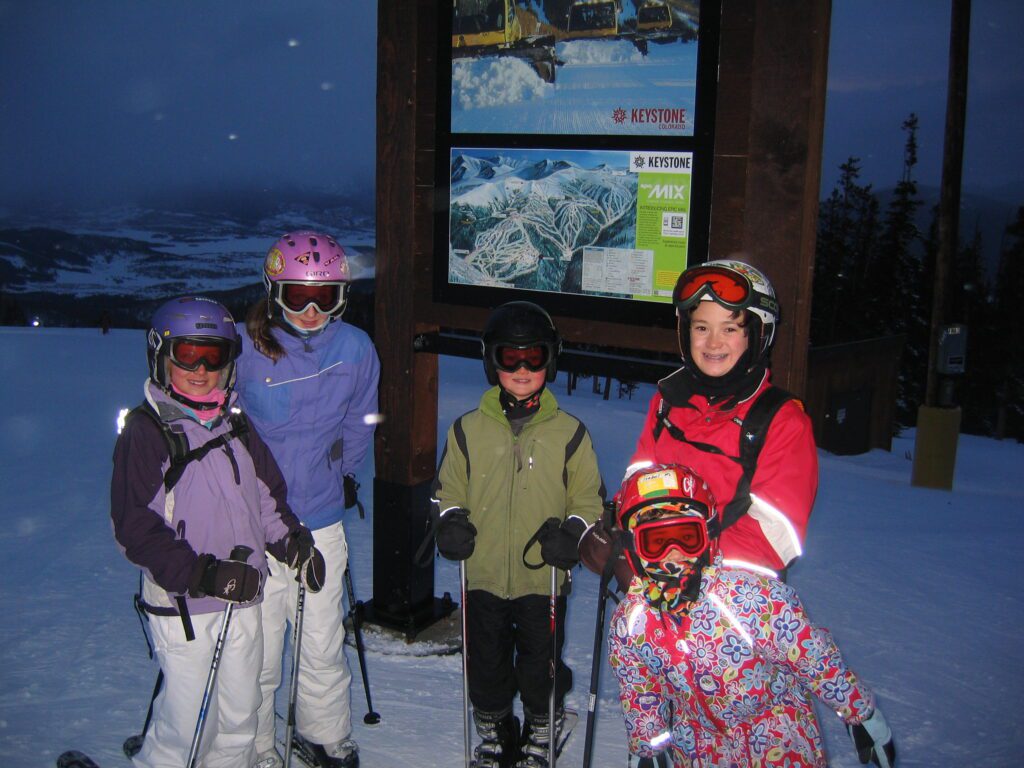 Where to Eat on Mountain
We almost always packed our lunch when we skied Keystone. While there are plenty of dining options on mountain, it is very expensive. We ski with a backpack that can hold four drinks, four sandwiches, two cup of noodles soups, sliced fruit, string cheese and brownies. We bring hot cocoa packets and tea bags and use the free water in the cafeterias. It saves a ton of money to do that. We also recommend starting your day early and being inside to eat by 11:15am. The crowds are so much less.
Do not descend to the bottom of the mountain at River Run or Mountain House as there are only off-mountain restaurants down there. Either ski with a backpack if you plan to picnic or use a small locker at the top of the gondola.
Summit House – The Summit House on Dercum Mountain is at the top of the Gonolda and the Montezuma Express lifts. There is plenty of room for a picnic on the four levels. Or, you could buy hot and cold food, drinks and alcohol. The outside bar can be fun on a sunny afternoon.
The Outpost – The Outpost is at the top of the Outpost Gondola, the Wayback and Santiago Express lifts. It has ample seating for picnics or the purchase of food. We ate here many many times They have excellent chili cheese fries!
Labonte's Smokehouse BBQ – This is a smaller place at the bottom of the Santiago and Ruby Express lifts. There is a party scene outside in the snow, but the inside offers bathrooms, a small place to picnic or buy food and the opportunity to warm up!
There are no dining facilities anywhere on The Outback peak.
Where to Eat Off Mountain
The River Run base area is loaded with easy to access restaurants, shops, sub shops, Starbucks, pizza, grab and go options and bars. Our favorites in this area include:
Kickapoo Tavern – This tavern is located steps from the base of the River Run Gondola and the Summit Express lifts. The nachos, salads and burgers are all excellent. The vibe is hip and fun. The Kickapoo can be rocking apres ski! TripAdvisor reviews are very good.
9280 Taphouse – This lively and fun tap-house has 14 beers on tap. In the heart of the River Run village, the 9280 specializes in wings, nachos, enormous sandwiches and has a fun indoor and outdoor atmosphere. TripAdvisor reviews are great. The 9280 was not open during the 20/21 season. However, because it is owned by Vail resorts, it should be open in the post-covid era.
There are three dining options in the Mountain House base area. Since we never parked there, we did not try any of the options. They Keystone website says,
Located just steps from the snow, the Mountain House is home to three dining outlets, Three Peaks, serving up classic favorites including handmade pizza, and sandwiches, the Mountain House Food Court featuring delicious breakfast burritos, Starbucks coffee or specialty drink, burgers and salads, and the Last Lift Bar, a ski industry legend and locals' favorite.
Lakeside Village is one of Keystone's most scenic locales. Surrounding the five-acre Keystone Lake, Lakeside Village is a central location offering dining options and plenty of activities. Our favorite dining destinations in this area include:
Lakeside Pizza and Pub – With a beautiful deck that faces the small lake, this excellent pizza place has many menu options including make your own pizza, salad and wings.
Dillon Dam Brewery – The Dillon Dam Brewery located six miles away from Keystone almost at 1-70 is a restaurant we visited dozens of time. With about 17 beers on tap at any time, the Dam Brewery also serves great pub food. Lots of vegetarian and gluten free options. Be sure to try the nachos and the fries!
Ski Tip Lodge – About five minutes away is the Ski Tip Lodge. It is very close to the Keystone ski resort. This bed and breakfast also serves amazing food and drink in a delightful setting. It is worth a drive or an overnight stay. The gardens are delightful. Both times we visited in the fall months, not during ski season.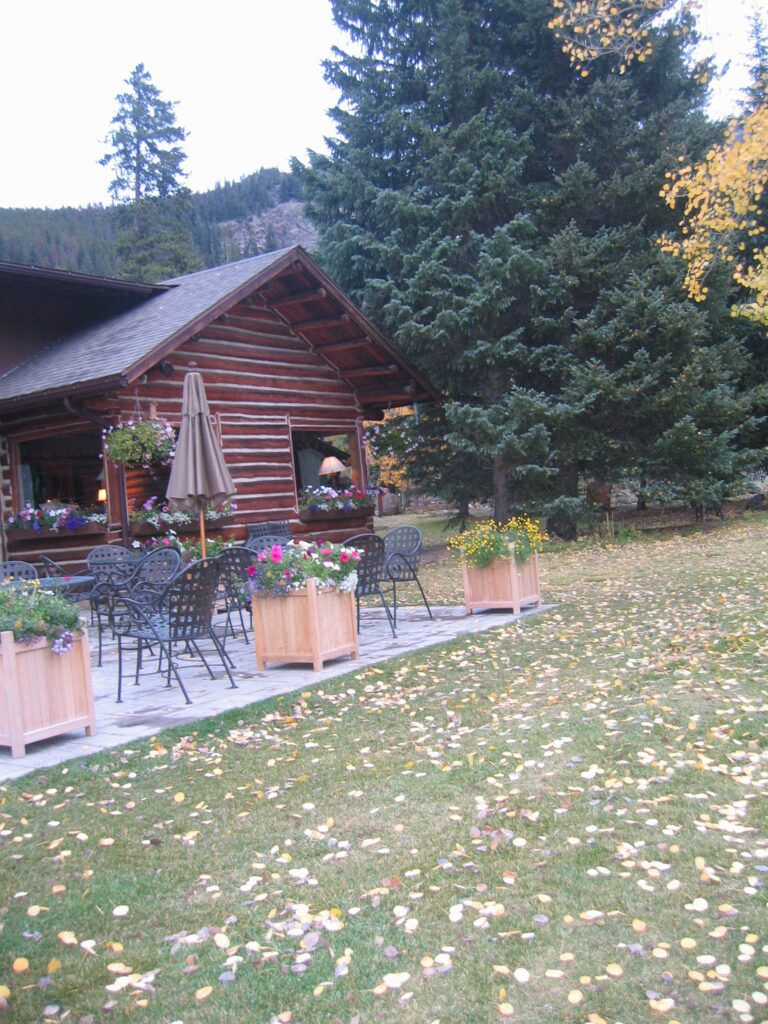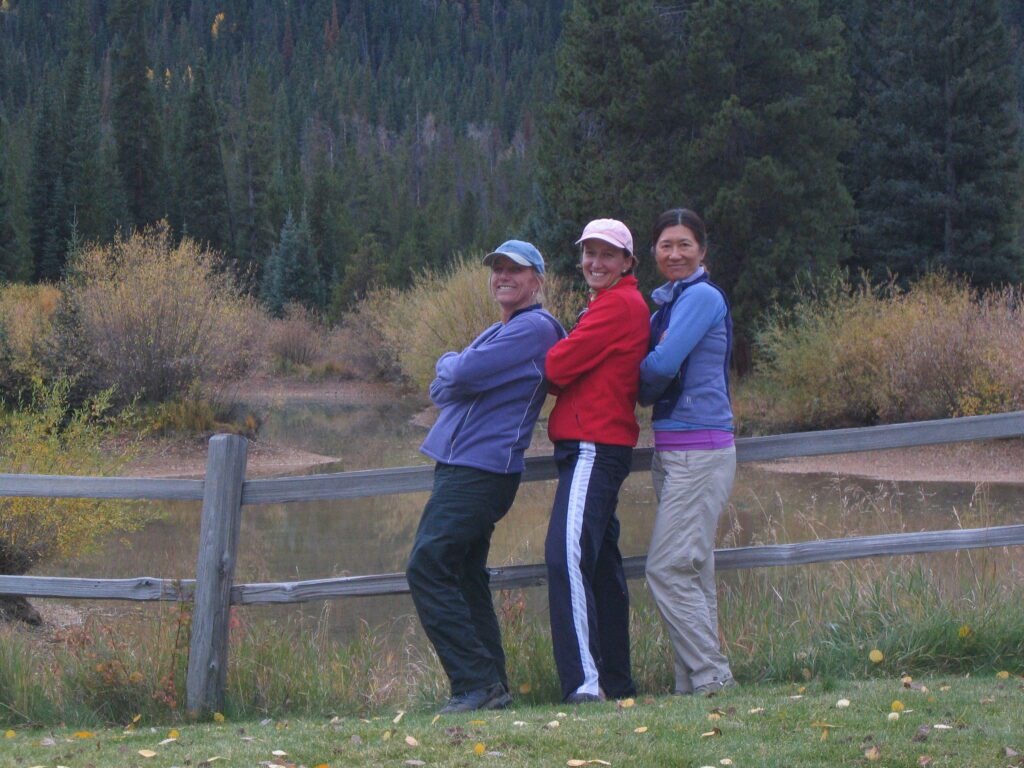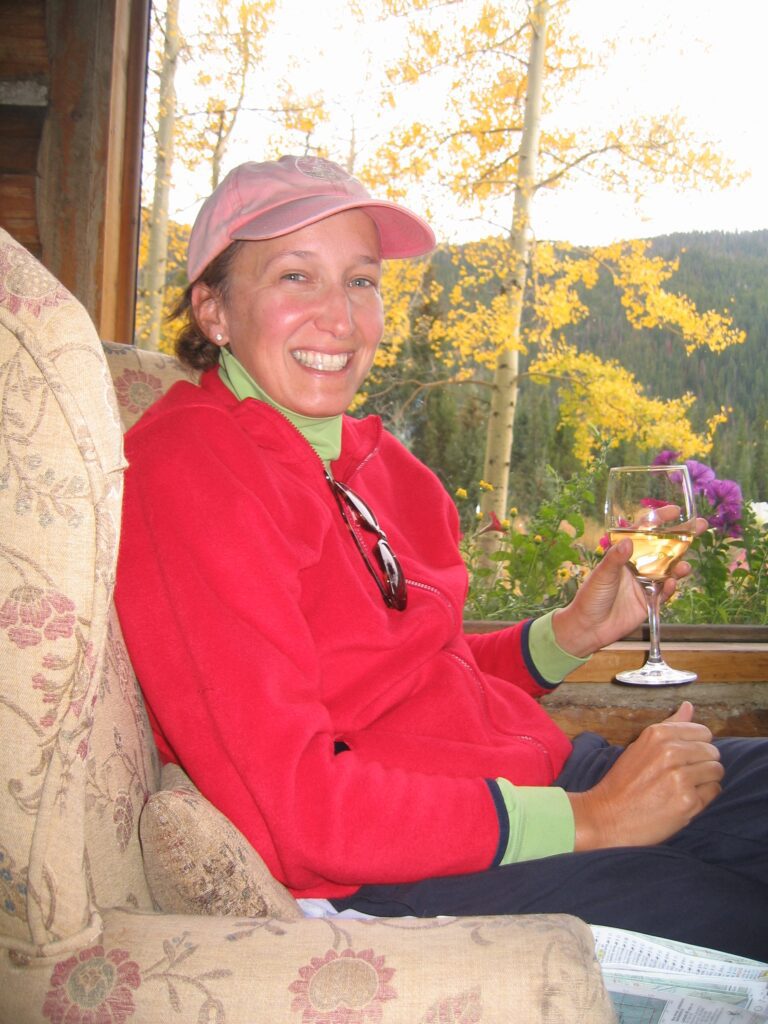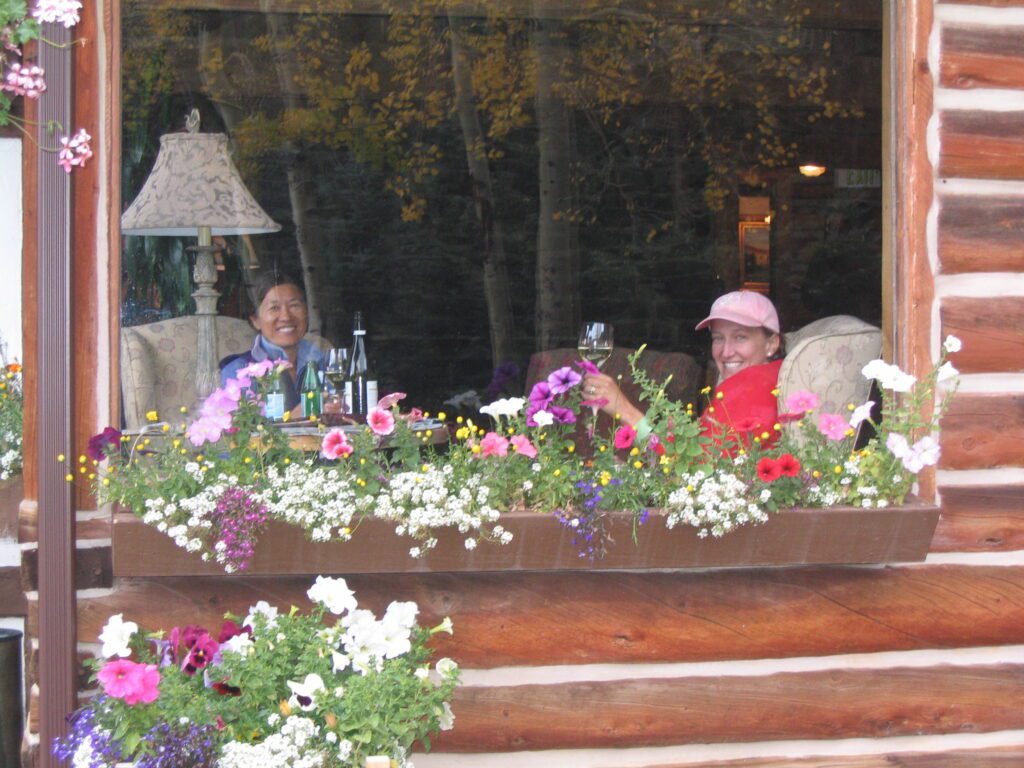 Tubing!
Keystone has our favorite tubing adventure in all of Colorado! We LOVED doing it at night. You need to make reservations as it does sell out. We did it many times for the full hour. They start every hour on the hour with different colored bracelets for the hourly group. Go EARLY. You will need to ride the gondola to the top of Dercum Mountain and walk to the tubing area. They give you a safety briefing and off you go.
The most fun part of the tubing is the huge push you get from the guides. Fun music is blaring! Be sure to wear a full on ski outfit to stay warm and dry. After soaring down the big hill, you walk with your tube to the magic carpet and go back up the hill! It is worth every penny!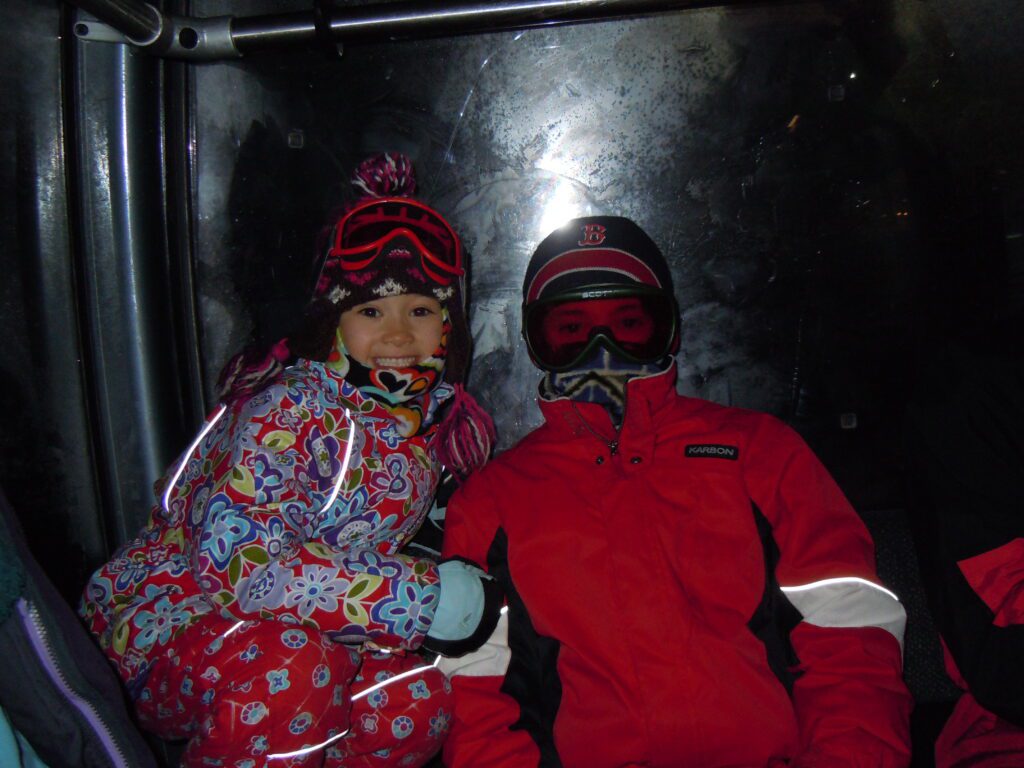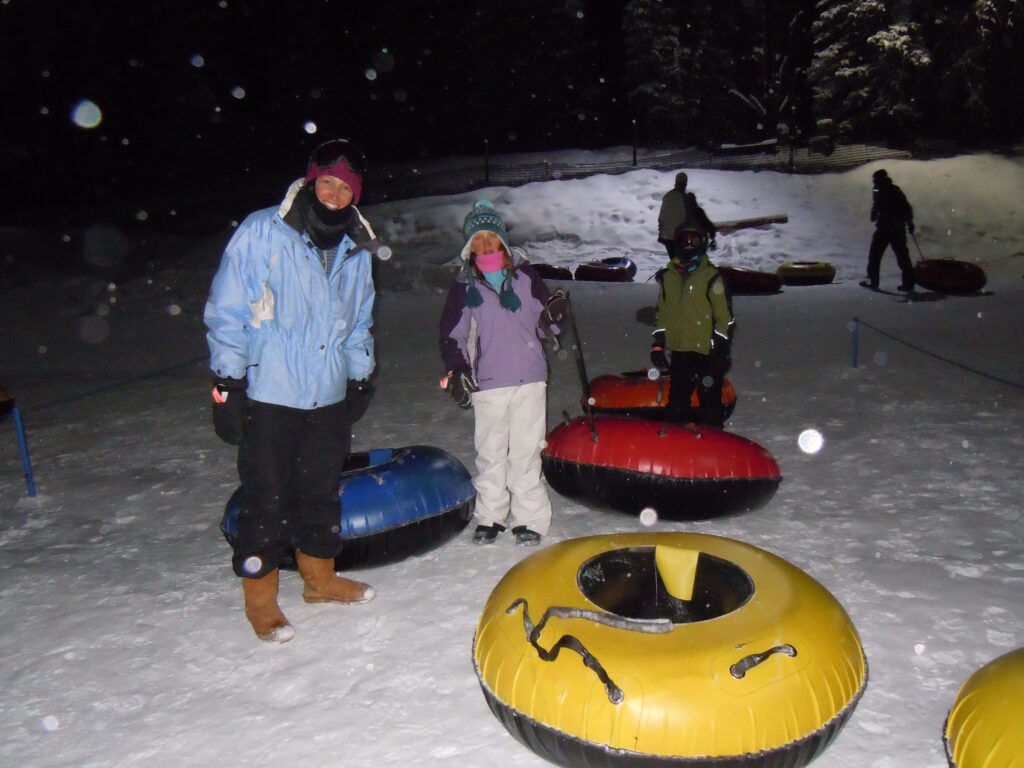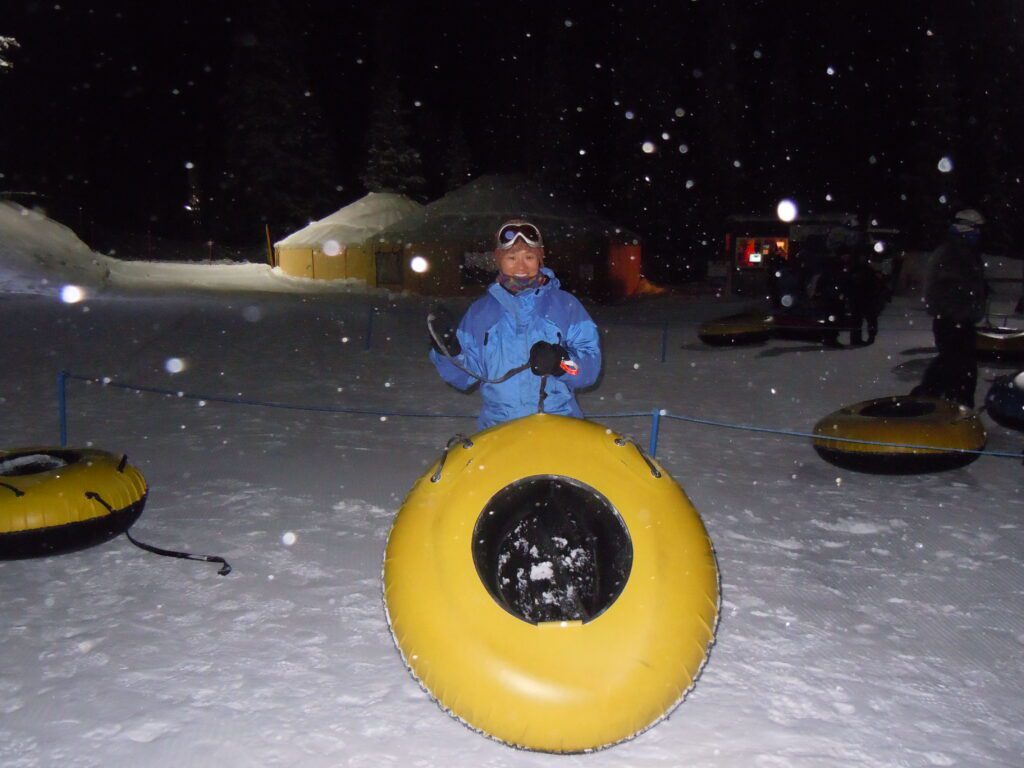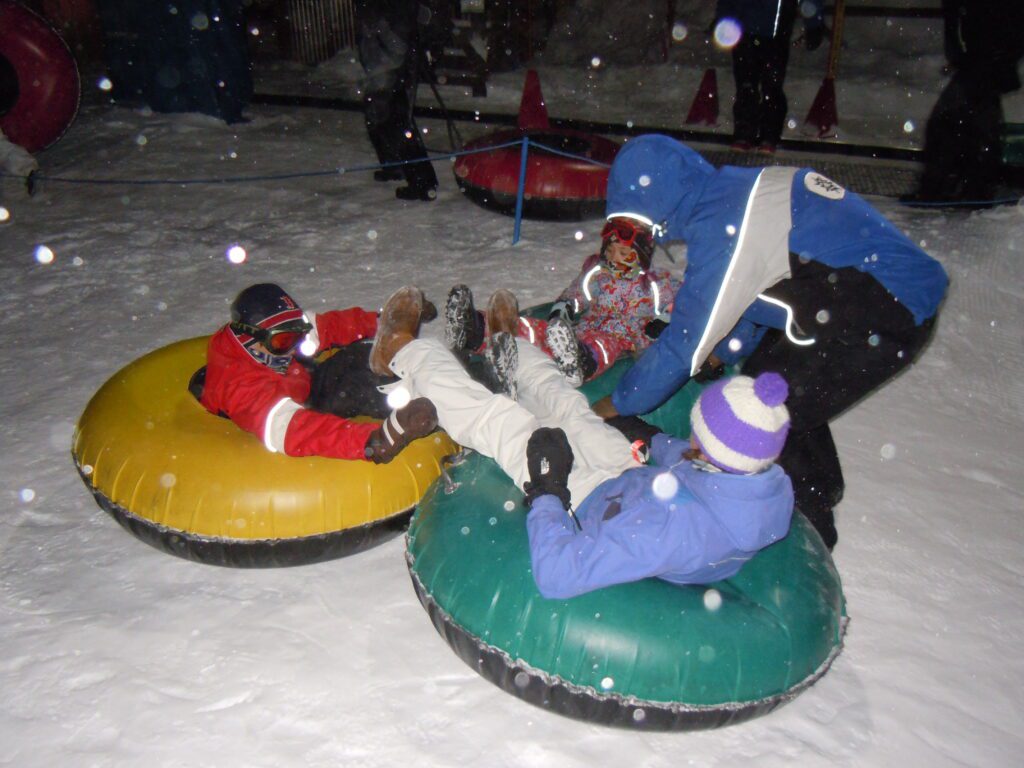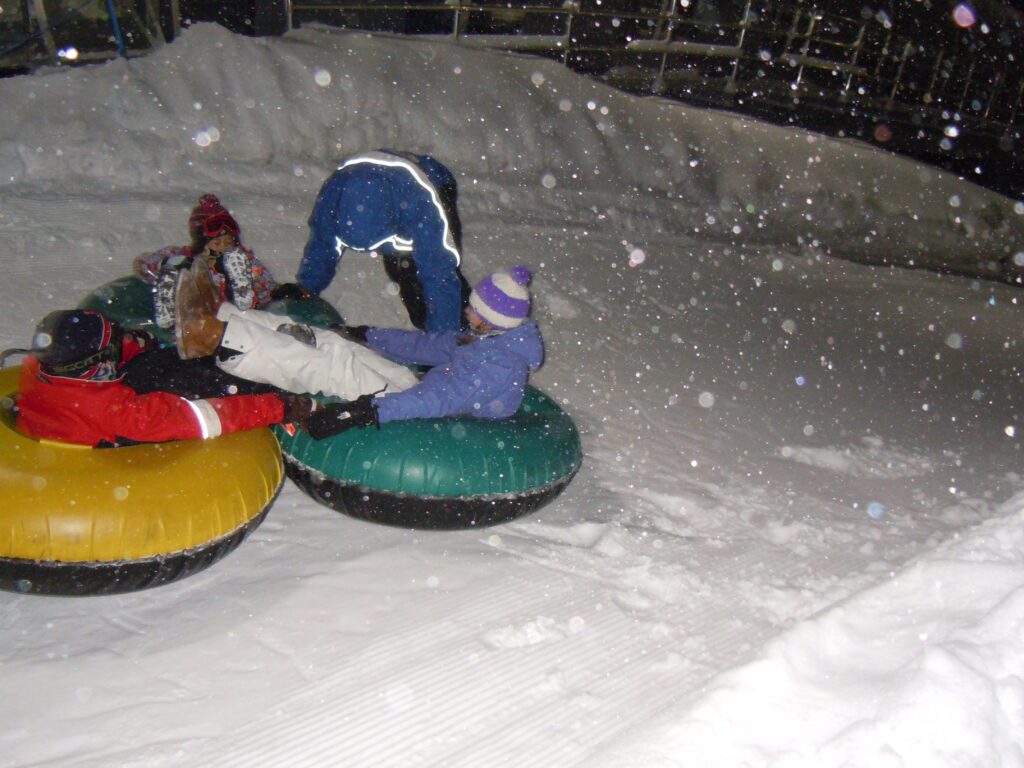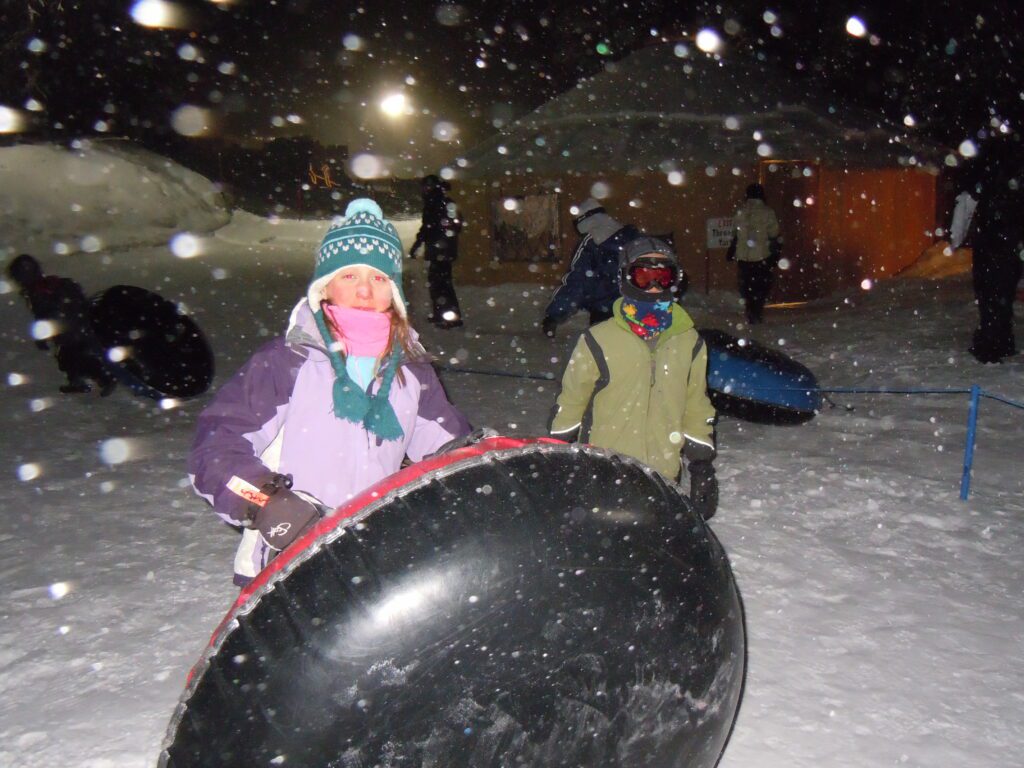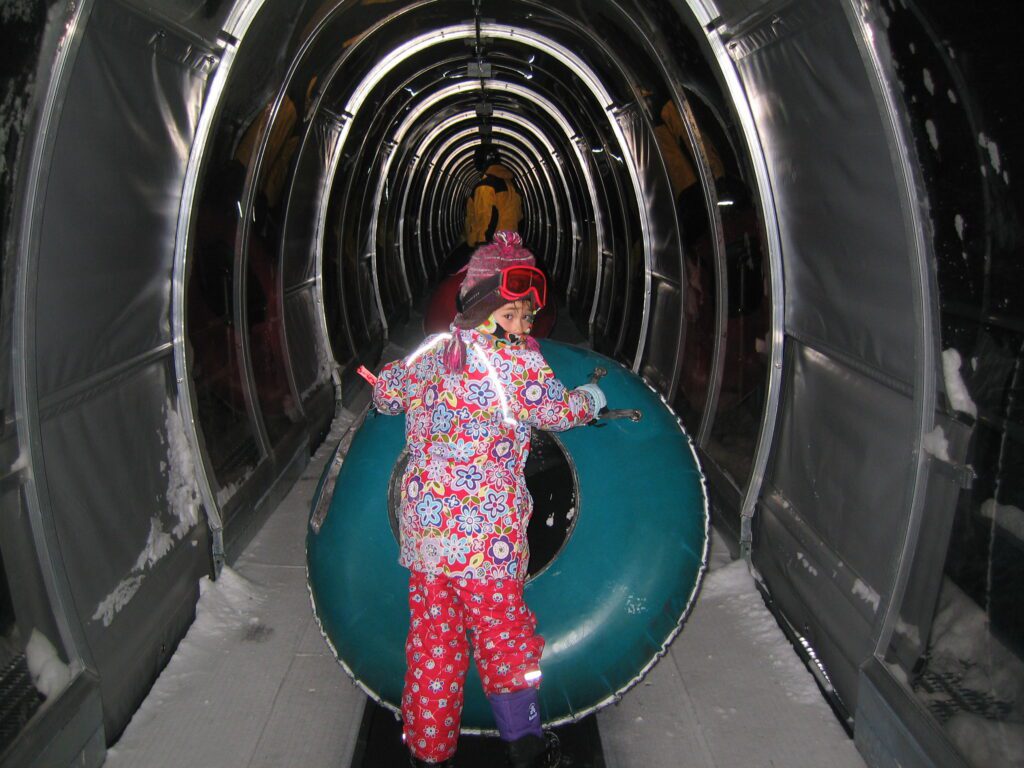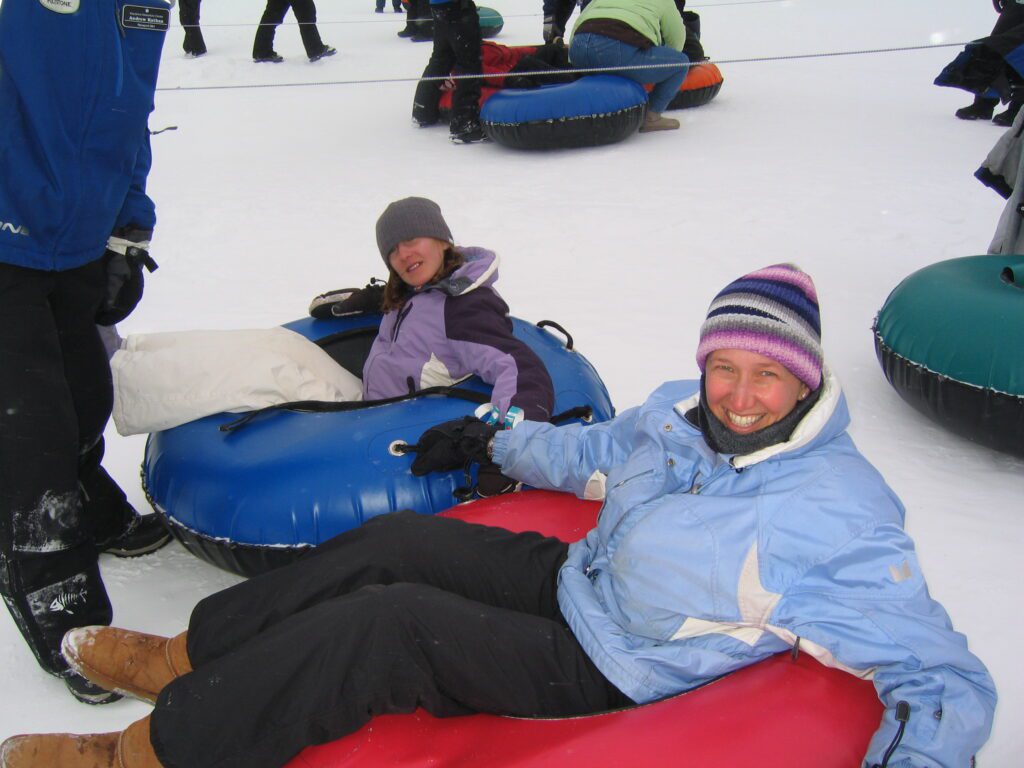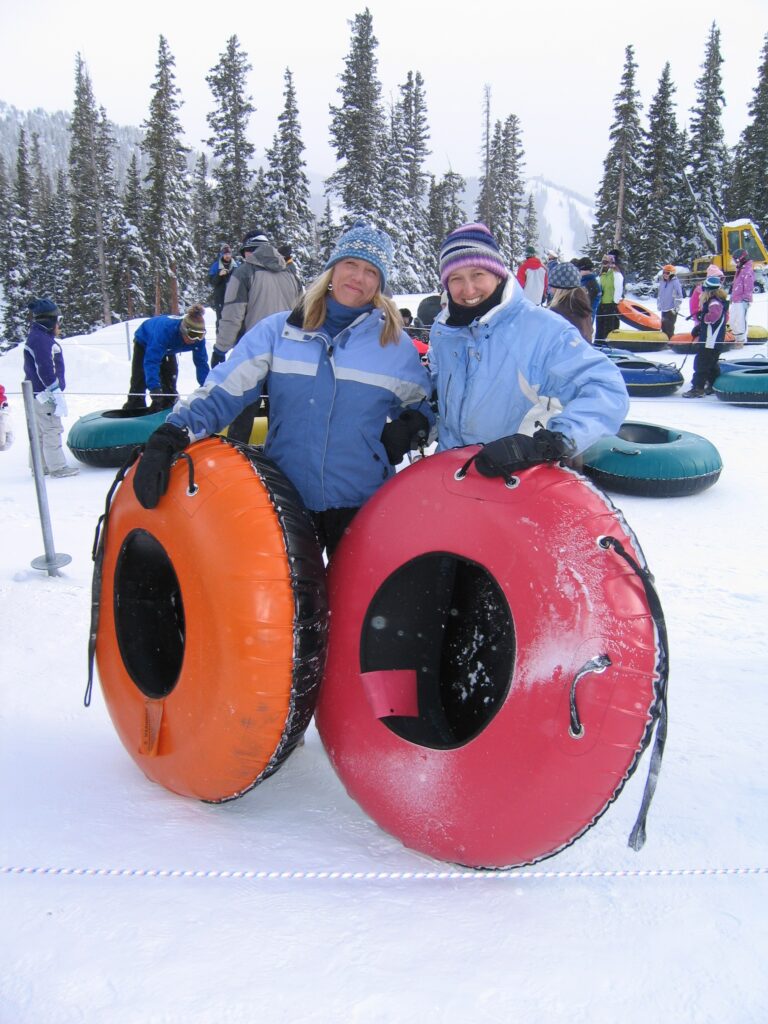 Silverthorne Recreation Center
Regularly after skiing Keystone, we would head to the Silverthorne Recreation Center about six miles away from Keystone. The kids wanted to swim in the pools, soak in the hot tub and enjoy the great slides. The rec center has fitness classes, changing rooms, saunas, pickleball and many other activities. Our kids loved it.
Alpenglow Stube
We have done this experience three times, and it is so fun! You ride two gondolas at night to get to the Alpenglow Stube. The restaurant used to serve fondue, but now it appears to be an a-la-carte menu. The restaurant sits in a building that is a ski lodge by day, fancy dining by night. The experience is fun, and unique!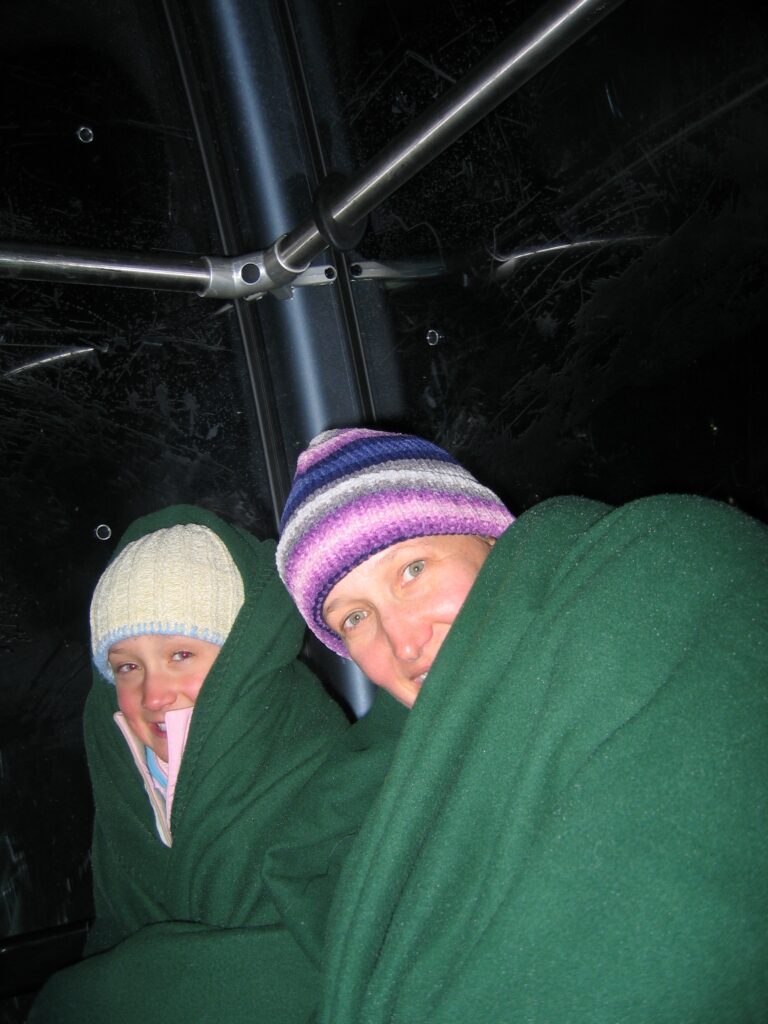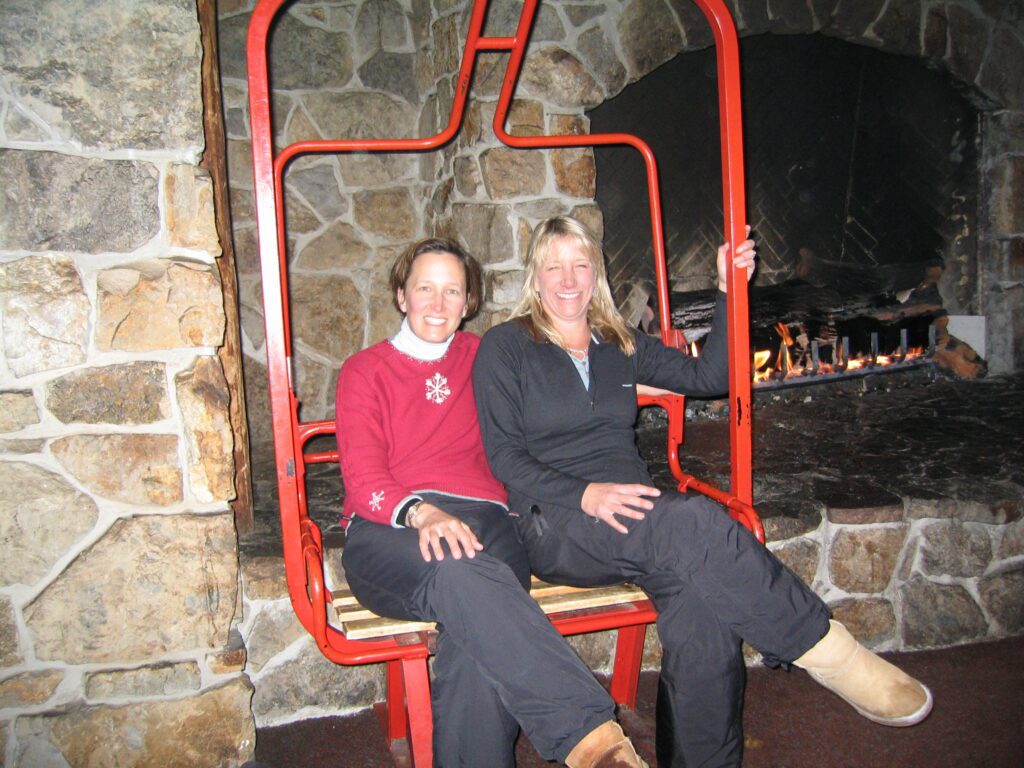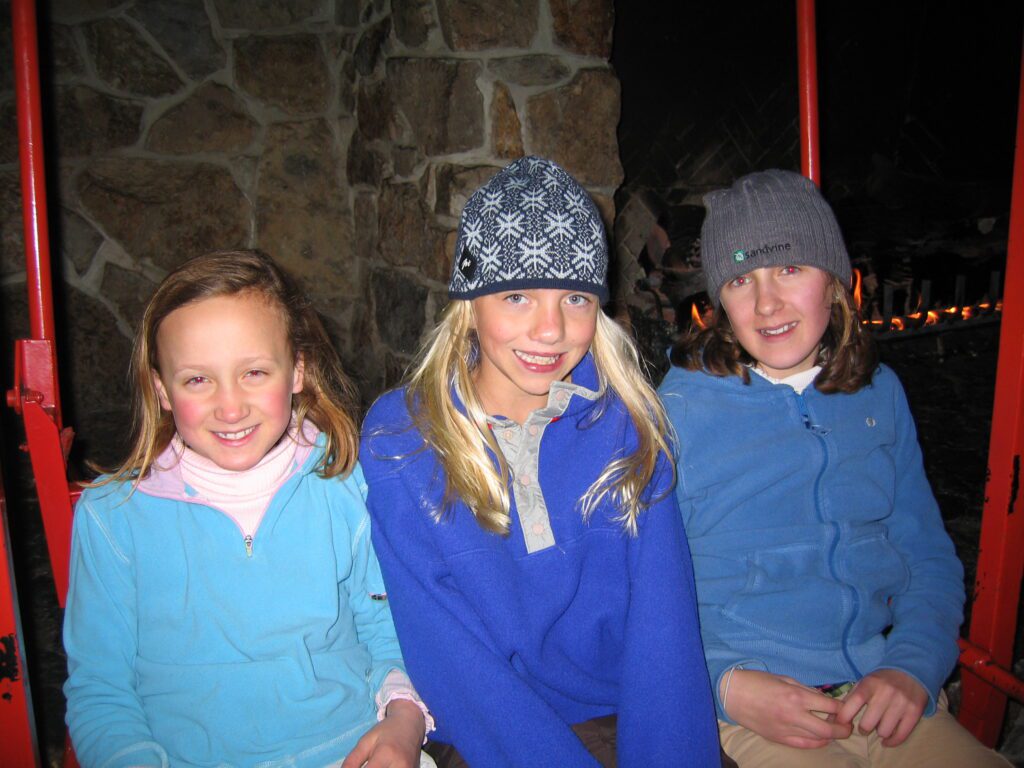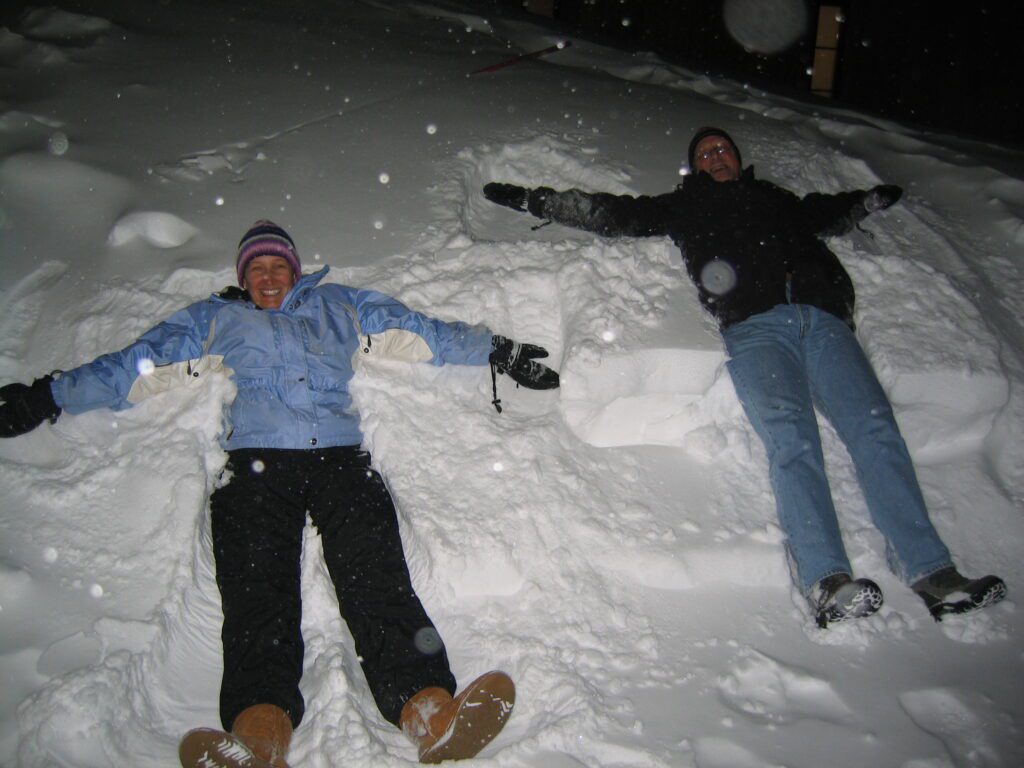 Keystone Stables
Almost every time we stayed in West Keystone off of Soda Ridge Road, we would take an afternoon and walk to Keystone Stables to pet and feed the horses. The stables offers horseback riding, draft horse clinics, pony rides, wagon dinners and weekly events. We loved seeing the healthy horses and feeding them hay.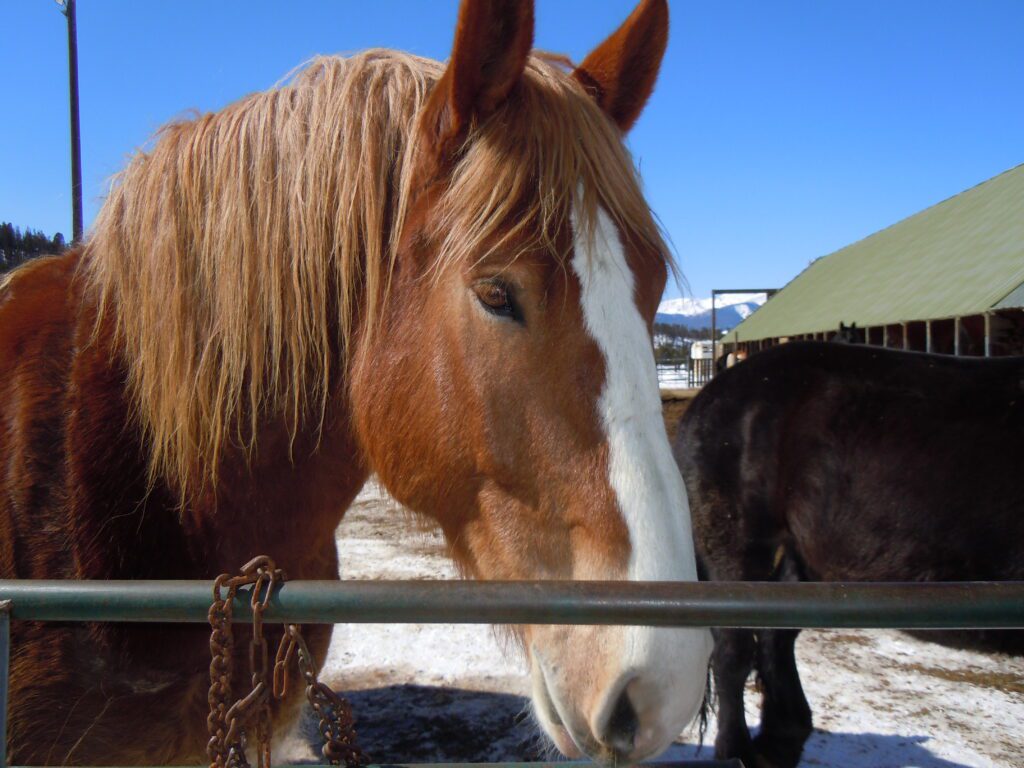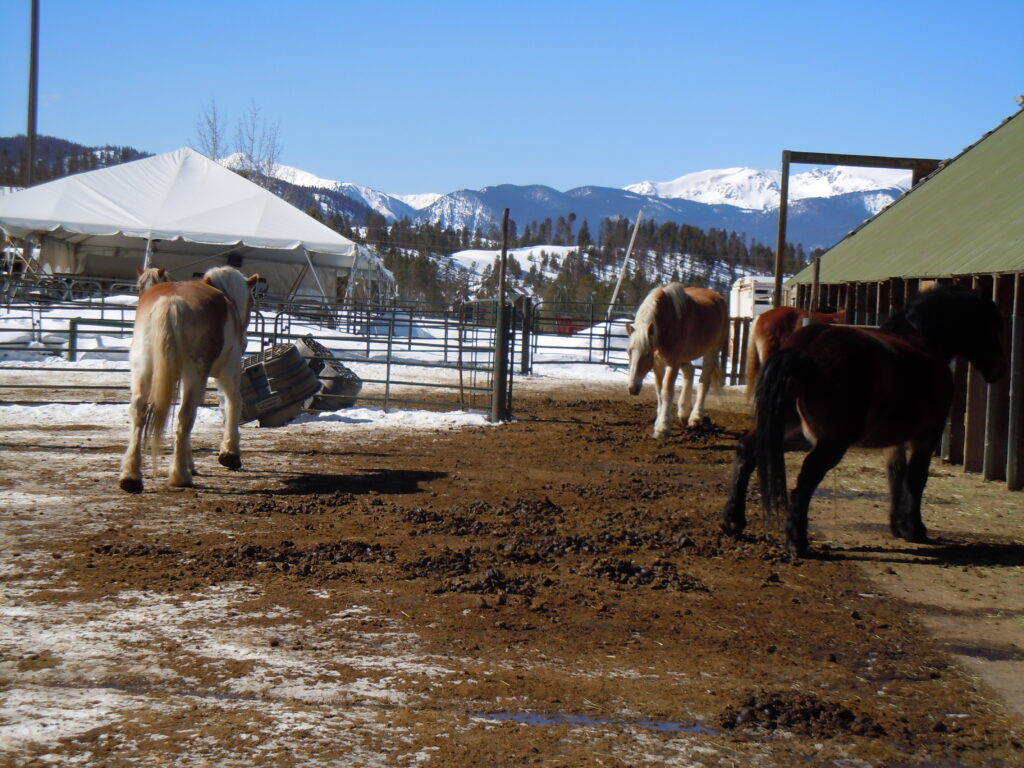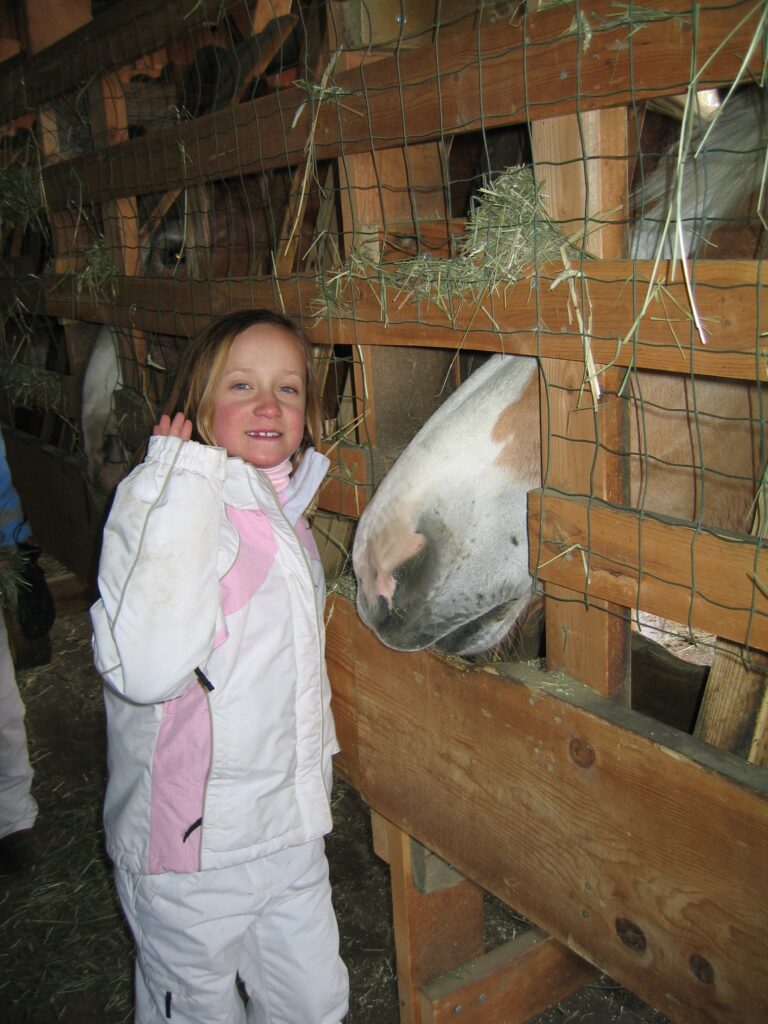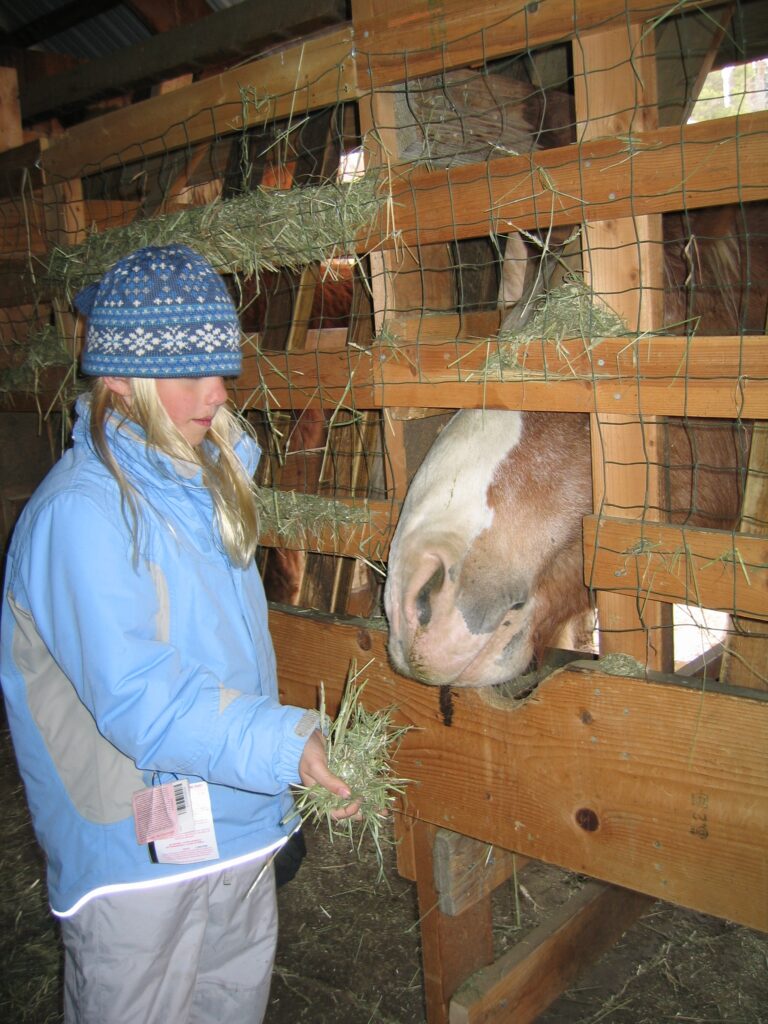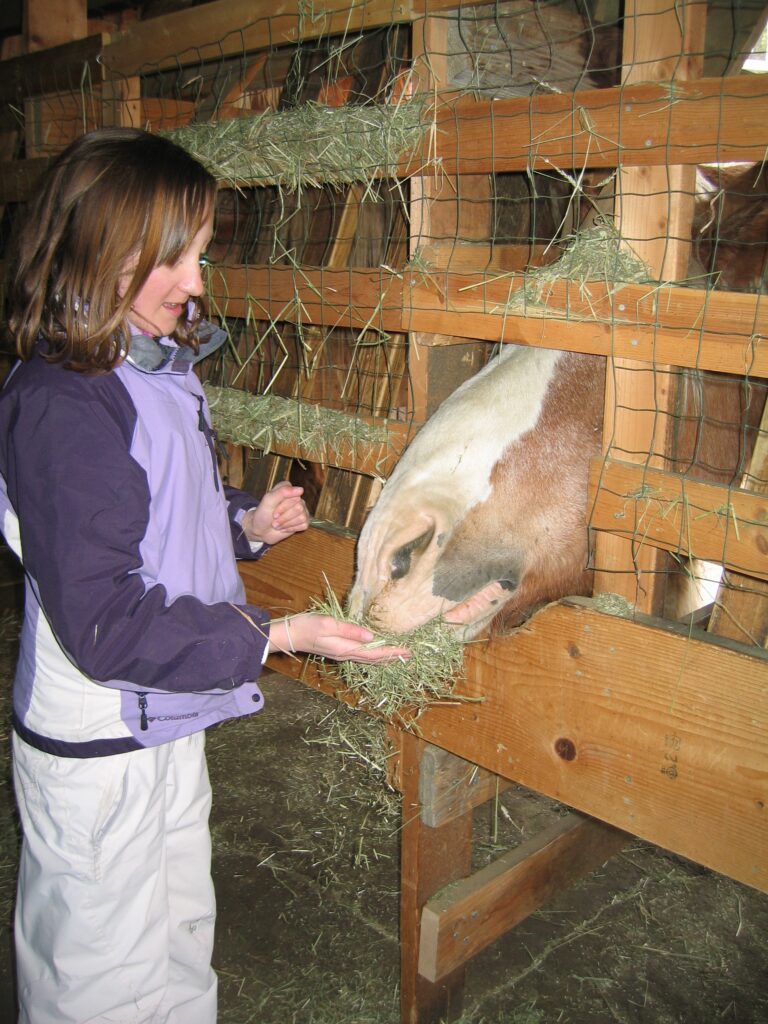 Bungee Trampoline
In the center of River Run Village is a bungee trampoline. Our kids and friends visiting just loved it!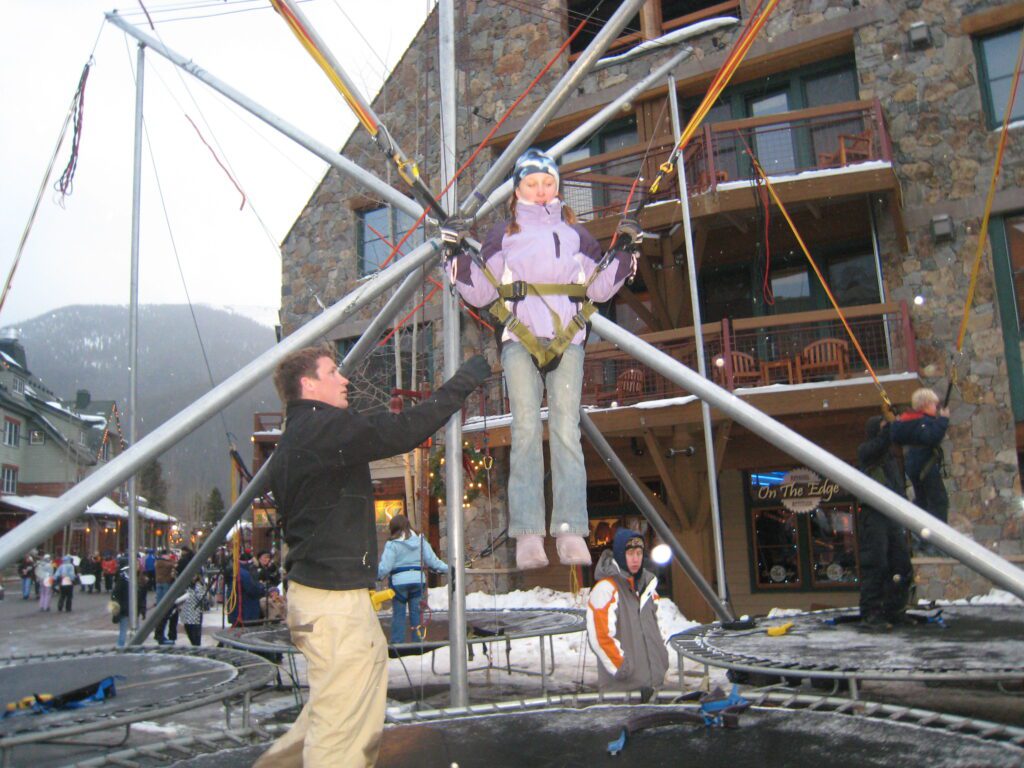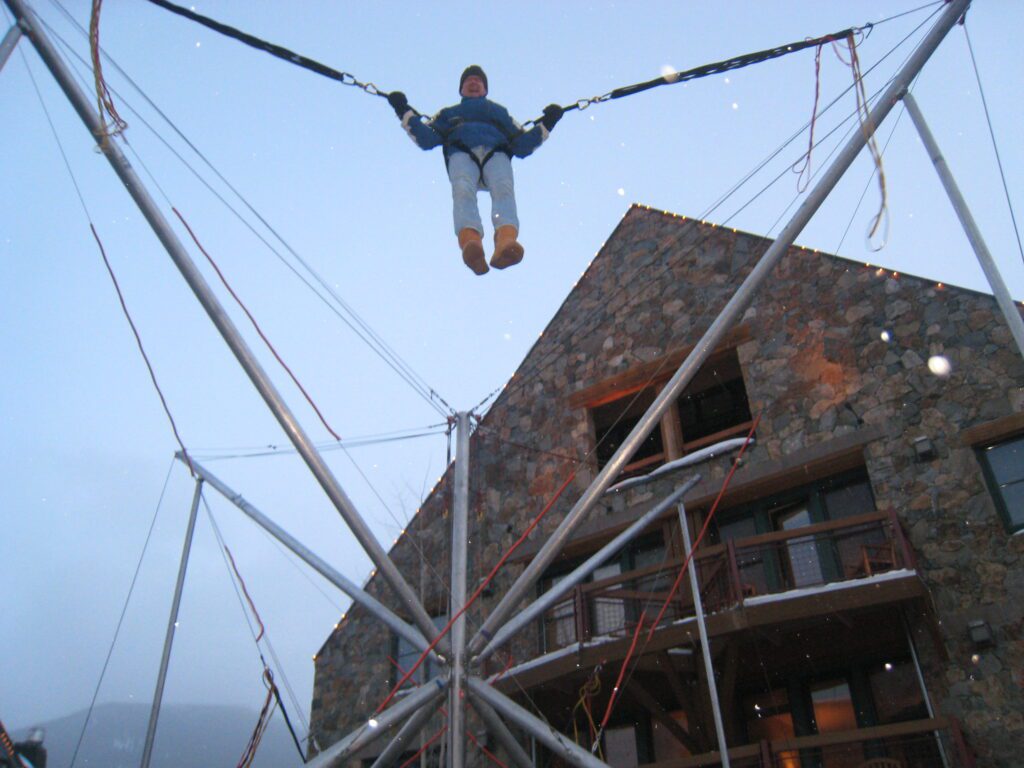 Hiking
If you visit in the summer or fall, there are great hiking trails all around the Keystone, Dillon and Silverthorne areas. AllTrails can help you find some great ones!