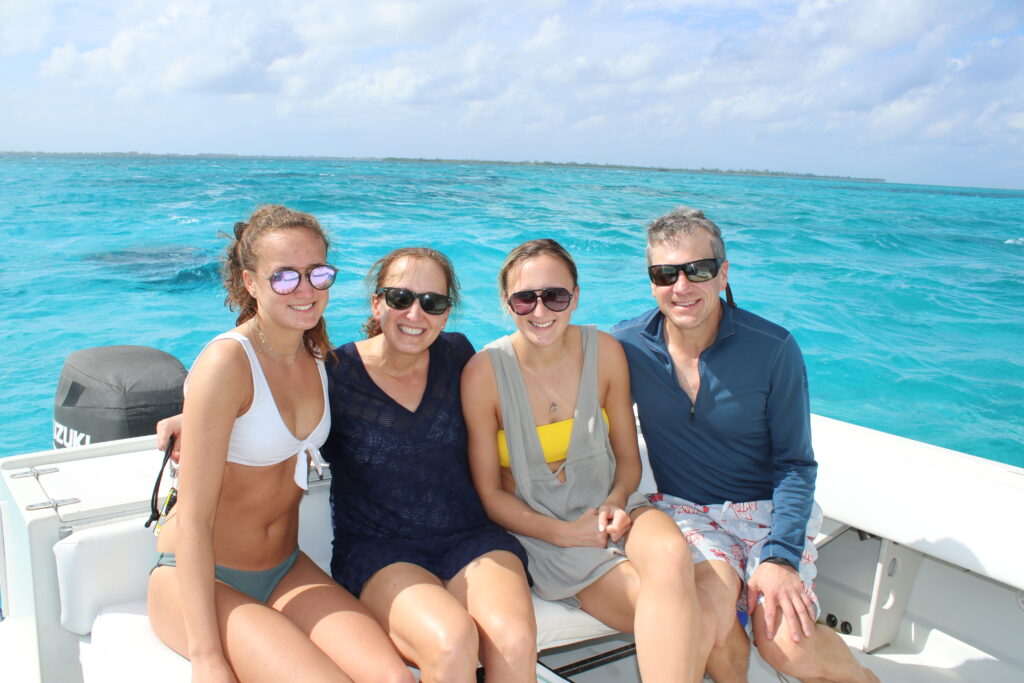 Day 1 – Arrival into Grand Cayman, Coconut Joe's, Casanova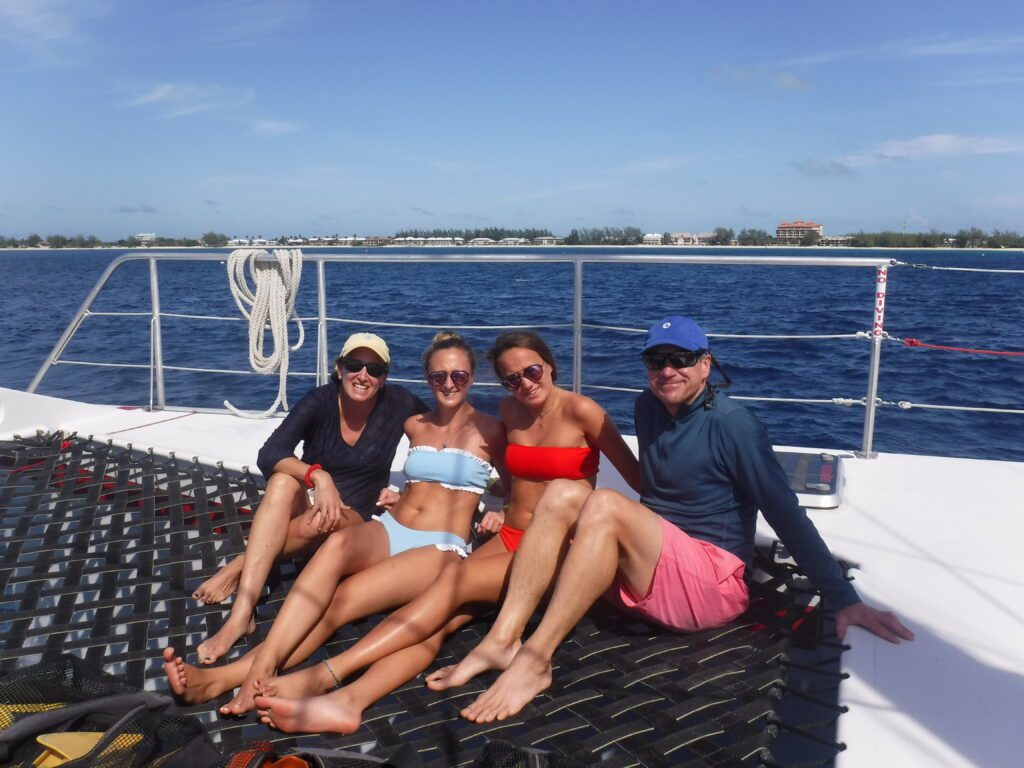 We went to Grand Cayman from December 22-31, 2018. Many told us that we would be bored there as there was little to do but snorkel, sit on the beach, shop and eat. We found plenty of adventures!
We flew out of Providence on American Airlines to Miami. The flight from Miami to Grand Cayman was a little over an hour. Quick and easy!
We highly recommend renting a car. Yes, you have to drive on the left, but a car makes everything easier – grocery shopping, dining, getting to your adventures. We used Andy's Rent a Car. The pick up and drop off is speedy, and the lines were much longer at Hertz.
Snorkel and Mask – If you charter a boat or do a boat tour, most often the operators will have masks, fins and snorkels for you. However, Grand Cayman has some awesome walk-in snorkel opportunities. There are dozens of operators locally who can rent you a mask for these walk-in snorkeling sites. We bring our own masks and snorkels. I used Sharpie to write our names on the snorkels. Purchasing your own mask at home can save you lots of money on rentals. We used the tour operators' fins when we chartered boats. We found that we did not need fins for the walk-in snorkels we did.
For a trip to Iceland and St. Martin in late 2021, Michele upgraded our waterproof camera to this Olympus model. It has amazing reviews and takes a great photo. We also like this affordable, easy-to-use tripod.
Michele also upgraded her iPhone to the iPhone 13. The camera is amazing.
We like these vaccination card holders for travel.
We rented a condo at Sunset Cove condominiums through Cayman Condos. Sunset Cove was located directly in front of the Margaritaville Hotel (which is looking pretty run down!). The two bedroom condo was well-priced. We had a view of the pool, two bedrooms and two bathrooms with a kitchen/dining/family room combo. We had a washer/dryer in the unit and a porch. For the nine nights, we paid $5464. Grand Cayman is EXPENSIVE. This was a great deal for the holiday week.
The beach at Sunset Condos was part of seven mile beach. Be warned – you cannot walk that beach for seven miles! Parts of it are rocky or have almost no beach. We did not struggle to find beach chairs (but we are early risers). The water was protected by a rock outcropping.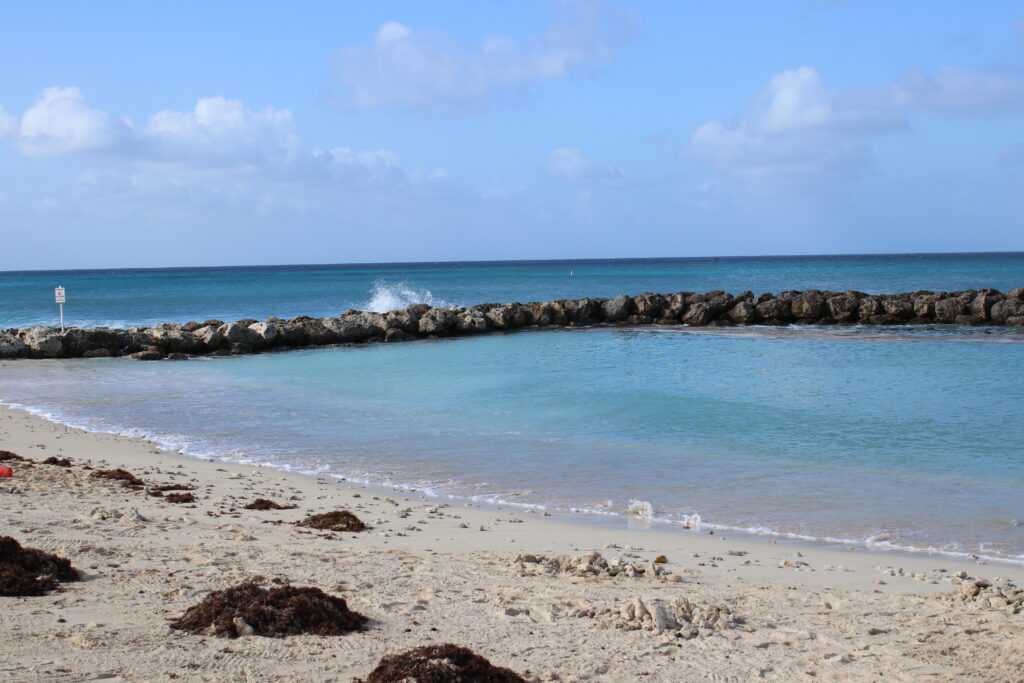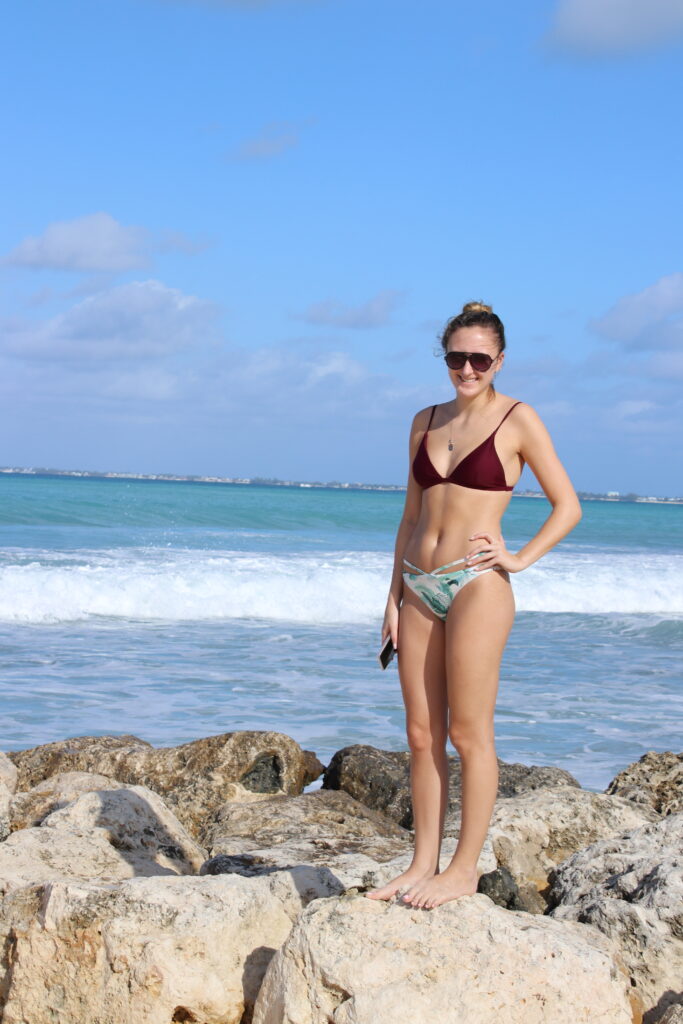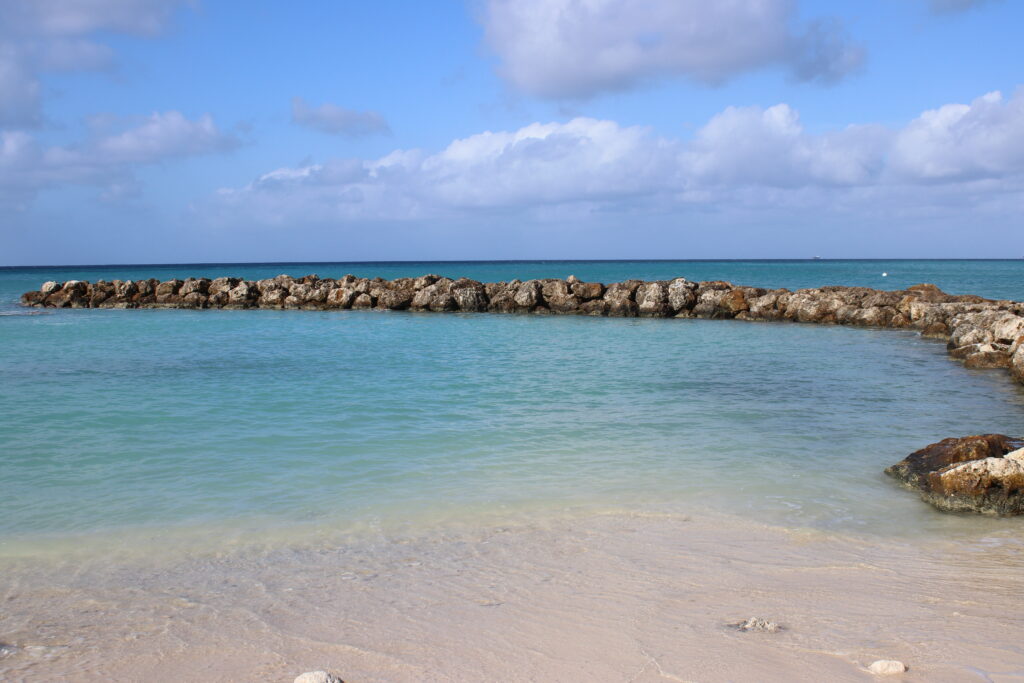 The day we arrived, December 22, brought unusually high winds to Grand Cayman. The winds persisted for days. Having this rock shelter on our beach allowed us to swim. The condo did a good job collecting all the seaweed that came in with the storm.
After getting settled in our condo, we walked across the street to Coconut Joe's. It is on the side of the road, away from the beach. It was a fine lunch place.
We needed groceries. A mile away from us was a Foster's IGA. It had everything we needed. The grocery stores charge for bags, so bring your own!
Many restaurants in Grand Cayman use OpenTable or take phone or e-mail recommendations. I was able to secure several tables before we left home. I used TripAdvisor, friends' recommendations and other travel blogs to make some choices. We like restaurants with a view that are NOT at a hotel. Although on this trip we did eat at two hotel restaurants.
On our first night, we ate at the delicious Casanova in Georgetown. They have a lovely roof deck, and we had a spot against the railing. The food, service and atmosphere was terrific. The waves were still very high from the wind.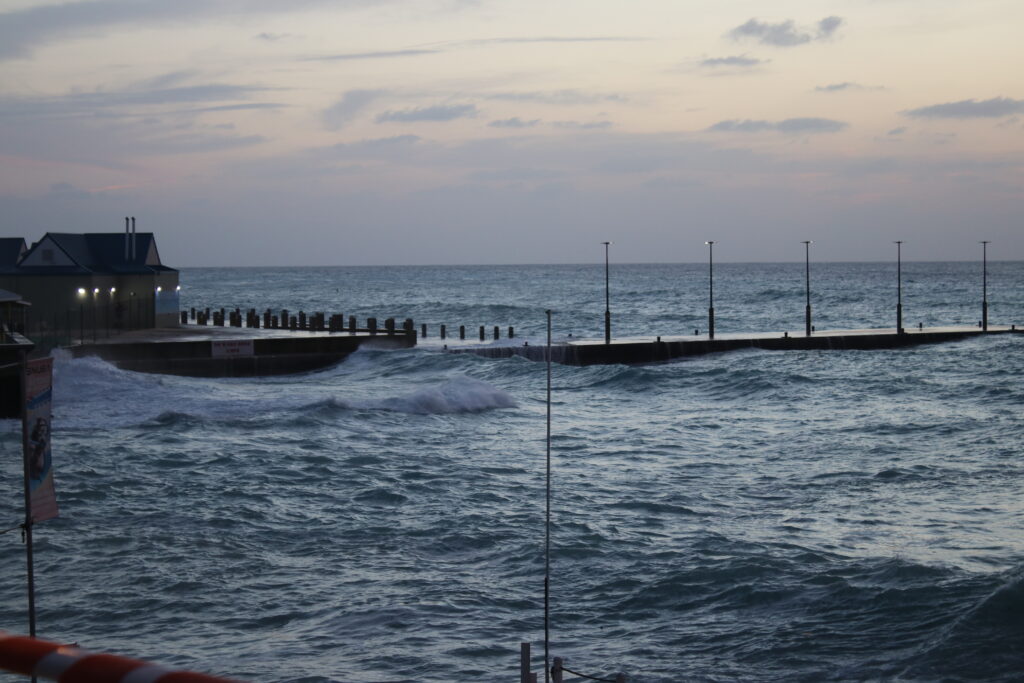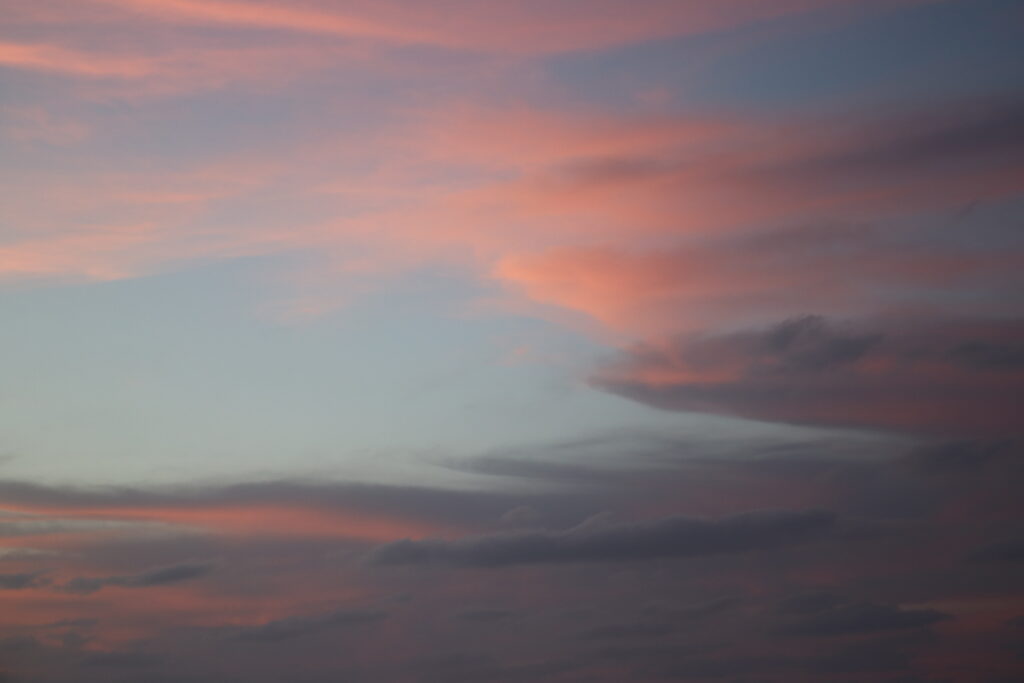 Day 2 – Hanging at the Beach, Calico Jack's, Cocolobo
Today, was supposed to be the day to go to Sting Ray City on a private boat. However due to the unusually high winds, the captain postponed us for a day. I picked this day to charter a boat as there were NO cruise ships scheduled to be in port. Sting Ray City is the most popular thing to do in Grand Cayman, so I wanted to do it on a day when fewer tourists were around. The cruise ship schedule is online.
So, after eating breakfast at our condo, we read and swam on our beach. We wanted to find a classic "fish shack" for lunch. We like a super casual, feet in the sand, right on the beach place owned by locals. Unfortunately there are not that many left in Grand Cayman due to development. There are plenty not on the beach! We ended up at Calico Jack's which was just what we wanted. Most of us ate fish tacos. The food, atmosphere and beach were all good.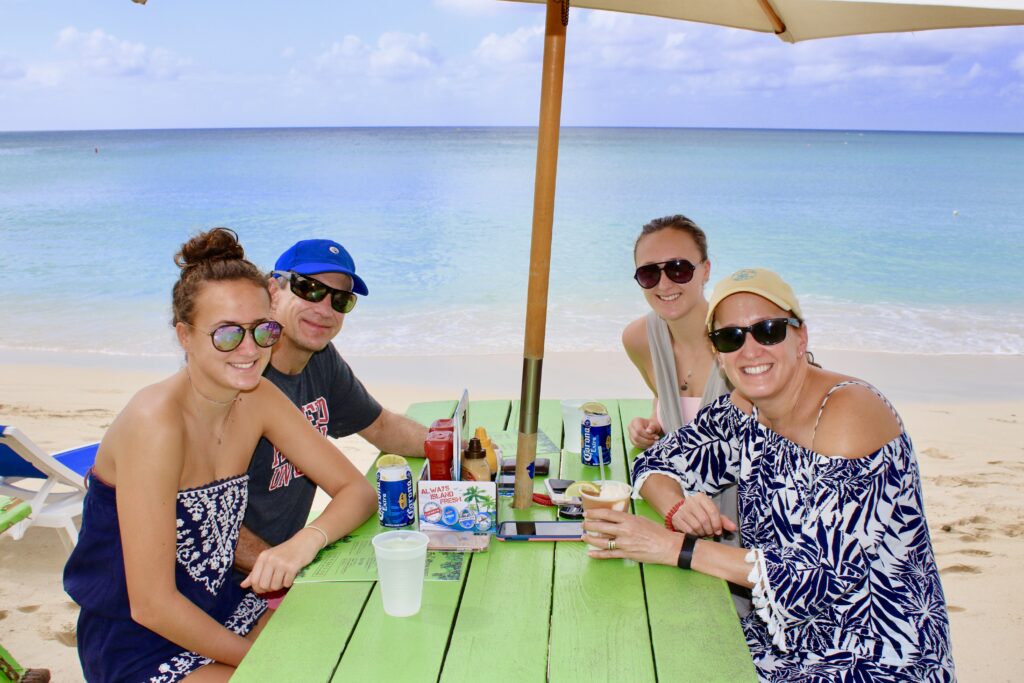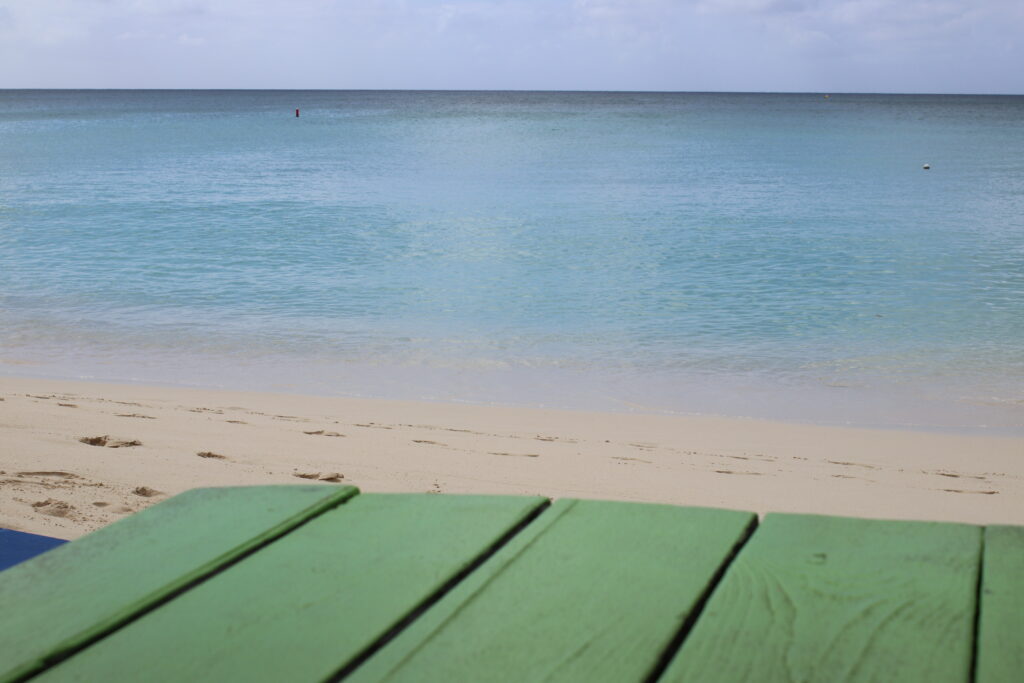 I did not make a dinner reservation, hoping to find a local place. We ended up at Cocolobo at the new, ginormous Kimpton resort. We had to walk through the giant resort to get to the restaurant. The restaurant was pricey, but the food was good. The location was right on the beach. If you have to eat at a resort, this is a good choice.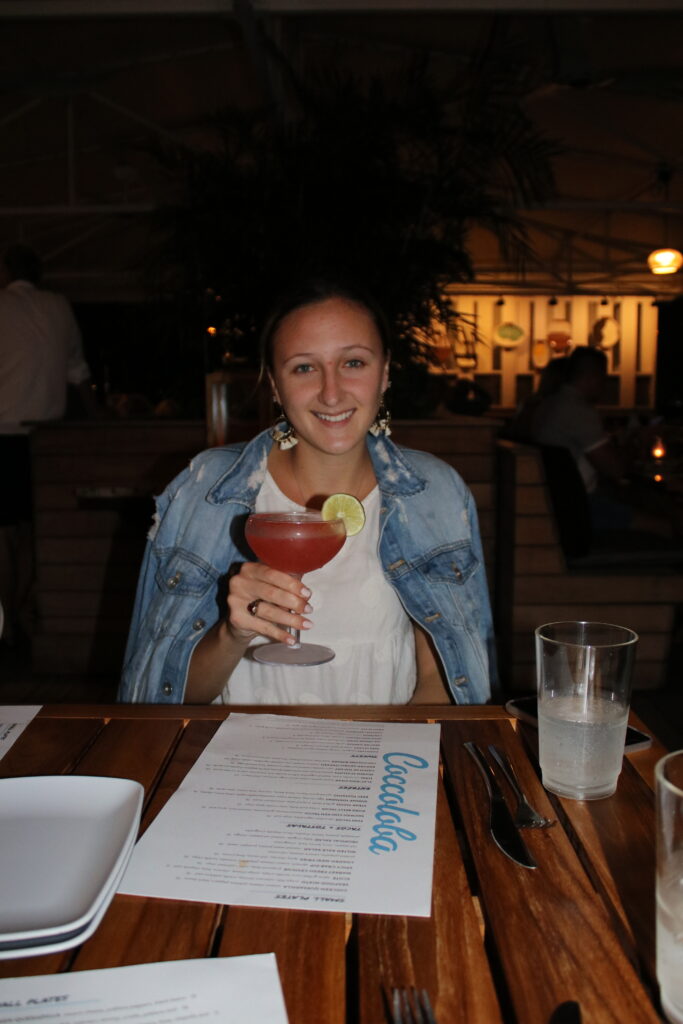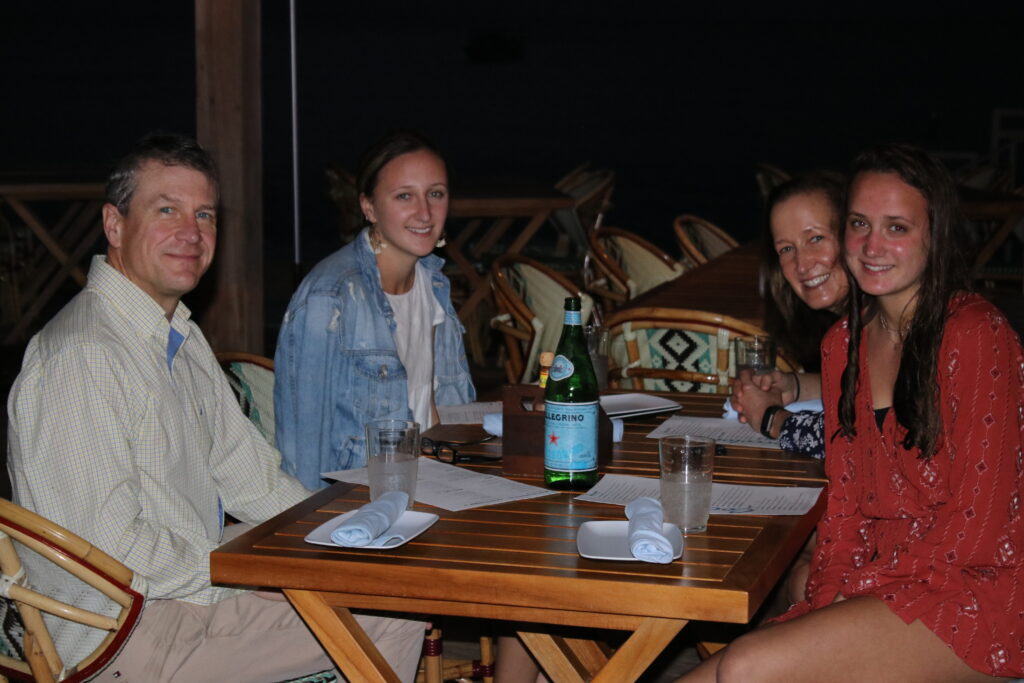 Day 3 – Private Boat Charter to Sting Ray City
When researching Grand Cayman, I found literally hundreds of boats and tour groups that could take us to Sting Ray City. It is Grand Cayman's most popular tourist attraction. However, we had friends that did it, and they said it was fun. So, we decided to give it a try.
Because I do not like to do anything with hundreds of people, I booked a charter with Les and his boat Witchy Poo. We did the full day tour for $950. He brought us to "sting ray deep" a deserted reef where we saw sting rays. We were the only boat there.
If you have a waterproof camera, attach it to a lanyard, so you can swim with it around your neck. When I am not using it, I tuck it into the top of my bathing suit, so it does not hit me when I swim!
Then, we made a few more snorkel stops. We headed to Sting Ray City with the rest of the tourists. However, we did really like it. We saw tons and tons of sting rays. He brought us to see the shell fish. Honestly, I would not stop there. Most of his guests then get off the boat at the shell fish stop and go have lunch. We brought lunches and ate on the boat, which was really nice. We motored back through the mangroves. It was a great day, and he was a wonderful guide. We highly recommend him.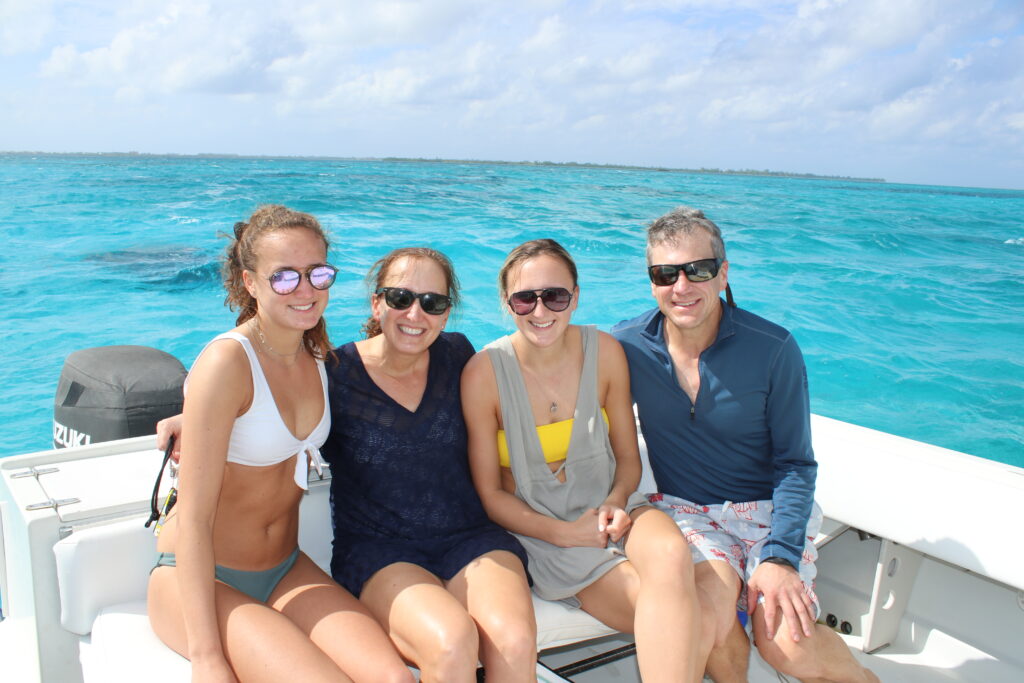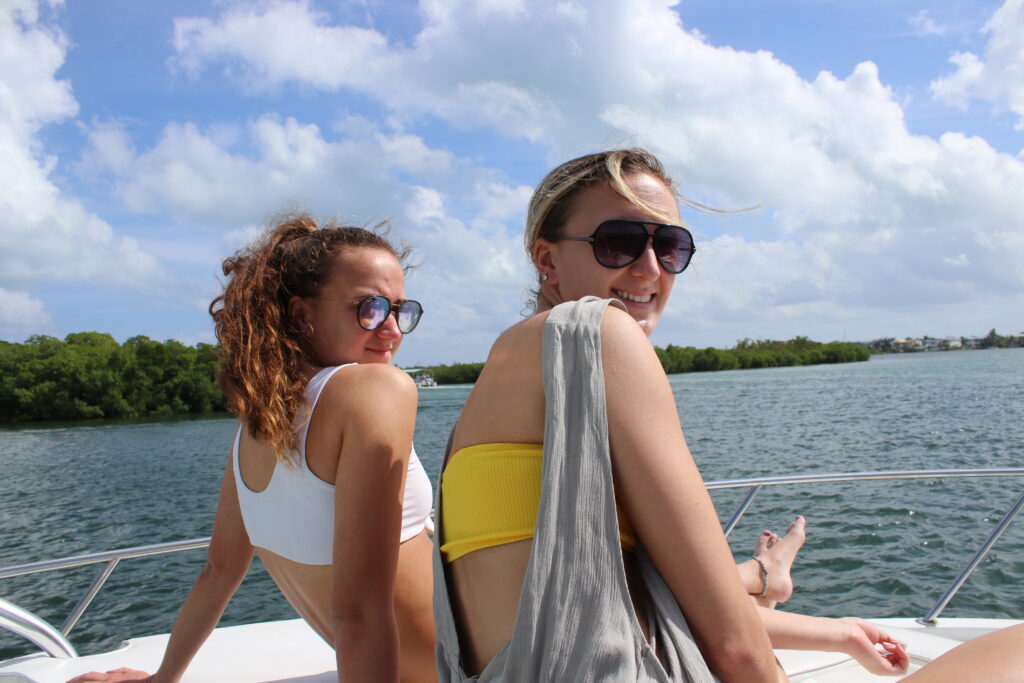 Les anchored his boat at the first stop and got in the water with us and the sting rays.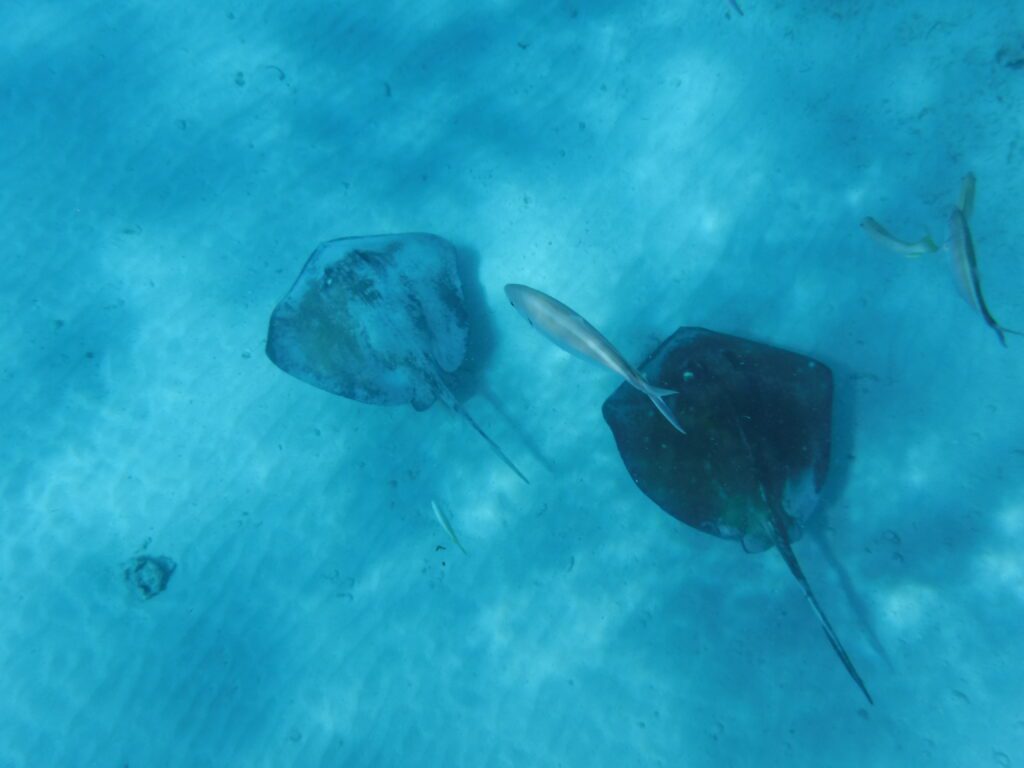 The second snorkel stop was also deserted. Just the four of us.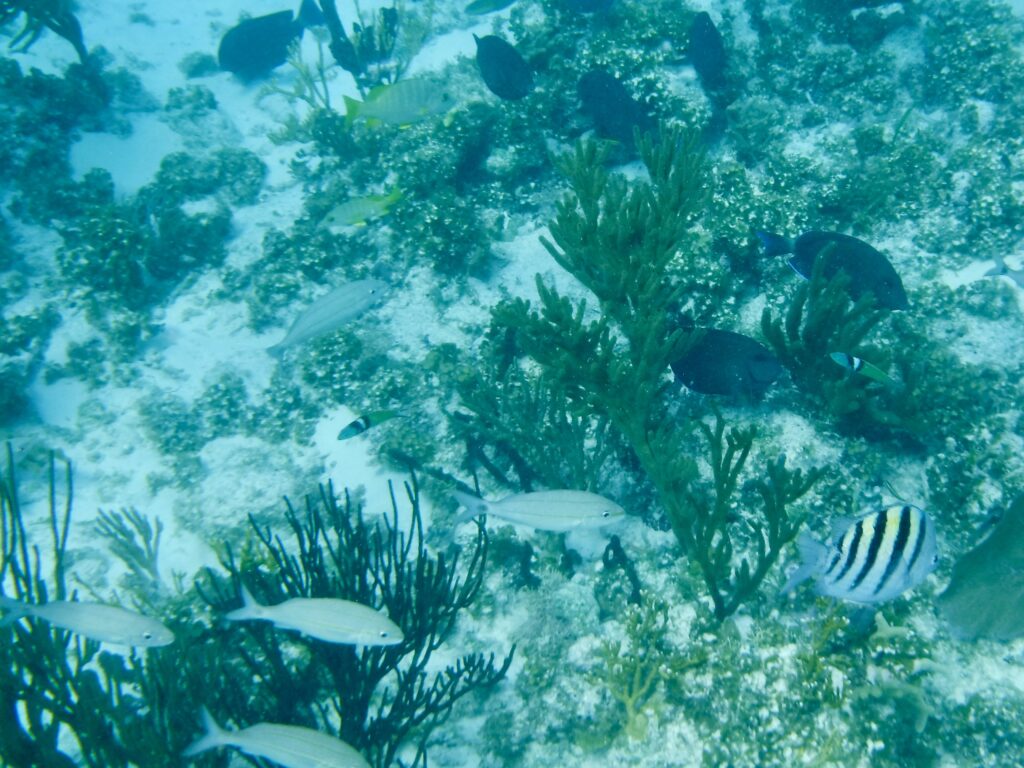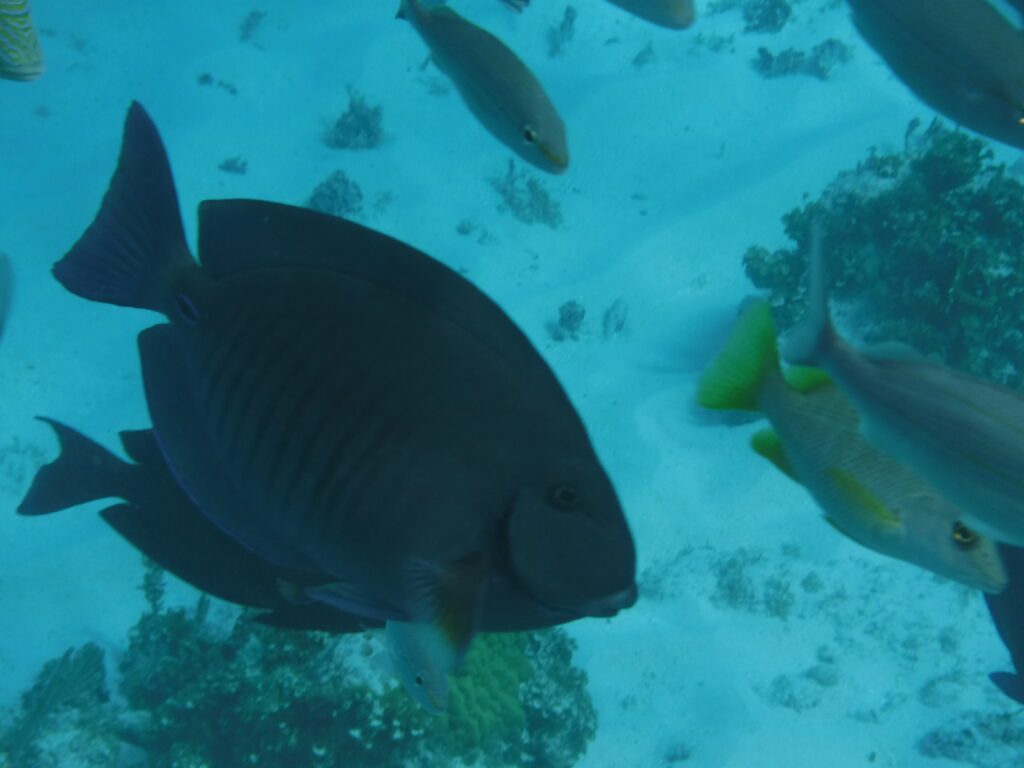 On our way to Sting Ray City, we made a third snorkel stop and a busier reef. We still saw a bunch of cool fish and another ray.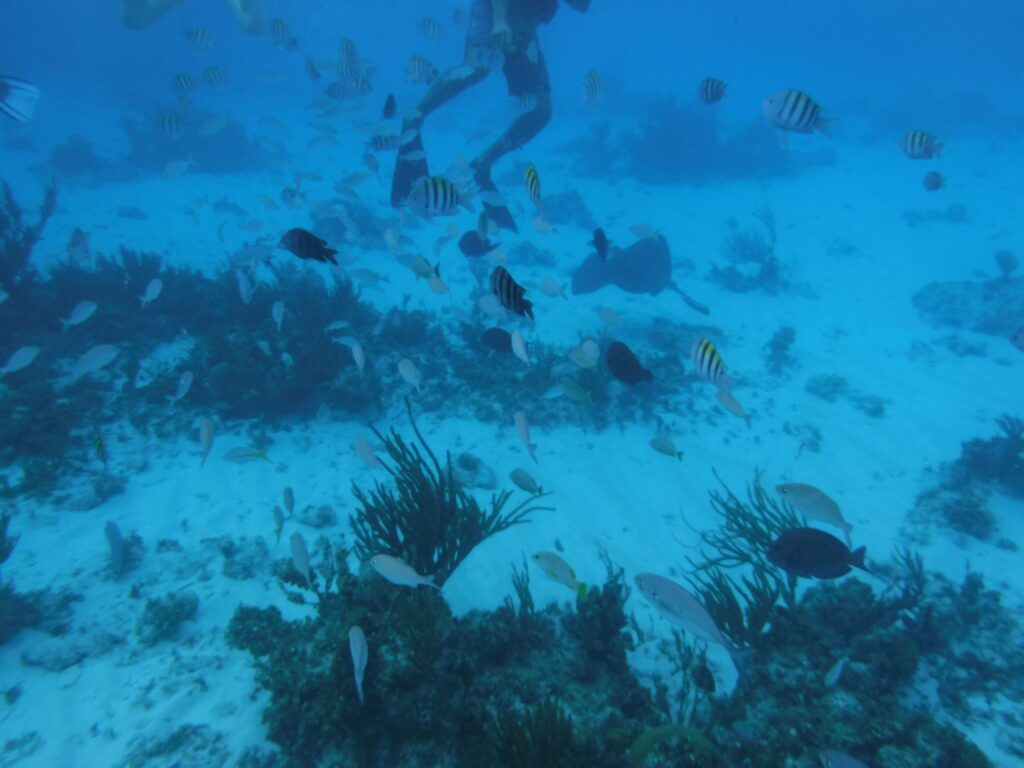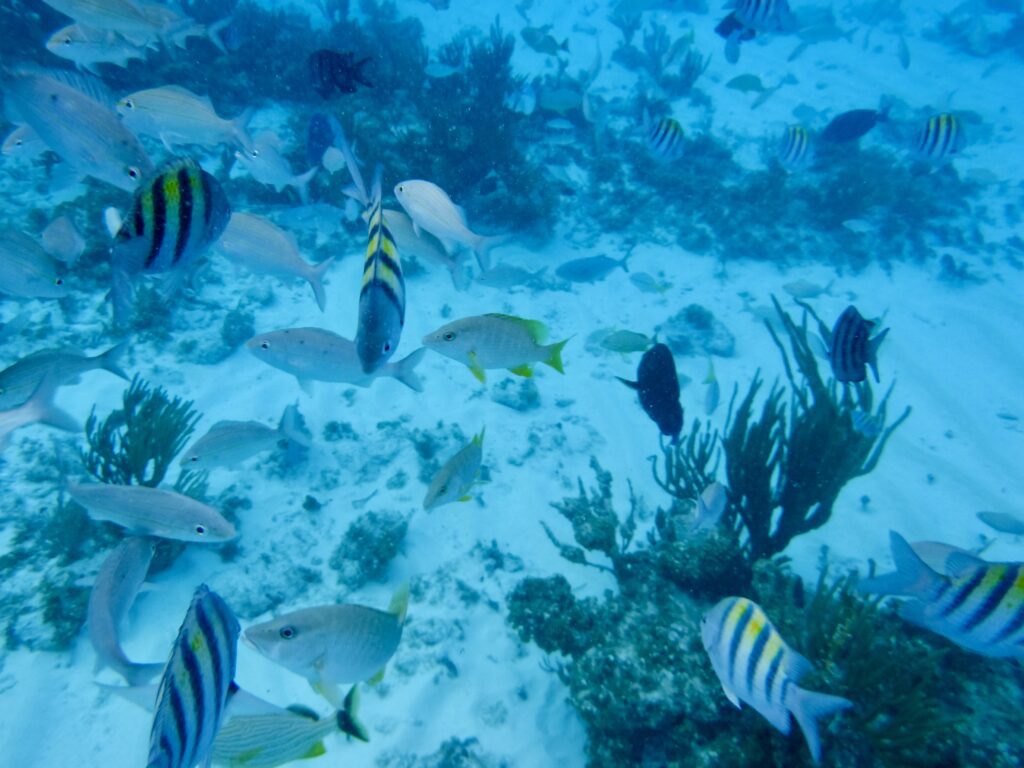 We dropped anchor at Sting Ray City. You slide off the boat into chest deep water. Les comes in with you, and he brings some food for the rays. There are hundreds of rays, enough for all the people there. You wear your mask to see them. Les will then pick up a few for you to feed and hold. It was fun.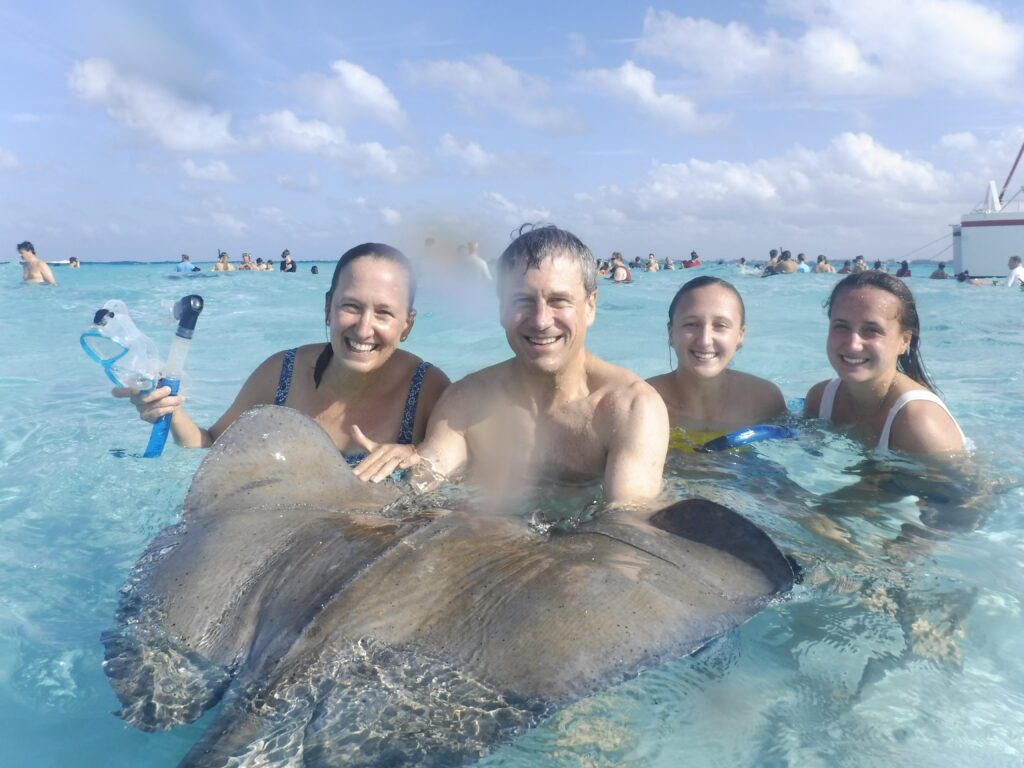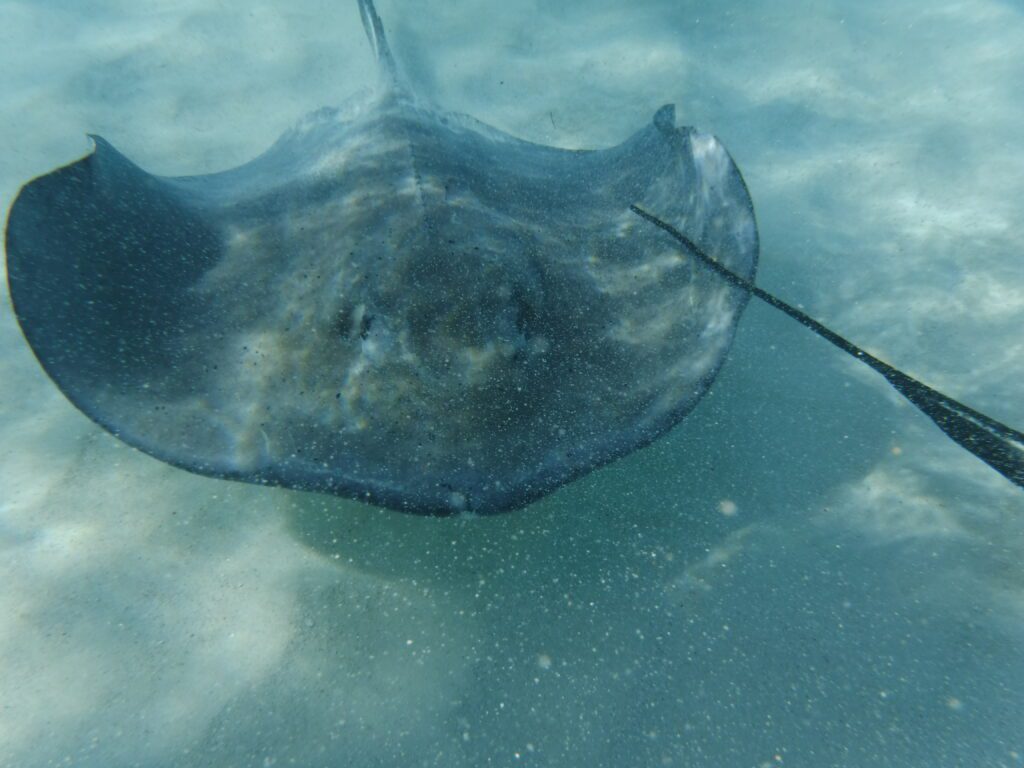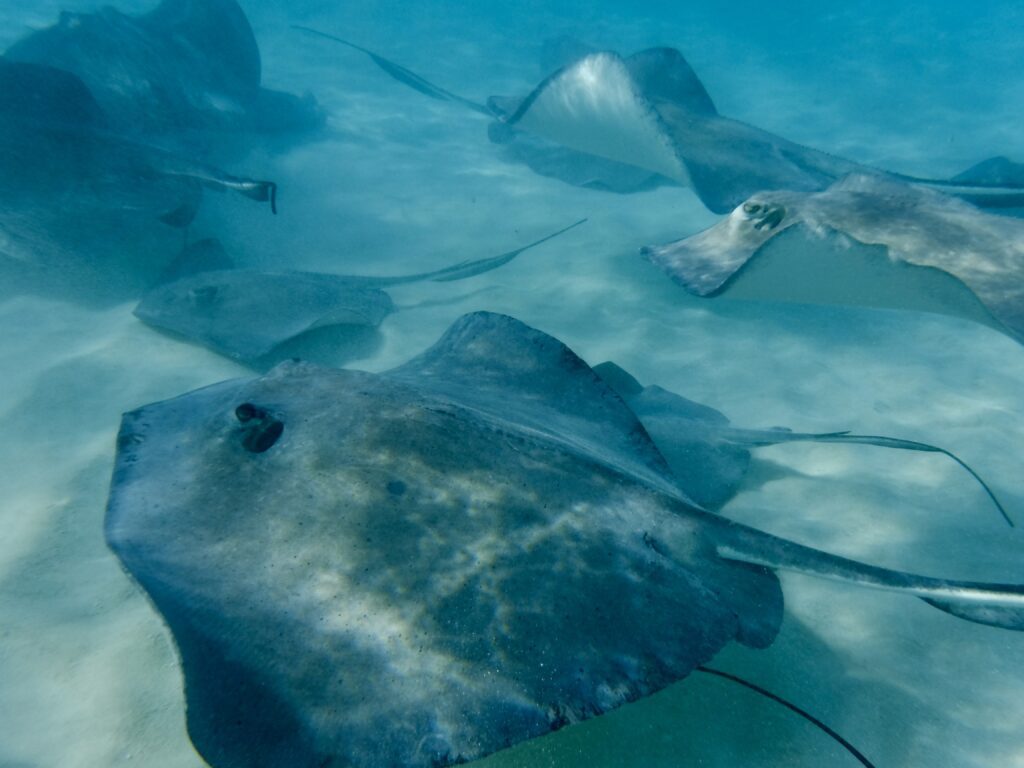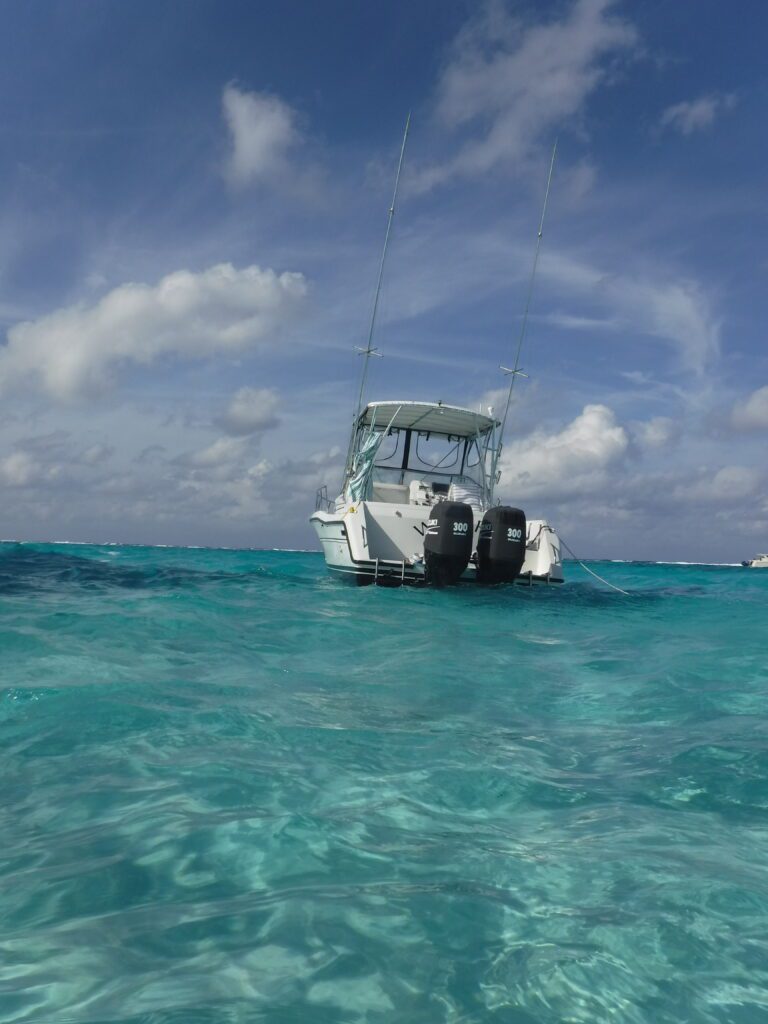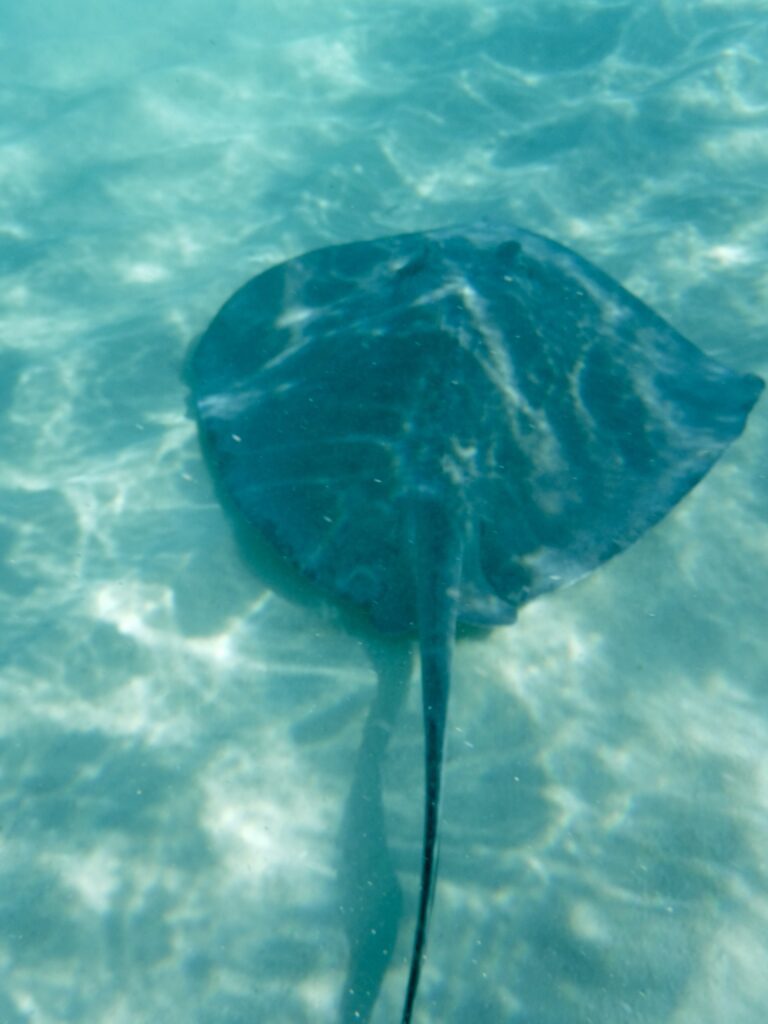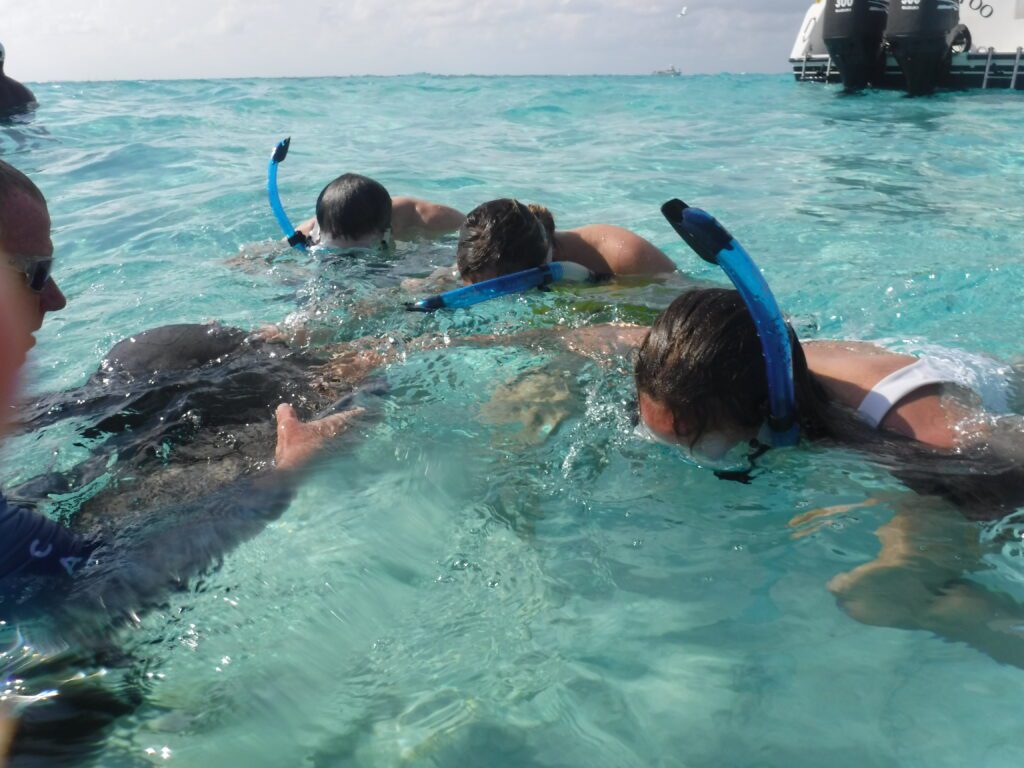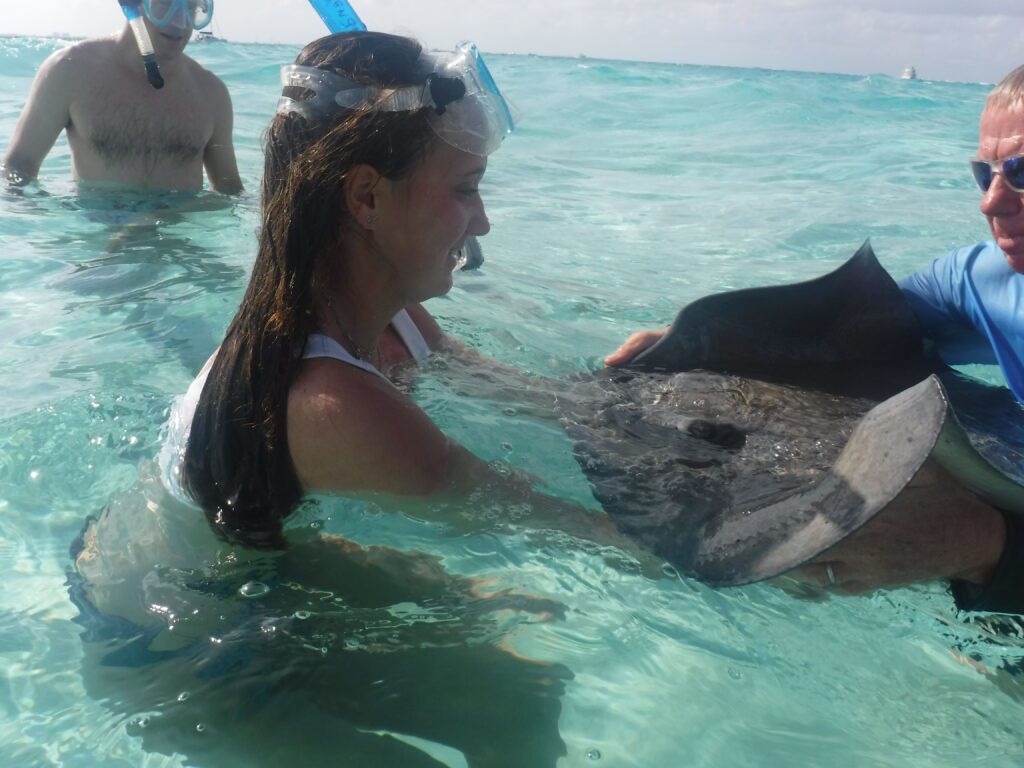 We went to see the starfish near Rum Point. There are not that many fish. Many people leave the boat and go eat at one of the nearby restaurants (it is an hour drive from Georgetown to get to Rum Point). We brought our own lunch, and ate on the boat which we liked. You could skip the starfish stop.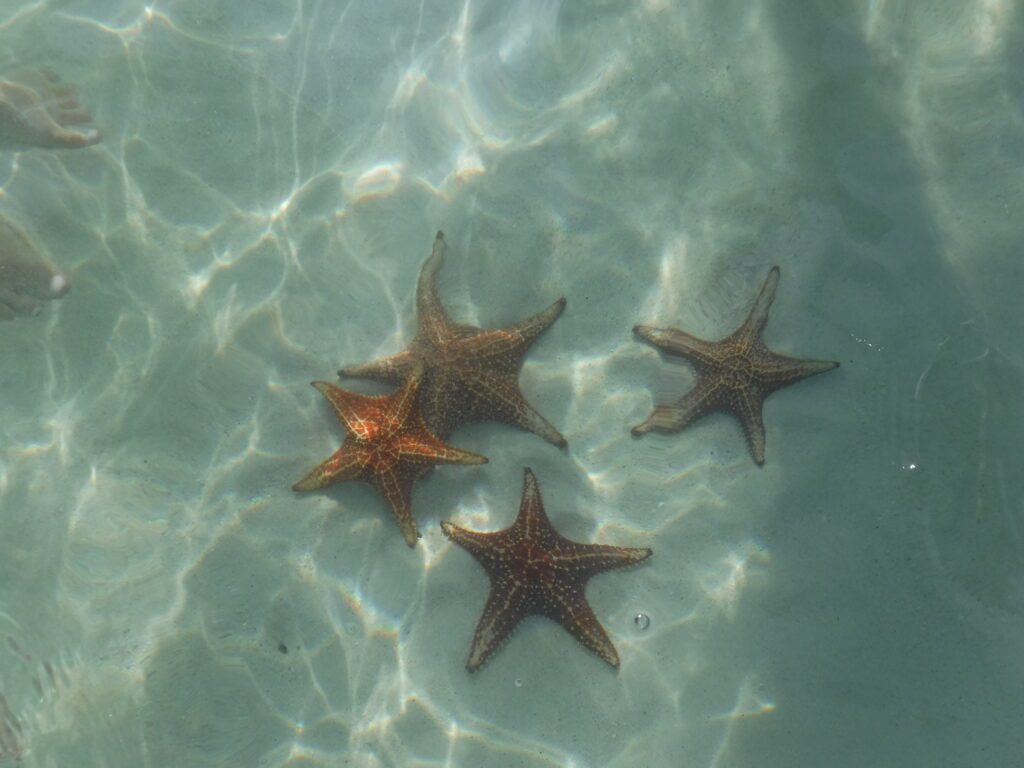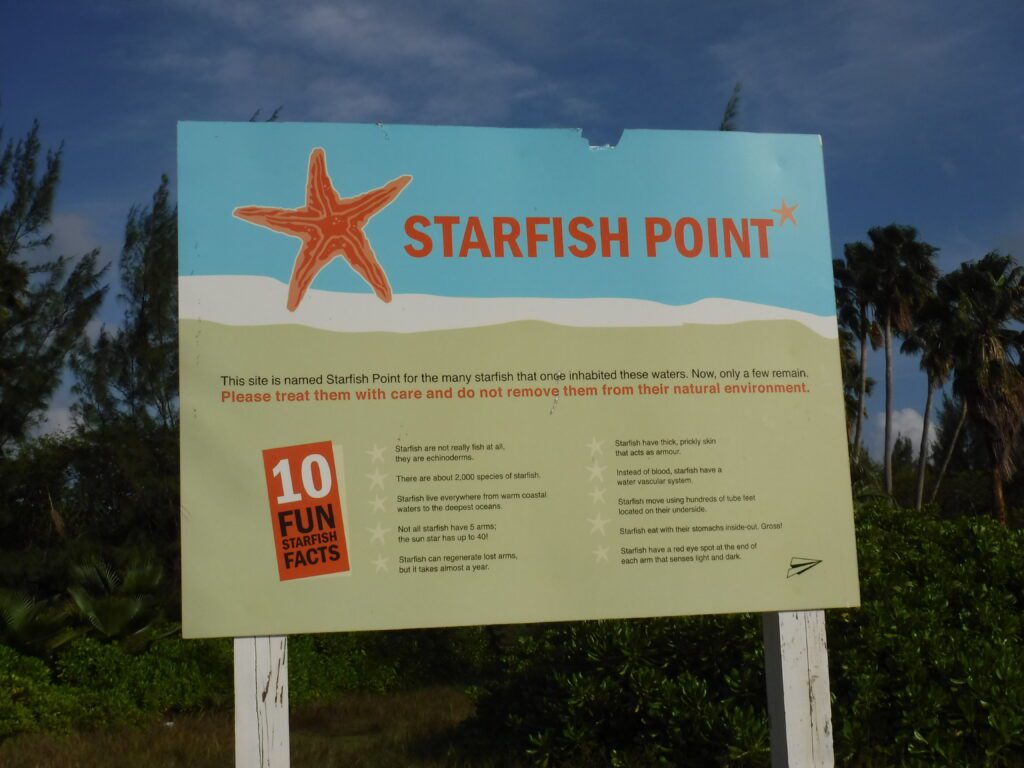 We had Les motor back to the dock slowly through a mangrove area. It was super relaxing. Les' boat is docked at the Cayman Islands Yacht Club.
After showering and enjoying sunset, we drove to The Wharf. It was less than a mile from our condo. The setting is delightful – right on the ocean. We even had our feet in the sand. The food was excellent and the tarpon feeding was great fun! Highly recommended!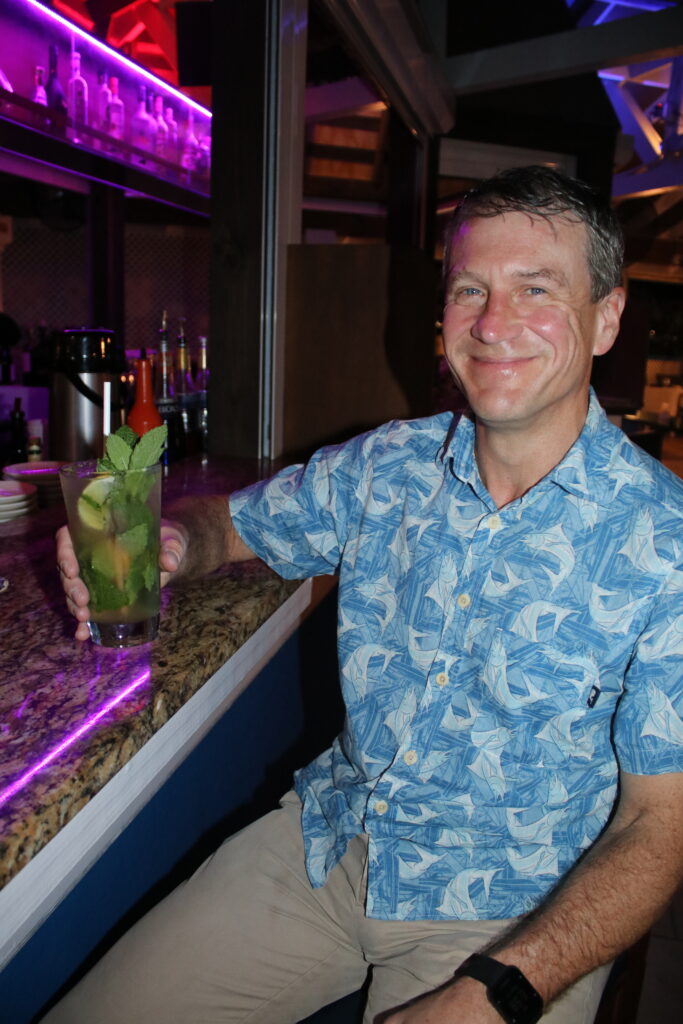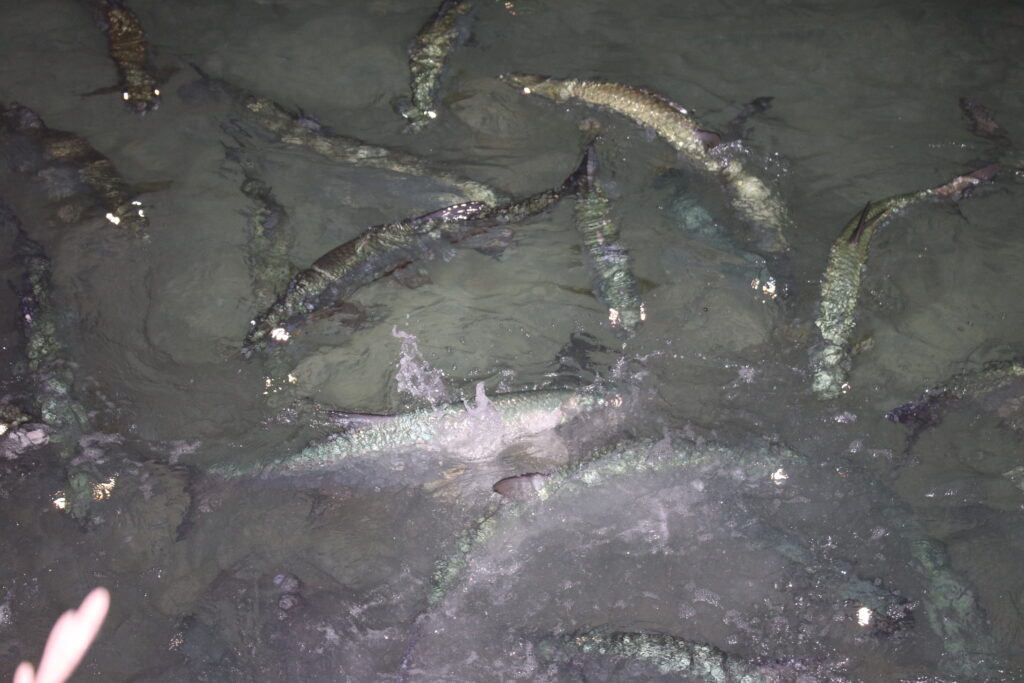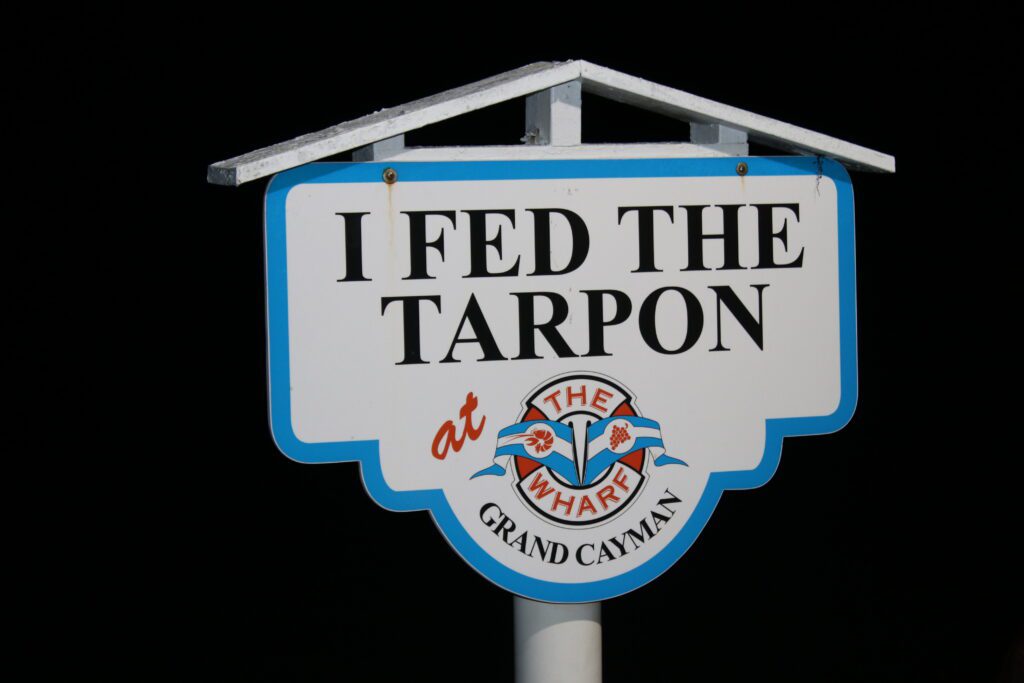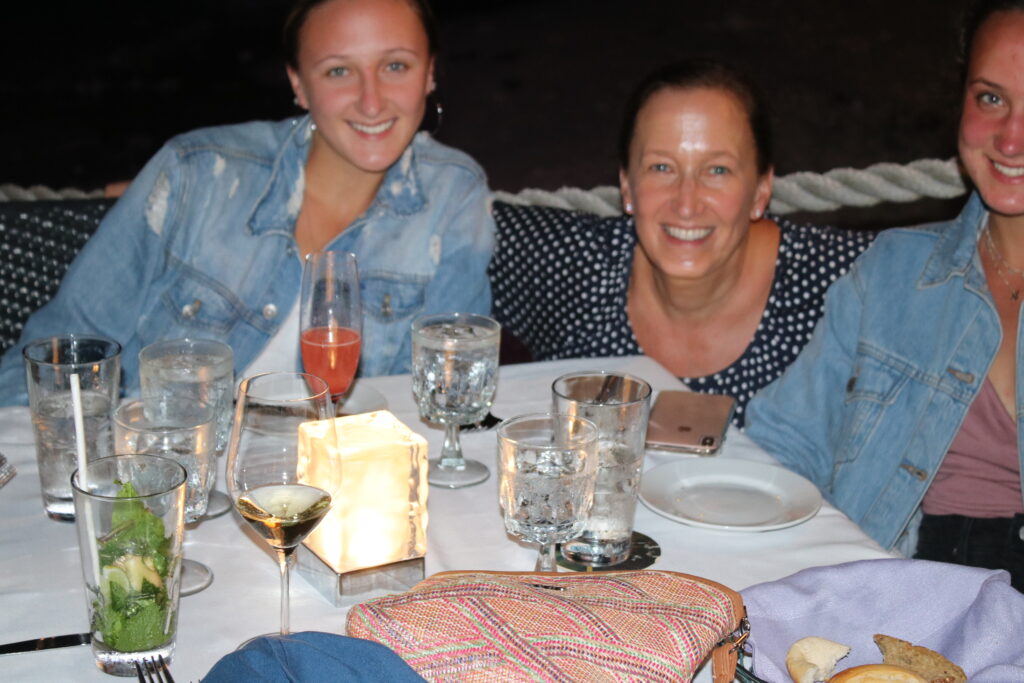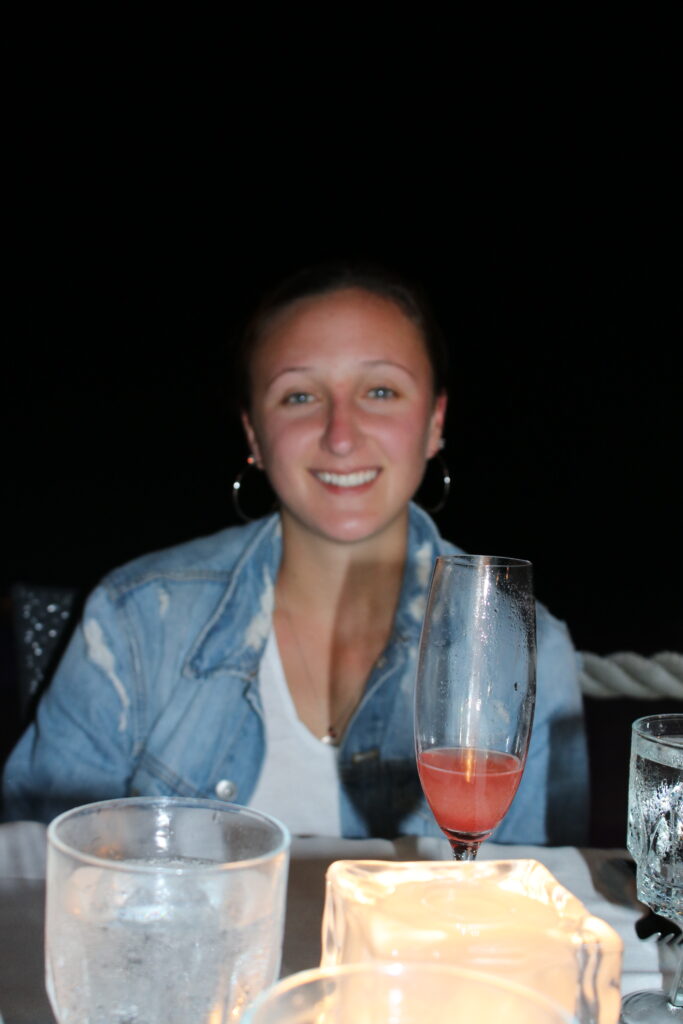 Day 4 – Horse Ride on the Beach
After enjoying our beach in the morning and running along the busy sidewalk of West Bay Road, we headed out to Alfresco for lunch. It was delicious. It is a pretty setting along a quiet beach. Pizza and salads were yummy.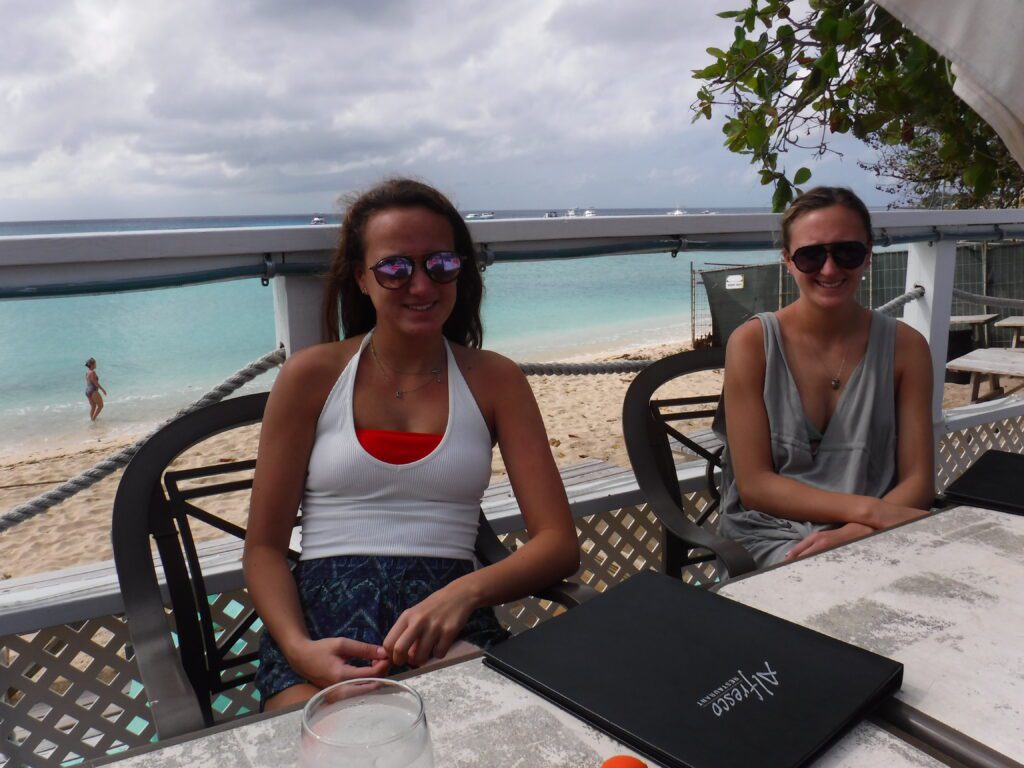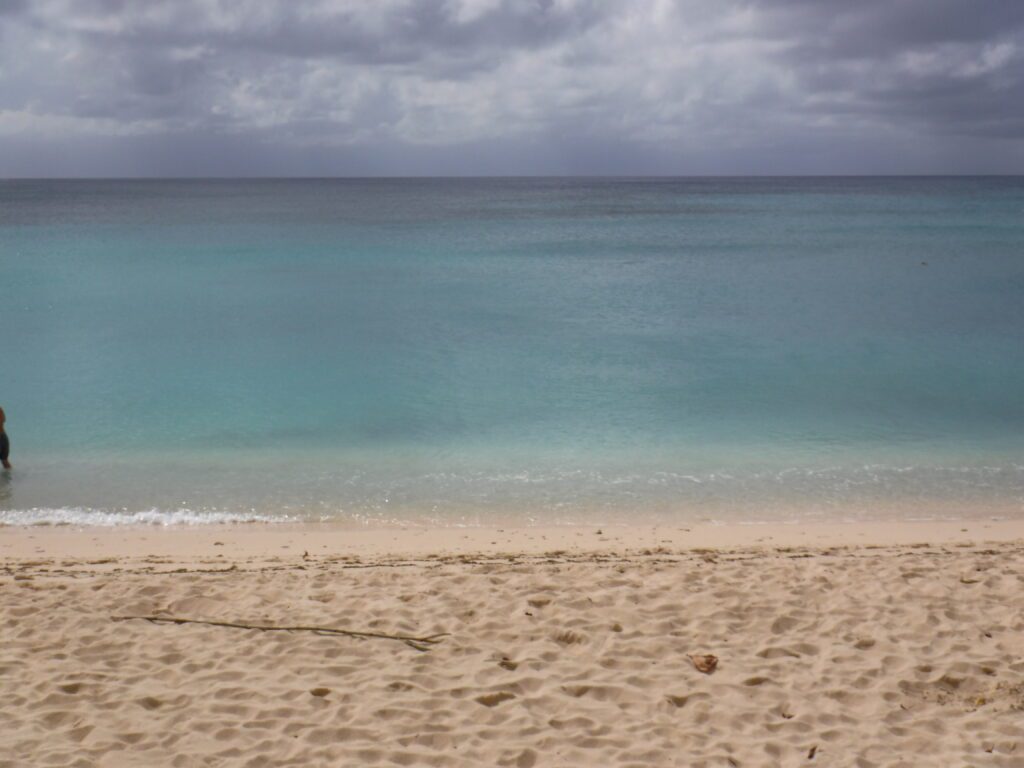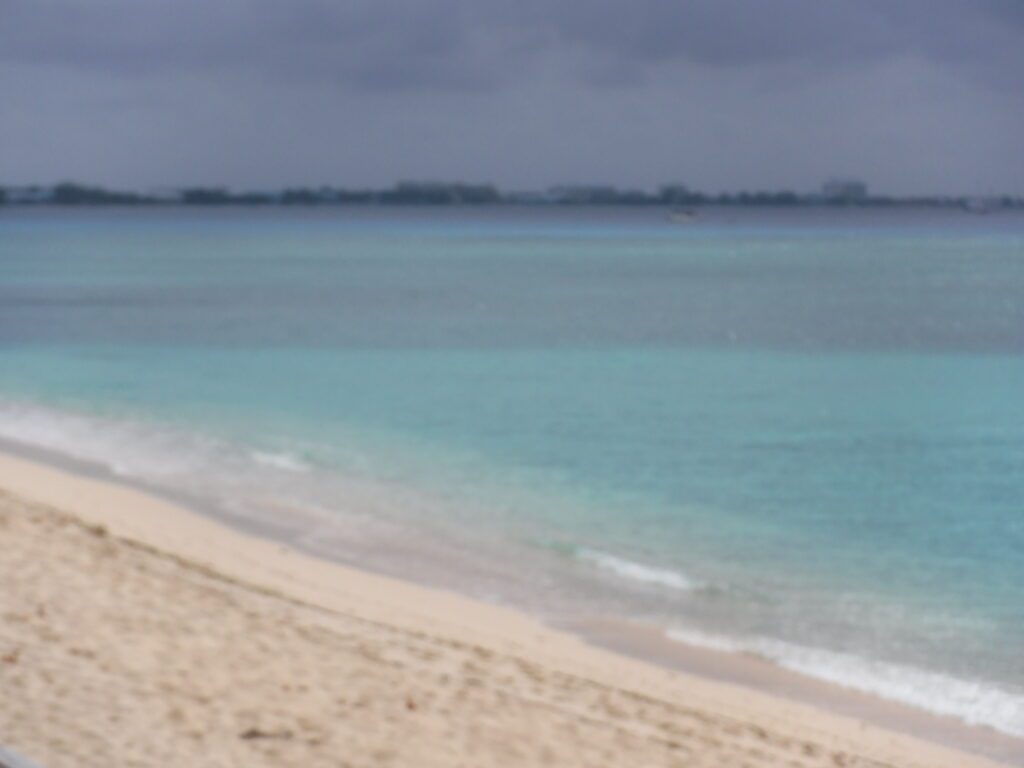 Our next stop was Pampered Ponies. It is toward the end of Conch Point Road. TripAdvisor, blogs and even some print media reviews were beyond spectacular. You ride a horse along a deserted beach and then the horse goes in to the water and swims with you on its back.
We arrived, and noticed that while the stables were very clean, the yard and grounds looked like a junkyard. But, the horses looked healthy and well cared for, so we paid for our ride and saddled up.
There were at least four guides for the 16 people on the ride. Due to wind, they said, we could not swim. The wind, for us, was a huge factor on this trip. We were disappointed, but we had never been horseback riding on a deserted beach before.
We rode in a line for about five minutes until we got to the beach. Then, we experienced a mountain of disappointment. Due to the wind and the storm a few days earlier, an enormous amount of trash littered the entire beach. Broken chairs, a mattress, bottles, plastics – you name it, it was all there. You cannot really see it in my photos, but the trash was everywhere.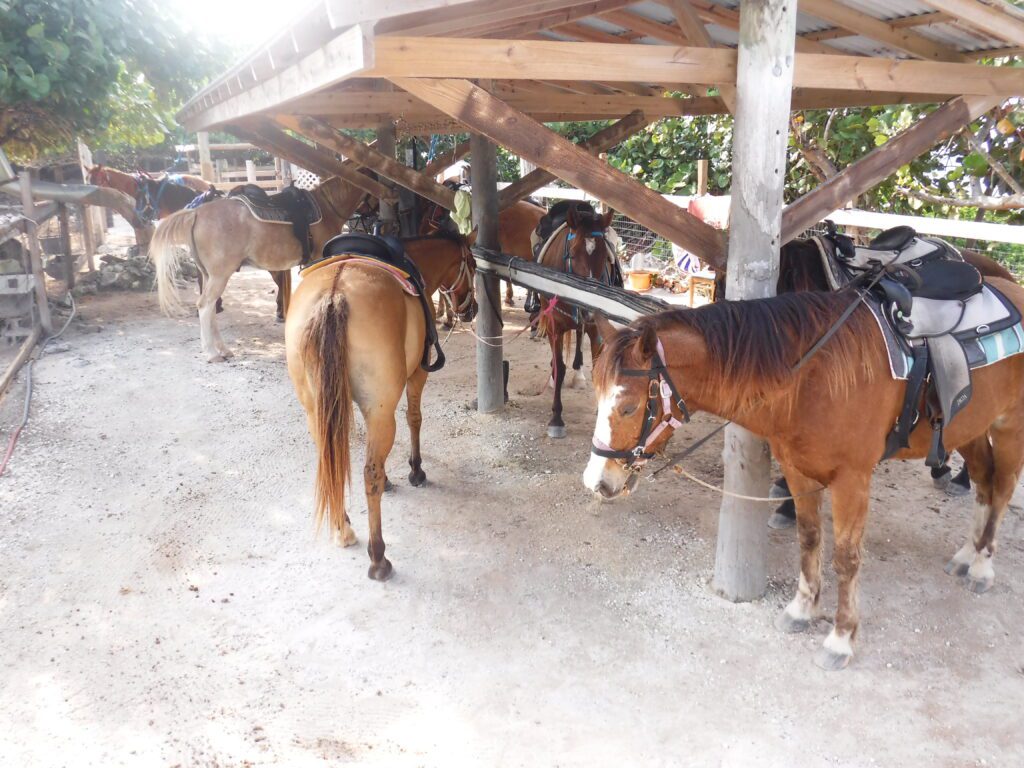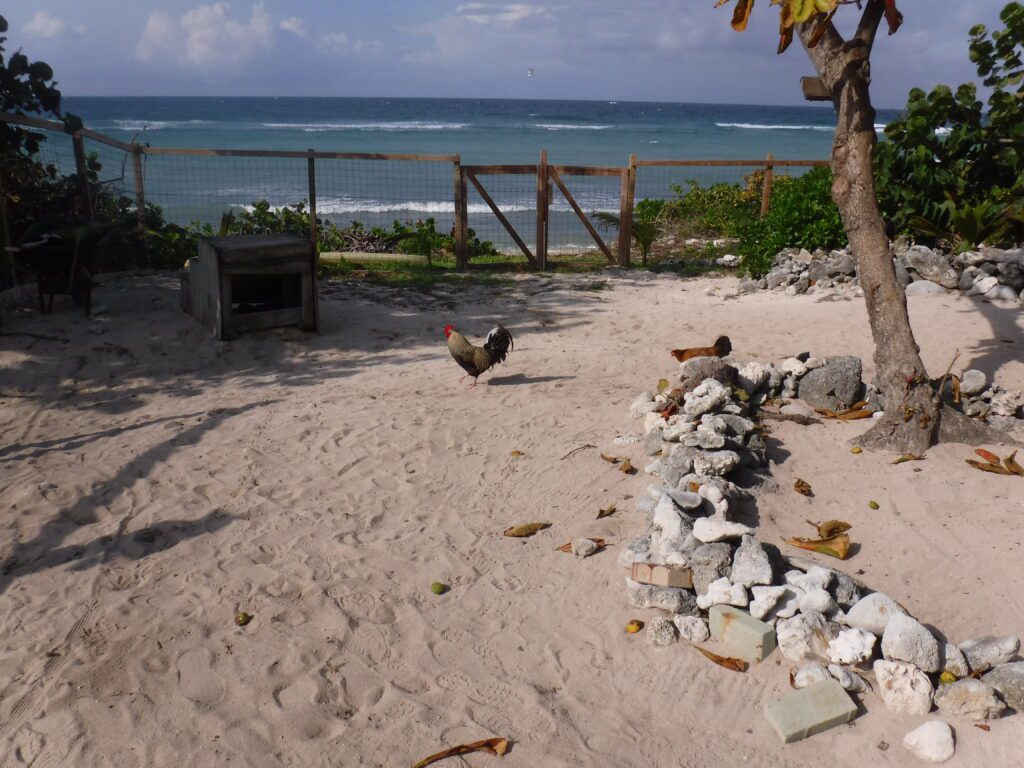 Scenes from the beach. It had so much potential. The owner, whom we met, should have canceled the walk. She said when big storms happen, trash blows in from Cuba, and "they need another storm to take it all away again!"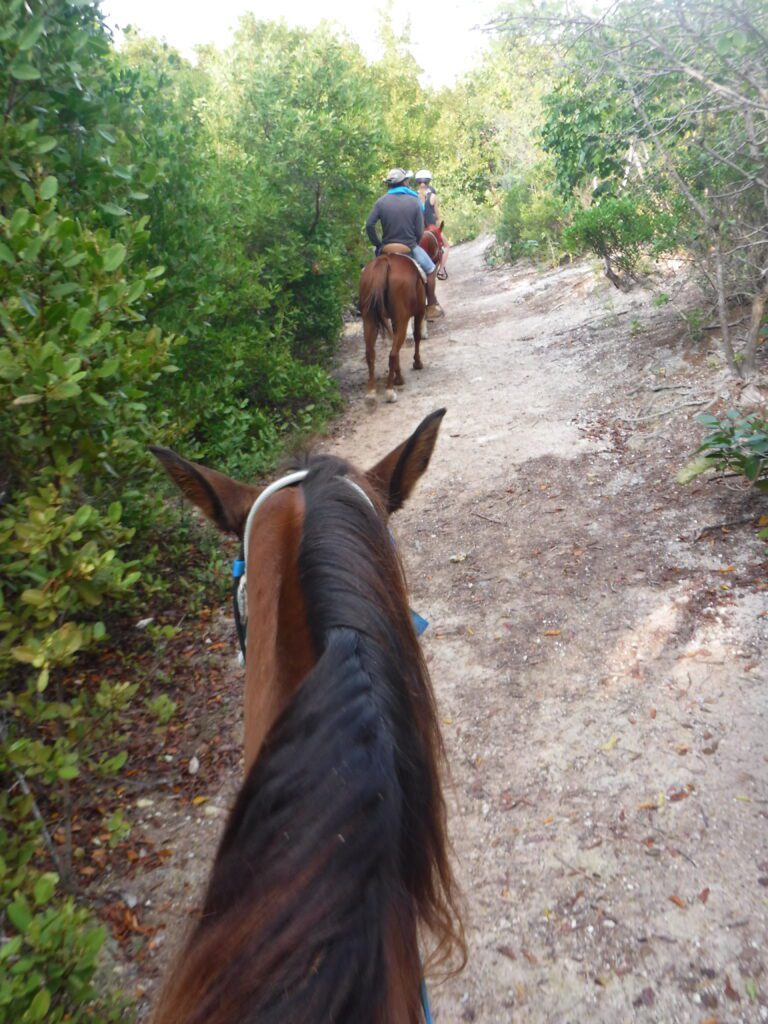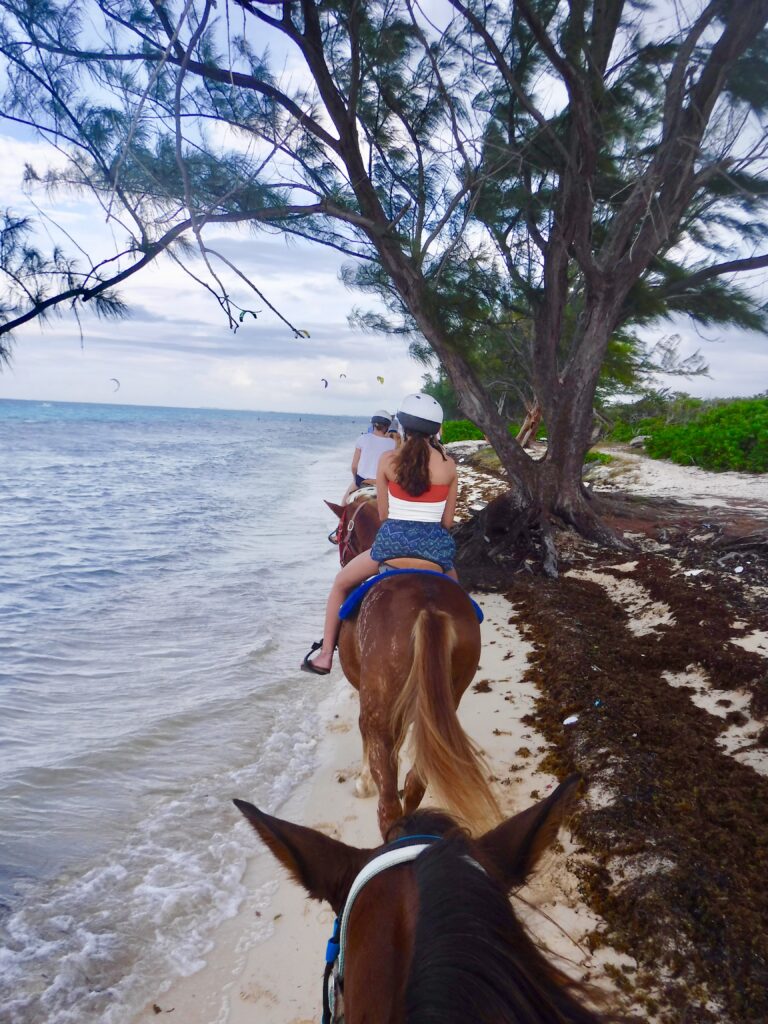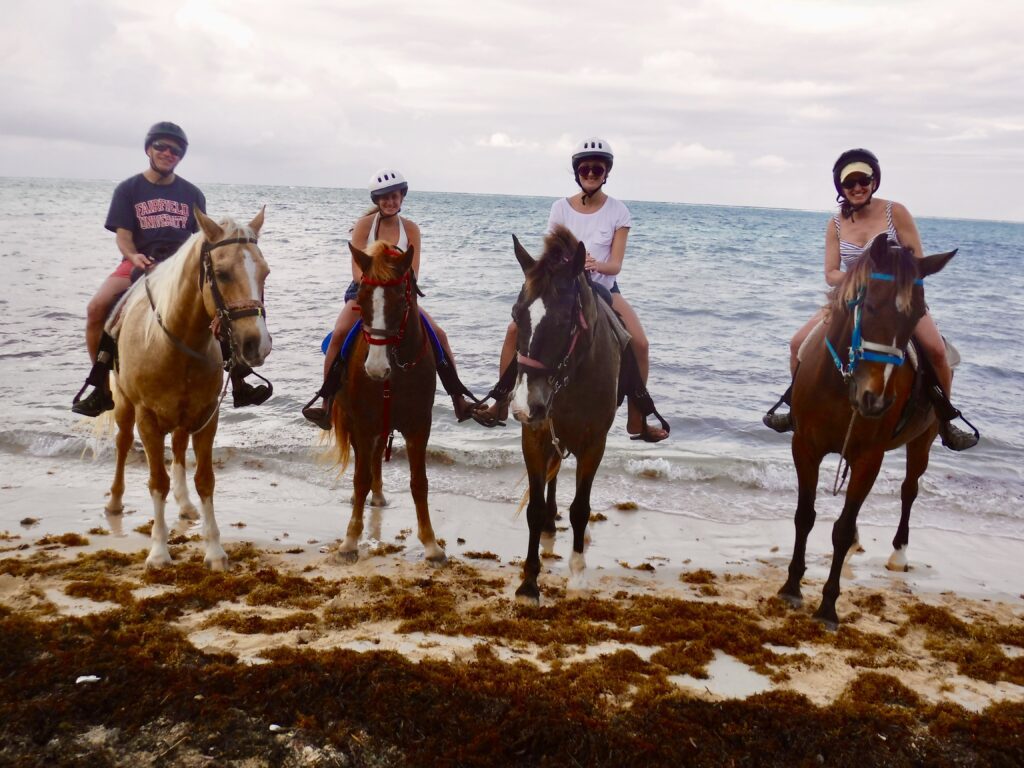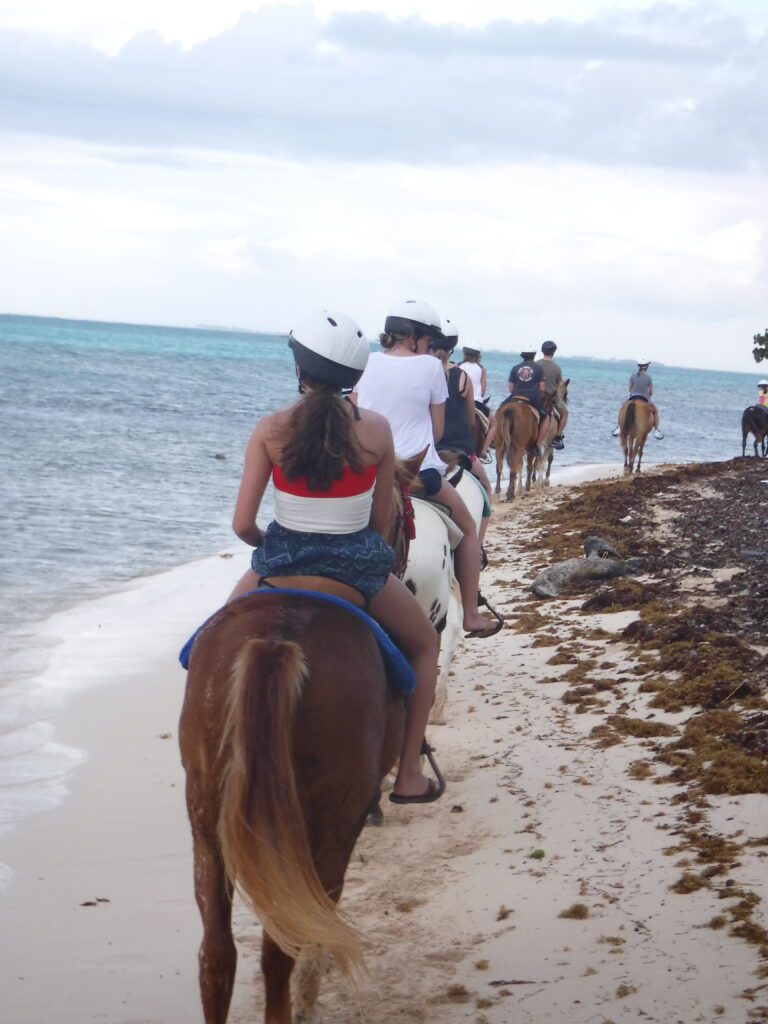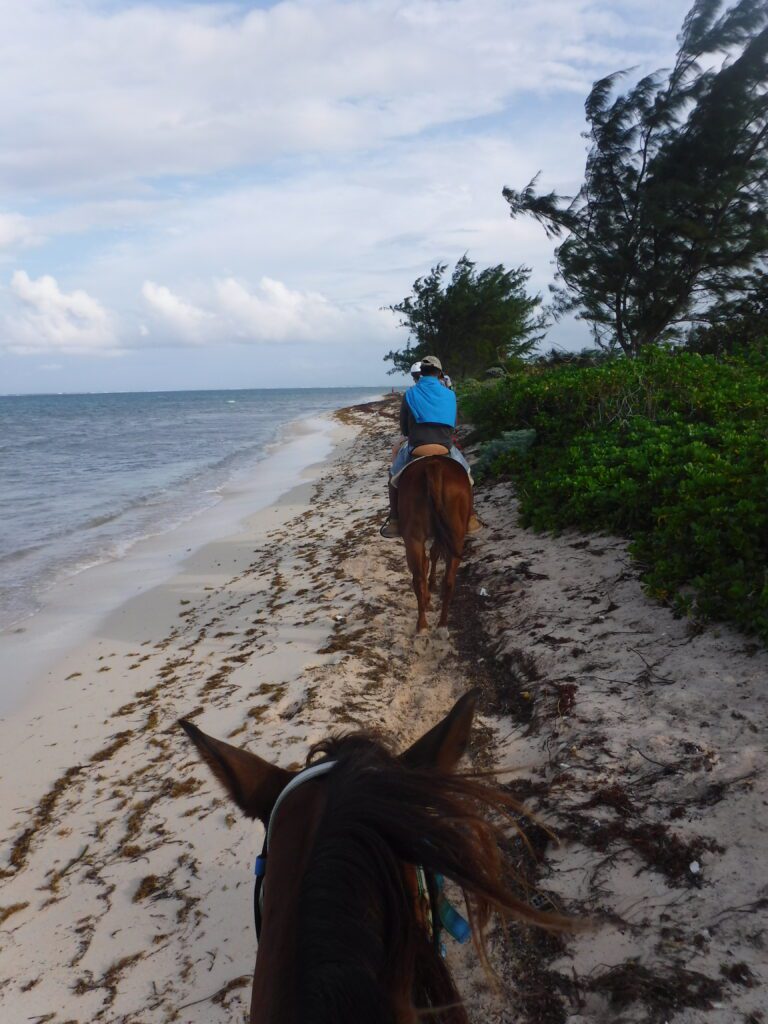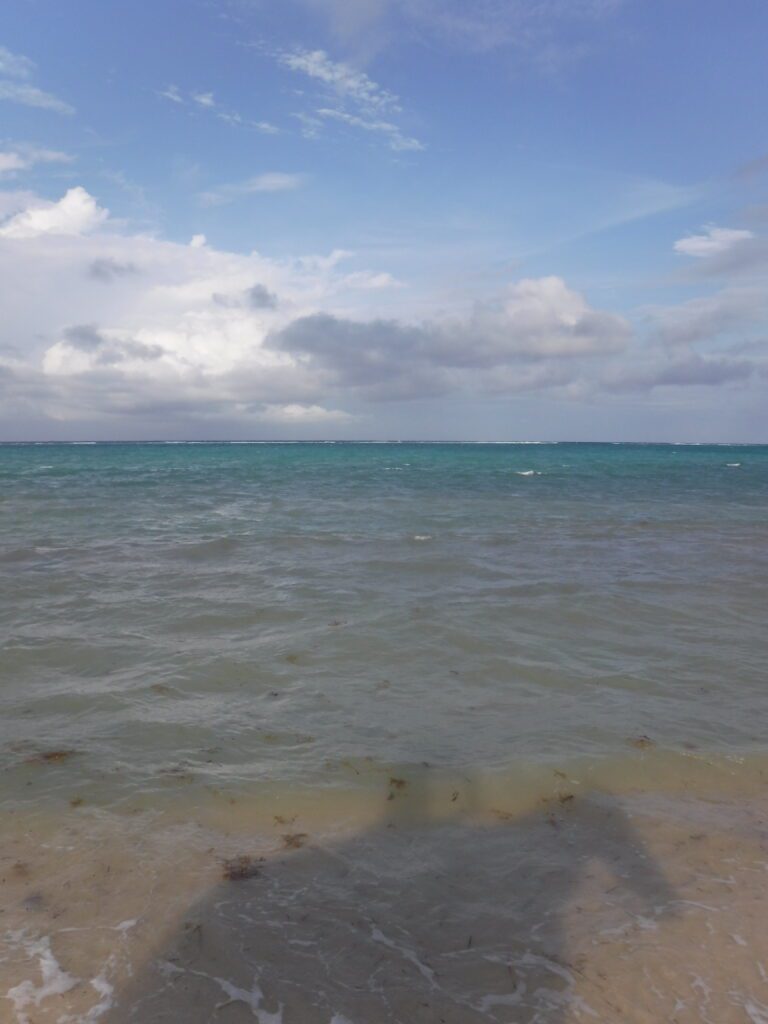 This had so much potential. The TripAdvisor reviews are very good for the most part. I called the next day to complain and the office manager refunded my $440. So, I was pleased. It is hard to recommend this activity given our experience. But, most people really seem to like it. There is another tour operator close by called Cayman Horse Riding. I waffled picking between the two. Whatever you choose, ask about trash!
For dinner, we went to The Lobster Pot. It was fantastic. Awesome location, right on the water in Georgetown. We loved it. Because I reserved early, we had a great spot on the rail. The waitress also did not know how to use a camera, so my photo is awful! Trip Advisor reviews are excellent!
Day 5 – Rum Point, Bioluminescence Bay
If you look at a map of Grand Cayman, you will see that Seven Mile Beach and Rum Point are far apart. It takes about an hour to drive through nine zillion rotaries (stay left!) to get to Rum Point.
We arrived at Rum Point about 3pm. Rum Point has a busy, beach bar (if you charter a boat and go to the starfish stop, you could eat here) called The Wreck. It is BUSY.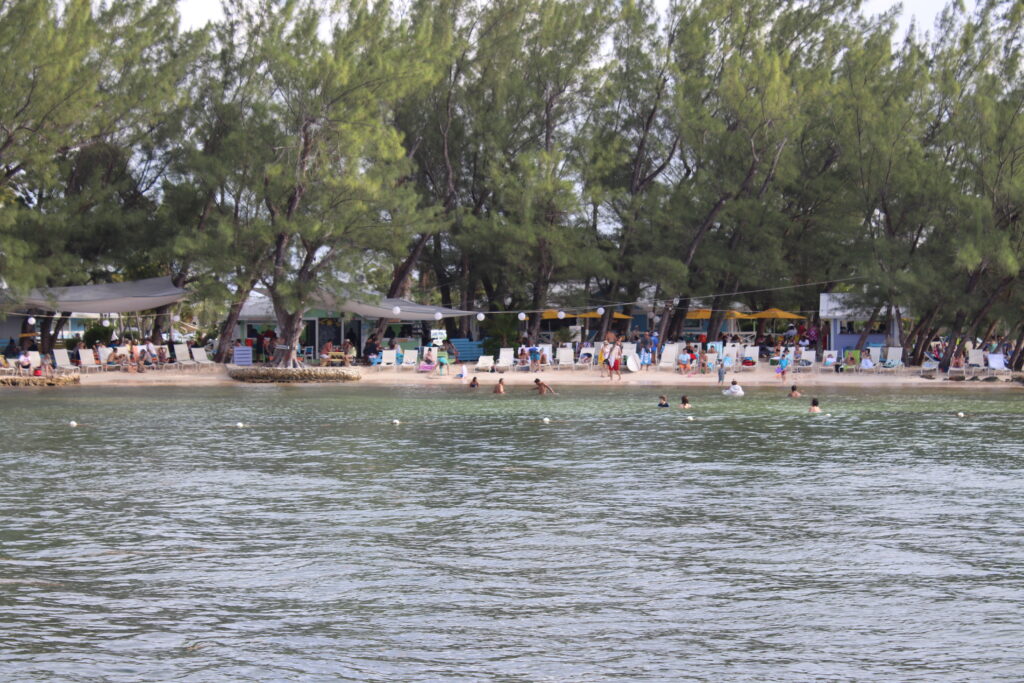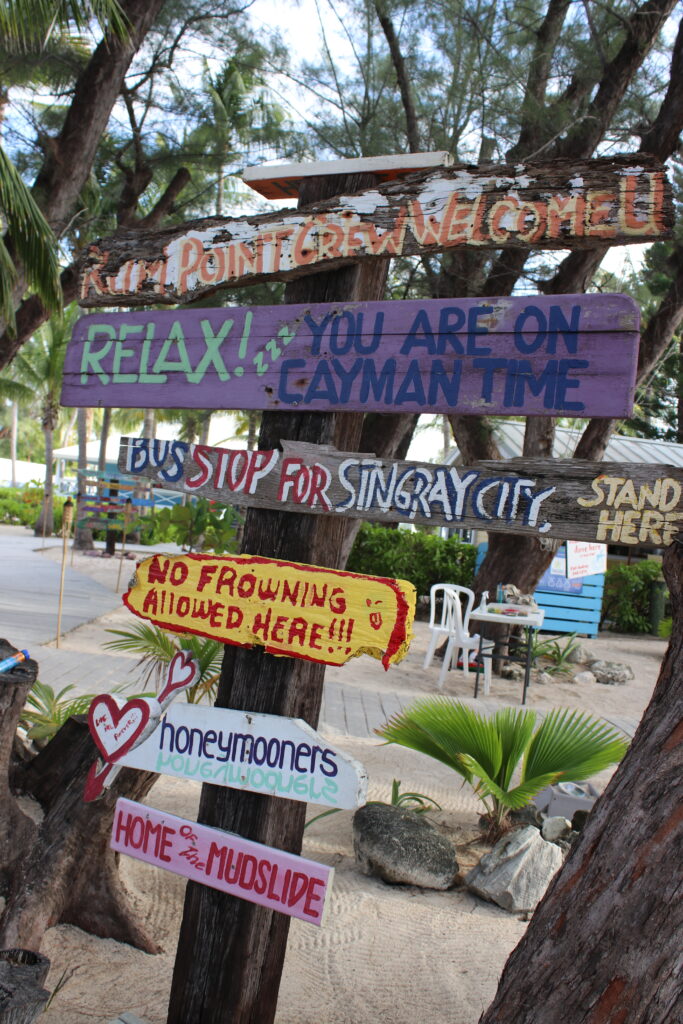 There were way too many people for us, so we headed down to Kaibo. Our plan was to meet our kayak tour there at 7pm, so it was a perfect place for a late lunch/early dinner. We ate at the more casual downstairs/beachy part. The Upstairs restaurant is fancier. Trip Advisor reviews are good.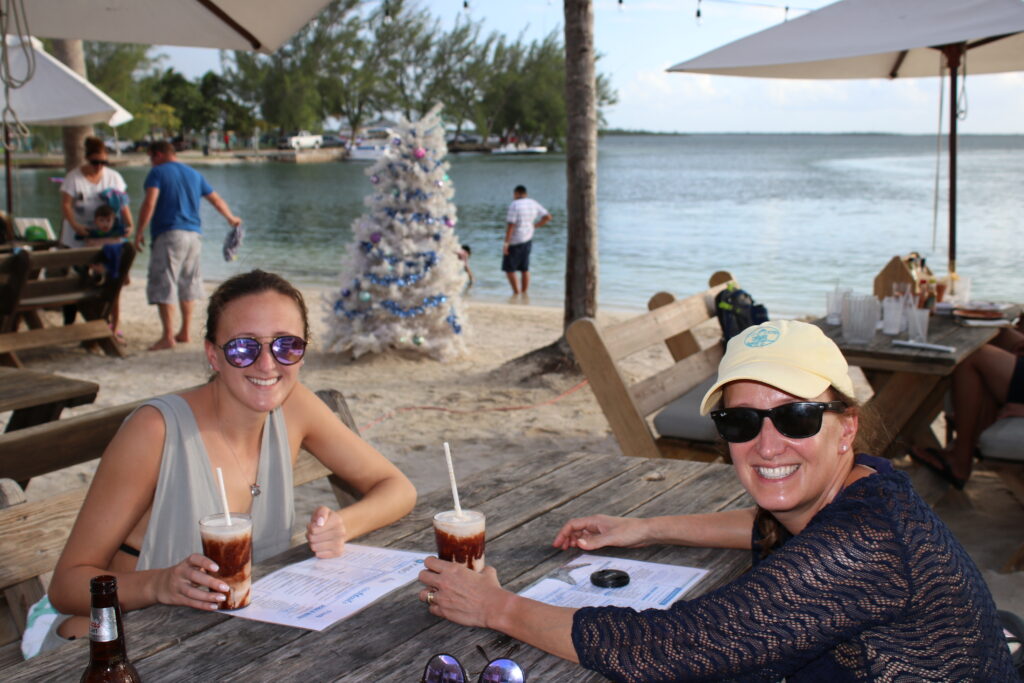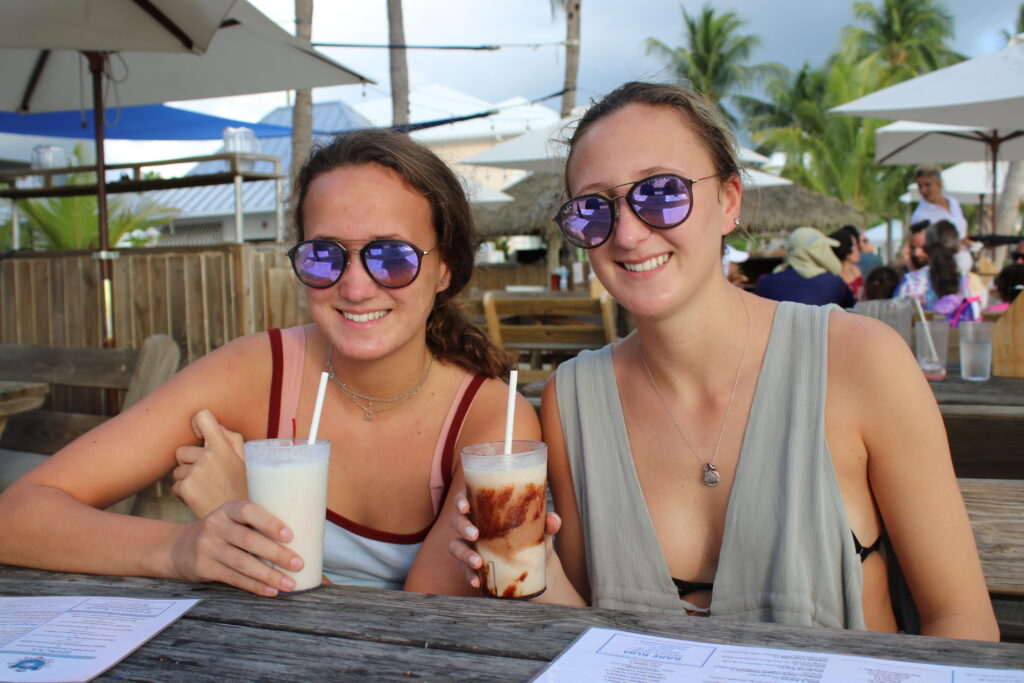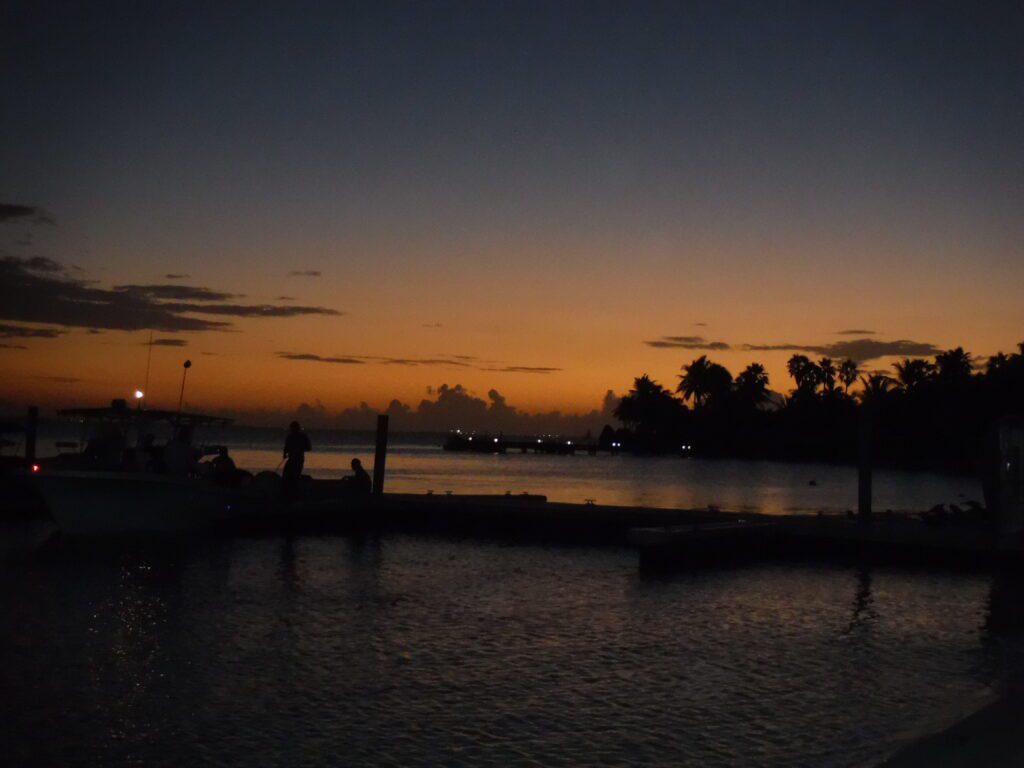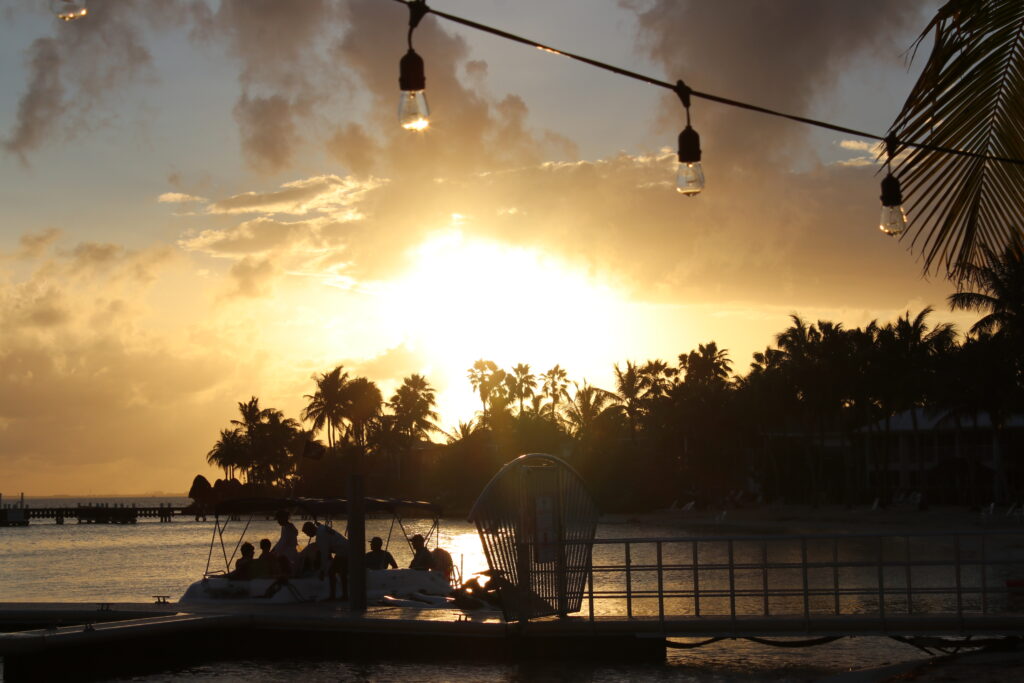 In a marine environment, many living organisms have the capability to emit light for survival and reproduction. Near Rum Point and Kaibo, there is a small protected bay that is one of the best BioBays in the world. Millions of glowing microorganisms put on an amazing light show in the dark water, and you can watch your hands, feet and paddles glow. We were excited to night kayak to the BioBay. We had never been kayaking at night, and we had never seen bioluminescence before!
We arrived at The Sweet Spot to check in four our small kayak tour. They told us "due to wind" no tours could kayak tonight. I was furious. They said they "had been trying to call me all day." I had my phone all day. No one tried to call me.
They said we could go on the "boat" tour to the bio bay and still swim and see the creatures. We reluctantly agreed to go. It was a mistake. The boat, while it did not serve alcohol was primarily full of one extended family that was loud, rude and obnoxious. We had to stop at the starfish point (which we had already seen on our Sting Ray City day and would not recommend). We then went to the bio bay, and what do we see – about a dozen kayakers. We were furious.
The kayakers left from Rum Point with another tour company. The Sweet Spot should have told us, "look, we cannot kayak from this spot due to wind (which, honestly was most likely bull-shit), but drive two minutes down the road to the other company, they are holding a spot for you."
We were so disappointed. The night kayaking with head lamps looked so cool. We were on a noisy boat with a bunch of screaming kids, teens, parents and grandparents. I would never recommend The Sweet Spot. Look into Cayman Kayaks for night kayaking in the bio bay.
The only bright spot was that we thoroughly enjoyed swimming with the bioluminescence creatures. You need a mask on. It is very cool and almost impossible to photograph!
I insisted on a refund and the Sweet Spot would not give it to me. I disputed it with my credit card company and they refunded me $100. After the ponies, it was another disappointment! Try Cayman Kayaks, because it looked so cool!
Day 6 – East End Bike Ride, Tukka
Today, was fabulous! Absolutely fabulous.
After driving back an hour from Rum Point/Kaibo and getting to our condo about 9:45, we woke EARLY to drive back! We left Seven Mile beach at about 5:40am and drove to meet the awesome Shane and his East End bike tour. Shane's company is called EcoRides and it was a great experience. Trip Advisor reviews are excellent
We met Shane outside of the Wyndham Reef Resort at 7am. Do not be late! He does not like that! He had four hybrid bikes ready for us. We did the 14 mile Cayman Seabreeze tour. It took just shy of four hours. There were about 10 people on the tour. There is very little traffic on the East End of the island.
We learned about hurricanes, shipwrecks, pirates, birds, local history, culture, healthcare and art. Shane is a fantastic guide who takes great pride is his island and his tour!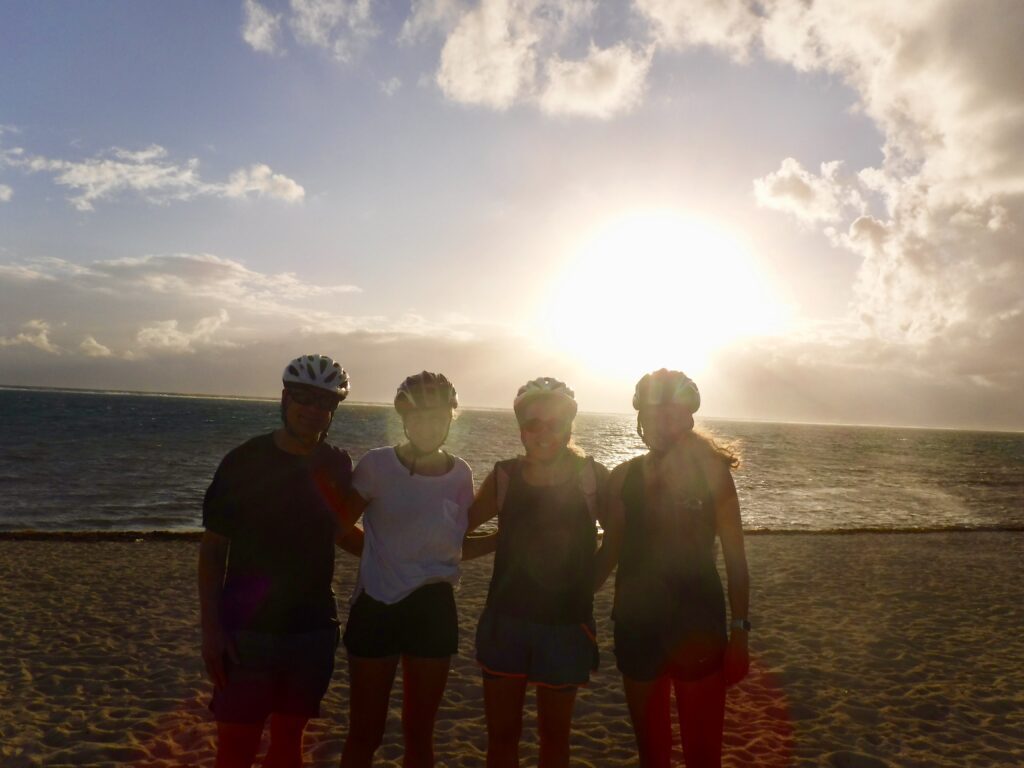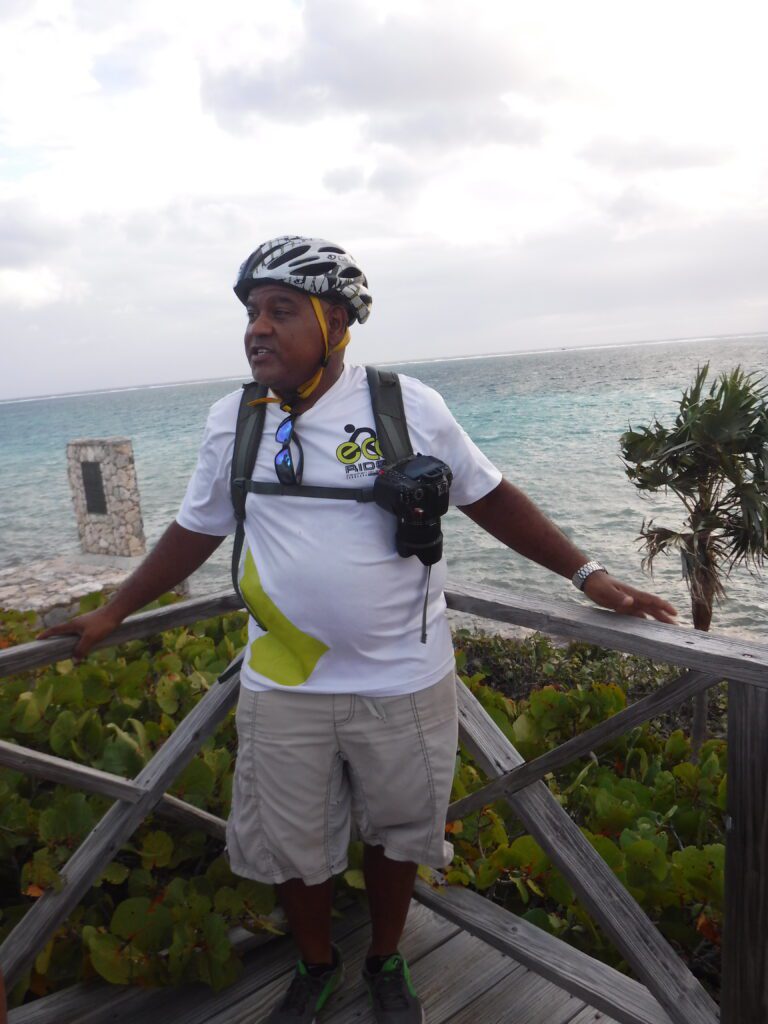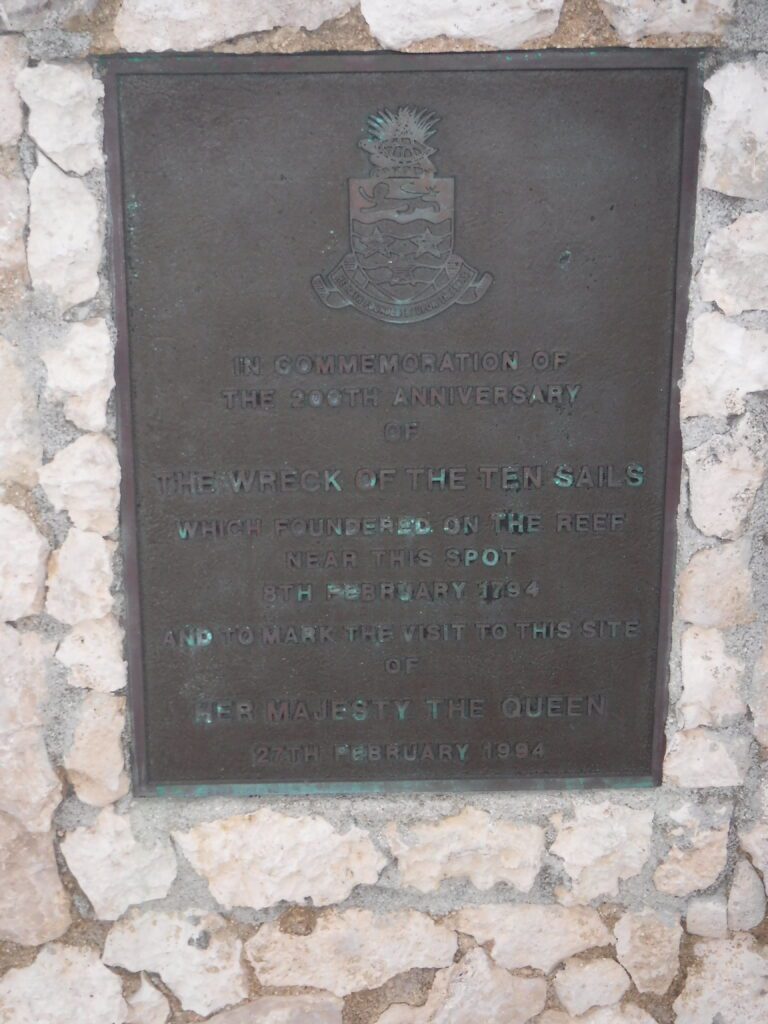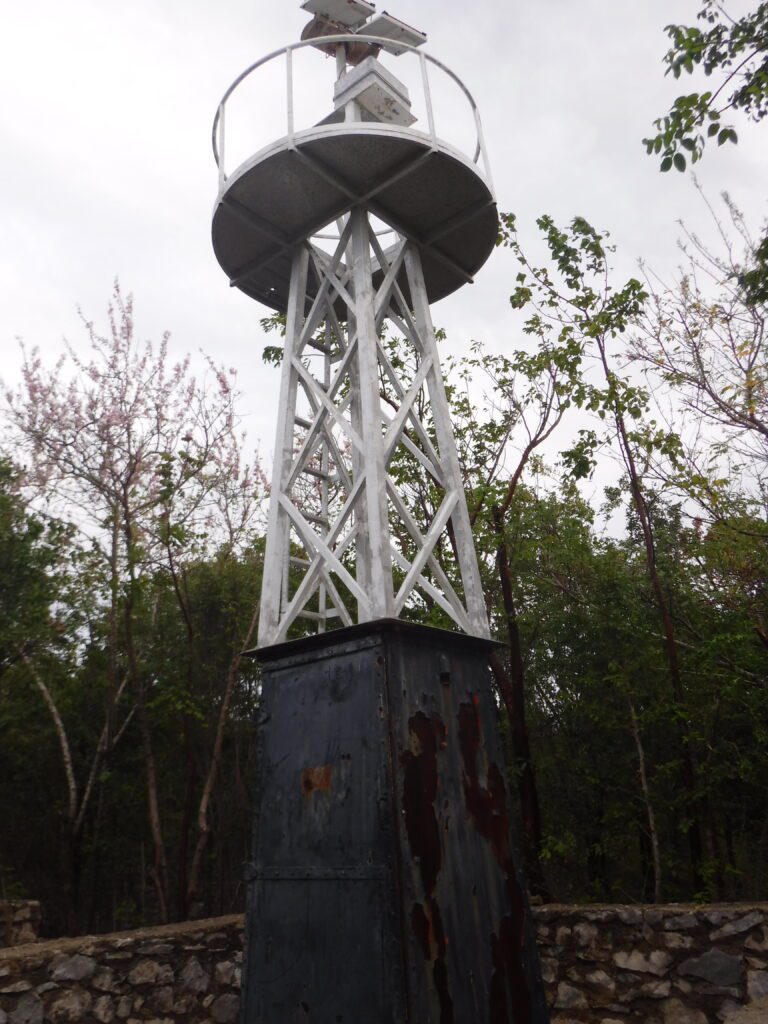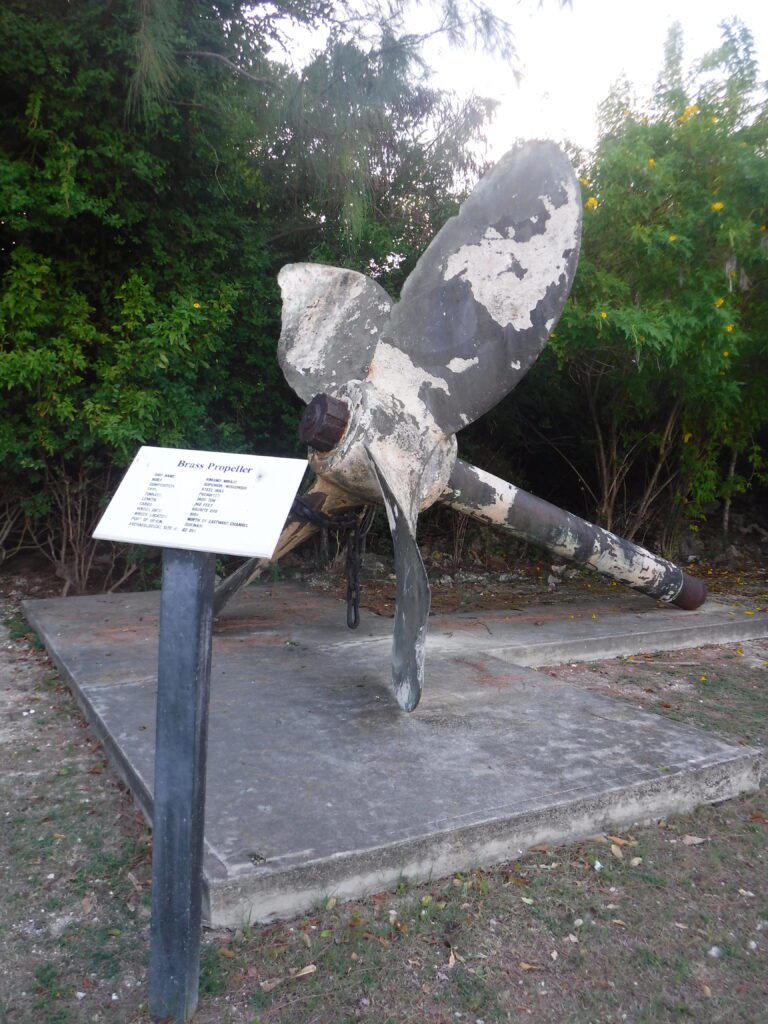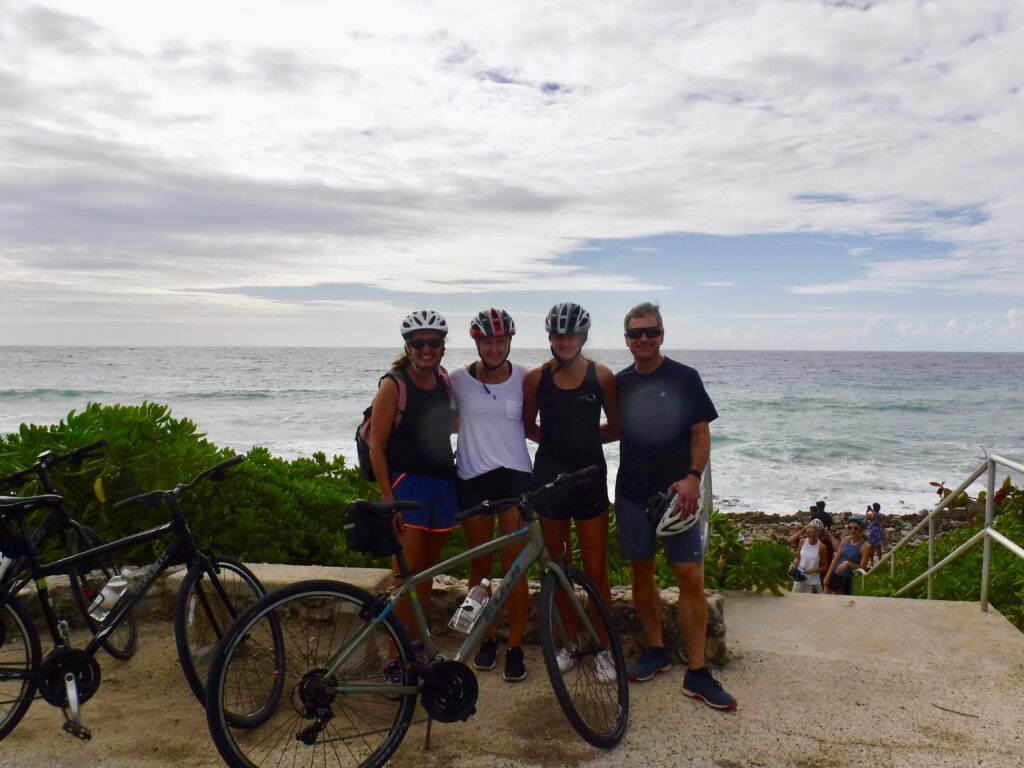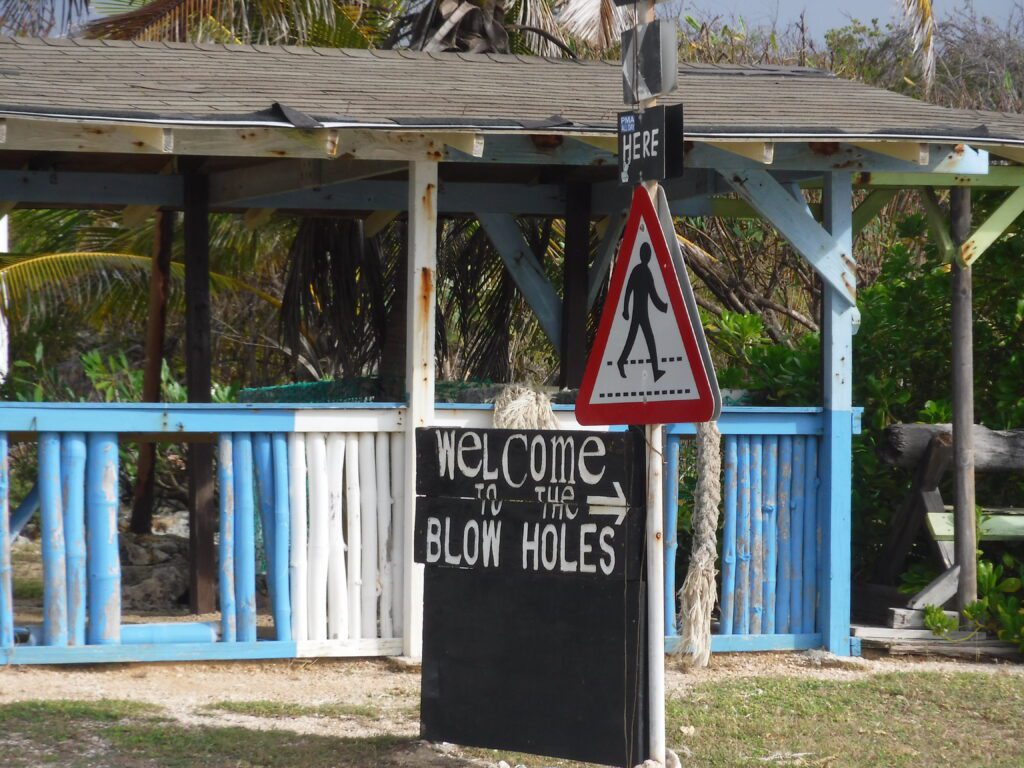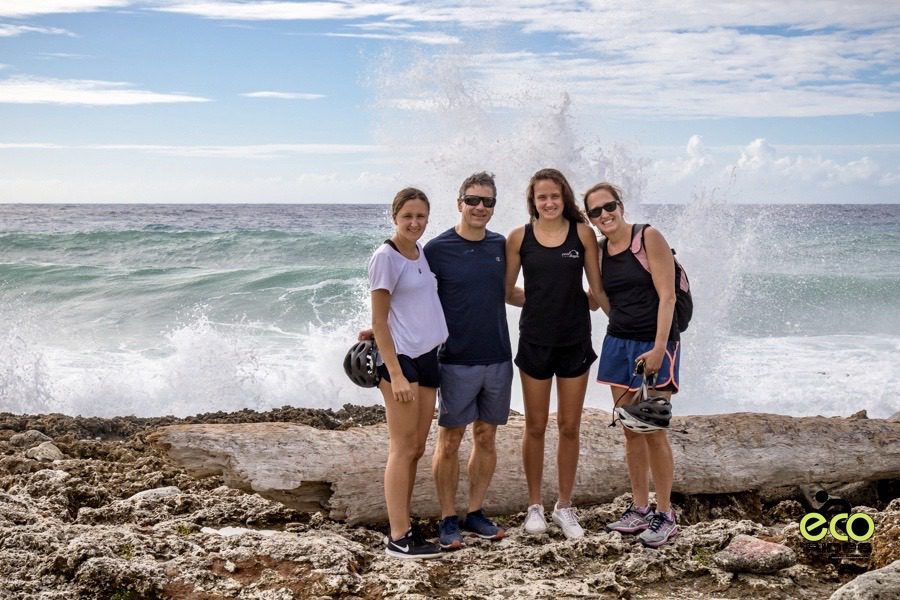 After saying goodbye to Share at the Wyndham, we headed to Tukka. If you do not want to ride bikes on the East End, you should make the trek to Tukka. We loved the food and the gorgeous setting. The food is a shake-up of Australian and Caribbean. It was awesome. Trip Advisor reviews are spectacular.
We loved it here!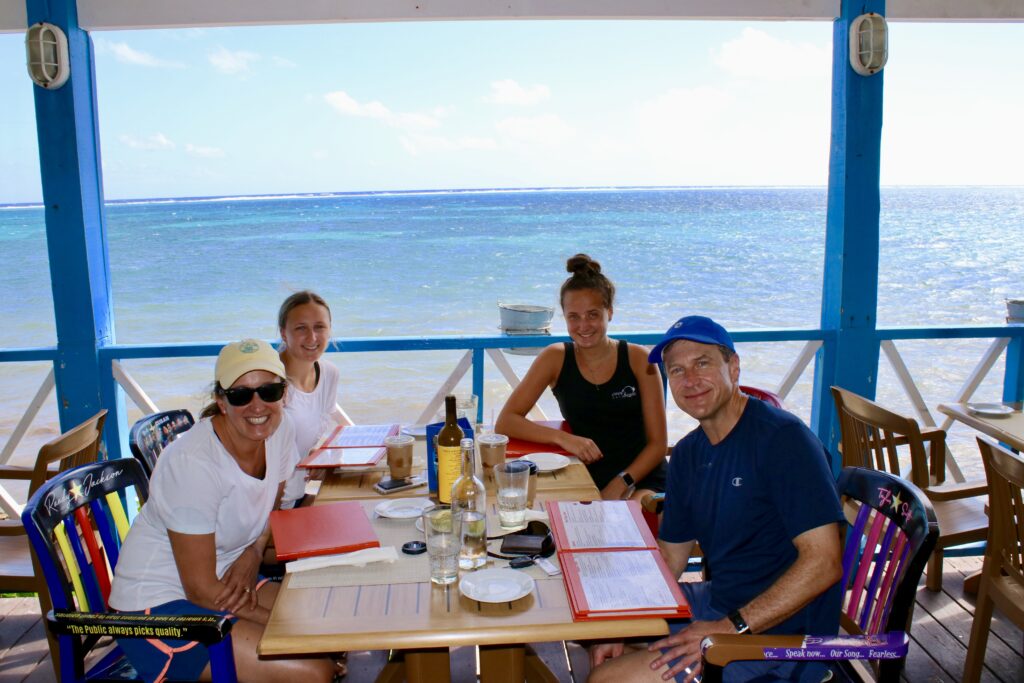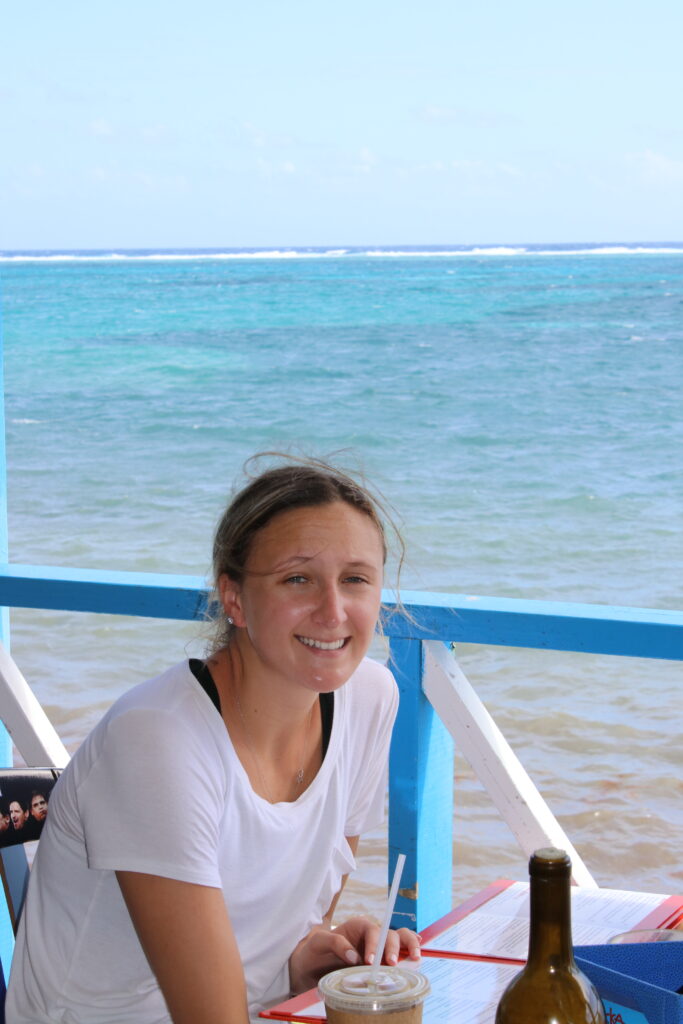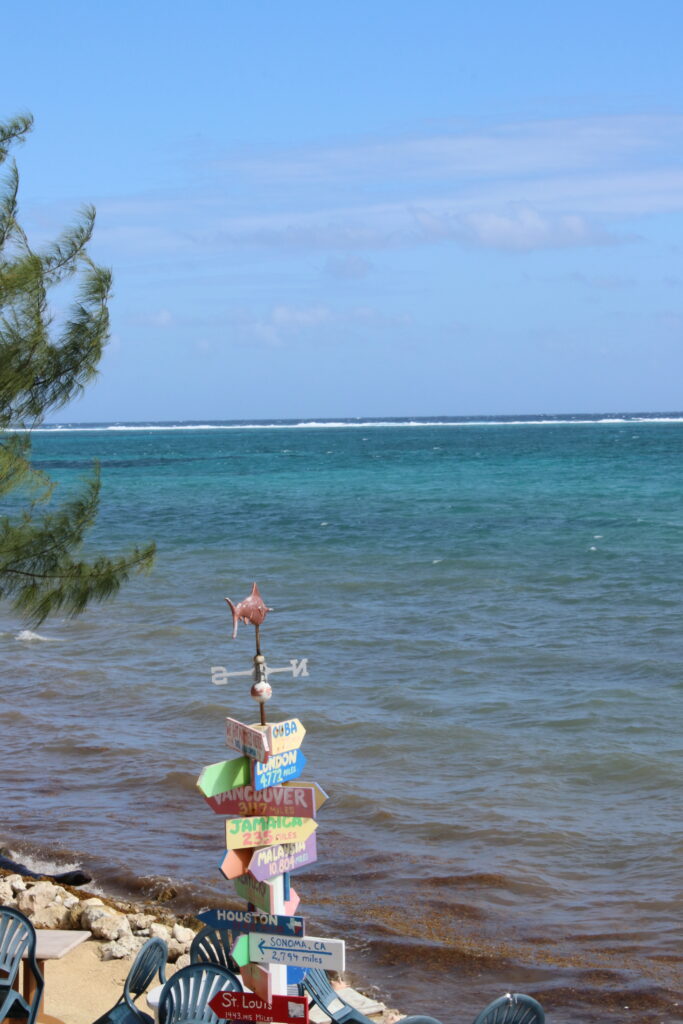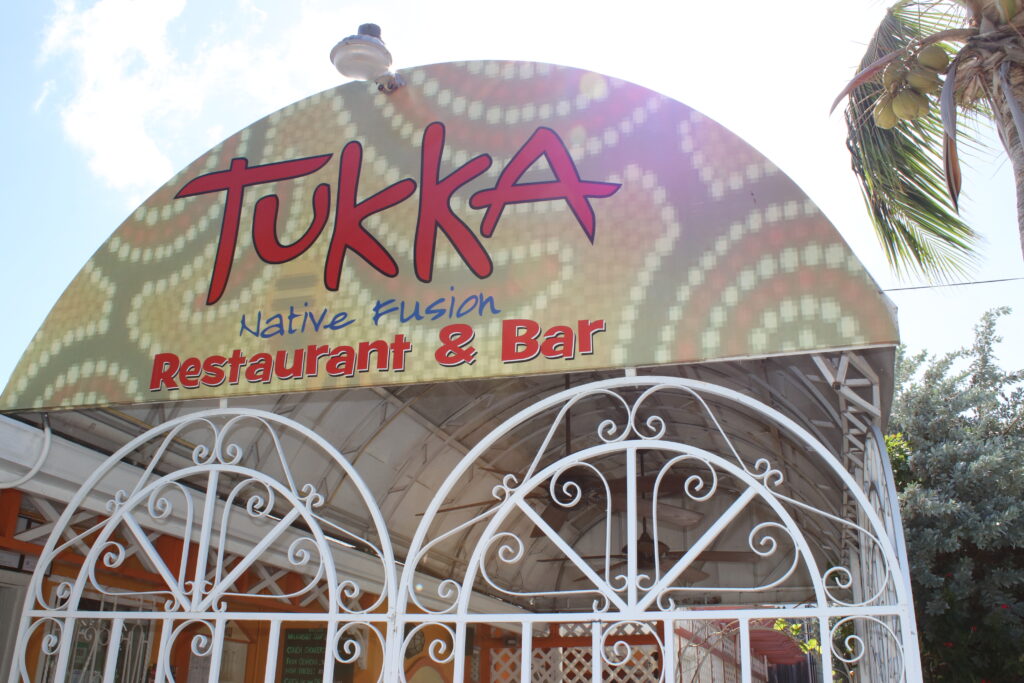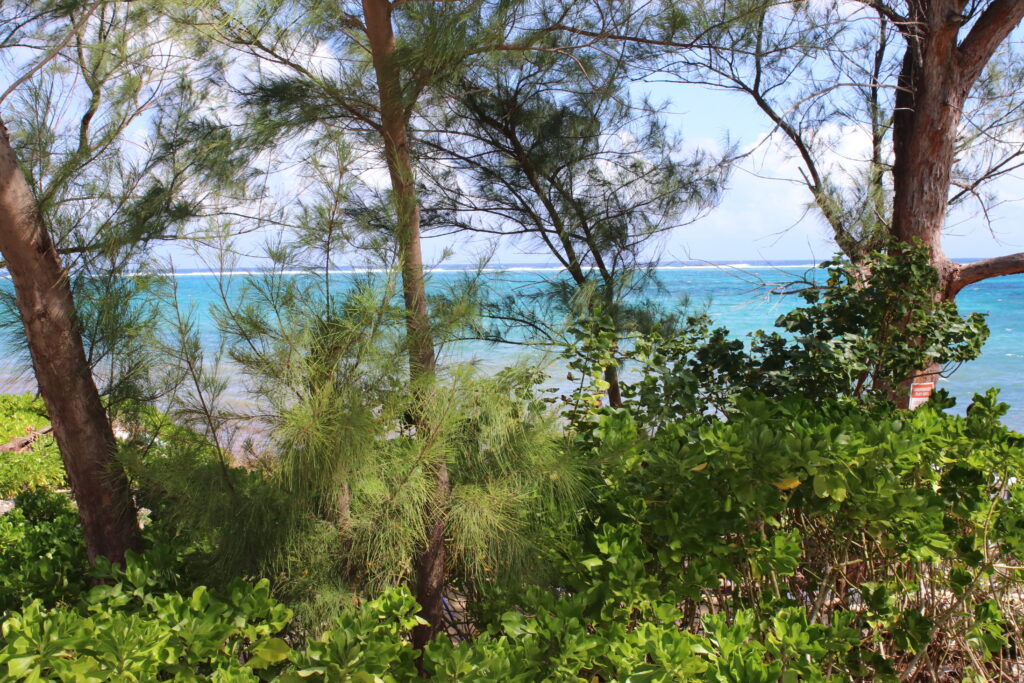 Our dinner tonight was amazing. Beyond fantastic. We ate at Morgan's. Morgan's is located near the Cayman Island's Yacht Club. The service was outstanding. We loved everything we ate, and our waitress was fabulous. We highly recommend this delightful restaurant. It is pricey, but all dining in Grand Cayman is expensive!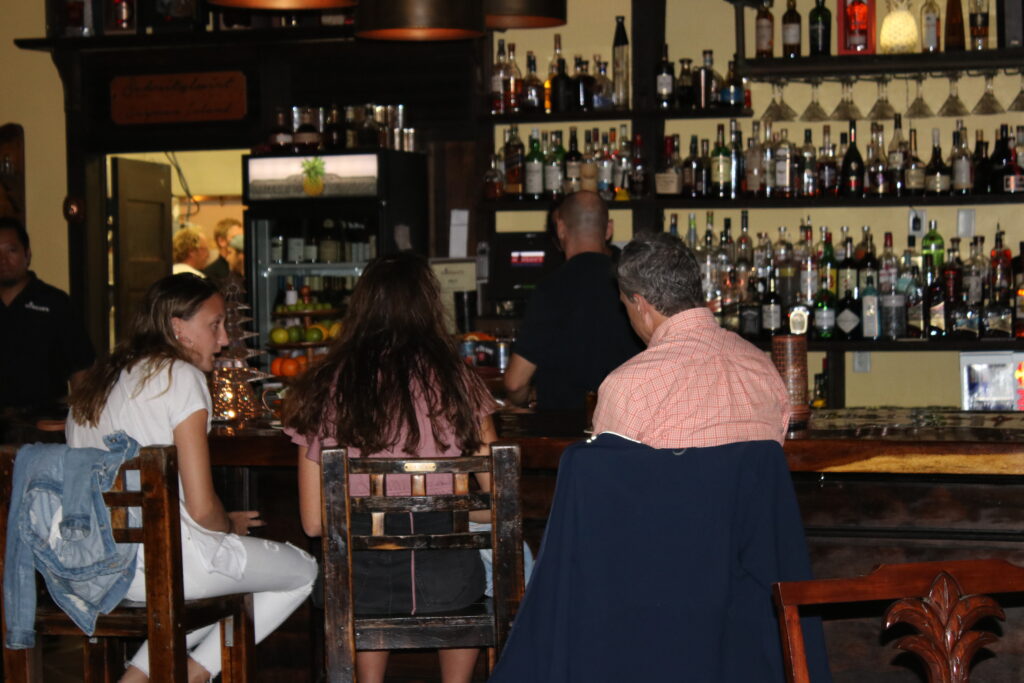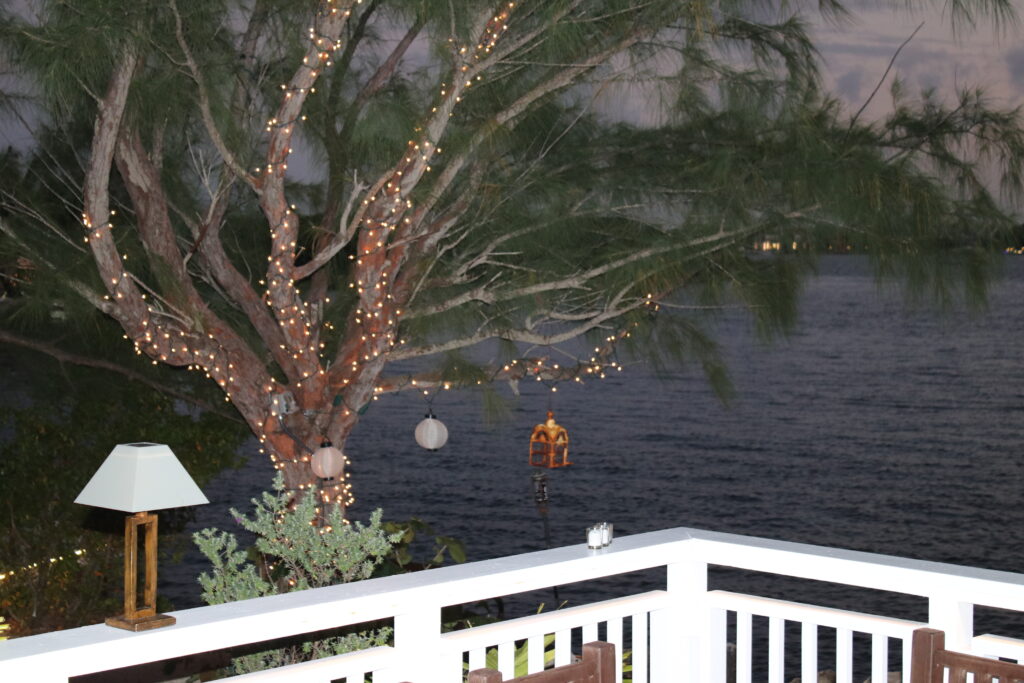 Day 7 – Sunset House, Spott's Beach, Smith Cove
After working out and relaxing at our beach, our kids wanted to shop for a souvenir, and we needed to purchase a Christmas tree ornament, which is a "trip tradition" for us.
We ate lunch at Sunset House. Sunset House is just outside of the main tourist area in Georgetown. It is a hotel, catering to divers, and a large bar/restaurant with views of the cruise ships. The food was fine. Service was very slow. But, the setting was very nice outside. Seems like a fine hotel for people who want a dive-centric location.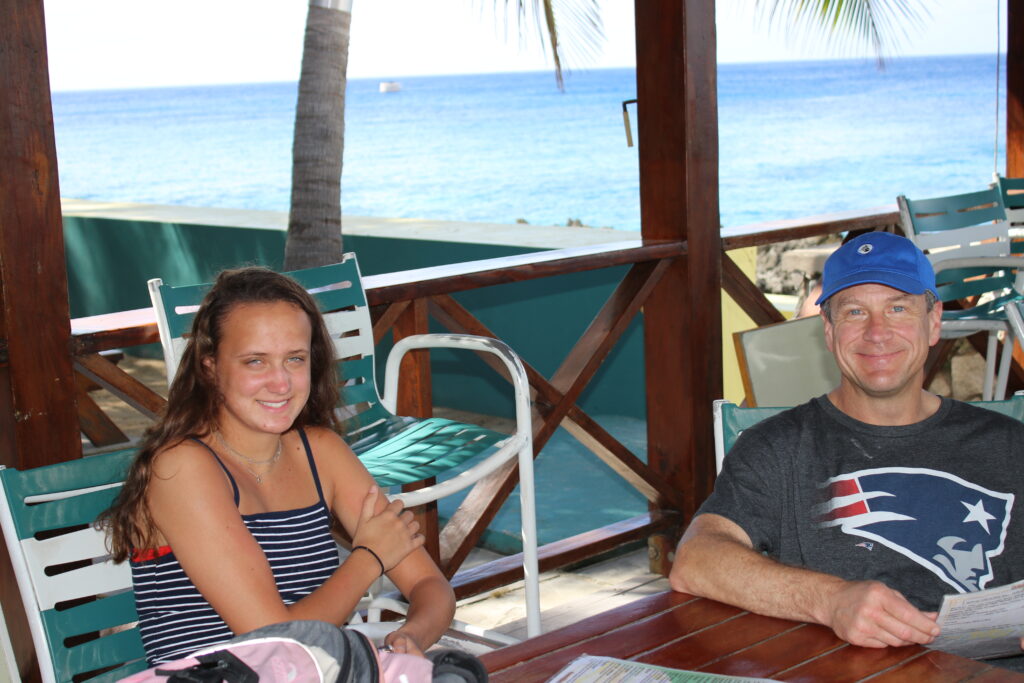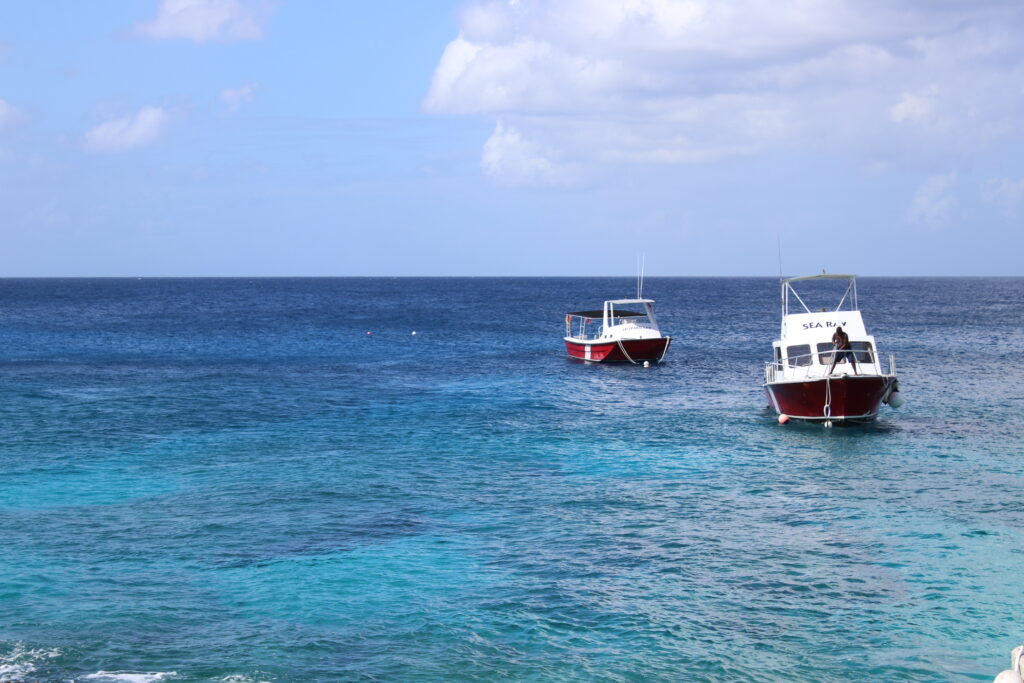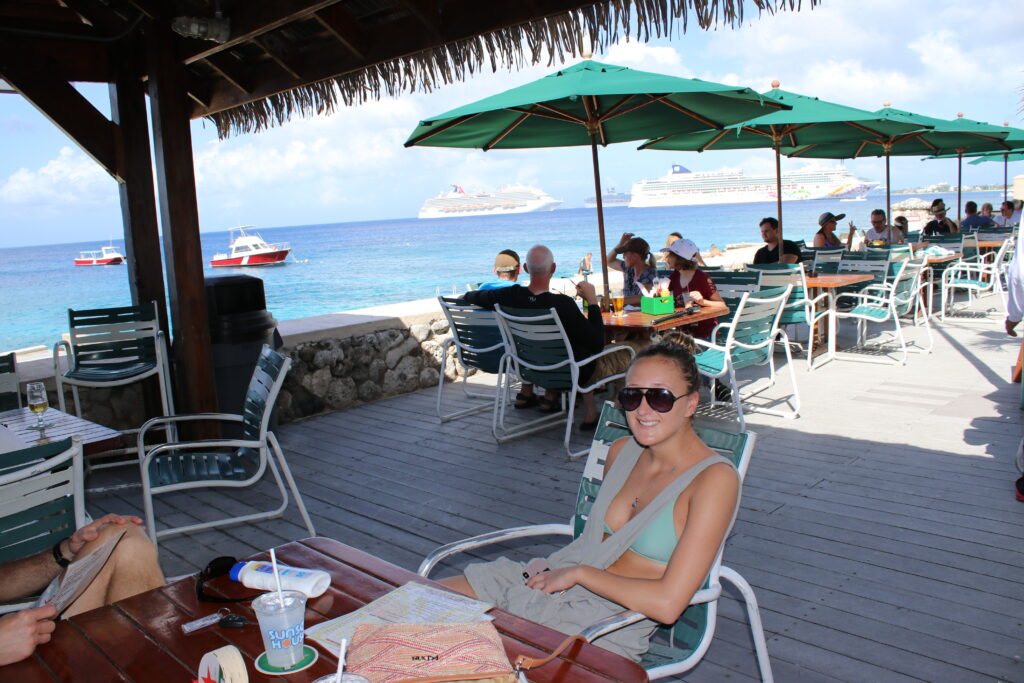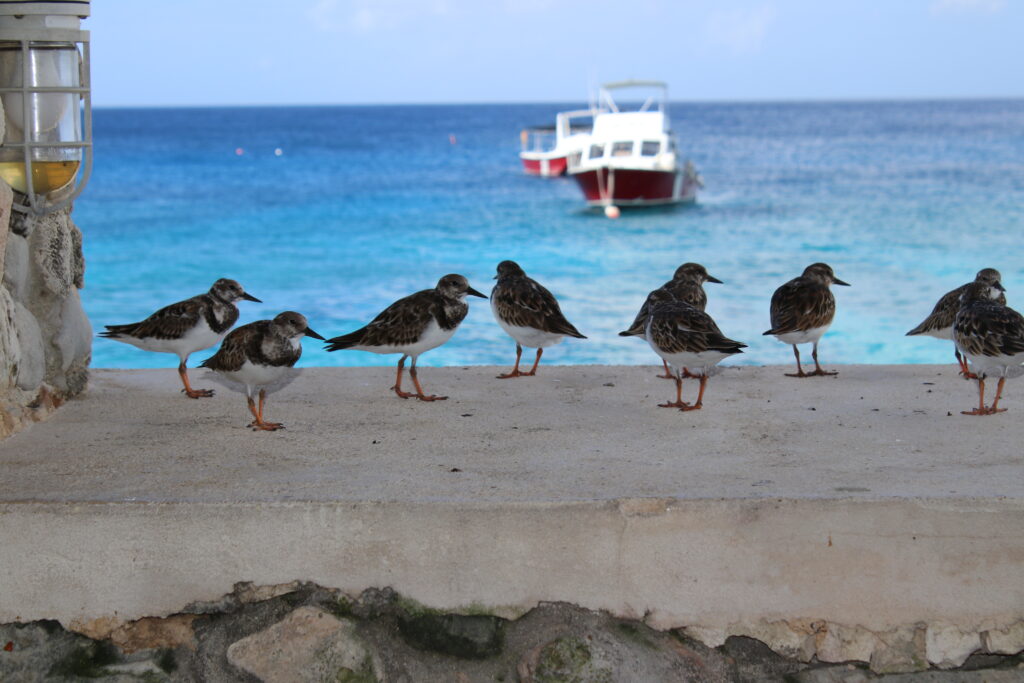 We had read good things about Spott's Beach. Our waitress at Morgan's had suggested visiting Spott's Beach – she said every time she visits, she sees turtles. So, we drove out there, and the beach is gorgeous. But, our weekly nemesis, the wind, made the snorkeling not good! Hopefully, your visit will have calm winds and lots of turtles. We own masks and snorkels, and we bring them with us to all our snorkeling destinations so we do not need to rent masks.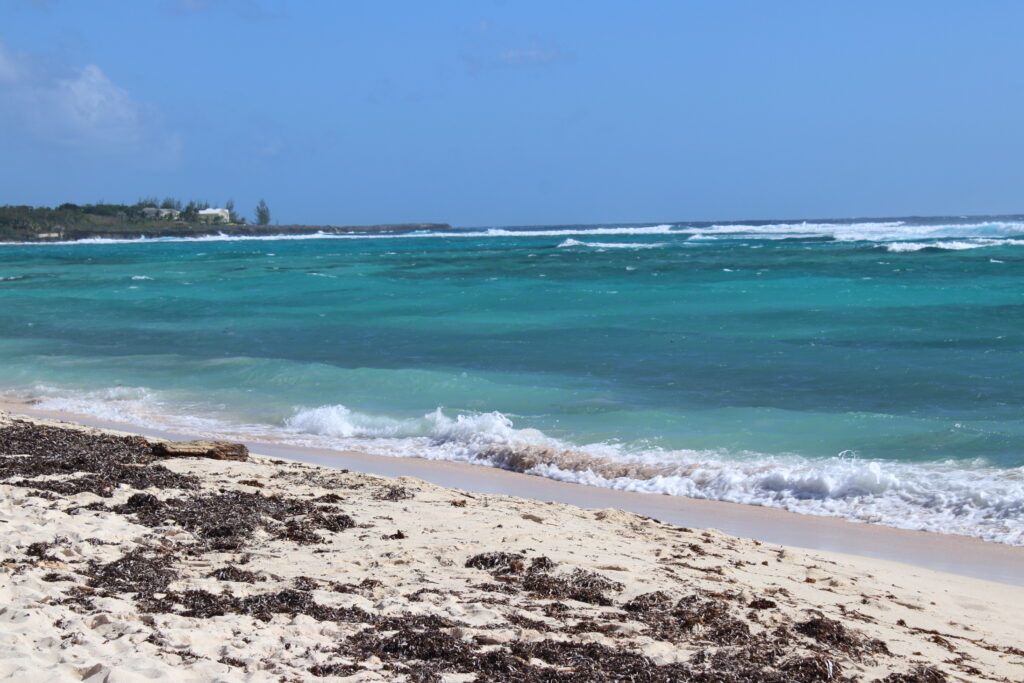 So, we continued on to Smith Cove. Smith Cove, wrote one blog I visited, is the closest thing to a lagoon in Grand Cayman. Again, due to wind, we had big waves. However, we found a spot in the shade, and we took turns jumping into the ocean. It was fun. We would highly recommend a visit to Smith Cove! It is a popular spot for both locals and tourists. It is very pretty, and the jump is fun.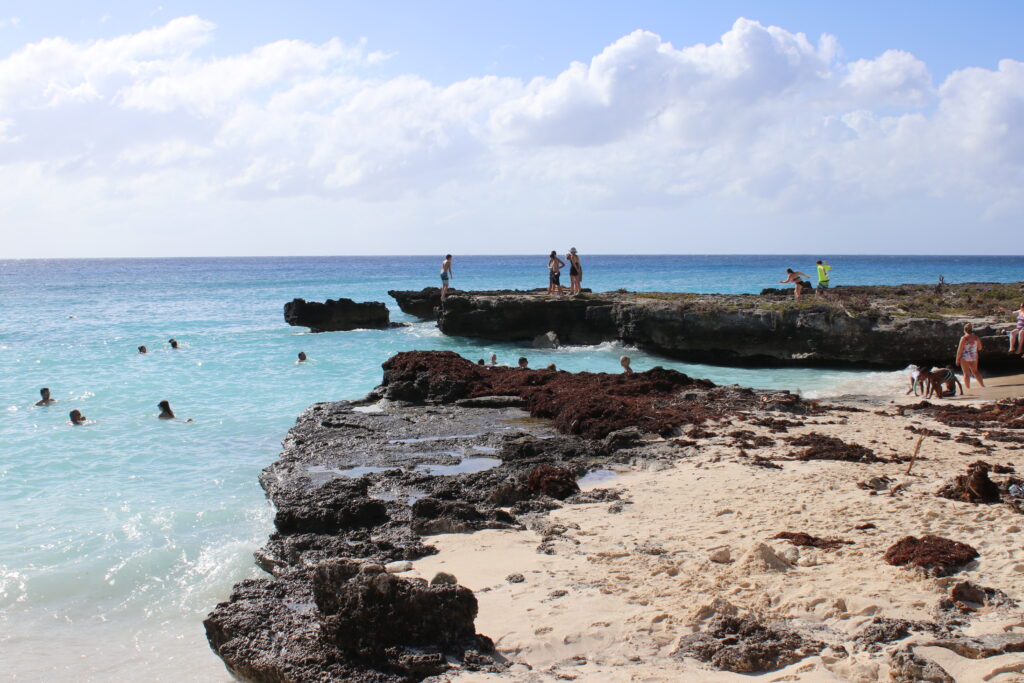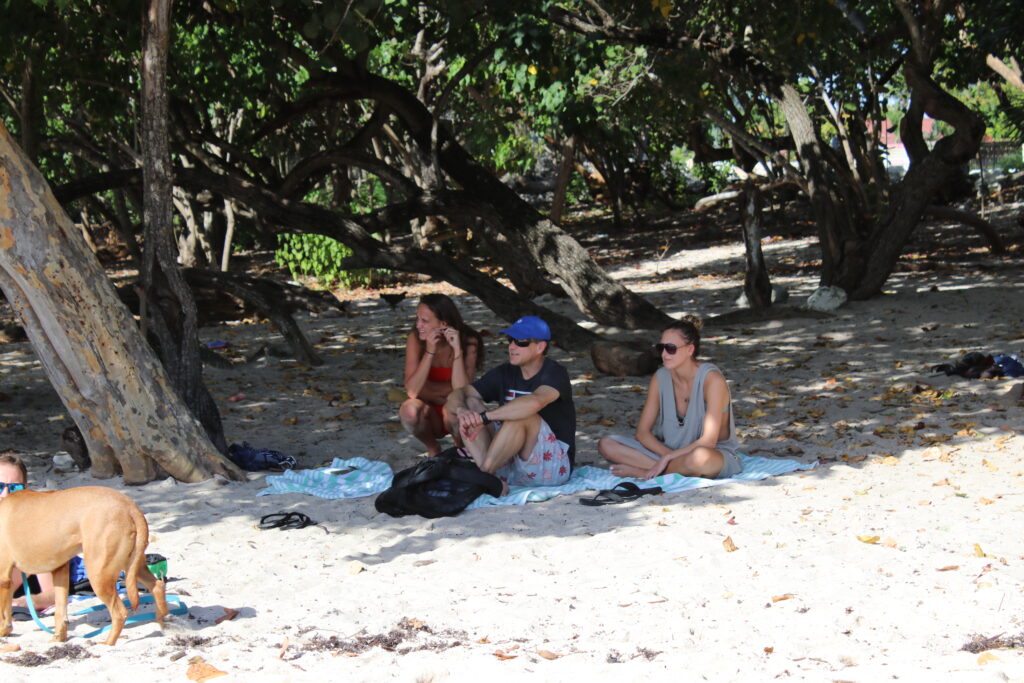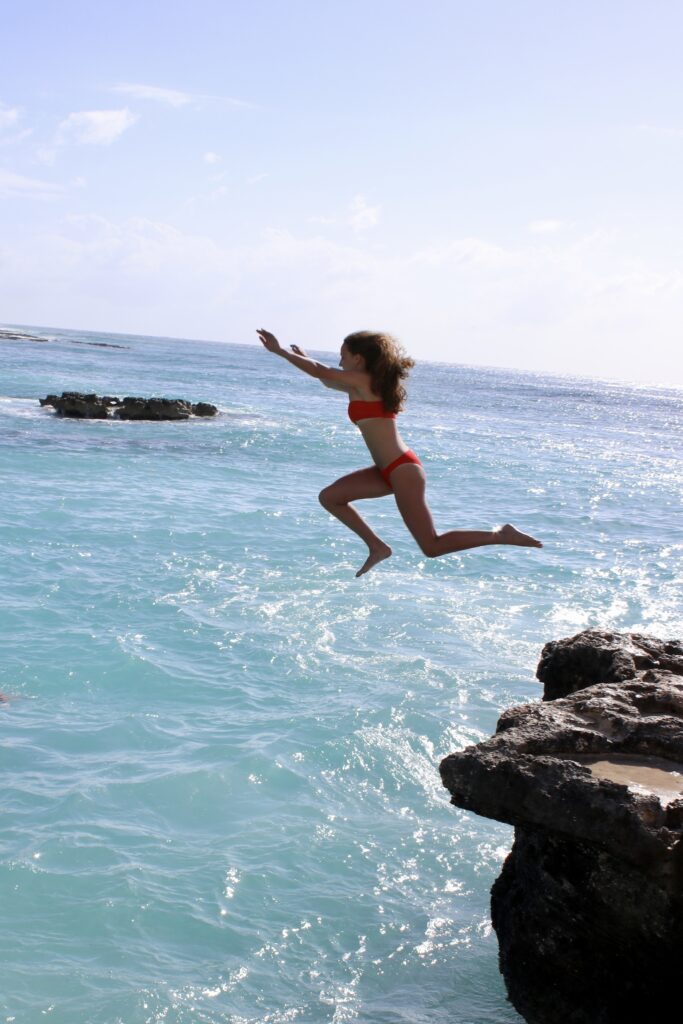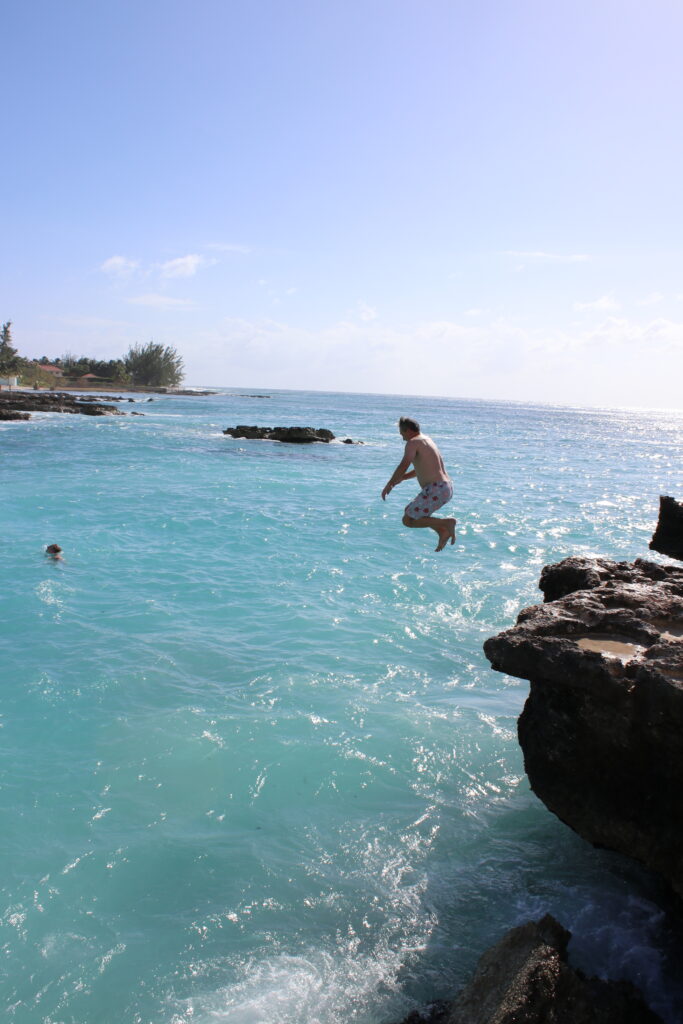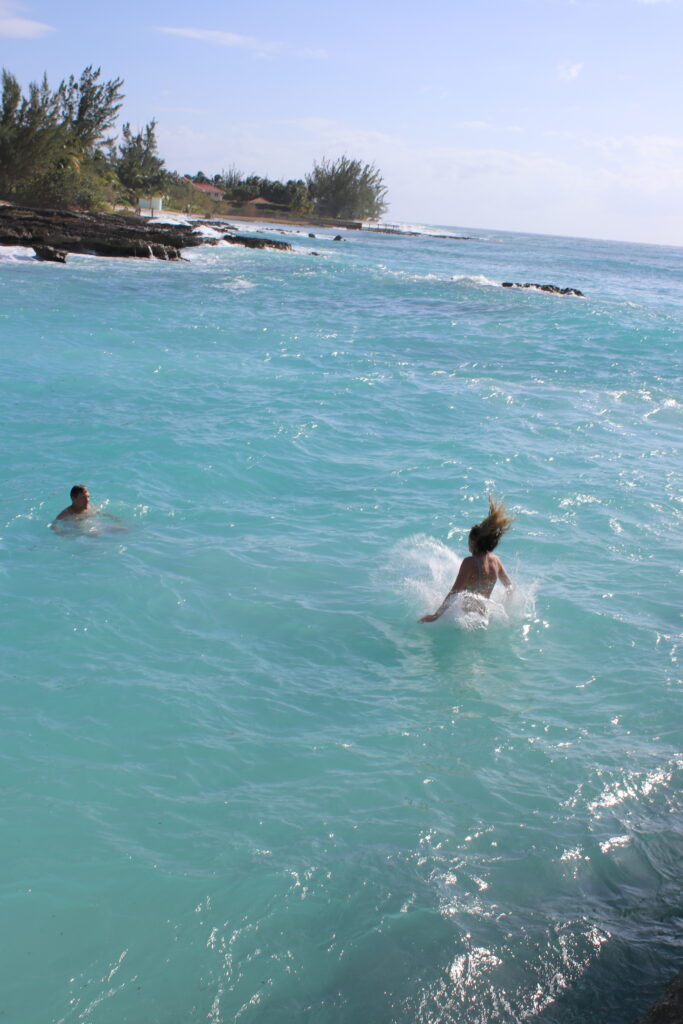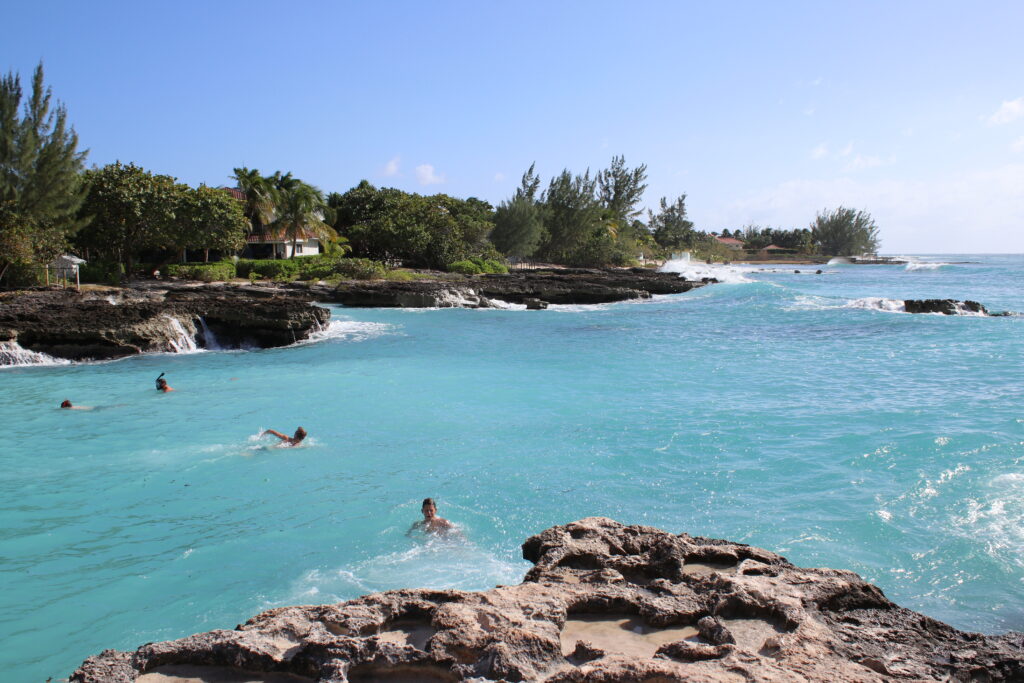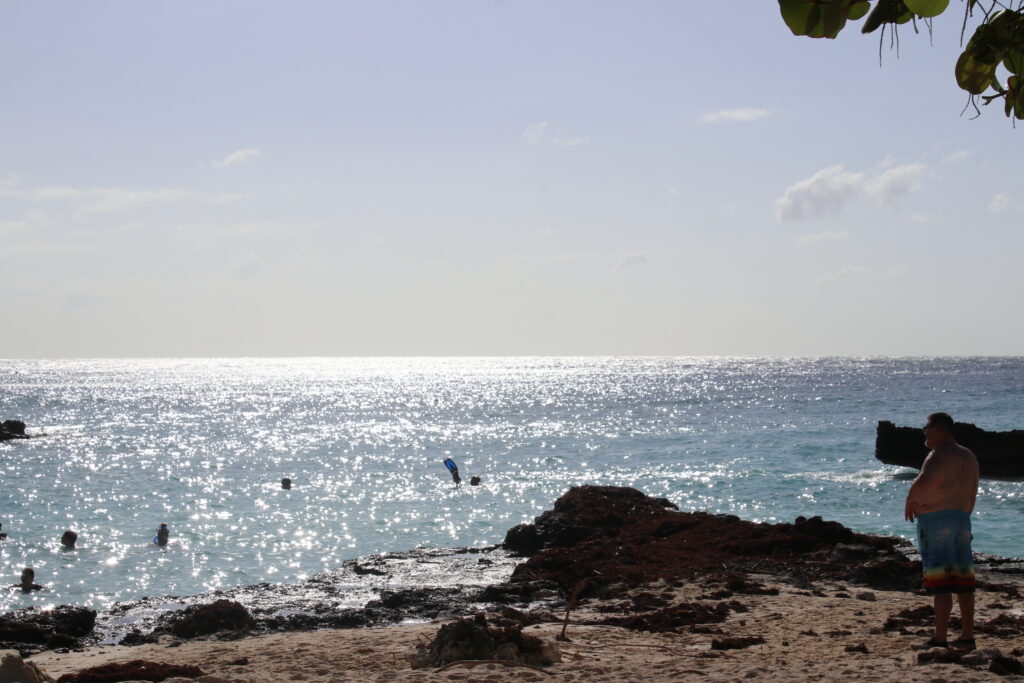 There is a downtown shopping district in Georgetown. The shops cater to the thousands of cruise ship passengers. You can buy jewelry, clothing, and chachkis. For her Christmas gift and her 21st birthday, our daughter wanted a David Yurman ring. We found the prices to be exactly the same and the cost in the States. However, we could save the taxes. So, we purchased a ring for her at Kirk Freeport. The service was good, and they have stores all over the island.
Les, our charter boat driver, told us to look for a Christmas ornament at Pure Art. I loved everything about this store. Whimsical, nautical, beachy items for the home. Great gifts, and we found a sting ray ornament! Highly recommended. Just outside Georgetown, near the Sunset Hotel.
No matter where you stay on Seven Mile Beach, you will see amazing sunsets as the beach faces due West. We got some great sunset shots tonight.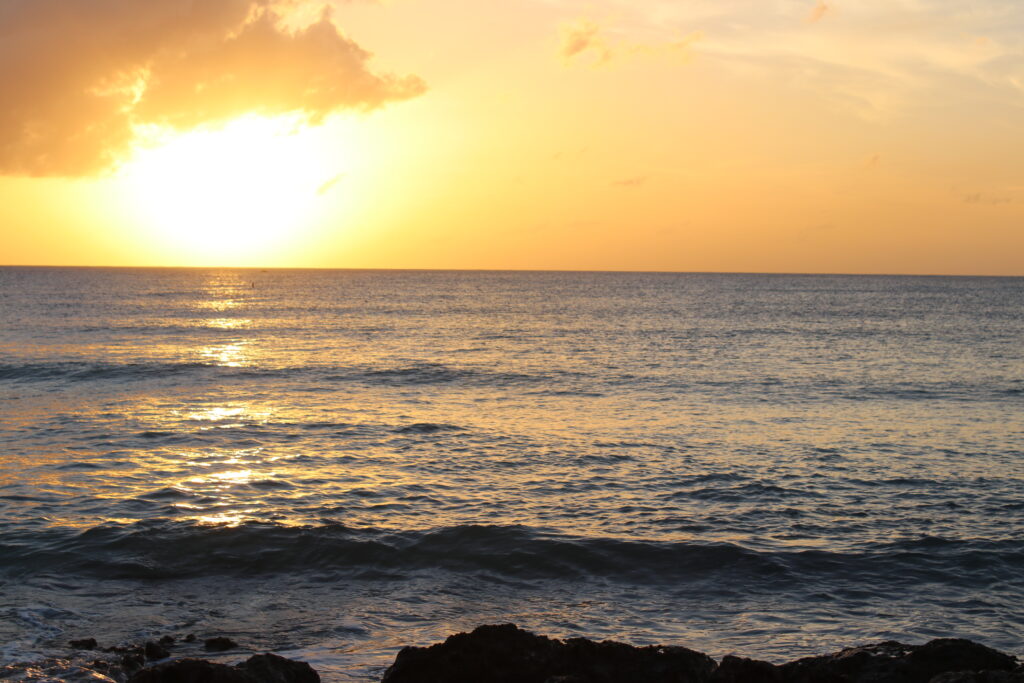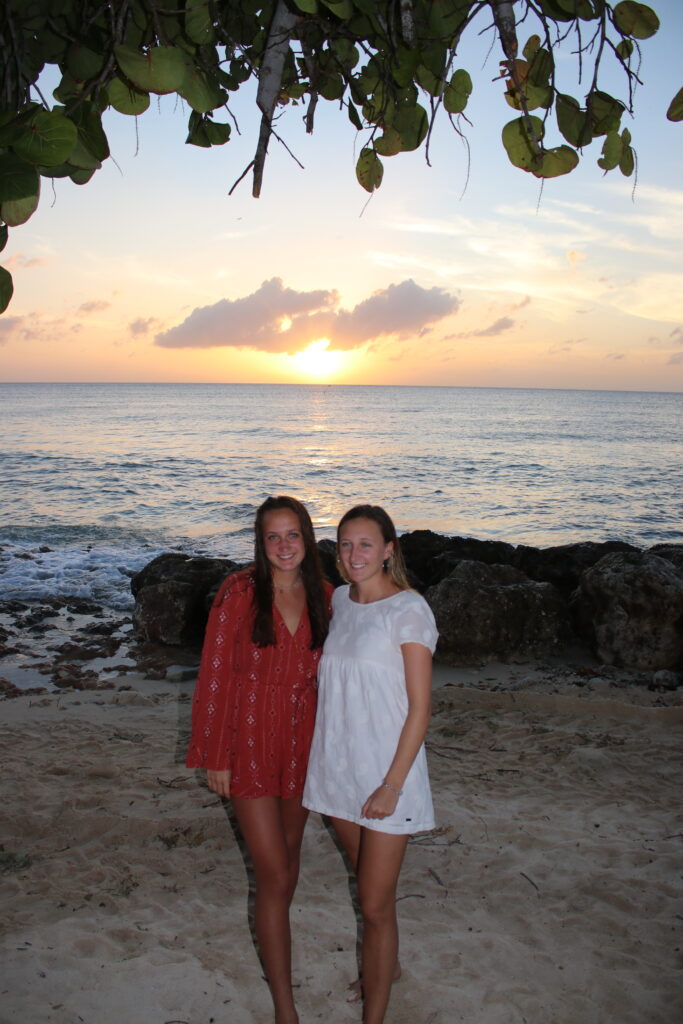 Once again, thanks to early reservations, we had a fantastic table on the railing at La Viele. The food, service and setting were divine. Highly recommended.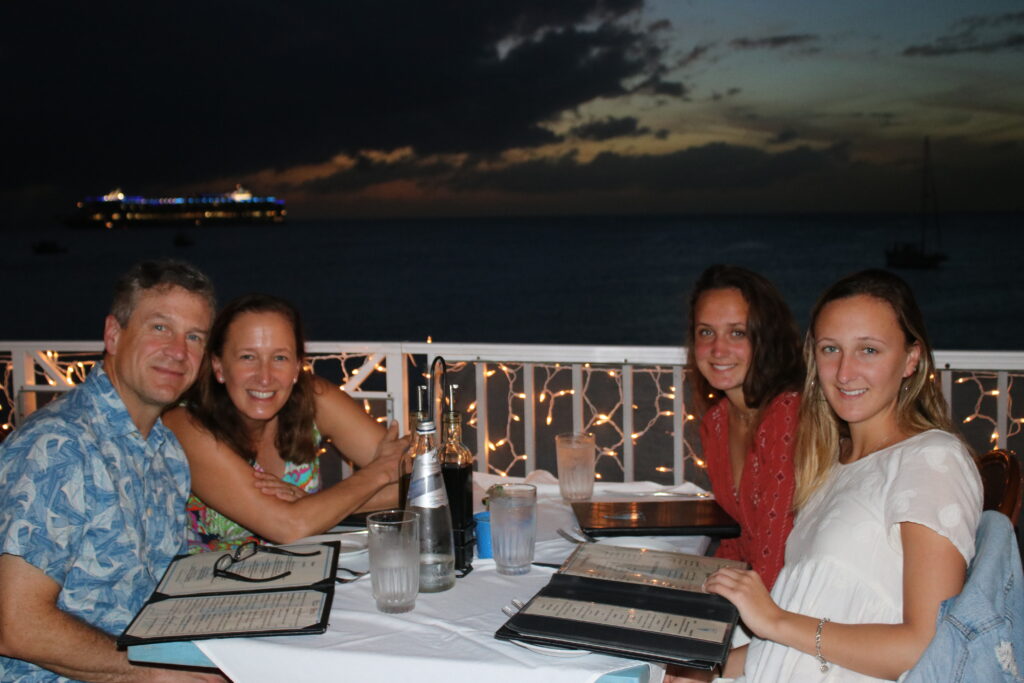 Day 8 – Wave Runner Safari, Kittiwake Sail
We had planned the wave runner safari for today's adventure well in advance. Then, at the last minute, we added an afternoon sail to the Kittiwake wreck. We recommend both adventures.
The wave runner safari was booked through Red Sail Sports. You have to be at least 16 with proper id to drive your own wave runner. We drove to the lovely Westin Hotel for a 9am safari. We rented three wave runners, one for each girl, and Jim and I rode together (I would have gone way too slowly and held up the group.). We hooked up with a guide and a dad/daughter combo. The guide taught us how to use the machines and off we went.
The children and the guide went crazy fast. It was bumpy, bouncy and fun. We drove for about 15 minutes and then stopped at a reef. The guide hooked all the wave runners together on a mooring and we slid off to snorkel.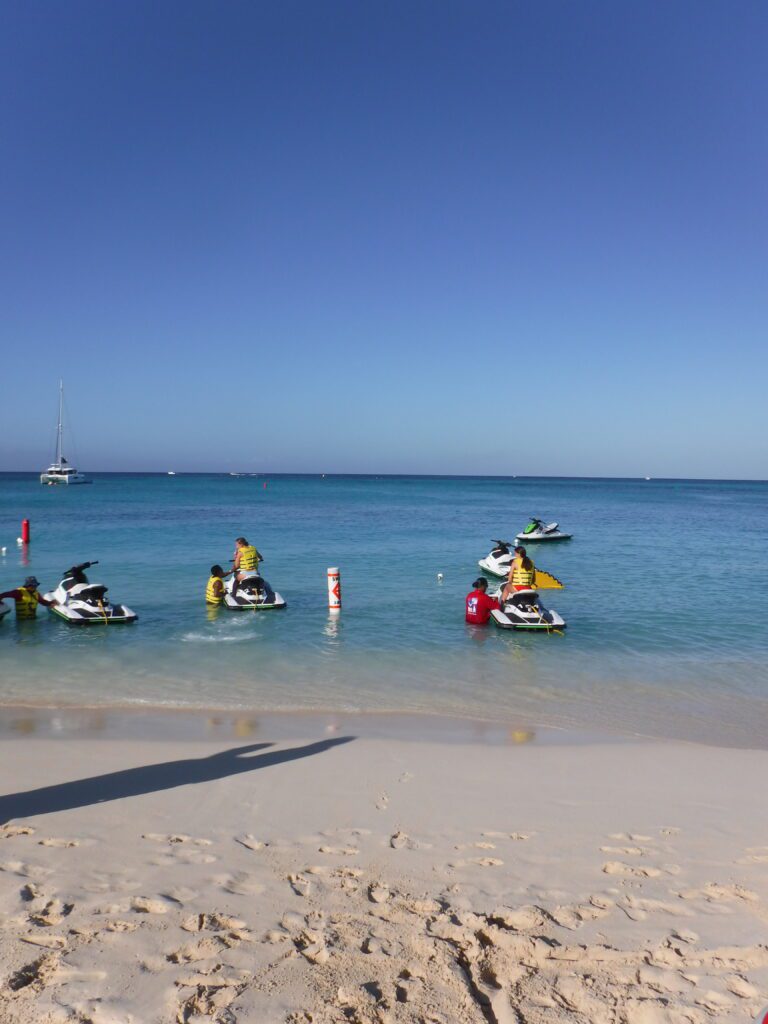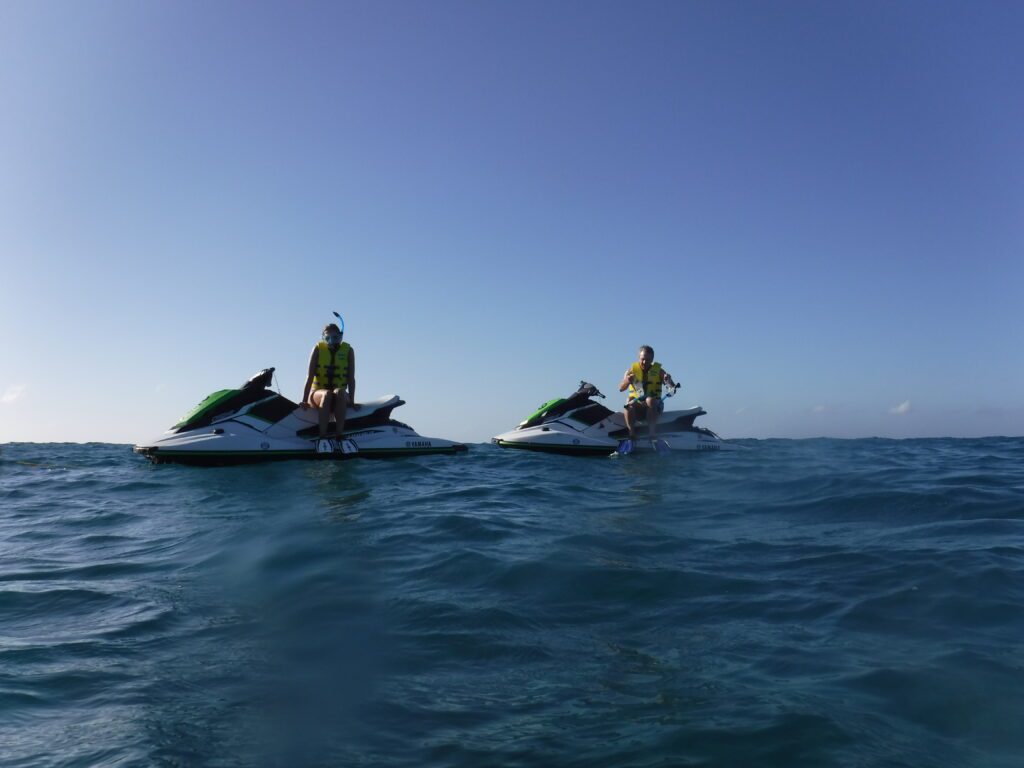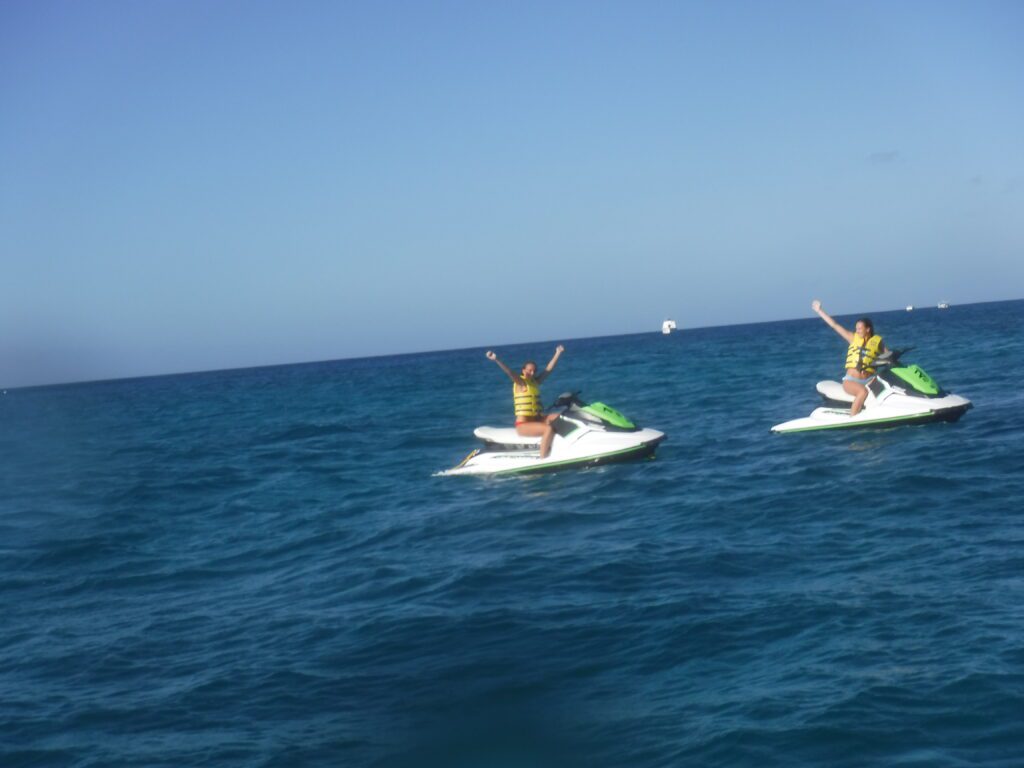 We headed to another snorkel stop. It was fairly close to where the cruise ships dock.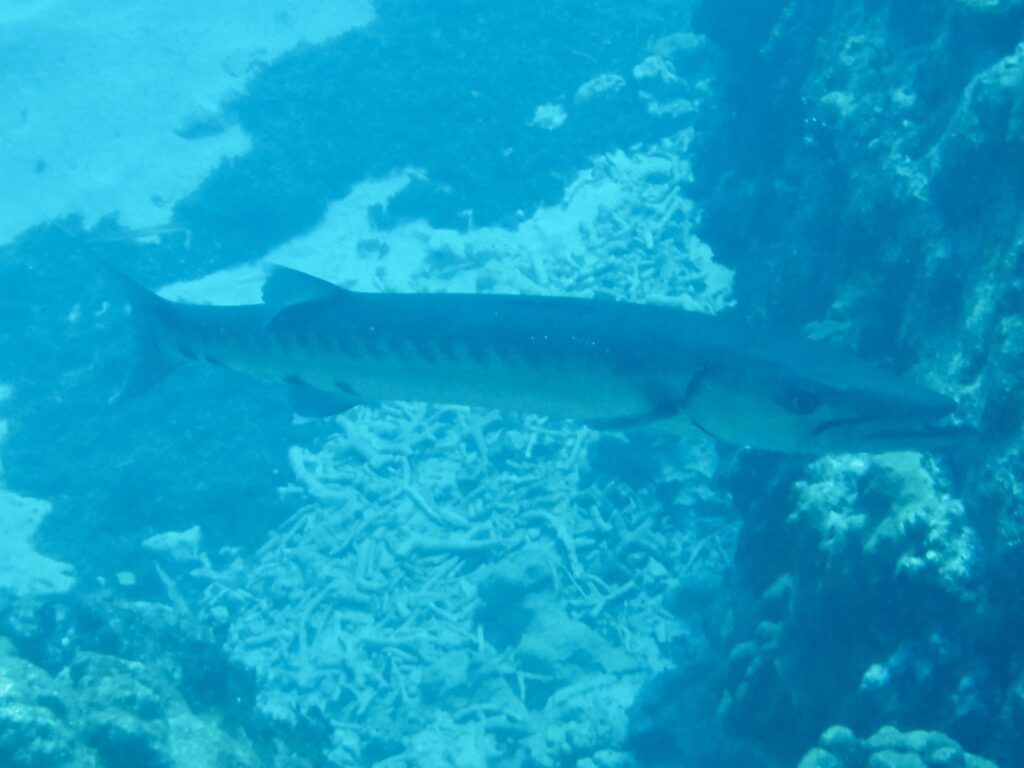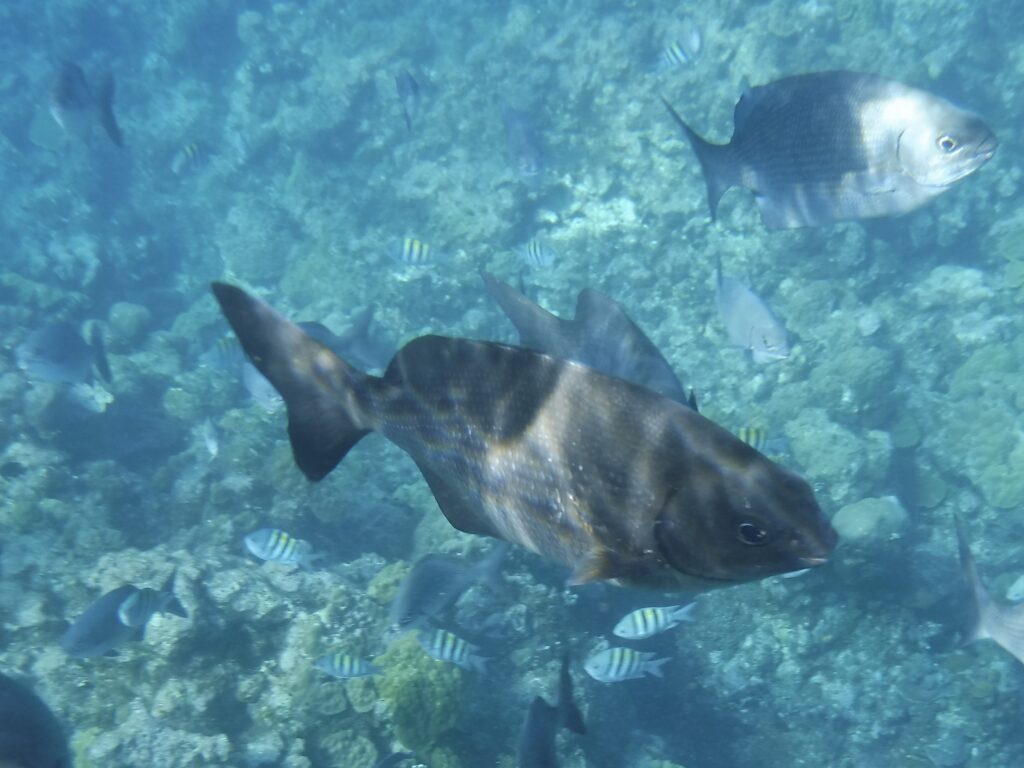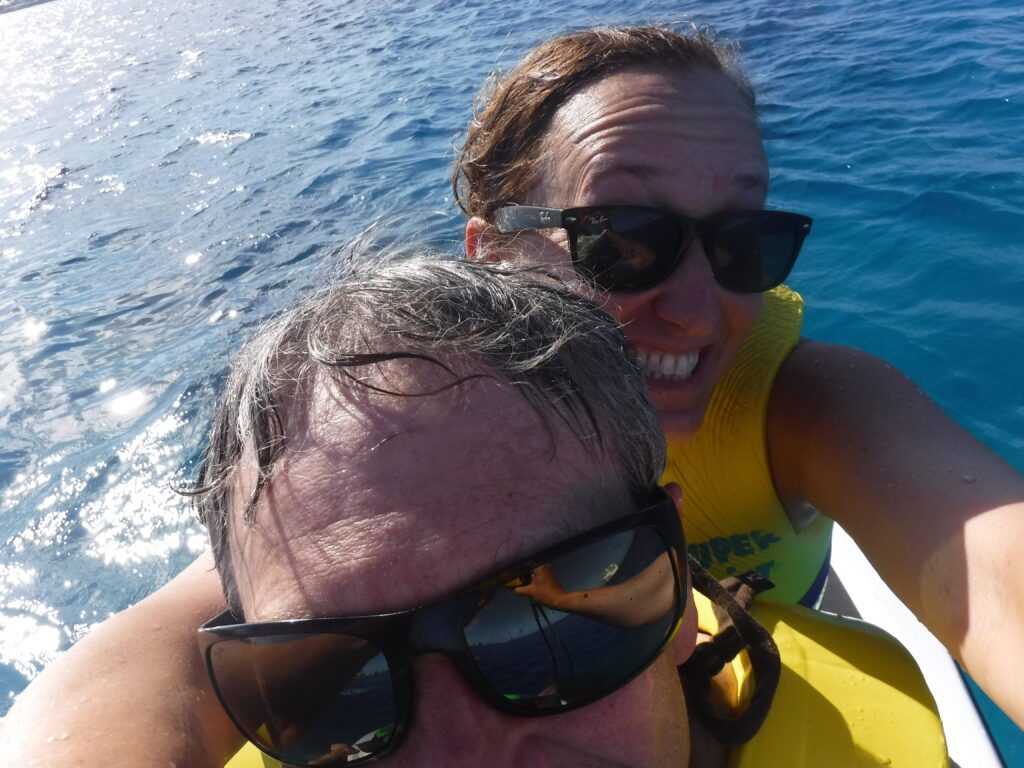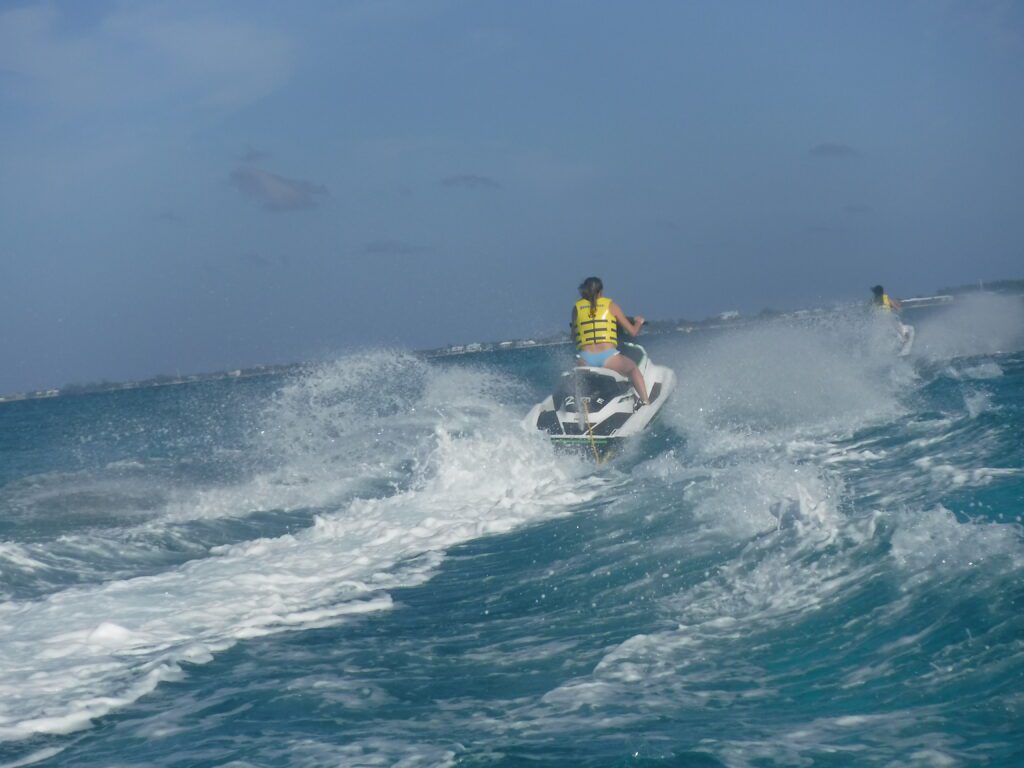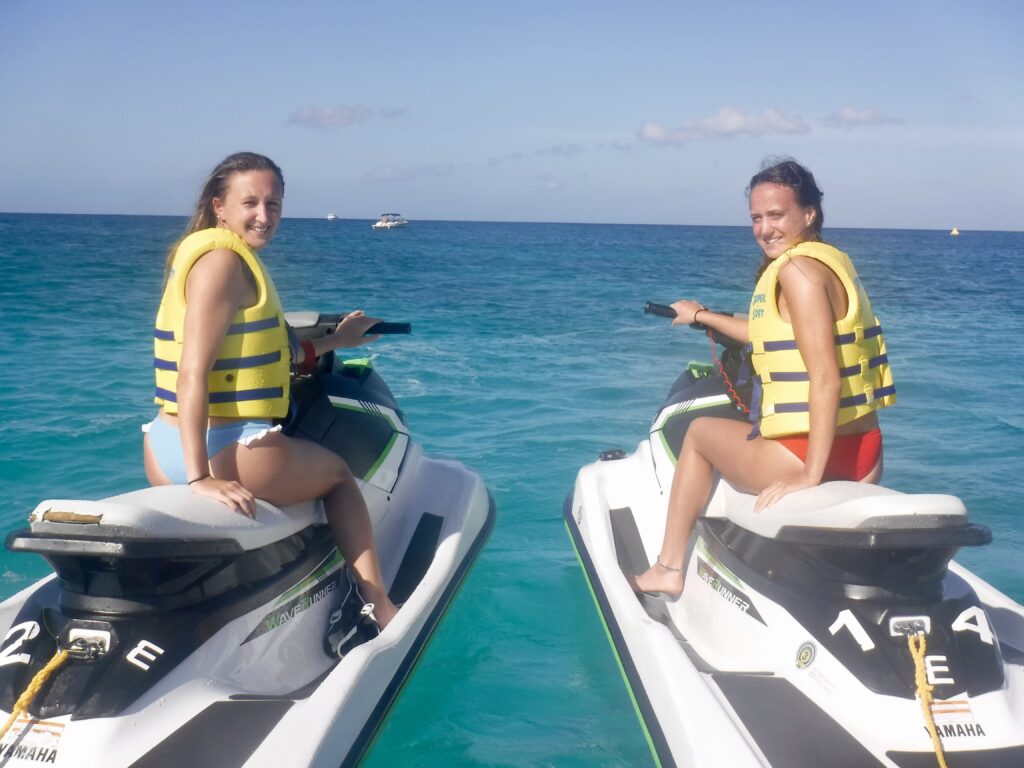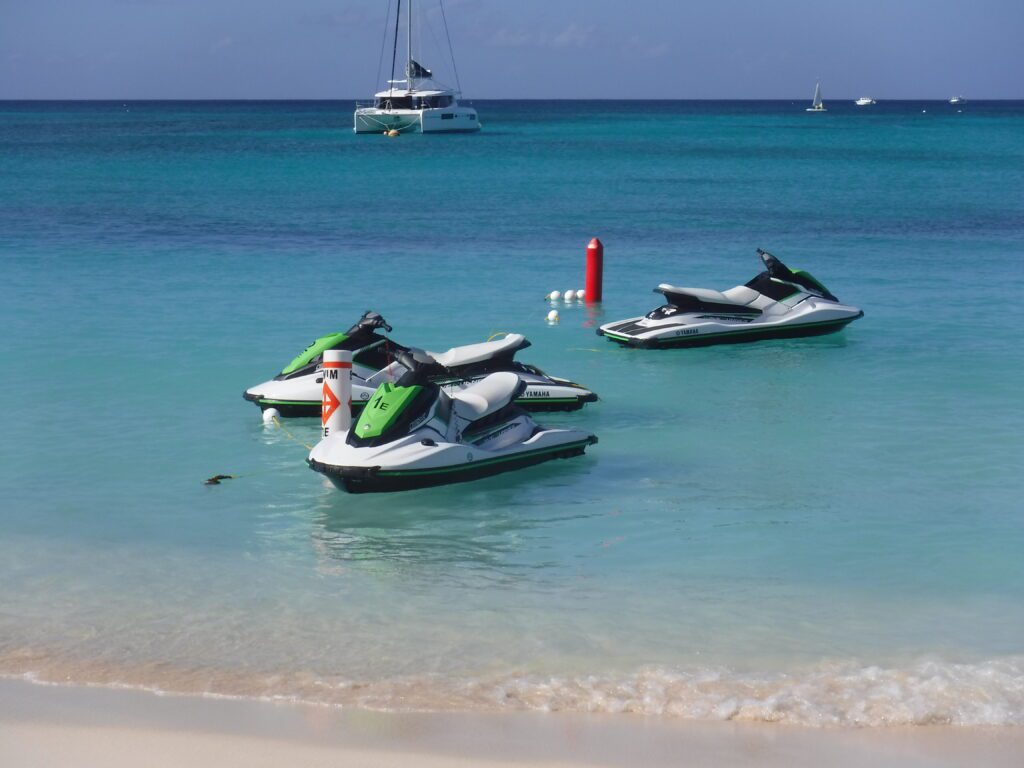 We would recommend the wave runner safari as a fun two-hour excursion.
We ate lots of leftovers and then headed back to the Westin for an afternoon sail to the wreck of the Kittiwake. The girls had never been on a wreck snorkel before. We tried to find a much smaller boat, but it was very last minute planning on our part. So, we went with Red Sail Sports again, out of the Westin. The large catamaran was less than half full, so we did not mind the extra people. The sail was from 1-3:30, and it included two snorkel stops. It was a pleasant way to spend the afternoon.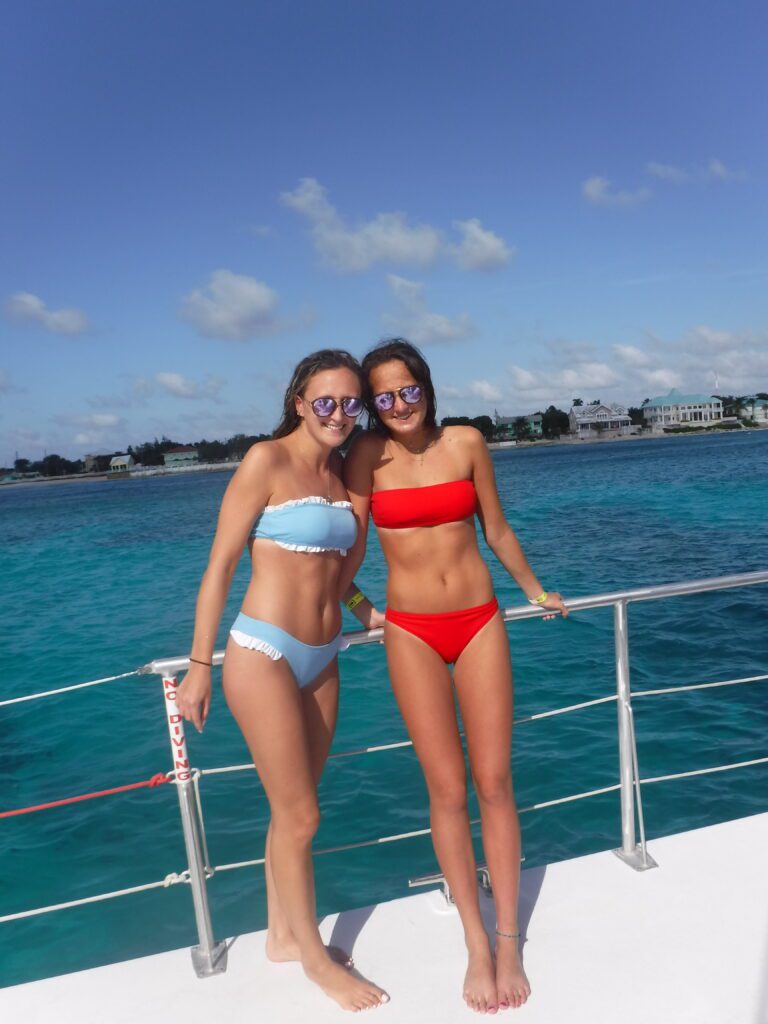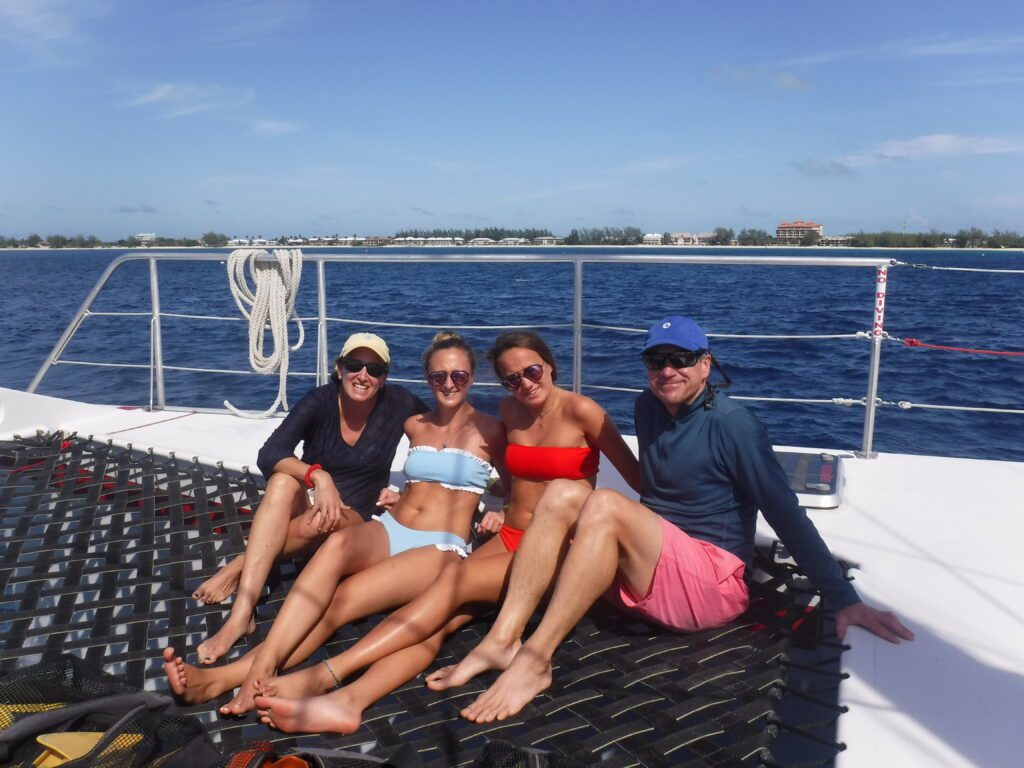 The Kittiwake wreck was fun to snorkel around.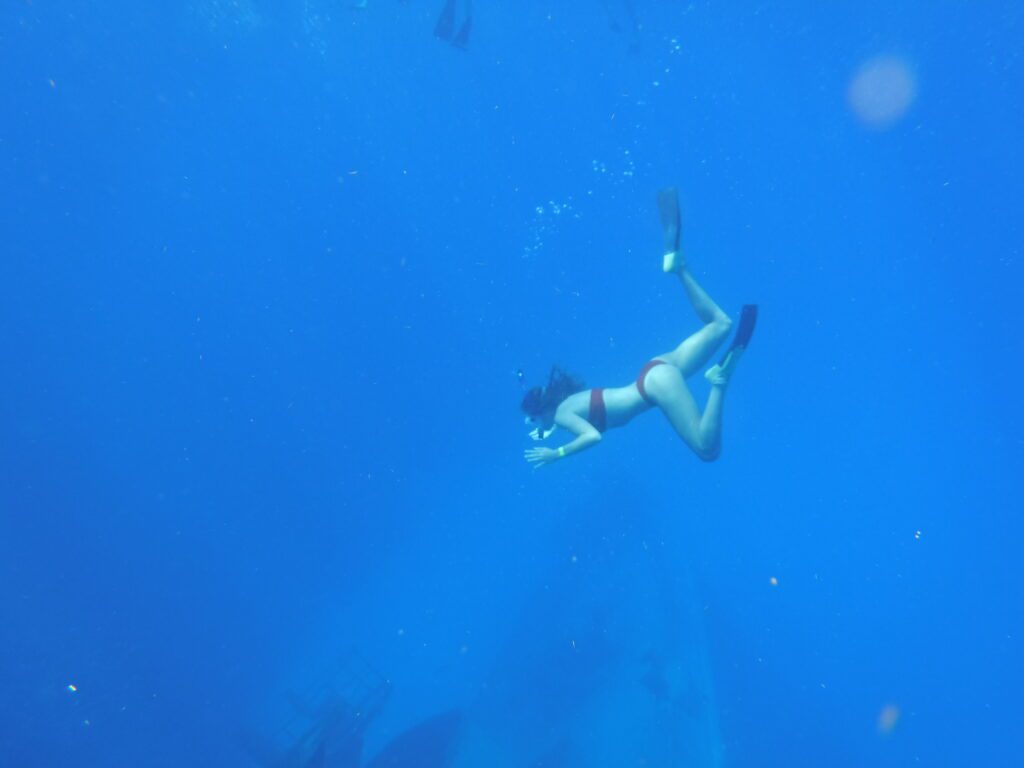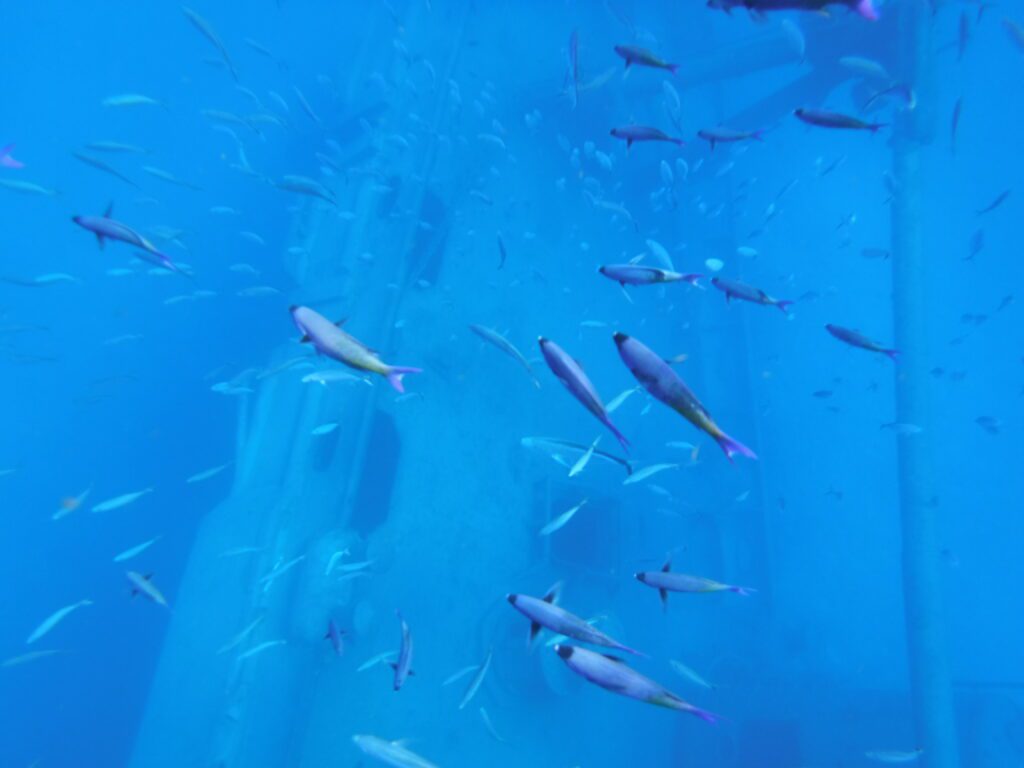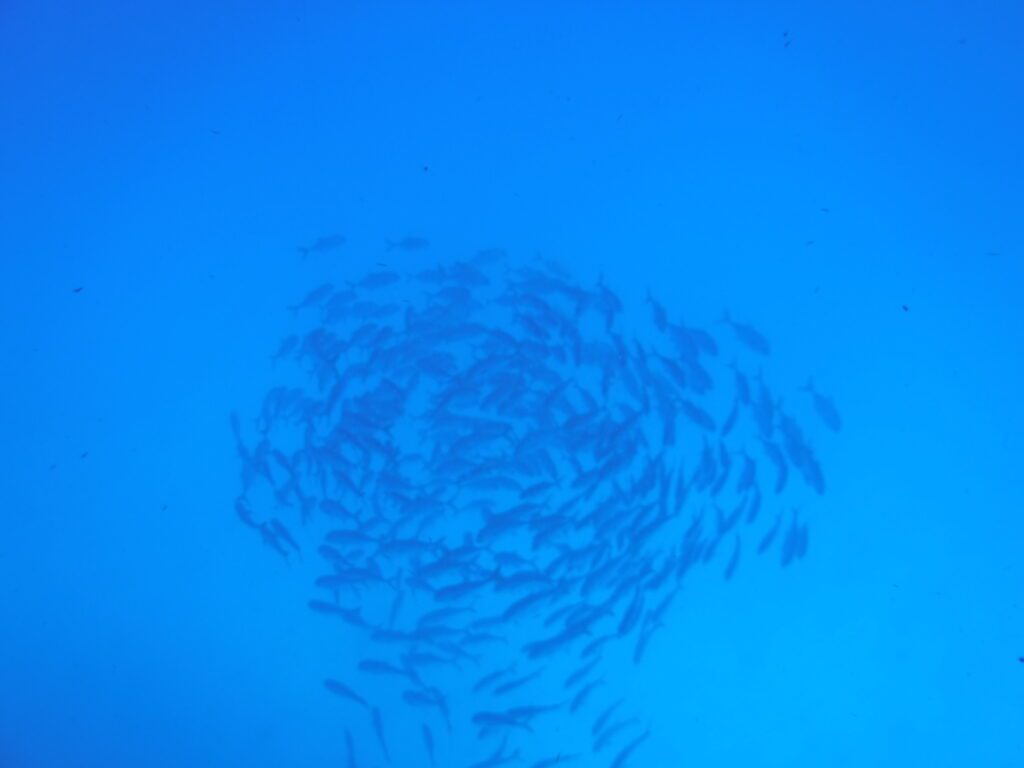 After snorkeling, we did some flips and rides on the slide.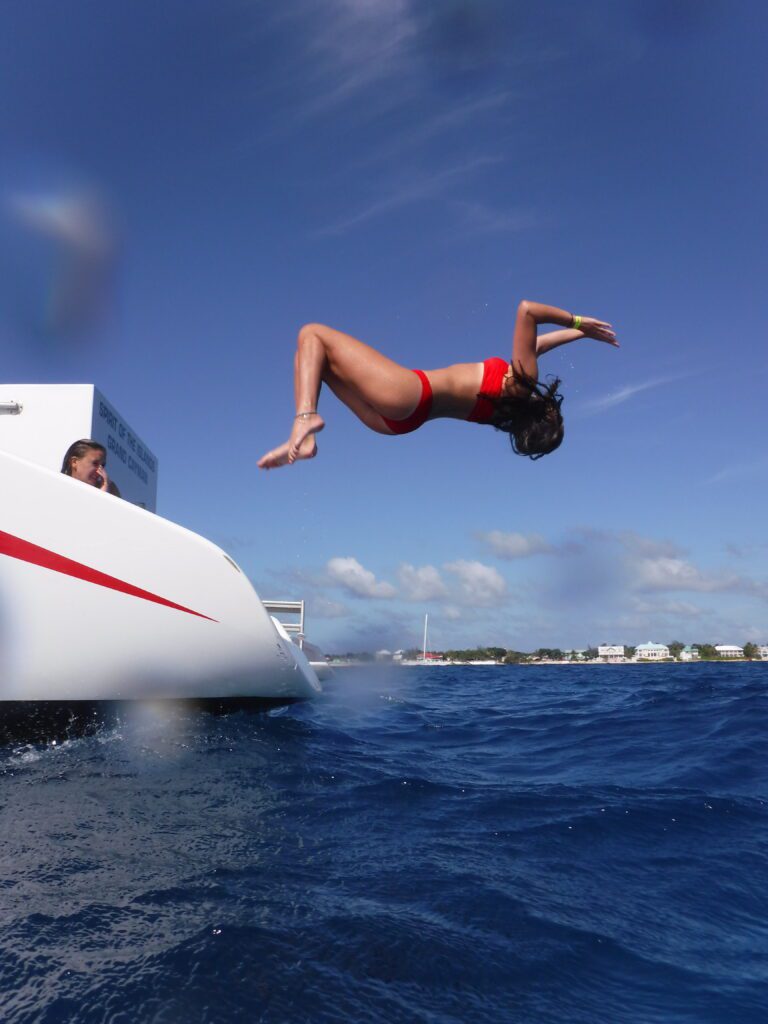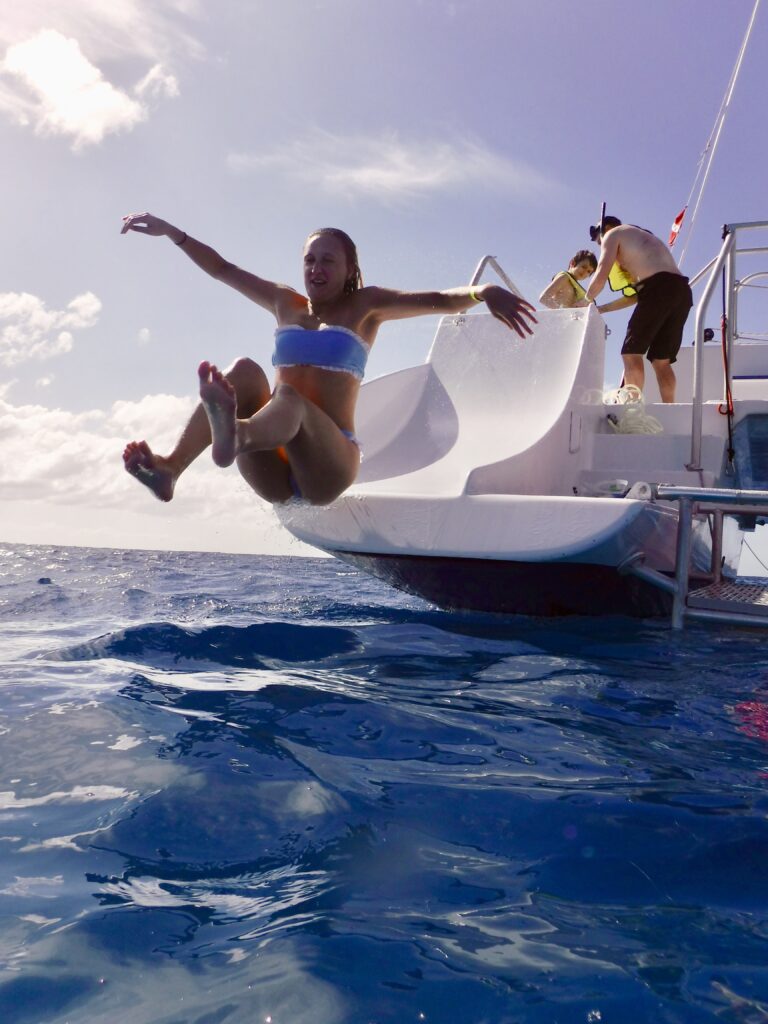 They took us to a second snorkel stop.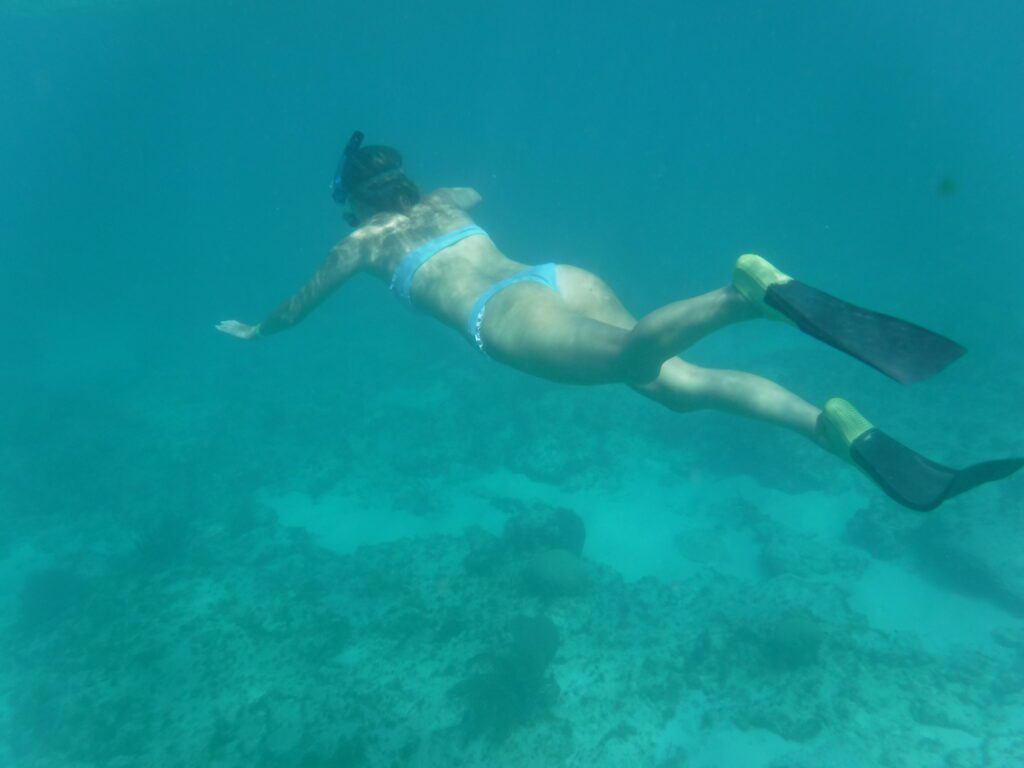 The captain put up the sails and we sailed back to the Westin. It was very pleasant.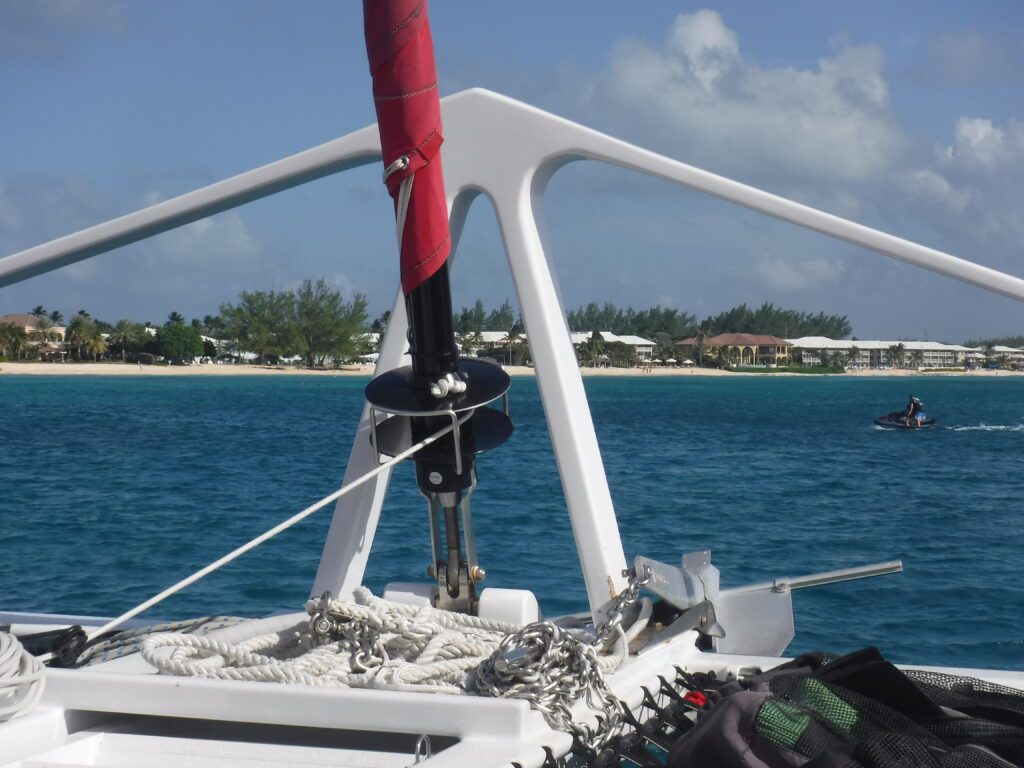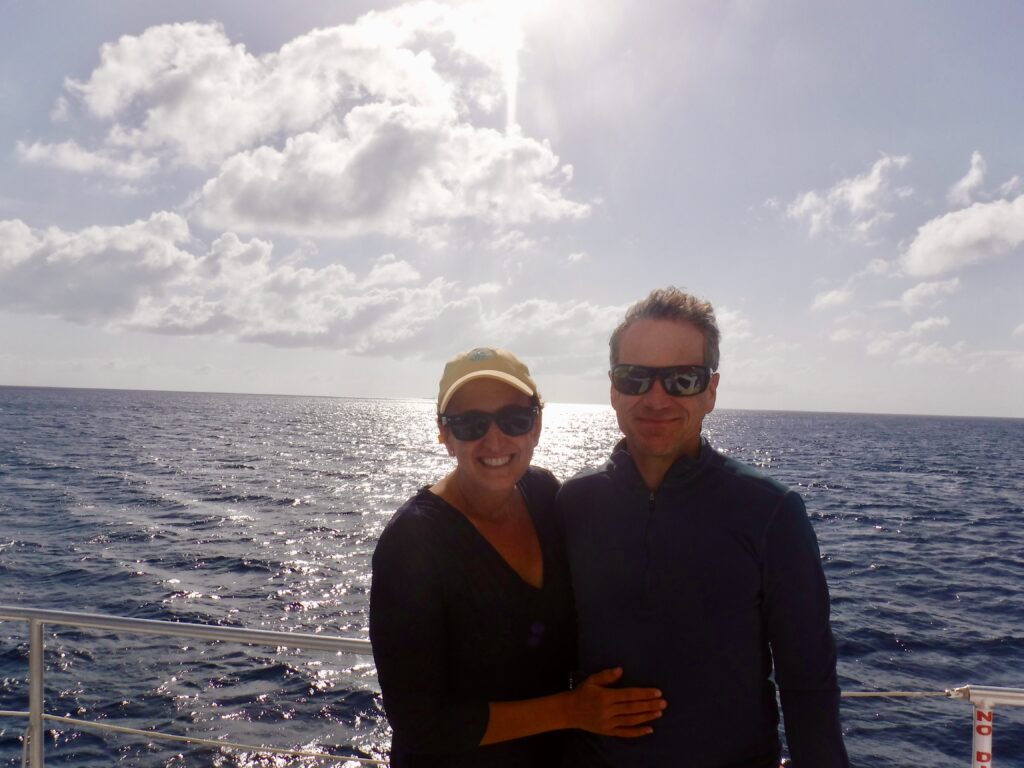 We arrived at Luca, in the Caribbean Club condo/resort complex early to see the sunset. It was once again, magnificent.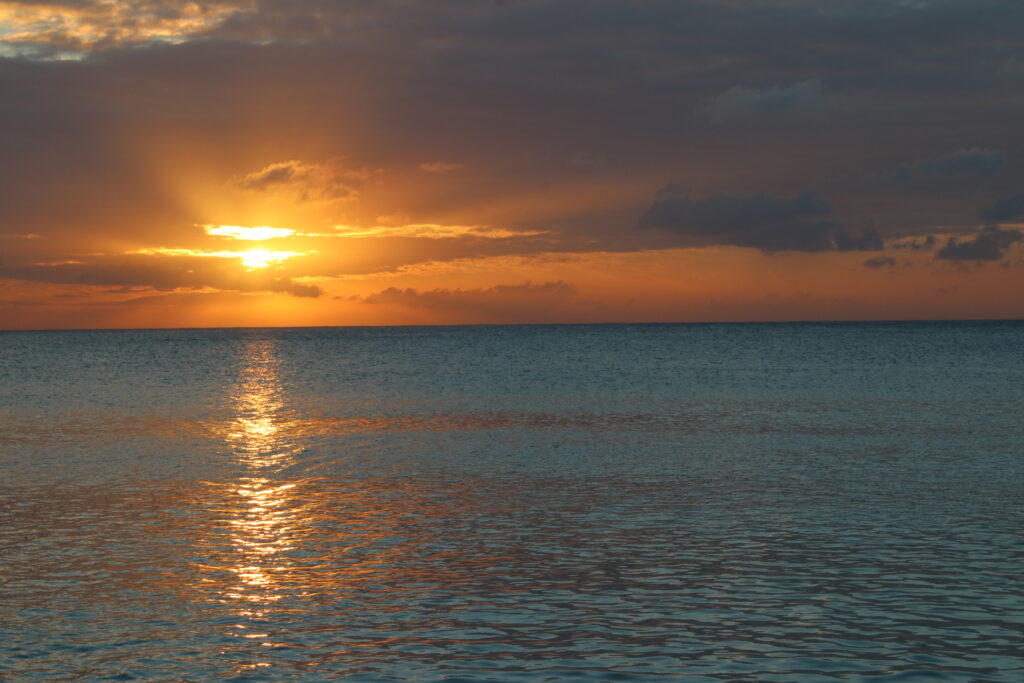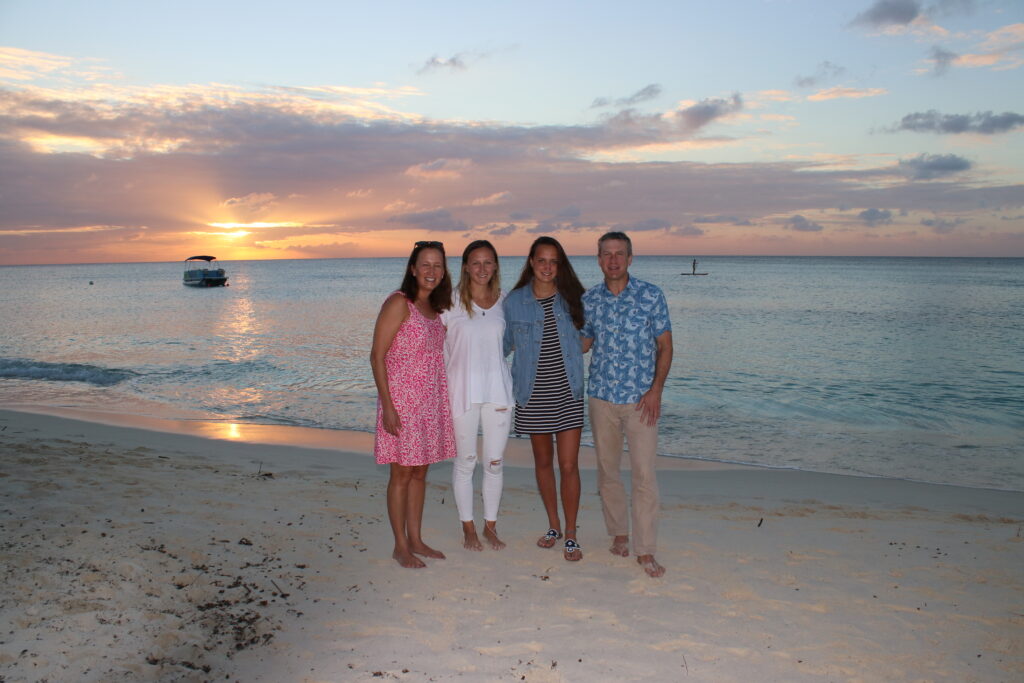 Luca is an expensive, but delicious restaurant. The food was flawless. The tuna taco appetizer was superb. The only negative about Luca is that it is noisy. Every table was full by 6:30pm. If you have the resources, dine here while on the island. When we arrived for sunset, we were the second or third table to be seated. I would recommend going early rather than later. TripAdvisor reviews are excellent.
Day 9 – Da Fish Shack, Grand Old House
We had a relaxing morning of exercising, reading and swimming. Pelicans and iguanas joined us on the beach in front of Sunset Condos.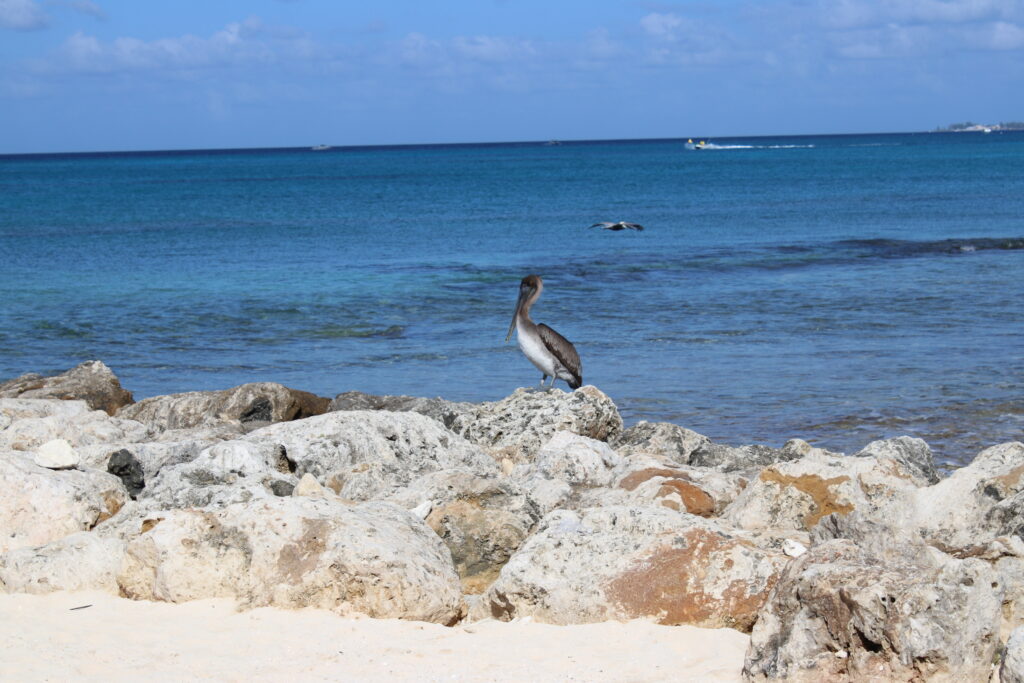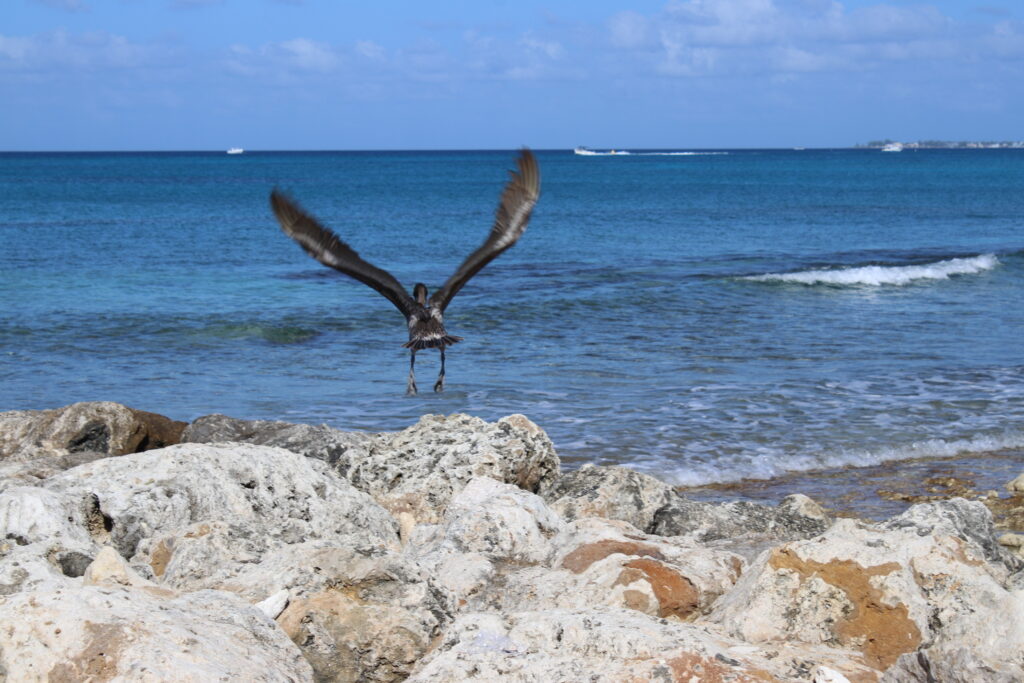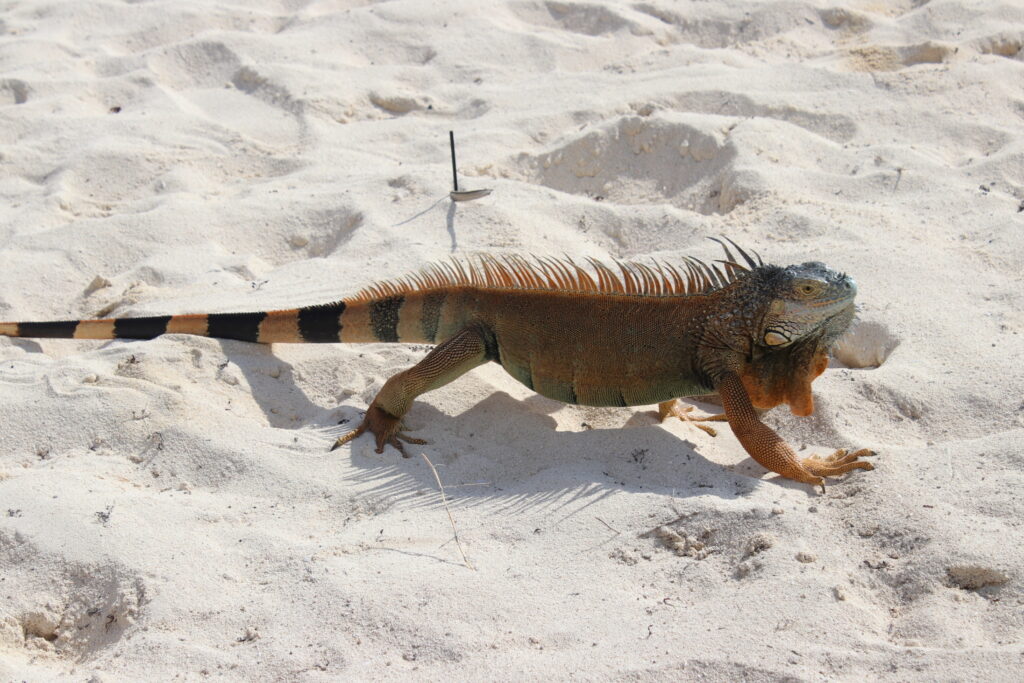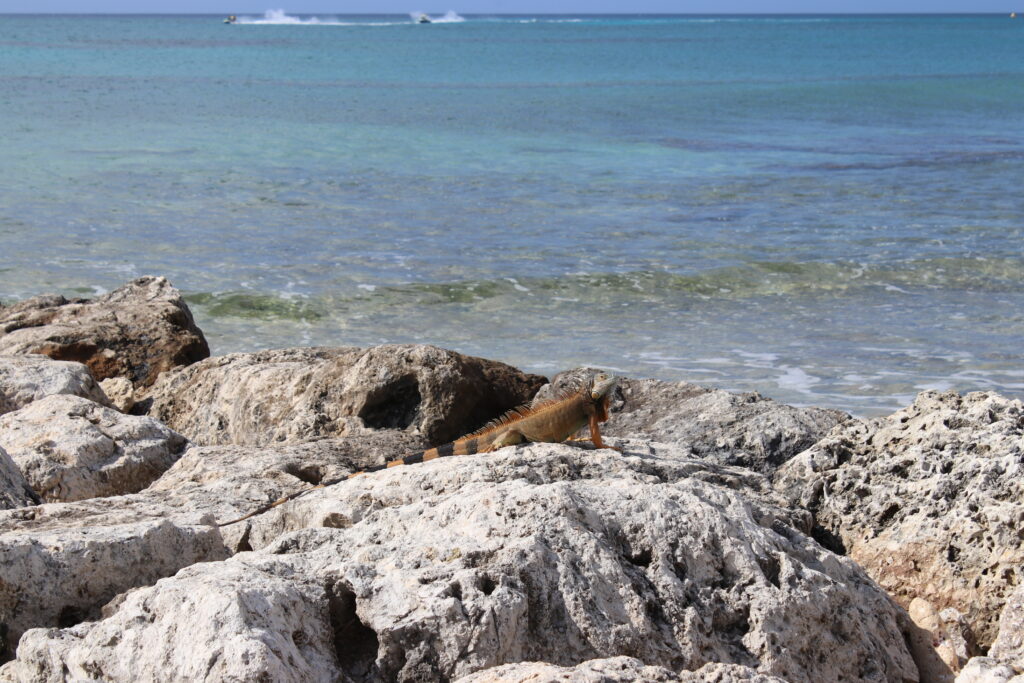 We drove to Da Fish Shack for a quick bite to eat. It was nothing special. Not bad, not great. Nice views of the harbor.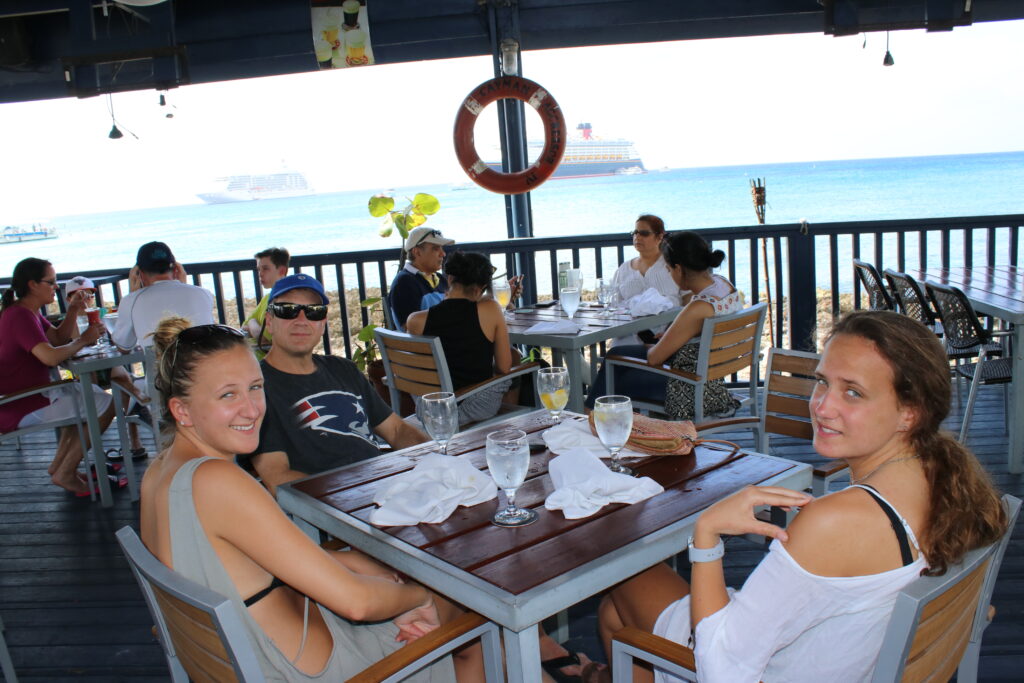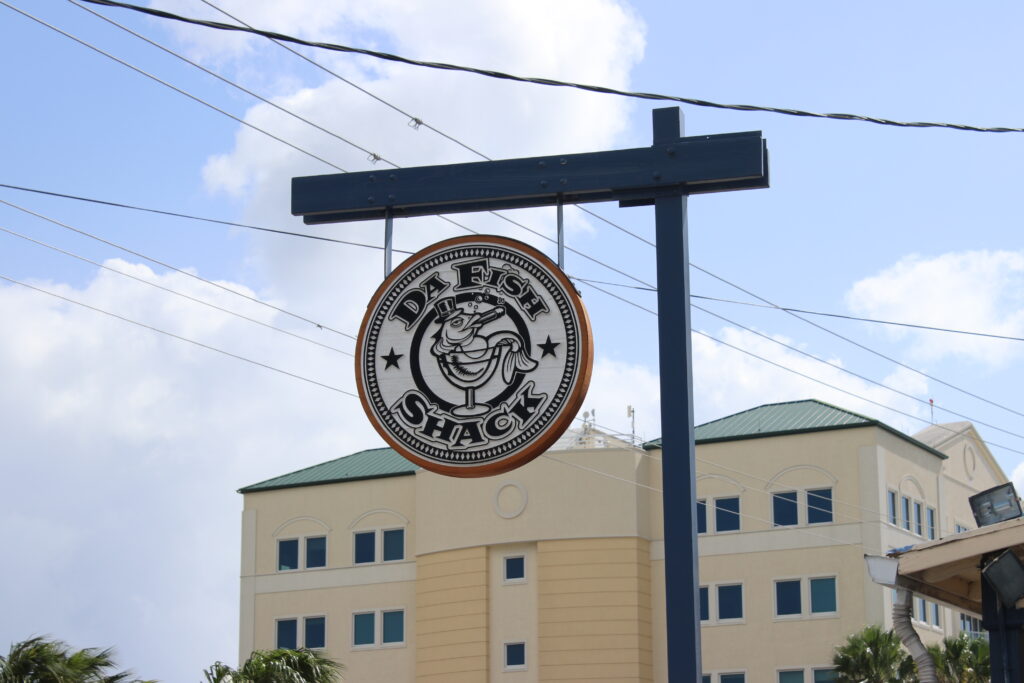 The sunset was again, glorious!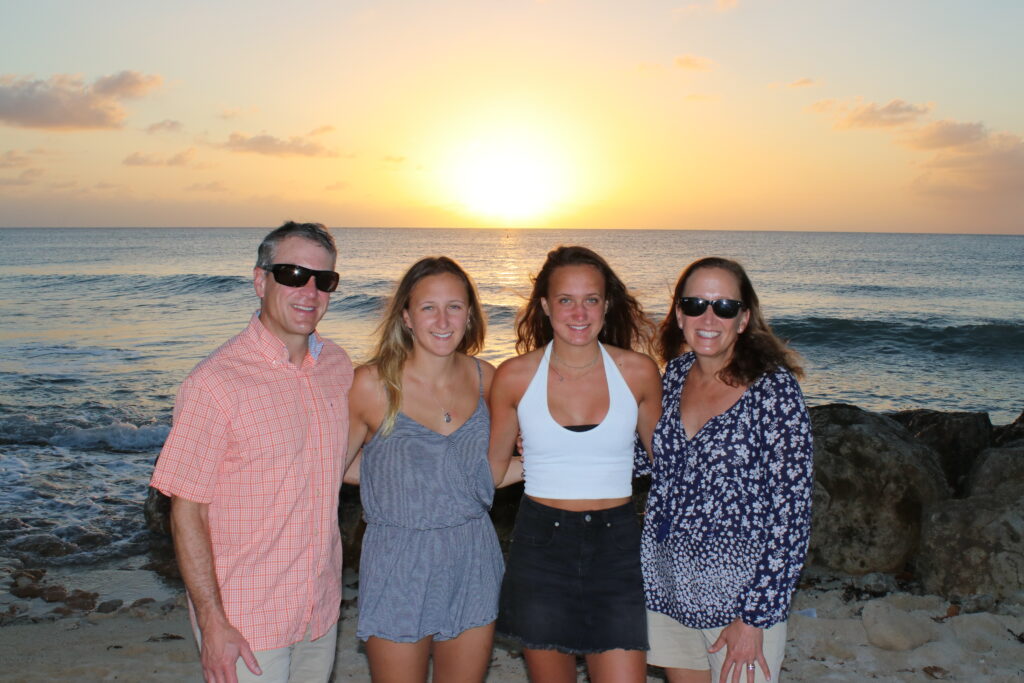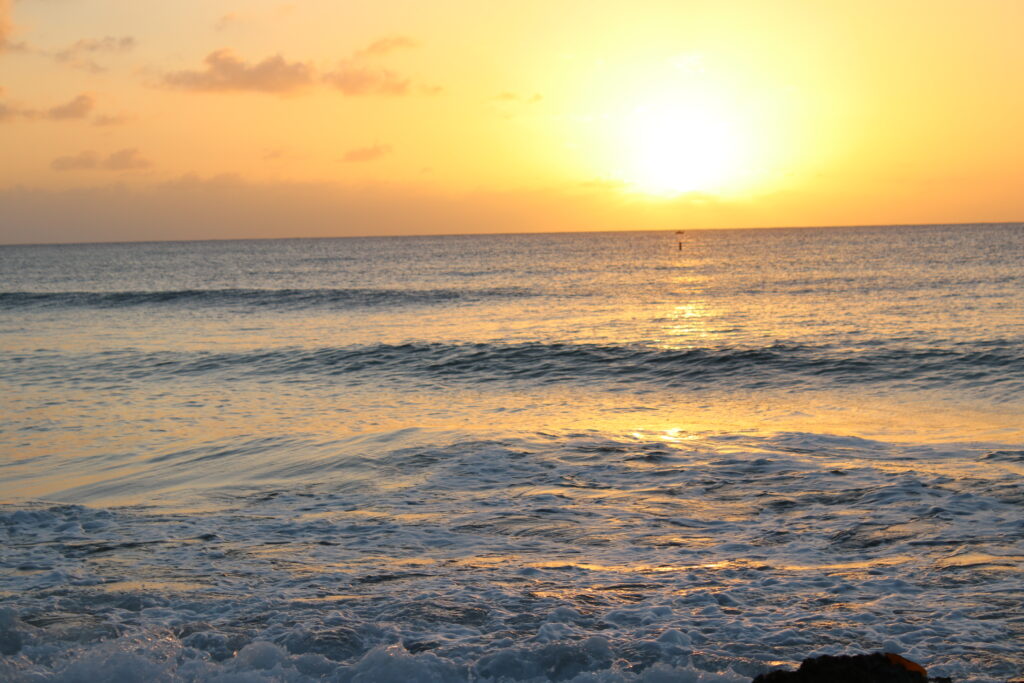 We went to Grand Old House for dinner, and we loved it. It is outside of Georgetown, and it sits on a lovely deck with tremendous views and sounds of the ocean.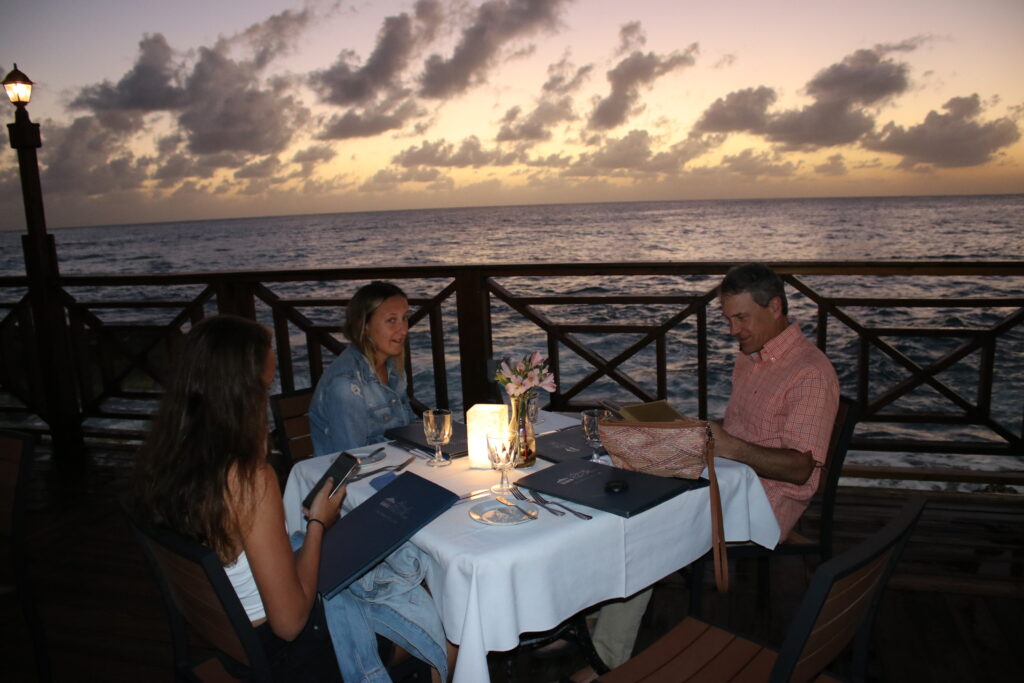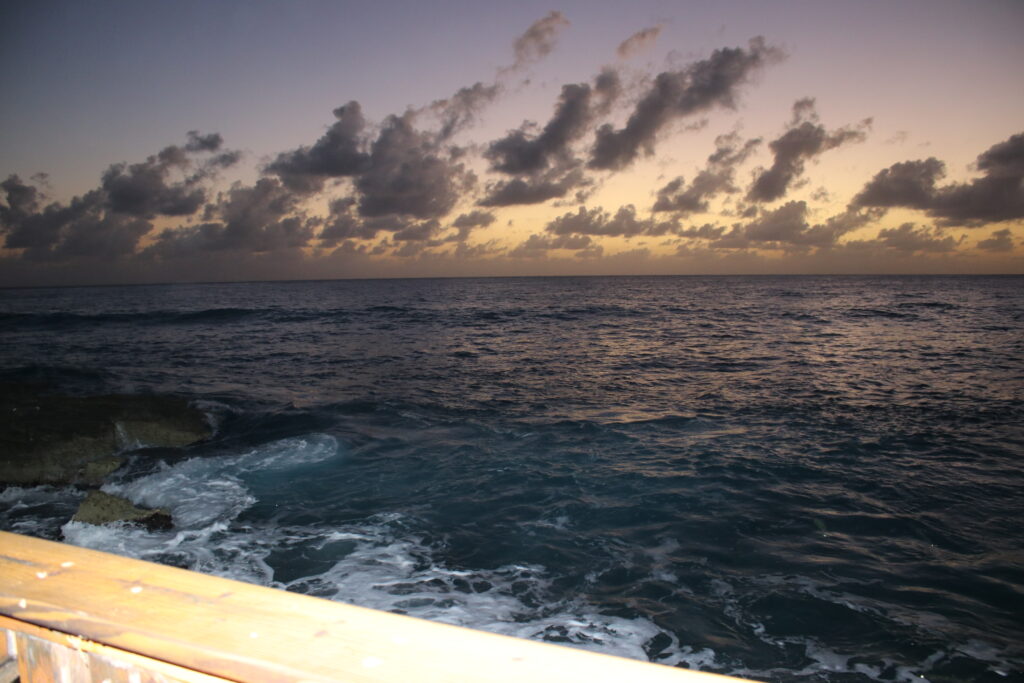 Day 10 – Sunshine Grill – The Best Fish Tacos
We packed and swam today. Our flight back to Miami left around 3pm, so we had a leisurely morning. We had to check out of the condo by noon.

Friends told us about Sunshine Grill, and we wish we had tried it sooner. They were simply the best fish tacos on the island.

The Sunshine Grill is located poolside at the Sunshine Suites Resort hotel. This family-friendly resort is NOT on the ocean; however, they have access to the water and a shuttle to get you there.

The Sunshine Grill is lovely and the tacos are divine. Simply divine. They could even do lettuce wrapped tacos for Michele!

The departure area at the airport was under construction, and it was crowded! Hopefully that issue has been resolved! We flew back on December 31 as we could use frequent flyer miles to get down and back for free if we traveled on New Year's Eve.