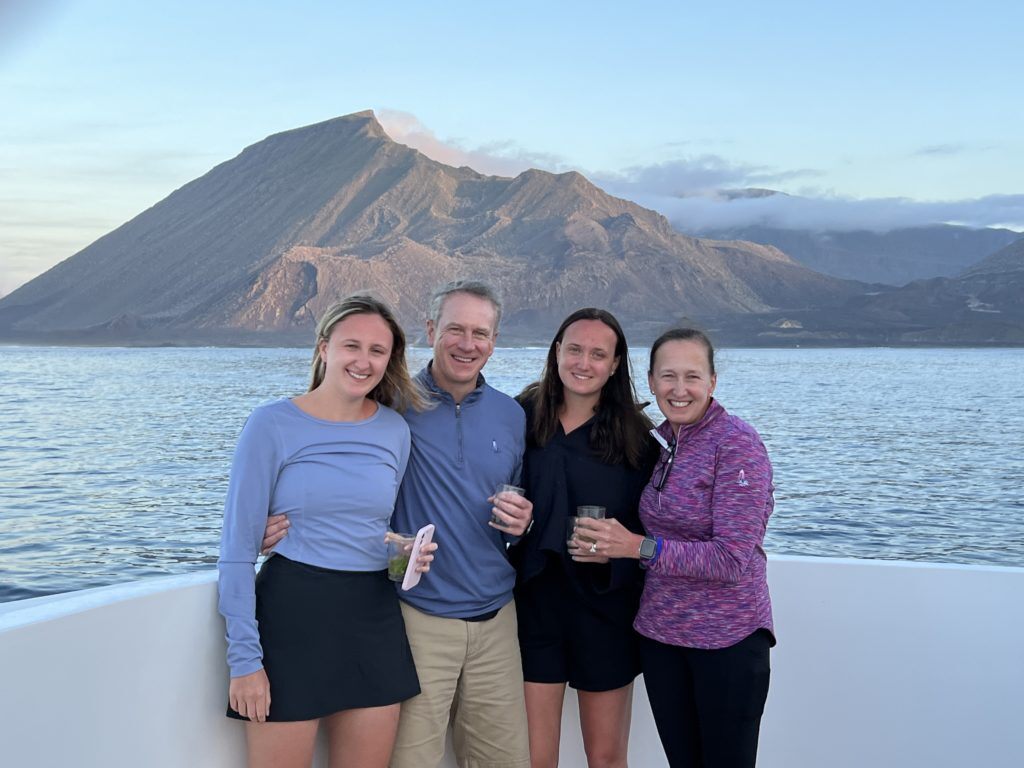 Quito
We had an epic vacation in Quito and the Galápagos Islands in December 2022. For a quick video of all we did, check out the film we made below. We are total amateurs with making videos!
We flew to Quito, Ecuador on Wednesday, December 21, 2022. We flew from Boston to Atlanta. We had a few hours in Atlanta. It took five and a half hours from Atlanta to Quito, the capital of Ecuador. We paid for a shuttle to pick us up and bring us to our hotel. We spent three nights total in Quito, but only two full days as we arrived at 8pm.
The currency throughout Ecuador is the United States Dollar. Bring small bills for tips. If you are going on a Galápagos cruise, please tip your guide and the boat crew in dollars and not a credit card. They will be most grateful.
Hotel Hilton Colon
We stayed at the Hotel Hilton Colon for three nights. The rooms were spacious and very clean. The breakfast buffet was generous and excellent with many hot and cold items including made-to-order eggs. This hotel is utterly charmless – utterly. It is a business-class hotel. We stayed here as we were part of a Galápagos cruise which put all its guests into a Quito hotel for the first and last nights of the 10 day cruise.
I would not recommend this hotel if you want to explore Quito unless you are very restricted by budget – it is well-priced, clean and spacious. We honestly should have stayed at Casa Gangotena (more on that later) and joined our cruise group at the Hotel Hilton Colon at 4am for our onward journey to the Galápagos. See the very end of this blog post for information on what we would do differently.
Telefériqo
On both our full days in Quito we hired a guide/driver from Happy Gringo. Andres was great. The traffic can be terrible in and outside of the city. We are so glad we had a guide/driver – usually Jim is a fearless driver. Andres told us Waze and AppleMaps can often be incorrect – it takes a local to know the traffic alternatives and construction is always an issue.
Andres drove us to the Telefériqo. Riding the Telefériqo from Quito up 3000 feet to the Pichincha Volcano was our favorite activity in Quito. We had a nice, sunny day. There was some smog, and clouds. We could see the Pichincha, Cotopaxi and Cayambe Volcanoes. The swings are super fun.
Our biggest recommendation for this activity is go early! We arrived when they opened at 9:00am and we still had to wait 10 minutes just to be let inside the building to purchase tickets. It takes 18 minutes to ride to the top, which is just shy of 13,000 feet. Wear sunscreen and a hat. Check their website for opening times and current prices.
You can hike, pet a Llama for a dollar, swing on the swings and admire the view. You can even horseback ride, cycle or paraglide (I would research all that in advance). We heard from our guide that the swings can very crowded and people can be aggressive about insisting your turn is taking too long! We went right to the swings as we exited the gondola, and we were the first people of the day. Yay!
We are a big hiking family, but chose not to hike as we only had one day to explore all of Quito. You need about 90 minutes (unless you have to wait in a long line) to ride up and down, take lots of photos and enjoy some time on the swings.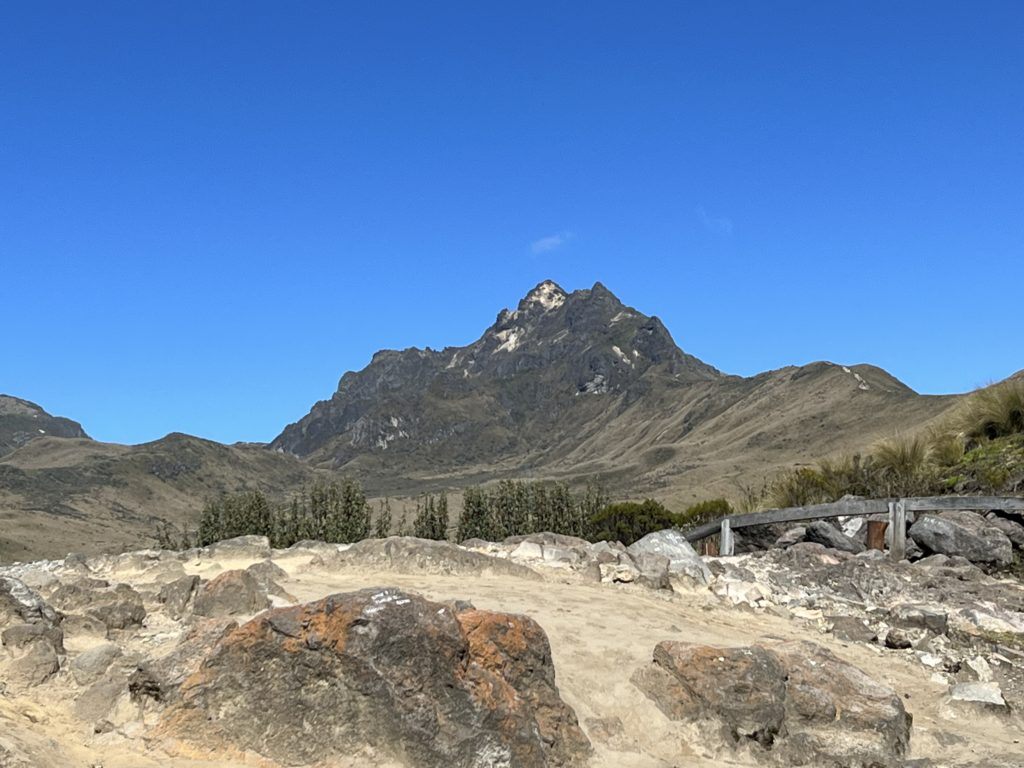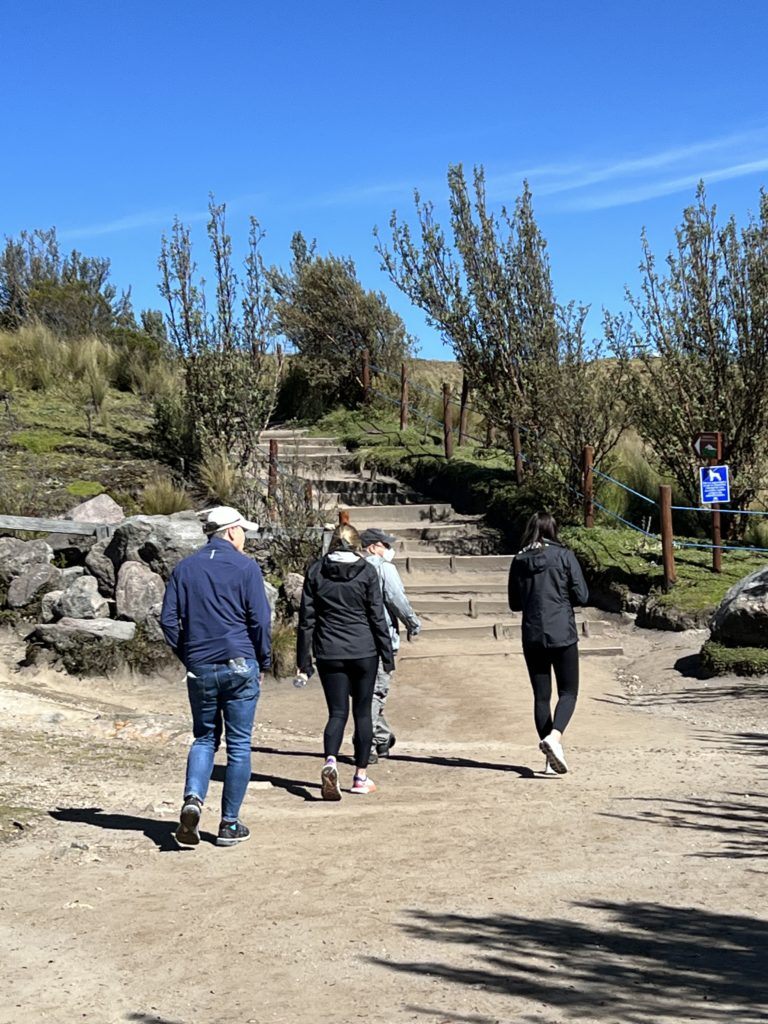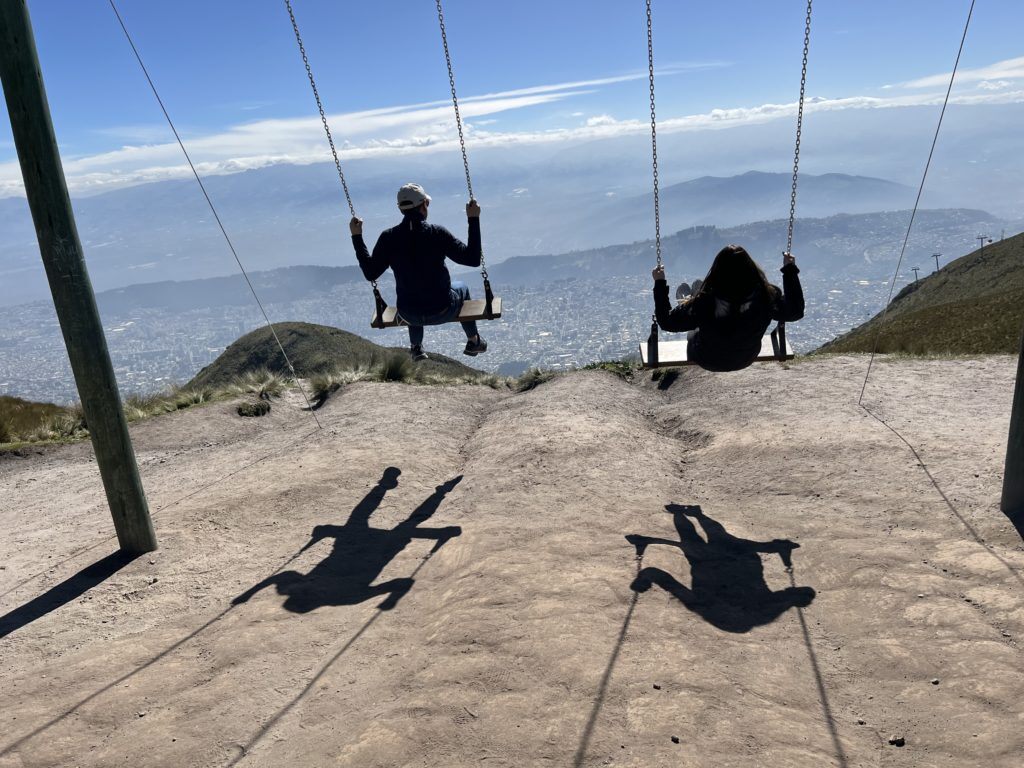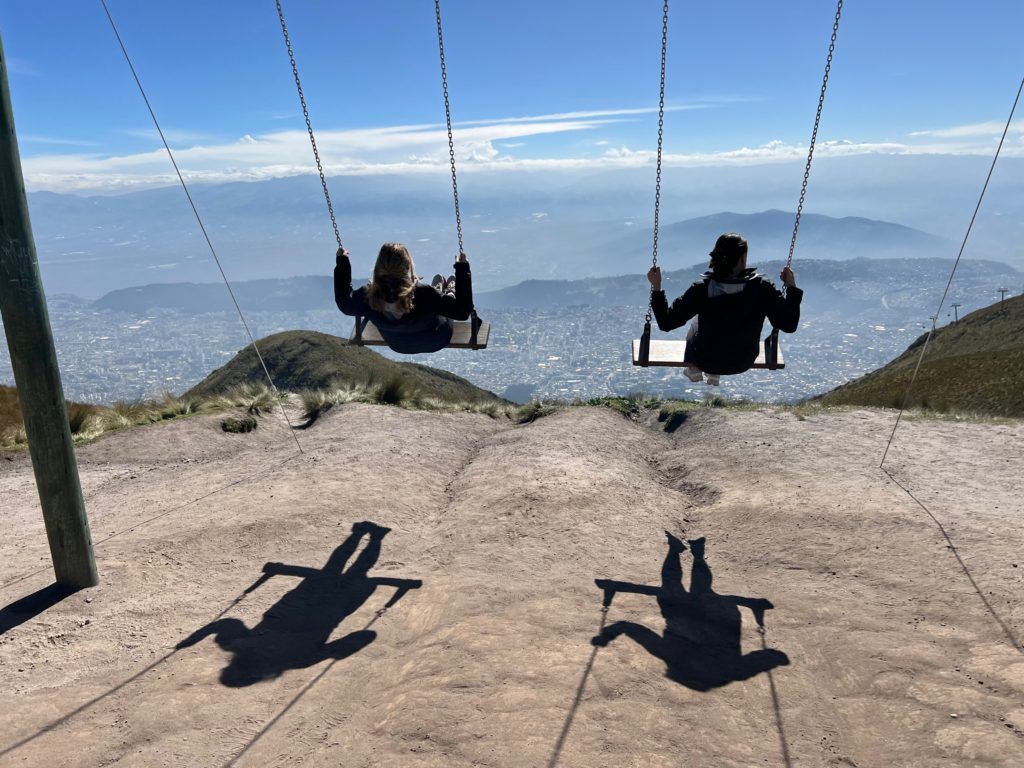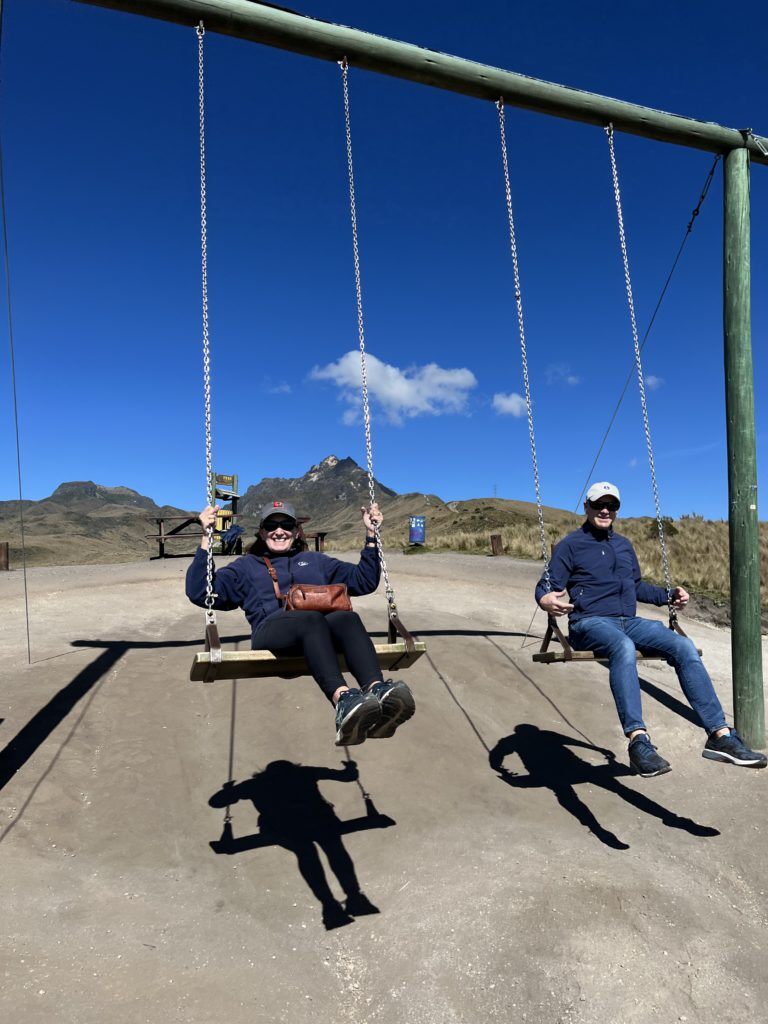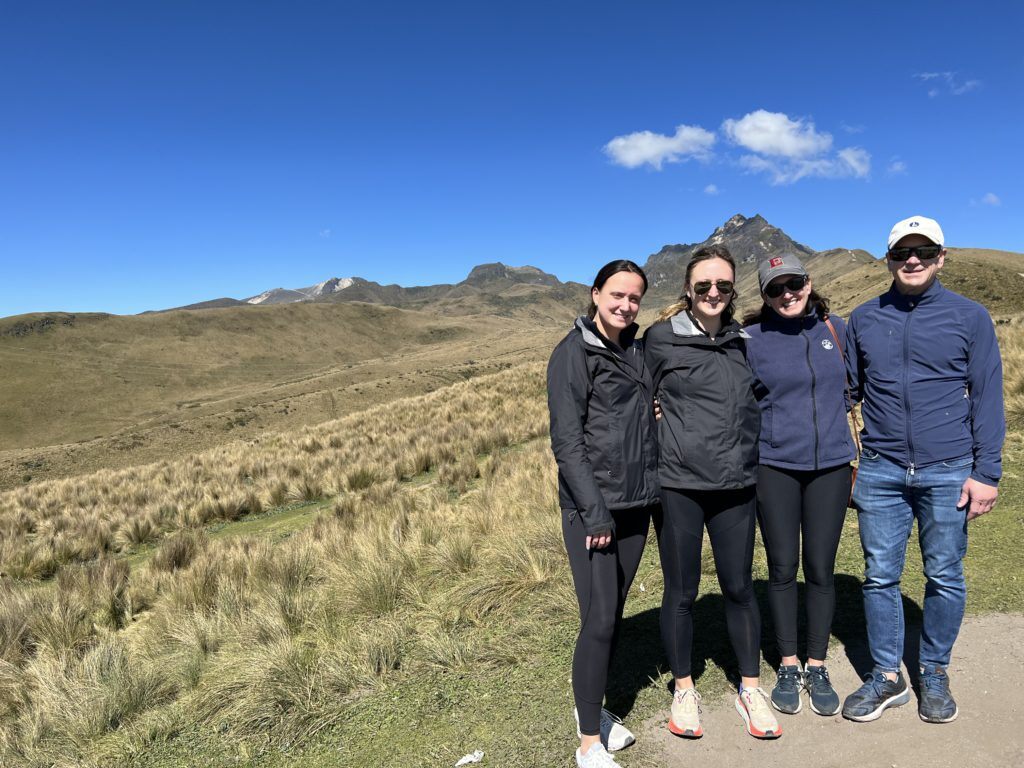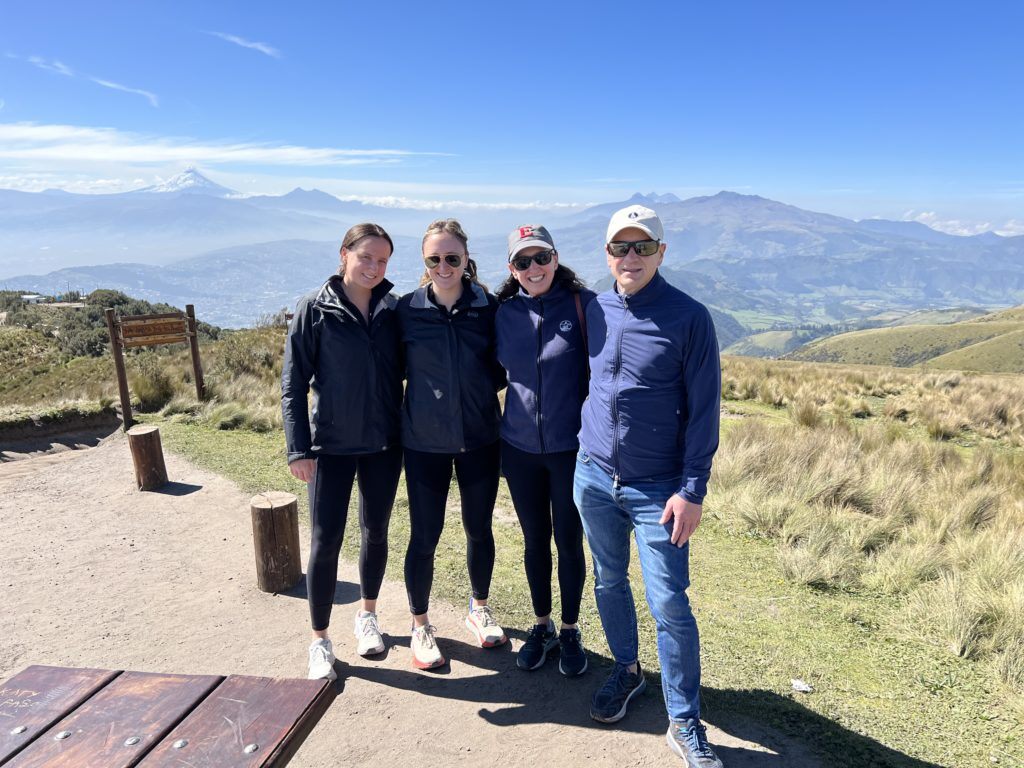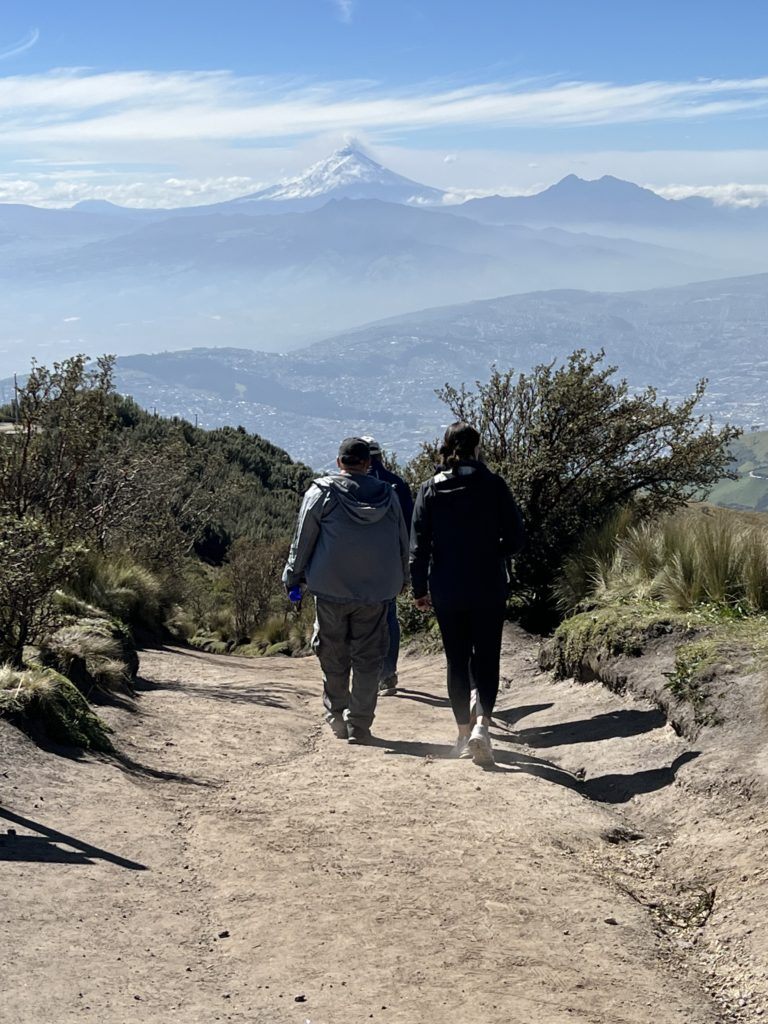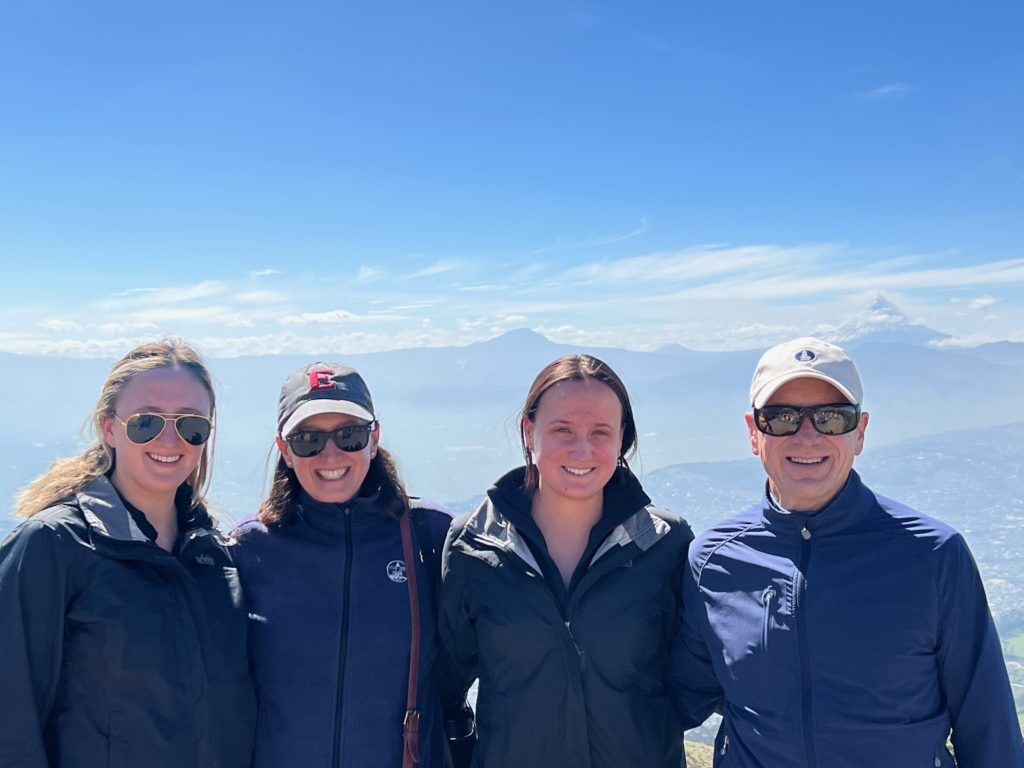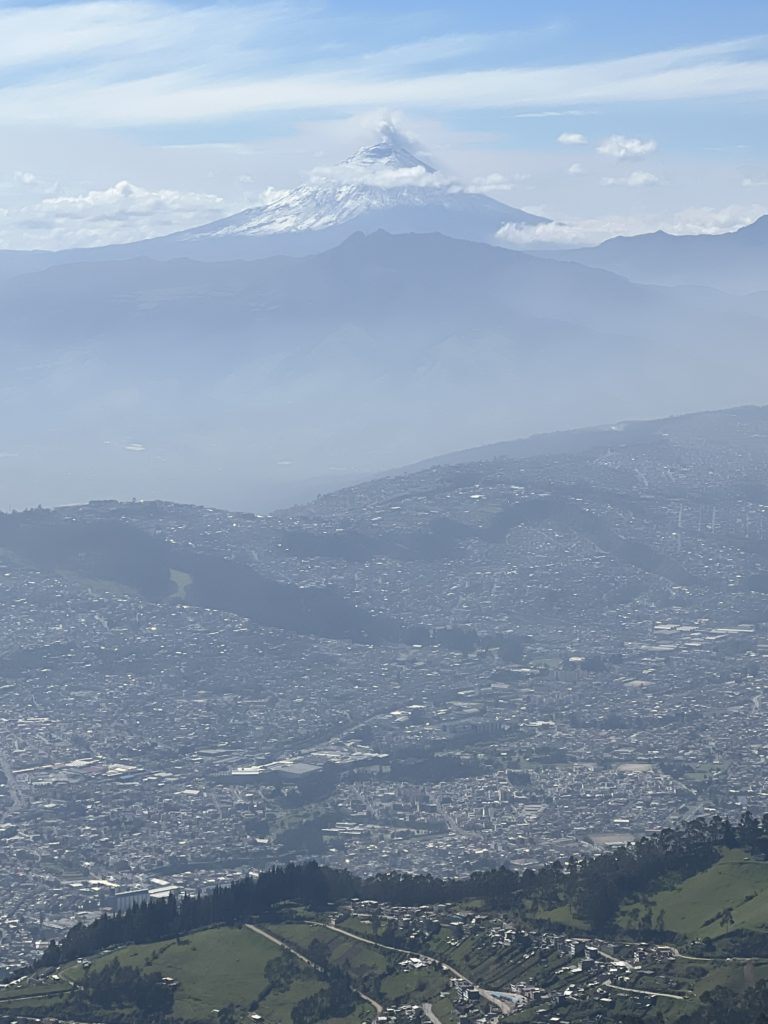 Ecuador has 47 active, dormant and extinct volcanoes. There are 32 on the mainland and 15 are in the Galápagos. We were astounded at how many active volcanoes surround Quito!
Ciudad Mitad del Mundo; Intiñan Solar Museum; Equator Monument
Outside of the capital city of Quito, you will find the Ciudad Mitad del Mundo (Middle of the World City) which was built in 1982. This park and monument are said to straddle the actual Equator. However, years later with more accurate GPS, the equator was said to lie 740 feet north of the monument. A new museum popped up called the Intiñan Solar Museum on the "actual" equator. Some scientists believe the true equator is not on this line either!
We chose to skip the Ciudad Mitad del Mundo and visit the Intiñan Solar Museum instead. We took some silly photos. We did not take a tour or look at the exhibits. It cost a few dollars to enter.
Our recommendation is to skip this visit entirely if you are going on a Galápagos cruise that will go over the Equator. Both museums, while side-by-side, are outside of the old town and Telefériqo areas of Quito. Spend more time there. The equator museum is corny and silly; we did have fun, but we would have enjoyed more time in the old town.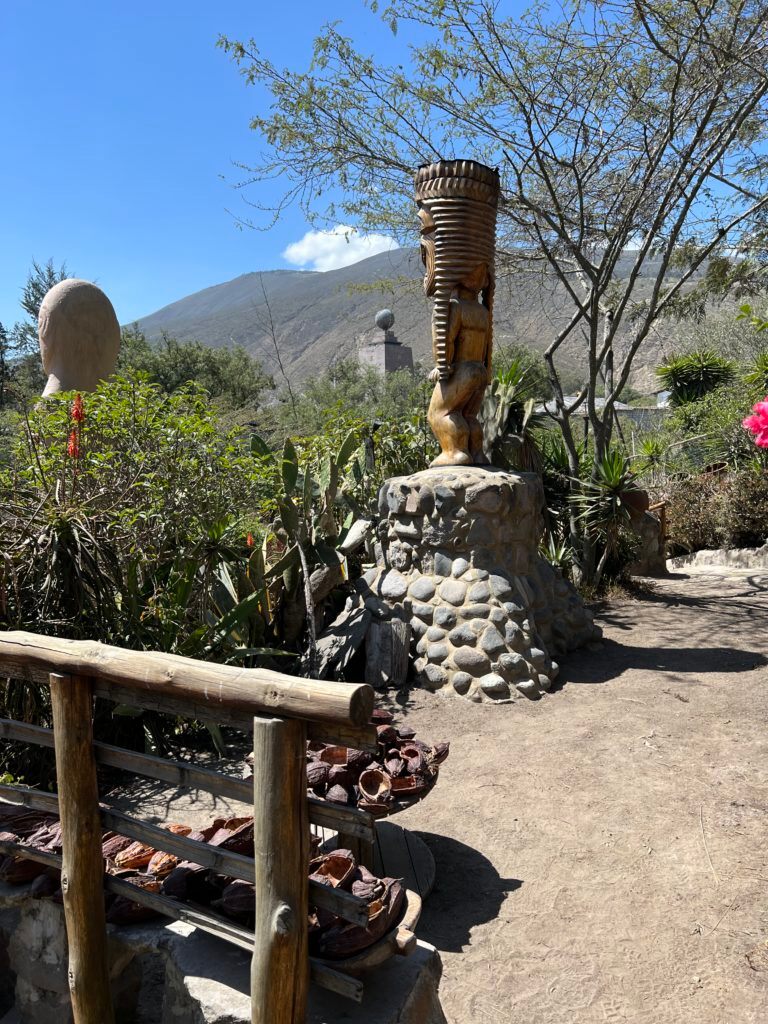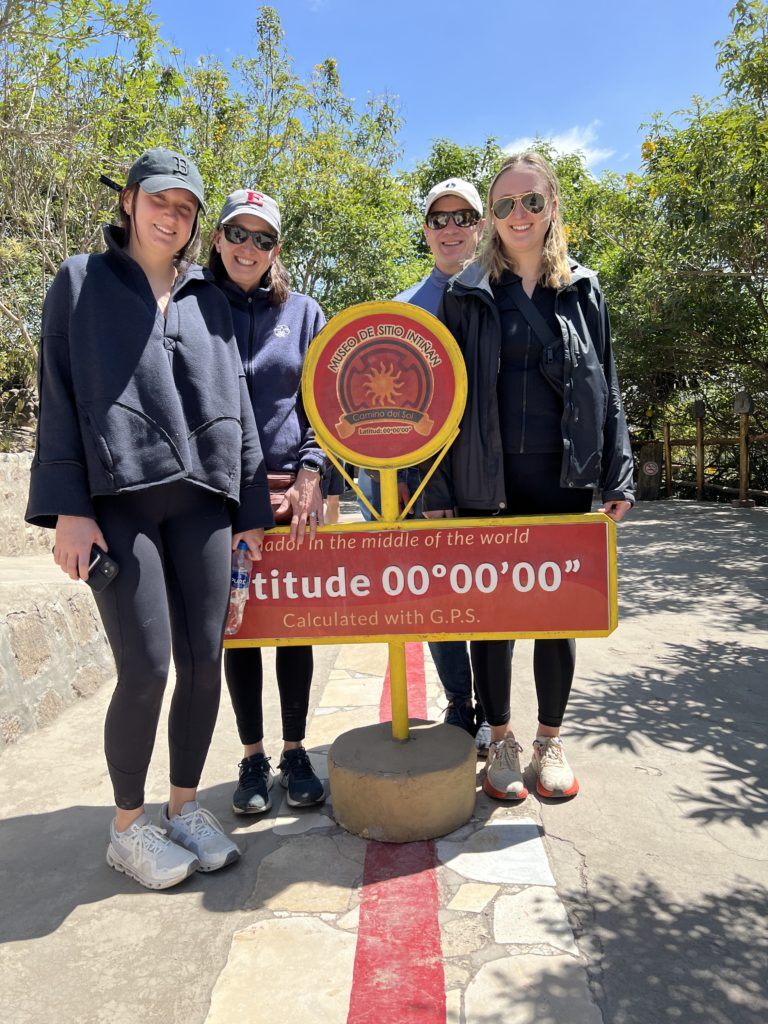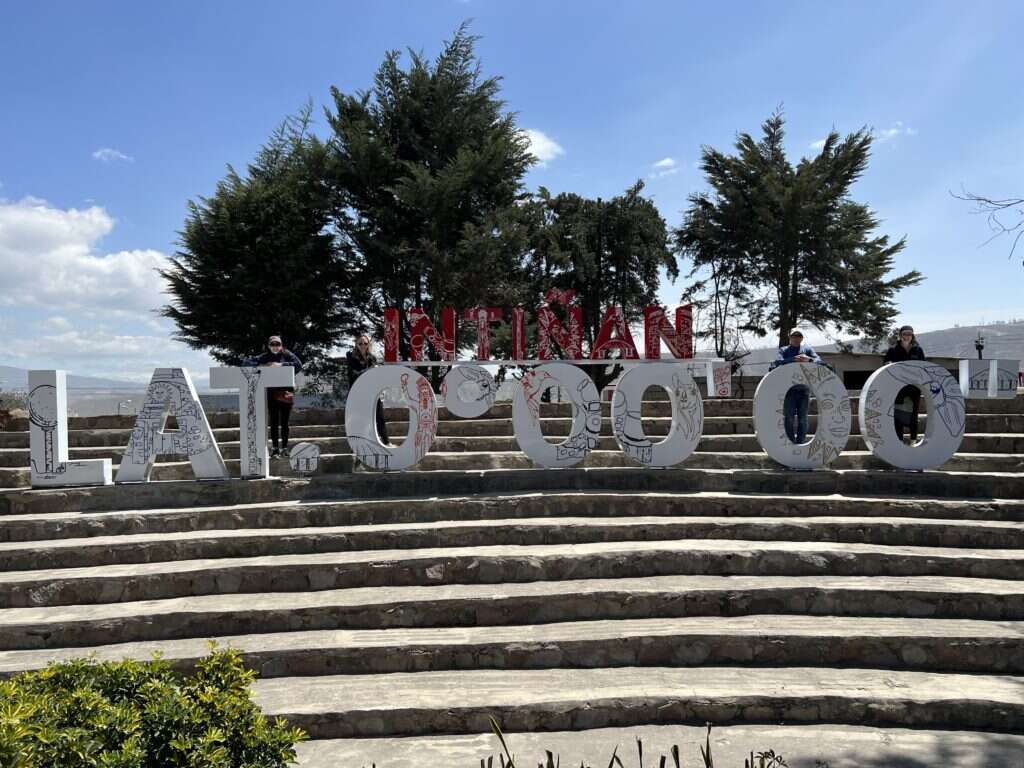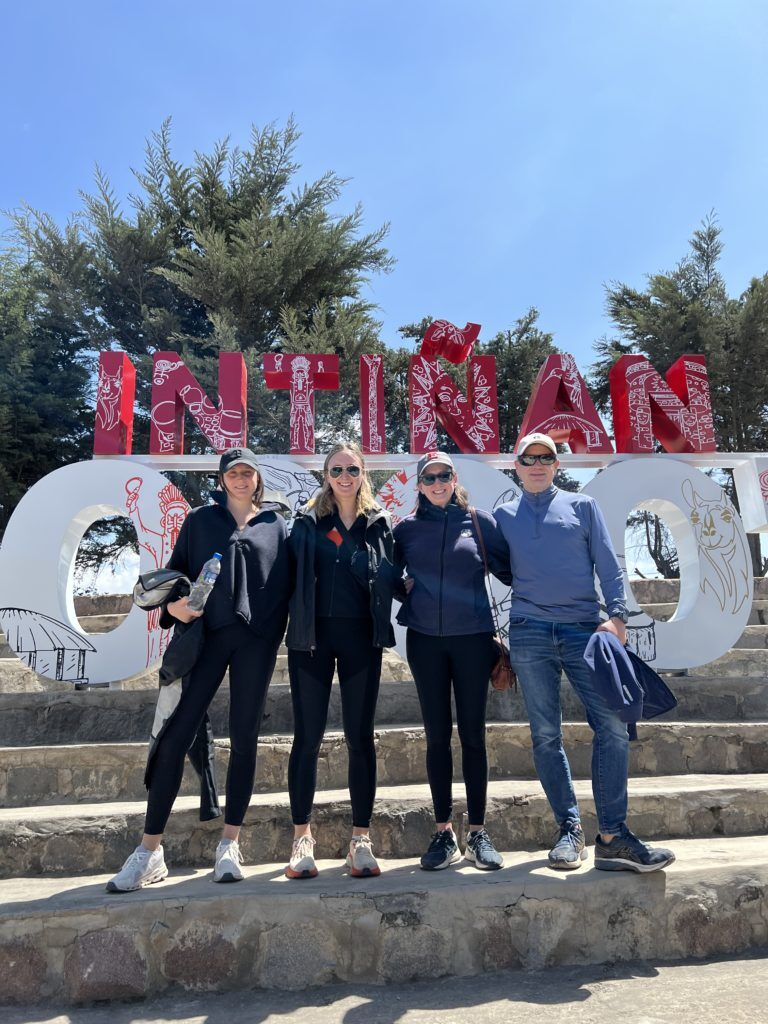 Old Town Quito
Spend as much of your time in the capital of Ecuador in the UNESCO World Heritage portion of old town Quito. There is so much to see and do. I will post some of our favorite sights below. Stroll, get lost, enjoy the street music, have some ice cream, eat chocolate, climb a tower.
If we are ever in Ecuador again, we would stay at the amazing Casa Gangotena. We had an outstanding meal there on our second night in Quito. The hotel, the setting, the food, the service and the flowers were all incredible.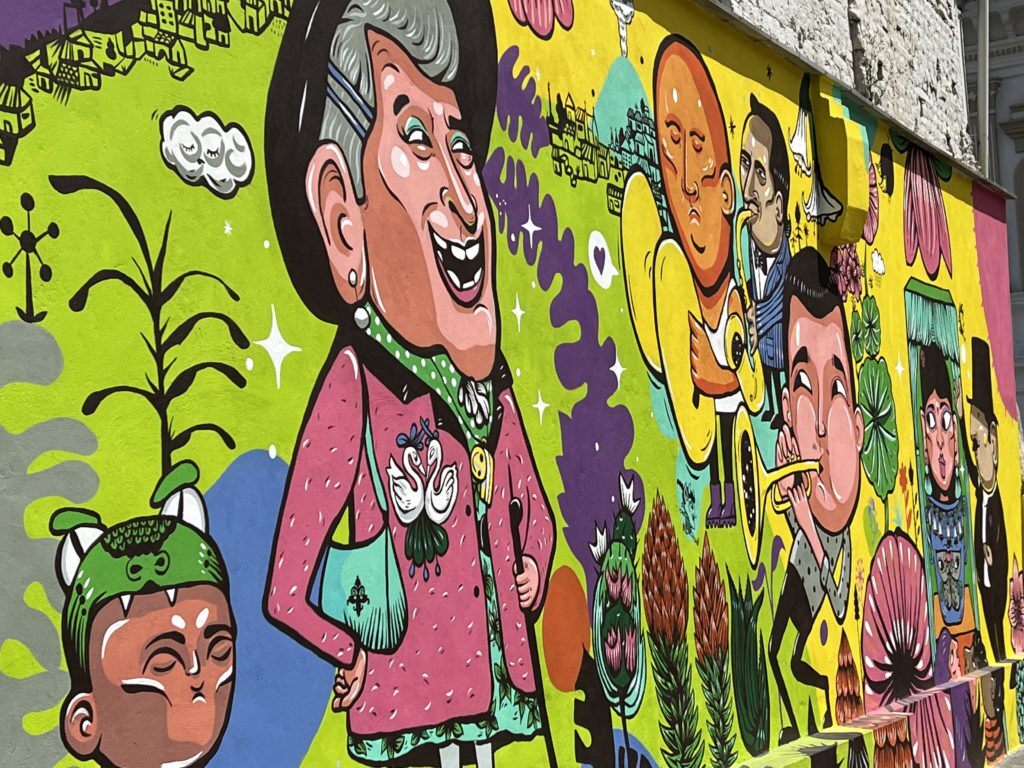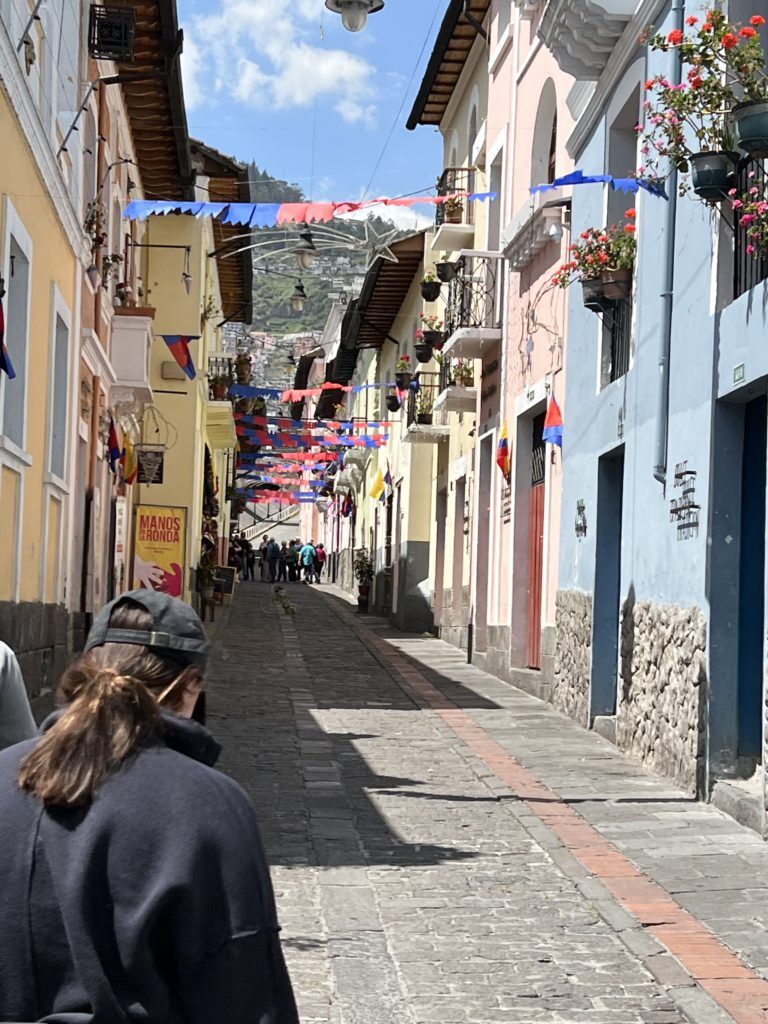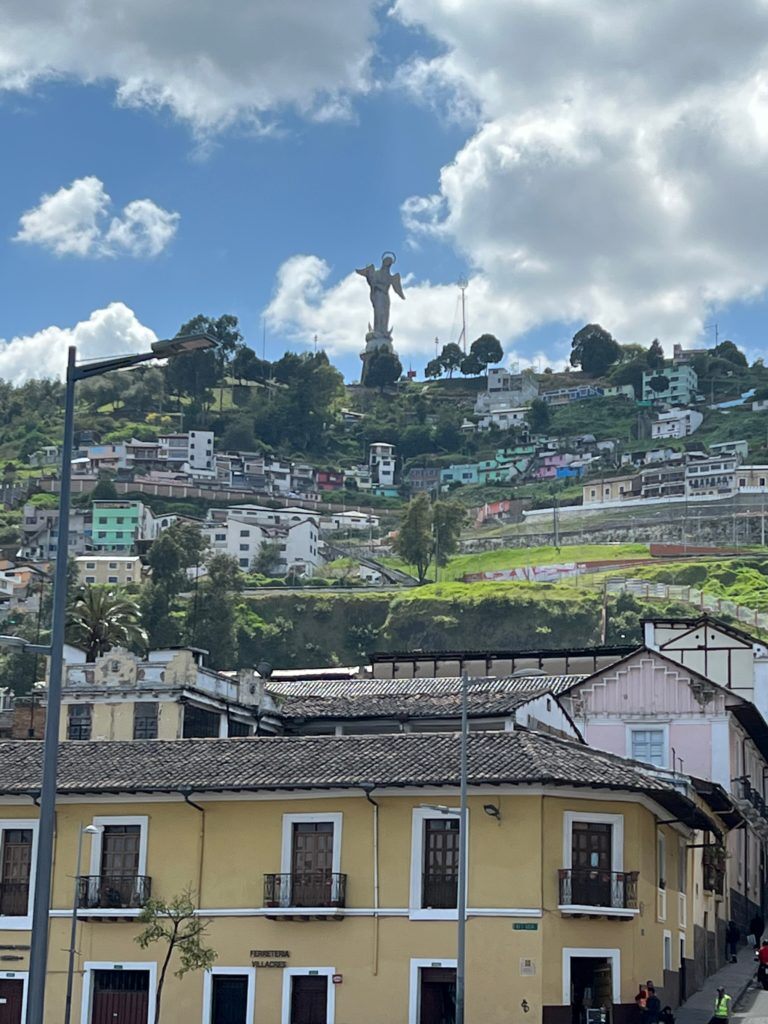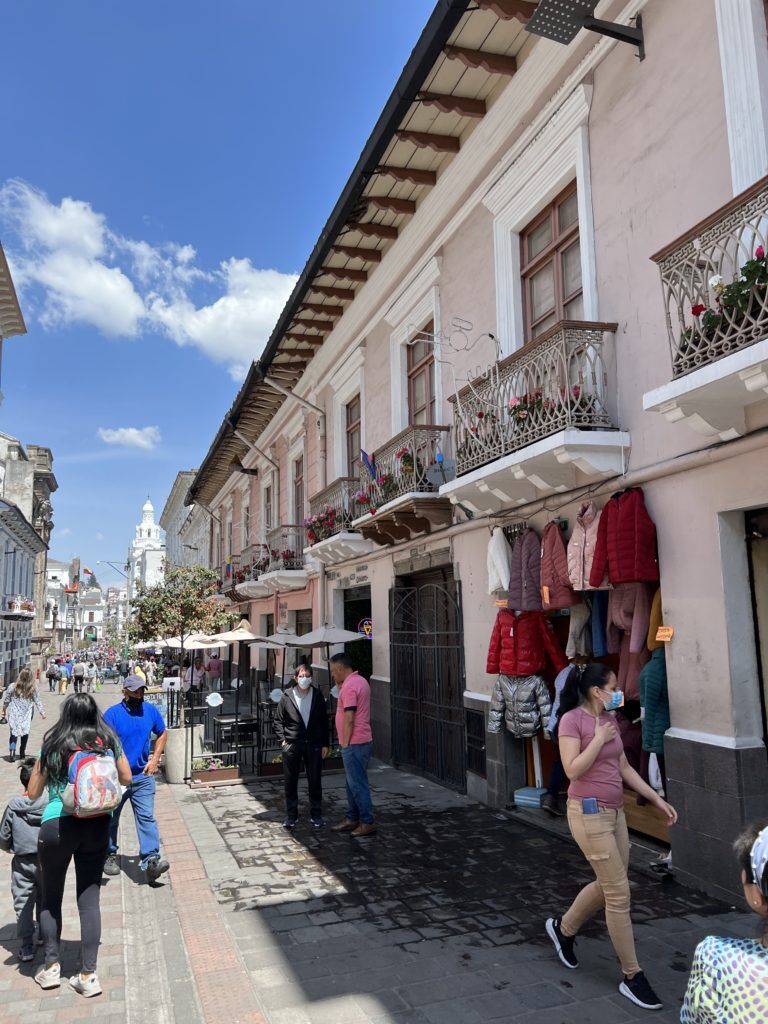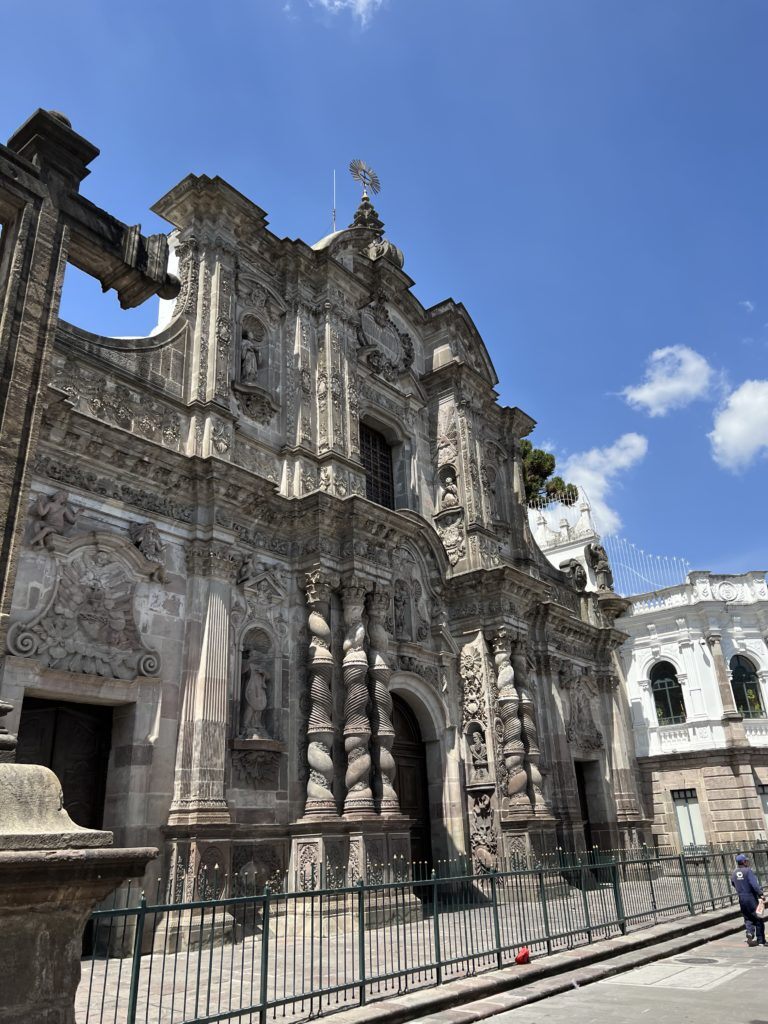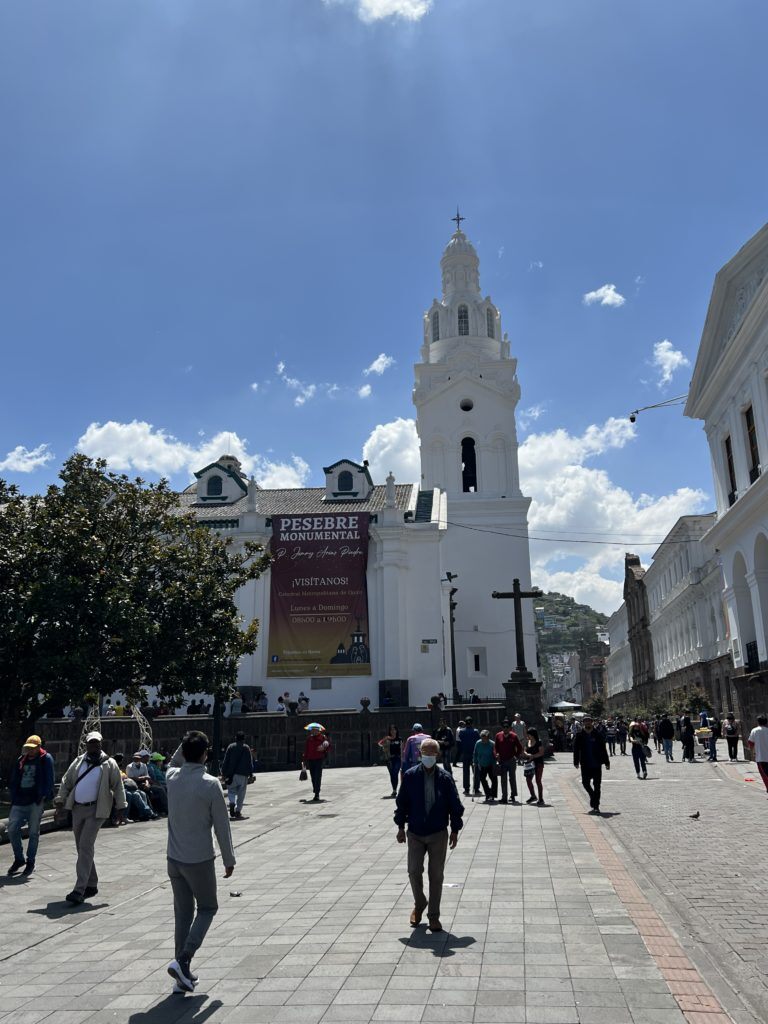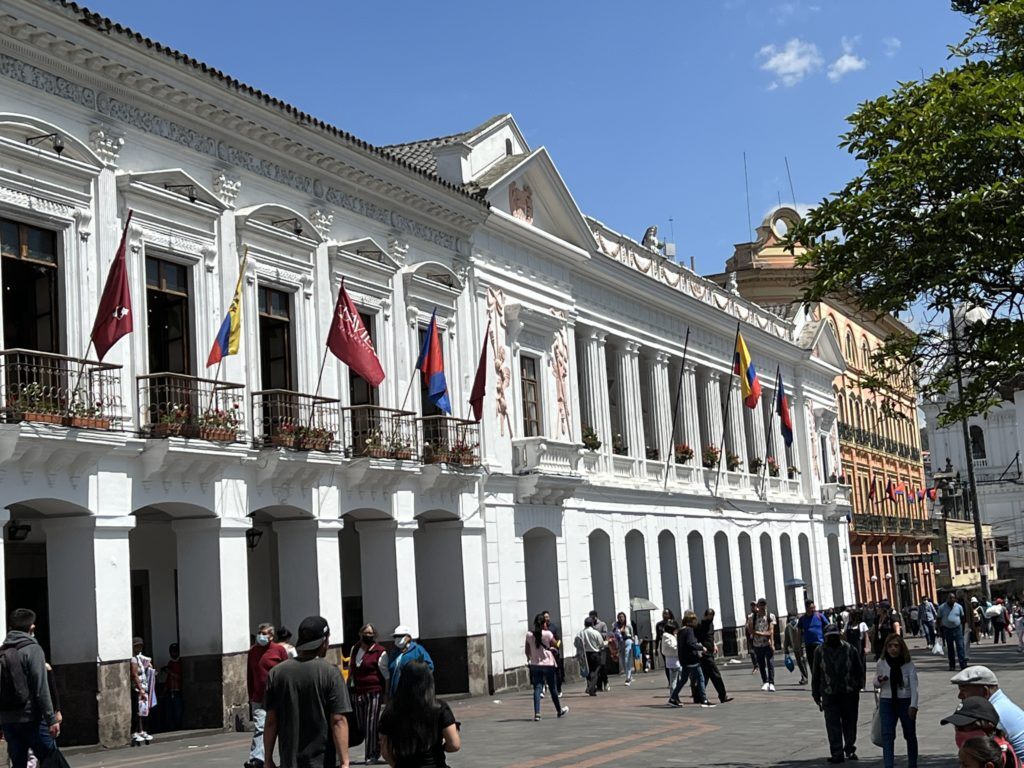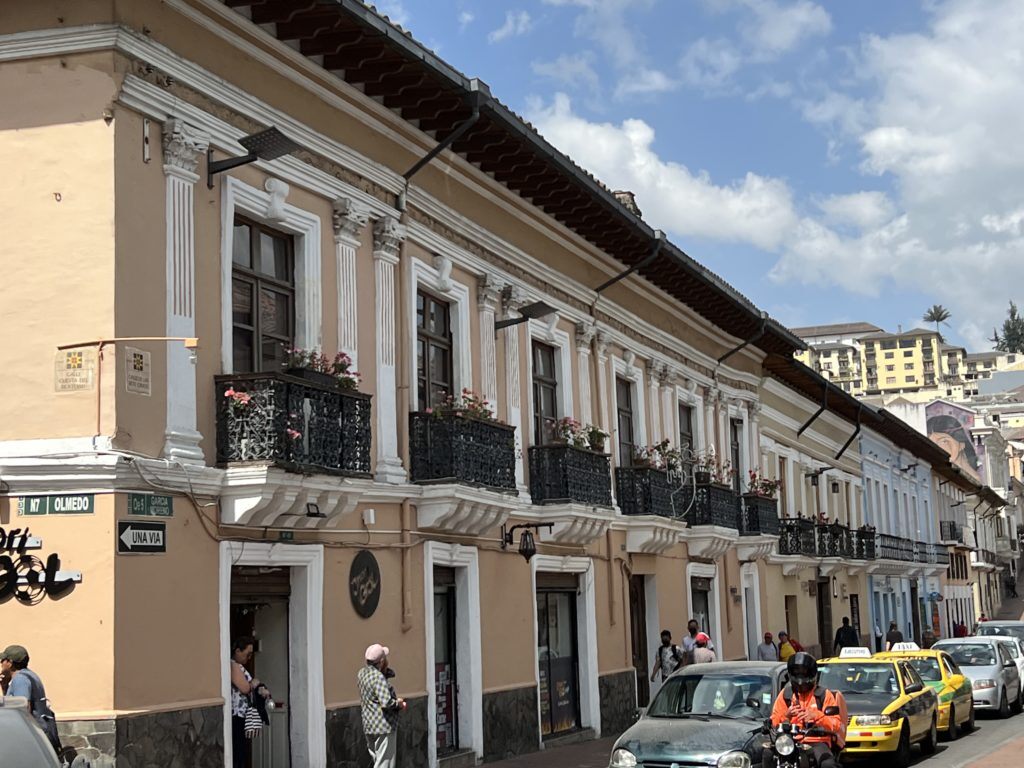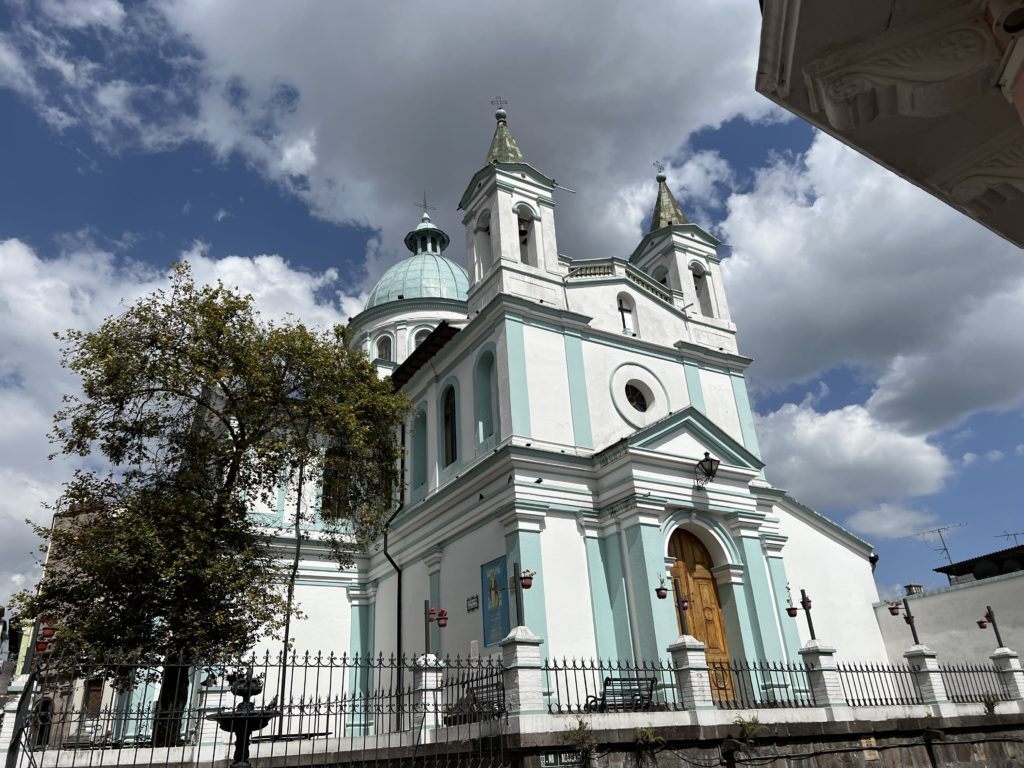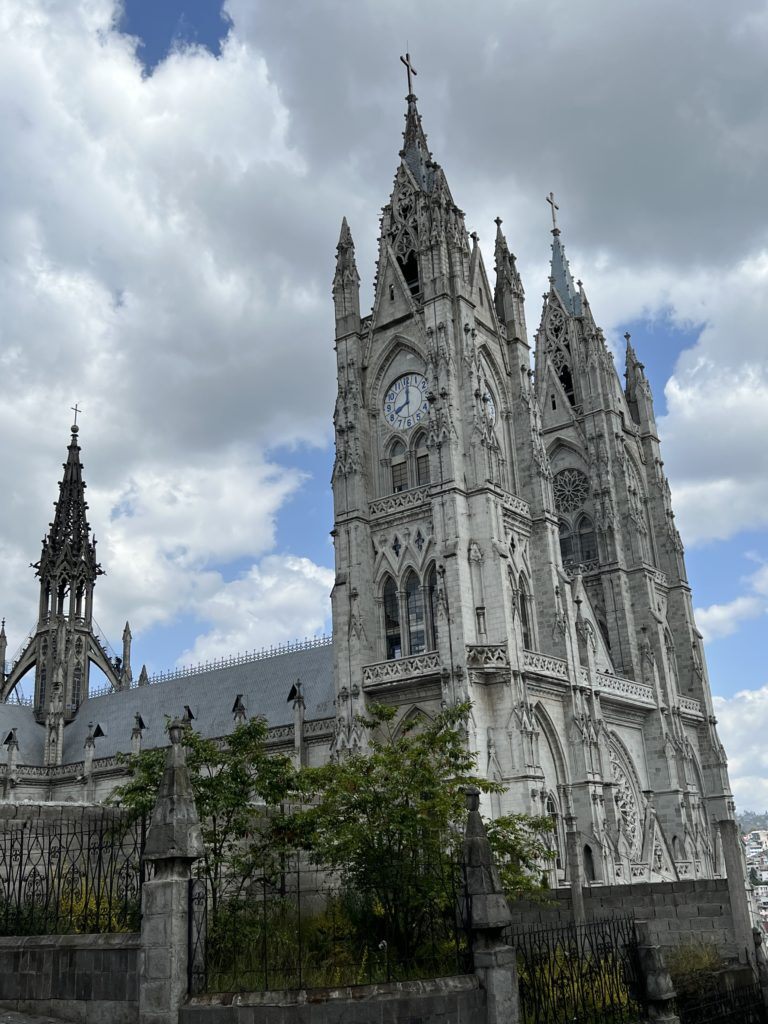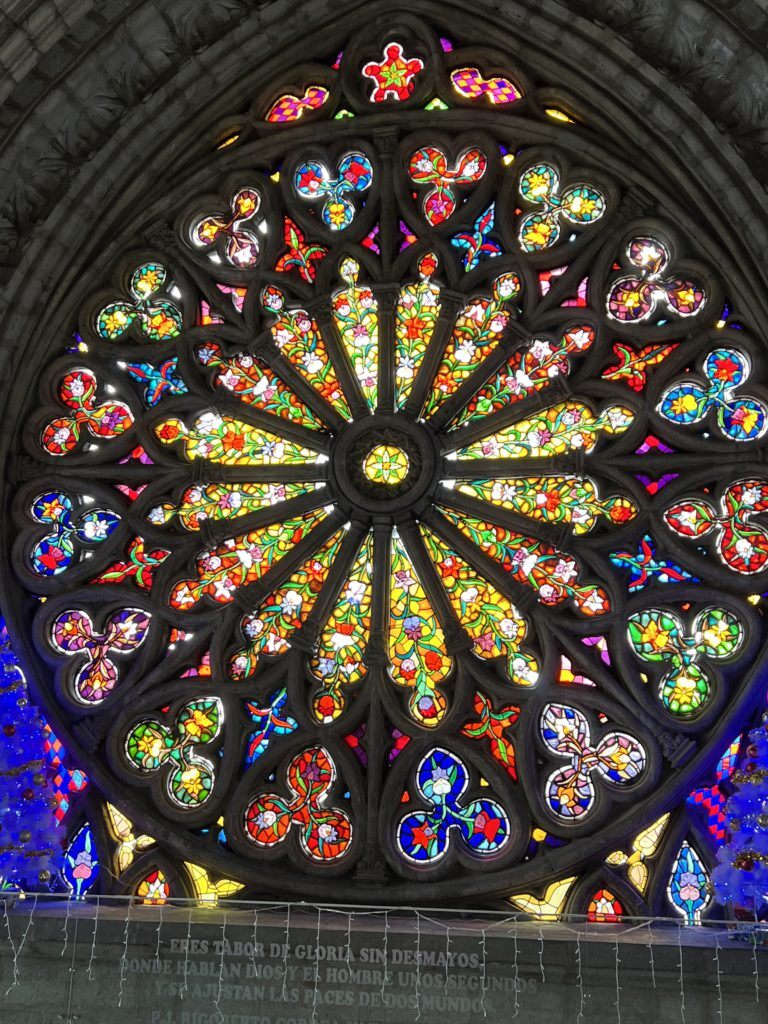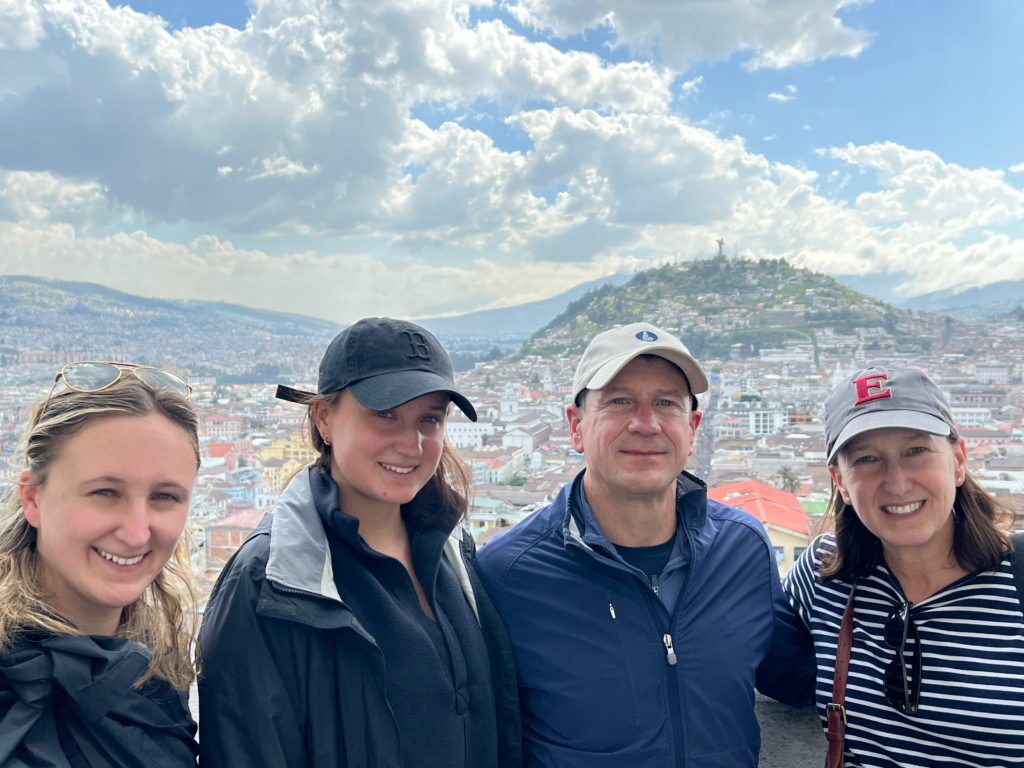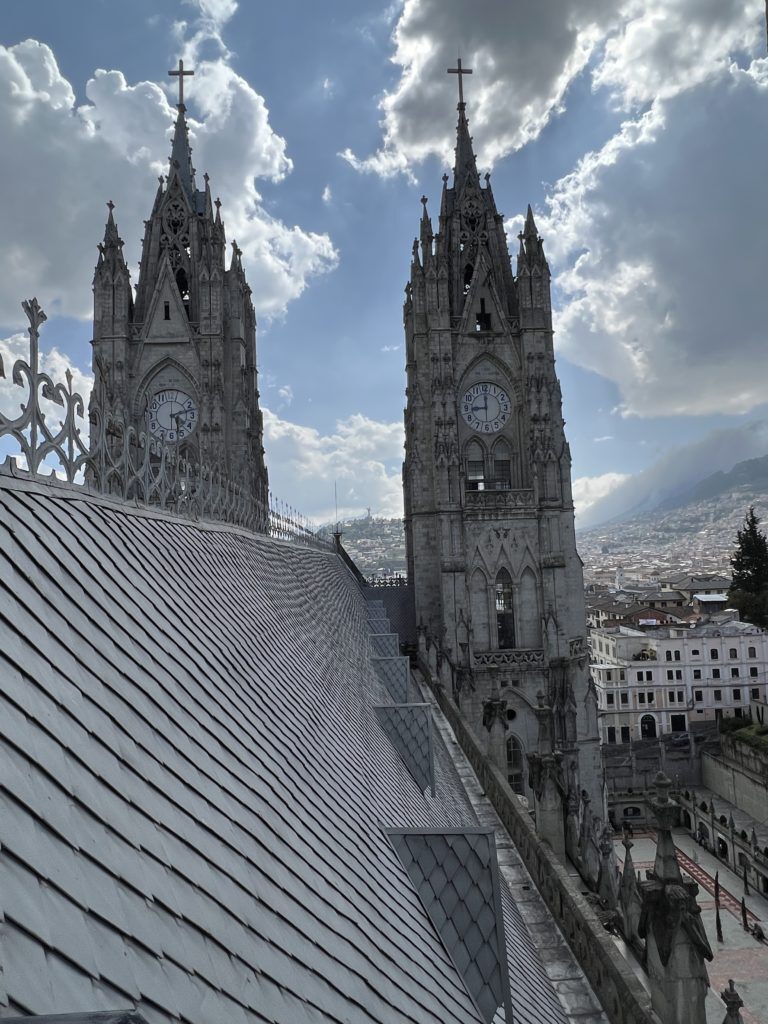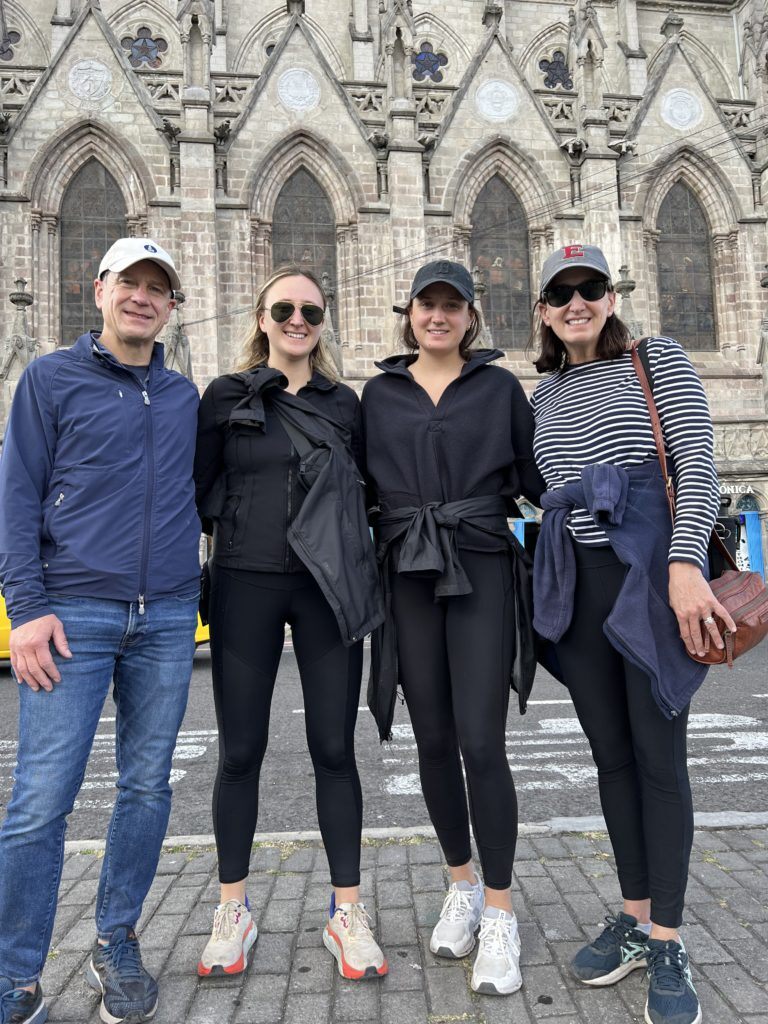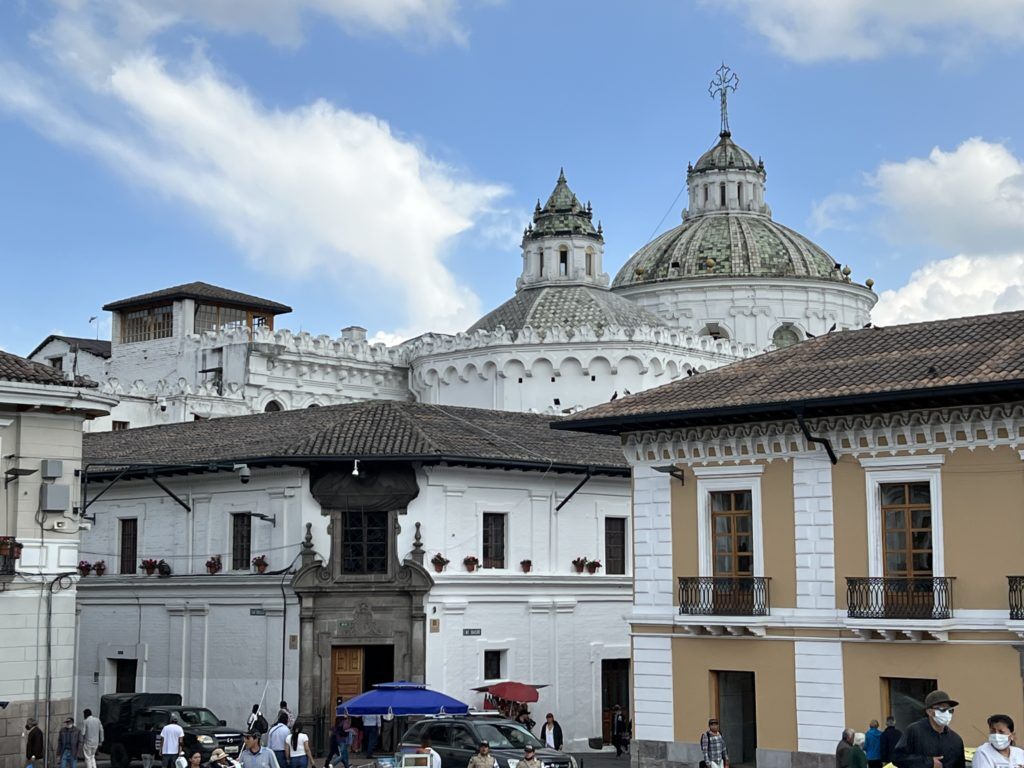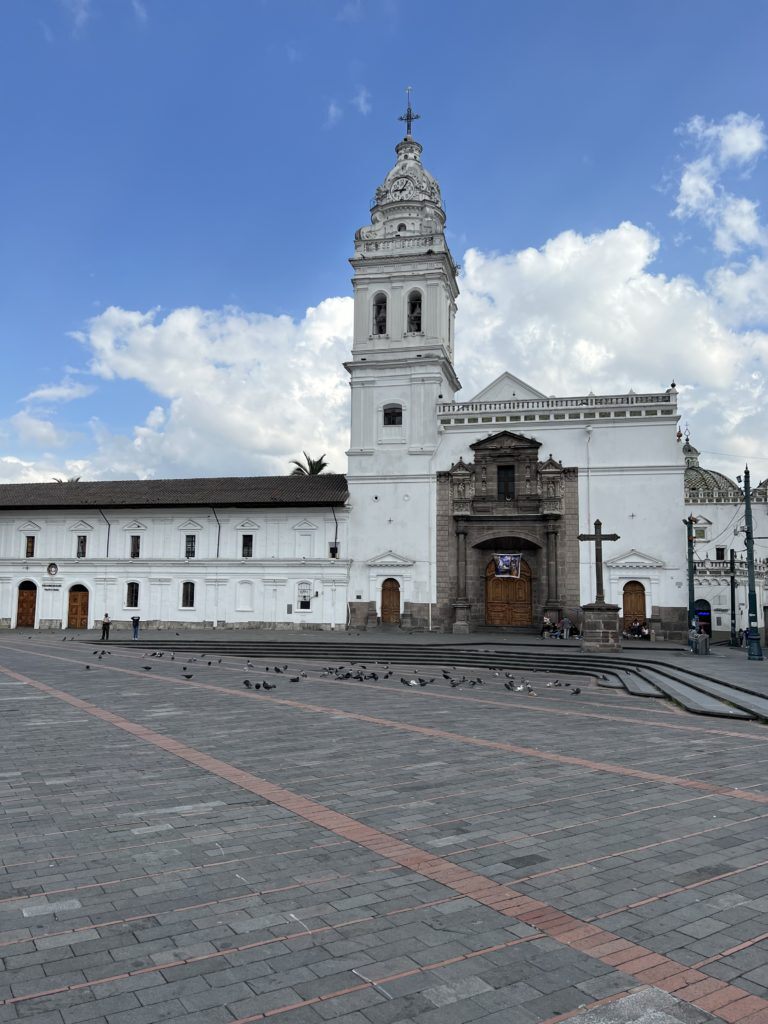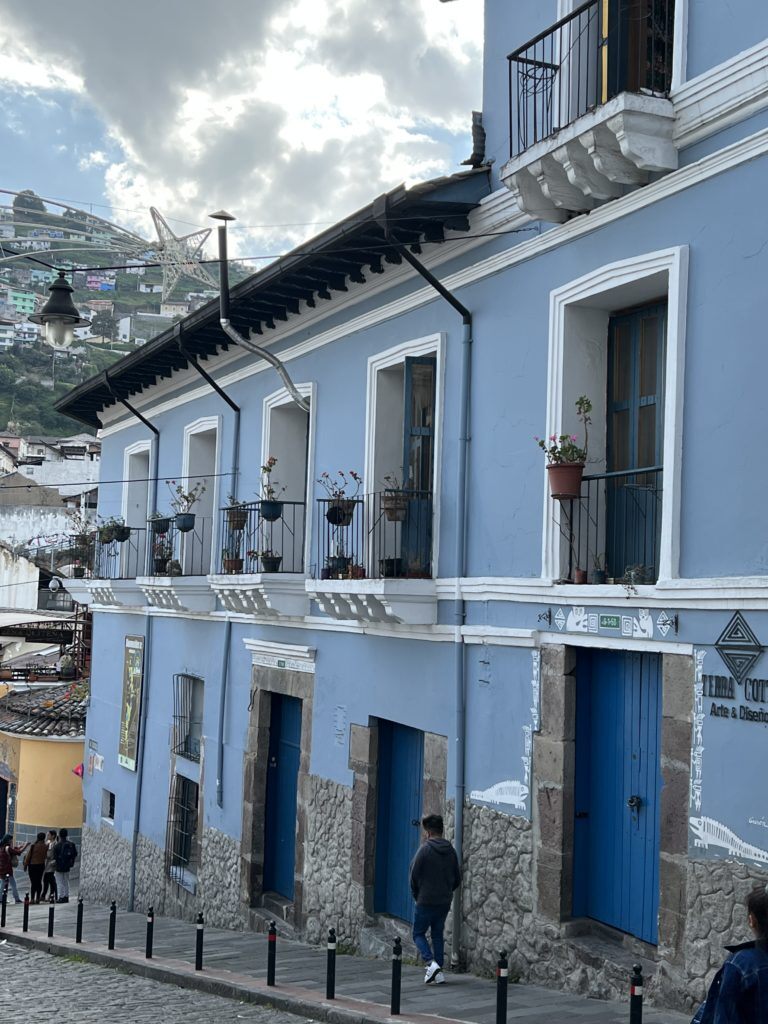 A Day in the Countryside
We chose to visit the countryside toward Otavalo. We hired a guide/driver from Happy Gringo. Andres was great. The traffic can be terrible in and outside of the city. We are so glad we had a guide/driver – usually Jim is a fearless driver. Andres told us Waze and AppleMaps can often be incorrect – it takes a local to know the traffic alternatives and construction is always an issue.
After driving for about two hours, we came across some lovely volcanoes. We stopped in Cayambe for some bizcocho biscuits. The bakery Andres took us to had an amazing view of the Imbabura Volcano.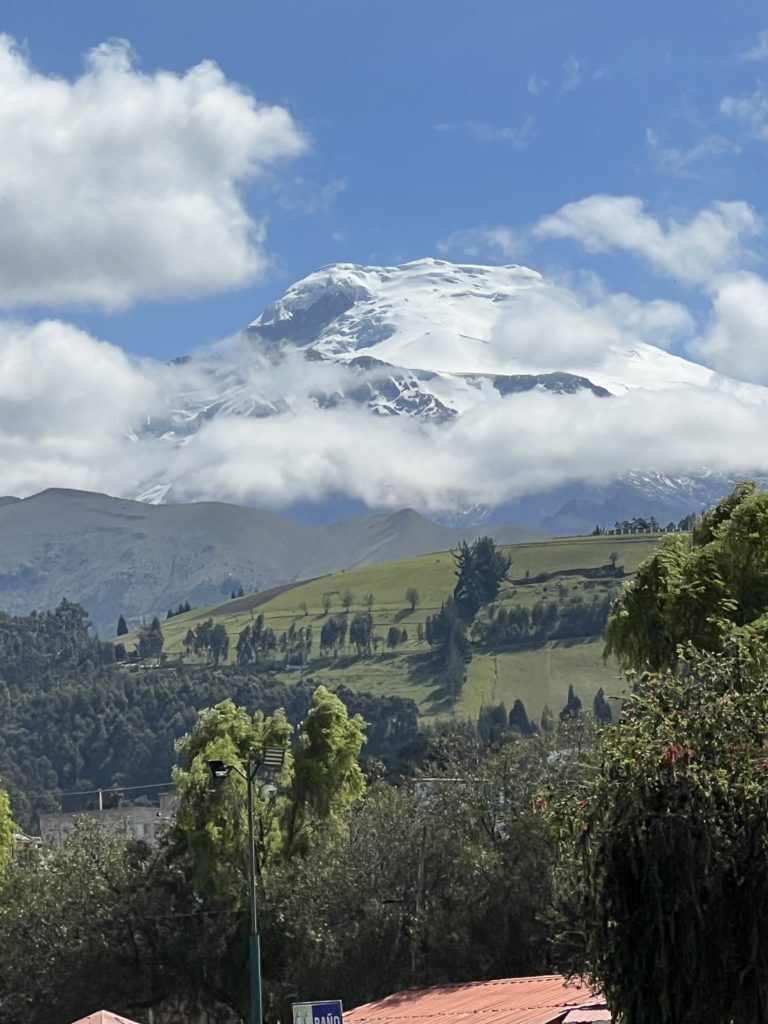 We continued on to the cute village of Otavalo. Every day they have a market where indigenous people sell their wares. We bought a Blue Footed Boogie statue for $7. Be sure to haggle! The market is a lovely place to stroll. On weekends, there will be animals for sale at part of the market.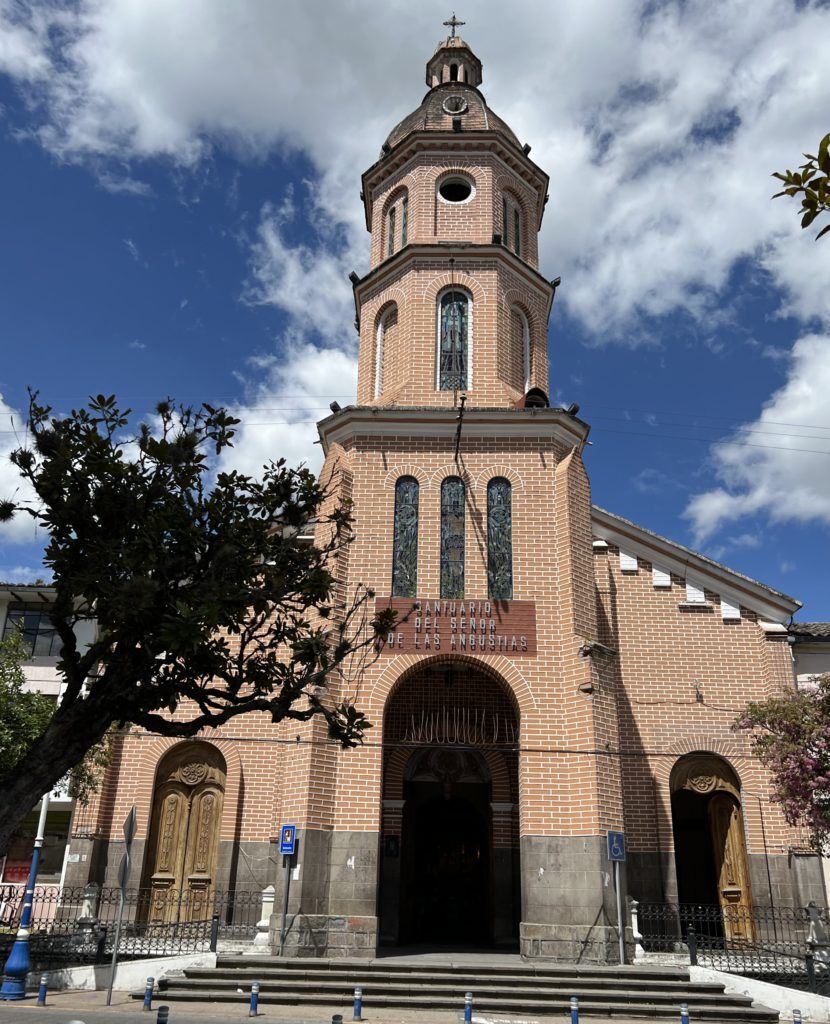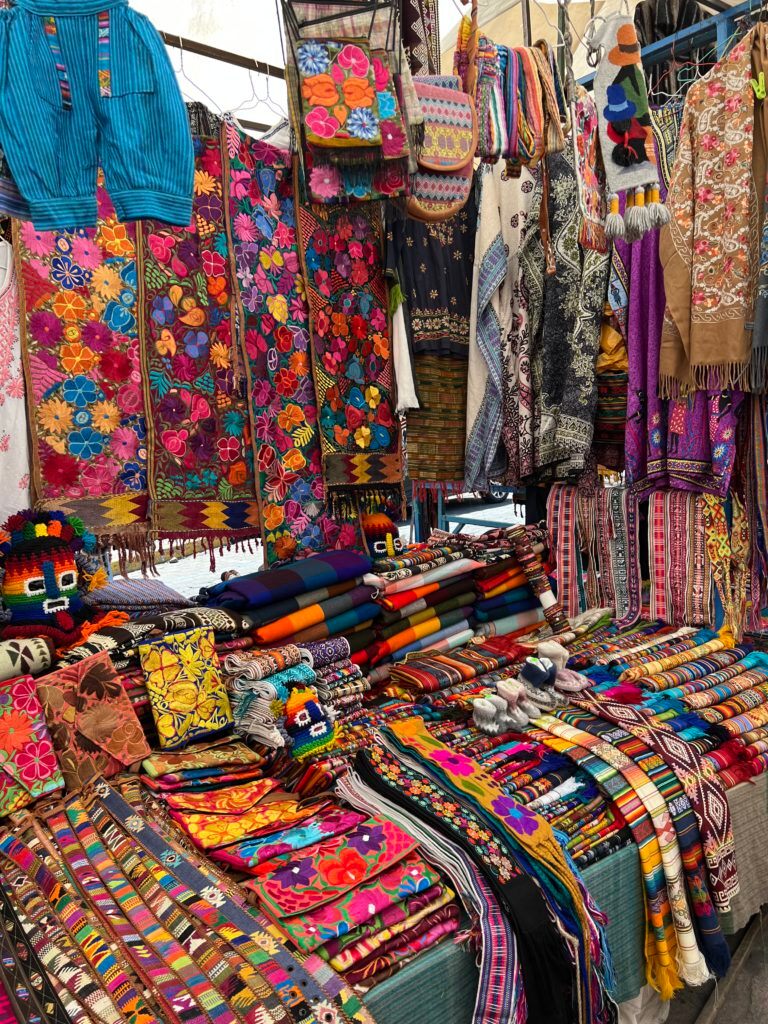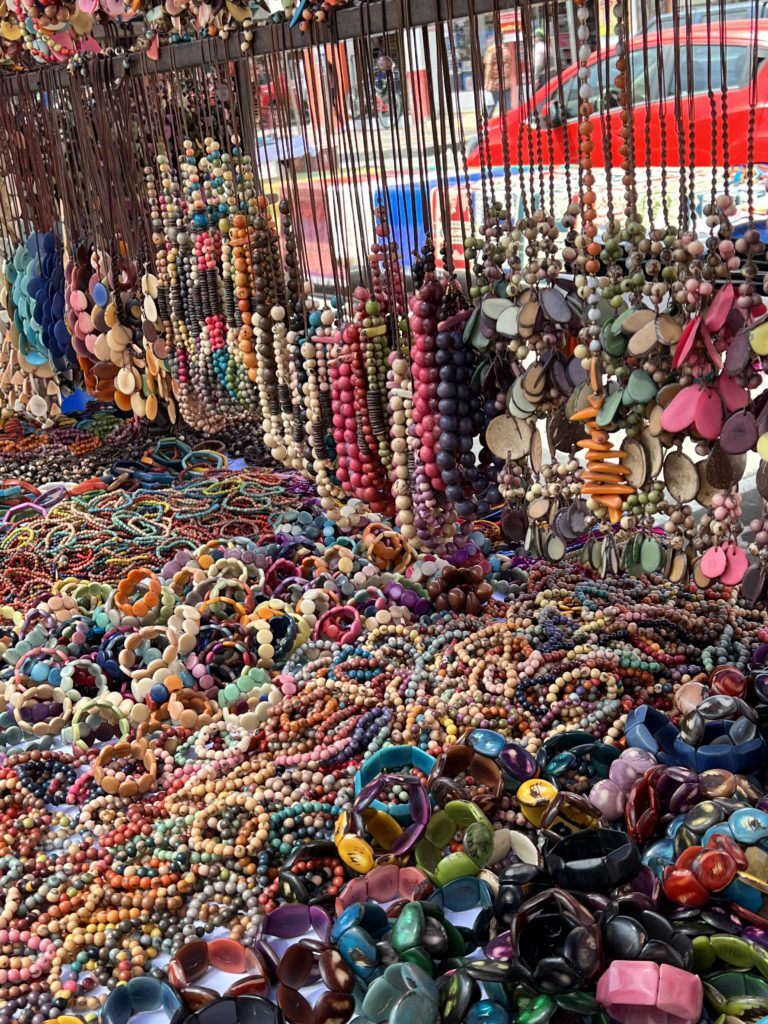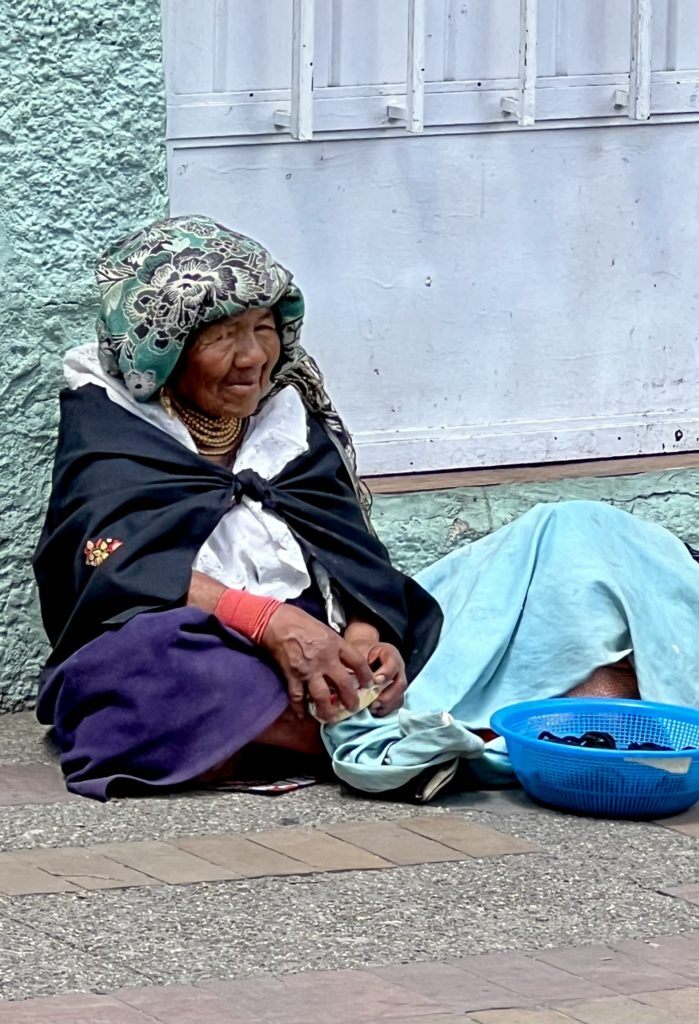 We enjoyed our time in Otavalo. I would plan on an hour in the cute town. We are not big shoppers, so that was plenty of time for us. We continued 15 minutes by car to the Peguche Waterfall. For a small entrance fee, you can enjoy a lovely walk to a stunning waterfall. There are two vista points. Be sure to go to both of them. We thoroughly enjoyed our visit here.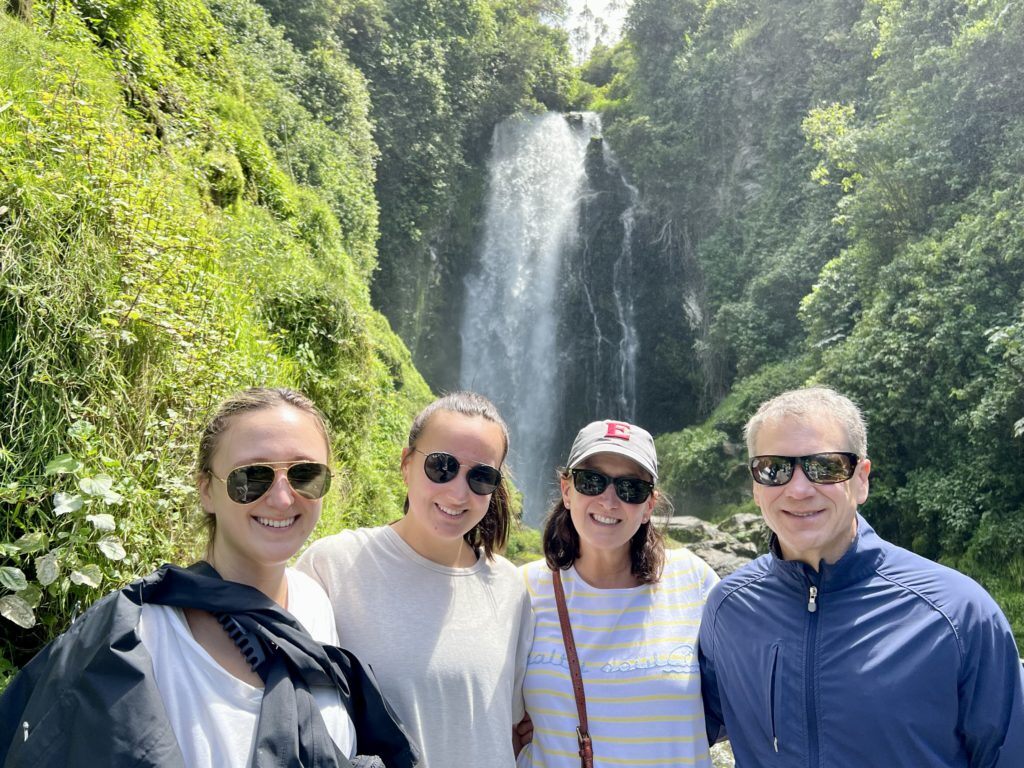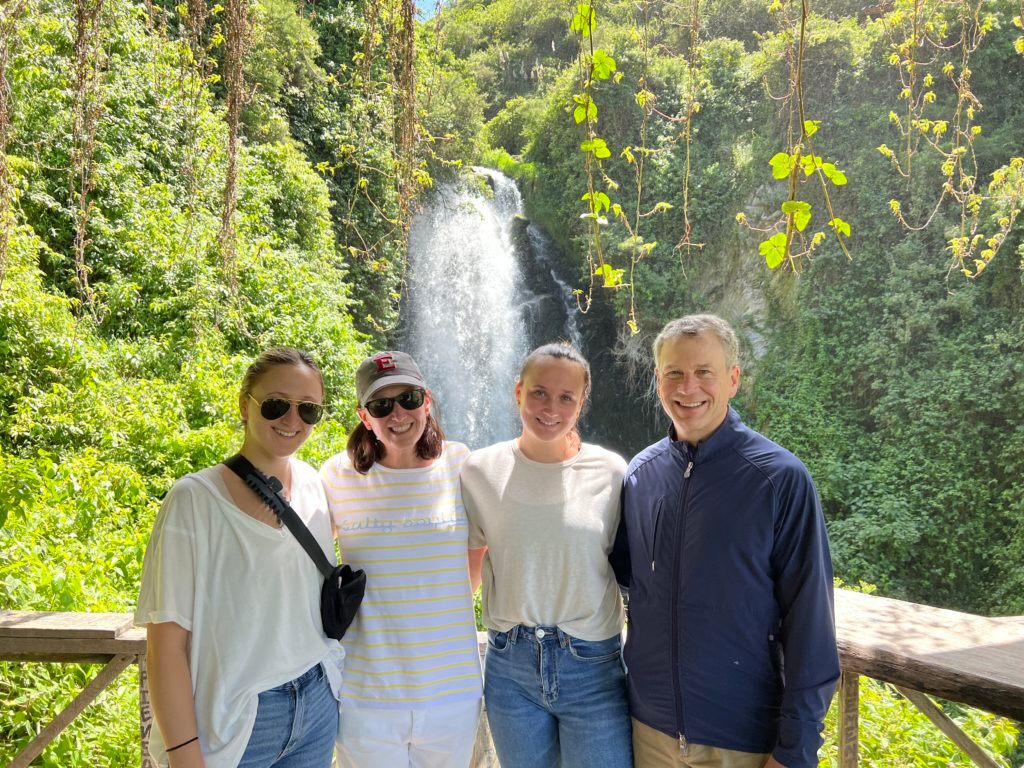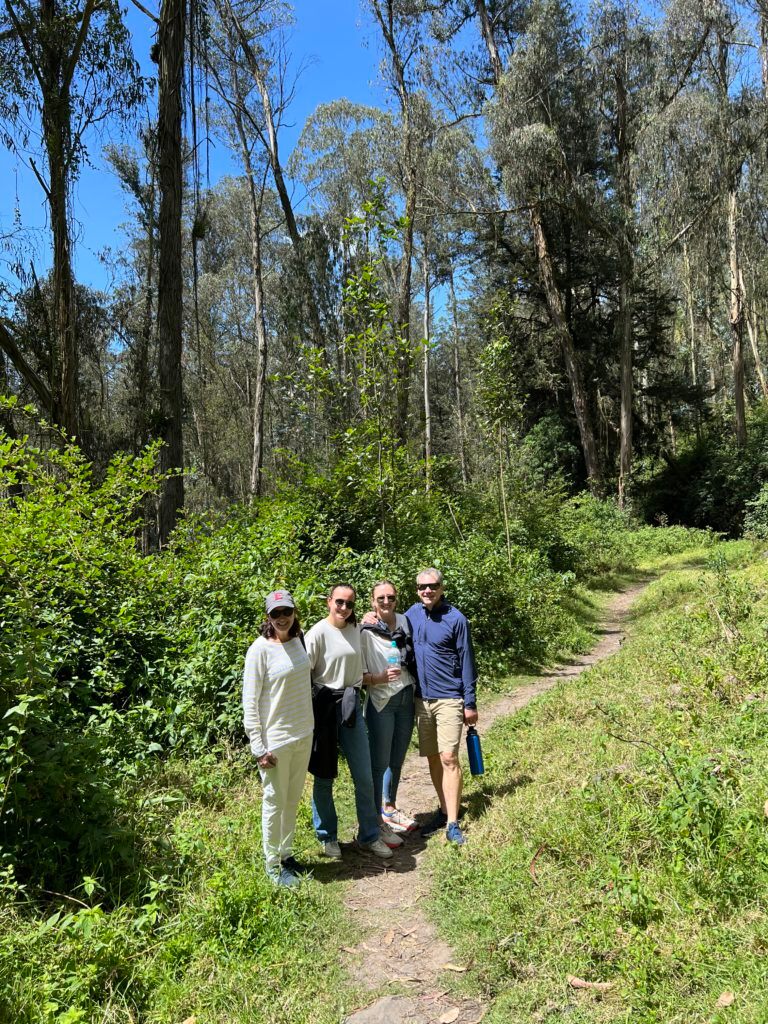 On the right hand side as you enter the walkway to the falls, you will encounter a recently restored Sun Calendar (Inti Watana in Quichua). We visited on our way out of the falls. If you stand on the rock in the center of the circle, and say something in a soft voice, you (only the speaker) will hear your voice echo loudly back at you. It was very cool and very unexpected!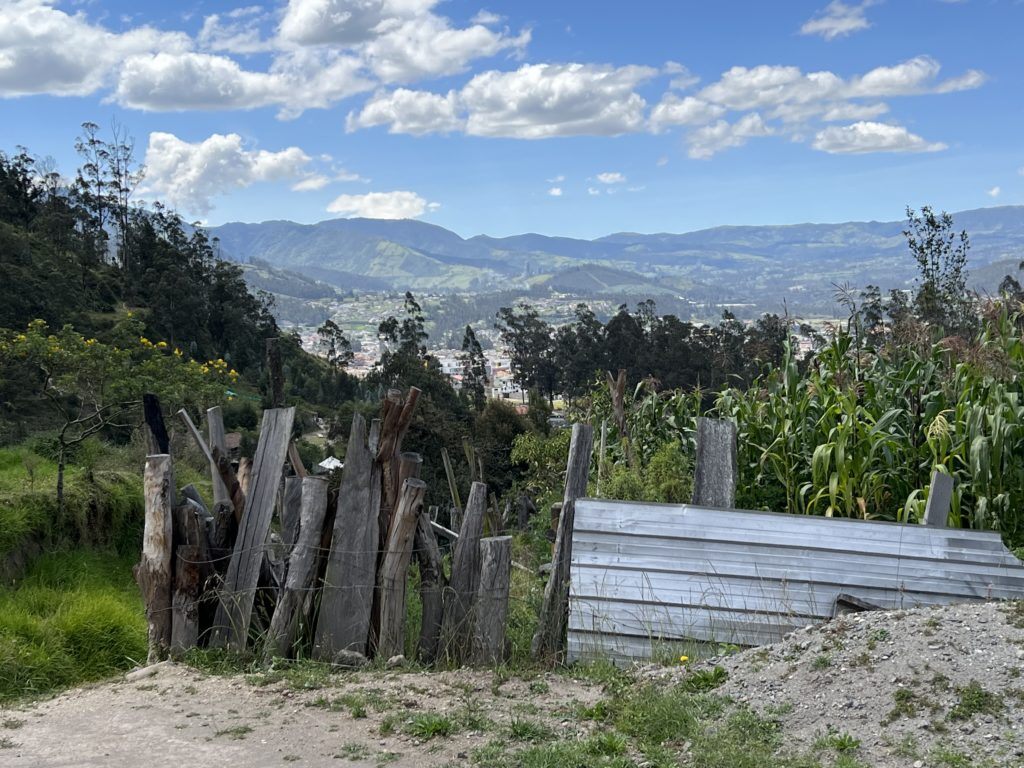 Andres drove us 15 minutes to the town of Cotachachi for lunch. We ate at the incredibly delicious and generous Casa Leñador. Our food was fantastic. Super-amazing local Ecuadorian food. After lunch we strolled the town to admire the leather goods that are made close by. Again, we are not shoppers, so a 15 minutes was enough for us. If you want a new purse or jacket, this is the place to go. Be sure to bargain.
We drove to Laguna Cuicocha. This crater lake sits below the Cotachachi Volcano. It is a lovely place to take a walk. You can even take several very long hikes near here. We loved our visit.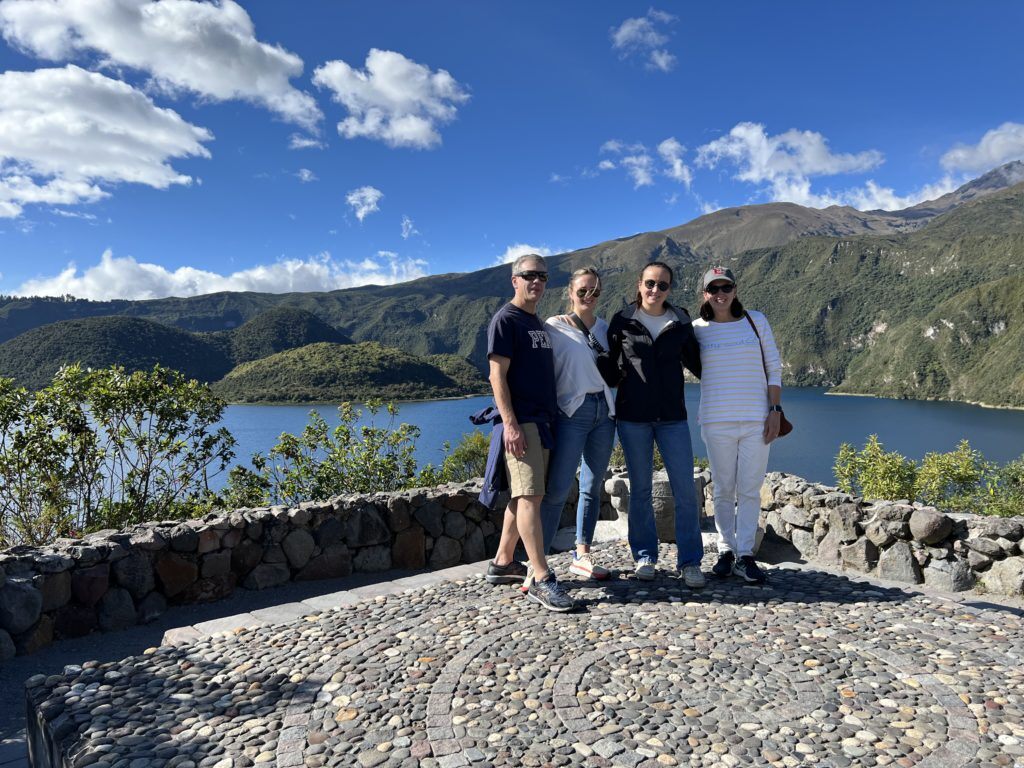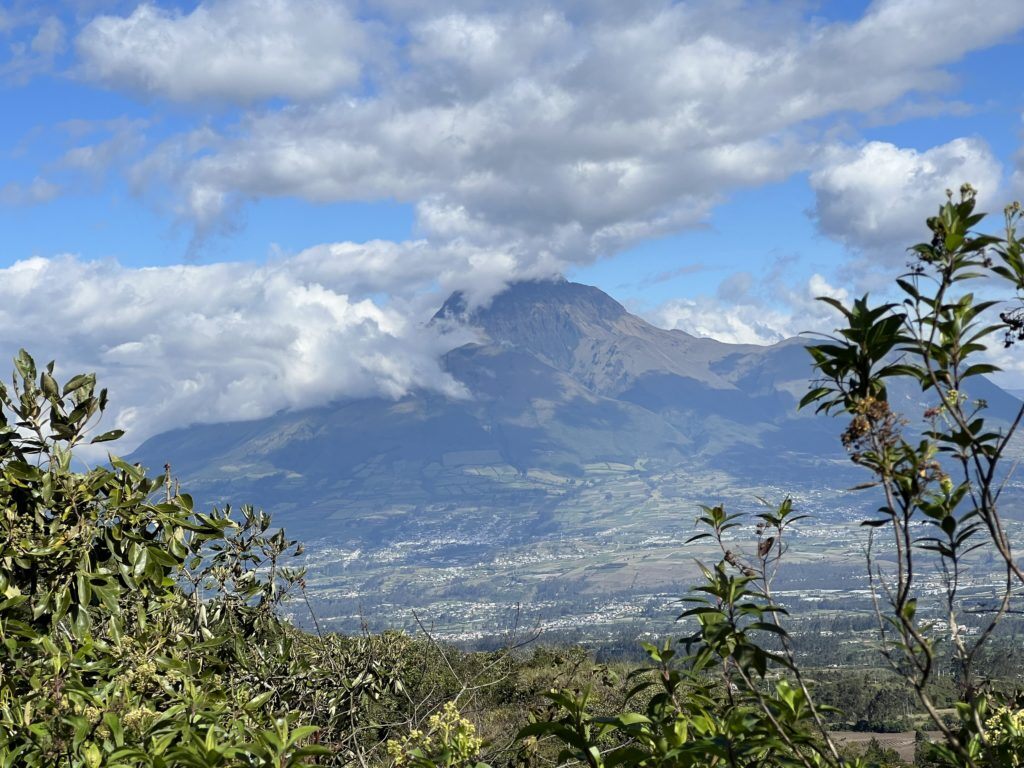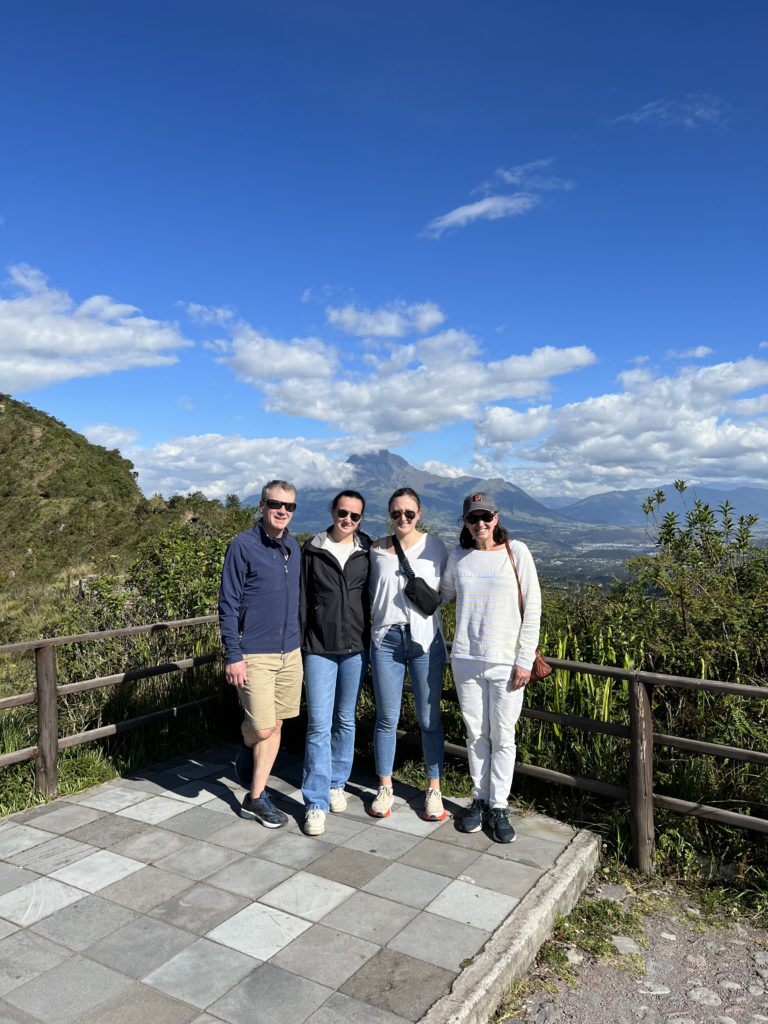 We headed back to Quito, with a quick stop outside of Otavalo to watch some indigenous people make crafts. Andres translated for us while we watched a lovely woman make fabric. The demonstration is free, but you are asked to please purchase something!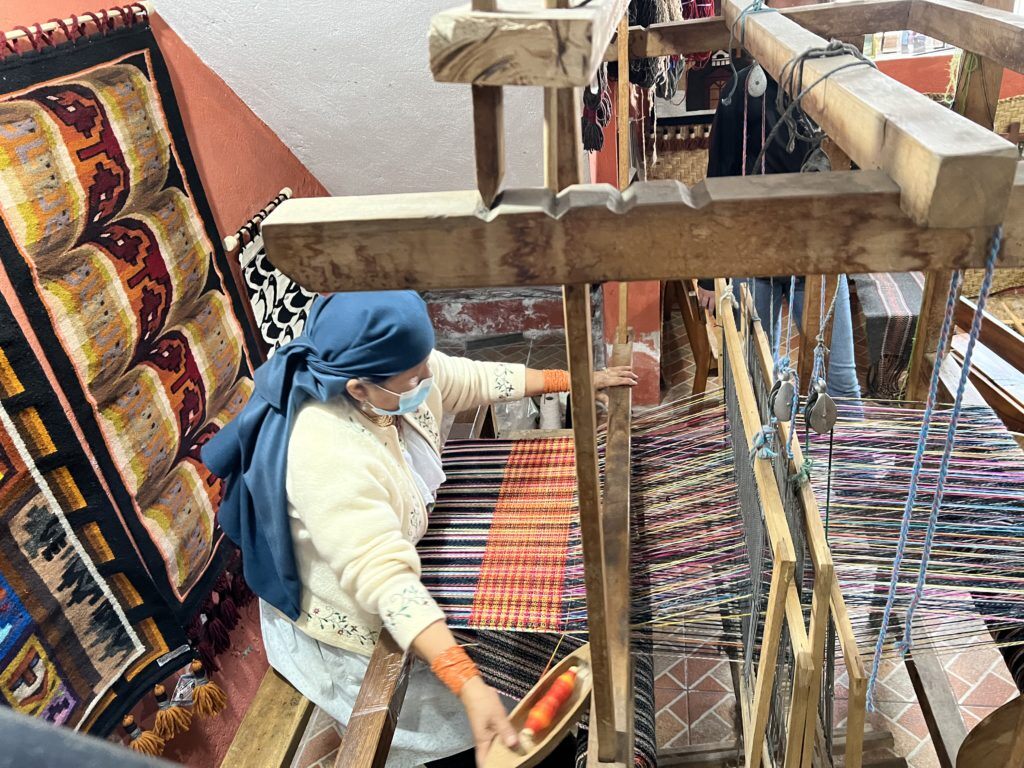 The Galápagos Islands – How to Choose?
The Galápagos Islands is an archipelago about 600 miles off the coast of Ecuador. You must fly to the islands. There is no ferry service. If you choose to take your own yacht, there are many, many, many hoops through which you must jump. All flights originate in Quito and stop in Guayaquil and then continue on to either Baltra (where we went) or San Cristobal island.
You have many choices when visiting. Before you book anything, you need to make several decisions – There are two ways to see the islands – by boat on a multi-day cruise or by land, doing day trips from one of the inhabited islands to an (un)inhabited island and back to home base; or, you can take a ferry from a place like Santa Cruz to Isabela and then spend some time there in a small accommodation. A land-based Galápagos vacation is a much more affordable option. Please note the ferries are somewhat small and the travel time is significant. I recommend going to YouTube and watching some videos about land-based itineraries in the islands.
For us, a cruise was a no-brainer as you can see and do so much more, waking up in a new place every morning. You also can get very far away from the inhabited islands.

Once we chose cruise, we then had to decide how much time we wanted to spend there. Cruises typically run from 4-14 days. For us, we felt eight days(seven nights) was going to allow us to see a good amount of land and animals. 14 days on a boat felt a little too long and four was way too short. As you google, you will find that there are hundreds of cruise options that will include four days in the amazon or a trek in Peru. We only wanted to do the islands and a few days on the mainland in Quito.

You then need to decide what route you want to do. Most cruises are either West and Central Islands or East and Central Islands. There are many other options, but these are the two major categories. Based on what I read, East and Central has a bit more time at sea in the open ocean (usually done at night) than the West and Central. We chose West and Central for this reason. The East and Central cruises that go out to Genovesa Island have eight hours at sea in each direction. We never had more than four hours in the open ocean on any one night.

Size of boat – All boats in the Galapagos have capacity that is divisible by 16. This is because one naturalist guide can take no more than 16 passengers at a time hiking, snorkeling, kayaking or swimming. Boats usually fall into the 16, 32, 48 or 96 passenger capacity. I believe 96 passengers is the max. We chose a 16 passenger boat as I did not want to be with a bunch of other people. However, if sea sickness is an issue for anyone, a bigger boat may be more comfortable. All vessels no matter the size will have to spend time in the open ocean and depending on wind and currents, it can get rough. A friend of mine who went in 2019 said they had one night were it was loud and rocky. She was not scared, but some of the people at breakfast said it made them sick overnight. Bigger boats also offer more things to do when you are cruising like a cooking class, pizza making, art class, games. Smaller boats do not have these options. But, there are sun decks for reading or napping.

Then, the hard part – picking a cruise. Most cruises include breakfast, lunch and dinner, but not alcohol. Most boat fares include all your equipment, transfers and excursions. Some of the less expensive cruises will charge you for a wetsuit (get a wetsuit as the water is cold). So, for the days you are on board, there are truly no other expenses. On our small ship, if we wanted wine, we had to purchase an entire bottle. The price varied from $19-$65/bottle. Most cruises do NOT include the airfare from Quito to the islands (but the boat I picked does).

There are SO many cruise line operators (77 I think) that are licensed in the islands. Be sure to book directly with the cruise line company. There are literally tens of thousands of resellers. Book directly with the cruise company to ensure the best price.

I narrowed it down to these companies –

Royal Galapagos – https://www.royalgalapagos.com. this was my first choice based on reviews and YouTube videos I watched. However, the cruise date I wanted was completely sold out almost a year in advance. Their cabins look really well-sized and the service gets great reviews. Here is a series of videos from travel bloggers I follow on this company's boats. https://www.youtube.com/watch?v=MaqwmCo6sjo&list=PLirGII1_qwvs0gCZixcReUXHGV3QHfVlQ&index=2. Here is another series of vides from bloggers who traveled on Royal Galapagos – https://www.youtube.com/c/TheBomsAway/search?query=galapagos

Quasarex – https://www.quasarex.com/galapagos – This company's boats looks super nice and very luxurious. Very, very expensive. They even have a gorgeous boat that was owned by Princess Grace of Monaco. What turned me off about one of their eight day expeditions, was that it did a West and Central itinerary with a detour up to Genovesa island. I just felt like that was too much time at sea.

Ecoventura – https://www.ecoventura.com – Again, a luxury company with a lovely boat. The itineraries they offered did not include everything I wanted.

What did we pick??? – Ultimately after making myself bananas with choices, we picked this cruise – https://www.gadventures.com/trips/galapagos-from-quito-western-islands-aboard-the-reina-silvia-voyager/7594/itinerary/. Spoiler Alert – We were THRILLED with our choice. We picked this cruise for several reasons –

1. It had the itinerary that I wanted for seven nights/eight days. And, it had a pre-Christmas departure which works better for our family and school/vacation time. And, the boat can hold a maximum of only 16 passengers.

2. The boat is brand new; it did its first cruise in April 2022; however, the rooms are smaller than other cruise lines mentioned above. I paid extra for two upper deck cabins with balconies. We LOVED every single thing about our boat, our cabins, our crew. The only negative thing we can say is that our cabins needed more hooks to dry wet clothes.

3. The cost of our cruise included a night in Quito before the cruise and a night in Quito after the cruise. The cost also includes transfers from Quito's airport to the hotel before the cruise; a transfer from the hotel to the airport on the way to the islands; and, a transfer from Quito back to the city hotel after the time in the islands. The cost does NOT include a transfer from the city hotel back to the airport on day 10. We actually did not go back to the Quito hotel on 12/31. Our cruise ended at breakfast in Quito on 1/1. The best flight back to Boston leaves at 11:55pm, and the Quito hotel is a solid hour from the airport. So, we flew back from the islands, landed about 4pm and spent time in an airport lounge. While we had hoped to spend New Year's Even in Quito, the 12/31 flight was over $1000/person less than the same flight on 1/1.

4. The cost of our cruise includes the Quito-Galapagos-Quito airfare. I was so surprised by this. It is one of the few cruise companies to do this. I actually really liked knowing that we (all cruise passengers) were all together in the hotel, bus and airline.

Another thing to note – you need to bring cash with you. ATMs do work in Quito. Before you leave Quito for the islands, there is a $20/person fee. Then, when you land you must pay $100/person national park fee. We planed on $100-$150/family member for the crew tips and $100-$150/family member for the naturalist as he/she is the one taking care of you the entire cruise, teaching you, swimming with you, etc.
You MUST have a round trip ticket to leave the islands. You cannot buy a one-way fare and decide to stay on land for a few extra days.
G Aventures – West and Central Islands Aboard the Reina Silvia
We had a magical vacation aboard the Reina Silvia. Magical. The food, the guide, the crew, the itinerary. Every thing was fantastic. Our guide, Omar Medina, managed to surprise us every day. We learned a great deal, and we saw so very much. I will organize this section into the places that we stopped along the way. Please note – the cruise lines MUST follow National Park rules to the letter. Their itinerary can only vary with express permission from the National Park. We were kept to a tight schedule, and that is the case for all boats in the islands. If you choose to skip something like a hike or kayaking – there is no way for you to join halfway through if you change your mind. Everything is timed perfectly, so the impact on the islands and wild life is minimized.
Day 1: First Stop – Santa Cruz Island – El Chato Giant Tortoise Ranch
We woke at 3:45am on December 24. Our bus left the Hotel Hilton Colon at 4:30am for the Quito Airport. It takes about an hour to get to the airport. A G Adventure rep was on the bus with us. She completed the island paperwork ($20 cash/person) necessary for us to depart Quito. We left her at security and headed to the gate. There are plenty of services available in the domestic part of the Quito airport. Shops, restaurants, snacks, a lounge and clean bathrooms await. We flew at 8am over all the volcanoes to Guayaquil – it took about 35 minutes. We were in this port city for about 45 minutes. We departed for Baltra, and landed at about 10:45am. The islands are one hour behind the mainland.
After we paid $100/person in national park fees, we met our guide, Omar, outside of baggage claim. The adventure then began. Omar helped us load our luggage onto a public bus (he paid the fare). This bus took us to the dock where we crossed a small passage to the island of Santa Cruz. From there, G Adventures had a private, comfortable mini-bus waiting for us.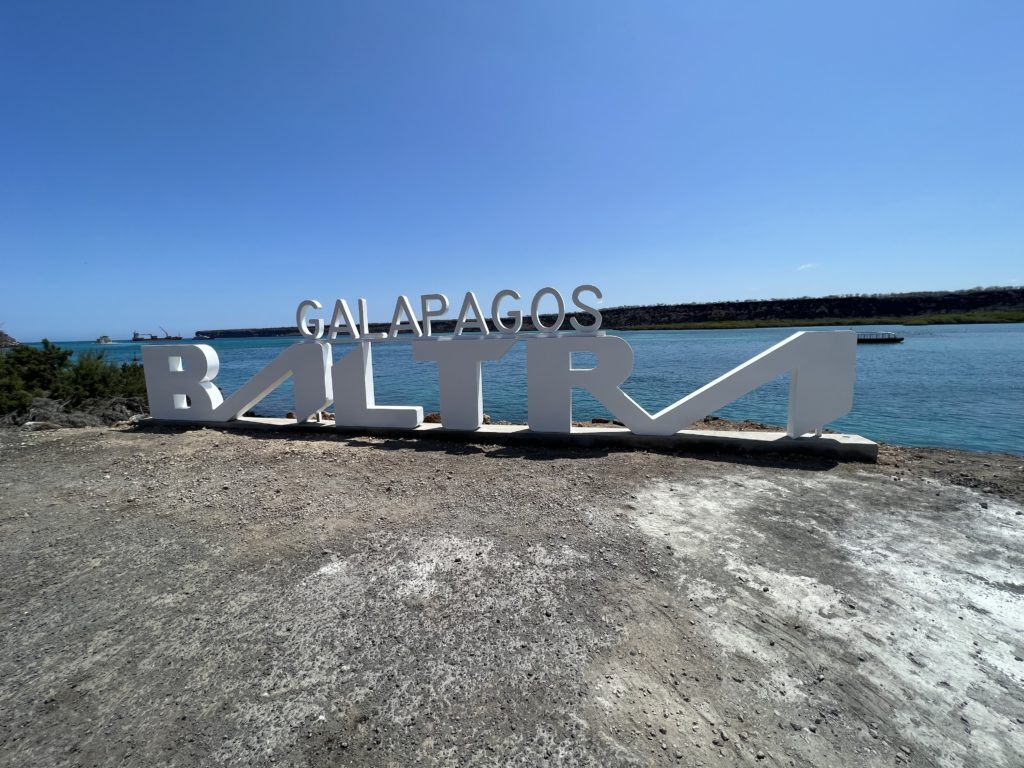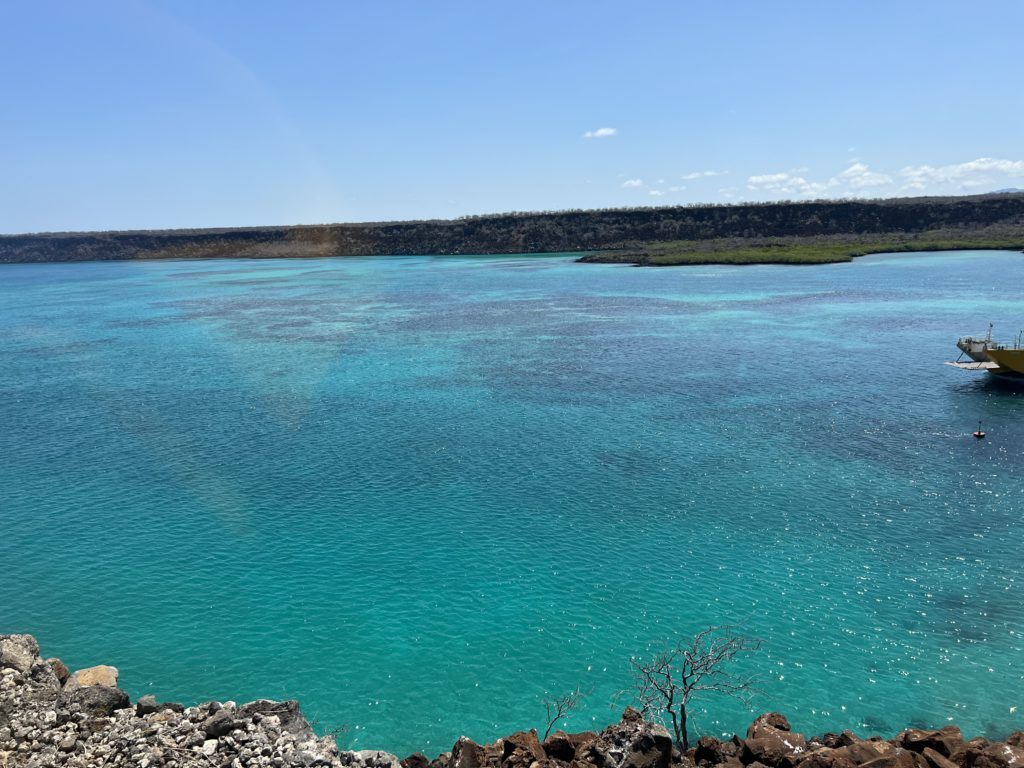 The mini-bus took us to El Chato ranch for a lovely lunch and a walk to see the giant tortoises. It was a wonderful way to send an afternoon. You must walk with a guide. If you drive yourself, bike or hike to the preserve, you will join a group with one of their guides. It was amazing to see these creatures in the wild. If you choose to spend some time on Santa Cruz Island, and you are not part of a group, you should visit this ranch. Our lunch was delicious.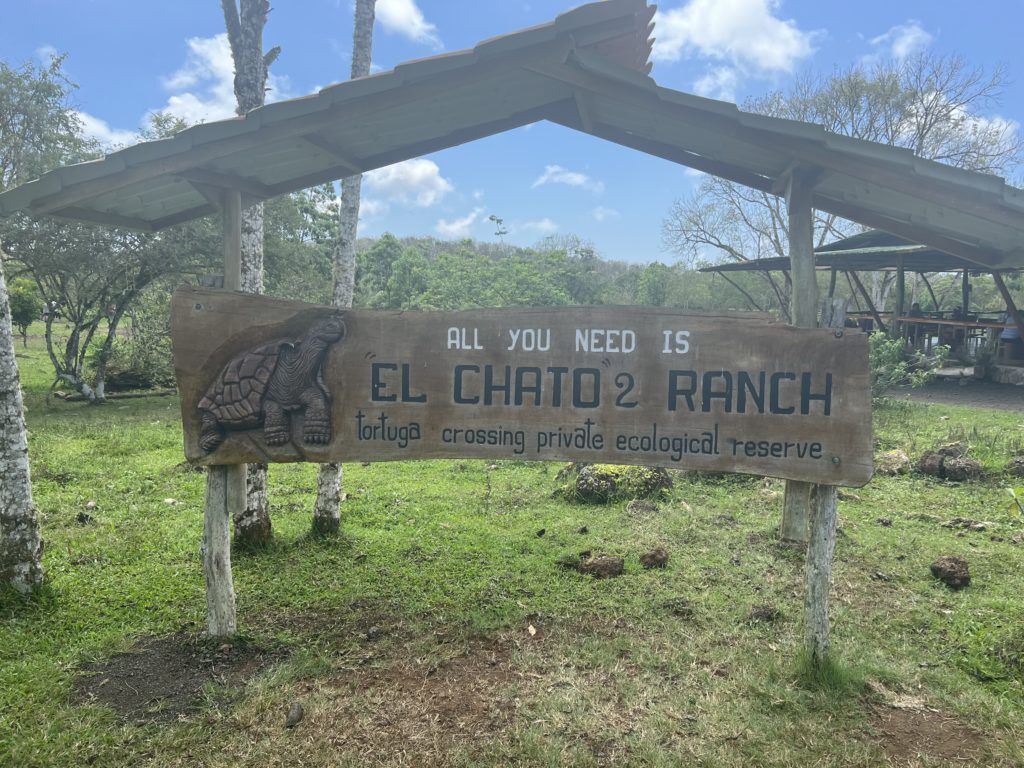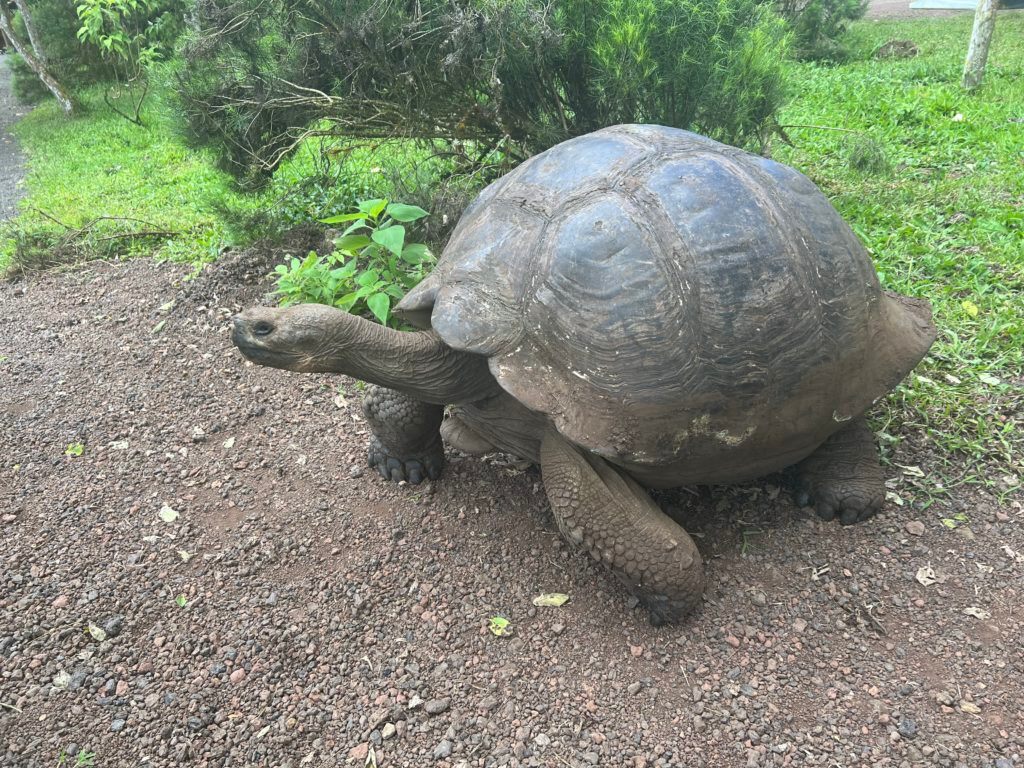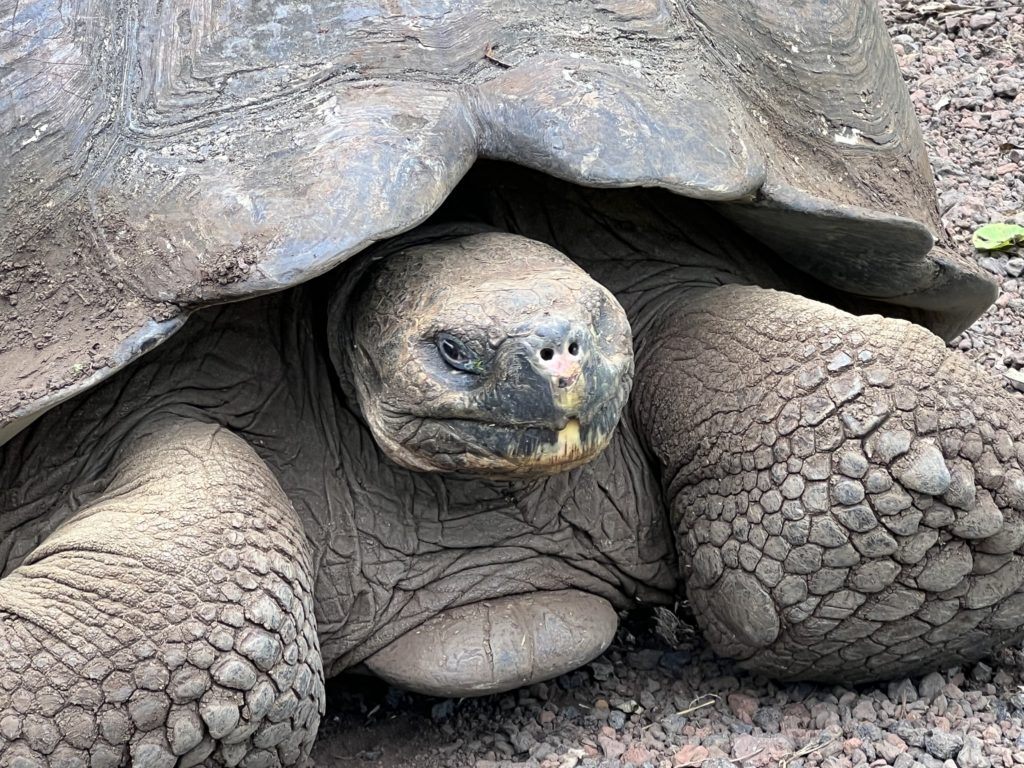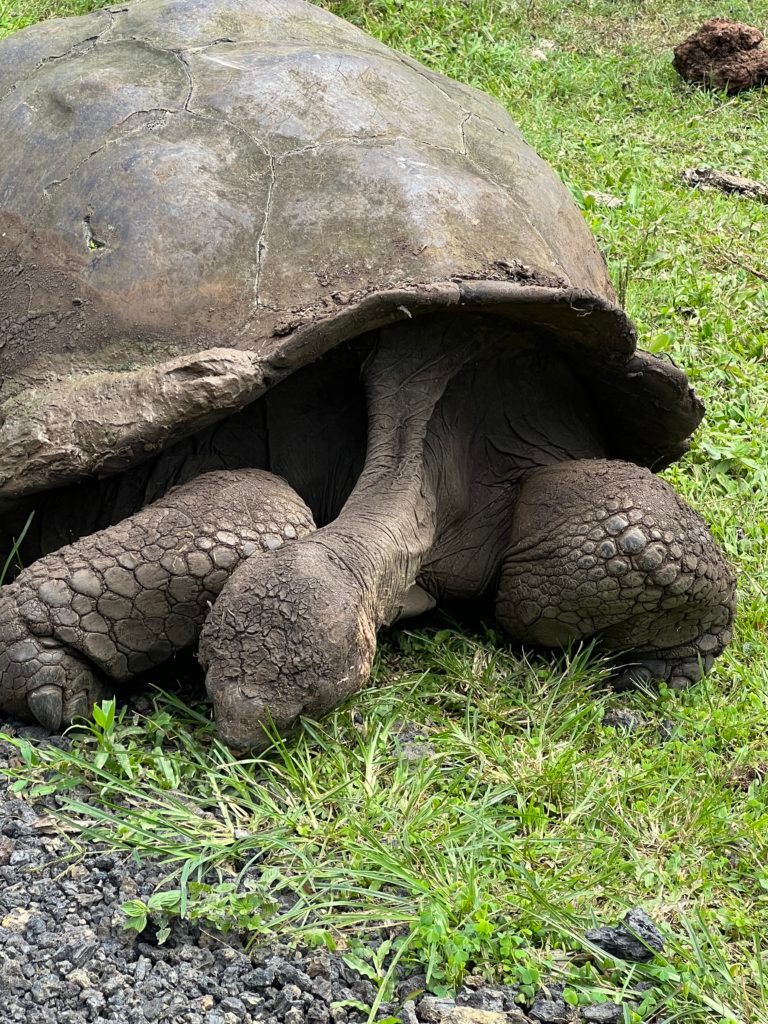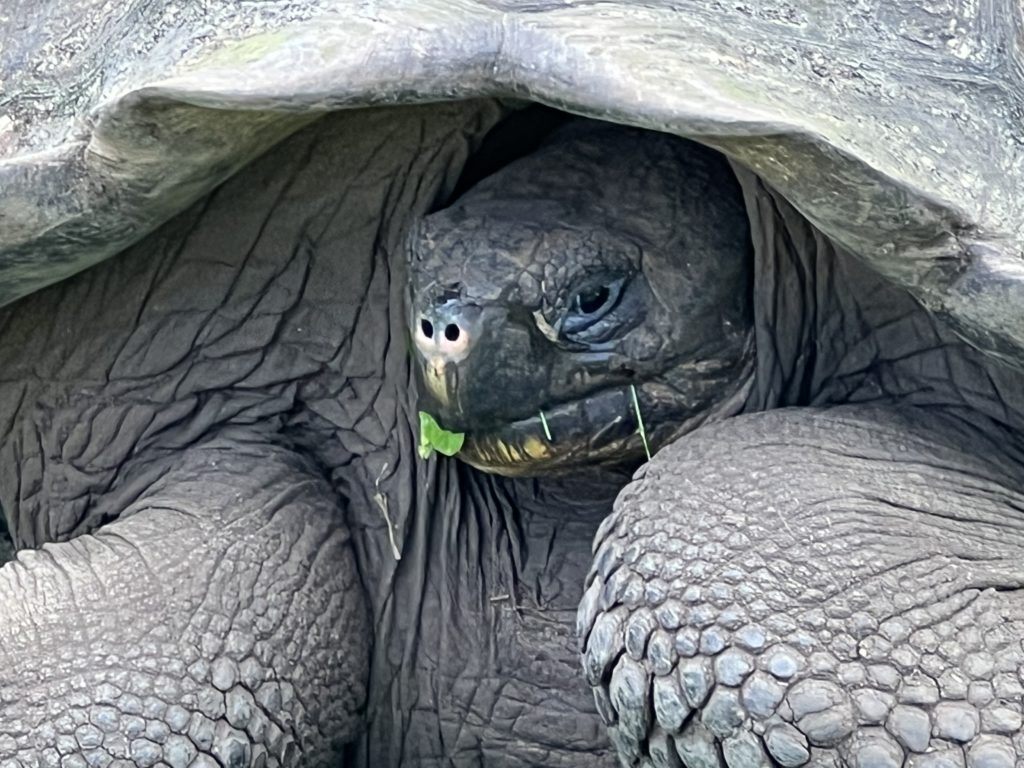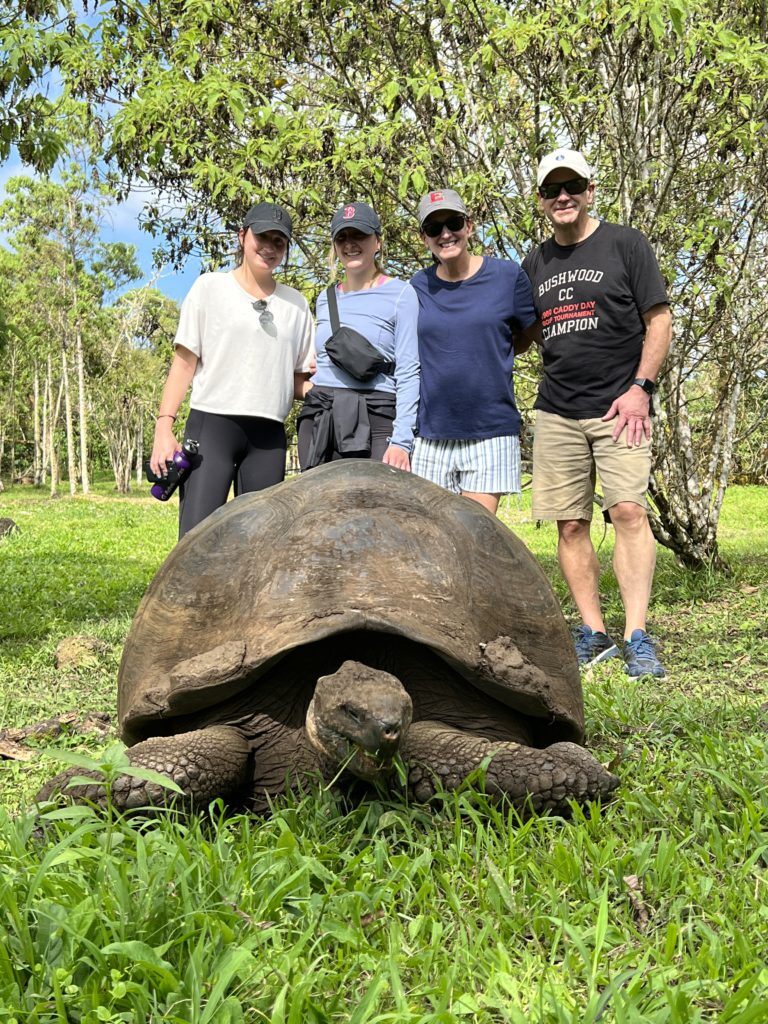 Day 1: Second Stop – Santa Cruz Island – Charles Darwin Research Center
After lunch and a wonderful stroll, we boarded our bus to the Charles Darwin Research Station, a scientific organization began in 1964, which works to preserve the Galápagos ecosystem through the conservation efforts of scientists, researchers and volunteers. There are several islands in the archipelago in which the giant tortoise has become extinct. However, often times turtles were moved to other islands. Using DNA technology, the research center is breeding "purebred" (for lack of a better word) tortoises and retuning them to the wild on their native islands. We saw many baby tortoises and the saddle back tortoise which was almost hunted to complete extinction. This visit was very educational. We loved it.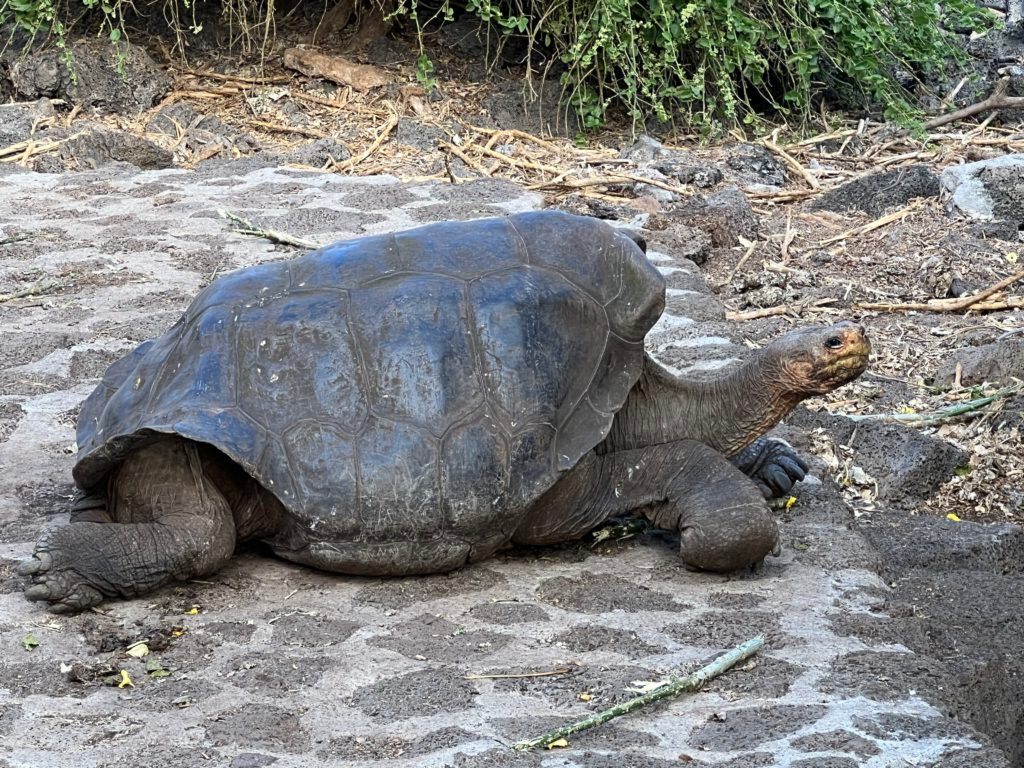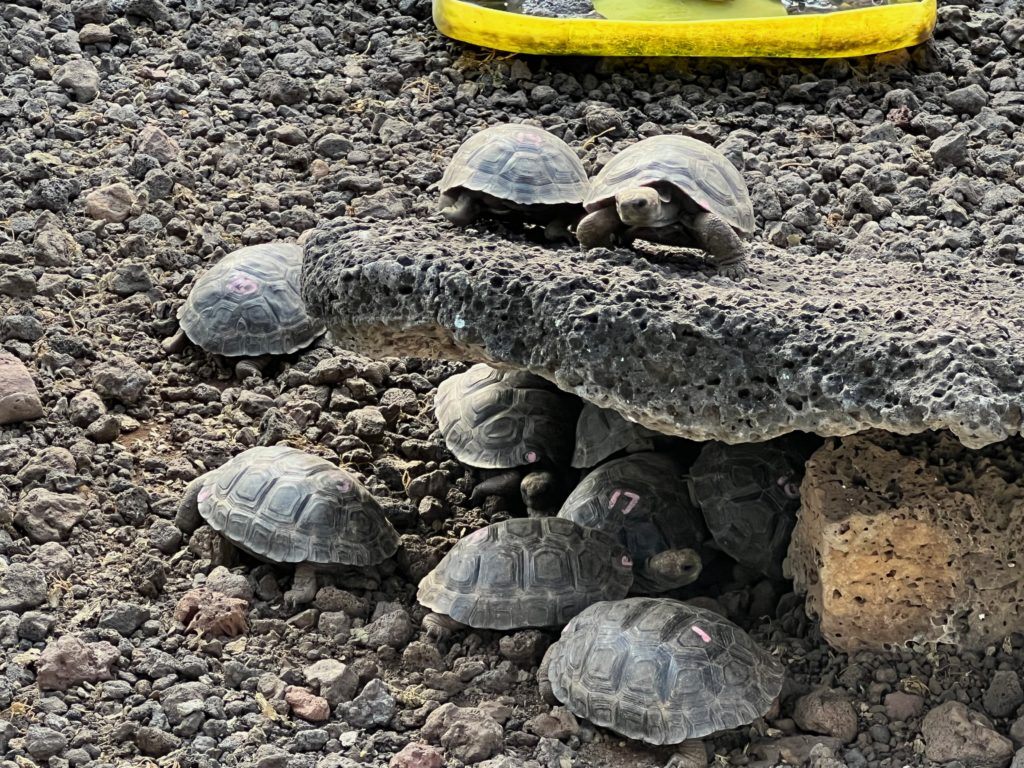 Day 1: Third Stop – Santa Cruz Island – Boarding our Yacht in Puerto Ayora
It was a short drive from the Charles Darwin Center to the dock. There are not docks large enough to accommodate the cruise ships in the Galápagos. You will board an inflatable zodiac (also called a panga or dinghy) which will take you to your ship.
The cute town of Puerto Ayora looked so adorable. I wish we would have had some more time there. Cute shops, bars and restaurants. If you are planning on a land-based islands adventure, make your home in Puerto Ayora.
Once we boarded the Reina Silvia Voyager, we unpacked, had a safety briefing and a welcome cocktail. We loved everything about our boat and the crew.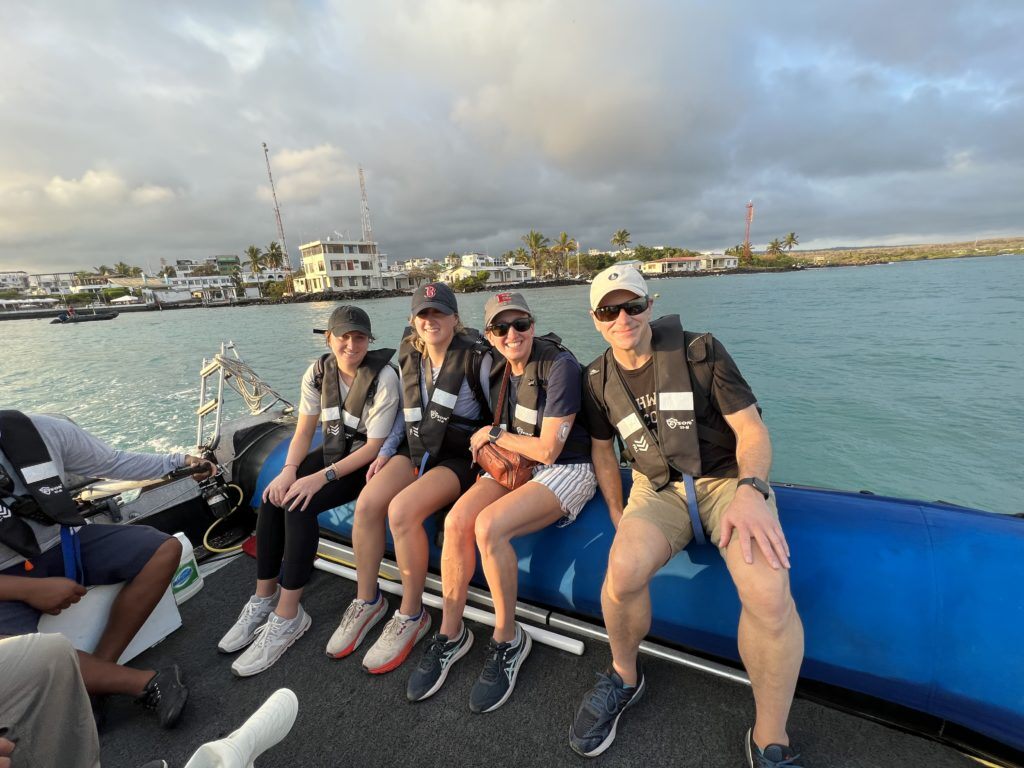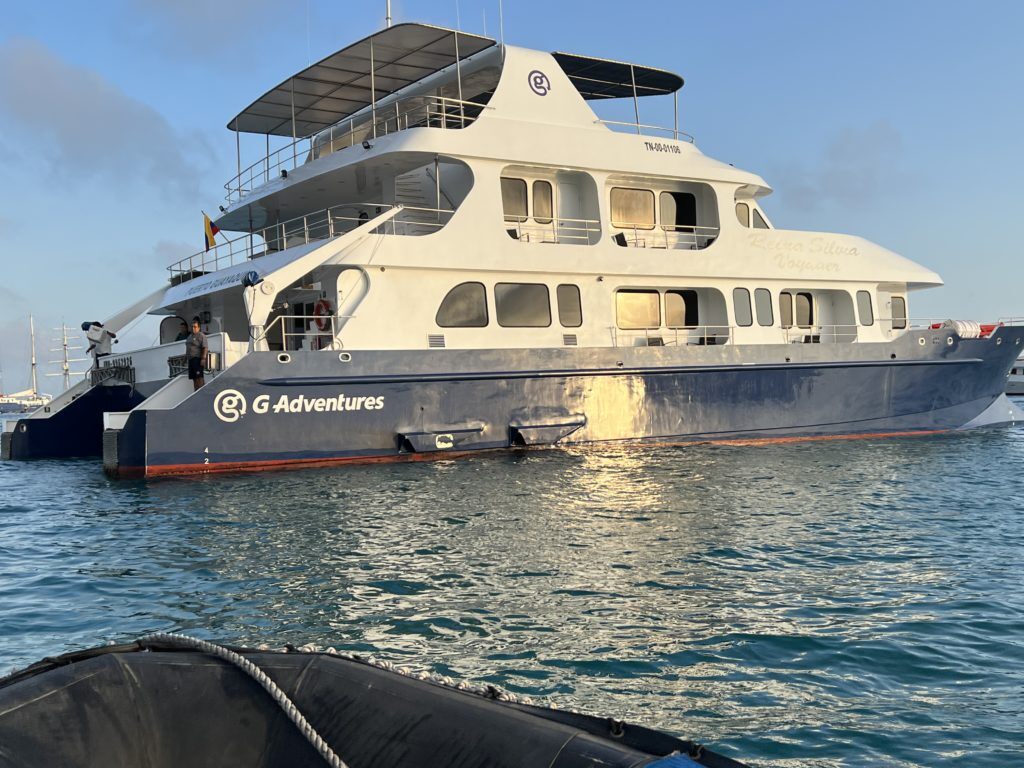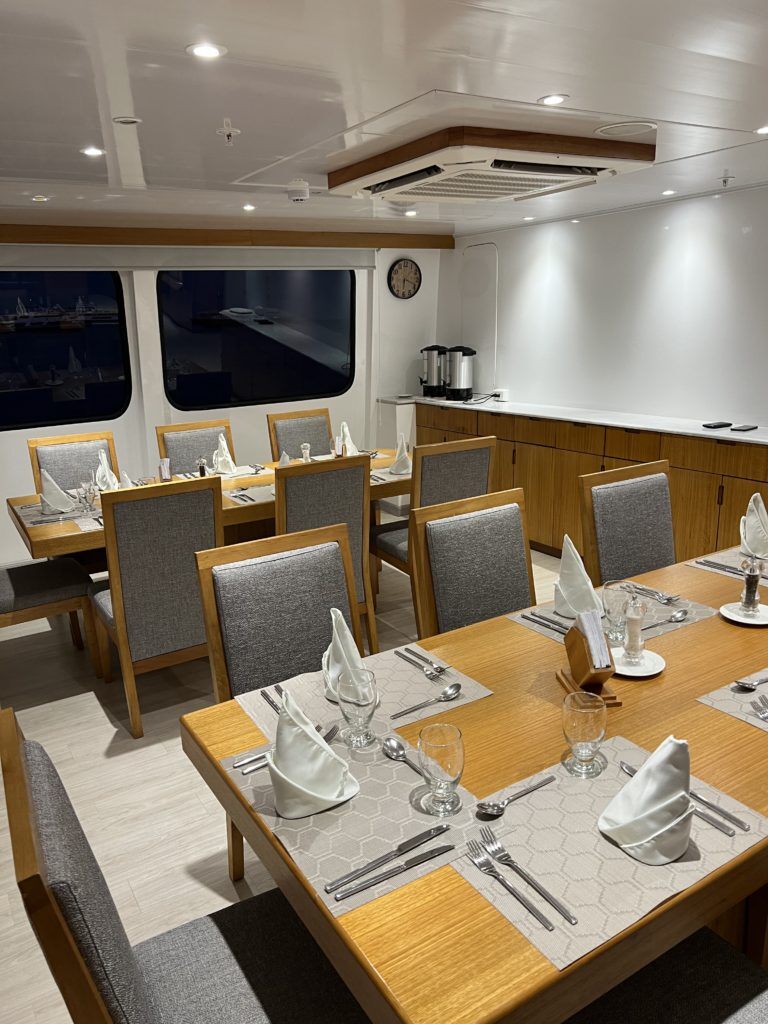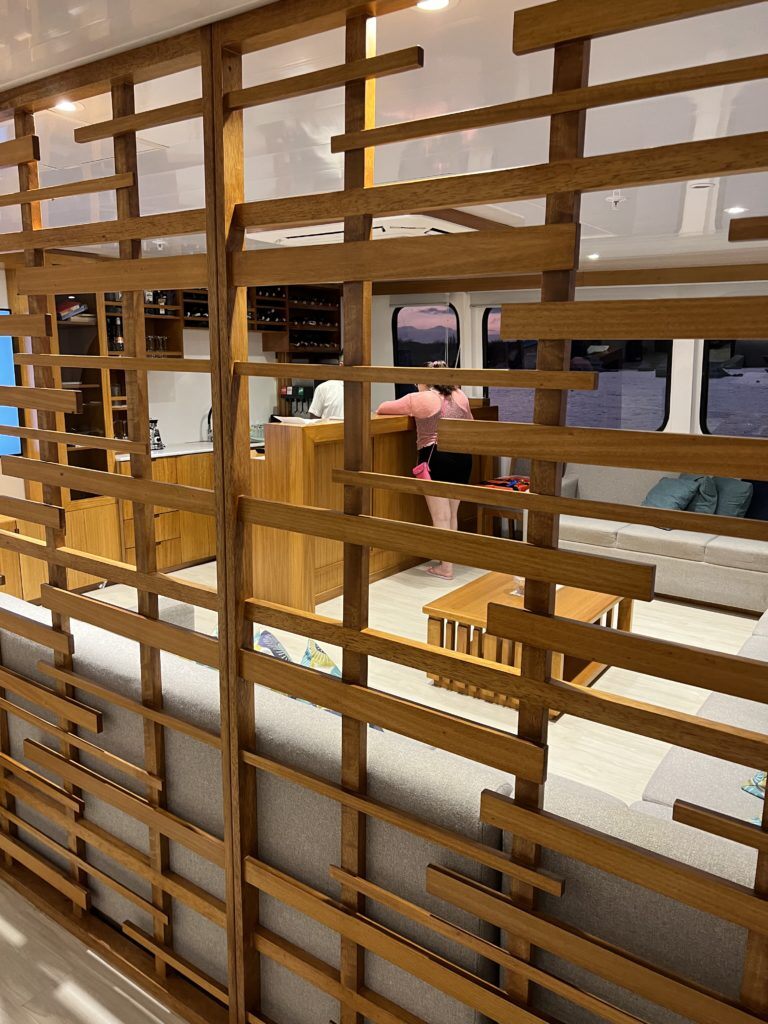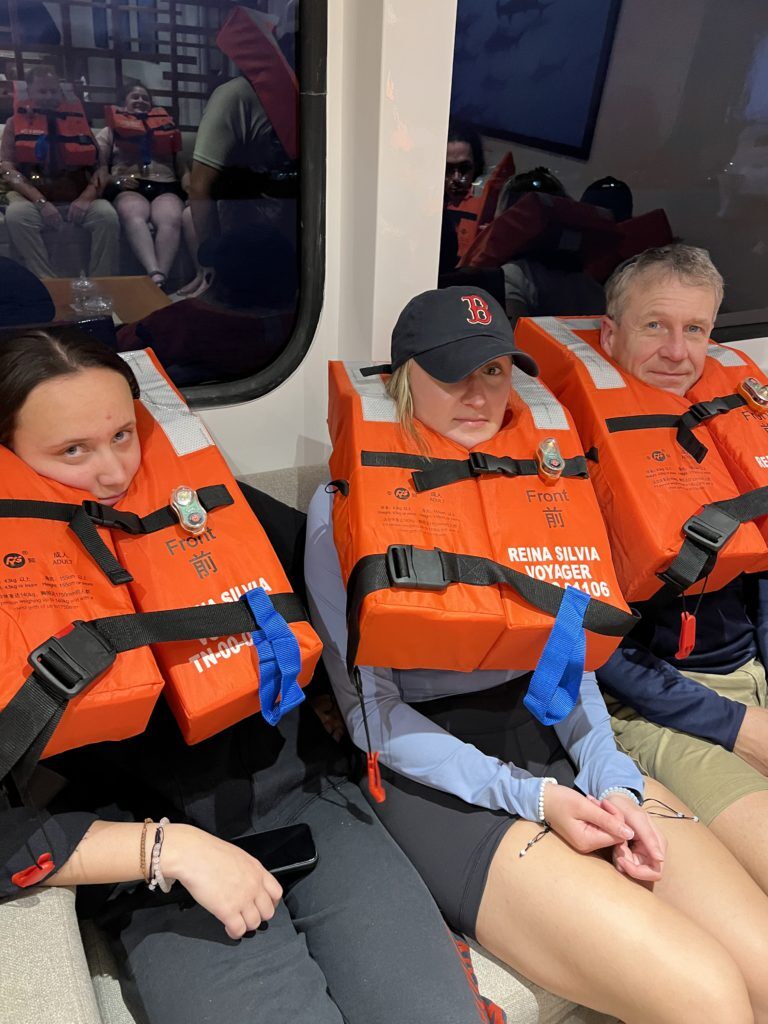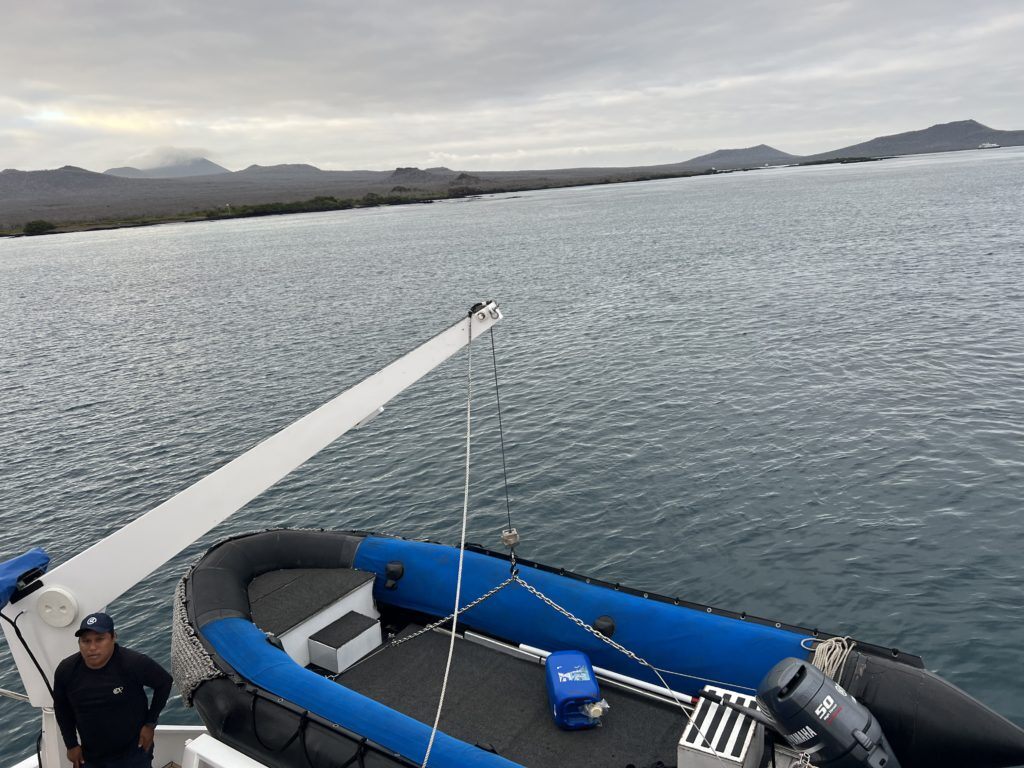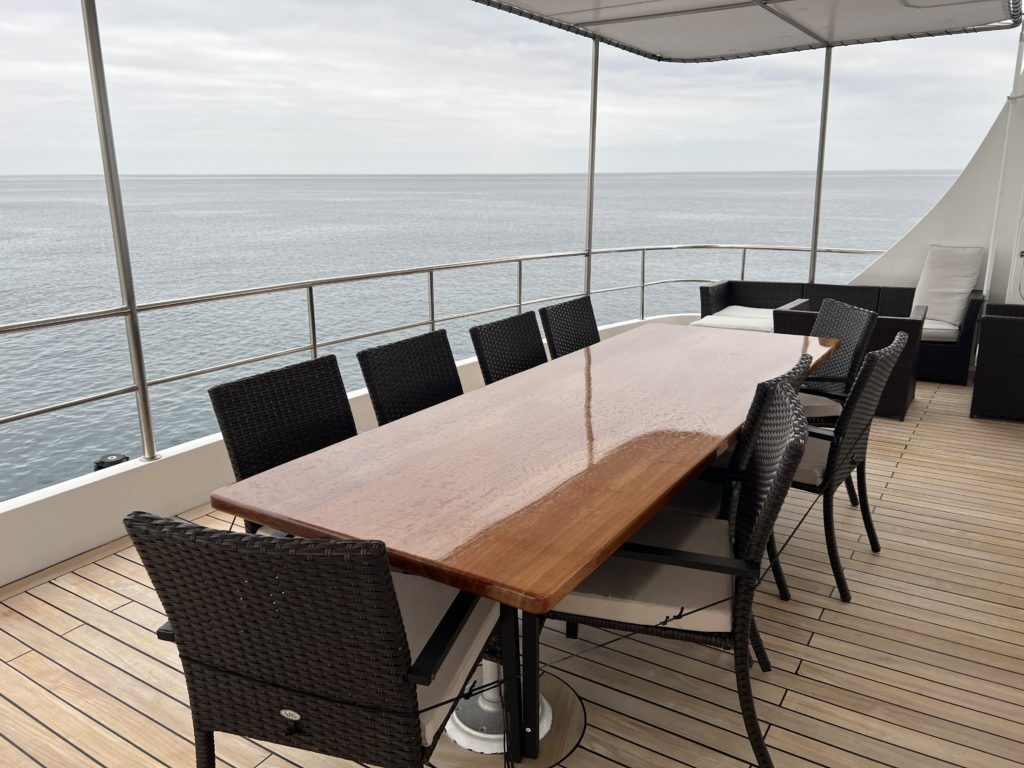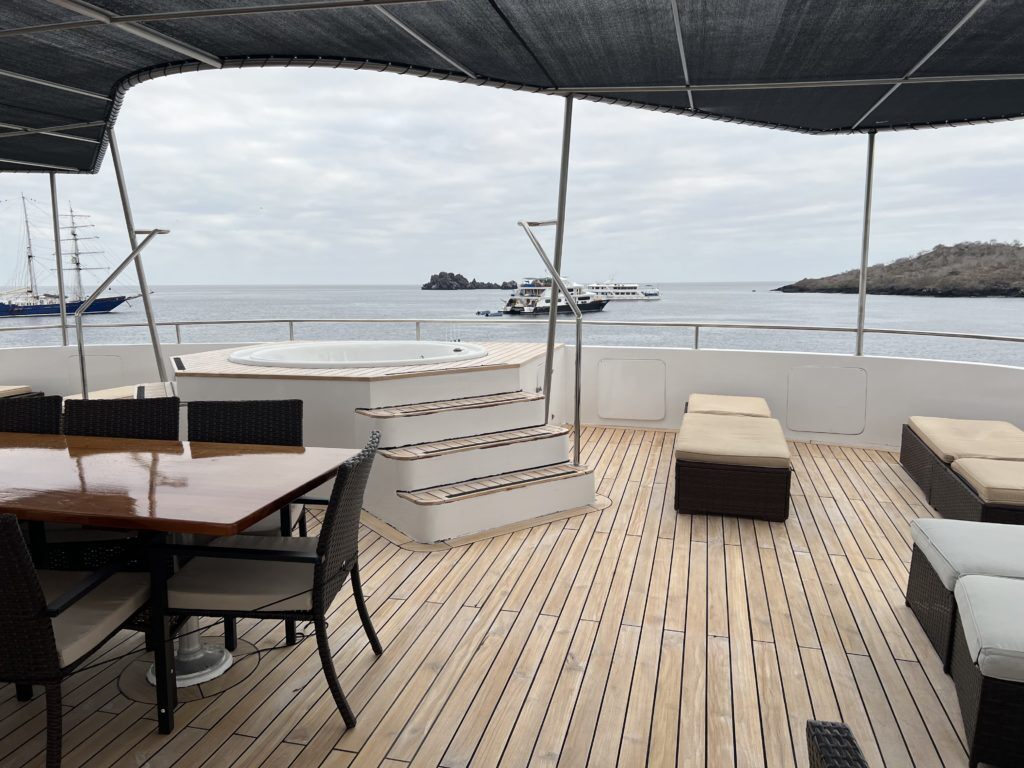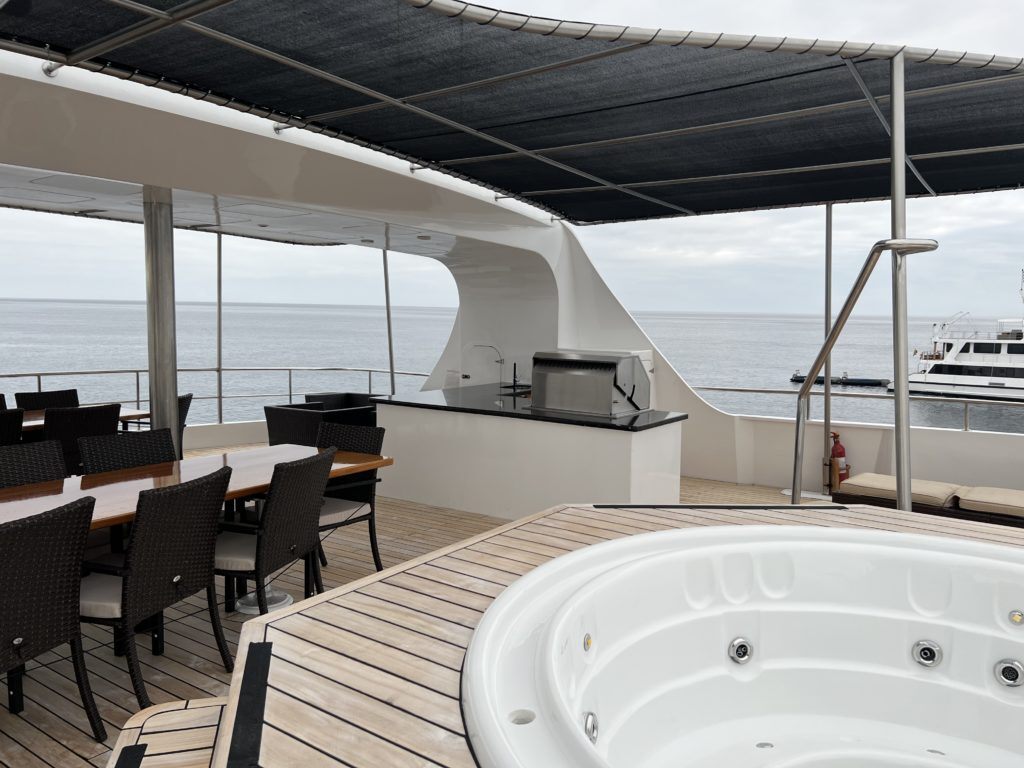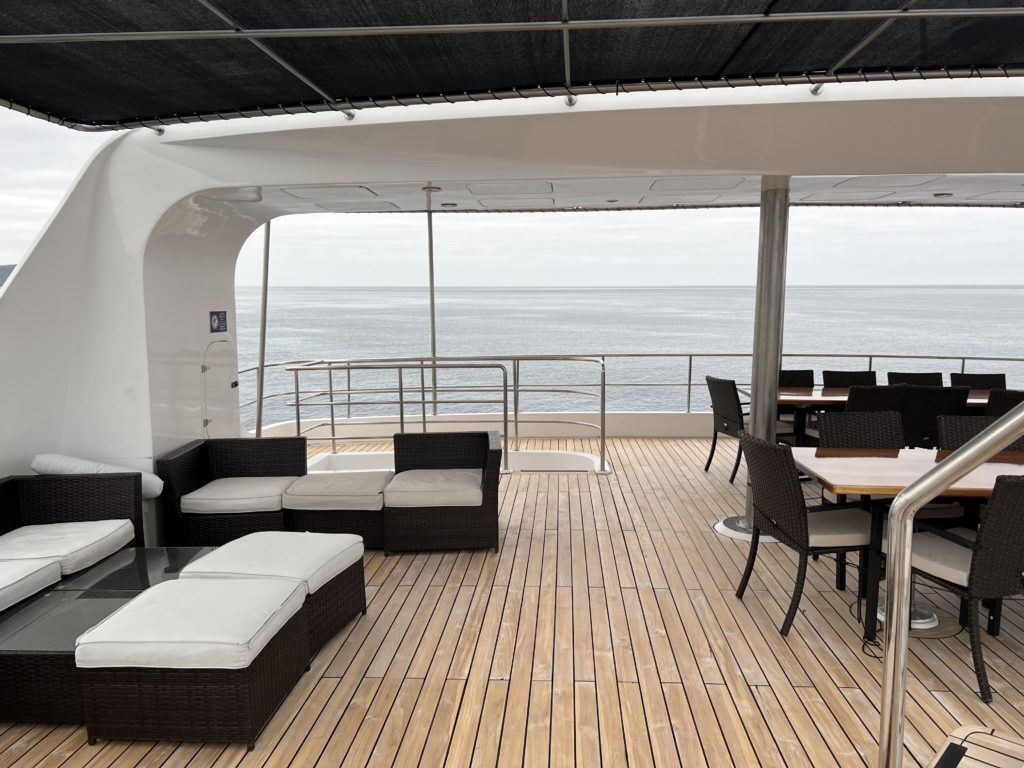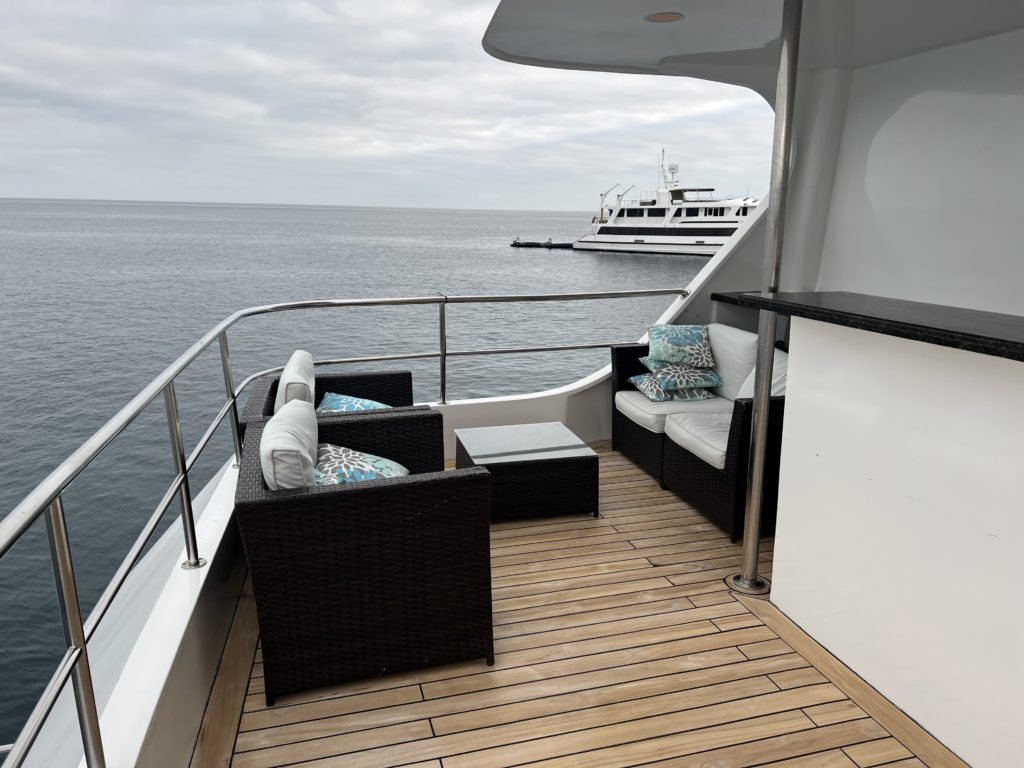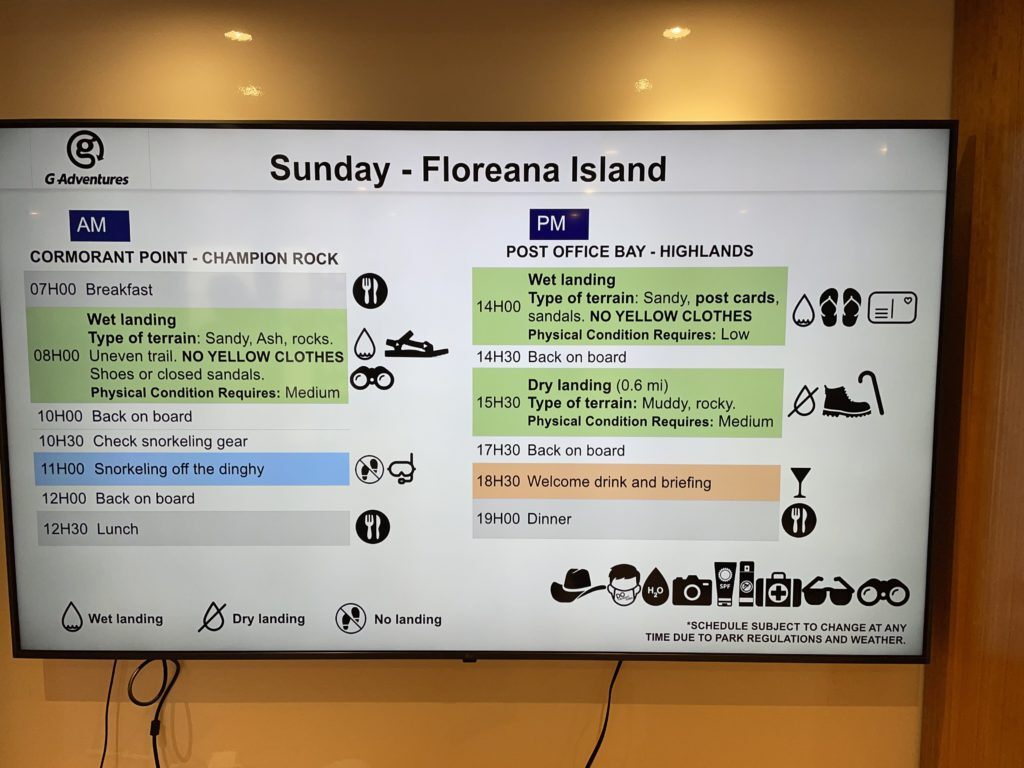 Day 2: First Stop – Floreana Island – Cormorant Point
After our incredible dinner, we went to bed. We used bracelets, ear patches and ginger pills to combat seasickness. We all felt fine as did the entirety of the guests on the cruise. It was quite rough on our four hour overnight sail (we left the harbor at 2am), but not as rough as Omar had prepared us for. If you are prone to seasickness, you might want to look into a larger boat (larger boat does equal more people and a greater distance from the islands when riding the dinghy).
We sailed to Floreana Island. We woke to a delicious buffet breakfast in a very calm cove. We boarded the zodiacs headed toward Cormorant Point and saw our first Blue Footed Boobies, Sally Lightfoot Crabs, sea lions and sea turtles. It was a wonderful way to spend Christmas morning.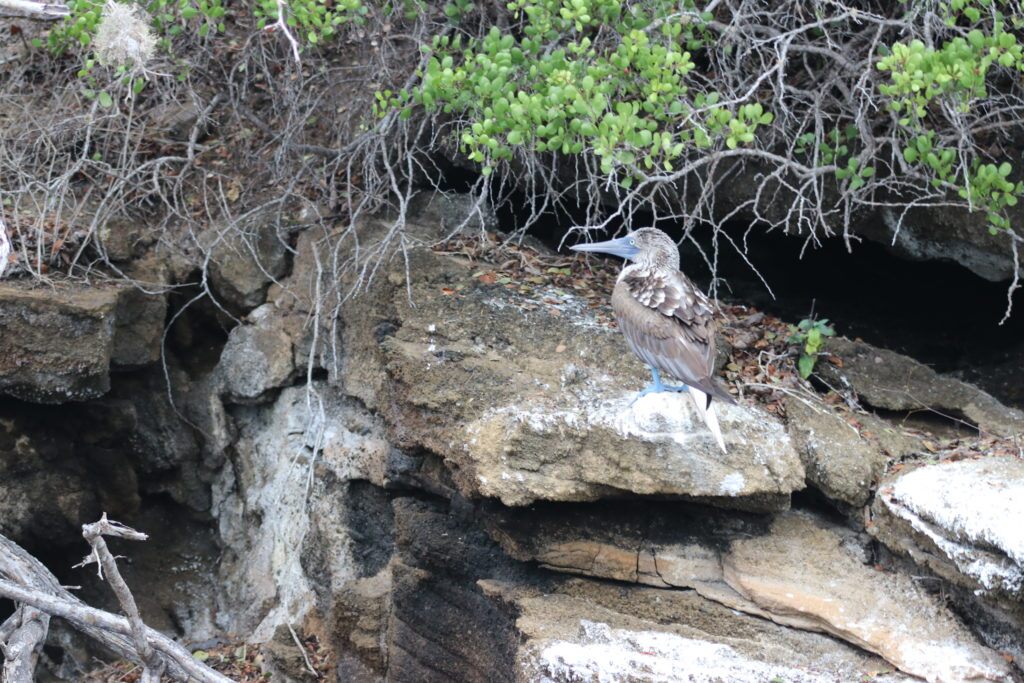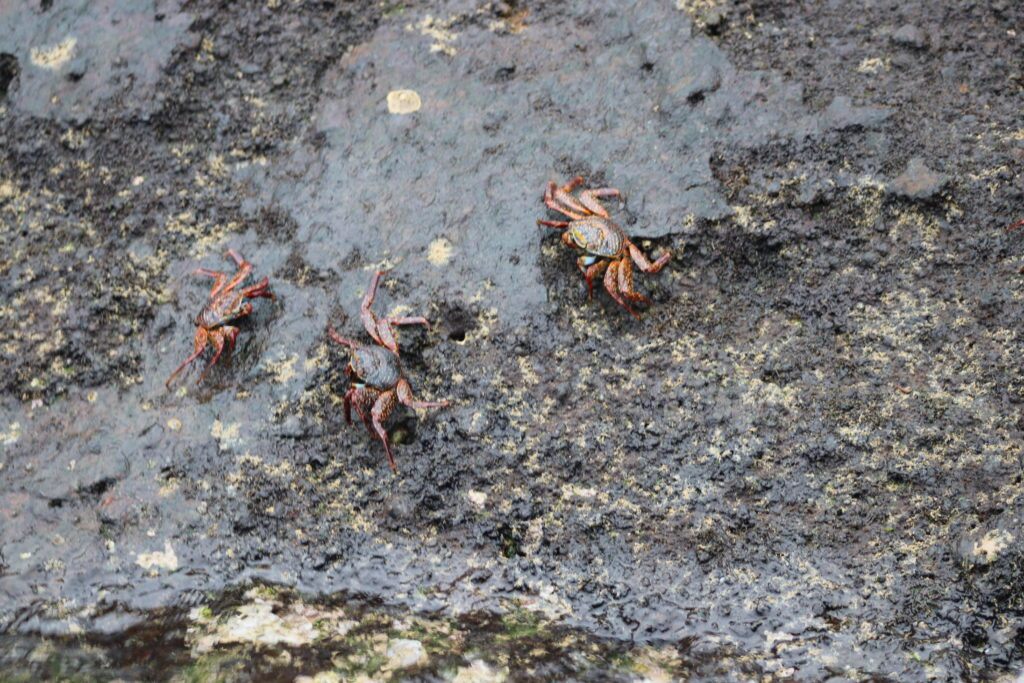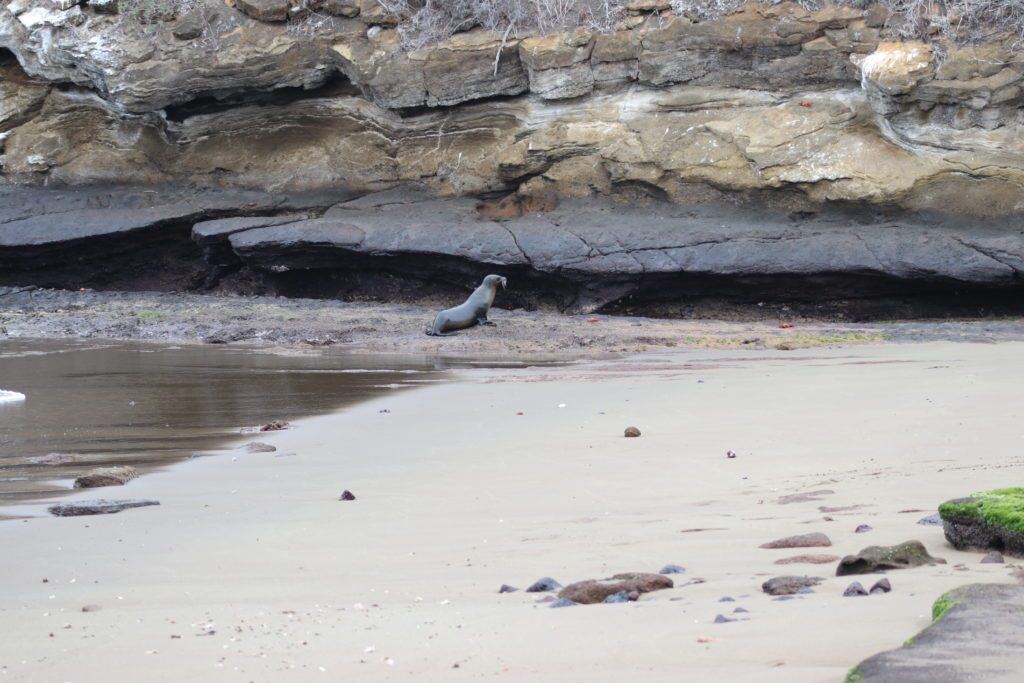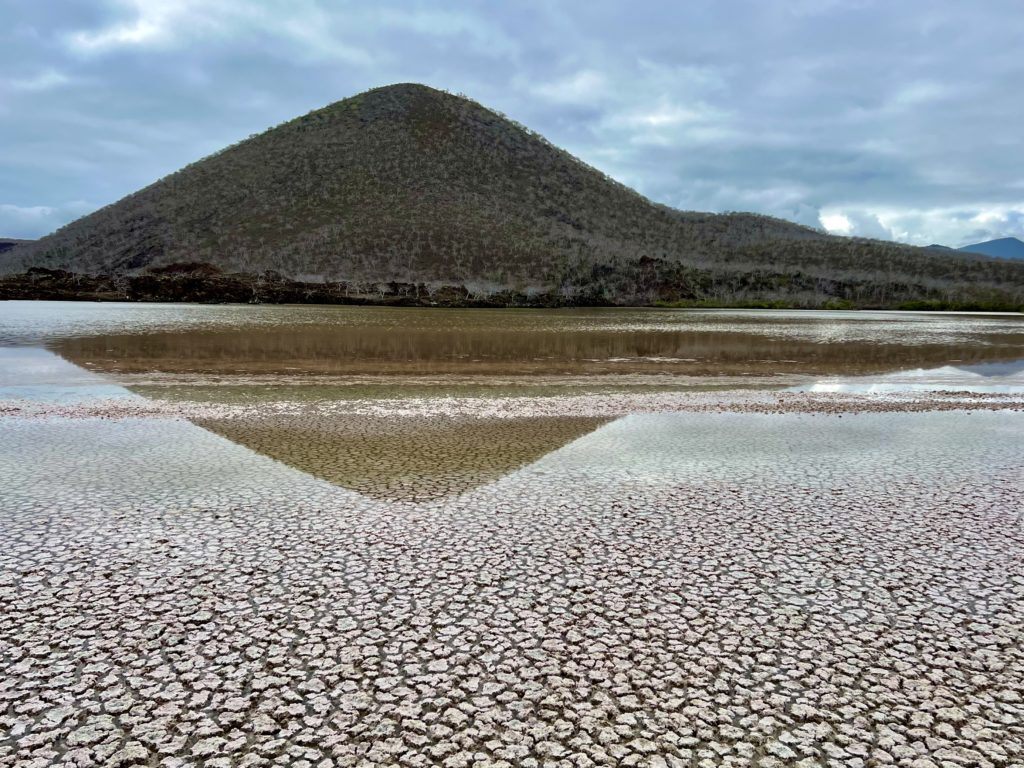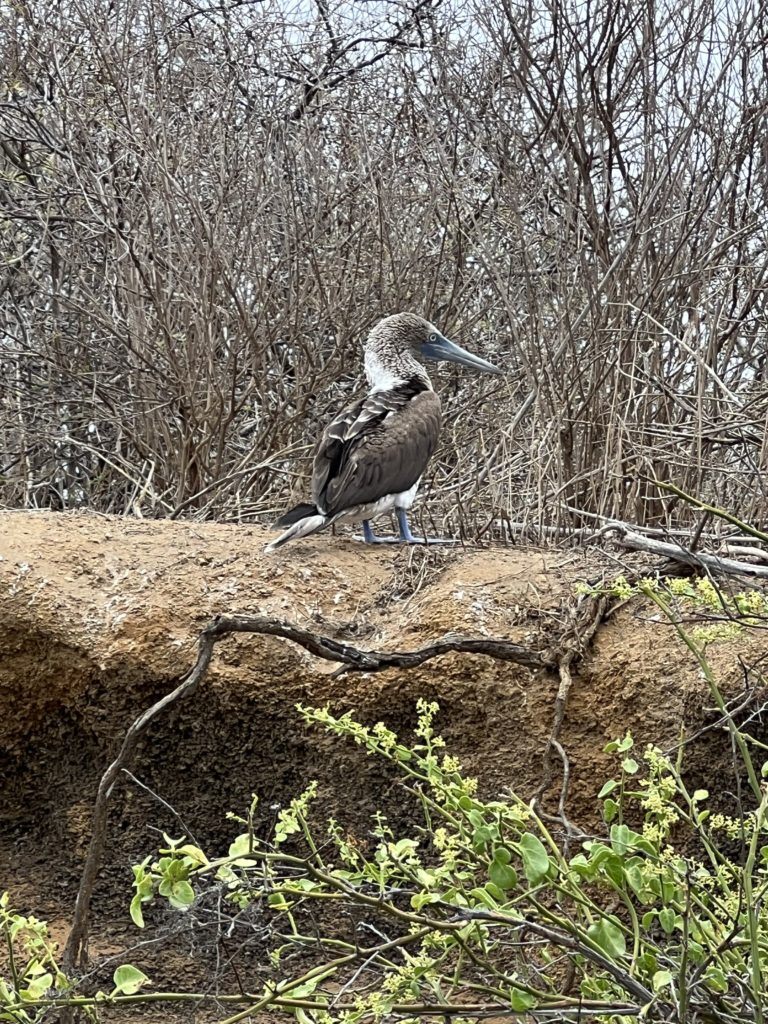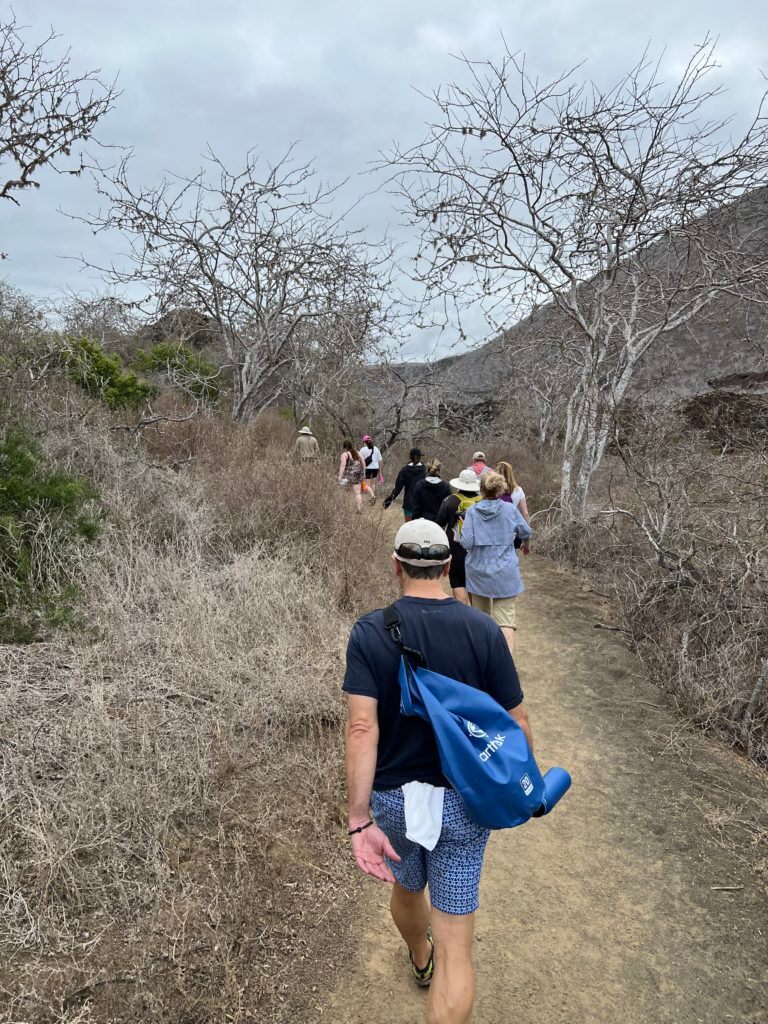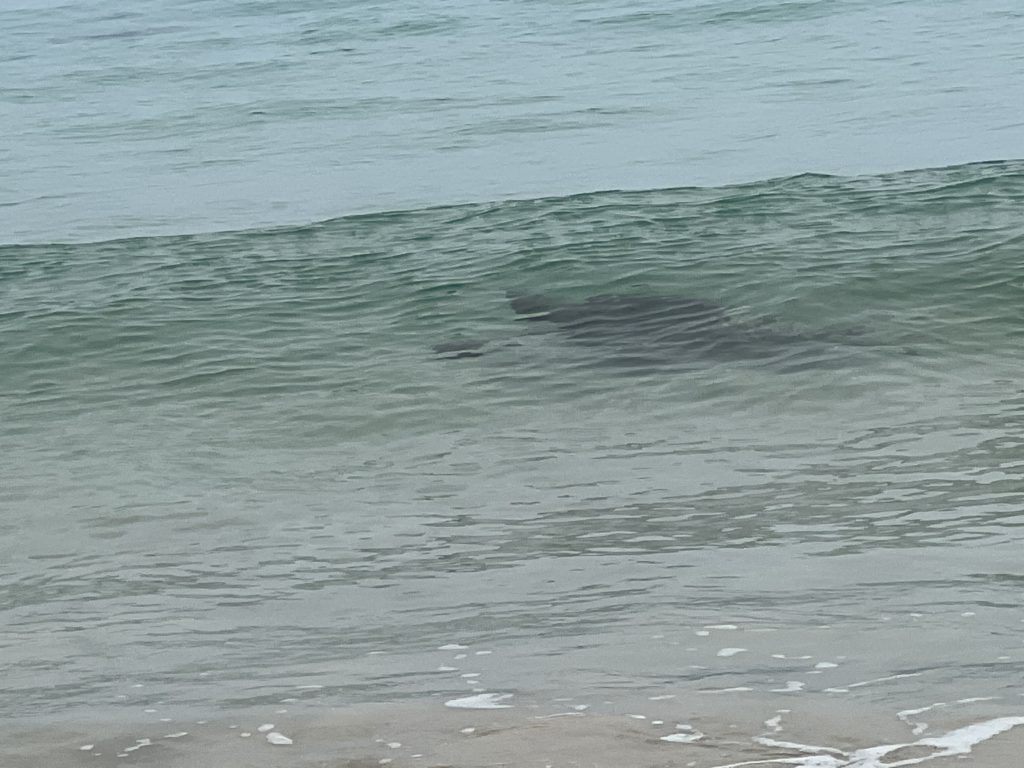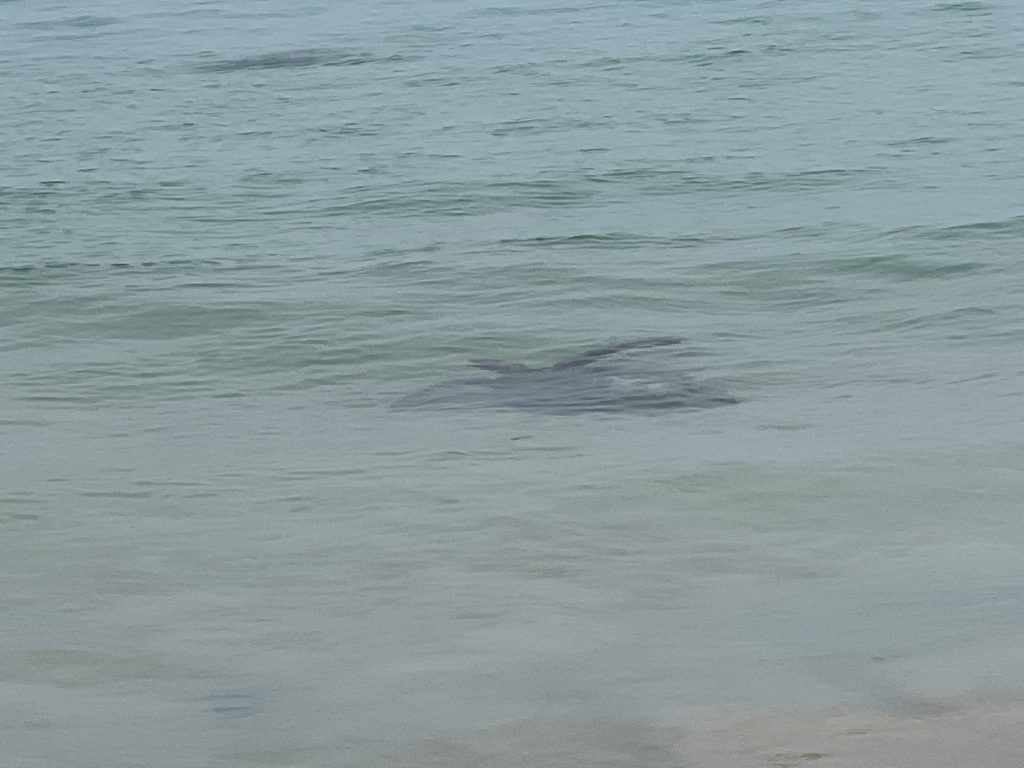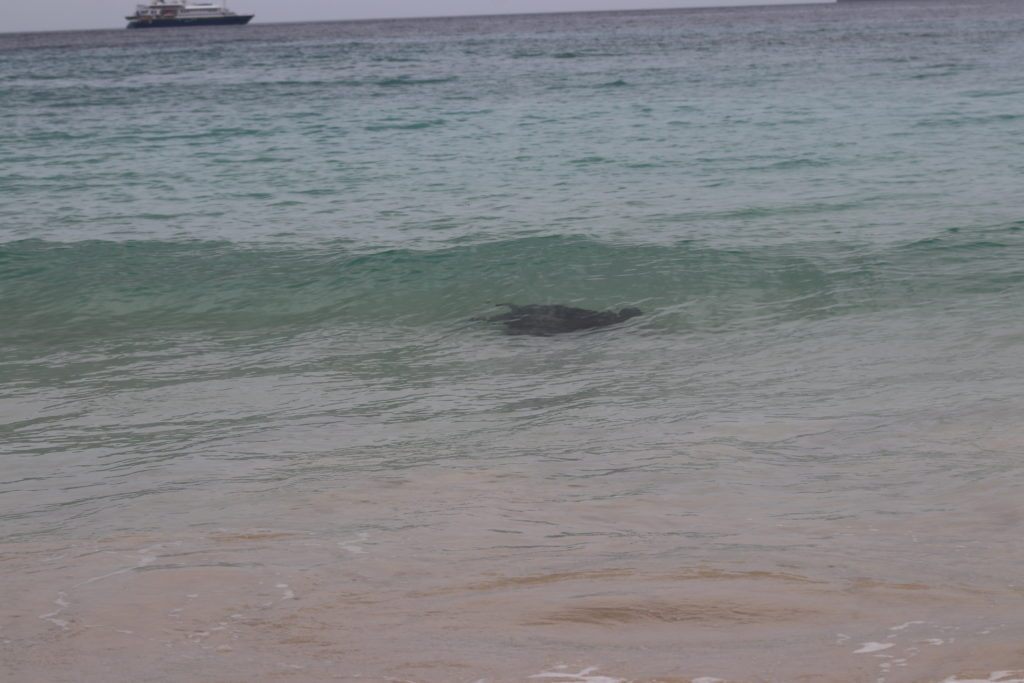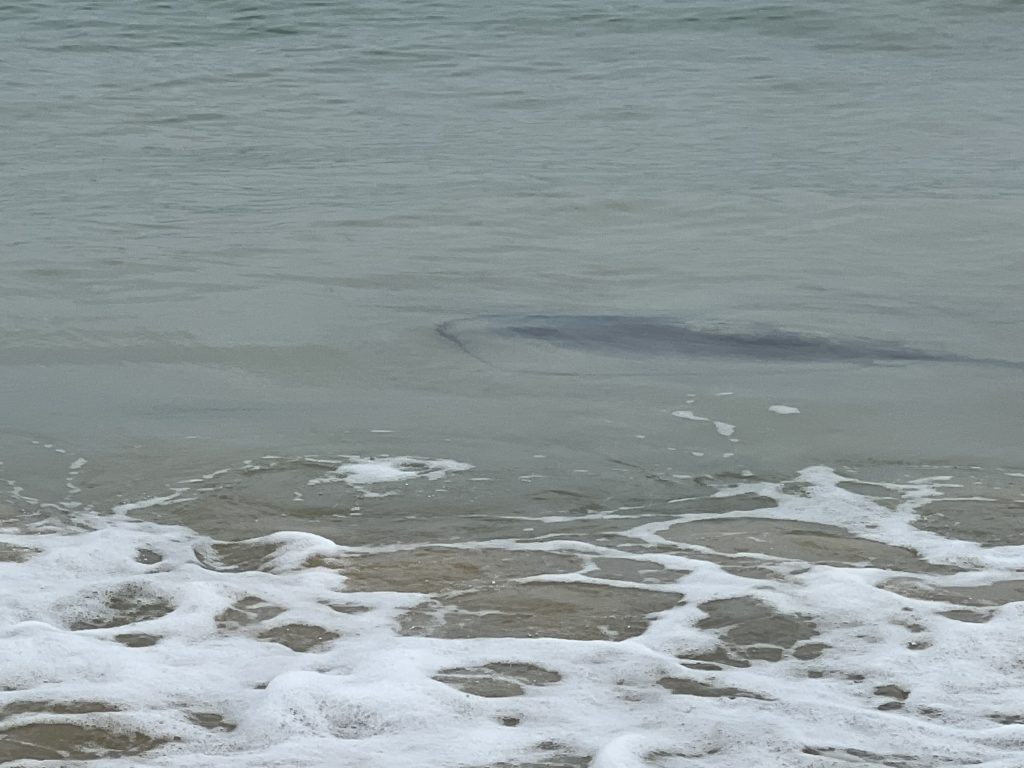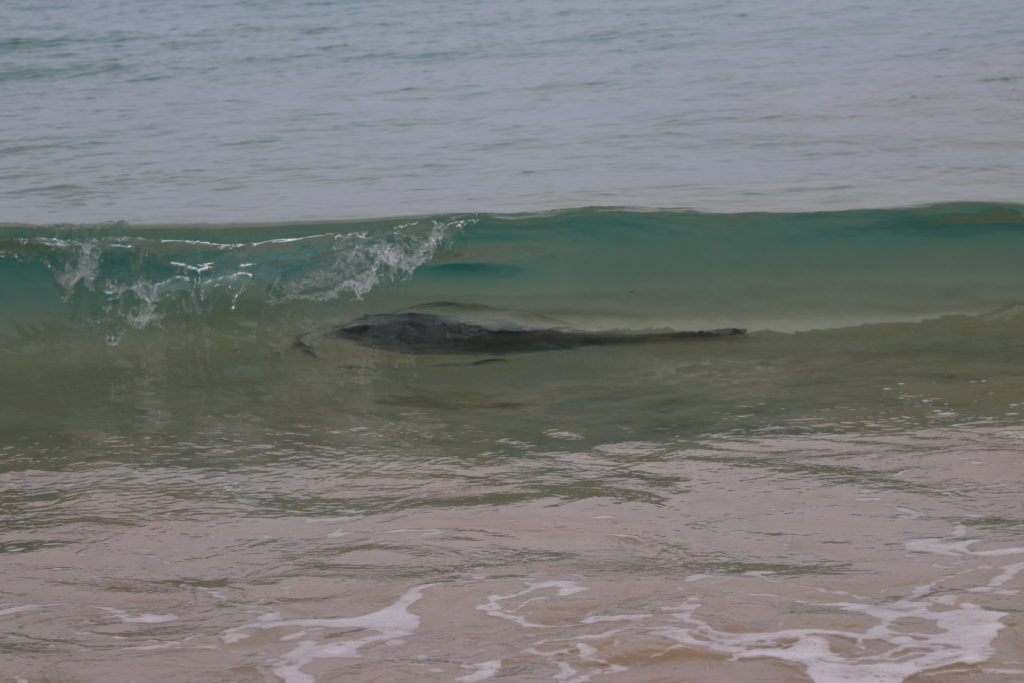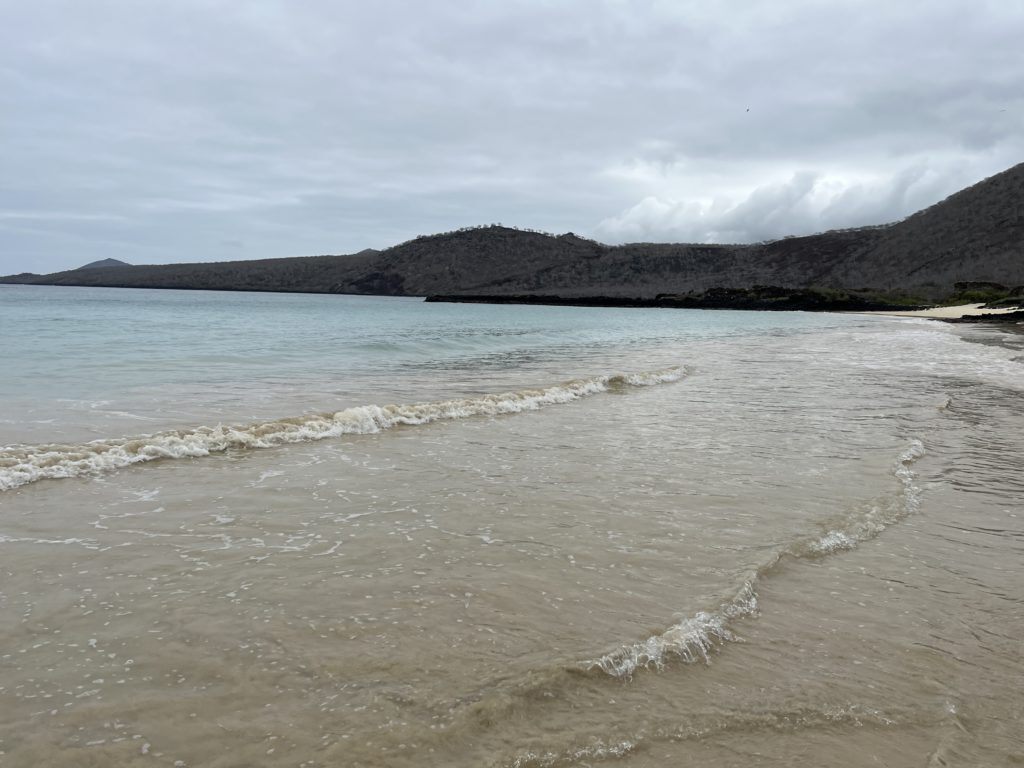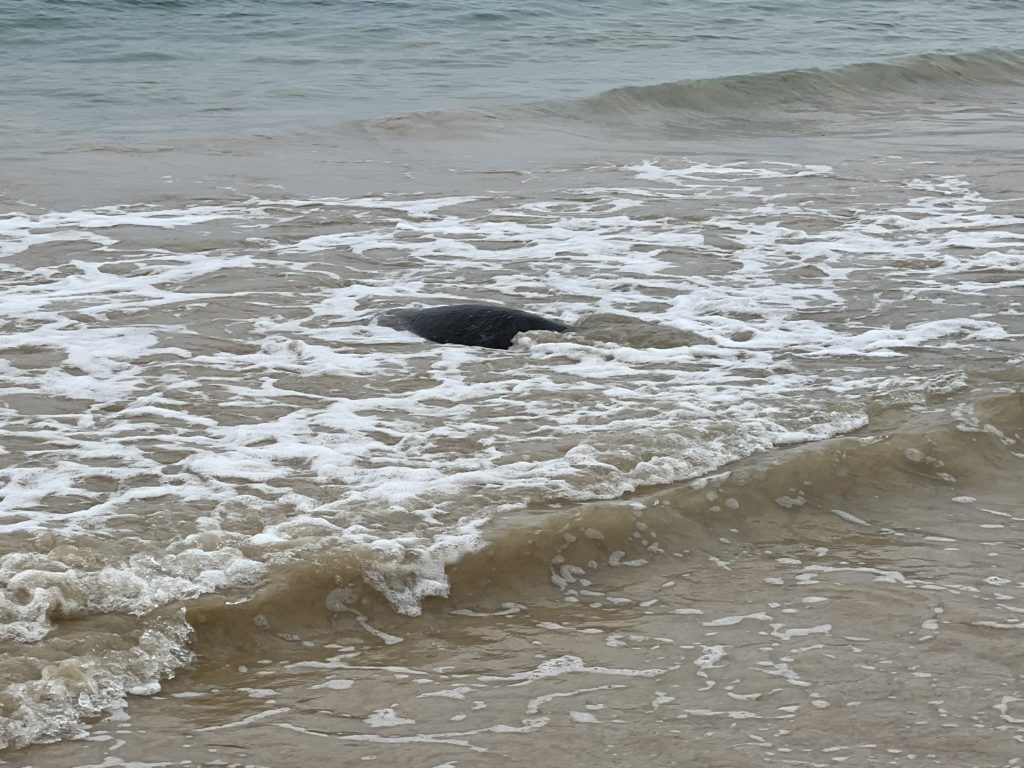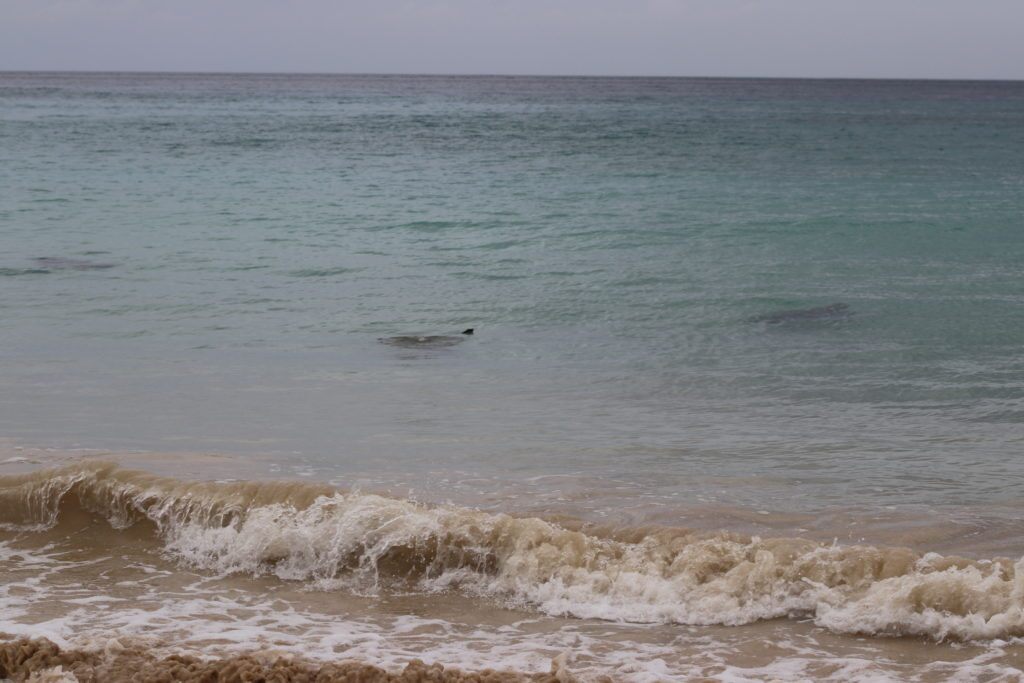 Day 2: Second Stop – Floreana Island – Snorkeling at Champion Islet
After our lovely morning walk, we returned to the boat. We were fitted for wetsuits and fins. These would be our items for the rest of the time on the boat. The system for storage was effortless. We always knew how to find our personal equipment. We motored quickly to Champion Islet, just off the coast of Floreana.
The snorkeling here was epic. The water is cold in the islands, so a wetsuit helps you to stay in the water for longer. The weather was very overcast on Christmas morning. We had great visibility while swimming; a little sunshine would have made the photos even better. We saw turtles (my photos are not great), sharks, schools of fish, a school of barracuda and sea lions.
We took video with a GoPro Hero 7 and photos with an Olympus TG-6. Both are great.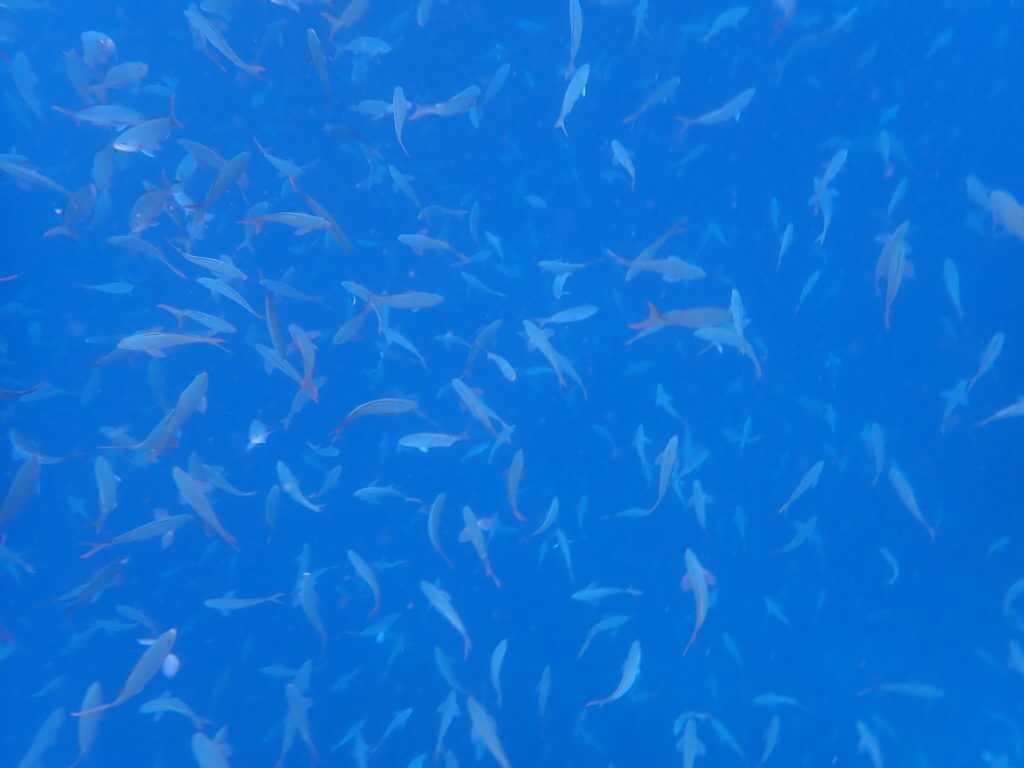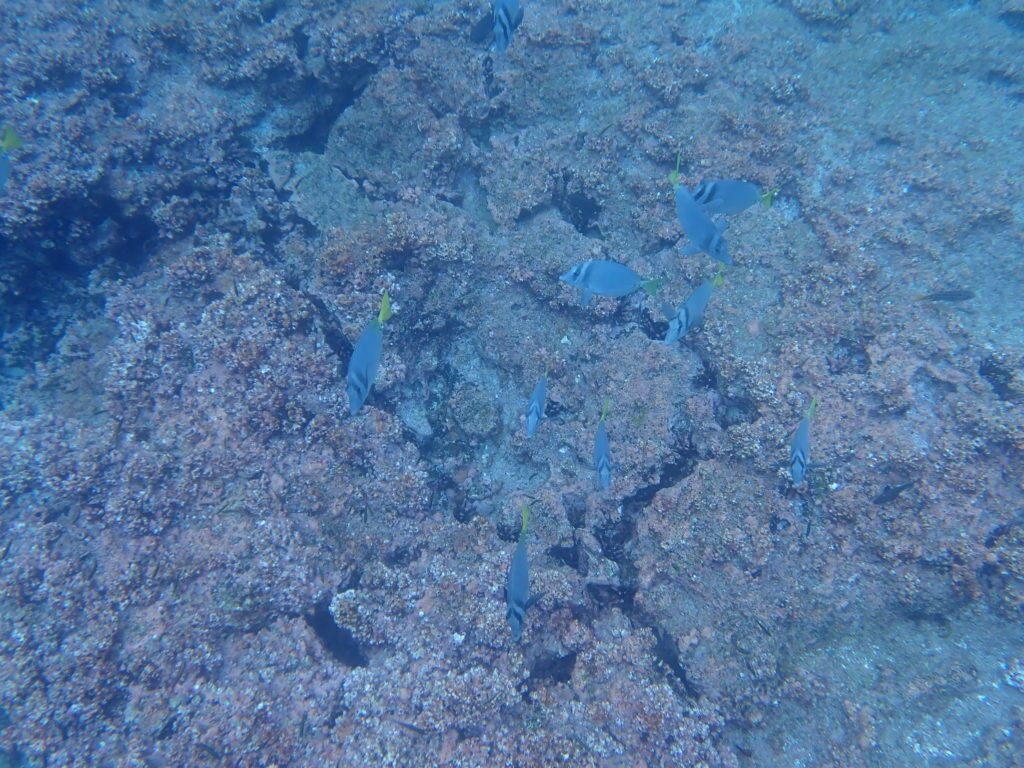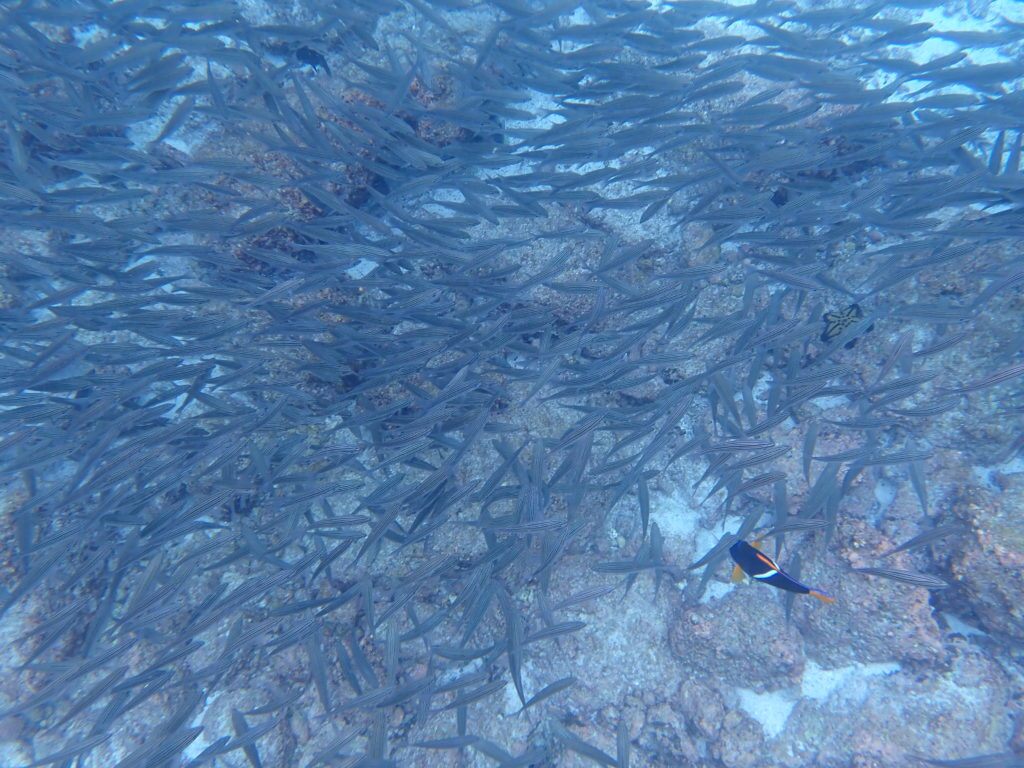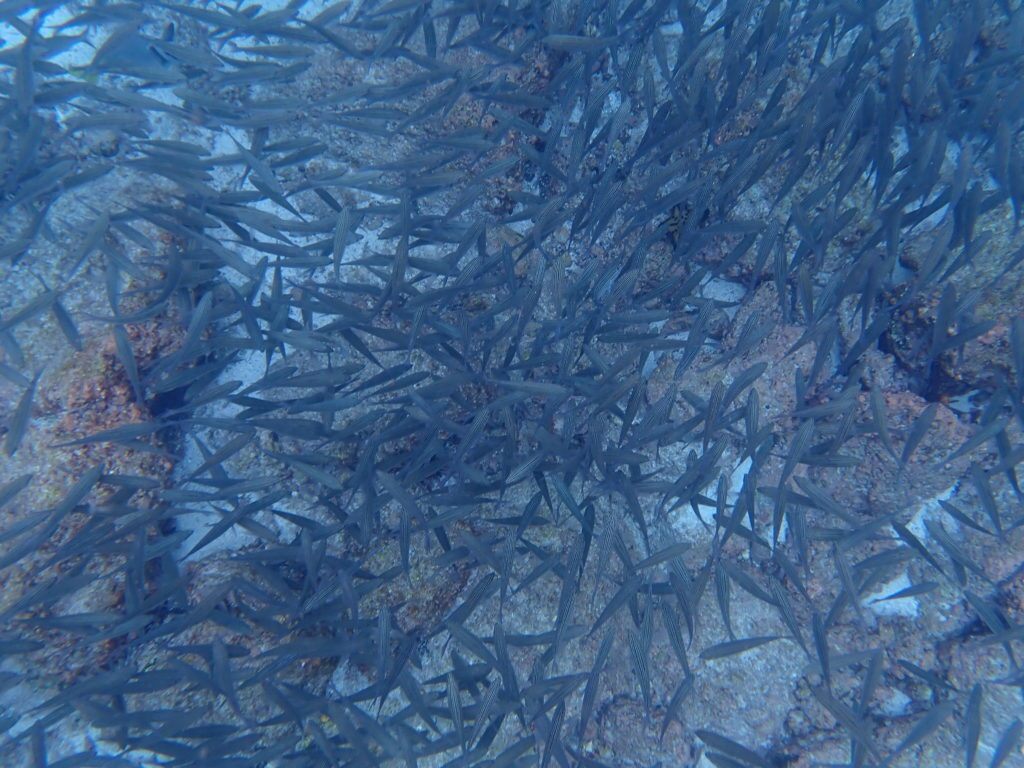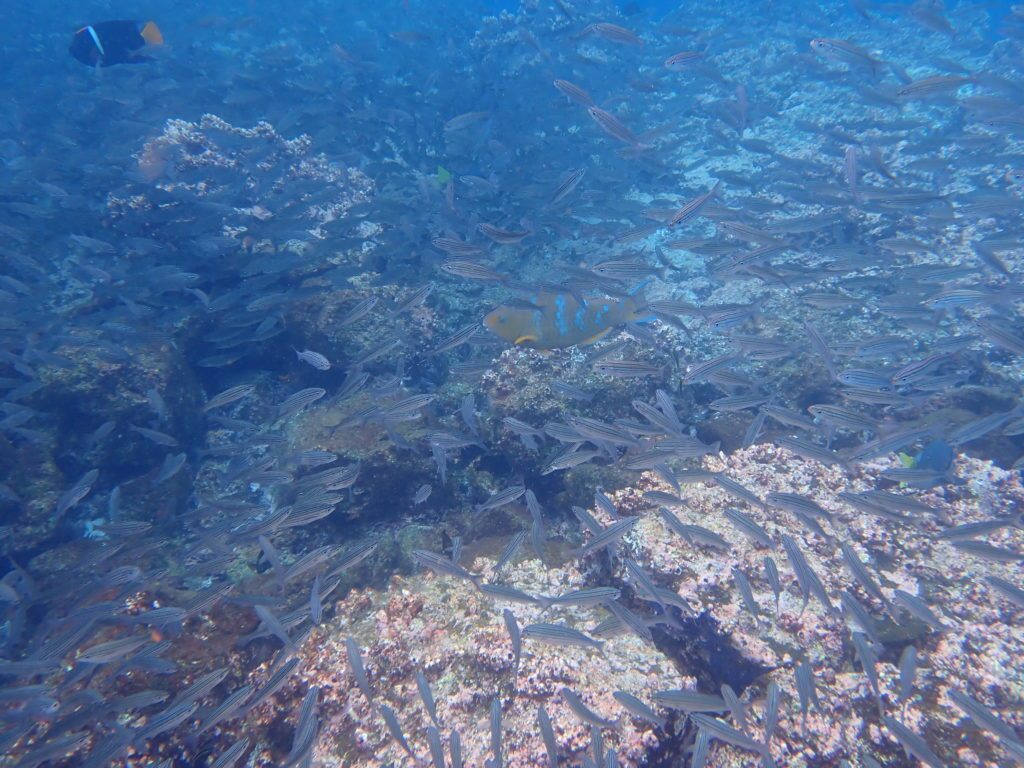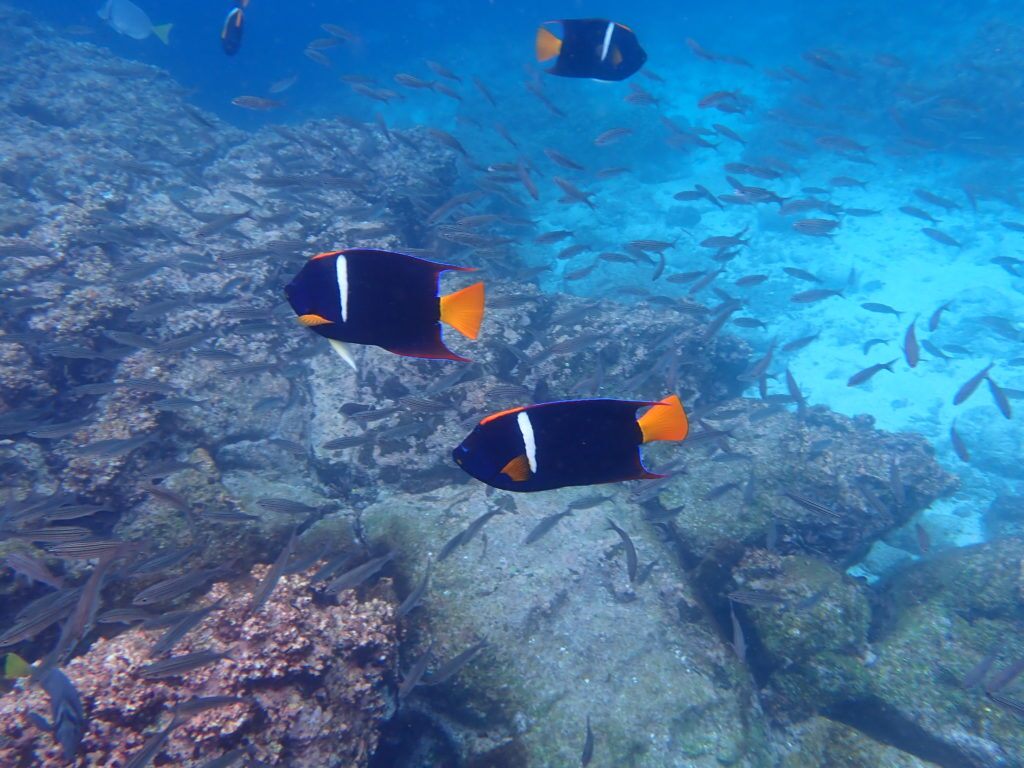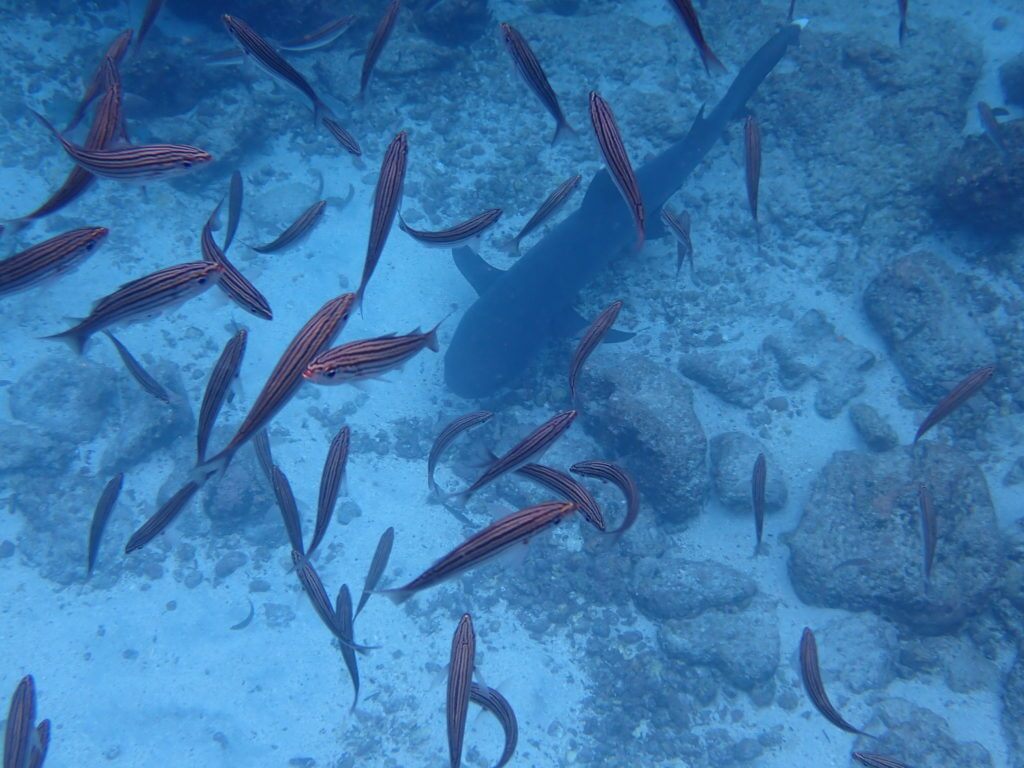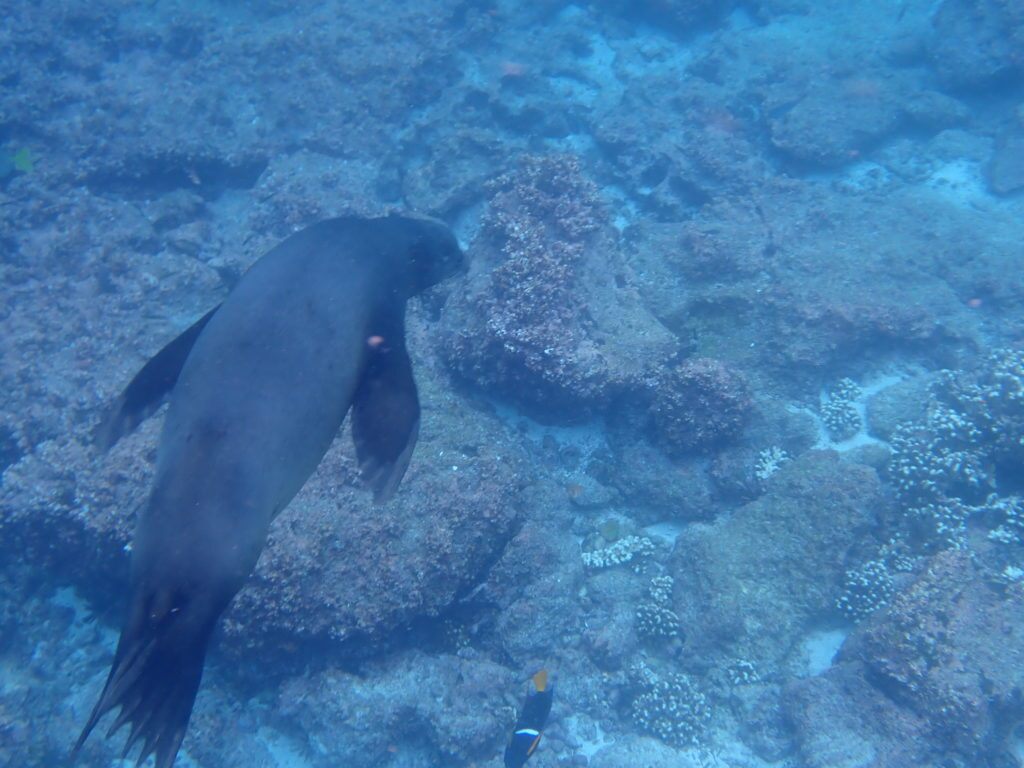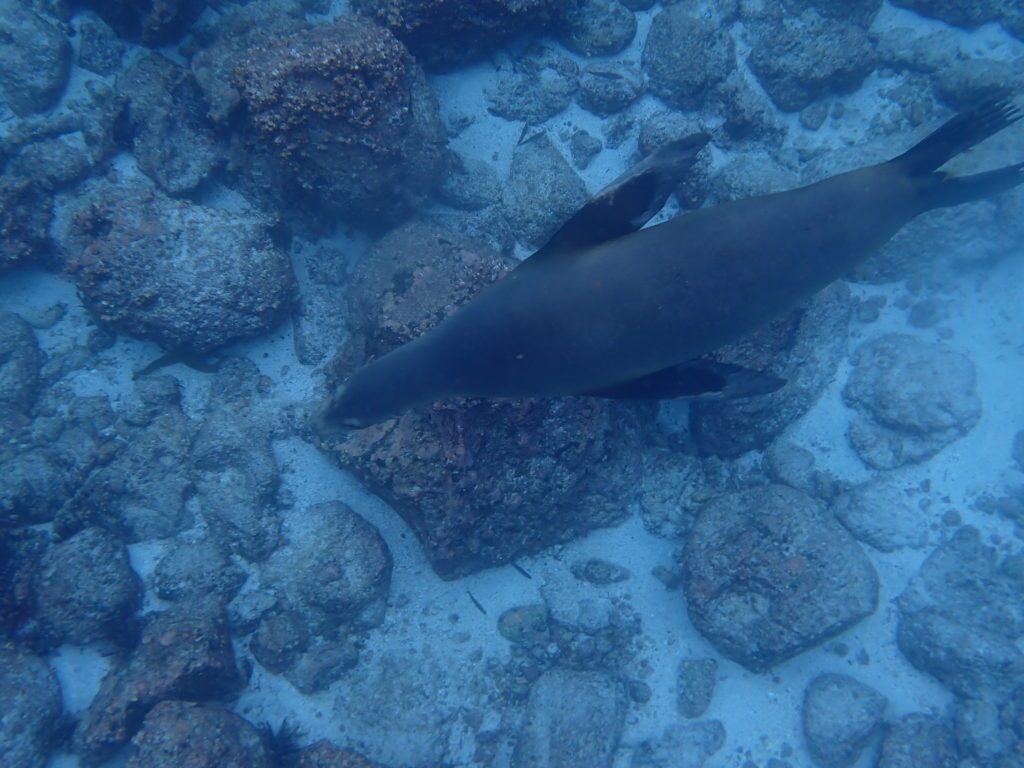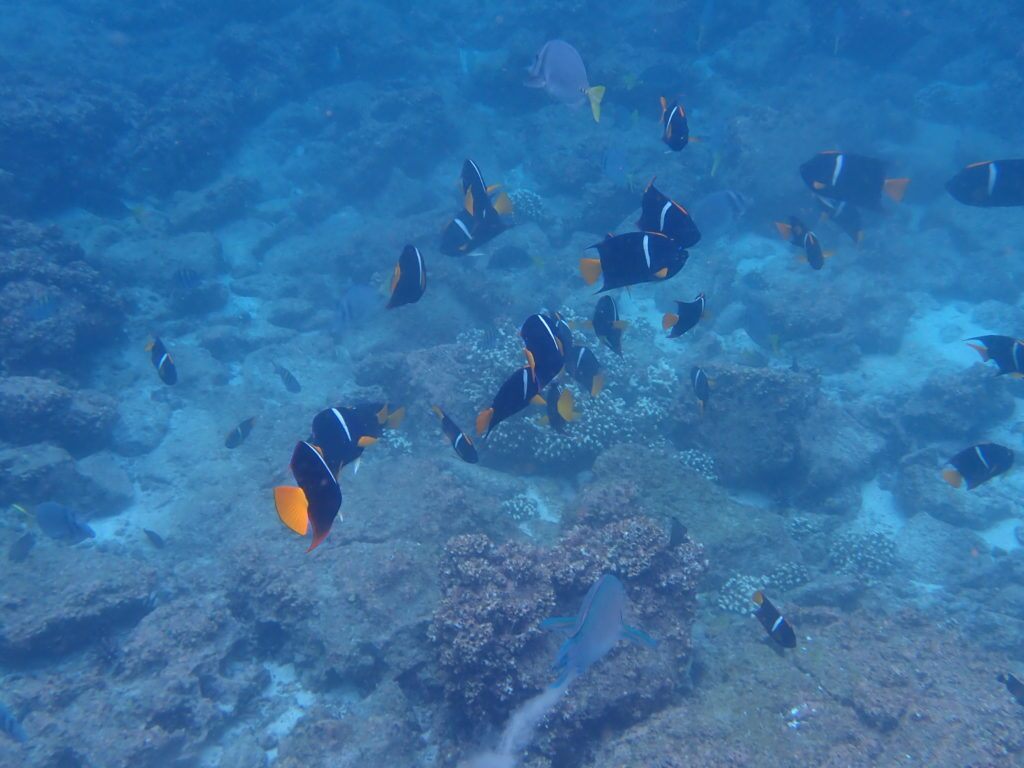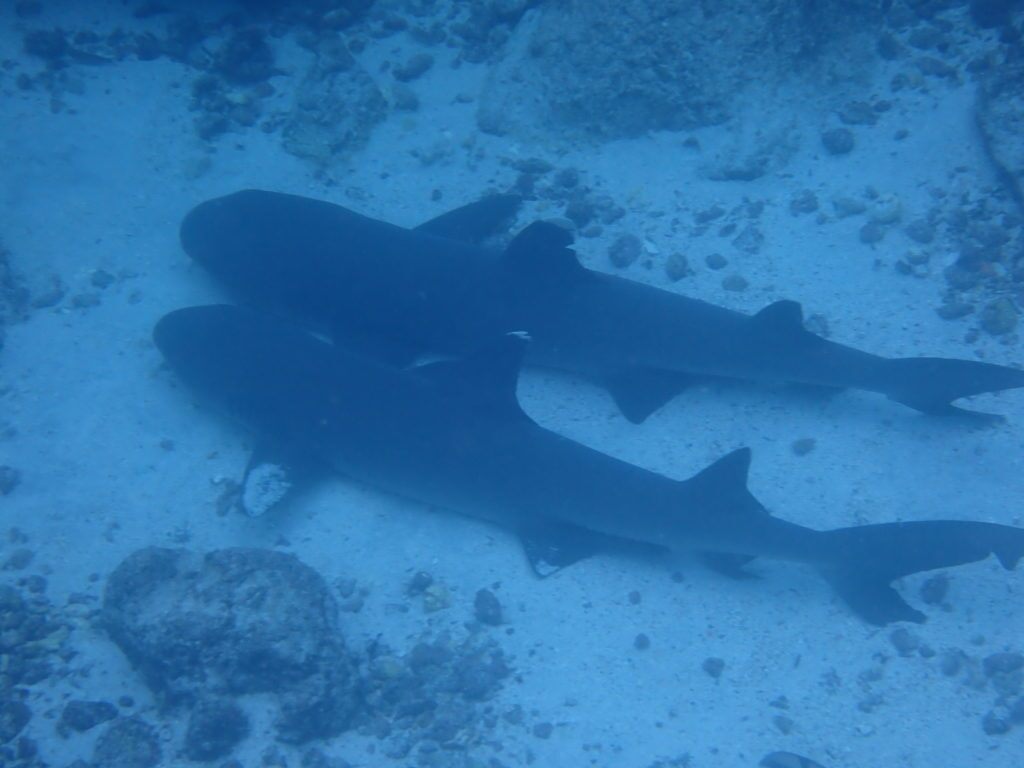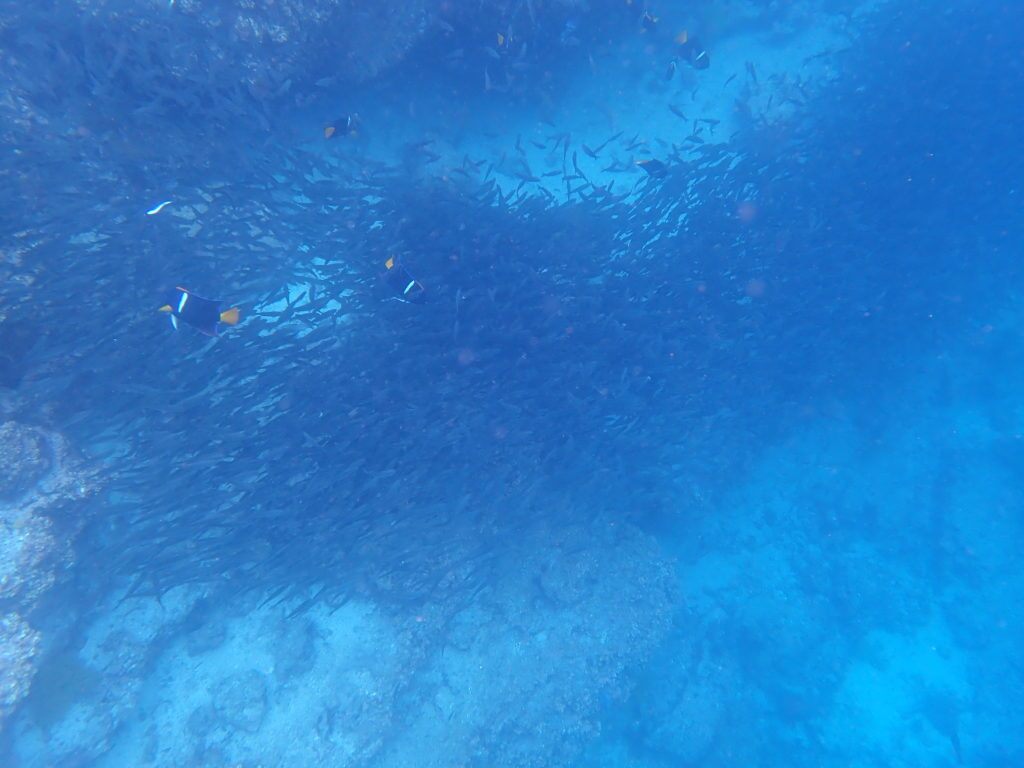 After changing into dry clothes, the chef prepared a barbecue feast on the sun deck of our boat. We had tons of veggies and fruit, shrimp, octopus, rice, sauces and an amazing poached pear in red wine sauce.
Day 2: Third Stop – Floreana Island – Post Office Bay
We read our books and motored quietly to Post Office Bay on Floreana. In the late 18th century, English whaling vessels placed a barrel on Floreana to be used as a post office. Today, the box is used mainly by tourists, who drop off and pick up unstamped letters to be carried to far destinations. This was a quick shore visit – only about 30 minutes, but it was a lot of fun. We also saw pelicans and Galápagos Penguins.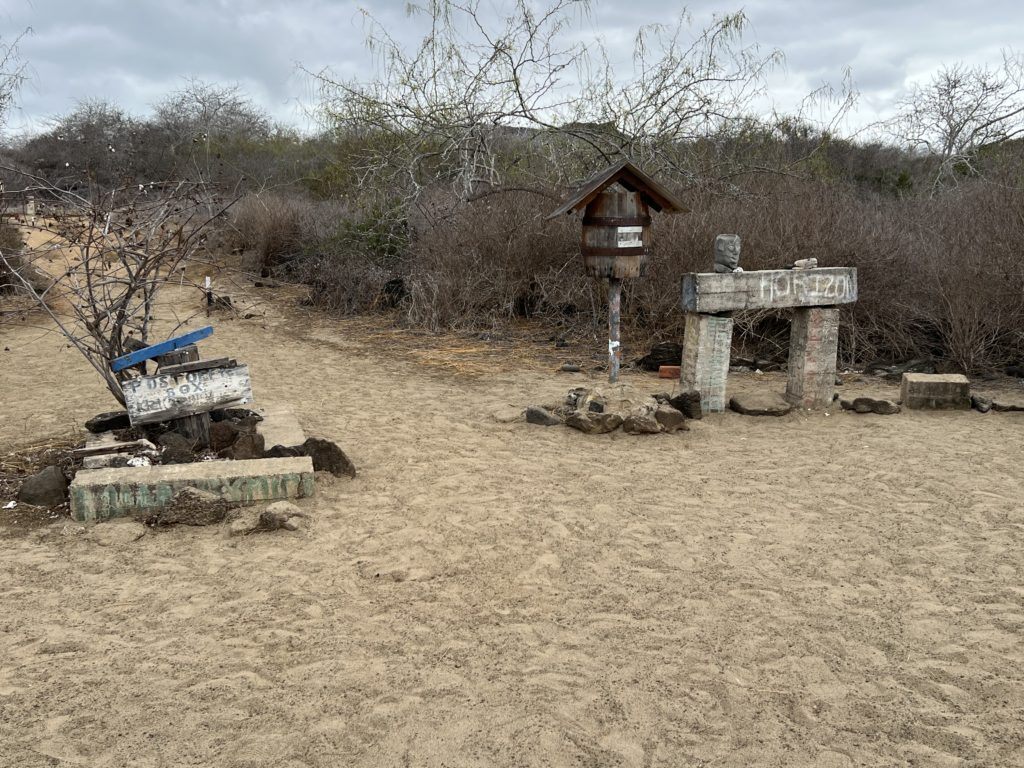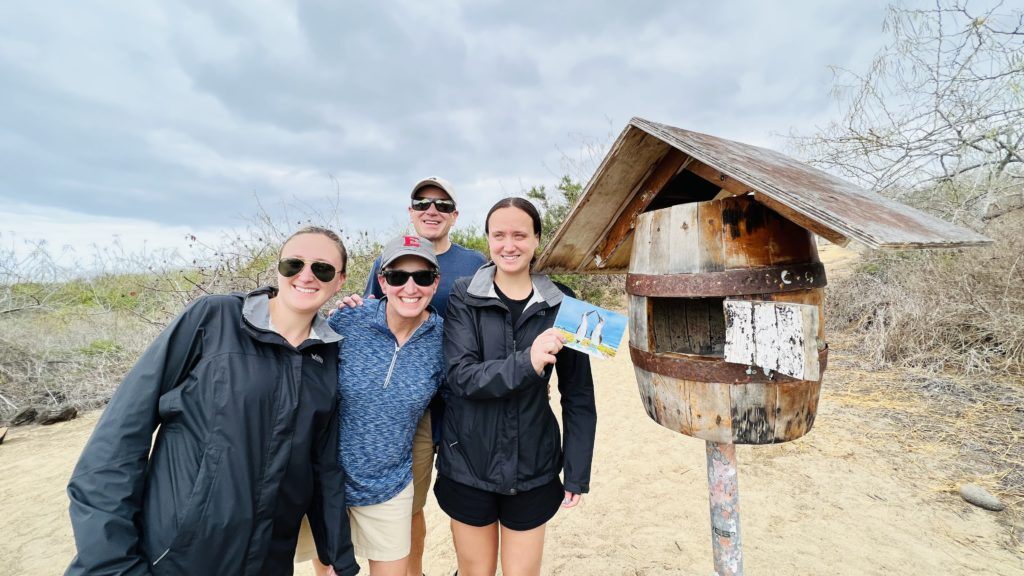 Day 2: Stop Four – Floreana Island – Asilo de Paz
In the mid-afternoon, we boarded the pangas for a ride to a small inhabited town on Floreana. We spotted lots of red marine iguanas. They are red because they eat red seaweed. We also saw crabs and sea lions.
We boarded a transport which took us to Asilo de Paz. We climbed the hill, seeing birds and the remnants of some of the first island settlers in the 1930s. There are no native people on the Galápagos. We found the only water source on the entire island. The view from the top of the hill was incredible.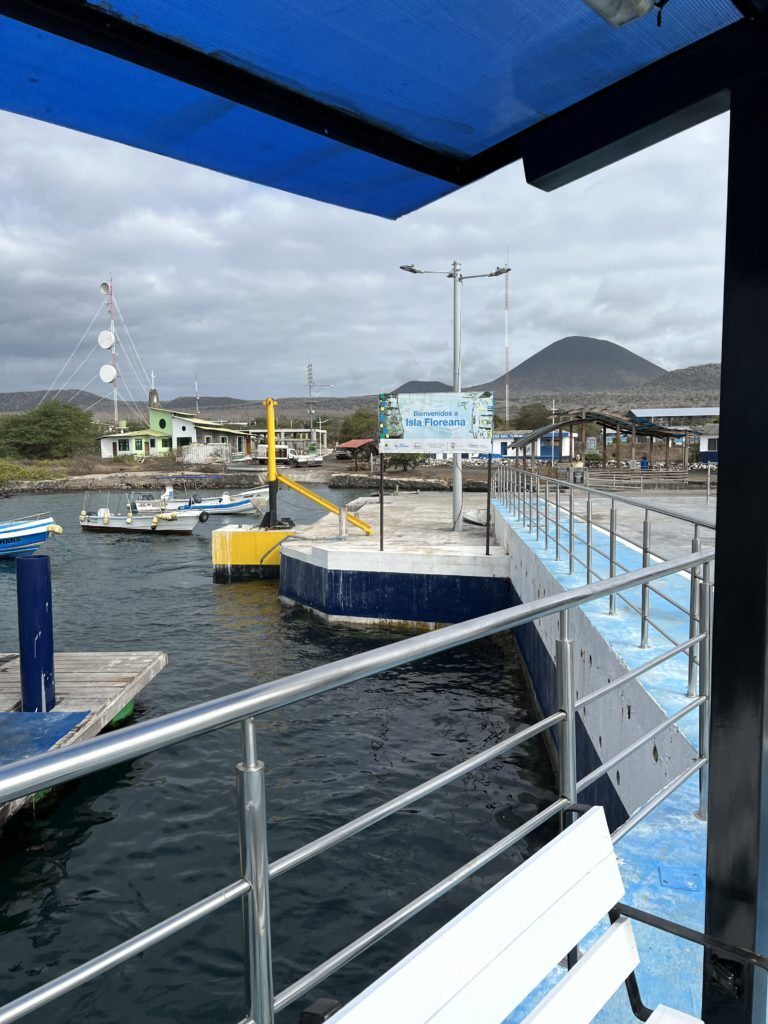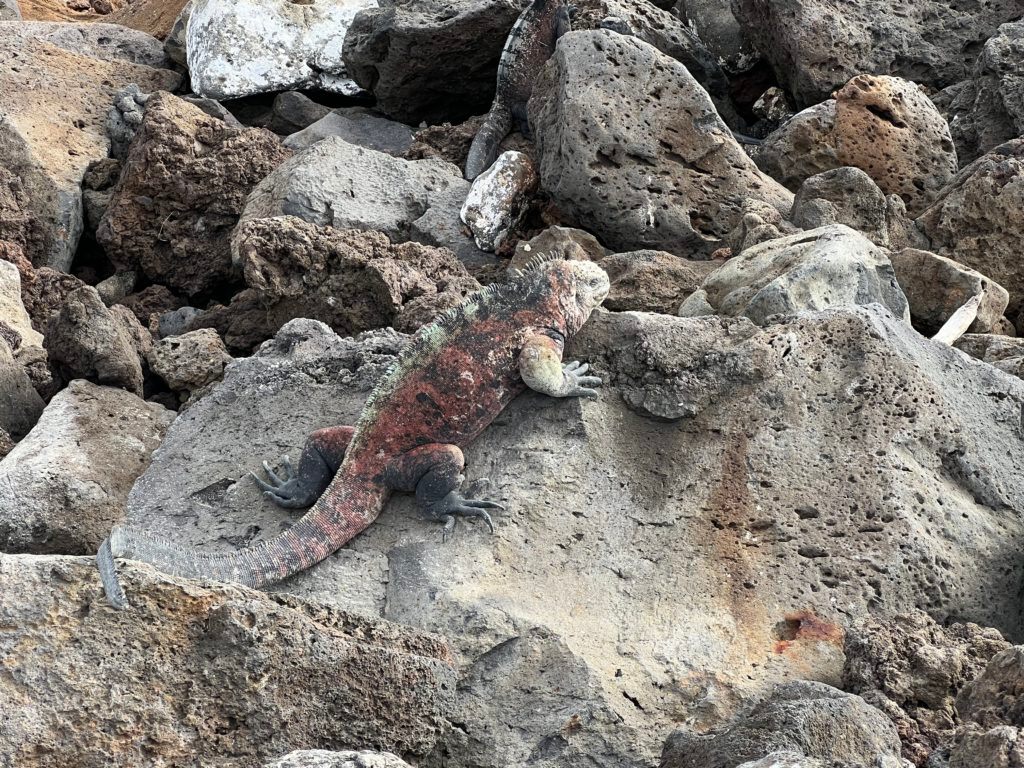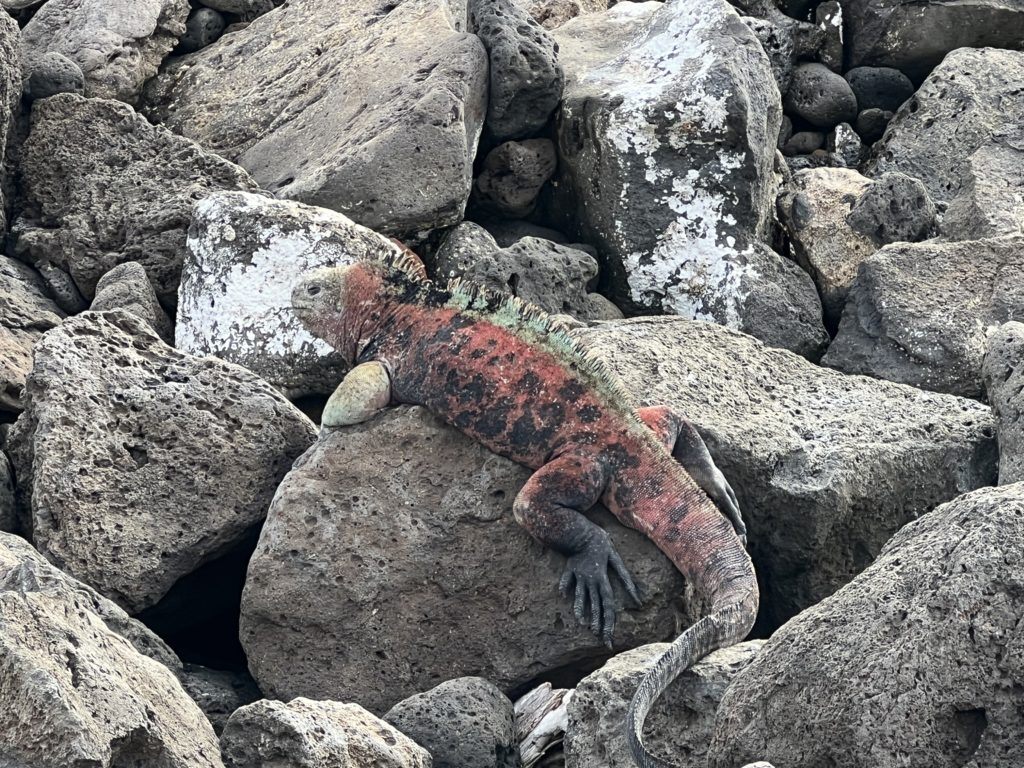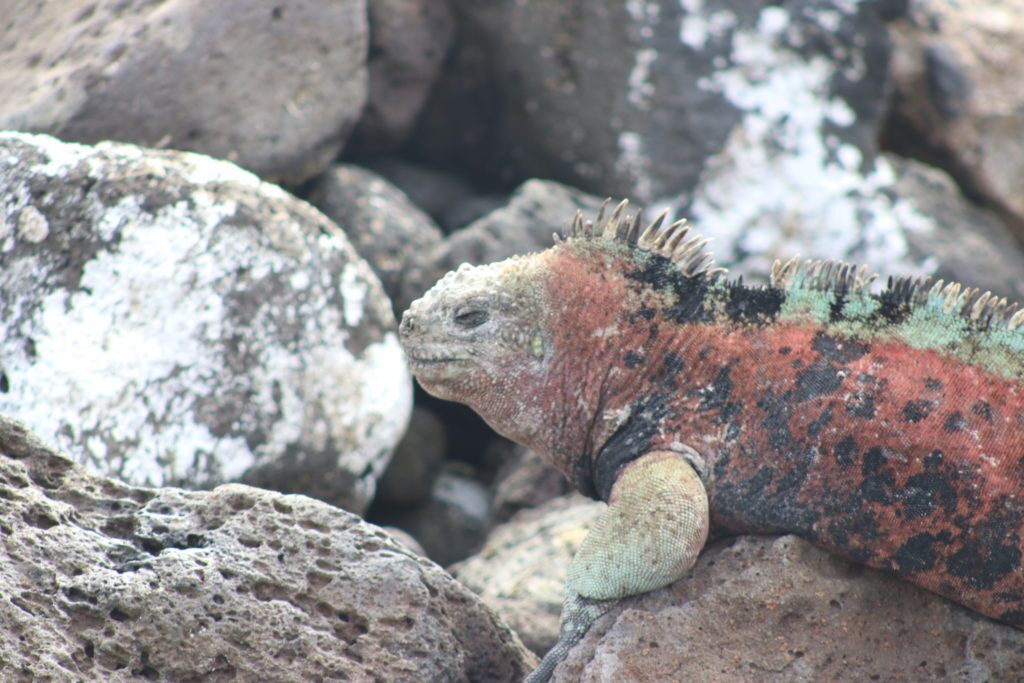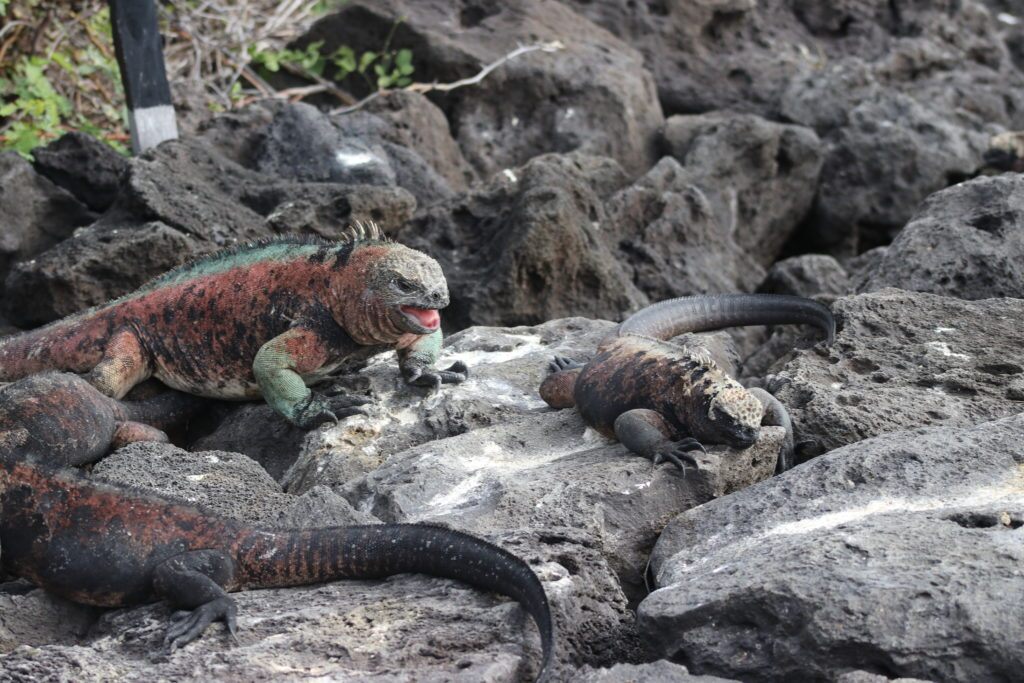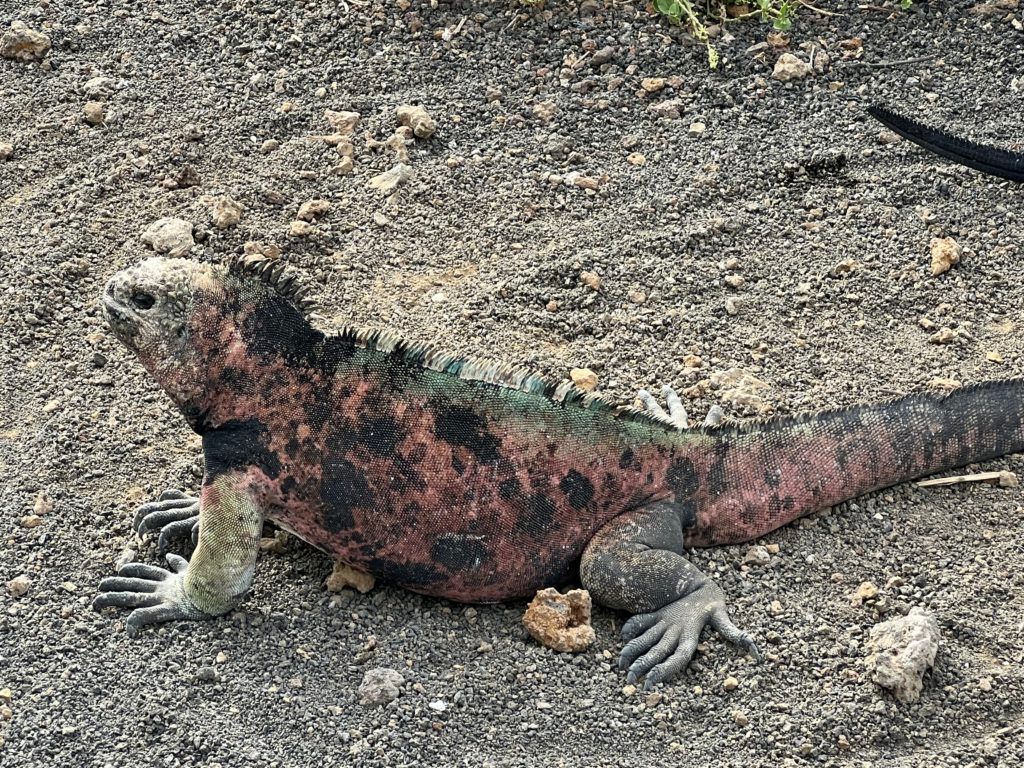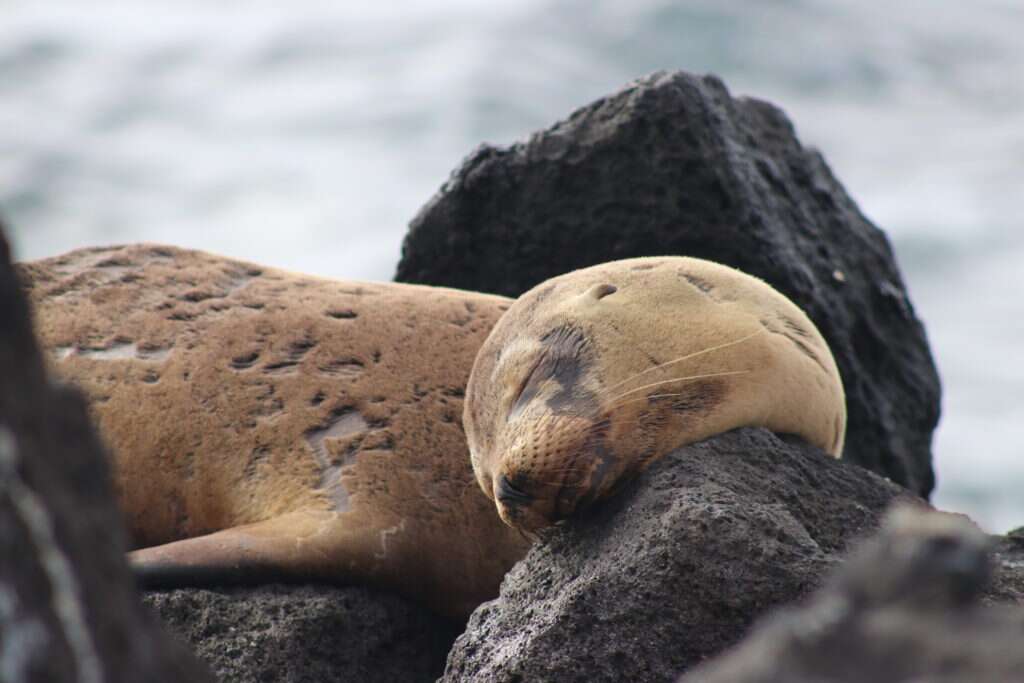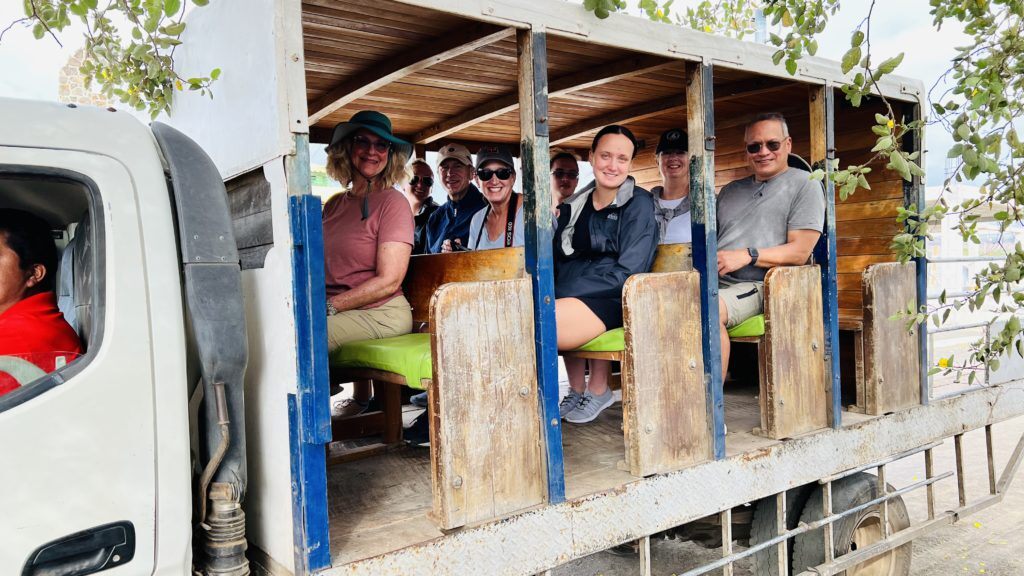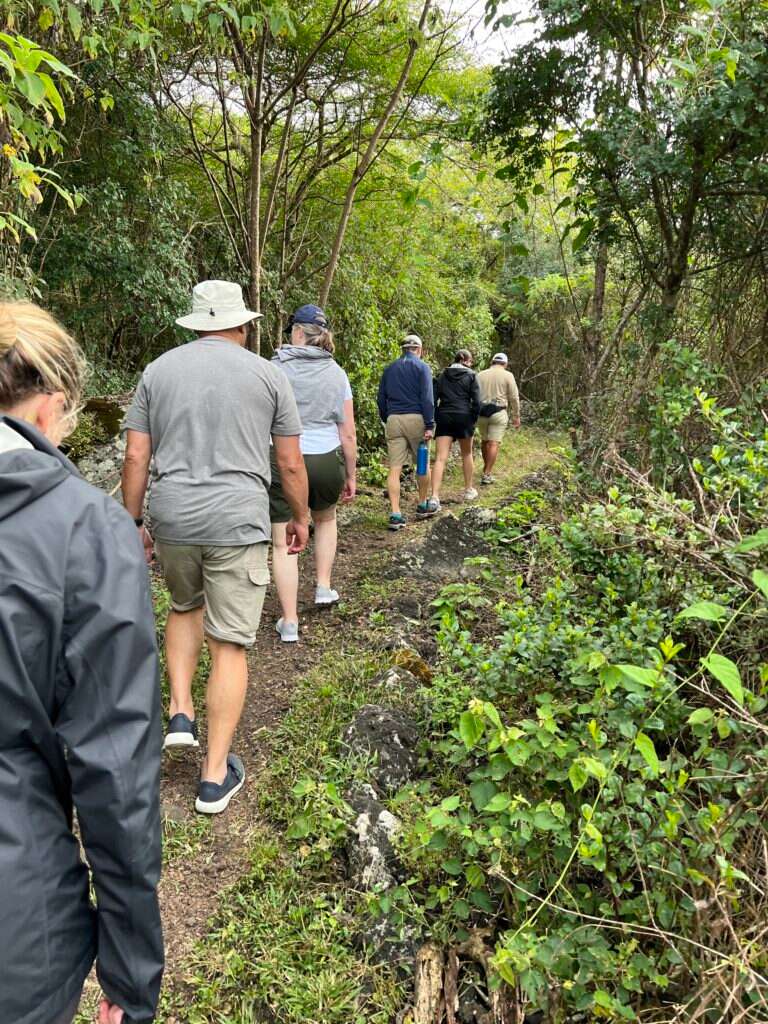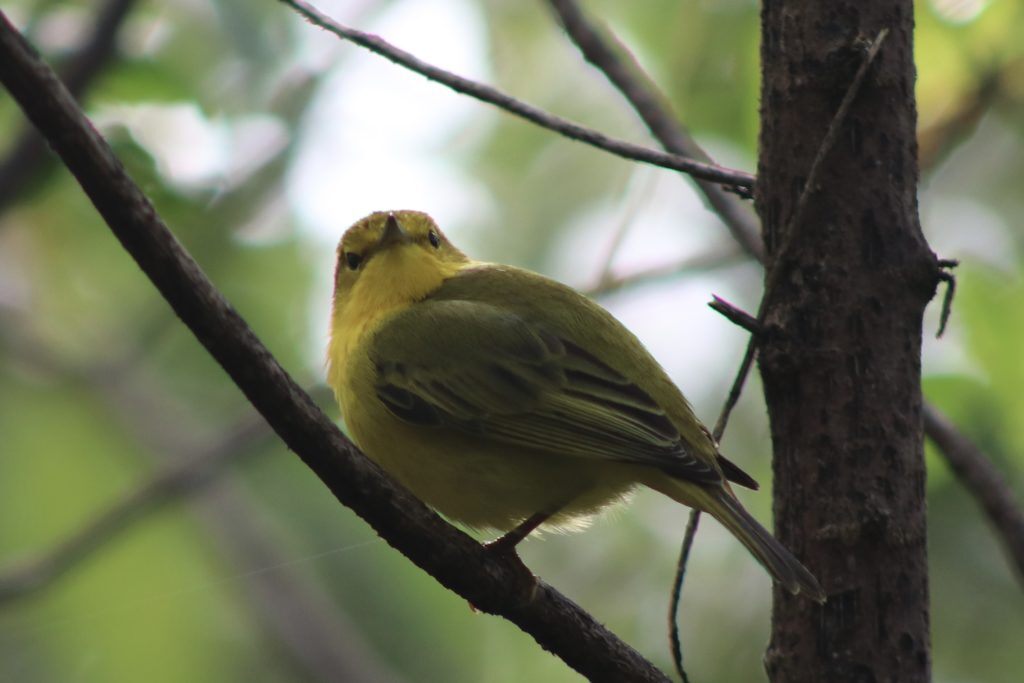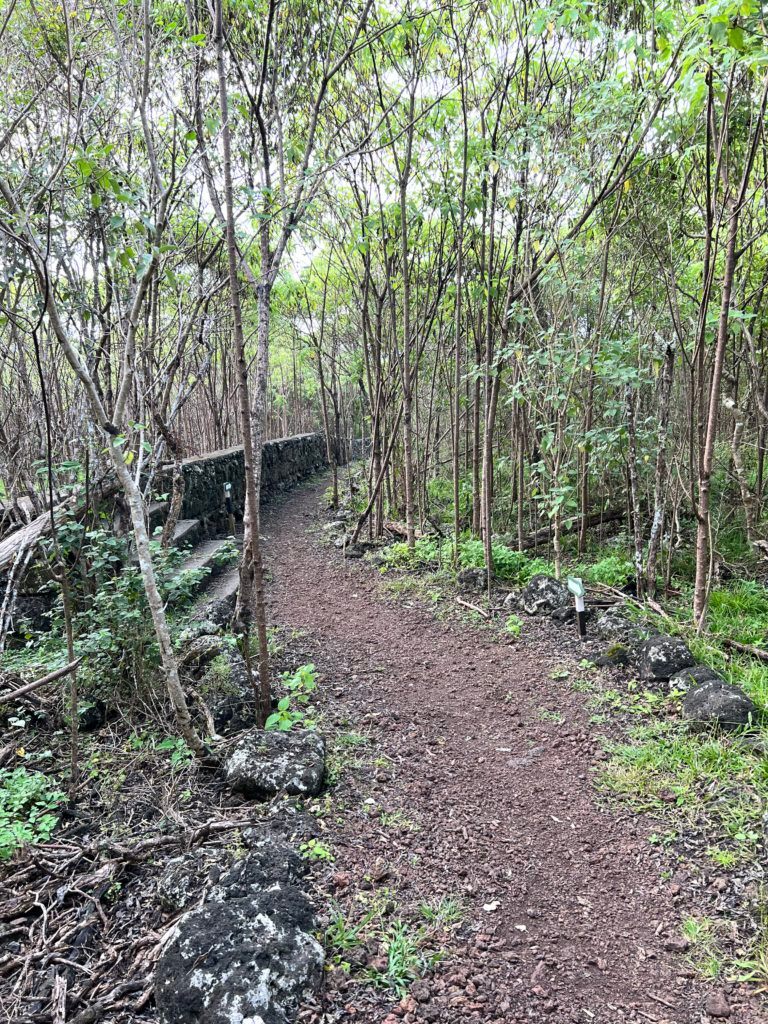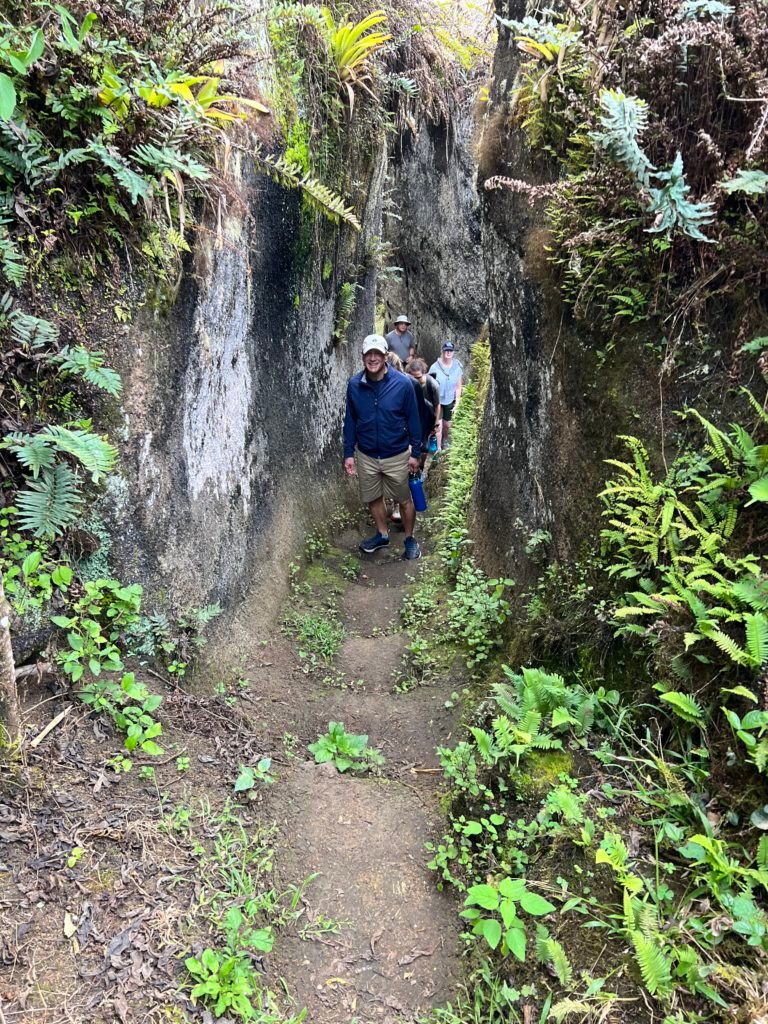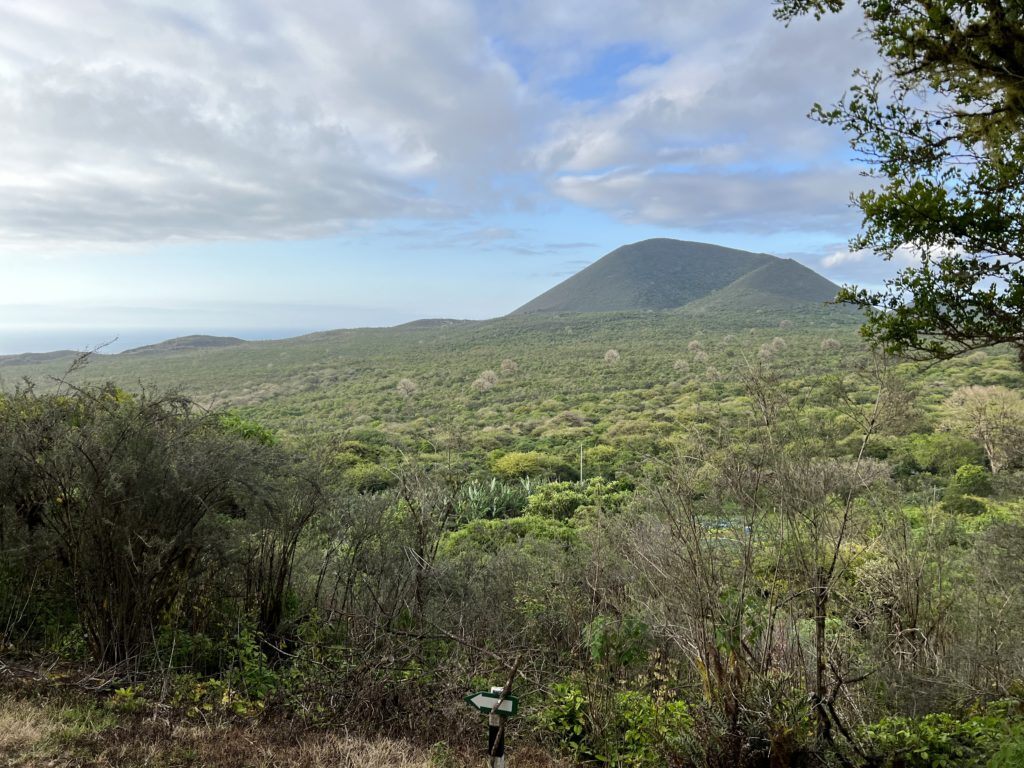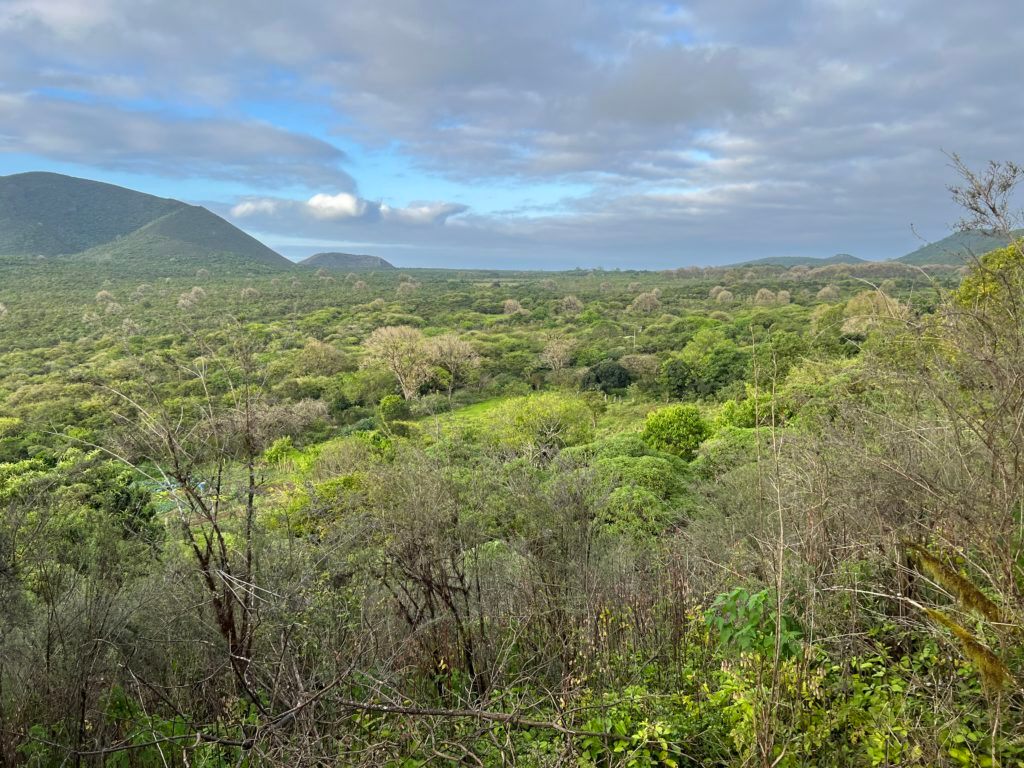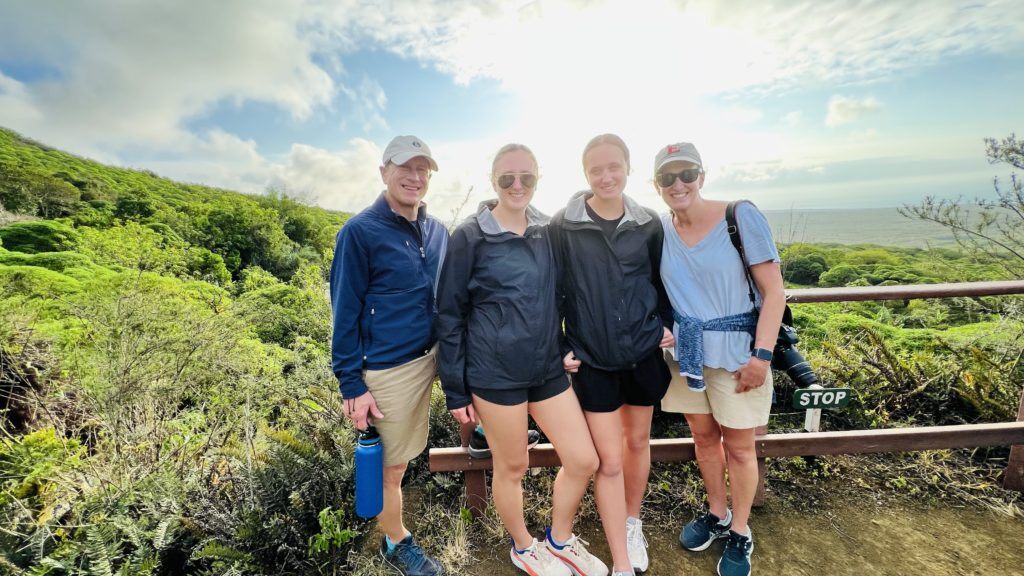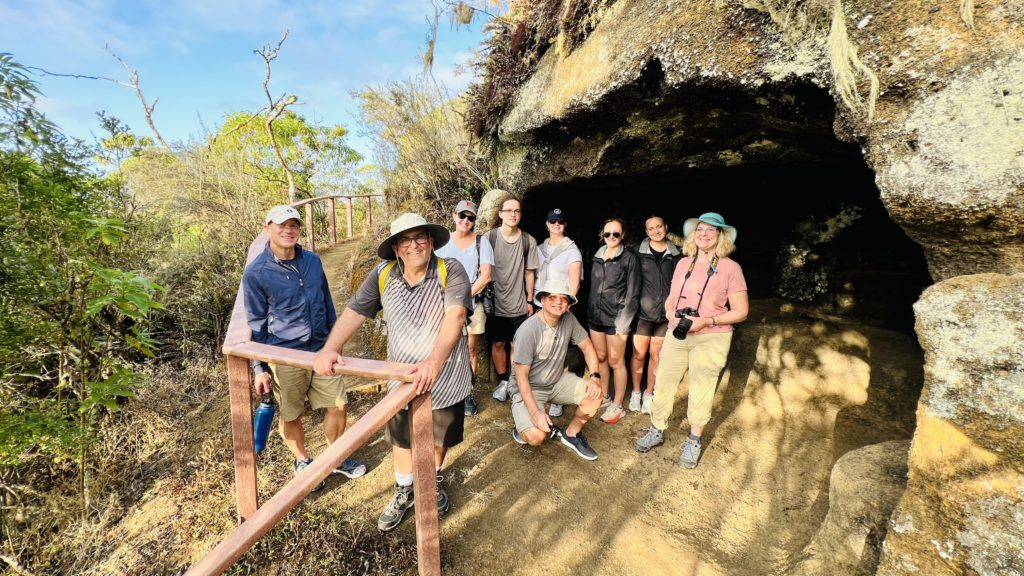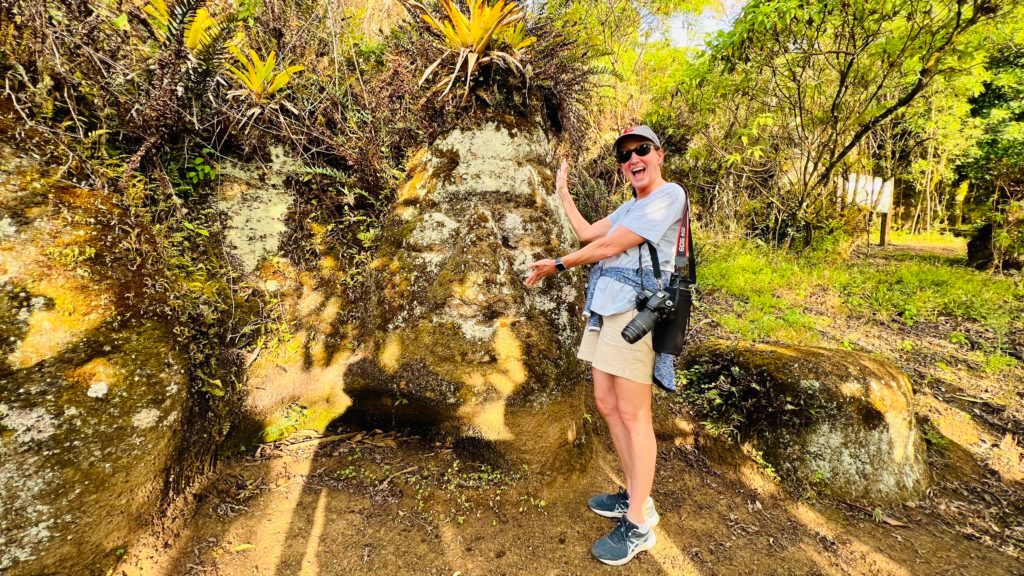 The crew of the G Adventures boat made us a wonderful buffet turkey feast for Christmas dinner. It was a spectacular day with amazing adventures and delicious food. We were in bed most nights by 9pm at the latest!
Day 3: First Stop – Isabela Island – Punta Moreno
We sailed overnight to Isabela Island. The sail was rough for a few hours, but very calm for the remainder. We would not have any more rough seas for the remainder of the journey.
After a delicious breakfast, we were given the choice – a hike around the lava fields at Punta Moreno with Omar or a ride in the dinghy around Punta Moreno. Our family of four and two others chose the walk. We are all glad we did. We hiked over lava fields to oases which were gorgeous. After our 90-minute walk, we were picked up in the dinghy. We saw crabs, flightless cormorants, Galápagos Penguins and more turtles. It was amazing.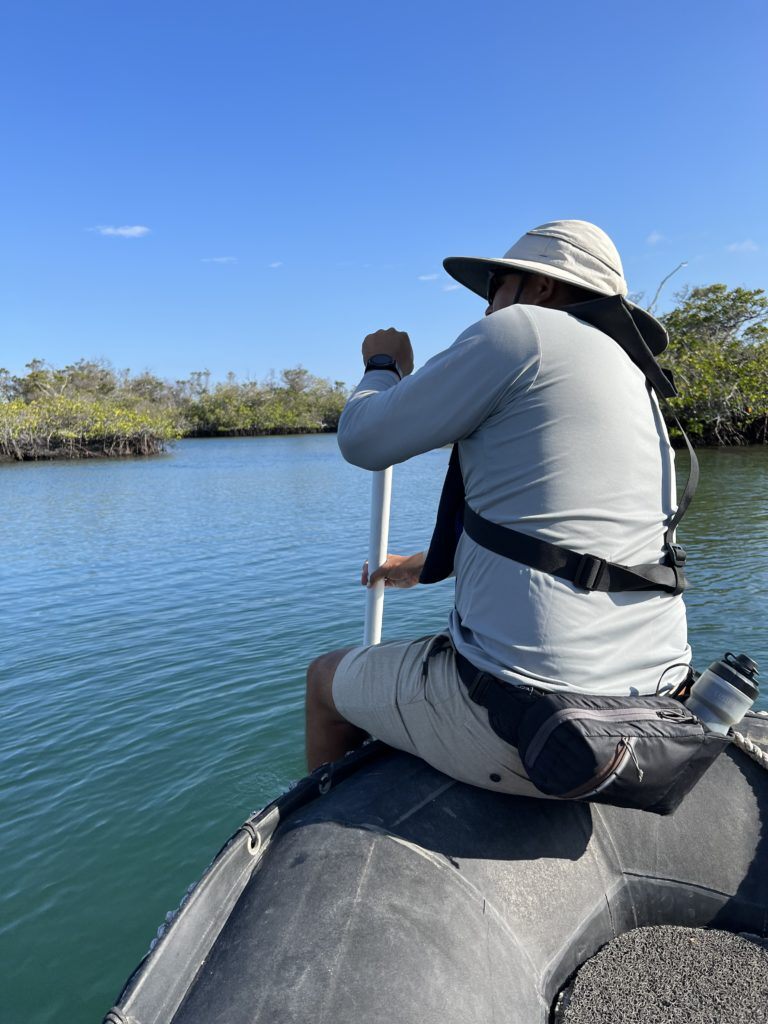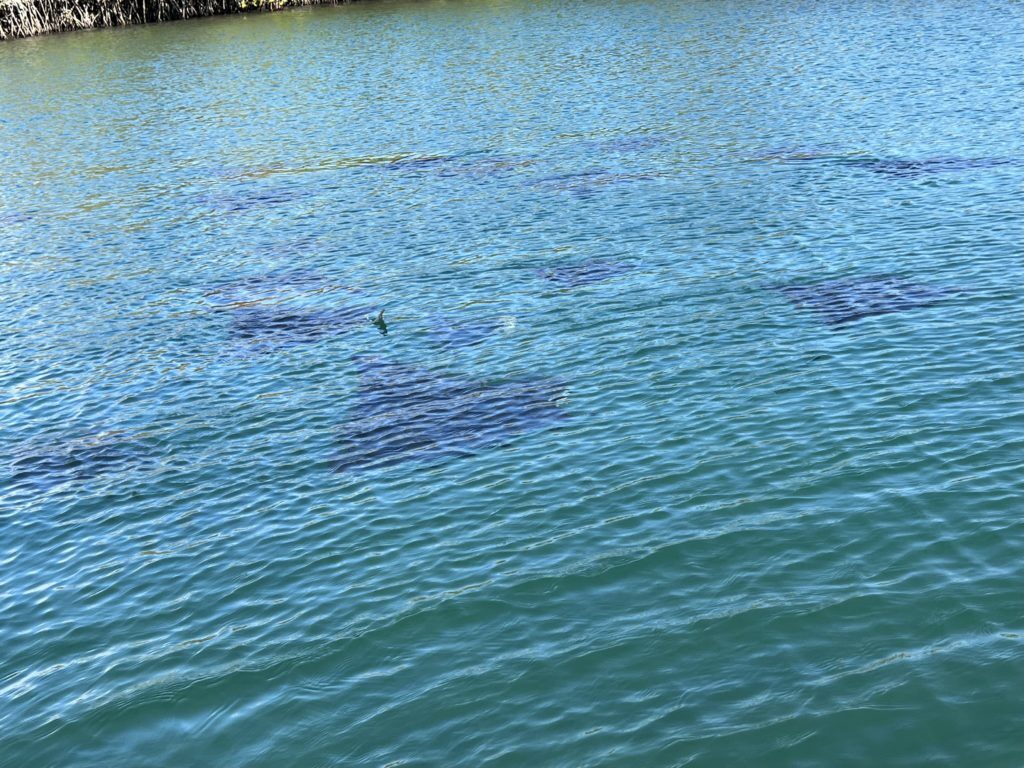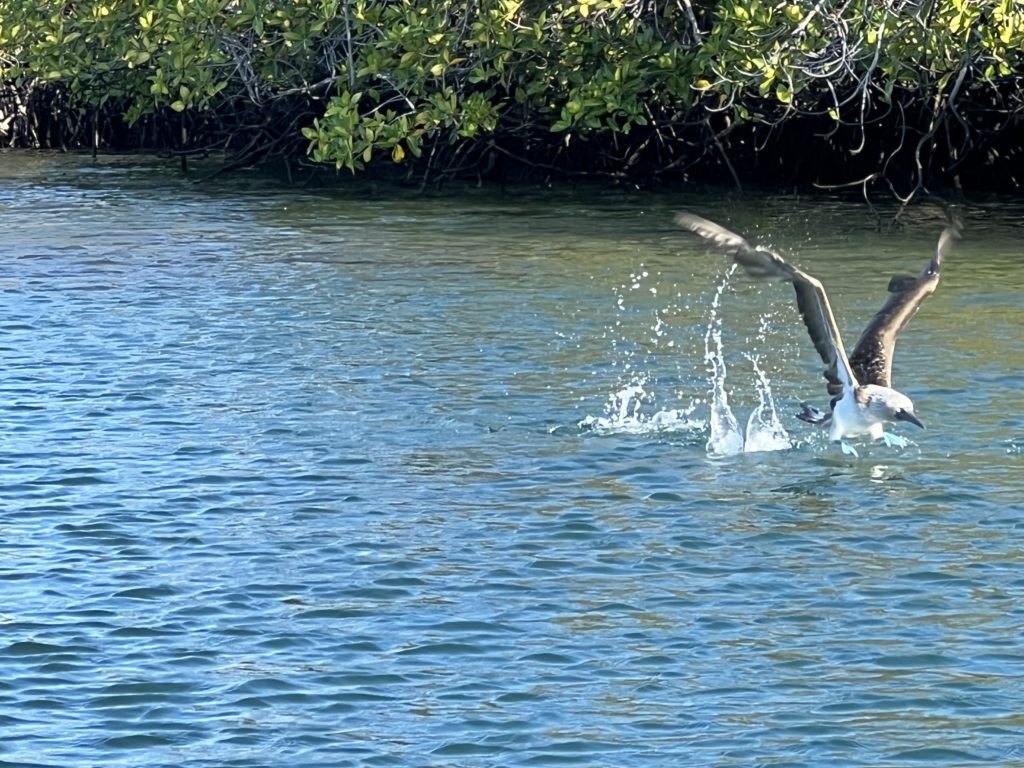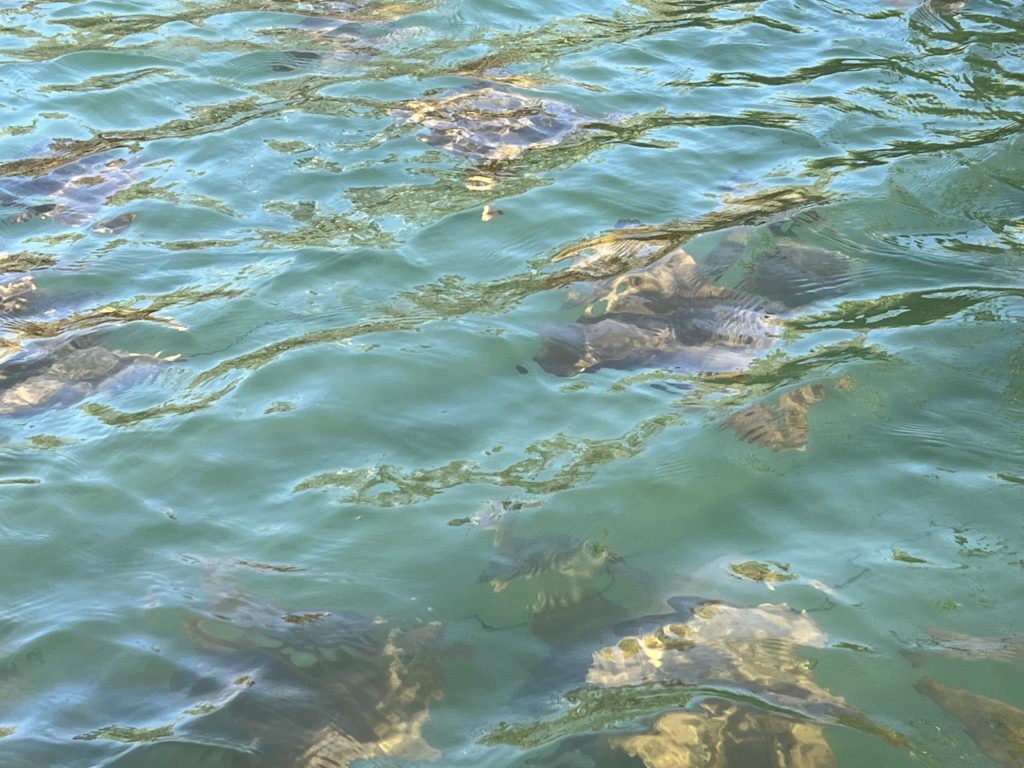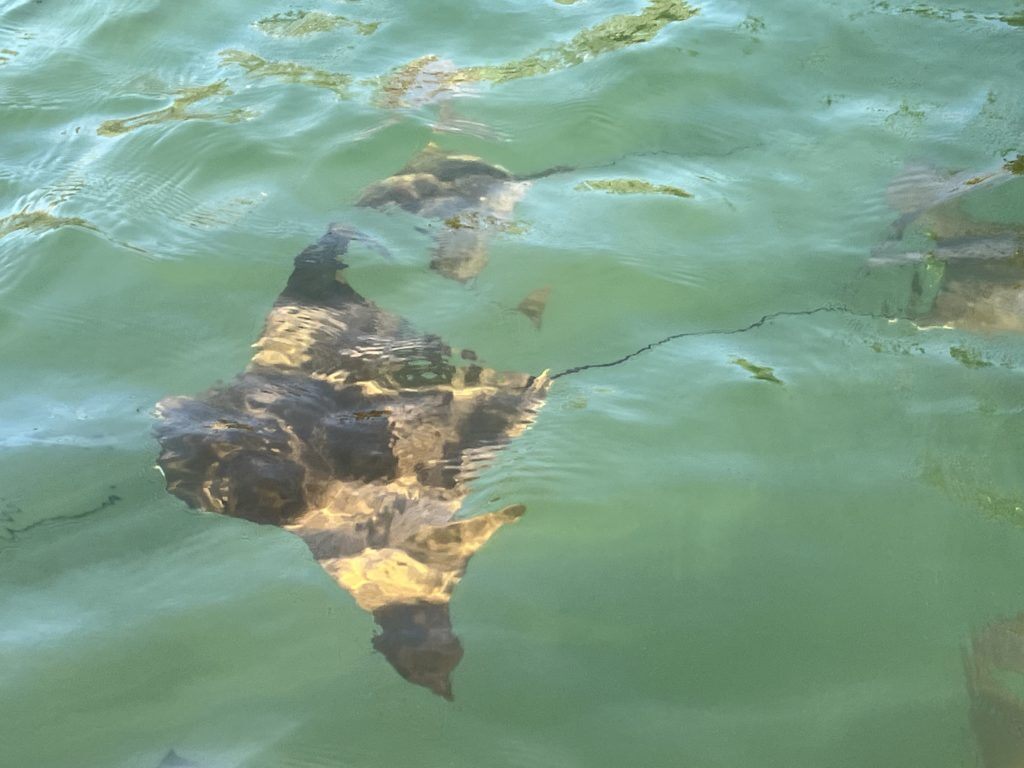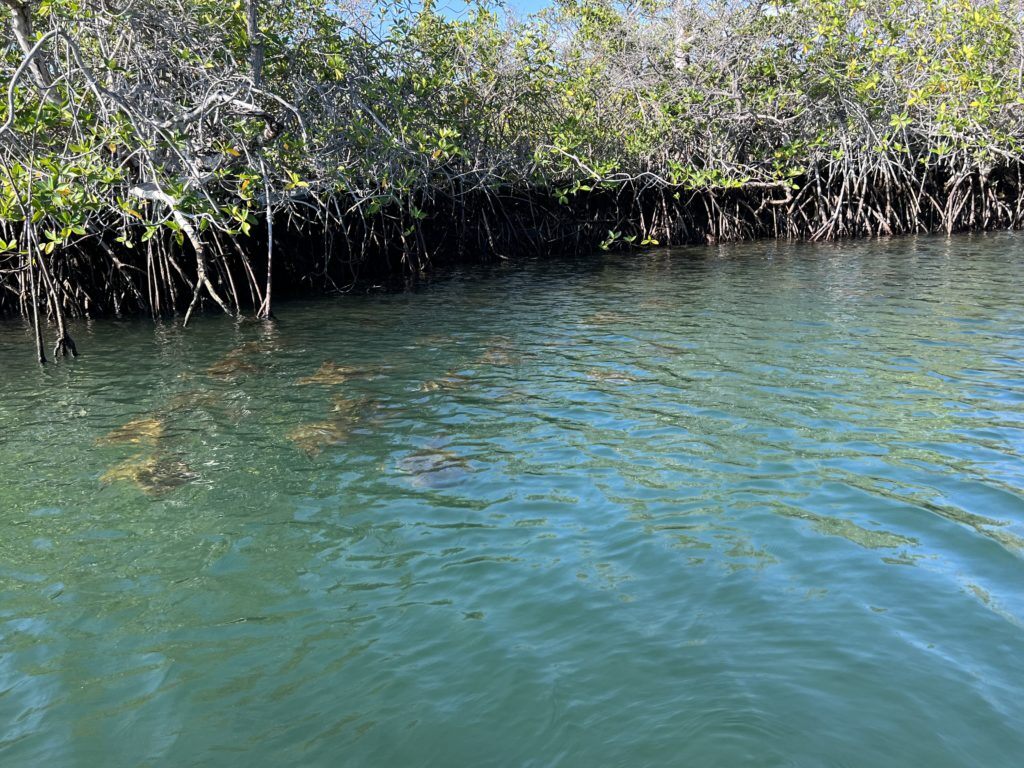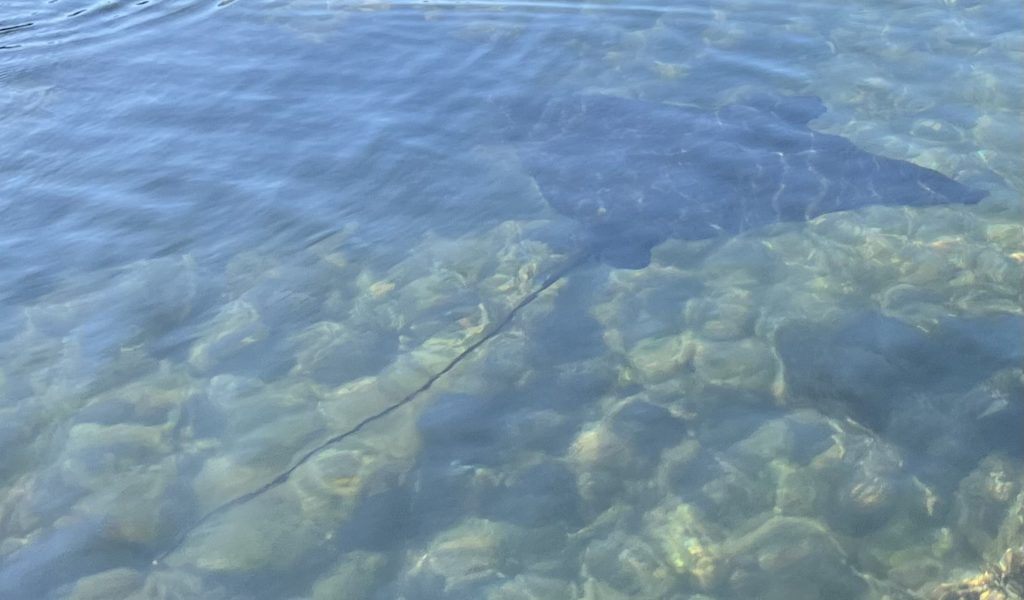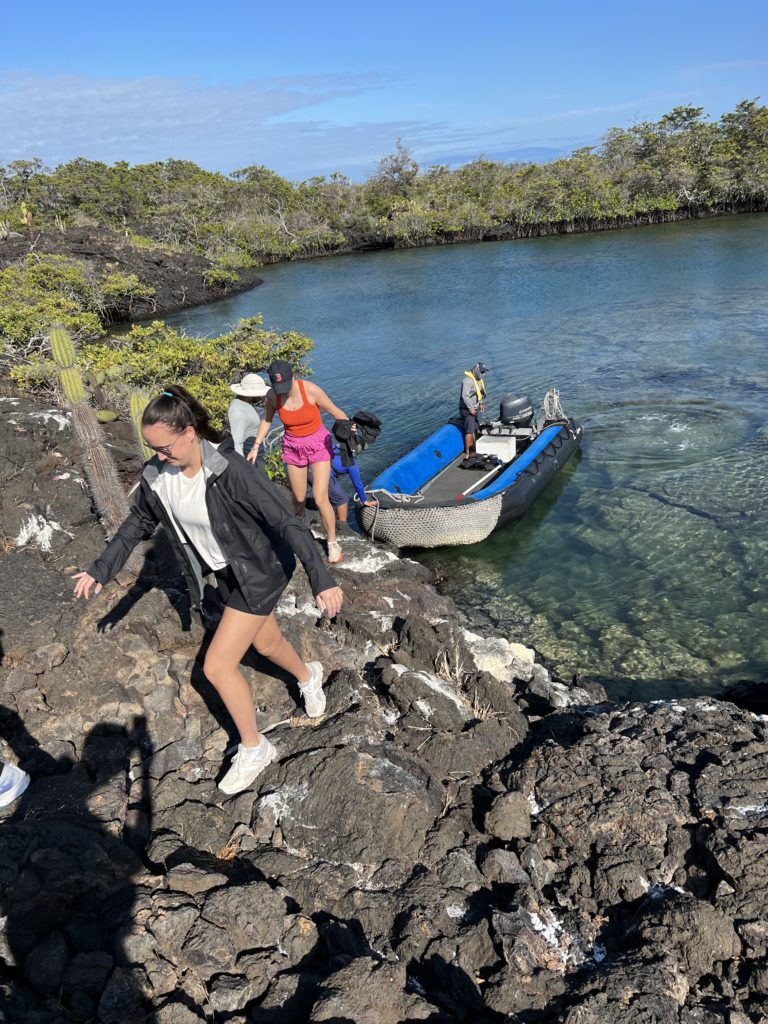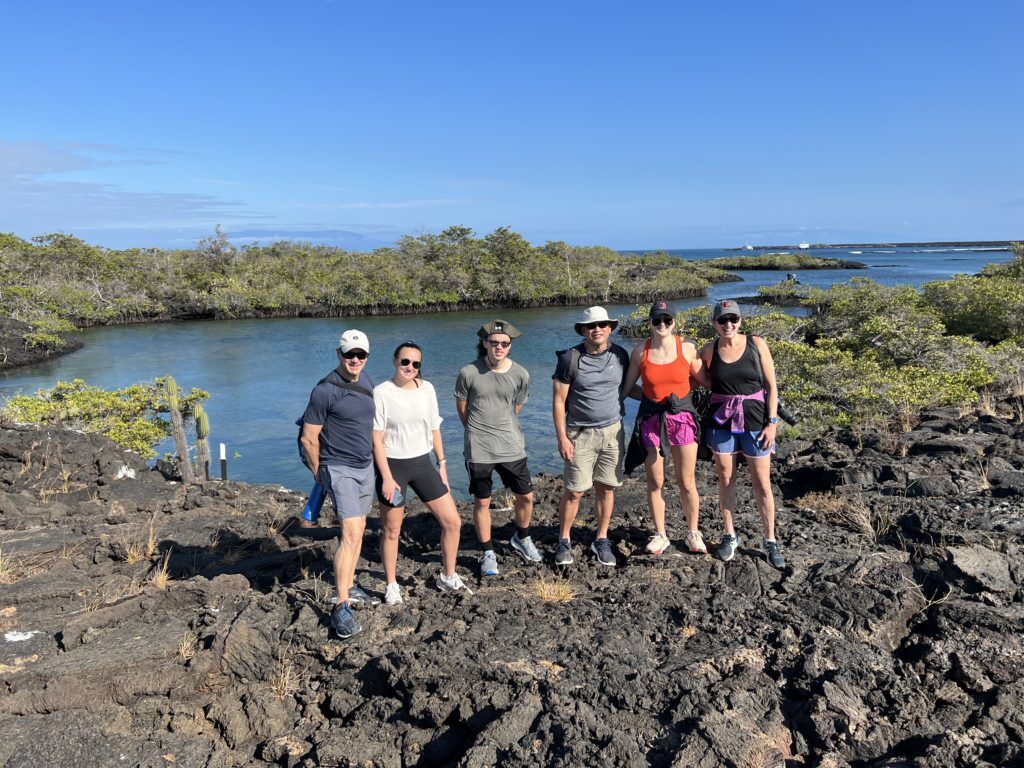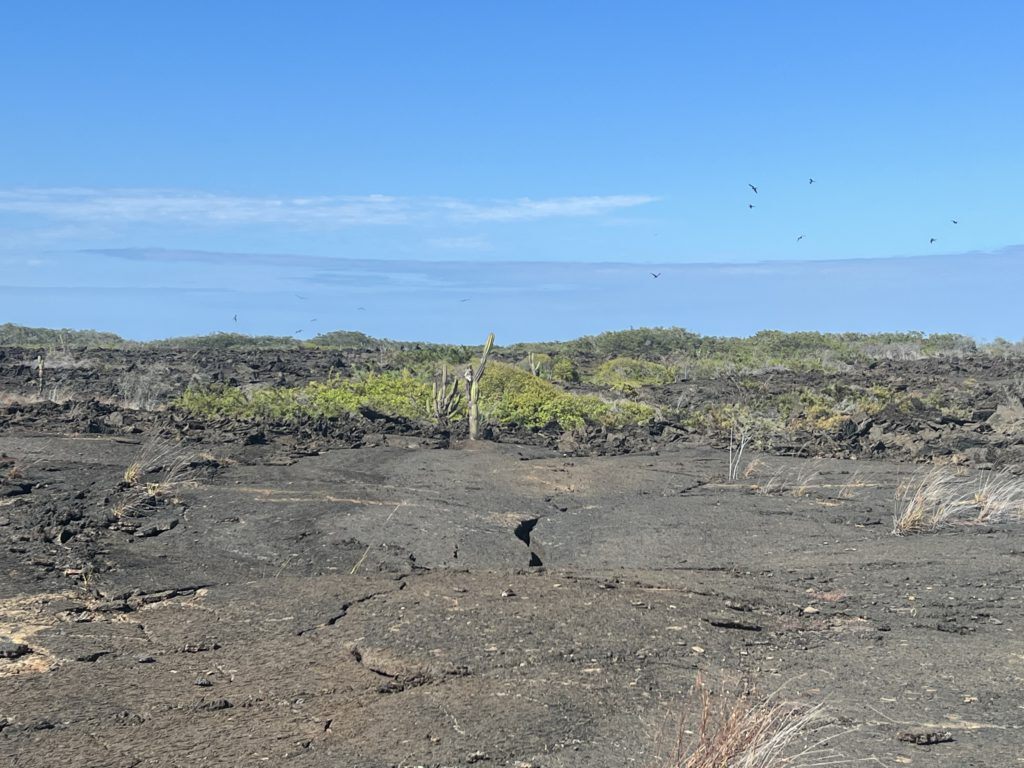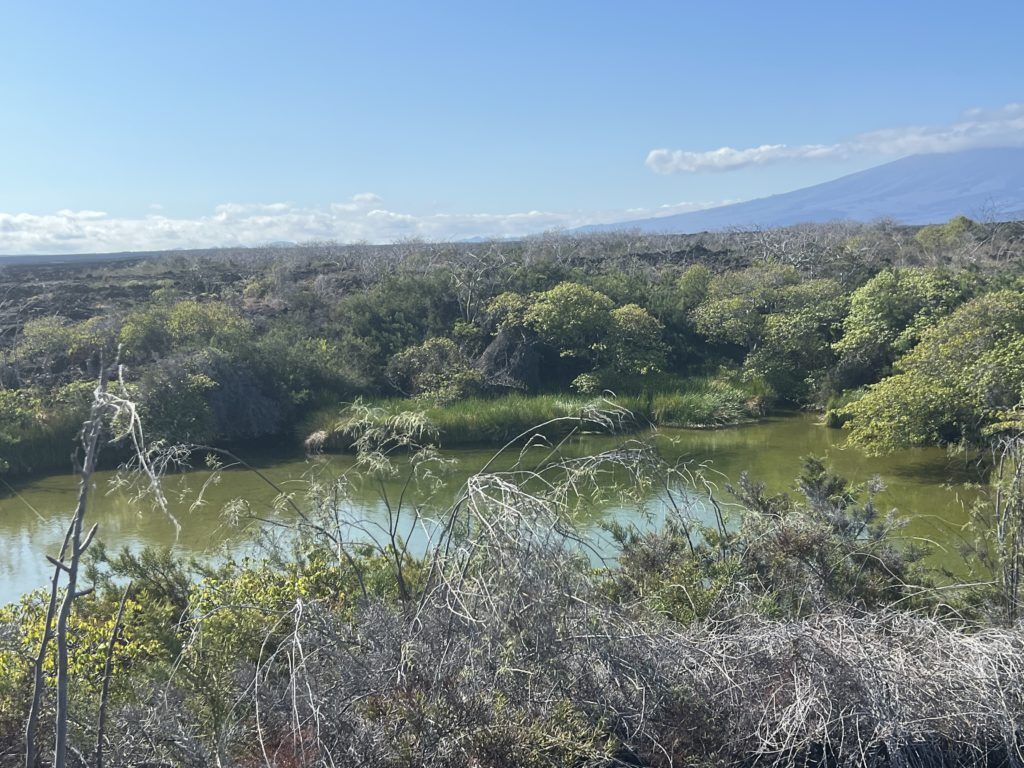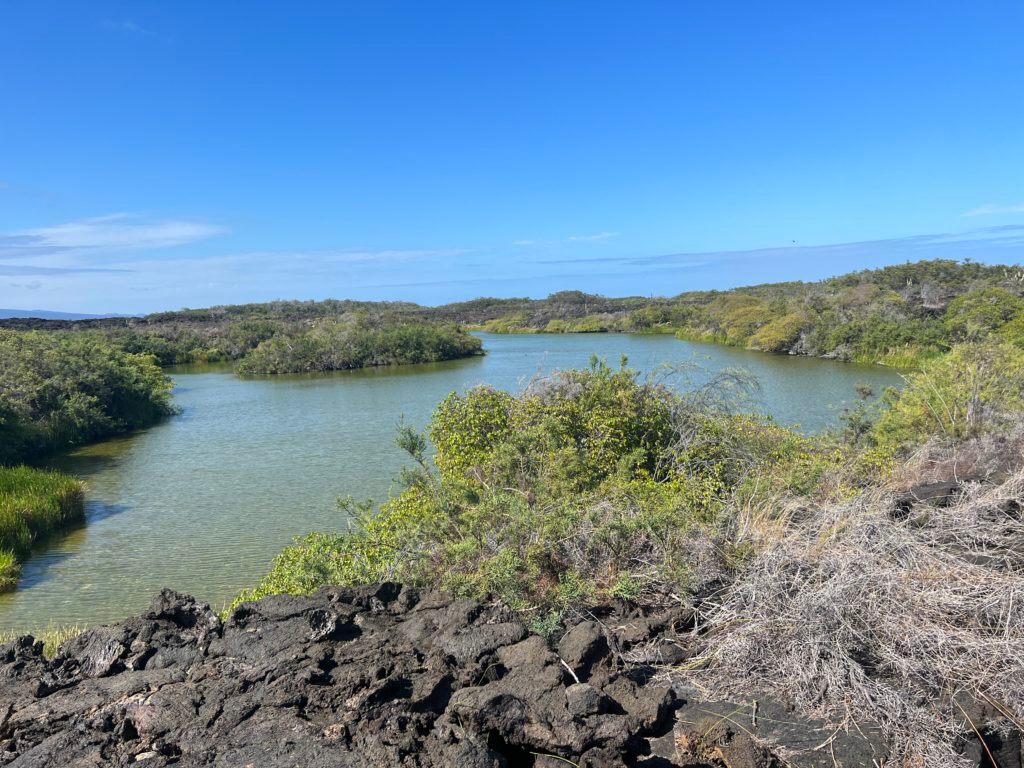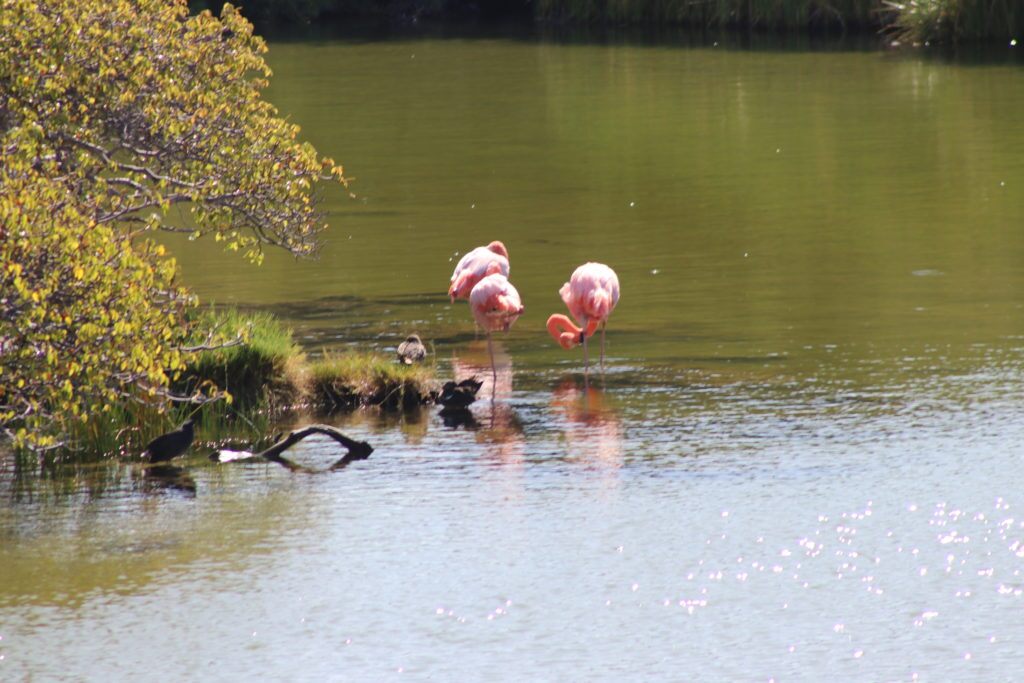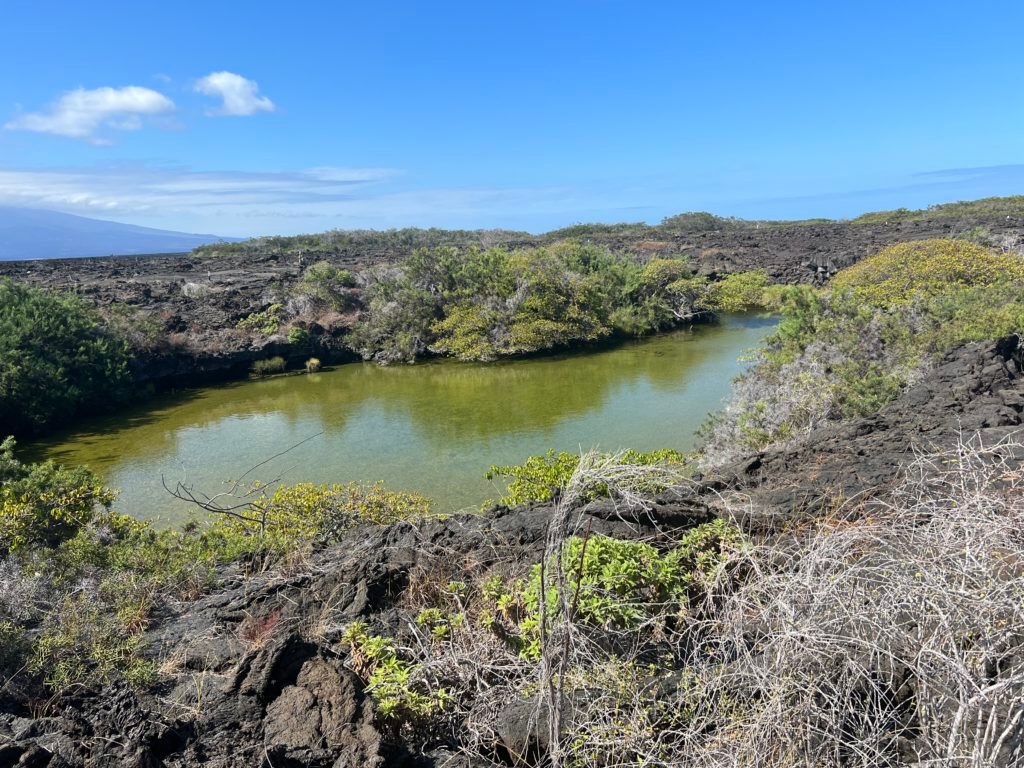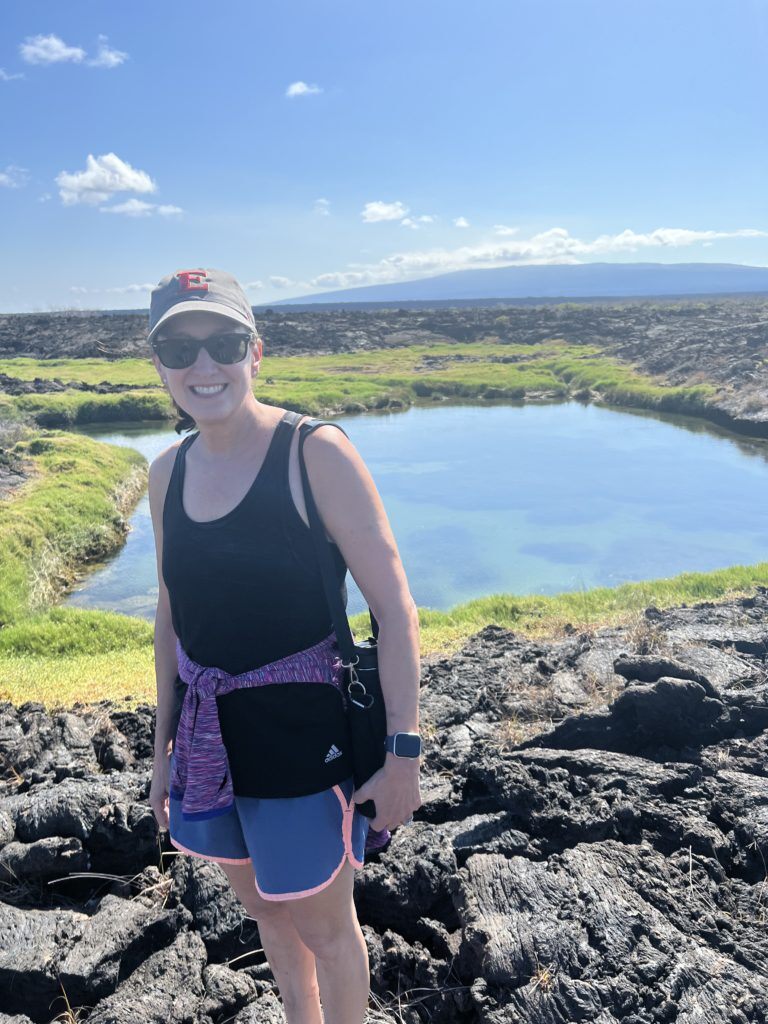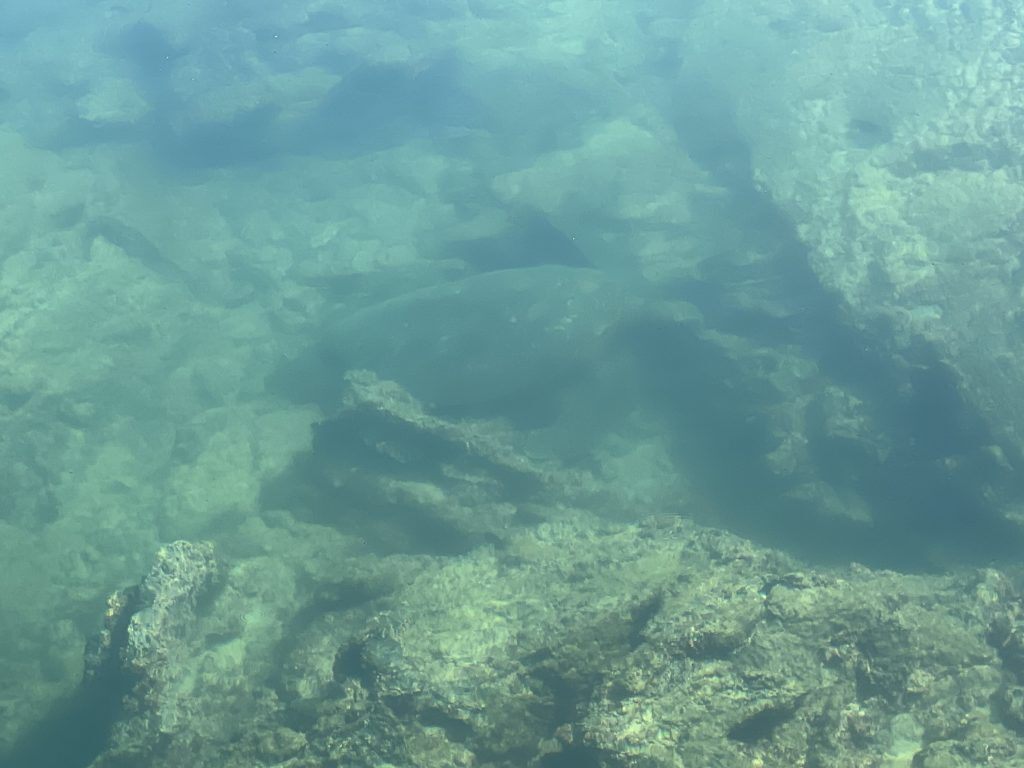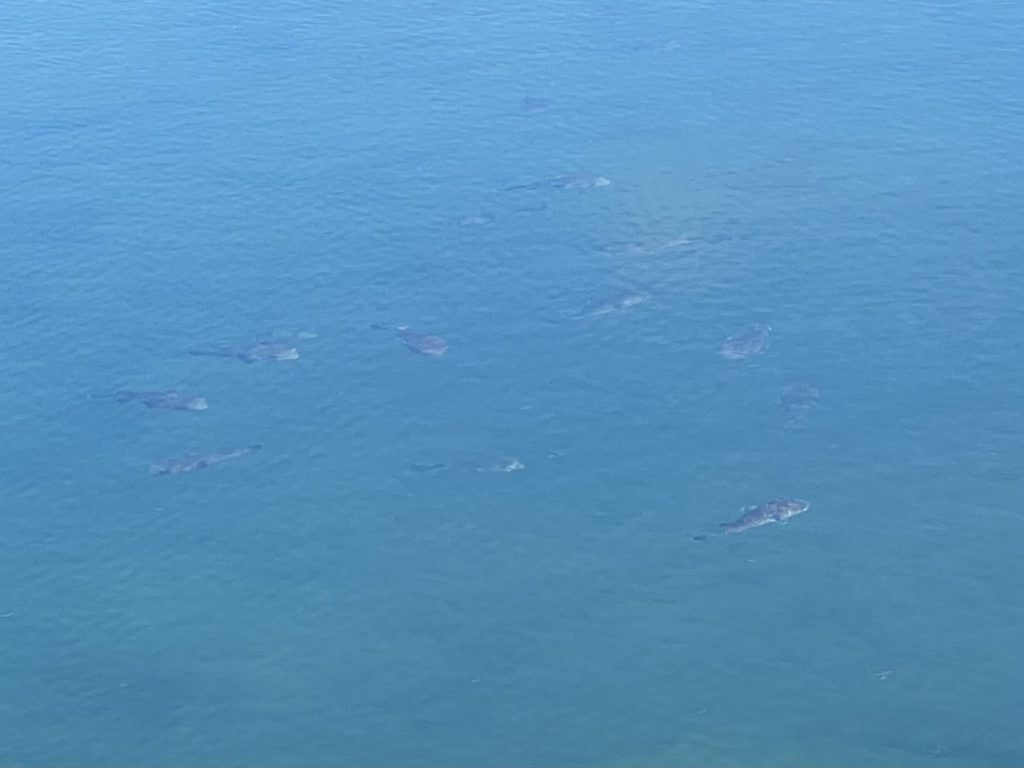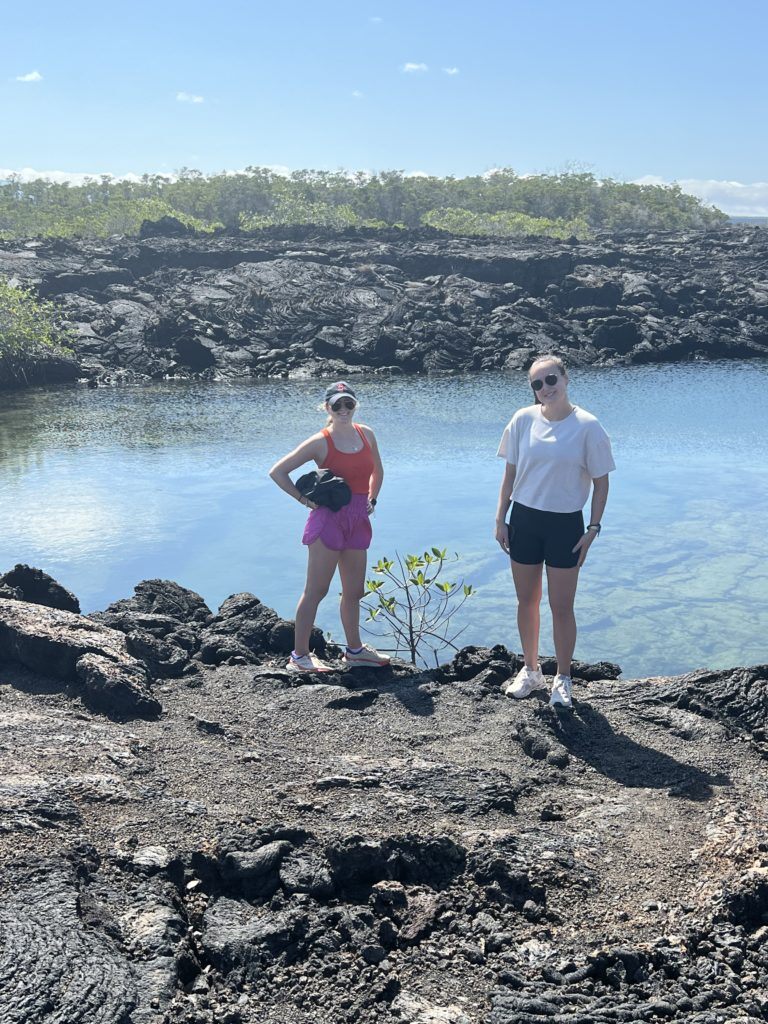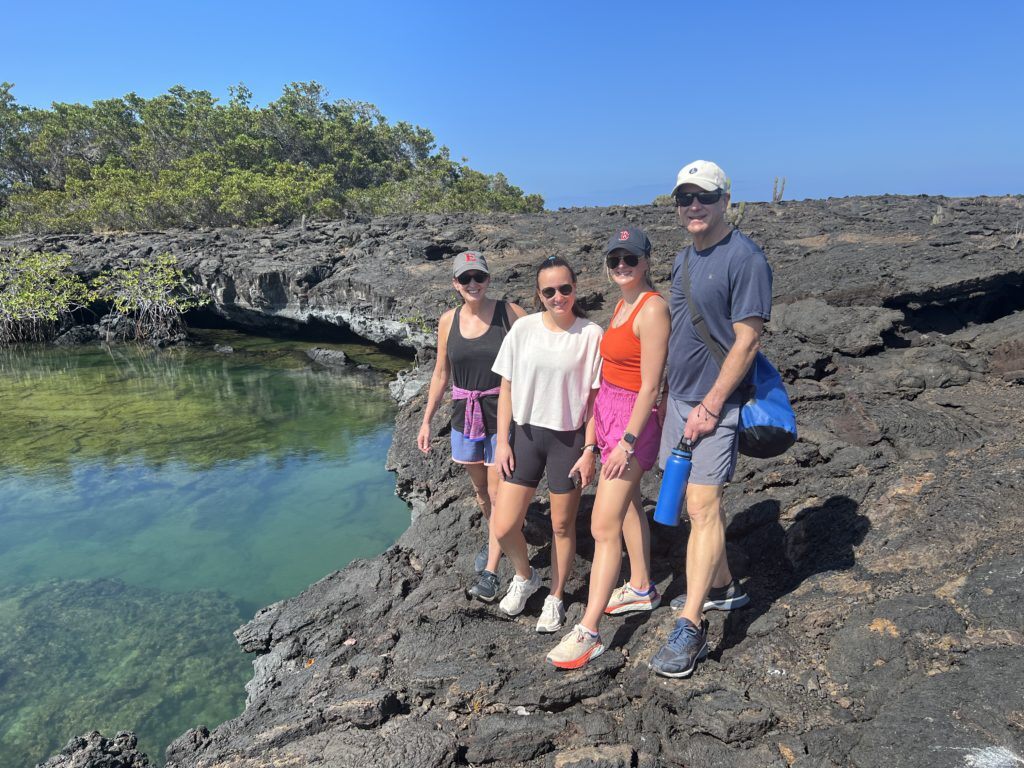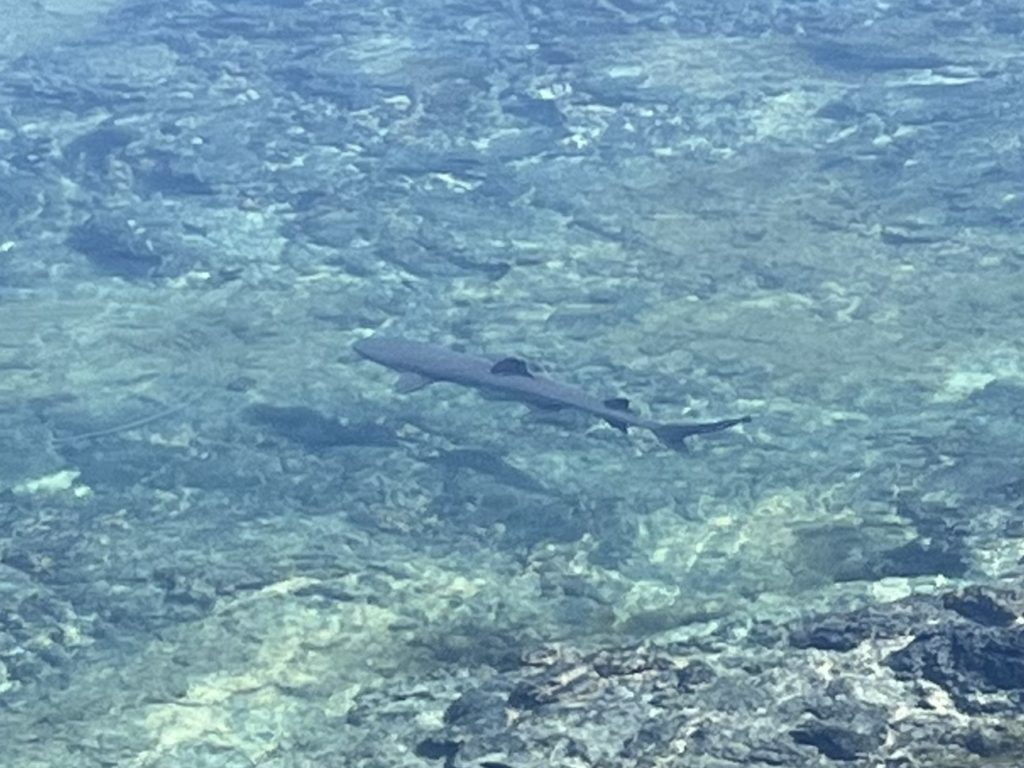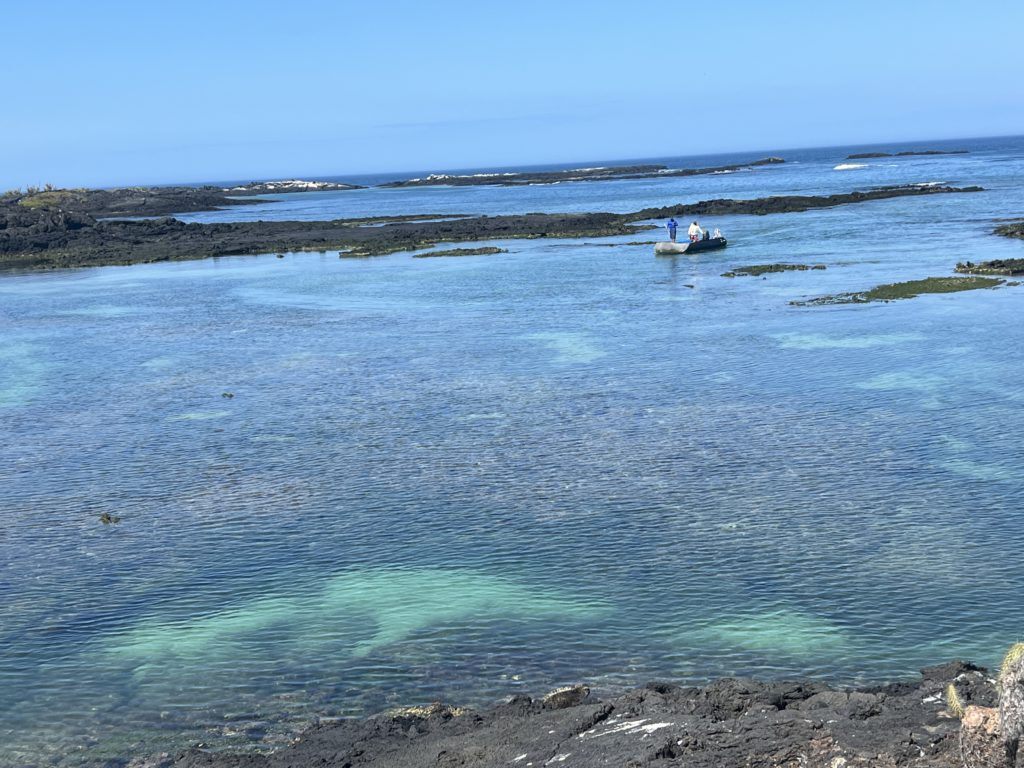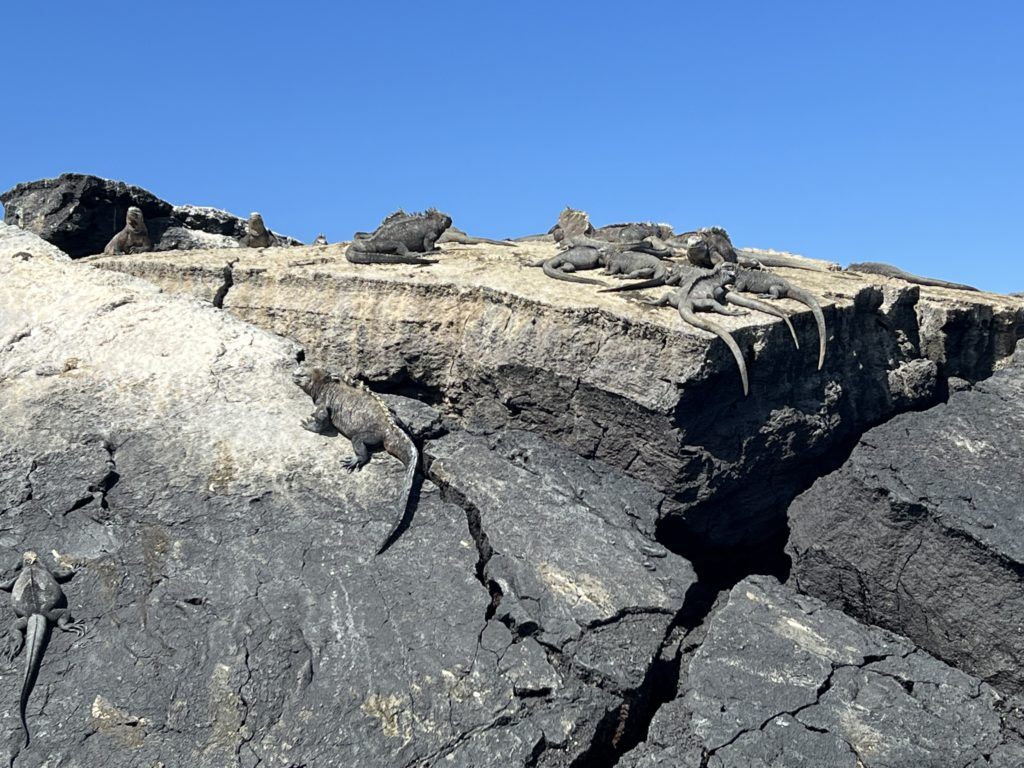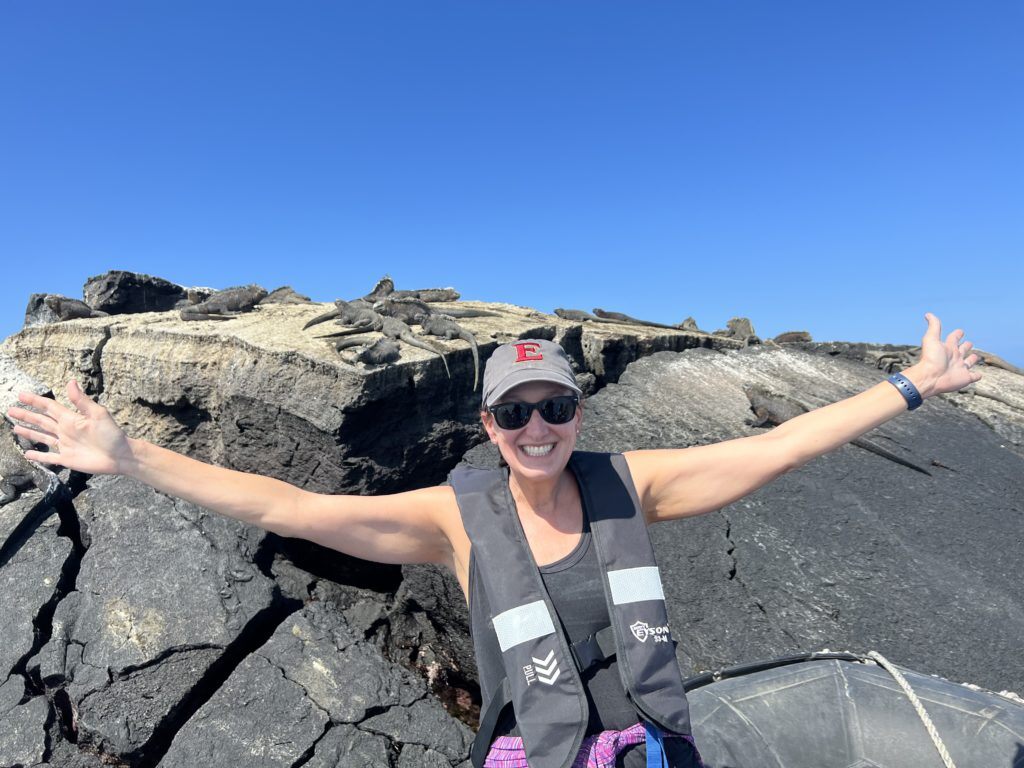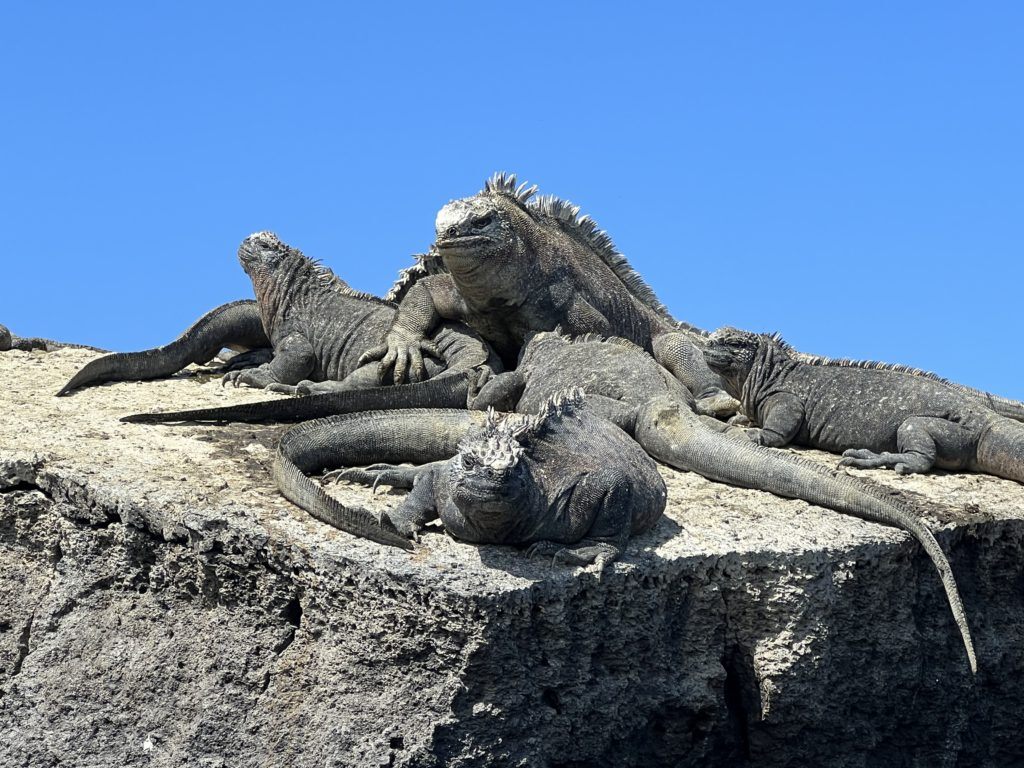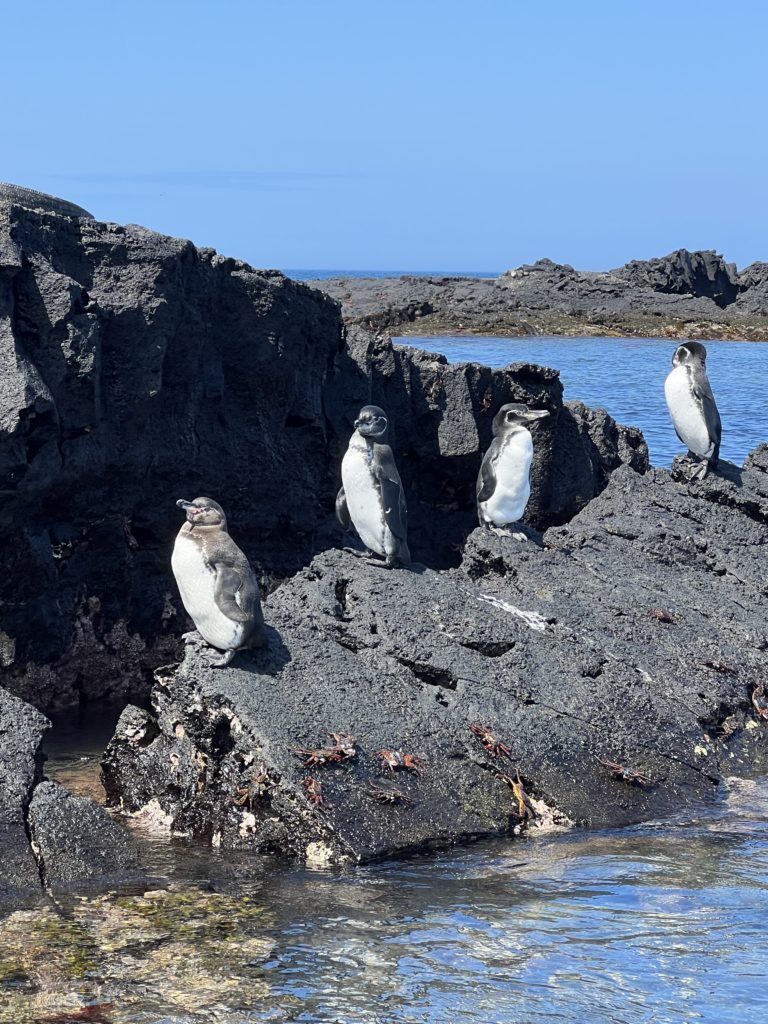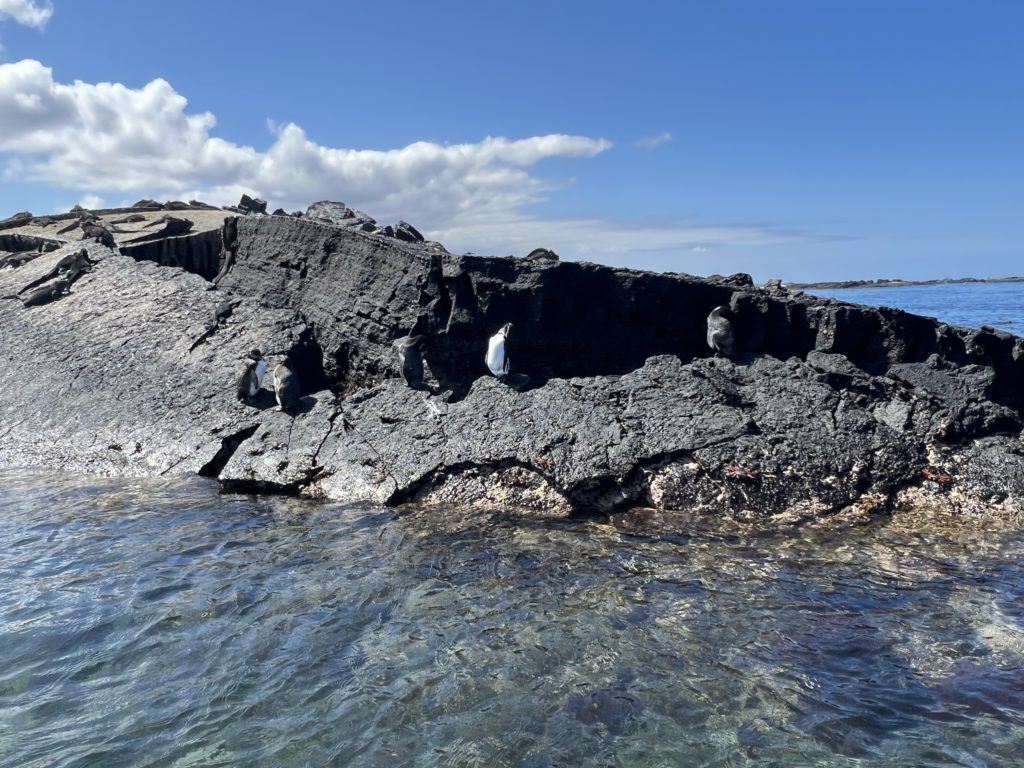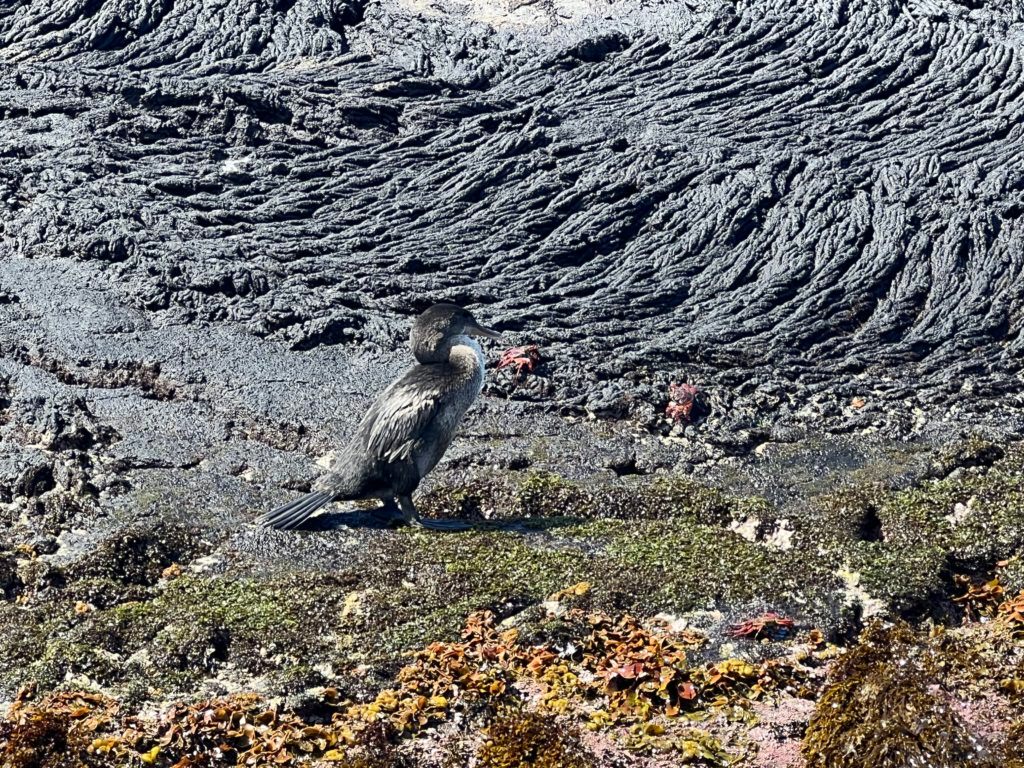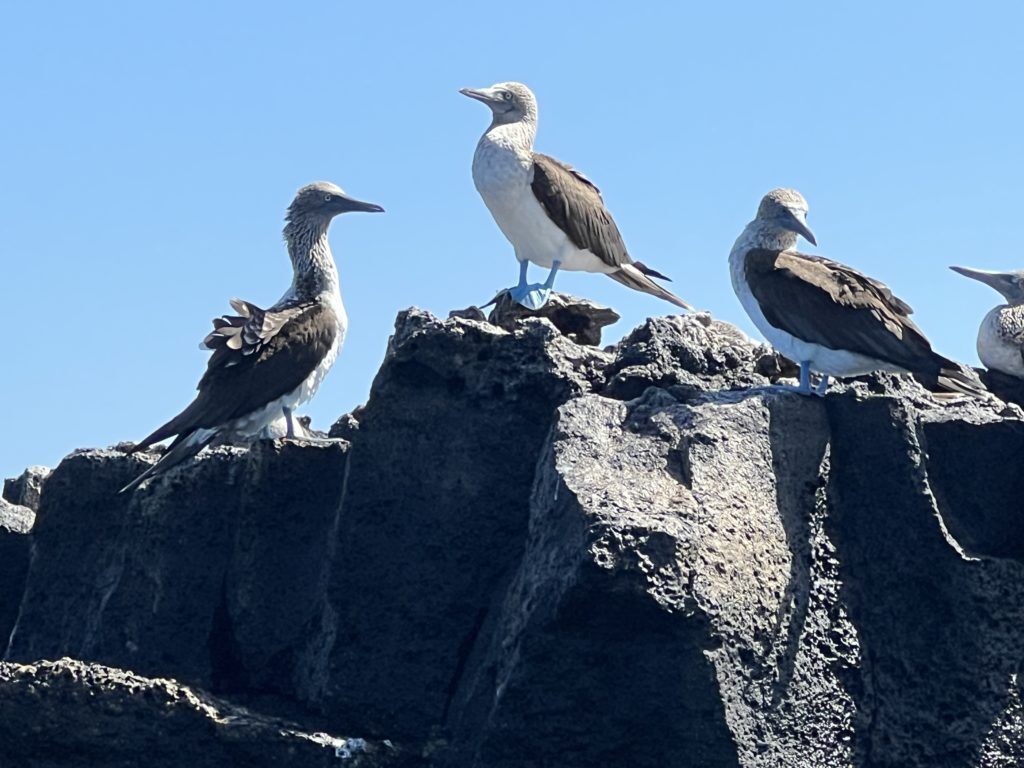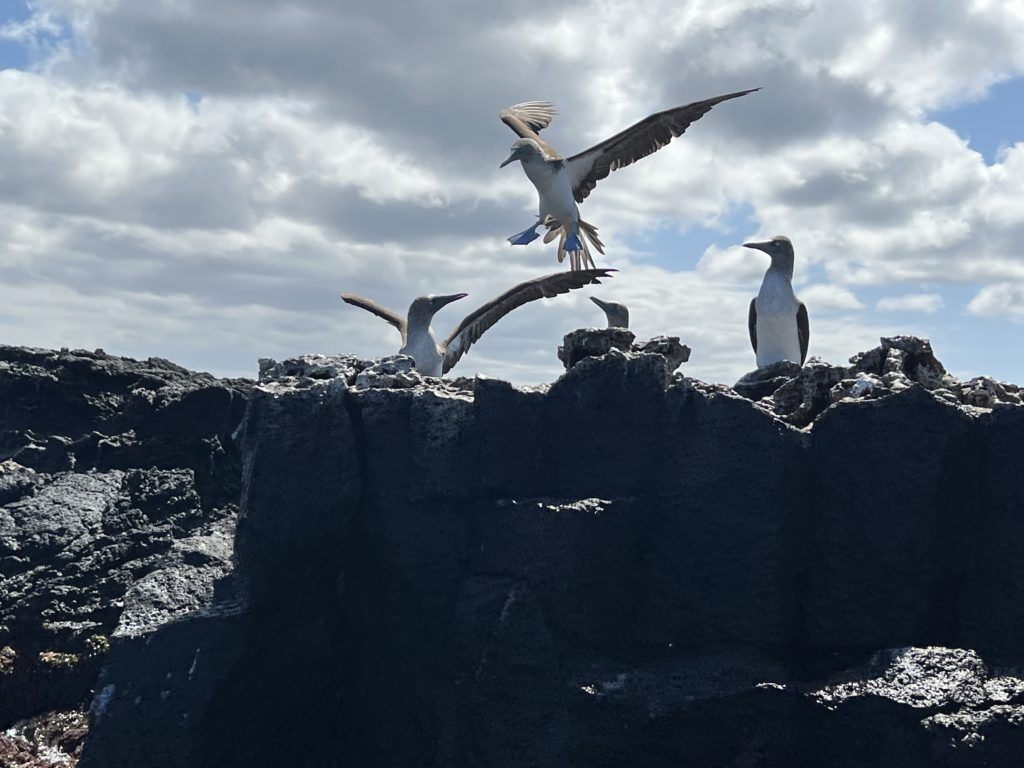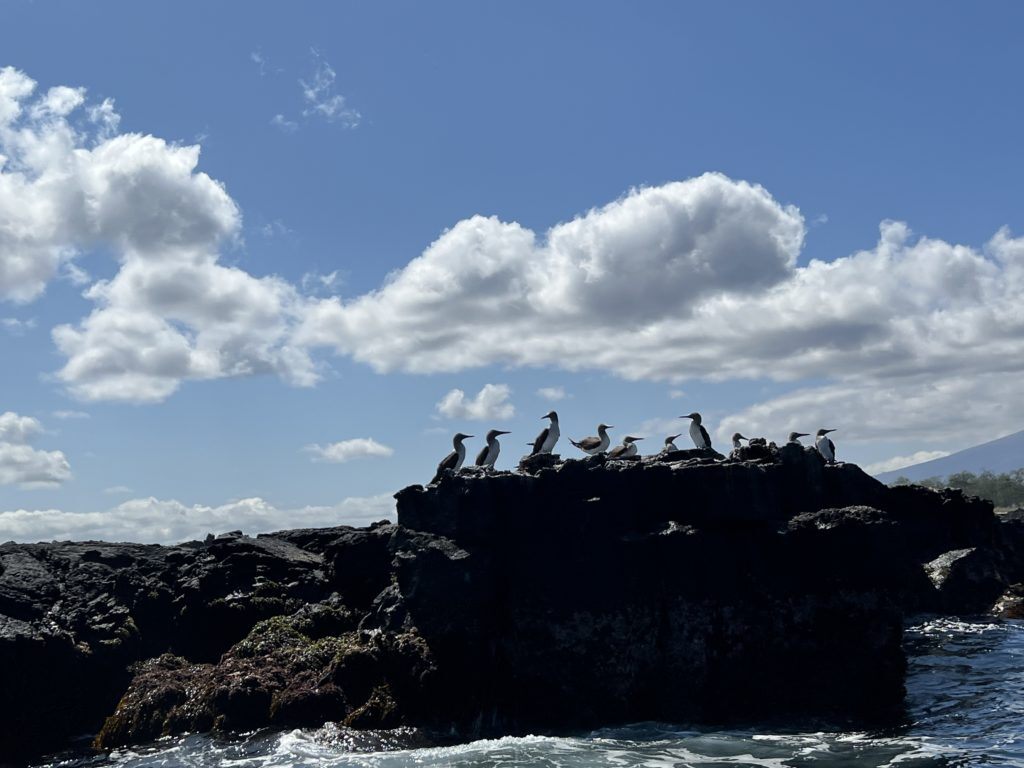 Day 3: Second Stop – Isabela Island – Snorkel Stop
After our amazing morning hike (it was really a walk), we returned to the yacht and had a snack. We quickly changed into our wetsuits for a snorkel. This was the only poor snorkel of our entire trip – usually there are many turtles in this area. The water was quite cold and the visibility was low. We saw some fish, sea urchins and some sea stars. We still had fun, though!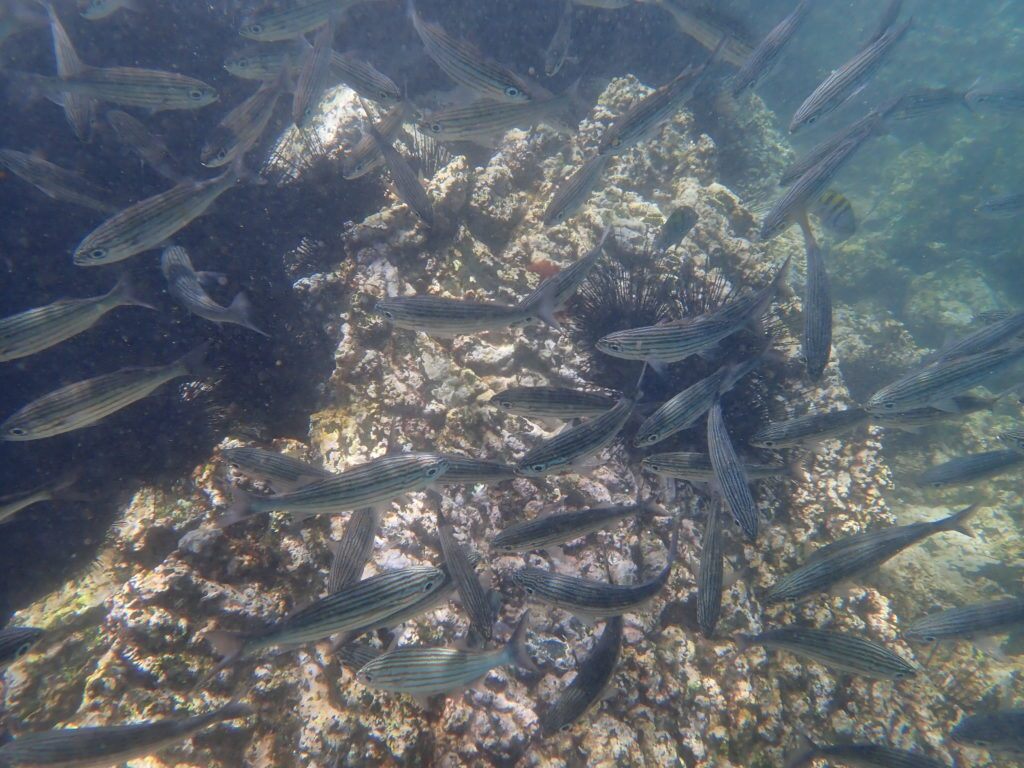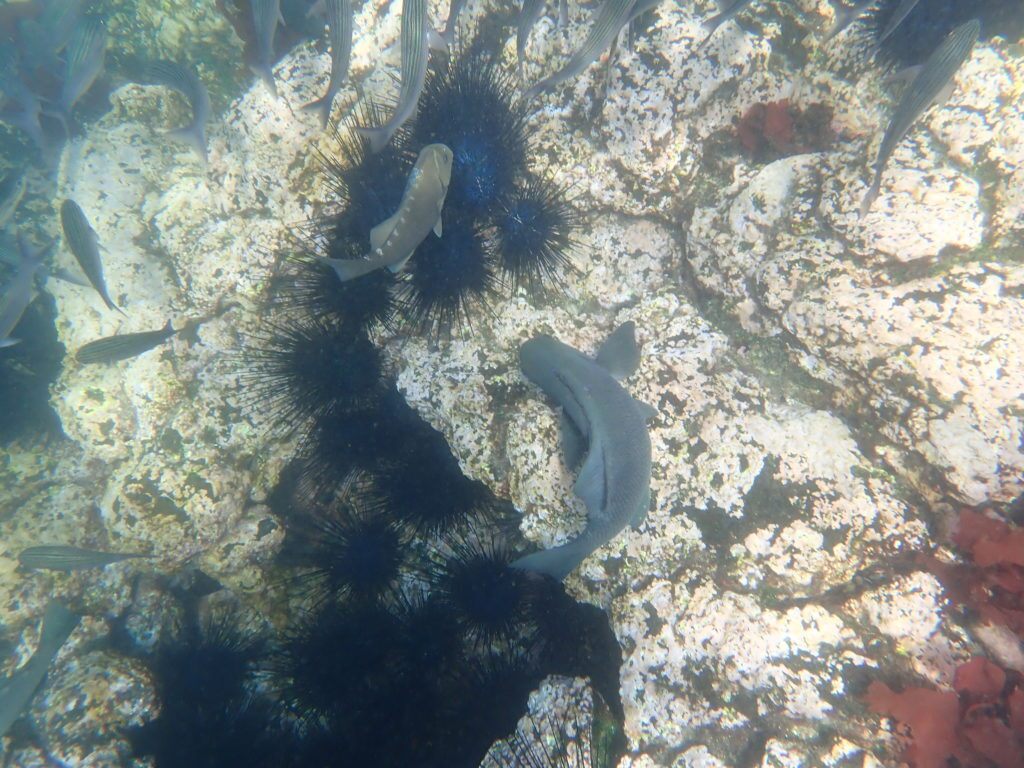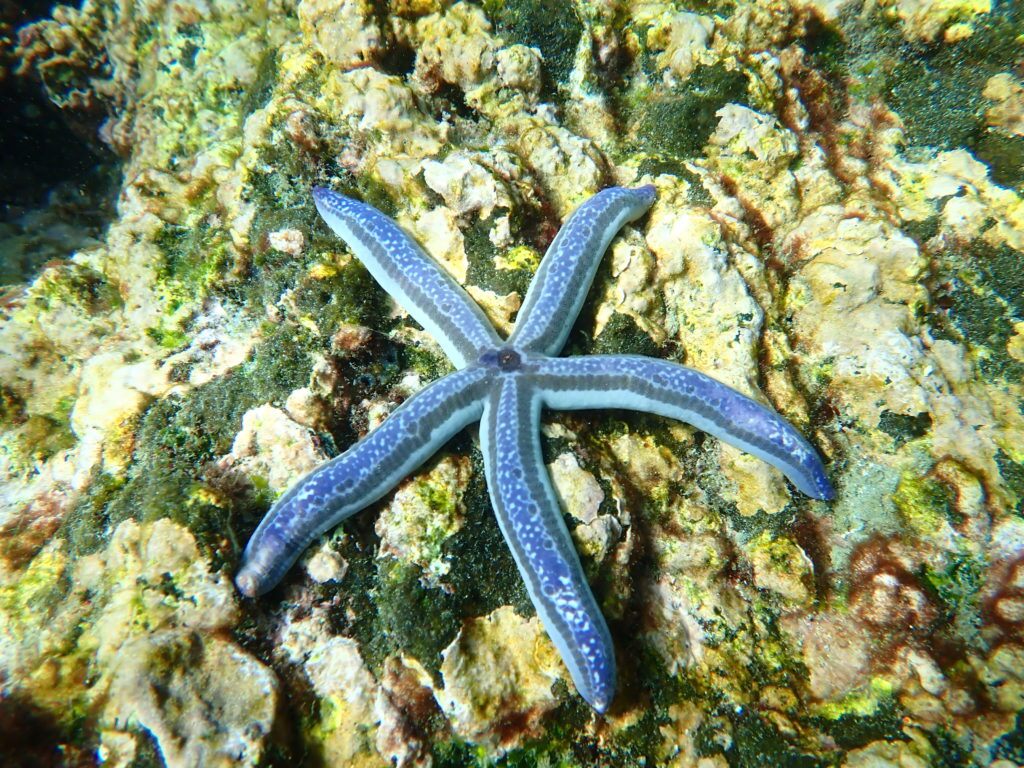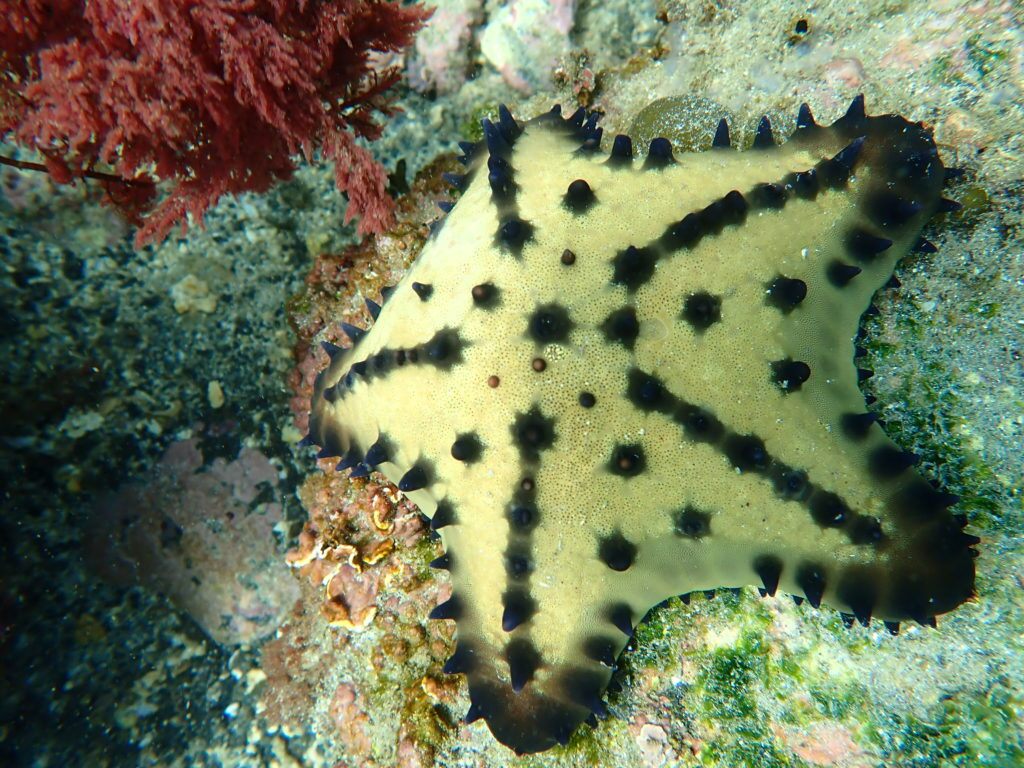 Day 3: Third Stop – Isabela Island – Elizabeth Bay
After a quick sail, we boarded the pangas for a ride in the mangroves in Elizabeth Bay. Turtles were everywhere in the waters, popping their heads up for air. It was a glorious afternoon.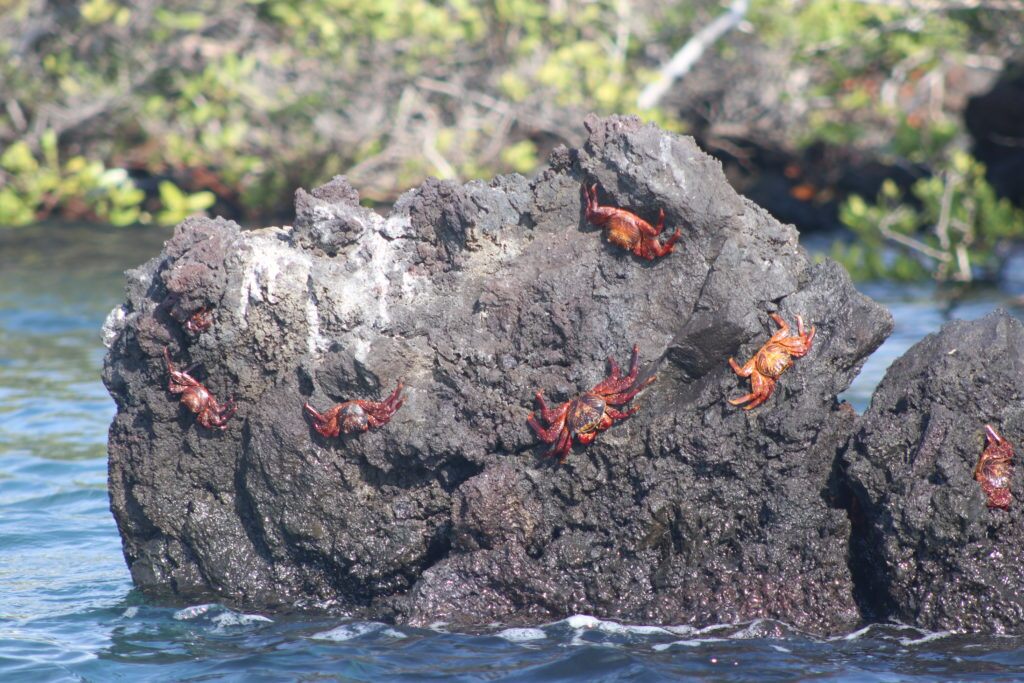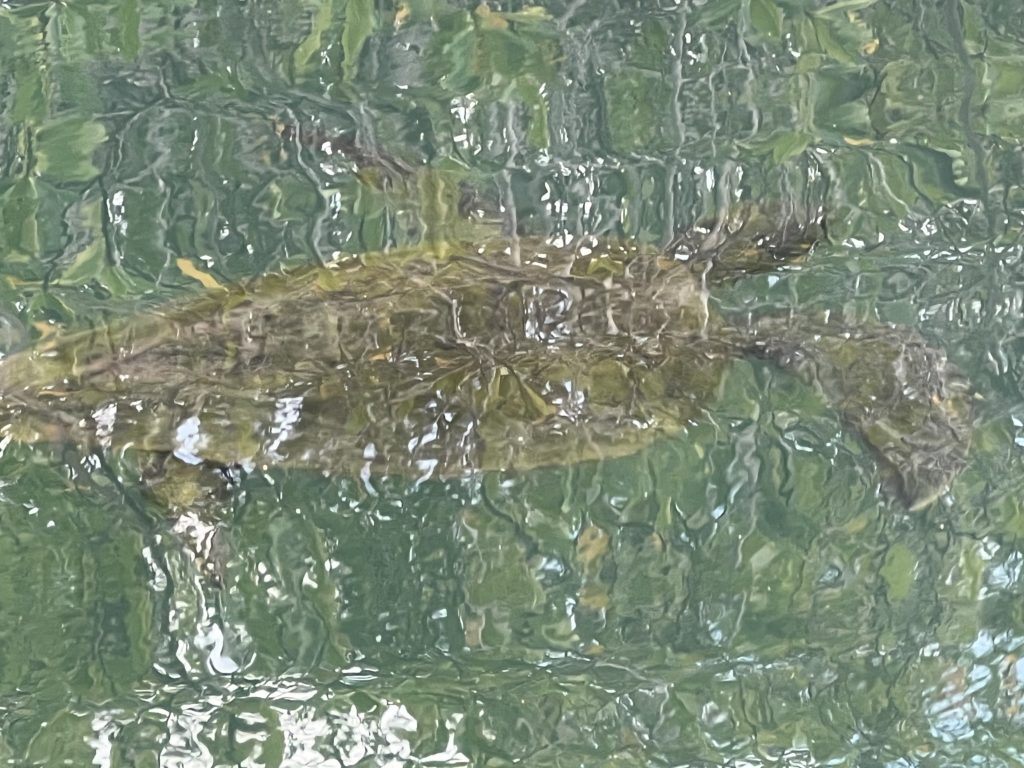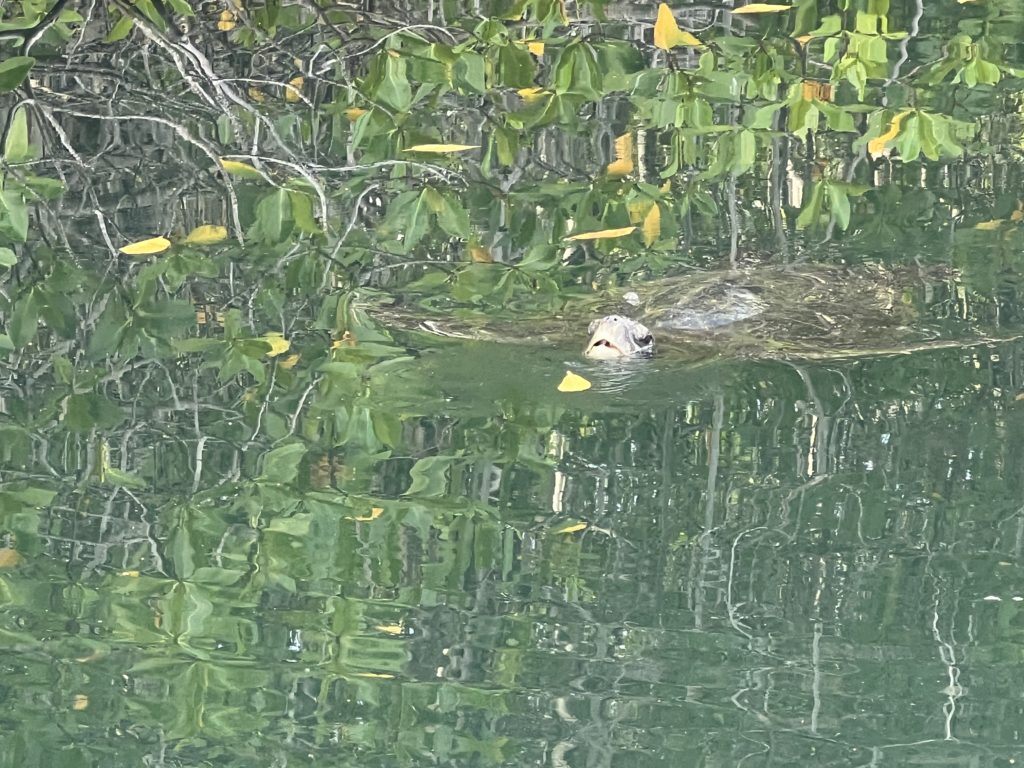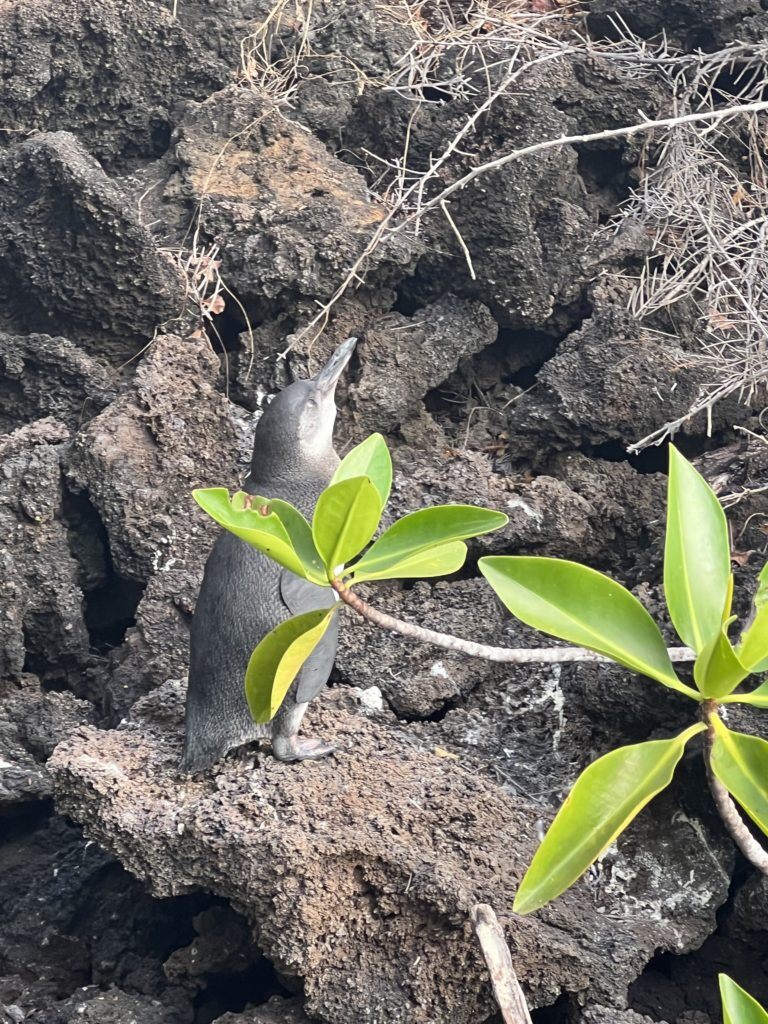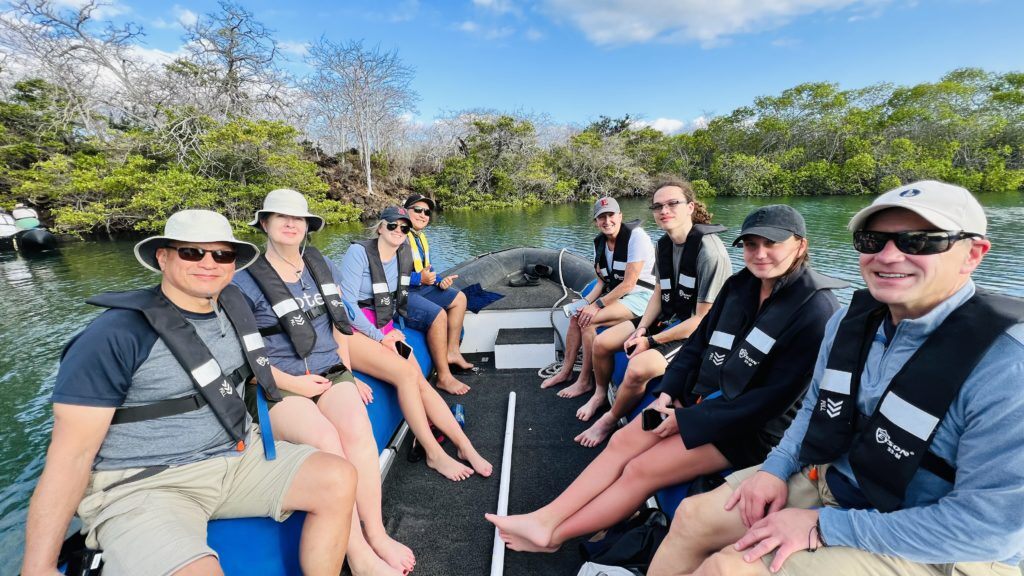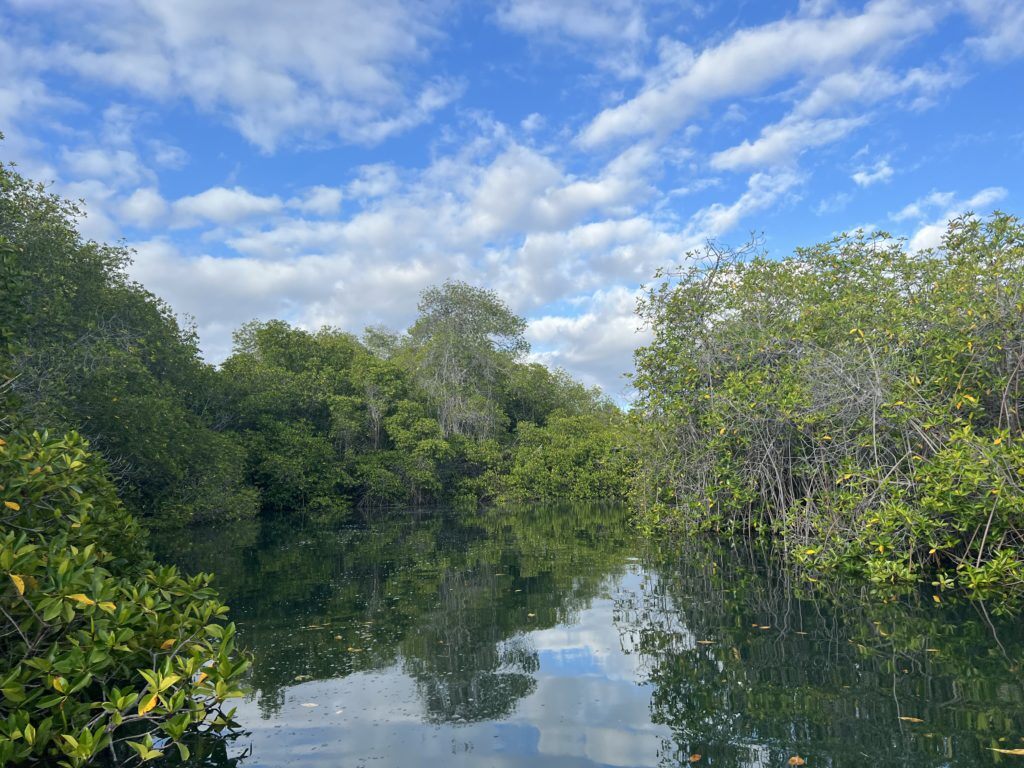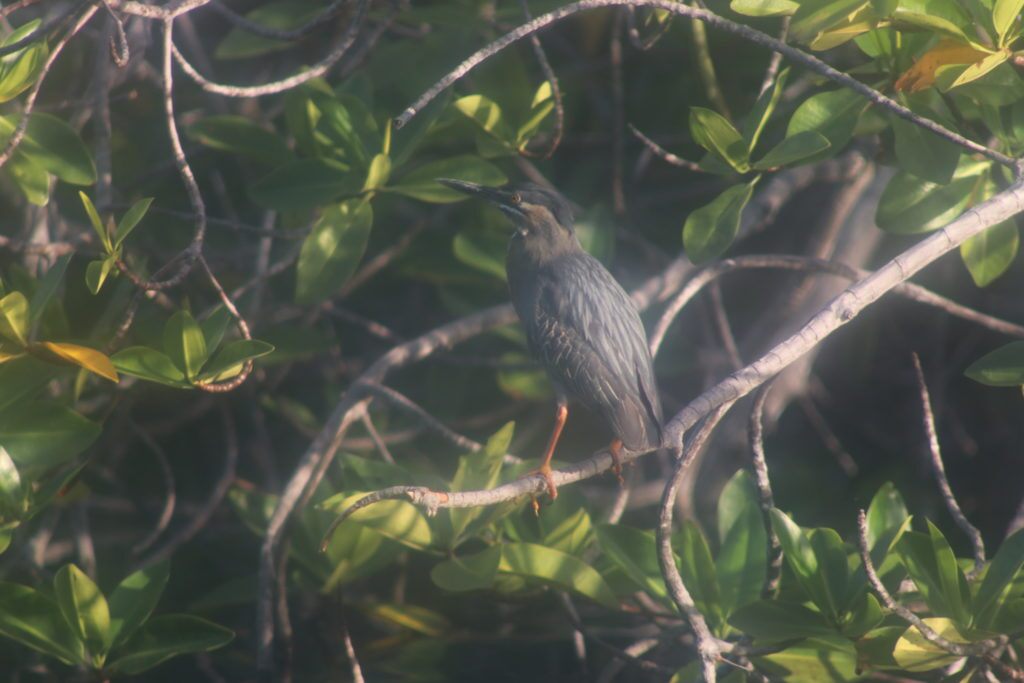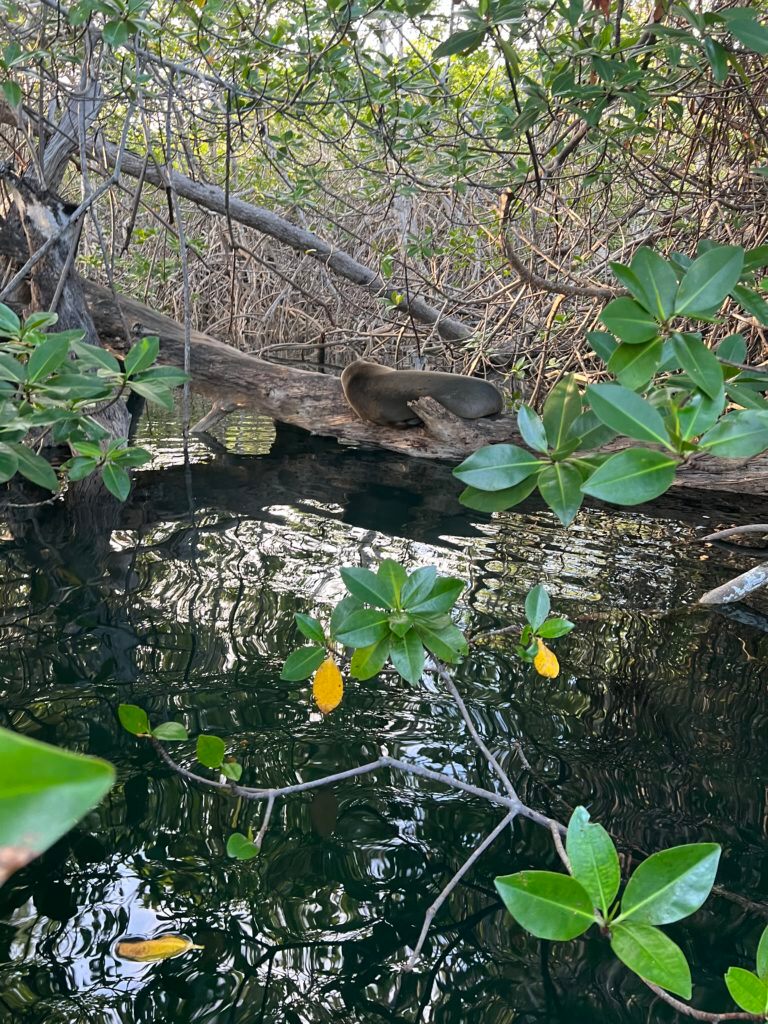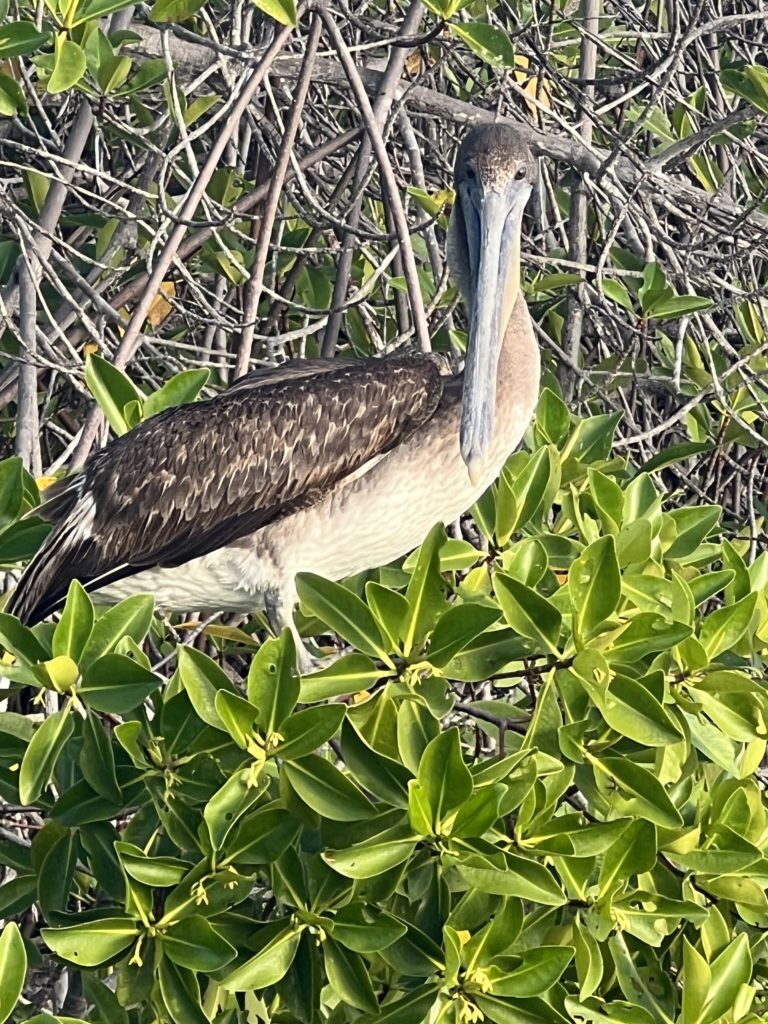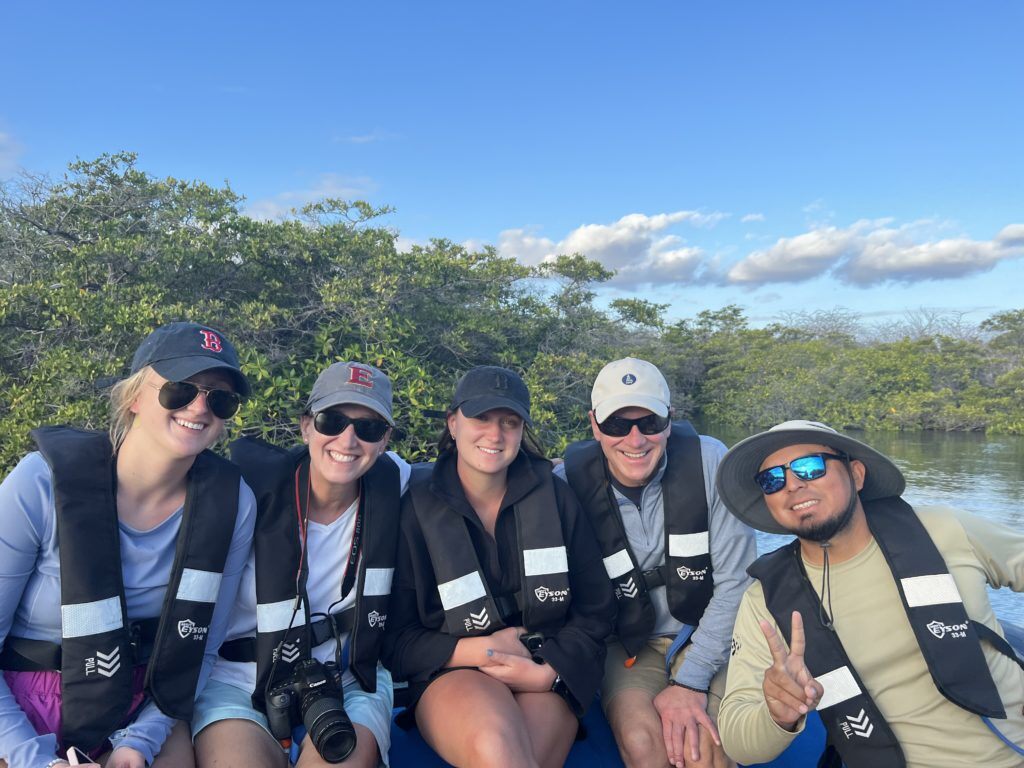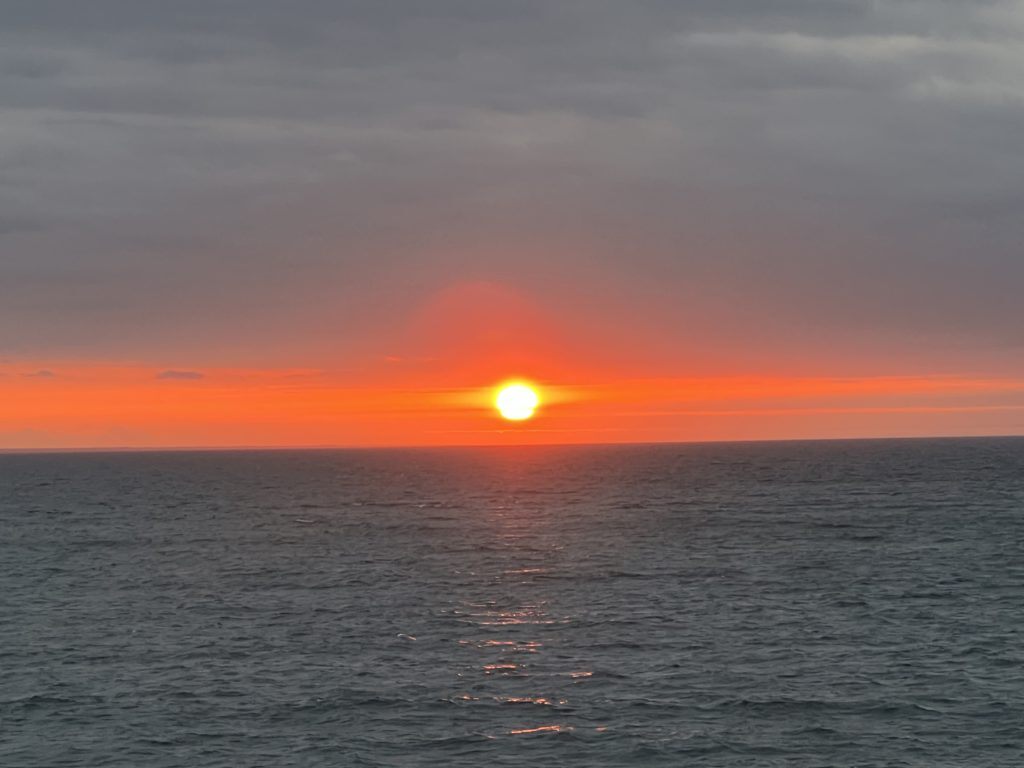 Day 4: First Stop – Isabela Island – Urbina Bay
Because we went to bed so early, we were often up early, too. We love being happily busy! We slept at our anchor last night and began moving at 5:45am to Urbina Bay on Isabela. We began a walk to see land iguanas, tortoises and sea turtle nests. We also saw many birds. The walk was easy and pleasant. We brought our snorkel gear with us and left them on the sand.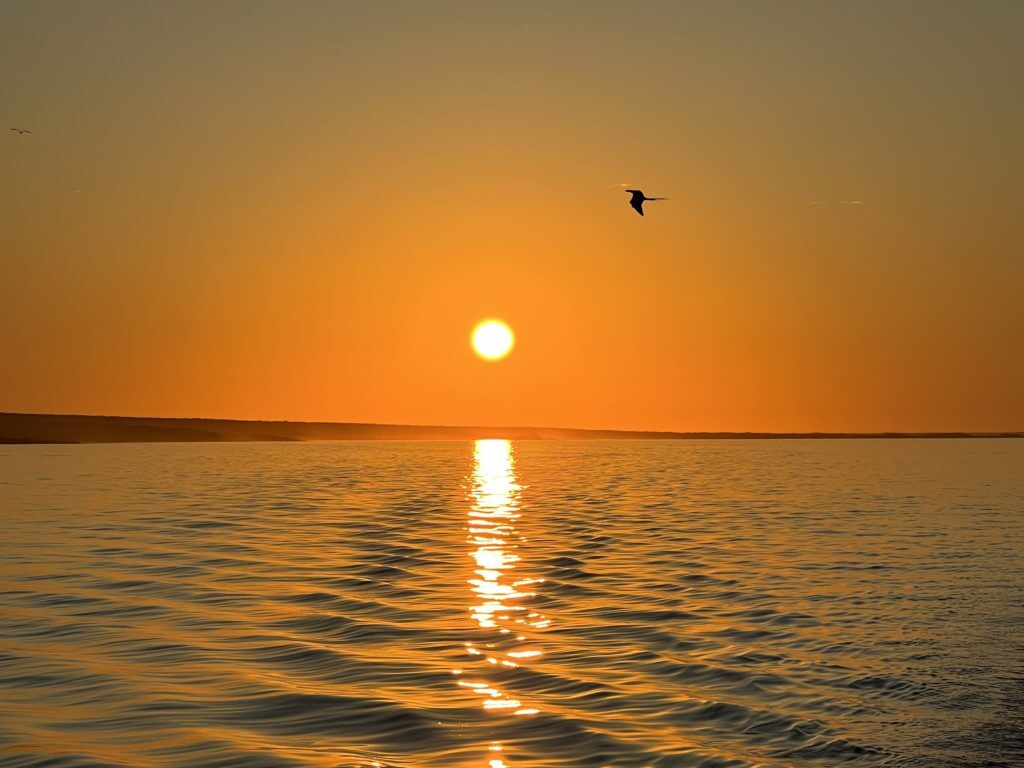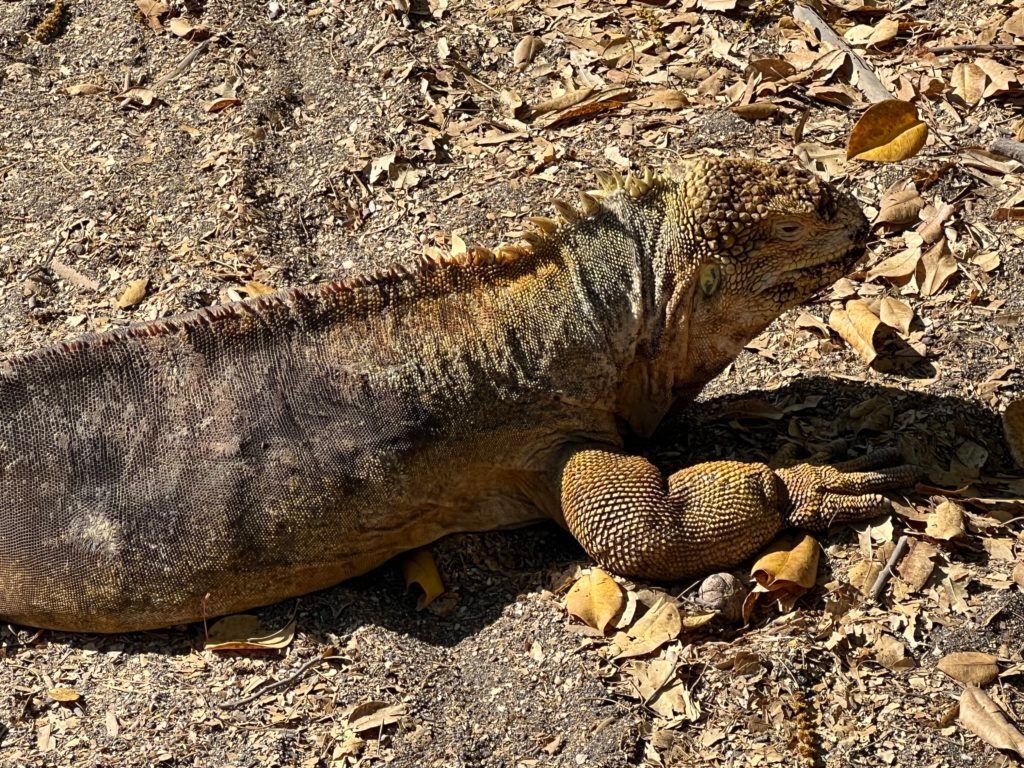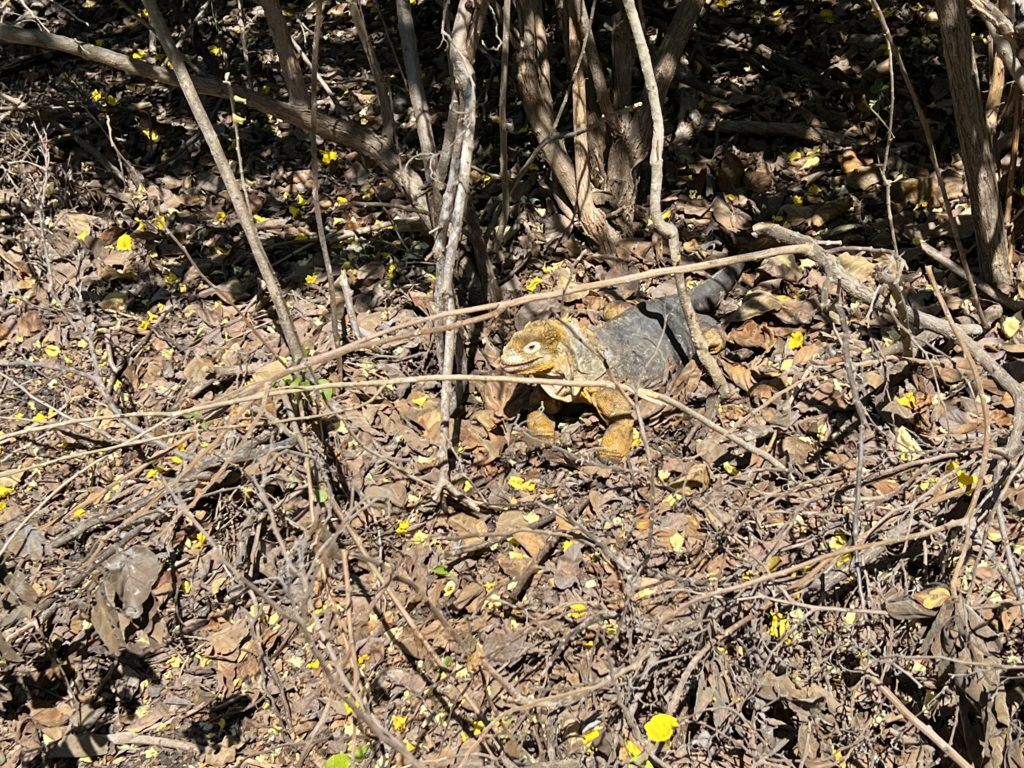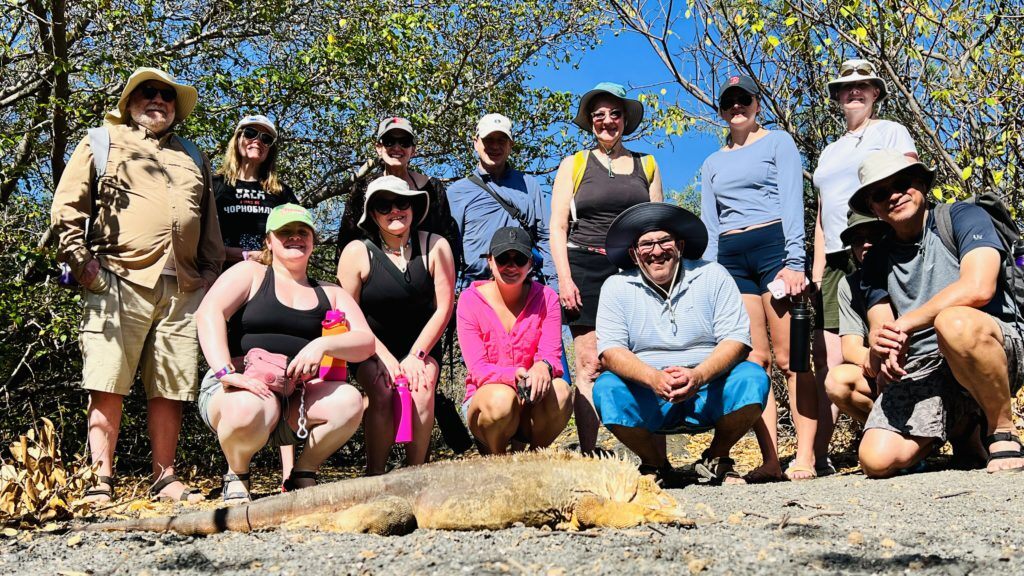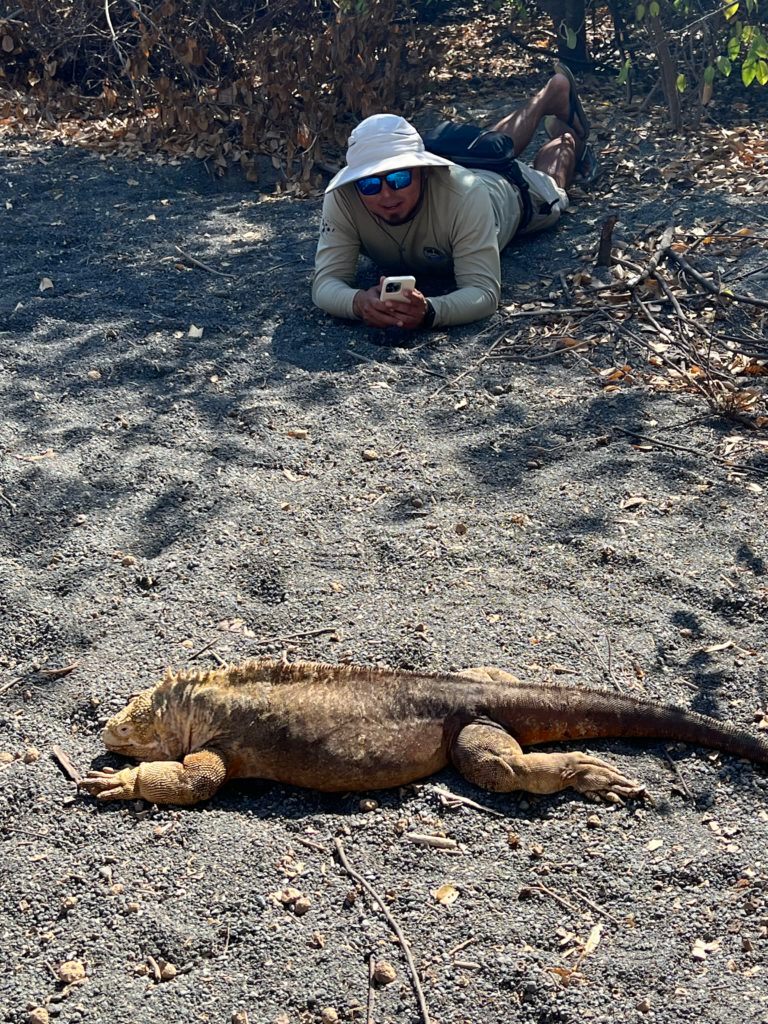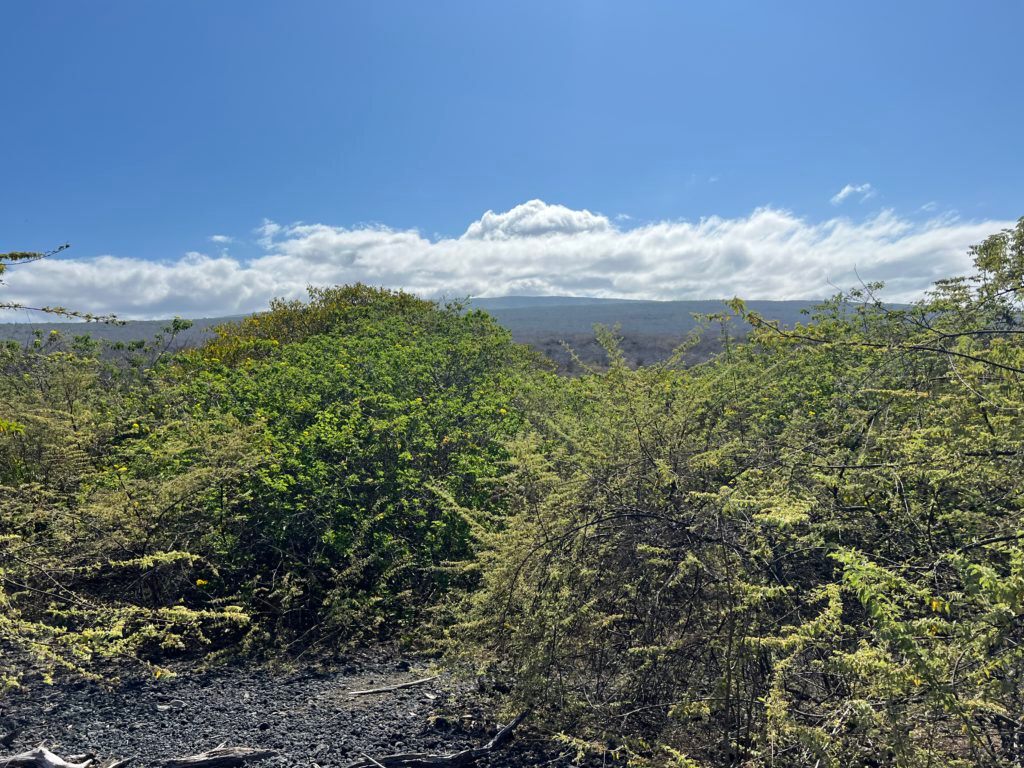 Day 4: Second Stop – Isabela Island – Urbina Bay Snorkel
After our lovely walk, we were offered the opportunity to snorkel at Urbina Bay. We played with a sea lion, swam with sea turtles and saw some cool rays. We took a great deal of video at this stop and not as many photos. It was wonderful.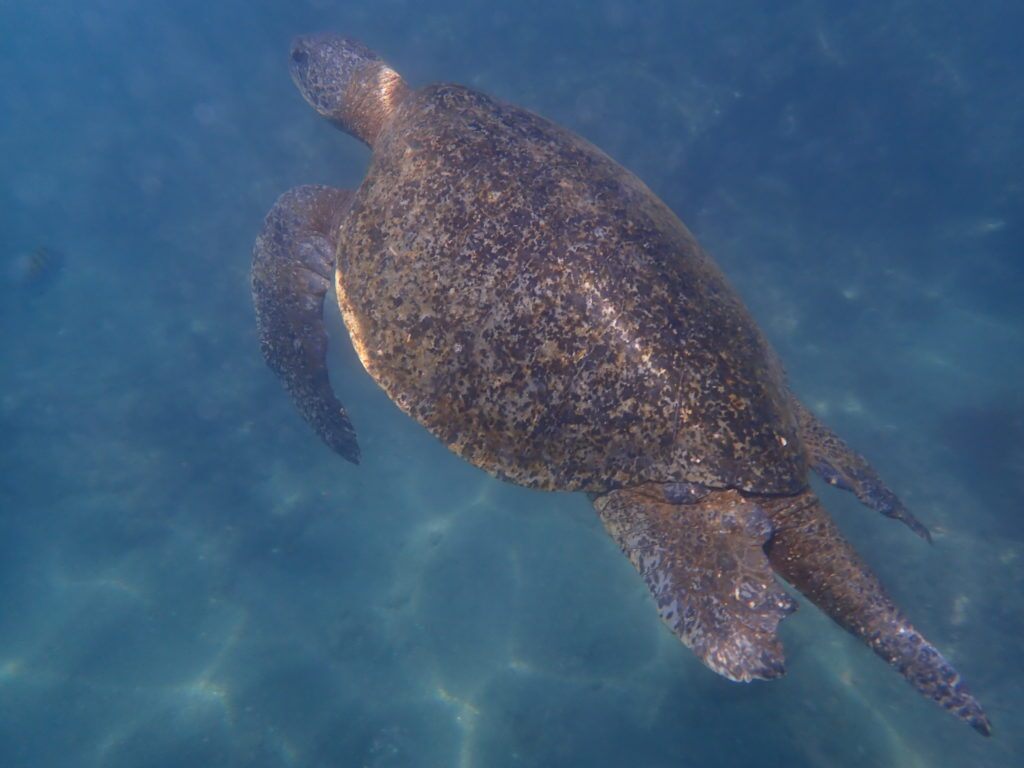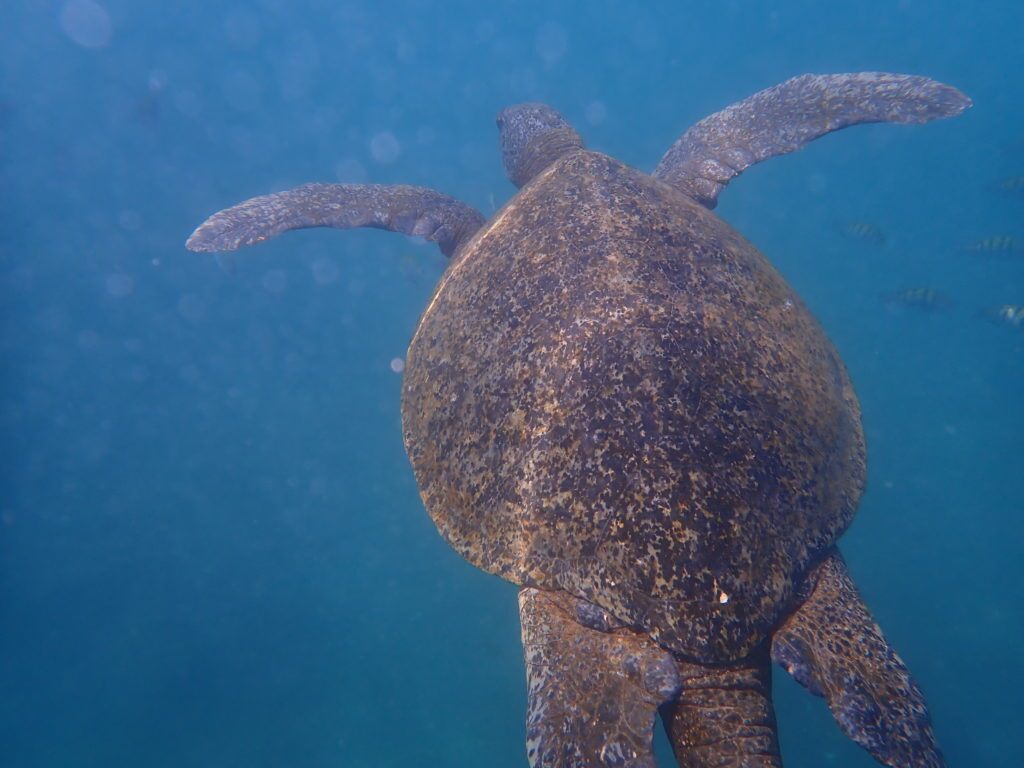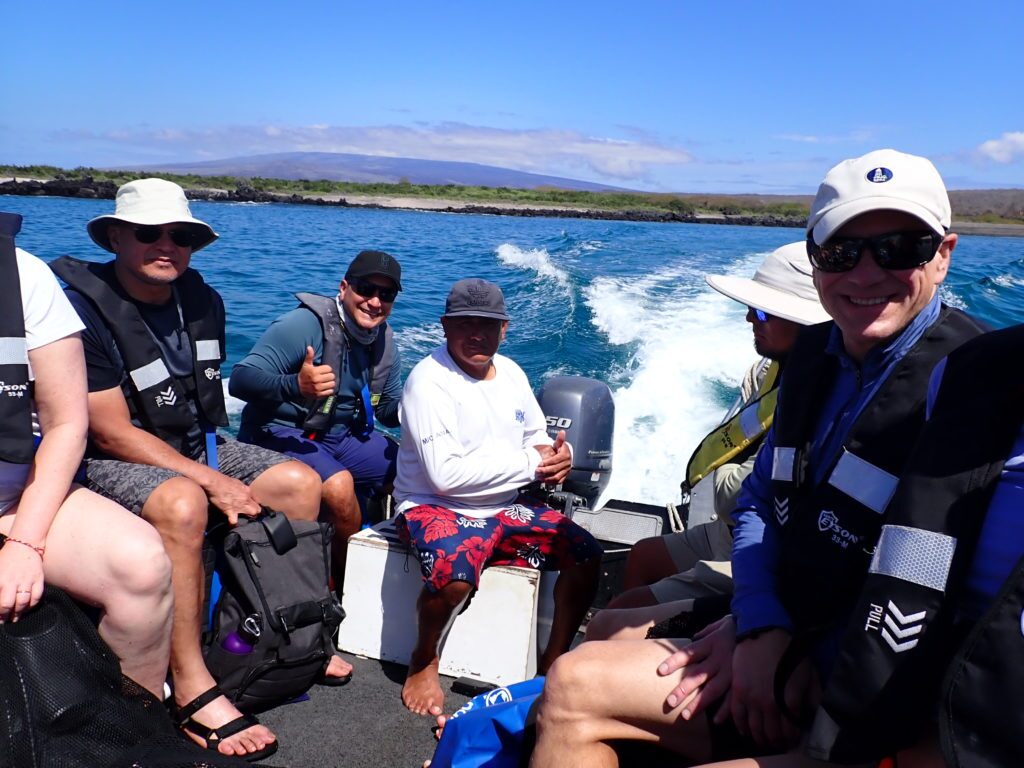 Day 4: Third Stop – Fernandina Island – Snorkel Stop
We had a scrumptious lunch on board as we motored to Fernandina Island. Our post-lunch snorkel stop was full of turtles, rays, fish and sharks (very hard to photograph). We also spotted a huge Blue Footed Boobie colony. The expressions on their faces are so funny.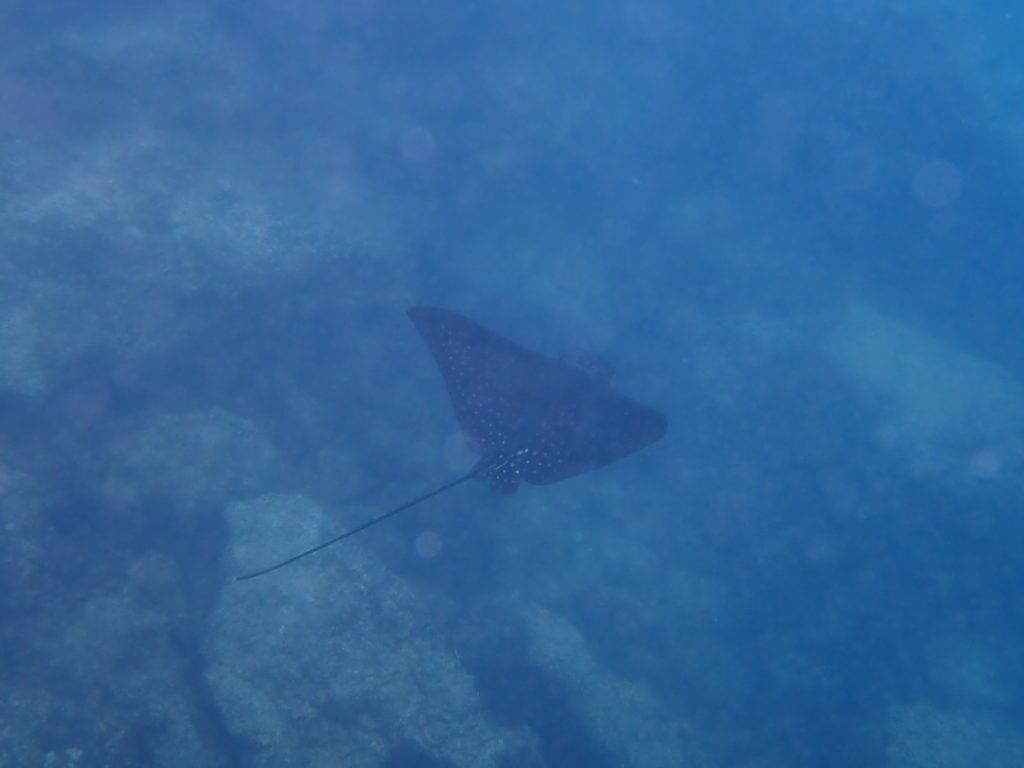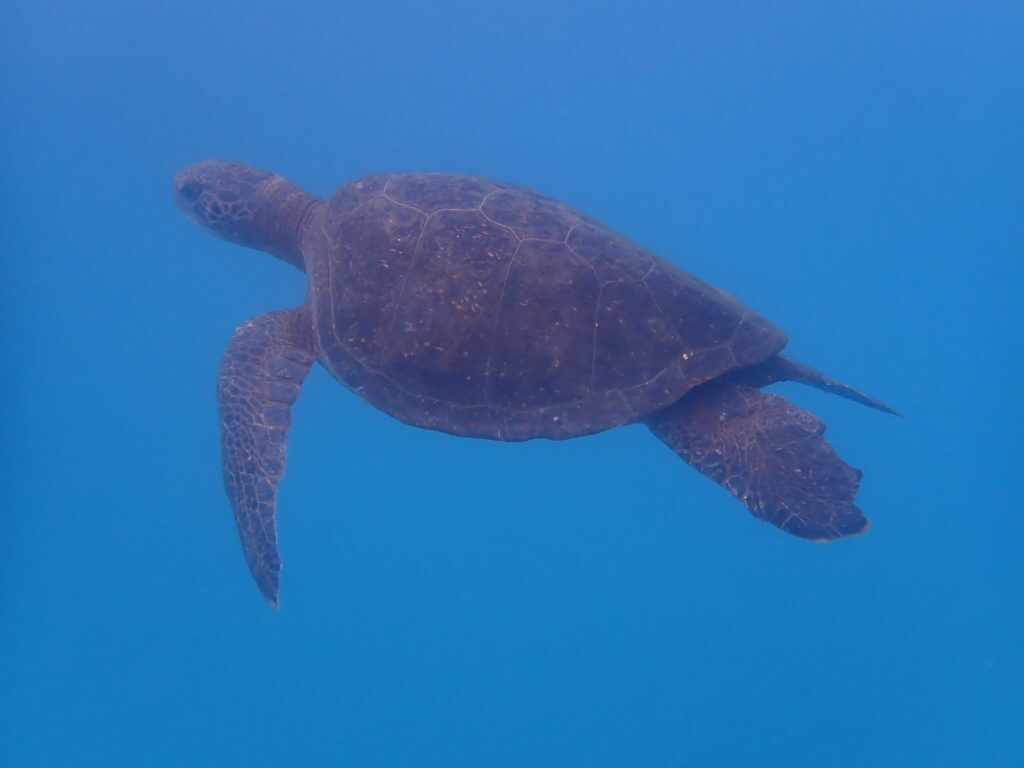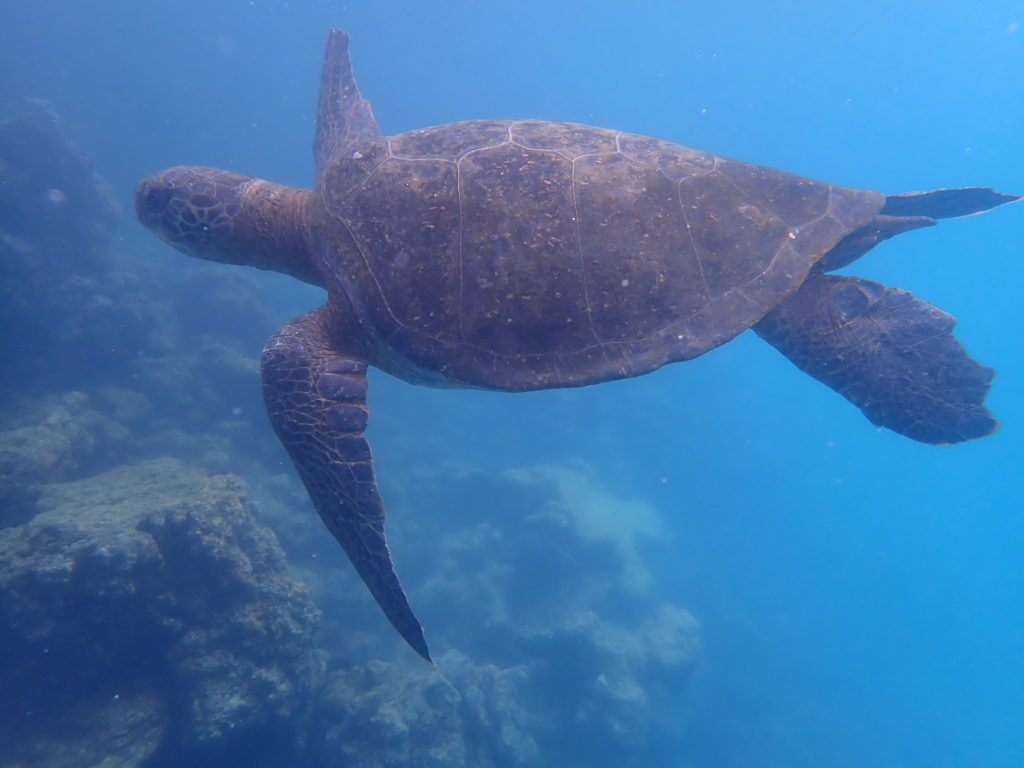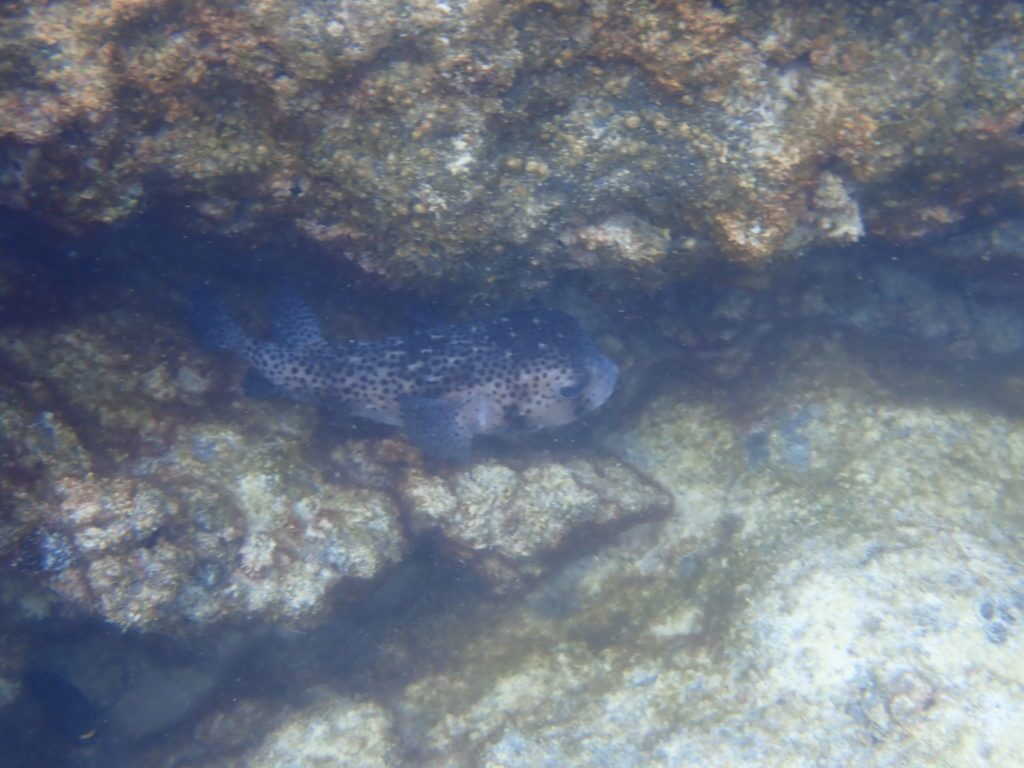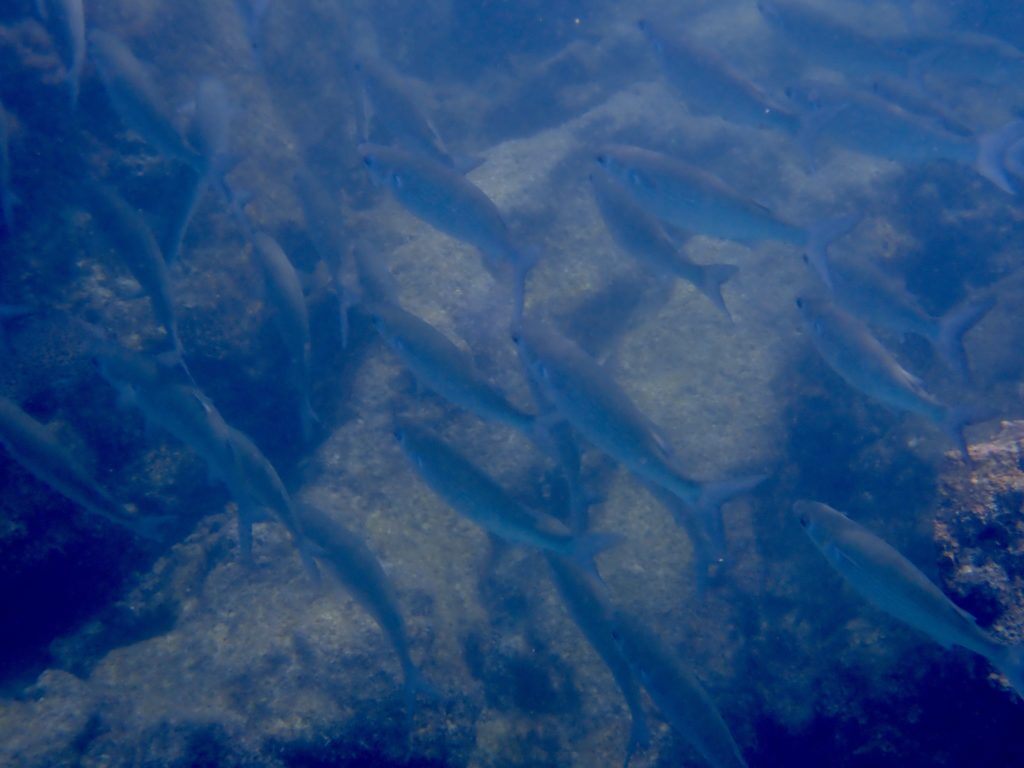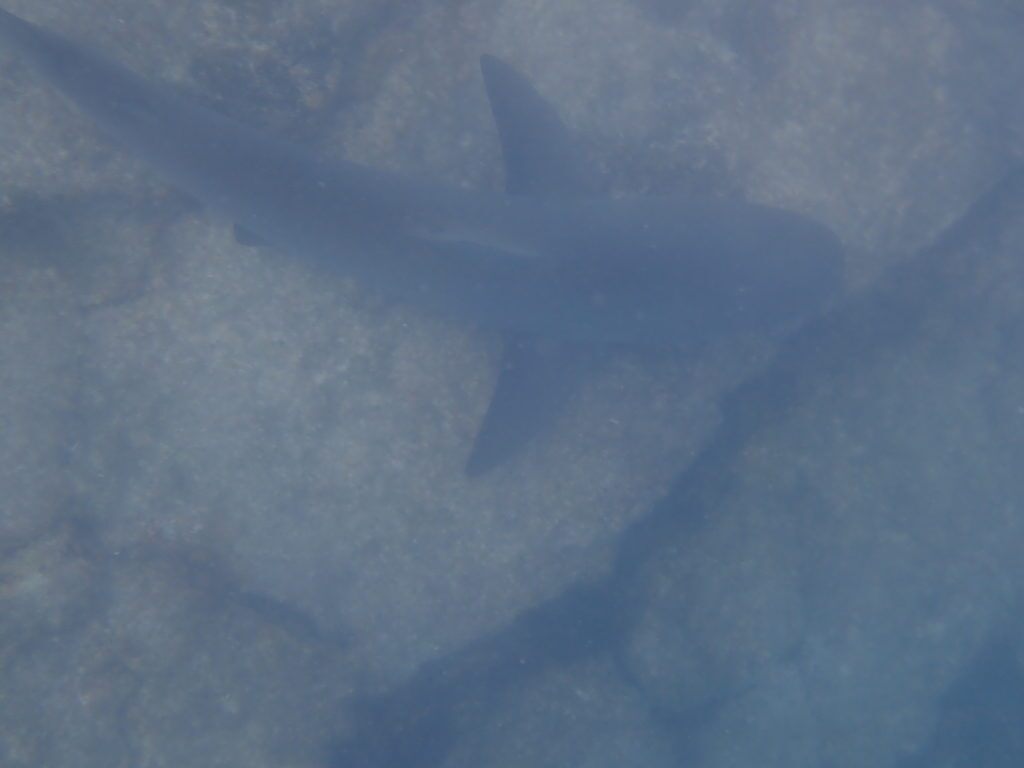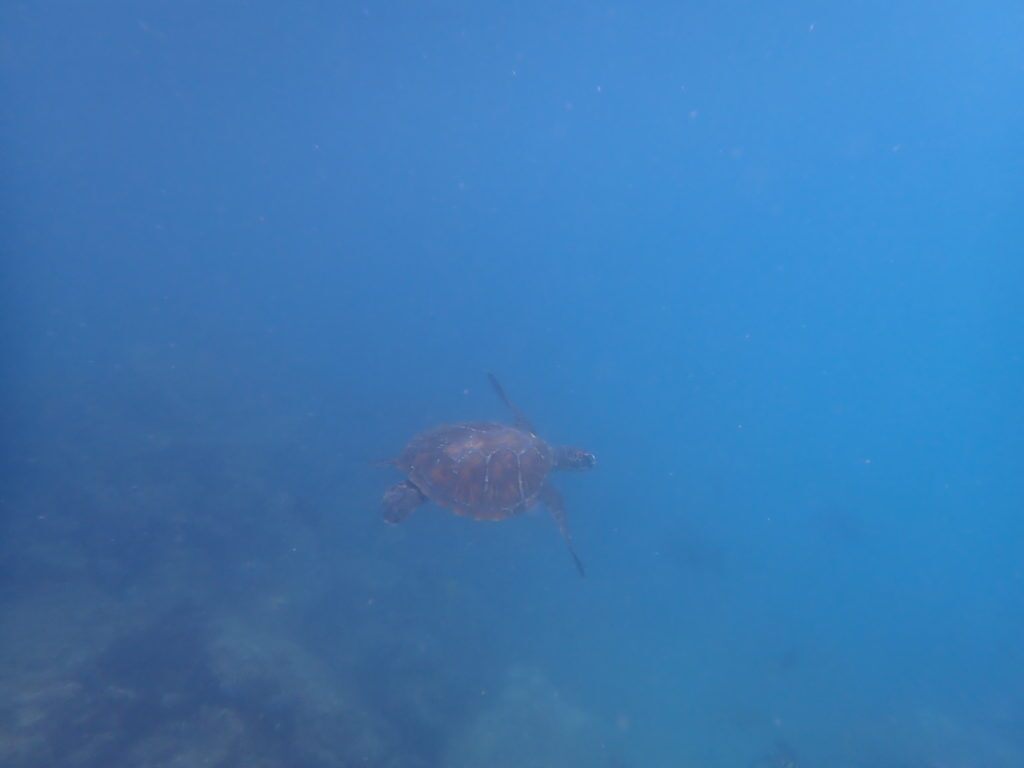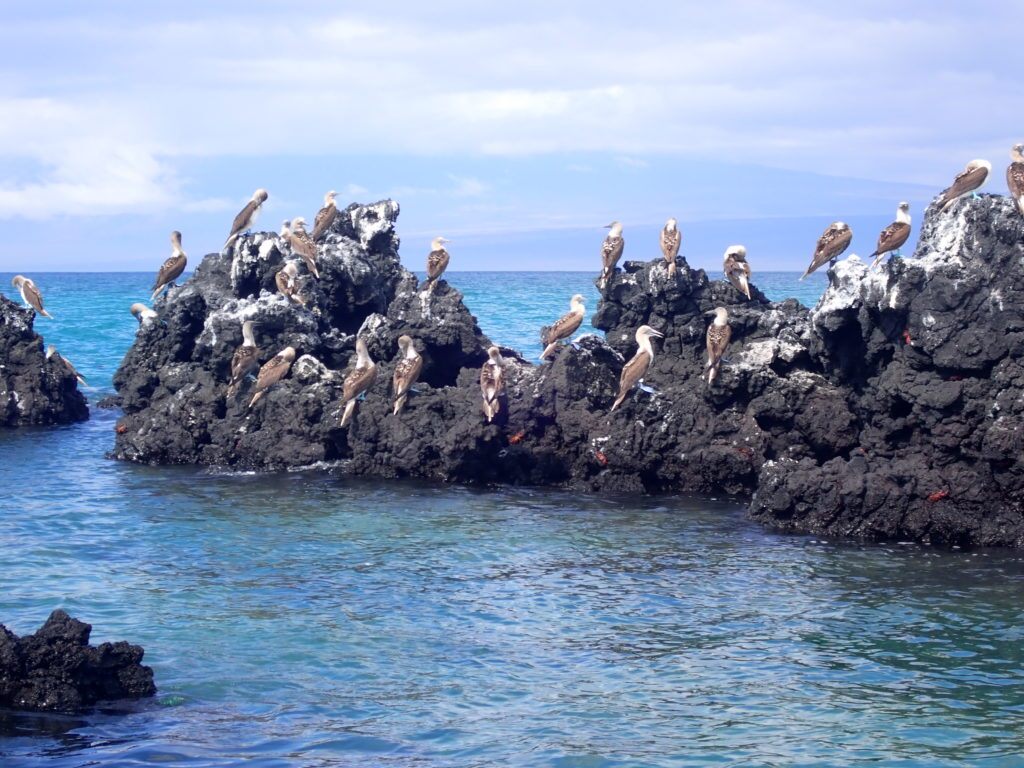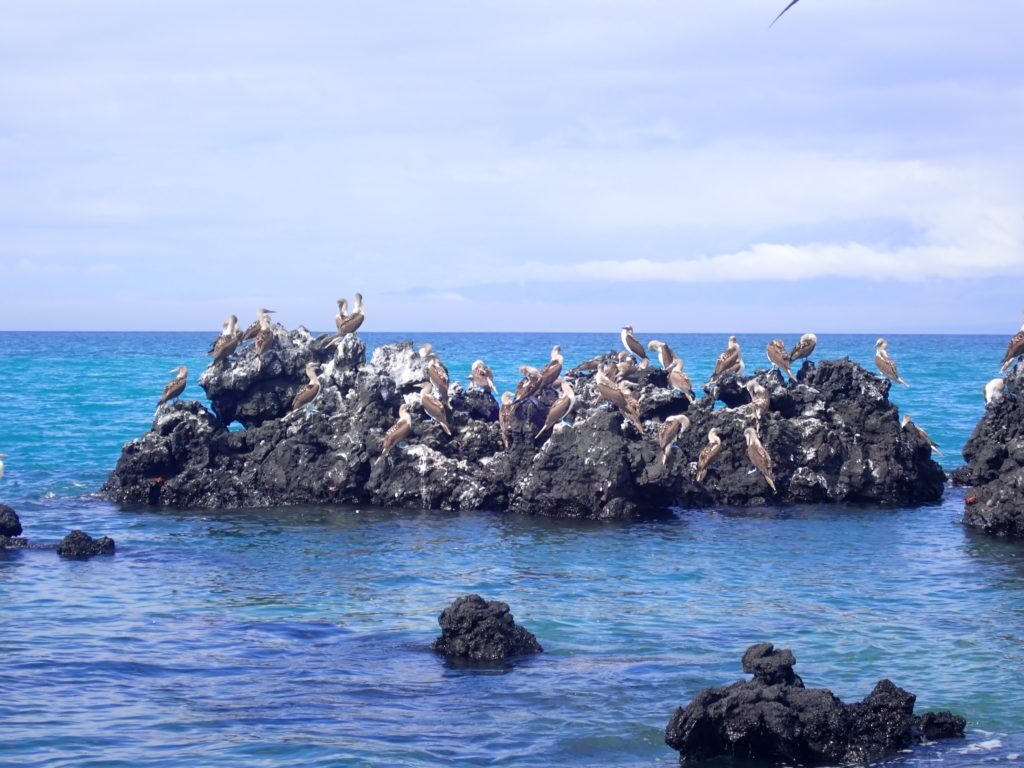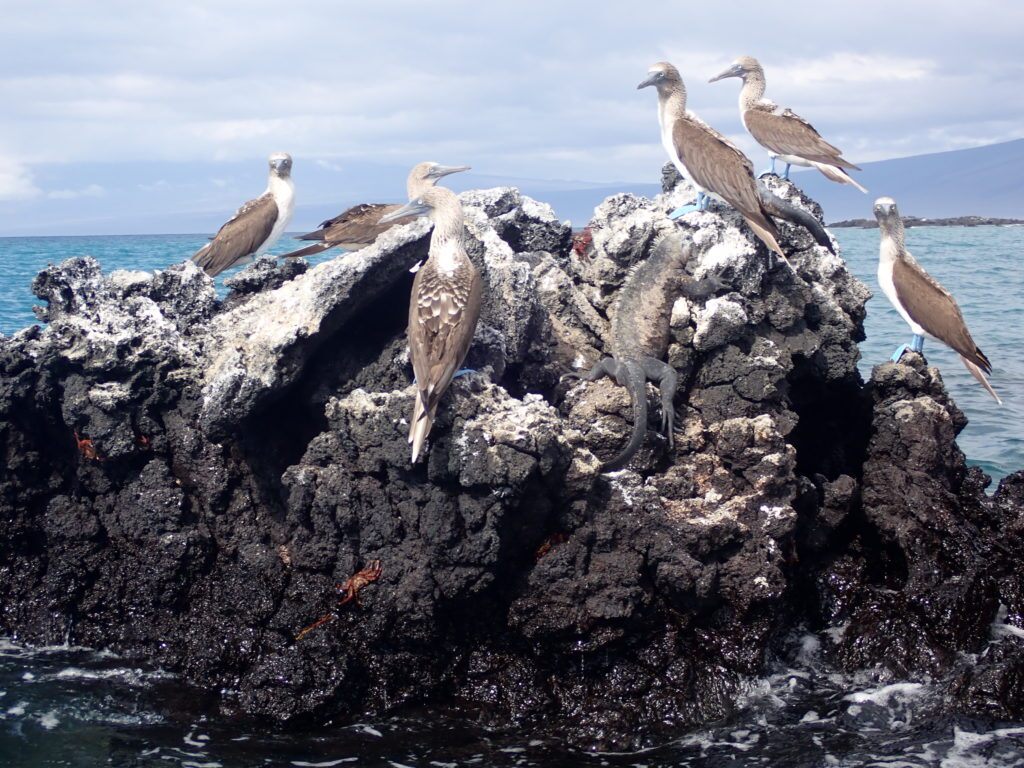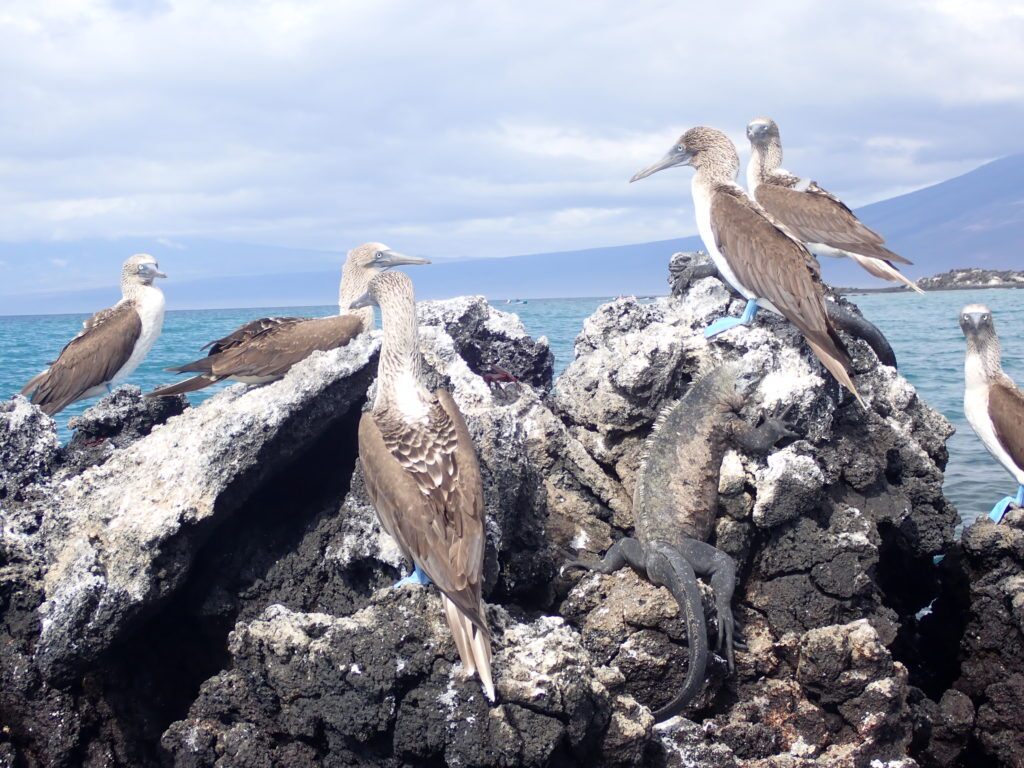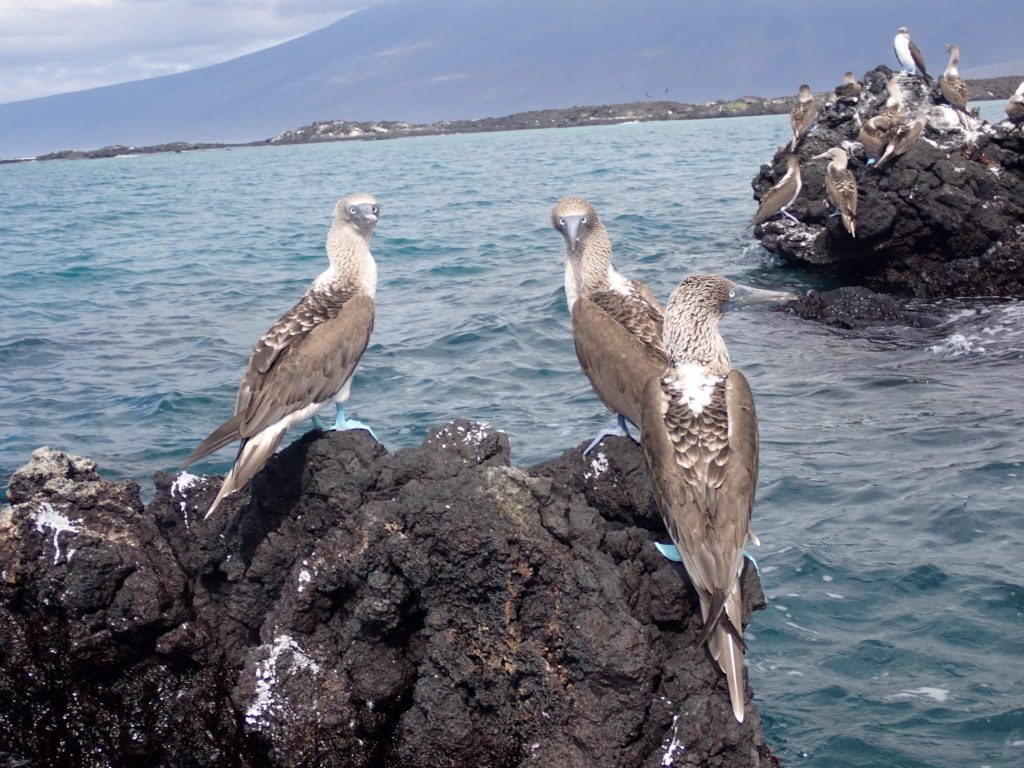 Day 4: Fourth Stop – Fernandina Island – Espinoza Point
We sailed for a bit, so we read our books on the deck. We took the pangas to Espinoza Point which had an unbelievable amount of marine iguanas and nursing baby sea lions. We took a nice walk with Omar and snapped a ridiculous amount of photos!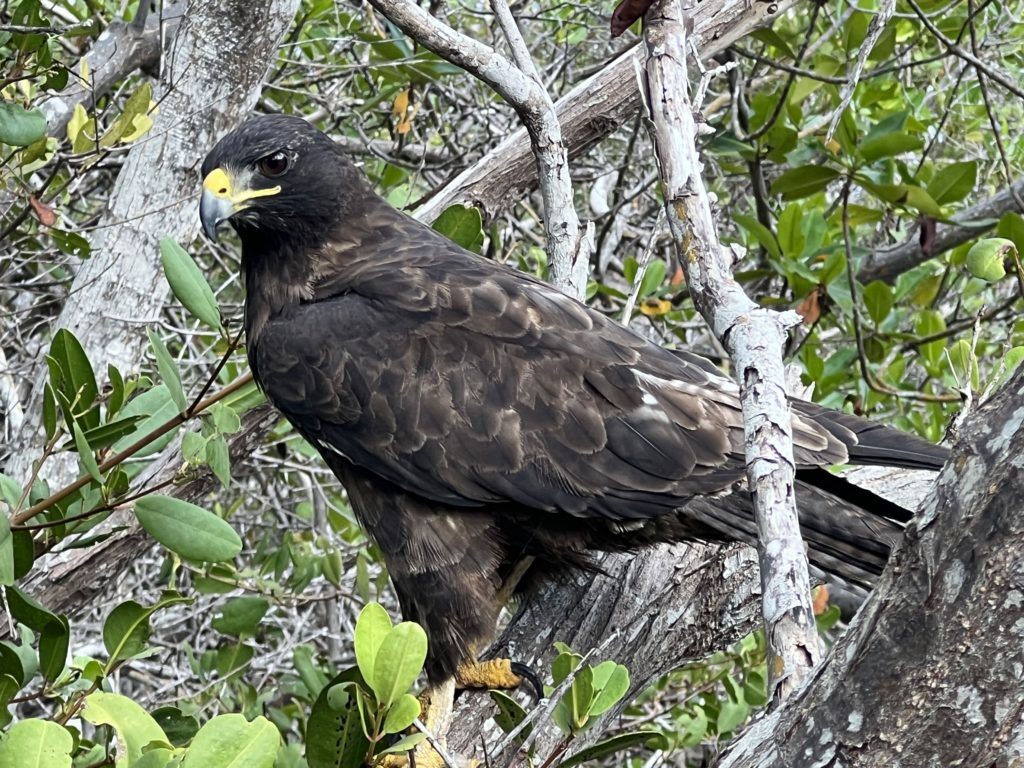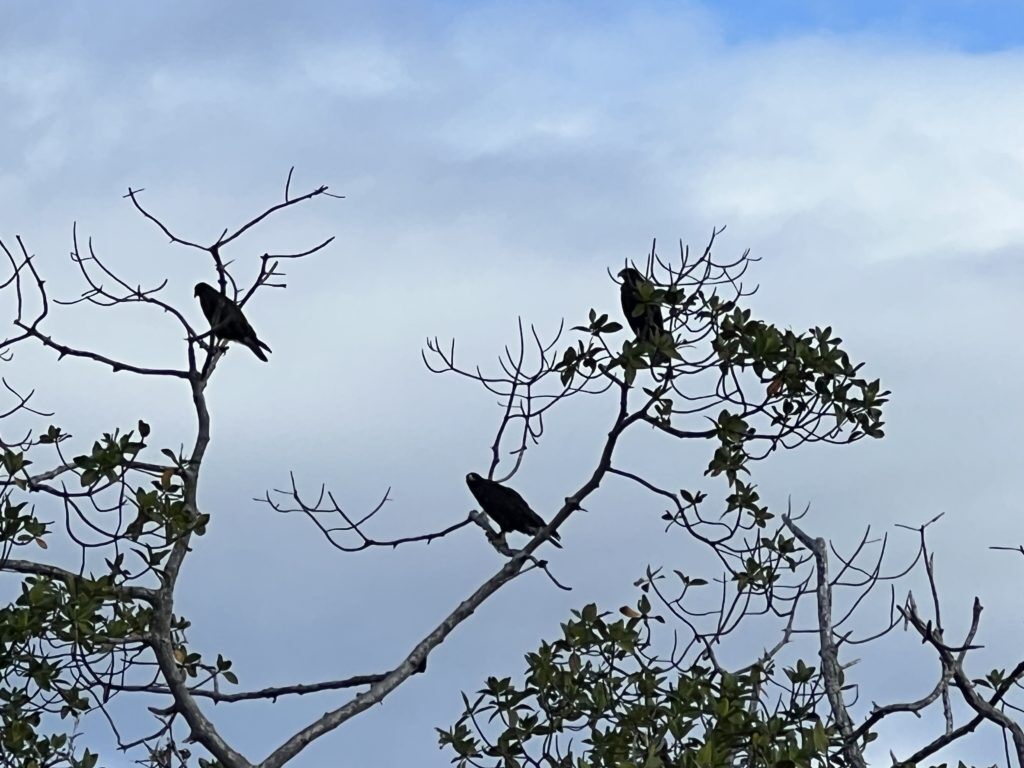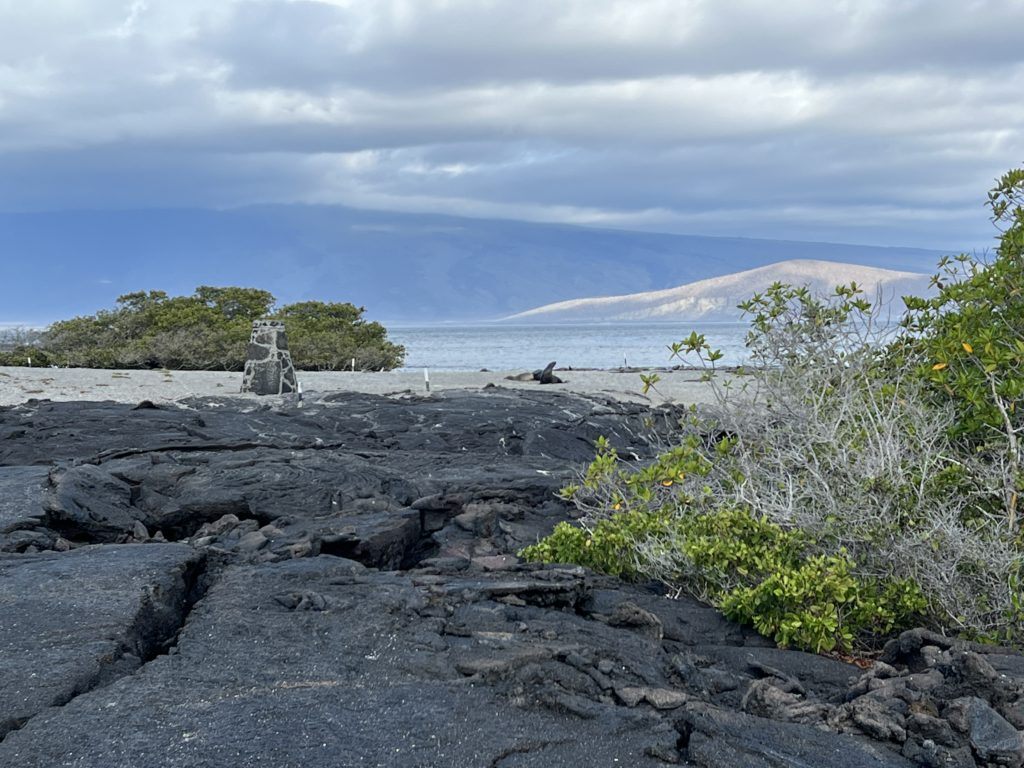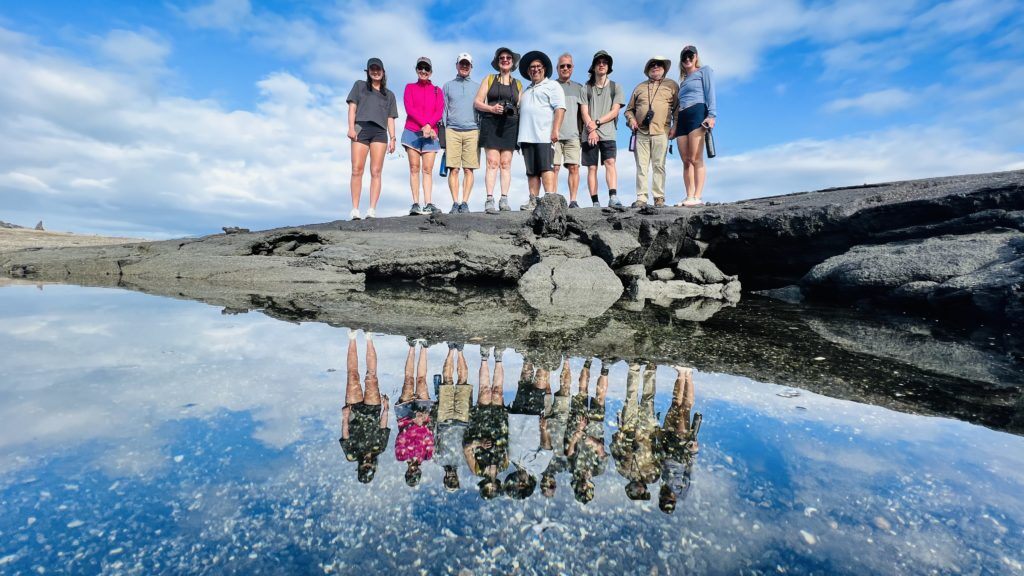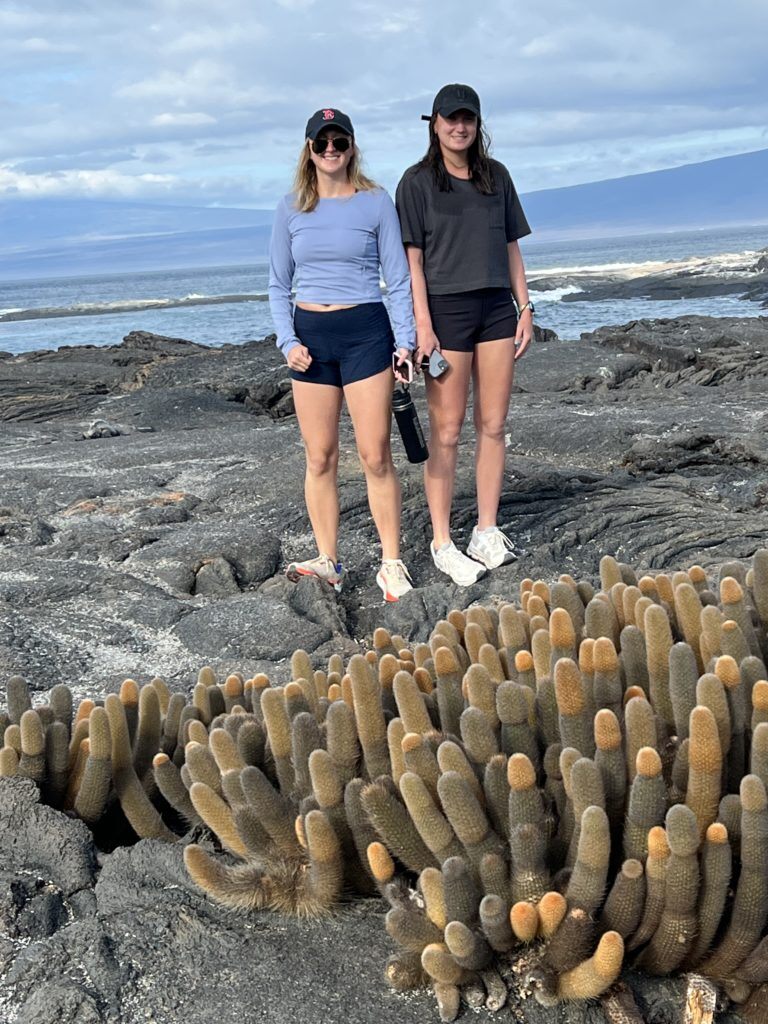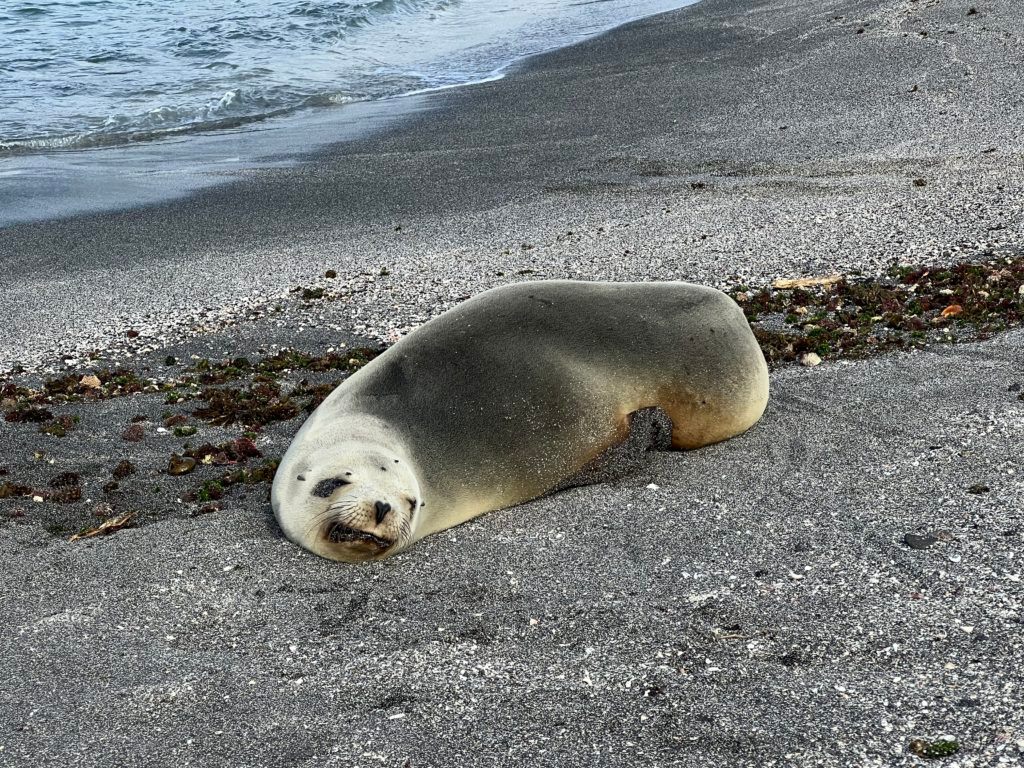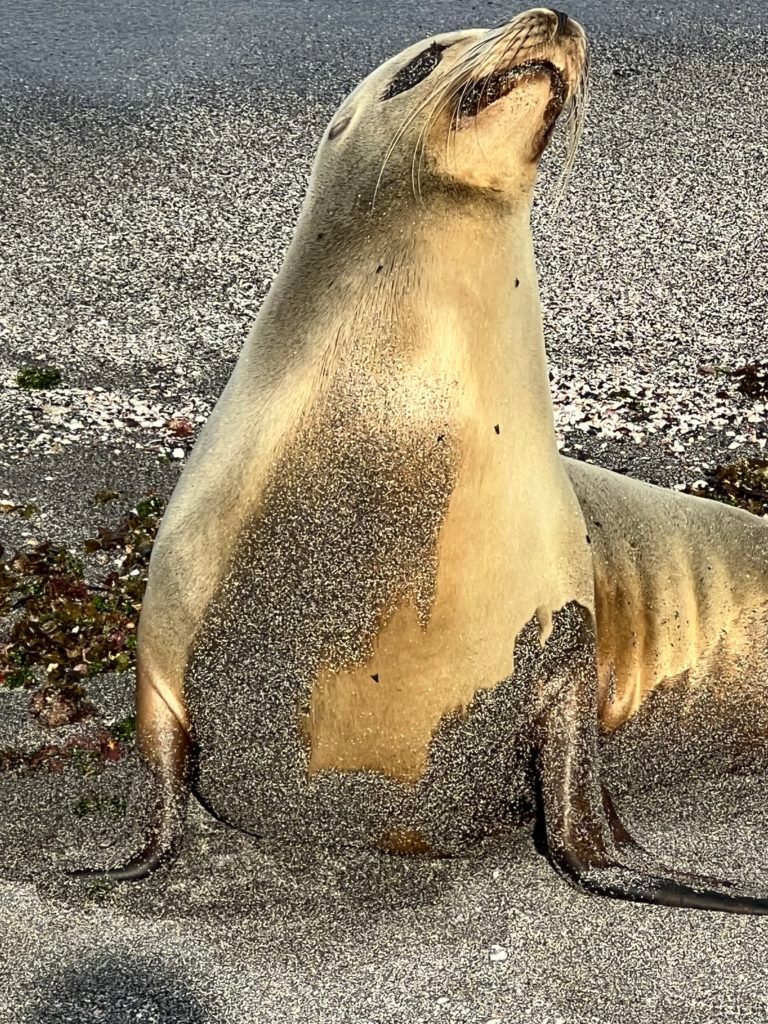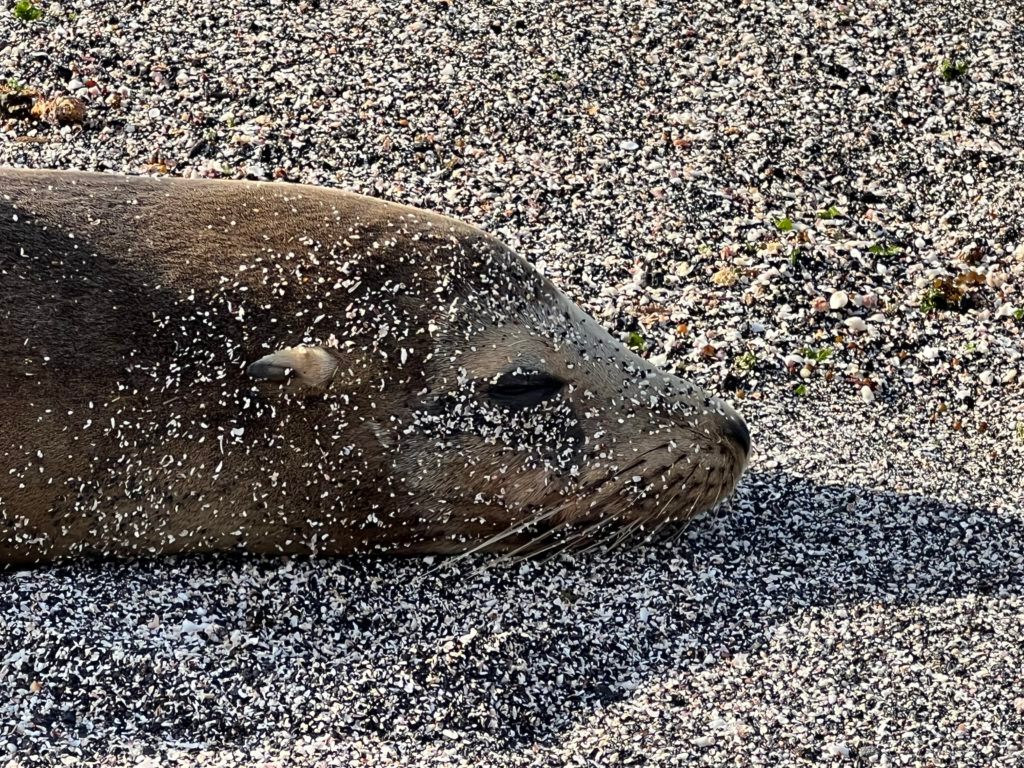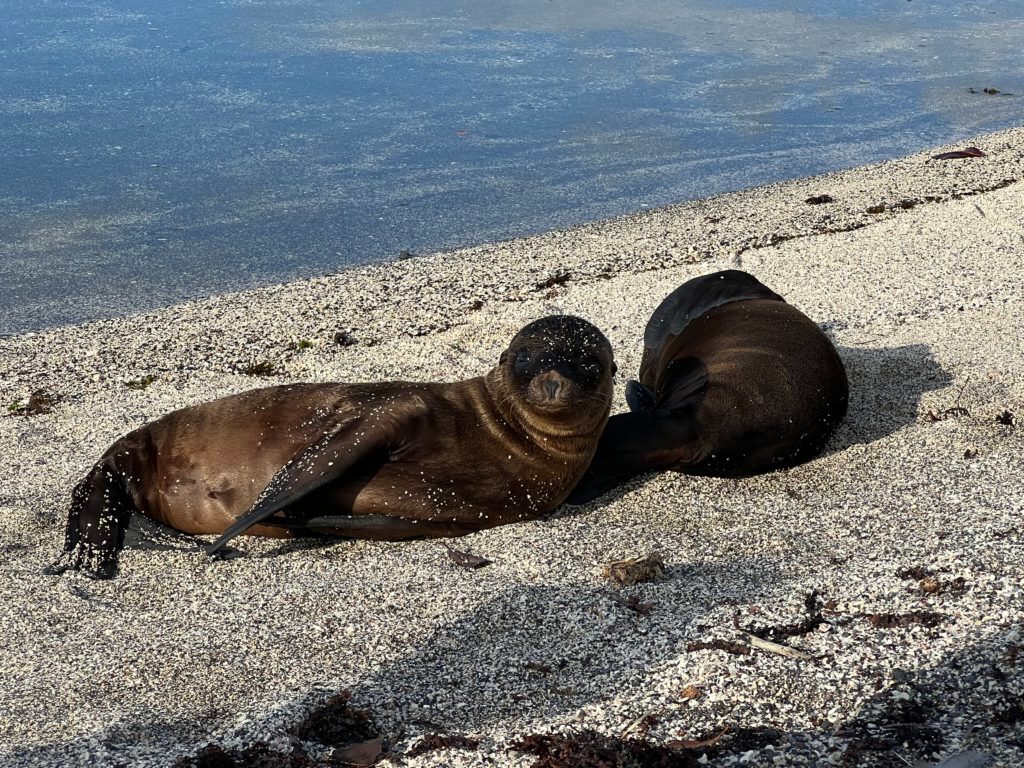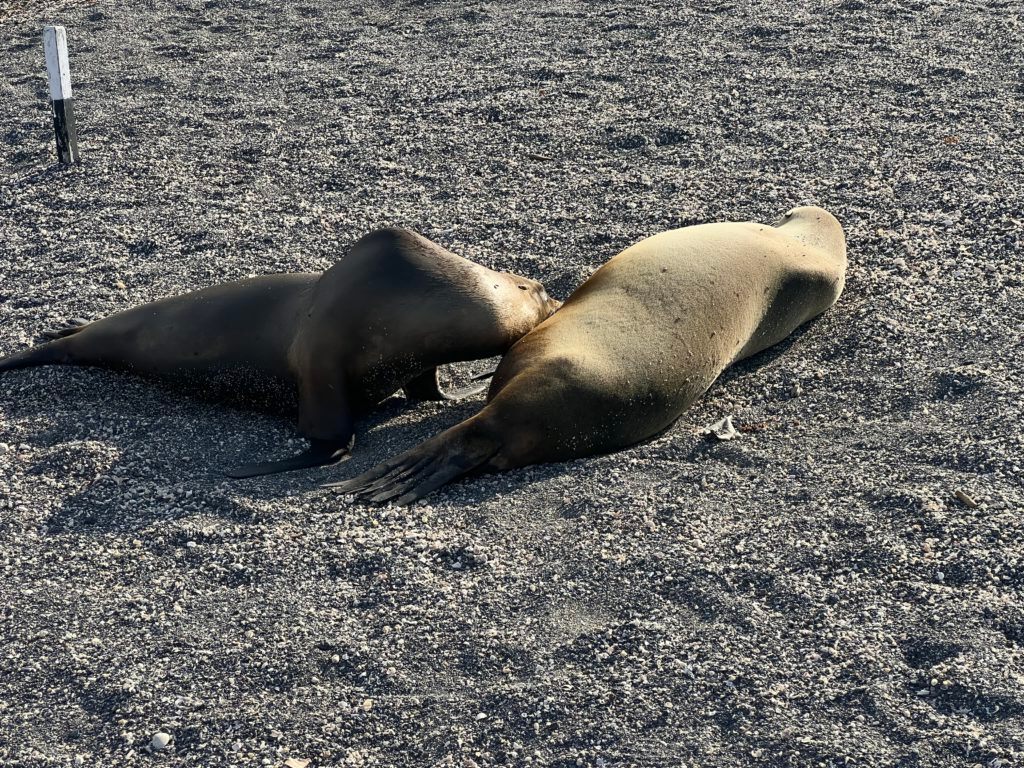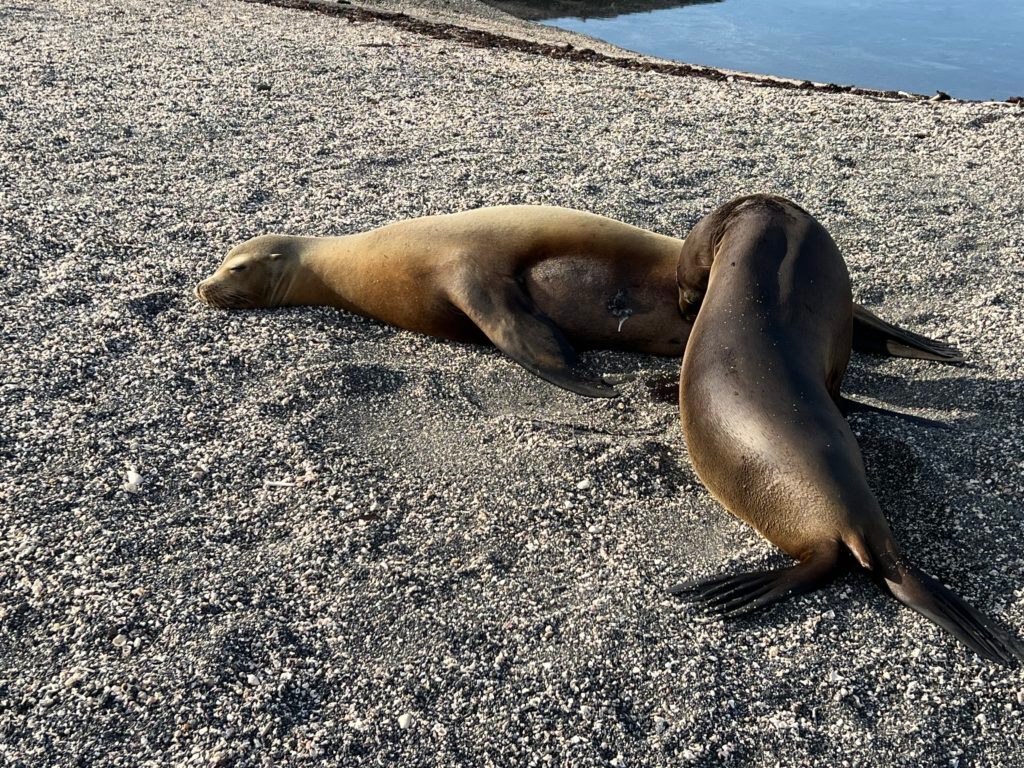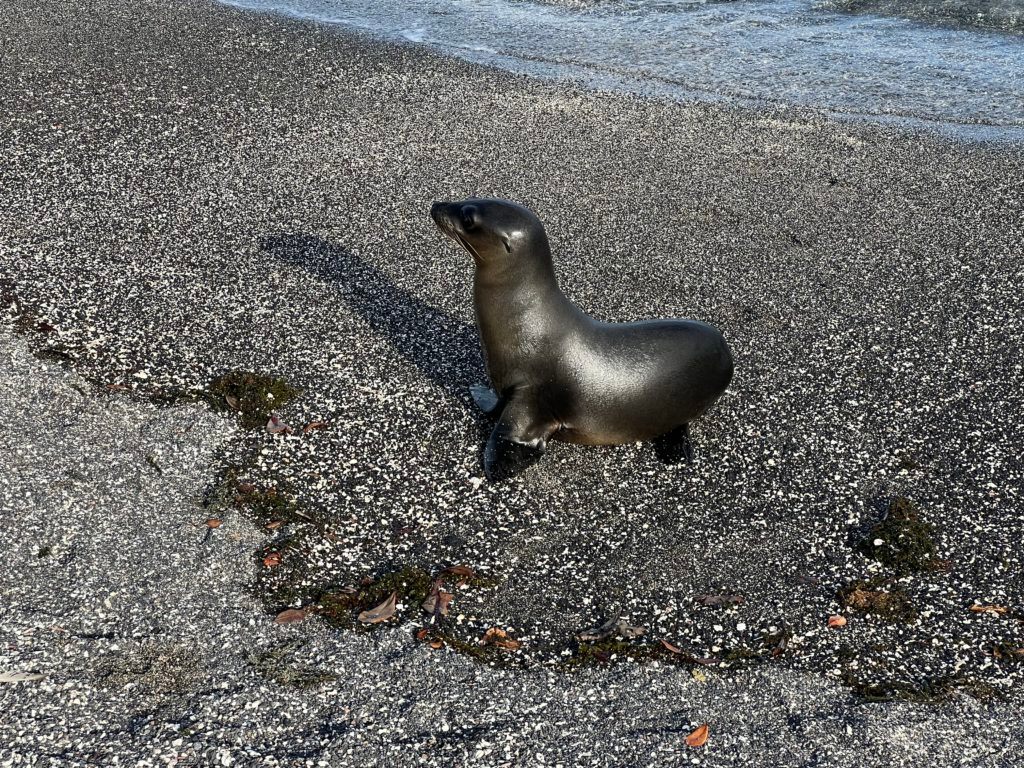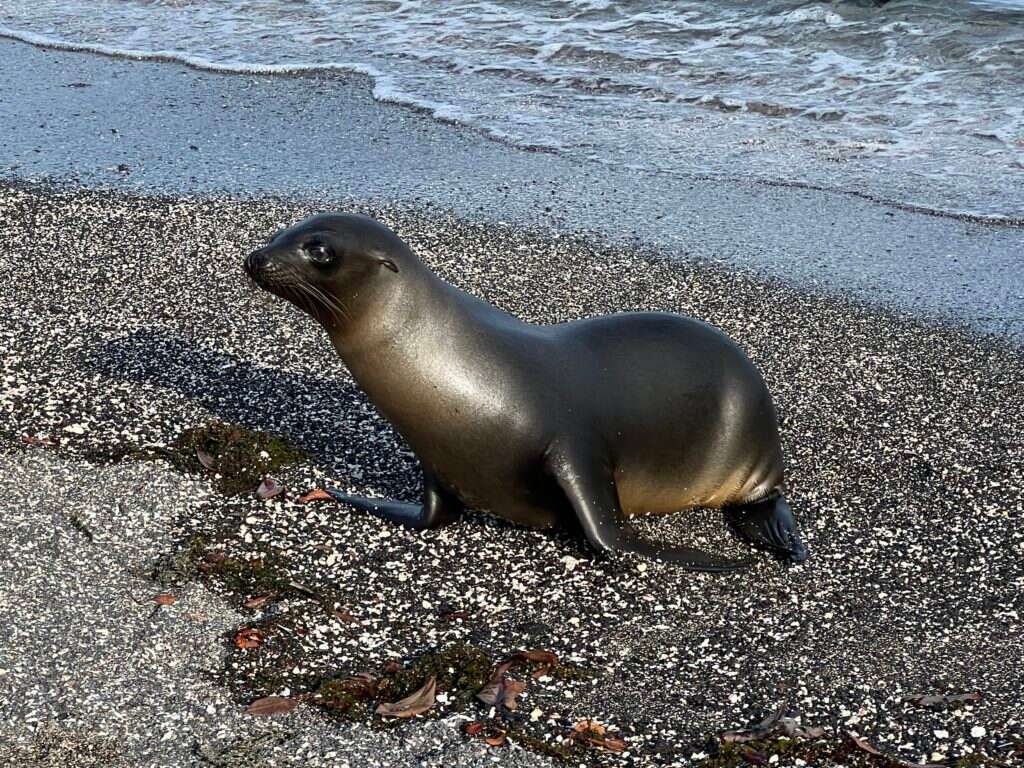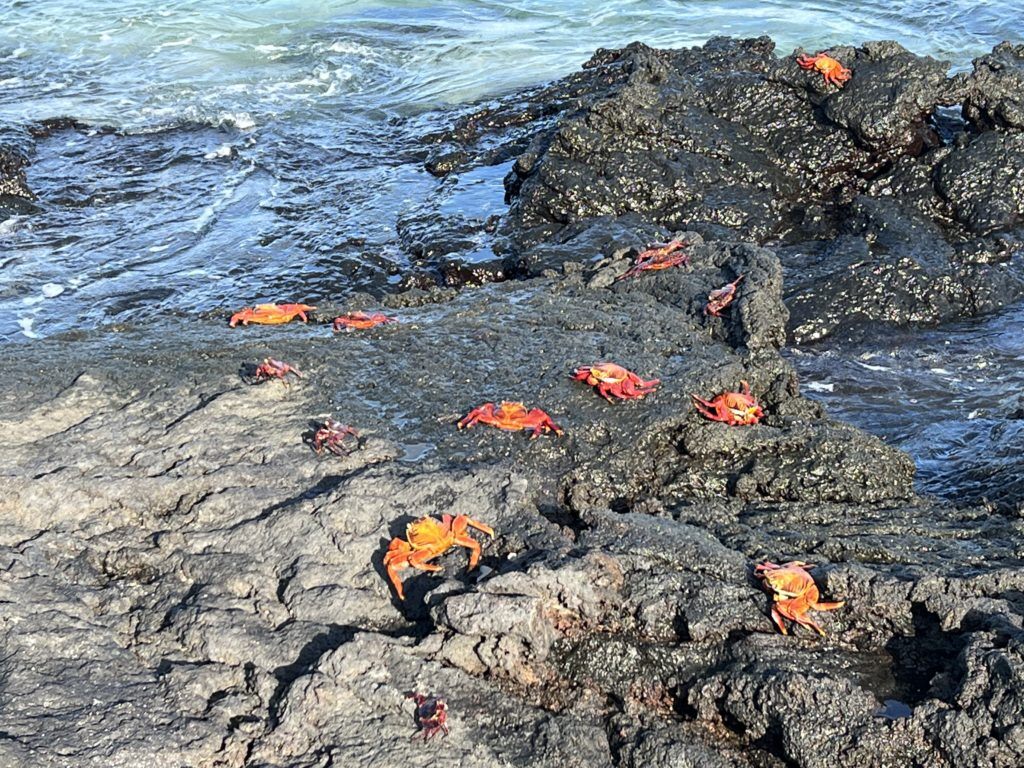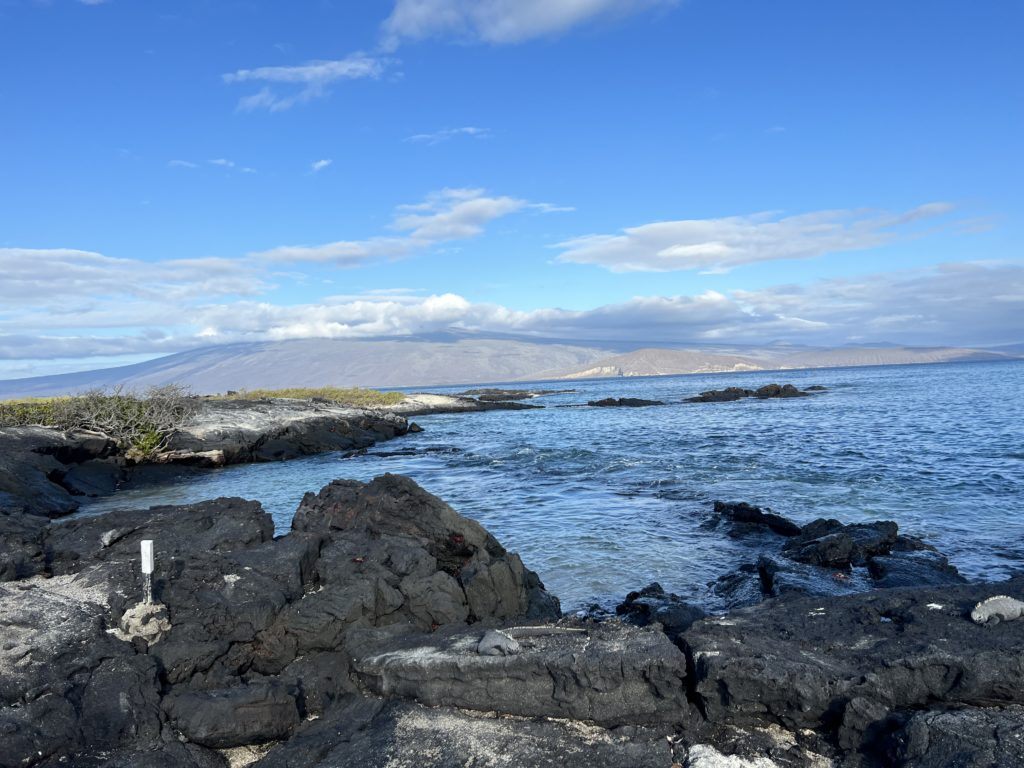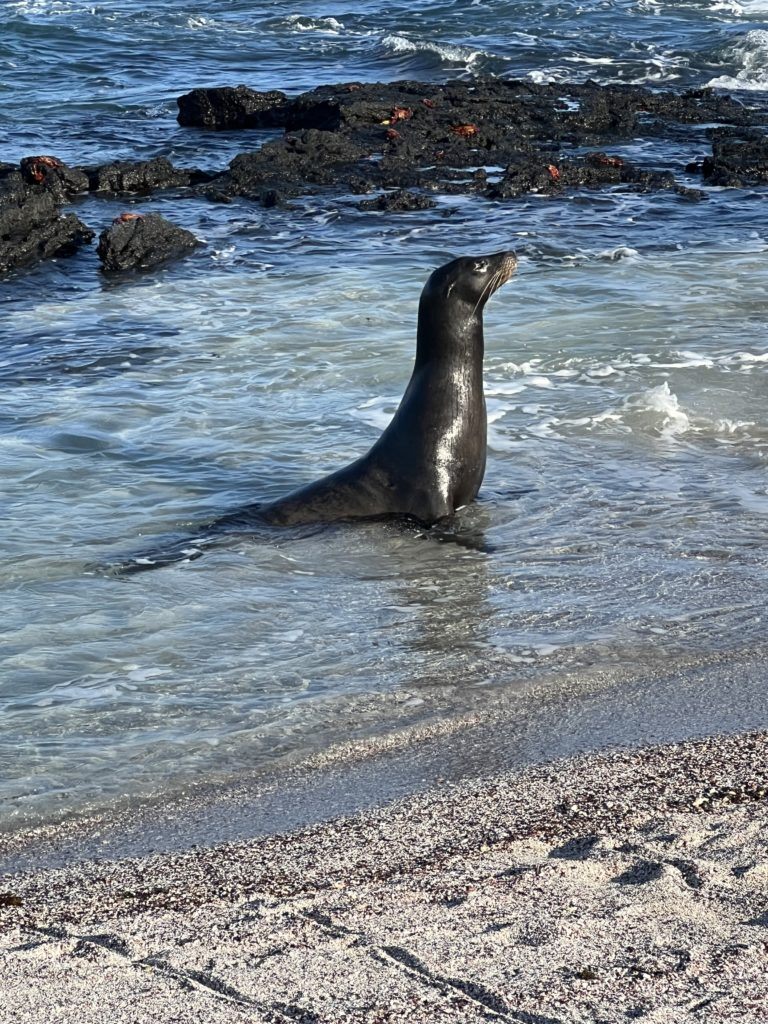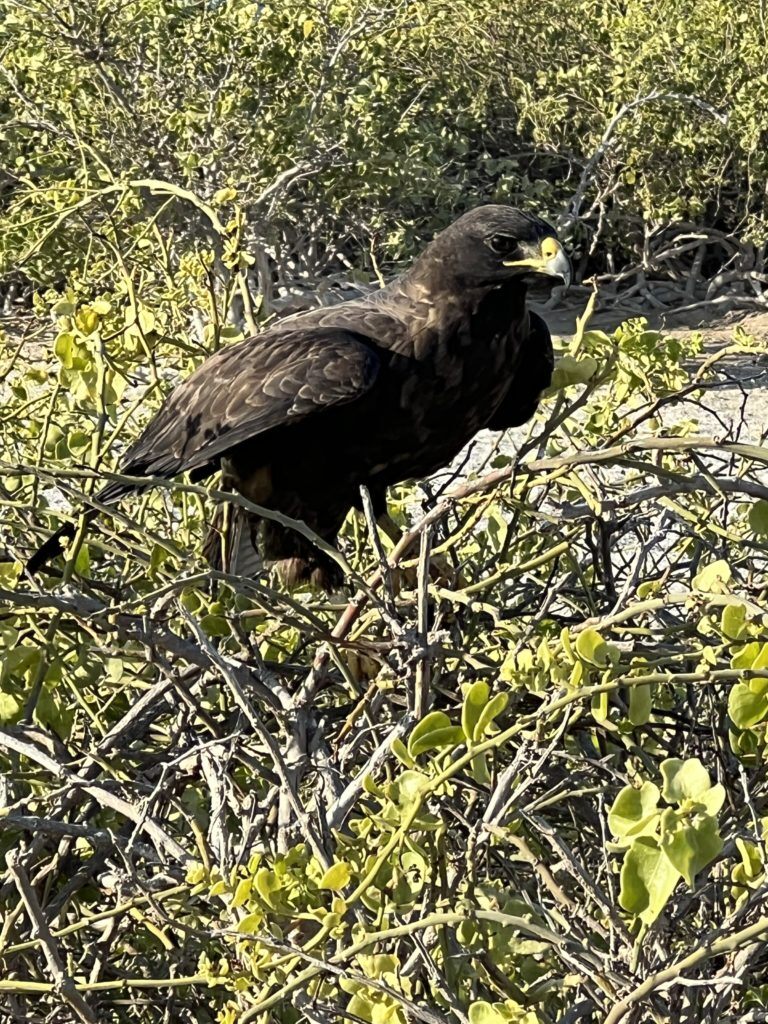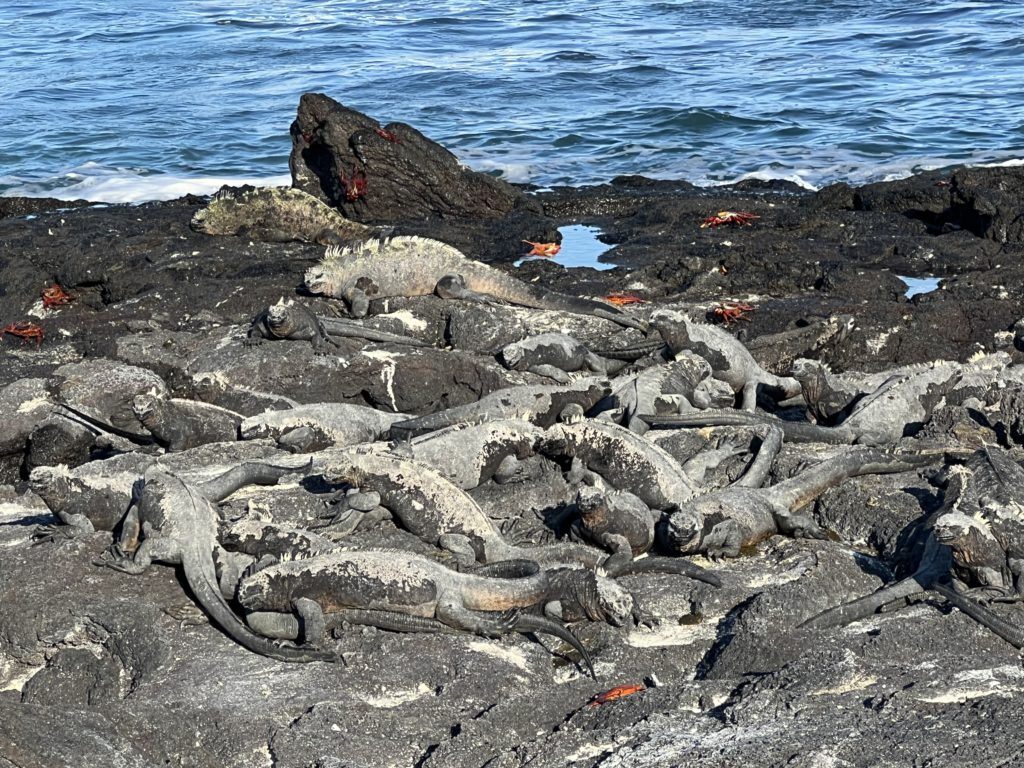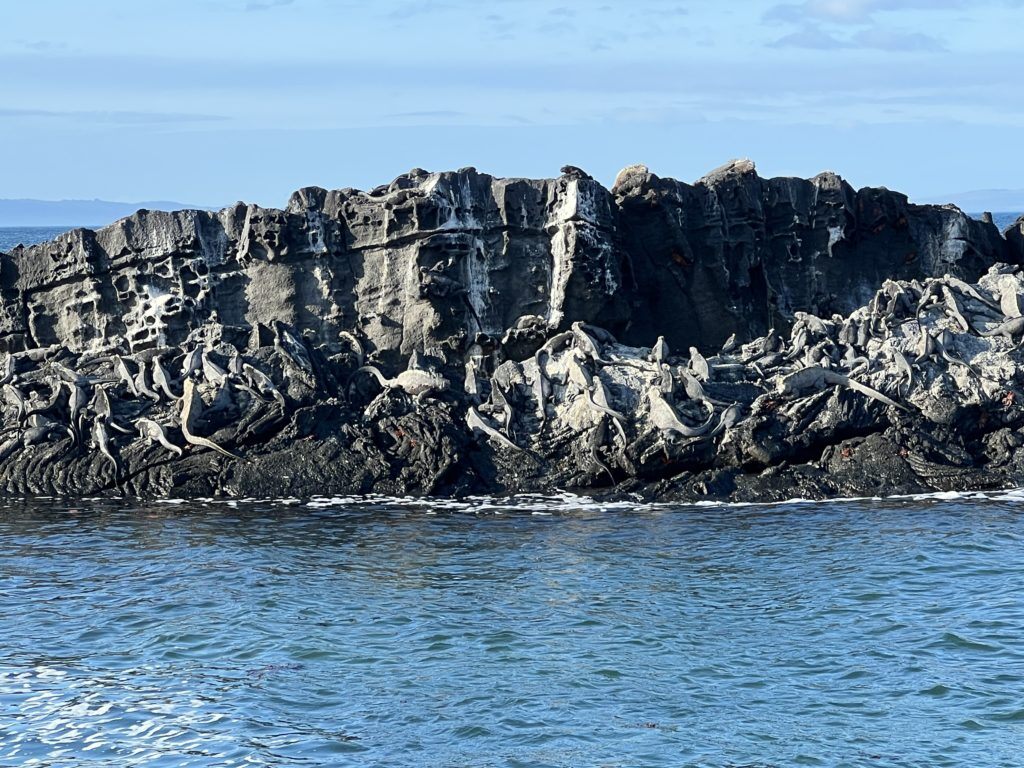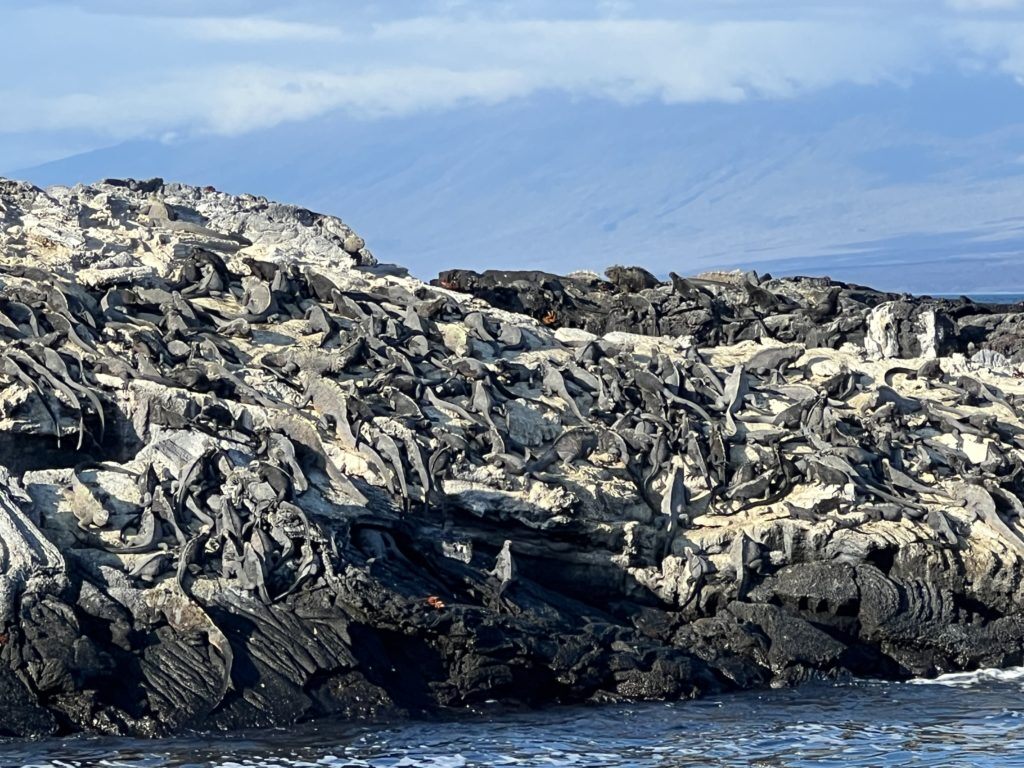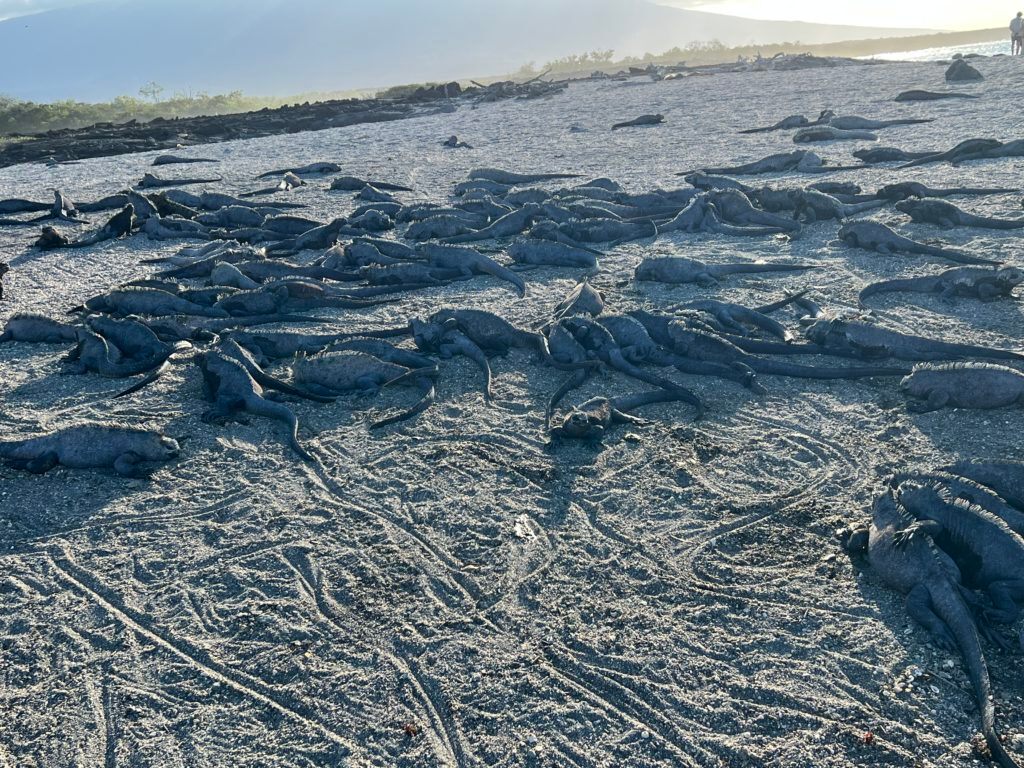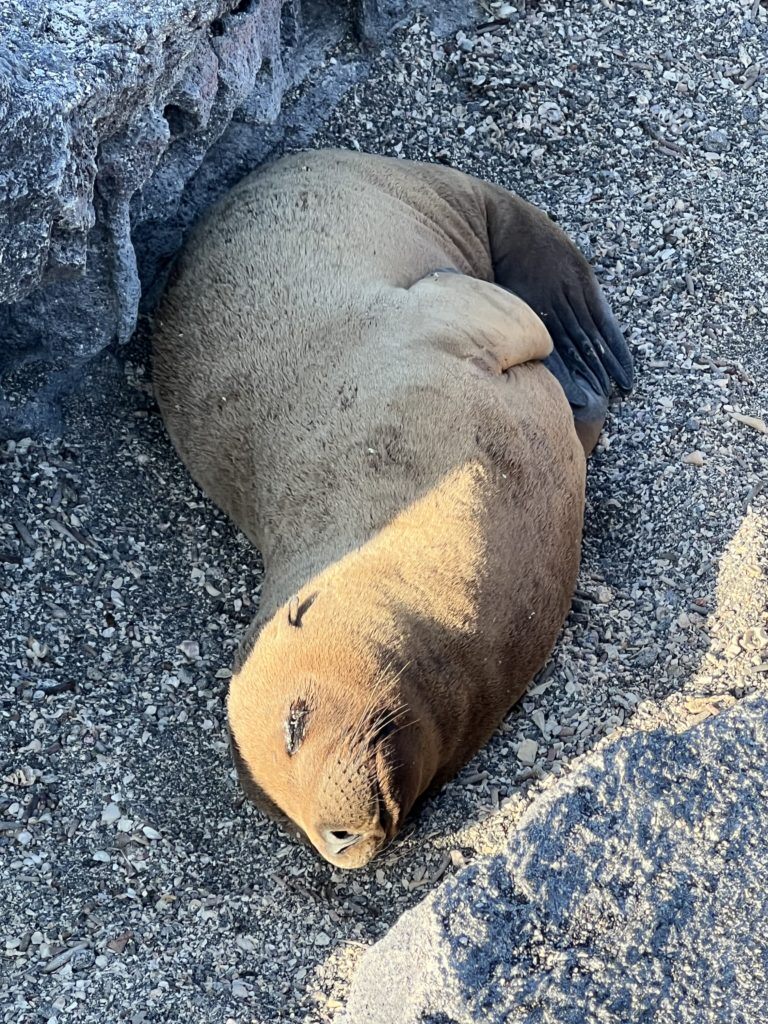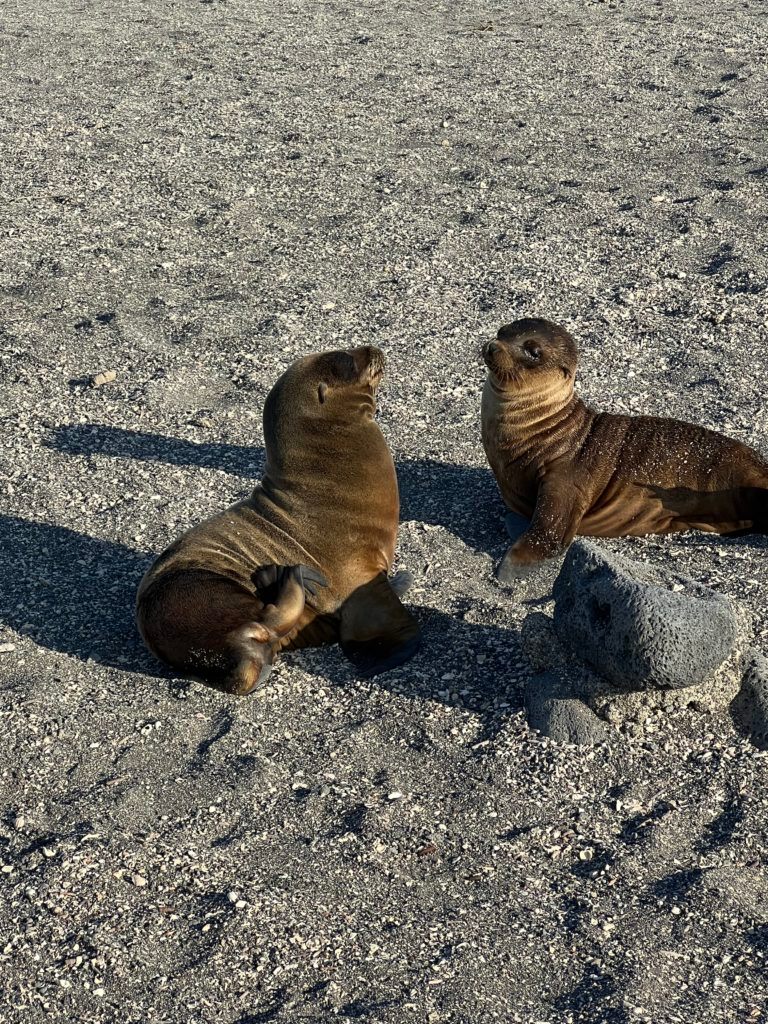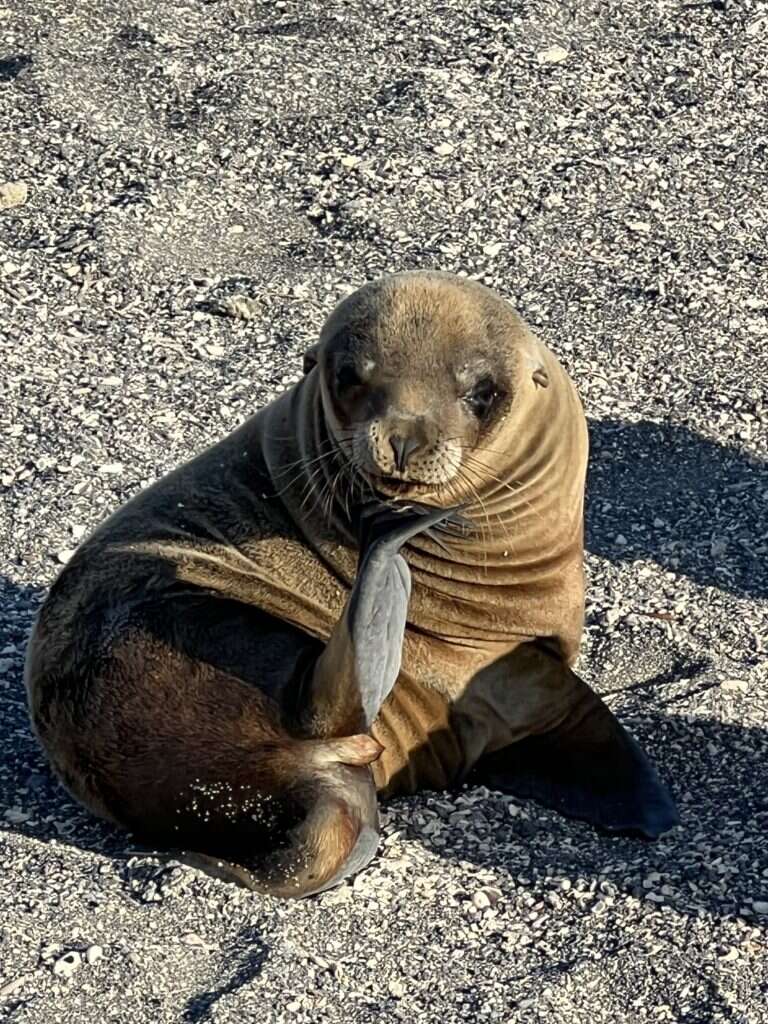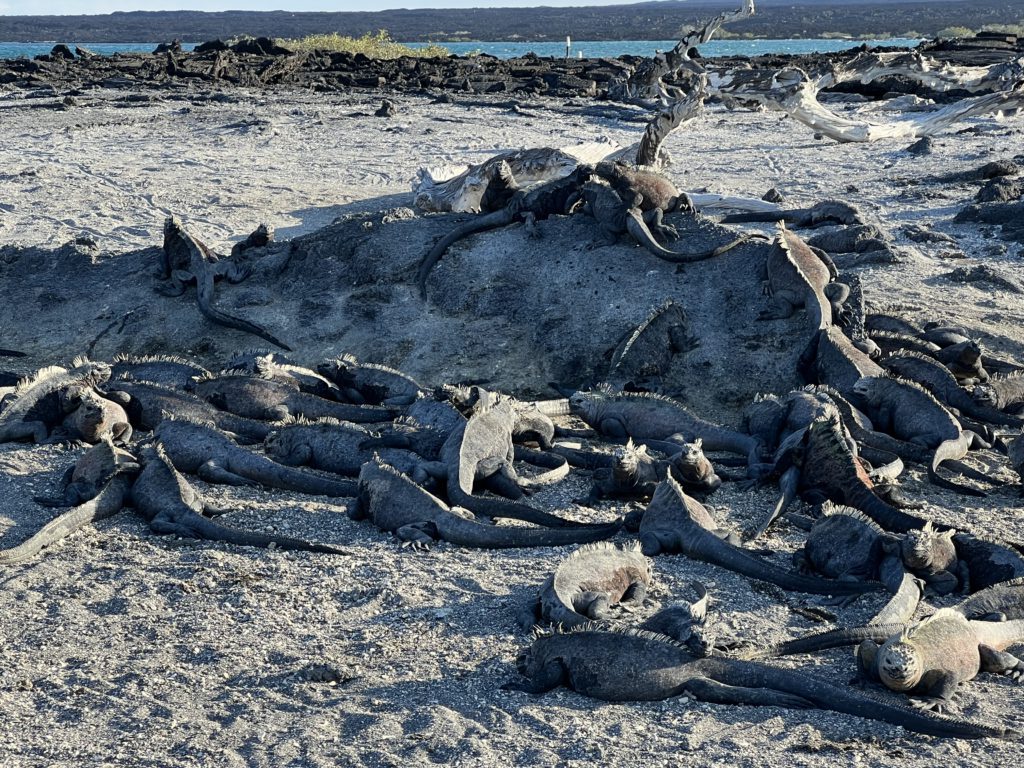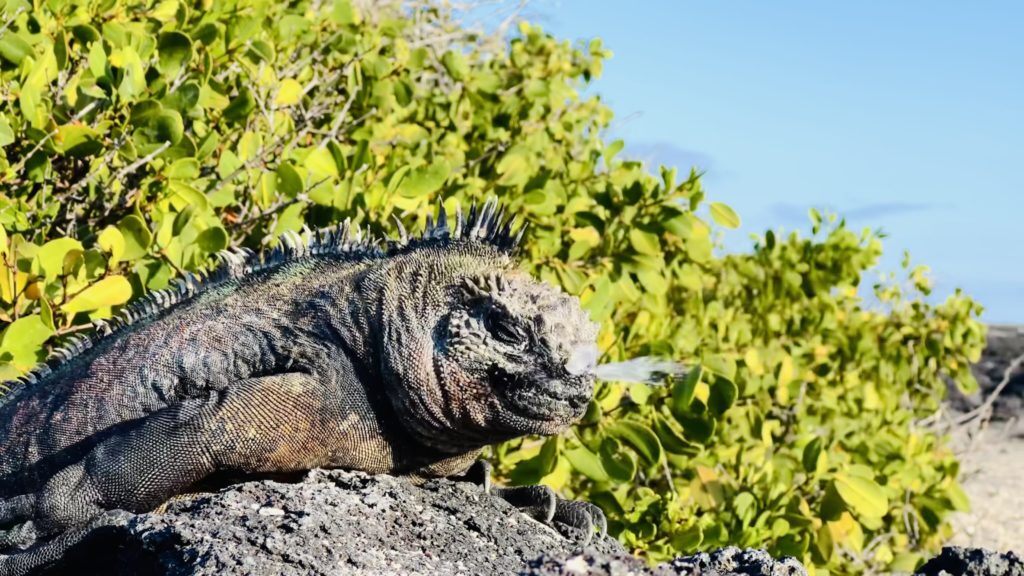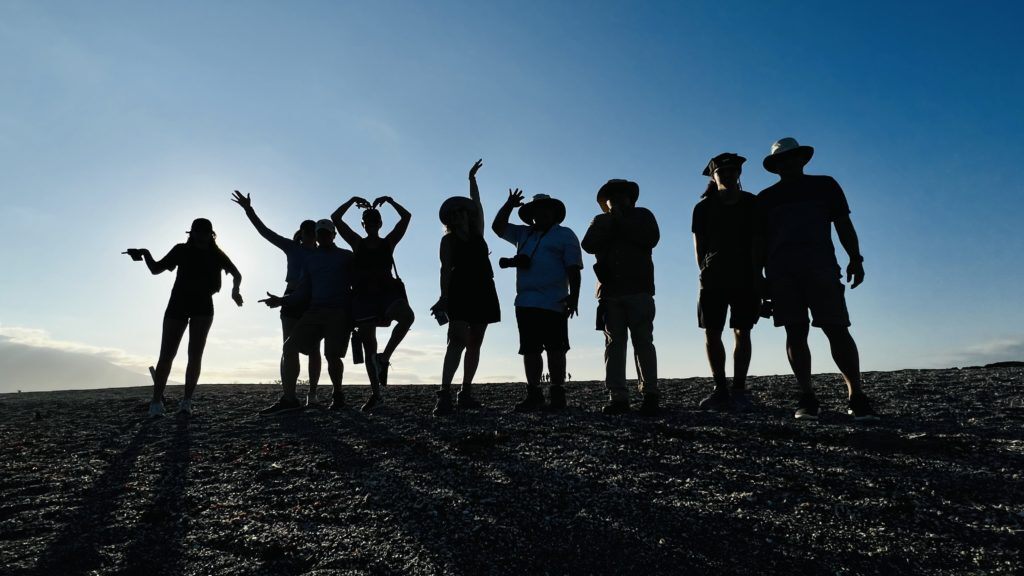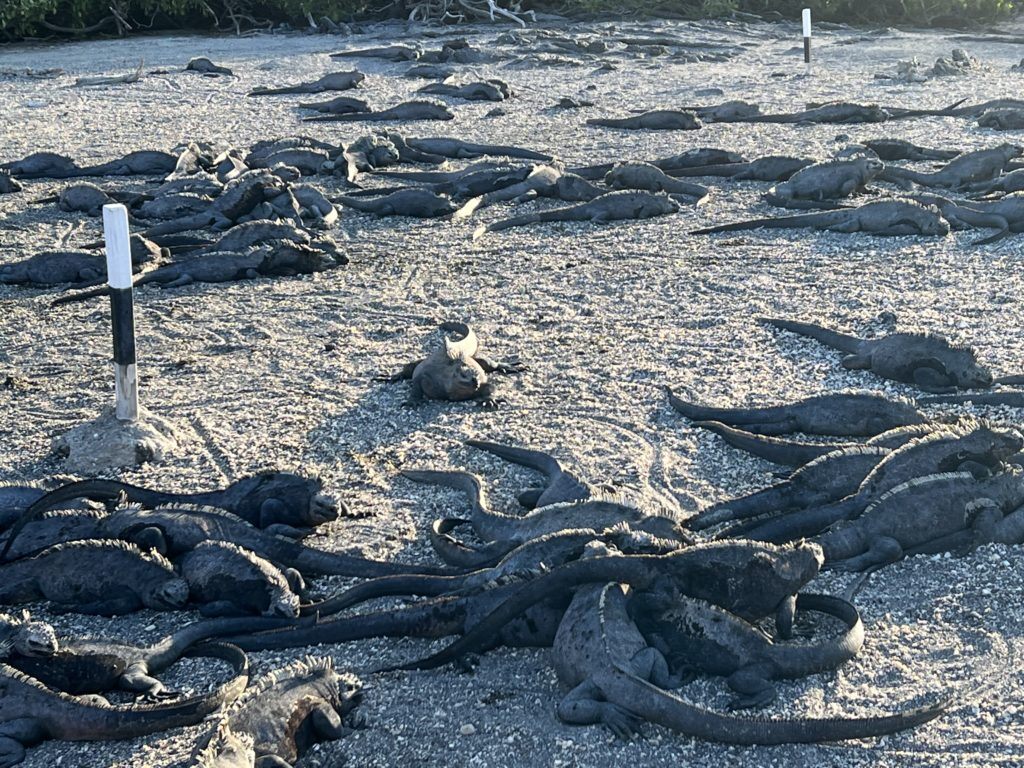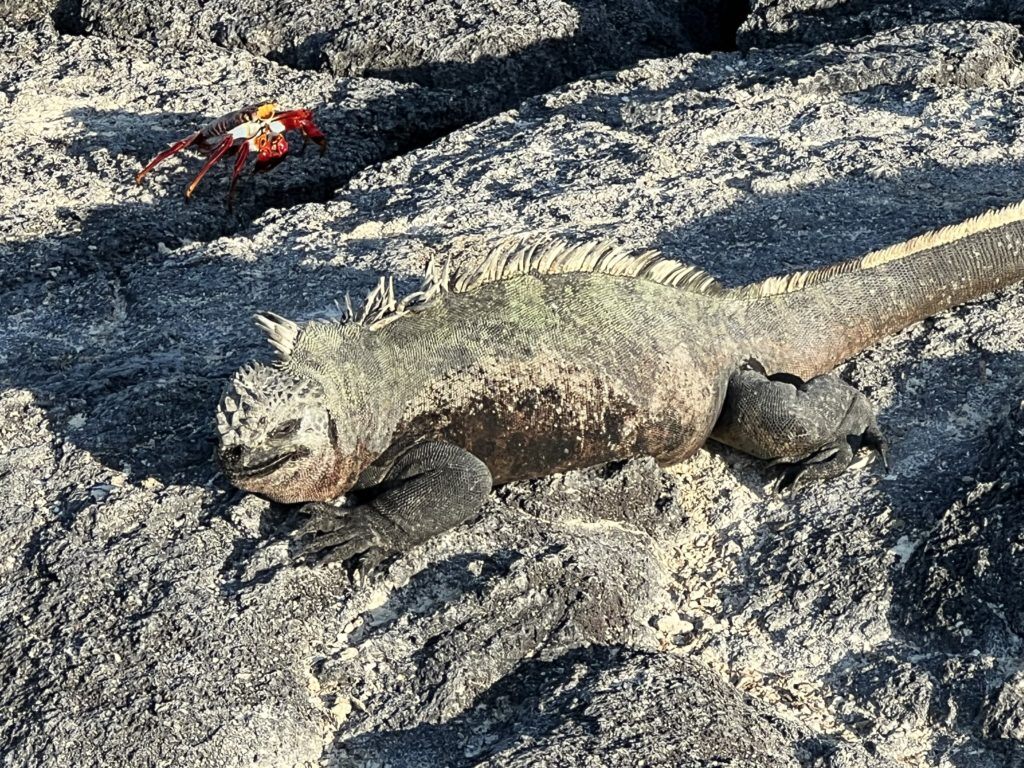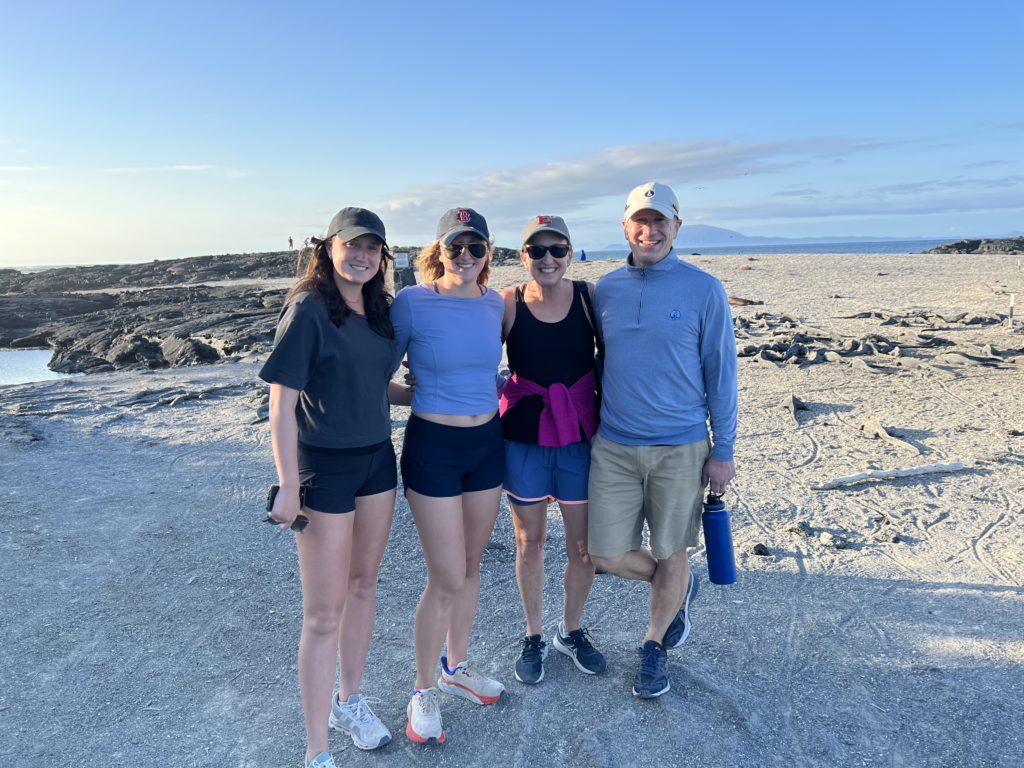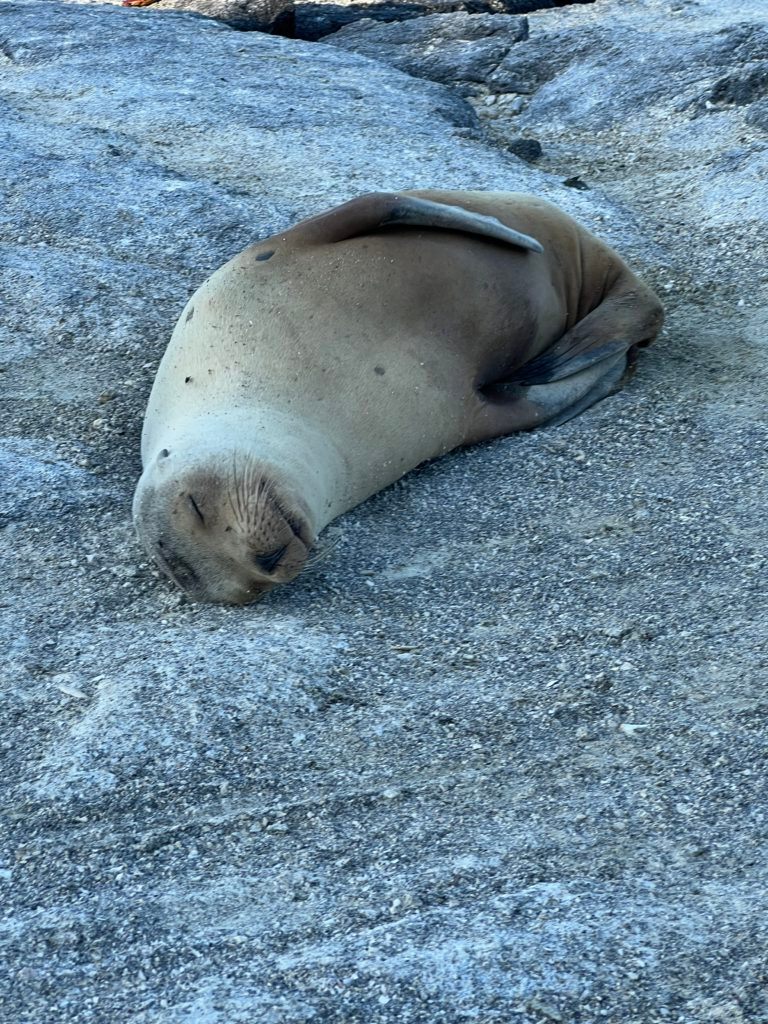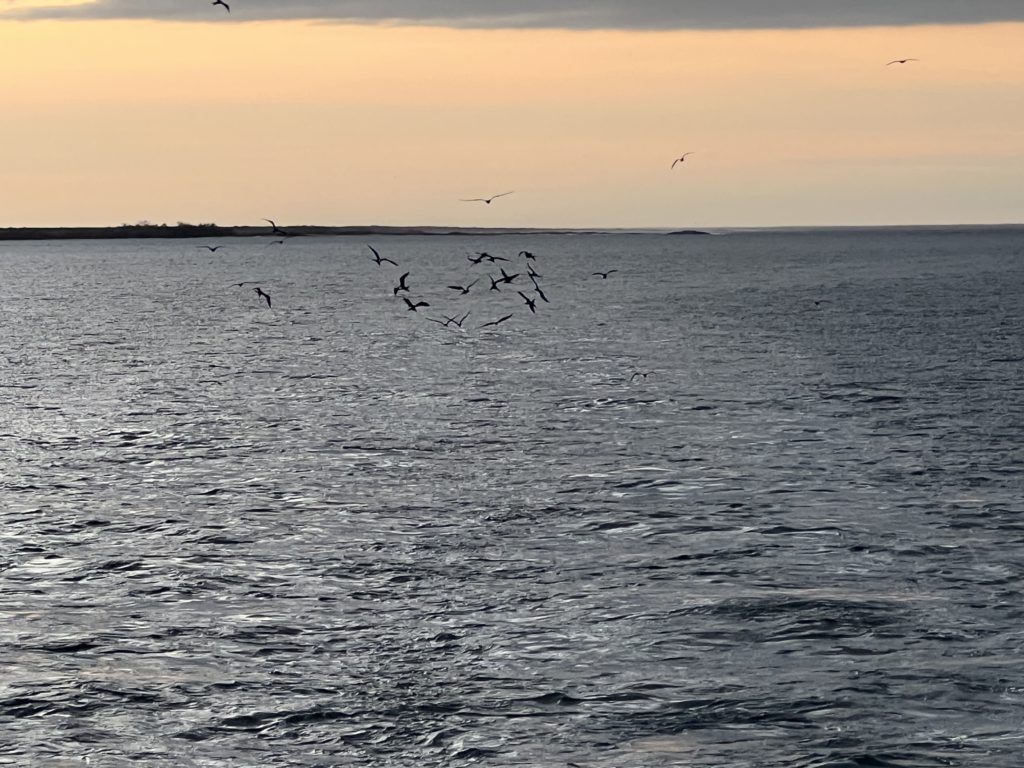 Day 5: First Stop – Isabela Island – Tagus Cove
This was our busiest day on the cruise. We packed so much into this day! We woke up in Tagus Cove on Isabela Island. Darwin visited here in 1835. We literally walked in his footsteps. The tide was high at 8am, so we had a tricky, one-person-at-a-time, dry landing. Omar and his two helpers knew exactly what they were doing to get us safely ashore. We did an easy hike to Darwin Lake and to see a cinder cone formed by a volcano. Omar said it was going to be a difficult (in terms of exertion) hike. It was not. We loved it.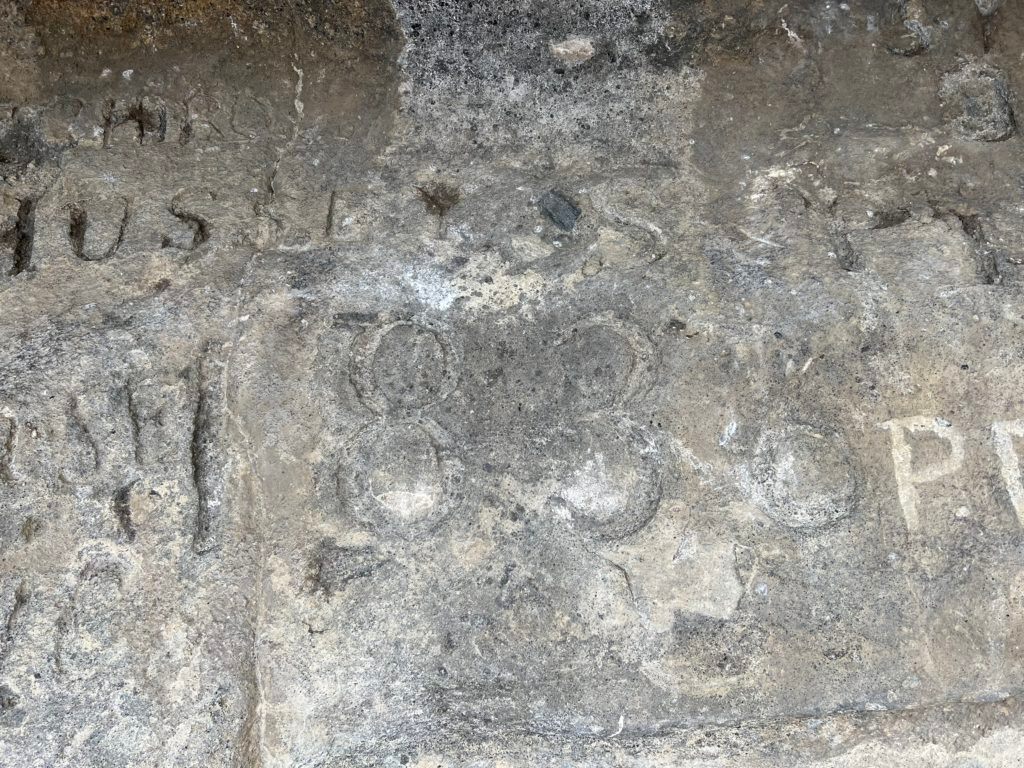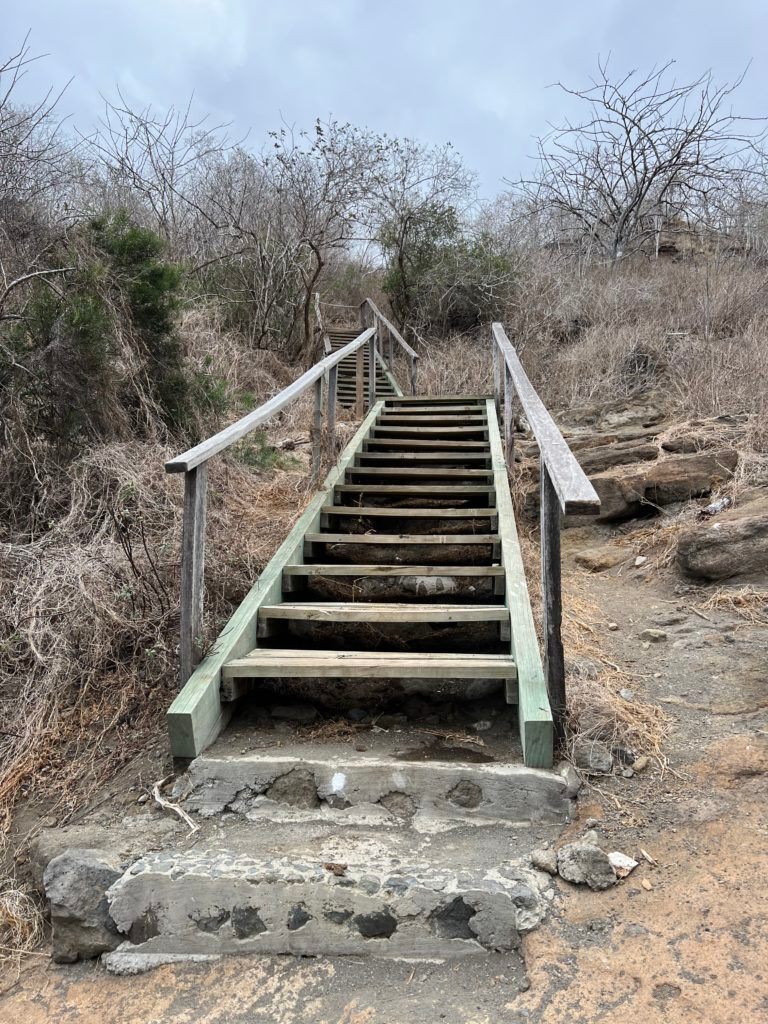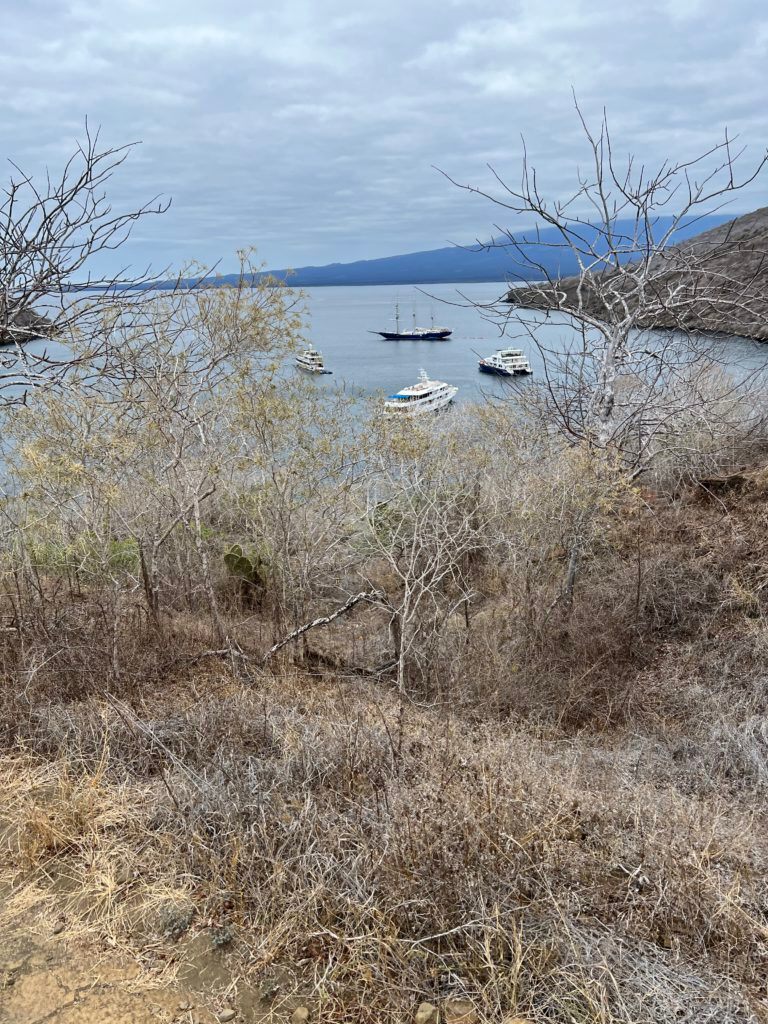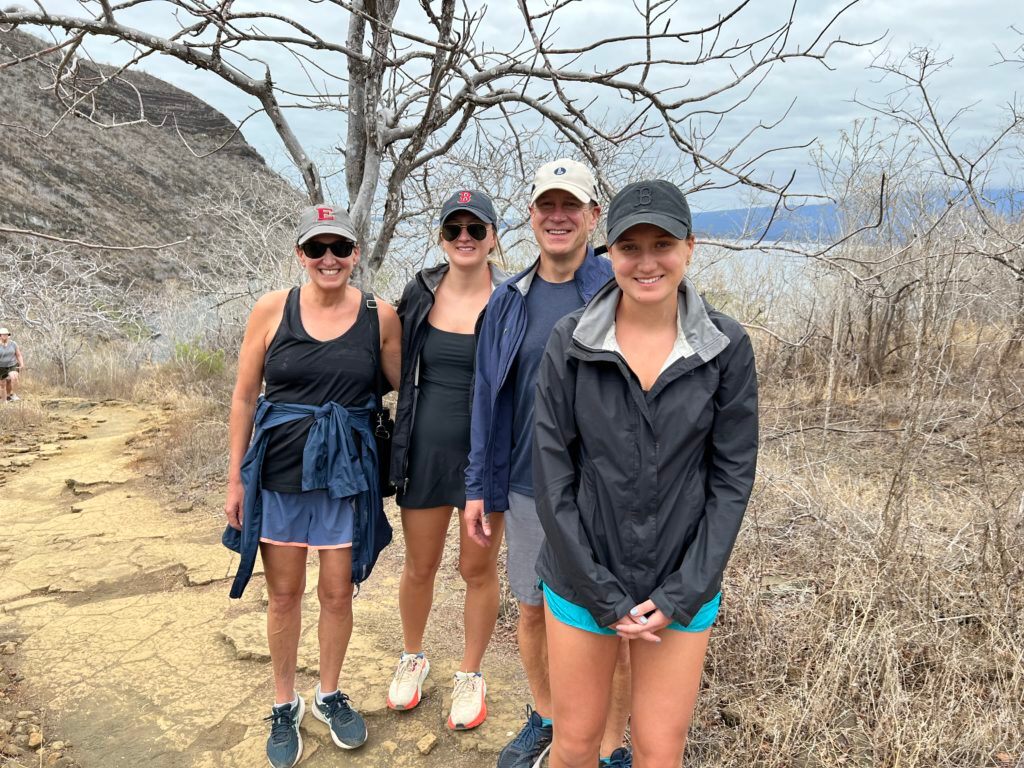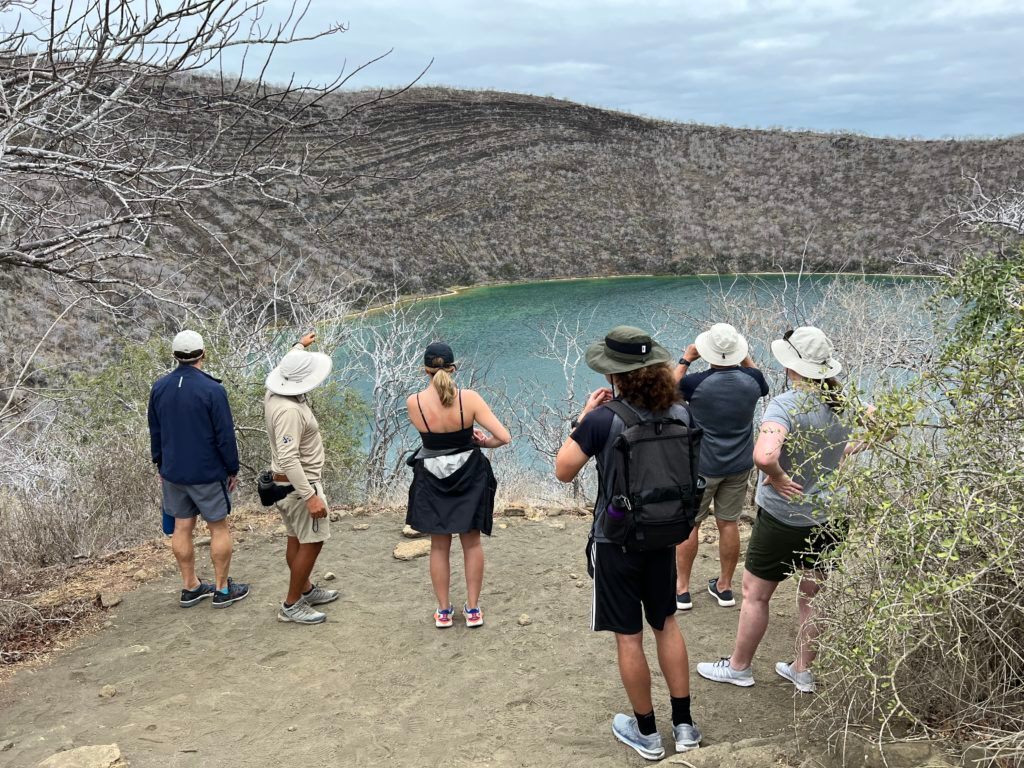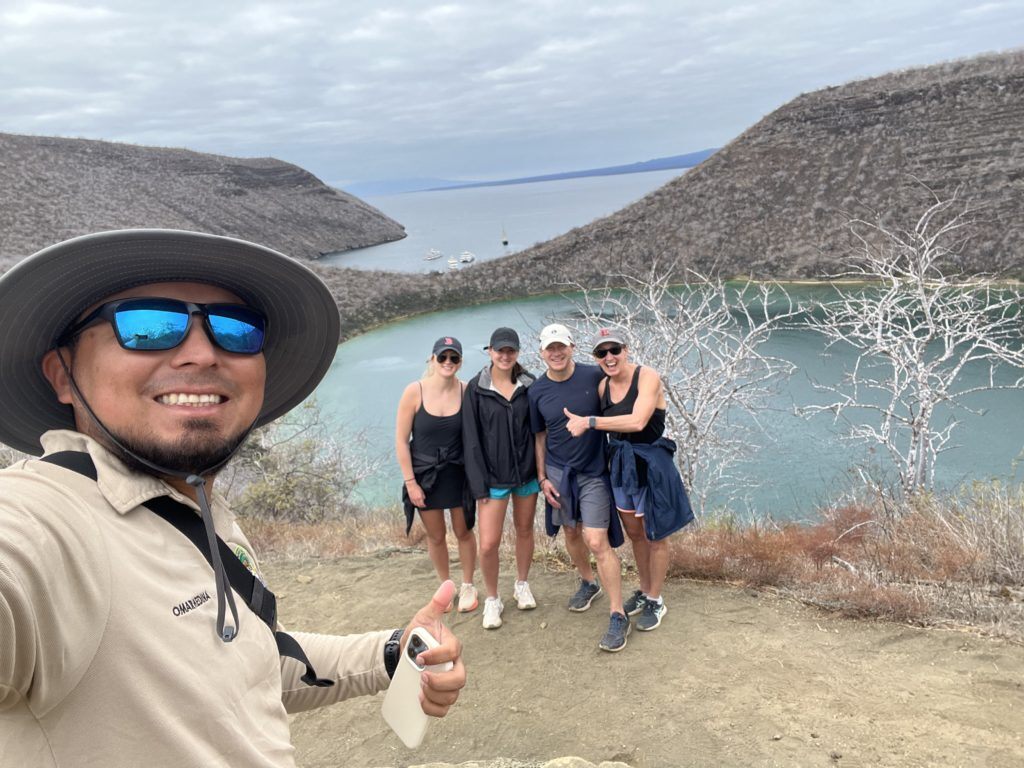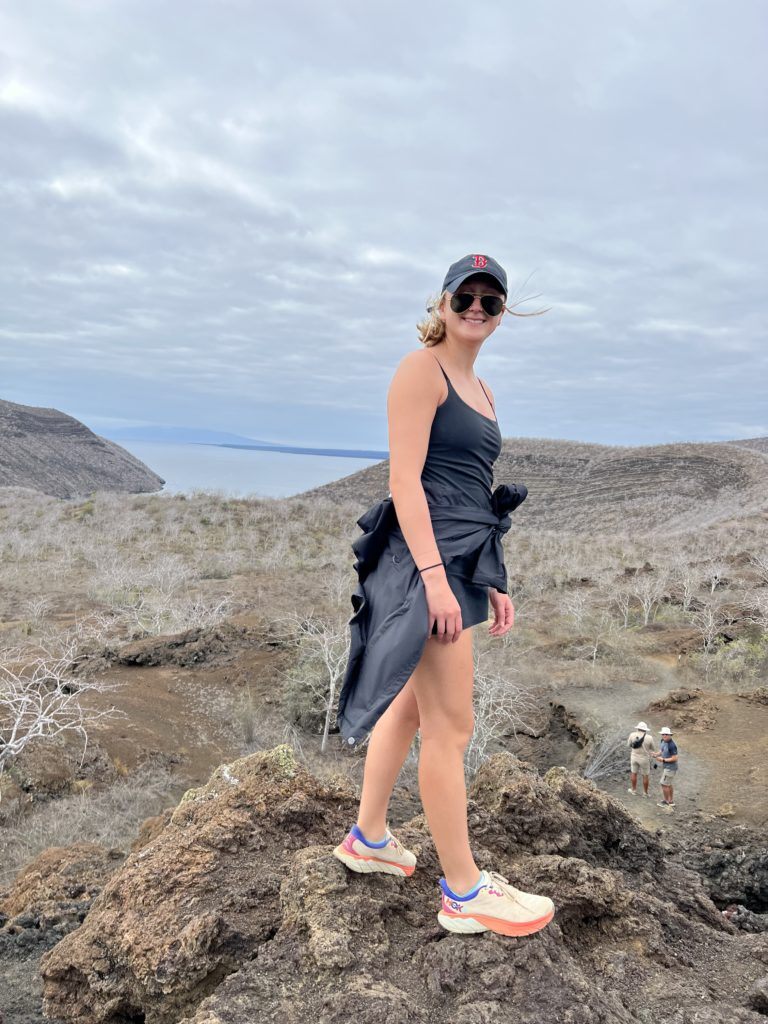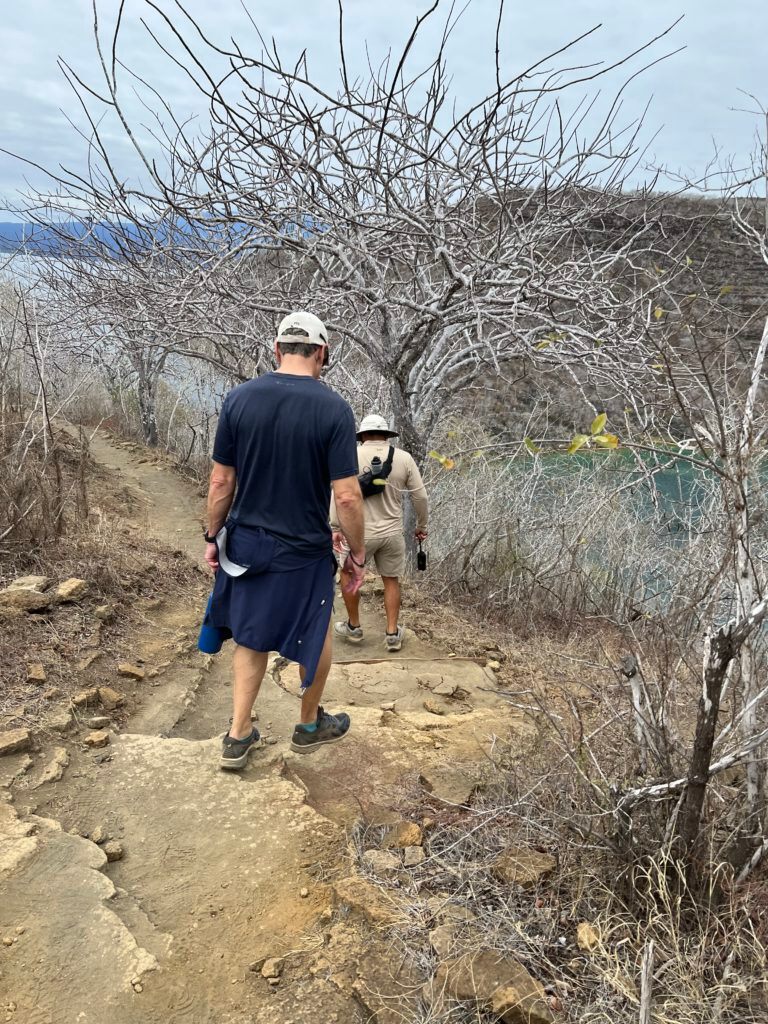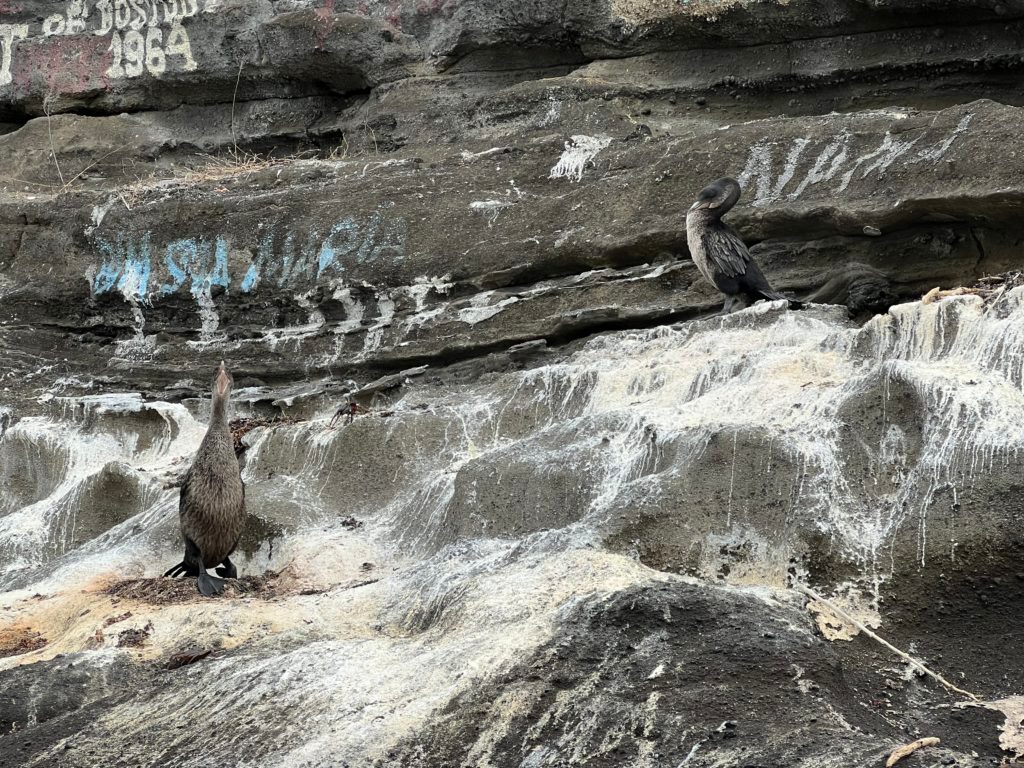 Day 5: Second Stop – Isabela Island – Tagus Cove Kayaking
We returned to the yacht. Others who did not want to hike were offered a dinghy ride around the cove. The crew quickly brought out our kayaks. We spent about an hour in the kayaks seeing tons of birds and sea lions. It was a very fun morning.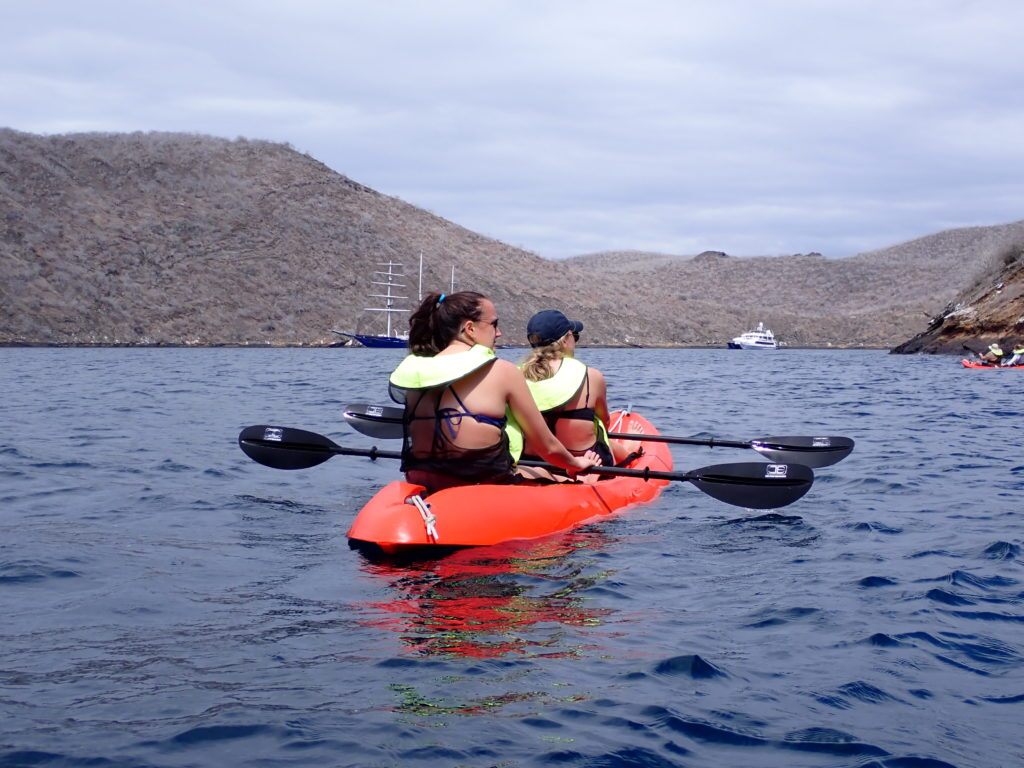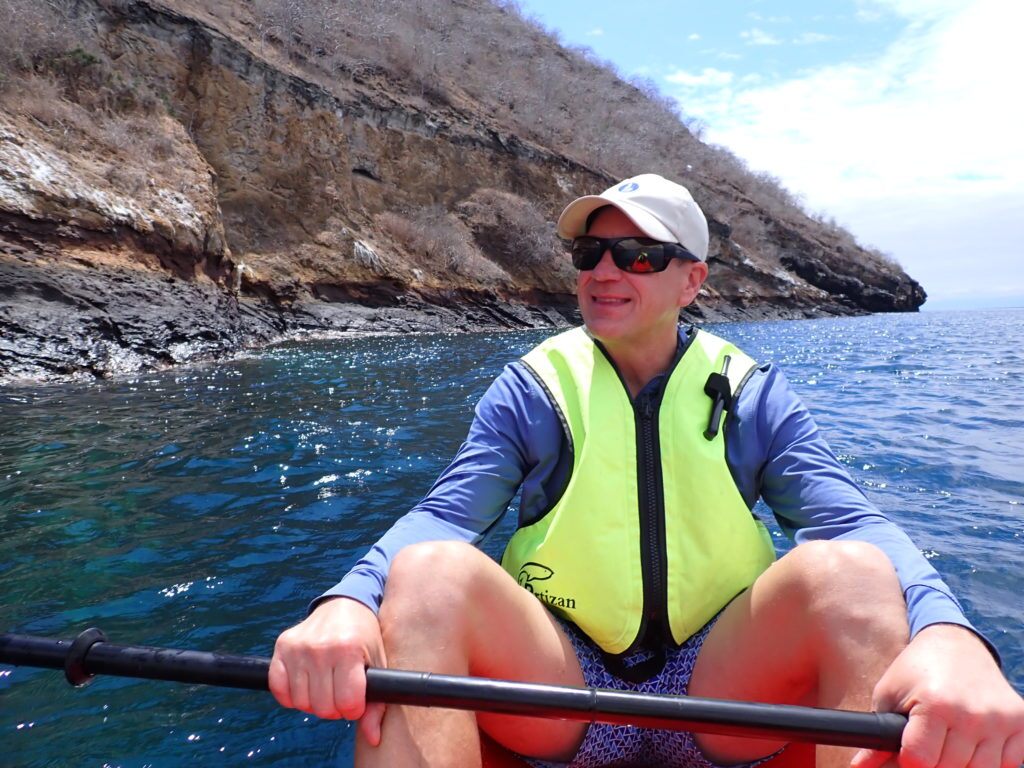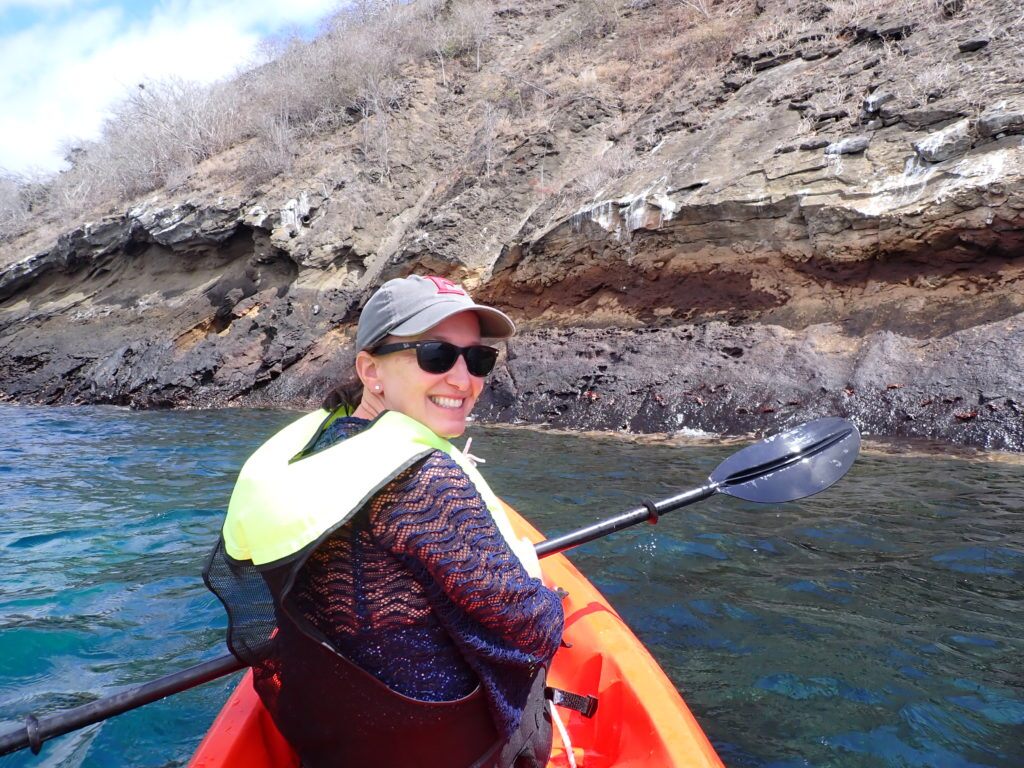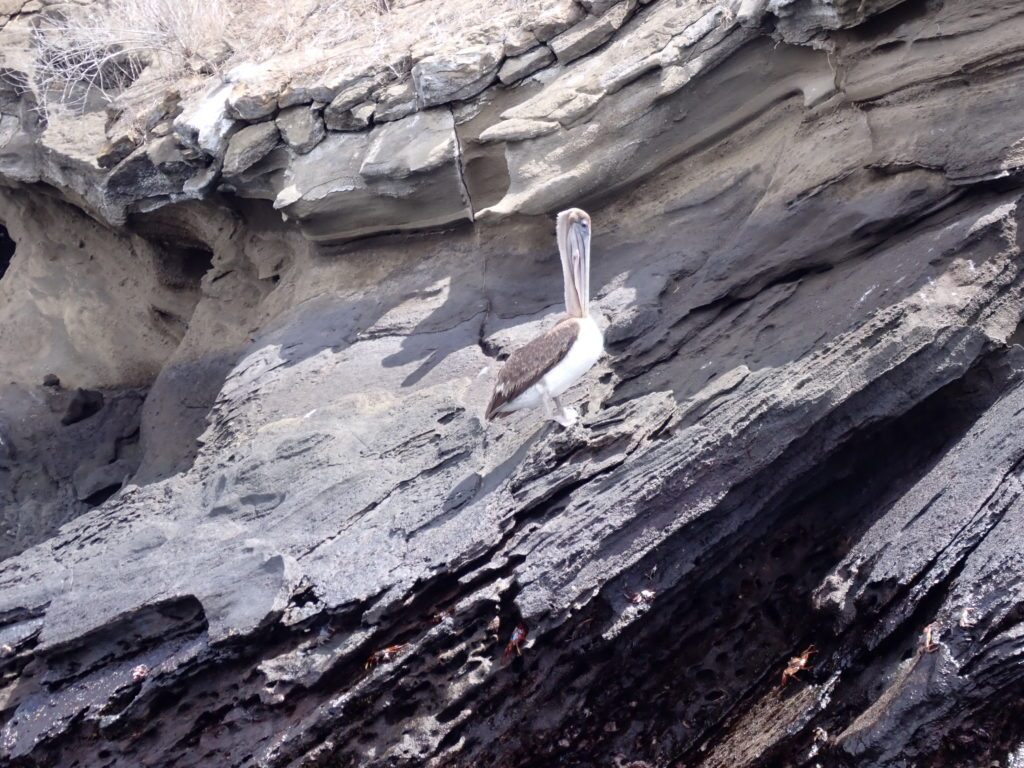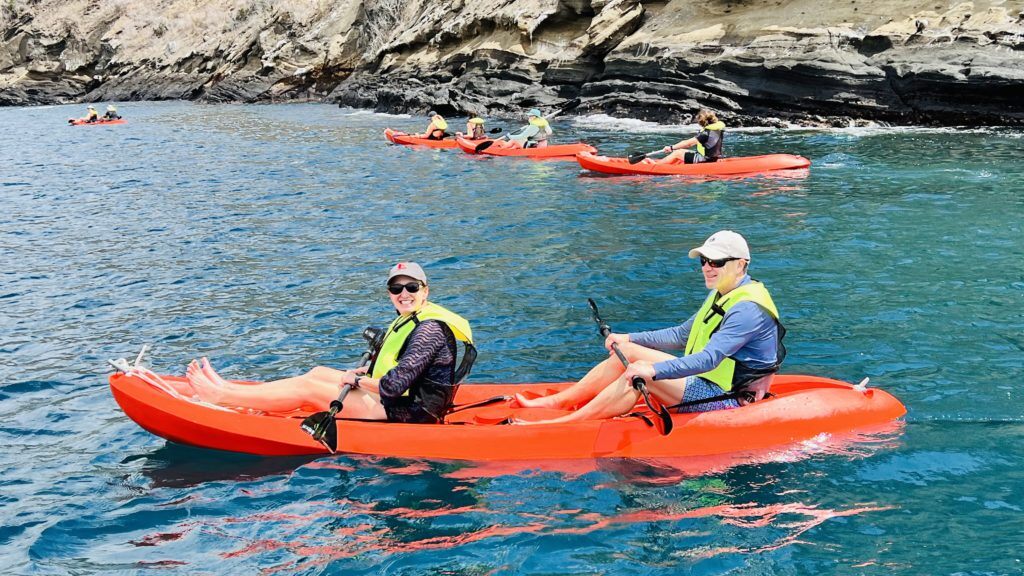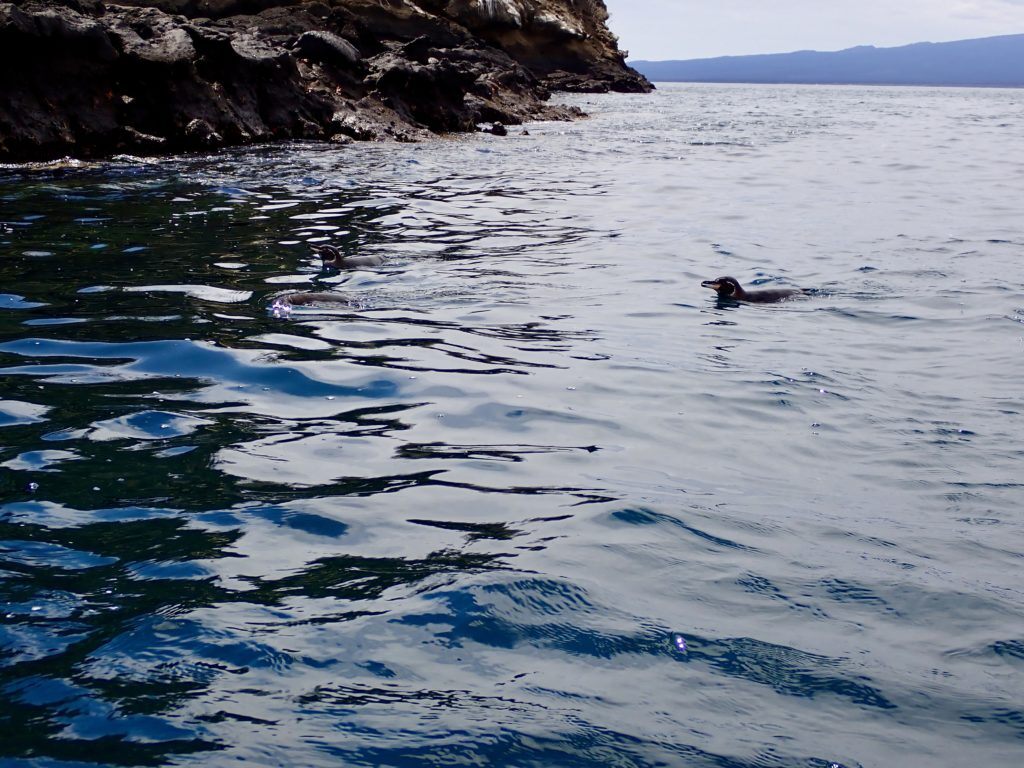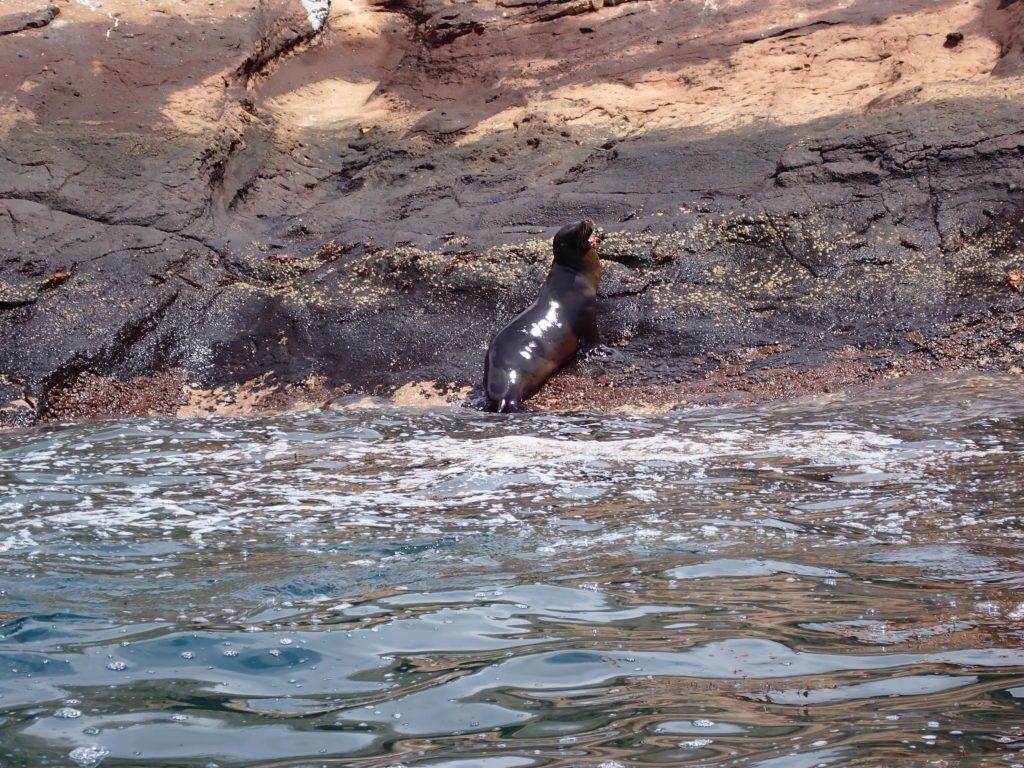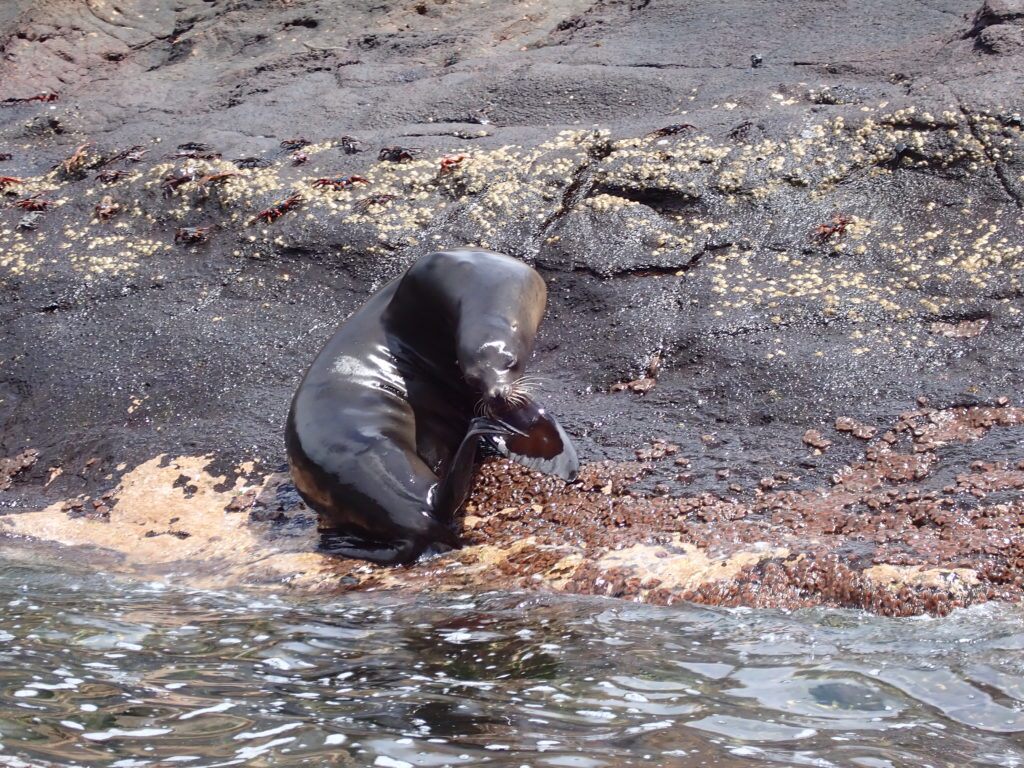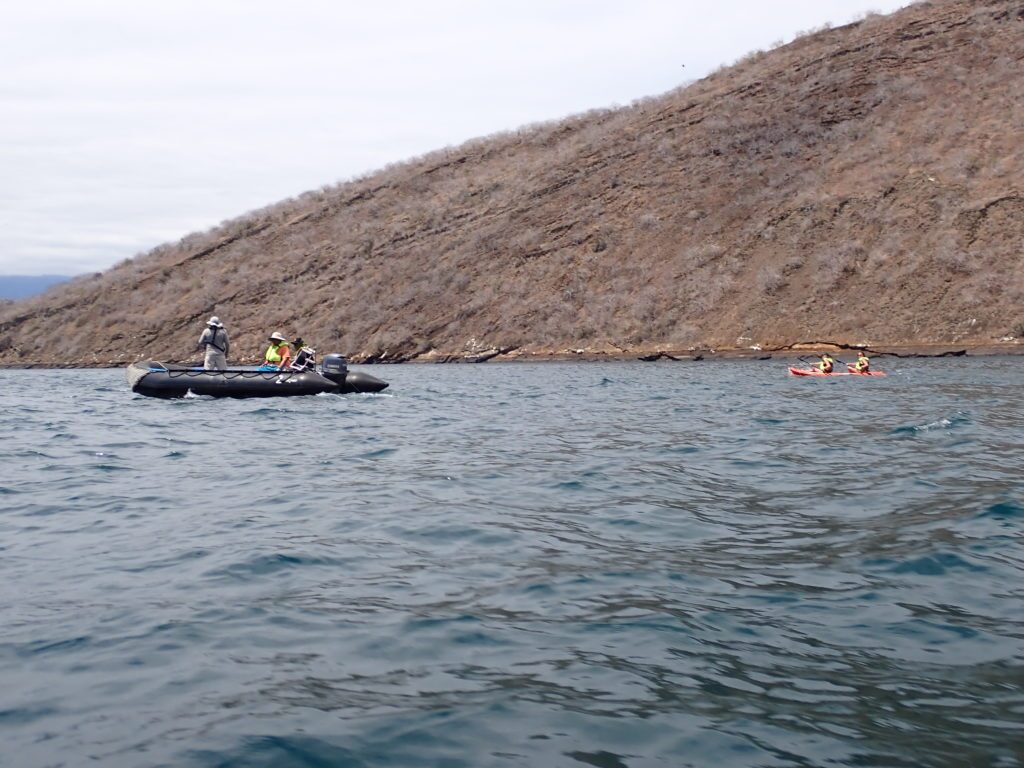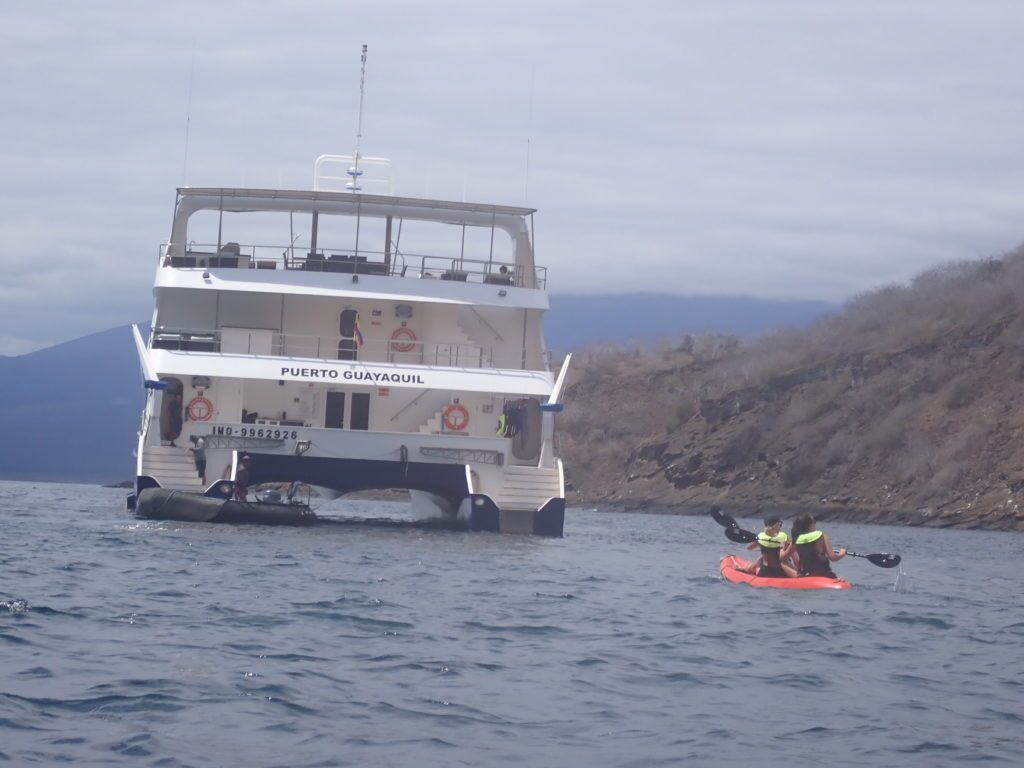 Day 5: Third Stop – Isabela Island – Tagus Cove Jumping!
Our family loves a good jump. We repeatedly asked Omar when we would be in a good spot for jumping. Finally, the captain let us jump off the boat in Tagus Cove! It was so very fun! Of course, we got permission to jump from a higher spot, too. Such a busy morning. Four members from another family did the jump, too!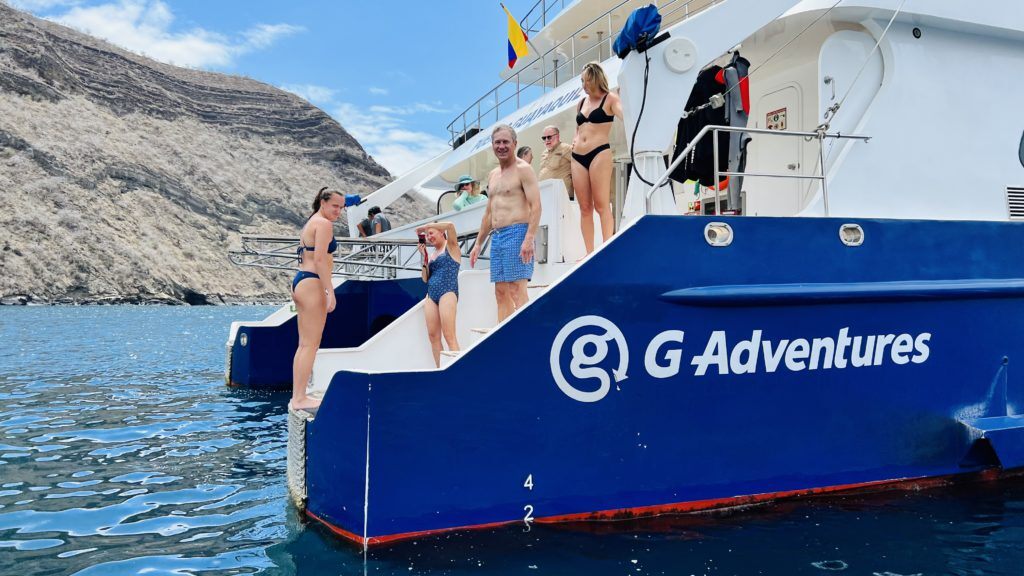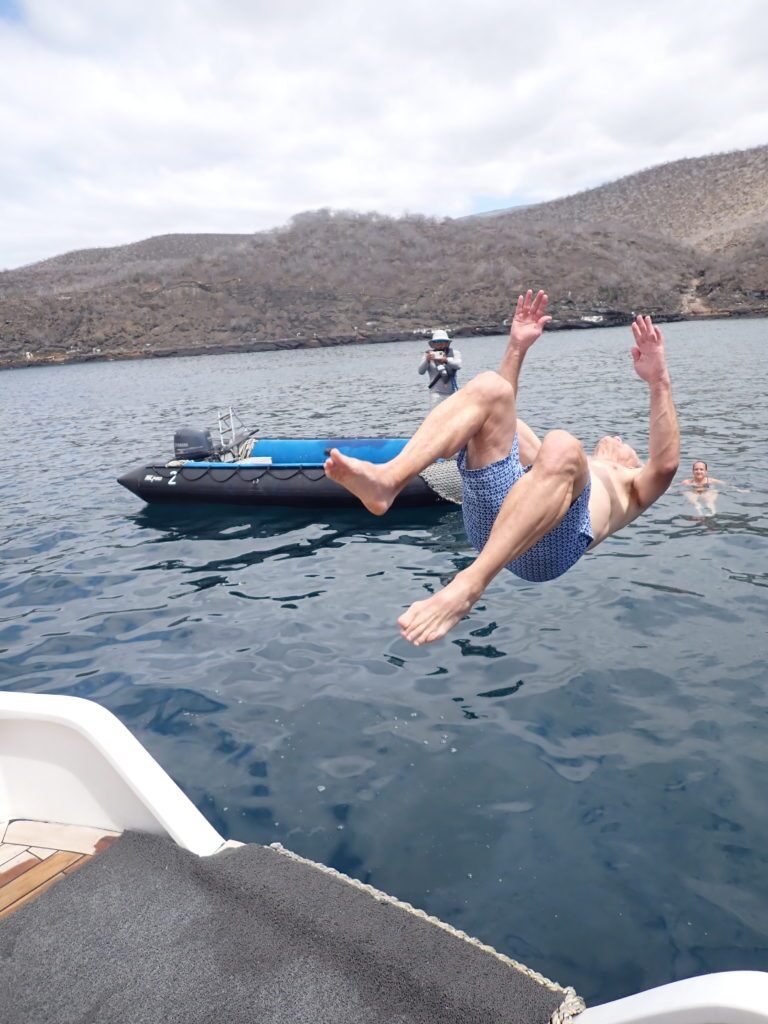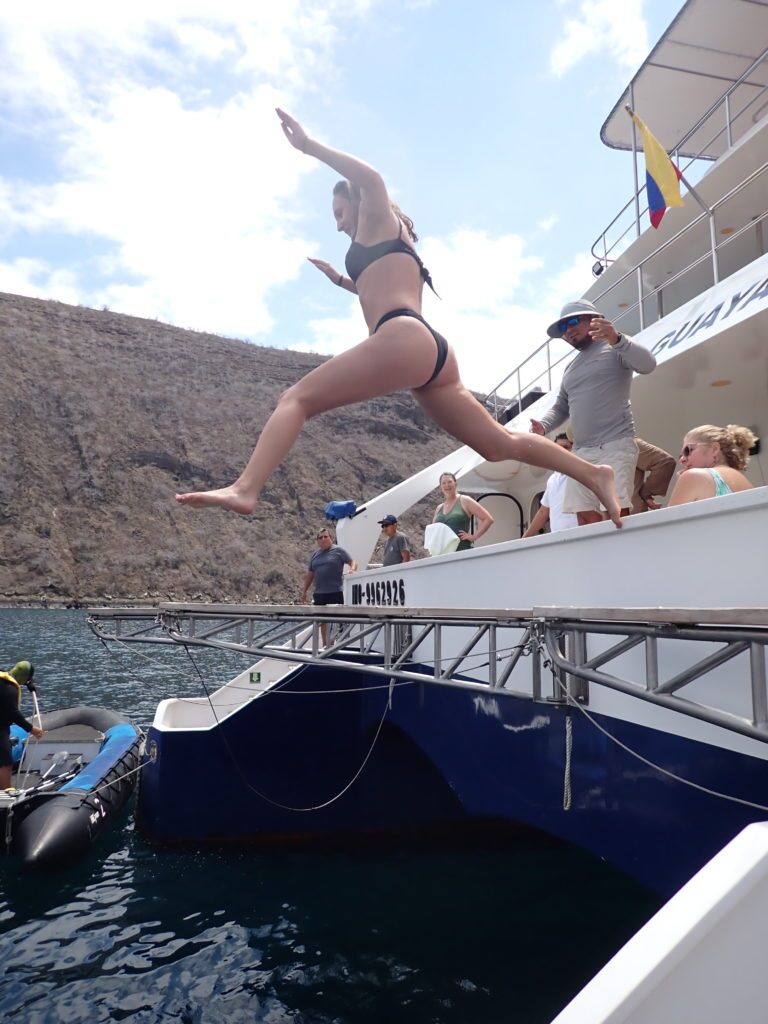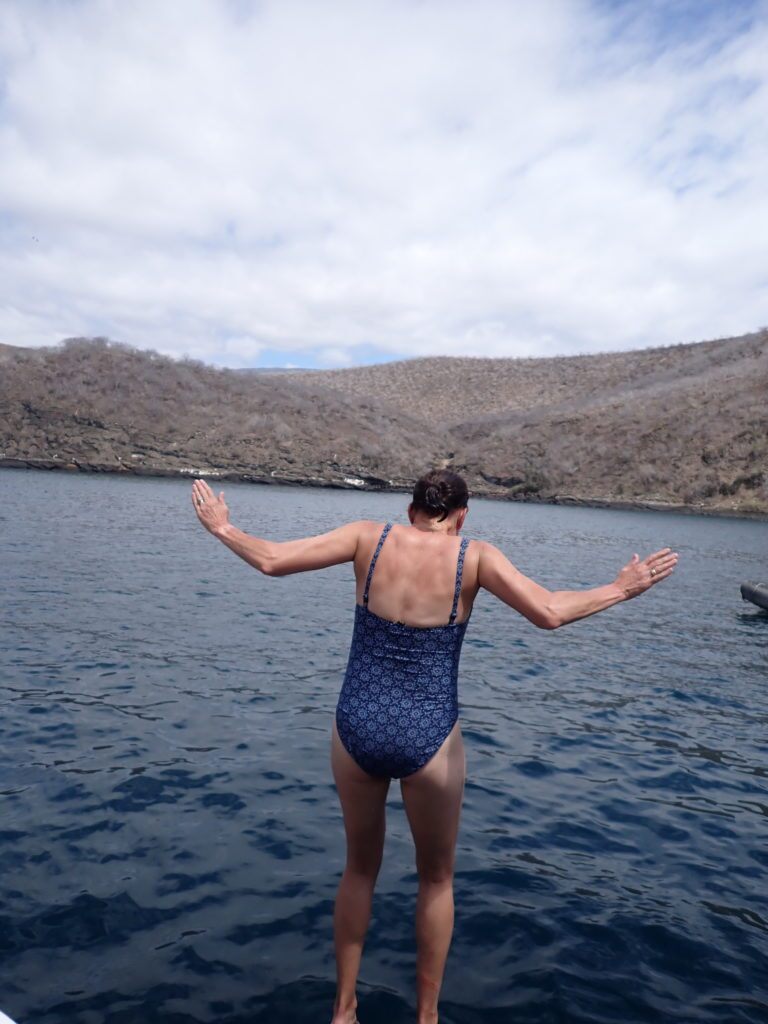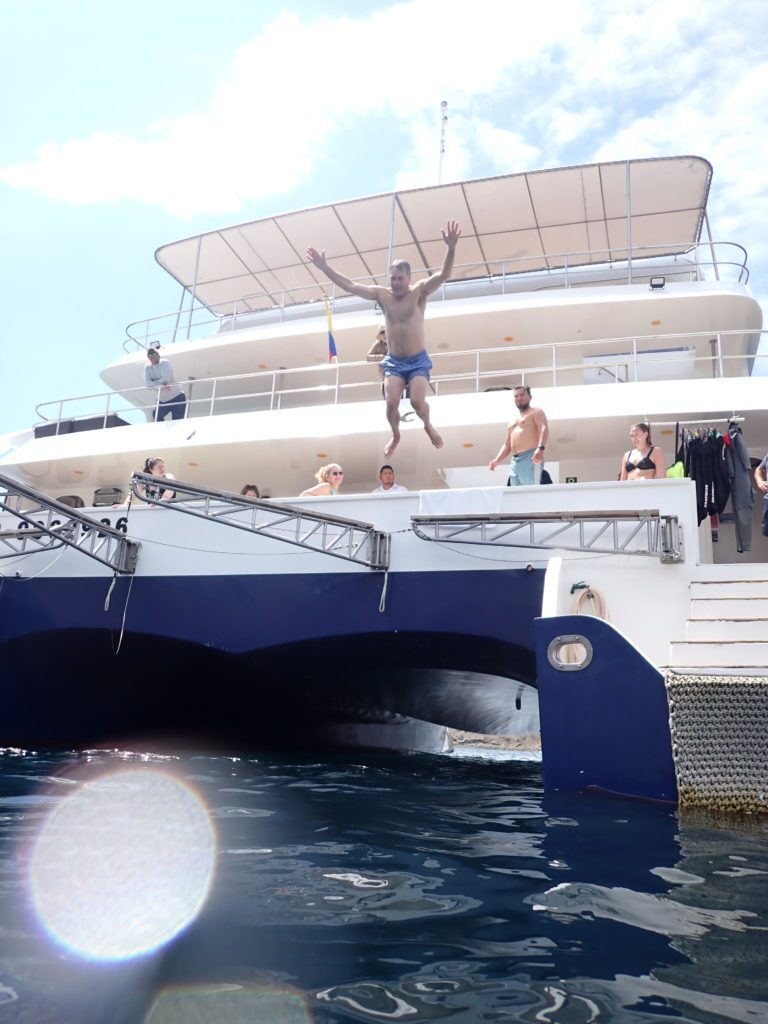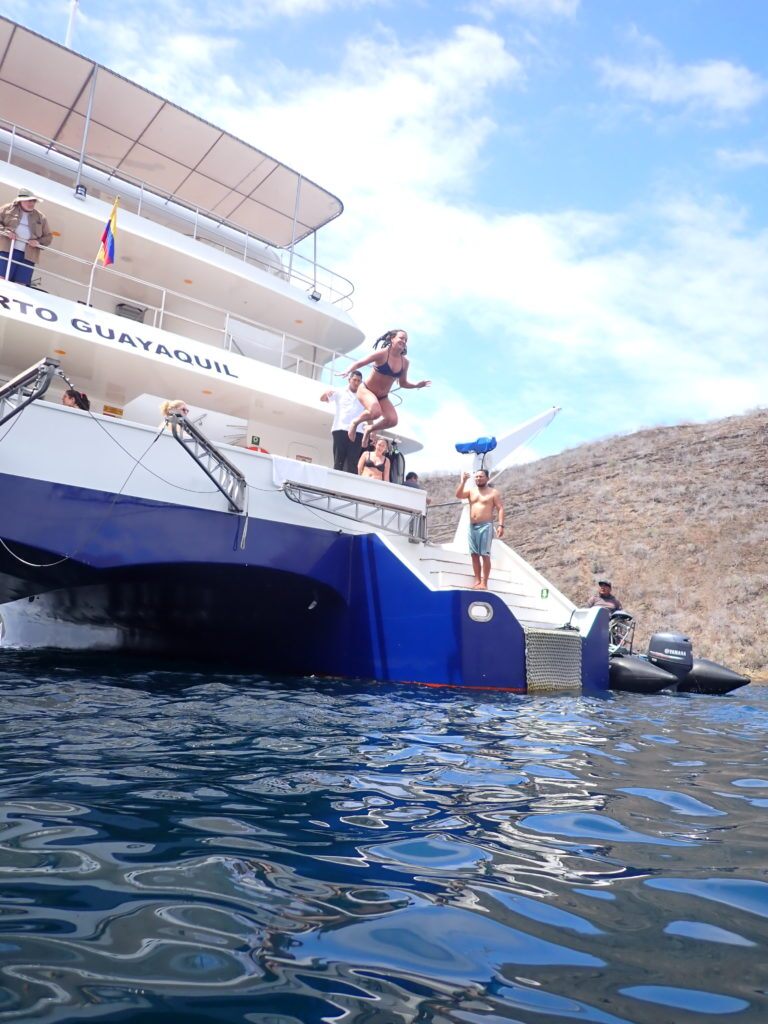 Day 5: Fourth Stop – Isabela Island – Punta Vicente Roca
We enjoyed a snack and a wonderful pasta lunch. We smoothly sailed to Punta Vicente Roca. It was stunning. We immediately got into the water and swam with dozens and dozens of sea turtles. In some spots, the water was crystal clear. Closer to shore it was much murkier. We also saw a flightless cormorant diving for food, rays and fish. Boobies were all over the cove's walls. So cool.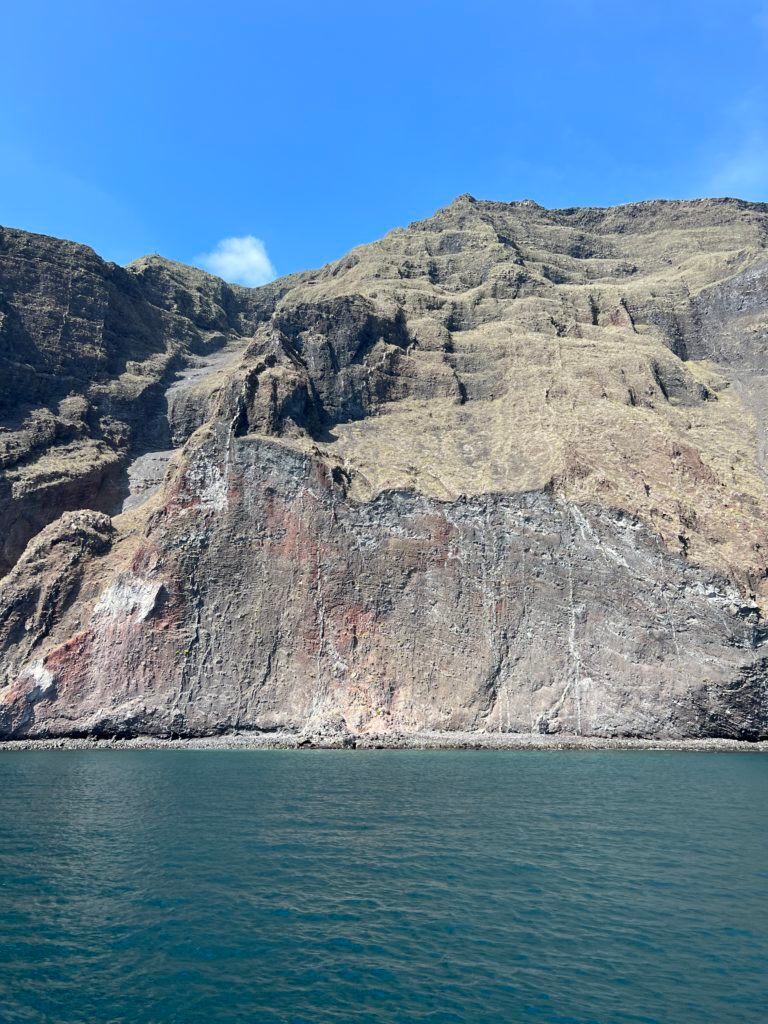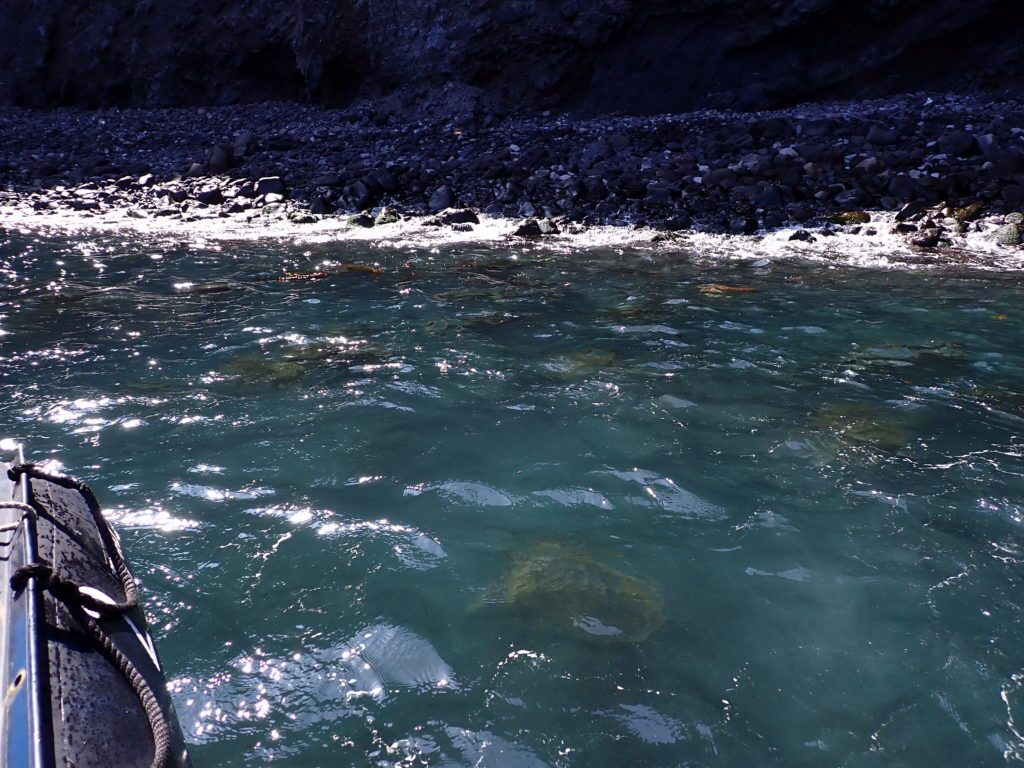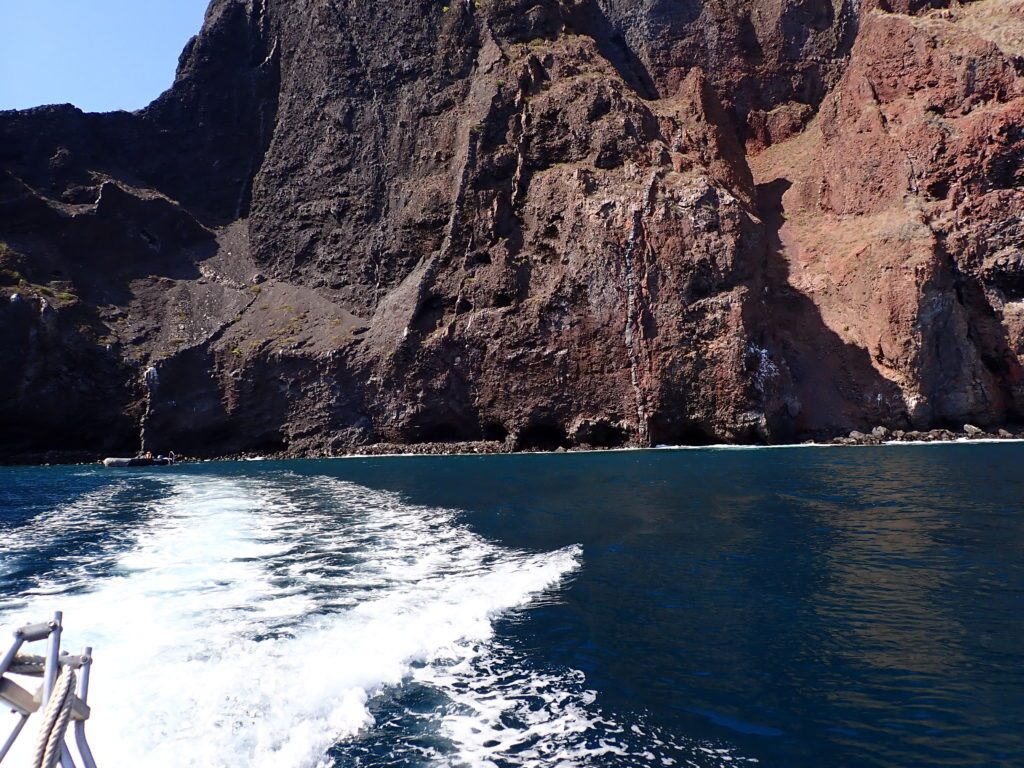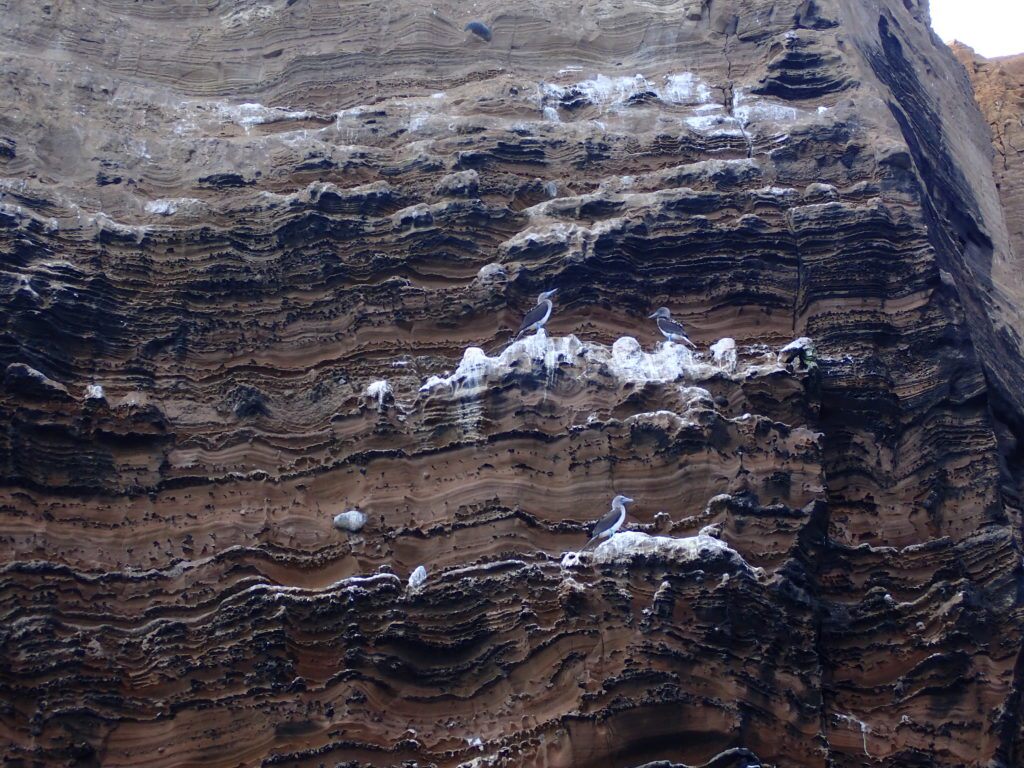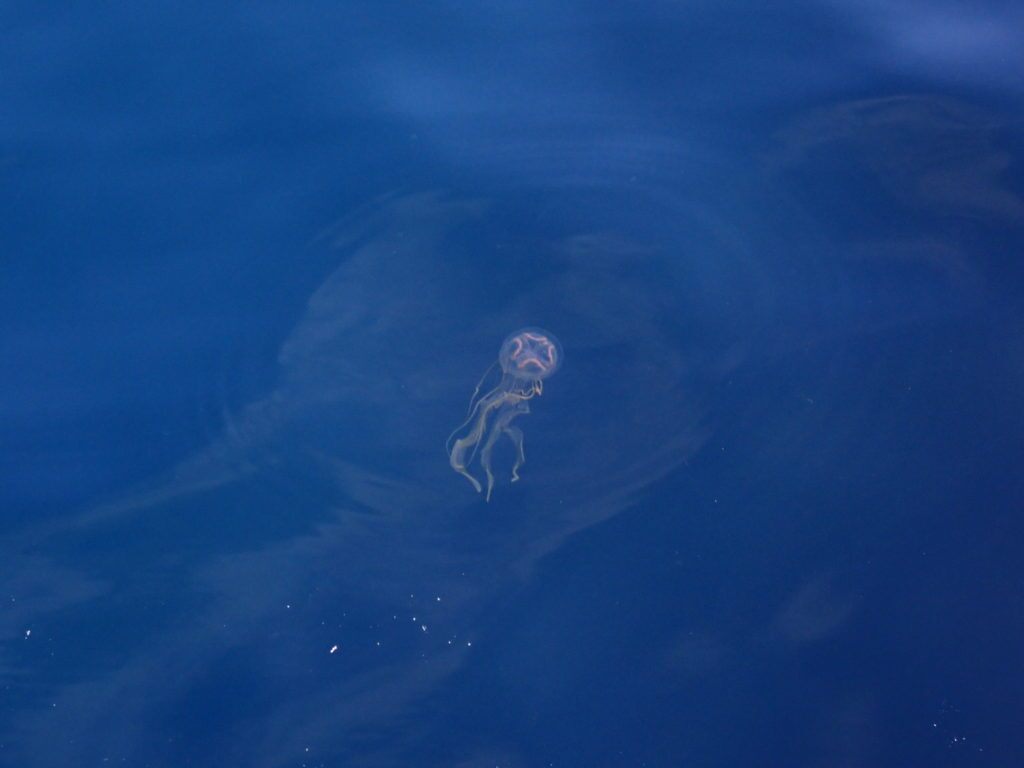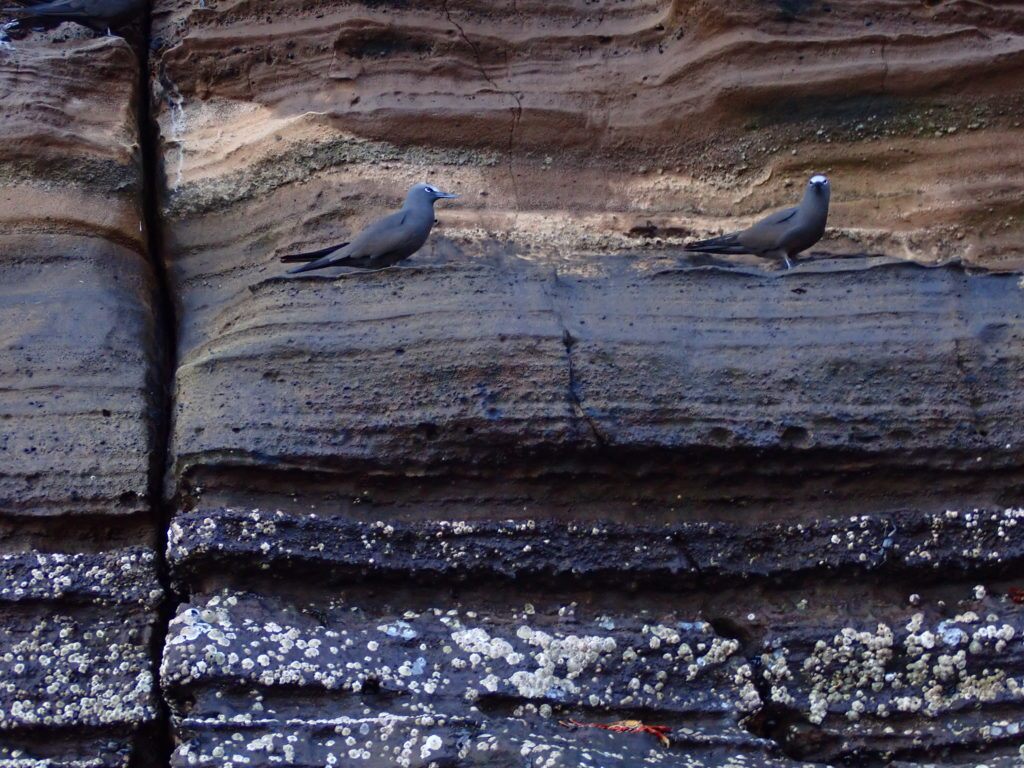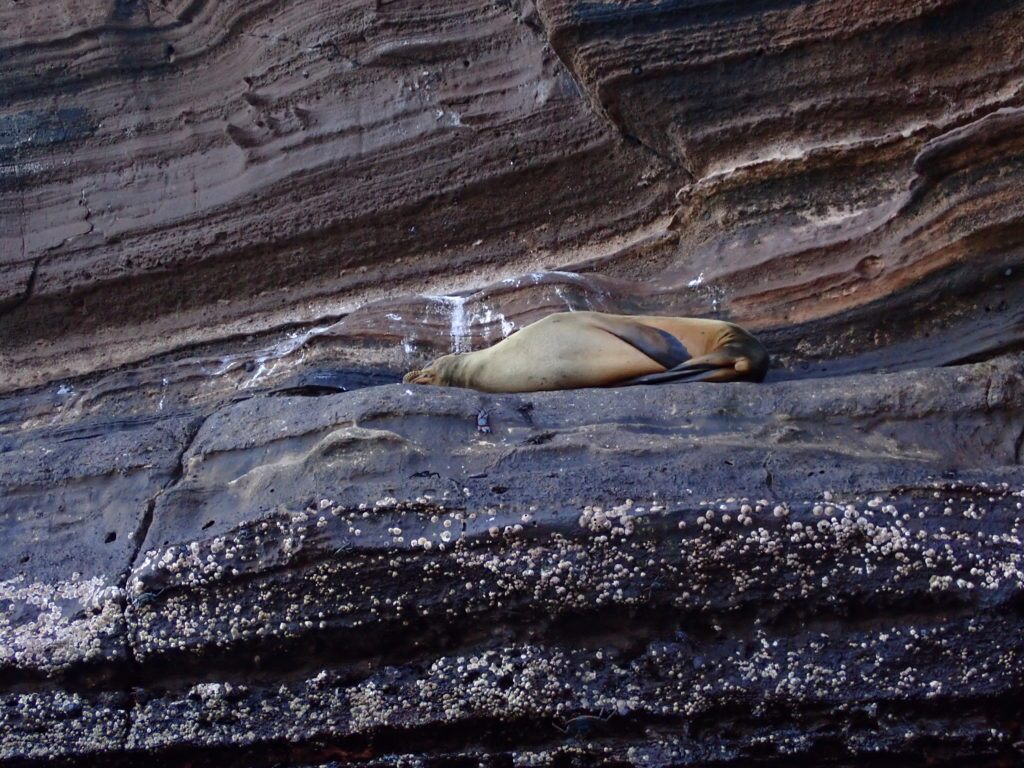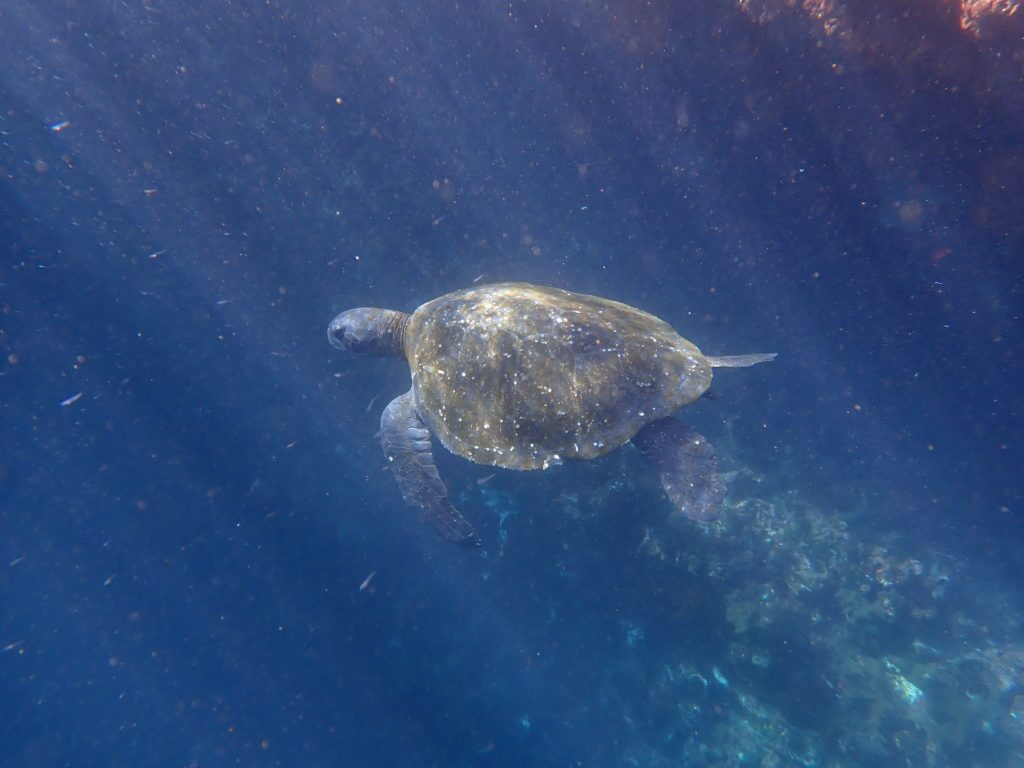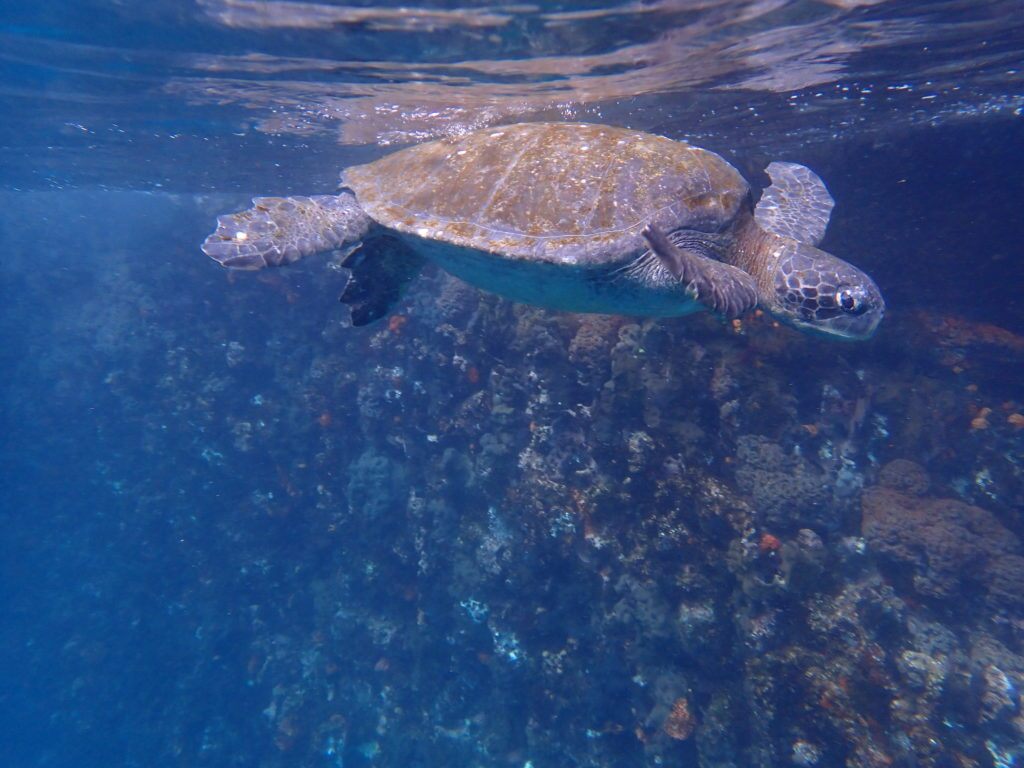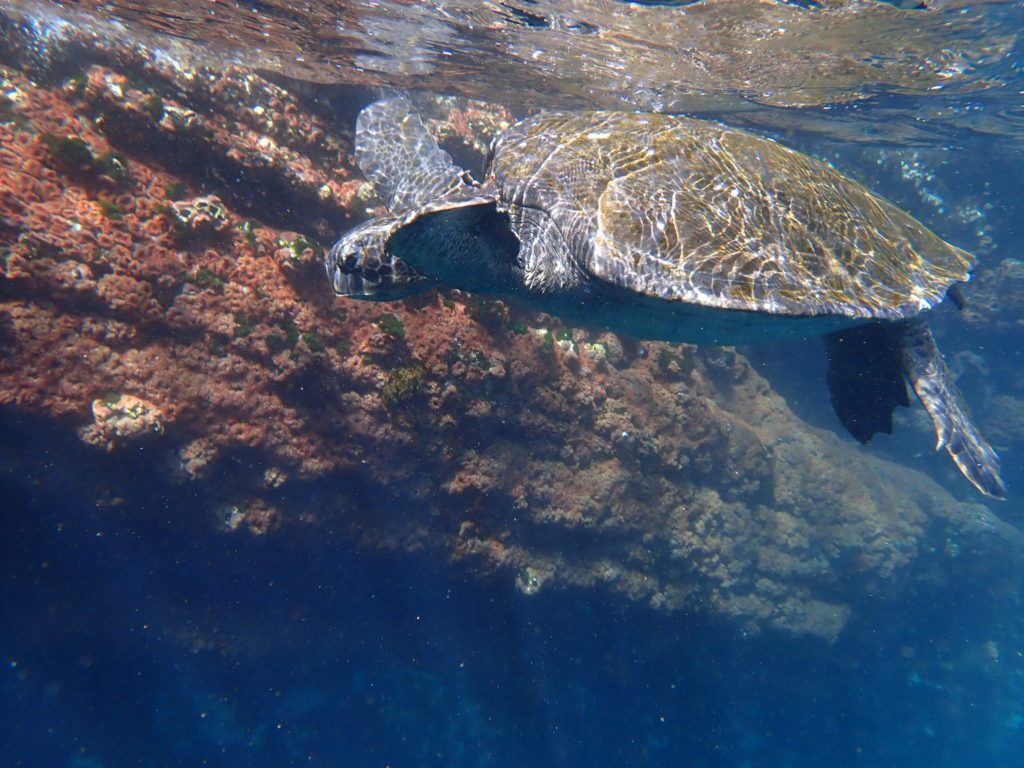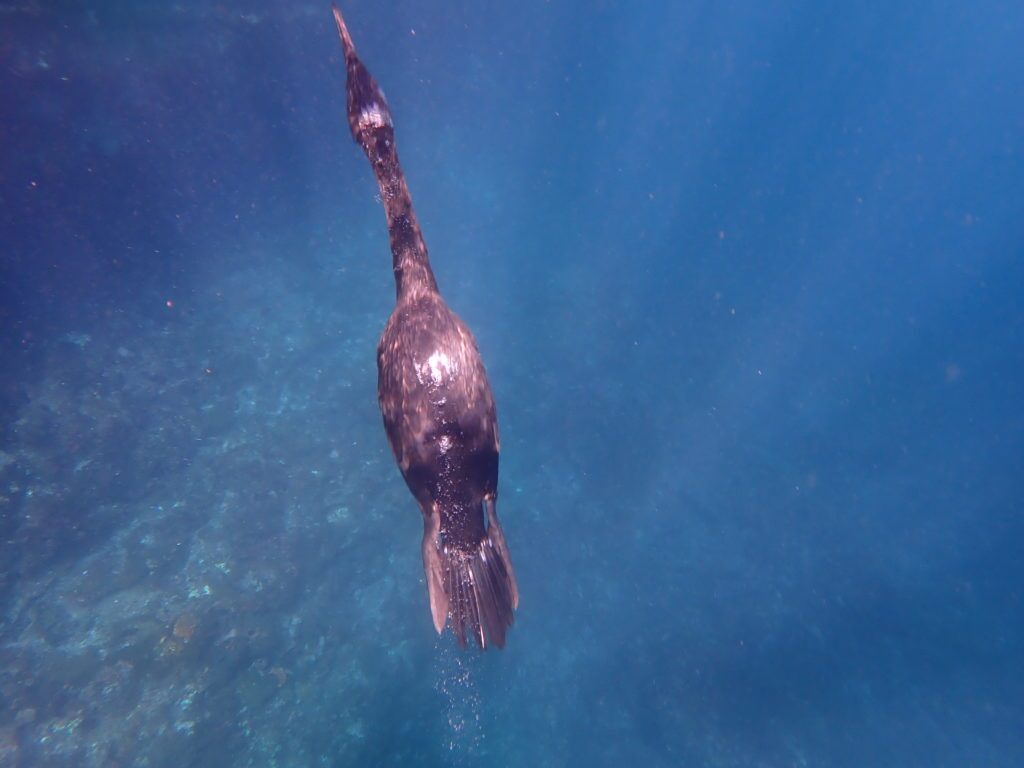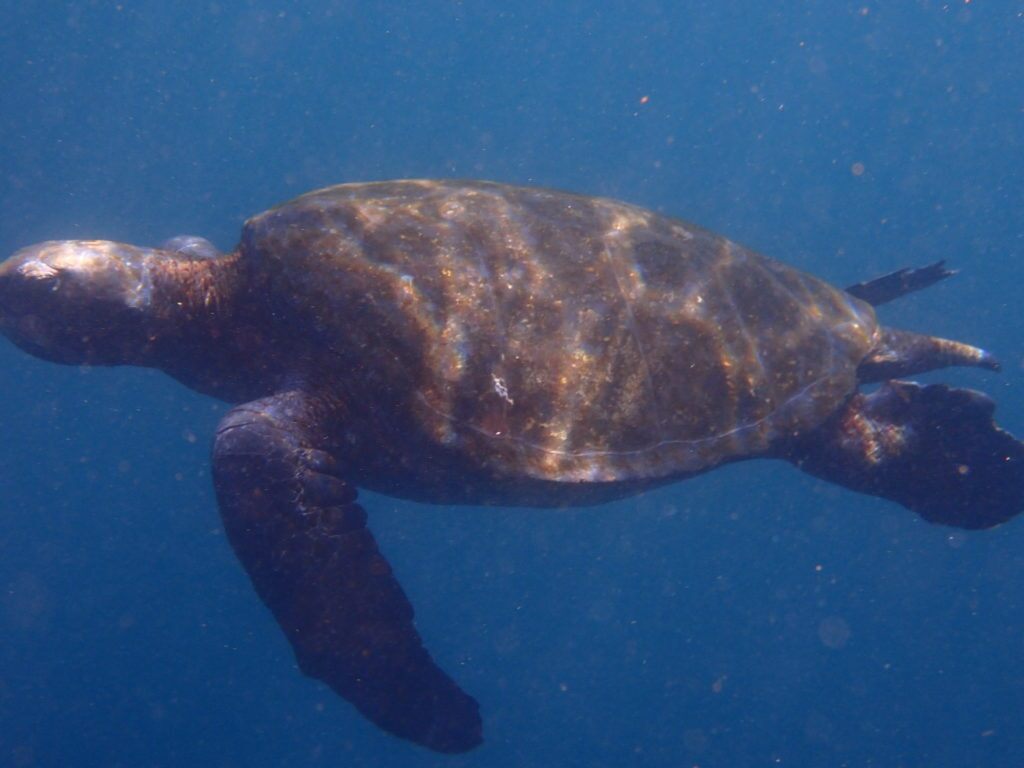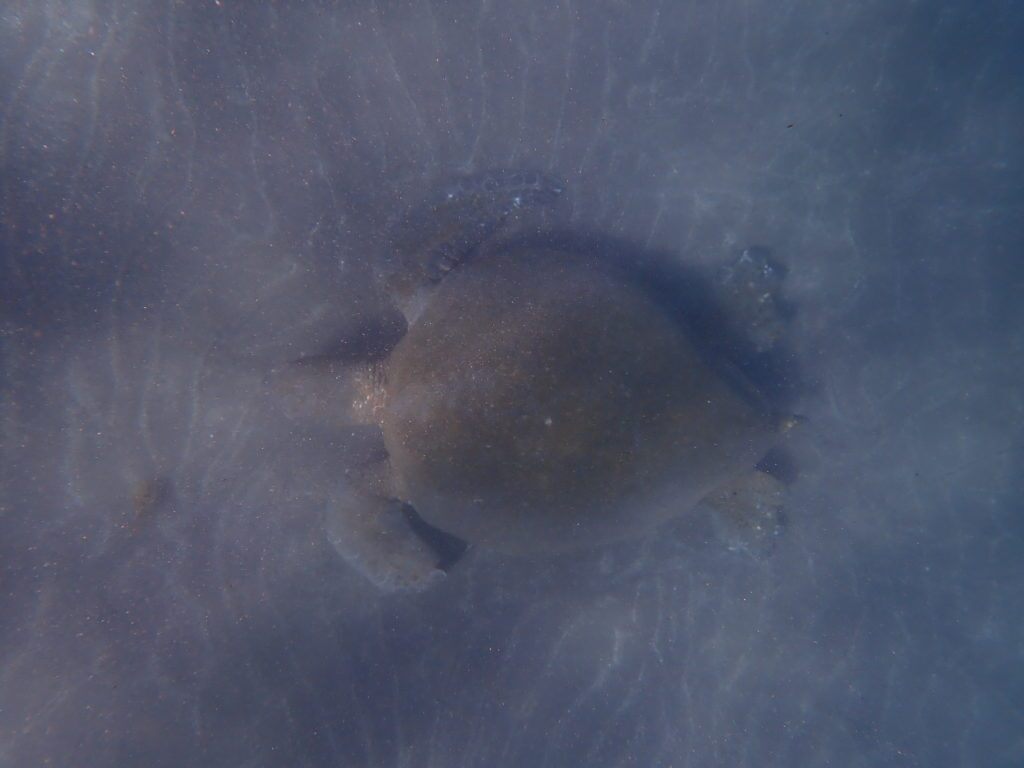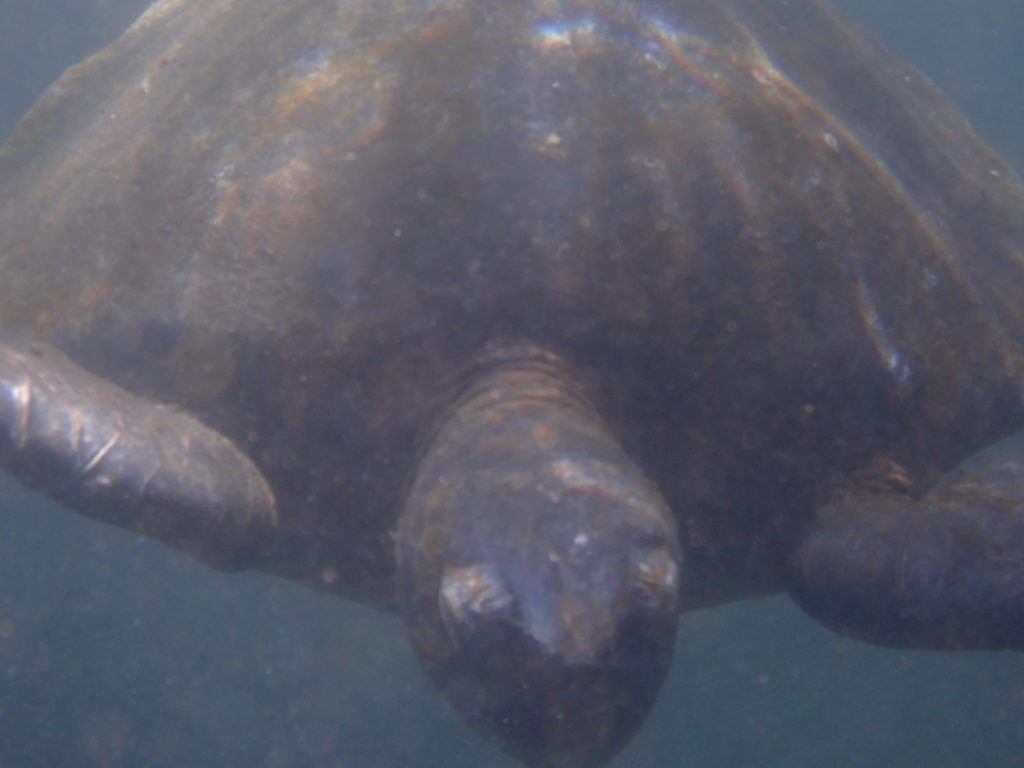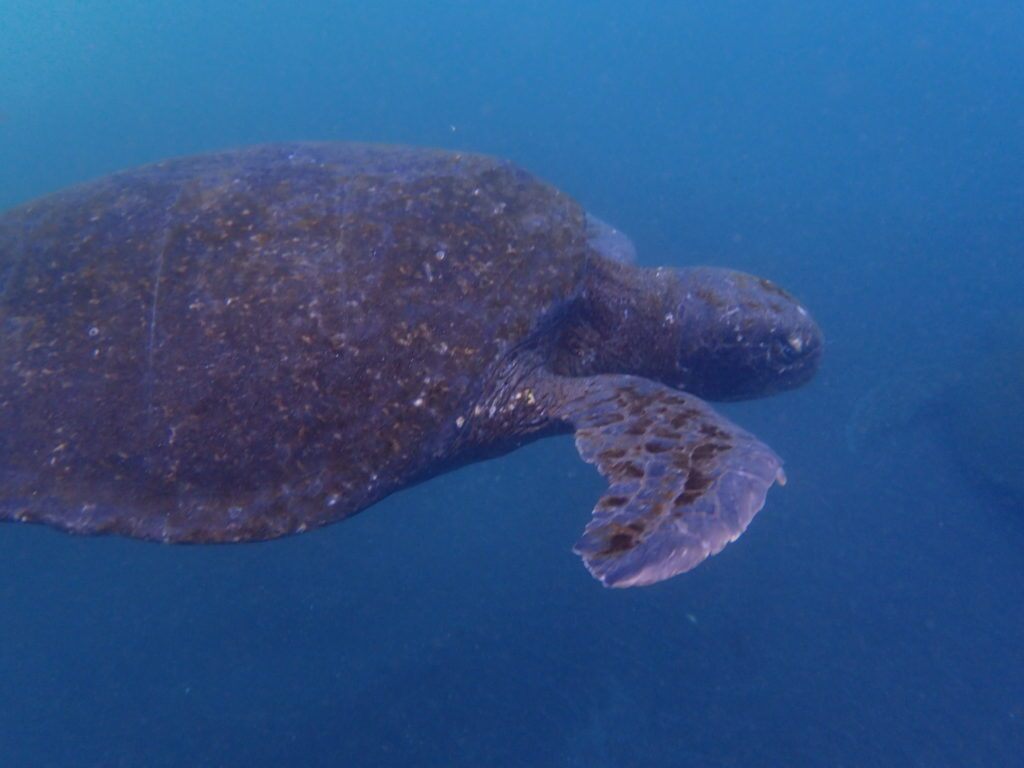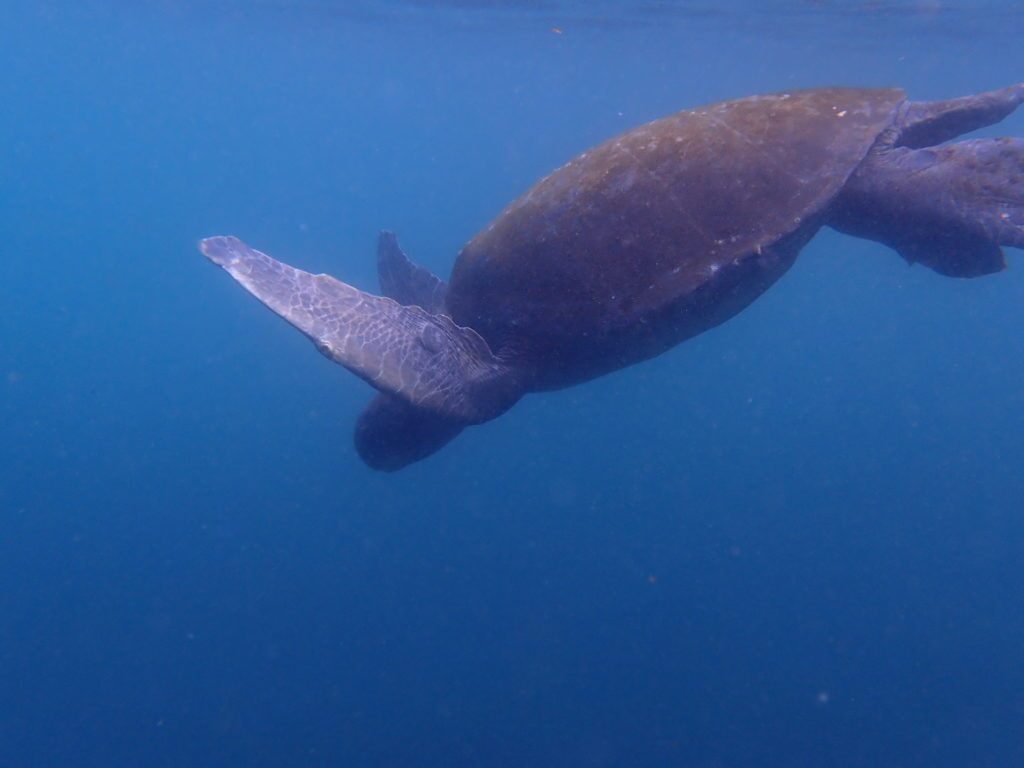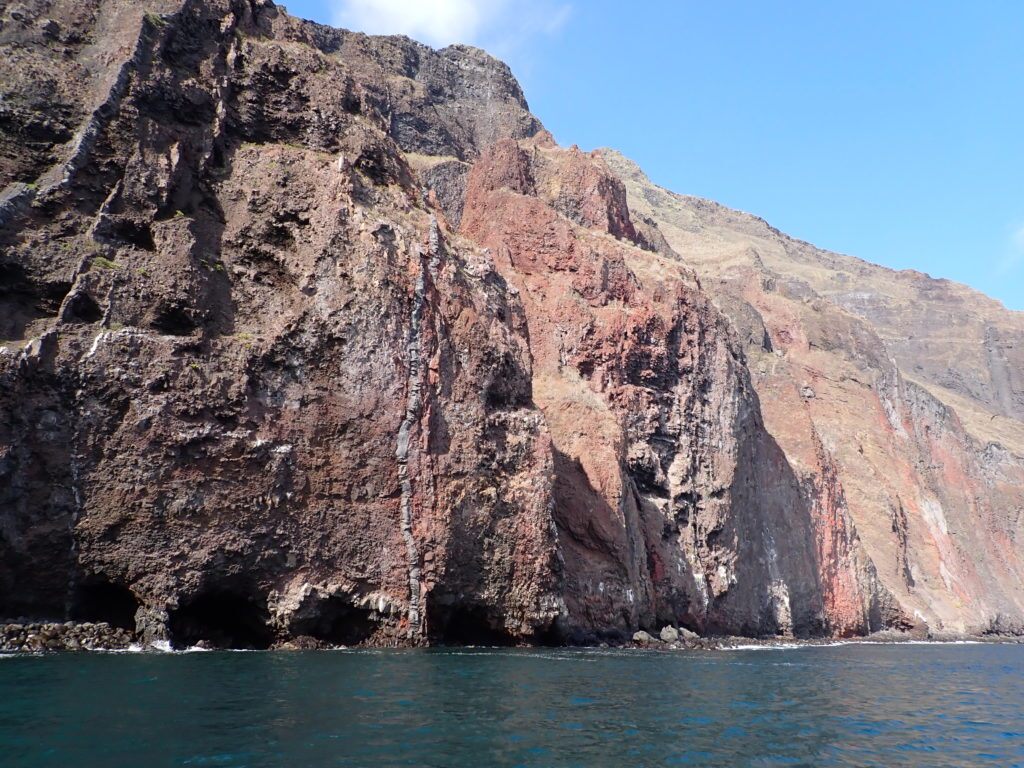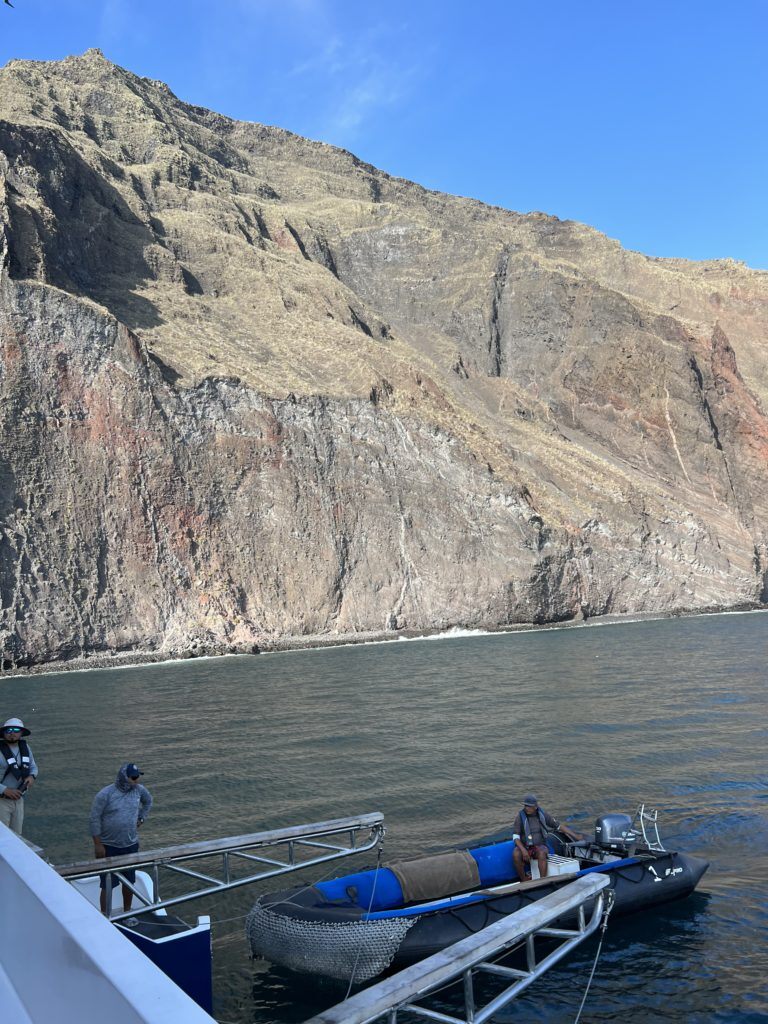 Day 5: Fifth Stop – Isabela Island – Punta Vicente Roca Dinghy Ride
After getting dressed, we headed out in the zodiacs. We saw more turtles in the ocean, boobies and birds on the walls, sea lions playing with us and Flightless Cormorants. We went into a cave. It was so fun.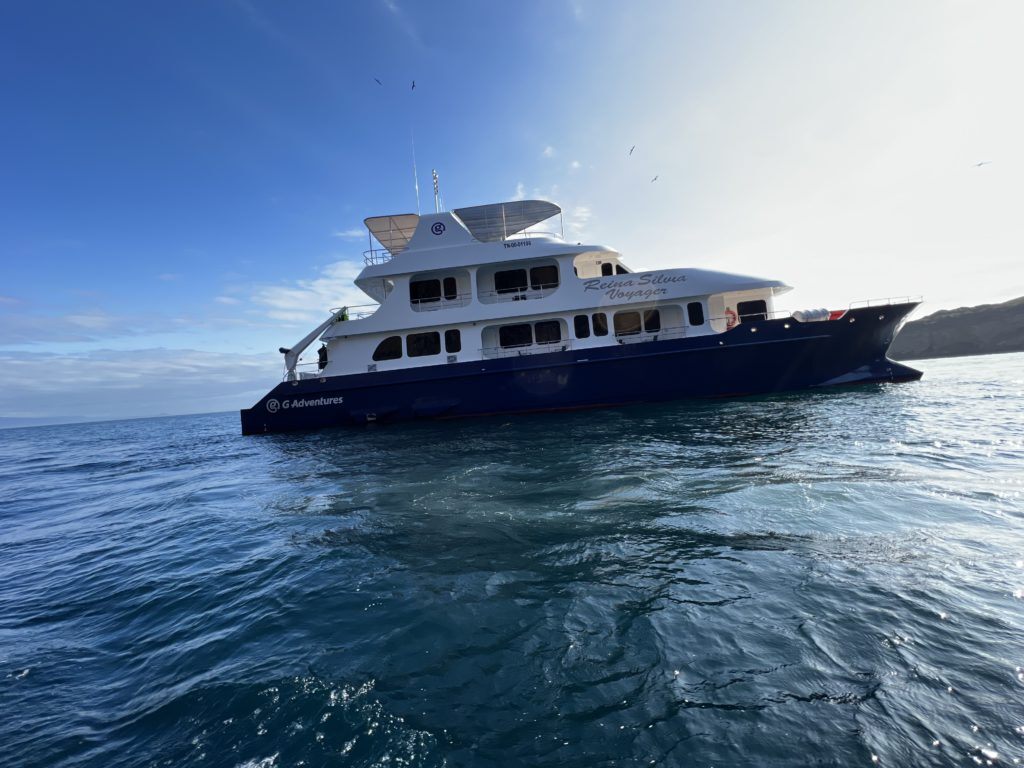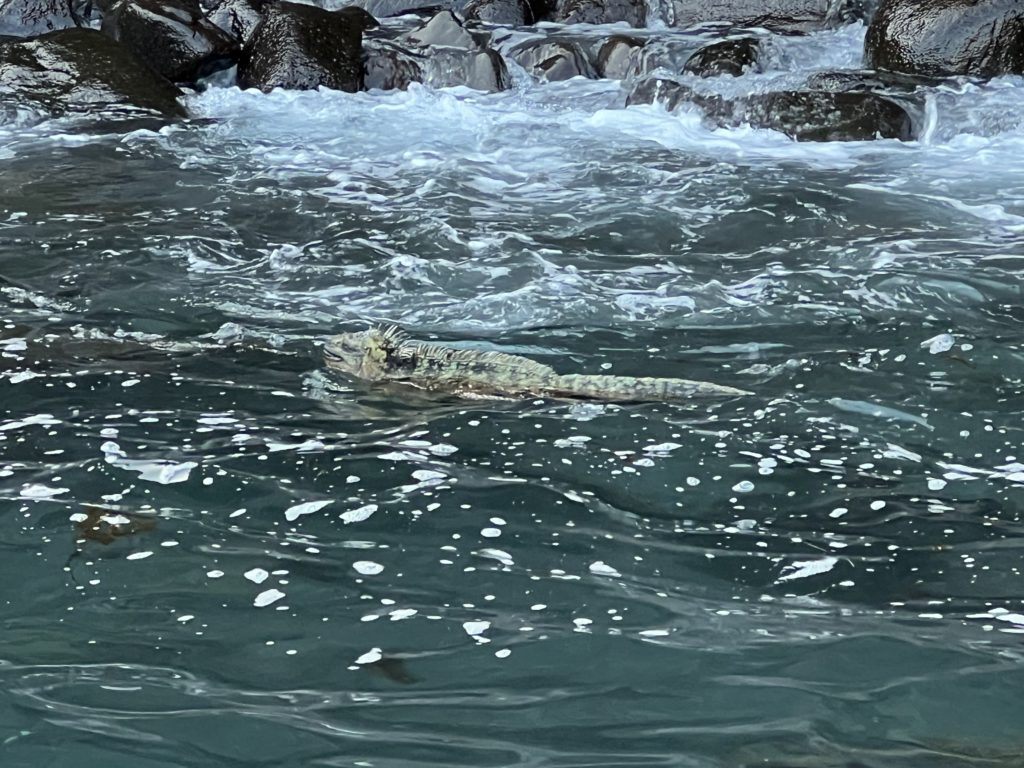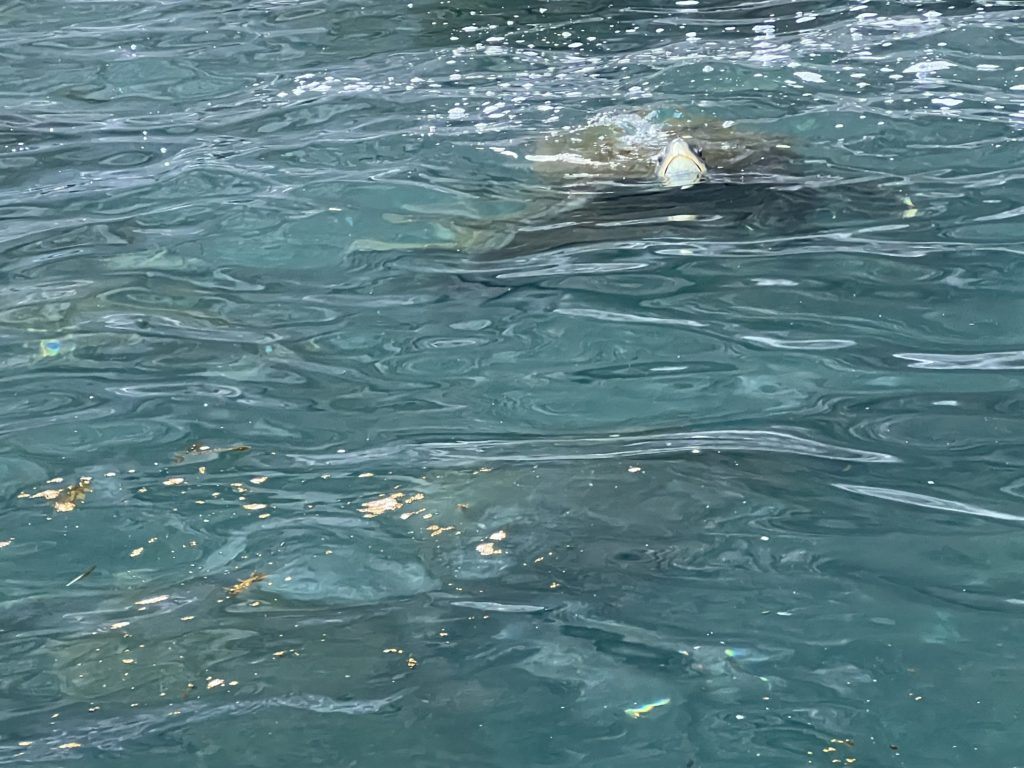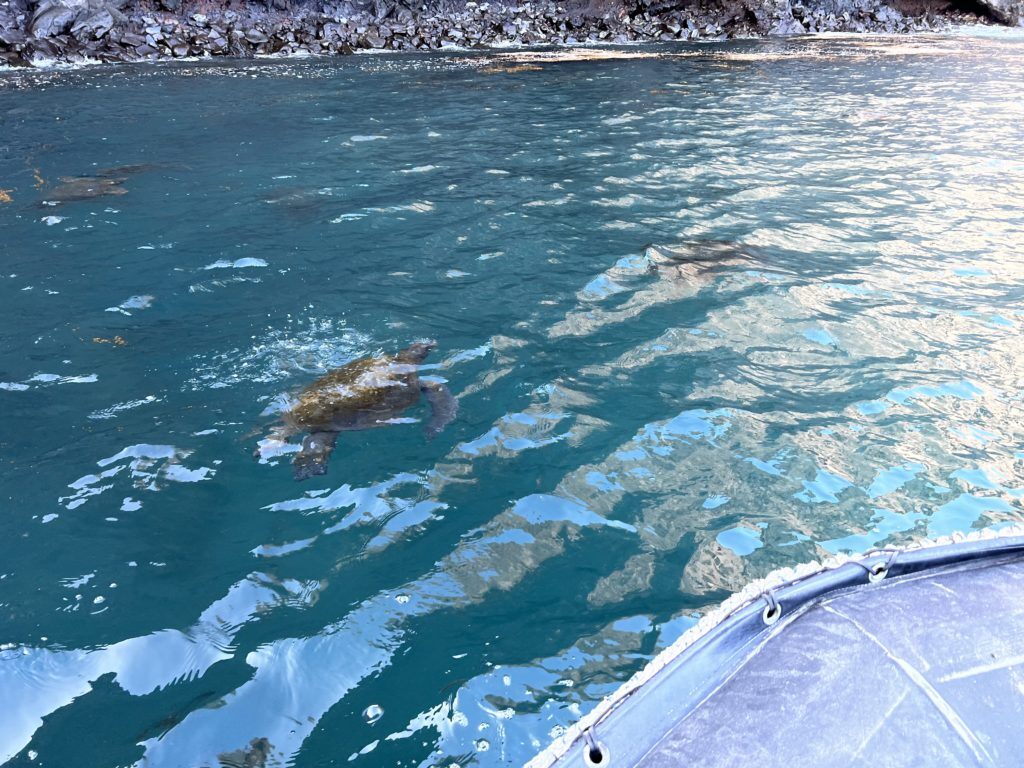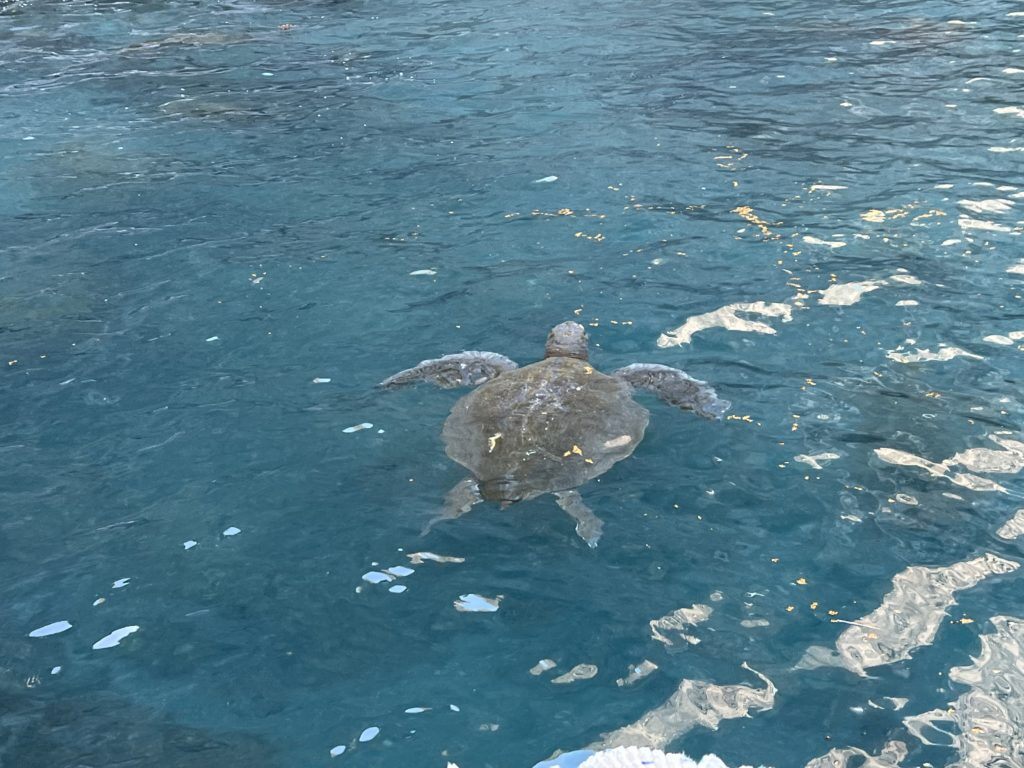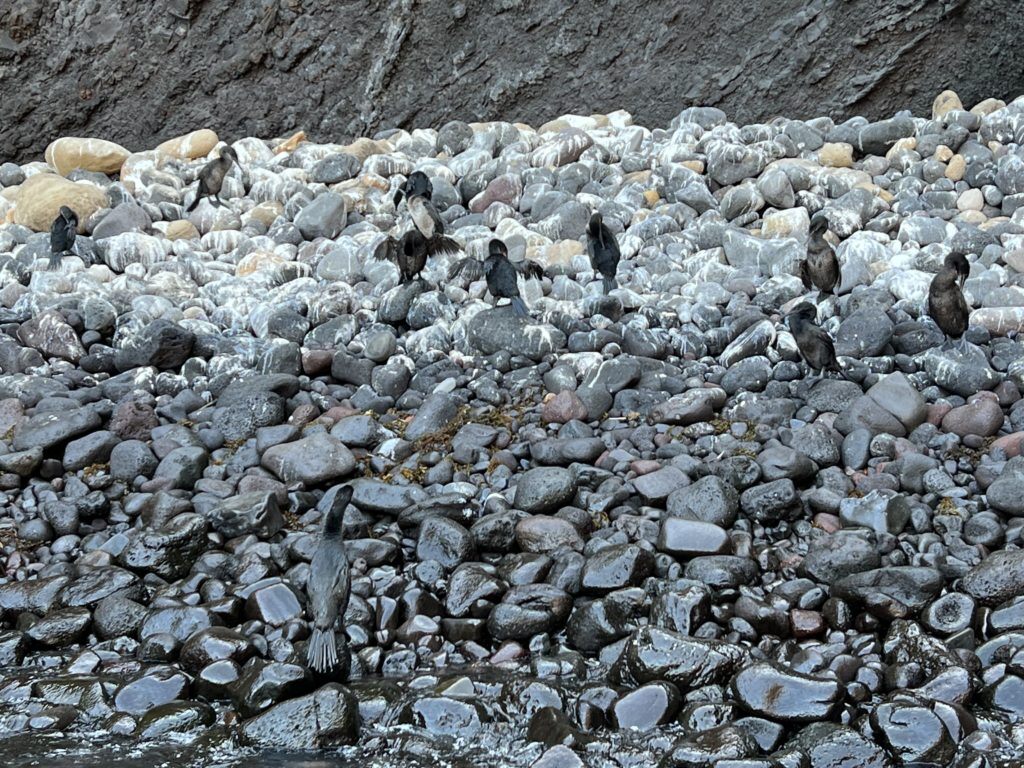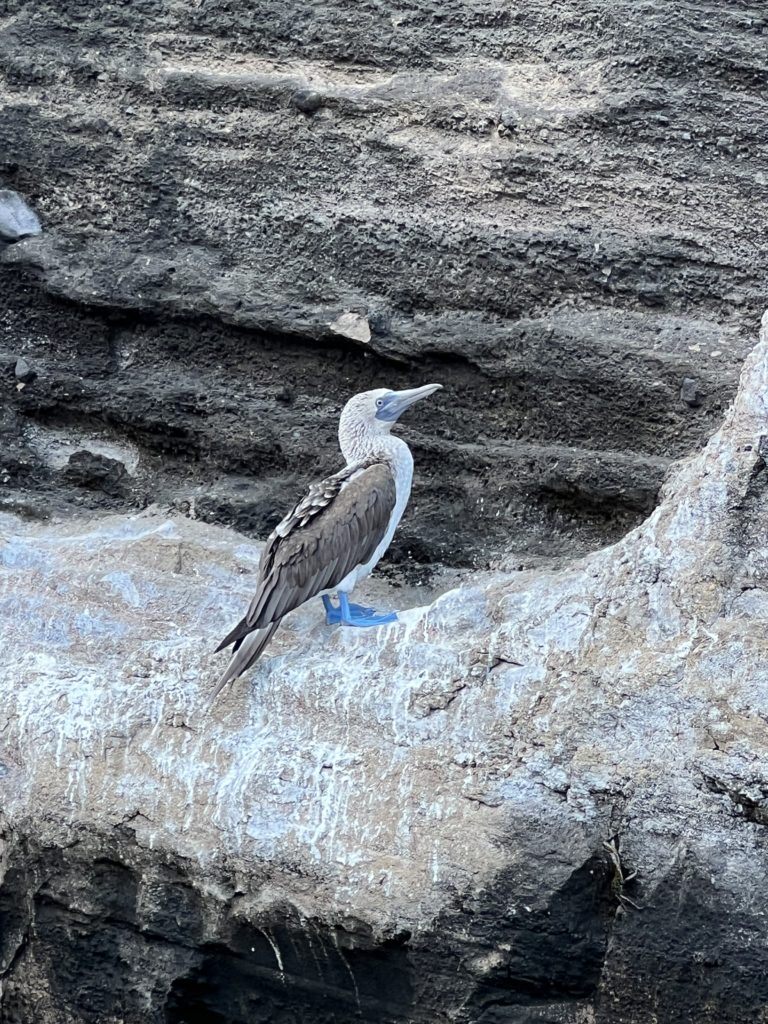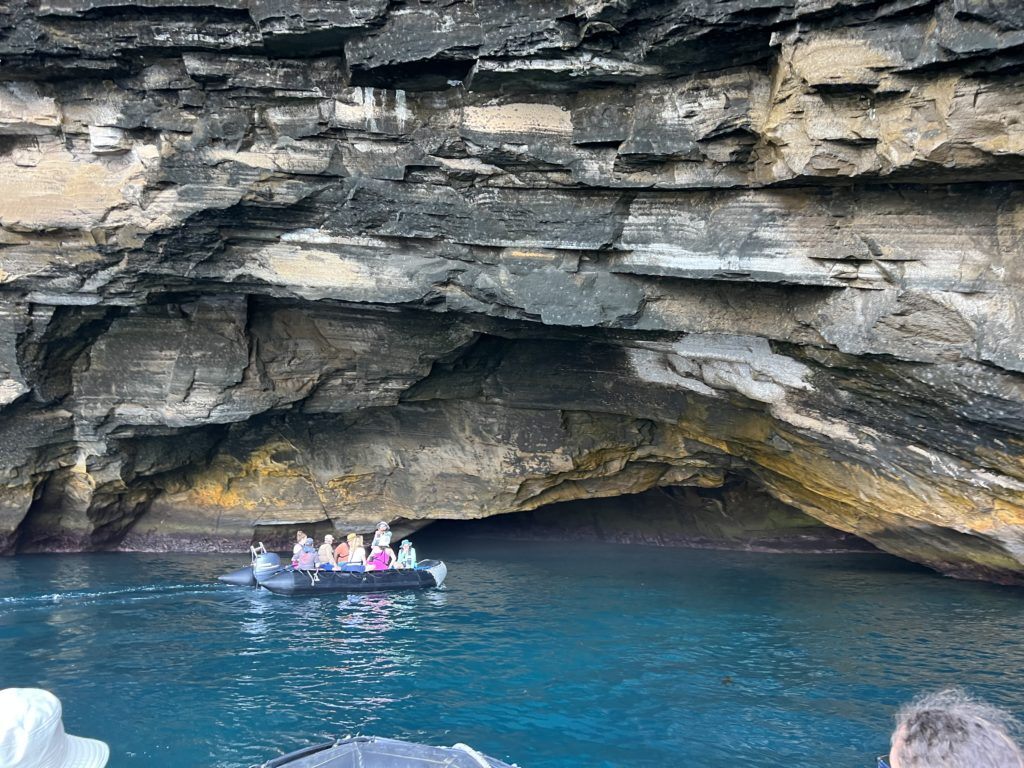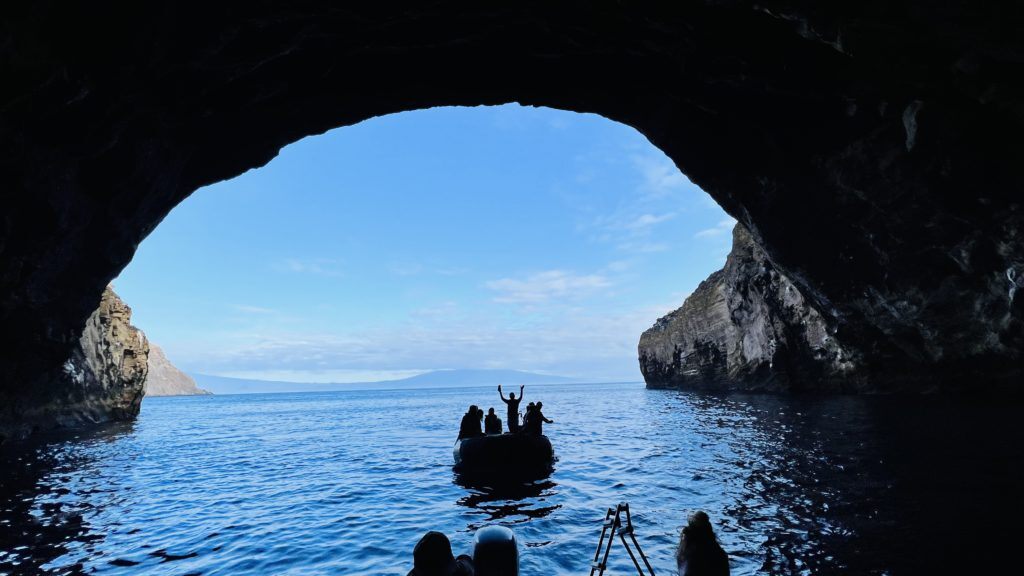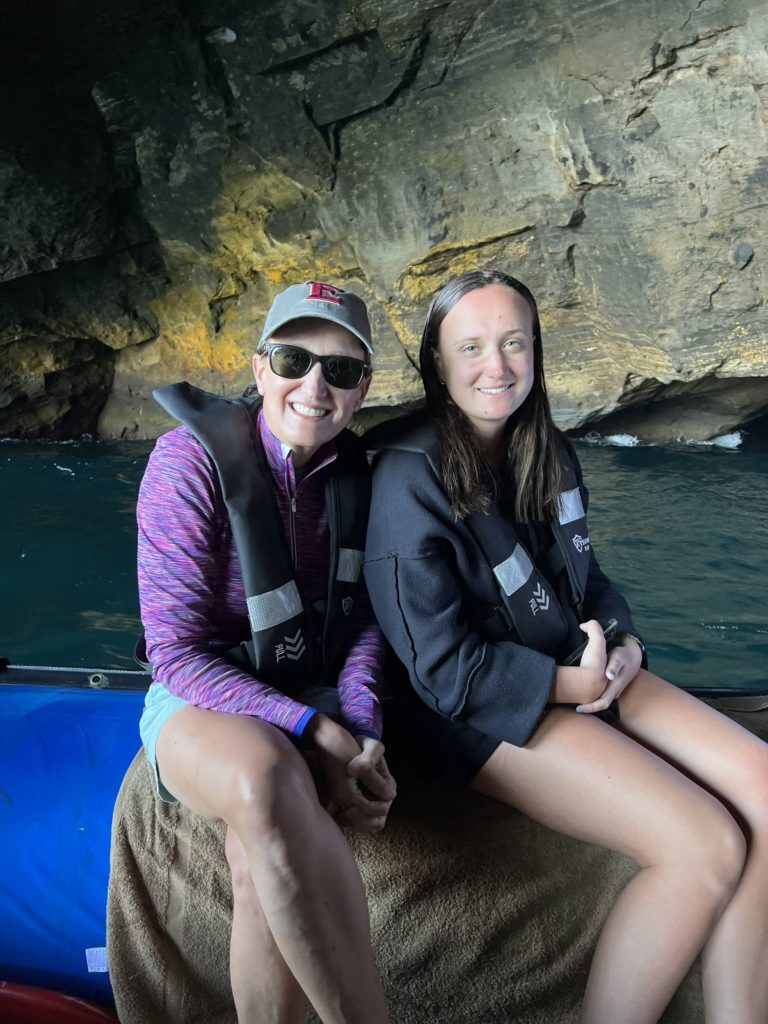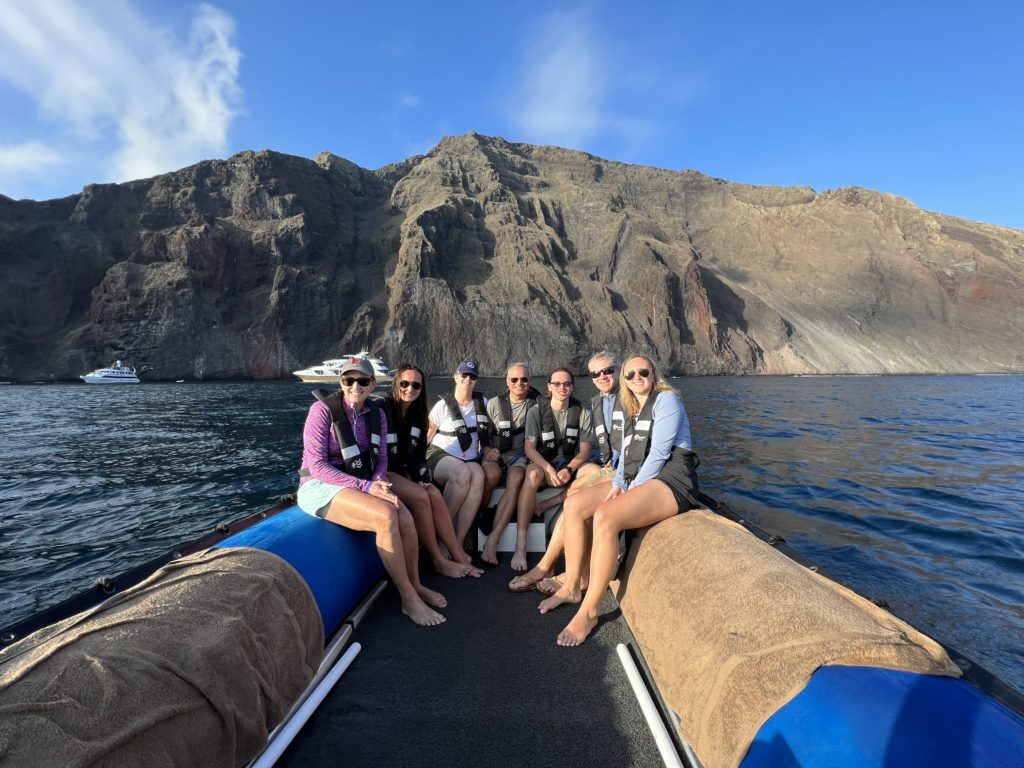 Day 5: Sixth Stop – The Equator!!!!
If you have read from the beginning, you may remember we recommend you skip the two equator museums on the mainland. They are a solid hour from the capital of Quito and really kind of silly. If your boat will go over the equator, it is much more fun on a boat. We actually crossed the equator twice on this trip. Once was at happy hour and the second time was later that night in the dark while we slept. Omar and the crew made it a total blast. After our dinghy ride, we returned to the boat with bottomless mojitos for everyone and snacks. We went up to the bridge and stopped when we reached the equator. We were very lucky as the light was perfect for more photos of Isabela Island and our family. It was a long, busy day, but totally worth it!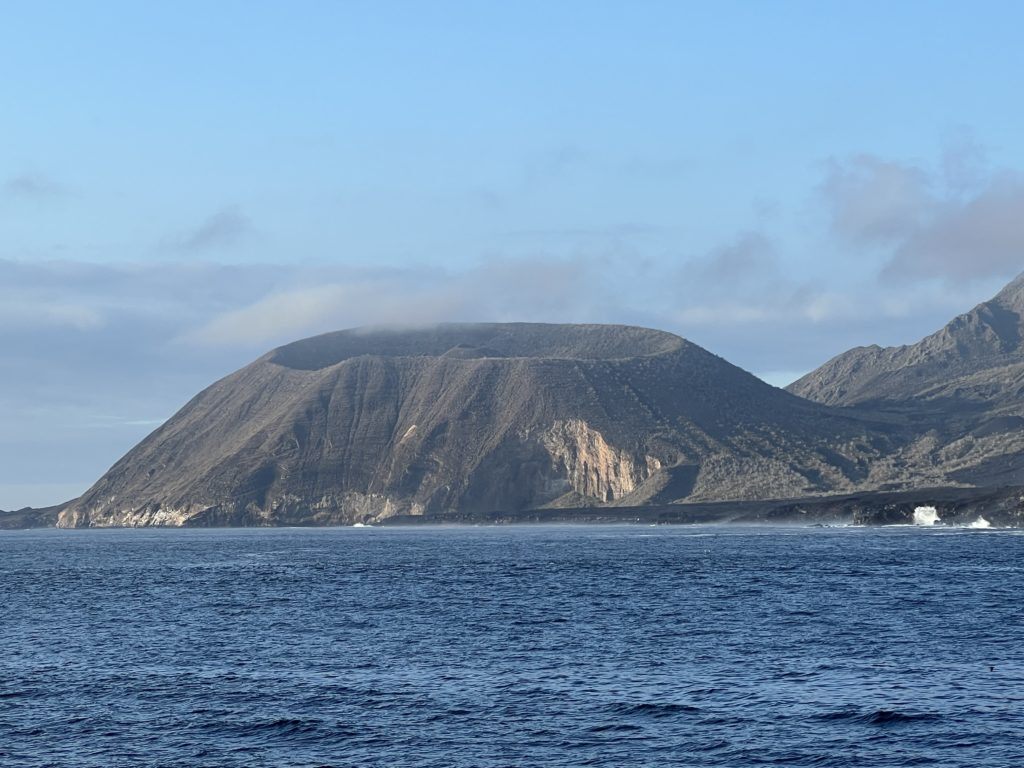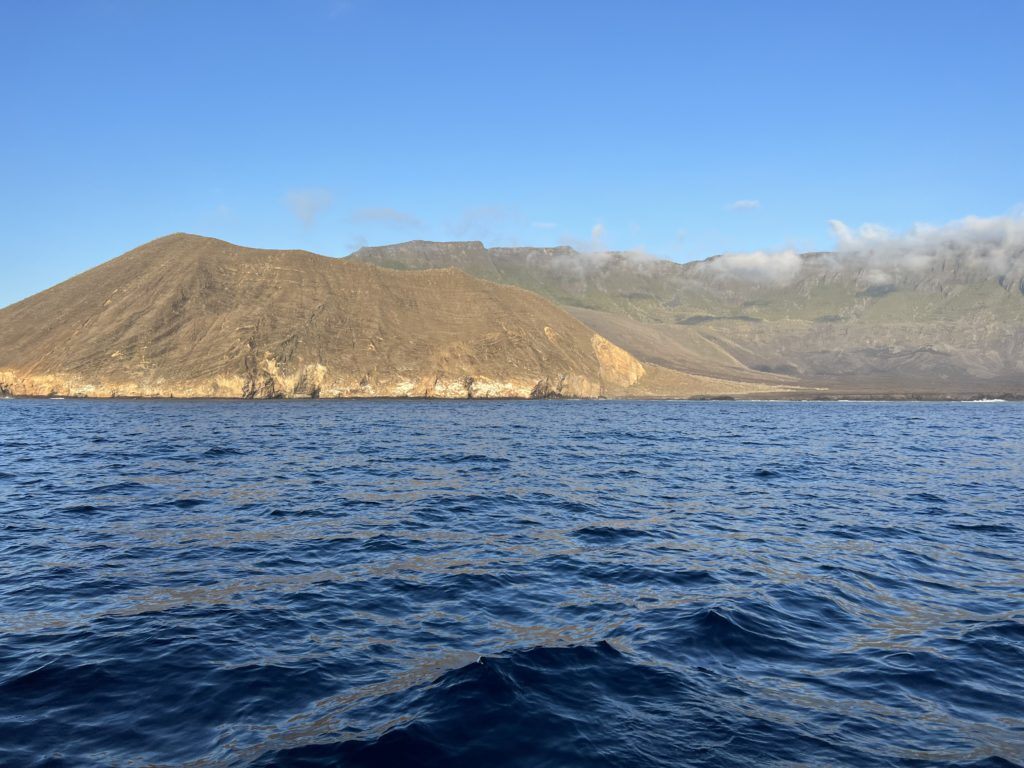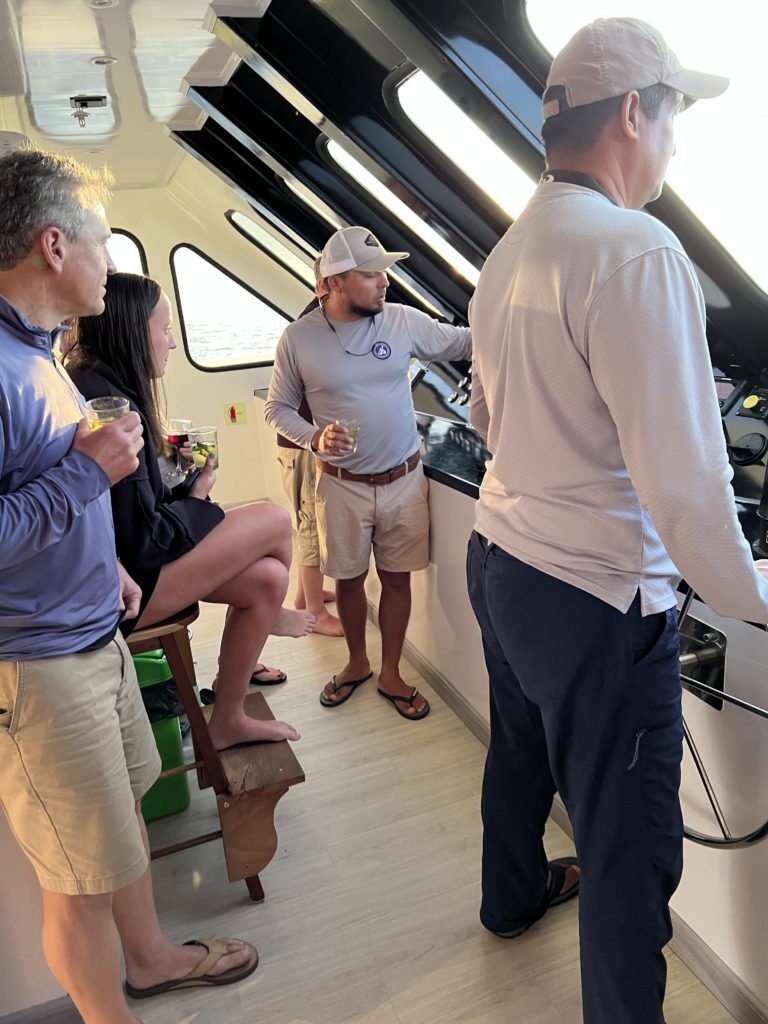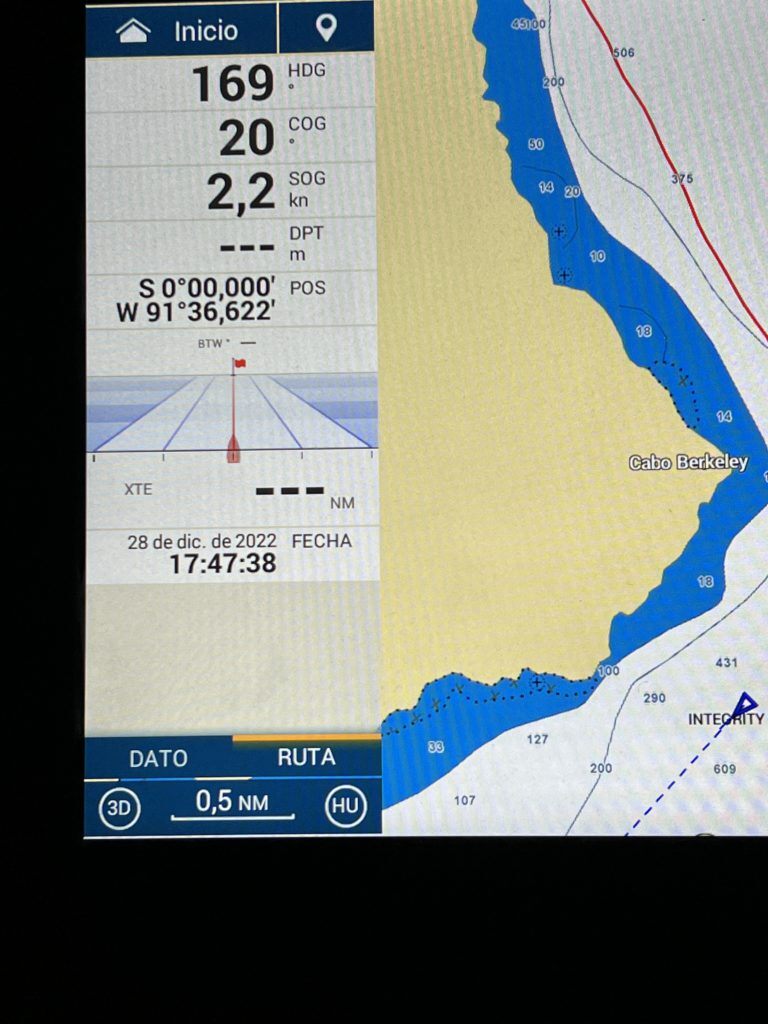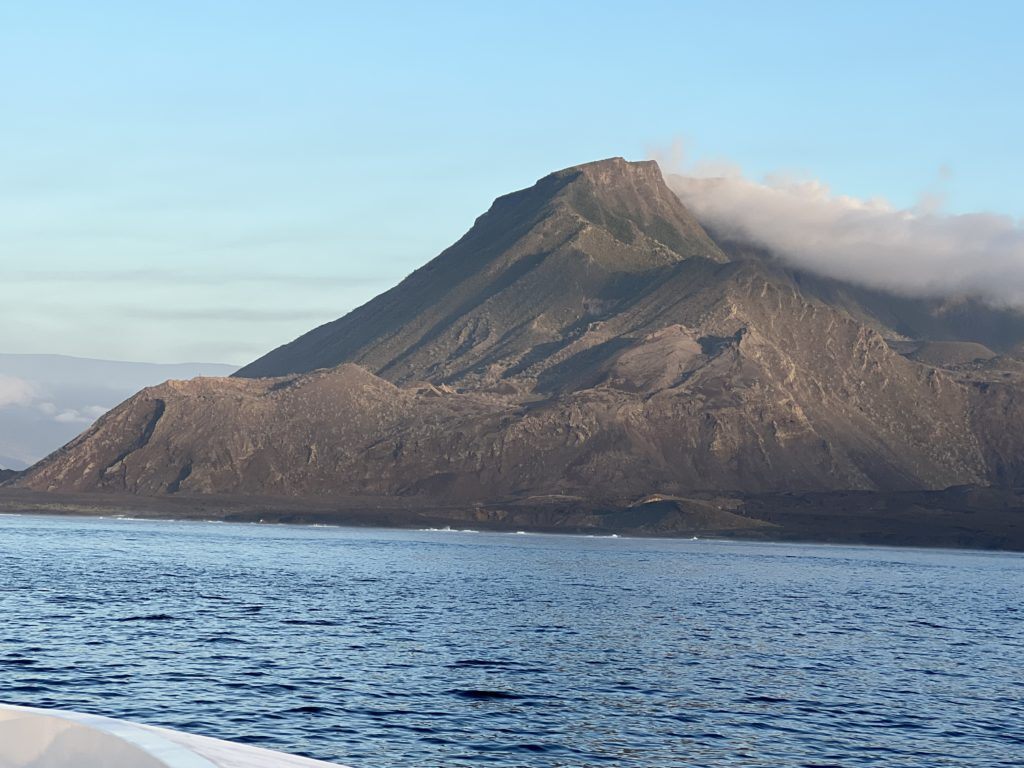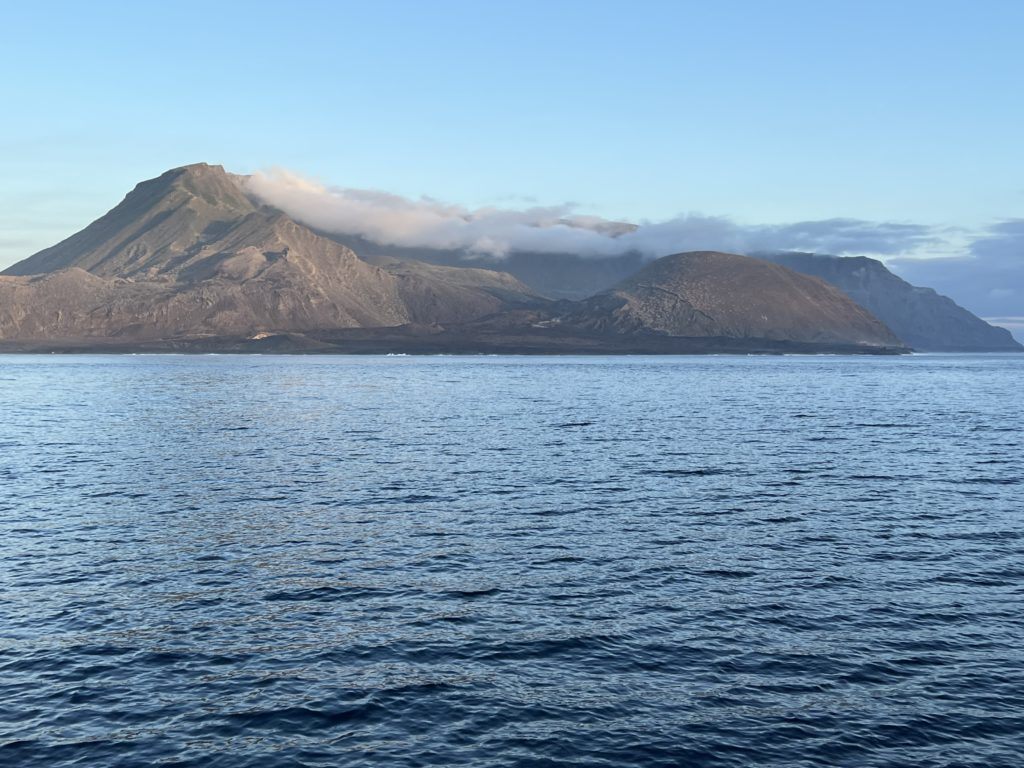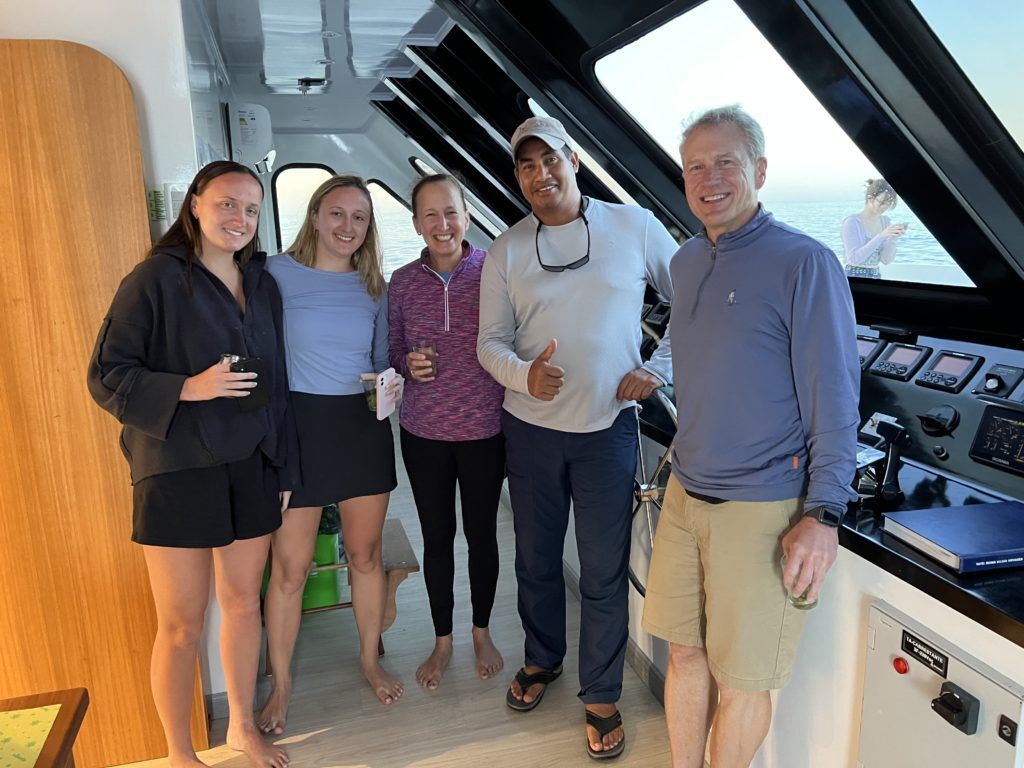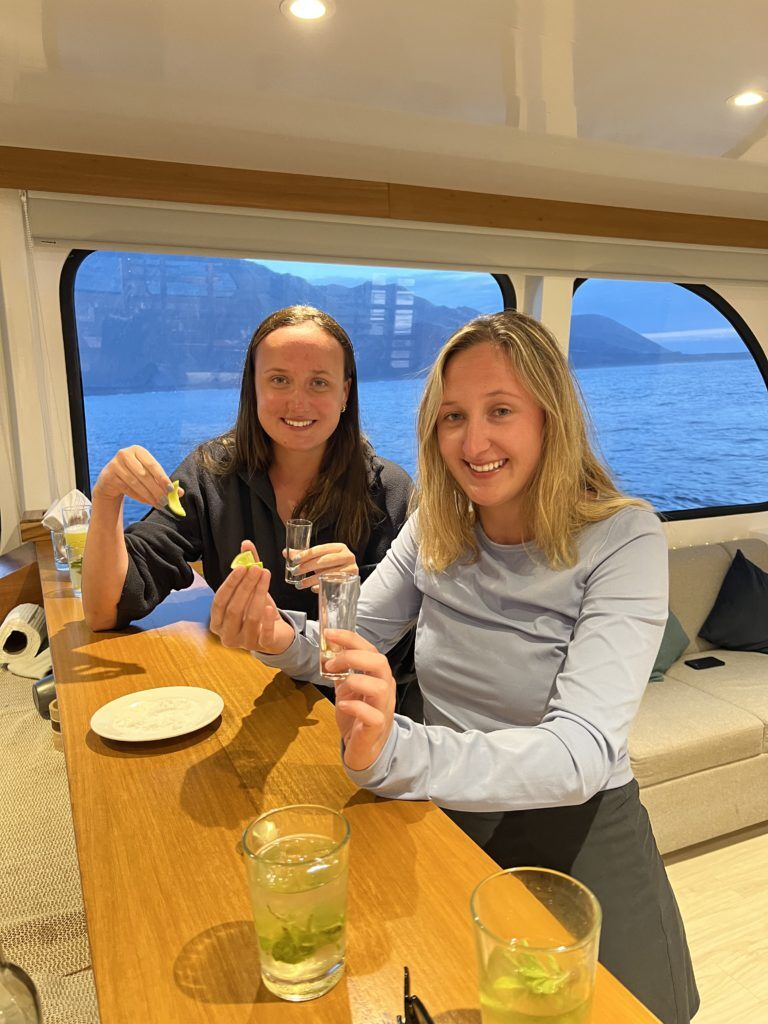 Day 6: First Stop – Santiago Island – Buccaneer Cove Dinghy Ride
We prepared our rooms last night for a rocky ride – doors and drawers closed, electronics secured – but we had an easy sail to Santiago Island. We stopped in Buccaneer Cove to see the nesting sea birds. We saw Nazca Boobies and Swallowtail Gulls for the first time. We saw a big school of rays – one ray even leapt out of the water, but our cameras were not fast enough to catch it.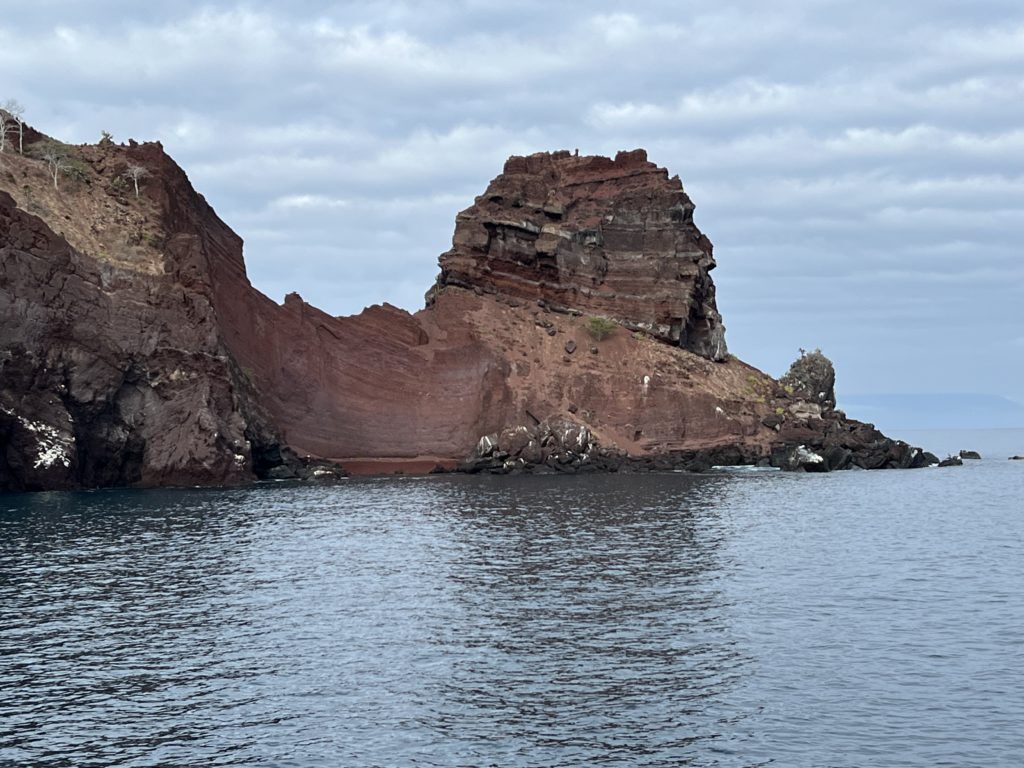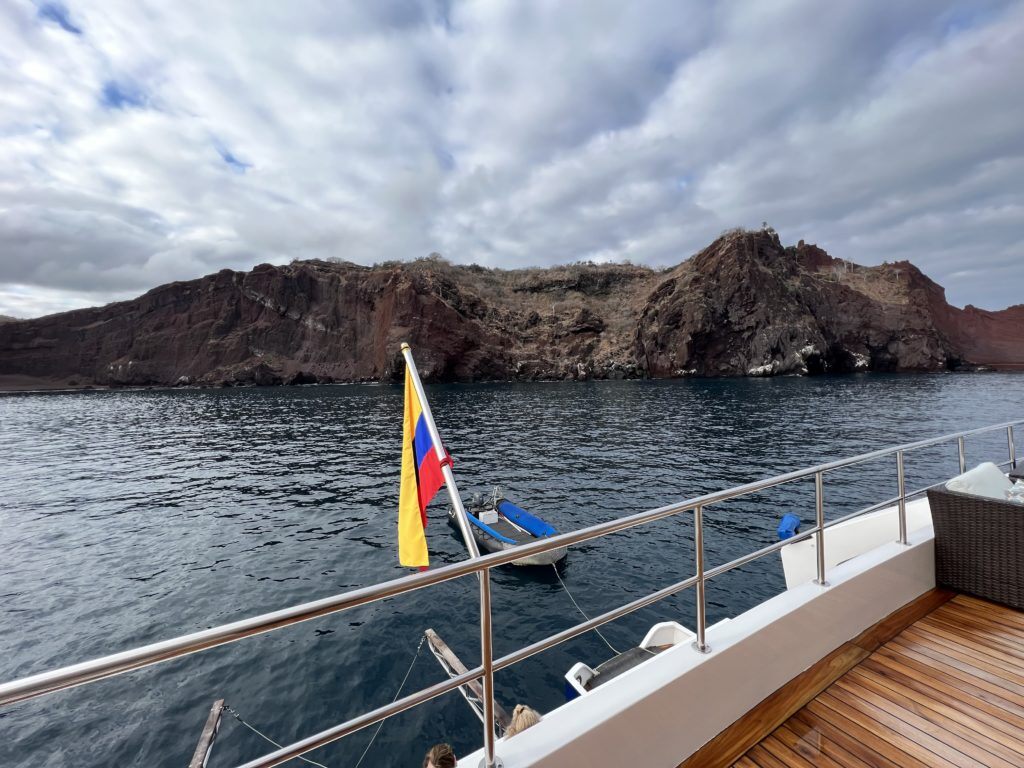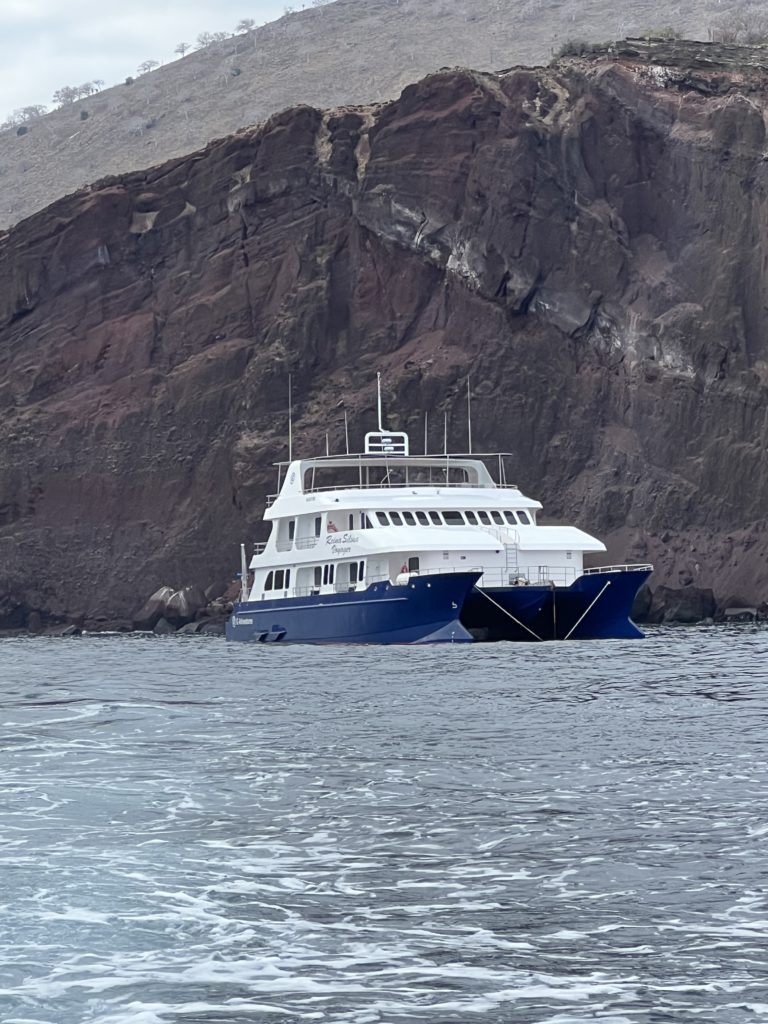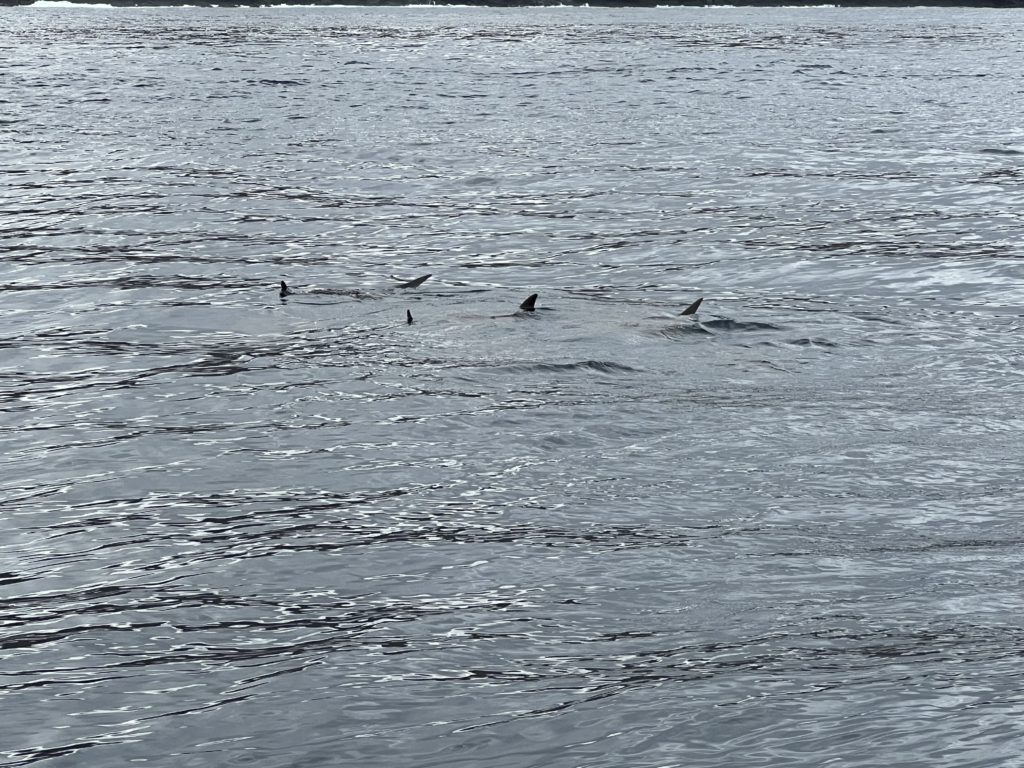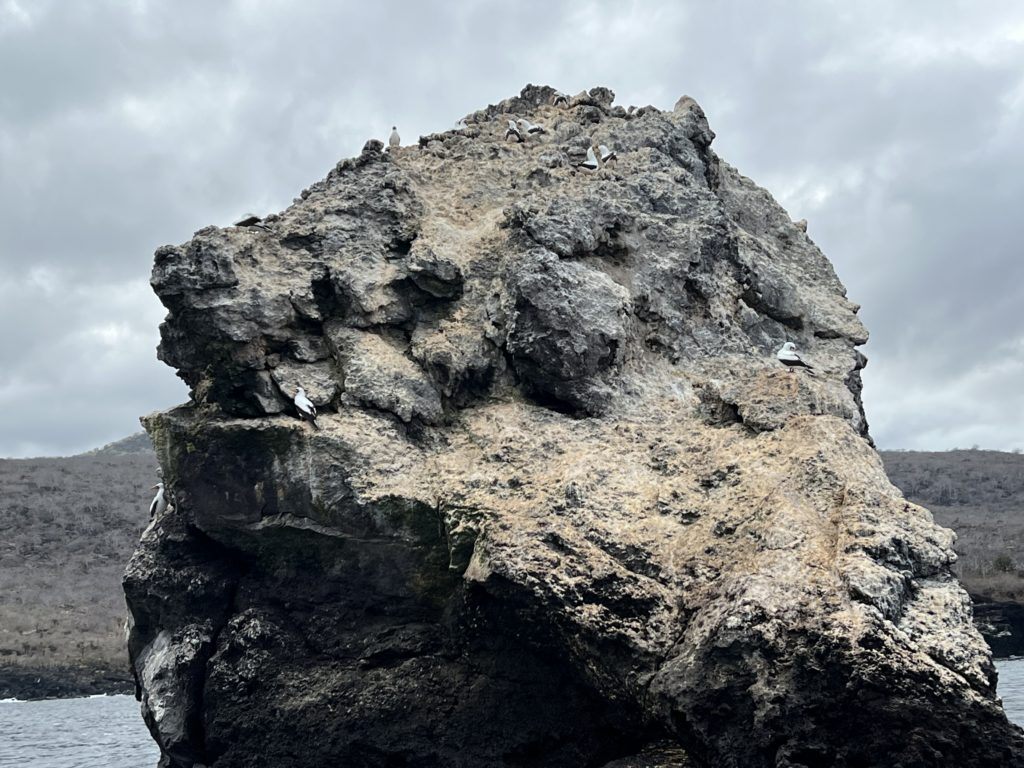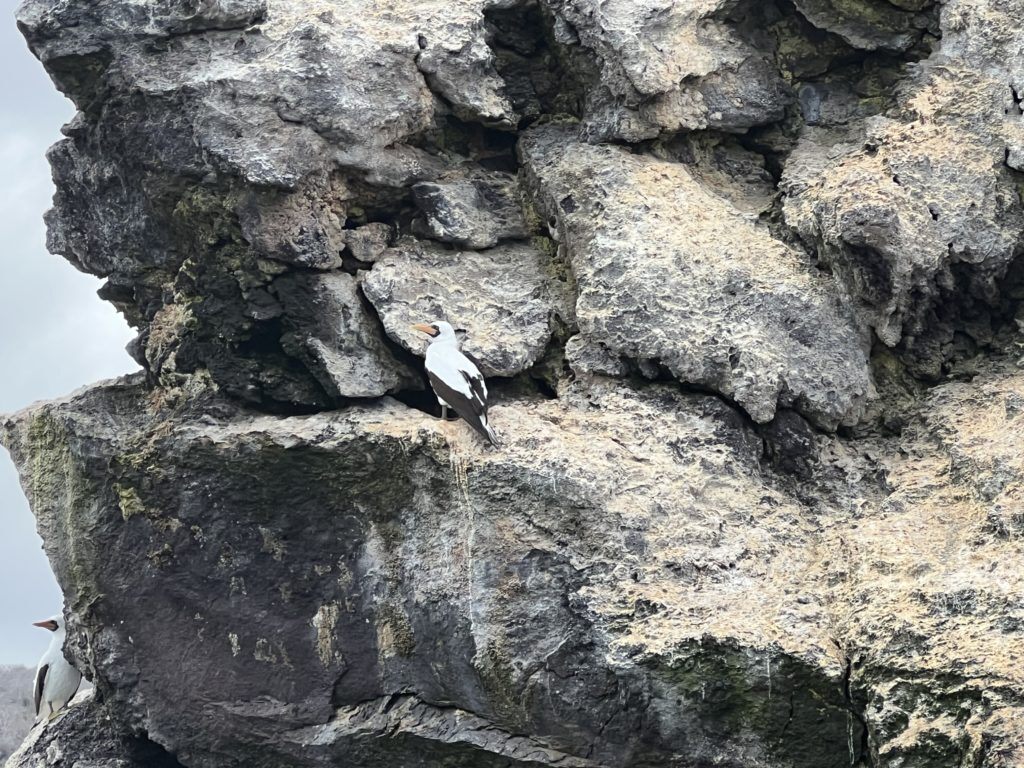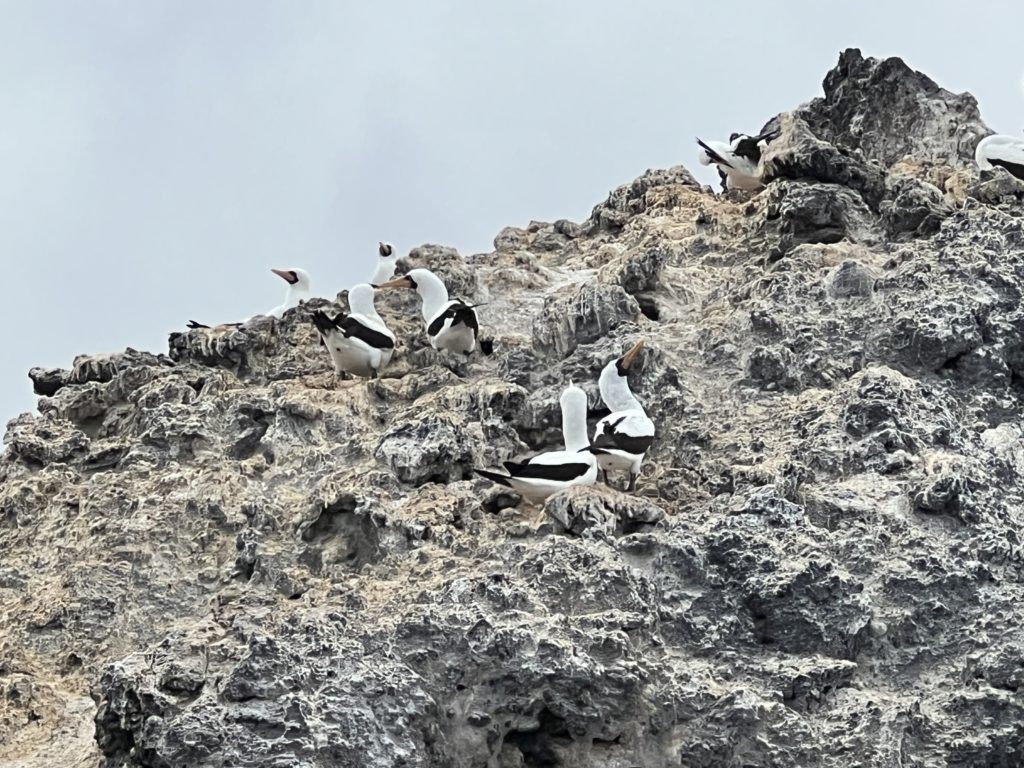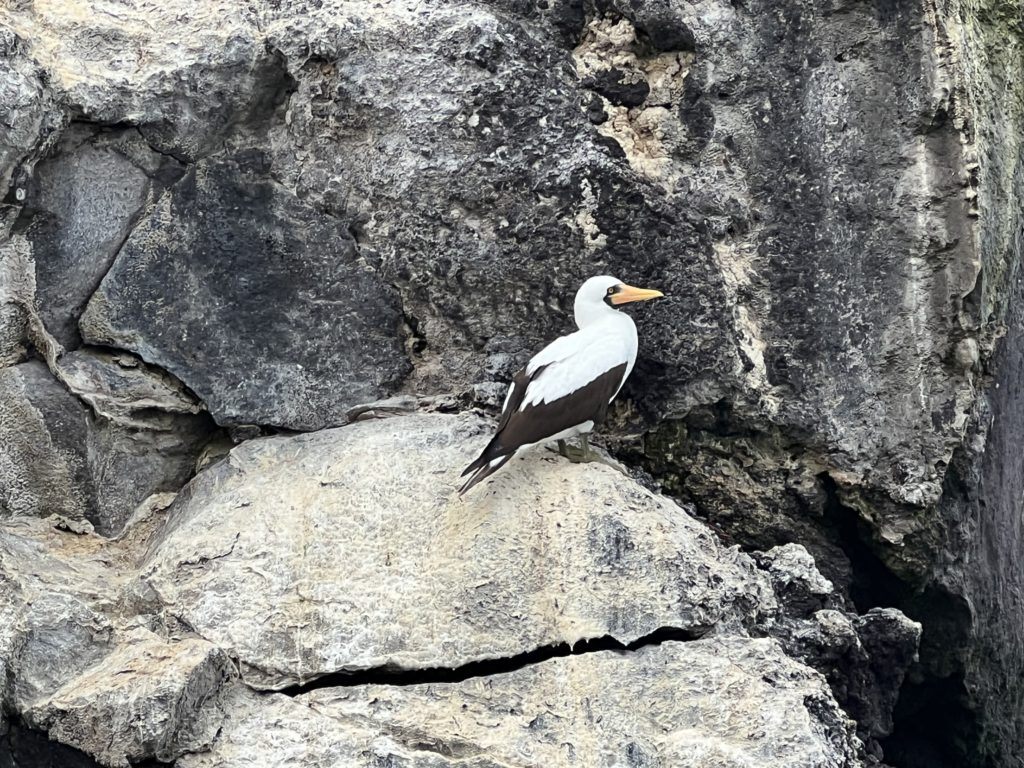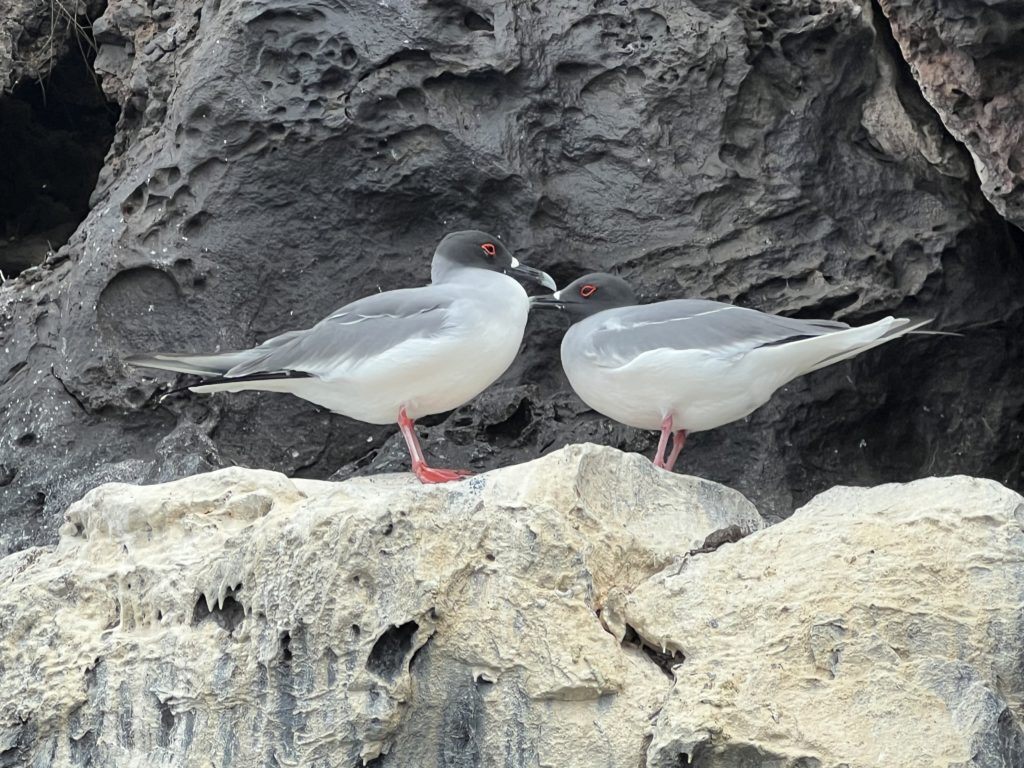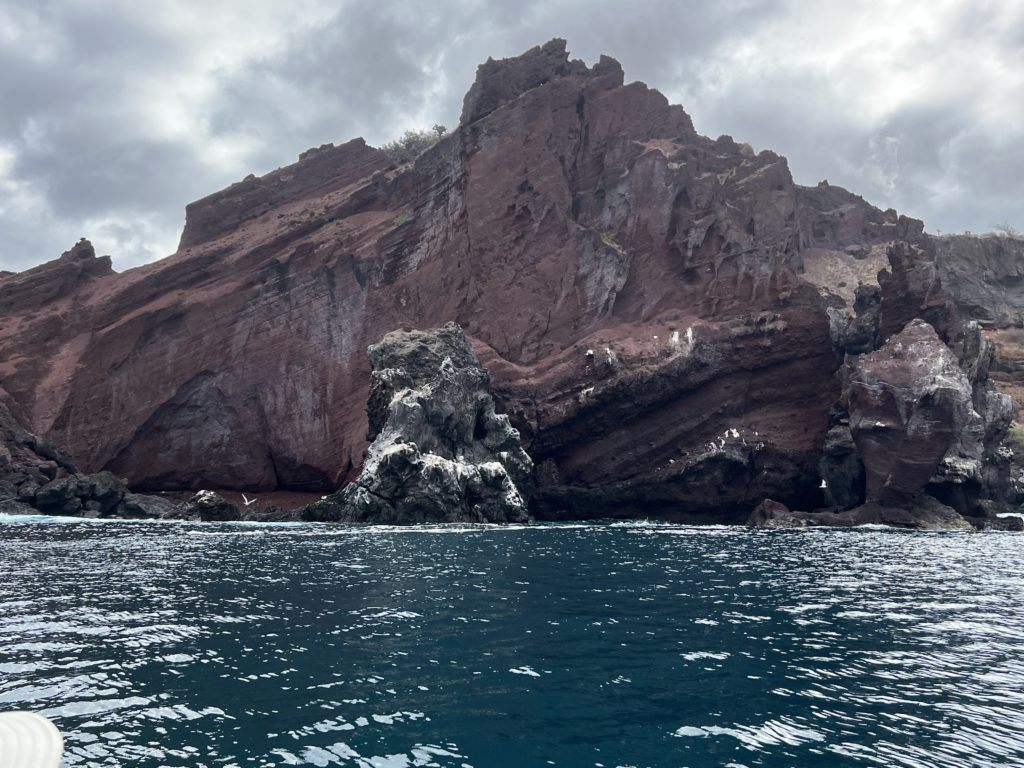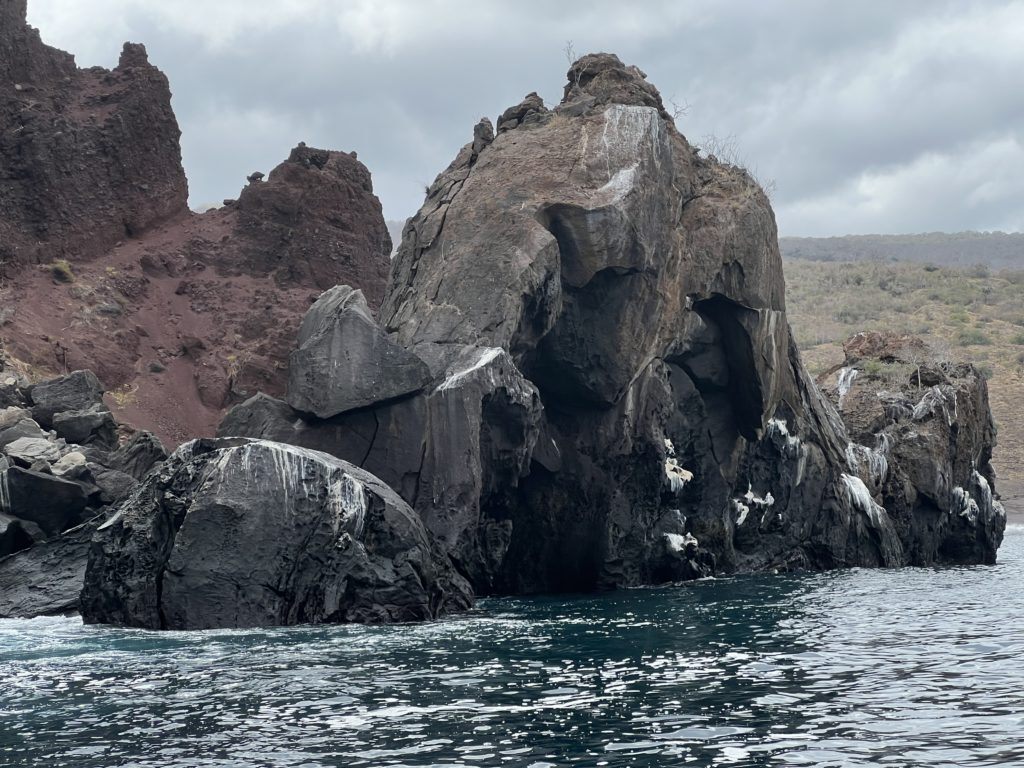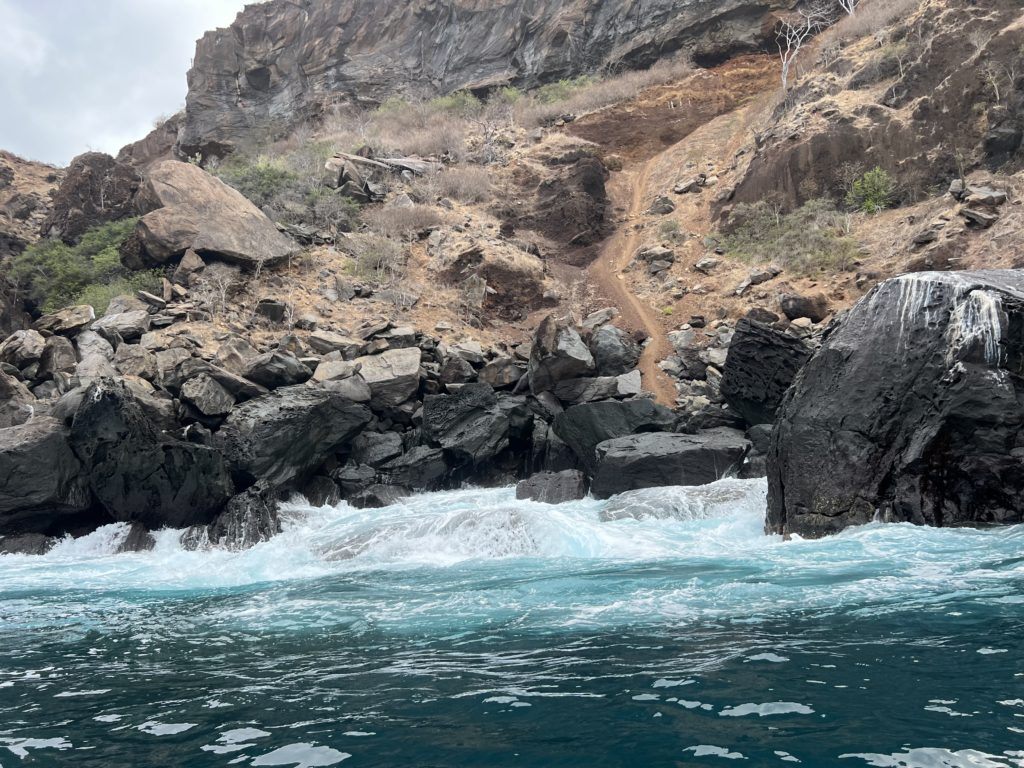 Day 6: Second Stop – Santiago Island – Buccaneer Cove Kayak
We returned to the boat, put on bathing suits and went for a kayak around the cove. We saw many sea birds. It was fun.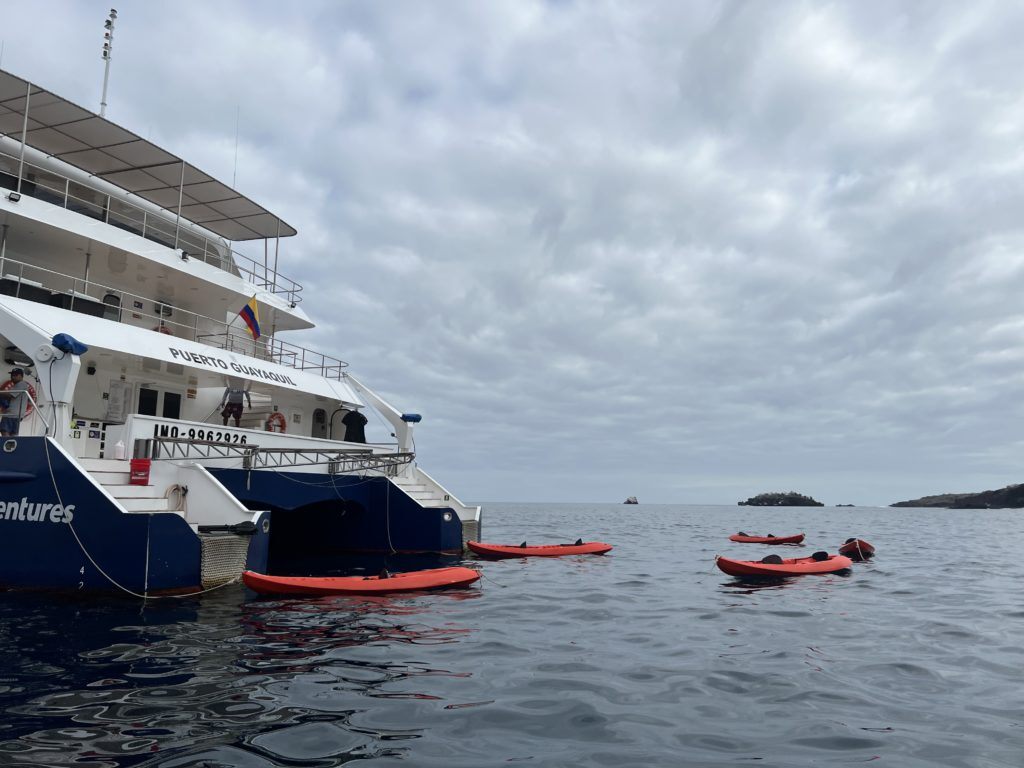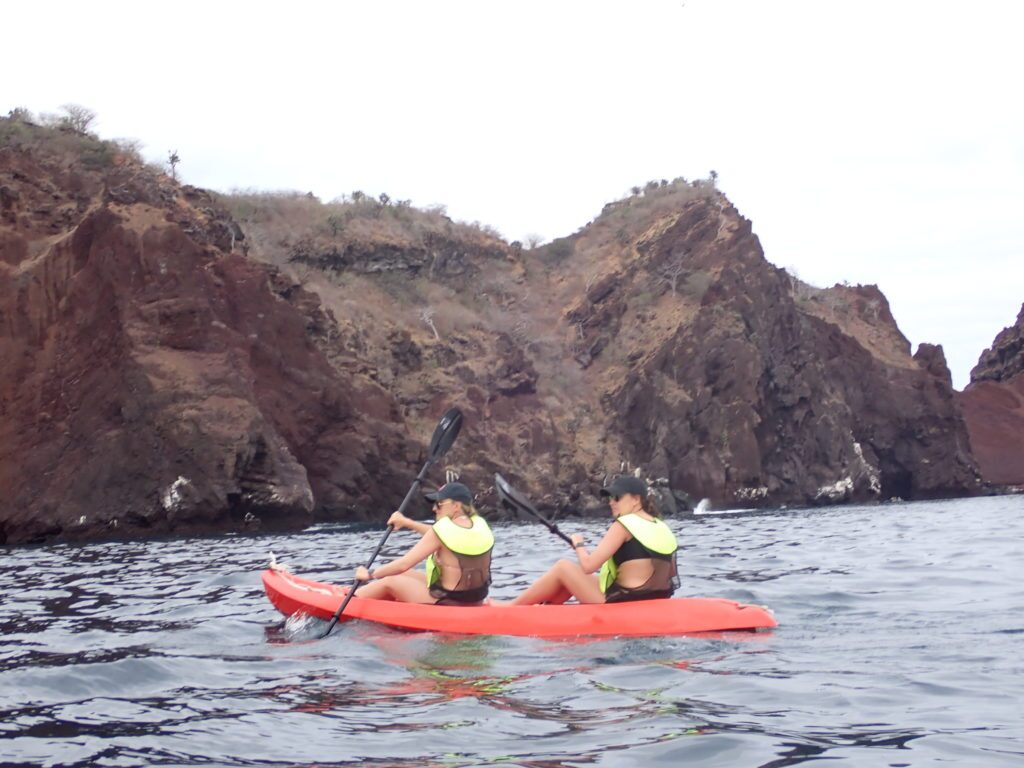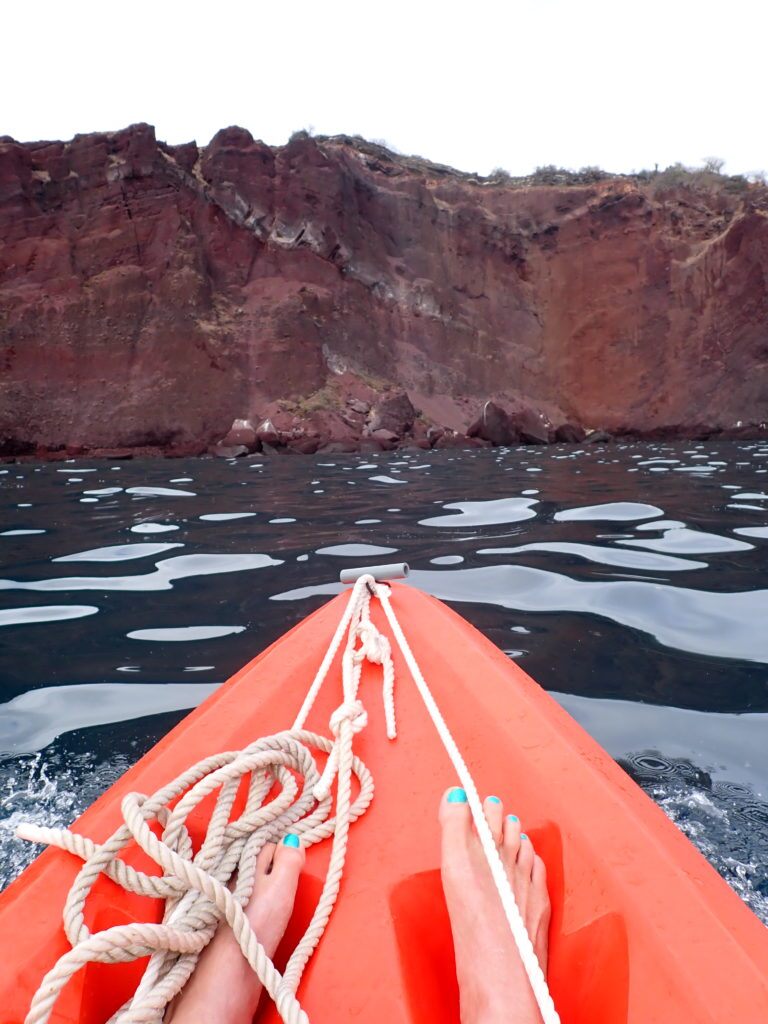 Day 6: Third Stop – Santiago Island – Snorkeling Outside of Buccaneer Cove
We returned to the boat, put on our wetsuits and prepared to snorkel. We jumped into the zodiac and went just outside Buccaneer Cove. The snorkel was great – sharks, lots of fish, a few sea lions and a swim into a cave with Omar. Very nice time!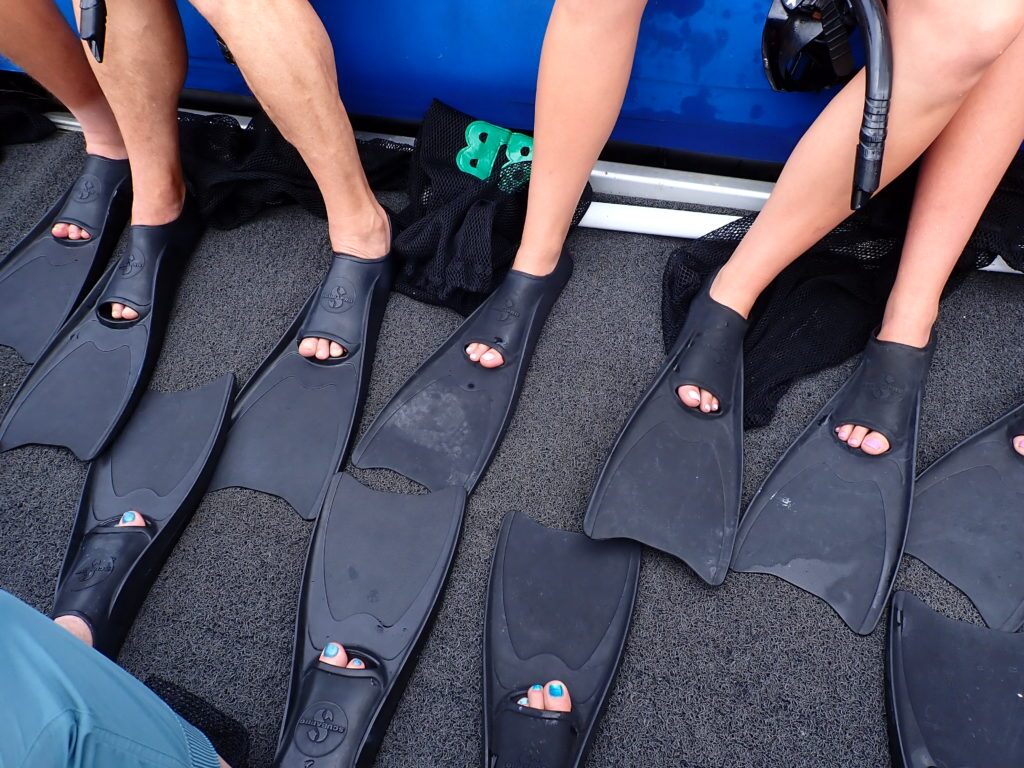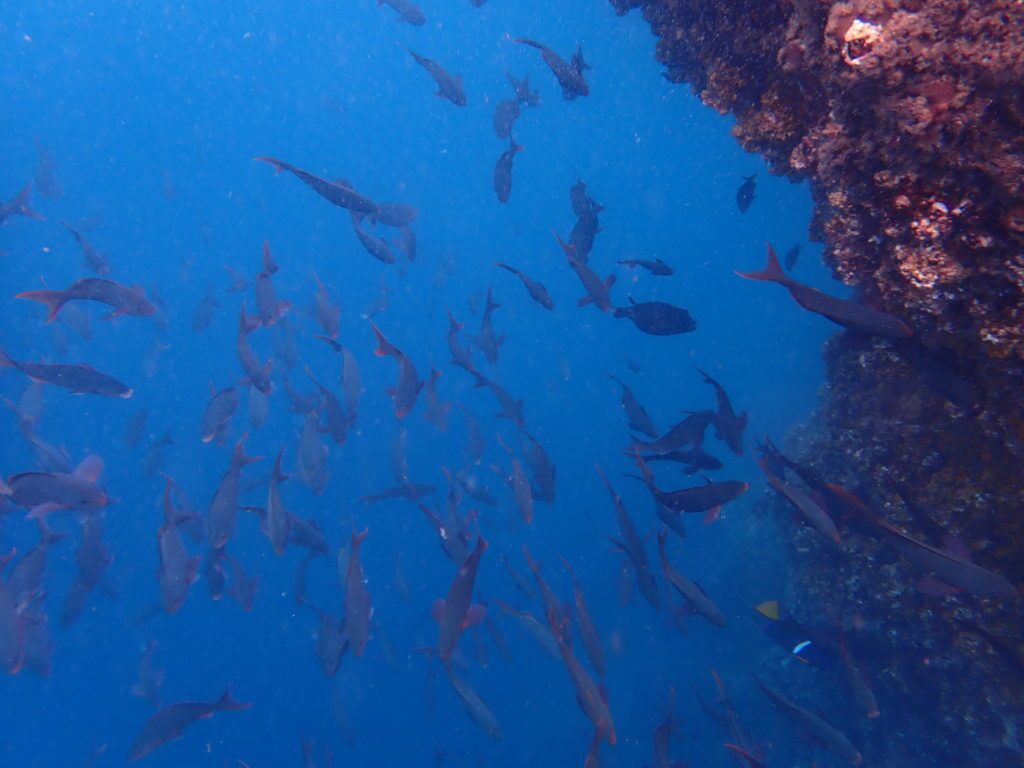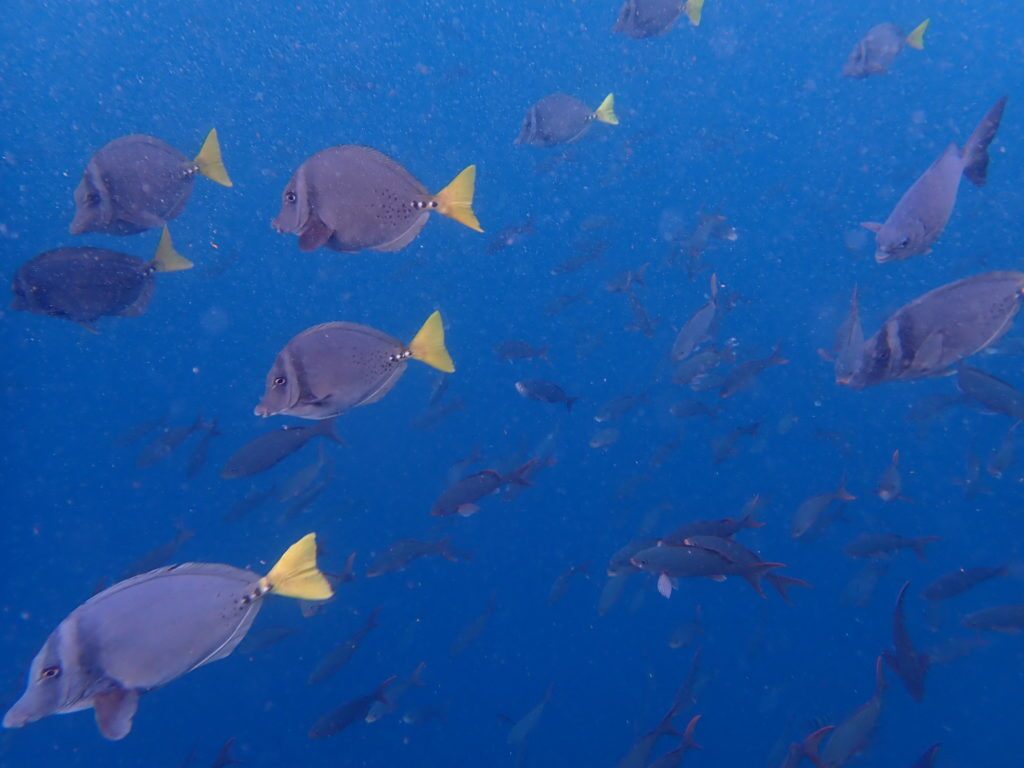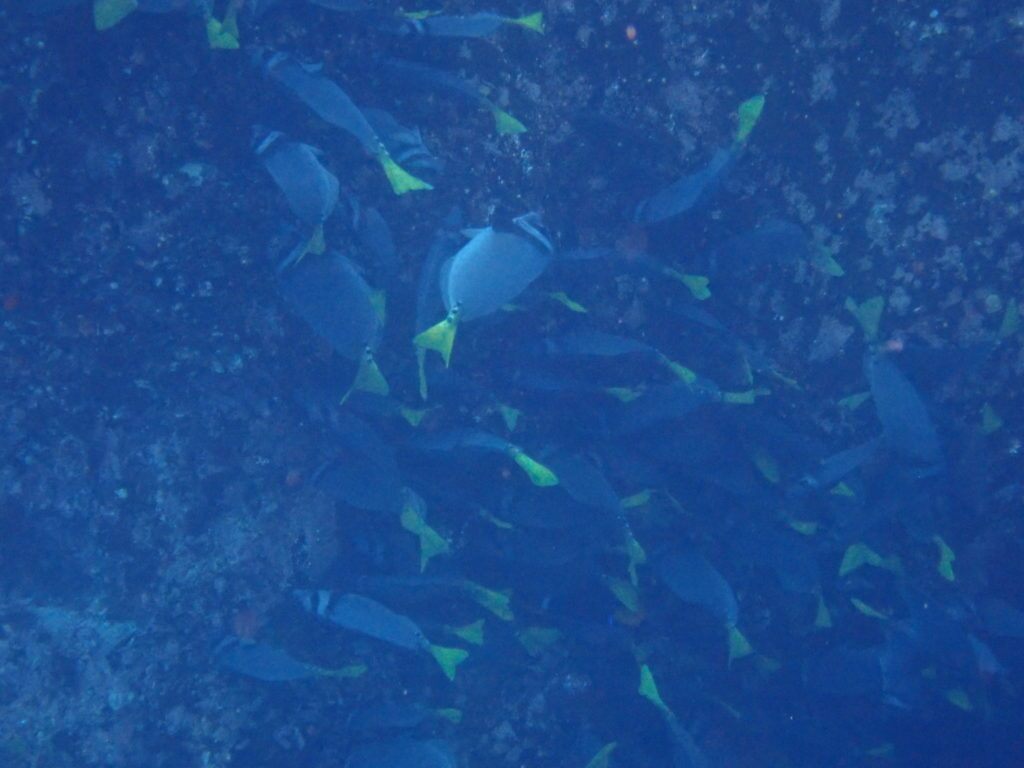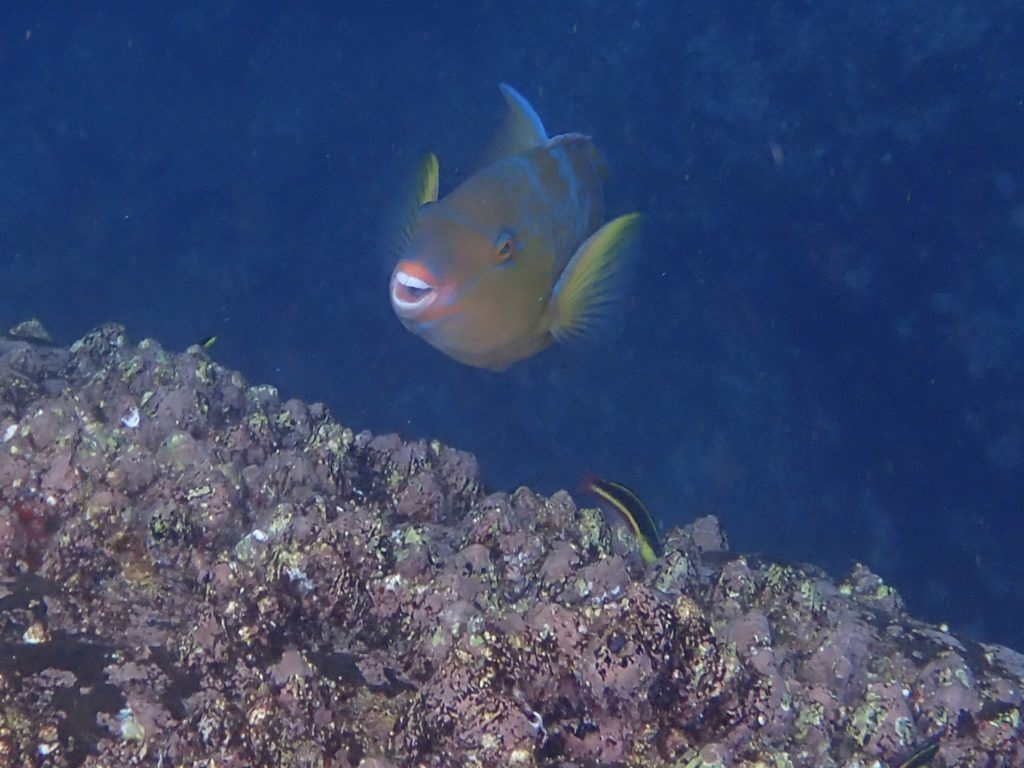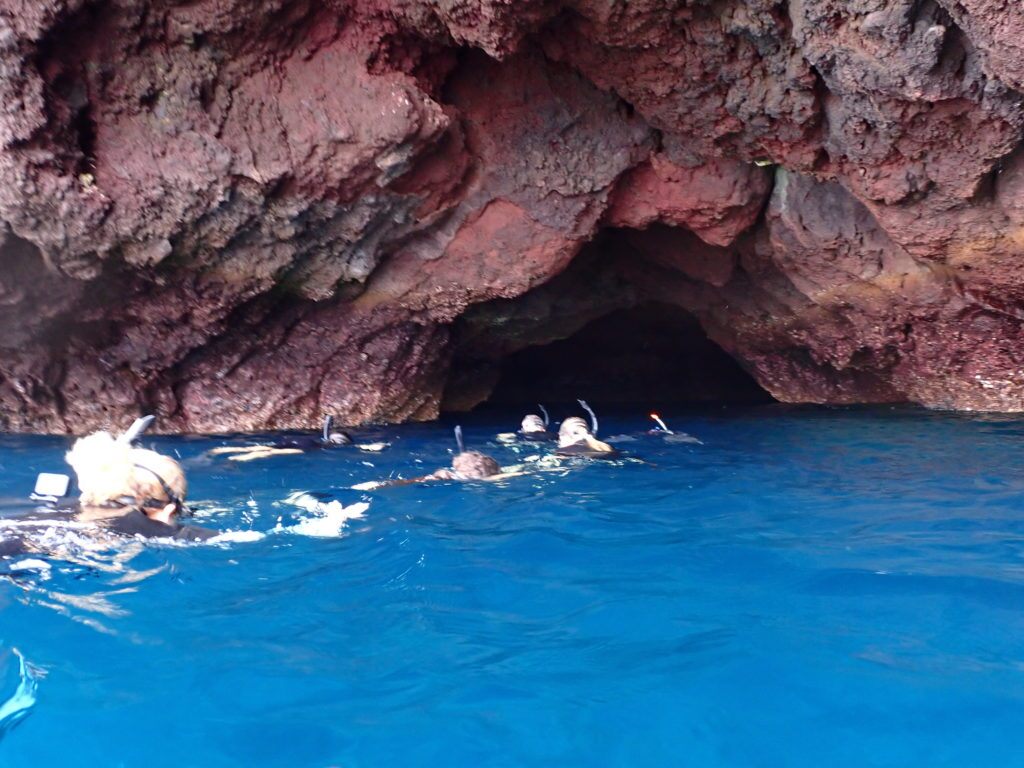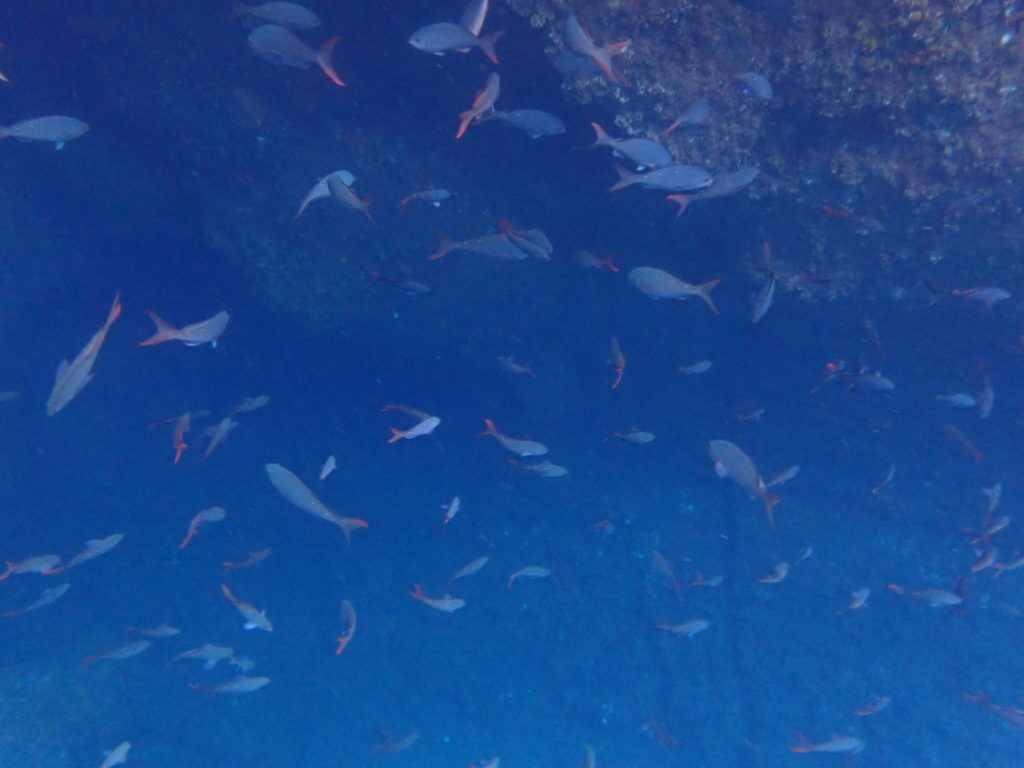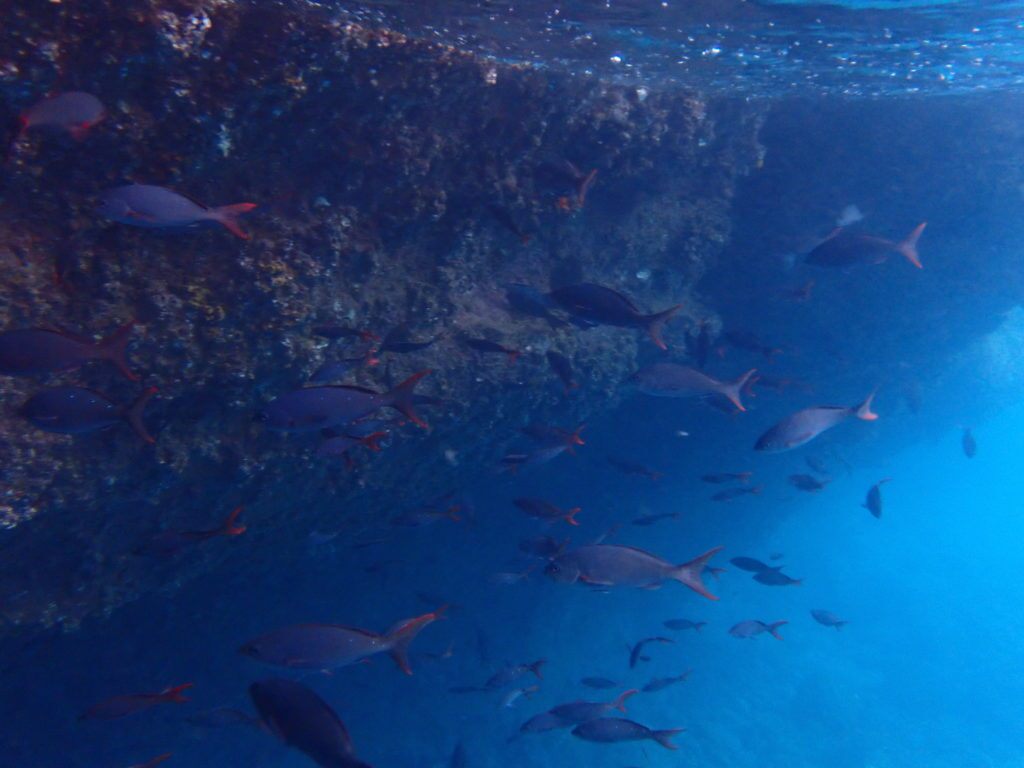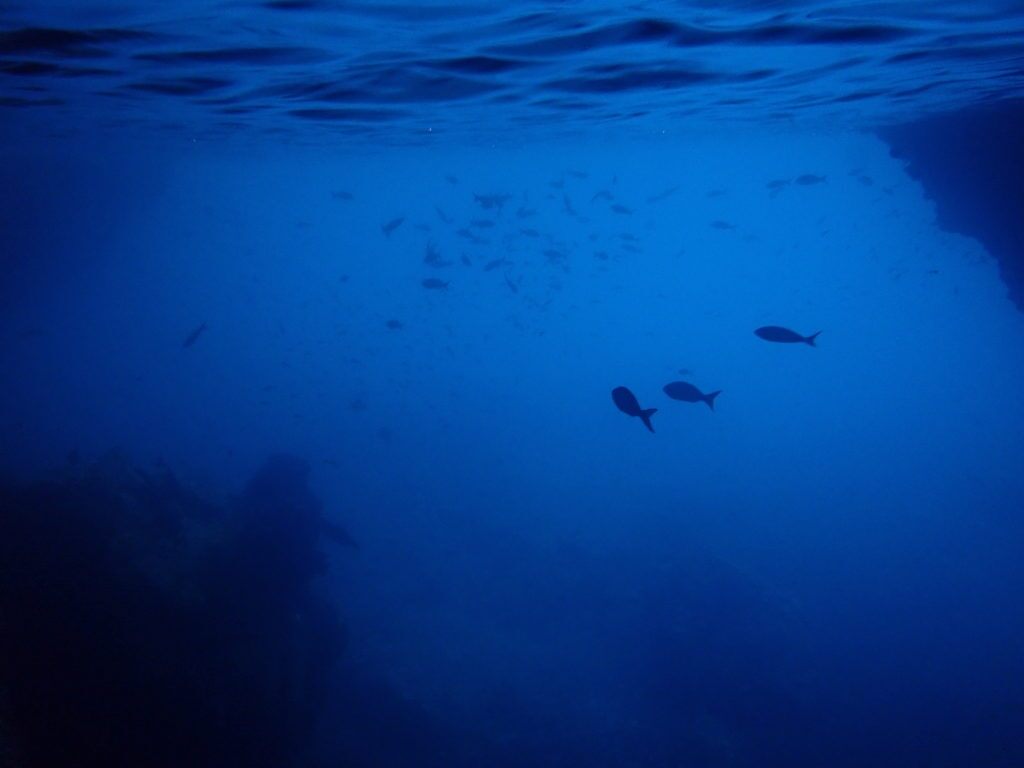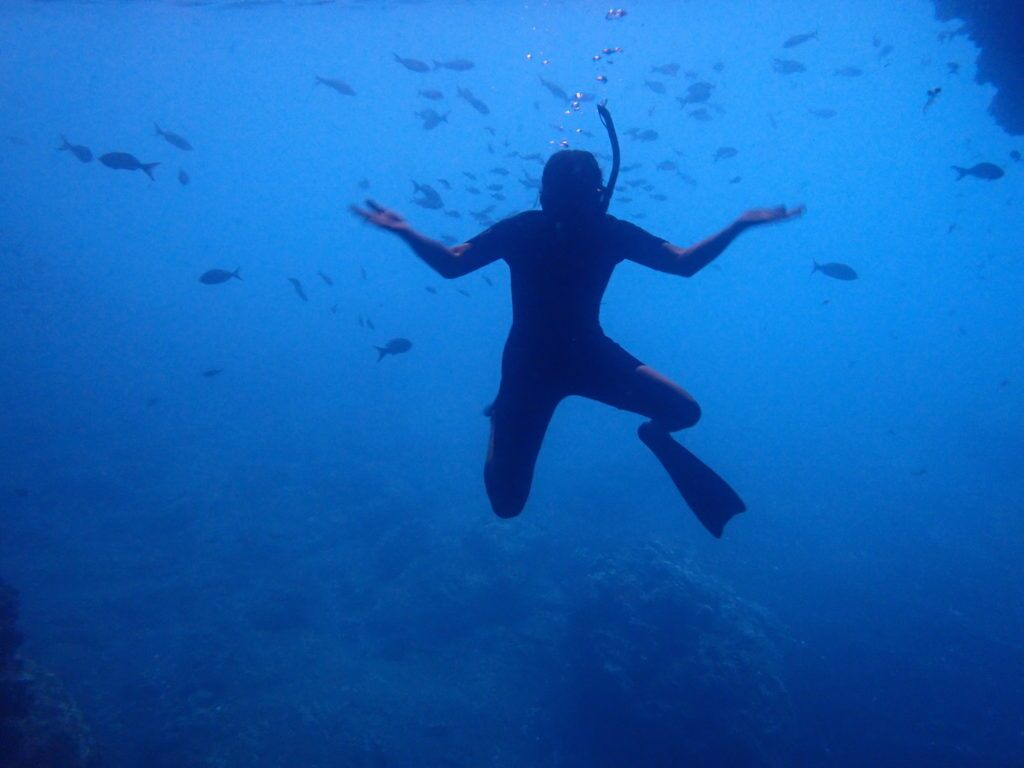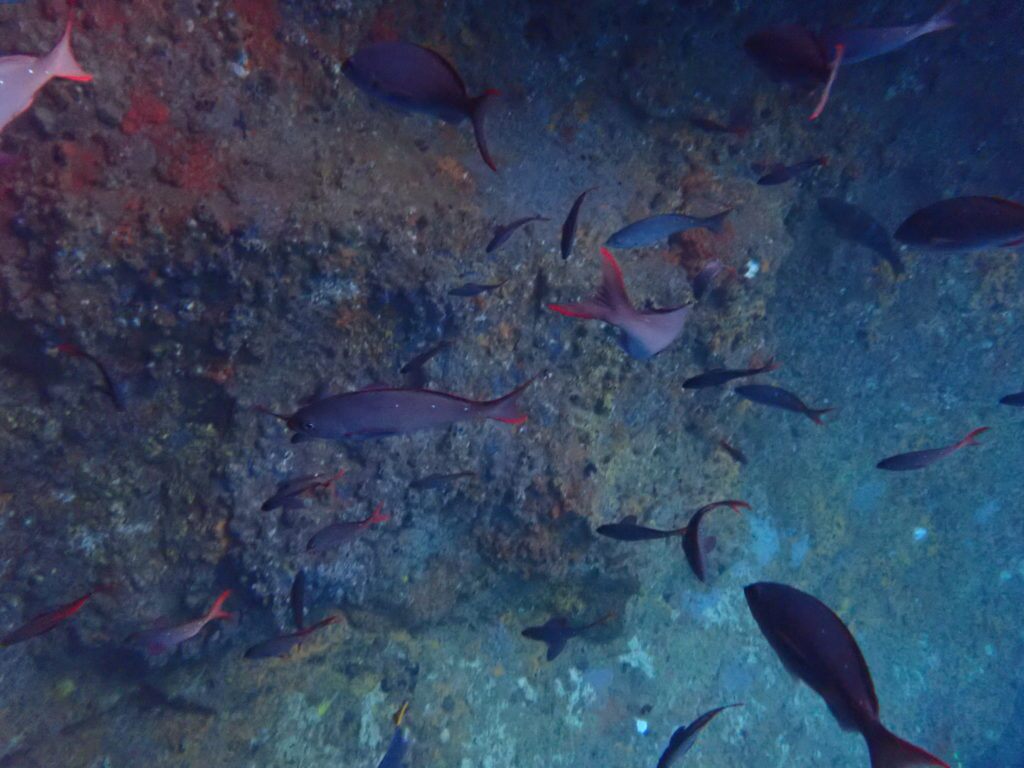 Day 6: Fourth Stop – Santiago Island – Puerto Egas Snorkel
We read on board for about 45 minutes while underway to Puerto Egas. The crew served us a delicious barbecue lunch on the sun deck. Everything was fabulous. We put on our wetsuits and the dinghy brought us to the snorkel spot. We saw sharks, many turtles, fish, rays and sea lions.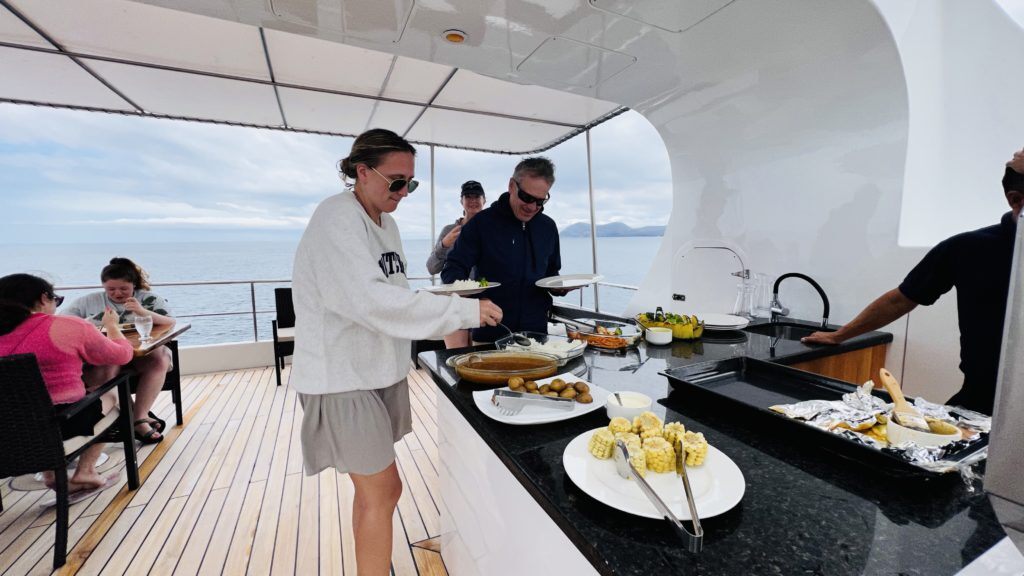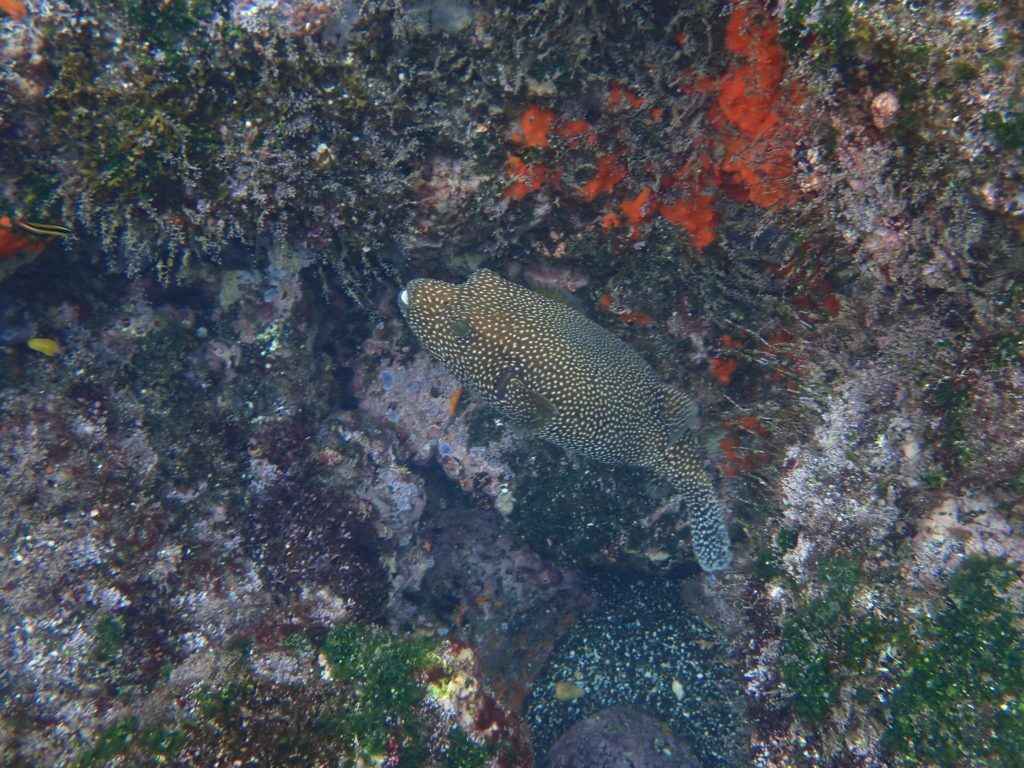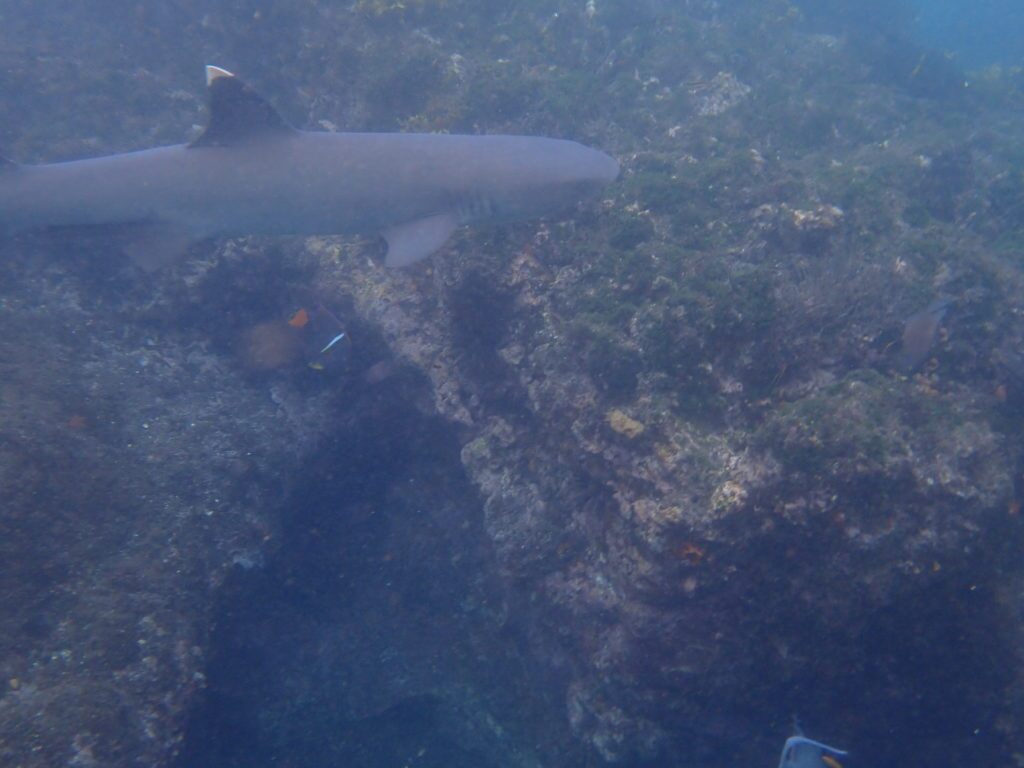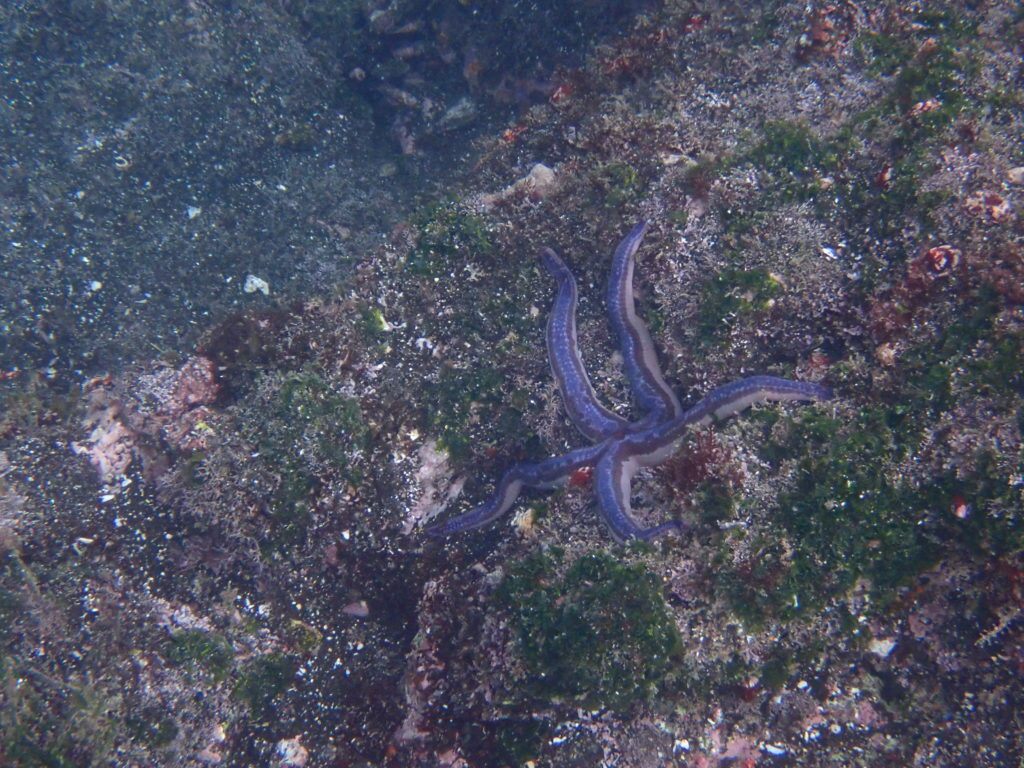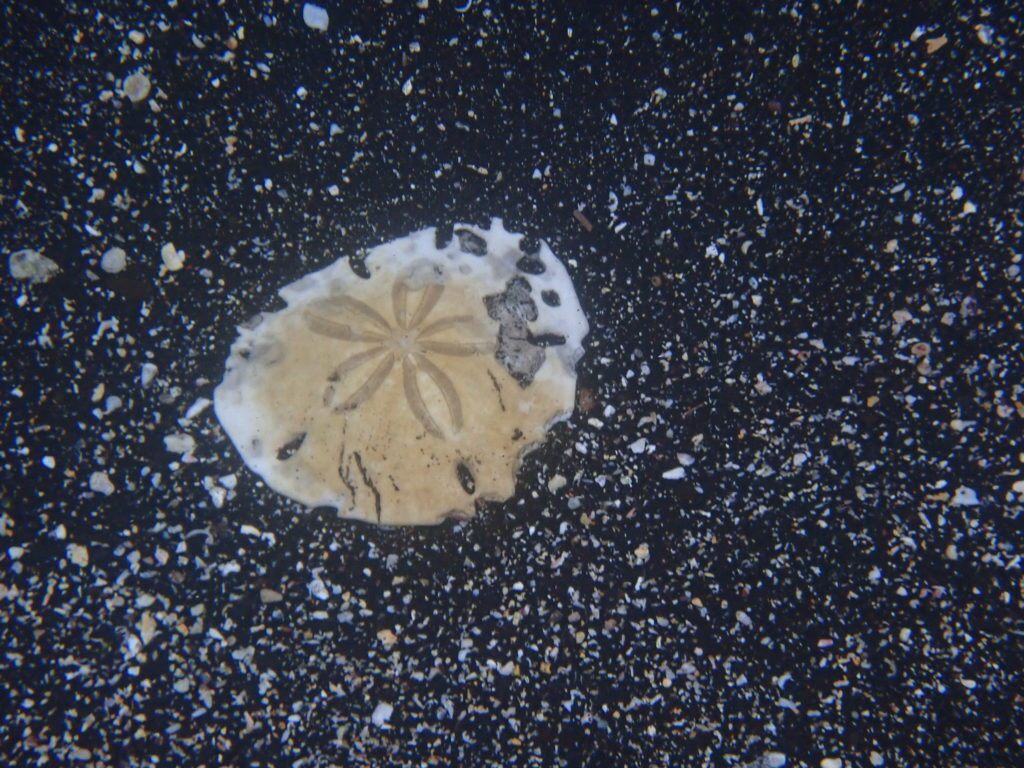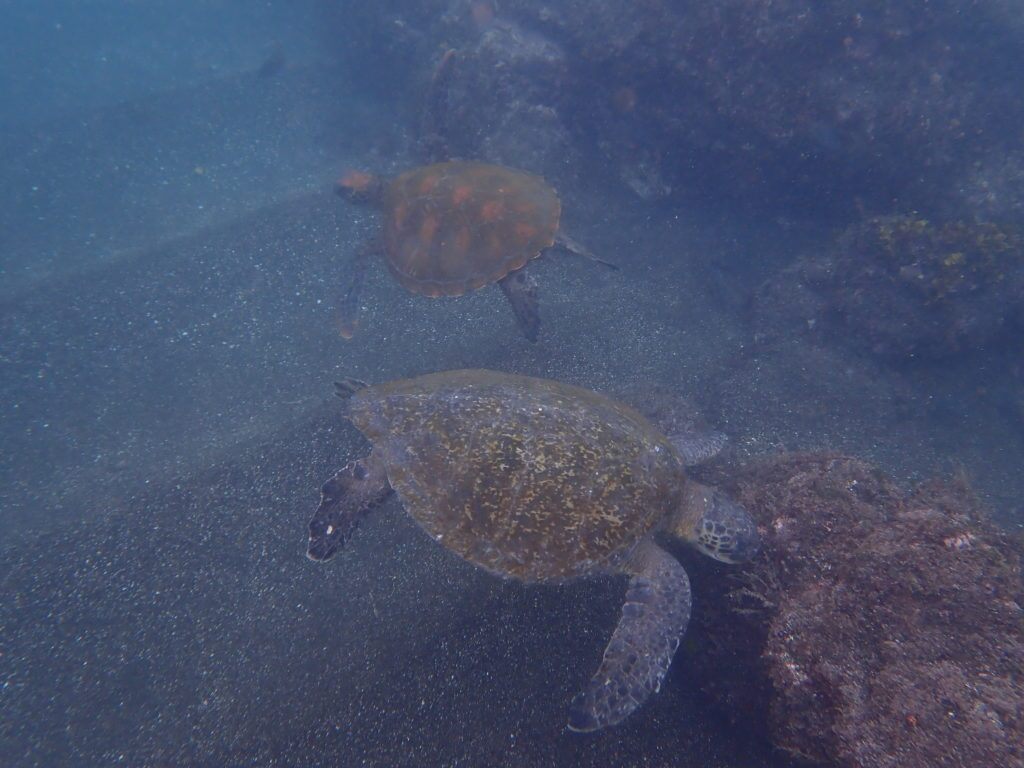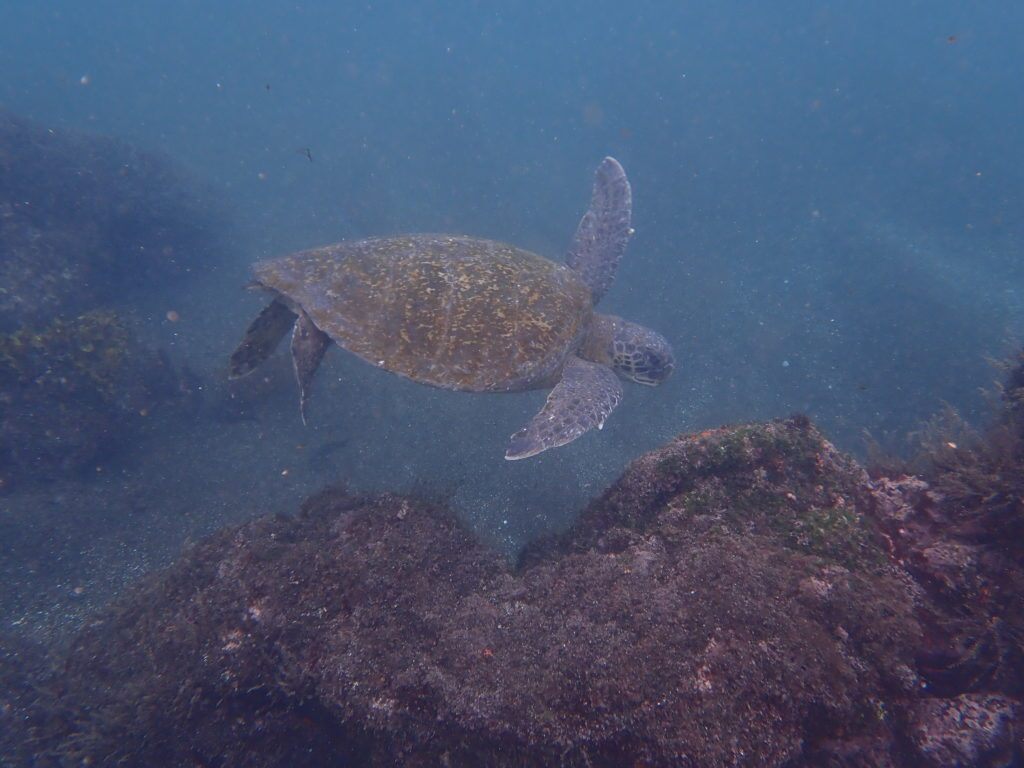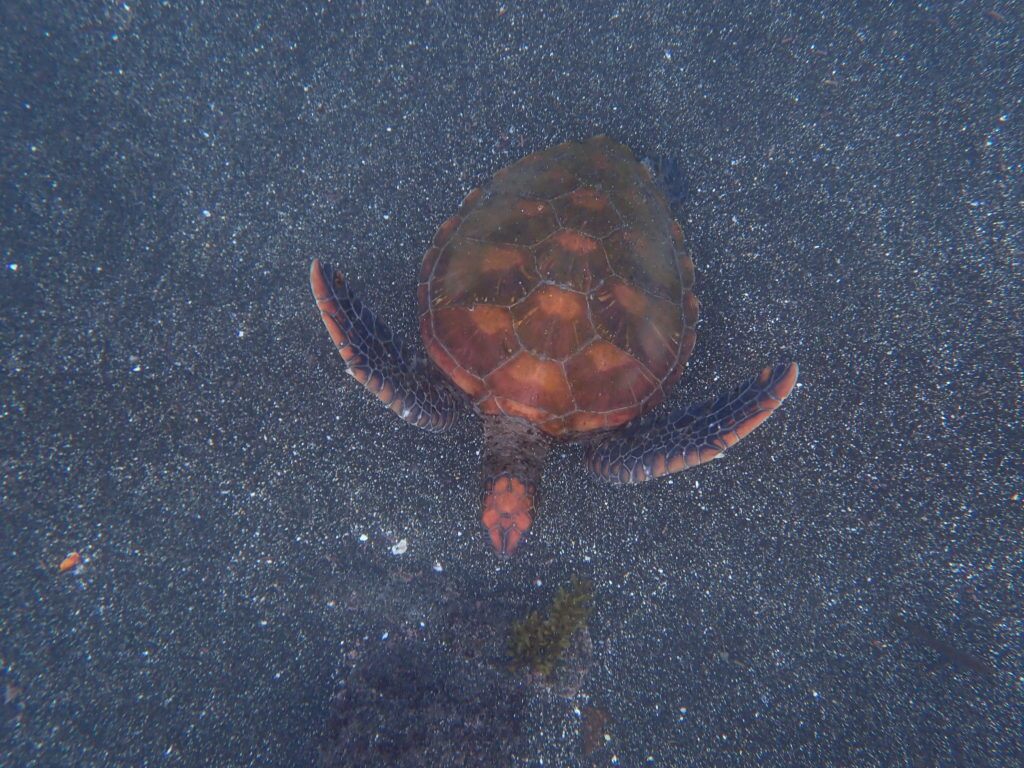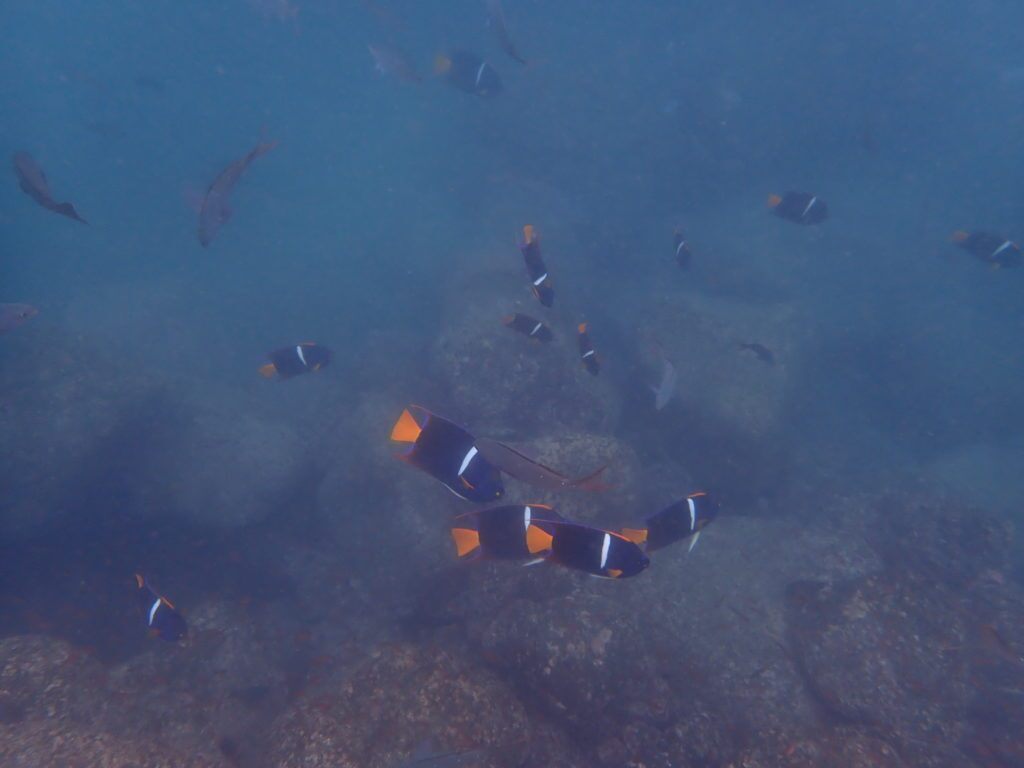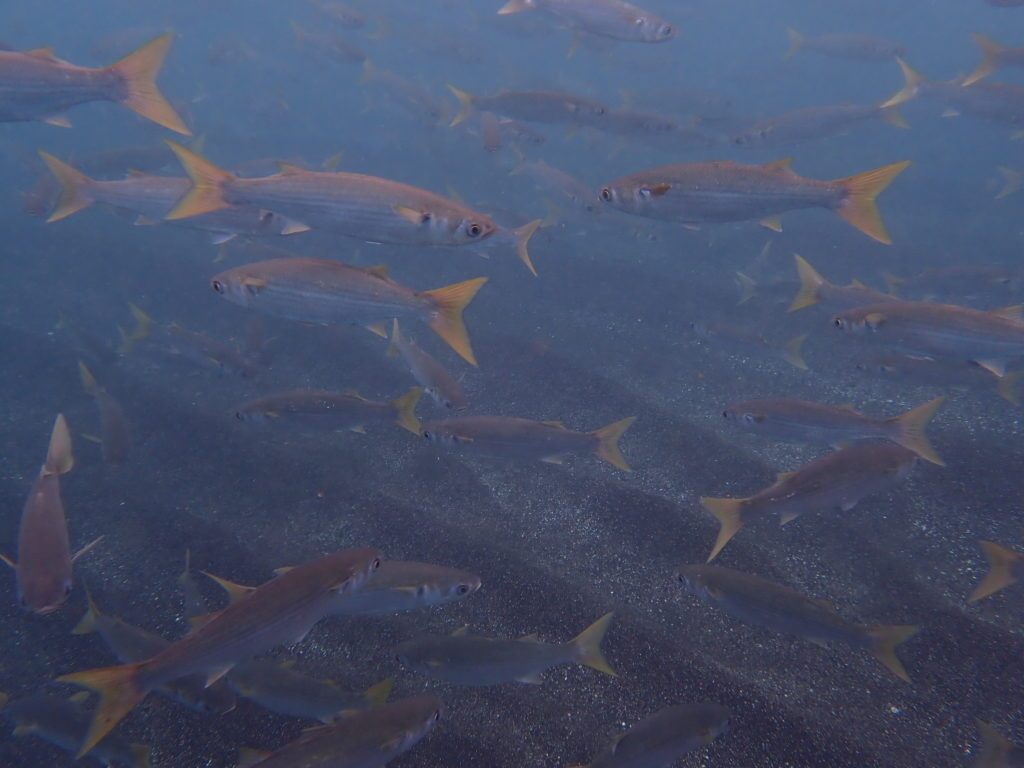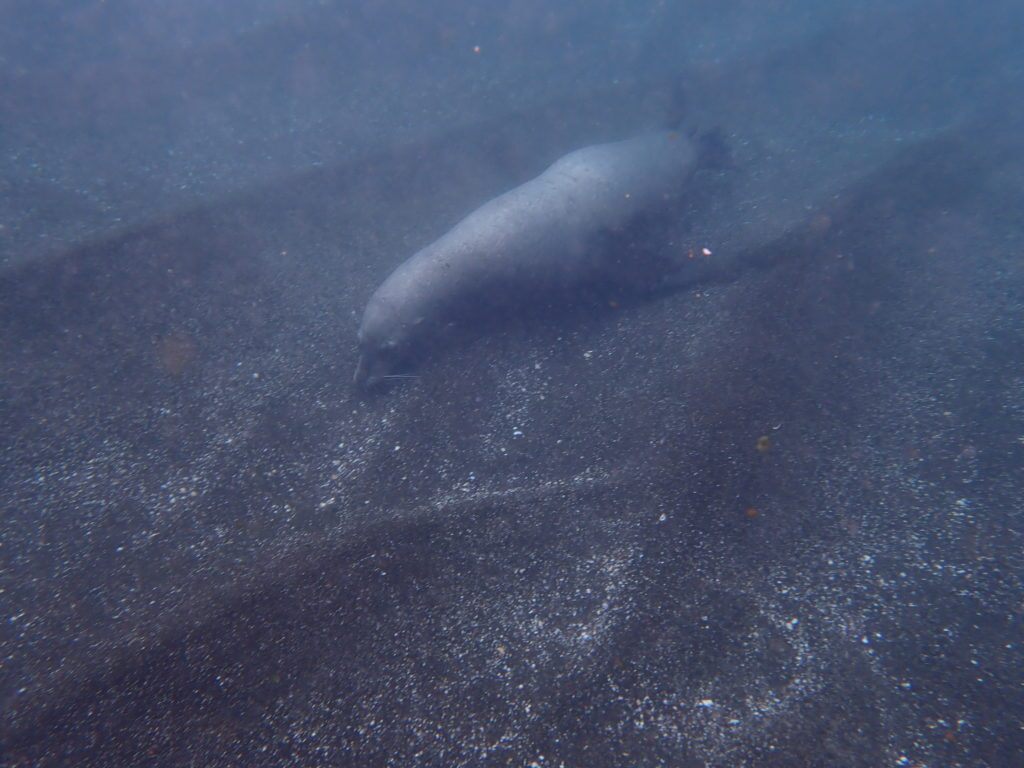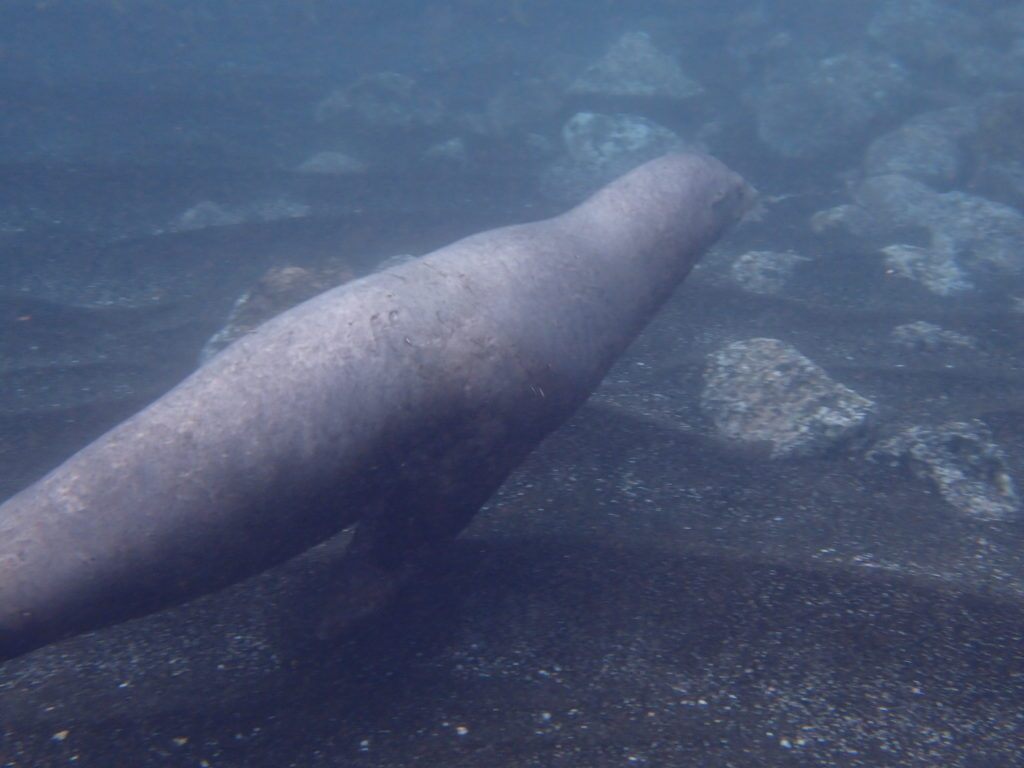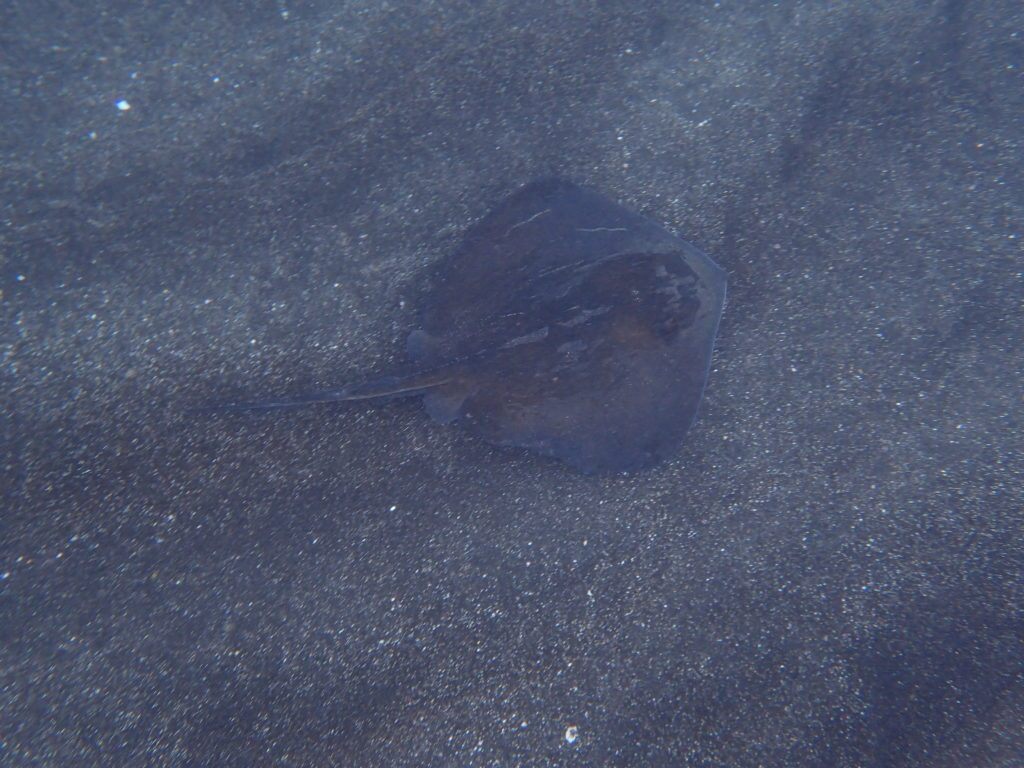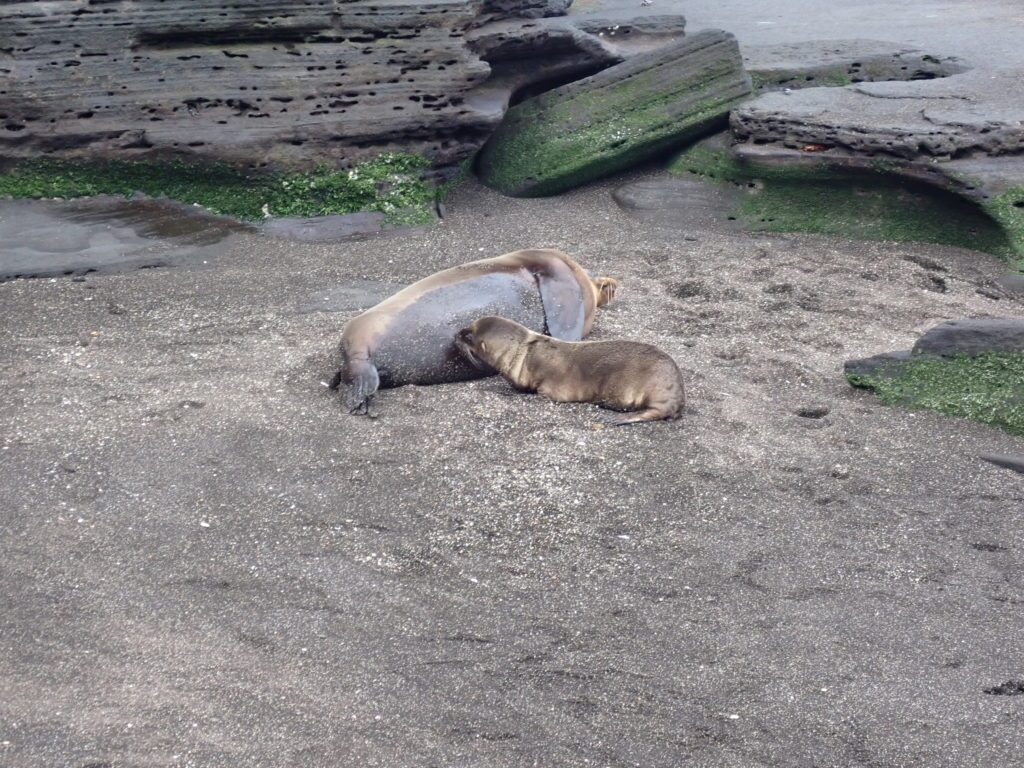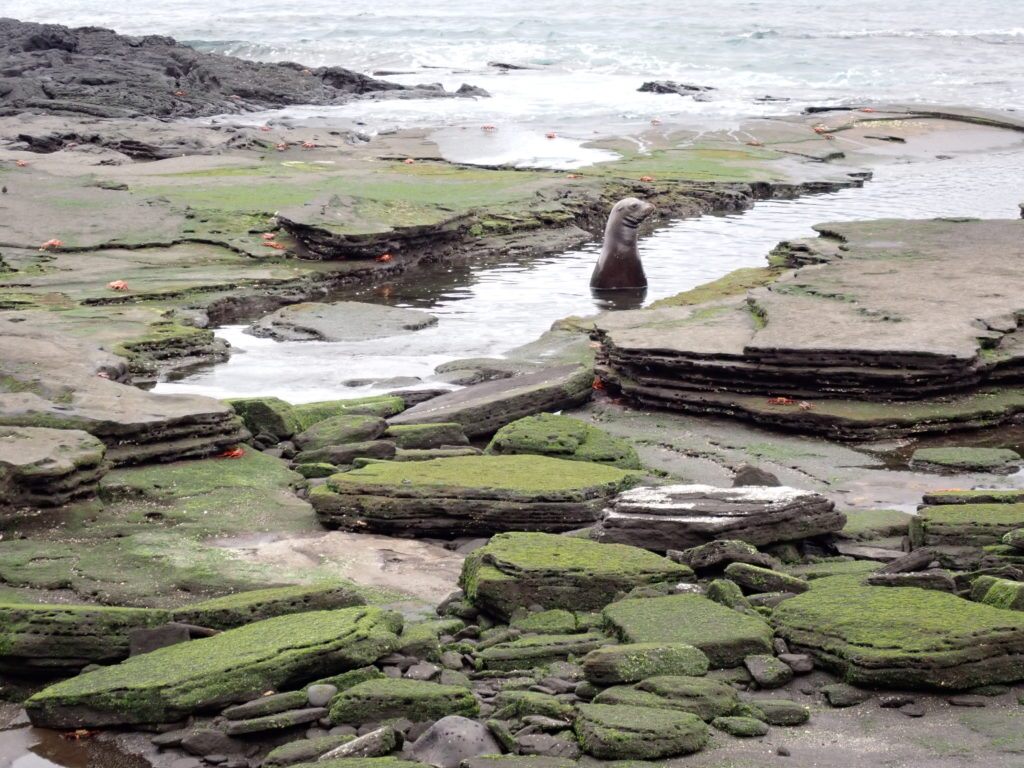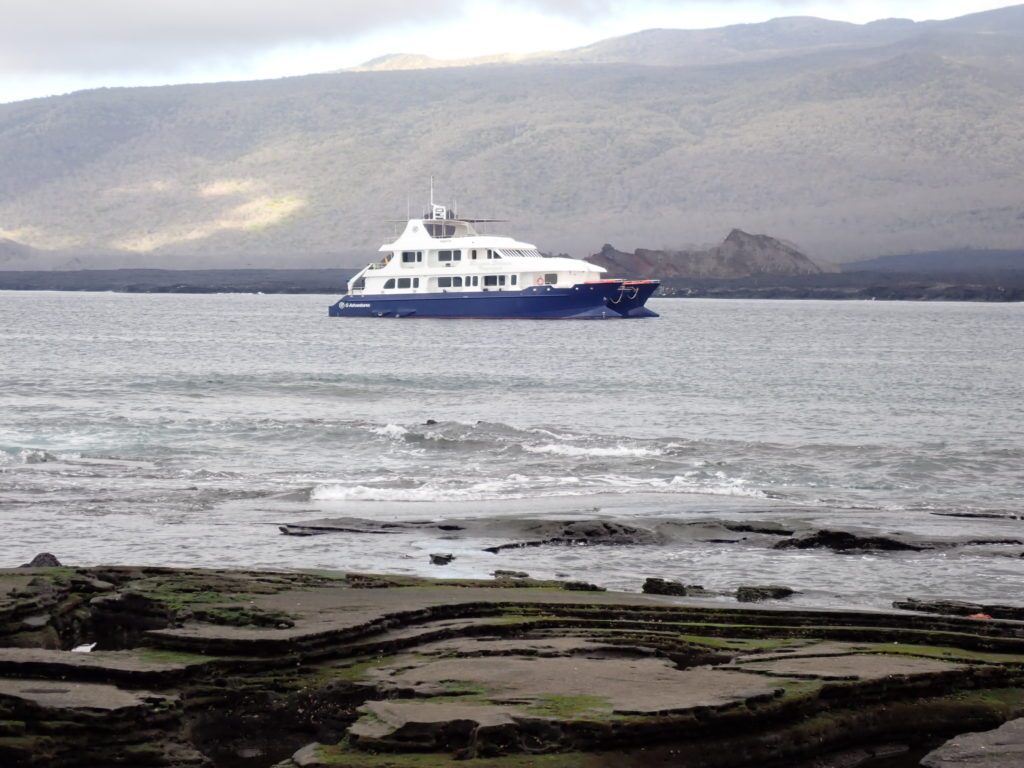 Day 6: Fifth Stop – Santiago Island – Puerto Egas Walk
We took an 90-minute walk on Puerto Egas. We saw marine and land iguanas, crabs, tons of birds and the spectacle of a sea lion eating a fish. Many birds tried to grab it.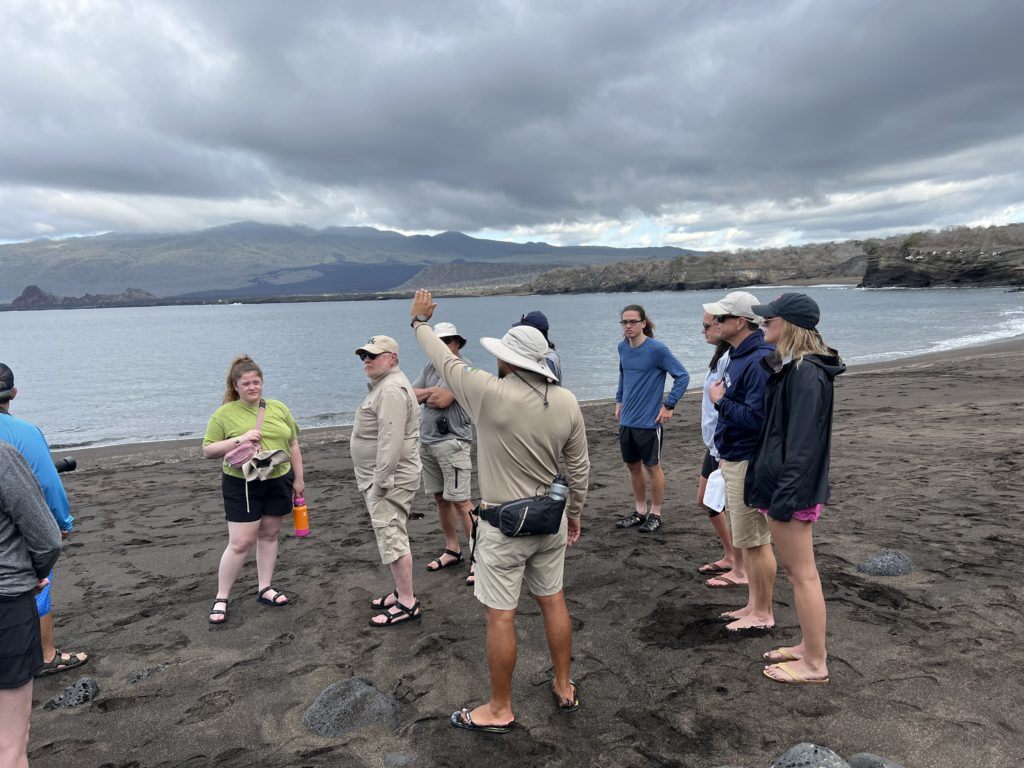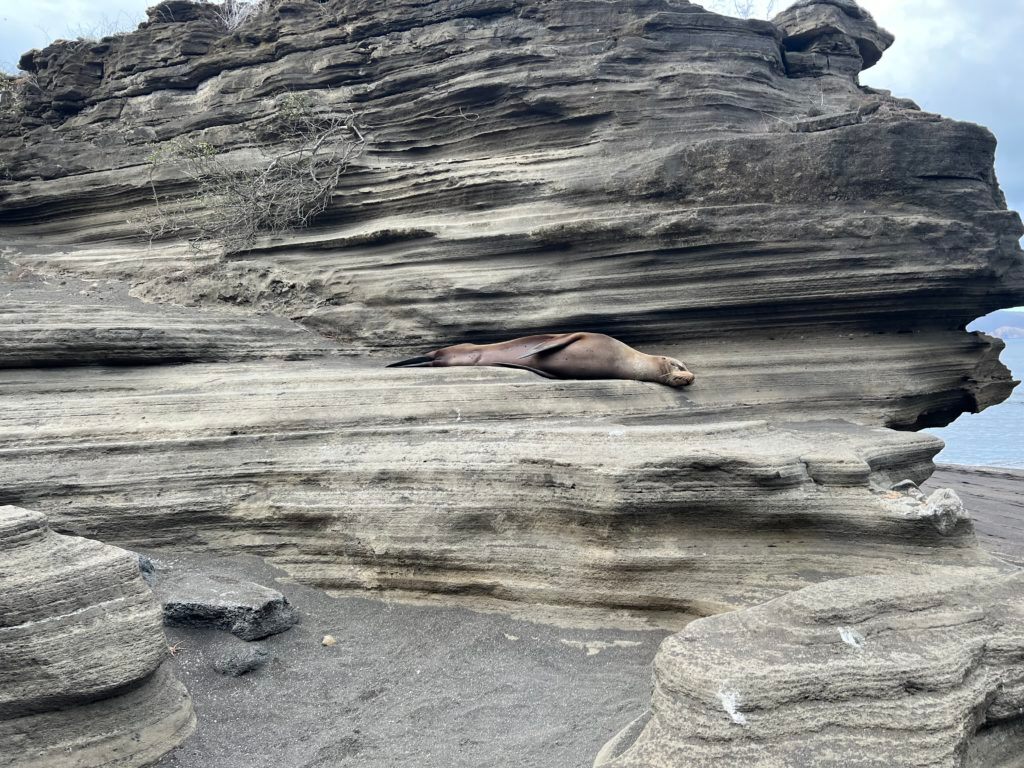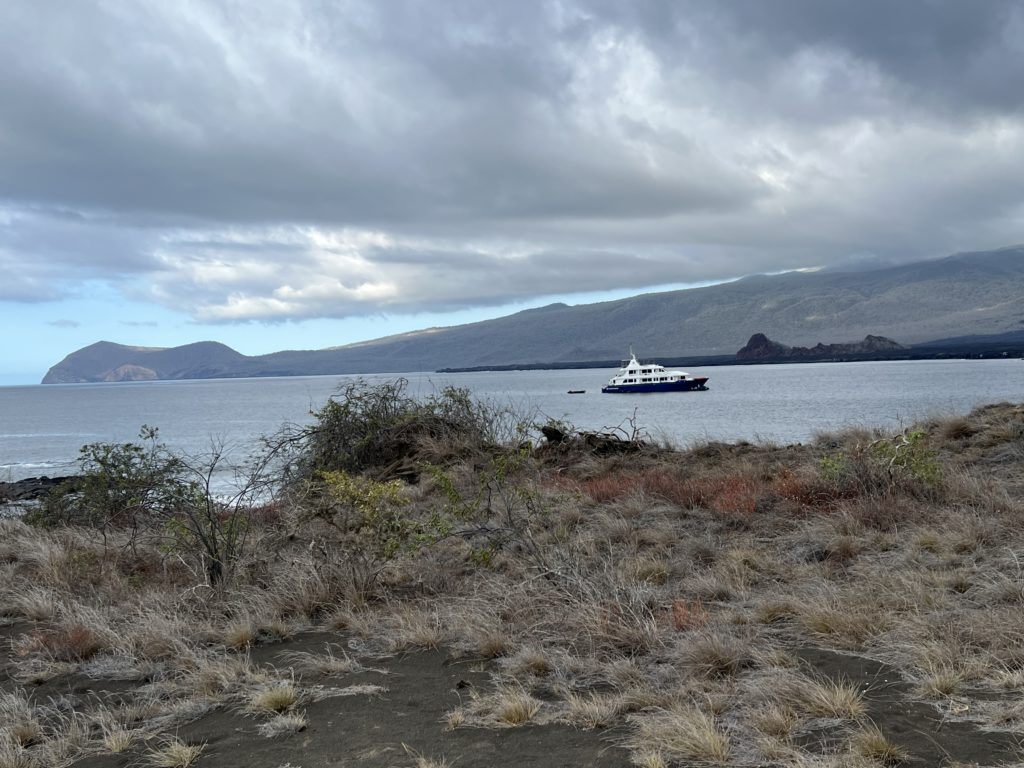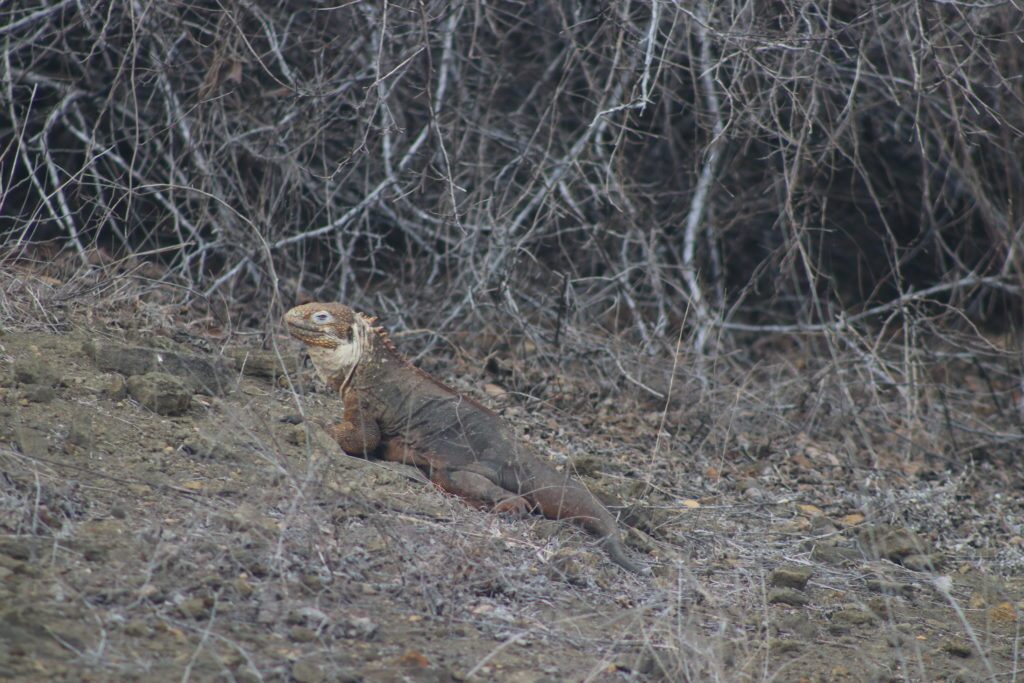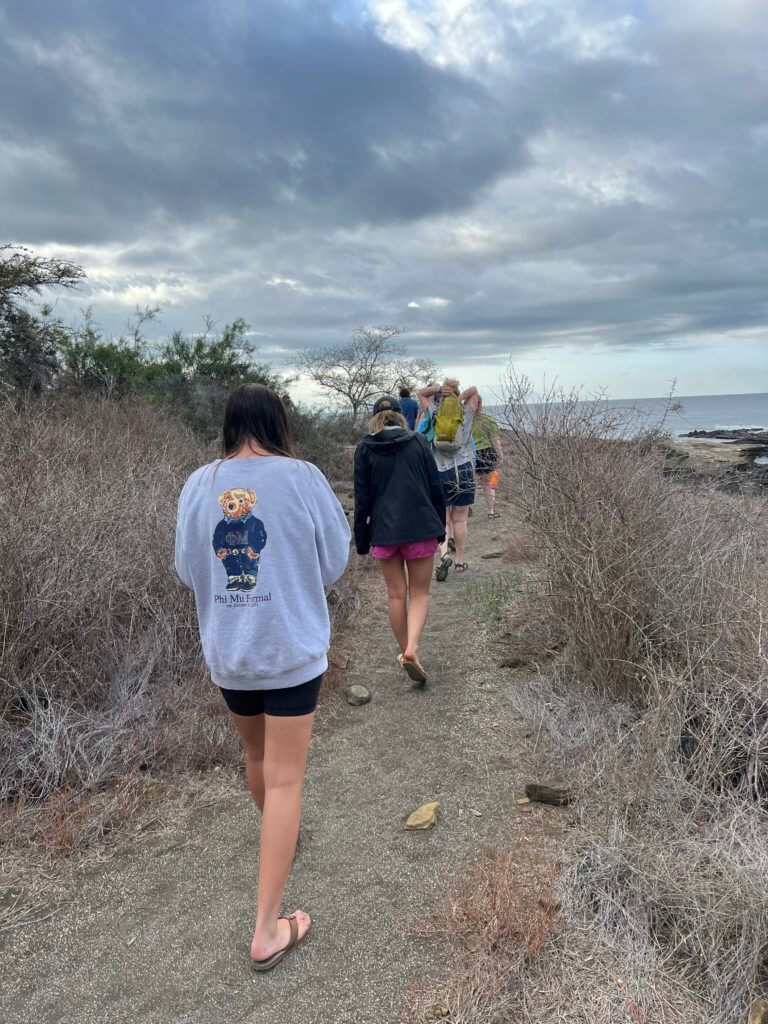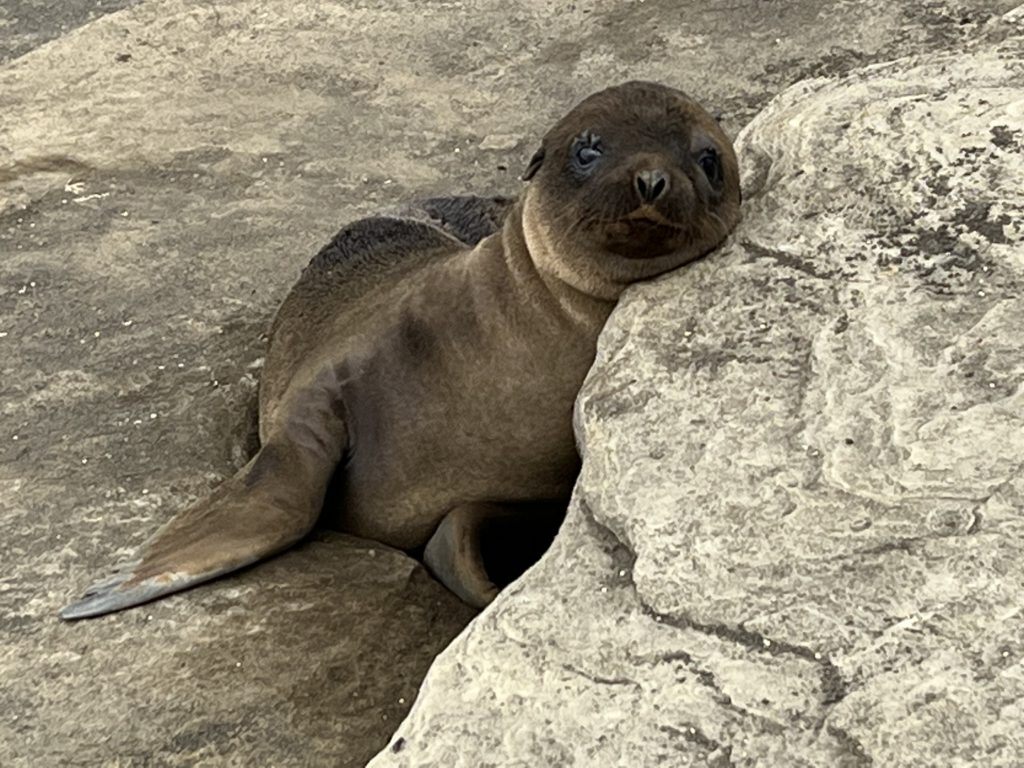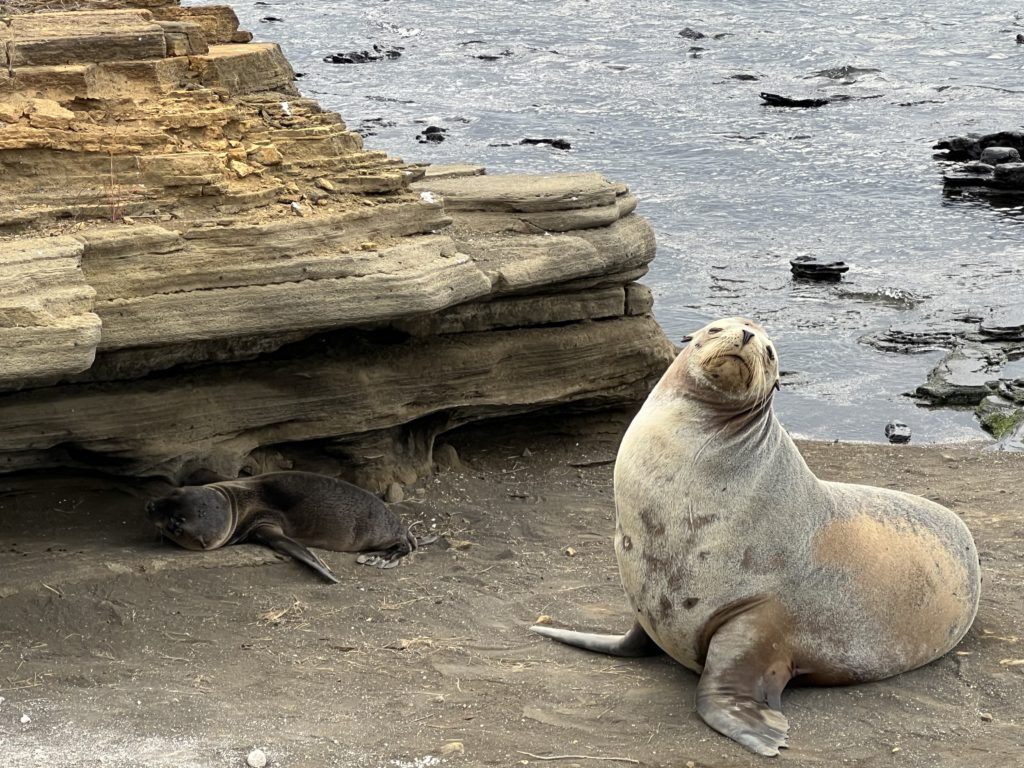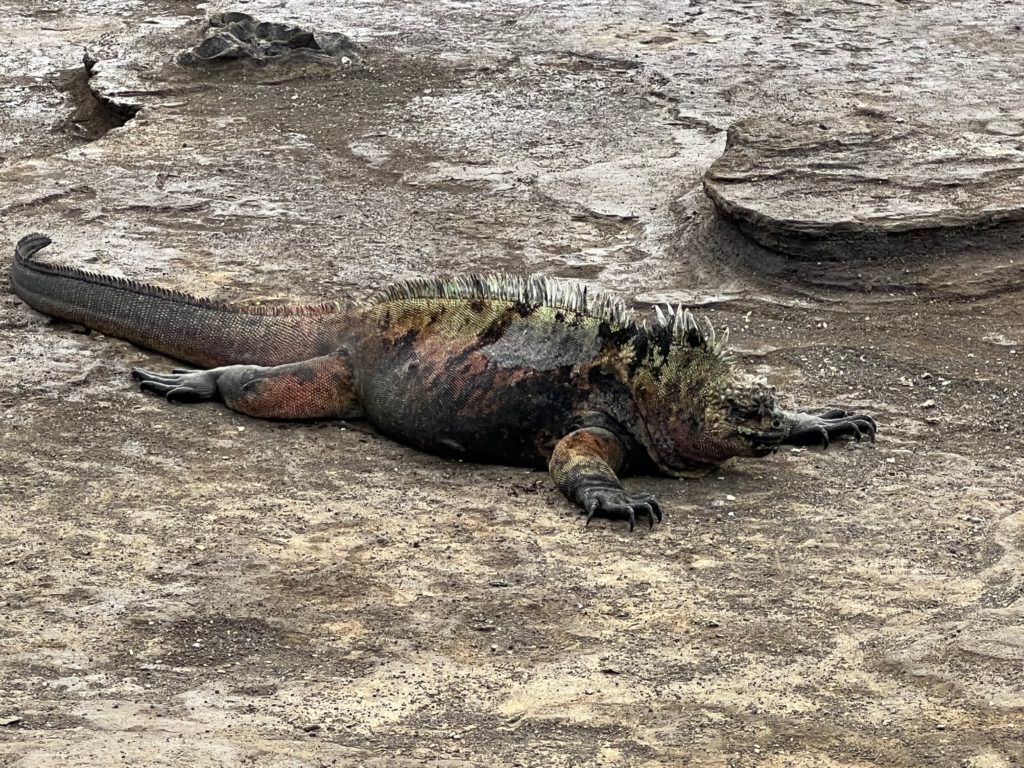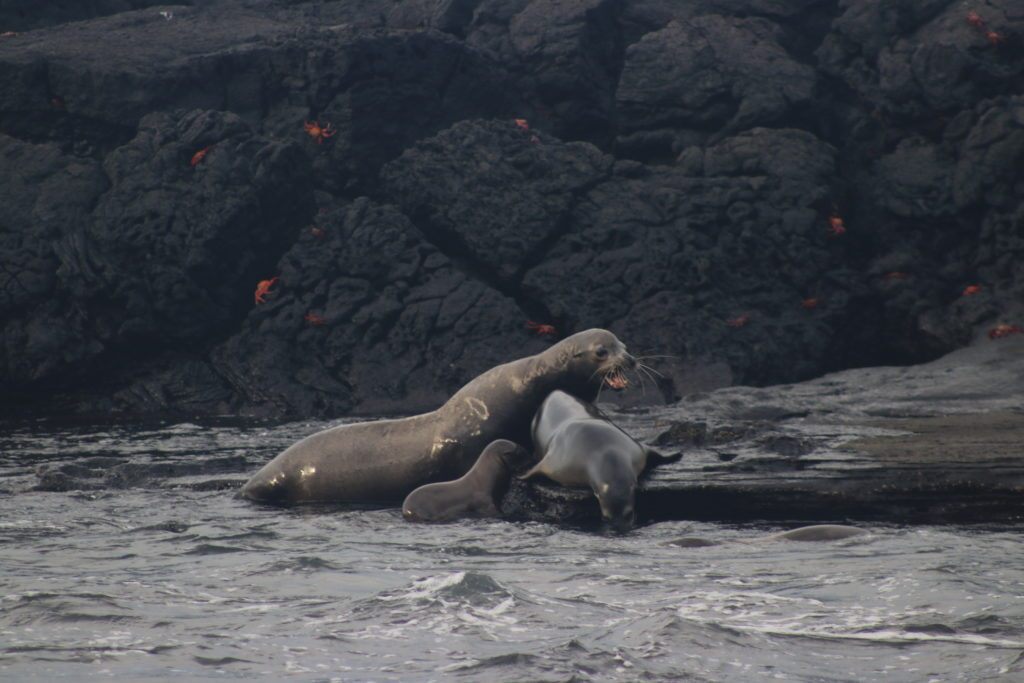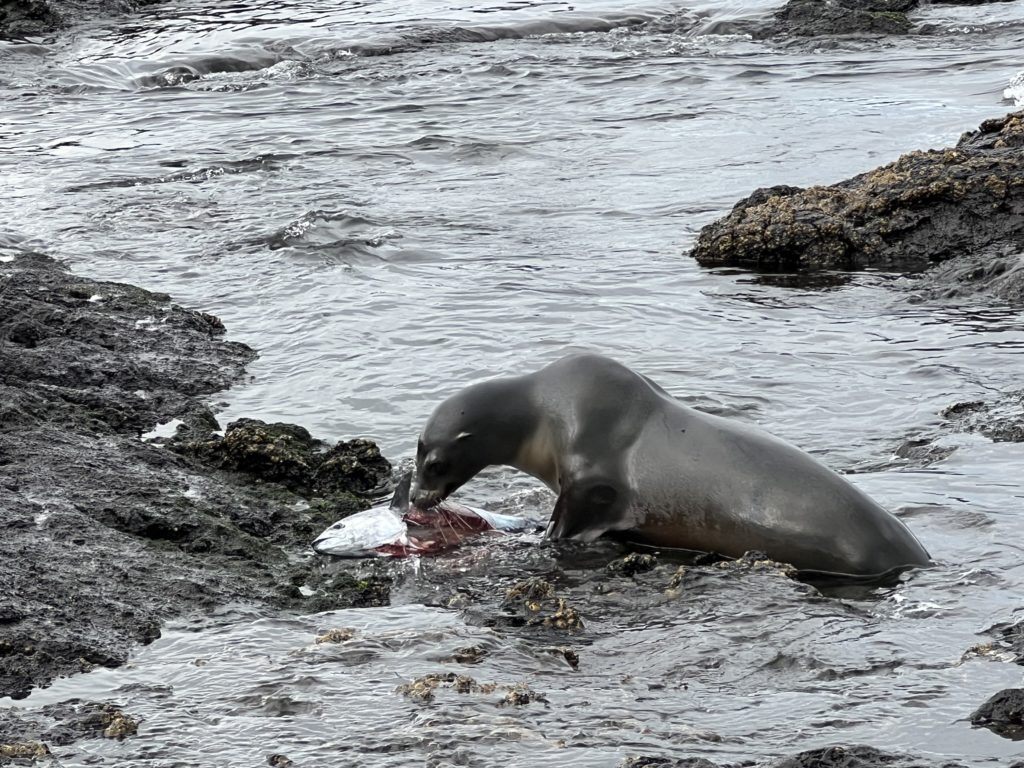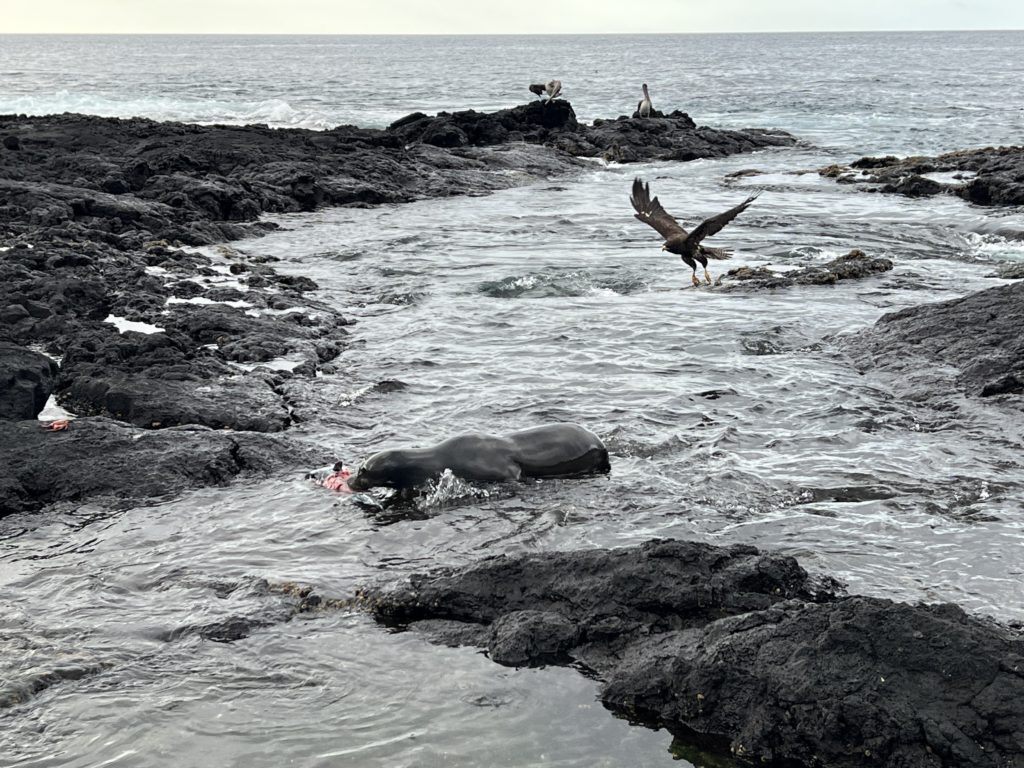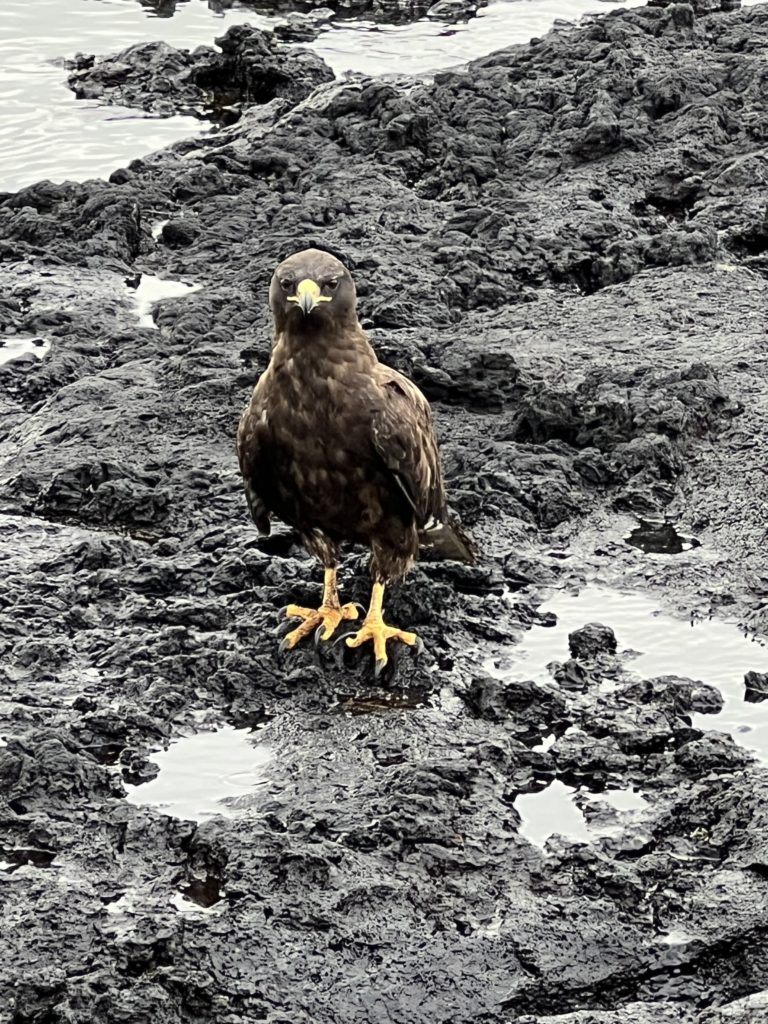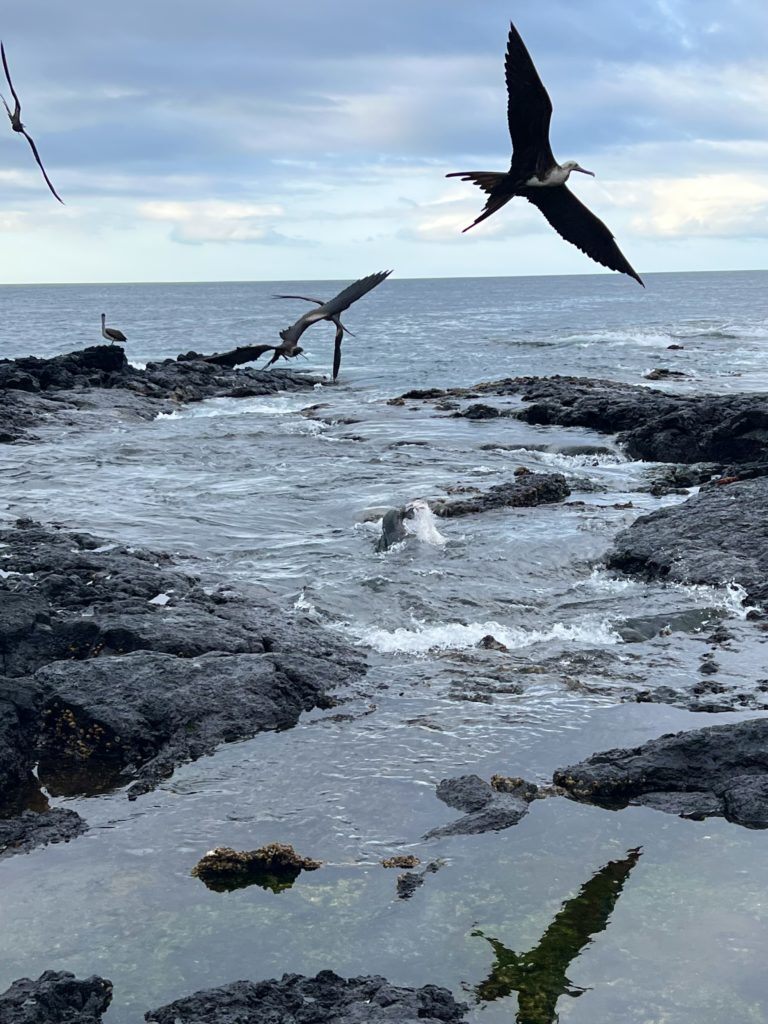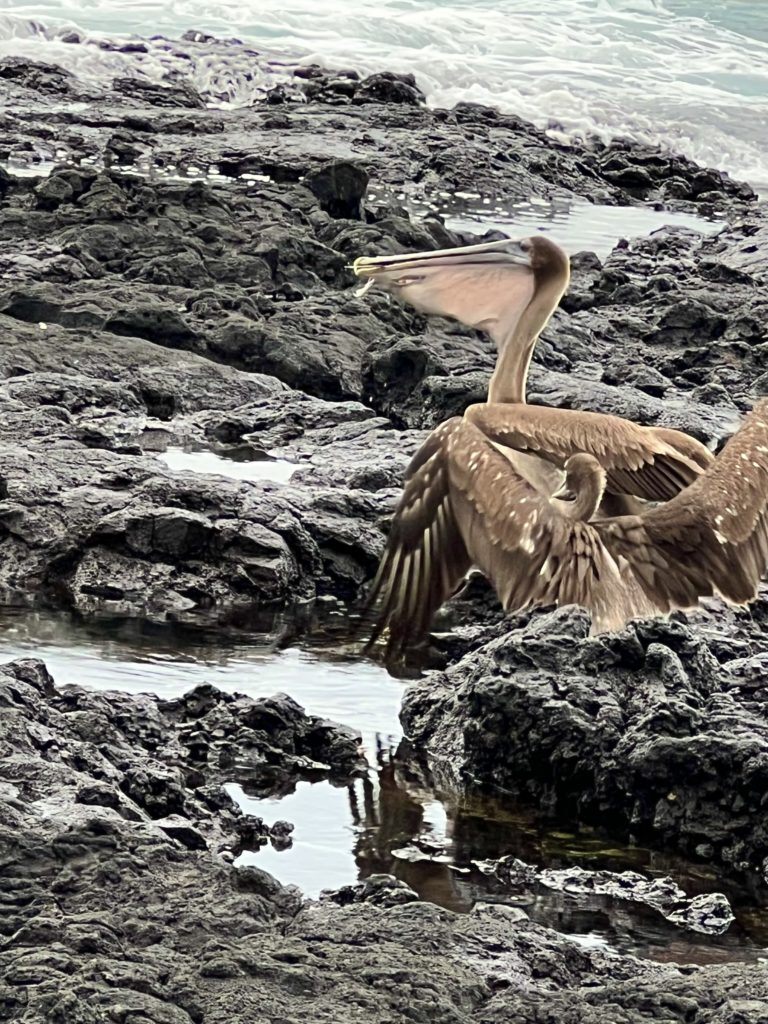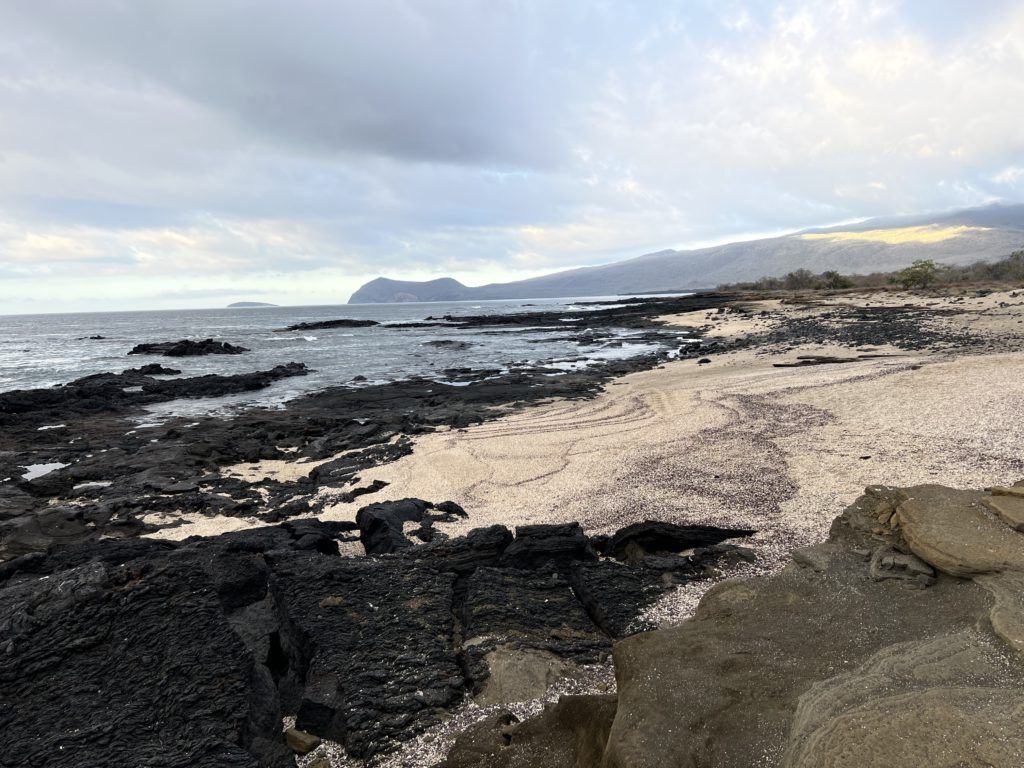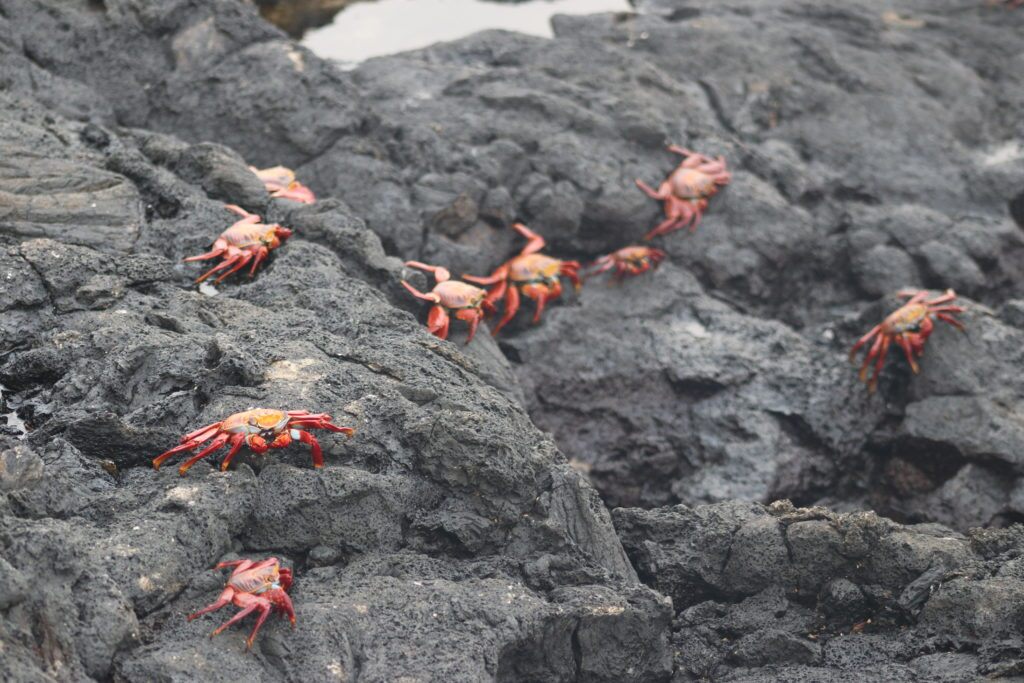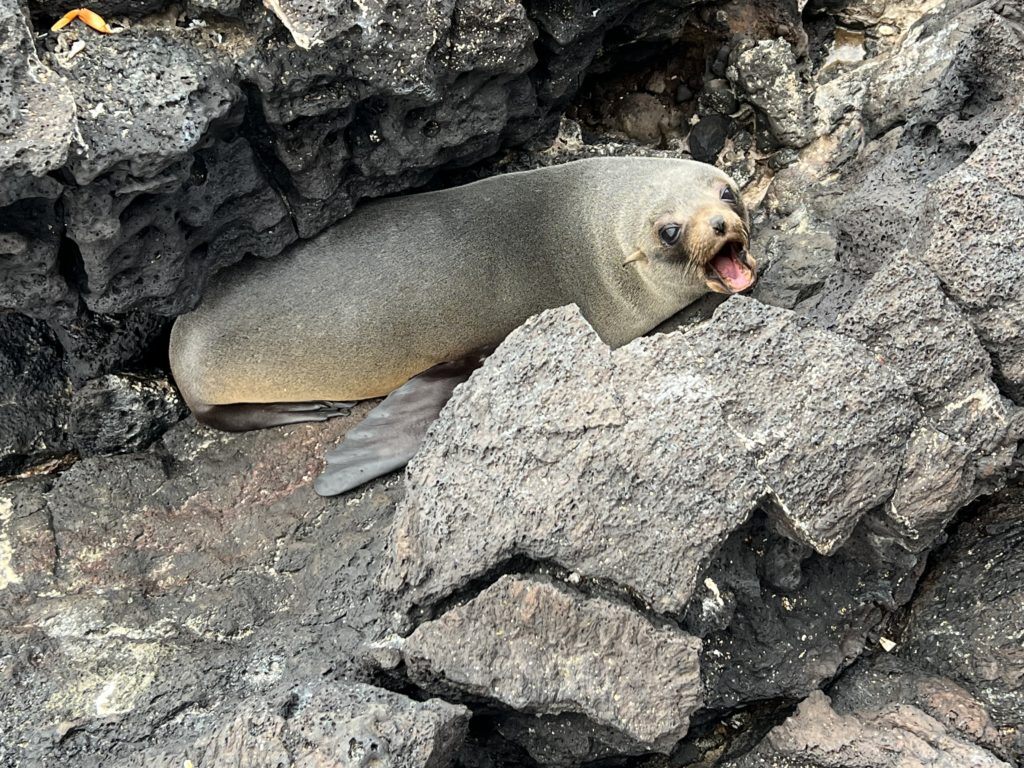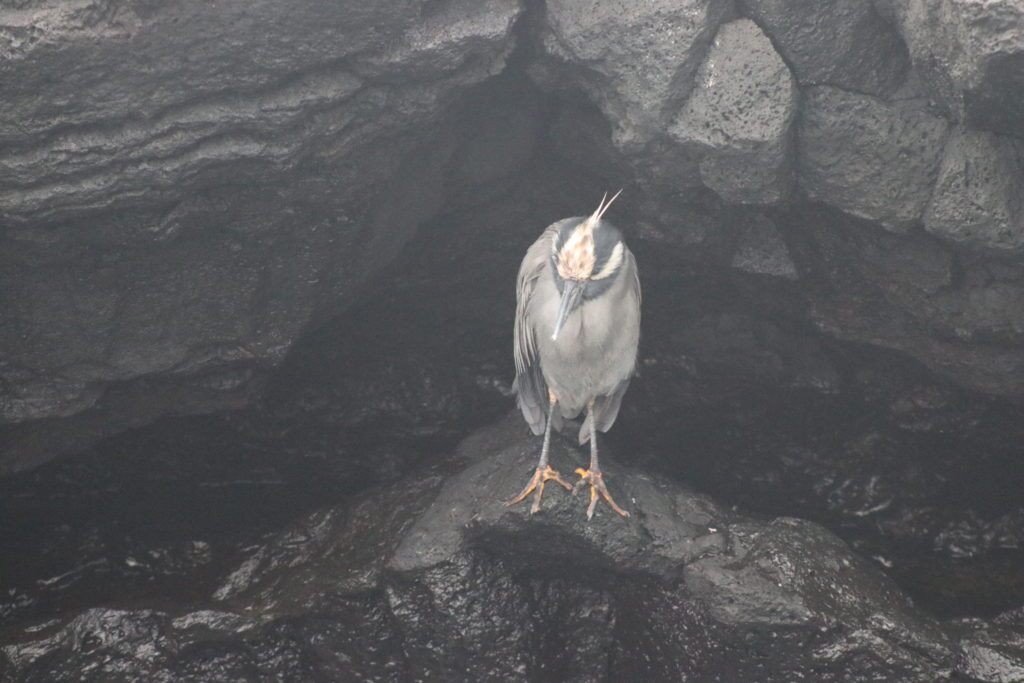 Day 7: First Stop – Santa Cruz Island – Bachas Beach Walk
We had a smooth overnight cruise from Santiago to Santa Cruz Island (where we started!). We anchored off the gorgeous white sands of Bachas Beach. There were dozens of sea turtle nests all over the shore. We spotted flamingoes in the ponds, crabs, marine iguanas and birds.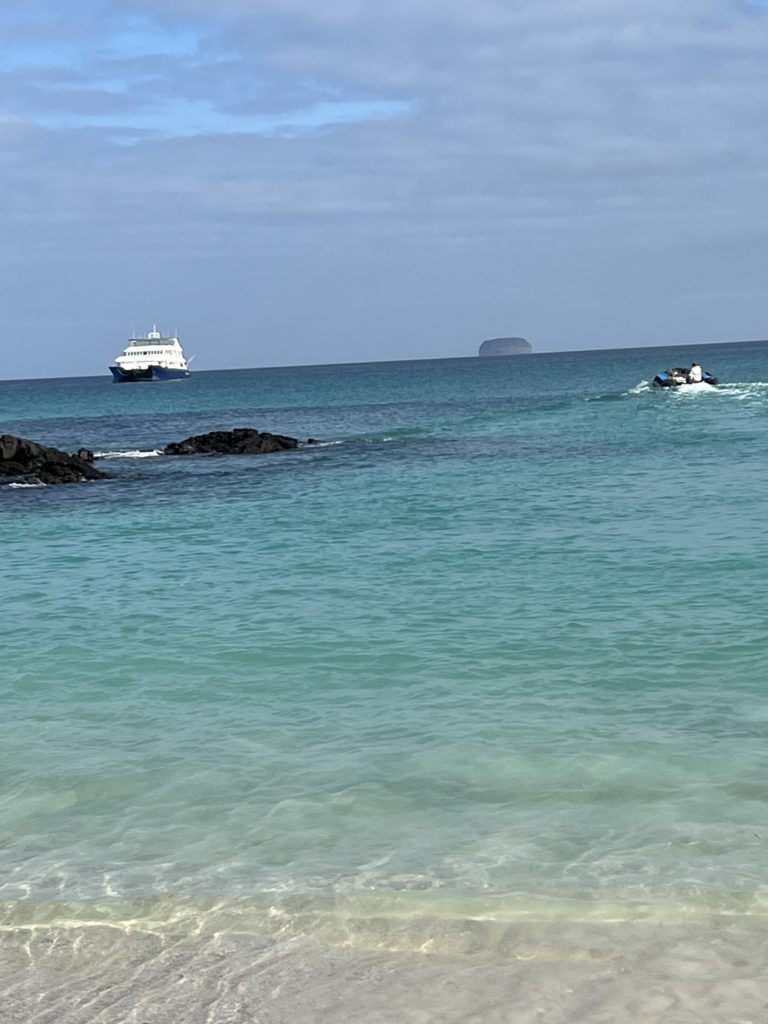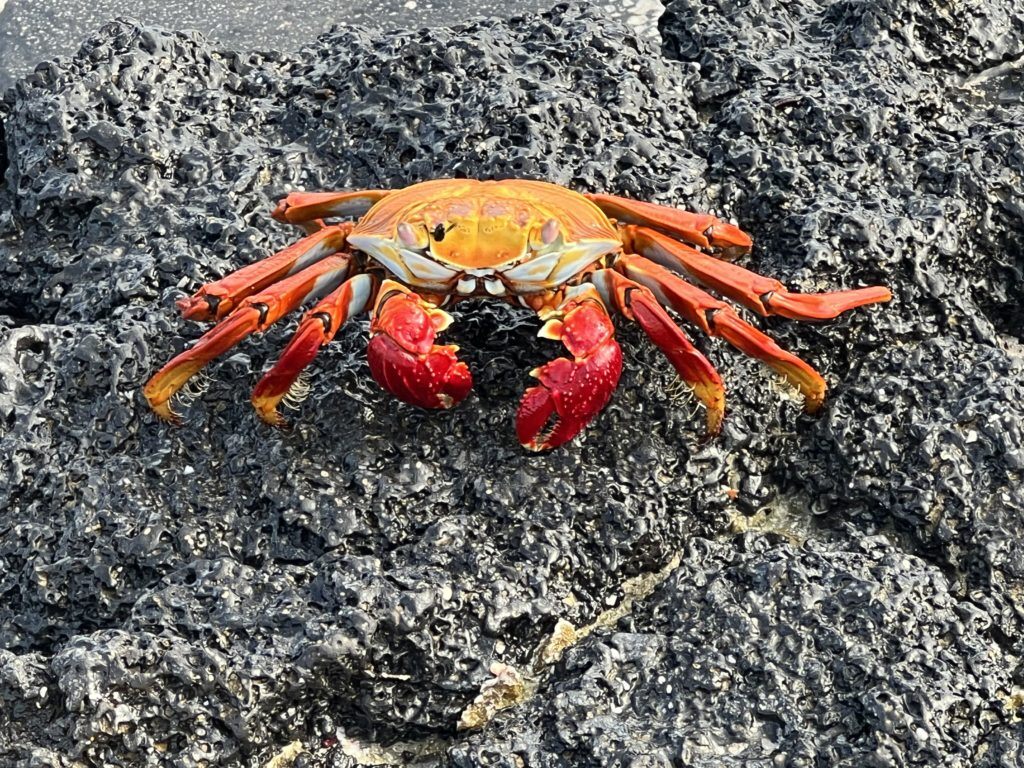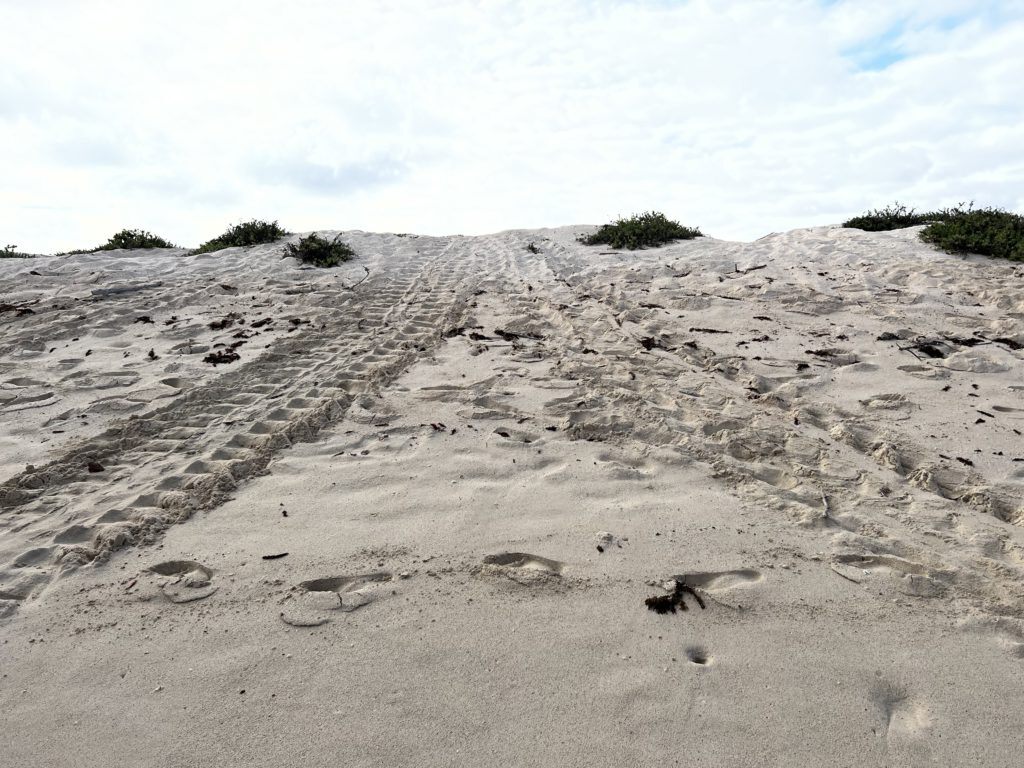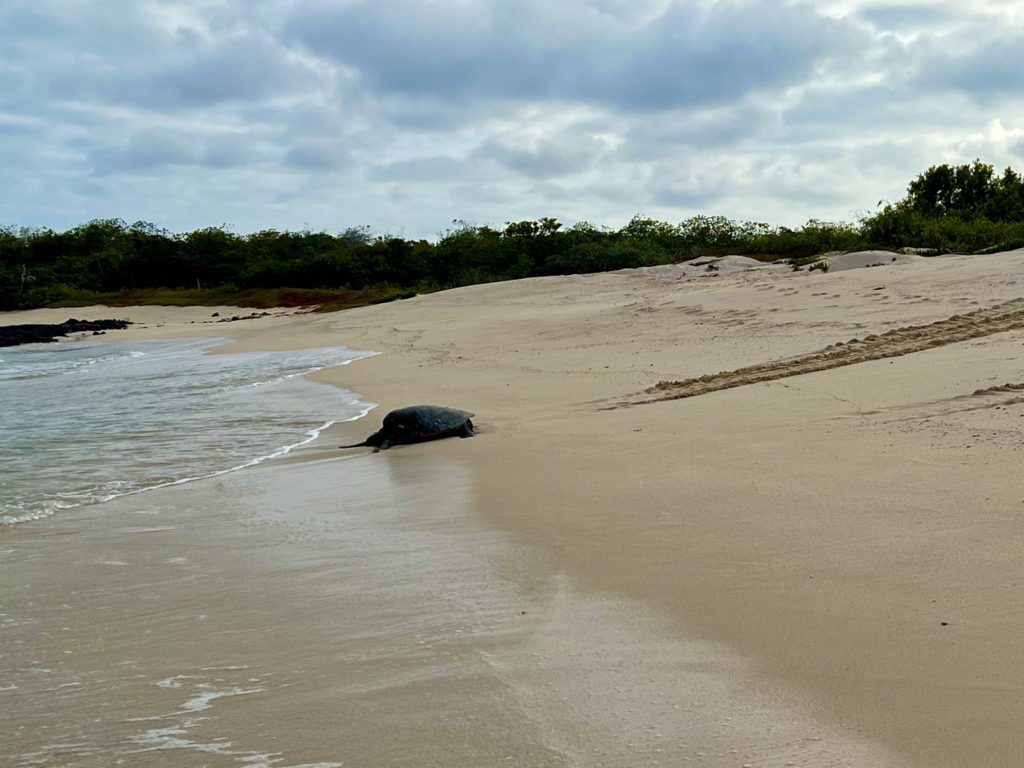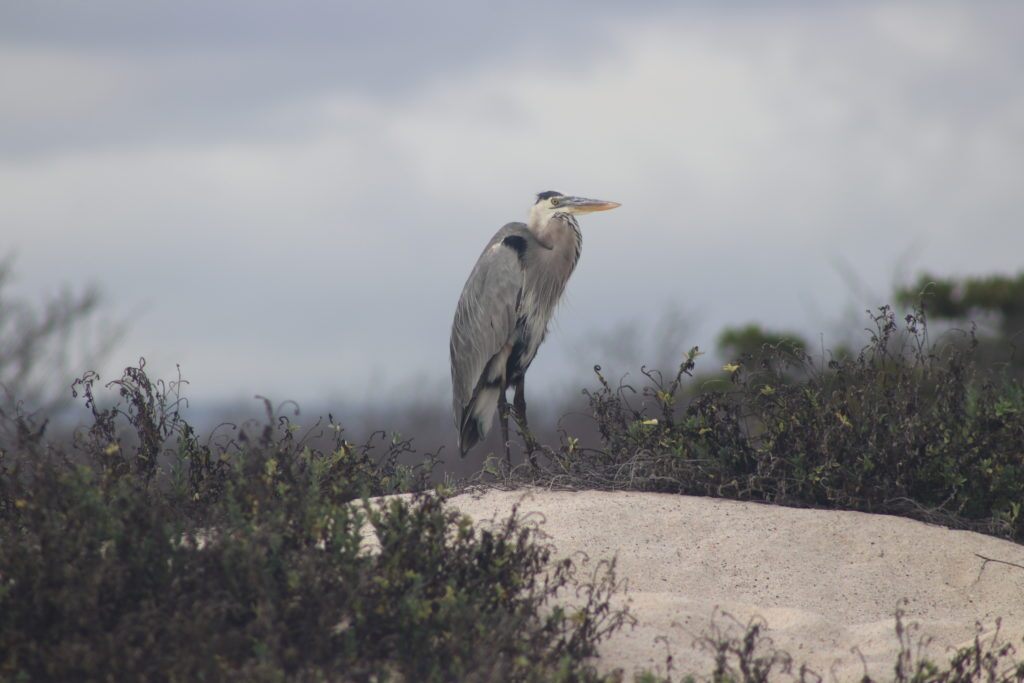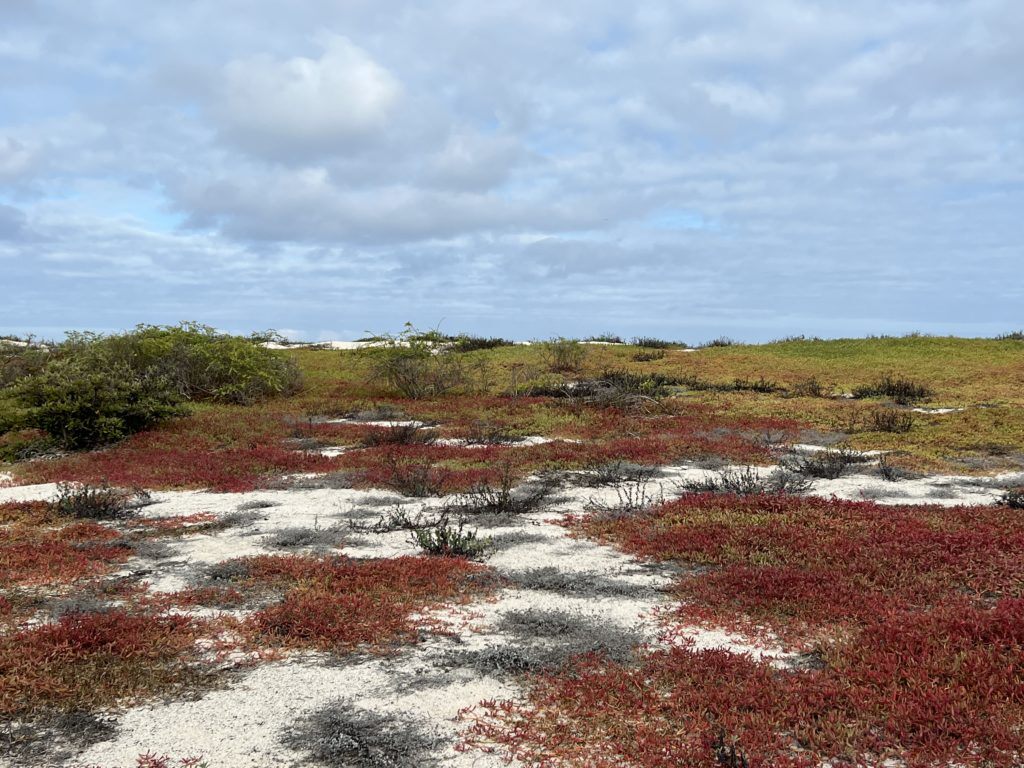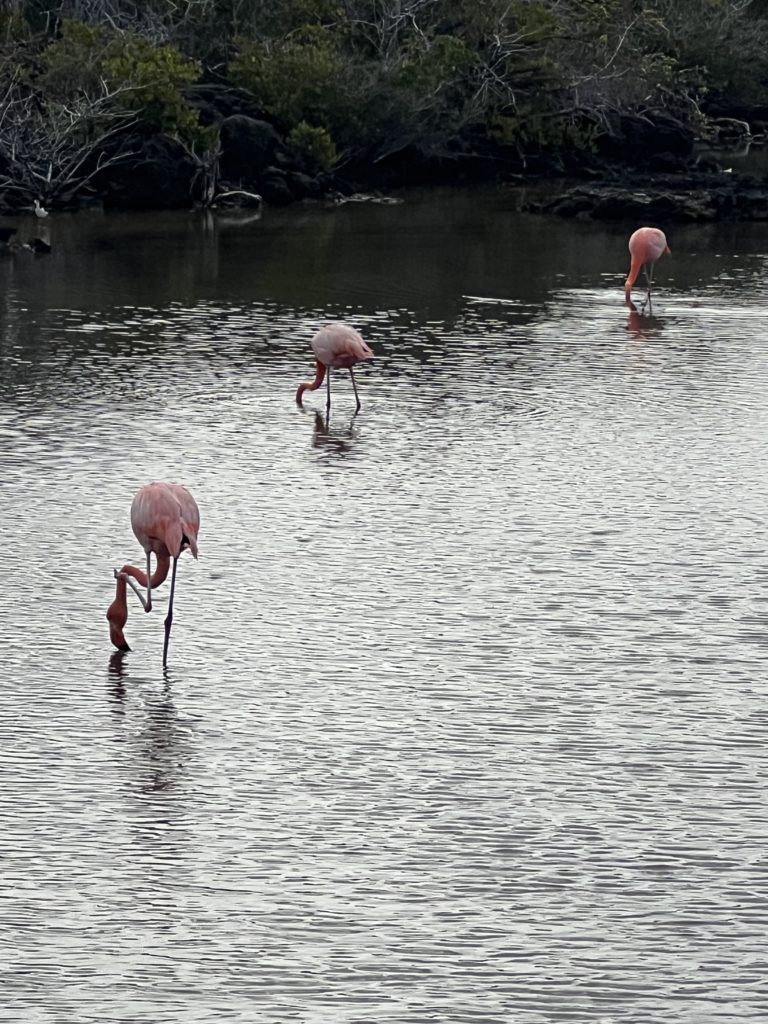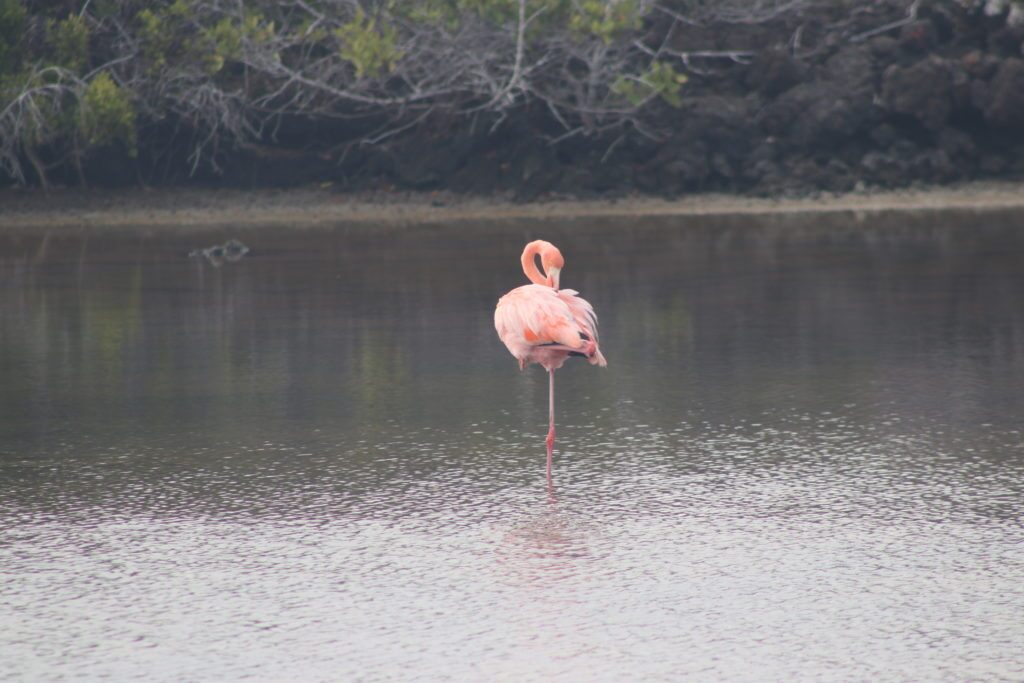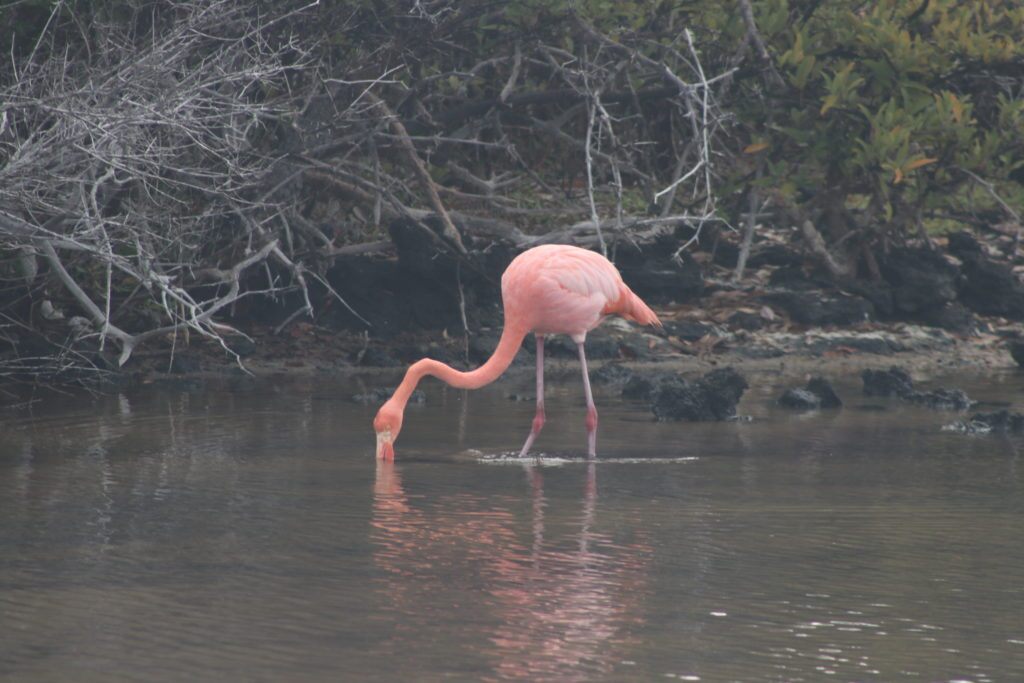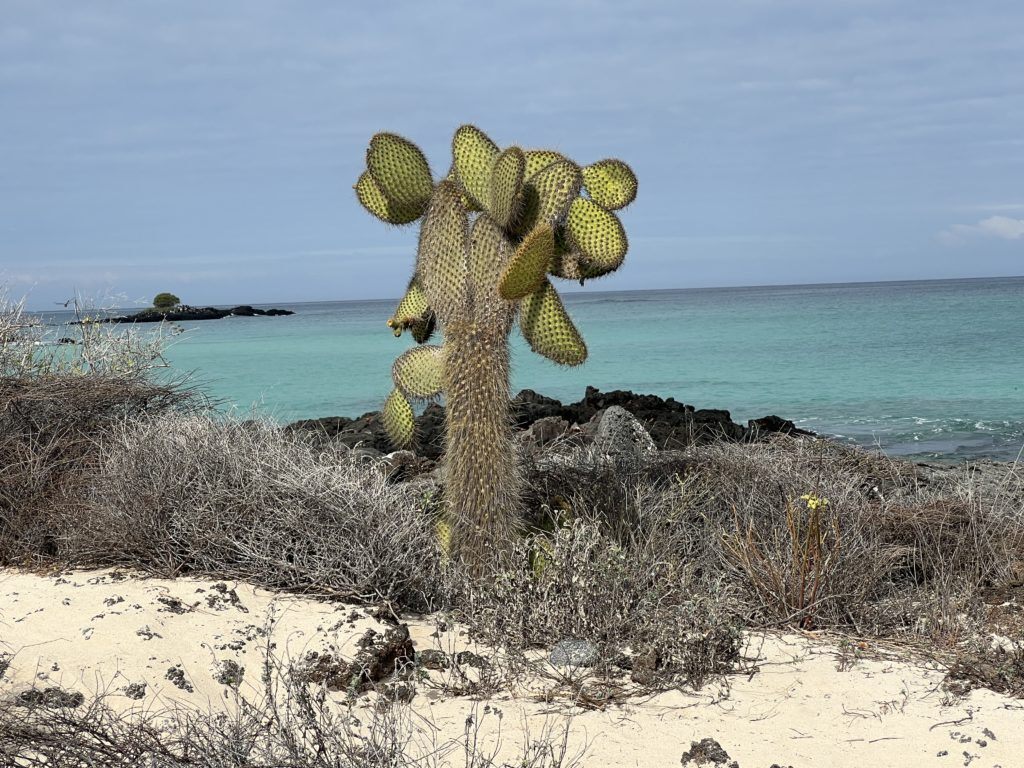 Day 7: Second Stop – Santa Cruz Island – Bachas Beach Snorkel
After our awesome walk, we put on our wetsuits and went for a snorkel. We saw some pretty fish, a giant pelican and marine iguanas swimming. Cool!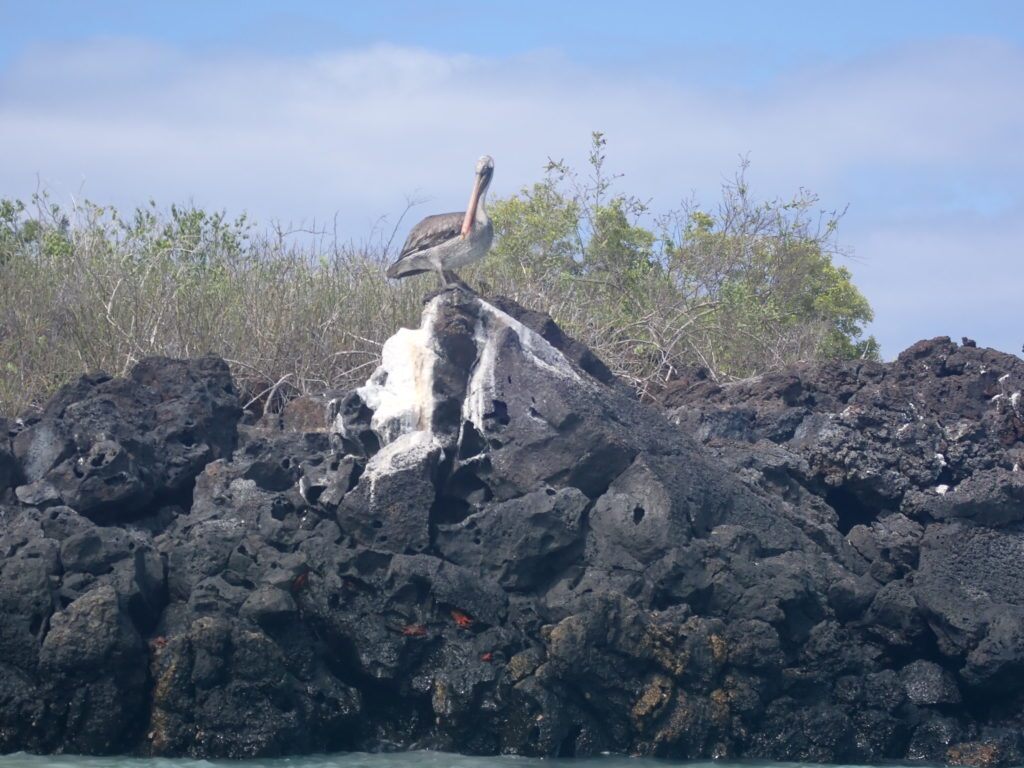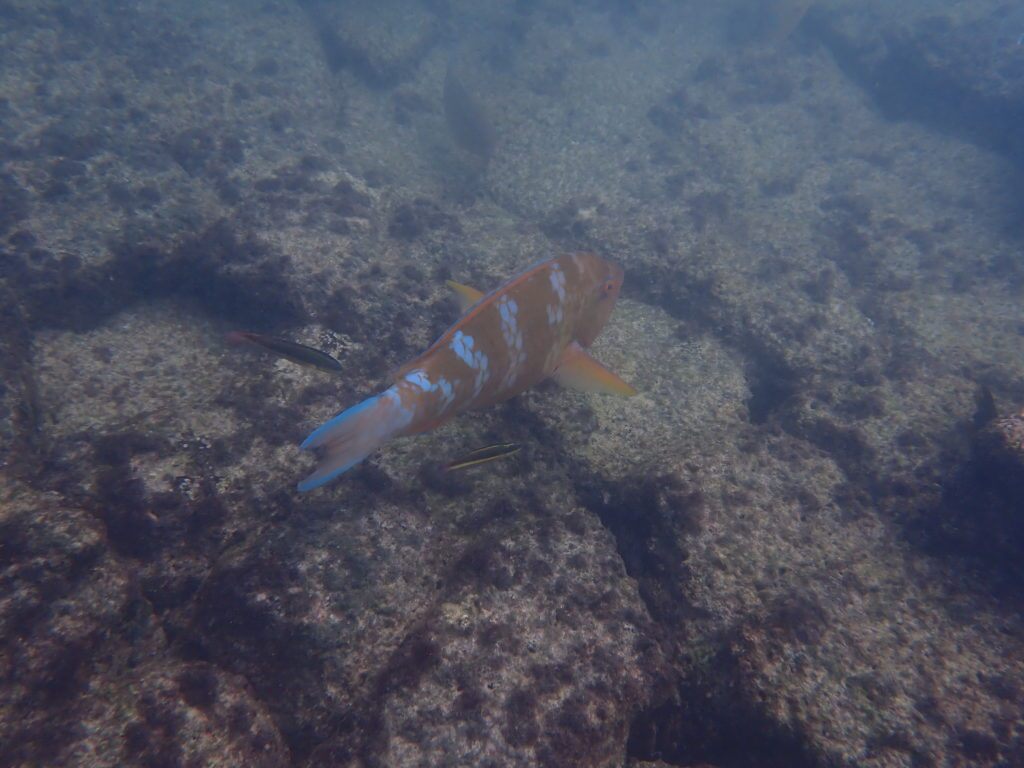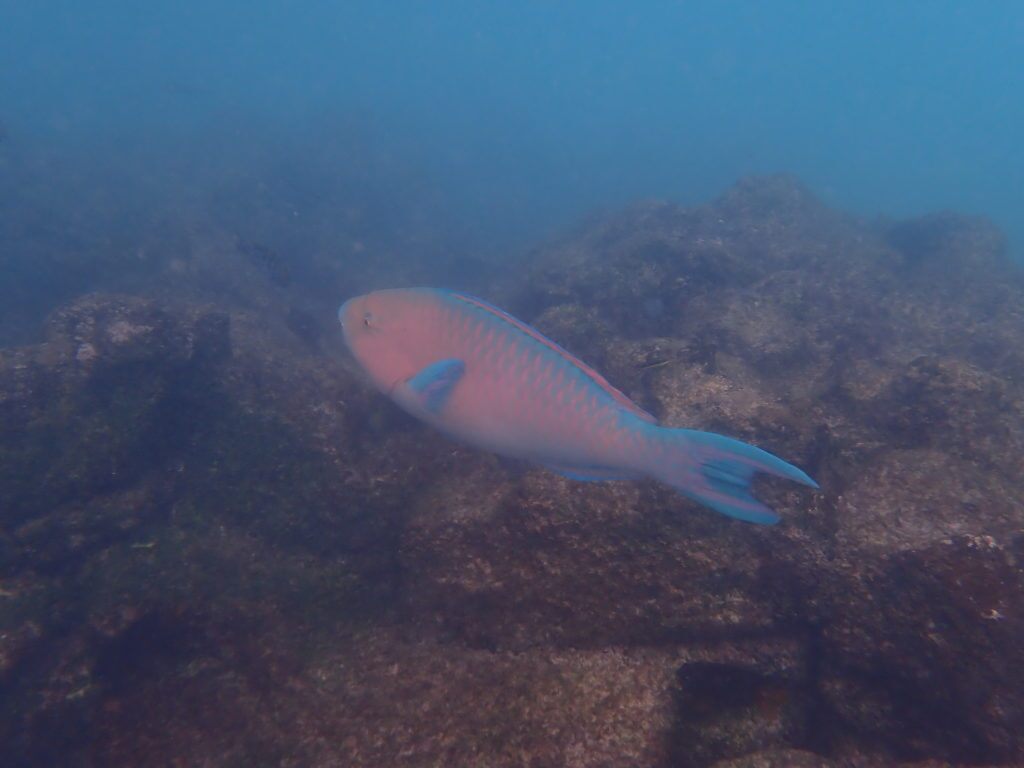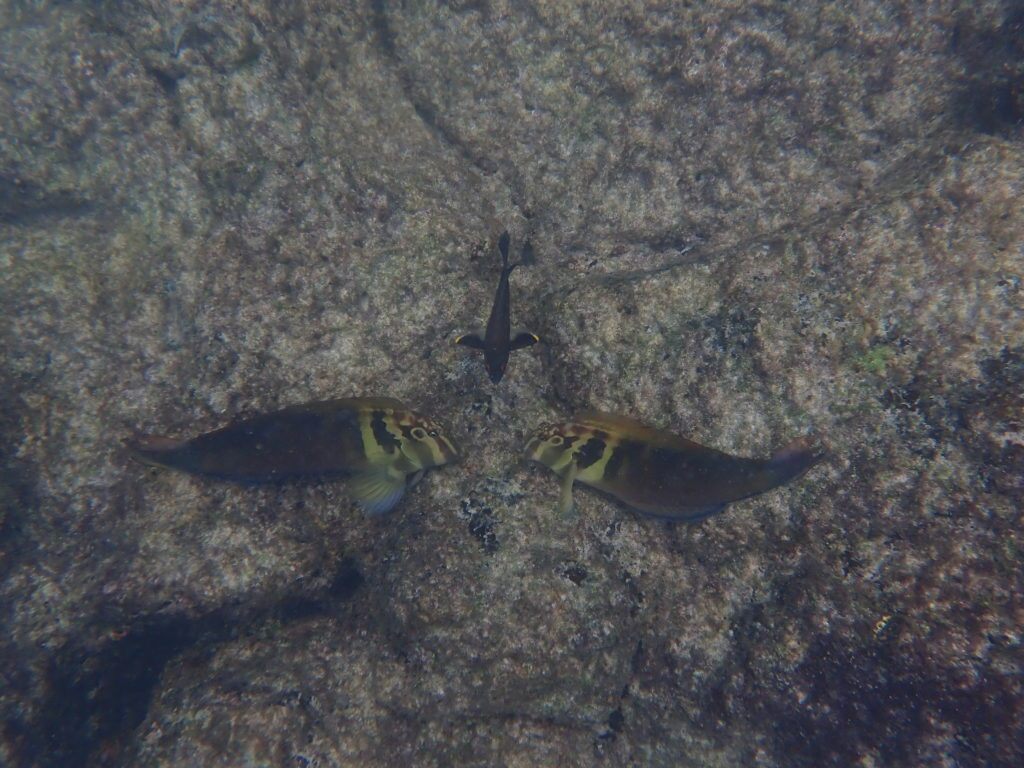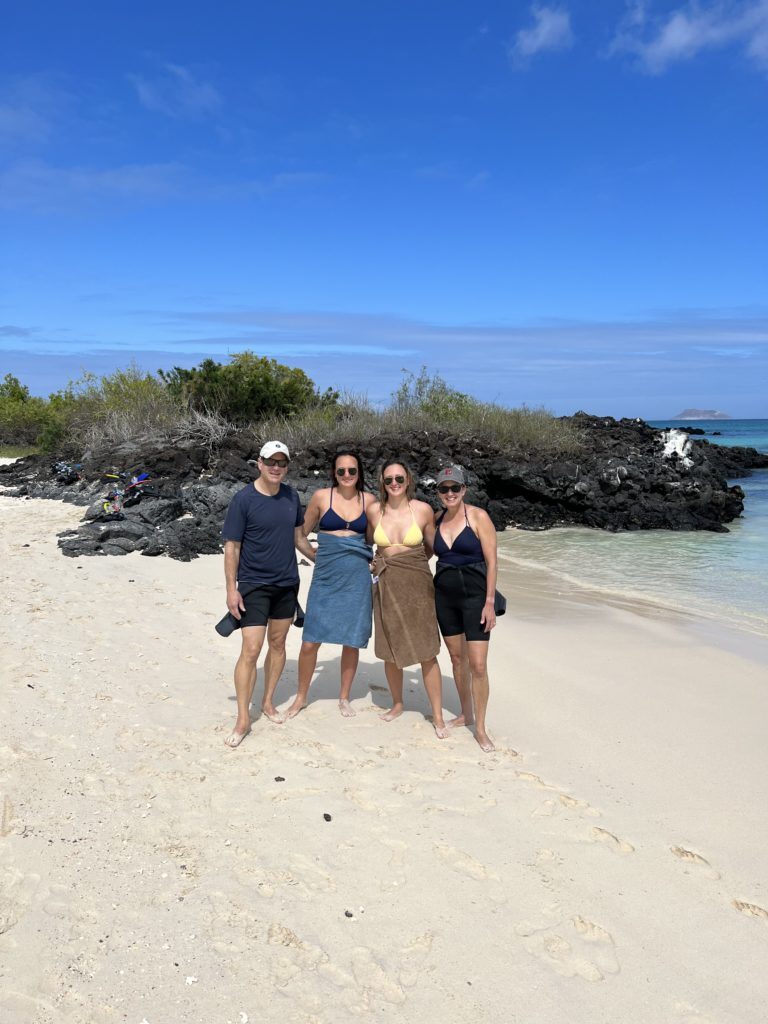 Day 7: Third Stop – North Seymour Island – Snorkel off the Dinghy
It was a quick trip to North Seymour Island where we put down anchor, had lunch and prepared to do another snorkel. The dinghy brought us close to the shore. We saw lots of fish, three sharks, a bunch of rays and sea birds high above.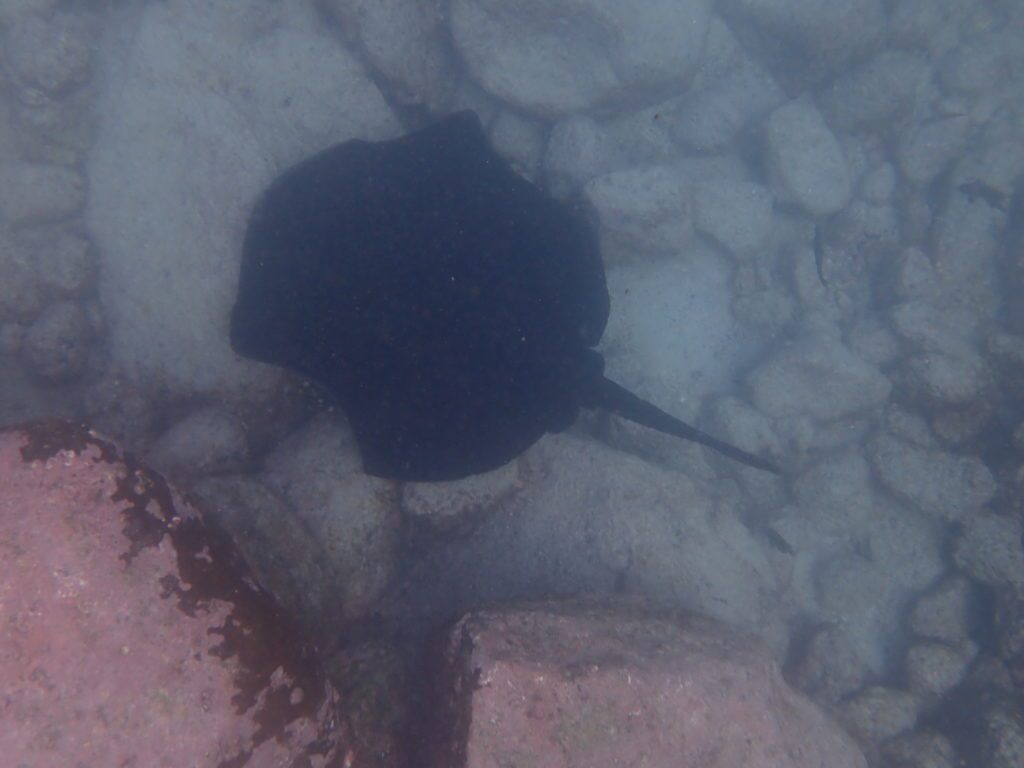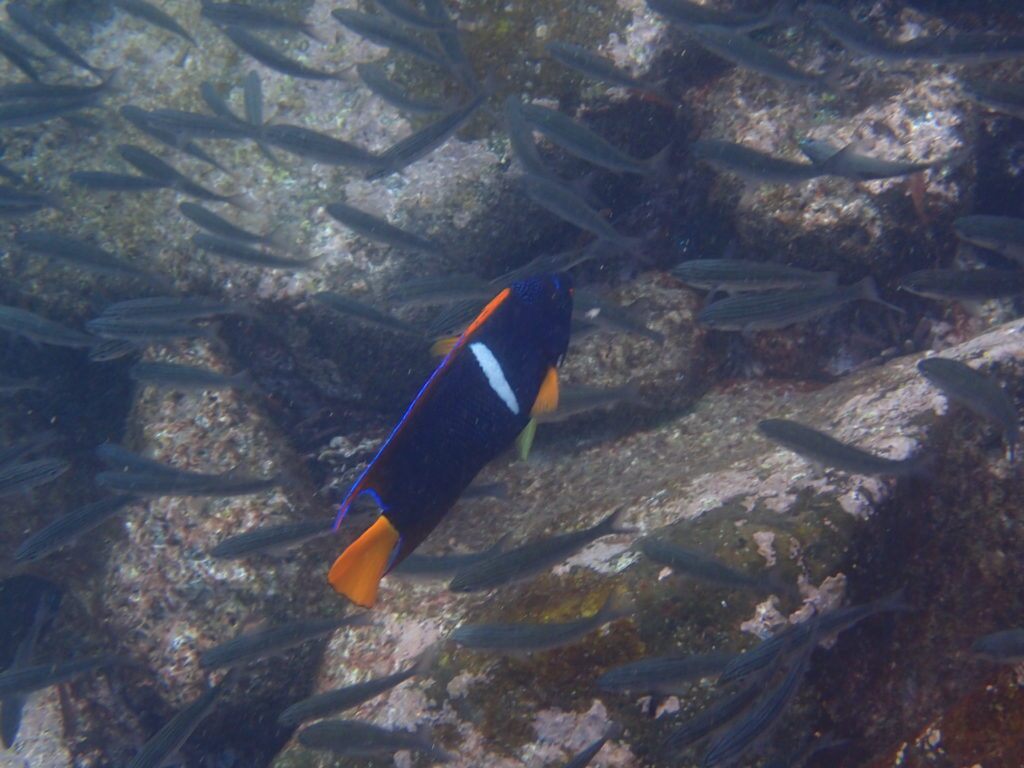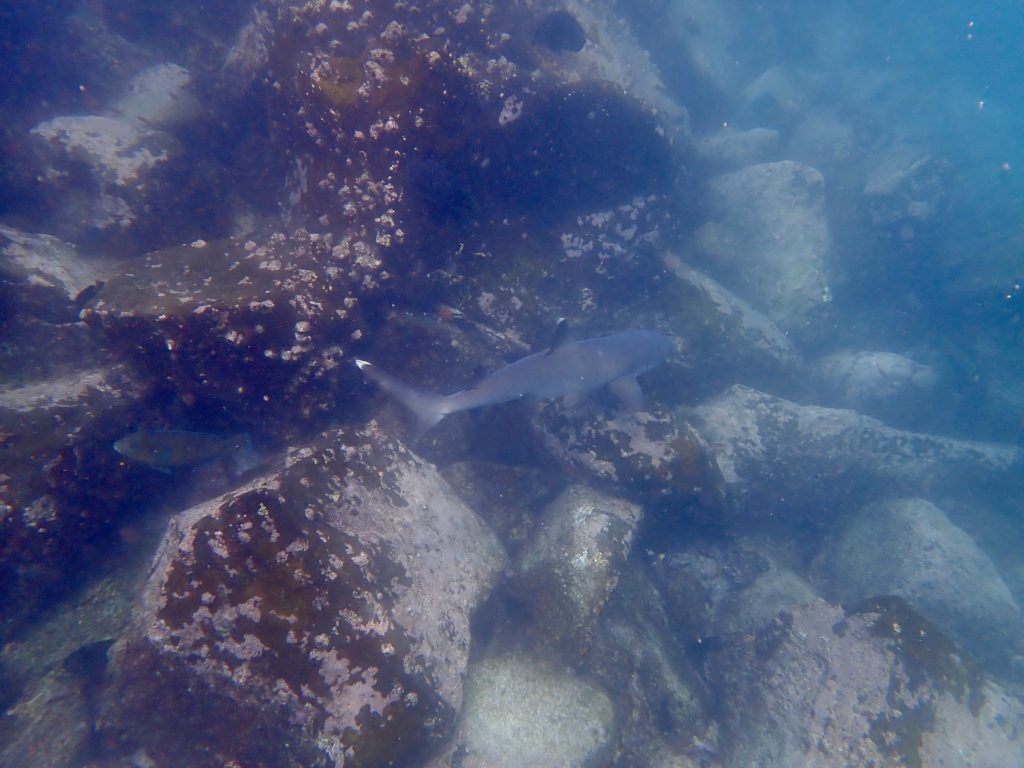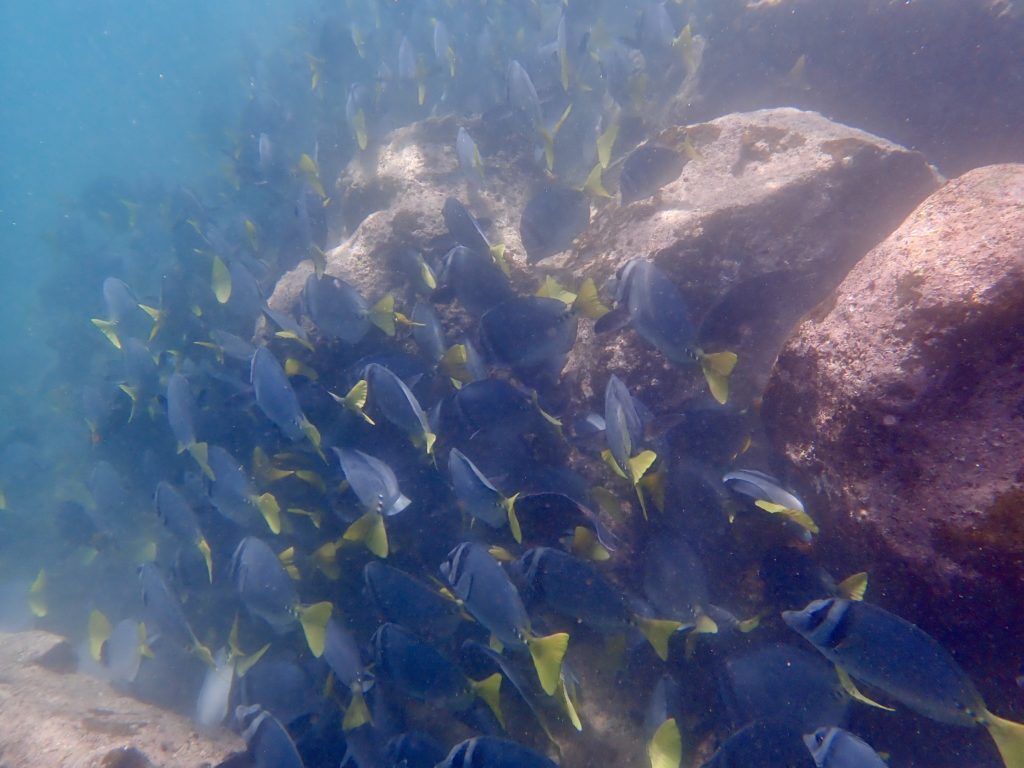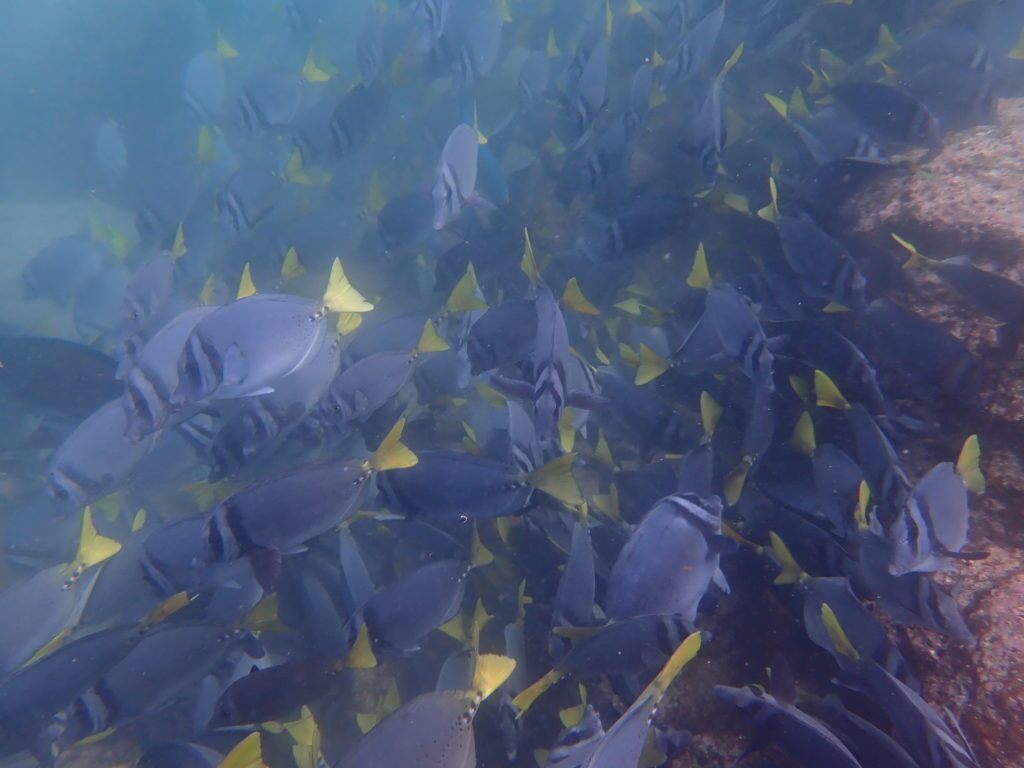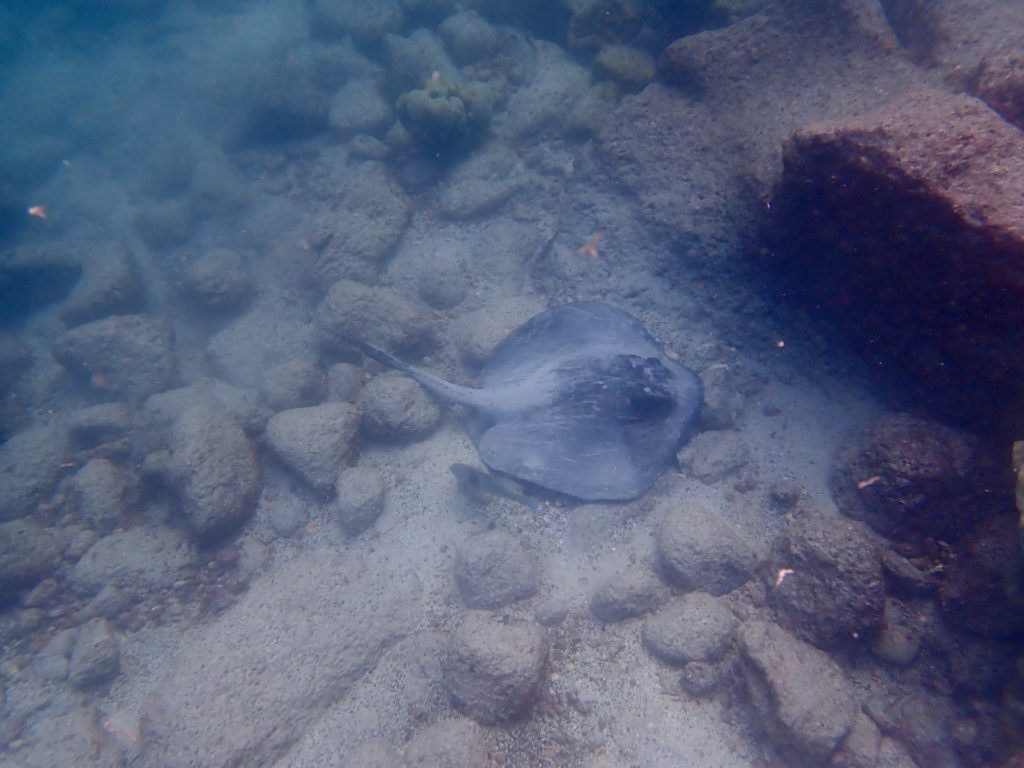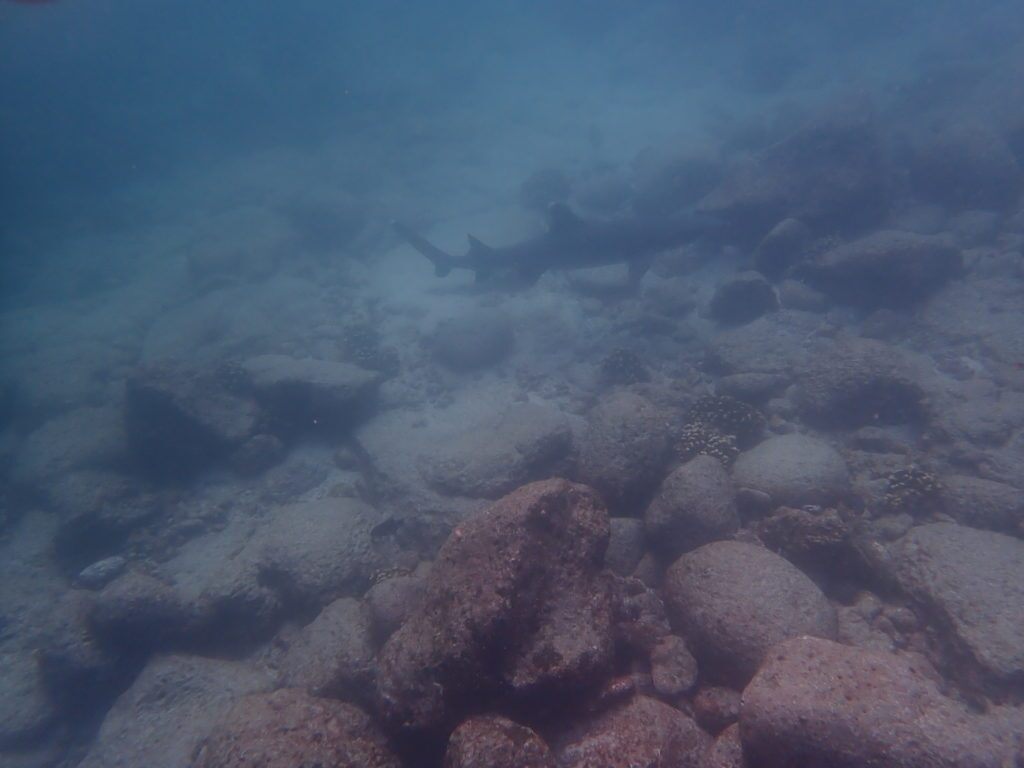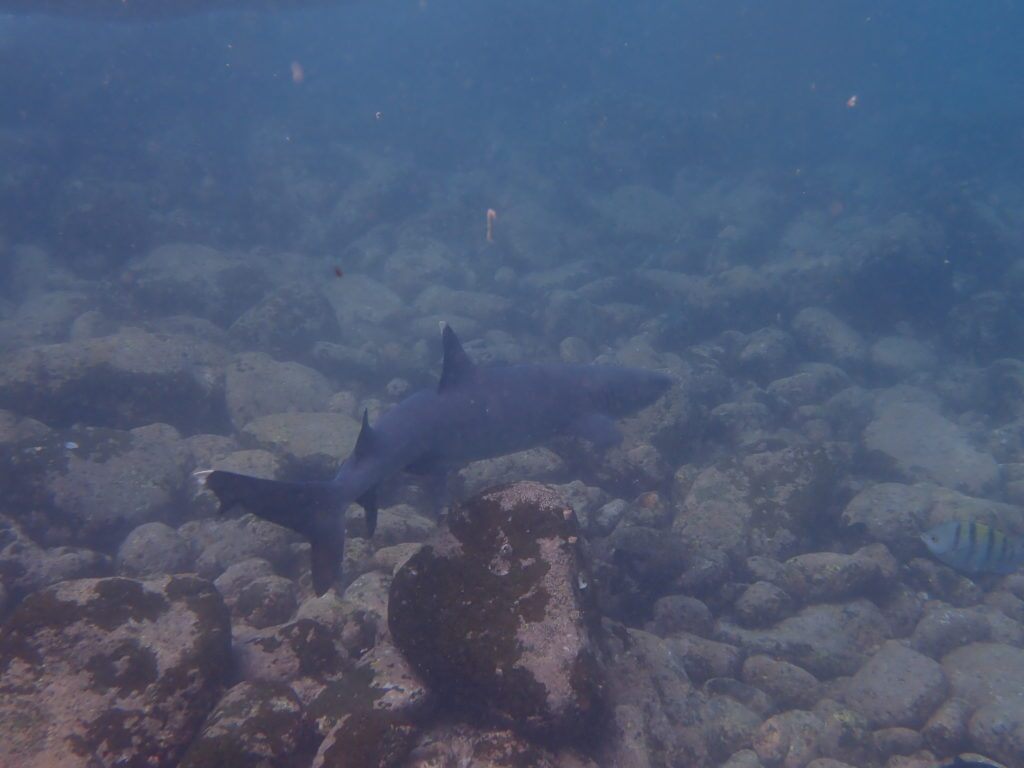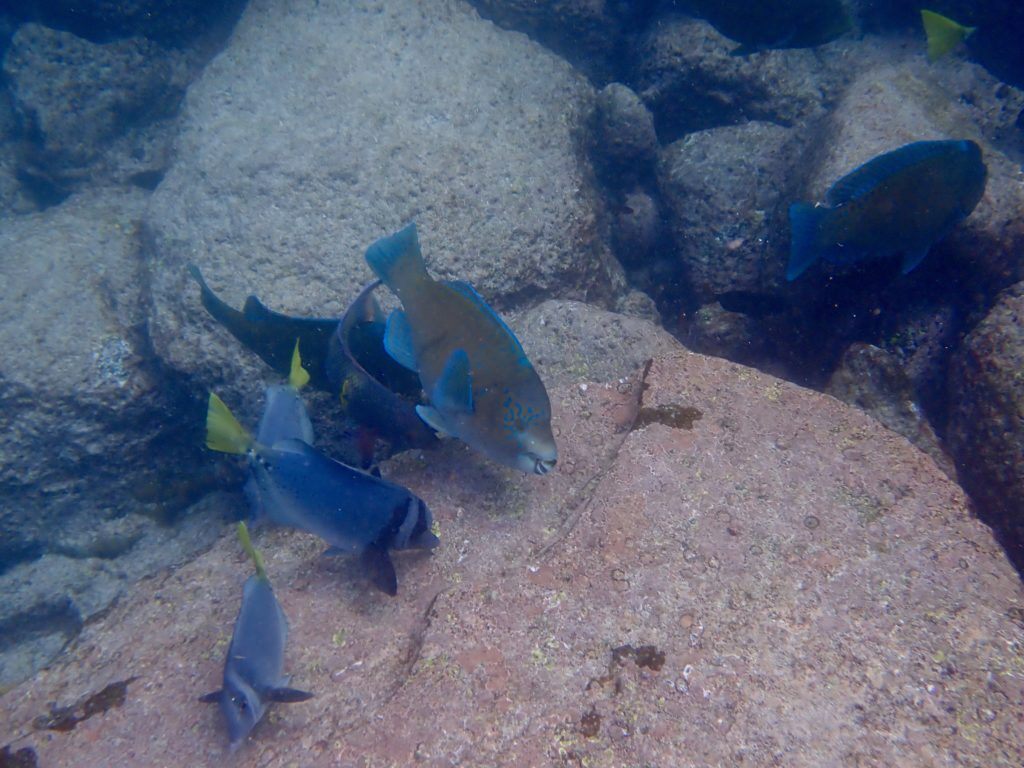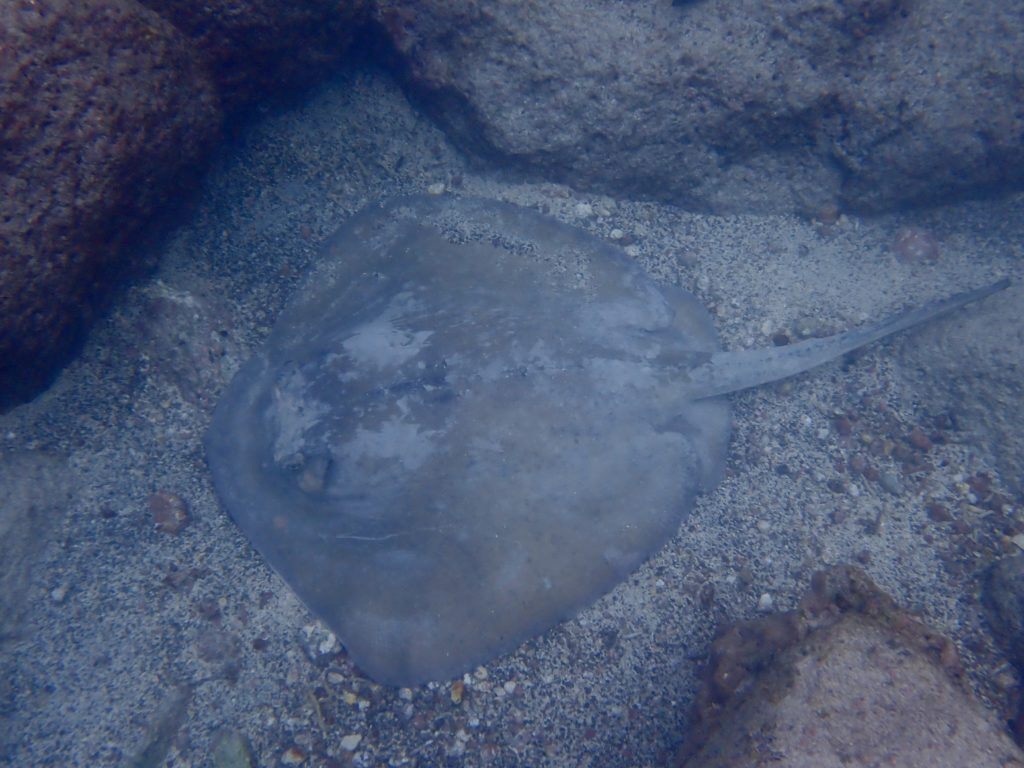 Day 7: Fourth Stop – North Seymour Island – Walk to Frigate Birds
We took the zodiac to North Seymour Island. We saw Swallowtail Gulls, sea lions, Great Frigate Birds, Magnificent Frigate Birds and land iguanas. The male birds puff out their chests trying to impress the females. It was an excellent walk.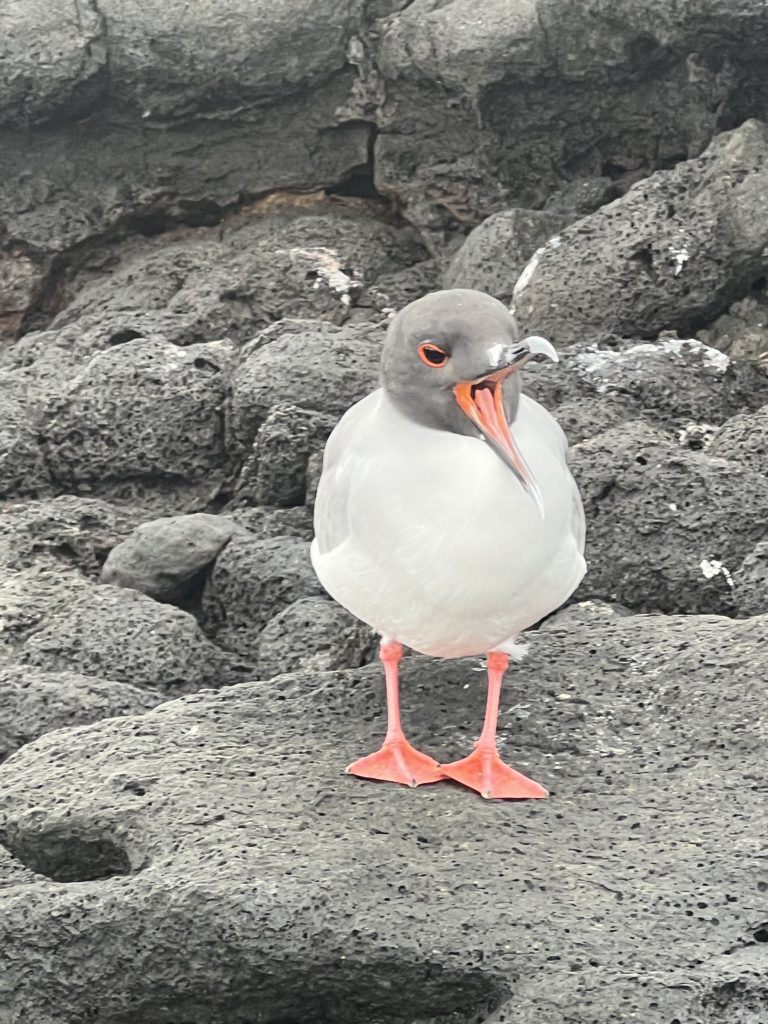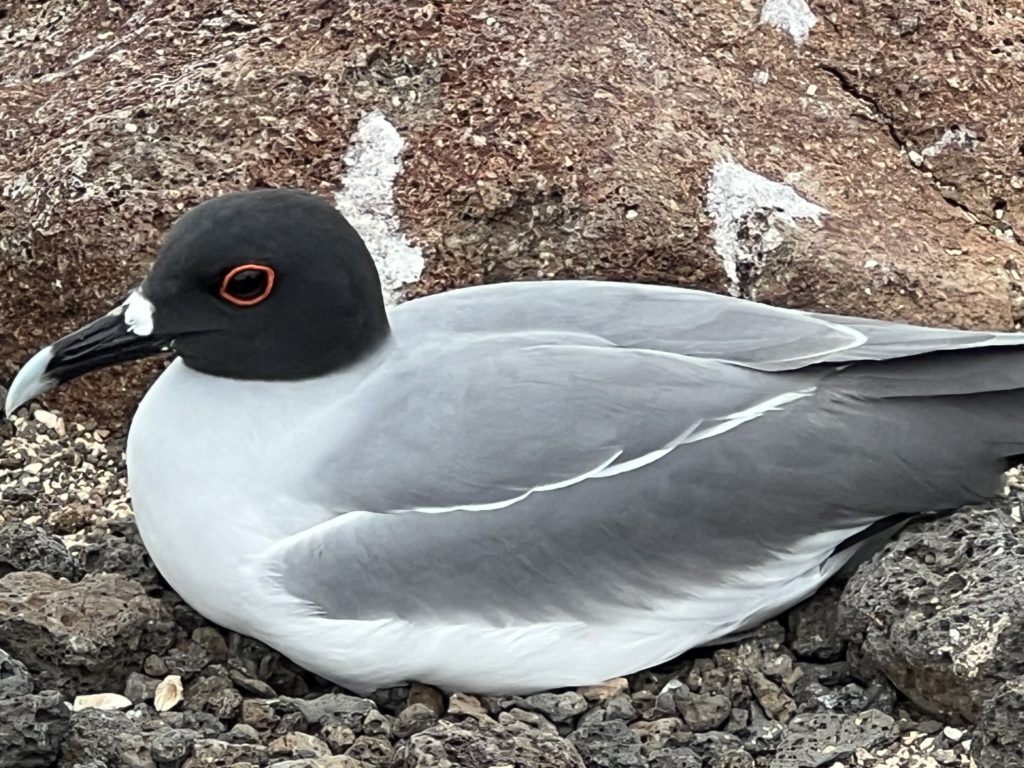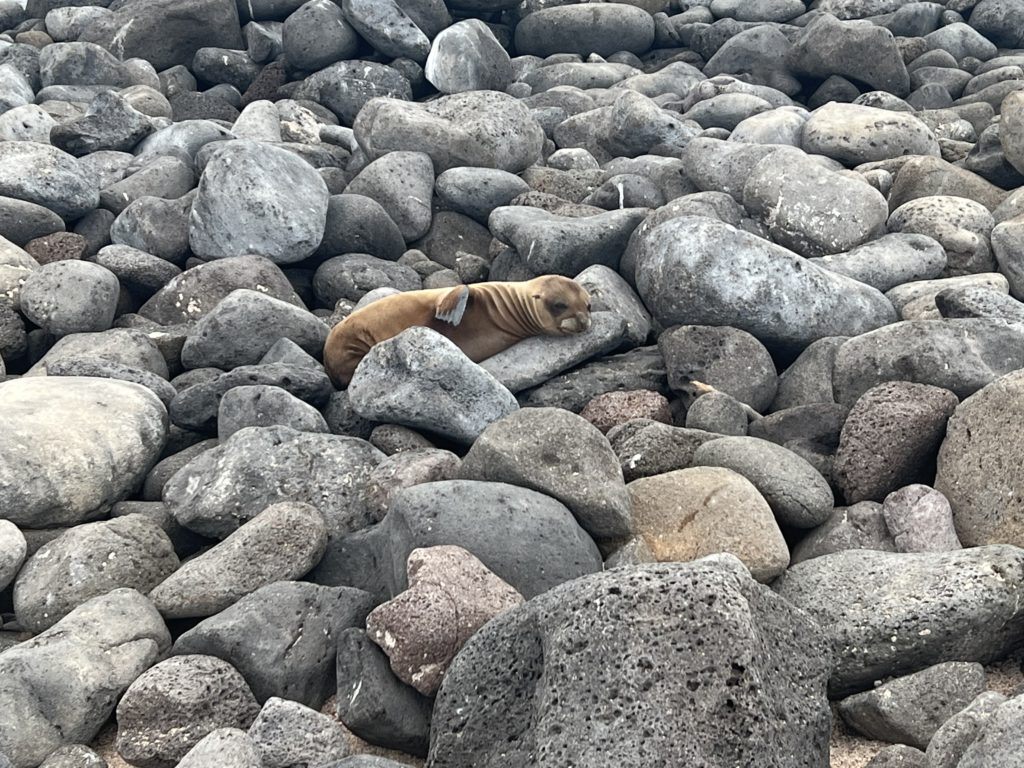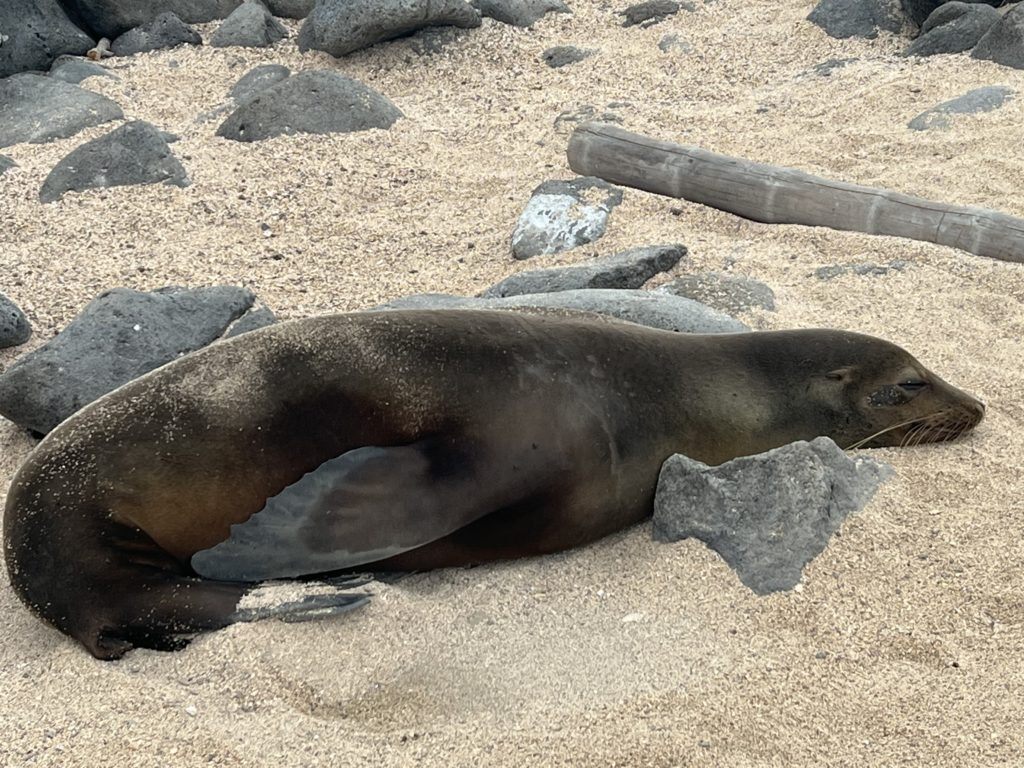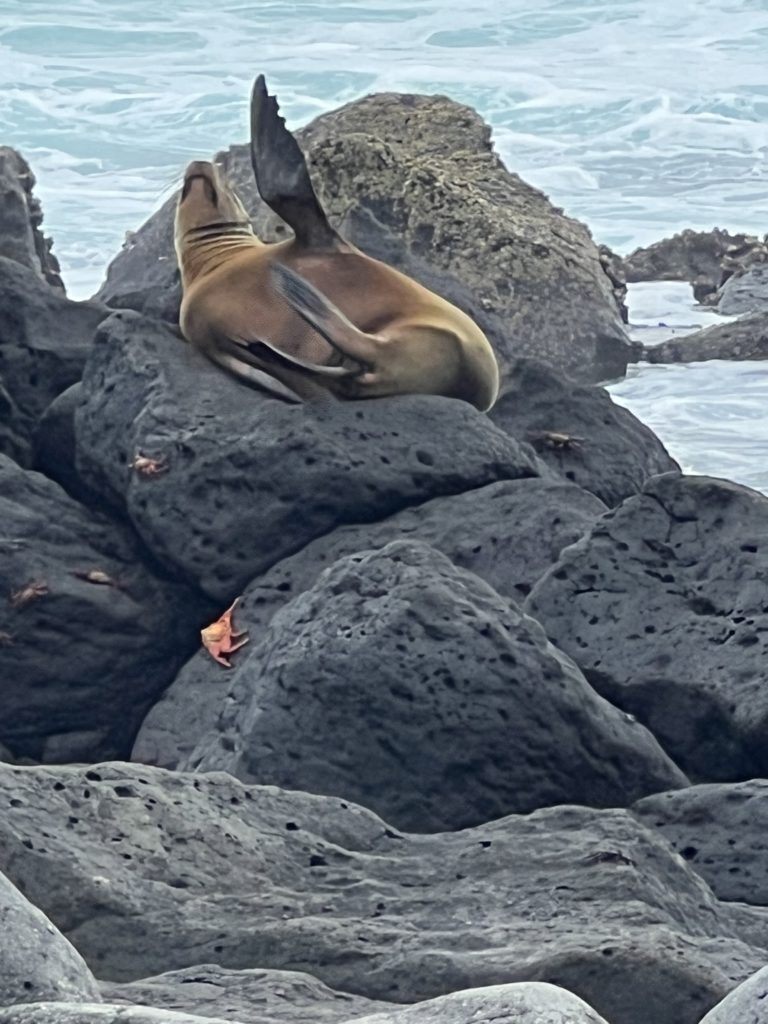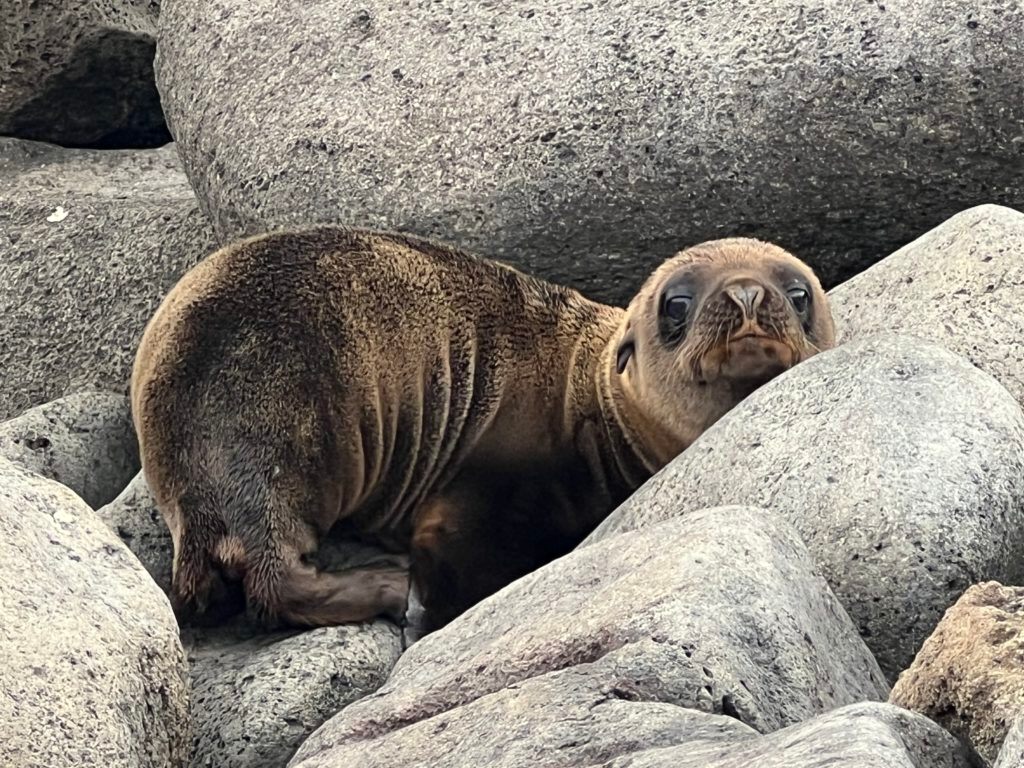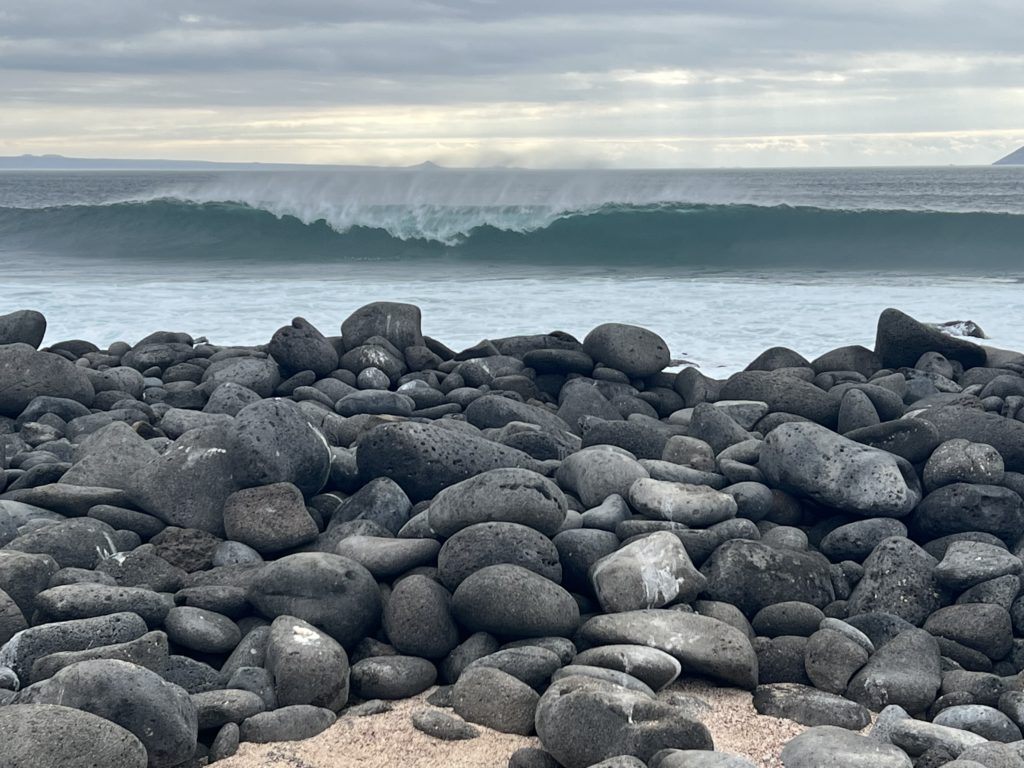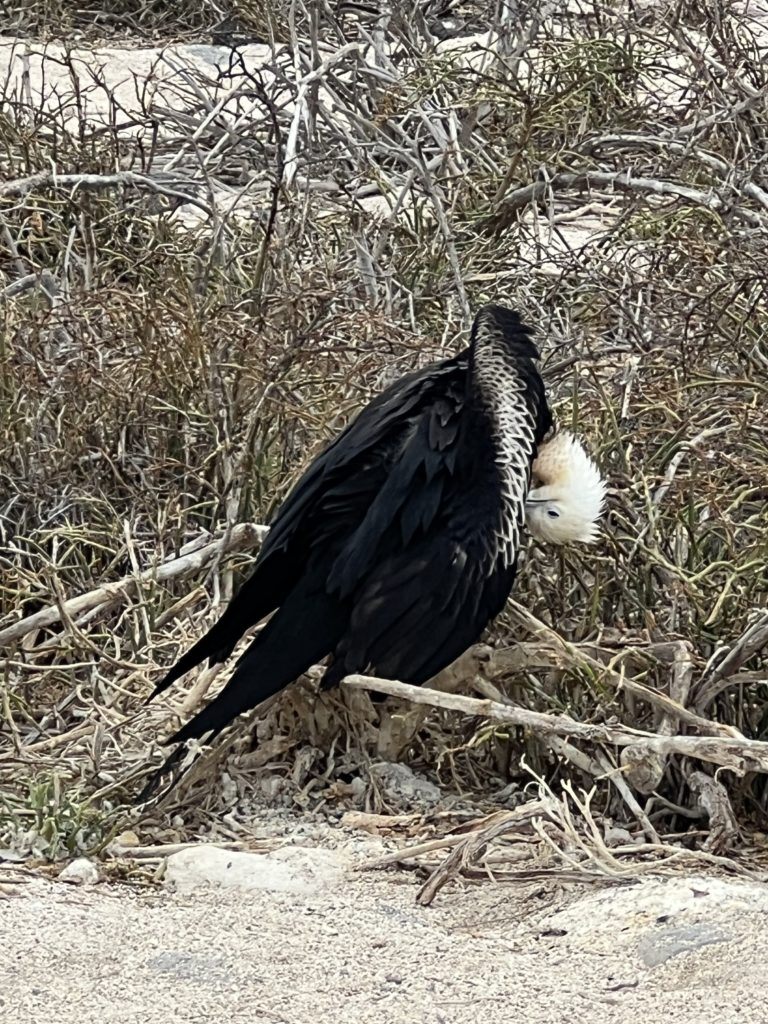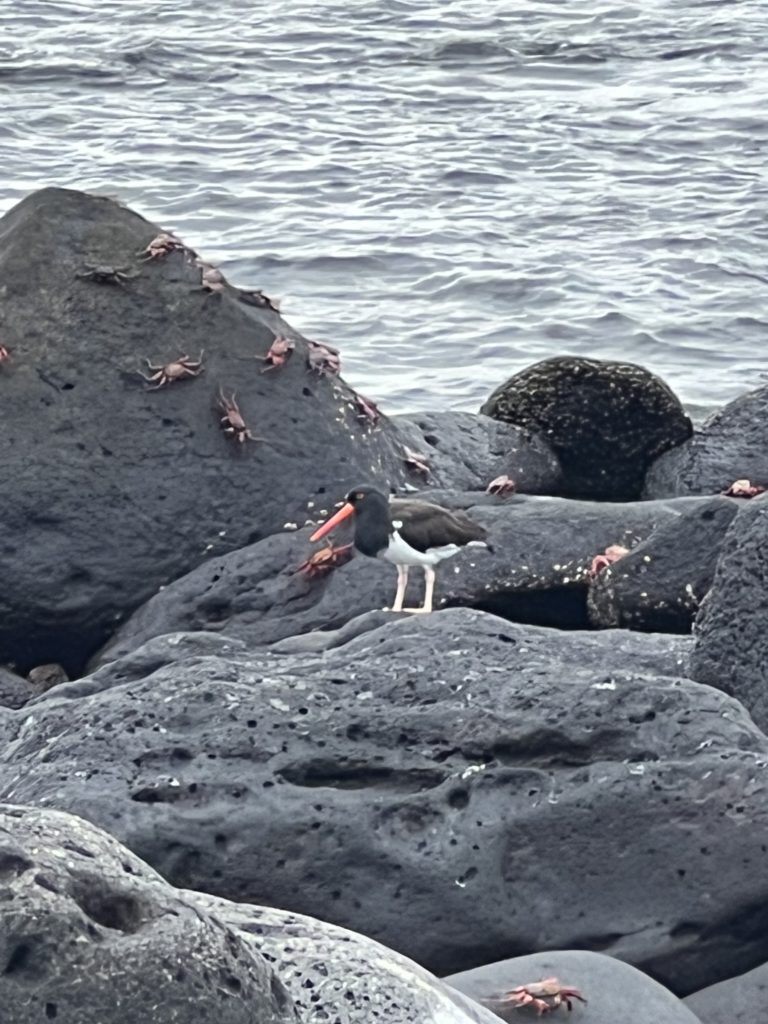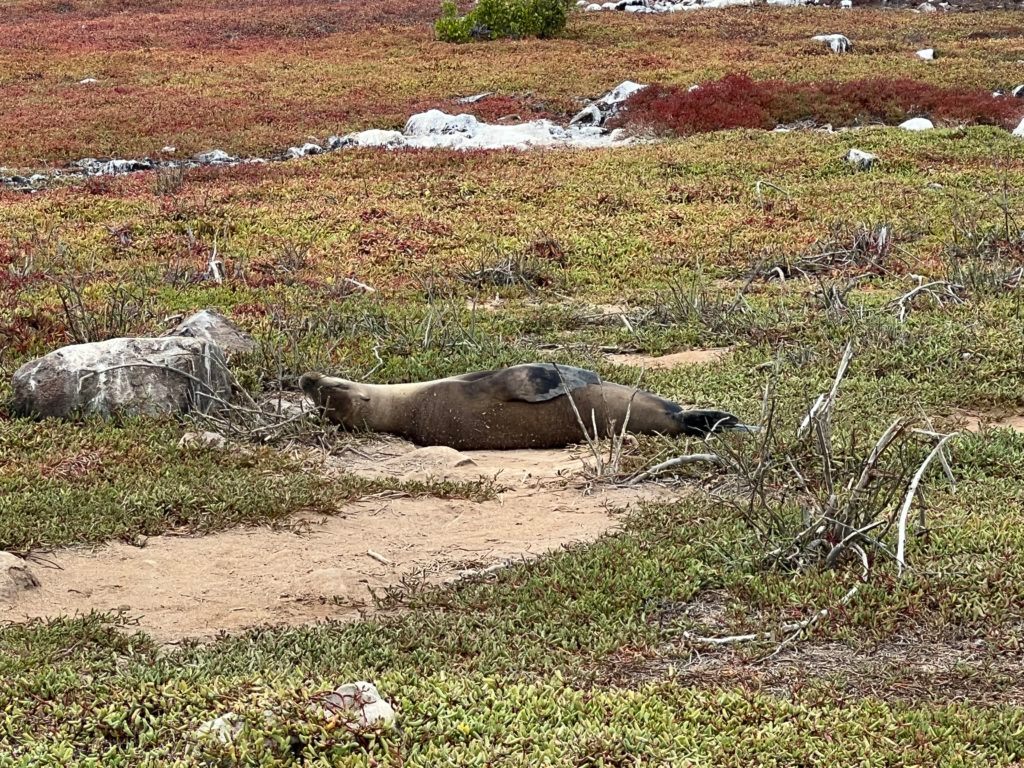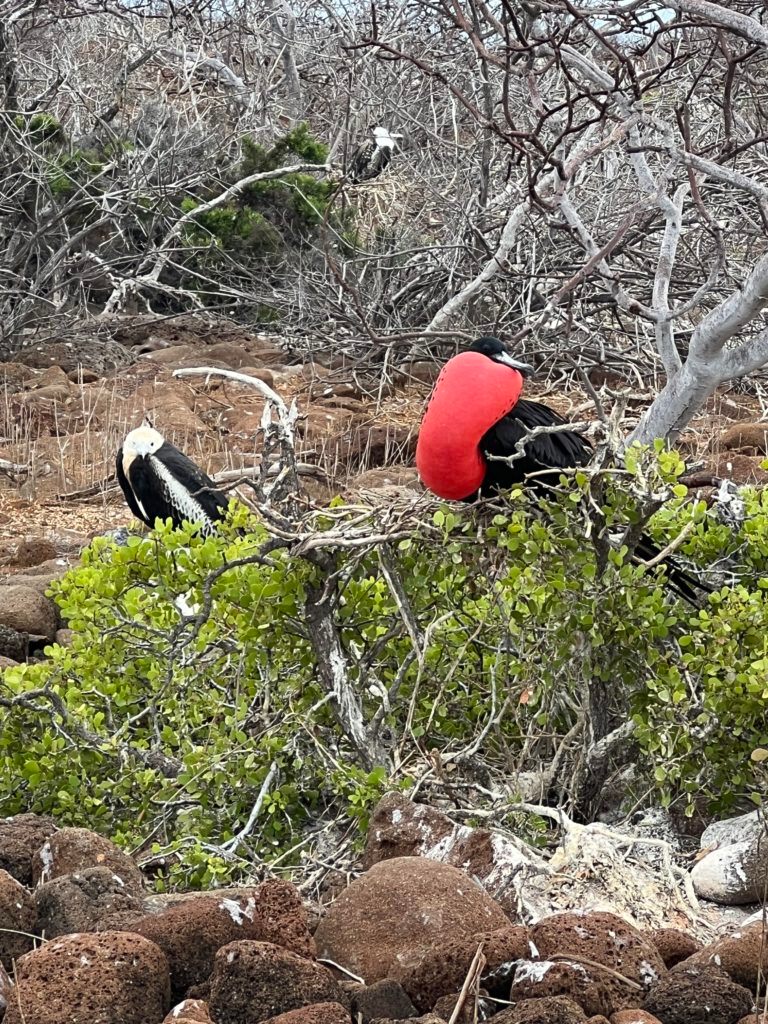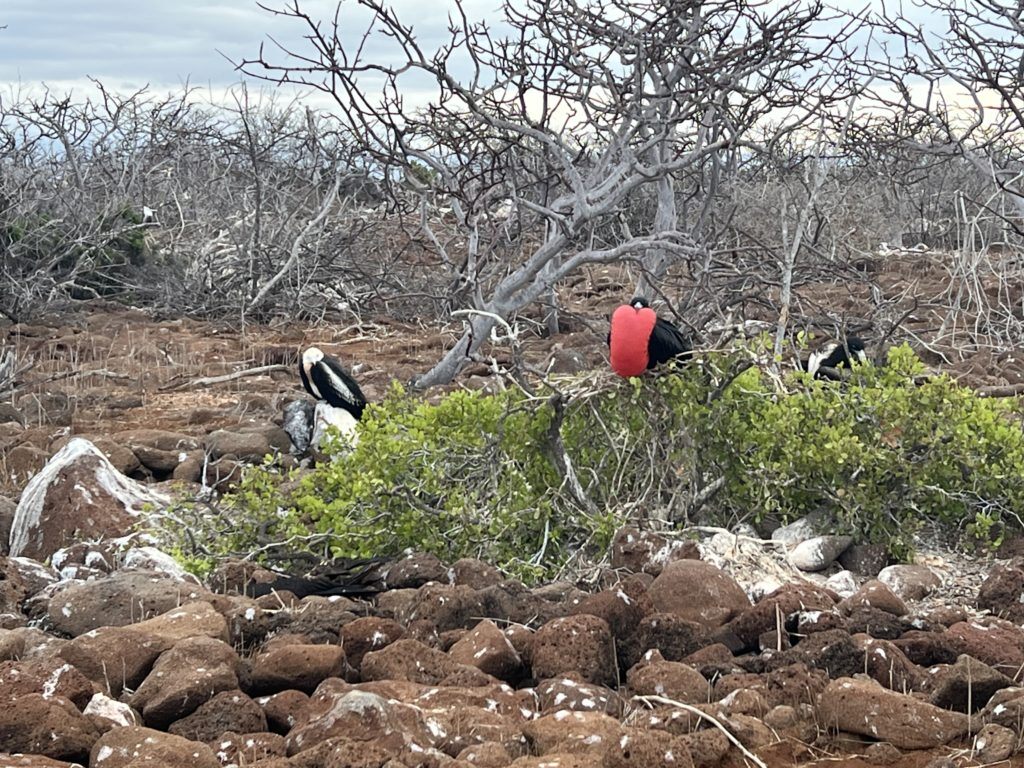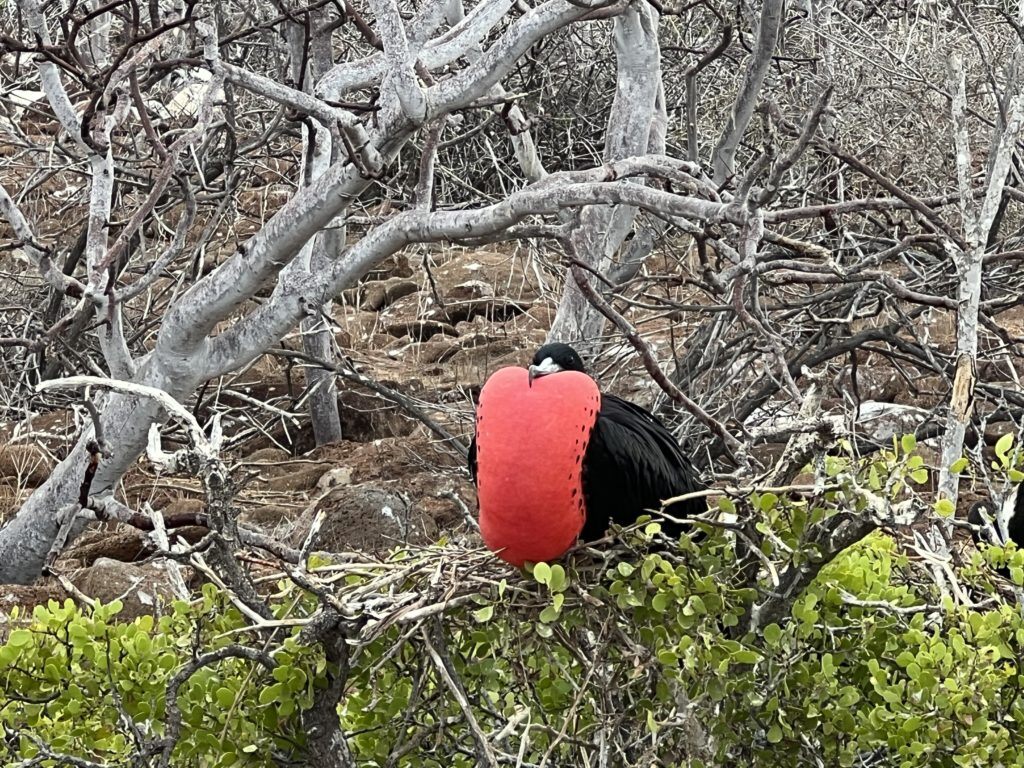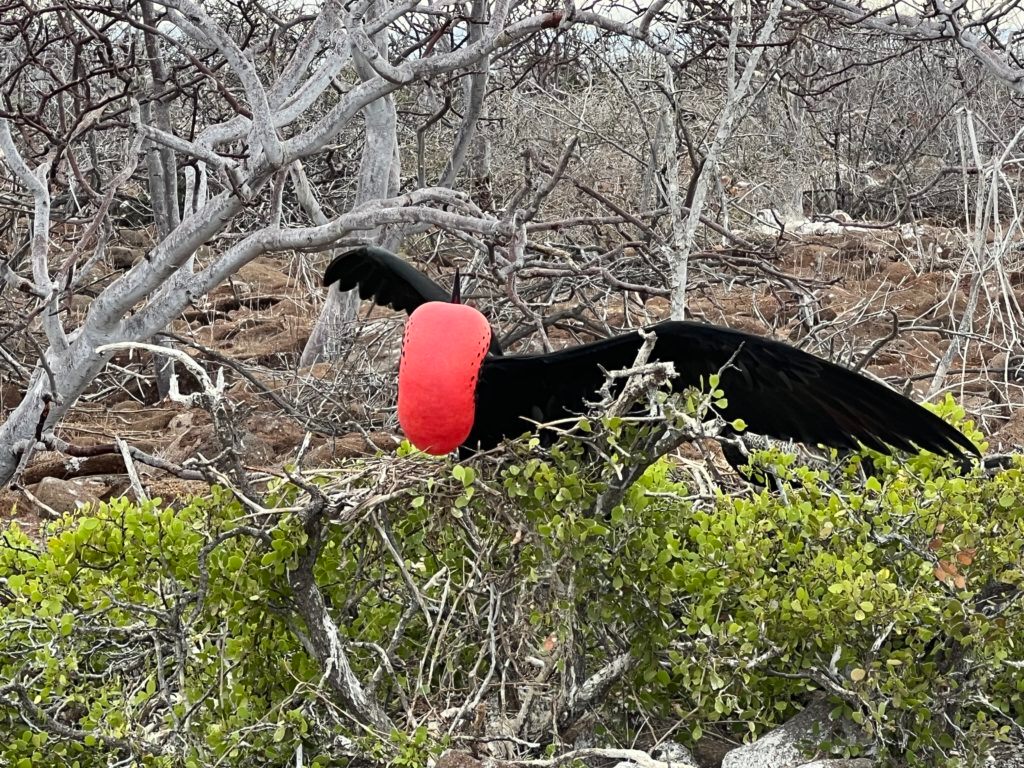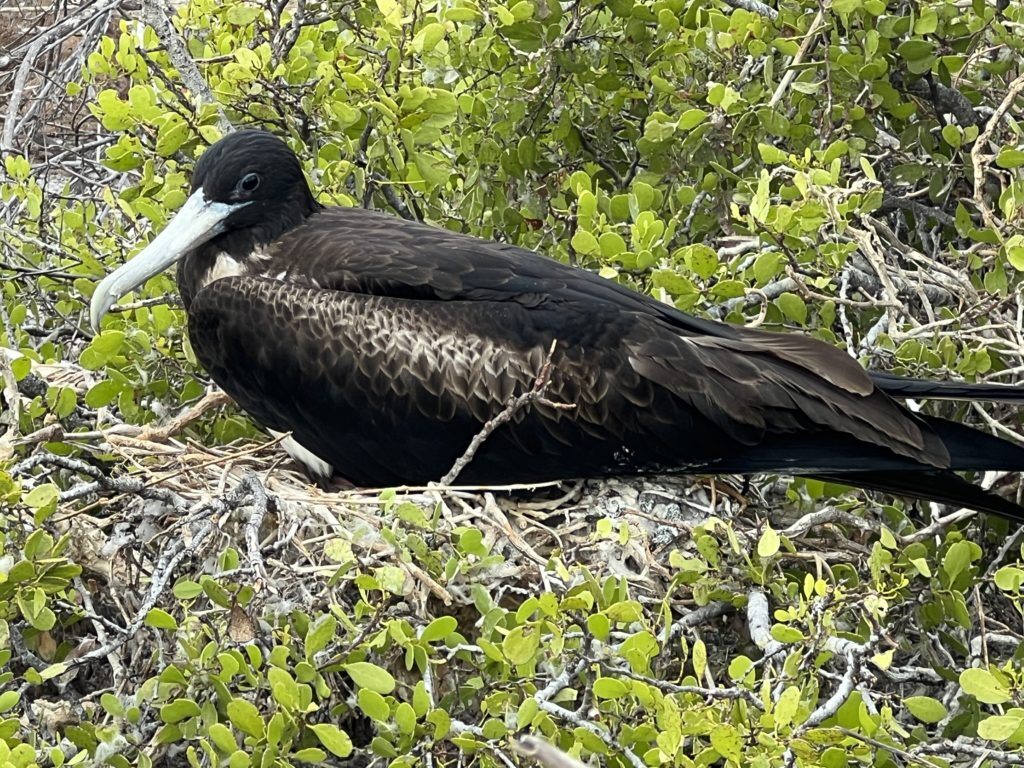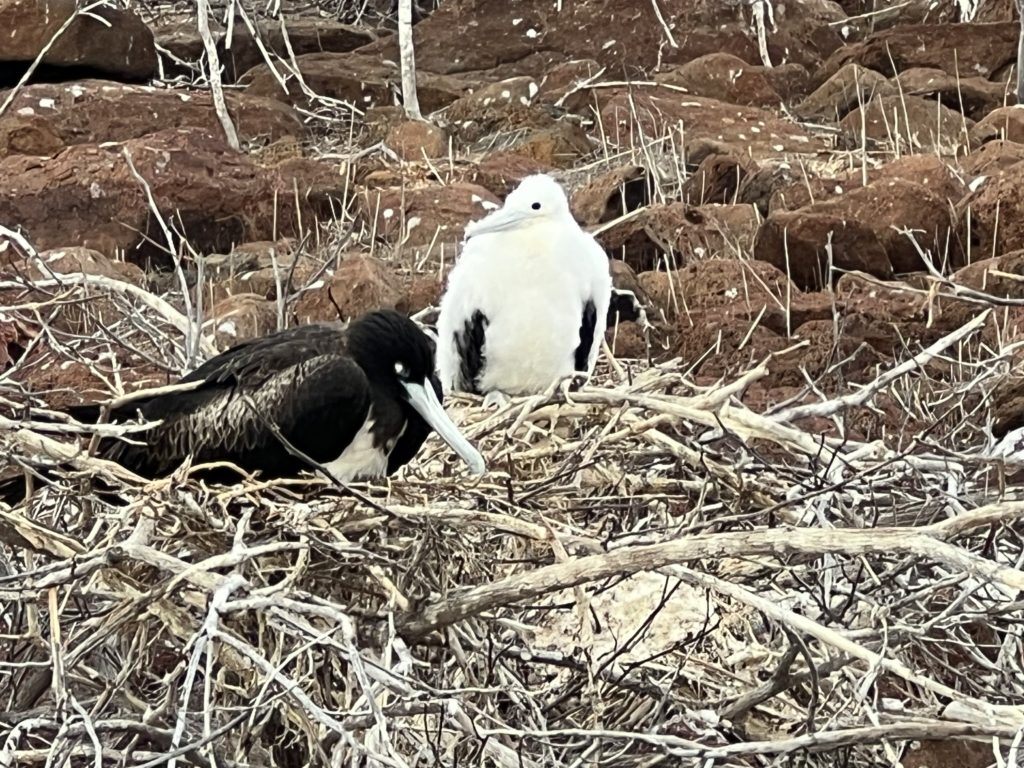 We had an incredible final dinner. Be sure to bring cash to tip your guide and the rest of the crew. The expected amount is $100-$150/person for the guide and the same amount per person for the crew.
Omar made a video of our group's journey. You can watch it below.
Day 8: A LOOOOONNGG Day at the Airport
We woke to loud music streaming over the PA system. It was a song about saying goodbye. We ate breakfast, finished packing and set out for the airport at 8:00am for a 1:30pm flight. Yes, you read that correctly. The boat has to get all the rooms cleaned and the boat completely reprovisioned for the next group which arrives at 5pm, just like we did.
The boat pulled up and anchored very close to the airport. When we arrived on Baltra a week ago, we took a bus to a boat and then the G Adventures bus met us at the ferry dock. On our return, we only had to take a bus. It took about 15 minutes total from the boat to the dock to the bus to the airport. The check-in counters were not even open yet! Omar stayed with us until all 14 guests were checked in. We hugged goodbye and thanked him for a fantastic adventure.
The Baltra airport has plenty of shops and food choices both before and after security. We were able to get some hats, Blue Footed Boobie socks and Christmas ornaments. If you have Priority Pass, there is a lounge that offers some very limited free food and drinks for sale.
After spending a solid five hours at the airport, we flew on to Guayaquil and then Quito. We had seven hours until our flight at 11:55pm. Priority Pass gave us access to the lounge – there was a sign that said the time limit was three hours. No one kicked us out. The food options were very generous. Everyone got two free alcoholic drinks for free. If you wanted more than that, you had to pay for it.
We thought about going on the transport back to the Hotel Hilton Colon in Quito, since our cruise technically ended the next morning after breakfast. It was New Year's Eve – on a drive that normally takes an hour, we were told to expect it to be longer due to the festivities. So, we reasoned – an hour to the hotel and an hour back was not really worth the effort. The cruise cost also did NOT include a transport back to the airport. We considered going to an airport hotel to shower. We realized eating the free food in the lounge was a better option.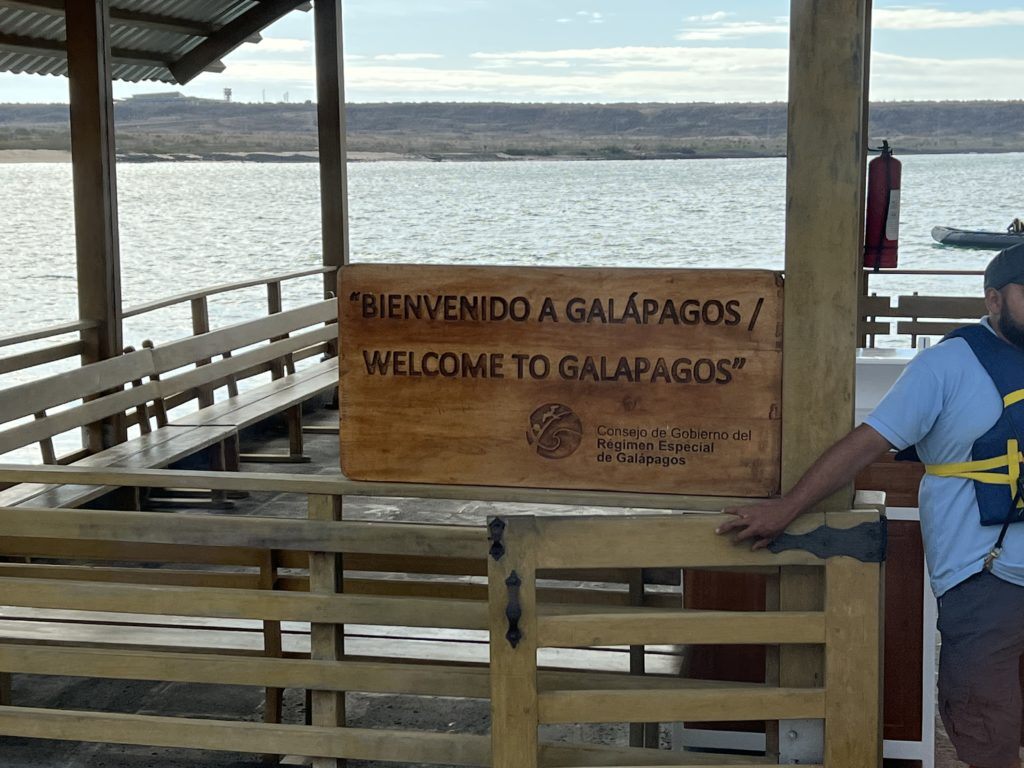 What We Would Do Differently!
If we could do this trip differently, this is what we would do:
Spend Three Nights in Quito at Casa Gangotena – Three nights in Quito like we did was great. We arrived at 8pm the first night, so we had no day time. I would spend a full day in Quito and the mountain top and a full day in the countryside like we did. I would SKIP the equator museums completely. Rather than stay at the Hotel Hilton Colon, I would stay at Casa Gangotena – it was just such a charming property in a fantastic location.
Two Nights in Puerto Ayora – Rather than go with the G Adventures group, I would book and fly on our own to Baltra. I would spend two nights at a hotel in Puerto Ayora. This town looks so adorable, and I wish we had time to check it out. I would do a half day trip to several places on Santa Cruz Island including Las Grietas. I would then take a full day trip to Bartolomé Island. Pinnacle Rock looks amazing.
On the morning of the third day, we would hook up with the G Adventures group at the El Chato Tortoise Ranch.  We purchased a 10-day/9-night cruise from G Adventures which included transfers, a night in Quito, seven days and nights on the yacht and another night in Quito.  You can purchase a "cruise only" – this is the same cruise we did, but the cost includes no time in Quito, no airport transfers and no airfare to the islands.  We LOVED our itinerary – this the same exact itinerary as ours, but without the mainland portion.  It had everything we wanted to do – the cruise only option gives you more freedom to do what you want on and off the islands.
Try to fly from Guayaquil back to the USA – I would have tried to find a flight from Guayaquil back to the USA via Miami or JFK. This would save a ton of time! Every single flight from the Galápagos stops in Guayaquil.