We have traveled to the Guanacaste region of Costa Rica twice. We visited from December 17-26, 2011 and February 13-21, 2016. Both trips were fantastic. Costa Rica is a family favorite.
We did unique things on each vacation, and we did repeat a few adventures, so I will share photographs from both trips.
On our 2011 Christmas trip, it was our family of four. Michele's brother and his family joined us for our 2016 adventure.
A good pair of water shoes is essential for your visit to Costa Rica. These are good water shoes for women. These are good water shoes for men.
For a trip to Iceland and St. Martin in late 2021, Michele upgraded our waterproof camera to this Olympus model. It has amazing reviews and takes a great photo. We also like this affordable, easy-to-use tripod.
Michele also upgraded her iPhone to the iPhone 13. The camera is amazing.
We like these vaccination card holders for travel.
We upgraded our masks/snorkels to these.
I have organized this by adventure, rather than by day.
Where to Stay?
Both times we visited Costa Rica, we stayed in the Guanacaste area. We flew to the Liberia, airport which is so, so, so easy. If you plan to spend time in Guanacaste which includes the areas of Monteverde, Arenal, Tamarindo, Rincon de la Vieja, Playa Grande or Conchol, fly to Liberia. It is so much easier and closer than the capital of San Jose.
The Liberia airport is brand new, clean and quick. In 2016, we were in and out of customs and immigration in less than 10 minutes.
Both times we went, we rented a car. There are hundreds of options to choose from including all the major US rental companies. You want four wheel drive. Do NOT skimp on four-wheel drive. You will need it. Purchase insurance as the roads are rocky, and there is always the possibility of damage. Do not listen to any websites that tell you not to drive in Costa Rica. Drive yourself. You will save hundreds of dollars and hours and hours of time. Be careful, especially driving at night.
If you want to divide your time, you should stay in more than one place. For example, if you want to surf at Playa Grande, sail the bay and do some ATV riding, stay in Playa Flamingo for a few nights. Then, head up to Arenal or Rincon de la Vieja for the remainder. Monteverde/Santa Elena are also both nice places to stay in the jungle. There are hundreds and hundreds of eco-lodges, homes and hotels to choose from.
Riu
On our first visit in 2011, we stayed at the Riu. While we loved the location, we hated the hotel. It is just too big and not authentic. In 2016, we saw that they were making the property even bigger. It is all-inclusive, so it was a great value, but we cannot recommend this property if you want a real Costa Rican experience. The food was very good. The a-la-carte restaurants were delicious. However, you need to stand in line in the morning to make a reservation, and you can only reserve two days a time. I hated that.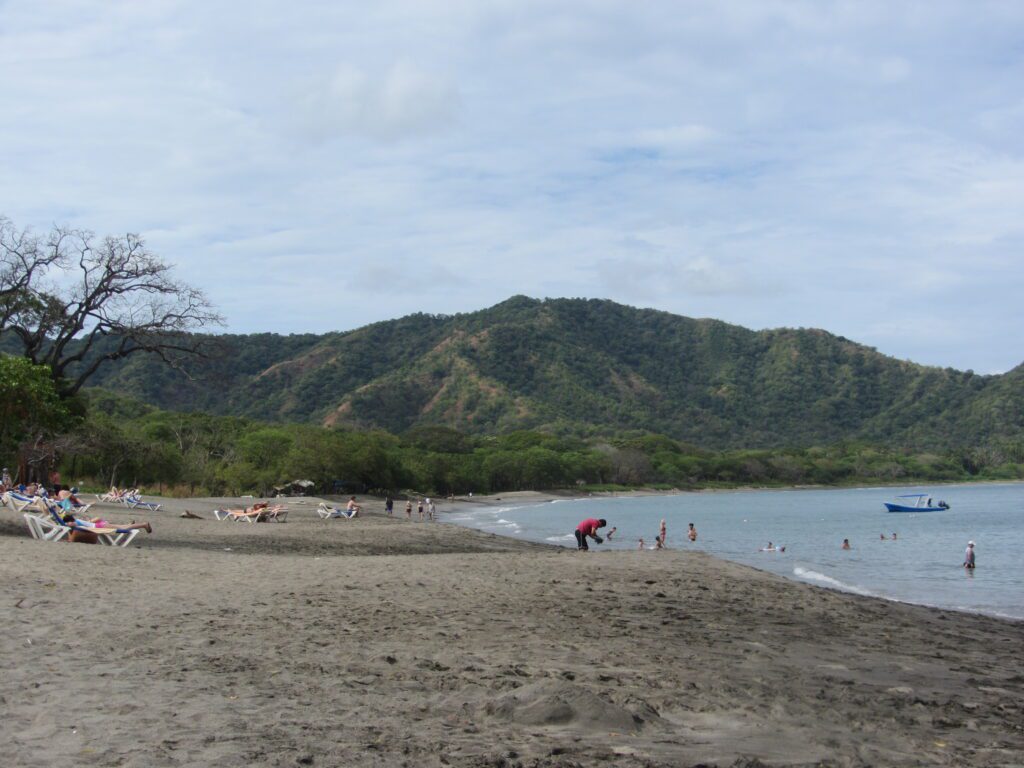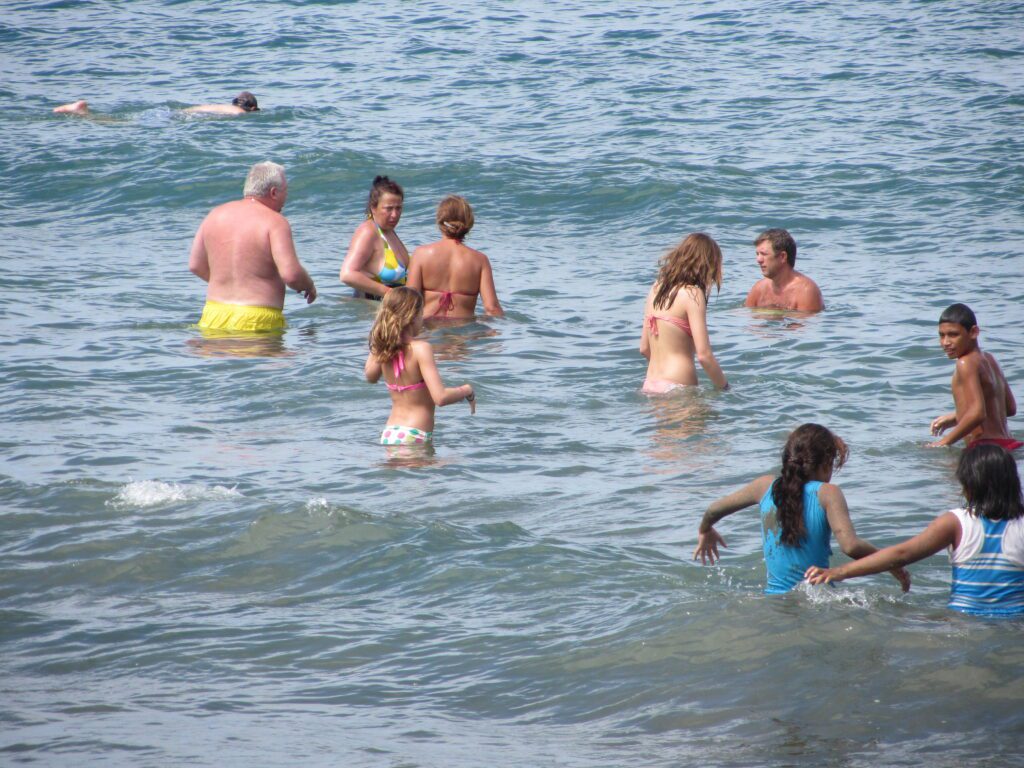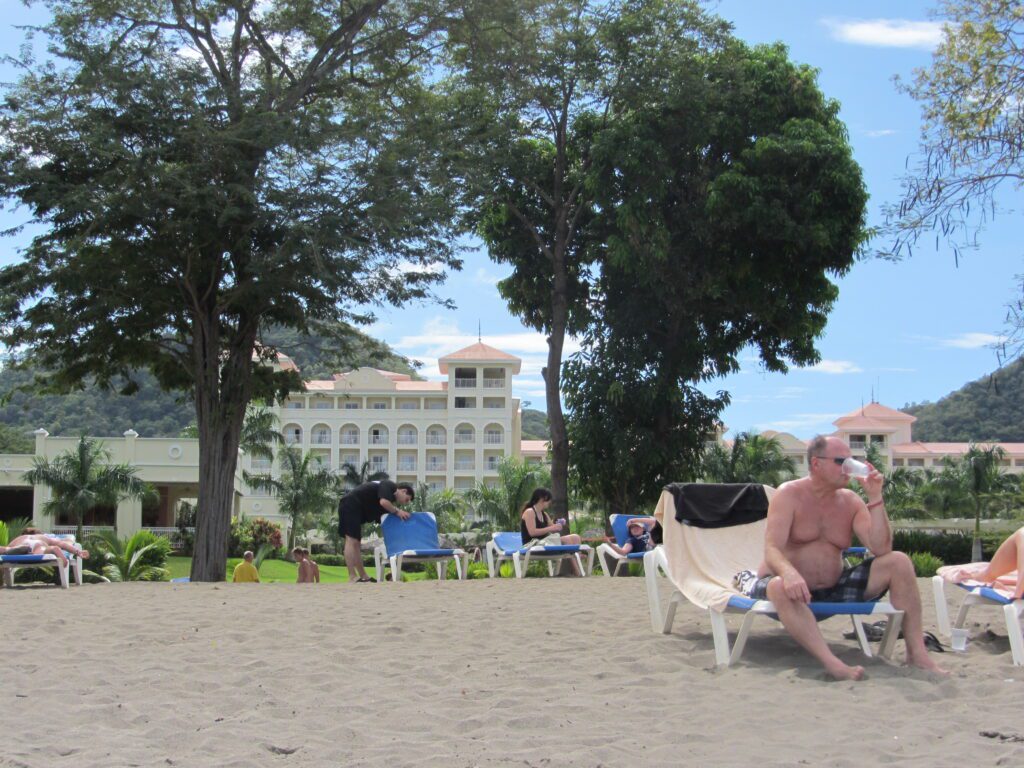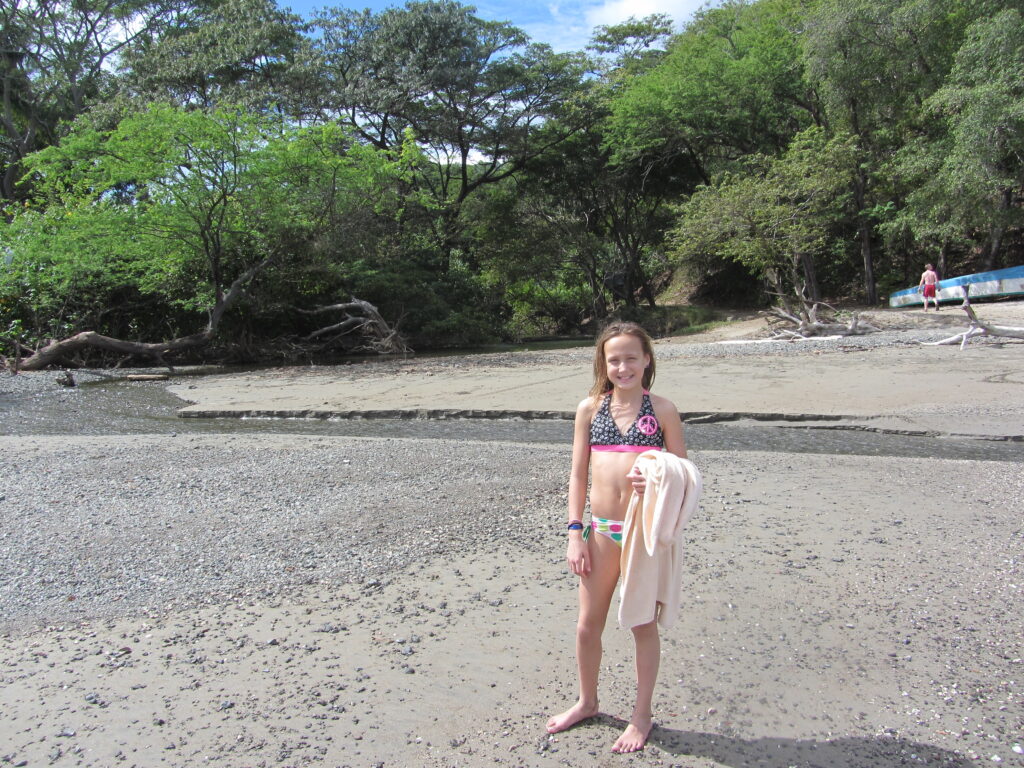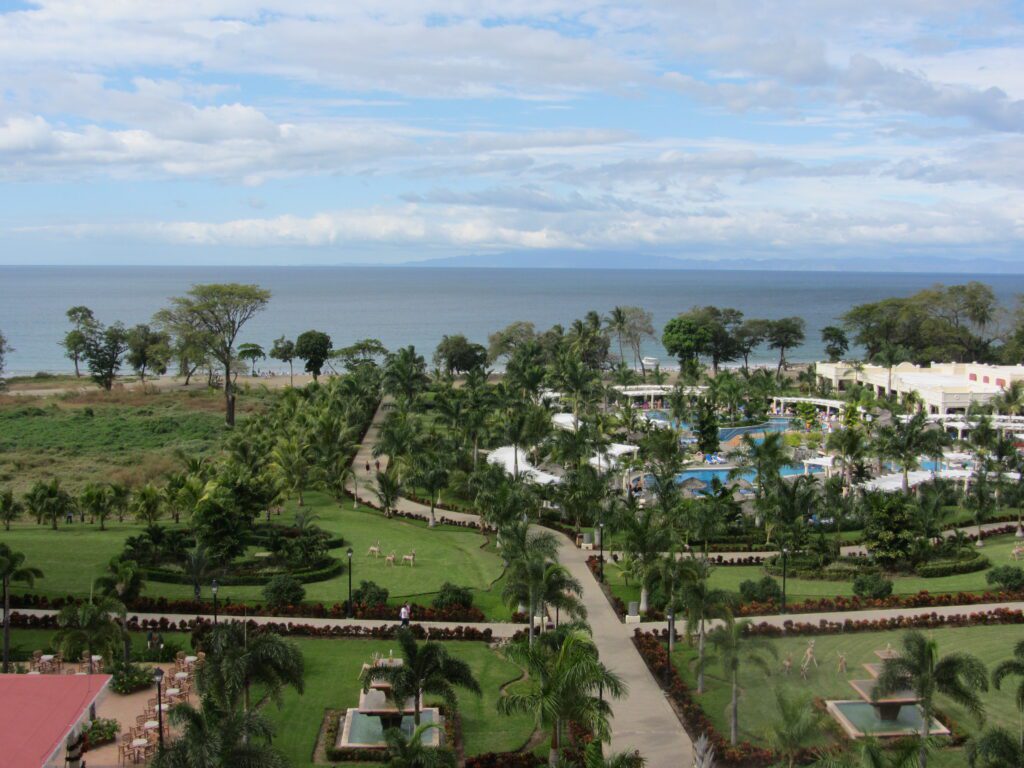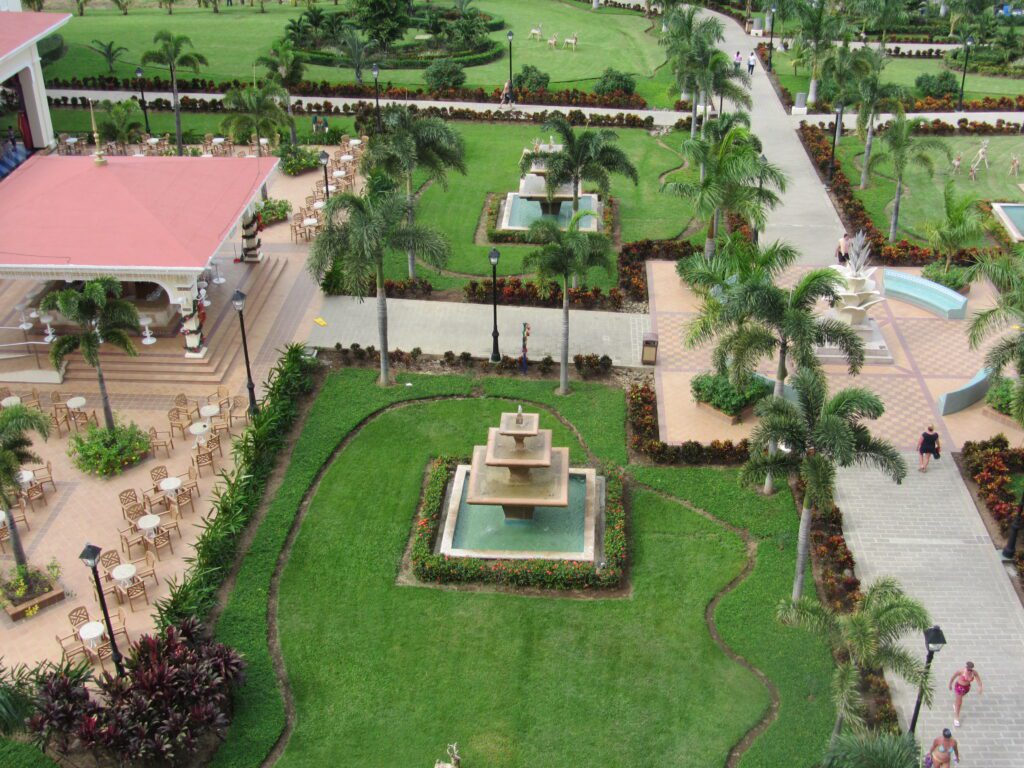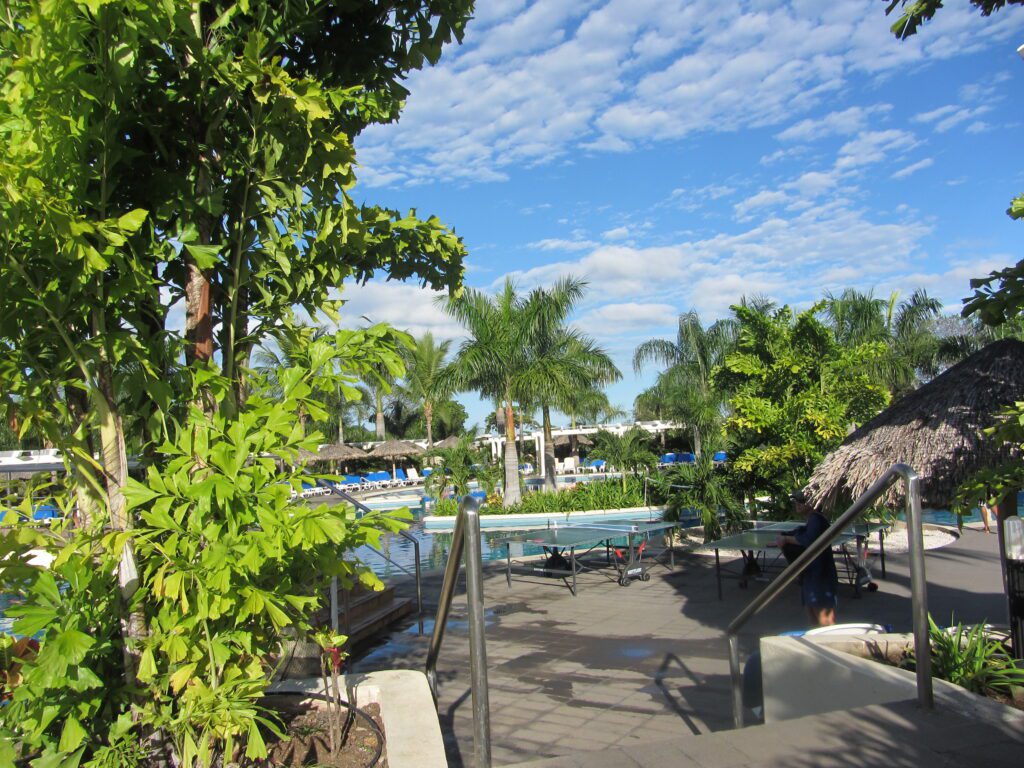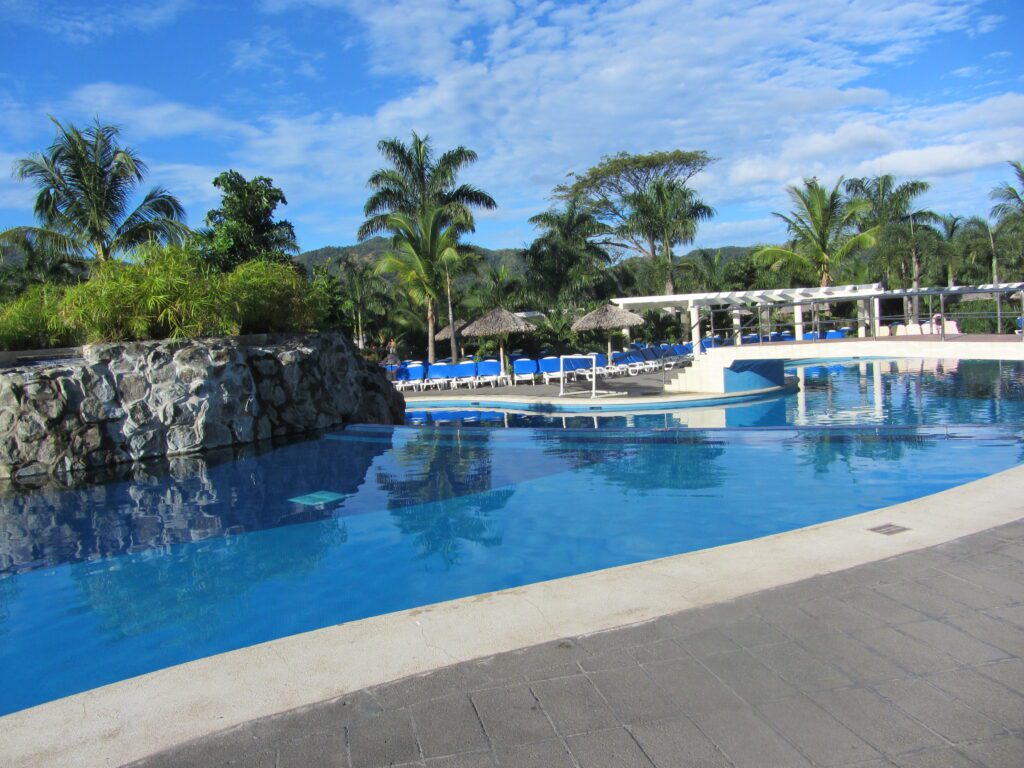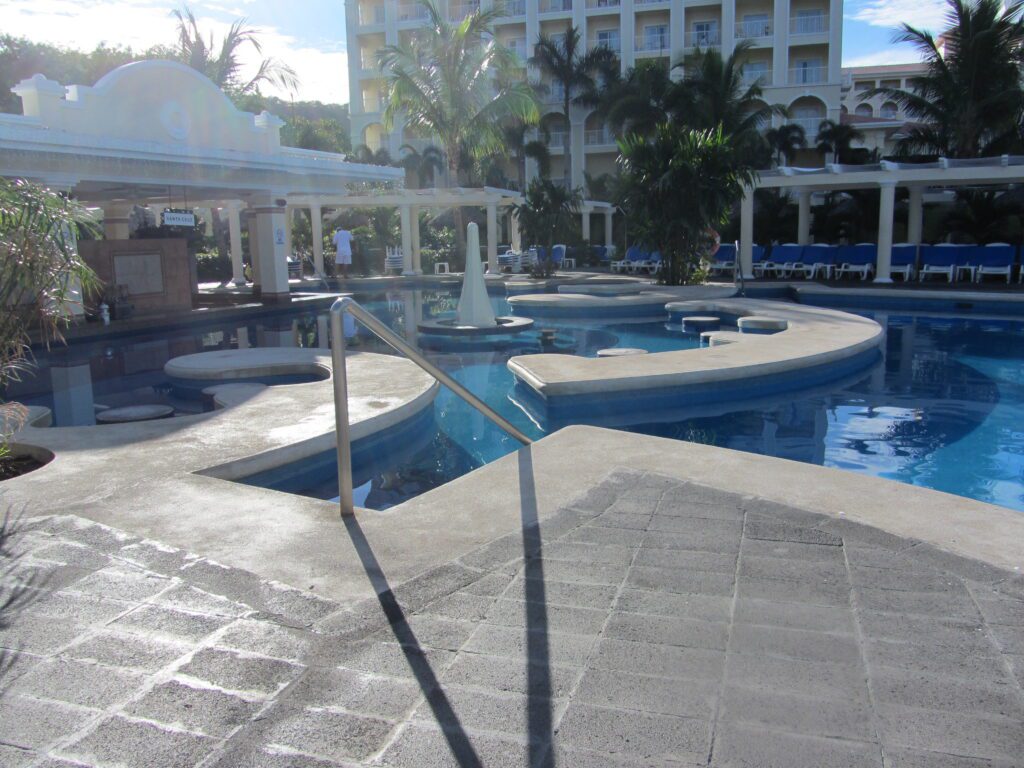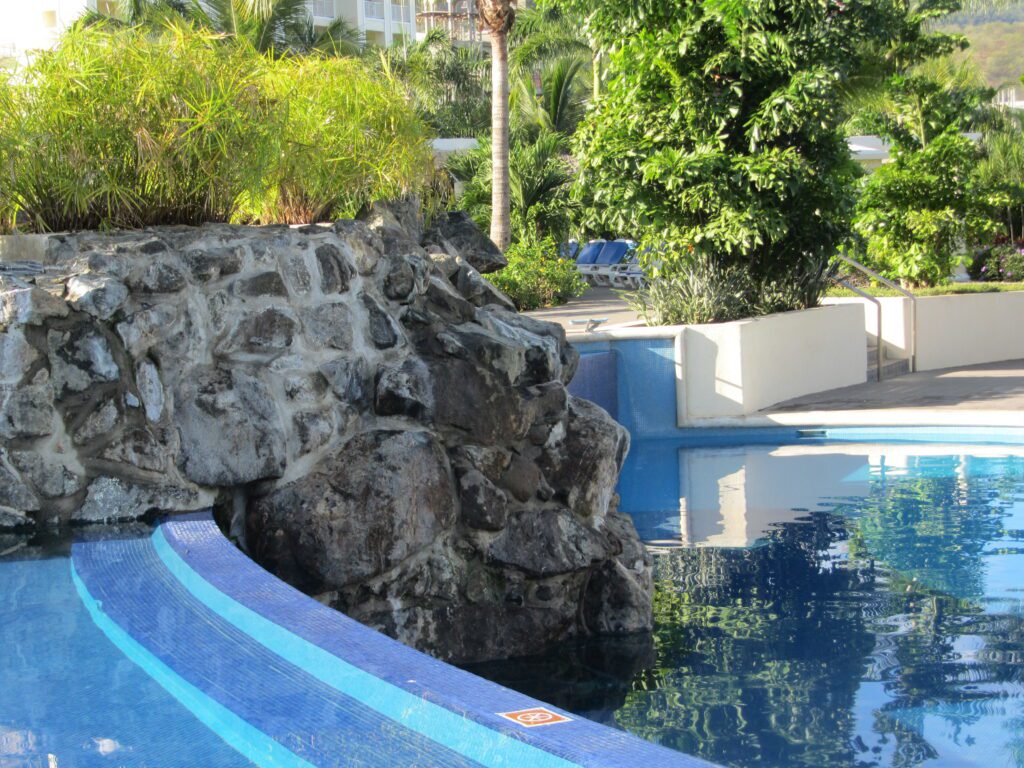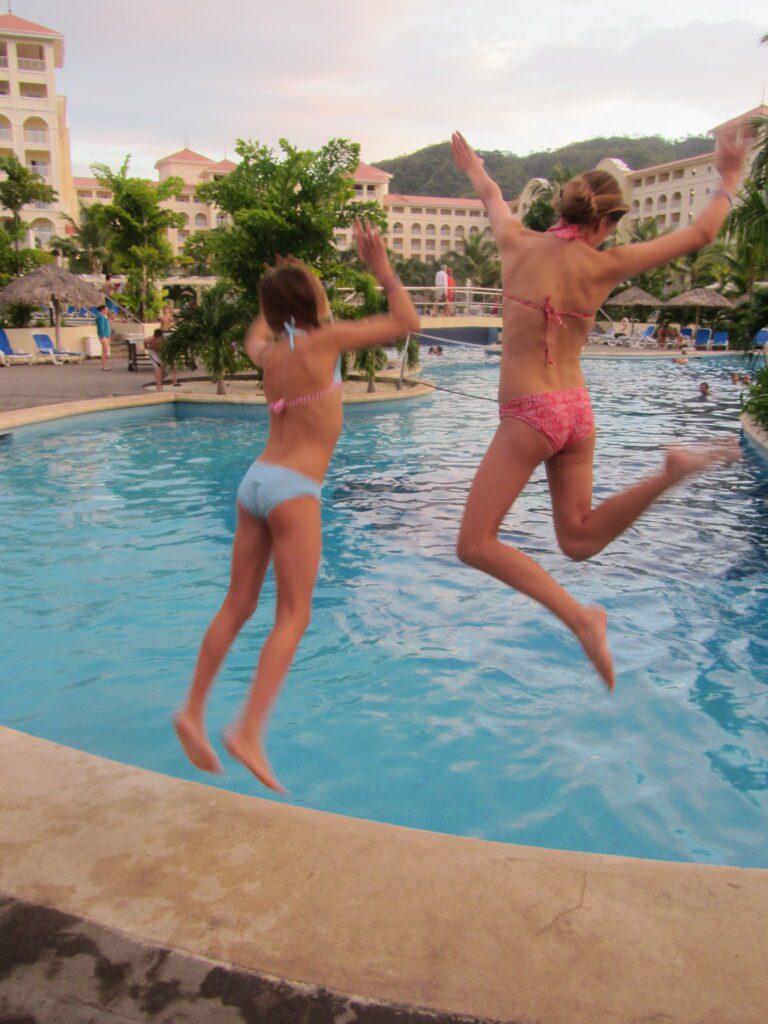 Playa del Coco
The Riu was close to Playa del Coco, an adorable town that we liked with a pretty beach. This website has up-to-date information, photos and videos on Playa del Coco. There are budget-friendly and luxury properties to rent surrounding this beach.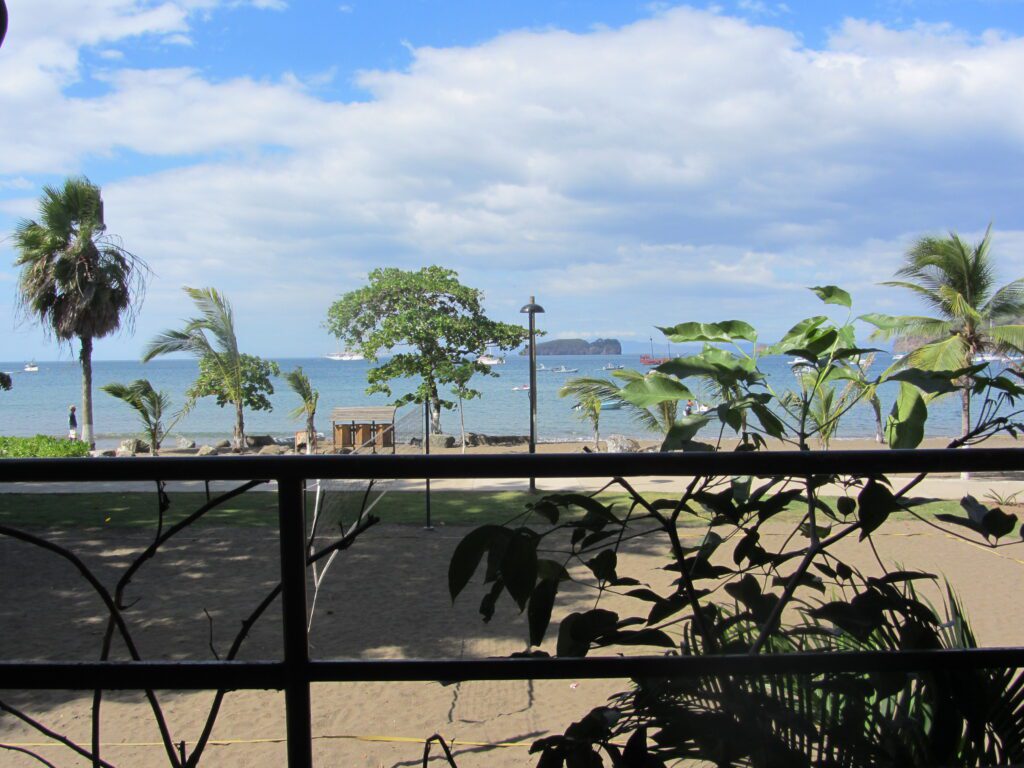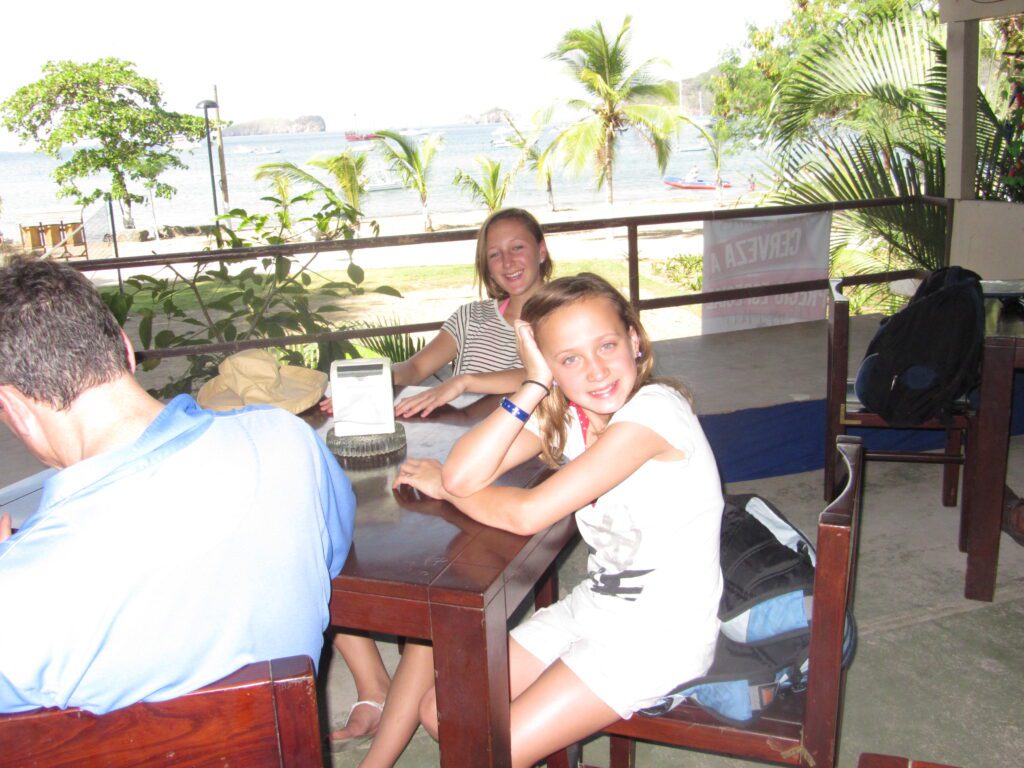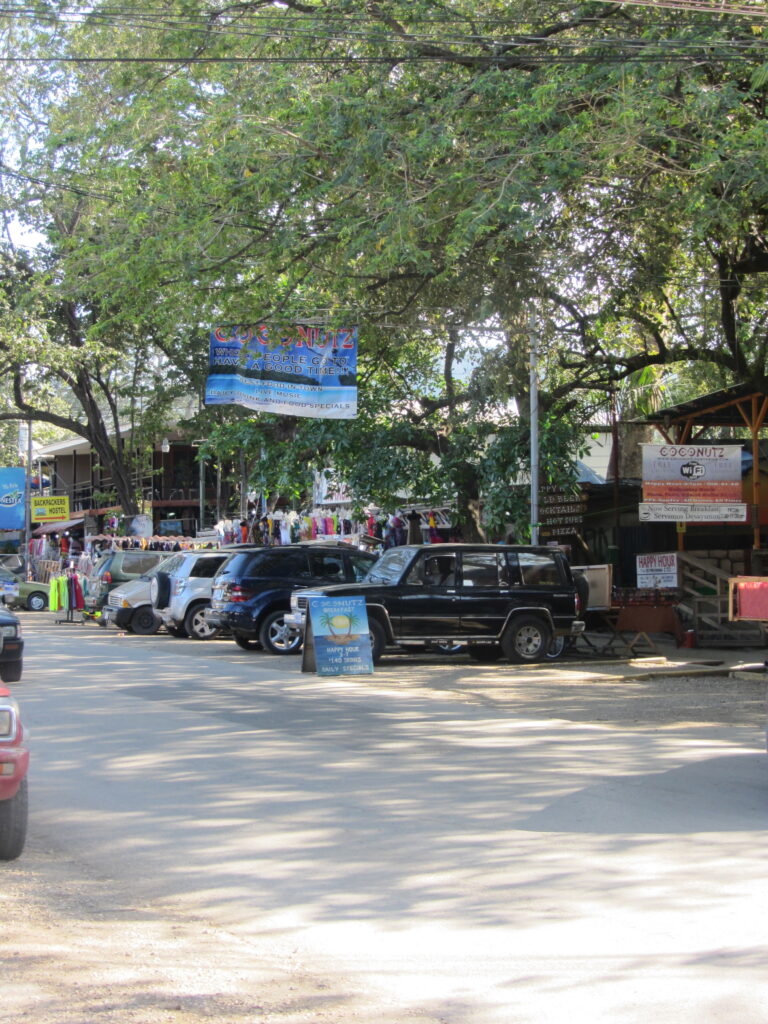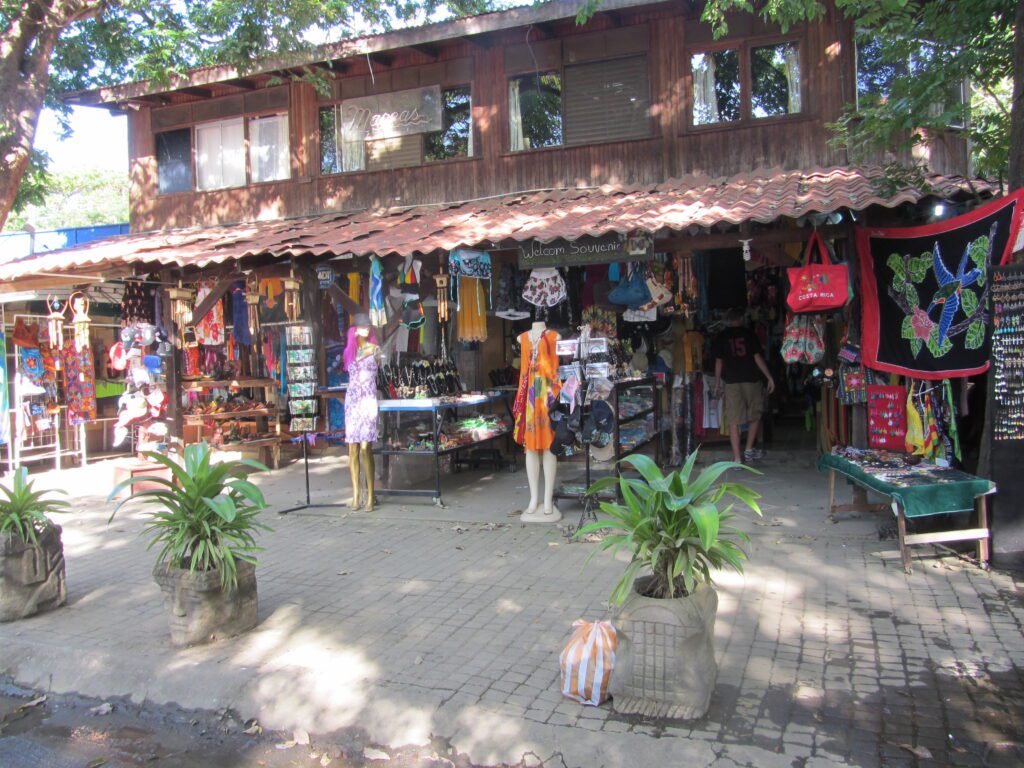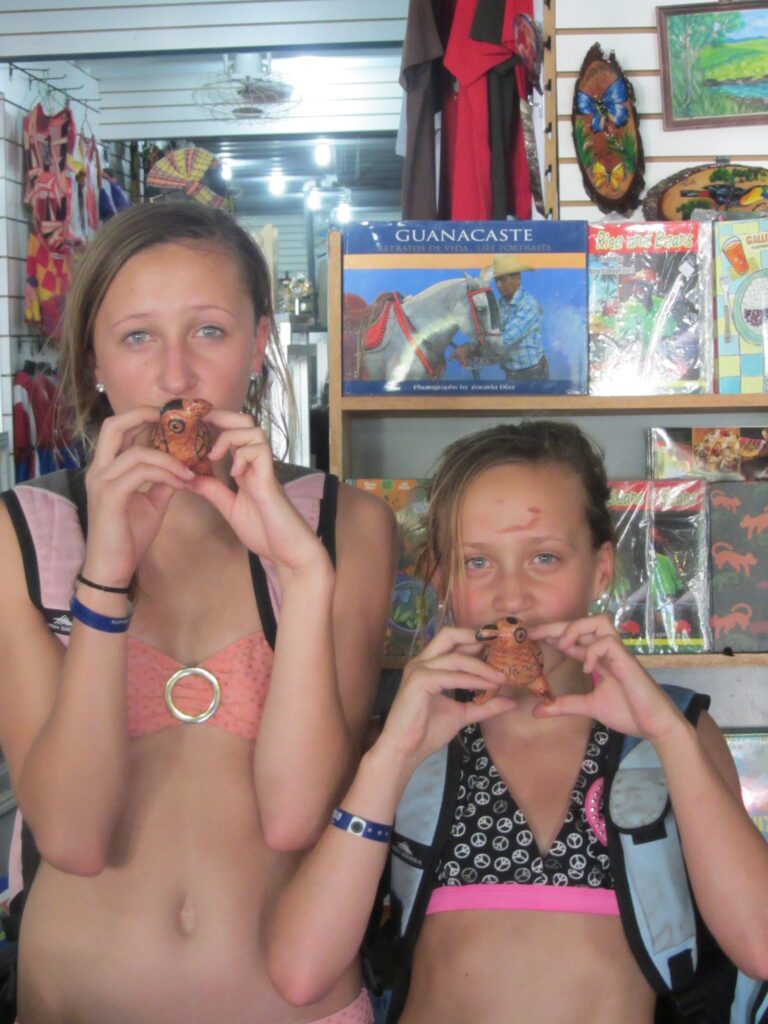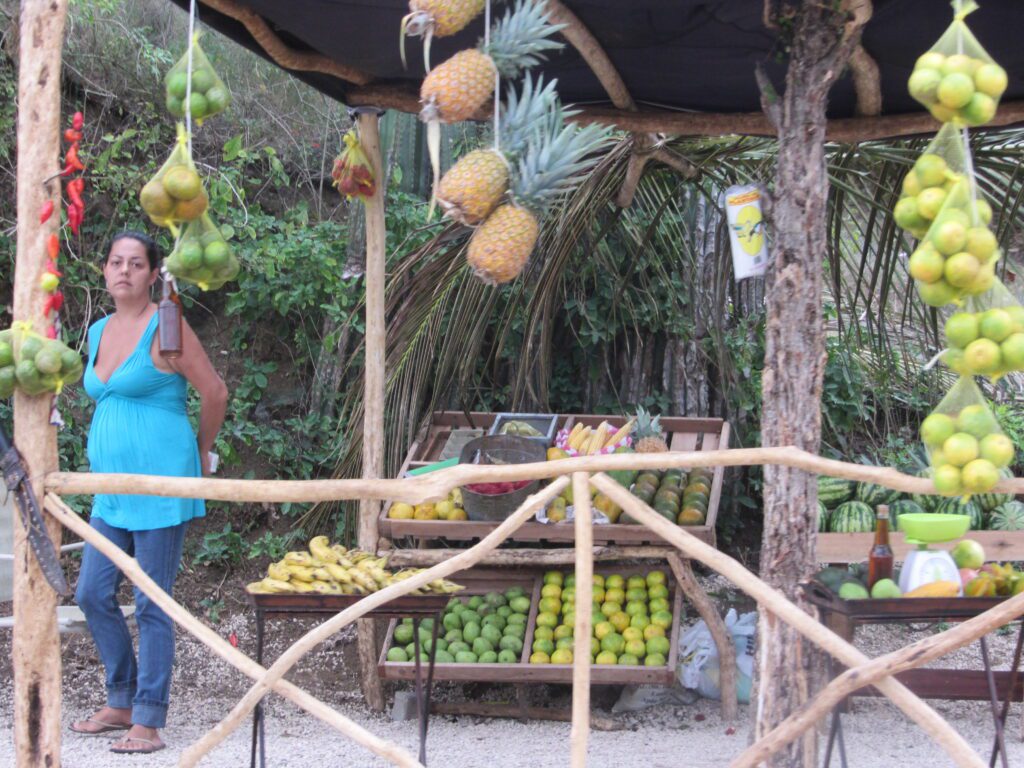 Playa Potrero
On our second trip to Costa Rica in 2016, we stayed in Playa Potrero. We rented a huge house on the ocean with five bedrooms, five bathrooms, a gorgeous pool, daily maid service and a chef who cooked us breakfast and dinner. He also did the shopping each day for us, and we reimbursed him for the cost of food. We rented through Villas Costa Rica. It cost us $8000 for eight nights.
My goal for the 2016 trip was to rent a home on Playa Flamingo. Playa Flamingo is the prettiest beach in Guanacaste. However, I could not find one large enough for our group of 10 (a surprise guest joined us at the end of the trip), so I settled for Playa Potrero. The beach is very pretty. It is close to Flamingo and the village. The house was a great value in a nice location.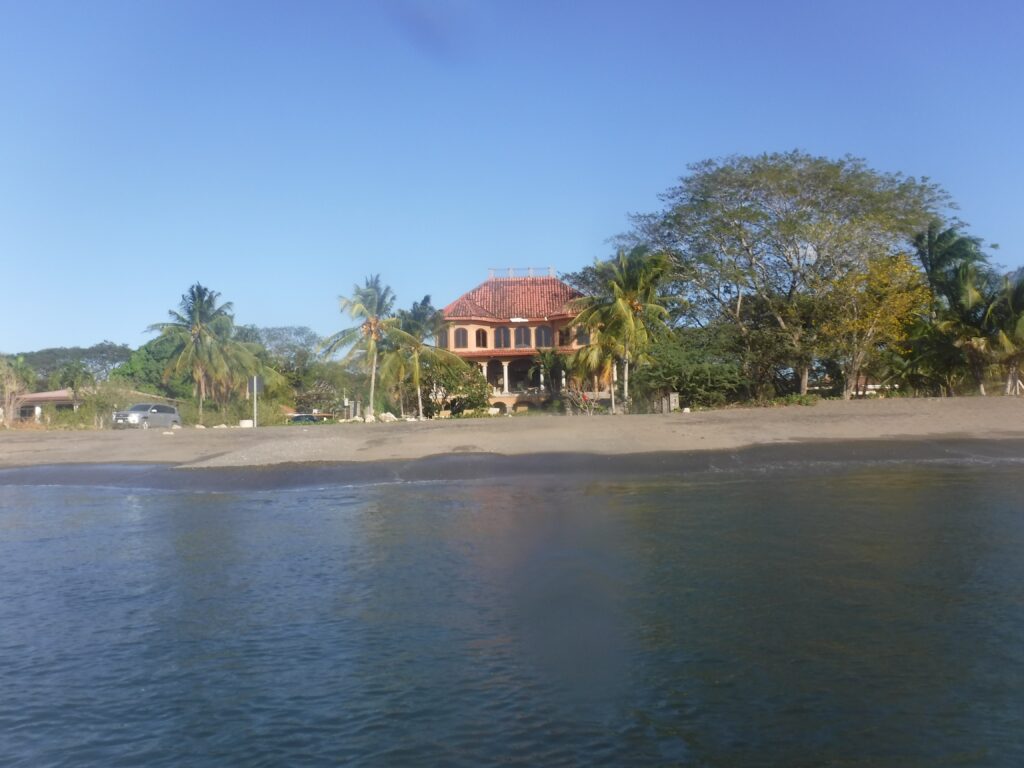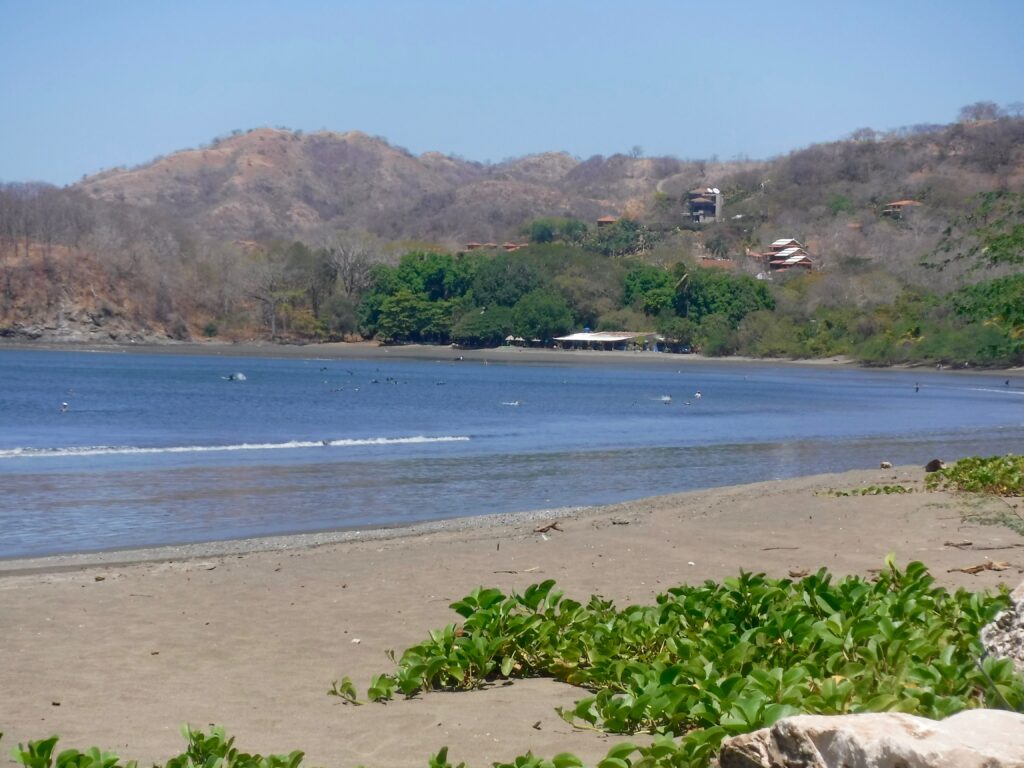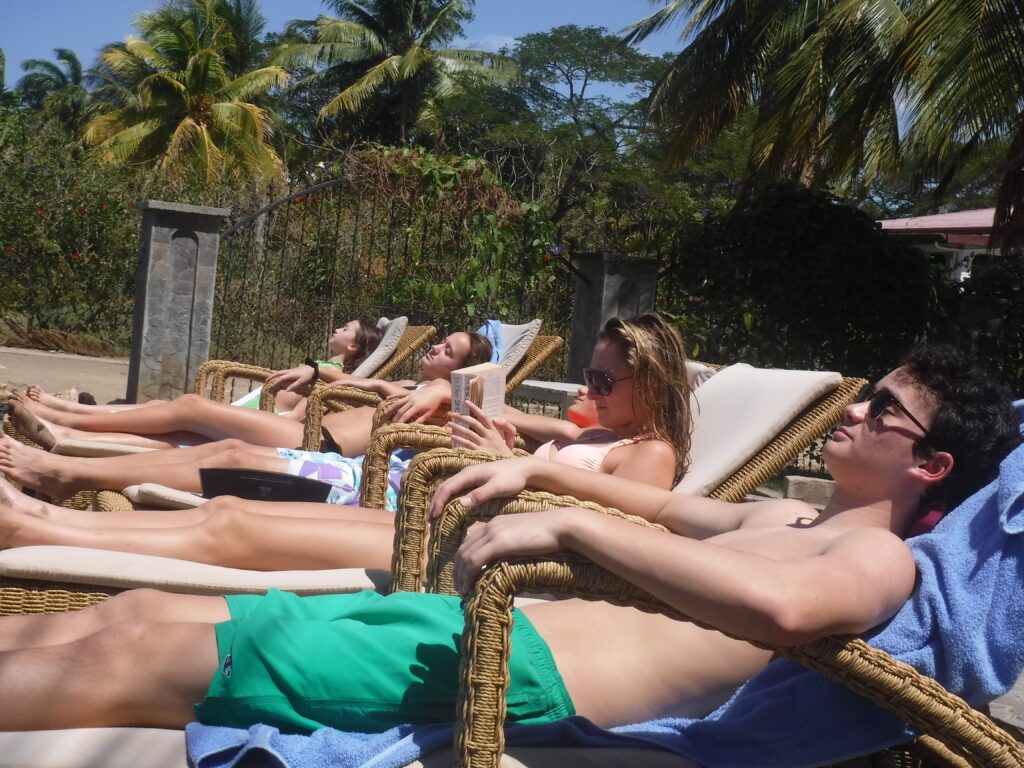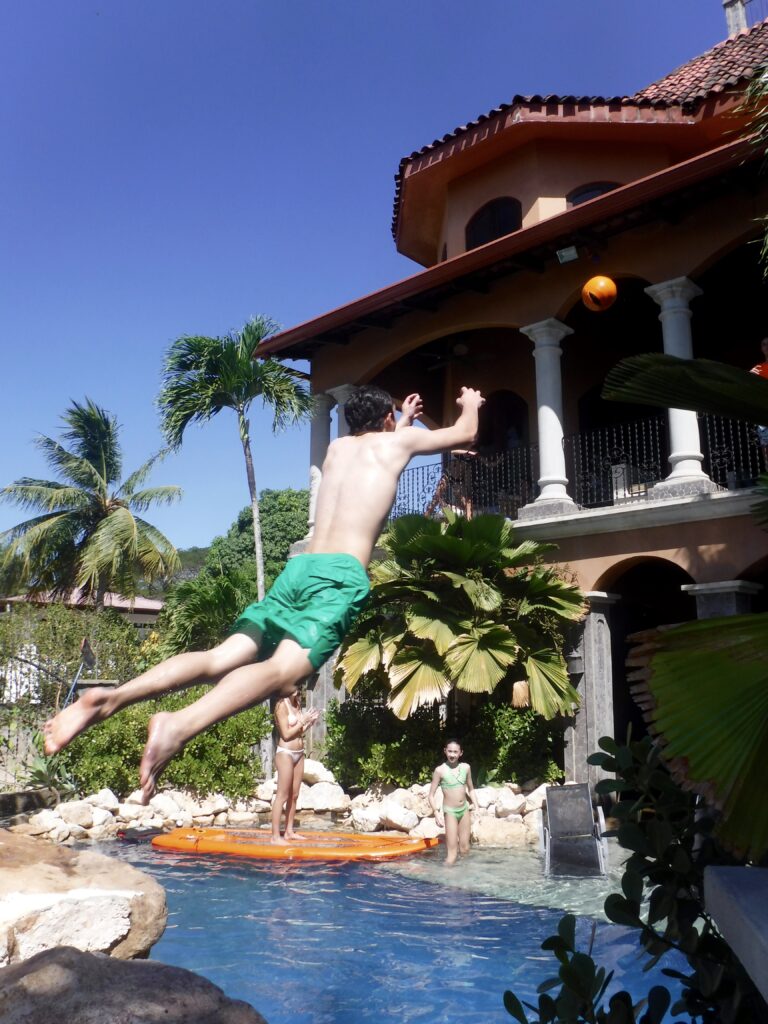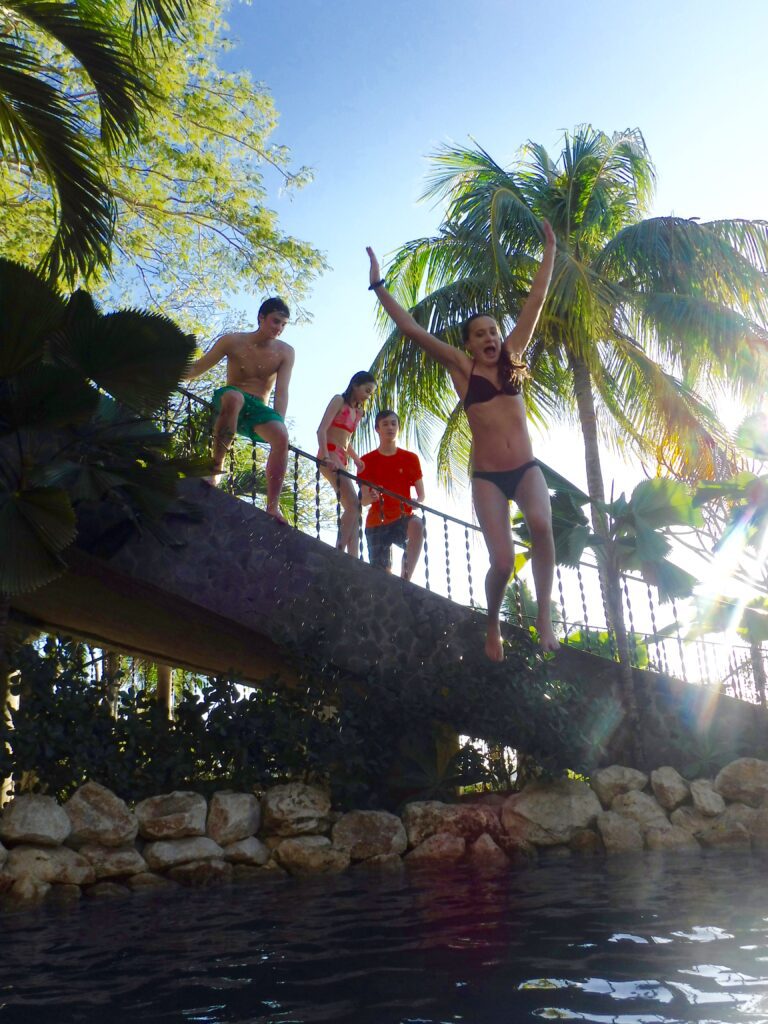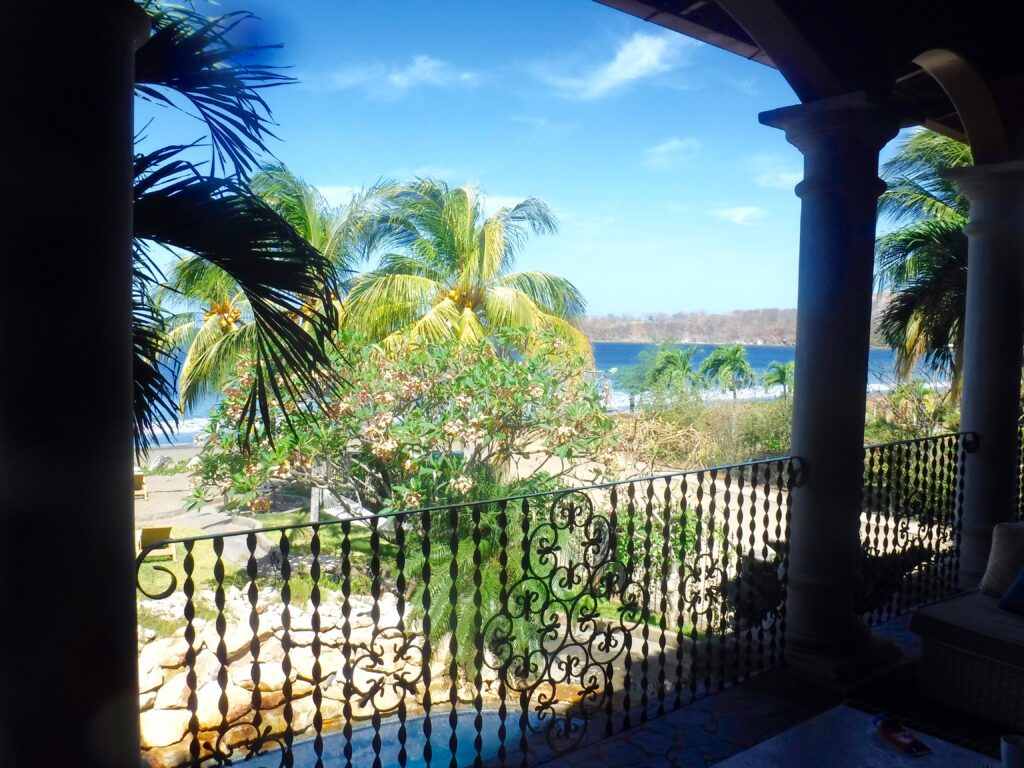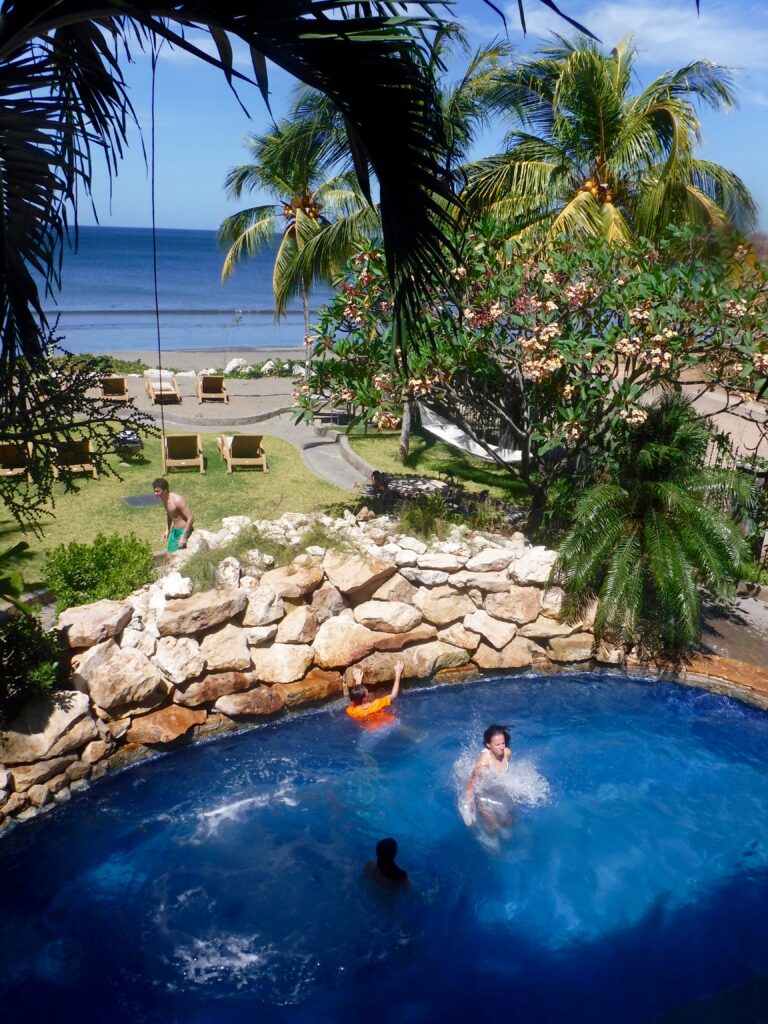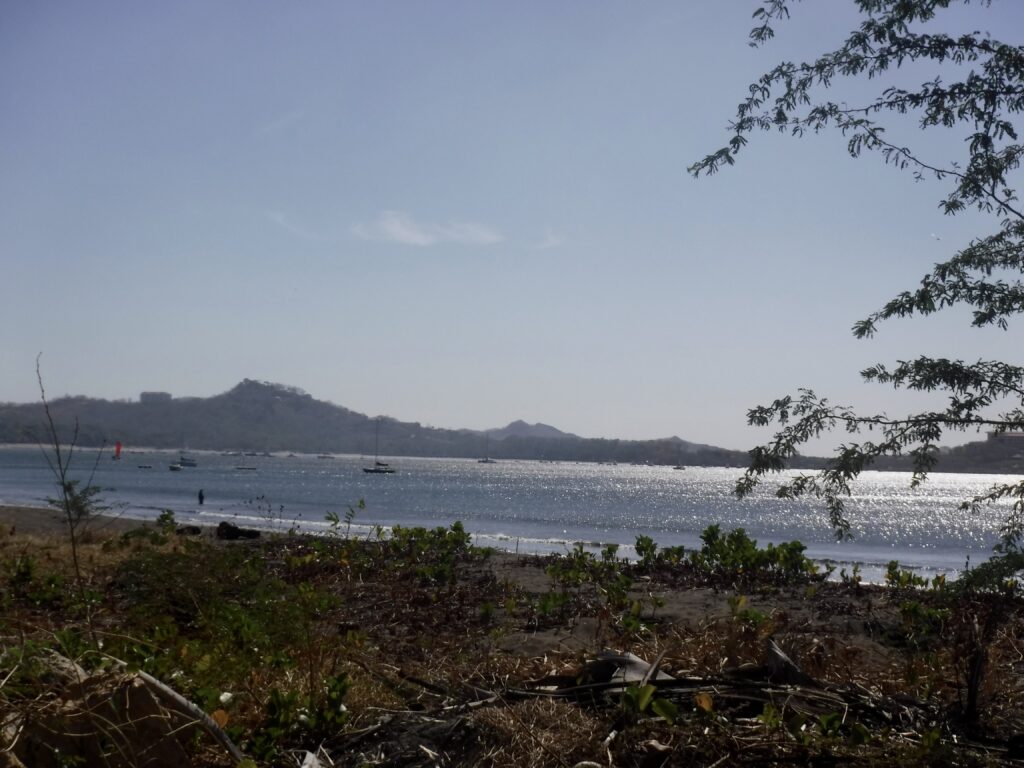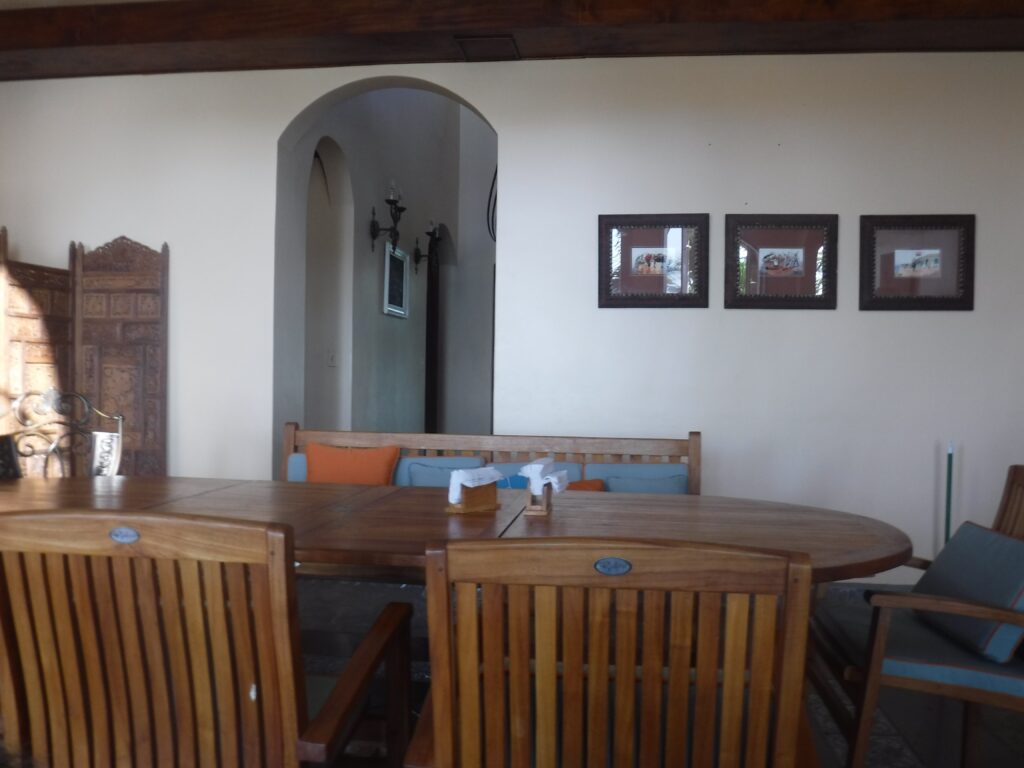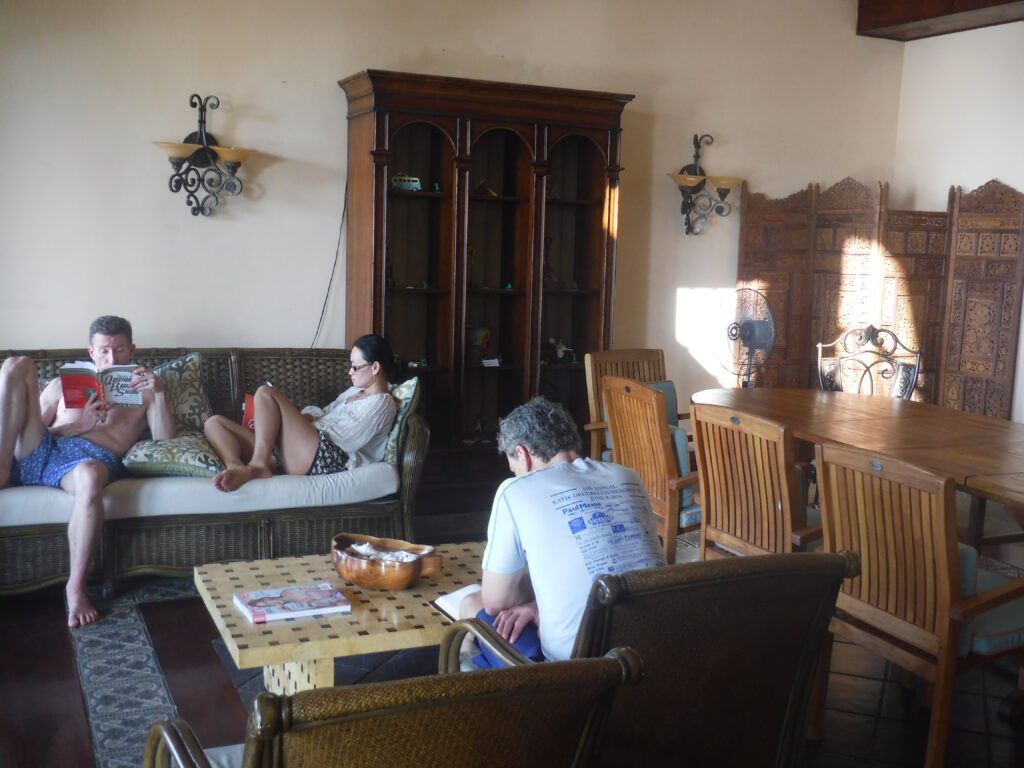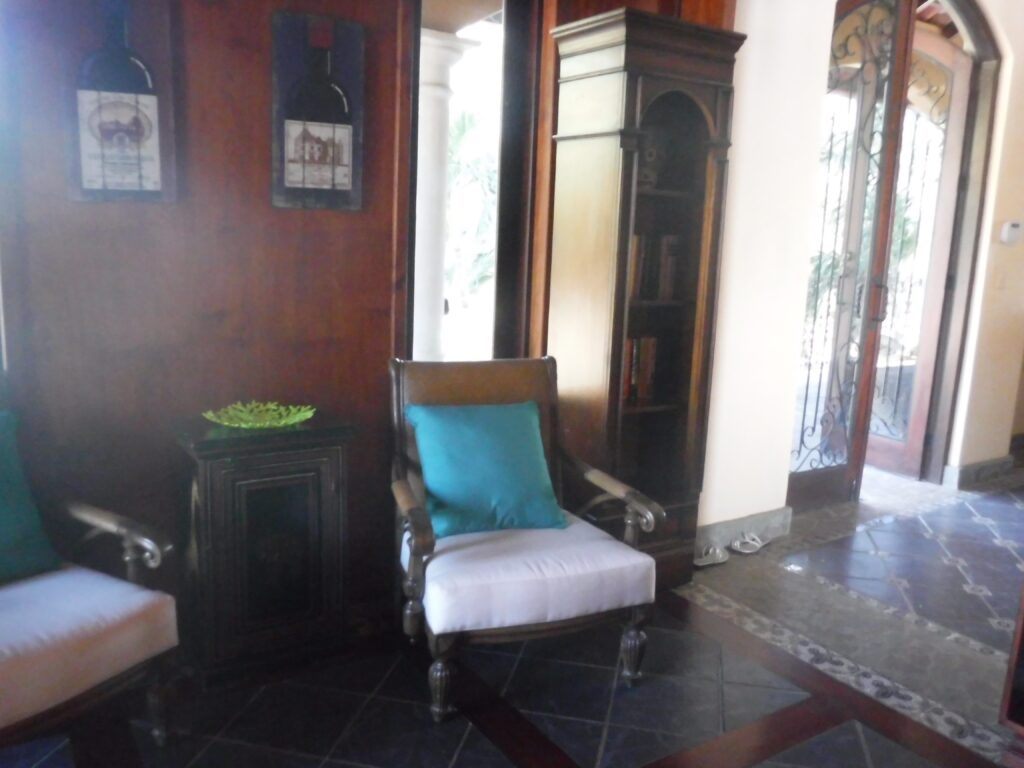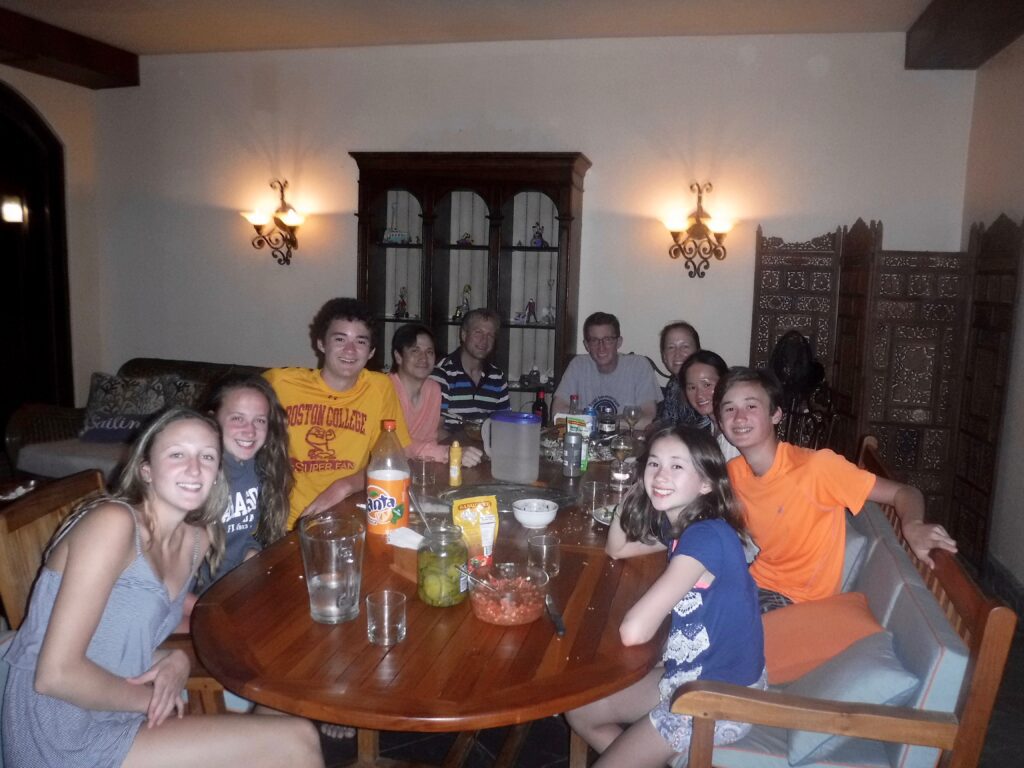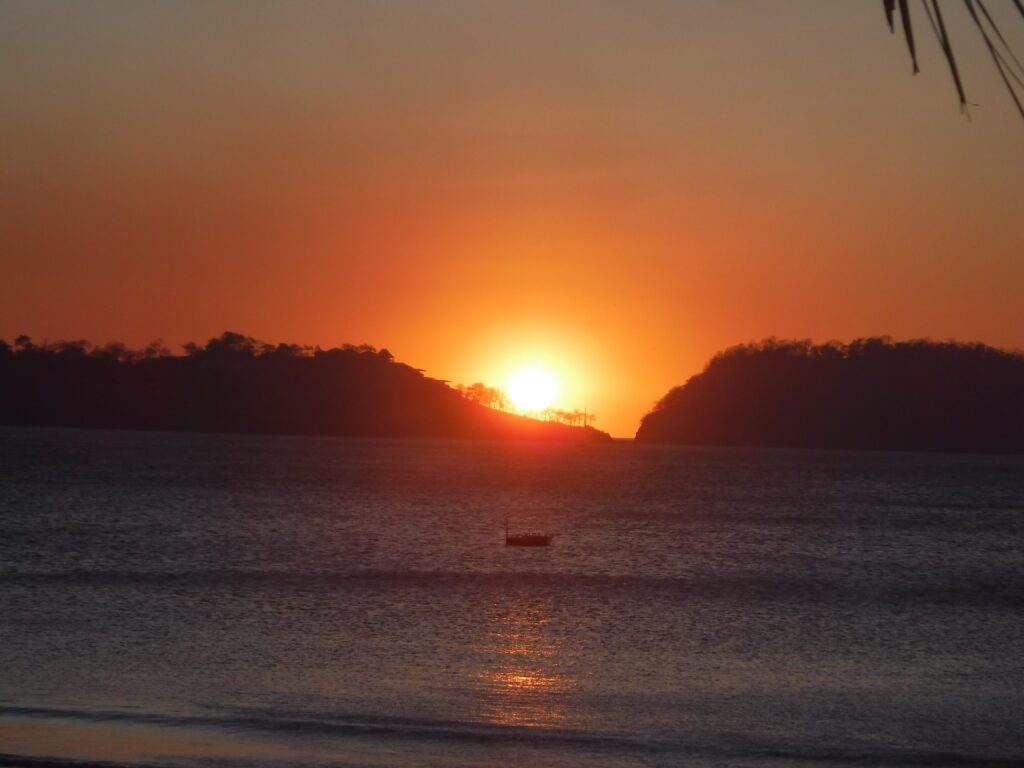 Playa Flamingo
We LOVE Playa Flamingo. It is gorgeous with a lot going on. We have had several friends who have stayed at the Margaritavallie Beach Resort Playa Flamingo. It recently changed its brand to Margaritaville, which is too bad. The resort seemed more authentically Costa Rican before the new branding. Our friends loved the location and amenities at the resort. Michele checked out the grounds and the lobby in 2016, and it looked very nice. Trip Advisor reviews are here.
There are hundreds of properties in and around Playa Flamingo to rent. We just could not find one large enough for us with a pool, easy ocean access and a chef that was in our price range. A chef was really important as we did not want to do the cooking and shopping ourselves.
We ate lunch one day at Coco Loco on Playa Flamingo. We loved everything about it. The location, the food, the vibe all were fantastic. Trip Advisor reviews remain excellent.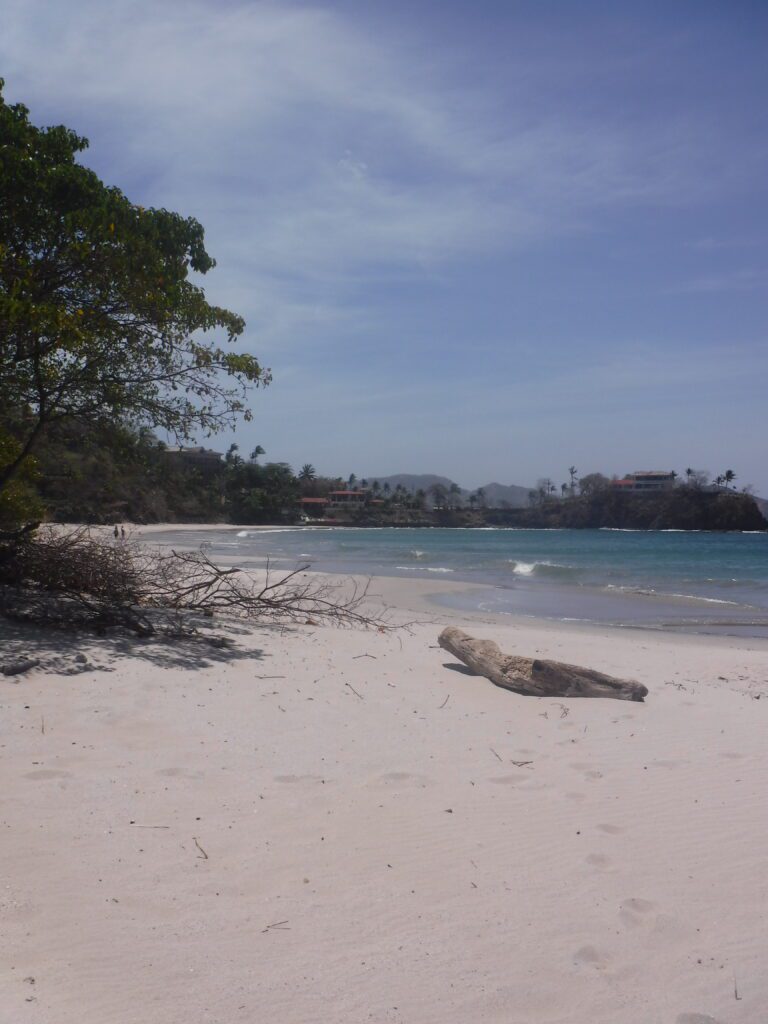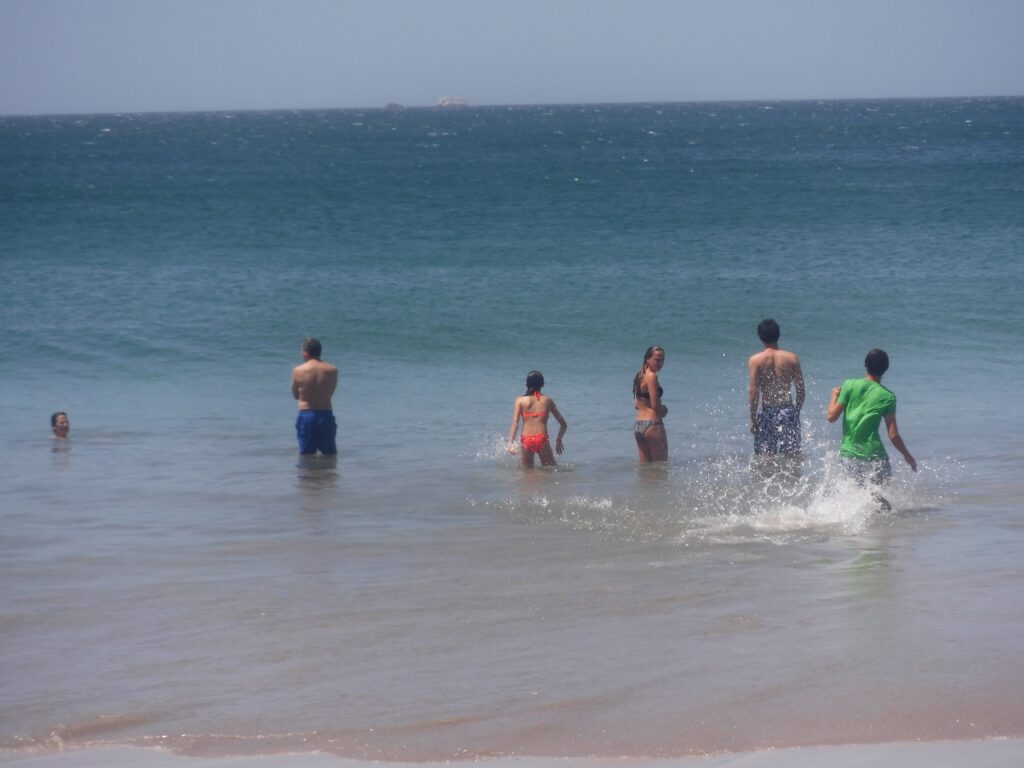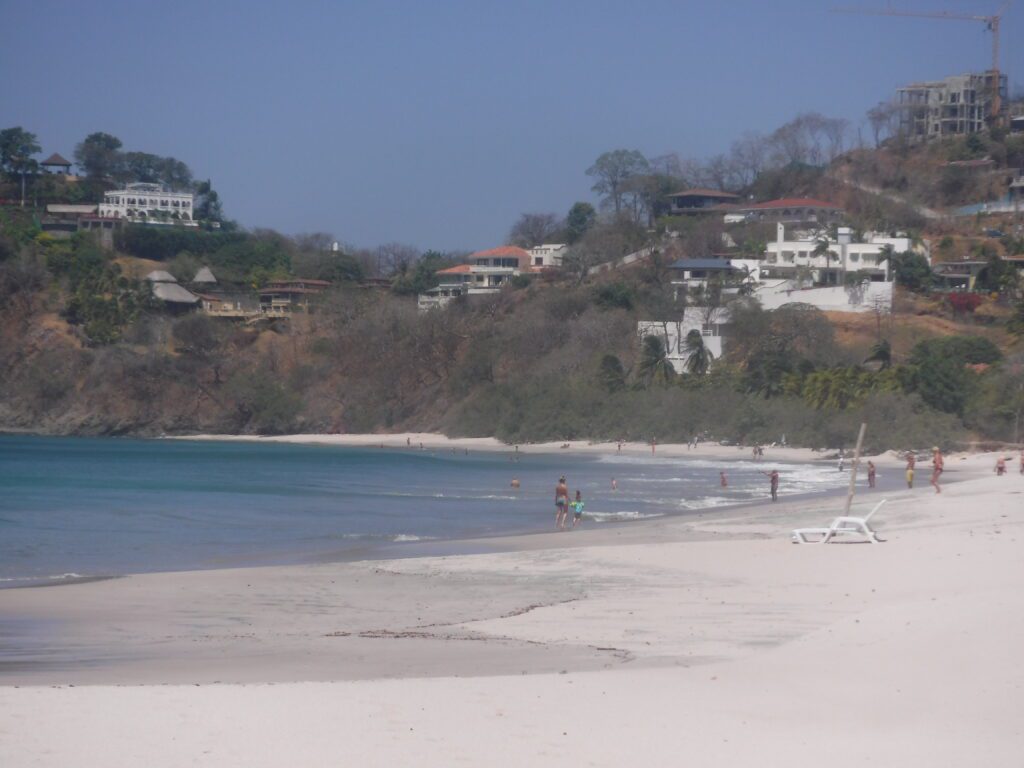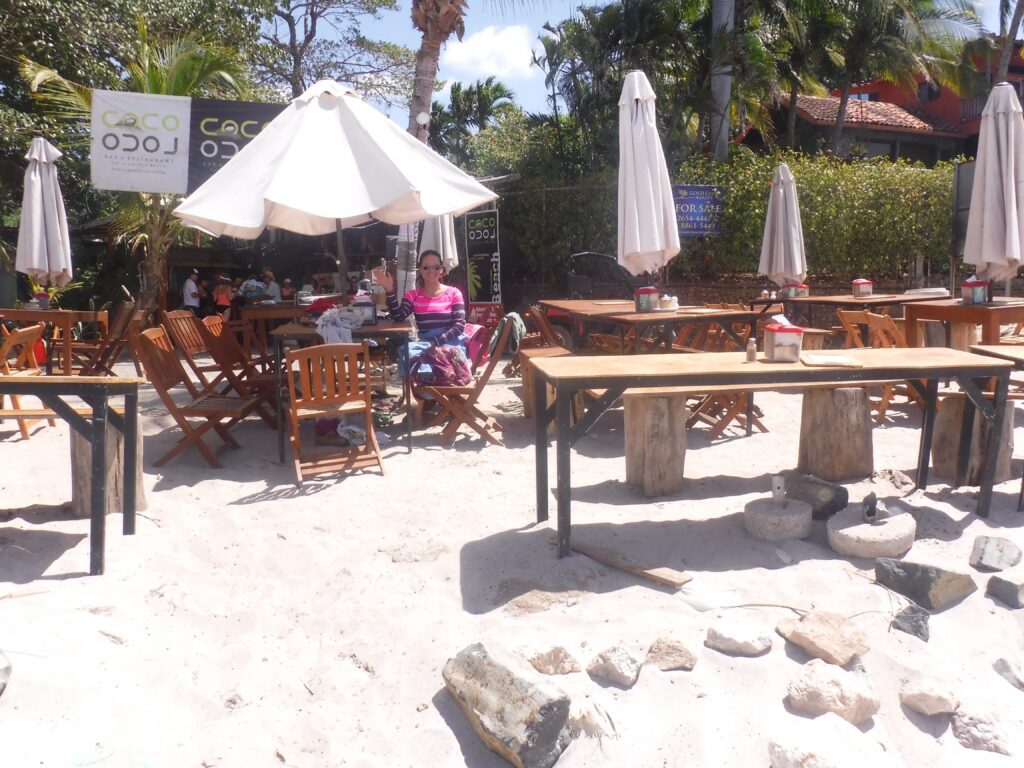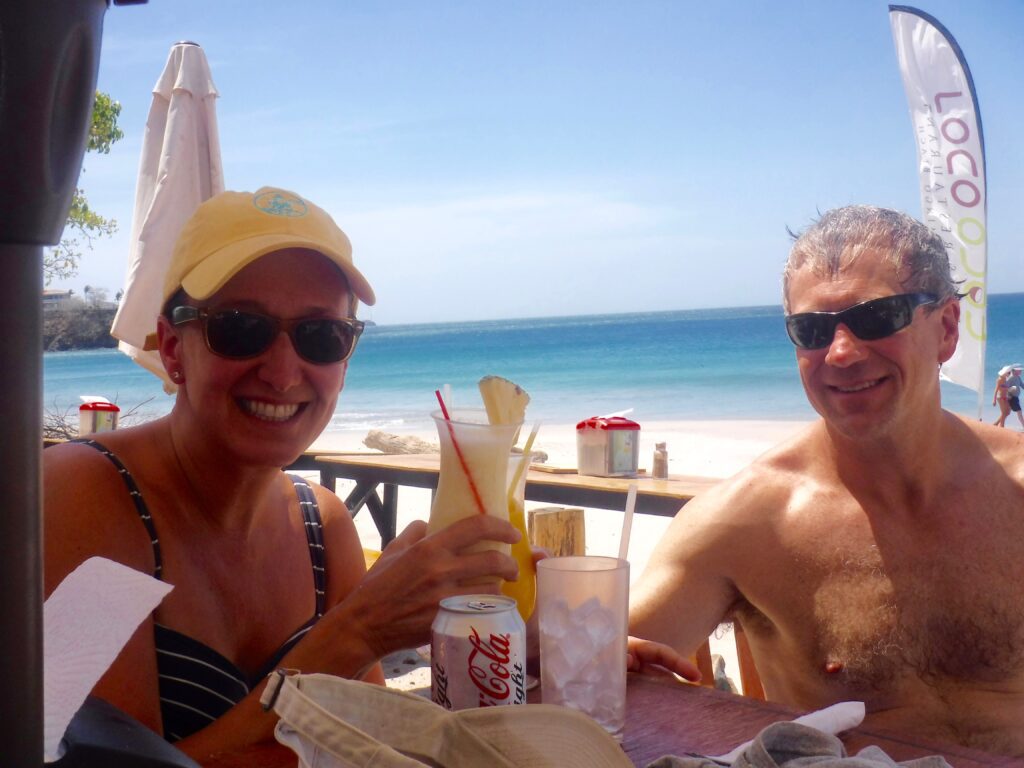 A Driving Tip!
A tip about getting to Flamingo/Potero/Playa Grande from Liberia. Google maps will give you two choices:
Route 21 to 151 to 911. This includes a steep dirt road.
Route 21 to Filadelphia to 155 to Huacas to 180 to your destination.
TAKE OPTION #1. It is 25 kilometers shorter, and so, so, so much faster. The steep dirt road may even be paved now.
Playa Conchol
The Playa Conchol area is beautiful. The beach is spectacular. There are many properties to rent in and around the Conchol area. We have friends who stayed at the Westin Playa Conchol. This all-inclusive property is right on the beach, with a fabulous golf course. Jim has played the course twice. Staying in the Conchol area is an excellent option for an adventure in Guanacaste.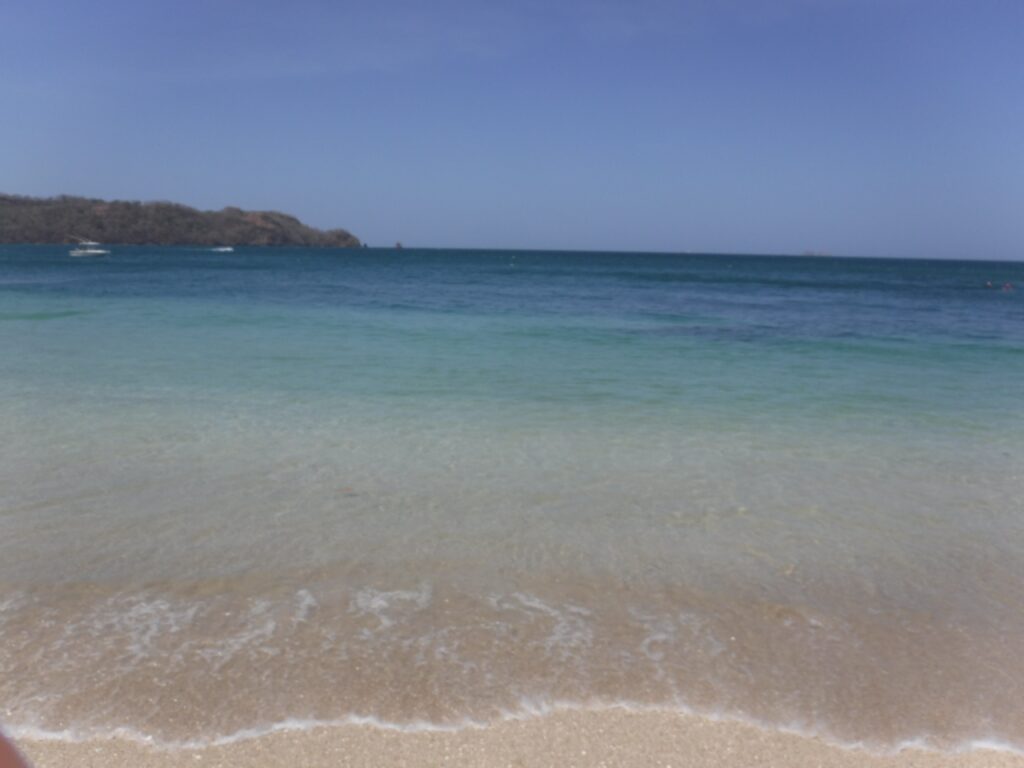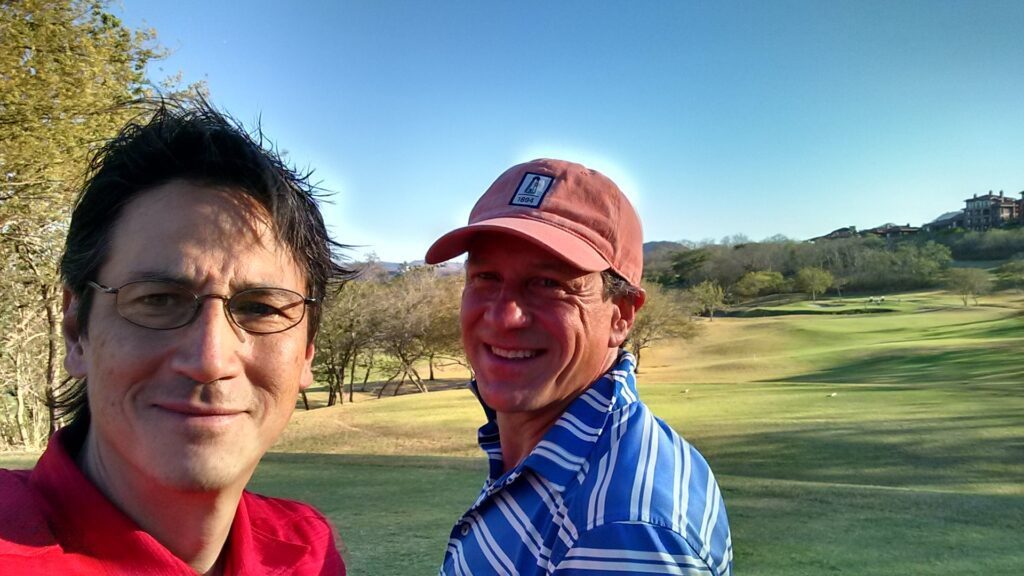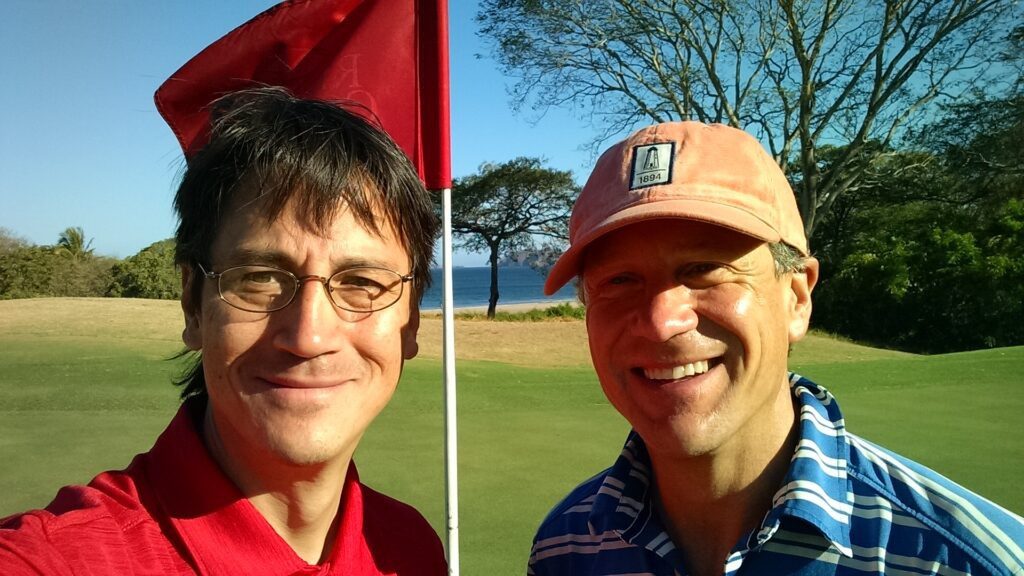 Tamarindo
We stopped in Tamarindo in 2011 after surfing at Playa Grande. It is very busy here. Lots of restaurants, bars, hotels, surfing and nightlife. We thought it was just too touristy. However, if you want easy access to many dining and shopping options, consider a stay here. There are hundreds of choices!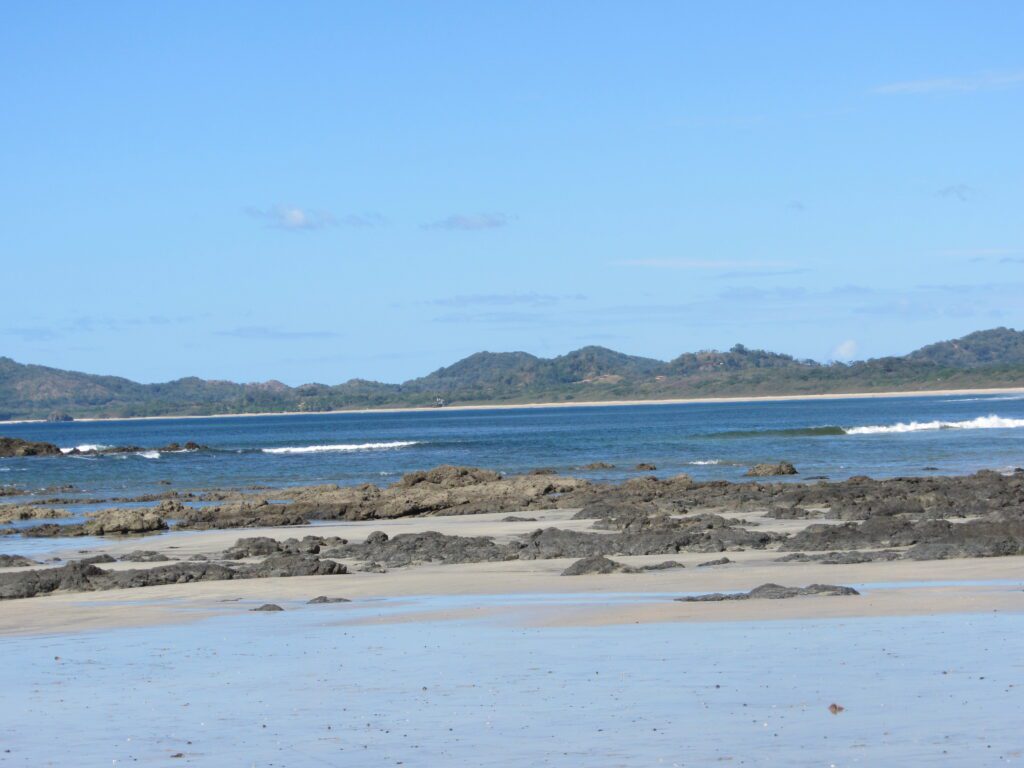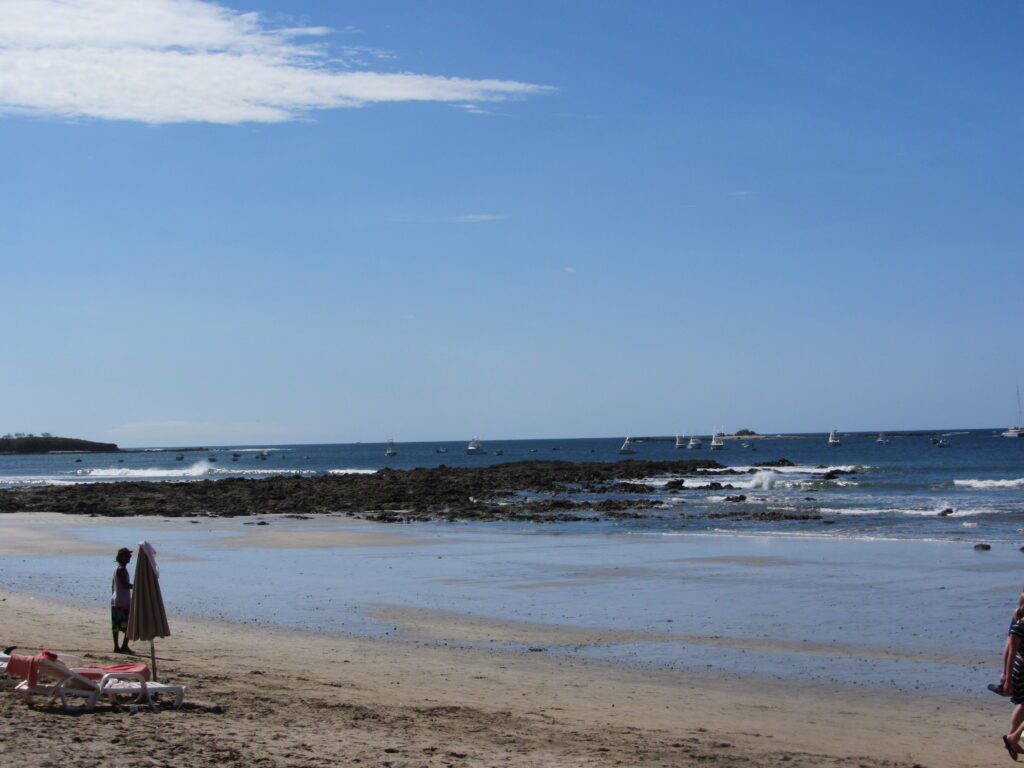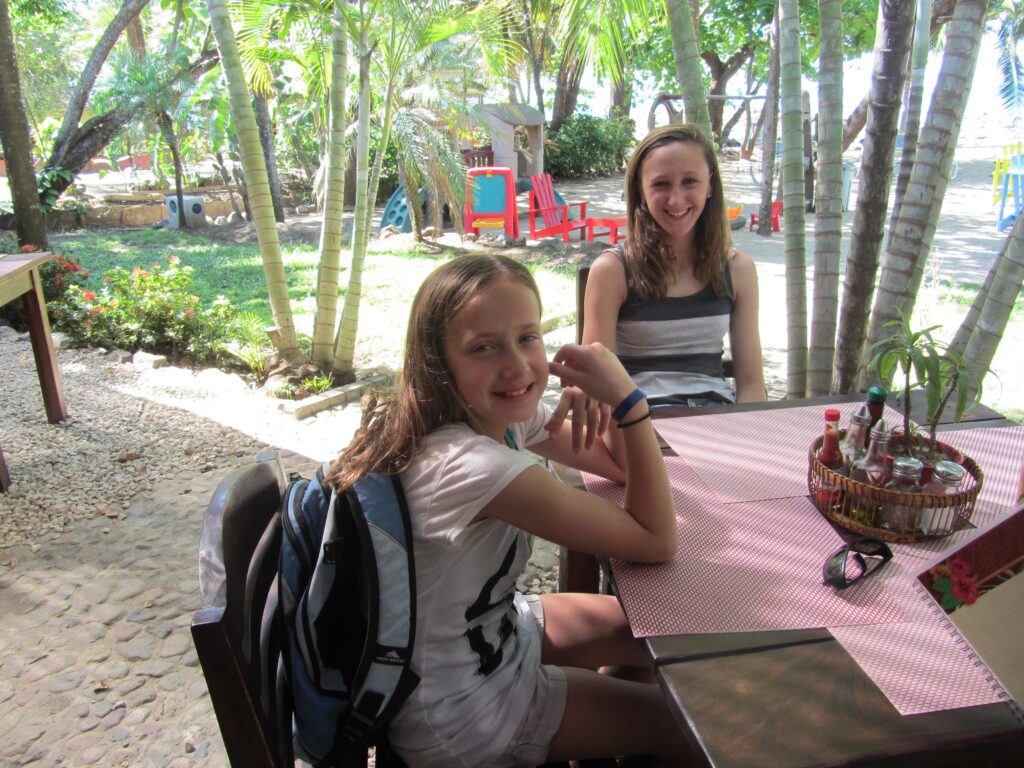 Playa Grande
We think Playa Grande is beautiful. Because it is a leatherback turtle preserve and a national park, there is very little development here. Playa Grande is about 20 kilometers from Tamarindo. Playa Grande is a spectacular beach. If you are interested in surfing, consider a stay here. Michele looked into several rental homes here. Even if you do not stay in Playa Grande be sure to come visit the beach.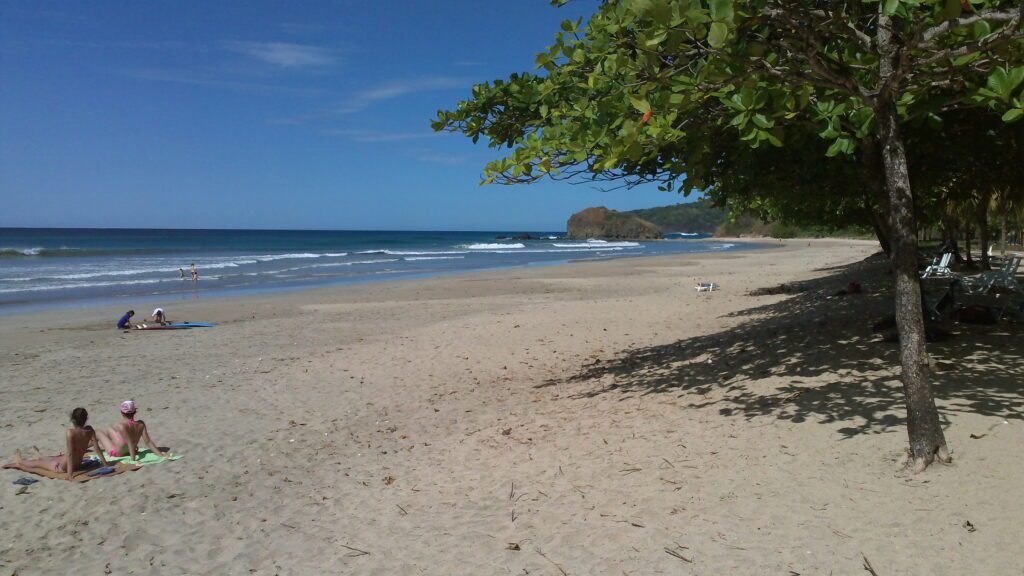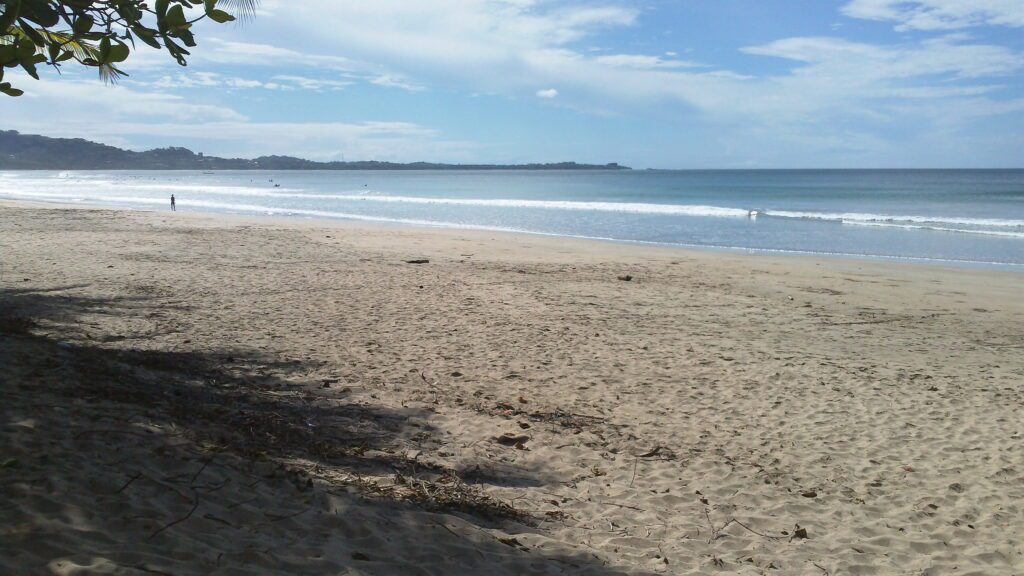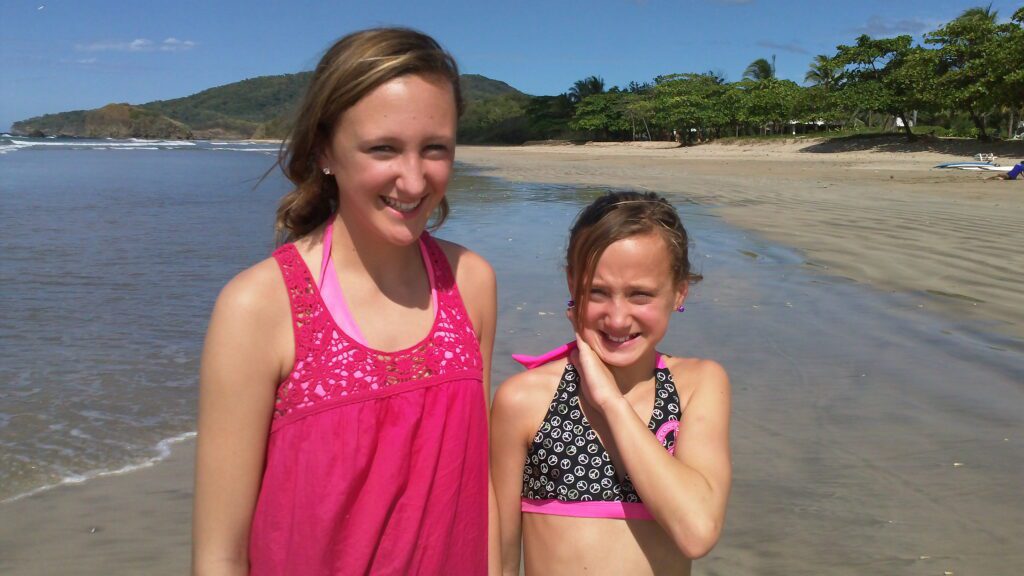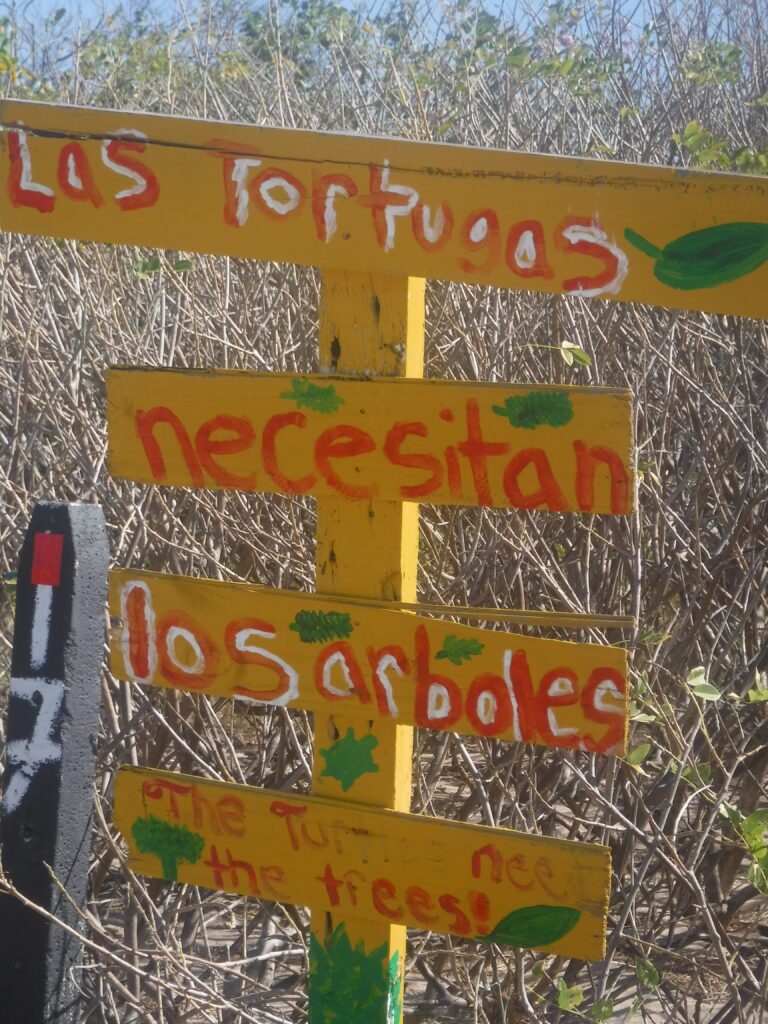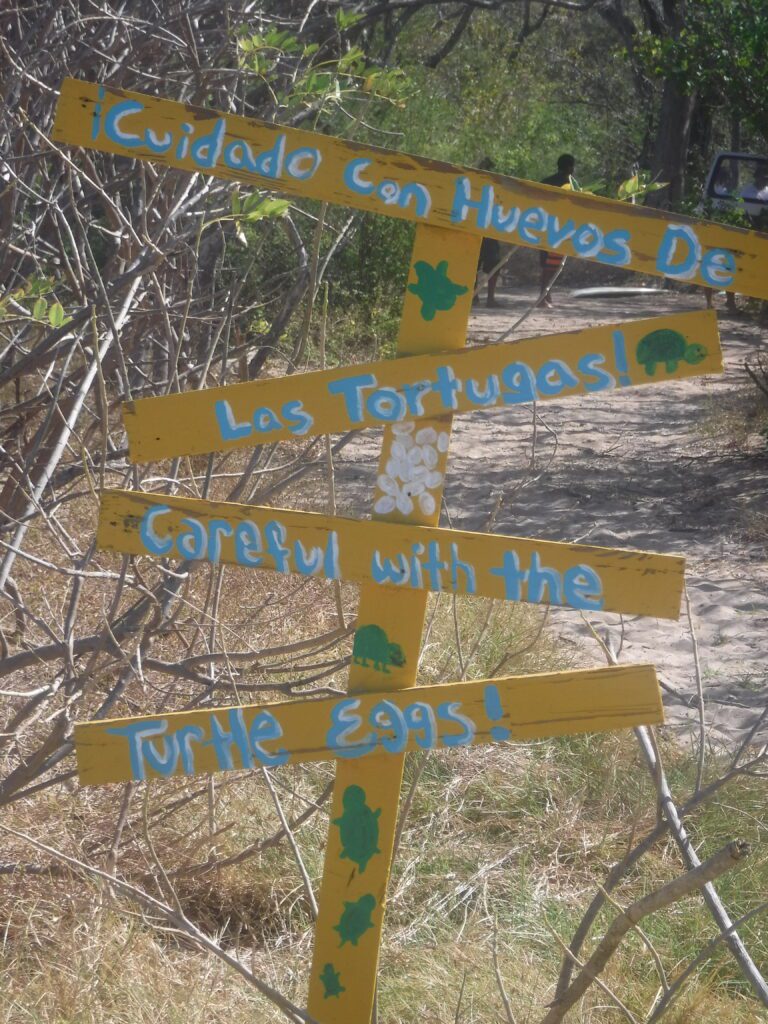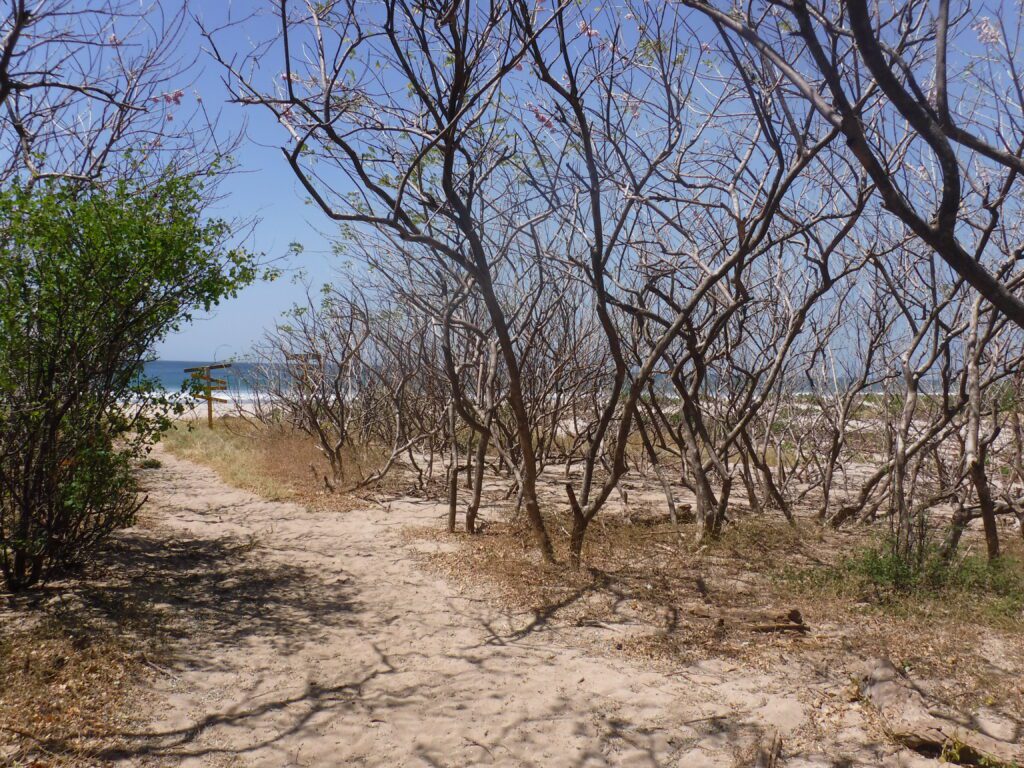 Hacienda Guachepelin
On both of our trips, we spent a day at this working ranch/farm/hotel/adventure site. Located adjacent to Rincon de la Vieja National Park, this property would be excellent to stay at for a night or two. Based on our recommendations, we have two local families who spent nights here. We will discuss this property in greater detail as their one day adventure pass – for hotel guests and non-guests alike is not to be missed if you visit Guanacaste. Trip Advisor reviews are good.
Eco-Lodges – There are hundreds of eco-lodges in Guanacaste. We saw some cool, very remote ones near Rio Celeste, Arenal, Santa Elena, Monteverde and Tenorio. We never made it to Arenal to see the volcano, but if we did, we would stay at Tabacon.
Surfing at Playa Grande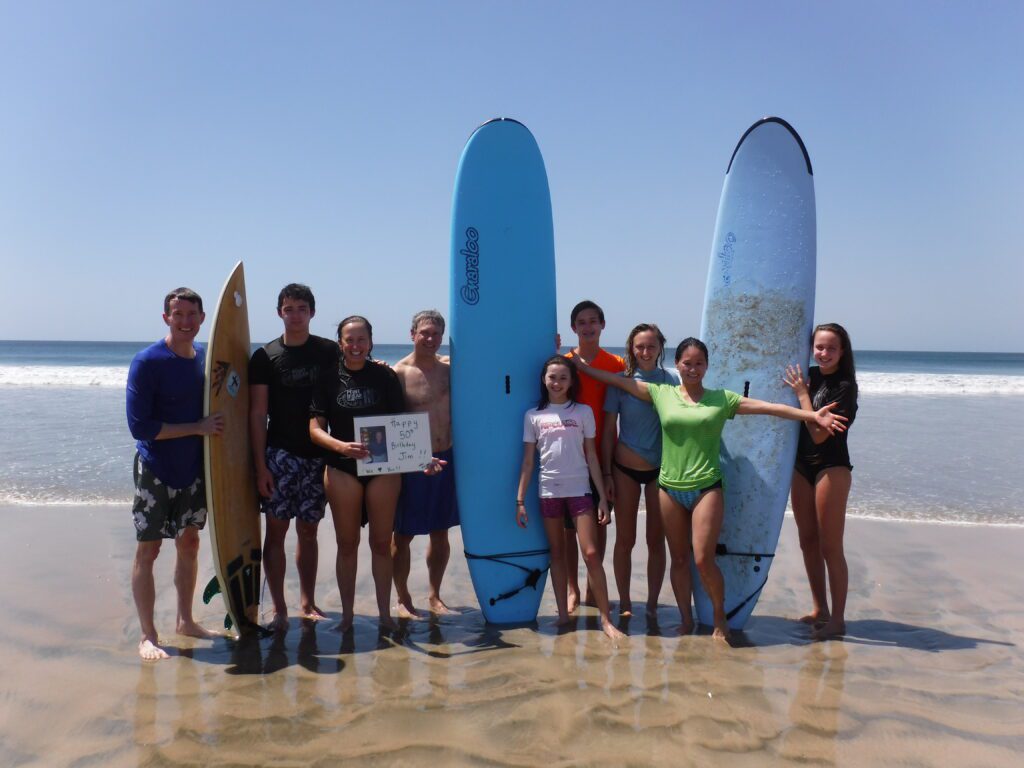 On both of our visits, we surfed at Playa Grande. Our family lives by the beach now, in Rhode Island. And, we spent 10 years near the ocean in Santa Barbara, California. However, we are terrible surfers. We decided to take surf lessons on Playa Grande to perfect our techniques. You should visit Playa Grande to surf or just take in the gorgeous beauty of the beach.
We used Point Break Surf School to help us learn the basics of surfing in 2011 and 2016. Our family and my brother's family had wonderful experiences with Point Break. In 2011, we had an open day, and the family voted unanimously to surf with them again. We have sent at least a dozen friends to surf with them, and no one has been disappointed. UPDATE 2022 – They appear to be closed. Huge Bummer. We spent some time at Frijoles Locos and would recommend them for lessons.
The water is so clean and pristine on this beach. It is a national treasure.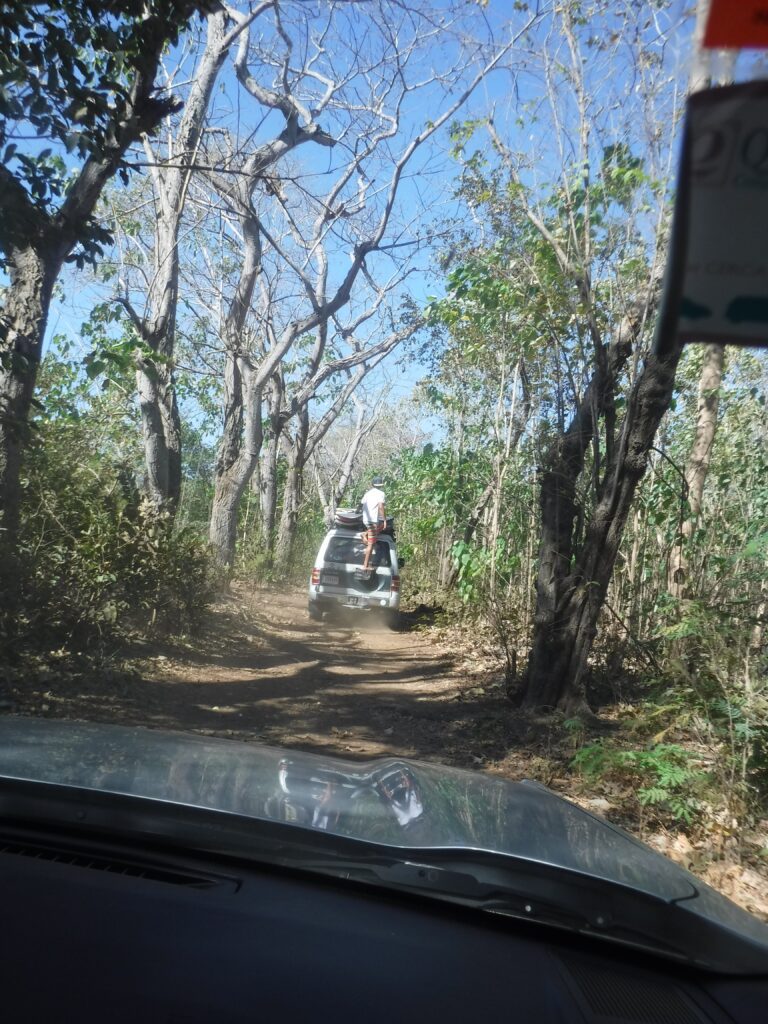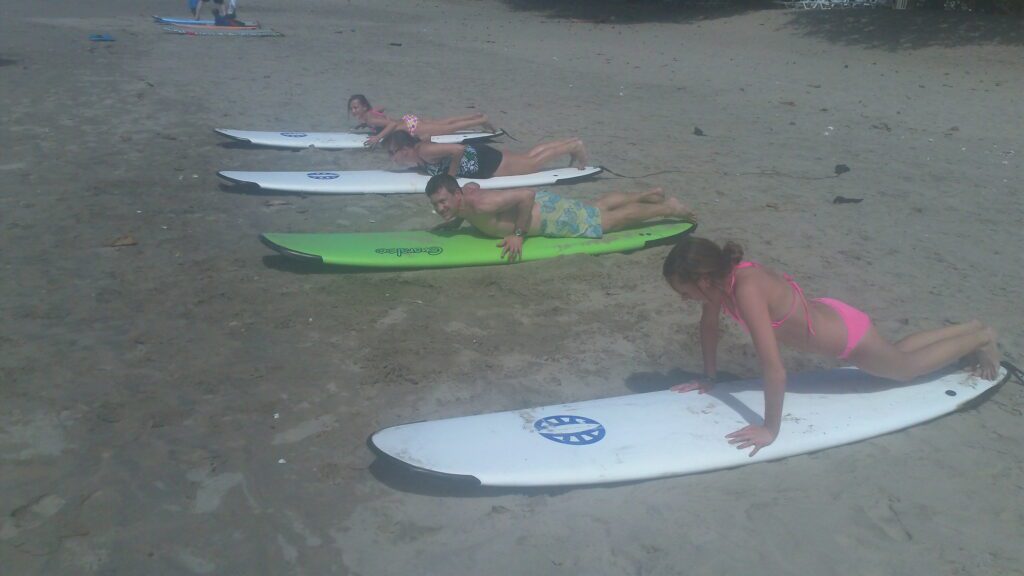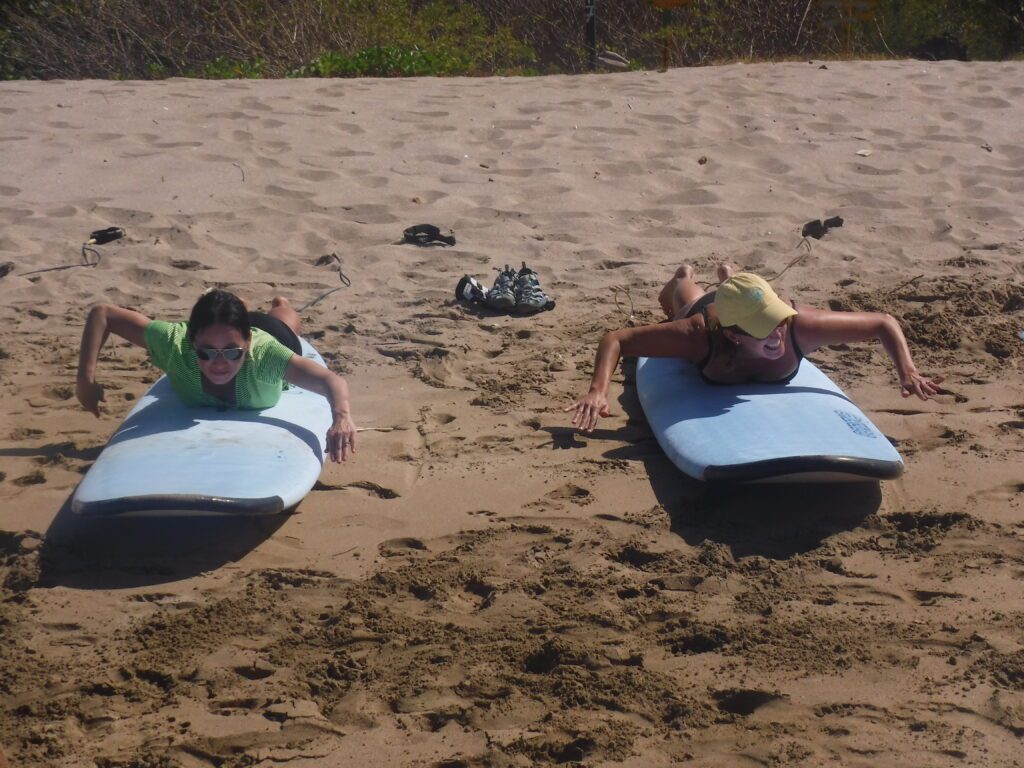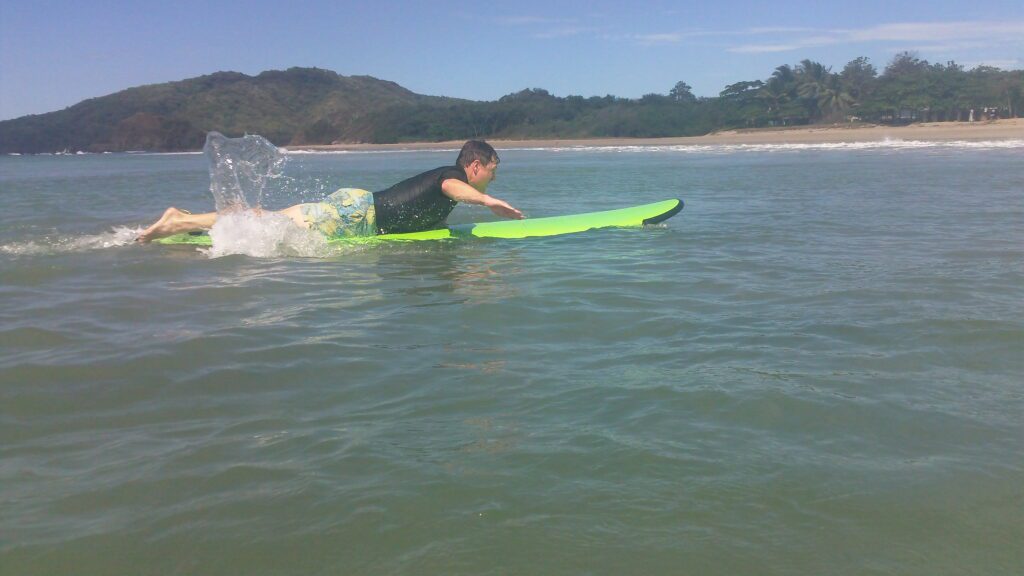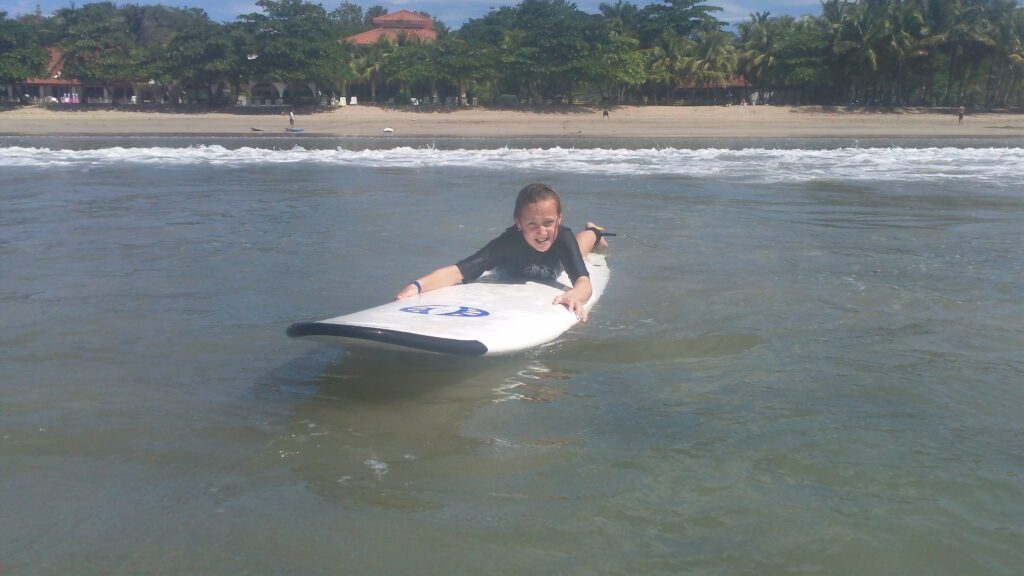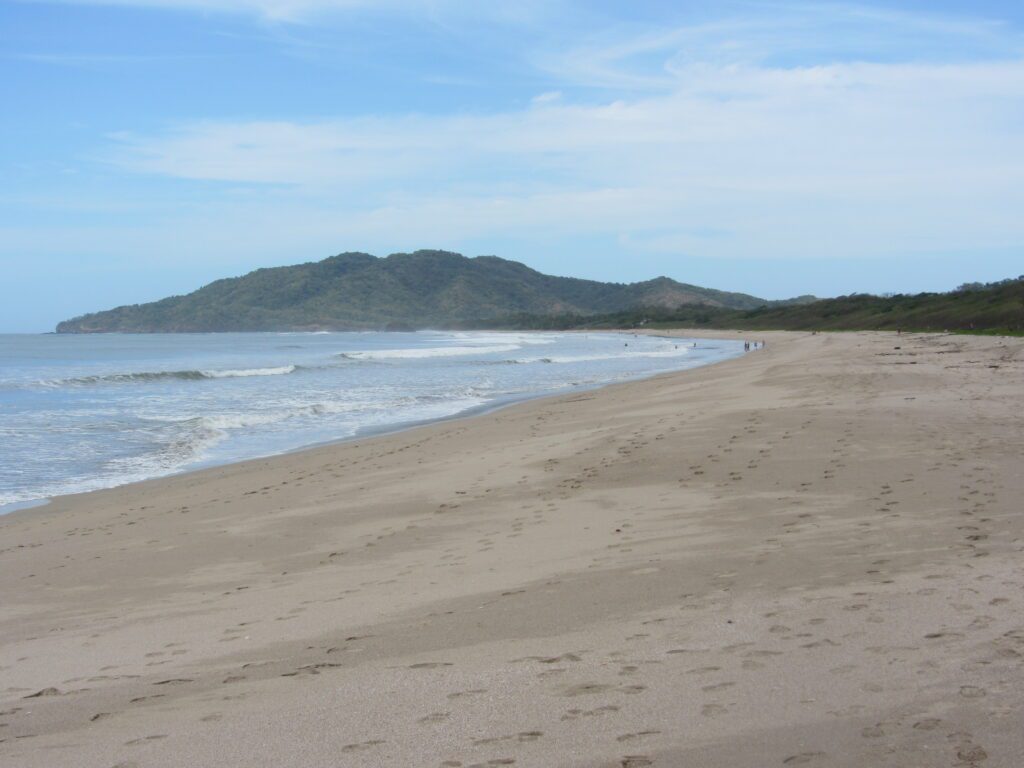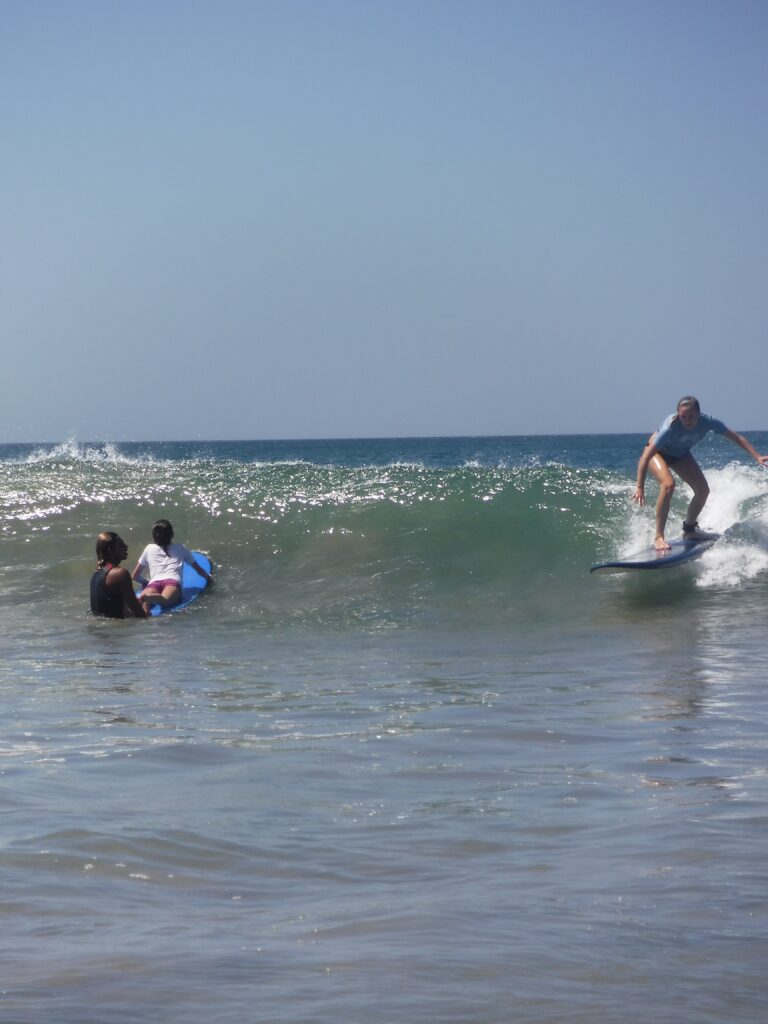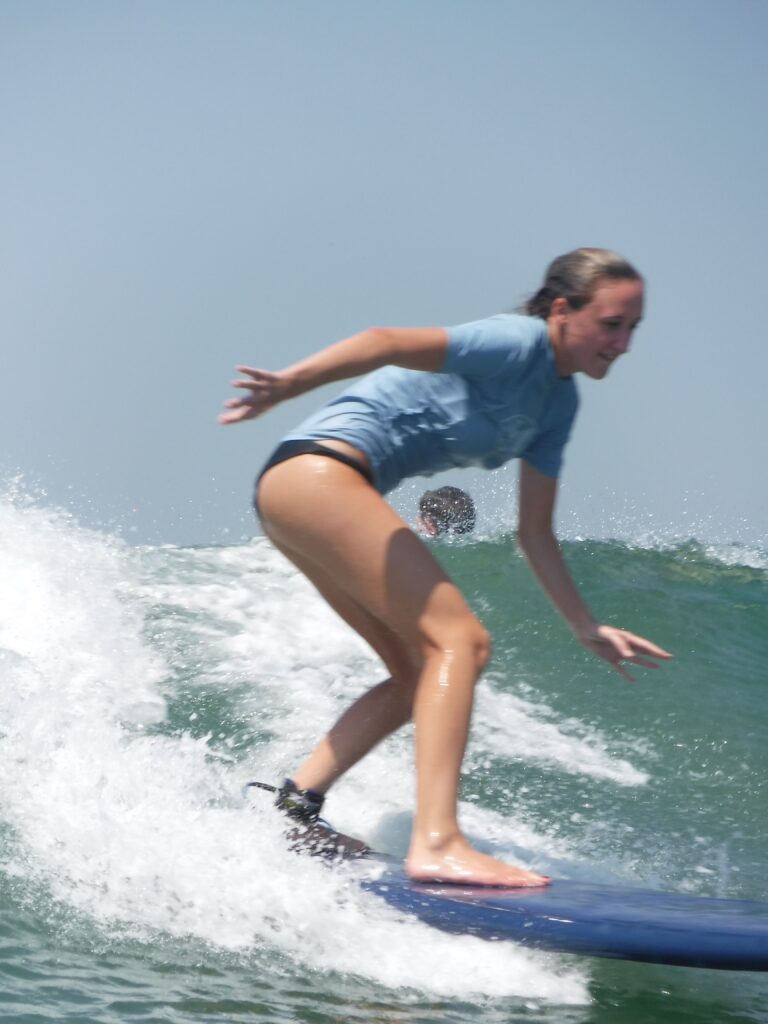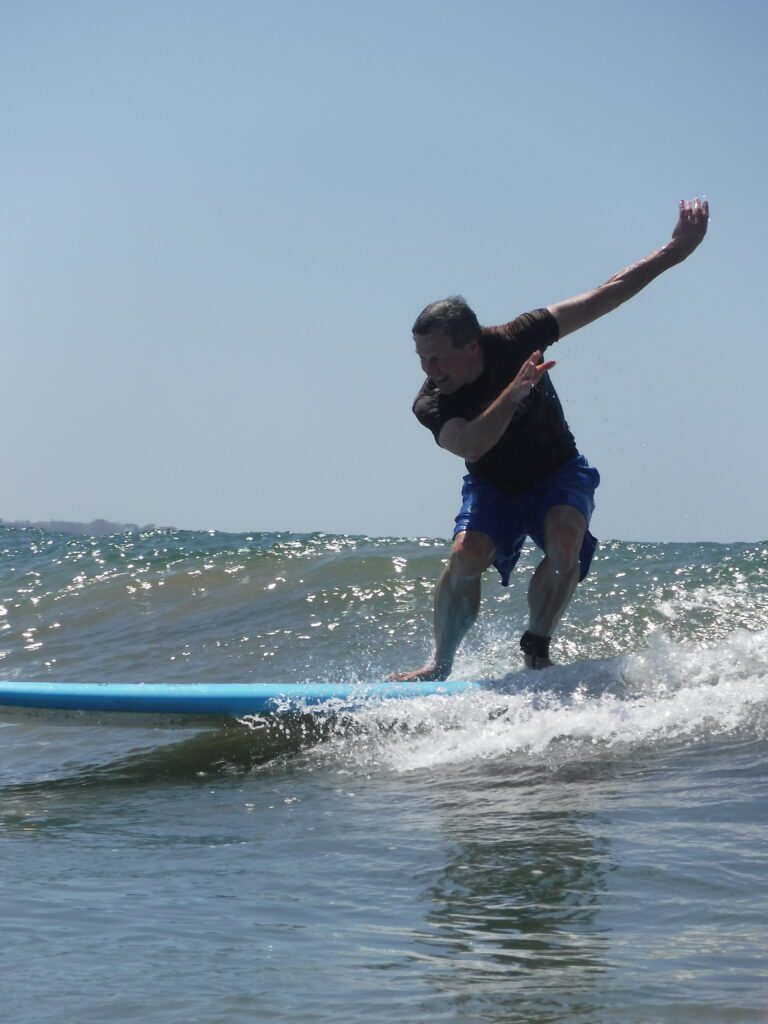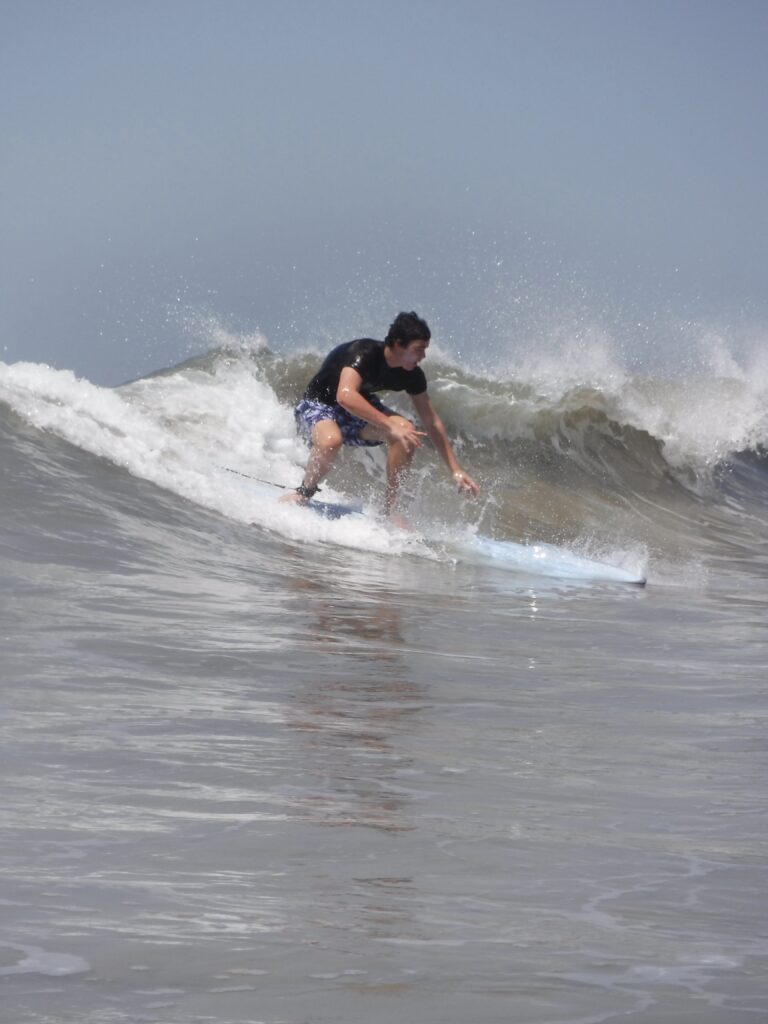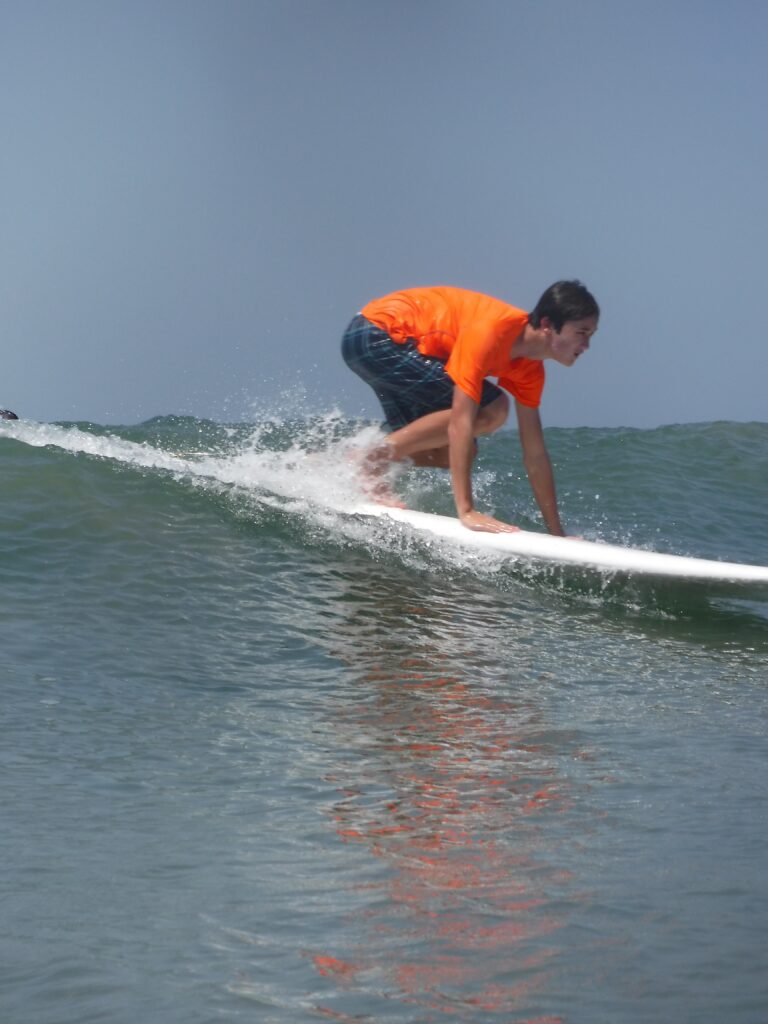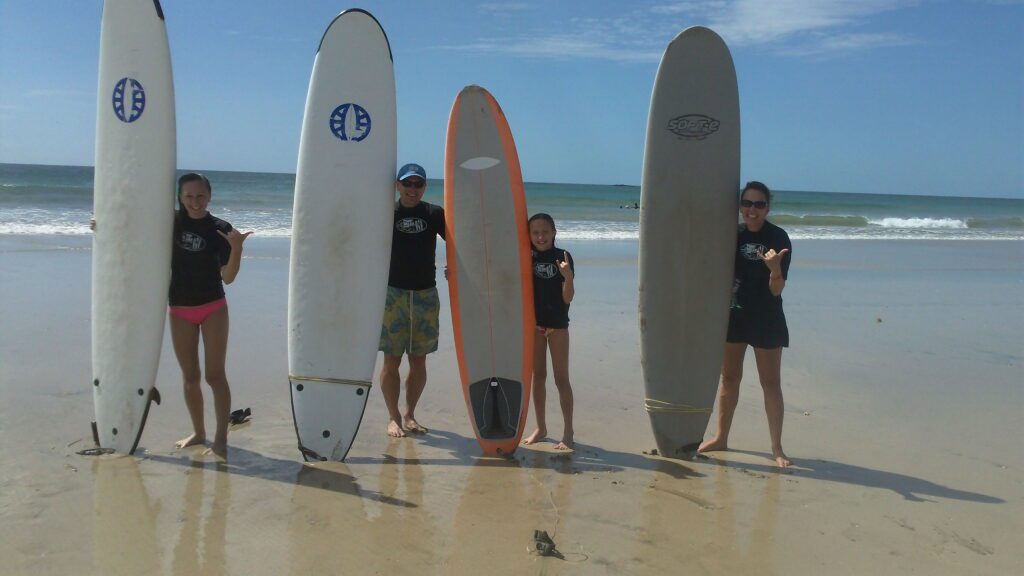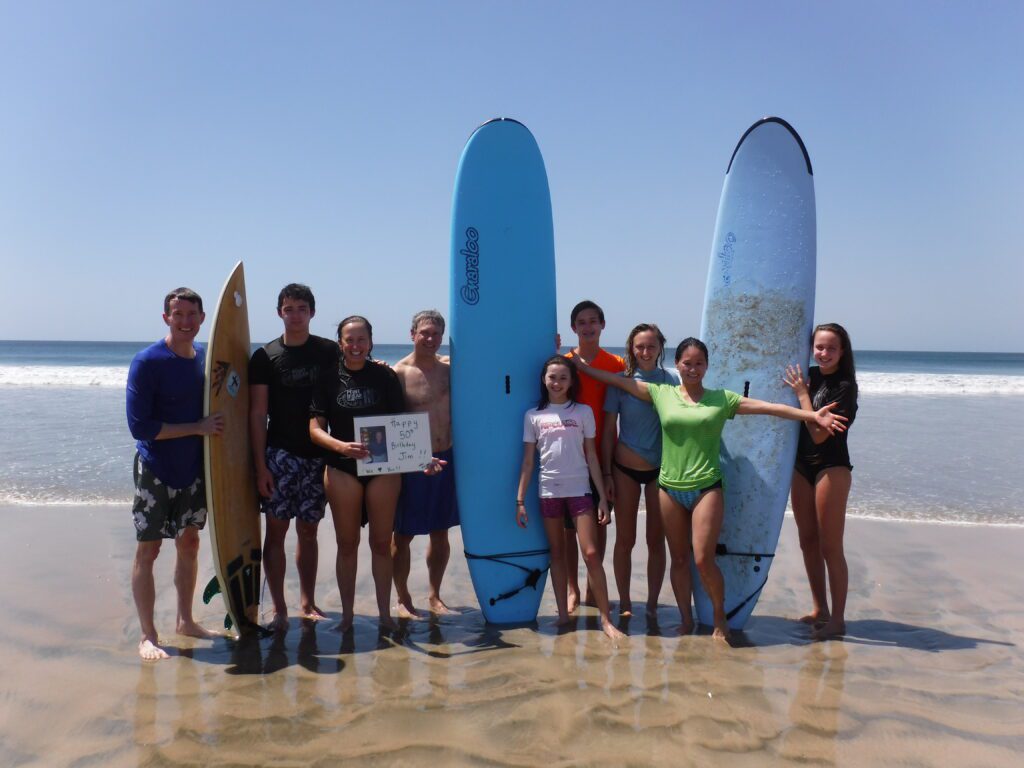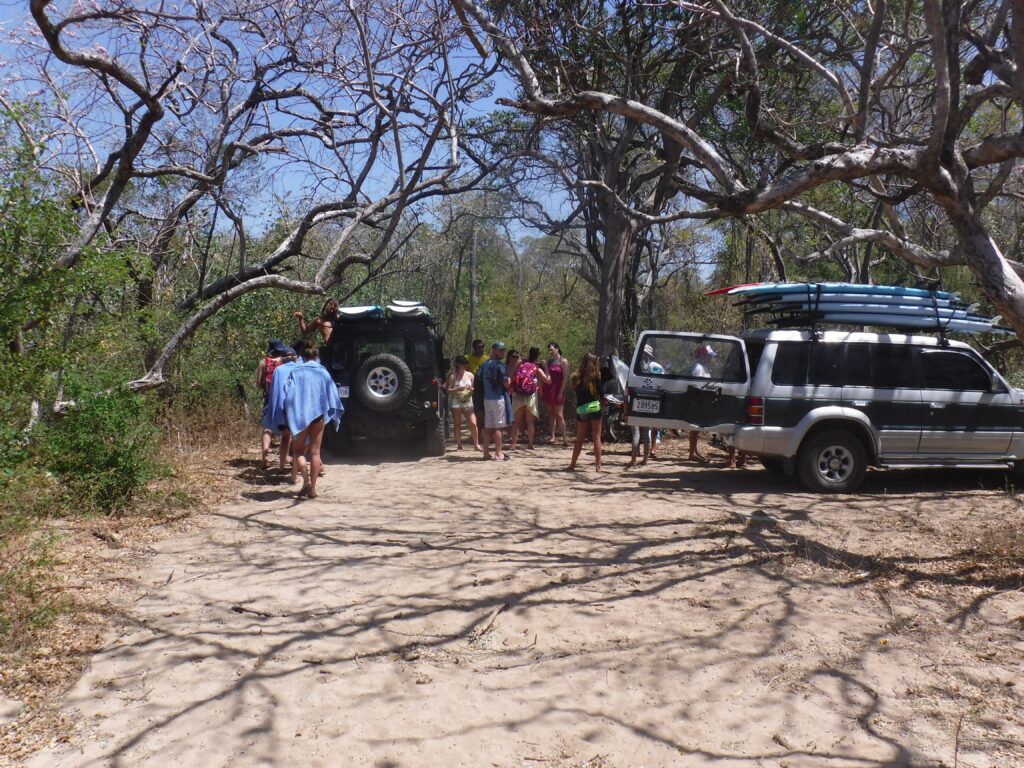 Currently, the price of surfing with Frijoles Locos is between $40-$60/person. This is an outstanding value, and it will be a highlight of your vacation. We loved it all three times we surfed with them! Trip Advisor reviews remain excellent. If you choose not to rent a car, Point Break will come pick you up!
After a morning of surfing, we recommend you visit Rip Jack Inn. Just off the beach in Playa Grande, this boutique hotel looks like a wonderful place to stay. We visited both times and ate at their tree house restaurant, which was yummy. Trip Advisor reviews for the hotel are excellent. The Trip Advisor reviews for the restaurant are also very good. The hip, zen-like vibe of the hotel and restaurant were awesome.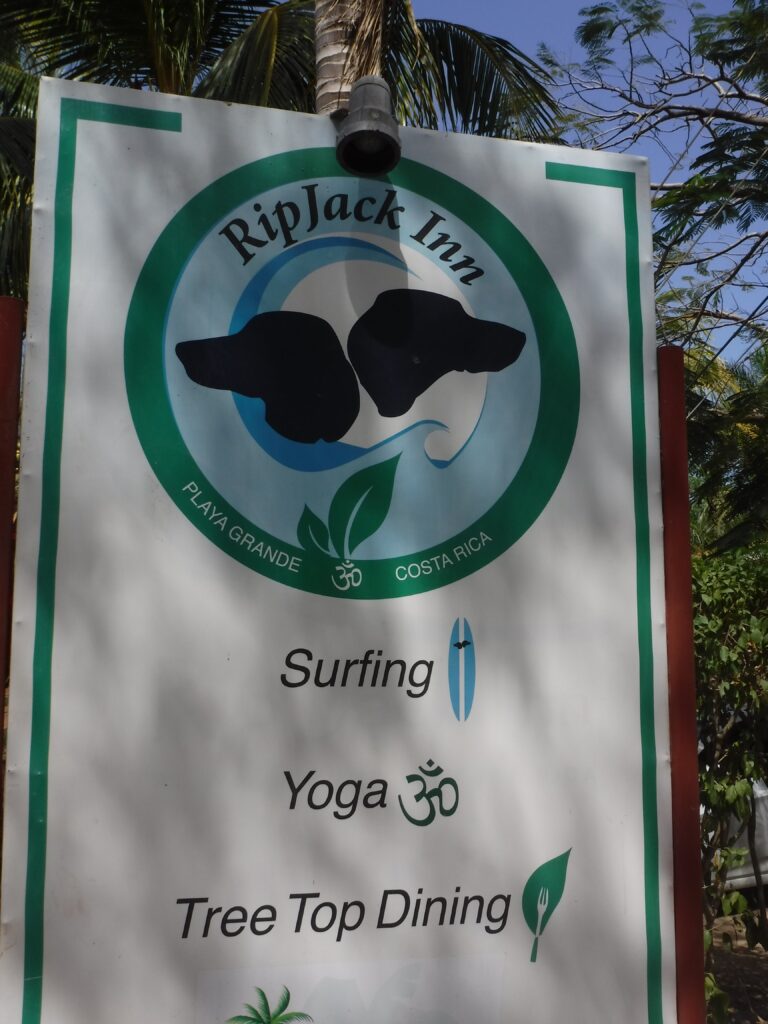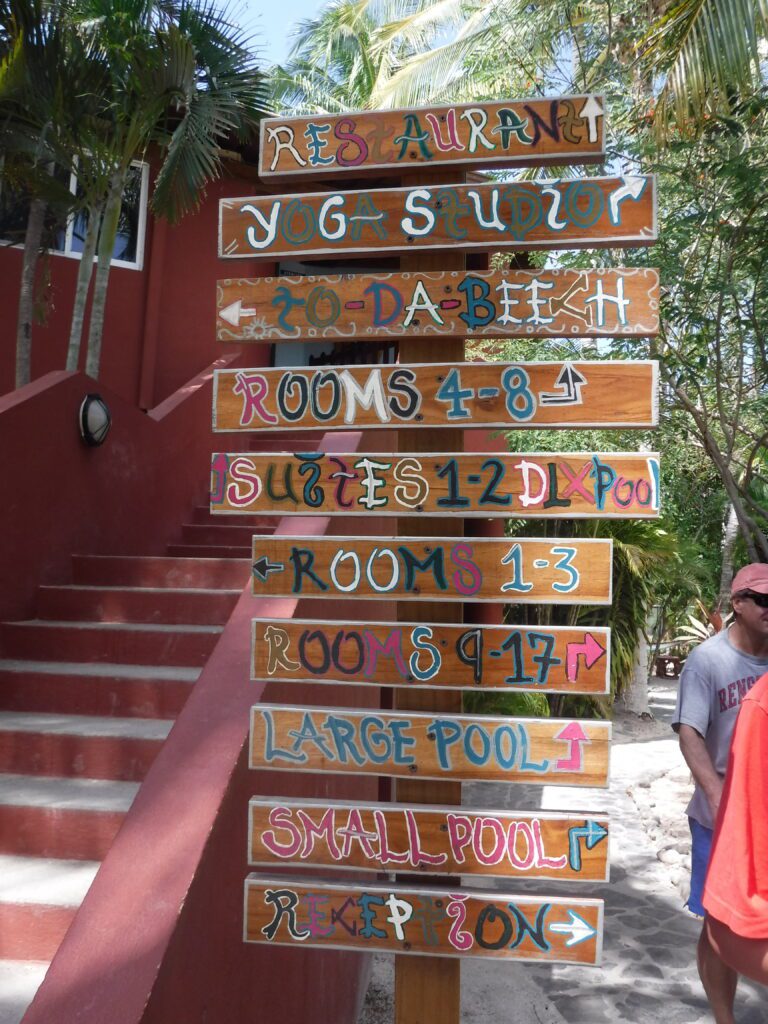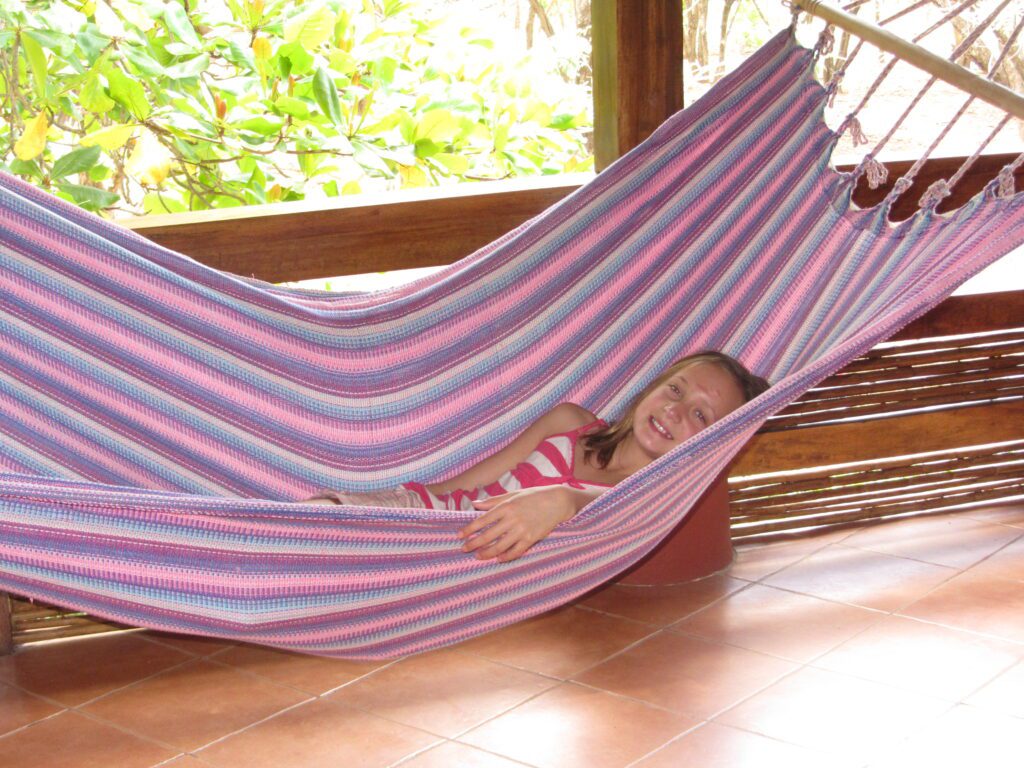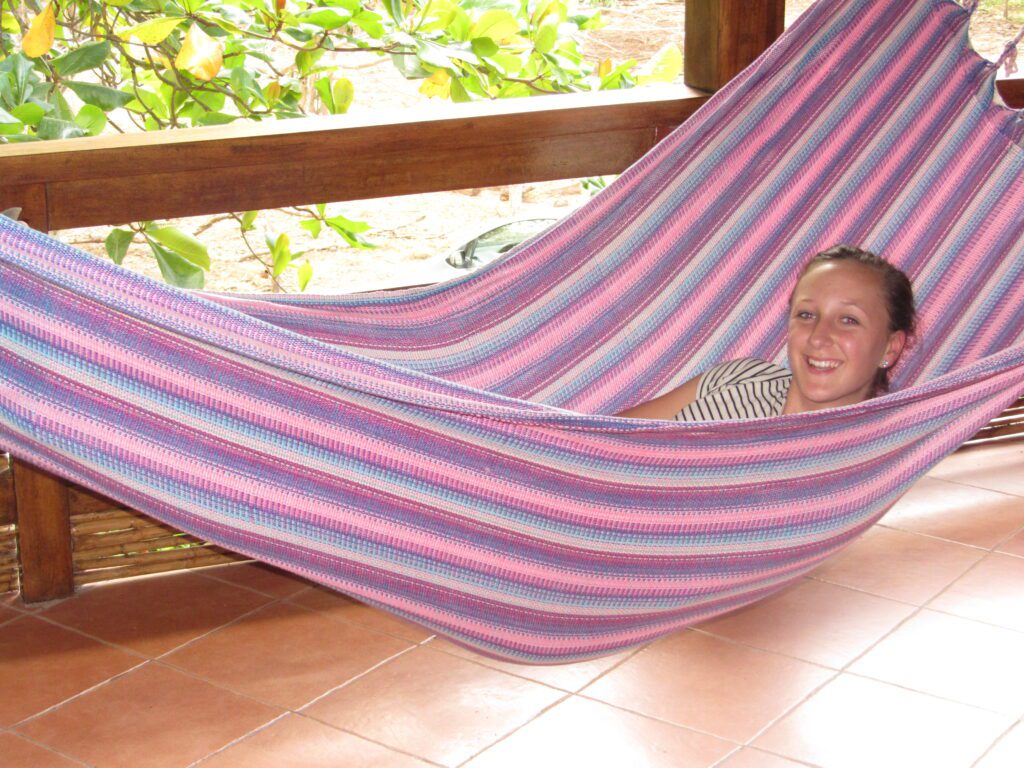 Hacienda Guachipelin
On both our trips to Costa Rica, we spent a very FULL day at this working ranch/adventure site. Hacienda Guachipelin is also a hotel, and friends have stayed here and enjoyed it.
Hacienda Guachipelin sits in Rincon de la Vieja National Park. If you purchase a one-day adventure pass, you can do as many activities in that one day as you can fit in while the resort is open (except for canyoneering, that is extra). It is a fantastic value, and the adventures are top-notch. The price is $95 for anyone over age 12, and $85 for children under age 12. The price also includes a generous buffet lunch.
If you only want to do a few adventures, the resort will allow you to pick and choose a combination. They also have nature walks, a butterfly garden, serpentarium and frog exhibit. There is an on-site spa, horseback riding, waterfall-only tours and canyoneering.
The resort is about 30 kilometers from the international airport. The road is paved almost the entire way. Four-wheel drive is a better choice as the road is steep and has a few rocky sections. It was effortless to find the resort. Both years, we used the car rental GPS, and we self-navigated all over Guanacaste.
Both times we visited, we parked at the Adventure Center. We brought two dry towels per person, sunscreen, bug spray and dry clothes. The Adventure Center has changing rooms. We used our vehicle as our "locker" to hold dry items or things we did not need for whatever adventure we were doing. The staff at the Adventure Center will store your car keys for you, so you do not need to take your keys tubing or zip lining. The staff was super helpful and very nice both times. After each adventure, we returned to the Adventure Center and changed or dried off.
Each time we visited, we were able to craft an itinerary to suit our needs. In 2016, the staff tried to have us go horseback riding with a very large group in the morning. We asked if we could join the zipline group and horseback ride alone later. The staff said, "sure." We went horseback riding alone after lunch.
The all-day adventure passes can sell out, so be sure to reserve in advance.
River Tubing
The River Tubing at the Hacienda is beyond gorgeous. Truly amazing! You will be soaking wet. It is such a hugely fun adventure. The Hacienda also has canyoneering into the river, but it costs extra. It looks really fun!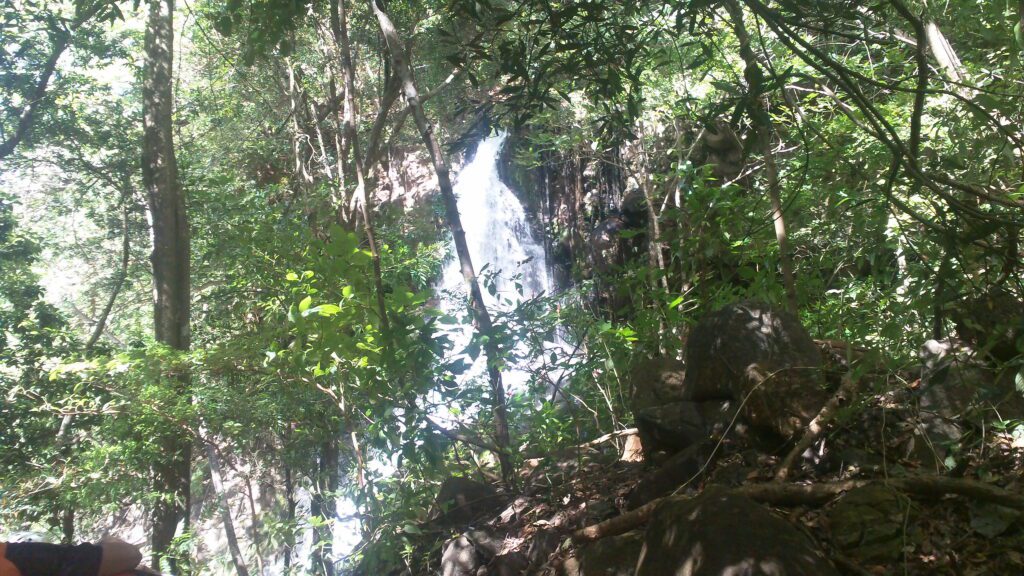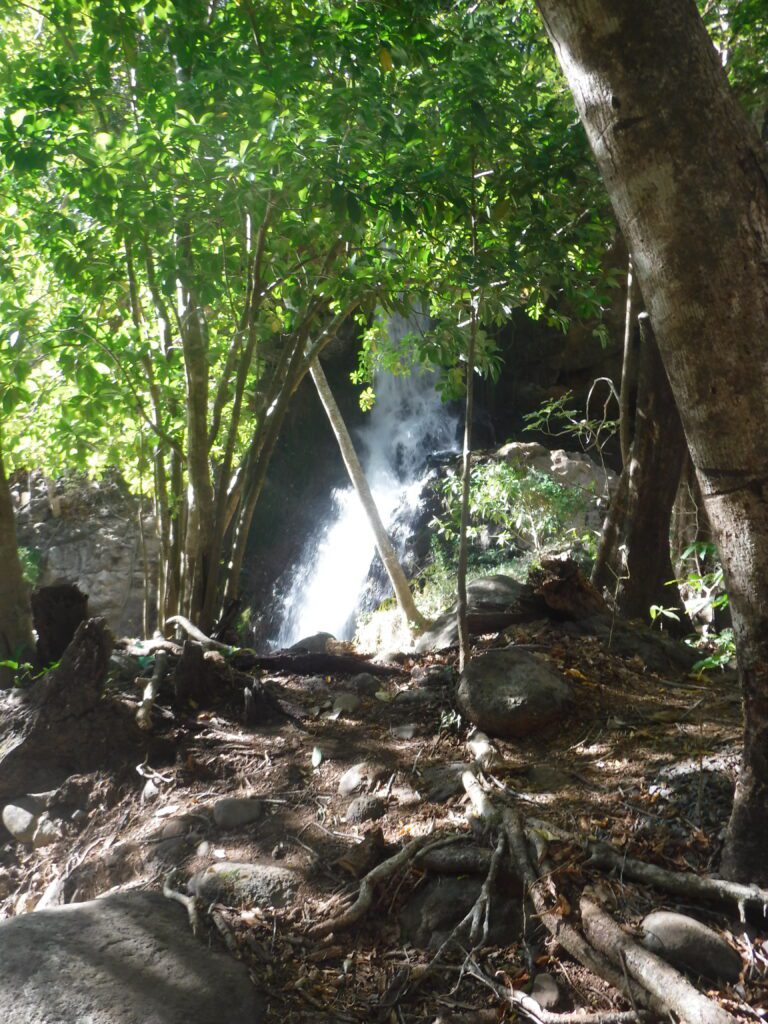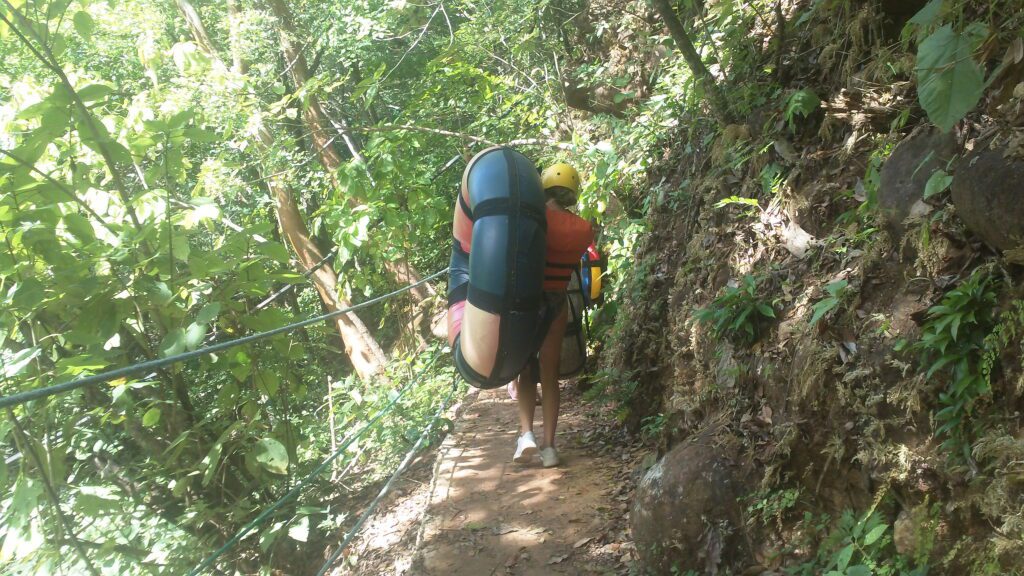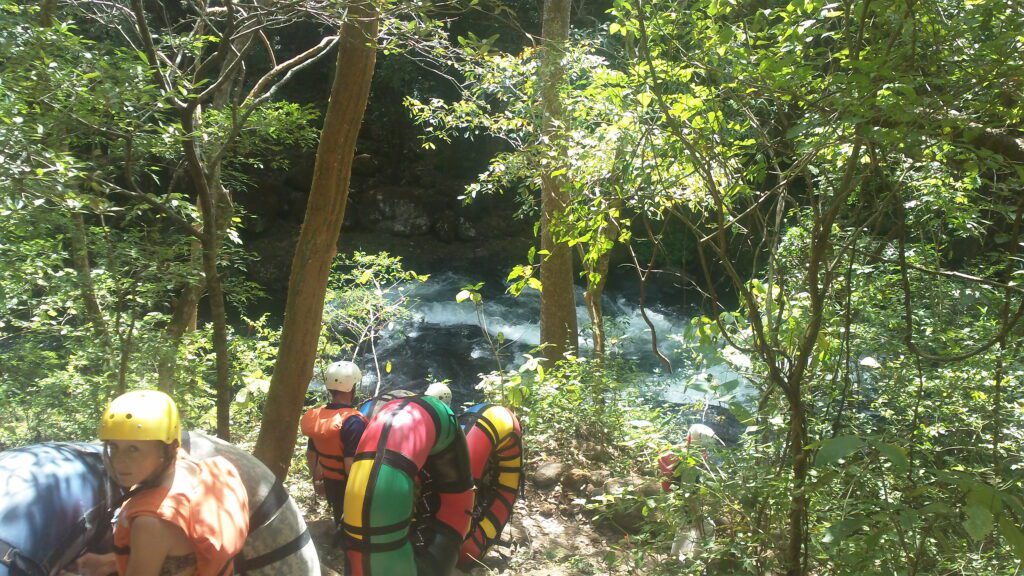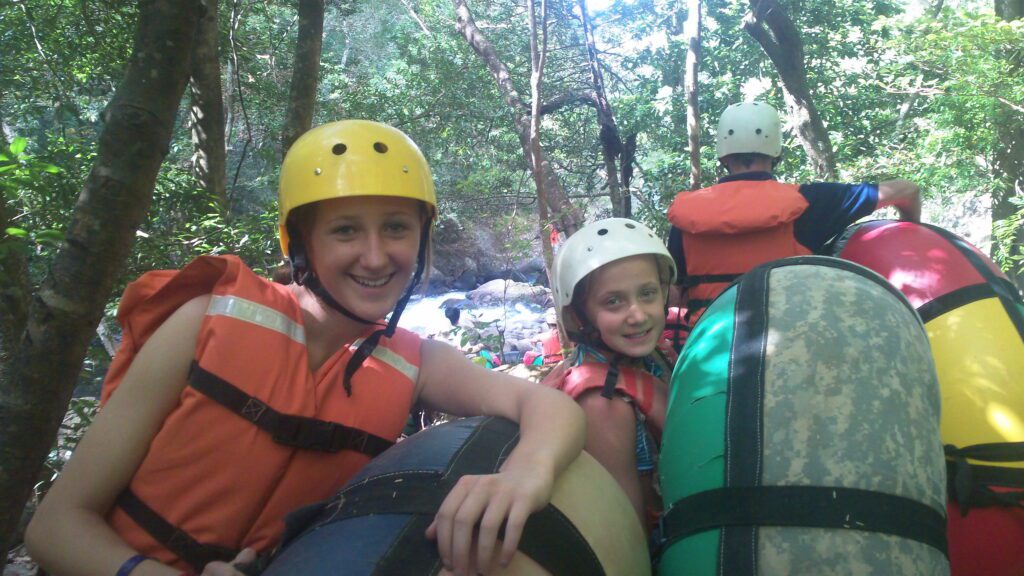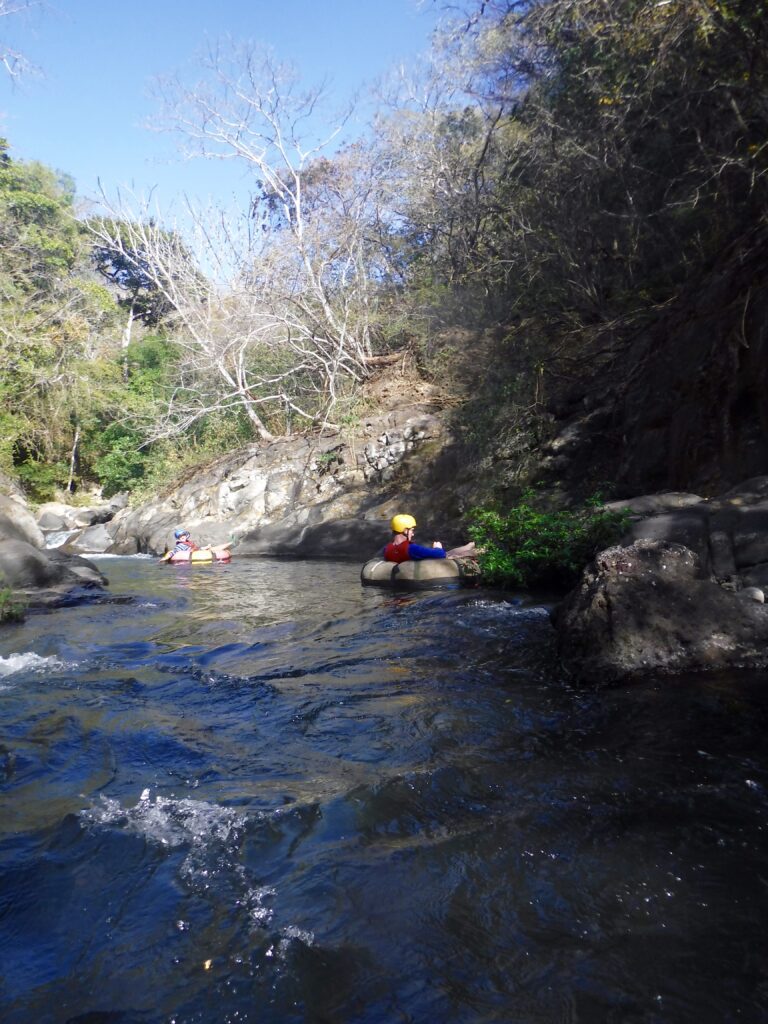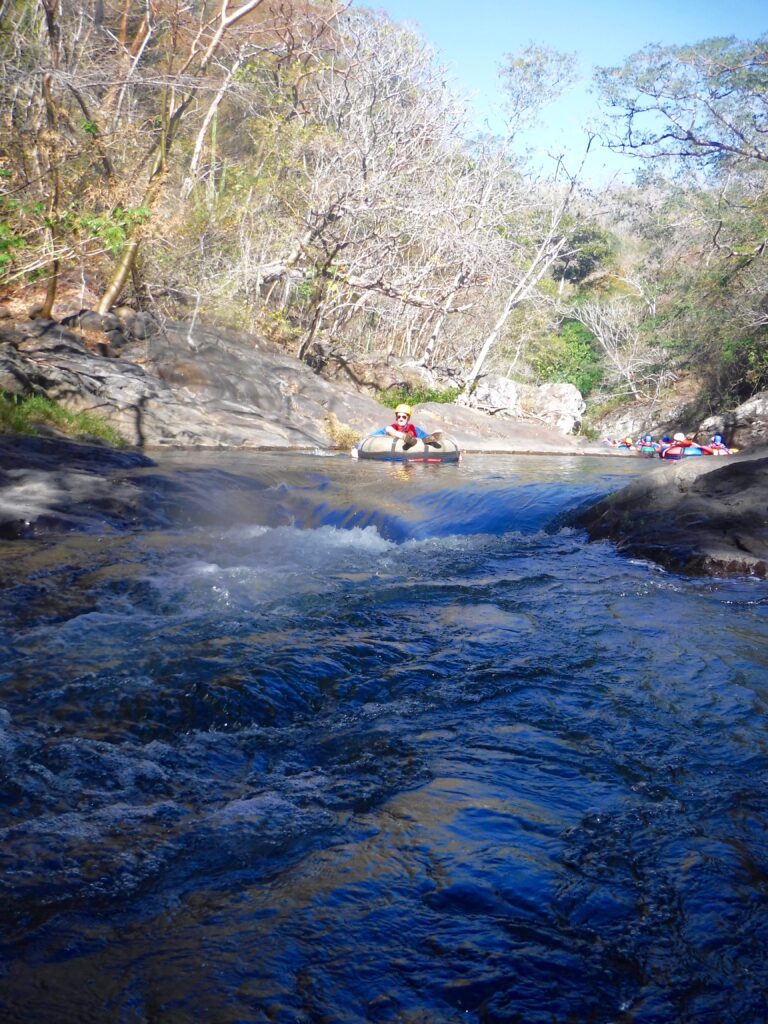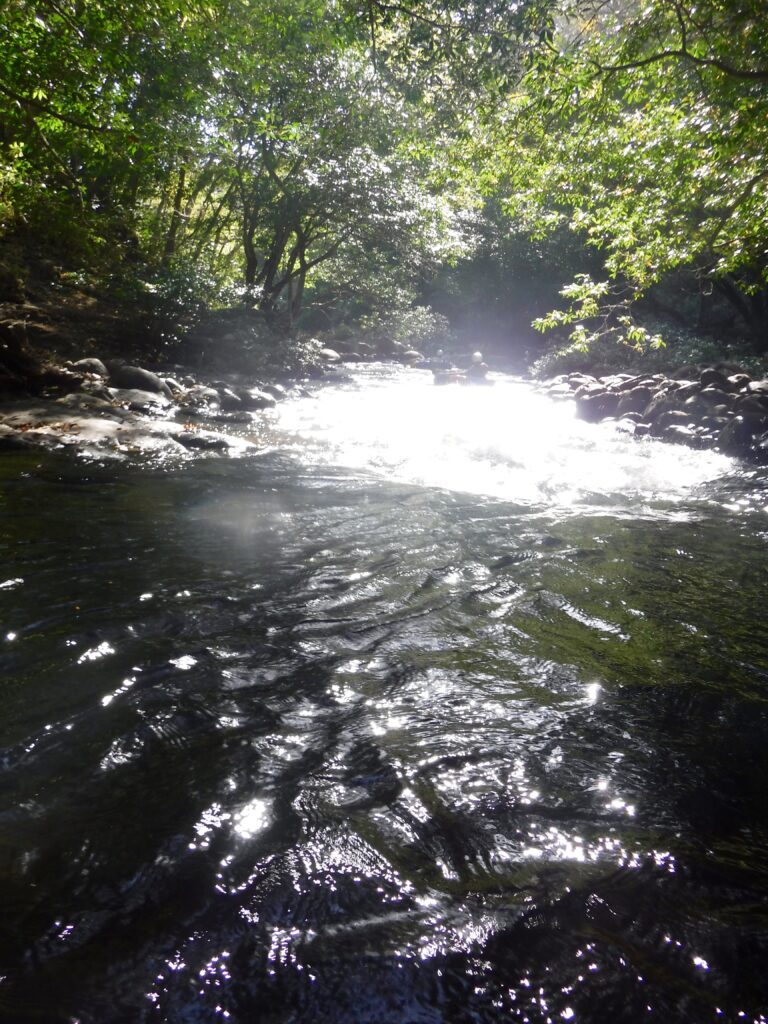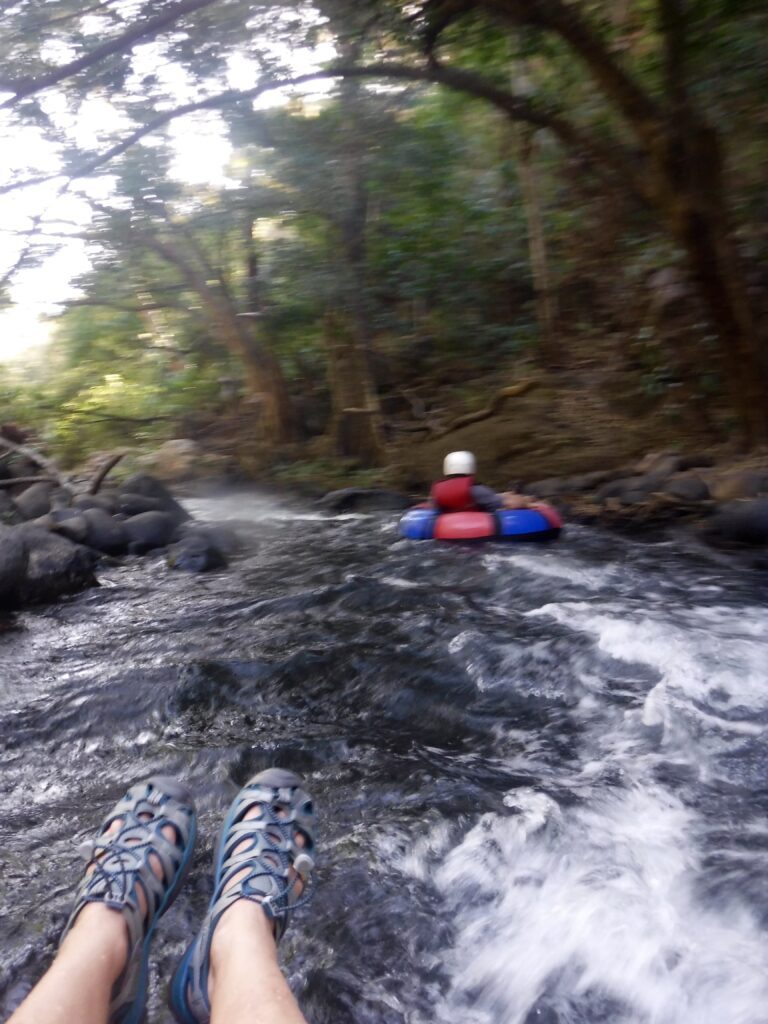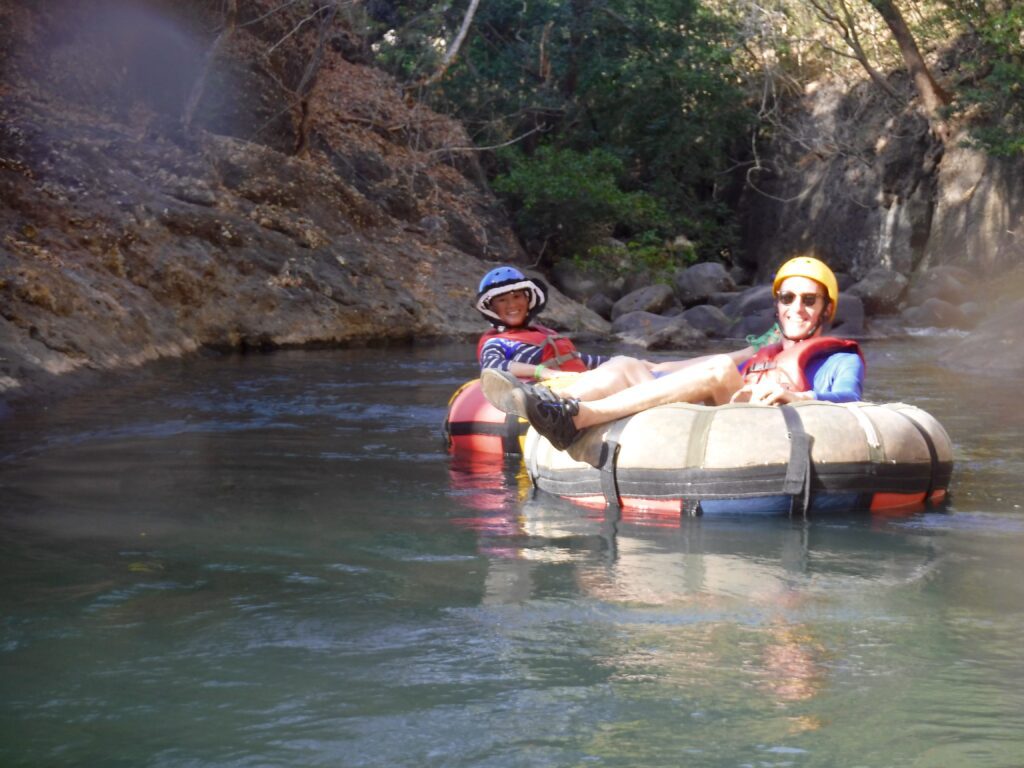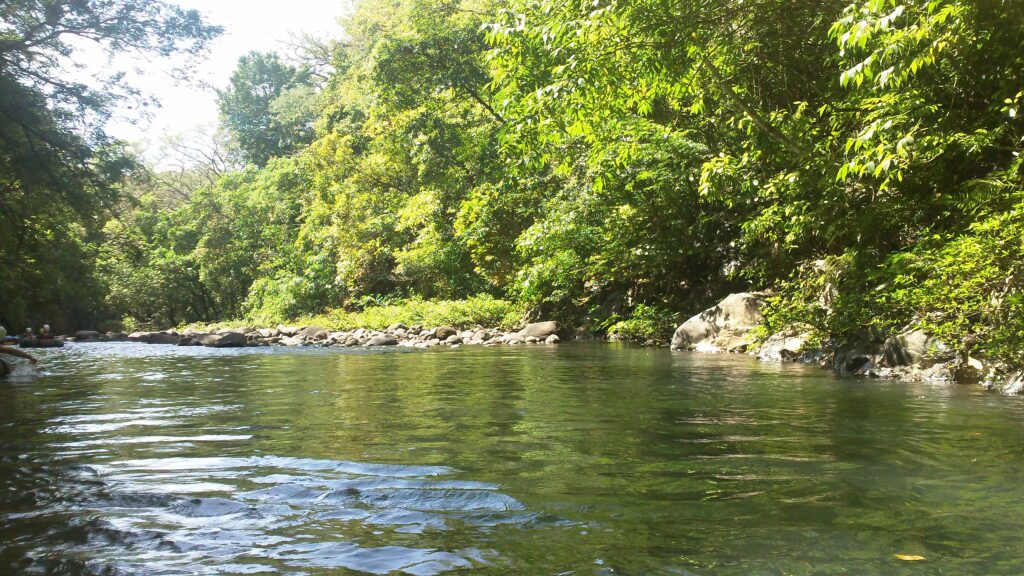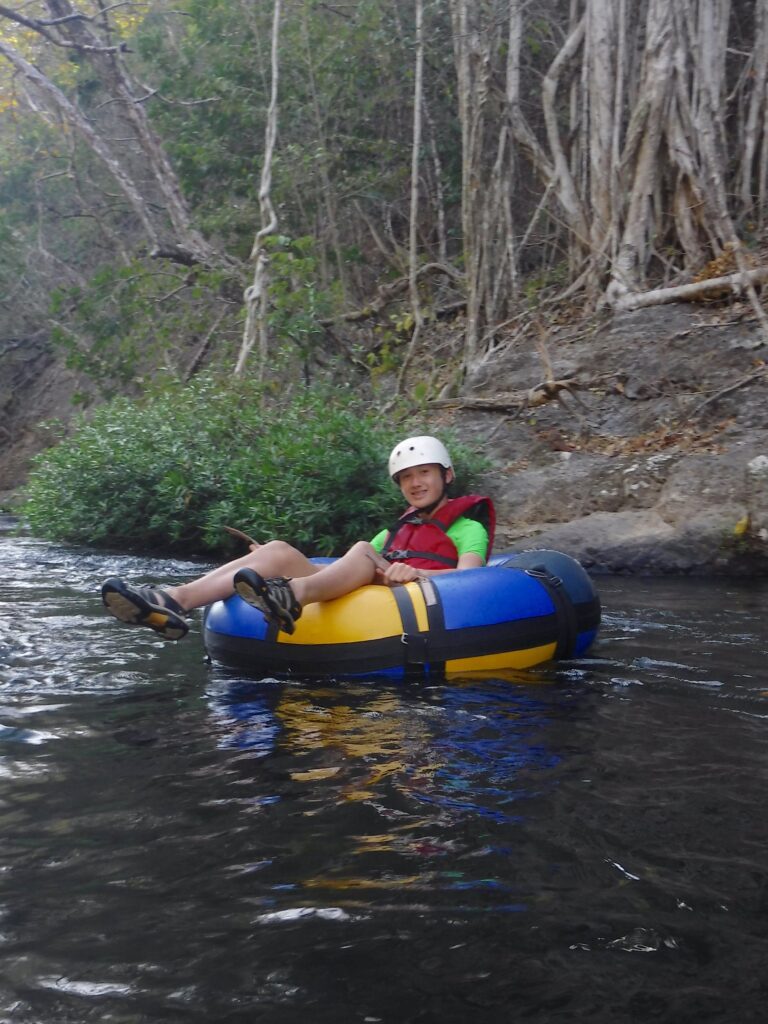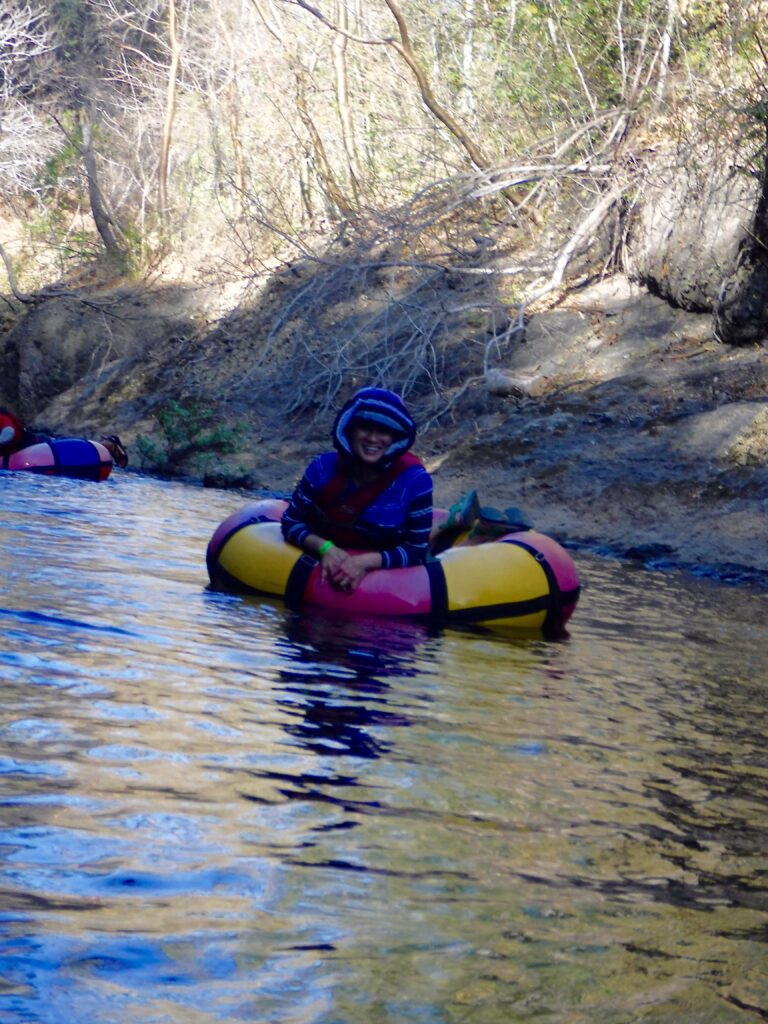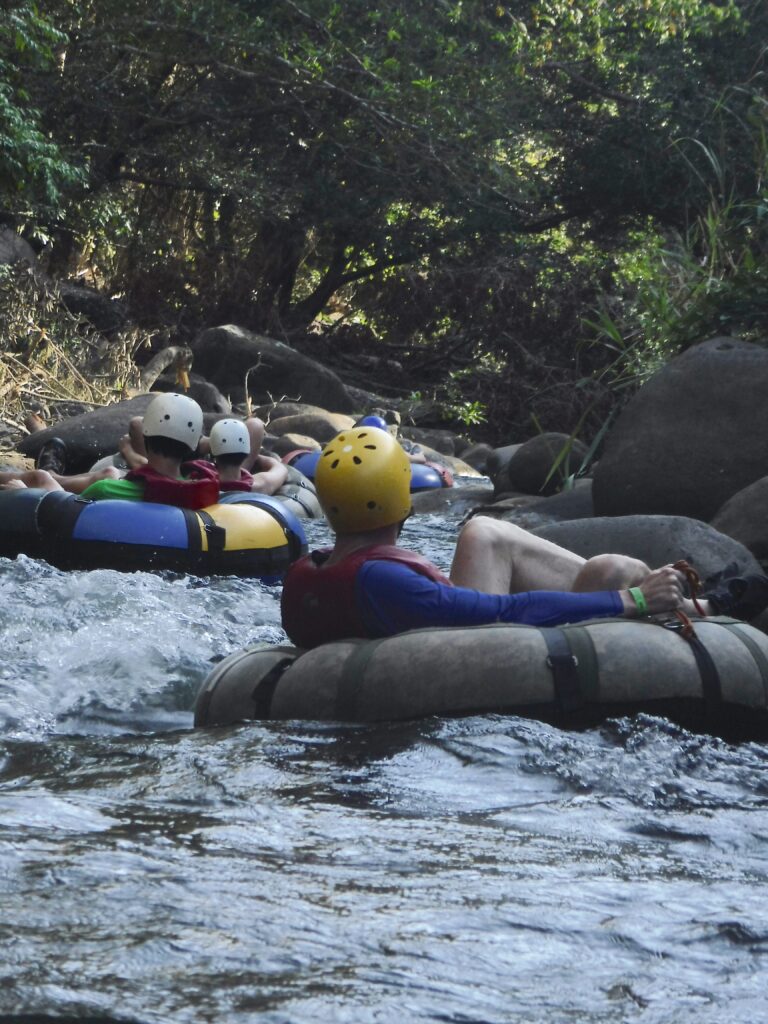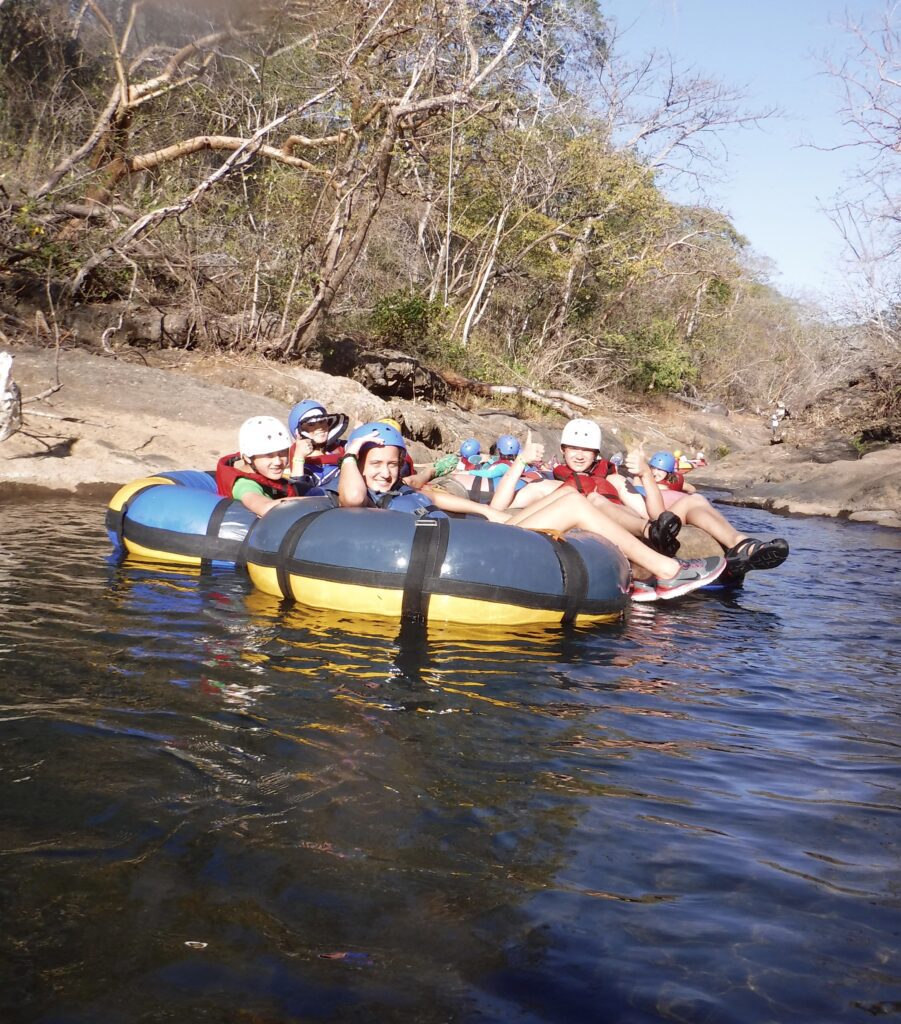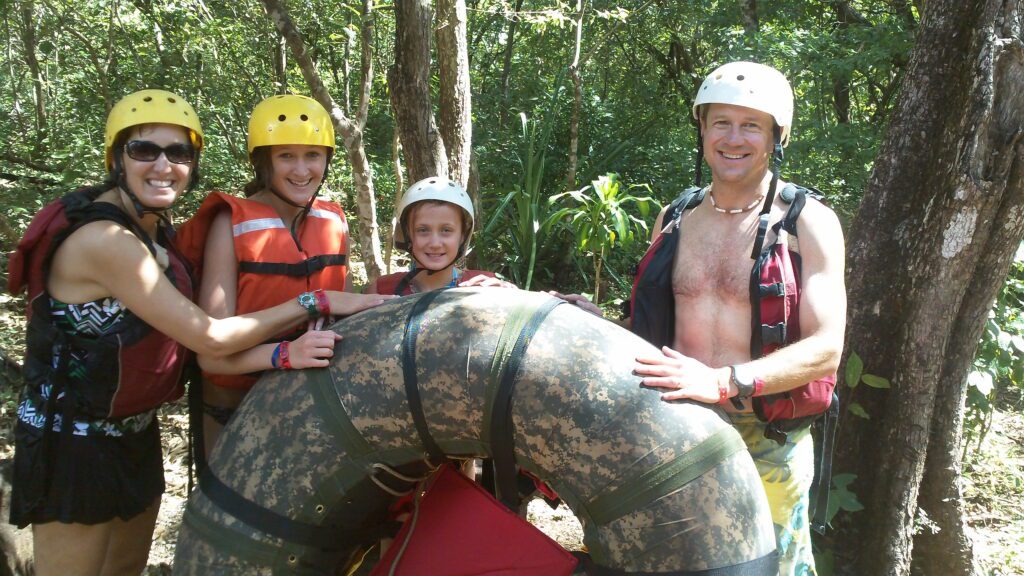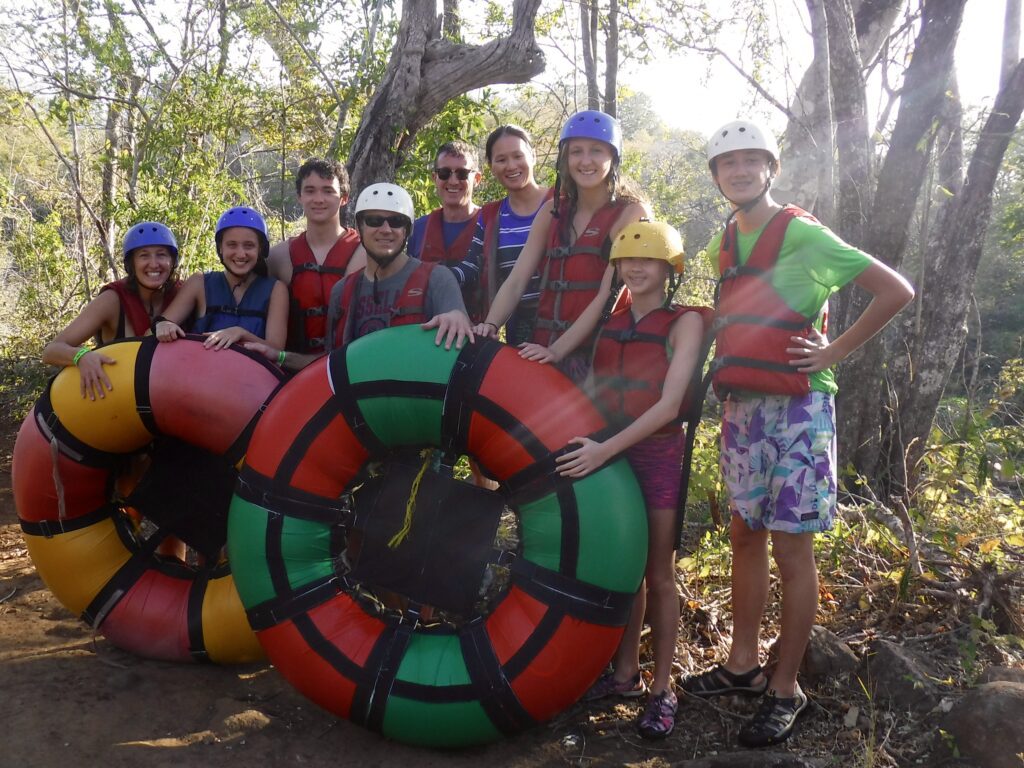 Horseback Riding to a Waterfall
Both times we visited Hacienda Guachipelin, we rode horses to the Catarata las Chorreras. Because we asked to be alone, we were able to ride in 2011 with just our family of four, and in 2016 with our group of nine. A guide with very limited English accompanied us both times. Speak up if you want to change your itinerary!
We loved this outing. It was a beautiful ride. It takes about 20 minutes to get to the waterfall. From there we swam and jumped off some rocks. The Rio Blanco (the white river) is pristinely gorgeous. Truly amazing.
In 2011, the waterfall was gushing. In 2016, it was barely a trickle. We highly recommend doing this if you spend the day at Hacienda Guachipelin.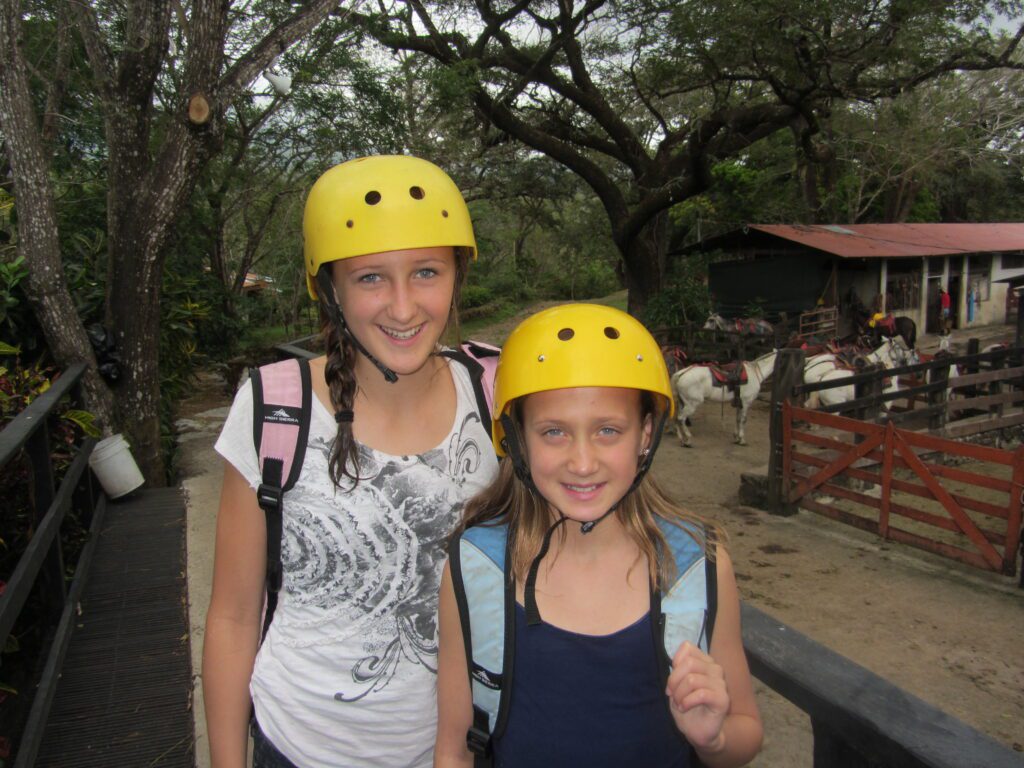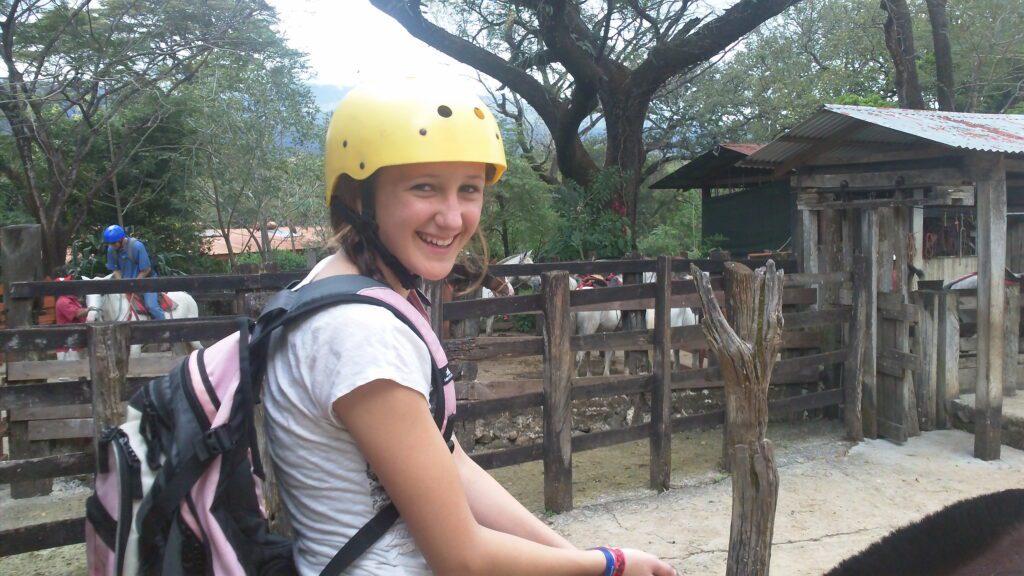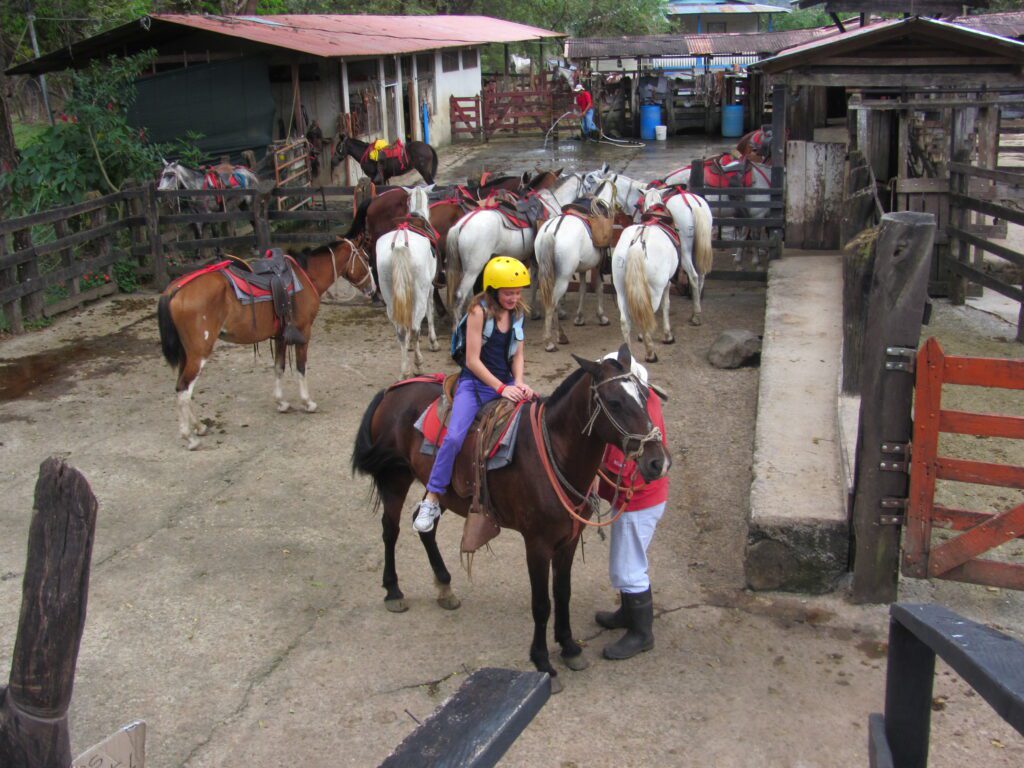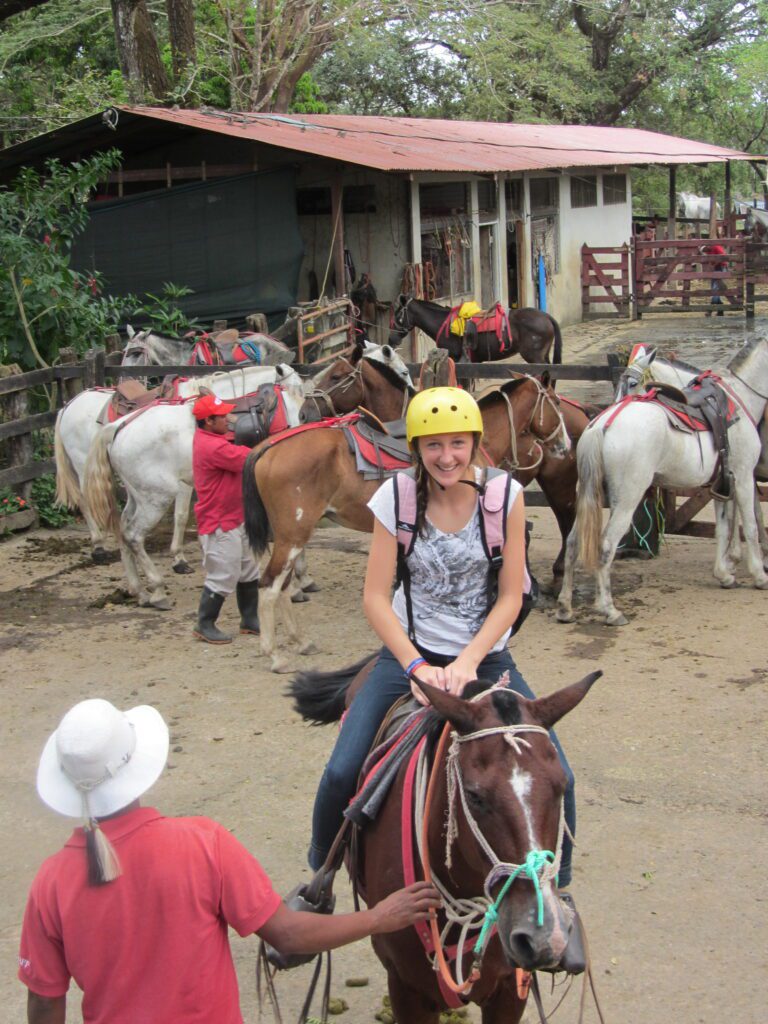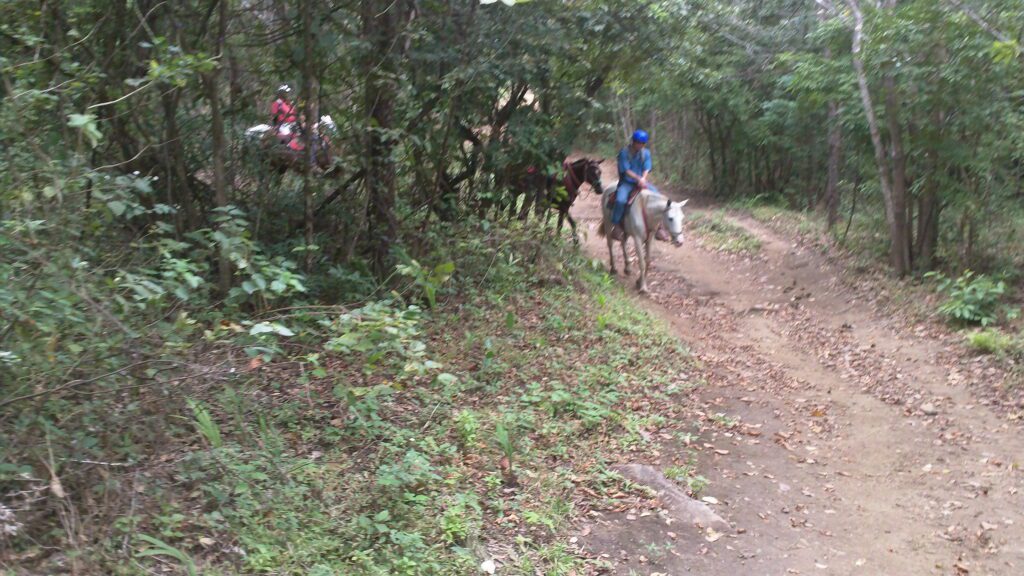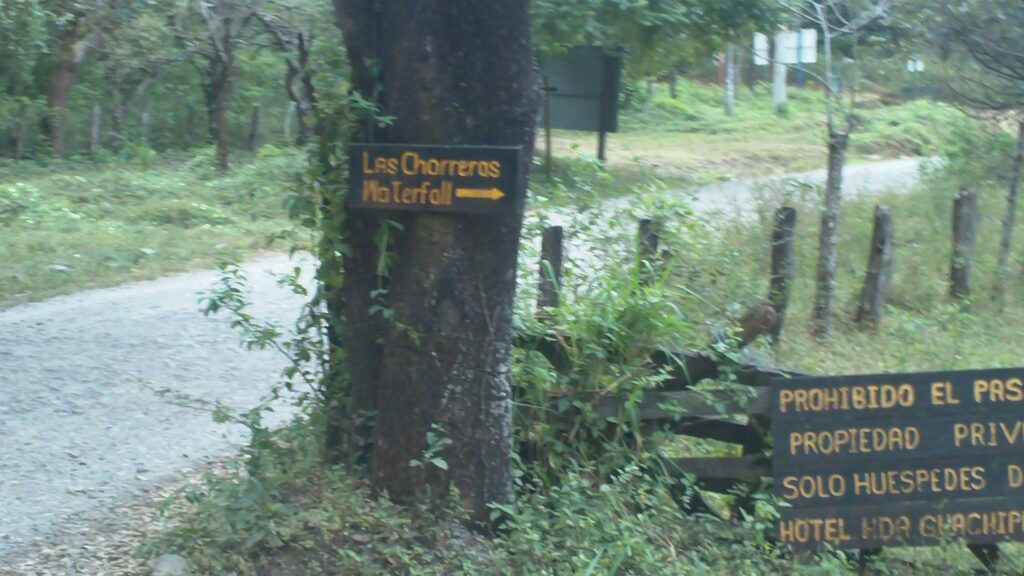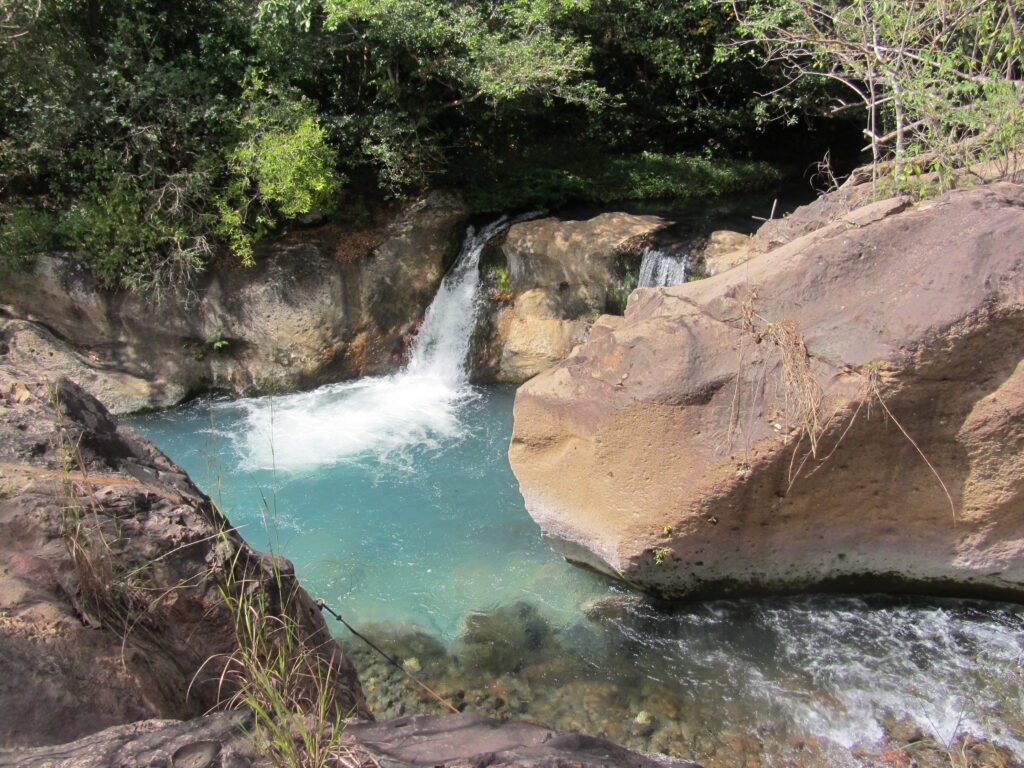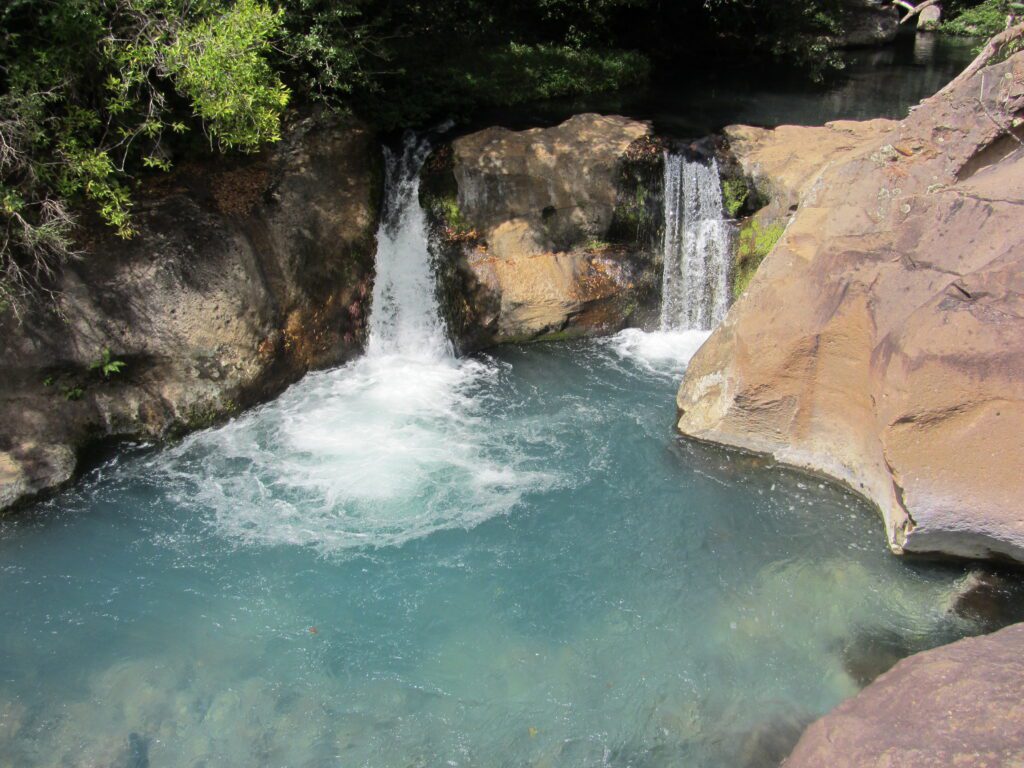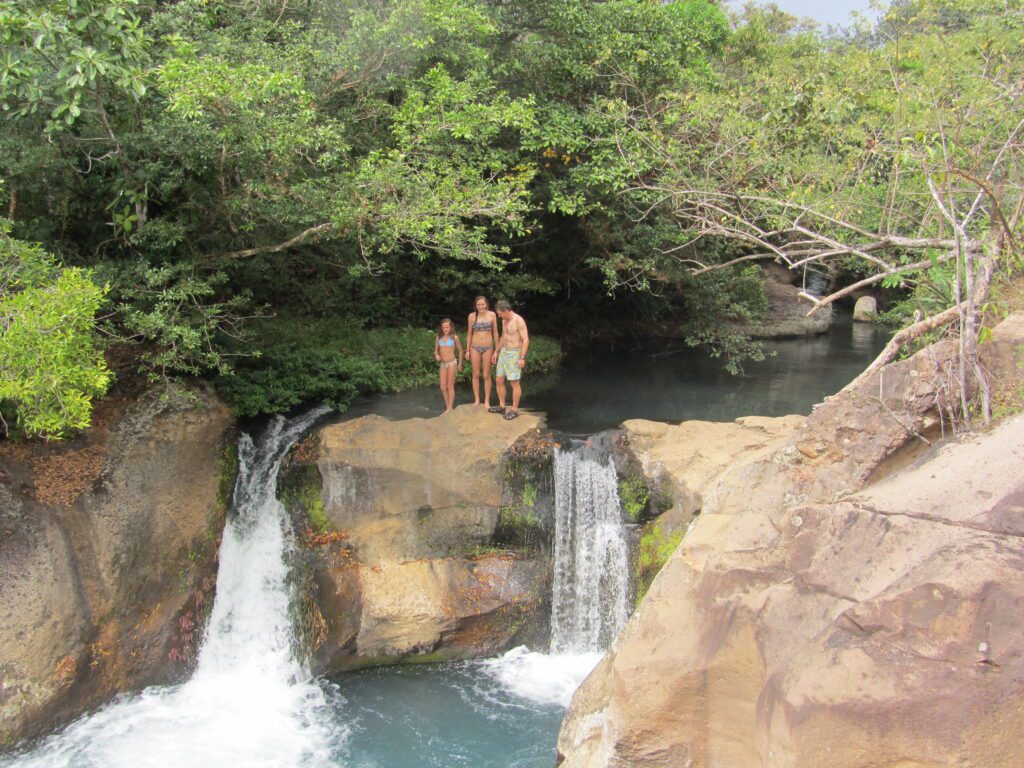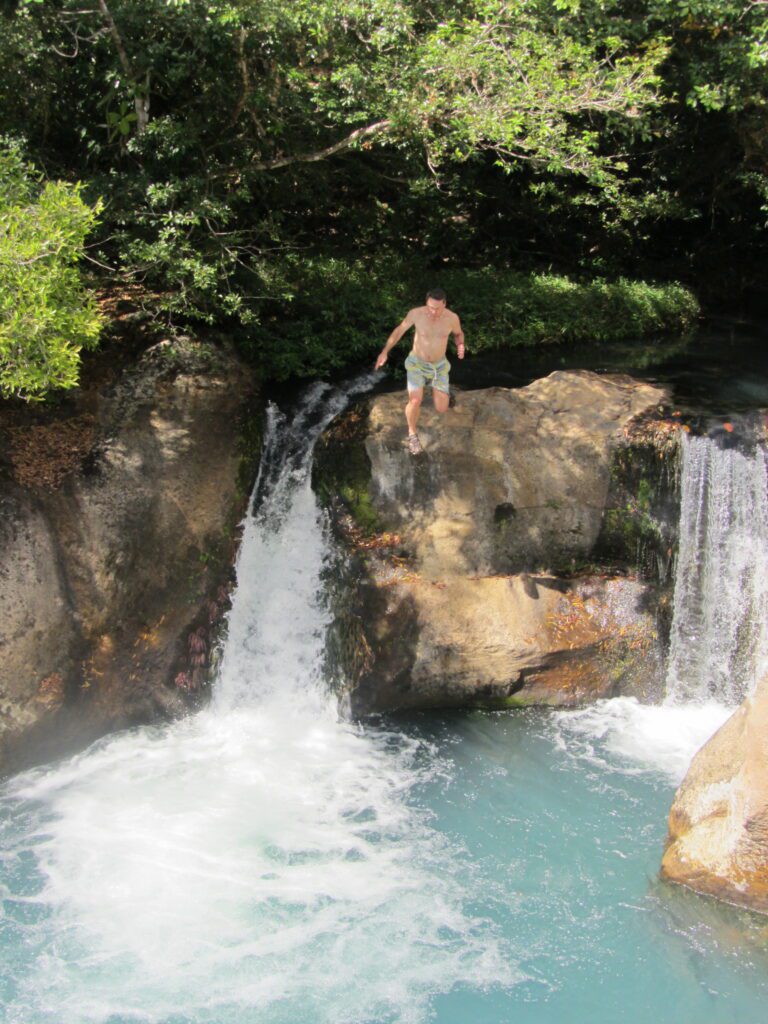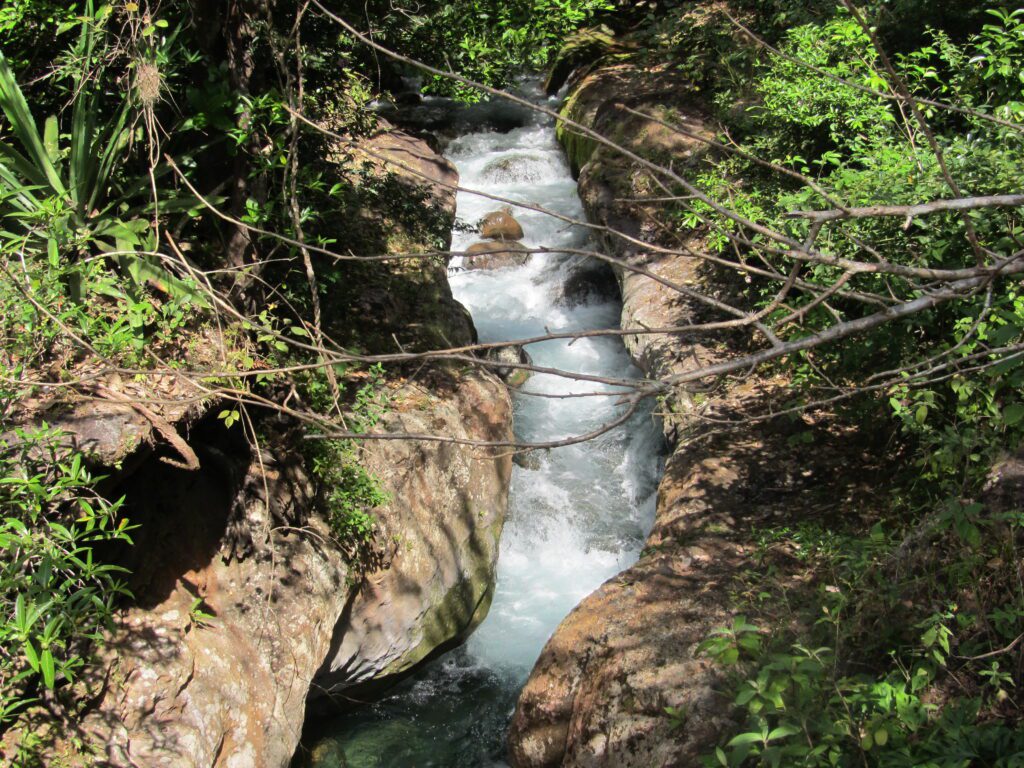 Images from our 2016 ride to Las Chorreras.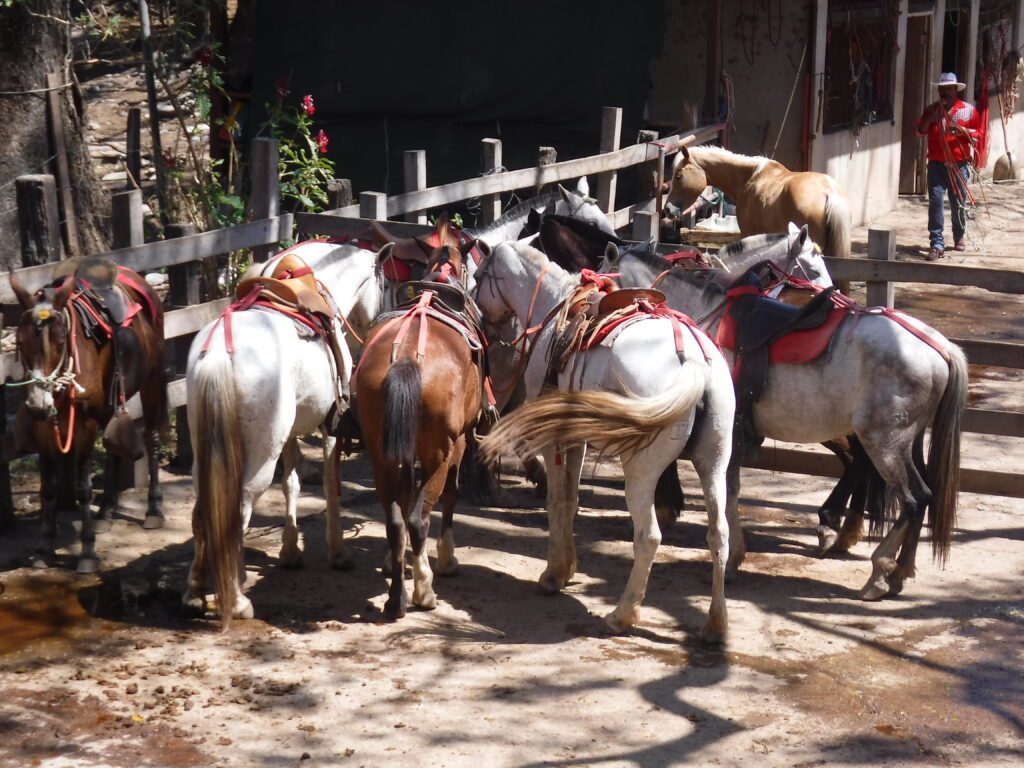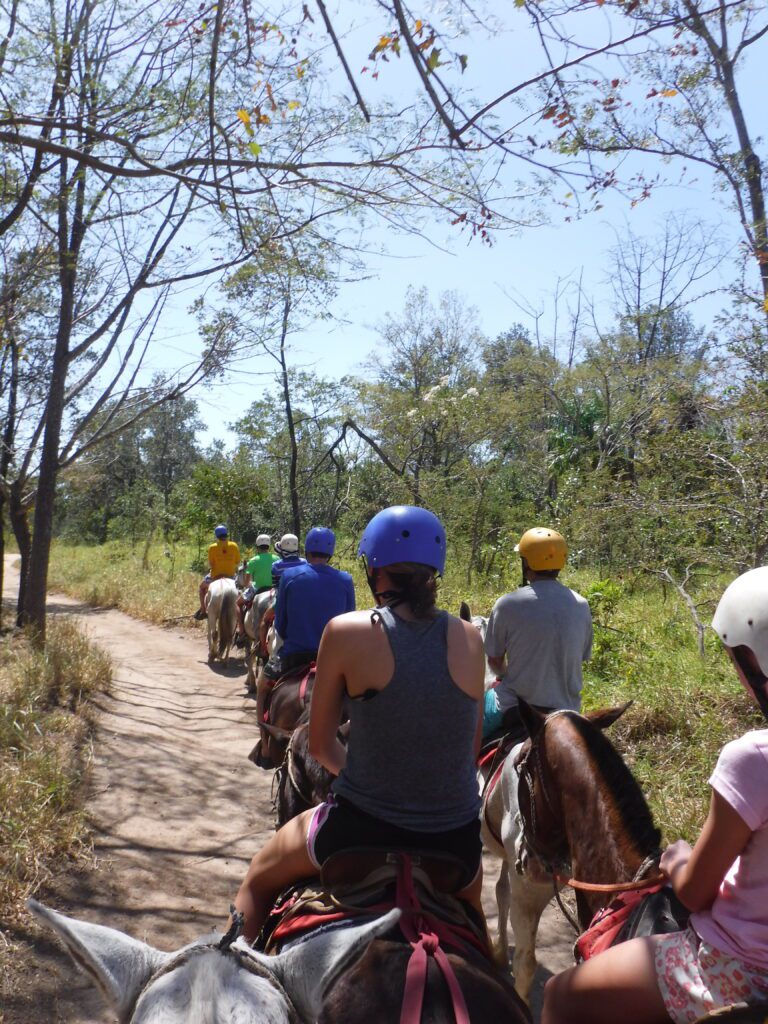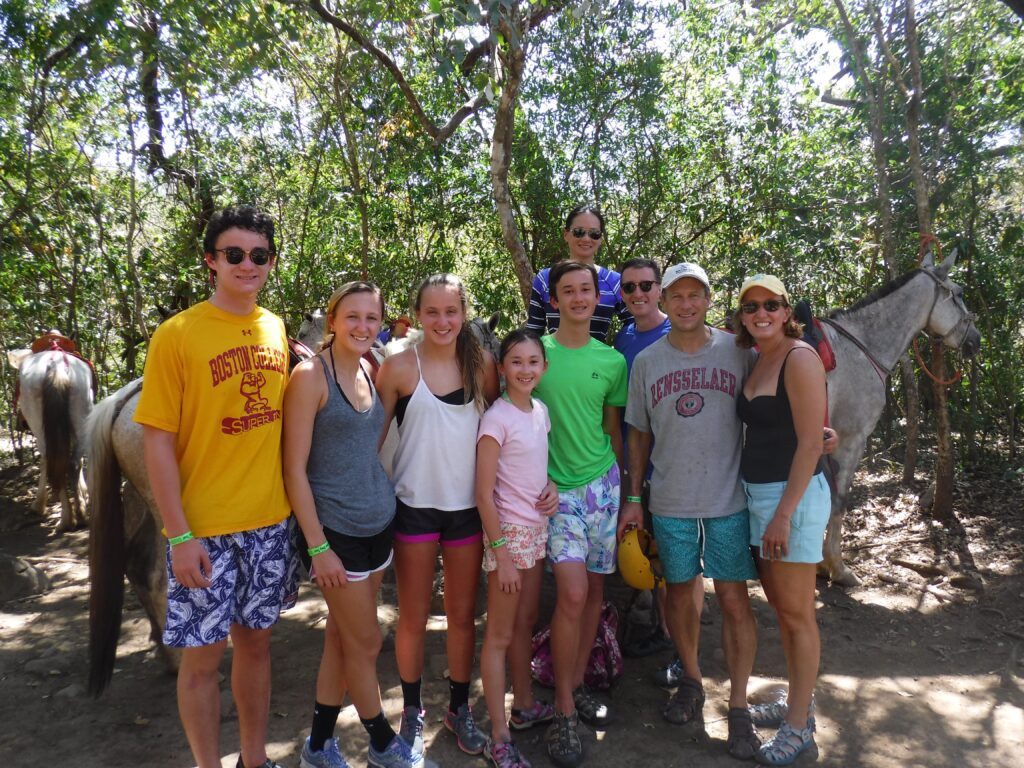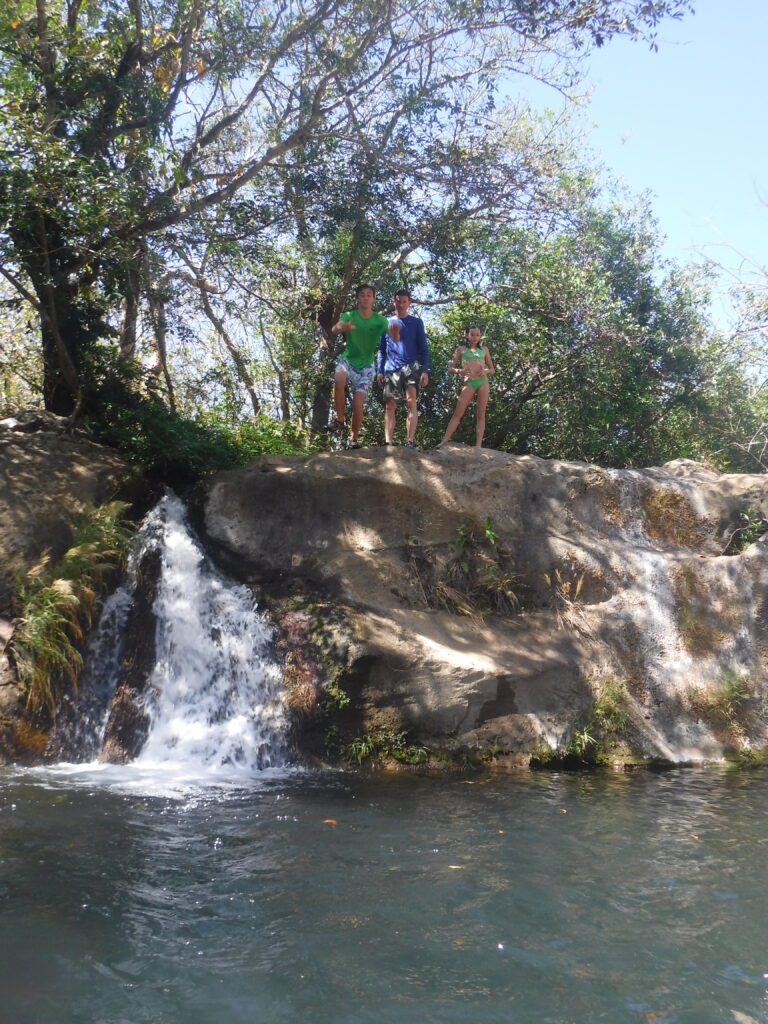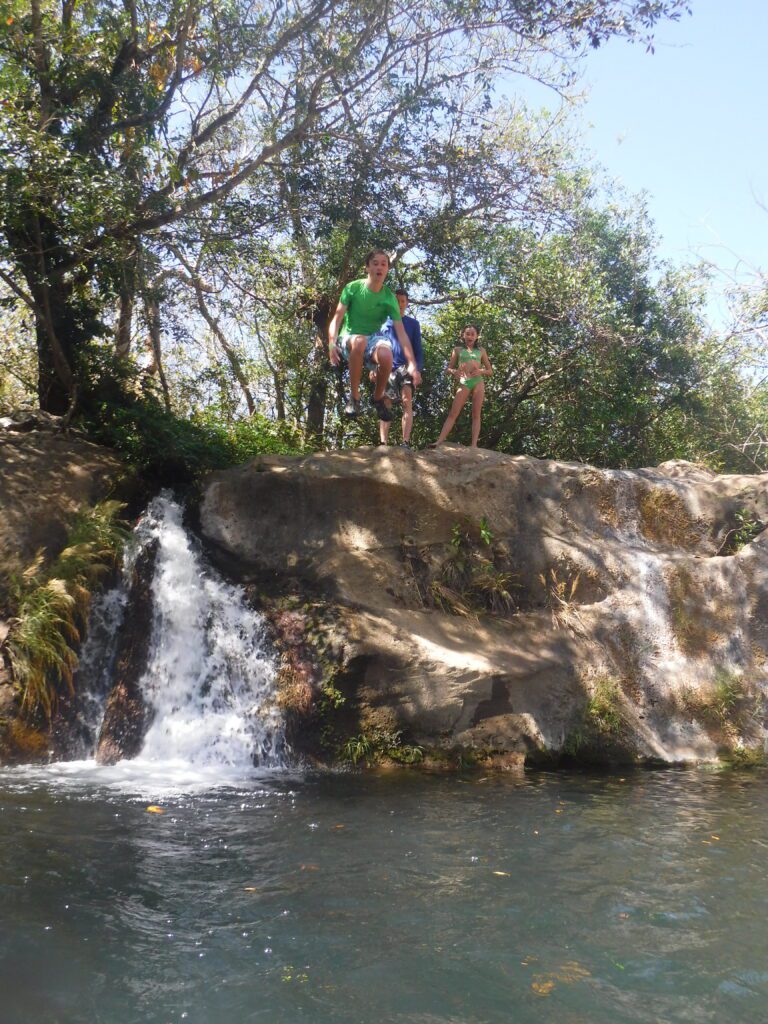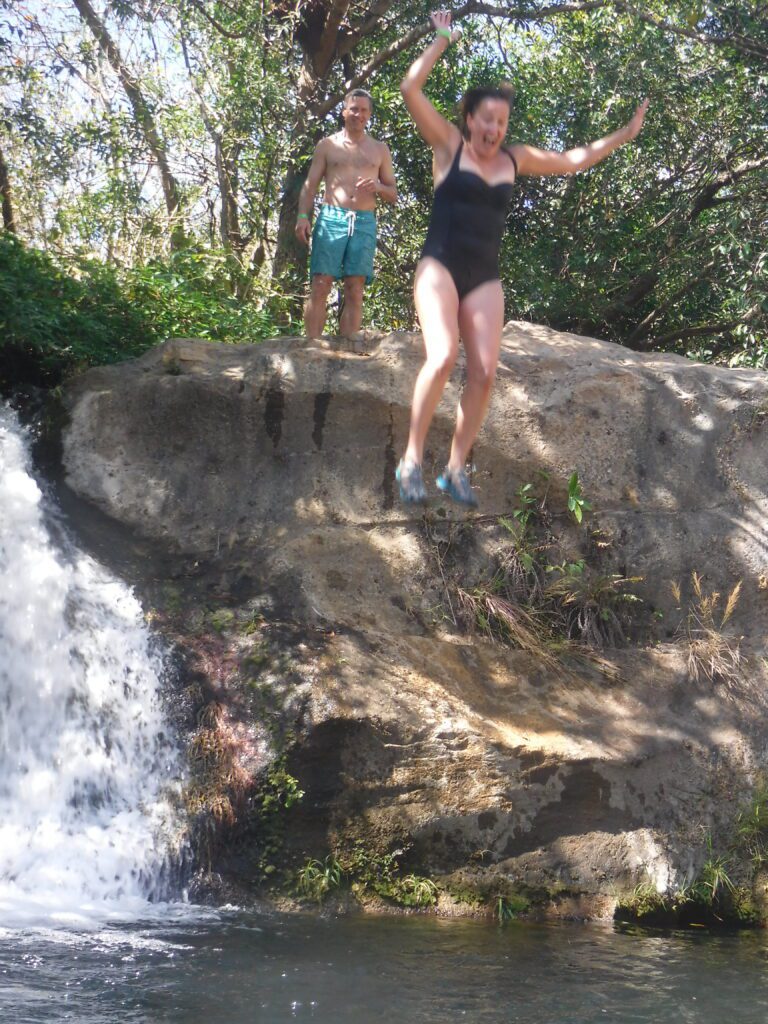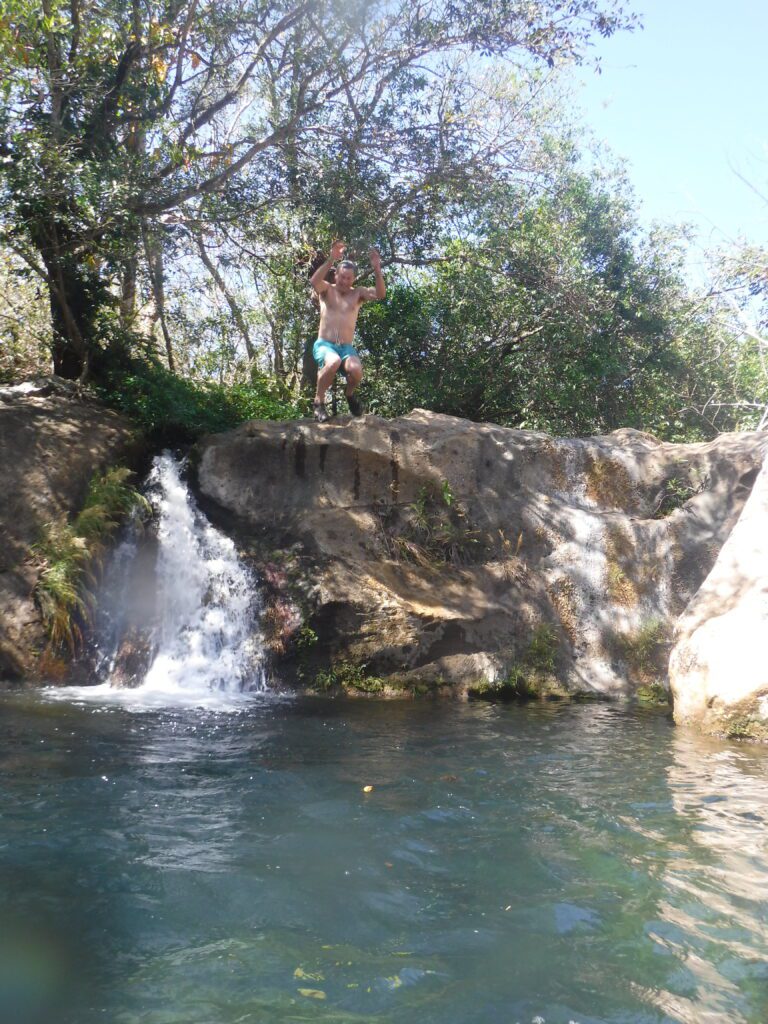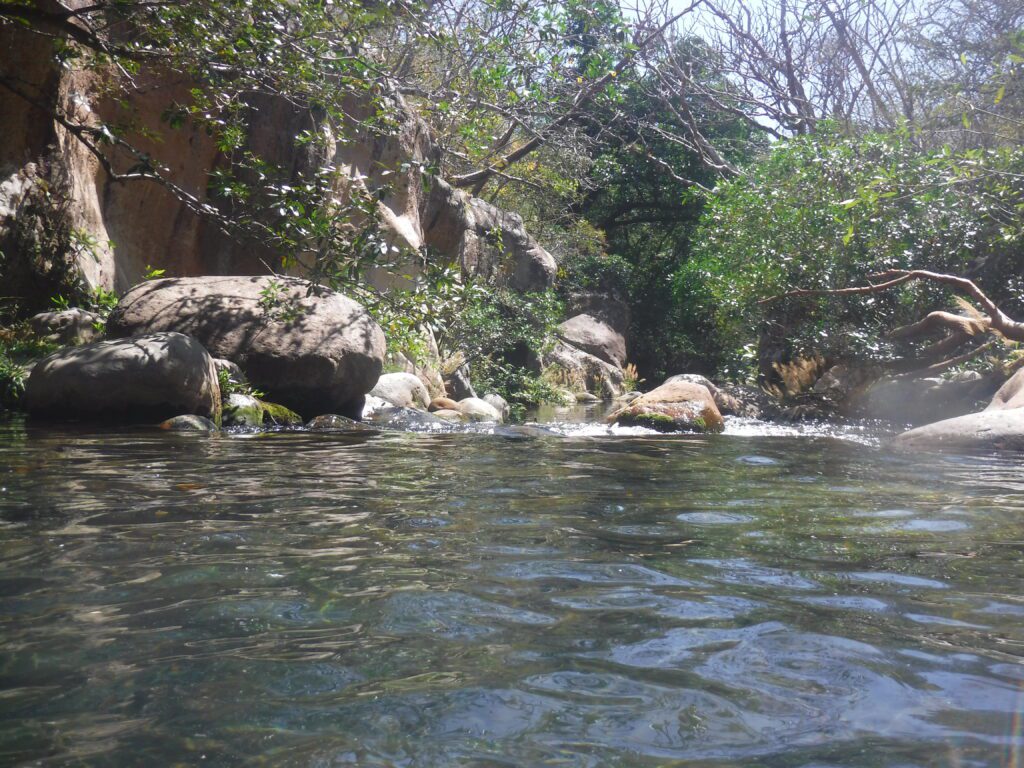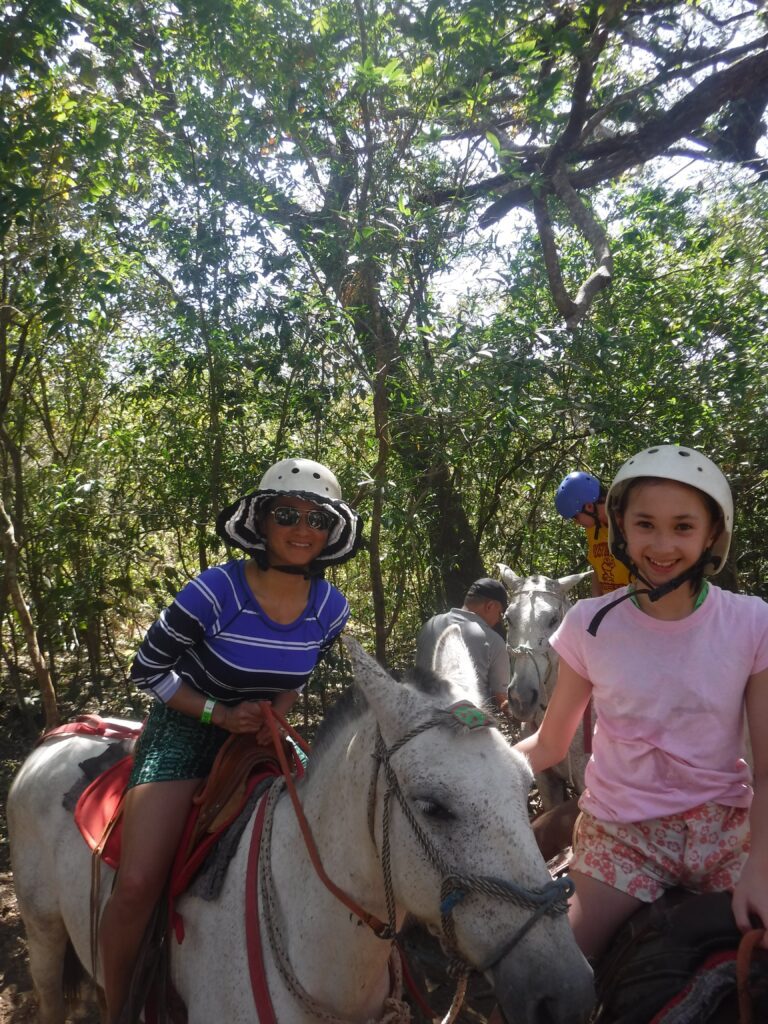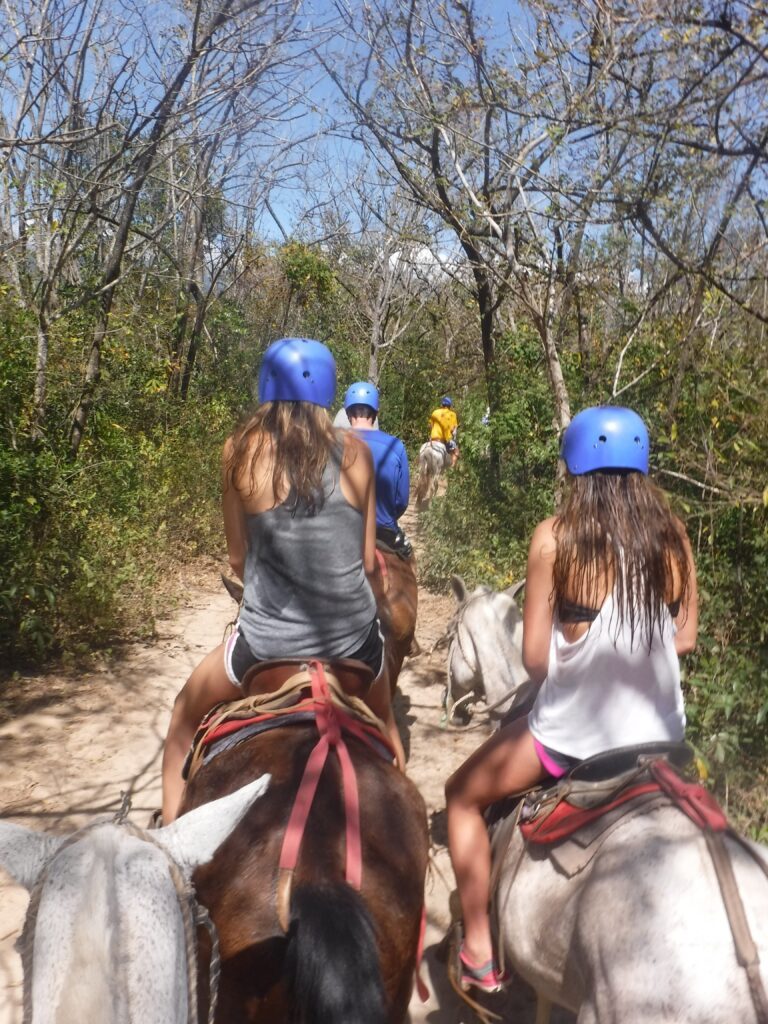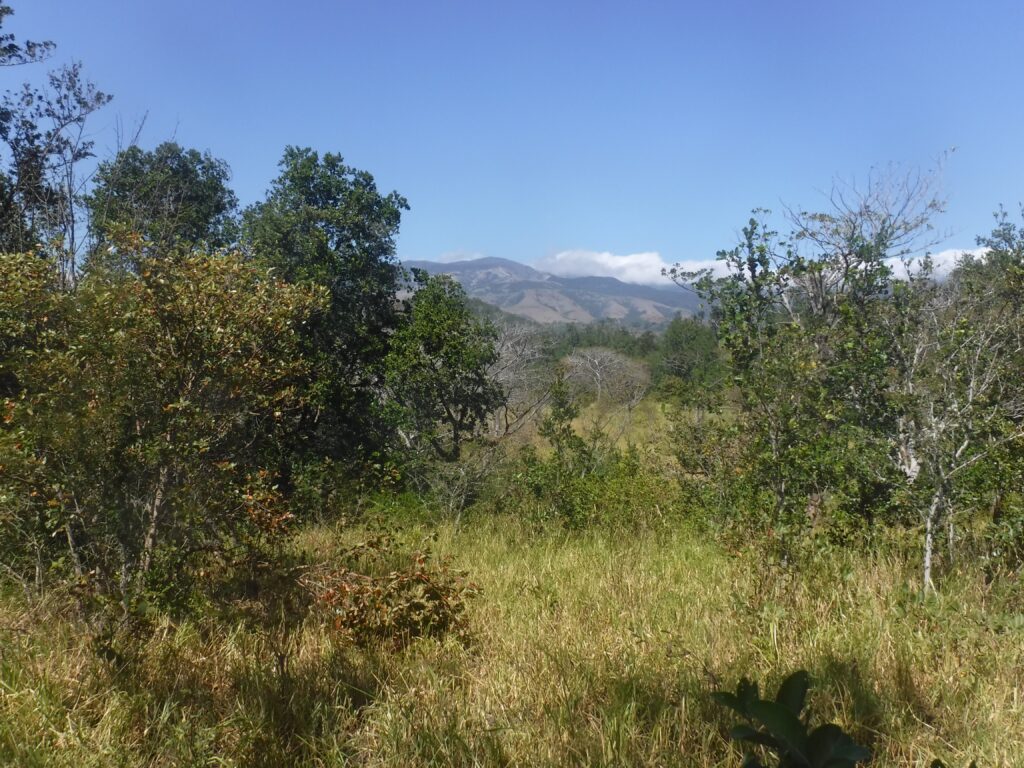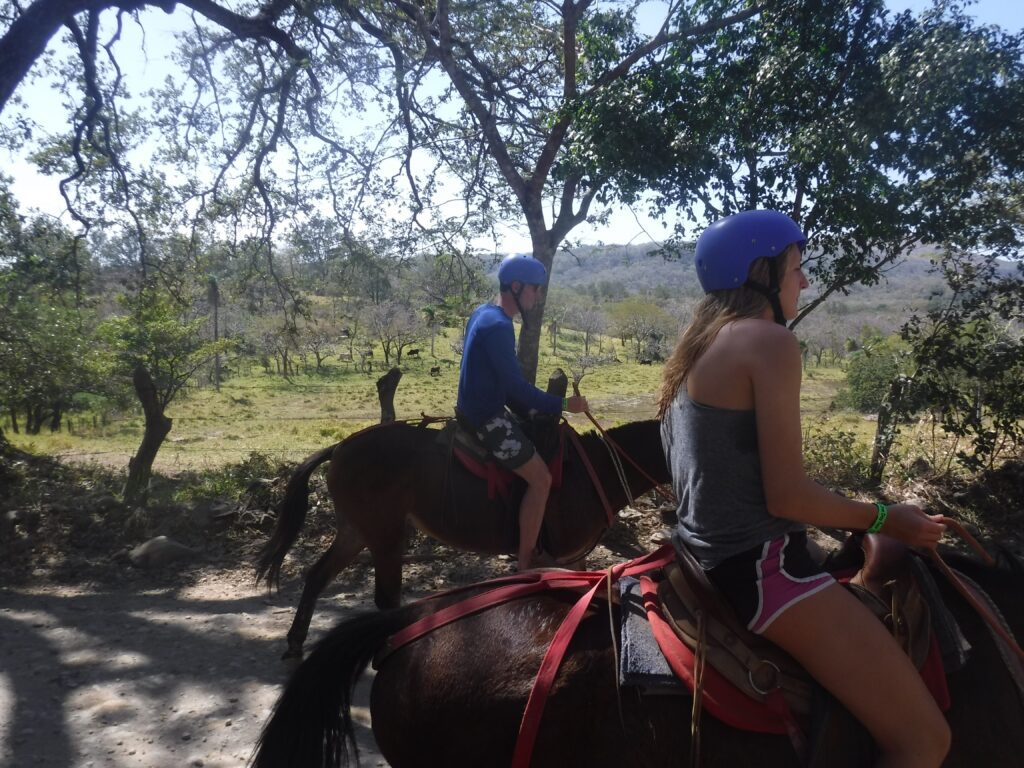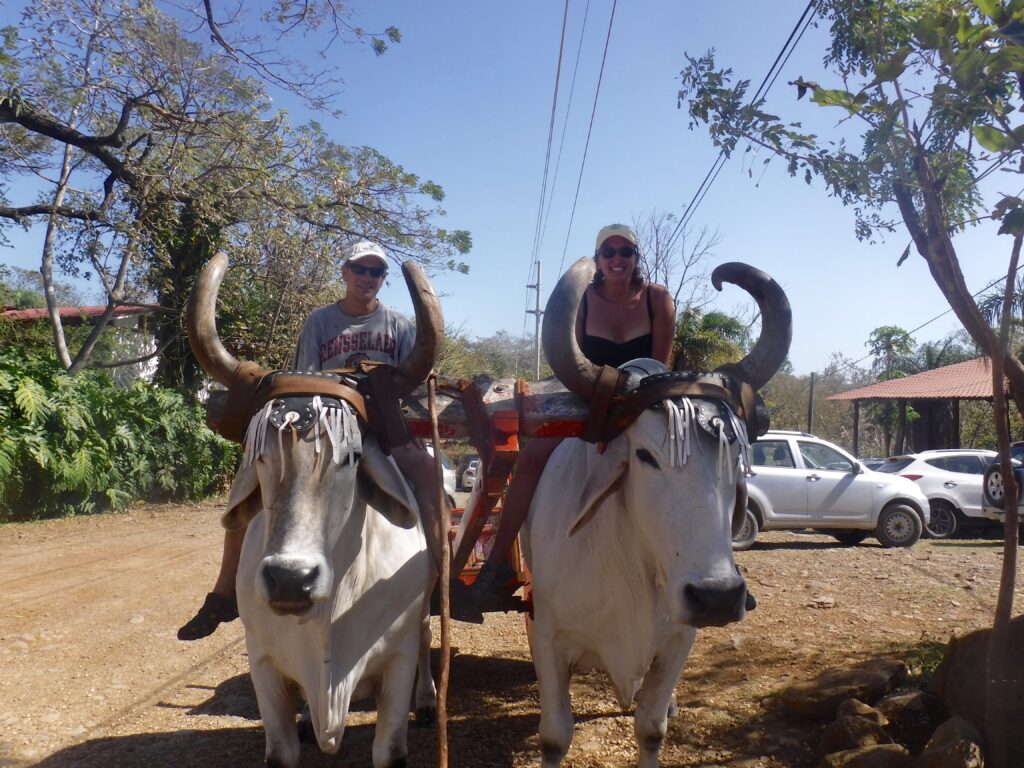 Canyon Canopy Zipline
Our family has been ziplining several times. This zipline tour is like zip lining on steroids. You begin with a few zips across a canyon. Then, you have the option to repel into a canyon, swing across the Rio Blanco river and climb back out on a rock wall. You then do a few more zips, walk on wall staples!, and climb out. It is thrilling, and challenging. My photos are from 2016. If you bring a camera, be sure to put it on a lanyard, or there is HIGH risk of dropping into the water.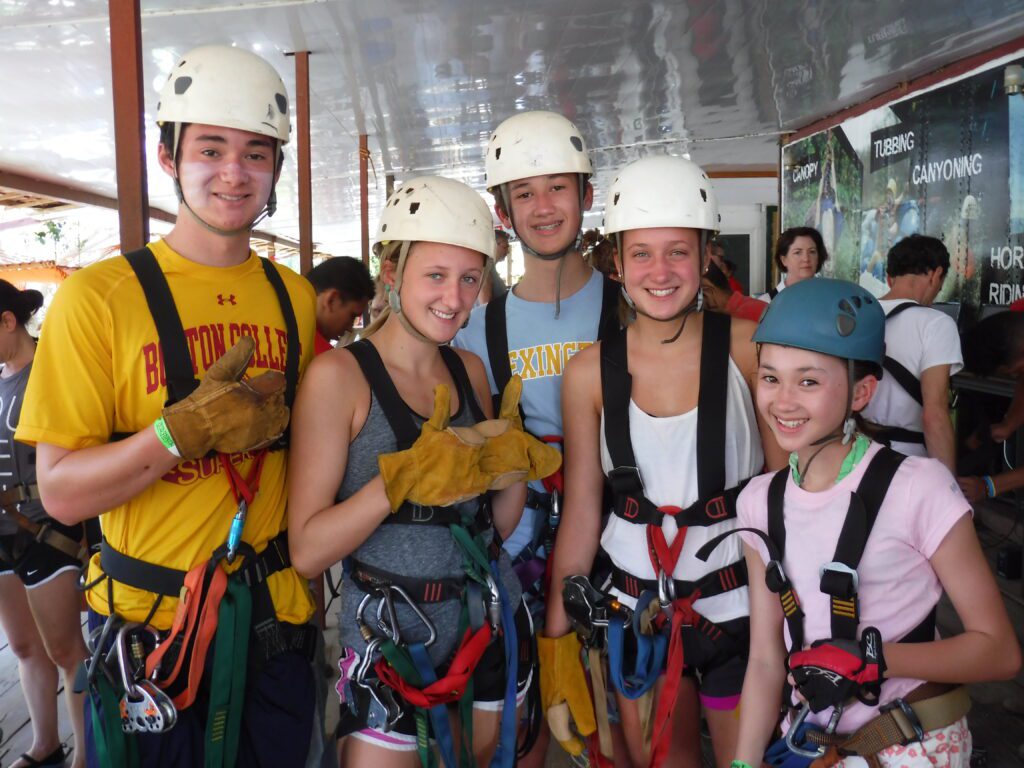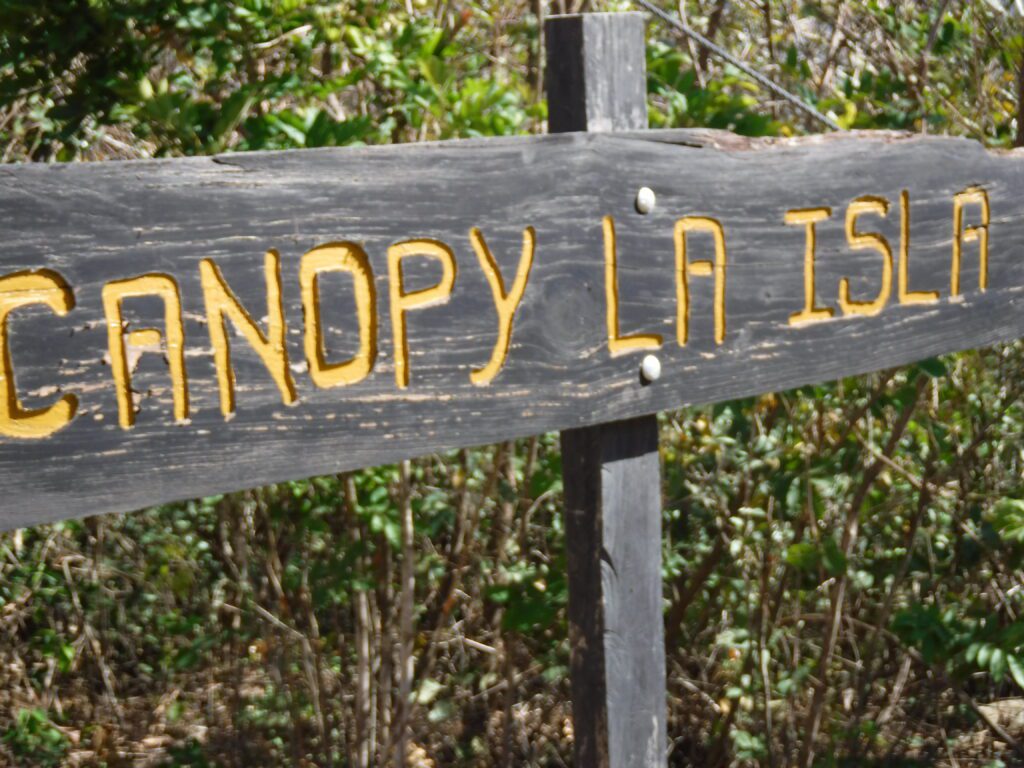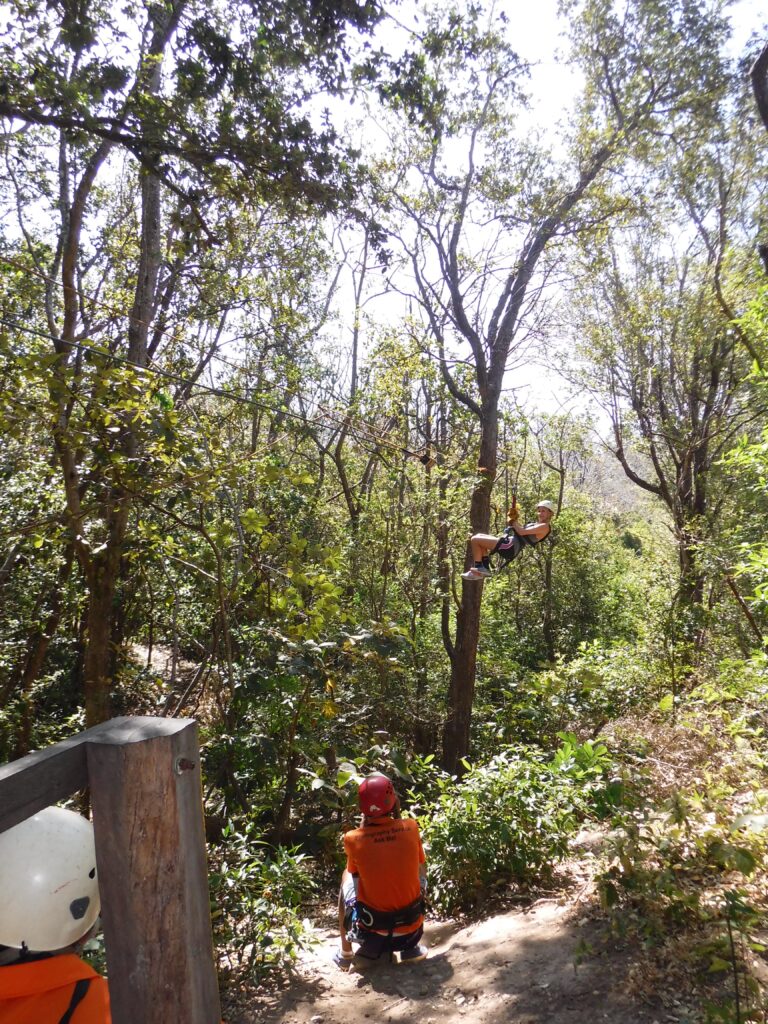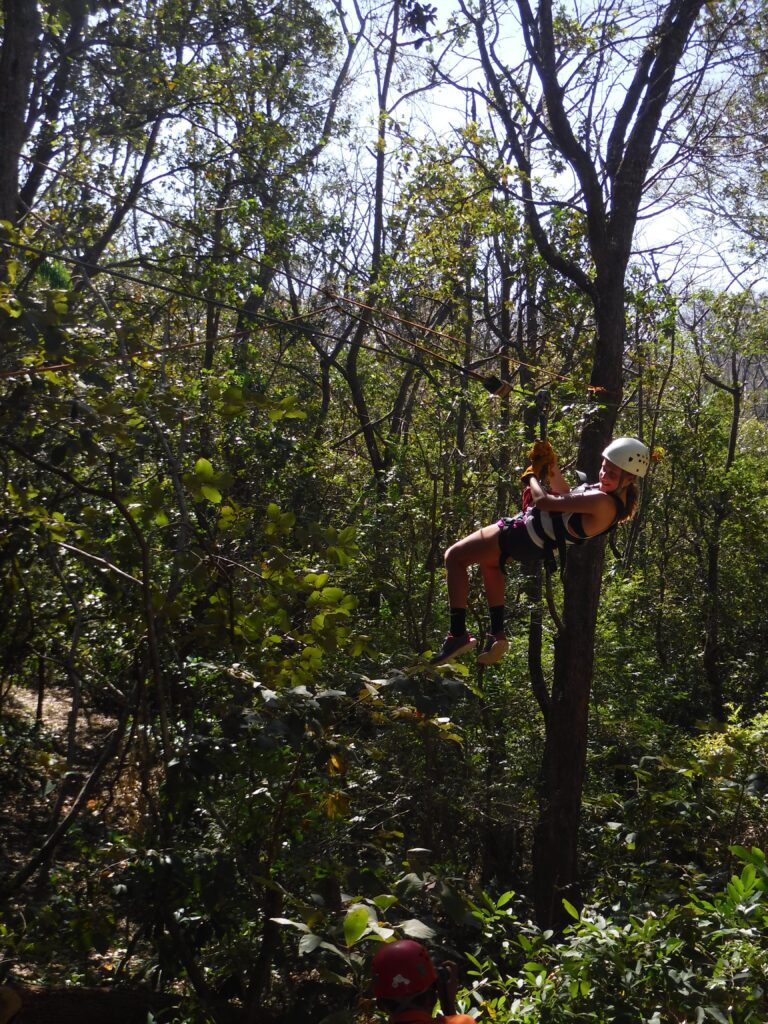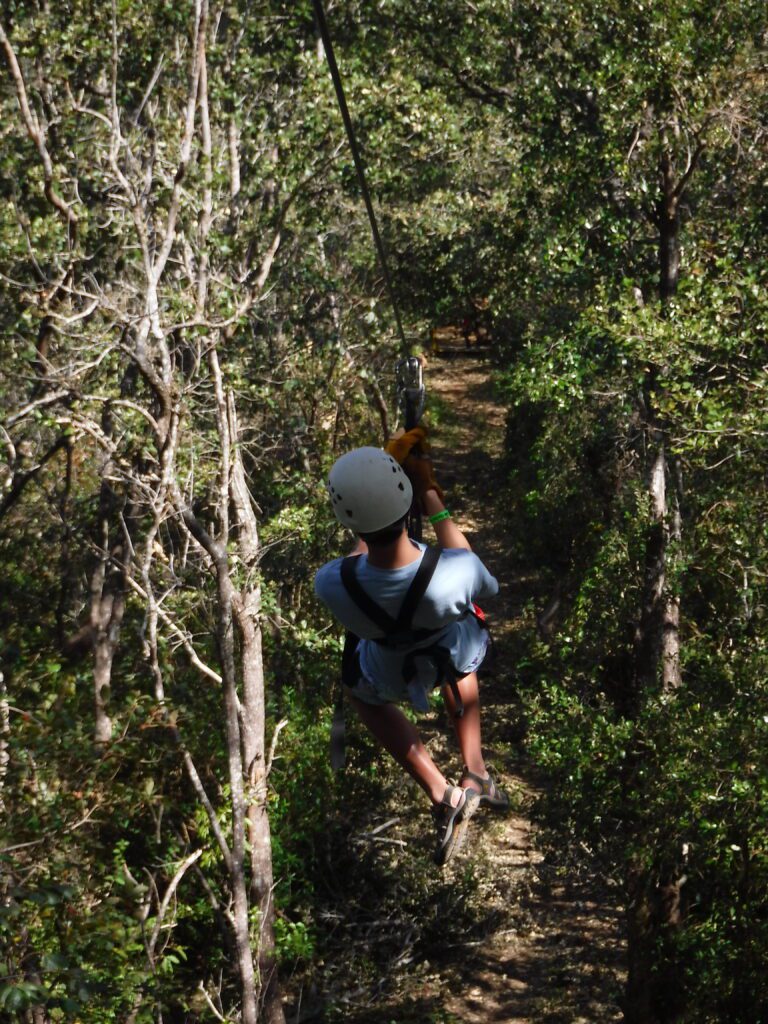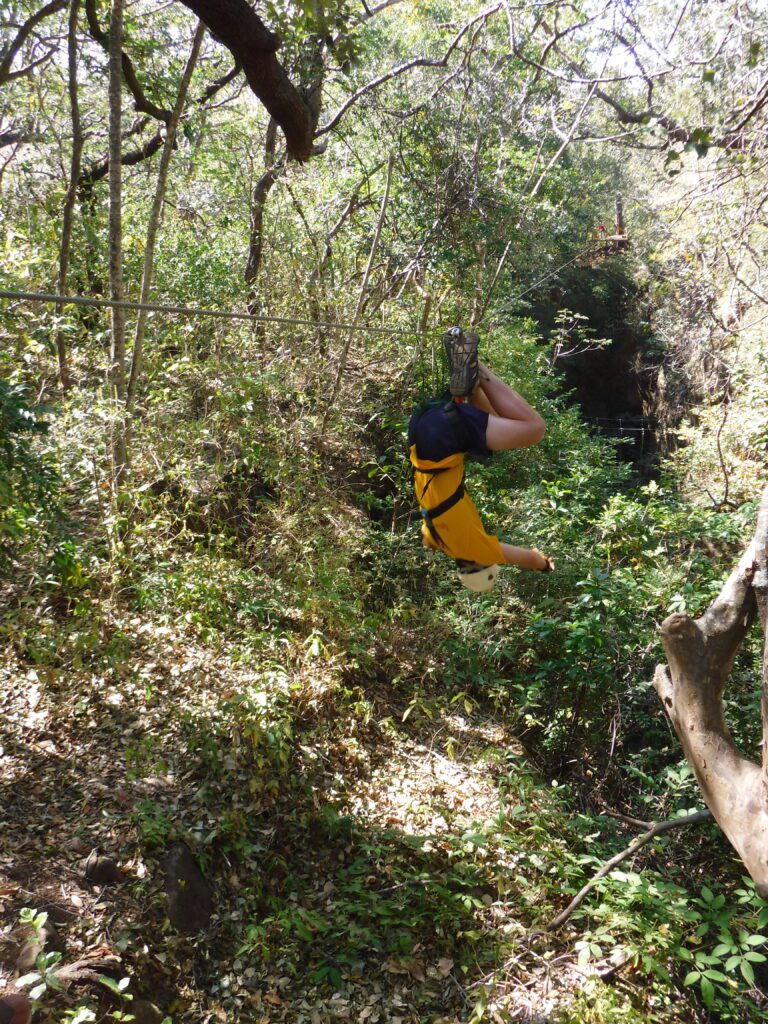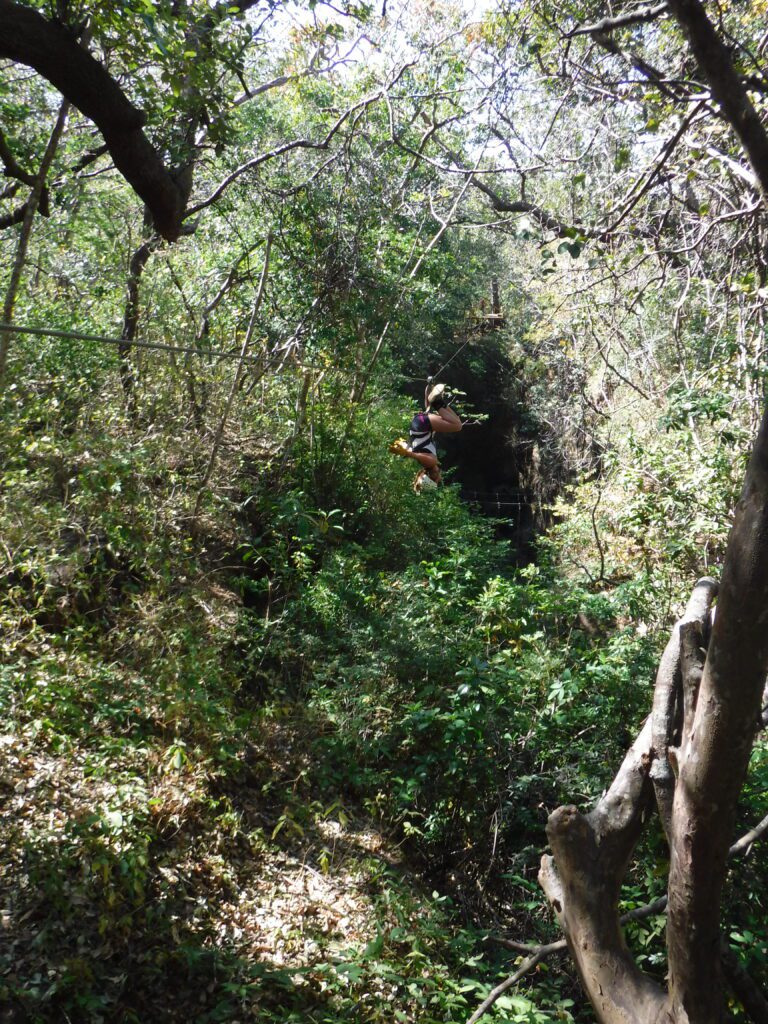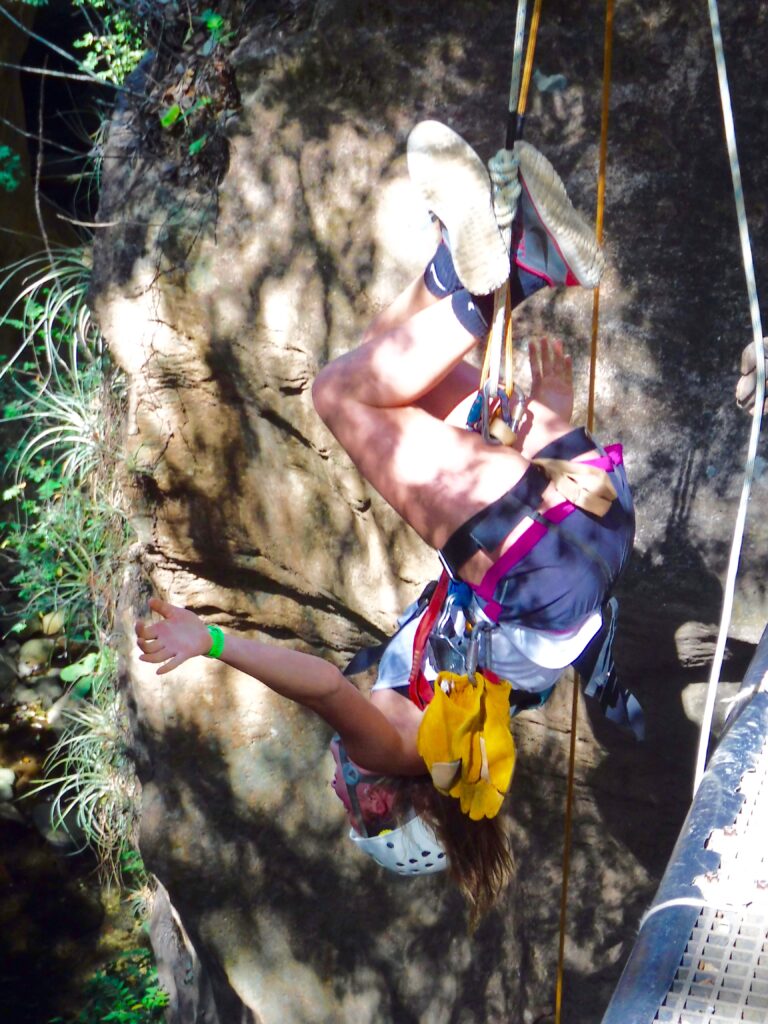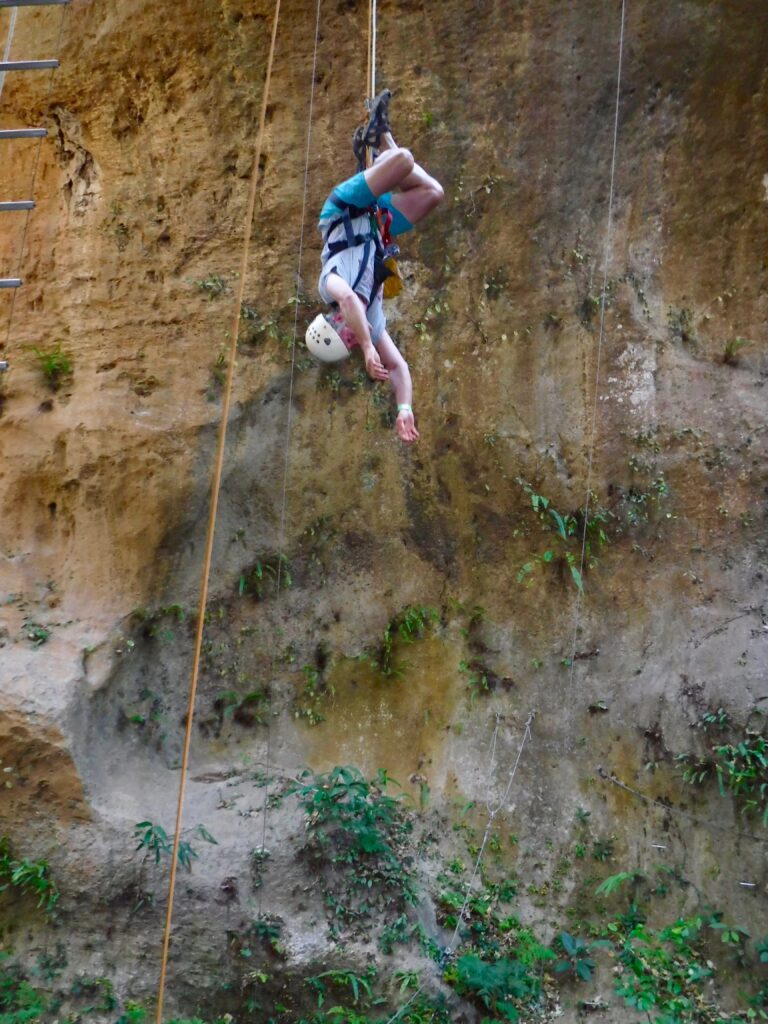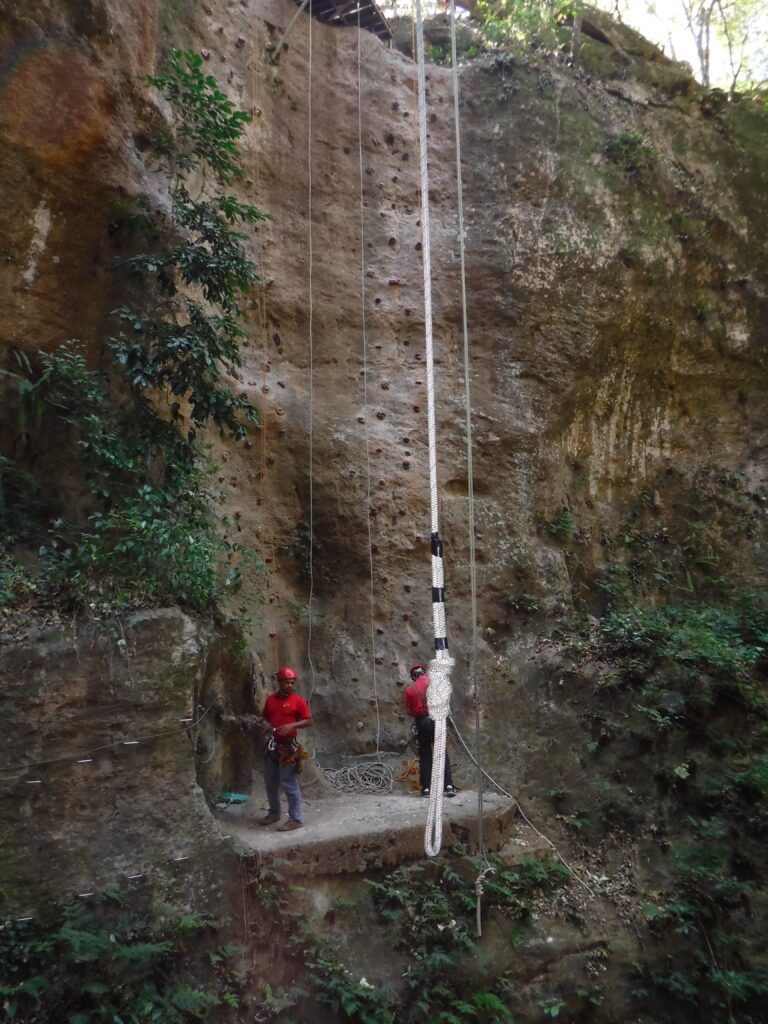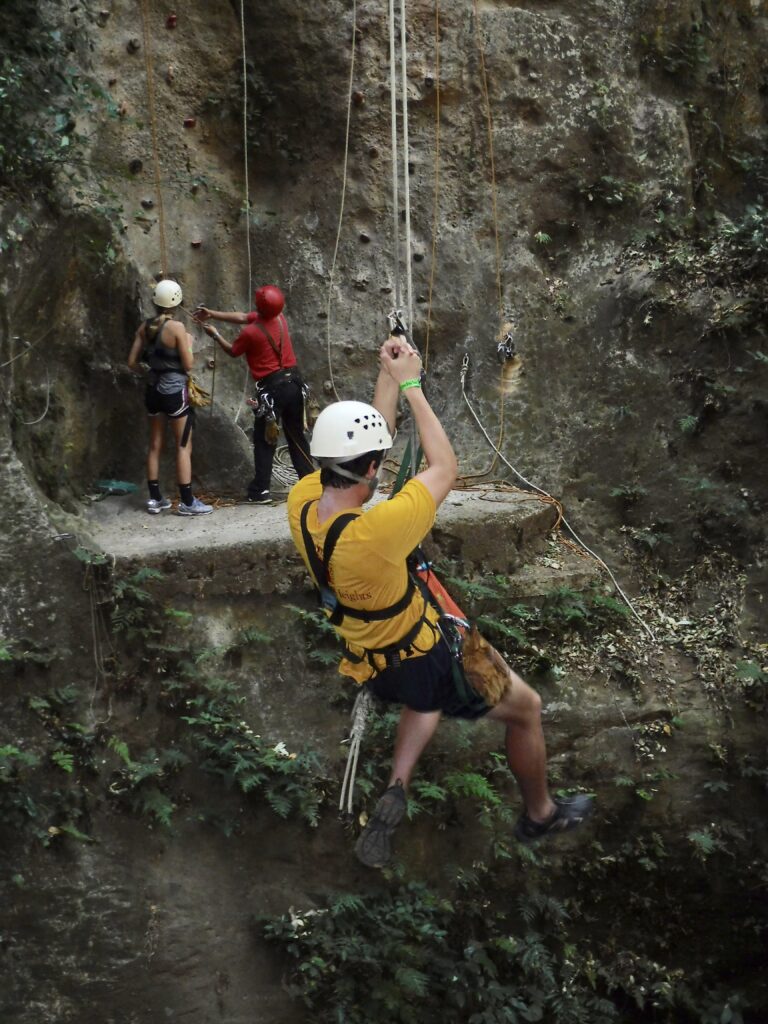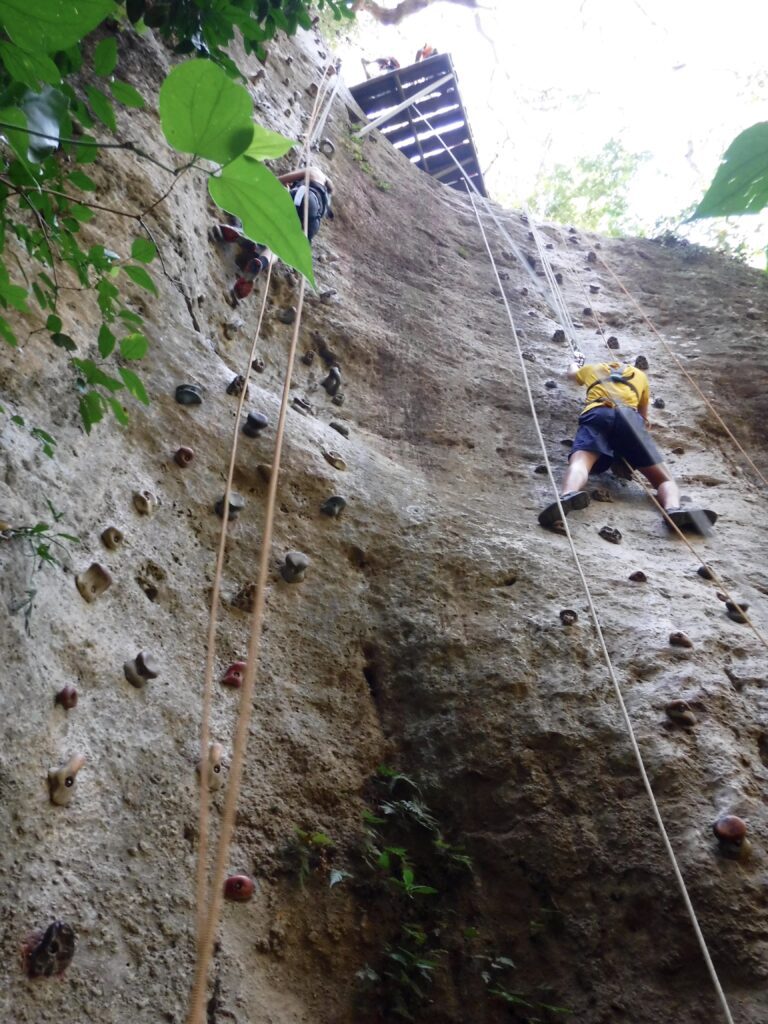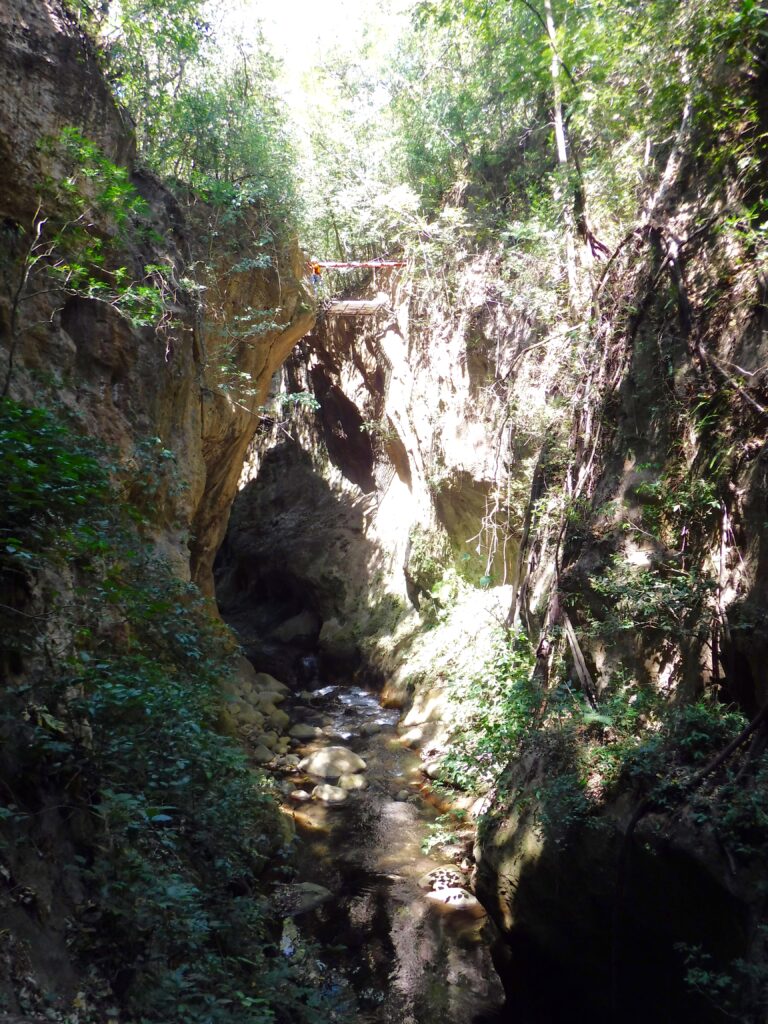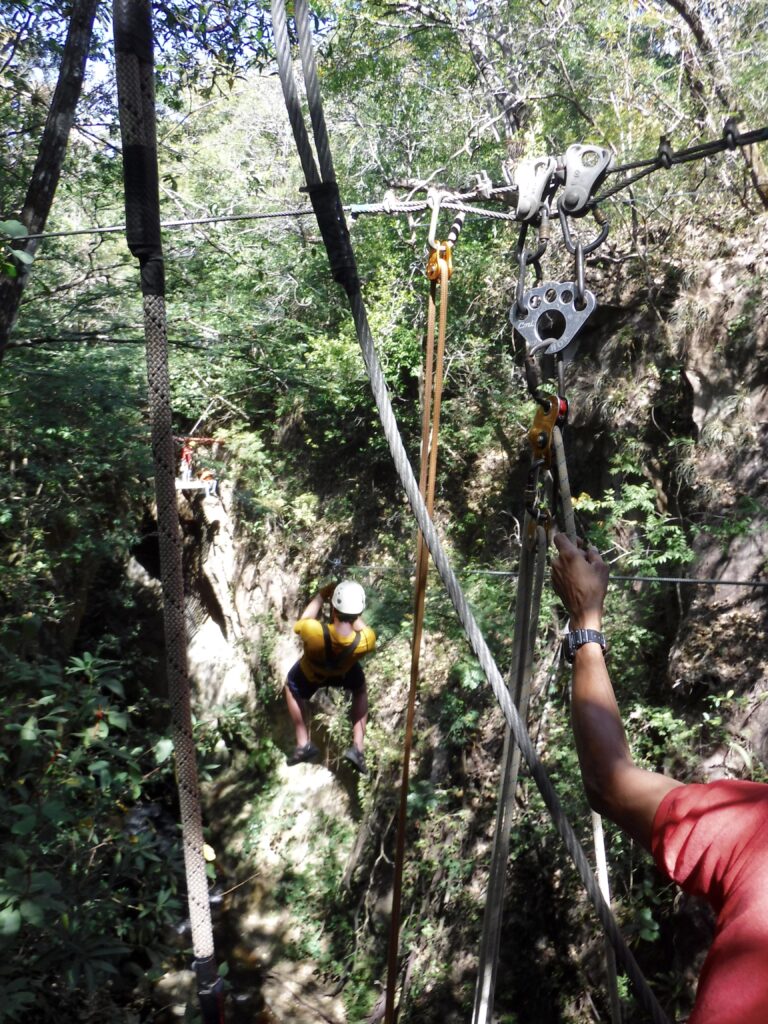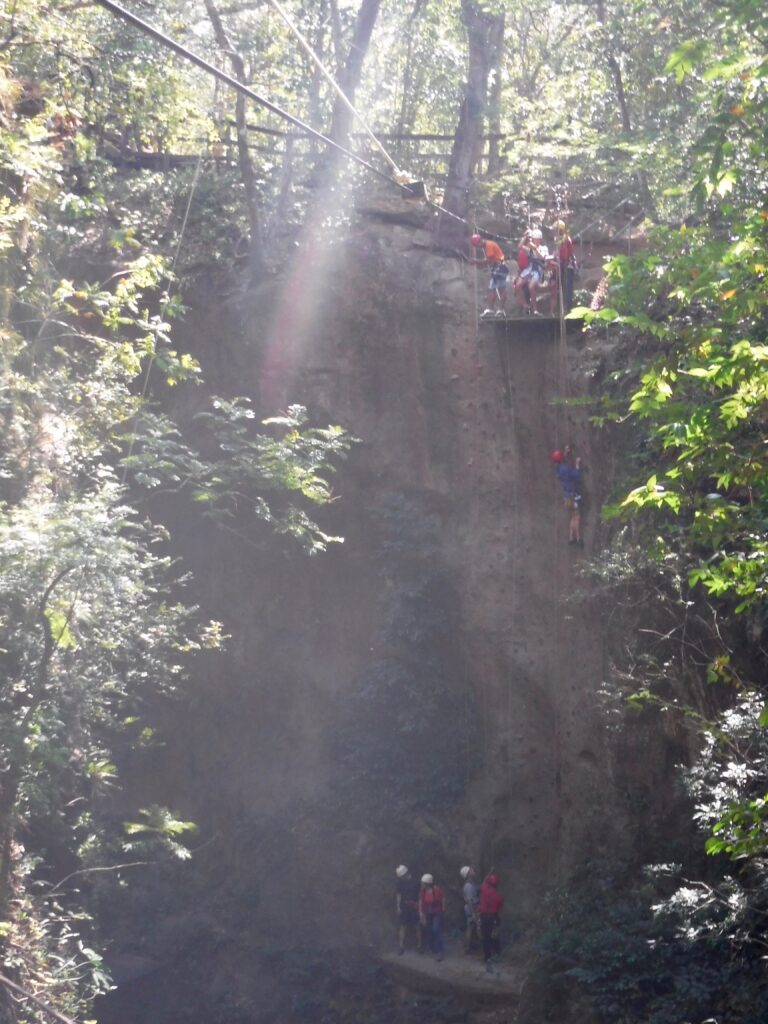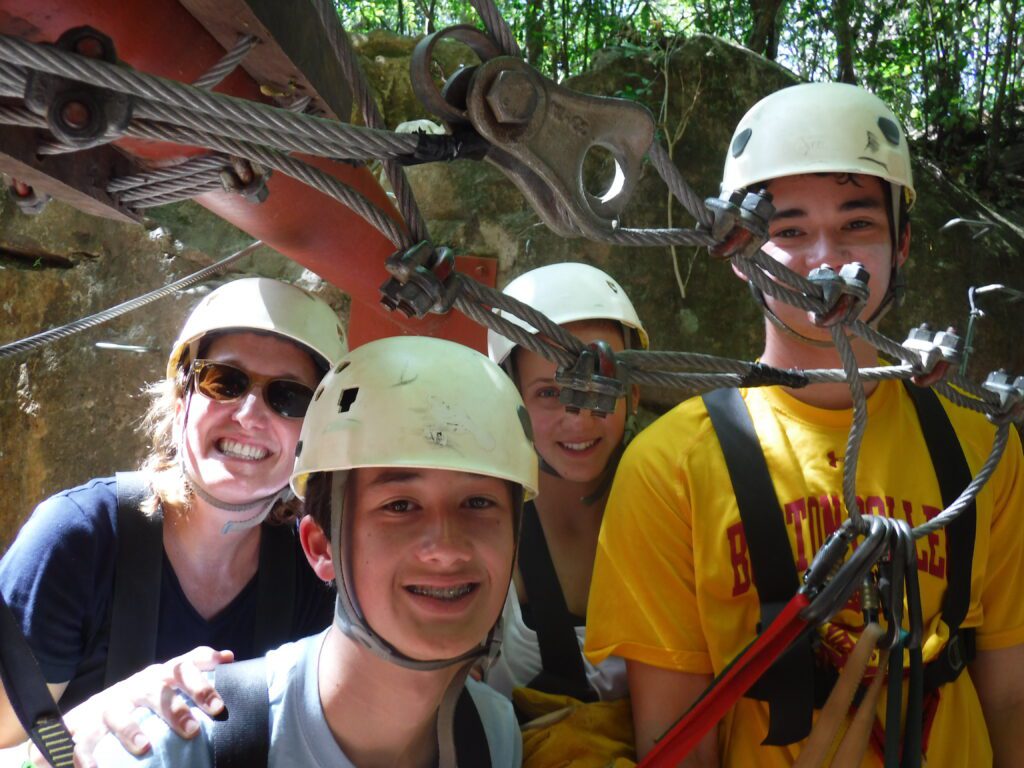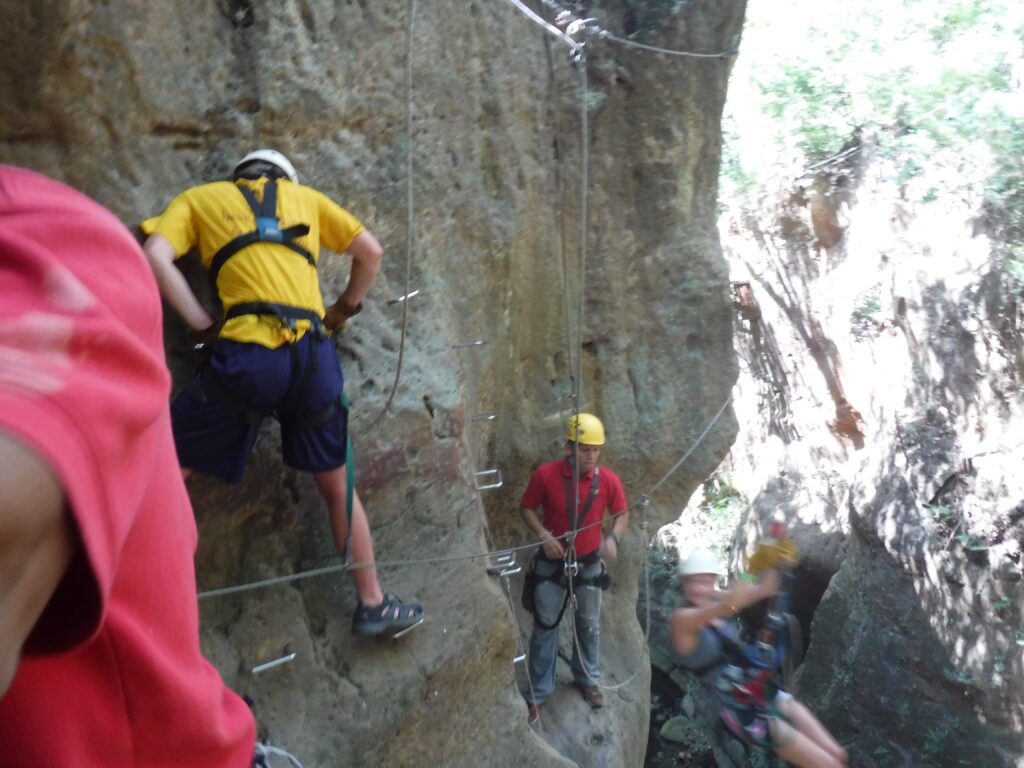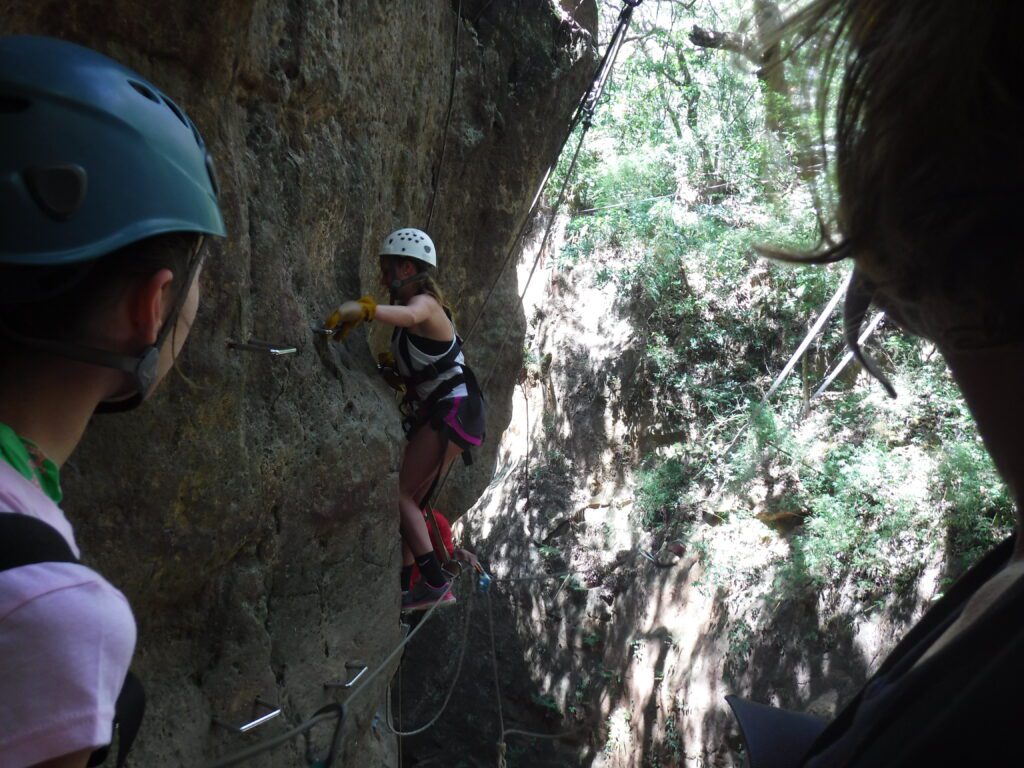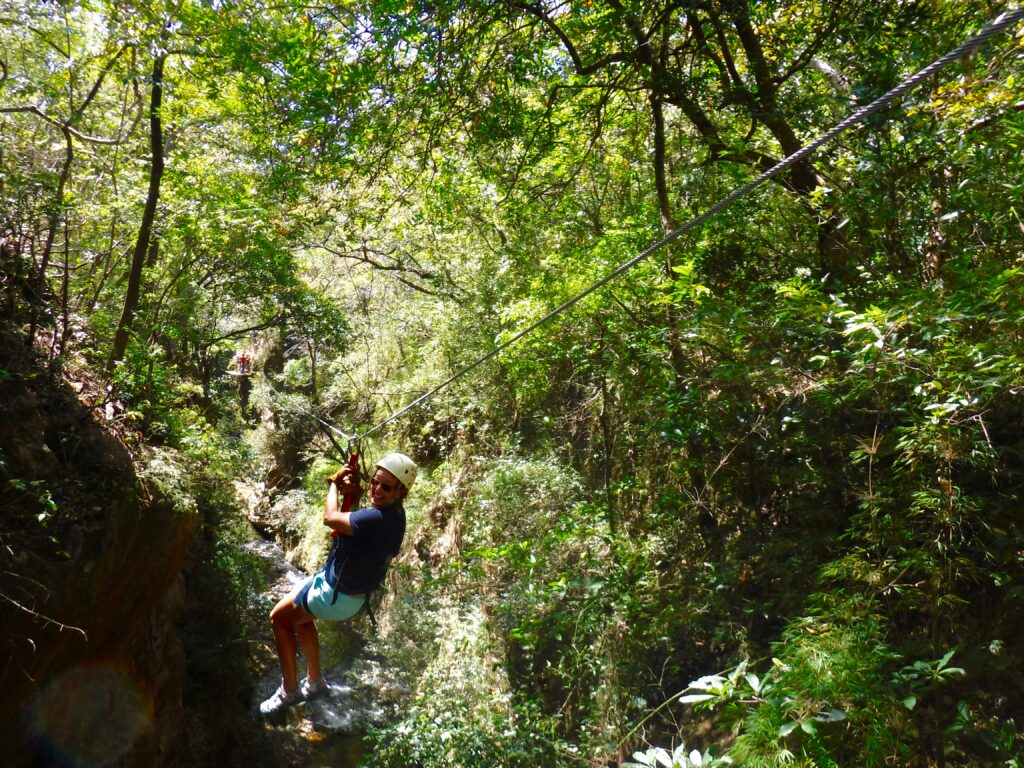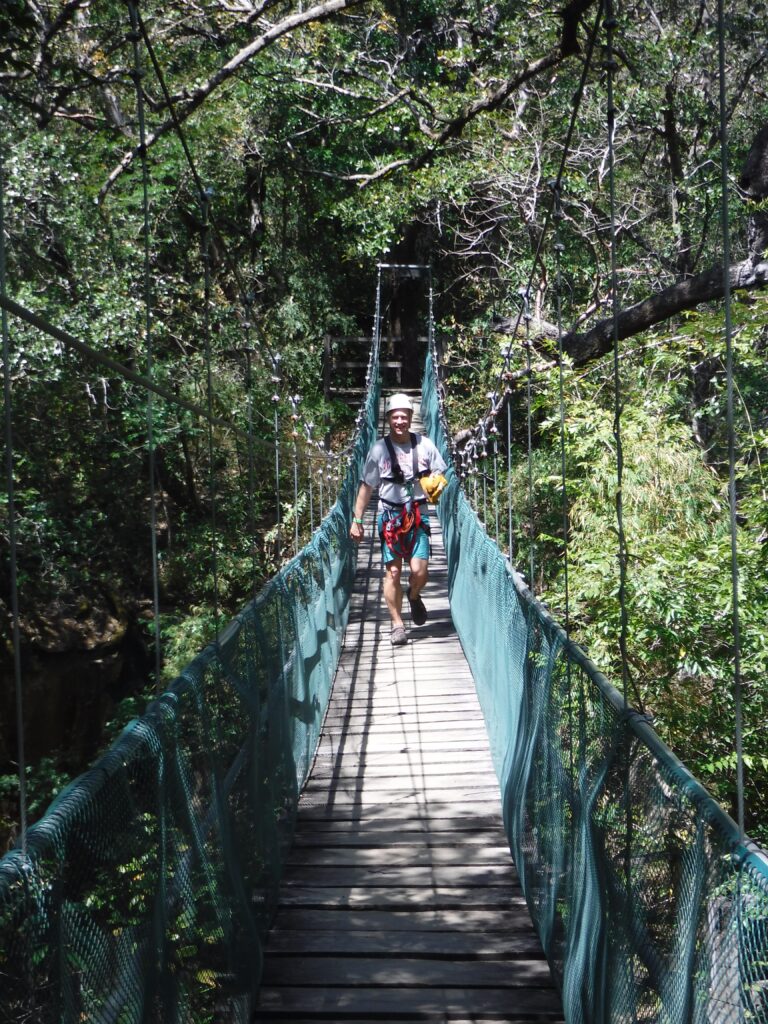 Hot Springs
Hacienda Guachipelin has hot springs and a mud bath. We drove ourselves up to the springs which are a few minutes drive away from the Adventure Center. There are showers and changing rooms at the hot springs. We soaked in the warm water, put mud on our bodies and relaxed after all our adventures. Following our "bath" we showered and put on our dry clothes for the drive back to our lodging. We did the hot springs in 2011, but we did not have time for it in 2016 as we jumped into another waterfall.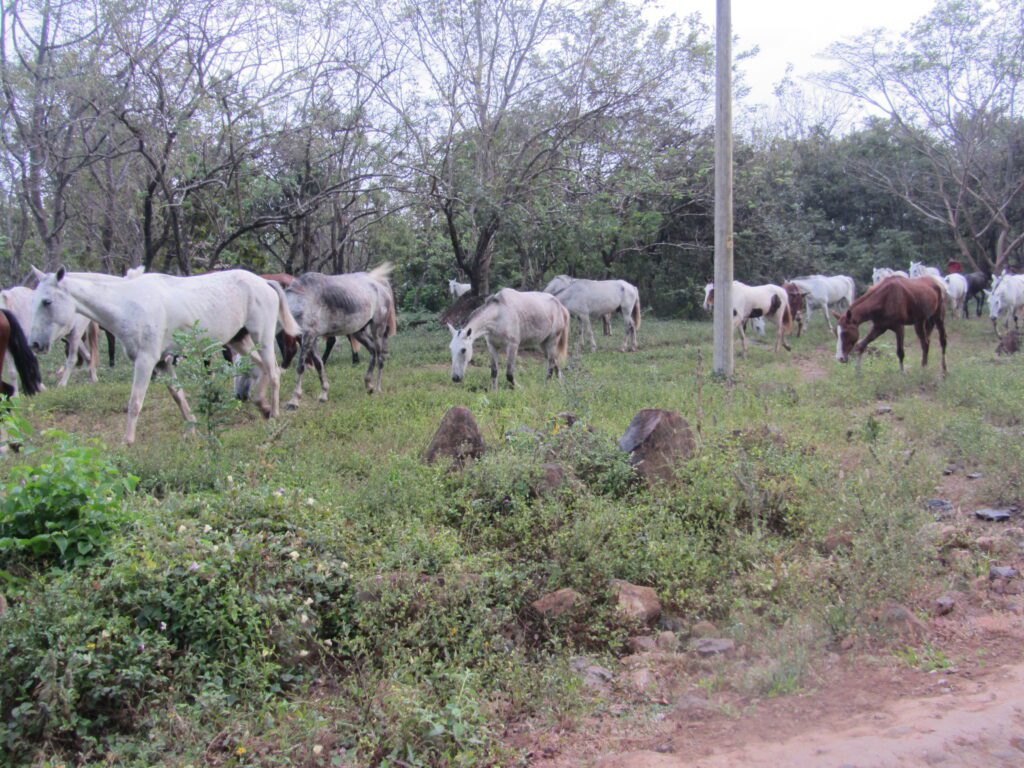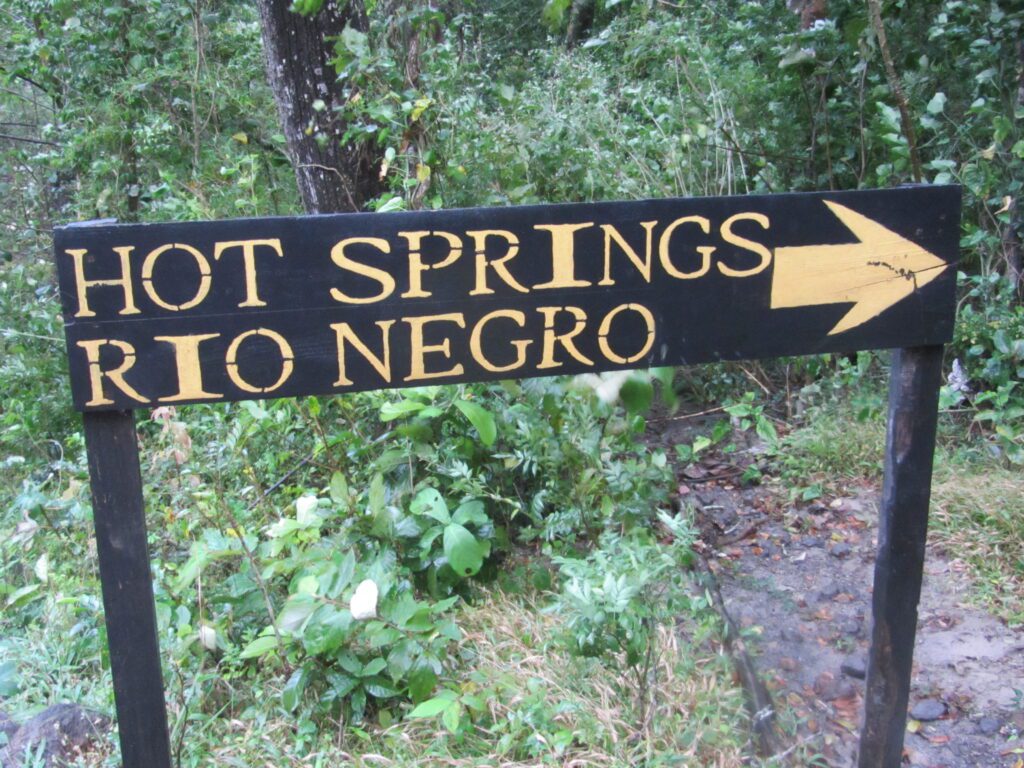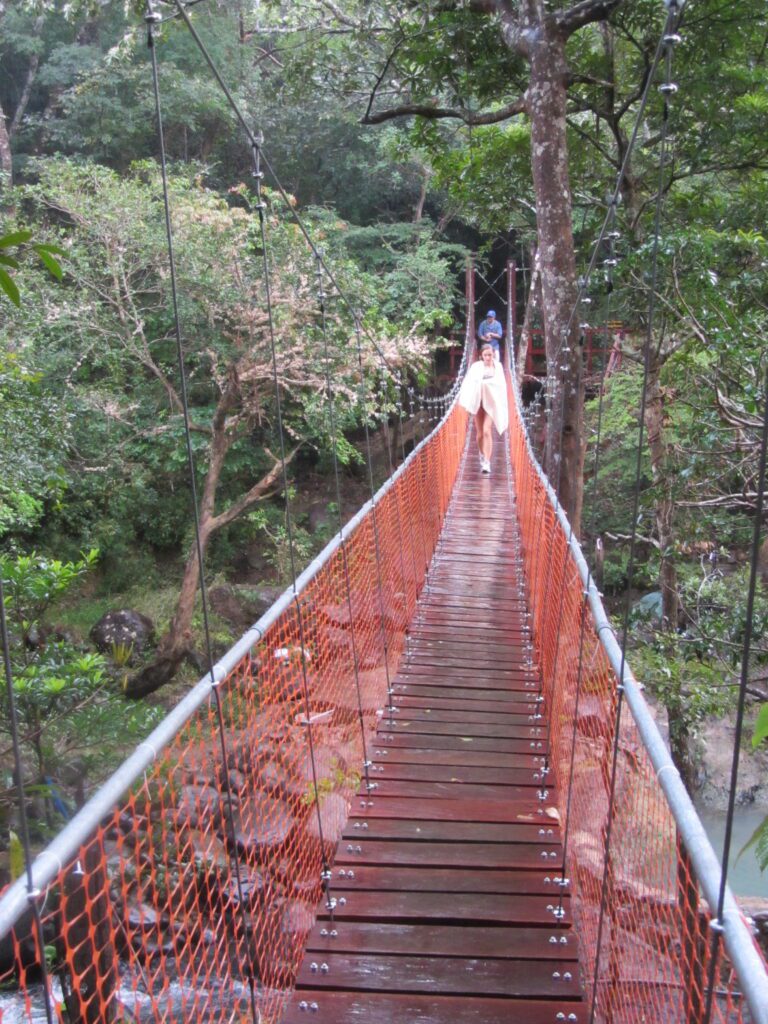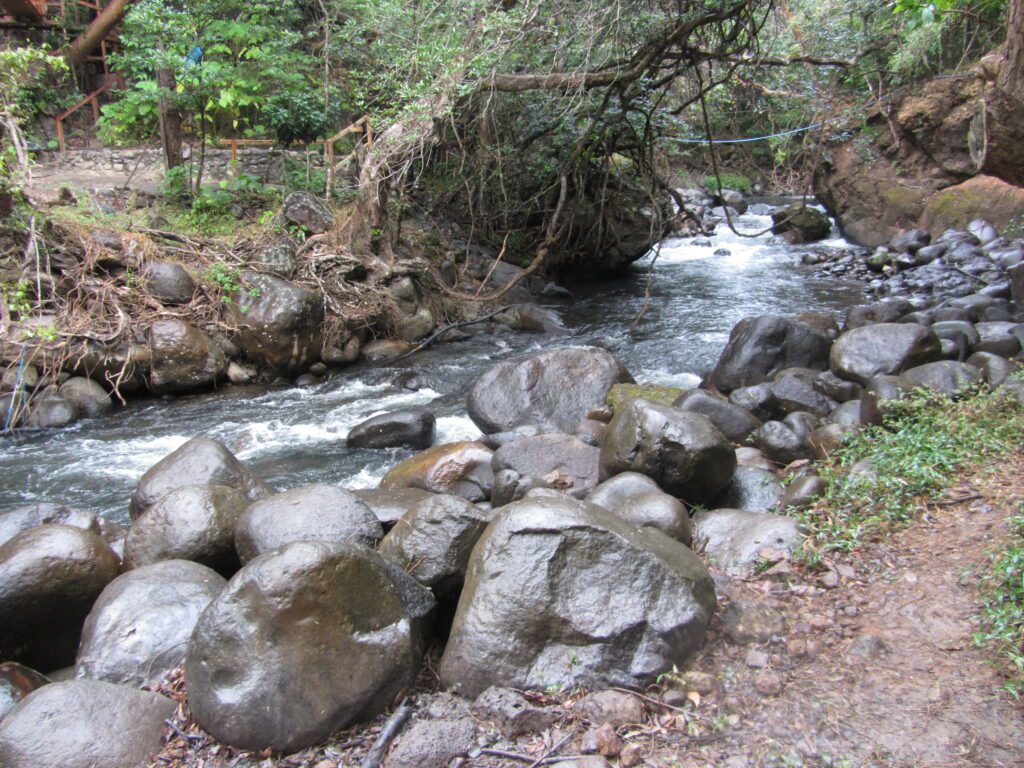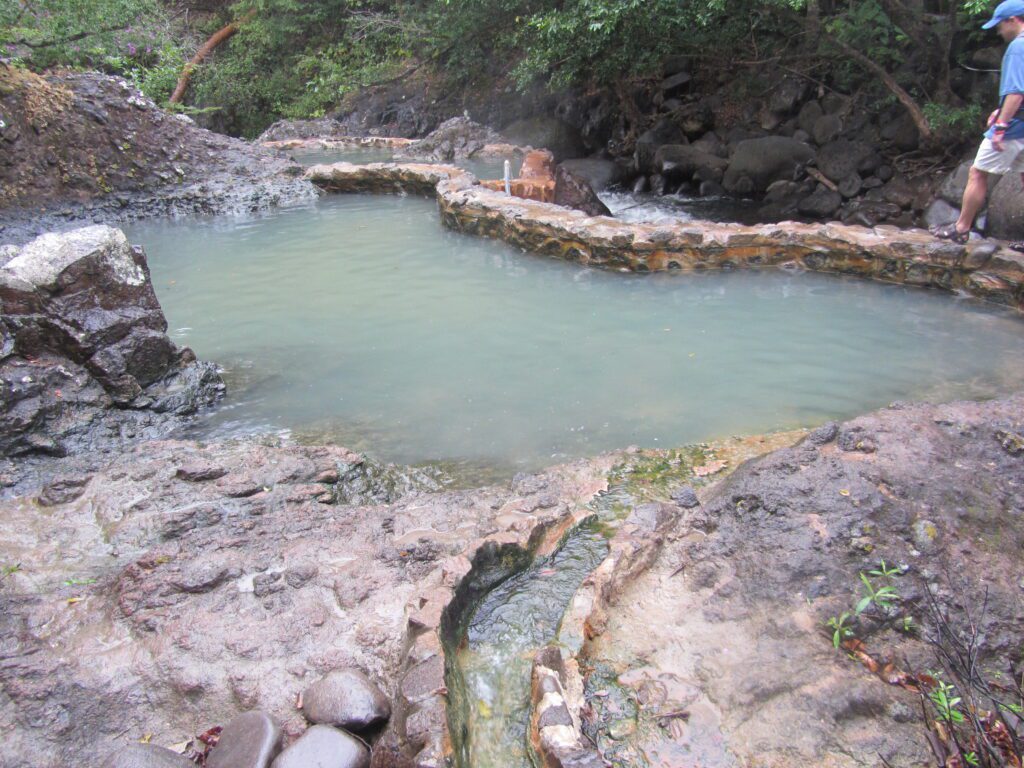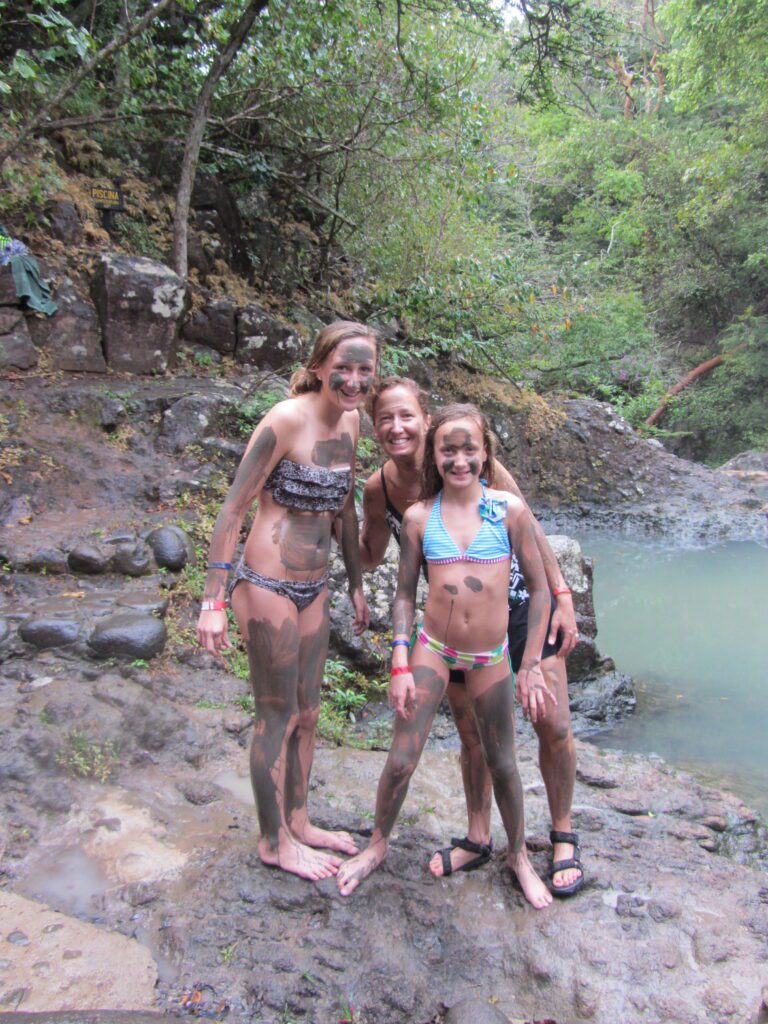 La Oropendola
In 2016 after tubing, horseback riding, zip lining and eating, we drove up to La Orpendola Waterfall. We jumped into these falls rather than do the hot springs and mud baths. The waterfall is right before an entrance to Rincon de la Vieja National Park. You park in a small lot, walk down a steep hill, cross the river and come upon a beautiful waterfall. It appears now to have a bridge to help you get into the water. When we visited in 2016, there was no bridge. Our photos are dark as the sun was setting.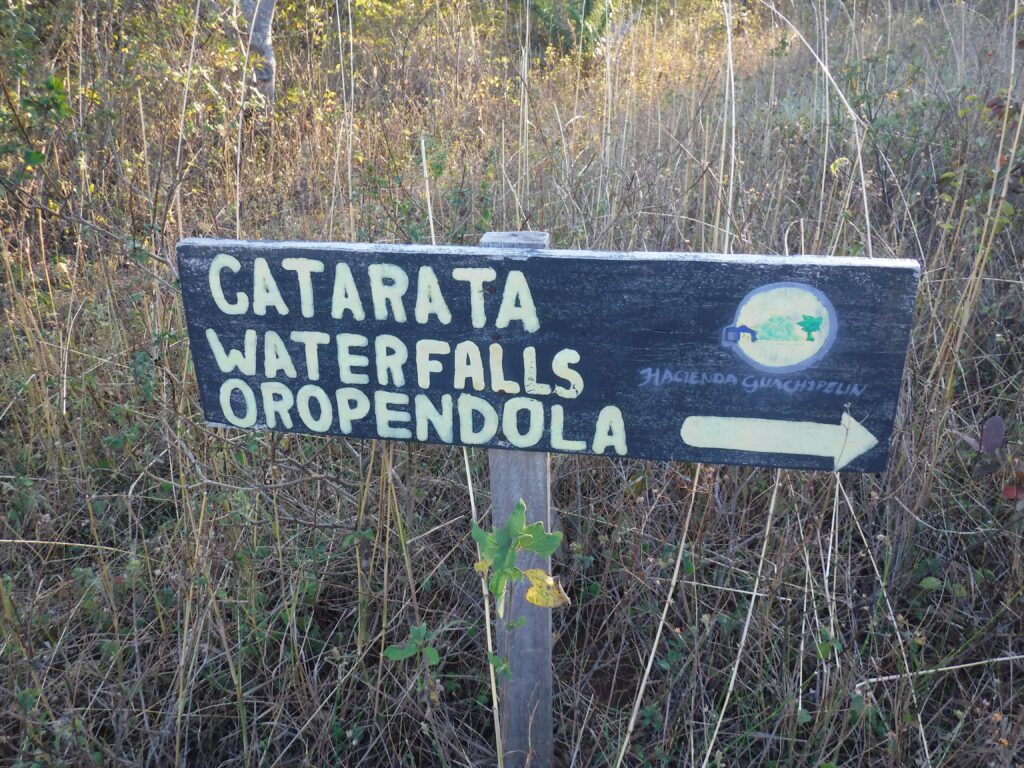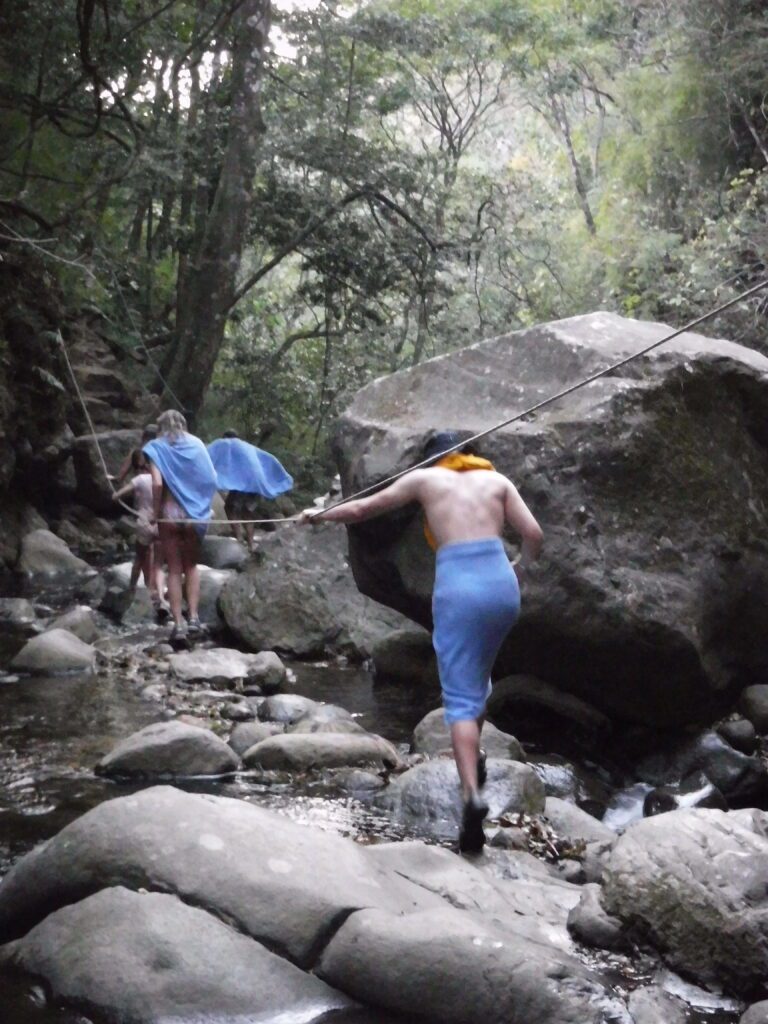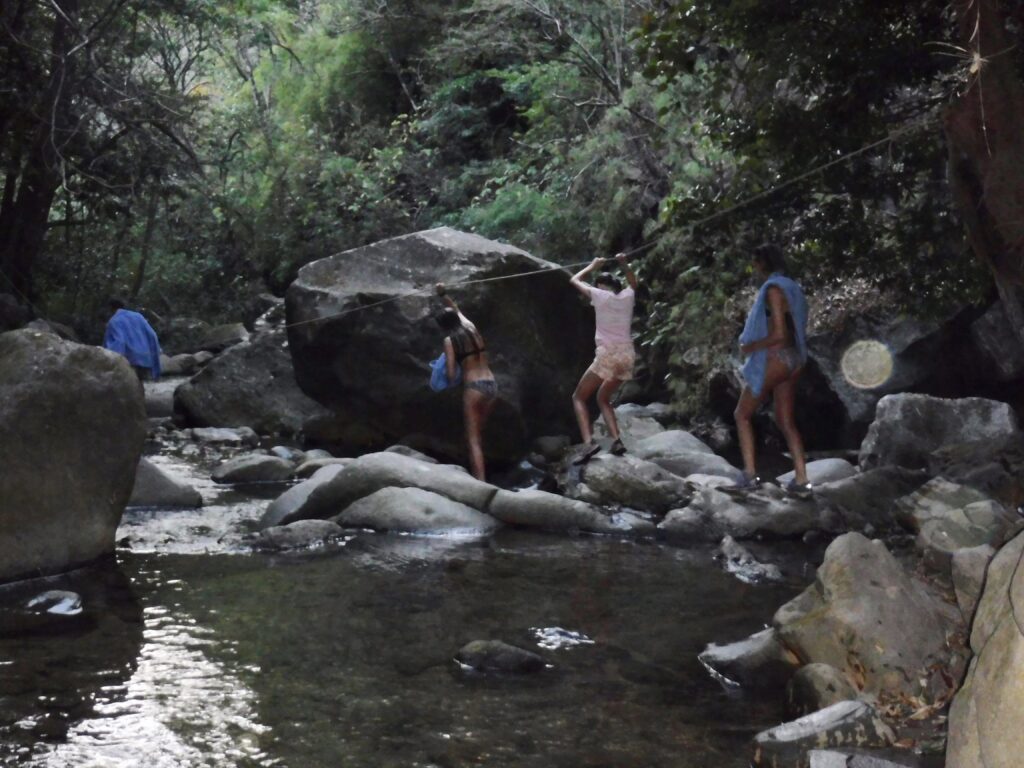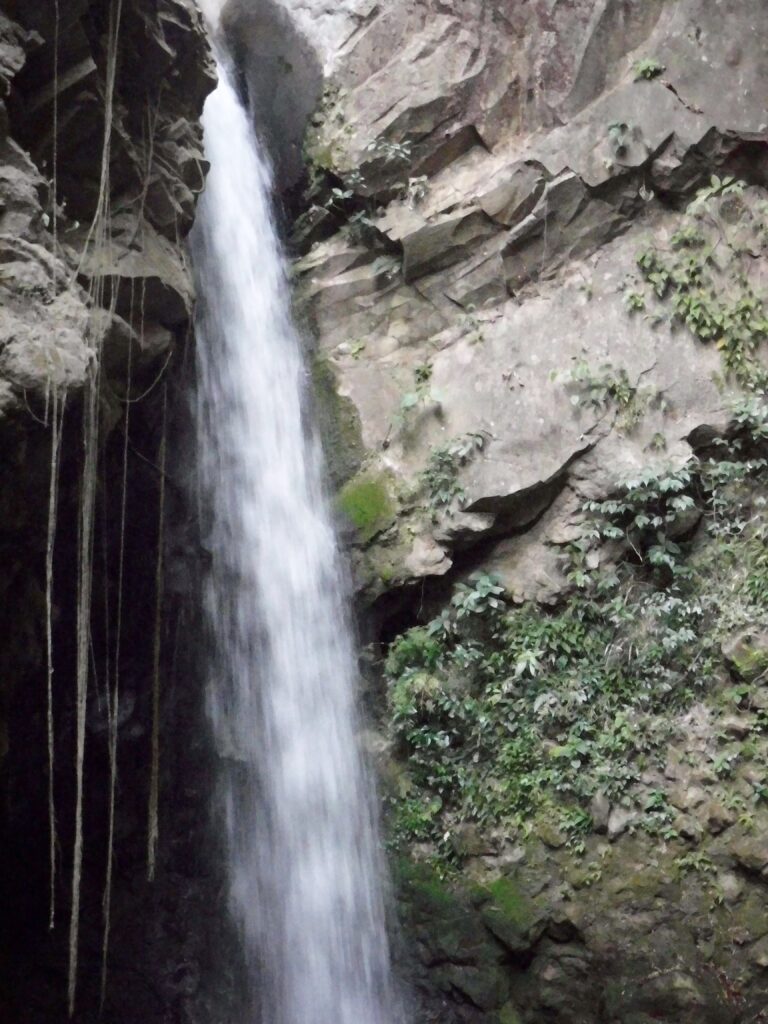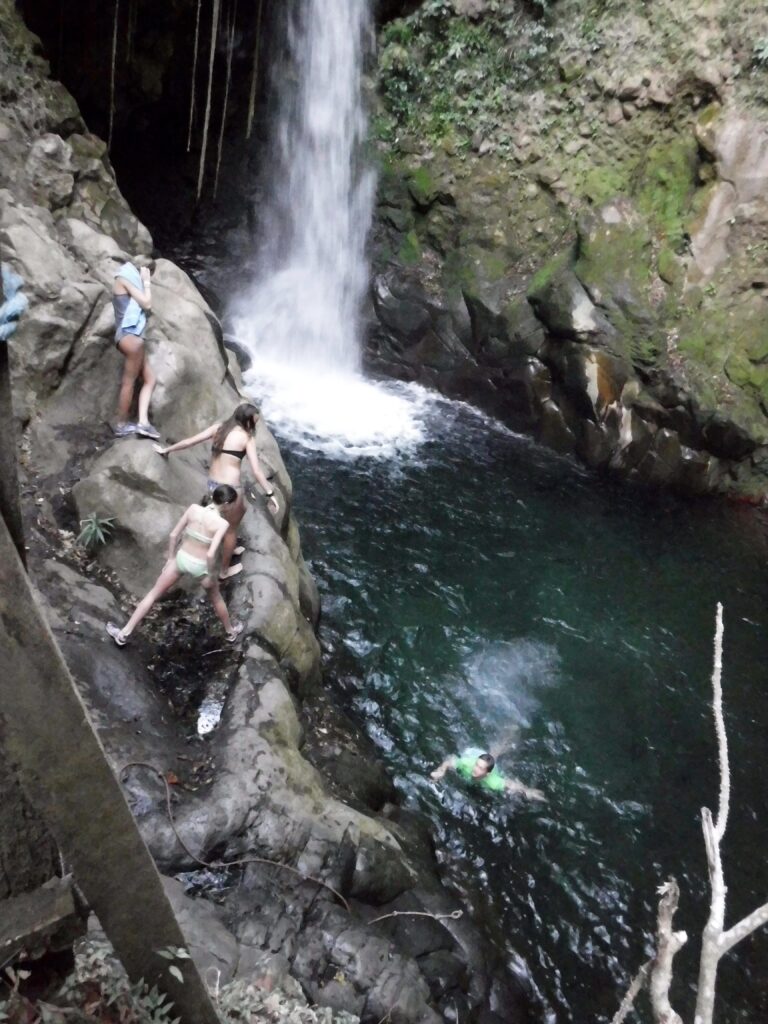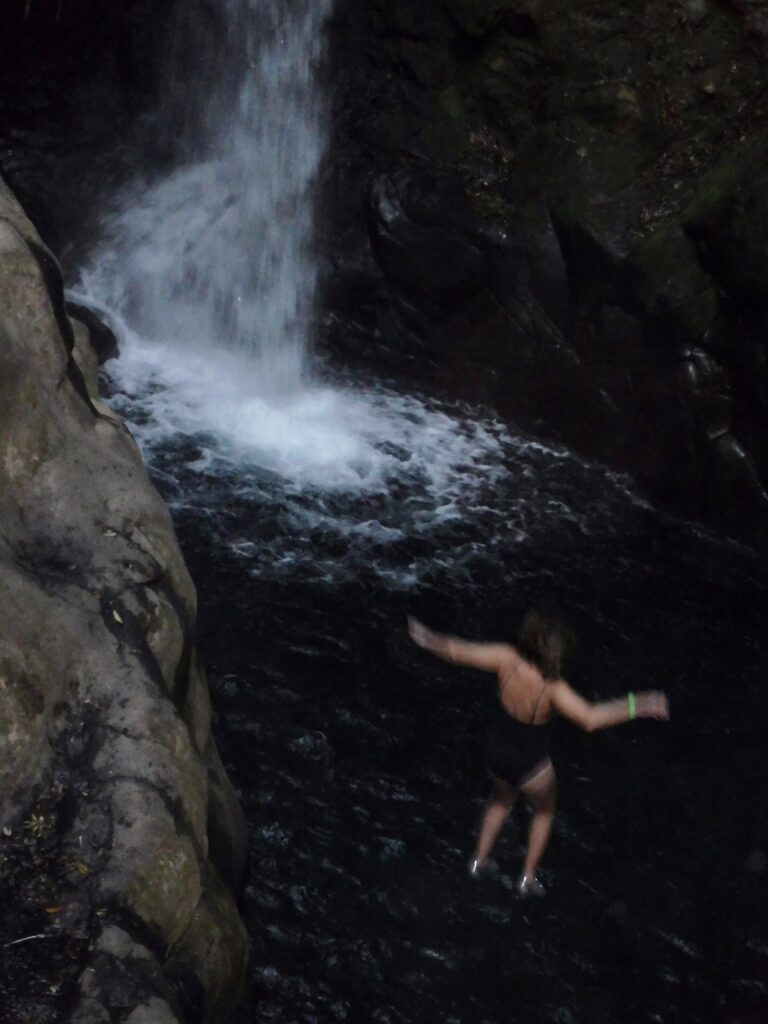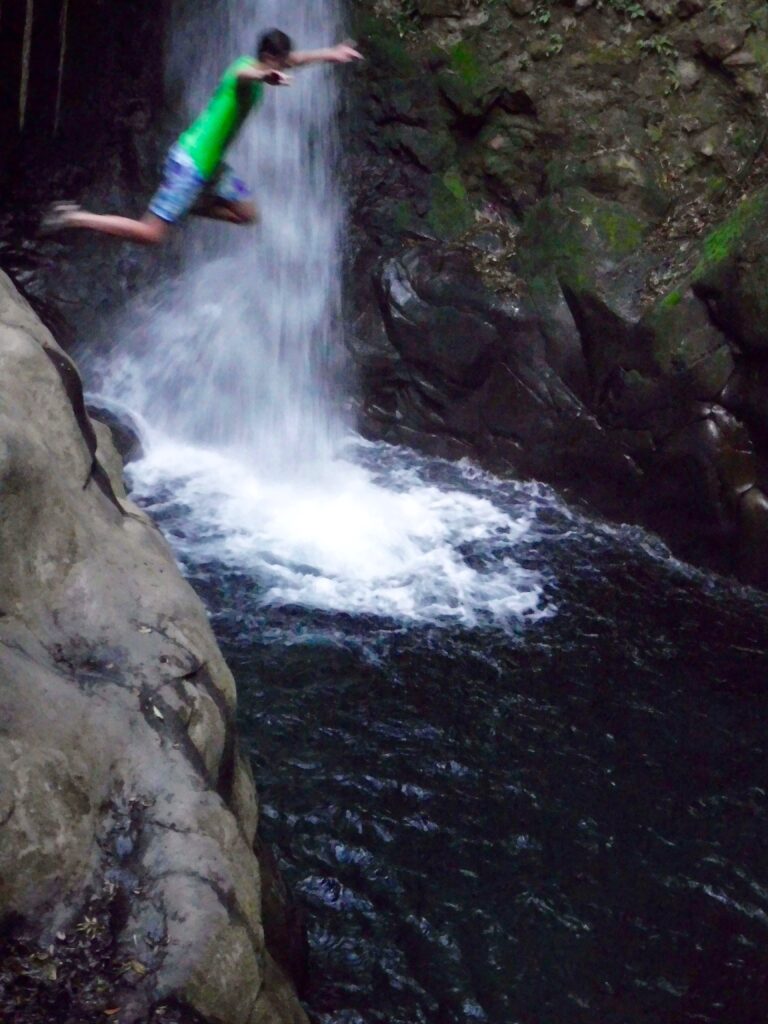 We loved Hacienda Guachipelin both times we have done it, and our friends who have visited highly recommend the resort as well. There is even another waterfall you can visit called the Rio Negro Waterfall. The canyoneering adventure looks incredible as well. Be sure to stop here when you visit Guanacaste.
ATV Adventure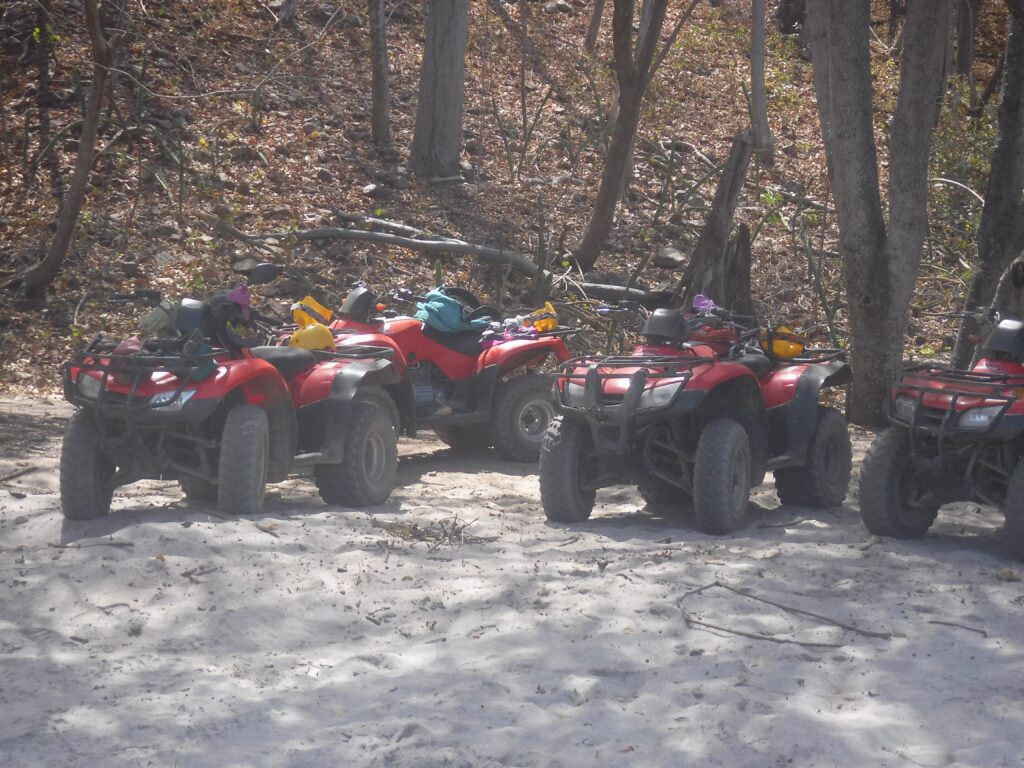 In 2016, we chose to do an ATV tour with Flamingo Adventures. We asked for a private tour for our group of nine people. We wanted to do a combination of their Top of the World Tour and the White Sand Beach South Tour. However, it was just so hot in 2016, that we mostly did the White Sand Beach tour. The guides told us it would have been unbearably dusty to go up the dry mountain roads with little shade.
The kids were all supposed to be at least 16 years old with valid drivers licenses. No one checked our licenses. And, we let the two 14.5 year old kids drive the ATVs. Once we started, Michele felt like she was falling off the vehicle the entire time, so Andrew and Kendall shared the ATV and Michele rode with Jim. We had a great time. The guides were very nice, and the scenery was great.
We met the guides right in the shopping area of Flamingo at about 9am. The tour was a solid three hours.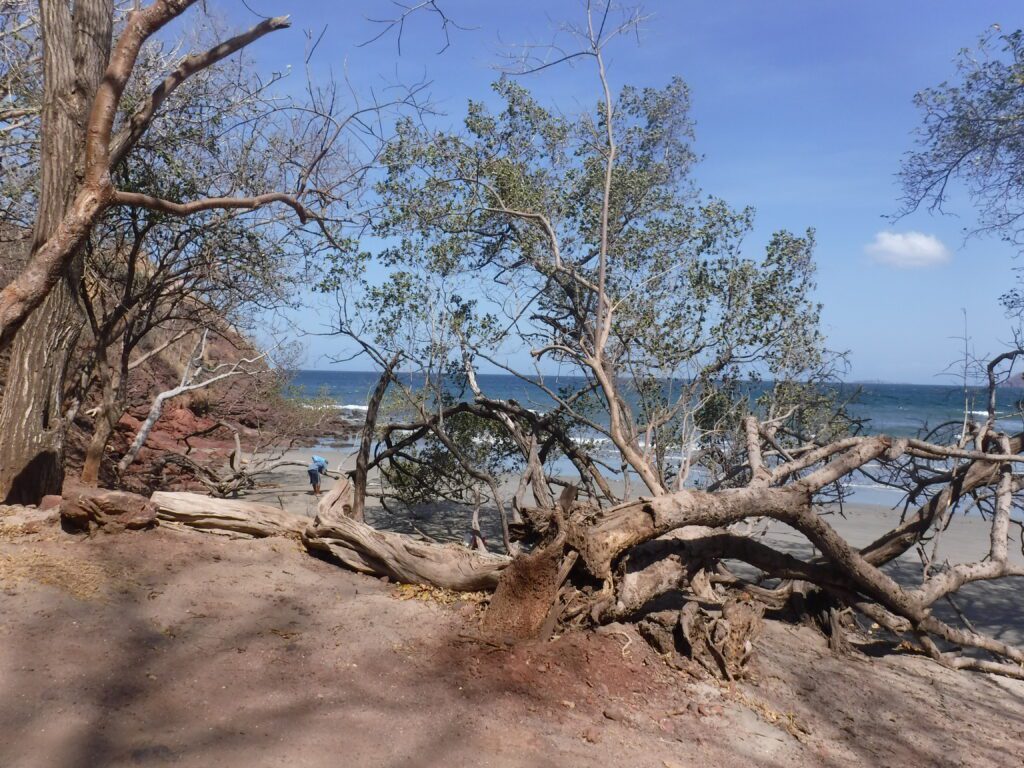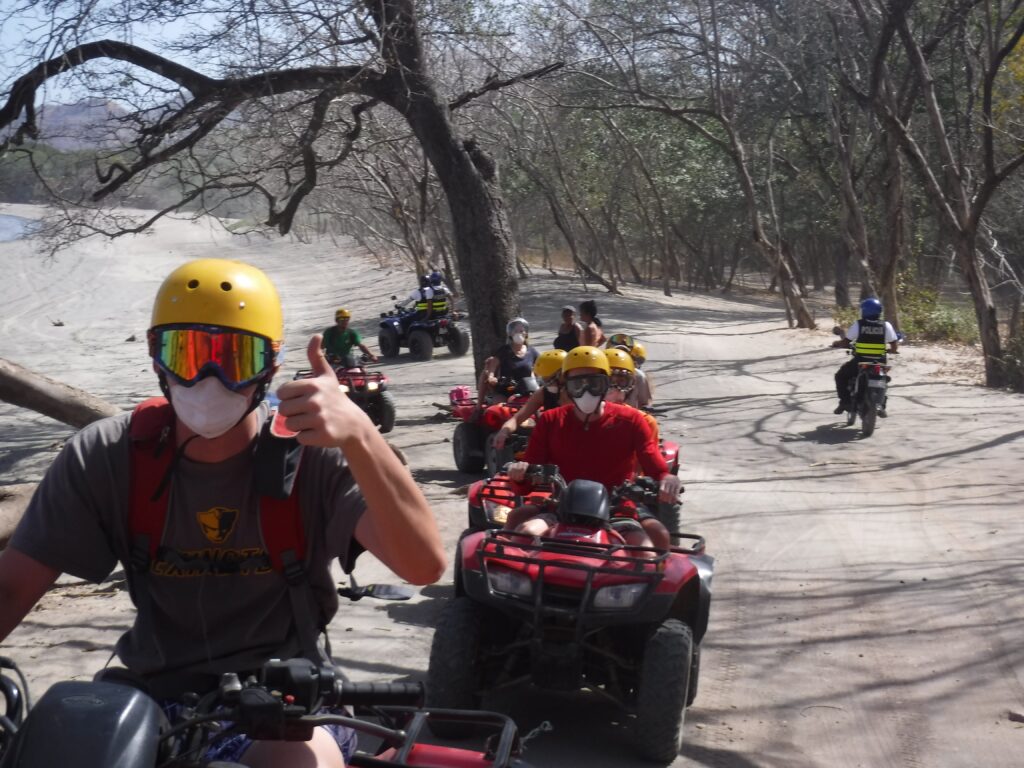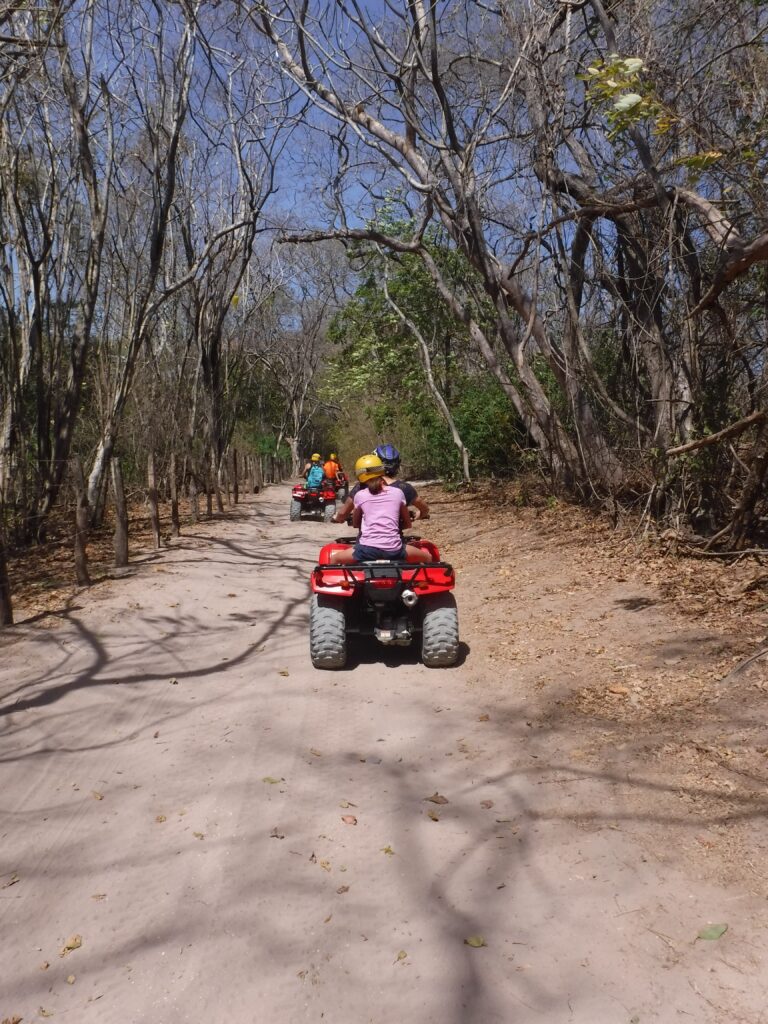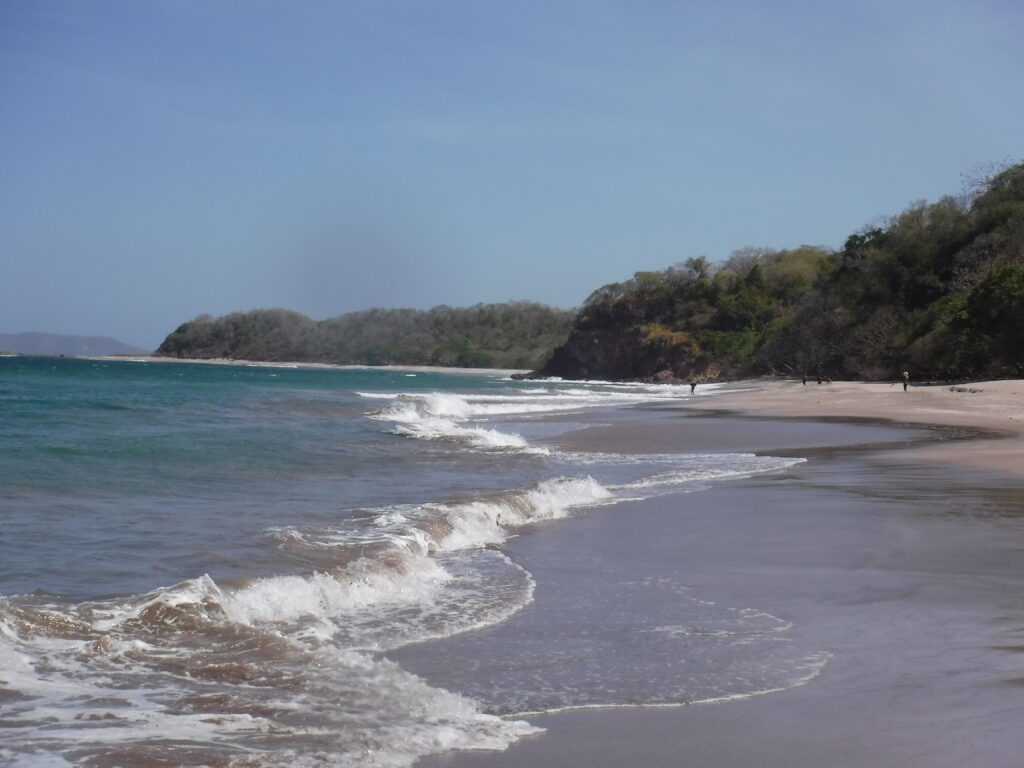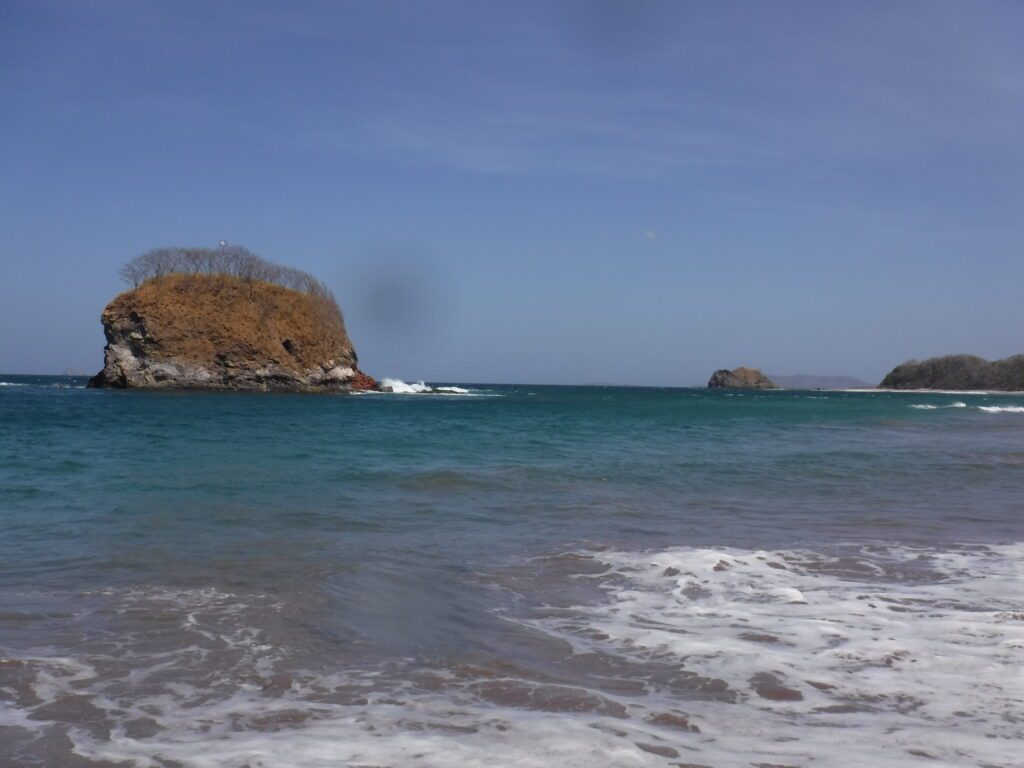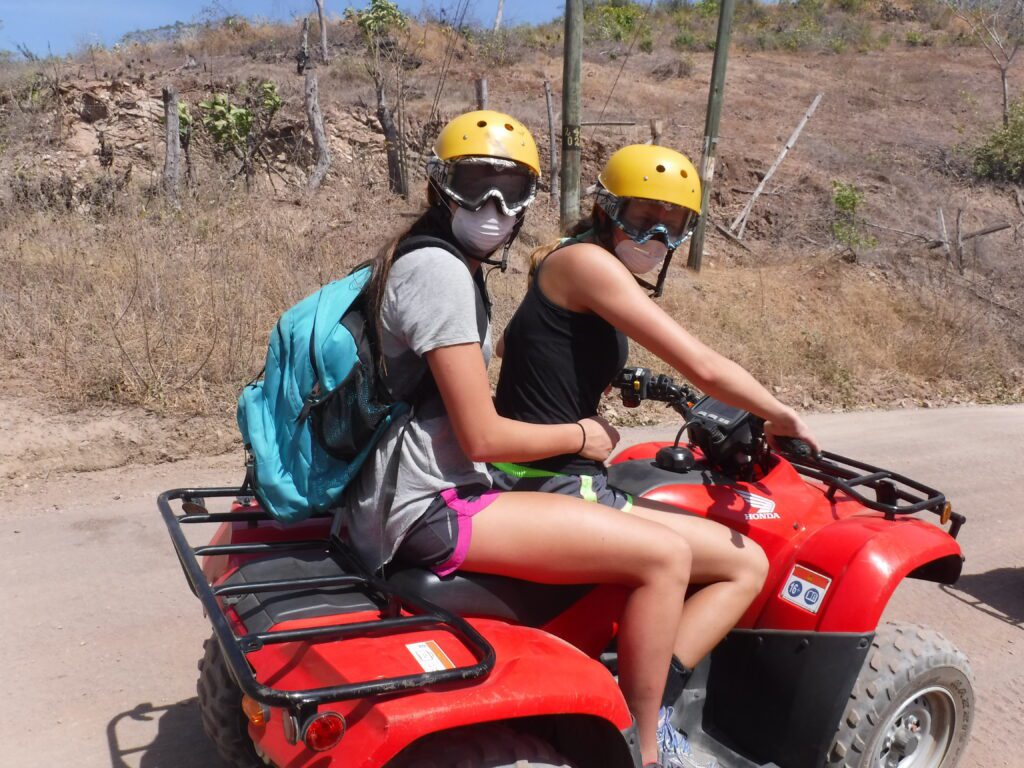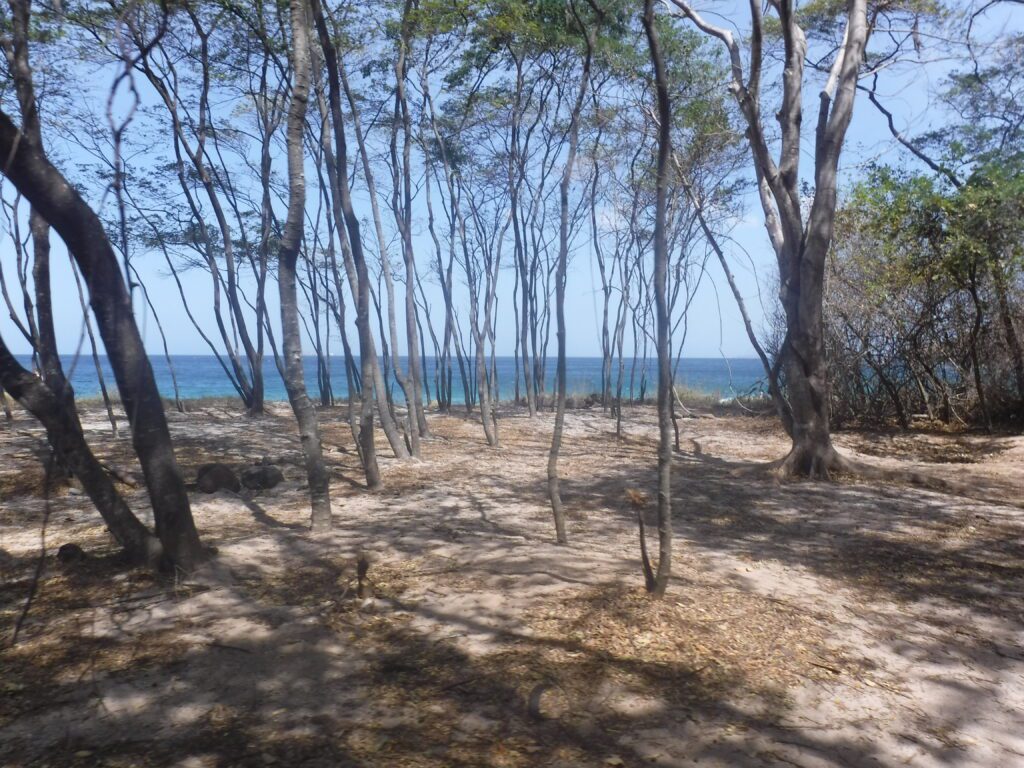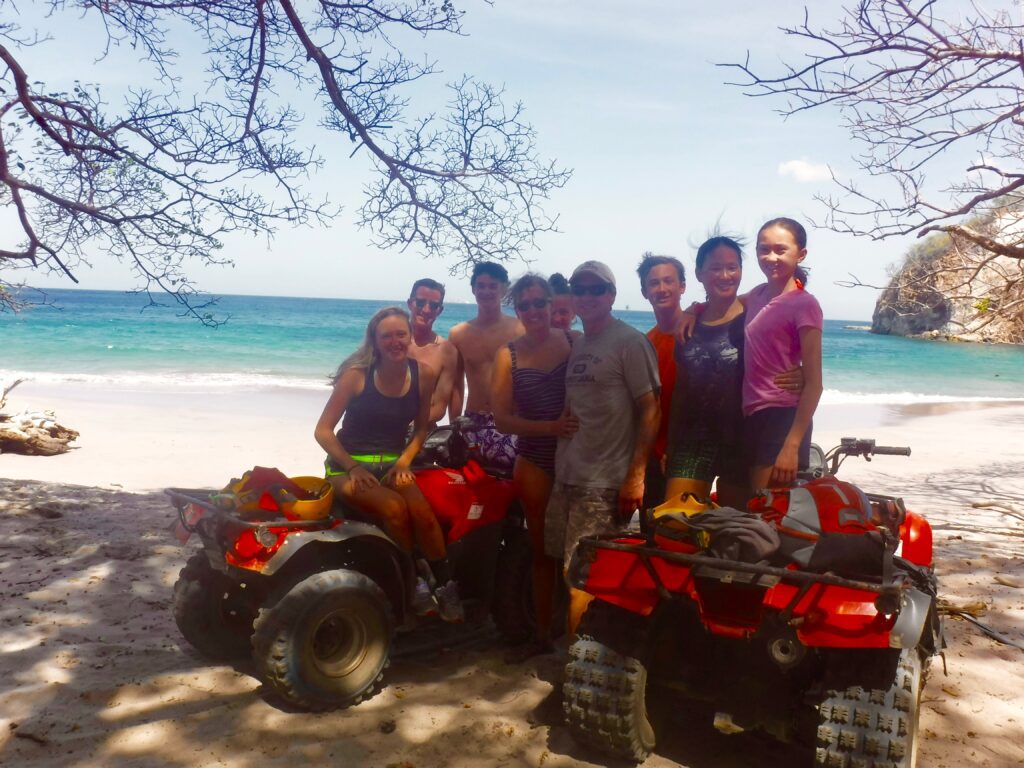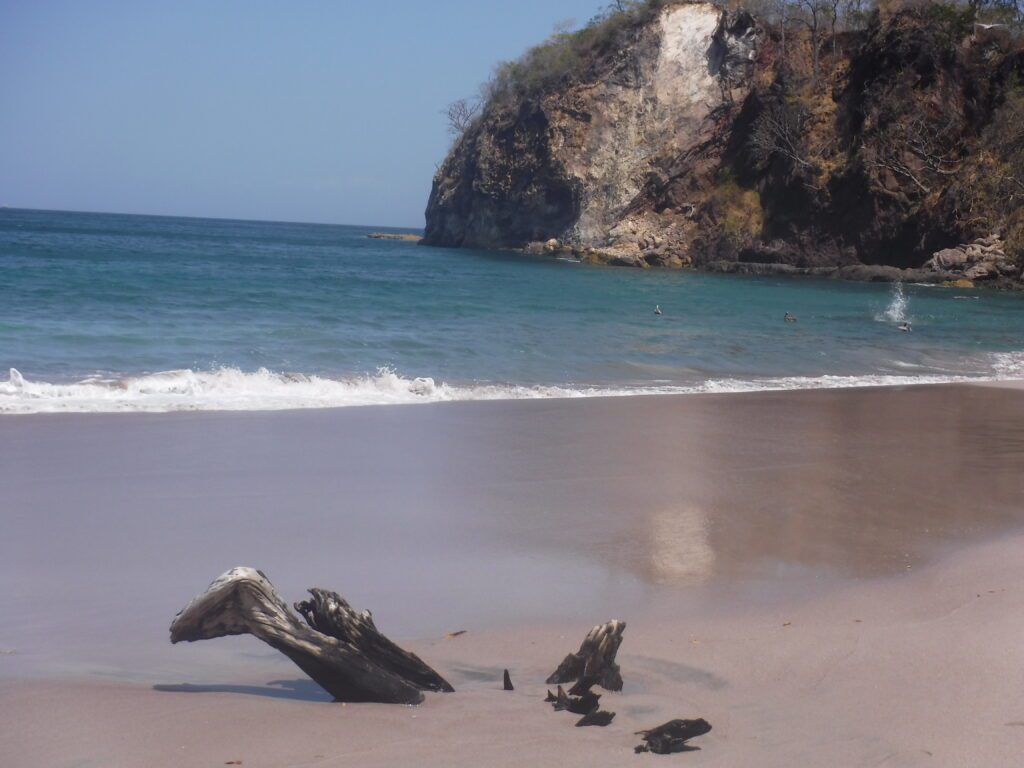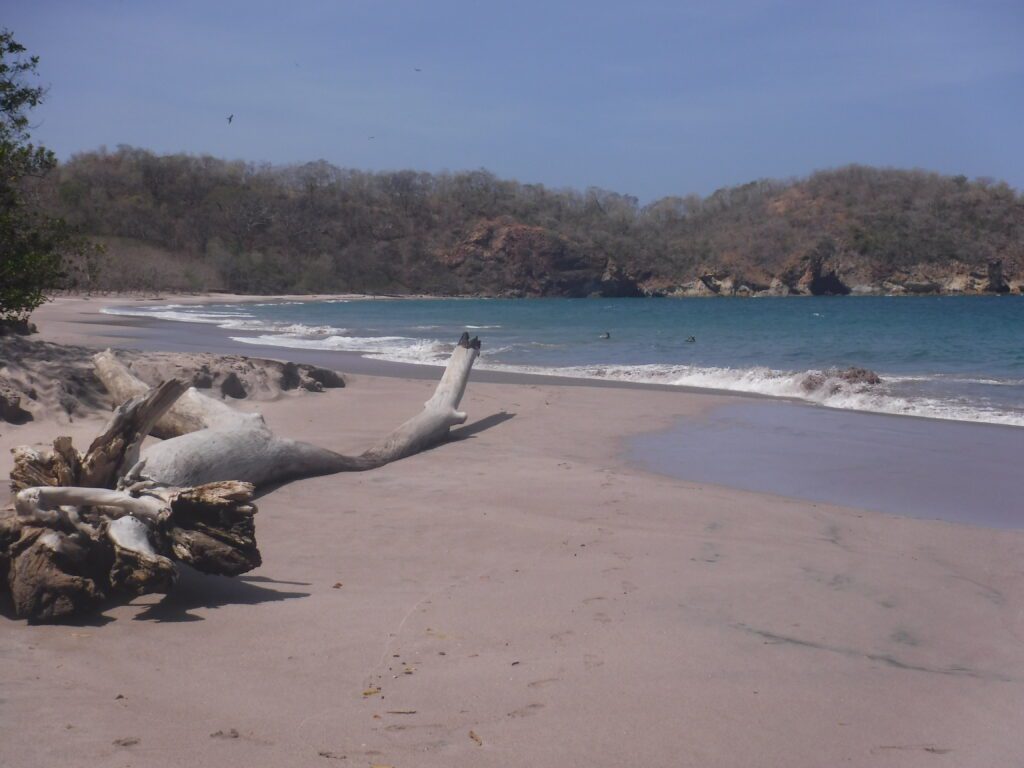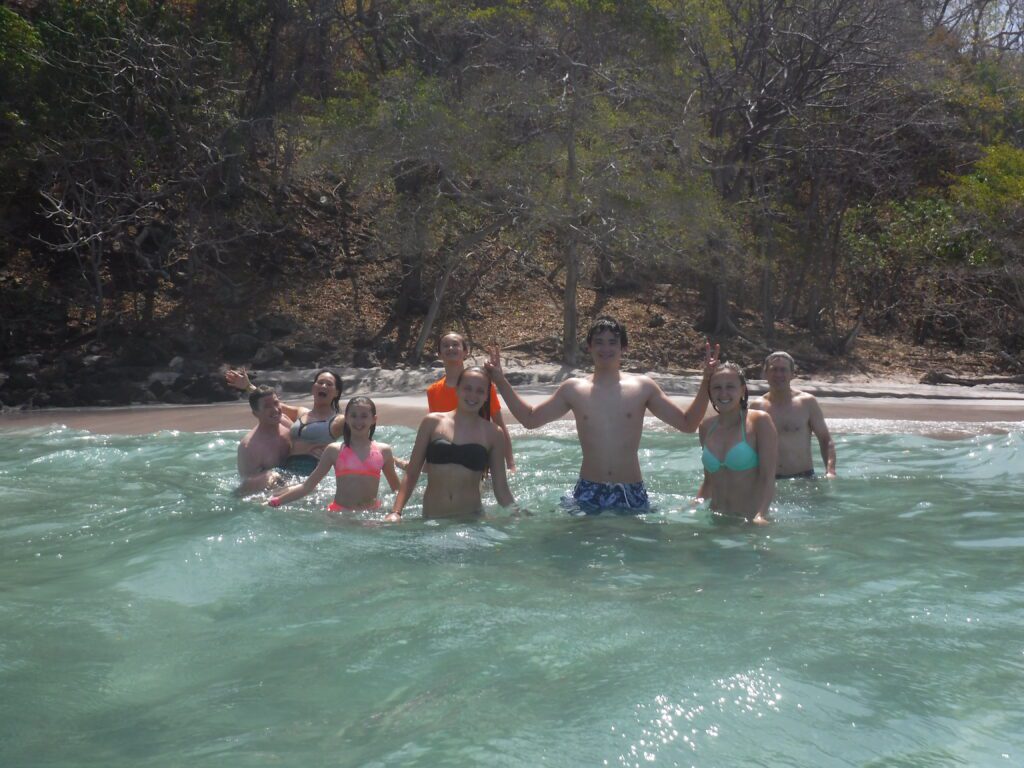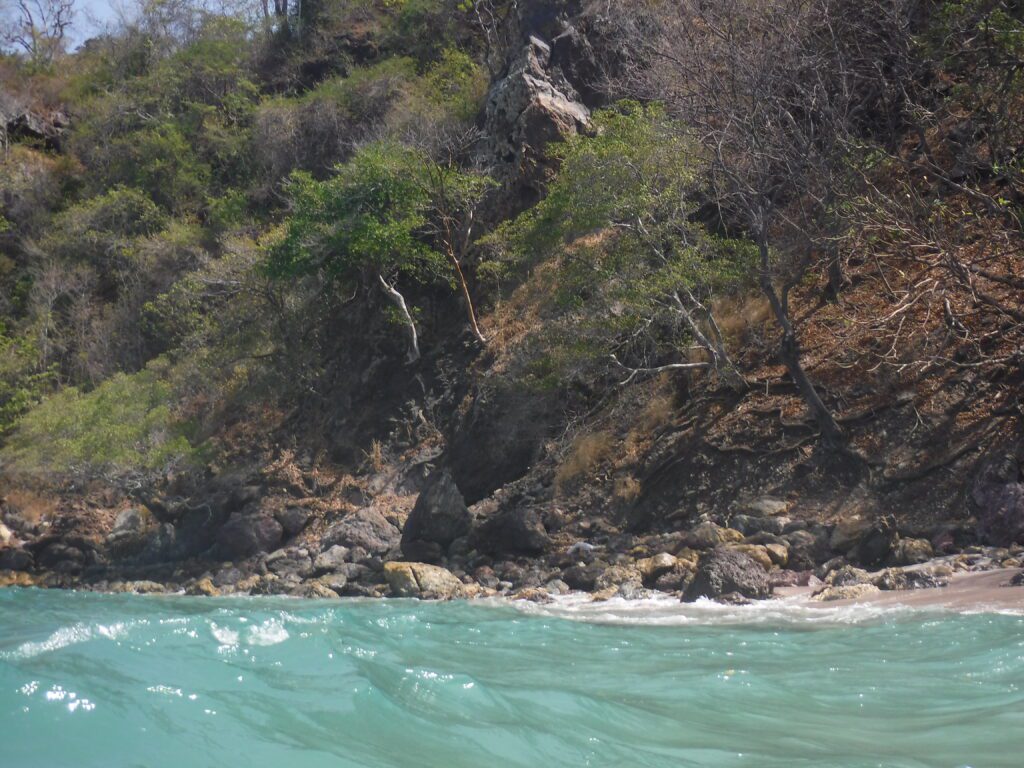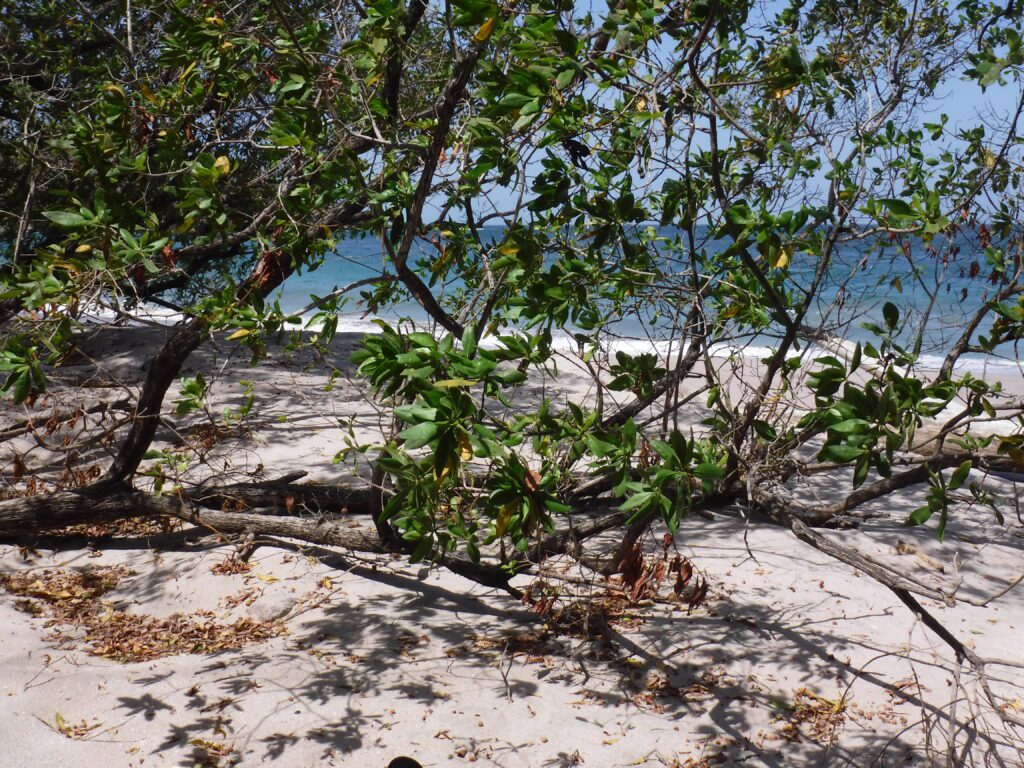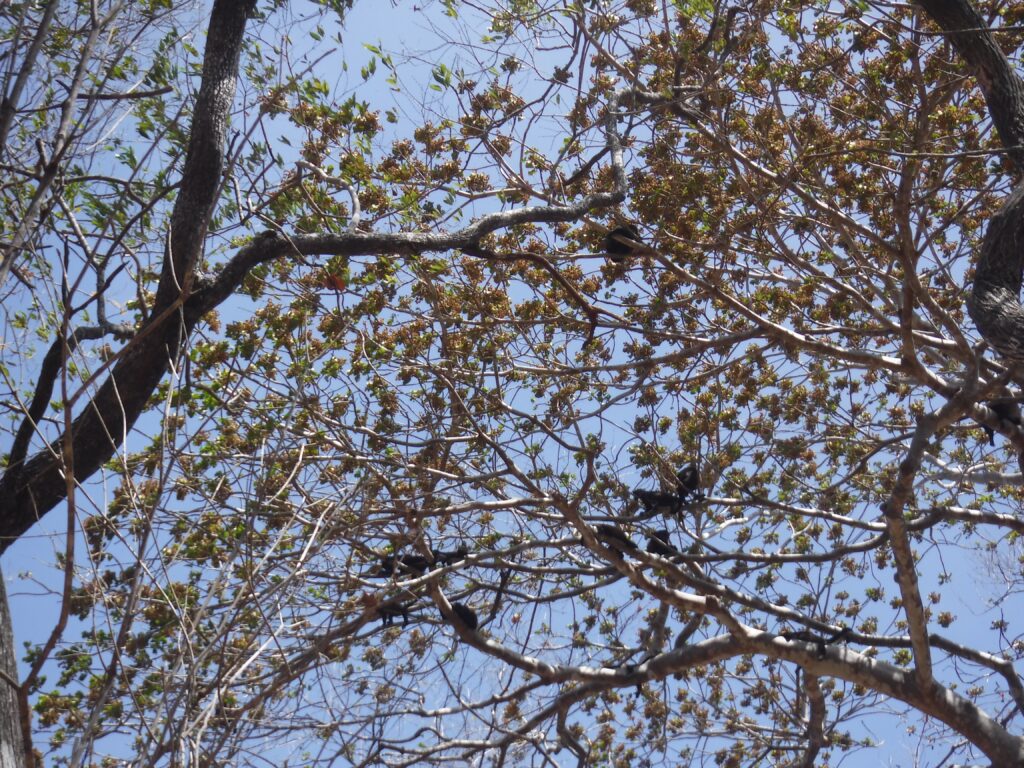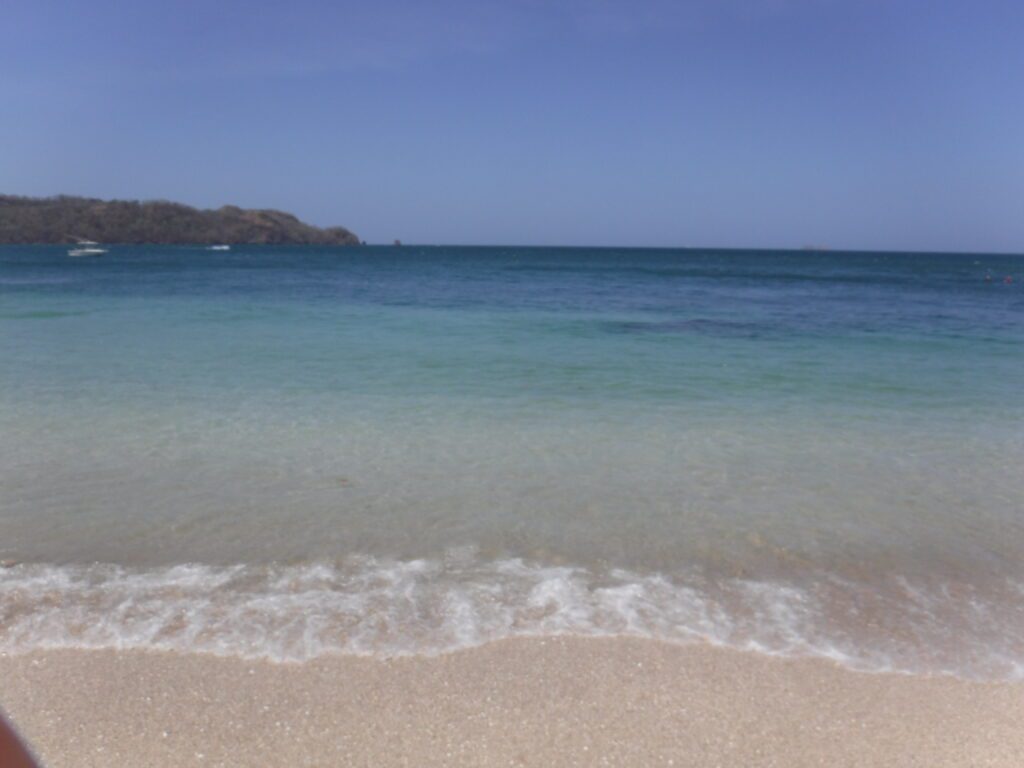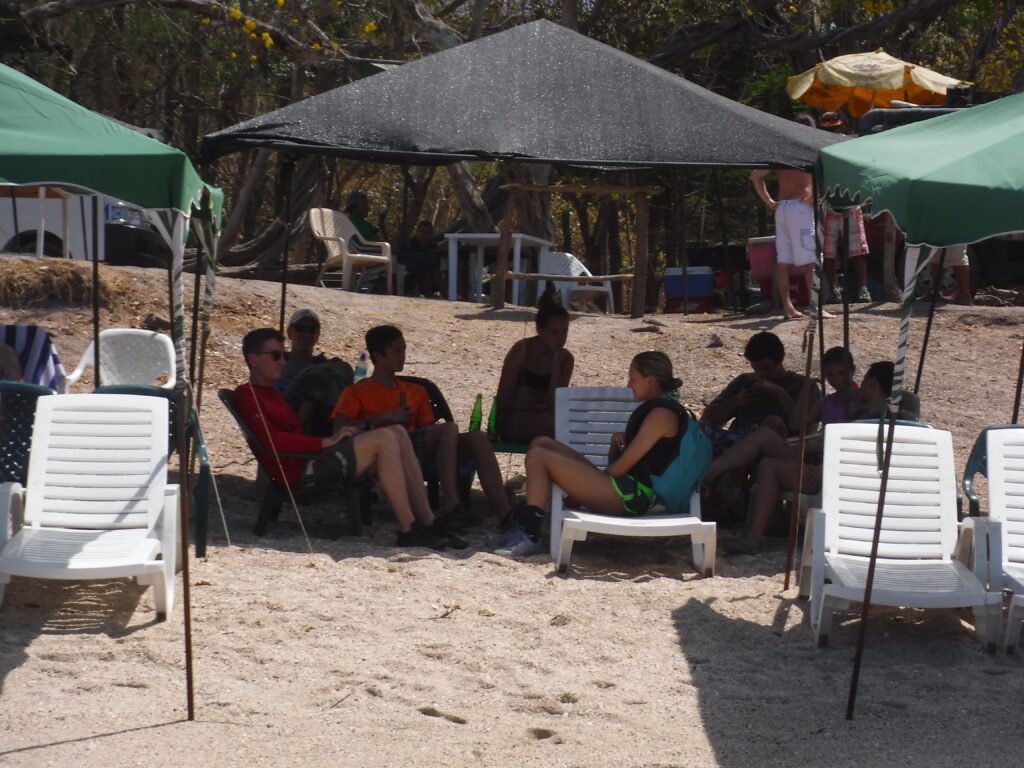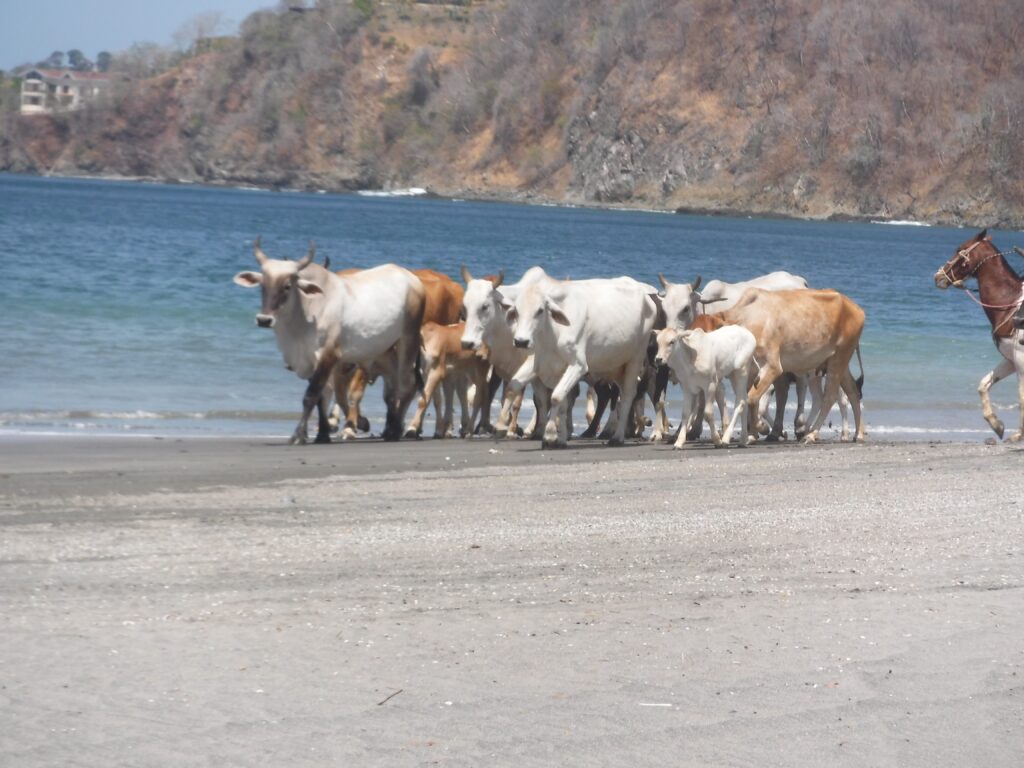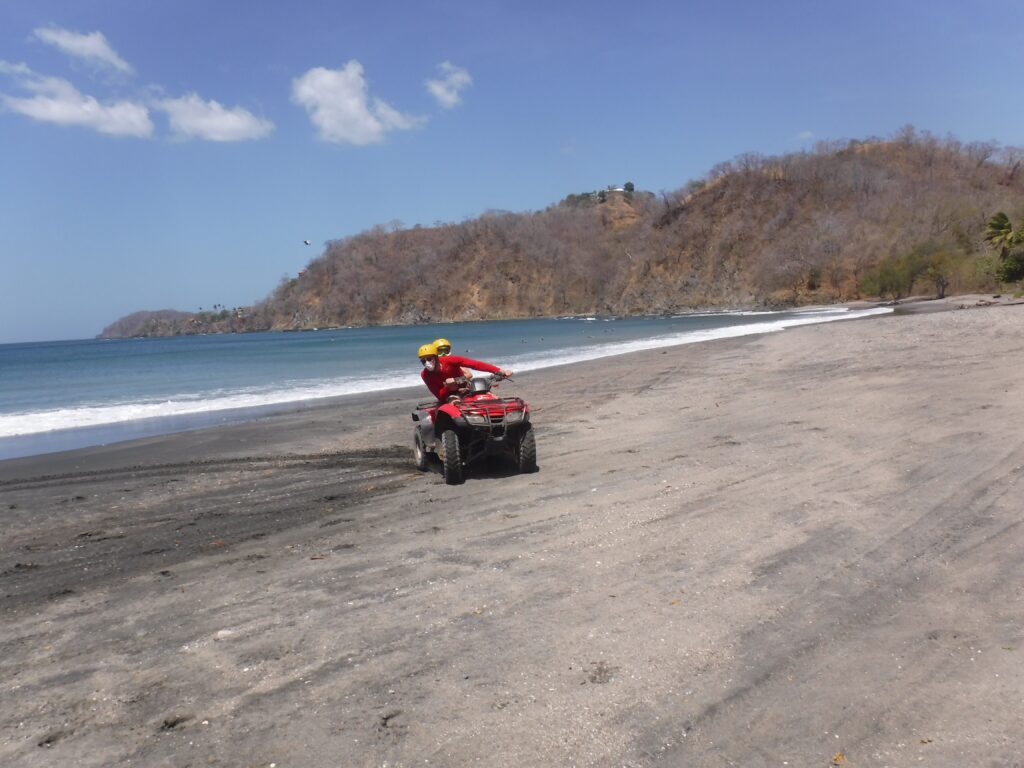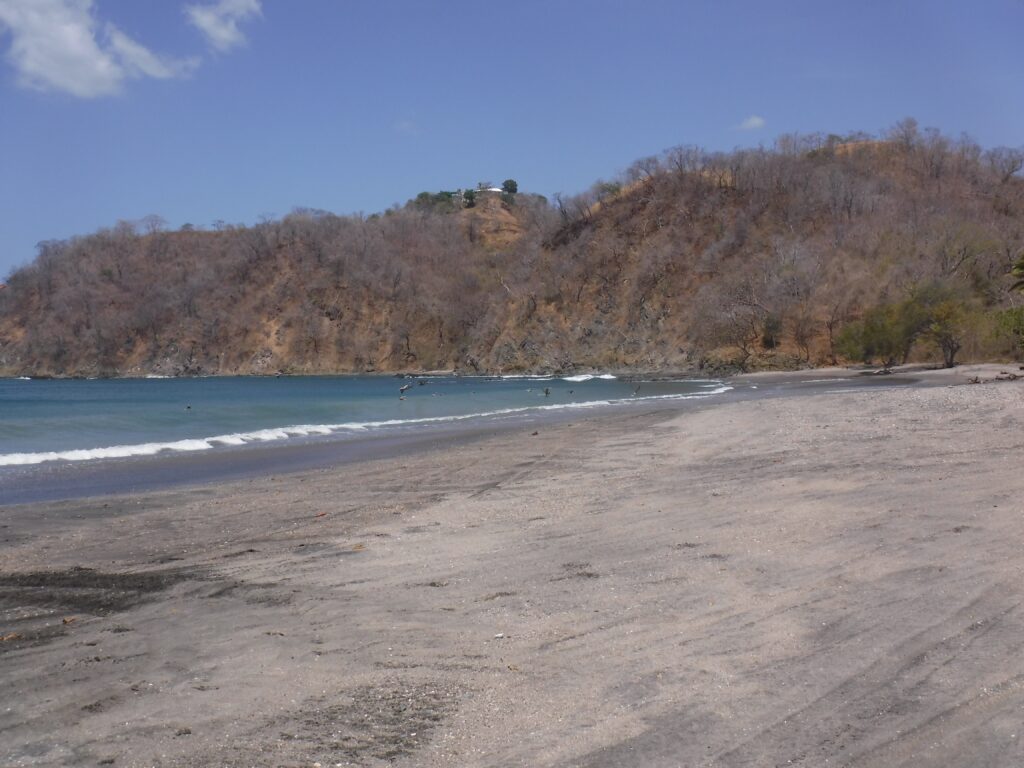 We enjoyed our ATV adventure. The kids especially loved it.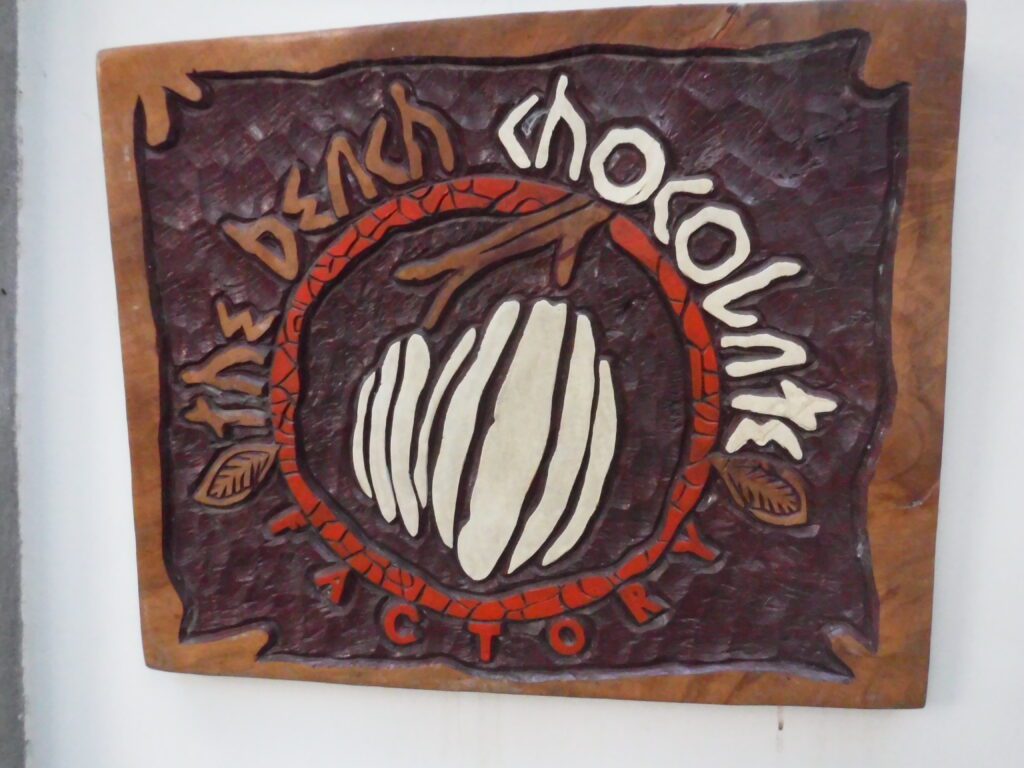 Chocolate Making
In 2016, we chose to take a chocolate making workshop with Henrick from the Beach Chocolate Factory. His shop is based in Brasalito. The workshop lasts about an hour, and they do sell out. He did a private workshop for our family of nine. We thoroughly enjoyed learning about how to grow and make chocolate. We highly recommend Henrick. Trip Advisor reviews remain excellent.
During the workshop, you learn all about the cacao pods, beans, roasting, grinding and seasoning the chocolate. You finish the class with delicious chocolate to eat or take home with you!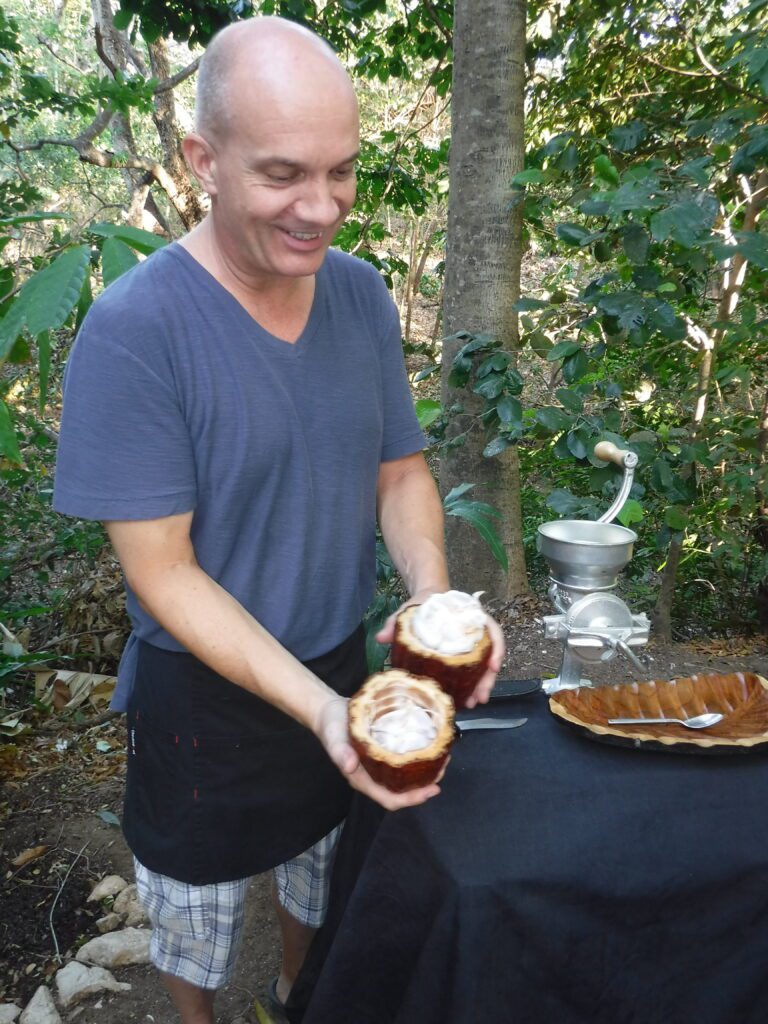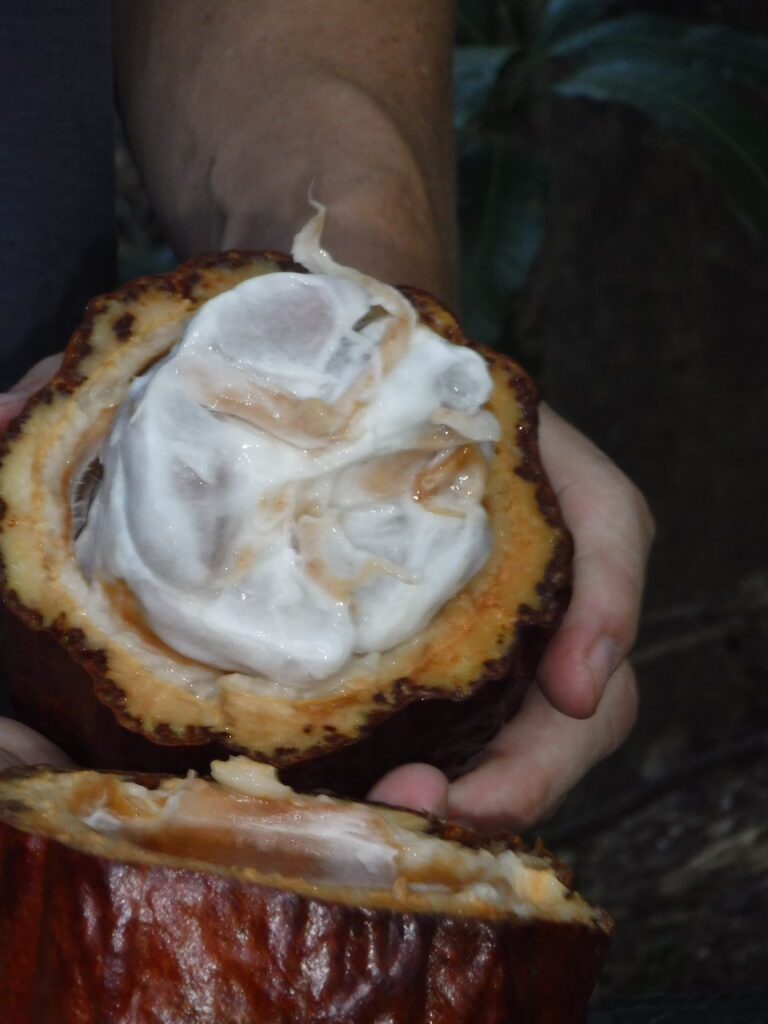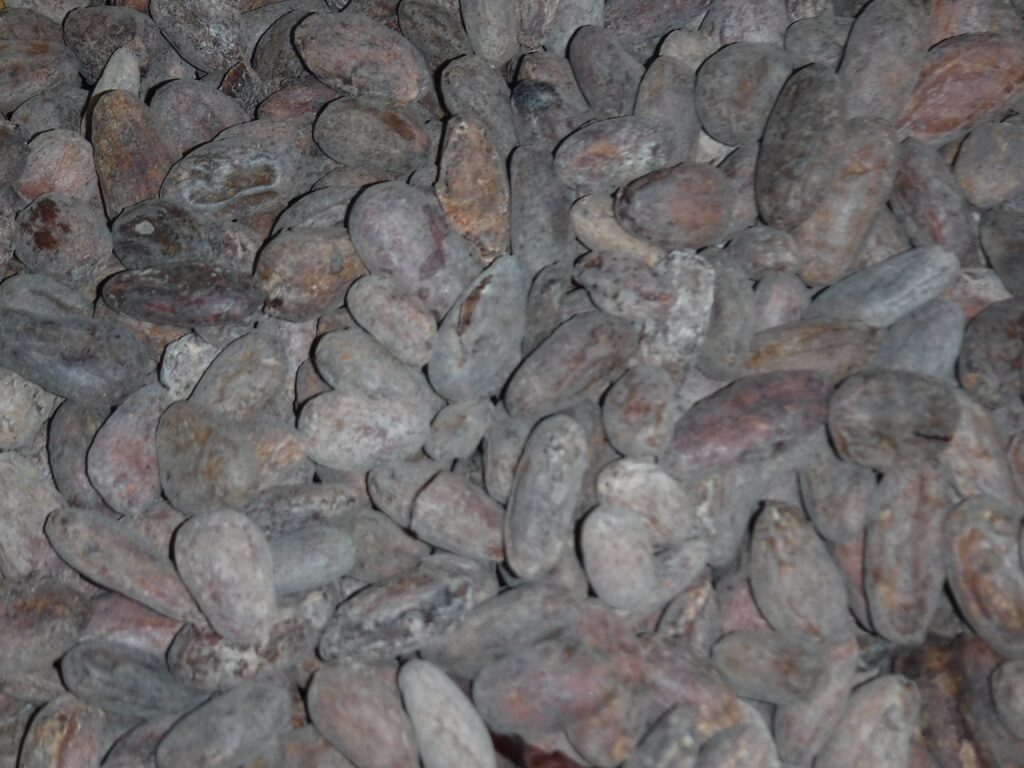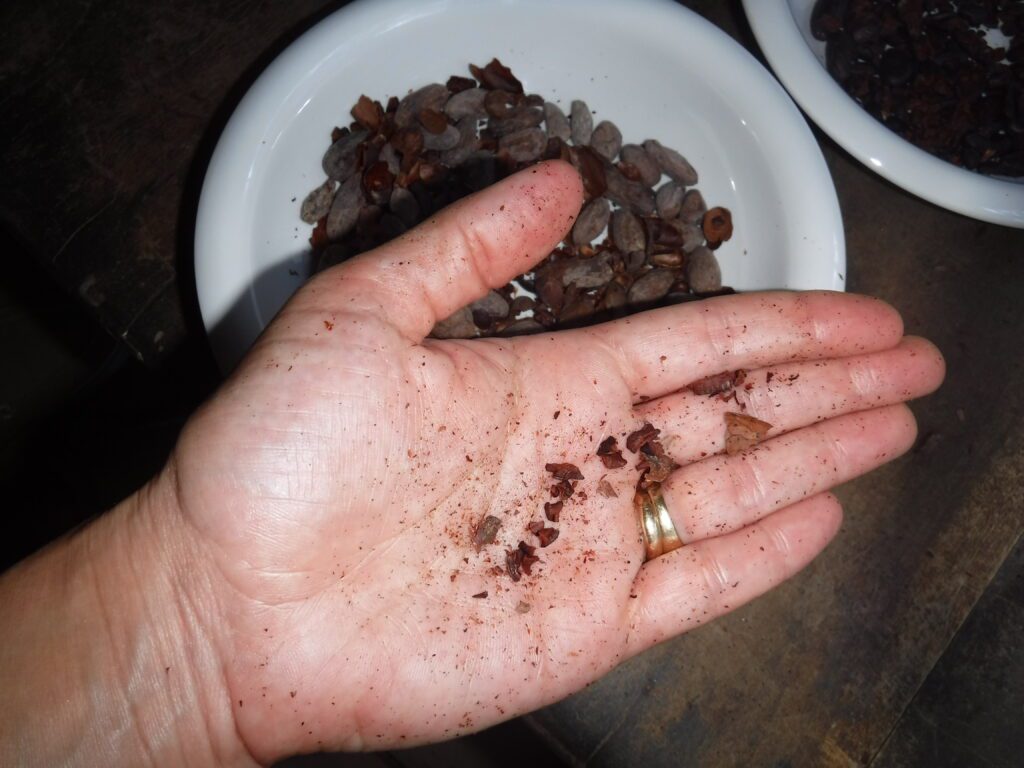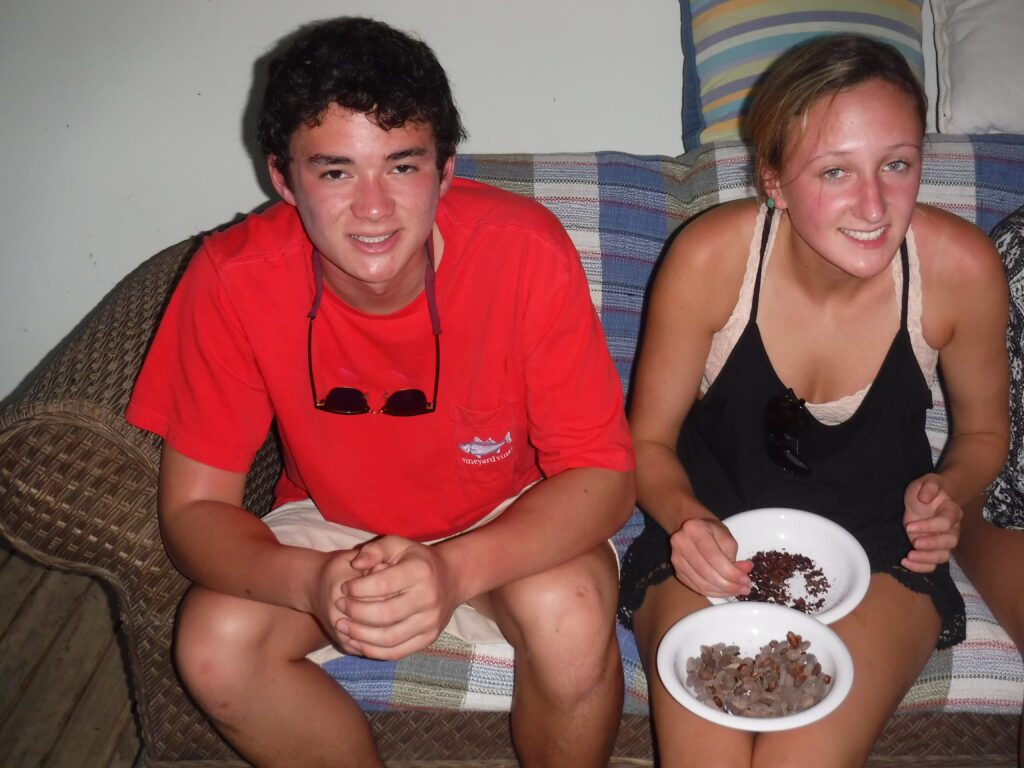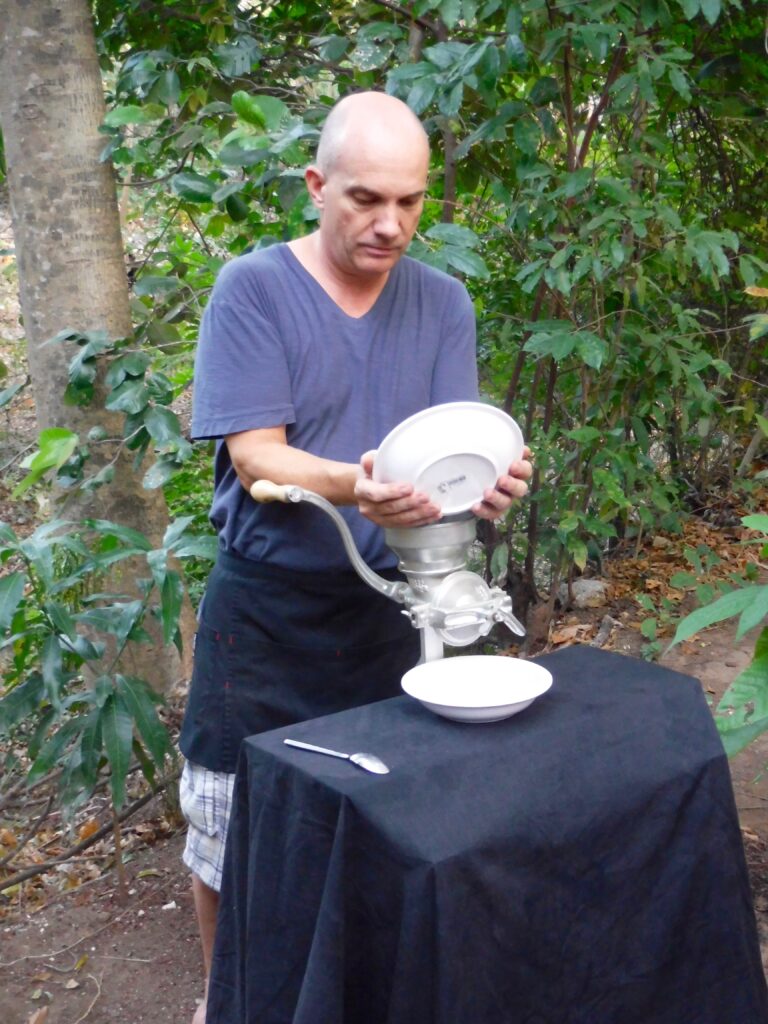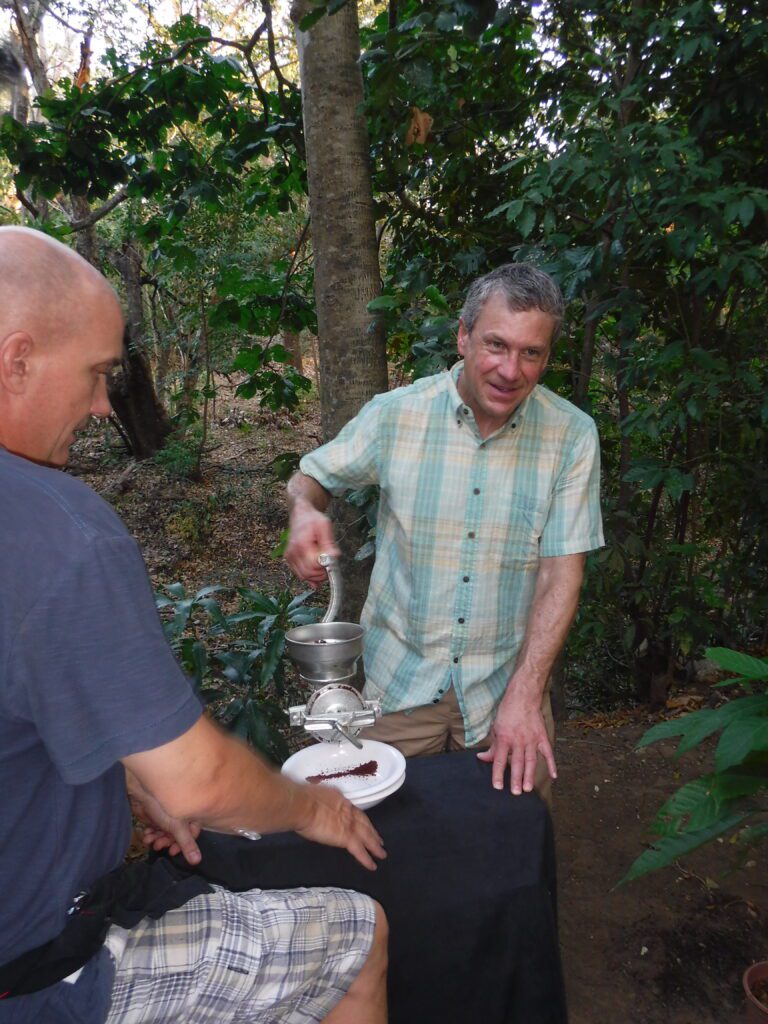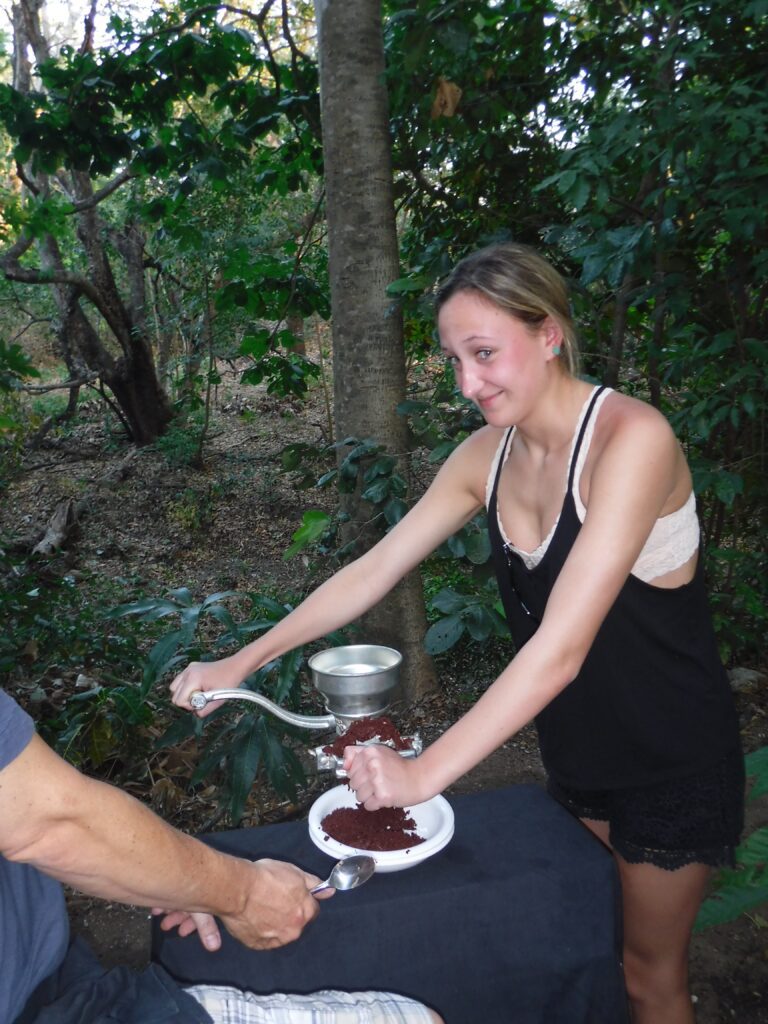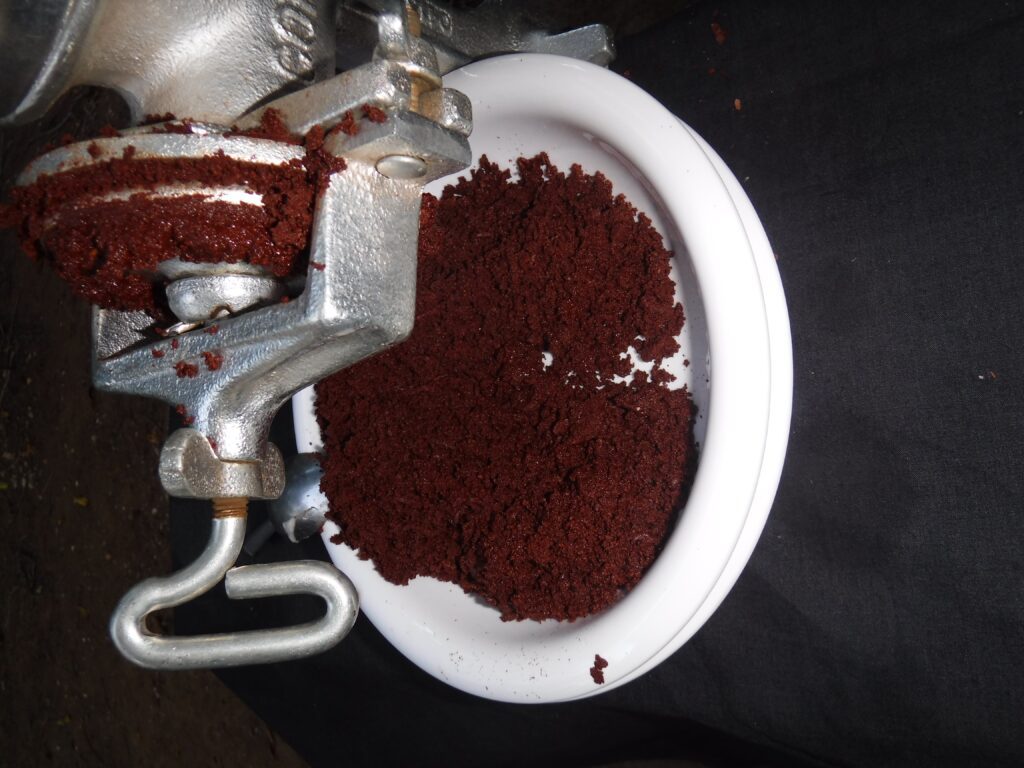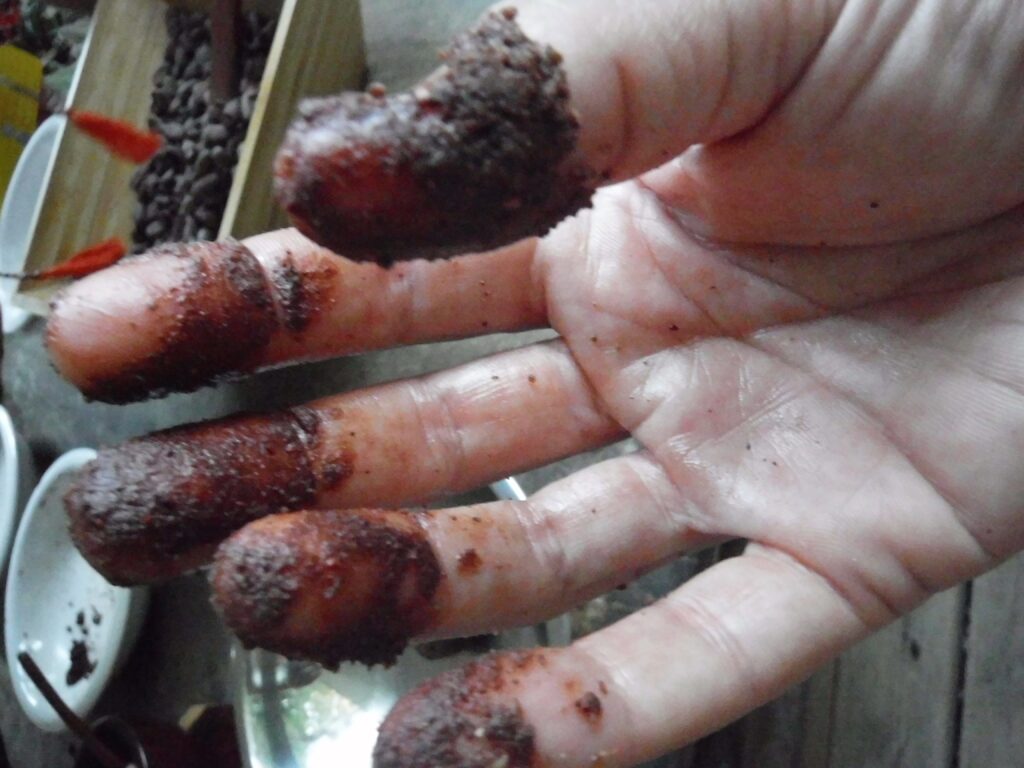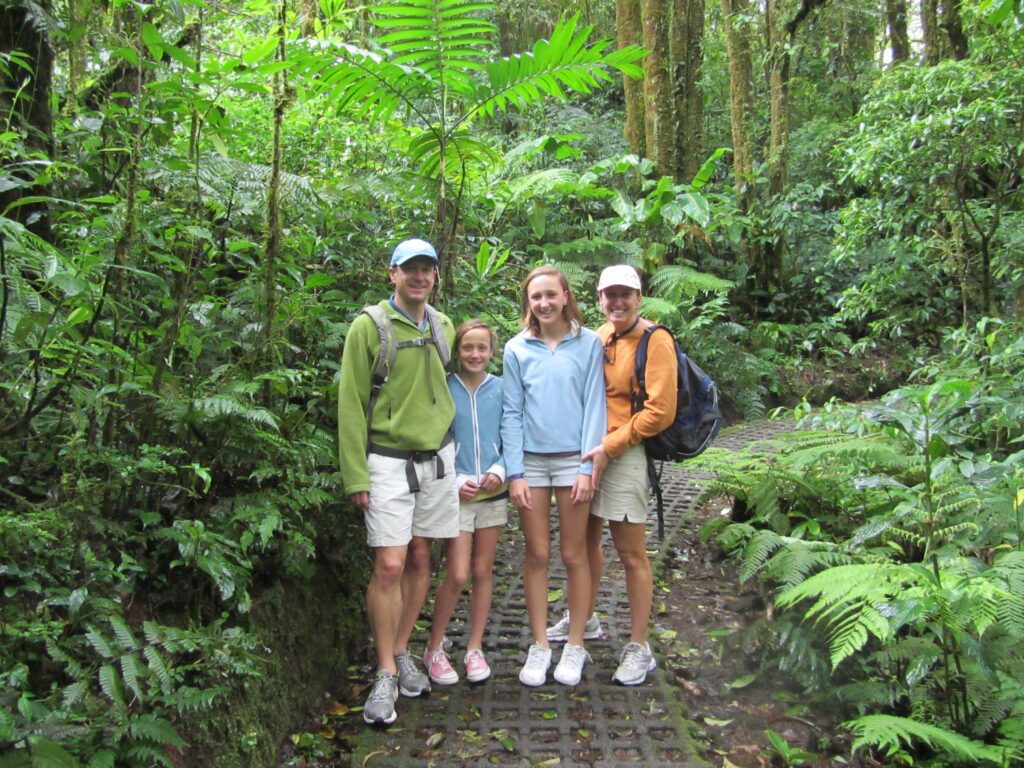 Monteverde Suspension Bridges and Zipline
In 2011, we drove from our resort near Playa del Coco to the Monteverde Cloud Forest. It was a solid three hour drive. The views are gorgeous, but the driving is slow. We loved the cute town of Santa Elena.
An excellent option is to spend a few nights in Santa Elena, Arenal or Tabacon. You could see the volcano and the cloud forest over two to three days.
We visited Selvatura. Located in the cloud forest, this park has a fantastically-thrilling canopy tour, suspension bridges, butterfly and hummingbird gardens, reptile exhibits, a restaurant and naturalists to answer your questions.
Because it took us so long to get to Selvatura, we were able to do the suspension bridges and the canopy tour. We then did the three plus hour trek back to our hotel.
The cloud forest was fascinating. We would highly recommend a visit here.
The treetop walkways tour consists of 1.9 miles of trails. You will cross eight bridges which range between 170 feet and 560 feet long.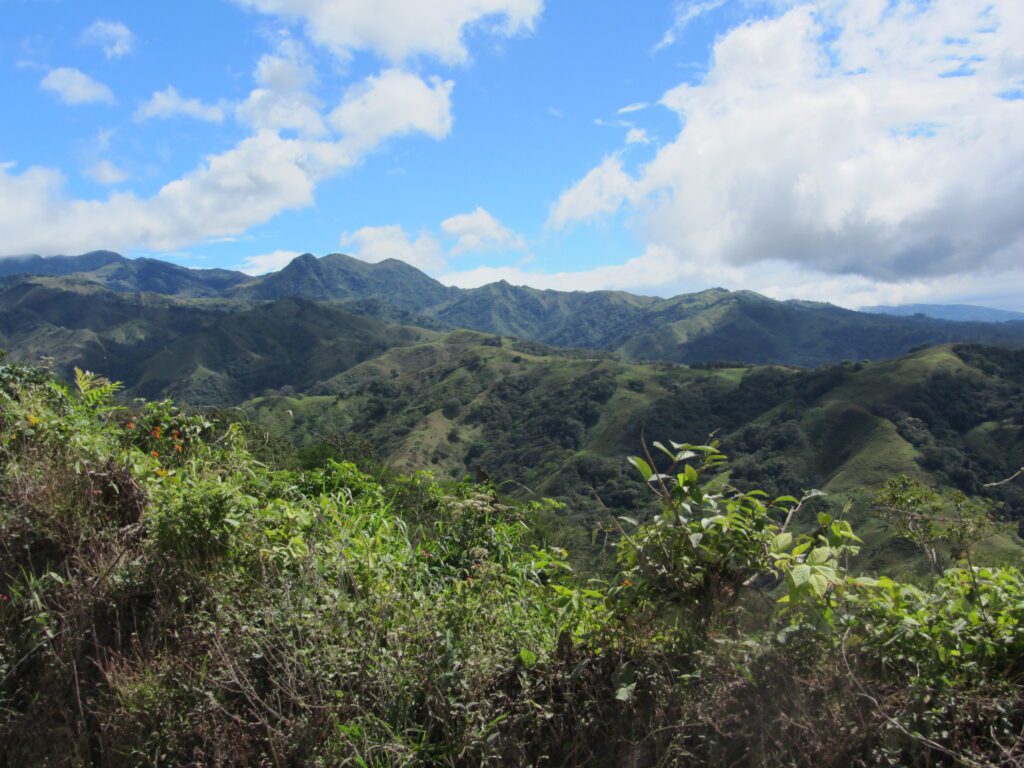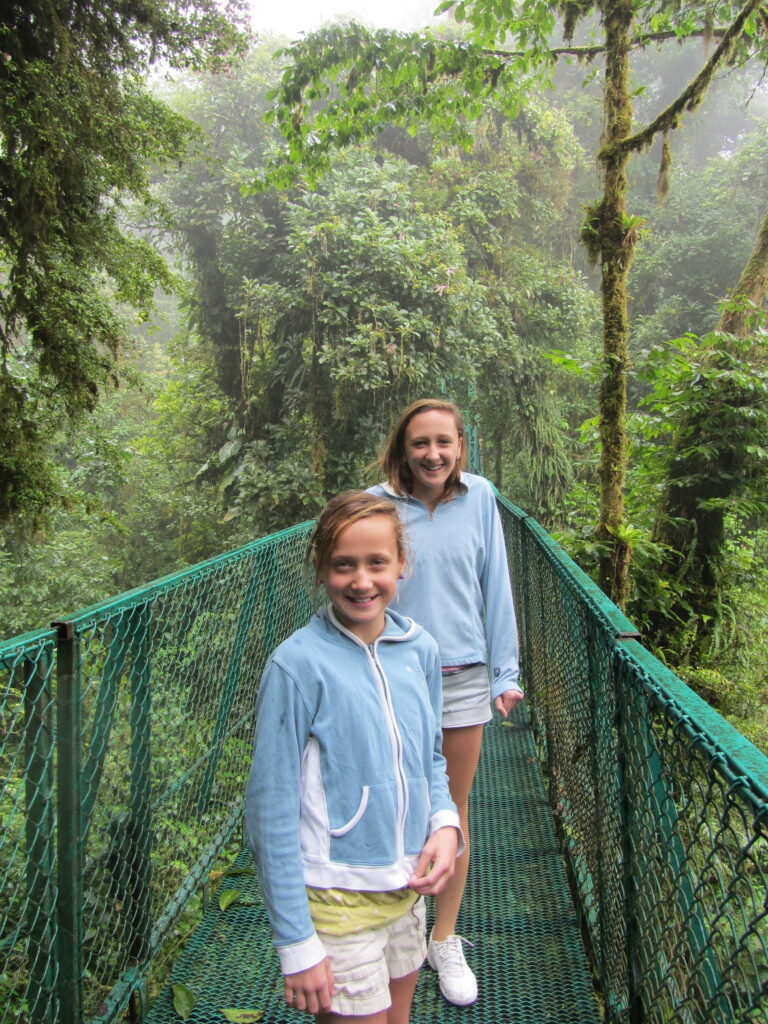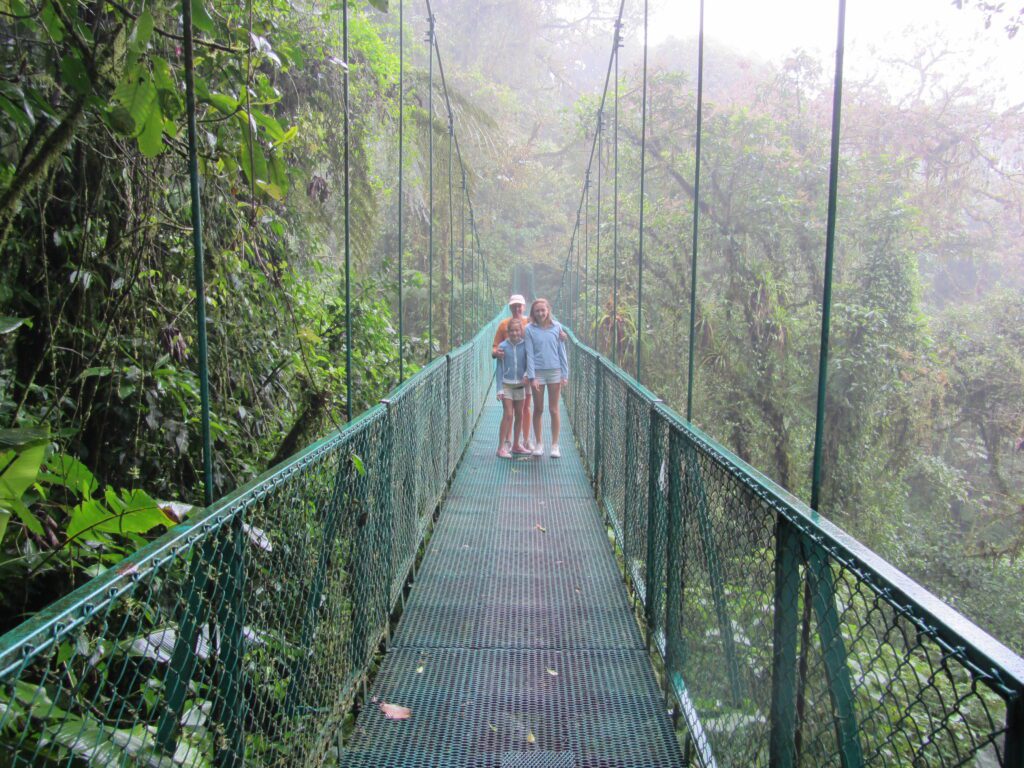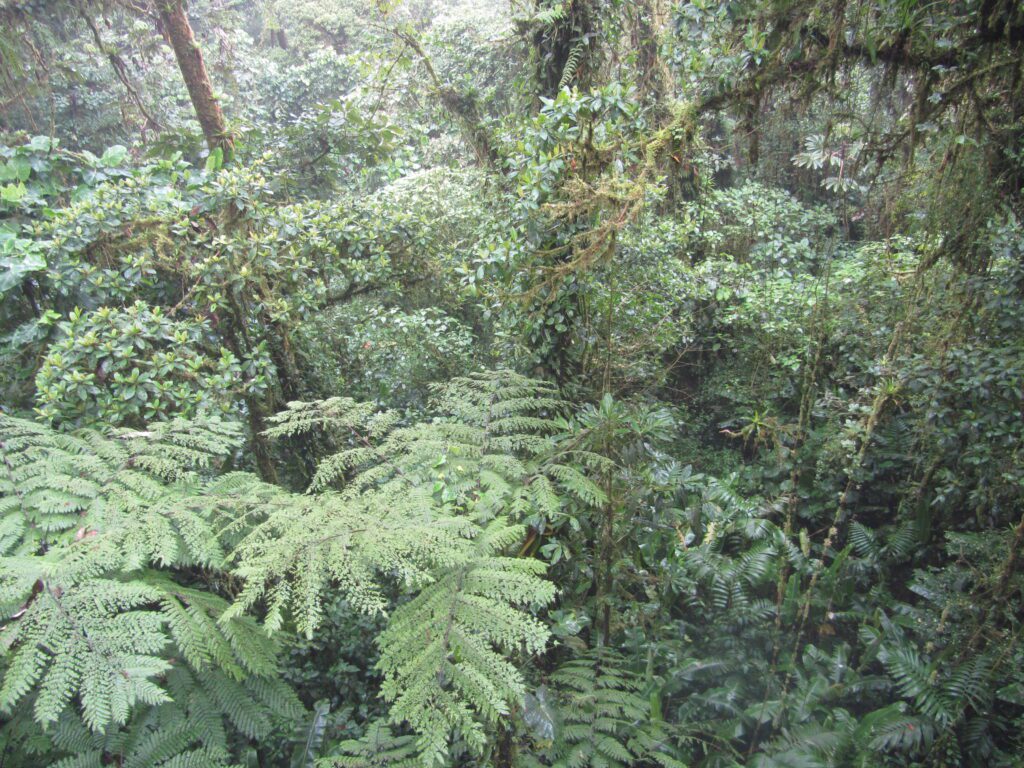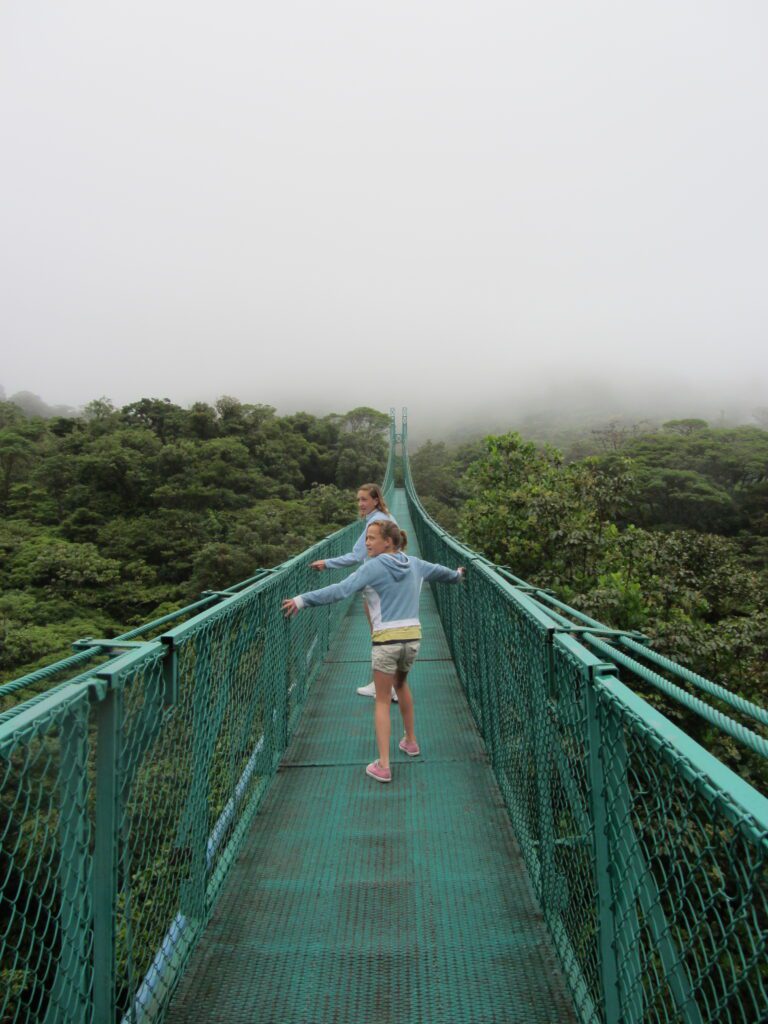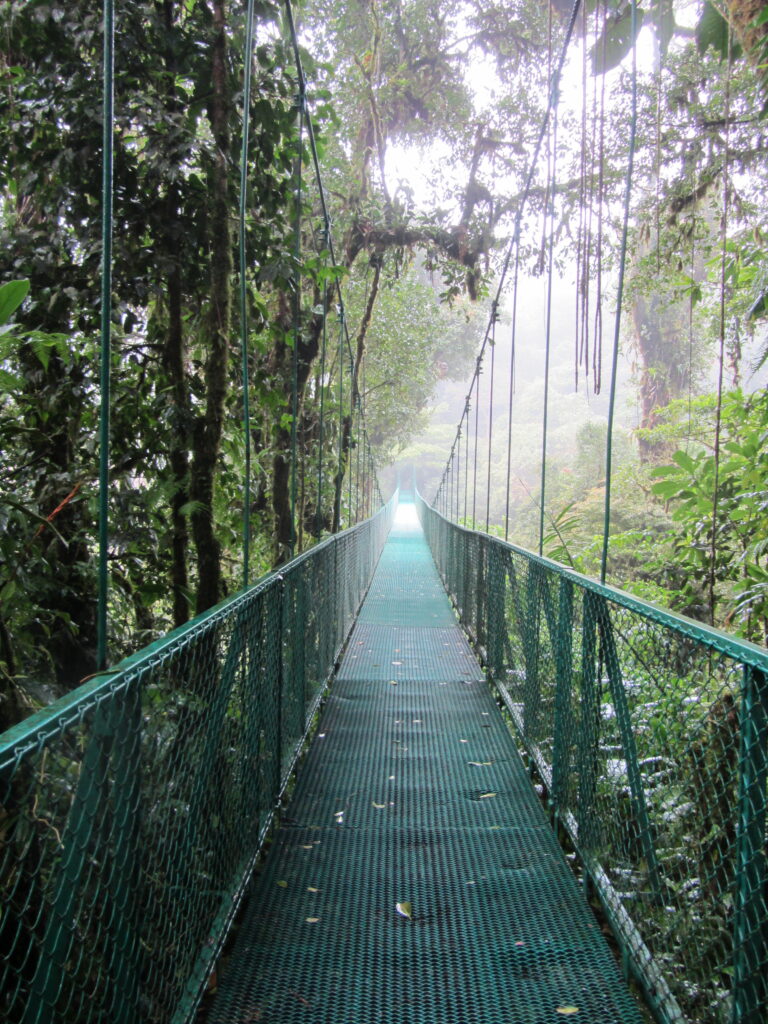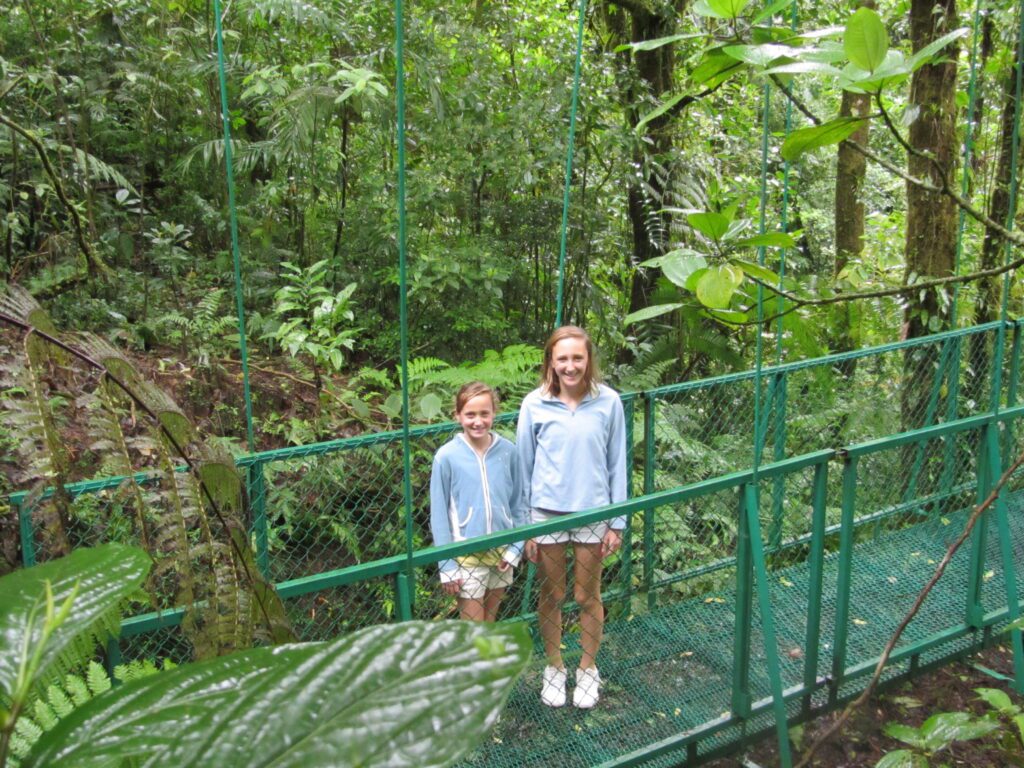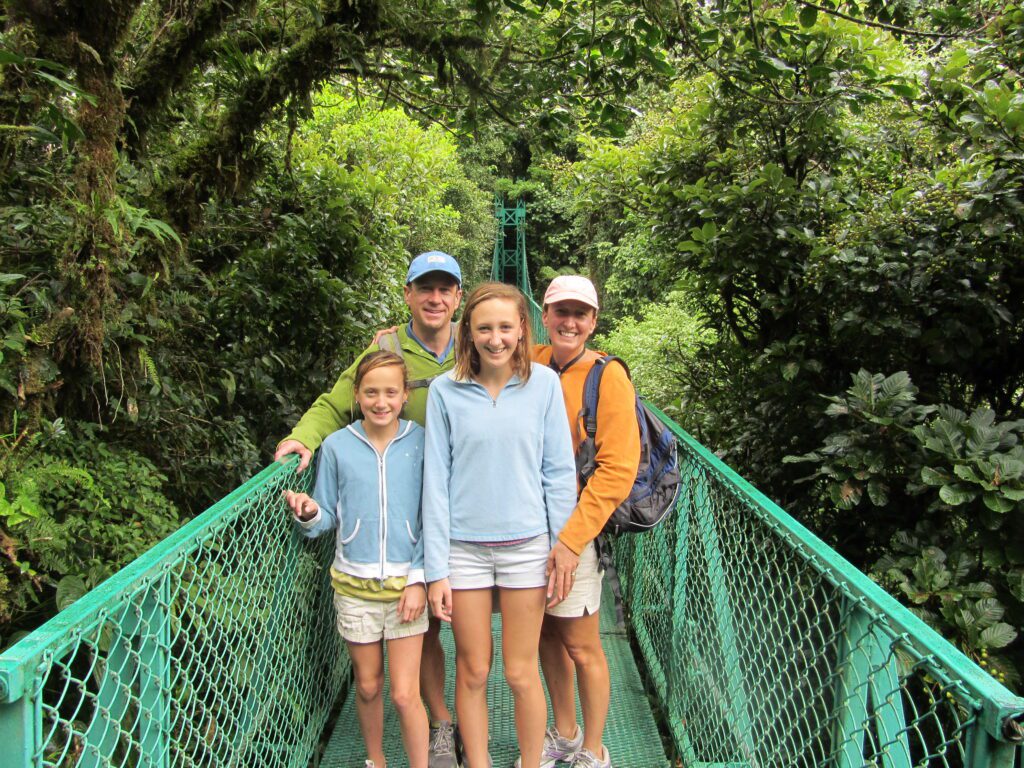 Next up was the canopy tour. This tour was excellent. It is a very long story (too long for this blog), but we had a private tour. Just our family of four with two guides. It appears now that you can take the last zip in a superman position for an additional fee. When we did the tour in 2011, Jim and Michele went together on the last zip and each guide took one of our kids. It was super long, high and fast.
You do 13 zips and a tarzan swing. We loved it all. This is an outstanding canopy tour.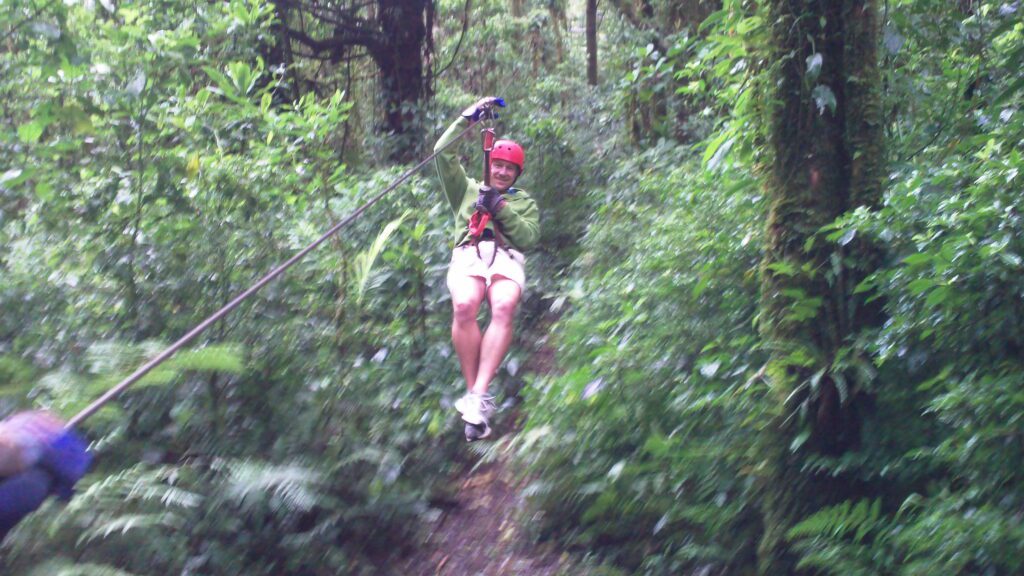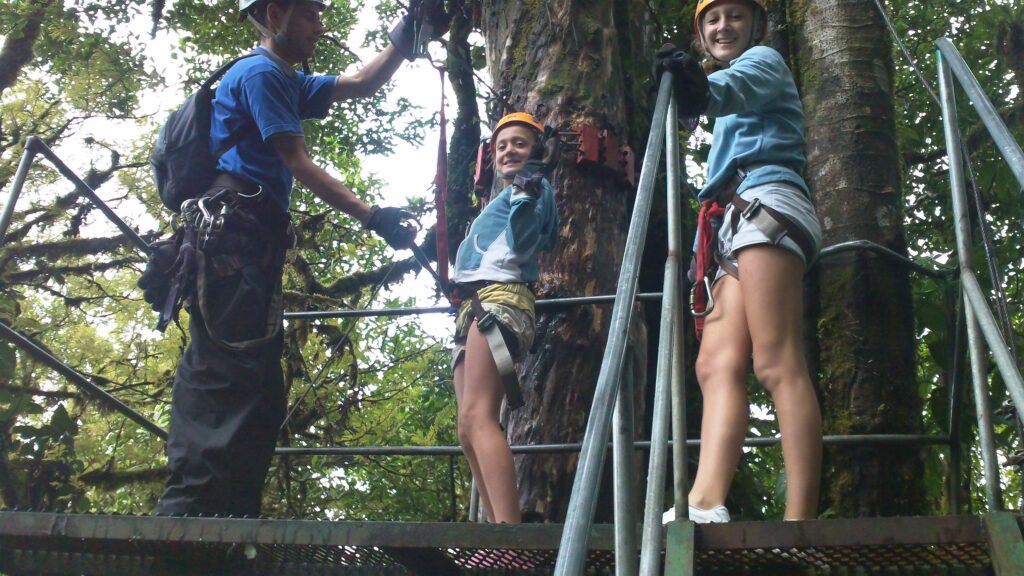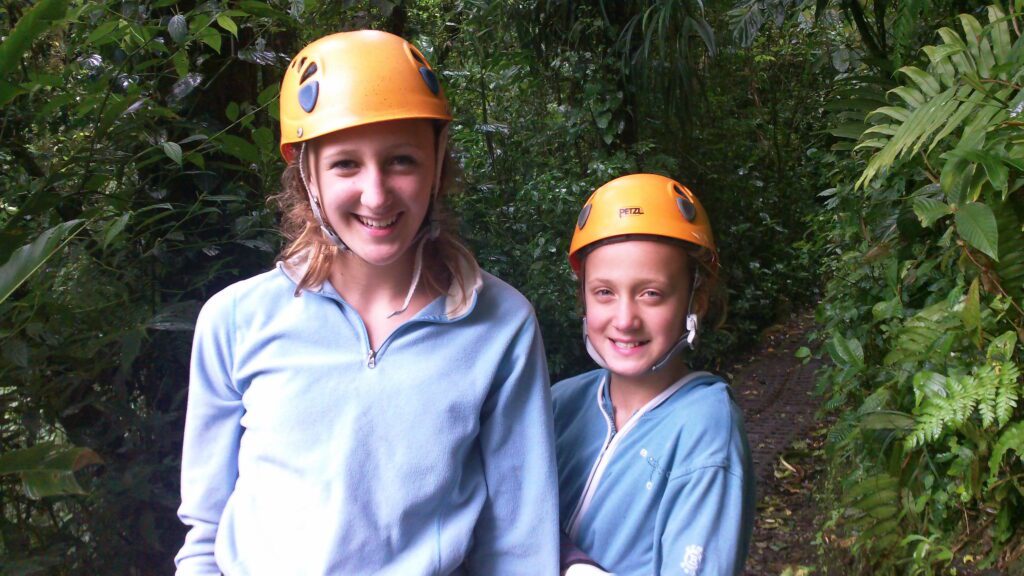 We chose to do the tarzan swing. You climb a tall tower and jump off. You swing out over the forest. It was awesome!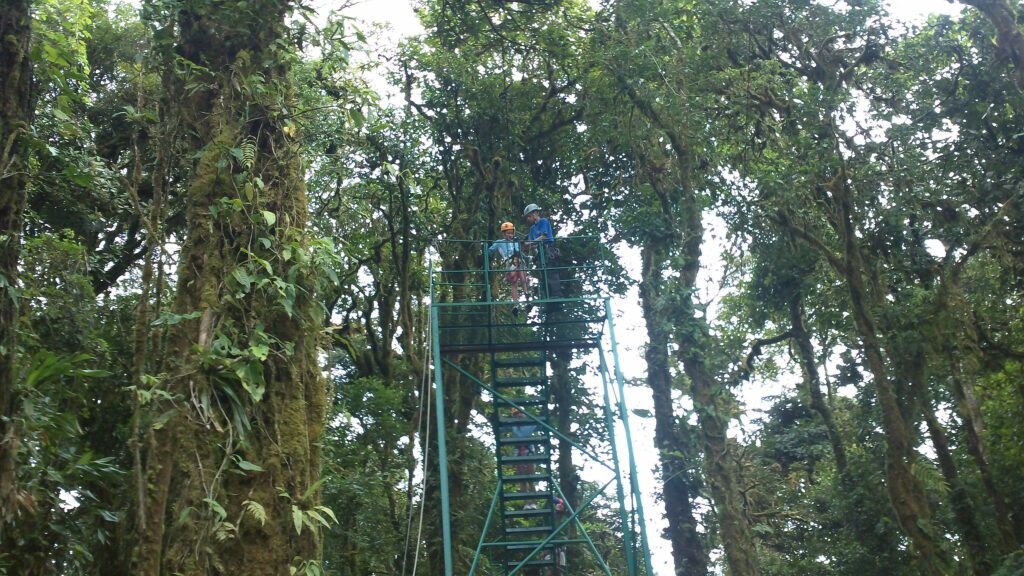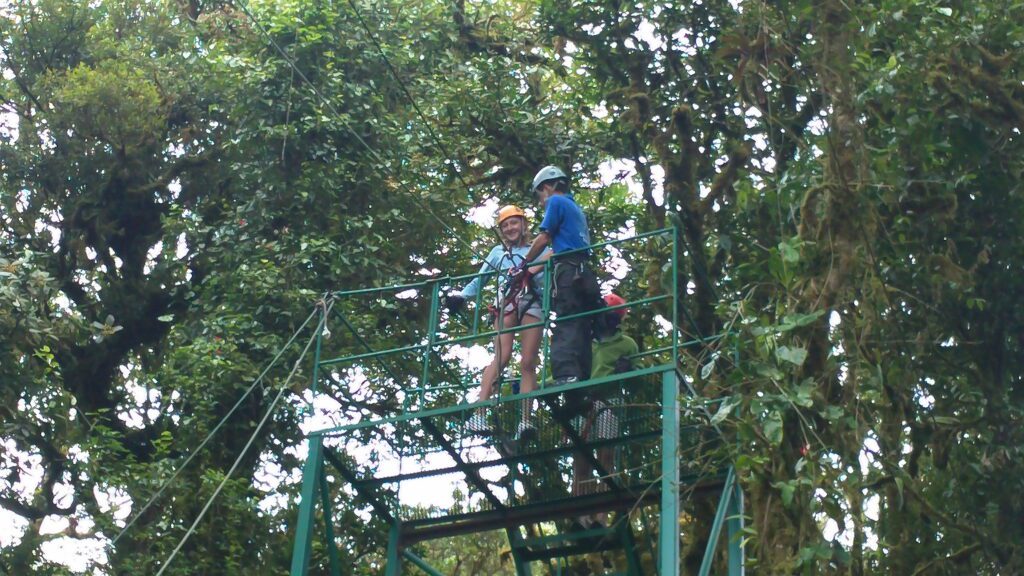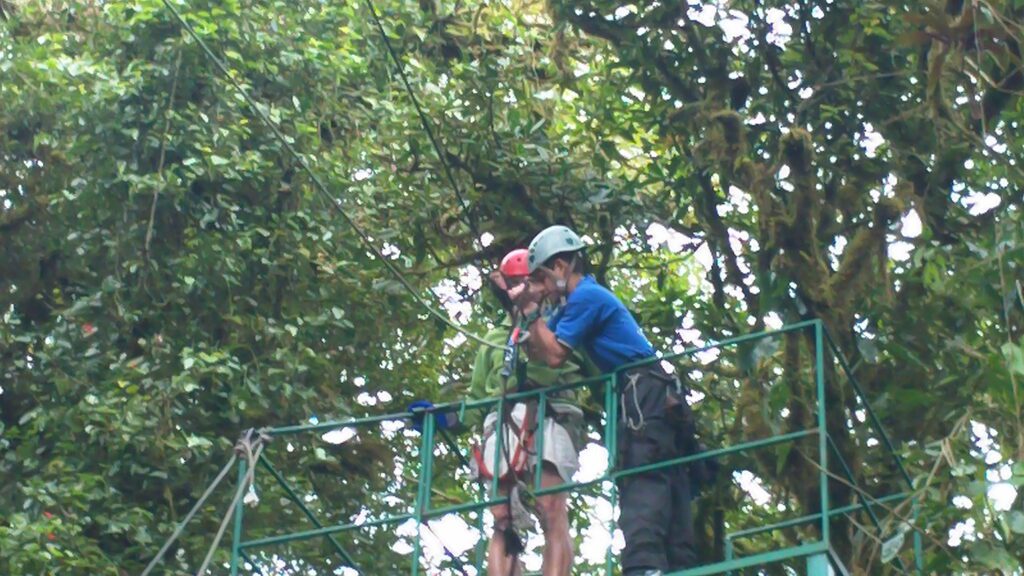 We thoroughly enjoyed our adventure in Monteverde. Selvatura is a well-run organization. We do recommend staying up in this area for a few nights so you do not have to do as much driving as we did in 2011.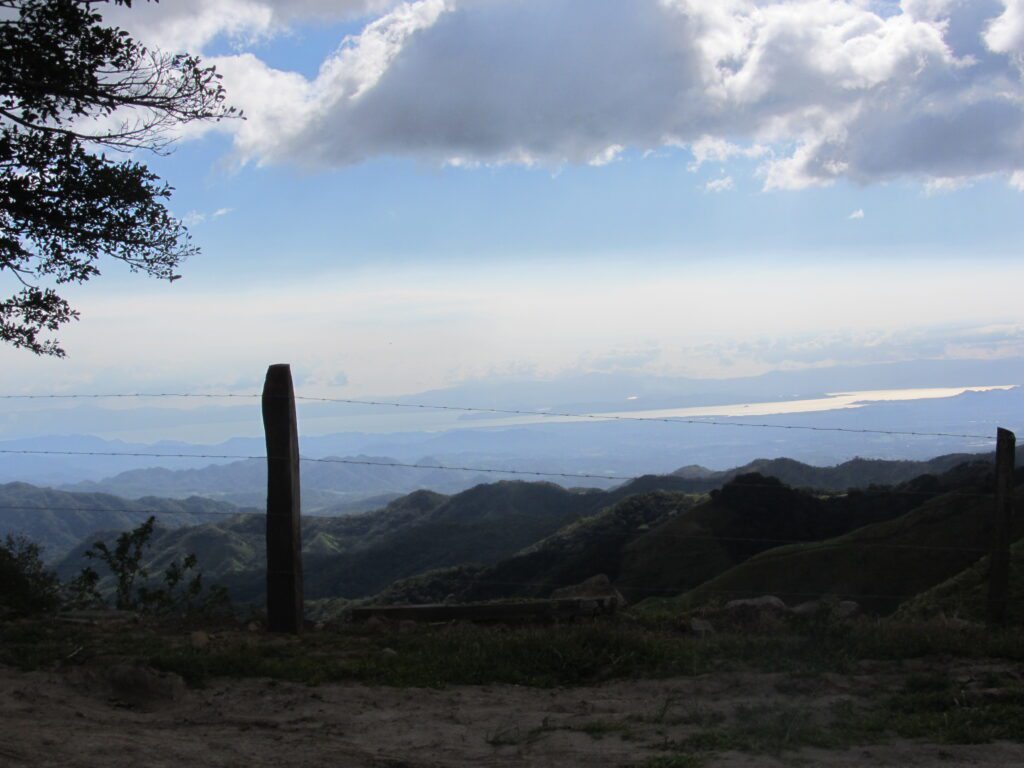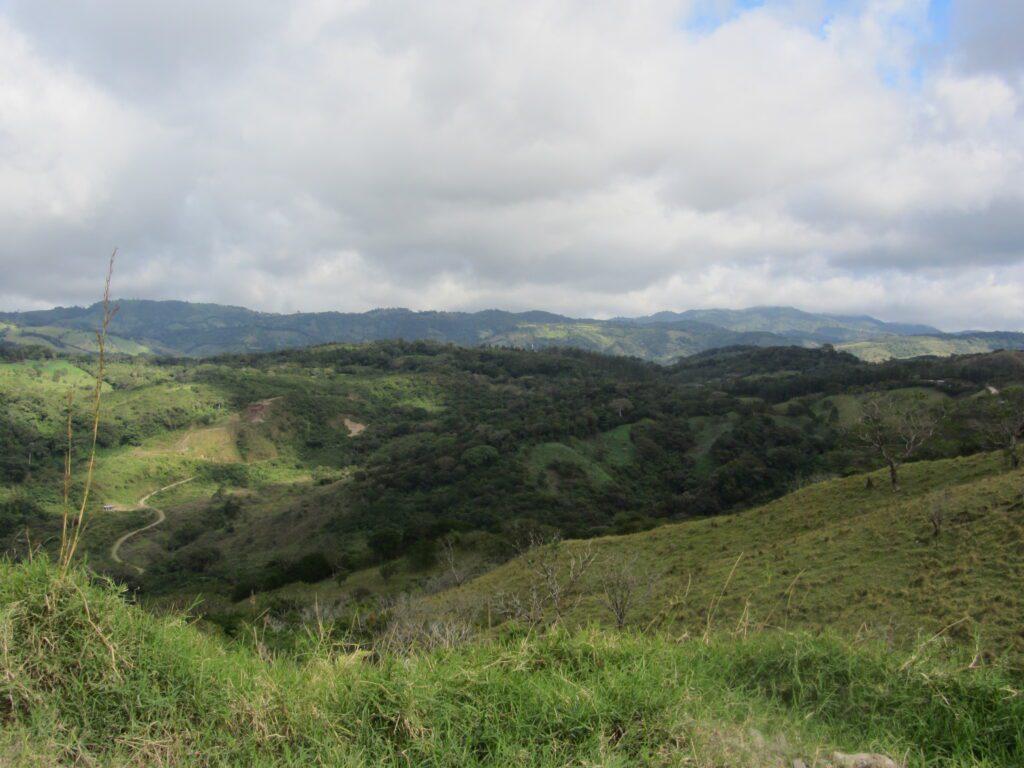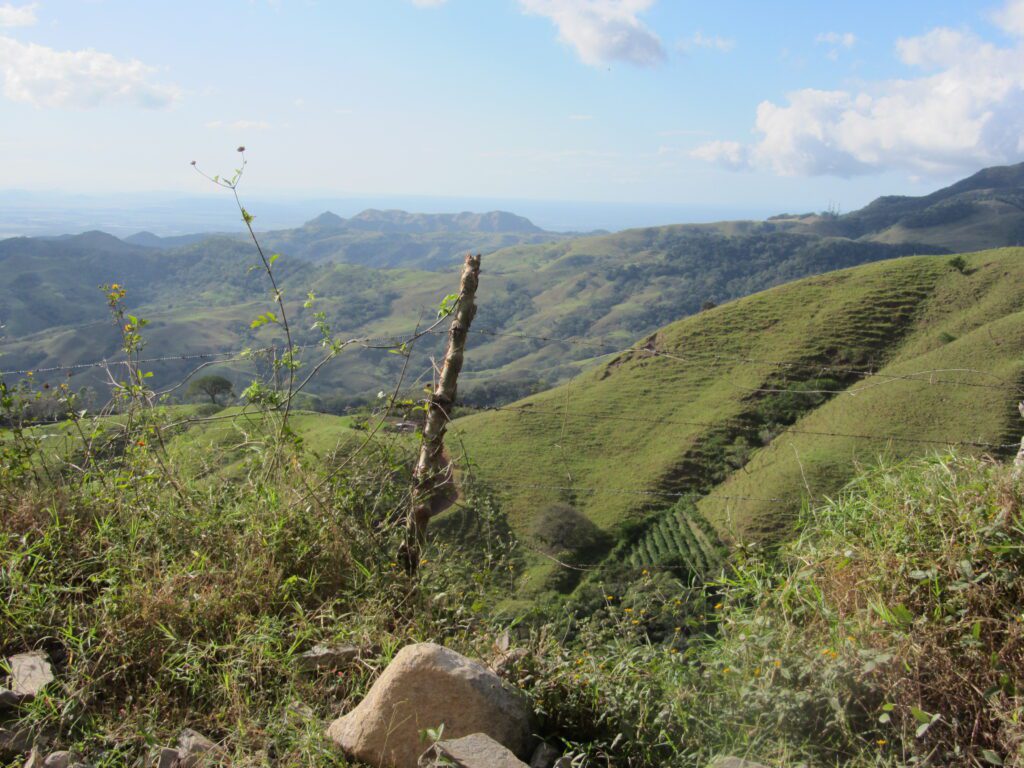 Catarata Llanos de Cortes Waterfall
We visited this waterfall on both trips to Costa Rica. It is right off the InterAmericana Highway. The cost is now $7/person. Both times we visited it was $5/car. So, this is now not as hidden as it once was. A few websites say that there is now an "unofficial" entrance a few kilometers up the road for less money. Do not leave valuables in the car.
From Liberia, take Route 1 South. Continue toward Bagaces. As you drive south, look for the large red pedestrian overpass about 20 km south from the main intersection in Liberia. Immediately after going under the overpass take a quick right turn onto a dirt road. There is a sign for Catarata Llanos del Cortez. Follow the dirt road and you come to the entrance gate is located. From there, take a right and continue about1 km up the road to the parking area. Every website you visit, will spell the waterfall differently!
This website has useful, up-to-date information on the waterfall.
We recommend a weekday visit, either first thing in the morning or late afternoon.
On our first visit, we swam and enjoyed the waterfall.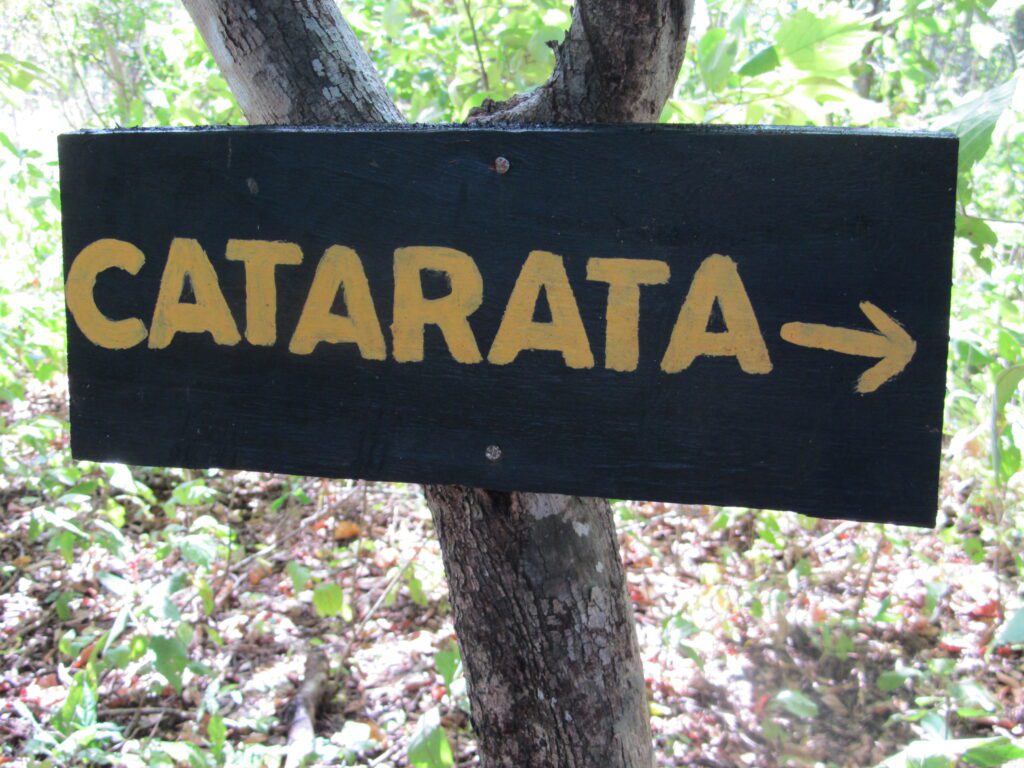 After parking your car, walk down the steps to the small pond.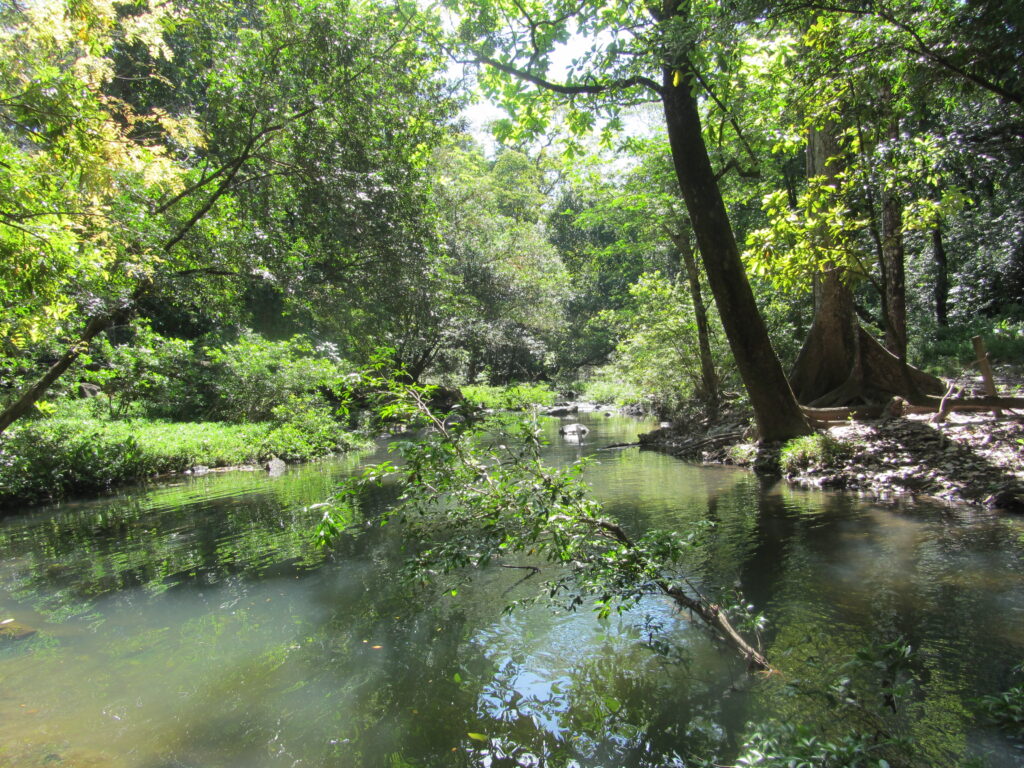 You will soon see the waterfall.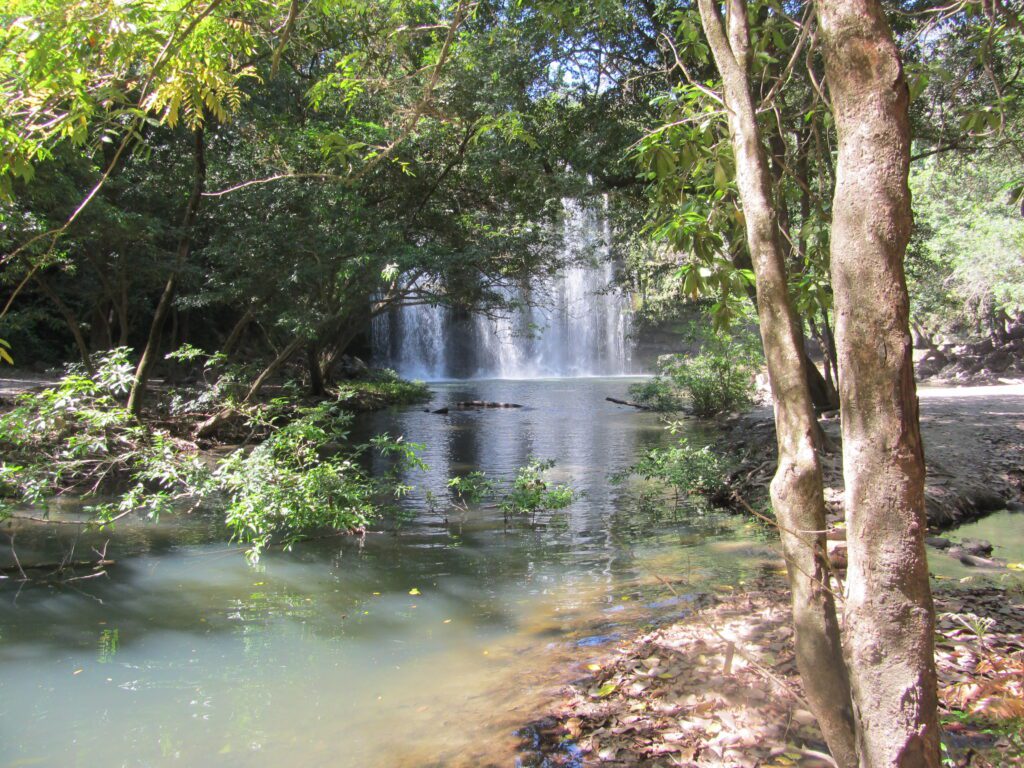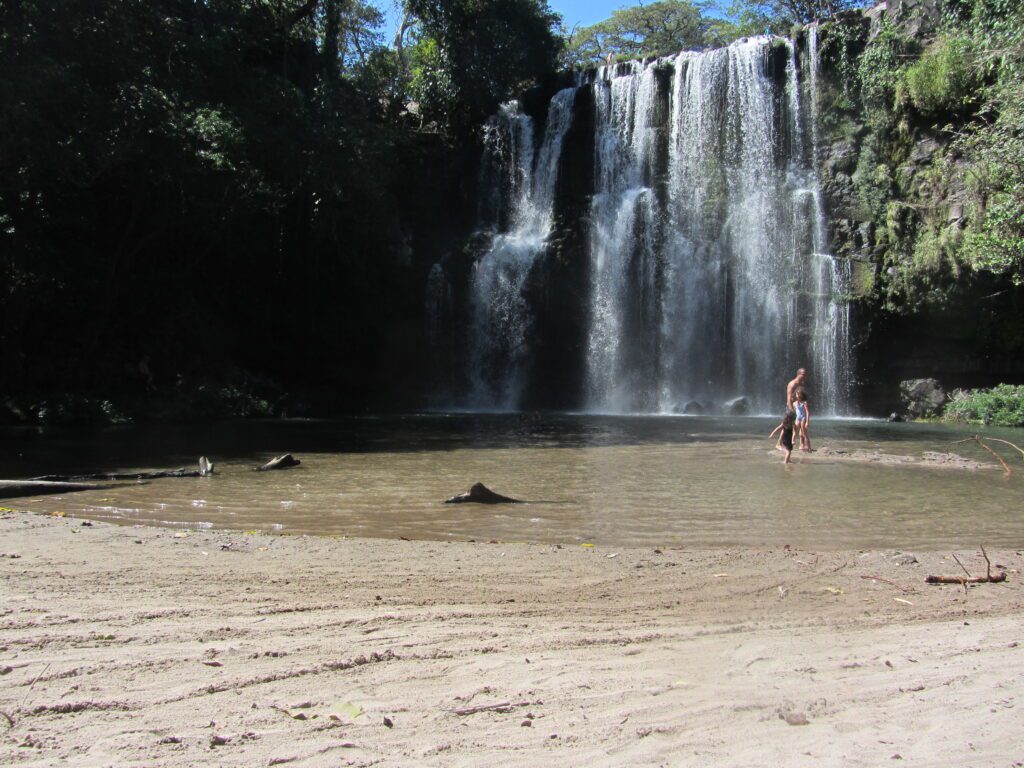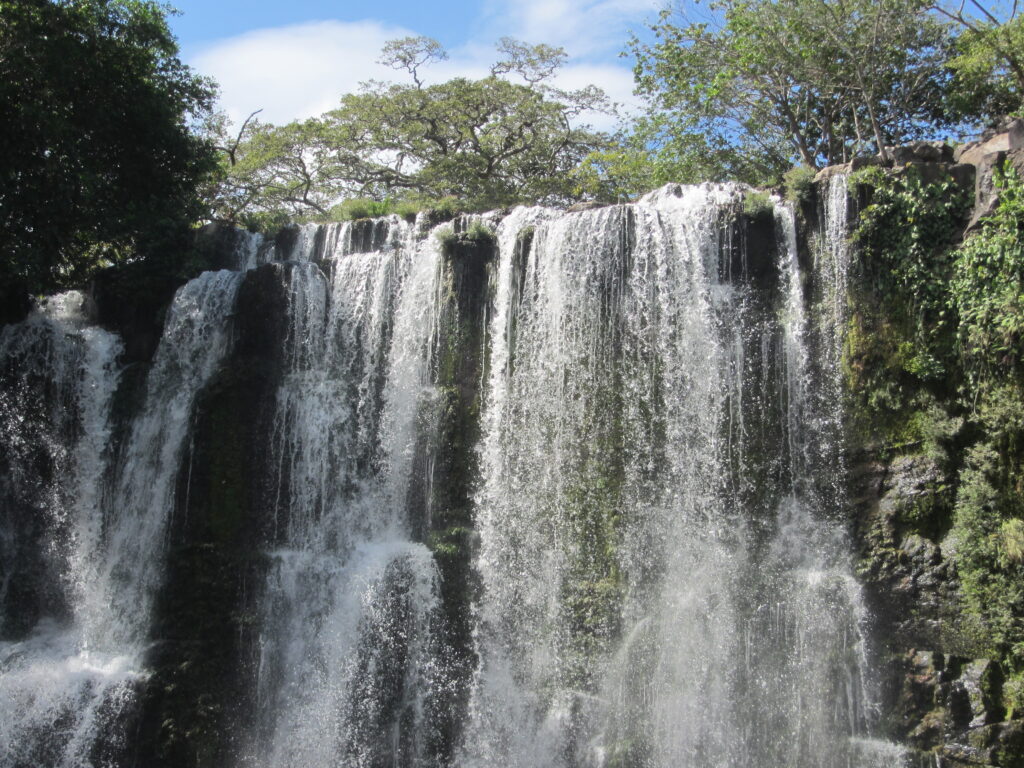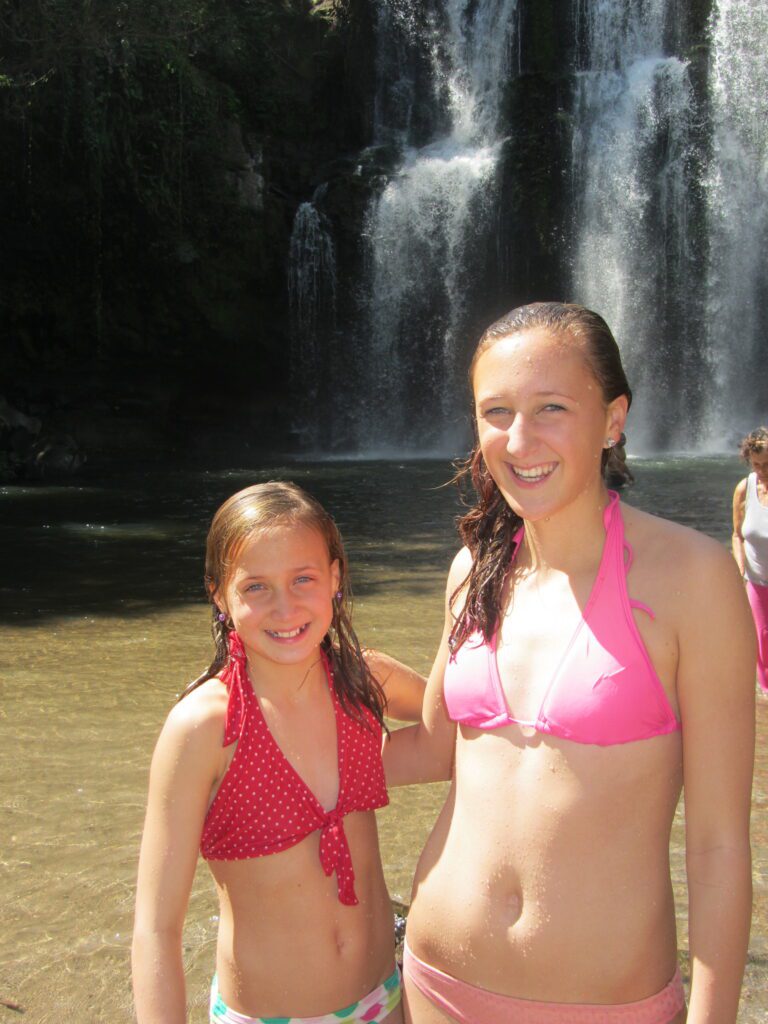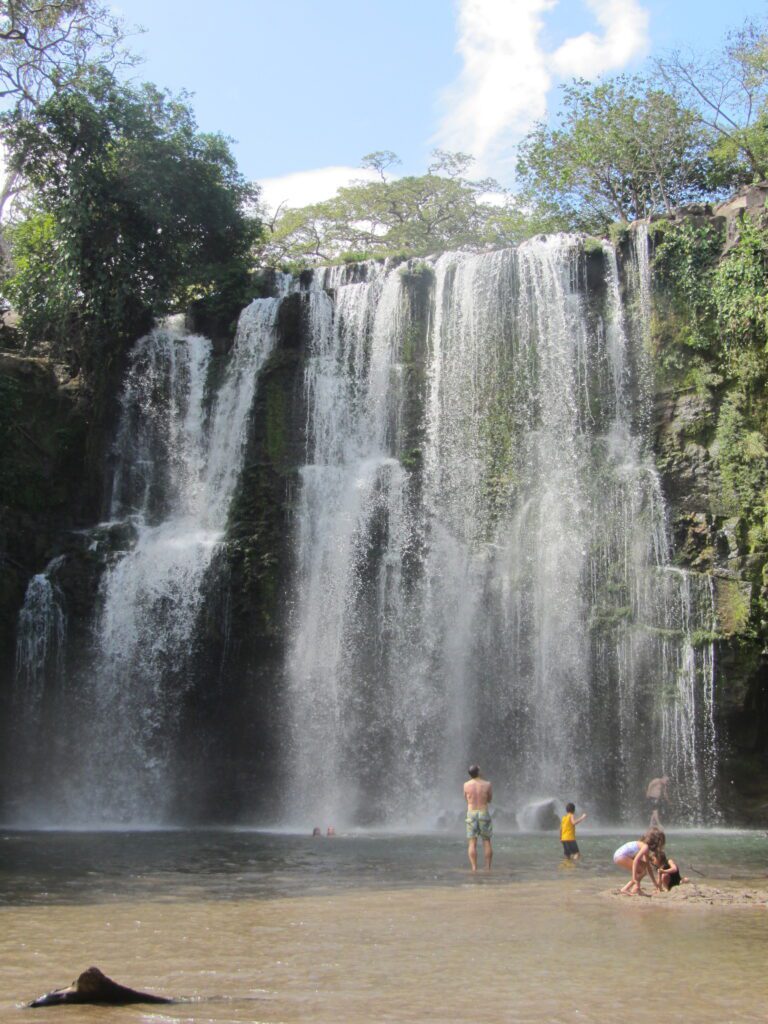 In 2011 and in 2016, we were able to go behind the falls, while walking on the rocks. Many websites now say this is forbidden. It was a cool experience. When we visited, there was no lifeguard on duty. Now, sites claim the lifeguard will whistle at you if you try to sneak behind the falls.
In both 2011 and 2016, we did not know that there was a path to the top of the falls. If you do the walk, be careful! In all my time web surfing, I never stumbled across that information. However, in 2016, we were led by a local kids on a path to a small pool with a trickle of a waterfall and a fantastic jump! Perhaps you continue on this same path to get to the top.
If you are looking at the falls, walk to your left acoss a stream. In about three minutes, you will arrive at a small pool. Walk up the rocks to the right of the pool and jump.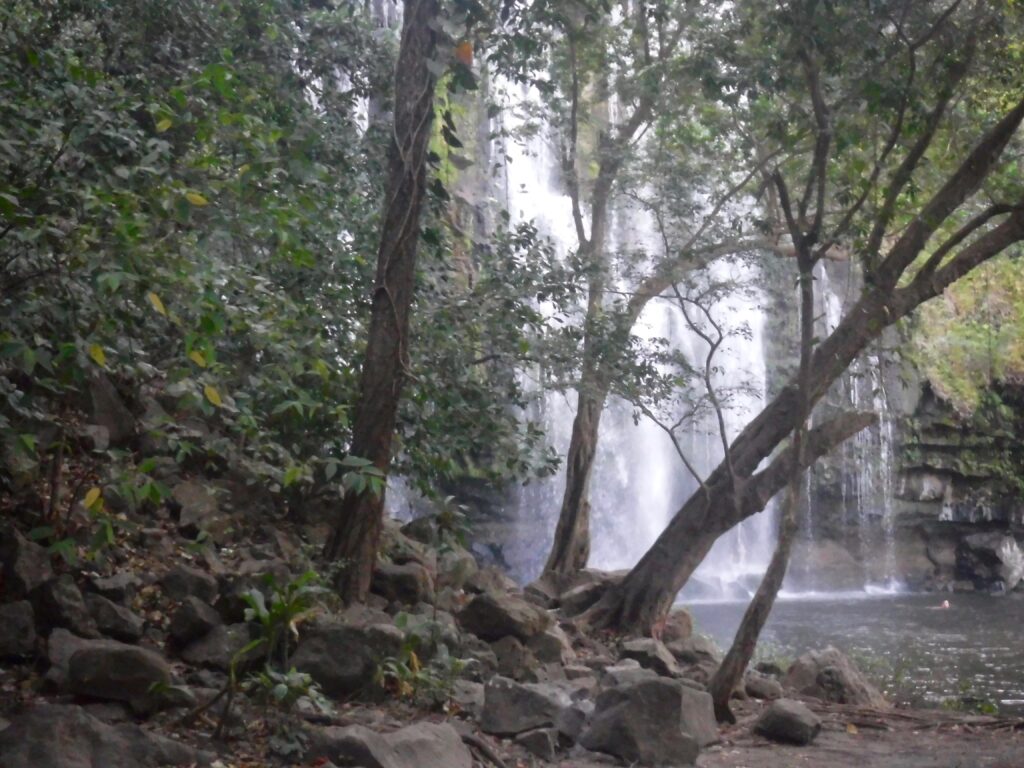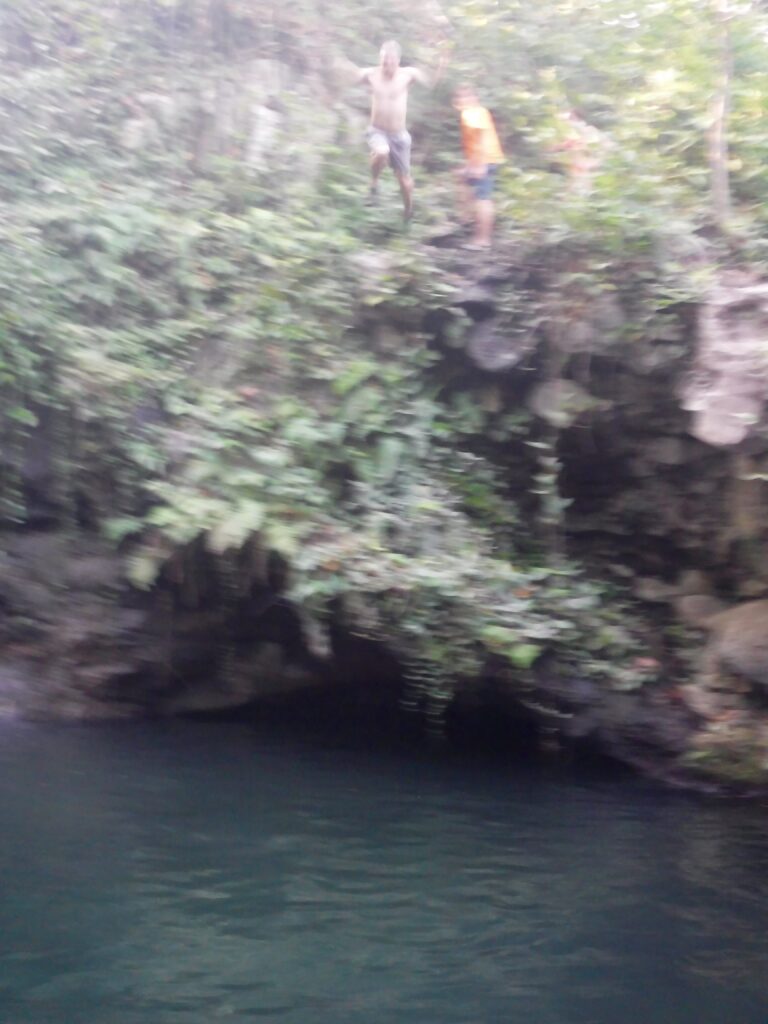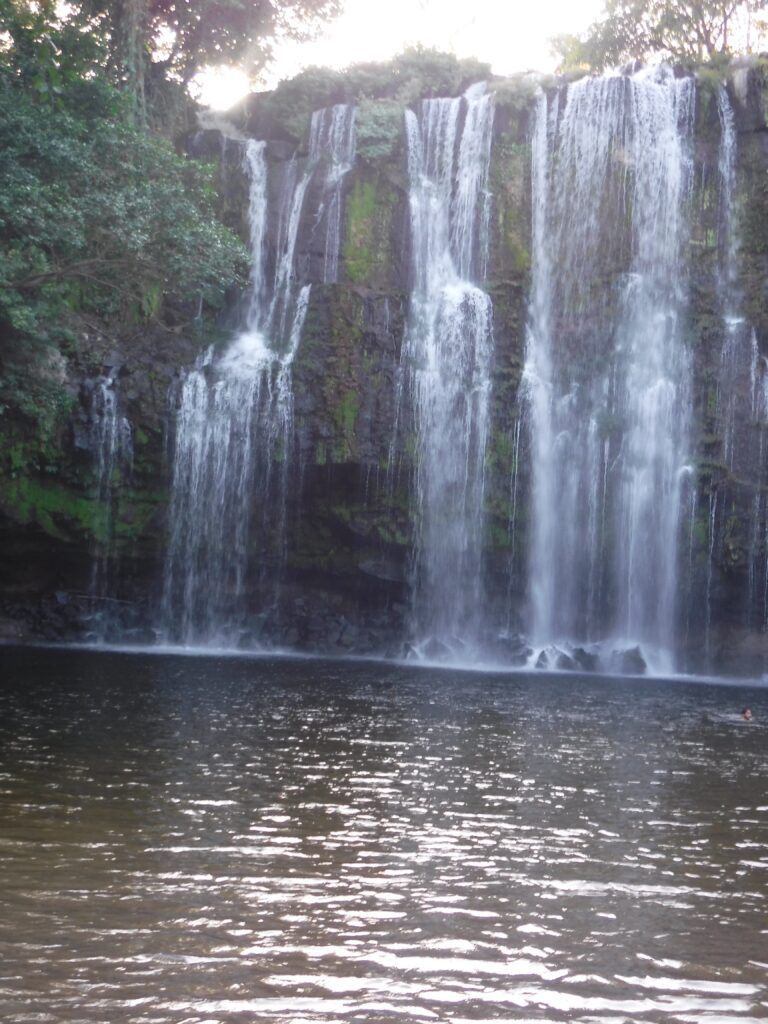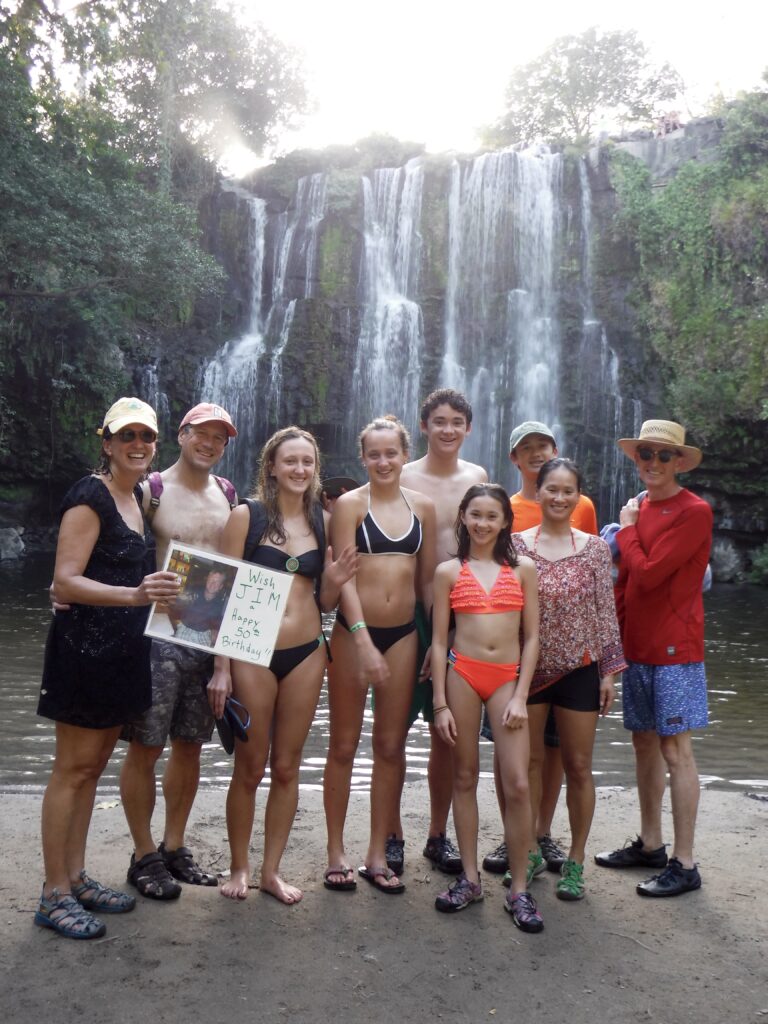 Llanos del Cortes is a great place to spend a few hours. We thoroughly enjoyed ourselves on both visits. If you are coming from or going to Arenal, Monteverde, Rio Celeste or San Jose, it is a quick and easy site to visit.
Rio Celeste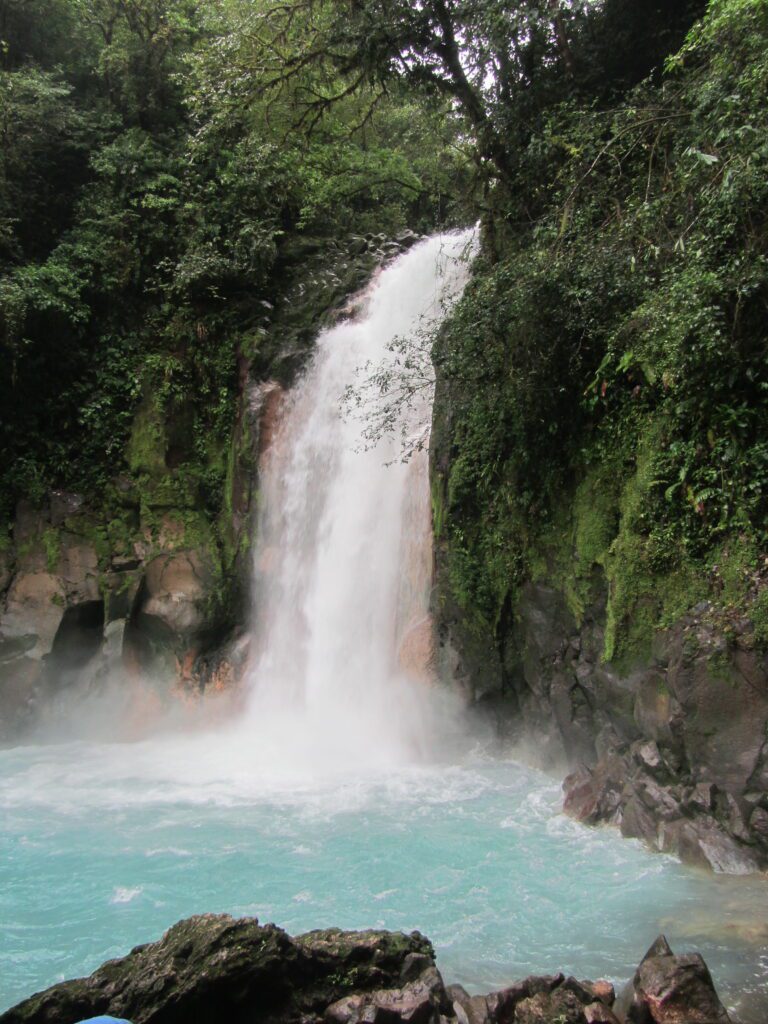 The Rio Celeste river is one of the most magically-blue colored rivers we have ever seen. Located in Tenorio Volcano National Park, the Rio Celeste area offers fantastic hiking and sight-seeing opportunities. The National Park is about 85 kilometers from the main intersection in Liberia. Use GPS and four wheel drive to get you there.
We visited the Rio Celeste in 2011. Upon arrival at the national park, we paid a small entrance fee of $12/person. Outside the admission building, a young man was waiting. He offered to be our "guide" for $50. He said he would teach us about the river and the flora and fauna. He would take photos of us, and give us some local color. We agreed, and thoroughly enjoyed our hike with him.
The walking around the waterfall is easy. There are some very, very steep steps down to the falls, but be careful, wear good shoes and you will be fine. The steps appear to be upgraded since 2011.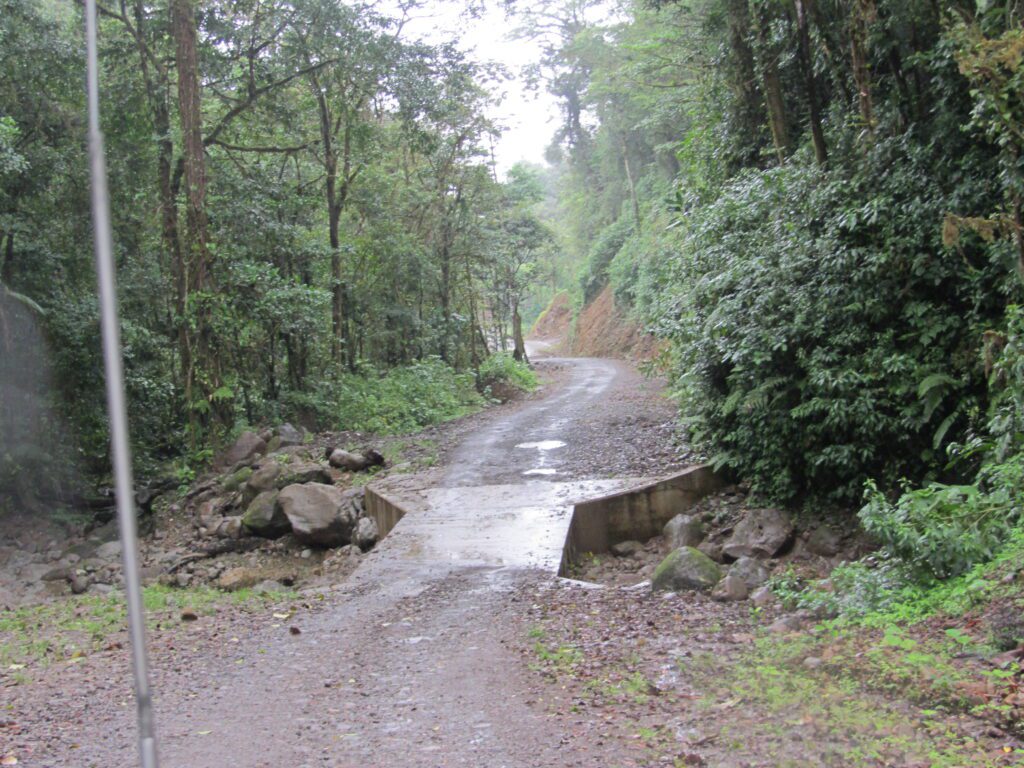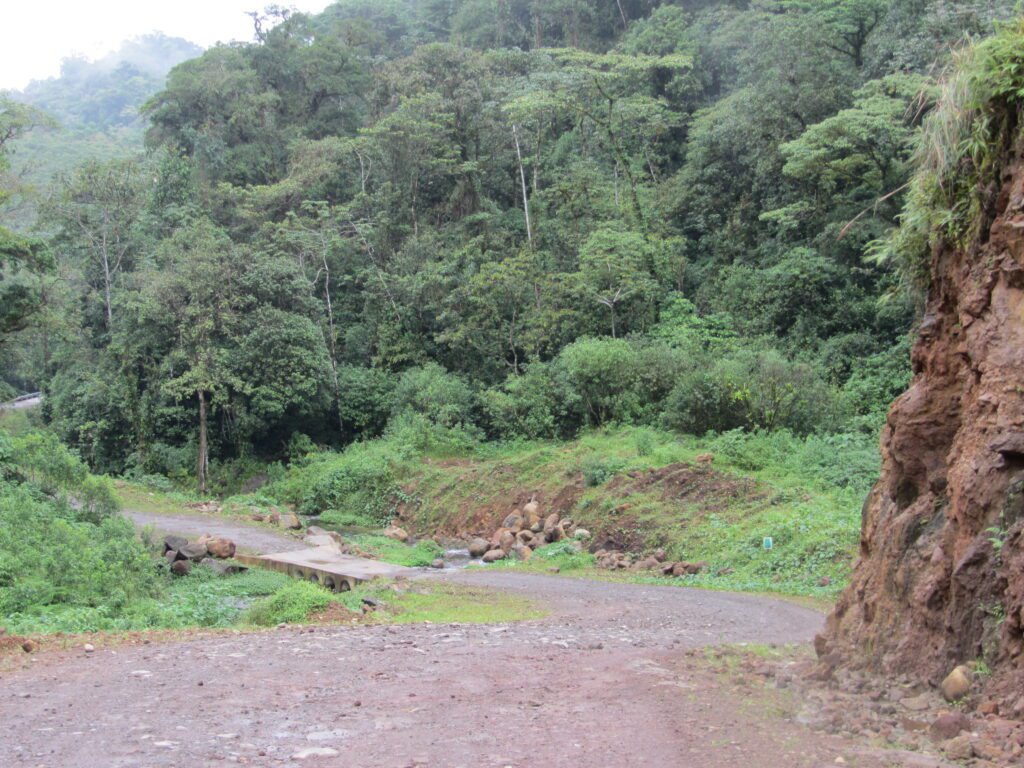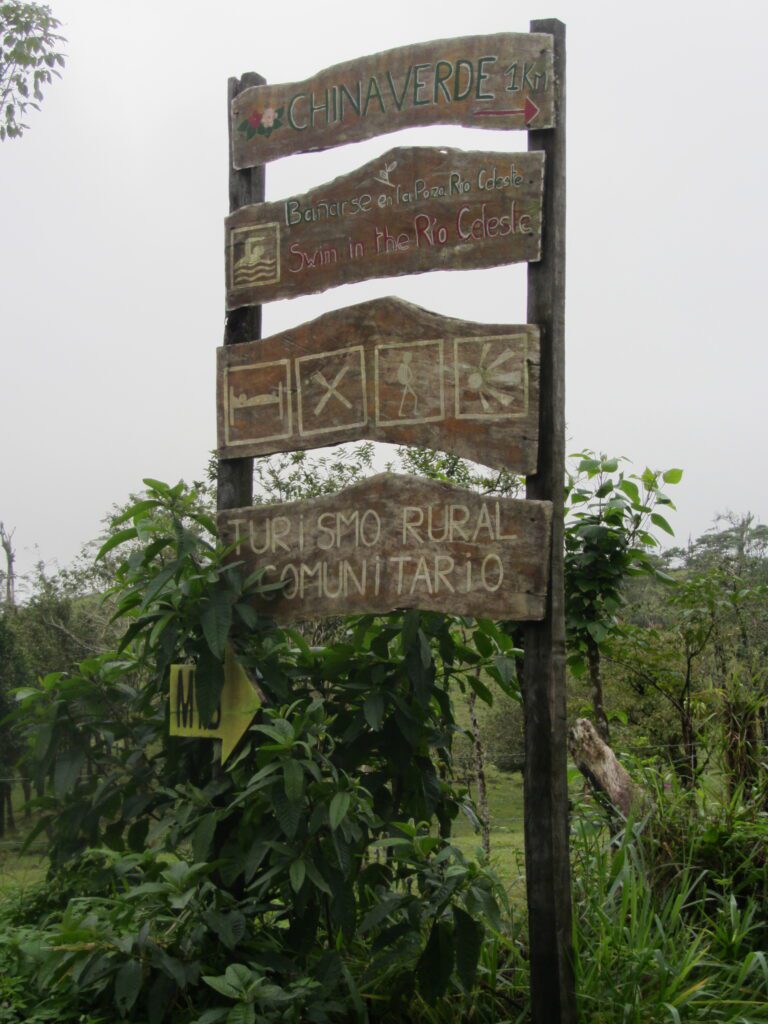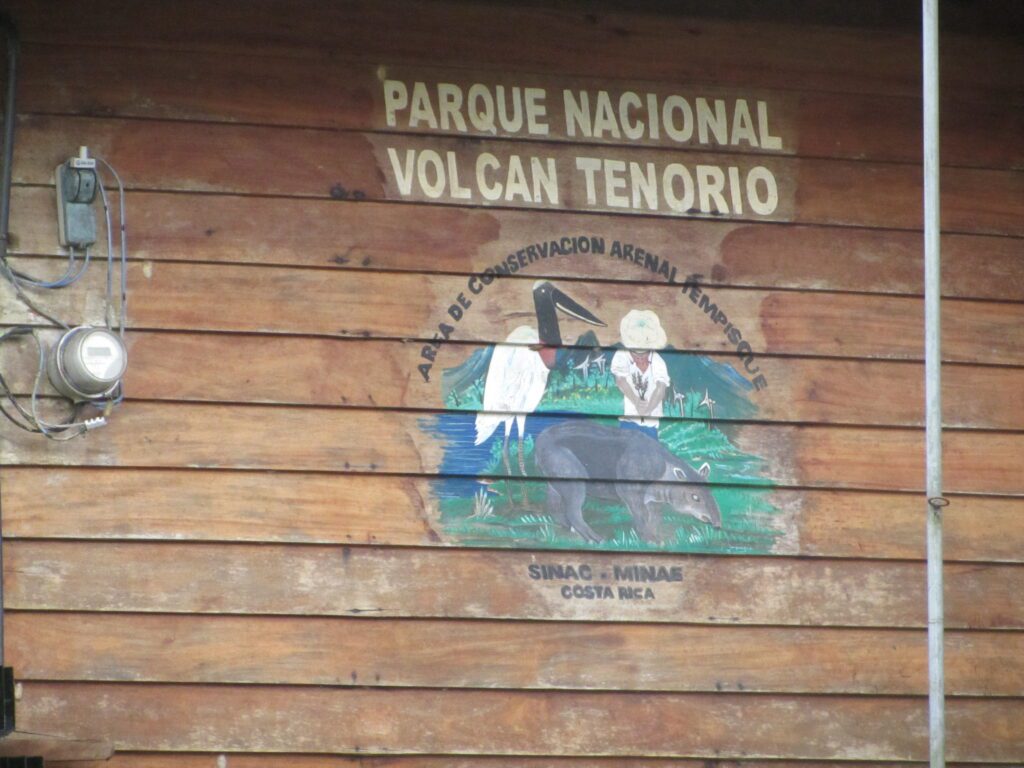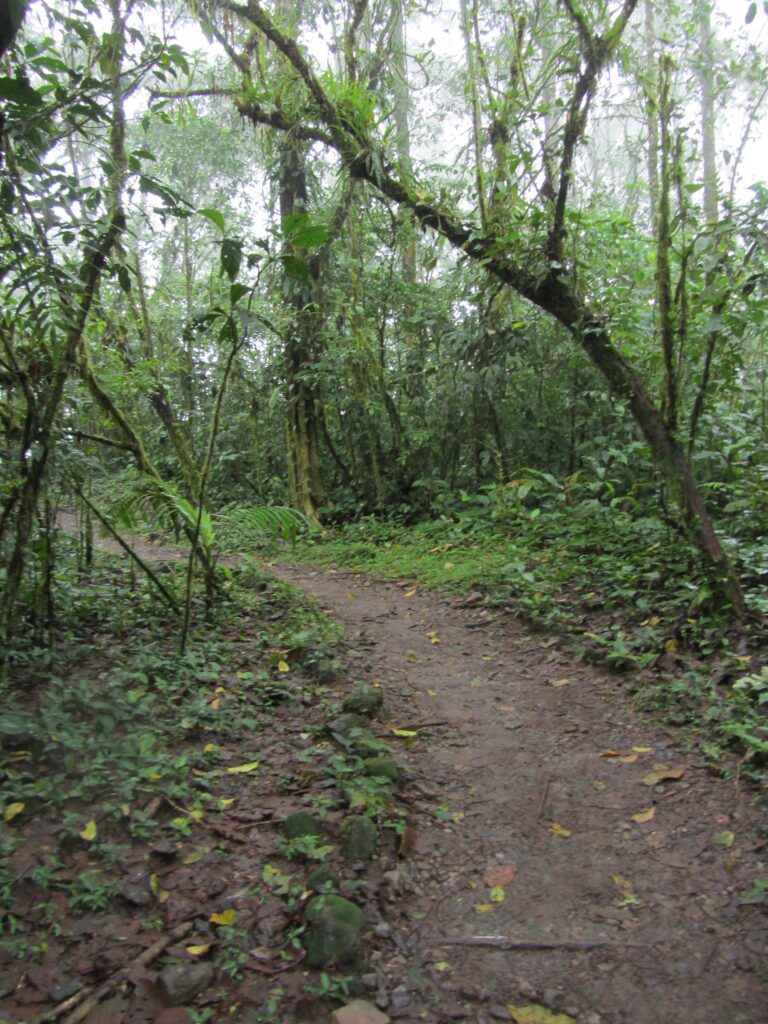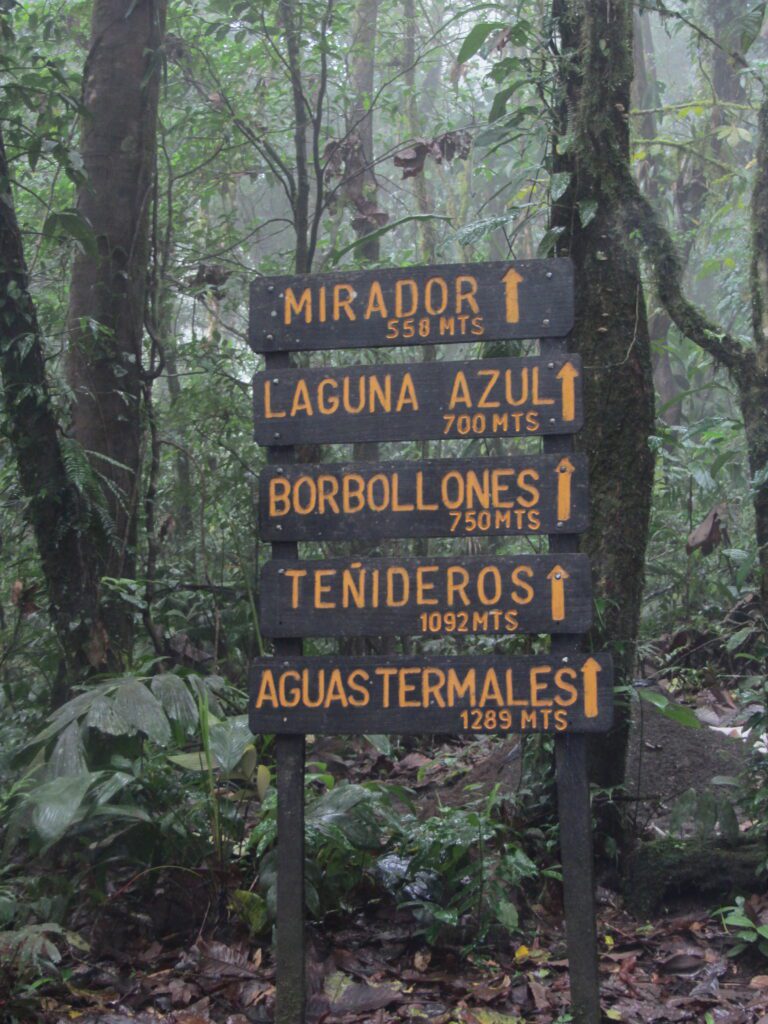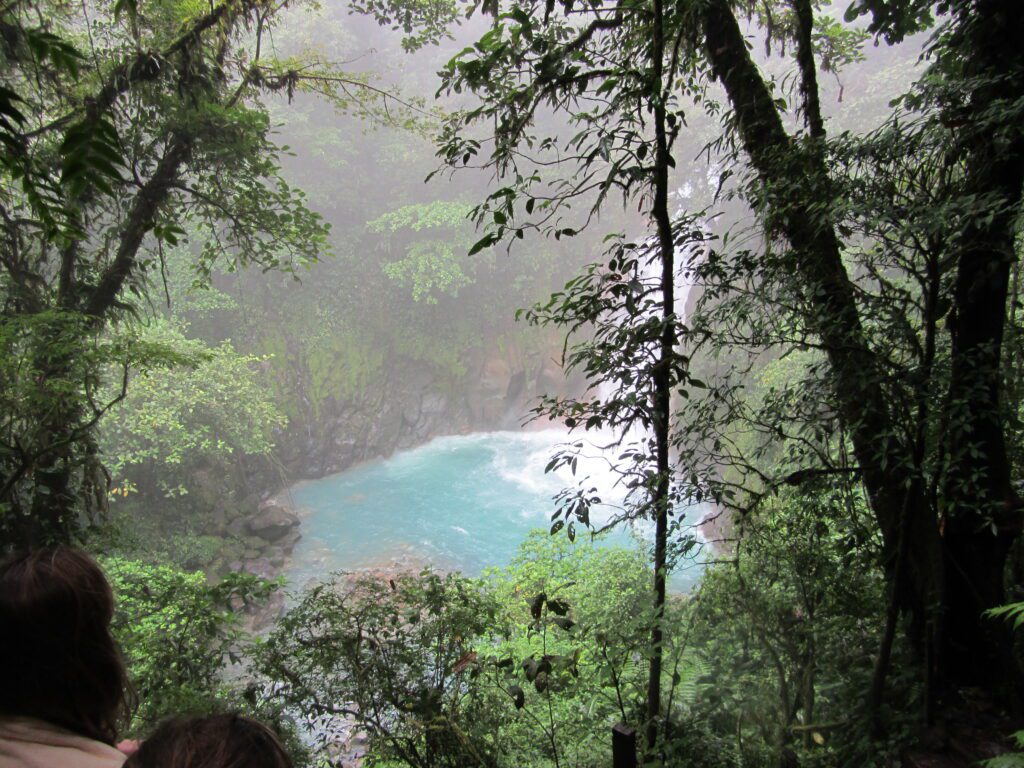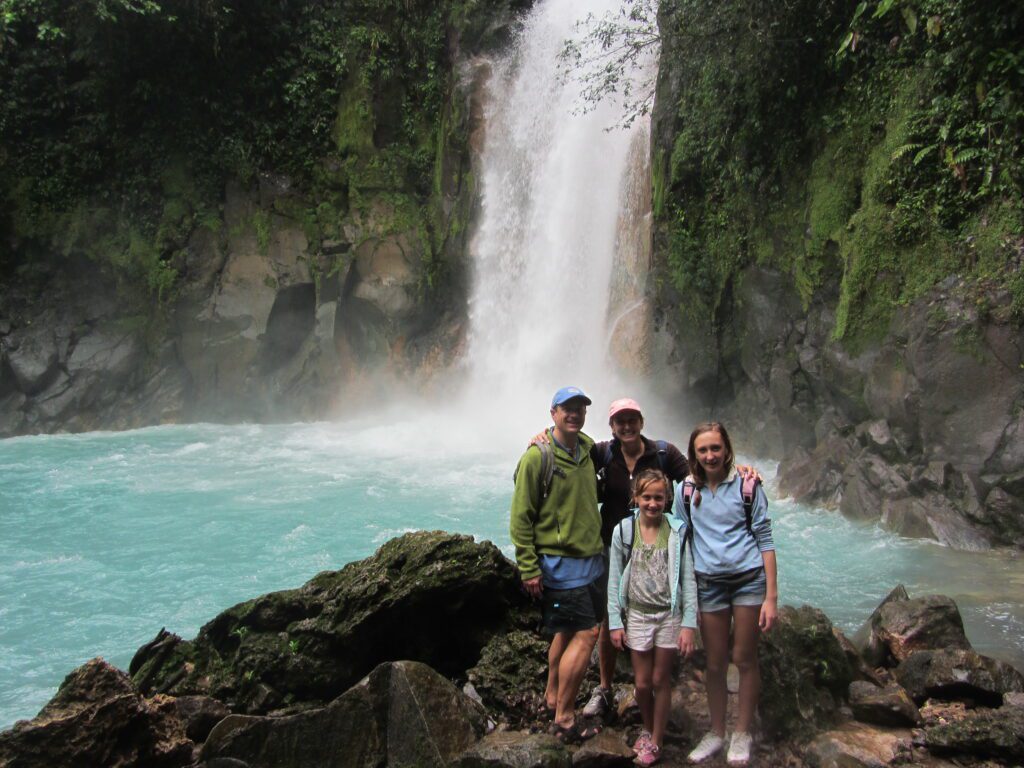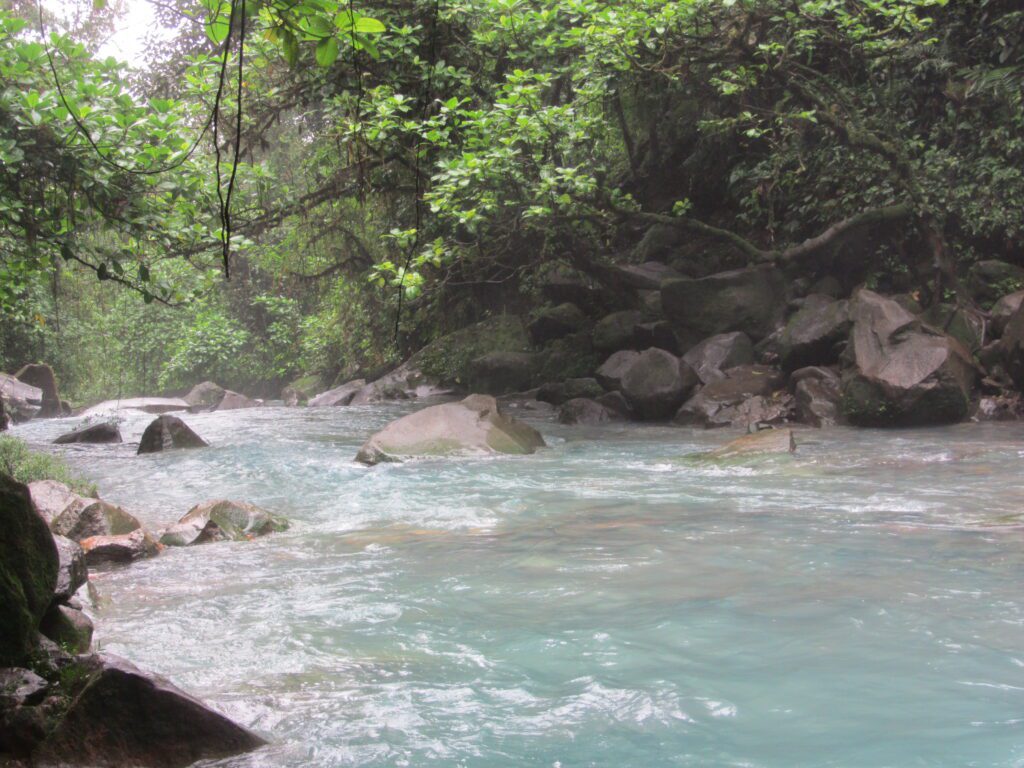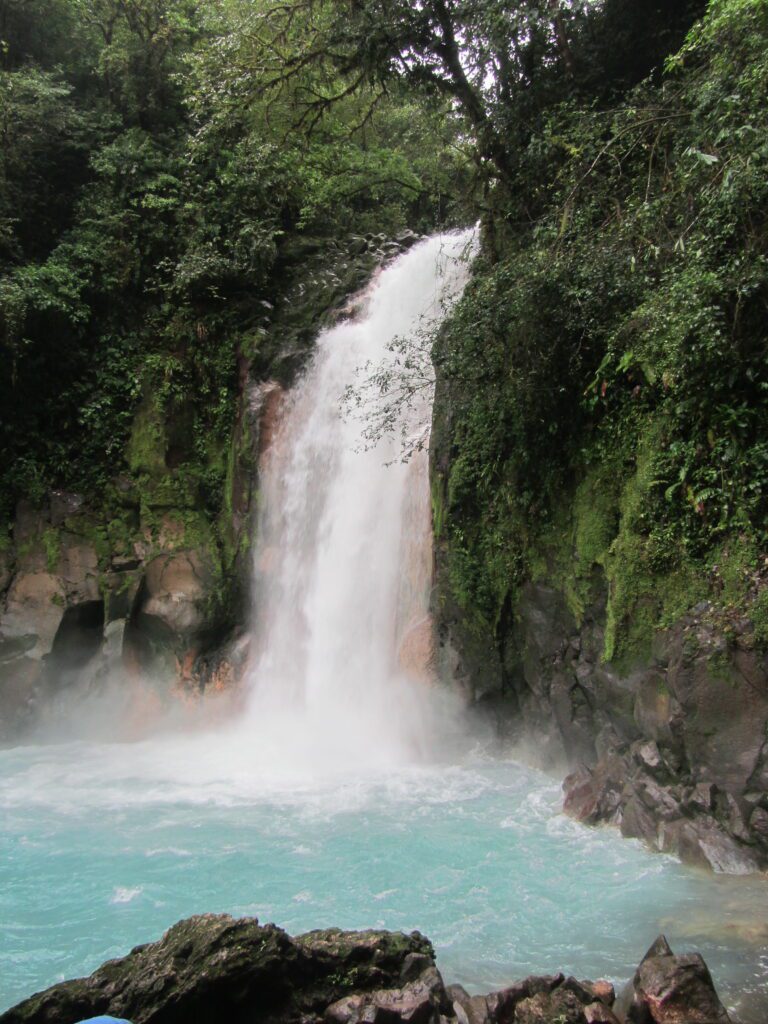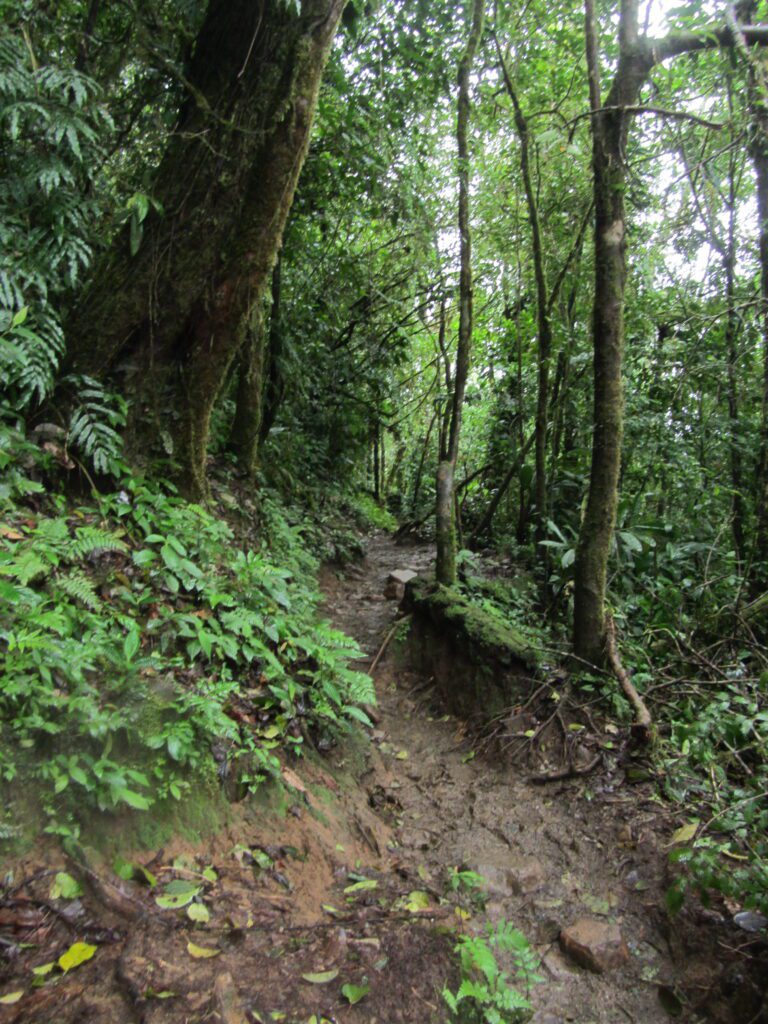 After we viewed the falls, we visited the Laguna Azul – the Blue Lake. It was beyond beautiful. The color of the water and the green plants in the water was picture-perfect.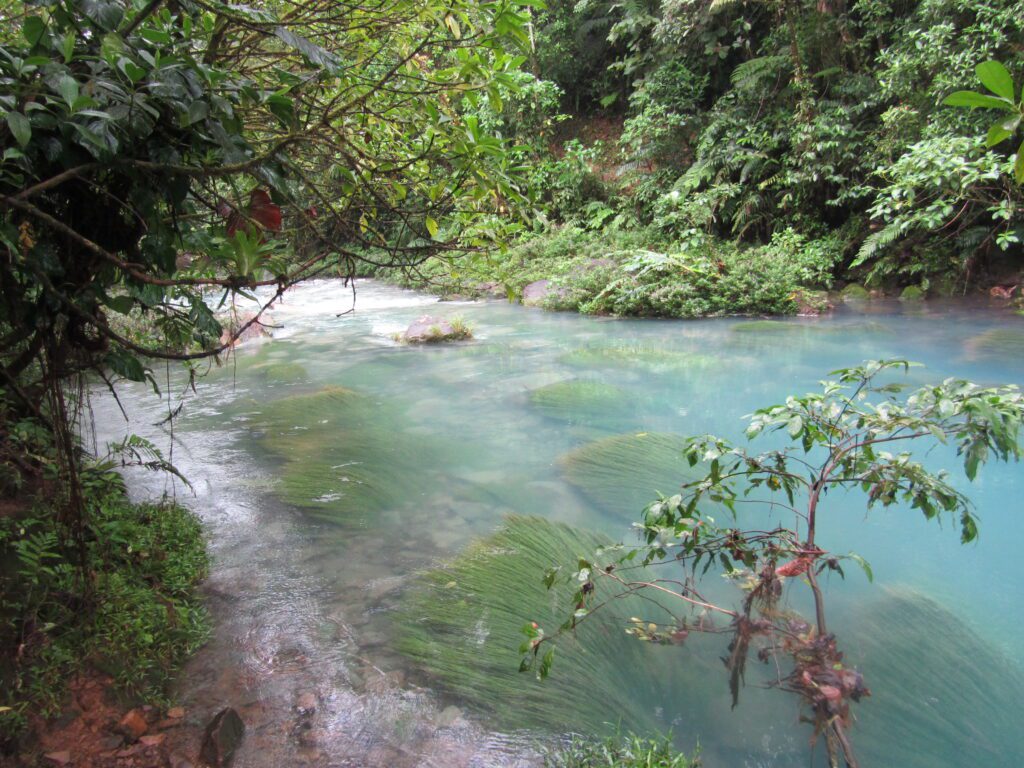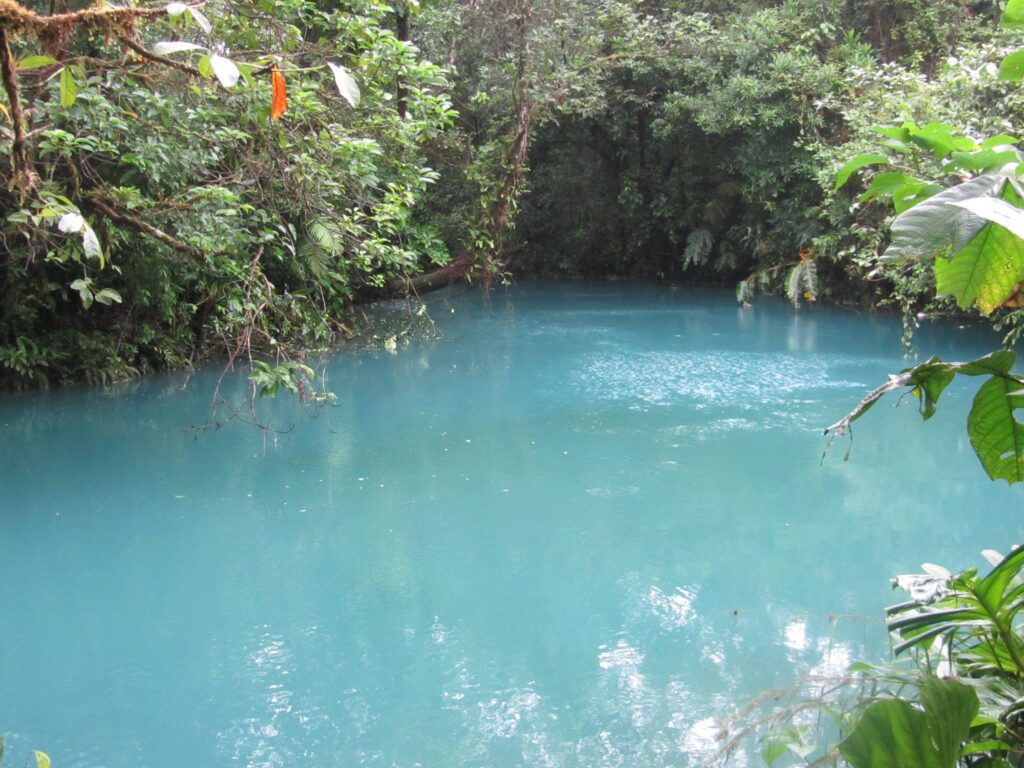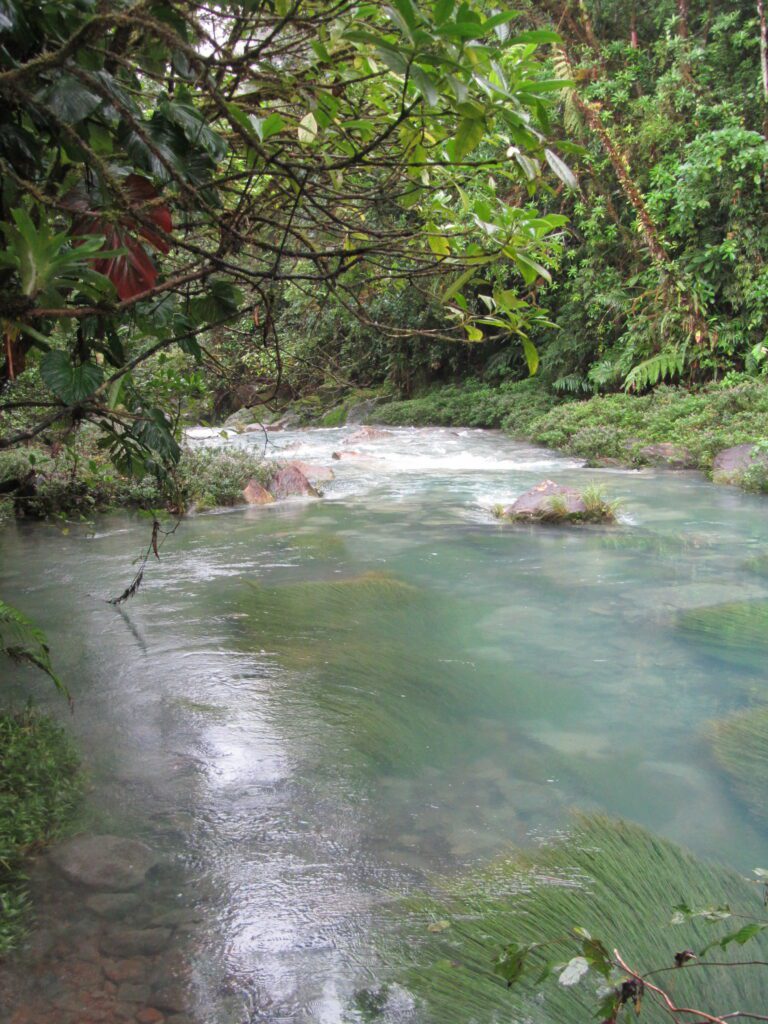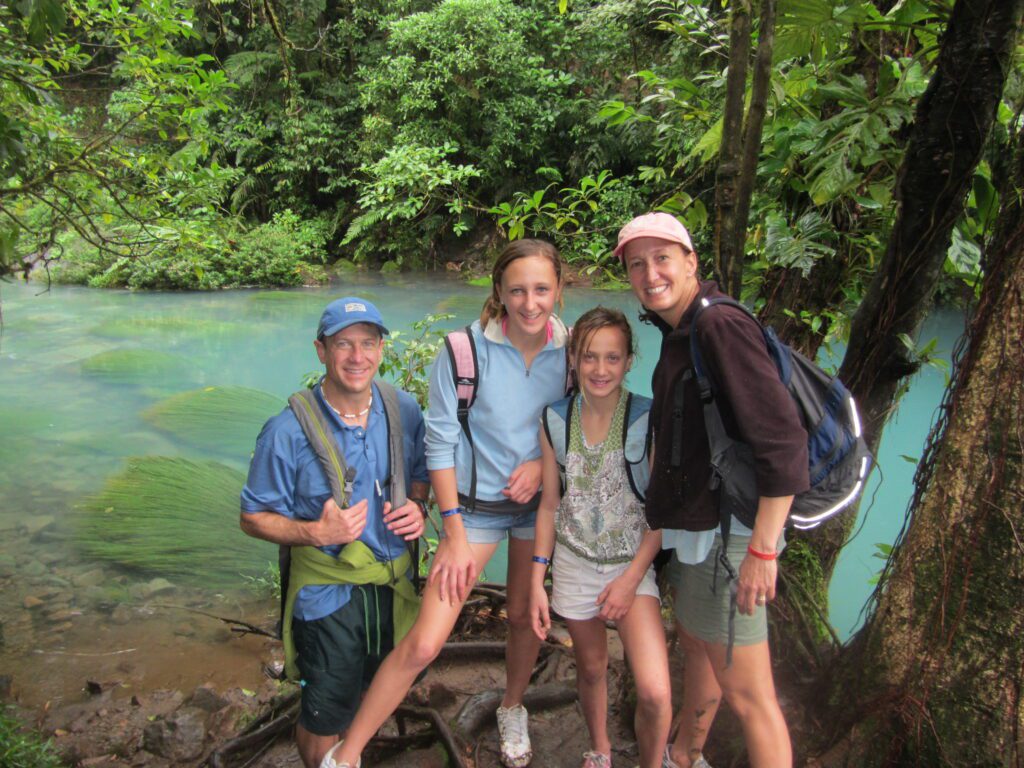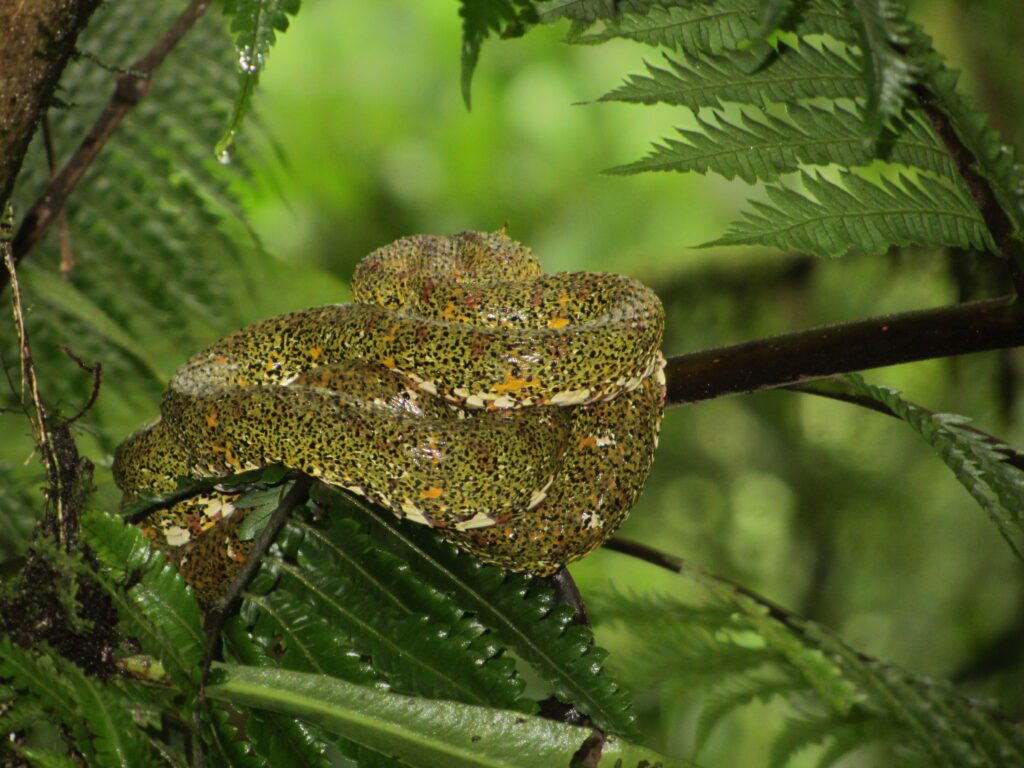 Floating on the Rio Corobici/Tenorio
Costa Rica is criss-crossed by rivers. Floating down a river to observe wildlife or enjoying a high-energy white-water raft experience is possible all over Costa Rica.
We made plans in advance to float on the Rio Corobici with RCR Rafting. Trip Advisor reviews remain excellent.
From Playa Potrero, it was about 85 kilometers to the Rincon Corobici Restaurant, which is where the rafting company is located. Use the 911 to 151 to 21 to Route 1 South (the Inter Americana) to get there. If you get to Canas, you have gone too far.
The plan was for the guides to drive us from the Rincon Corobici restaurant upstream to a put-in spot on the Rio Corobici. Then, we would float three miles or so back to the restaurant and have lunch which was included in the $65/adult or $55/child price. Trip Advisor Reviews of the restaurant are mixed. We were given a choice of fish or chicken which was served with rice, beans, salad and ice cream.
However, due to the 2016 drought, the company brought us to the Rio Tenorio which had more water flowing. The section of the Rio Tenorio they brought us to was flat. This company does Class III-IV white water rapids tours on the Rio Tenorio. But, they brought us to the flat part.
We were a bit disappointed as the flat part of the Rio Tenorio does follow some power lines and cables. The section of the Rio Corobici upon which we were supposed to float seems a bit more remote.
However, we enjoyed our float. We saw lots of monkeys, birds and crocodiles. Before we approached the crocodile area, we stopped for a swim. We were all a bit hesitant to get into the water, but the guide assured us we were fine. We were glad to swim as it was very, very hot! The hot temperatures and wind were our nemesis during this entire trip in 2016.
We did enjoy the float, and would recommend the tour company. Floating or rafting while you are in Costa Rica is a must-do. The Costa Rican lunch that followed was very nice, and the setting along the river was pretty.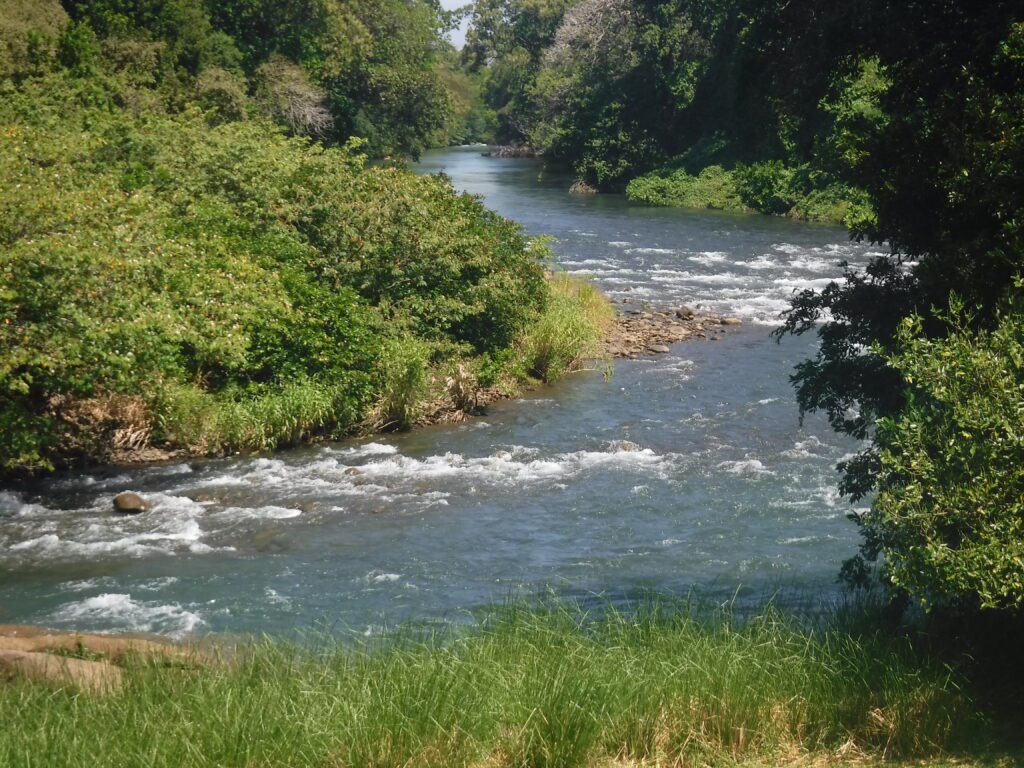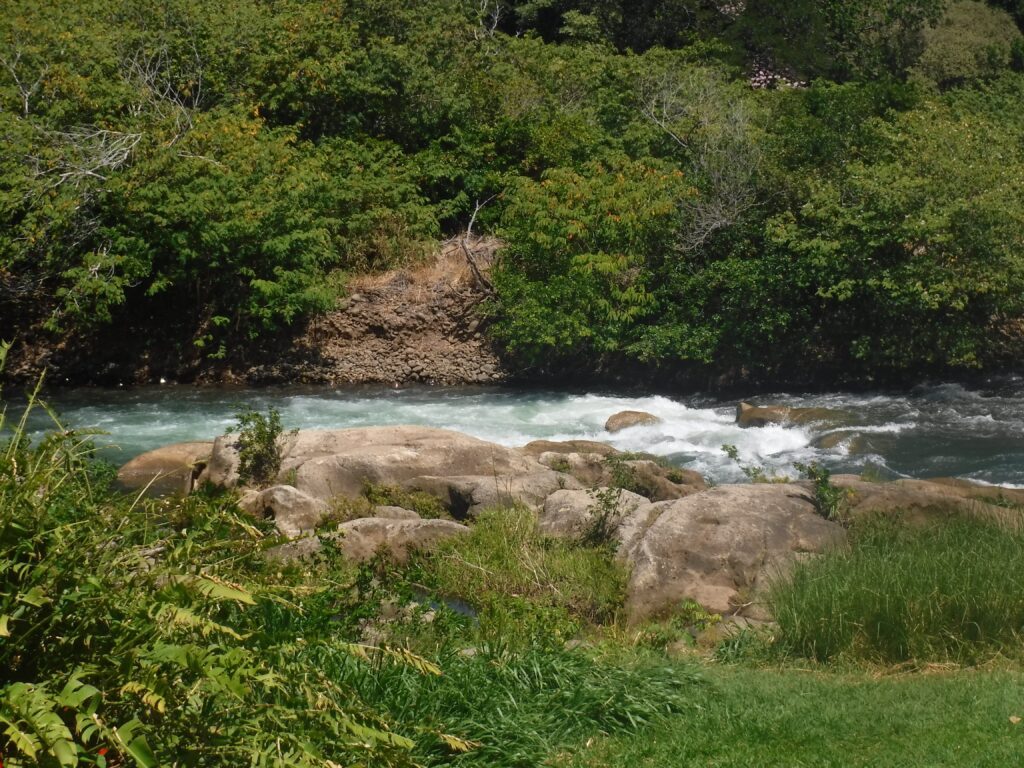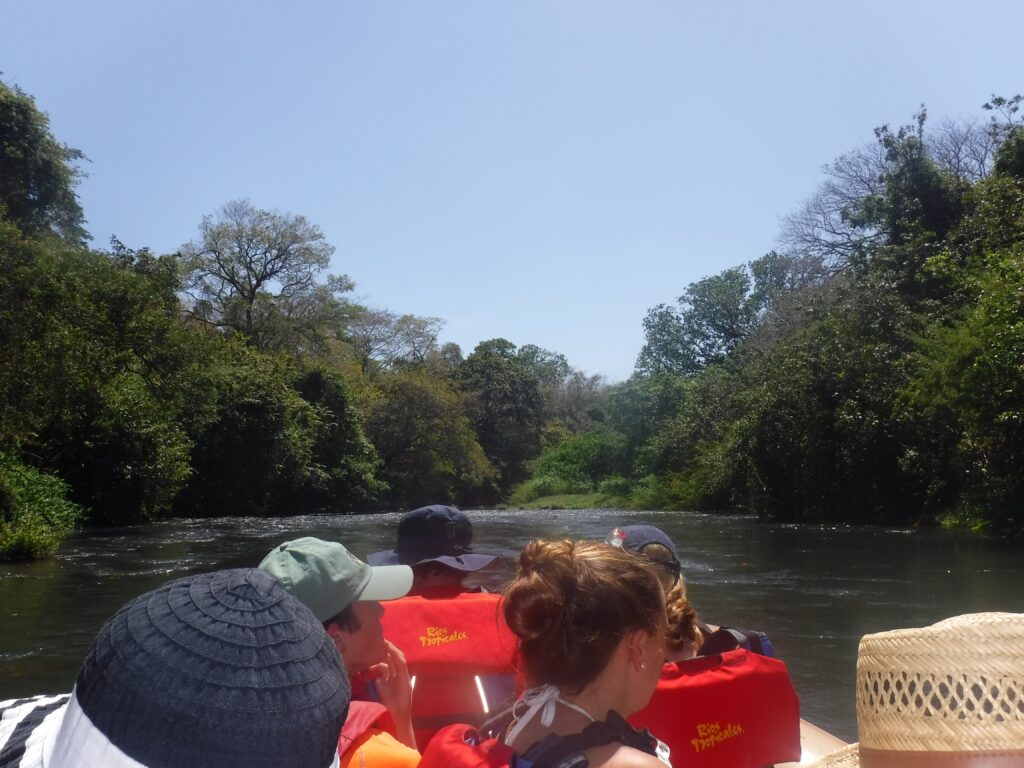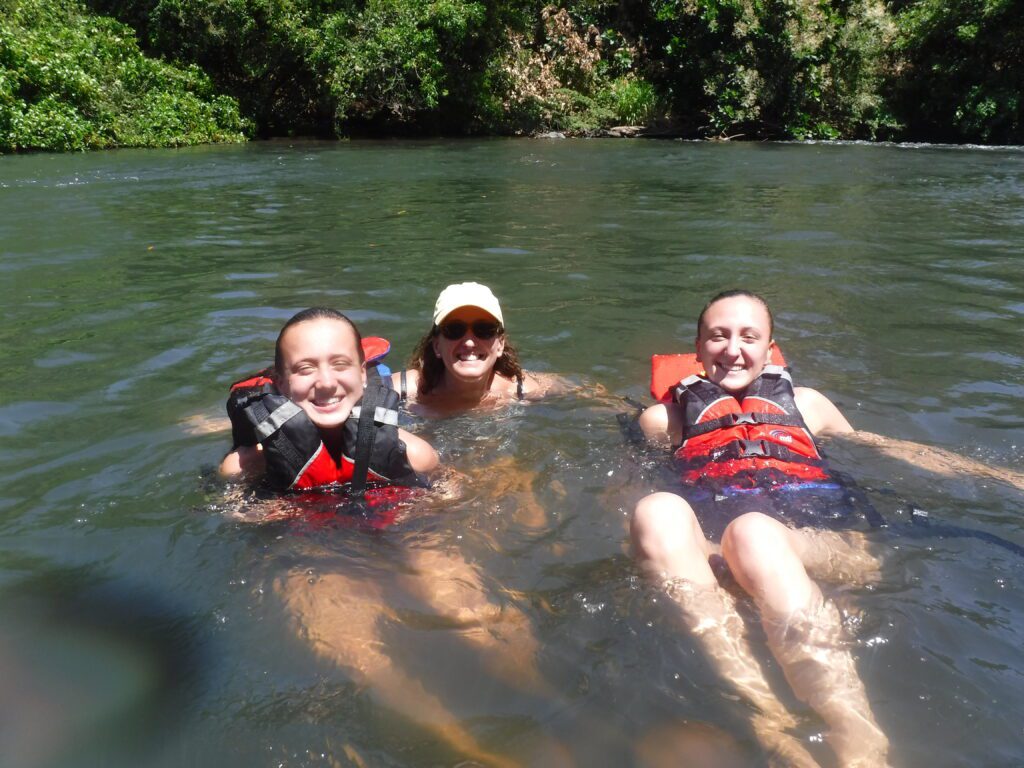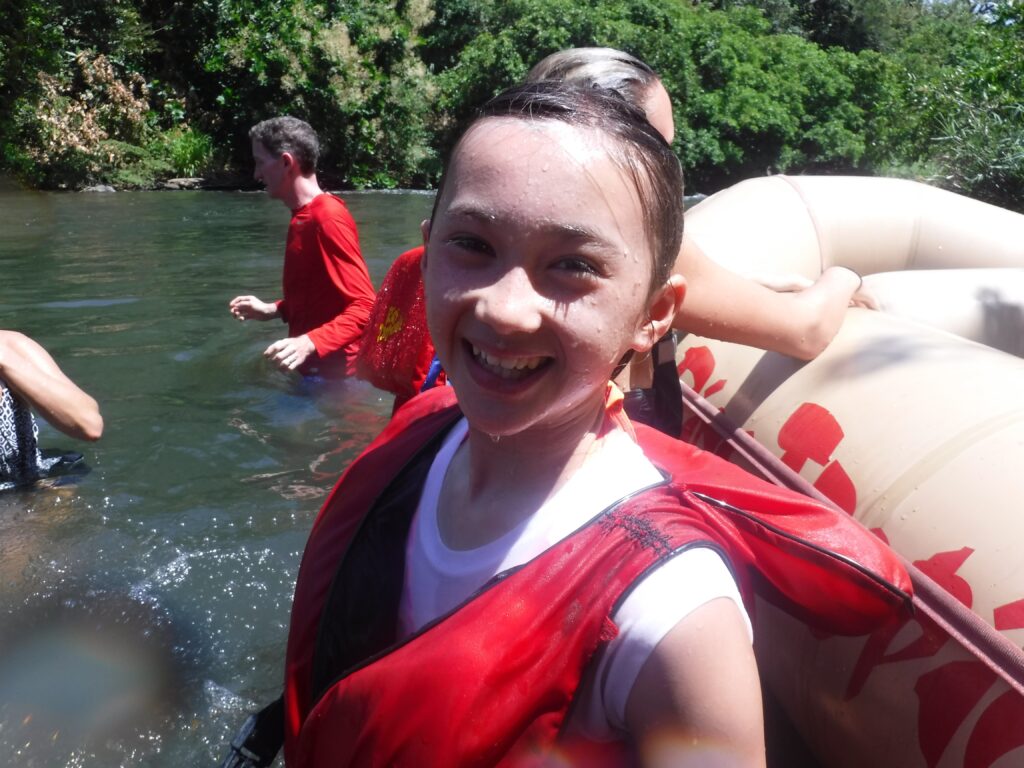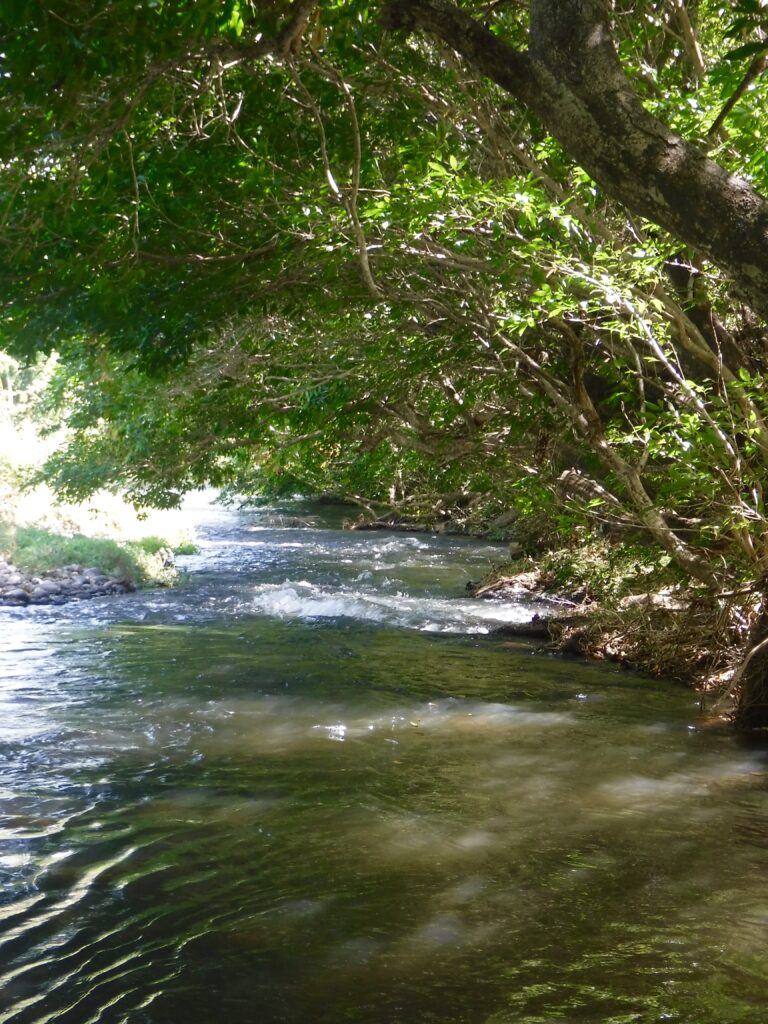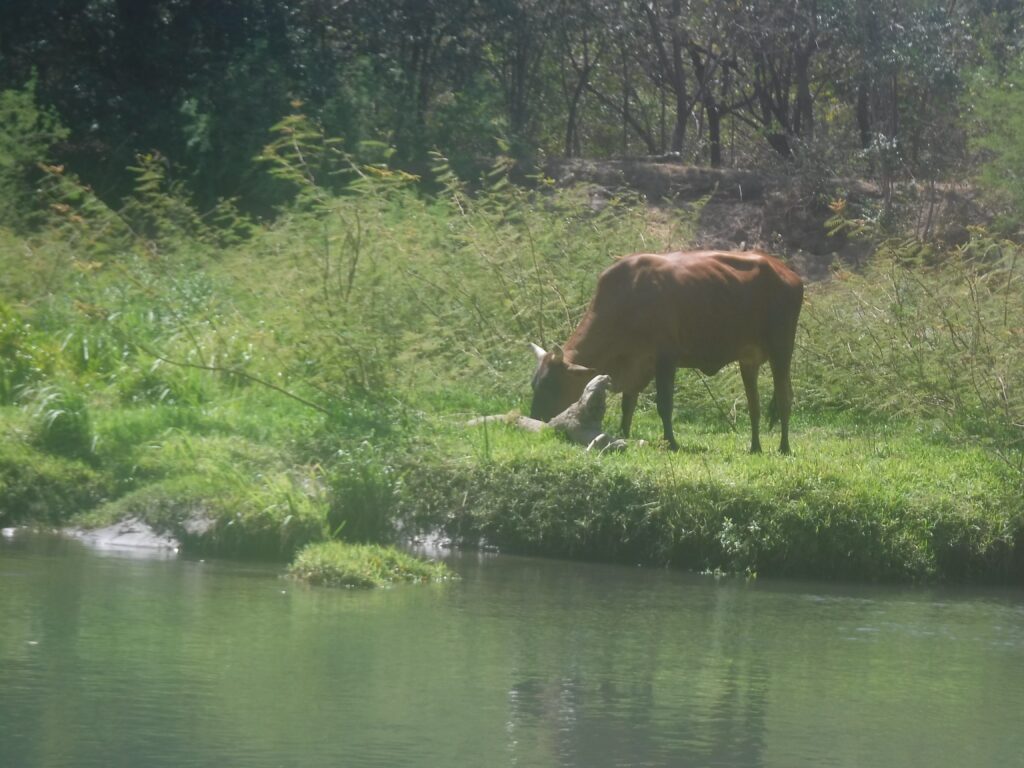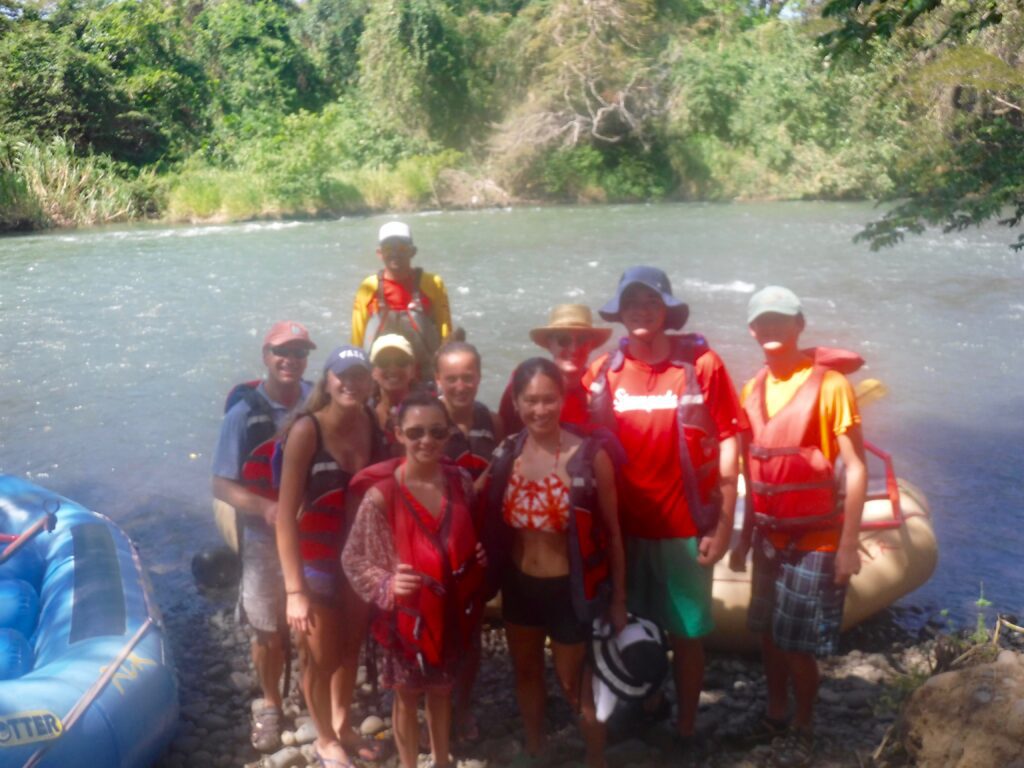 Canyon Canopy Tour
In 2016, Michele planned a big birthday celebration on a boat for Friday afternoon. The plan was to sail from 1:30-6:15 with snorkeling, fishing and swimming. As the sun was beginning to set, we were to have a big champagne toast for Jim's 50th birthday. The owner of Serendipity Charters was delightful to work with, and we were all excited for this adventure. Their Trip Advisor reviews remain outstanding.
The wind was challenging us all week in 2016. Michele received a call at 10am canceling the tour due to very high winds. Needless to say, we were incredibly disappointed.
The kids asked to do another zipline adventure. Luckily, the Congo Canopy was just a 12 kilometers away over the 911 dirt road. Their prices are very affordable, and the company will pick you up at many local hotels.
Congo Canopy offers traditional zip lining from platform to tree platform. They also offer "superman" style ziplining where you feel like you are flying from zip to zip. You can repel and do a tarzan swing. Because of the wind, they made a custom tour for our group of 10 (Jim's best friend from college came to surprise him and play golf). For $35/person and $20/child, we did two Superman zips, five traditional zips and the tarzan swing. It was a great value and tons of fun.
The Congo Canopy also has a monkey sanctuary, and there are wild monkeys in all of the trees. Do NOT feed the wild monkeys! The company now appears to have a petting zoo, too.
The superman zips we did were very long. The first one we did in groups of two. The second one was done single file.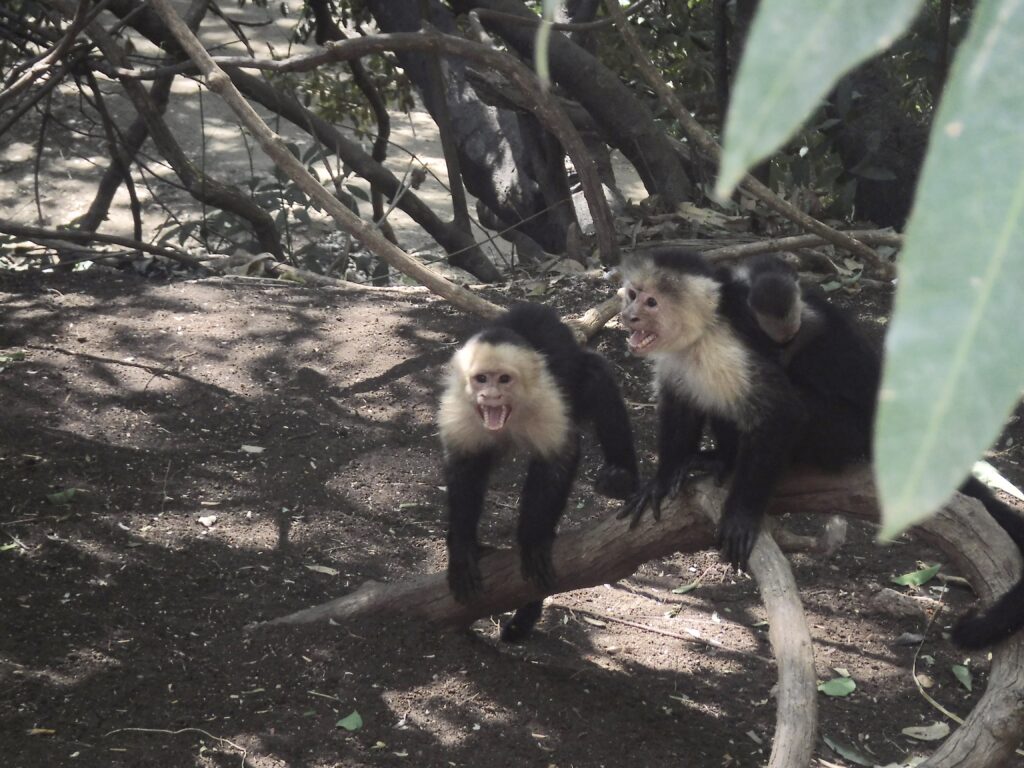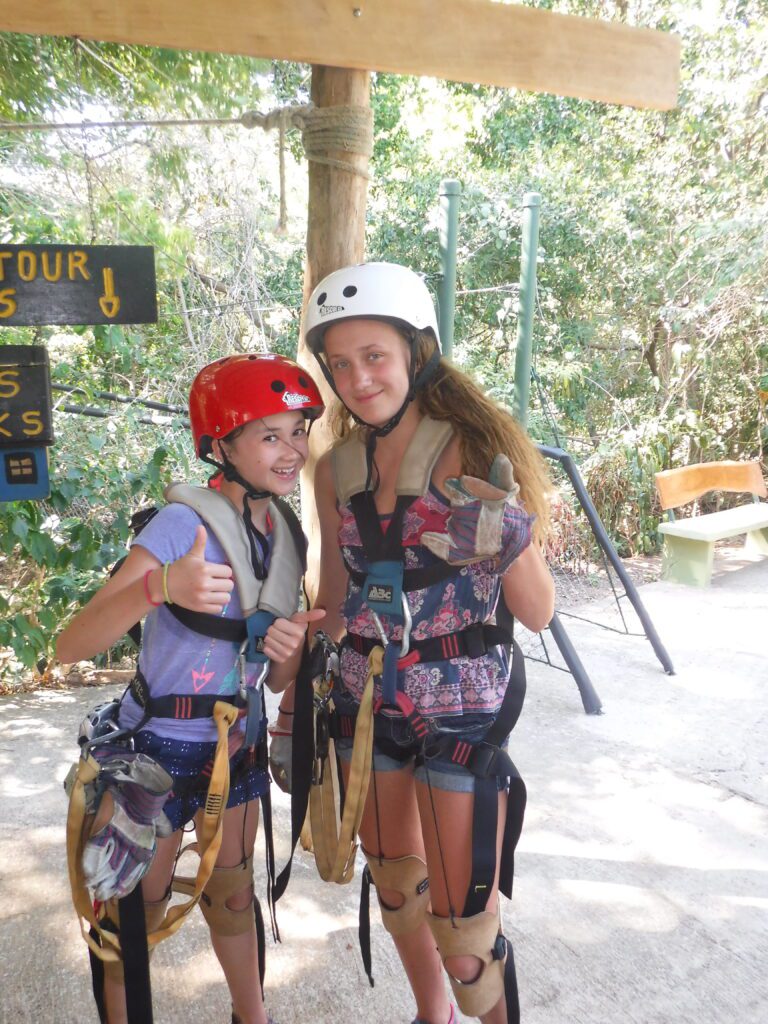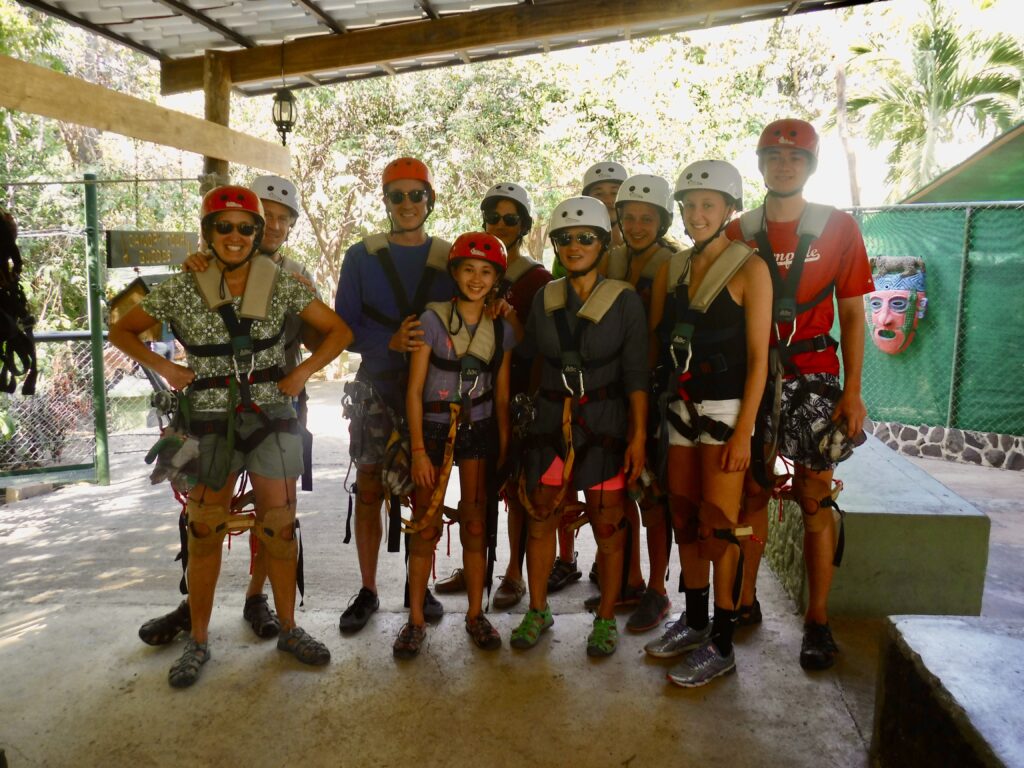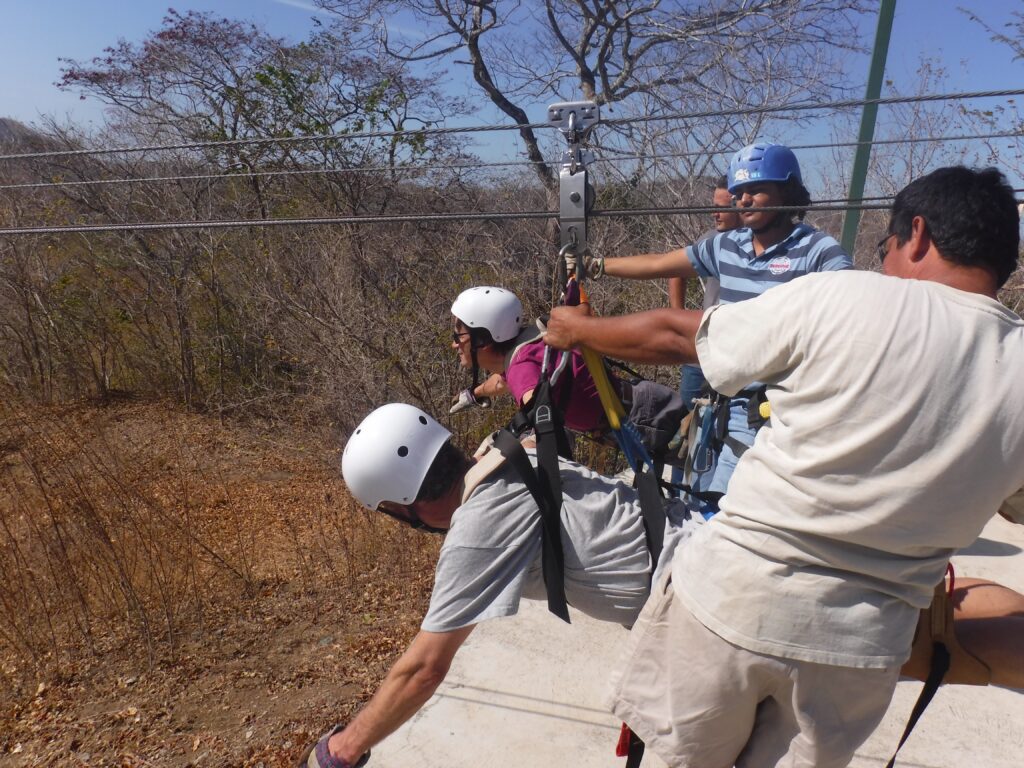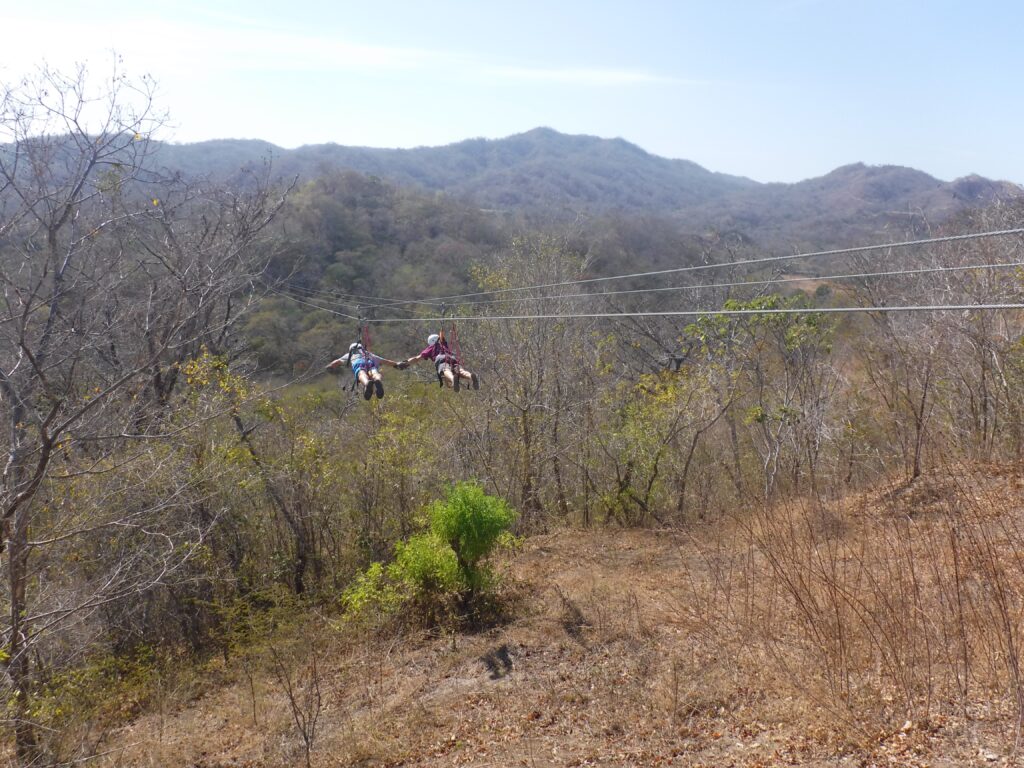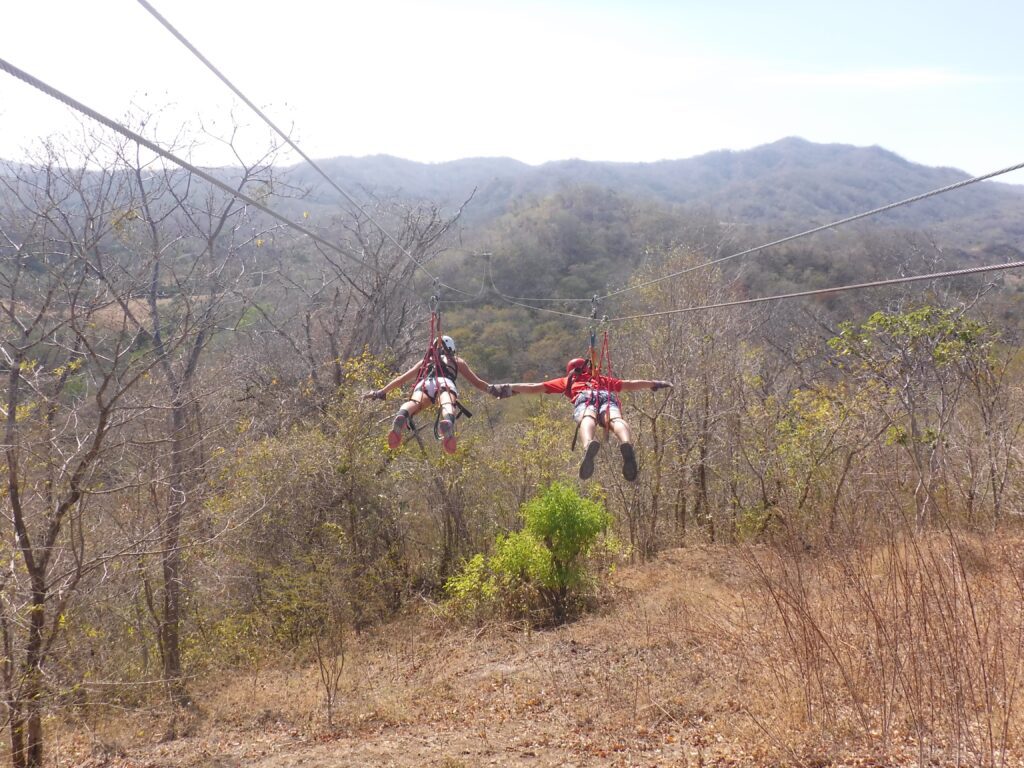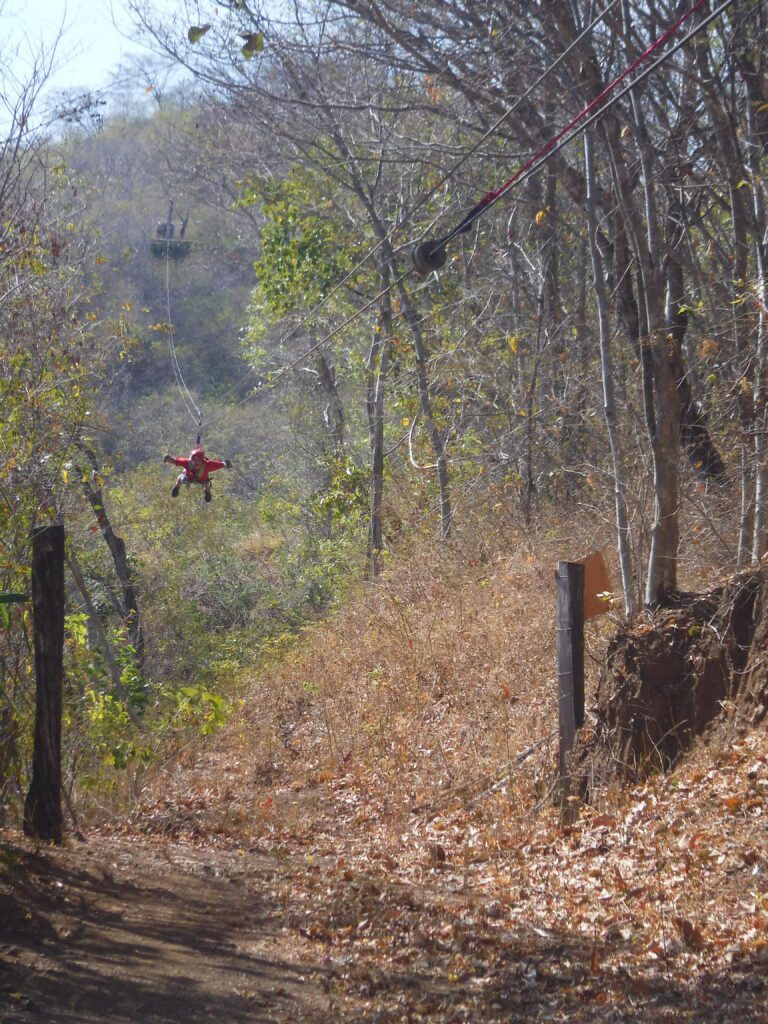 After all 10 of us did the first two superman zips, we did five traditional ziplines and some hanging bridges.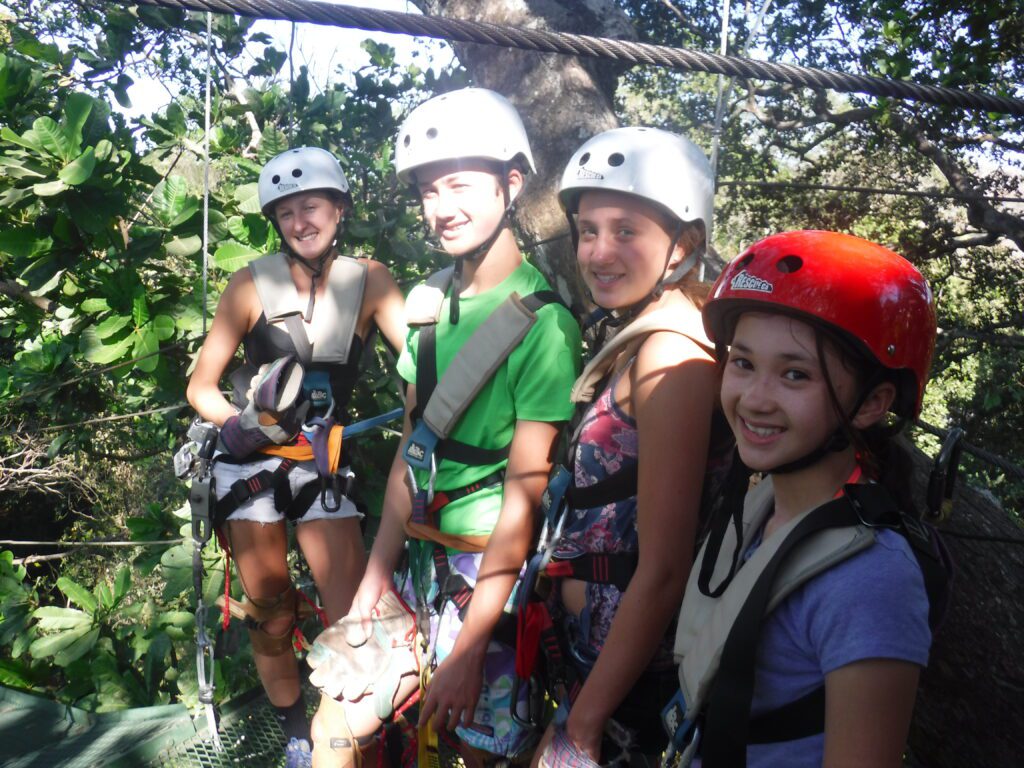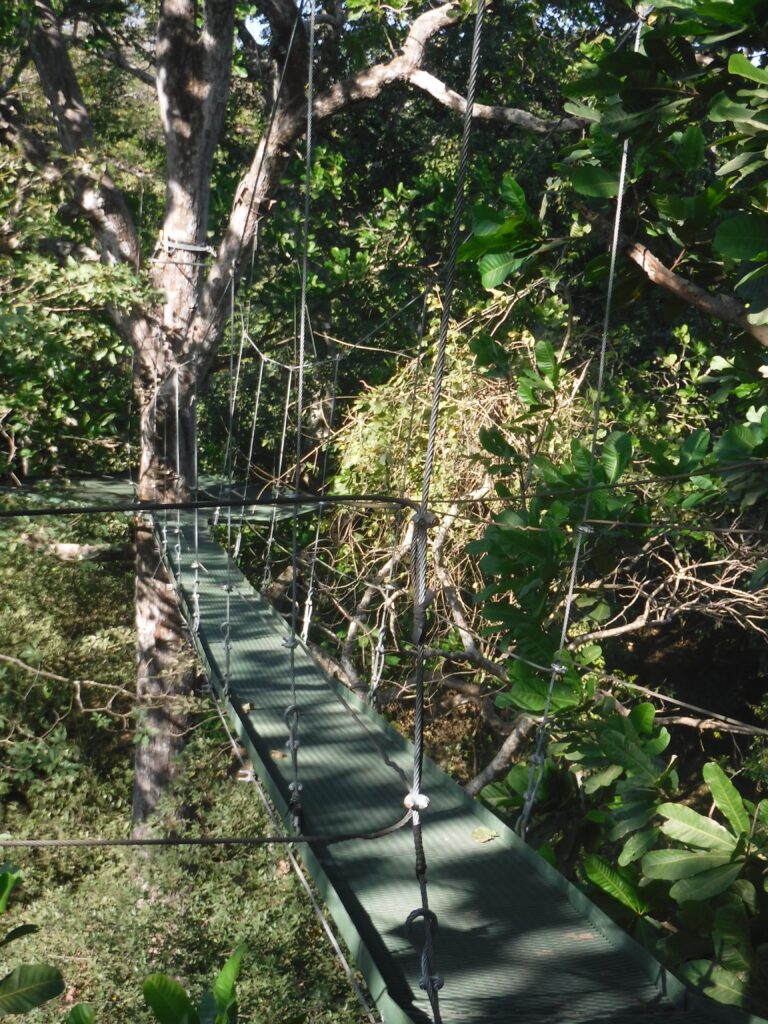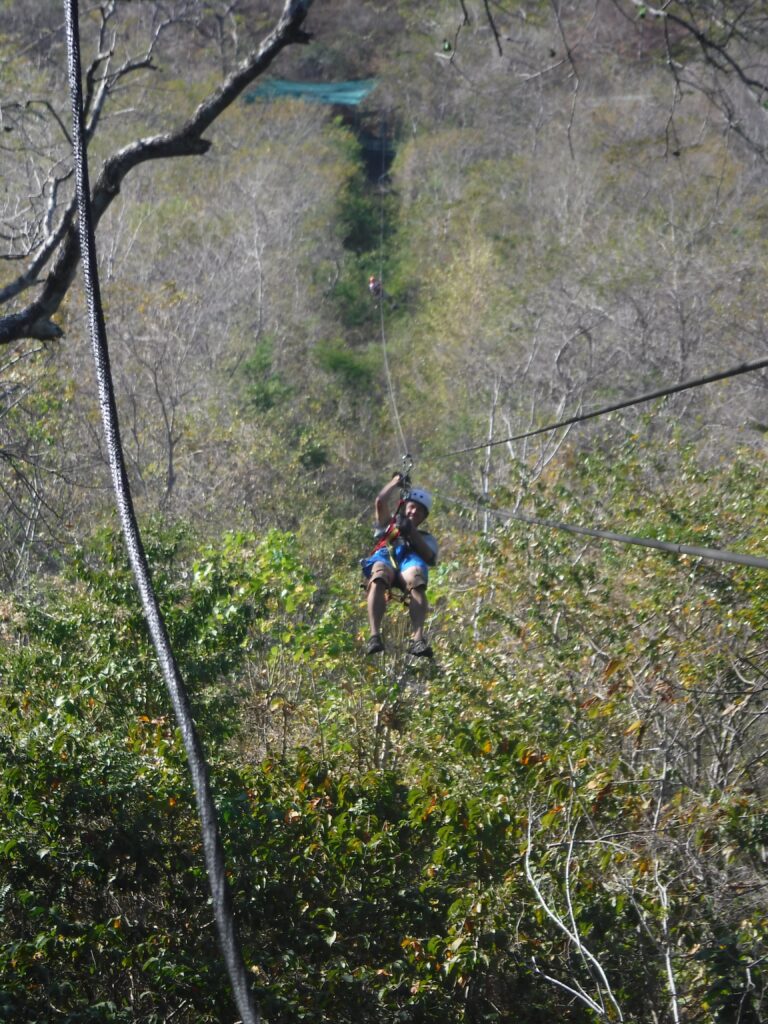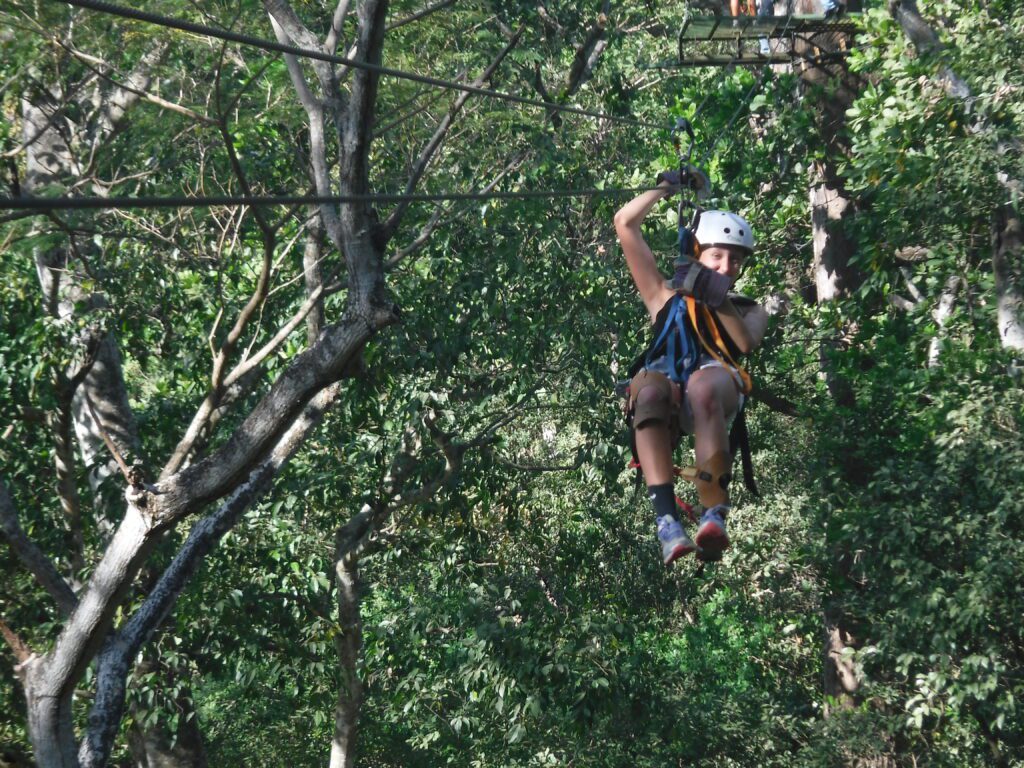 We walked to the tarzan swing, which was bonkers. Seven people in our group chose to do it upside down. This swing was beyond thrilling.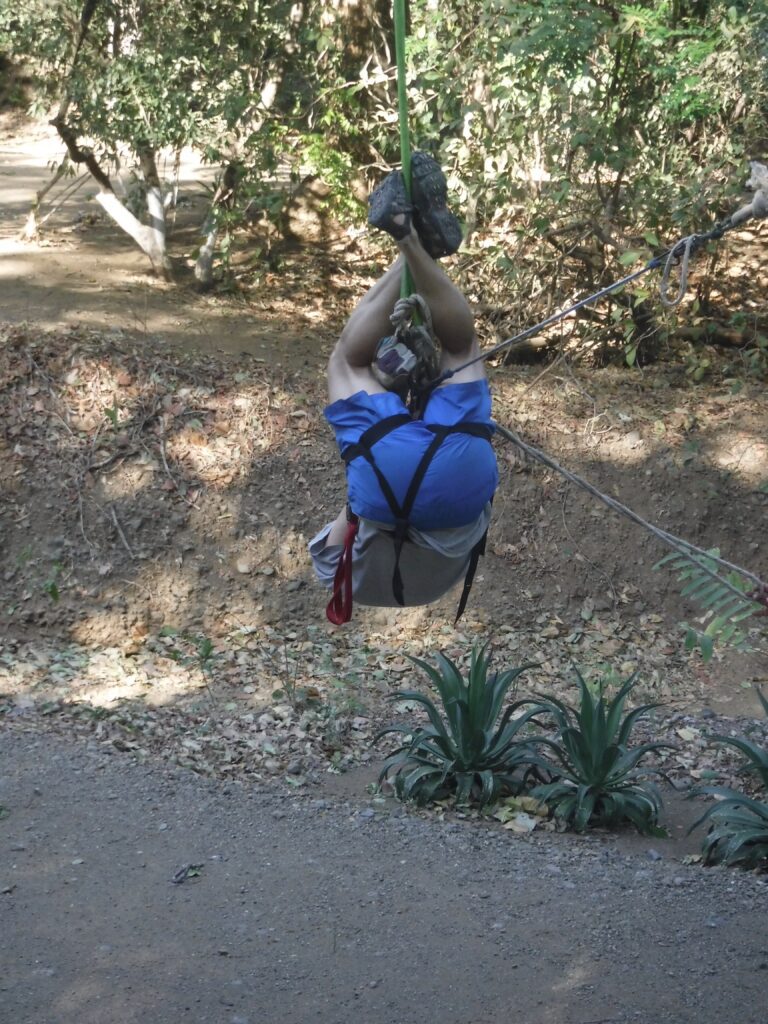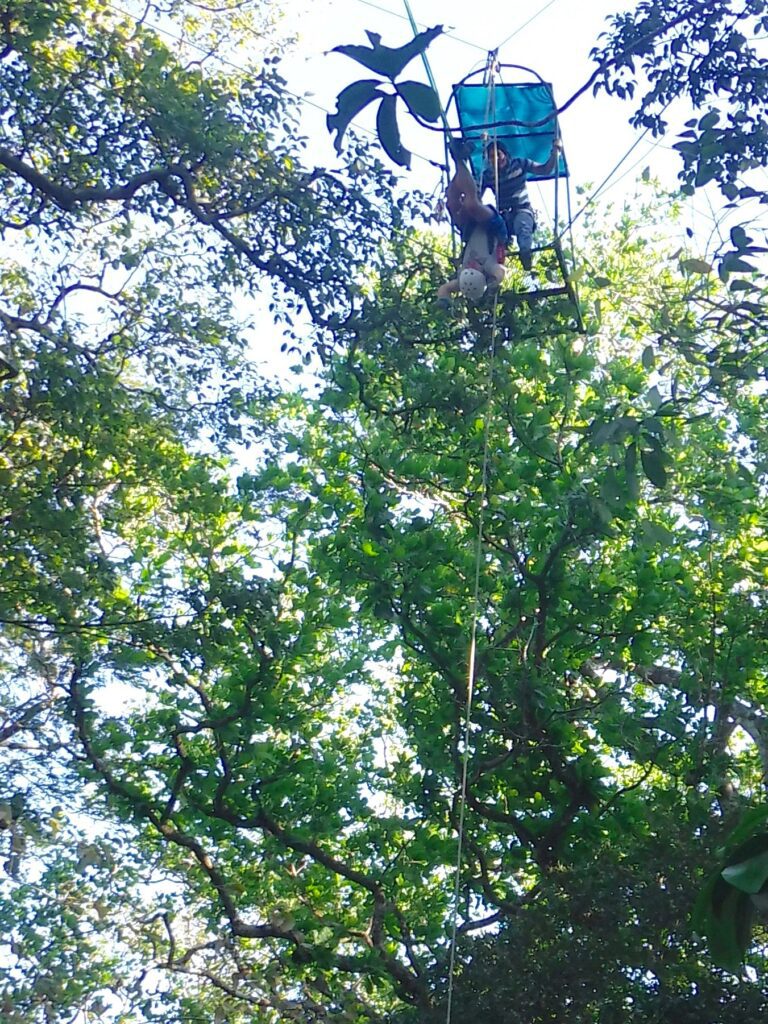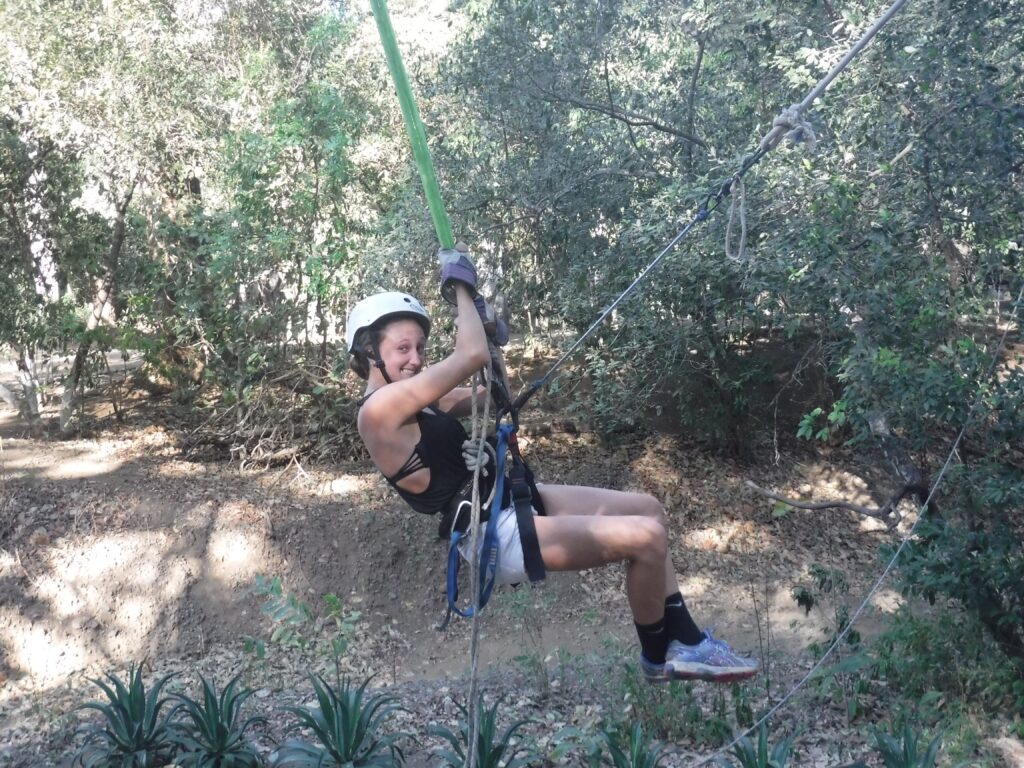 Sailing on the Kuna Vela
On Christmas morning 2011, we sailed for four hours on the Kuna Vela, a 47-foot sailboat based out of Playas del Coco. The cost is $79.99/person. It was an outstanding morning on a small boat with a fantastic crew. The Trip Advisor reviews remain excellent.
We met the boat at 8:30am in Playas del Coco and spent the next four hours motoring, sailing, snorkeling and playing on a small beach called Egg Beach. The crew, the food and the adventure were outstanding. We highly recommend this tour.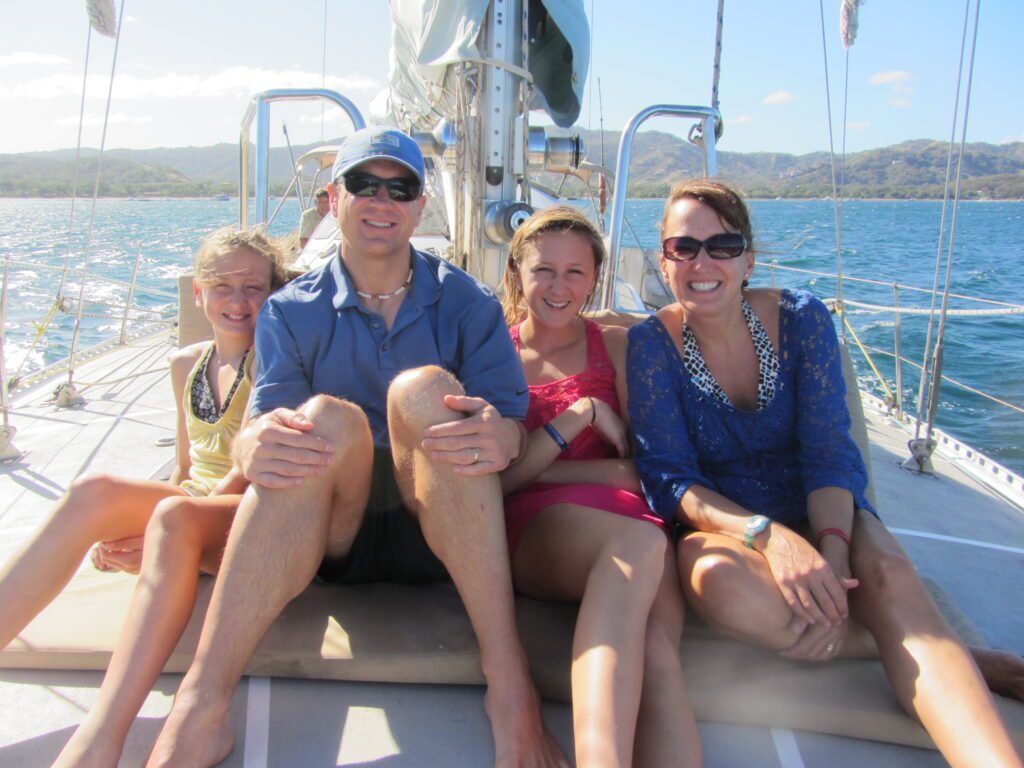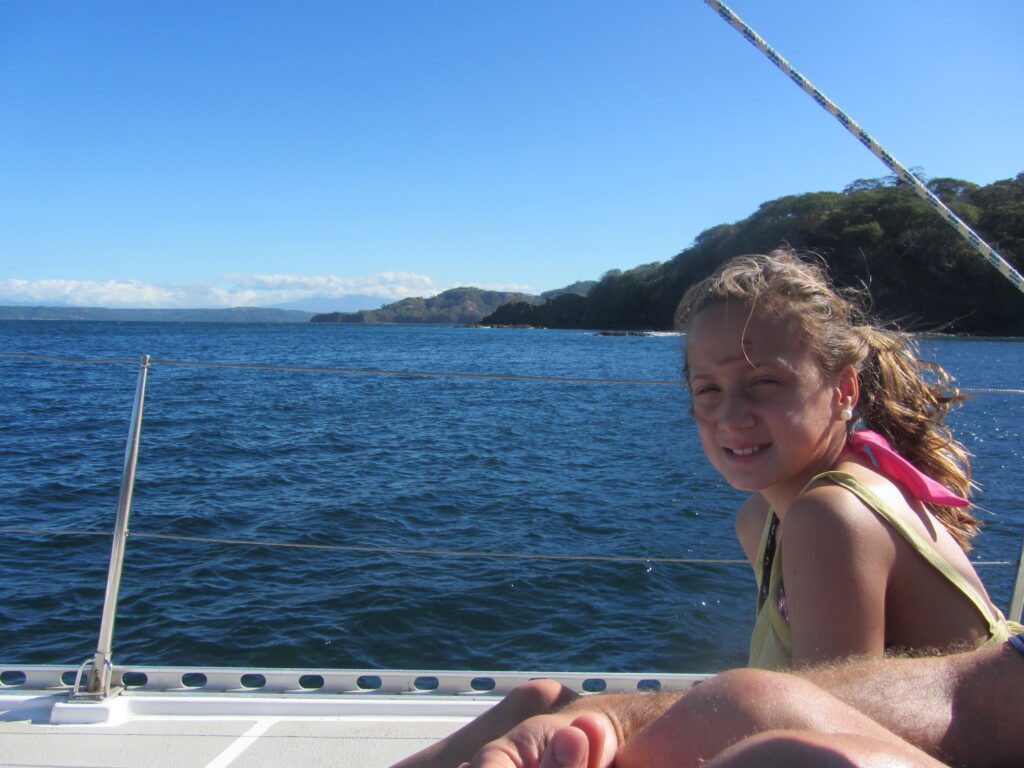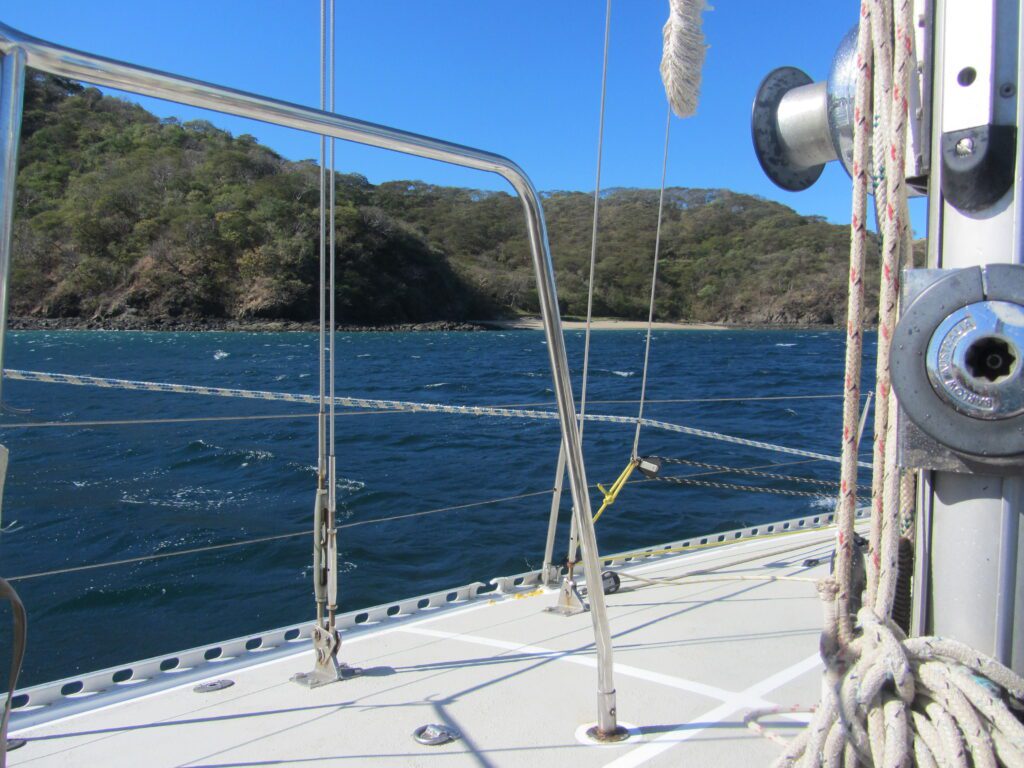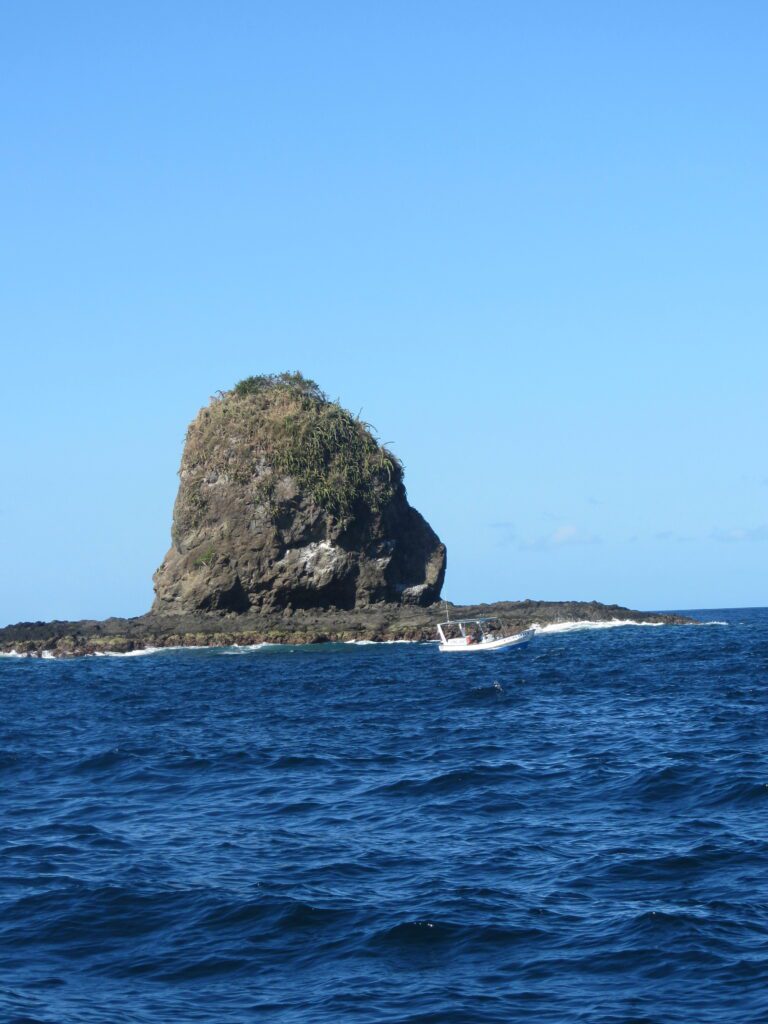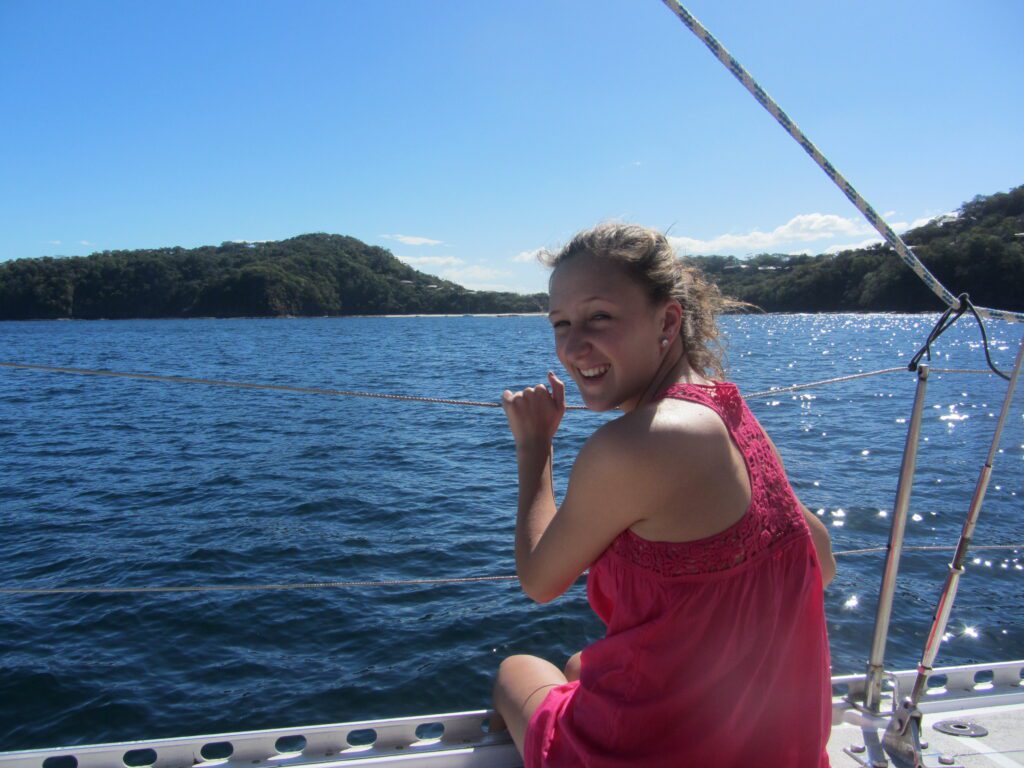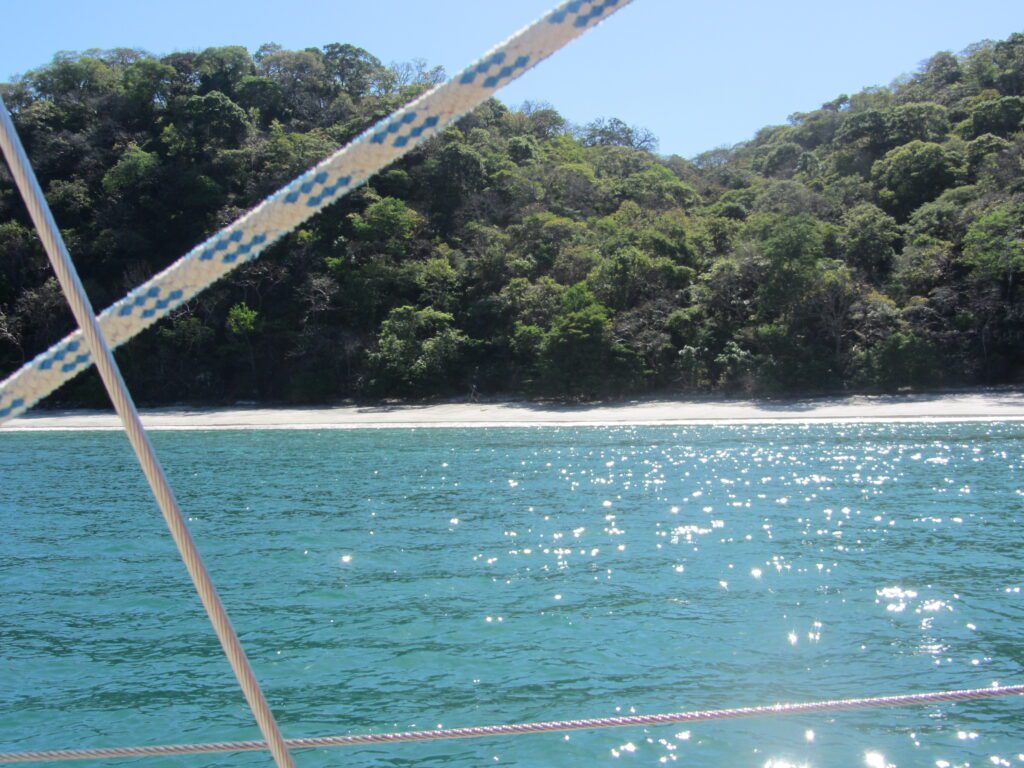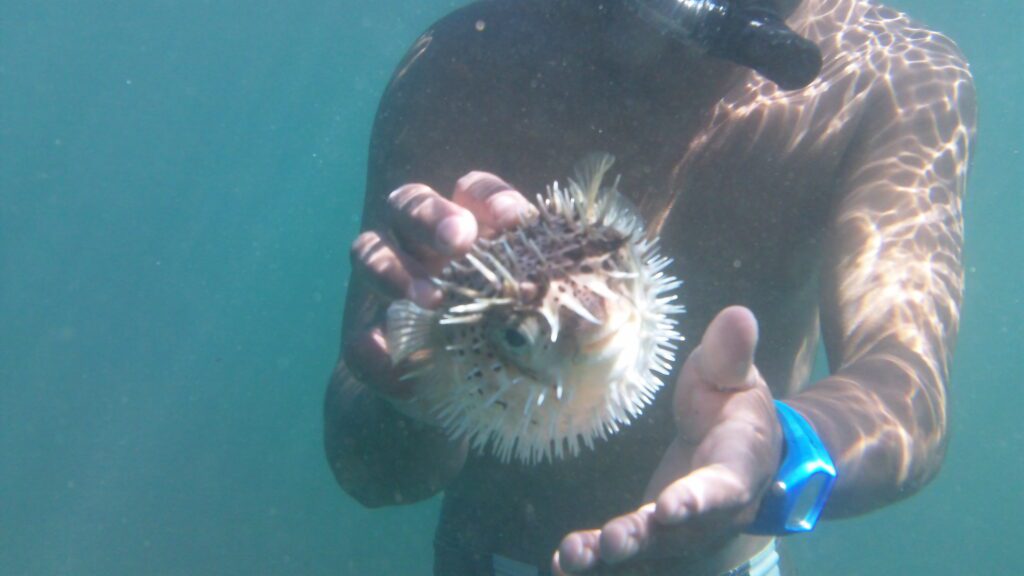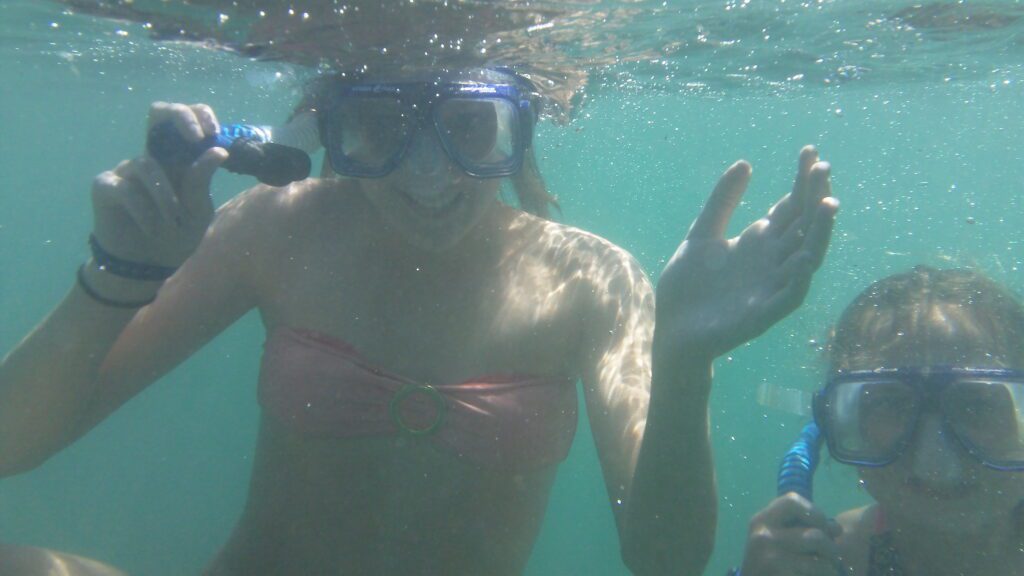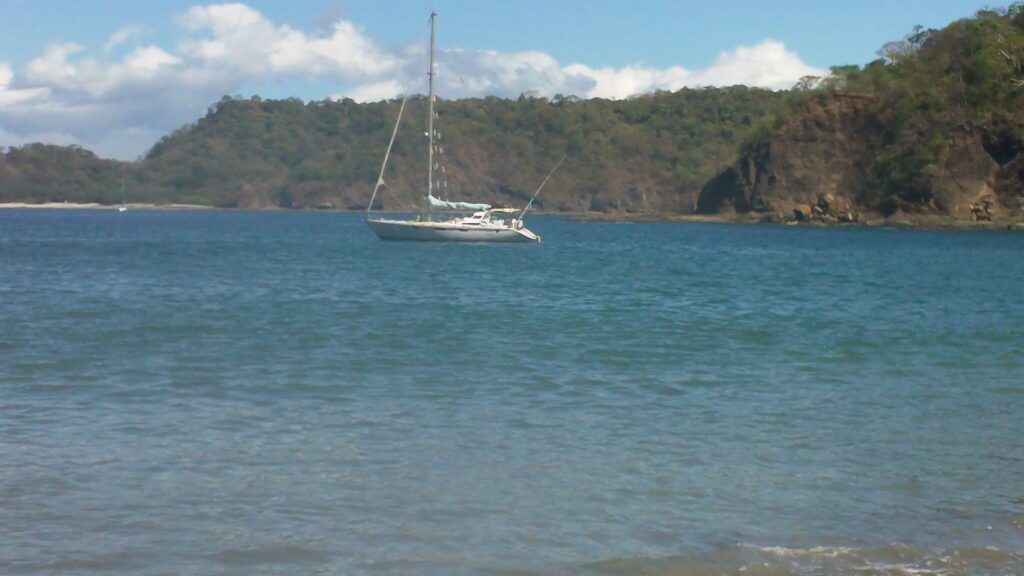 Our guide took us into a beautiful cave.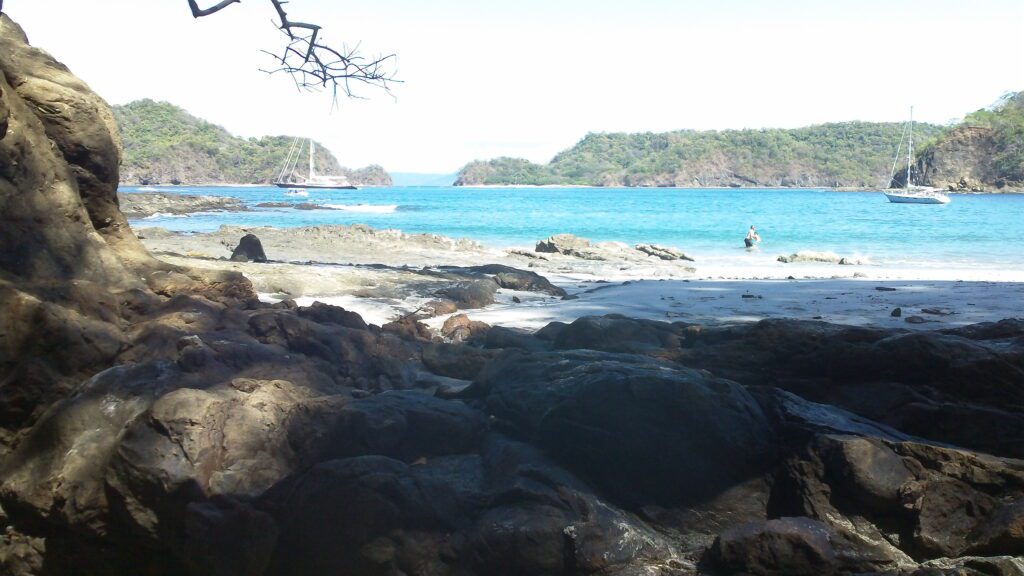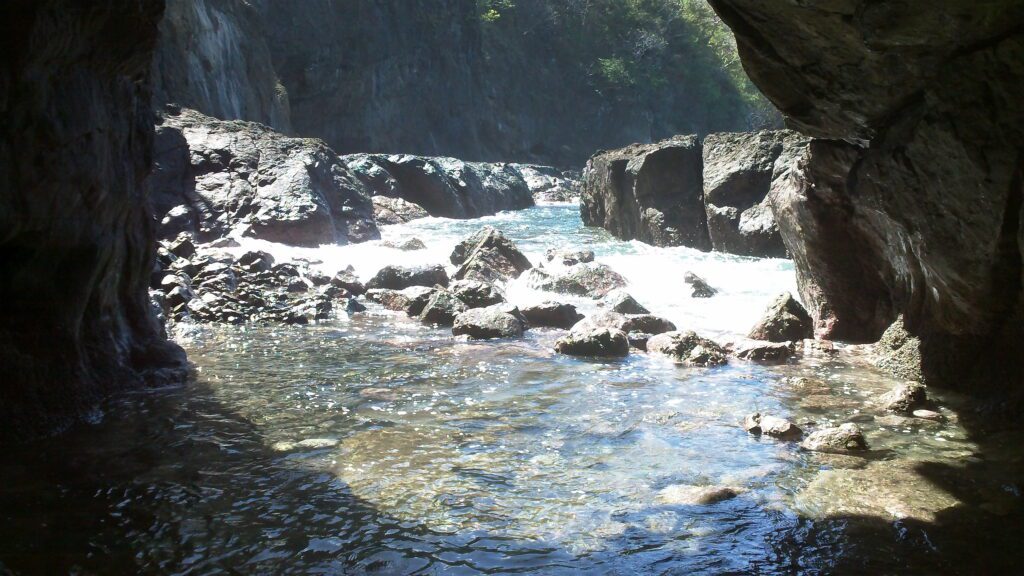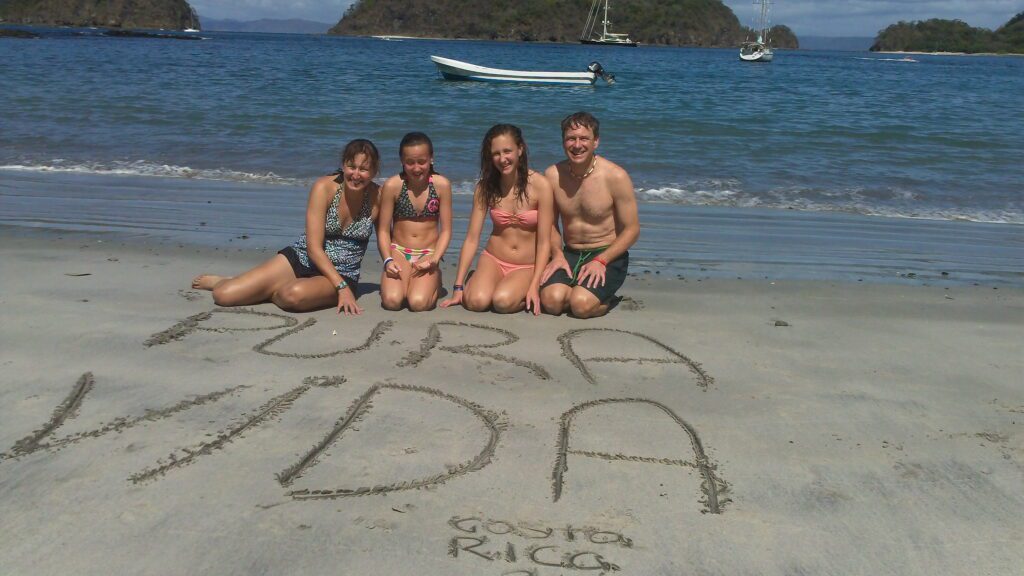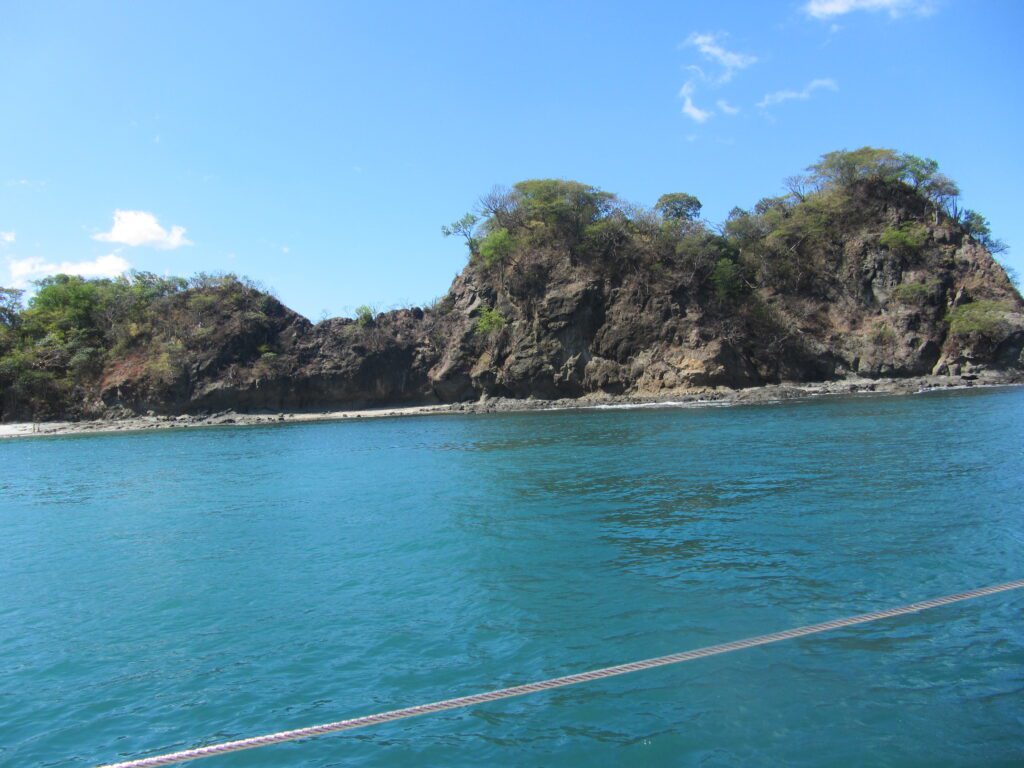 We think Costa Rica is a fabulous, family-friendly, multi-generational destination. We hope we have inspired you to take your next adventure here. Pura Vida!