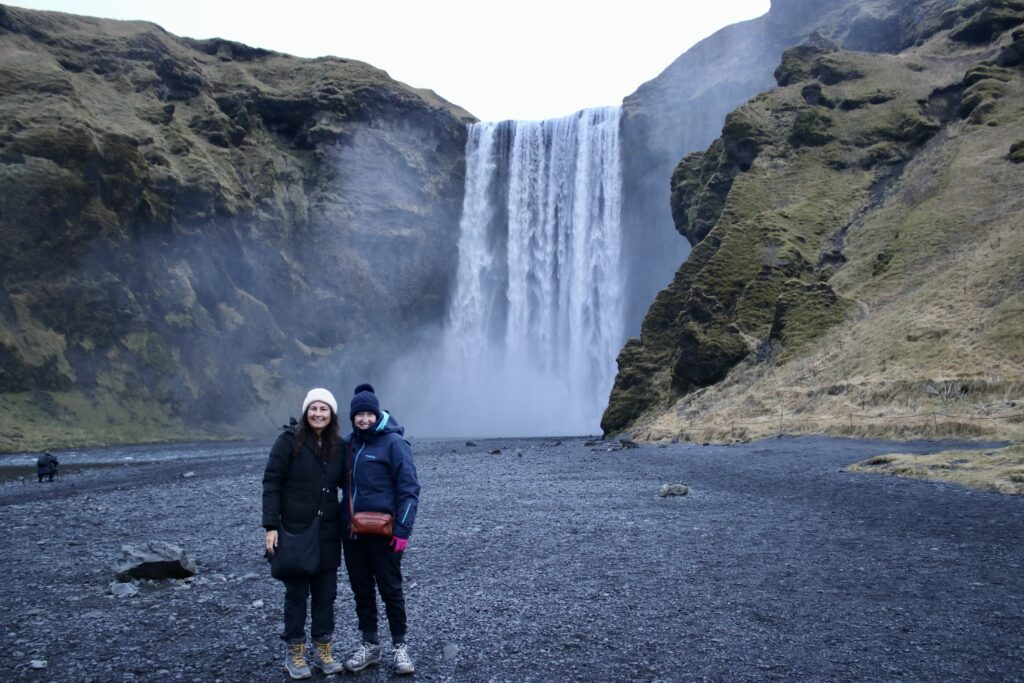 New Camera
Before Michele went to Iceland in November 2021, she purchased a new waterproof camera. The Olympus TG-6 is a fantastic, sturdy, smart waterproof camera. While it is not cheap, it gets the job done and takes amazing photos, both in and out of the water. It is much bigger and easier to use than a GoPro. Highly recommended! Many of the (not wet) photos were taken with a Canon Eos 80D.
My traveling companion used this pouch to keep her cell phone dry. The pouch works great!
Reykjavík
Michele went to Iceland in November of 2021 with her best friend from college. We flew direct from Boston on Iceland Air. The flight is only five hours from Boston. We landed at 6am, so we had a full day at our disposal which was great. We had to be COVID negative and registered online with immigration prior to entering the country. We are both fully vaccinated and boosted. Neither one of us wanted to drive, so we took FlyBus from the airport. The cost was $37/person. The bus took about 50 minutes to get us to the bus terminal. From there we switched to a smaller bus that took us to our hotel.
We arrived at Hotel Klettur about 8am. Luckily, our room was ready. We took an hour long nap and then enjoyed the generous buffet breakfast. The hotel was centrally-located. The rooms were small with two twin beds, a small desk and a nice bathroom. Very clean. Friendly people at reception and in the bar. The bar has half price happy hour from 5-7pm each night.
Walking around Reykjavik was great. The city is interesting and very walkable.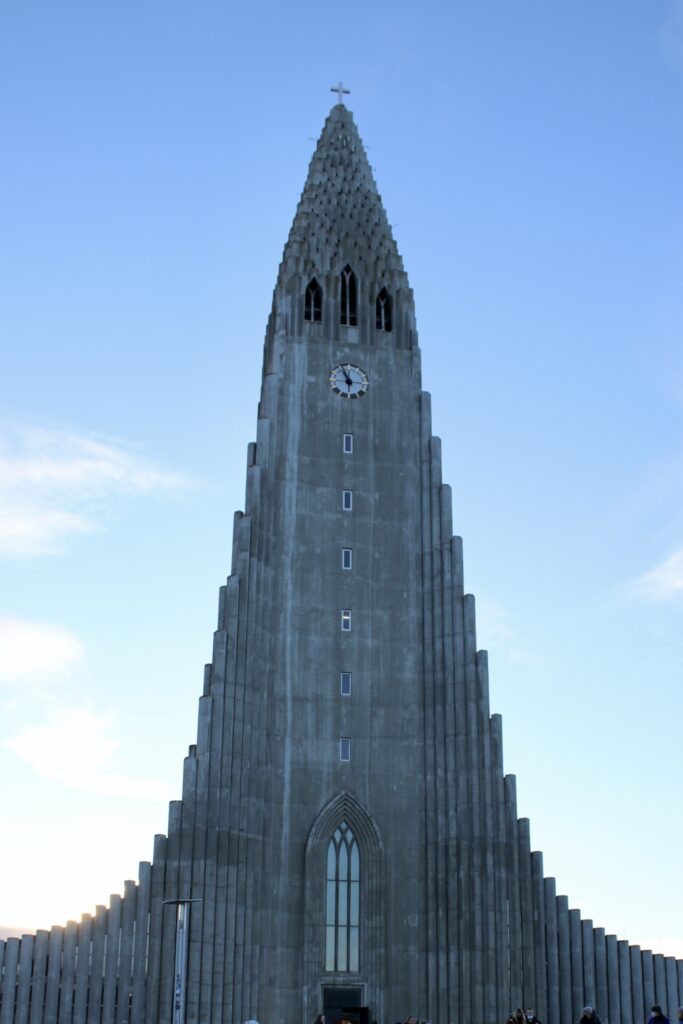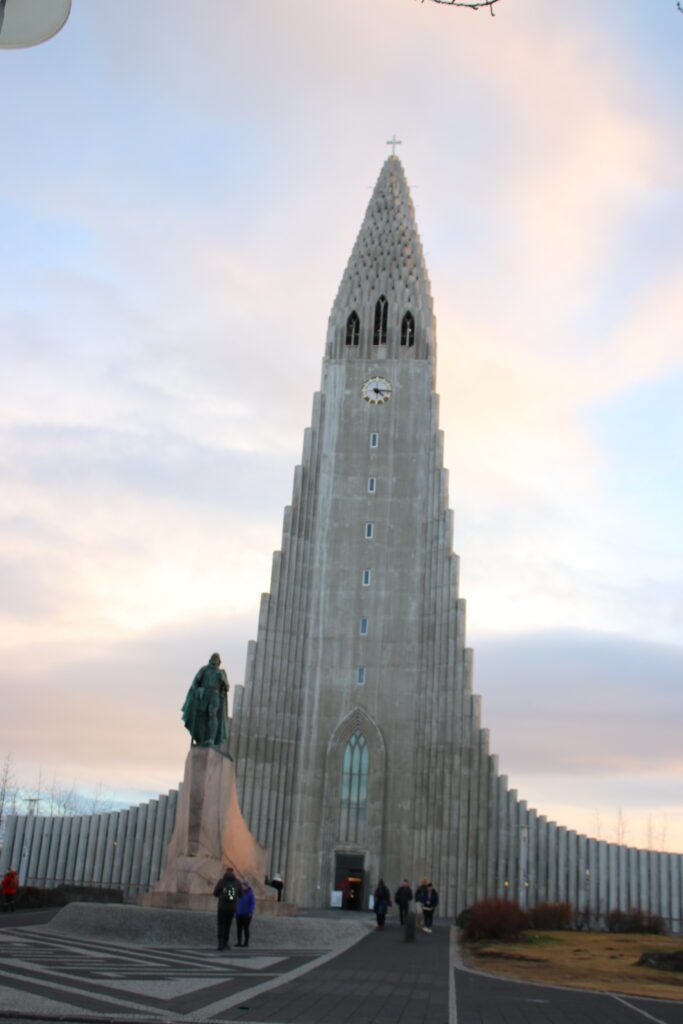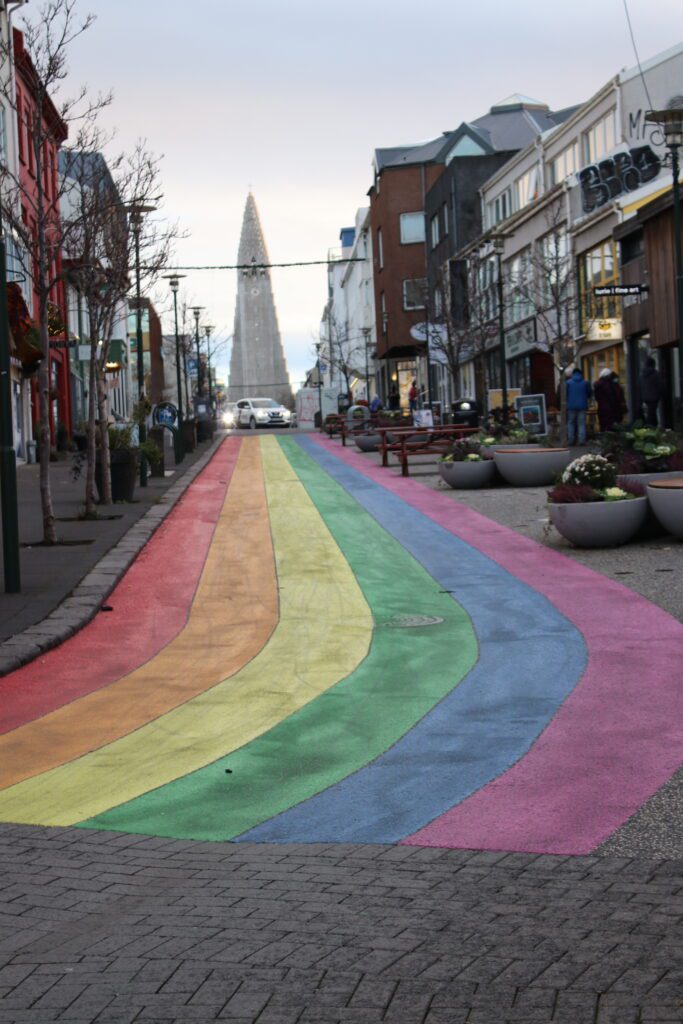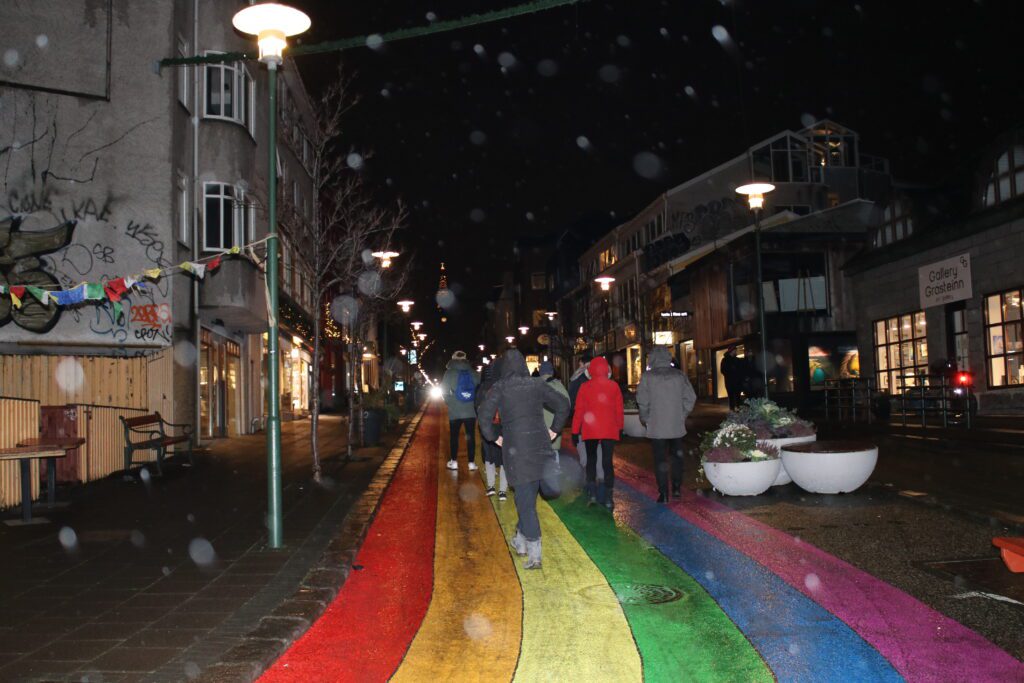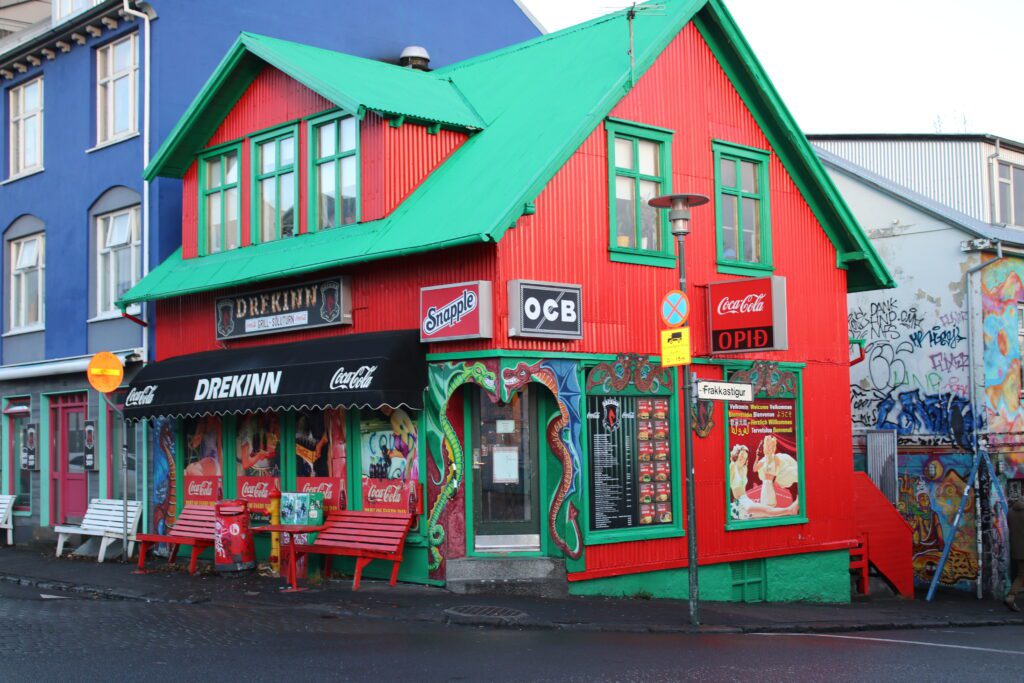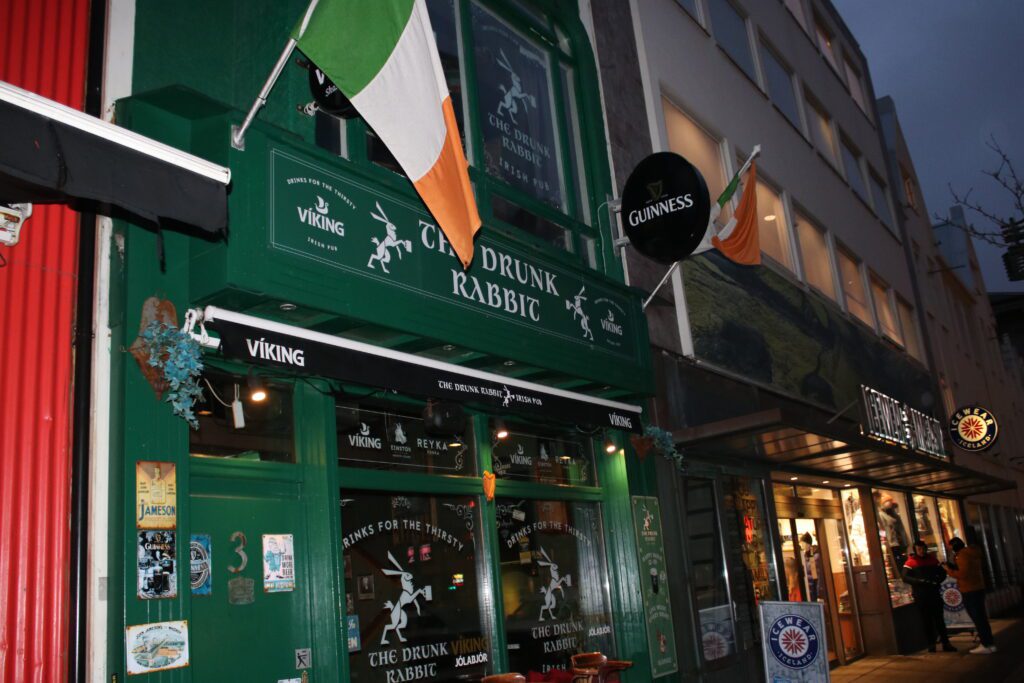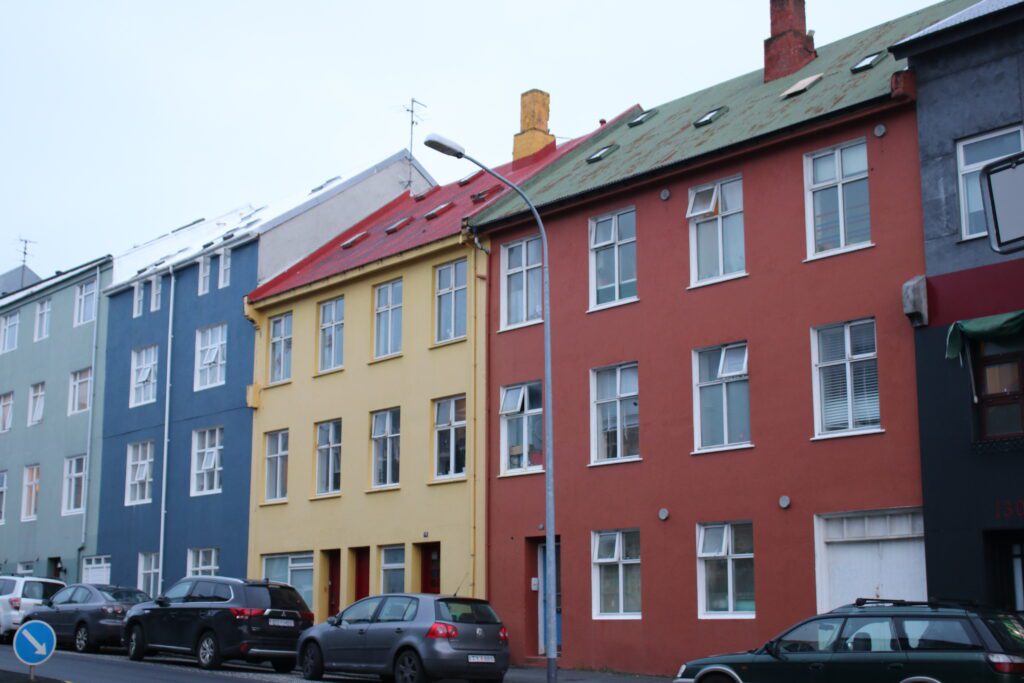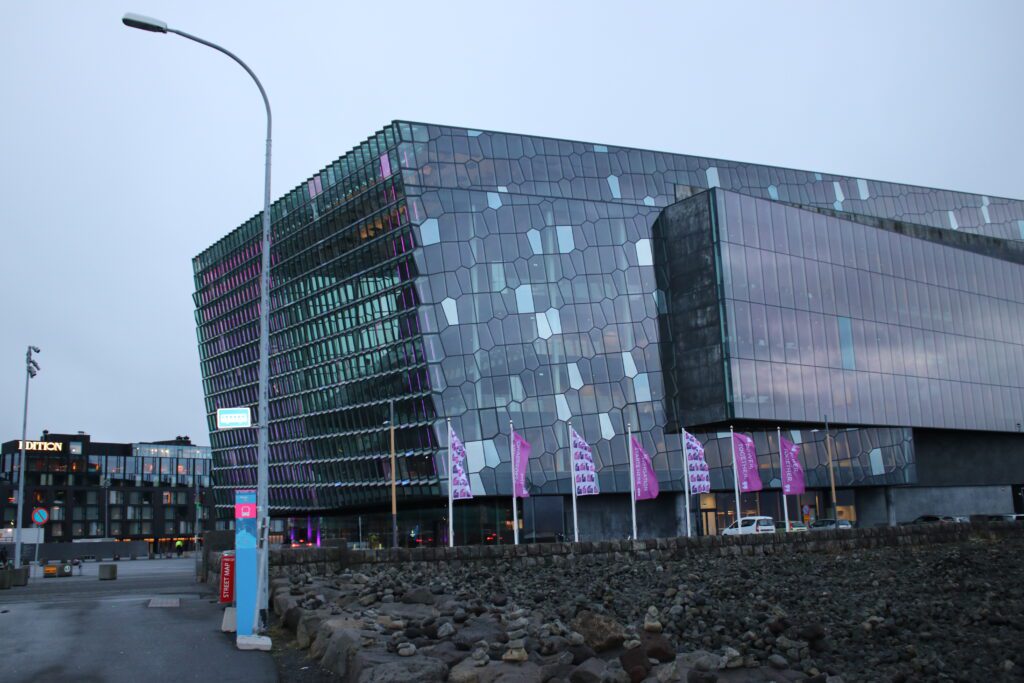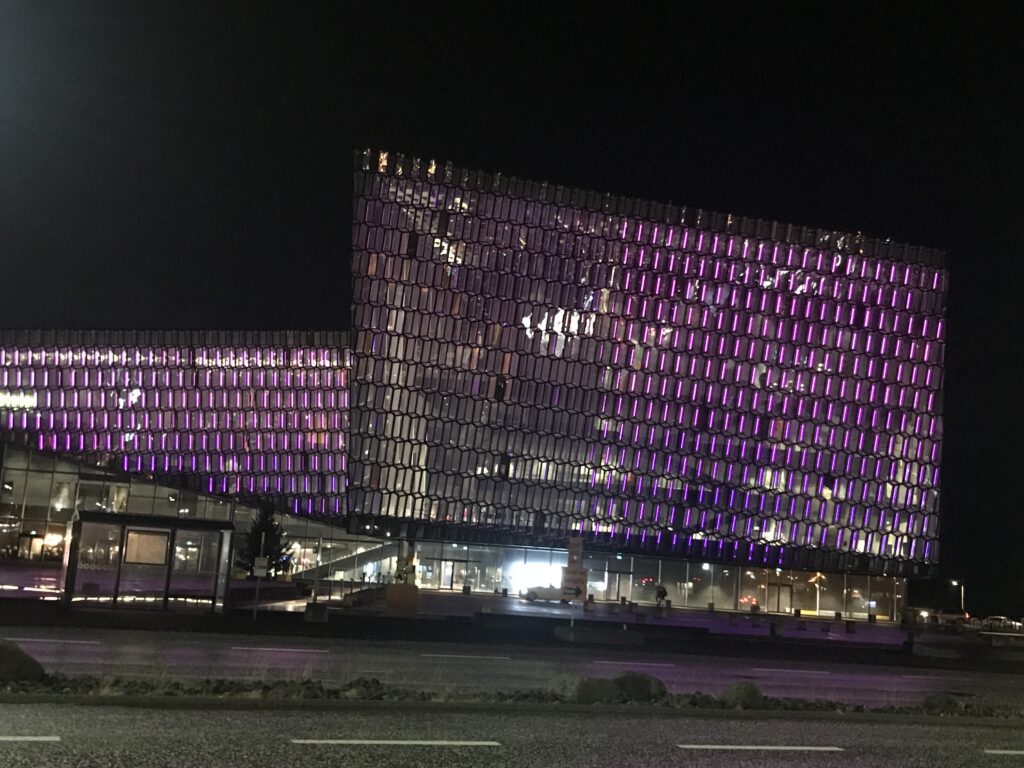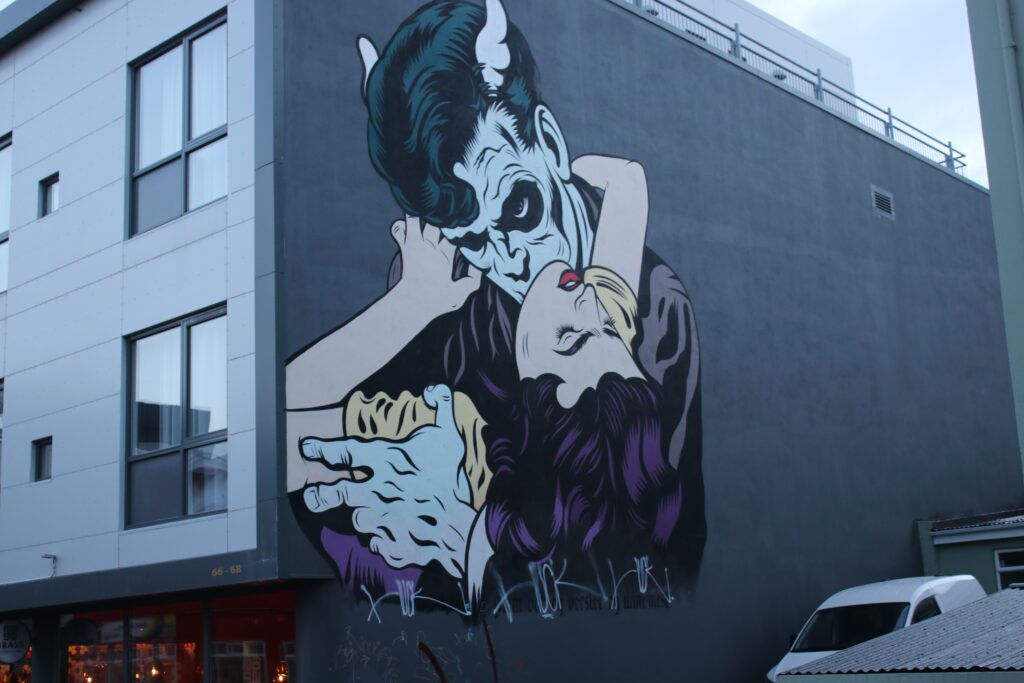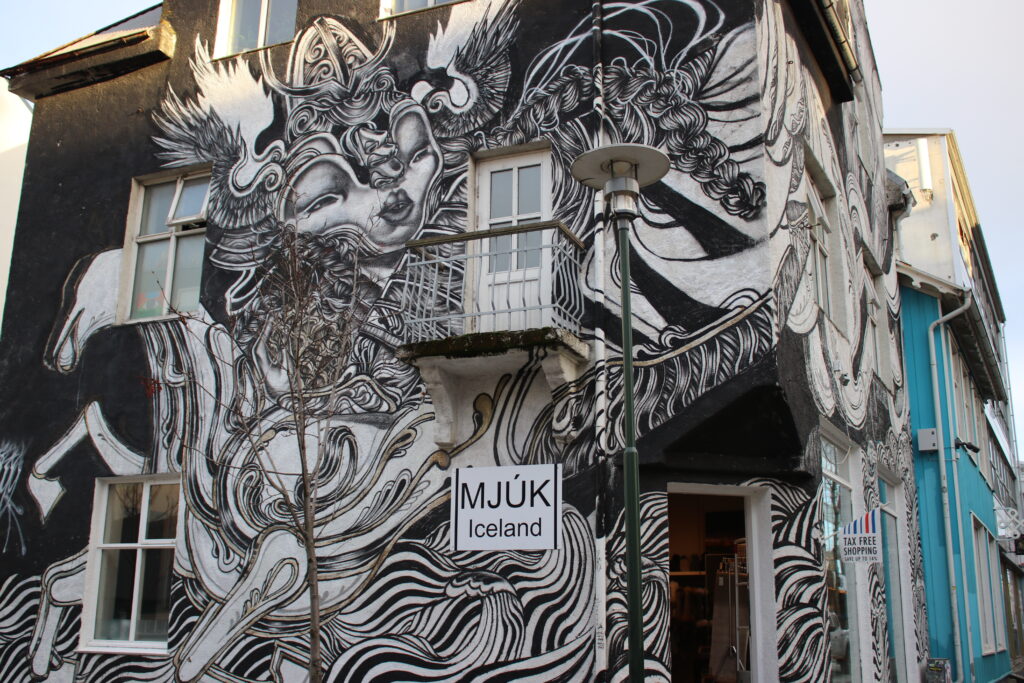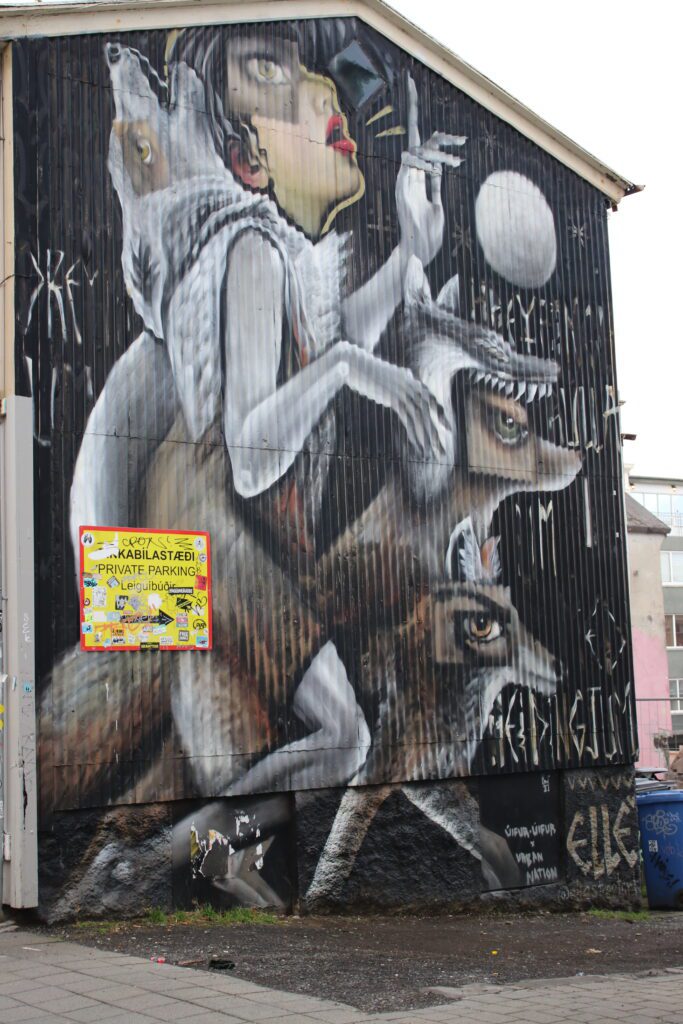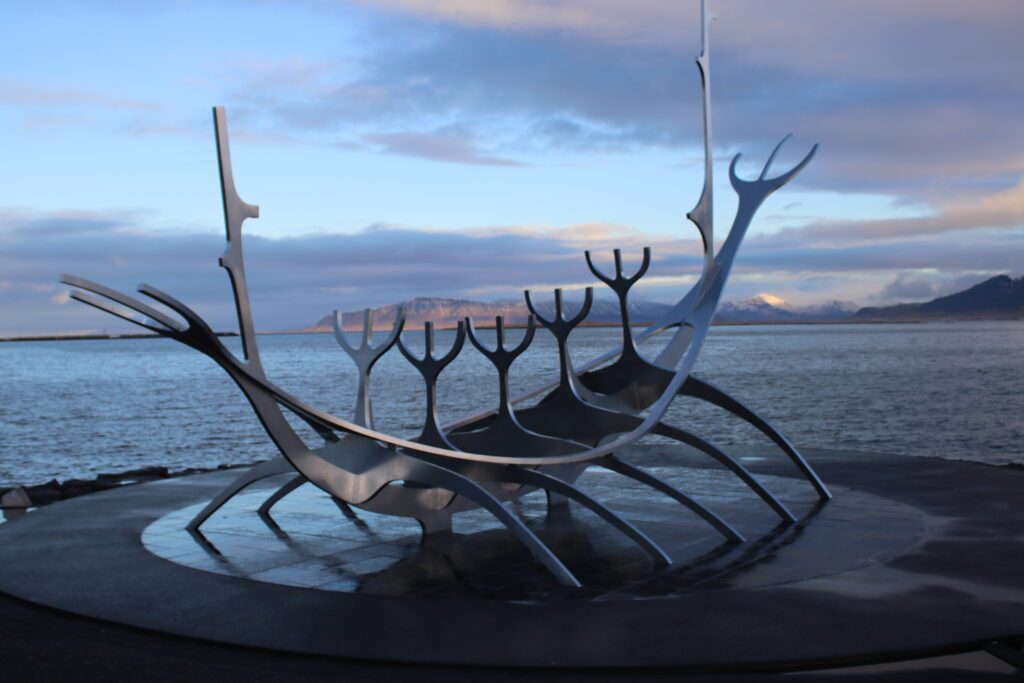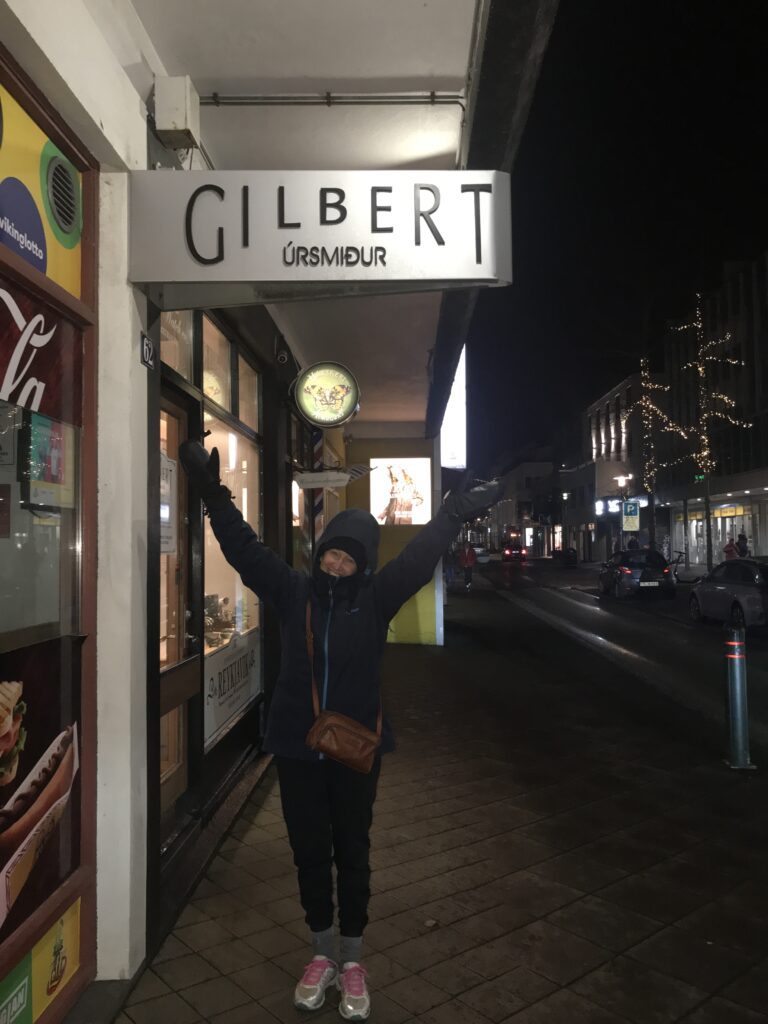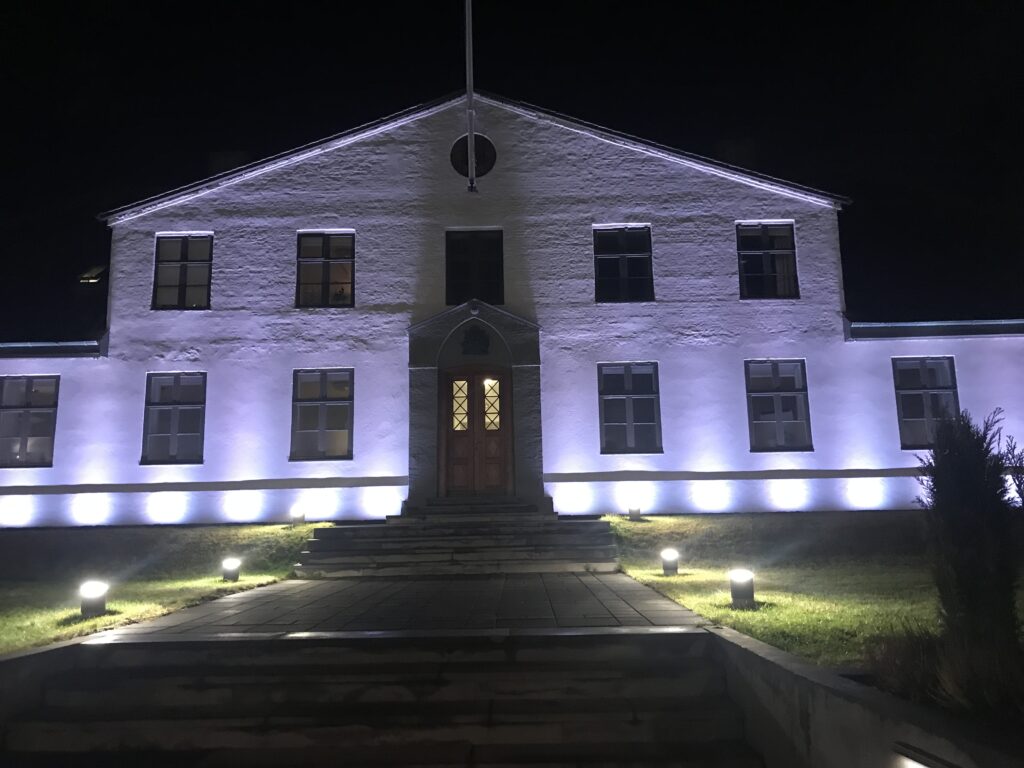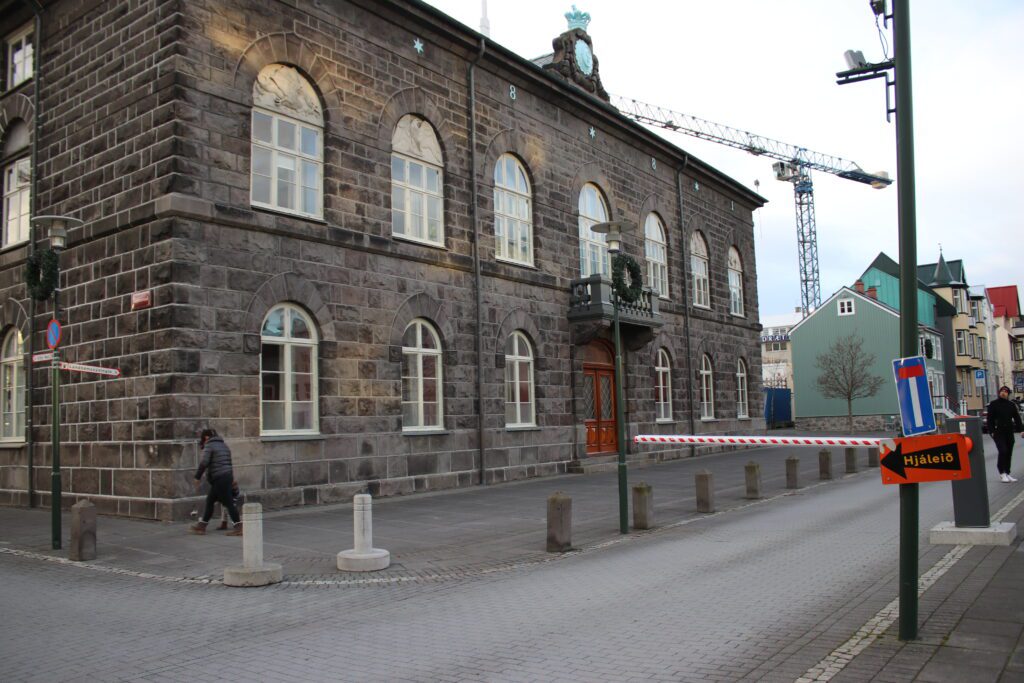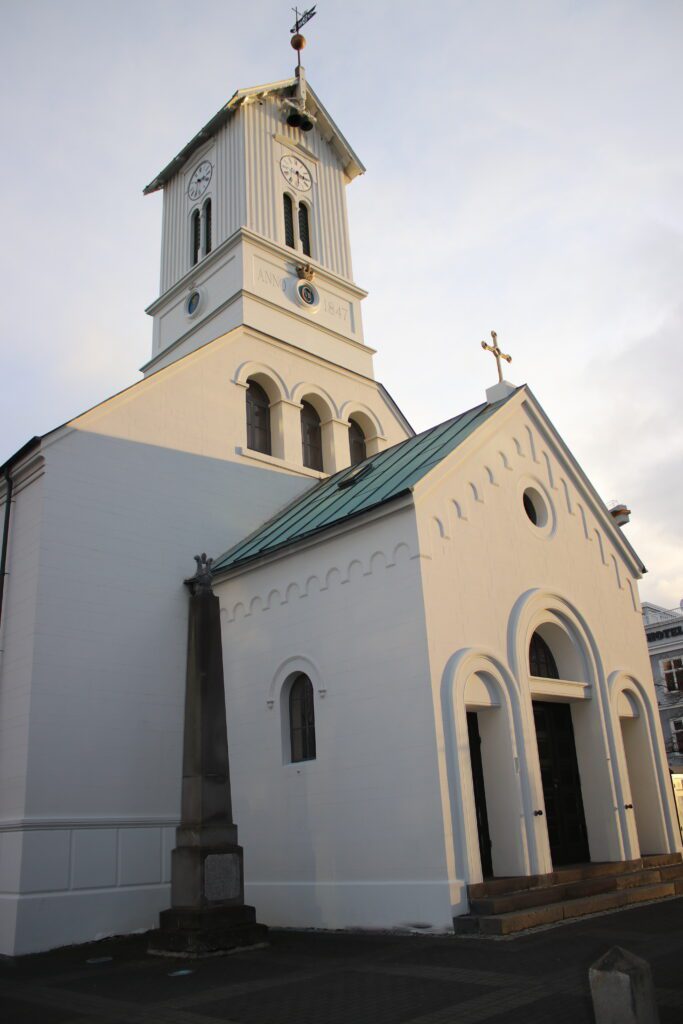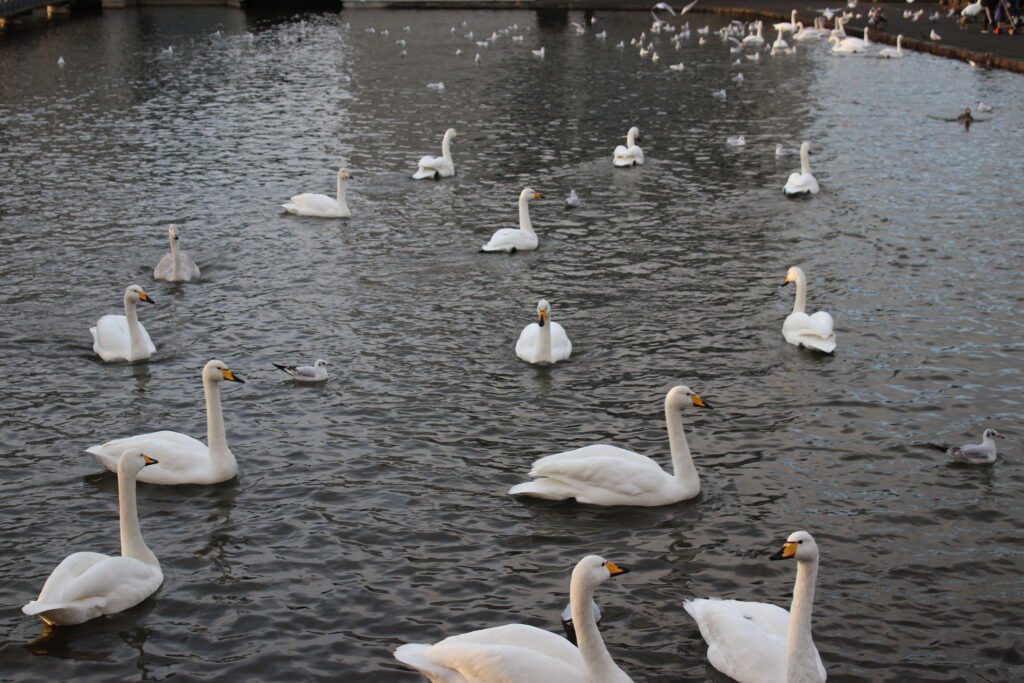 Places to Eat
We had heard terrible things about the food in Iceland. We found lots of great places! Some recommendations include the following.
ROK
Located right next to Hallgrímskirkja church, this lovely, adorable spot for tapas and small plates was amazing. We each got four small plates and shared our food. The vibe was hip and funky. ROK is highly recommended. TripAdvisor reviews are strong.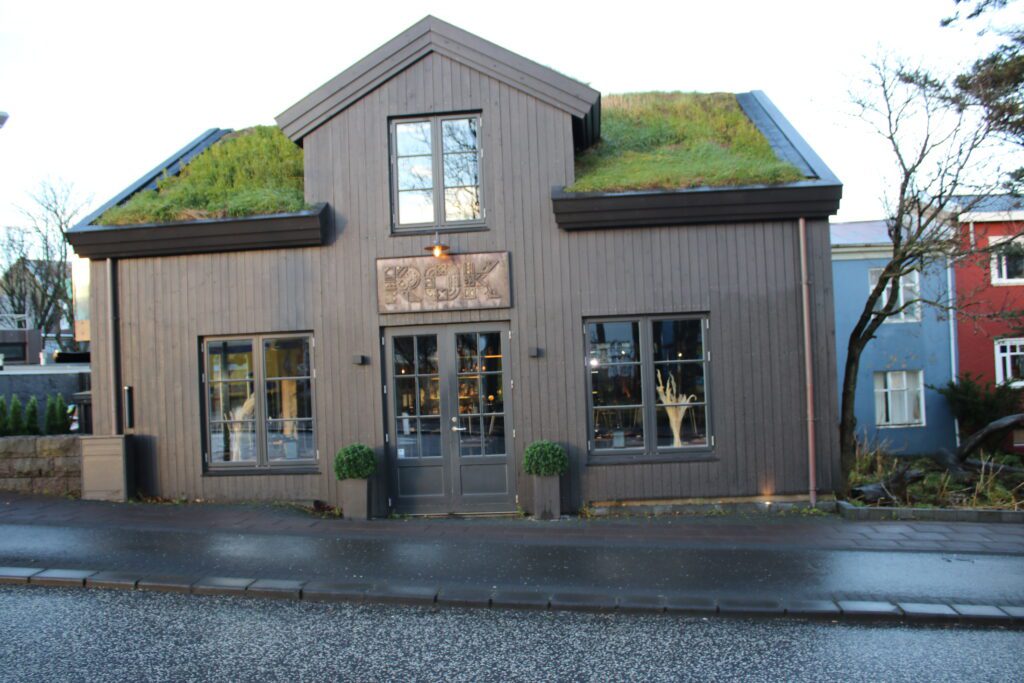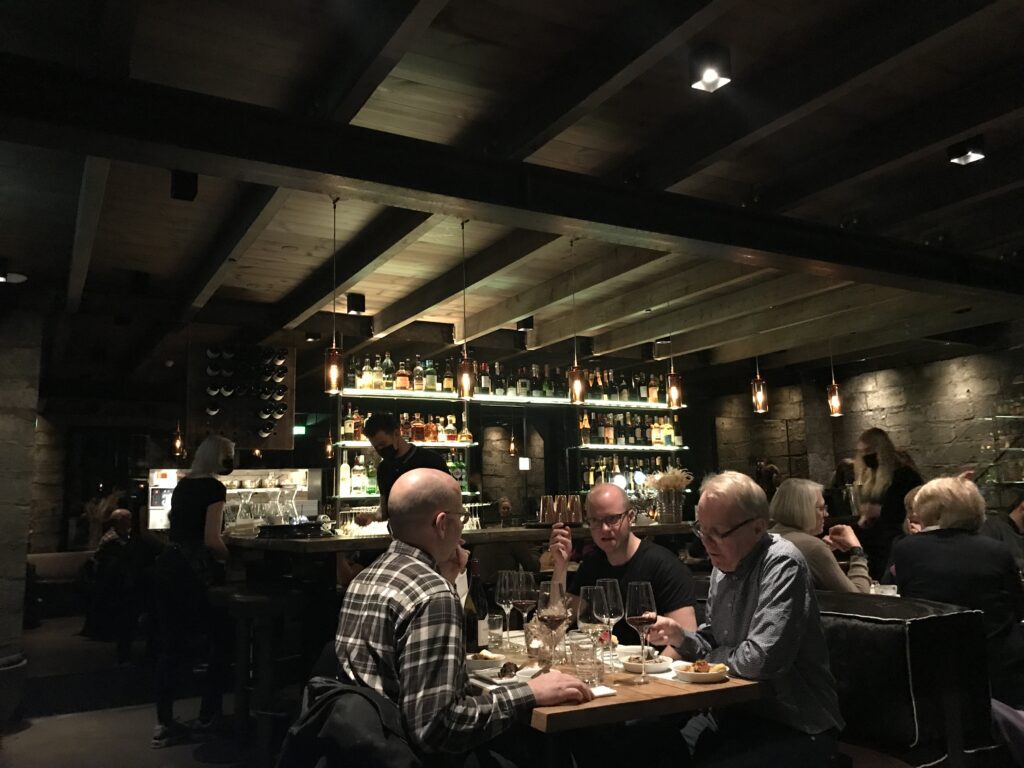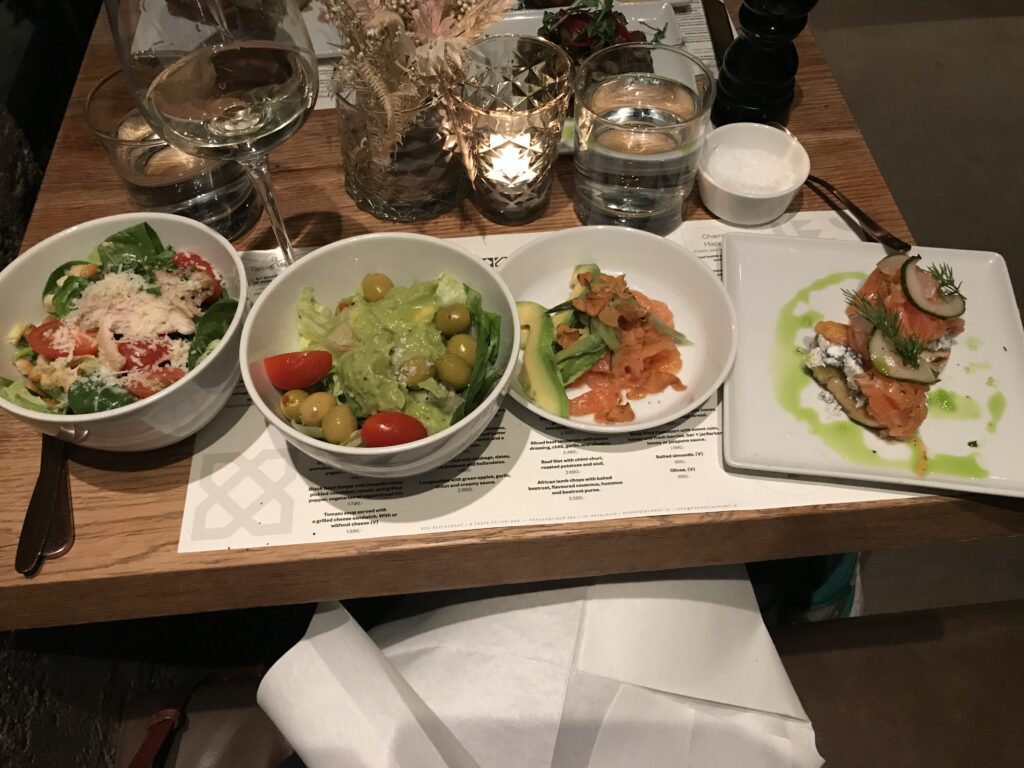 Reykjavik Kitchen
This wonderful restaurant was steps from our hotel, close to the old bus station that is now a food court. We felt luck to get a table at Reykjavik Kitchen as every table was full. The squid pasta, cod, date cake and cauliflower salad were amazing. TripAdvisor reviews are superb.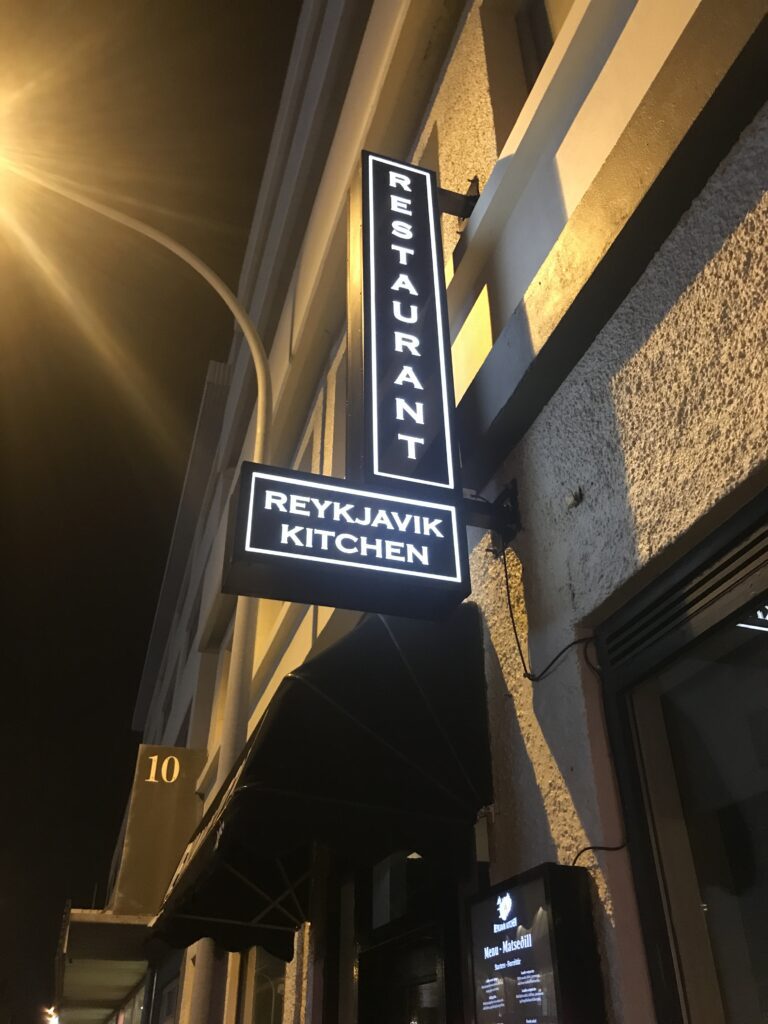 Svarta Kaffid
Google told us this was the very best soup in Iceland, and Google was correct. Svarta Kaffid is a tiny upstairs gem on the main retail district in the city serves two soups a day – one vegetarian and one with meat. We both had the lamb stew in a huge bread bowl, and it was amazing. TripAdvisor reviews are excellent. We ate soup after our freezing cold snorkeling swim, so this soup hit the spot.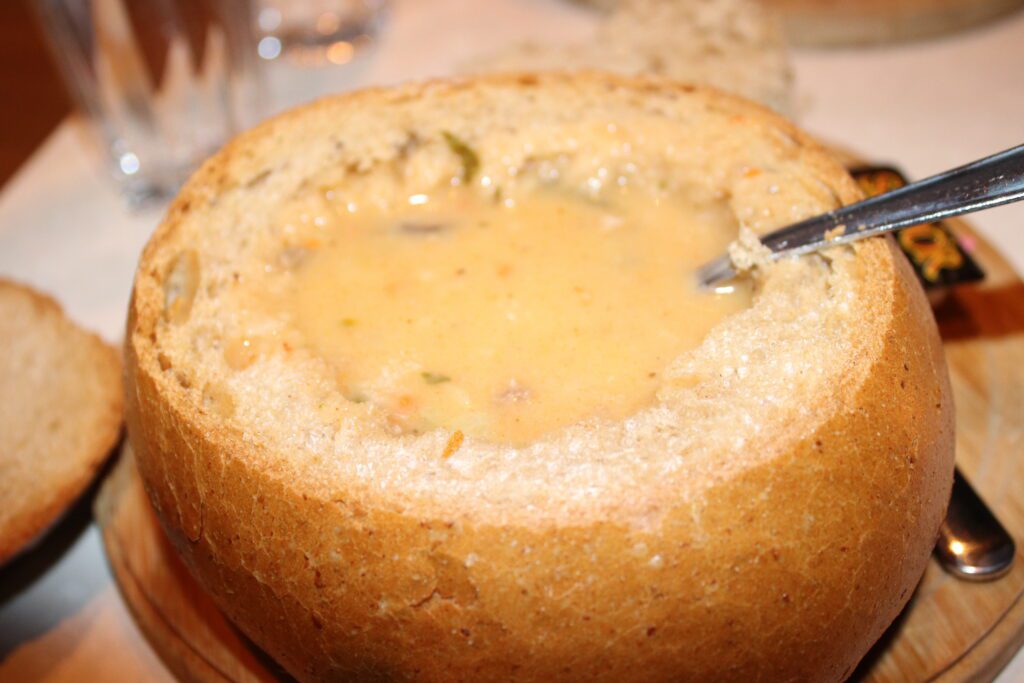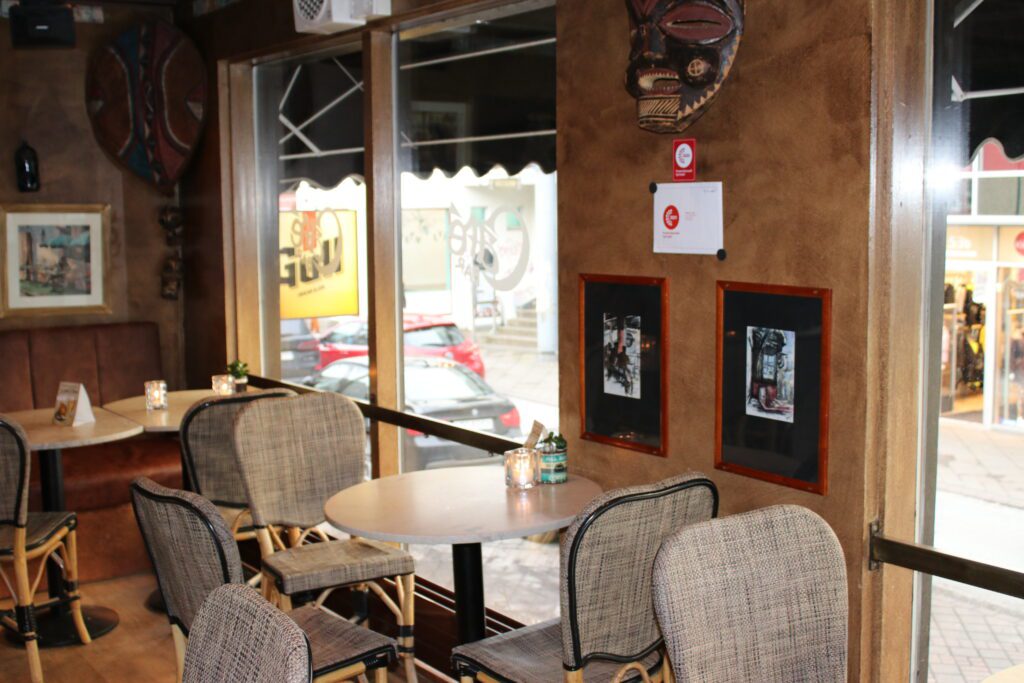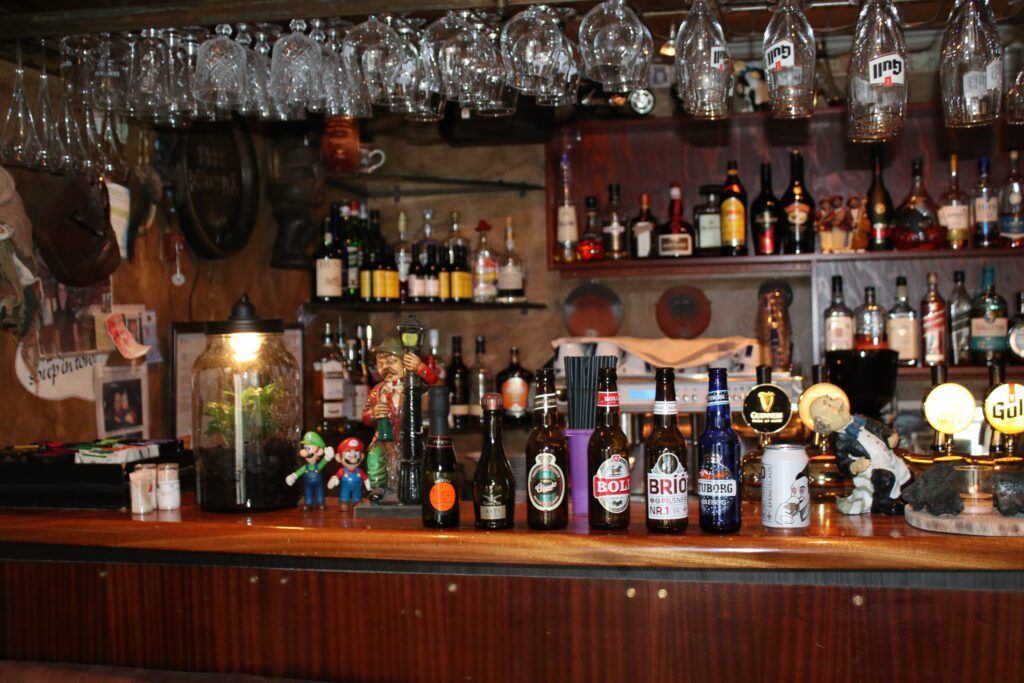 The Little Christmas Shop – a place to get a holiday ornament
We always try to get a holiday ornament every time we take a trip. Located right on the main shopping street (Laugavegur 8, 101 Reykjavík, Iceland), The Little Christmas Shop is a great place to stop. The staff is very nice and helpful.
Sky Lagoon
On our first full day, we visited Sky Lagoon, a new geothermal lagoon just about 15 minutes from our hotel in the city. The brand new facility opened at noon and we were the first people there. The changing rooms are very nice and very clean. The water was warm and you have a lovely view of the Atlantic Ocean. Highly recommended.
We paid about $80 for the Sky Pass which included the "ritual", a seven step process that included a soak in the lagoon, a cold plunge, a sauna with an amazing view, a cold fog mist, an exfoliating salt scrub, a steam bath and a hot shower. We loved it. Our skin was glowing afterward.
The Sky Lagoon does have a small snack/lunch counter, but honestly, it could use some work. The setting is lovely, but there was not much choice. So, we chose not to eat and headed back to our hotel in a taxi.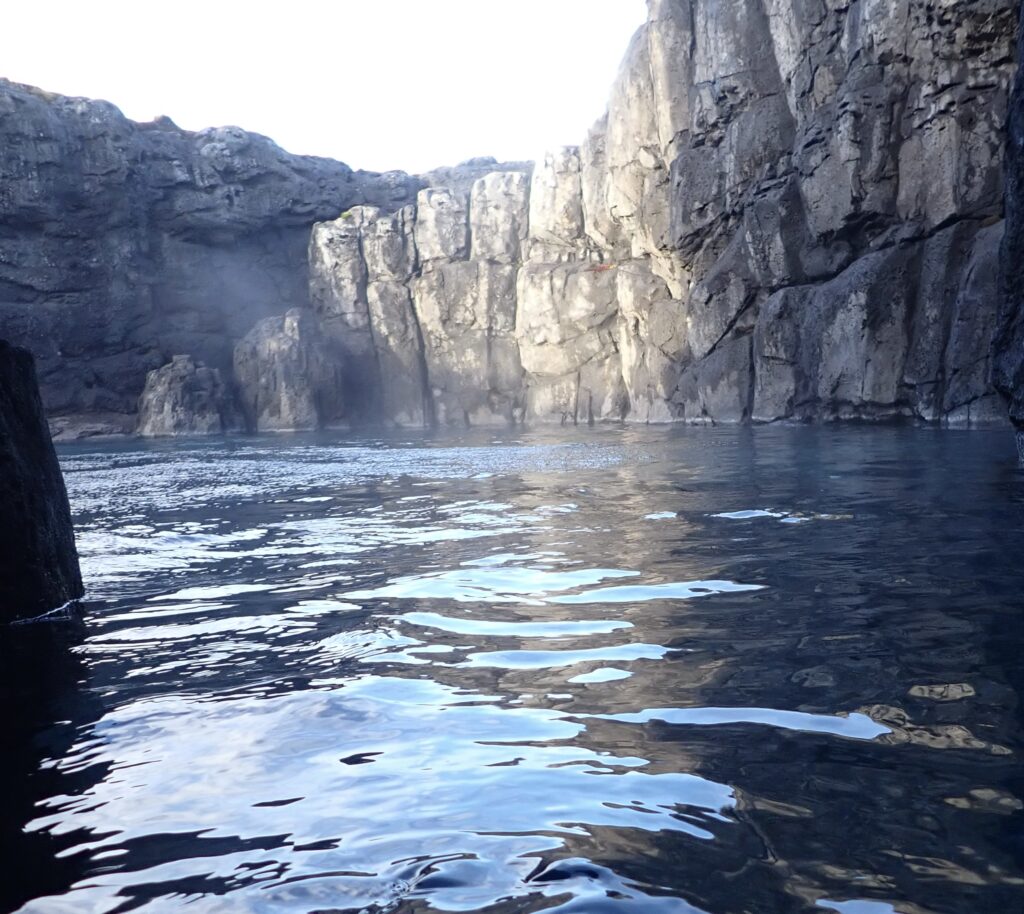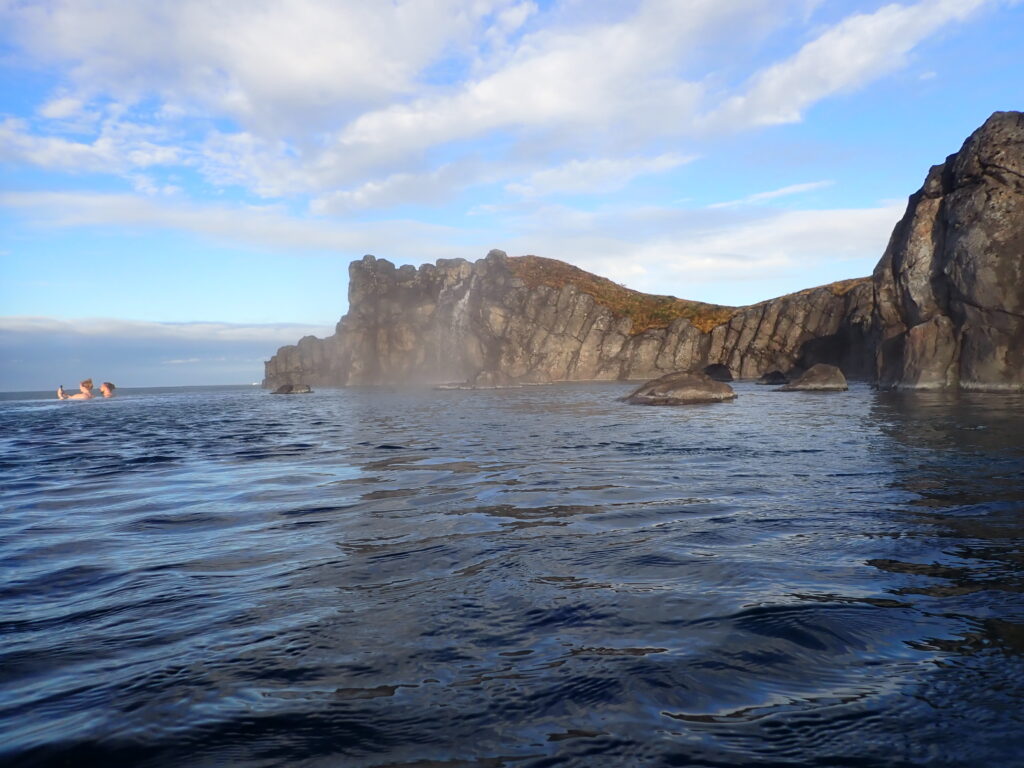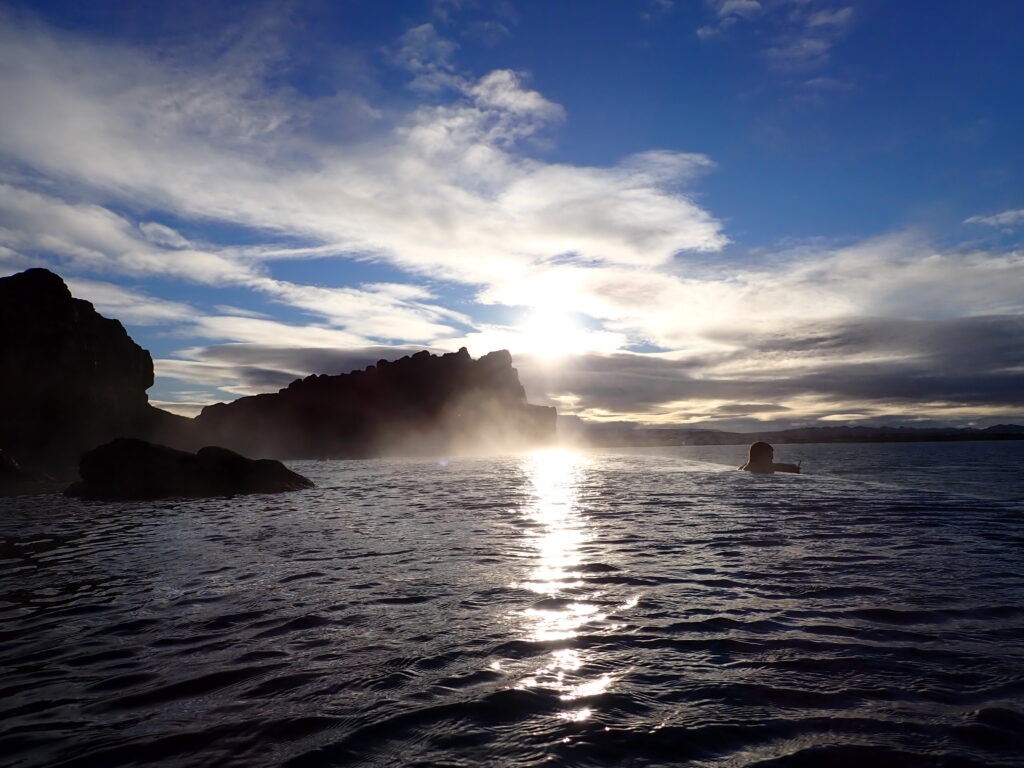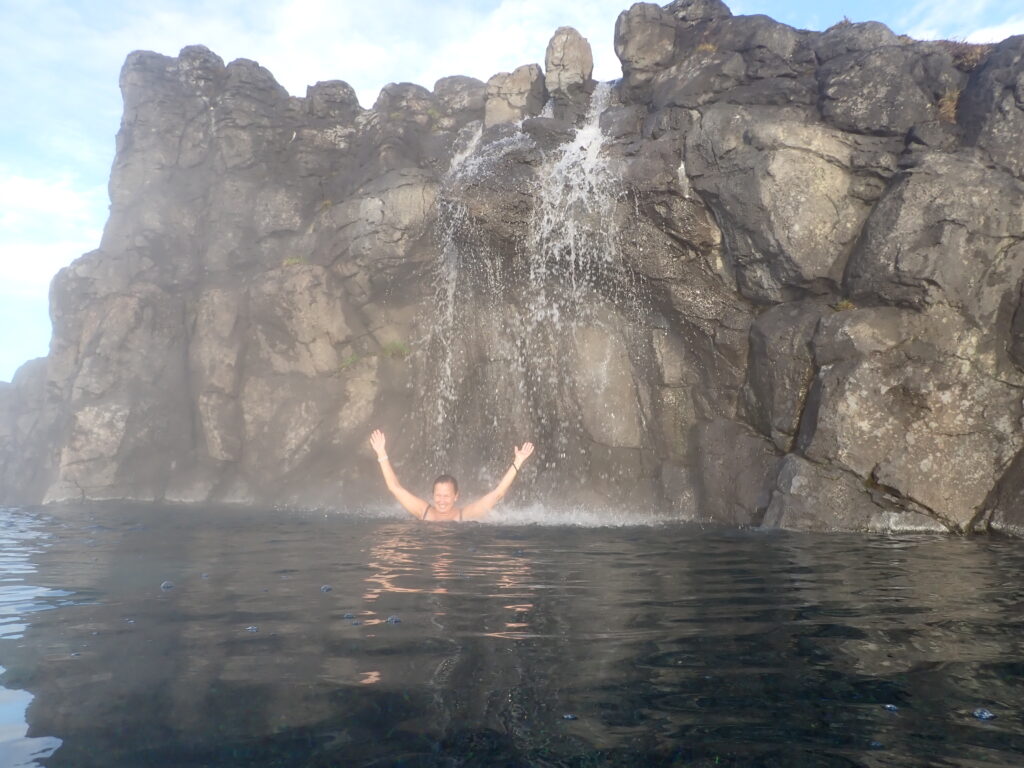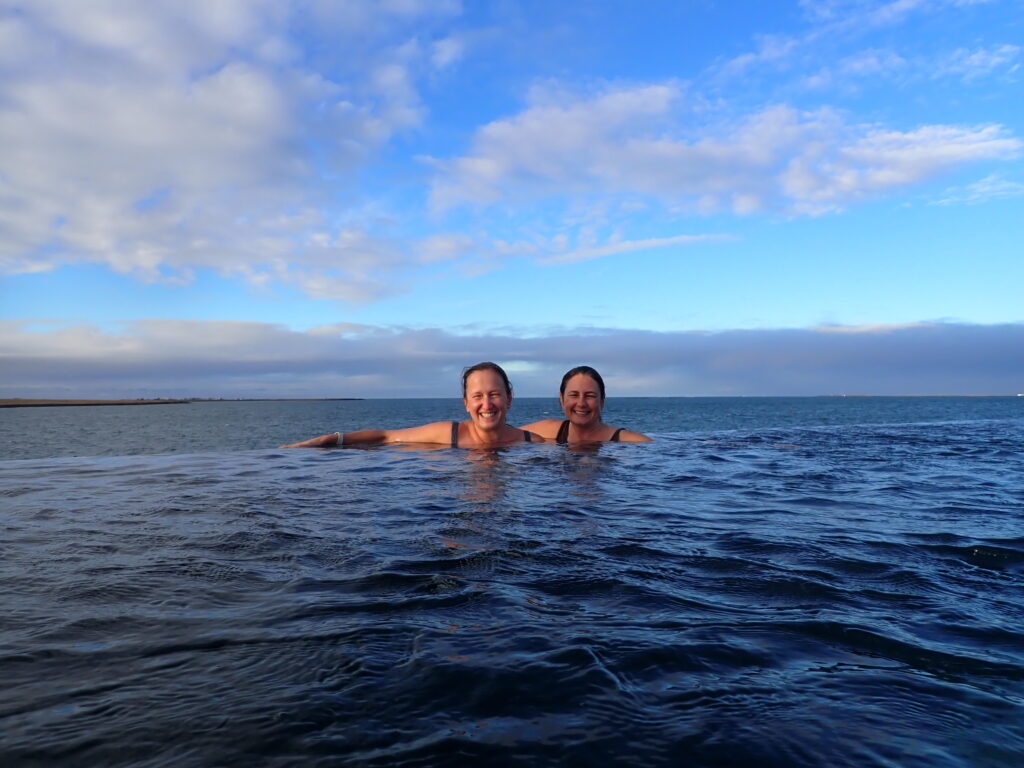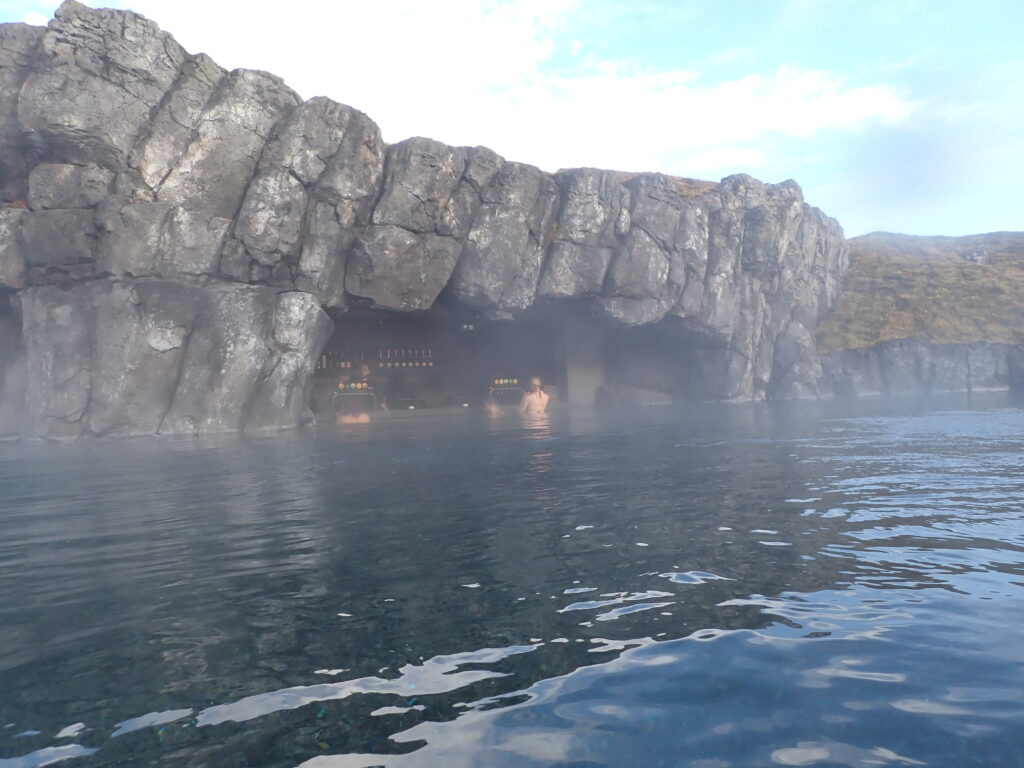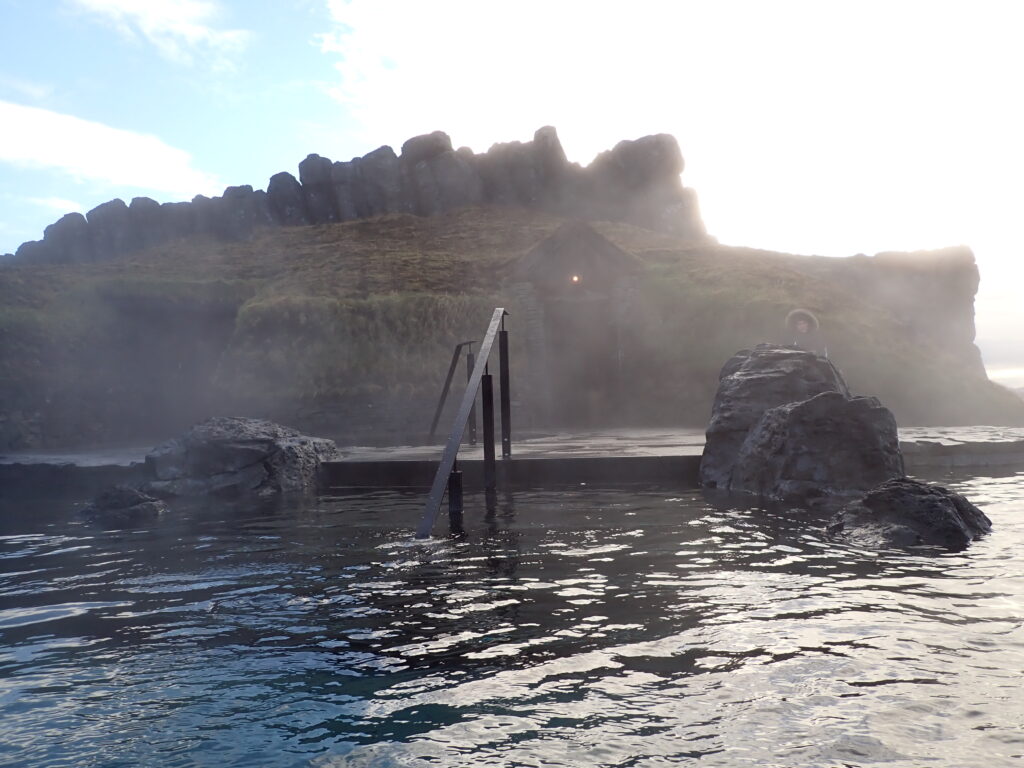 Wake Up Reykjavik Walking Food Tour
We spent about $110 to join a walking food tour of the city with a tour company called Wake Up Reyjavik. It was fabulous. The tour lasted about three hours from 5-8pm. We met at the Harpa concert hall and walked all over the city, stopping at five locations along the way. The food was amazing. Our guide was fantastic. We learned a great deal about the city. It was a wonderful way to spend an evening. We stopped at Fjallkonan, Bæjarins Beztu Pylsur, Messinn, Islenski Barinn, and Cafe Loki. We loved it all.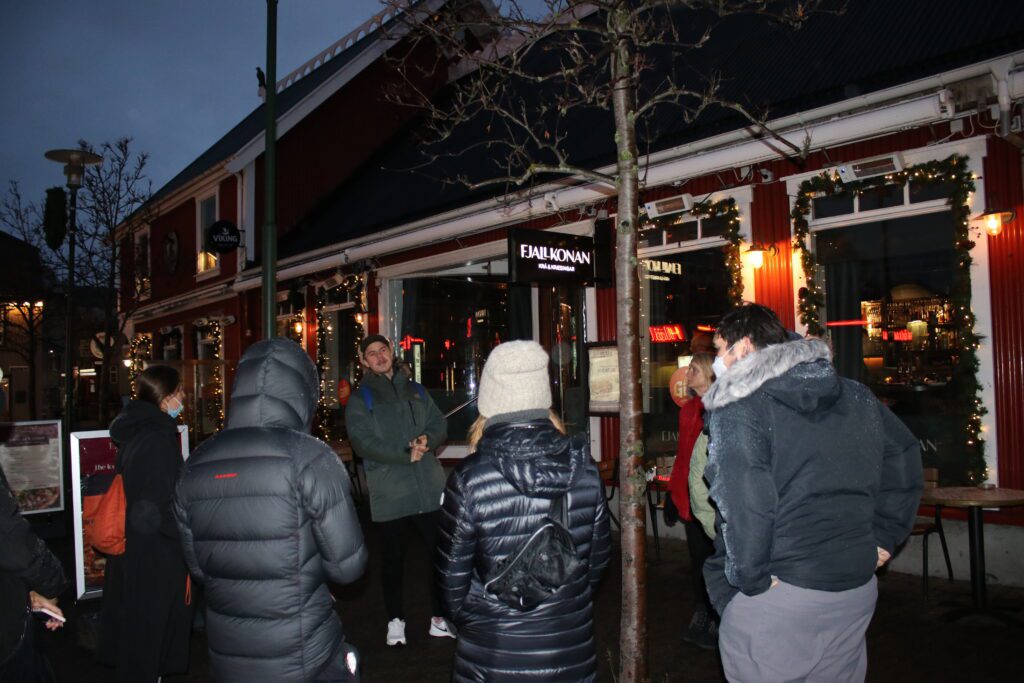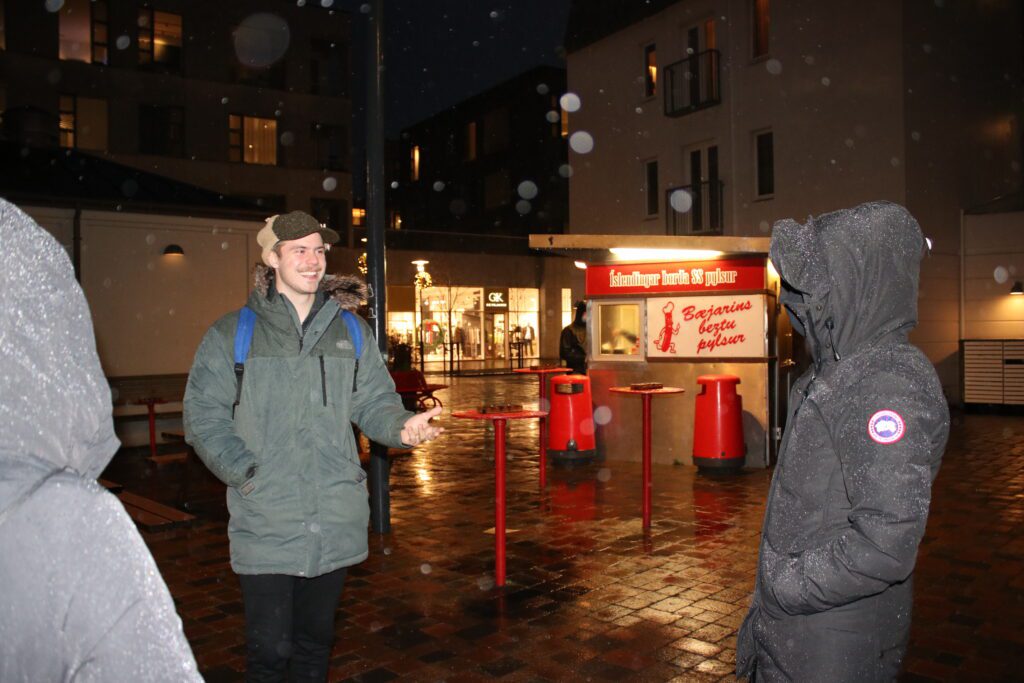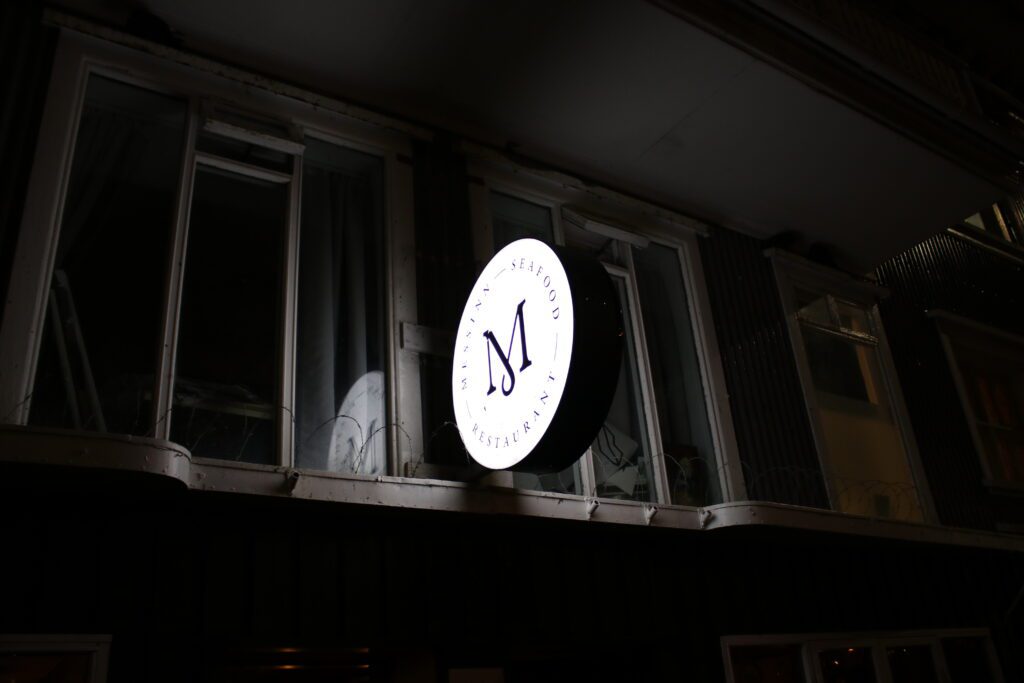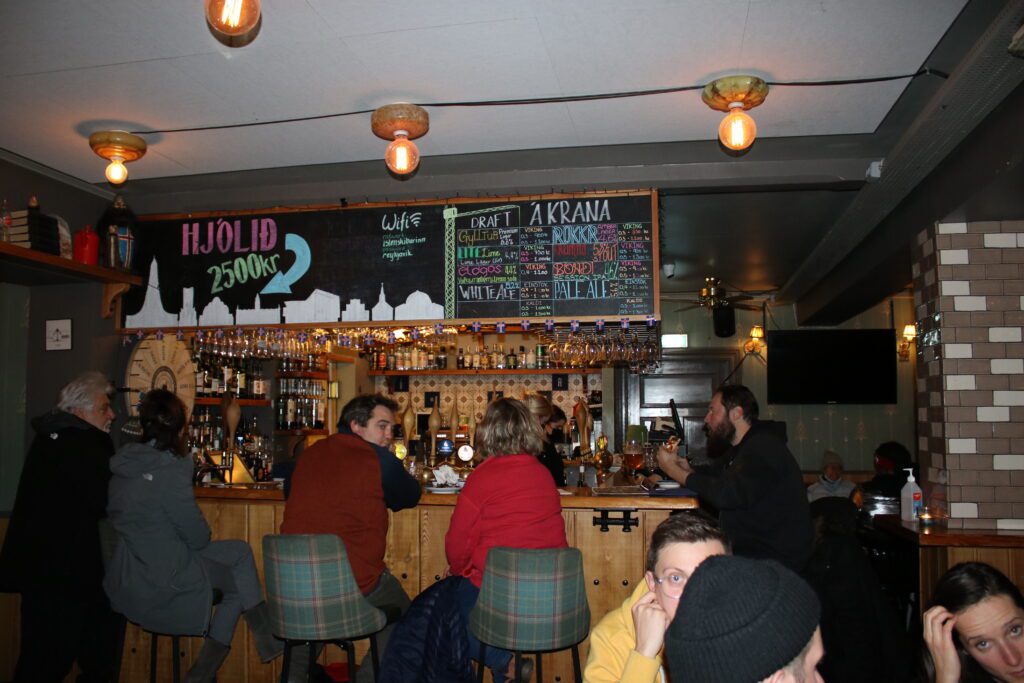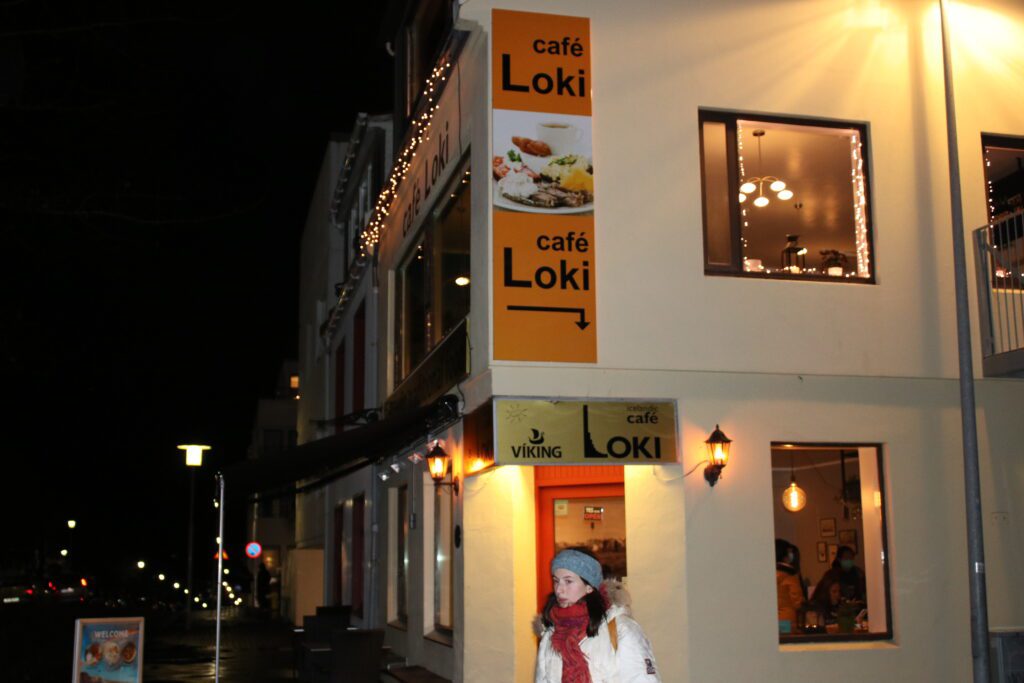 Snorkeling Between the Tectonic Plates
We used Adventure Vikings to snorkel in dry suits at the Silfra Fissure between the North American and Eurasian Tectonic plates. The company picked us up at our hotel at about 9am. We were back in the city by 1pm. It was a very cool adventure. The company does not have towels. You will have to bring your own. We used these fast-drying, easy-to-pack towels.
Located in Thingvellir National Park, the fissure has 34 degree water. We wore long underwear, socks, a full dry suit with boots, hoods and semi-dry gloves. The only thing that was cold on us was our hands. Mine were freezing. You suit up in a parking lot and walk five minutes to the entry point. You are in the water with a guide for about 25 minutes. The water is crystal clear, and you can drink it.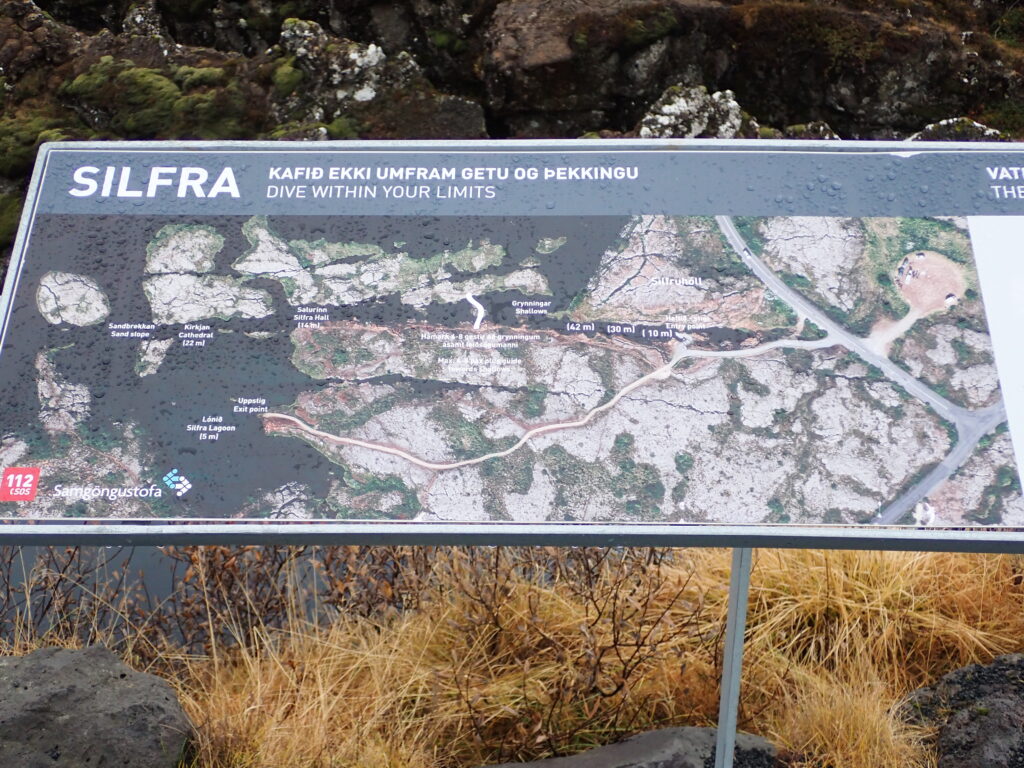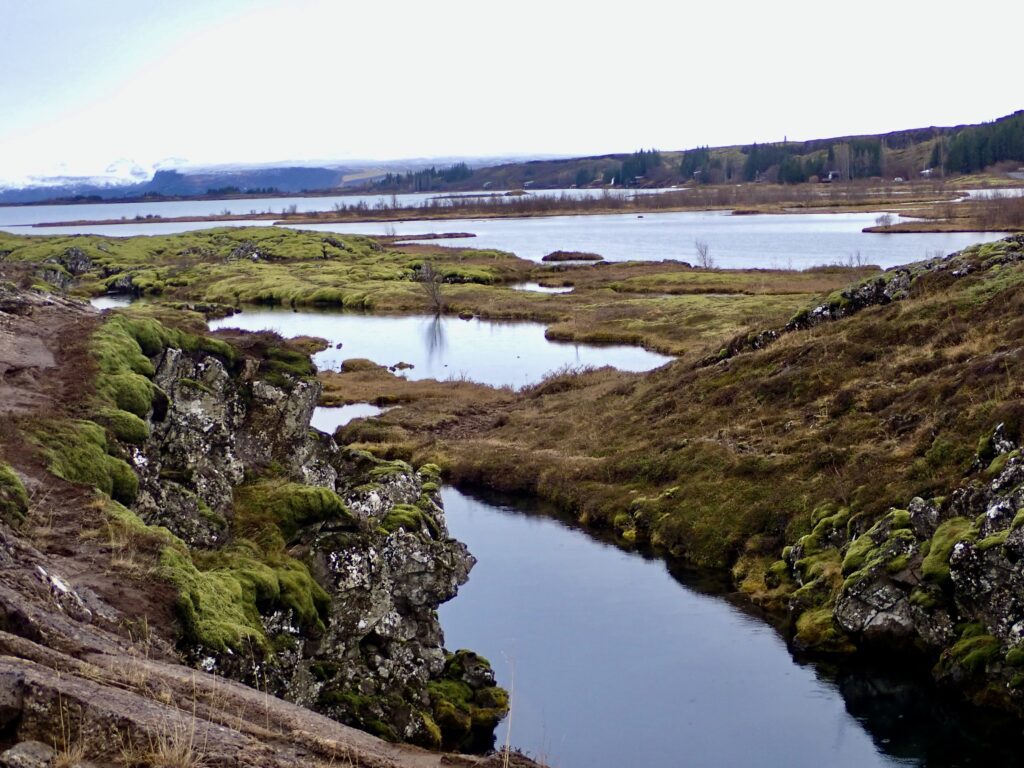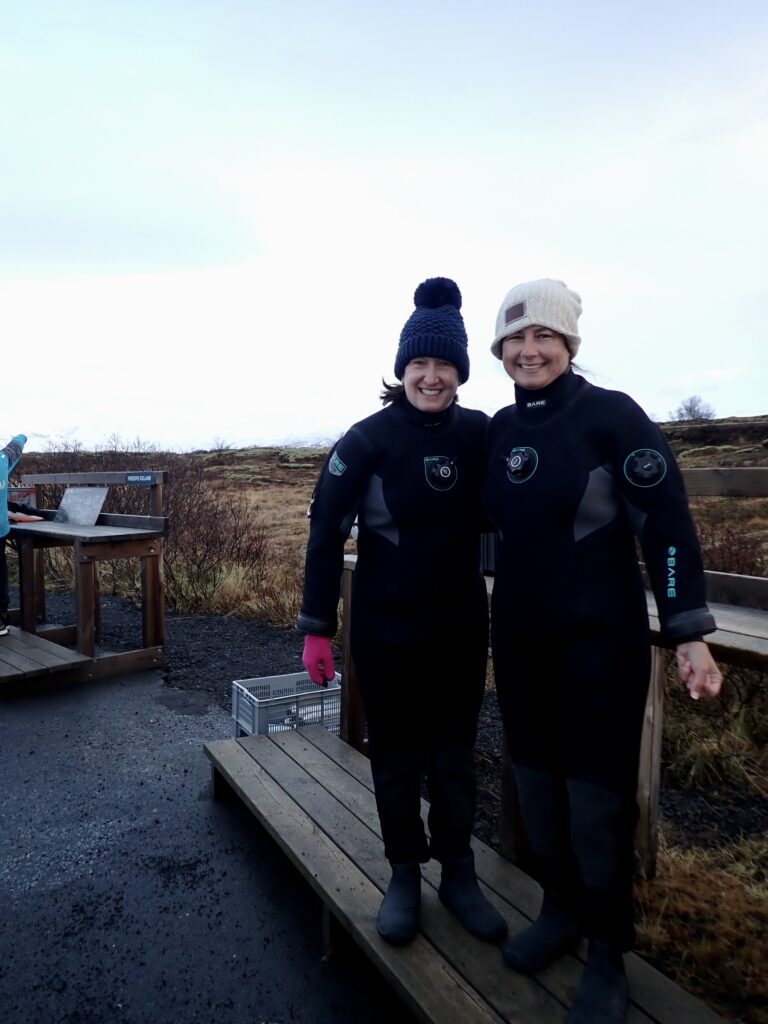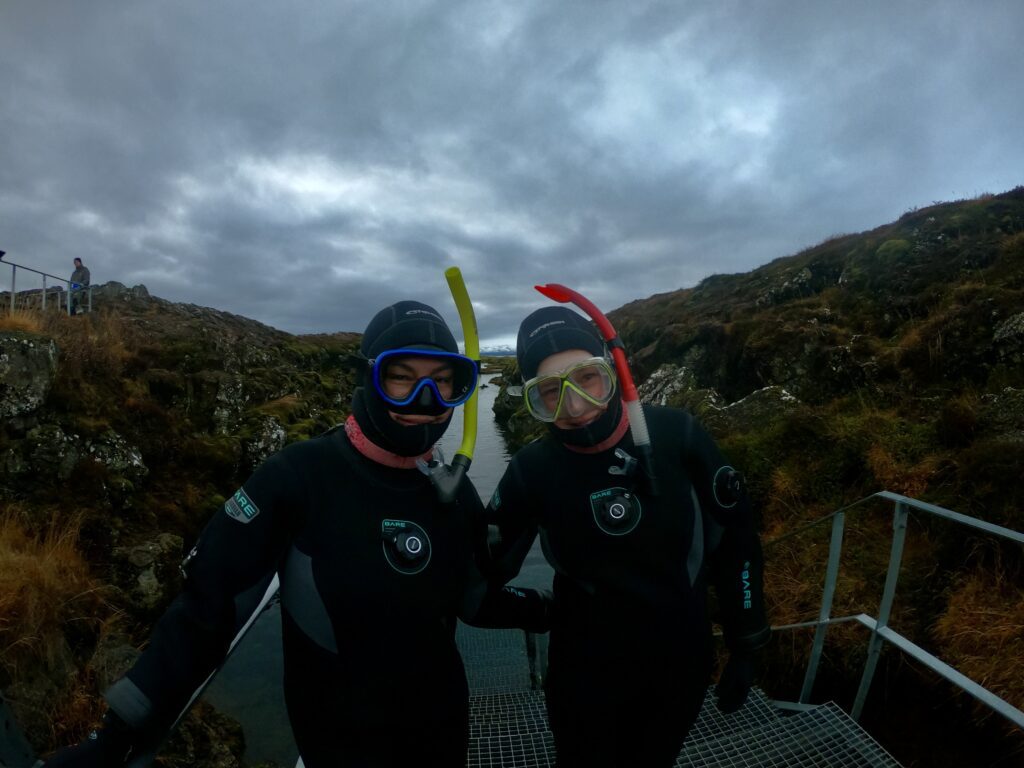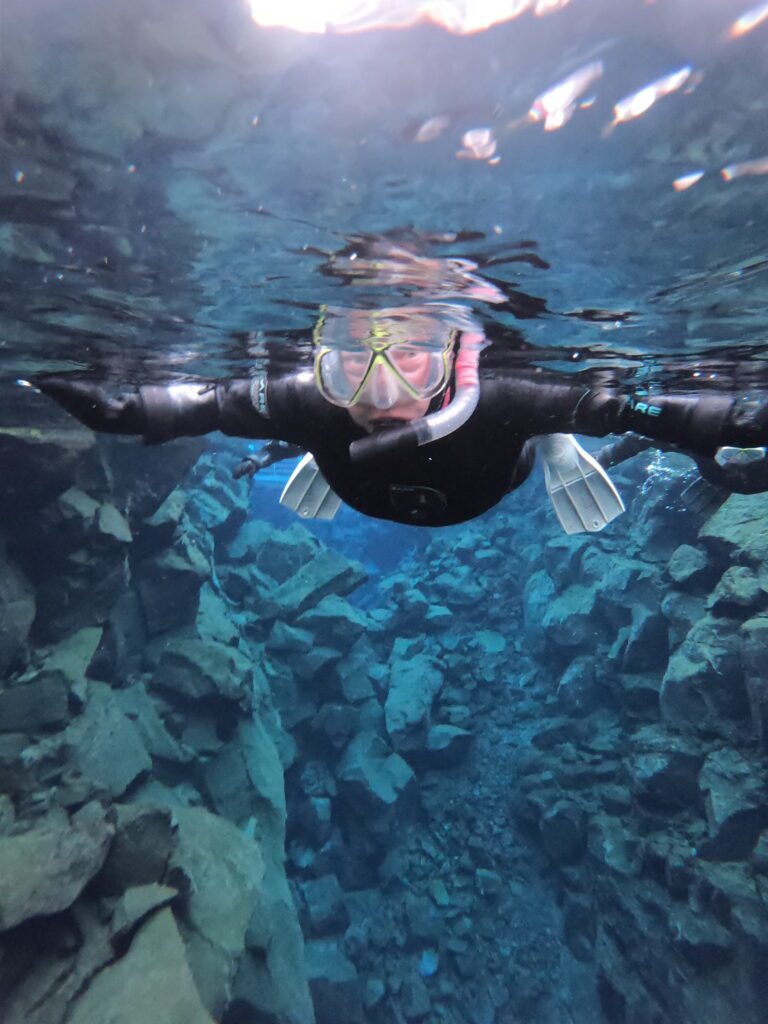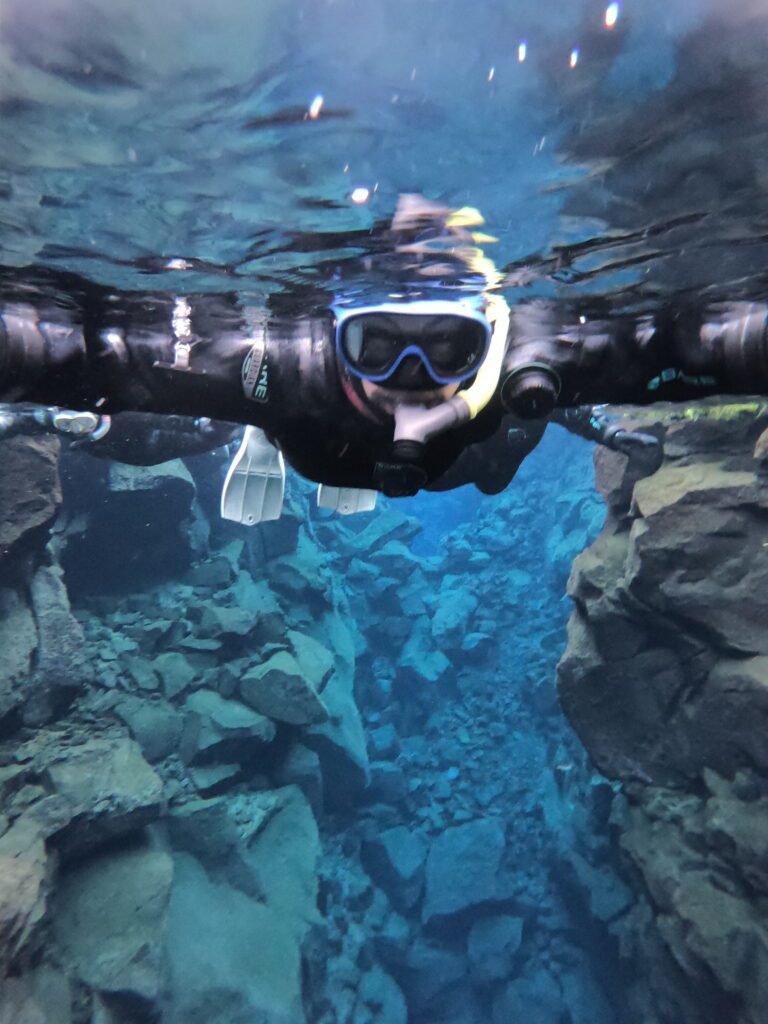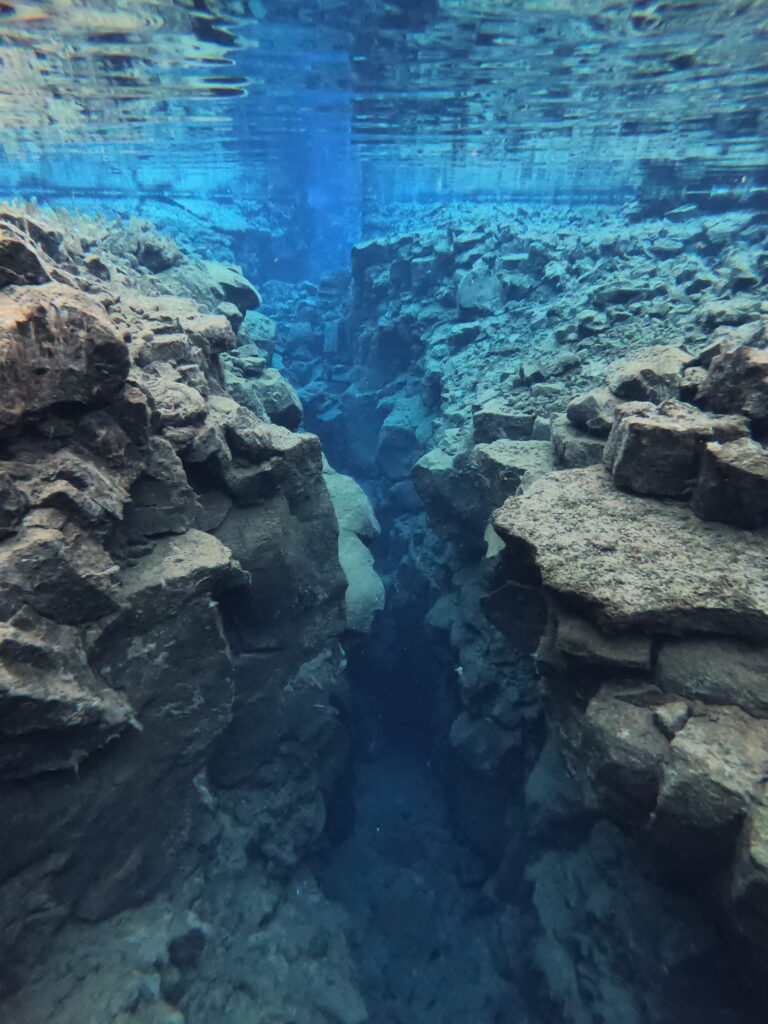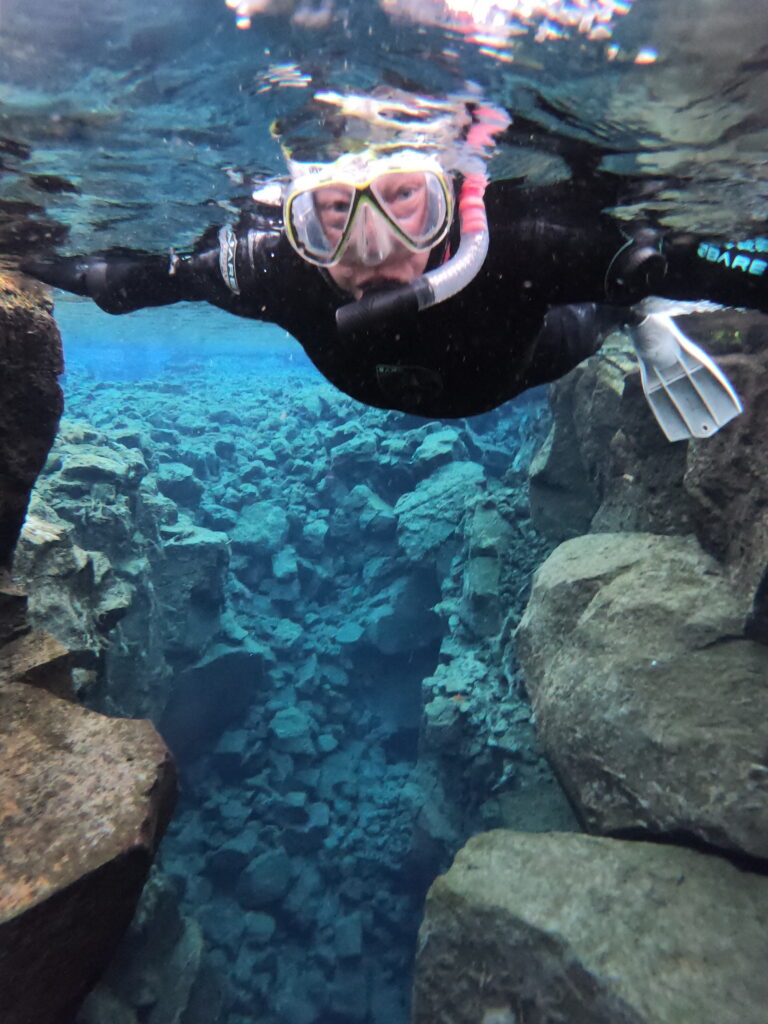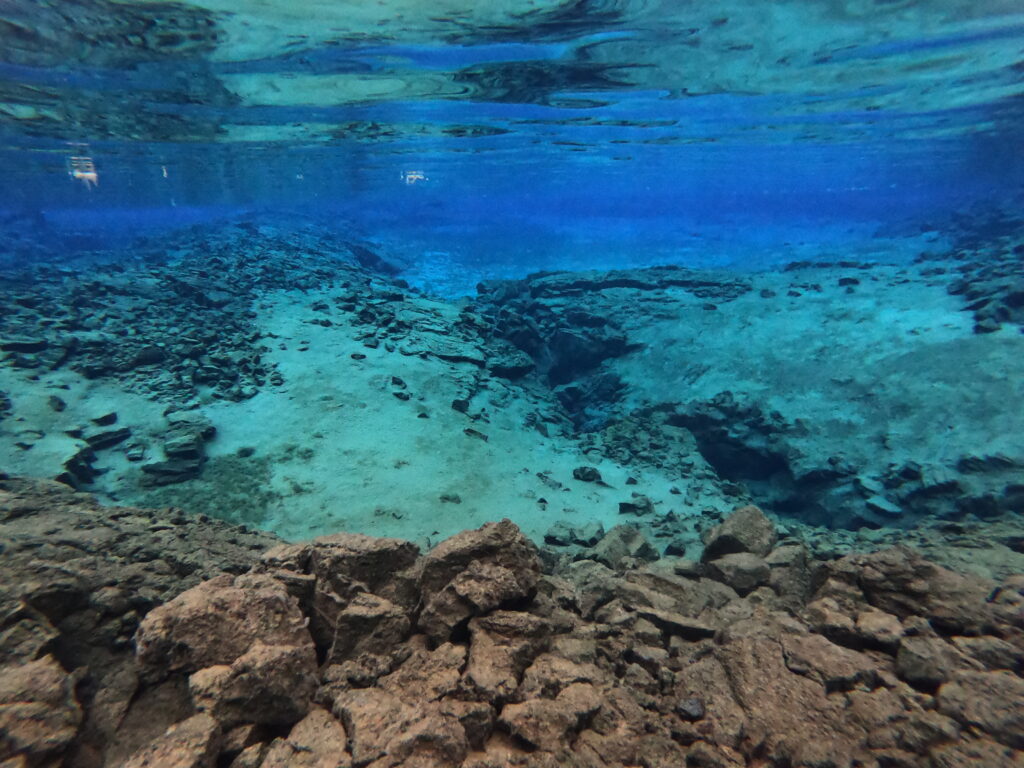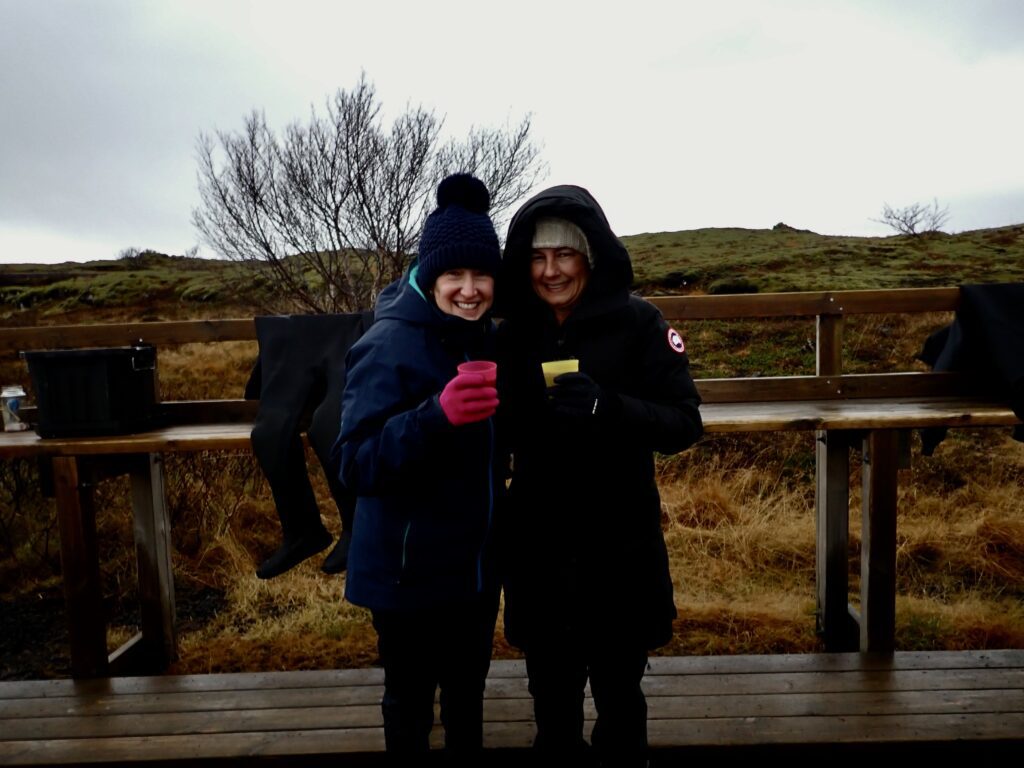 Thingvellir National Park
We joined a tour with Intrepid Travel. We spent four days in the countryside with them, visiting so many interesting places. The driving is not challenging at all in Iceland; however, neither one of us wanted to be the driver, so we joined a tour. We were 12 people total including our guide. Our group was great, and we had a wonderful time. For about $1800, the trip included two nights in Reyjavik at the start and end of the trip and three nights in guesthouses around the countryside, a full time guide/ driver, an ice cave adventure and breakfast each morning. We had to pay for lunches and dinners.
Our first stop was Thingvellir National Park to see the lake and to walk between the tectonic plates and to admire the waterfall. This was the site of Iceland's first parliament. It was a chilly, but wonderful stop. We could see the fissure we had snorkeled in the day before.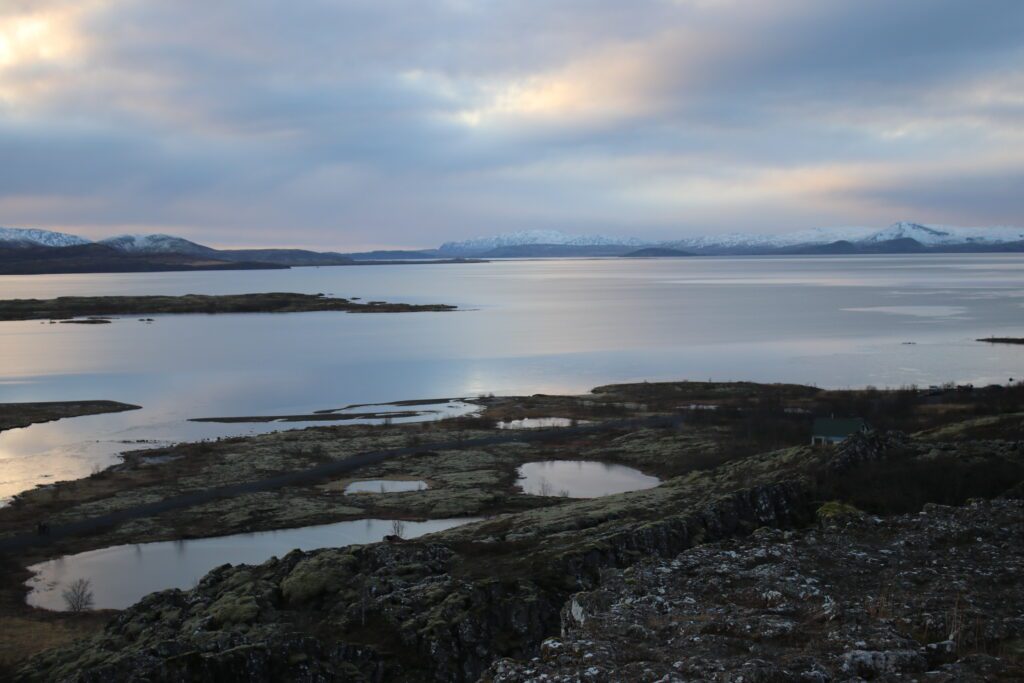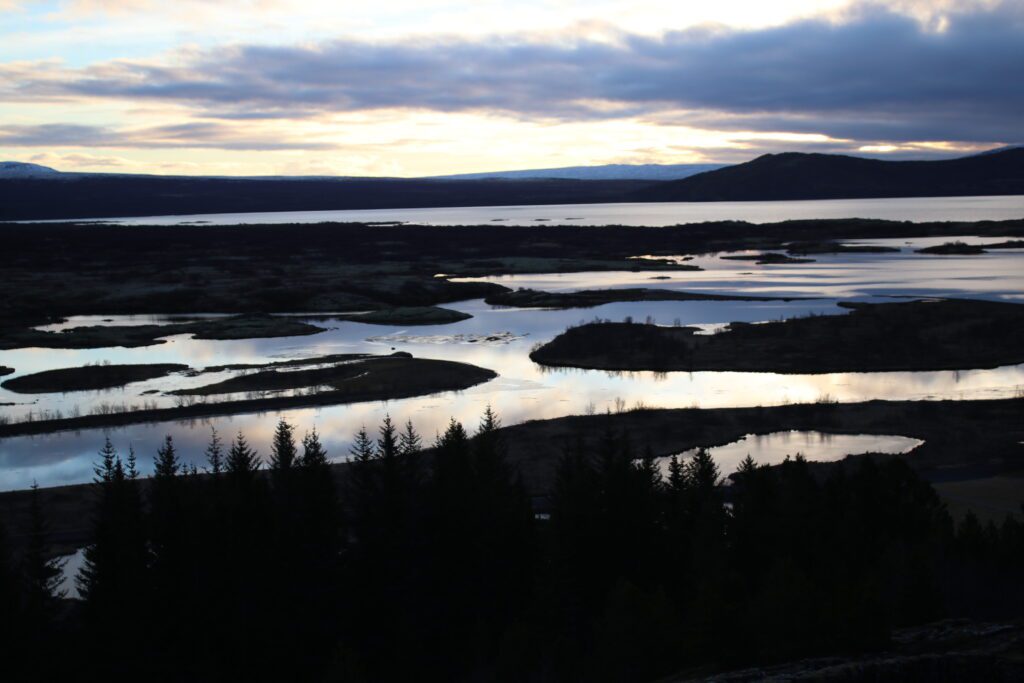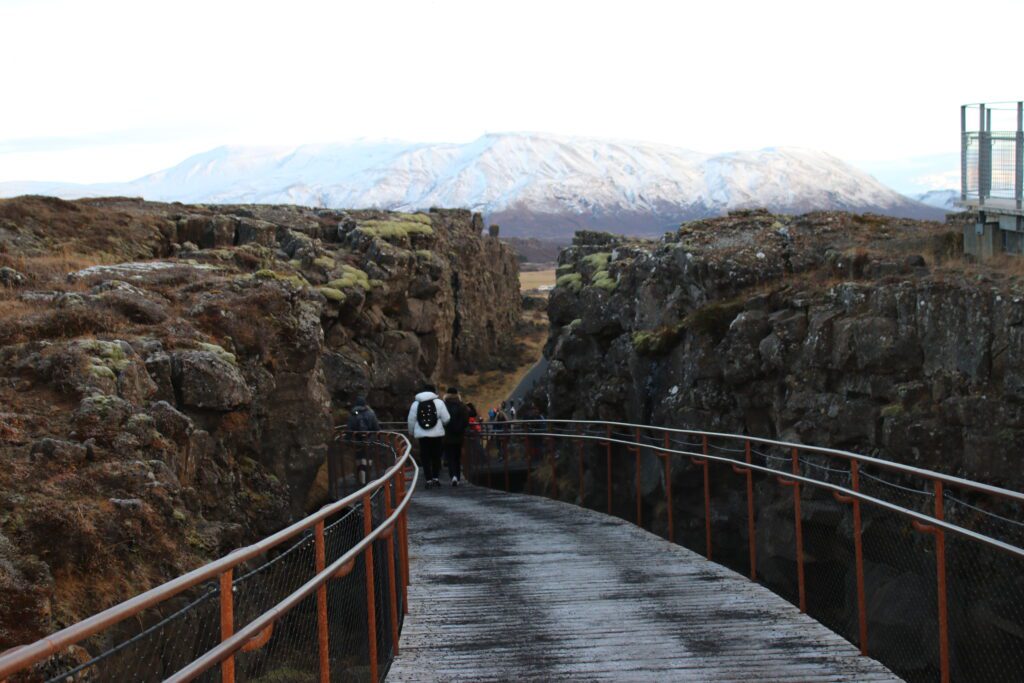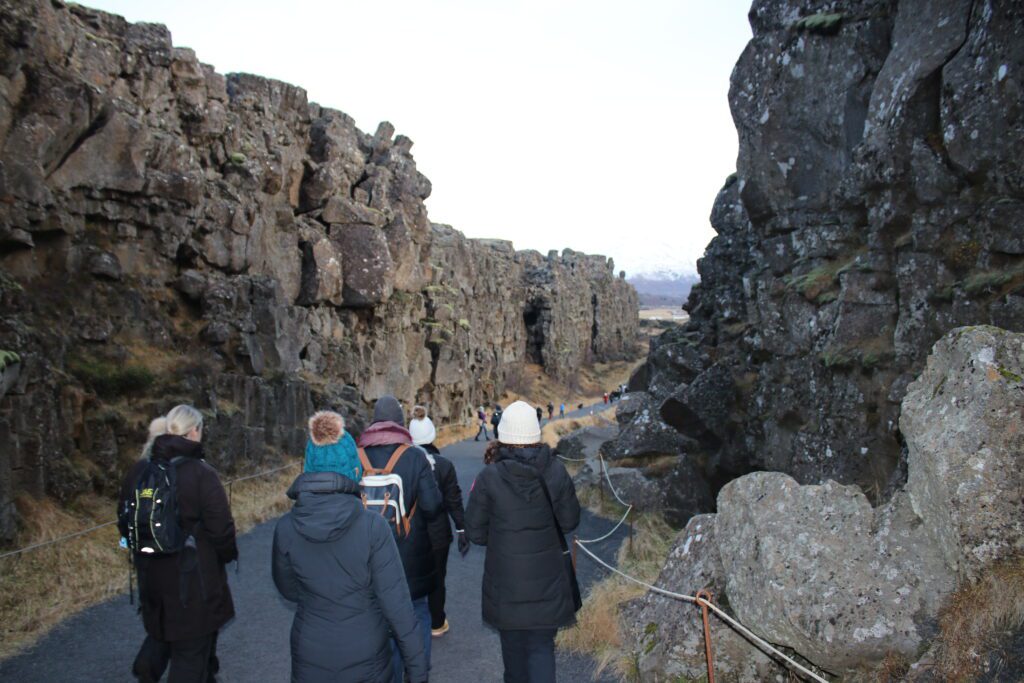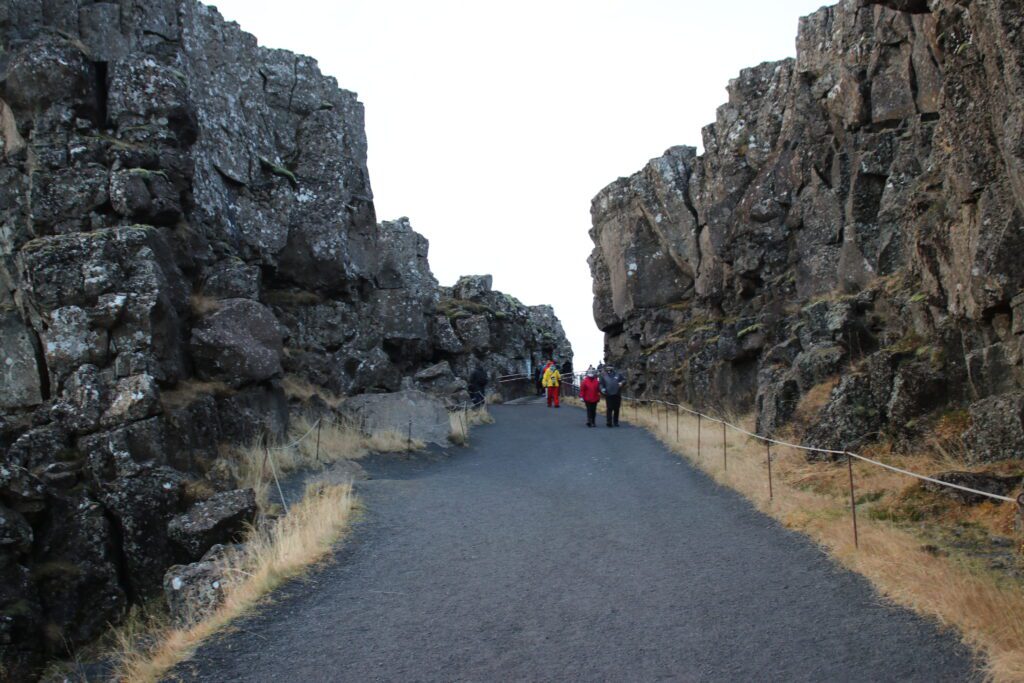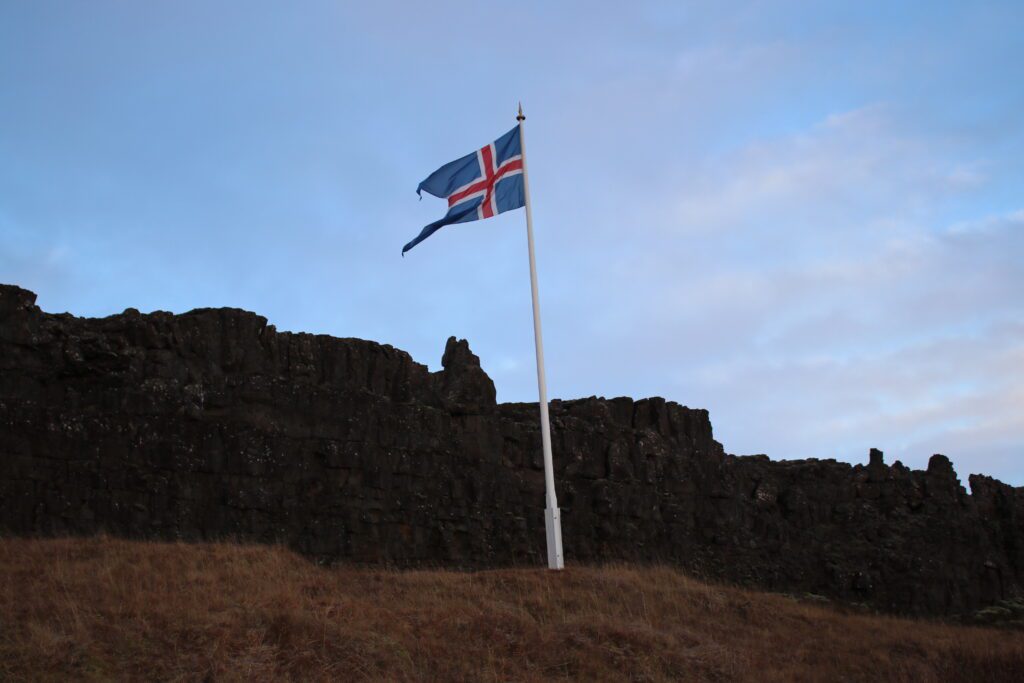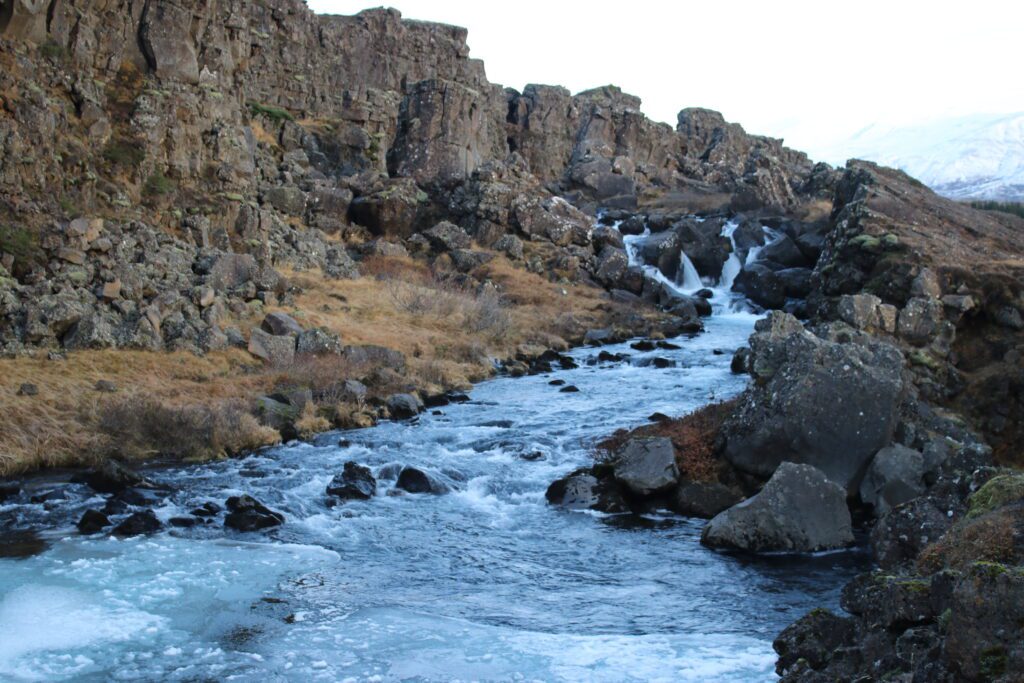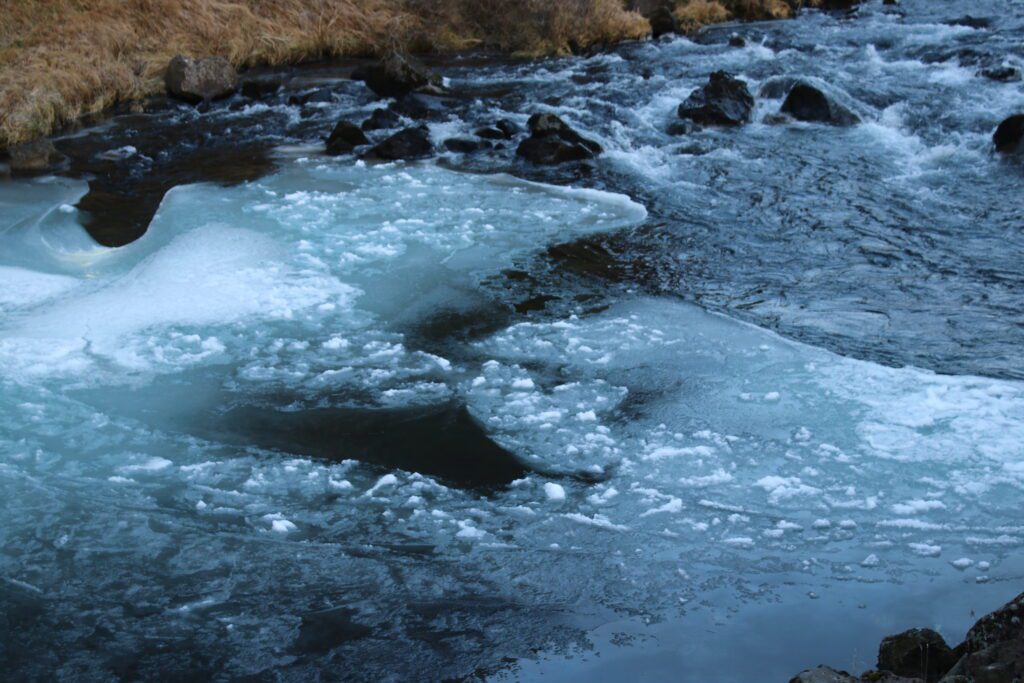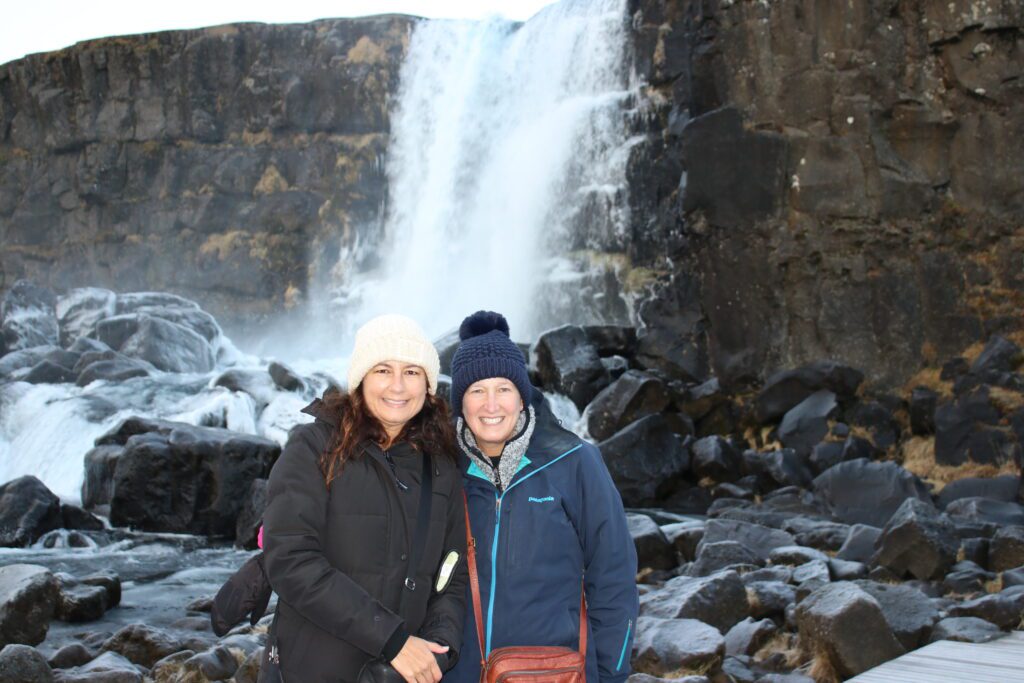 Gulfoss
Gulfoss or the golden waterfall was probably my favorite. There are tons of day trips that take you to the Golden Circle in Iceland. The Golden Circle gets its name from Gulfoss. It was extremely windy when we were here. We saw rainbows and ice from three different viewing areas. There was a lovely gift store and a nice restaurant. We did not eat here though. This stop is highly recommended.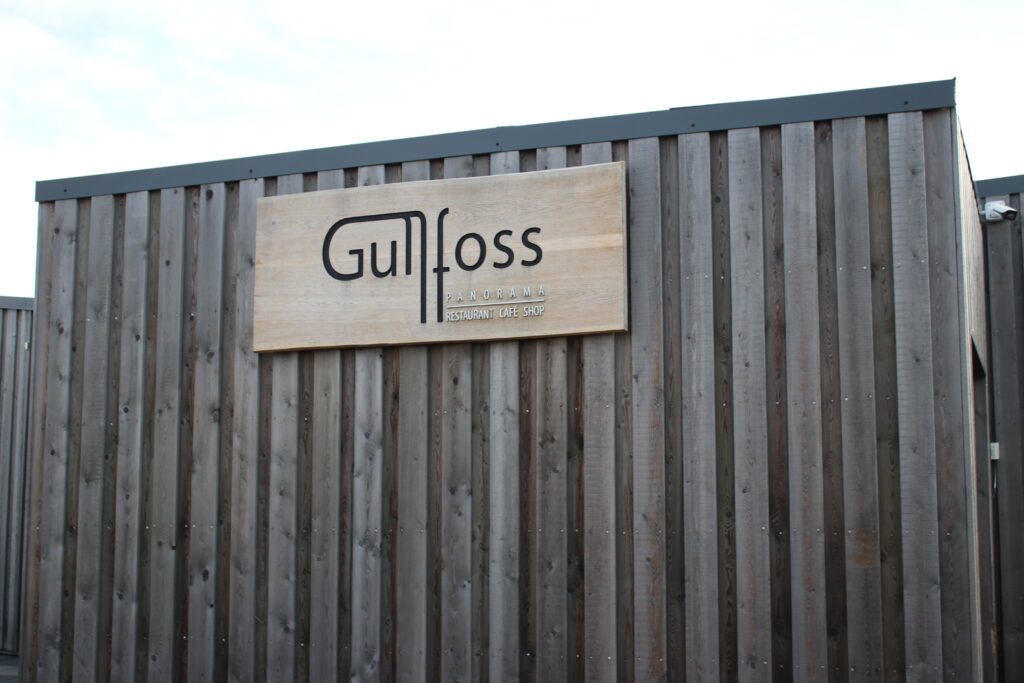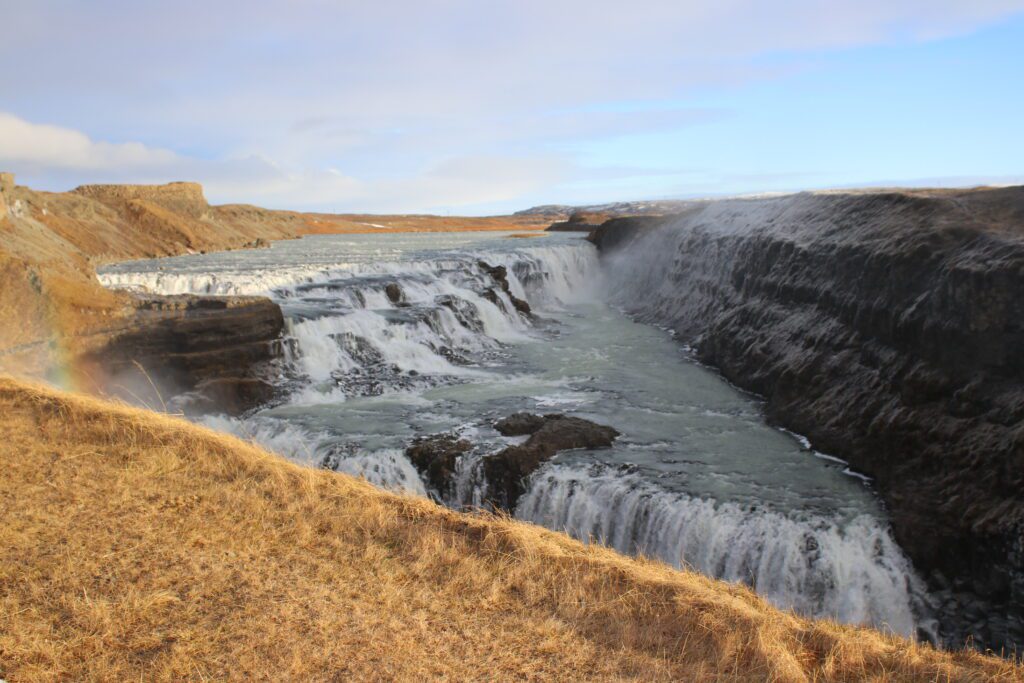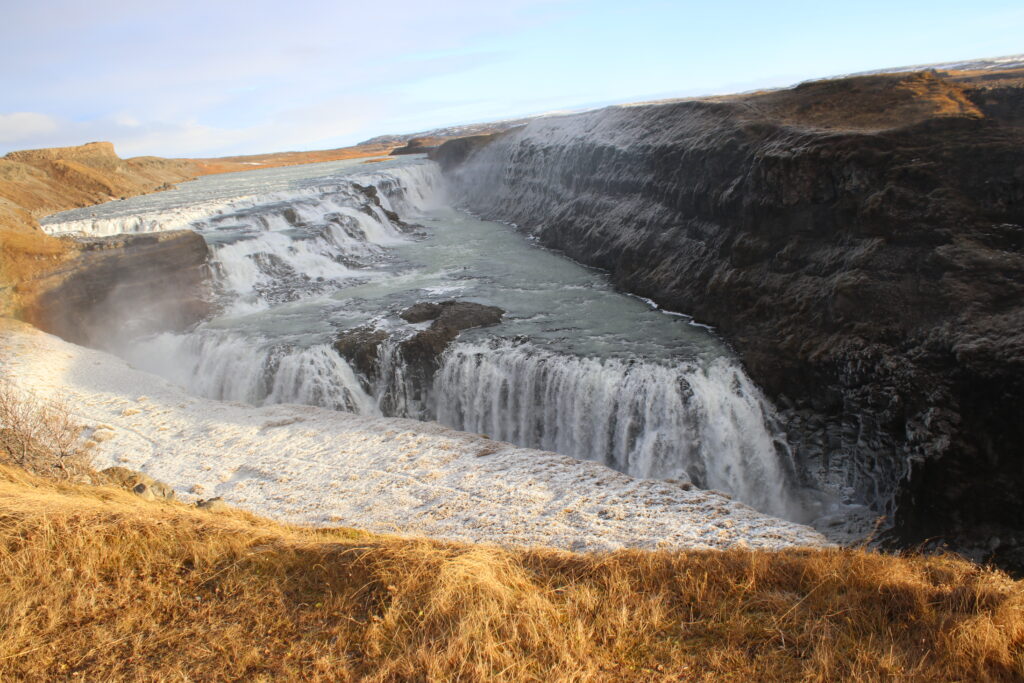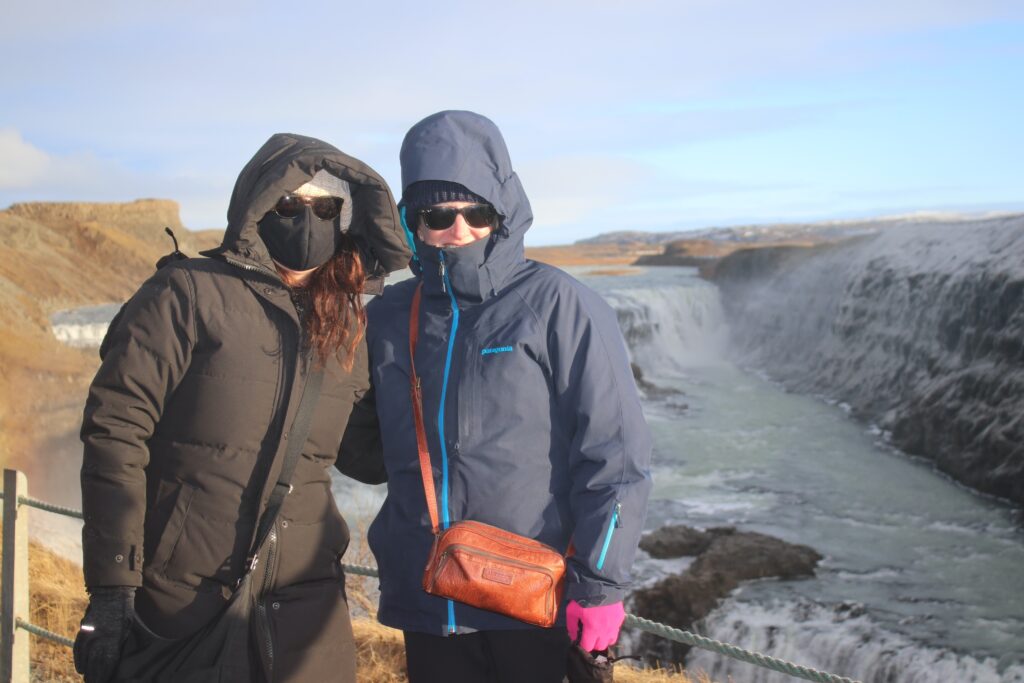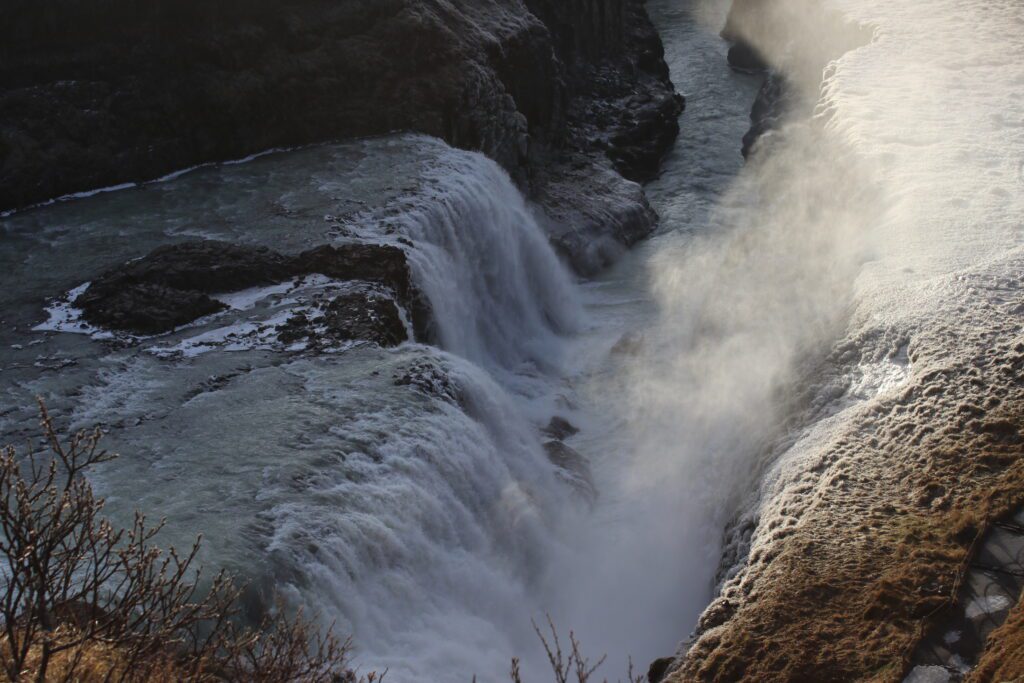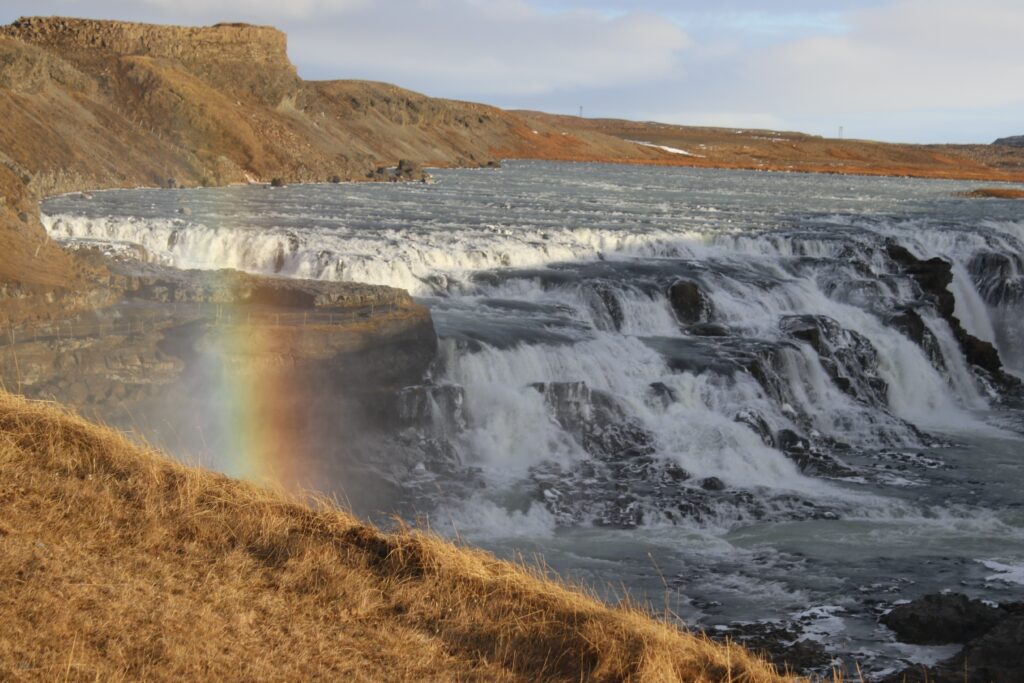 Geysir
The Geysir geothermal area is also fascinating. It is just a few miles away from Gulfoss. There is a lovely retail store and an amazing, amazing cafe along with a small hotel and a gas station. We spent about 90 minutes here, walking around and eating. The food was terrific and the sites were impressive.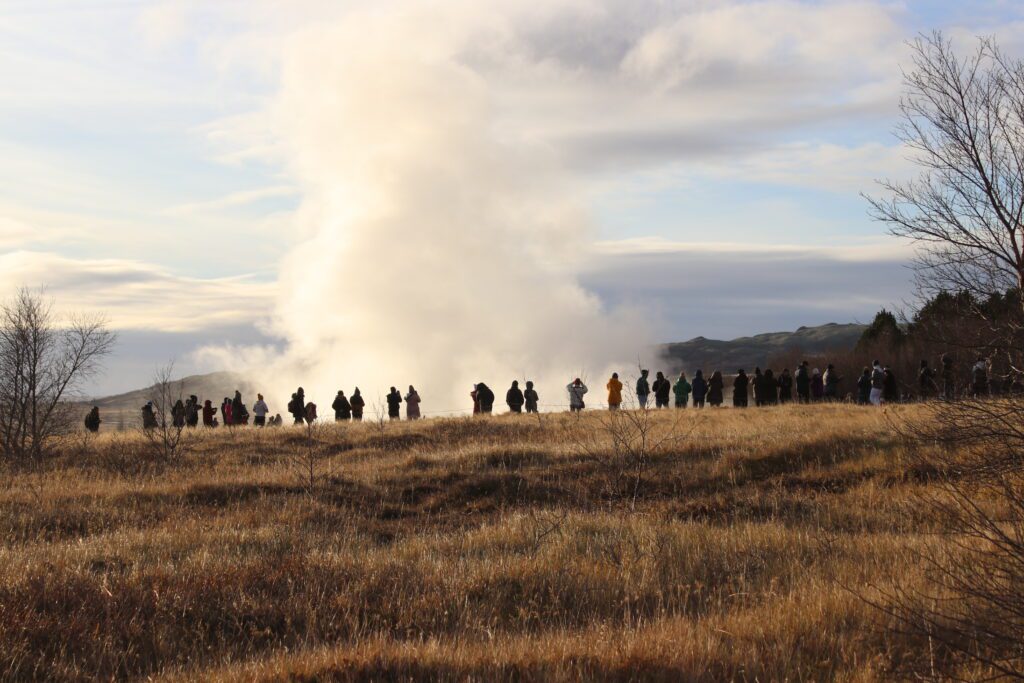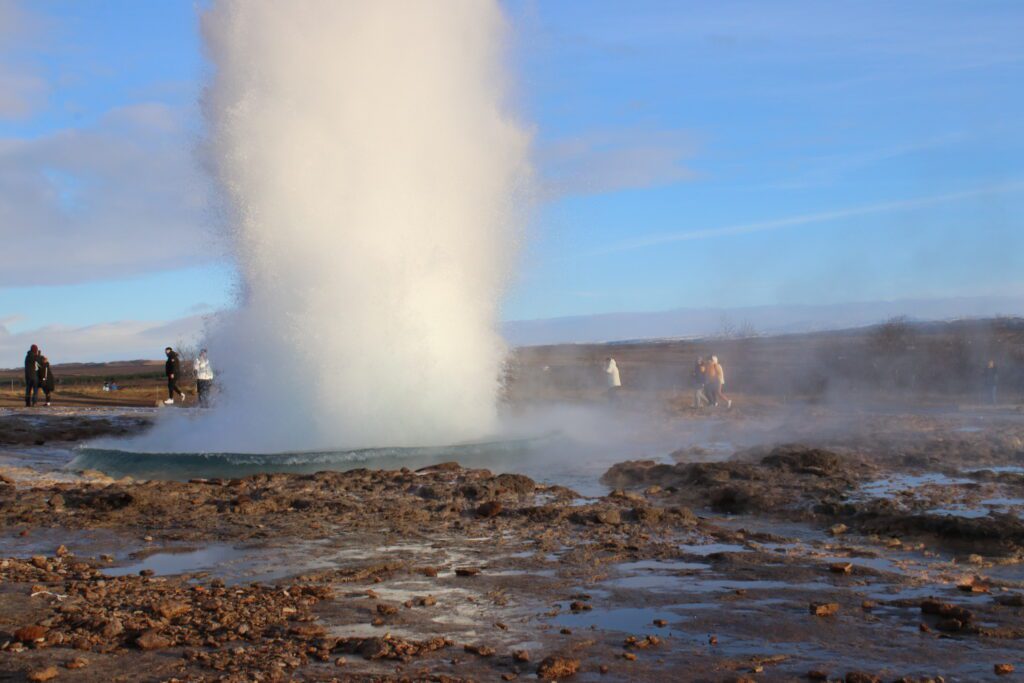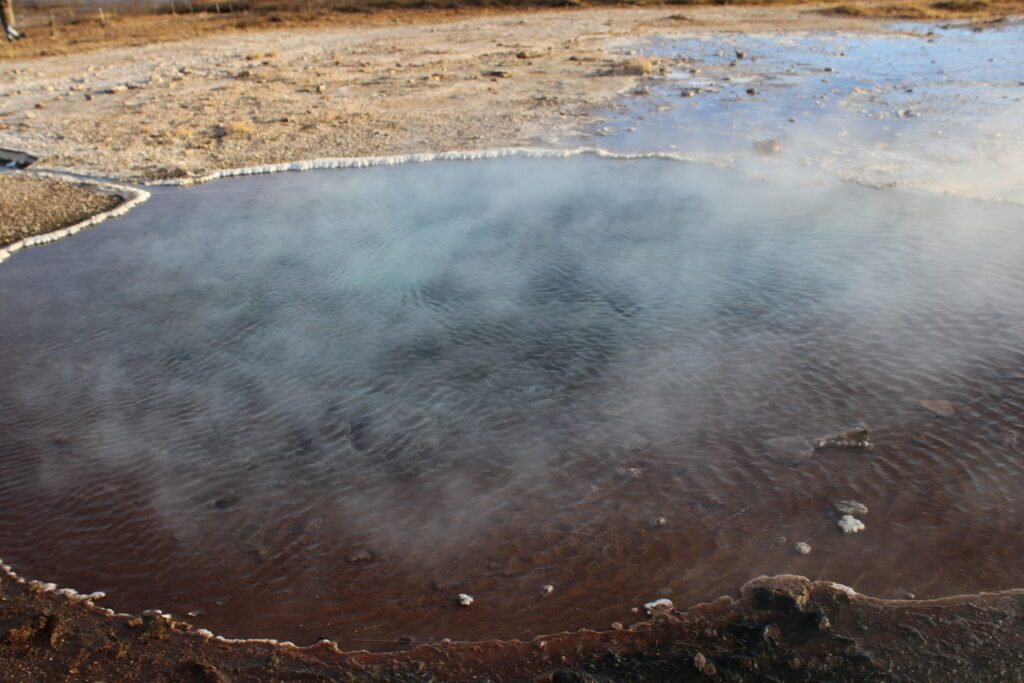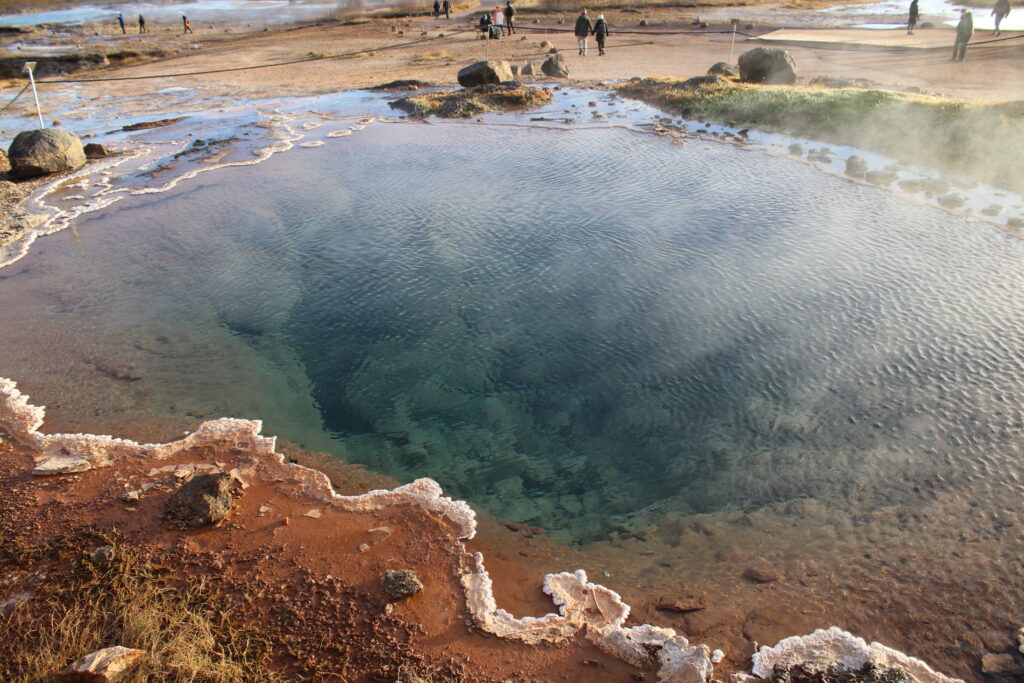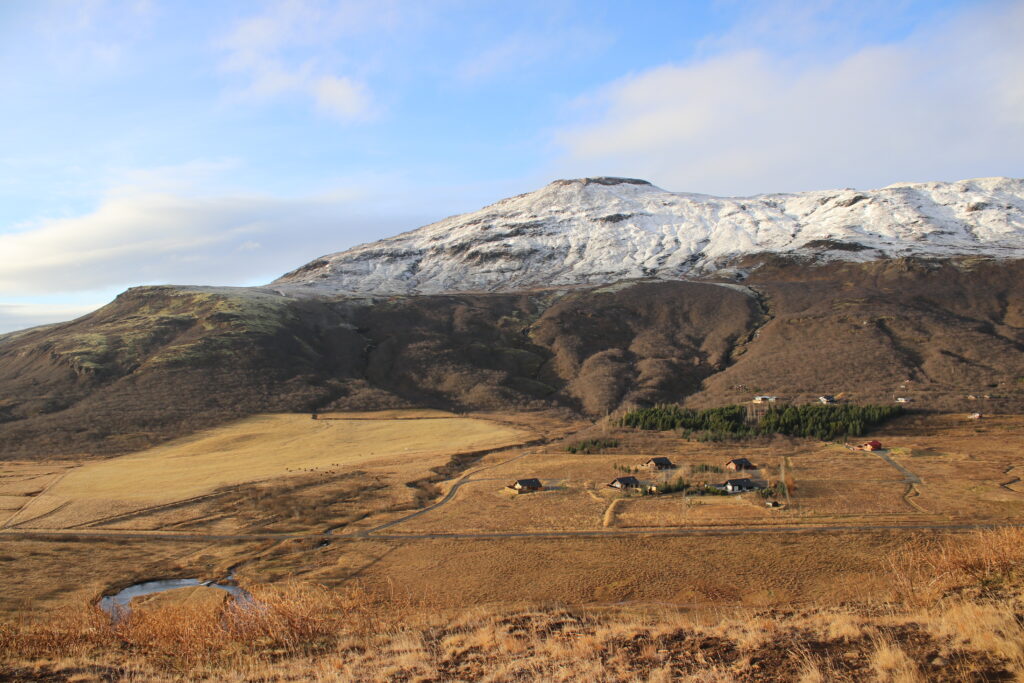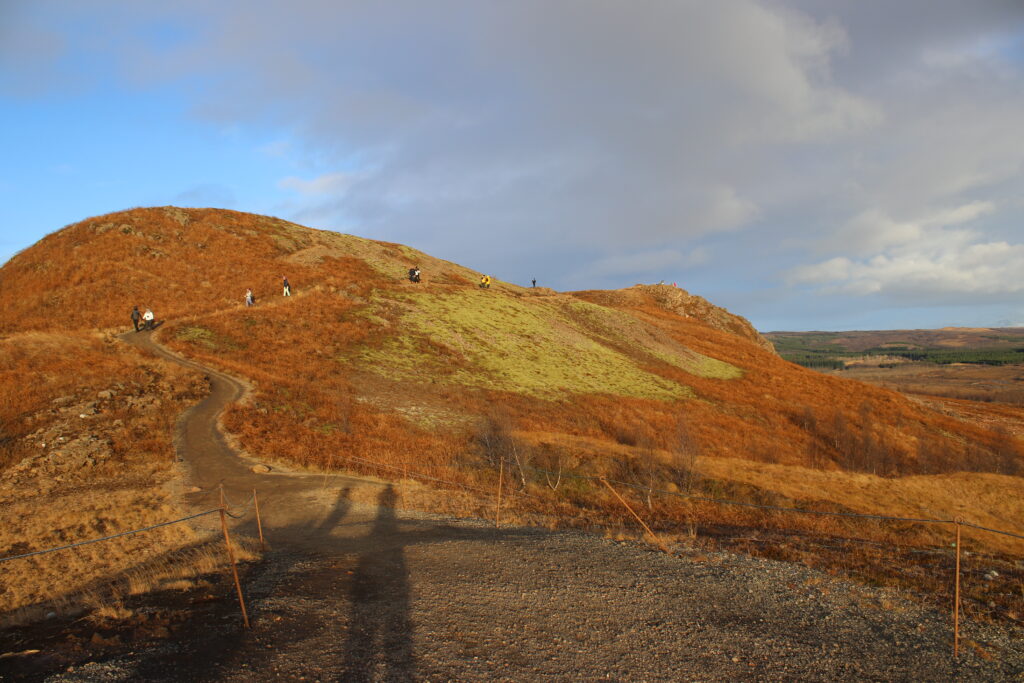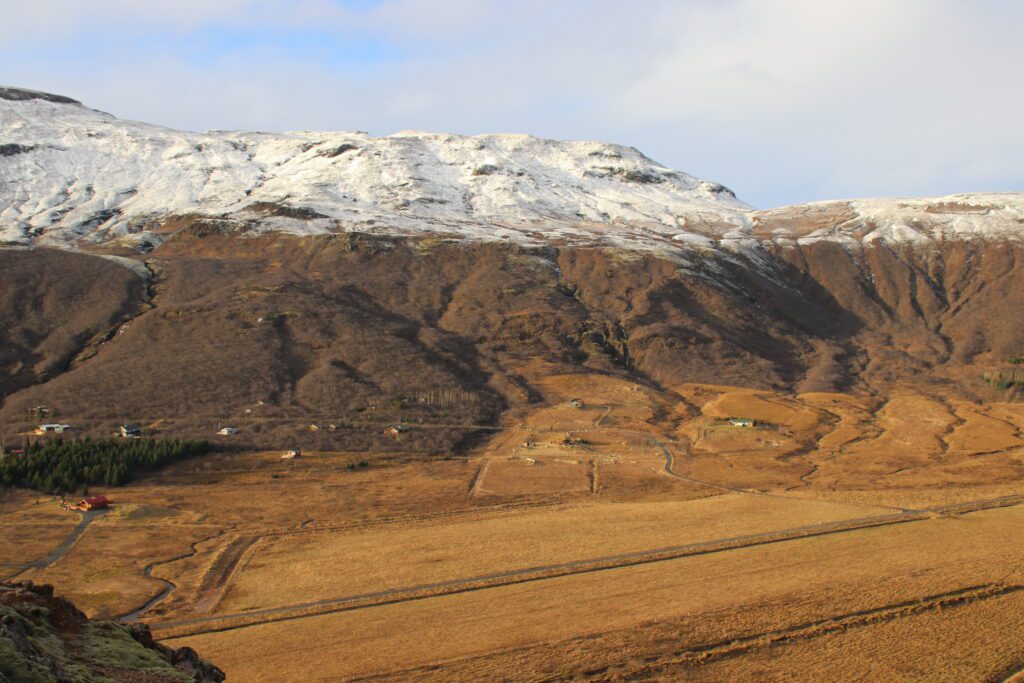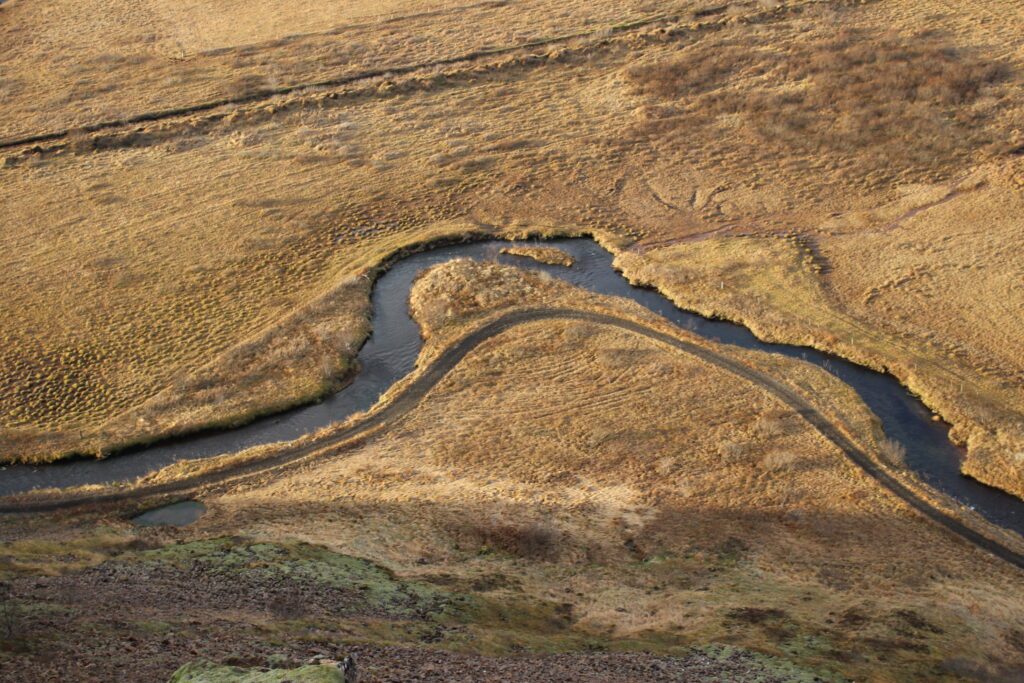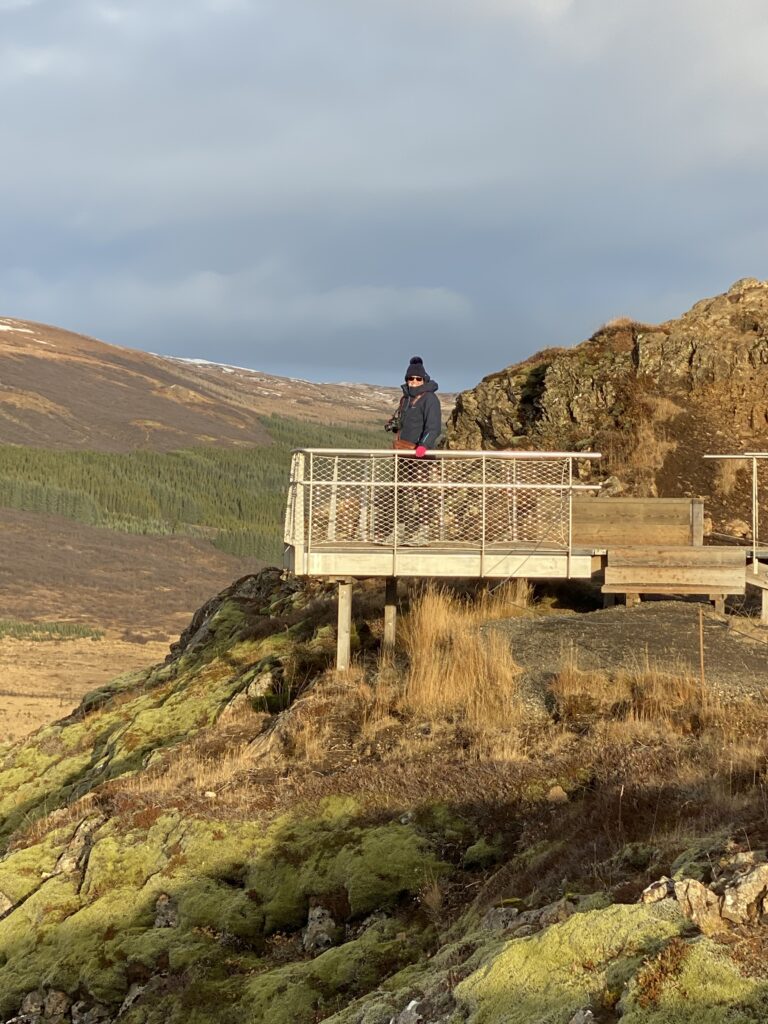 Urridafoss
On our way to our guest house, we stopped at a lovely waterfall called Urridafoss. Apple Maps can get you there. A path to get closer to it was under construction, but we had a decent view. It was very pretty.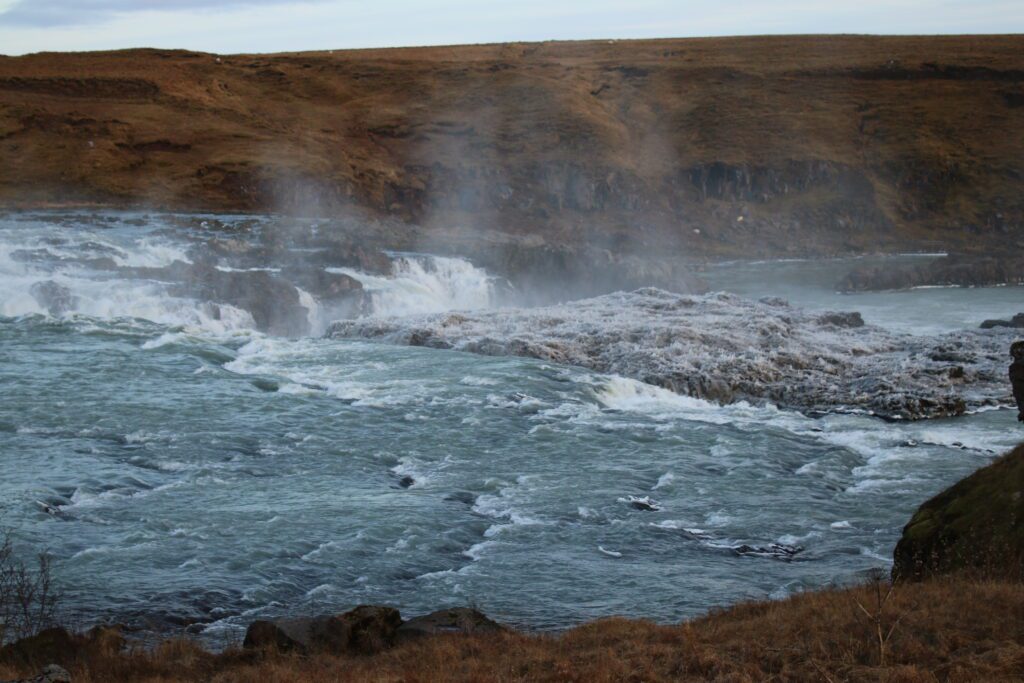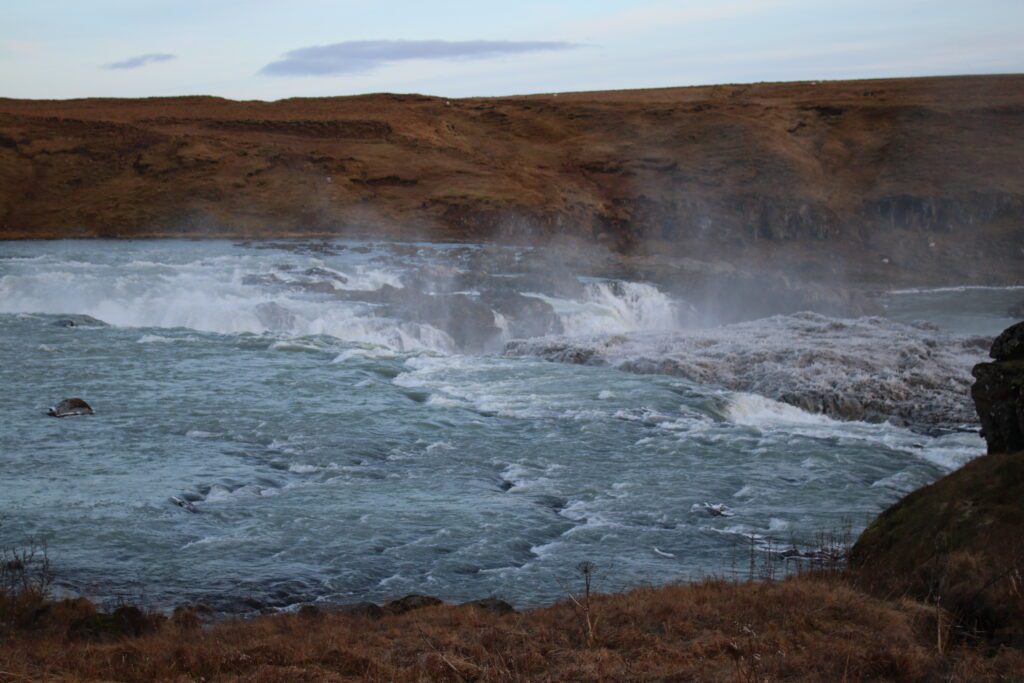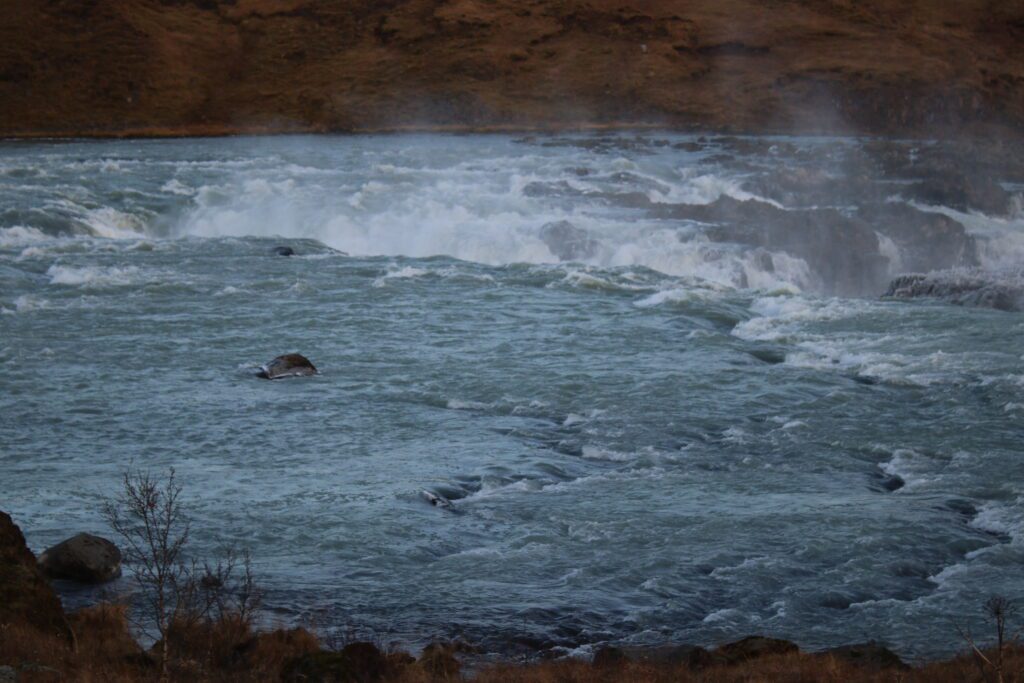 Hotel Fljótshlíð
We stayed at a working farm, Hótel Fljótshlíð . It was small, rustic and charming. They have an onsite restaurant called The Barn. The dinner we ate was very good and fresh. Dinner and drinks were not too expensive. Breakfast in the morning was delightful.
Our room was very warm with two twin beds and a bathroom with a shower. Michele enjoyed our one night here.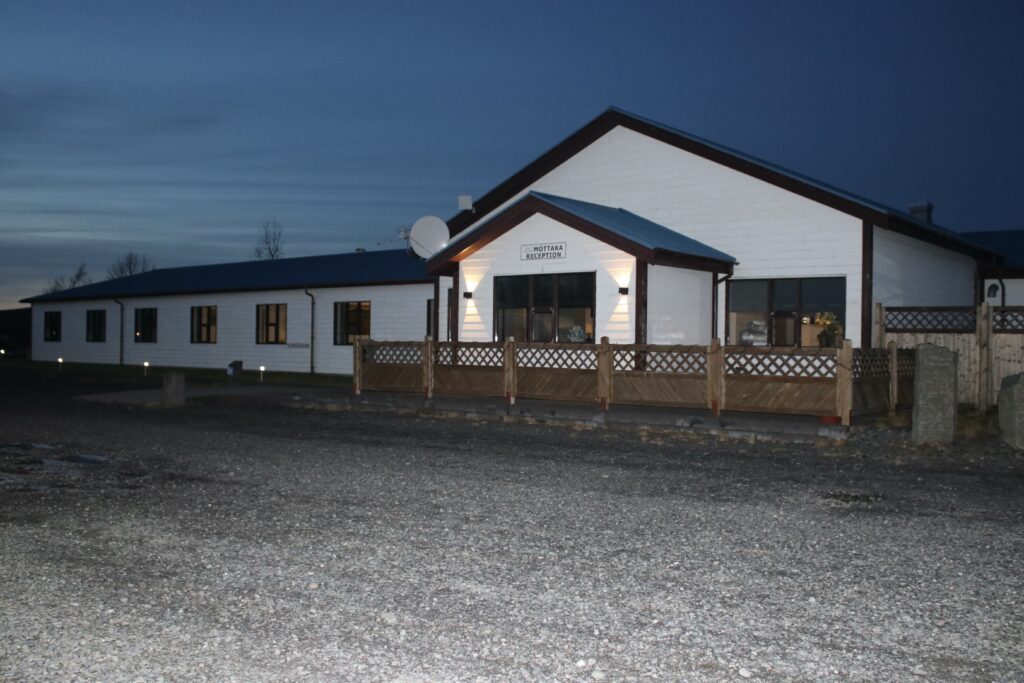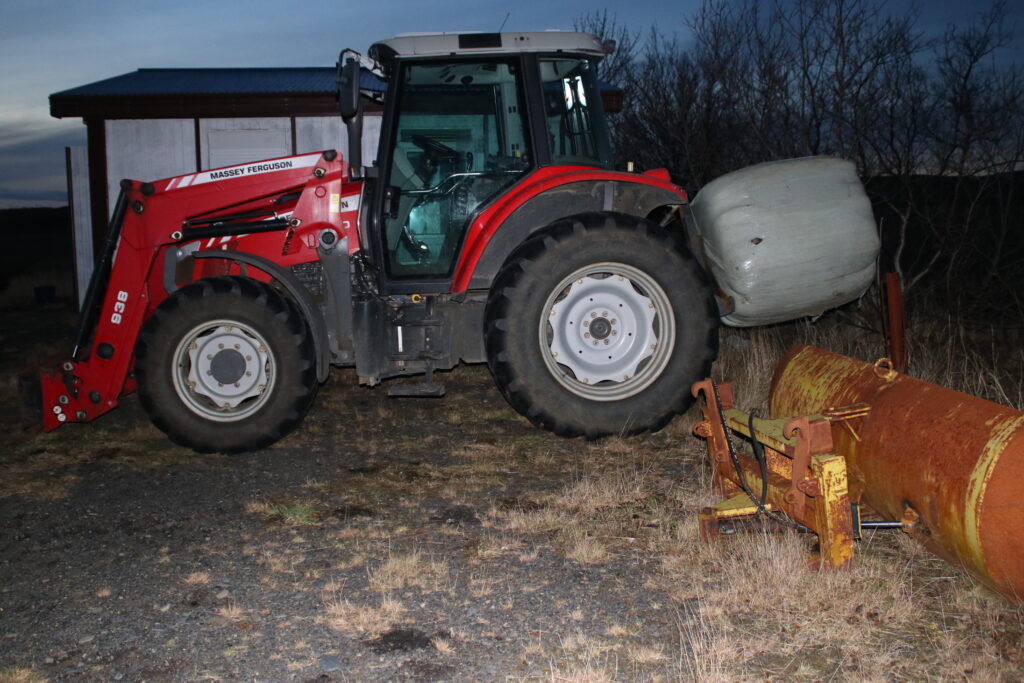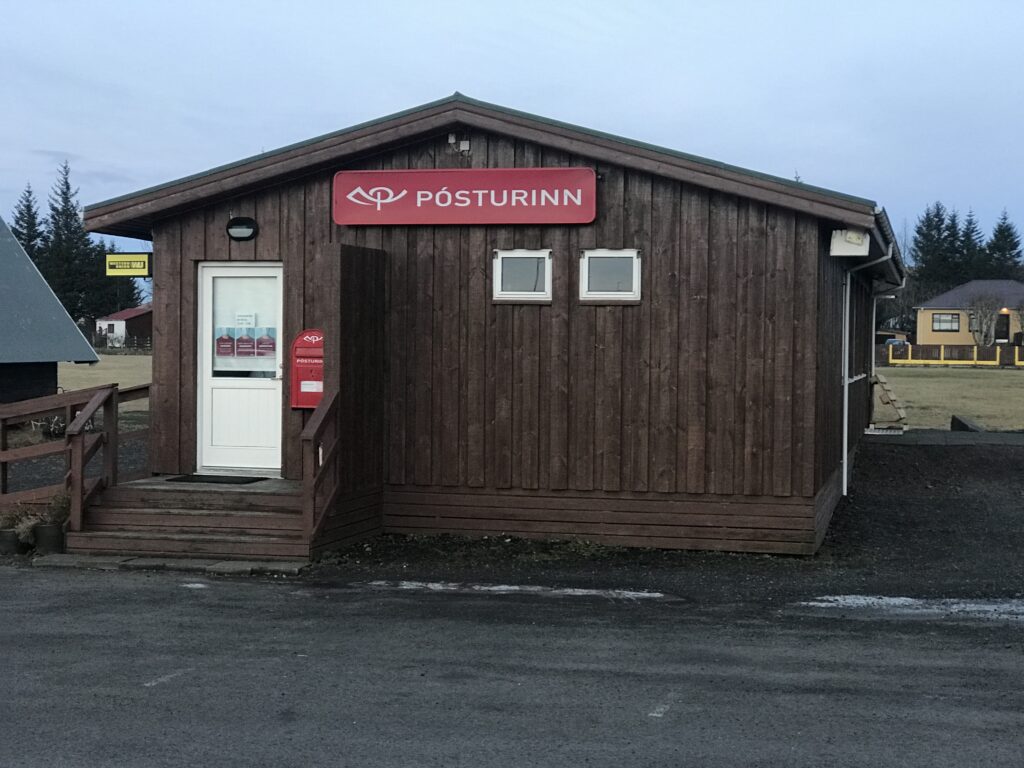 The Northern Lights
If you want to see the Northern Lights in Iceland, you have to be really lucky. They can be very elusive. They typically come out late at night, when the moon is dim, when it is very cold and only in the winter. We stayed up until 1am and finally got a tiny glimpse of them. On this night, the photos were actually better than our eyes. The phones and cameras capture the green of the lights before your eyes can. What we saw appeared almost white and glowing rather than green. We had fun trying to spot them! Some hotels will wake you up when they appear. Ours did not. There are many free apps that can tell you where and when your chances of seeing them may occur. We only saw them once.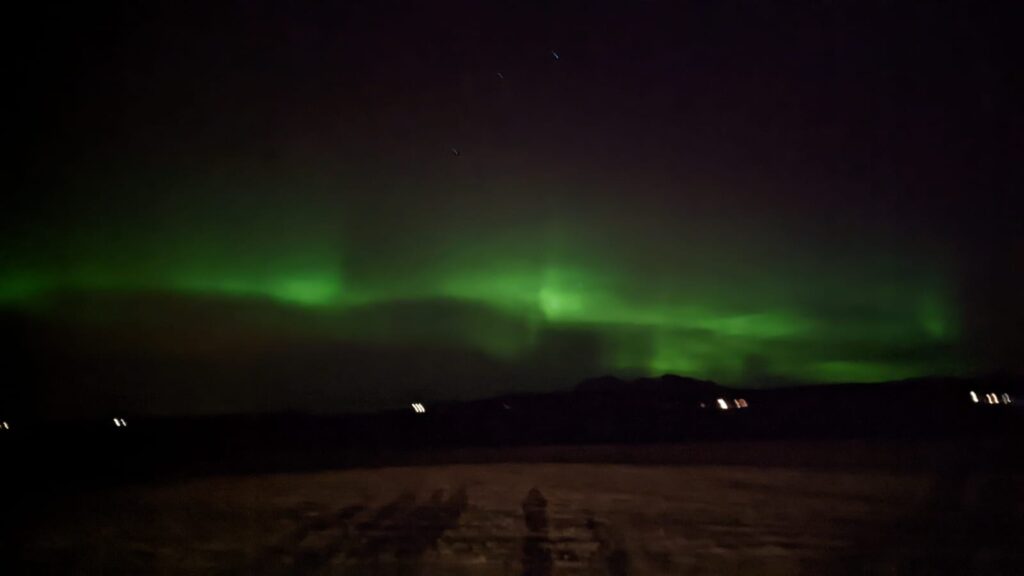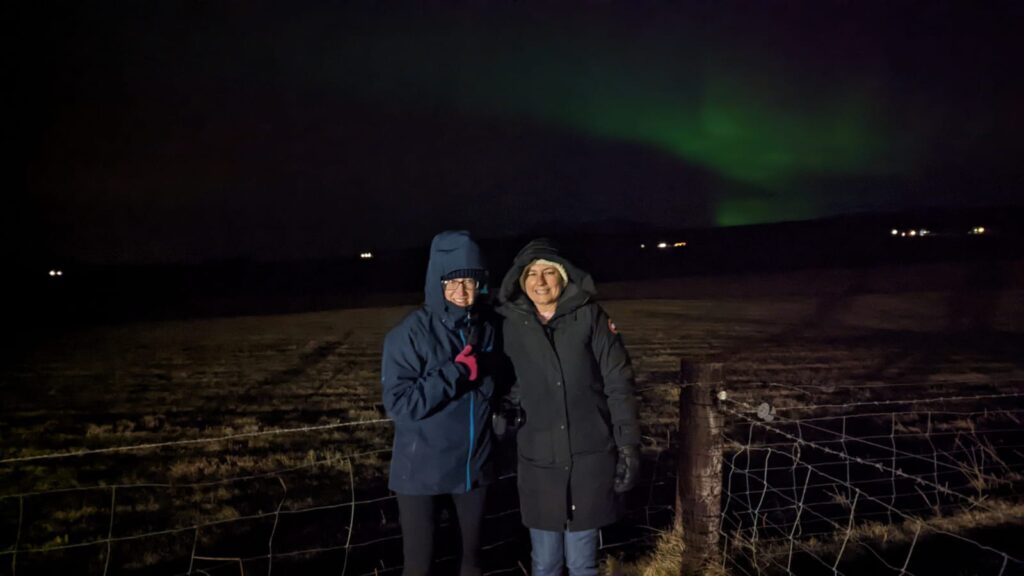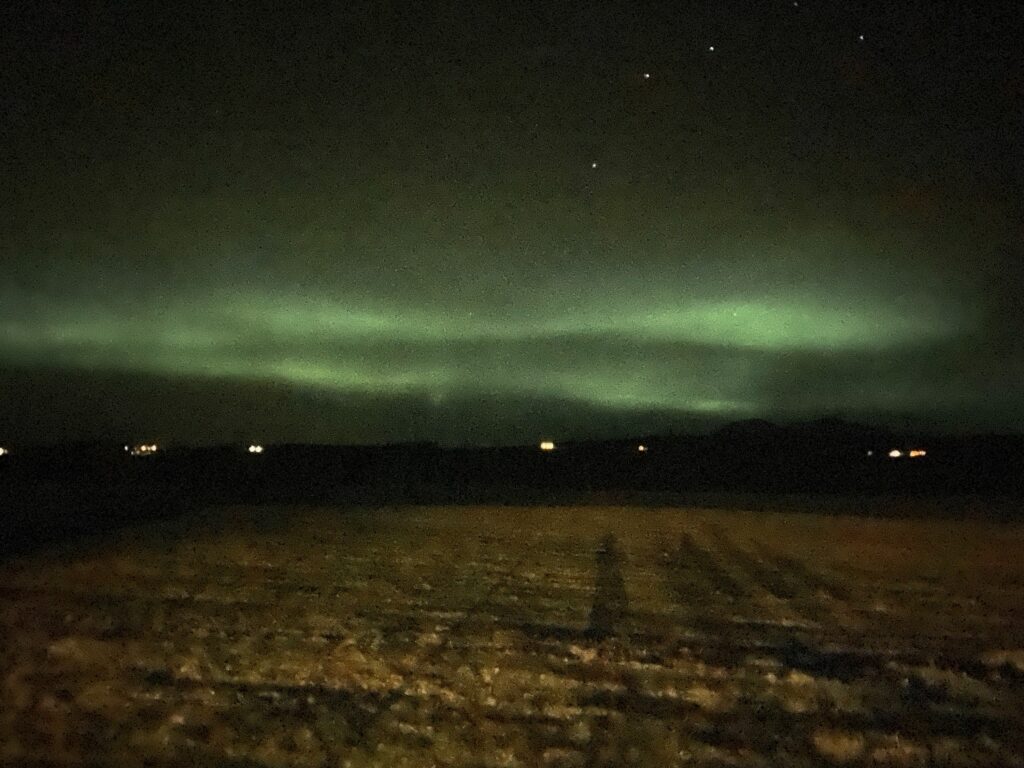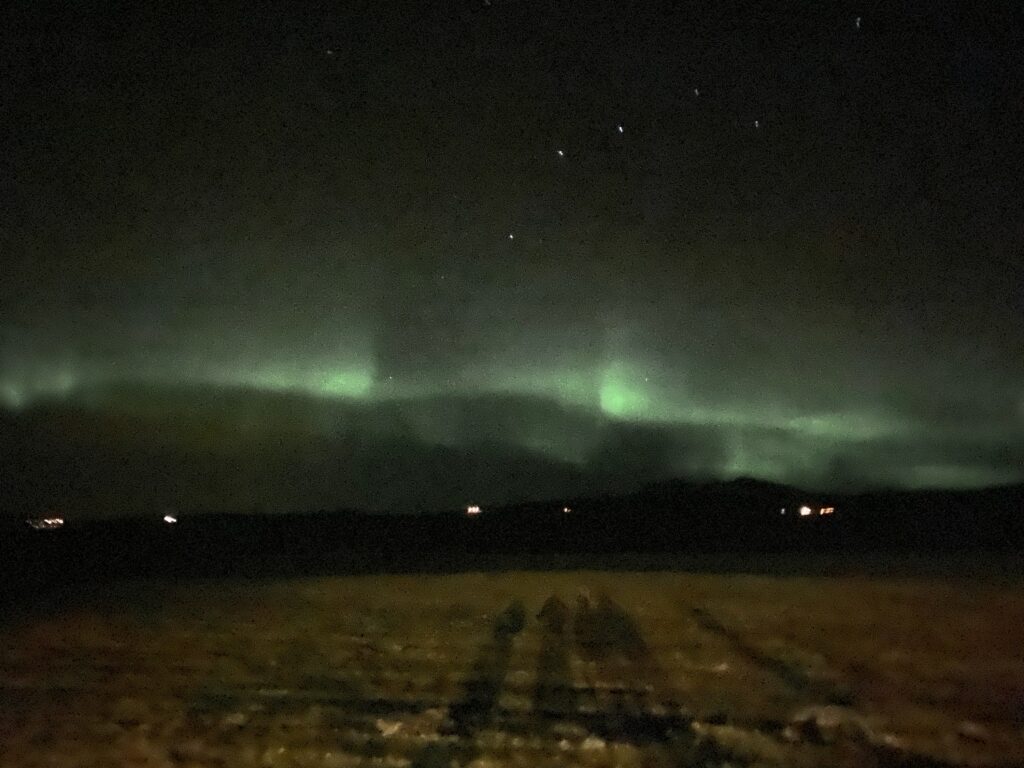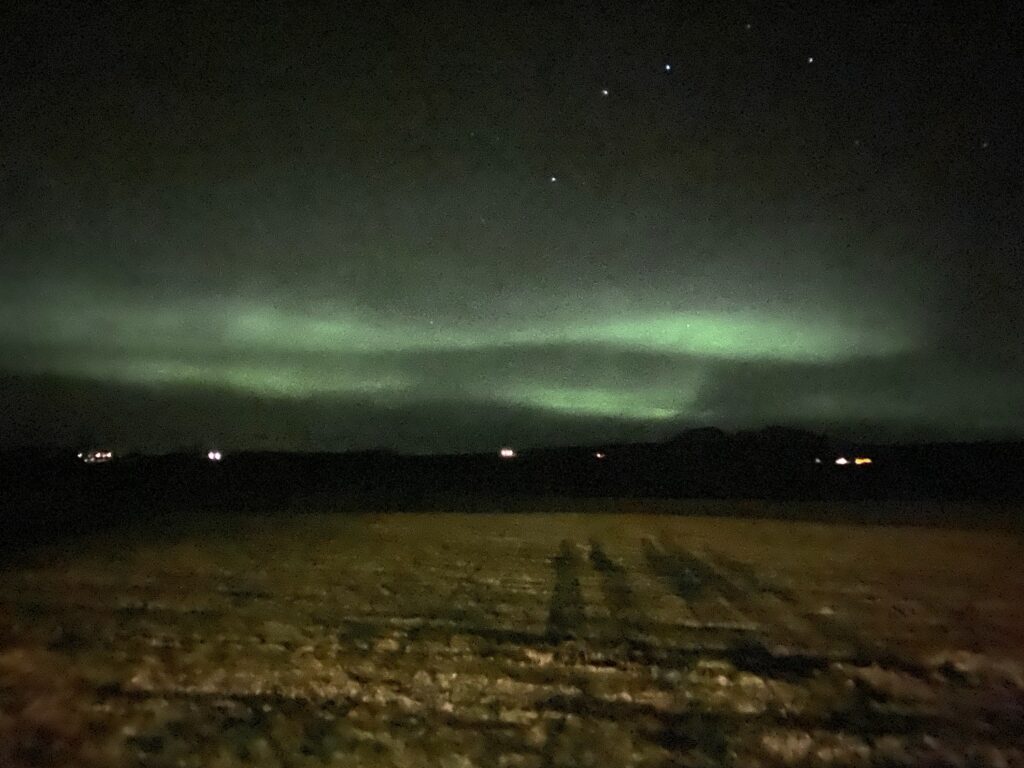 Skogafoss
After a lovely breakfast at the hotel, we set off for Skogafoss. It took about 30 minutes to get to the waterfall. This waterfall is amazing and it should be on everyone's Iceland list. Located just off the Ring Road, it is not hard to find. Many south coast iceland tours stop here.
You can also climb 370 steps to the stop of the waterfall. If you continue for 25 kilometers you will be treated to 26 waterfalls, one volcano and two glaciers. Michele would love to return to Iceland to do this hike.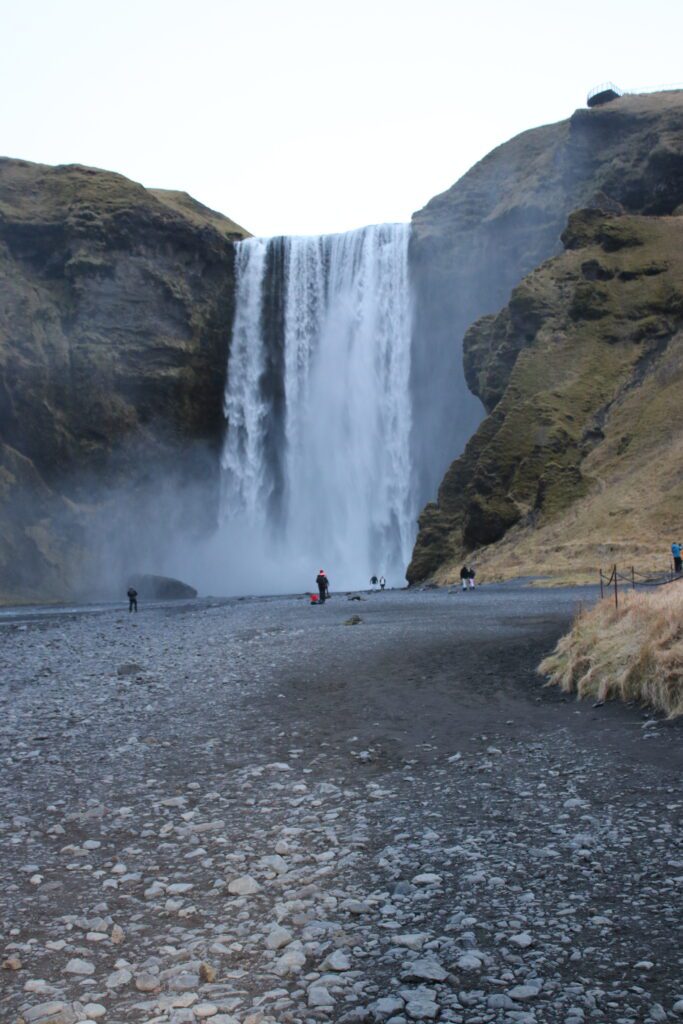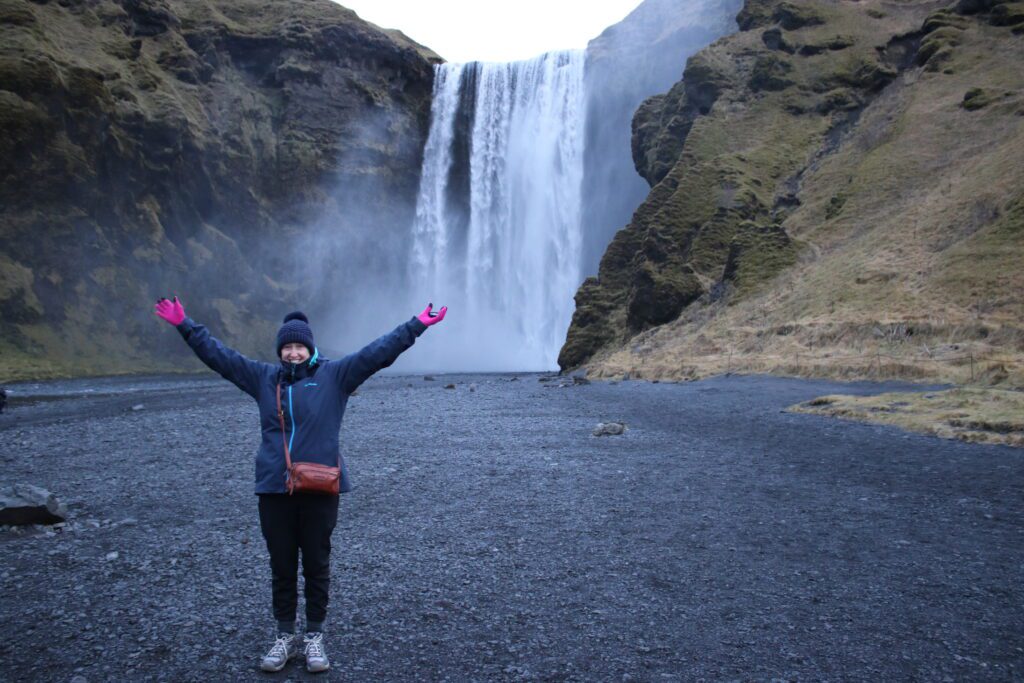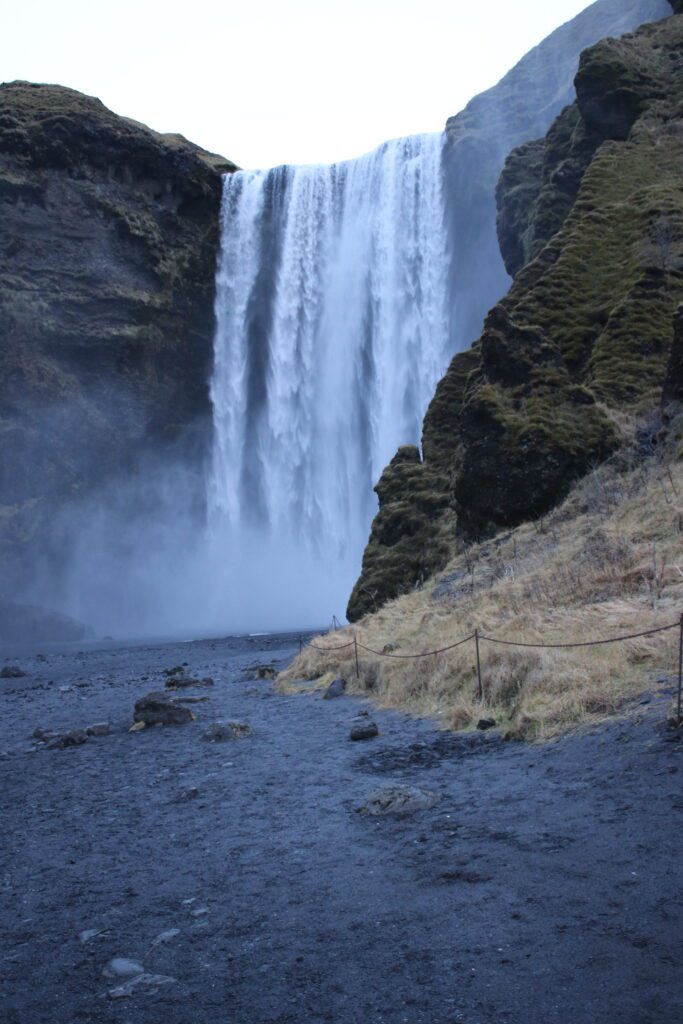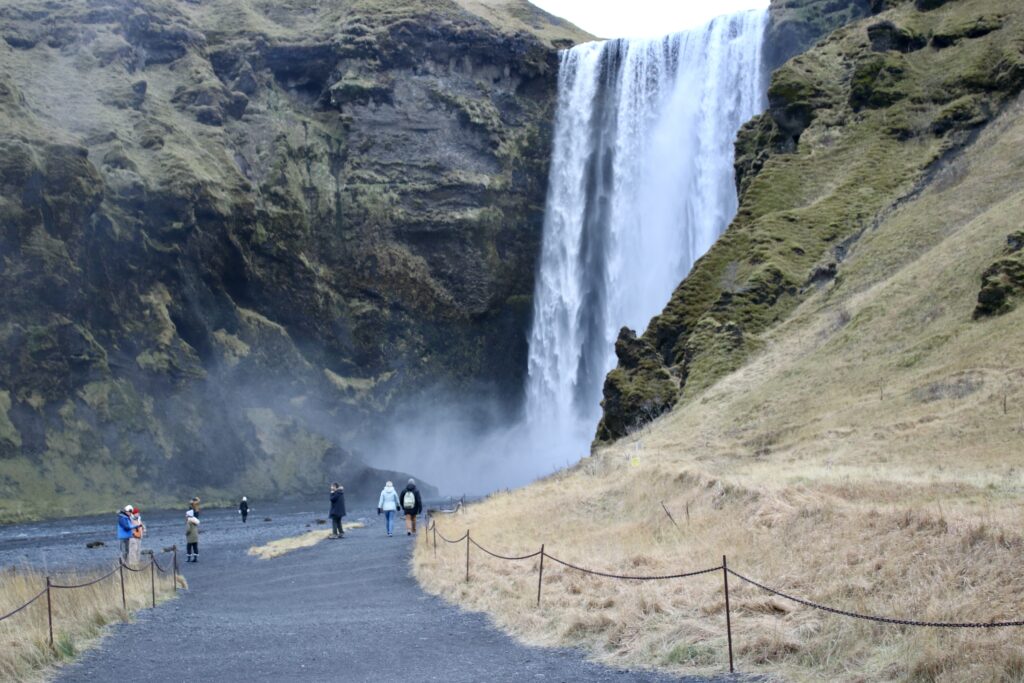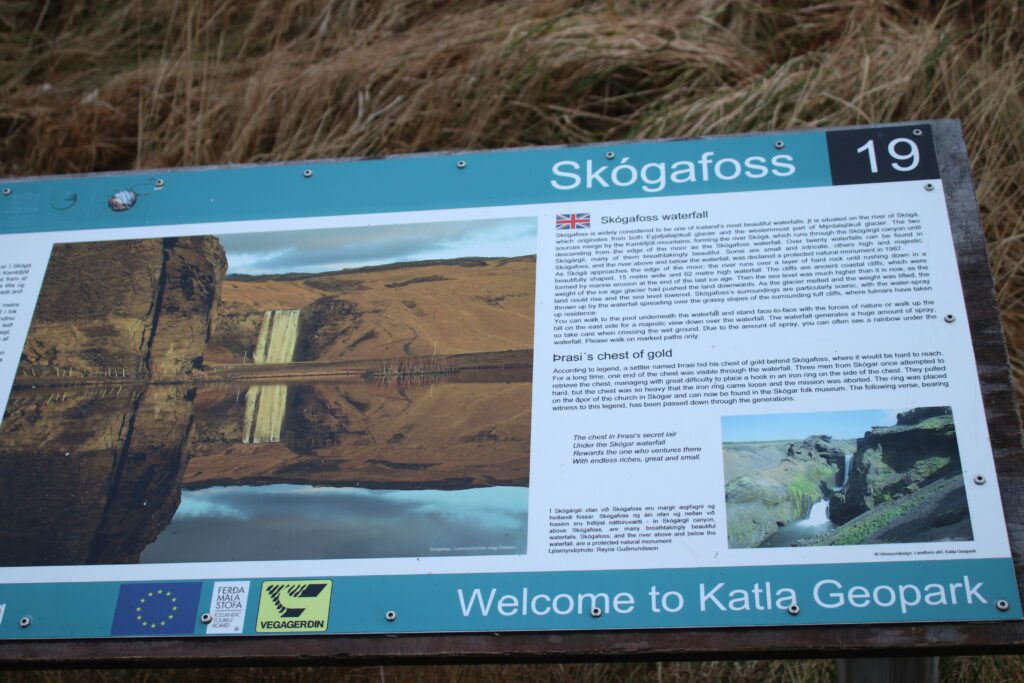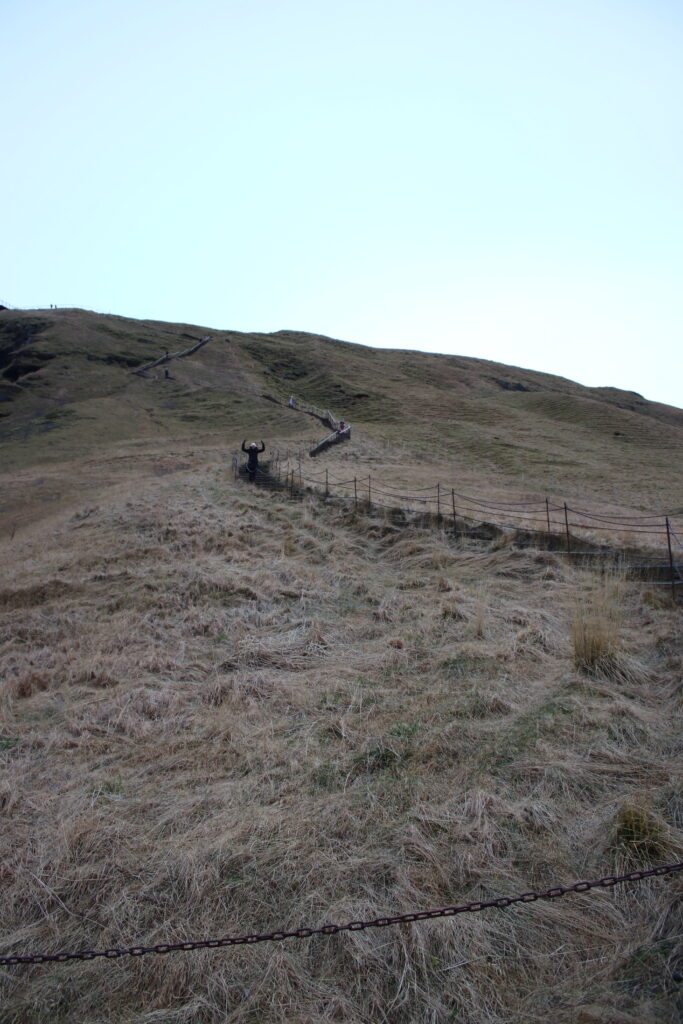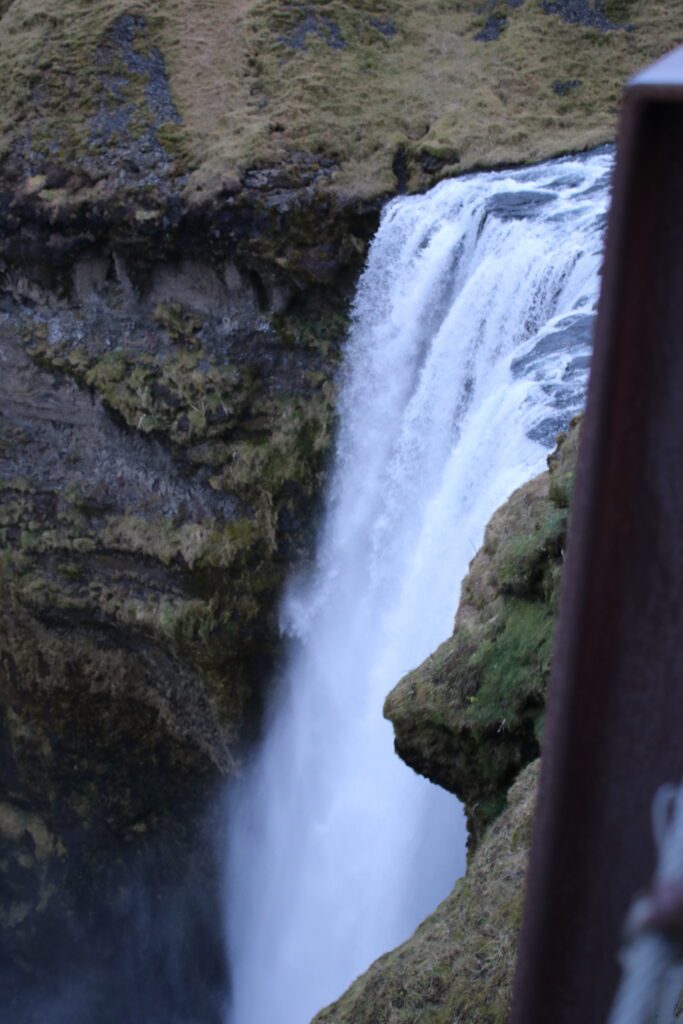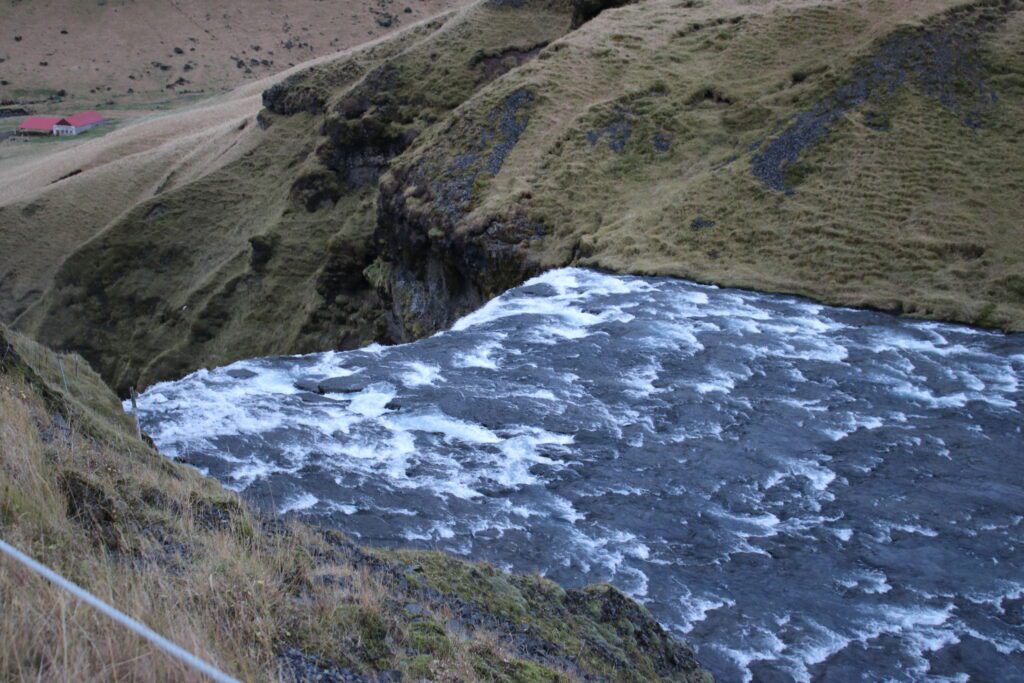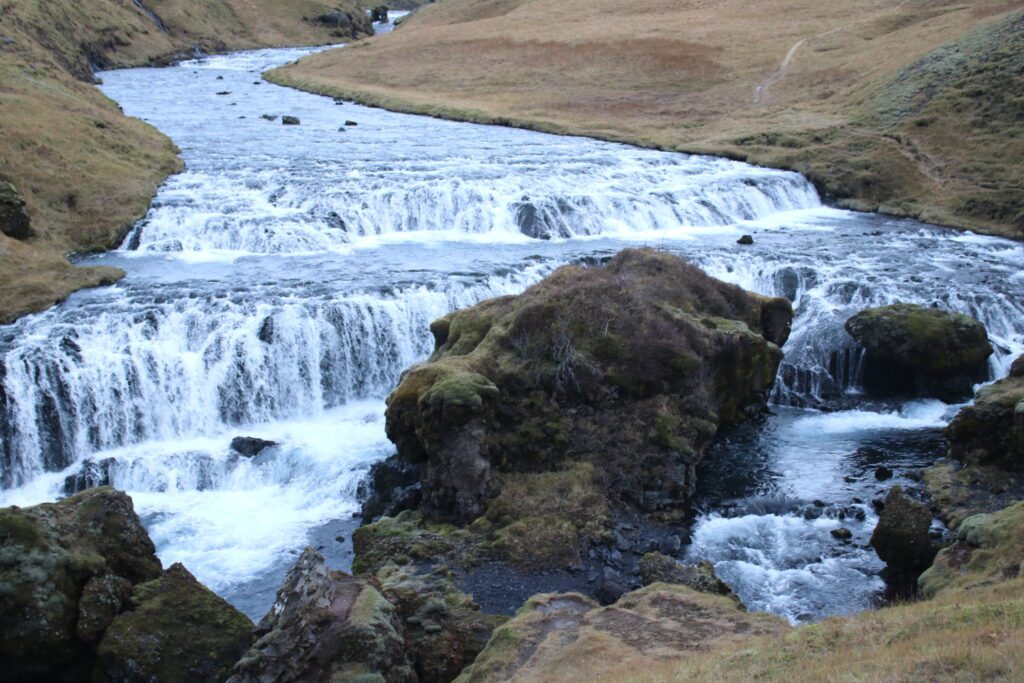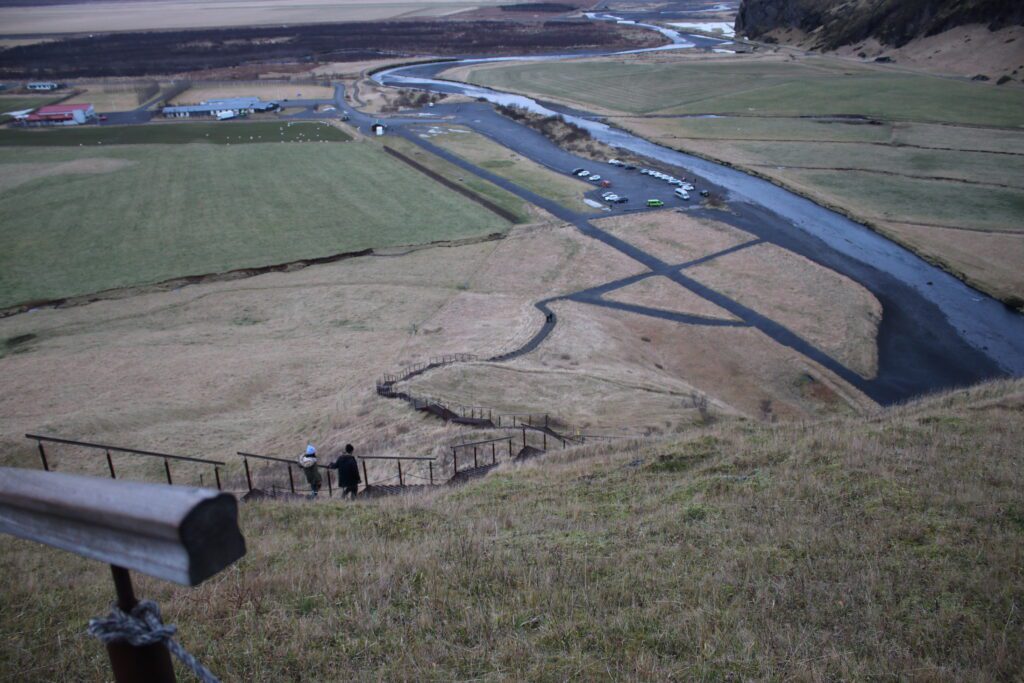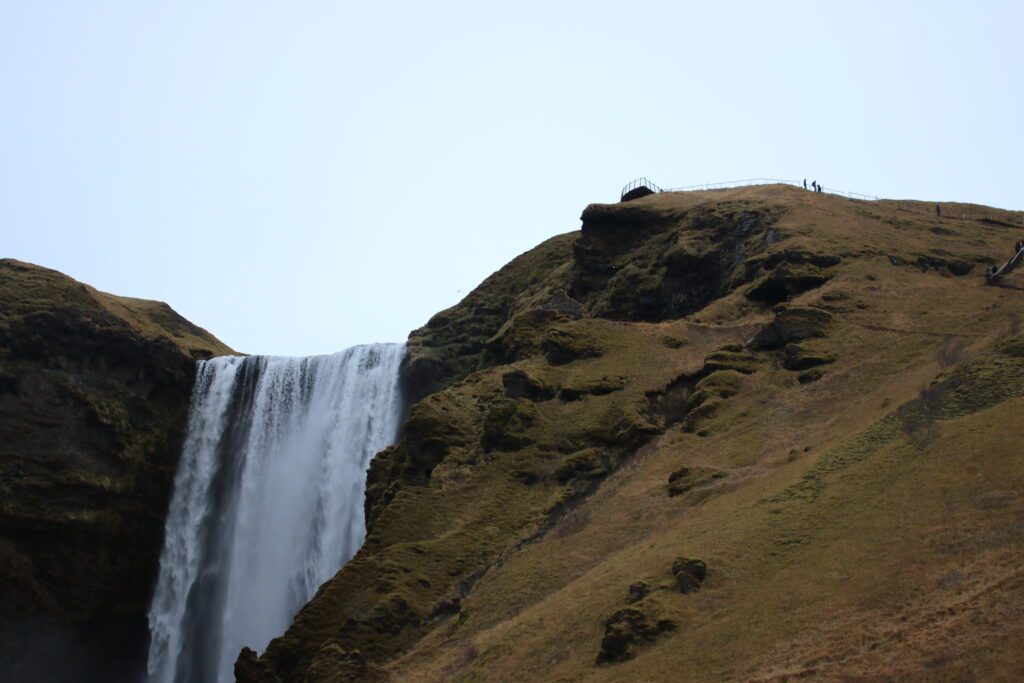 Kvernufoss
We drove two minutes from Skogafoss to the wonderful Kvernufoss. You have to climb over a small fence to get to this treasure. A small step stool is there to help you get over the fence. There is even a trail you can use to walk behind the falls. Our group was the only one there. It was wonderful. If you stop at Skogofoss, be sure to visit Kvernufoss!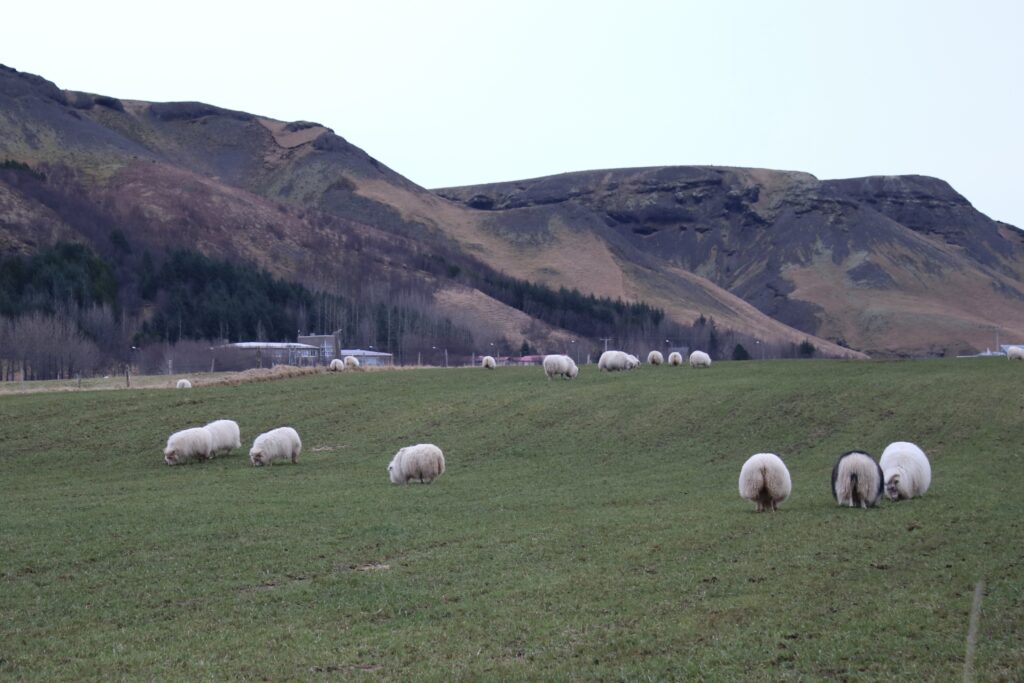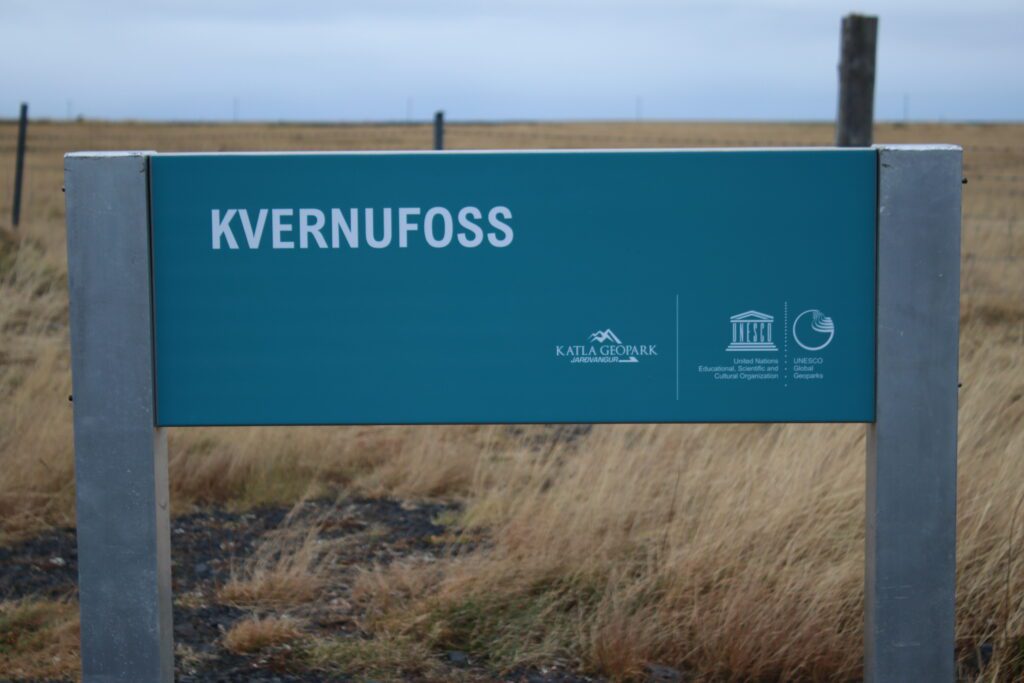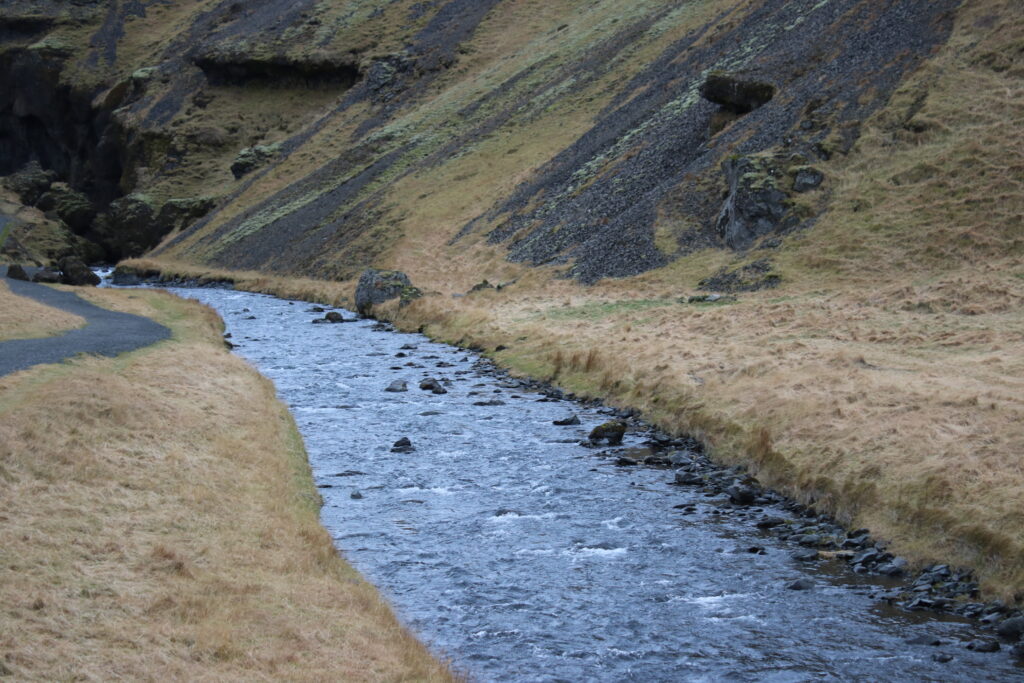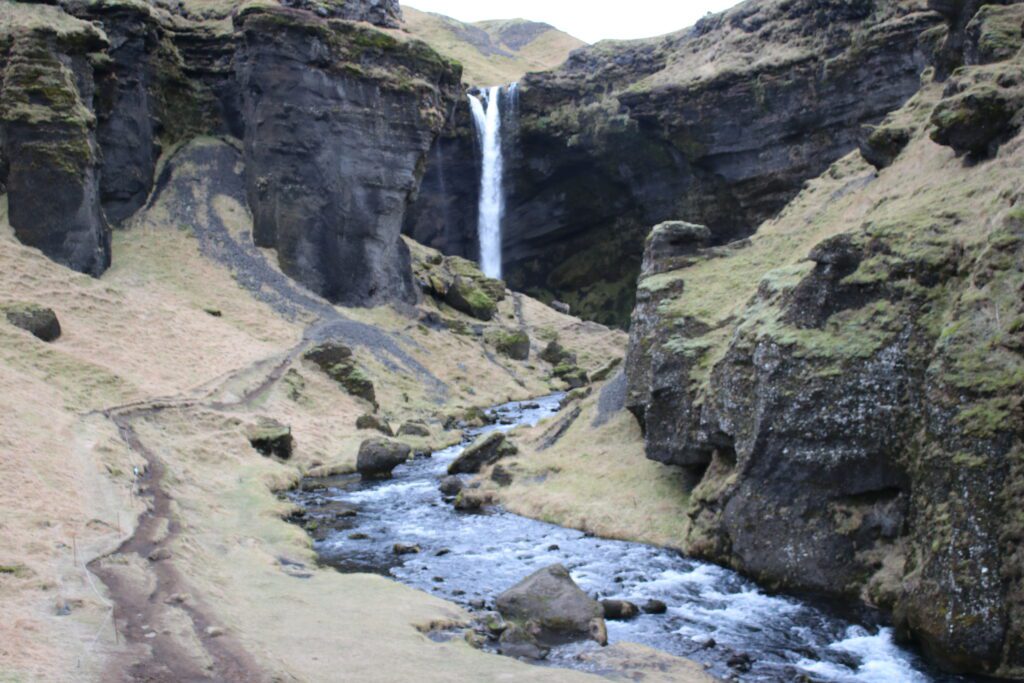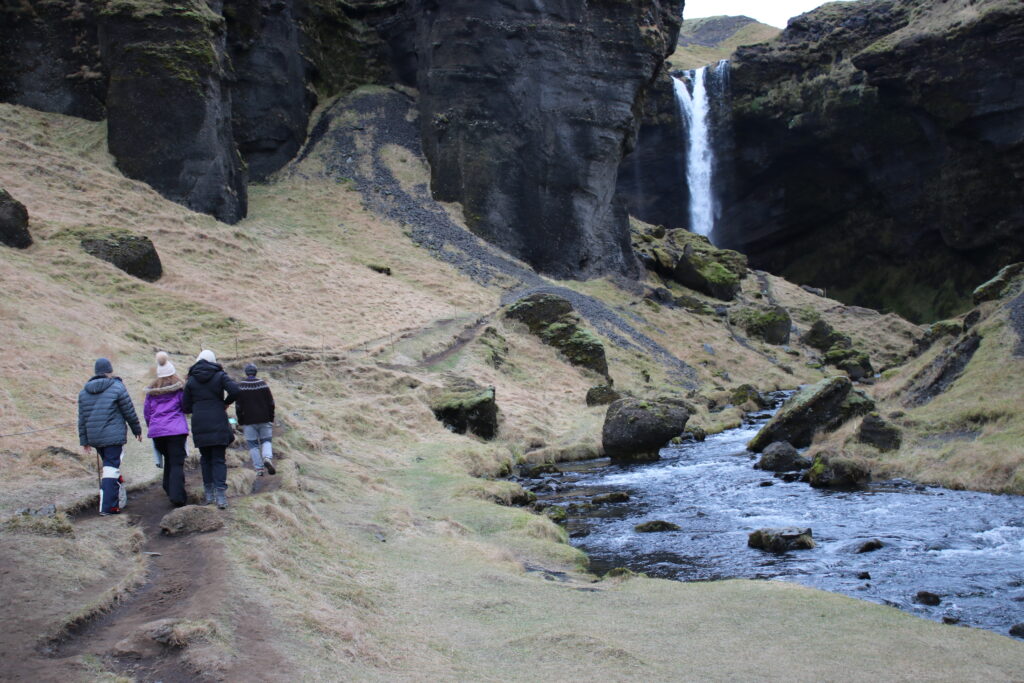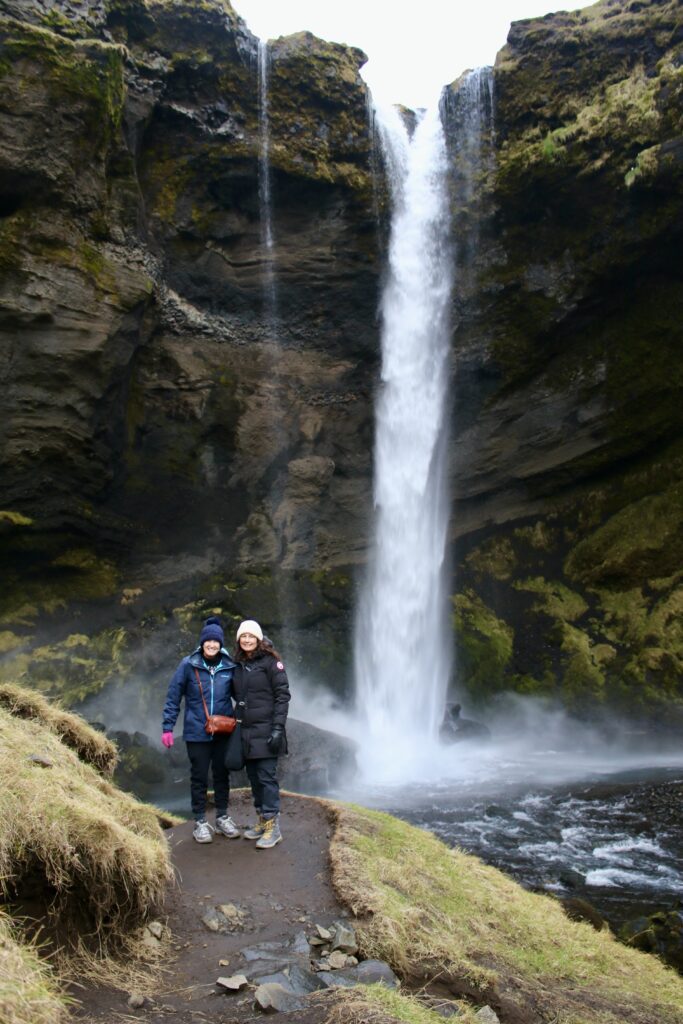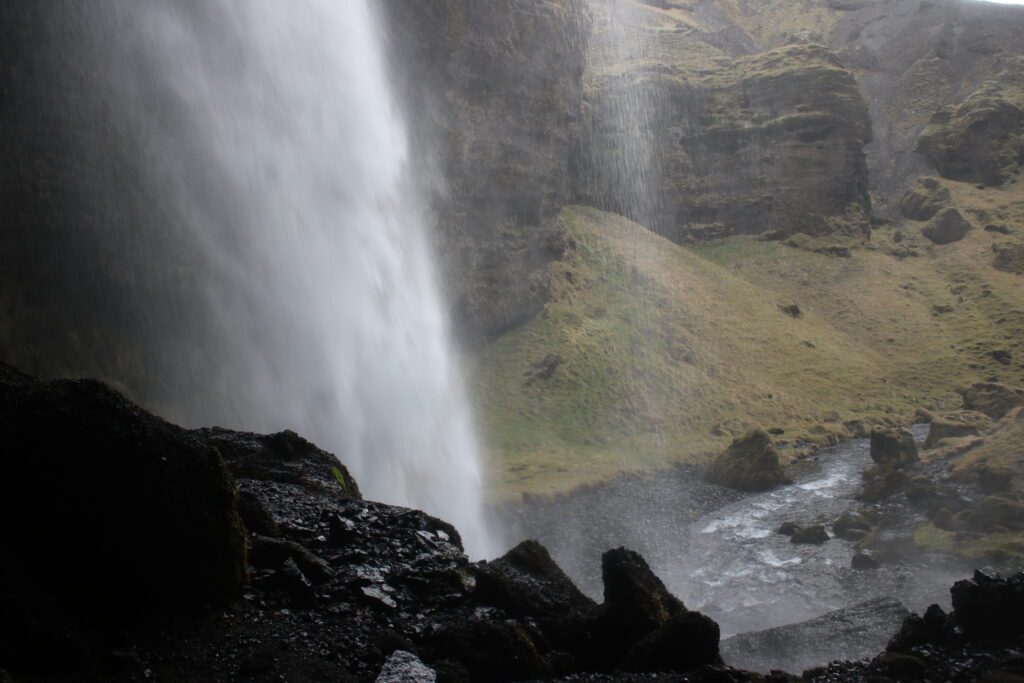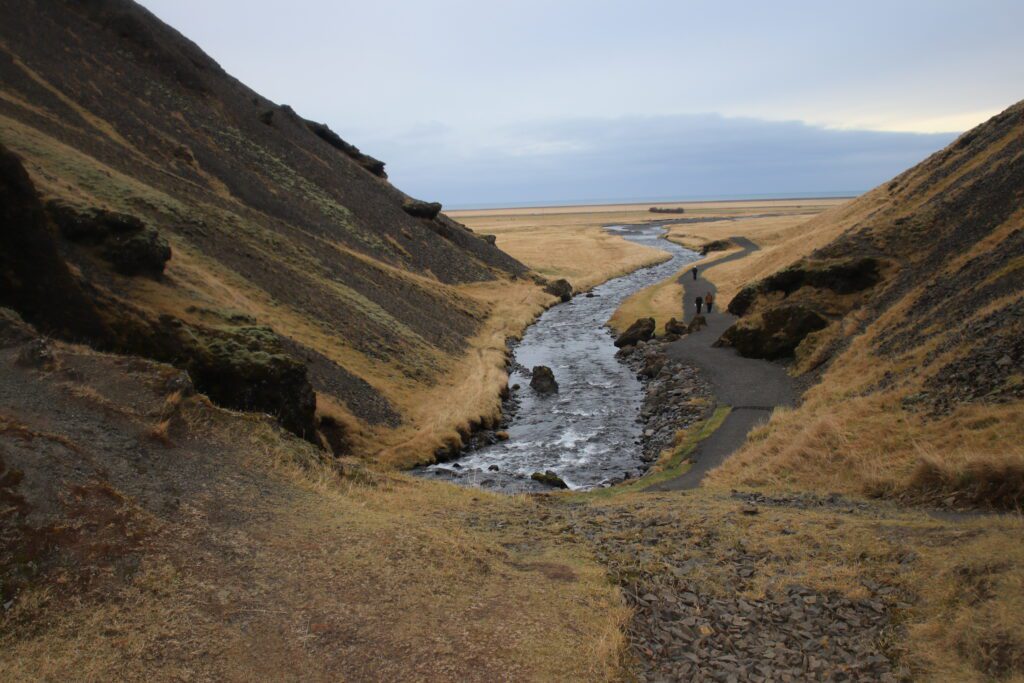 Reynisfjara
The black sand beach of Reynisfjara is gorgeous. It was very very windy and cold when we visited. Freezing in fact. Never turn your back on the waves. The basalt columns were fascinating! There is a wonderful small cafe right near the beach. We went inside to warm up!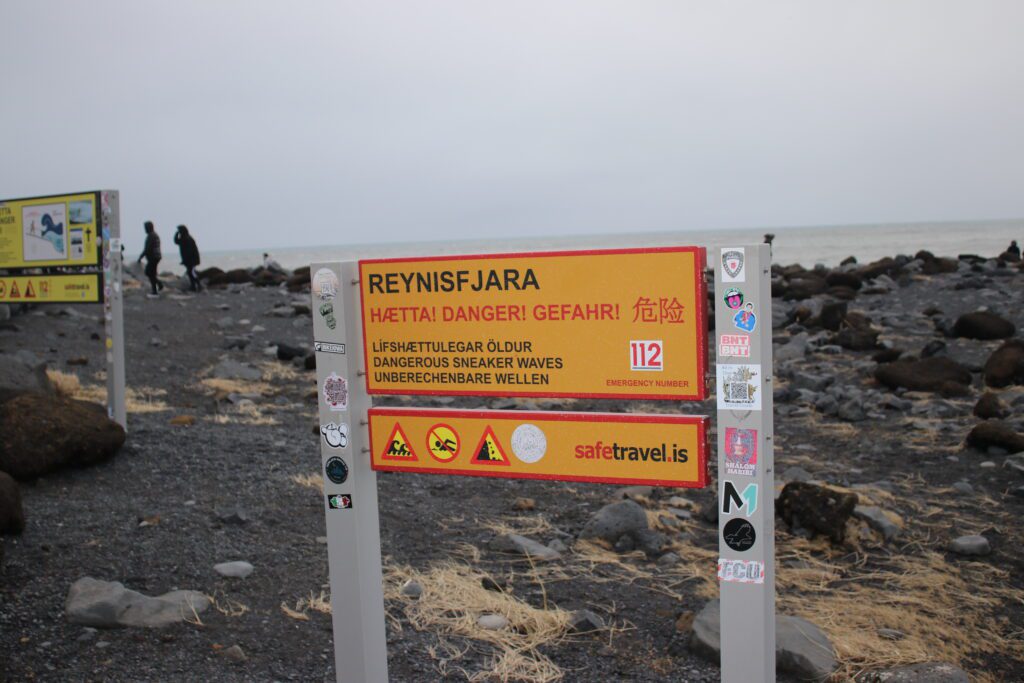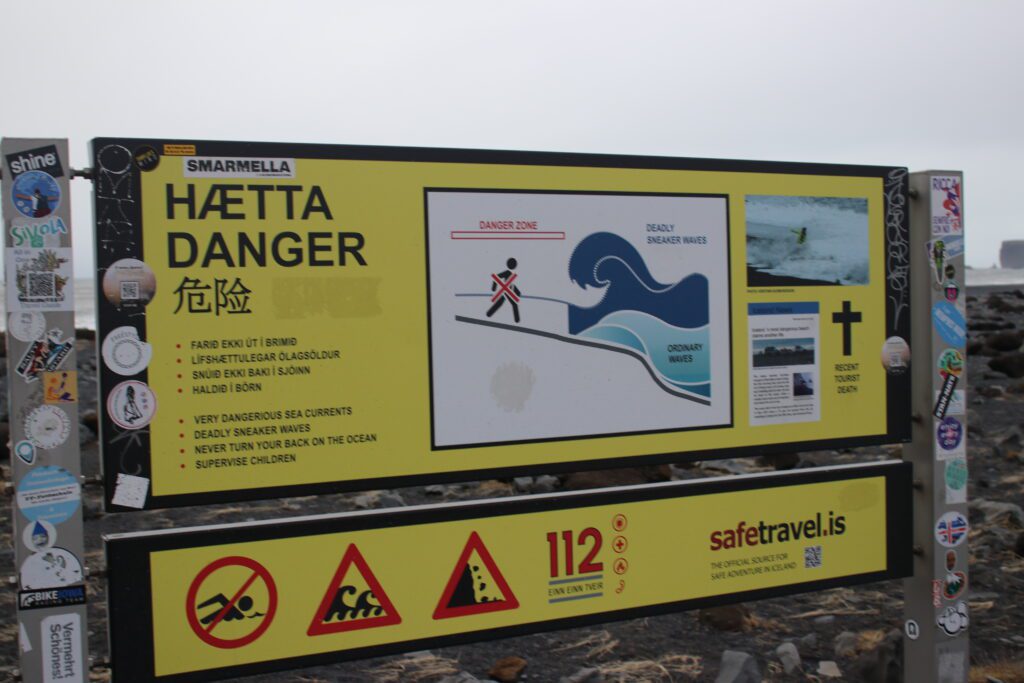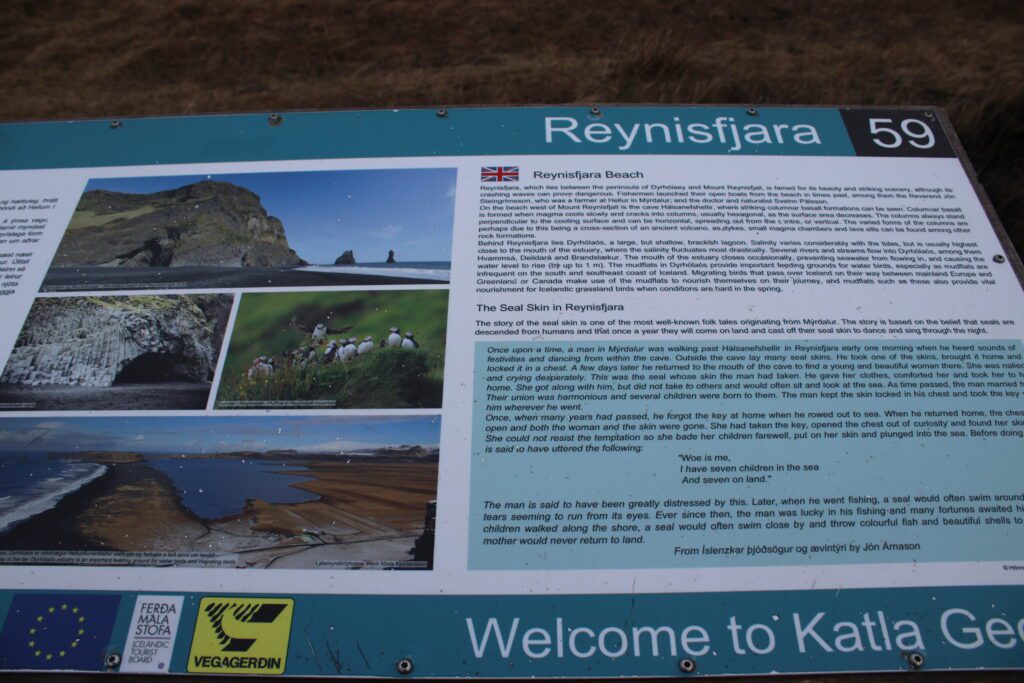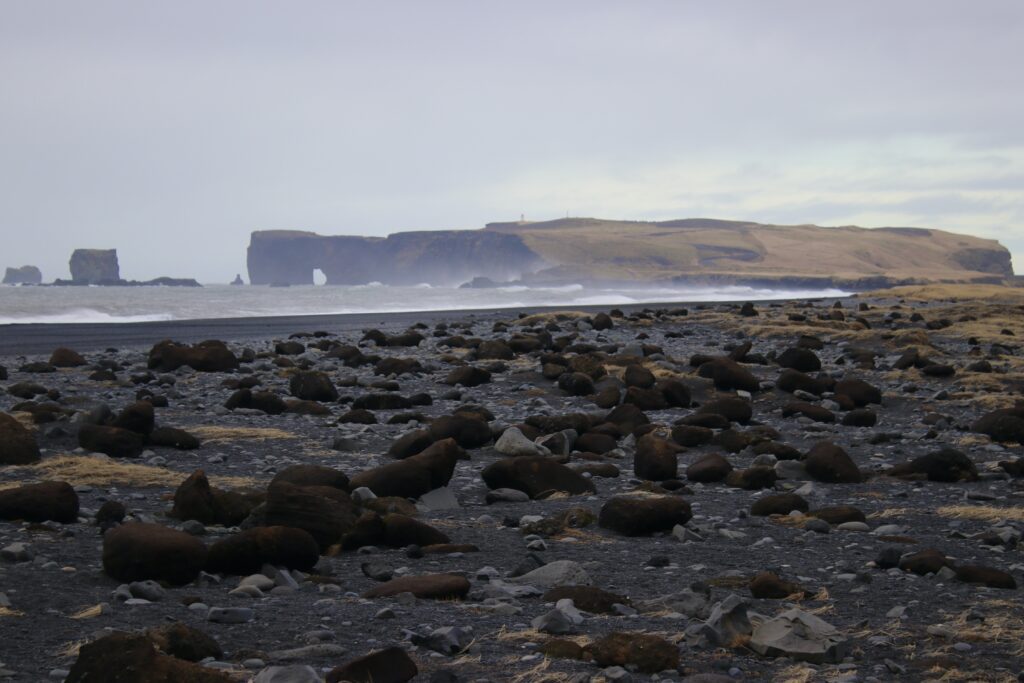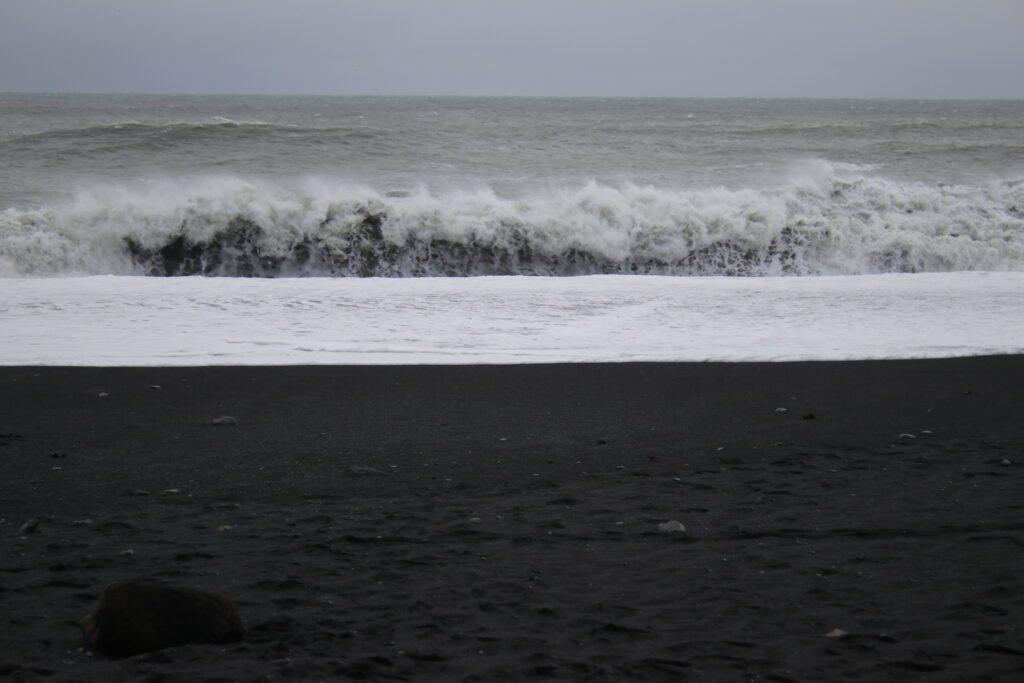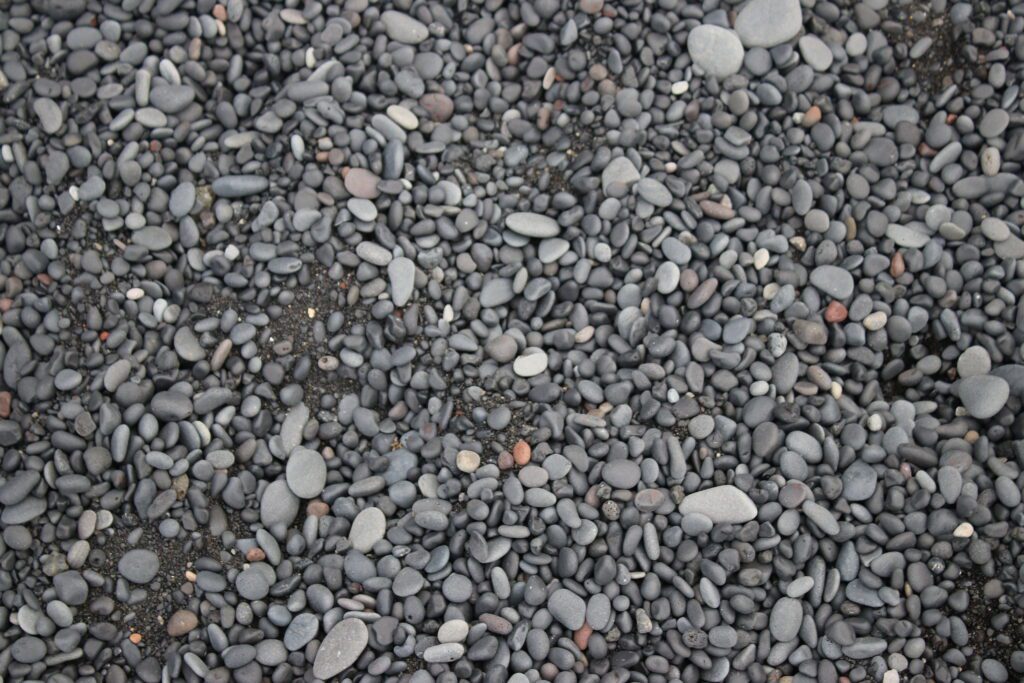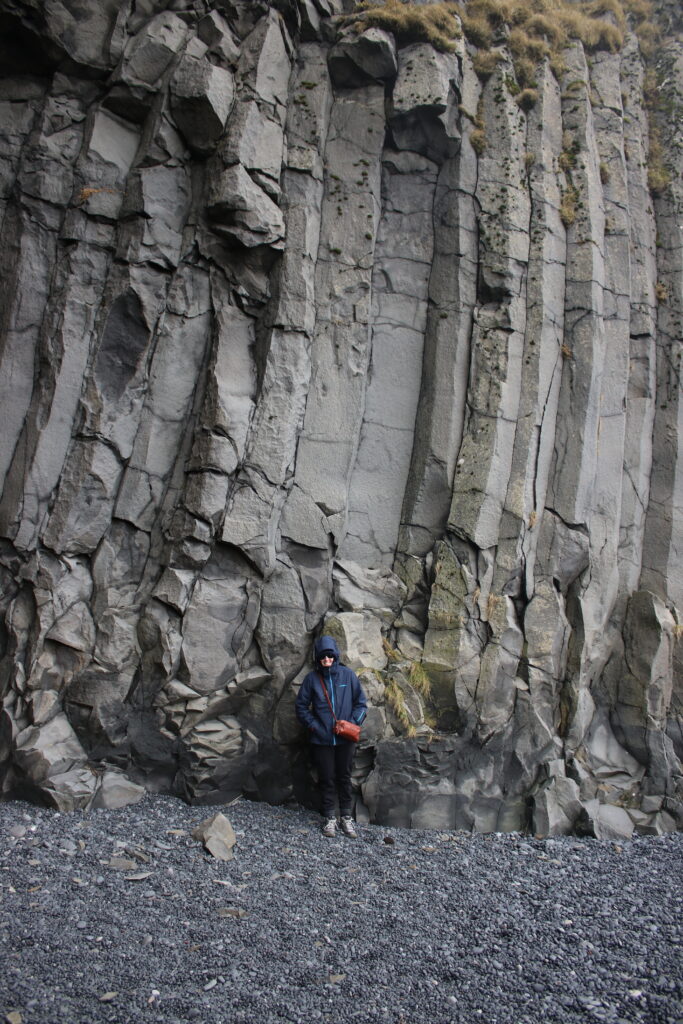 Vik
A few minutes away from Reynisfjara was the tiny town of Vik. We visited the lovely church. In the distance we could see the Reynisdrangar sea stacks that we saw from the other side at the Reynisfjara black sand beach.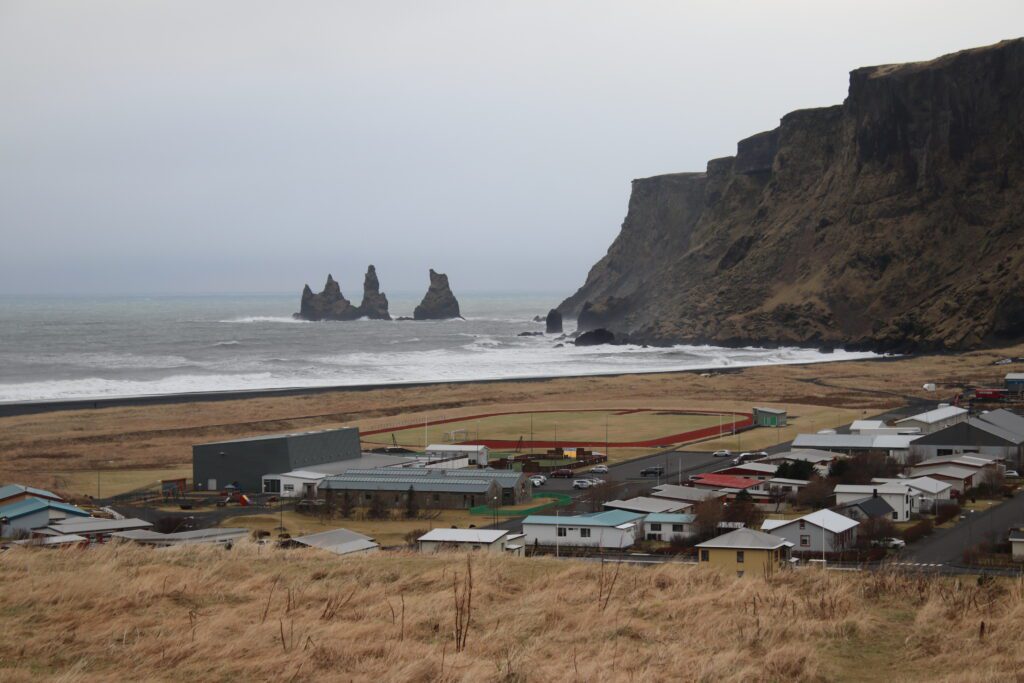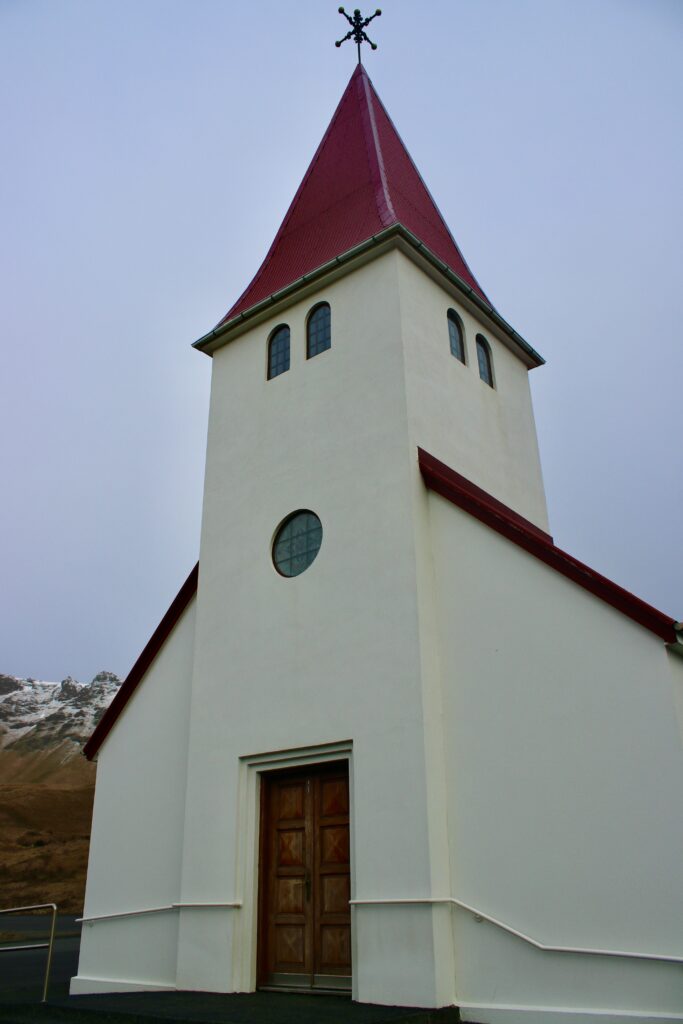 Eldhraun – The Largest Lava Field in the World
When driving the South Coast's Ring Road, if you have four wheel drive, stop at Eldhraun, the largest lava field on Earth. Getting to Eldhraun lava field is quite easy as you'll just need to take a detour off of the Ring Road. The Eldhraun lava field location is about halfway between Vik and Hof near the small village of Kirkjubæjarklaustur.
Spanning 565 square kilometres, the site is of both historic and geological importance – and a remarkable place to appreciate Icelandic flora and fauna.
The eruption that created the immense Eldhraun lava field took place over two years from 1783 to 1784. The event had a huge impact on Iceland as the entire population was nearly forced to evacuate to Denmark due to the disease and famine that killed more than half the domestic animals on the island.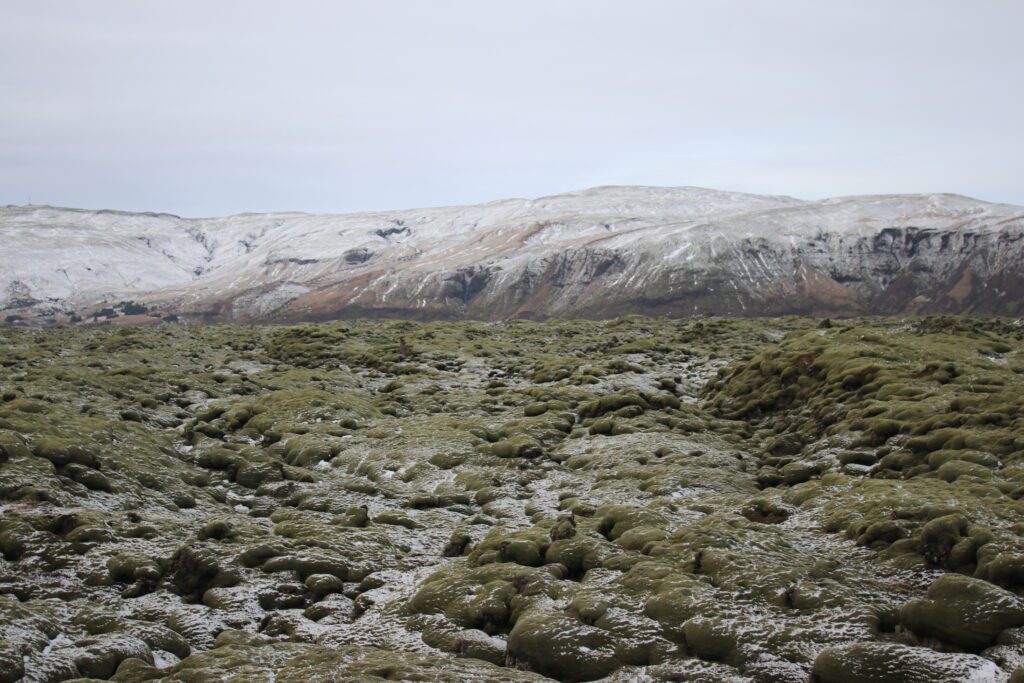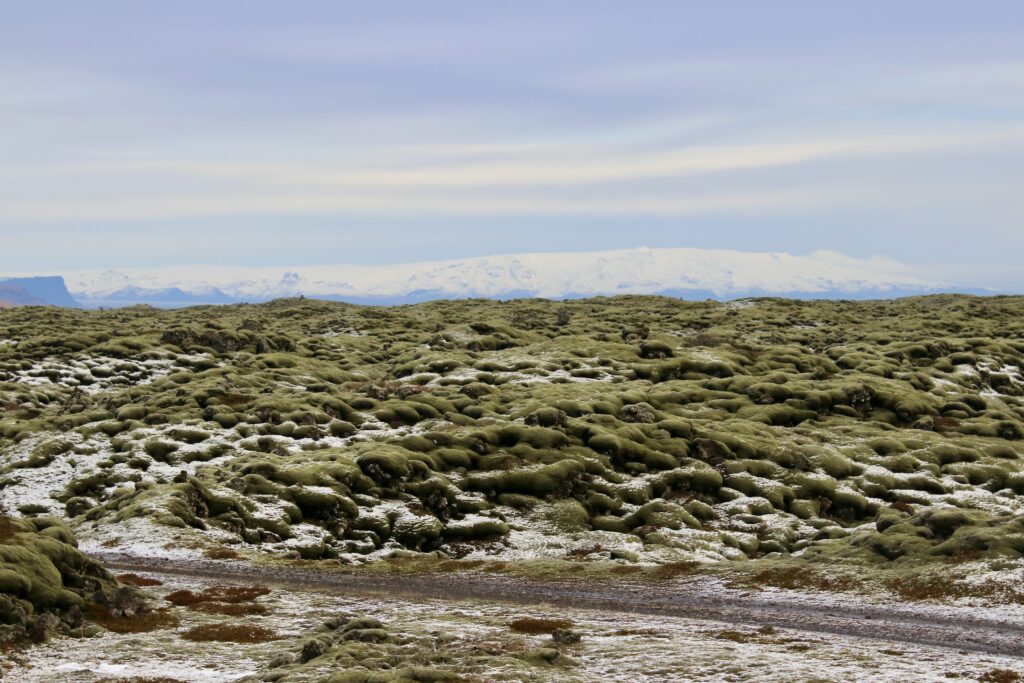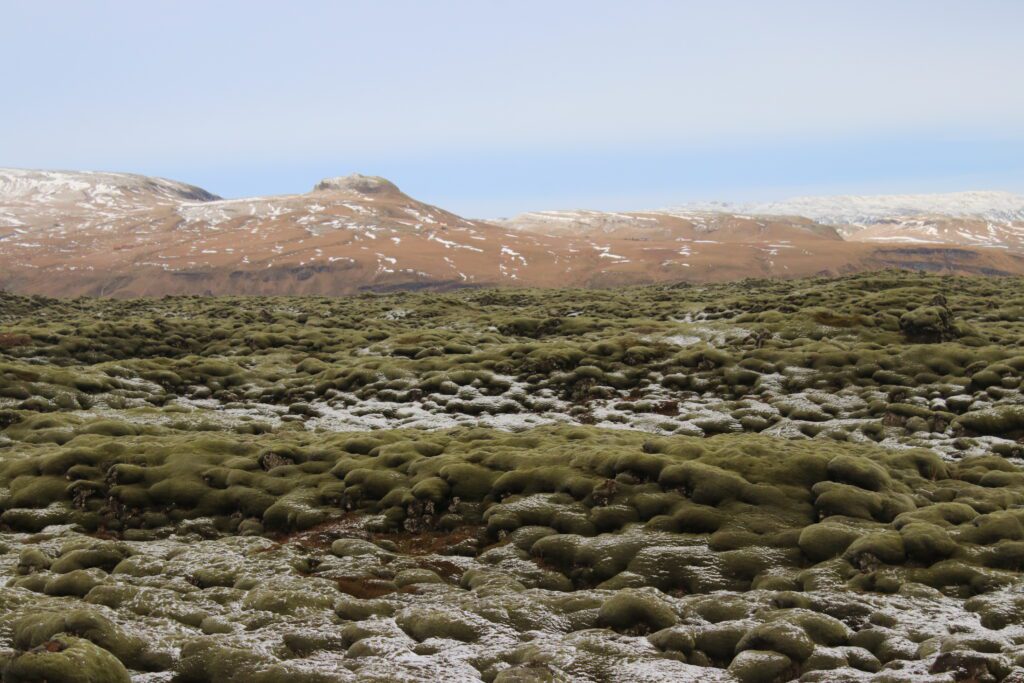 Vatnajokull
Vatnajokull is the largest glacier in Europe. There are many, many places to access the glacier for hikes and caving. The road to get there – The Ring Road – goes right by it and its many icy tongues.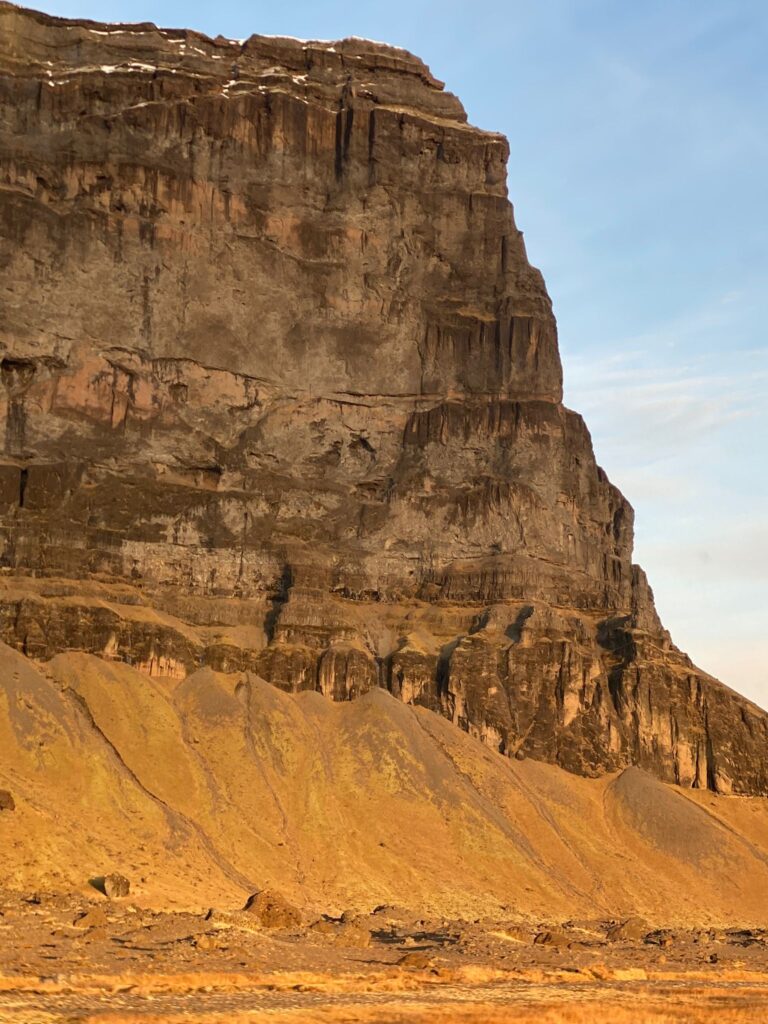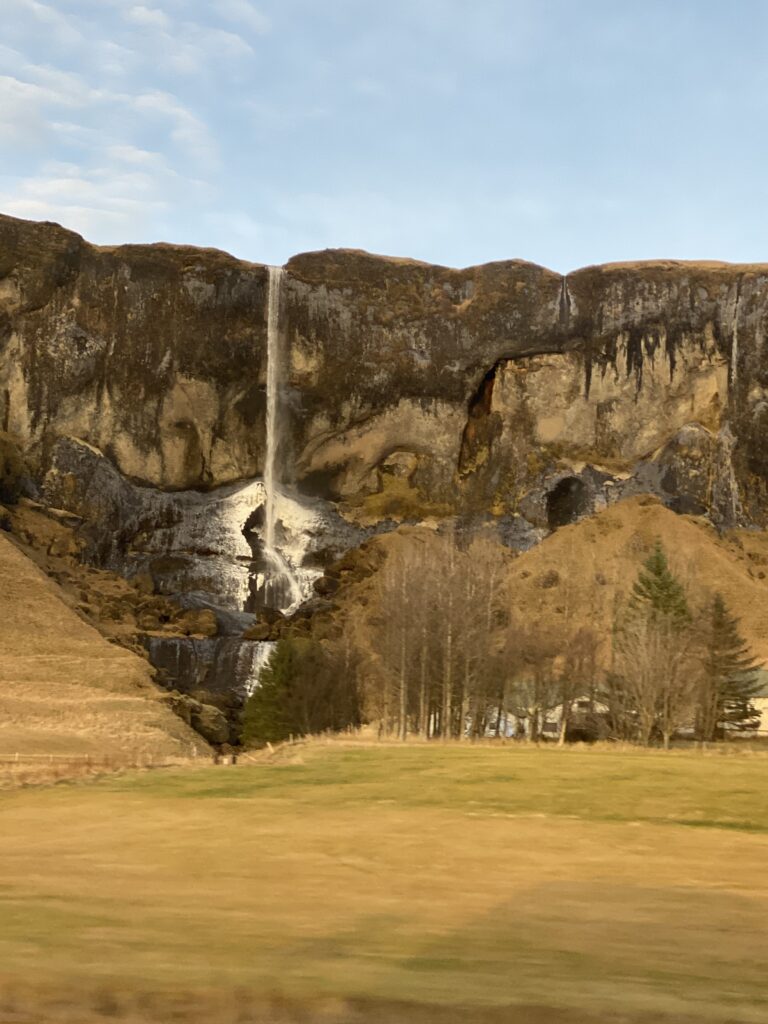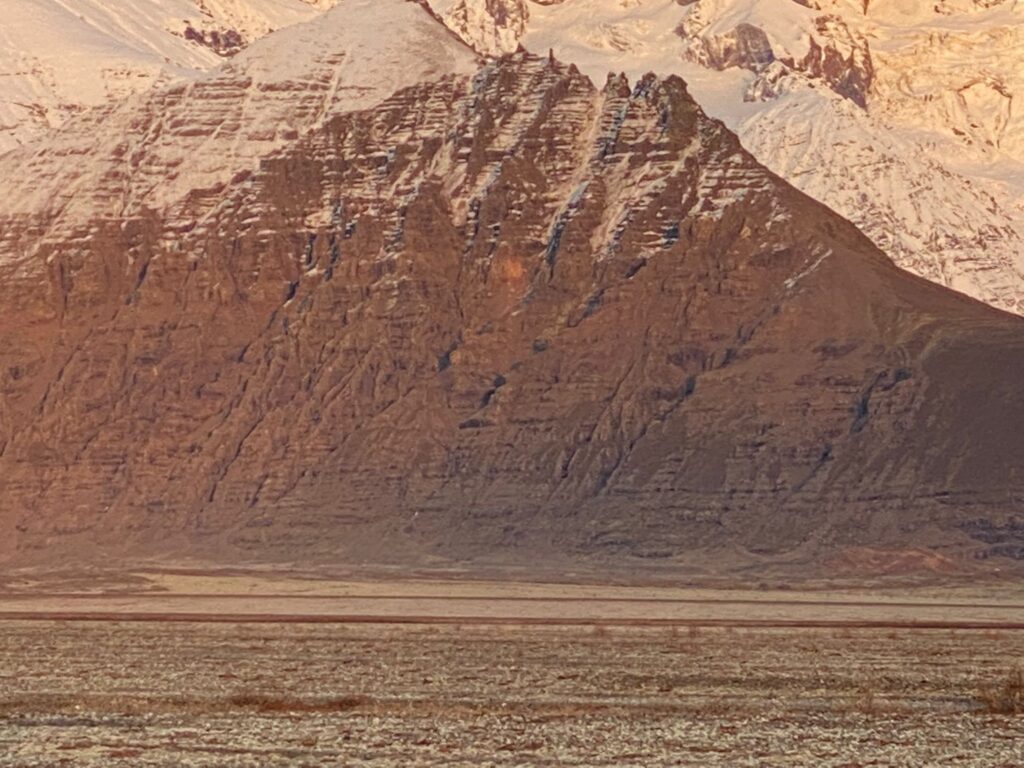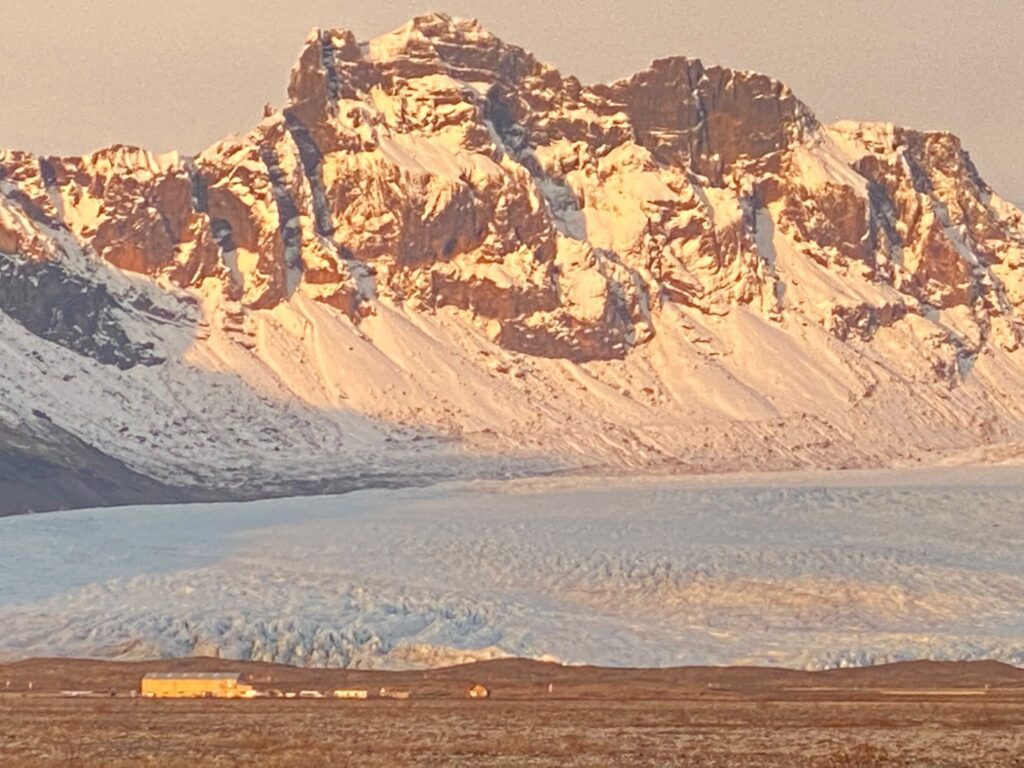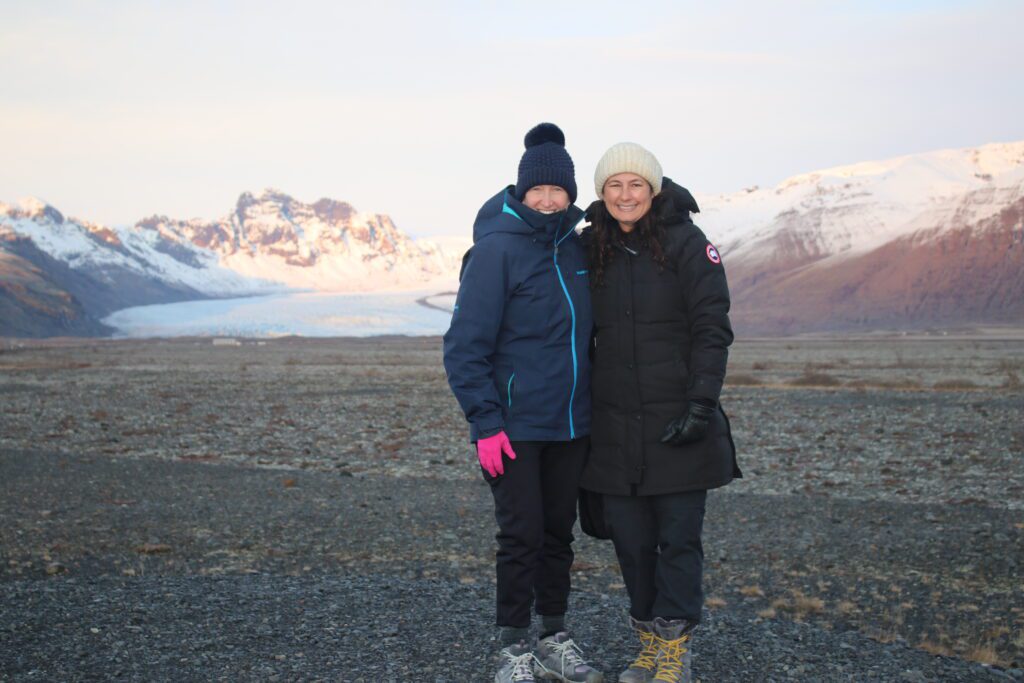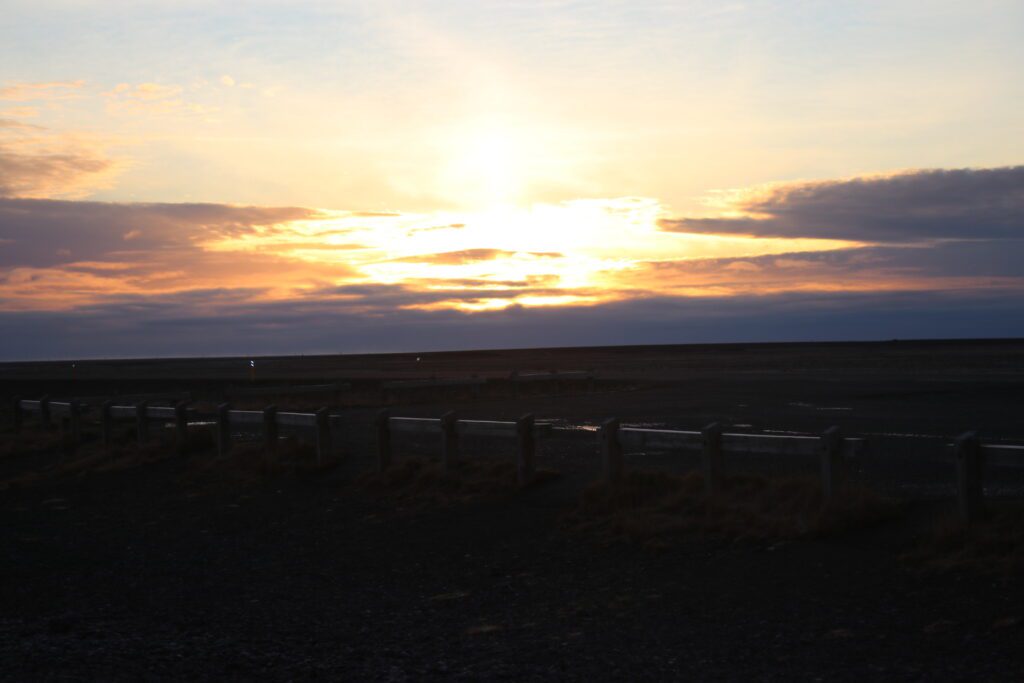 Jokulsarlon Glacier Lagoon
Jokulsarlon is a lake filled with meltwater from the Breidamerkurjokull tongue of the Vatnajokull glacier. It is eerily beautiful.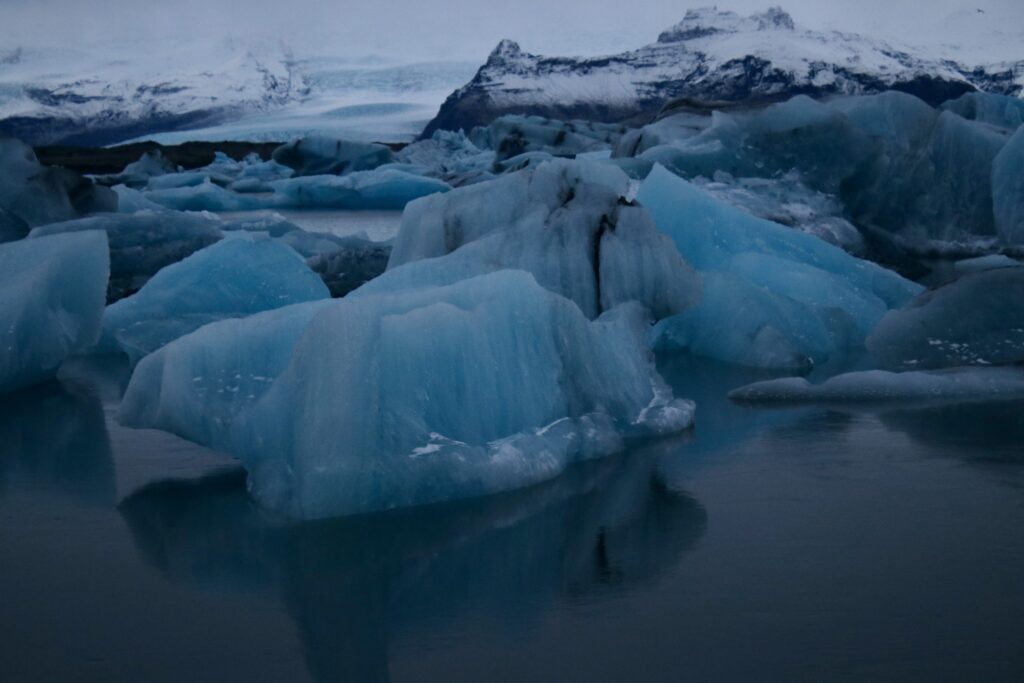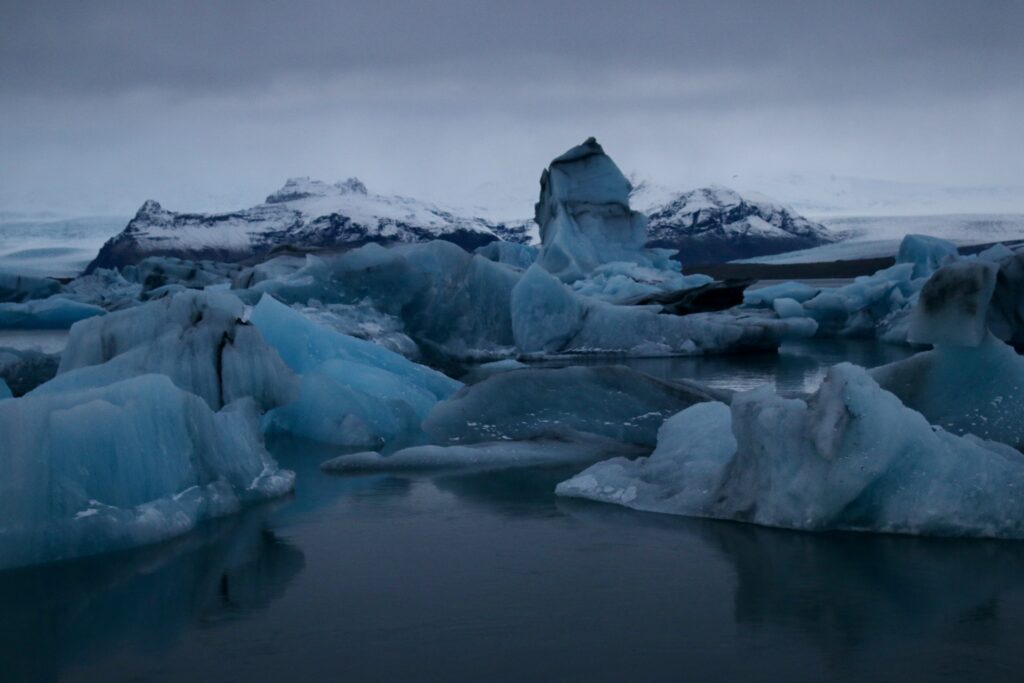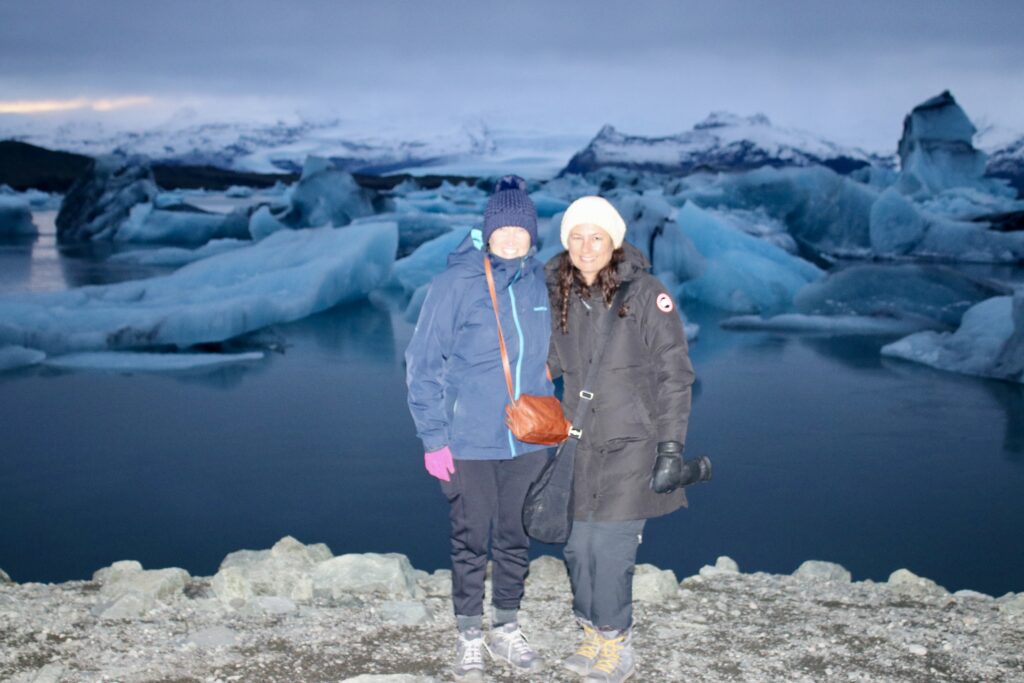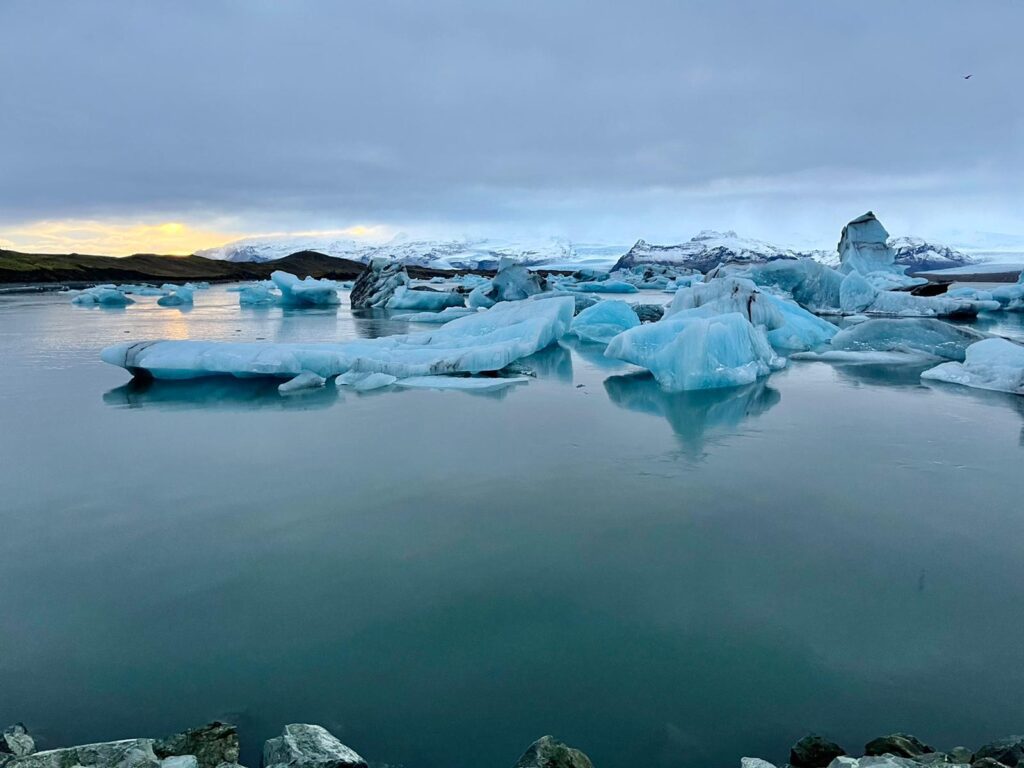 Breiðamerkursandur Ice Diamond Beach
The Ice Diamond Beach is a two minute drive or a 10 minute walk from the glacier lagoon. Some of the icebergs drift out to the ocean. The powerful waves break them into smaller pieces and throw them back on the sand. It is other-worldly and quite pretty. It was raining hard when we visited, but I am so glad we went to see it. Completely worth your time to visit!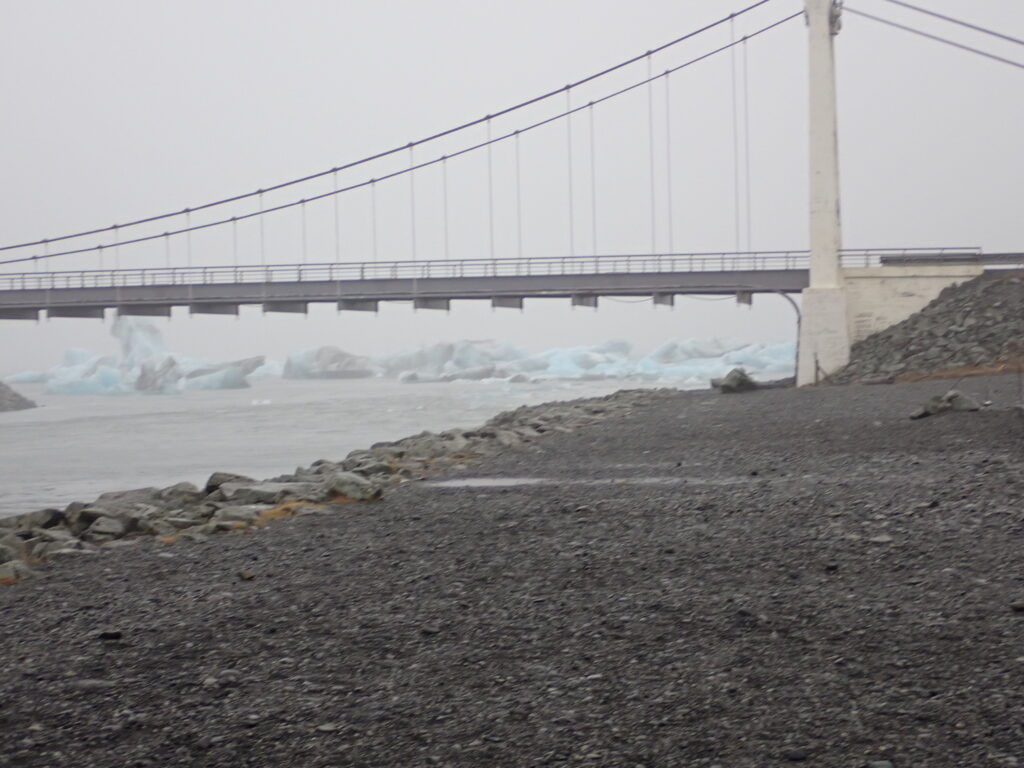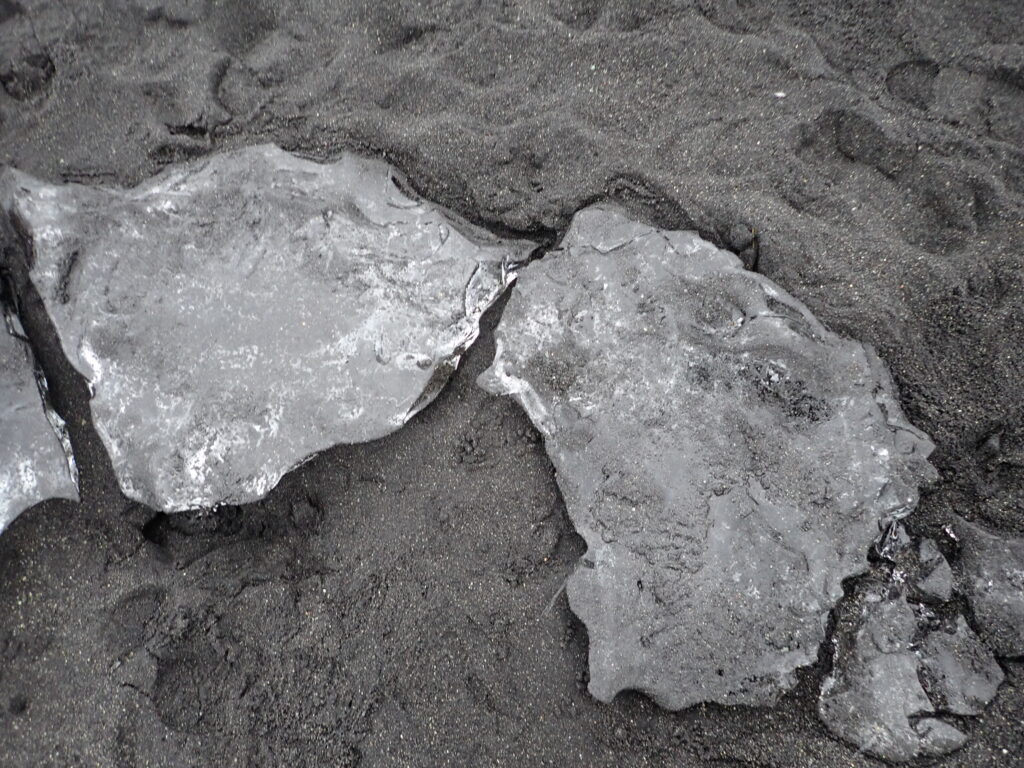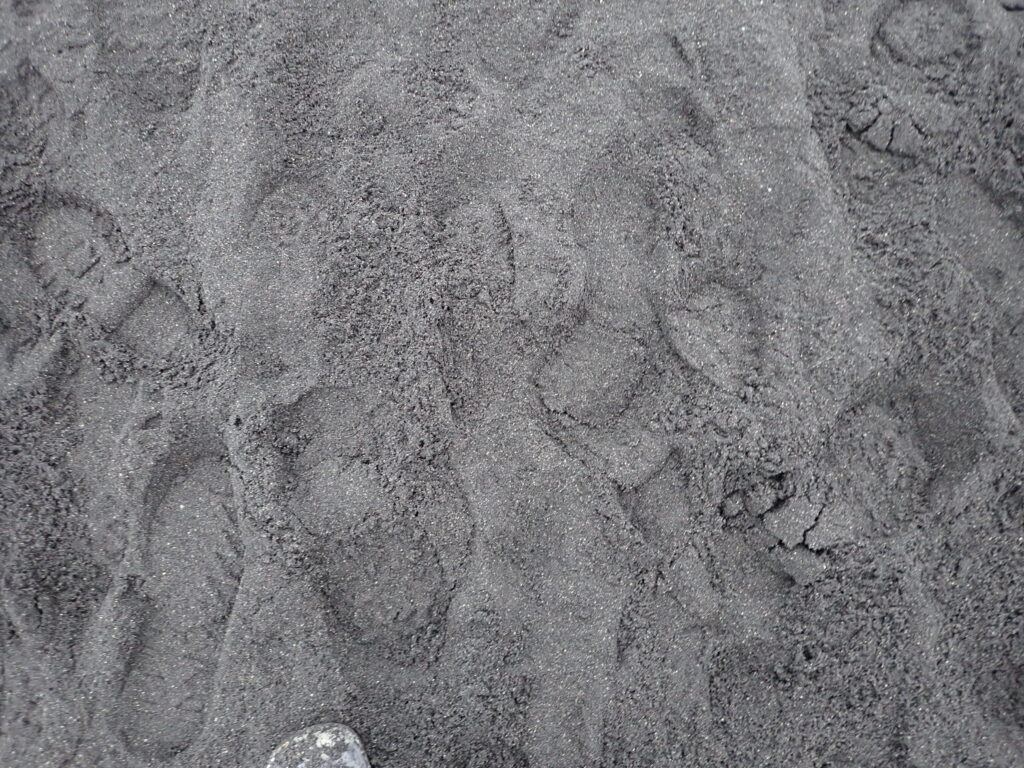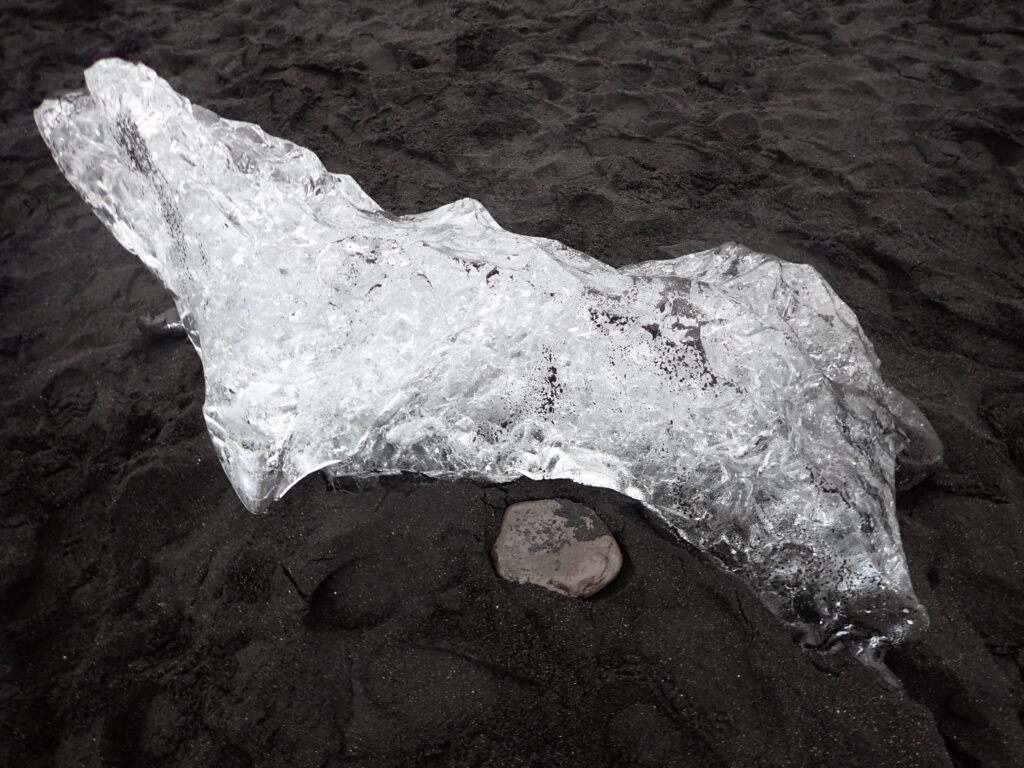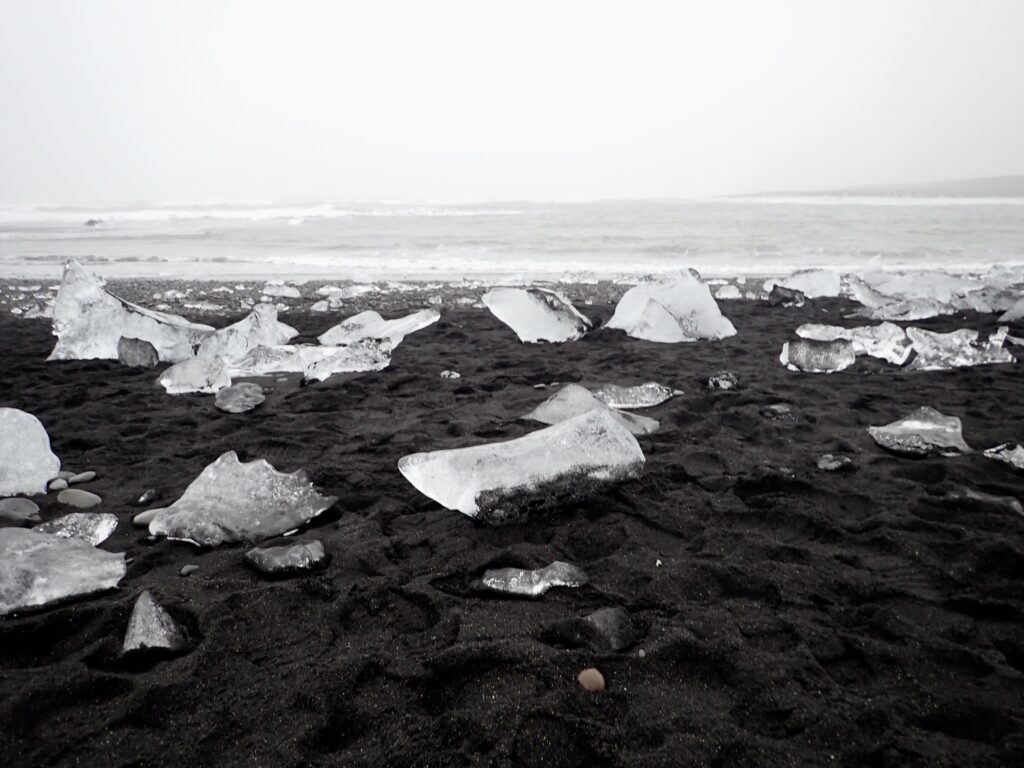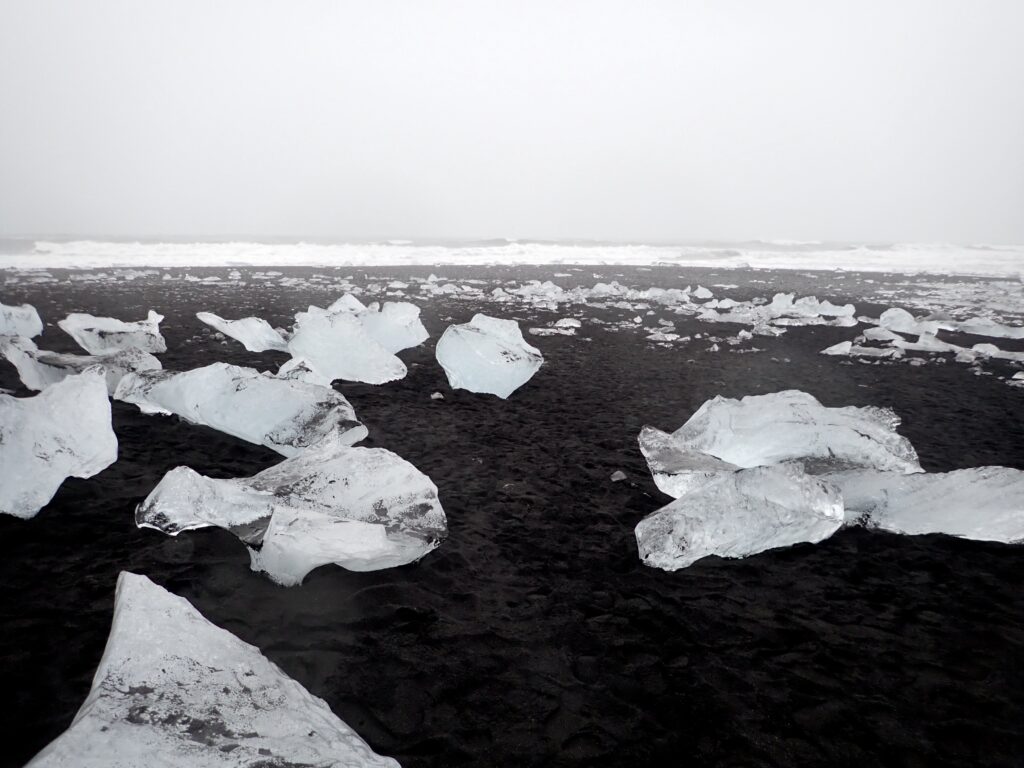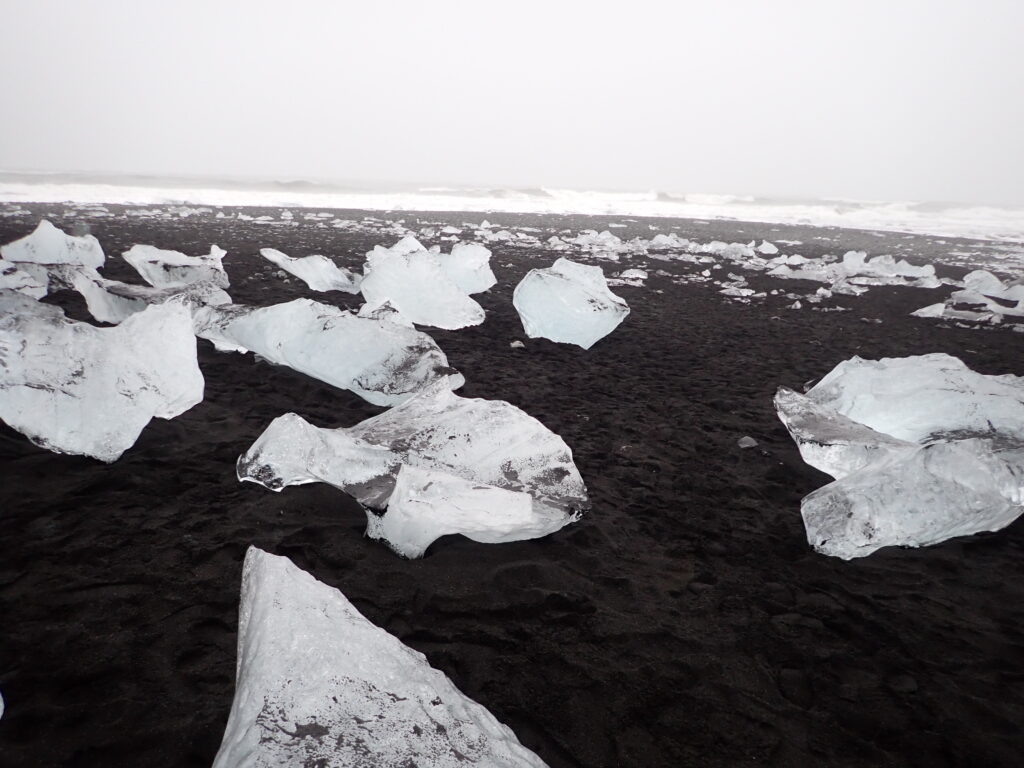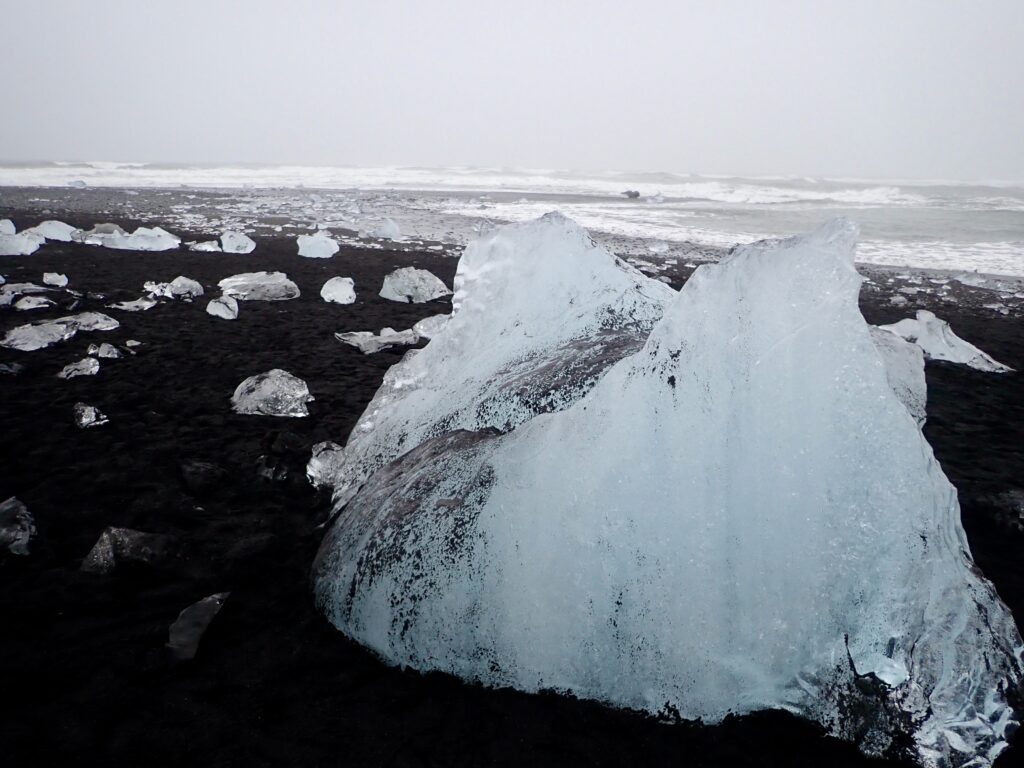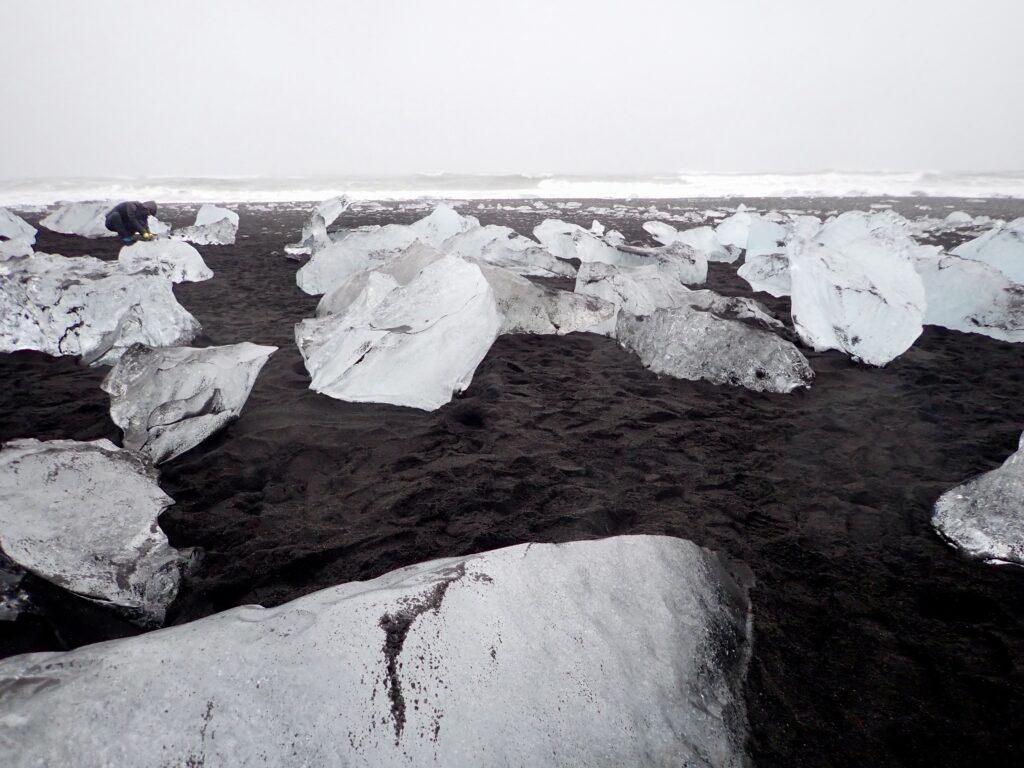 Guesthouse Gerði
Only 13 kilometers from the glacier lagoon sits Guesthouse Gerði. This quaint, small property is right on the ocean, and is also a working sheep farm. Our room was small with two twin beds, a very clean bathroom and plenty of plugs for charging cameras. The onsite restaurant for breakfast and dinner was very good; although the dinner service was quite slow as they appeared fully booked. TripAdvisor reviews are good.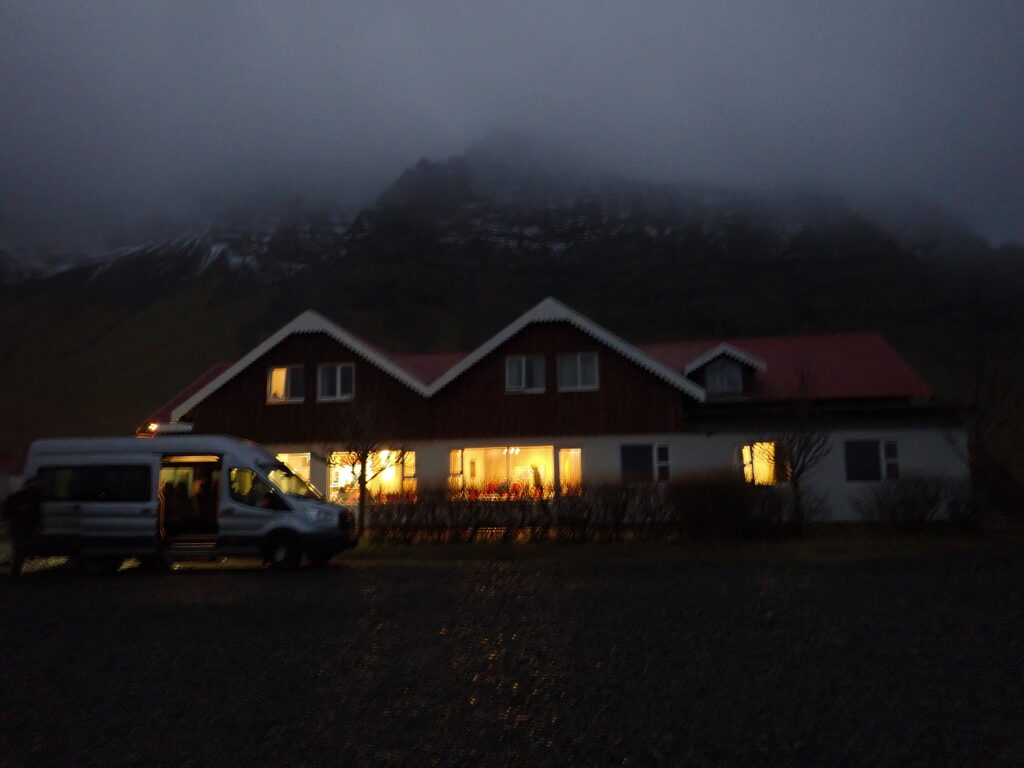 Ice Cave
Visiting the ice cave under the Vatnajokull glacier is incredibly cool. It was recommended to our group that we visit the ice cave rather than walking on the glacier given the time of year and the misty rain that was falling. You can only do the ice cave in the winter months. In the summer, the cave is full of water.
Blue Iceland picked up our group at 8:30am from Guesthouse Gerdi. It was about a 10 minute drive to the entrance of the national park. It took about 20 more minutes to get to where we stopped and put on our helmets and headlamps. We walked for about 25 minutes with a guide and then entered the cave. The guide took us well into the cave away from any natural light. It was a neat, unique experience.
We purchased these ponchos in advance from Amazon. We were very glad we had them!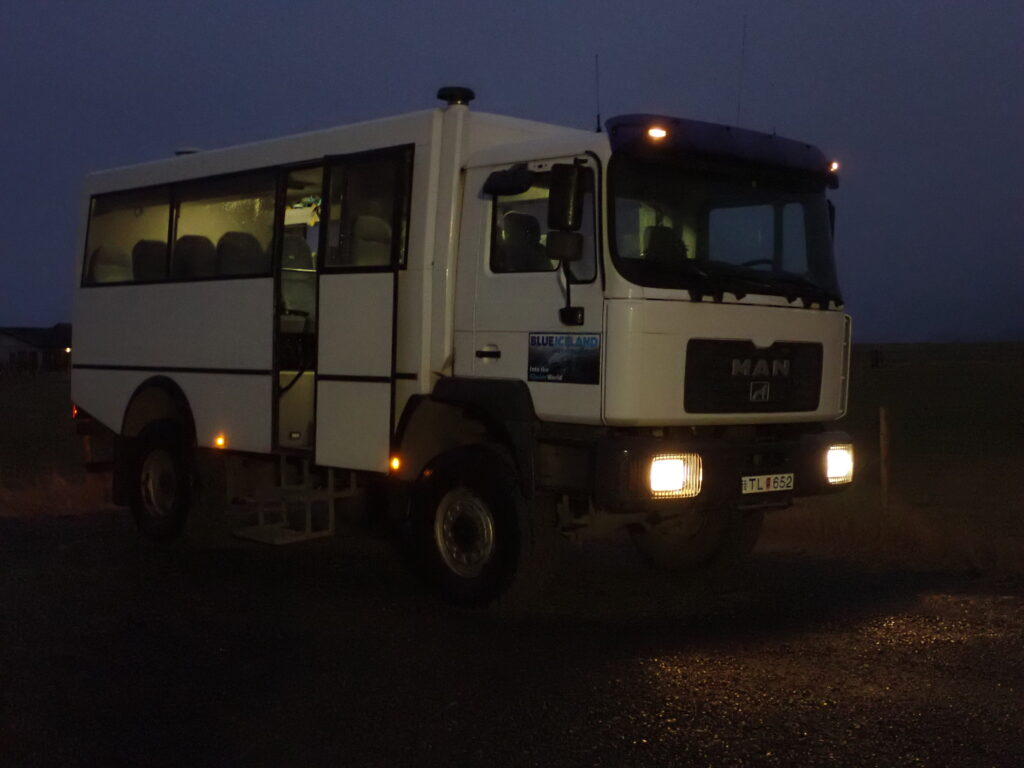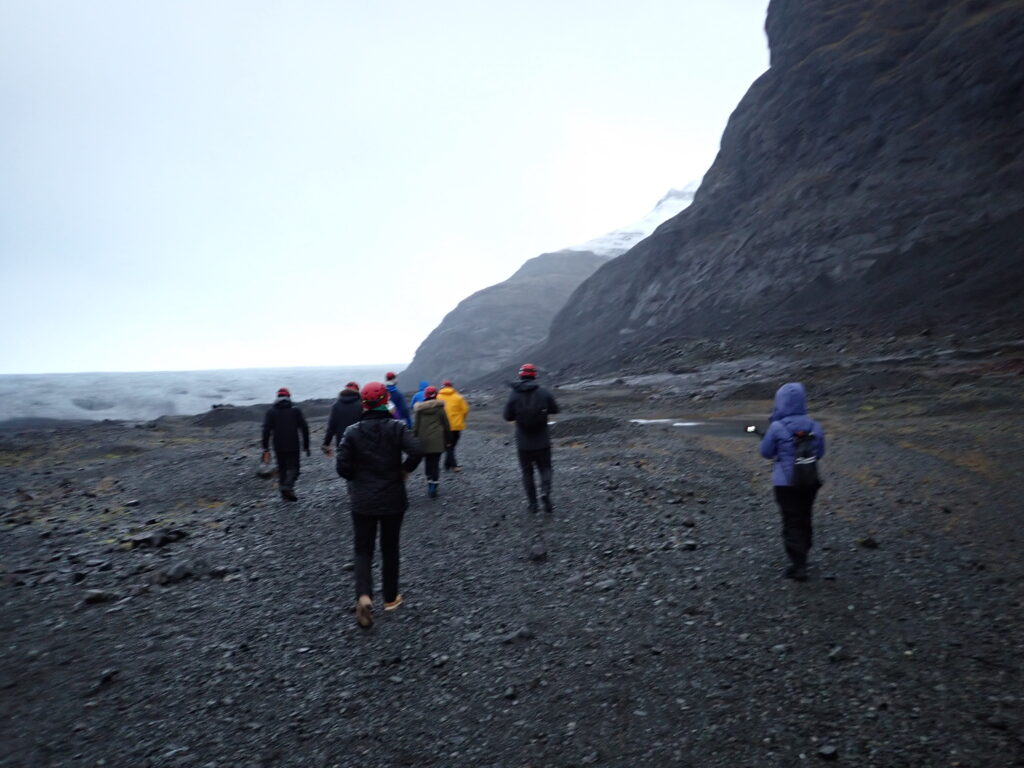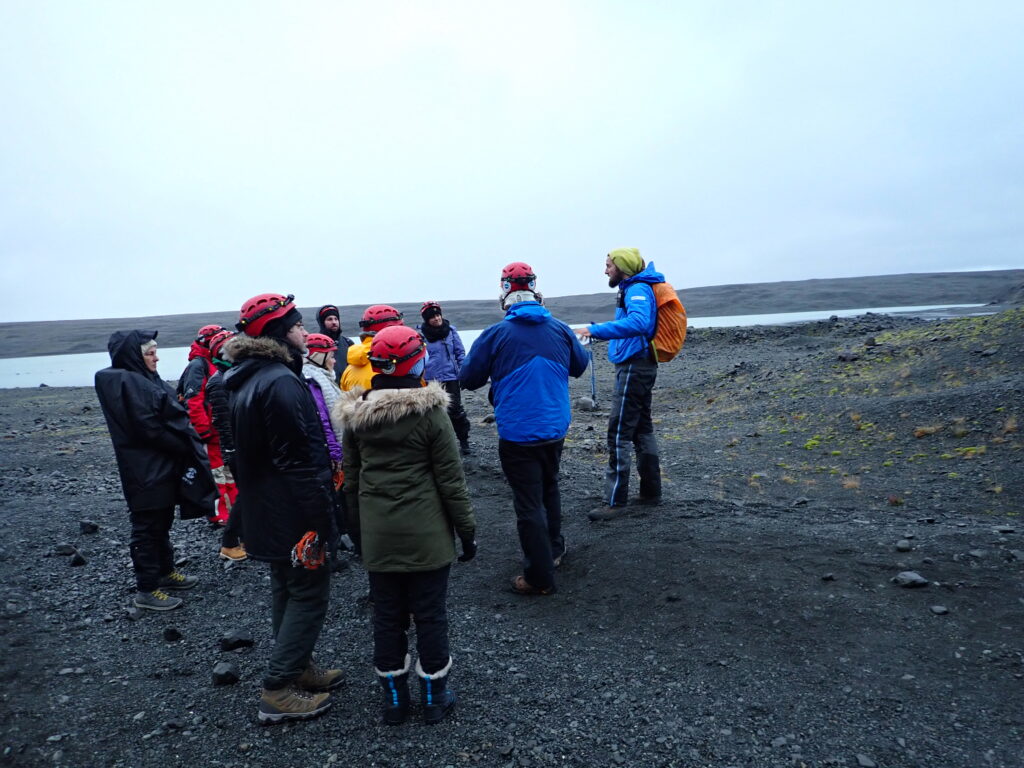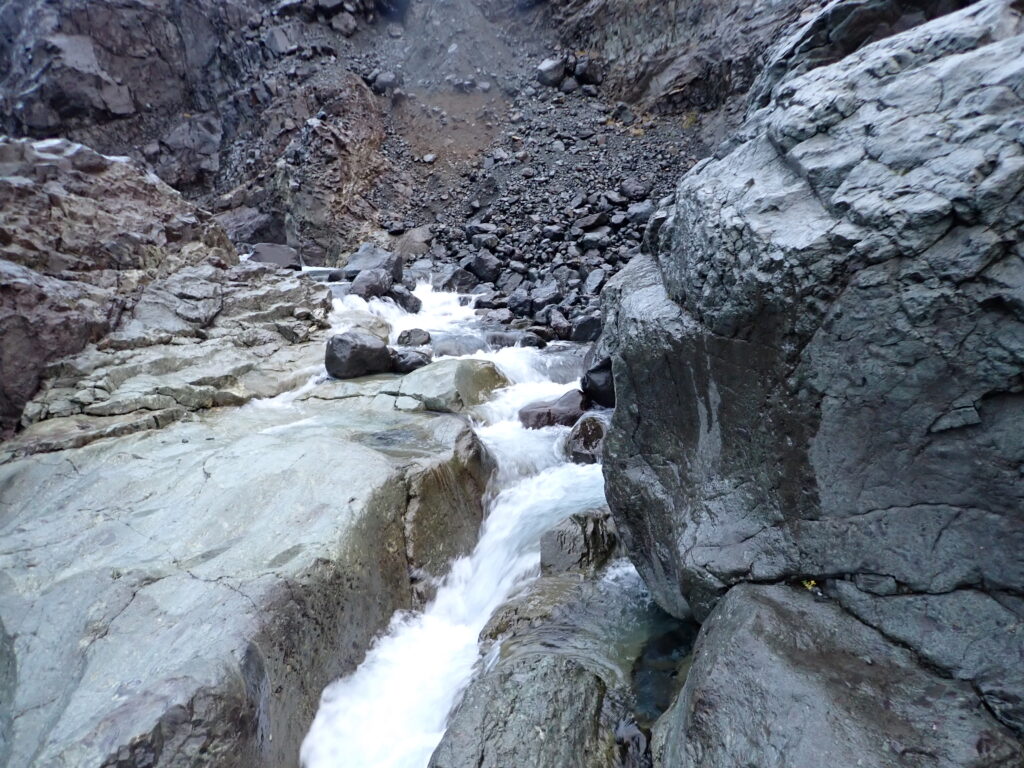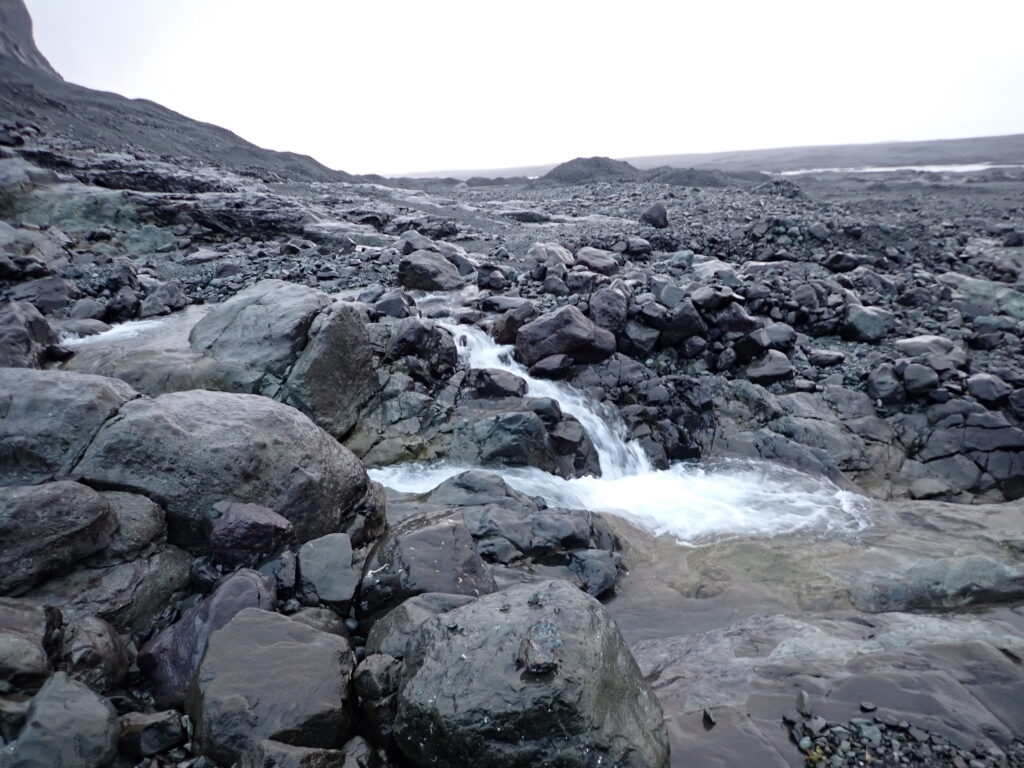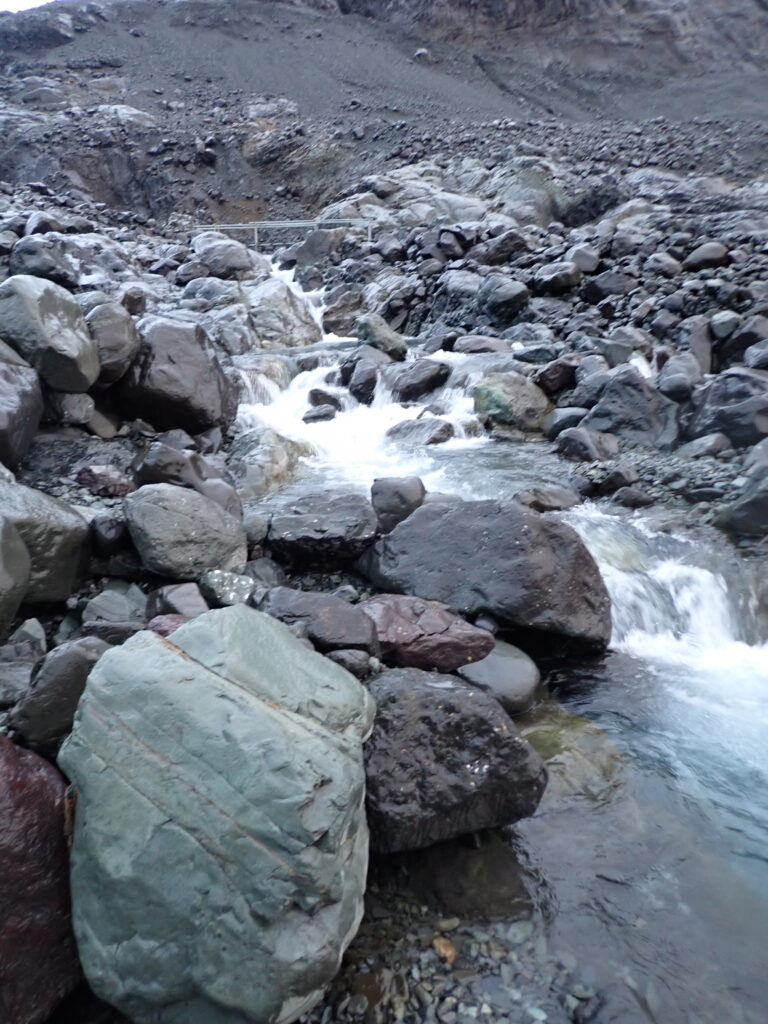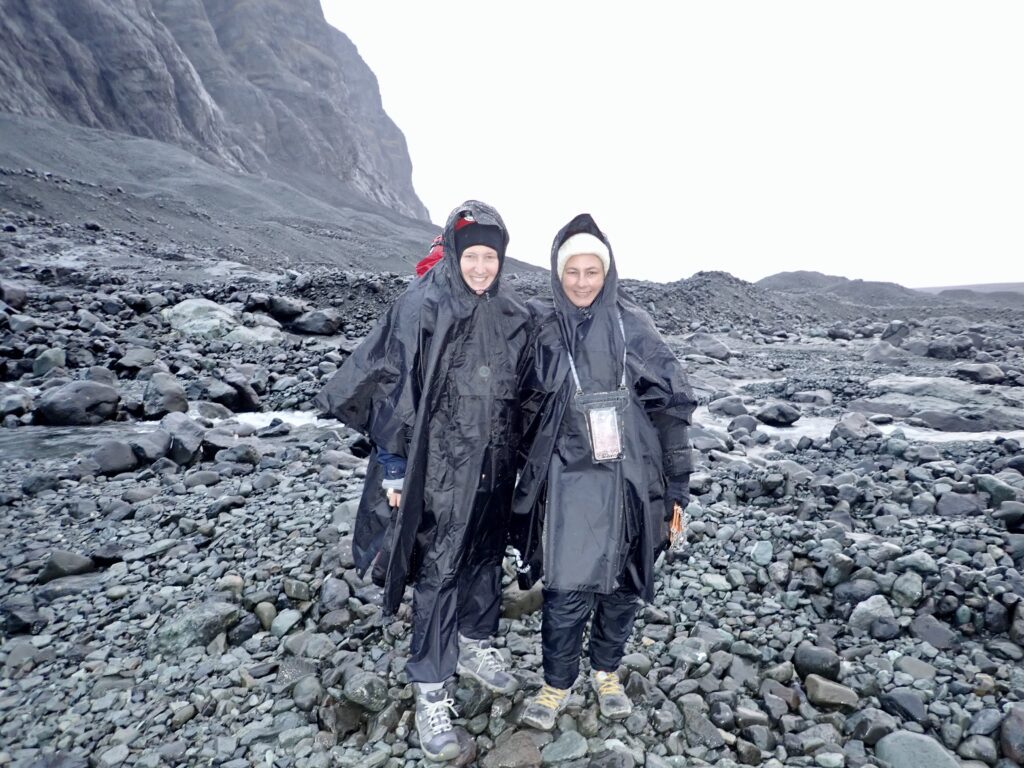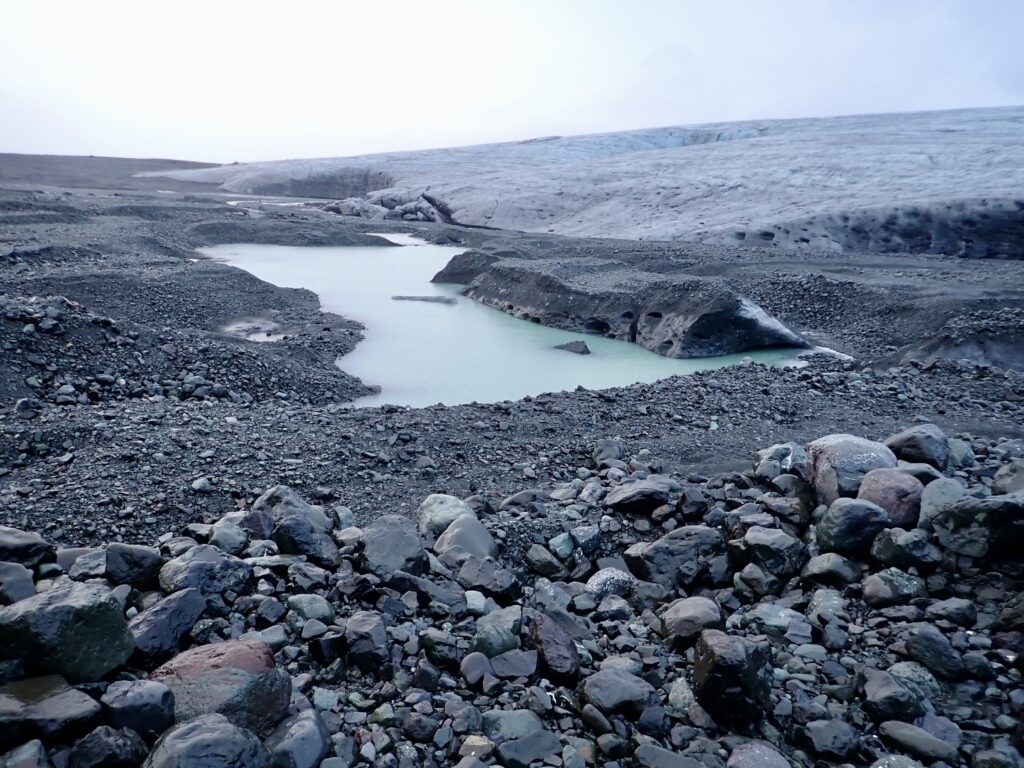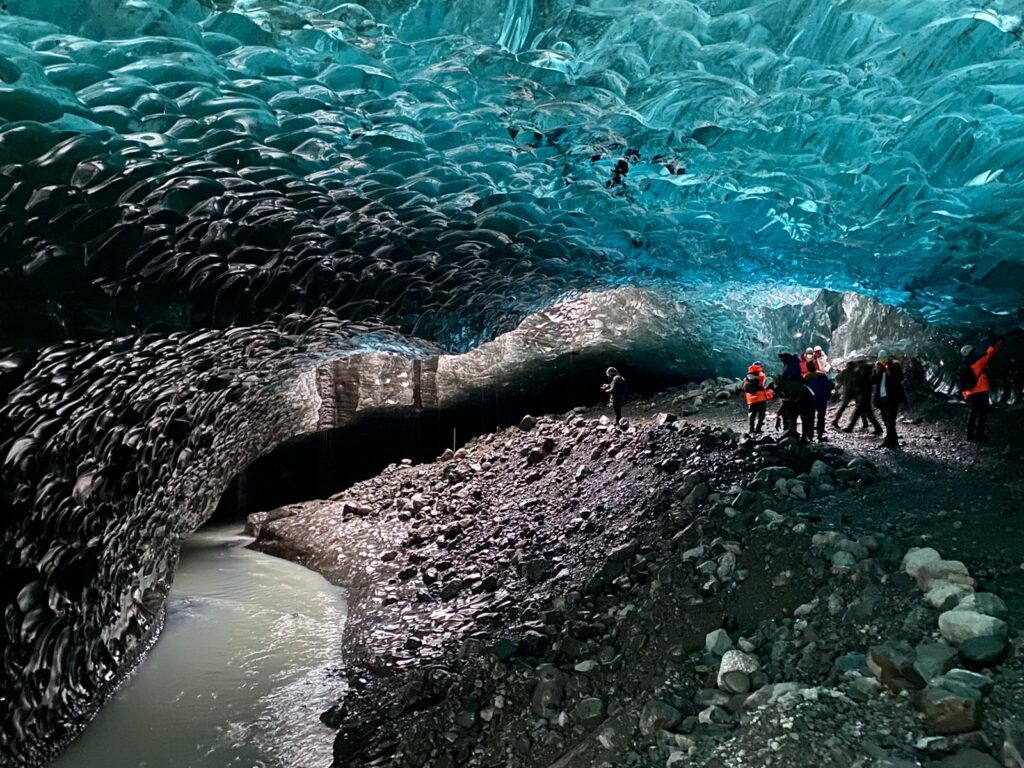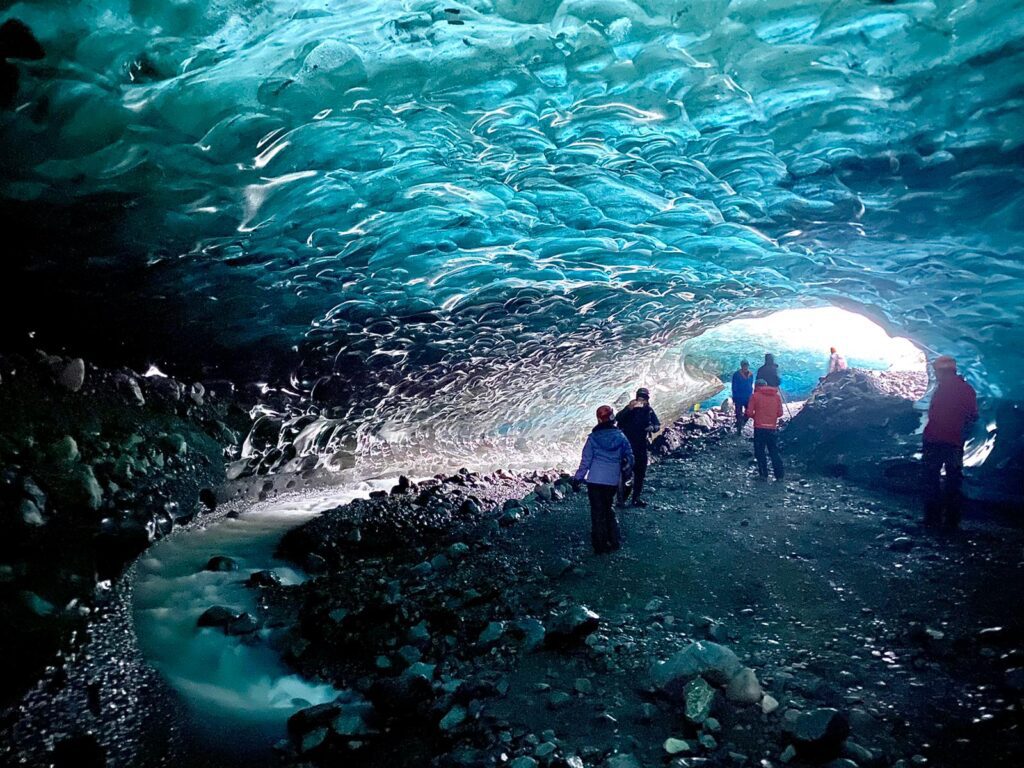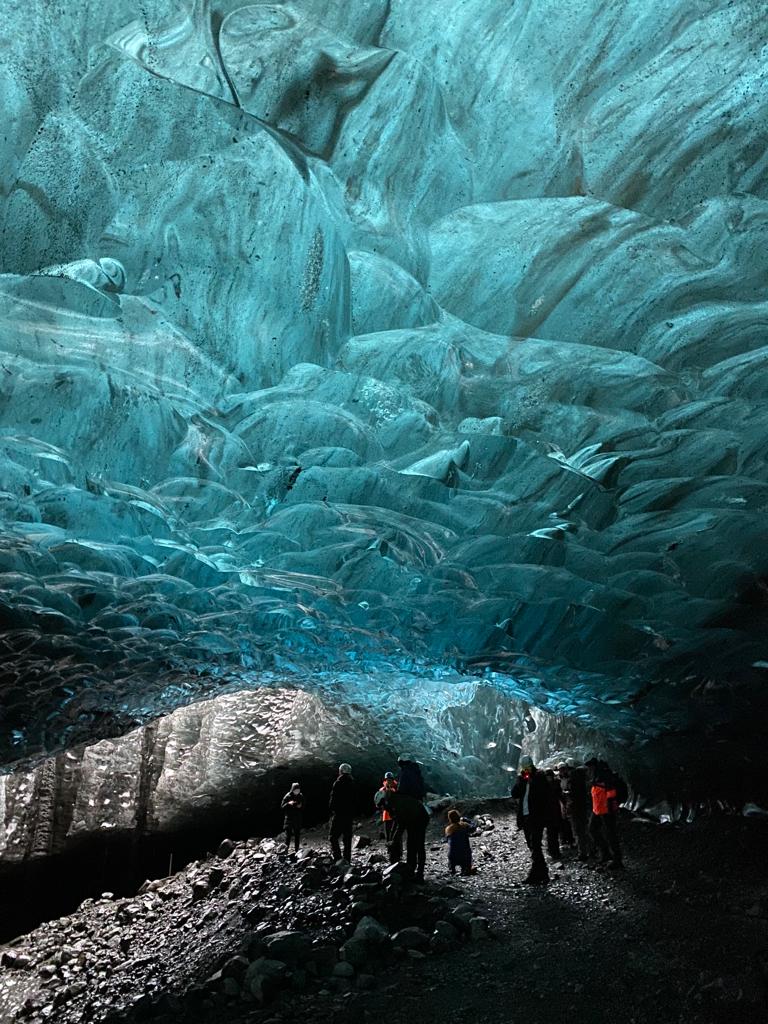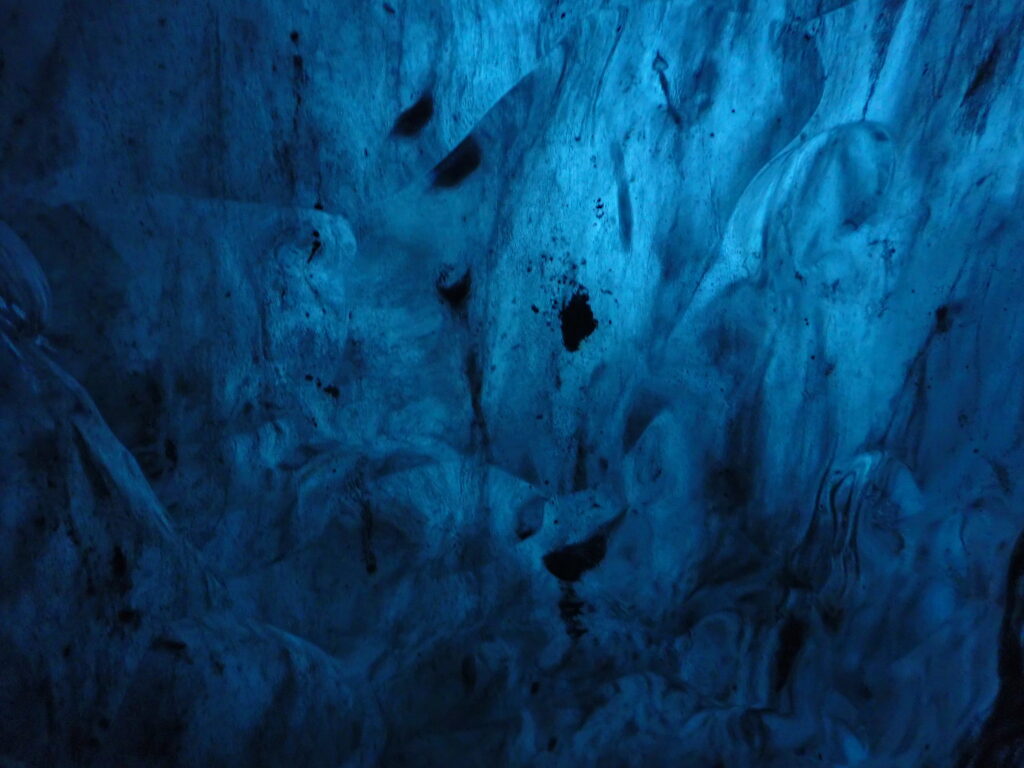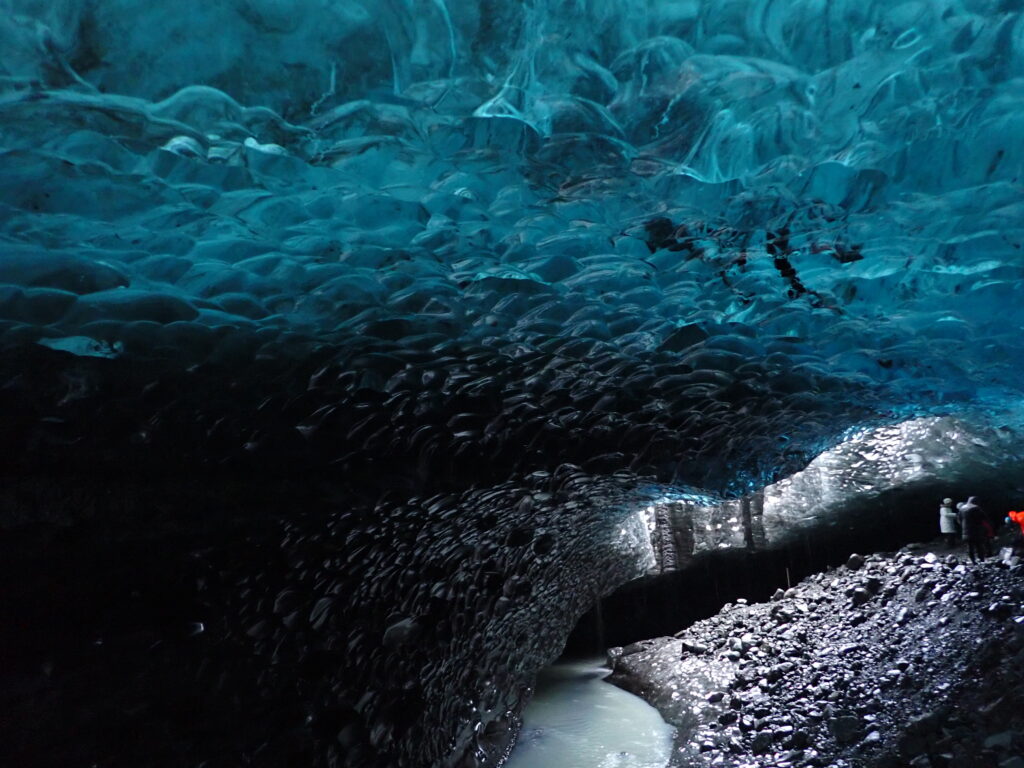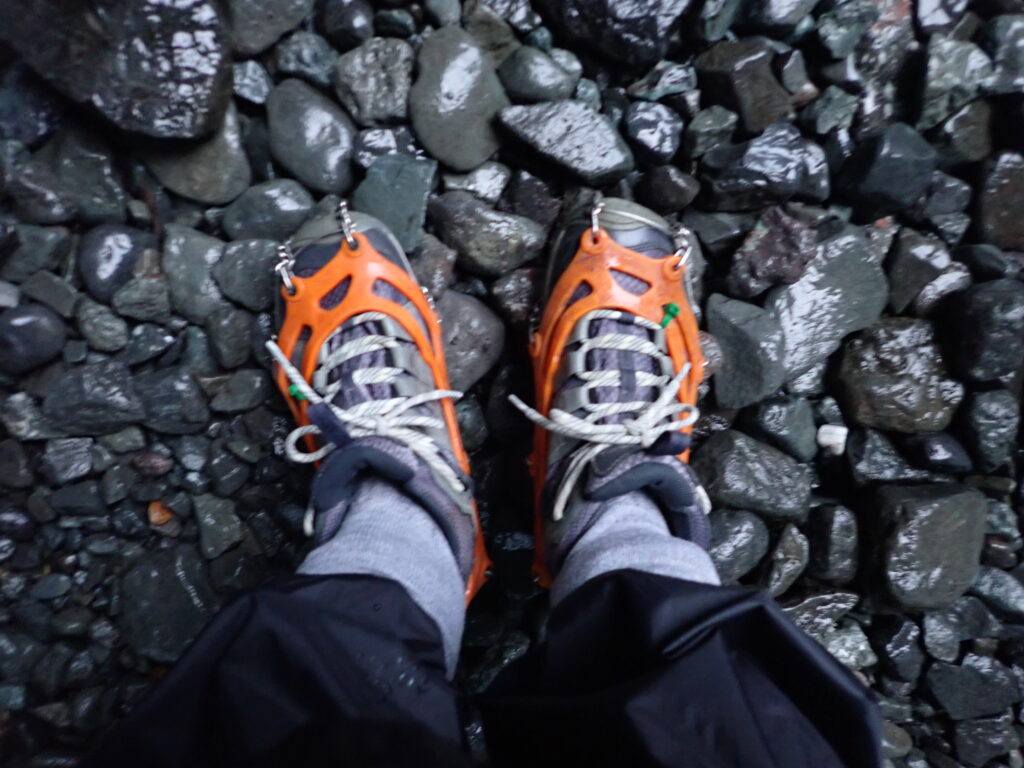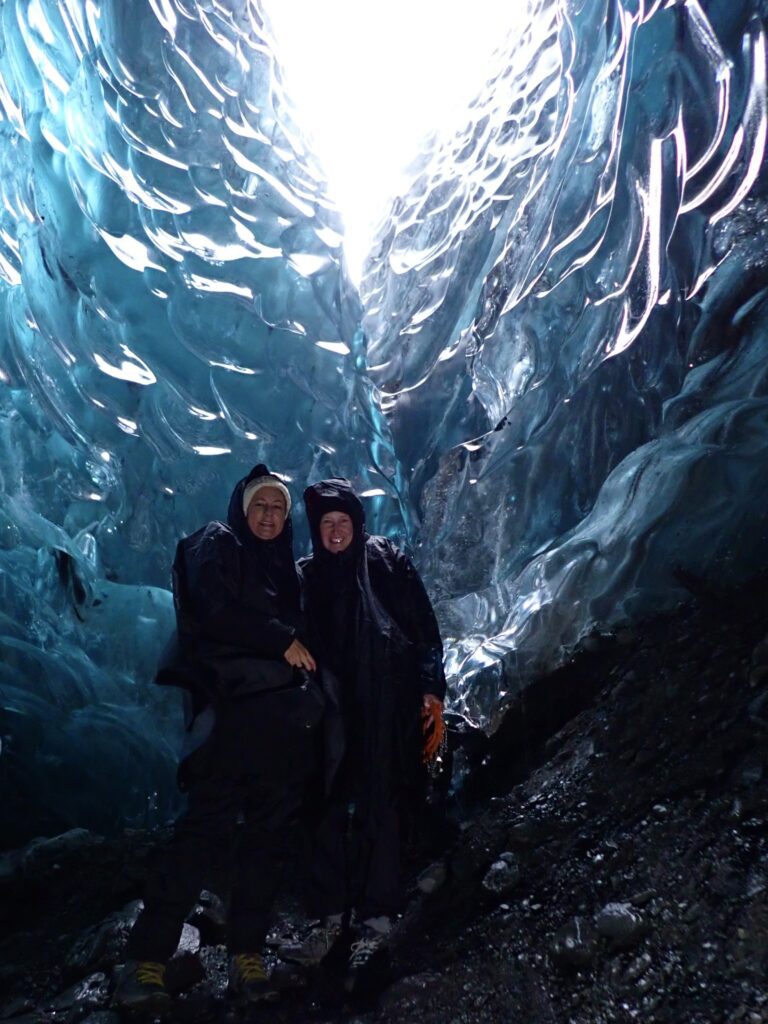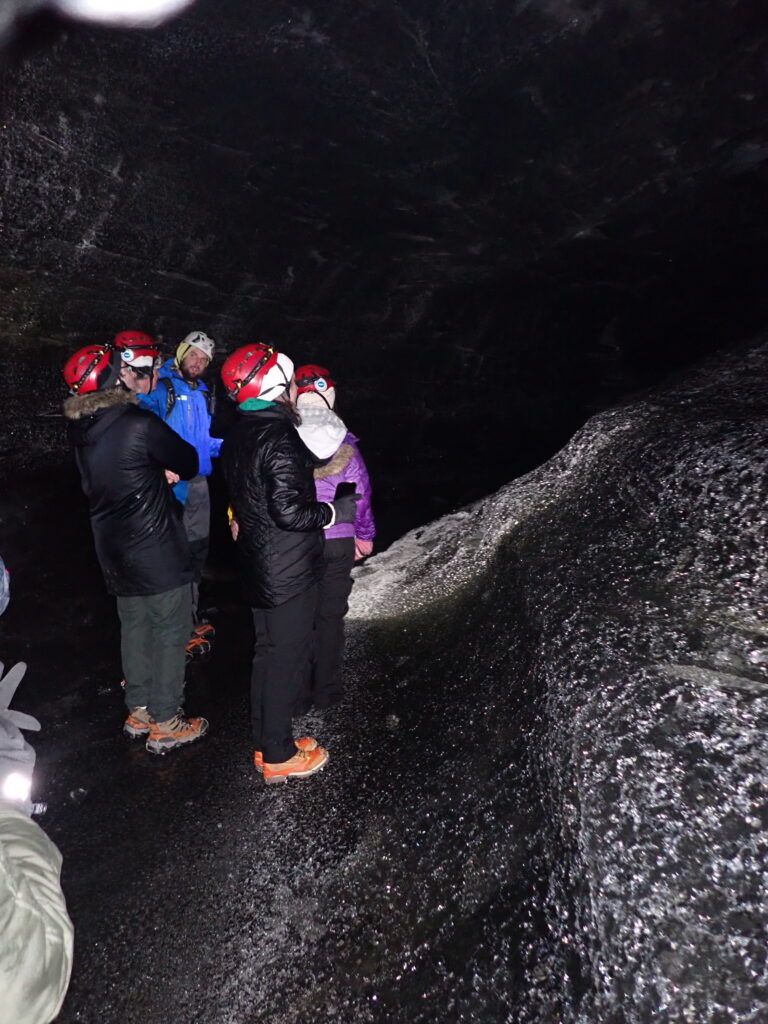 Fjaðrárgljúfur Canyon
The Fjaðrárgljúfur Canyon is 300 feet deep, and it is located in southeast Iceland close to the village Kirkjubæjarklaustur. It is also close to the world's largest lava field, Eldhraun. Justin Bieber filmed a music video here in 2019, and the government had to restrict access to the canyon due to overcrowding. This site is breathtaking. I imagine with a blue sky that it is amazing.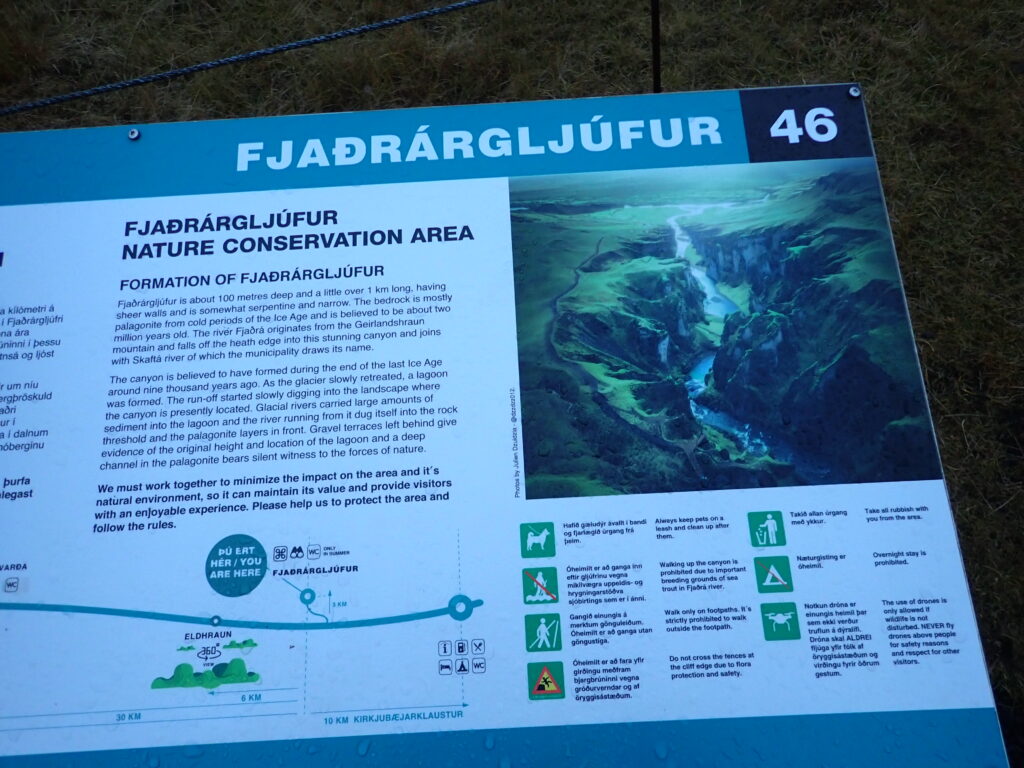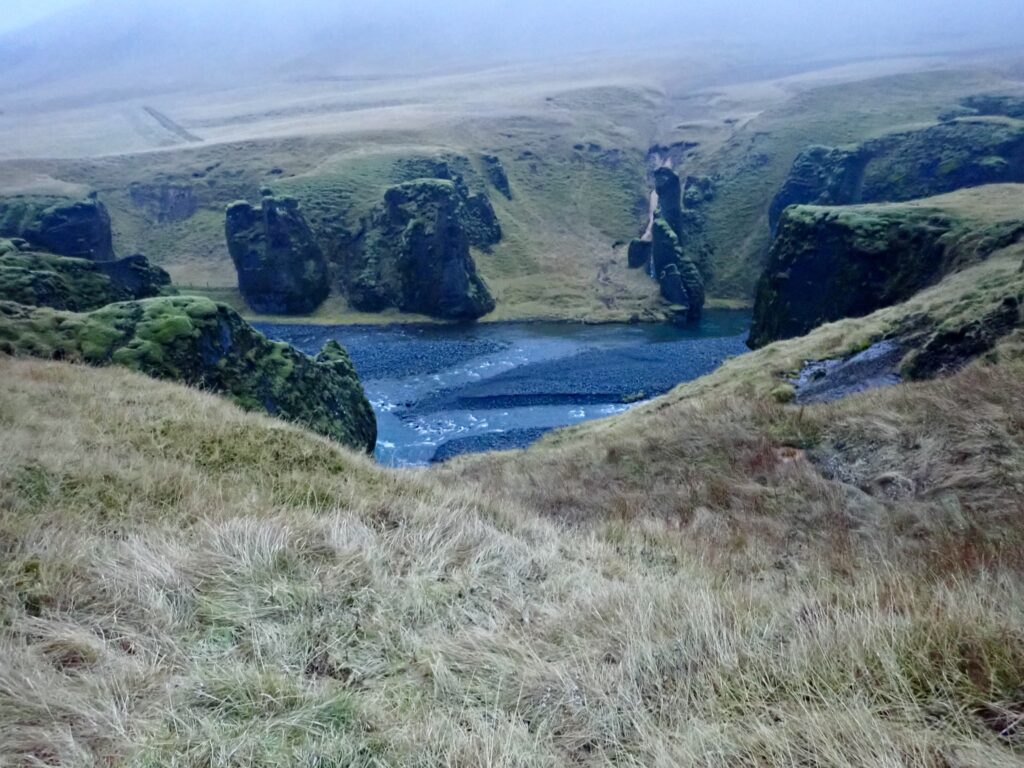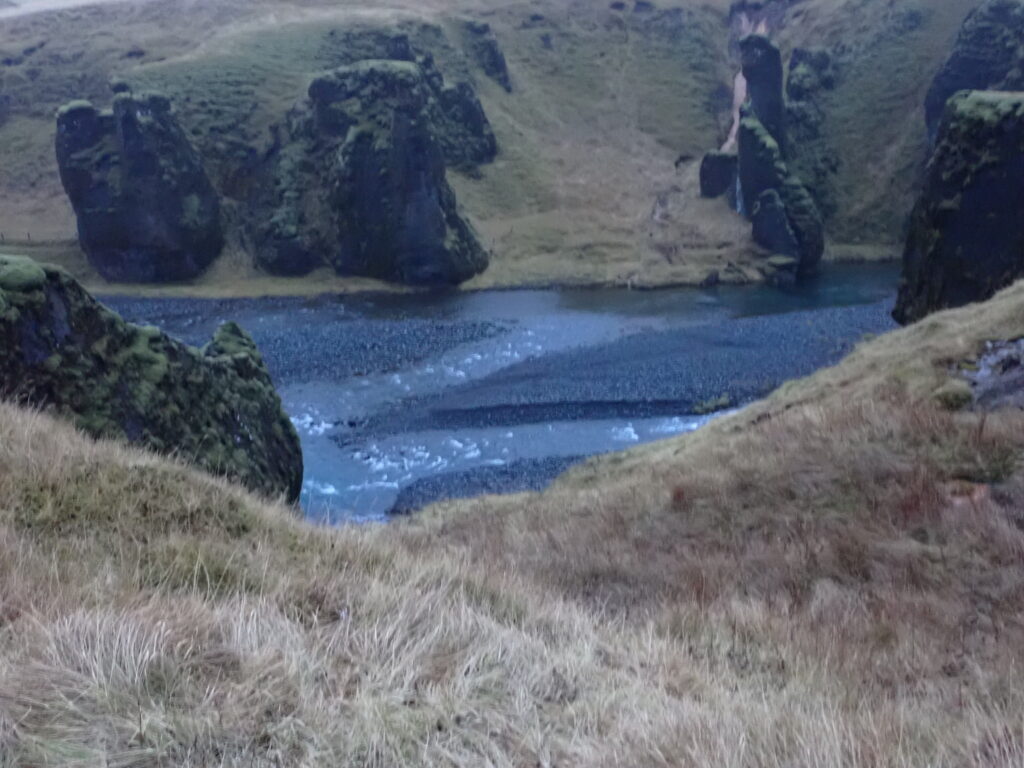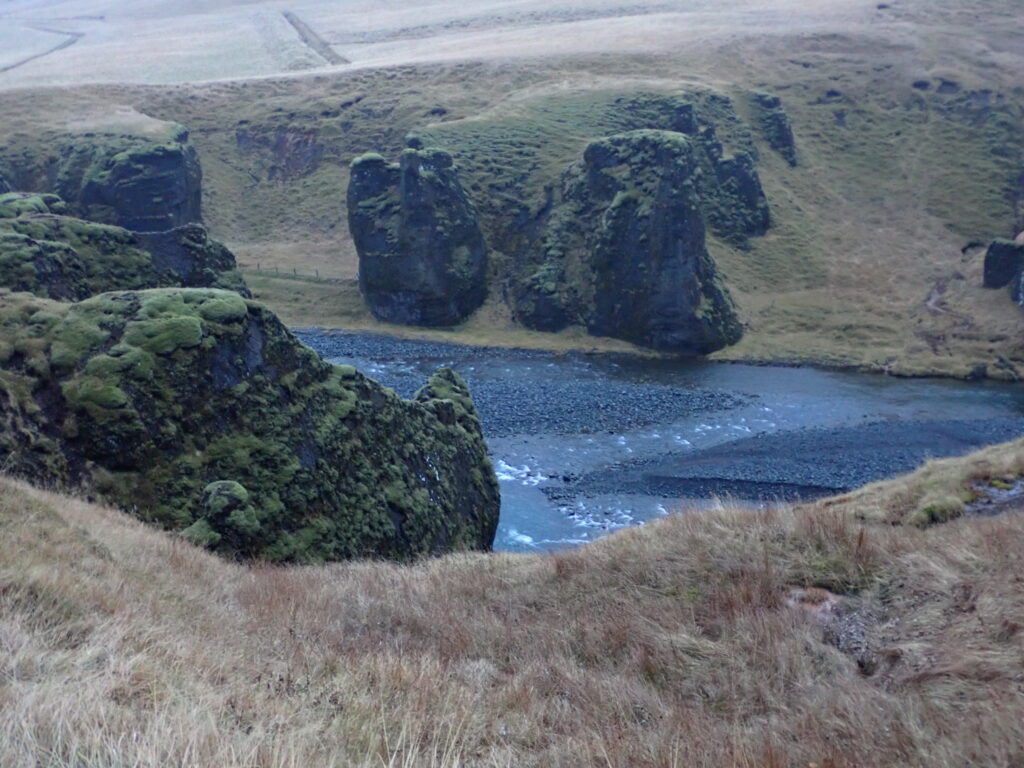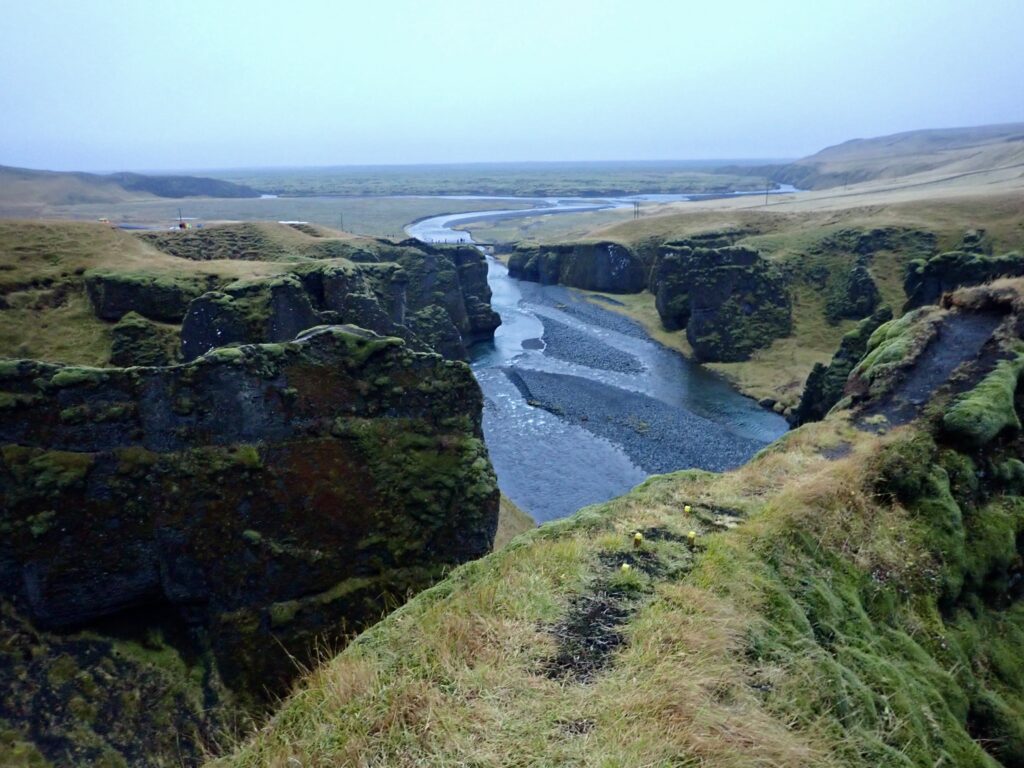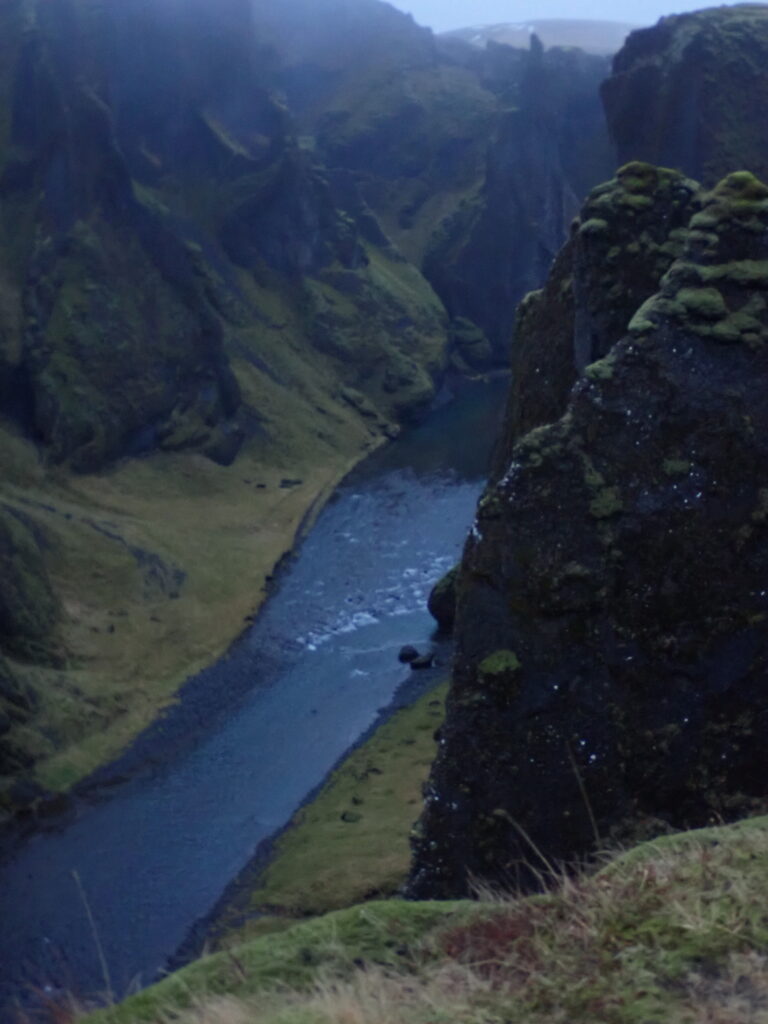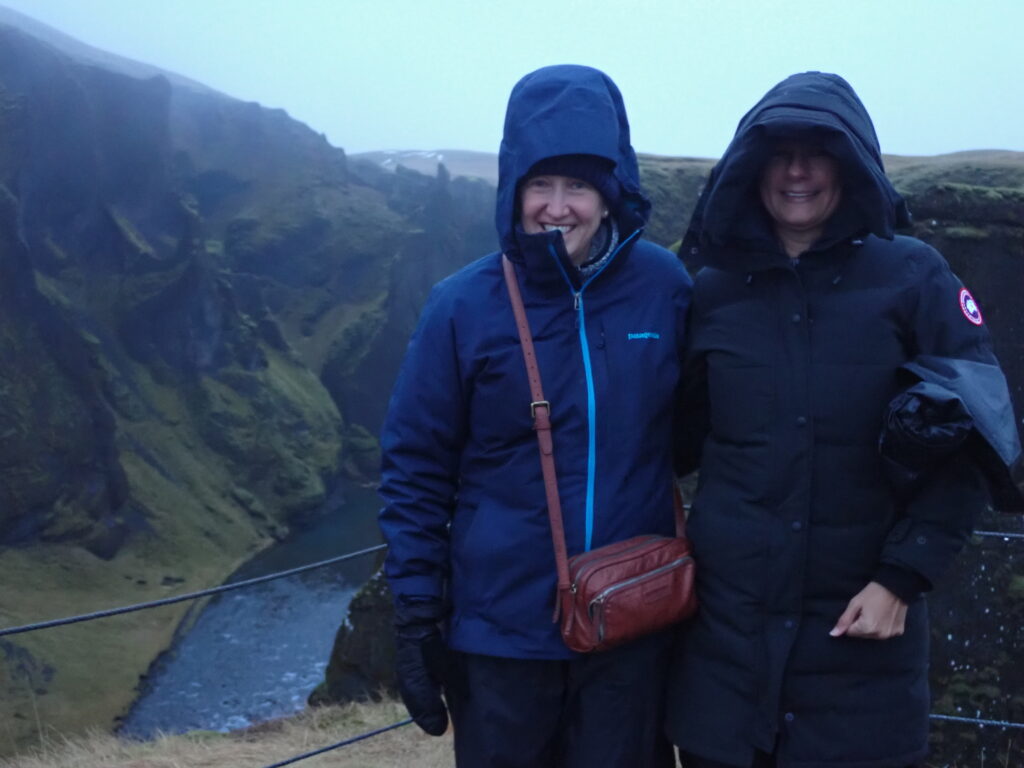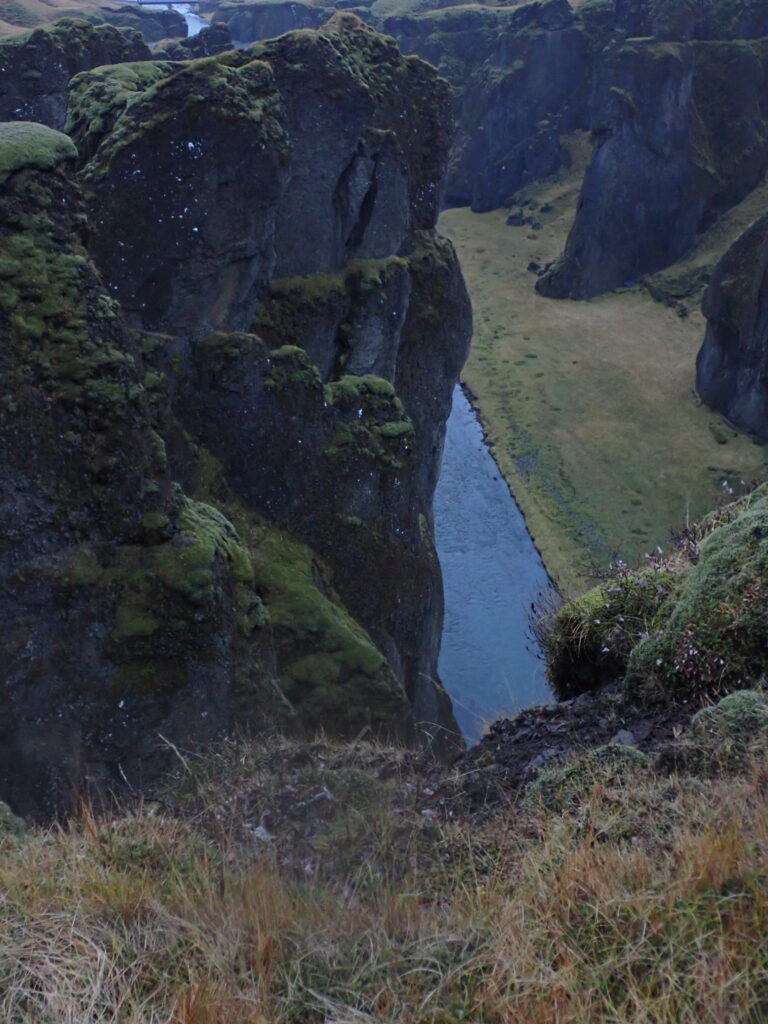 Sólheimahjáleiga Guesthouse
We stayed in the Sólheimahjáleiga Guesthouse for a night. It is set up like a college dormitory. This is also a working farm. This was Michele's favorite place. I found it utterly charming. The rooms are clean and small. The onsite restaurant served us a wonderful dinner and breakfast. Sólheimahjáleiga is located on the South Coast of Iceland, approx. 24 km from the village Vík, and 165 km (2 hour drive) from Reykjavík. Skogafoss is 8 miles away, and Reynisfjara is 15 miles away. TripAdvisor reviews are good.
Dyrholaey
We drove to the southern most point in Iceland, Dyrholaey. It is at the far end of the Reynisfjara black sand beach. We could see the Reynisdrangar Sea Stacks in the distance. The sea is angry here, and the power of the ocean was awesome to see.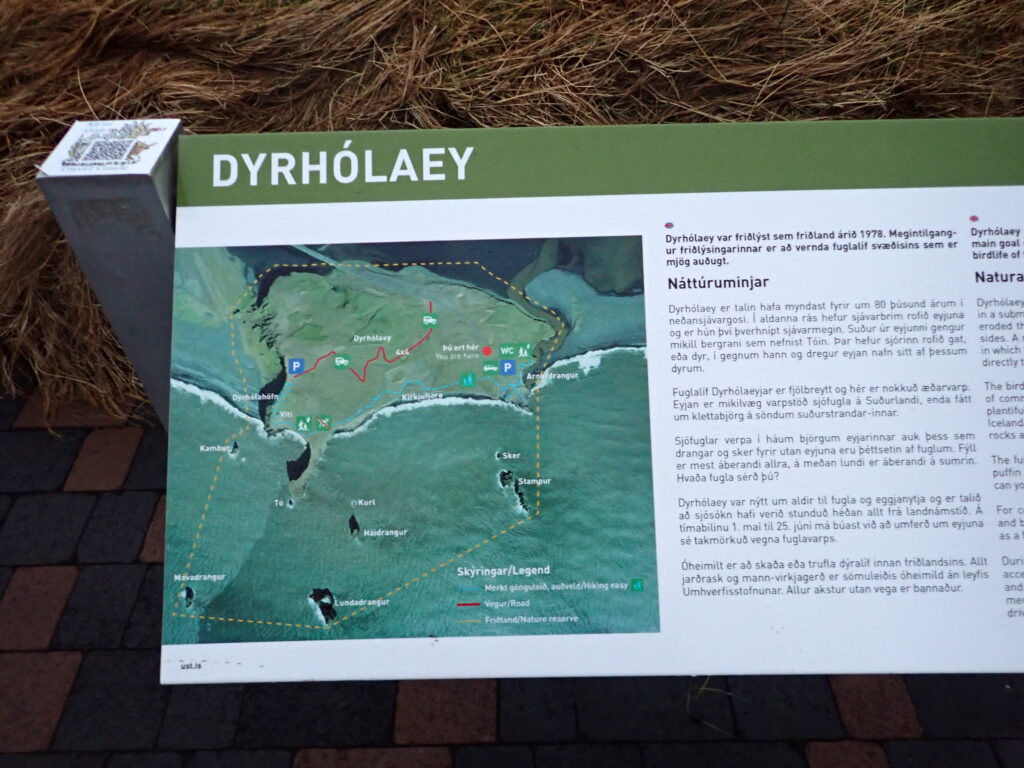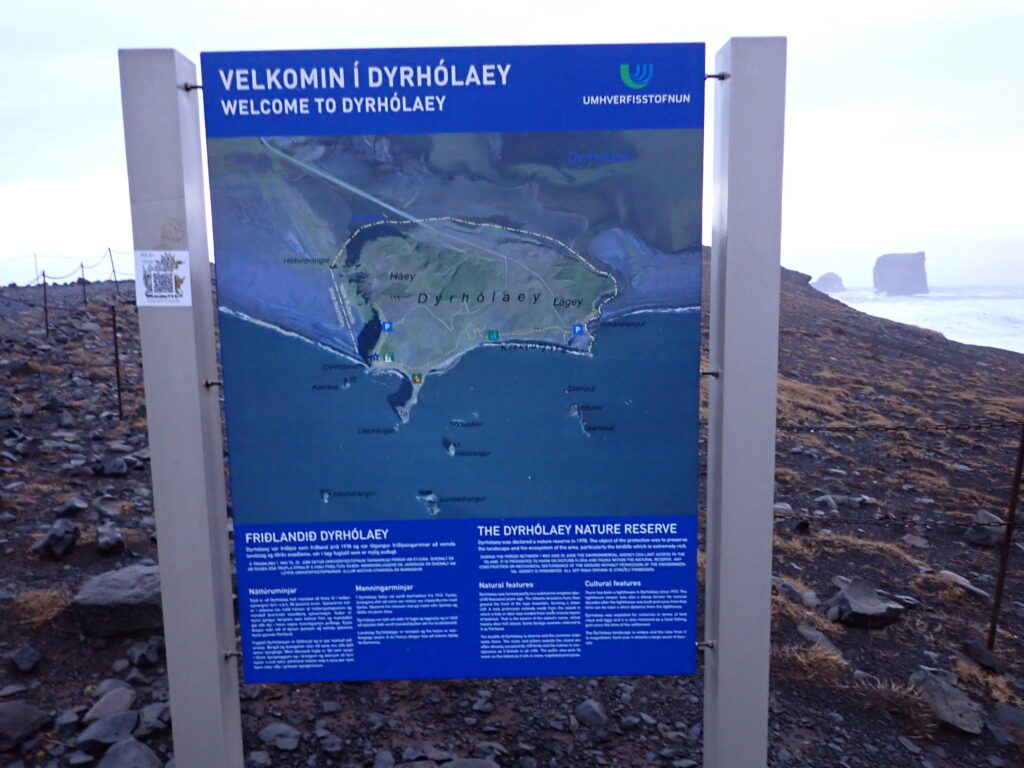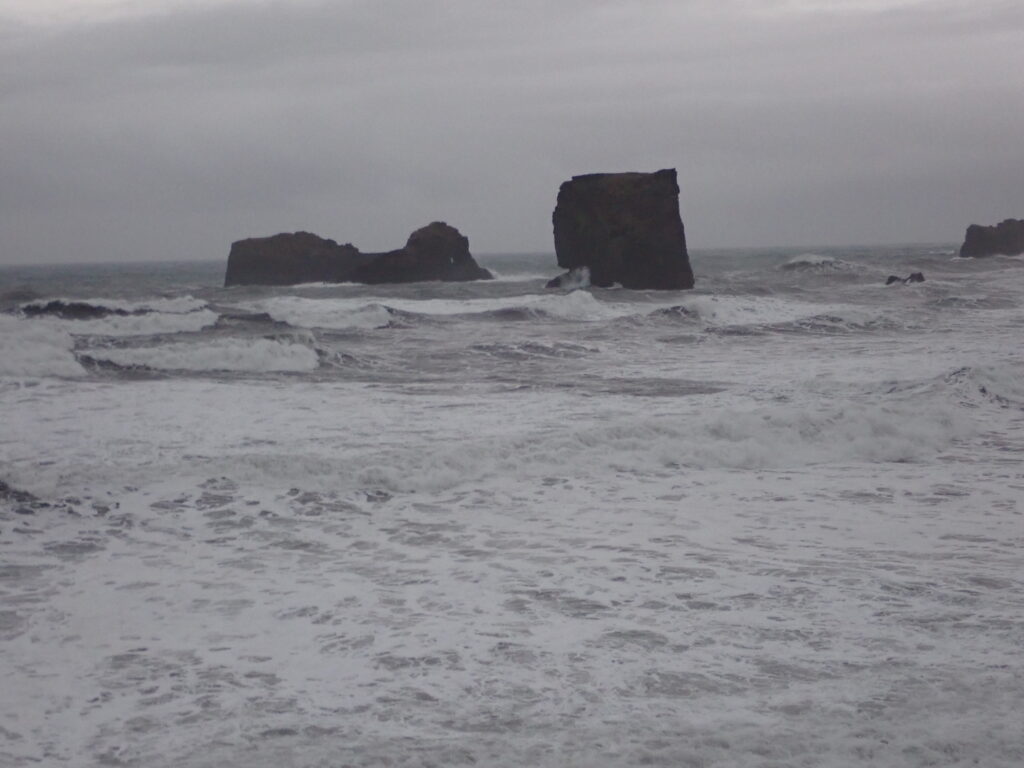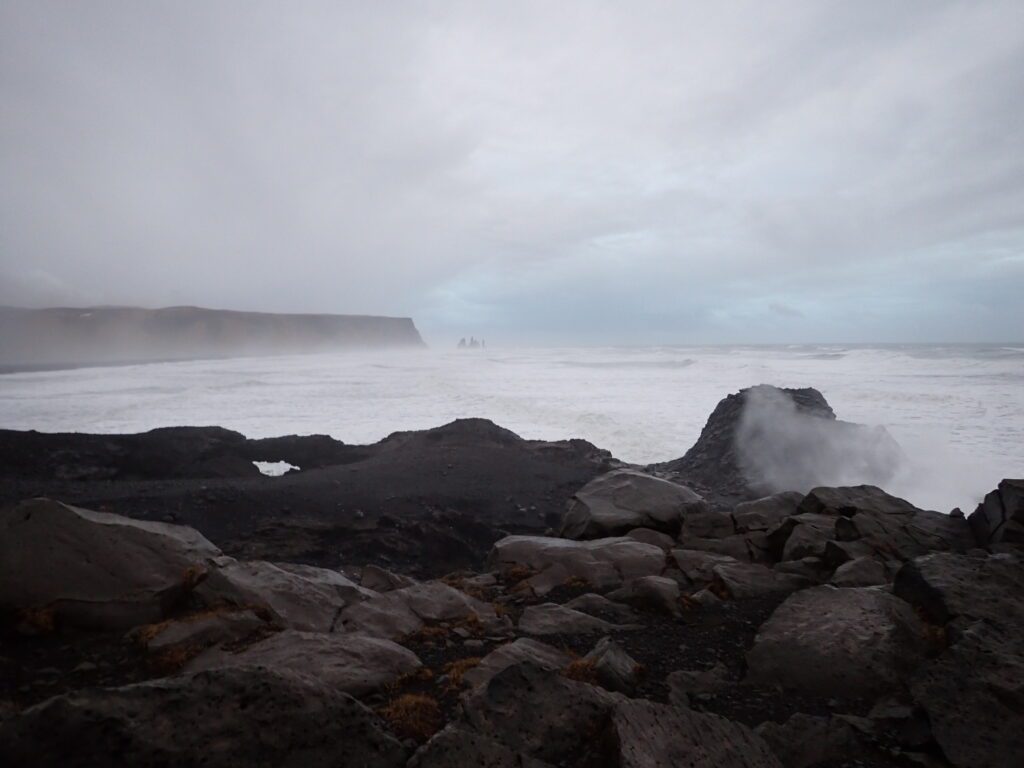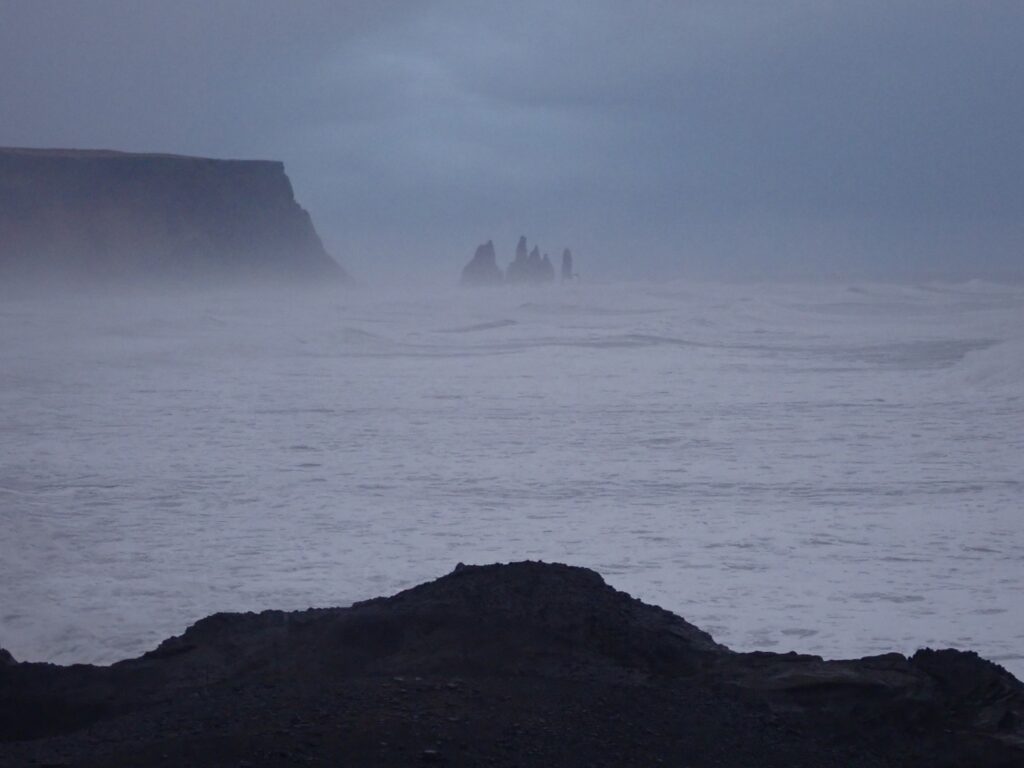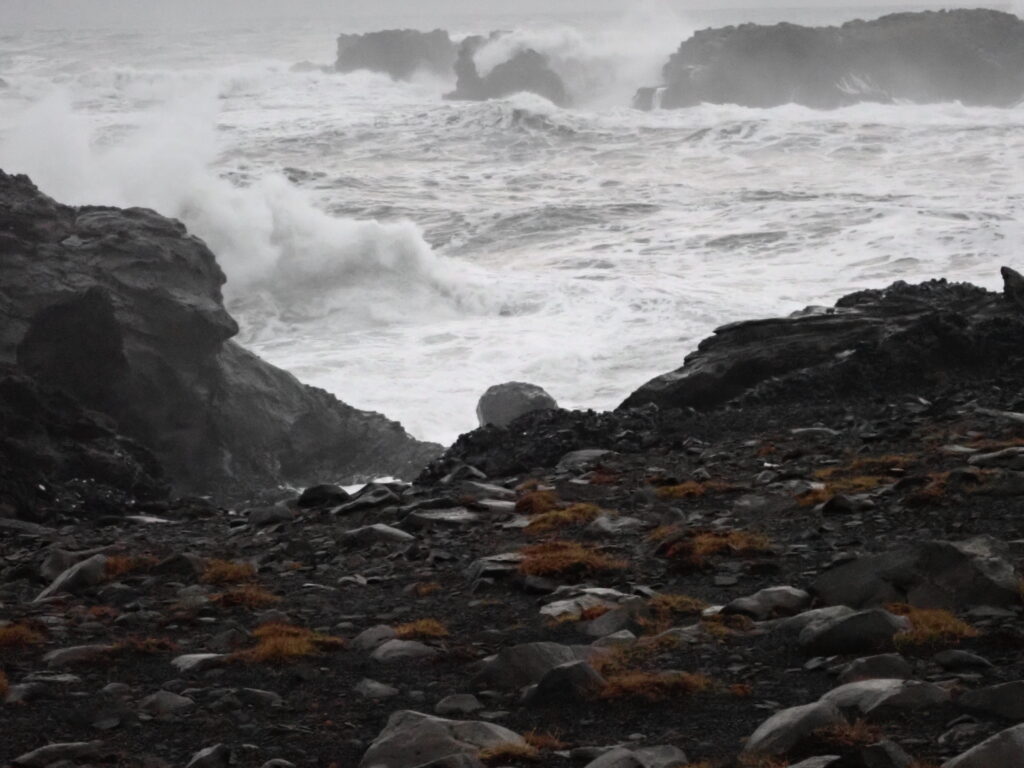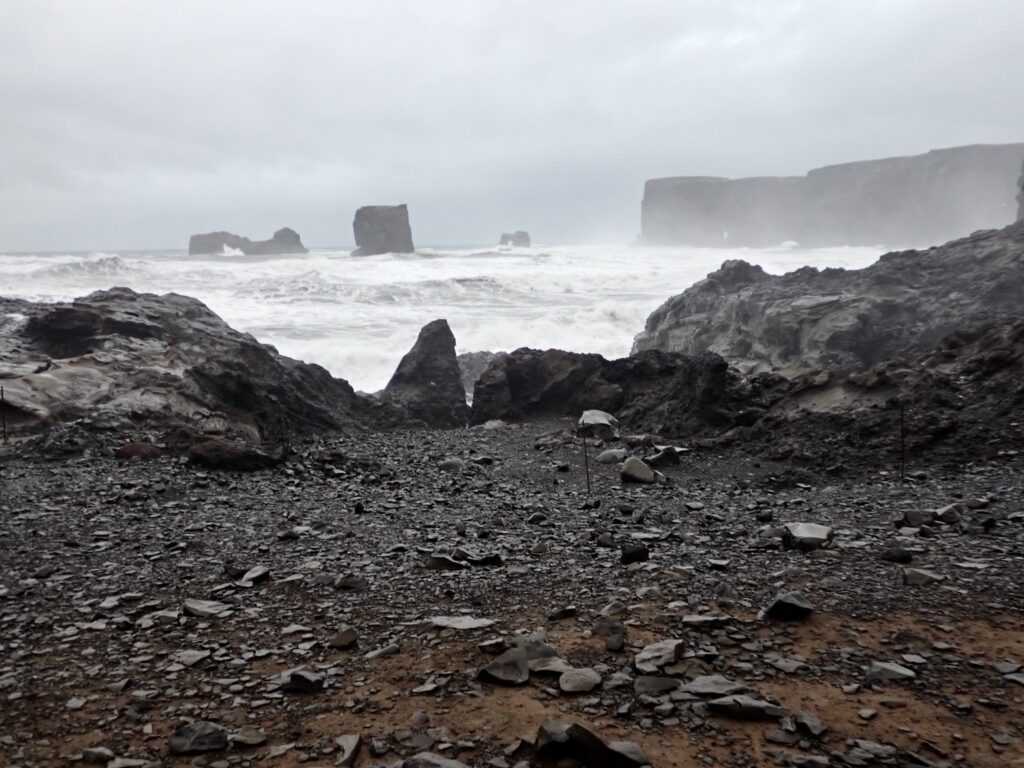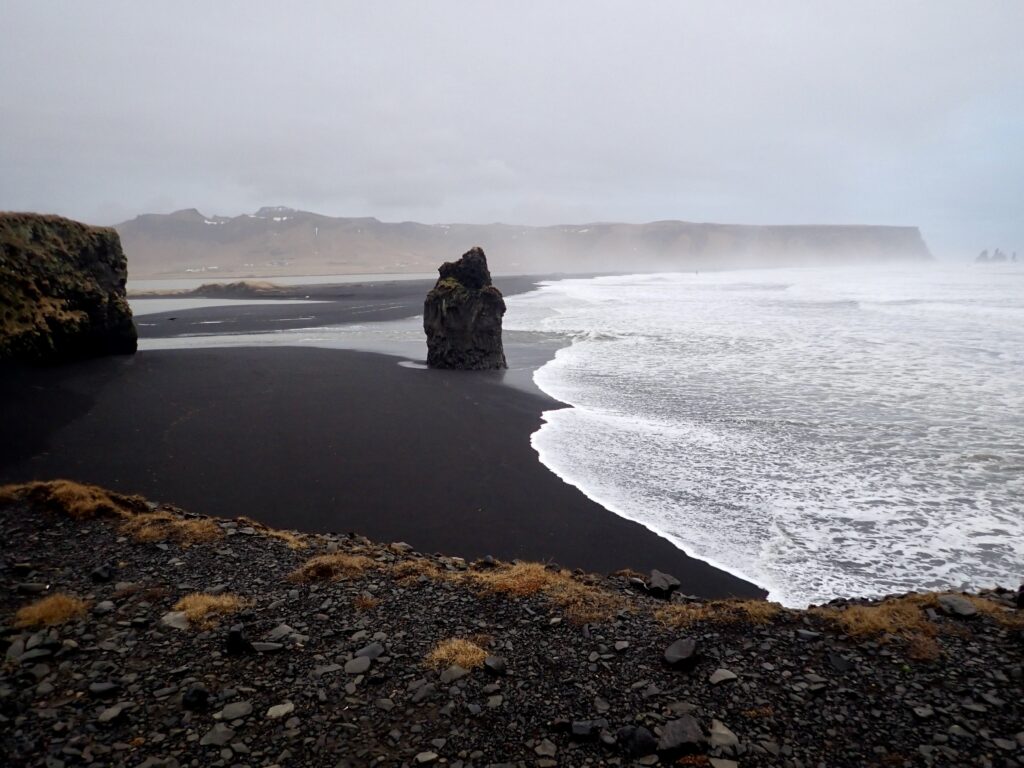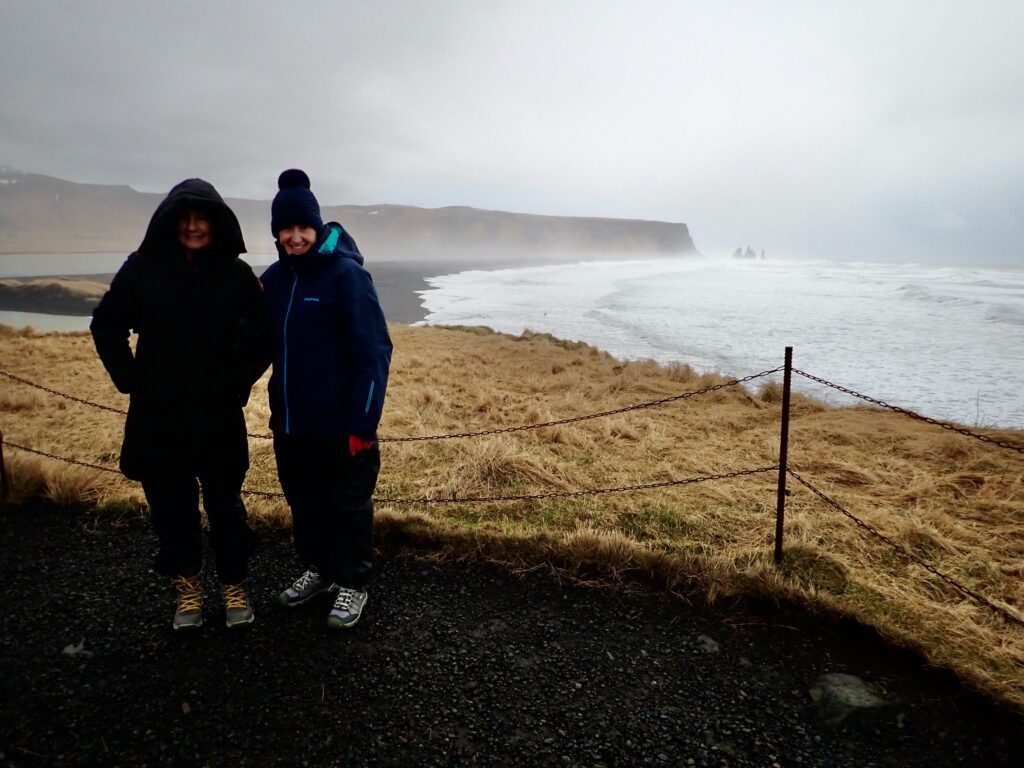 Írárfoss
We were the only people at Írárfoss, located just outside of Hvolsvollur. It is on the Ring Road, and it is gorgeous. The pretty falls are an easy walk and the surrounding land is spectacular.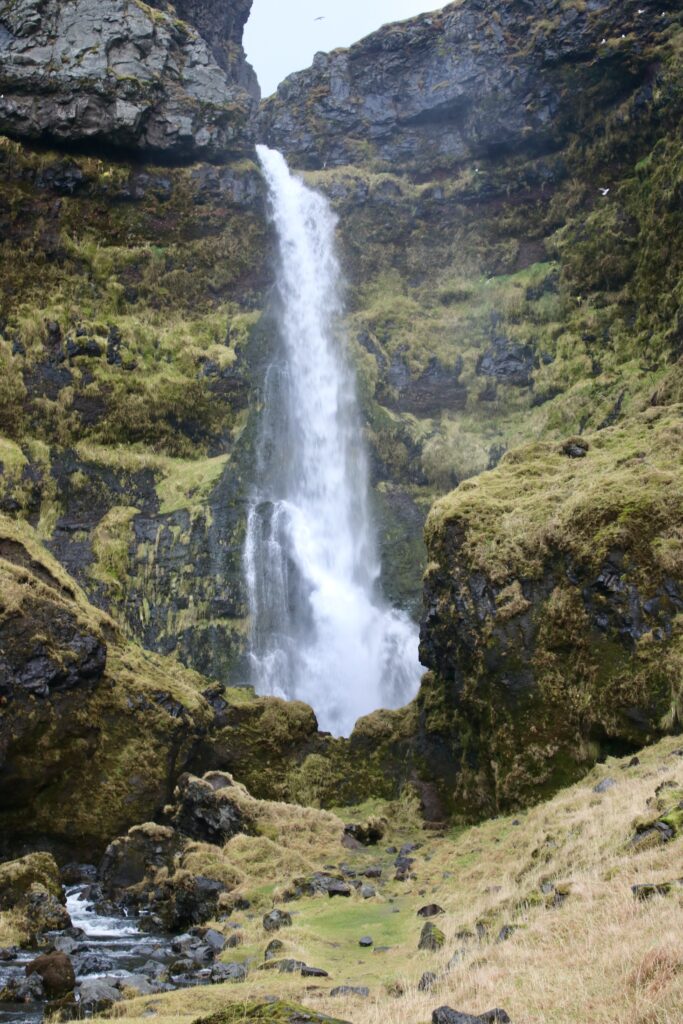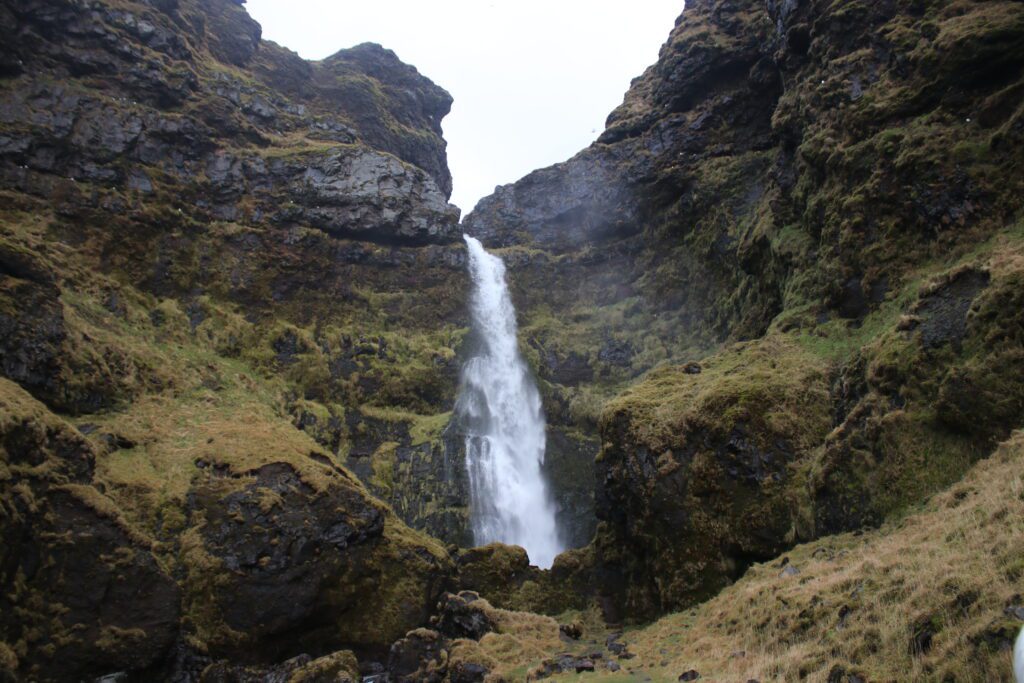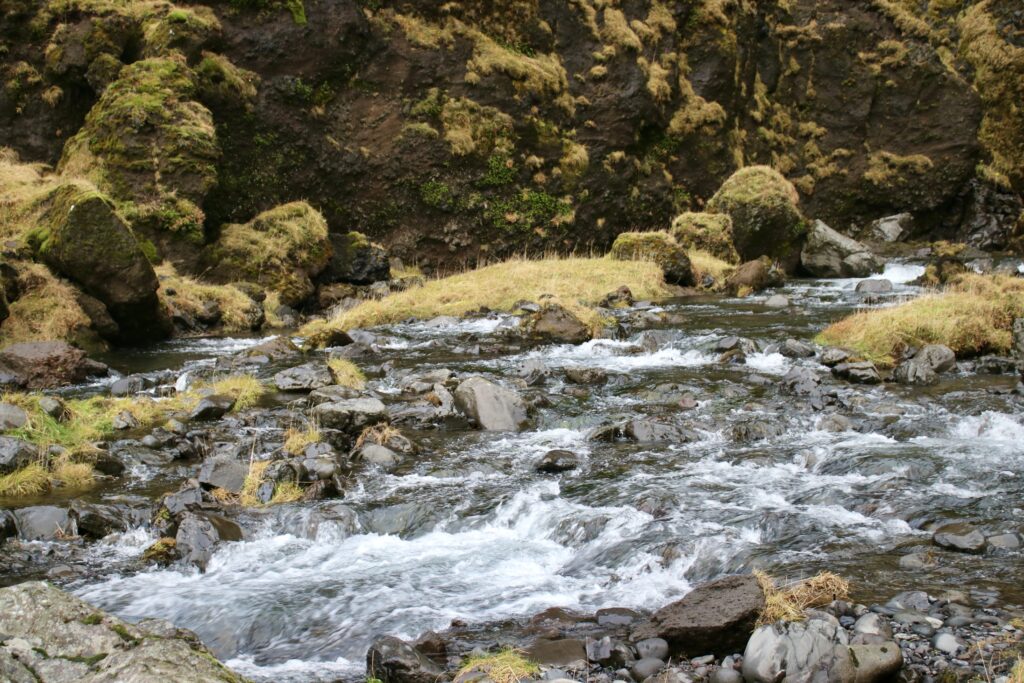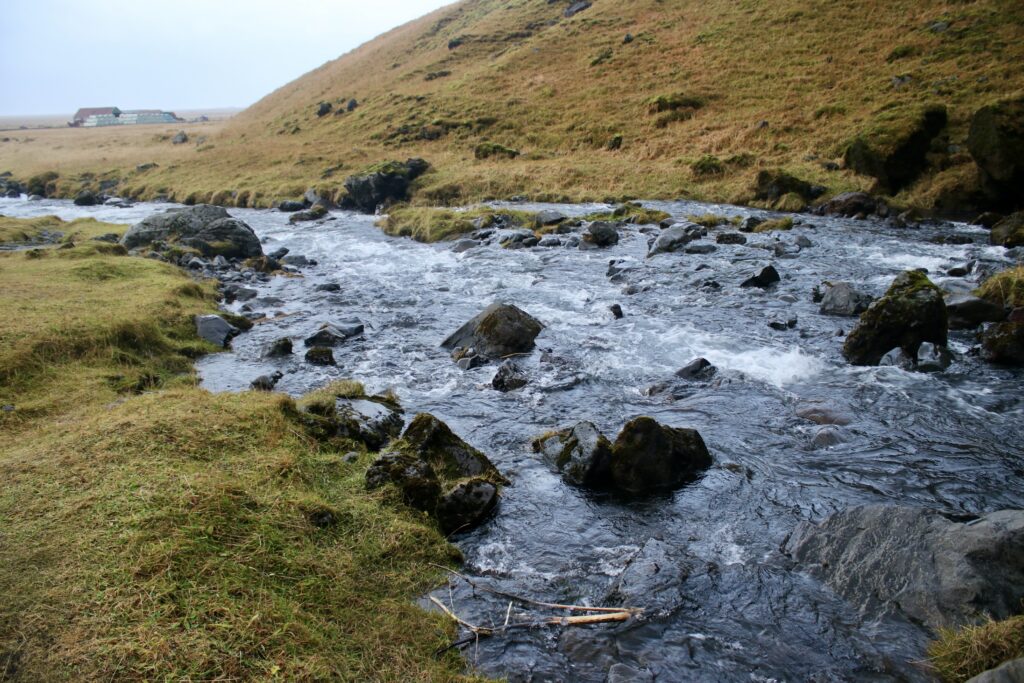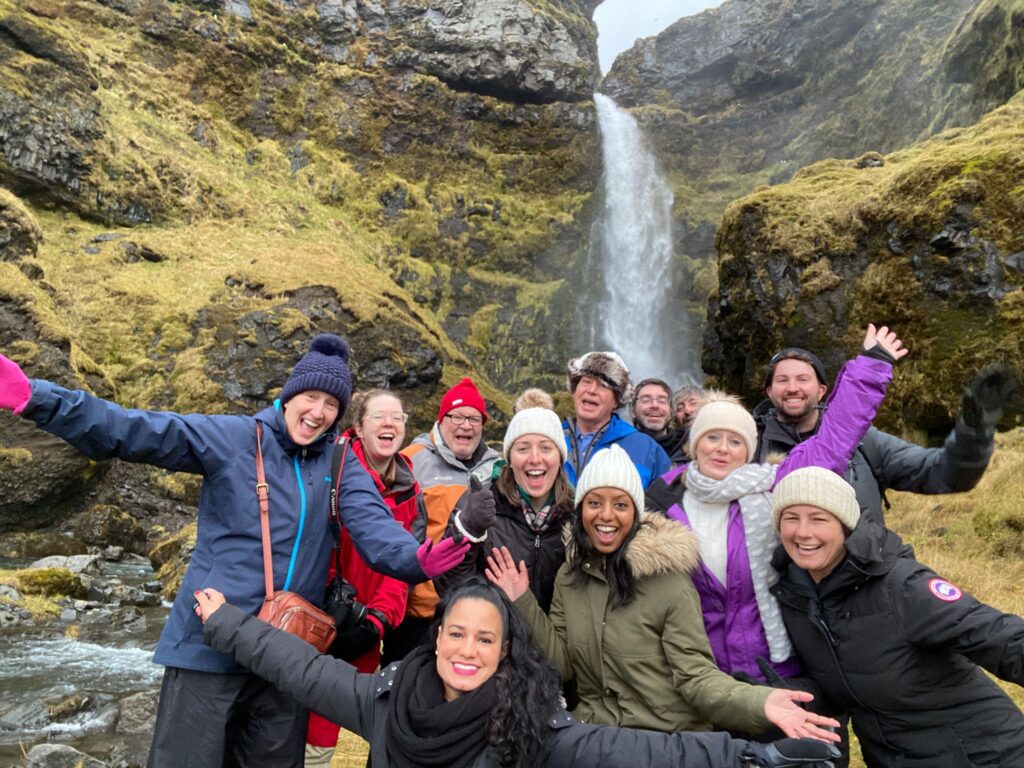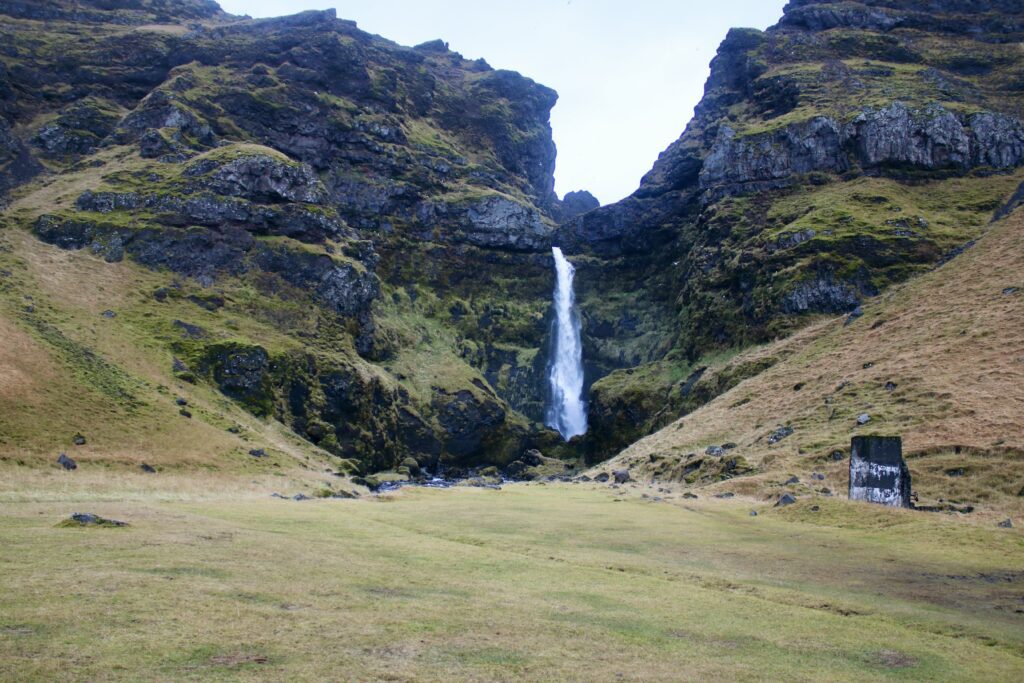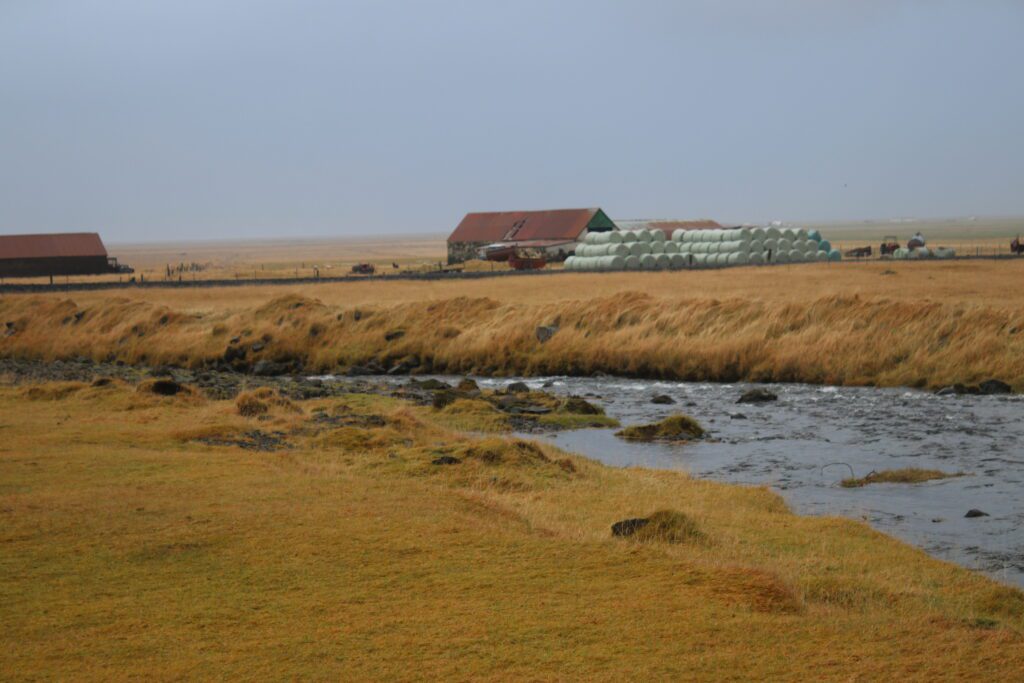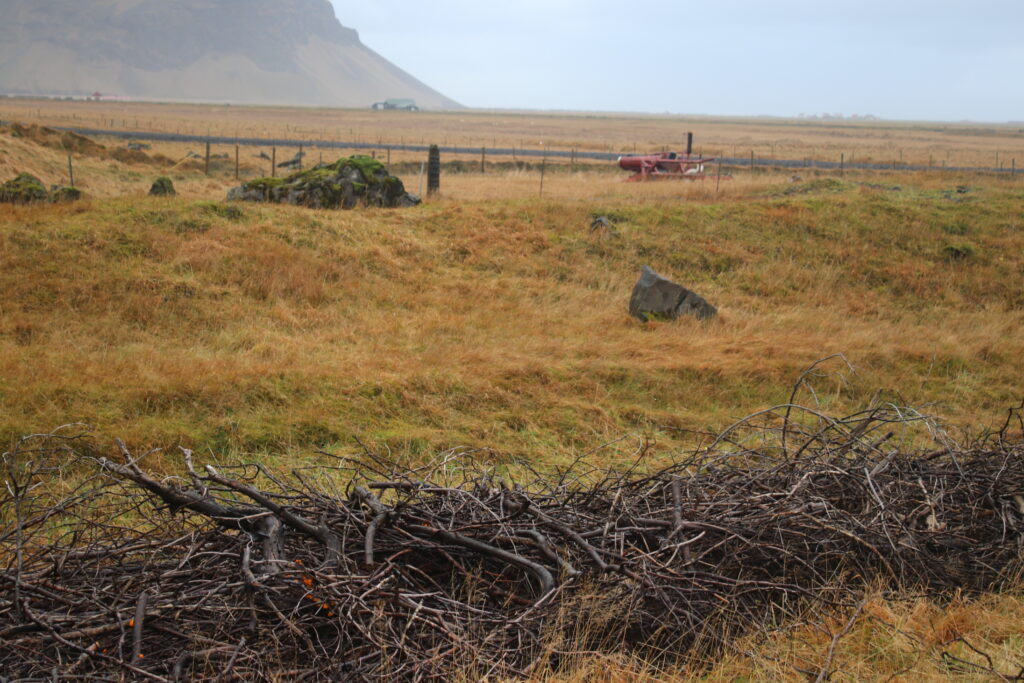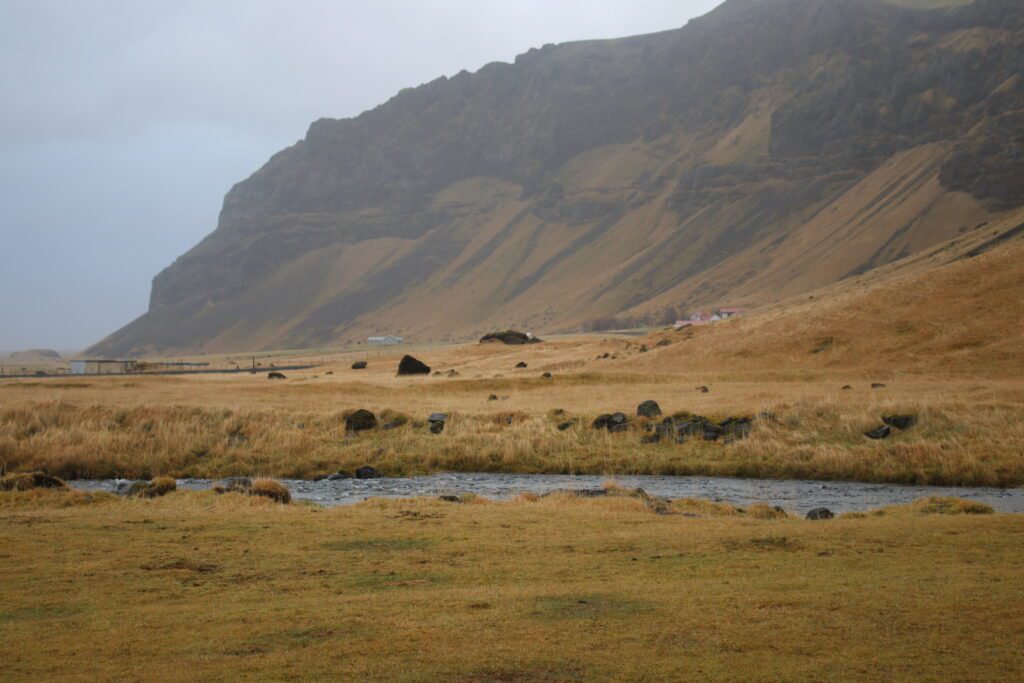 Gljúfrafoss and Seljalandsfoss
Gljúfrafoss and Seljalandsfoss are two amazing waterfalls located on the Ring Road, close to Hvolsvollur. It is a very popular stop. Any GPS will get you there. We parked near Gljúfrafoss, walked to the falls and then took an eight minute walk to Seljalandsfoss. I highly recommend a stop here. I also highly recommend wearing a poncho. If you choose to go behind Seljalandsfoss, you will get very wet. There is a lovely shop and cafe in the parking area at Seljalandsfoss.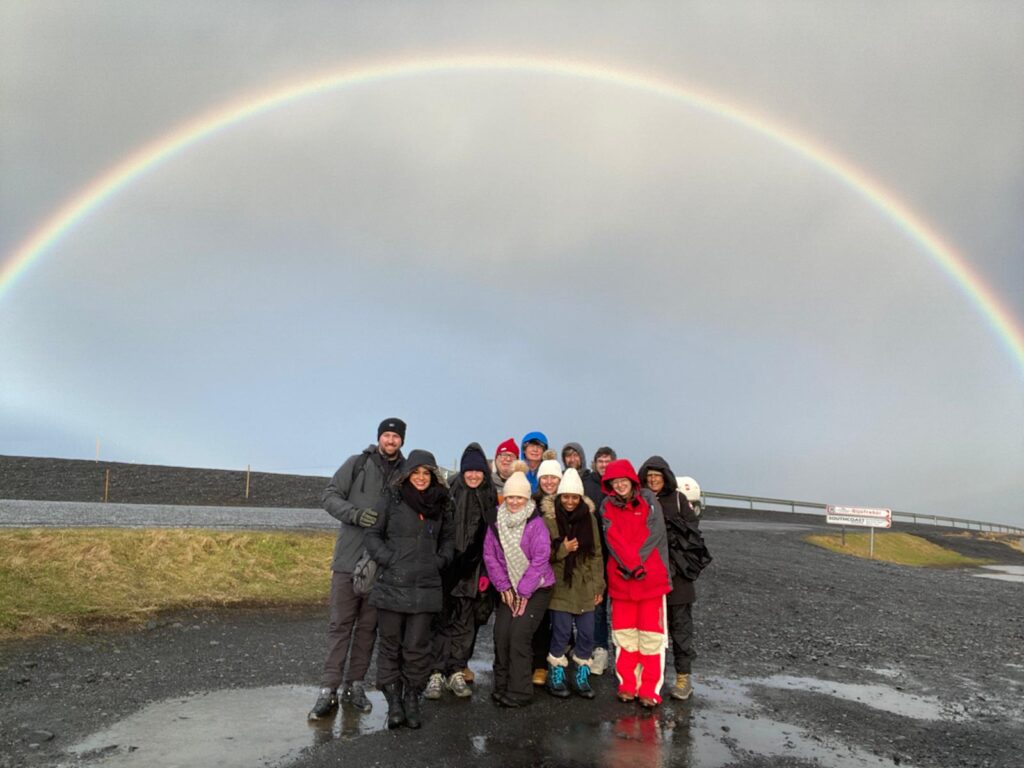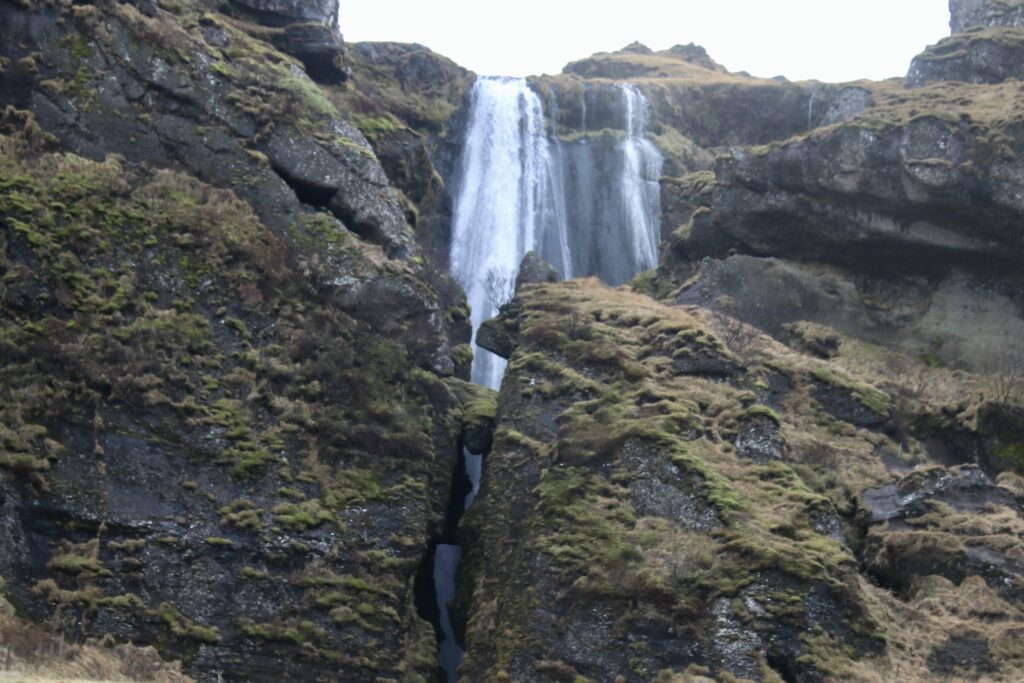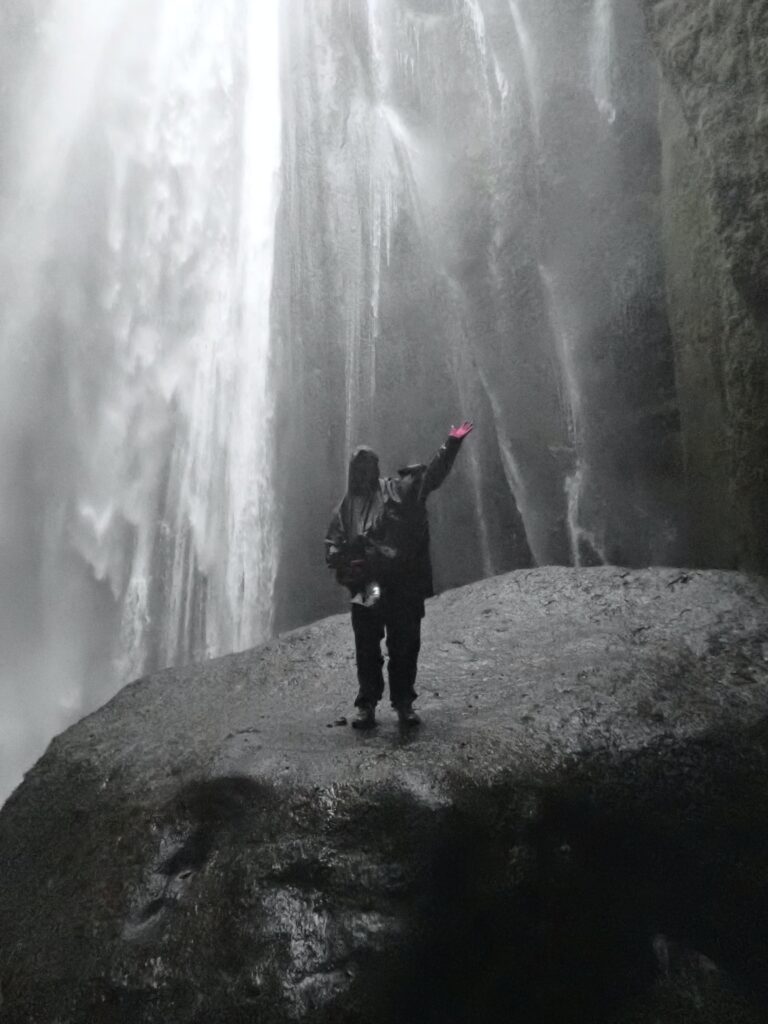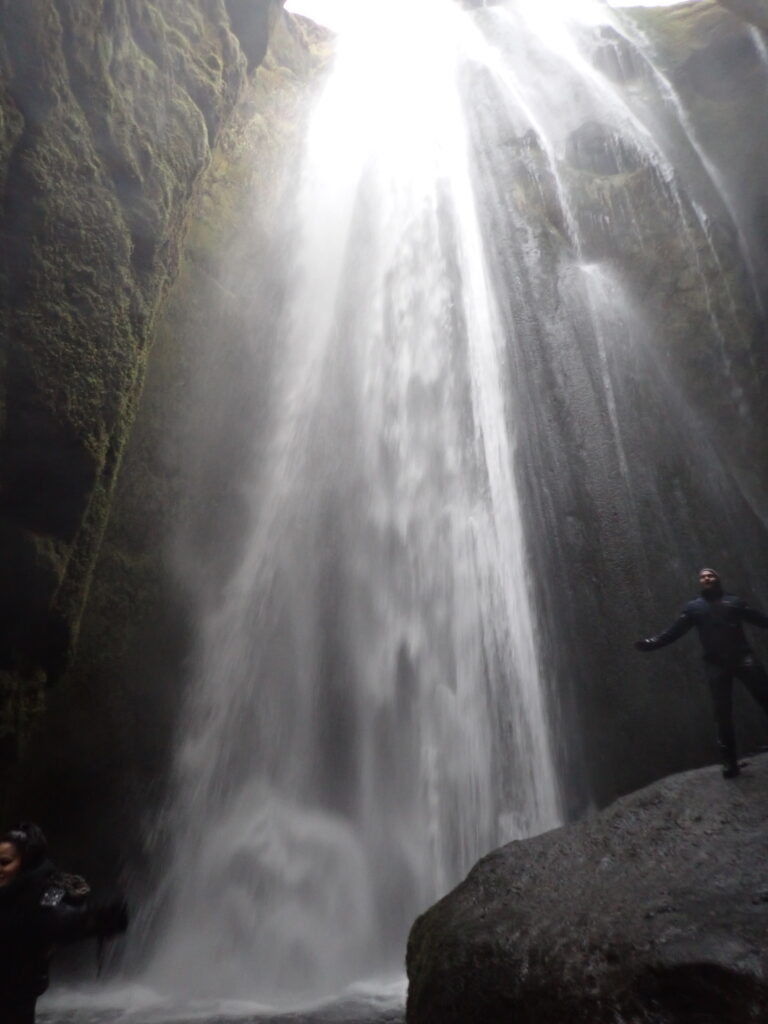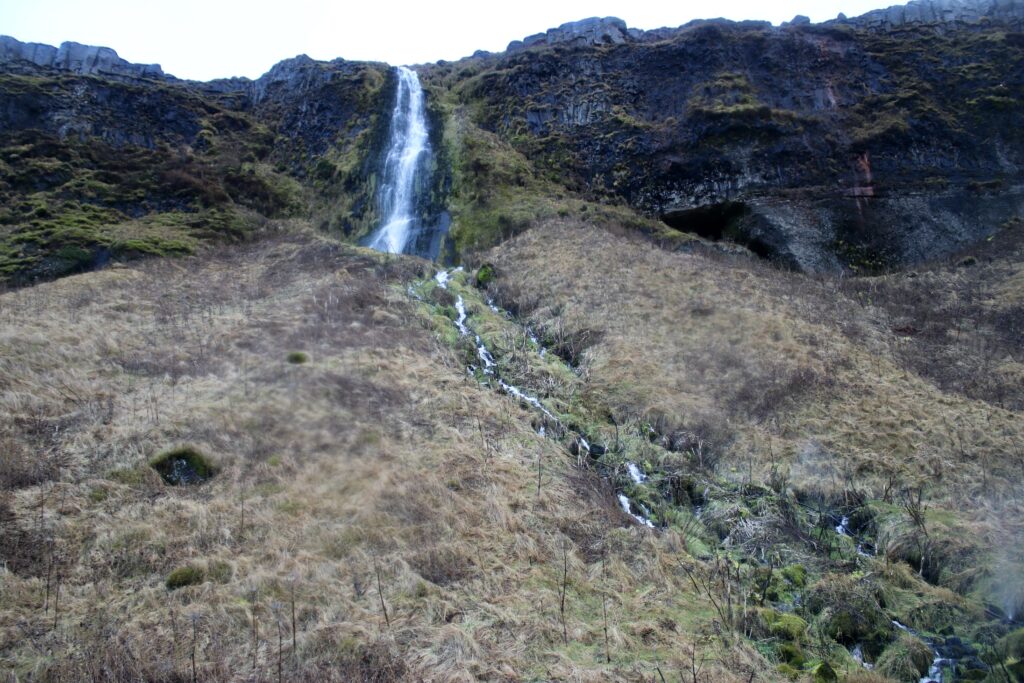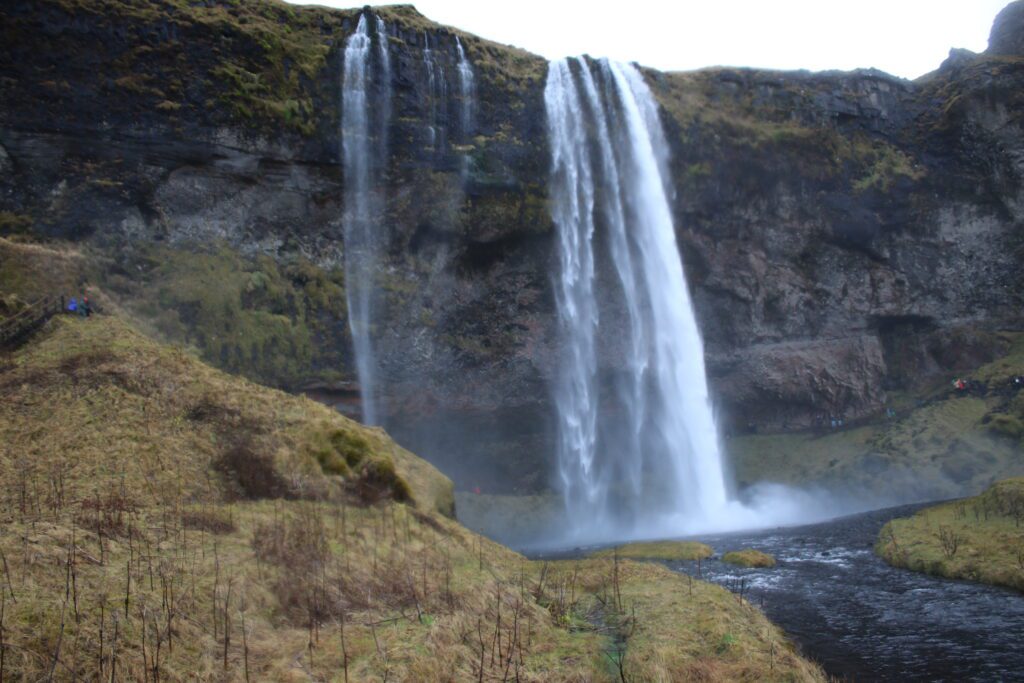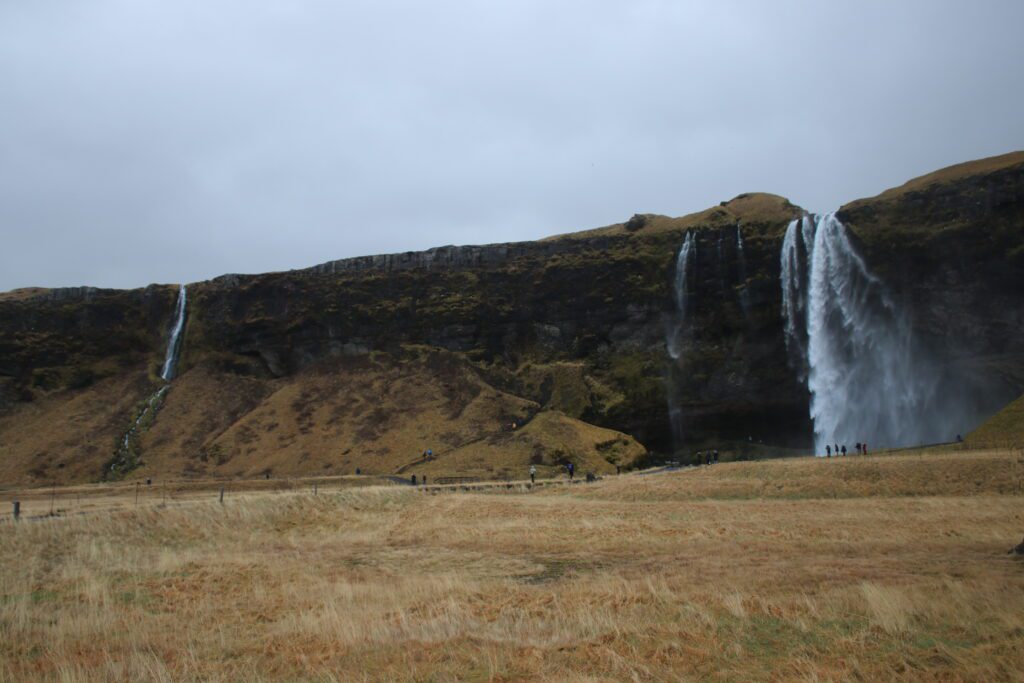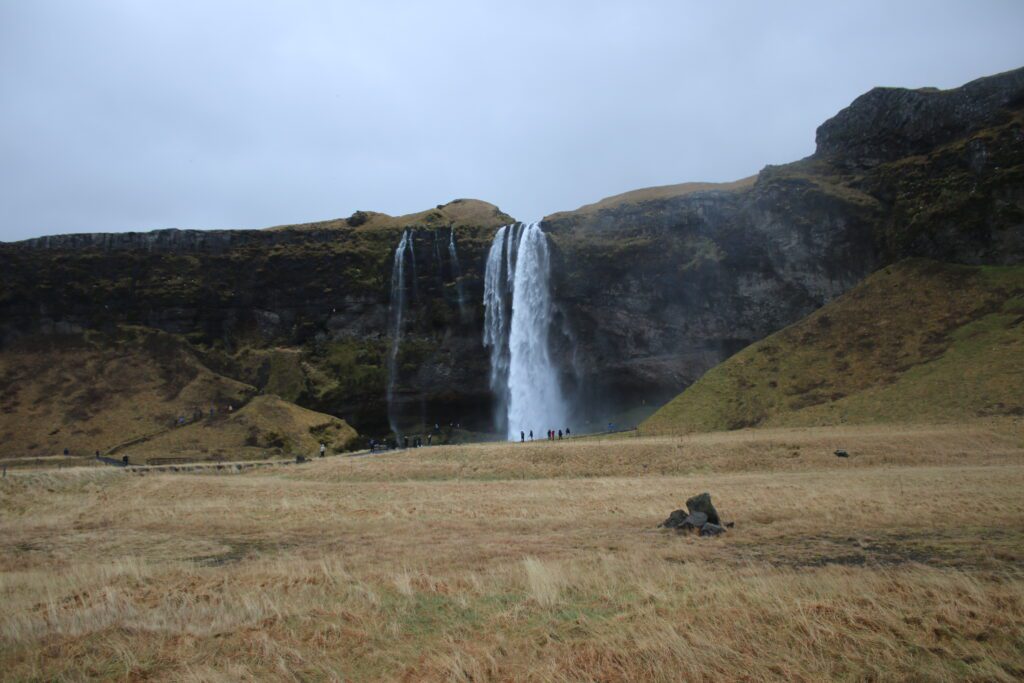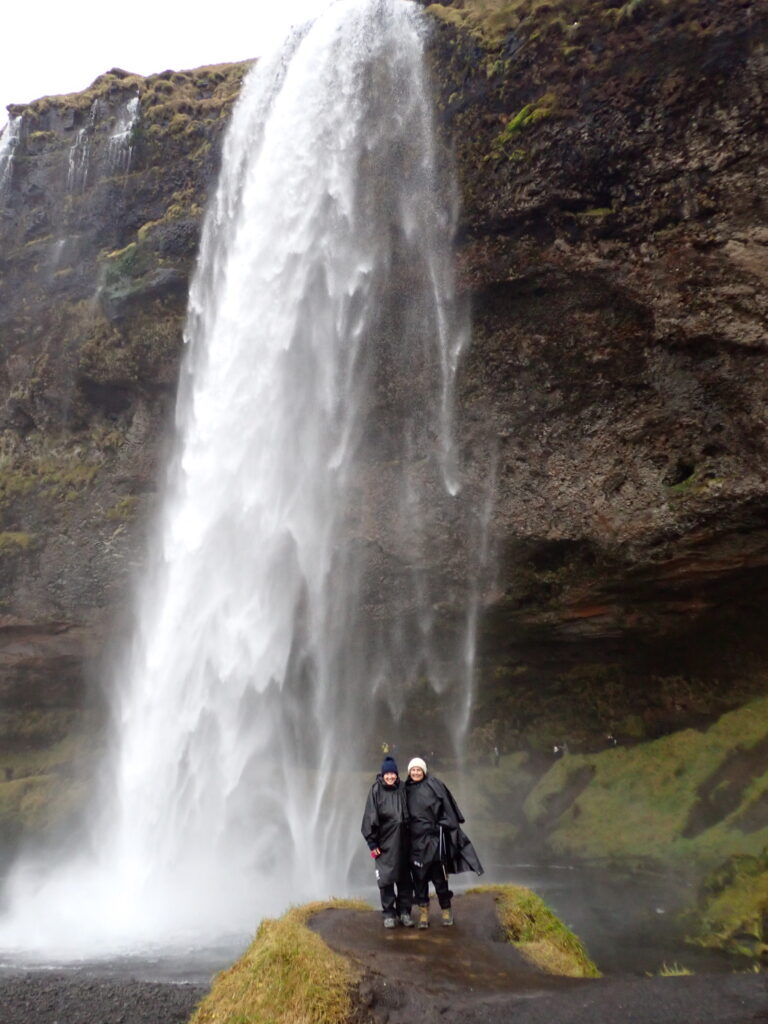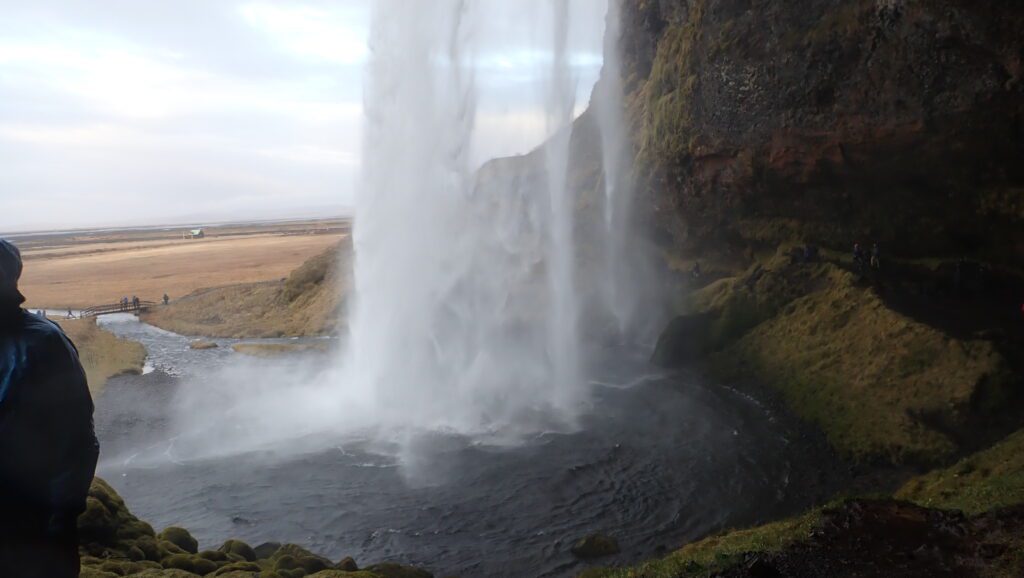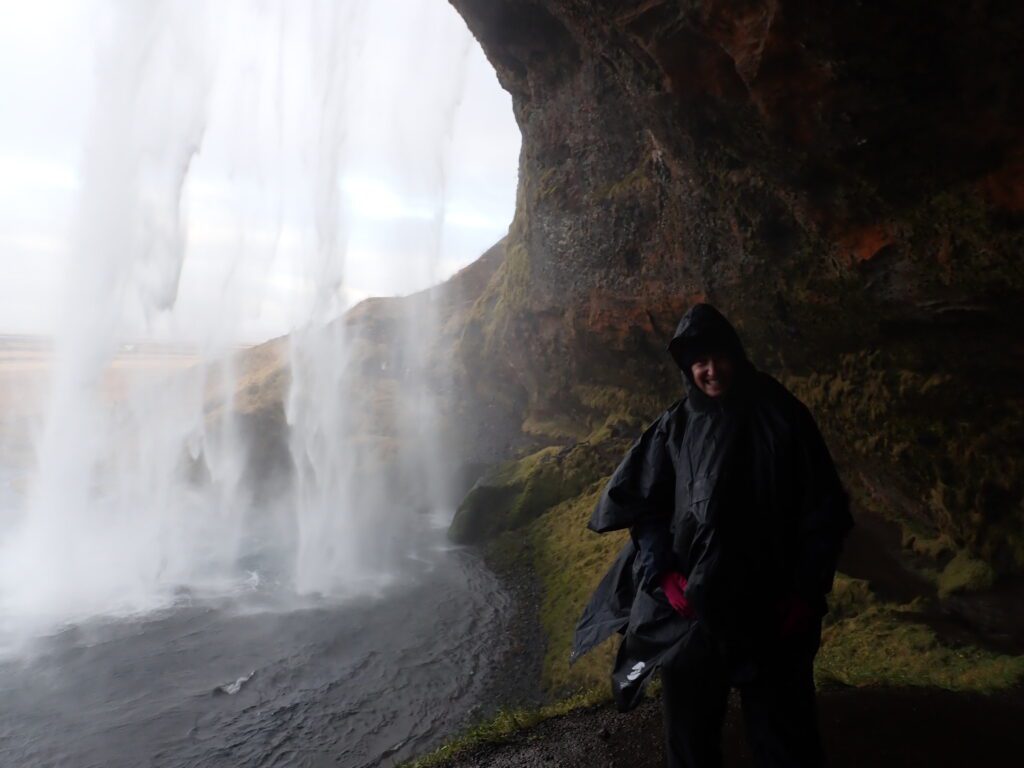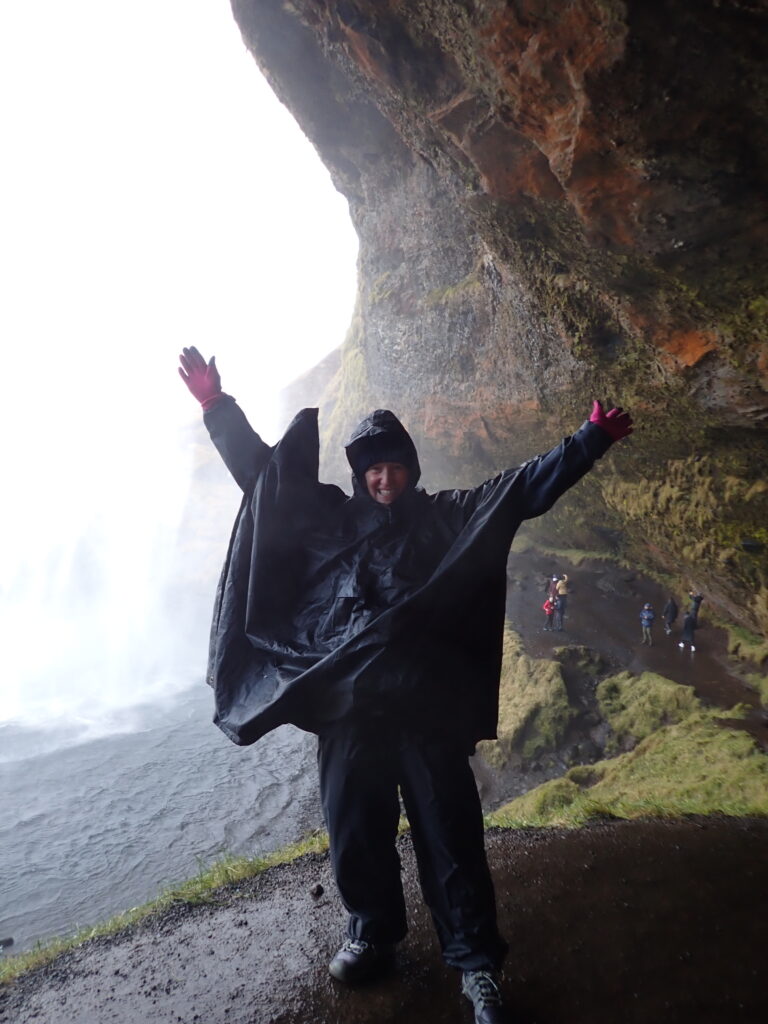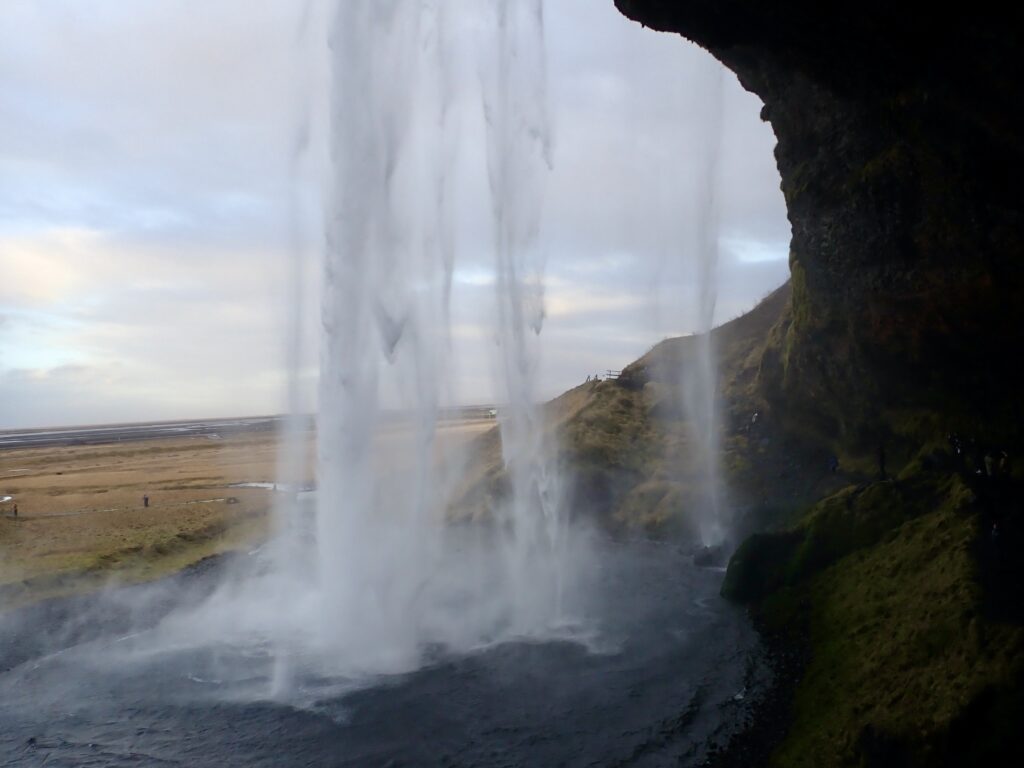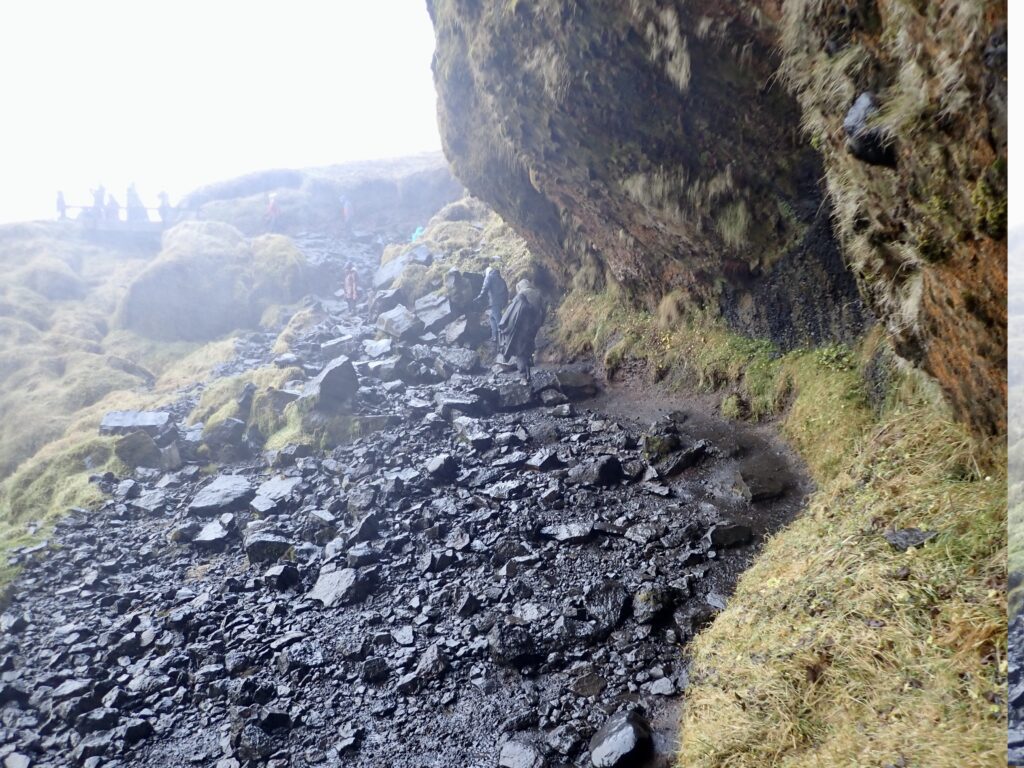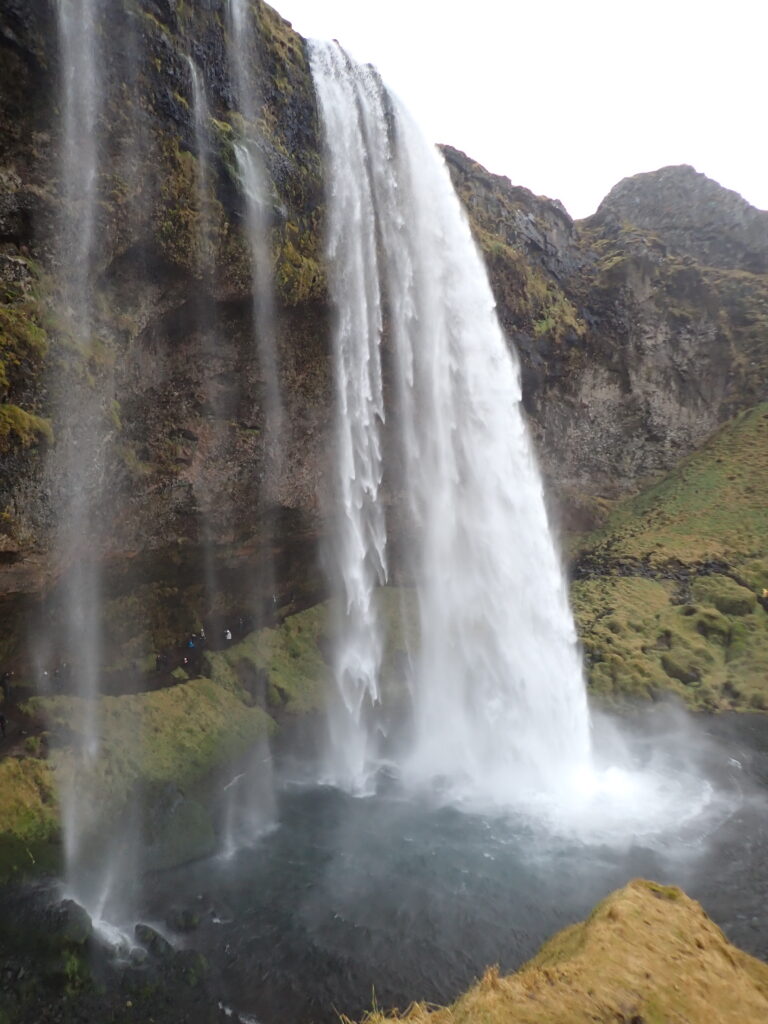 Snæfellsnes Peninsula
Once our tour with Intrepid Travel ended, we took a day trip to the Snæfellsnes Peninsula with EastWest. We were picked up at 8:30am at our hotel and returned to our hotel at 8:30pm at night. The bus was full with 19 guests and one driver/guide who gave us lots of good information about Iceland. It was an enjoyable day. If the Gilberts return to Iceland, we would rent a car and drive ourselves around the peninsula and perhaps stay over night.
EastWest modifies the tour in the winter months. We did not stop at a beach to see the seal colonies. We ate an early dinner at a working horse farm, which is included in the price. The peninsula is gorgeous. It is a long day as it takes about two hours from Reyjavik to get there. We stopped half way (in both directions) at a super clean gas station for lunch snacks and restrooms.
Bersekjahraun Lava Fields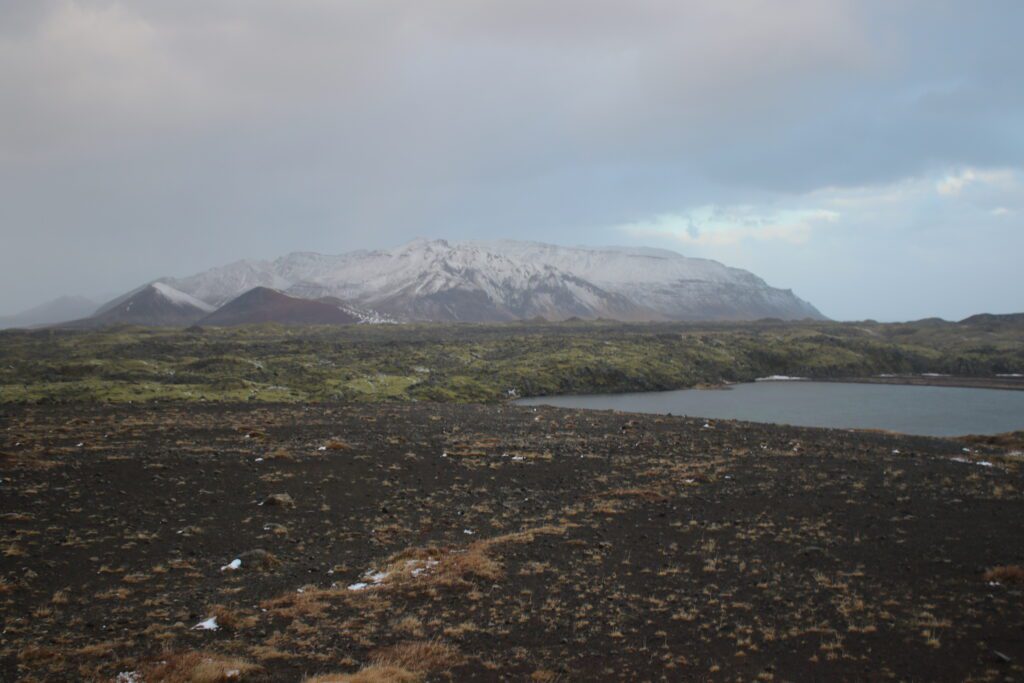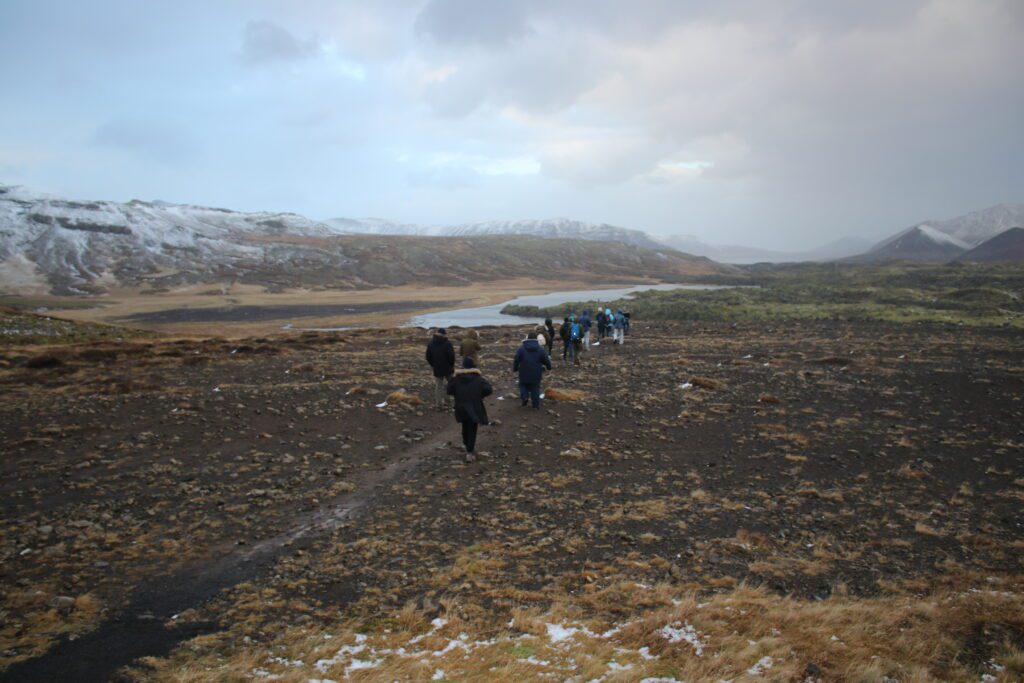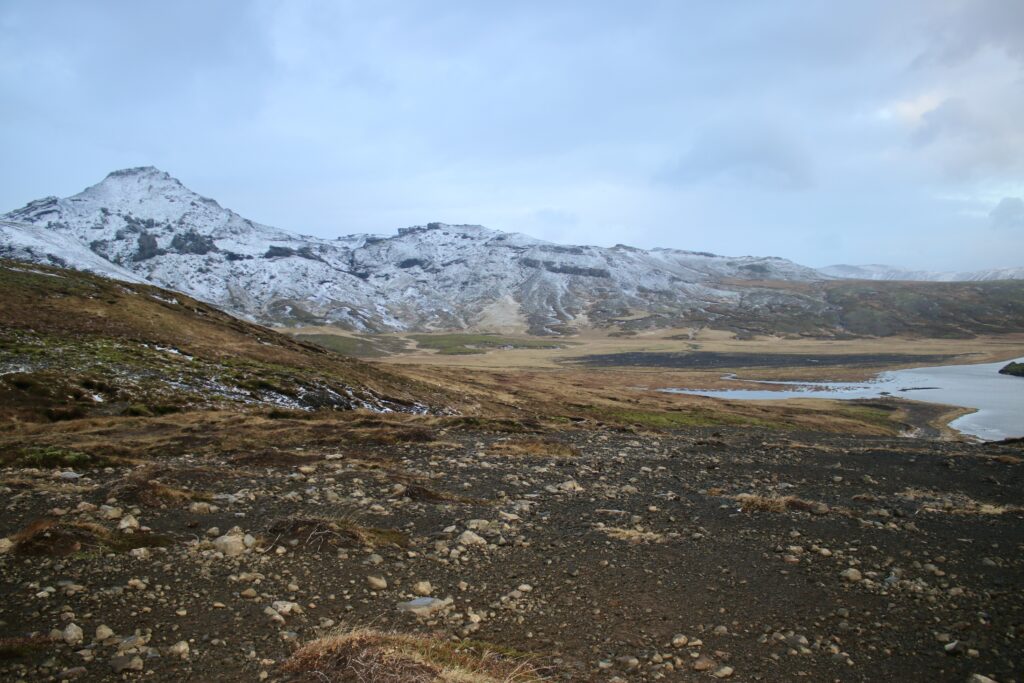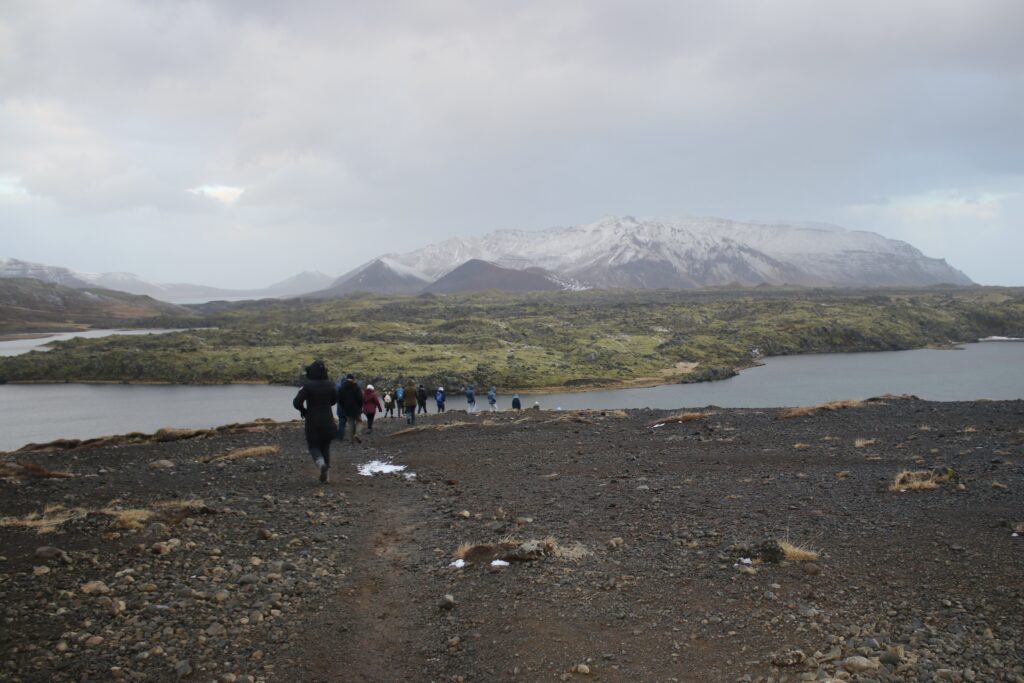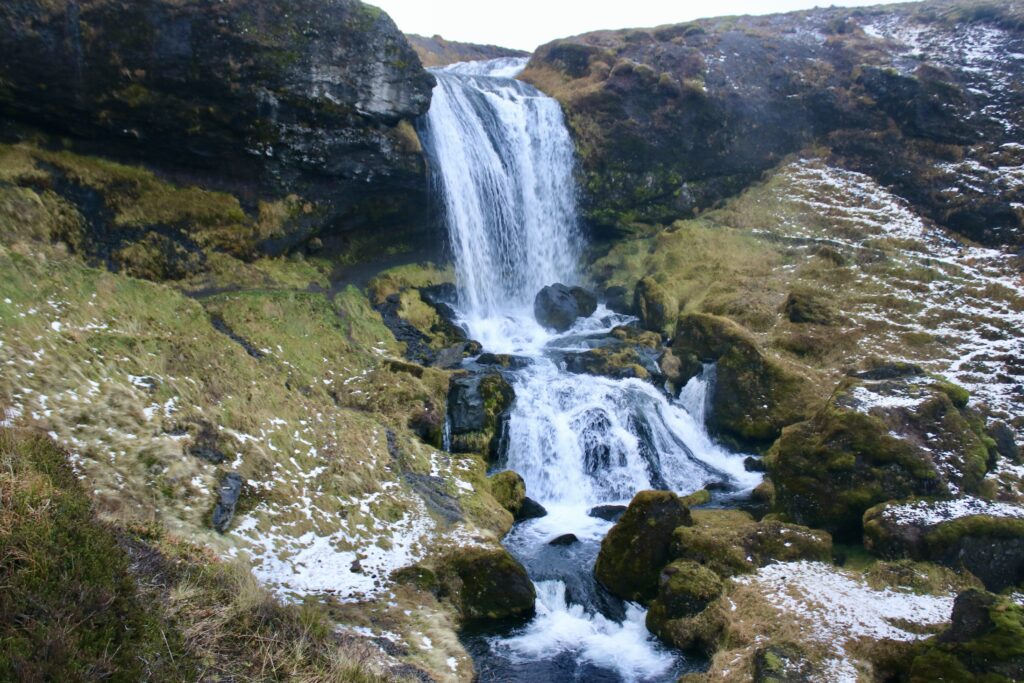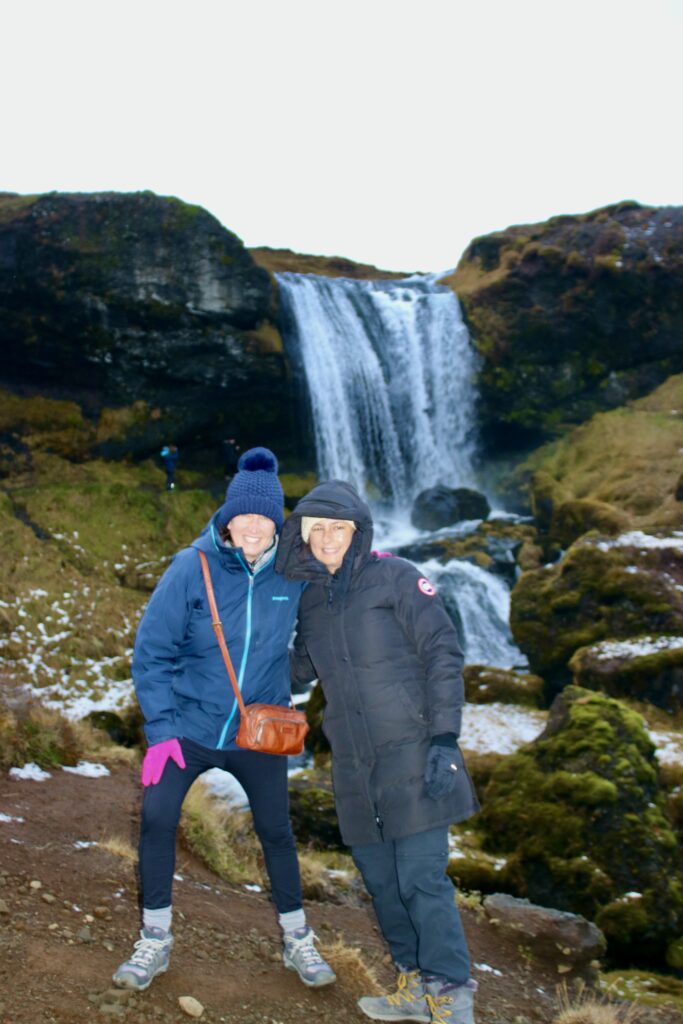 Kirkjufell and Kirkjufellfoss
Our next stop was to visit Kirkjufell, the most photographed mountain in Iceland thanks to a role in Game of Thrones. It is a lovely spot.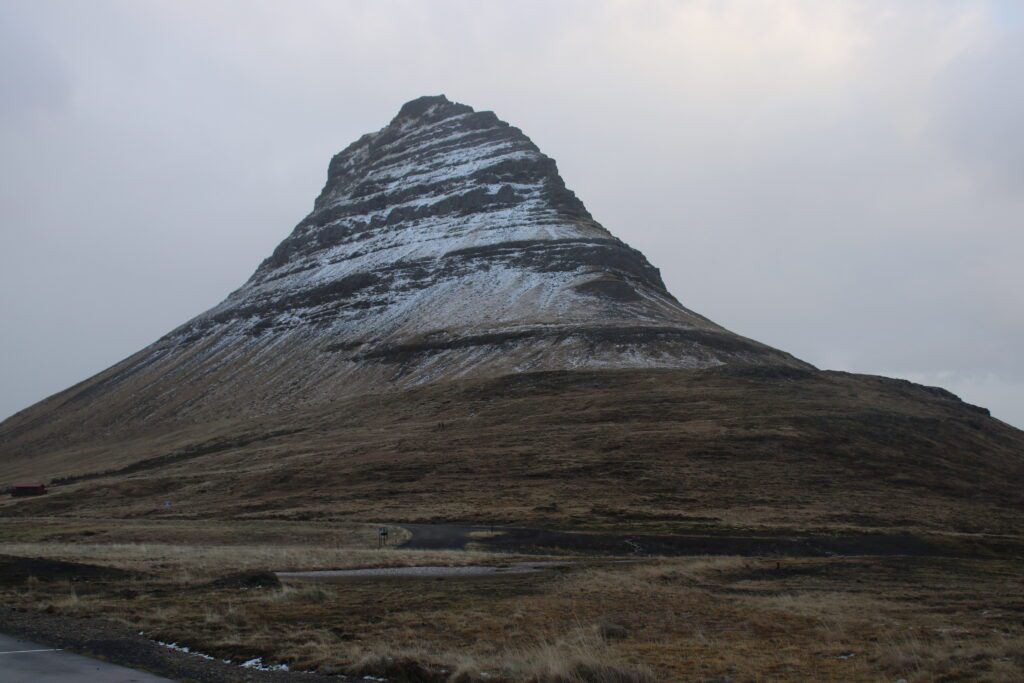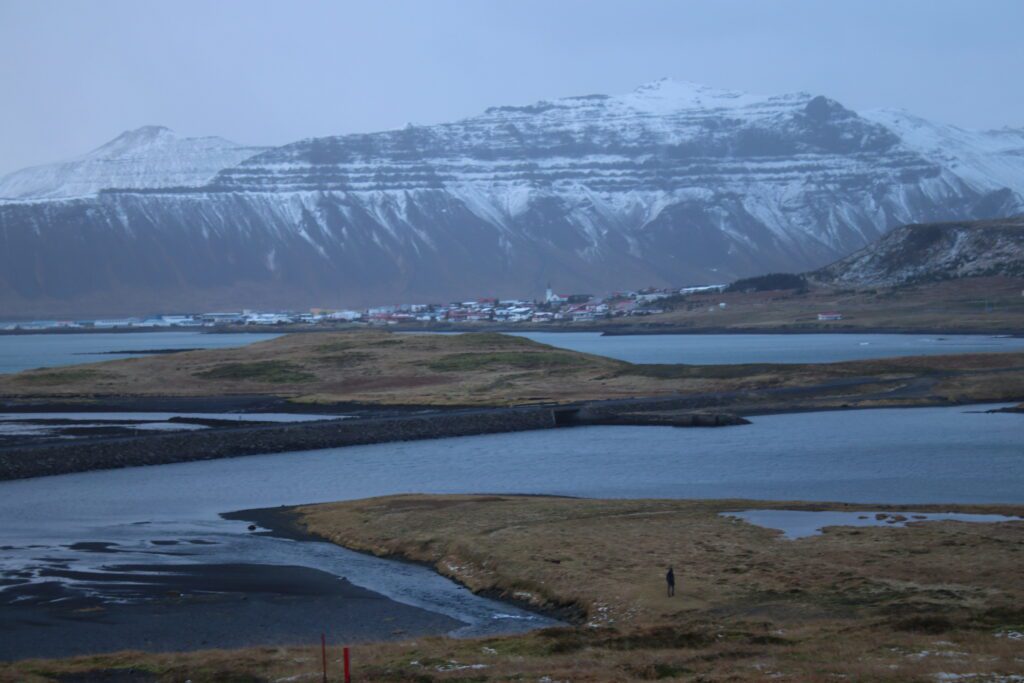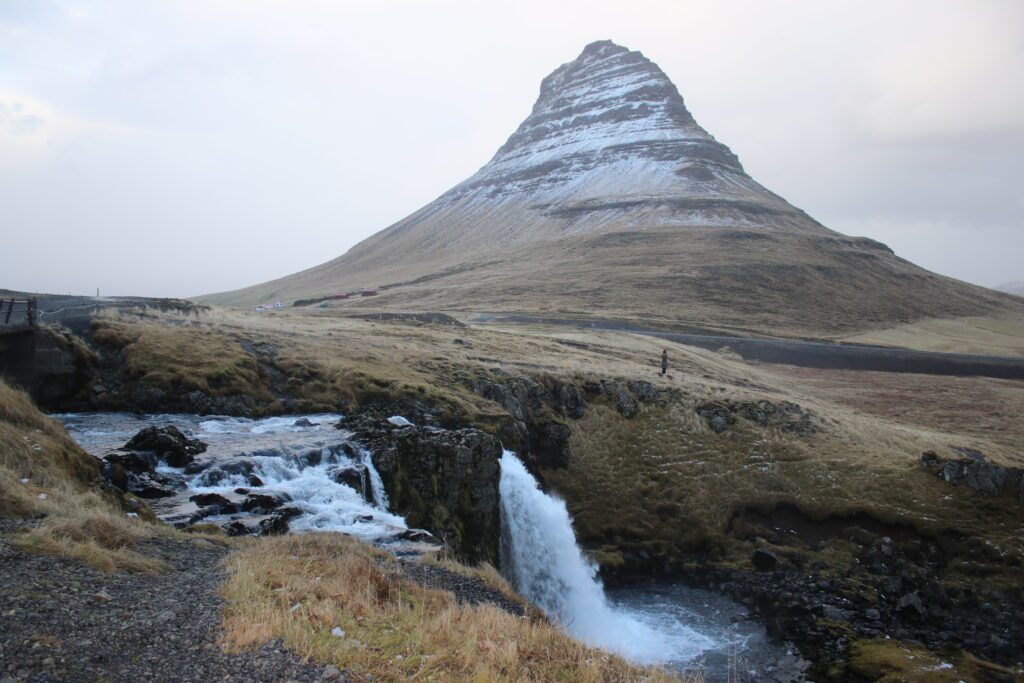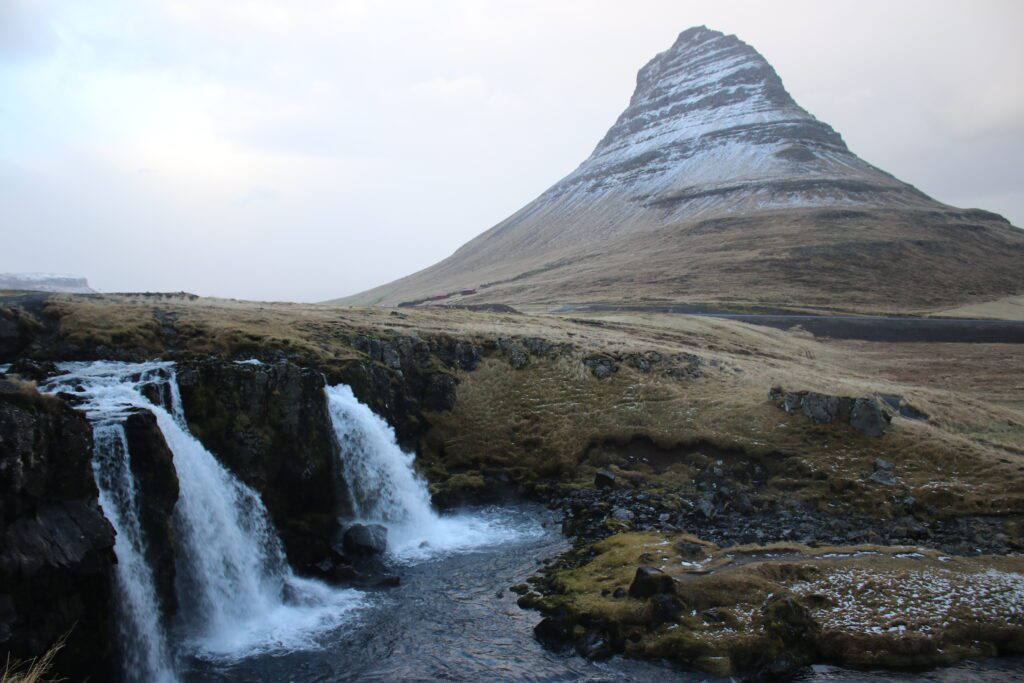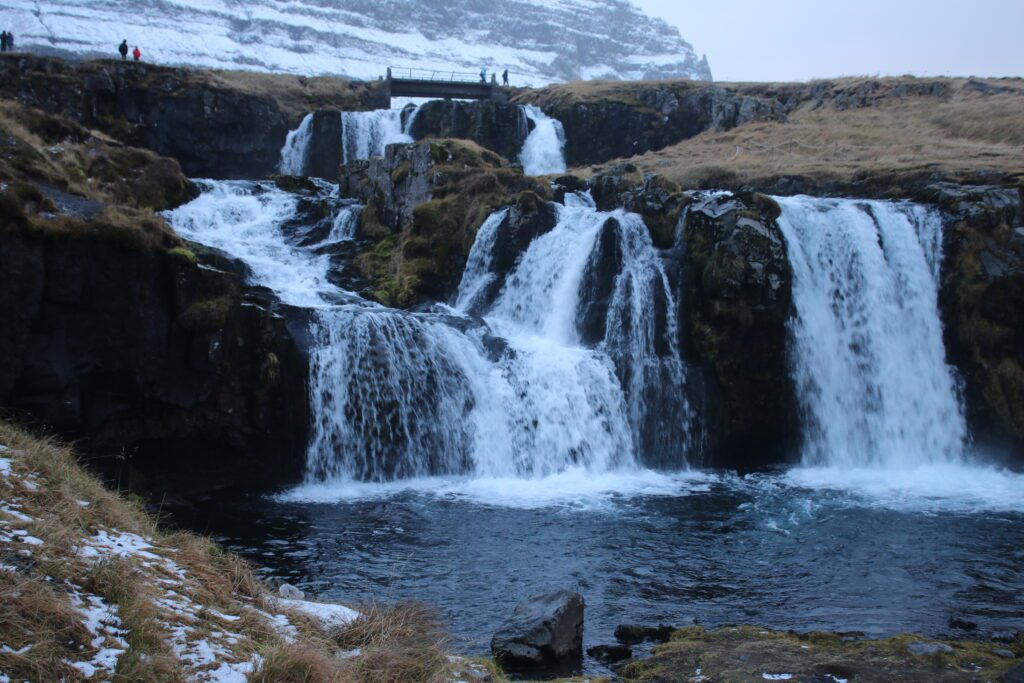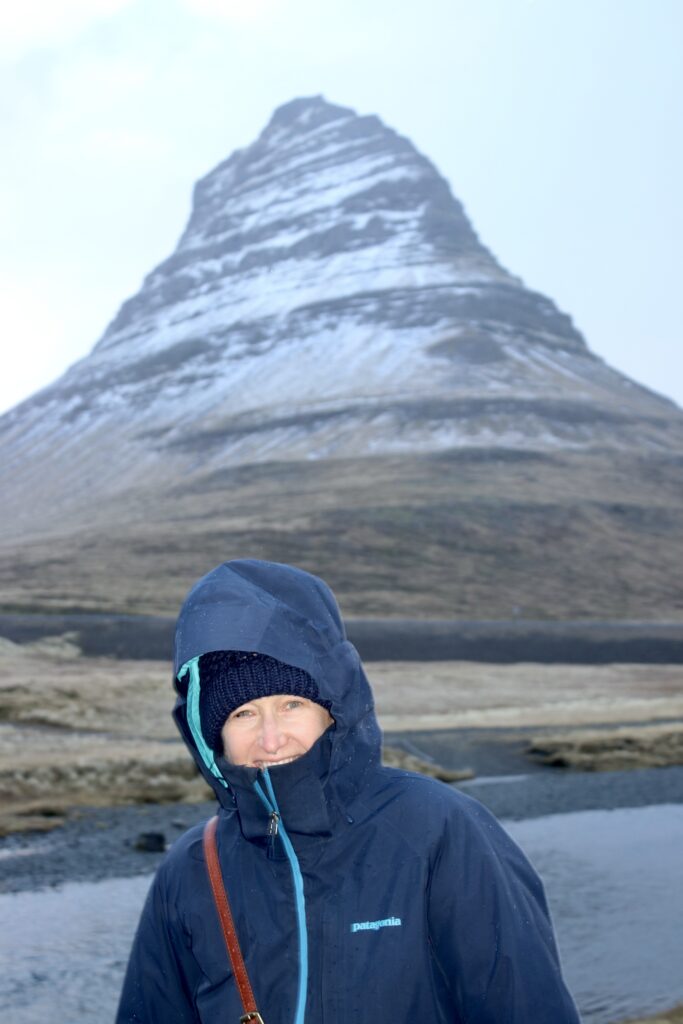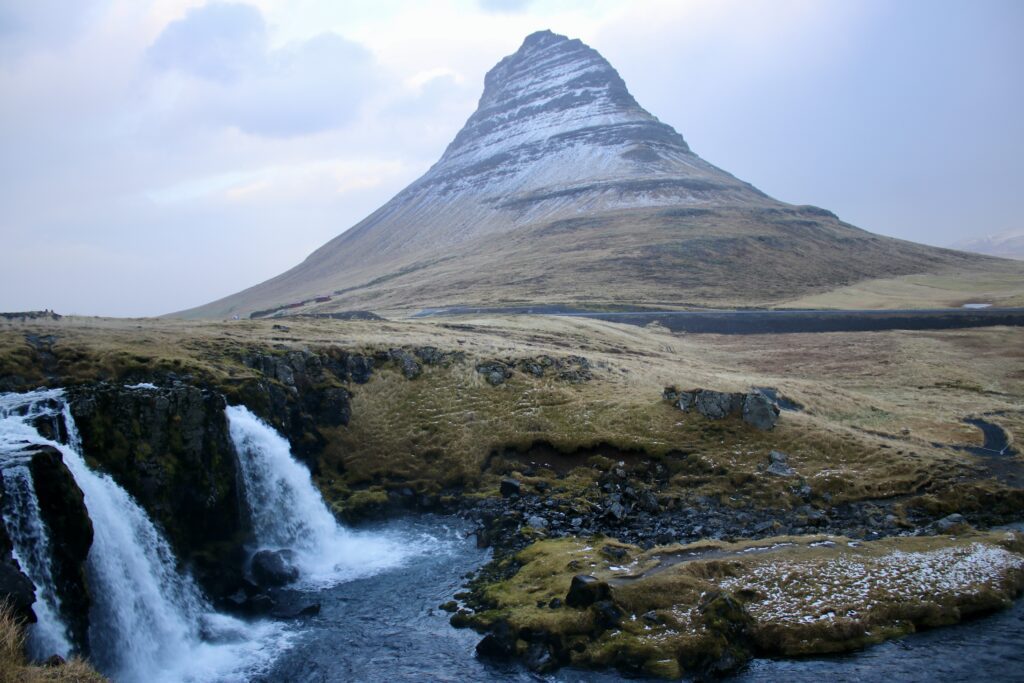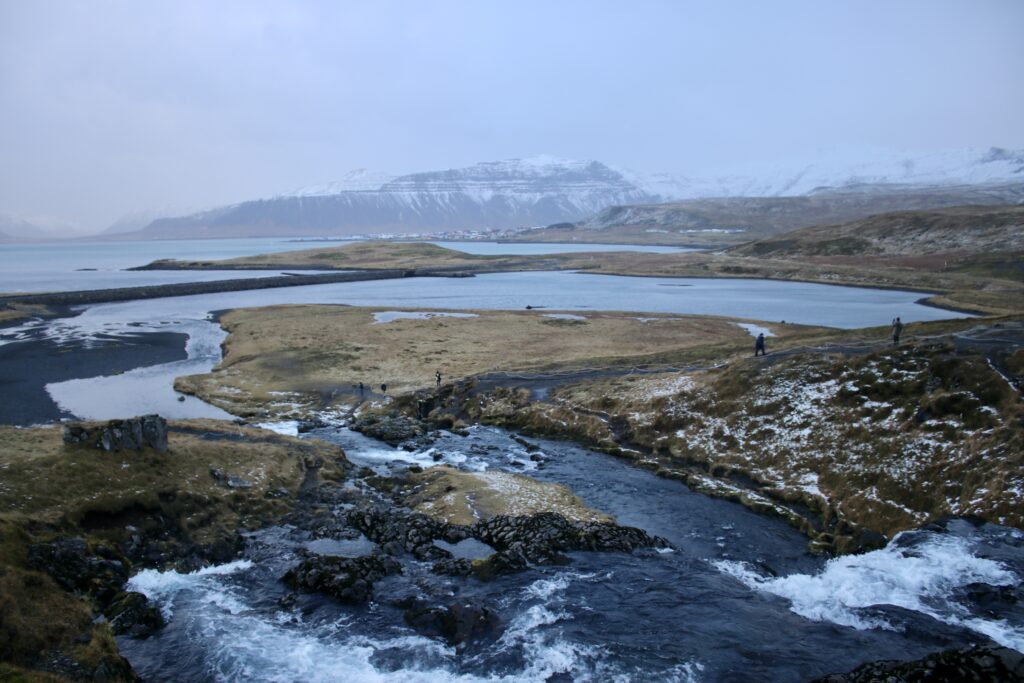 Snæfellsjökull National Park – Djúpalónssandur Black Sand Beach
We entered into Snæfellsjökull National Park. On the day we visited it was too overcast for us to see the Snæfellsjökull glacier. We stopped at the stunning Djúpalónssandur black sand beach.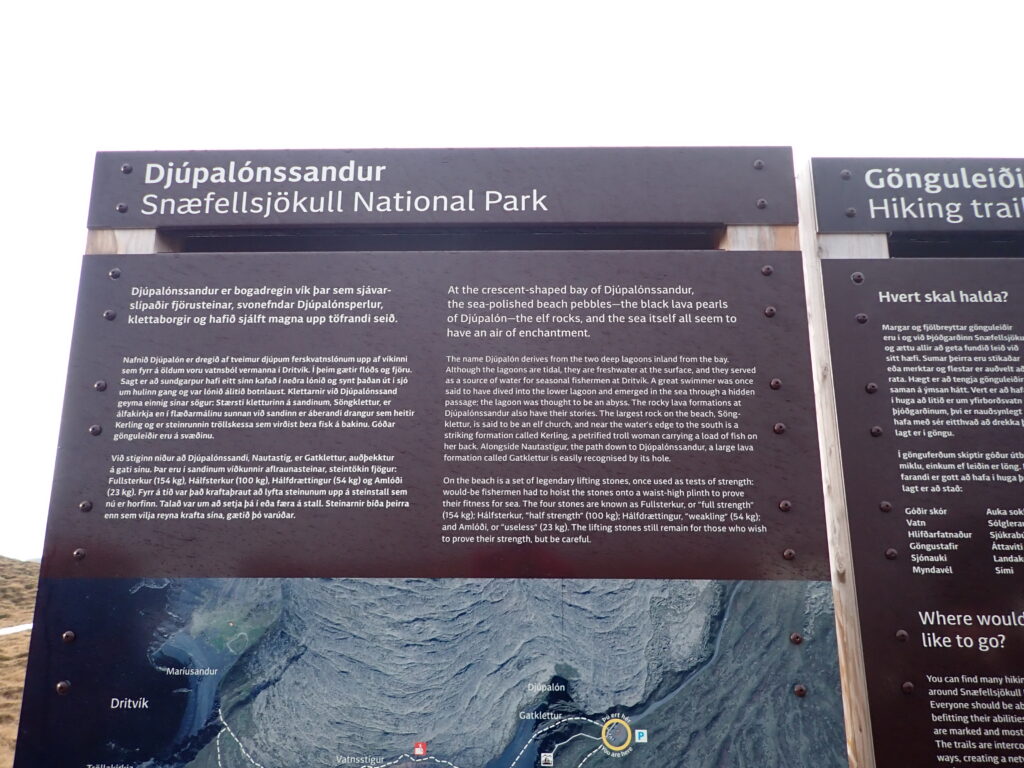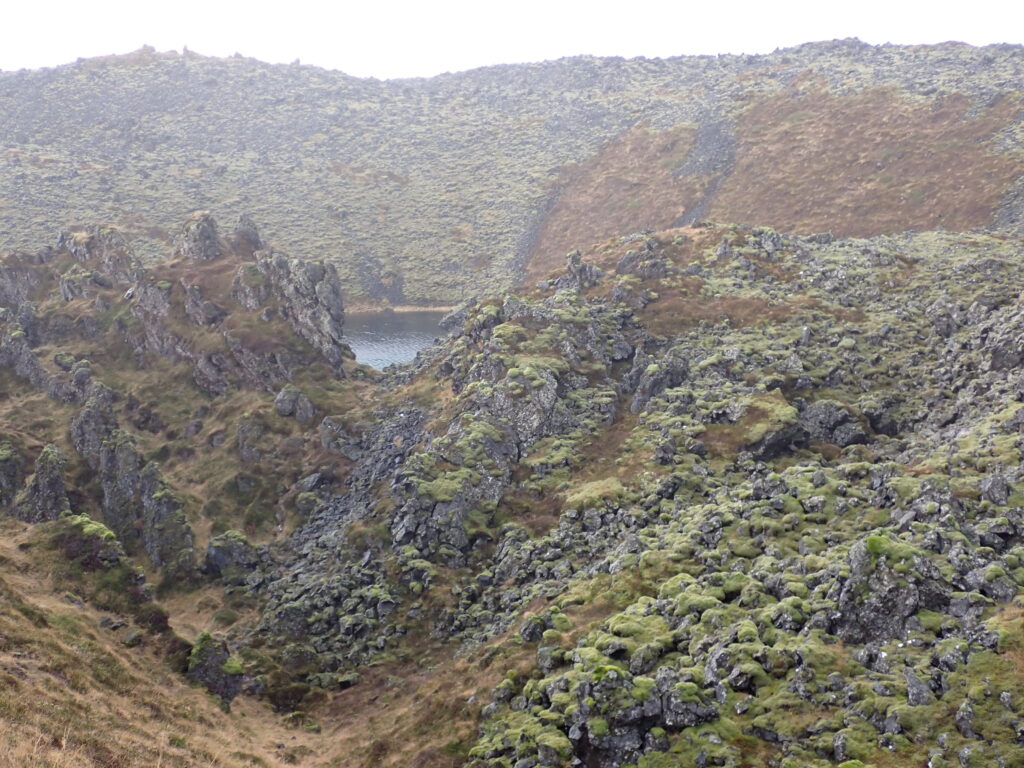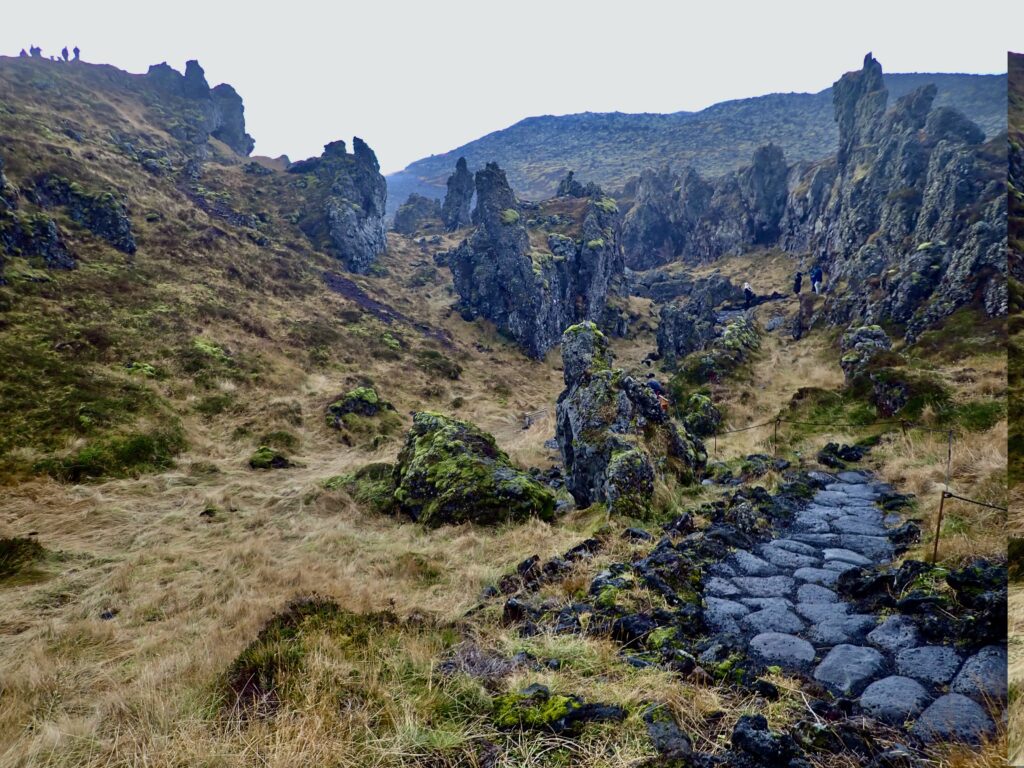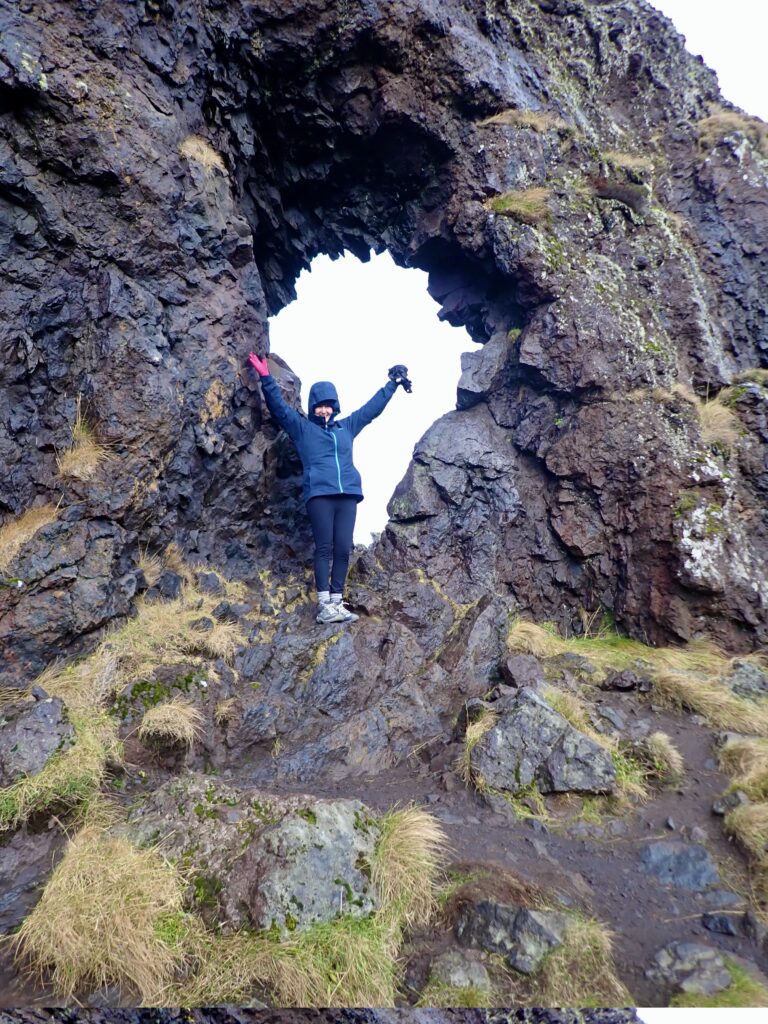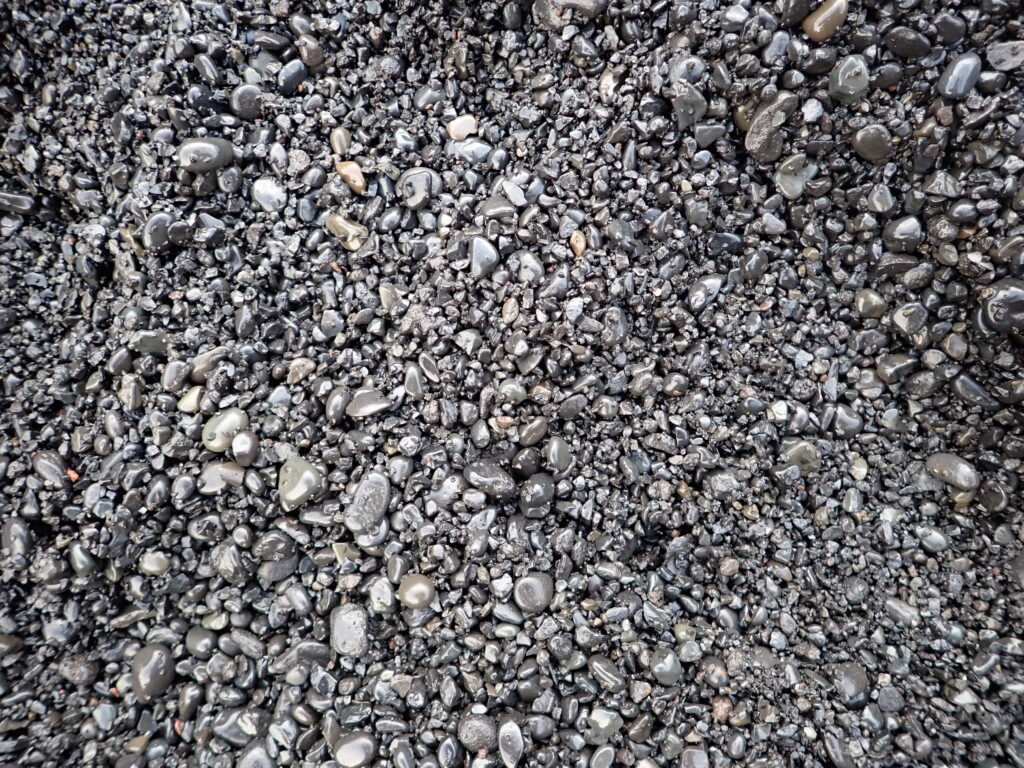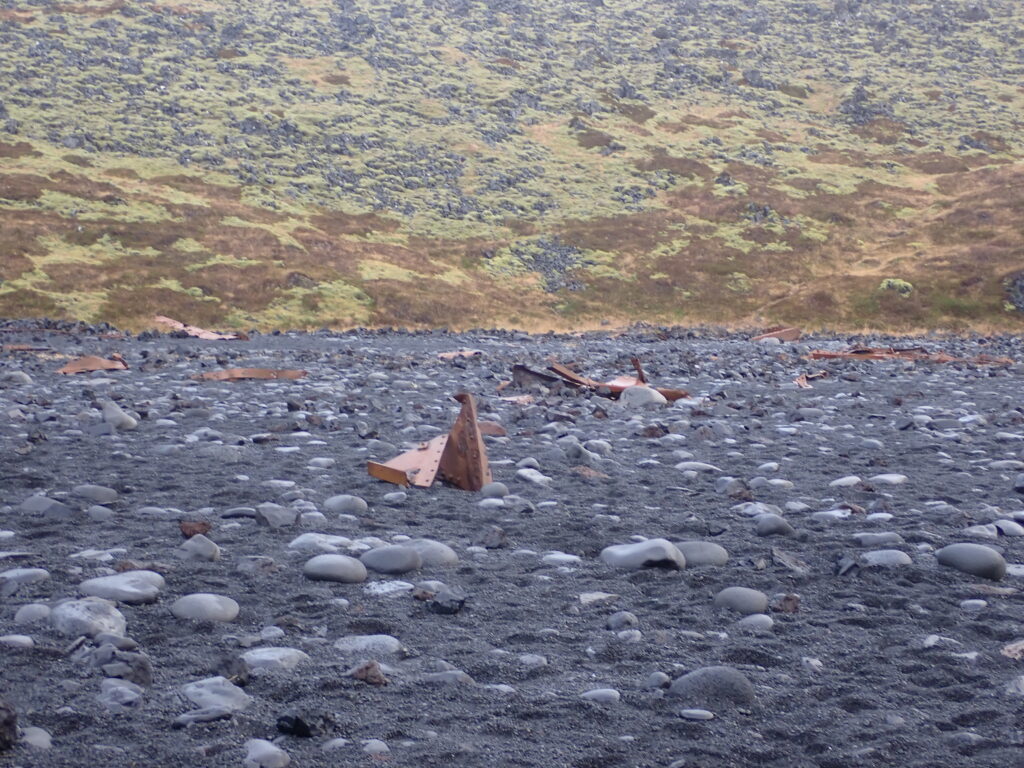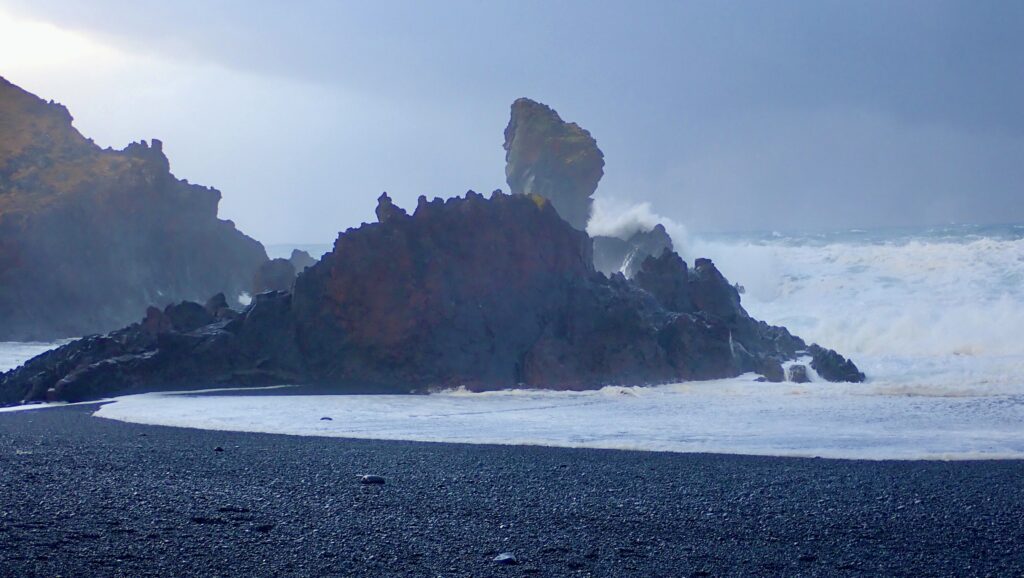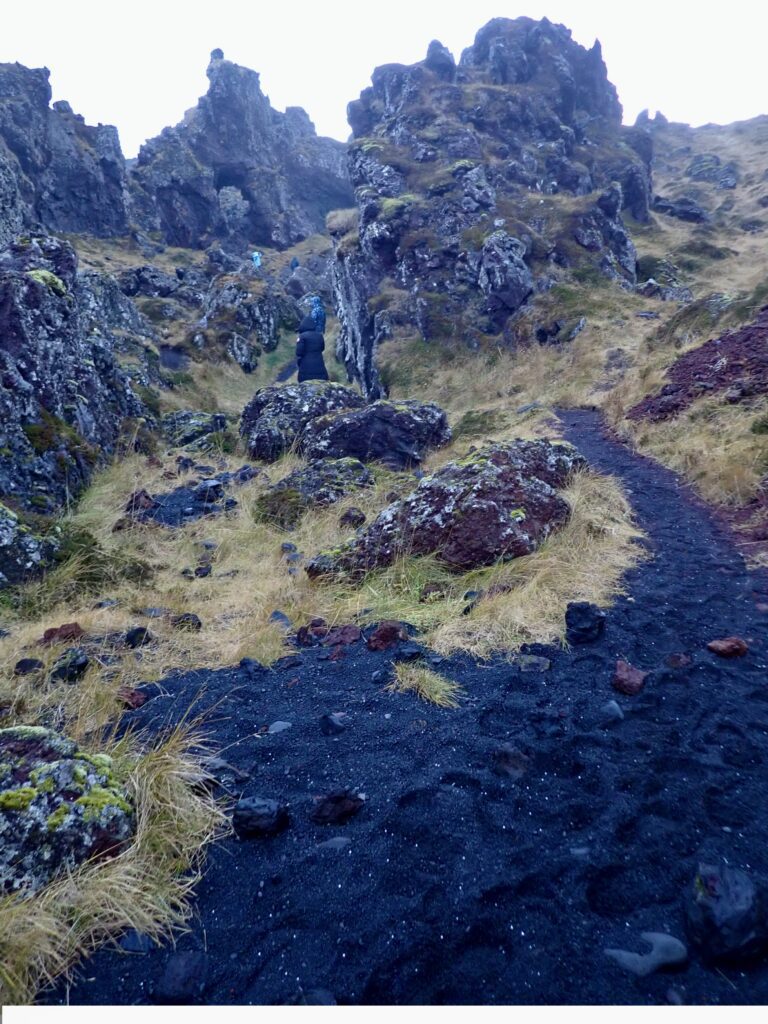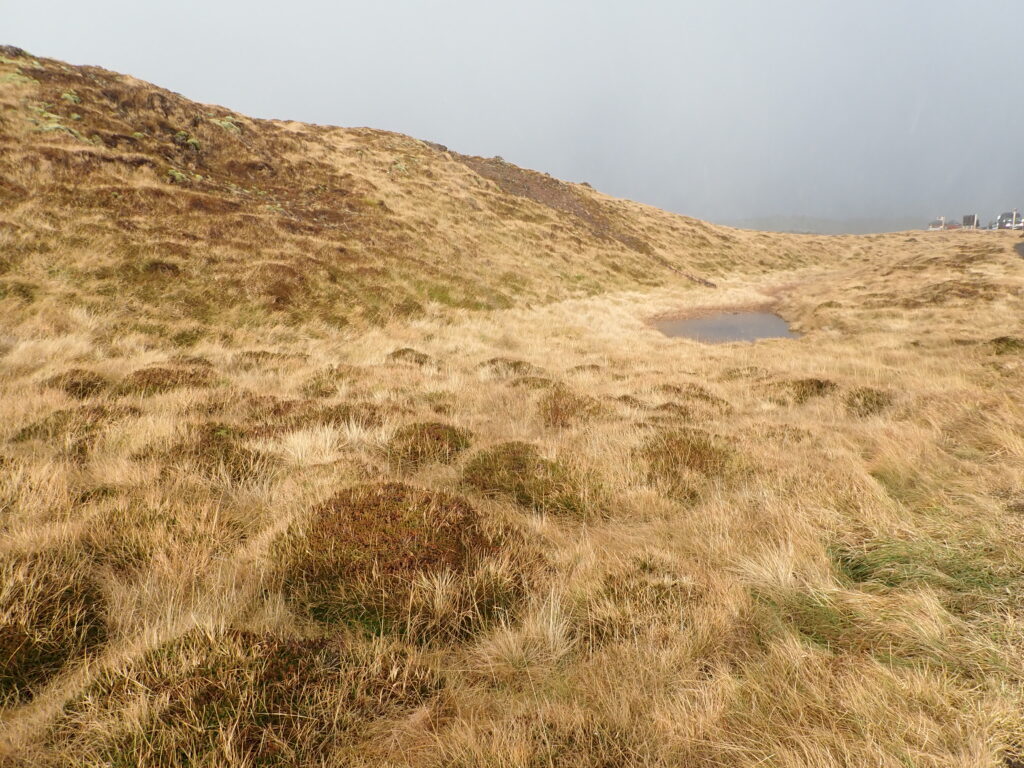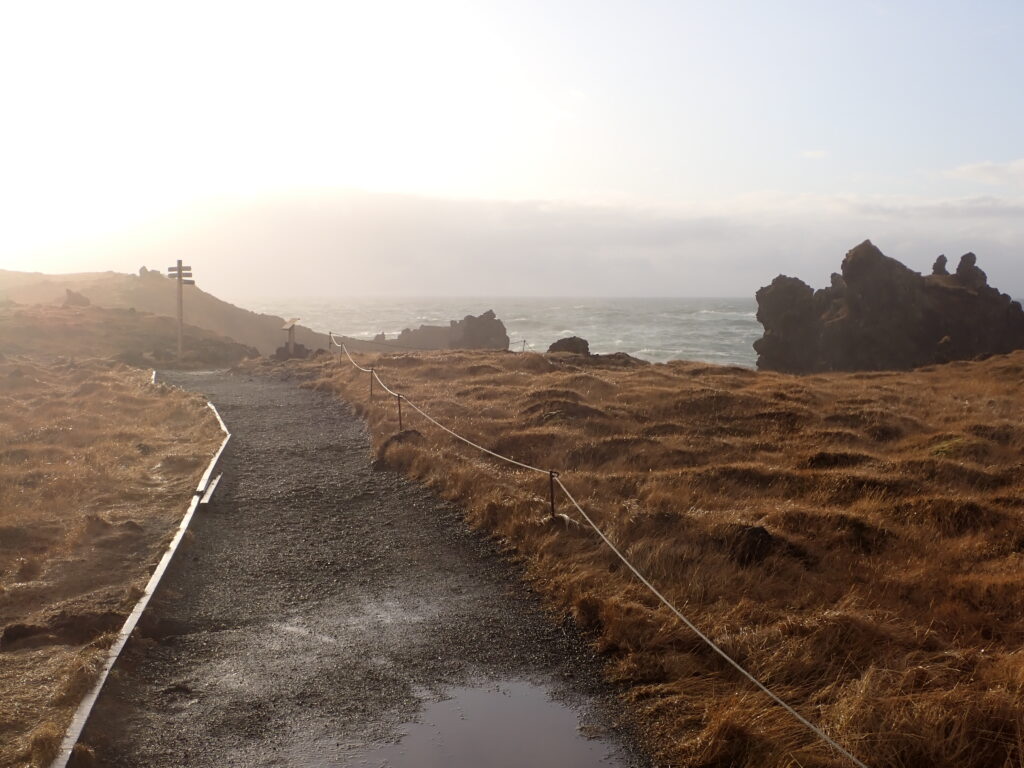 Arnarstapi
The rock formations and the coastline of Arnarstapi are quite impressive. The water is constantly pounding on the columns.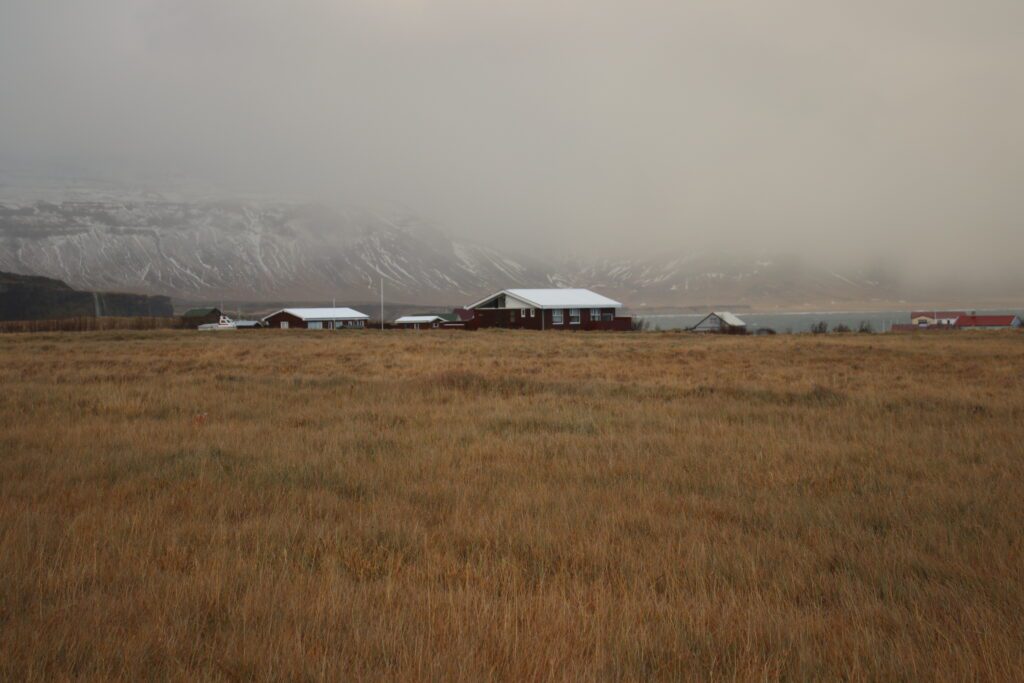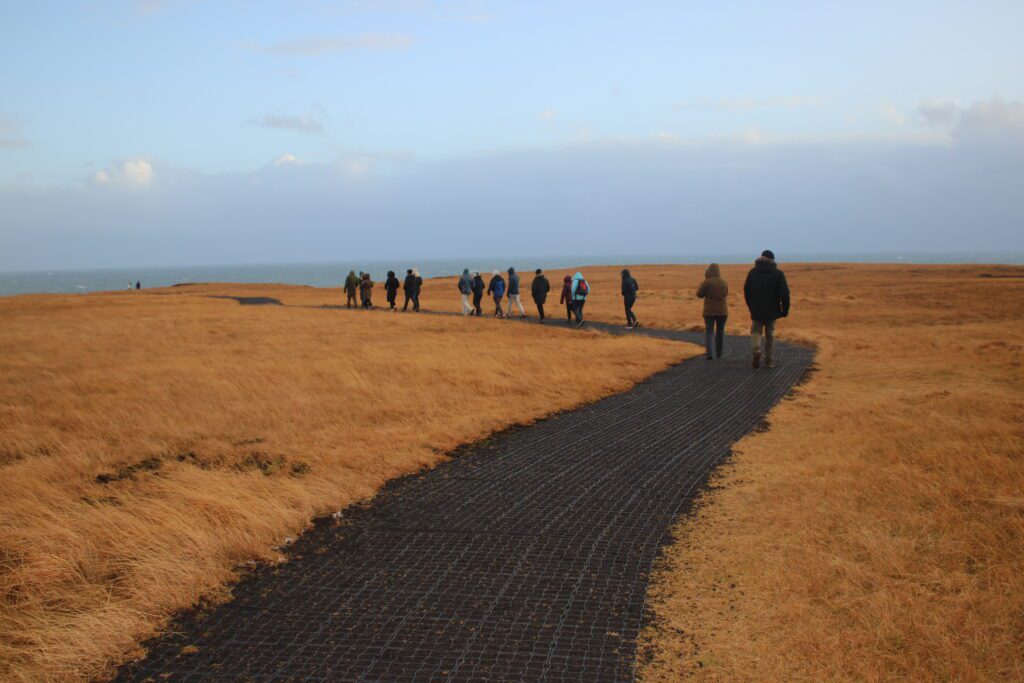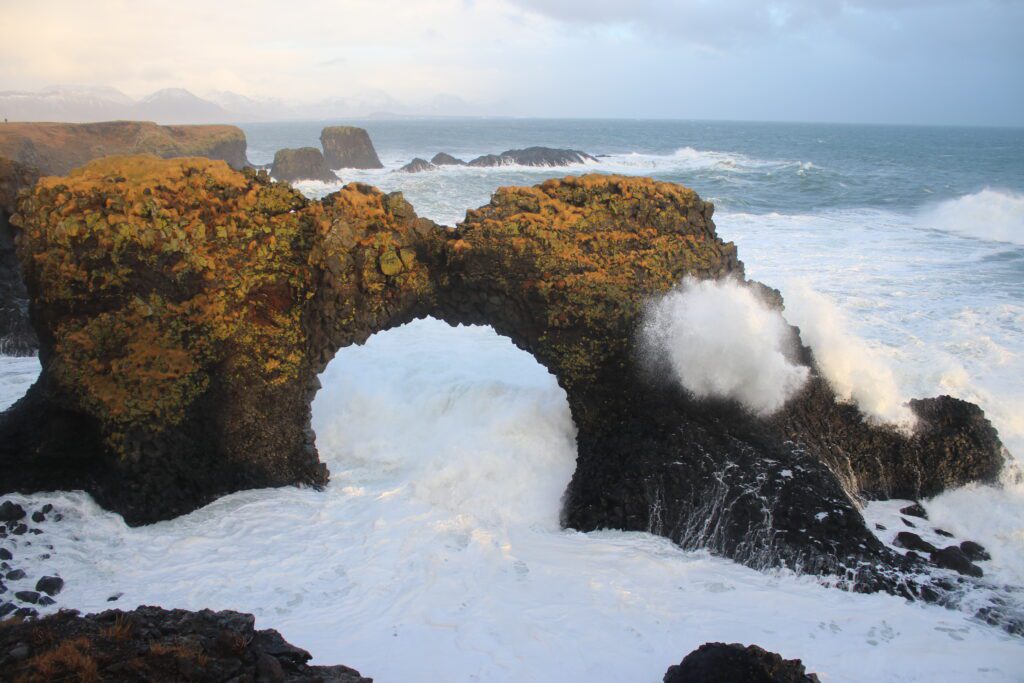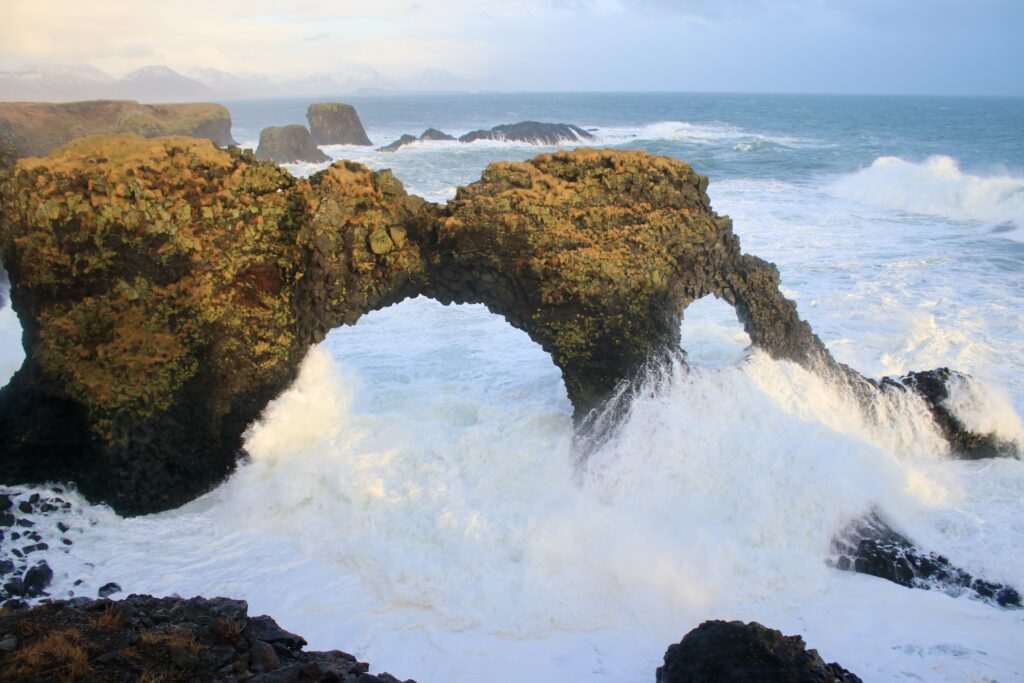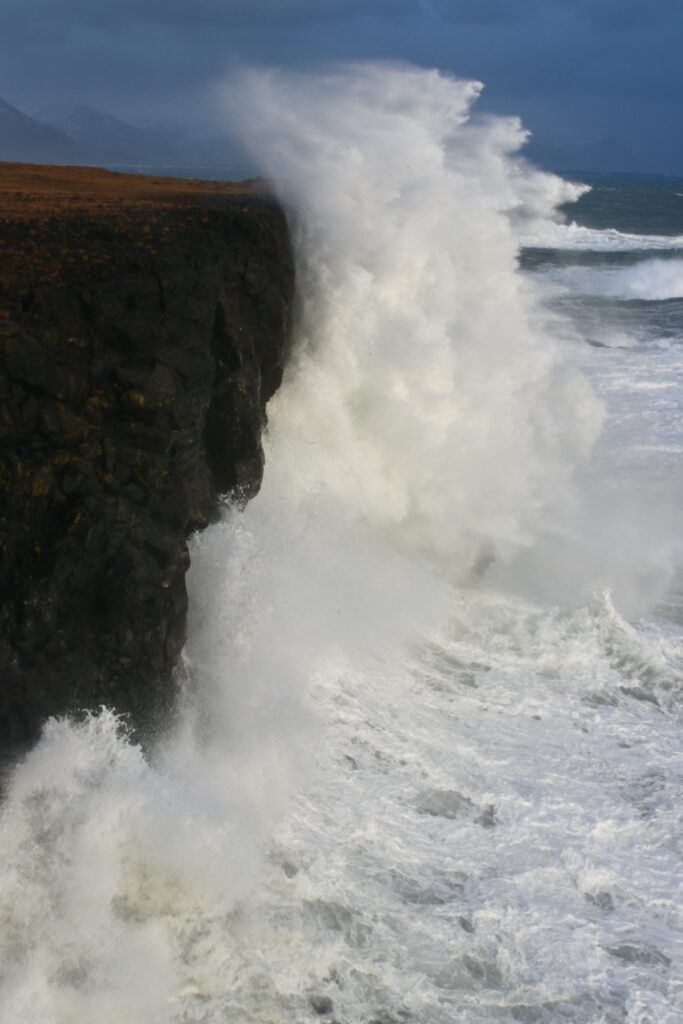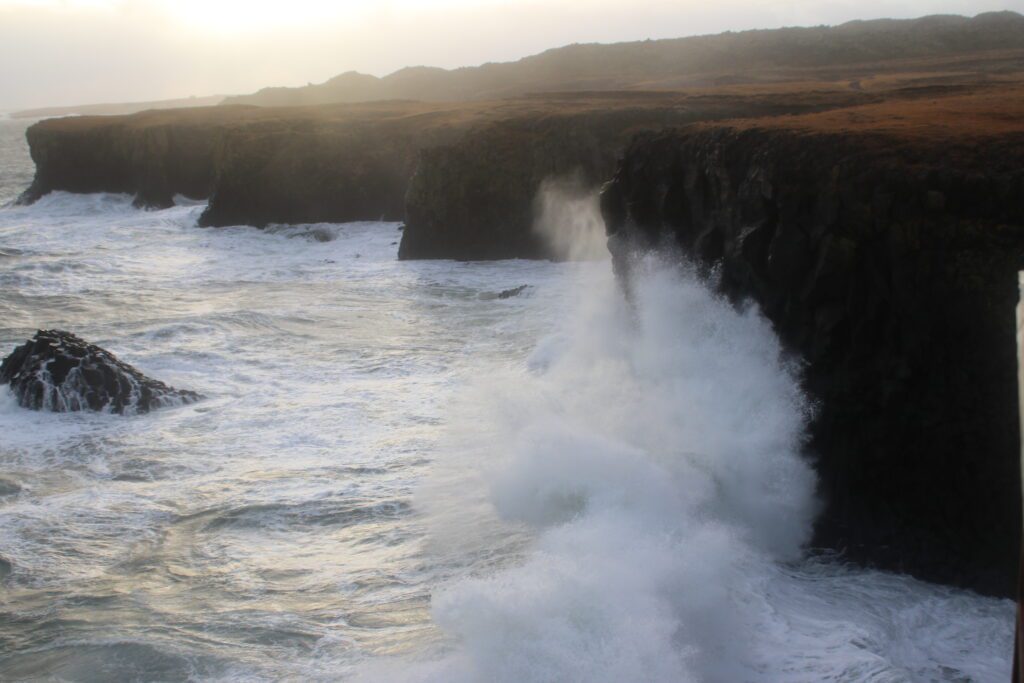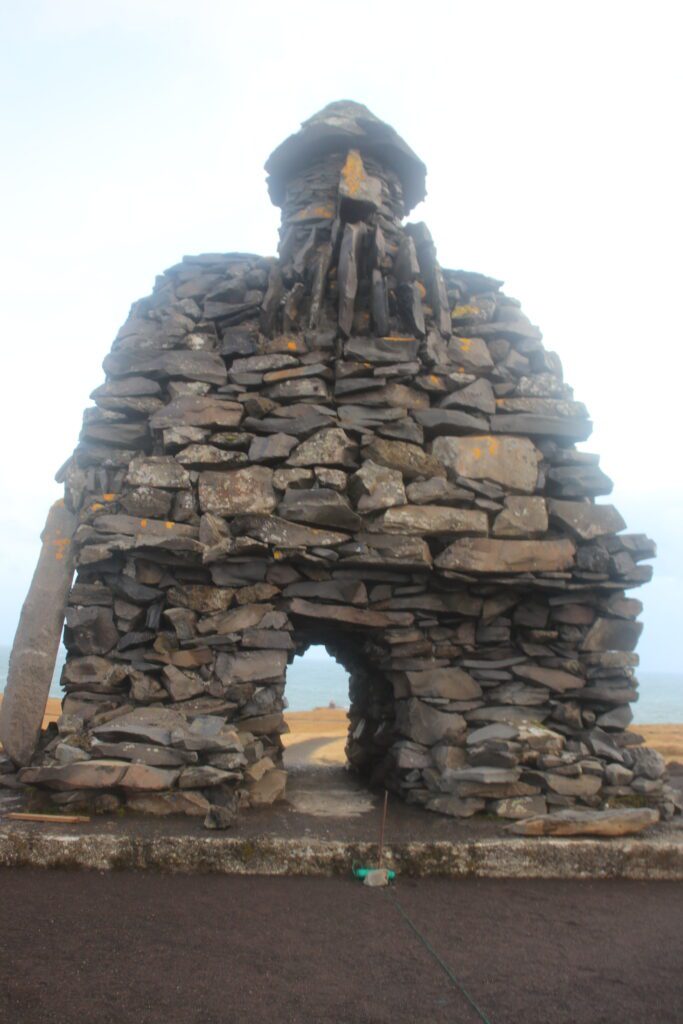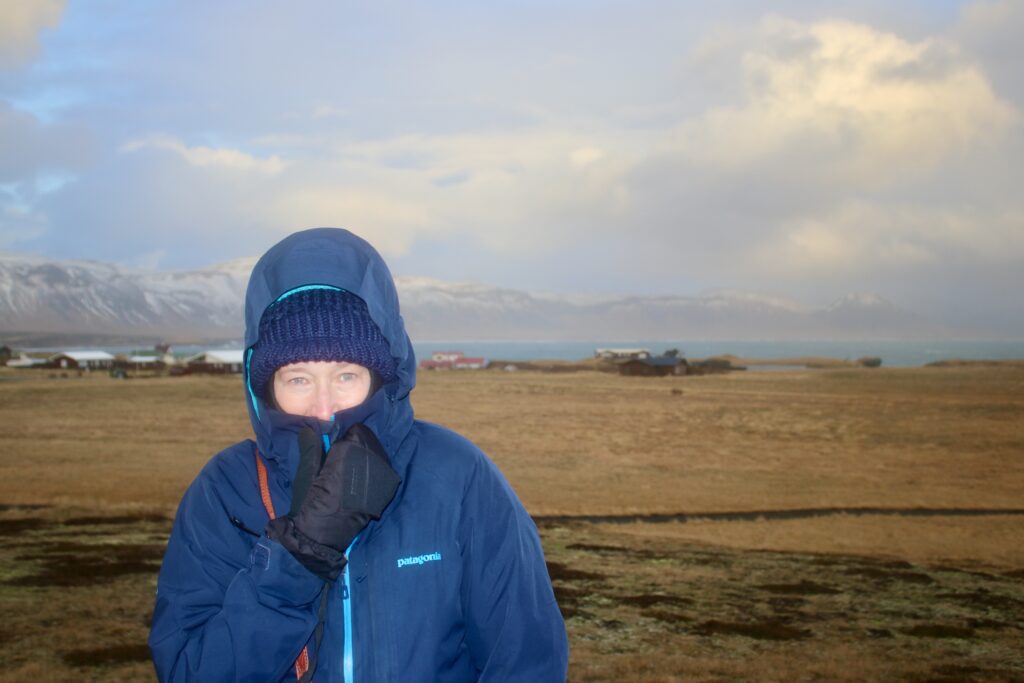 Buðarkirkja – The Black Church in the Hamlet of Búðir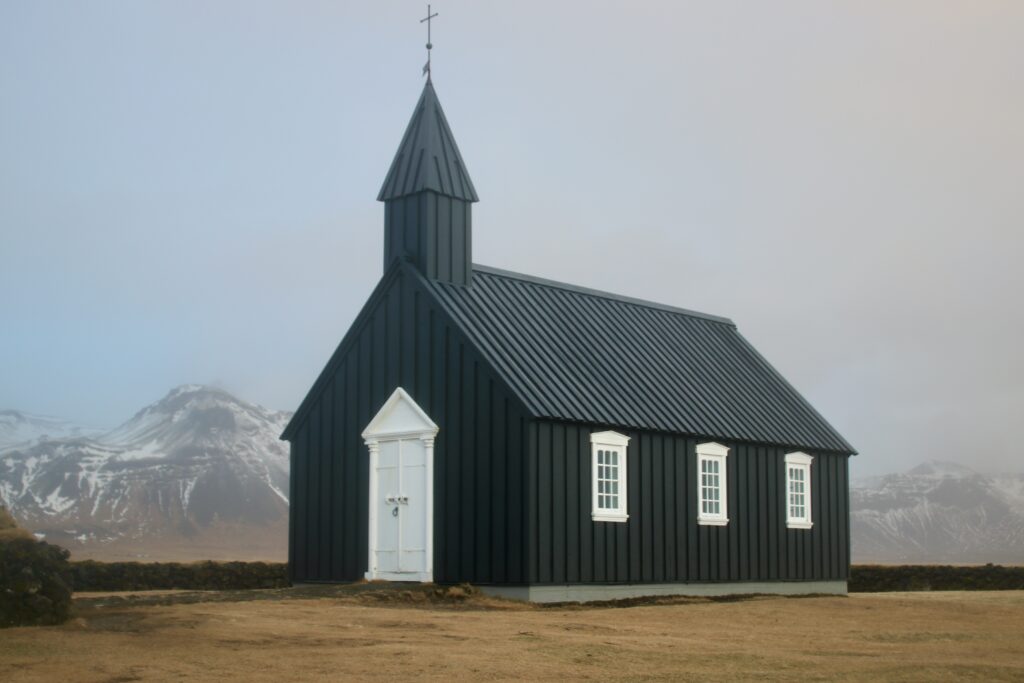 Lýsuhóll Horse Farm
Our tour included a wonderful, home-cooked dinner at Lýsuhóll Horse Farm just outside of Búðir. We had lamb, fish, vegetables, rice, salad and candy for dessert. We ate in the owner's large kitchen with our shoes off. We visited the horses after dinner and drove back to Reykjavik.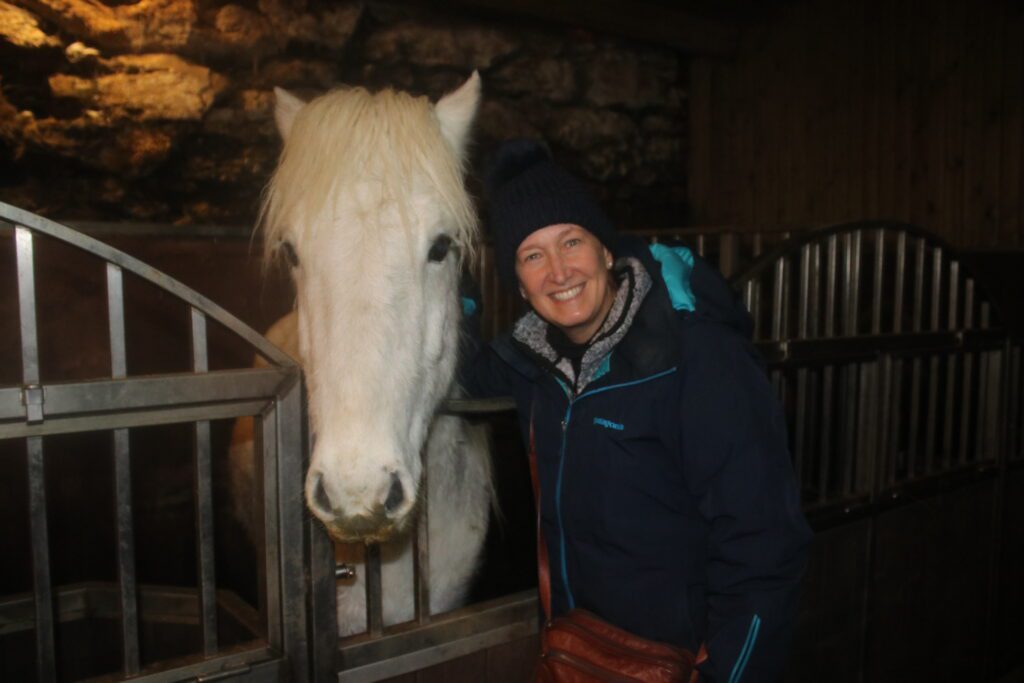 The Blue Lagoon – Bláa lónið
No visit to Iceland would be complete without a visit to the Blue Lagoon – Bláa lónið. We chose to visit on our way to the airport. Our flight did not depart until 5:30pm, so we had the day to enjoy. We first walked to the bus station for rapid covid tests. Administered by the government, the test was fast, free and easy. We returned to our hotel for breakfast and a check-out.
A bus from the Destination Blue Lagoon picked us up at 9am from our hotel. It takes about 40 minutes from Reyjavik to the lagoon. We picked up a few people along the way. It was $27 from the hotel to the lagoon and an additional $27 from the lagoon to the airport. The lagoon is less than 20 minutes from the airport.
We chose the premium package for $95 which included a robe, slippers to keep, a towel, first drink of your choice and three mud masks.
We spent about four full hours here. The onsite cafeteria-style lunch was great as well. There are much more pricier options for both soaking and dining. Michele highly recommends a visit to this iconic location.