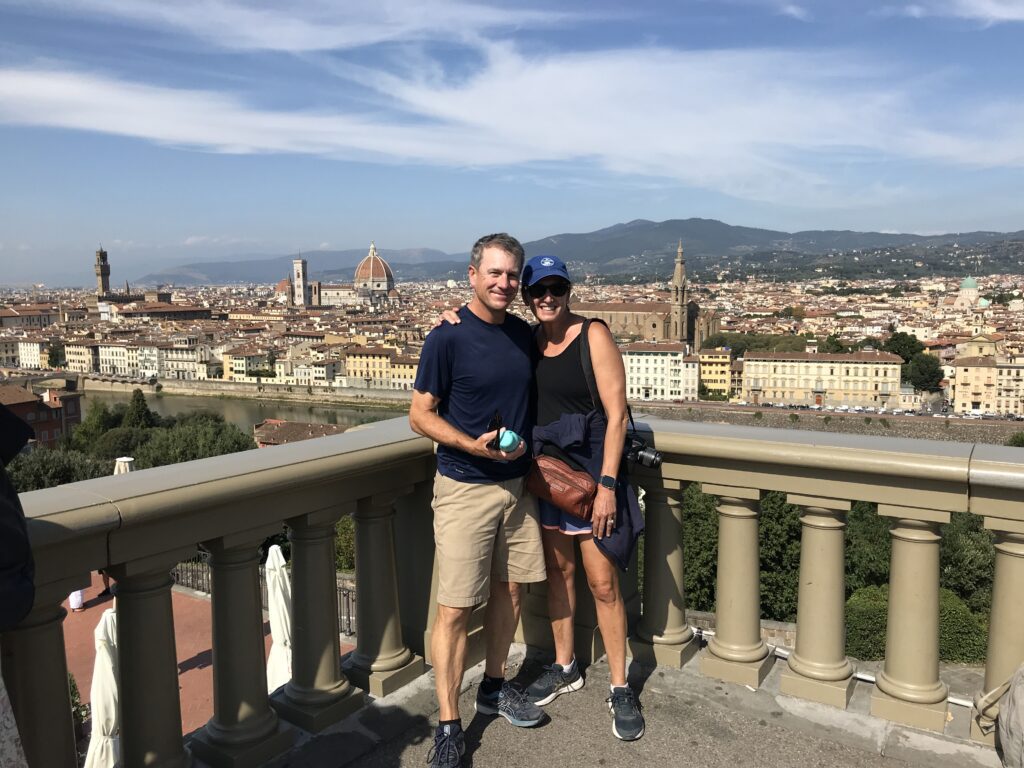 Traveling During Covid
We traveled to Rome, Tuscany, Florence, Cinque Terre and Pisa from September 23 – October 3, 2021. Our Kendall was studying in Florence for the semester, so the trip was also to spend some time with her.
Delta and the country of Italy required a PCR or rapid covid antigen (NOT antibody) test with 72 hours of your arrival time into Italy. We flew on Thursday night and landed on Friday morning. To be extra safe, we took PCR tests on Tuesday morning and rapid antigen tests on Wednesday morning. Both were negative. Print out your test results.
Prior to departure, you must complete an EU passenger locator form. The form takes a few minutes to complete and is much easier to do on a computer than a phone. When complete, print it out. Keep it with your negative covid test results.
Italy is pretty strict about showing a "green pass" to enter hotels, museums, churches, public transportation and restaurants. EU citizens can use the Immuni app to upload their vaccination status. For American citizens, you simply need to show your vaccine card from the CDC. We purchased plastic sleeves that held our cards – 10 for $7.49. Michele carried both of ours in her purse, and we showed them very often.
We wore KN95 masks on the flight from Boston to Rome. We wore more comfortable cloth masks in churches, towers and stores. We did not wear masks while walking around cities or hiking in the countryside.
September of 2021 was a great time to visit Italy – it felt safe, uncrowded and warm.
Rome
Hotel Barocco
We flew on Delta, directly from Boston to Rome. We chose to stay at Hotel Barocco in Piazza Barberini – with Bernini's stunning Fontana del Tritone fountain in the center. The hotel is close to the Spanish Steps, the Trevi Fountain and the Pantheon. It is about a 30 minute walk to the colosseum in one direction and 30 minutes to the Vatican in another direction.
We chose a superior room at the hotel as European city rooms are often quite small. We had a closet, fridge, small desk, king size bed and a nice bathroom. We landed at 7am on Friday morning and took a hotel car to the lodging. They gave us a room that was ready in the morning, however, it had no view whatsoever! We napped and set out to see the city two hours later.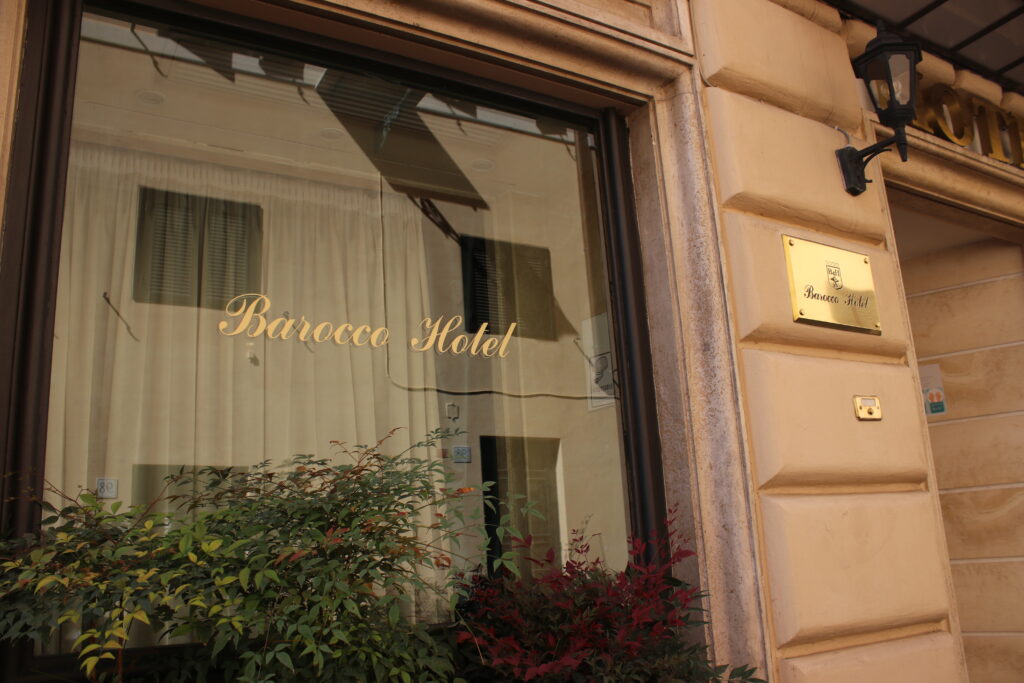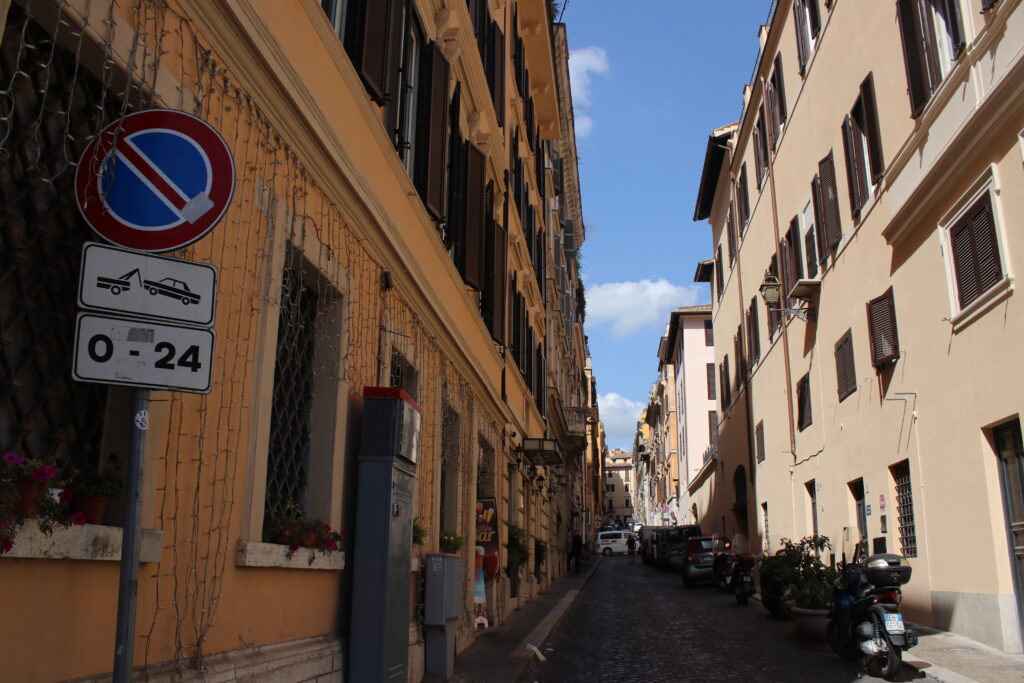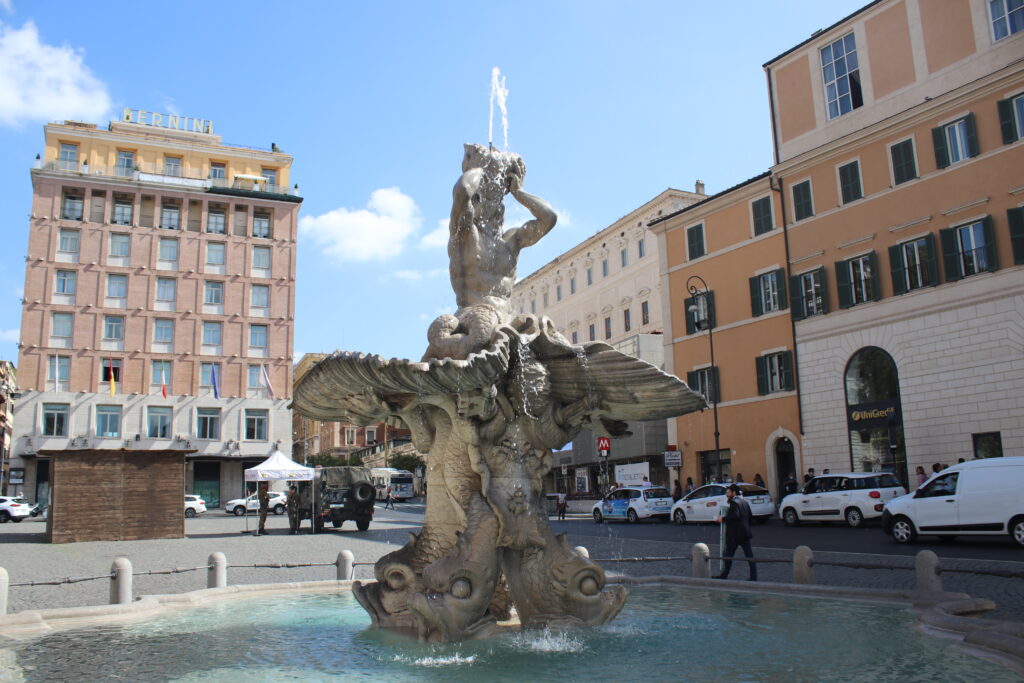 Vatican City
We had done Rome before, so the plan was to spend one day and one night in the Eternal City. Jim had never seen the Sistine Chapel, so we walked to Vatican City.
We highly recommend buying timed tickets in advance for your visit. We had a 2:30 ticket time to enter the Vatican Museums. You can save money on all the on-line "skip the line" ticket offers if you just purchase directly from the Vatican itself. And, you get to skip the line. You will need to go through airport style security, show your covid vaccination and have your temperature taken.
Our first stop was St. Peter's square and a climb to the top of the dome. To purchase a dome ticket, we waited in a 30 minute line that moved slowly. There was only one ticket window open. We think this was done to spread people out due to covid. You can use a site like Viator or Get Your Guide to get a ticket for the Dome and a guided tour of the church. They only allow this option at 8:10am. You will need to go through airport style security, show your covid vaccination and have your temperature taken.
There are 551 steps to the top of the cupola. If you want to climb, like us, the tickets are 8 Euros. If you want to take the elevator and then climb the remaining 321 steps, the ticket is 10 Euros. The first part of the climb is a circular, wide open stair case. This brings you to the dome where you can see the frescoes up close. Then, you climb very narrow stairs to the cupola for the most amazing view of Rome.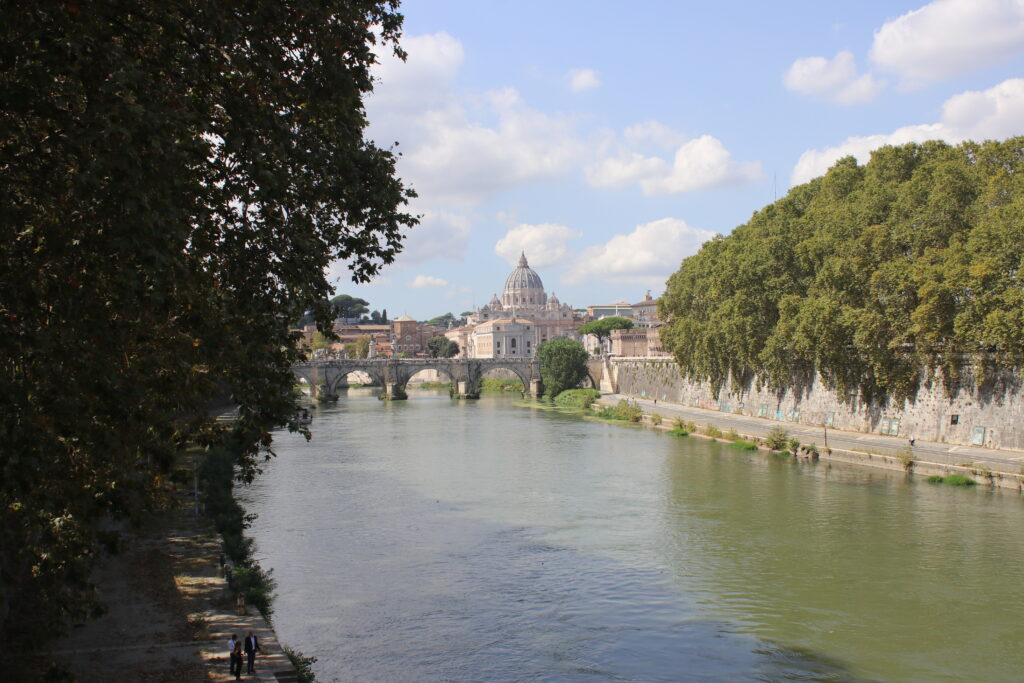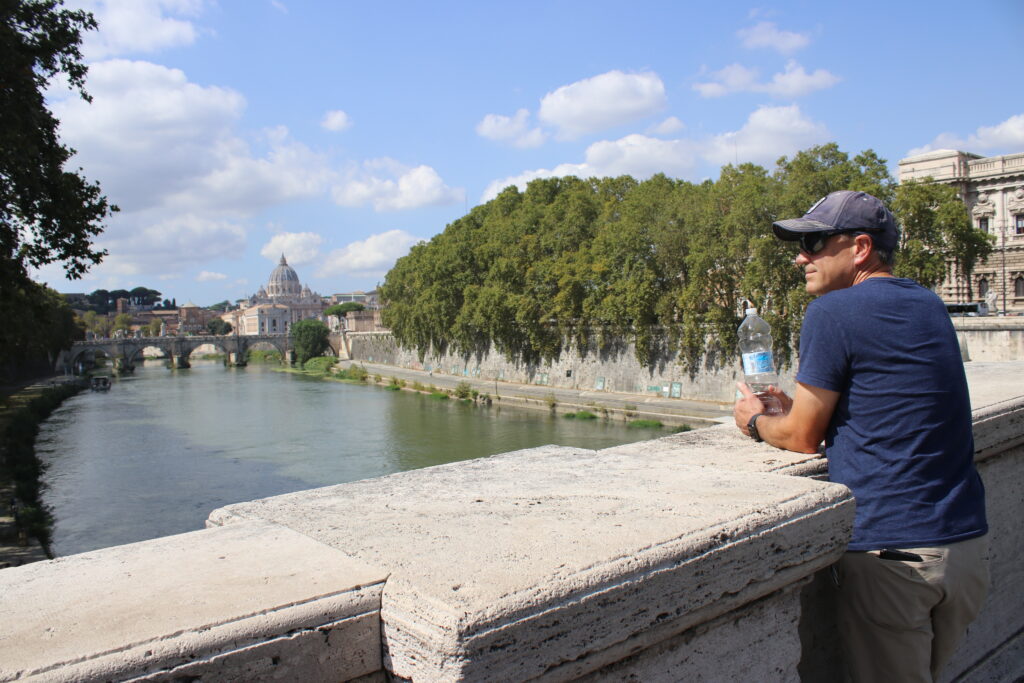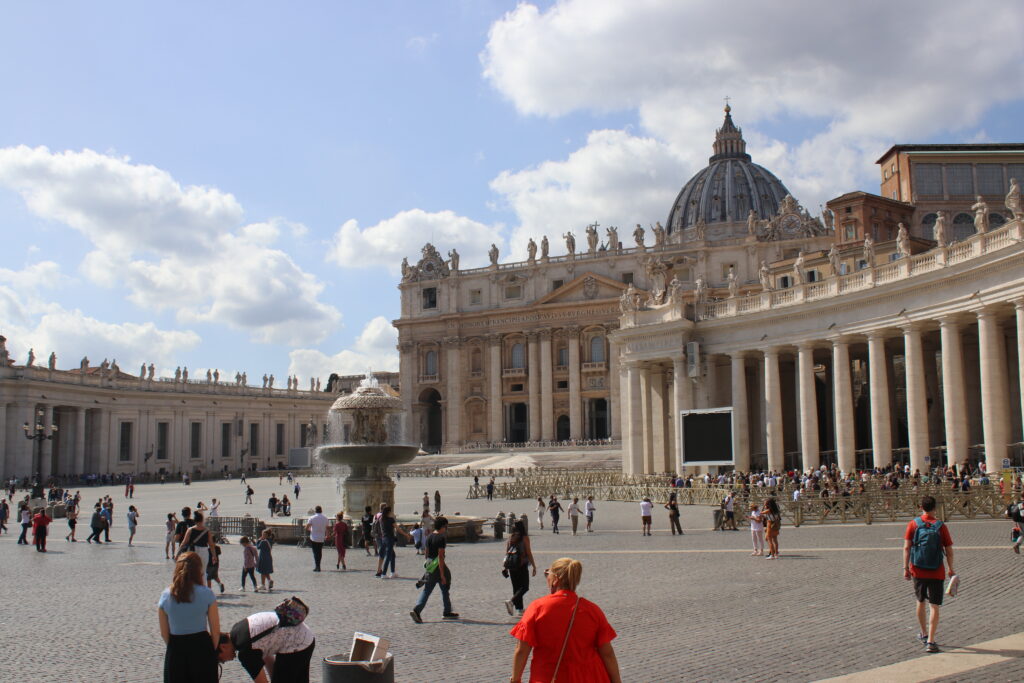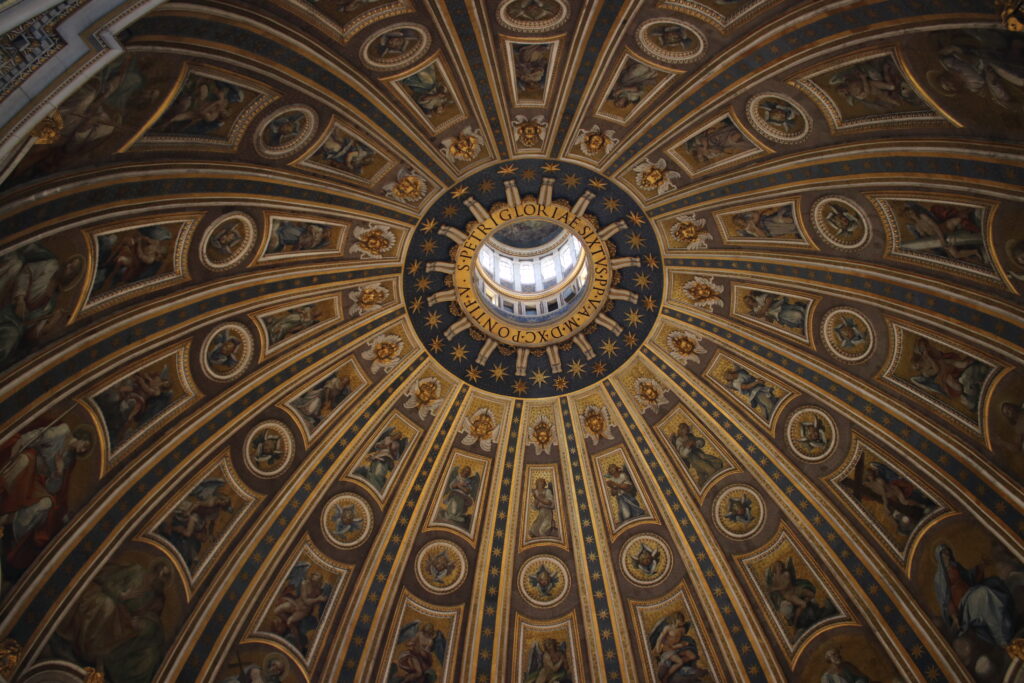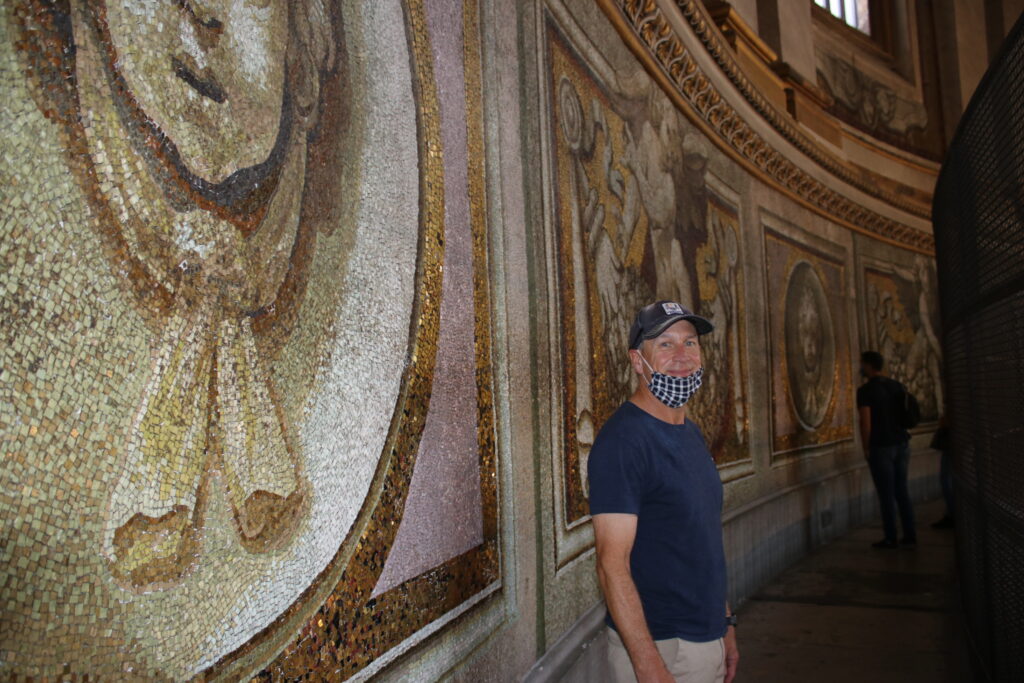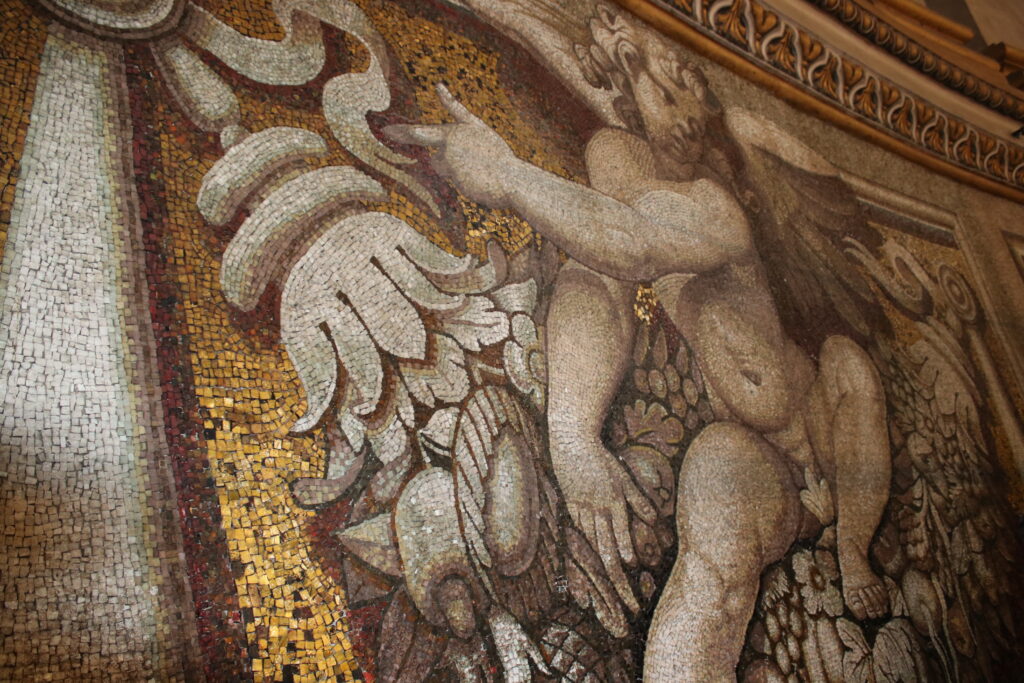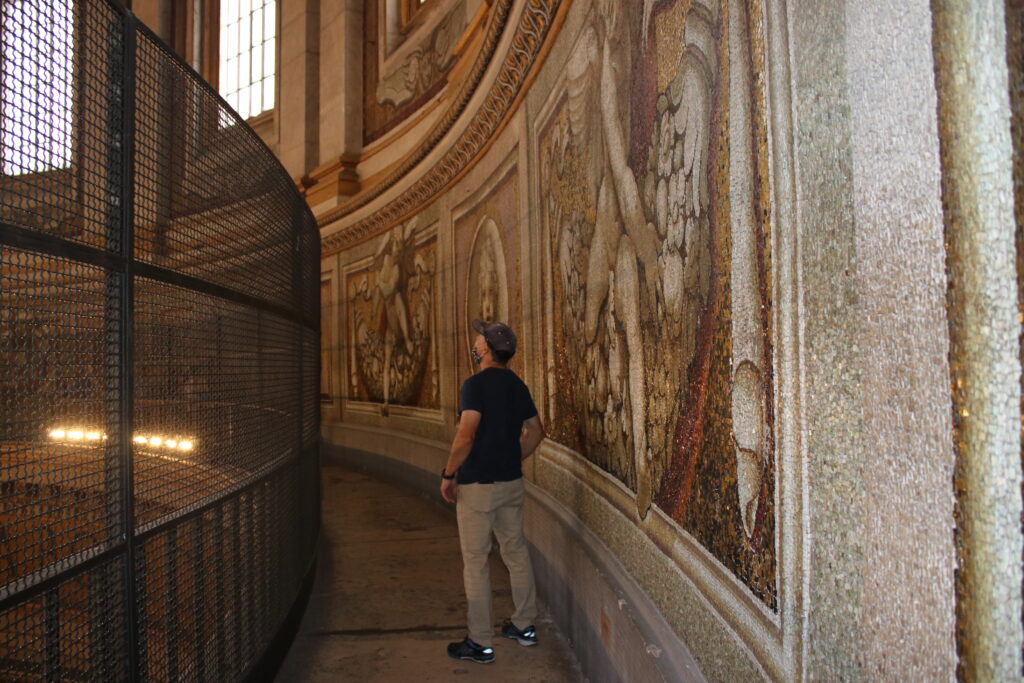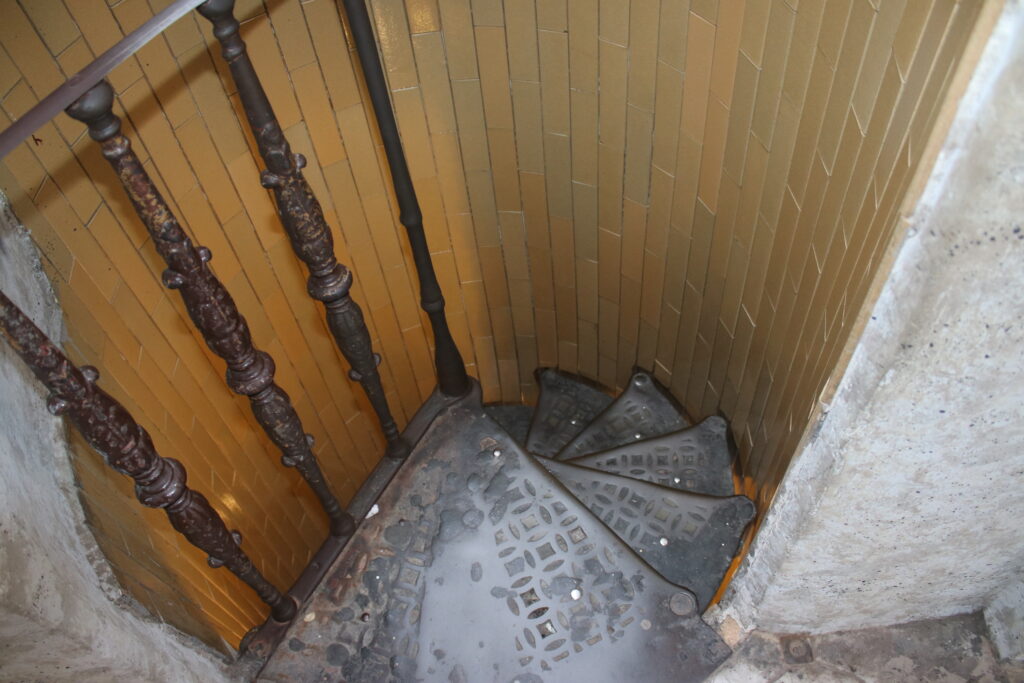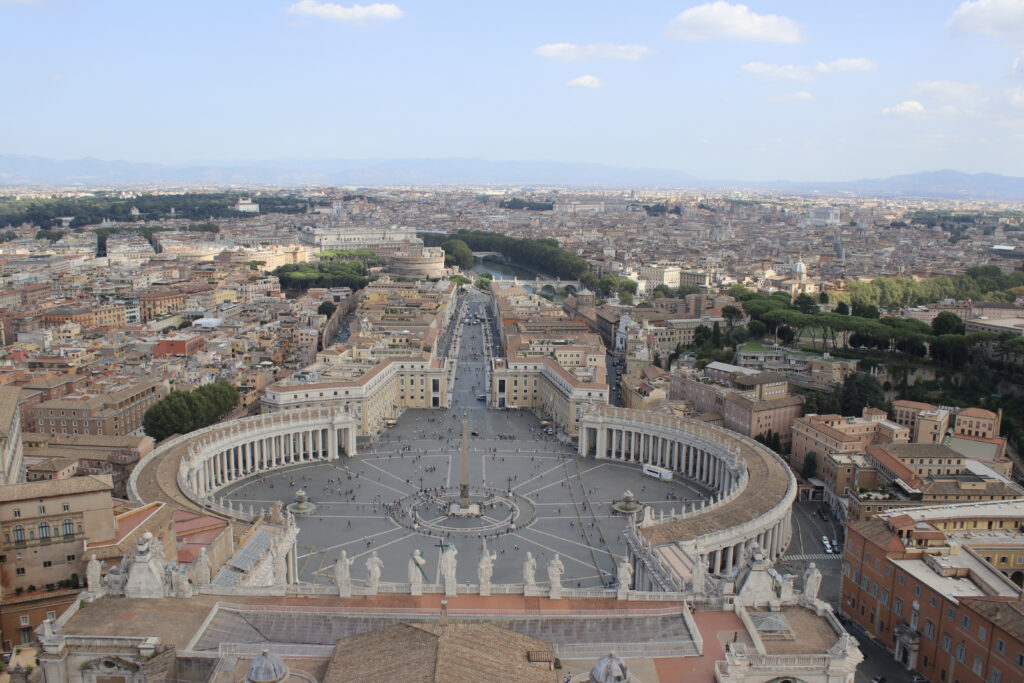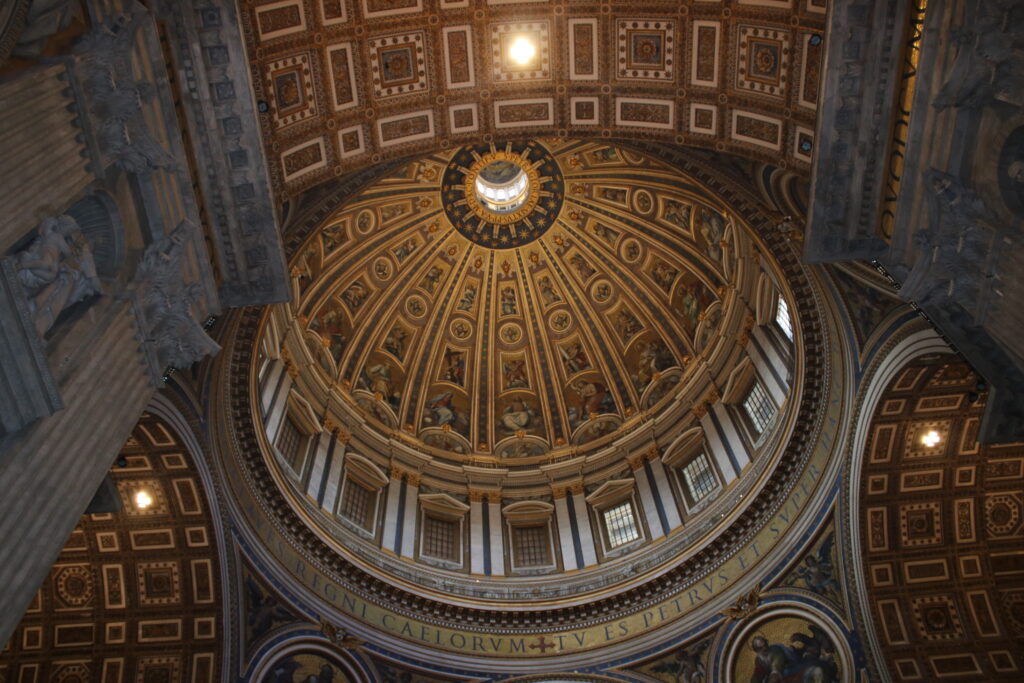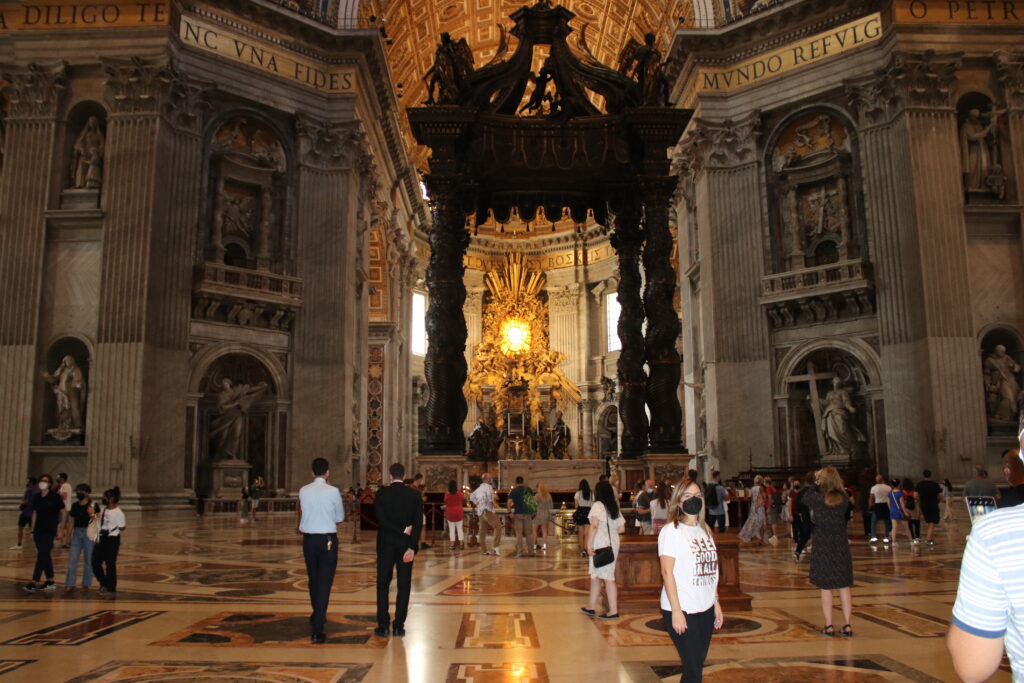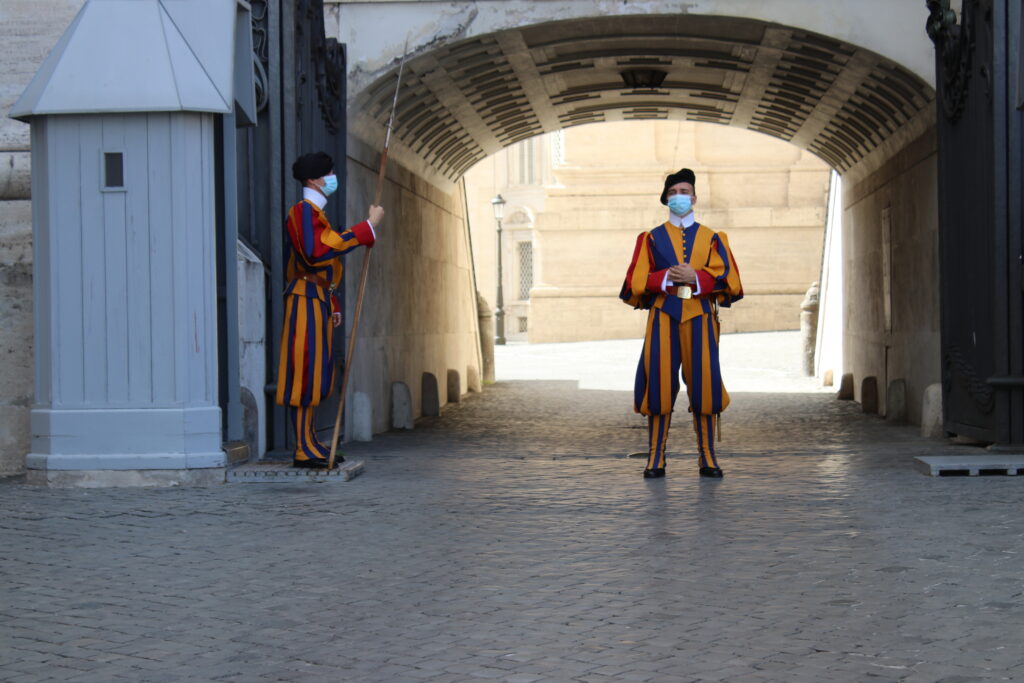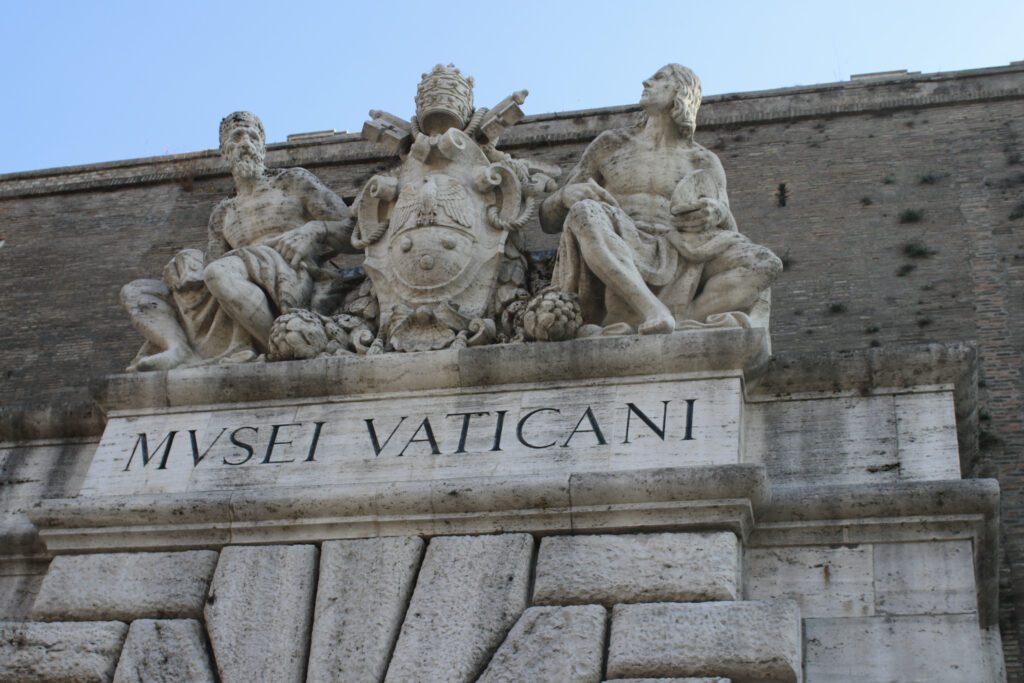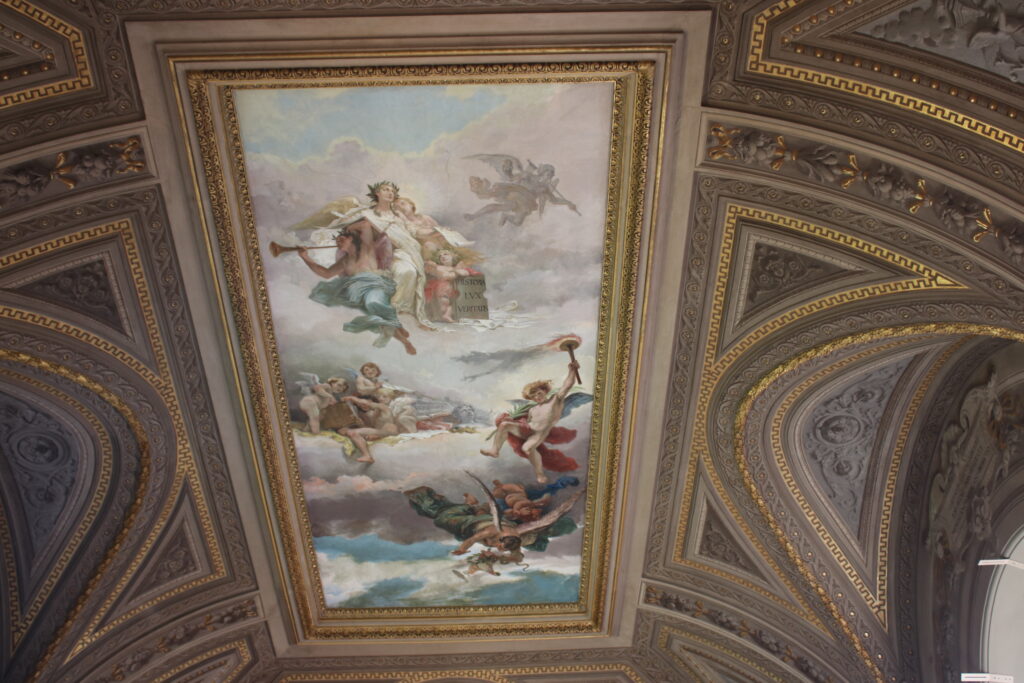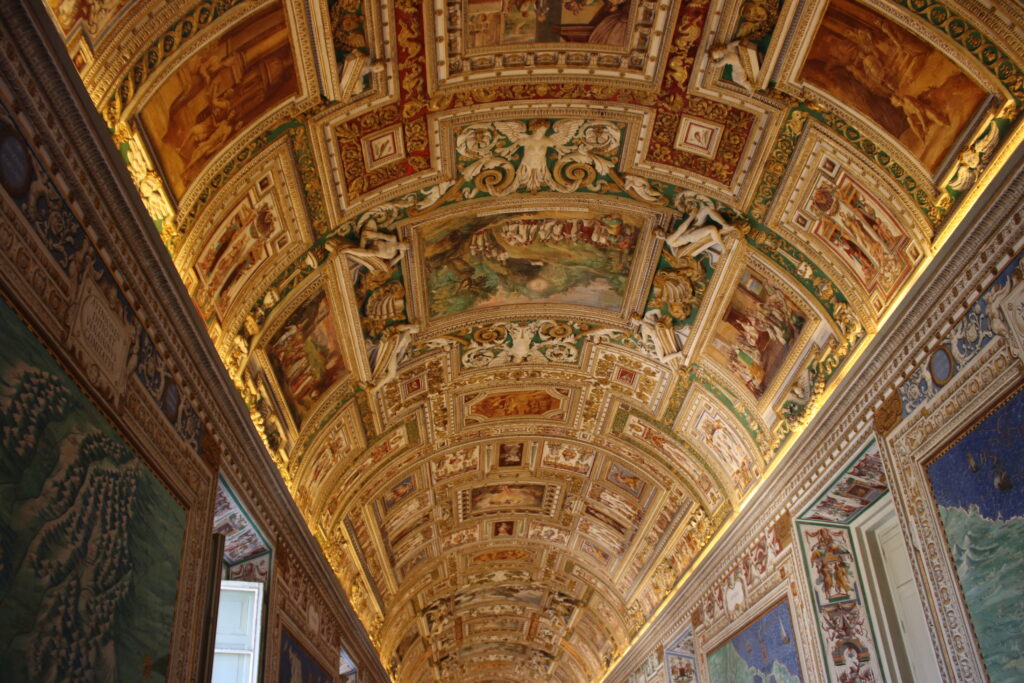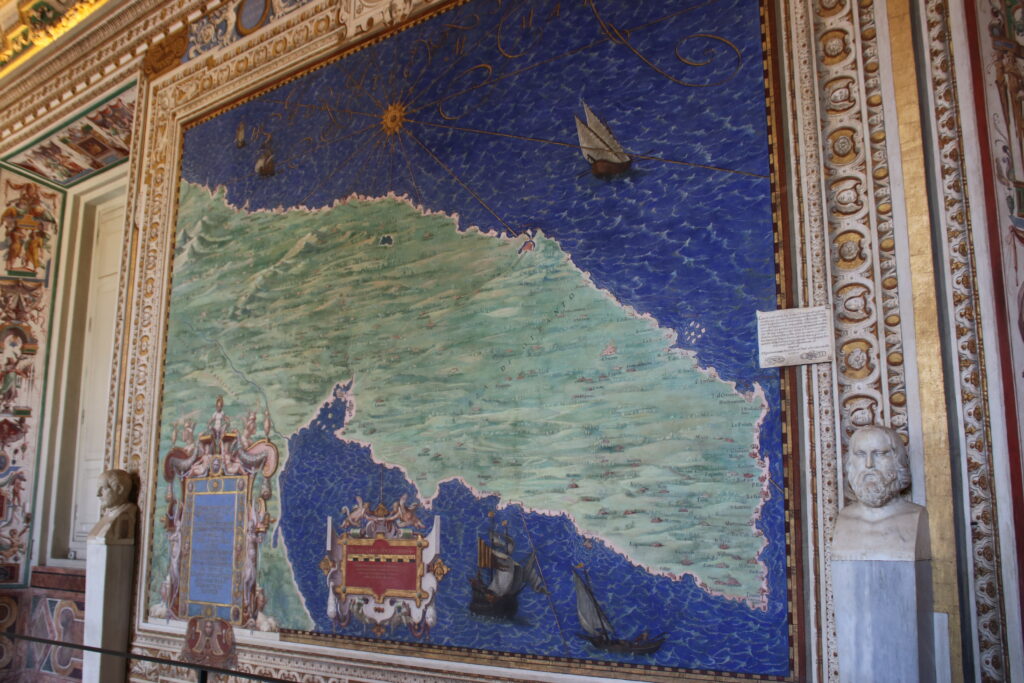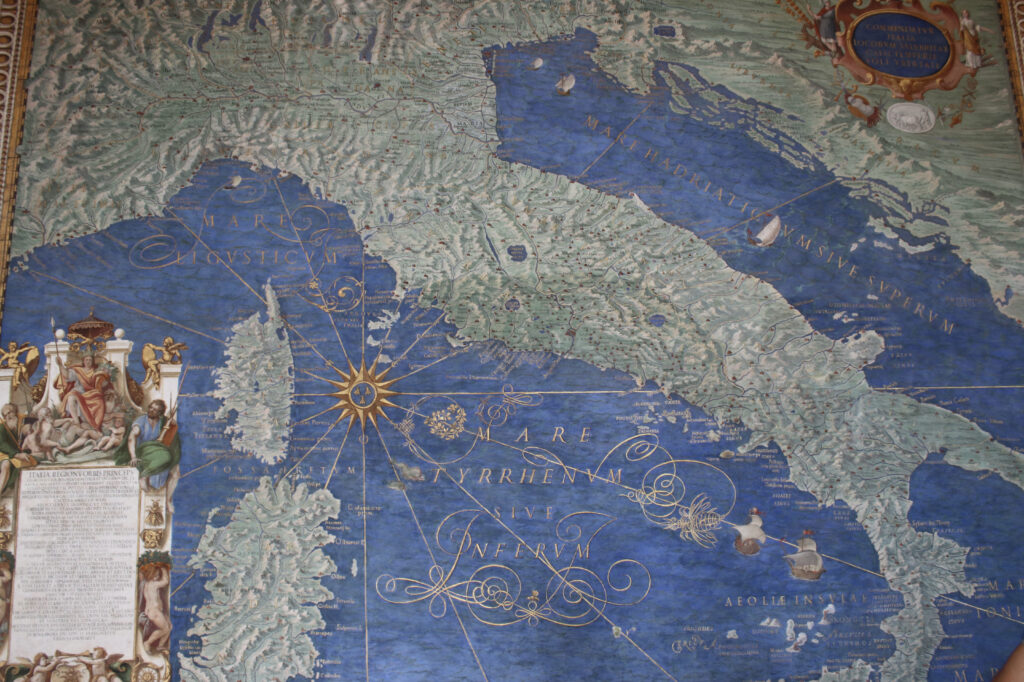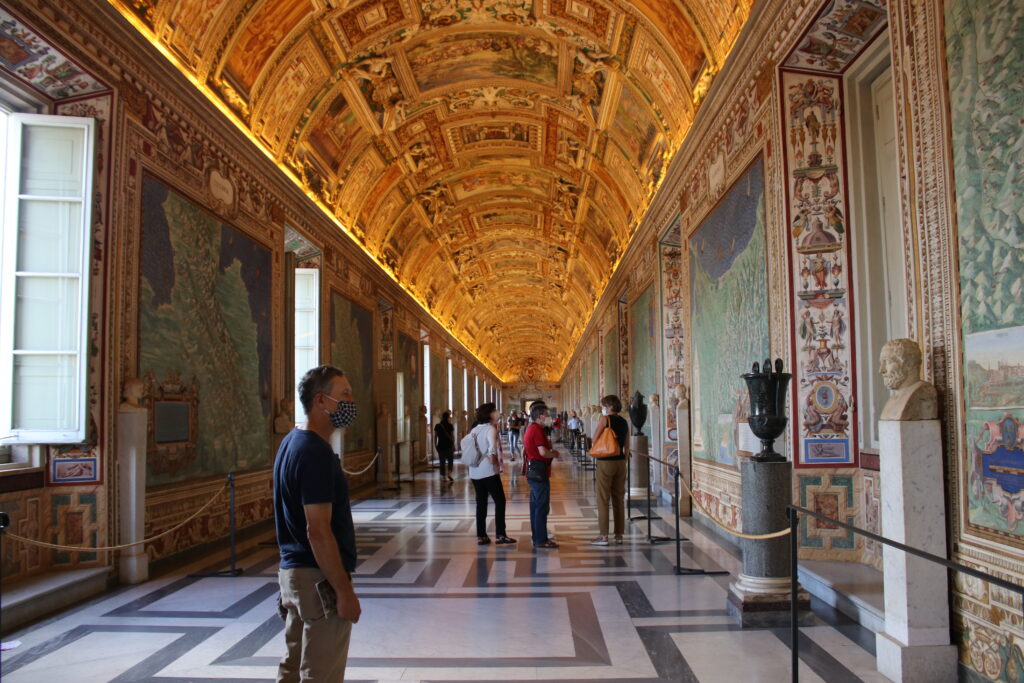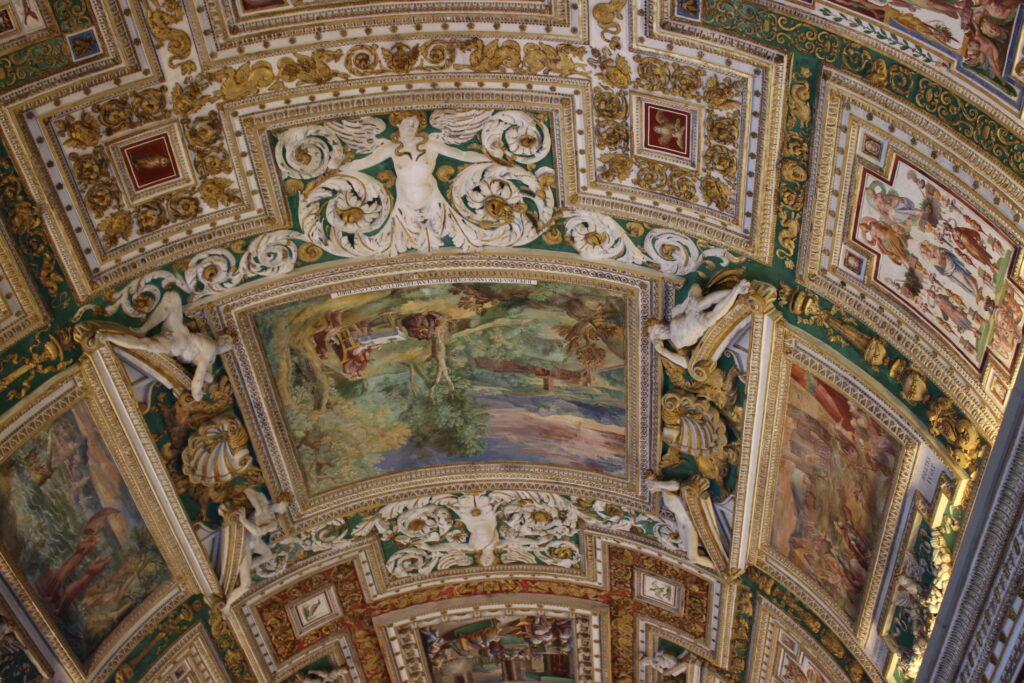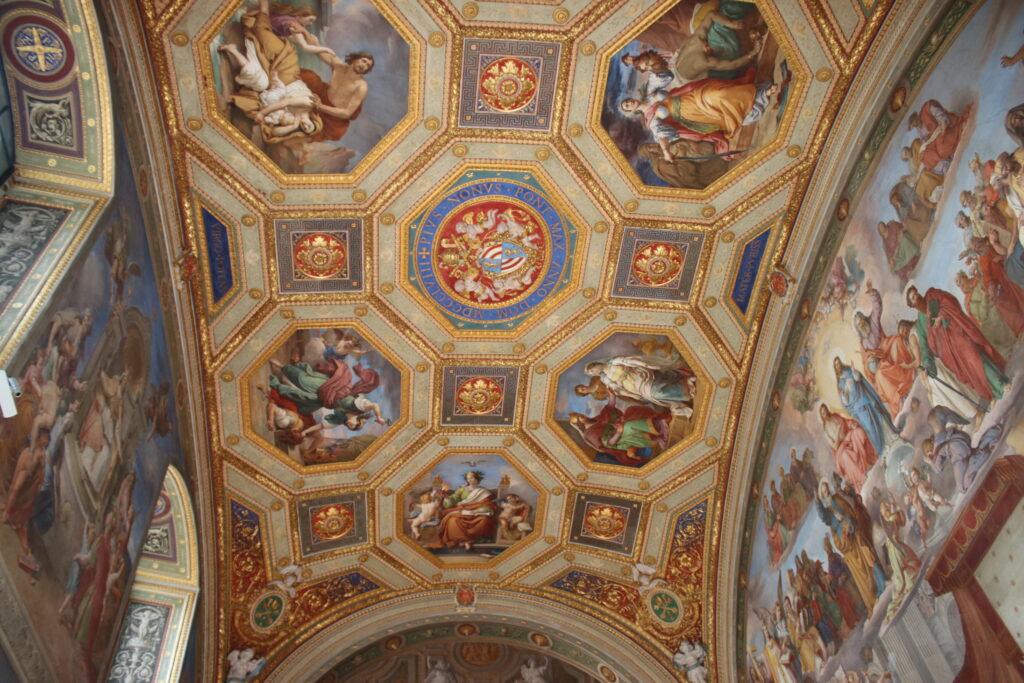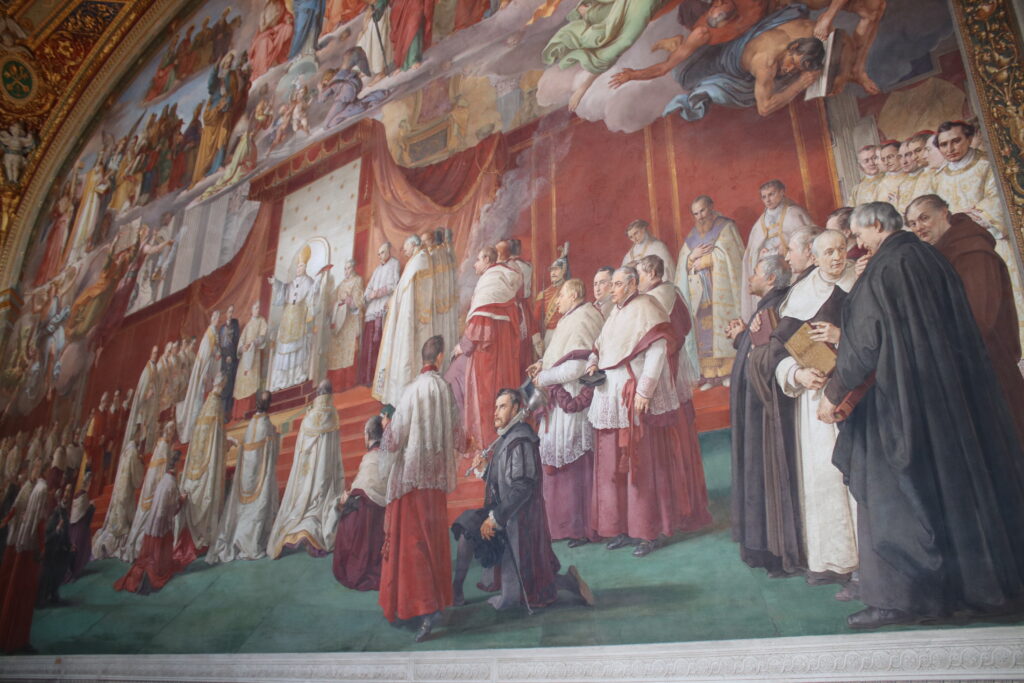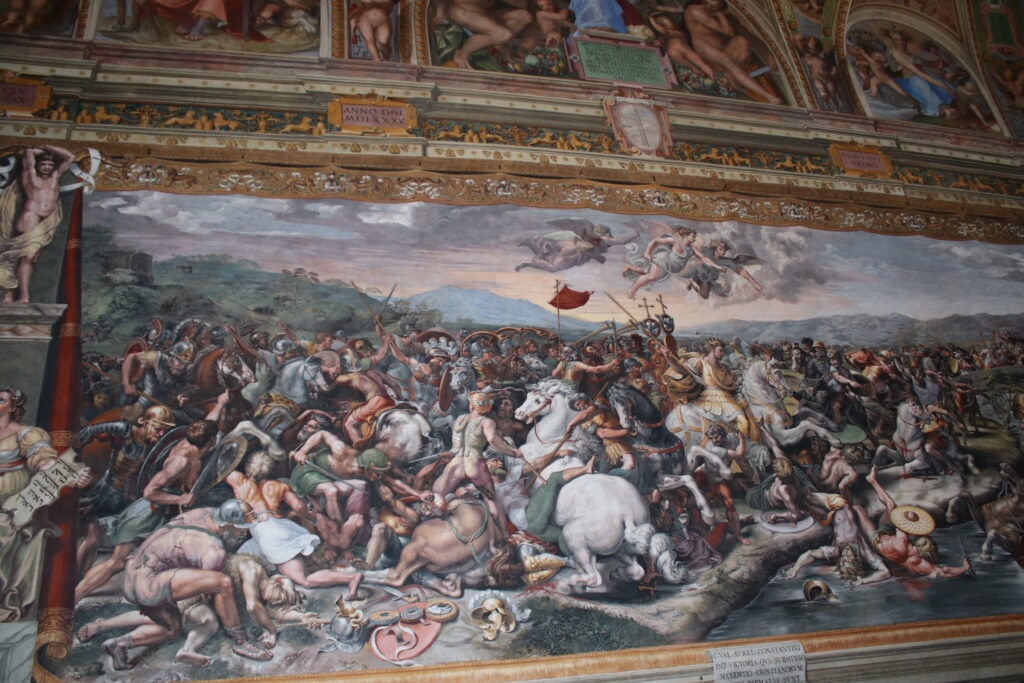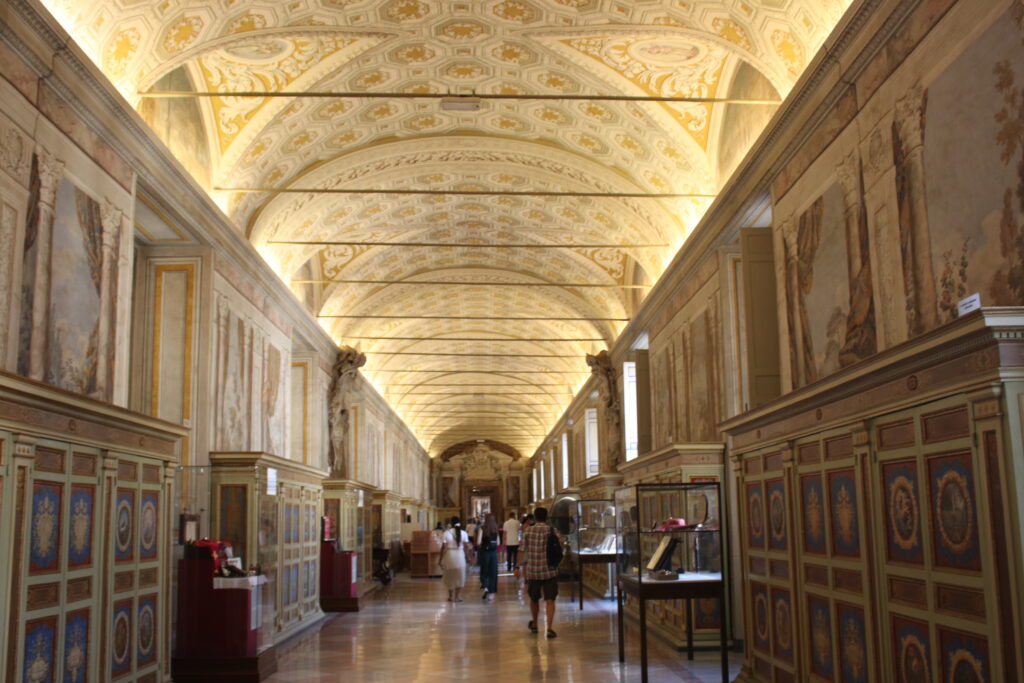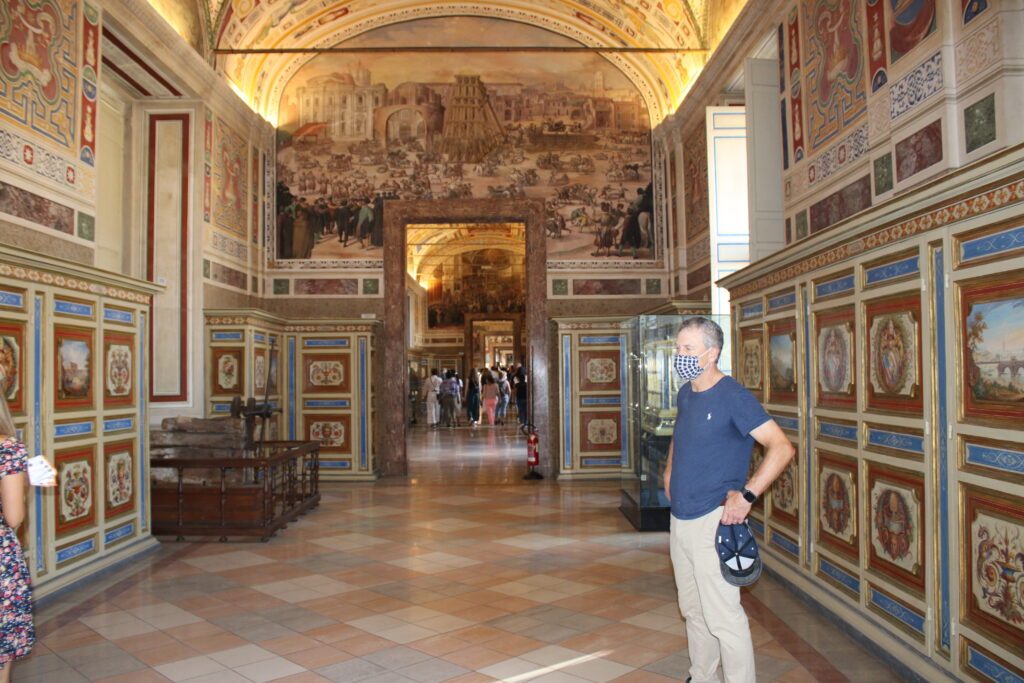 We finally made it to the Sistine Chapel. There are guards all over enforcing a no photo rule. It is beyond amazingly gorgeous. The size and scope of the chapel is truly a wonder.
We walked to find some lunch at a little pizza place near the Castel Sant'Angelo.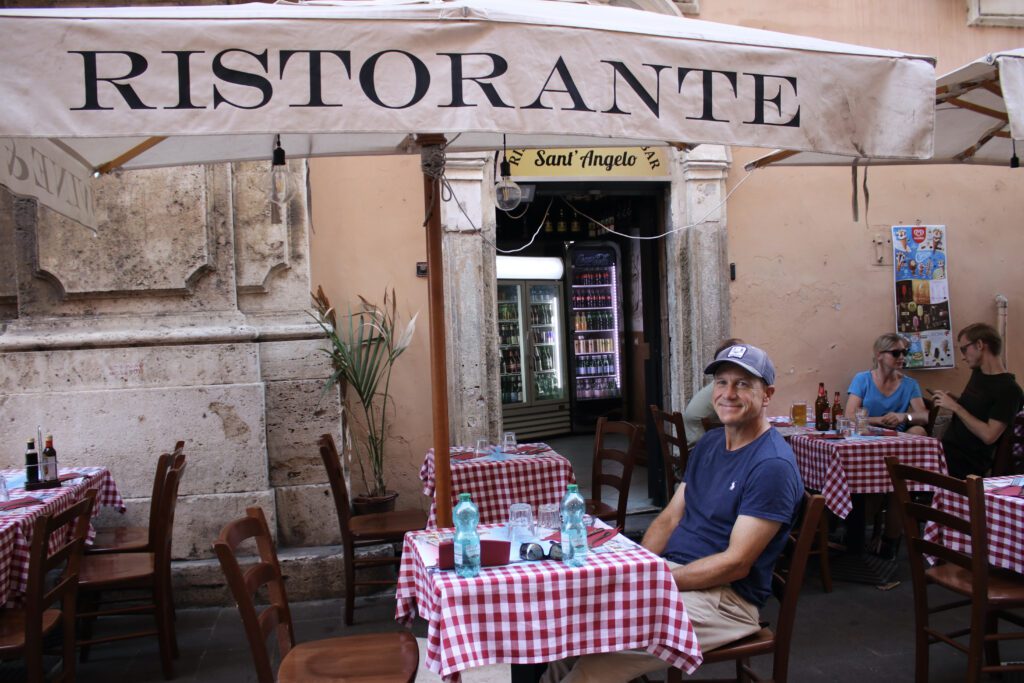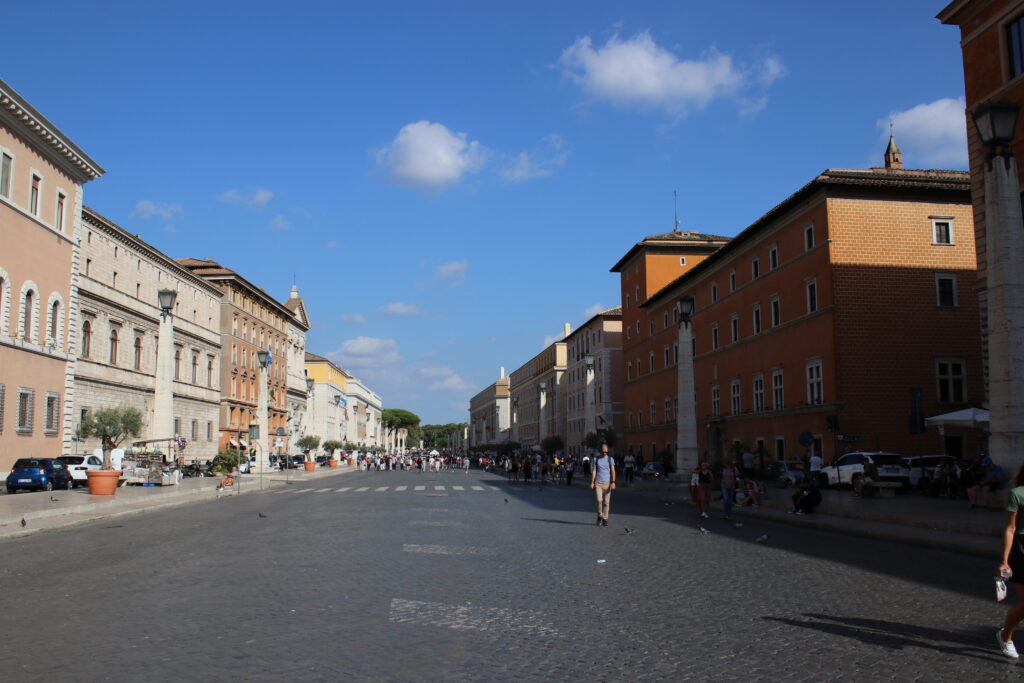 Strolling to the Spanish Steps, the Trevi Fountain and the Pantheon
After a much needed series of showers, we began our very long walk around Rome. With no real destination, we just started to stroll. We were a few minutes from the Spanish Steps. You are no longer allowed to sit on the steps. The piazza at the bottom and the surrounding alleyways are fantastic. The crowds were thin at the Trevi Fountain. We walked past the Pantheon, but it was closed for the night. It is fascinating. We visited in 2004.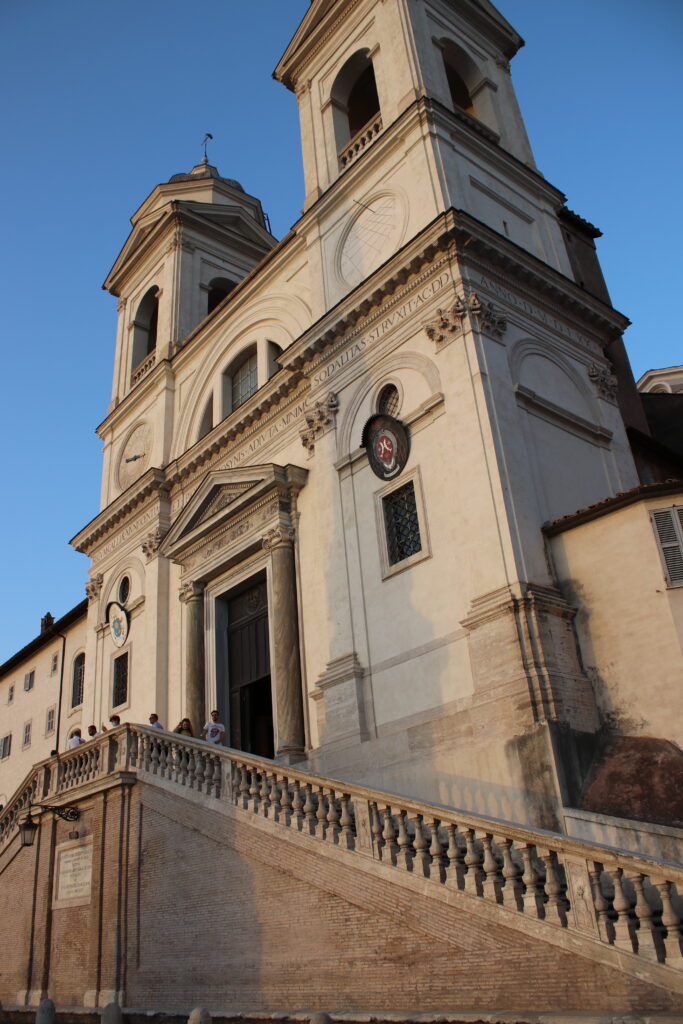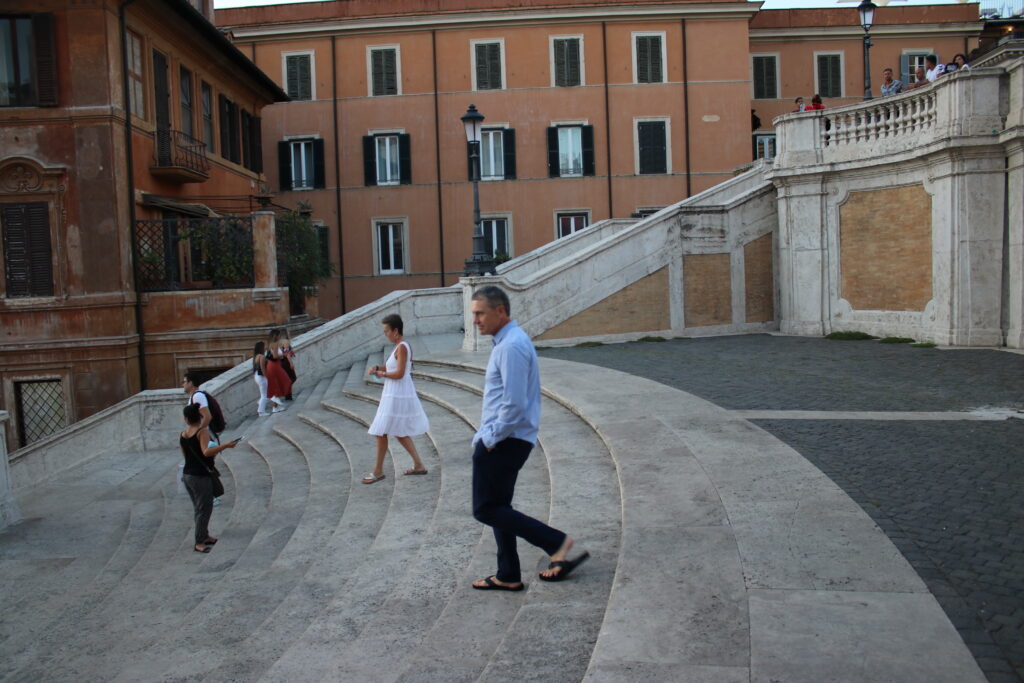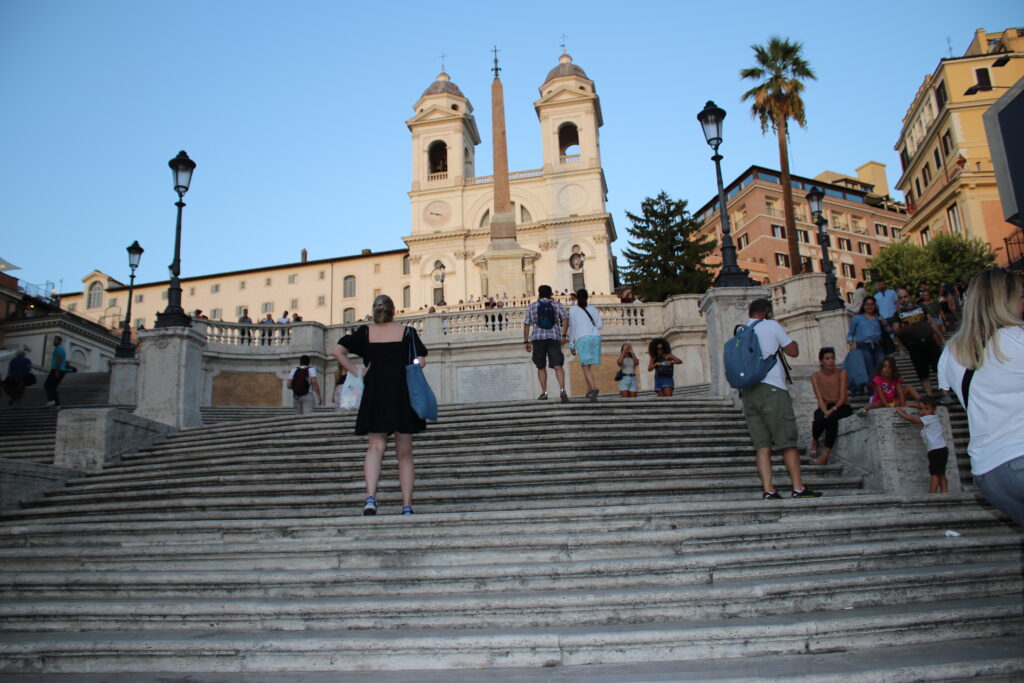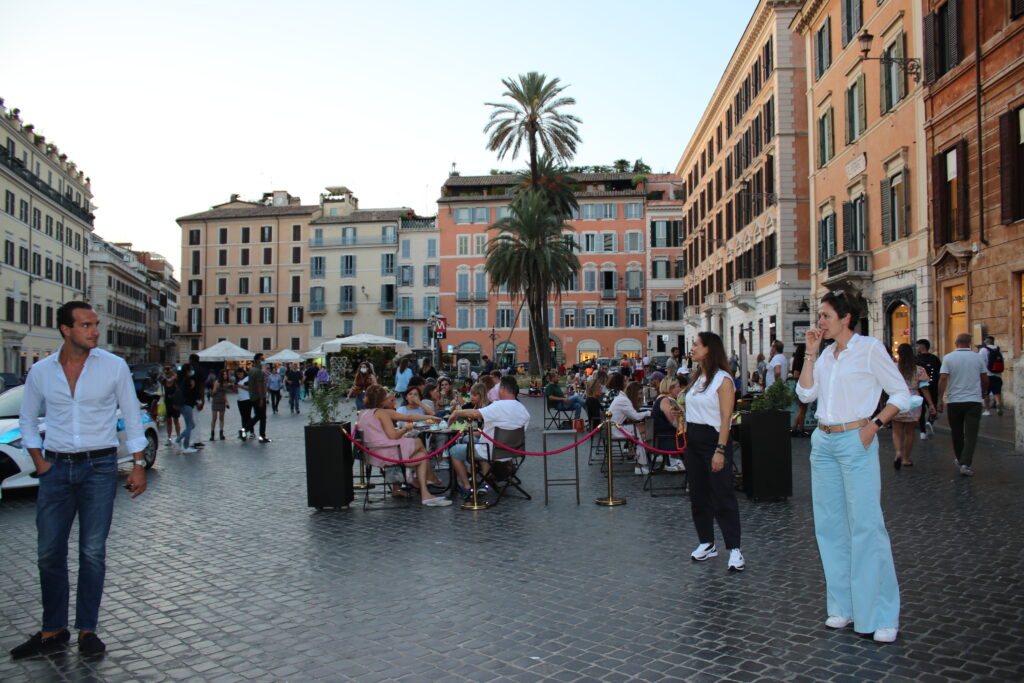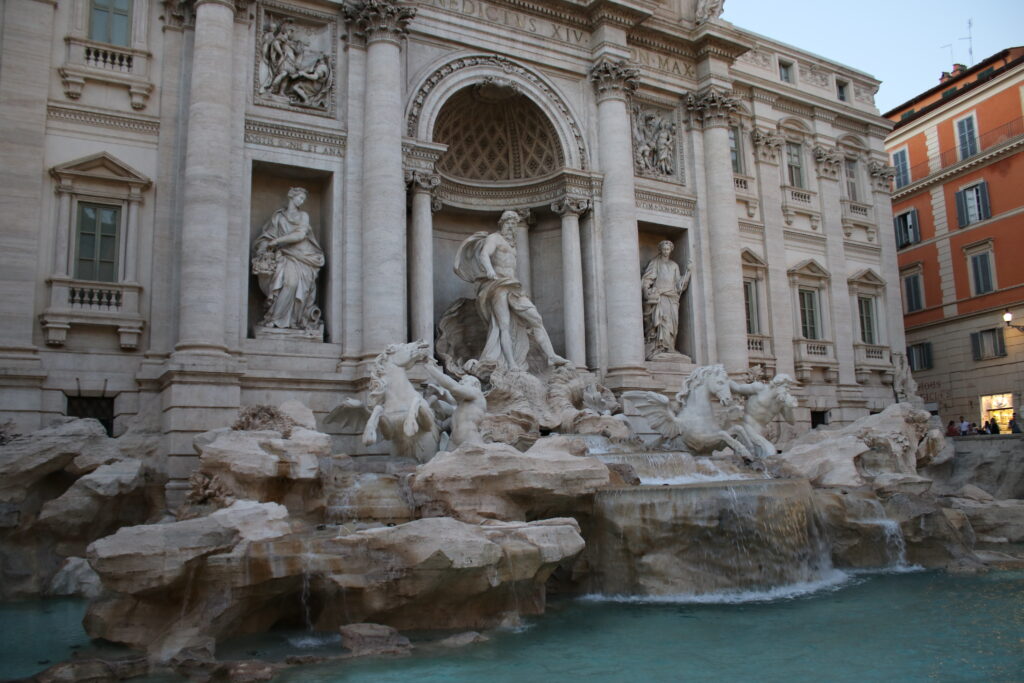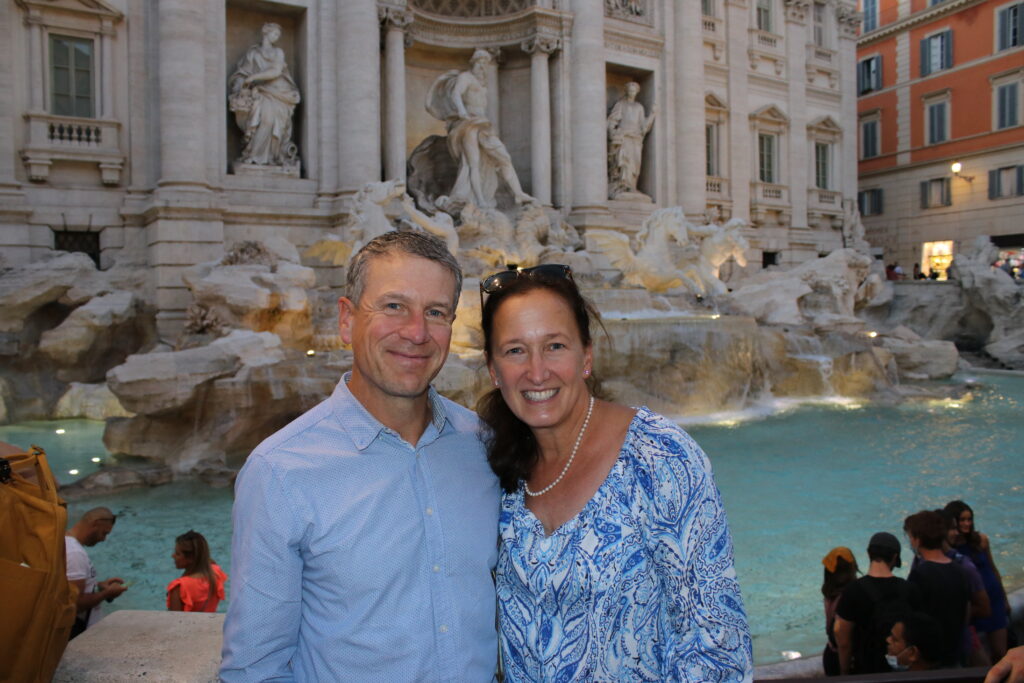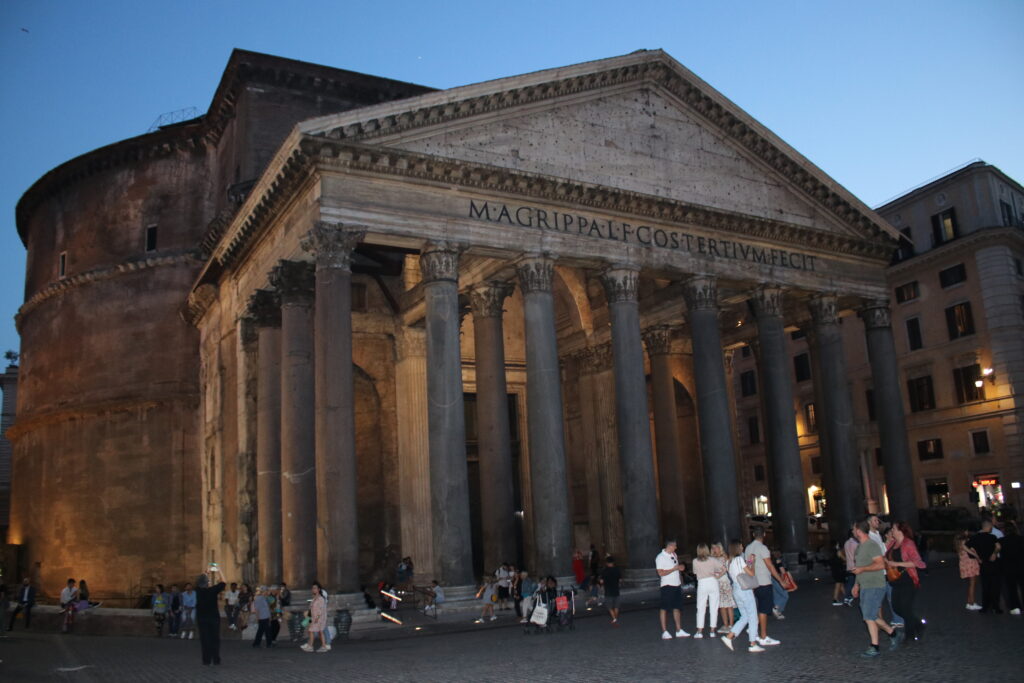 Trastevere
We decided to walk over the river to the Trastevere neighborhood. This funky, eclectic assortment of bars, cafes and restaurants was so fun to walk around. We stopped at Enoteca Trastevere for a nice meal. As we had eaten a very late lunch, we had some wine and some home made meatballs. We loved the location! TripAdvisor reviews are fine.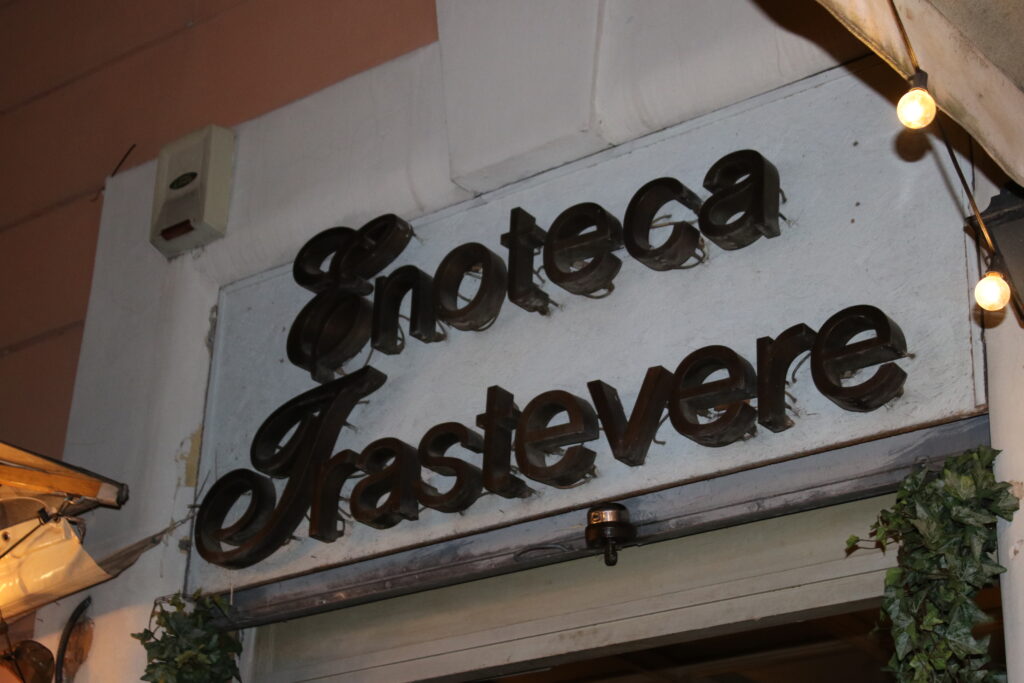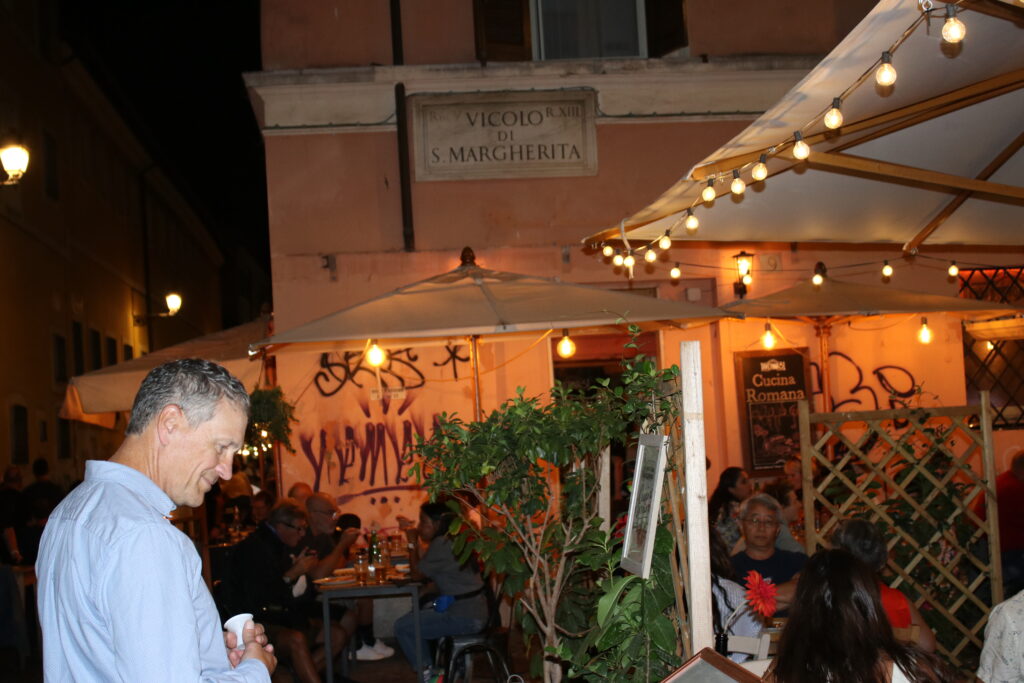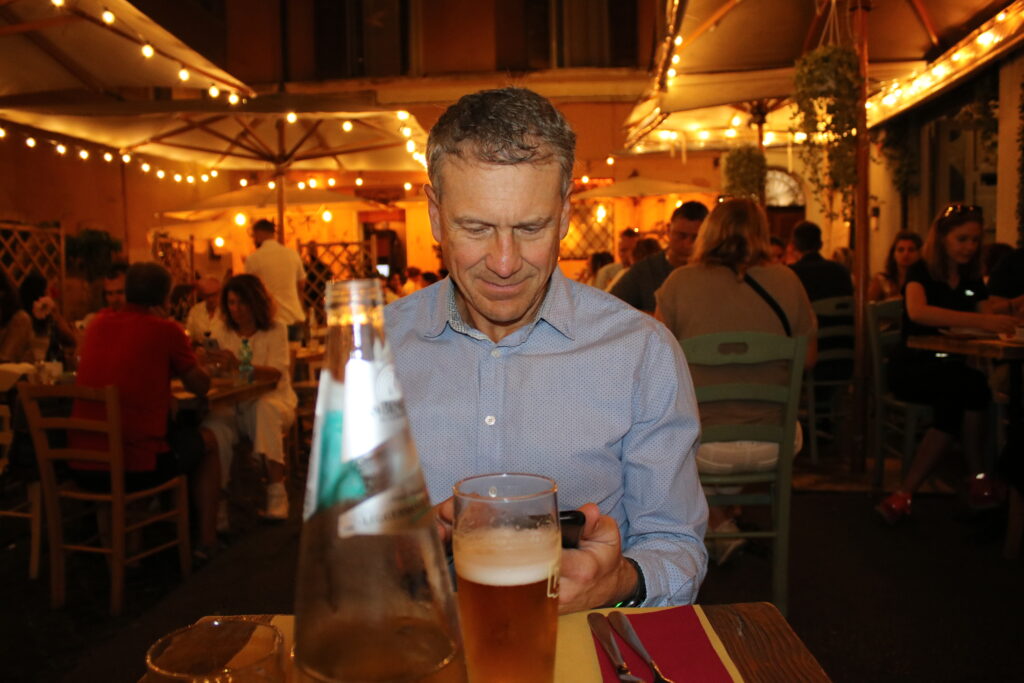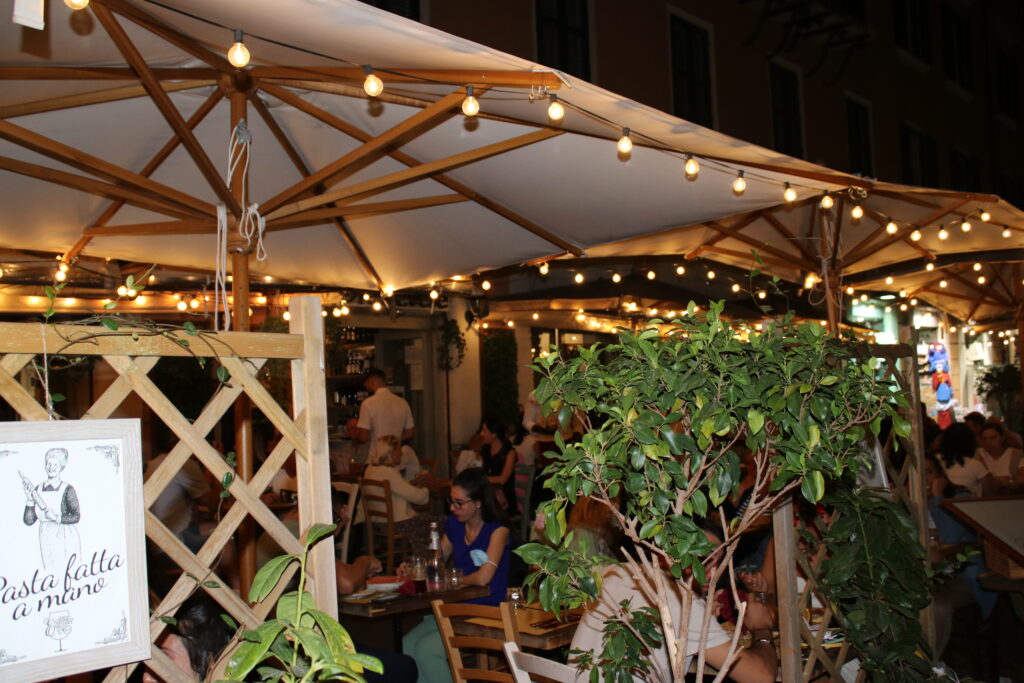 Orvieto
We decided to spend three full days and nights exploring Tuscany. After a delicious, generous breakfast at Hotel Barocco, we took a quick walk and then a shuttle back to the airport to pick up a rental car.
We rented with EuropeCar as it is the largest one in Europe. And, it is currently the only company that will rent you a toll transponder. For €2.5/day, this was a huge timesaver for us! We were so glad to have it.
If you rent with EuropeCar, be absolutely certain to join their loyalty program as it gives you priority when you go to pick up your vehicle. The day we rented, there were only two people working the desk, and one group was having all sorts of trouble. Some customers had been waiting over an hour. We went to the top of the "list" upon check in and it probably saved us an hour.
We recommend using Apple Maps as your GPS in Europe. Waze took us down way too many weird back roads just to save a minute of driving time. Apple Maps worked great. Google Maps would barely load!
Exploring Tuscany is so much easier in a car. While almost all towns are served by train, you often have to go back to a hub like Siena or even Florence to get to a hill town that is only 15 miles away. The drives are often gorgeous – a combination of country roads and highways. A car is highly recommended.
It took us about two hours to get to the old hill town of Orvieto which is technically in Umbria. There is parking near the train station and a funicular to the town. We chose to drive up the hill and park. There is a charge for parking, but it never seemed to be enforced.
We loved Orvieto. Its cathedral is amazing, and it was our first stop. To tour the duomo and the museum, the cost is €5/person.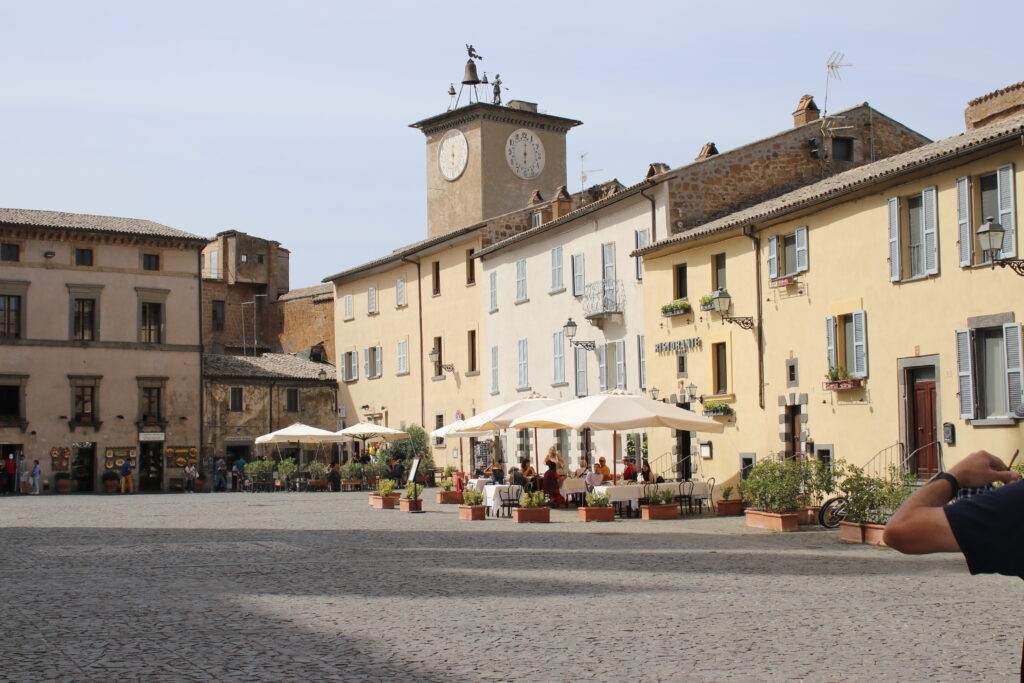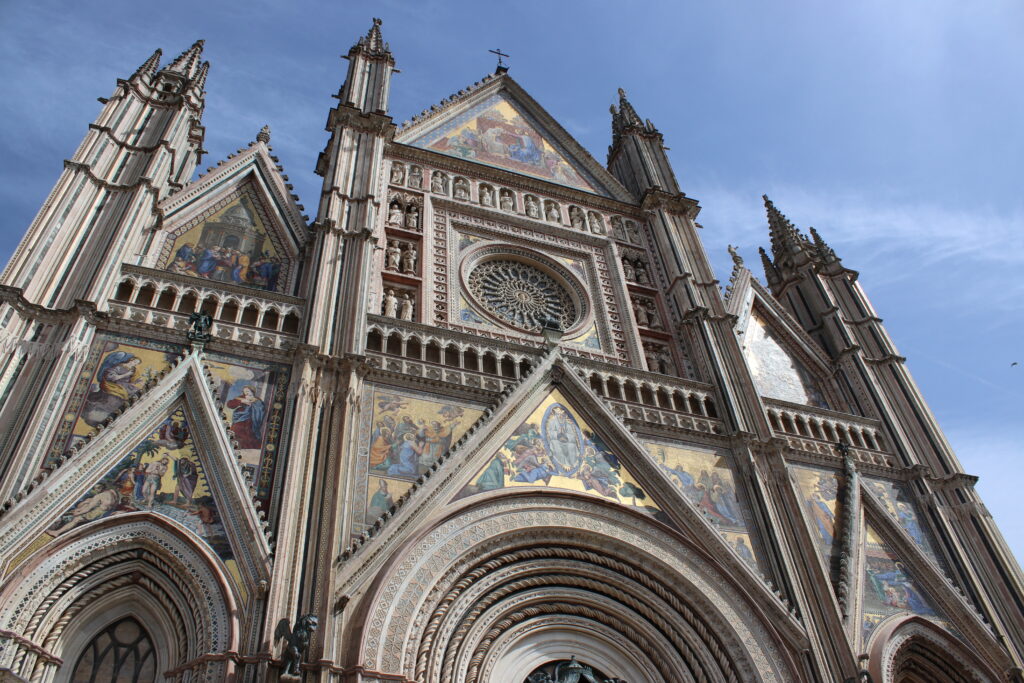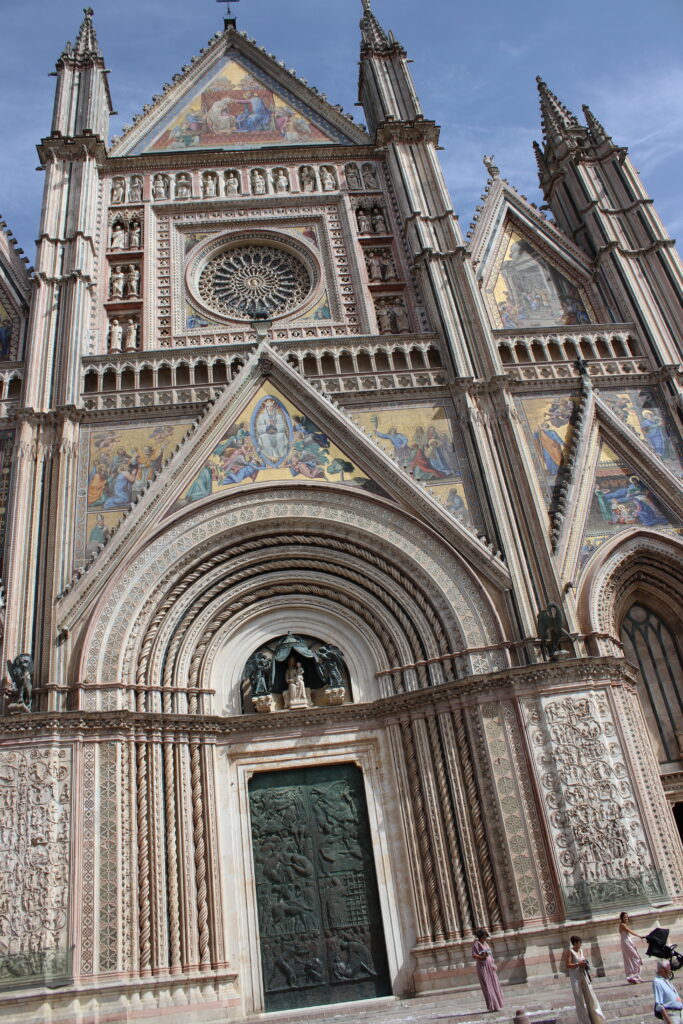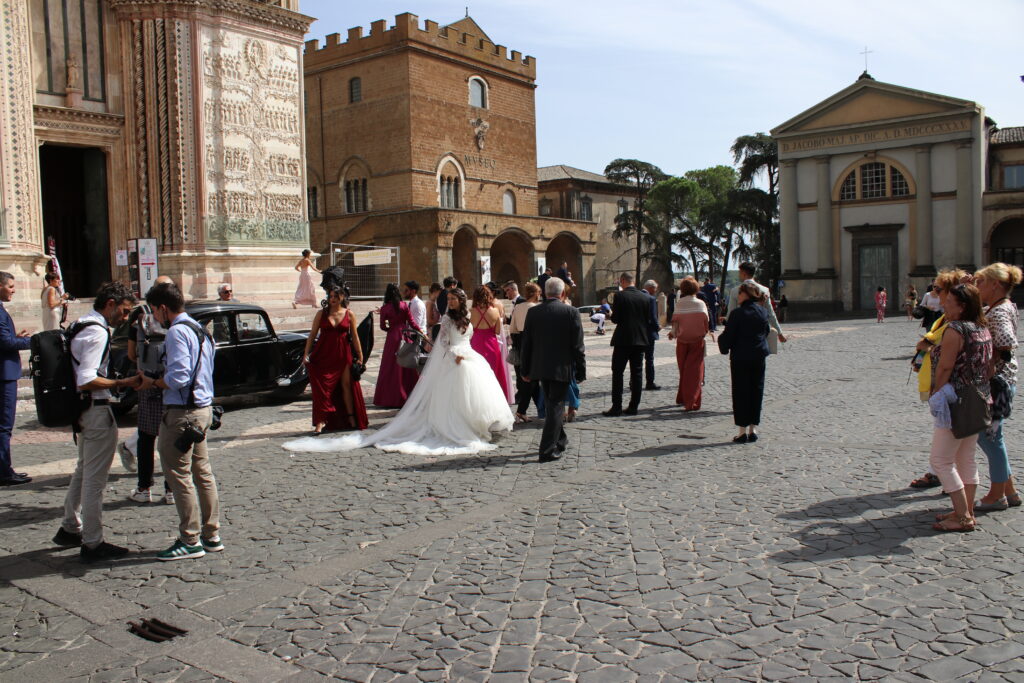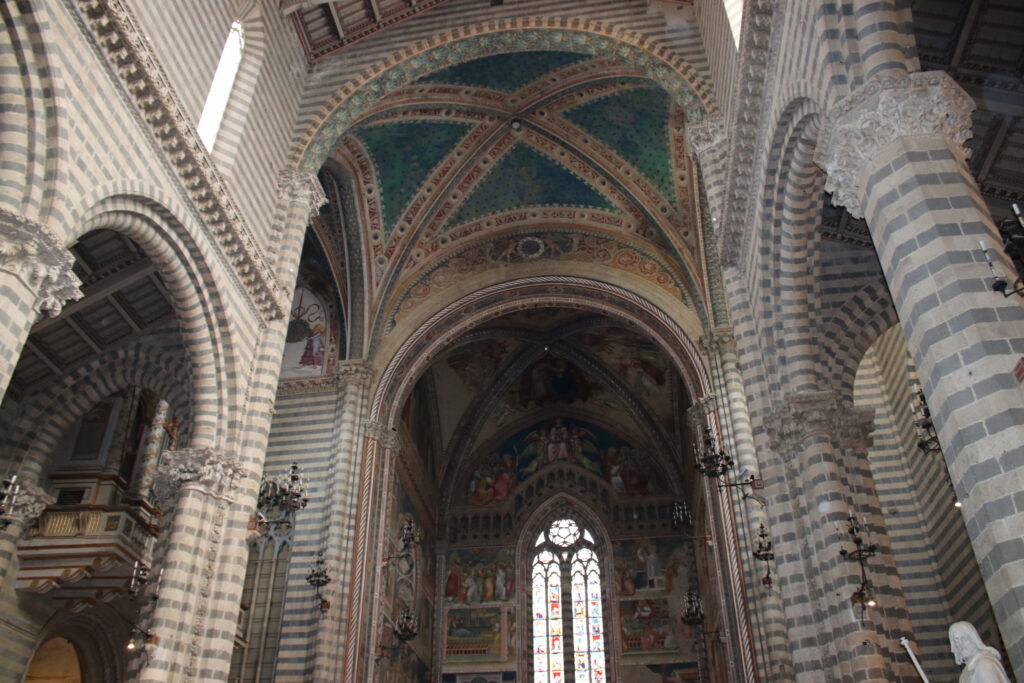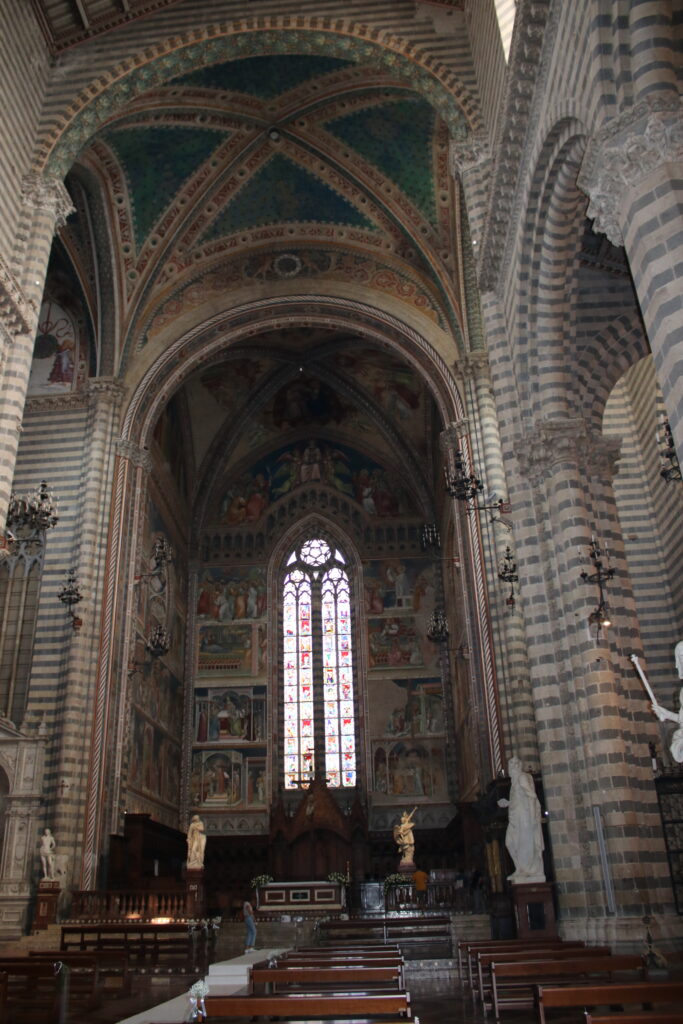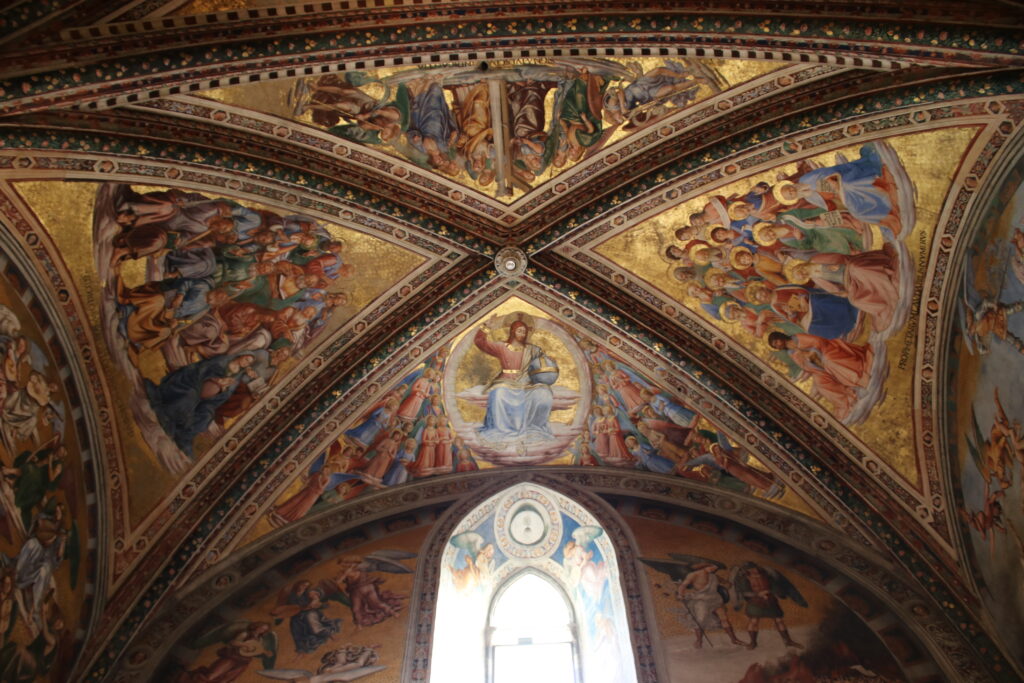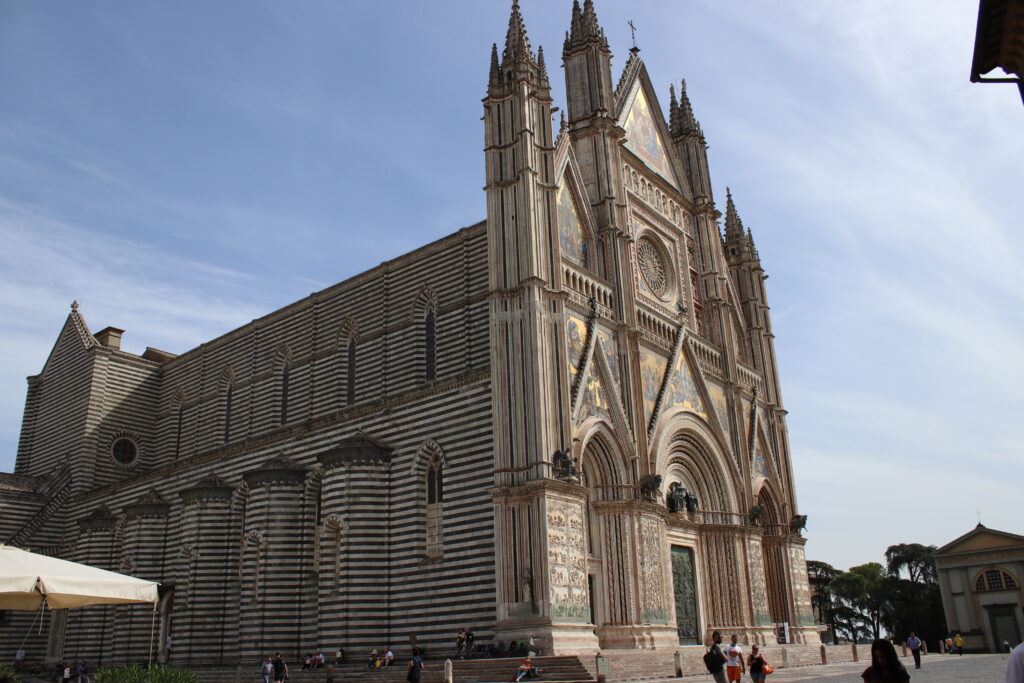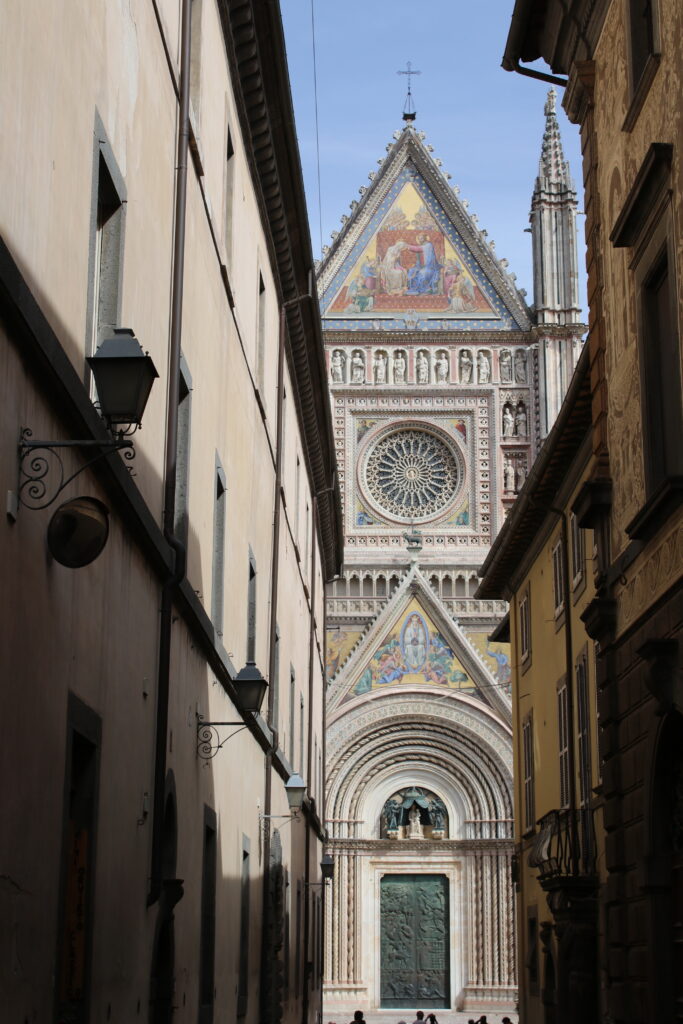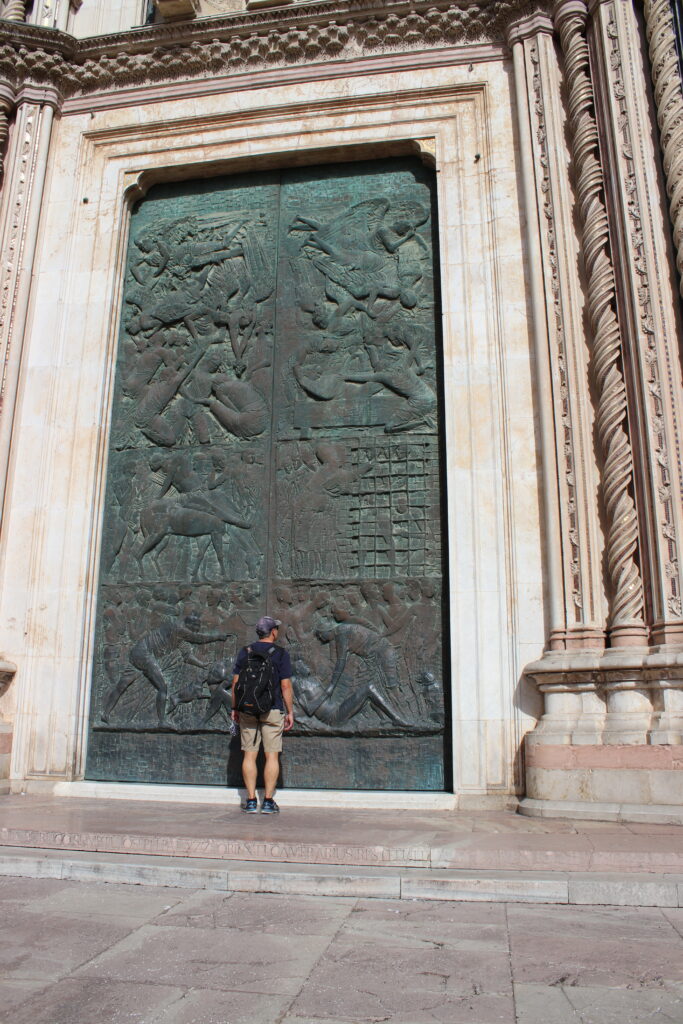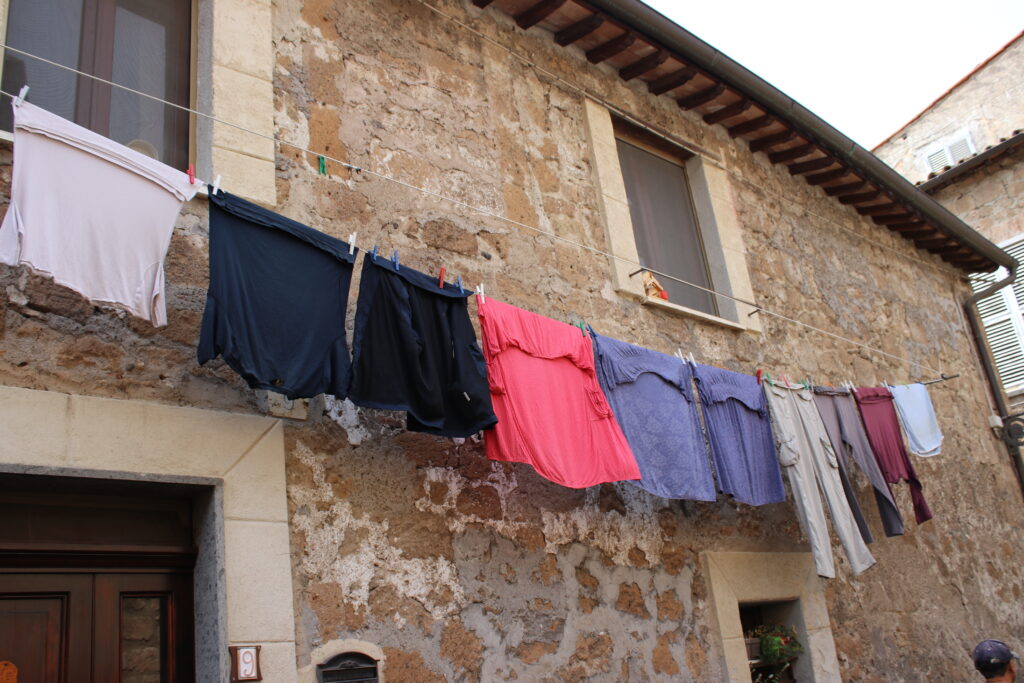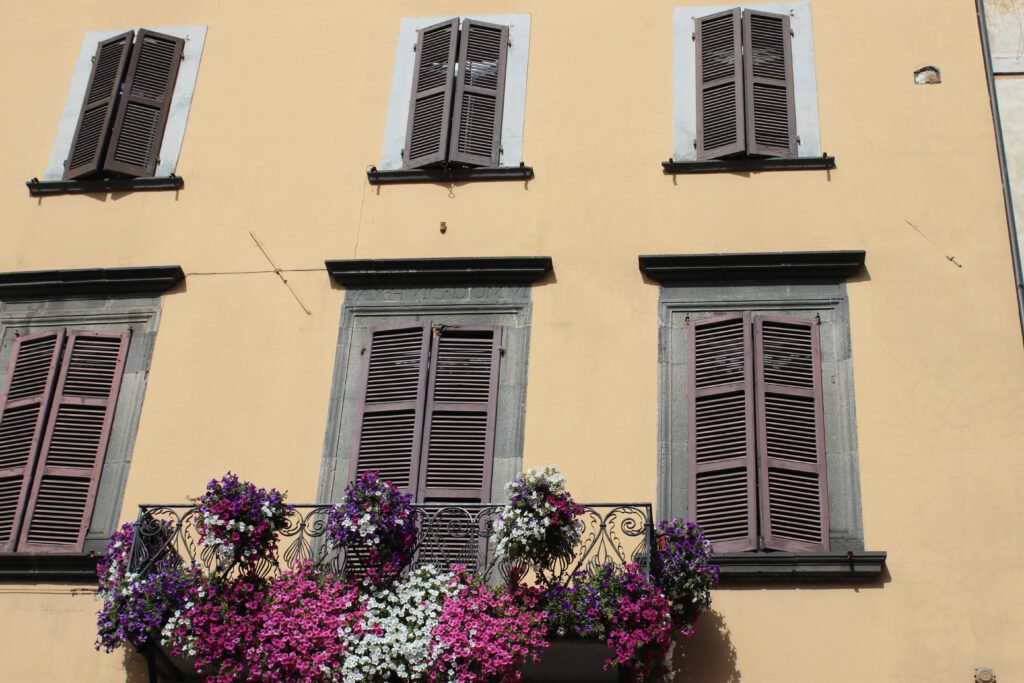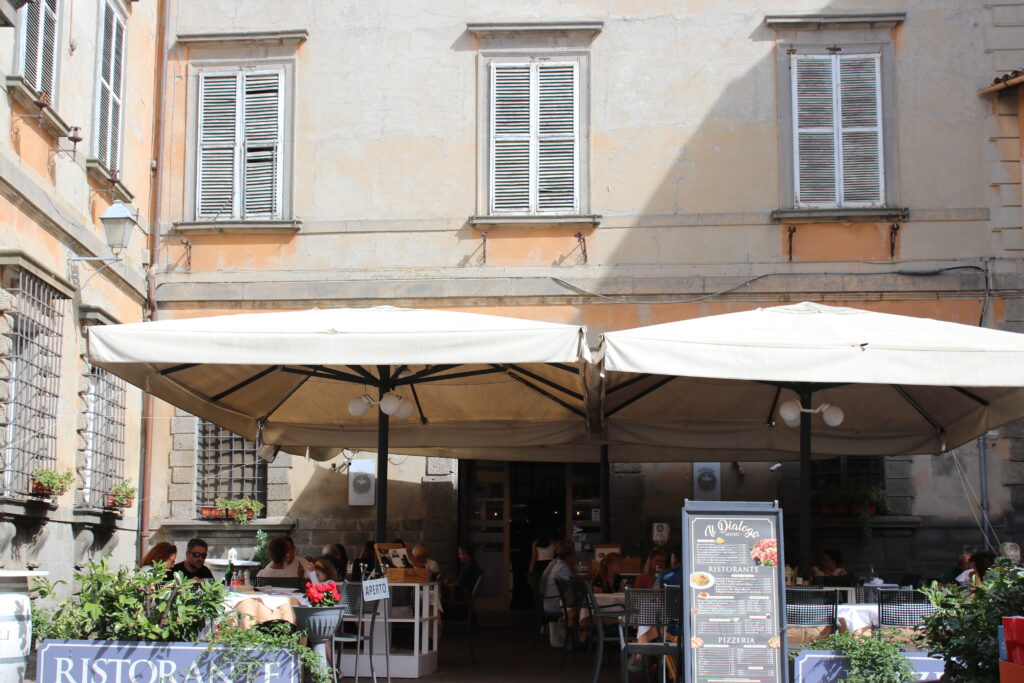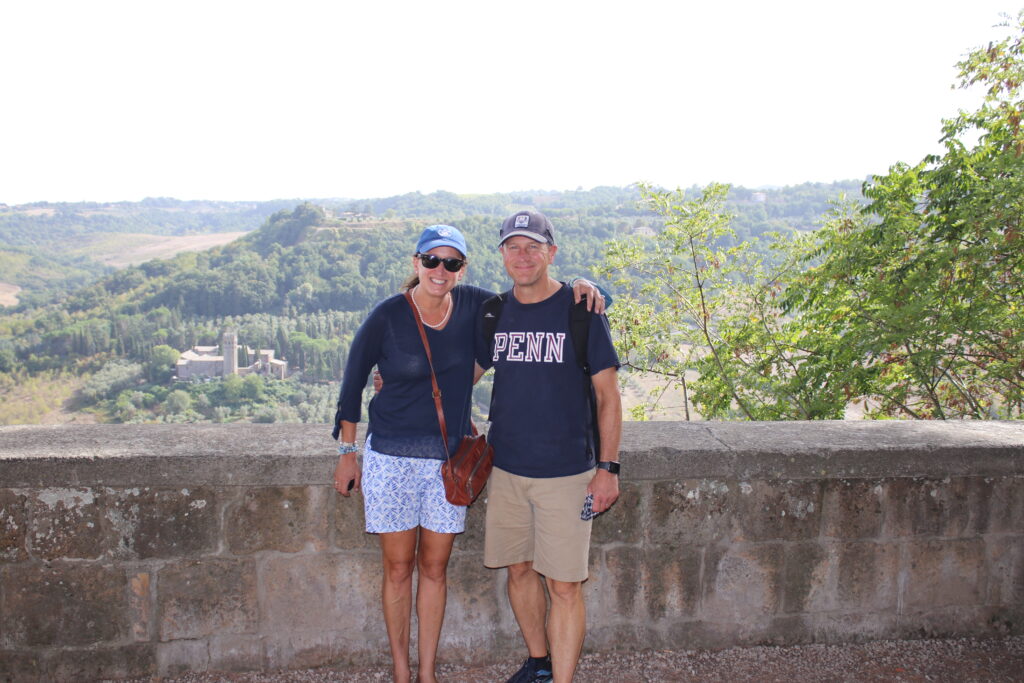 We ate a quick lunch at a restaurant called Bistro Miranda. TripAdvisor reviews are good. The location is excellent.
Tuscany
Podere Salicotto
After LOVING Orvieto, we drove north to the tiny Tuscan town of Buonconvento and stayed at a farmhouse two miles outside of town in the rolling Tuscan hills. Podere Salicotto did not disappoint! The TripAdvisor reviews are amazing as well.
The owners, Sylvia and Paolo, are helpful, friendly and so welcoming. Patrick, the assistant manger, was very accommodating when we were planning our trip.
The setting of the farmhouse is just lovely. Rolling hills surround all sides of the property. More than 80 olive trees dot the landscape. We enjoyed gorgeous sunsets and marveled at the stars each night. The gardens, pool and common areas are immaculate.
We stayed in the Lemoncino room with views of the countryside. At the top of the stairs, we shared a hallway with three other rooms and never heard a sound from other guests. The bathroom was cleaned daily; towels were comfy and the toiletries were generous.
We LOVED the breakfast. Served by sweet Maria, each morning began with a smorgasbord of treats. Eggs, breads, cakes, bacon, home made Ricotta cheese (!), and fruit filled our bellies, so we rarely ate lunch while out exploring. We sat outside in a lovely covered garden each morning, drinking coffee, sparkling water and fresh juice. Maria knew about my husband's gluten and dairy allergies and made a special menu just for him.
Patrick and Sylvia made dinner reservations for us each night at their favorite local restaurants. We were treated like royalty when arriving. Two of the restaurants even made special gluten free pasta for Jim!
We were close enough to do many day trips with multiple stops. We visited Orvieto, Montalcino, the Abby of Sant'Antimo, Pienza, Monticchiello, Siena, Volterra and San Gimignano.
We highly recommend this lovely farmhouse for your vacation in Tuscany. The hospitality extended by the hosts and the charming setting make Podere Salicotto a truly special place!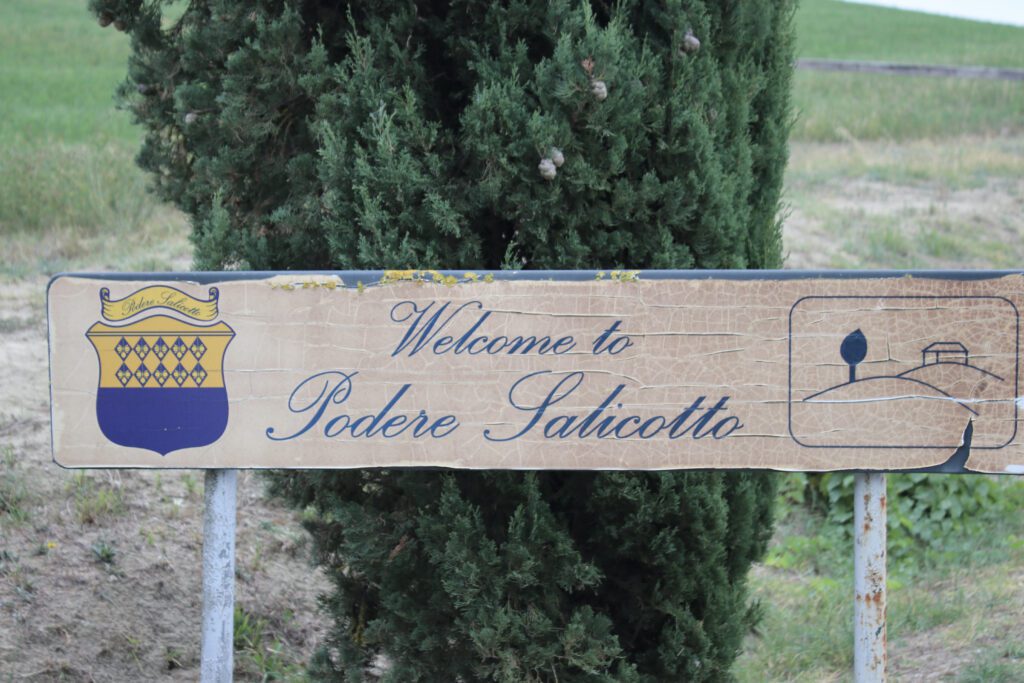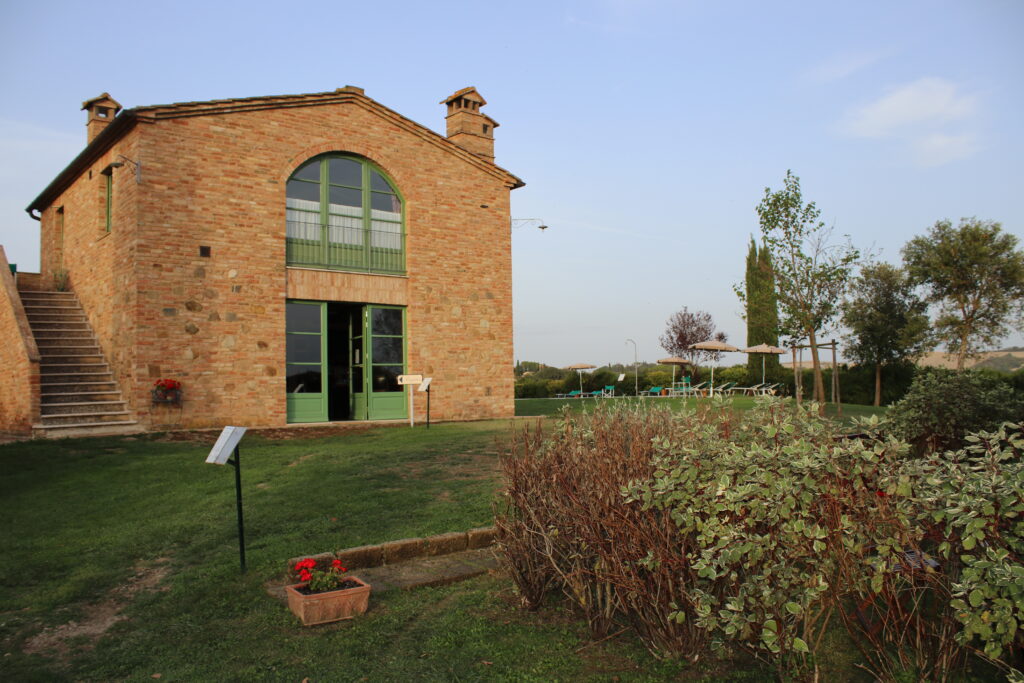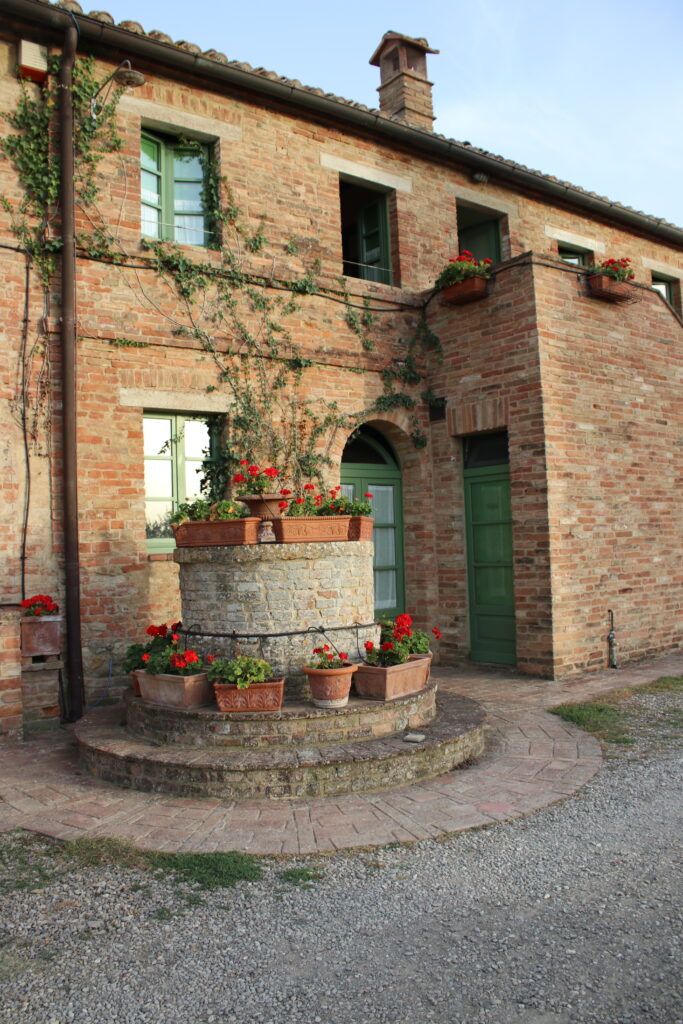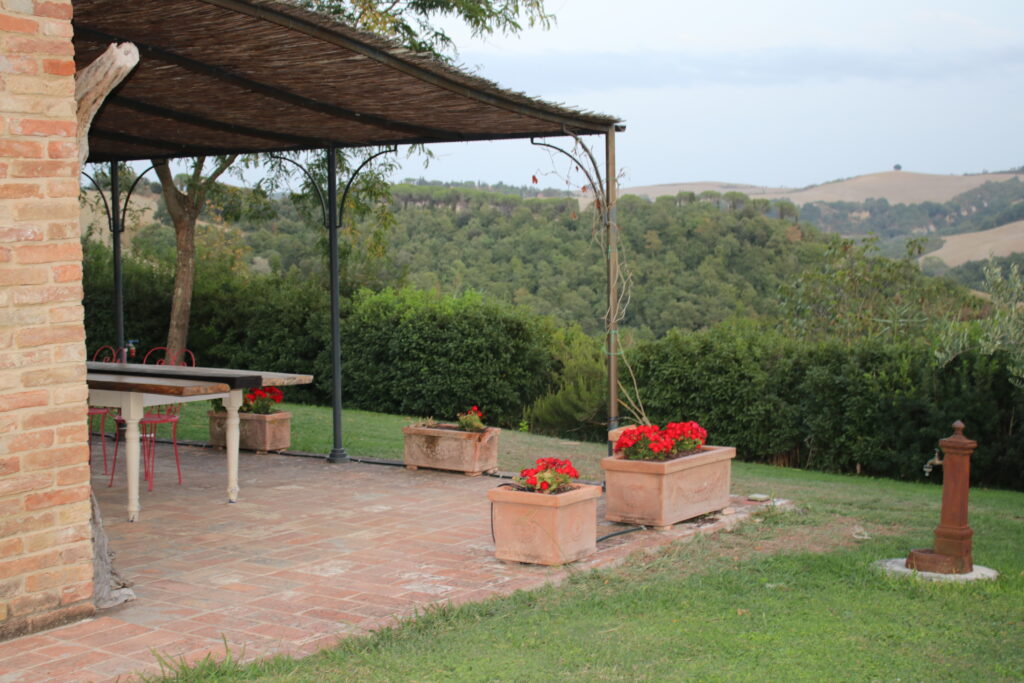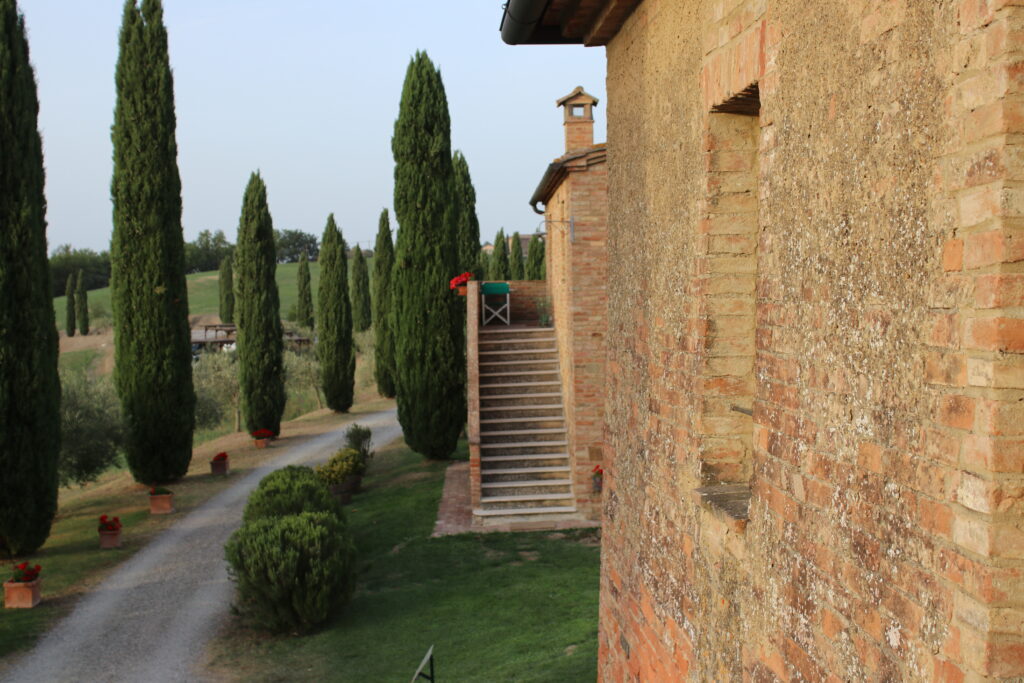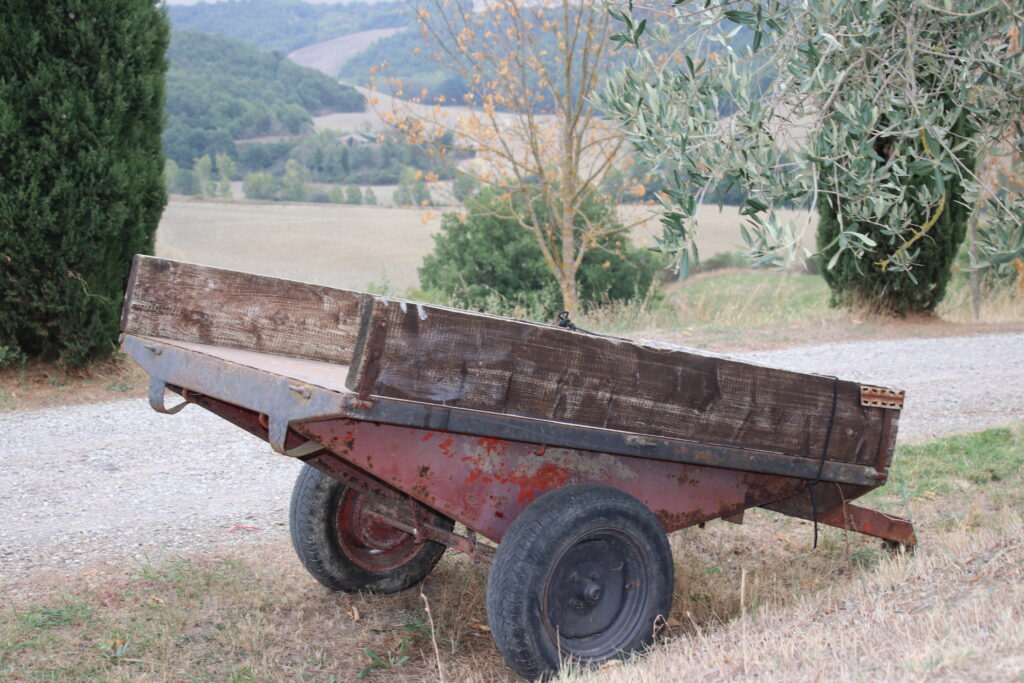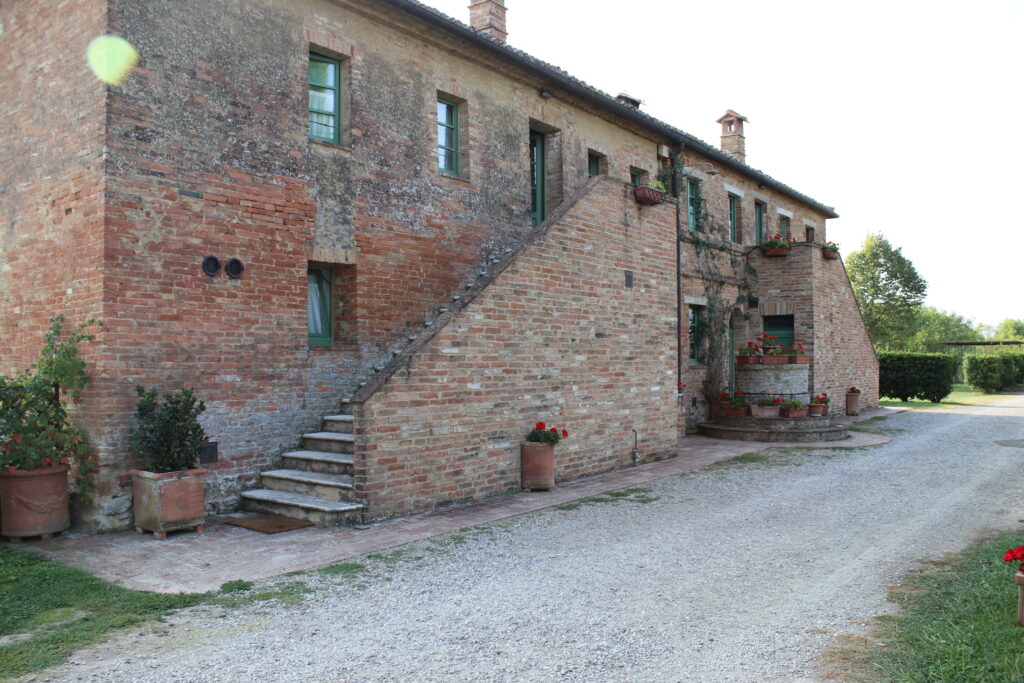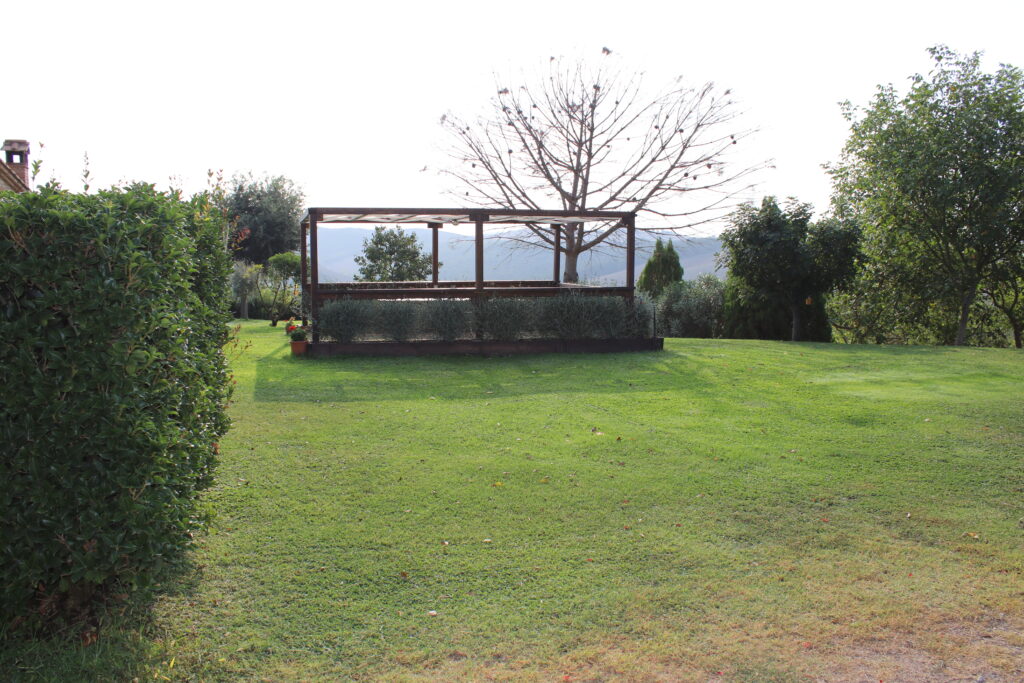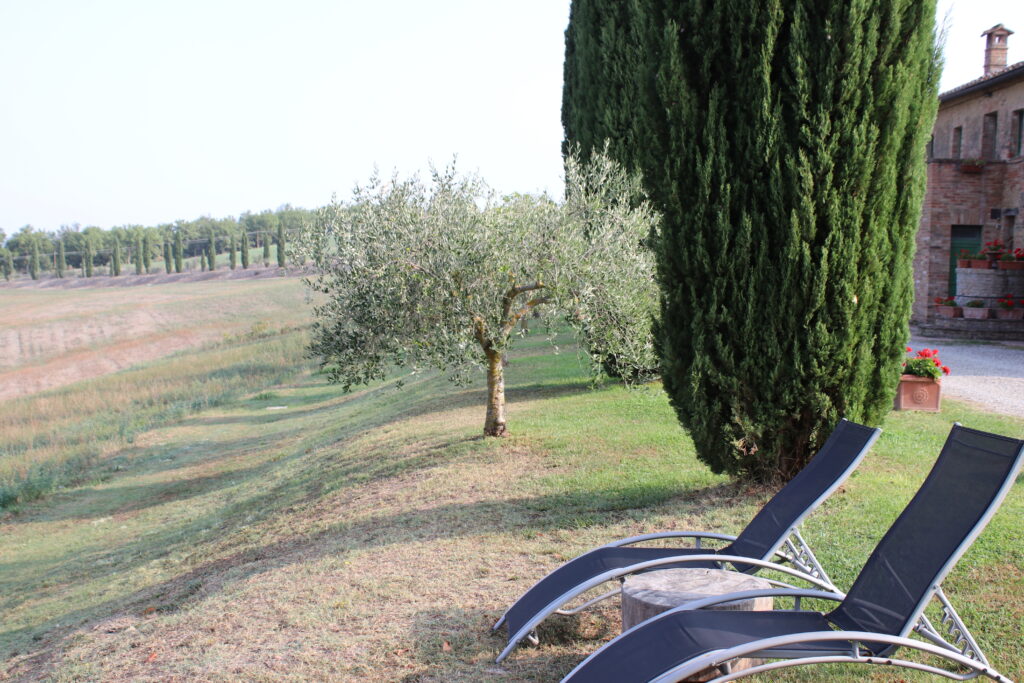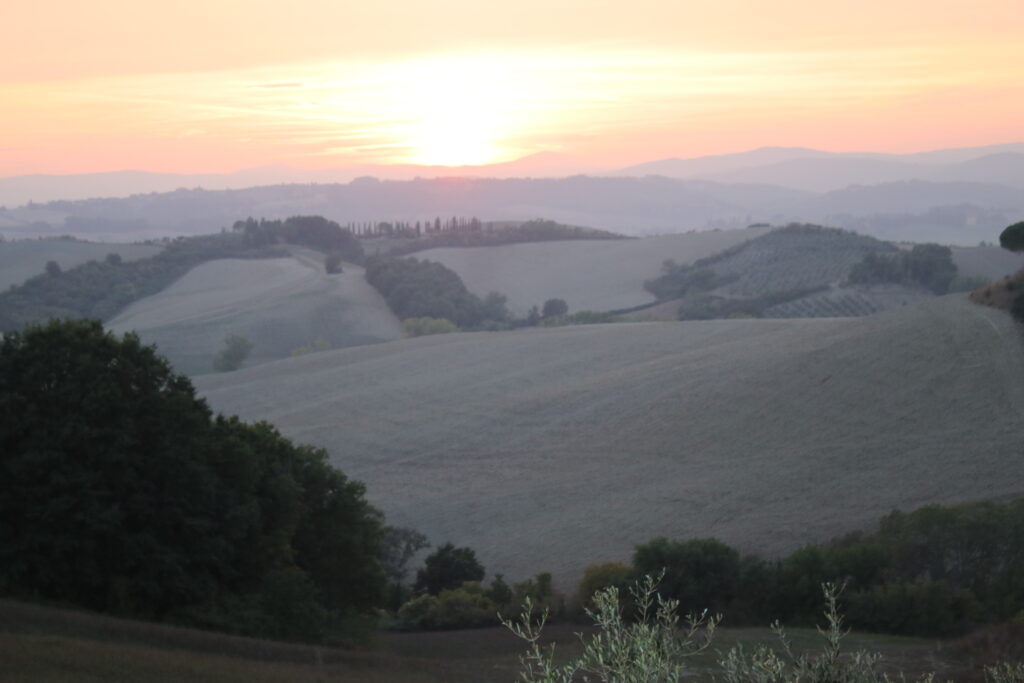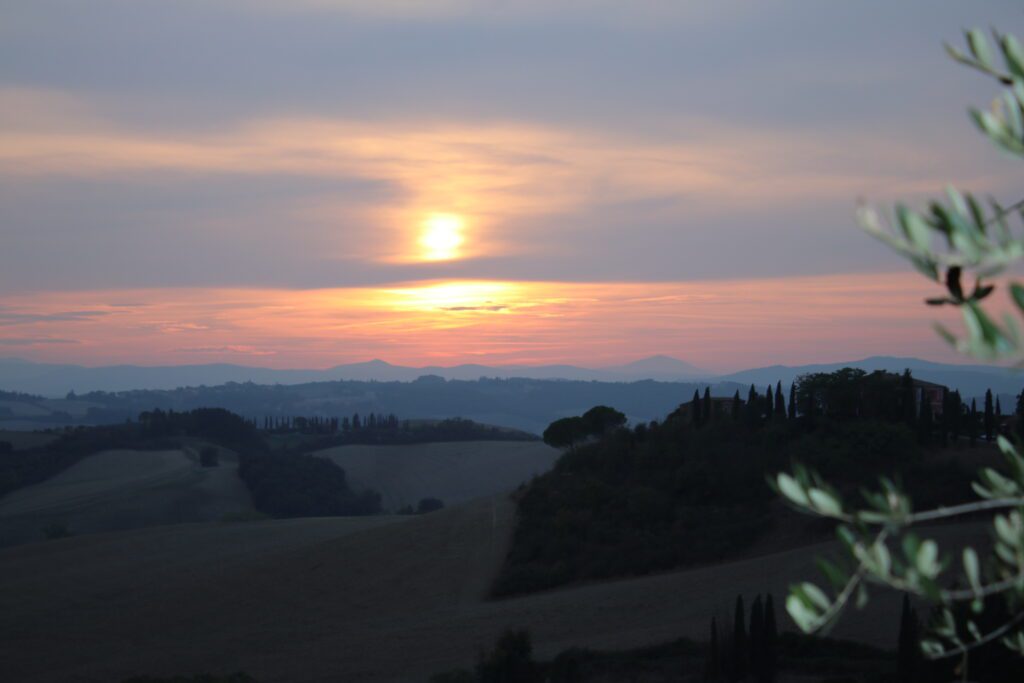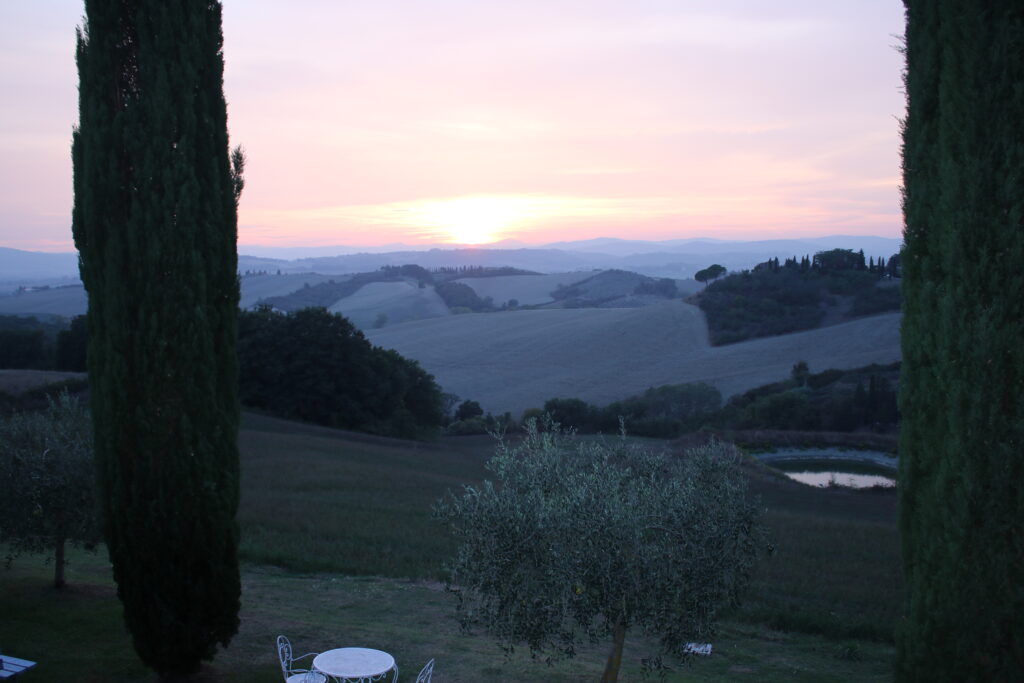 Montalcino
We set out for Montalcino to admire the hill town, stroll and climb the walls of the fortezza. We highly recommend a stop here. It is simply gorgeous. So, so many wine shops selling the famous Brunello wines.
To purchase tickets to climb the fortezza, you need to visit the wine store inside the city walls. They will sell you a ticket for €4.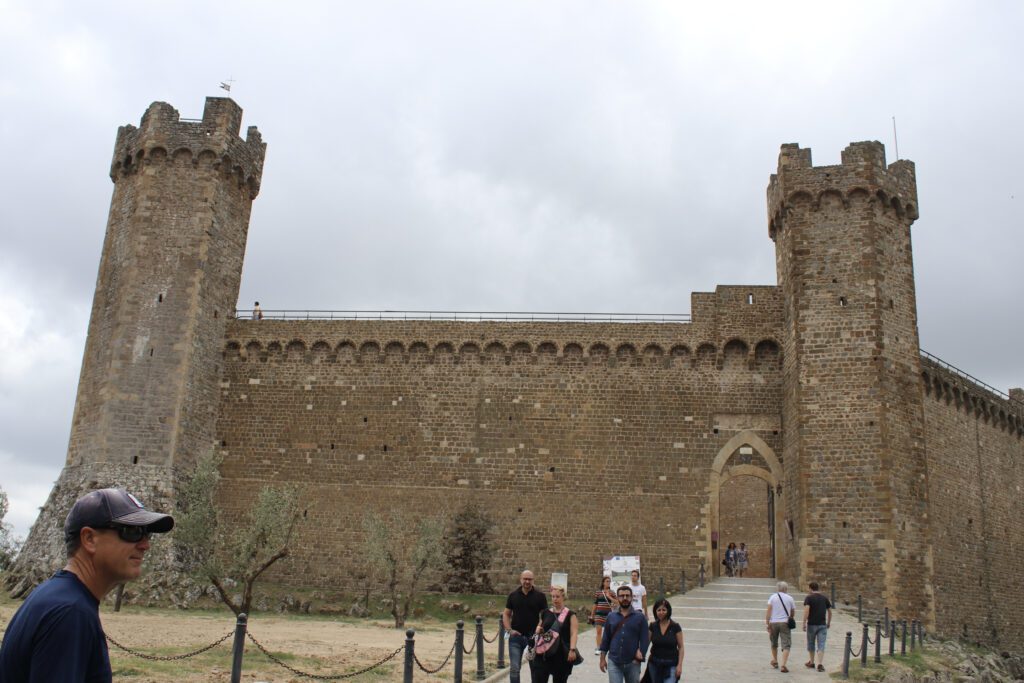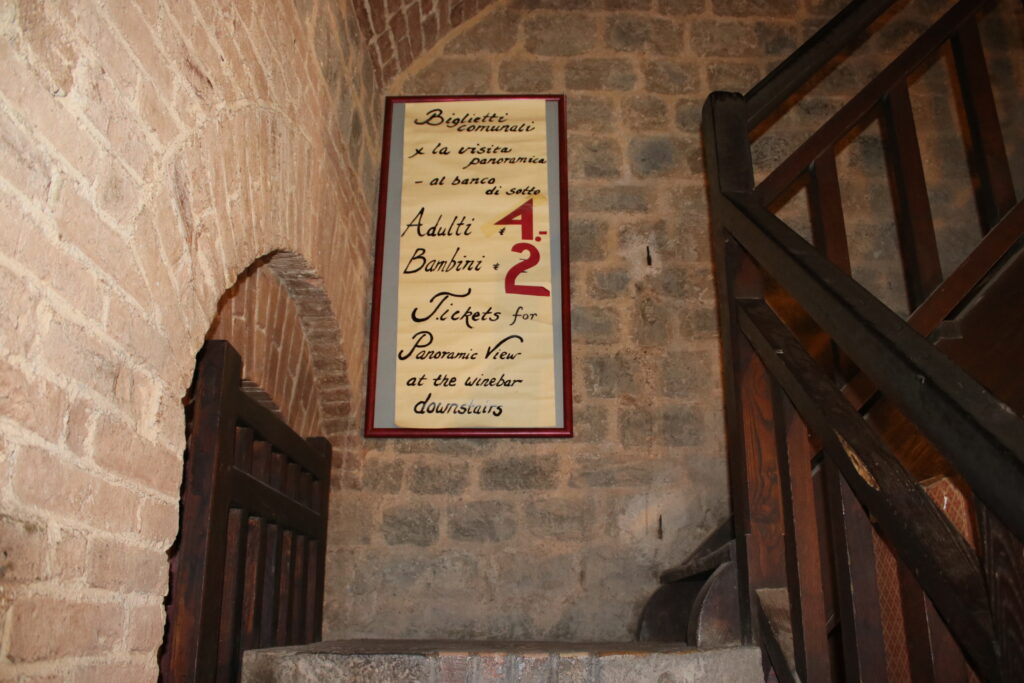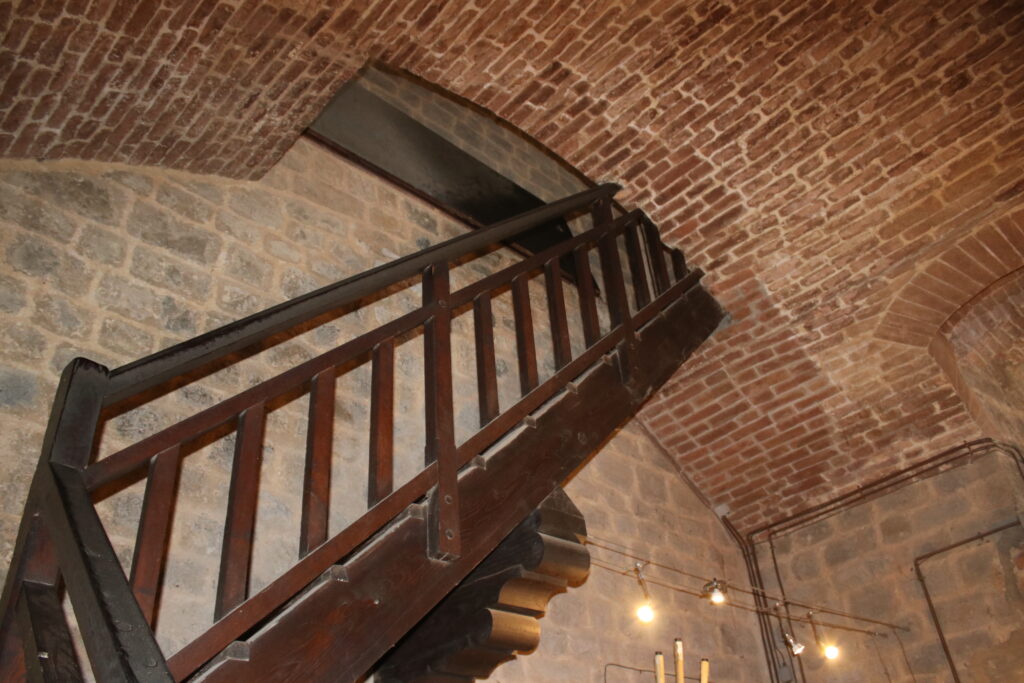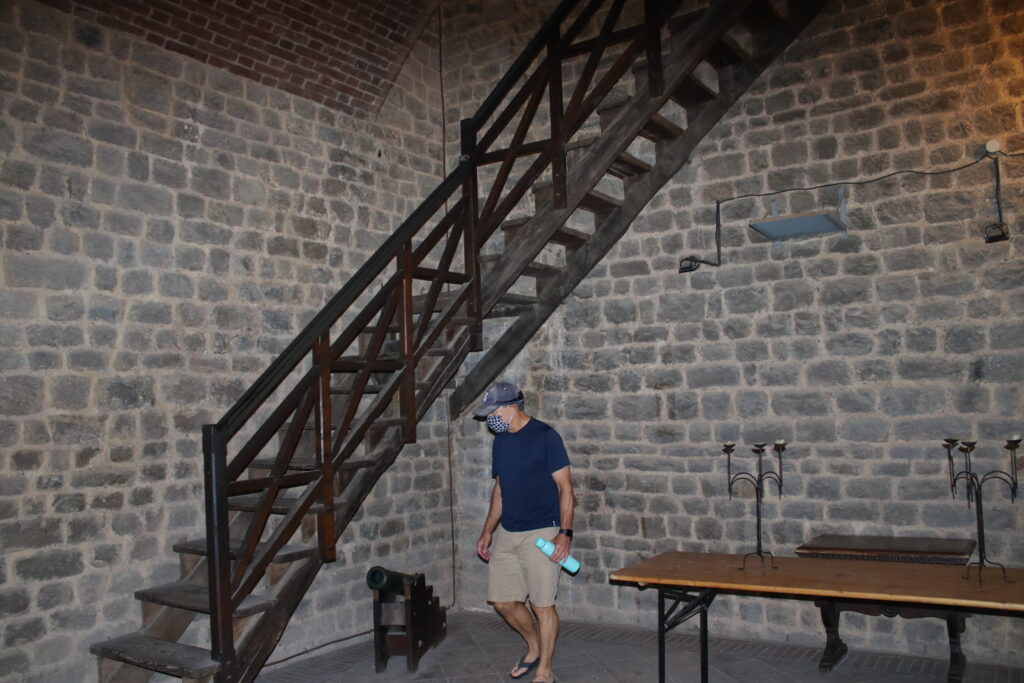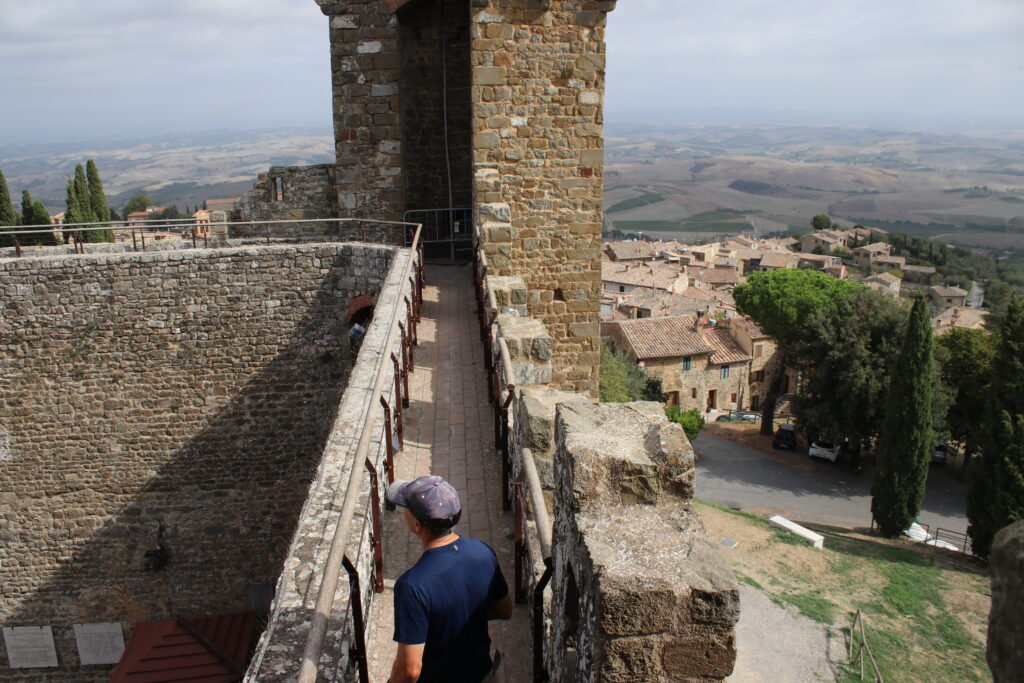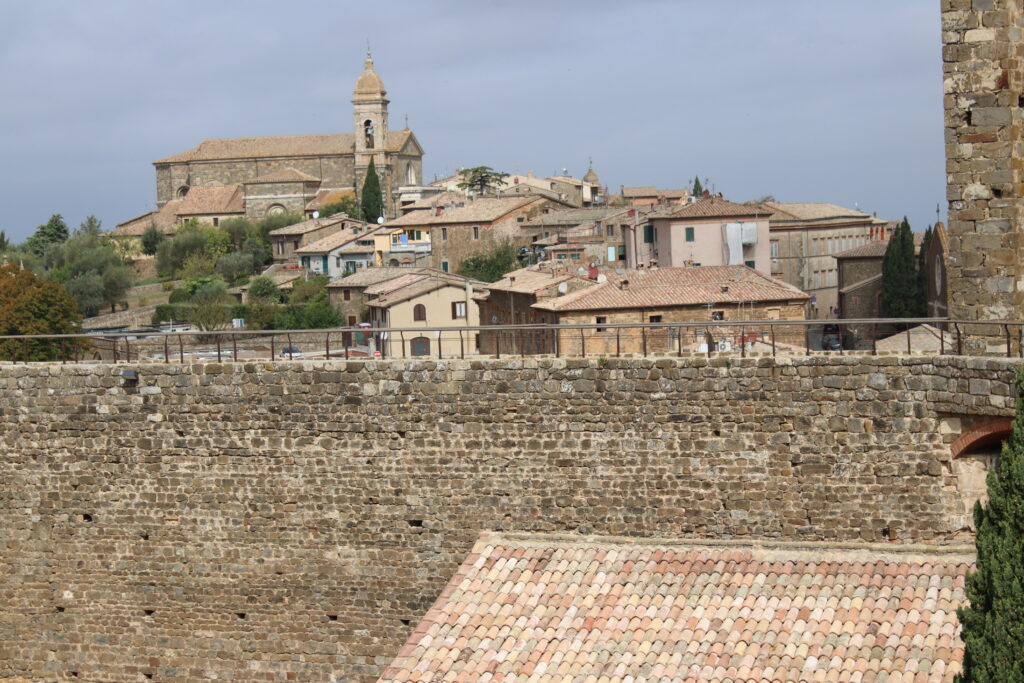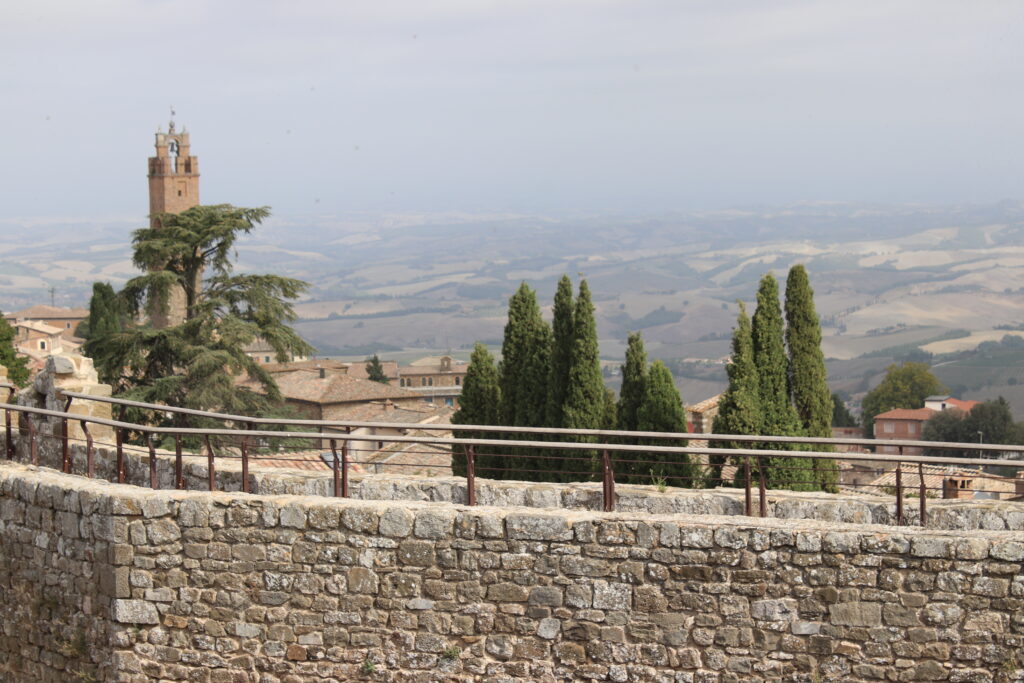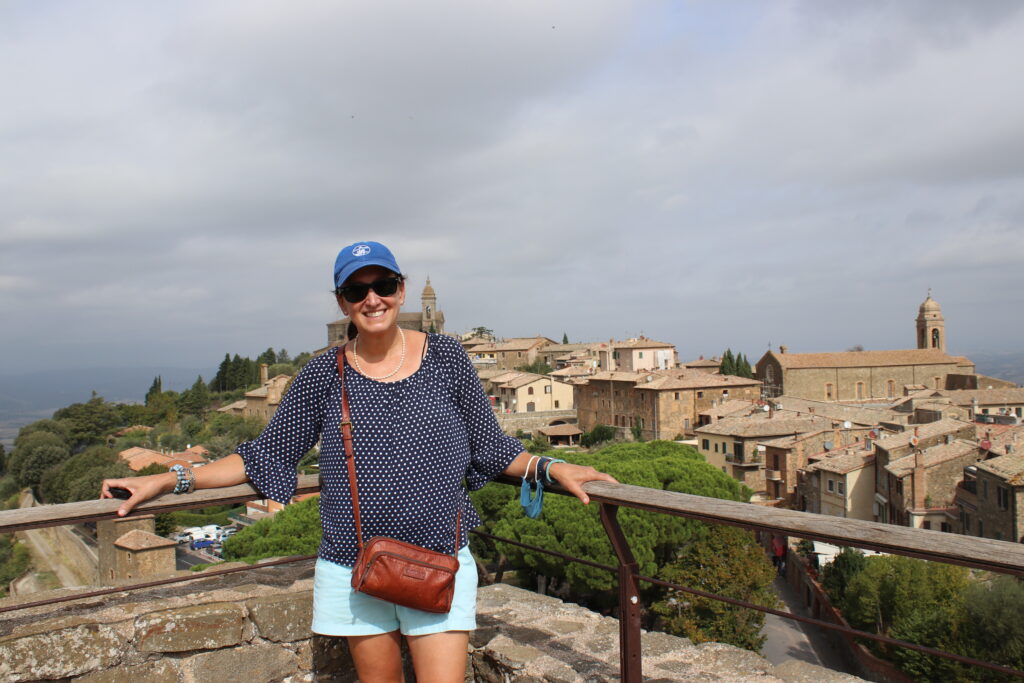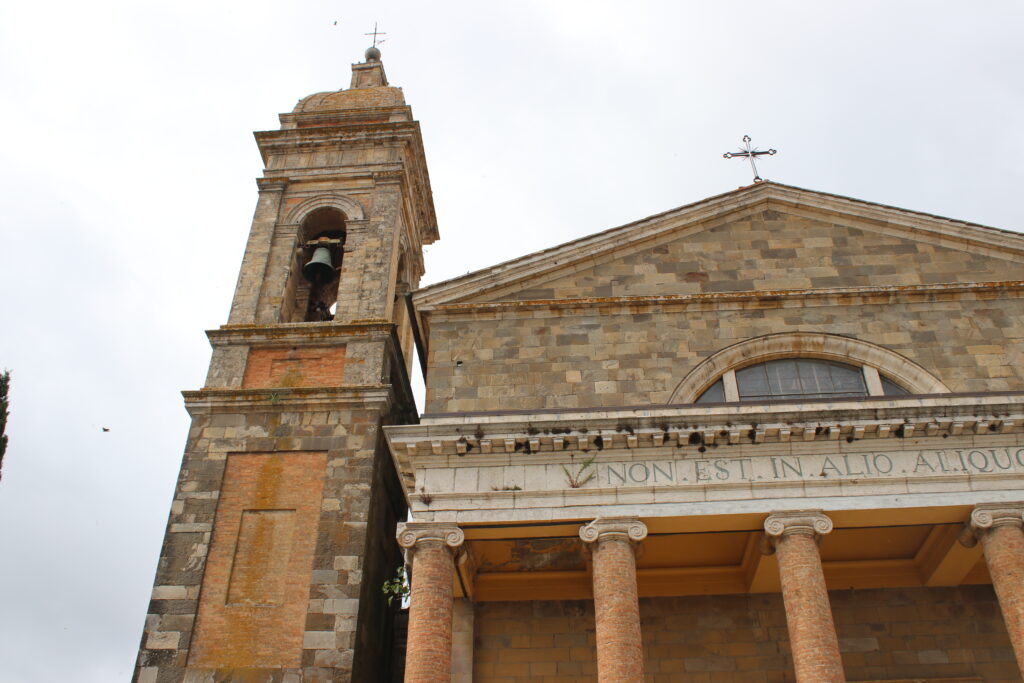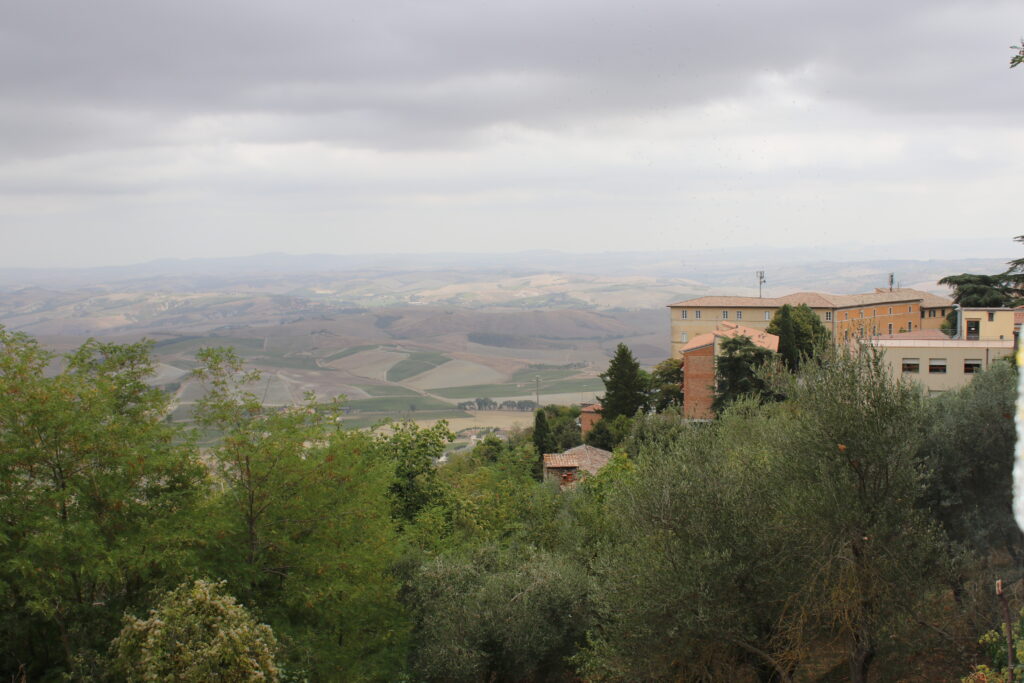 Abby of Sant'Antimo
We headed to the Abby of Sant'Antimo a few miles away. This ancient monastery dates to 1118, and a contingent of monks live there and raise medicinal herbs for sale.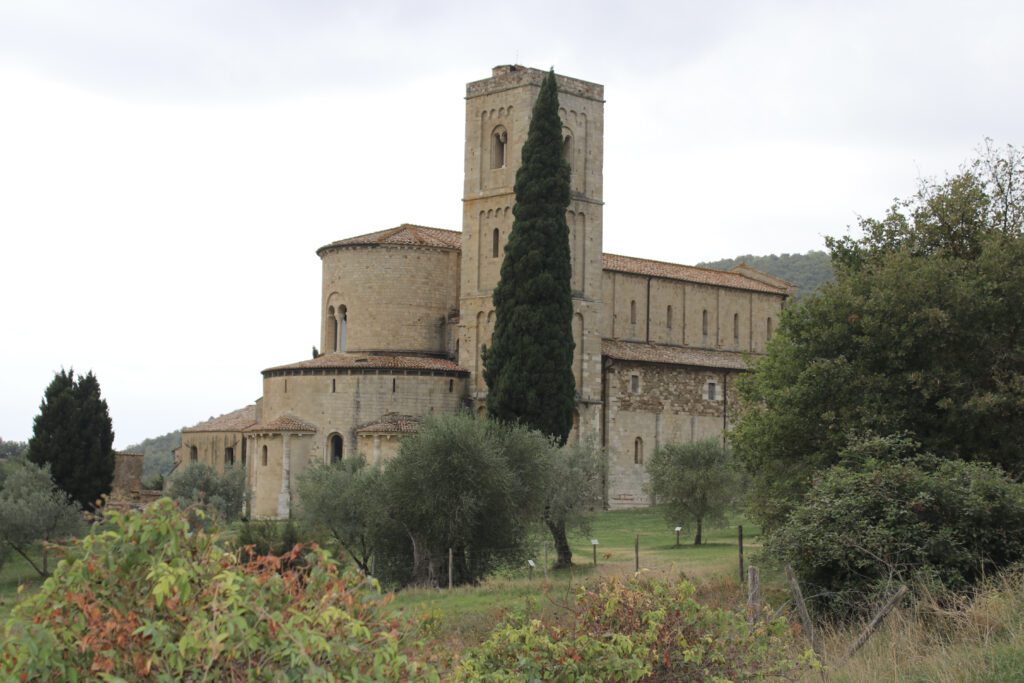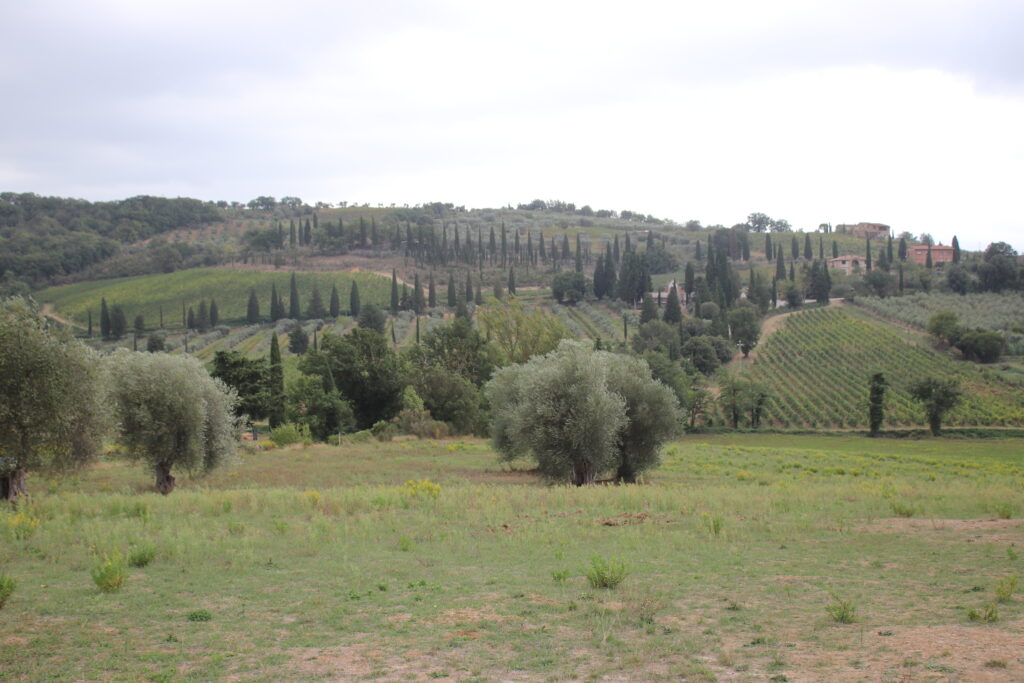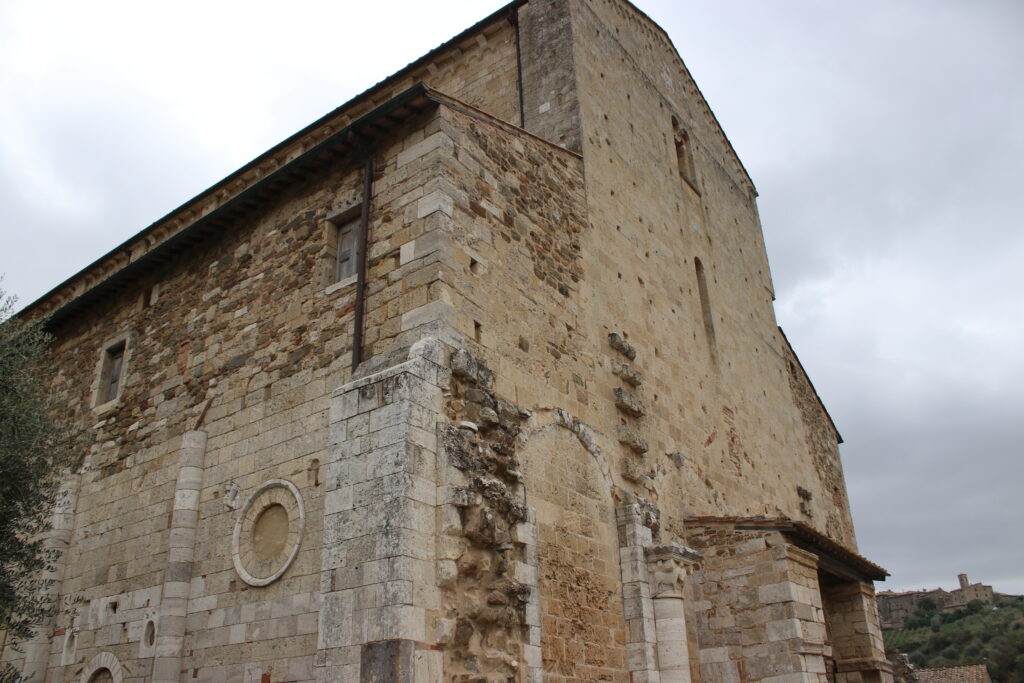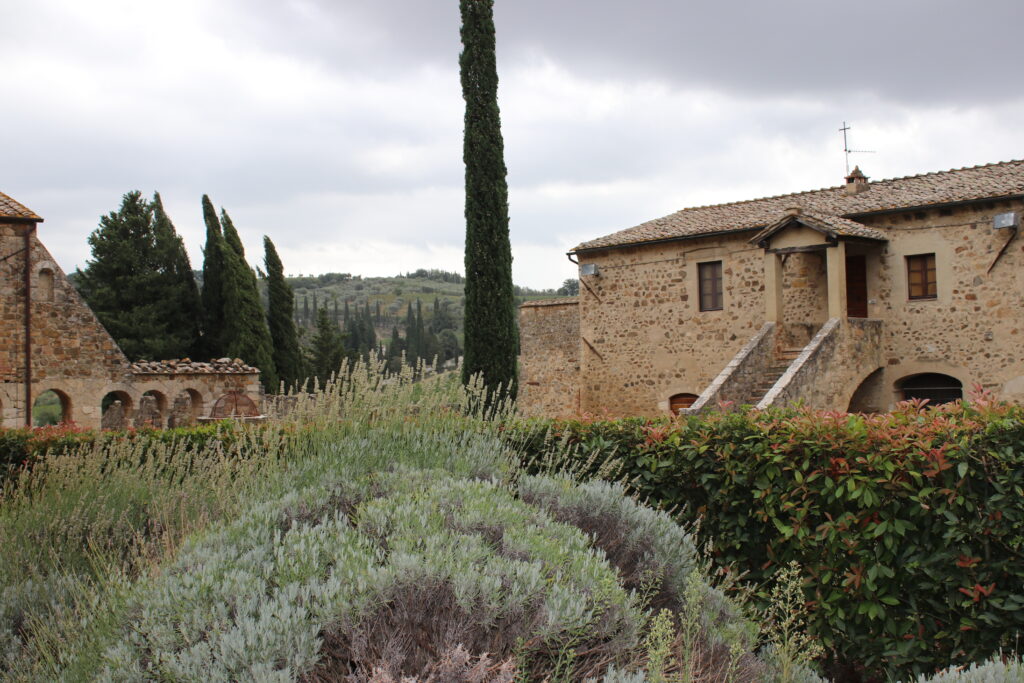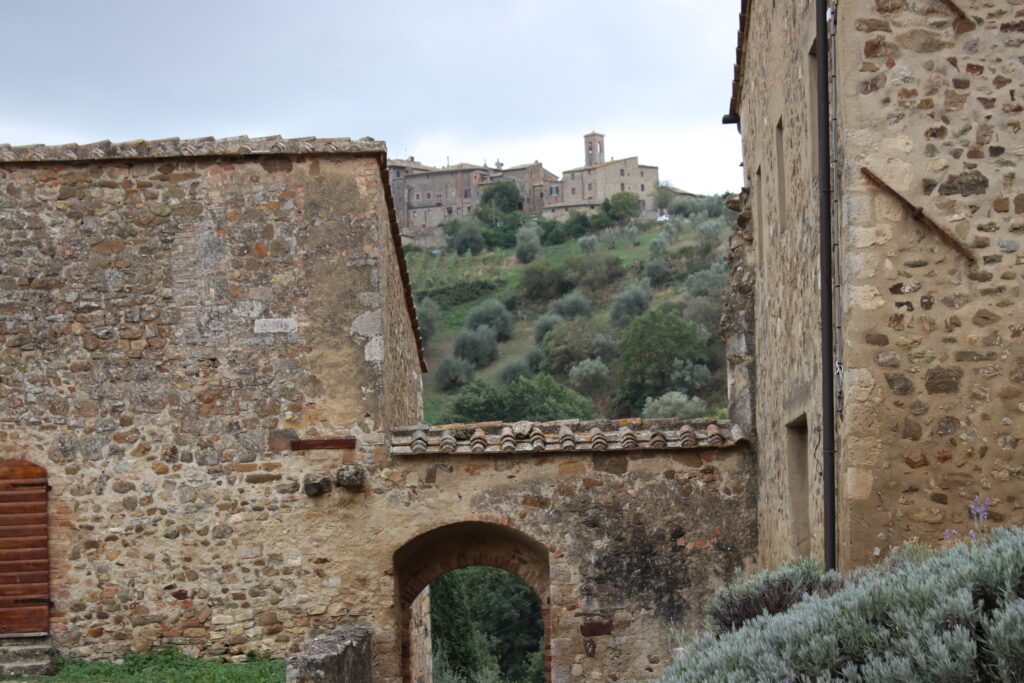 Pienza
The drive from the Abby to Pienza is gorgeous. We had some overcast skies. With a clear blue sky, it must be postcard-worthy!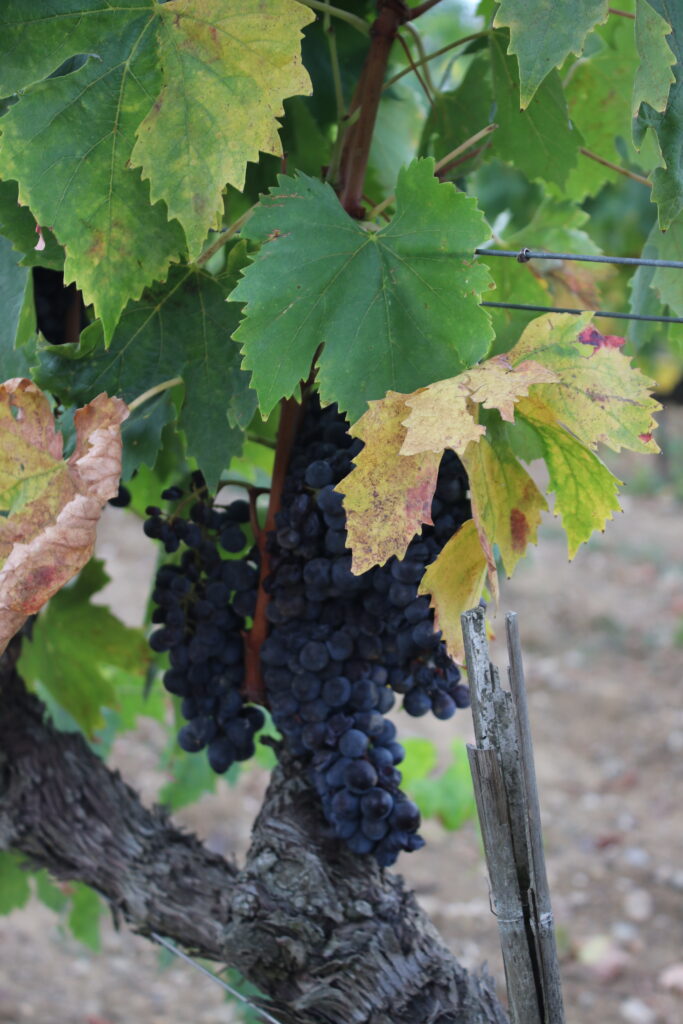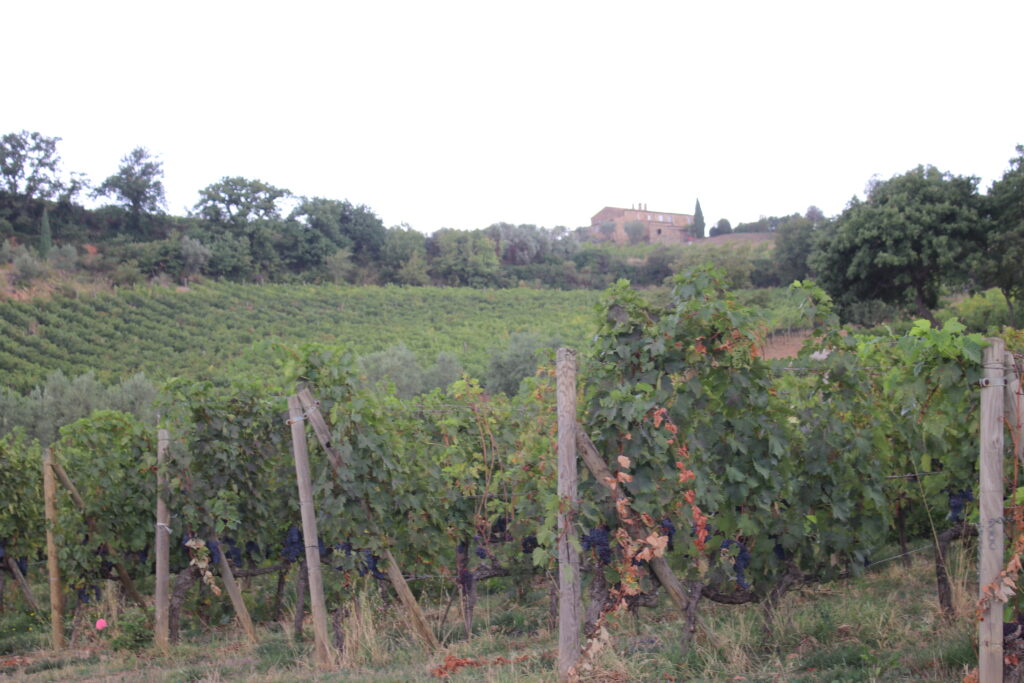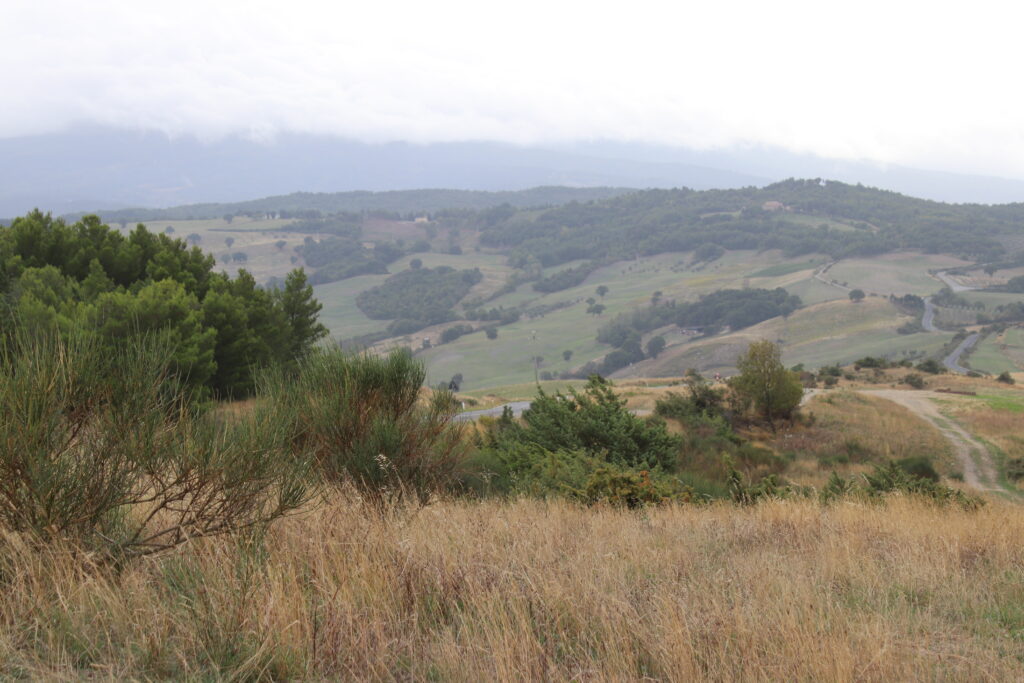 The parking is a bit tight in Pienza. We were there on a Sunday, so I think it is a destination for lots of locals. We had to circle several times before we found a spot. The town is just lovely.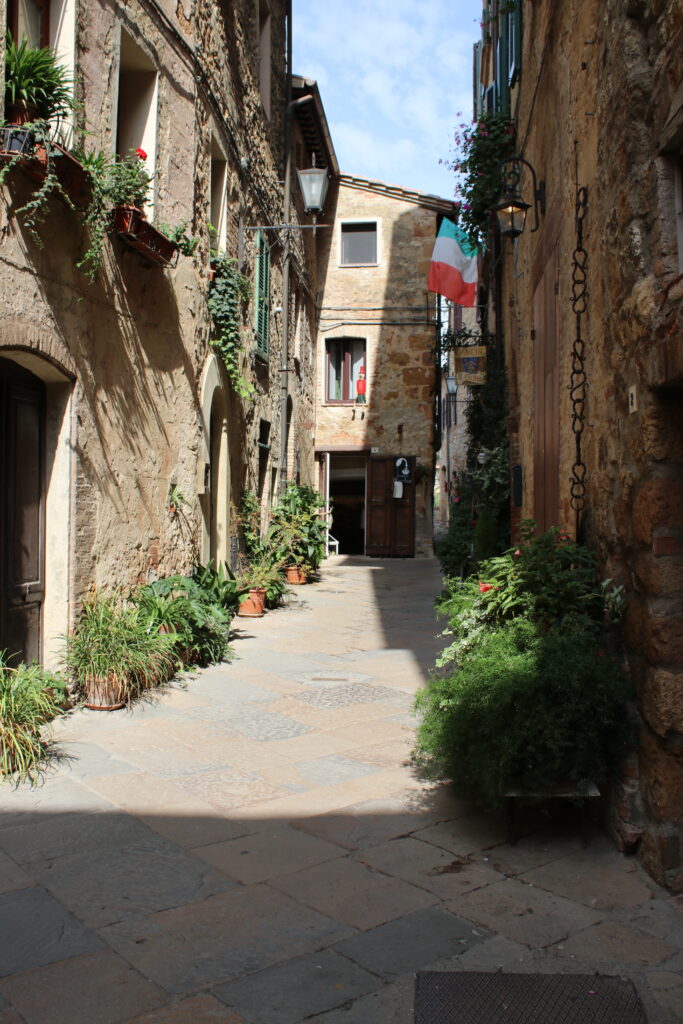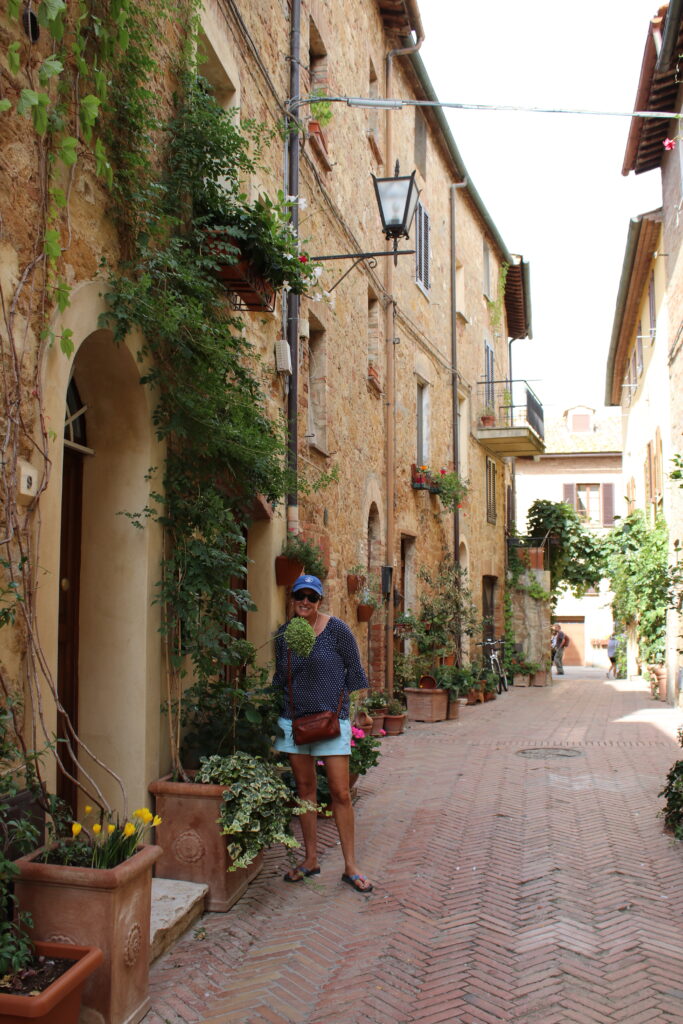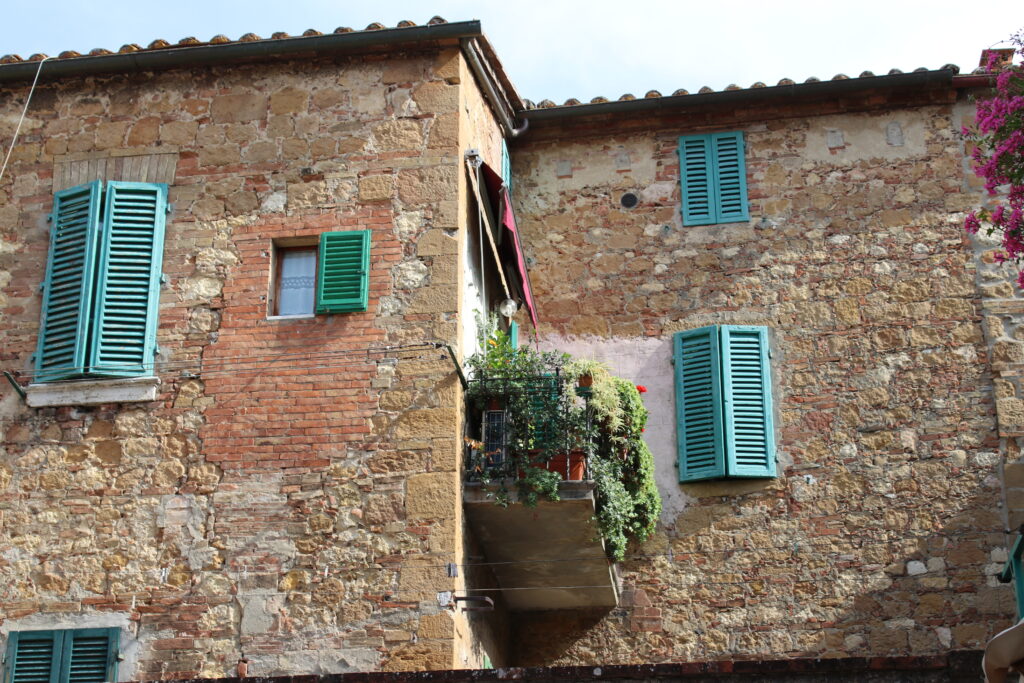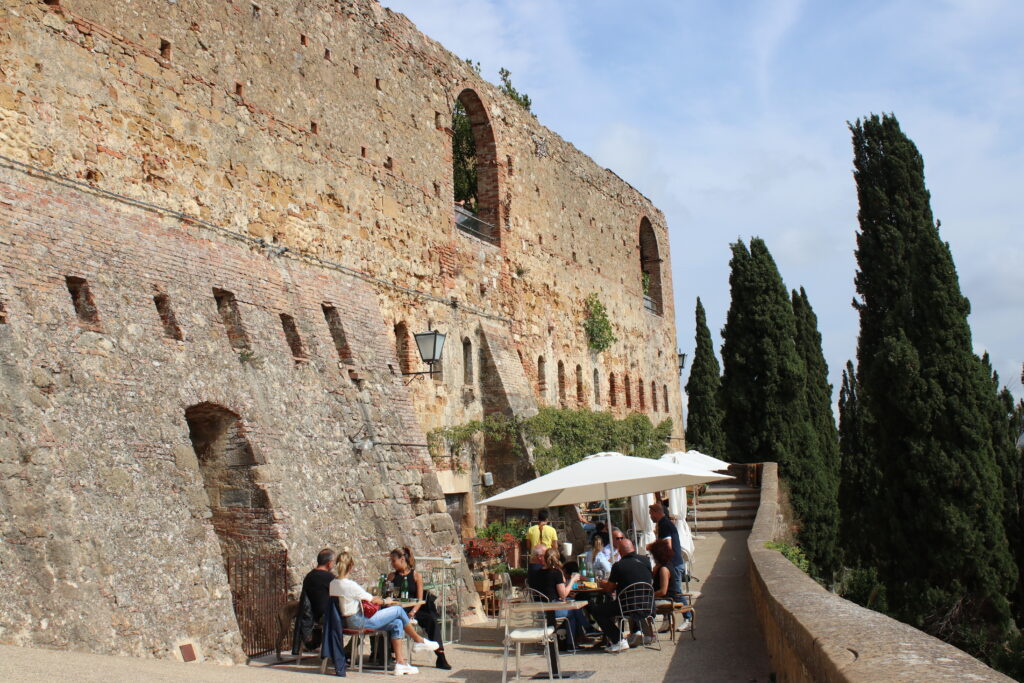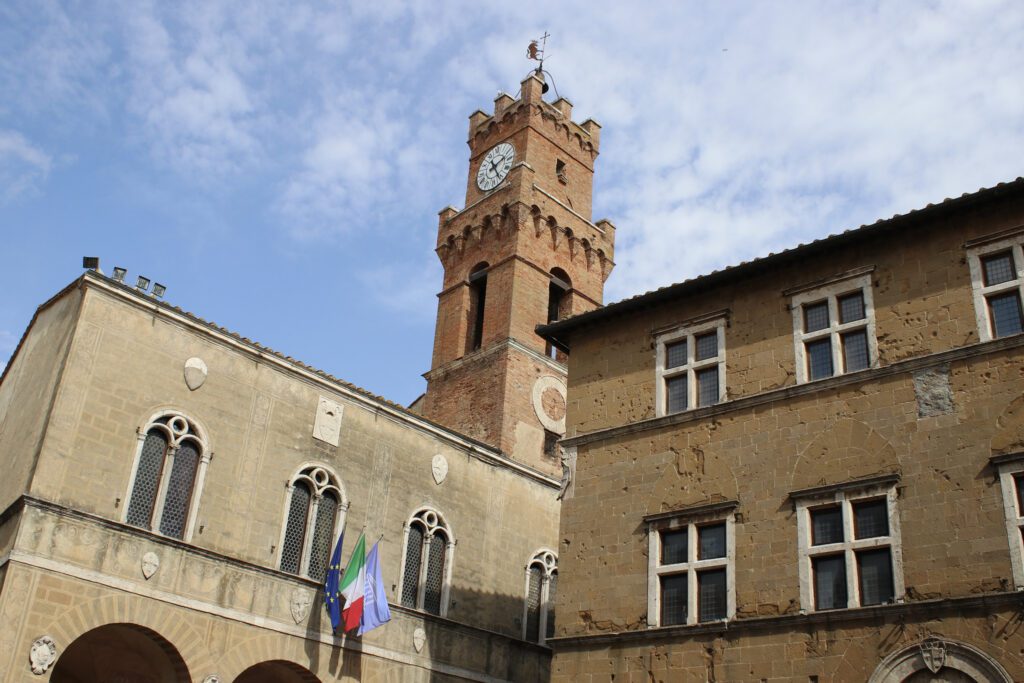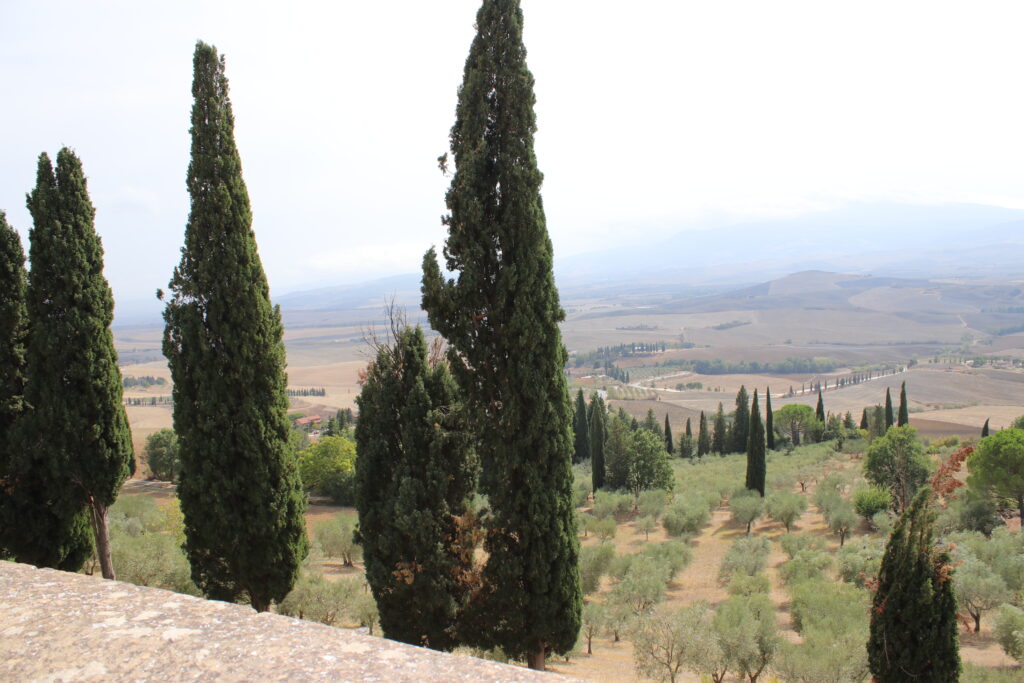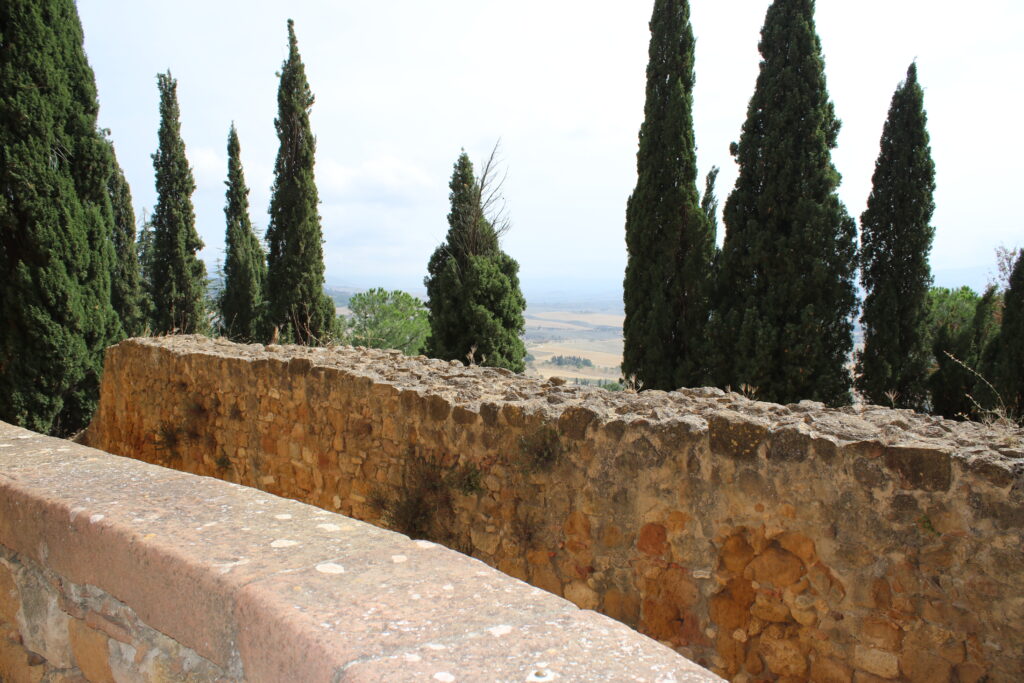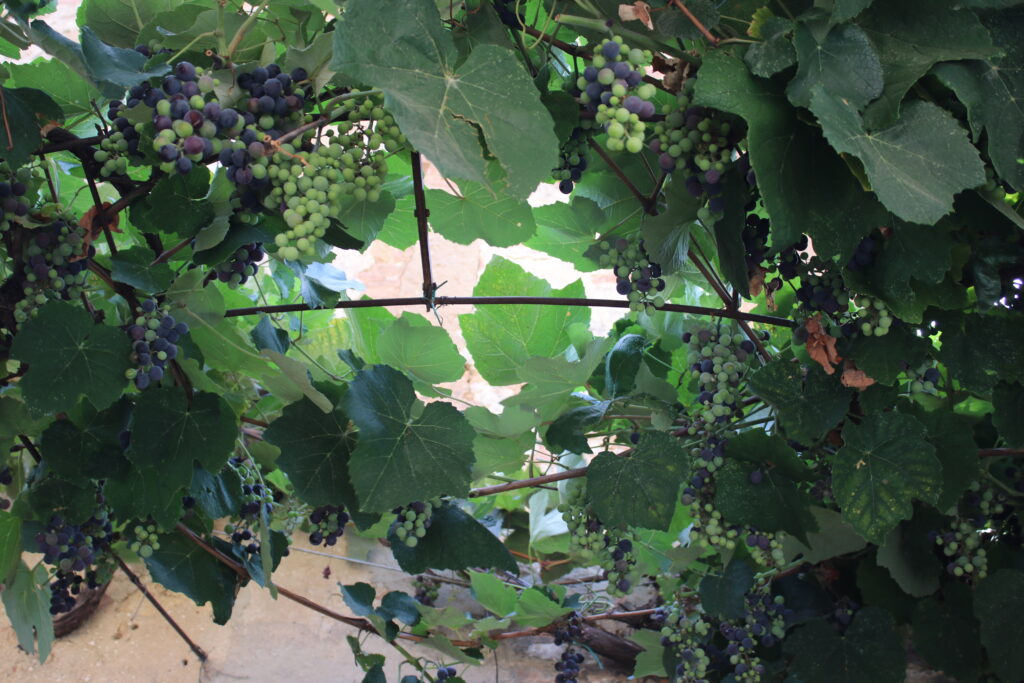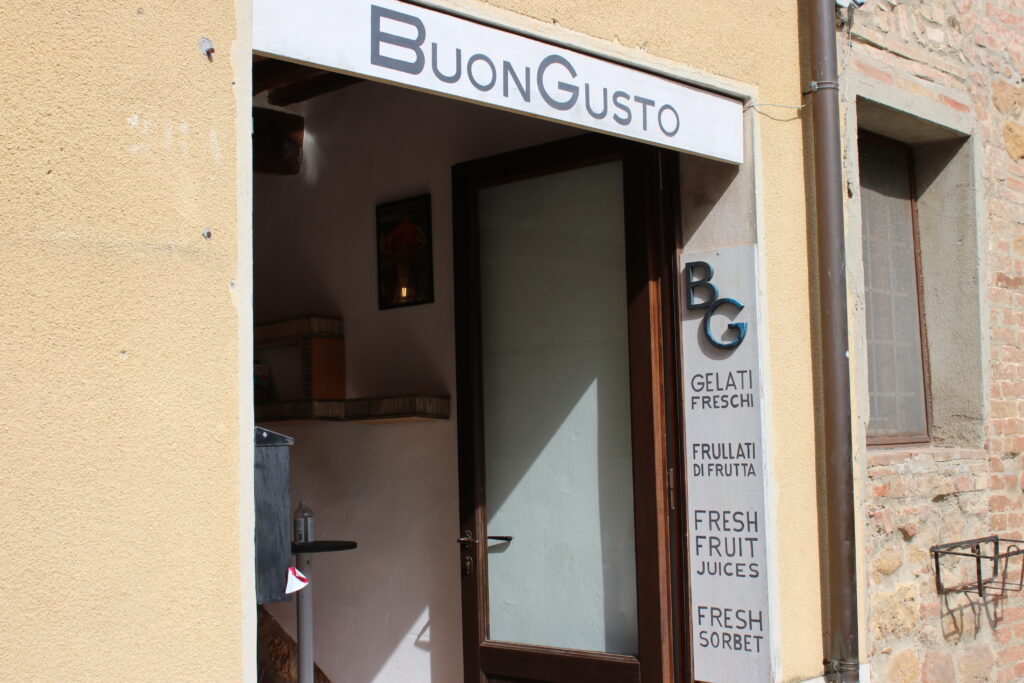 Monticchiello
We drove a short distance to the tiny hamlet of Monticchiello. Sleepy and quiet, this small place oozes charm. We walked around and took some photos. You can also see Pienza in the distance from the town. Lovely.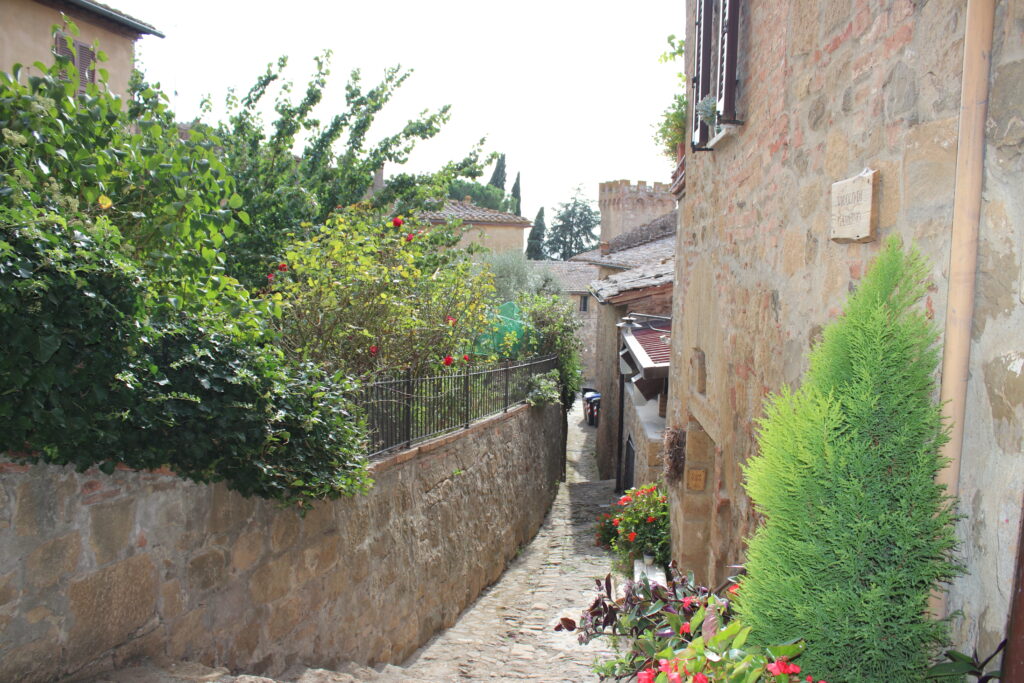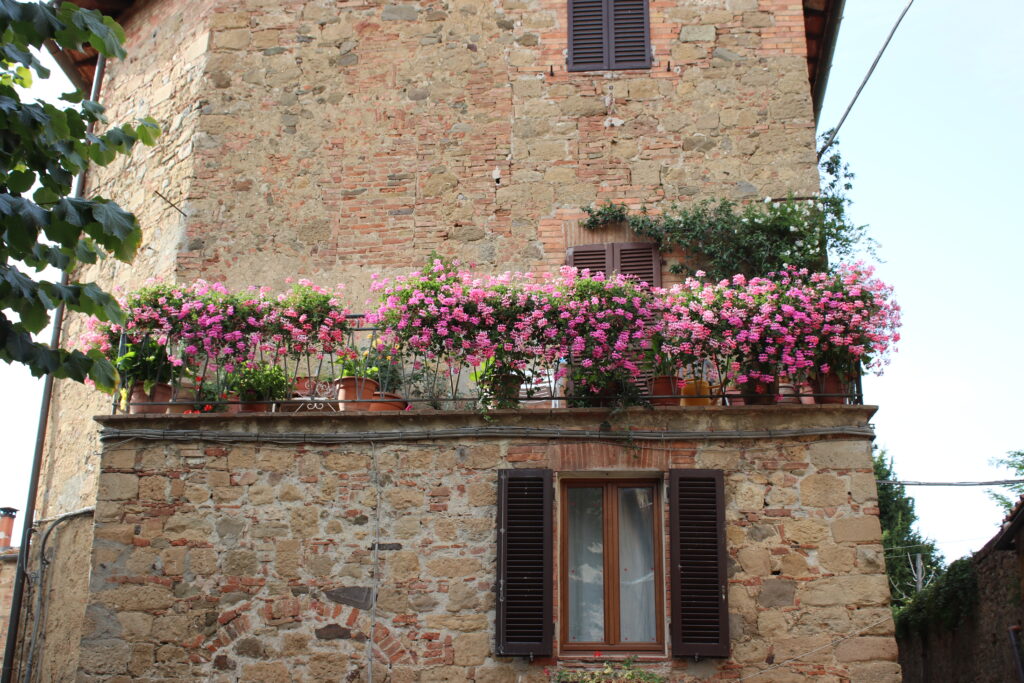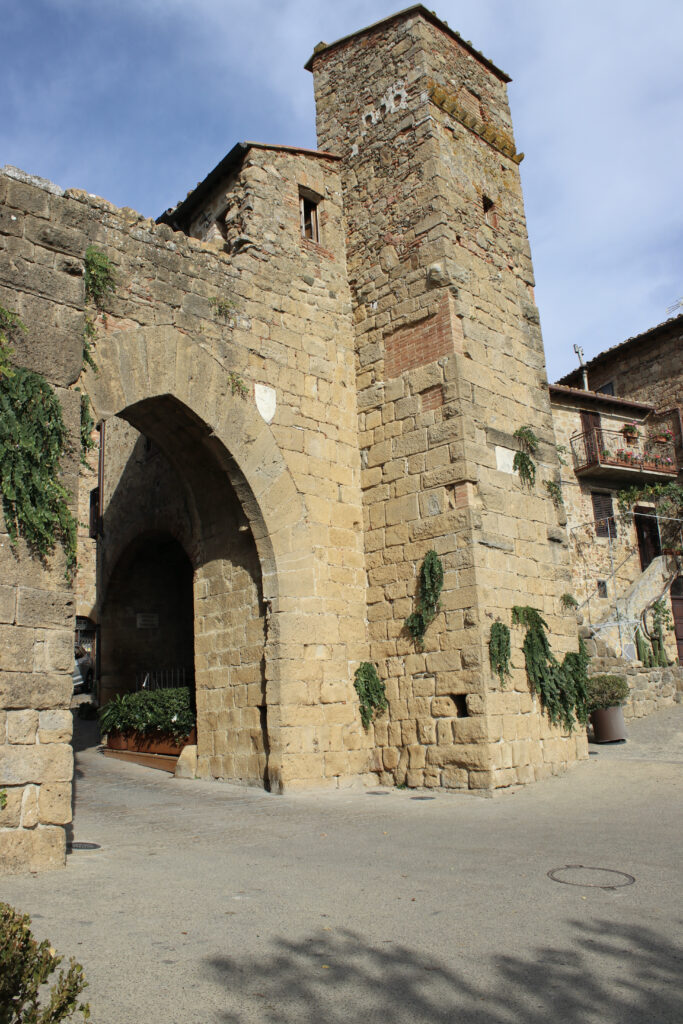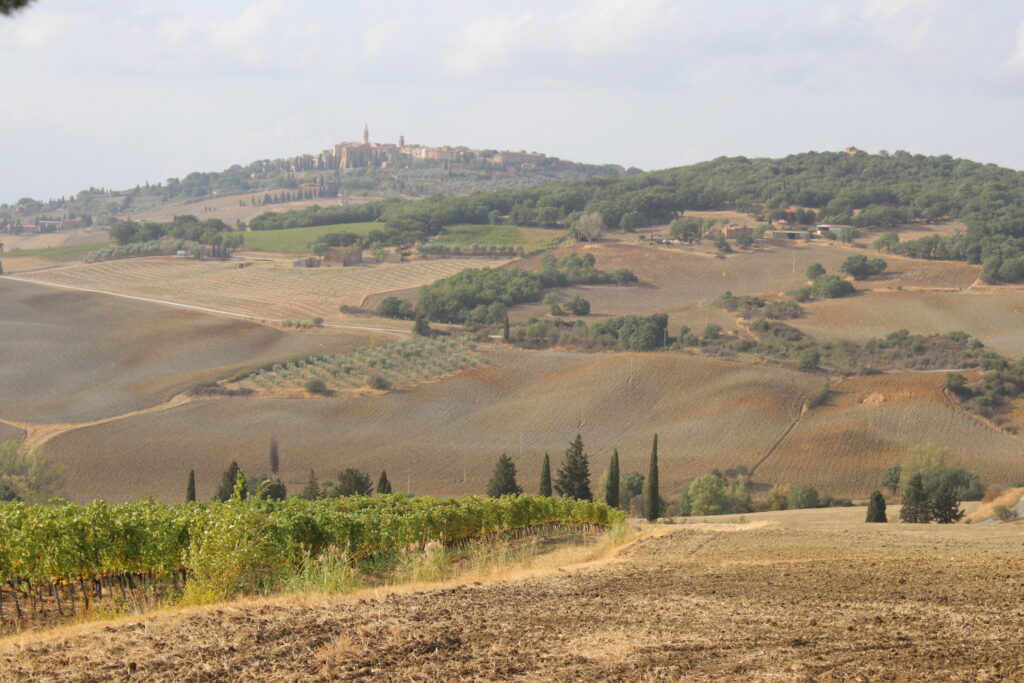 Siena
After another amazing breakfast at Podere Salicotto, we set off for Siena. Siena was only about 30 kilometers from our farmhouse. Parking was a pain. You must park outside the city walls. Do not drive inside as you will be fined at least €300. There is not a main lot that we could find, so we drove around searching for on street parking.
After paying the small fee, we entered through the Portal Romana which was erected in 1327. We headed for the main square, the Piazza del Campo.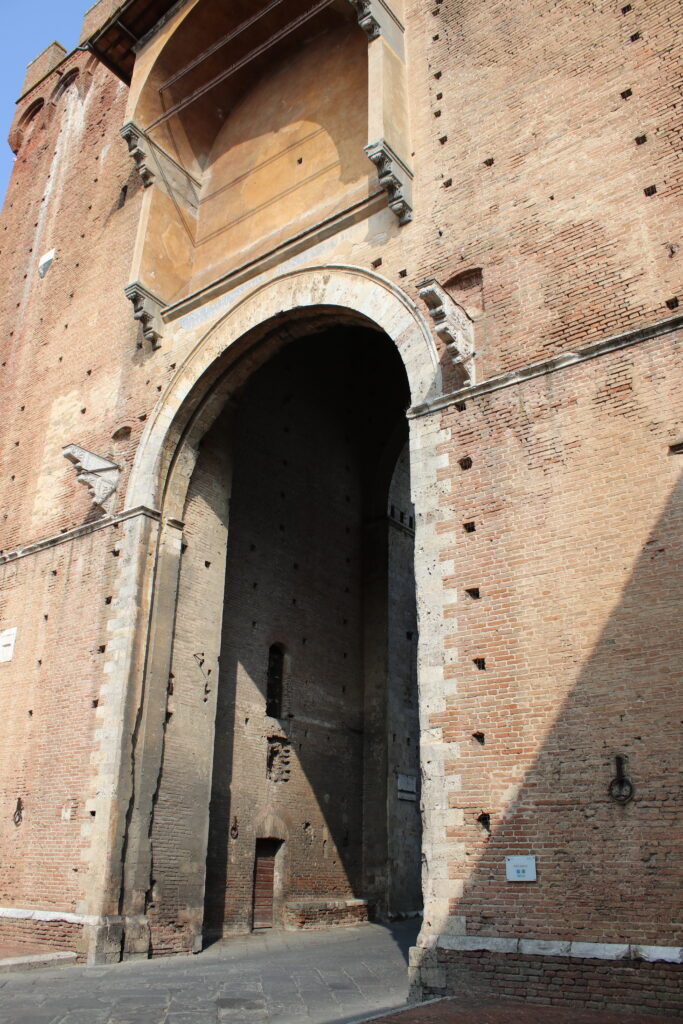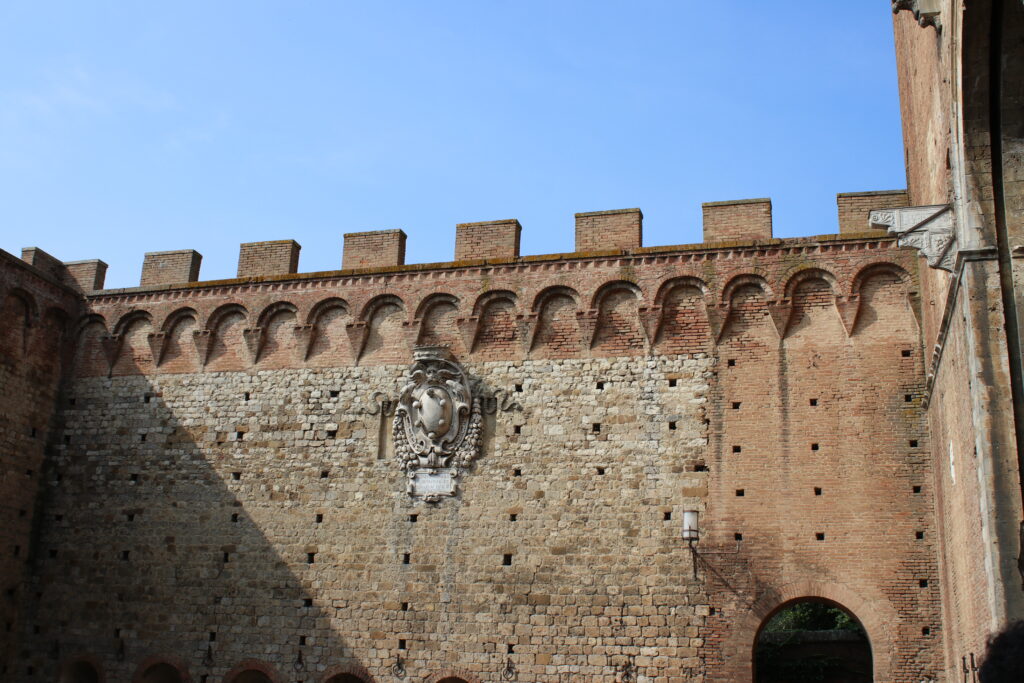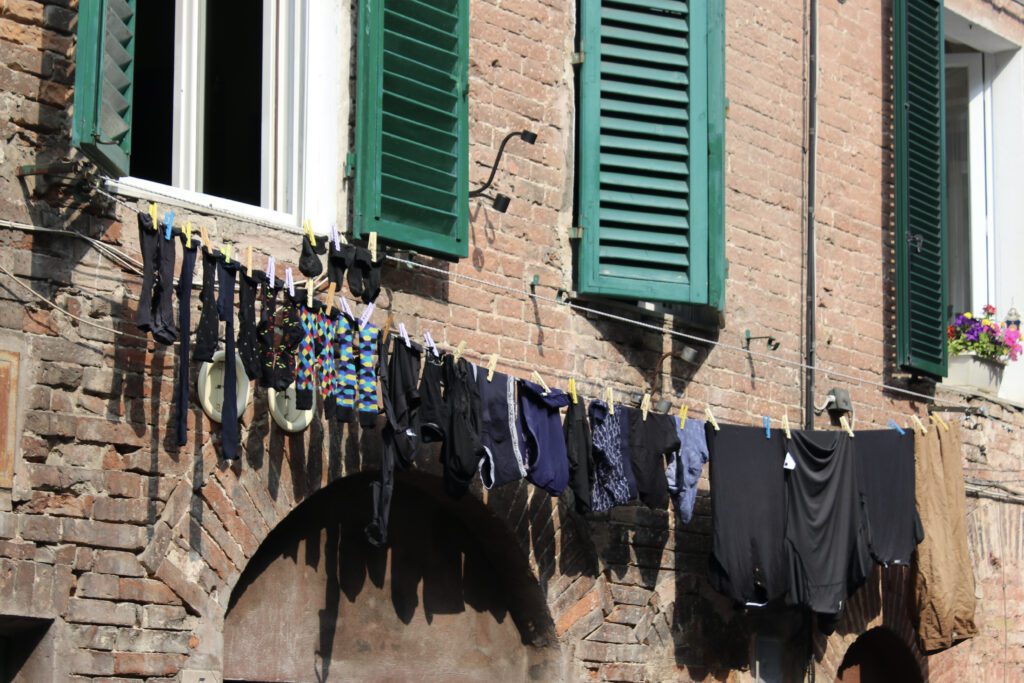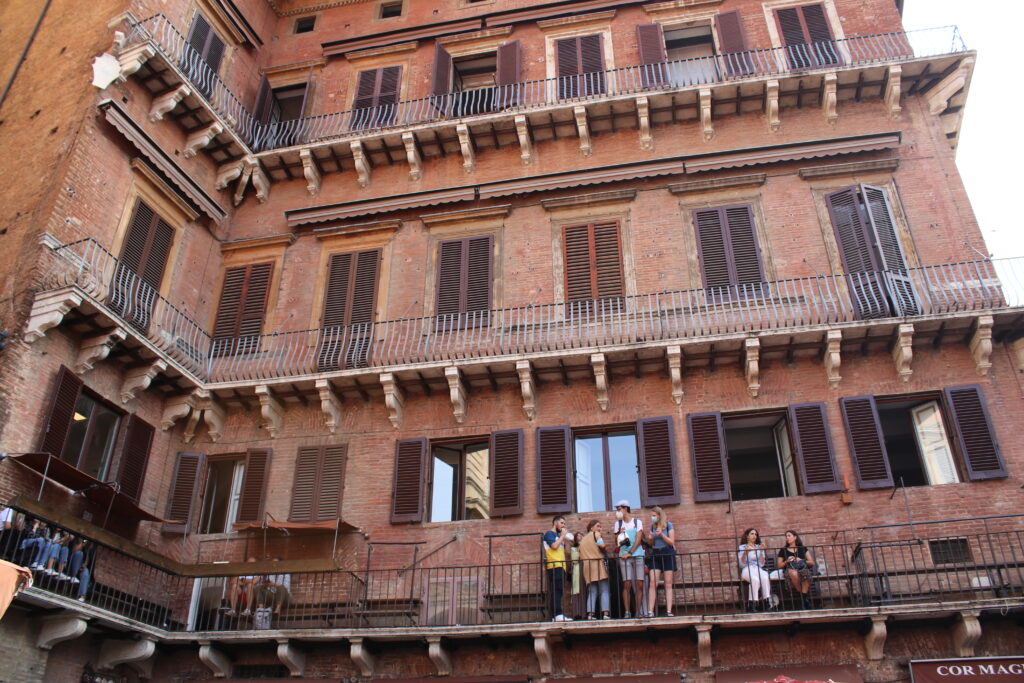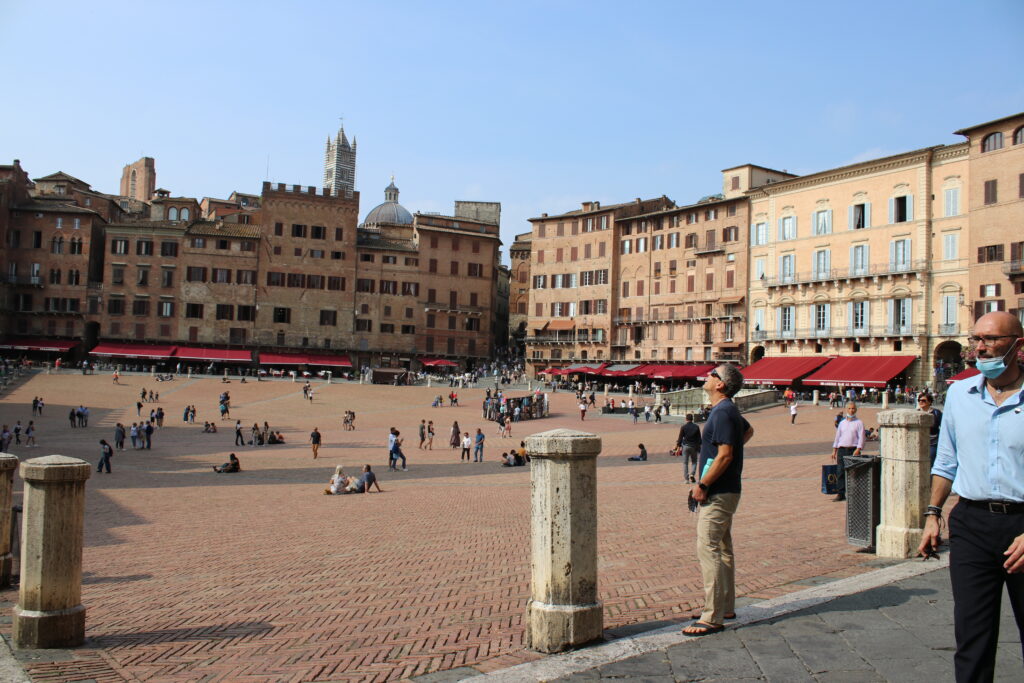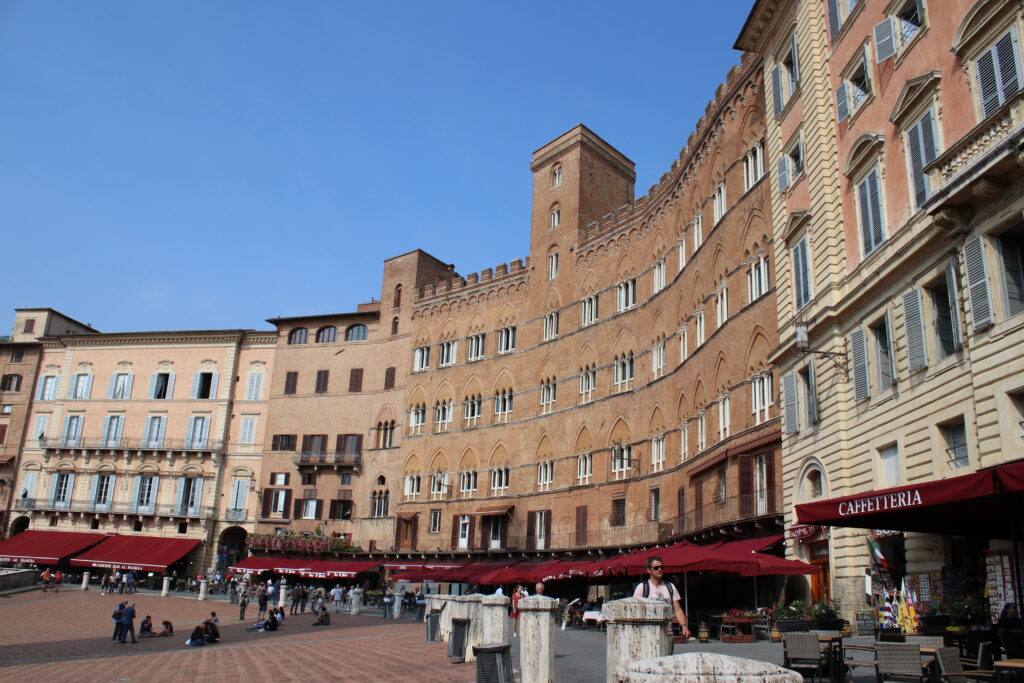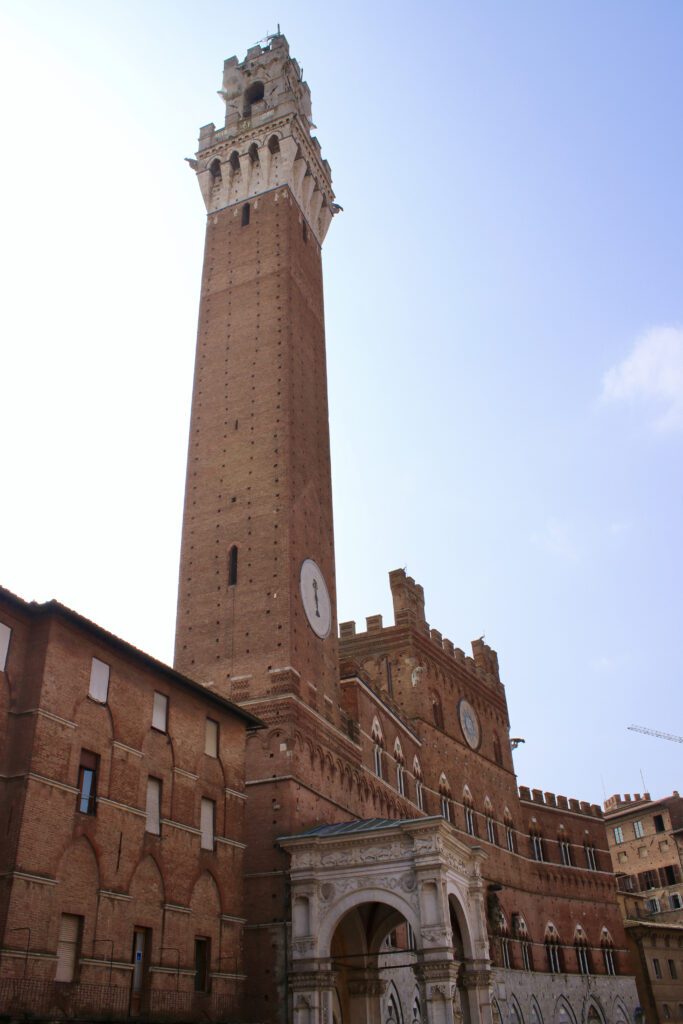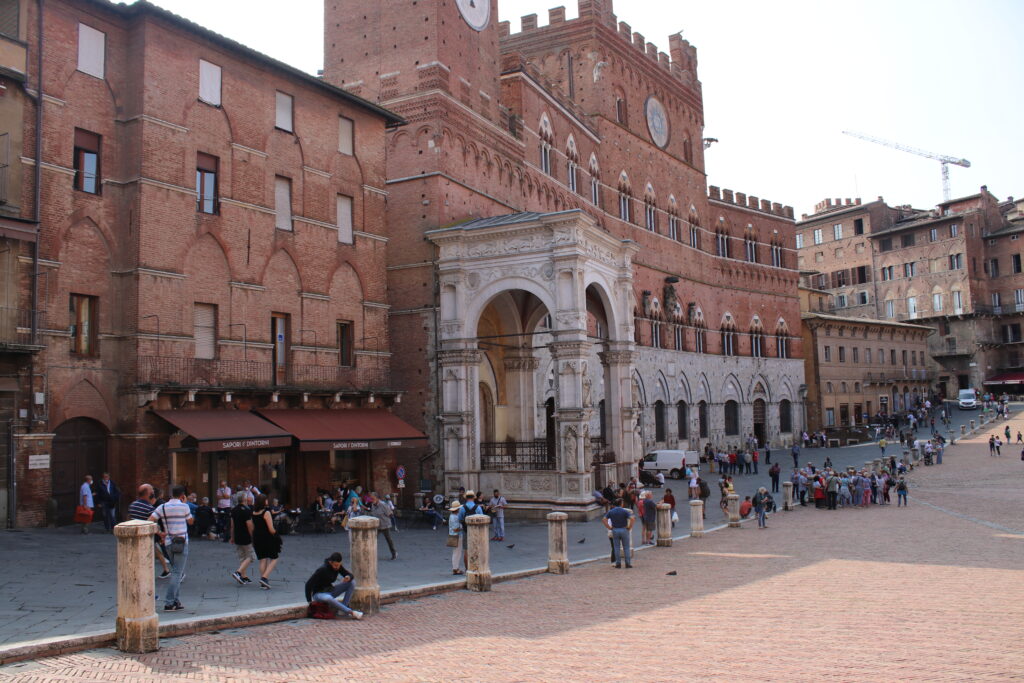 We recommend purchasing tickets in advance so you do not have to wait in line. Jim was not feeling great this morning, so we chose not to climb. Tickets can be purchased here to climb the tower and see the civic museum.
We kept walking!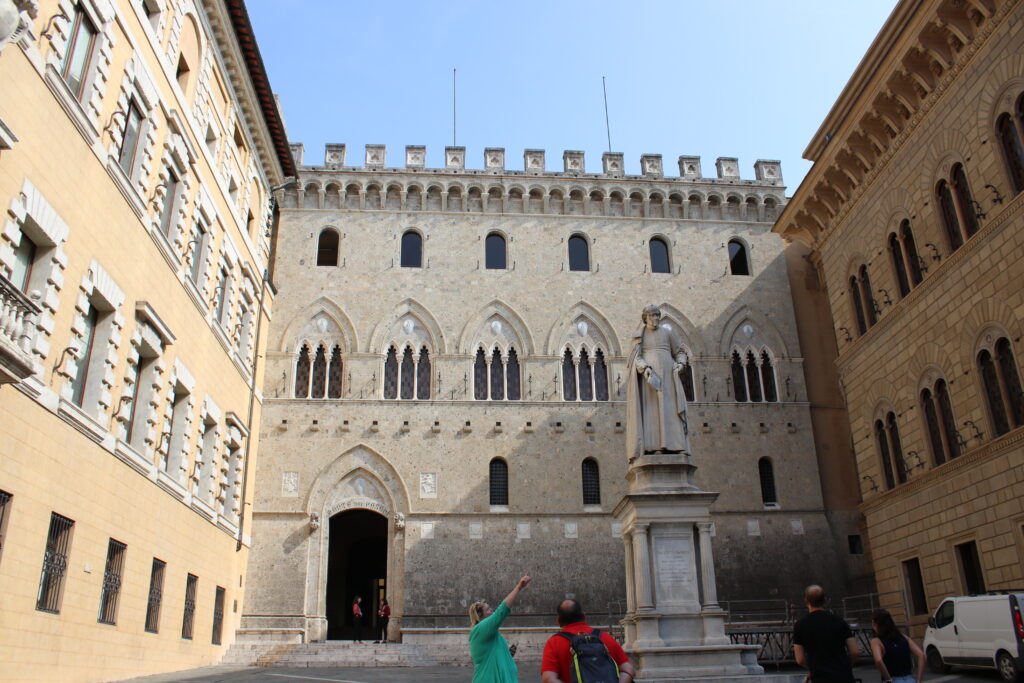 From the Piazza del Campo, it is about a 12 minute walk through gorgeous, almost traffic free streets to the Duomo. This masterpiece of art and architecture is amazing. We had a 10 minute wait in line for tickets. We recommend purchasing them in advance here. We chose to visit the church and do the climb. Highly recommended.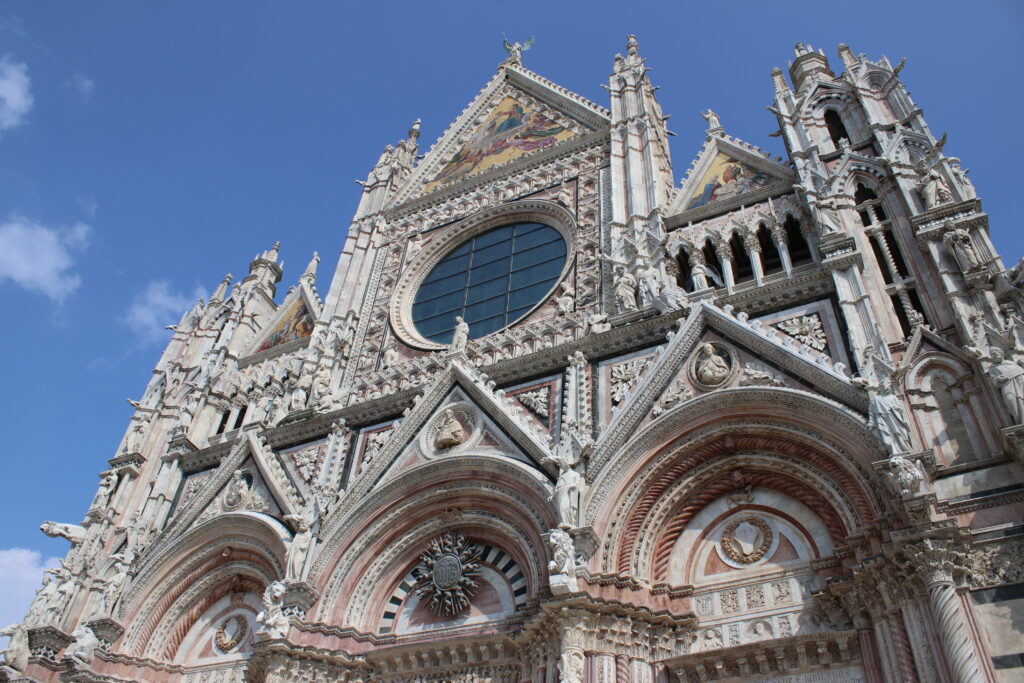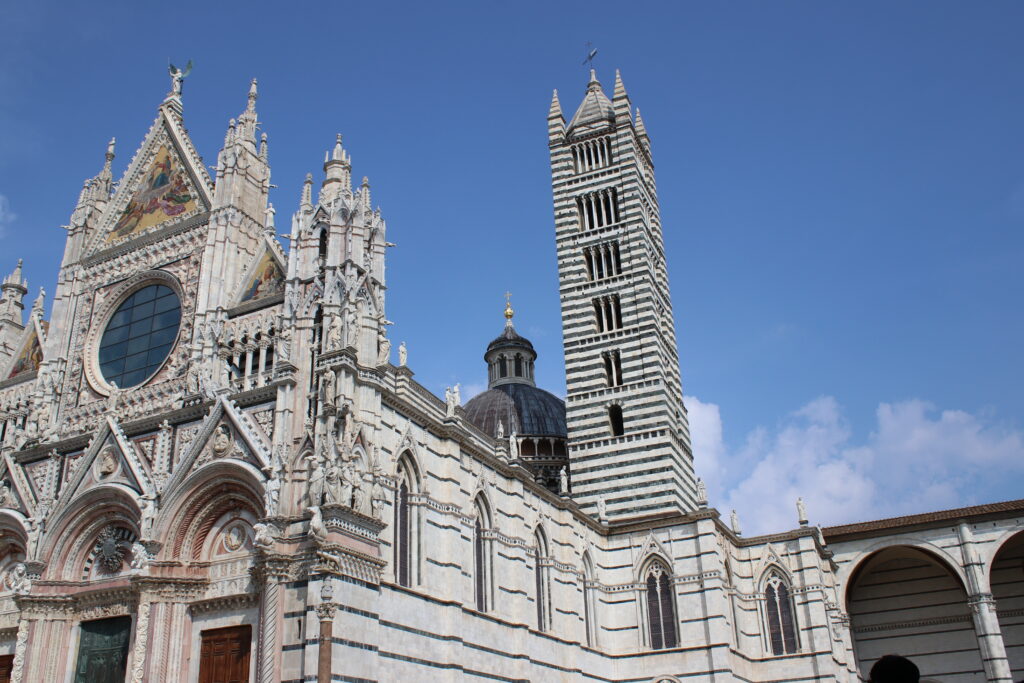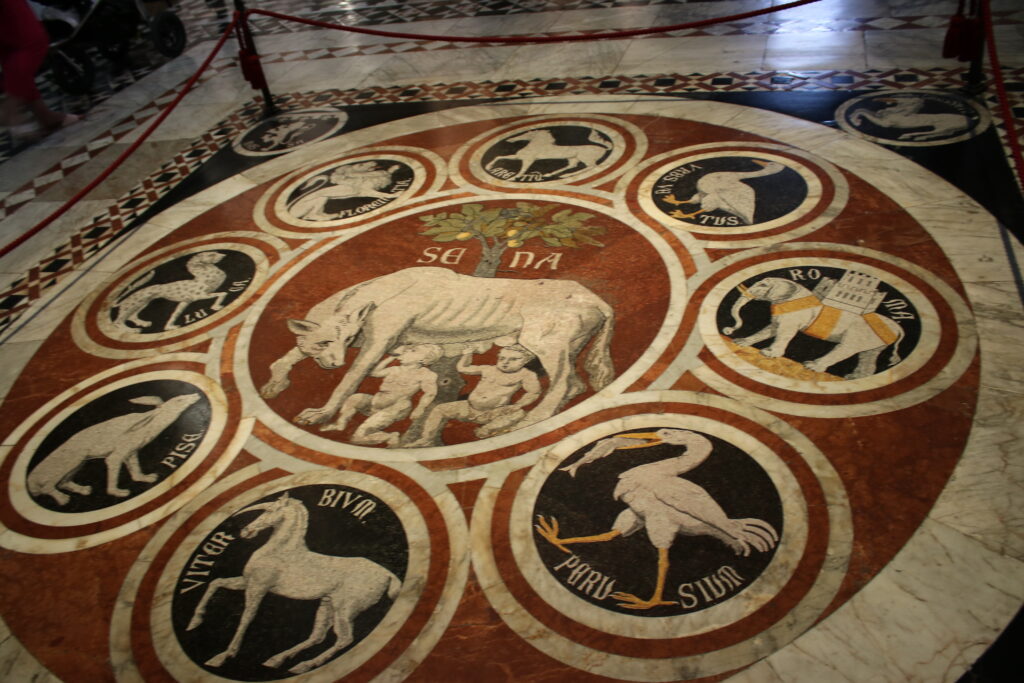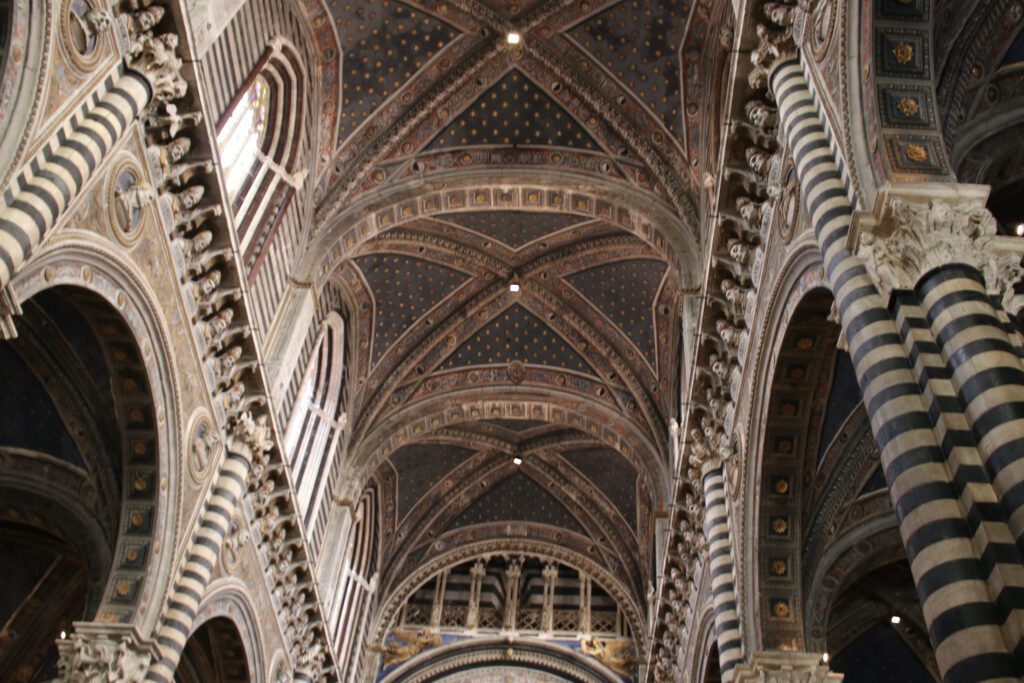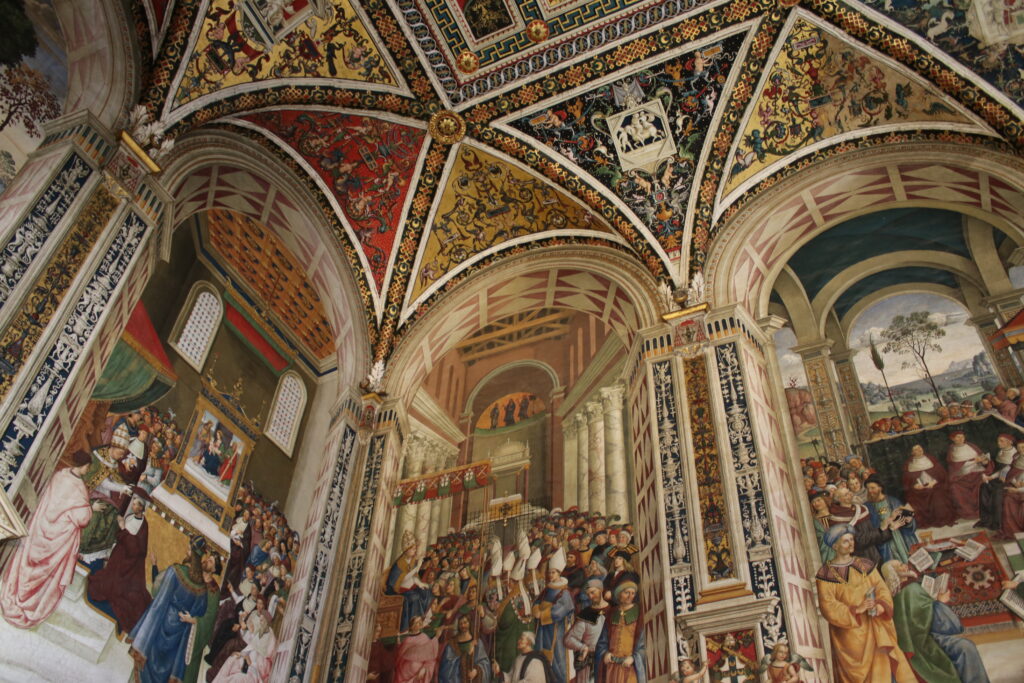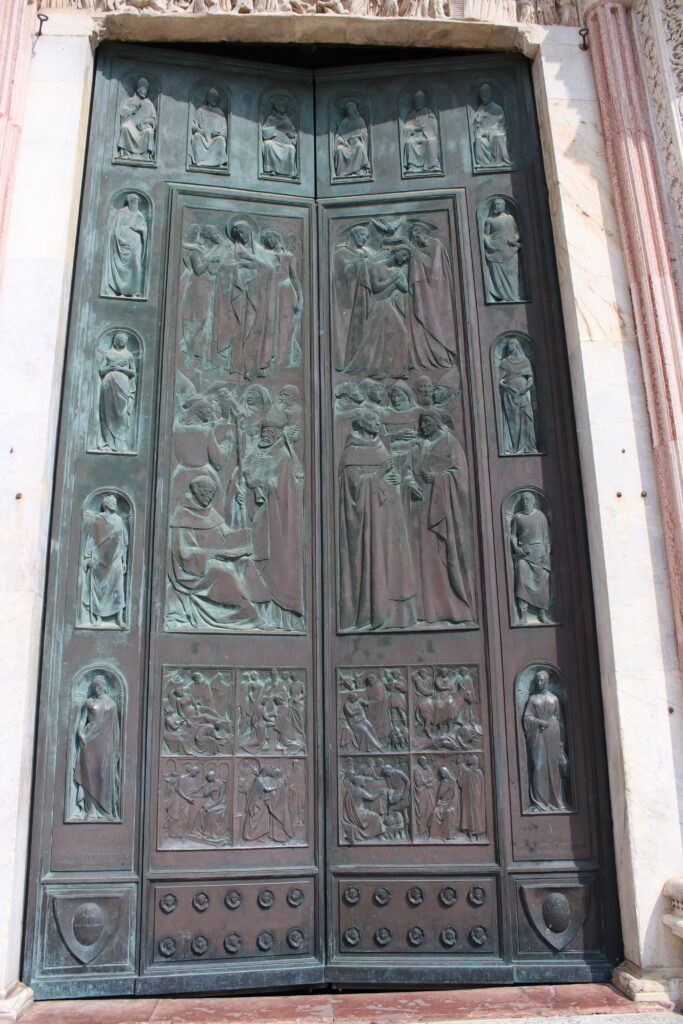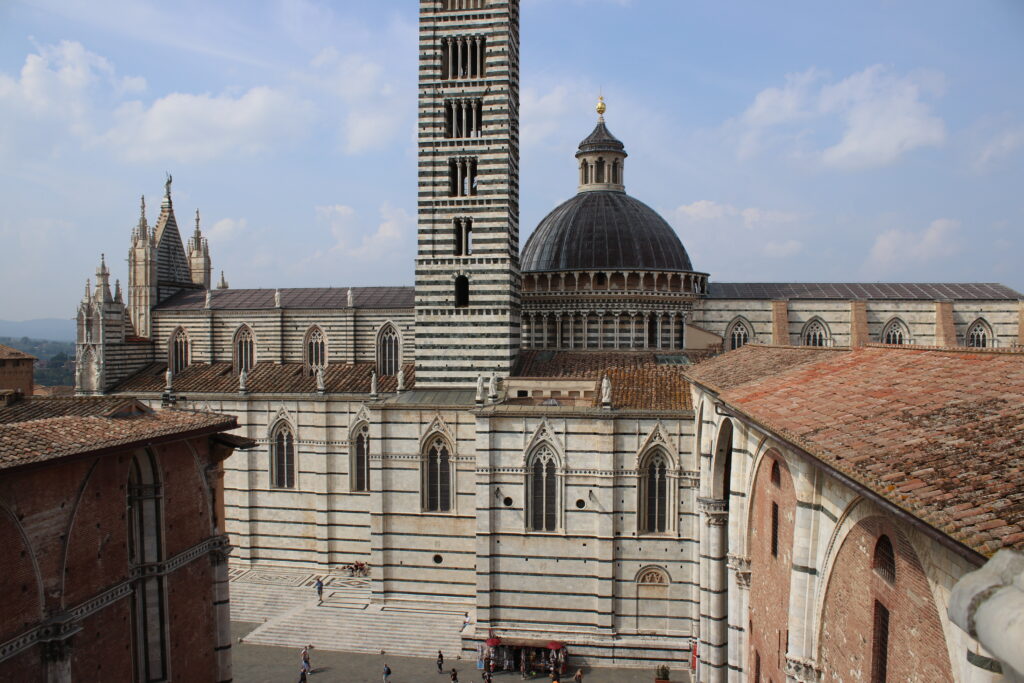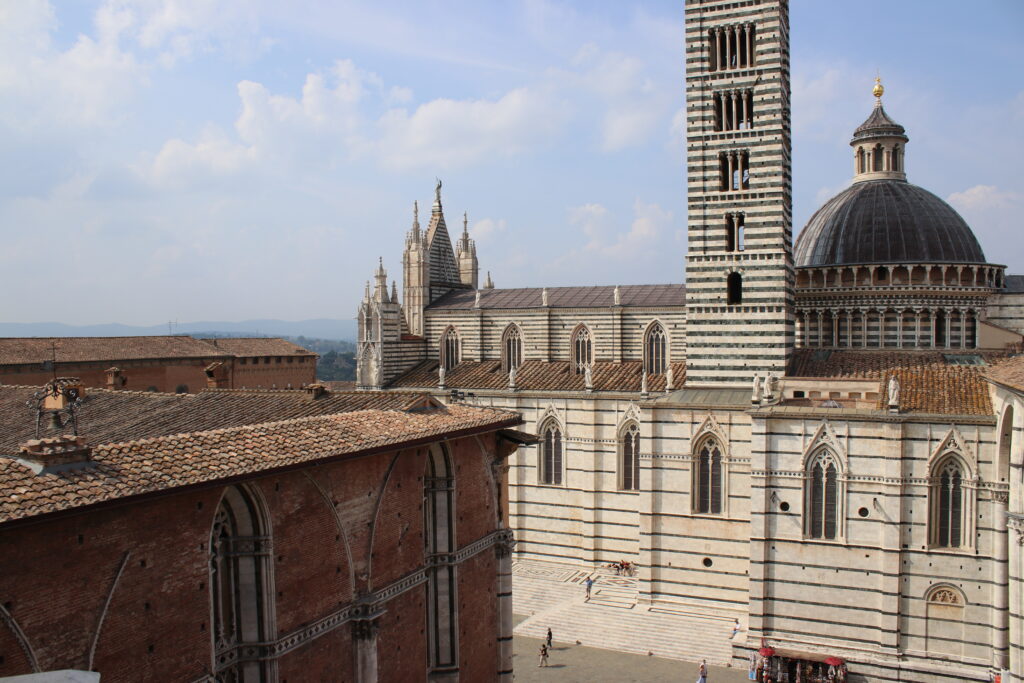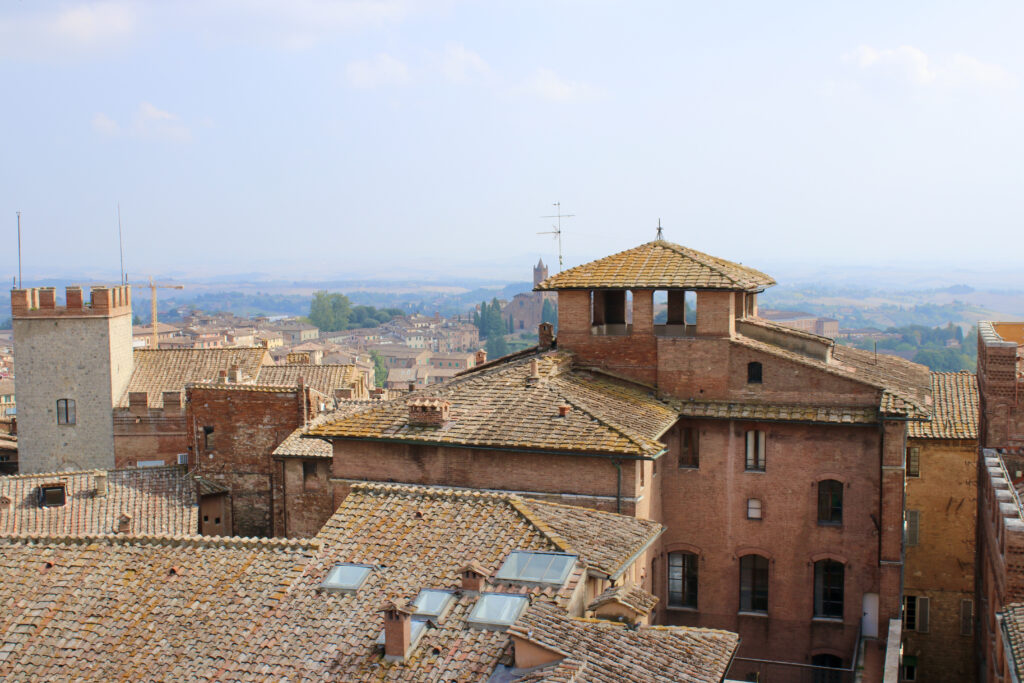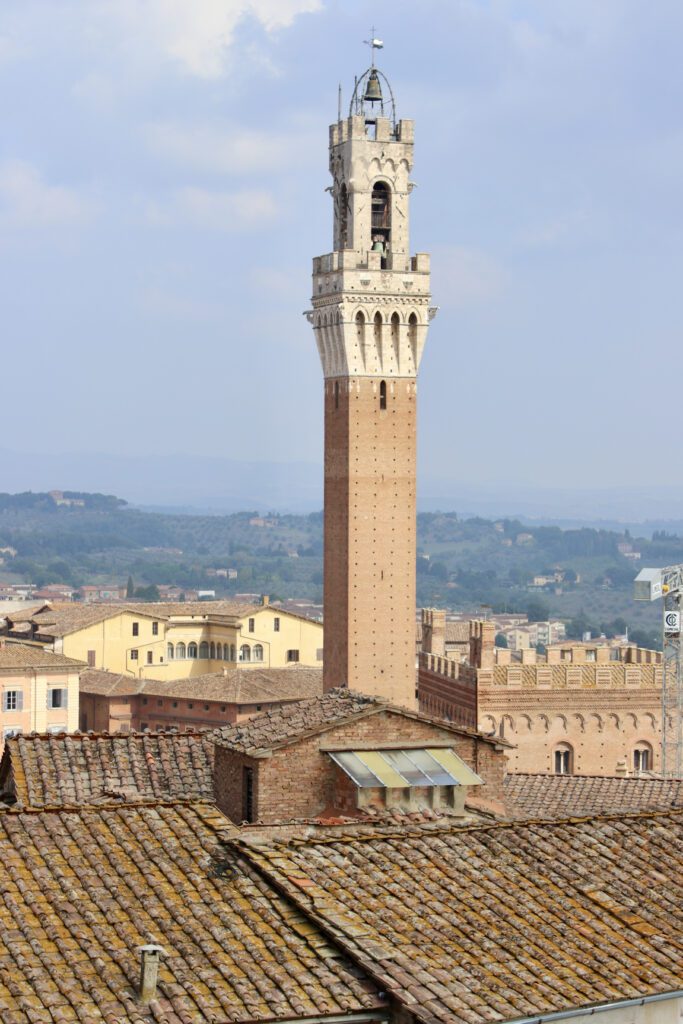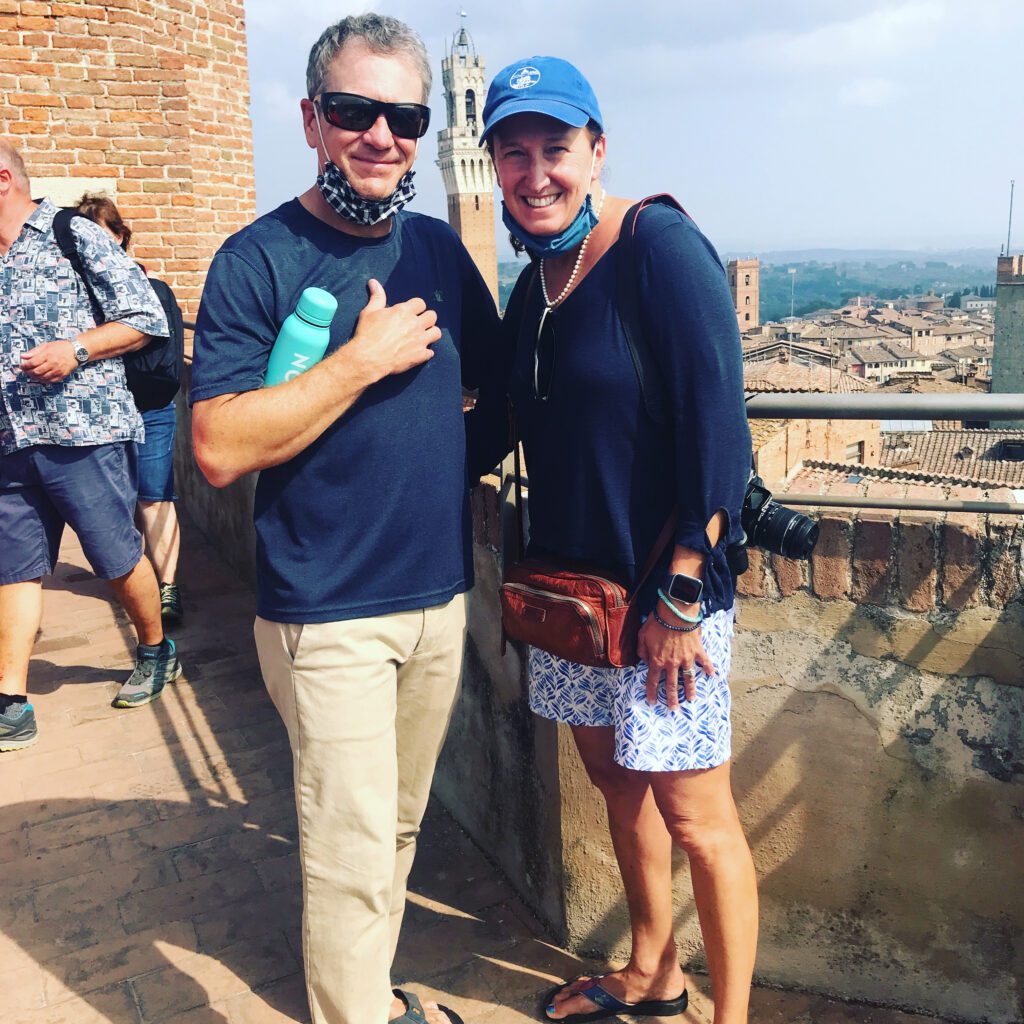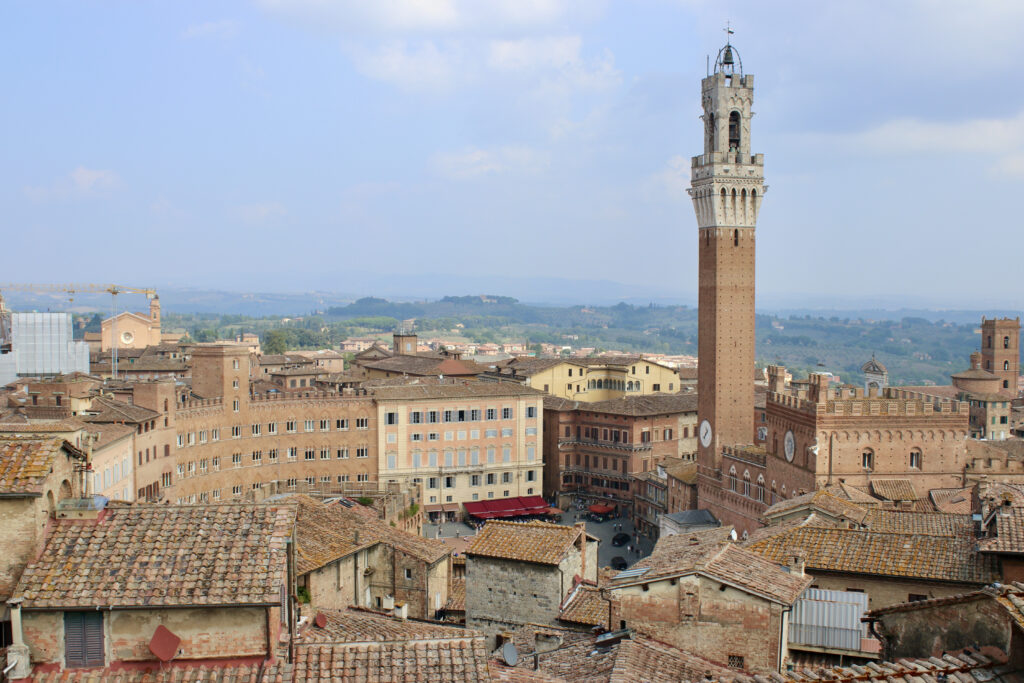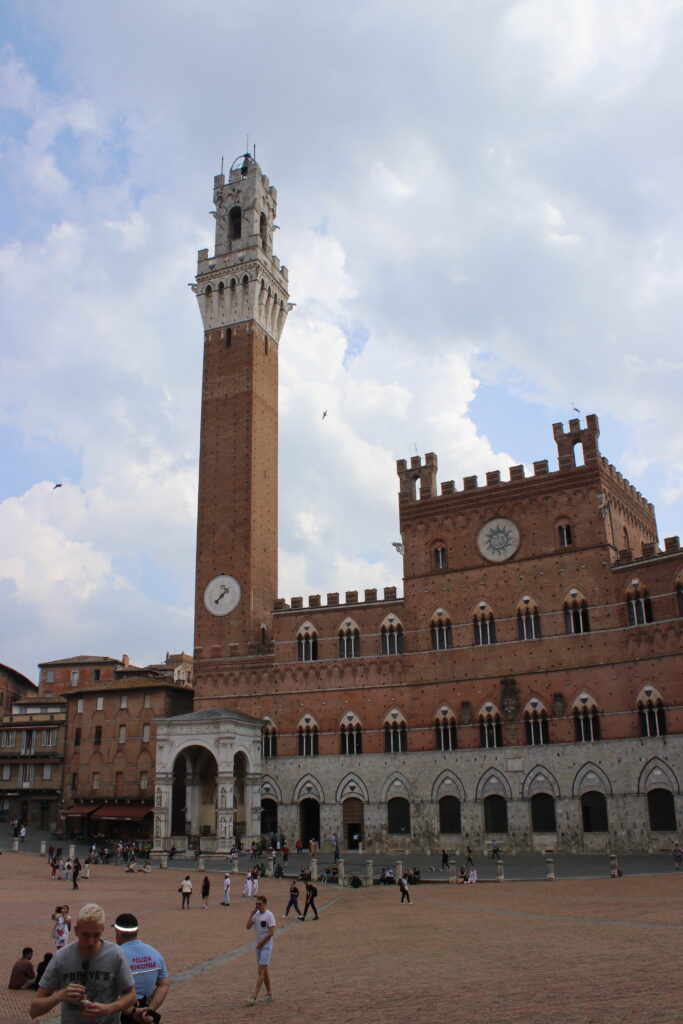 Volterra
The drive from Siena to Volterra is quite beautiful. Unfortunately, there are not many scenic overlooks at which to stop. Volterra has an easy to use parking garage at the entry to the town. It is a charming, lovely place.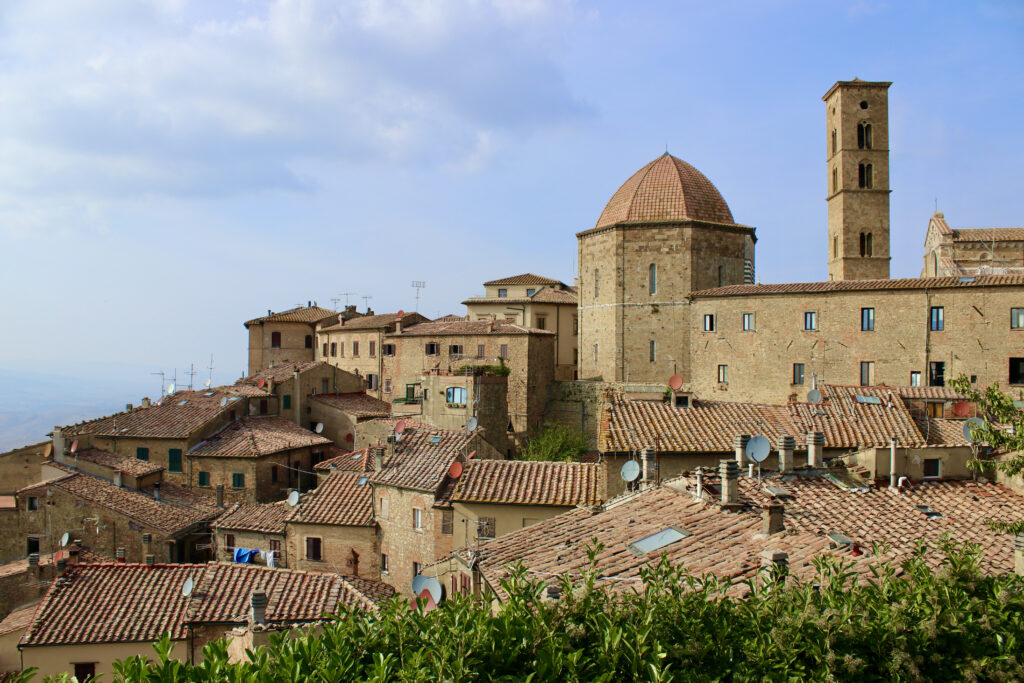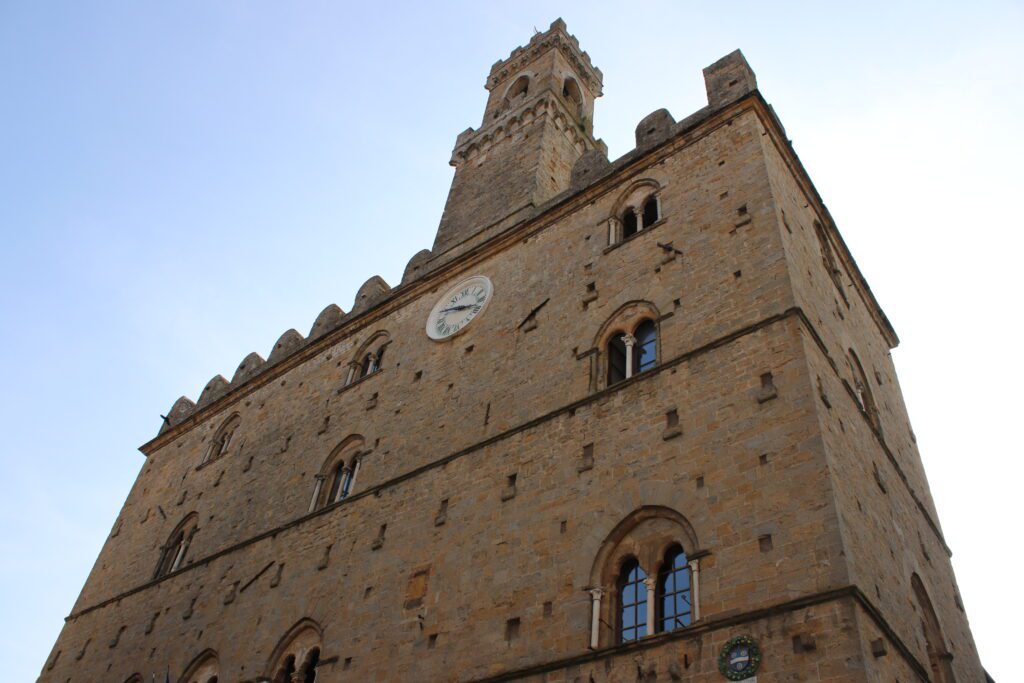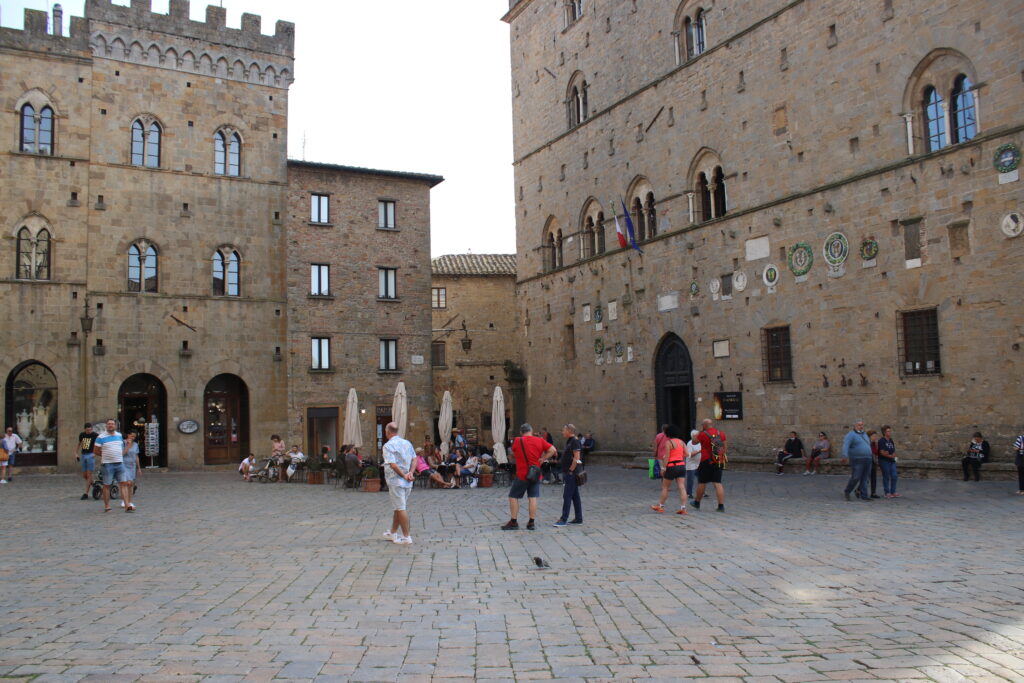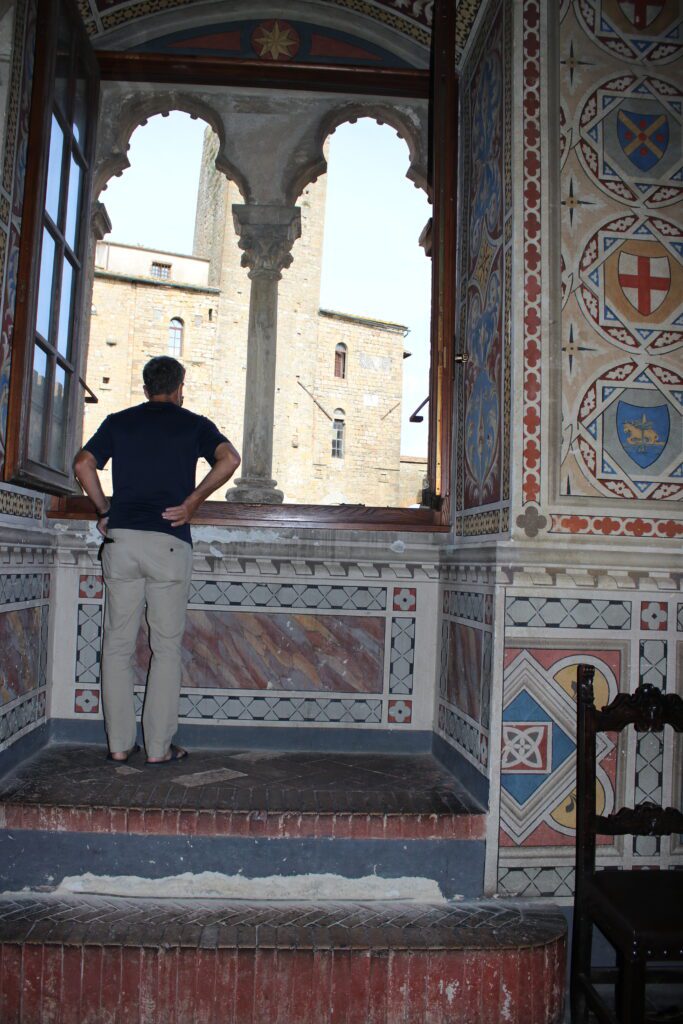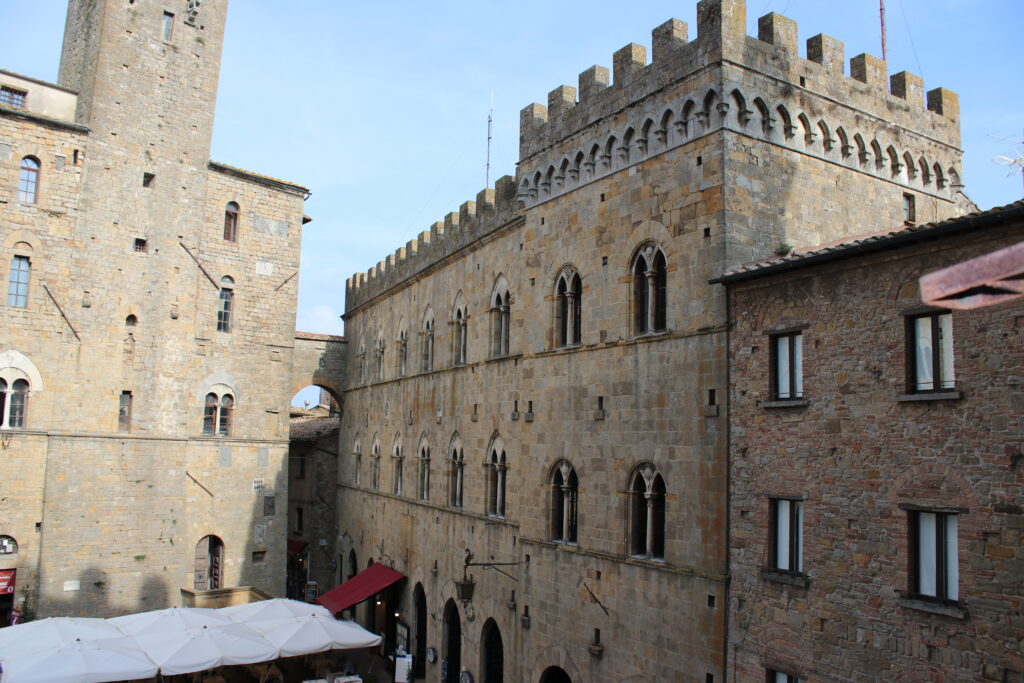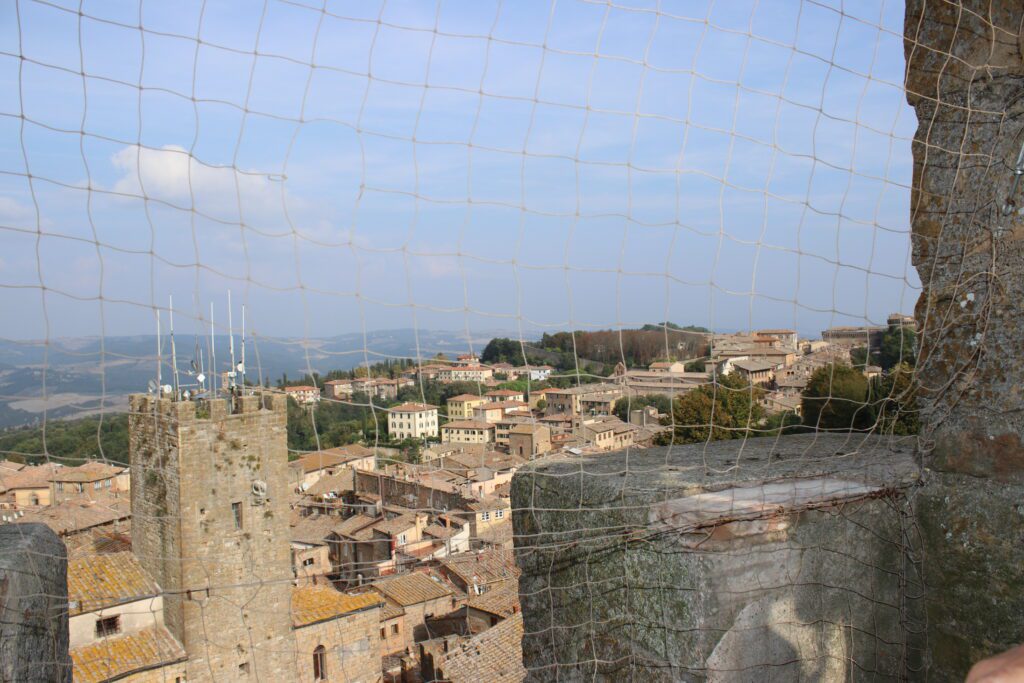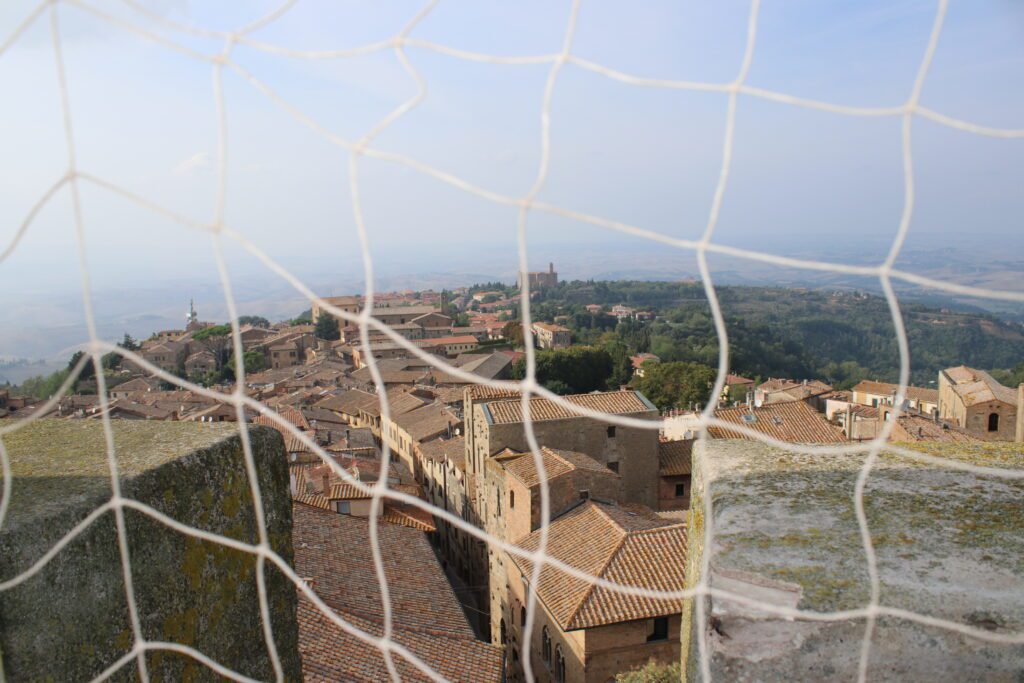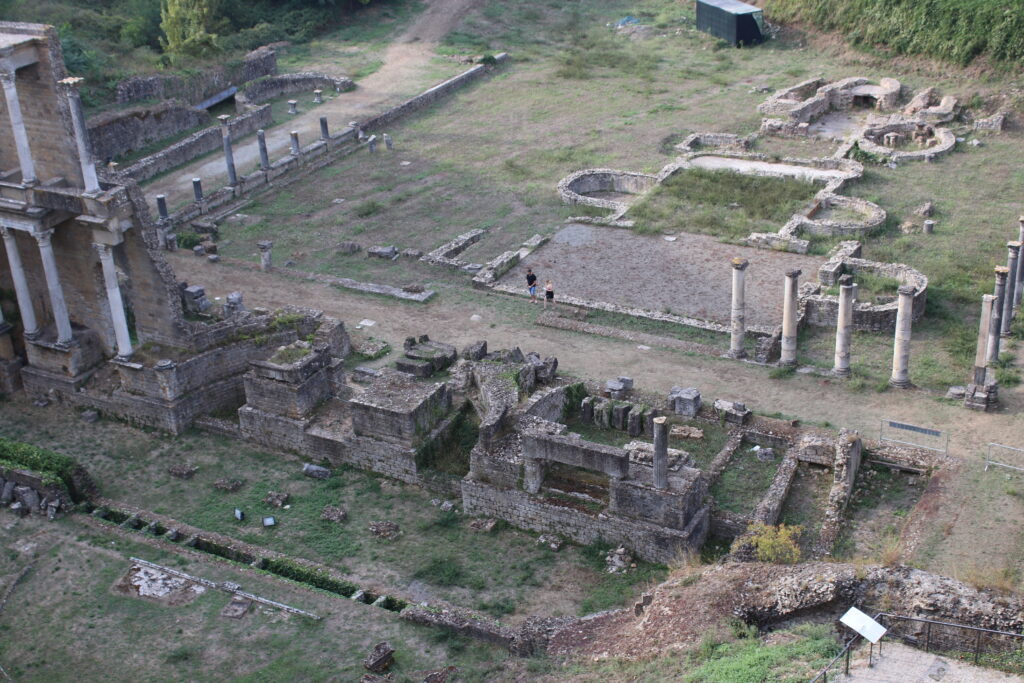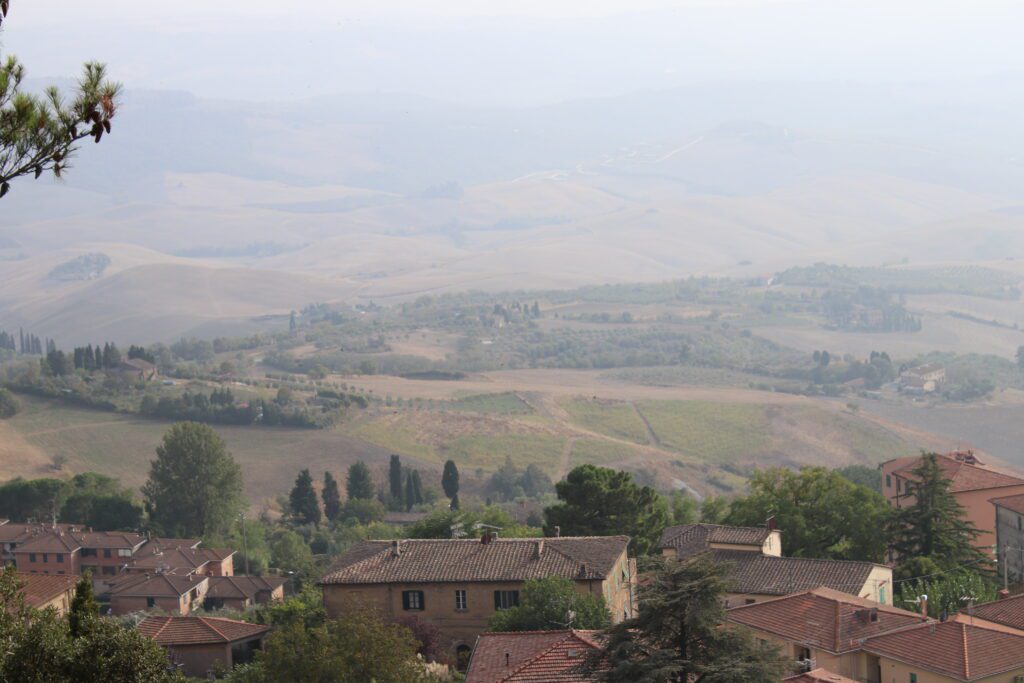 Where to Eat in Buonconvento
When making the arrangements with Podere Salicotto, I asked them to make 8:30pm dinner reservations for us at three of their favorite places. We loved every place we ate. And, because the owners of the farm know the owners of the restaurants, we had the best tables, free prosecco as a welcome drink and specially prepared gluten free pasta at two of the three restaurants for Jim.
Osteria il Bibbio
Our first night at Podere Salicotto, we ate at Osteria il Bibbio, just 10 minutes from the farmhouse. We had a delicious meal of steak, beef stew and salad. We sat outside, and it was just lovely. TripAdvisor reviews are good.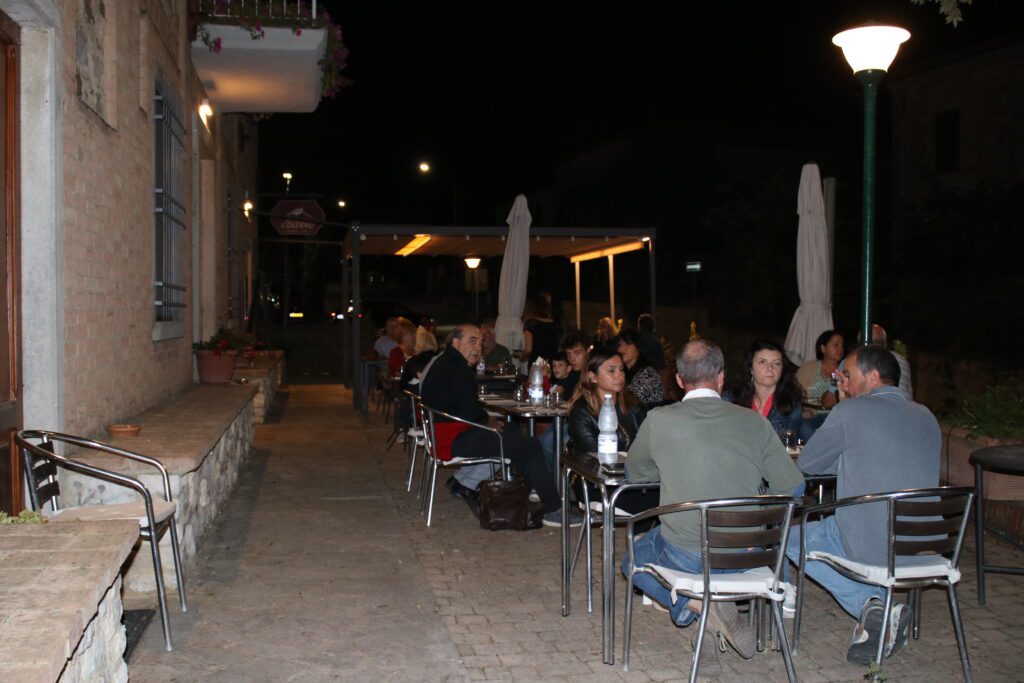 Osteria del Leone
We drove about 20 minutes to Osteria del Leone in Bagno Vignoni. We sat in an outdoor courtyard, and it was fantastic. The gluten free pasta, lamb, cauliflower steak, tuna tartare (a special) and incredible bread were delicious. The town and the restaurant ooze with charm. TripAdvisor reviews are good.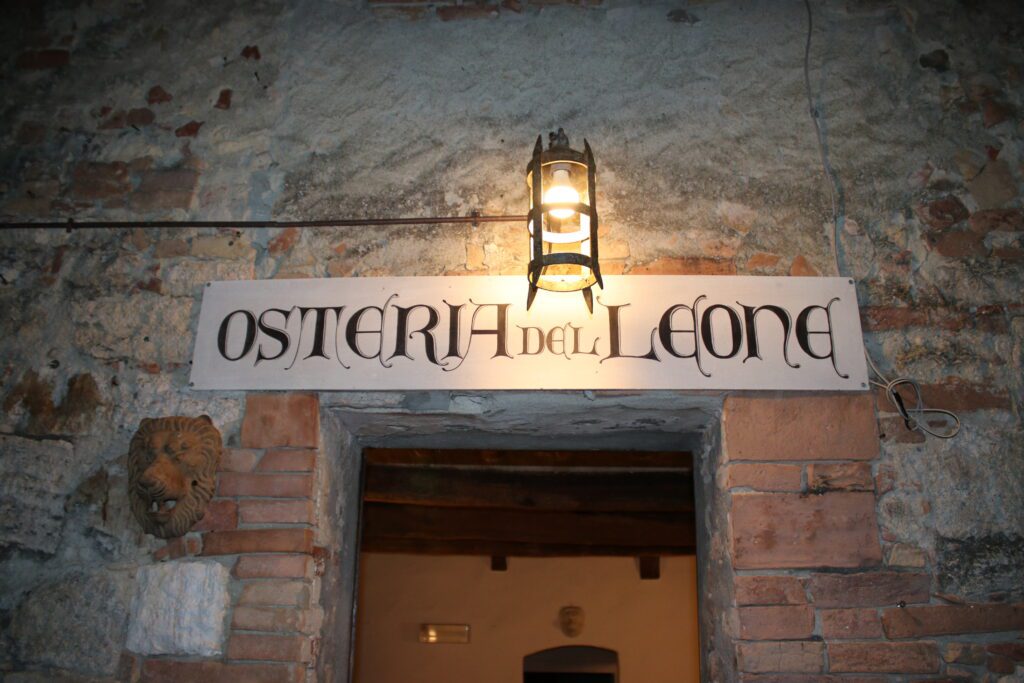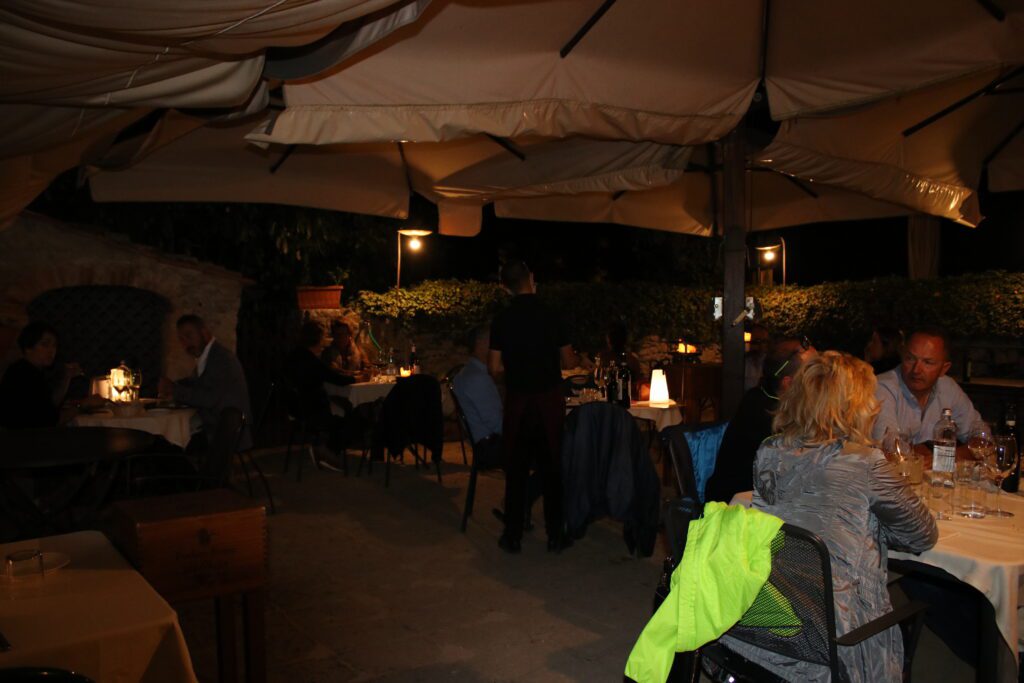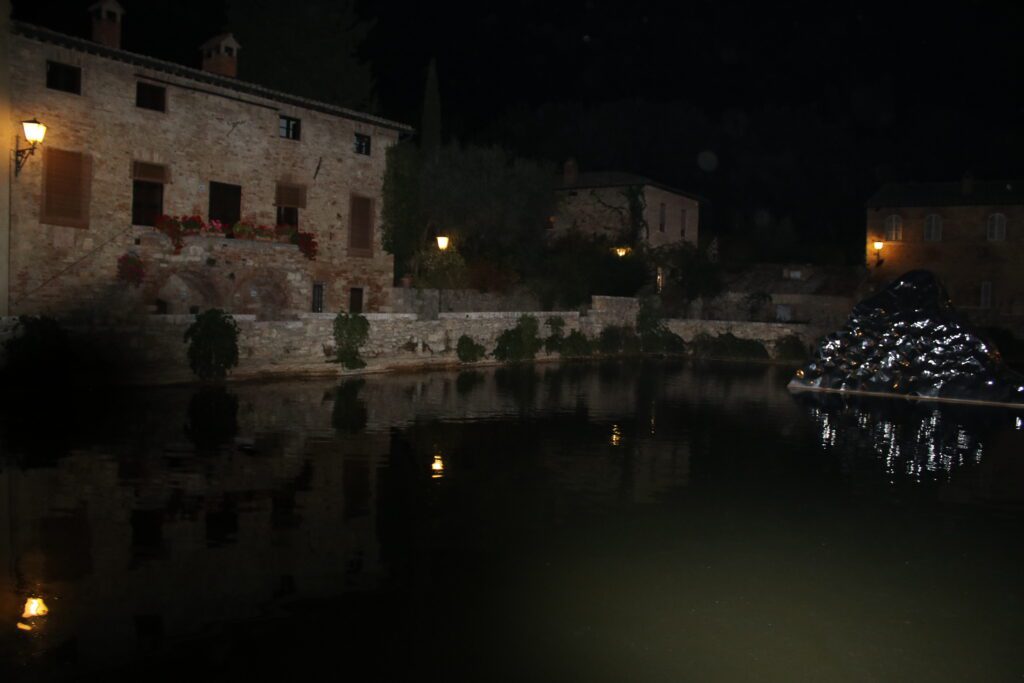 Locanda del Castello
Locanda del Castello is a restaurant in a small inn about 12 minutes from our farmhouse. The inn and restaurant are part of a castle that dates to 1500. We sat outside at a gorgeously private table. The owners greeted us with champagne, and had special gluten free pasta for Jim. We loved it here. The bread was to die for as was the carpaccio and pizza! Our dinner photos are all dark as we did not eat until 8:30pm each night as our days were so busy. TripAdvisor reviews are excellent.
San Gimignano
It took us about an hour to drive to the amazing hill town of San Gimignano. The surrounding valley was the prettiest and the greenest one we saw. The town is simply amazing. At one point, San Gimignano had 77 towers. A tall tower house meant you were wealthy. Currently, there are 14 of them. We climbed the one owned by the town. A ticket , purchased directly from the town, gives you access to the tower, the duomo and several smaller museums and a church. There is plenty of parking with self service payment kiosks. We loved it here.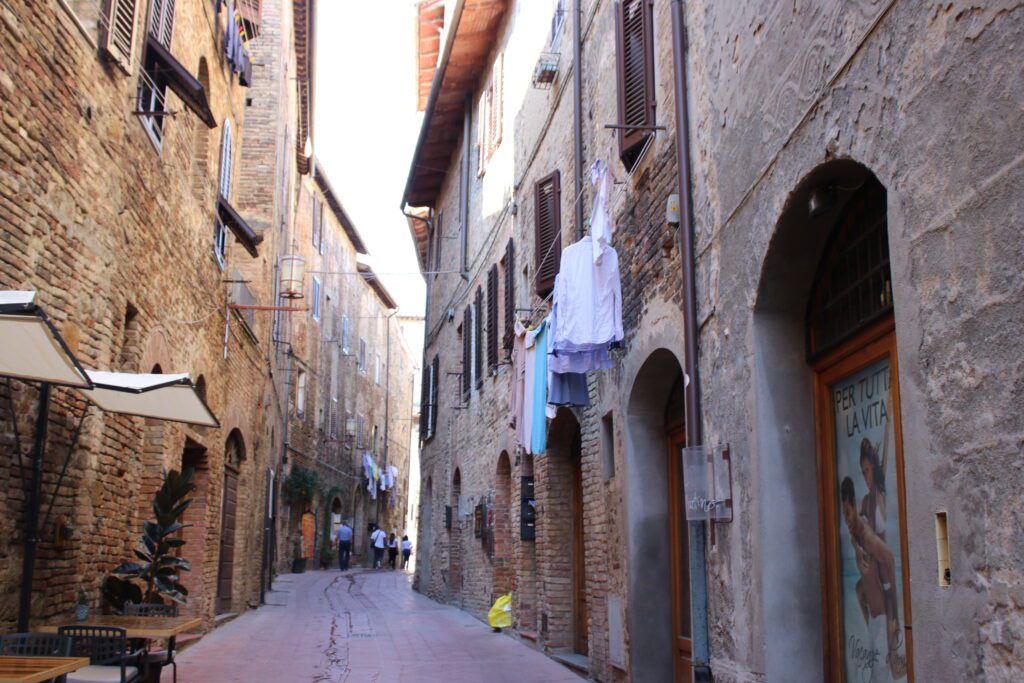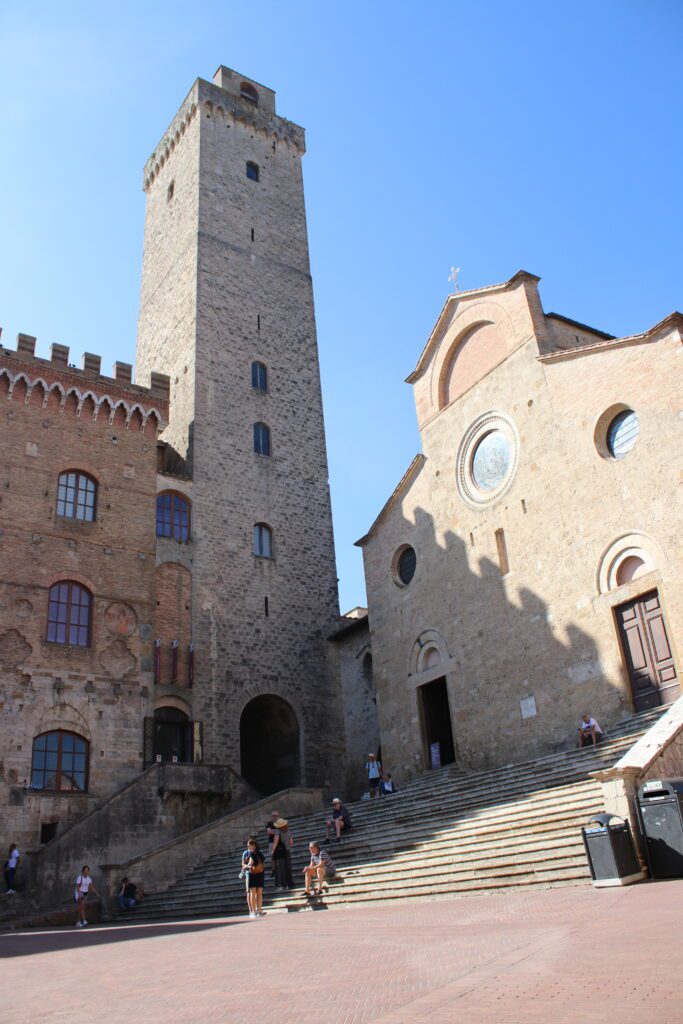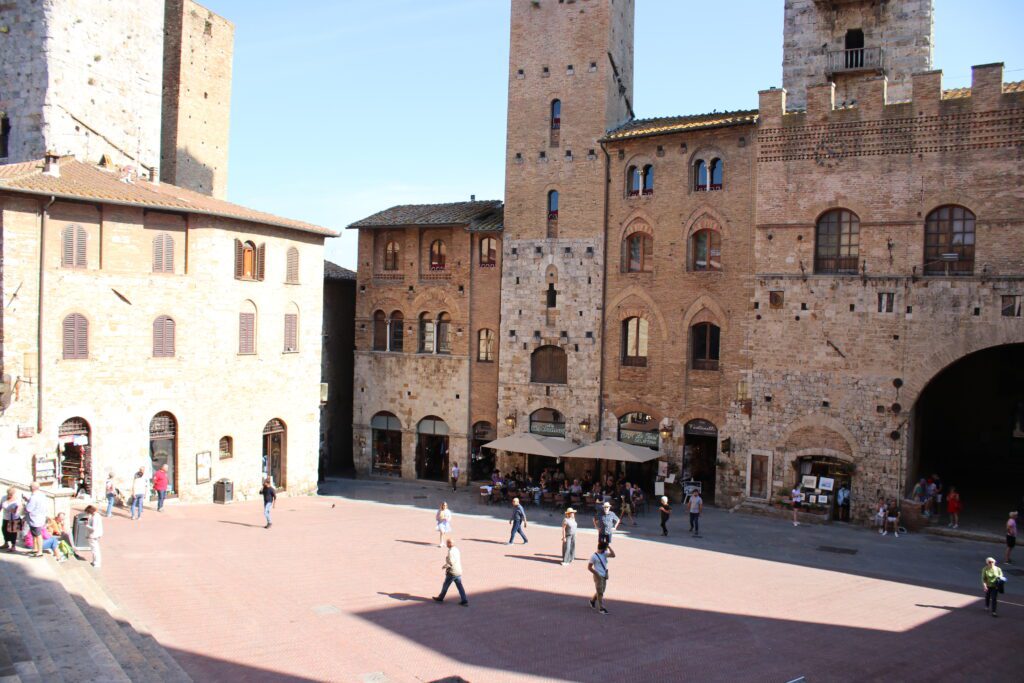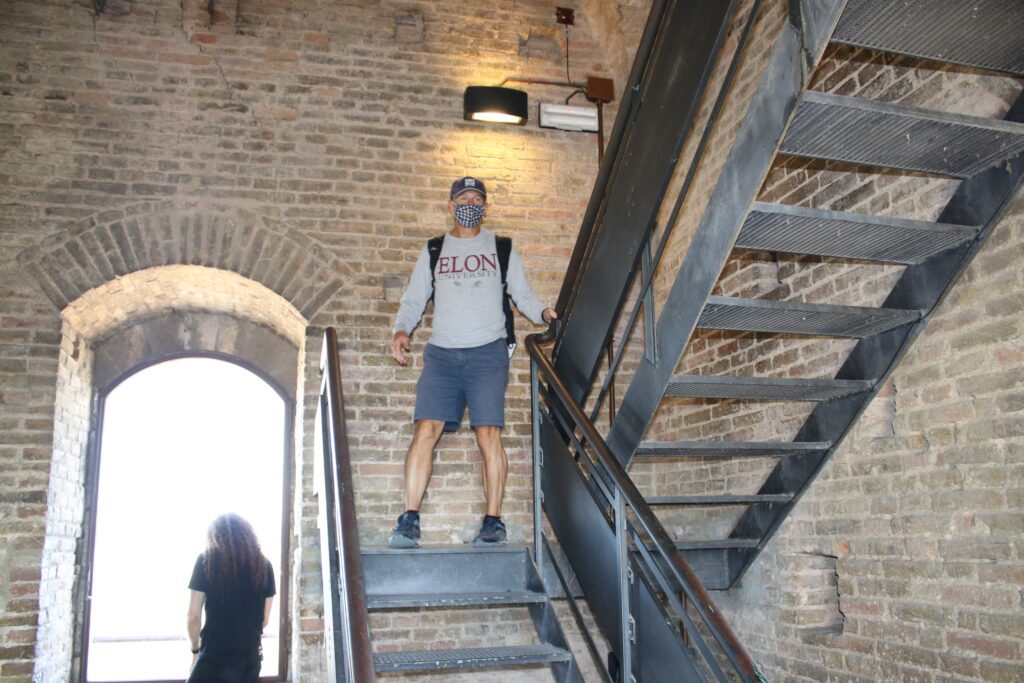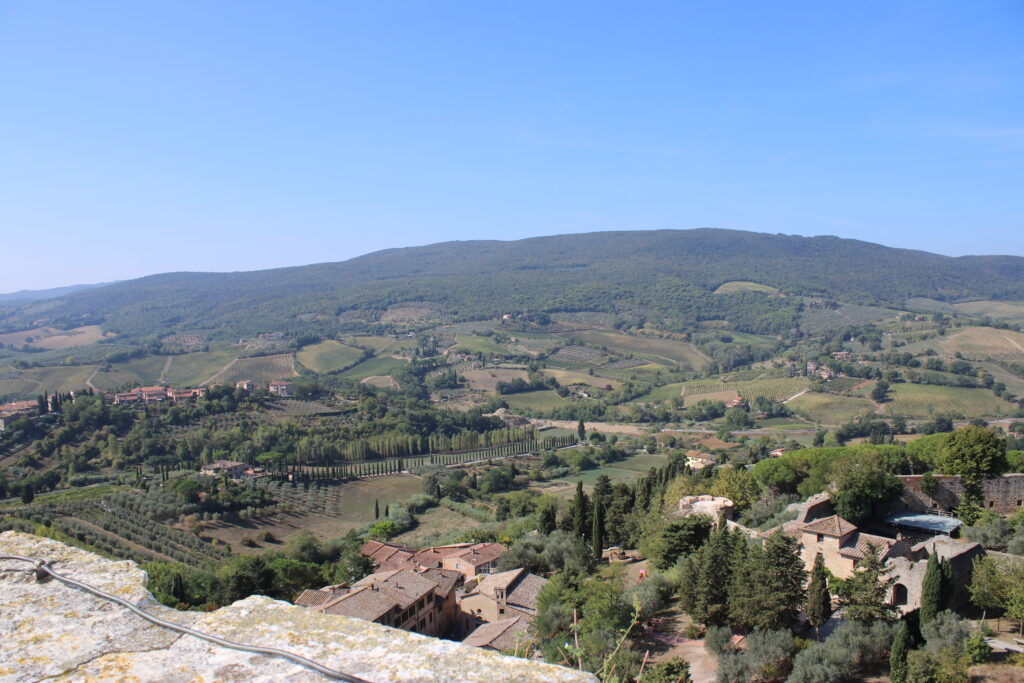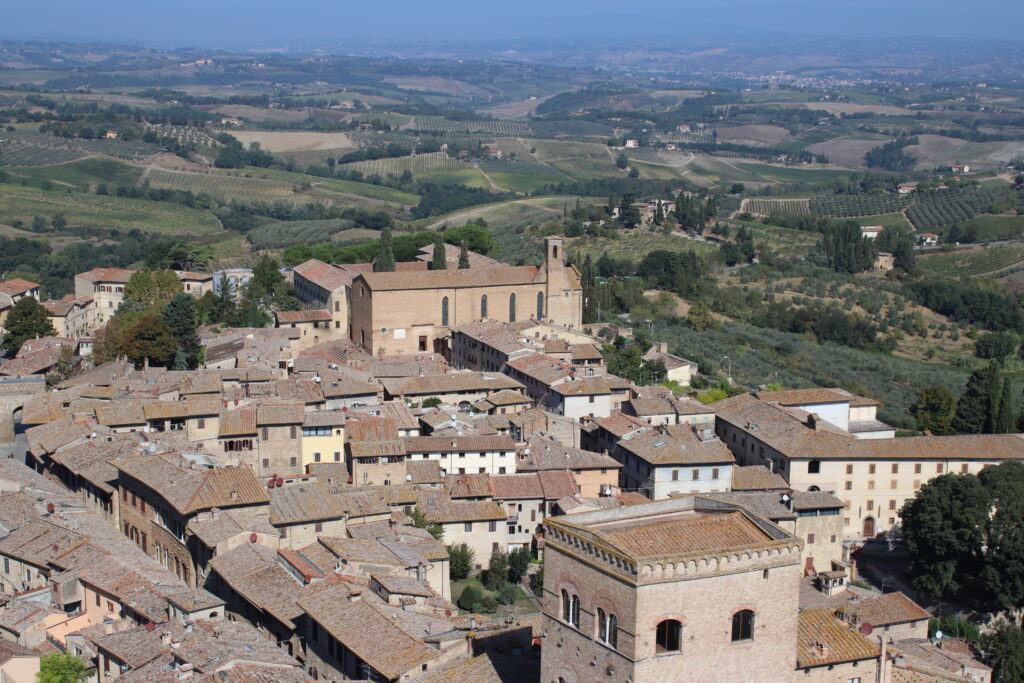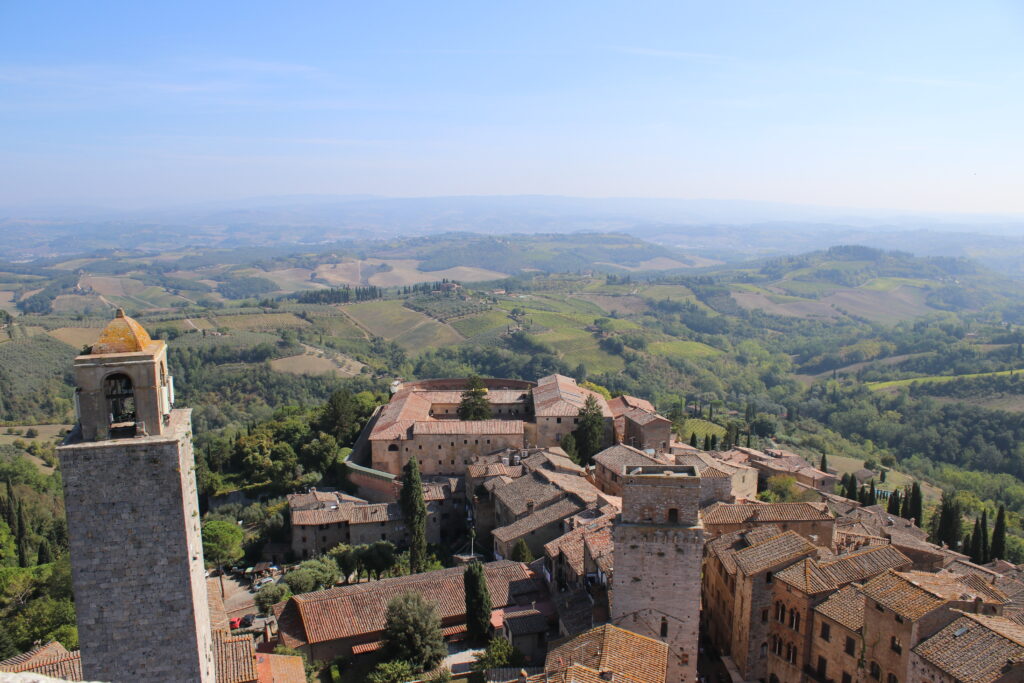 We headed to the duomo next door. We both were wearing shirts that covered our shoulders, shorts and baseball hats. To enter the church Michele needed to wear a paper skirt, but could keep her hat on. Jim had to remove his hat, but his shorts were considered fine.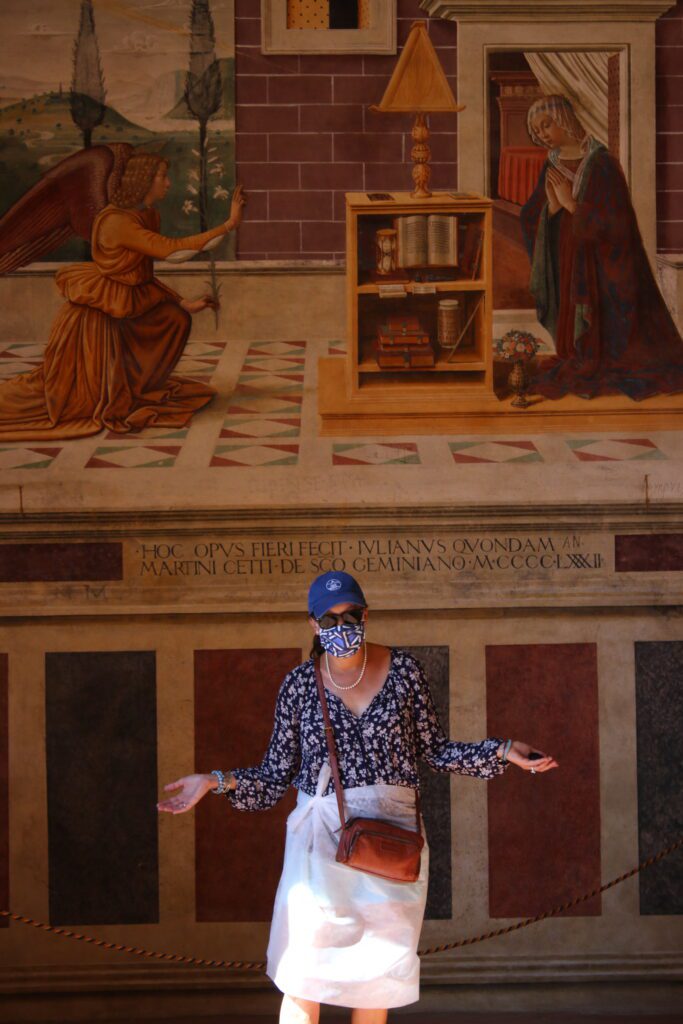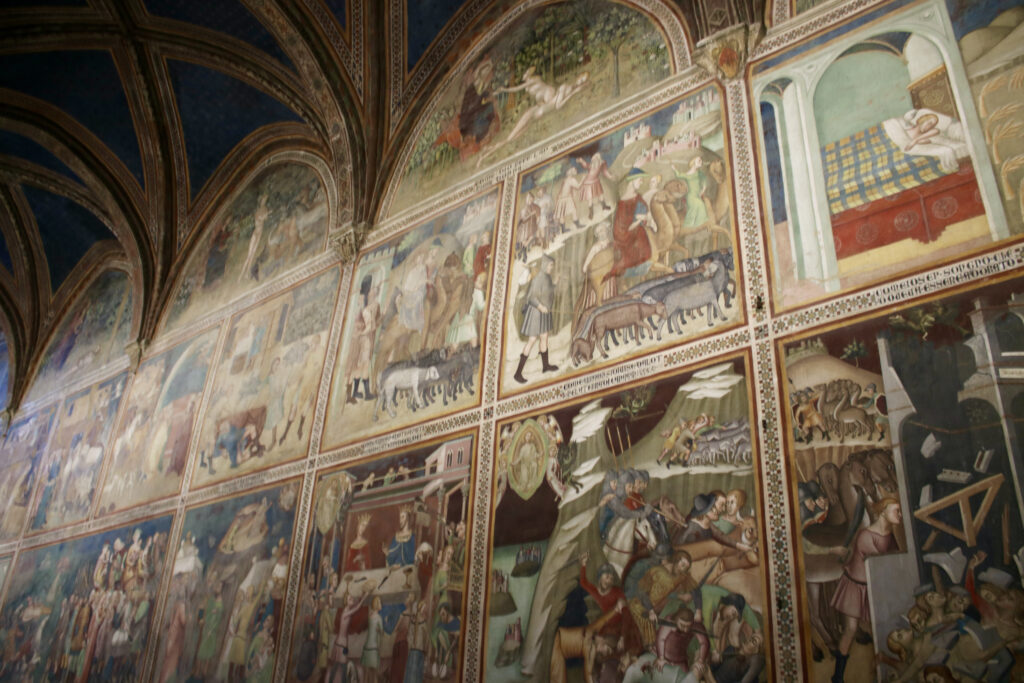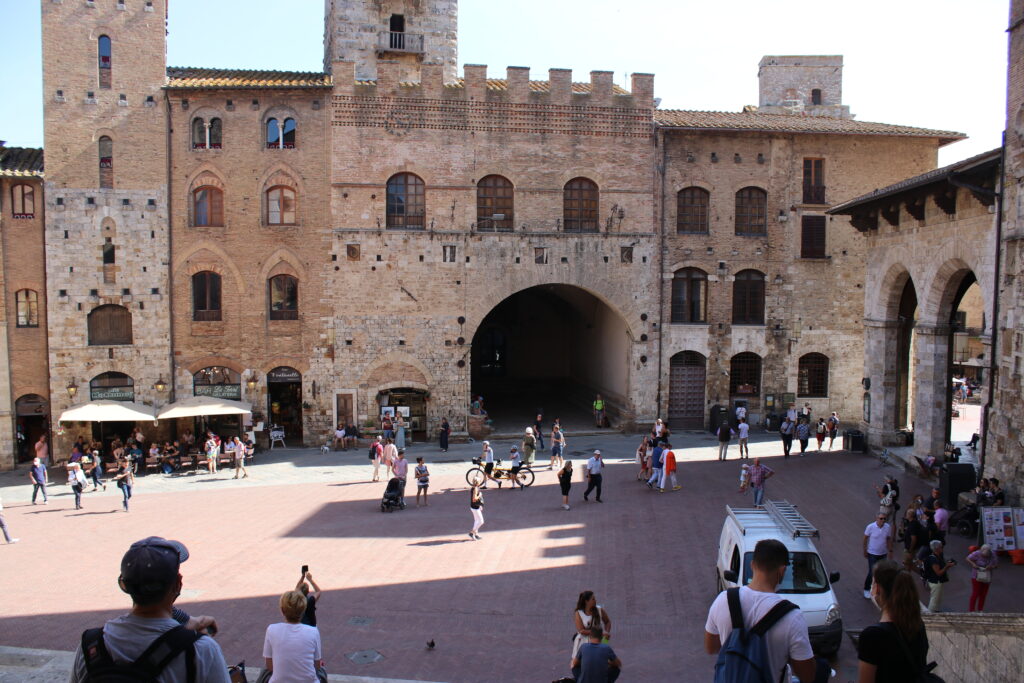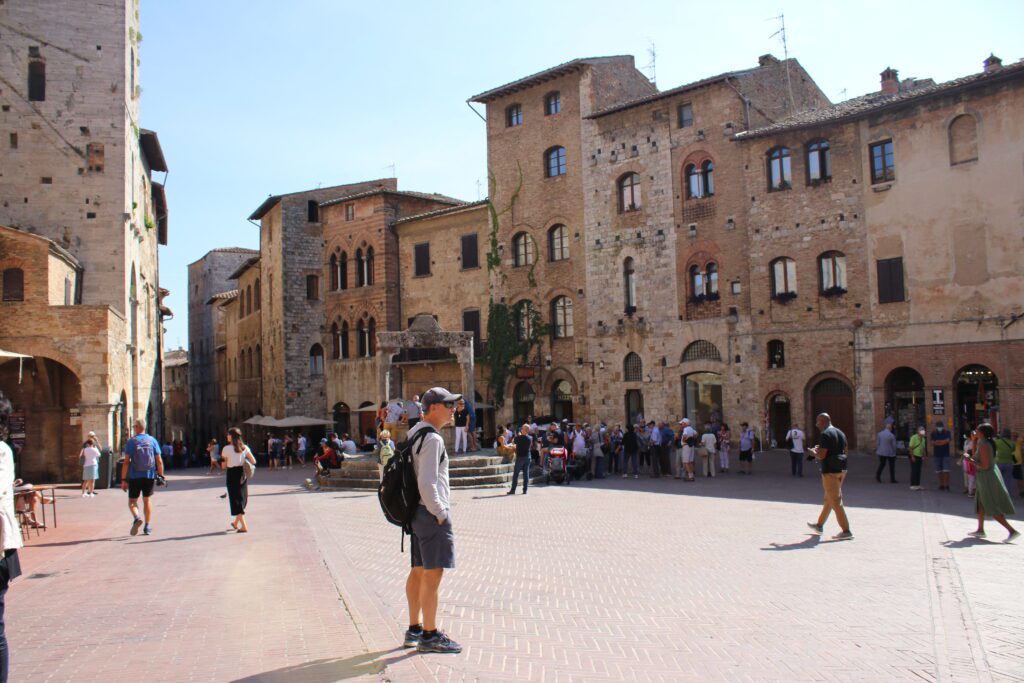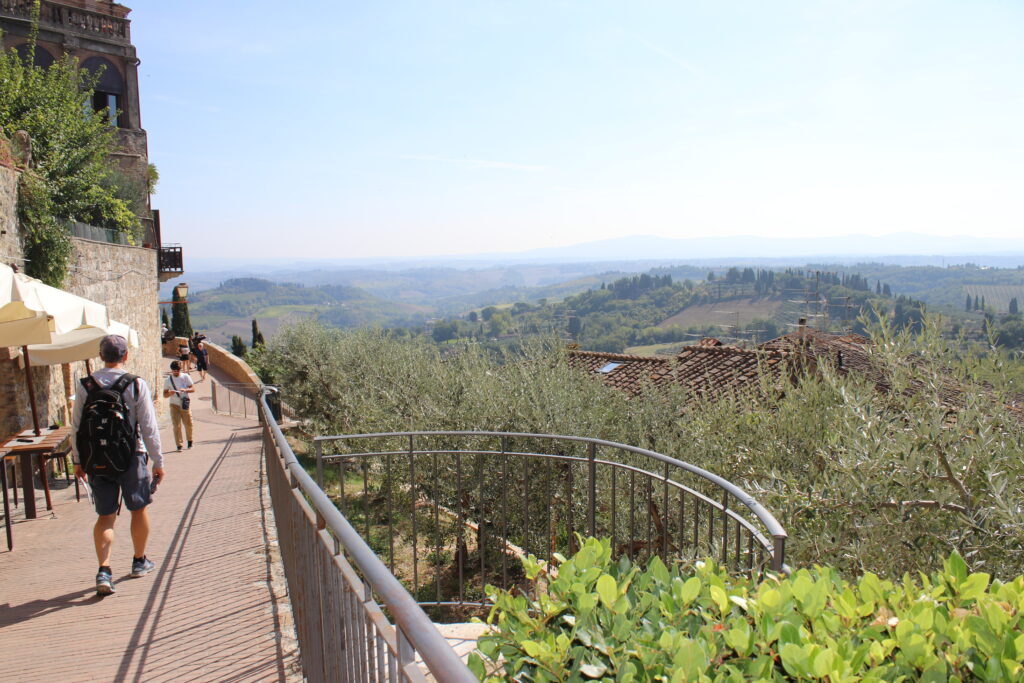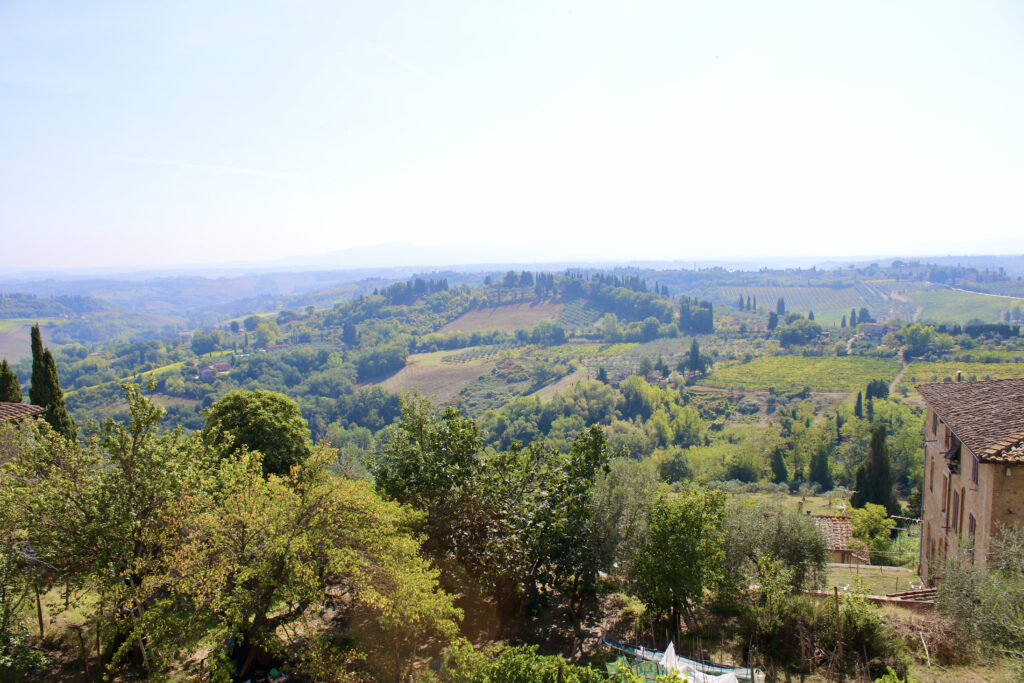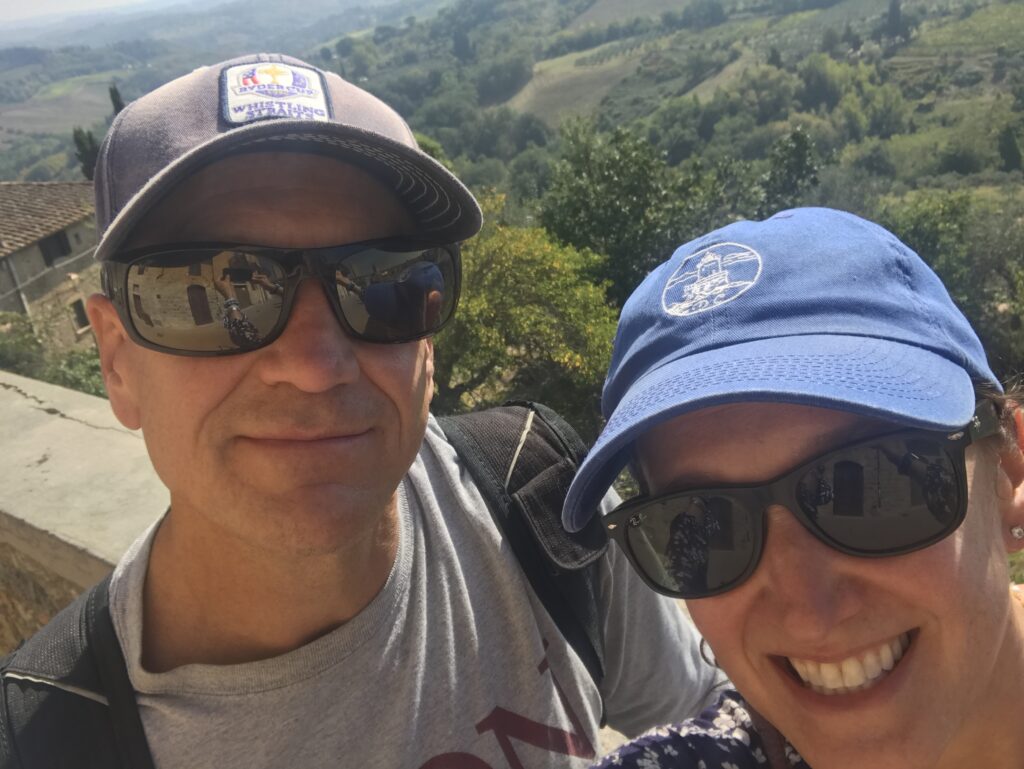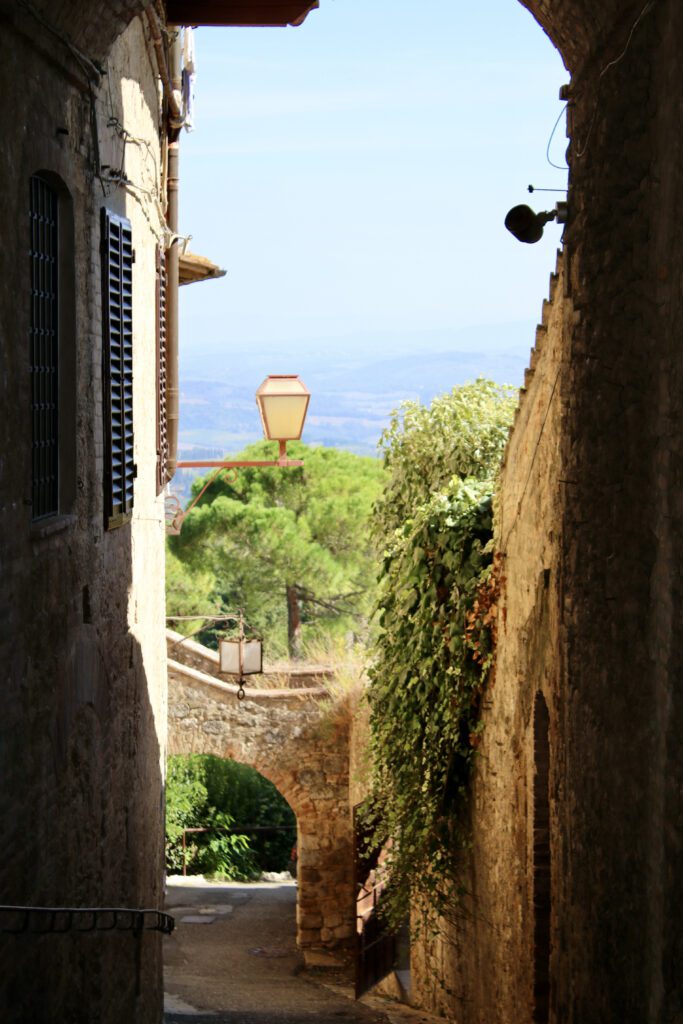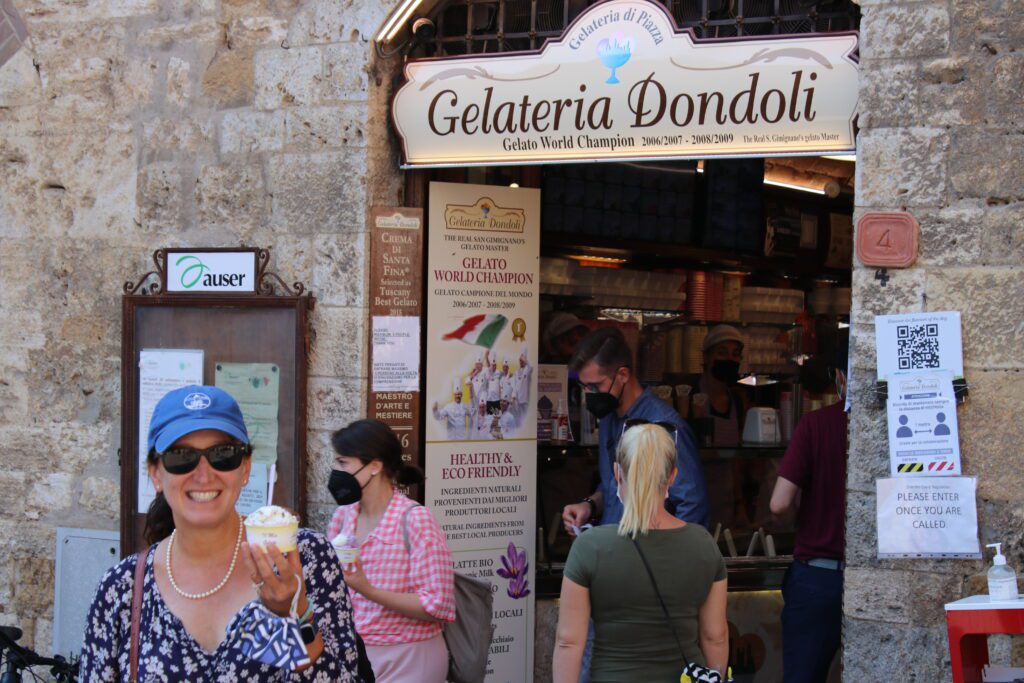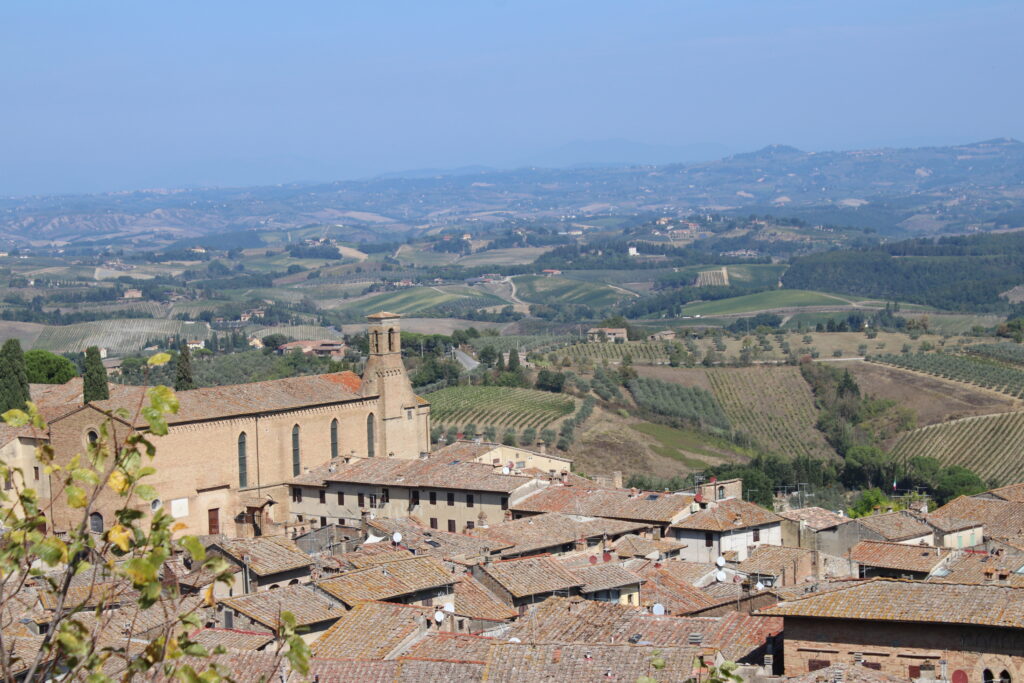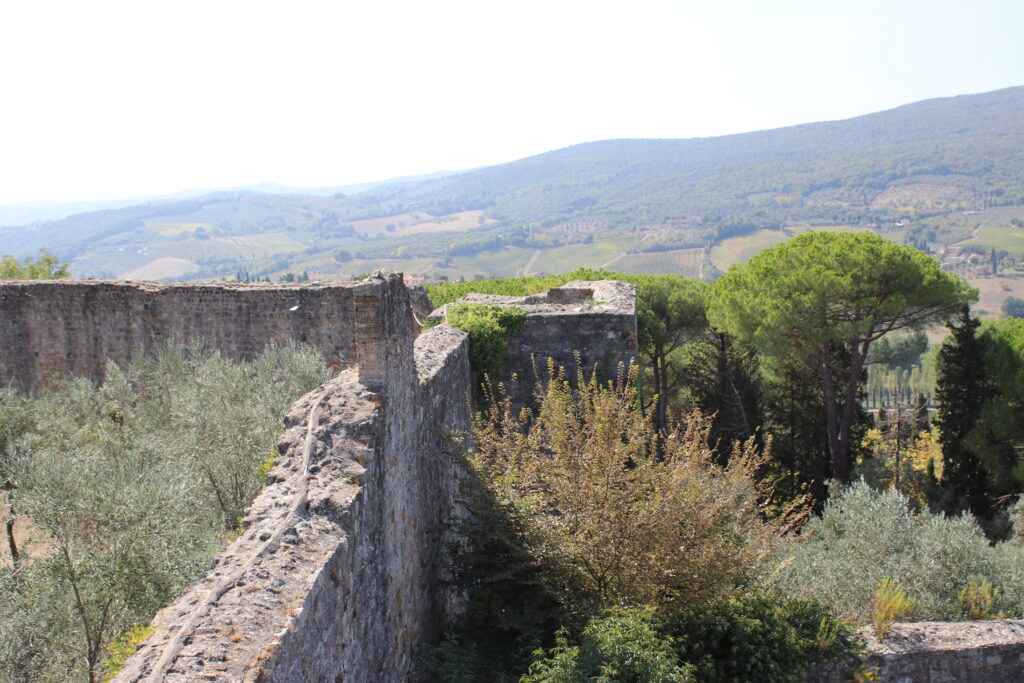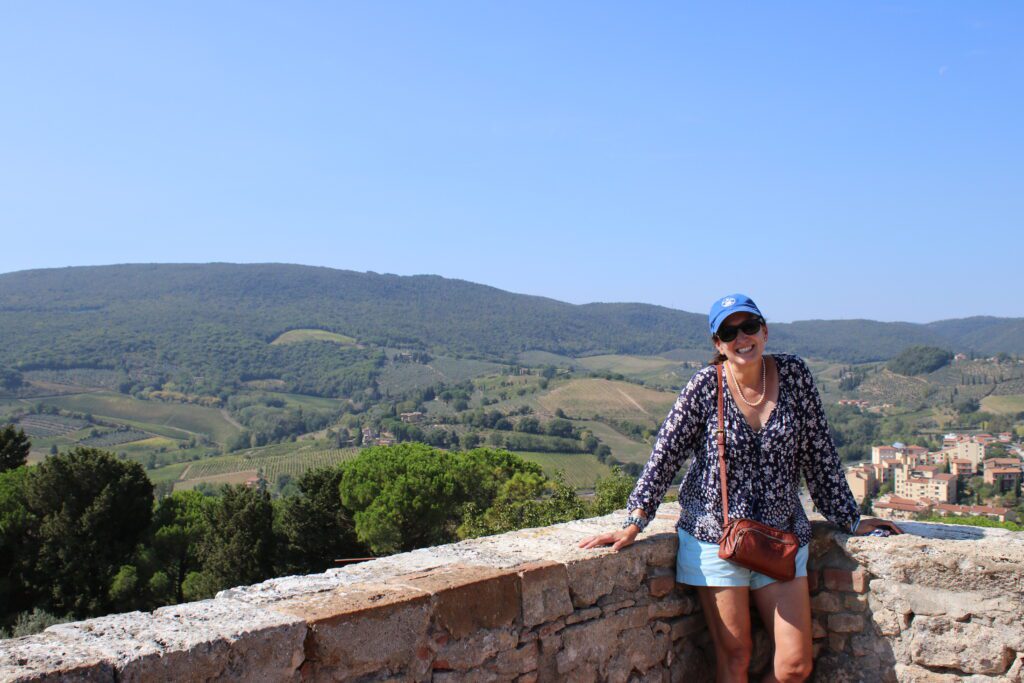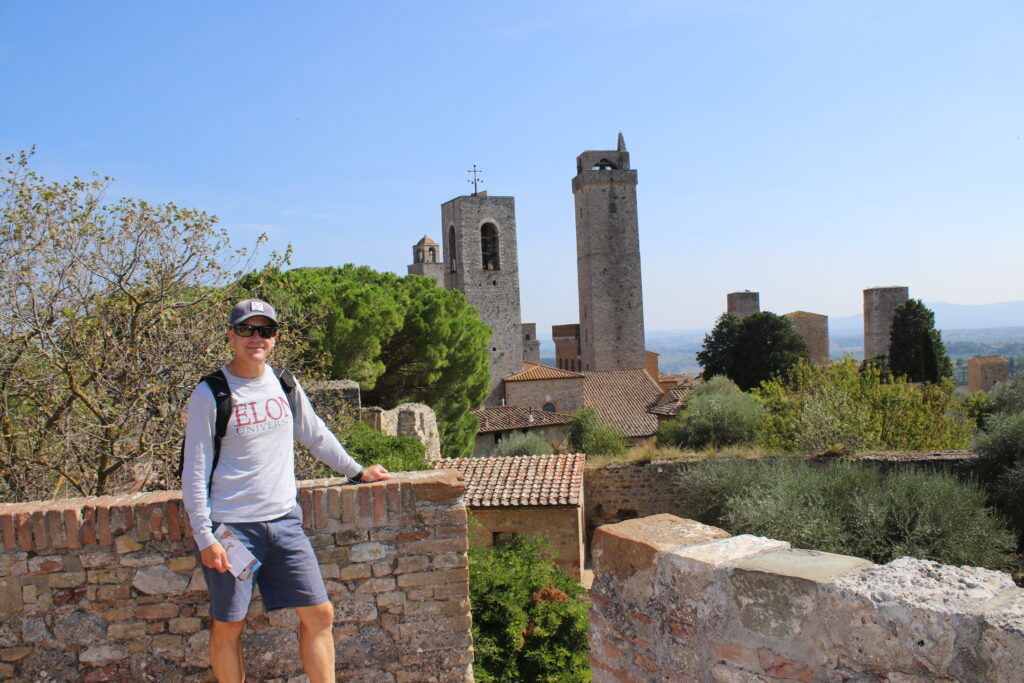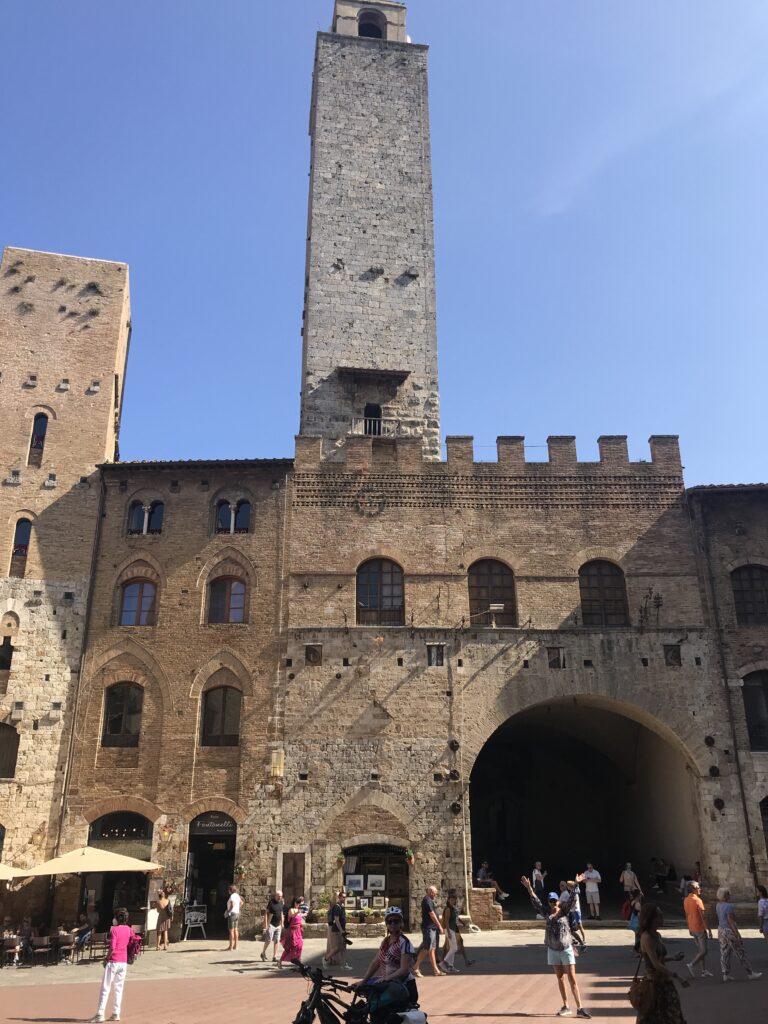 It was hard to leave San Gimignano as it is so beautiful and charming. But, we needed to get to Florence for more adventures!
Villa Costanza
From San Gimignano, it was about an hour to Villa Costanza. We chose to leave our rental car here and train into the city of Florence. Italy has instituted ZTL – or restricted/limited traffic zone in city centers, hill towns, Cinque Terre, Venice and many other places. ZTLs are monitored by hundreds of cameras in the city centers. The fines for driving in these are STEEP. Our hotel told us to follow the directions they gave us "exactly" or risk a €300 fine. They strongly suggested not using GPS, and informed us that the parking would cost us €50/day. After doing some internet research, we decided, the risk was not worth the reward.
We chose to drive to Villa Costanza, which is right off the autostrada. Designed to be easy and safe for people and cars, it was the right choice! We paid €7/day and less than €4/person round trip for an easy tram into the city center that was just blocks from our hotel.
Since these ZTLs have been instituted, the amount of traffic is SO much less in the heart of these amazing cities and towns. The tram runs constantly and is easy, clean and convenient!
Florence
Michele visited Florence while backpacking in 1989. She found it hot and very crowded with insane traffic and people and busses trying to run you over! Now, in the city center, because of the ZTLs, almost all streets are broad pedestrian walkways. Trucks have to be gone by 10am. Occasionally, you have a taxi honking at you. The city is so much better. We traveled in September 2021, so tourism was still light due to covid.
Hotel Calimala
We chose to stay at Hotel Calimala right in the city center. Located very close to the Ponte Vecchio, the Palazzo Vecchio, the Piazza della Republica, and the duomo, the Hotel Calimala is a walker's delight! Our room was spacious with a great view of the Palazzo Vecchio tower, art deco touches and plenty of plugs and USB ports for charging. They usually have a nice buffet breakfast but that was suspended due to covid. We were offered a breakfast to-go box, but we declined as it was expensive and probably loaded with carbs and gluten, things we do not eat for breakfast.
The best part about the Hotel Calimala is the rooftop bar, Angel. It has magical views of Florence.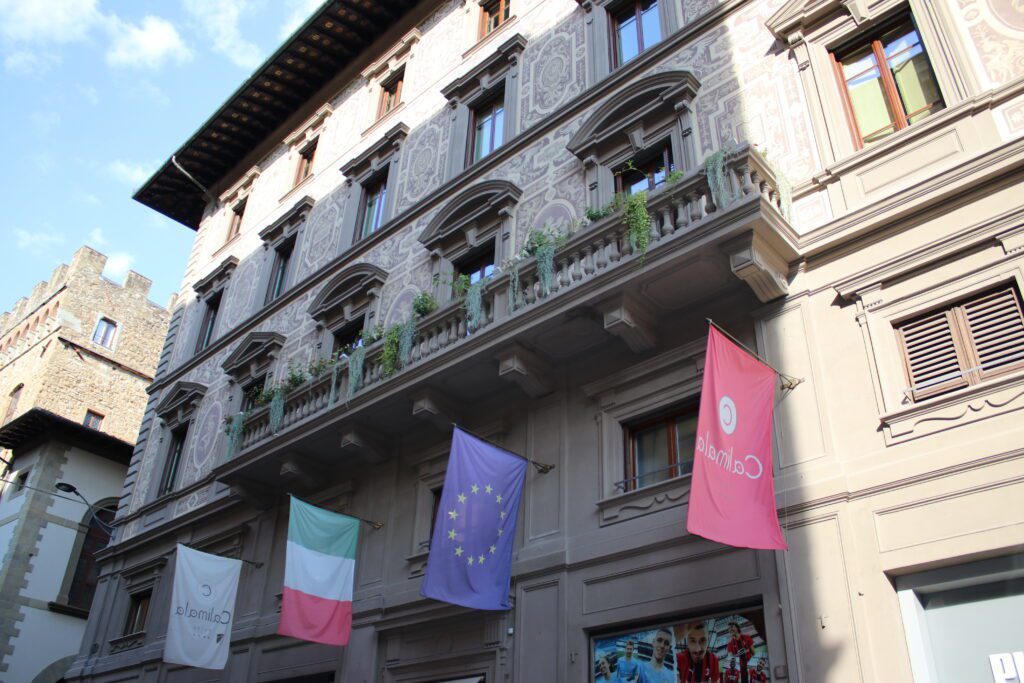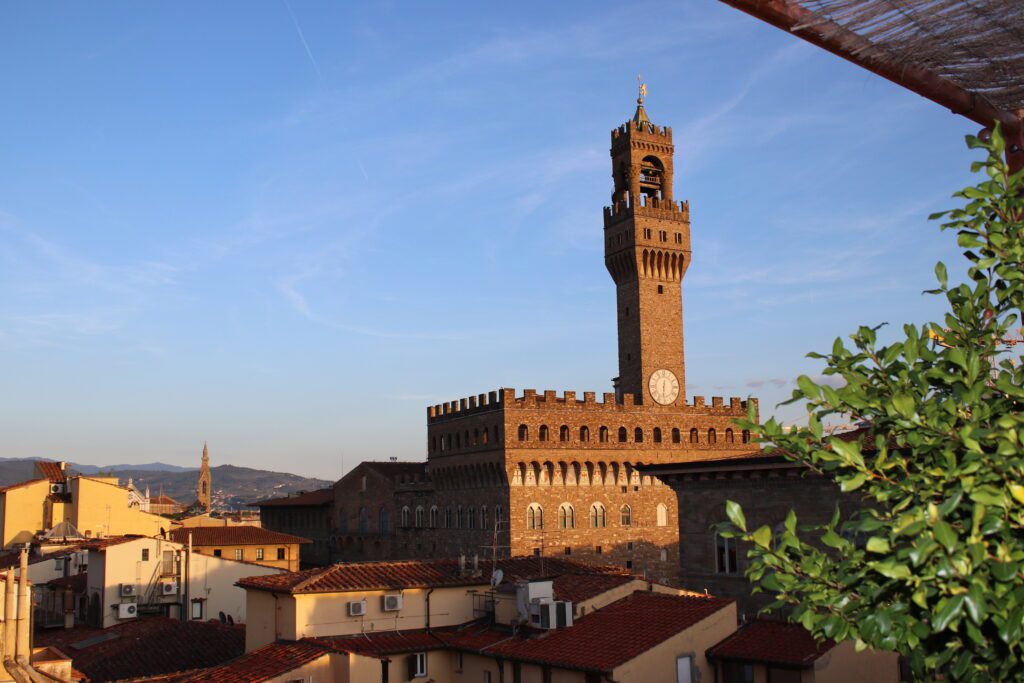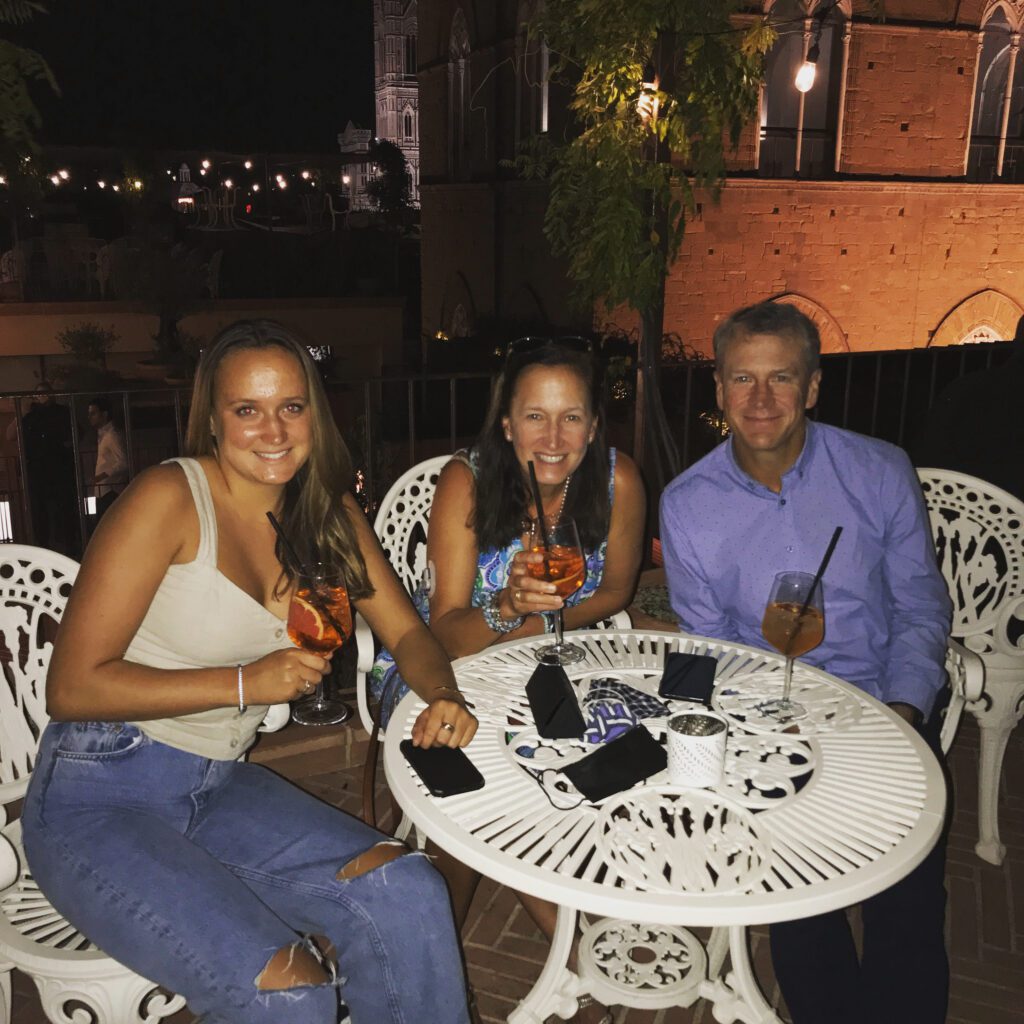 Palazzo Vecchio
The Palazzo Vecchio has been the seat of Florence's government for over 700 years. We bought tickets in advance. The museum is open until 7, but the last time to climb the tower is at 4pm. We were too late to climb the tower, but we enjoyed walking around the museum.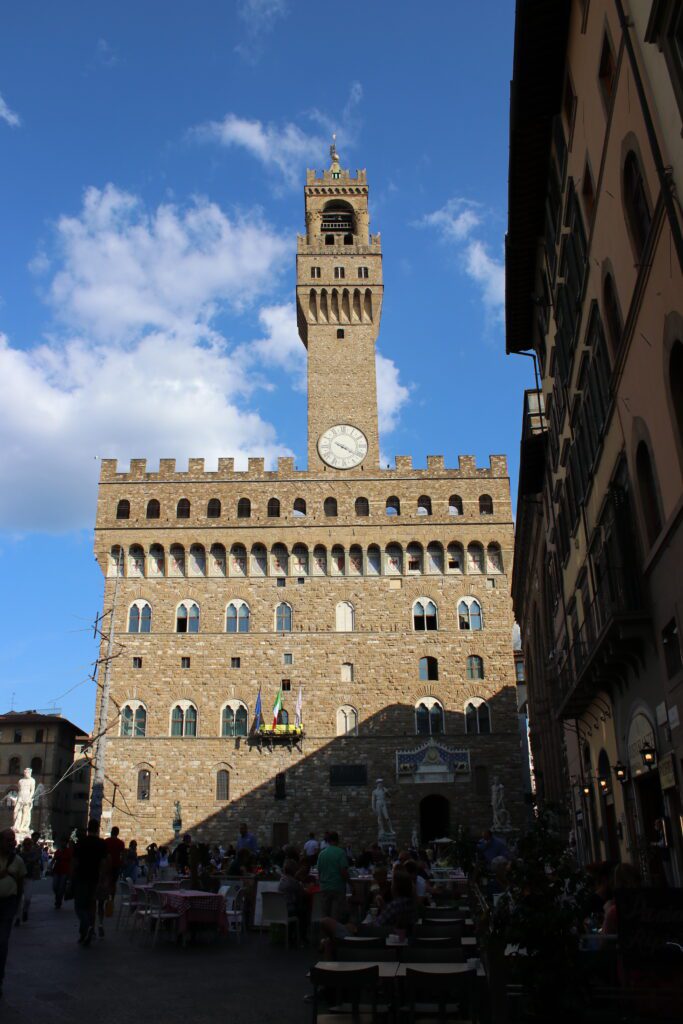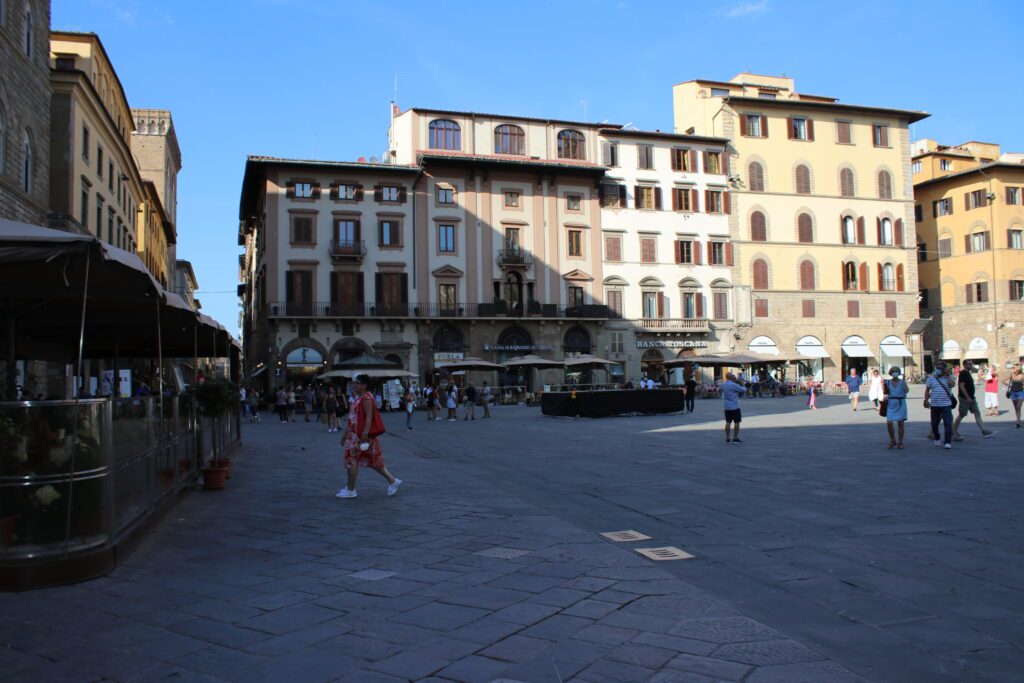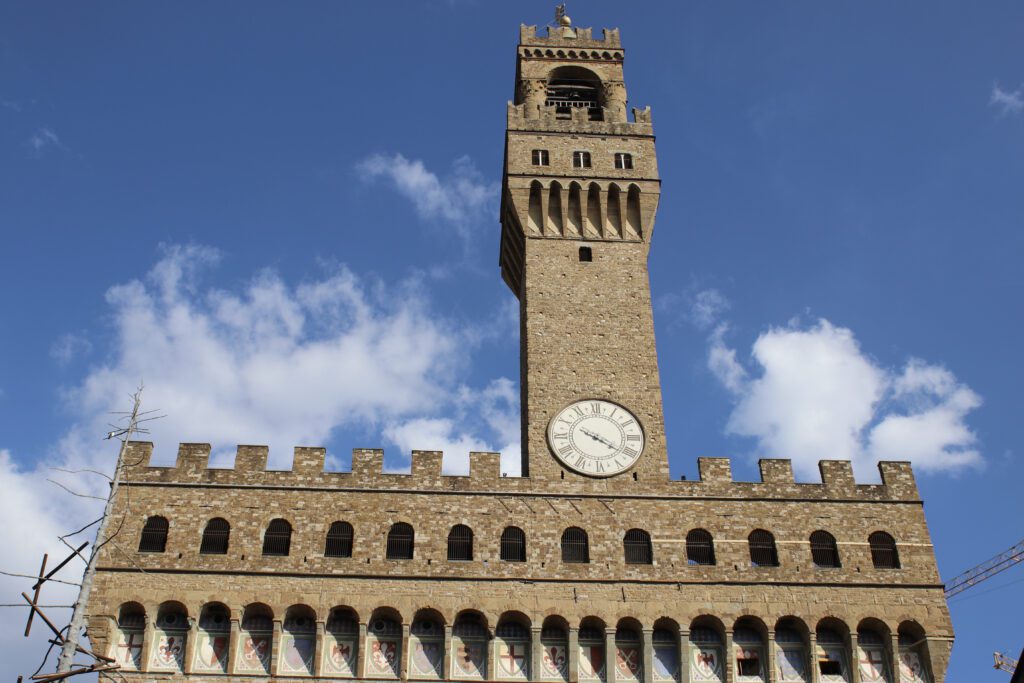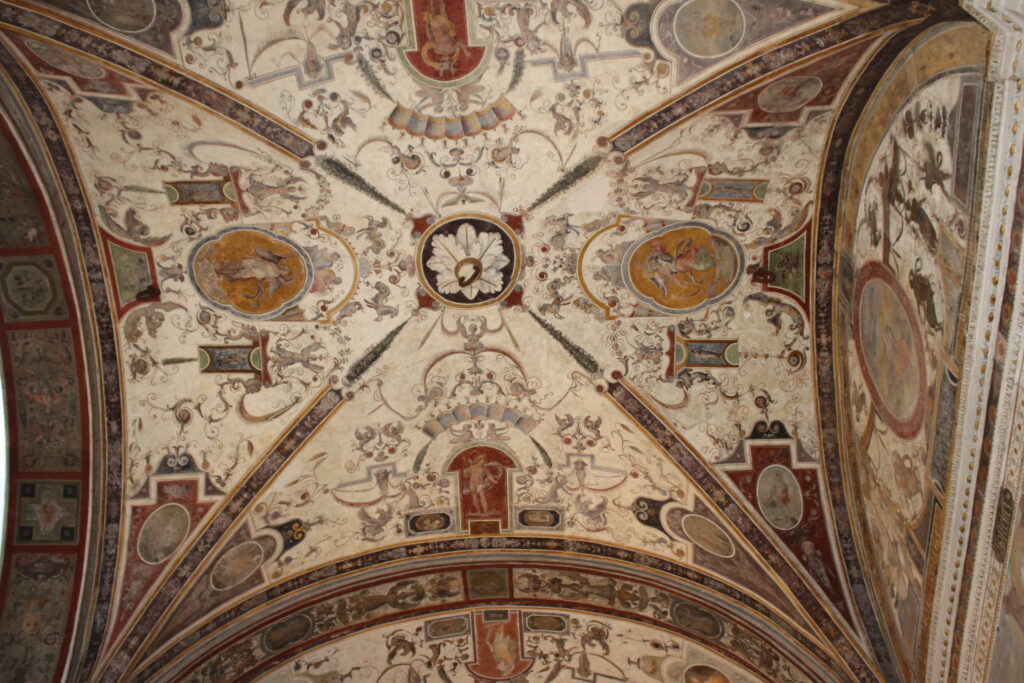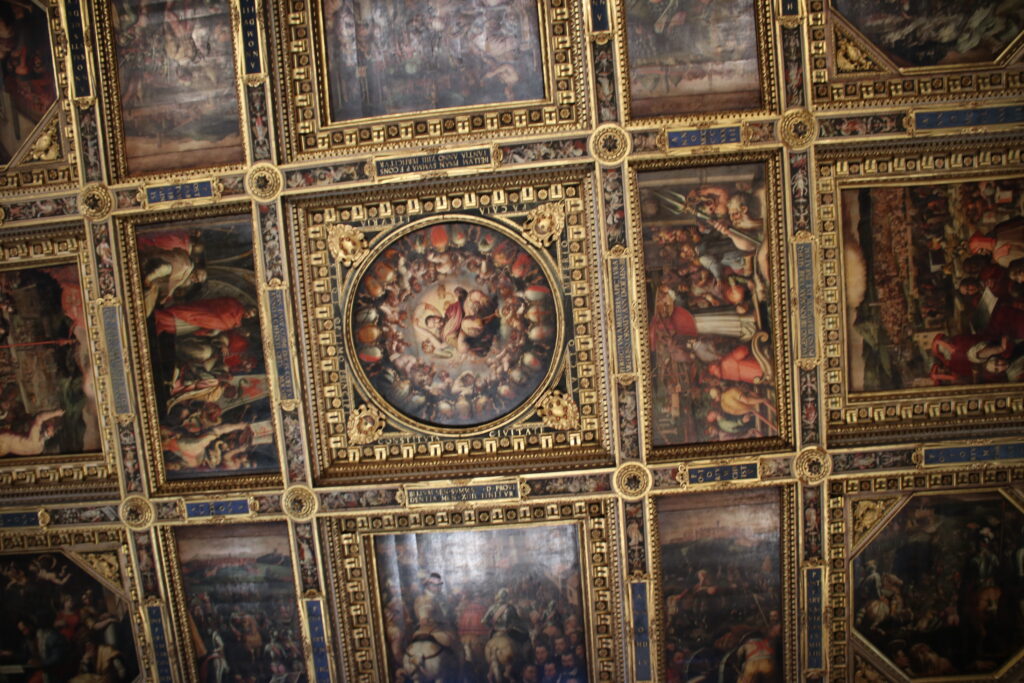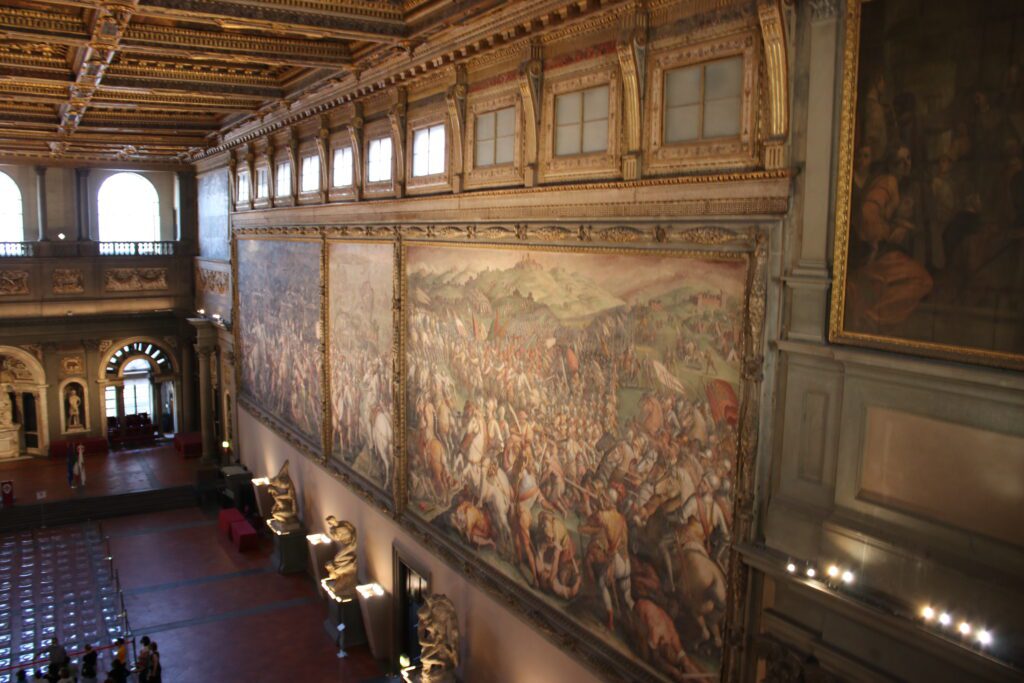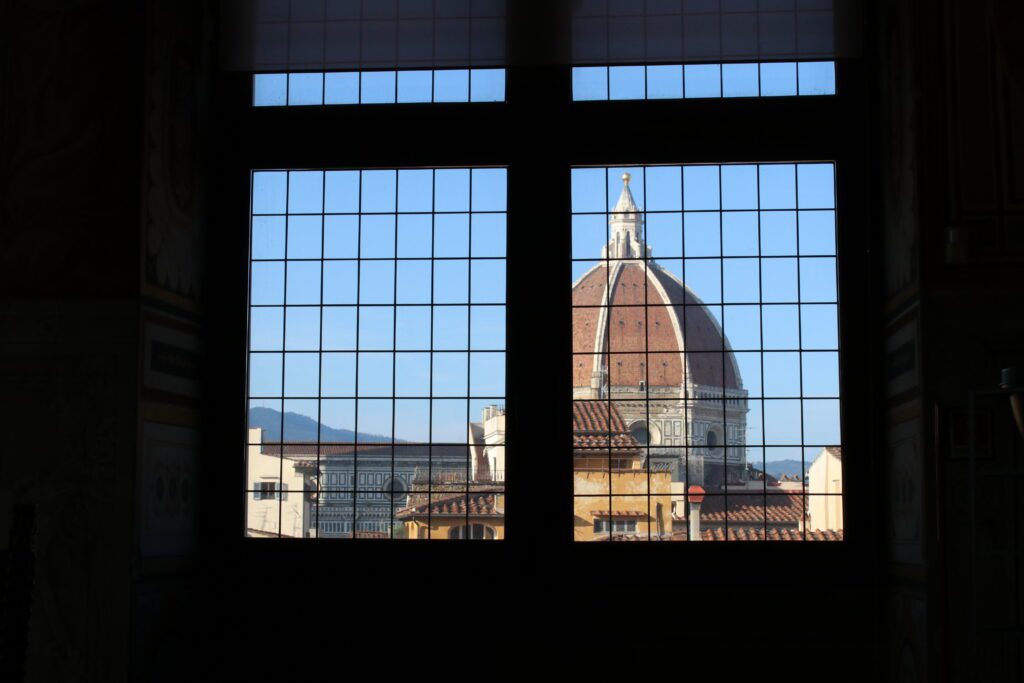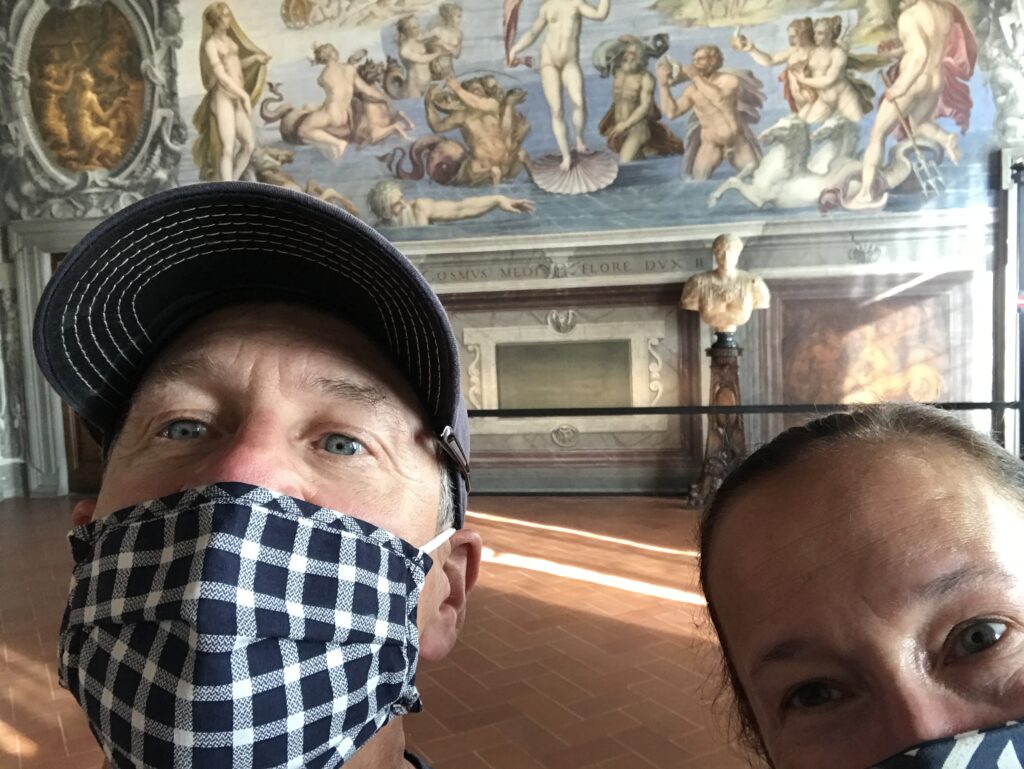 We ate with Kendall at La Bistecca Osteria Fiorentina in Piazza della Repubblica. The steak was delicious; however, the restaurant is quite expensive!
The Duomo, the Bell Tower, Museum and the Baptistry
The Duomo di Firenze, formally the Cattedrale di Santa Maria del Fiore is the main cathedral of Florence, Italy. It was begun in 1296 and was structurally completed by 1436, with the dome engineered by Filippo Brunelleschi. The exterior of the church is faced with marble panels in various shades of green and pink, bordered by white.
The cathedral complex includes the church, the Baptistery and museum and Giotto's Campanile (Bell Tower). The basilica is one of Italy's largest churches. It remains the largest brick dome ever constructed.
We purchased timed tickets in advance to climb to the top of the dome, climb the bell tower and climb to the terraces (part of the church). We did not visit the baptistry or the museum. We highly recommend getting your tickets in advance and going early in the morning before the tour busses and cruise ship passengers arrive. Be sure to visit the official site of the duomo as you will pay less than getting your tickets from a third party operator.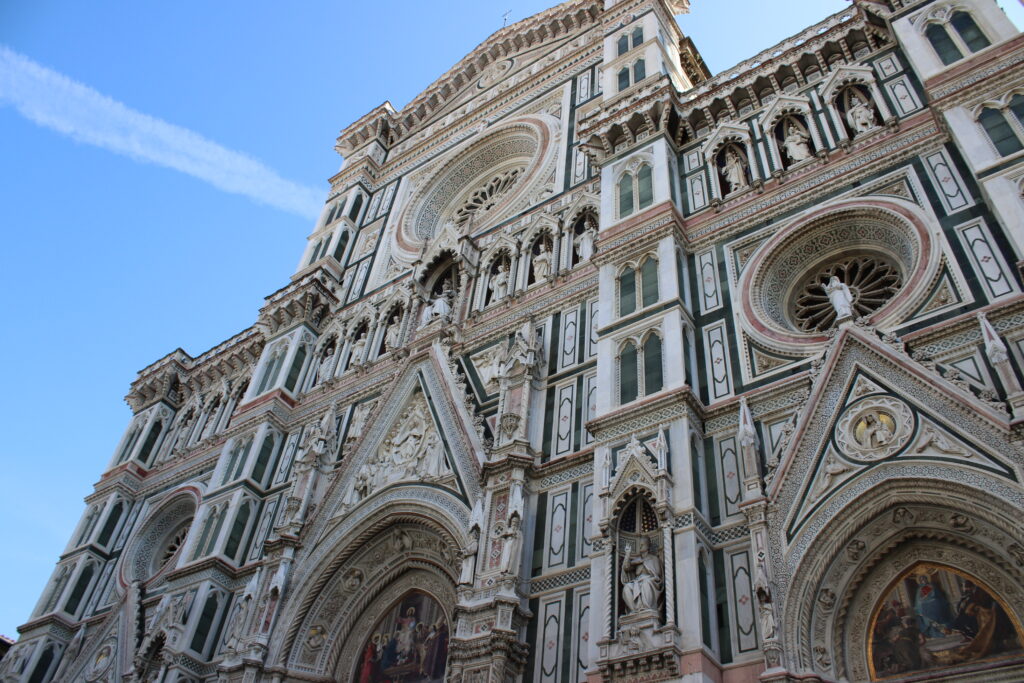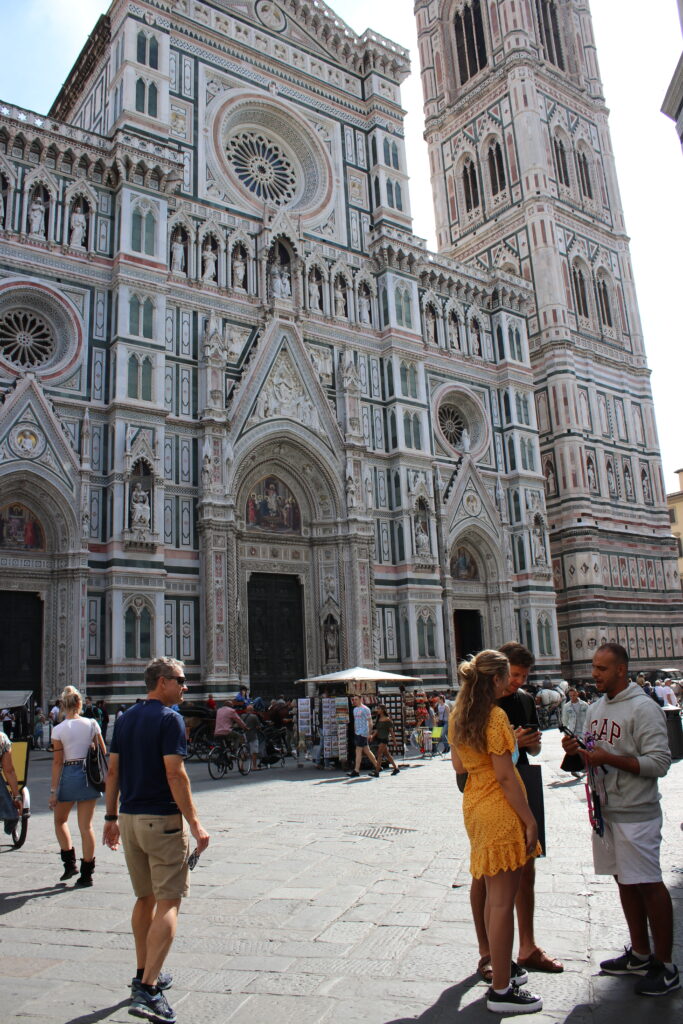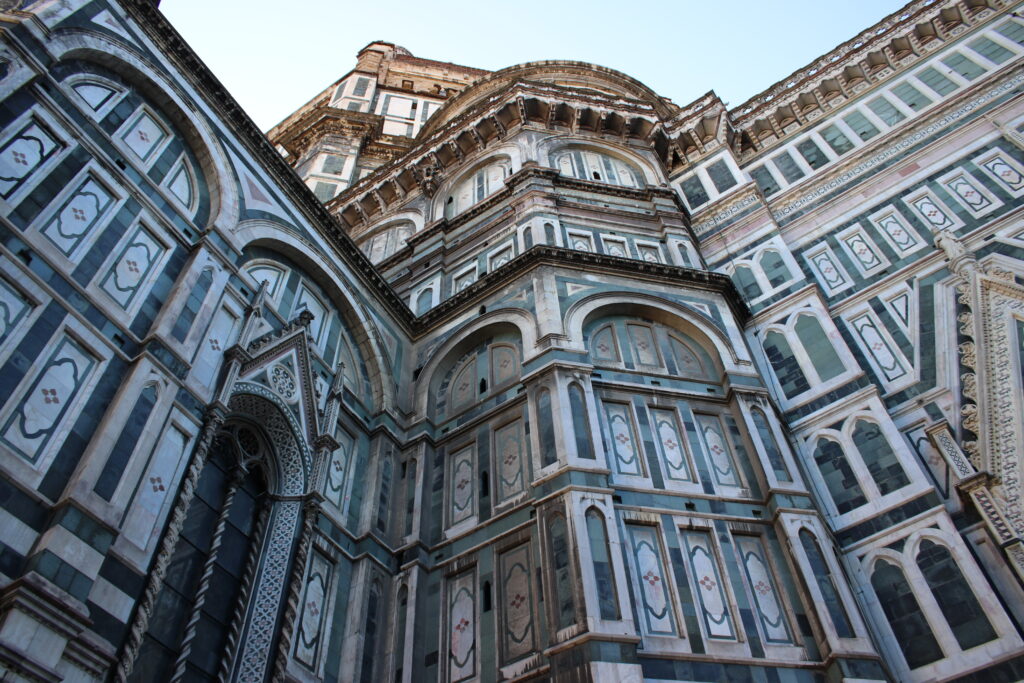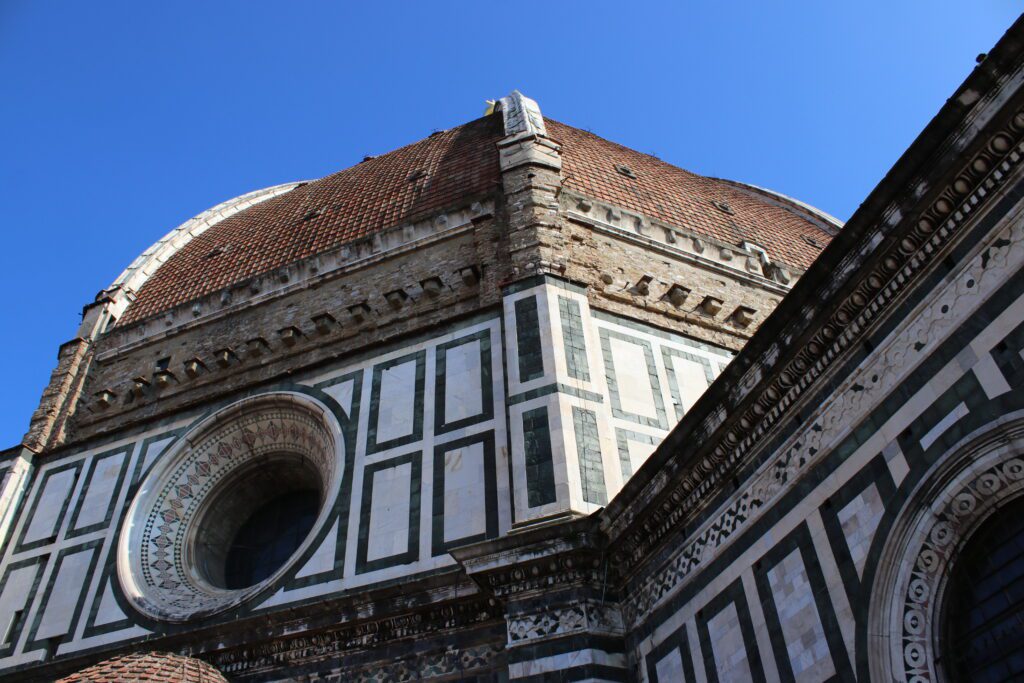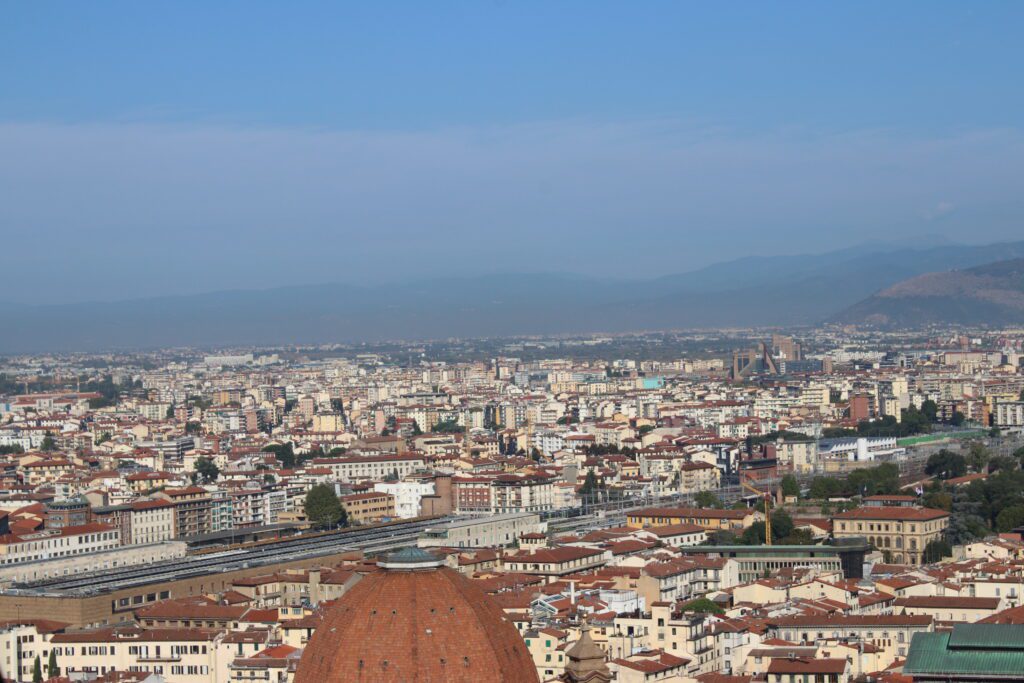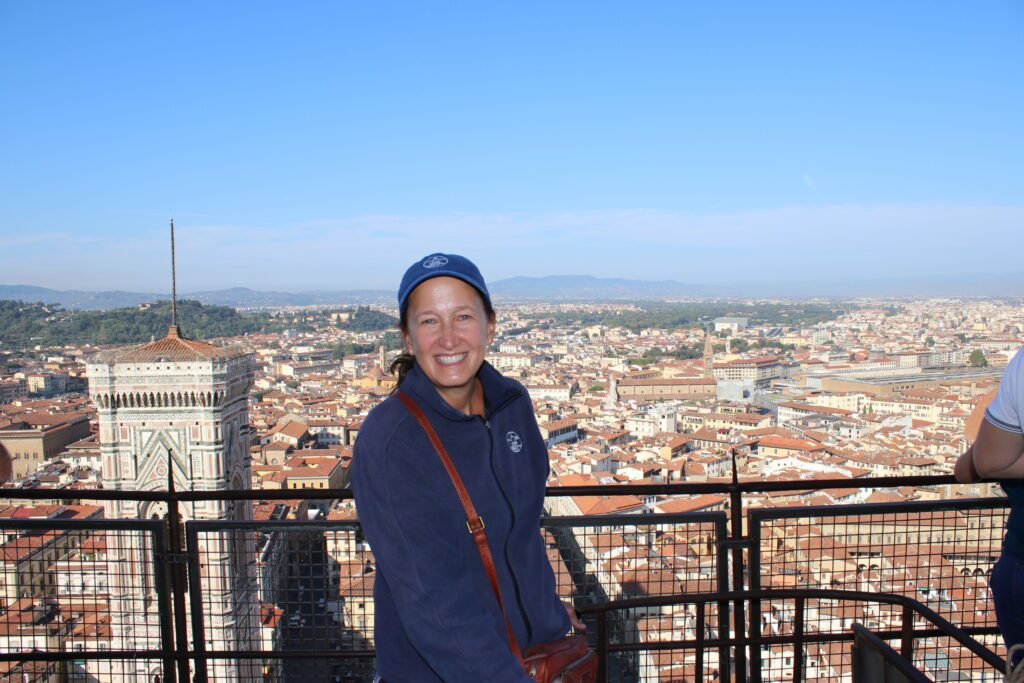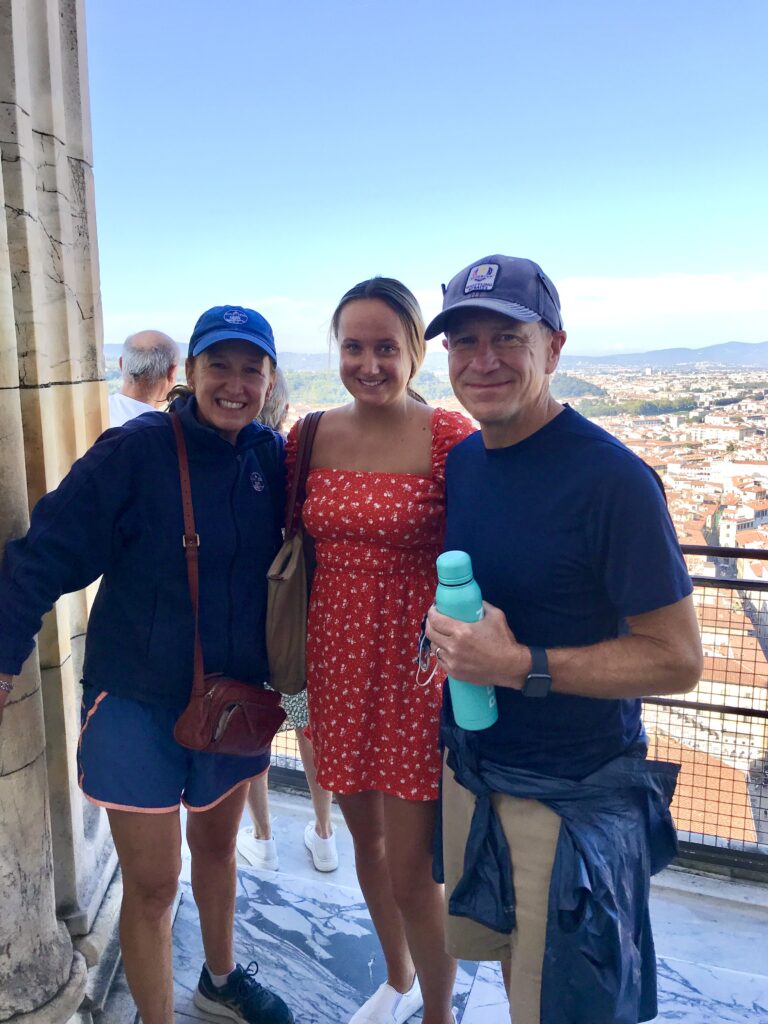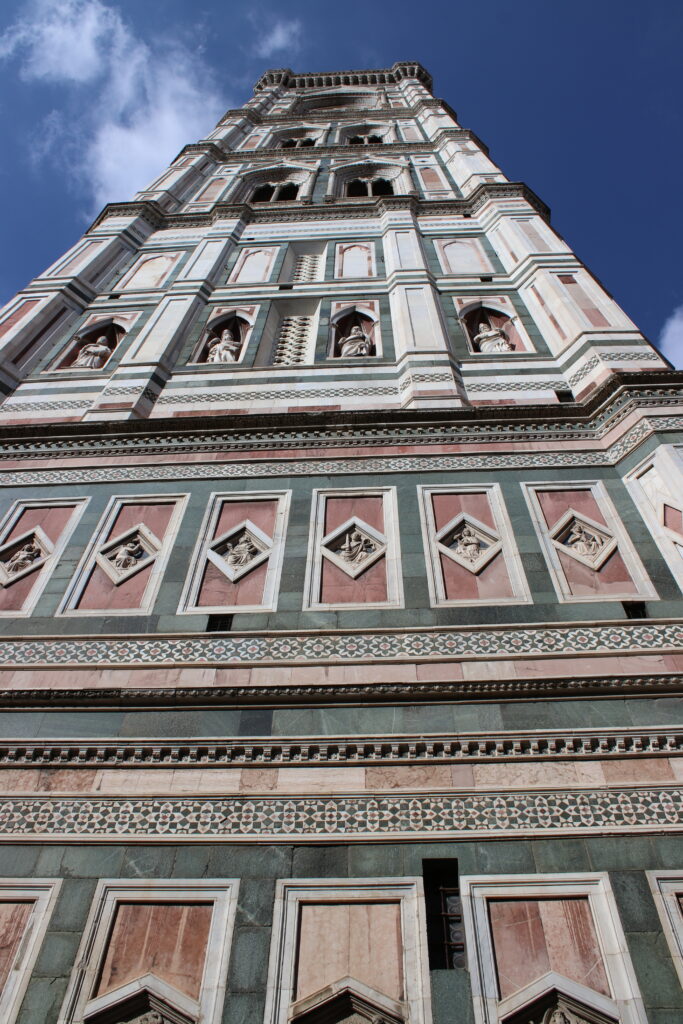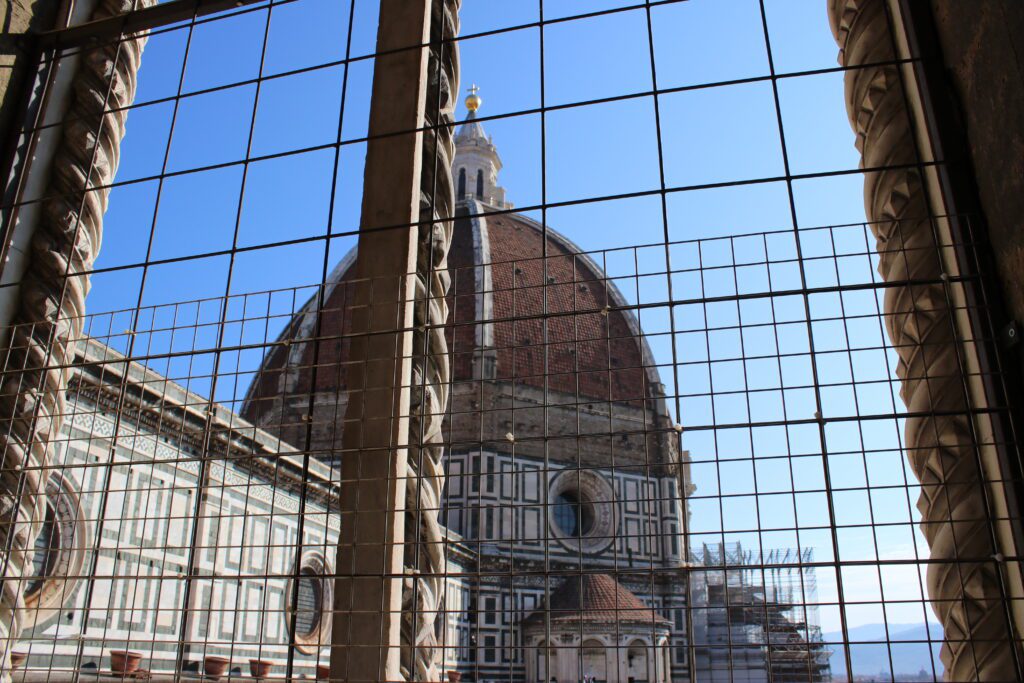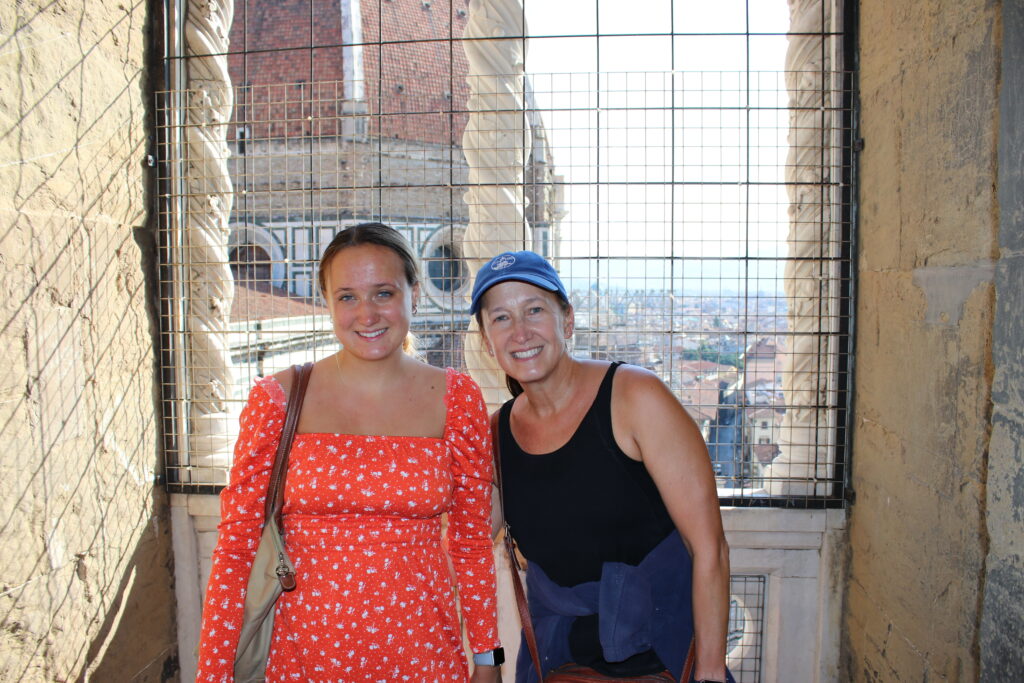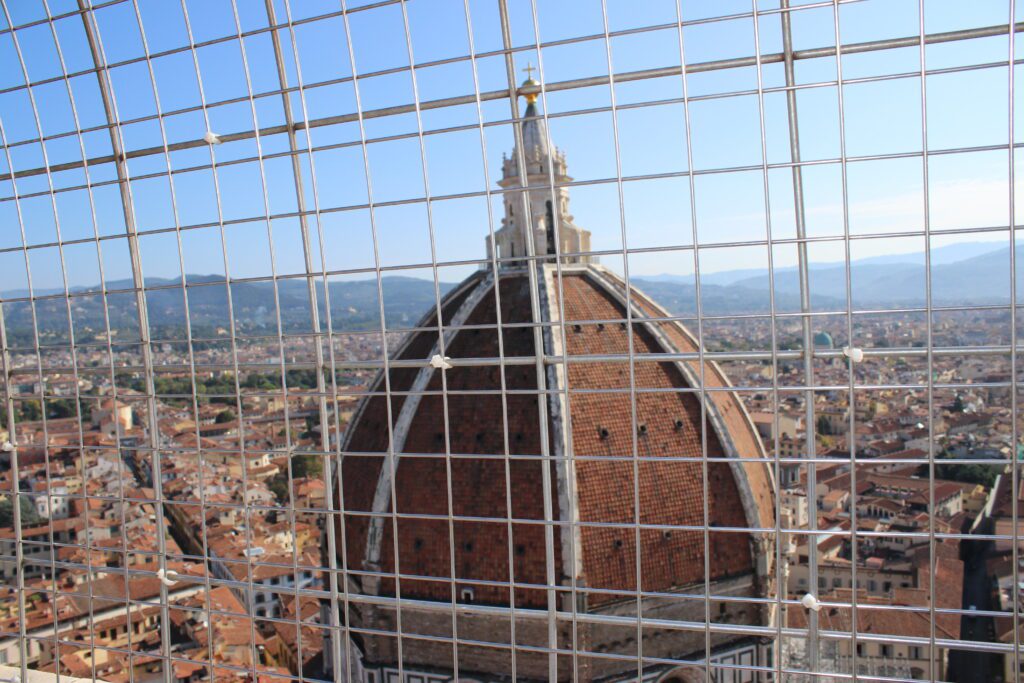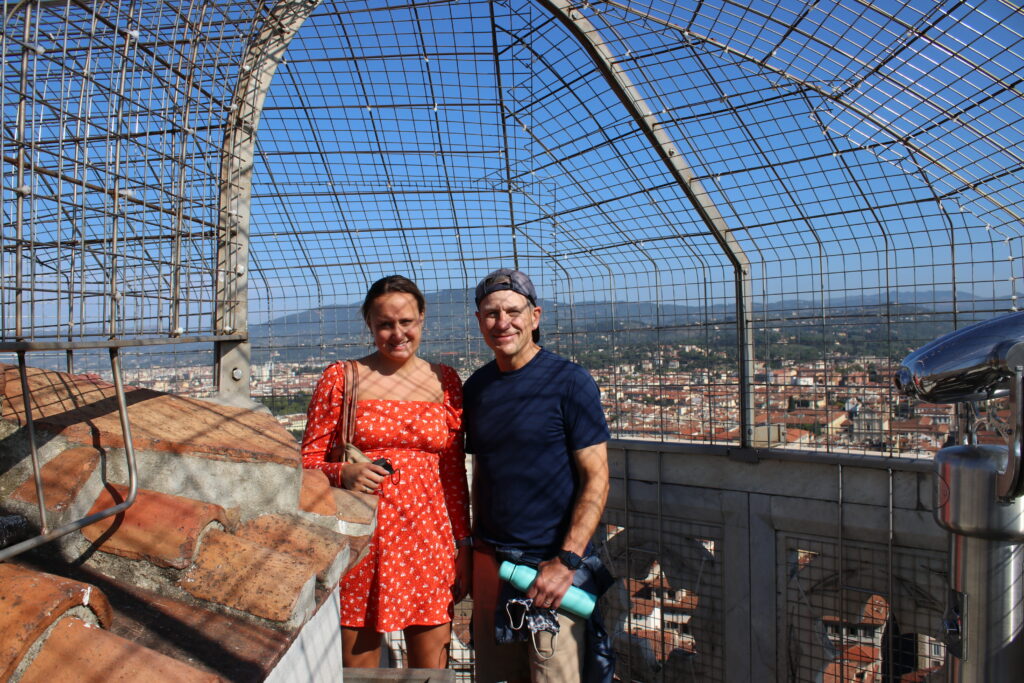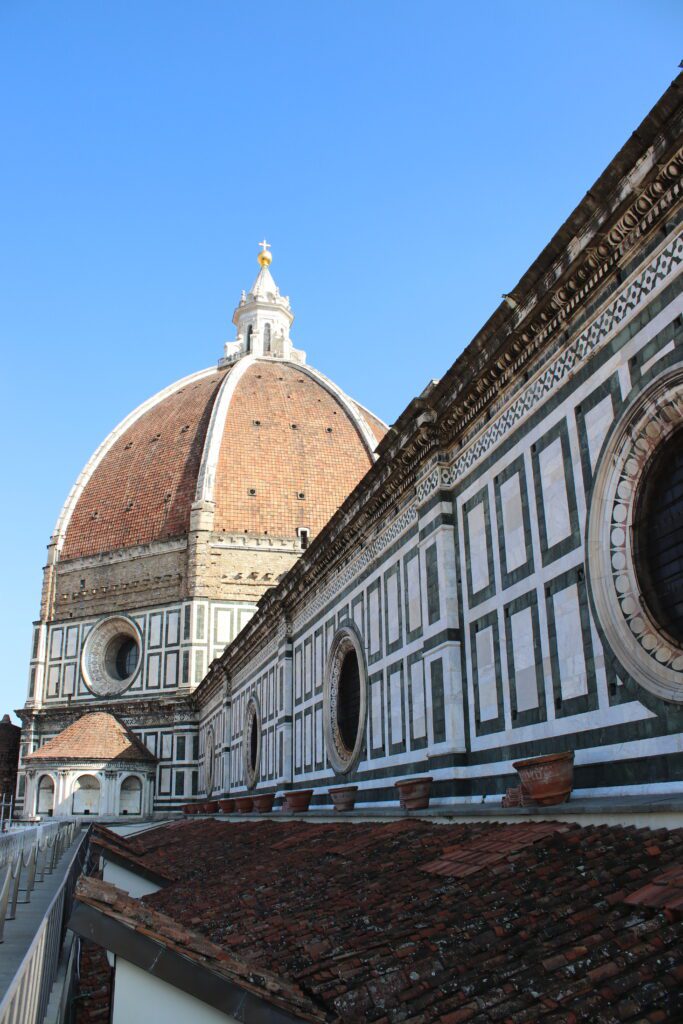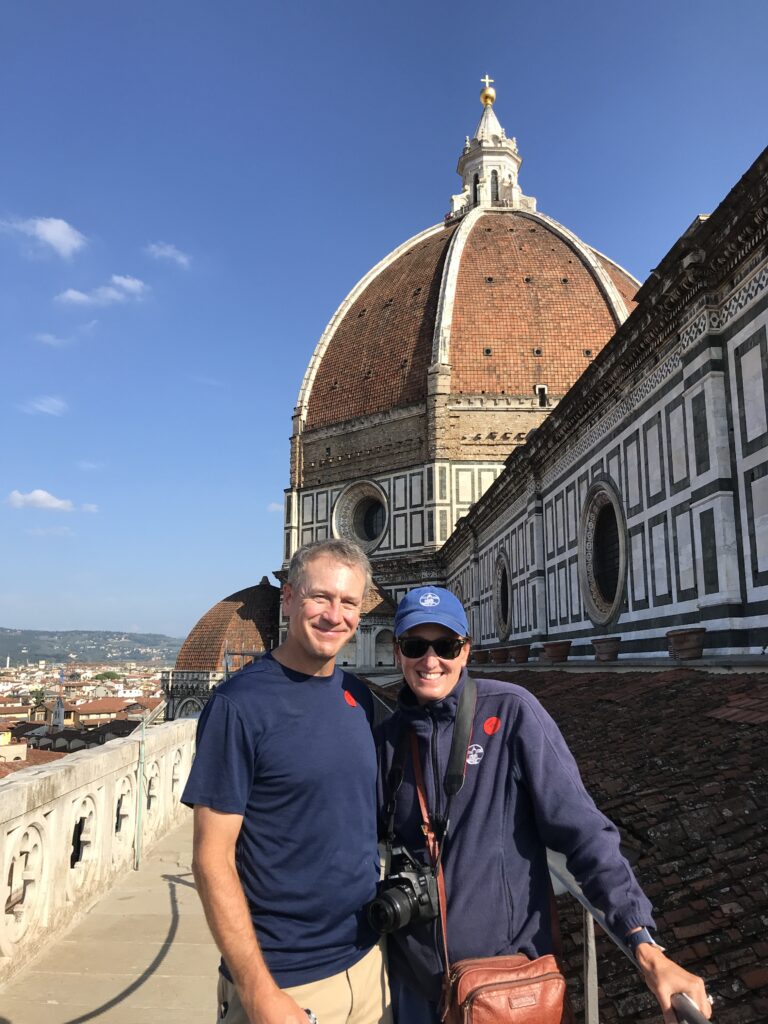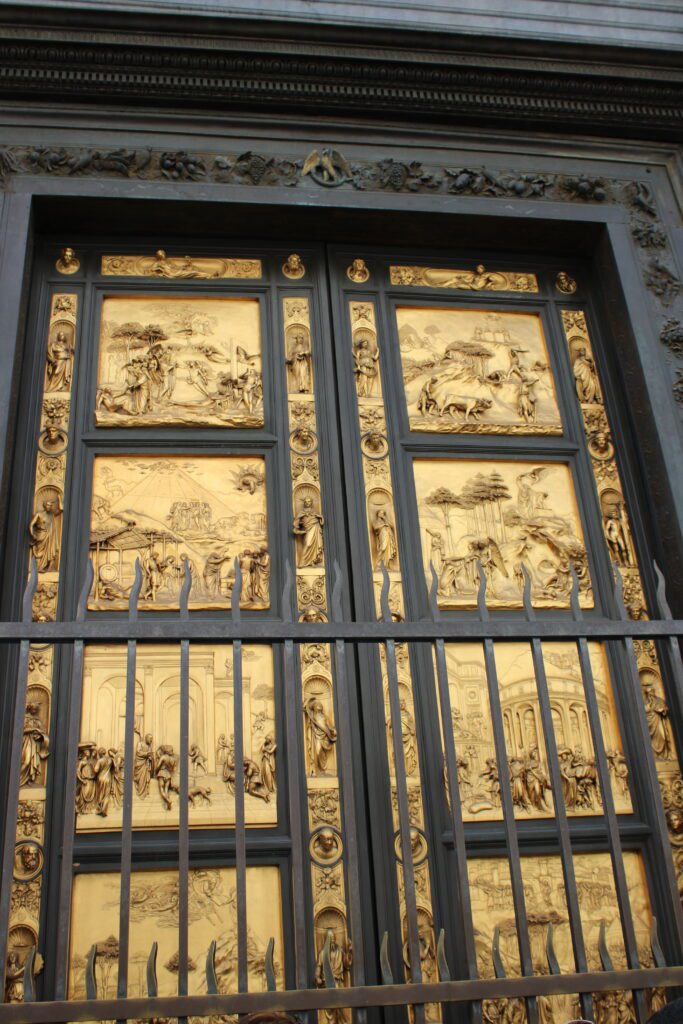 Michelangelo's David and The Accadamia/The Uffizi Galleries
We purchased timed tickets from the same official website for the Accadamia and the Uffizi Galleries. The Accadamia is quite small and David is the main attraction. The Accadamia houses the largest collection of Michelangelo sculpture in the world. Our visit lasted less than an hour. The remaining rooms are mostly filled with more sculpture. The official website says
The Galleria dell'Accademia di Firenze is home to some of the most important painting and sculpture collections in the world, including sculptures by Michelangelo, his renowned David among them, and a rich collection of early Italian painting. The collection of plaster casts and models by Lorenzo Bartolini and his student Luigi Pampaloni in the Gipsoteca in the monumental Salone dell'Ottocento is just as significant. And the museum is also home to musical instruments that belonged to the grand dukes of Tuscany, Medici and Lorraine, most of which were in the collection of the Conservatorio Luigi Cherubini of Florence.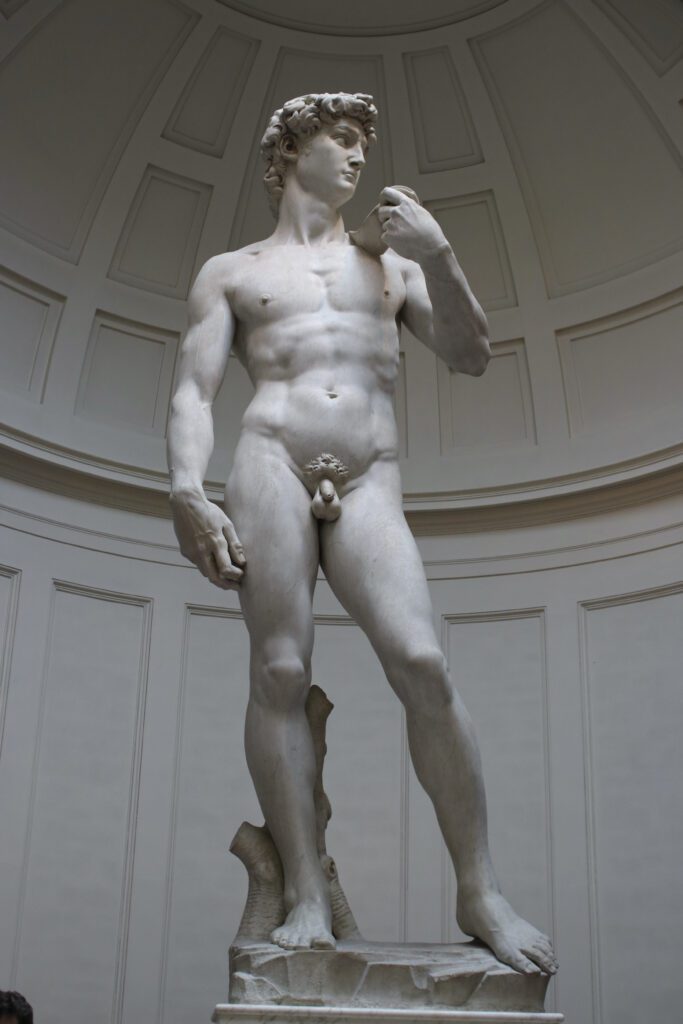 We spent about an hour or so at the Uffizi Galleries. Art lovers could take days and day and days to stroll through the hundreds of rooms. We admired some works by daVinci and the amazing ceilings. Be sure to buy timed tickets in advance!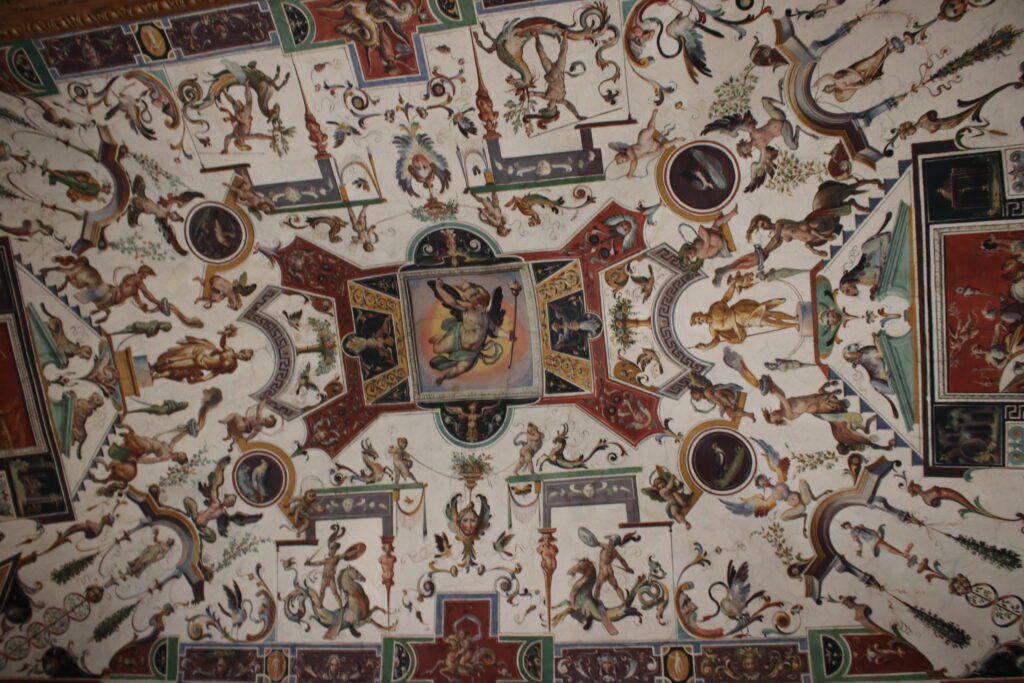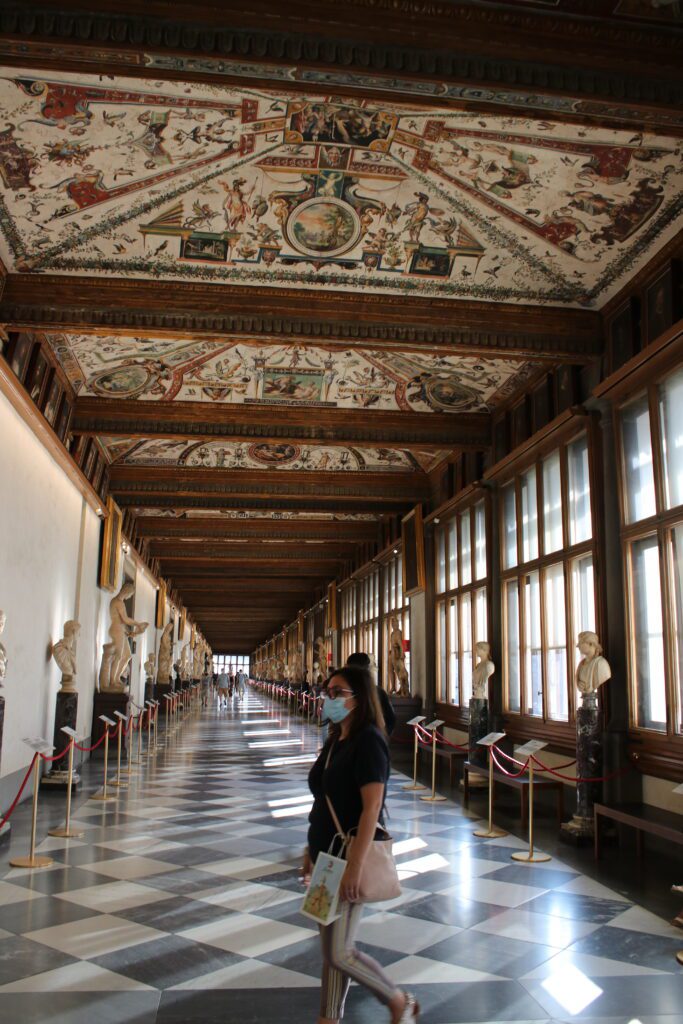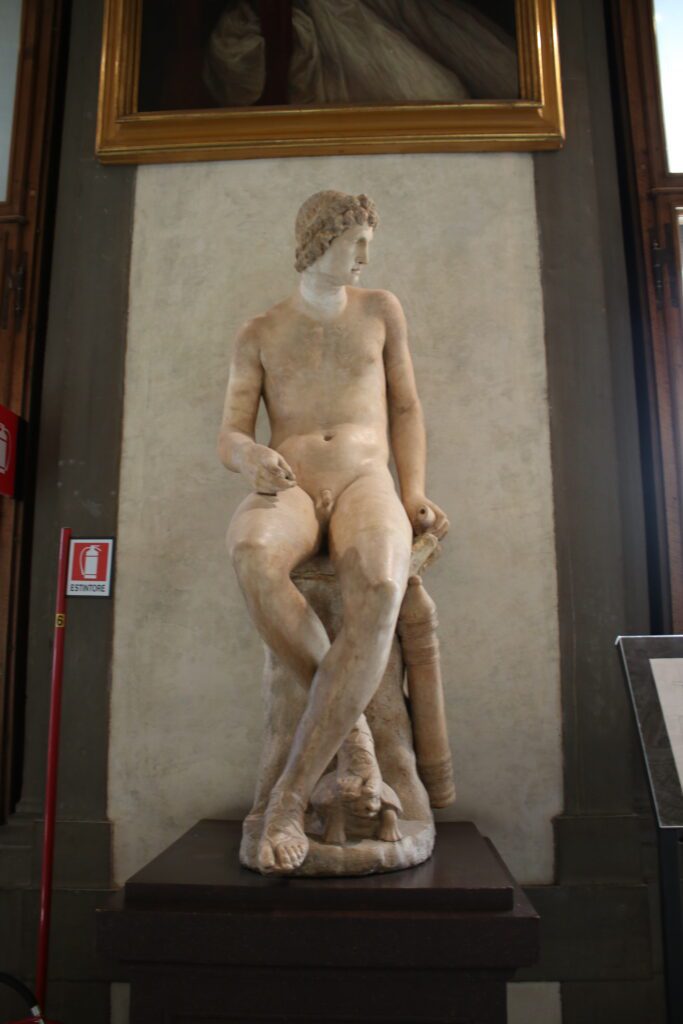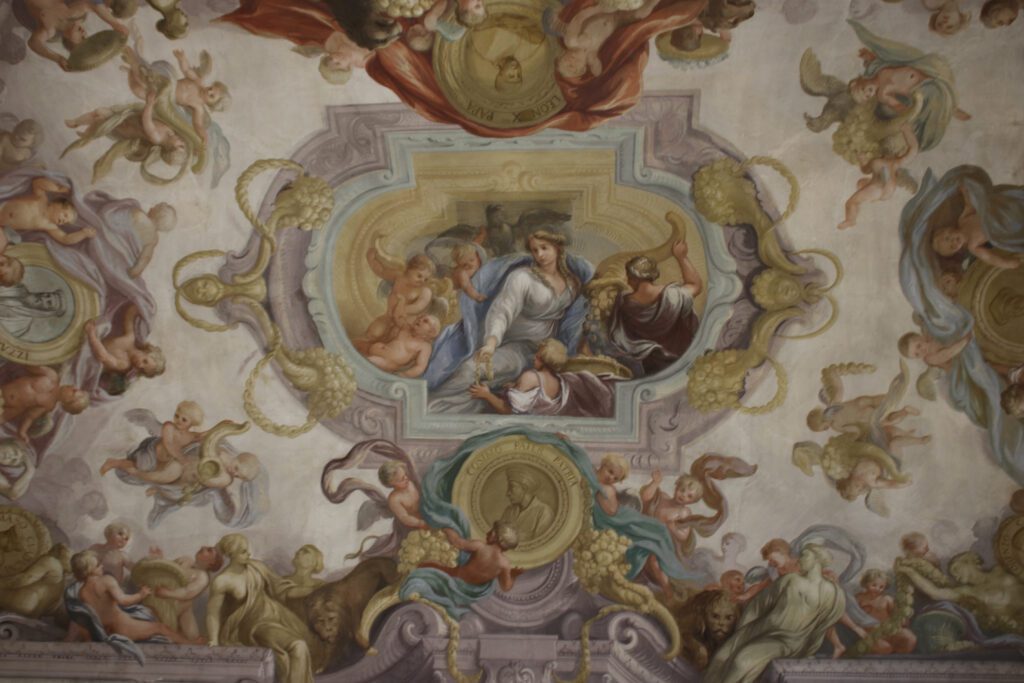 Ponte Vecchio
No visit to Florence is complete without a stroll across the Ponte Vecchio. Lined with mostly jewelry shops, it is an iconic site in Florence. We had great drinks and snacks at Signorvino right on the river with a great view of the bridge. If you walk through the wine store, you will come to a lovely balcony over the water.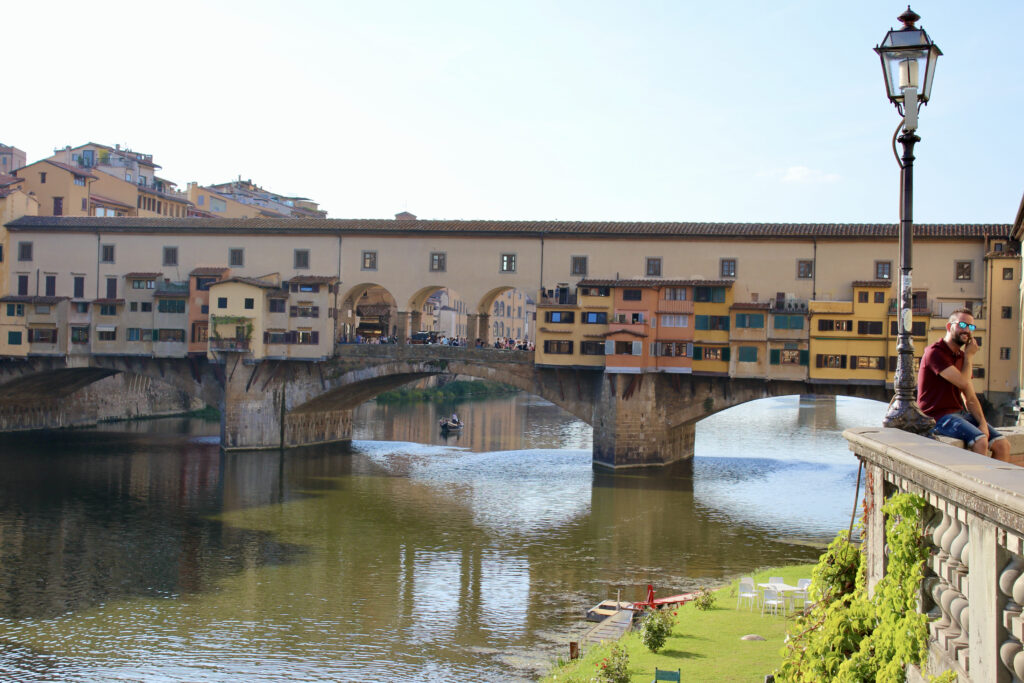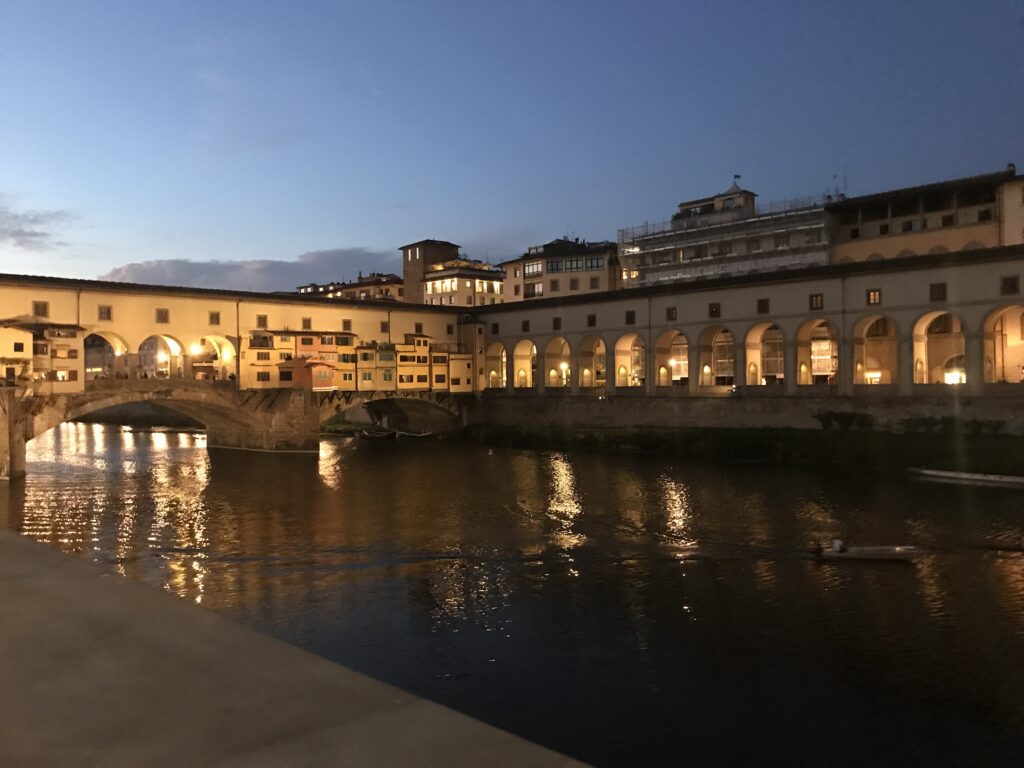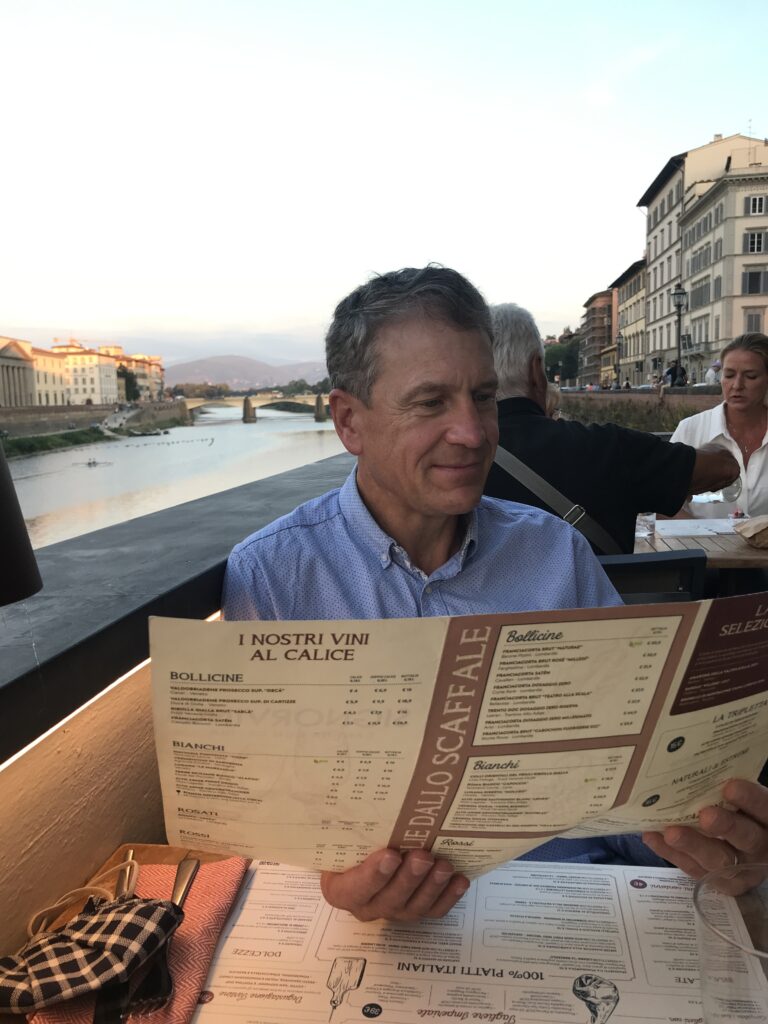 The Magical Piazzale Michealangelo!
We took a wonderful walk up to Piazzale Michelangelo which offers amazing, free views of Florence. It took us about 20 minutes to walk there from our hotel which is located close to Palazzo Vecchio. So so so worth the walk up!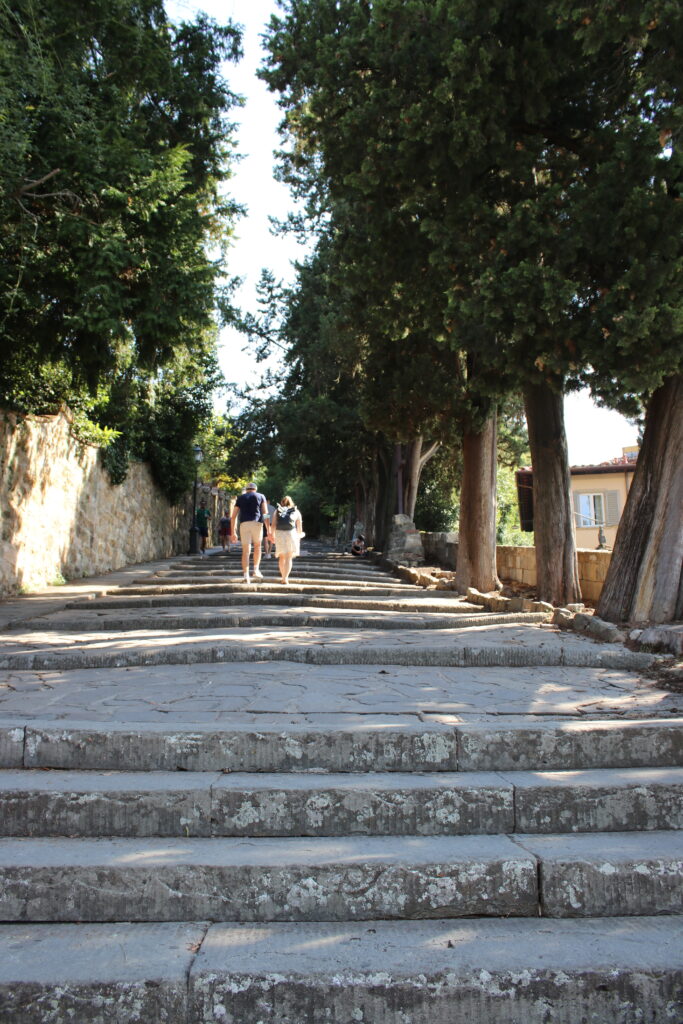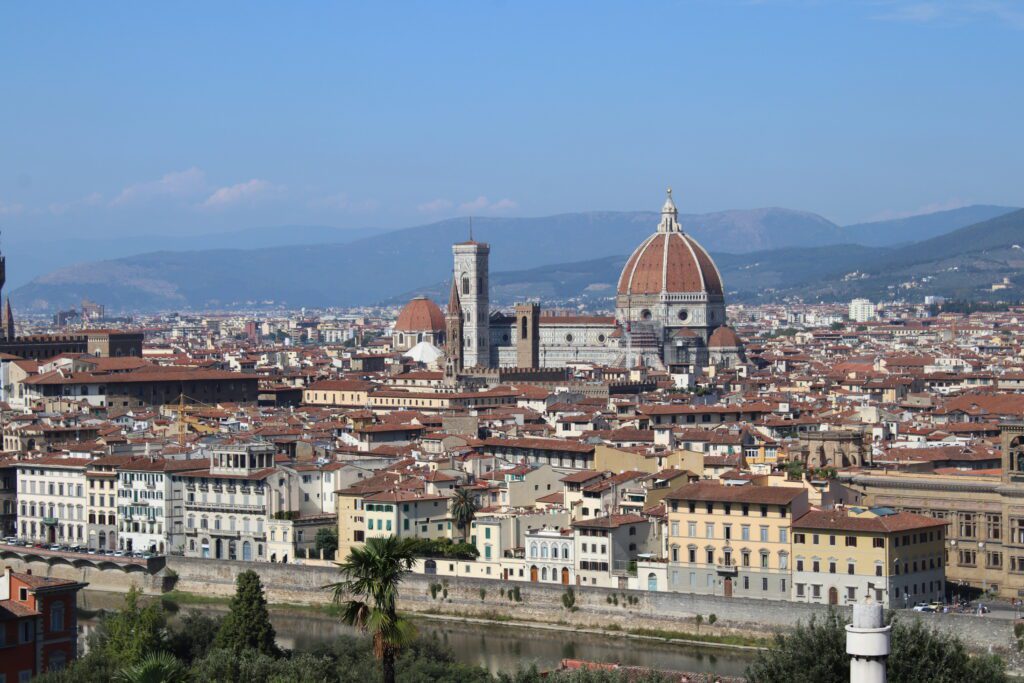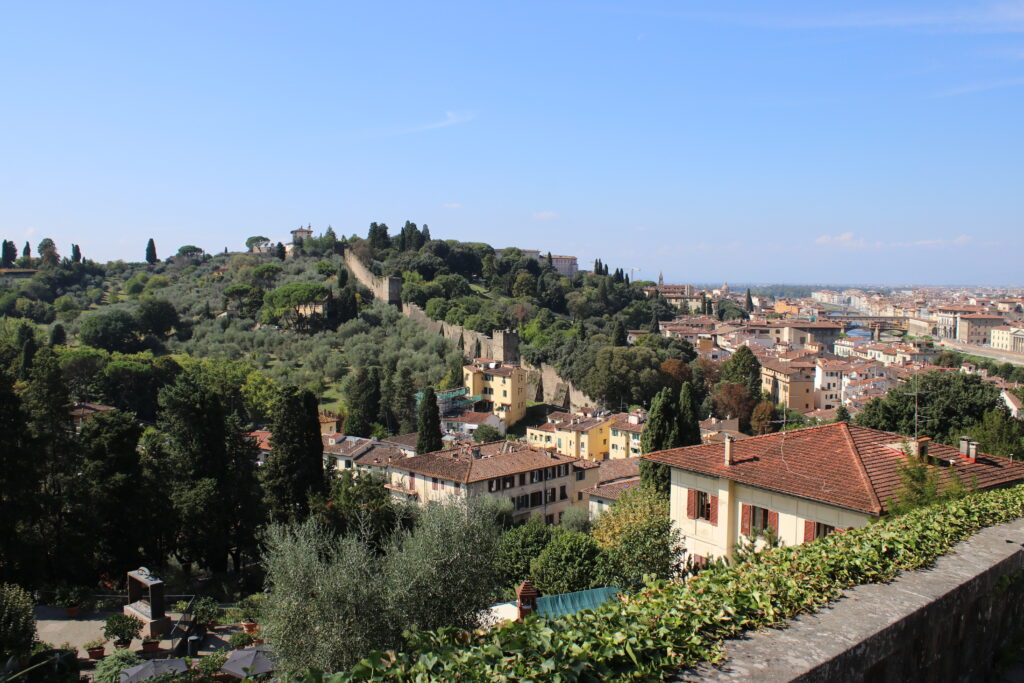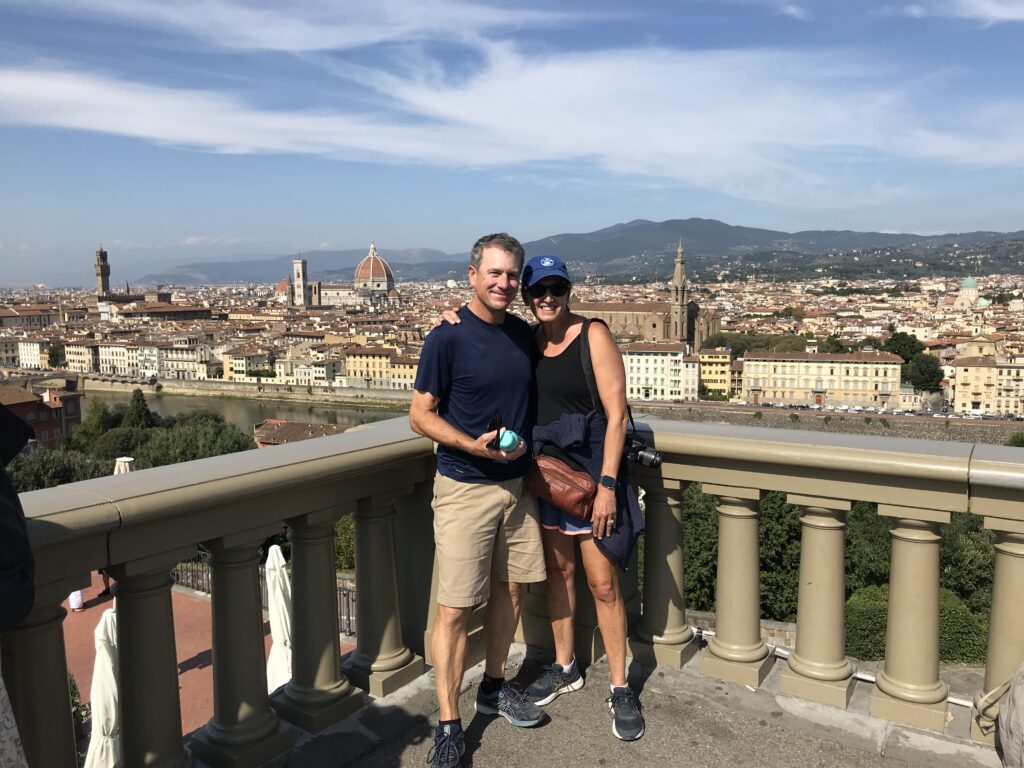 Buca Niccolini
With all of Kendall's Florence roommates, we ate at the delightful Buca Niccolini on a small alleyway with a delightful view of the duomo. TripAdvisor reviews are excellent. We forgot to take photos!
Shake Shack
Both mornings in Florence, we ate with Kendall at Shake Cafe. The eggs, coffee, smoothies, oatmeal were all amazing! They have three locations around the city. TripAdvisor reviews are excellent.
Cinque Terre
After having breakfast with Kendall we said our goodbyes and continued on our way to Cinque Terre. We trammed it back to Villa Costanza on the super convenient train. It took us a little more than two hours to get to Cinque Terre.
Hotel Porto Roca
We spent two nights at Hotel Porto Roca on Monterosso al Mare. The location was phenomenal – it is right on the Blue Train that is the main hiking path between the five towns of Cinque Terre. The pool is amazing. The breakfast was delicious. The lobby and grounds are quite lovely. We stayed on a top floor room that had an enormous balcony with a view of the sea. The only negative I can say about this wonderful hotel is that the rooms are utterly charm-less. They are super clean, functional and spacious. They just have none of the charm of the lobby or restaurant.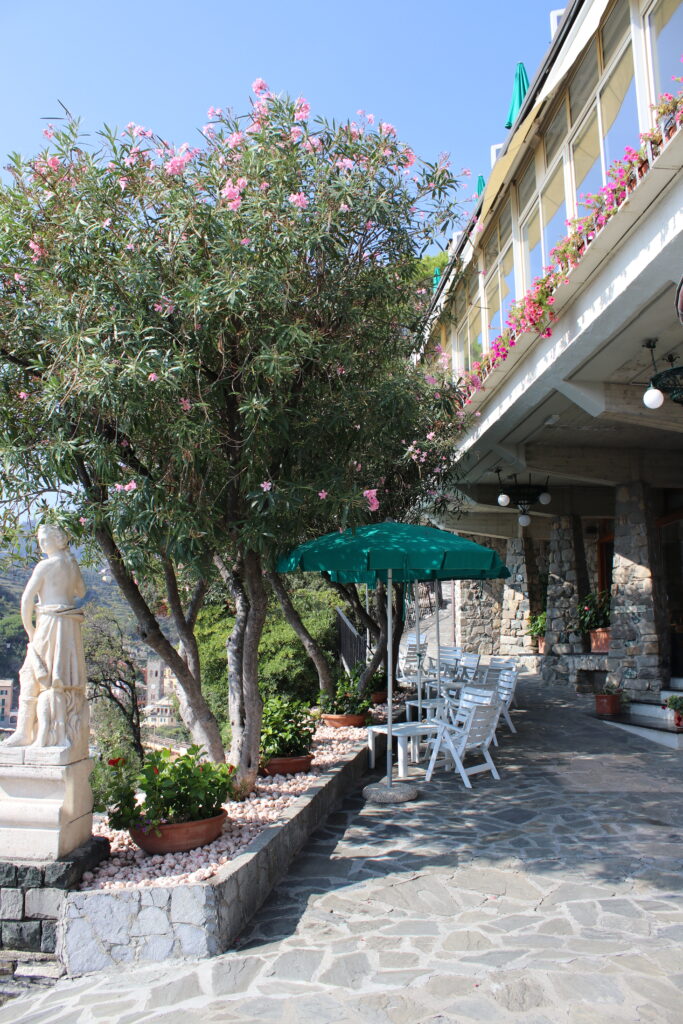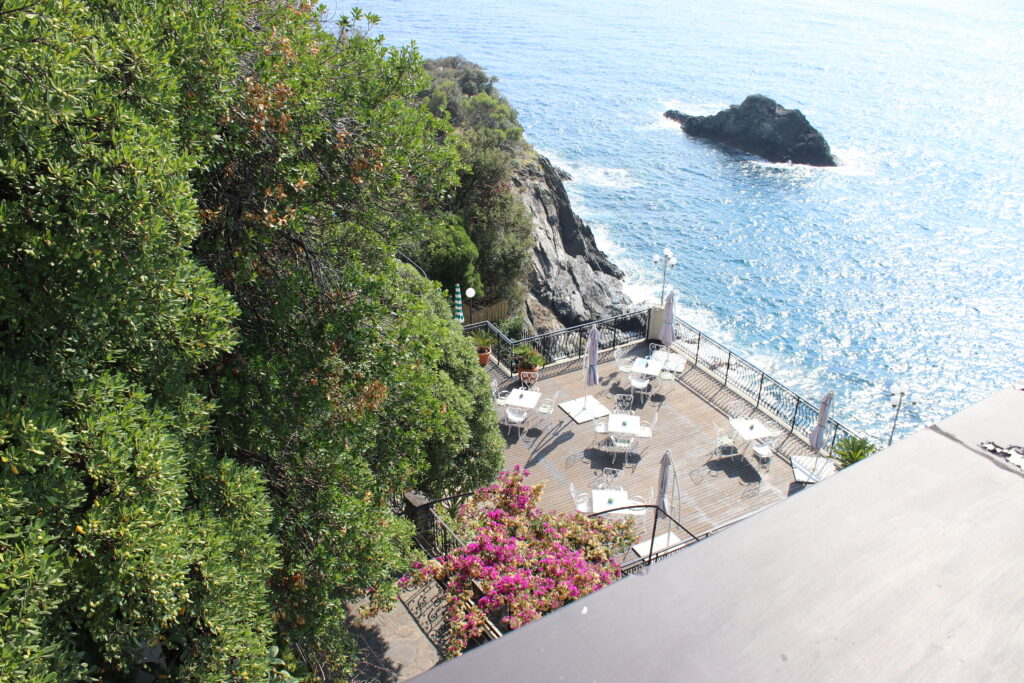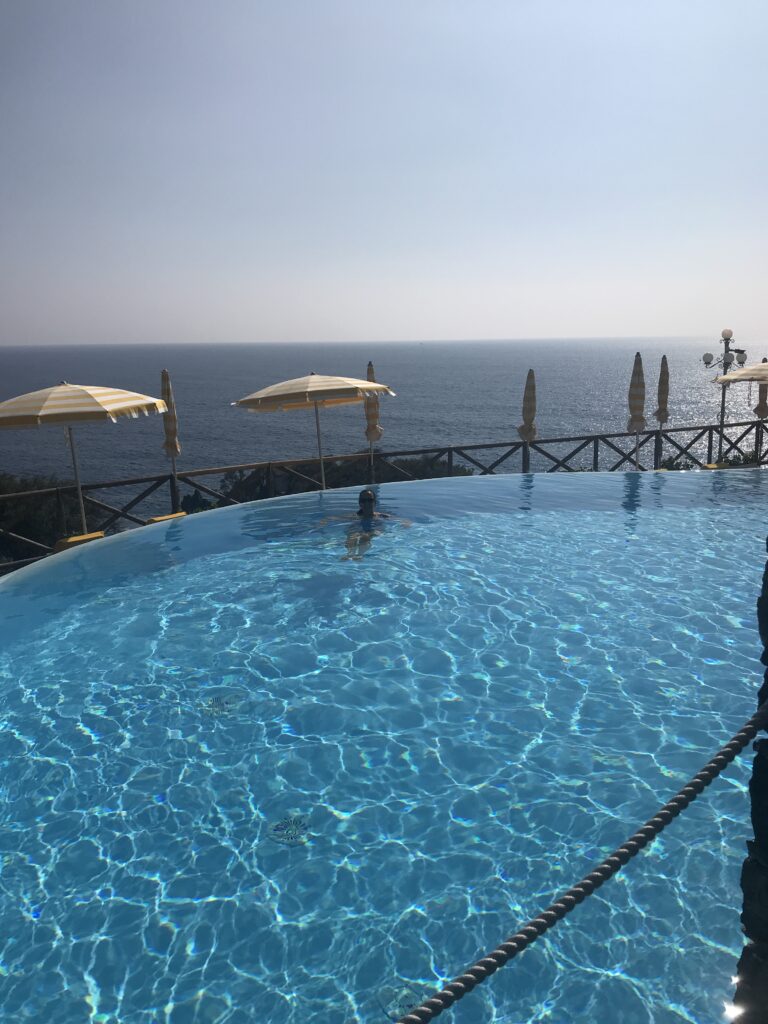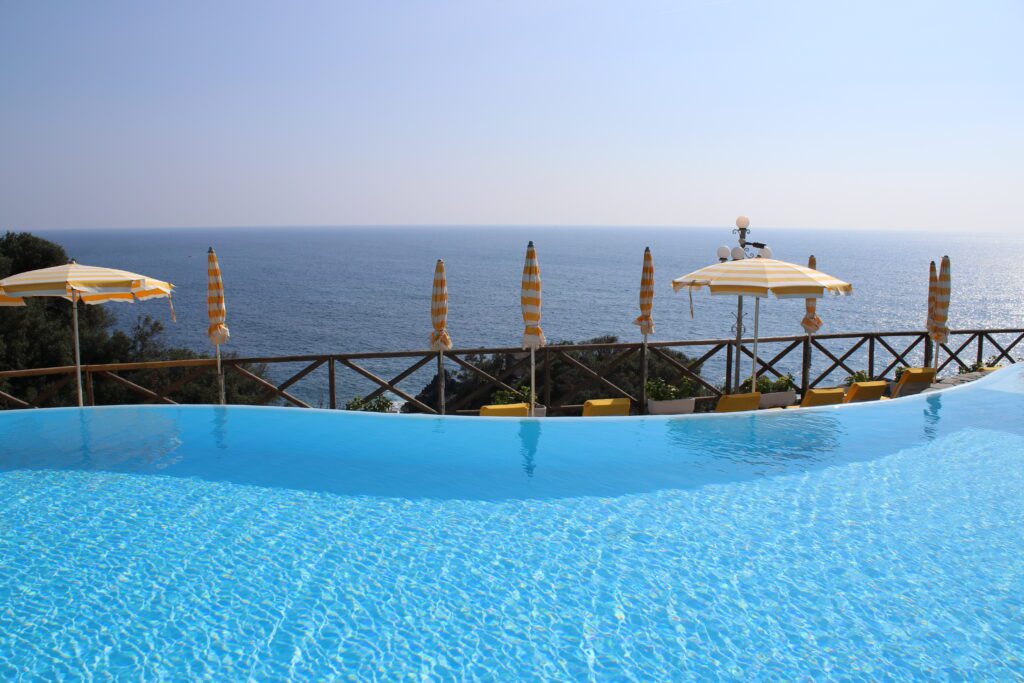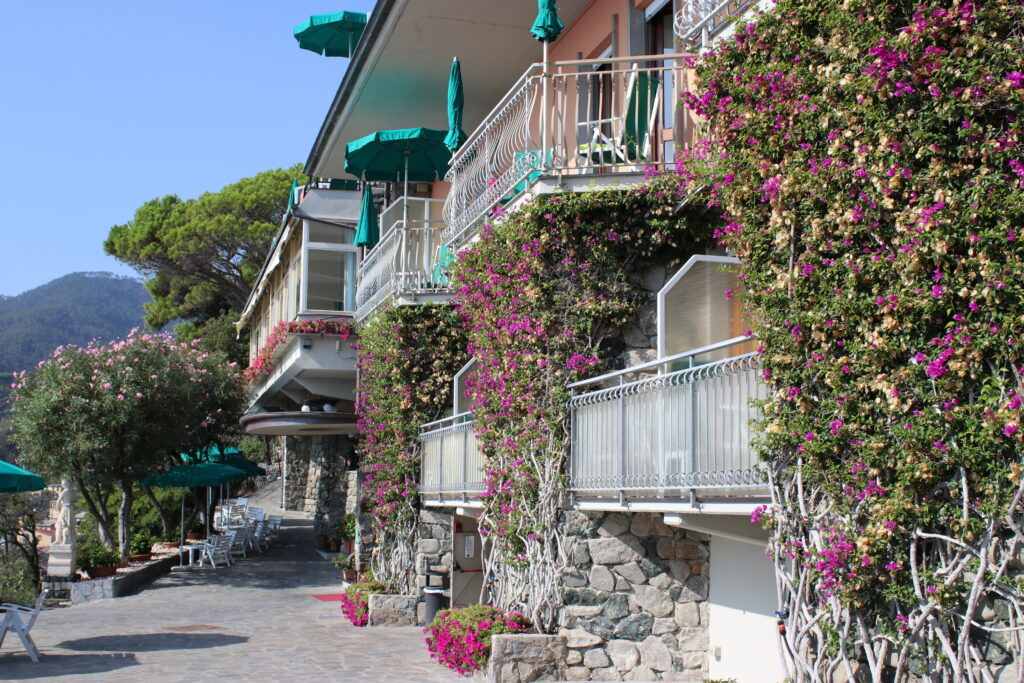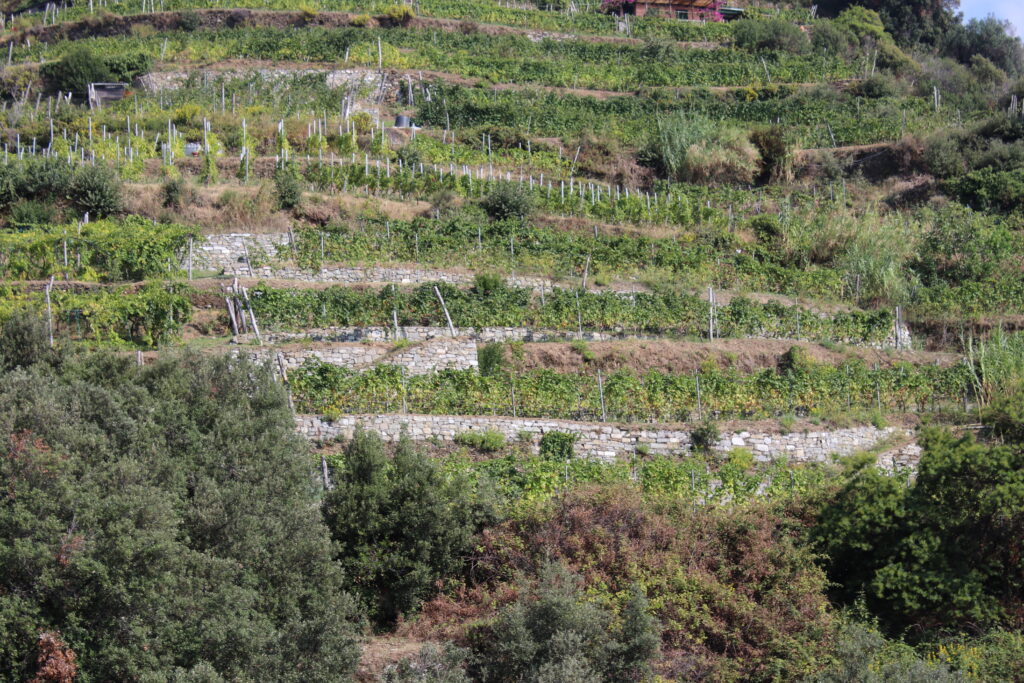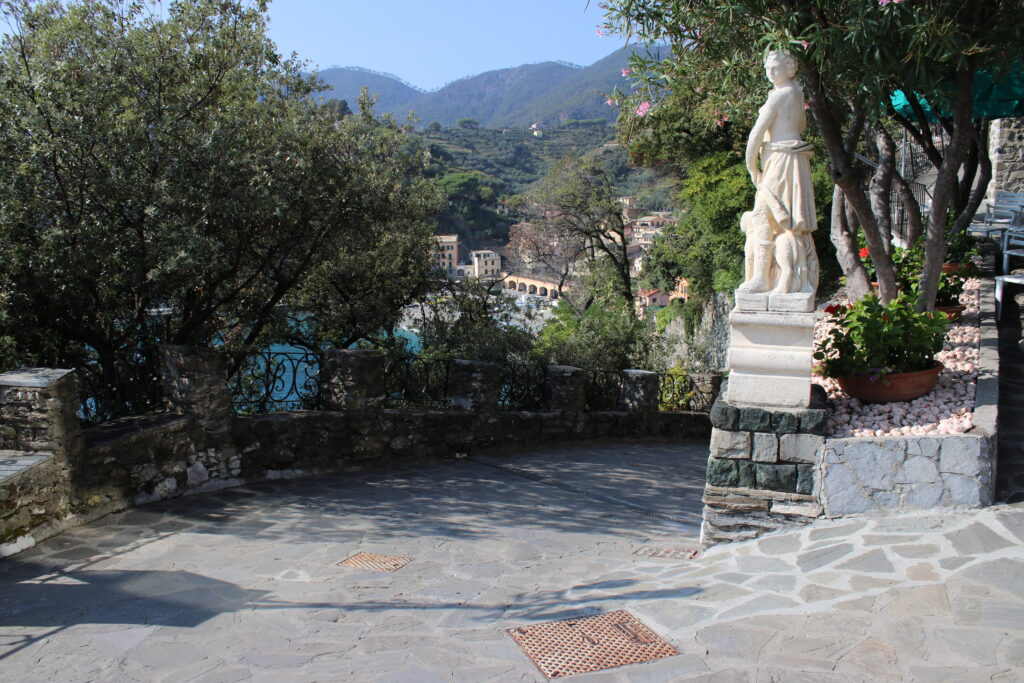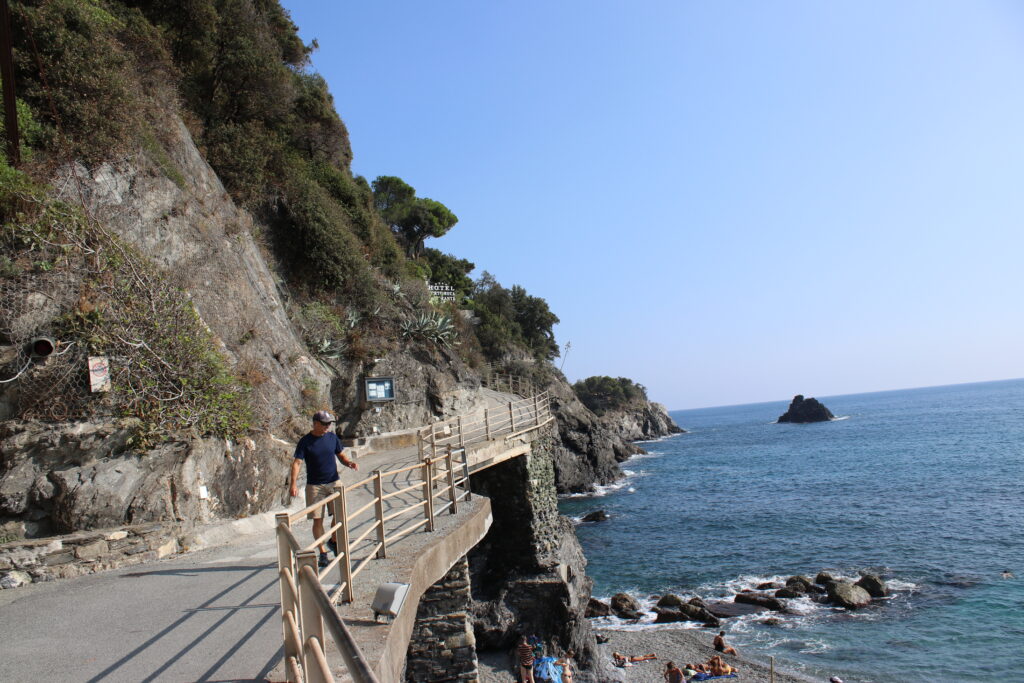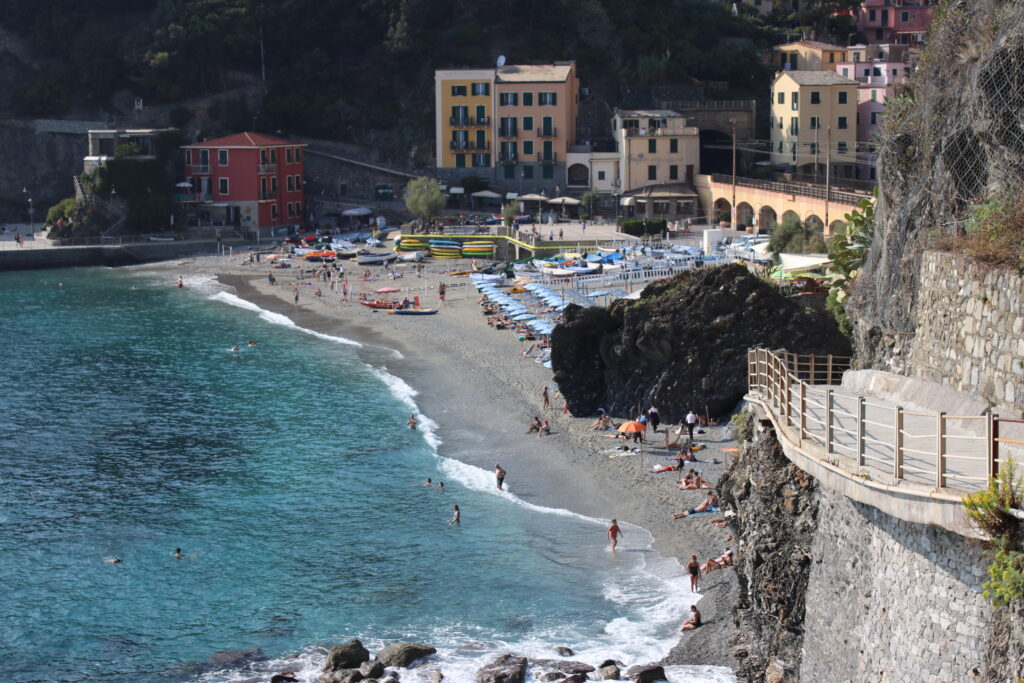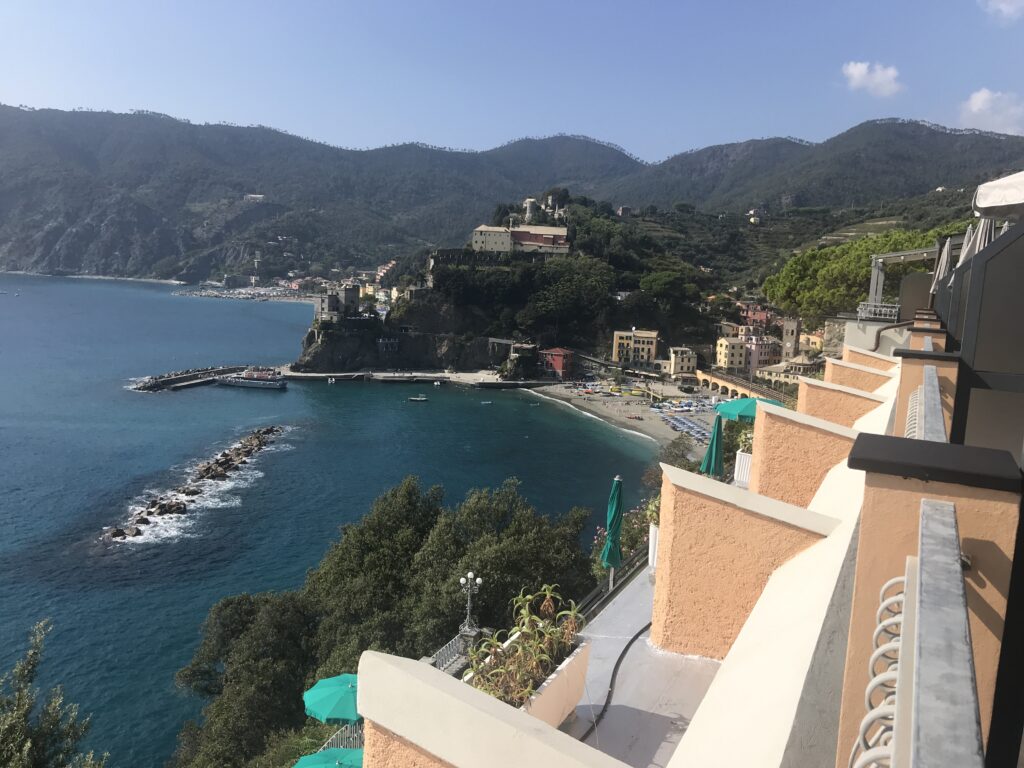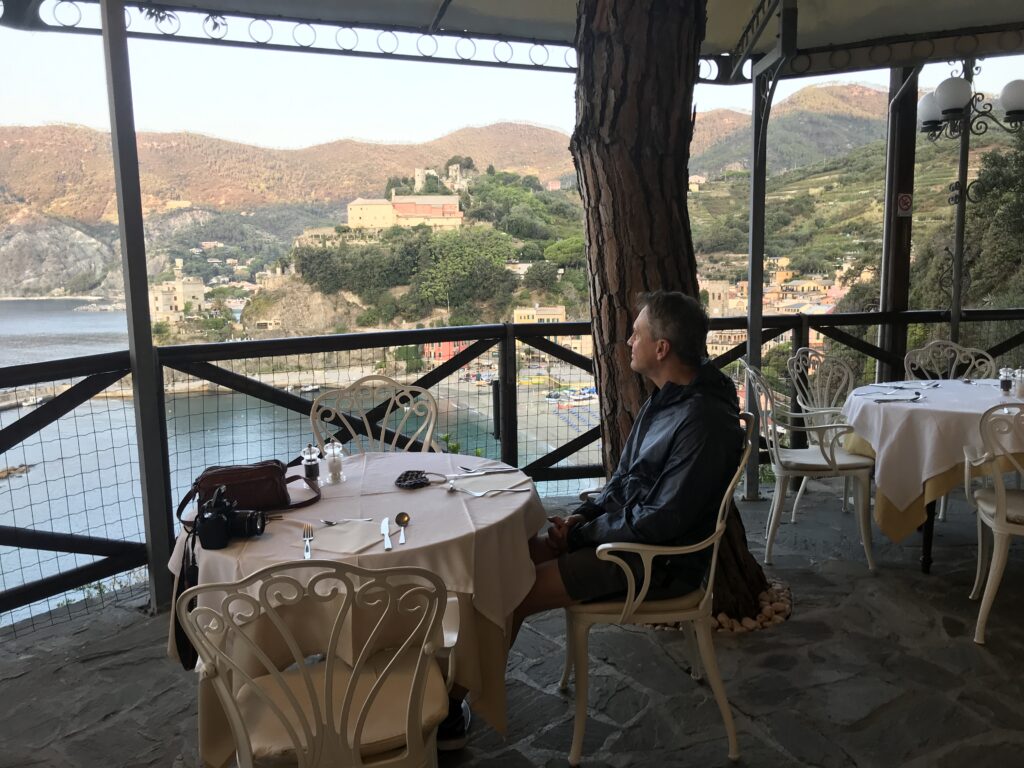 Monterosso al Mare
The northernmost town of Monterosso al Mare is lovely. Small alleyways wind around old churches and adorable shops and restaurants. The beach is fantastic. There is an old fortress that separates the new town from the old town. From our hotel, it was a 10 minute walk to the train station which can whisk you all over the coast line.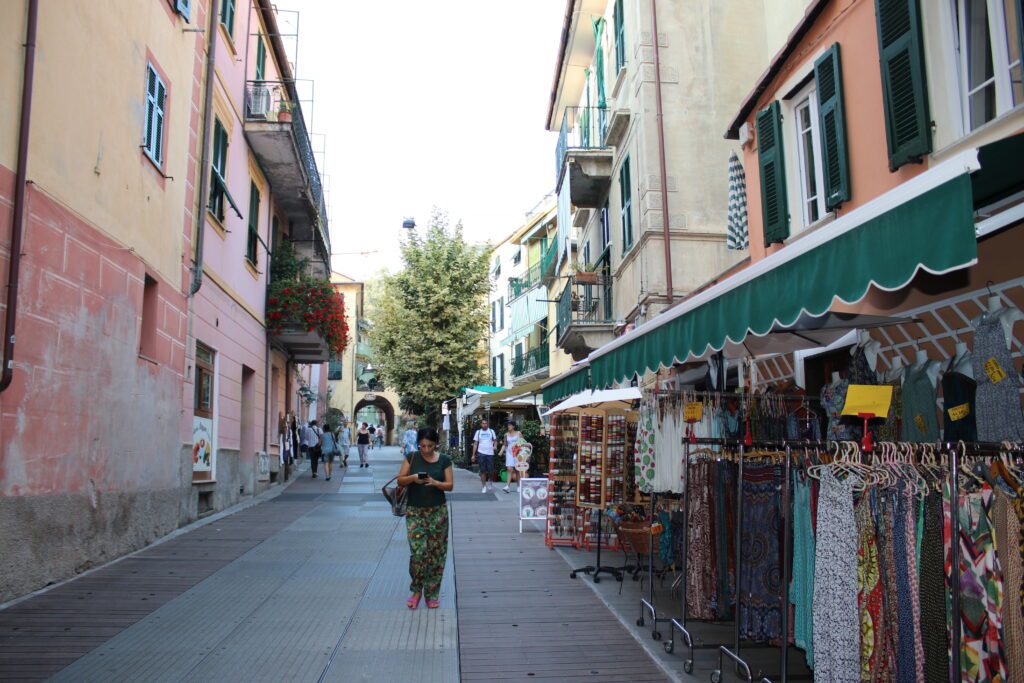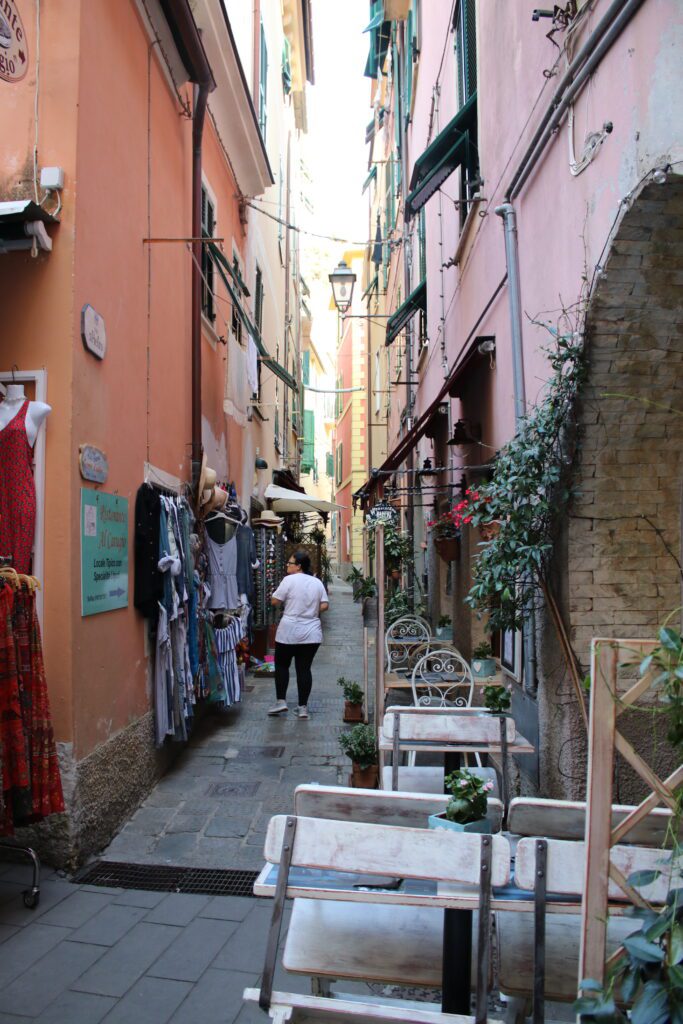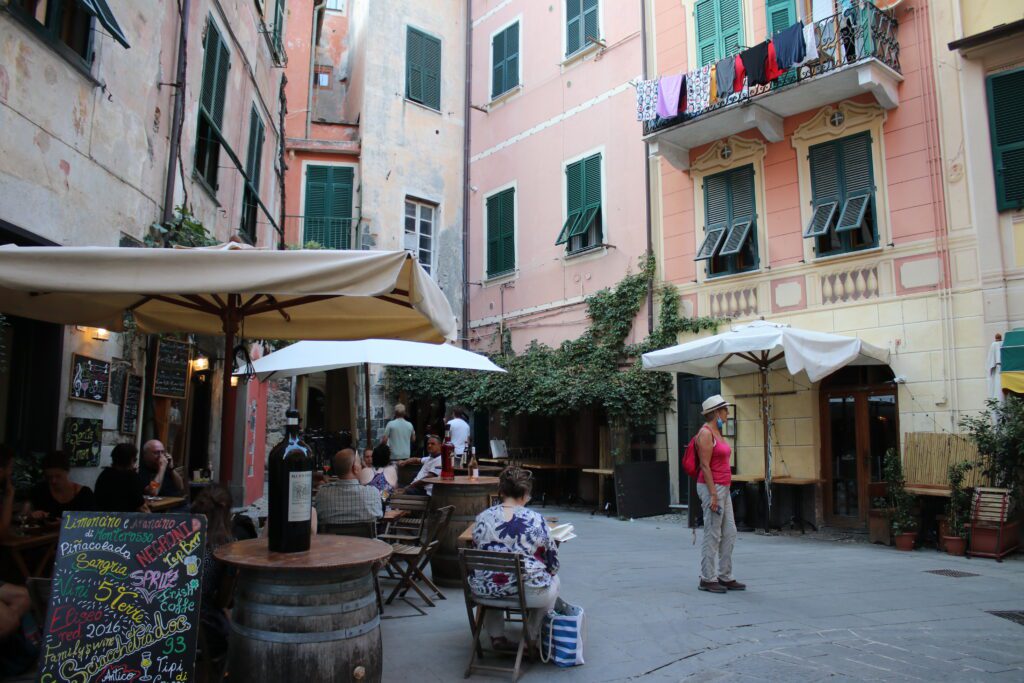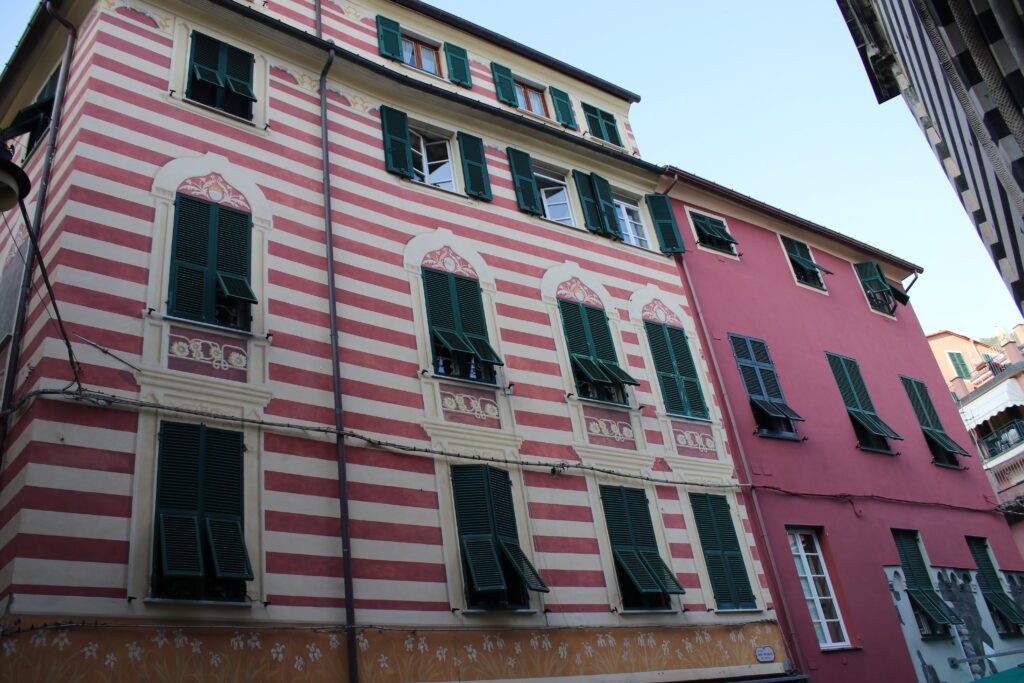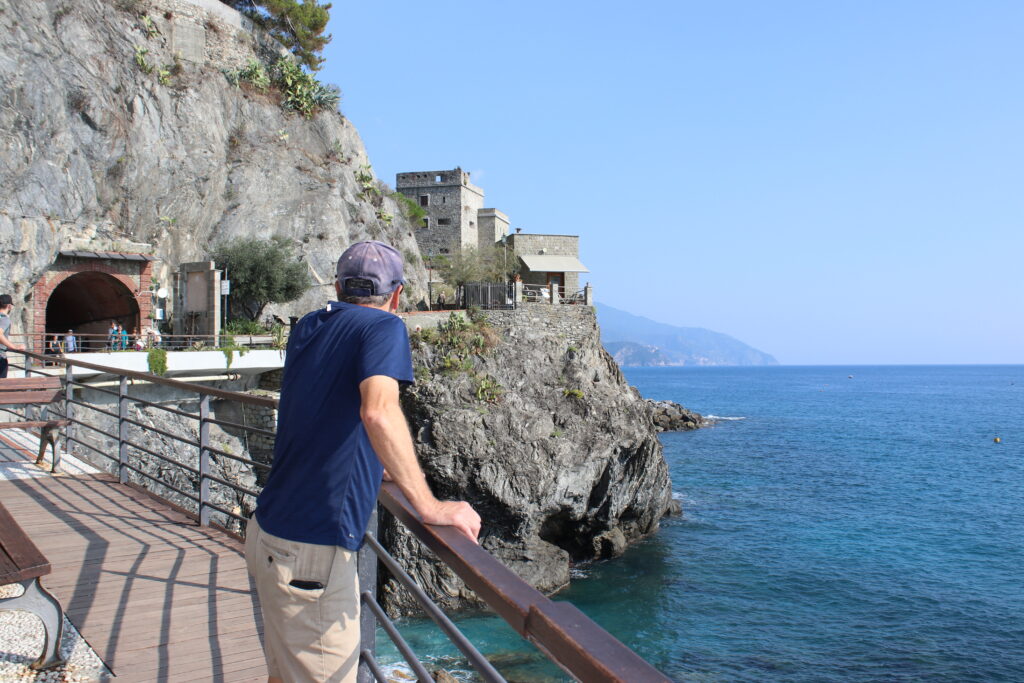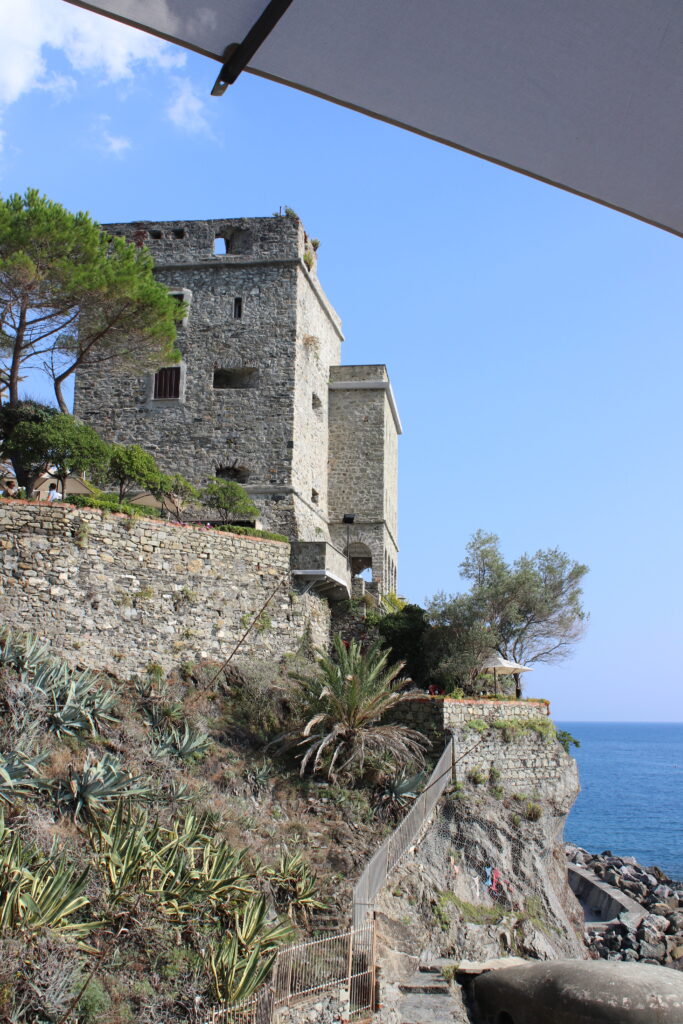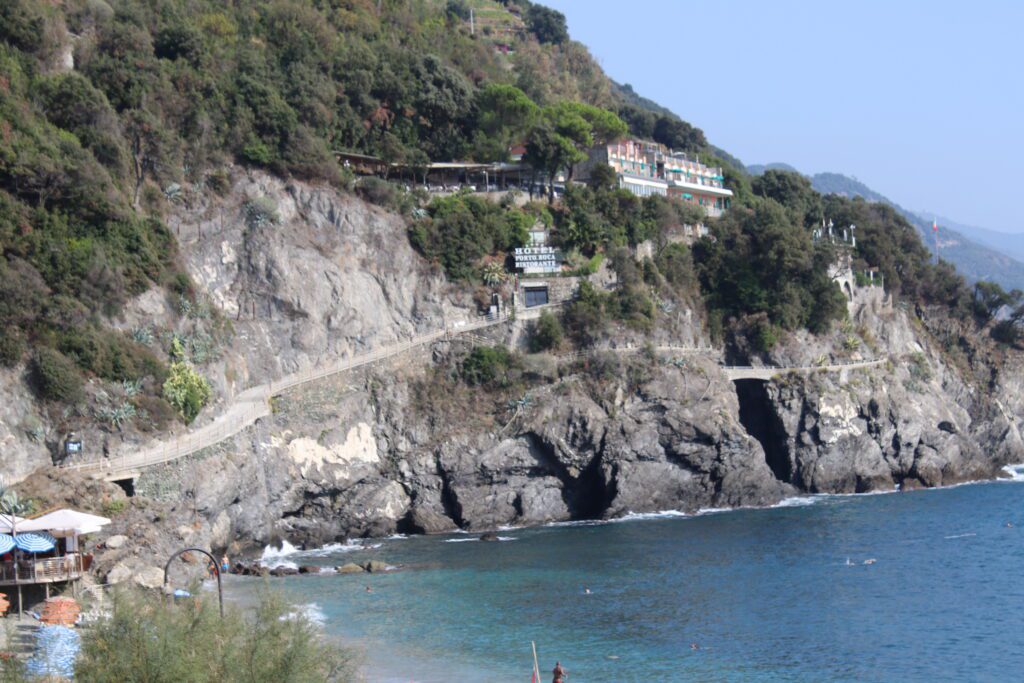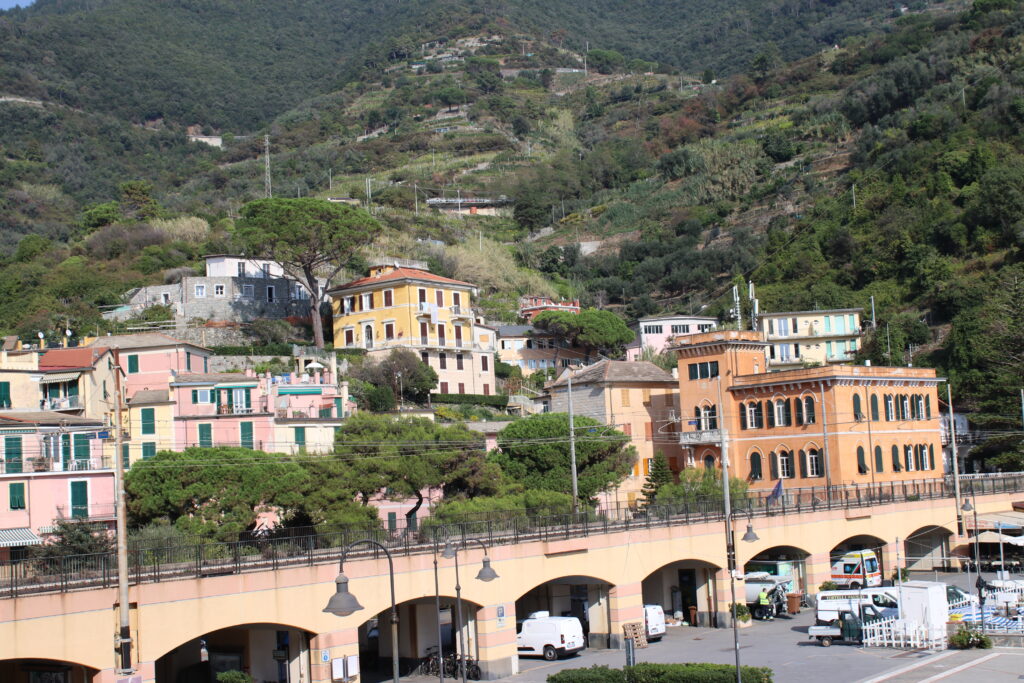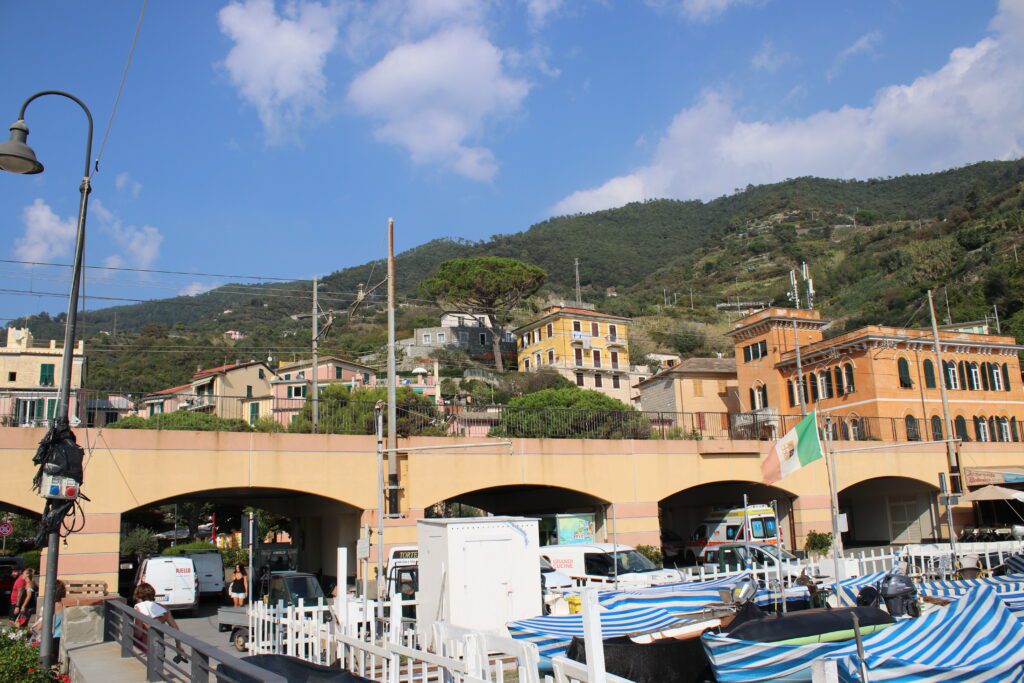 Hike from Monterosso to Vernazza to Corniglia
We chose to hike the Blue Path on the Cique Terre trail system.  This path runs through all five towns; however, when we visited you could not hike from Corniglia to Manarolo or Riomaggiore due to rockslides.  However, we purchased the Cinque Terre Card which allowed us two calendar days of hiking and the use of any train in any direction between all five towns and several other towns on the coast line.  A "hiking only" option is available for a lower price; however, the alternatives to the closed sections of the Blue Path are much, much longer.  You can purchase this card at huts along the trail (CASH ONLY) or at the train station (CASH or CC).  We purchased it at the Monterosso train station.  We were never asked for our tickets on the train, but we had to show them on the trail multiple times.  The payment helps with trail maintenance.  We also used our train pass to get to the northern town of Levanto for covid tests.
We began immediately after breakfast, leaving from our hotel and joining the Blue Path.  This path is well marked, but the other paths were not so clear to us!  Our plan for the day was to hike as much as we could between the towns and train to the others when we had to.
You can also take the public ferry in between the towns.  The schedule is here.  We considered taking the ferry home from Riomaggiore, but we were enjoying the hiking way too much!  Friends of ours did this boat trip, and they loved it.  We considered doing it on Saturday, but it would have meant a really late night as we had to drive all the way back to Rome for an early Sunday flight.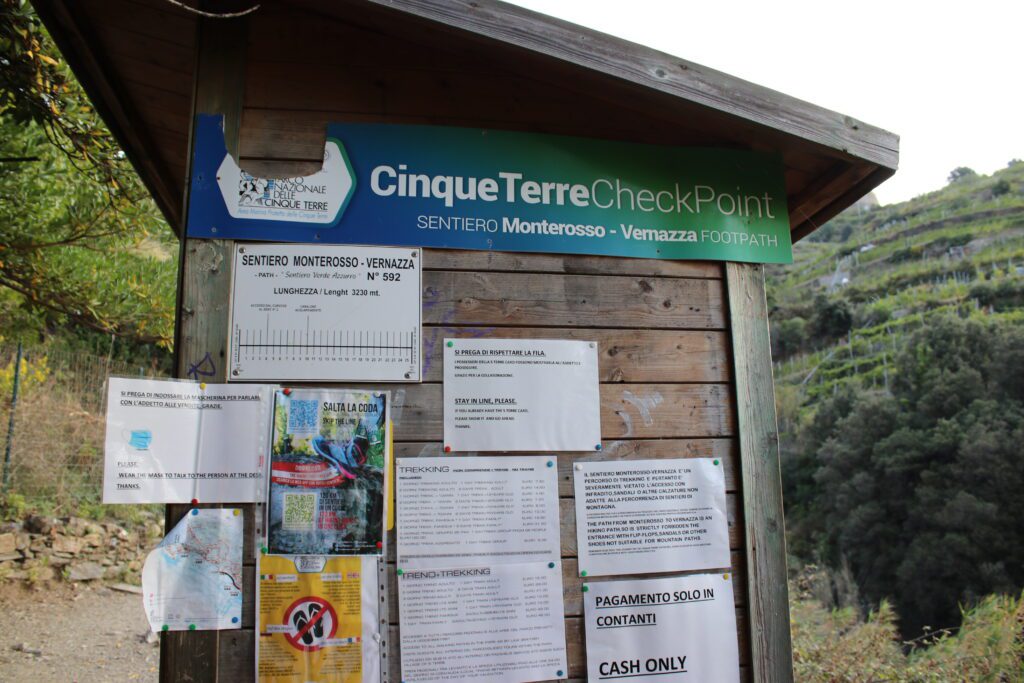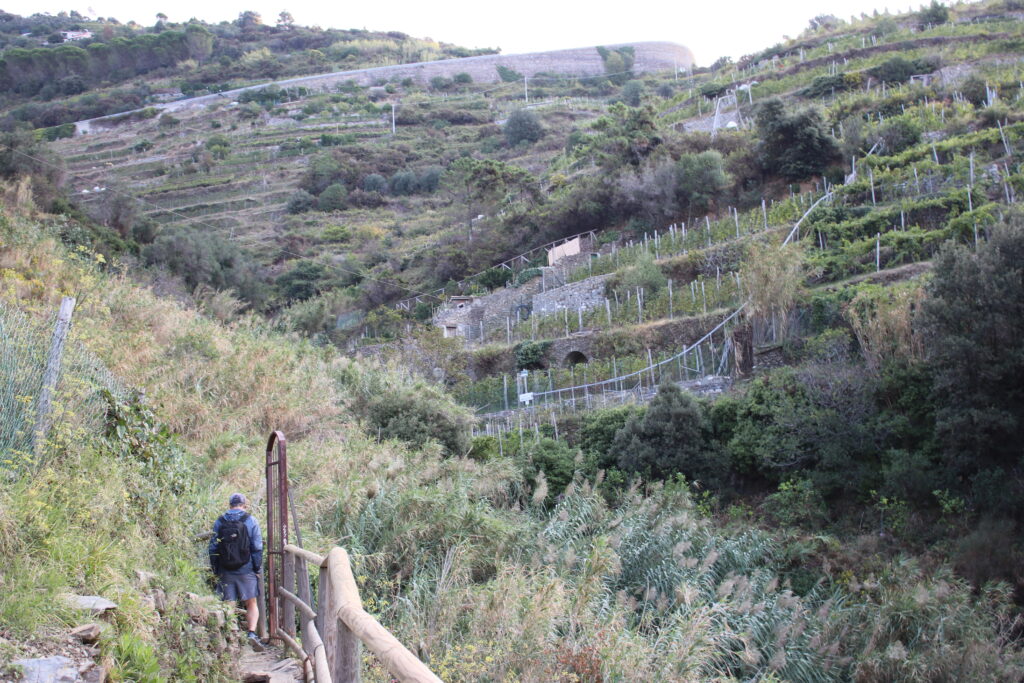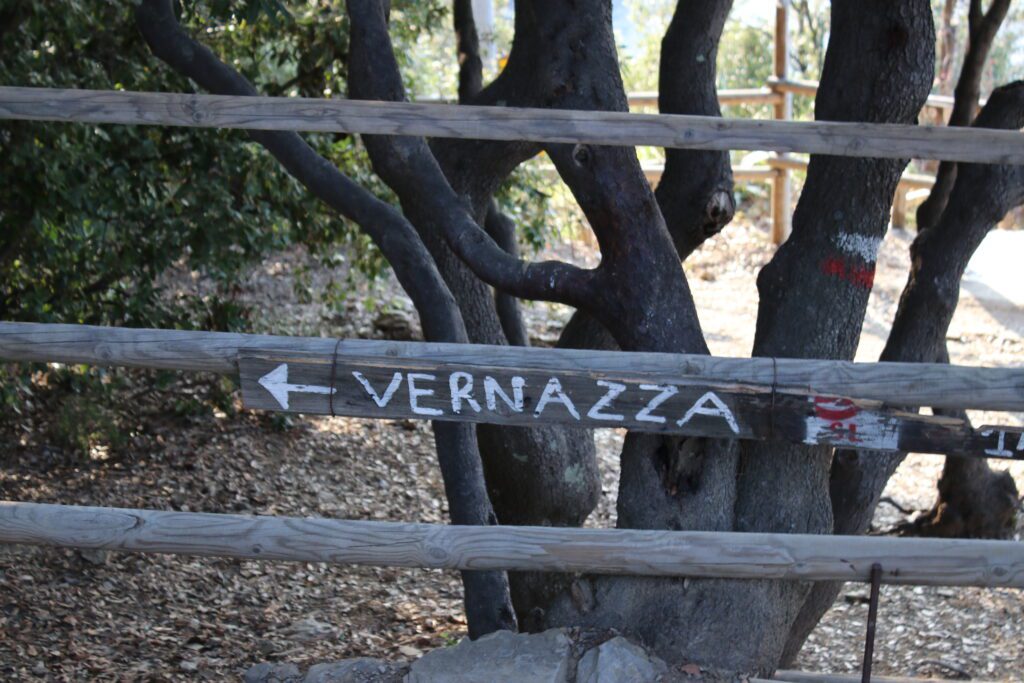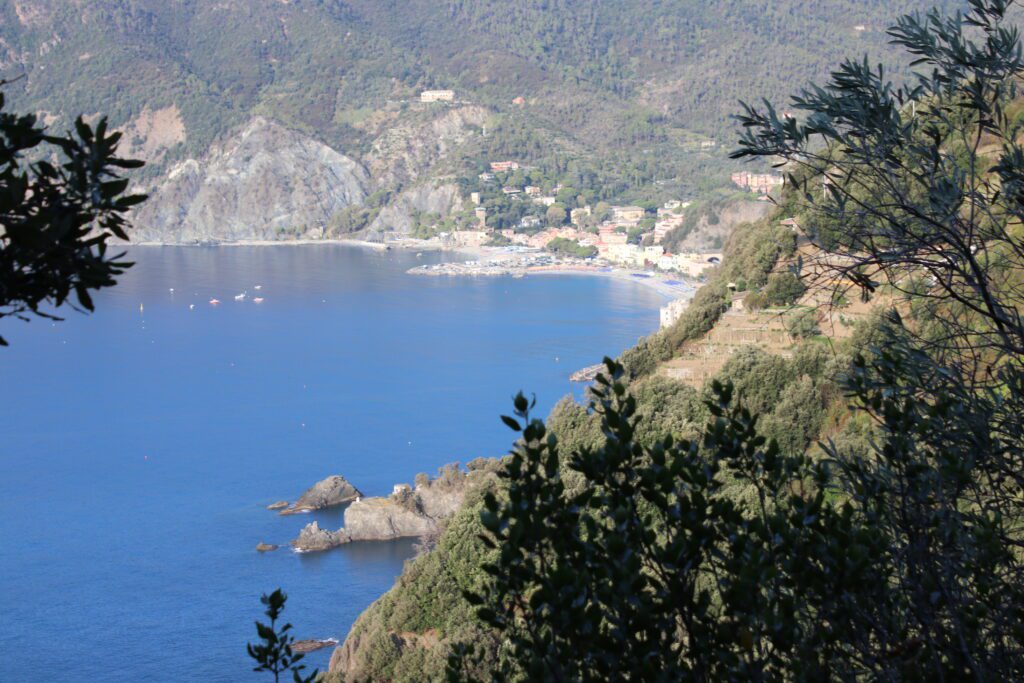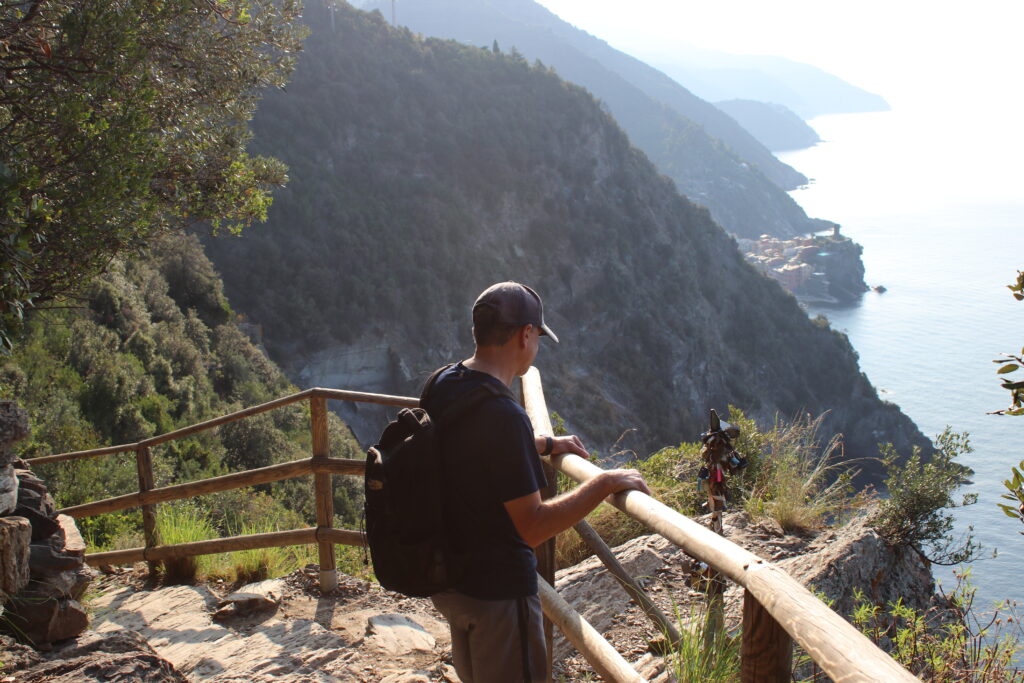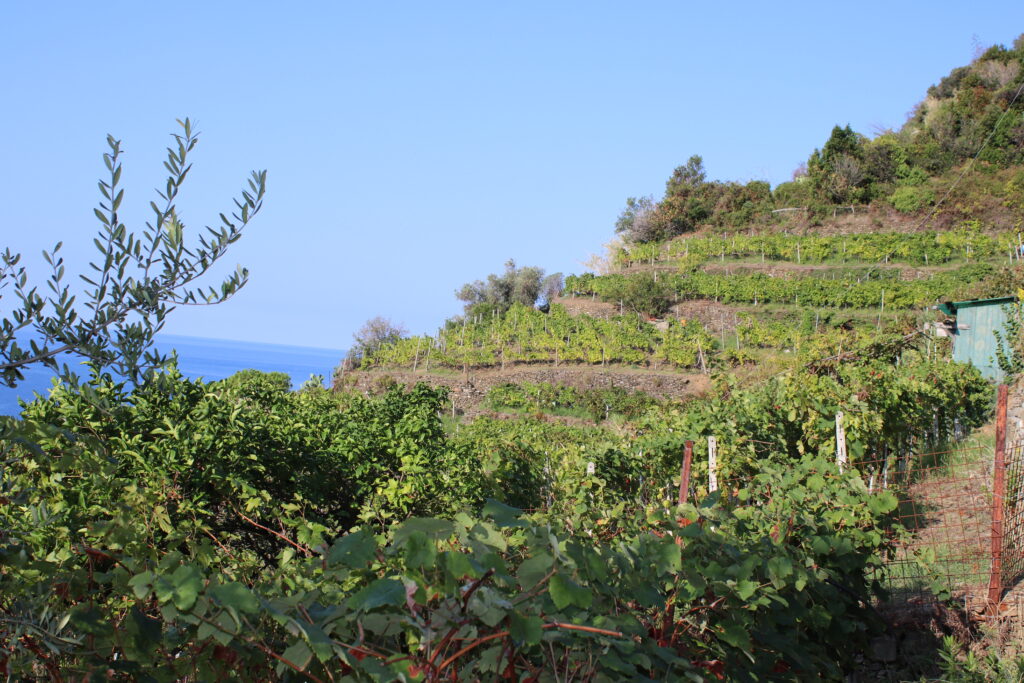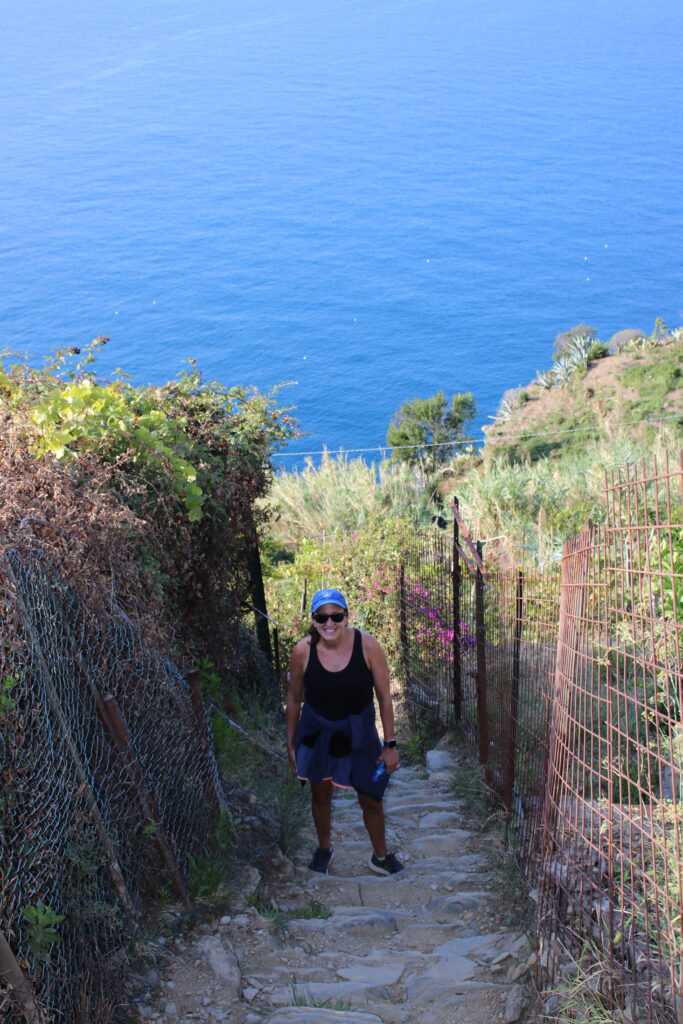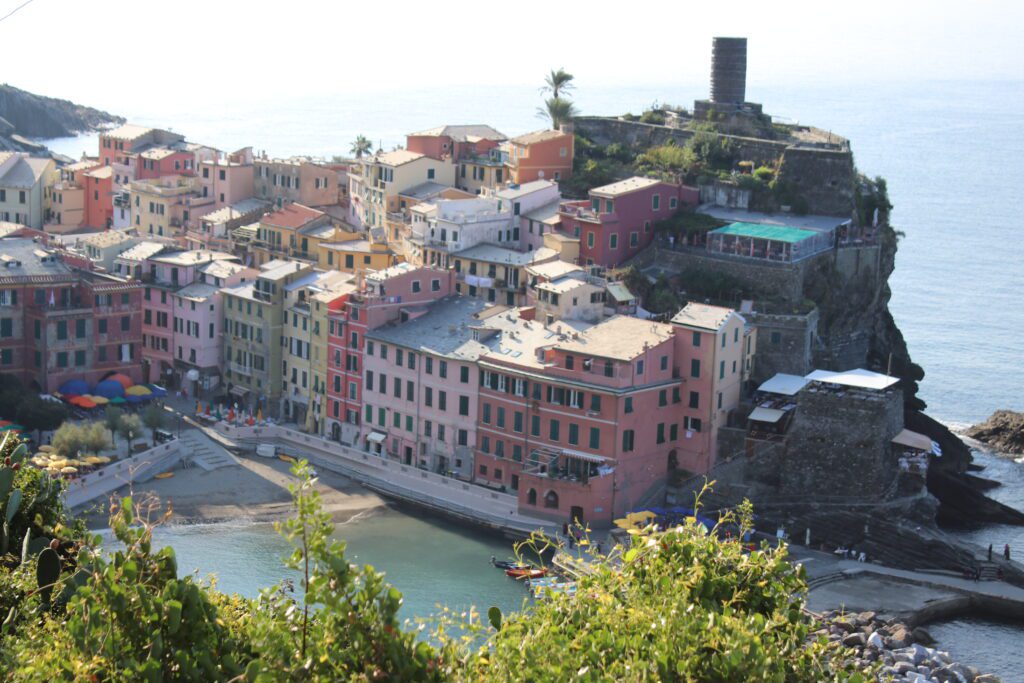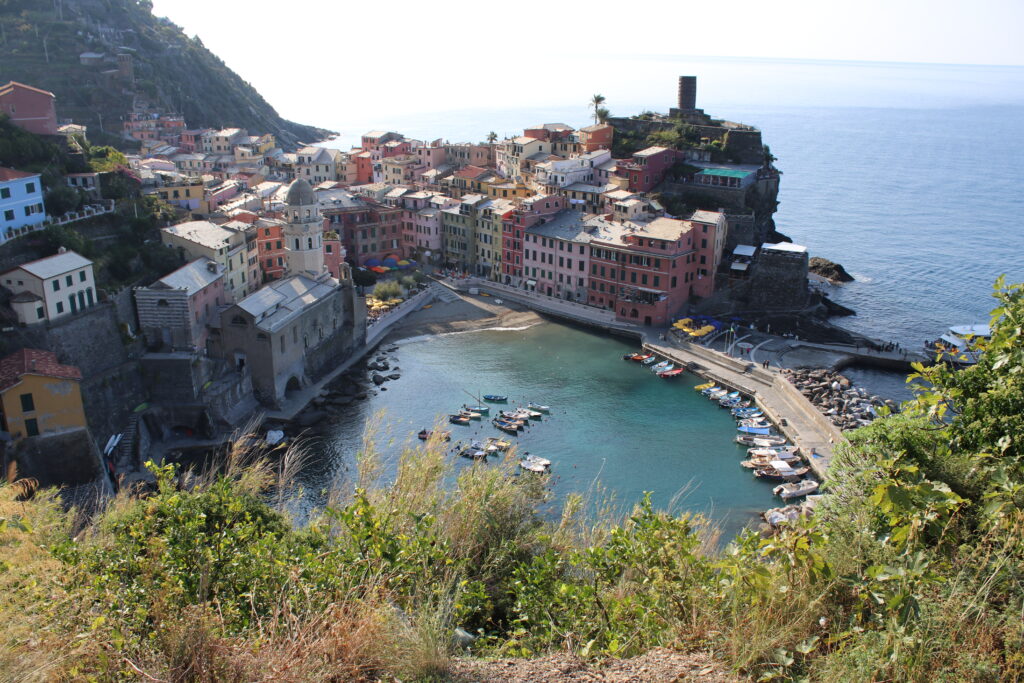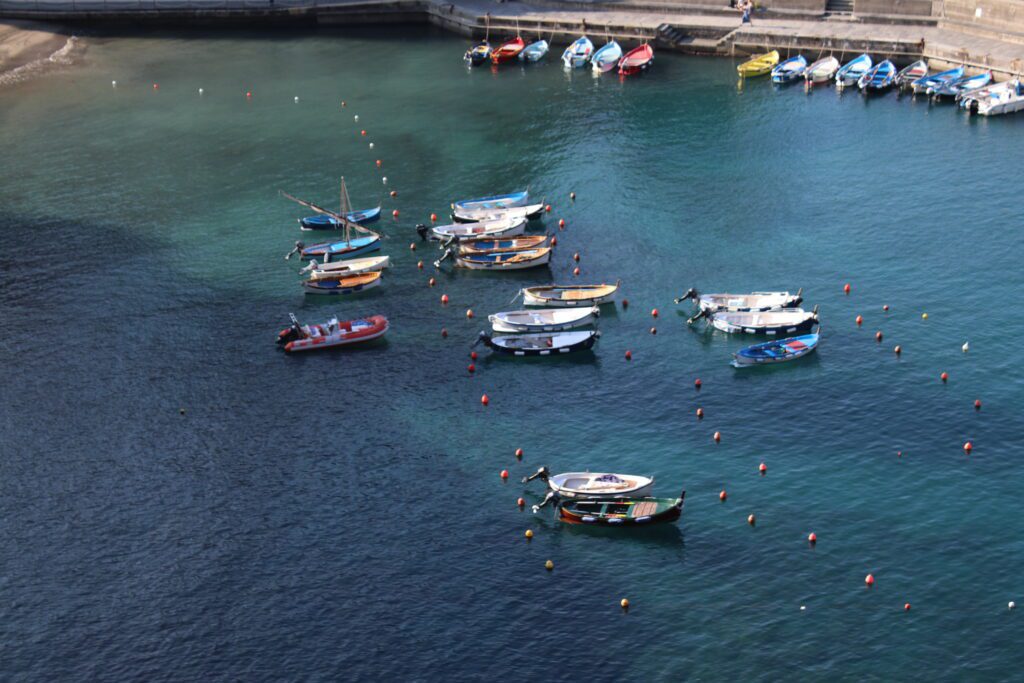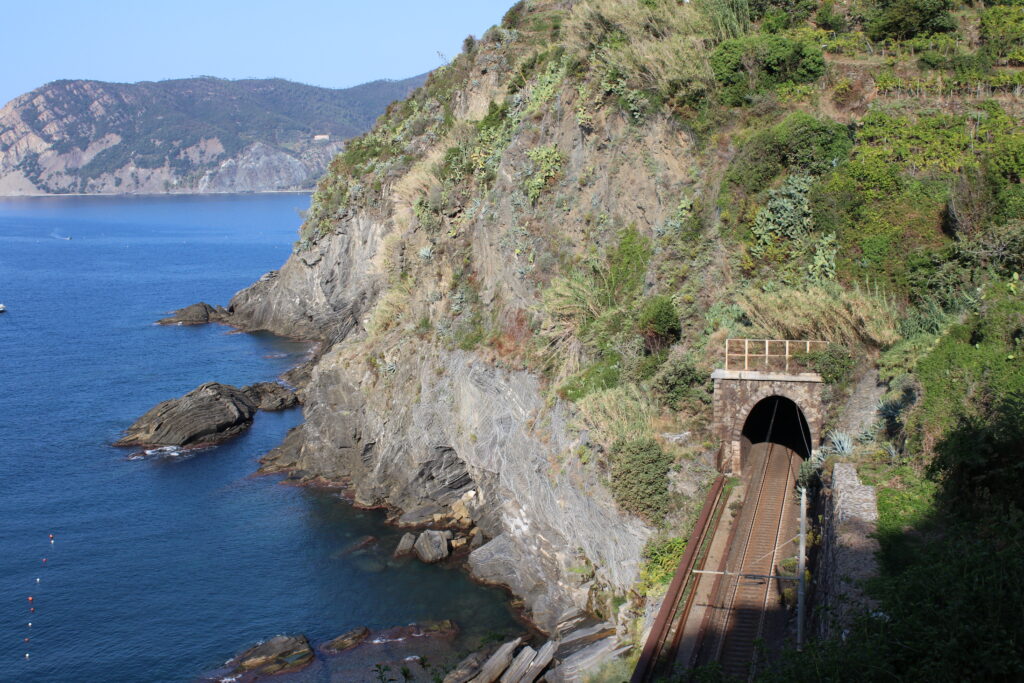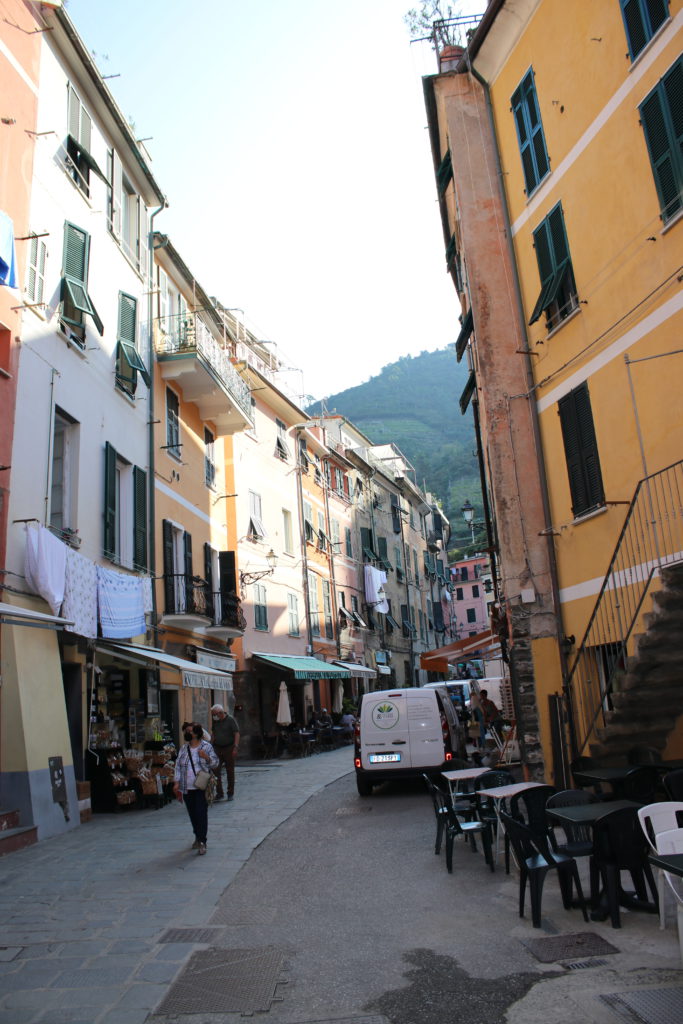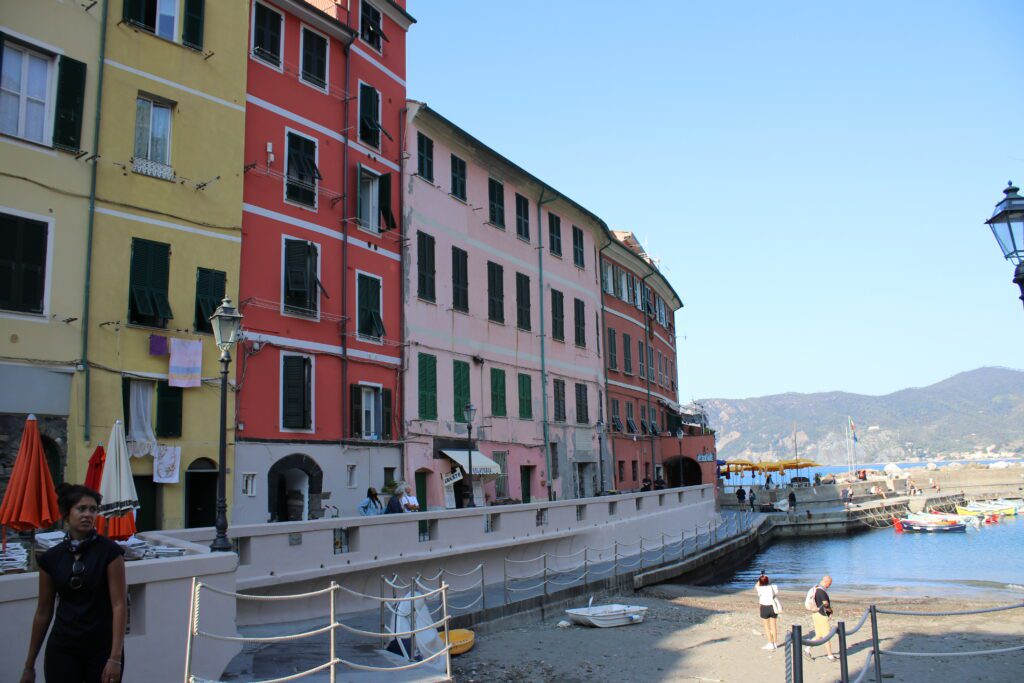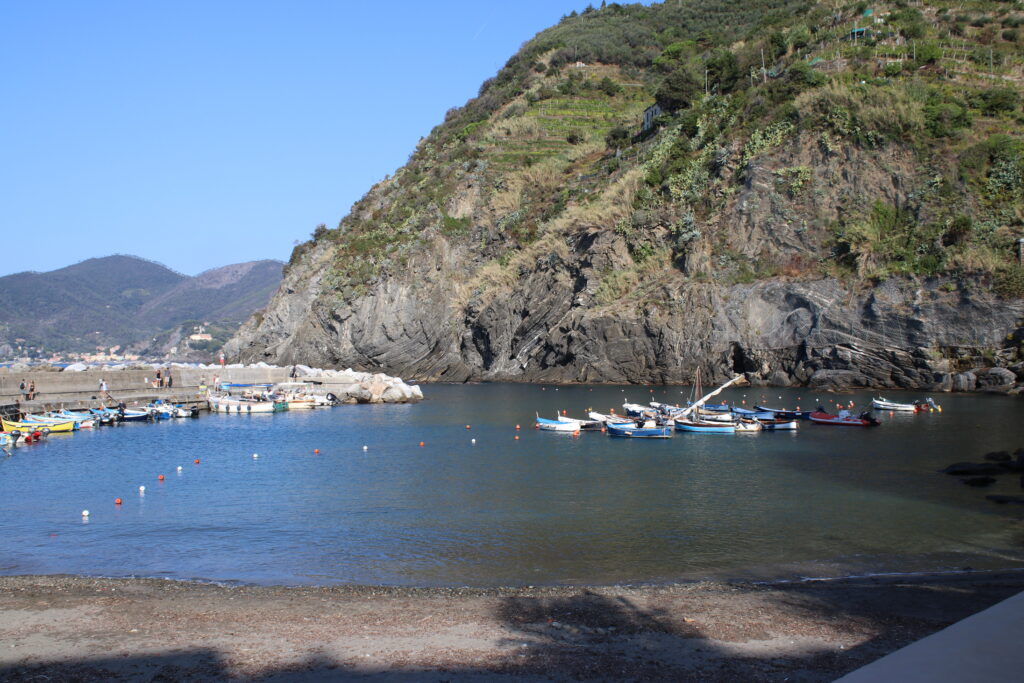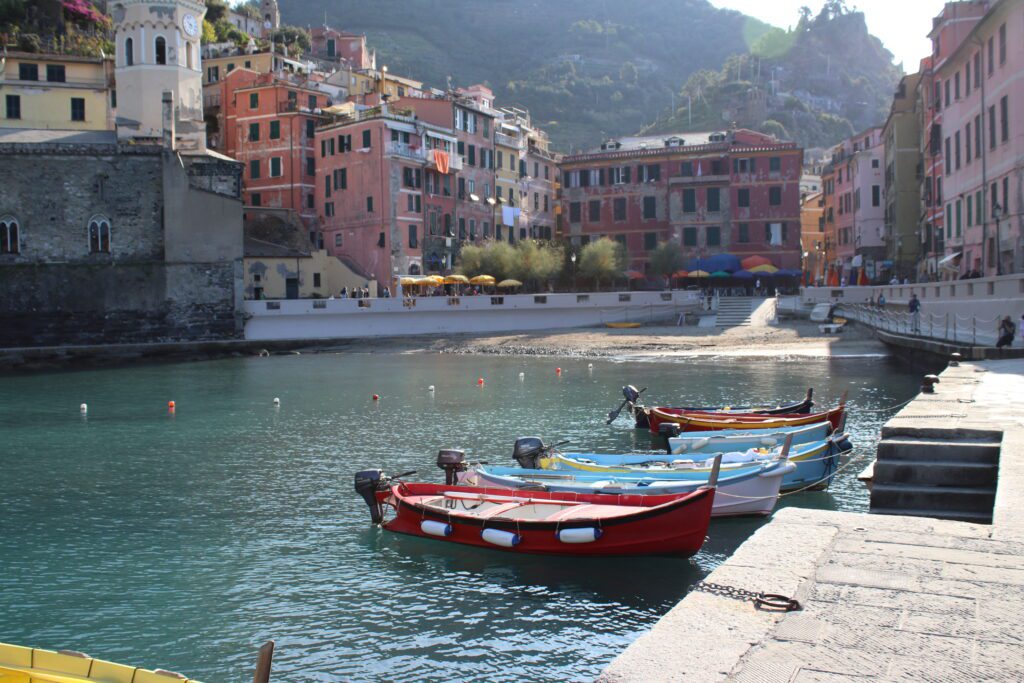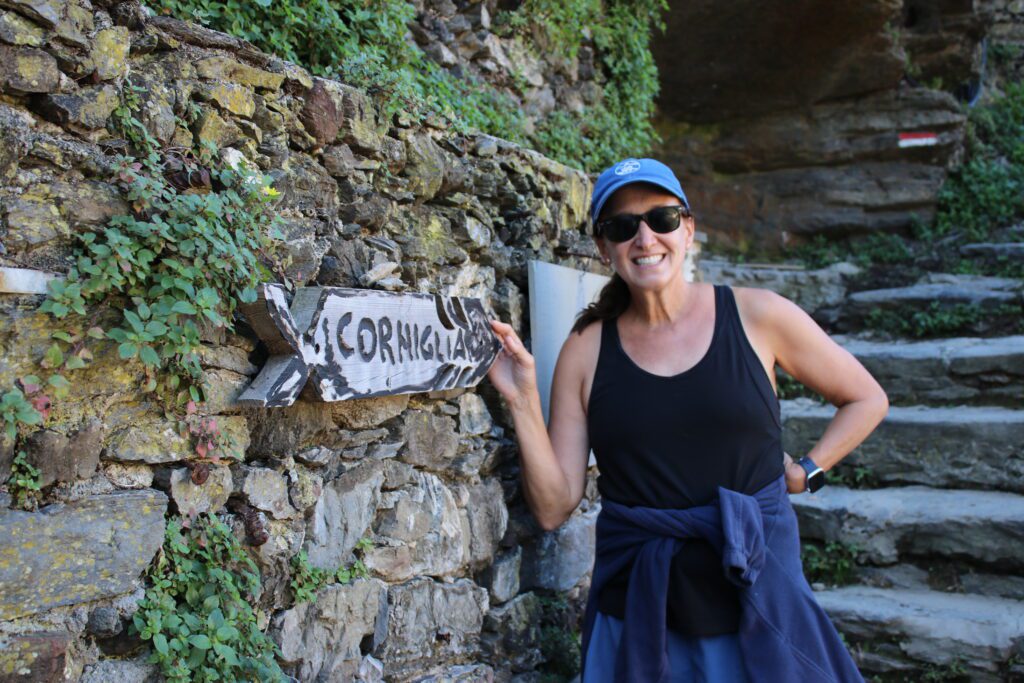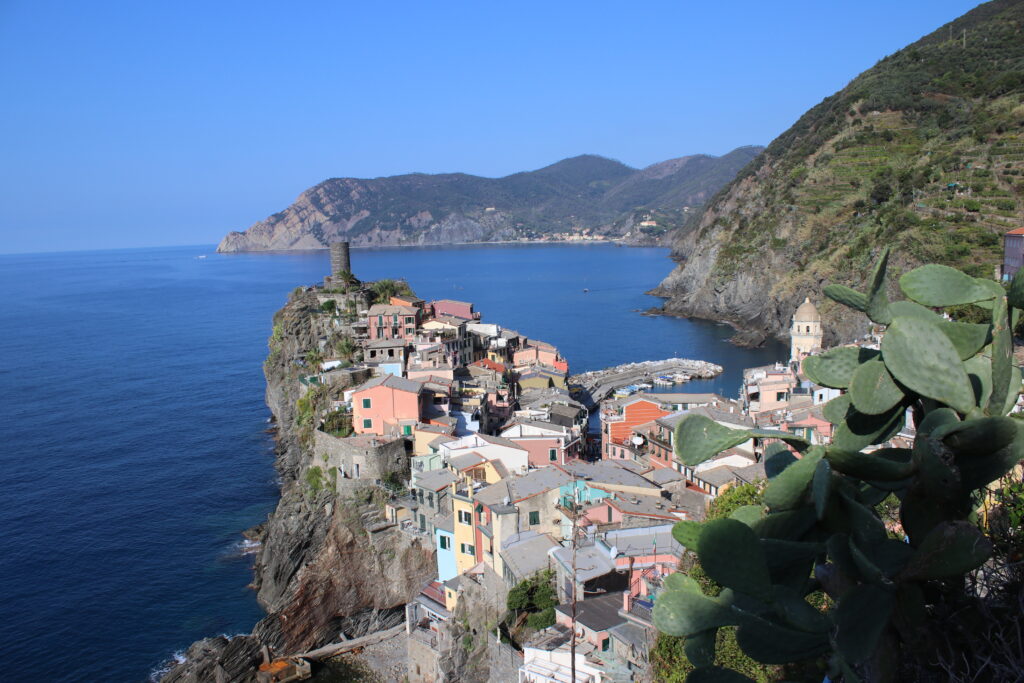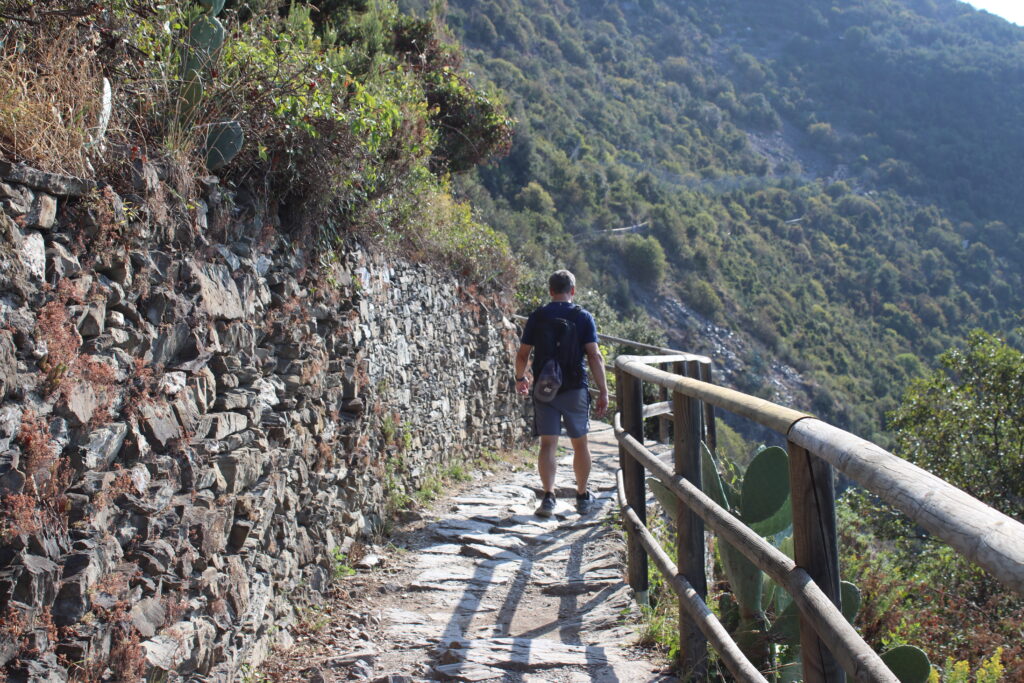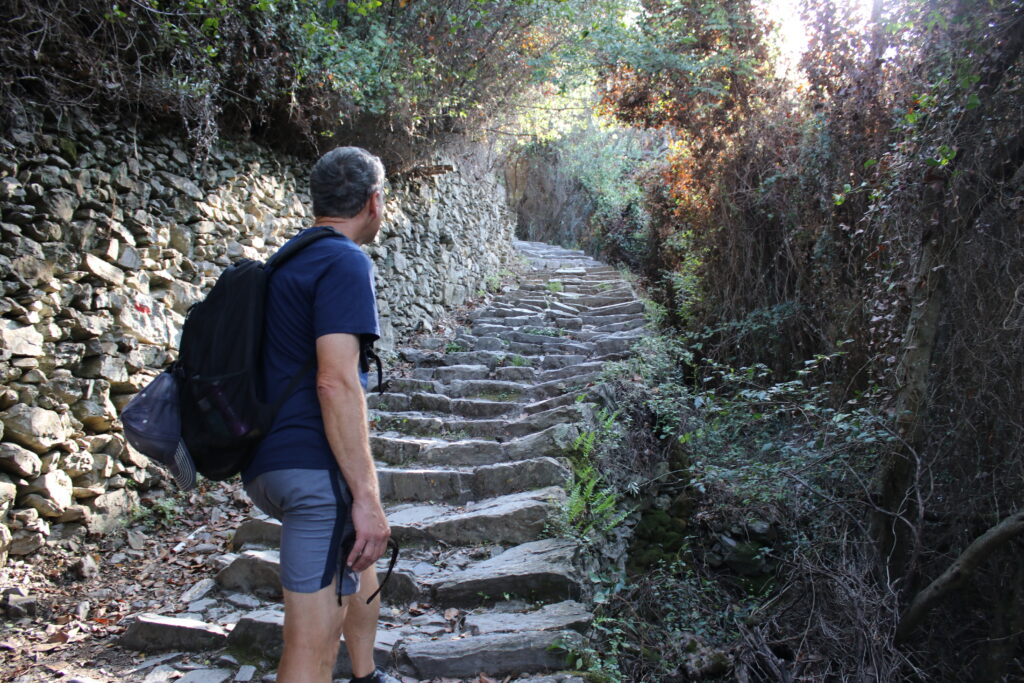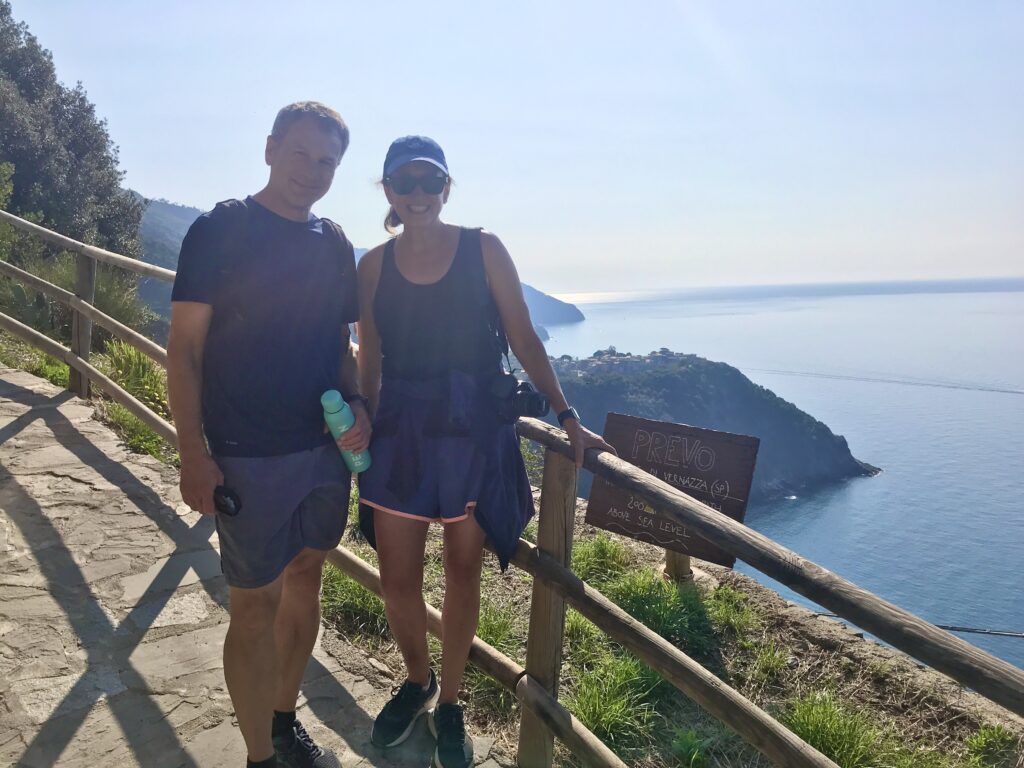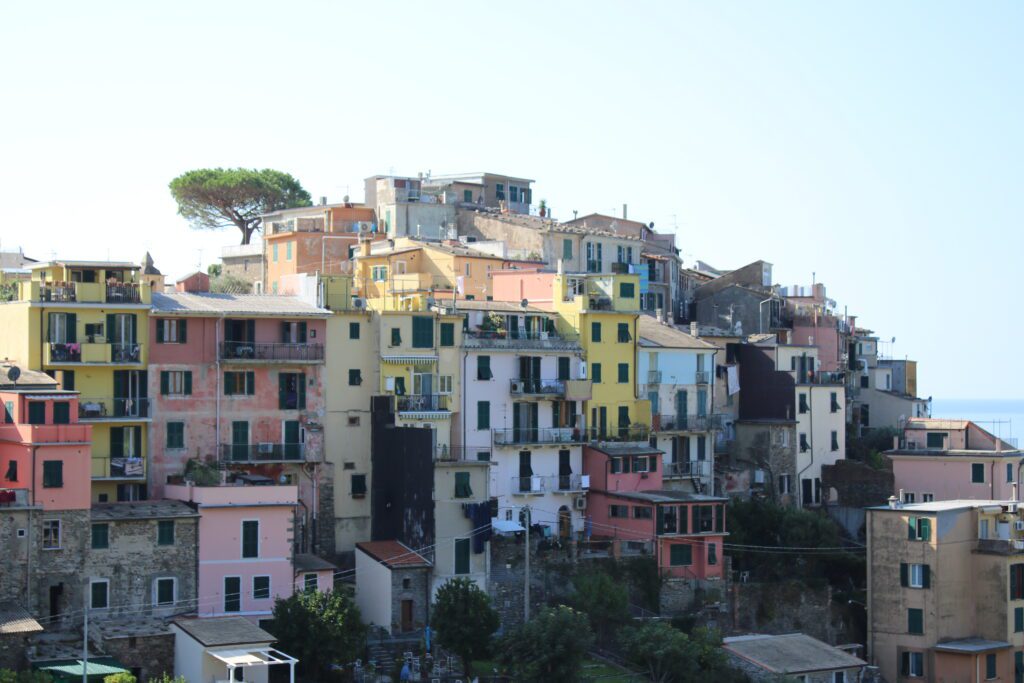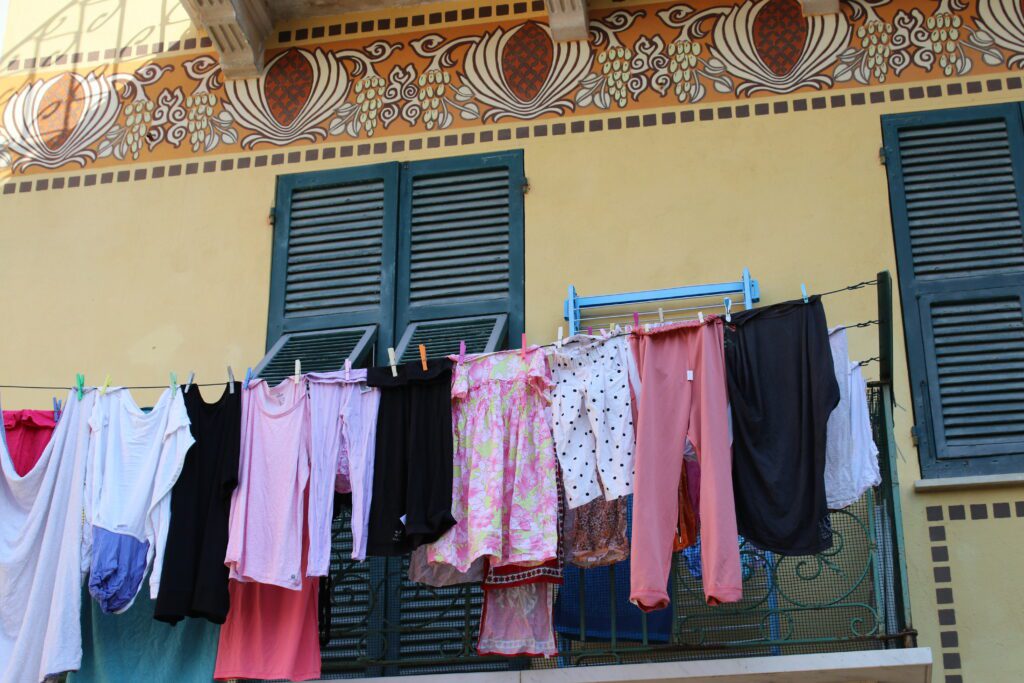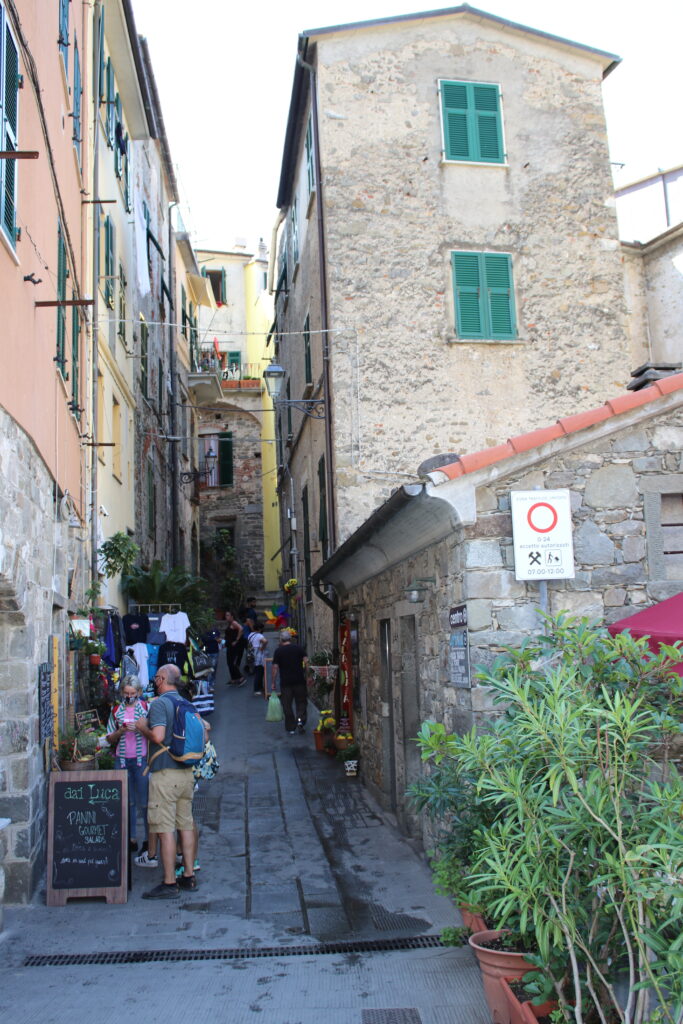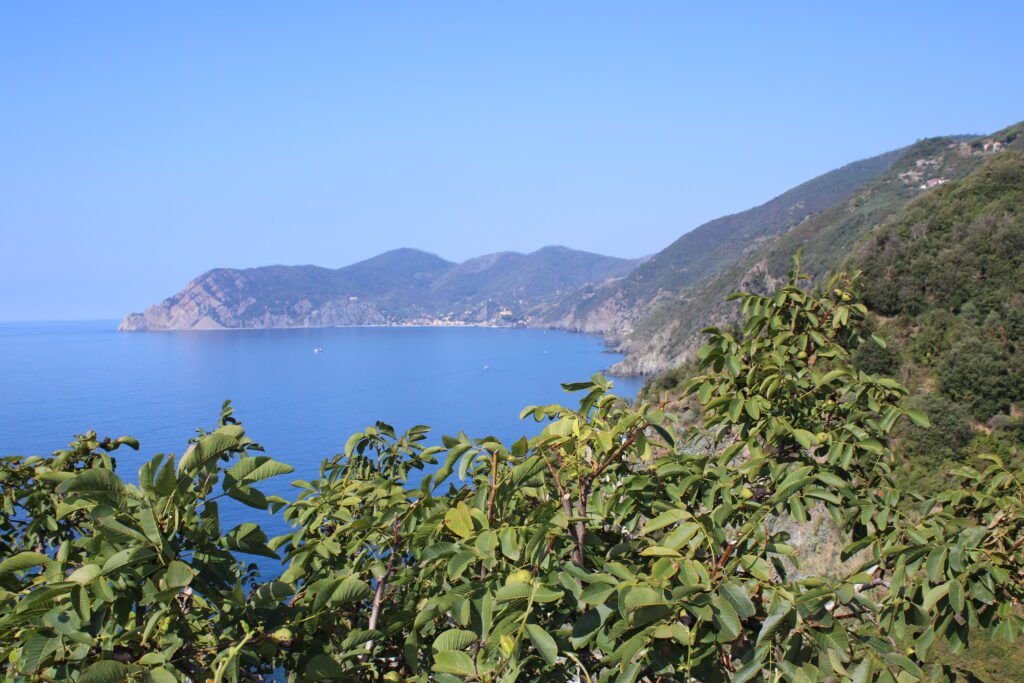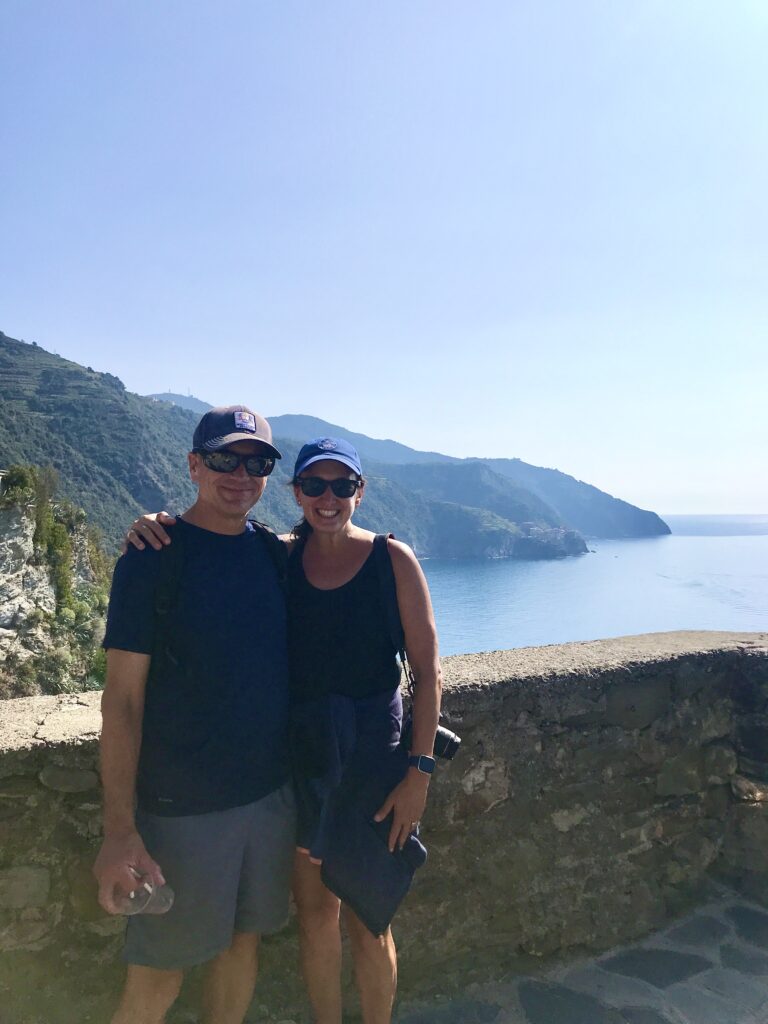 Train to Manarolo
Due to a rock slide, we could not hike on the Blue Path to the next town of Manarolo. There is another, much higher path to Manarolo, but we did not feel like making the hike too long. The hike is supposed to be beautiful through groves of grape vines. It takes much longer. So, we descended the 337 steps to the train station in Corniglia. It was a two minute ride to Manarolo.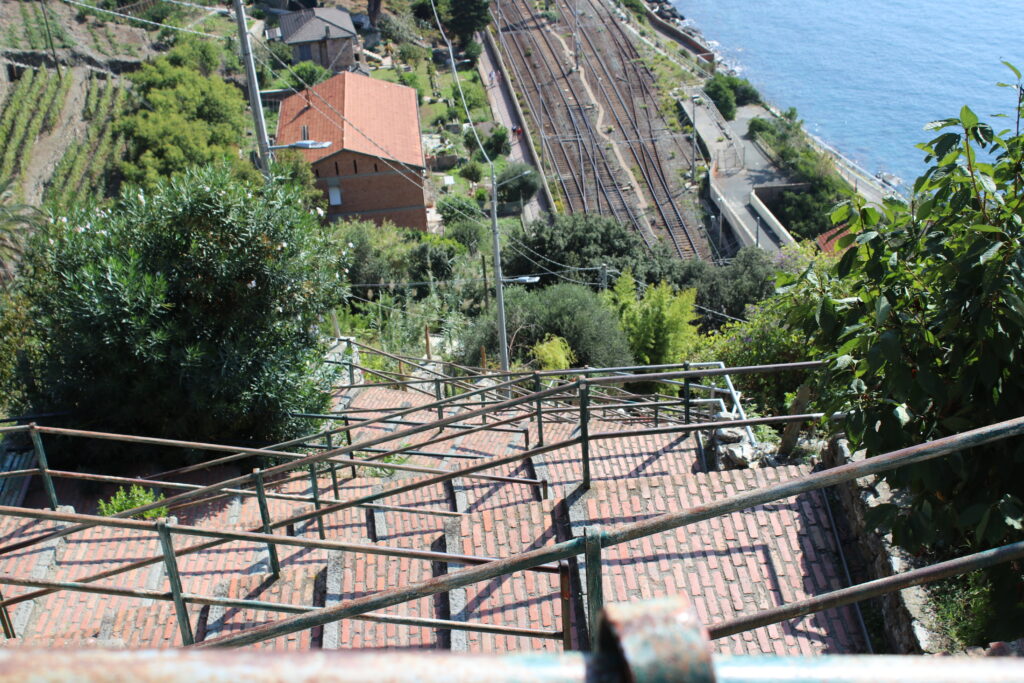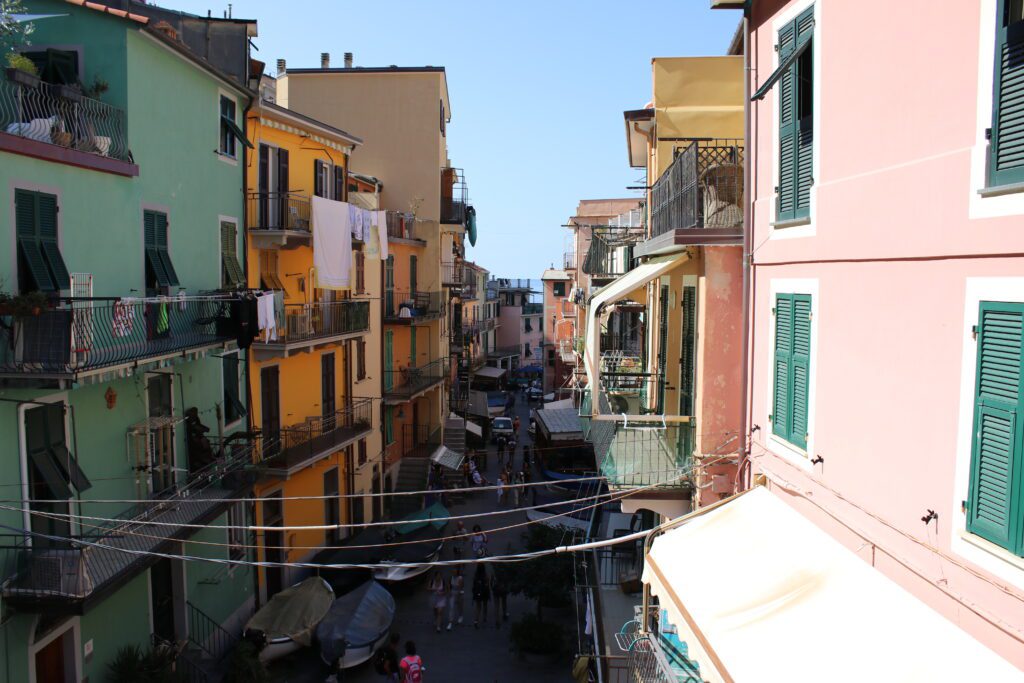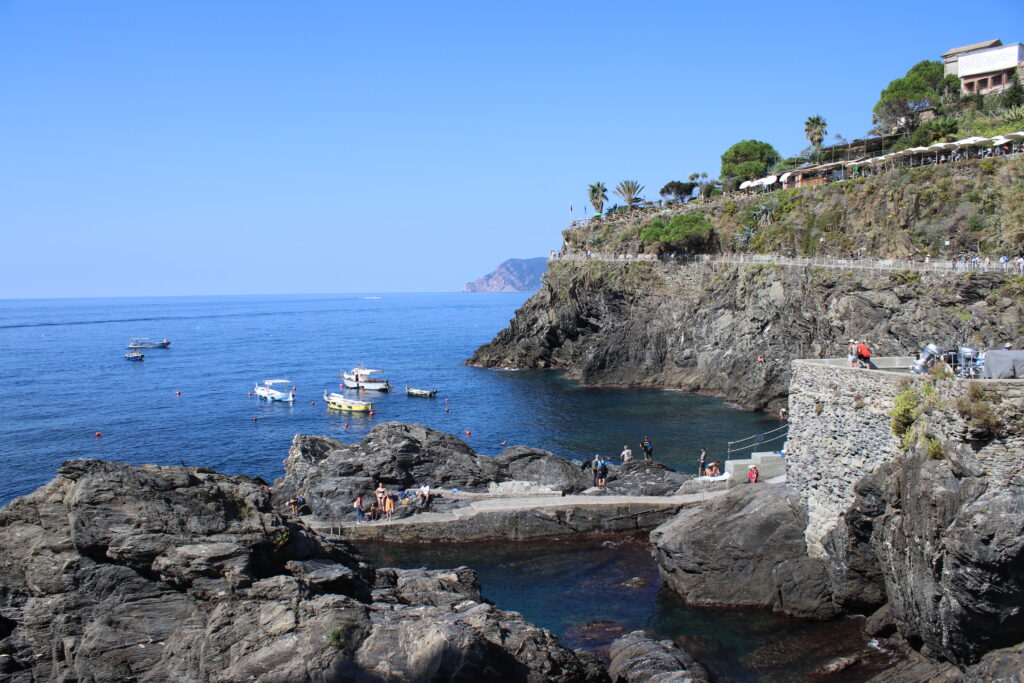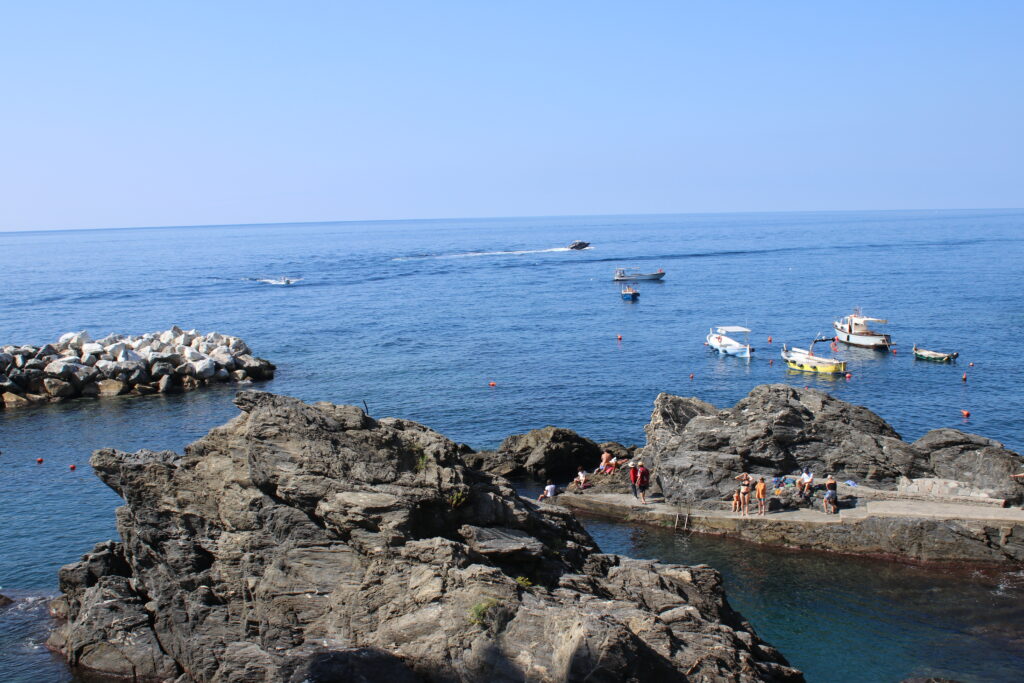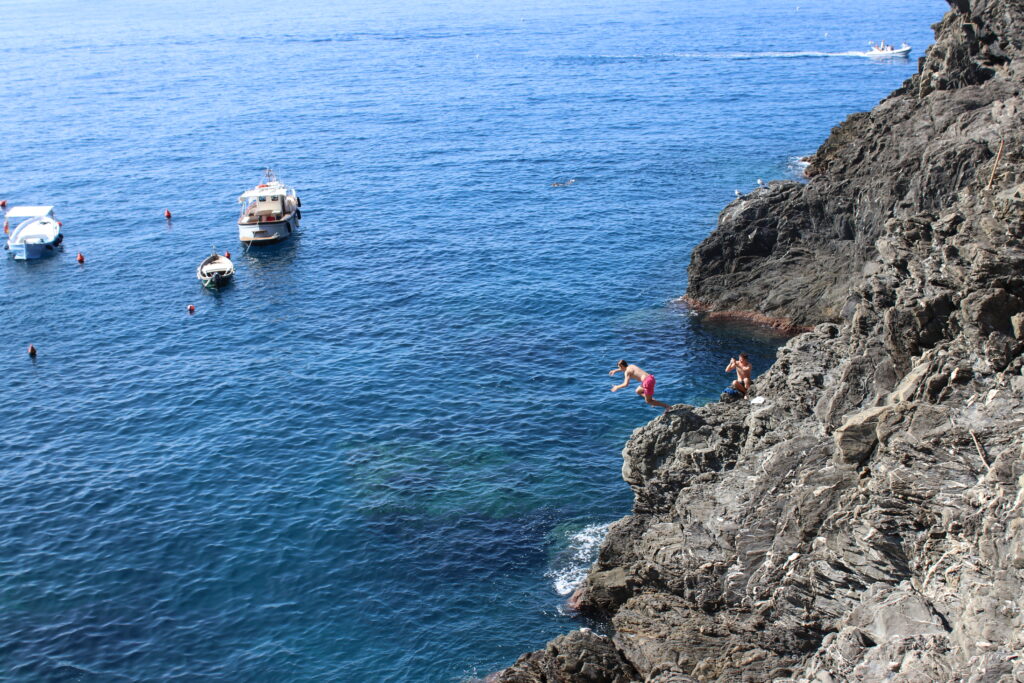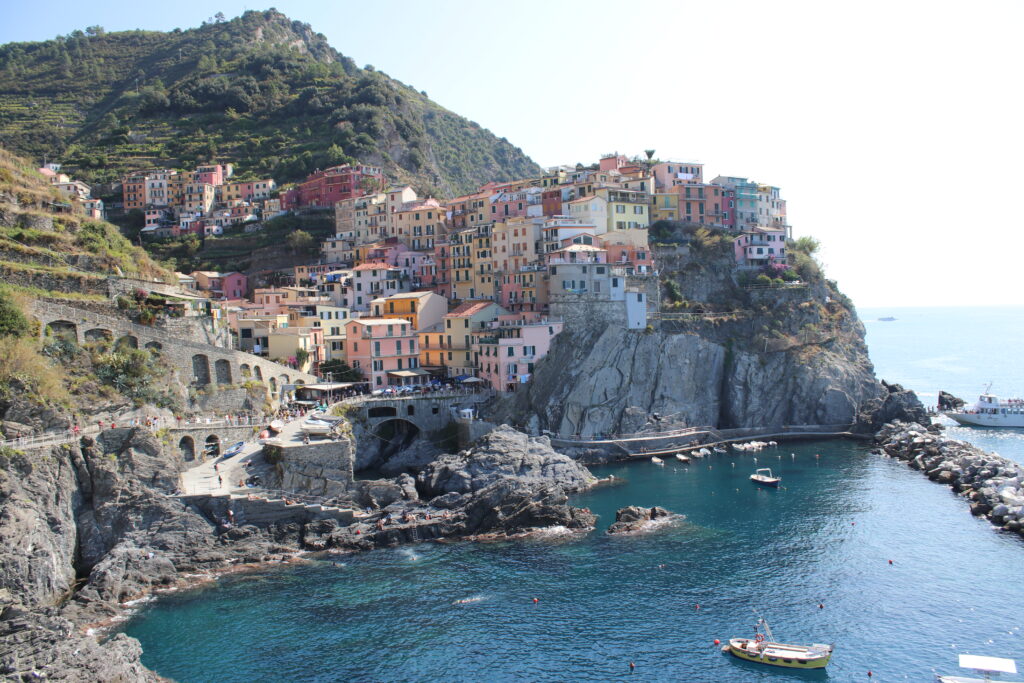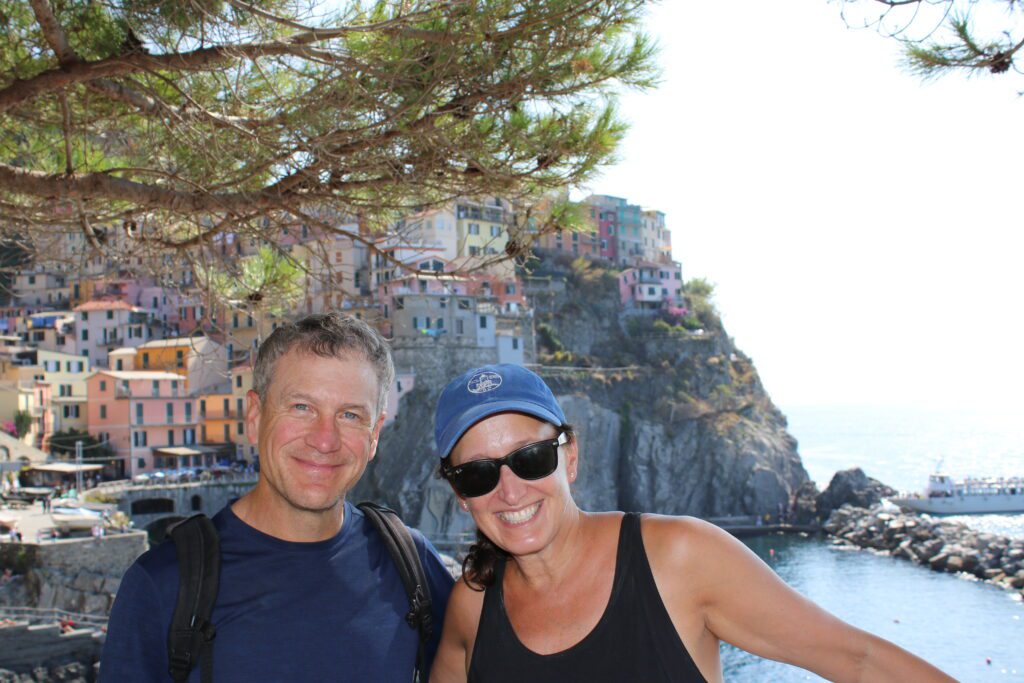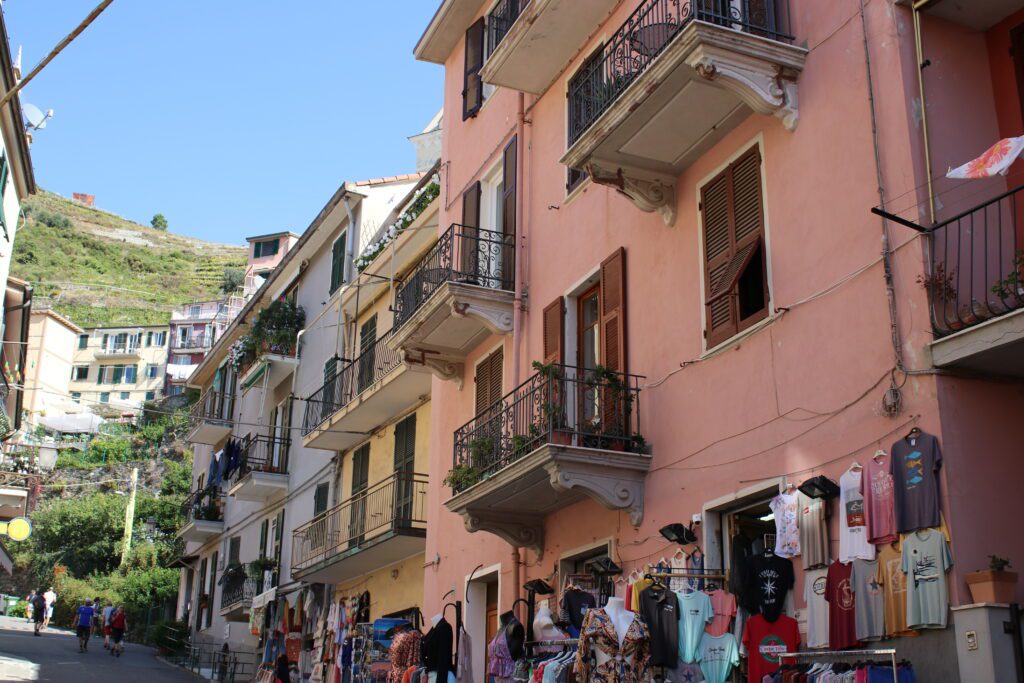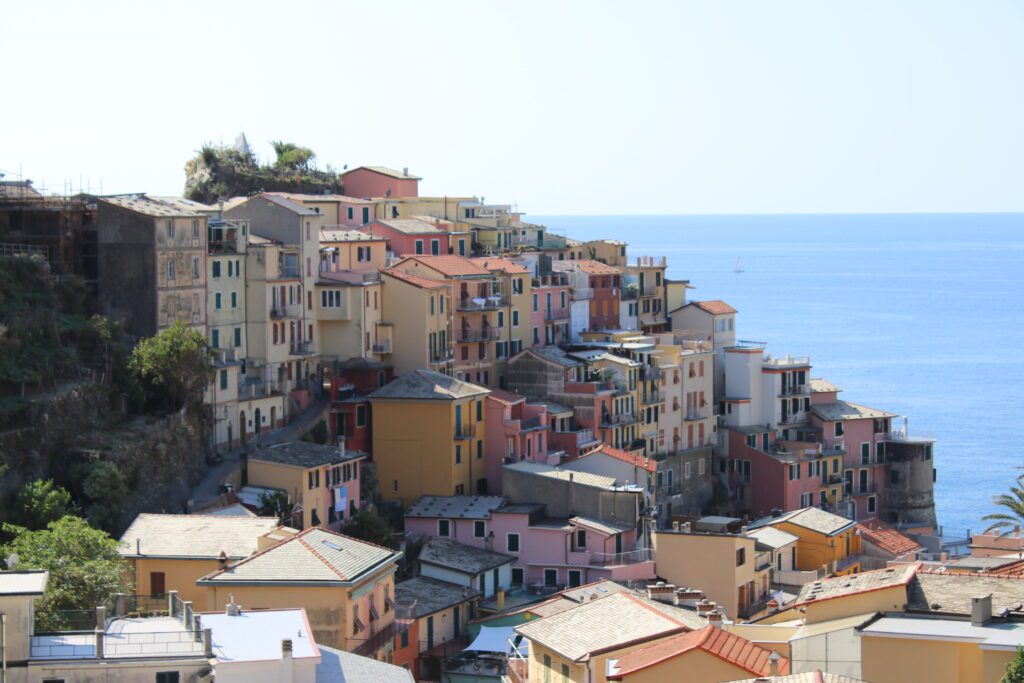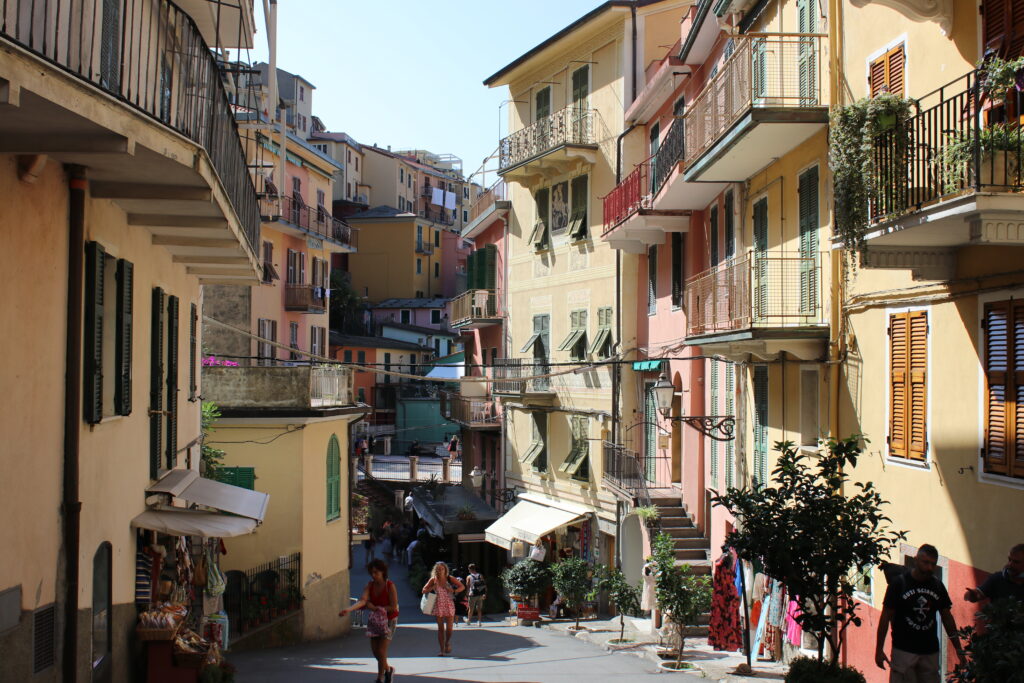 Train to Riomaggiore
The Blue Path is also closed between Manarolo and Riomaggiore. We hopped on the train and went another two minutes down the track to Riomaggiore. So easy!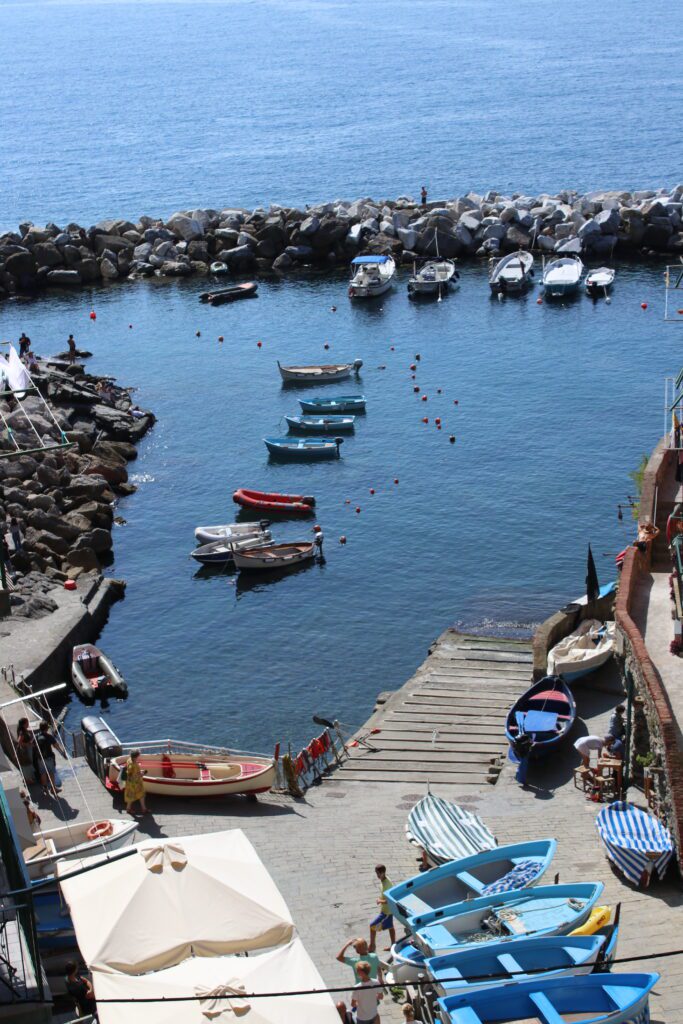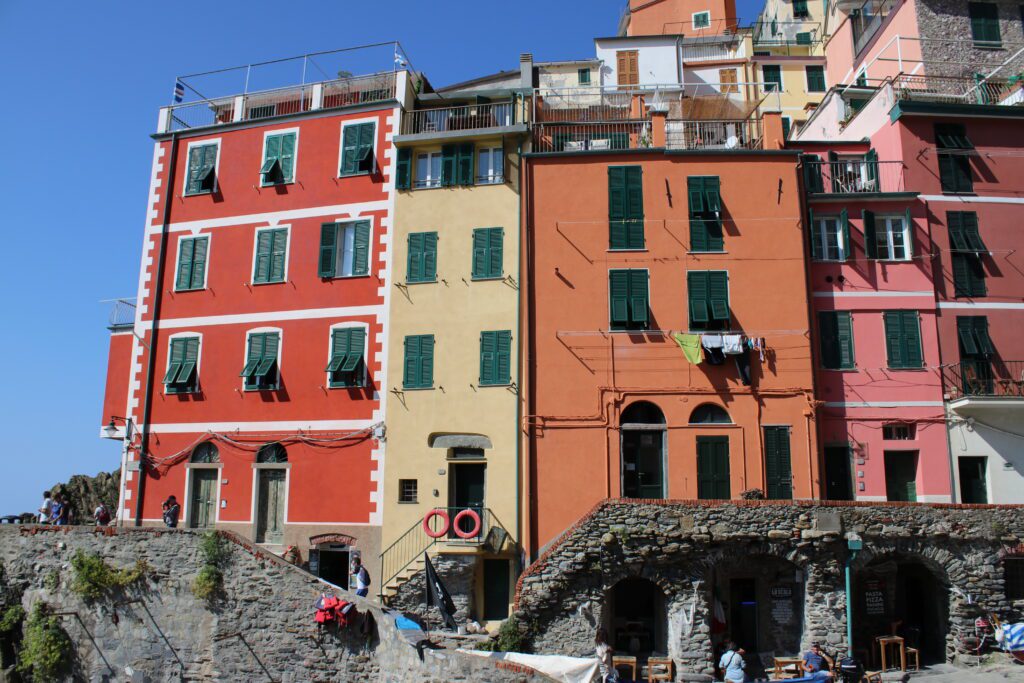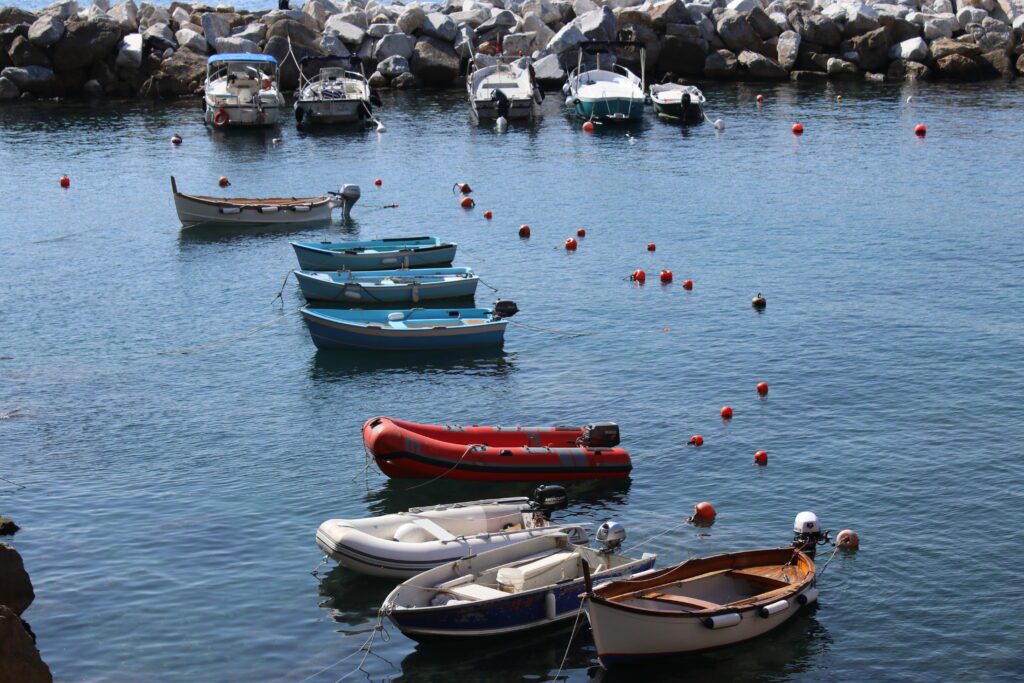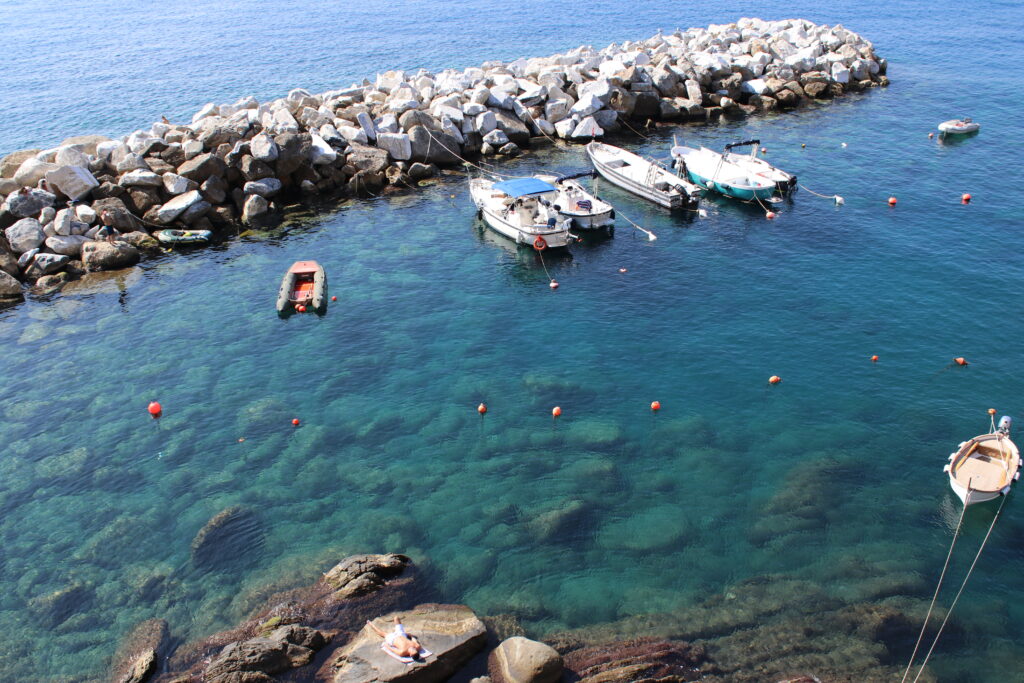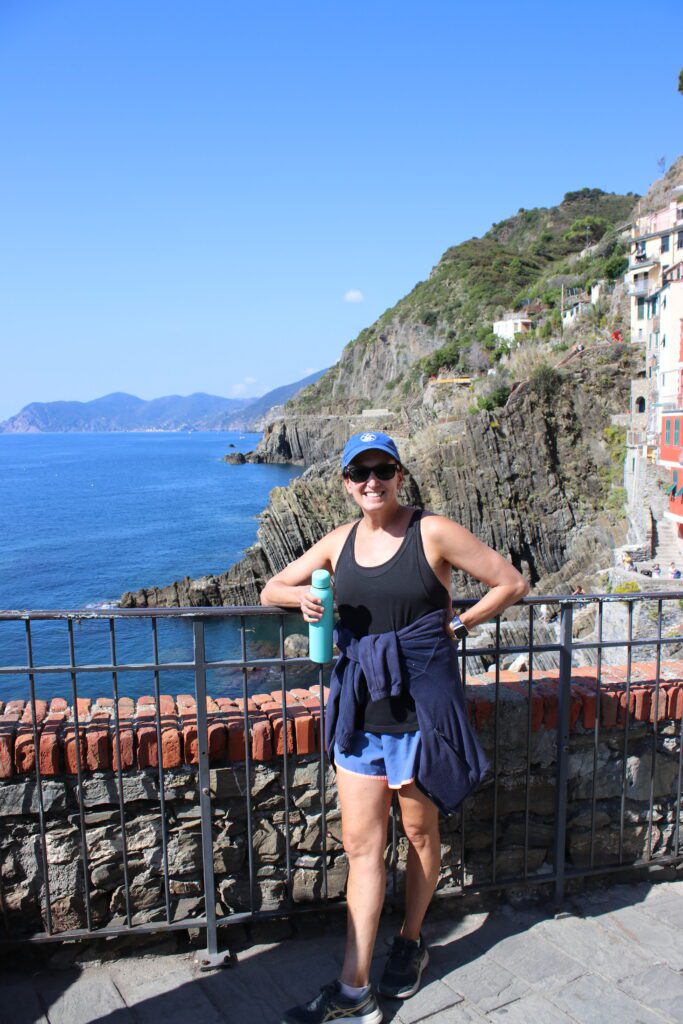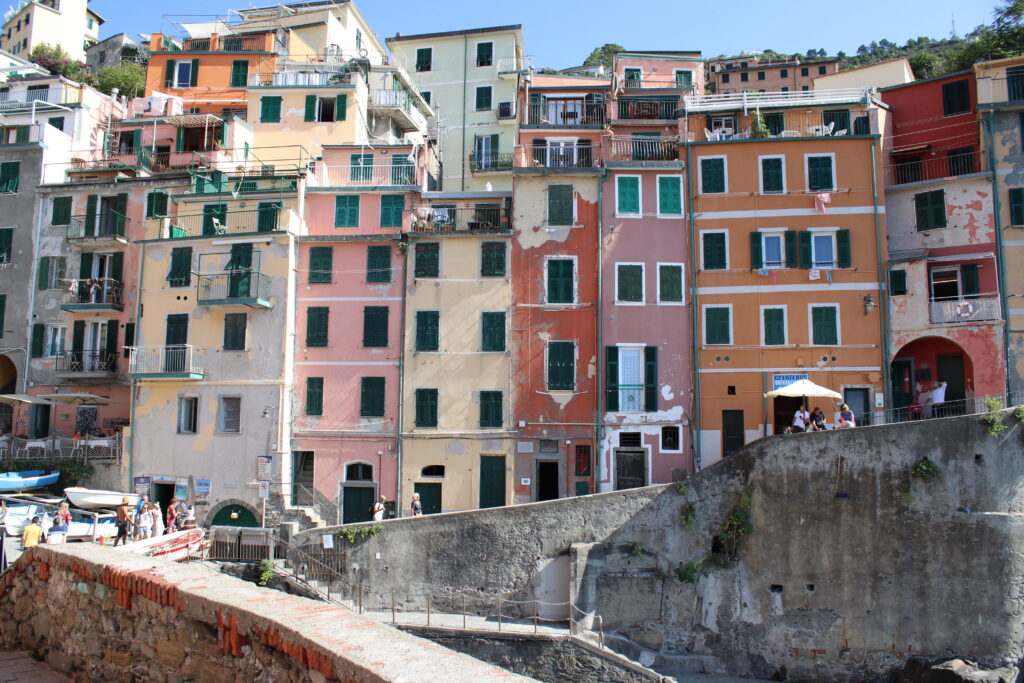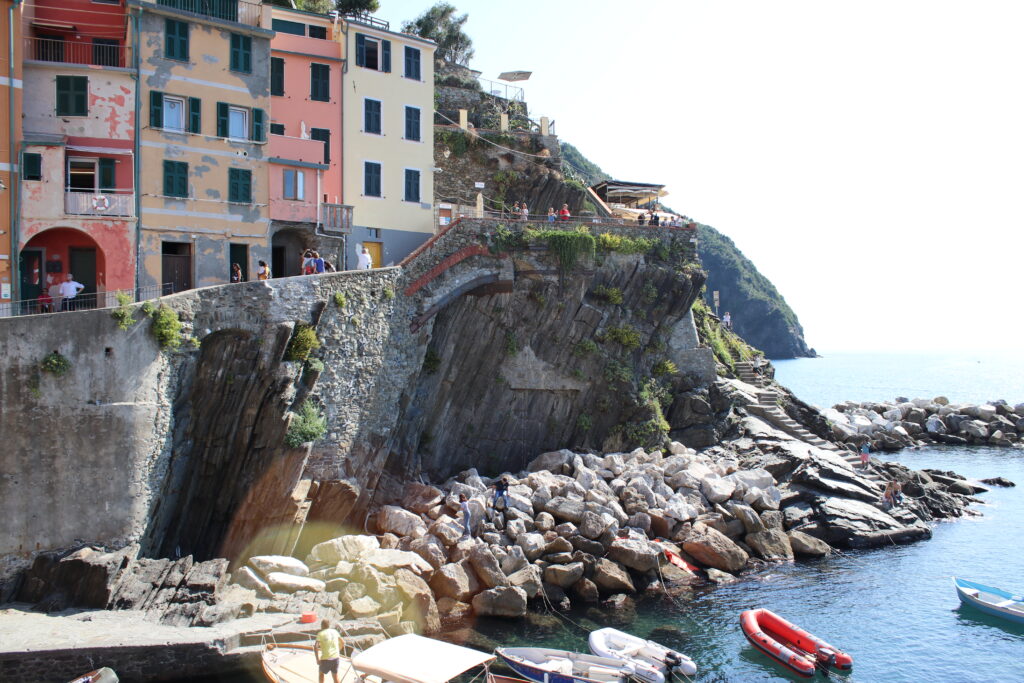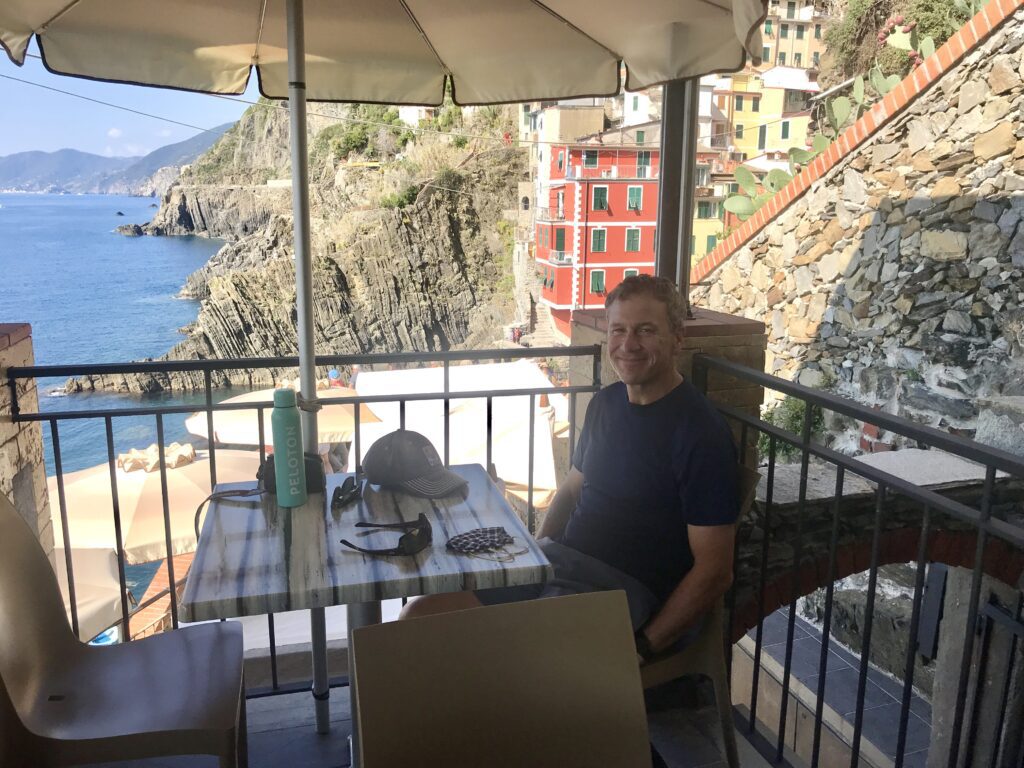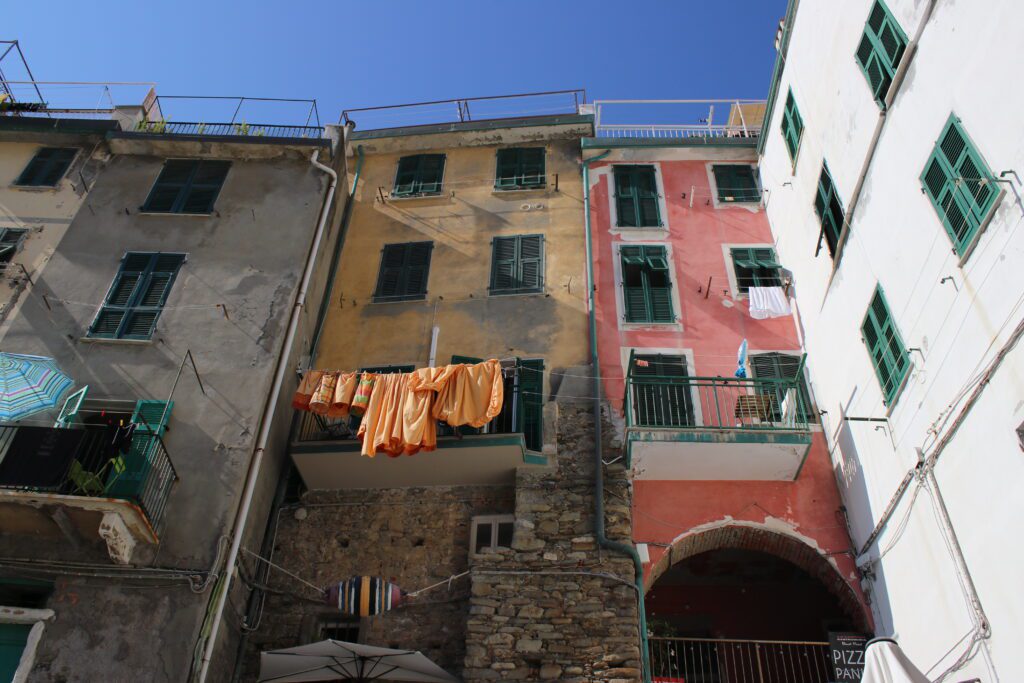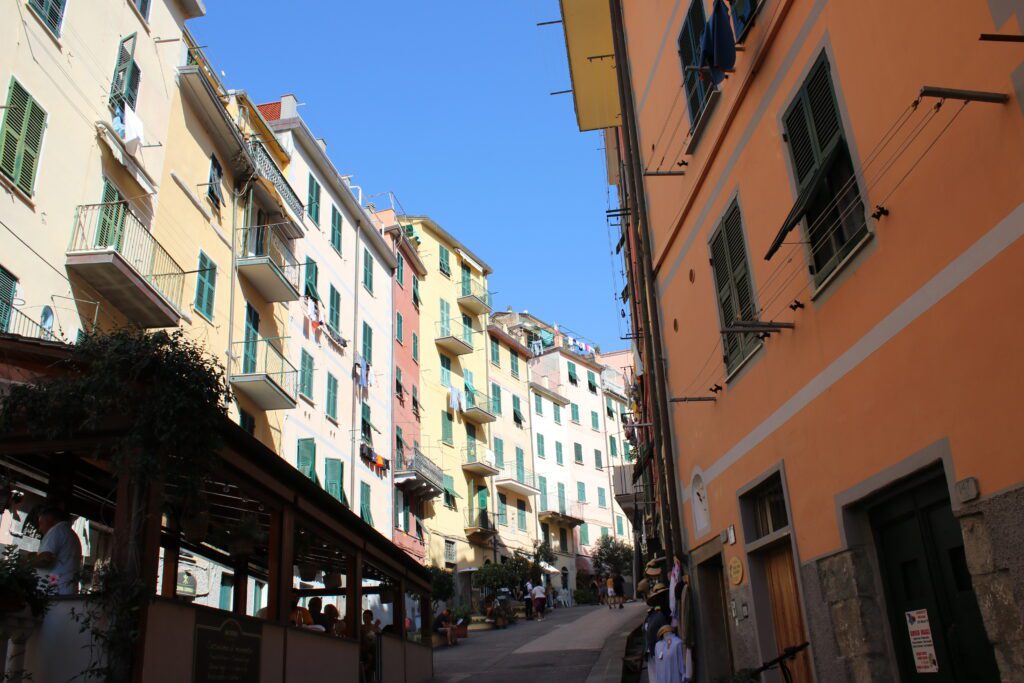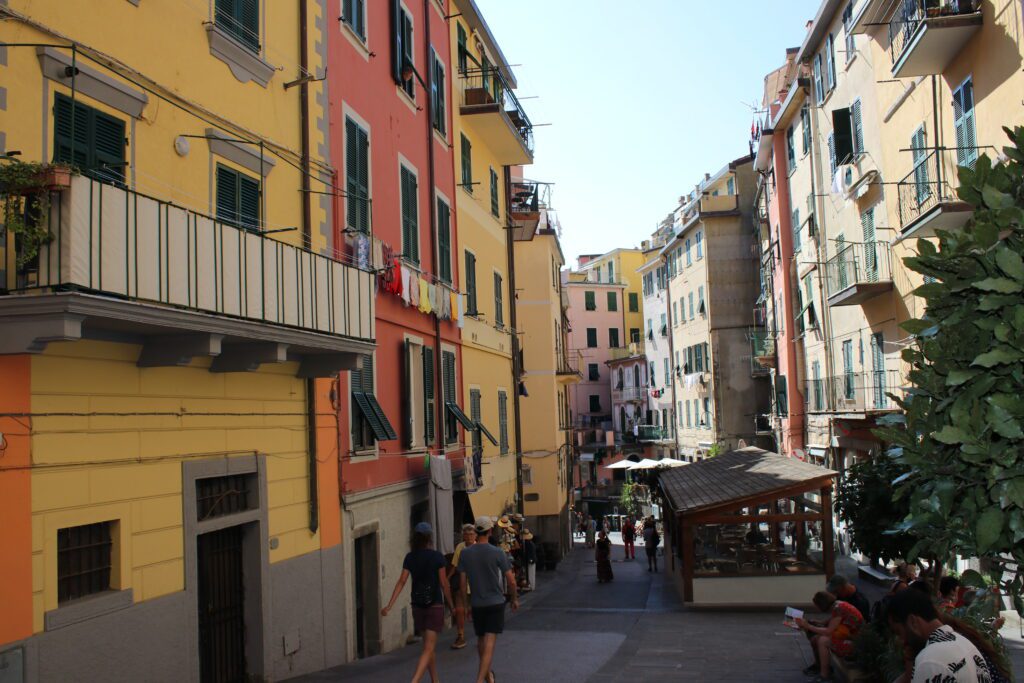 Train to Vernazza and a Hike back to Monterosso!
Rather that take the ferry back to Monterosso, we chose to train from Riomaggiore to Vernazza and power hike/walk back to the Hotel Porto Roca in Monterosso. The afternoon train was much more crowded than the earlier trains as was the trail. We loved our walk back. We rewarded ourselves with a jump into the sea!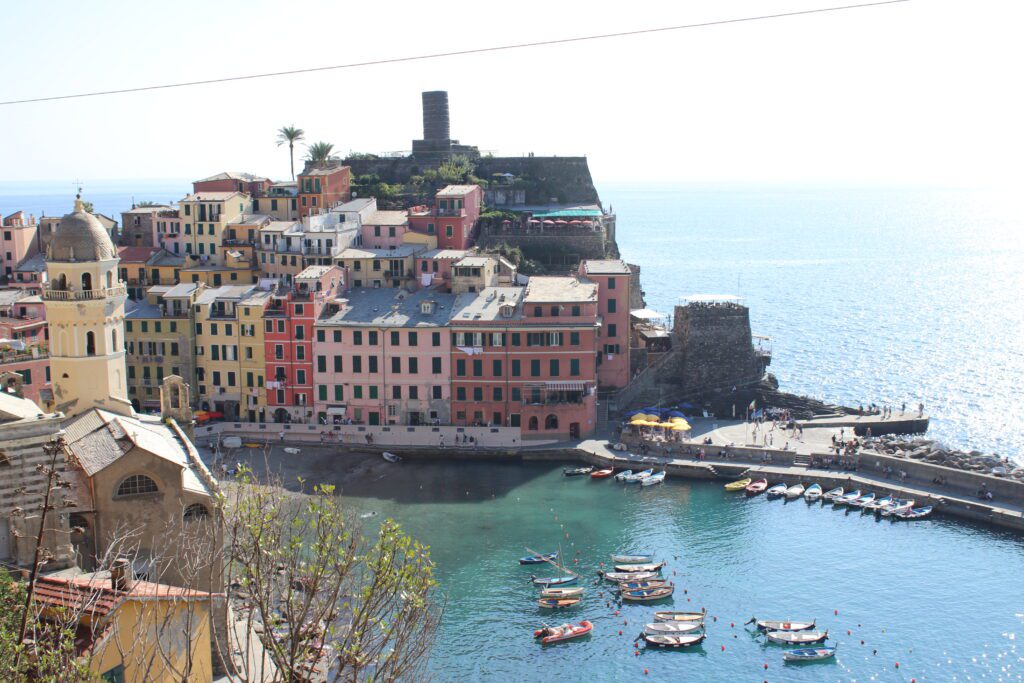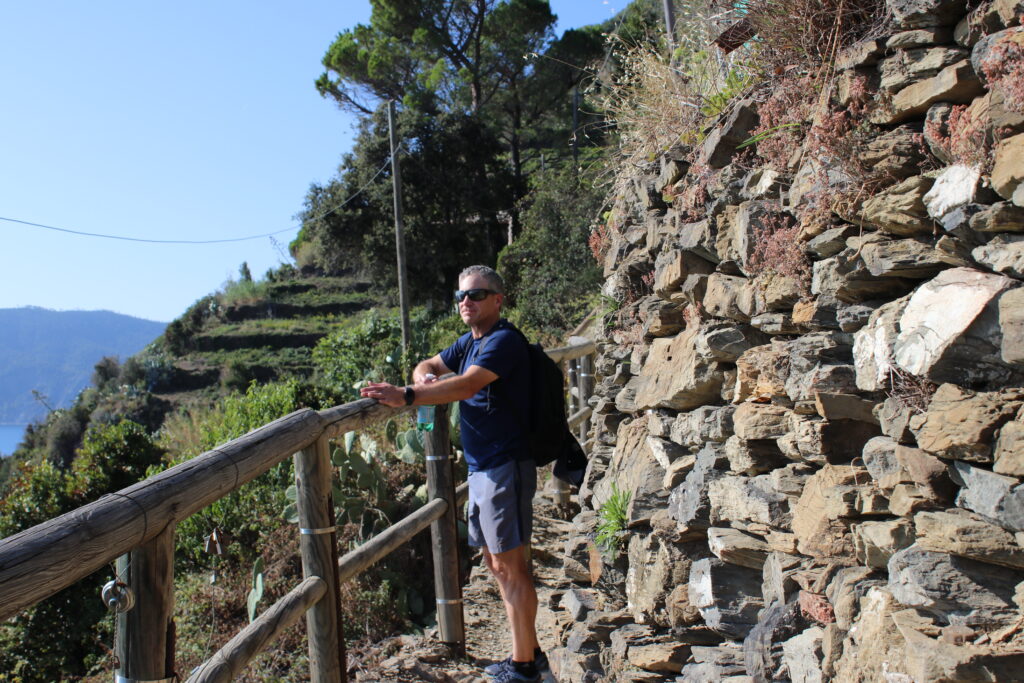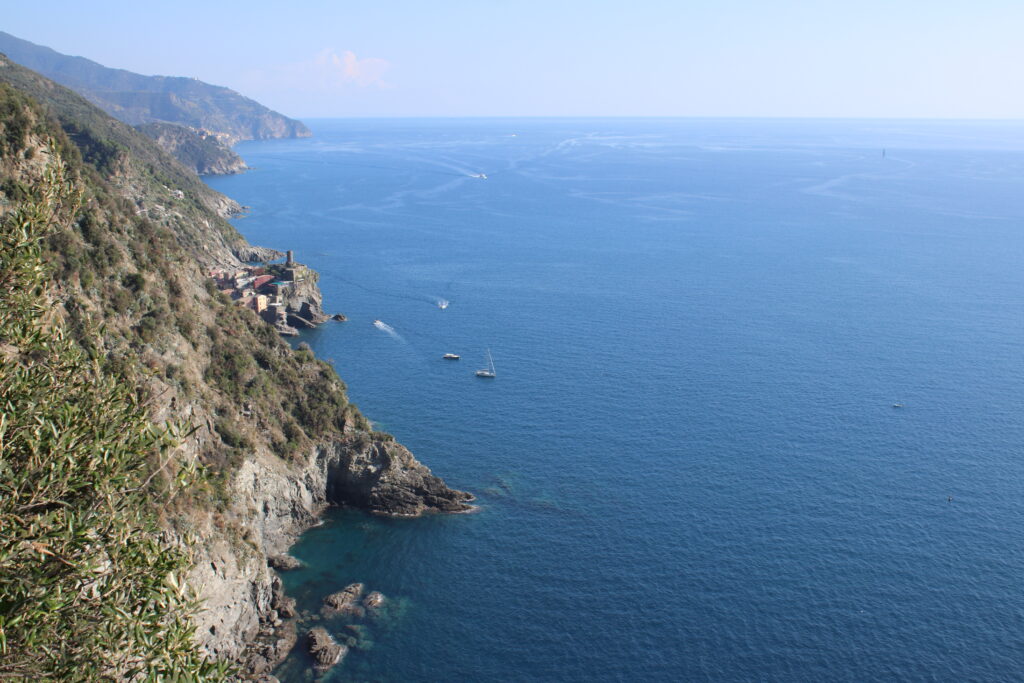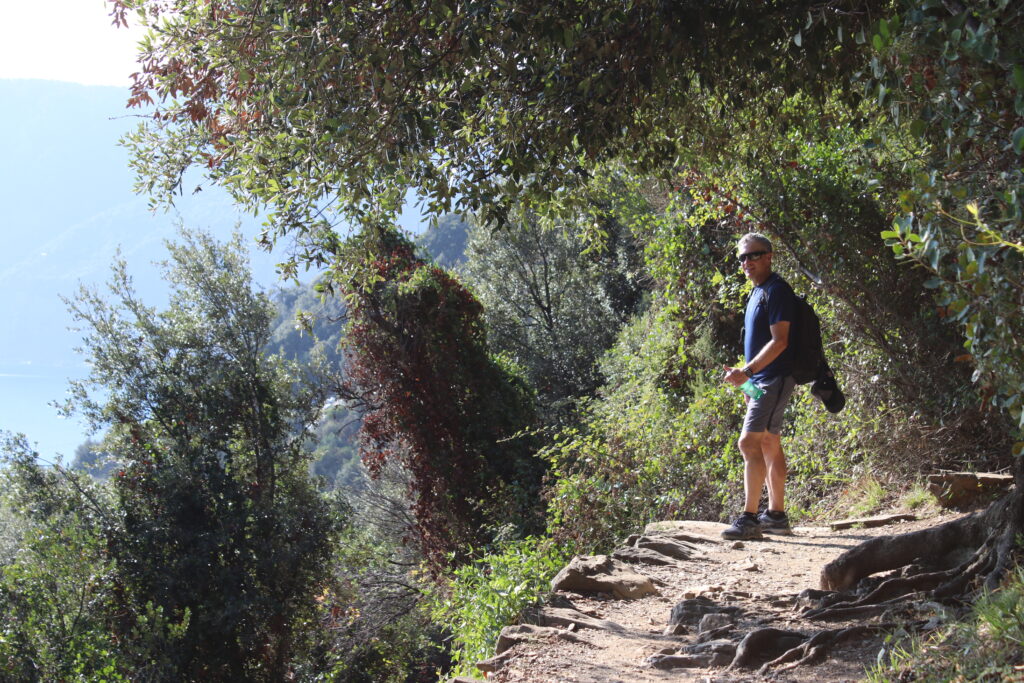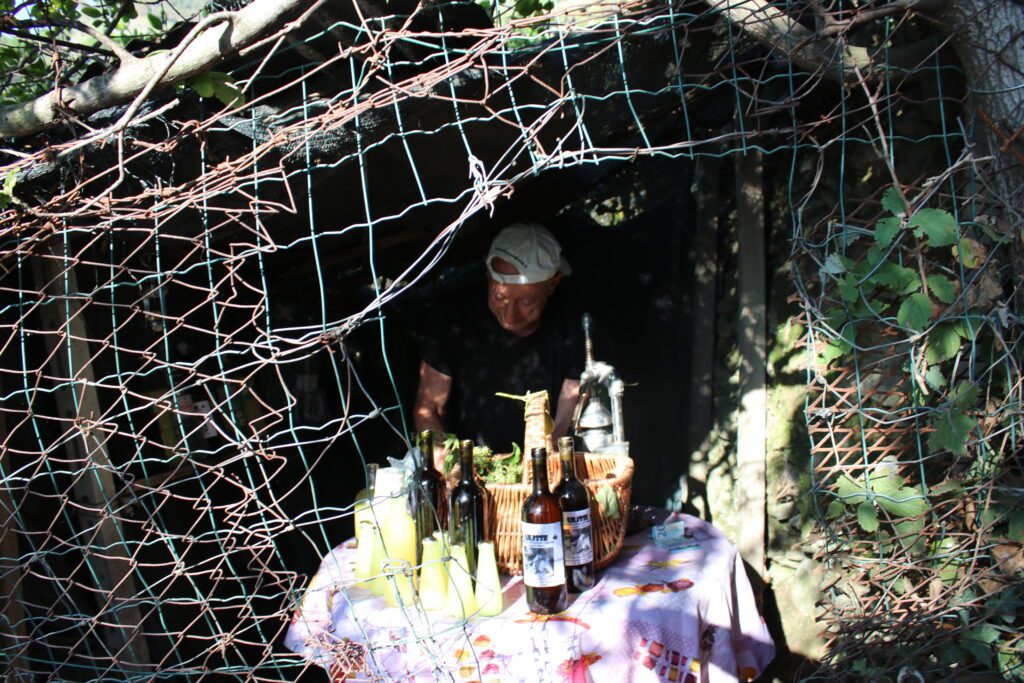 Where to Eat in Cinque Terre
We mostly ate in Monterosso, with one lunch in Riomaggiore. All our meals were excellent.
Ristorante Pizzeria de Ely
We lucked into an inside table at this adorable place. So, so cute, yummy ande delicious. They have a Facebook page, but no website. TripAdvisor reviews are strong. The restaurant is right in the main walking area in Monterosso.
Da'Eraldo
We had to wait over an hour for a table at Da'Eraldo. It was well worth the wait for everything – the food, the ambiance, the setting. We loved it. TripAdvisor reviews are amazing.
Hotel Porto Roca
We only ate breakfast at the Hotel Porto Roca, but they seemed to have outstanding food for lunch and for dinner. You cannot go wrong here. The view from the hotel is amazing.
La Conchiglia
La Conchiglia is in Riomaggiore. We had outstanding, giant salads for lunch. We LOVED this place. The only negative I can say (and it happens a lot in Italy), is that they allow smoking in the restaurant. We ate outside on the terrace, so it really was not an issue. We just hate smoking. TripAdvisor reviews are very mixed, but we loved it.
Pisa
After an amazing breakfast at our hotel, we took a three mile walk and then headed out to Pisa. We used Apple maps as our guide and arrived in a little less than three hours. We loved Pisa. The parking is a bit of a challenge. We parked on the street and some locals helped us purchase our tickets. It was a Saturday in September with many tourists, so many parking lots were full or a long wait to secure a space.
We purchased our tickets for the tower climb online the day before we arrived. Easy and saved us a bunch of time. You must have a ticket to visit the tower, the baptistry, and the museums. Due to time constraints, we visited the tower and the church (which is free to visit). The tower is a timed entrance ticket which is why we recommend purchasing them in advance. We also walked along the old city walls which cost just a few Euros.
The top of the tower is spooky. Michele had a very hard time with her fear of falling. You must be vaccinated to go into any inside building in the Square of Miracles.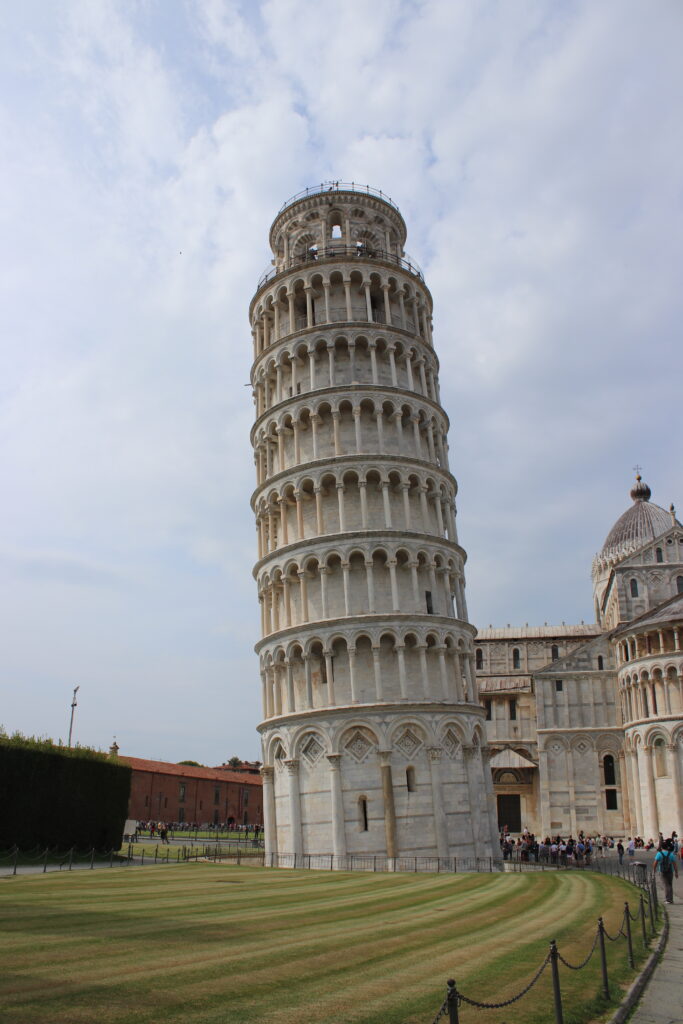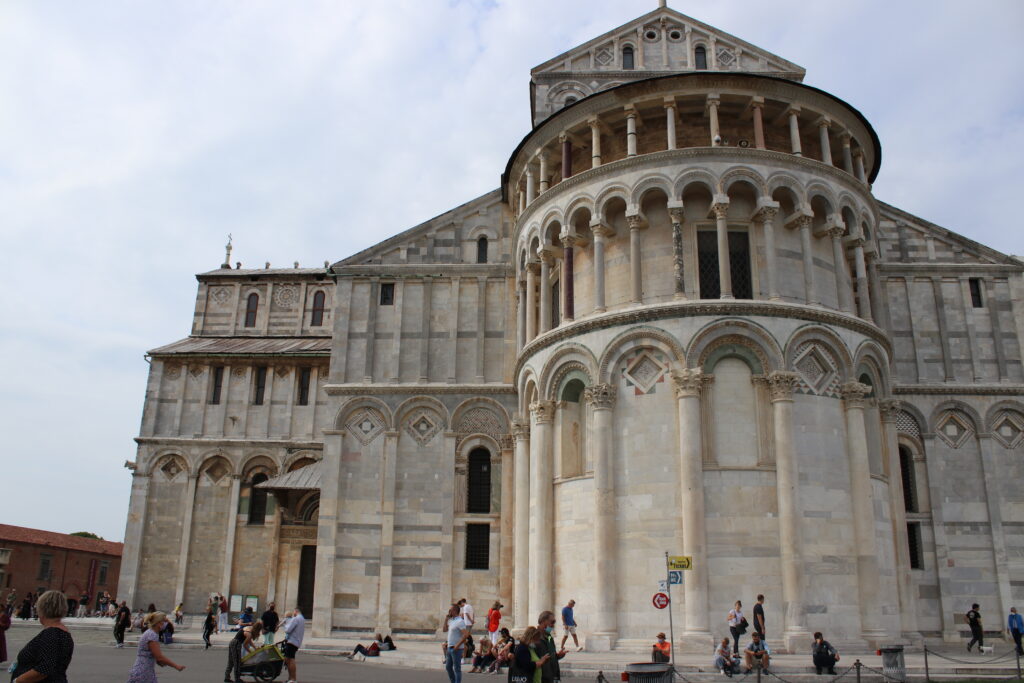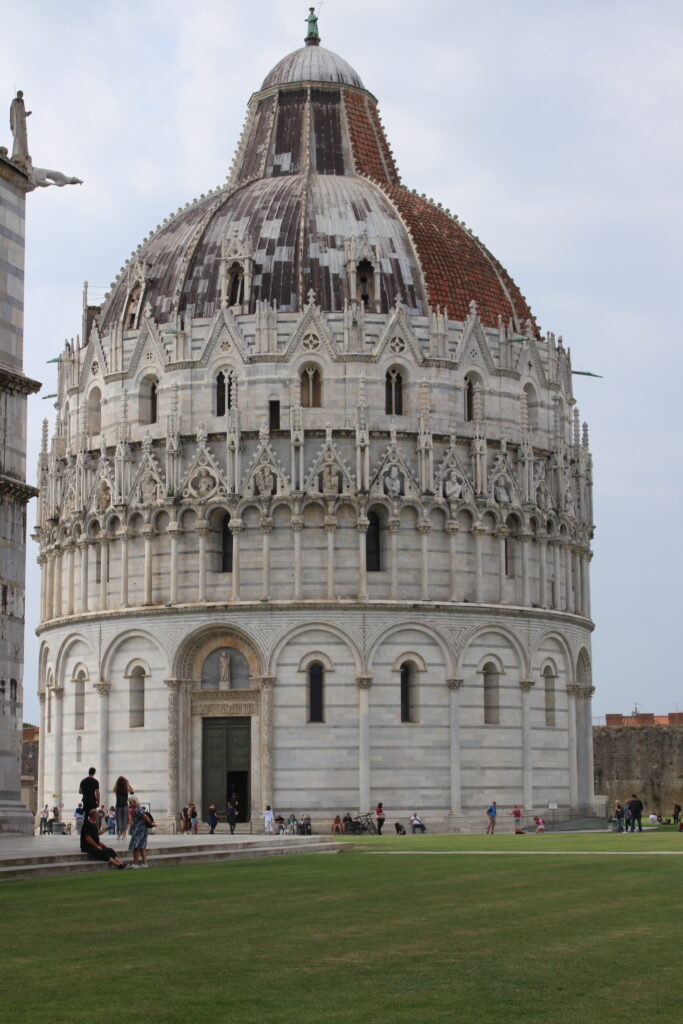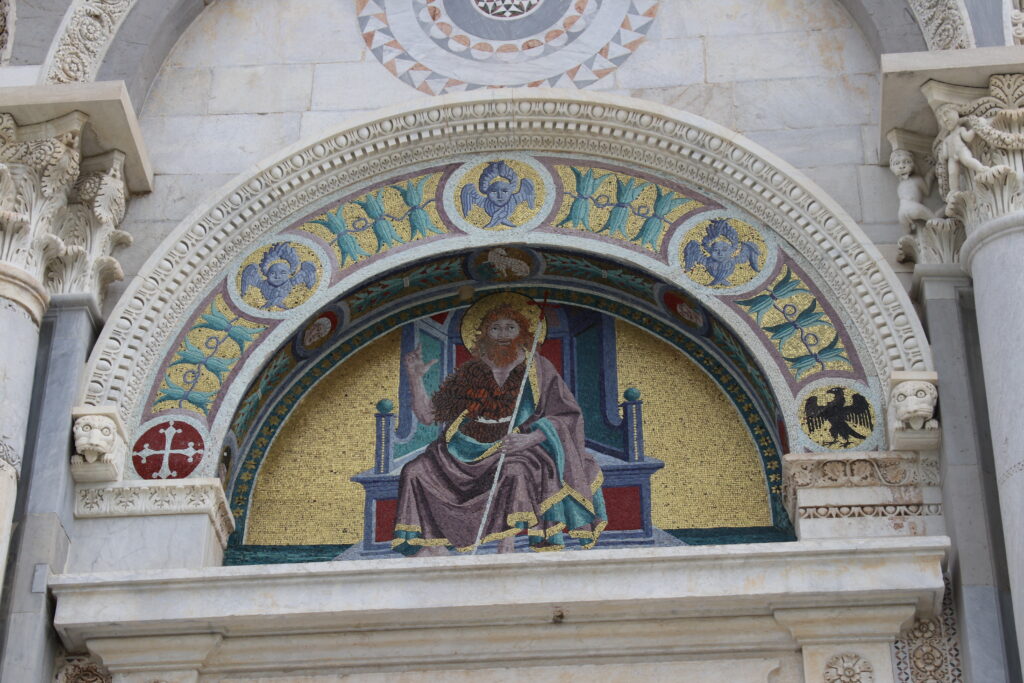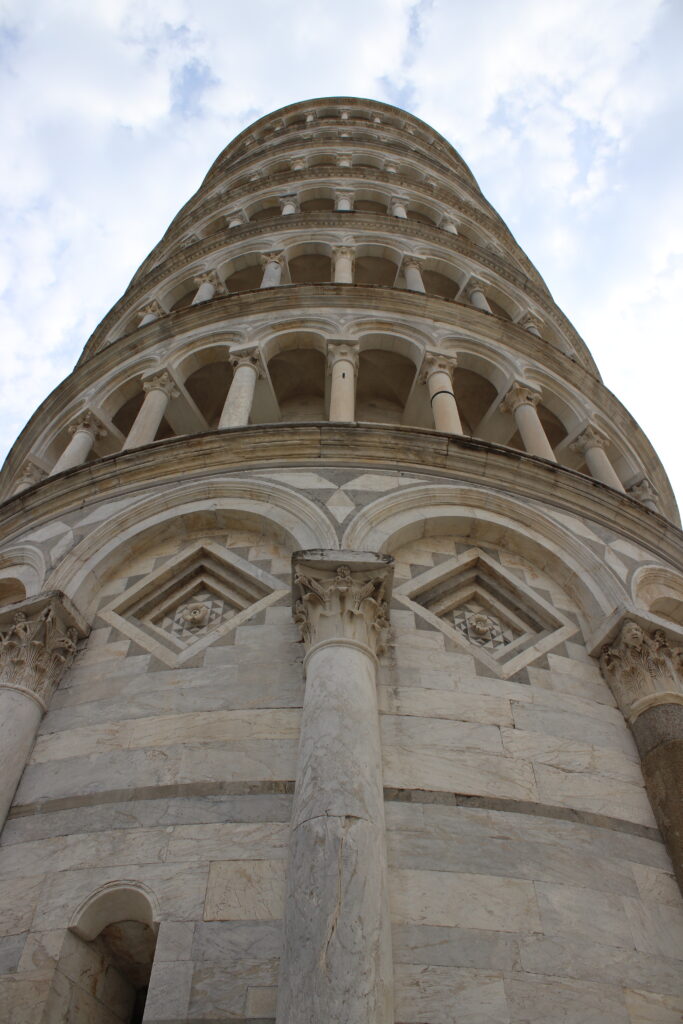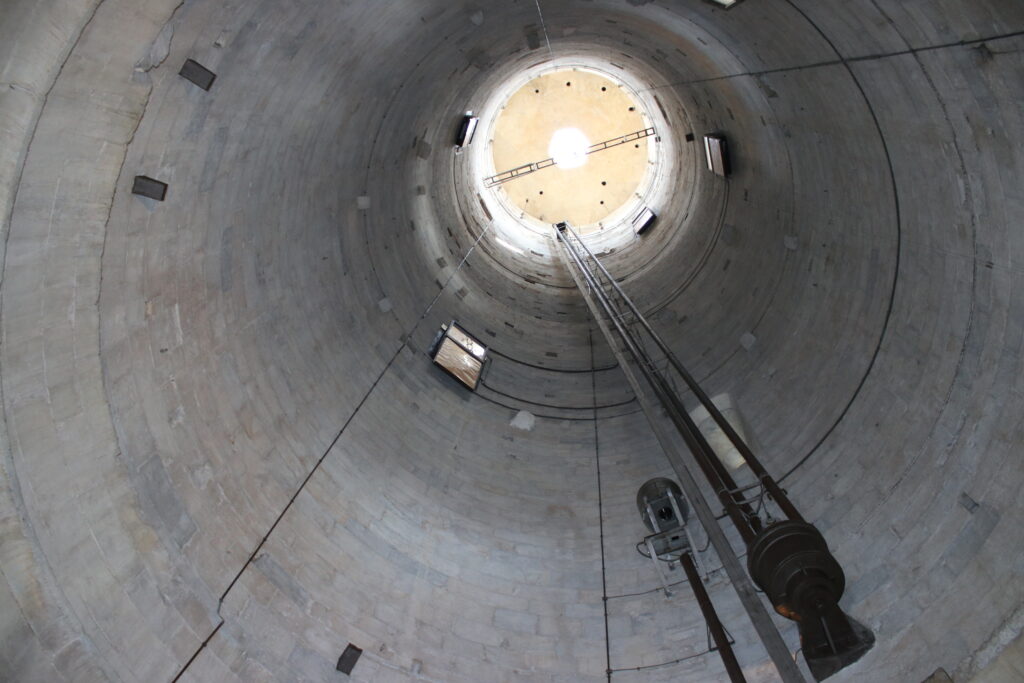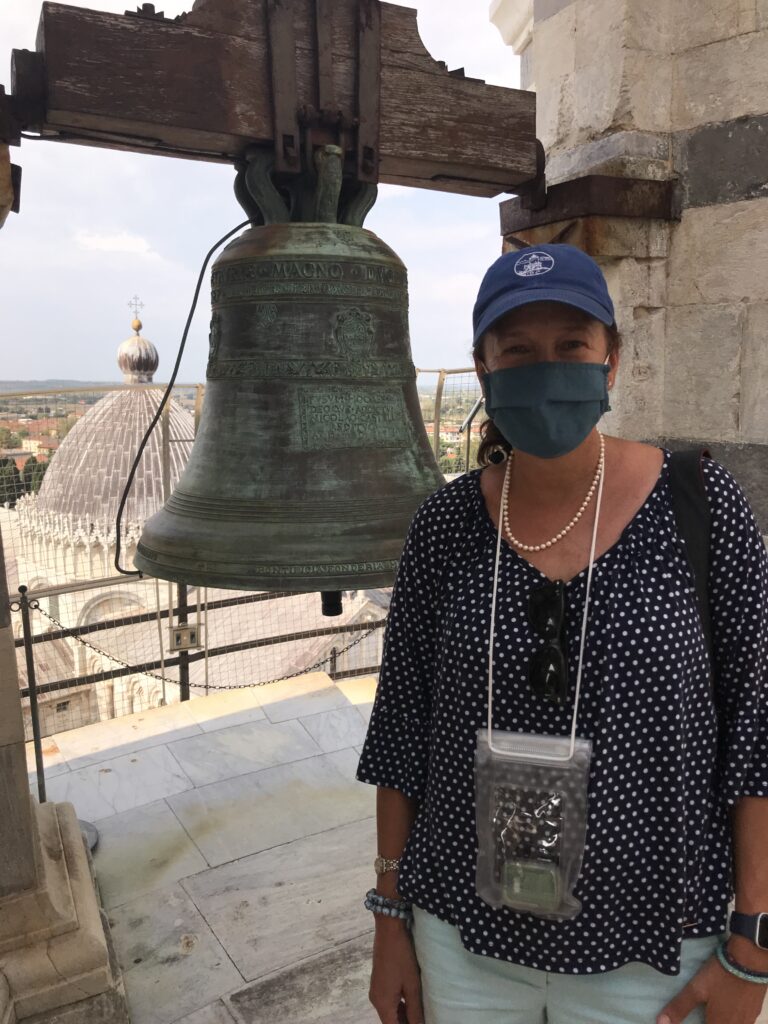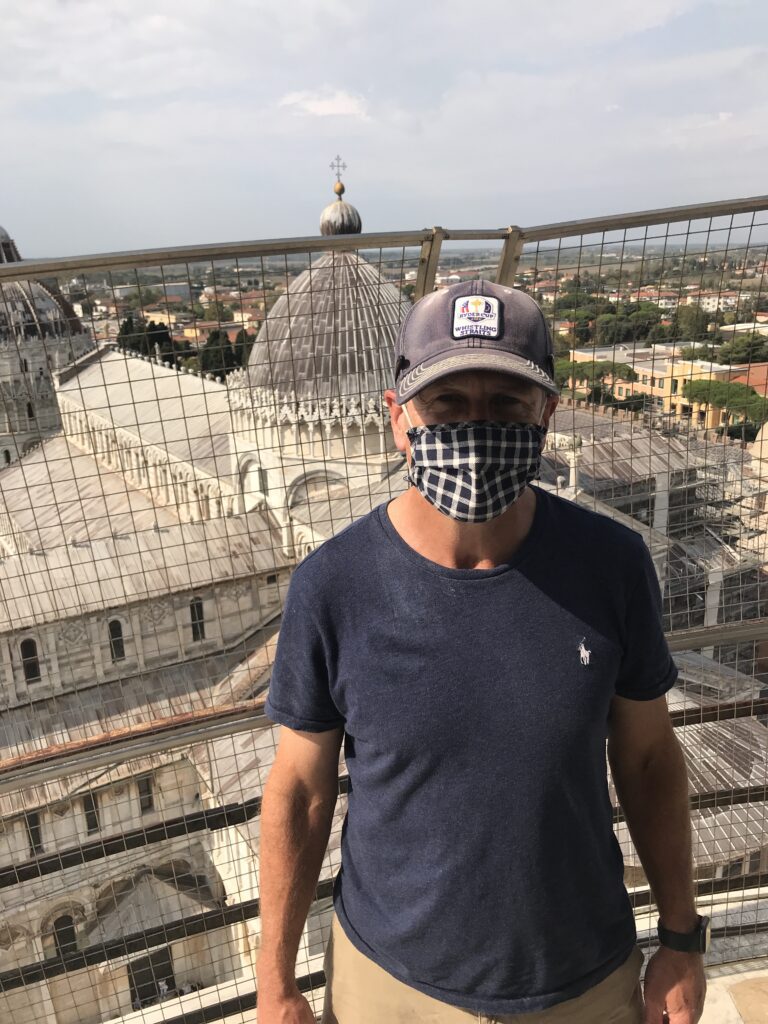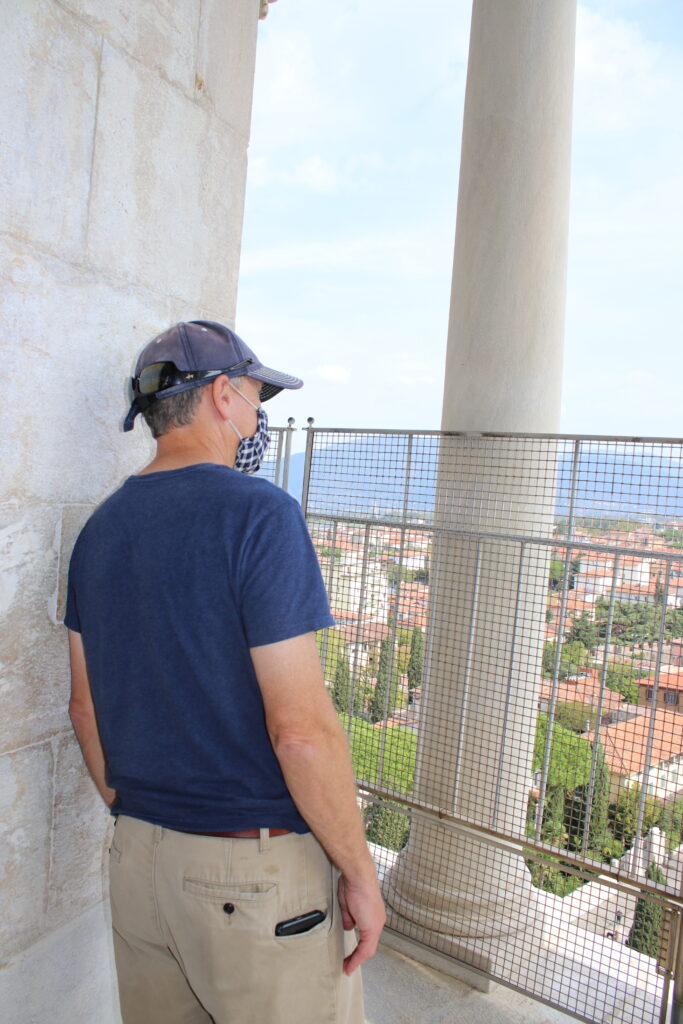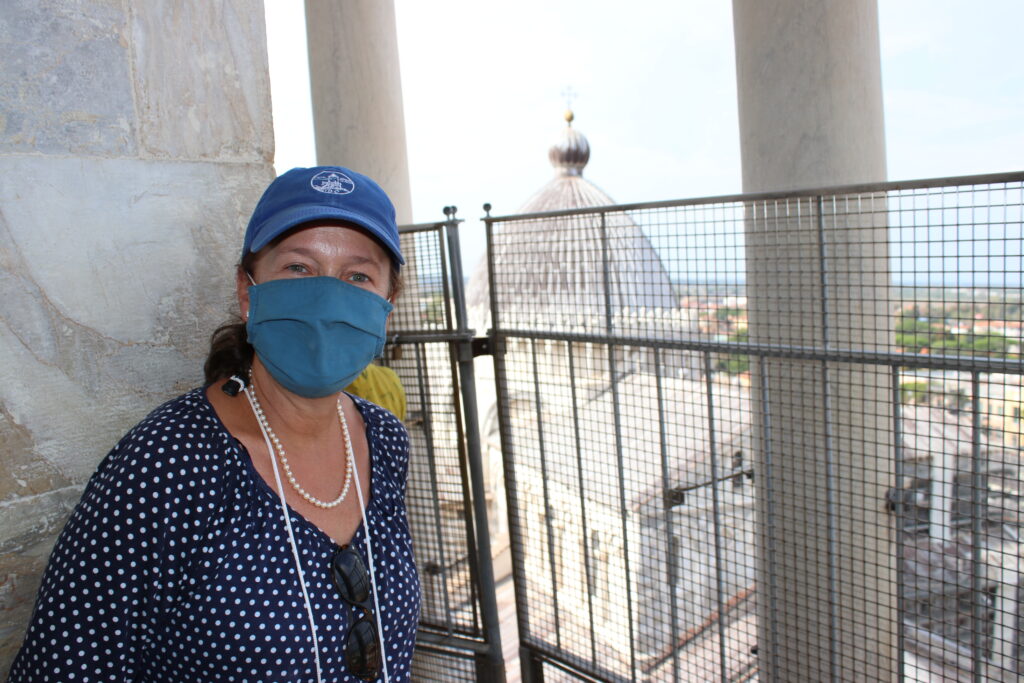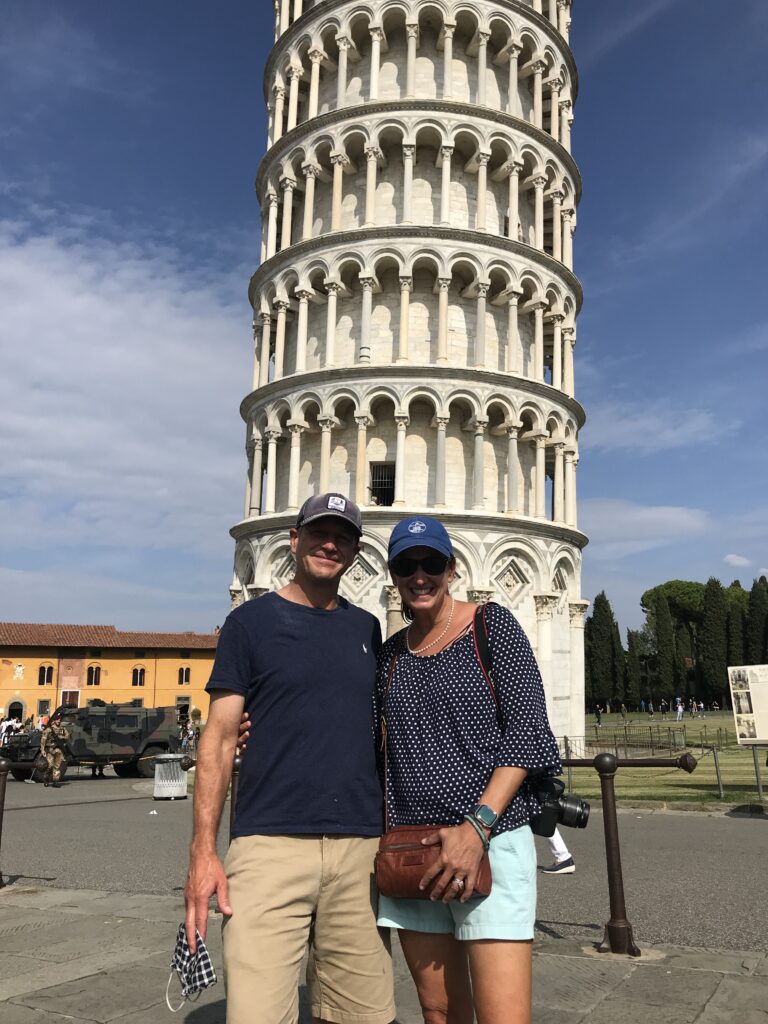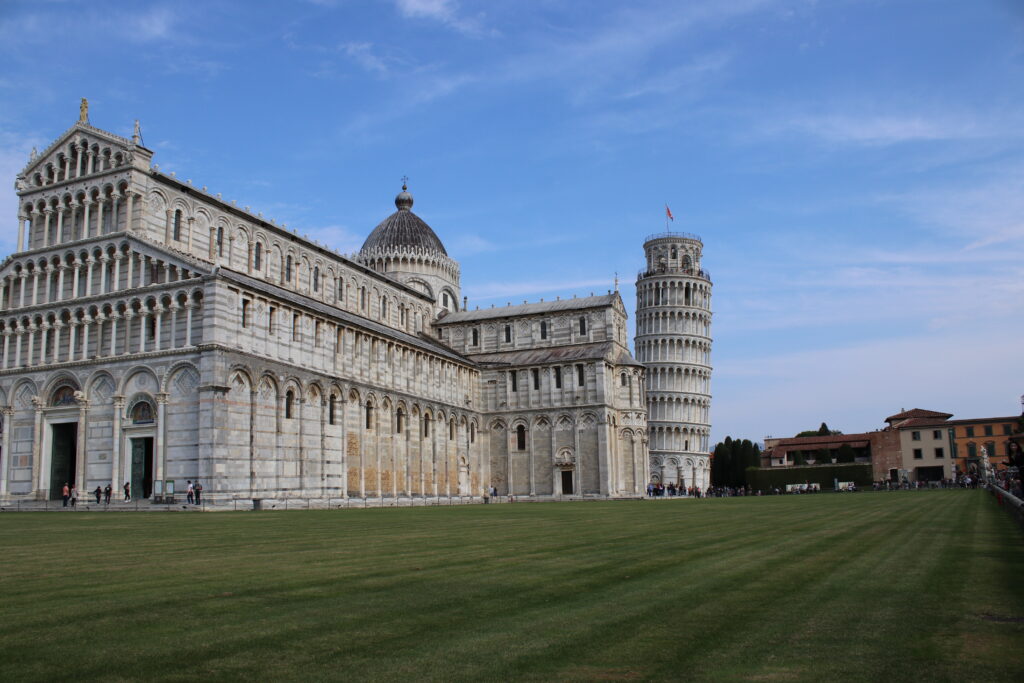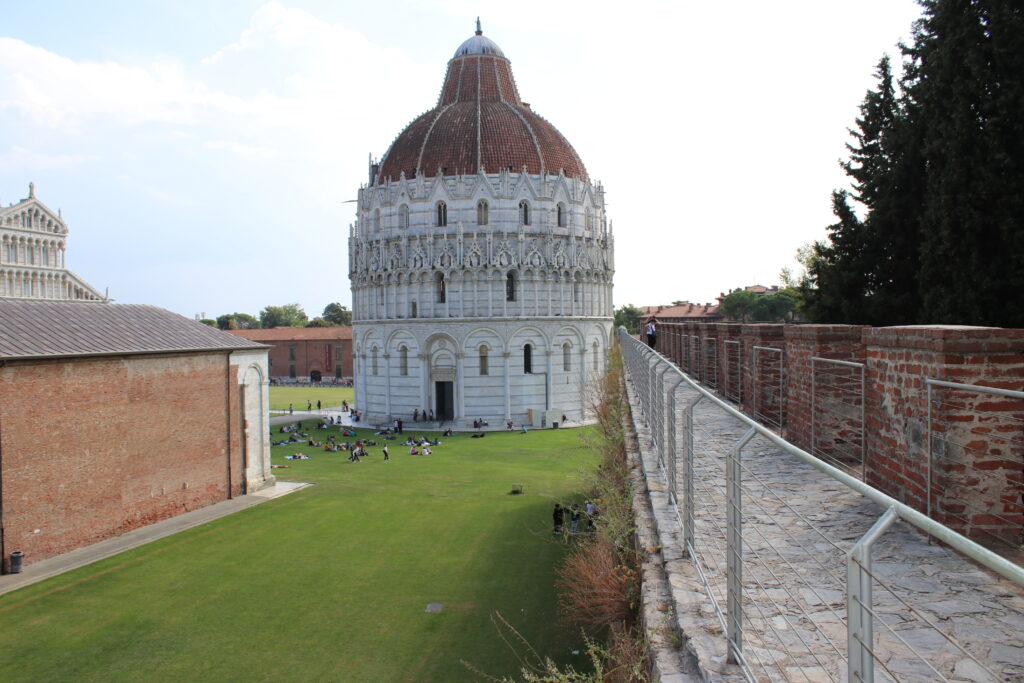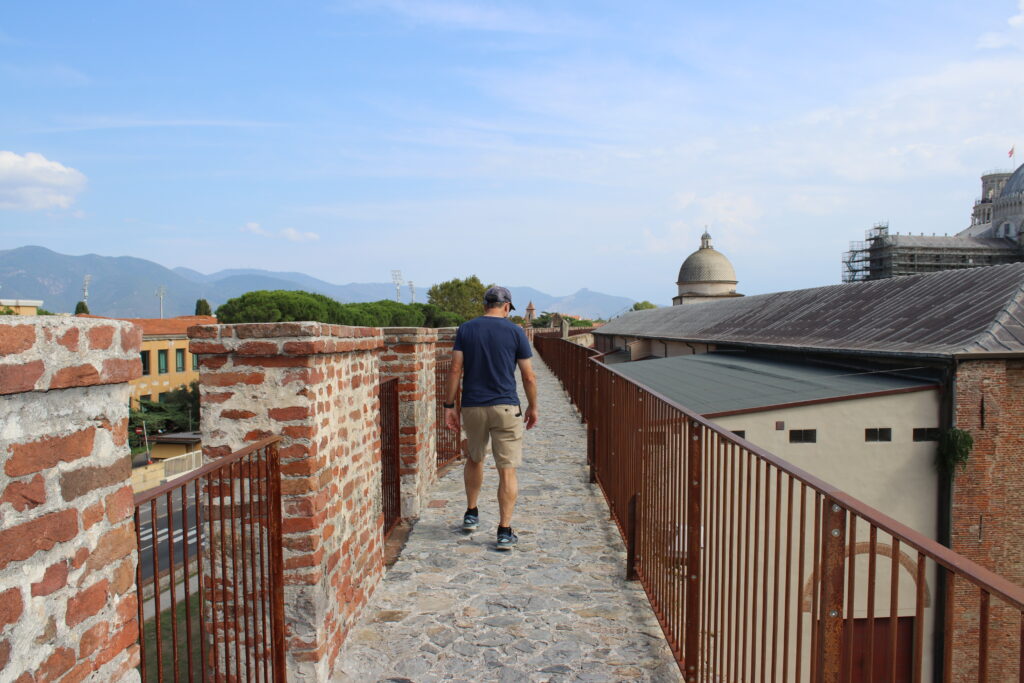 We slept outside of Rome and flew home at 10am. It was a wonderful adventure!