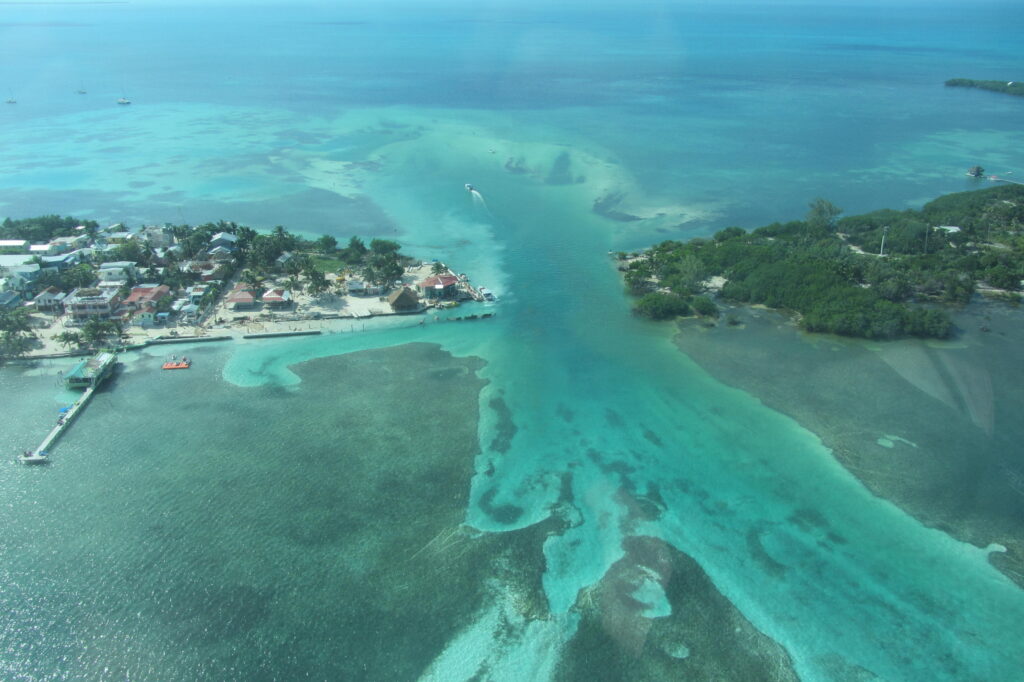 We went to Belize and spent time in the beach and the jungle from December 22-31, 2016. We traveled on American Airlines via Miami to Belize City. The flight from Miami to Belize City is very quick! Belize City is about 400 miles south of Cancun.
2022 Update
For a trip to Iceland and St. Martin in late 2021, Michele upgraded our waterproof camera to this Olympus model. It has amazing reviews and takes a great photo. We also like this affordable, easy-to-use tripod.
Michele also upgraded her iPhone to the iPhone 13. The camera is amazing.
We like these vaccination card holders for travel.
We upgraded our masks/snorkels to these.
Day 1 – To Belize City and Ambergris Caye, Blue Water Grill
After clearing customs and immigration quickly, we entered the tiny departure area. We jumped on a small Tropic Air flight to San Pedro on Ambergris Caye. There is a ferry available, but the flight was so quick, that it was worth the extra money to fly. If you choose the ferry, you will need to take a taxi from the airport to the ferry terminal.
Our flight made a quick stop on Caye Caulker. It was a gorgeous, easy, quick flight out to San Pedro.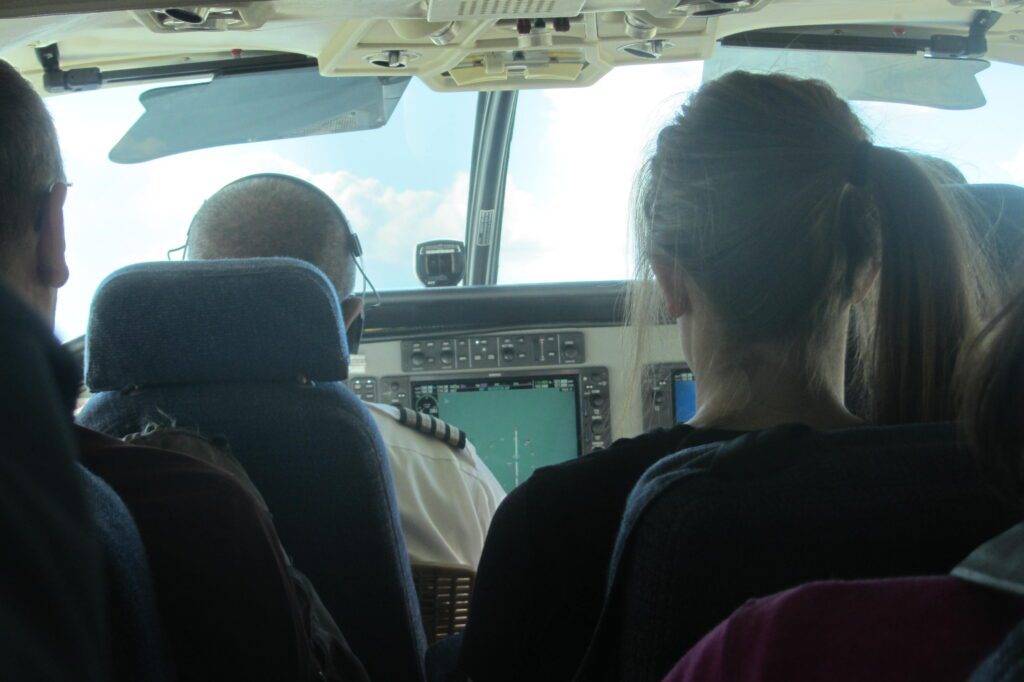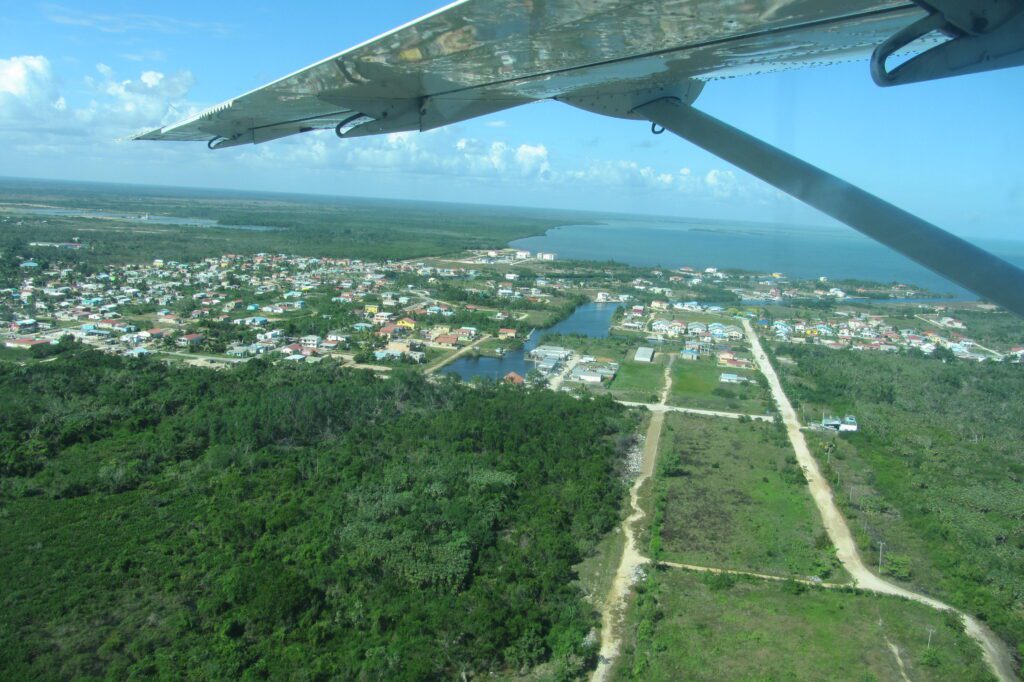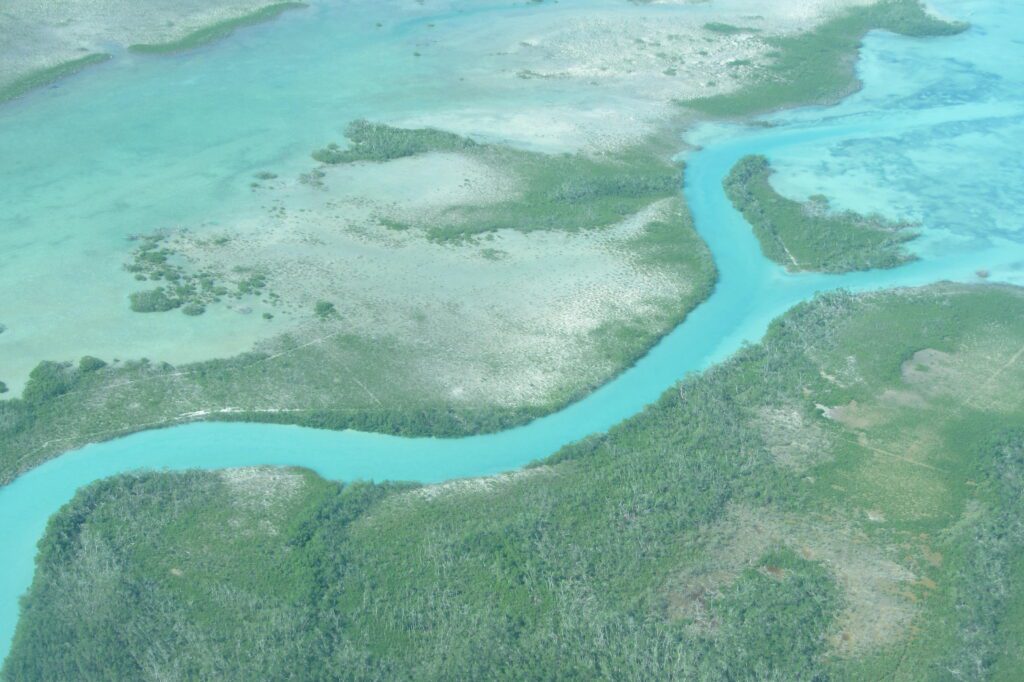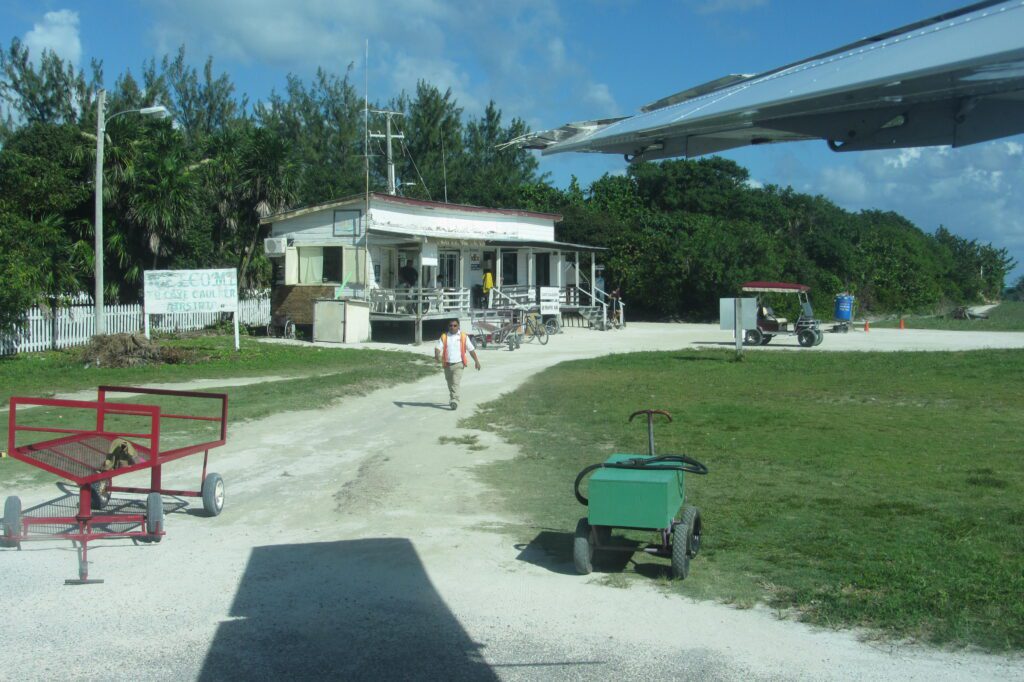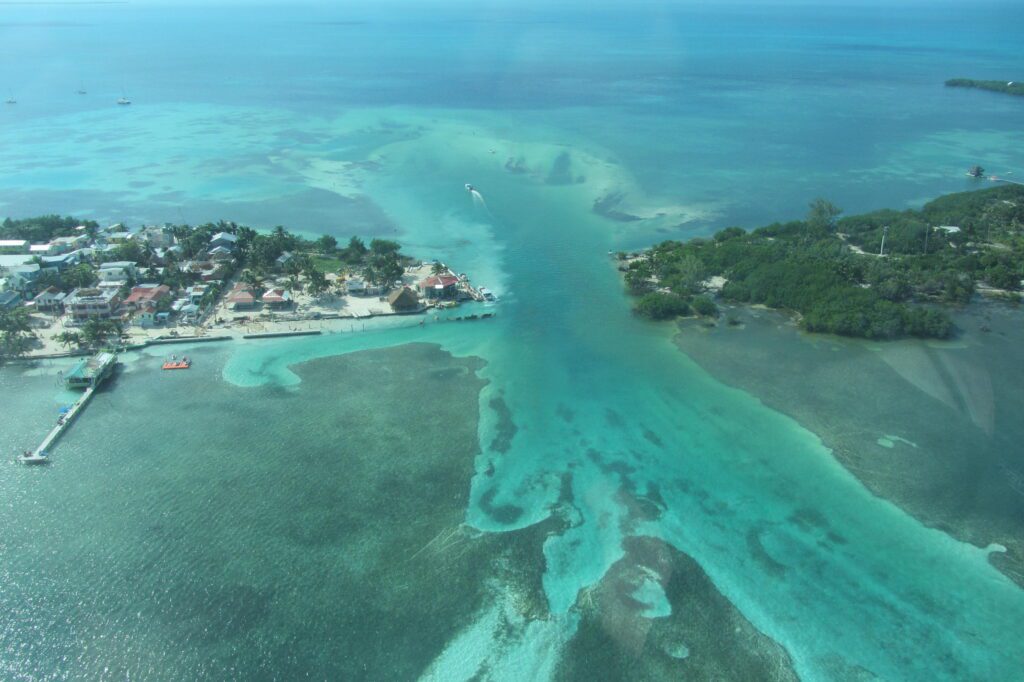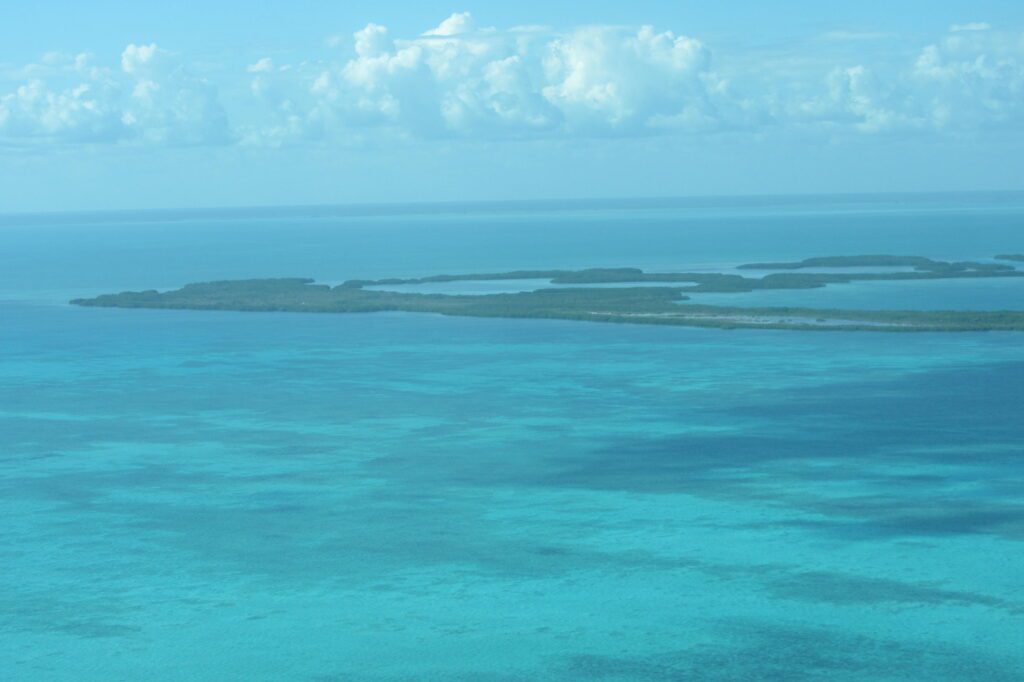 We stayed at The Phoenix. We highly recommend this hotel for its outstanding service, location and space!
When I booked the room, the people were so helpful. They arranged all of my Tropic Air flights and a pick-up from the airport. Our American Airlines flight times changed considerably, the reps from The Phoenix were able to change our Tropic Air flights with no change fees. The hotel price includes an airport pick-up and drop-off. You do not need a rental car on Ambergris.
The staff at The Phoenix even made reservations for us at all the restaurants we researched before leaving home. We had fantastic tables almost every night.
Our two-bedroom, two-bathroom apartment was enormous, with a huge balcony, plenty of sitting space and a peek at the ocean. We had a king bed and the girls each had a twin bed. There was a small fitness center, a lovely pool, on-site restaurant and a tiny beach. Beaches are small in Belize, kind of like the Florida keys.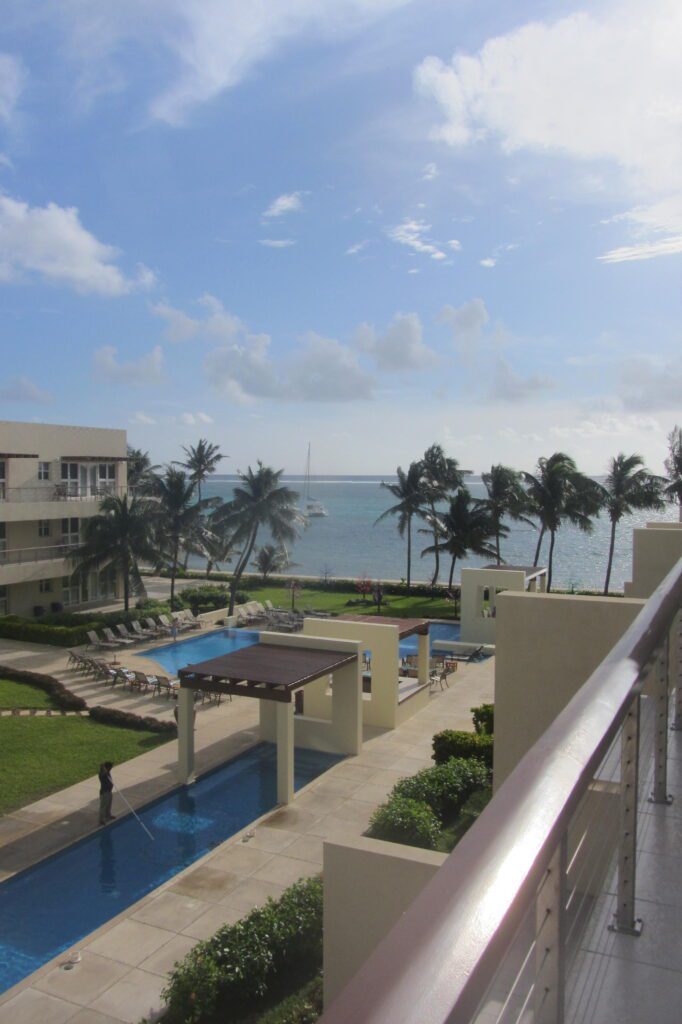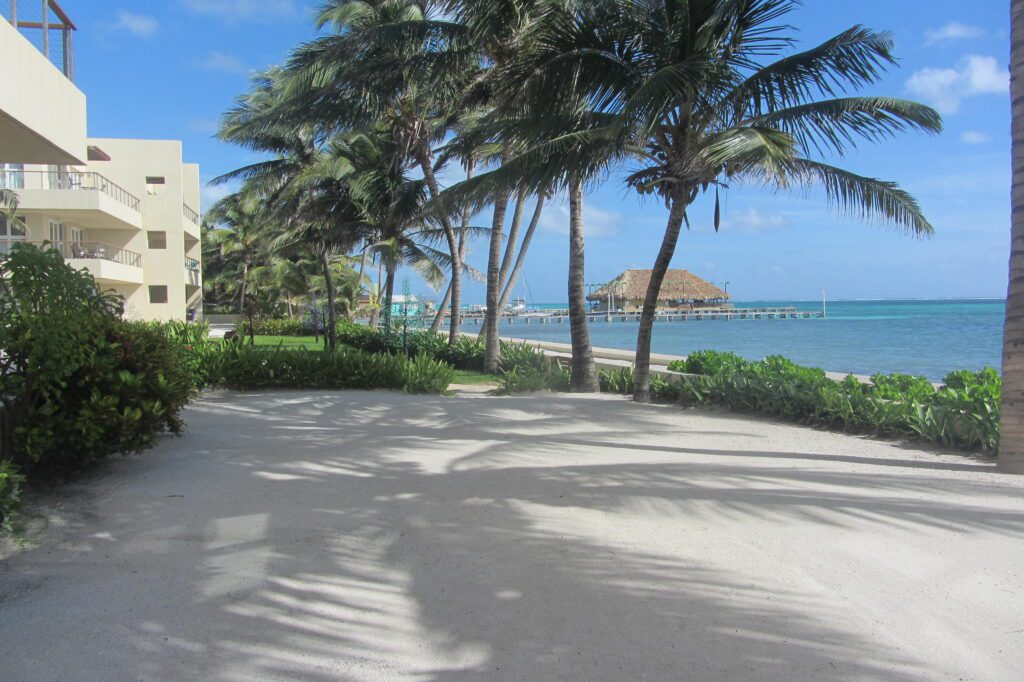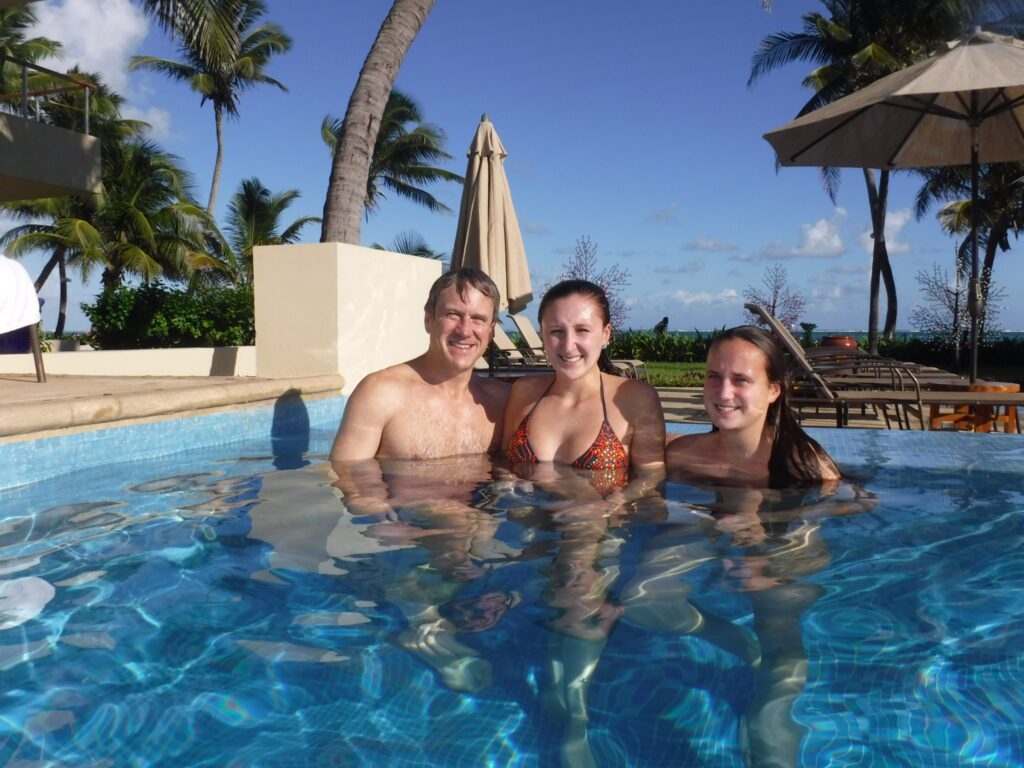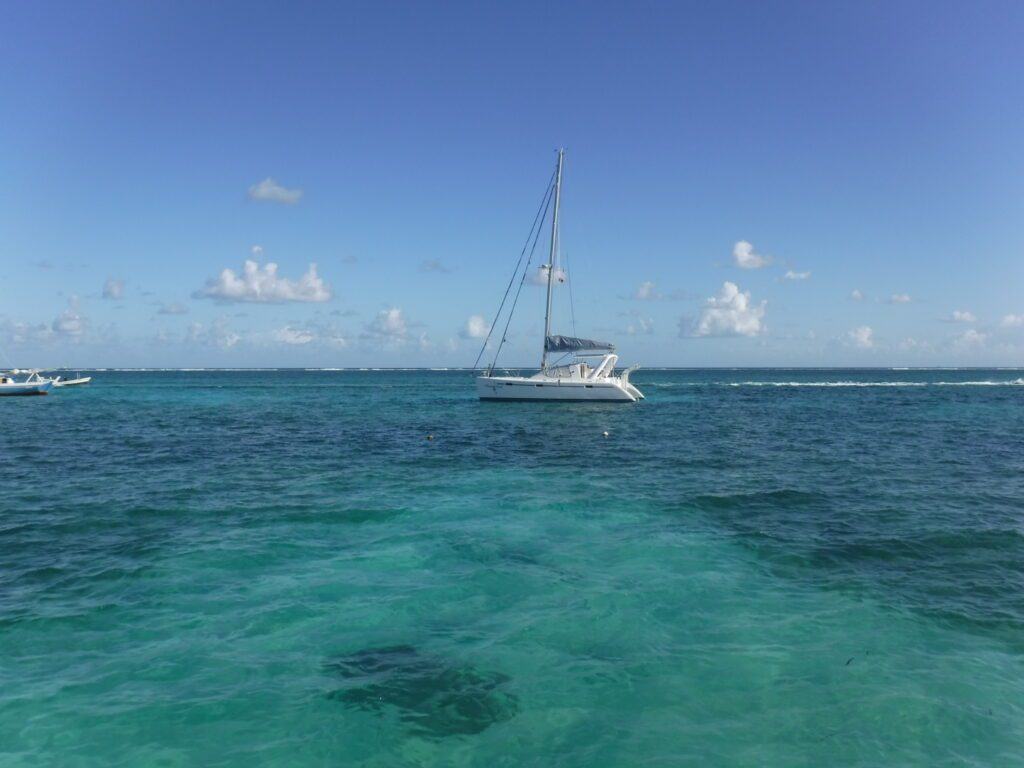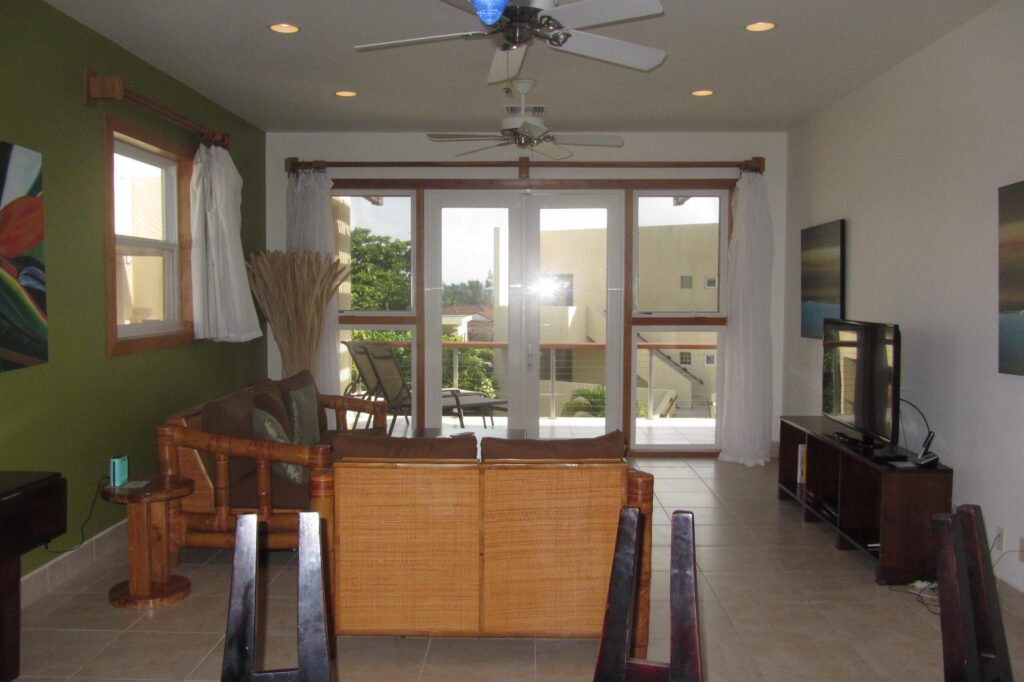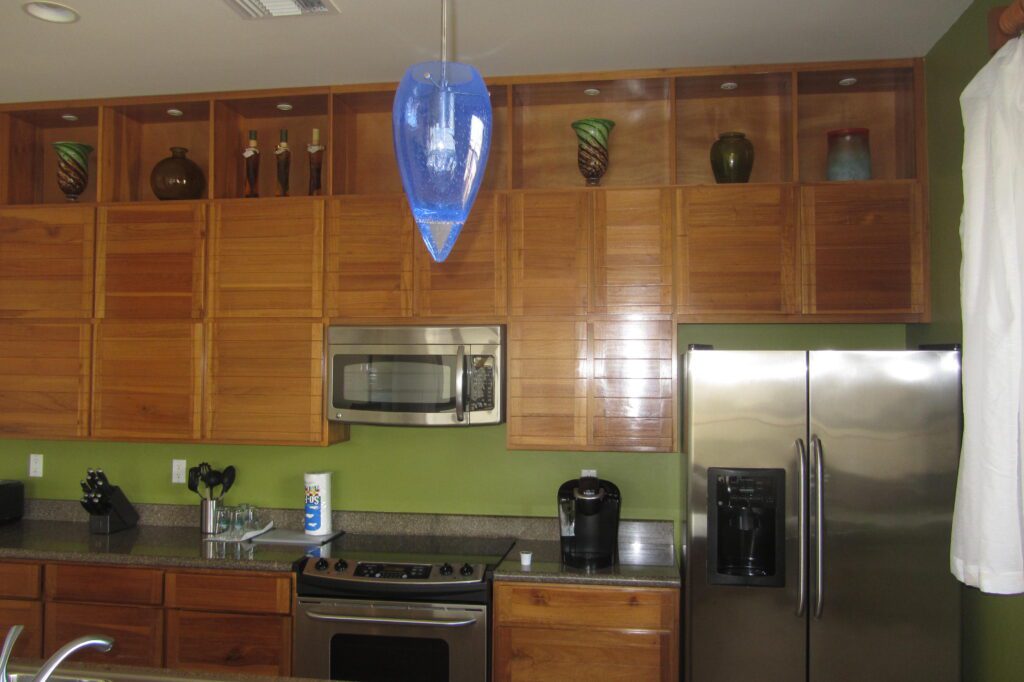 Snorkel and Mask – If you charter a boat or do a boat tour, most often the operators will have masks, fins and snorkels for you. However, Belize has some awesome walk-in snorkel opportunities. There are dozens of operators locally who can rent you a mask for these walk-in snorkeling sites. For about $30/person, you can get a decent mask and snorkel. I used Sharpie to write our names on the snorkels. Purchasing your own mask at home can save you lots of money on rentals. We used the tour operators' fins when we chartered boats. We found that we did not need fins for the walk-in snorkels we did.
For dinner, we walked down to Blue Water Grill. We had lots of fresh fish in a delightful setting on the beach. Their Trip Advisor reviews are strong.
Day 2 – All day with Manny and Cliff on Seakarus, Red Ginger
We ate breakfast at the hotel restaurant called Red Ginger. It was very good. While Red Ginger has no views, the food is good. We ate breakfast there several times.
I do not like party boats or booze cruises. I am willing to spend a little extra to be alone with my family or with a small group.
We spent the day with Manny and Cliff on a boat called Seakarus. We did the Survivor Tour. It was fabulous. You have to pay in cash, but the cost was just $500 for over five hours on the water. (This was the price in December 2016.)
They picked us up in their boat at 9am on the dock near our hotel. All we had to bring was towels and sunscreen. We bring our own masks and snorkels. This masks and snorkels is excellent and comfy.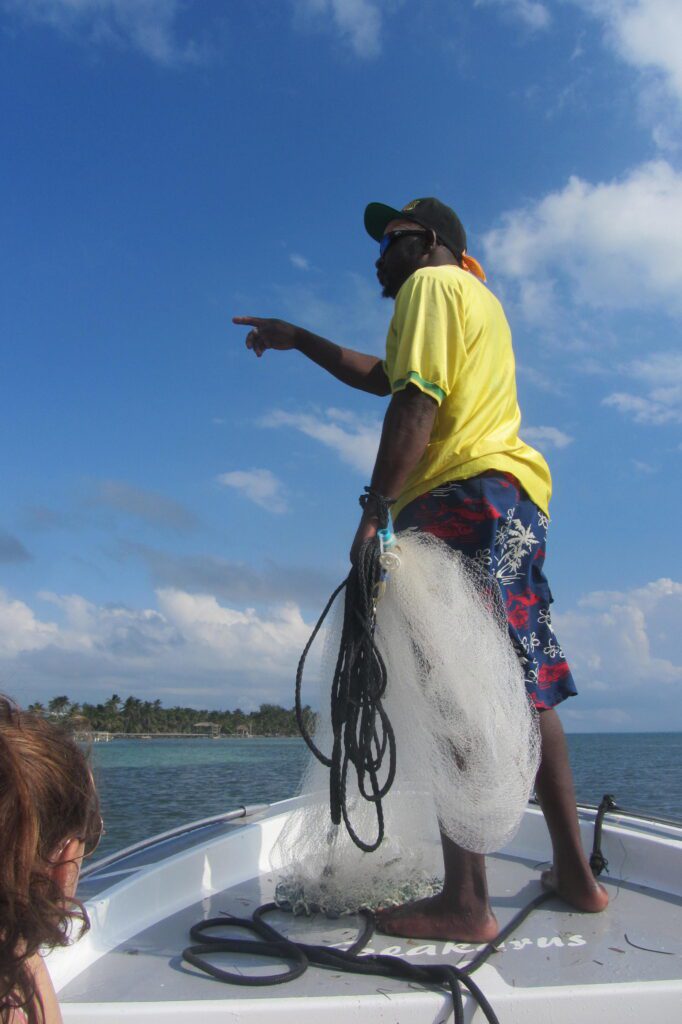 Our first stop was catching bait. Then, they brought us to deeper water to fish. We are not great fisher-people! But, we had fun!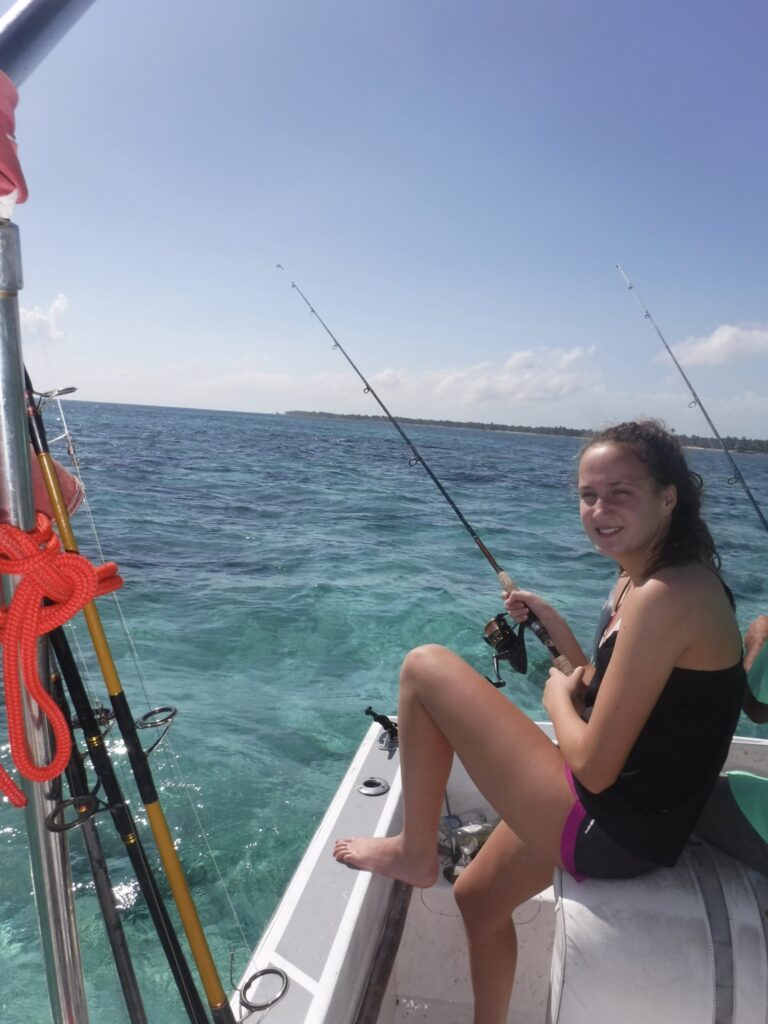 Once we caught a few small fish, we snorkeled for conch. They made us delicious conch ceviche on the boat. So yummy!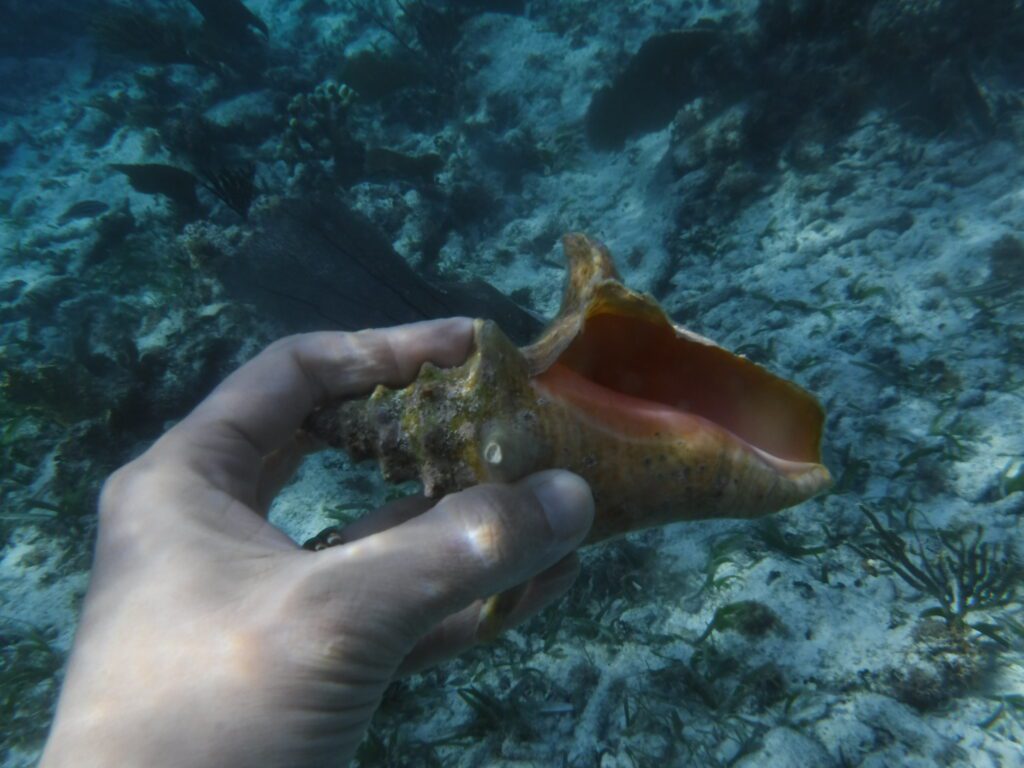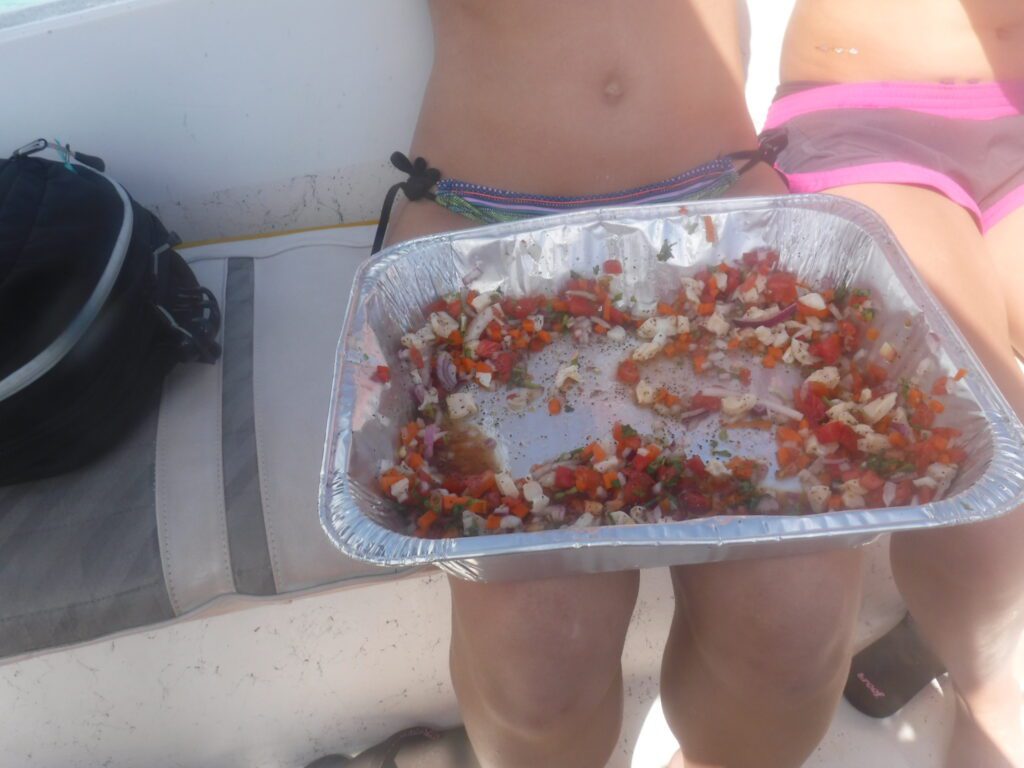 Cliff jumped into the water to try to spear some lobsters. He showed us photos of the giant lobsters he has found. We did not have great luck. However, they caught a few small ones. We stopped at a quiet beach while they made us an incredibly tasty lunch.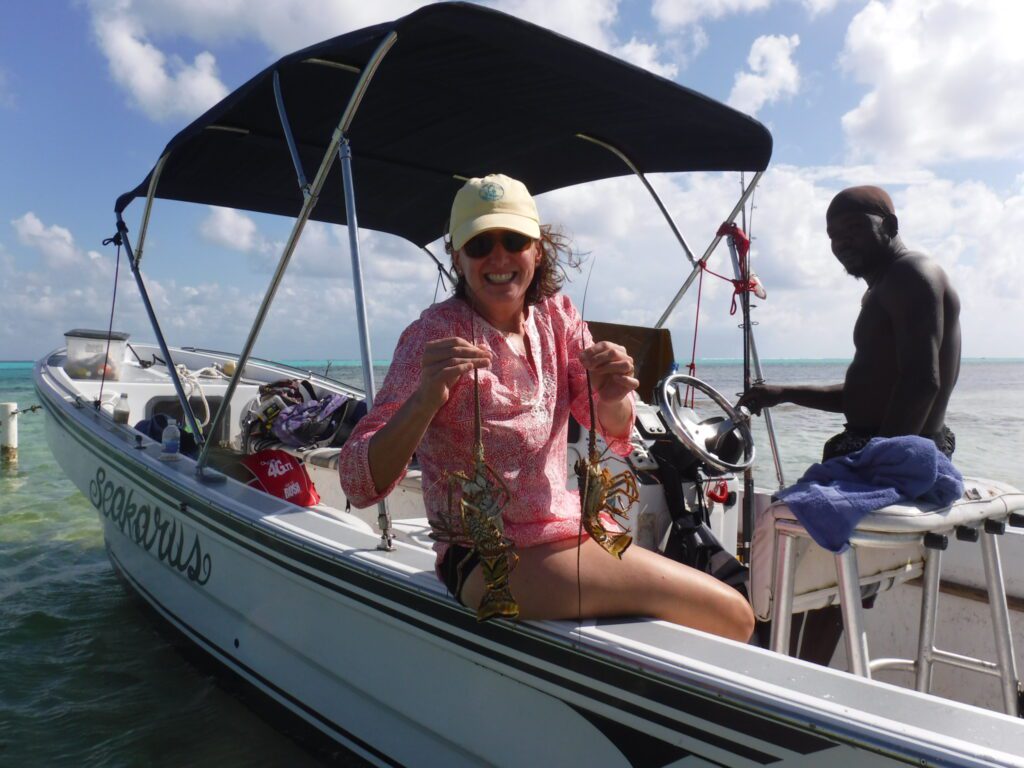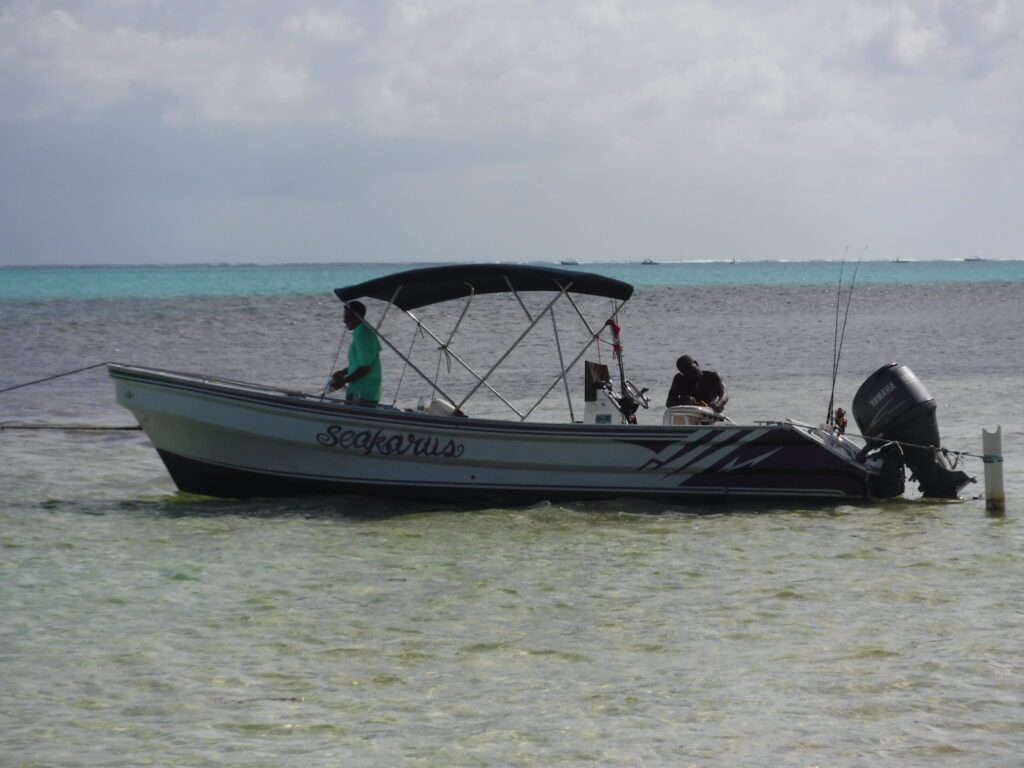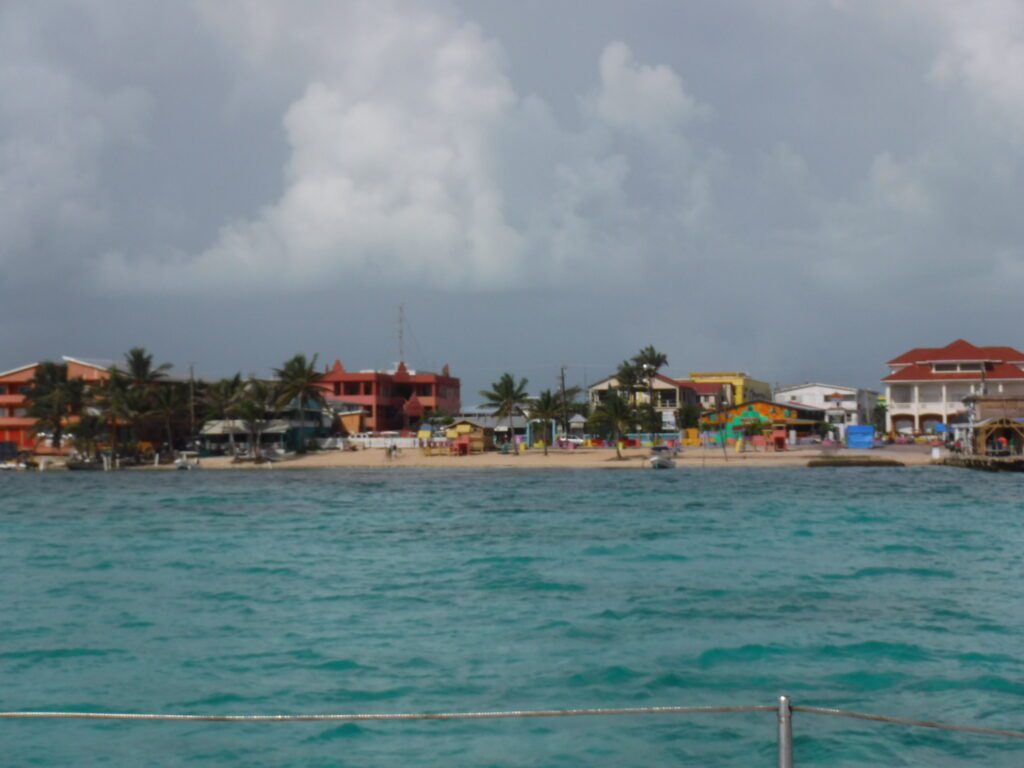 We were headed to Shark Ray Alley, but the skies opened up, and the kids just wanted to be done, so we skipped it. People rave about Shark Ray Alley, but there are a LOT of boats there.
We highly recommend Seakarus. We had a great time.
The Phoenix Hotel has free drinks (unlimited) in their bar from 5-6 every evening. We regularly took advantage of it!
For dinner, we walked to Elvi's Kitchen. Authentic Belizean food. Fabulous. We loved everything. Here are their Trip Advisor reviews.
Day 3 – A sail to Caye Caulker, Elvi's Kitchen
We spent the day with Catamaran Belize. We walked down to the San Pedro Belize Express dock and hooked up with the catamaran. We LUCKED out as there were only six other people on the boat. For $249, we had a great, all-day adventure(2016 prices)!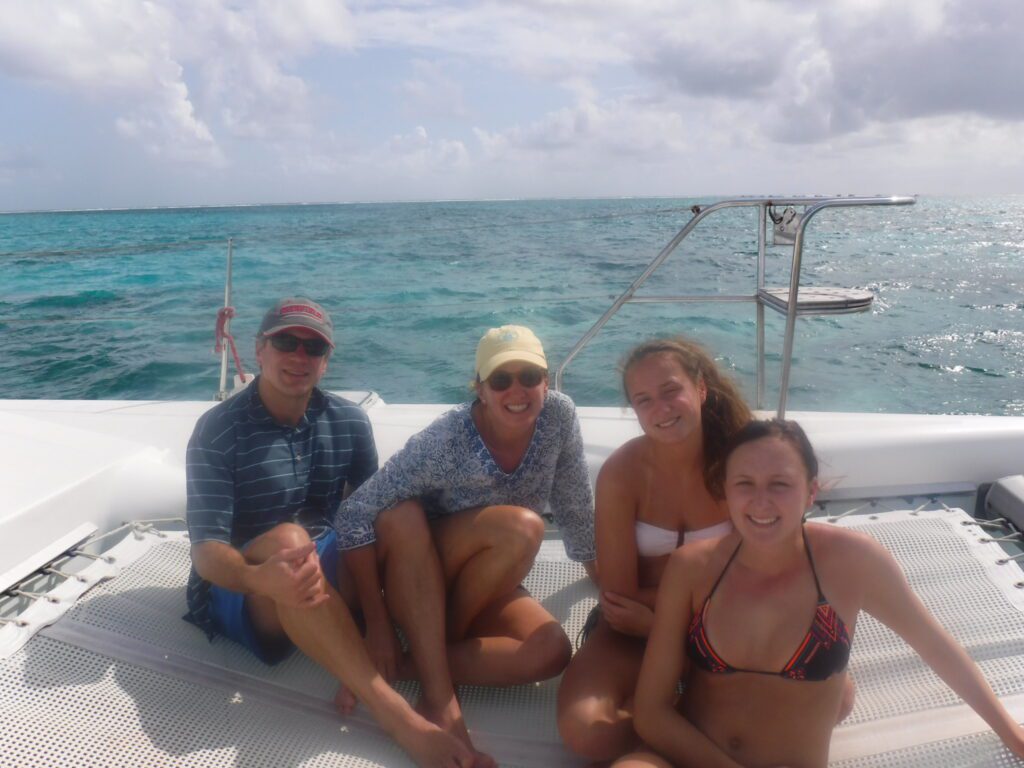 Our first two stops were for snorkeling. According to their website, the trip now stops at Shark Ray Alley. As soon as we jumped off the boat, we swam with a turtle.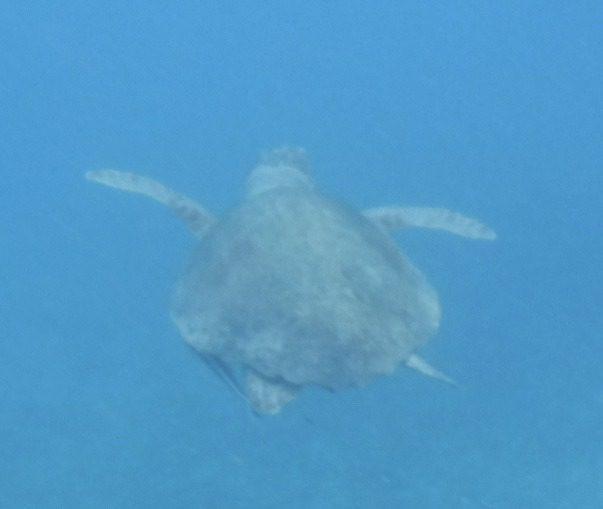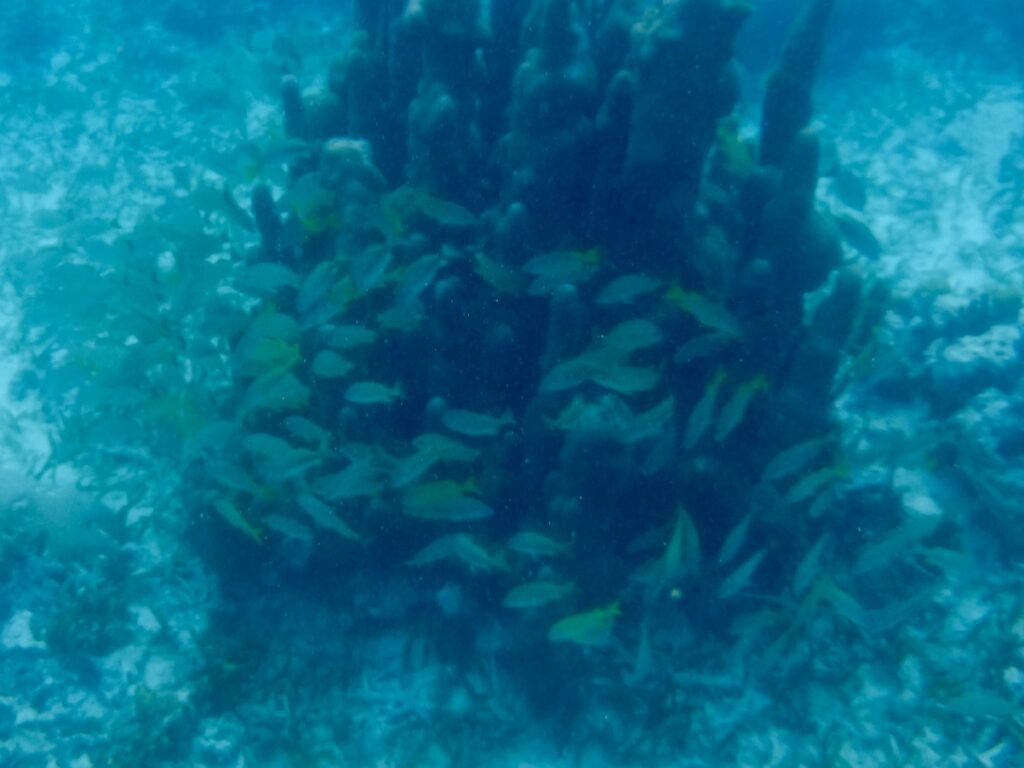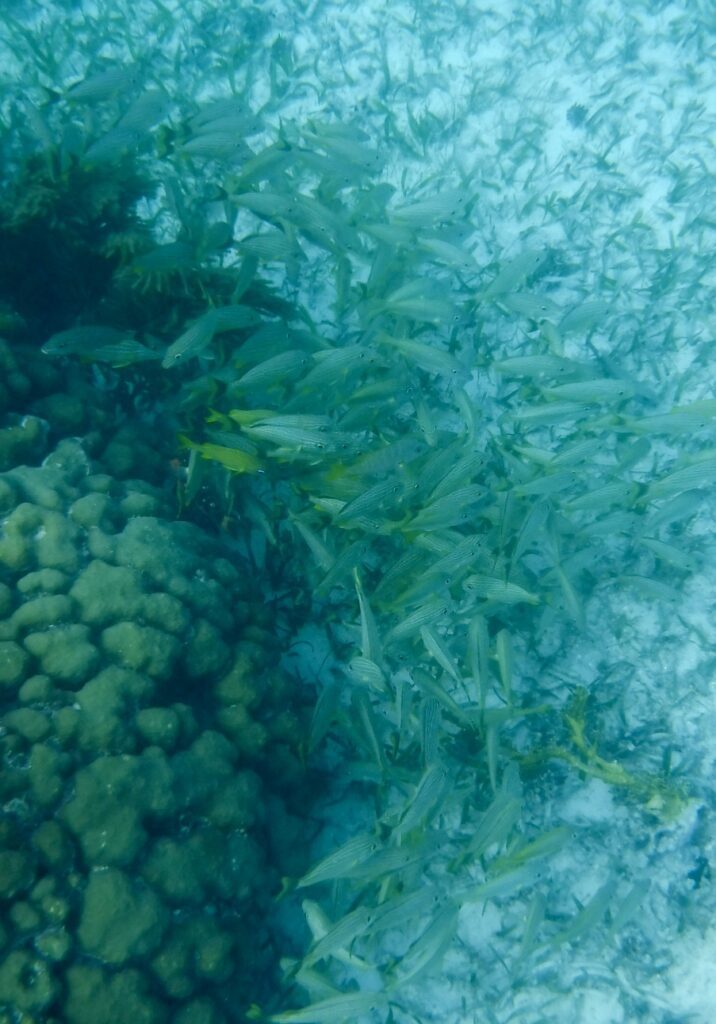 We then raised the sails and set off for the sister island of Caye Caulker. It was peaceful. We enjoyed rum punch and ceviche. It appears the tour now includes lunch. We ate lunch at a rustic restaurant on Caye Caulker.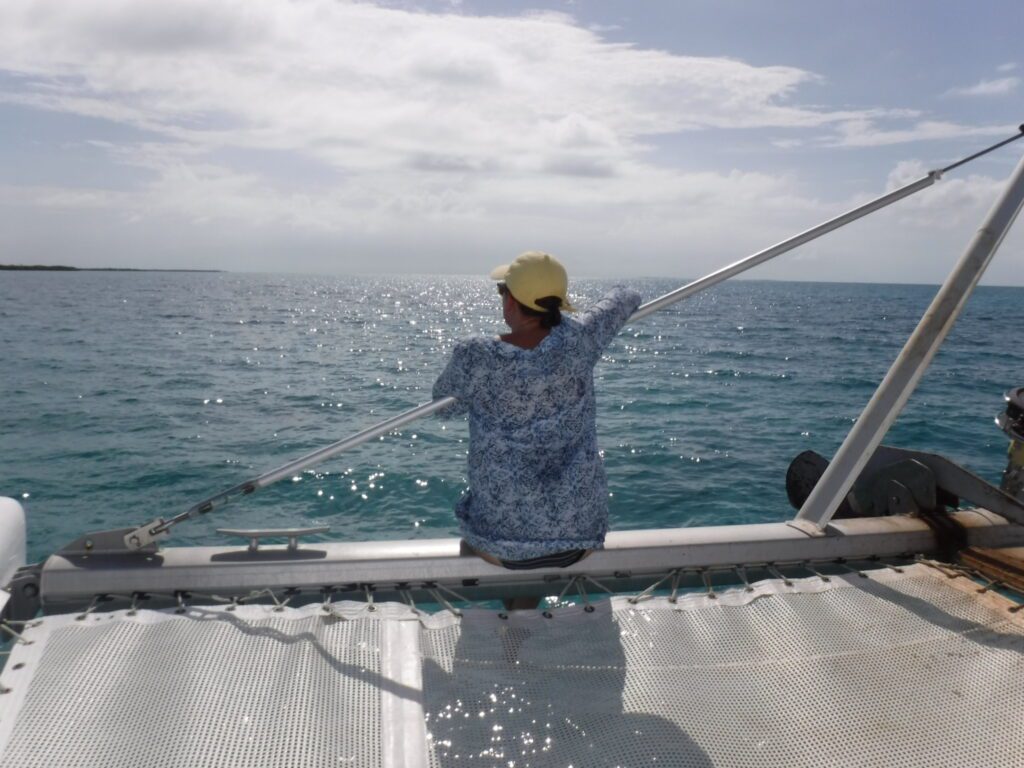 They gave us about 2.5 hours on Caye Caulker. We walked to the "split", ate lunch and enjoyed a rainbow after a shower. Caye Caulker is rustic. Very, very rustic. I am glad we chose to stay on the busier Ambergris.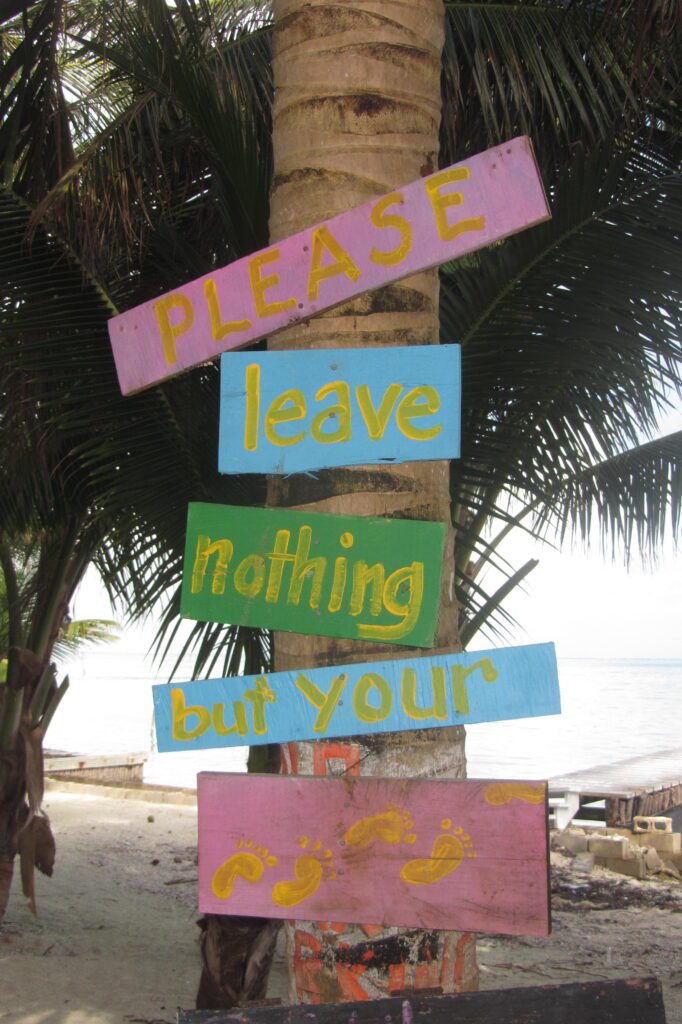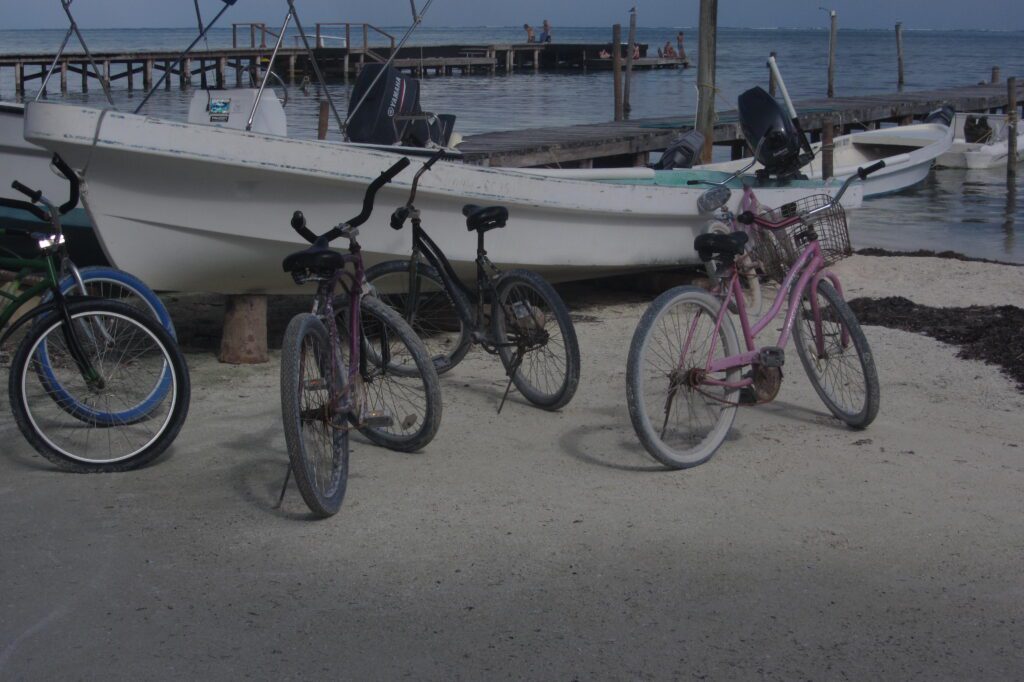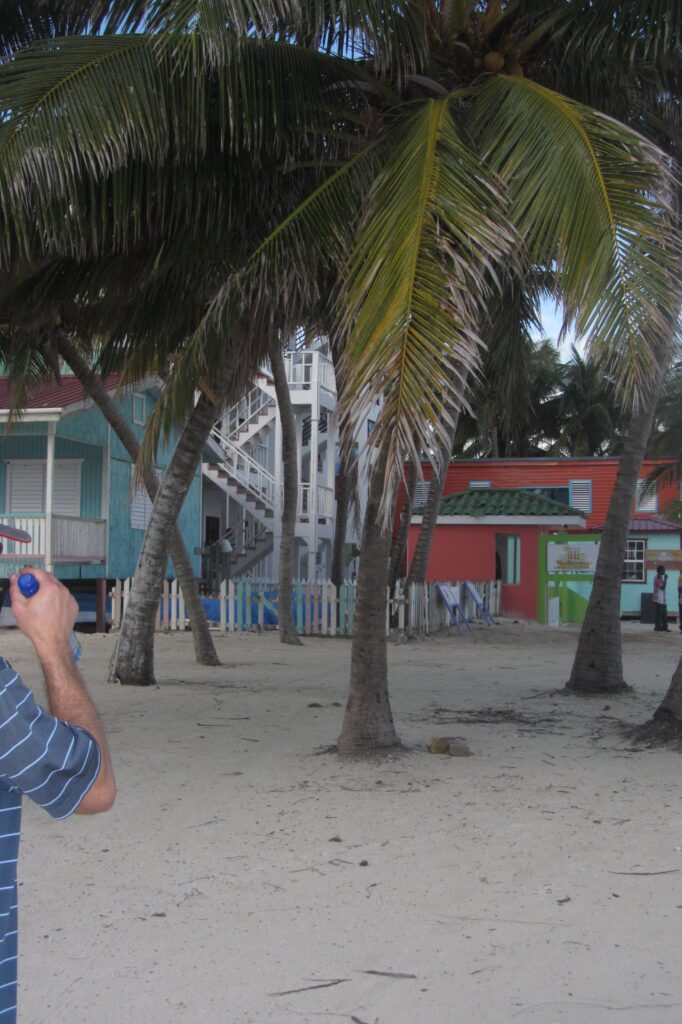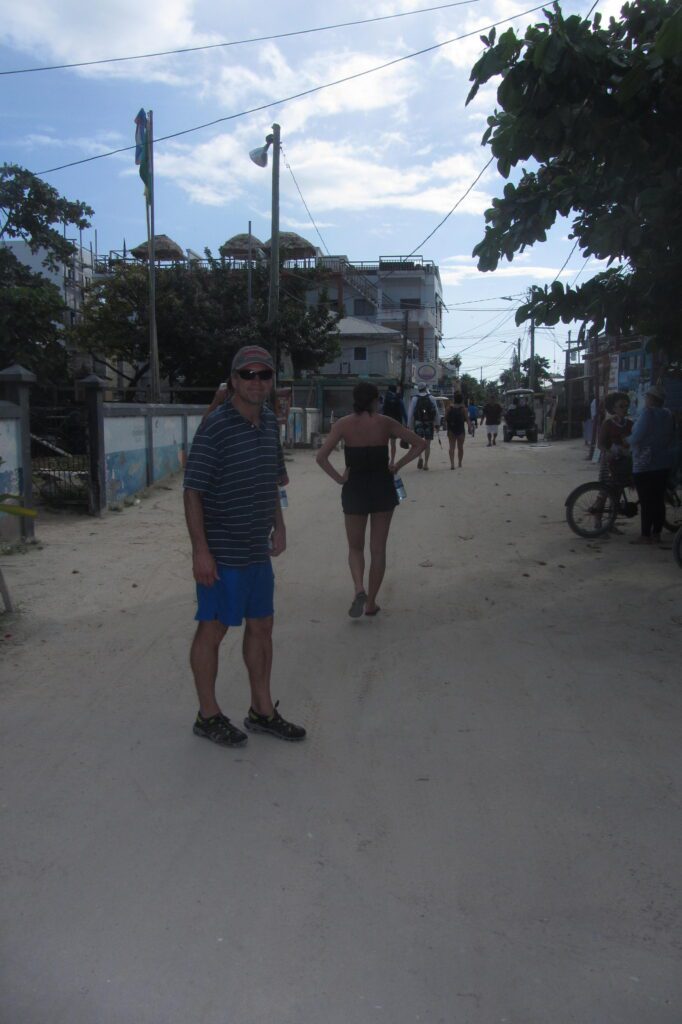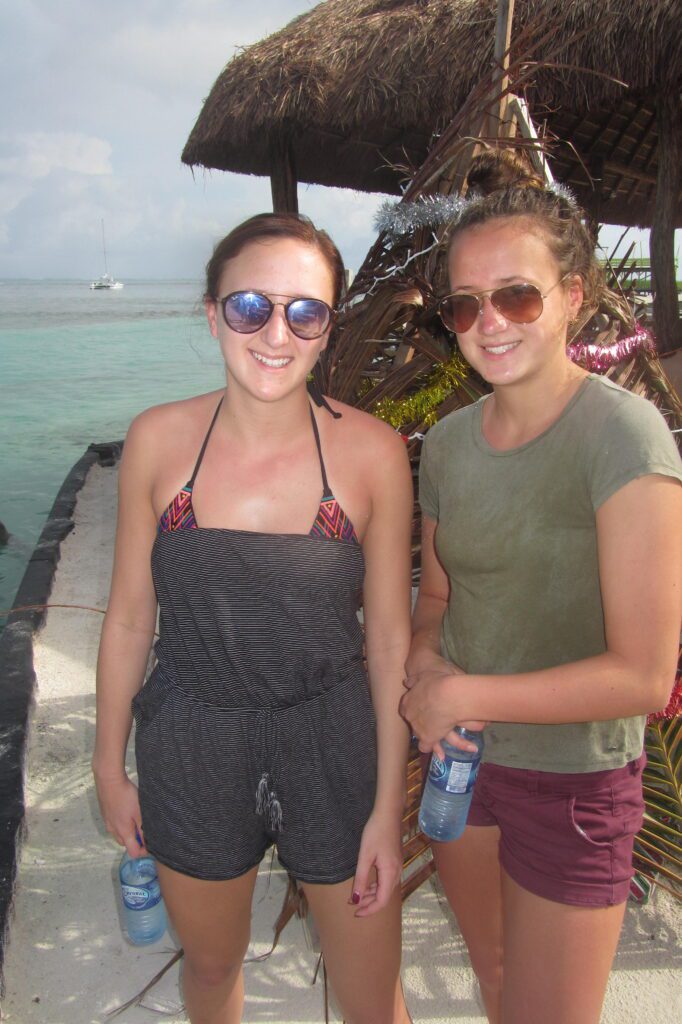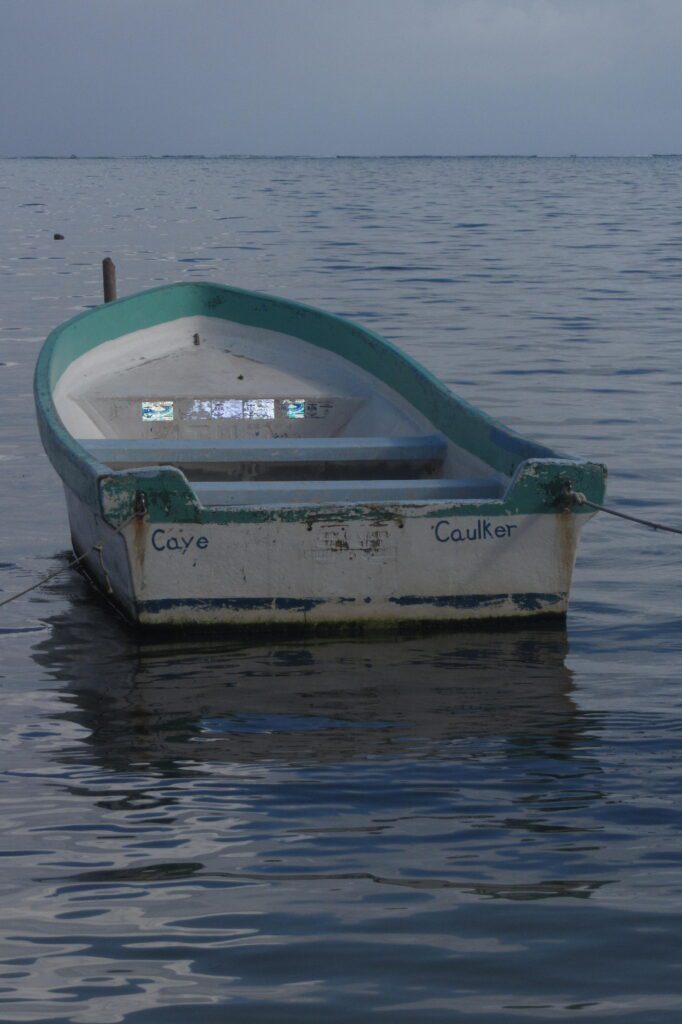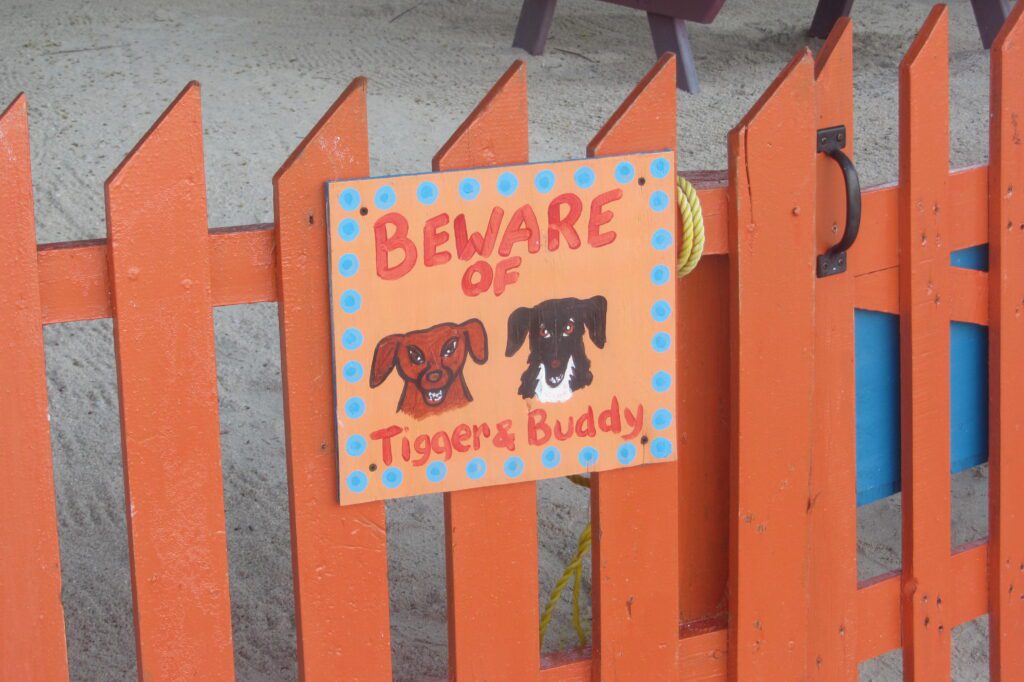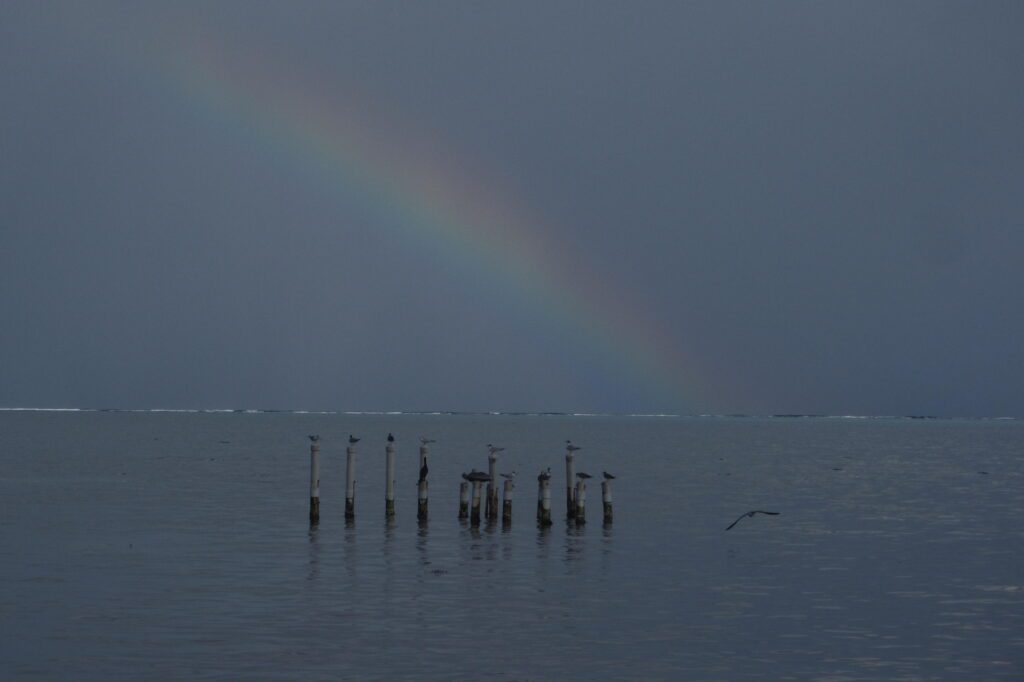 We sailed slowly back to Ambergris Caye. It was peaceful. We loved this adventure.
We ate at Caliente, outside which was very nice. Not at the top of our list in San Pedro, but it was just fine.
The girls went home and Michele and Jim hit the Palapa Bar, near our hotel. We signed our names on the bar. We only had drinks at the Palapa Bar (Trip Advisor reviews here)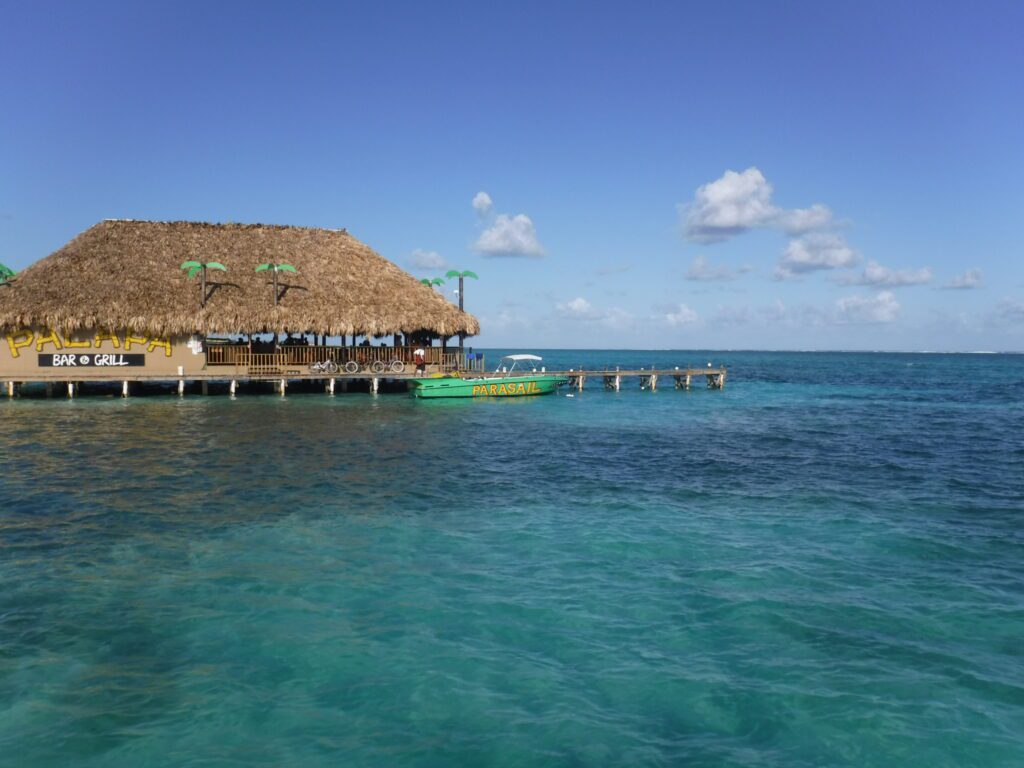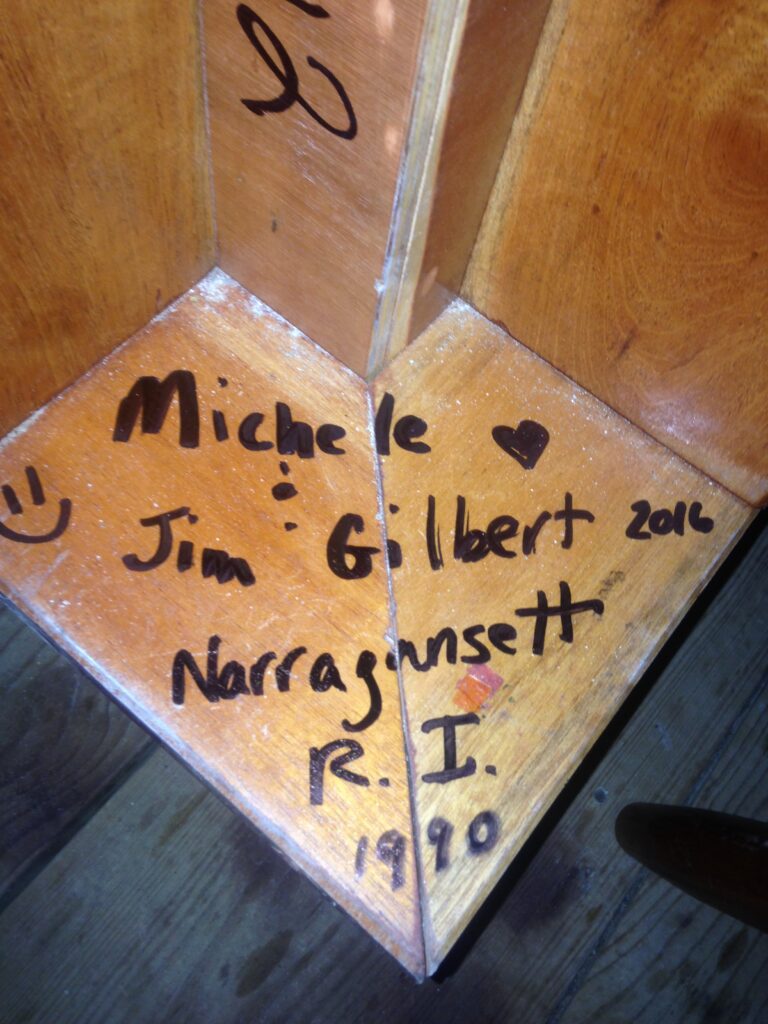 Day 4 – Golf carting to the Not So Secret Beach, Rojo Beach Bar and Hidden Treasure
Jim chose to do a refresher dive with Amigos del Mar, which is located right next door to The Phoenix. He had a great experience with them.
Michele and the girls returned to Blue Water Grill for a lovely breakfast with lots of sunshine.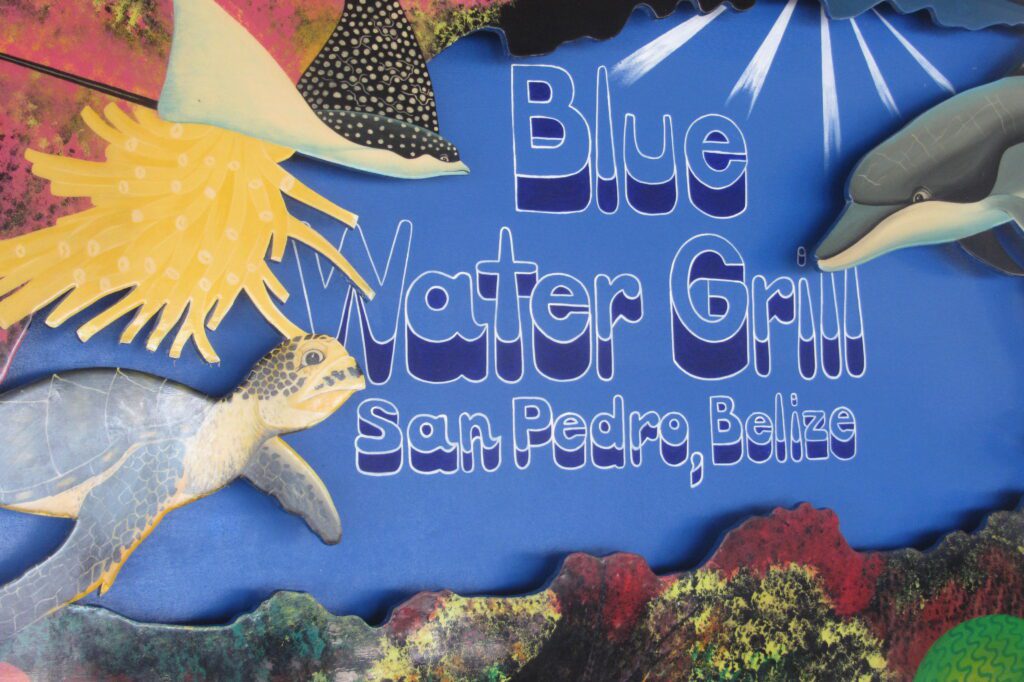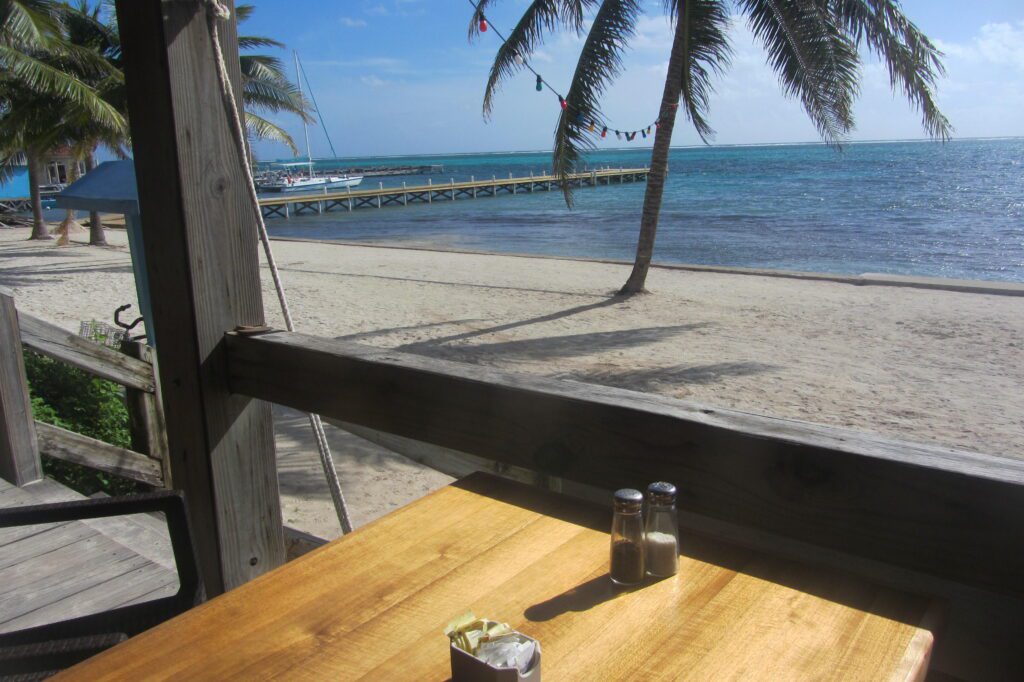 We had hoped to do some shopping for our Christmas ornament. However, because it was Christmas eve, all the stores were closed. We read by the pool and waited for Jim to finish his dives.
We rented a golf cart, and we headed north. Bring towels, sunscreen and some water. Ambergris is very dense and busy in San Pedro. North of the bridge, the resorts and housing start to spread out.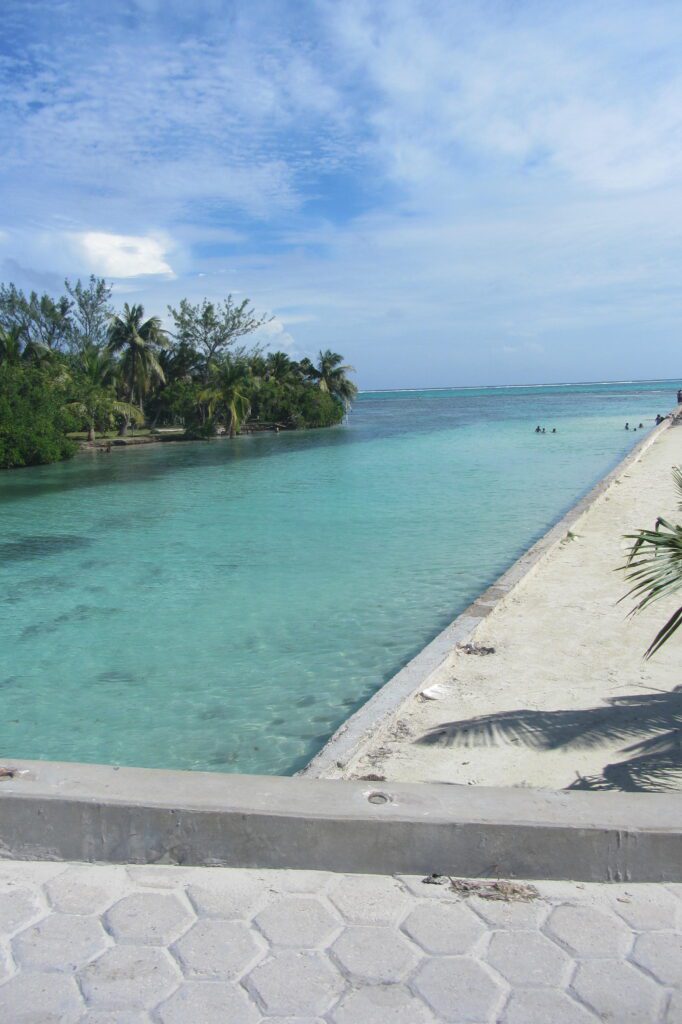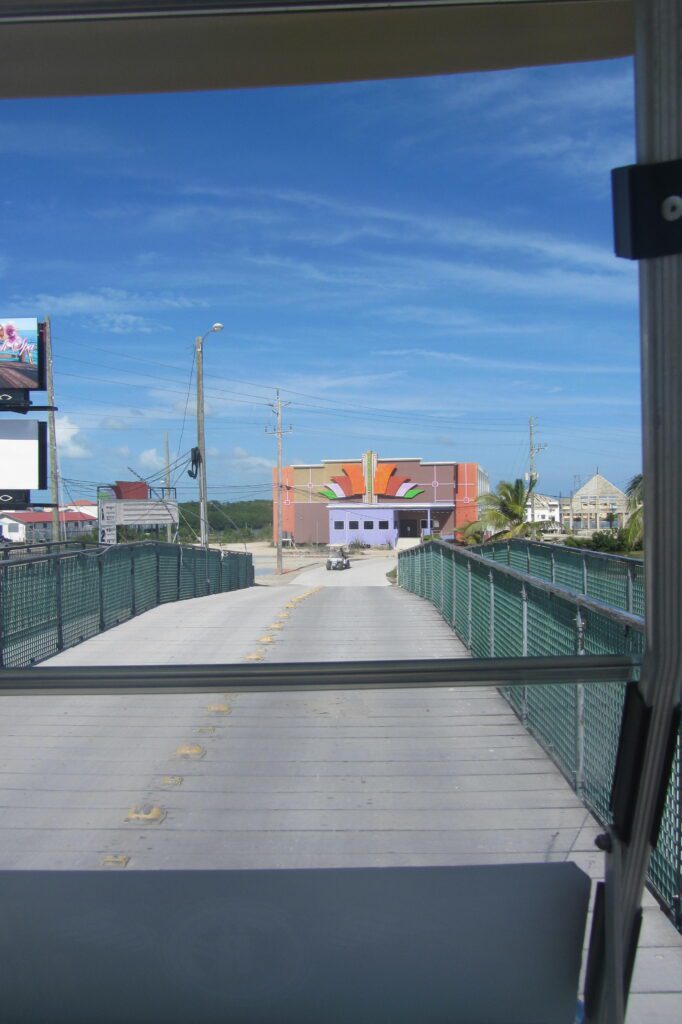 We drove 12.6 kilometers to the Not So Secret Beach. It is very pretty, but it was busy. We found a place to jump in the water near a guest house. We enjoyed the ride. The kids wanted to drive, so Jim allowed it while I did not look!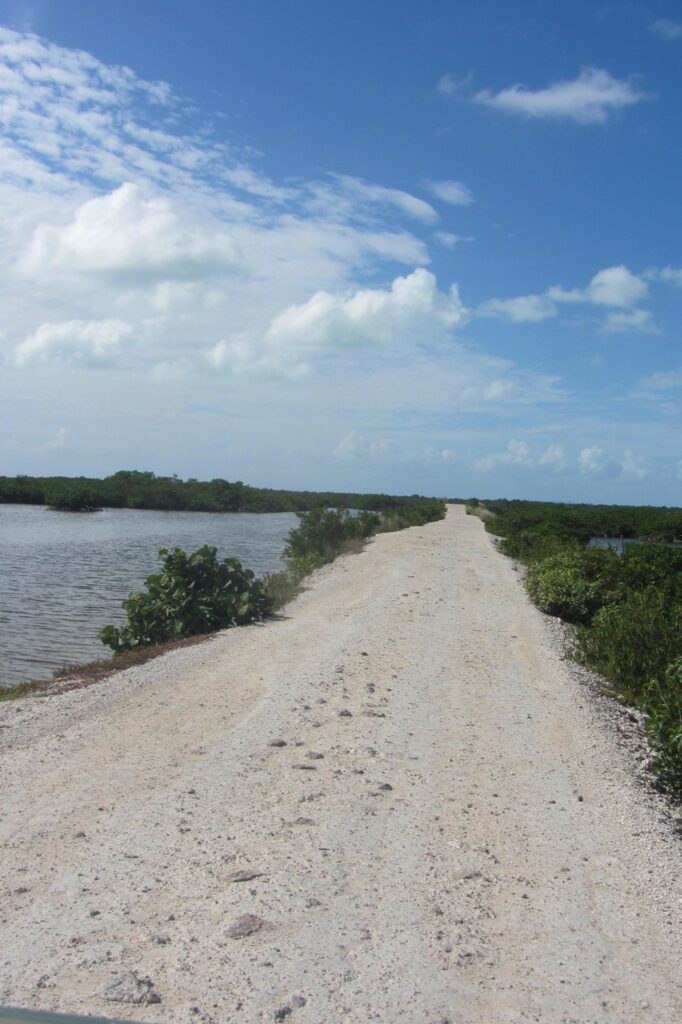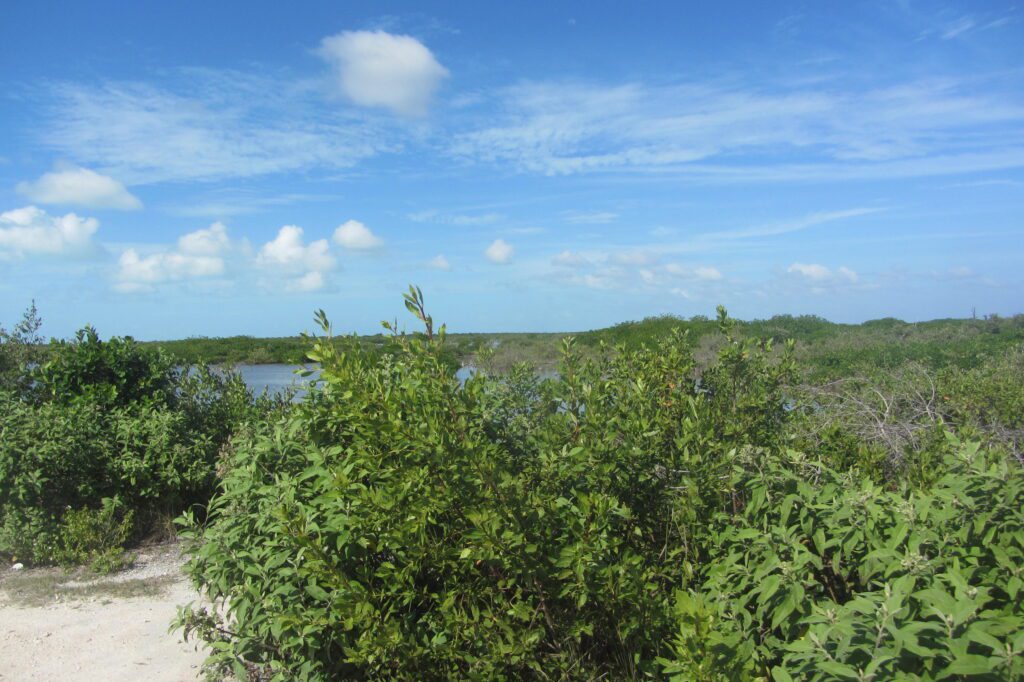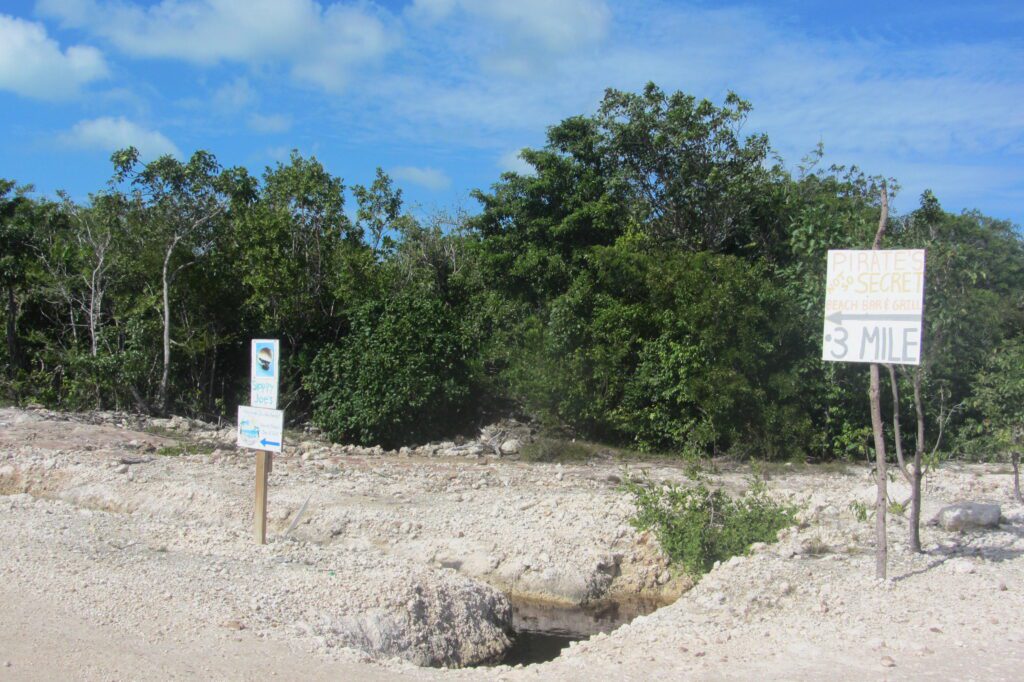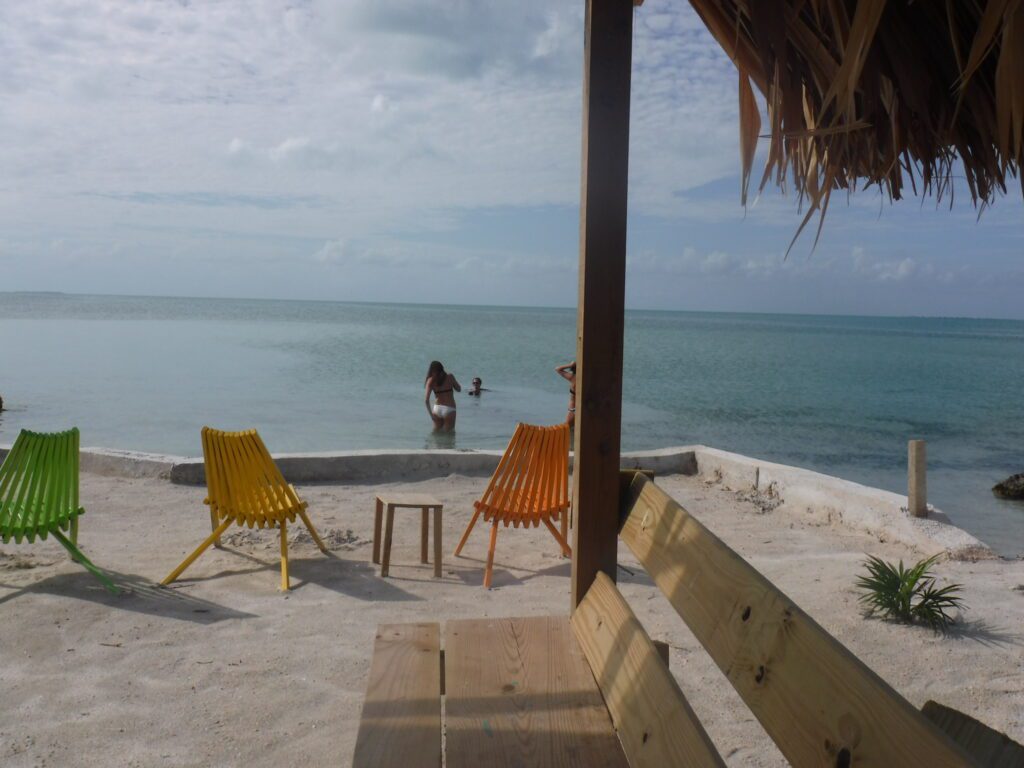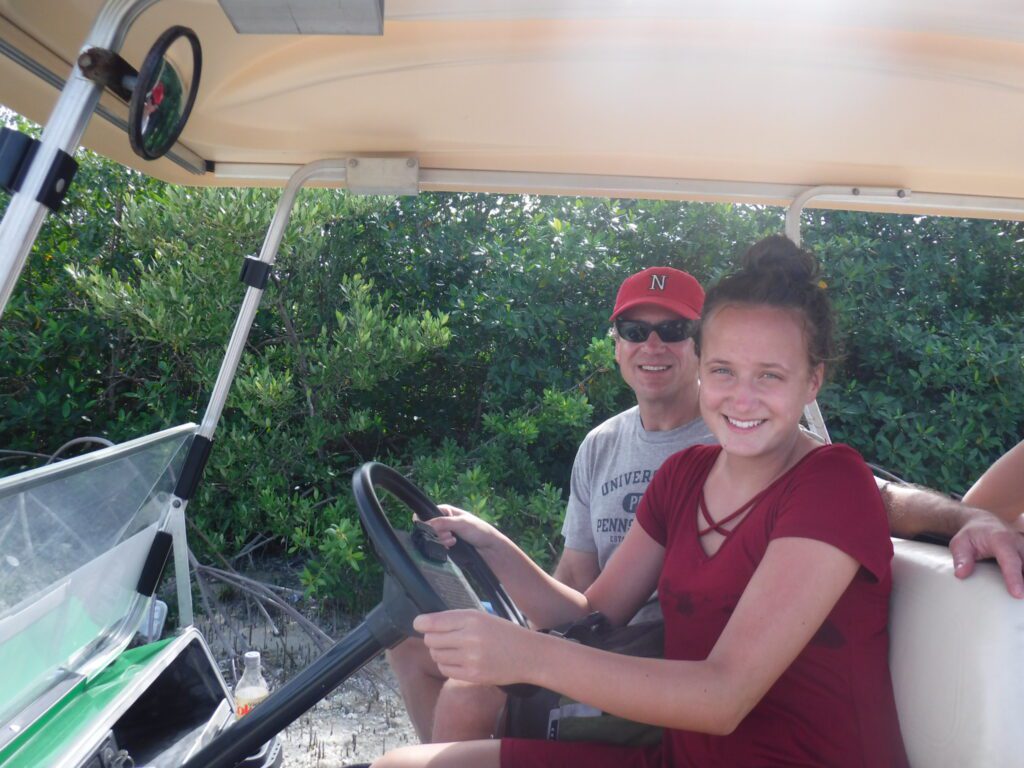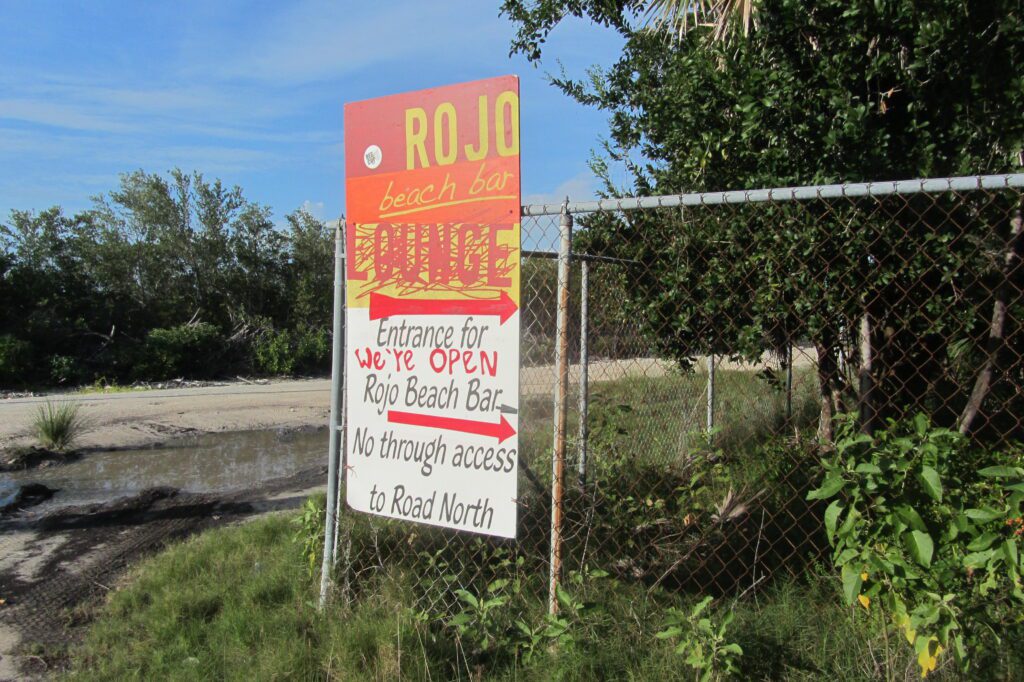 On our way to the Not So Secret Beach, we saw signs for Rojo on the other side of the island. We headed there after checking out the beach and going for a quick swim.
We LOVED Rojo. Loved the setting. Loved the food. Loved it all. It was an excellent stopping point! Lunch was terrific. Trip Advisor reviews are fantastic.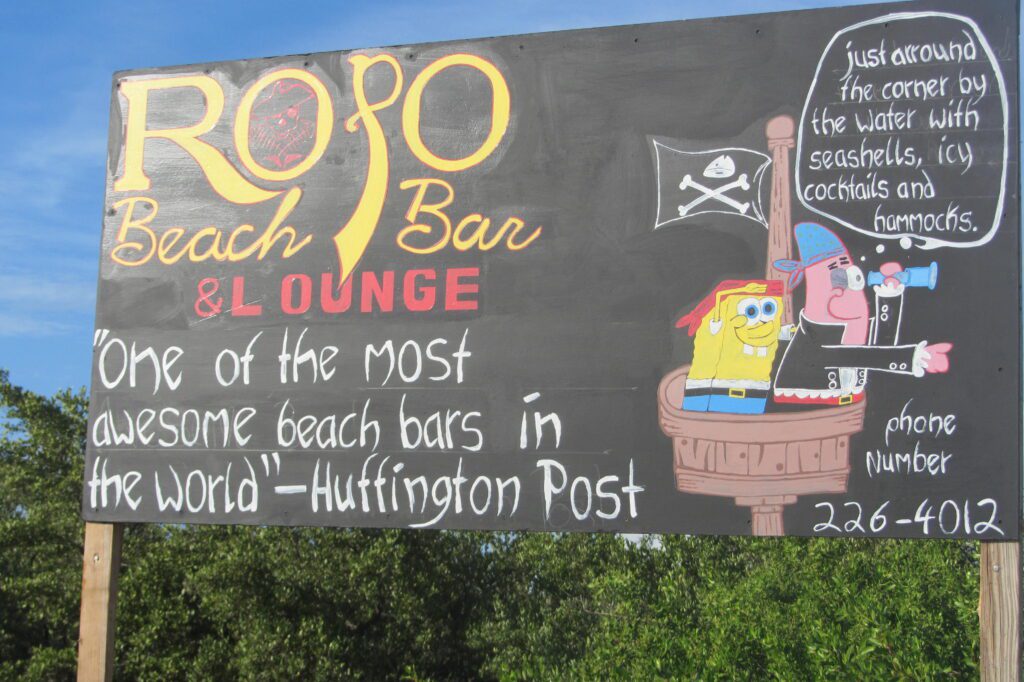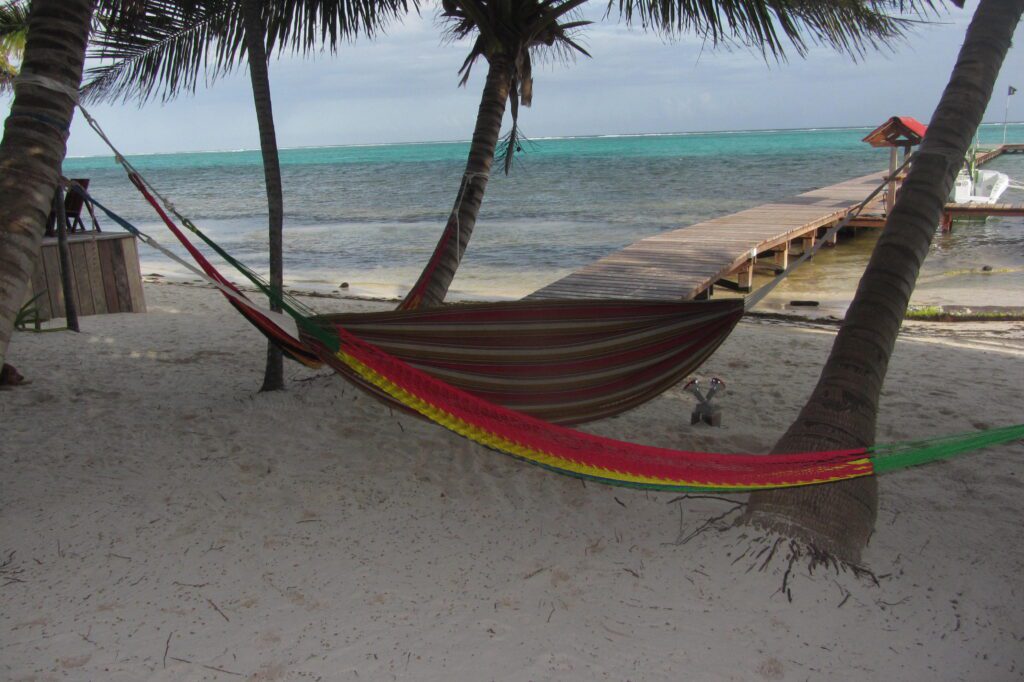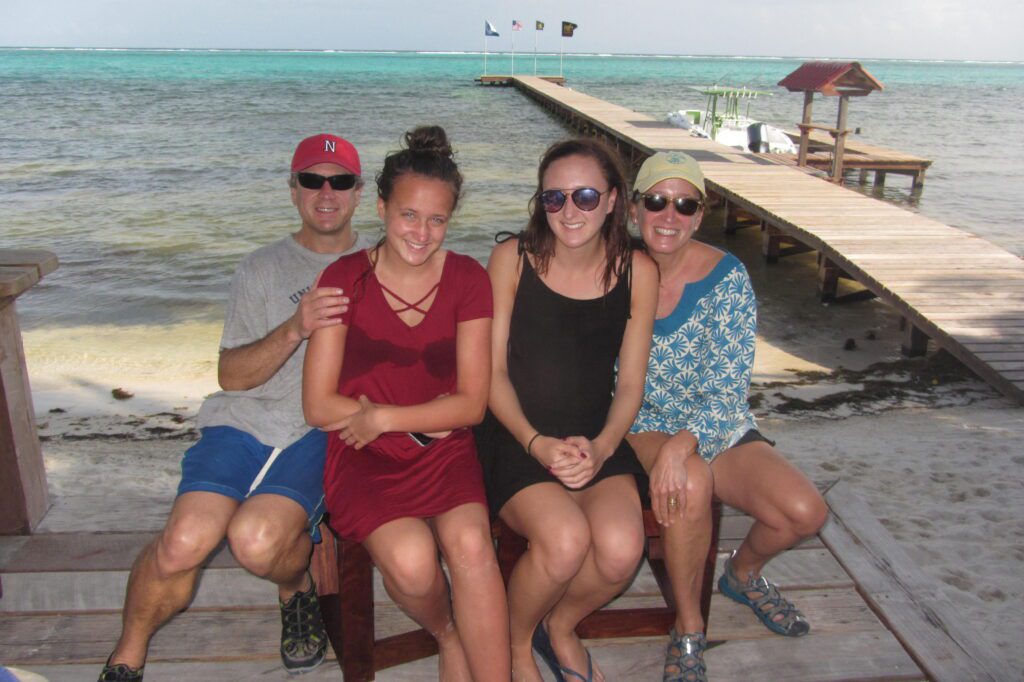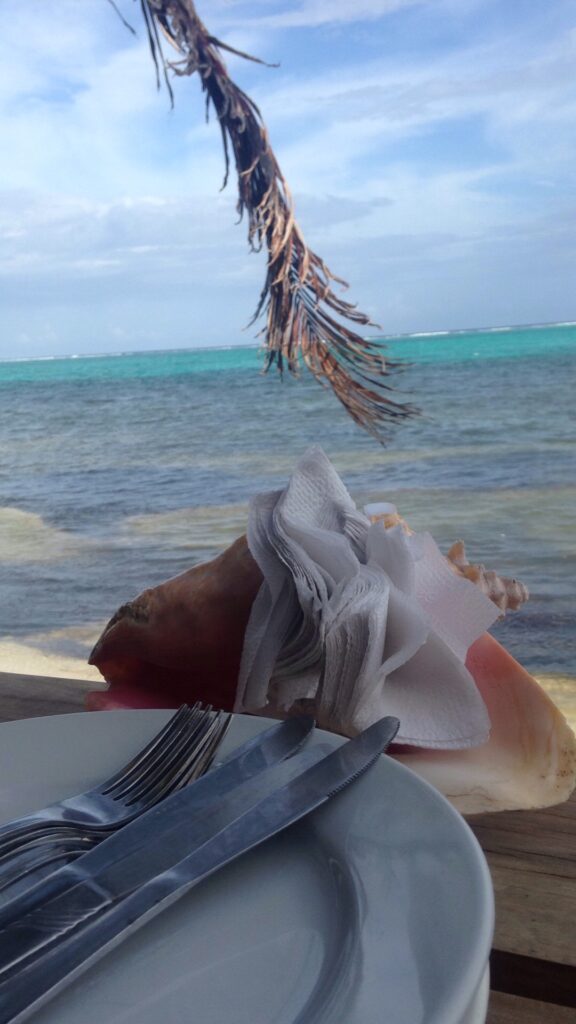 We enjoyed our golf cart day. It was very fun.
For dinner, we took a $10 round trip taxi to Hidden Treasure. It was delightful. Trip Advisor reviews are good.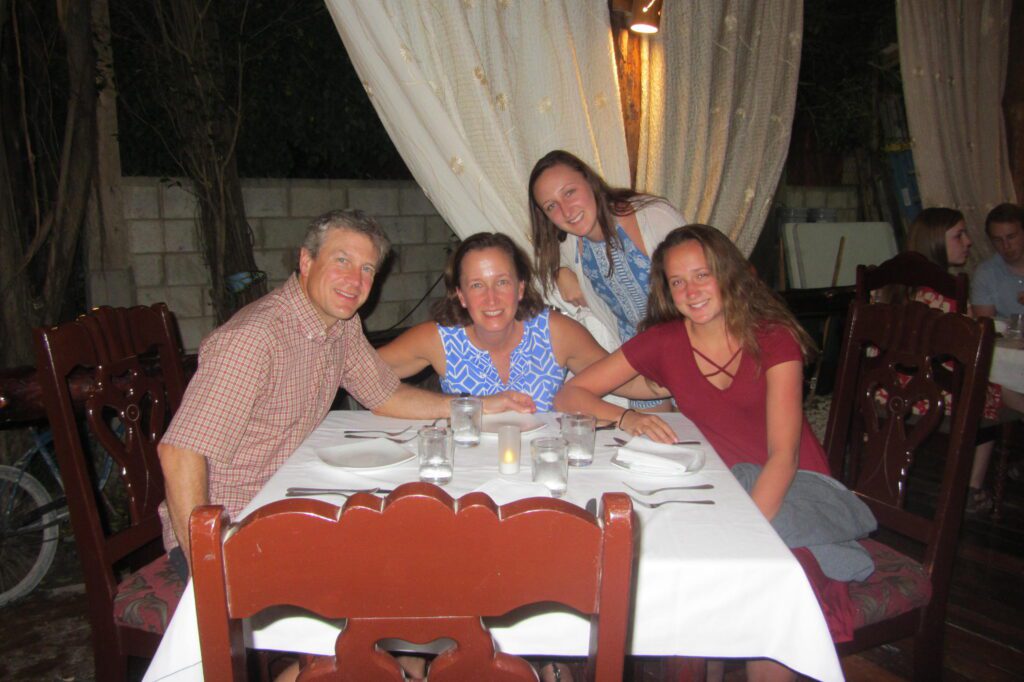 Day 5 – A Long Day to The Blue Hole
We decided to take the long journey out to the Blue Hole. We found a company called Amigos del Mar that would allow the girls and Michele to snorkel and Jim to dive the Blue Hole. Jim dove with them earlier in the week, and they are a highly professional organization with the biggest boat that goes to the Blue Hole from San Pedro.
We woke EARLY and met at the dive shop at 5:30. The dive shop had all sorts of baked goods, fruit, coffee and juices for us. We were underway by 6am. There were probably a dozen divers and a dozen snorkelers.
We did had smooth sailing inside the reef near San Pedro. Then, we had an ocean crossing with rough seas. We then entered another reef near the Turneffe Atoll, and the seas quieted down. We exited the reef, and we had rough seas until we reached the Blue Hole.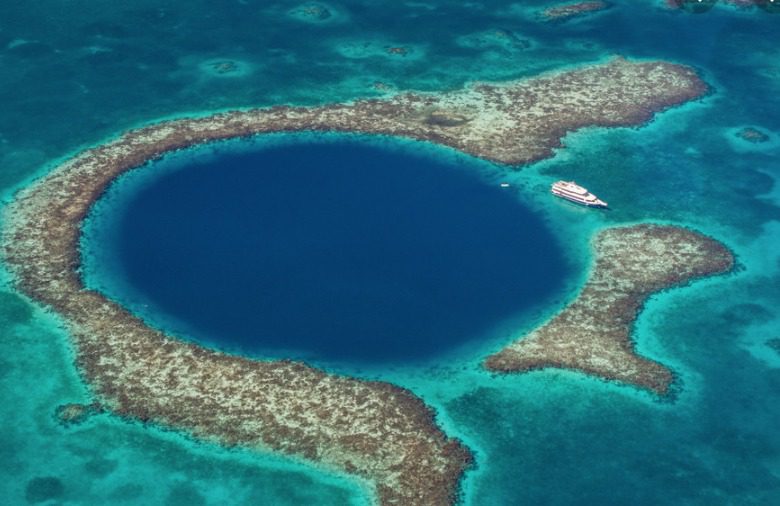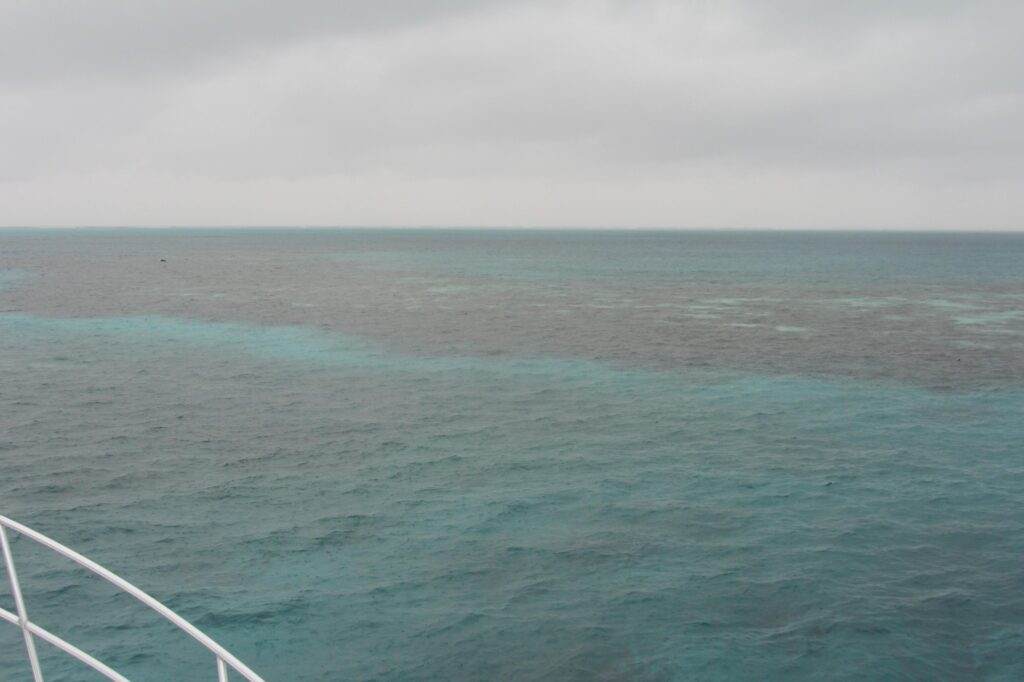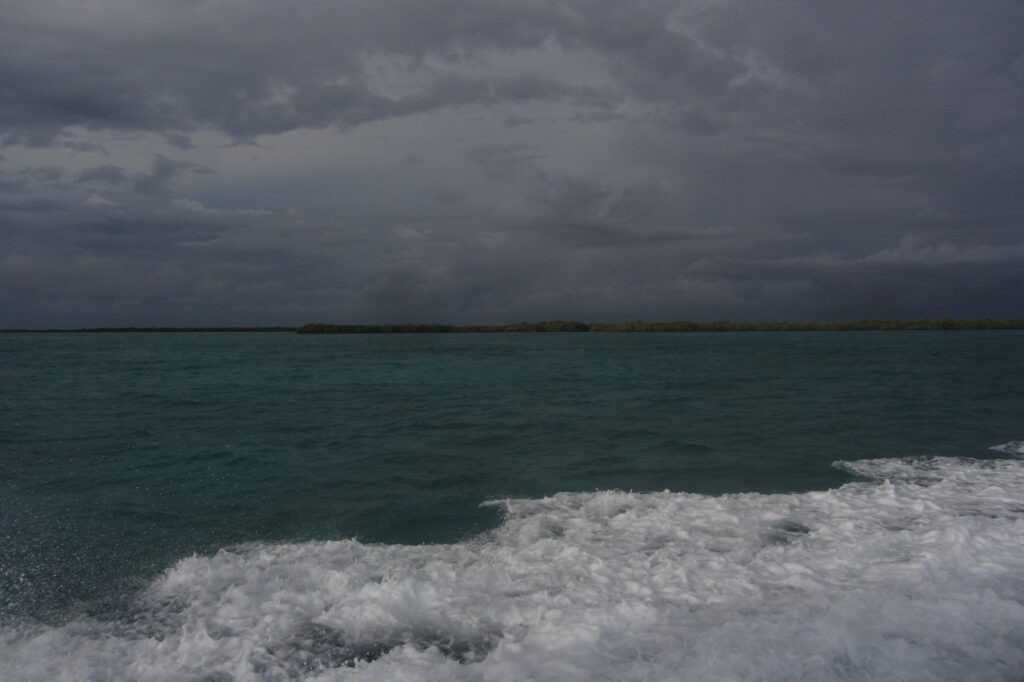 On our day, no one got sea sick, but you need to be prepared for some roughness. The crew said we crossed on a relatively calm day.
The divers went in first, and the snorkelers followed. We saw lots of fish while snorkeling. Jim dove down to about 120 feet and saw the stalactites in the Blue Hole. He said it was very spooky, but very unique.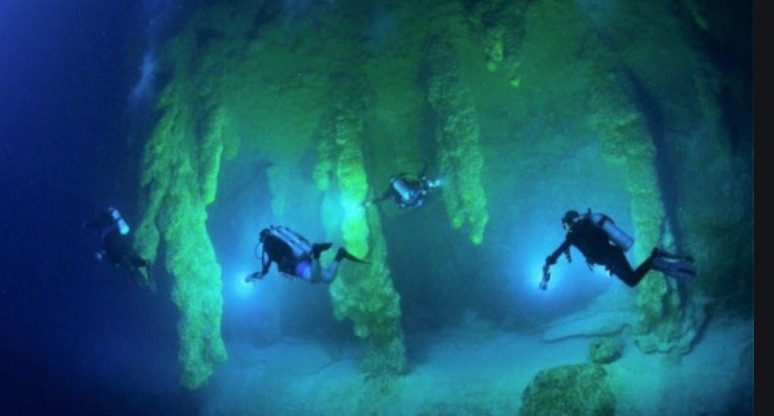 We enjoyed the snorkel. My photos are not great, but it was nice, and we had an escort the entire time. We swam around the interior of the Blue Hole and then the big boat picked us up once the divers were back on board.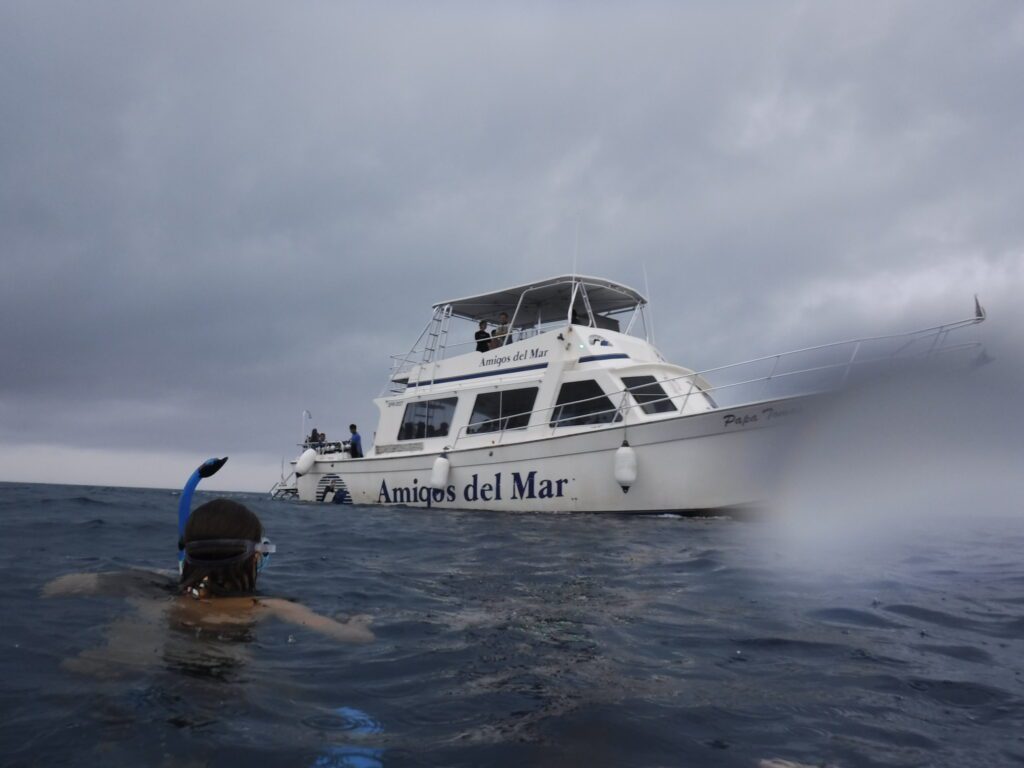 We motored about 10 minutes or so to Half Moon Caye. The snorkelers were dropped off on the beach, and the divers stayed on board and did a dive.
Jim loved this dive. He said he literally petted a fish.
We loved the snorkel. We walked in with a guide. We saw lobster, conch and enormous schools of sardines. The sardines were insanely cool to snorkel with. Thousands of them change direction at the same time. The girls and I loved it.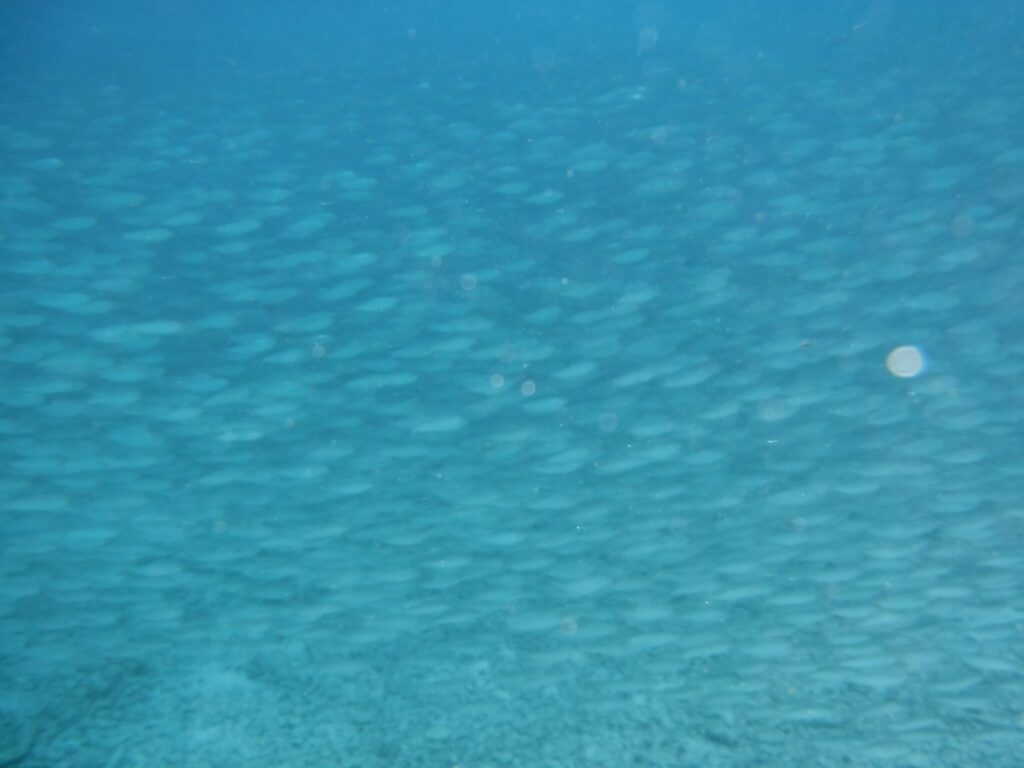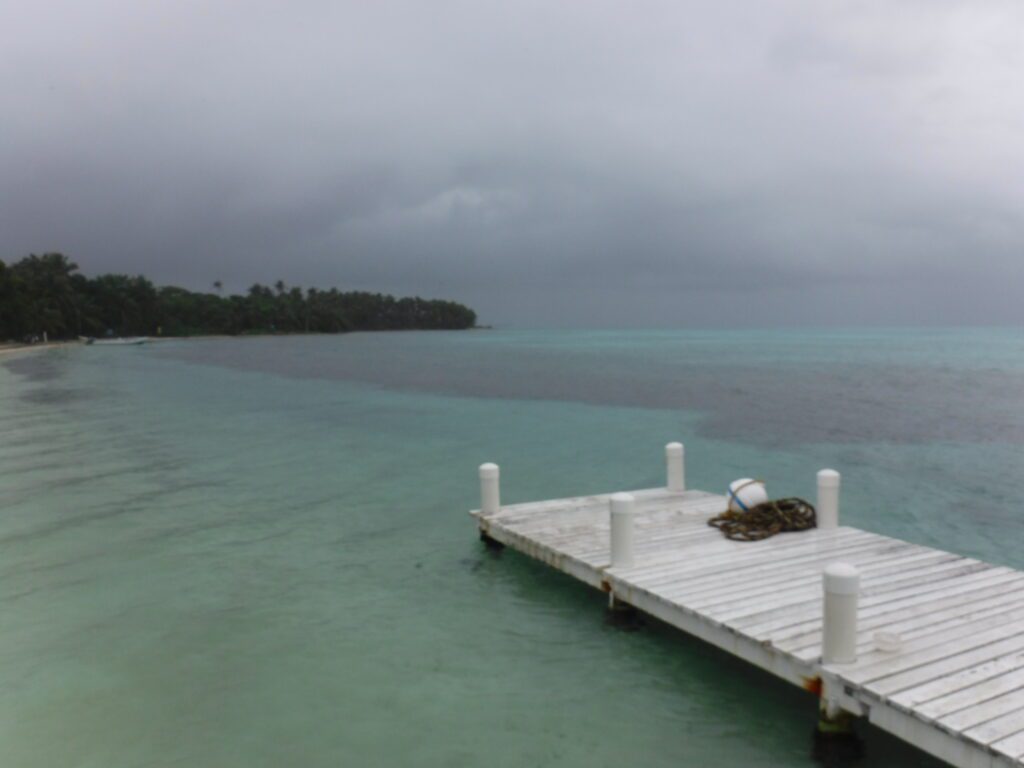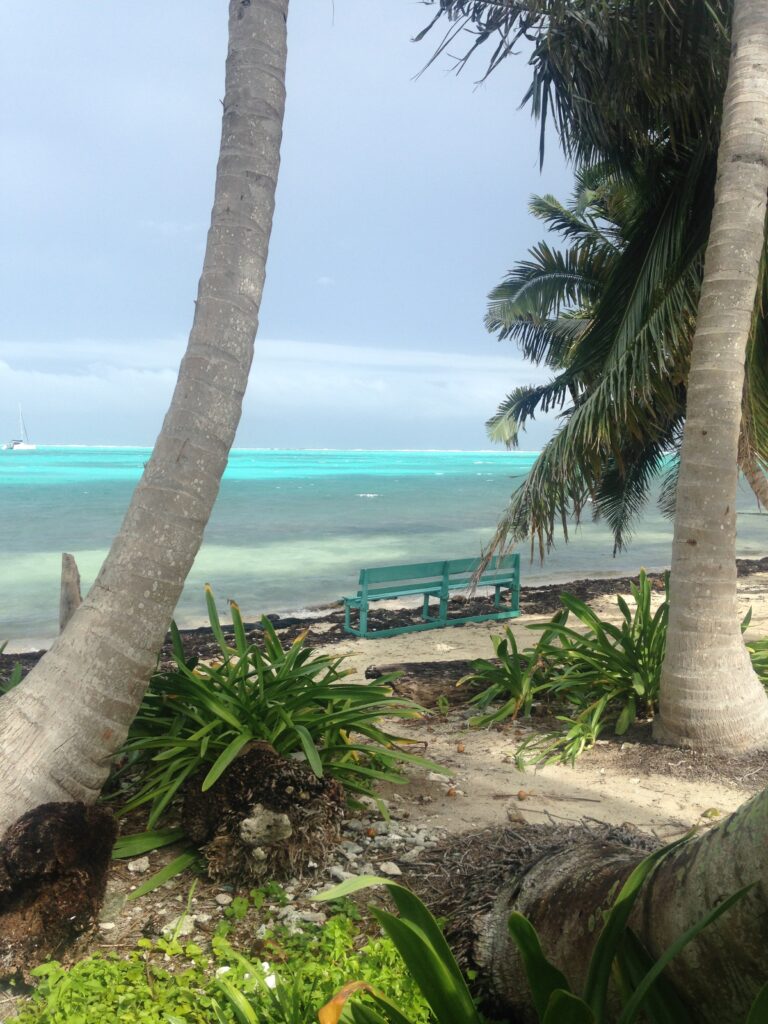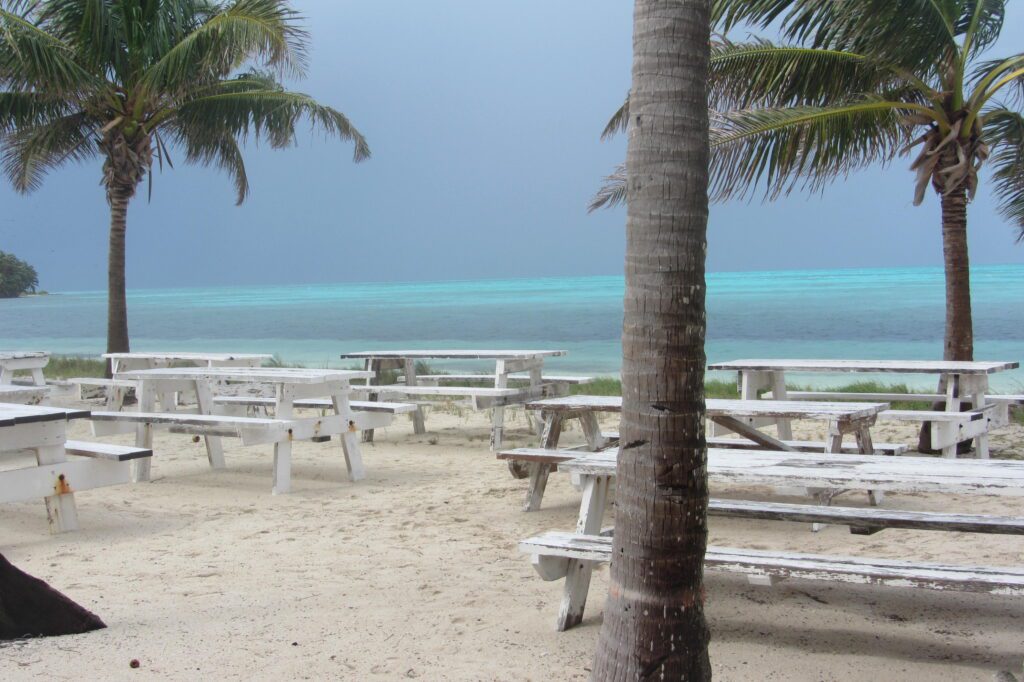 Amigos del Mar gave us a delicious lunch. Hugely generous. While we were waiting for lunch to be prepared, we walked to see the Red-Footed Booby Bird colony. My first thought was, "eh, birds."
It is a short walk to the colony. These birds are only found in Belize. We enjoyed seeing them and the frigate birds. Walking on the island path is lovely.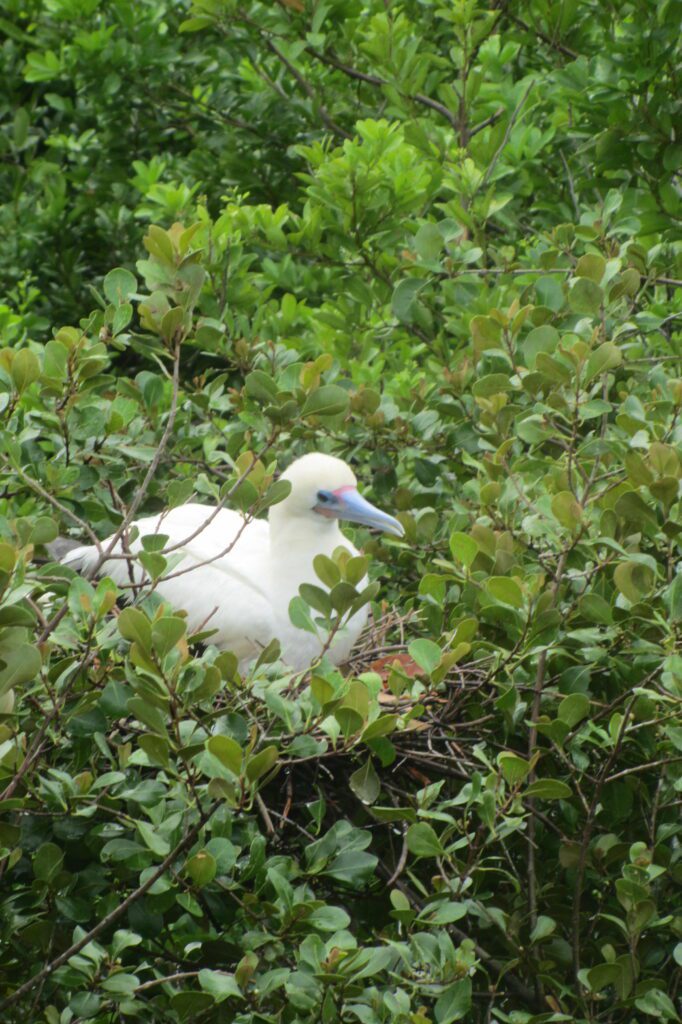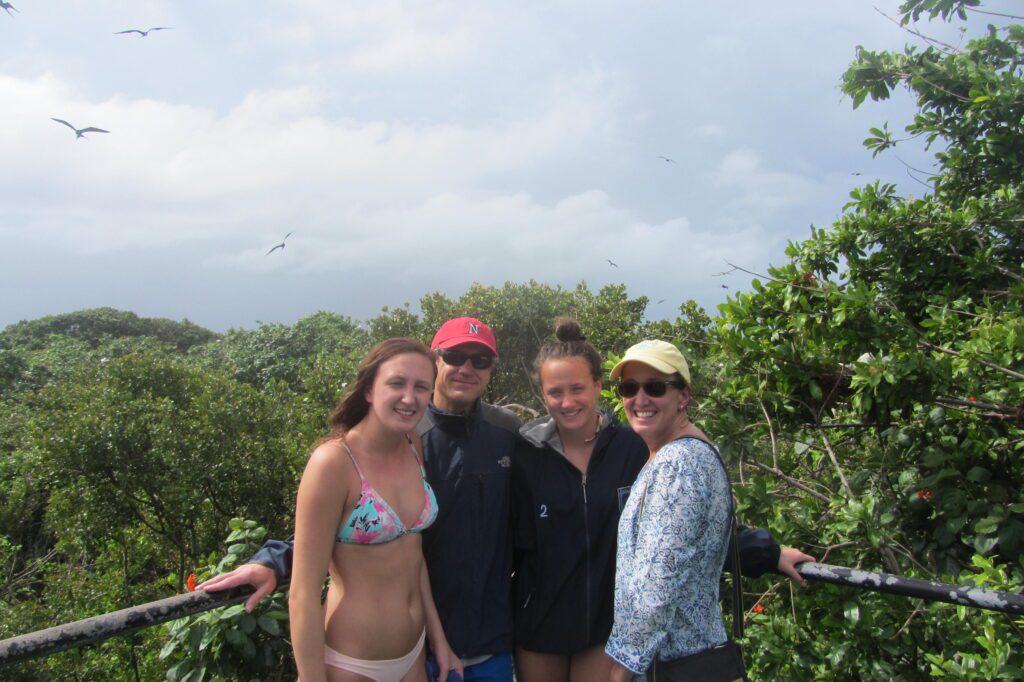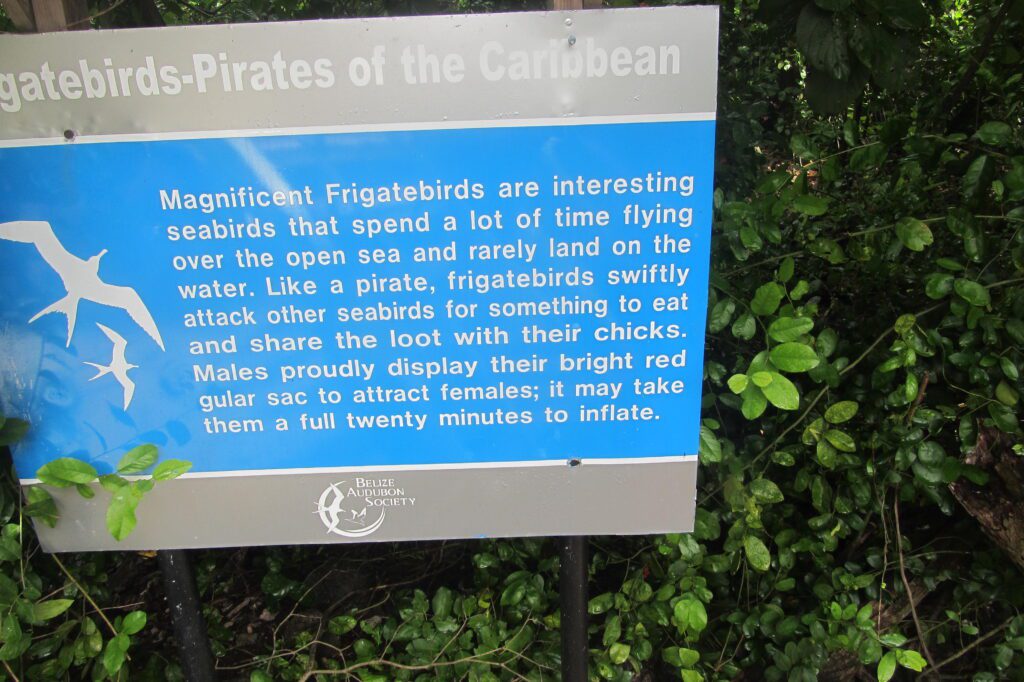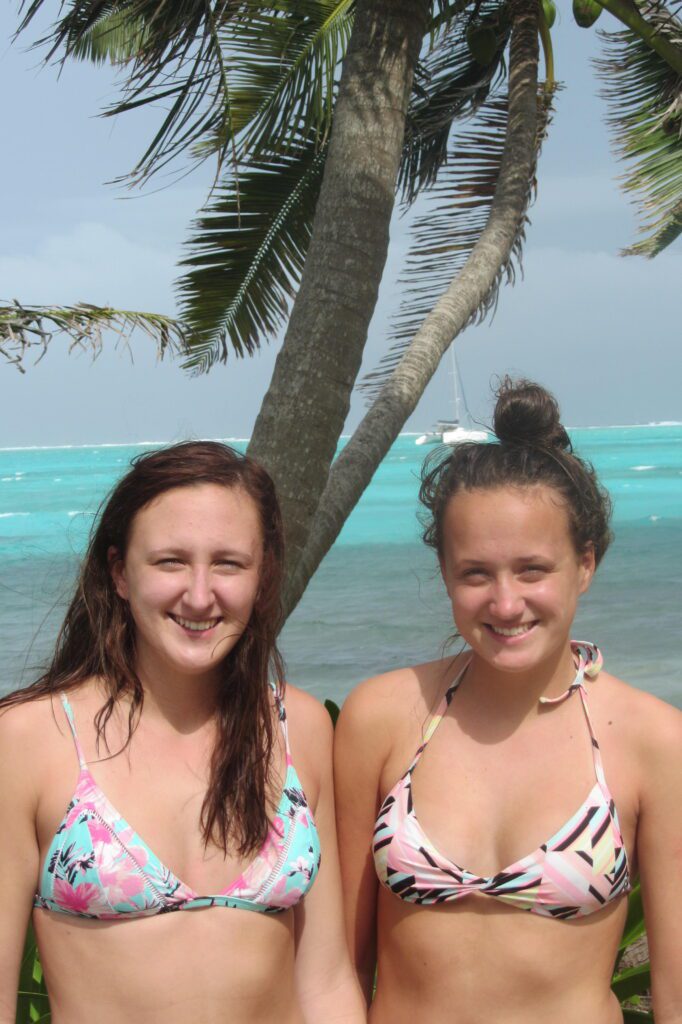 After lunch, we got back on board and motored for a few minutes to the Long Caye Wall also known as The Aquarium. We saw thousands of fish and some sharks. It was highly enjoyable.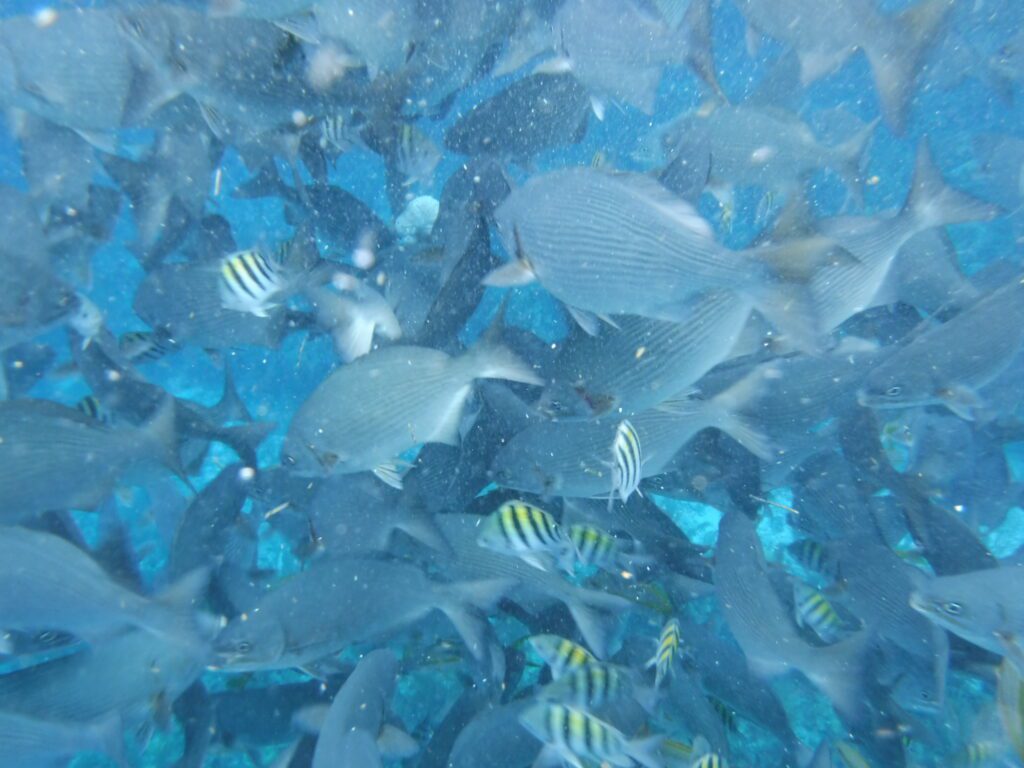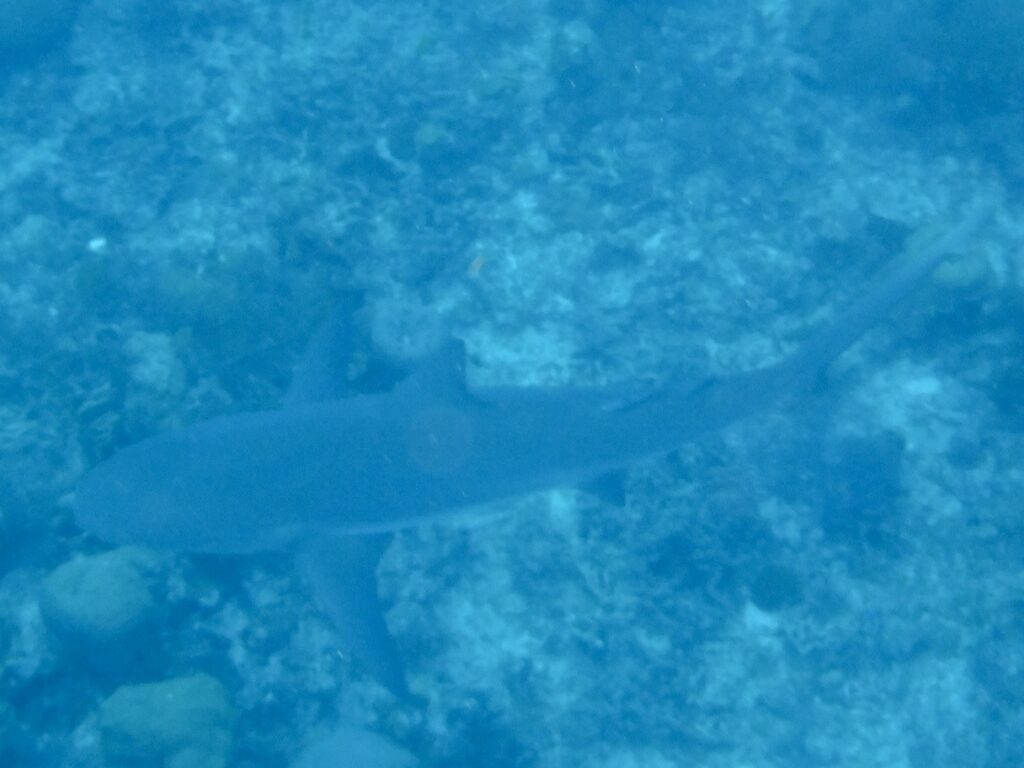 We had a wild adventure of a day visiting the Blue Hole. You need to be prepared for a long day and possibly rough seas. I am glad we did it.
We were exhausted, so we ate at Red Ginger at our hotel. It was our first time trying their dinner menu, and we liked it.
Tomorrow, we head to the jungle!
Day 6 – We Head into the Jungle and Do Some Cave Tubing
We wanted to explore the Belizean jungle, and I struggled with – "Do we explore on our own?" or "Do I purchase a package at a resort?"
The roads and driving appear fine in Belize. There are very few road signs. In 2016, we were told GPS was not all that reliable. So, in uncommon fashion, we decided to pick a resort and have them help us formulate an adventure package.
I waffled between Gaia River Lodge and Mystic River. Gaia River Lodge looked great with great reviews; however, they would not allow me to customize a package of adventures. I had to pick one of their prepackaged adventures. Mystic River allowed me to do what ever we wanted (for a price!).
The Phoenix brought us to the airport. The airport is right in town, so I was able to walk to a gift shop close by to purchase my ornament!
The quick flight brought us to San Pedro, and Abbi from Mystic River was there to pick us up.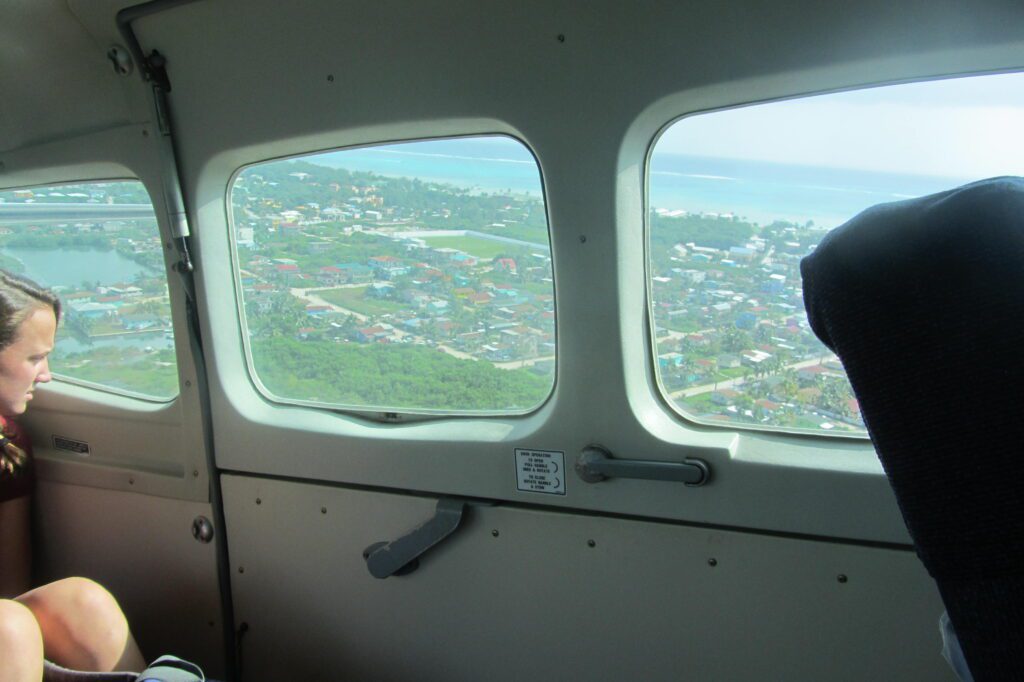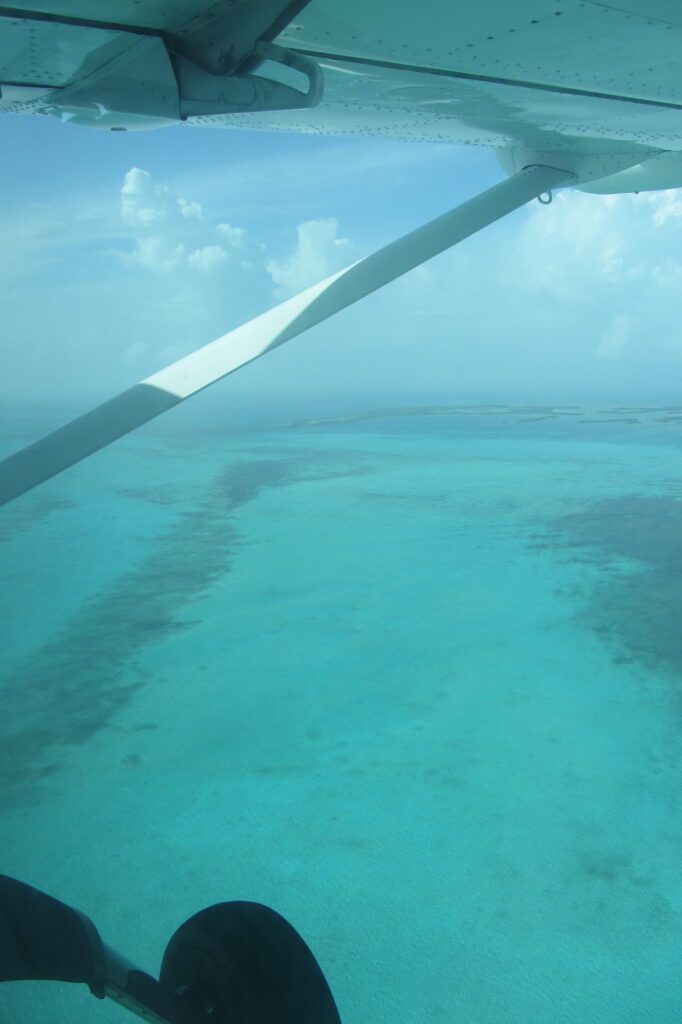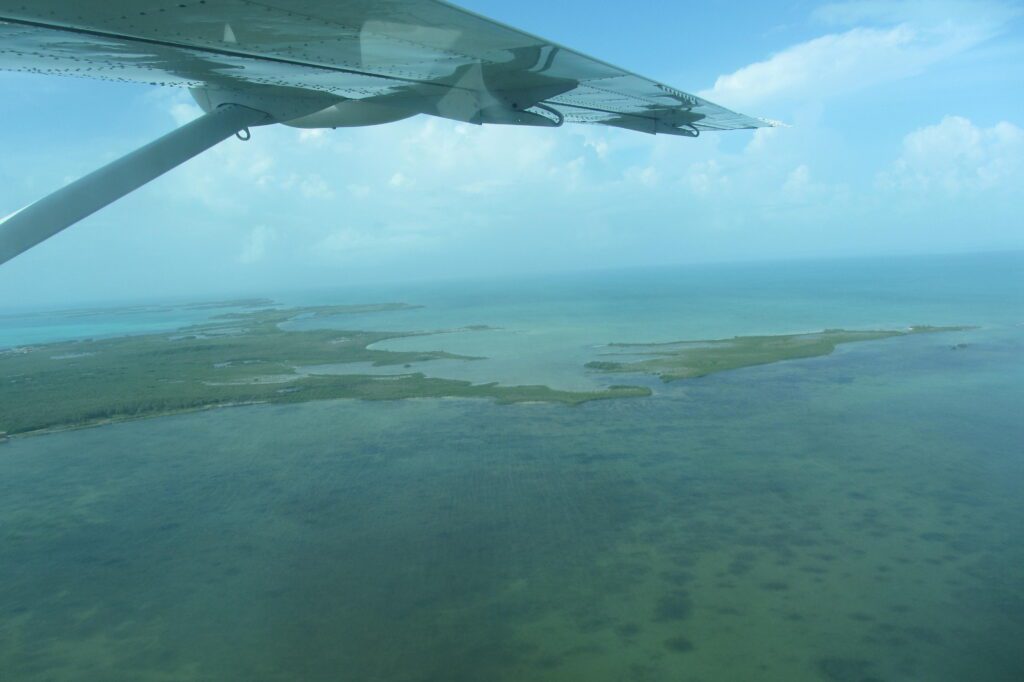 We had no desire to explore Belize City. There is definitely some crime there, and giant cruise ships come in regularly, which I detest.
When planning adventures with Nadege (the owner of Mystic River), I told her about wanting to go cave tubing. The cave tubing is on the way into the jungle, so stopping on the way is a great option. However, check the cruise ship schedule! Cave tubing is super popular. Do NOT go on a day with lots of cruise ships in town. It is just too crowded.
It takes about an hour to get to Nohoch Che'en Caves Branch Archaeological Reserve. Caves Branch is located off the George Price Highway (formerly the Western Highway) at Mile 37 between Belmopan and Belize City. It is not Ian Anderson's Caves Branch which is located off the Hummingbird Highway.
If you are coming from San Ignacio, you will turn right off the George Price Highway, and you will turn left if you are coming from Belize City.
There are short and long ways to cave tube. We did the shorter one, and we loved it. You MUST be with a guide.
When you pull into the parking lot, there are vendors and restrooms. I cannot stress this enough – do this adventure on a day when cruise ships are not in port. You and your guide get your tubes, life vest and headlamps and begin to walk. You MUST have shoes. You walk for about a half and hour to the entrance of the cave and then you float back almost to the parking lot. You will be soaking wet on this adventure. Bring only waterproof electronics.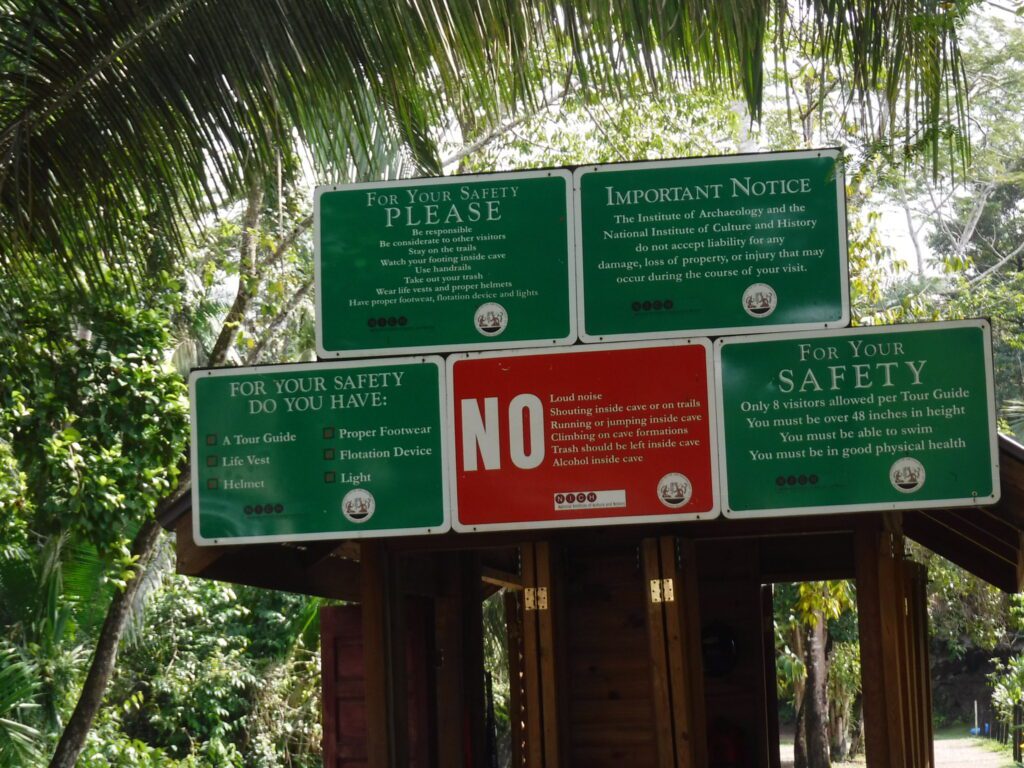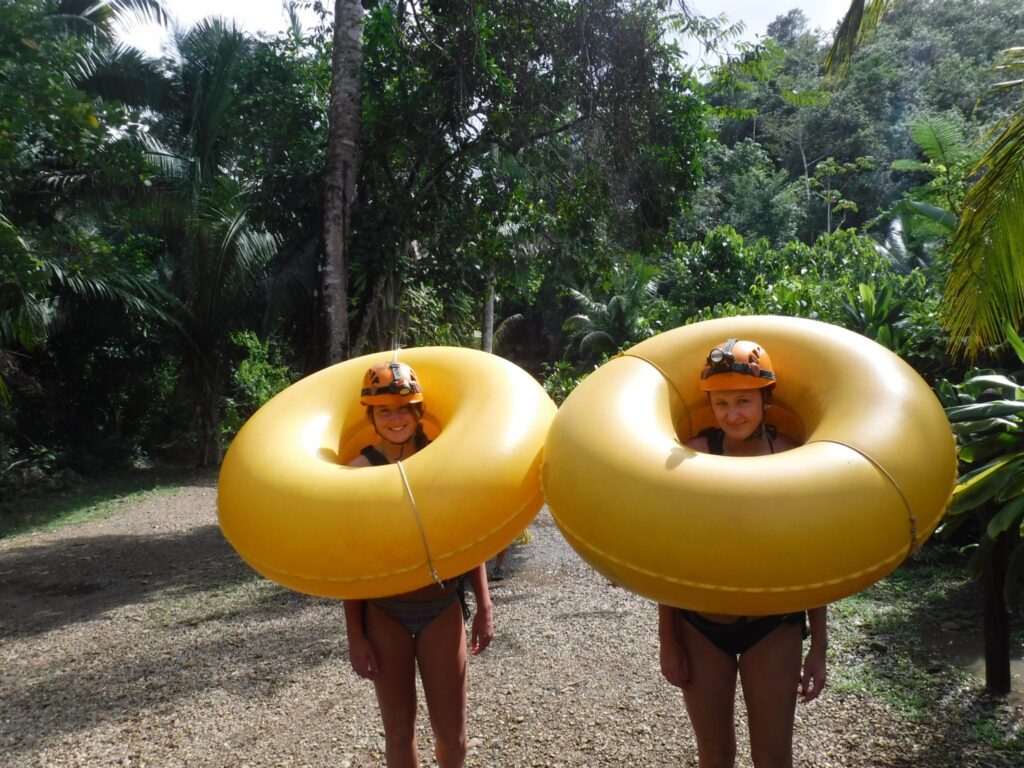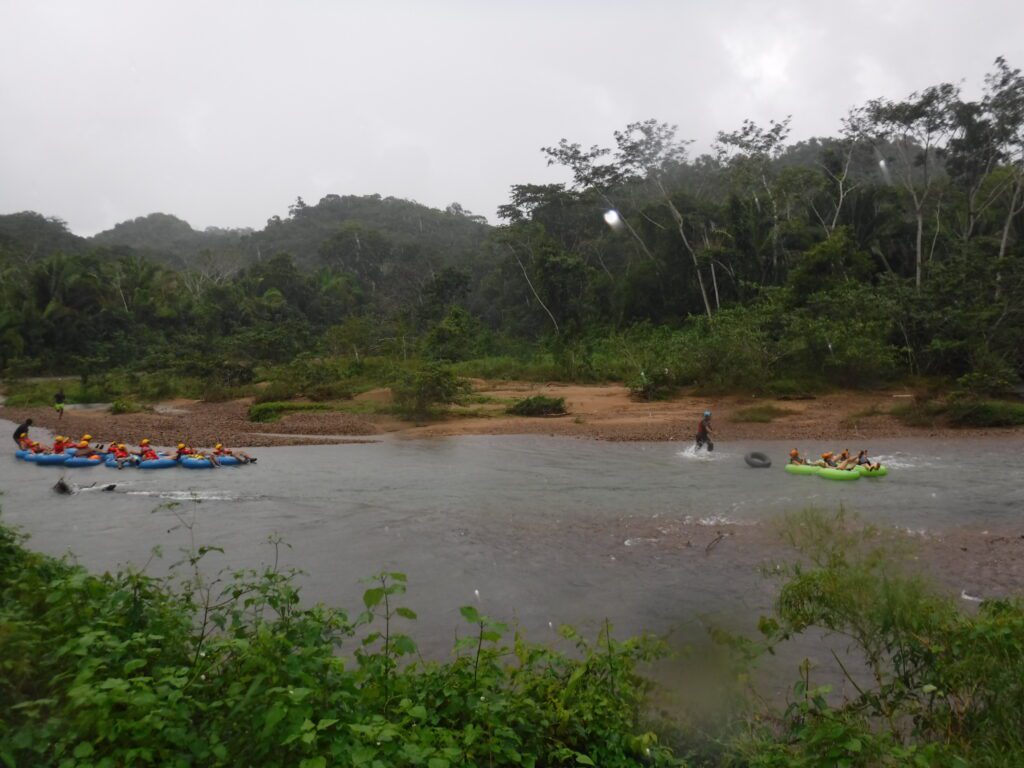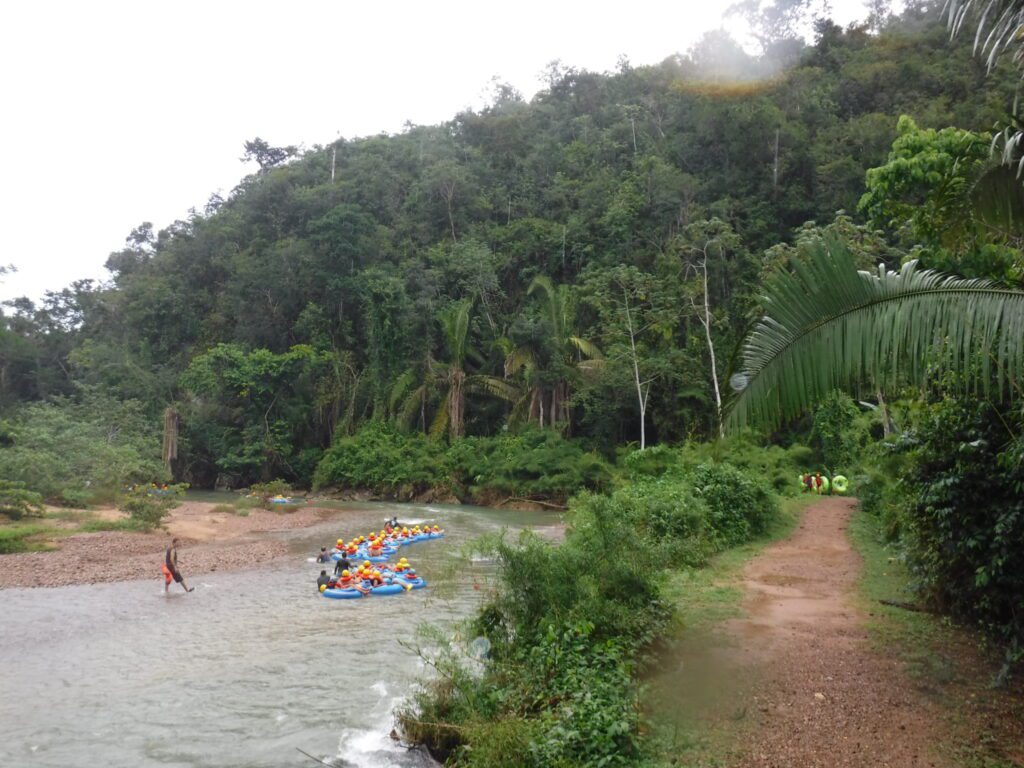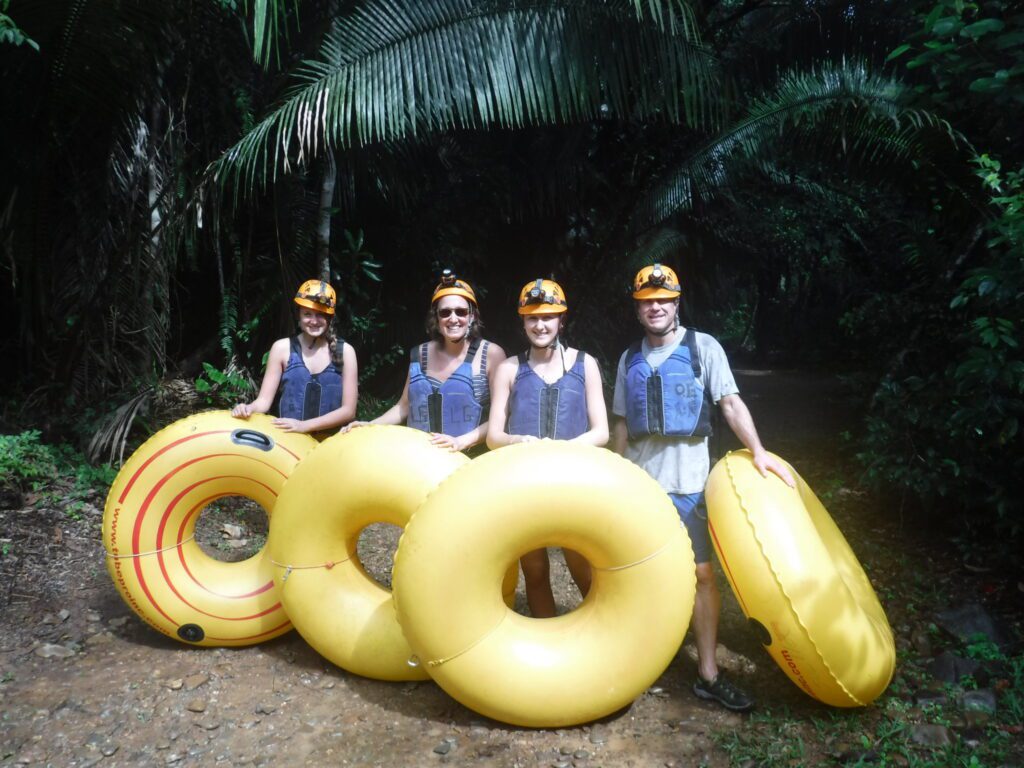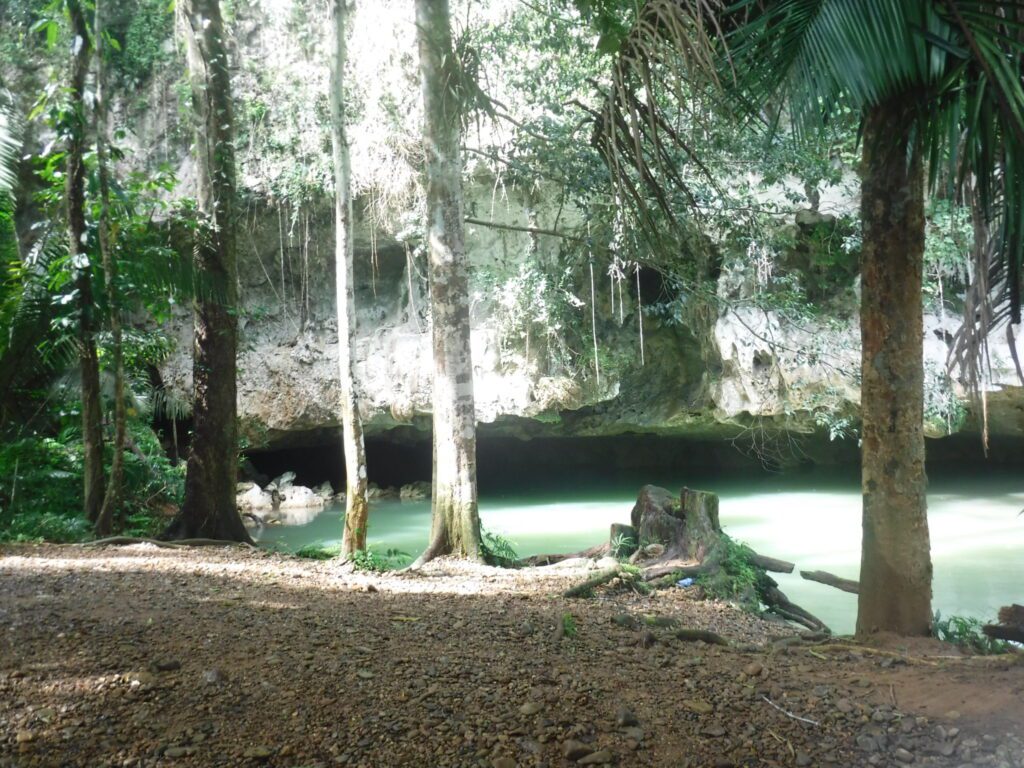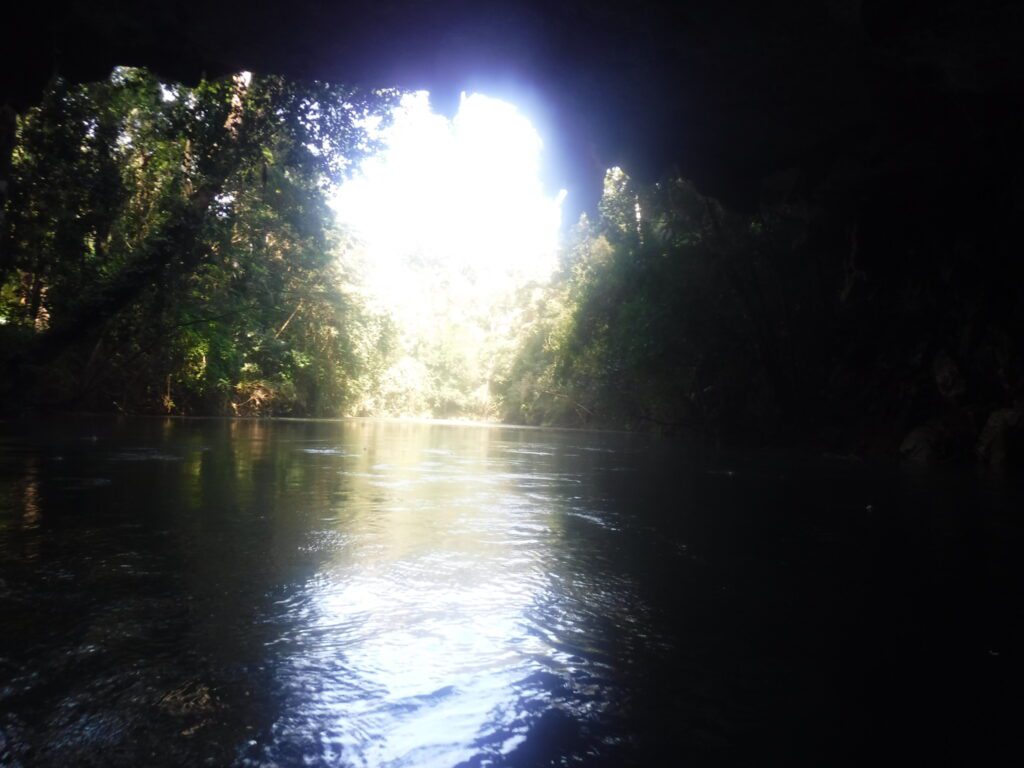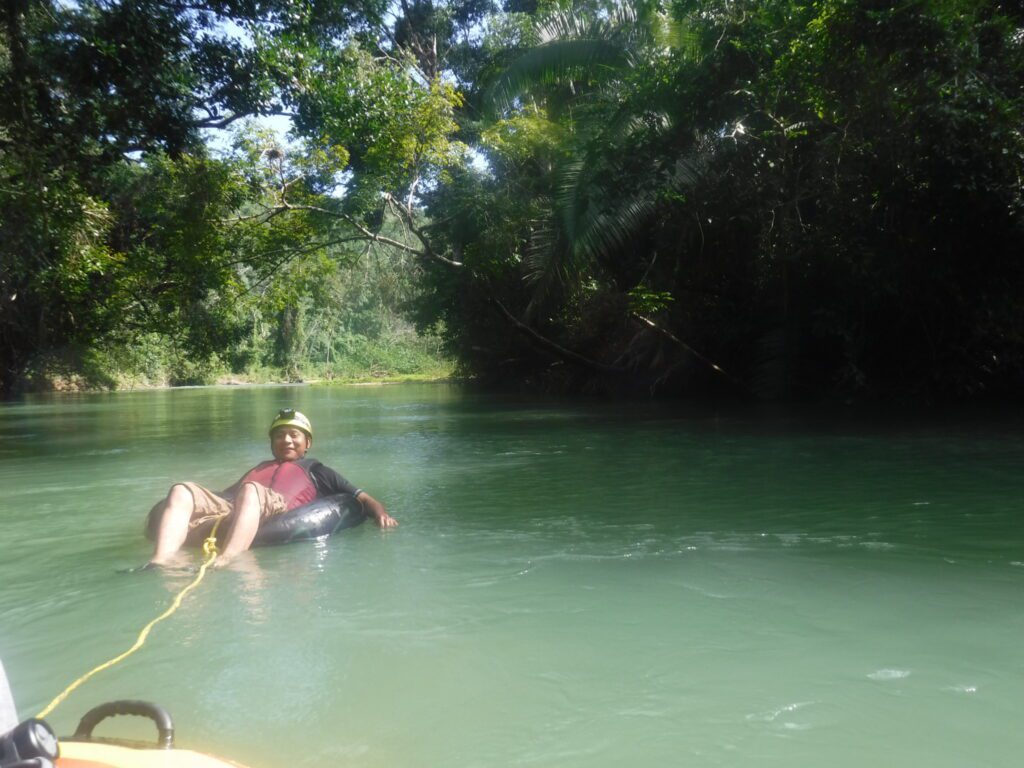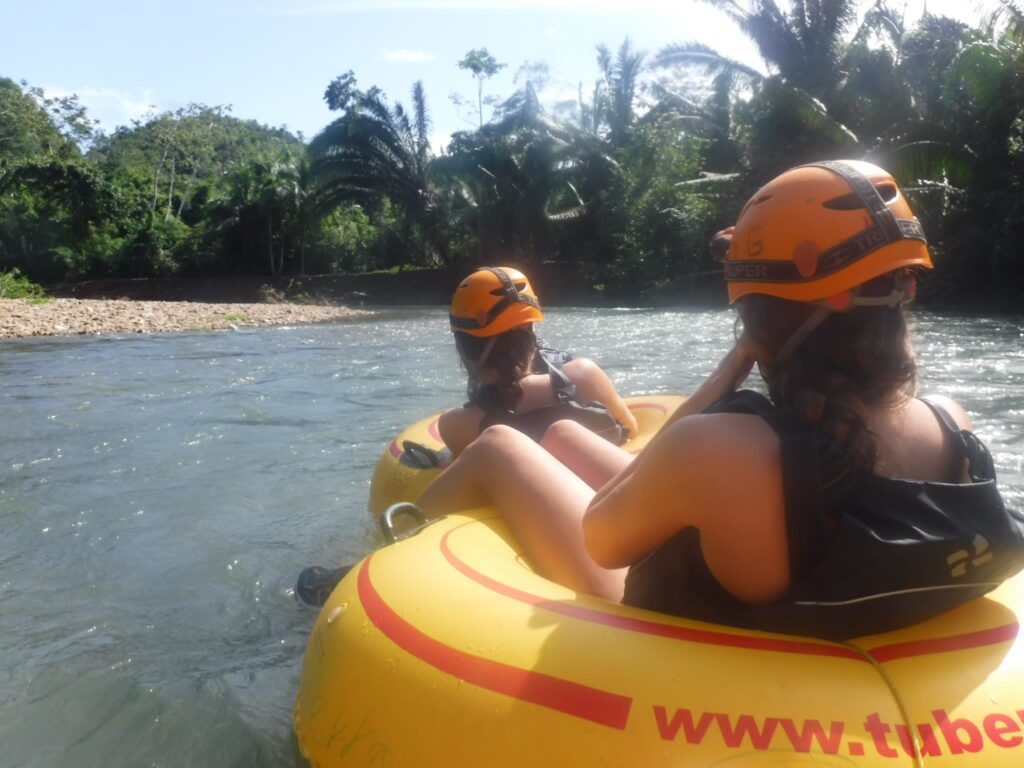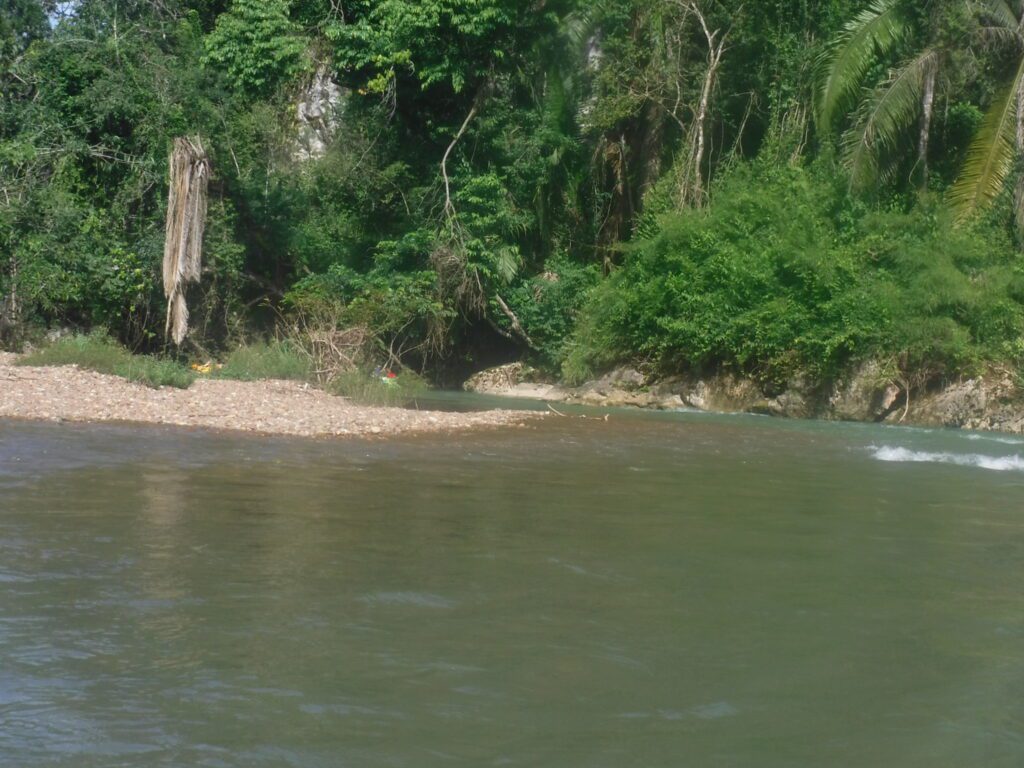 At the end of the float, we saw a fun little jump. We loved it!
We loved this adventure and would highly recommend it. You will enjoy the adventure more with a private guide. There are dozens of guiding companies who can take you.
We continued for another hour to the Cayo district in Belize. The main towns in Cayo are Santa Elena and San Ignacio. There are dozens of eco resorts out in the jungle. You have lots to choose from.
We chose to stay at Mystic River on the banks of the Macal River. It was lovely. We had a studio cottage. I honestly should have splurged for the one bedroom or two separate studio cottages. We were a little cramped, but we made it work. The cottages are lovely with river views. The resort is very nice.
Because we did not drive ourselves, and because the resort is about 10 miles outside of town, down bumpy roads, we had all of our meals included at the resort. Breakfast, lunch and dinner was included. The only thing we need to purchase was alcohol.
There are nice restaurants in the towns of Santa Elena and San Ignacio. However, the very best restaurants are in the jungle at the eco-resorts. You can walk into a place like Mystic River and eat a meal at their restaurant. Be prepared for driving in the darkness at night.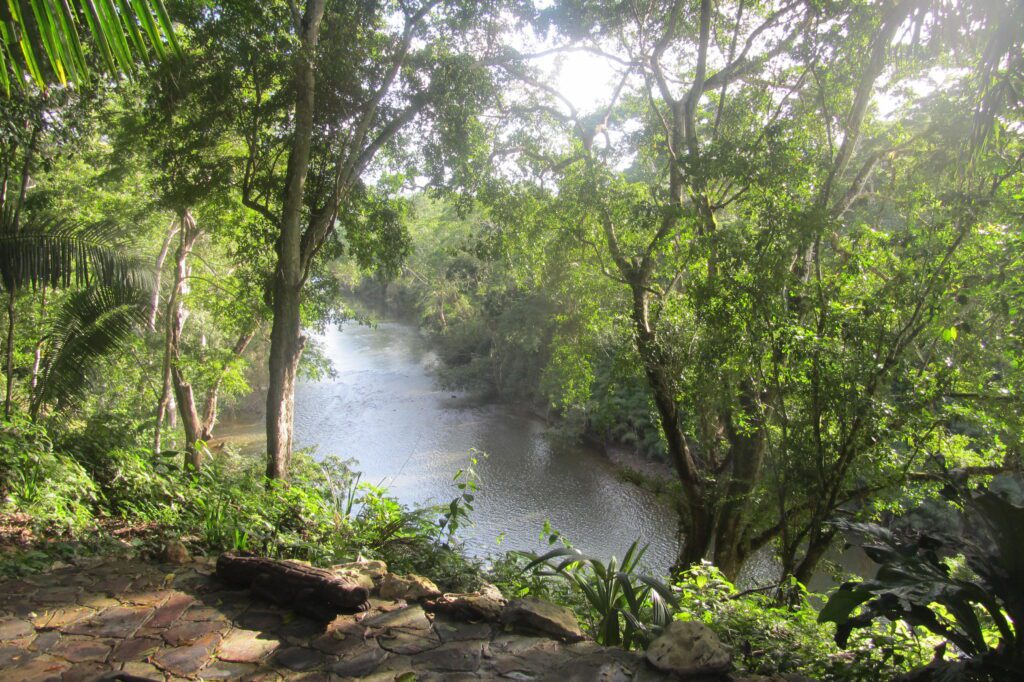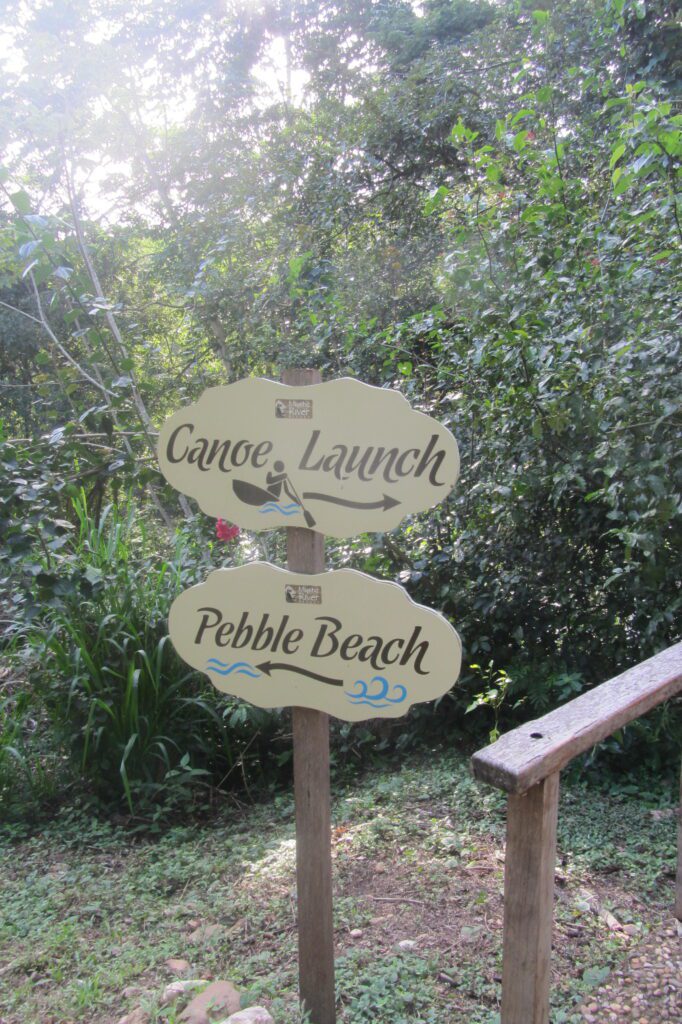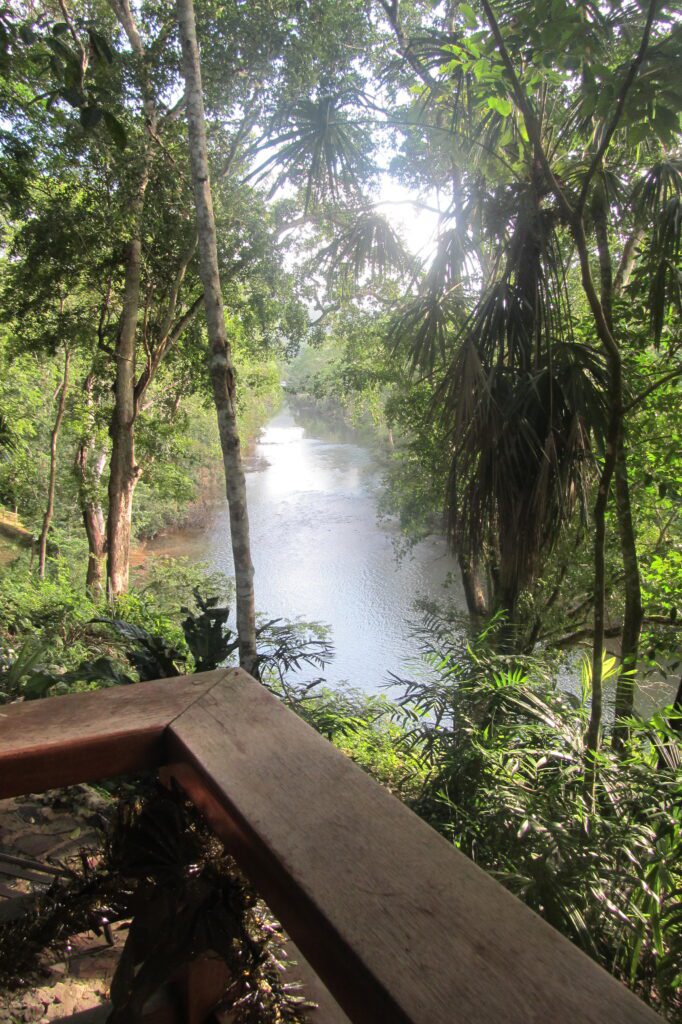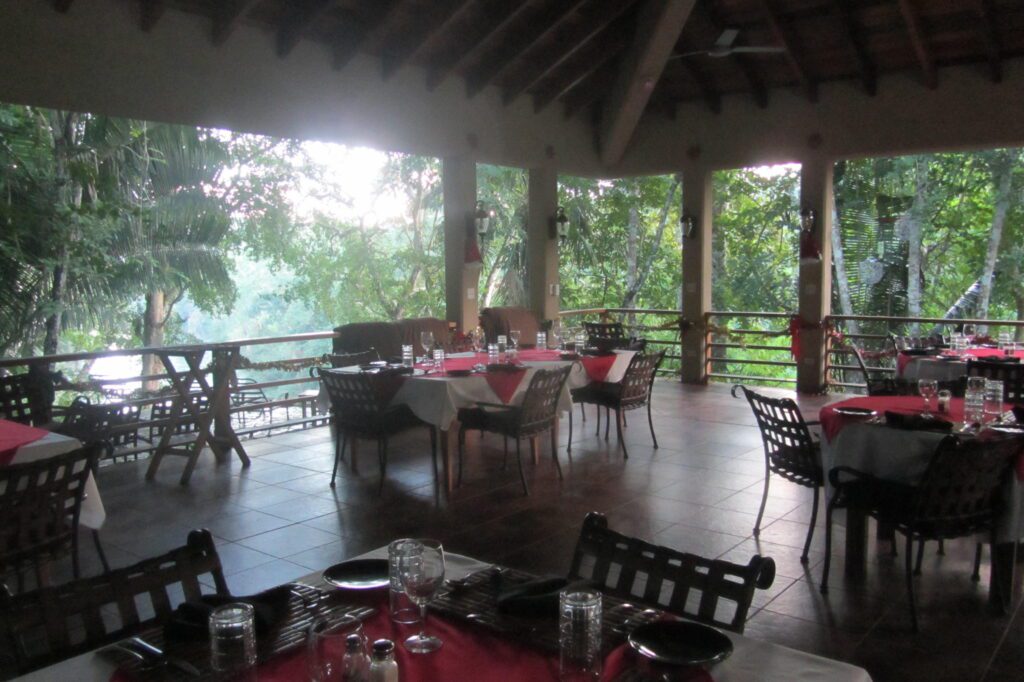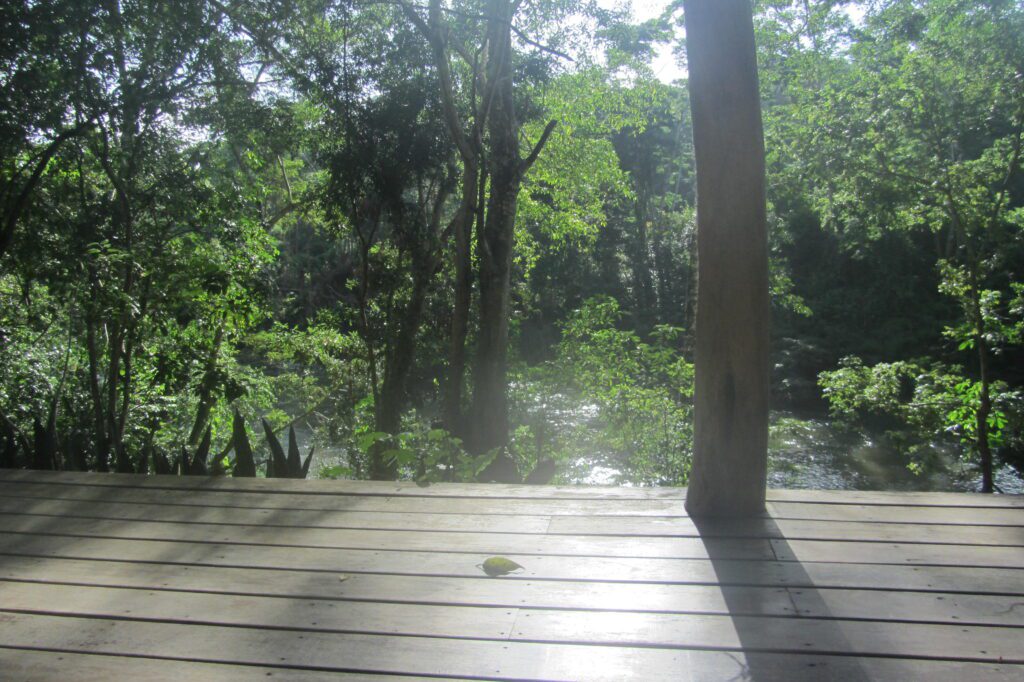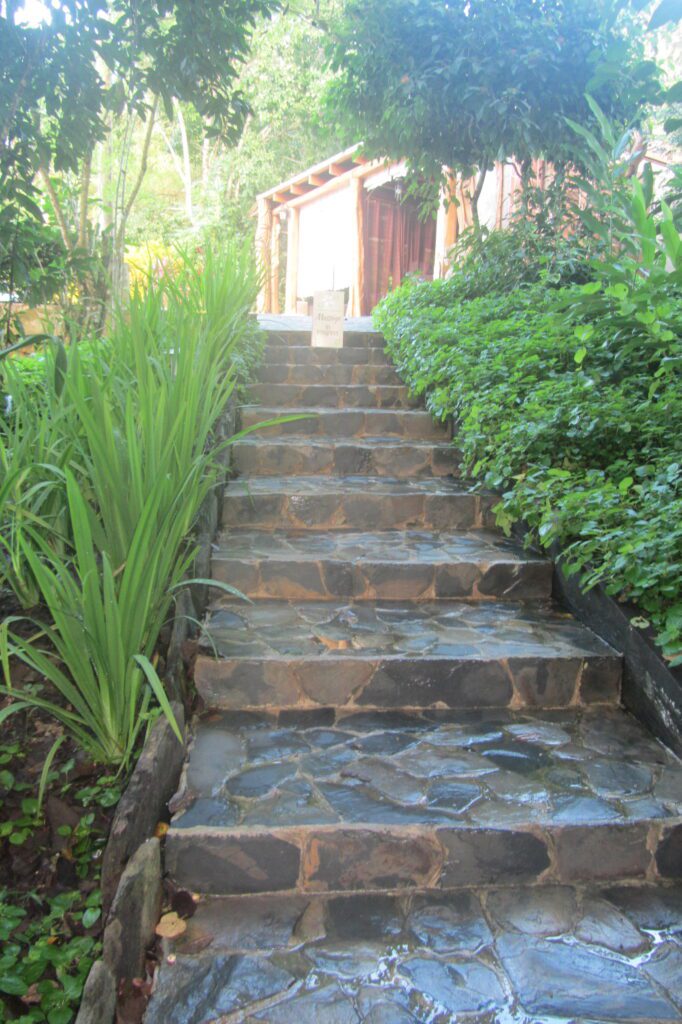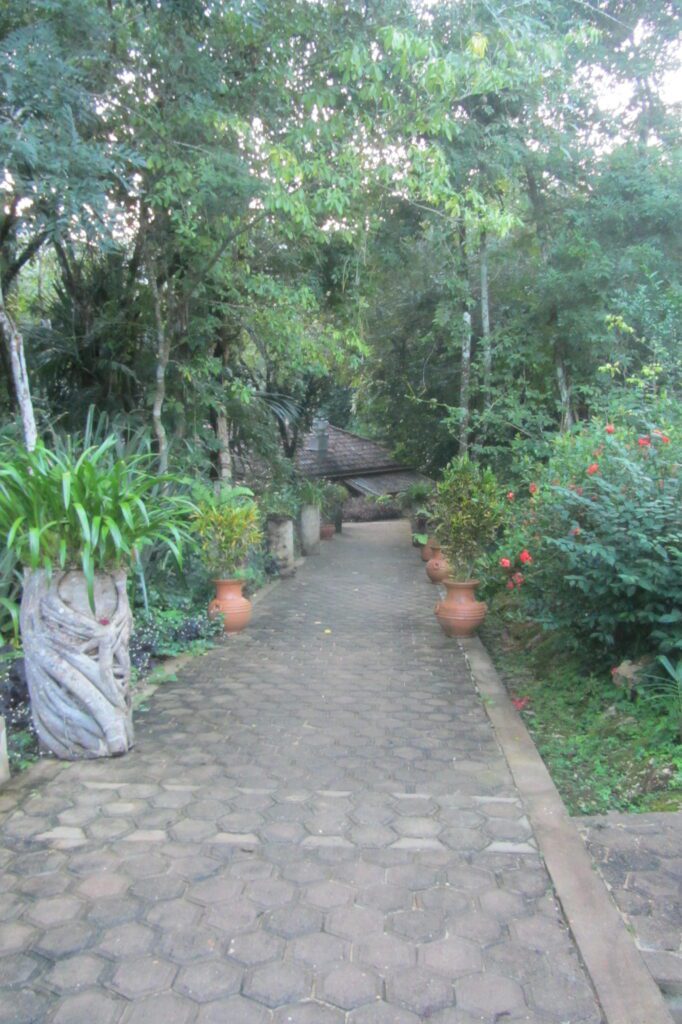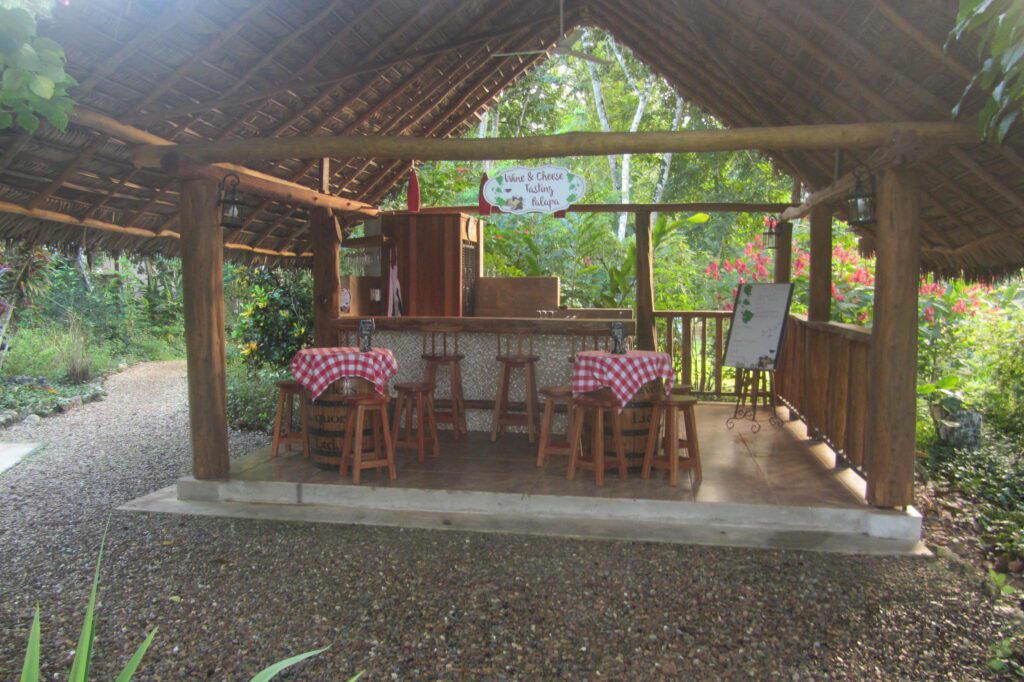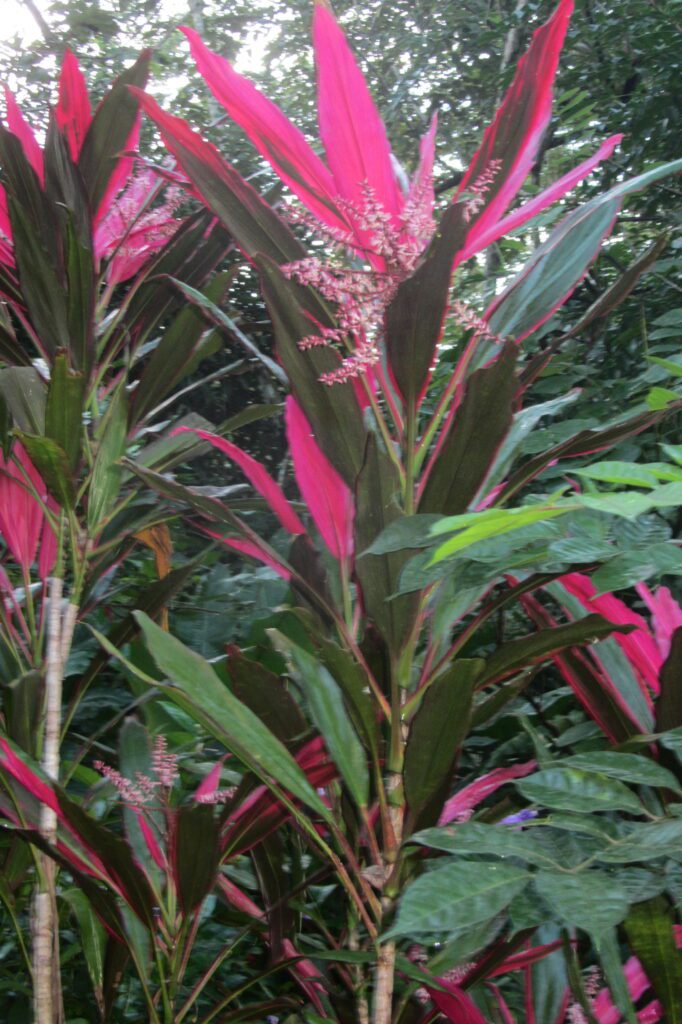 Mystic River is owned by Nadege and Tom. Nadege has a very strong personality. Tom is in charge of the guides. They are very welcoming, but Nadege does not hide her opinions.
We enjoyed our stay here and would recommend this resort. All of our food was excellent! If you do not want an all inclusive concept, there are several hotels and many restaurants in the two adjoining towns. The eco lodges, Gaia River Lodge, The Lodge at Chaa Creek and Blancaneaux all have similar packages to the Mystic River resort.
Day 7 – Into the Cave, a Waterfall Jump, and a Meeting with Simone Biles
We woke to a delicious breakfast. You can order off an a-la-carte menu at all your meals at Mystic River.
It was a bit rainy. Expect rain every day. We never had a total washout, but we did get showers each day.
We hooked up with our guide Eber. We went in a resort-owned Polaris off-road vehicle. We went over trails, past farms and villages and stopped at a cave. There are fascinating caves all over Belize. We put on our headlamps and went inside to learn about the Maya and their religious activities in the caves.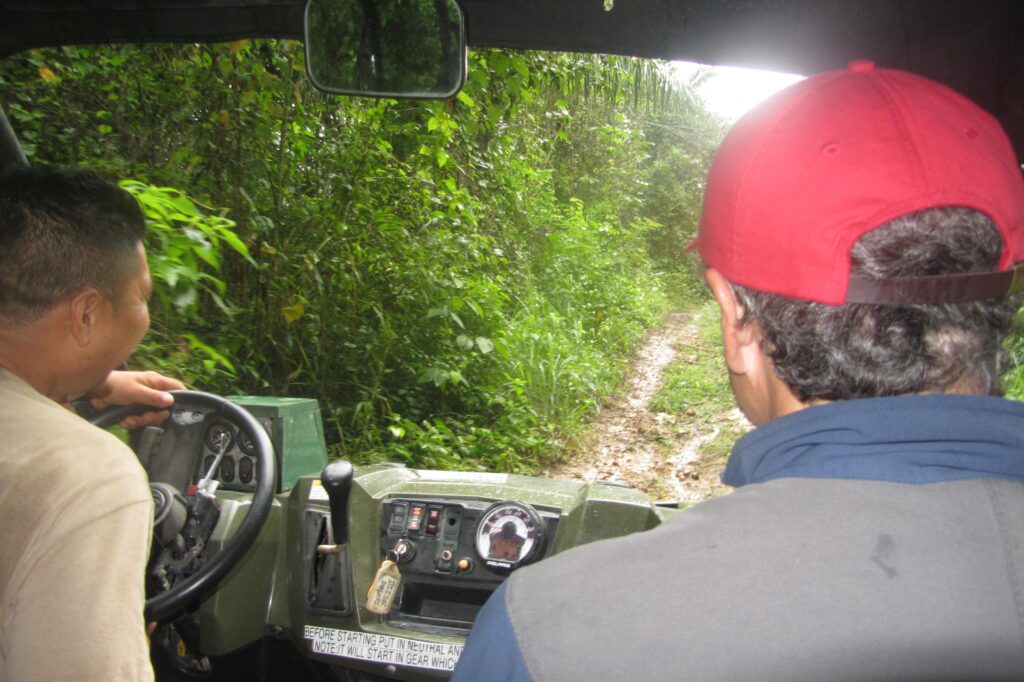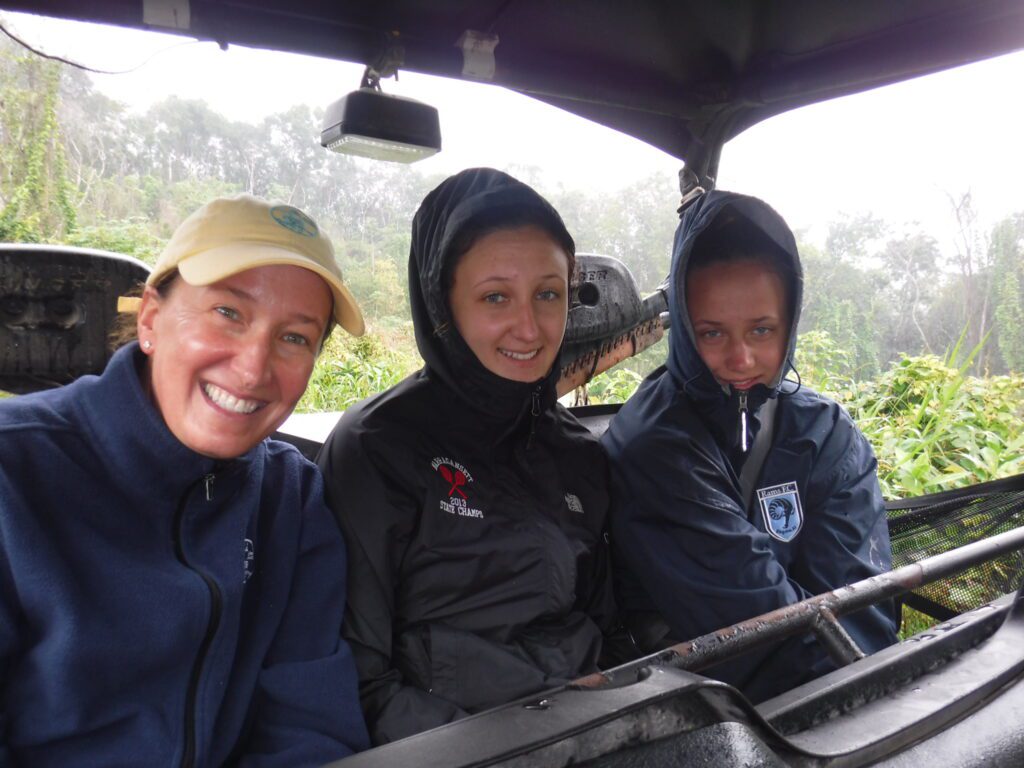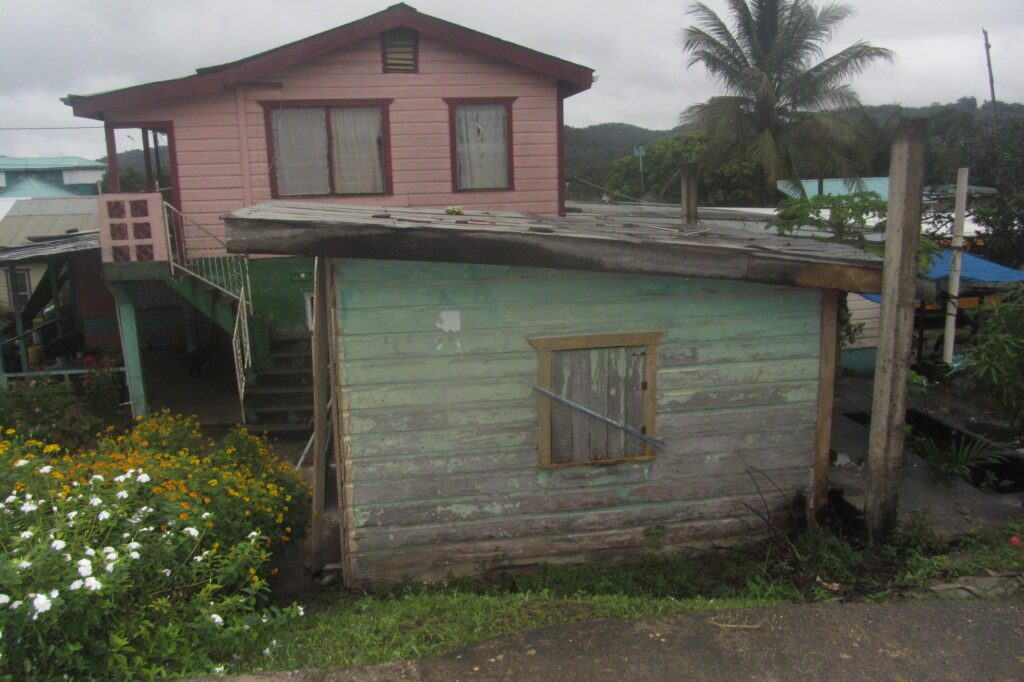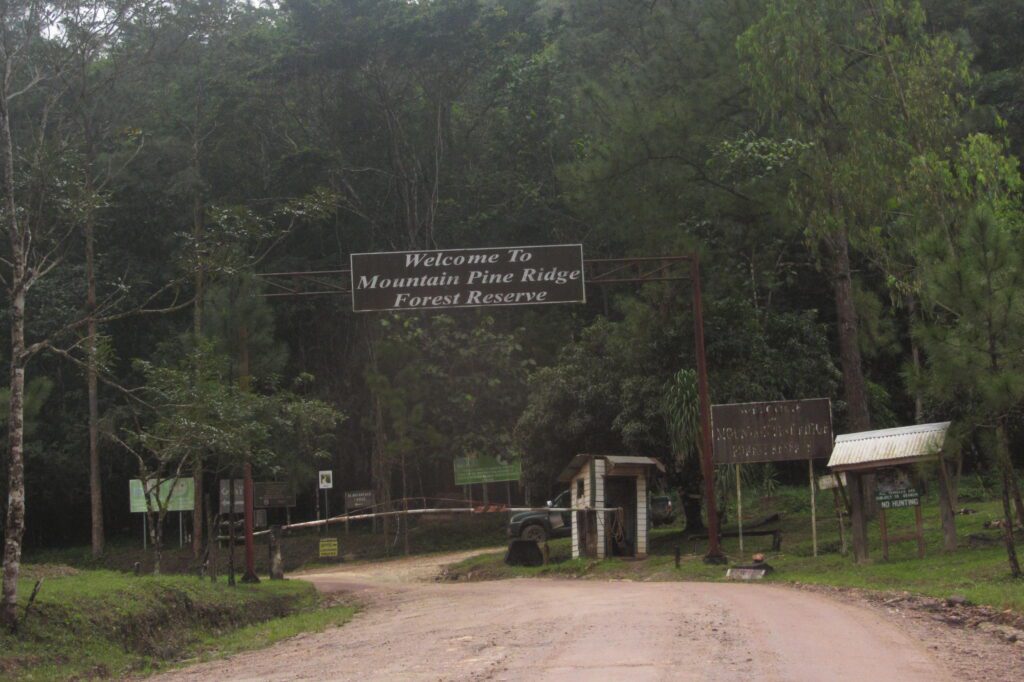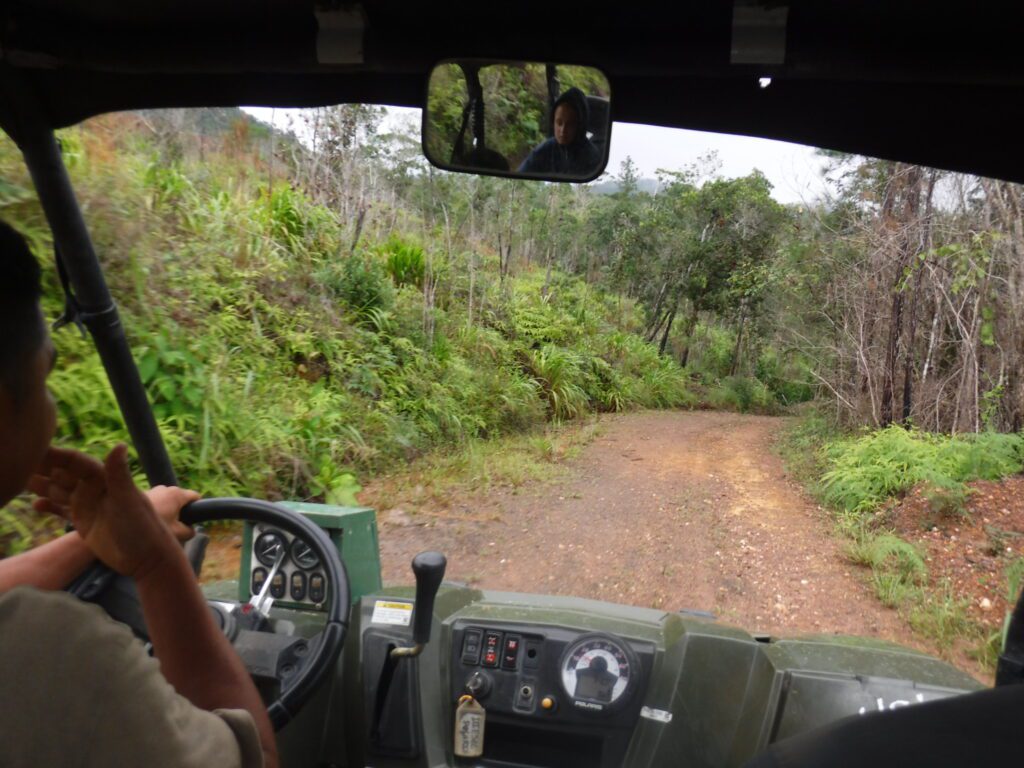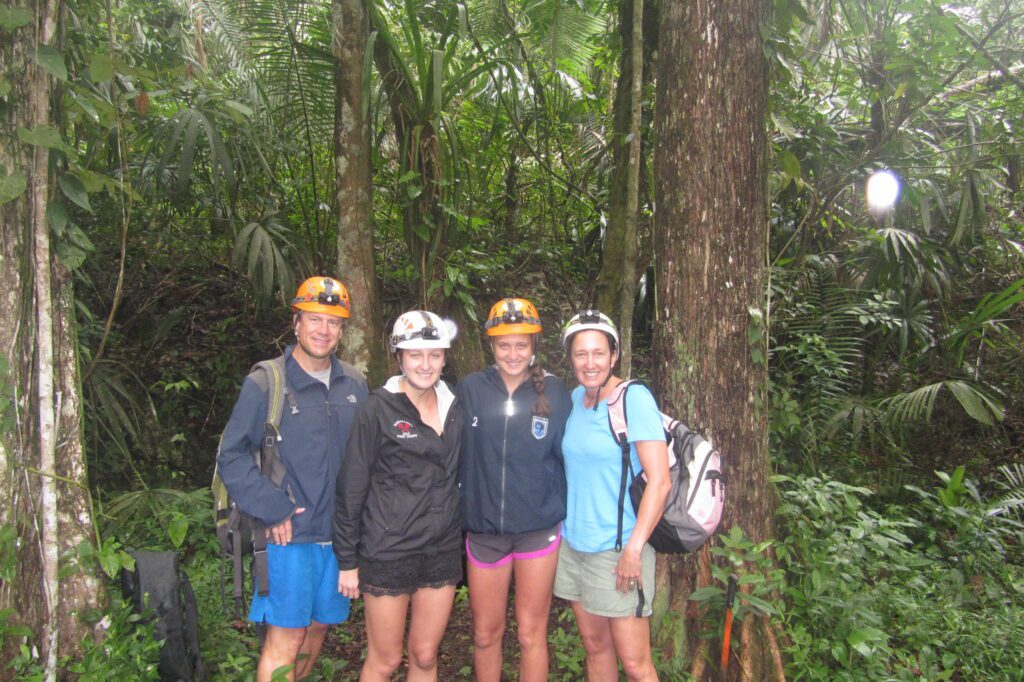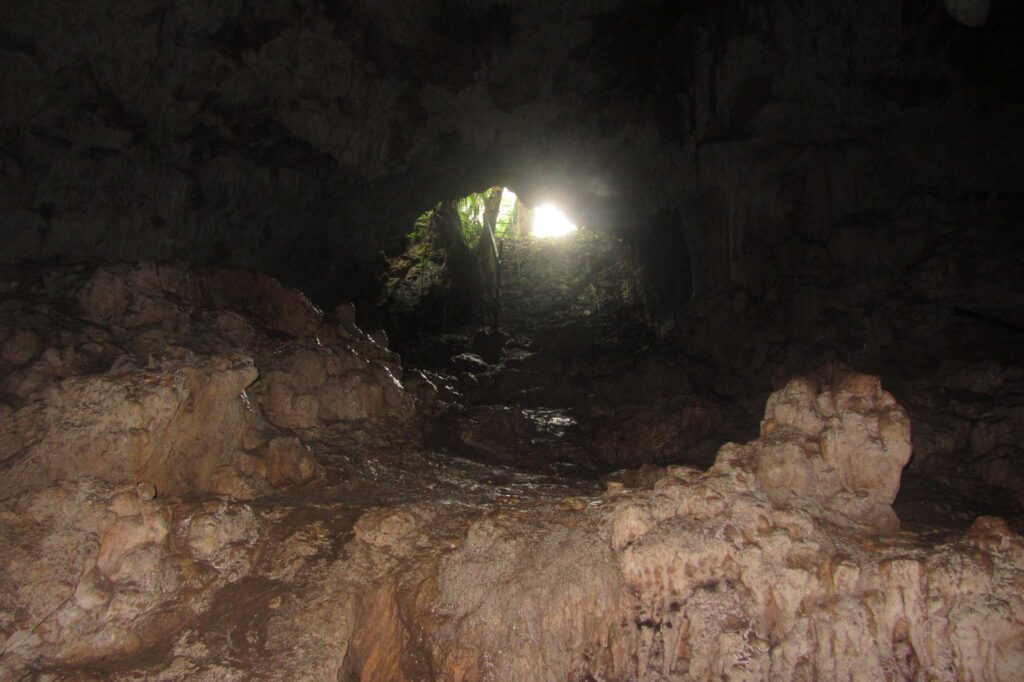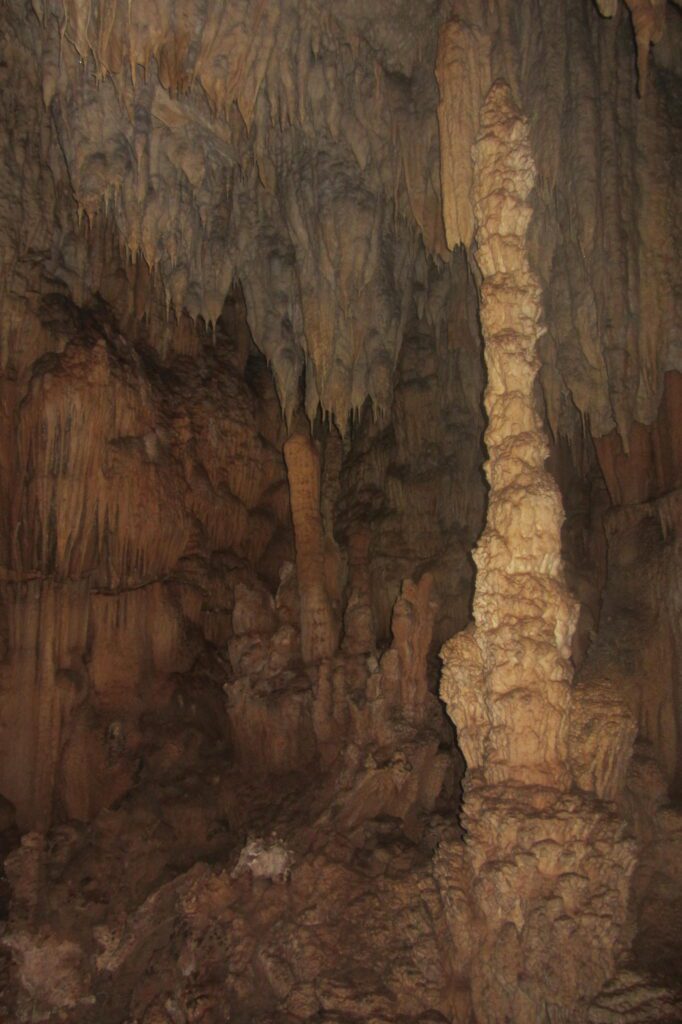 We spent about 40 minutes or so in the cave. It was not scary or claustrophobic. It is VERY dark. Eber taught us about Mayan rituals that took place in the cave. We learned a great deal, and enjoyed the adventure. It was the first time in a cave for any of us!
There are waterfalls all over Belize. If you are in the Cayo district, be sure to stop at Big Rock Falls. It is a steep walk down on rustic stairs, but it is worth your time and effort. We LOVED it here. Eber carried a generous picnic basket of lunch down for us (Nadege took our lunch order the night before.). We enjoyed the lack of plastic and trash. Sandwiches are placed in reusable containers as is water.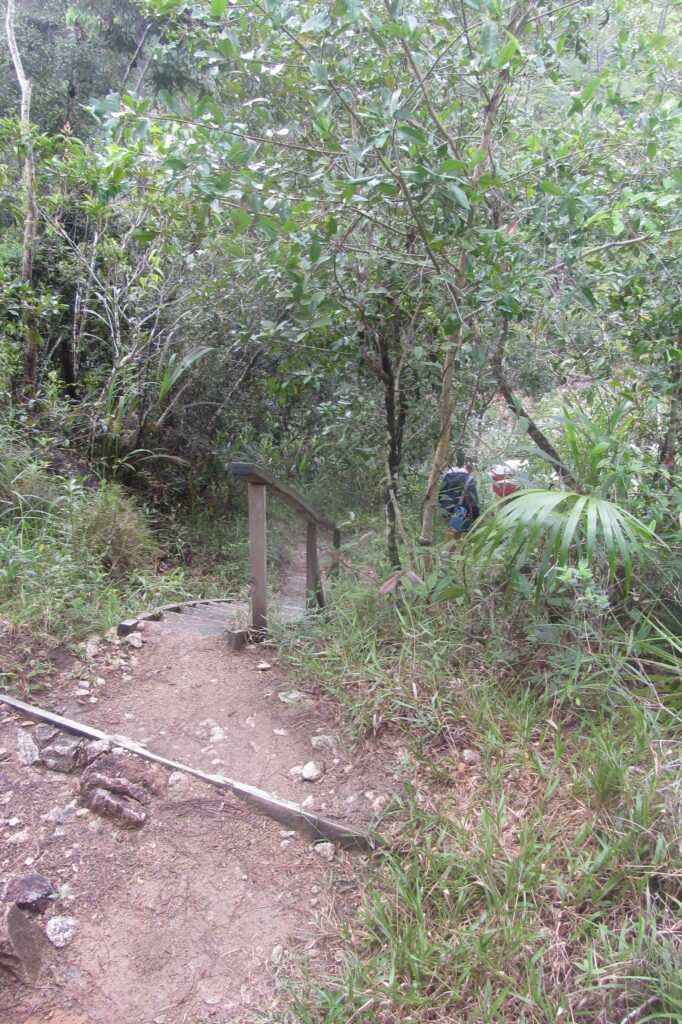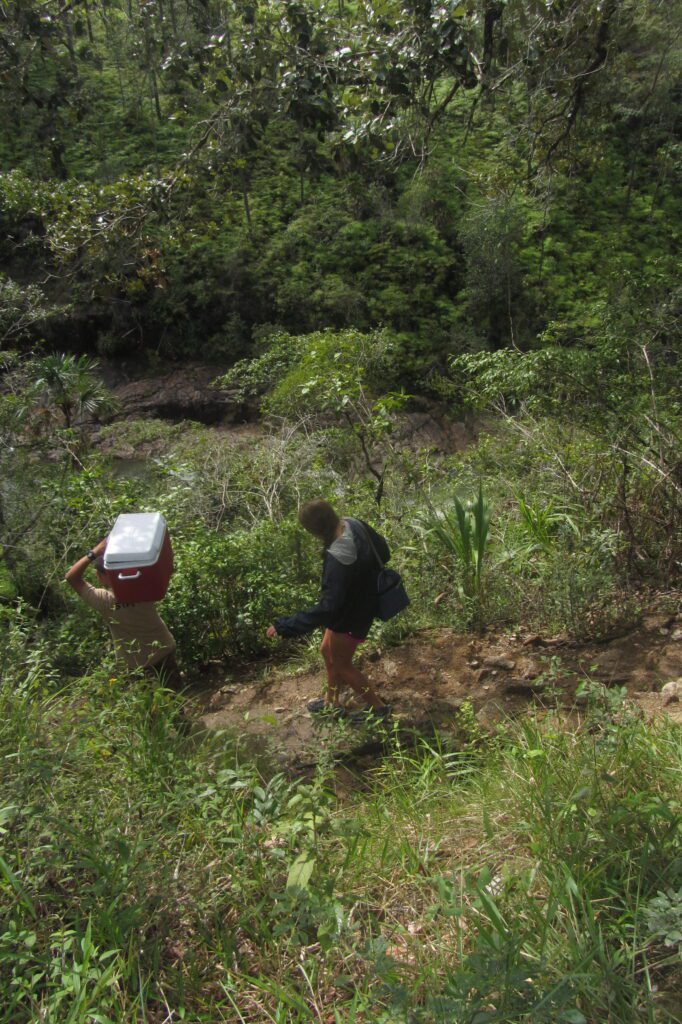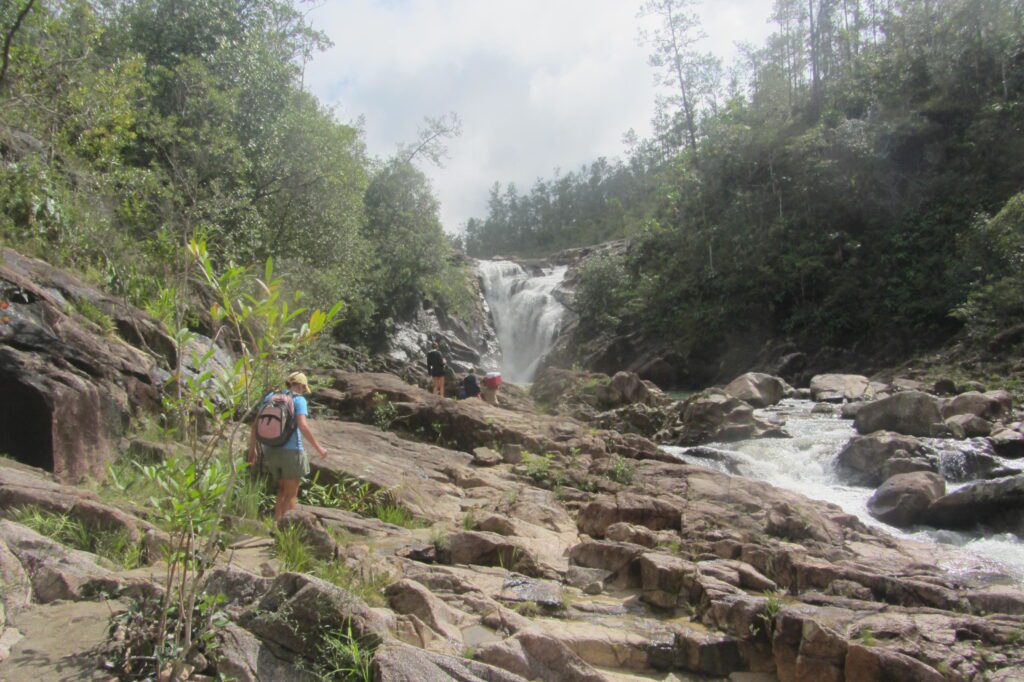 After a few jumps for all four of us, we broke out the picnic. While we were eating, another group of about 10 people walked up. To our astonishment, the group included the world's best gymnast, Simone Biles. Simone's mother is Belizean, so they spend time in Belize often.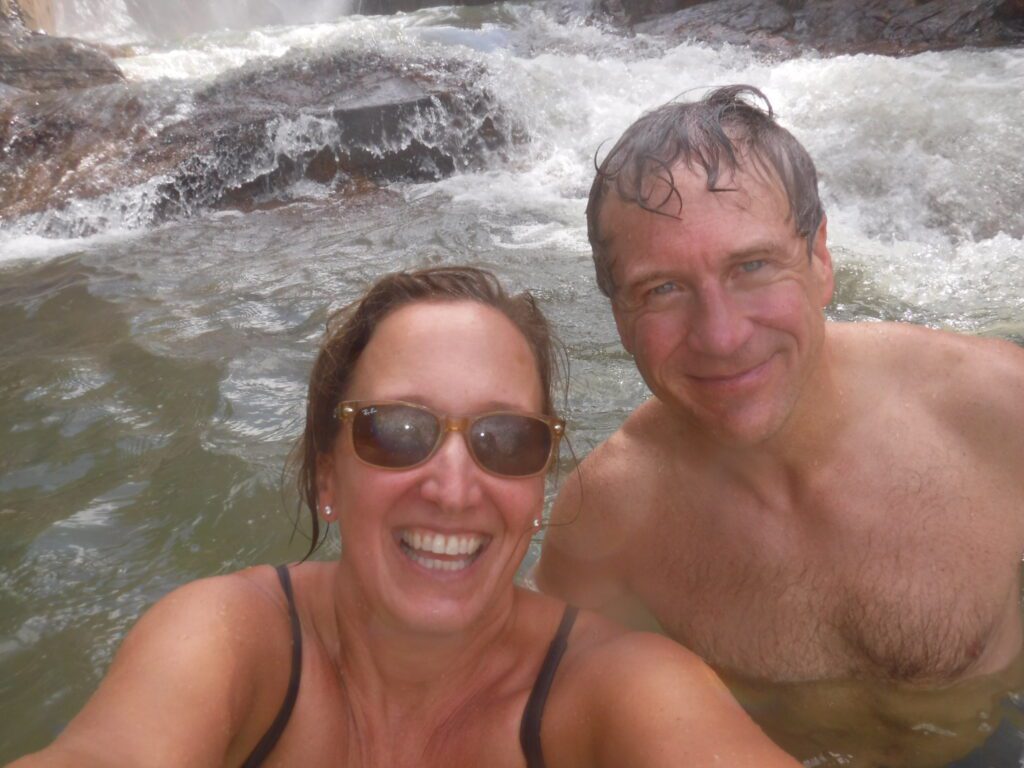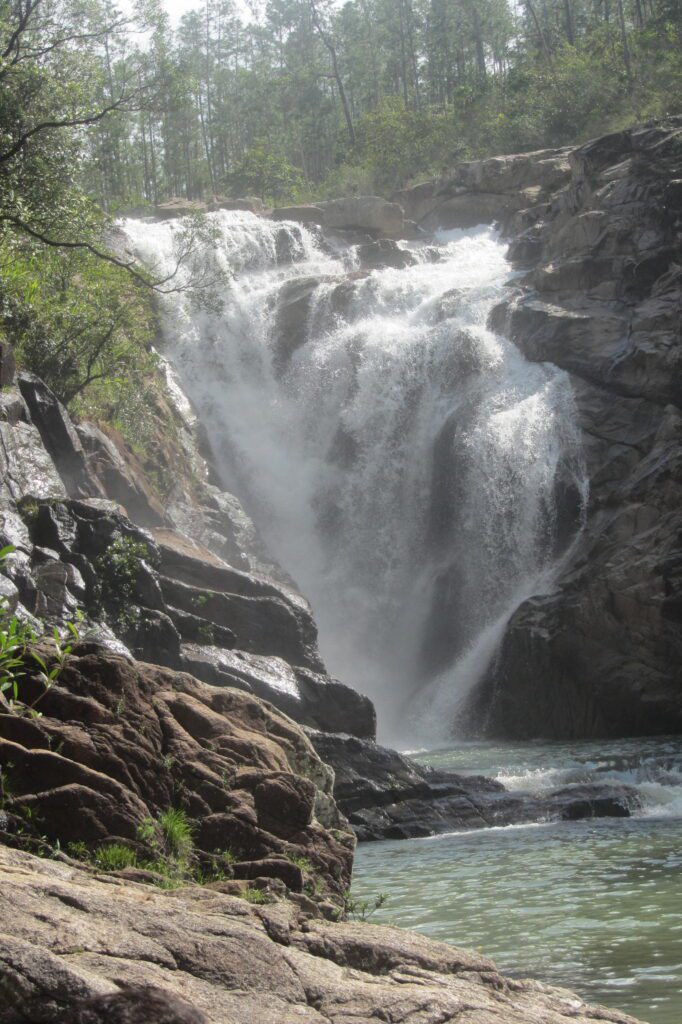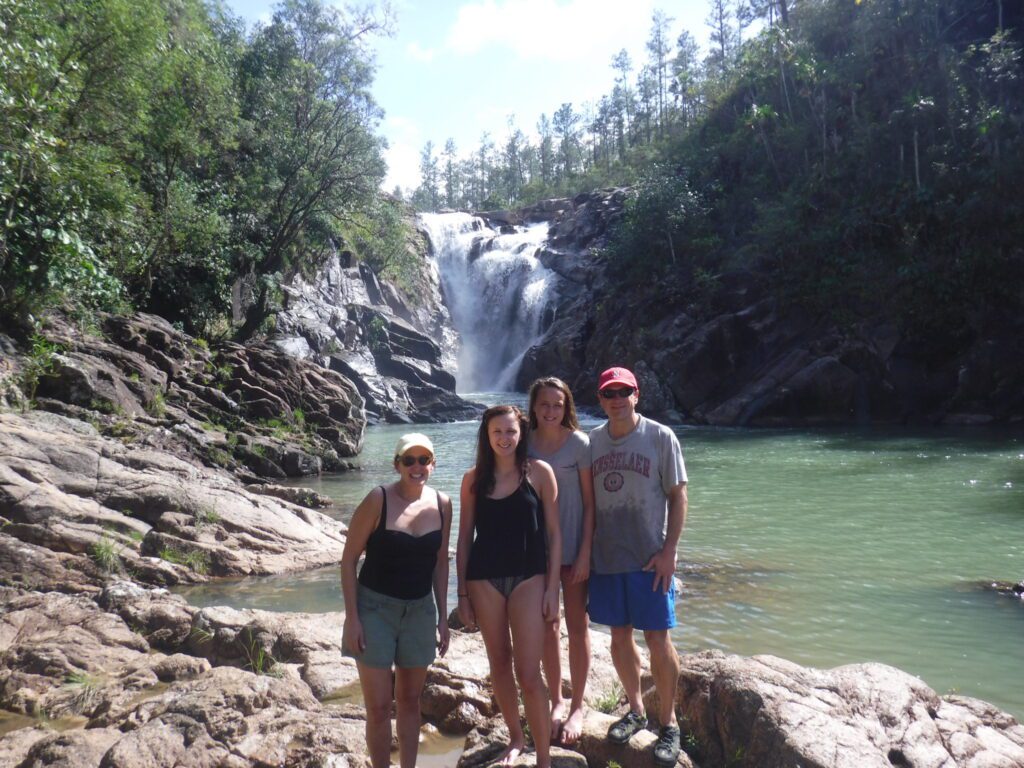 We enjoyed this adventure immensely. Mystic River also has trips to other waterfalls that are supposed to be spectacular as well. Highly recommended.
We ate a fabulous dinner at the resort, and Michele and Jim hung out in the bar with the owner, Tom, and had a lively conversation. A fantastic day!
Day 8 – ATM Cave – Seriously!??
If you read anything about the jungle district in Belize, you will come across the ATM cave.
"The Belize Tourism Board, in coordination with the Belize National Institute of Culture and History, Institute of Archaeology, has granted licenses to a small group of agents to conduct tours to this cave, in an attempt to balance its protection against tourist revenue."
The cave is located in the Tapir Mountain Nature Reserve.
We left the resort at 7am with another family of four from the resort and Ben. Ben is considered one of the very best ATM guides in the country. He takes guests into the cave every single day that it is open. He insists on leaving promptly, as earlier is better.
It took us about 40 minutes to get to the cave parking lot. At the lot, we used the restrooms, put on our helmets and began our walk. You MUST have water shoes and you MUST have a pair of dry socks. Ben took the socks from us and put them in his dry bag. Cameras are not allowed in the cave. I so wish I had brought my camera to the cave entrance. I could have then put it into Ben's dry bag.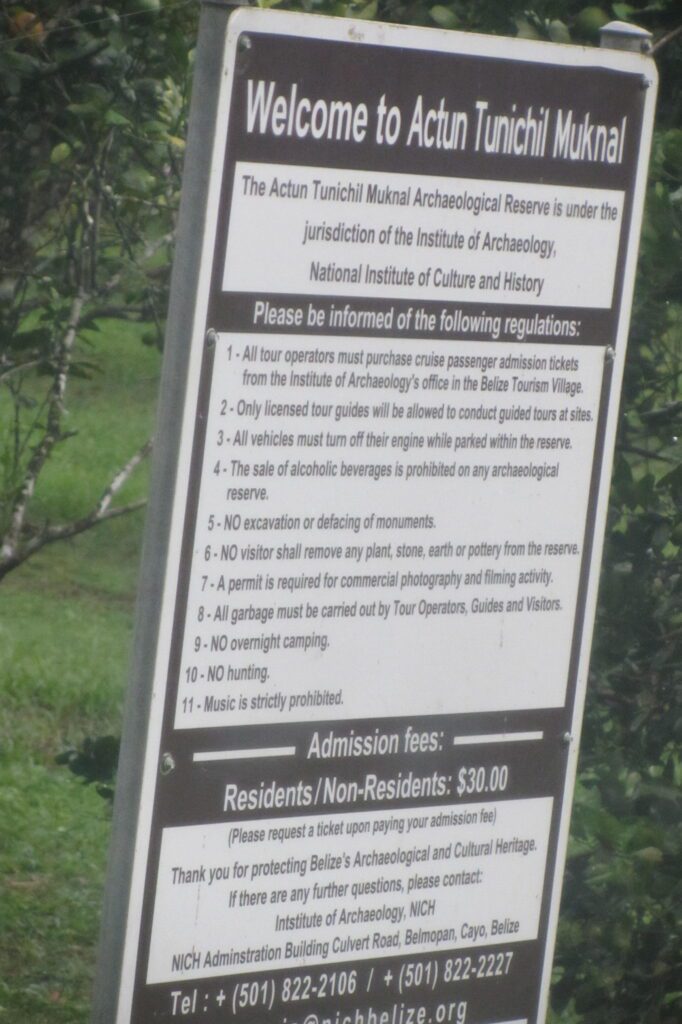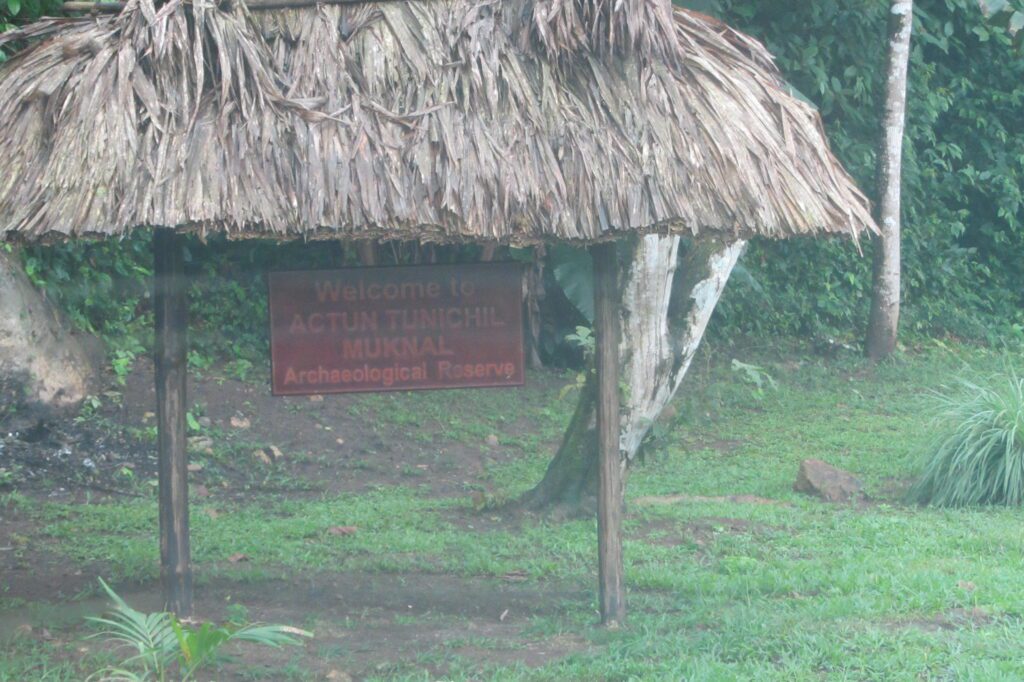 You leave the parking lot, and within two minutes you have to cross the river. The river here is deep, so you swim across using a rope.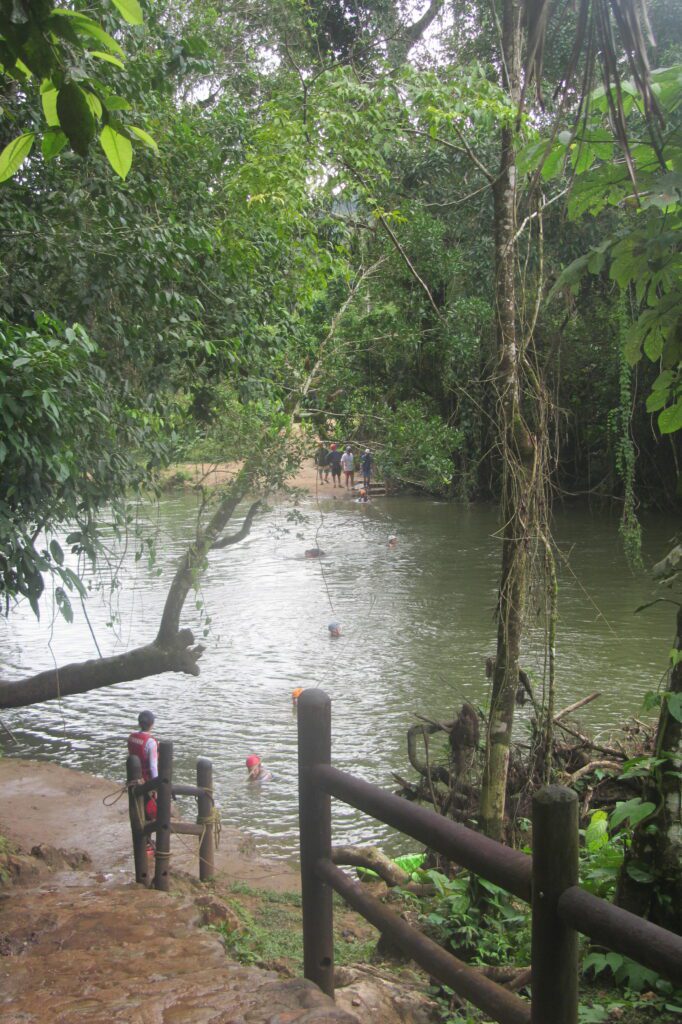 When you get to the cave entrance, Ben puts a headlamp on your helmet. You then swim into the cave, upstream. You head upstream for about an hour. Sometimes you are walking, sometimes you are swimming. Sometimes the water is chest level. Other times, it is ankle level.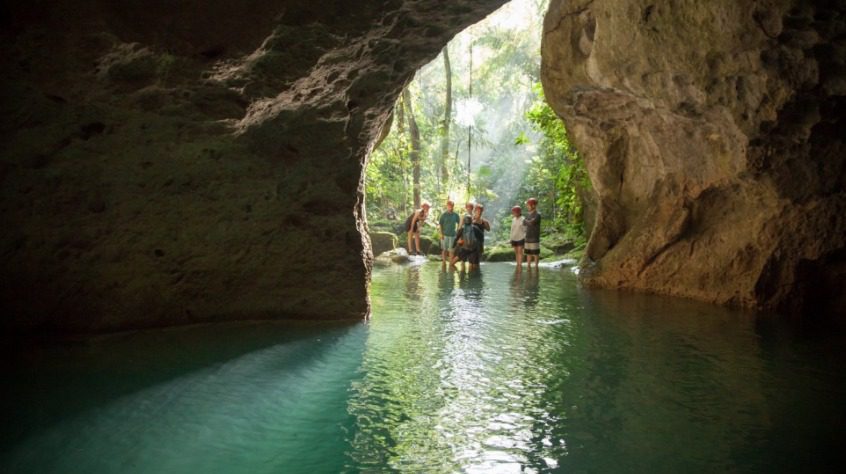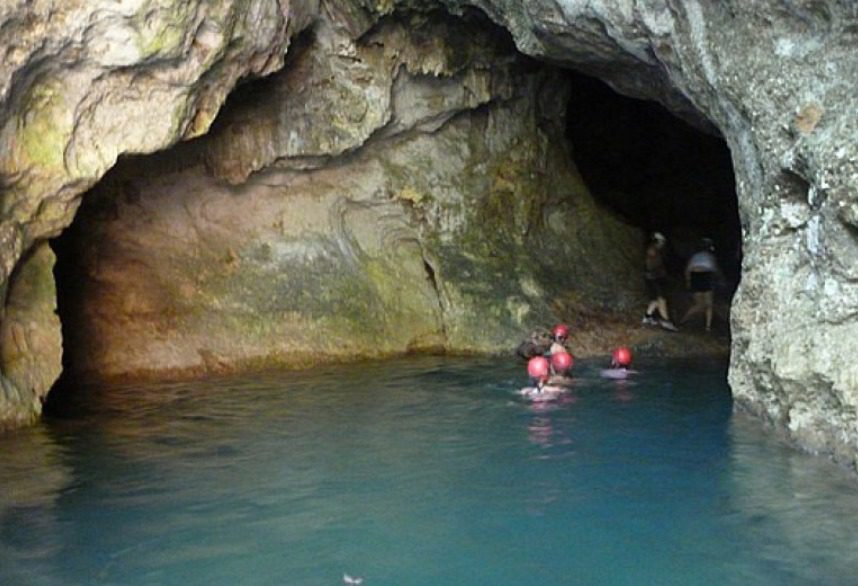 Michele was very worried about being claustrophobic inside. The cave is enormous, and with all the tourists inside, there is plenty of light. Is it thrilling. I needed to be right behind Ben to hear his instructions as my family was not passing the info back to me. Once I got near him, everything was fine.
It probably took an hour to reach the boulder wall. We climbed a 15 foot boulder wall which was not scary. At the top, it is very dry. We took off our water shoes and put on our socks.
We then walked around ancient Mayan pottery. We learned of religious rituals. 2000 years ago, the cave only had ankle deep water. Many of the Maya artifacts and remains are completely calcified to the cave floor. One artifact, named the "Monkey Pot", is one of just four of its type found in Central America. The Maya also modified cave formations here, in some instances to create altars for the offerings, in others to create silhouettes of faces and animals or to project a shadow image into the cave. It was fascinating.
Once we were deep inside, we climbed a ladder to see the remains of the crystal maiden.
We put our shoes back on, and climbed down the boulder wall. Then, things got really fun. We were headed downstream with the current, so we did a lot of swimming. We felt like Indiana Jones. It was truly amazing. Getting out was much easier than getting in!
At the mouth of the cave, you swim back out. It is a bit slippery, so listen to your guide. We then walked the 45 minutes back to the parking lot. We did the three river crossings, including the swimming one right before the parking lot.
We used the rustic showers, put on our dry clothes (they stayed in the car while we did this adventure) and ate the delicious lunch that Mystic River packed for us.
On an adrenaline scale of 1-10, this was a 10. I (Michele) am thrilled that I could do it. It was a wildly-unique adventure. Ben was a fantastic guide.
When we returned to the hotel, all the ladies had a Swedish massage! It was a great day. Dinner and drinks at the hotel were awesome.
Day 9 – Xunantunich, Cahal Pech and The Iguana Project
Today's adventure was supposed to include canoeing to the town of San Ignacio, visiting the Mayan ruins and canoeing back. However, about 10 days before we arrived, a large tree fell in the river. Canoeing into town would have involved porting the canoes around the tree. The owners of Mystic River thought this was too dangerous (we disagreed). So, we tweaked our adventure instead.
After breakfast, we hooked up with our guide, Abbi. He drove us to Xunantunich. You have to take a tiny car ferry across the river to get the ruins.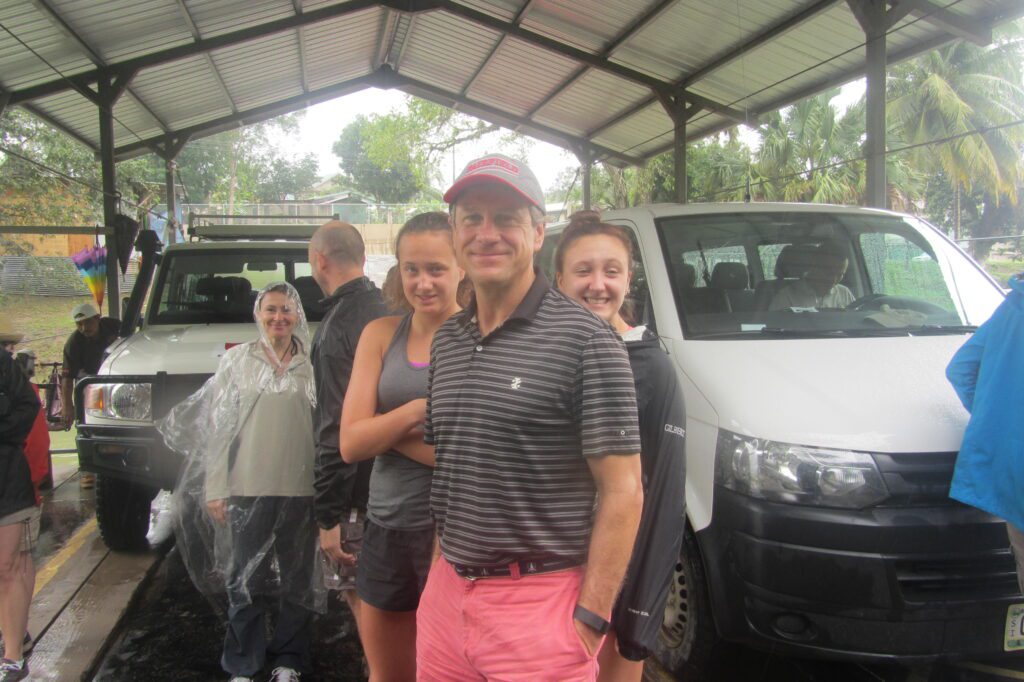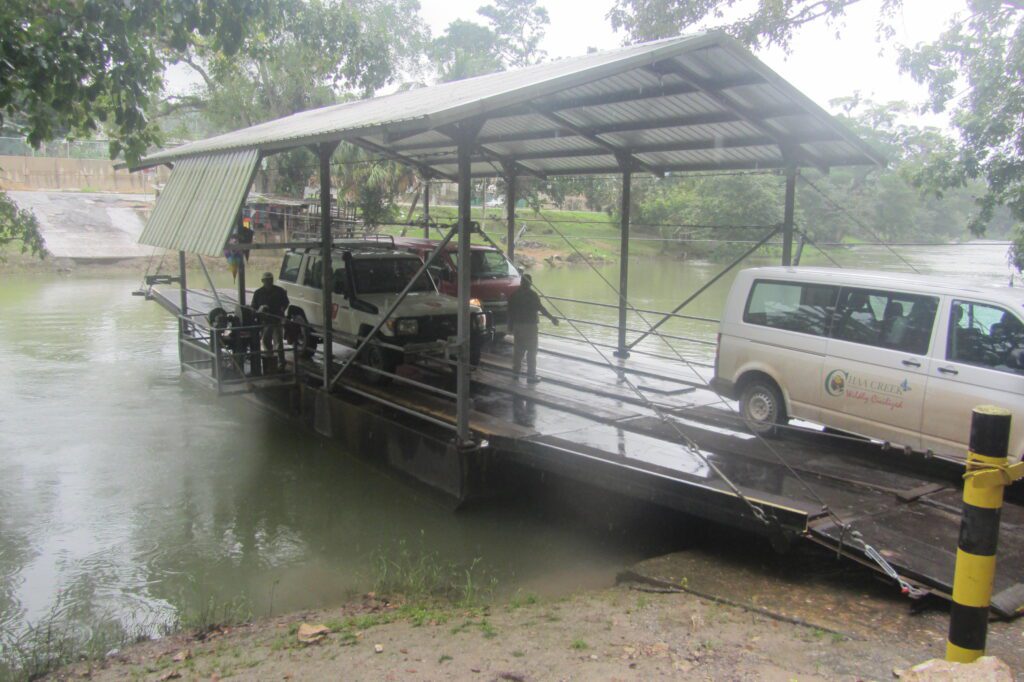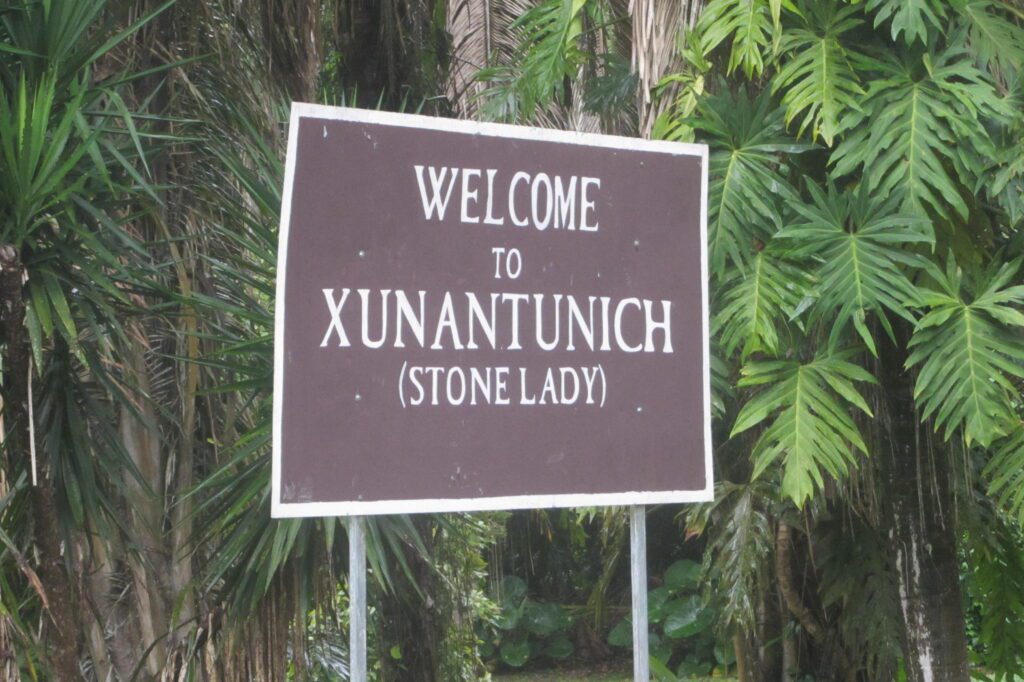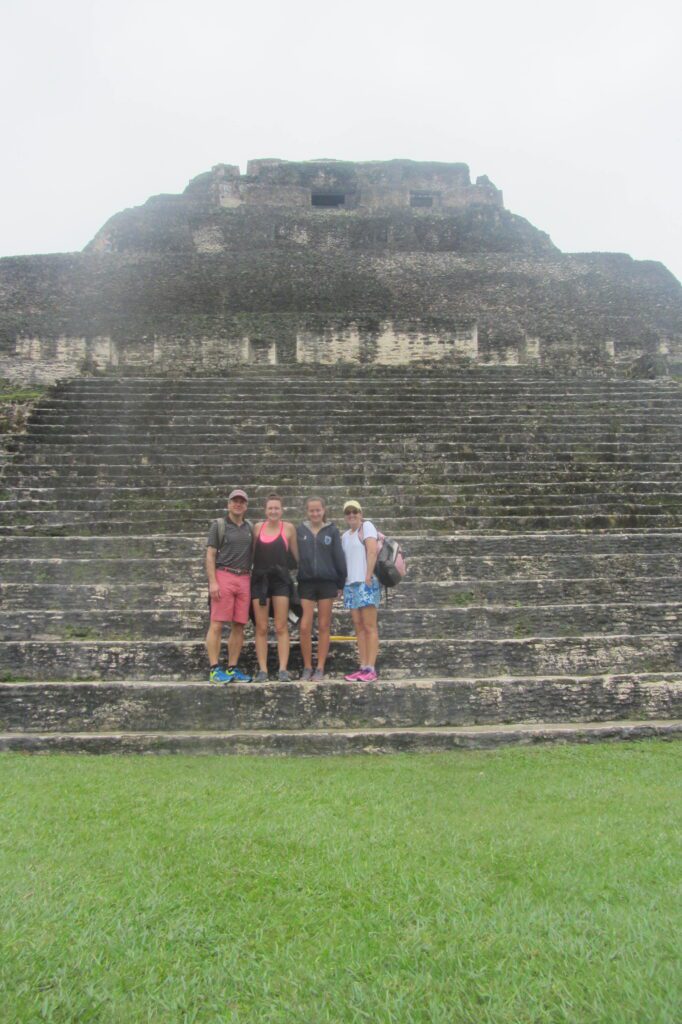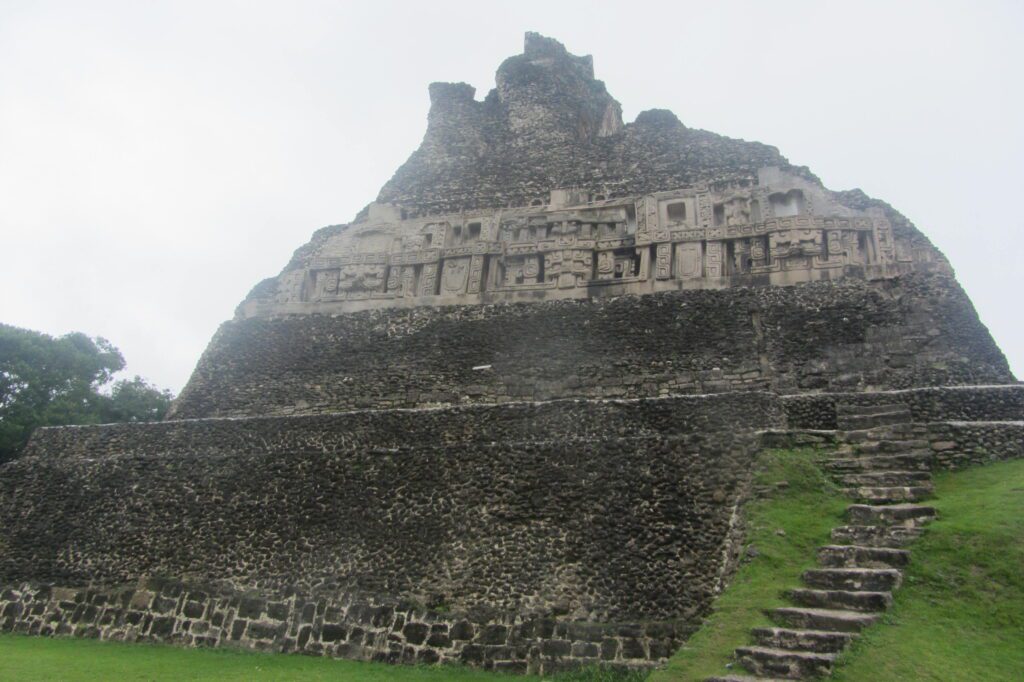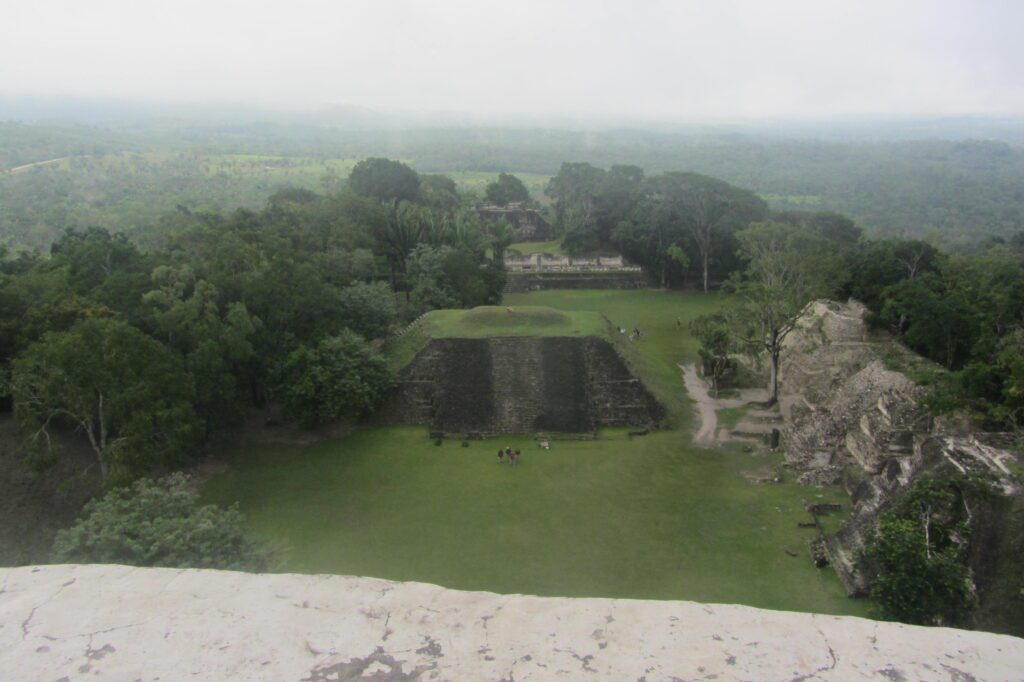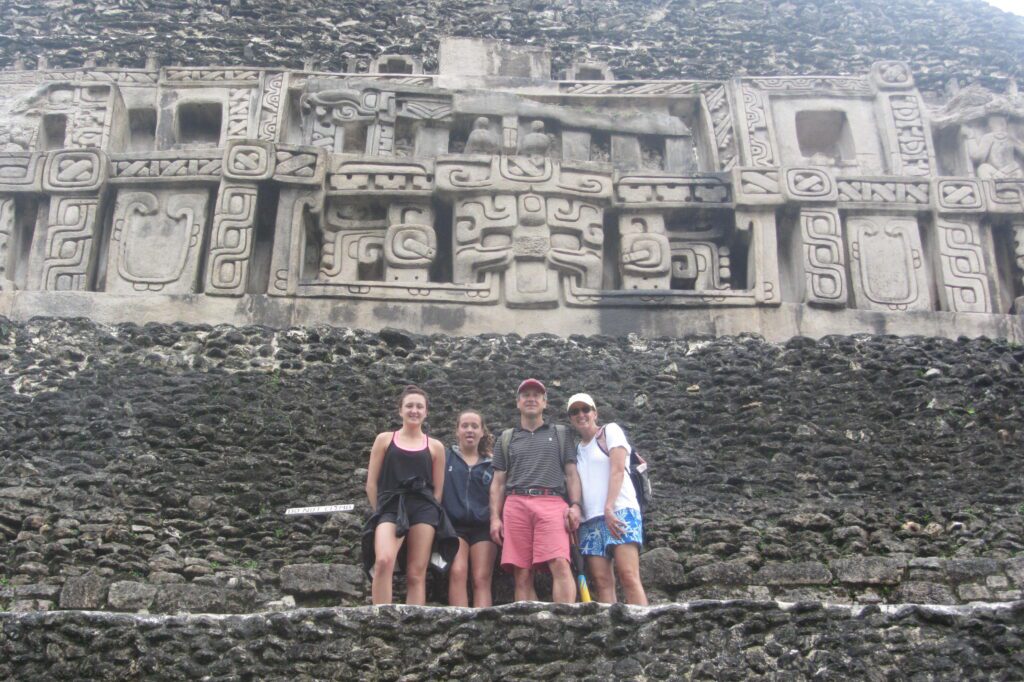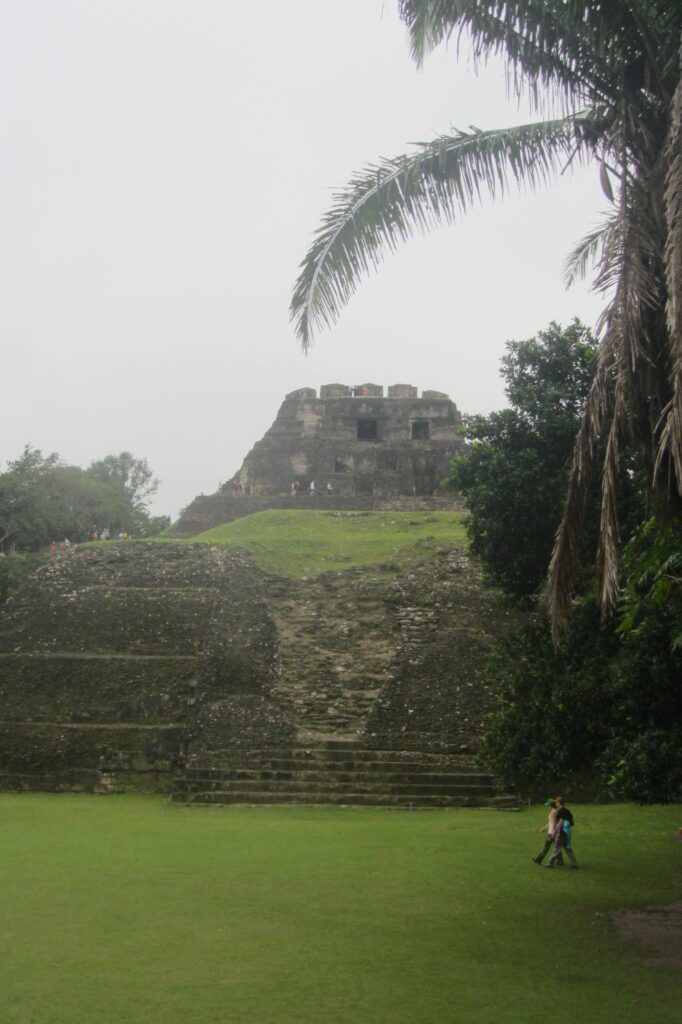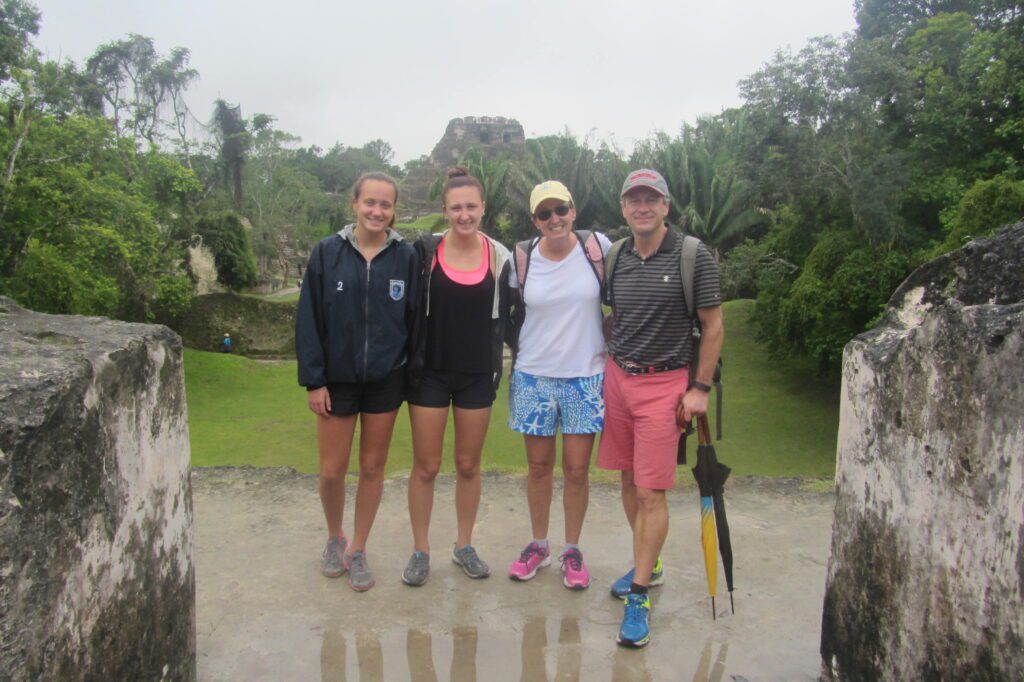 We enjoyed our visit to Xunantunich. Many people who come to this part of Belize visit Tikal in Guatemala. It is a longer drive and includes a border crossing. It also costs more to visit Tikal. While our friends who have visited Tikal have enjoyed it, we decided to stay in Belize and see a bit more of this country!
We ventured next to Cahal Pech. This site is much smaller, but you feel like you are in a family's backyard. Our walk was fabulous. Wealthy, elite Maya lived here. We enjoyed our visit.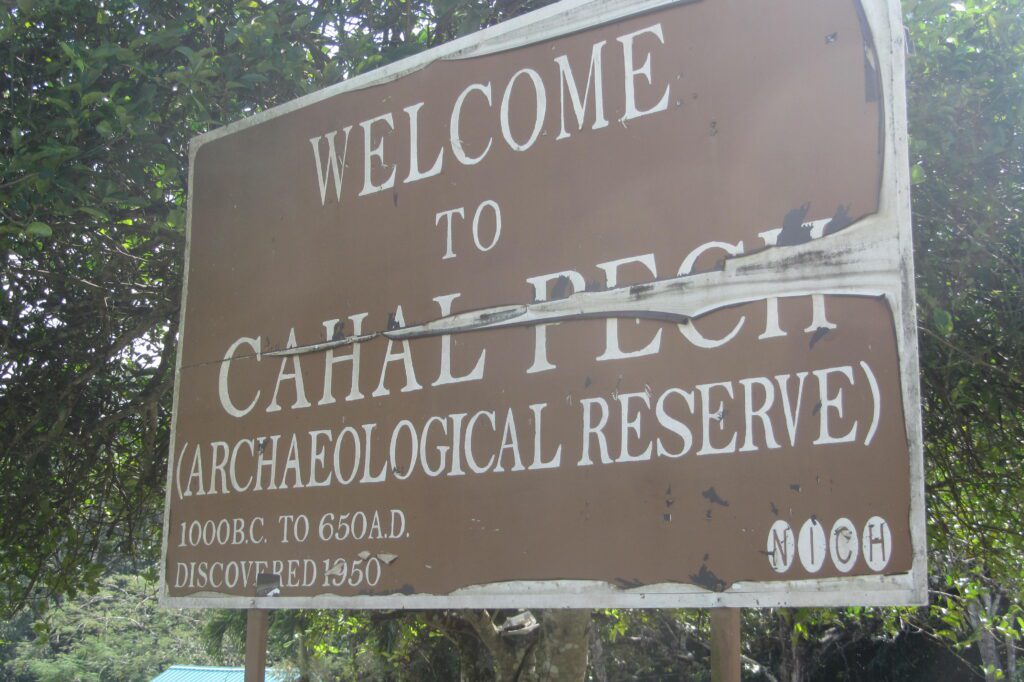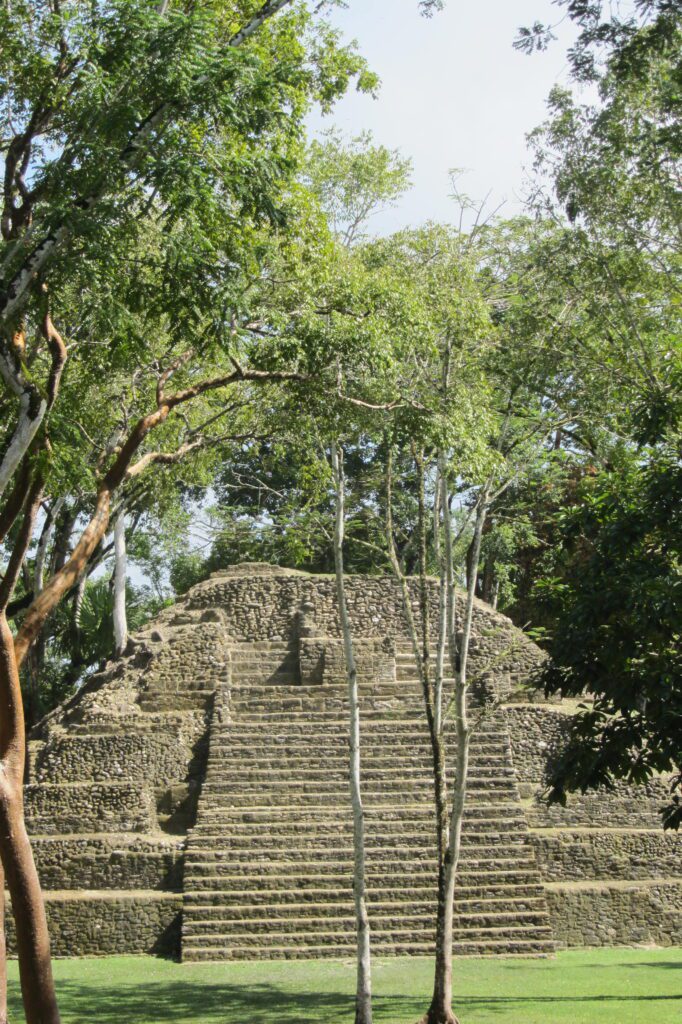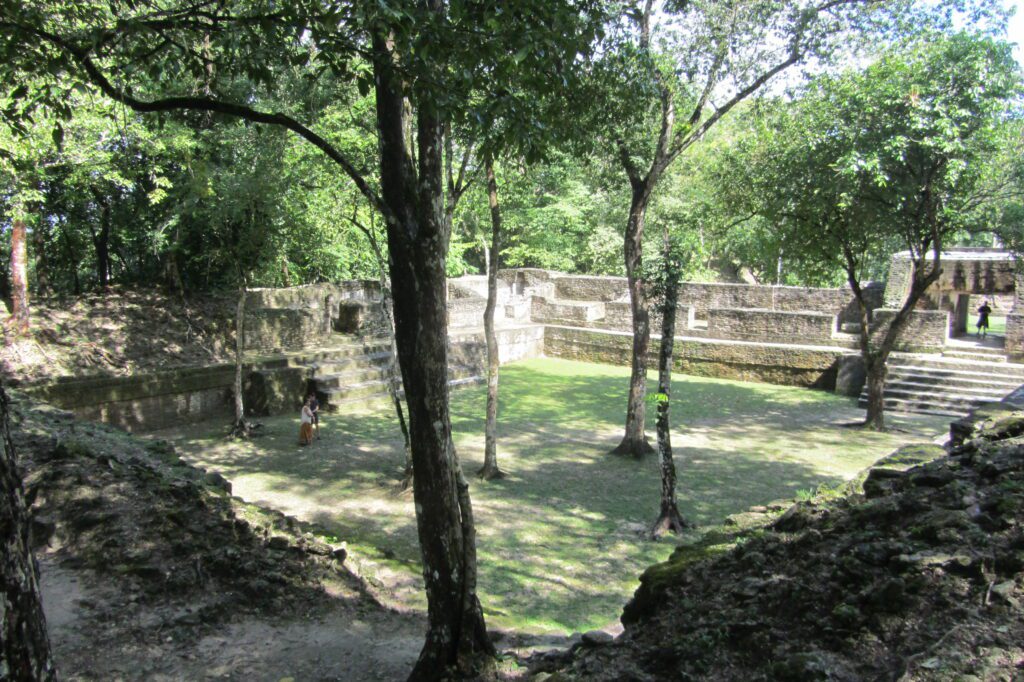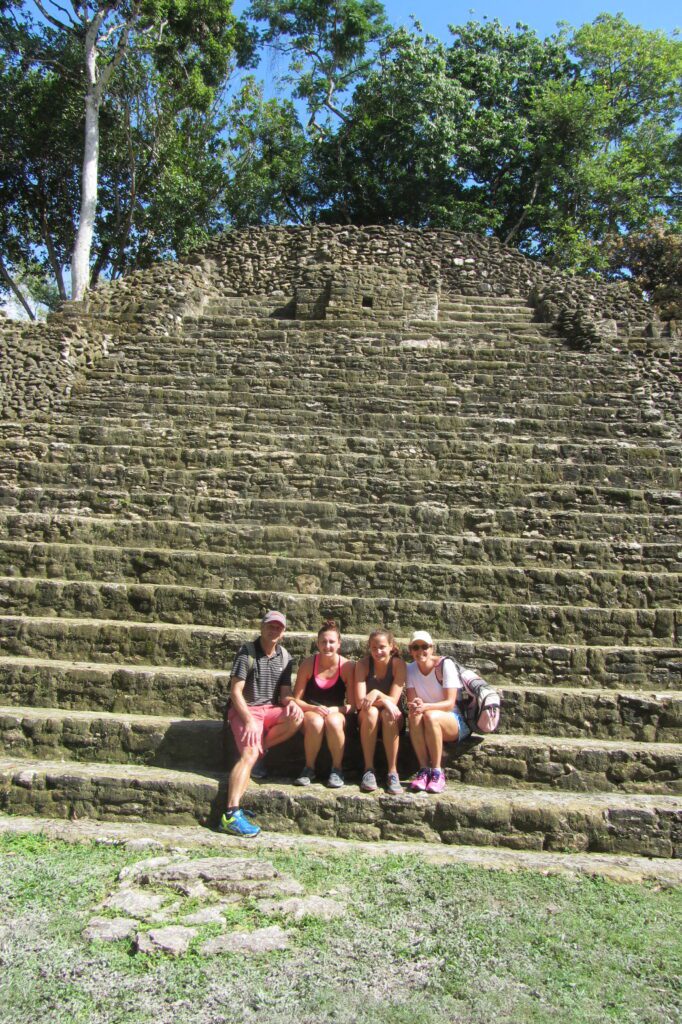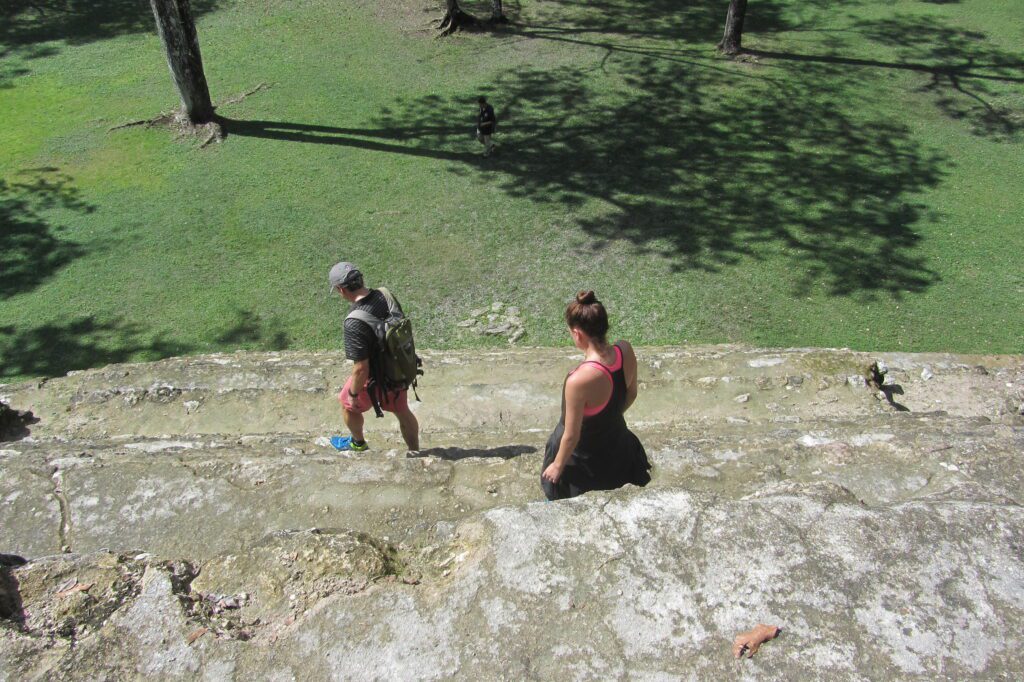 We ate lunch at Hode's Place. Mystic River paid for our lunches as their fees include daily lunch. Abbi ate with us. It was rustic and just fine.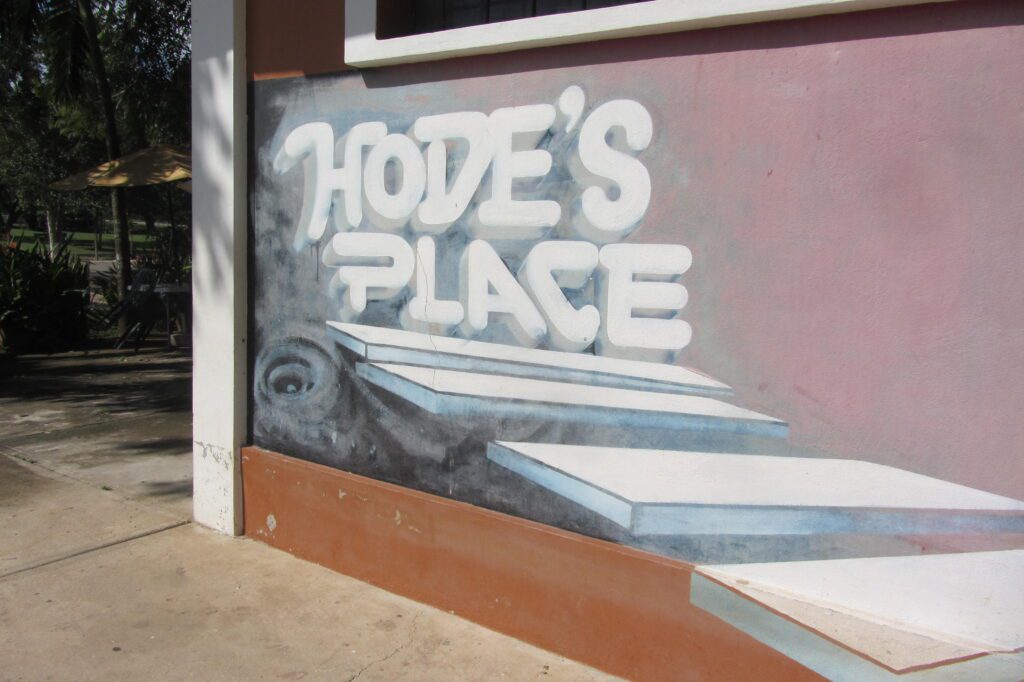 Following lunch, we stopped at the San Ignacio Resort Hotel (the hotel seemed very nice and would be a good "in town" option) and the Iguana Project. We enjoyed learning about the iguana conservation efforts. It was a cool thing to do.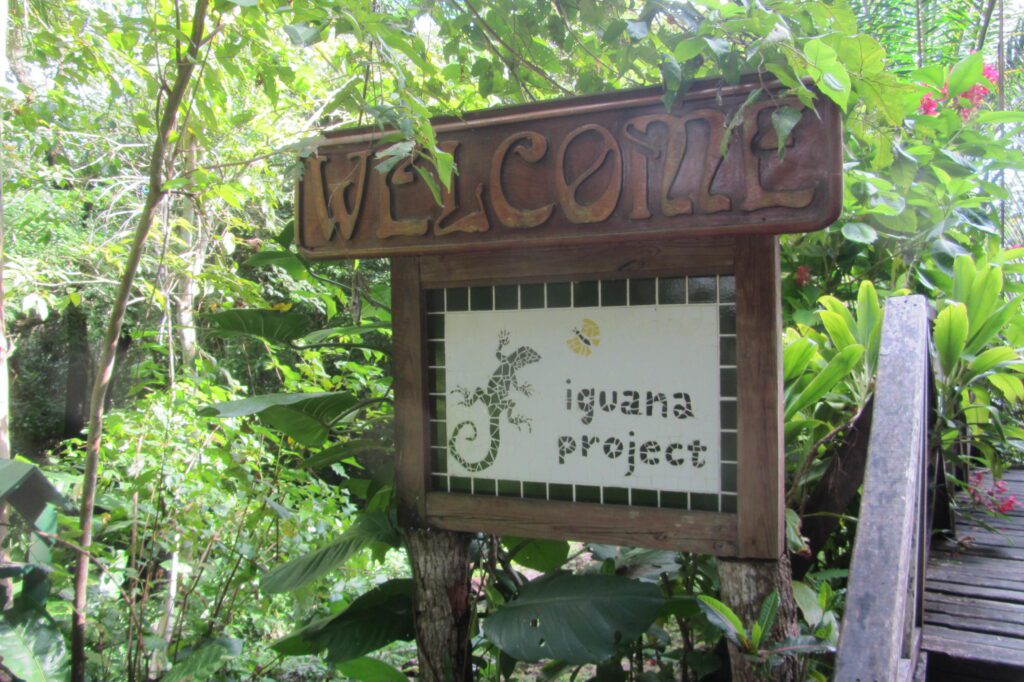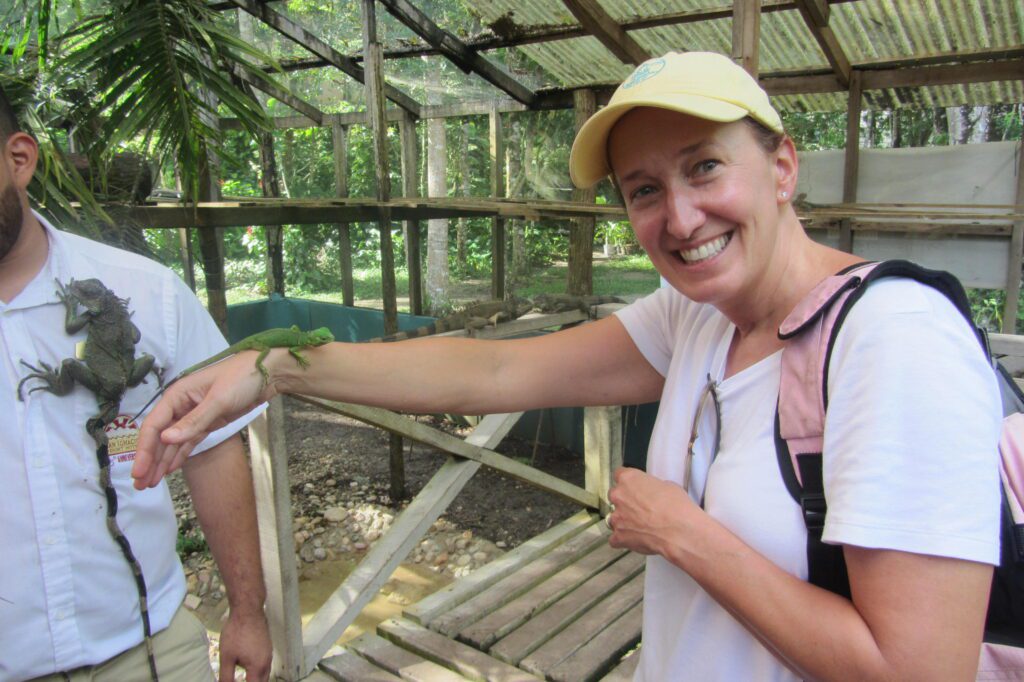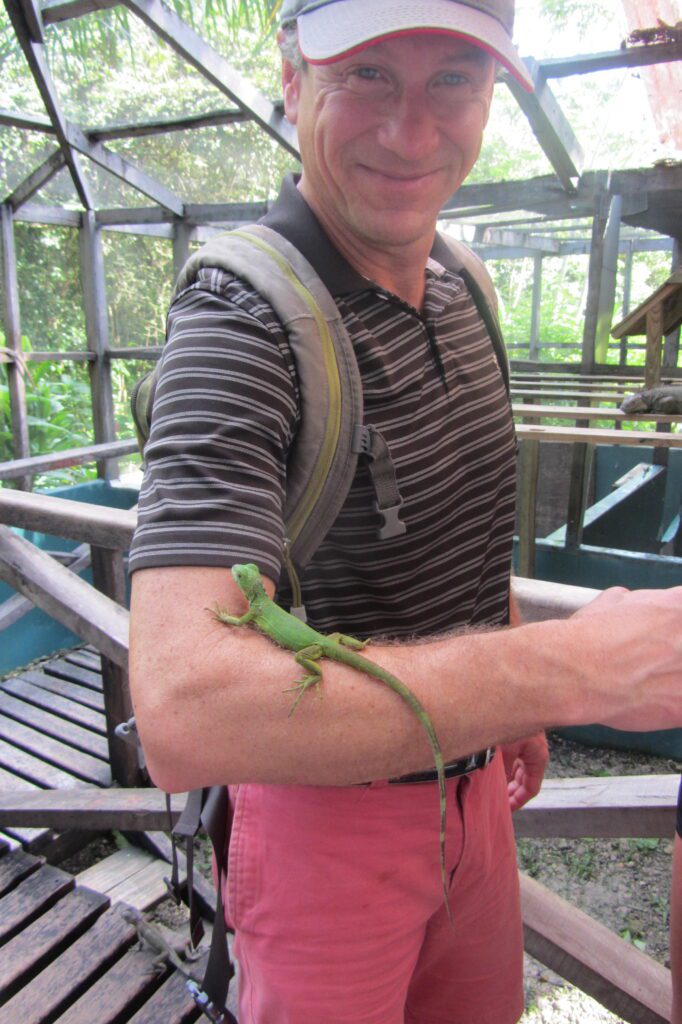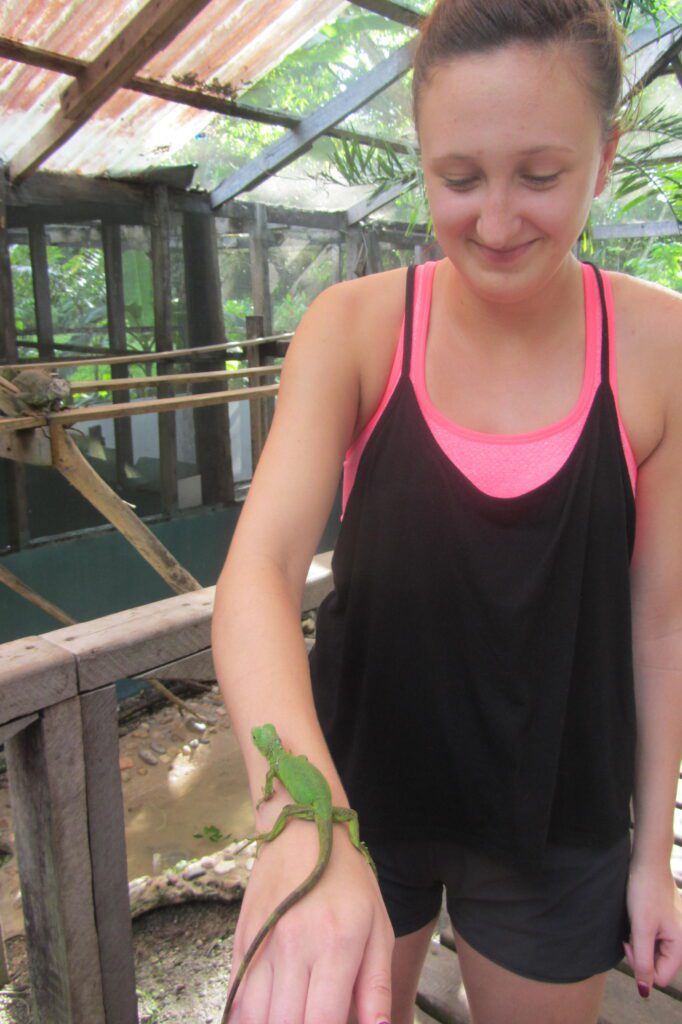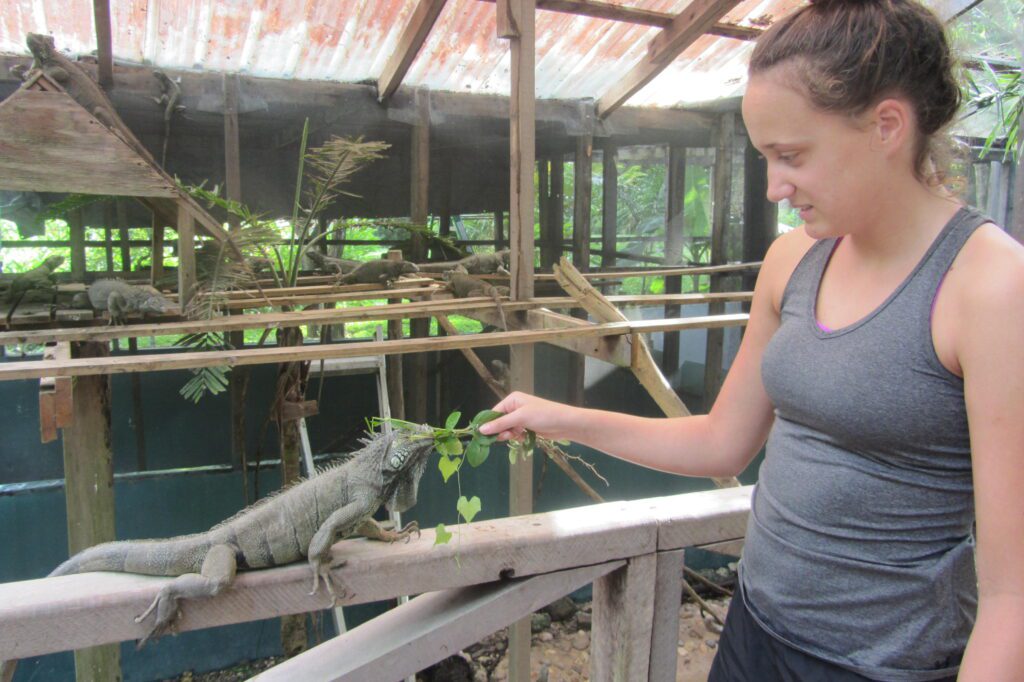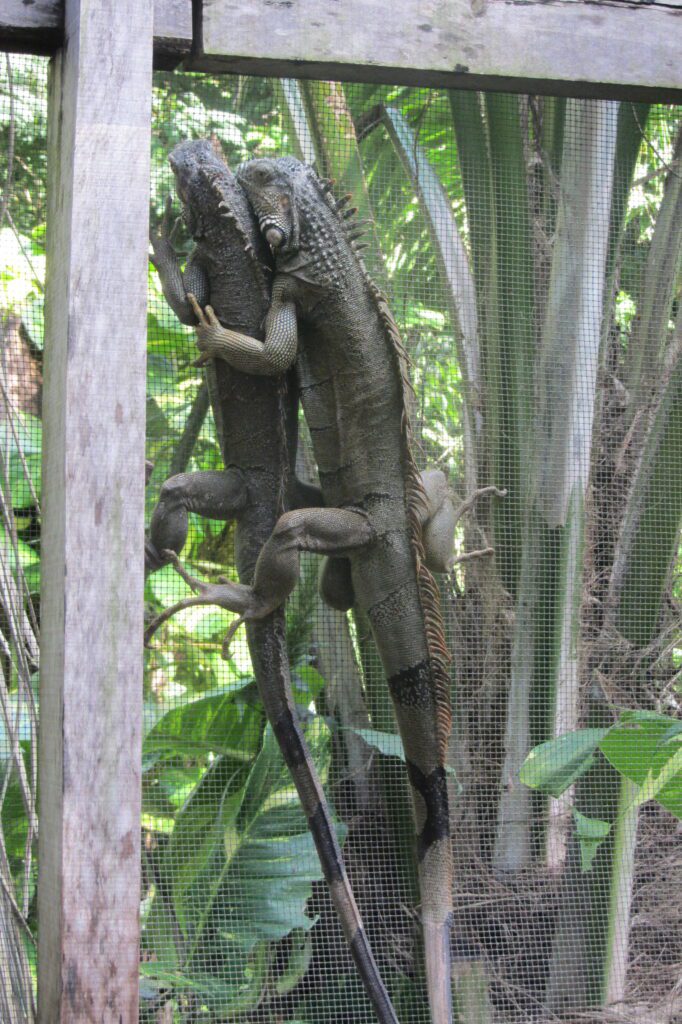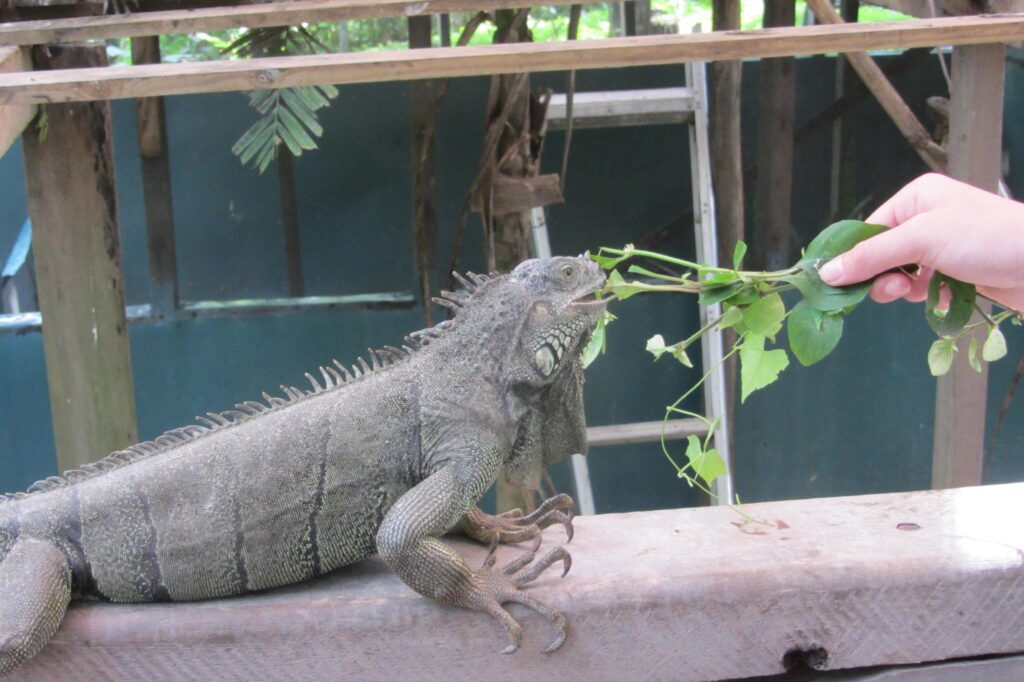 We walked around San Ignacio, bought our ornament and checked out the farmers' market. We had a very nice day!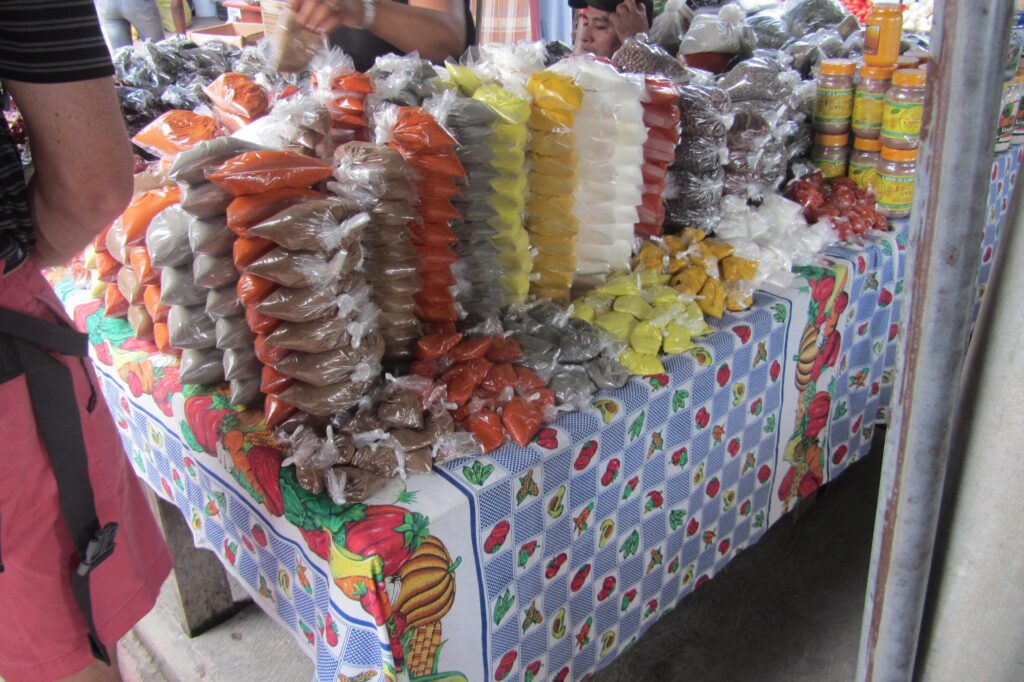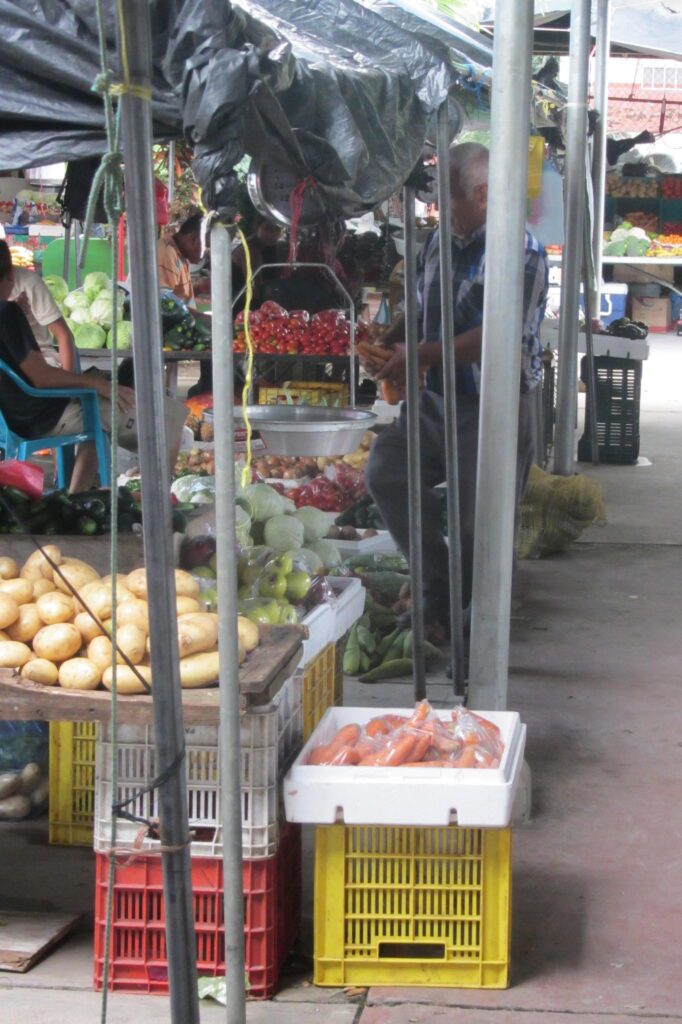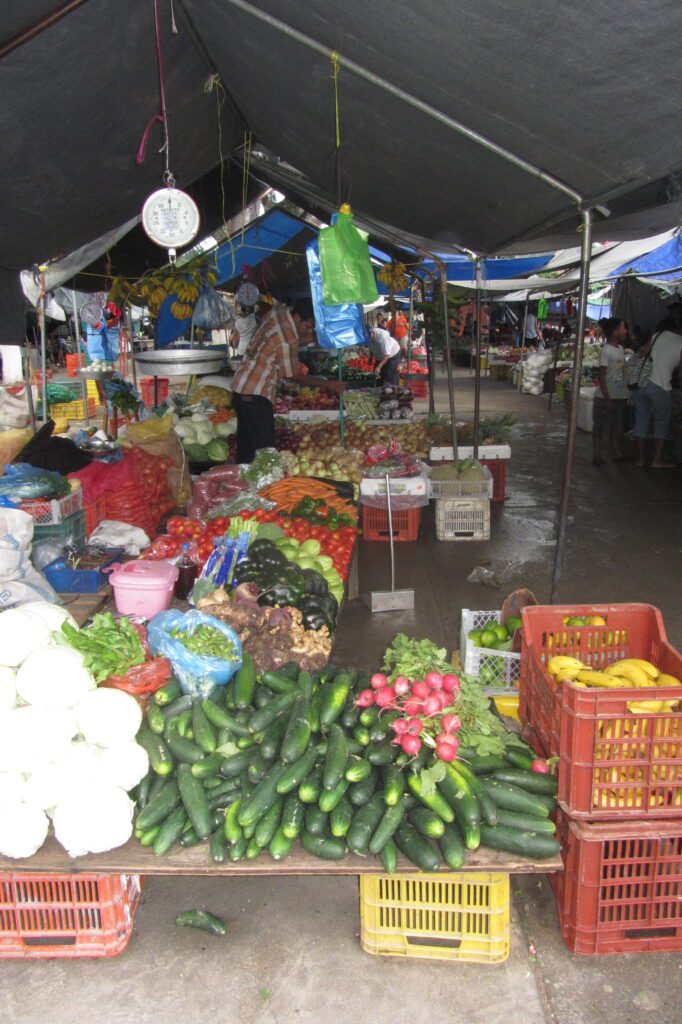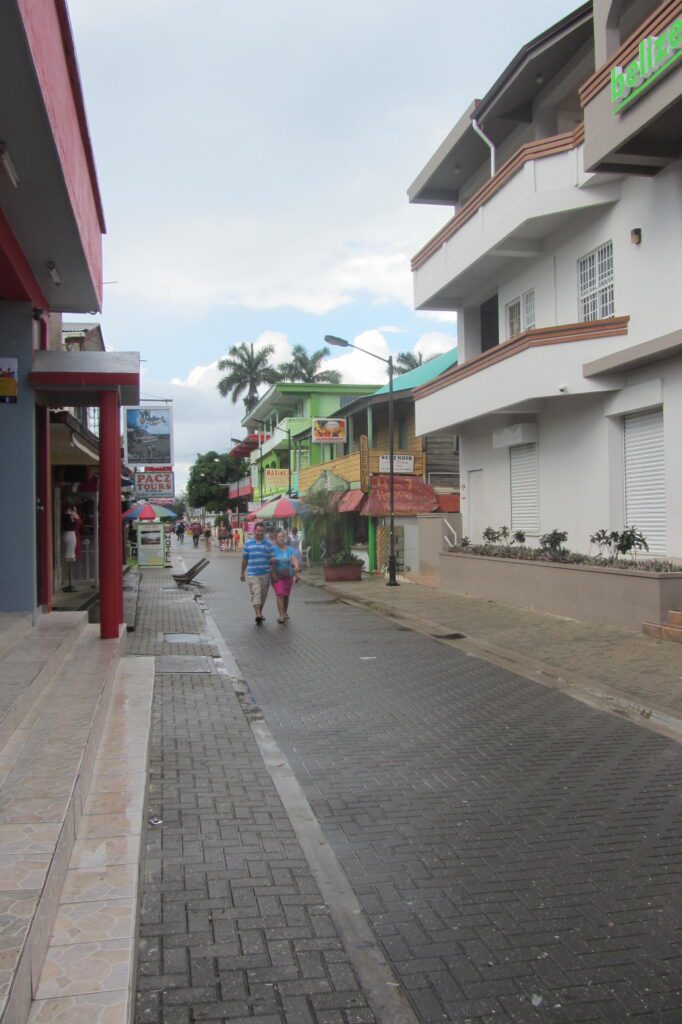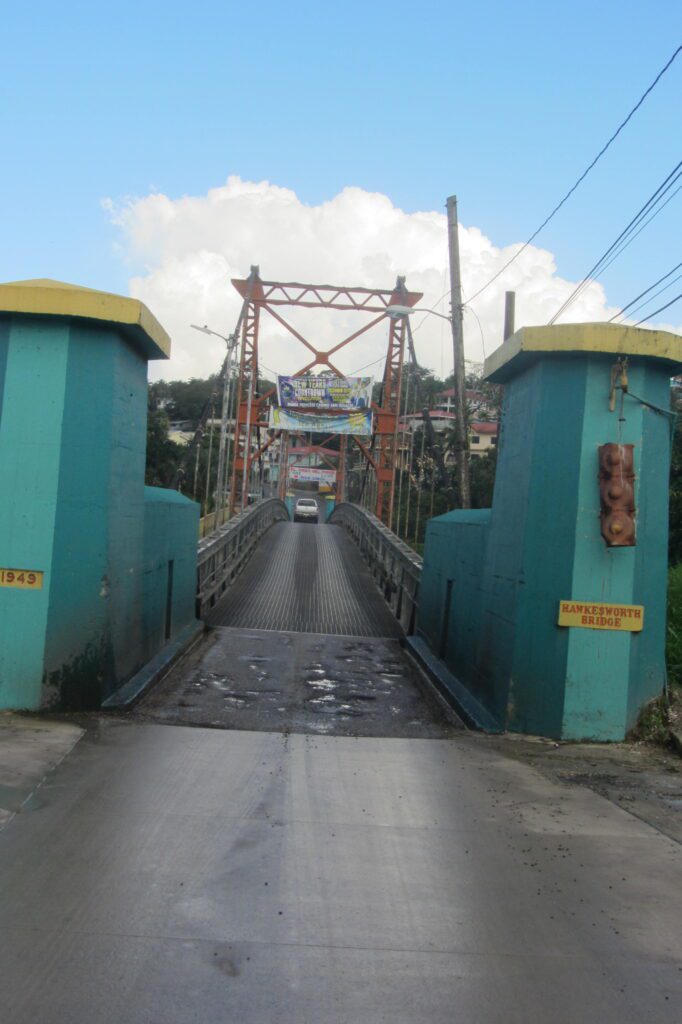 We drove back to the resort over the Hawkesworth Bridge. Very cool.
Dinner and drinks were all good. We enjoyed their bar and their sitting area in the restaurant where we could chat with other guests.
Day 10 – Back to Reality
Breakfast and a walk around the resort found us enjoying our last morning.
Mystic River drove us back to the airport. For four nights of lodging; four breakfasts, three lunches, four dinners; four adventures (cave tubing, Polaris ride/cave exploring/waterfall, ATM cave and ruins/lunch/iguanas); three massages; airport transfers and alcohol, we spent $6010. I should have splurged on the one bedroom or two studio cottages! I also tipped the guides each day after our adventures.
The Belize airport is very small. Both international and domestic flights depart out of the same tiny terminal. Finding seats is not easy. Plan on hovering until a flight is called. Plugs are not available (again, we were there in late 2016, so things may have changed). The bathrooms are clean. The gift shops are great! Kendall found a nice t-shirt, and I found a cool wooden reef shark.
American Airlines flew us on a regional jet back to Miami. The Miami airport is enormous. We found food we could all agree on, ate and caught our flight home.
We highly recommend a visit to Belize!
I used this site a great deal to help me plan my trip – Belize Bucket List.