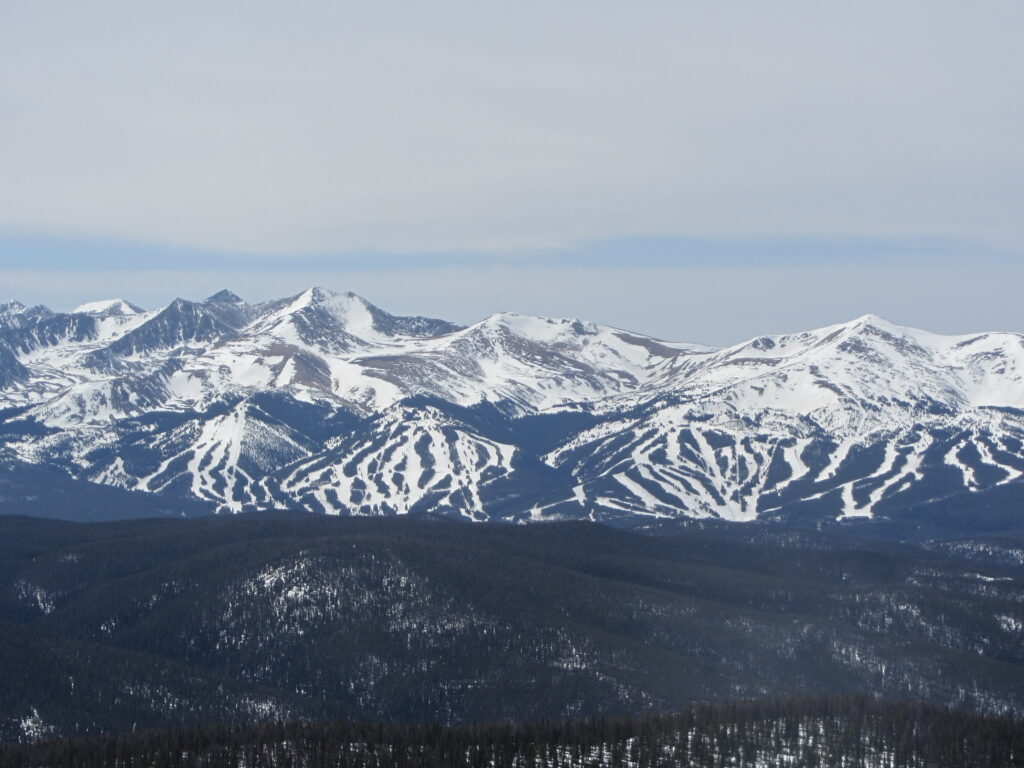 Plan Ahead – Passes and Tickets
We lived in Boulder, Colorado for five ski seasons. We have several days at Breckenridge under our belts. It is a gorgeous mountain, a fun Western town, and it is part of Vail resorts. Our Epic Passes worked there, too.
Plan ahead. If you are going to Breckenridge, decide early enough to buy either an Epic pass (there are several choices) or lift tickets in advance. This can save a family thousands of dollars. If you plan to ski at Breckenridge (or any Vail resort) for more than six days, the Epic Pass is the way to go! Visit epicpass.com before September 1. Prices usually go up on the passes around Labor Day and continue to go up during the fall months. Vail stops selling epic passes in mid-November. After that your only option is to purchase tickets in advance online, which can save you money, too.
For an adult, the walk-up price on a weekend is now about $209/person!!!!! The Epic Pass we purchased in the Fall of 2019 cost $970/person. That pass gaves me unlimited skiing at over 30 resorts Vail owns around the country and the world.
If you were not early enough to buy a pass, purchasing tickets online will save you money. The walk up price is reduced from $209 to $179/day with deeper discounts if you buy multiple day tickets well in advance. With covid restrictions in place, you must also make a reservation to be on mountain.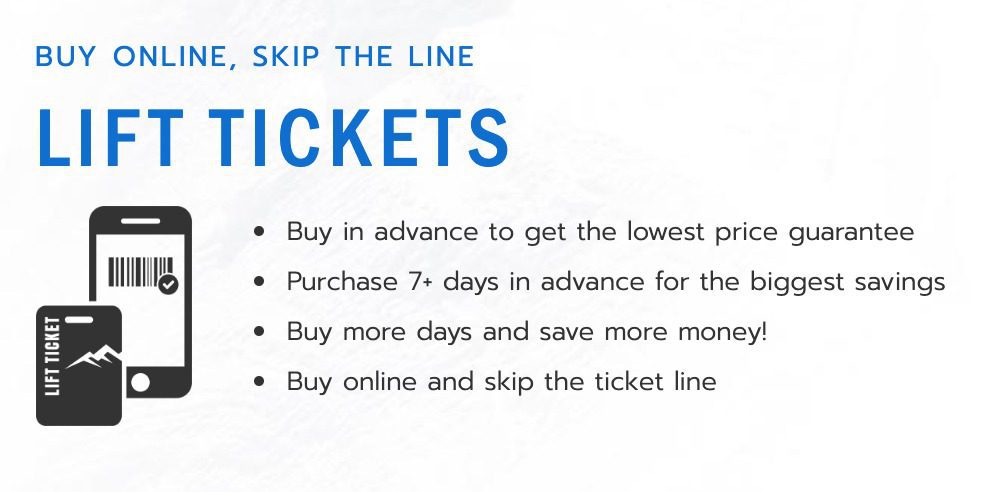 Getting to Breckenridge
Breckenridge is located about 106 miles from the Denver International Airport. Navigate to I70 West and get off at exit 203 and continue nine miles to Breckenridge.
If you can fly into Eagle County Regional Airport, you are 71 miles from Breckenridge on I70 East to exit 203.
If you are flying, this boot bag is amazing. We have four of them. We can fit three pairs of skis in this bag for travel. Someone in our family is always demo-ing a new pair of skis or she is at school and the vacation times do not line up!
We do recommend a car for getting groceries and going out for meals. However, if you choose not to drive from the airport, Epic Mountain Express is owned by Vail resorts and is very reliable.
2022 – Michele also upgraded her iPhone to the iPhone 13. The camera is amazing. Seriously amazing.
Lodging
There is no shortage of lodging both on and off mountain in Breckenridge. Everything from studio apartments to luxury on mountain homes to high end resorts.
Budget options – There are cheaper hotels in the nearby town of Frisco, just eight miles from the parking lots. There is Ramada by Wyndham, Best Western Ptarmigan (we stayed here a few times. Nothing fancy. Clean but dated), Comfort Suites, Frisco Inn, Super 8, Frisco Lodge, Snowshoe Motel, Hotel Frisco Colorado and the Alpine Inn are all budget friendly hotels and motels in the cute town of Frisco. Frisco has tons of restaurants and is friendly for walkers.

Frisco has condos available for rent and houses, too. It will take you about 15 minutes to get to Breckenridge from Frisco.
Breckenridge options – There are hotels both on and off mountain all over Breckenridge. Plan to spend more for the convenience of being close to the mountain and the town of Breckenridge. We think the nicest one is right at the Independence Chair; Crystal Peak Lodge, will set you back a pretty penny, but you cannot get more convenient. The ski areas of Breckenridge mountain sit above town, so you will need to drive to town or take a resort shuttle to get into the village. One Skill Hill Lodge at the base of peak 8 is pretty amazing, too. Vail operates seven signature properties on mountain at Breckenridge.
There are thousands of condos and homes to rent in and around Breckenridge. We have used visitbreck.com for in town accommodations. Everything from mansions that can sleep 20 to tiny studios are available. We have stayed at The Village at Breckenridge in a three bedroom condo before and the location is amazing for access to shops and restaurants.
Parking
If you have to drive to the lifts, we recommend parking at the base of the BreckConnect parking gondola. All of your parking options can be found here. Parking in the Gondola South, Gondola North or Gold Rush lot is way, way, way less than parking at the slopeside options (think @$15 instead of @$50). We would use our car as our "locker" and dress in the parking lot. We got our ski gear on, assembled our lunch backpack and got in the gondola. The gondola is free for everyone if you have non-skiers who want to spend the day at the base lodge. It takes you to the base of peak 8 where you can ride a life to the top. Lift tickets are available at the BreckConnect parking gondola. The gondola takes you over some gorgeous open space where we often saw wild animals and the most incredible Breckenridge mansions.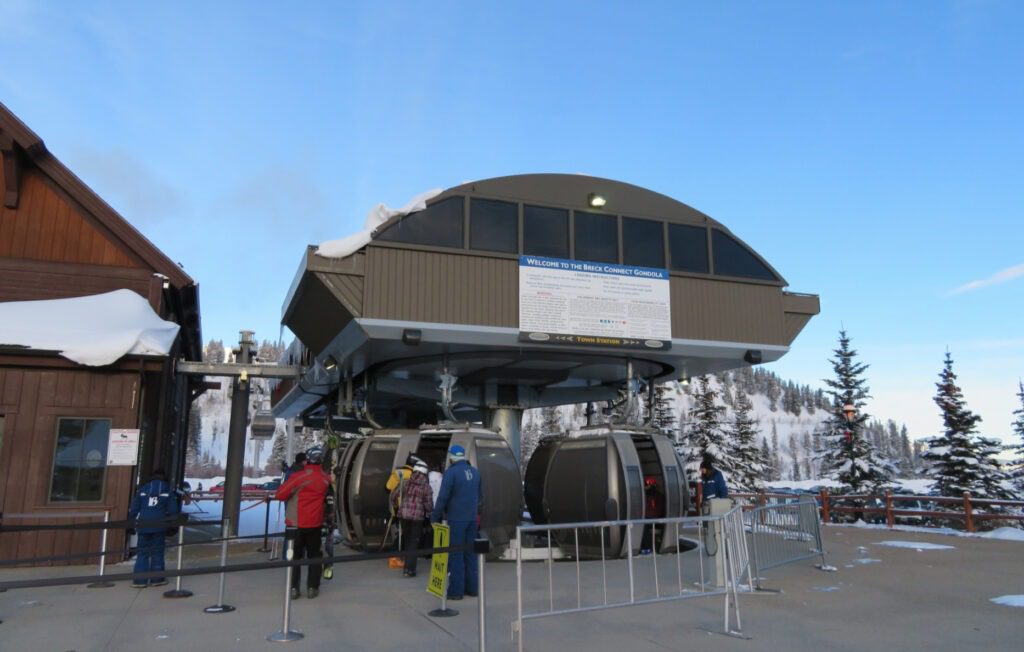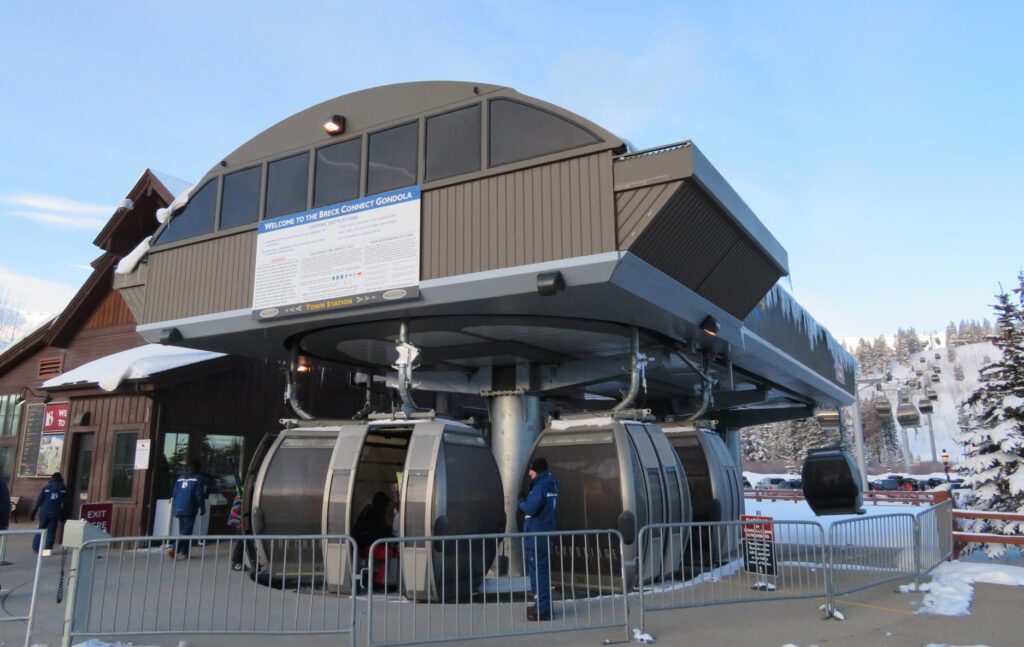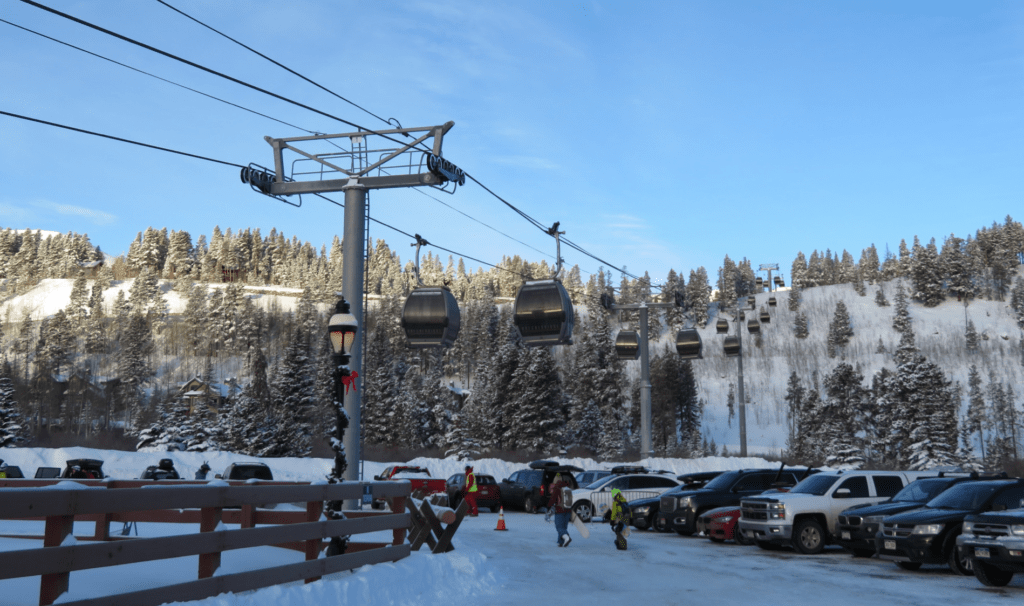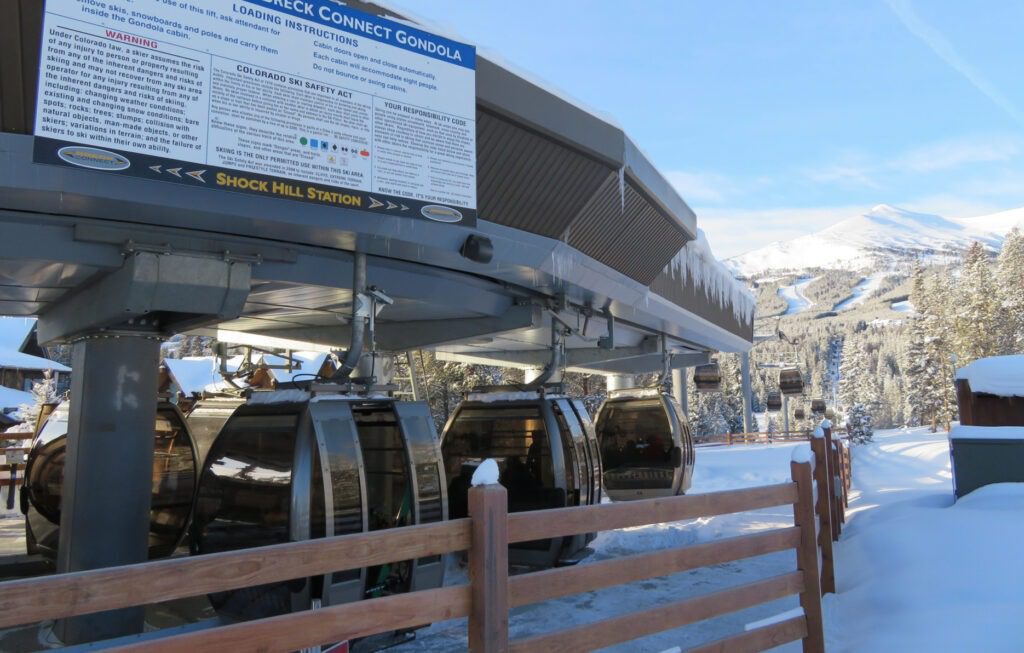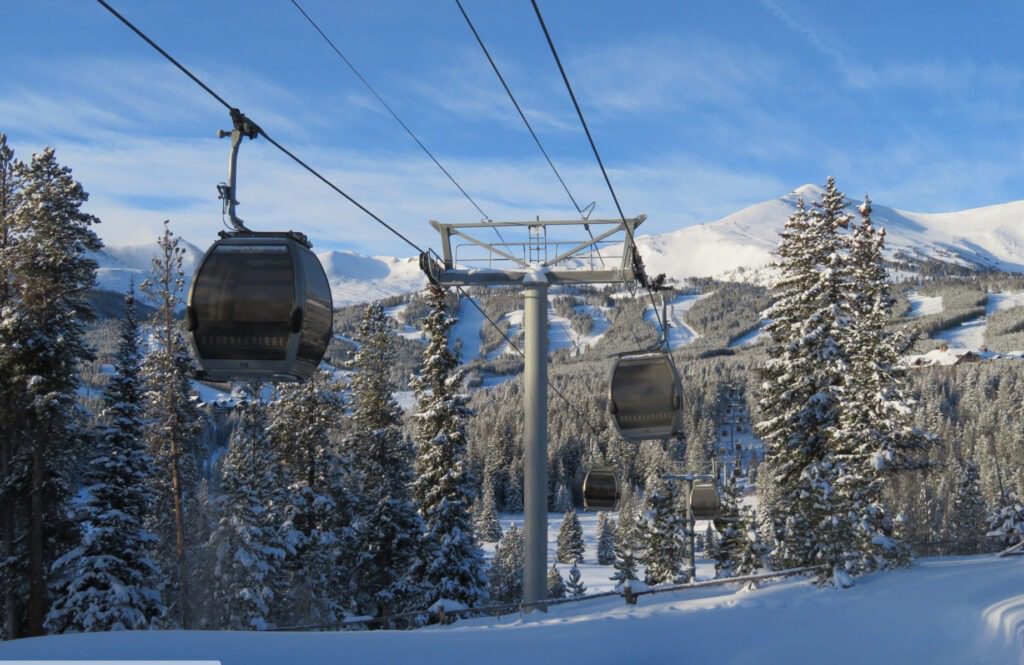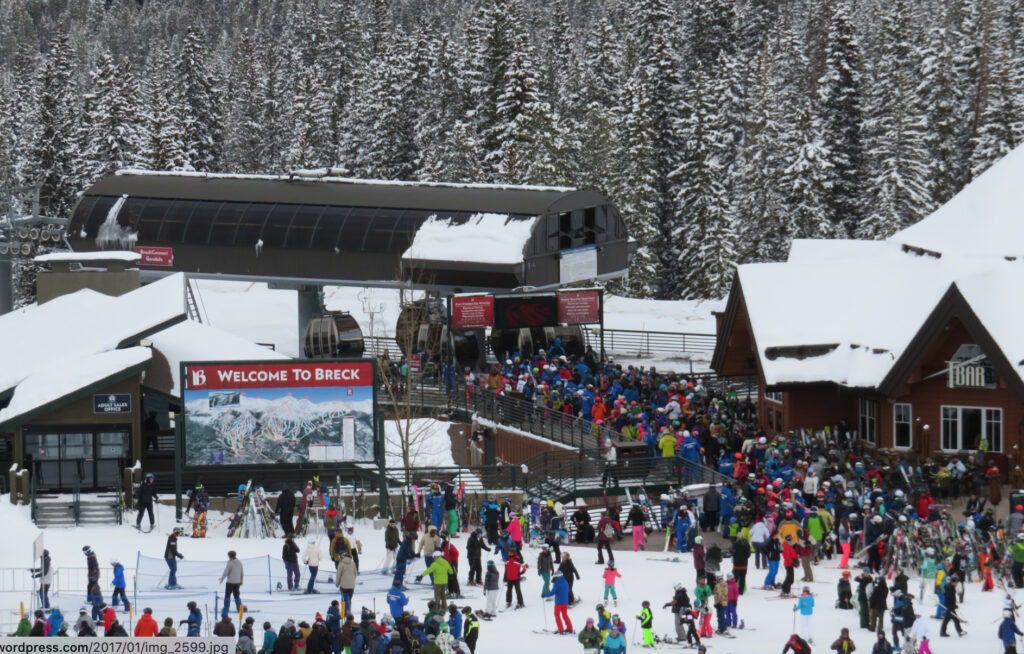 The Mountain
Breckenridge has five peaks – Peaks 6-10. All are different. Peaks 8, 7 and 6 require hiking or traversing to get to the highest and most challenging points. There are awesome blue groomers all over the mountain.
We usually begin our day at the parking gondola and then head up on either the Colorado SuperChair or the Rocky Mountain SuperChair to get away from the busy base area. You can exit at the base of Peak 7 and get to the Independence SuperChair but the walk is a bit longer. If we feel like doing an early morning hike, we will go to the Horseshoe Bowl T-bar. But sometimes, we will take a much longer run to the Falcon SuperChair to avoid the busy base areas. You cannot go wrong at Breckenridge. There is something for everyone.
Another great option is to Ride the Imperial Express SuperChair (at 12,840 feet, it's the highest lift in North America!) to the top of Peak 8. You can hike if you want to go higher or drop right into the Imperial Bowl. Amazing!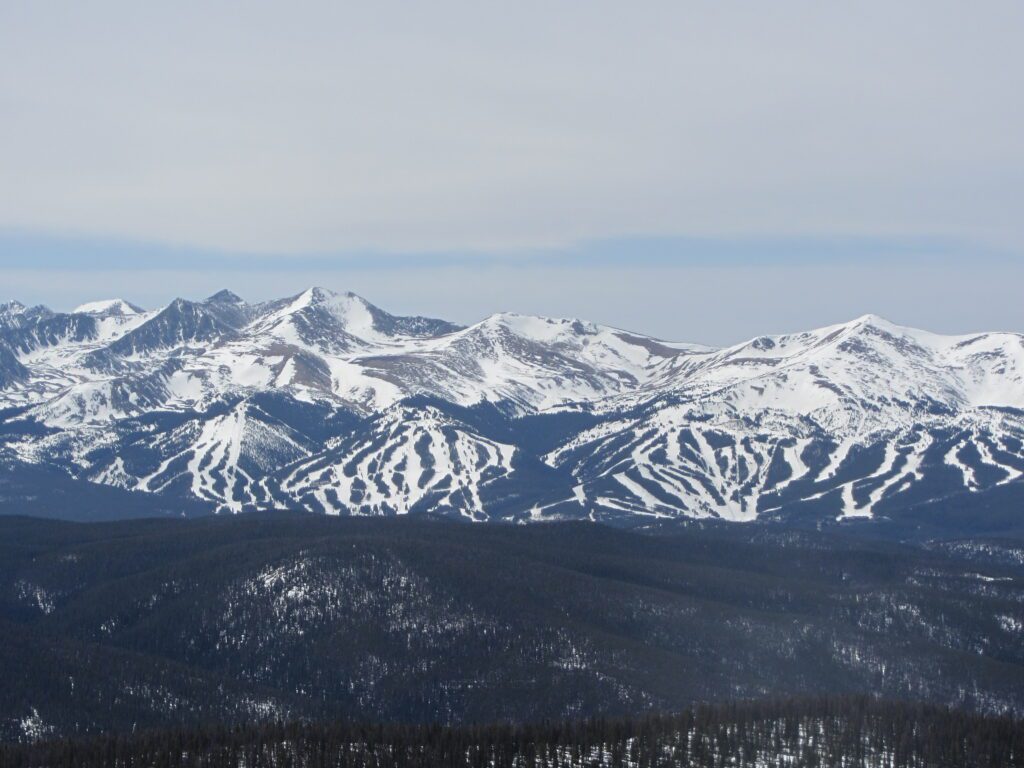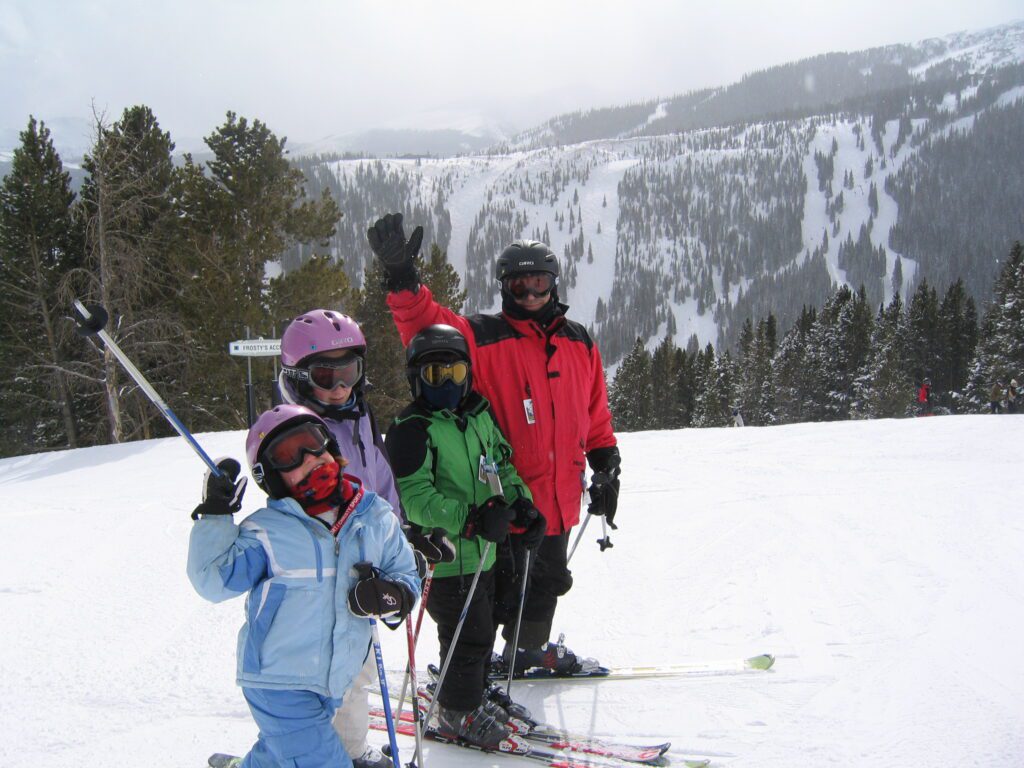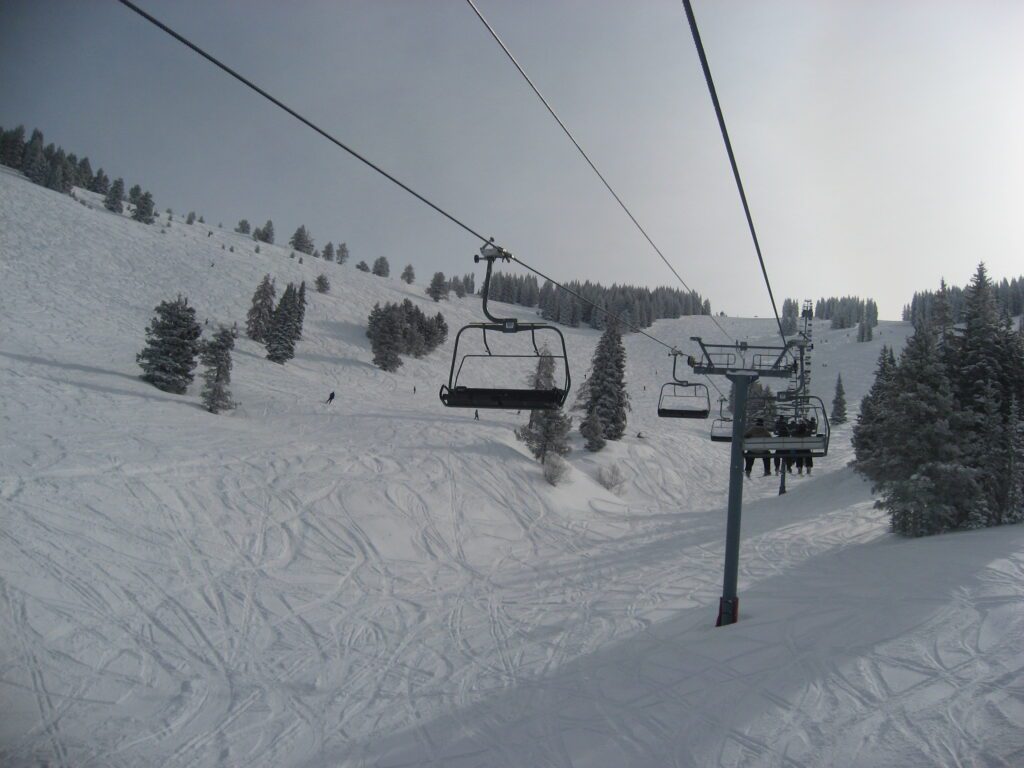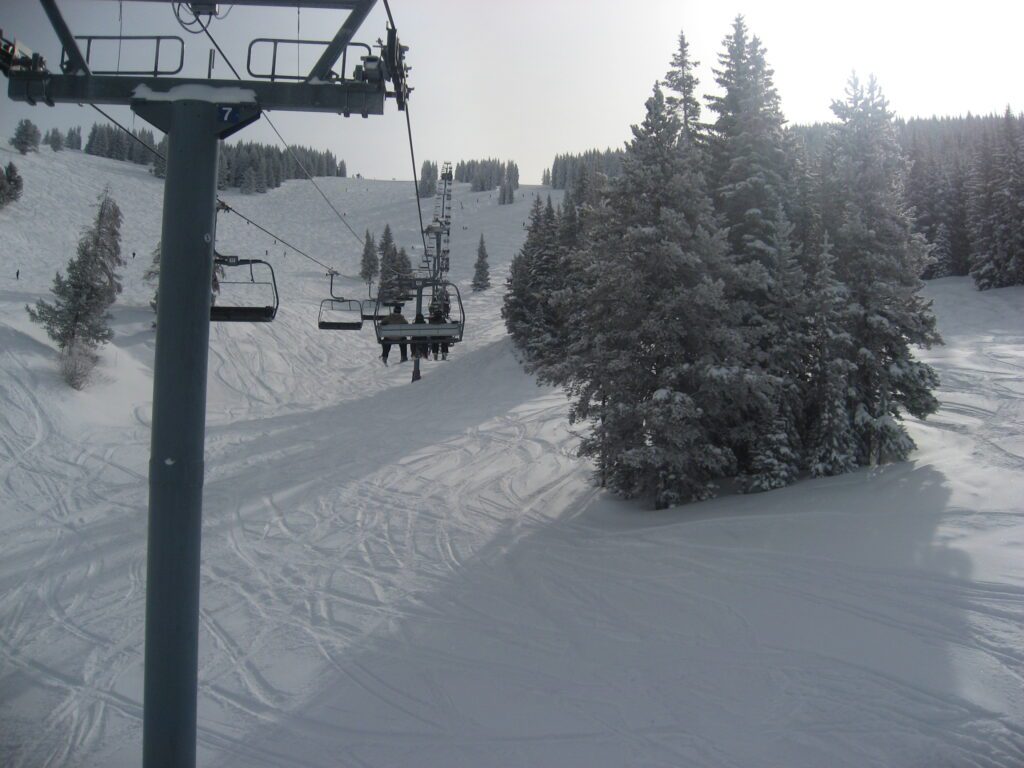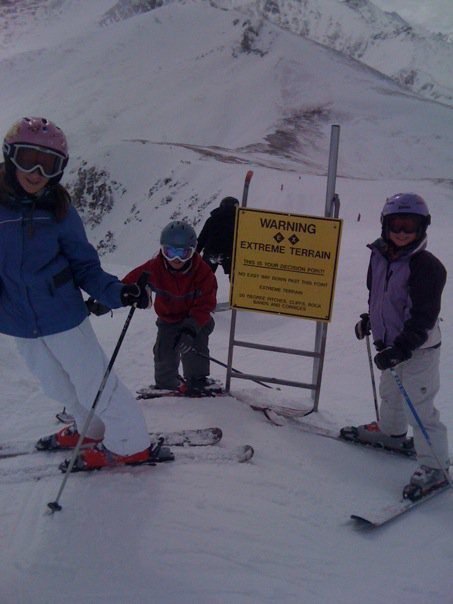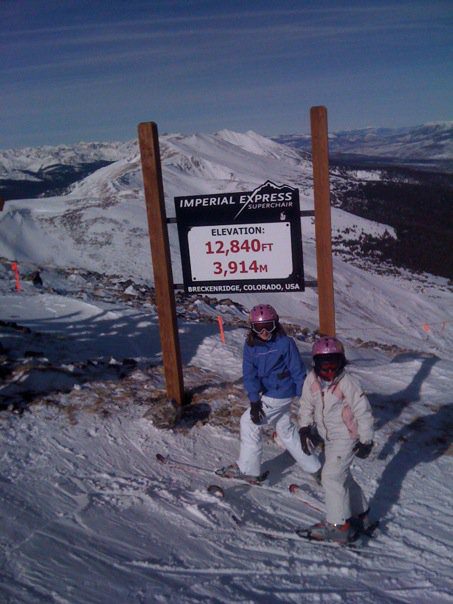 This website can give you excellent information on specific runs at Breckenridge. This website gives you specific instructions on how to access the most challenging runs at Breck.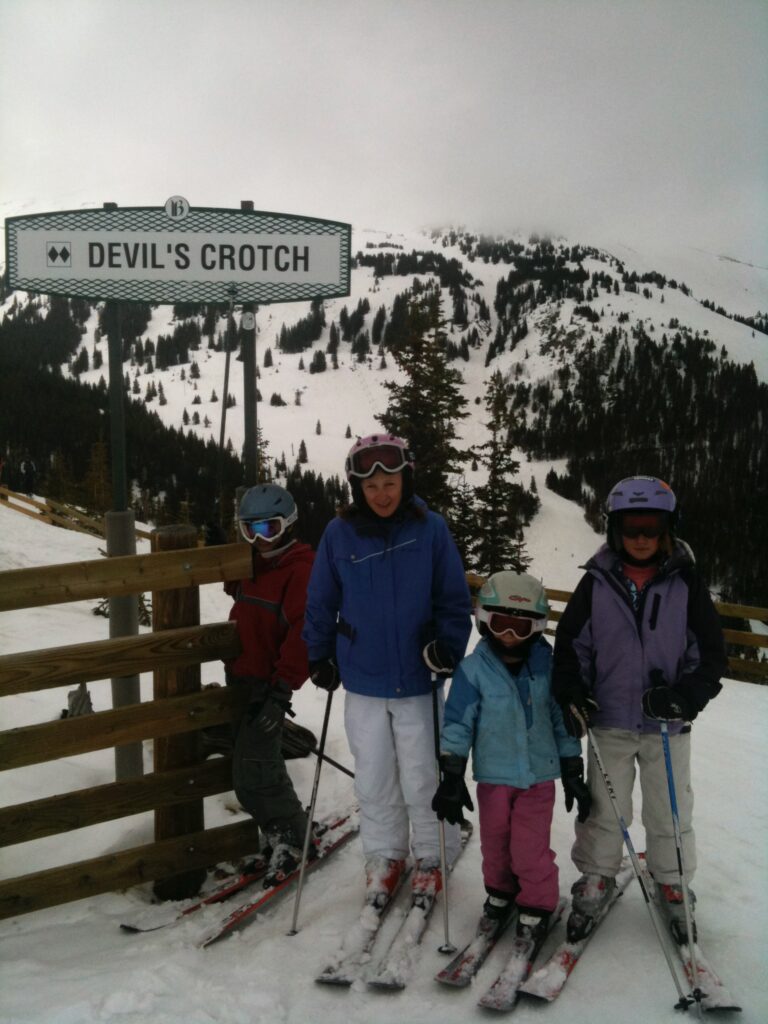 Where to Eat
We almost always packed our lunch when we skied Breckenridge. While there are plenty of dining options on mountain, it is very expensive. We ski with a backpack that can hold four drinks, four sandwiches, two cup of noodles soups, sliced fruit, string cheese and brownies. We bring hot cocoa packets and tea bags and use the free water in the cafeterias. It saves a ton of money to do that. We also recommend starting your day early and being inside to eat by 11:15am. The crowds are so much less.
We usually ate at Vista Haus at the top of the Colorado SuperChair and the Peak 8 SuperConnect lifts. We found that going down a level helped with the crowds. If we were closer to peak 10 at lunch time, we would eat at 10 Mile Station which is close to the bottom of the Falcon SuperChair. Lots of seating, plenty of food choices and big bathrooms. We never ever ate at the bottom of peaks, 8, 9 or 10. Too busy and too crowded!
Restaurants in Breck
We have always like the Breckenridge Brewery for pub food. It has a great atmosphere and Jim loves the beer. Indoor and outdoor seating is available. It is in the heart of downtown Breckenridge. They serve breakfast, lunch and dinner. TripAdvisor reviews are mixed at this time, mostly because of covid protocols.
Serving lunch and dinner, Mi Casa was a family favorite. We enjoy the mexican food and the atmosphere. TripAdvisor reviews are very good.
Our go-to restaurant in the Breckenridge area was actually in Frisco. Peppinos Pizza and Subs was reasonably priced with excellent pizza and salads. We frequently stopped here for dinner on the way home from Breck or Vail. Super convenient to I-70. TripAdvisor reviews are excellent.
Fun Things to Do!
Breckenridge and the surrounding areas offer tons of fun things to do.
There is an enormous outdoor adventure park owned by the Town of Frisco. It offers tubing and a wonderful nordic center for cross country skiing. The tubing has a surface lift, so you do not need to walk back up the hill!
The Town of Breckenridge has a huge indoor recreation center. Bring your bathing suits to swim or soak in the hot tub. The indoor pool has two water slides, and the outdoor pool is kept at 104 degrees. There is also an indoor lap pool. The center offers ice skating, fitness classes, workout equipment, and indoor track, skateboard park, two playgrounds, a rock climbing wall and cross country skiing. Something for everyone on your day off from skiing!
Alpenglow Stube – If you have a car, we highly recommend visiting Keystone and their mountain top restaurant. You ride two gondolas at night to get to the Alpenglow Stube. The restaurant used to serve fondue, but now it appears to be an a-la-carte menu. The restaurant sits in a building that is a ski lodge by day, fancy dining by night.The experience is fun, and unique!
Ice Sculpture Championship
Each year in February the Town of Breckenridge hosts an International Snow Sculpture Championship. These larger than life sculptures are amazing and are usually out for weeks. Visit the Riverwalk Center if you visit in February.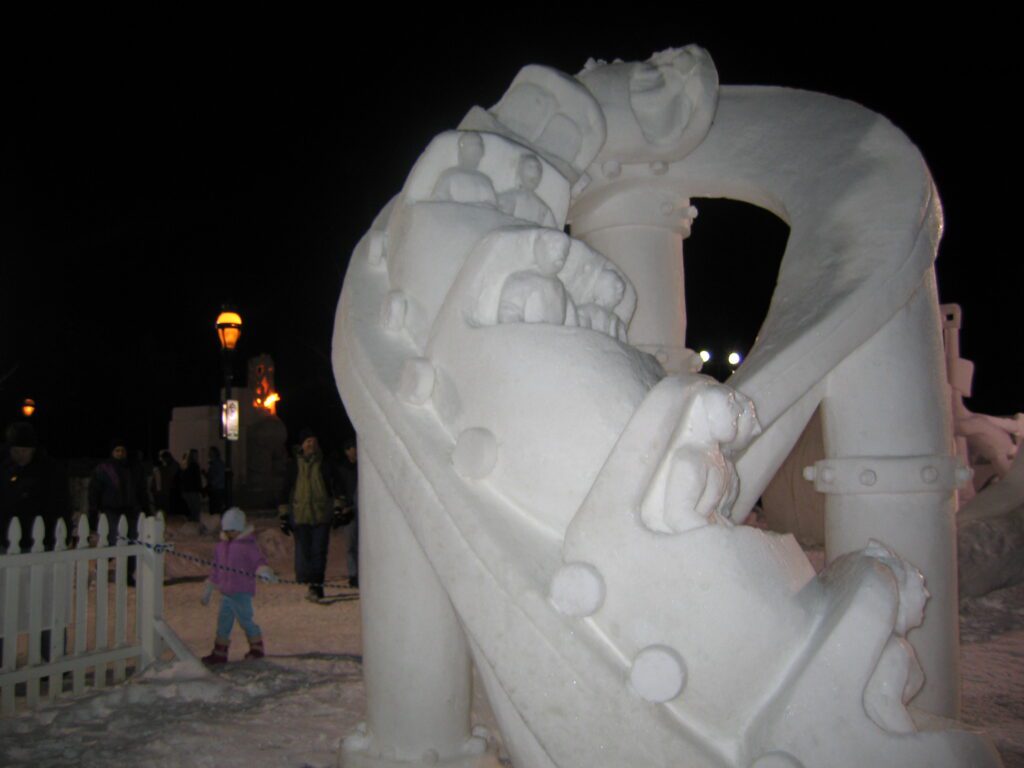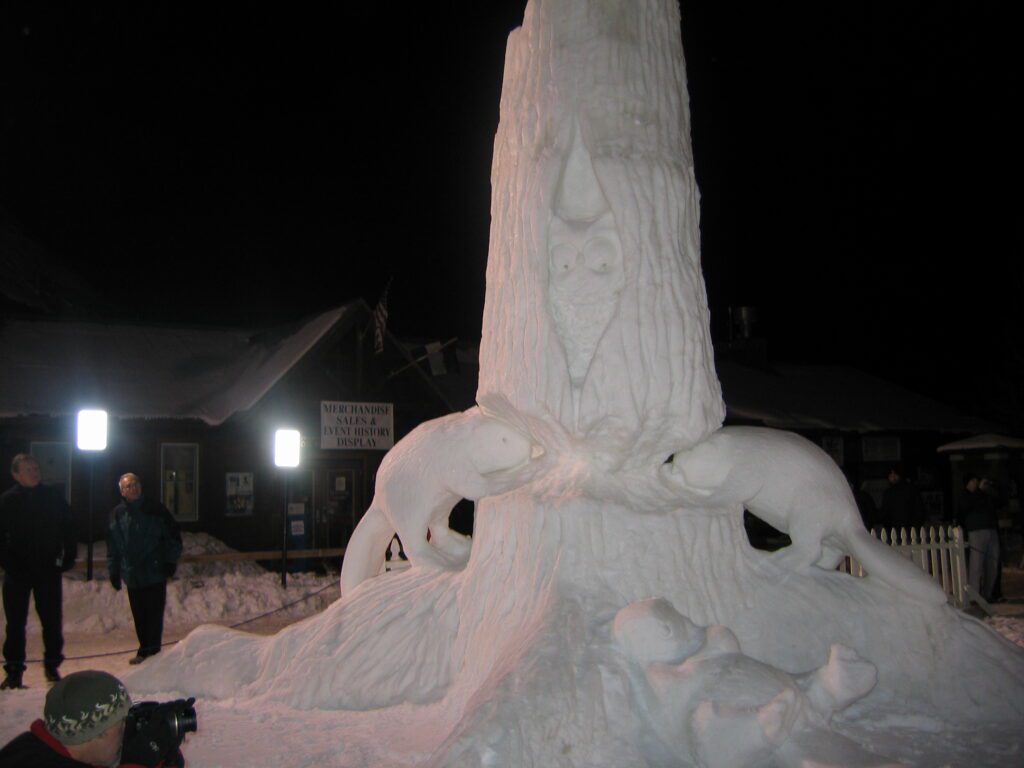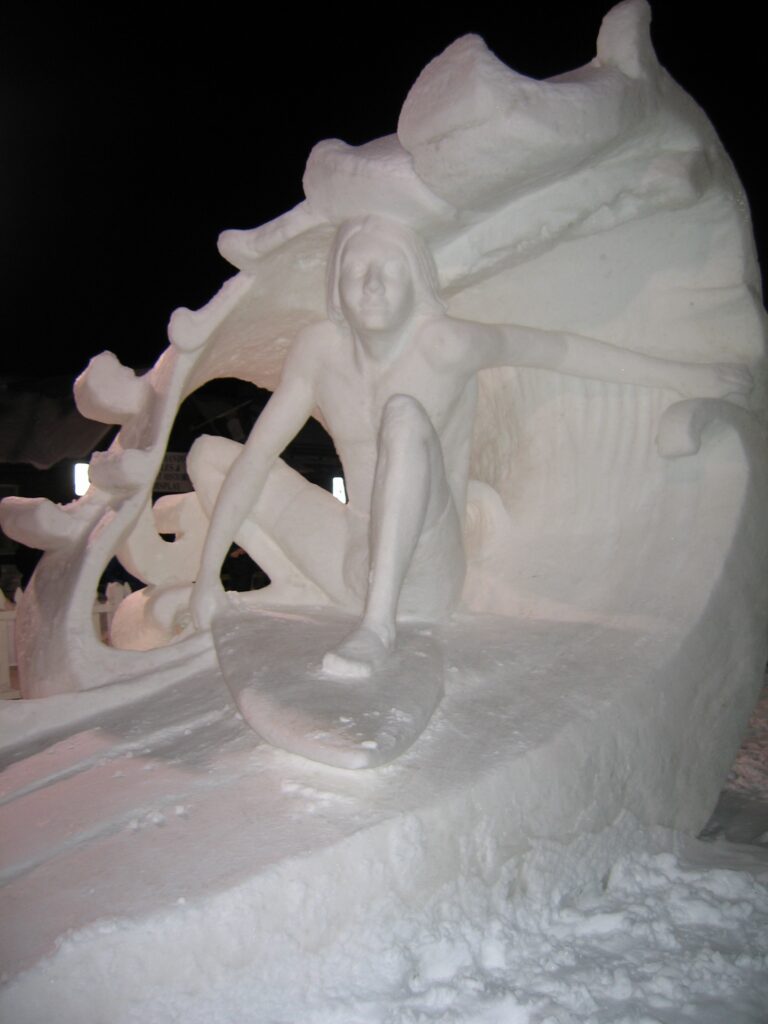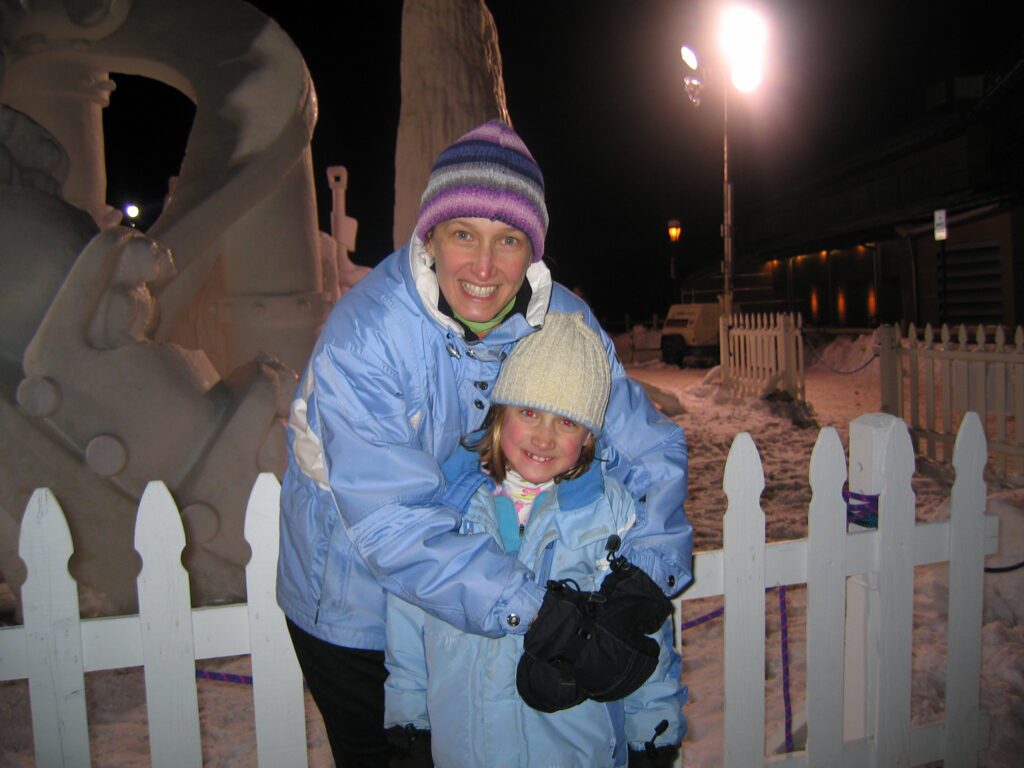 Visiting in the Fall, Spring or Summer
Visiting Breckenridge in the Fall, Spring or Summer is a great time to visit for access to Lake Dillon and watersports, hiking, mountain biking, camping and fishing. Breckenridge has lifts open in the off season to see the beautiful mountain scenery. They even have an Alpine Slide and a GoldRunner coaster which are very fun.