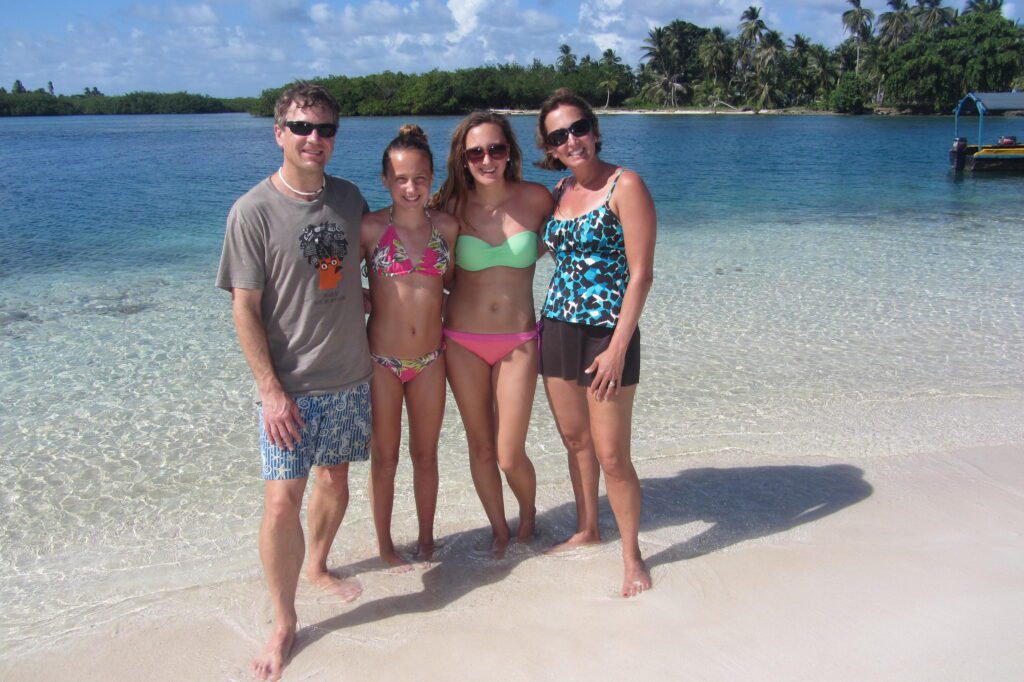 A Few 2022 Updates
For a trip to Iceland and St. Martin in late 2021, Michele upgraded our waterproof camera to this Olympus model.  It has amazing reviews and takes a great photo. We also like this affordable, easy-to-use tripod.
Michele also upgraded her iPhone to the iPhone 13.  The camera is amazing.  Seriously amazing.
We like these vaccination card holders for travel.
We upgraded our masks/snorkels to these.
We visited Panama from December 20-30, 2013.  All recommendations below have been rechecked to ensure the businesses remain open.  We visited Panama City, the San Blas Islands and El Valle de Anton.
Toscana Inn Hotel
We flew on Copa Airlines from Boston to Panama City. Currently it appears that Copa Airlines has direct service to/from Boston only a few days a month right now, due to covid. We found the airline to be very pleasant. We landed at Tocumen International Airport.
Because we were flying out of Panama City at 6am the next morning, we chose to stay at the Toscana Inn Hotel which is in the El Cangrejo area of Panama City and close to the Albrook airport. This hotel was centrally located close to shopping and dining. TripAdvisor reviews are fine.
Our room had two double beds and a small refrigerator. Since we only spent about 12 hours at the hotel, the four of us shared a room and went to bed early.
Machu Picchu
We walked around the corner to an excellent Peruvian restaurant called Machu Picchu. It appears to still be open, but the most recent TripAdvisor review is from 2018. We enjoyed our meal immensely.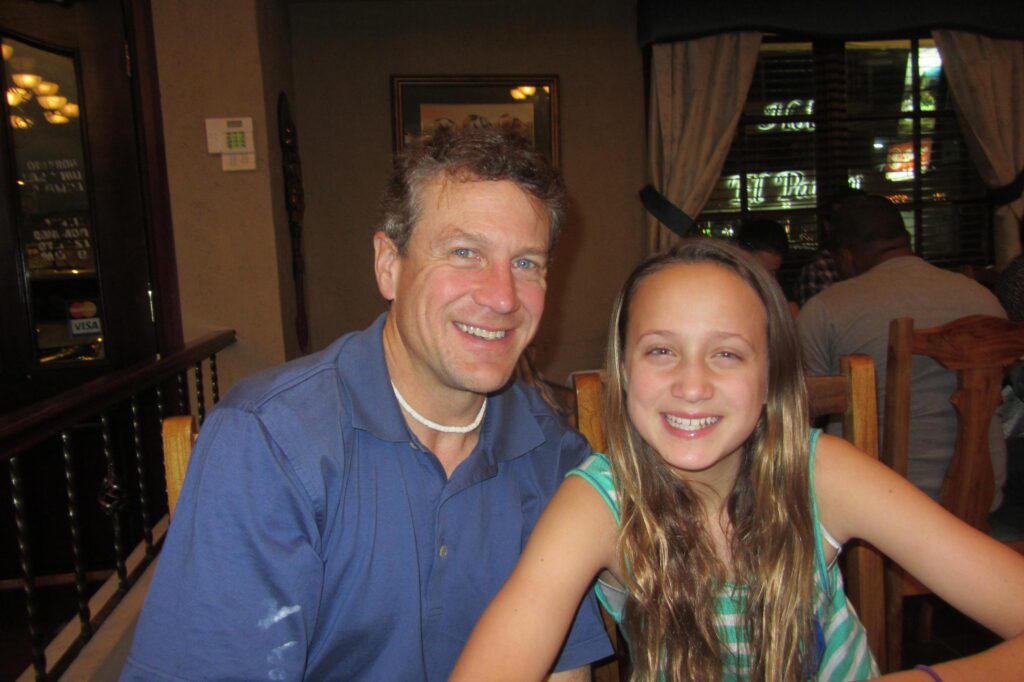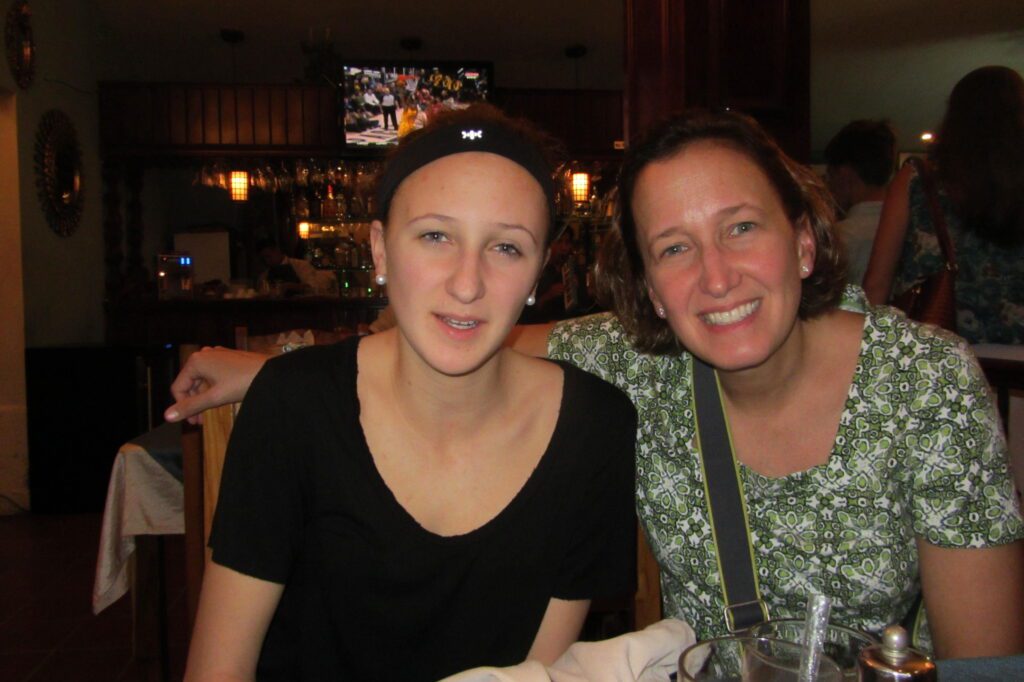 Yandup Island Lodge
Right now, in January 2021, flights are restricted in Panama, because of the coronavirus. Once restrictions are lifted, you should be able to once again fly Air Panama to Playon Chico.
We woke up at 3:45am for a 6pm departure to Playon Chico from the Albrook airport in Panama City. Only domestic flights depart from this tiny airport very close to the canal.
We flew on a tiny turboprop plane operated by Air Panama. Our flight lasted about 45 minutes. We all had to be weighed before boarding, including our luggage and carryons. Our carry-aboard luggage (that we brought on the international flights with us had to be checked as the plane was tiny!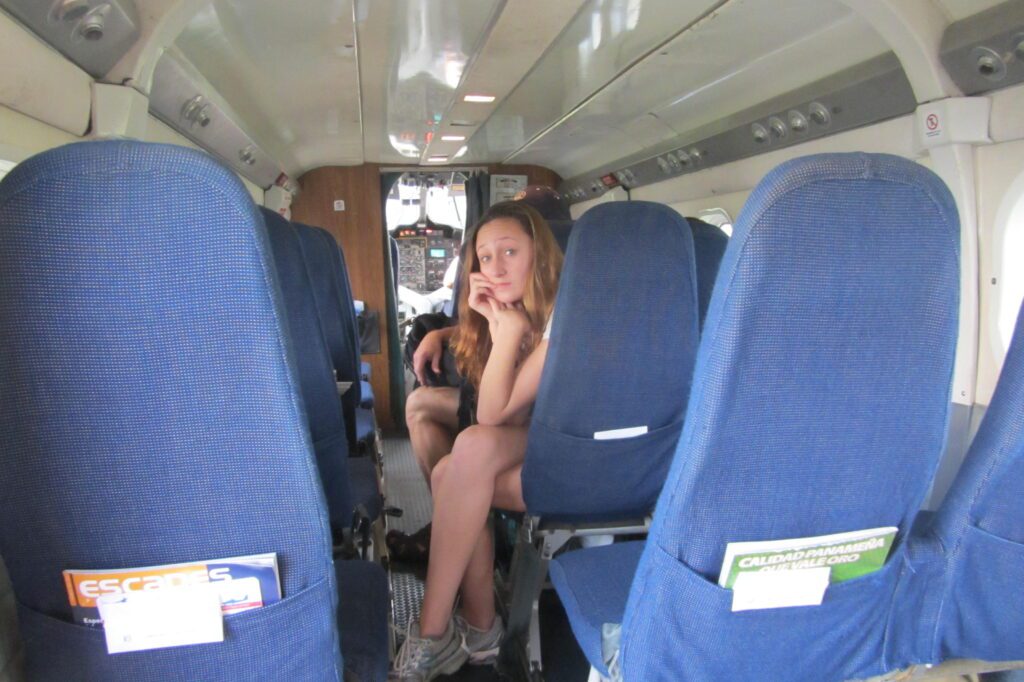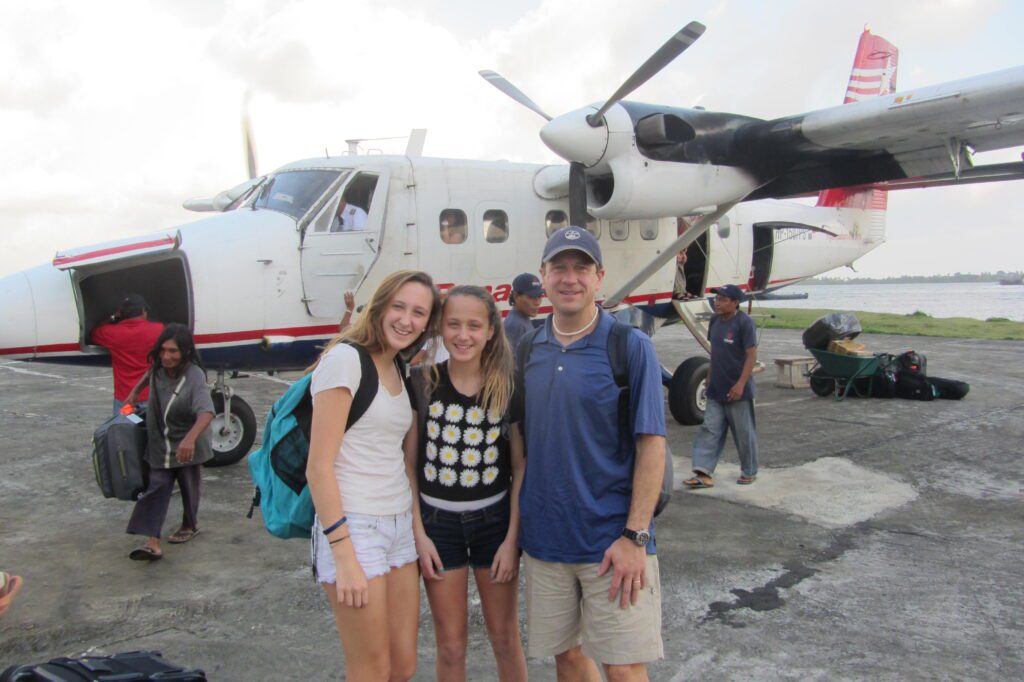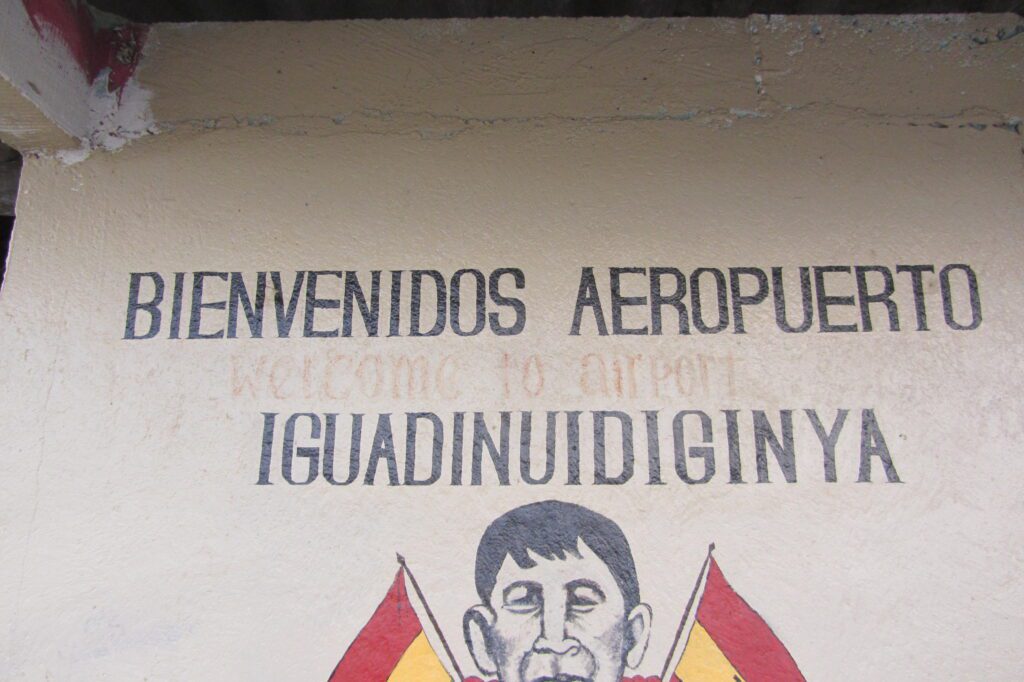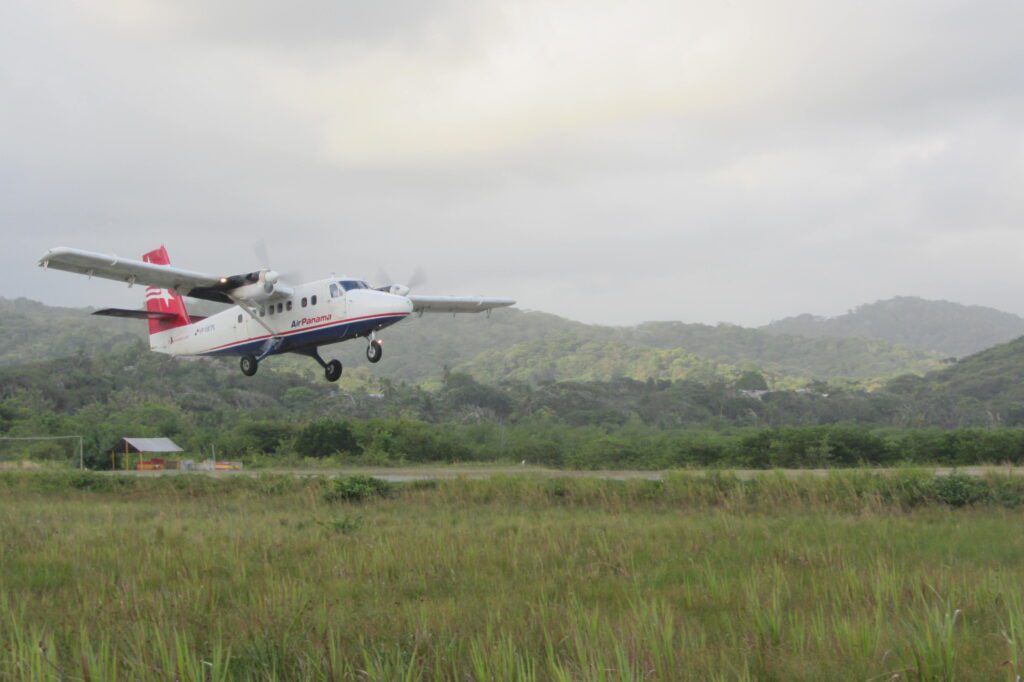 We landed at about 7am into Playon Chico in the San Blas islands area of Panama. We stayed at Yandup Island Lodge, and their team picked us up in the boat and we set off for the 10-hut resort. As of January 2021, the resort is currently closed due to covid. It is housing infected people from the local Kuna community. Hopefully, it will be open soon. TripAdvisor reviews are here.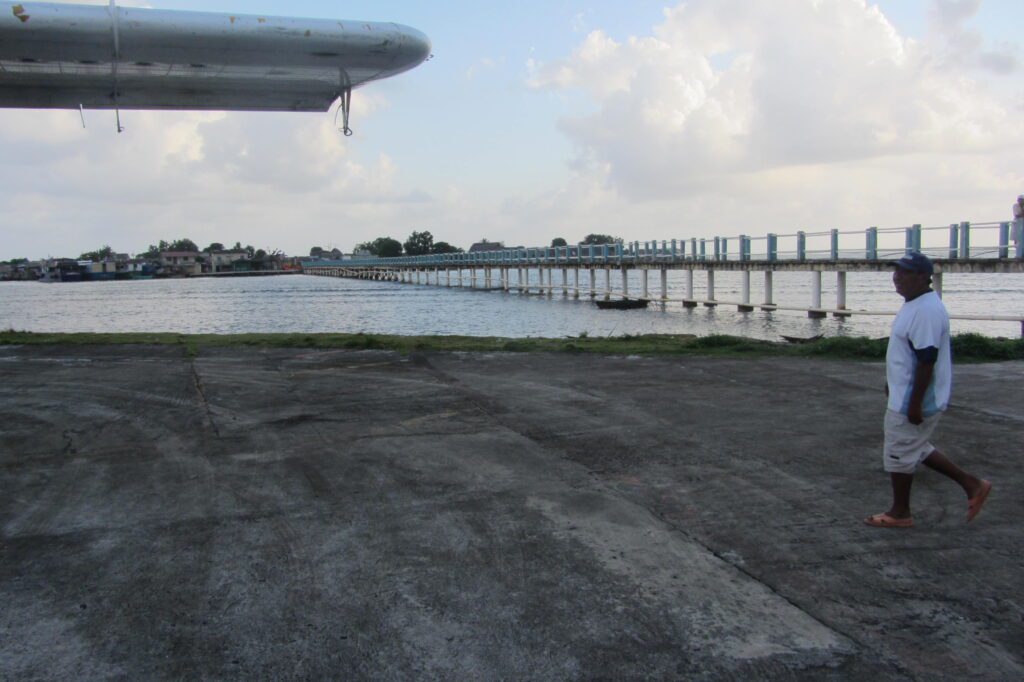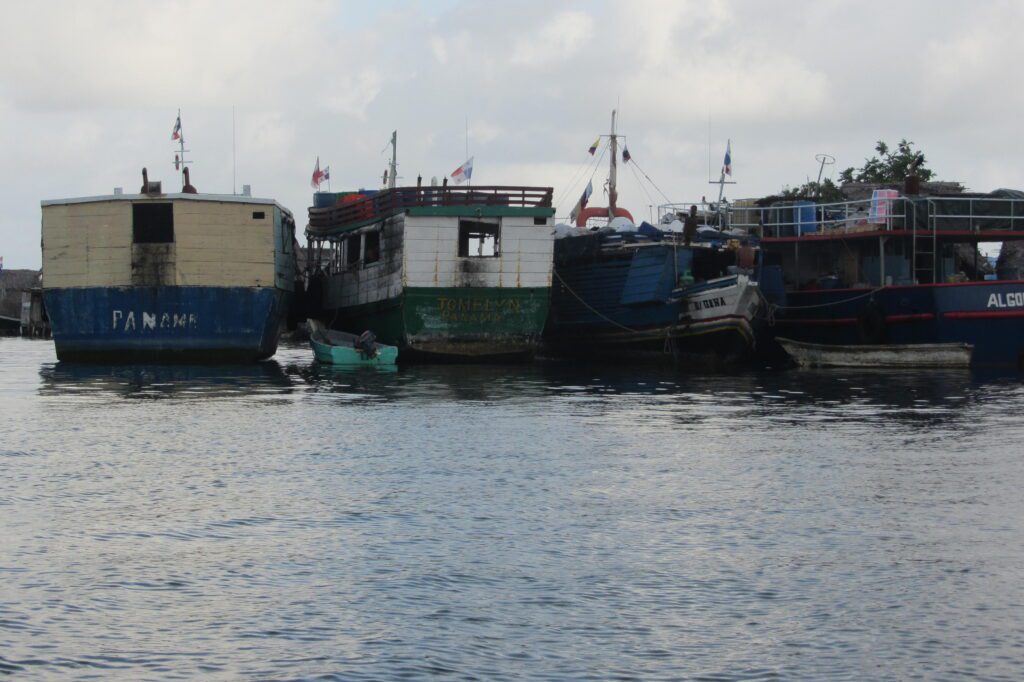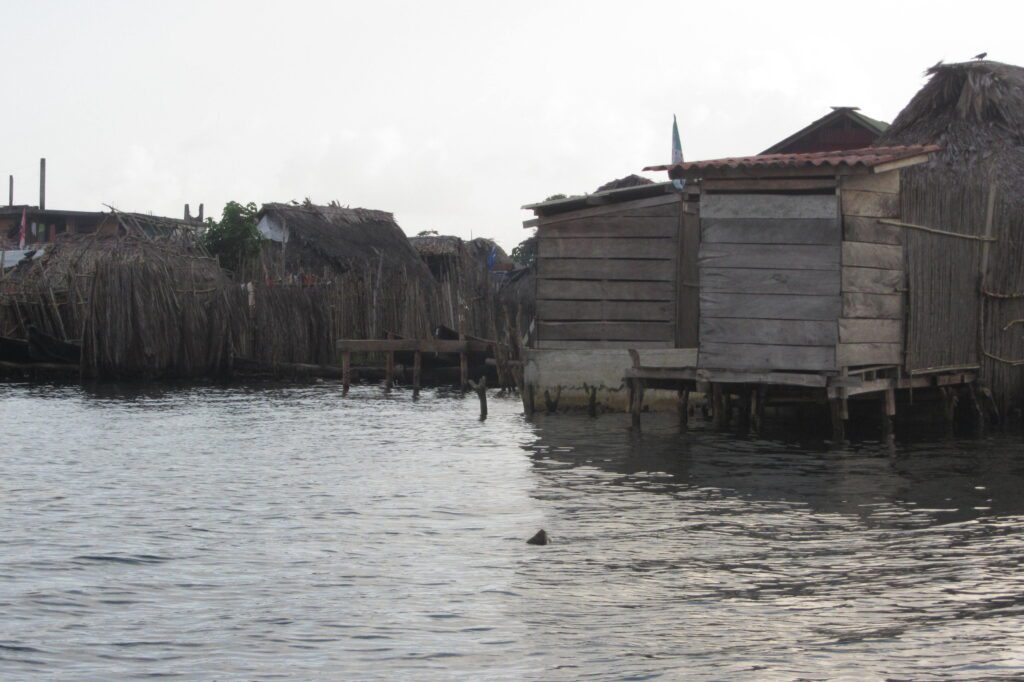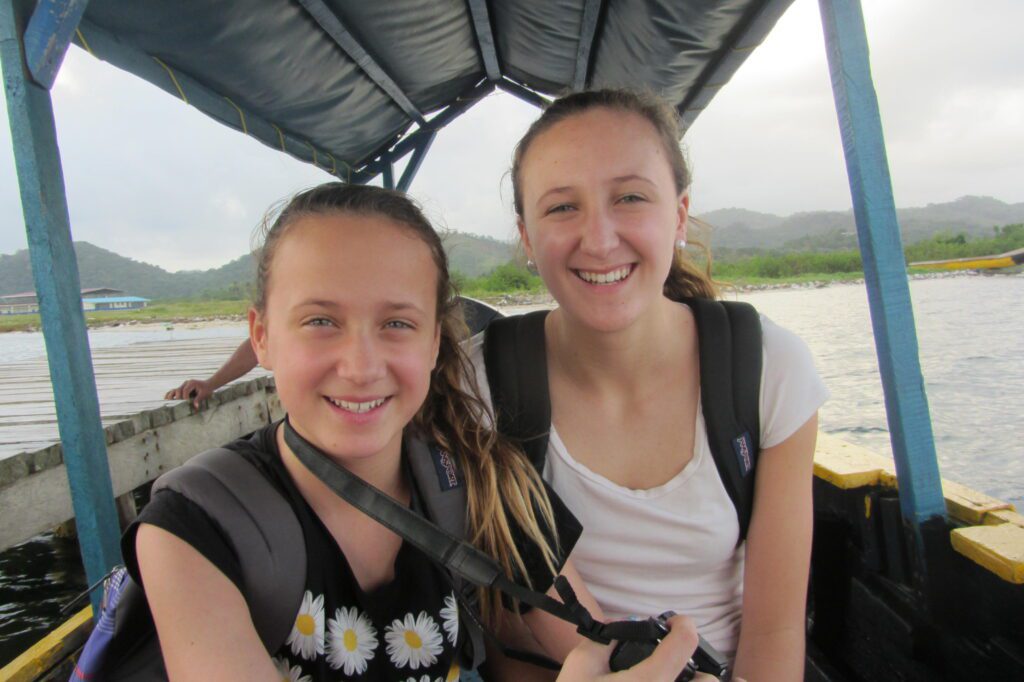 We spent five nights on our two acre island. Breakfast, lunch and dinner is included as there are literally no other options of places to eat. Alcohol is extra. Also included are two daily excursions, one in the morning and one in the afternoon. The water pressure is low and tepid and, the electricity goes off about 9pm. In 2013, there was no wifi or cell service; perhaps that has changed. It is VERY rustic here. We LOVED it. It was so nice to really disconnect completely from civilization and just enjoy Mother Nature.
The girls stayed in one over water bungalow and we stayed in another. The bungalows were enormous with mosquito netting, huge decks, large bathrooms and comfortable beds. We thoroughly enjoyed our rooms.
The food was Panamanian with many fresh vegetables and freshly-caught fish. Portions are on the smaller side, but we were fine. We also brought some snacks in our luggage. They had beer, wine and liquor you could purchase for reasonable prices.
Yandup Island Lodge was a unique experience and a great adventure. We loved it. We stayed five nights, arriving at 7am in the morning and departing five nights later at 6:30am. Honestly, four nights is probably plenty as the excursions begin to repeat every four days. On our last day, we sat and read on the idyllic beach all day. Bliss.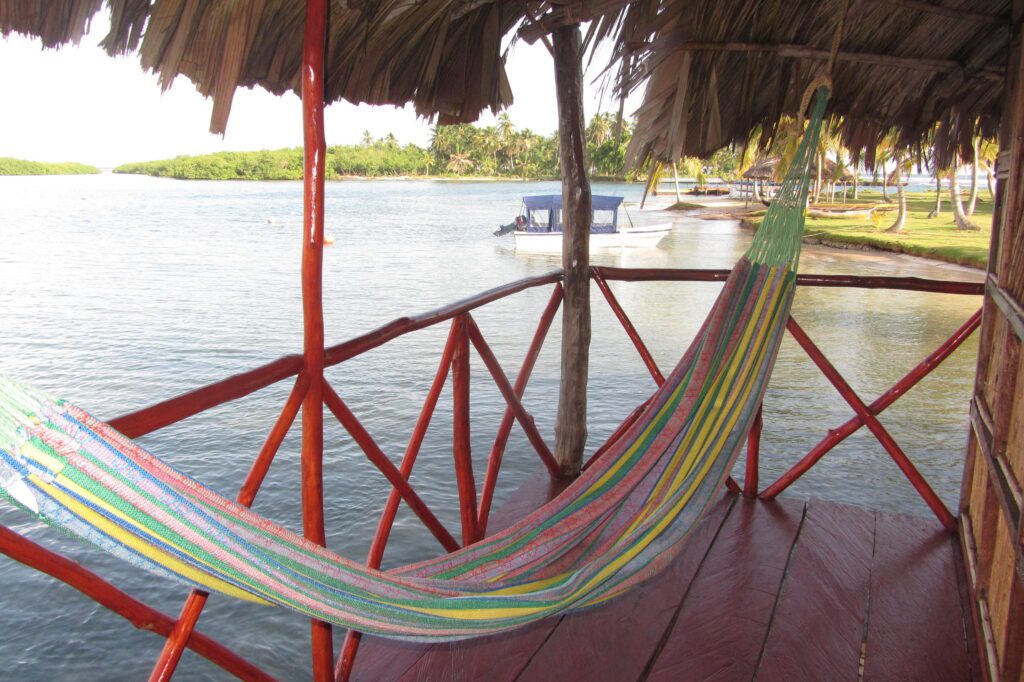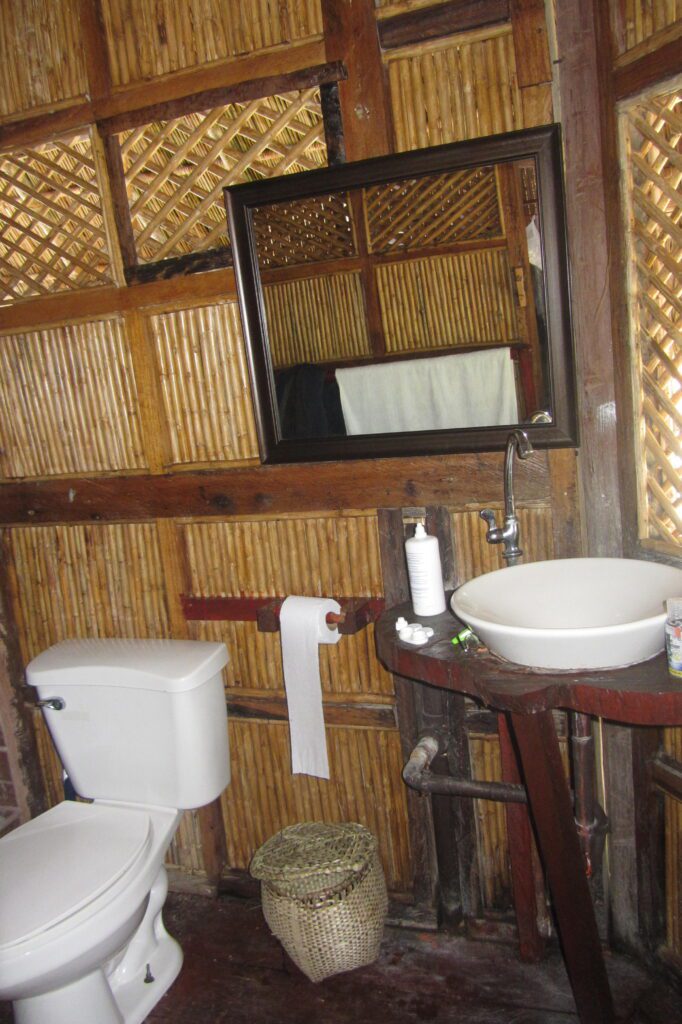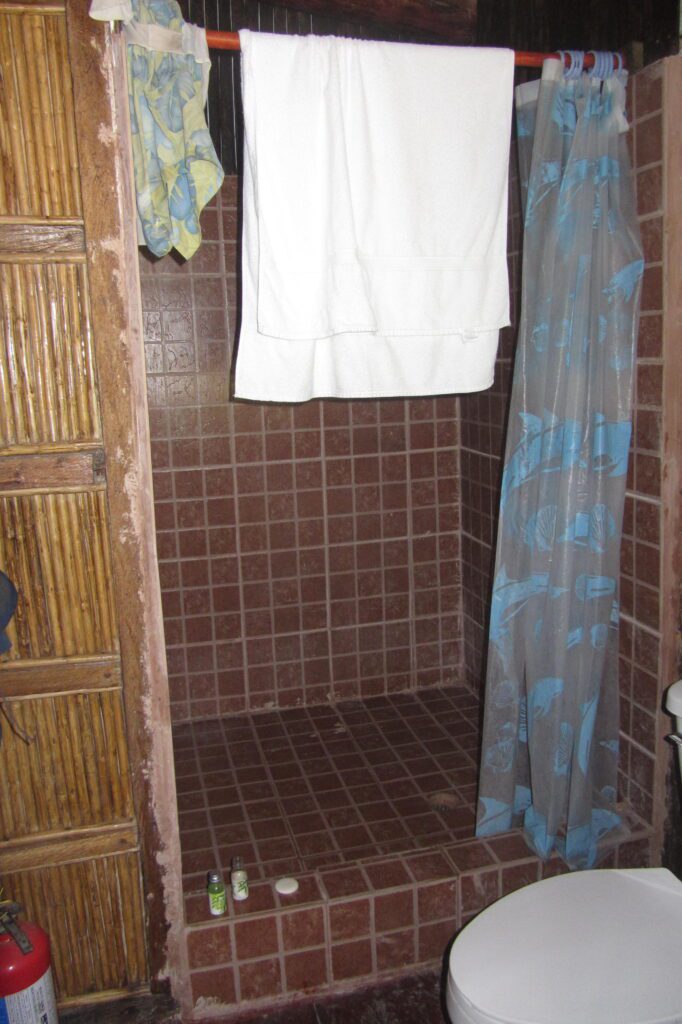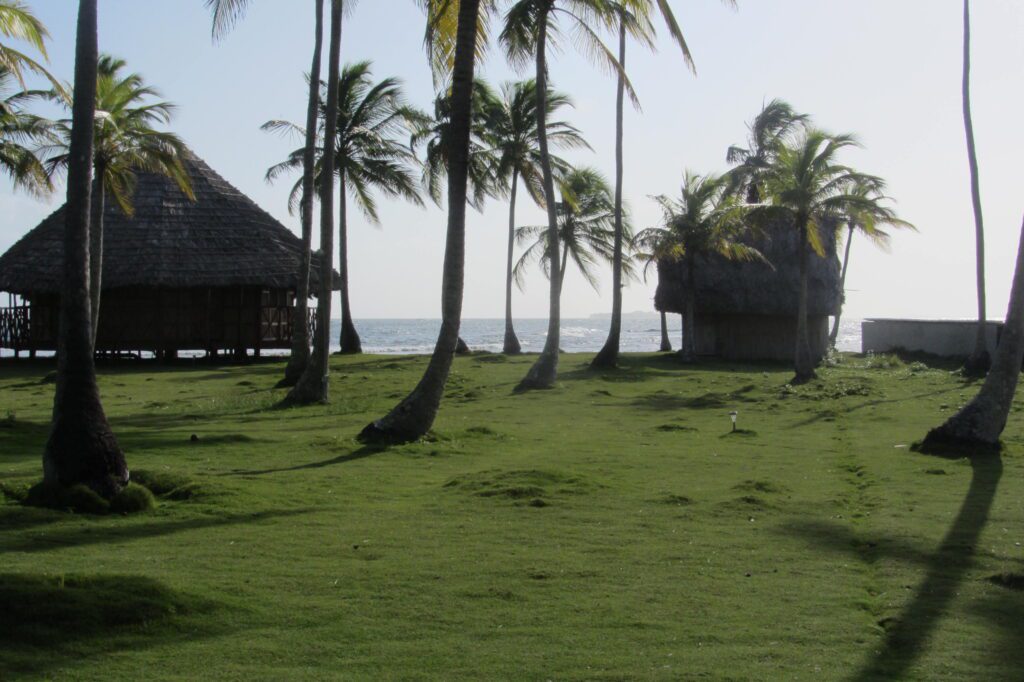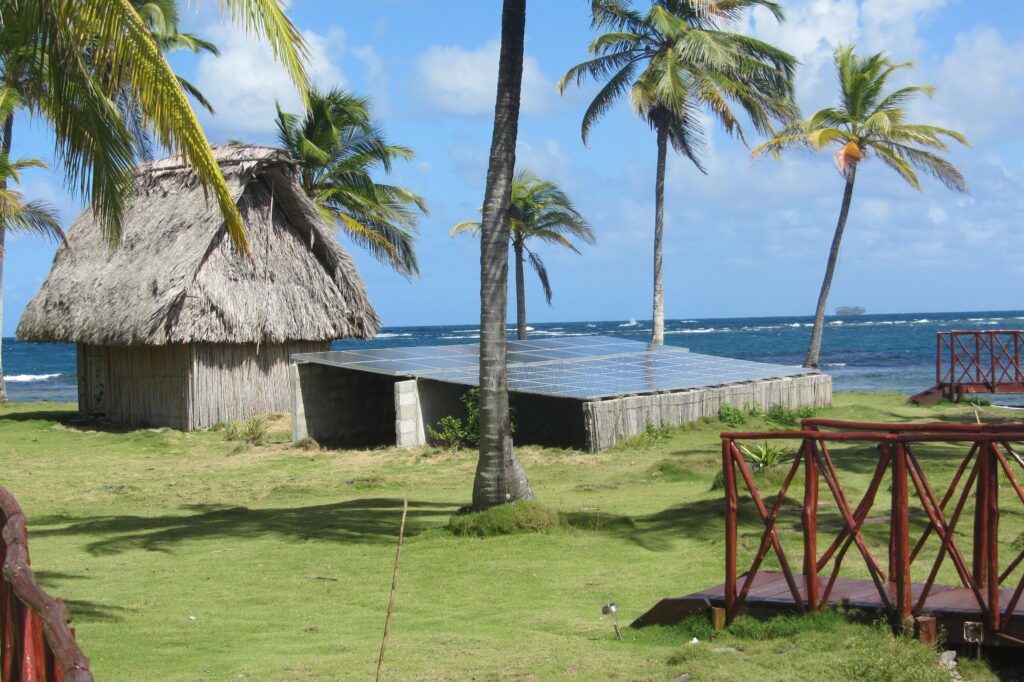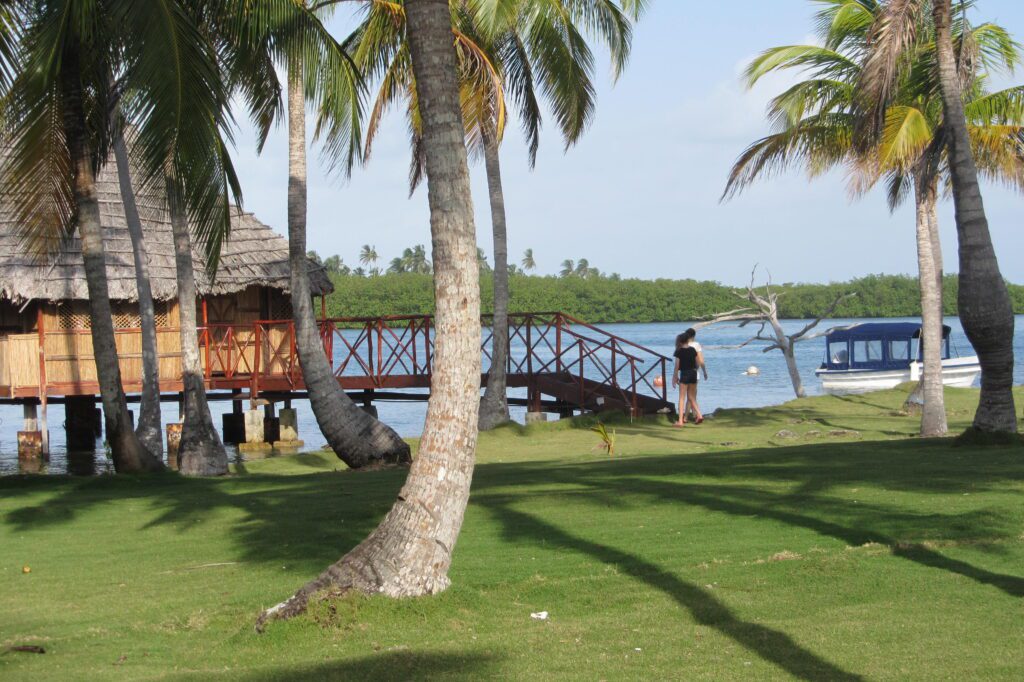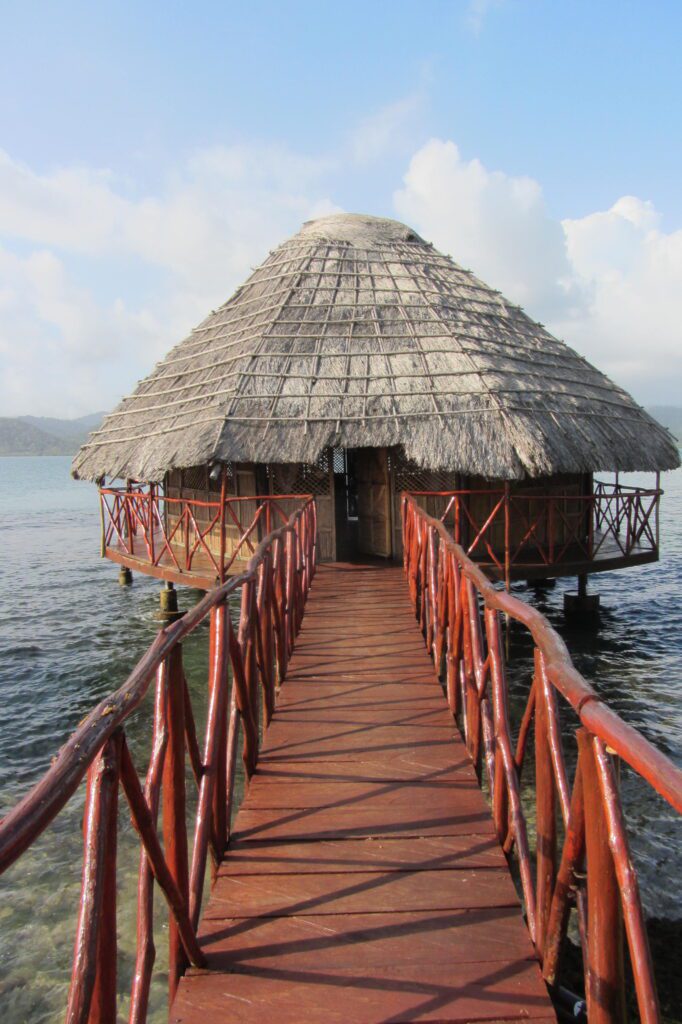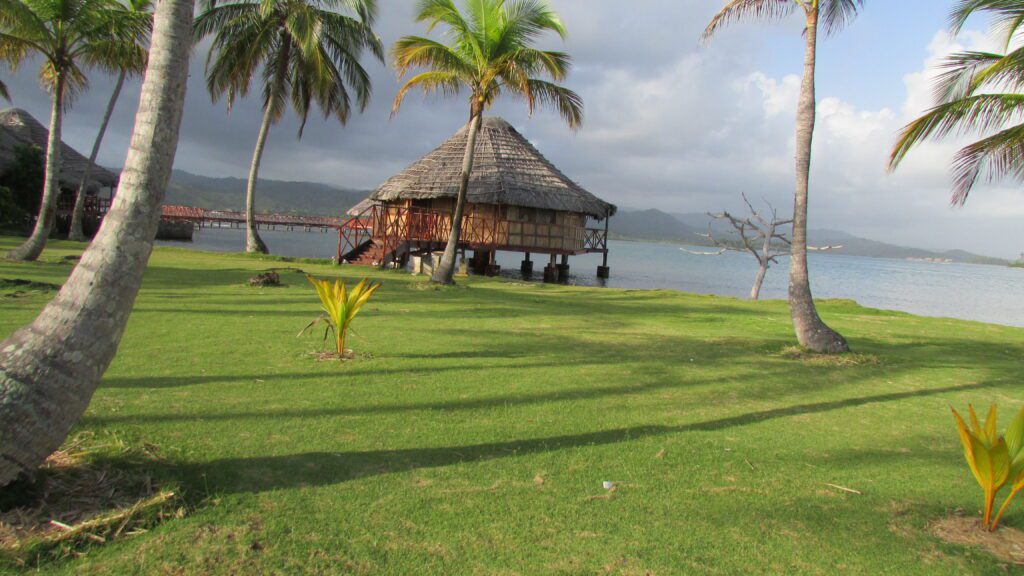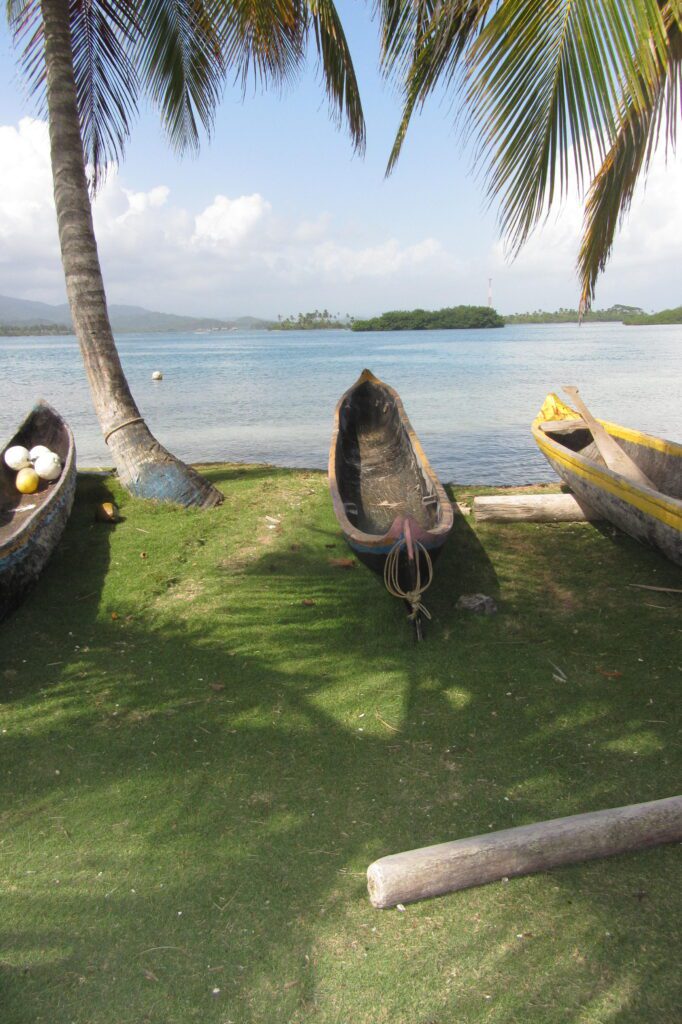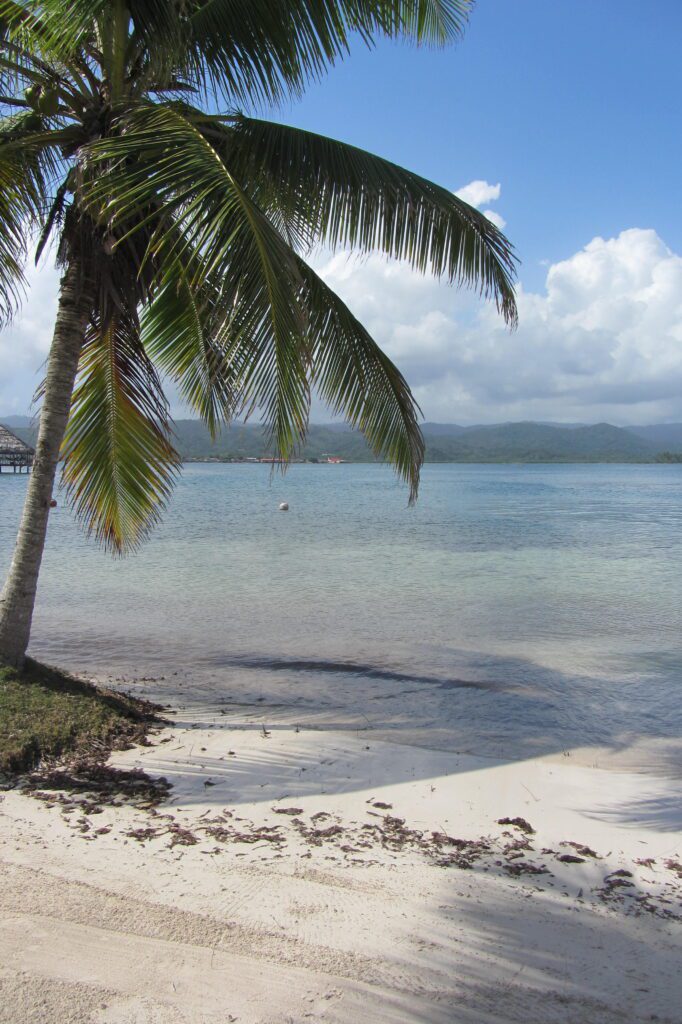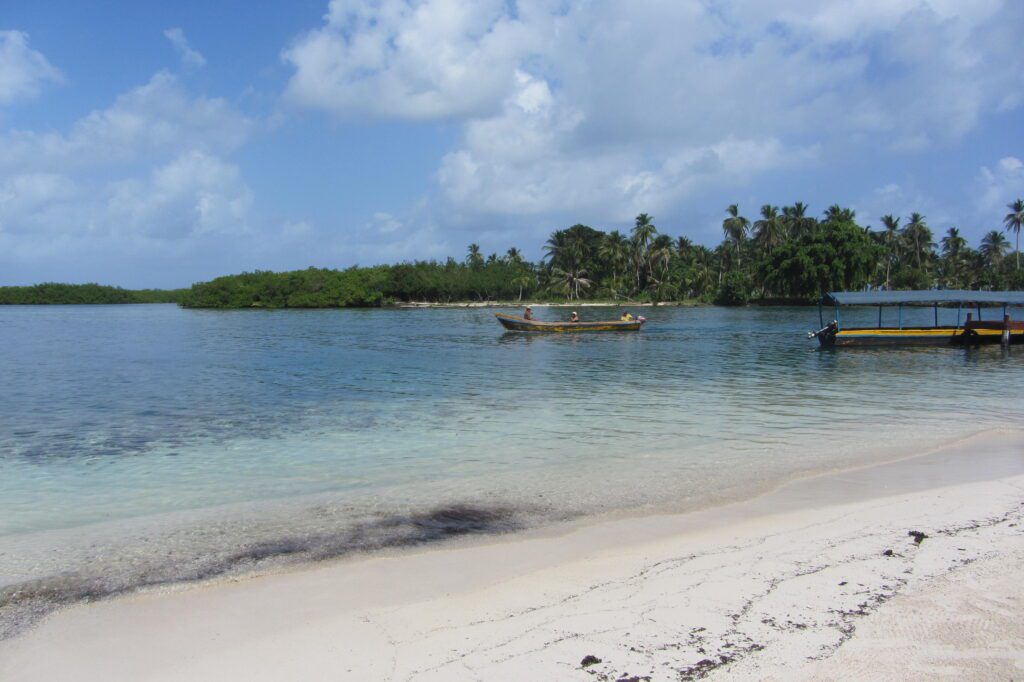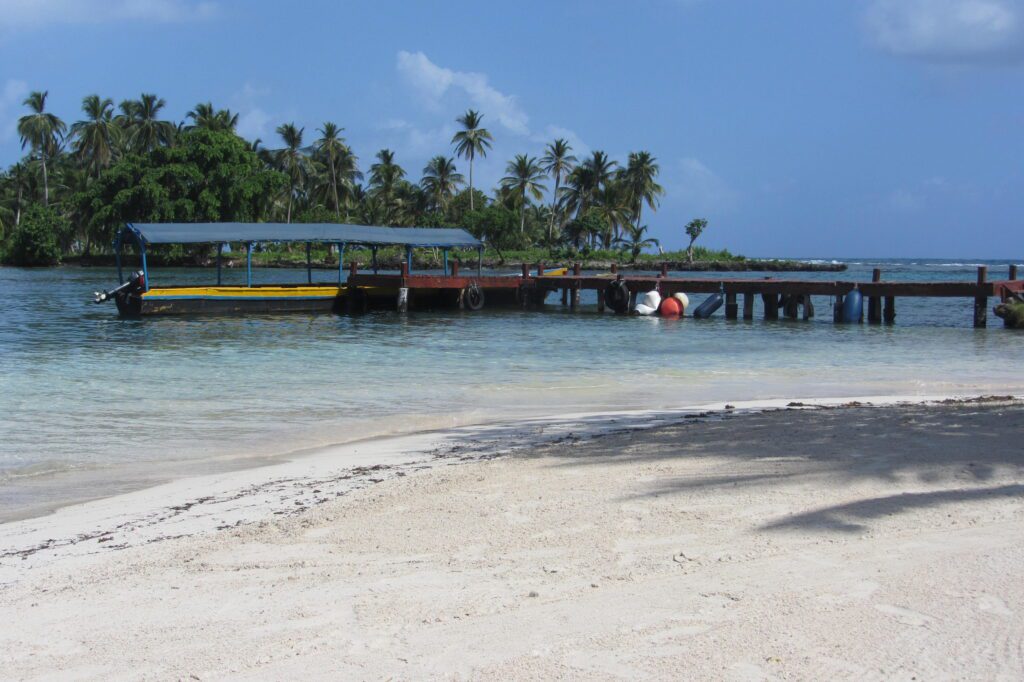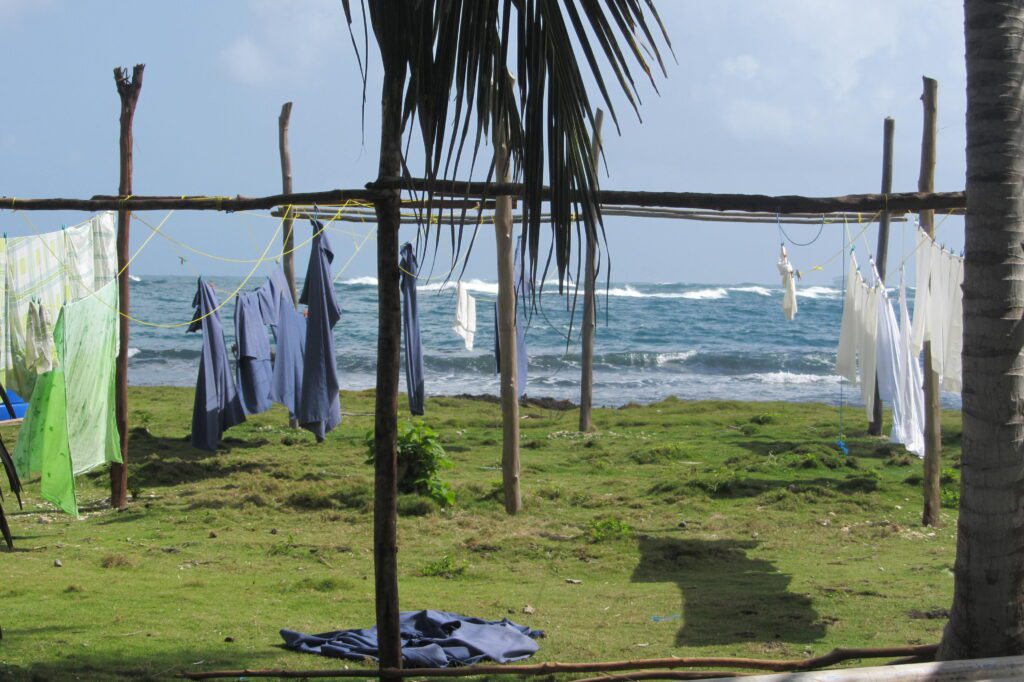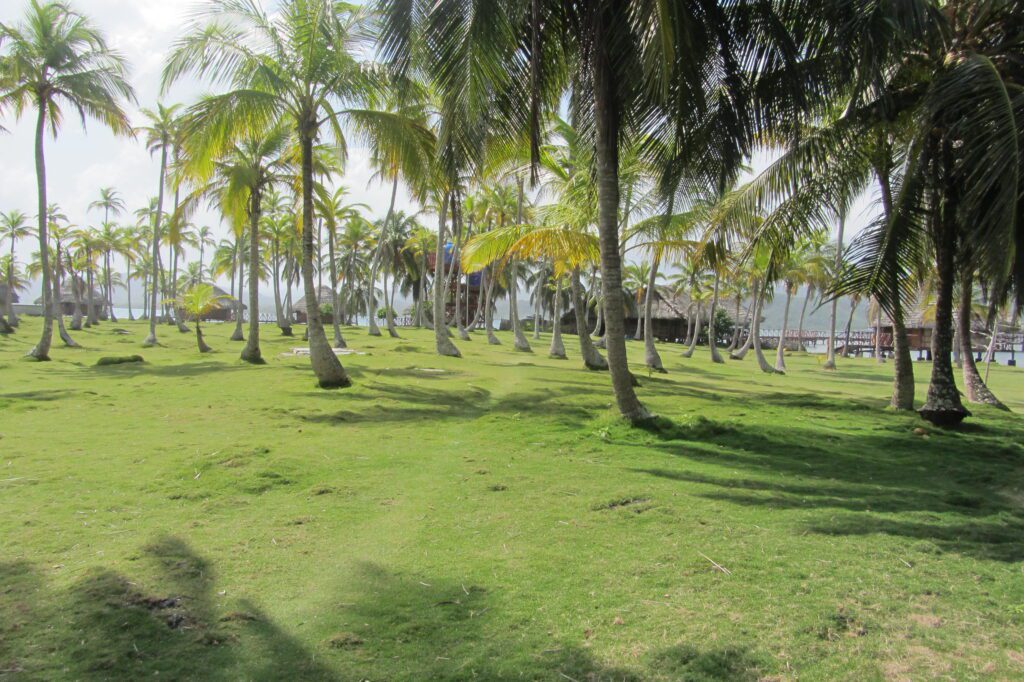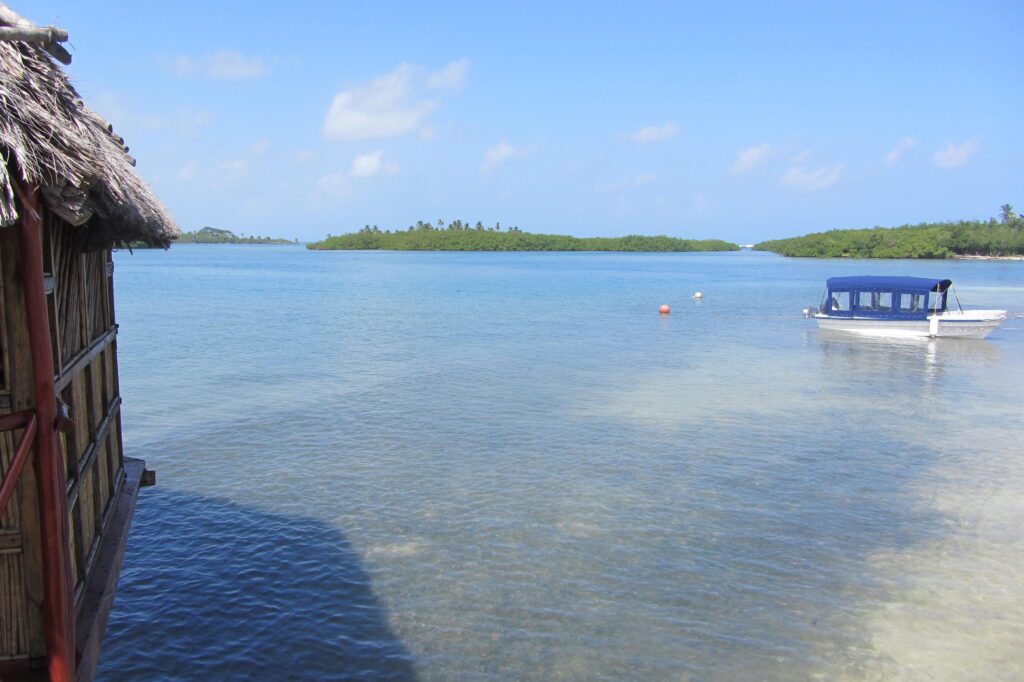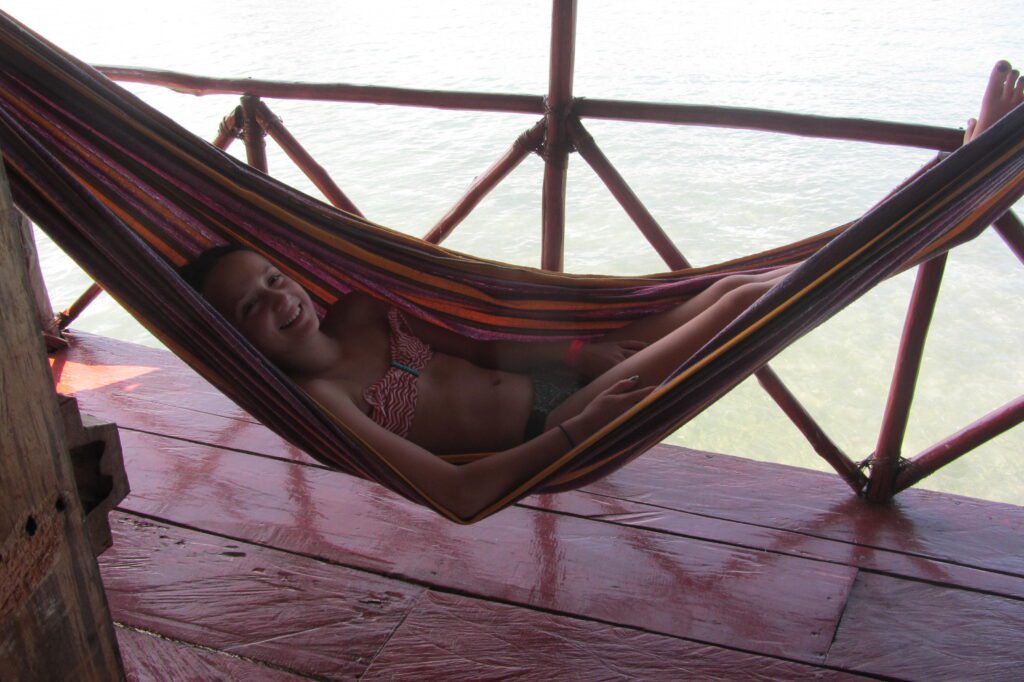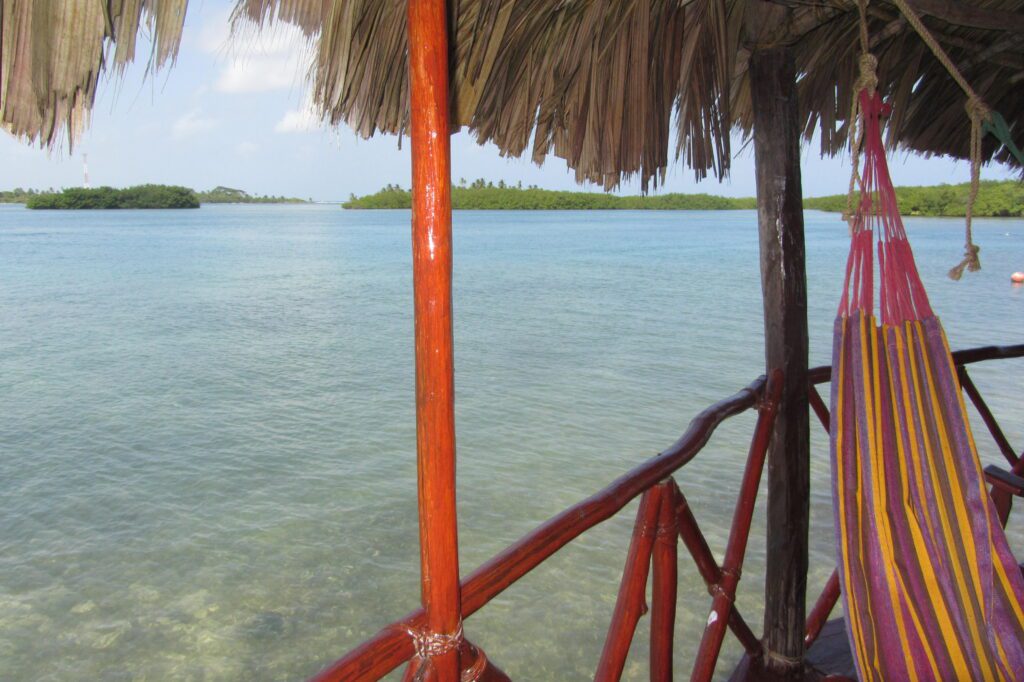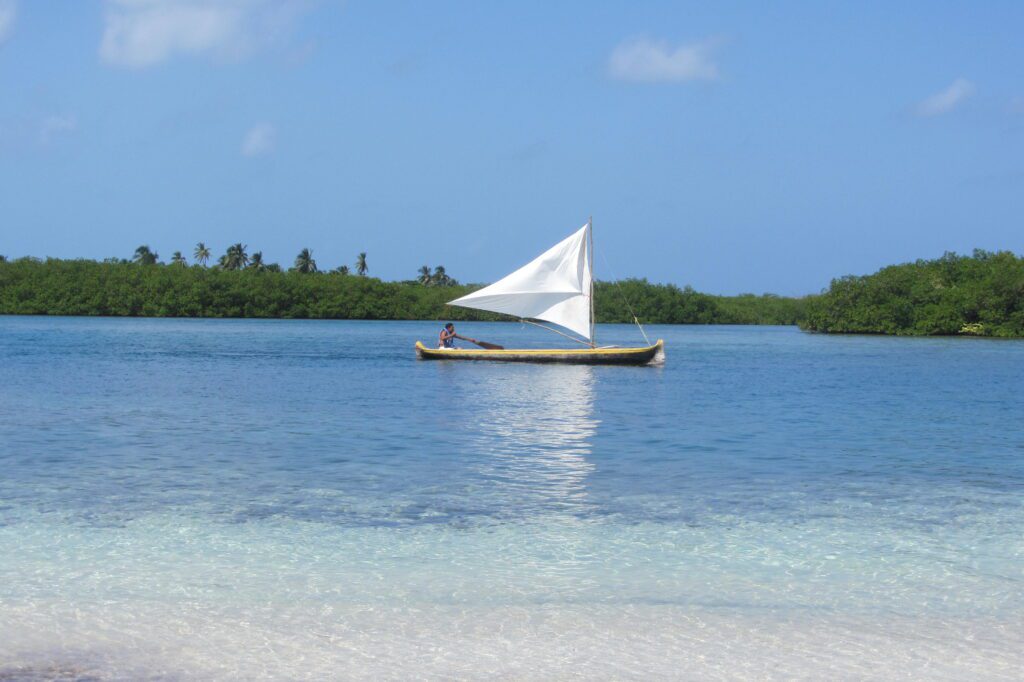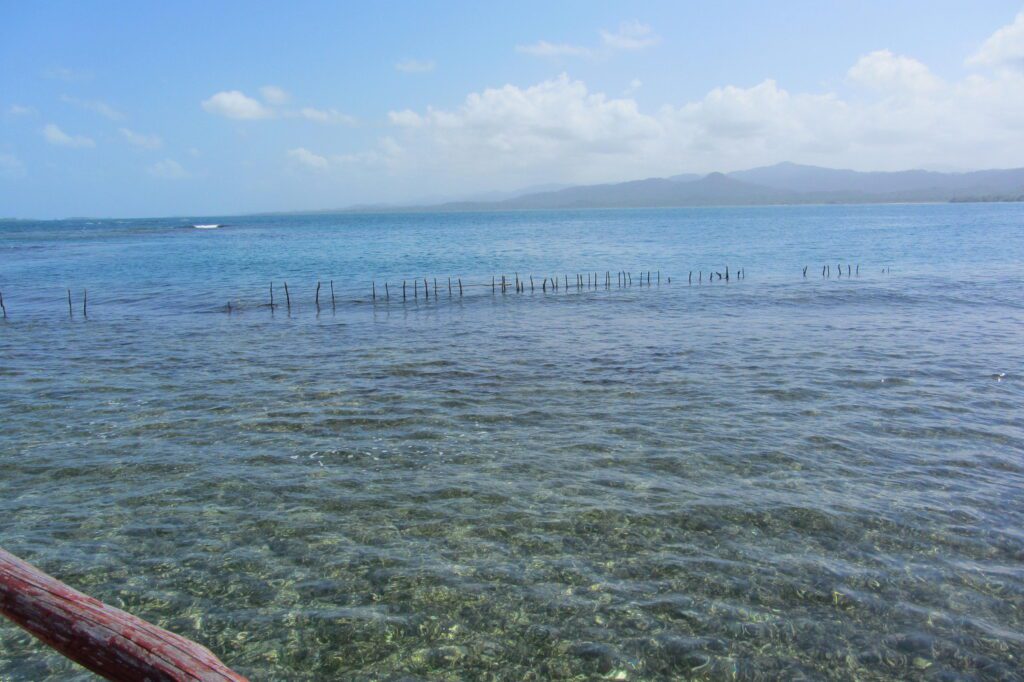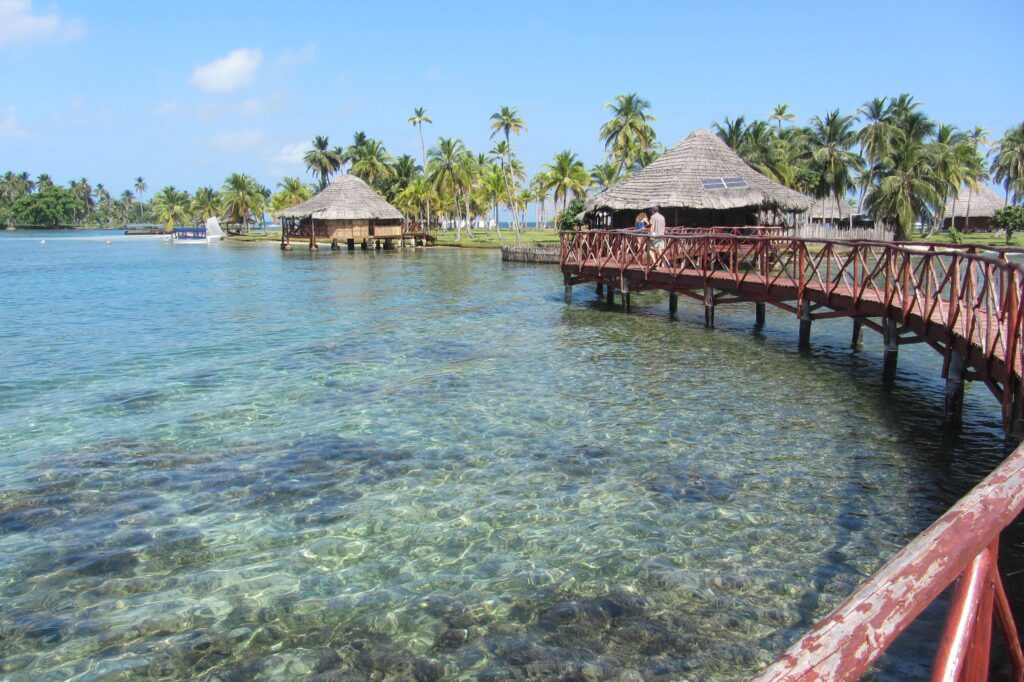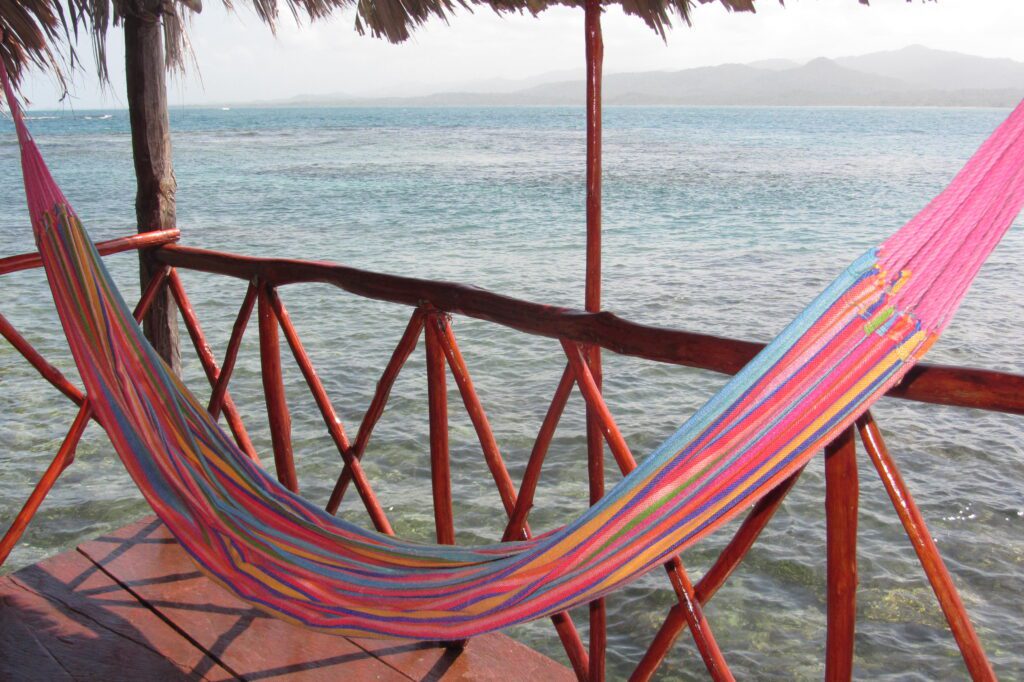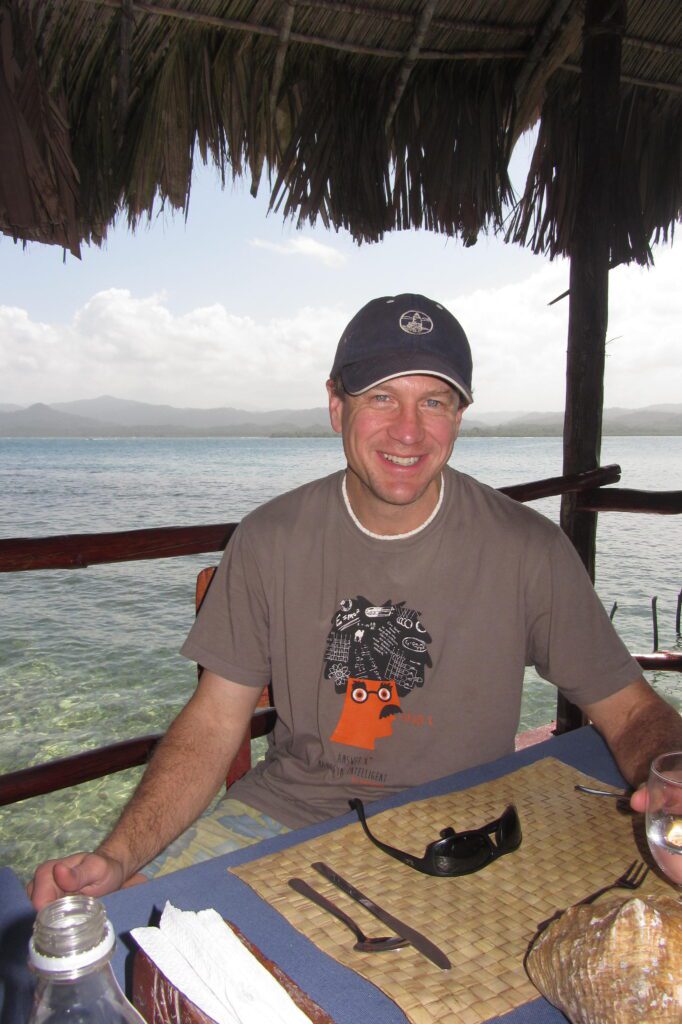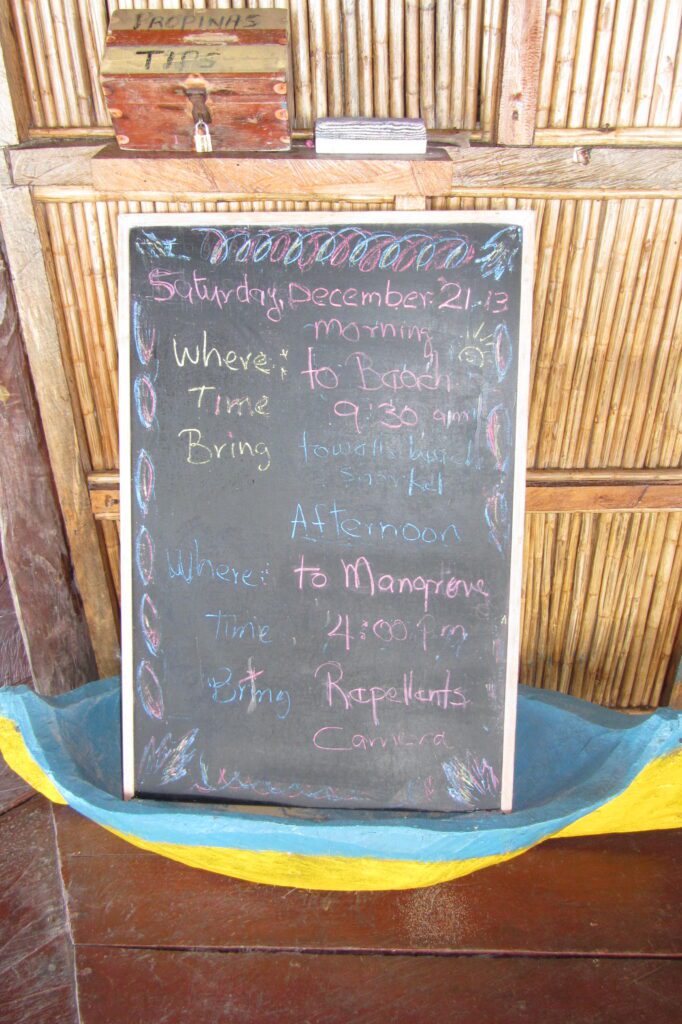 Excursion to the Mangroves
After a delightful breakfast, nap and lunch, we set off for our afternoon excursion to the mangrove forest on a neighboring island. We learned how the local Kuna people (the world's smallest people) use mangroves for medicine. We also saw sea urchins , sea stars, hermit crabs and sea cucumbers. We returned at sunset to the call of the conch, telling us dinner was served.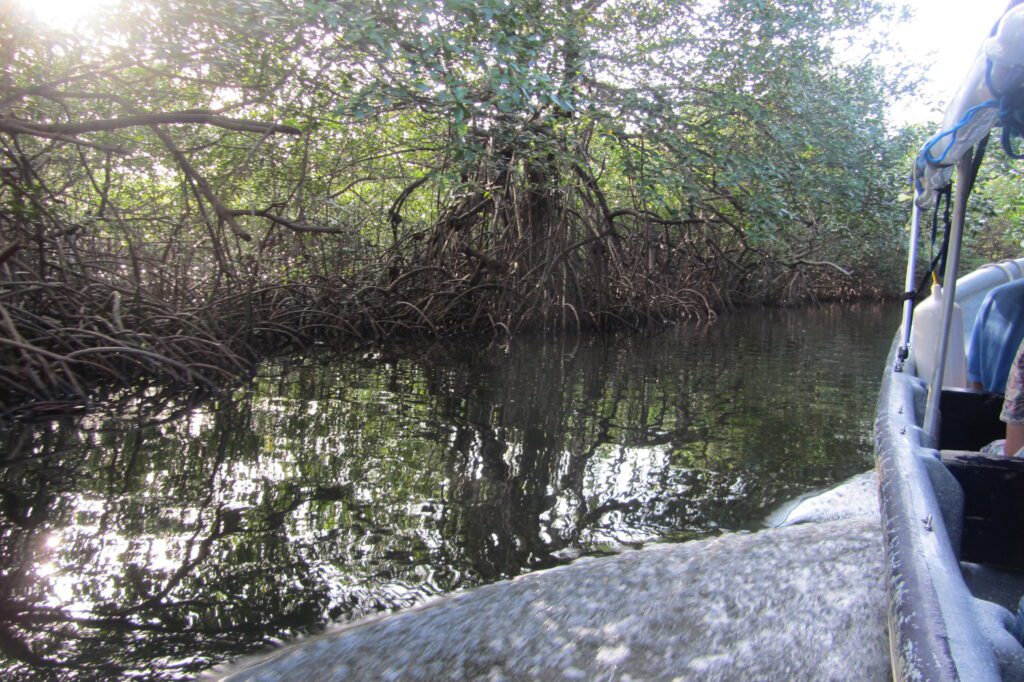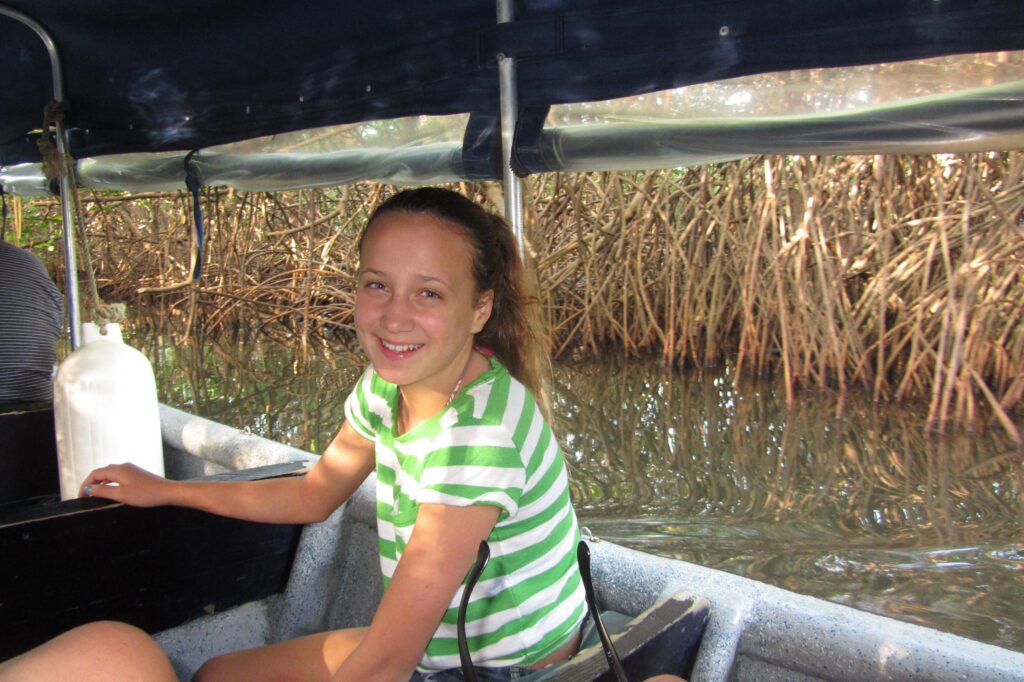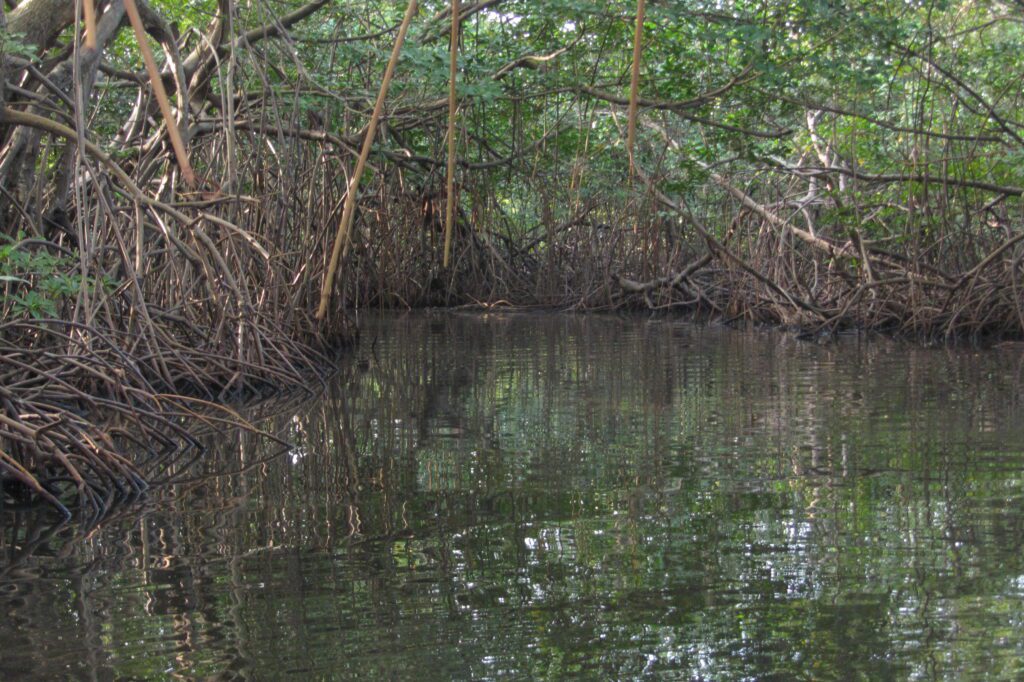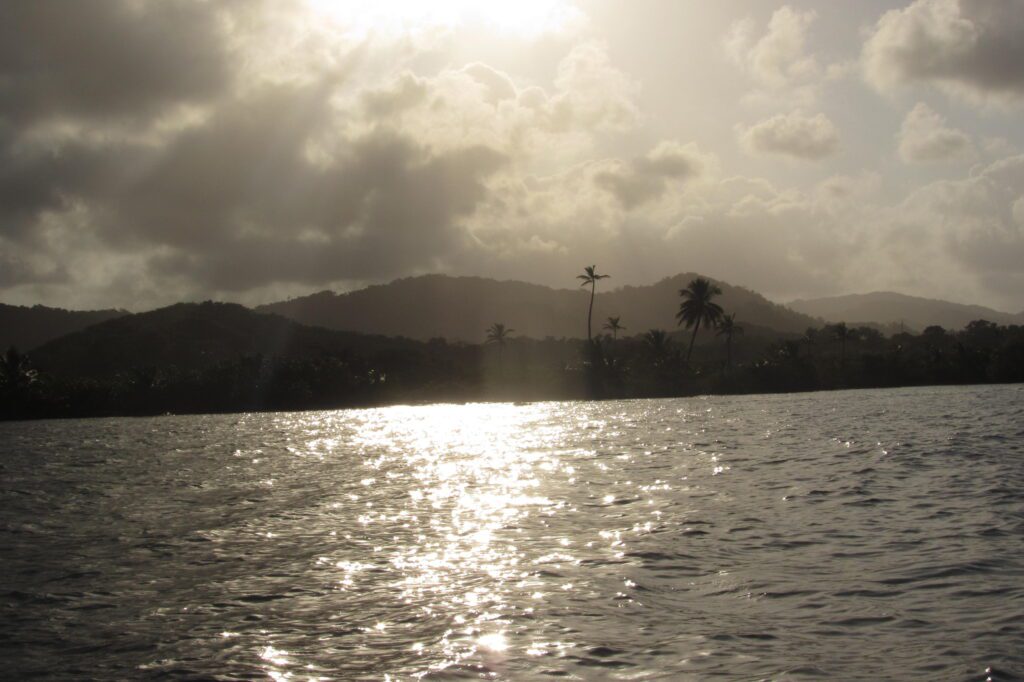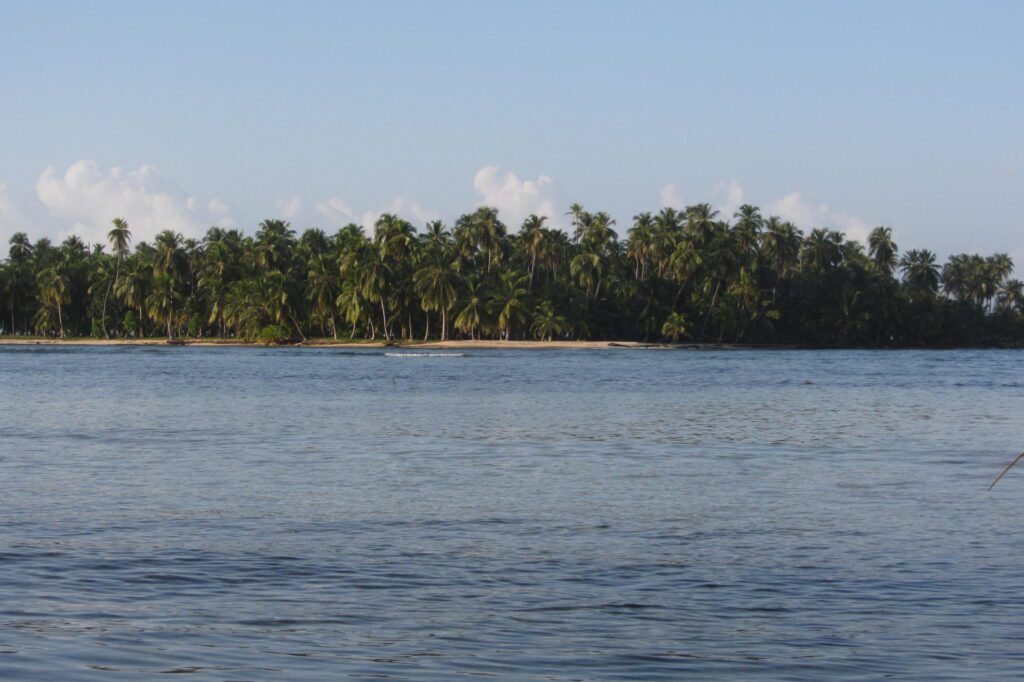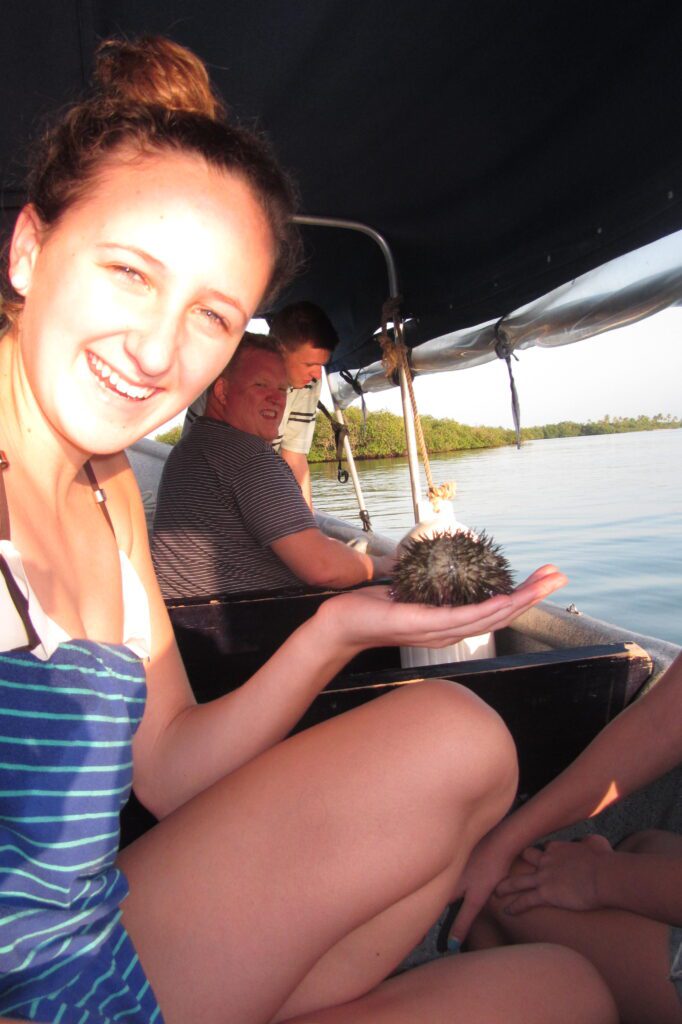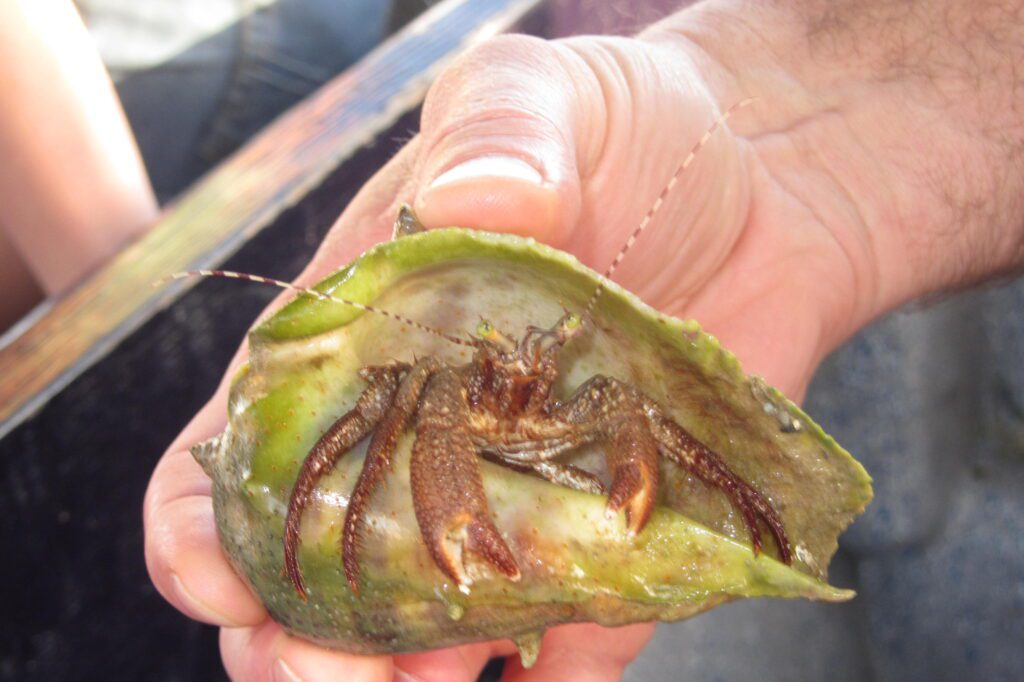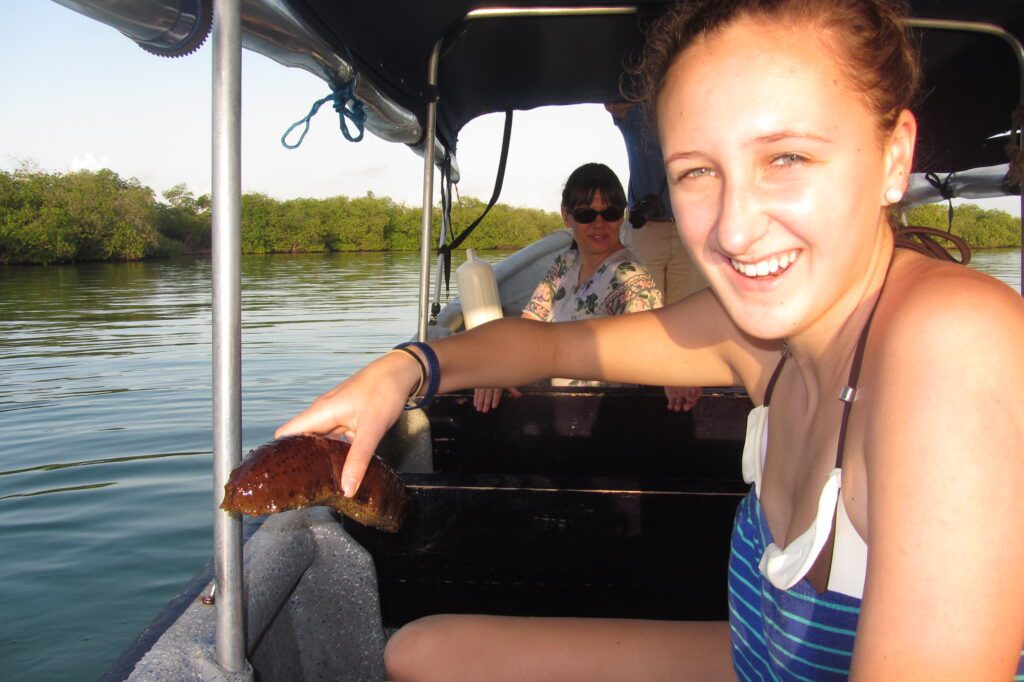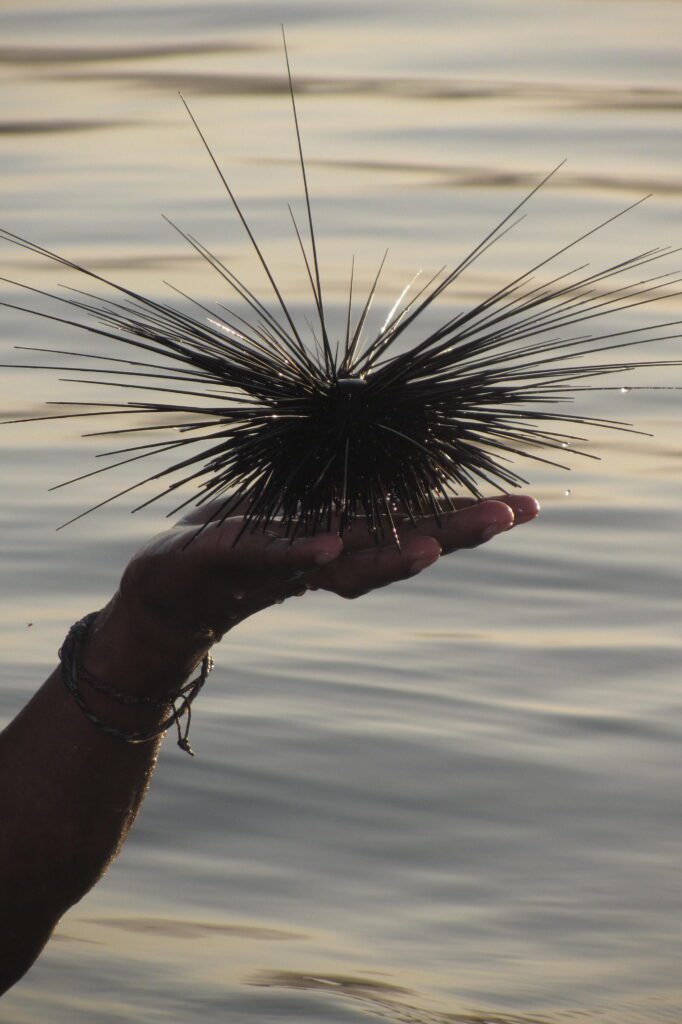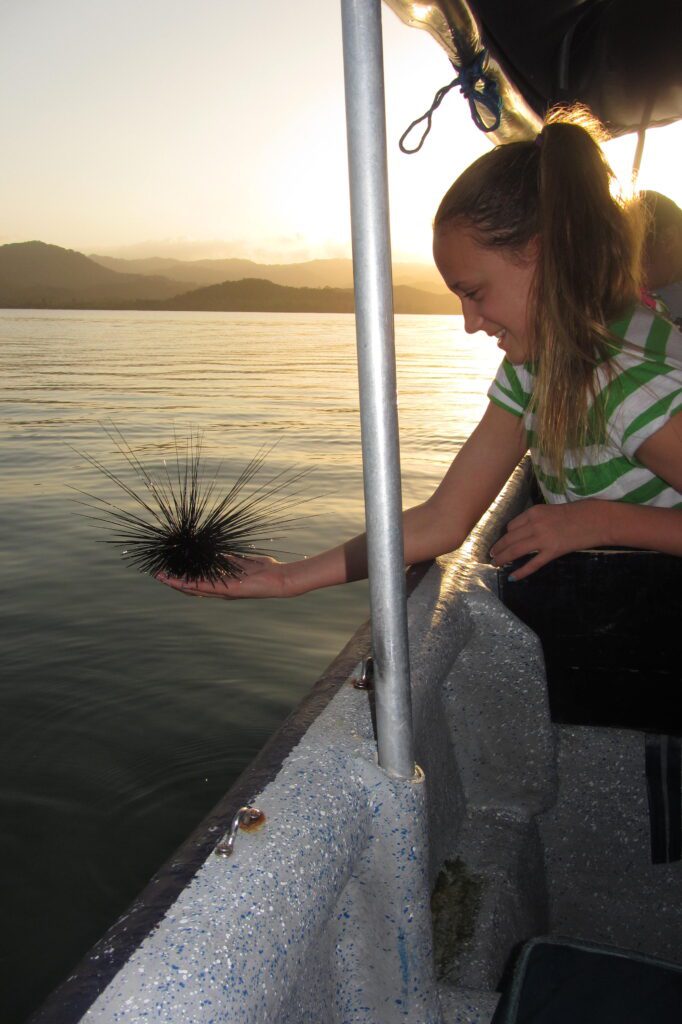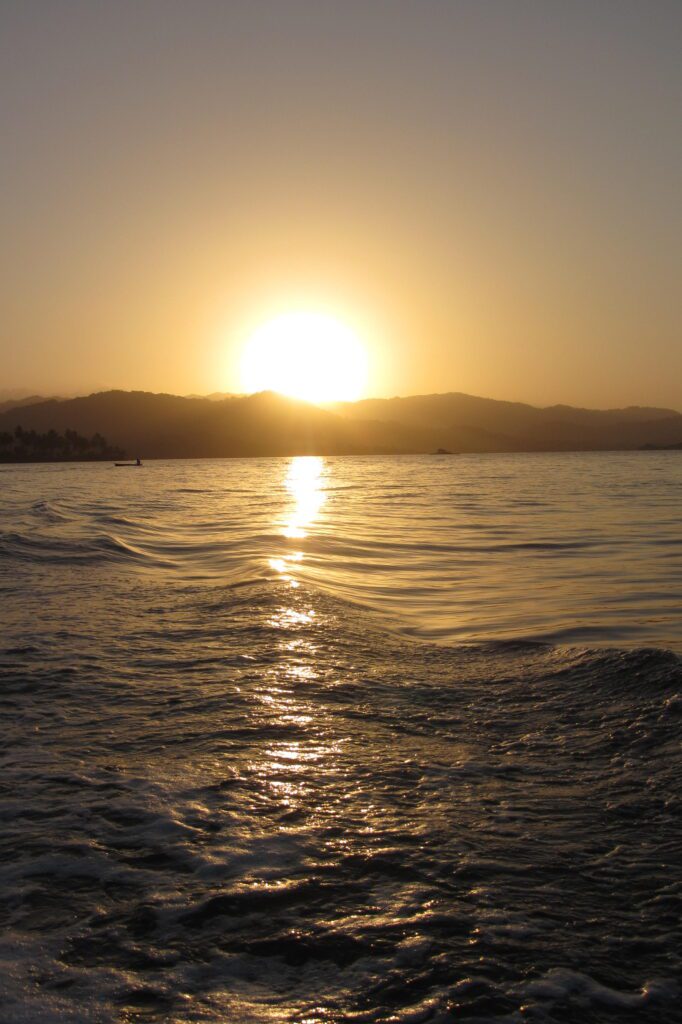 Morning Excursion to a Remote Beach
On our first full day on the island, we enjoyed a delicious breakfast. We headed out to Diadup (dup is Kuna for island) for swimming , snorkeling and reading on a deserted beach. The only thing missing was chairs! We enjoyed our visit and the sheer beauty of the place.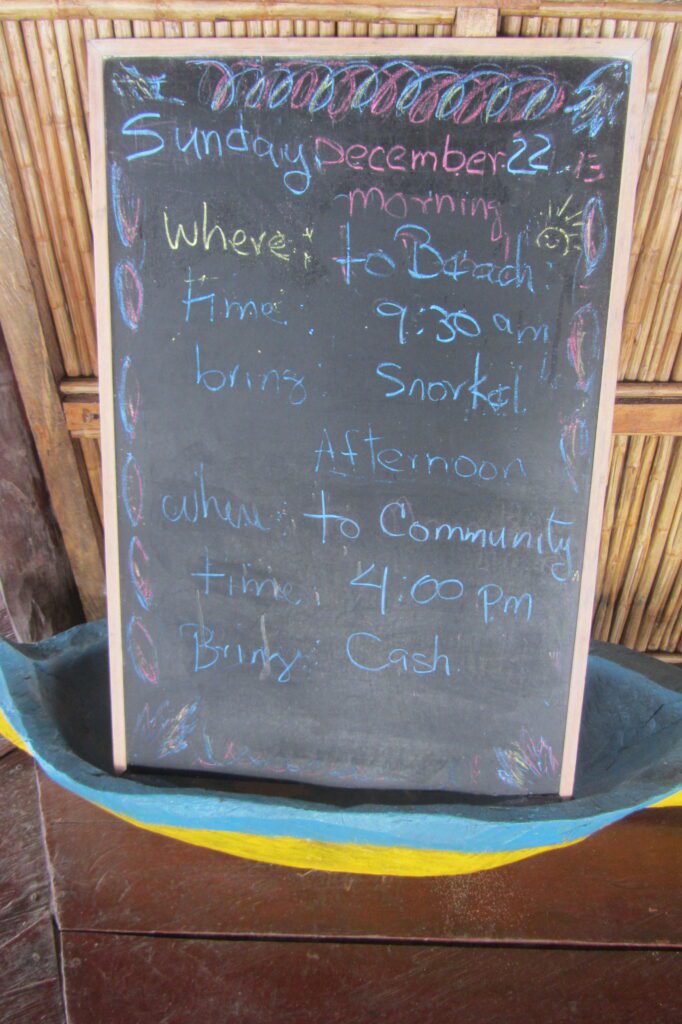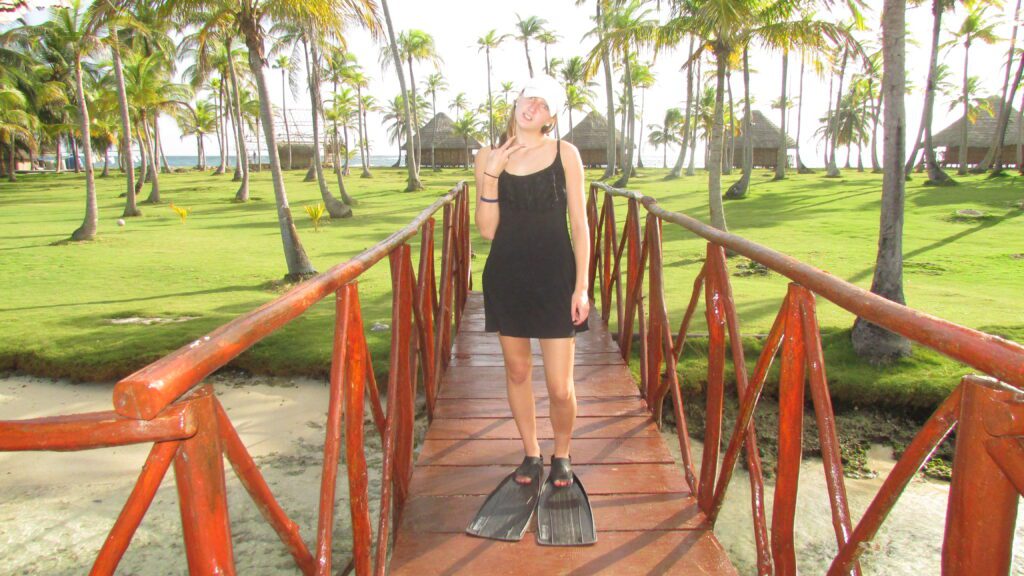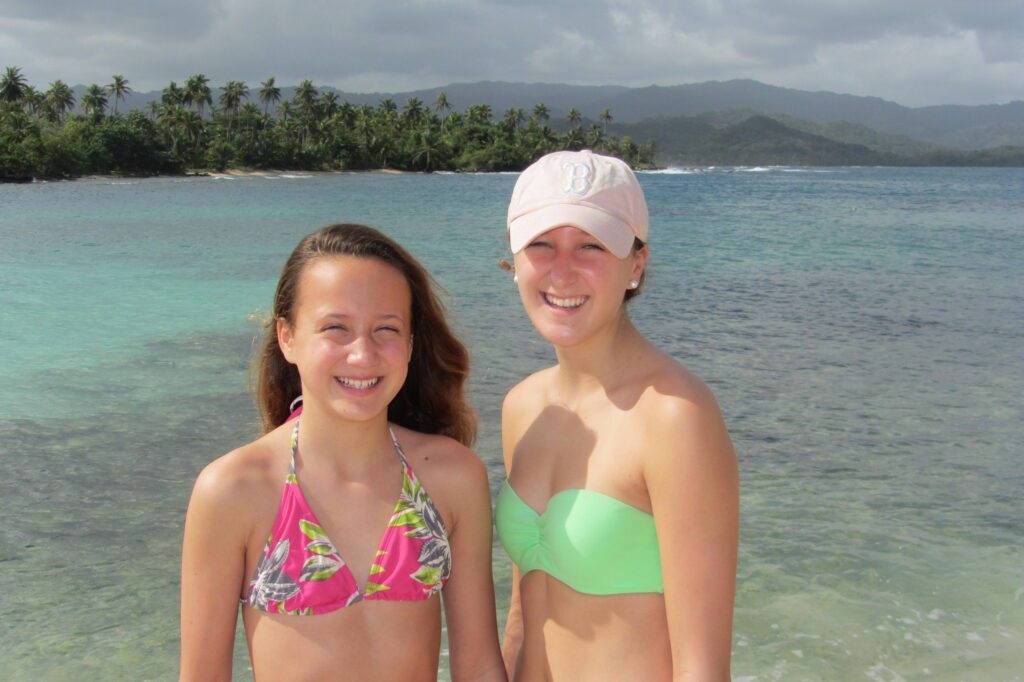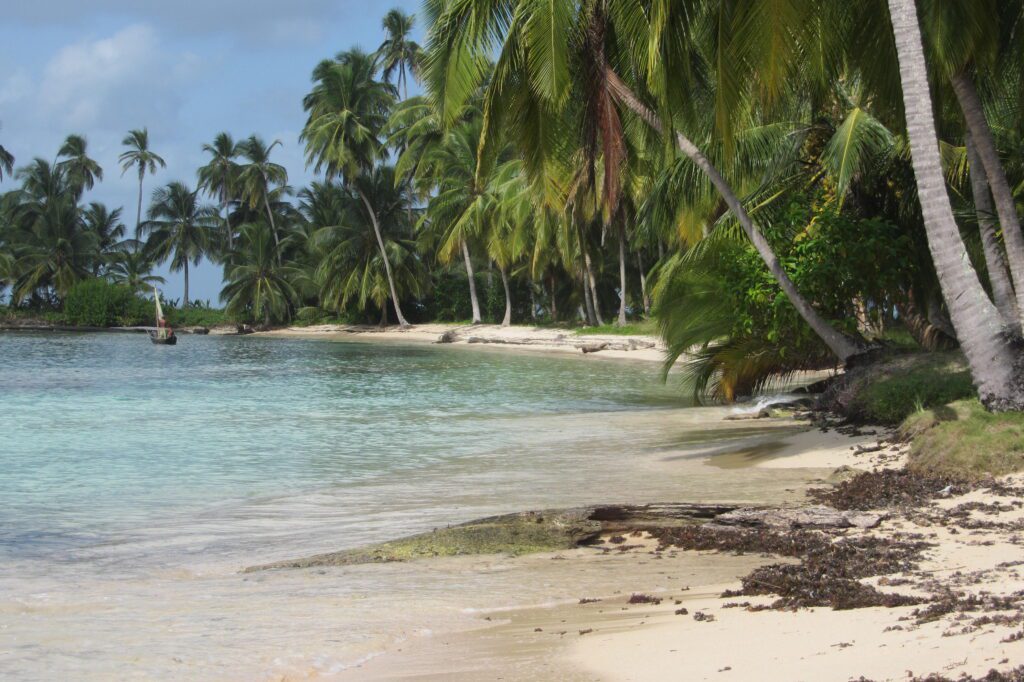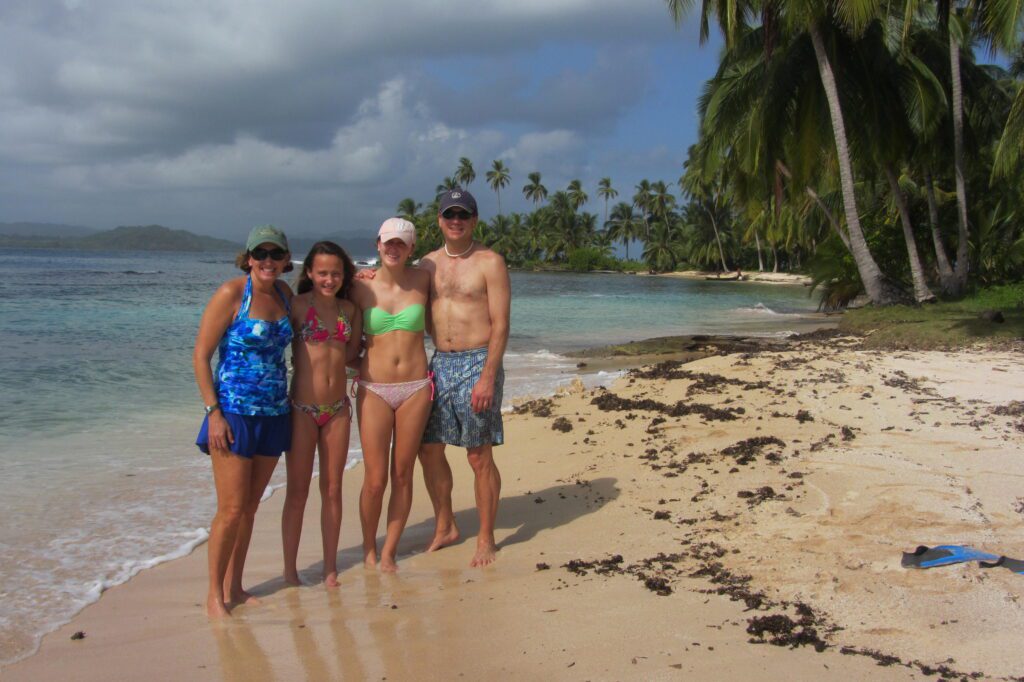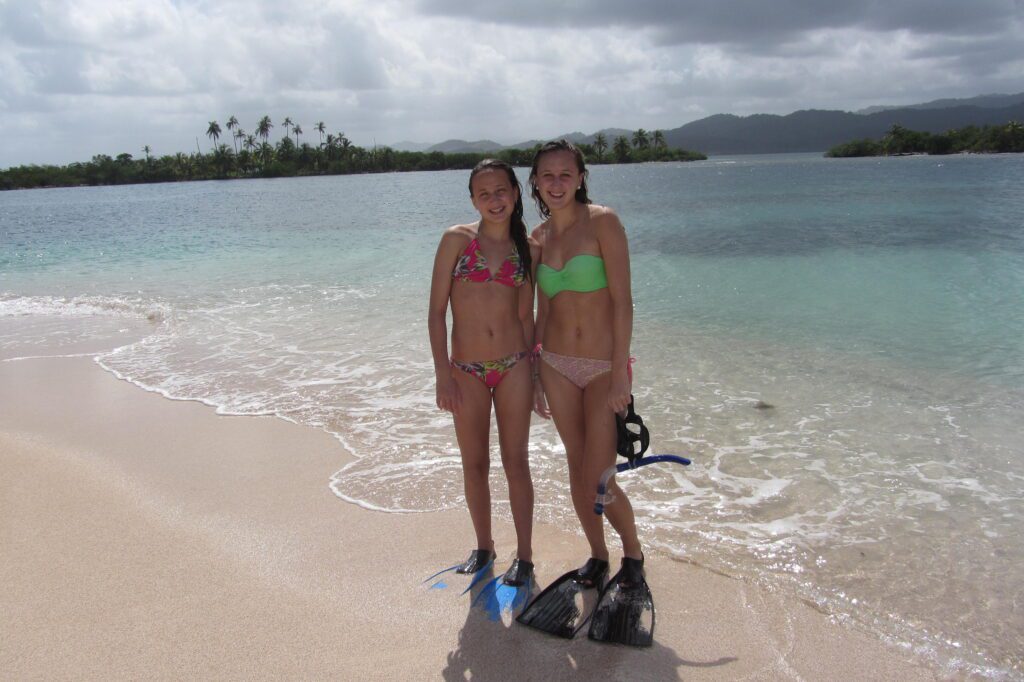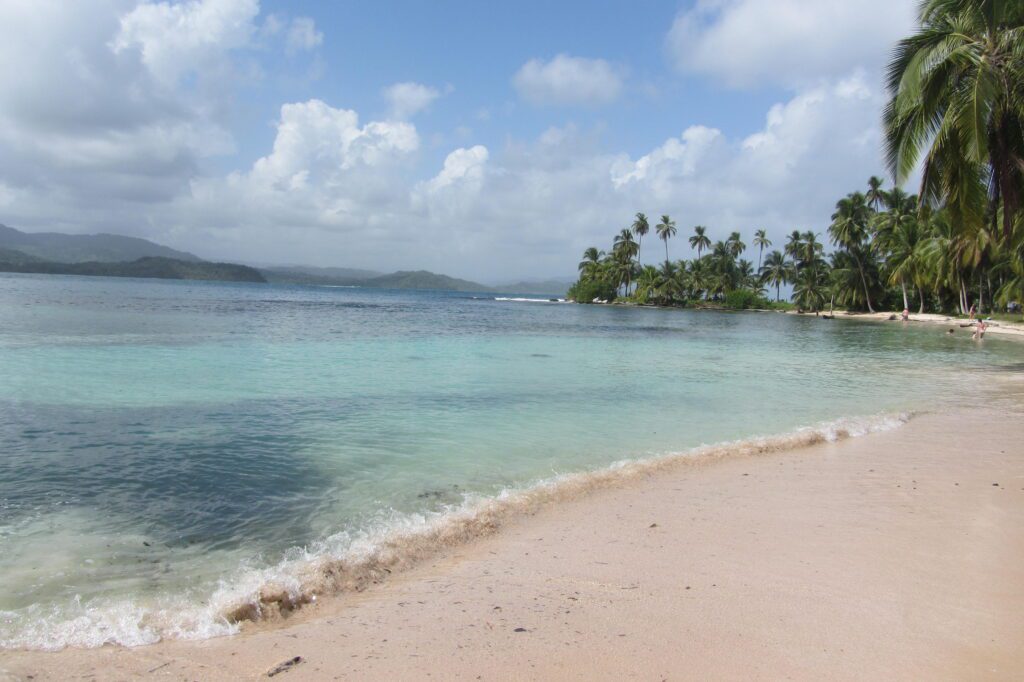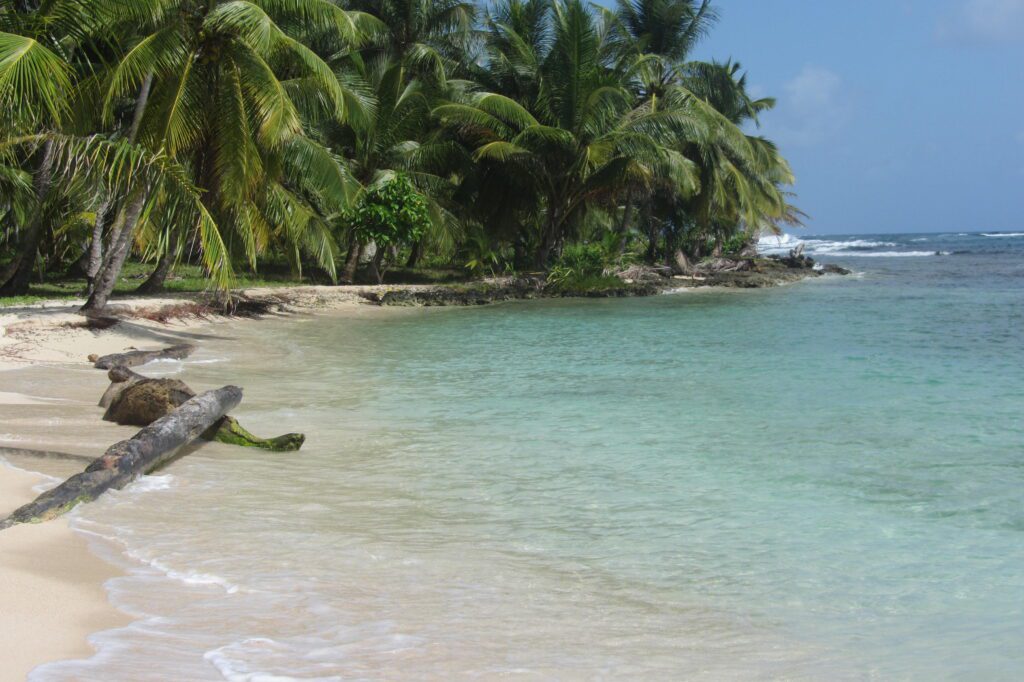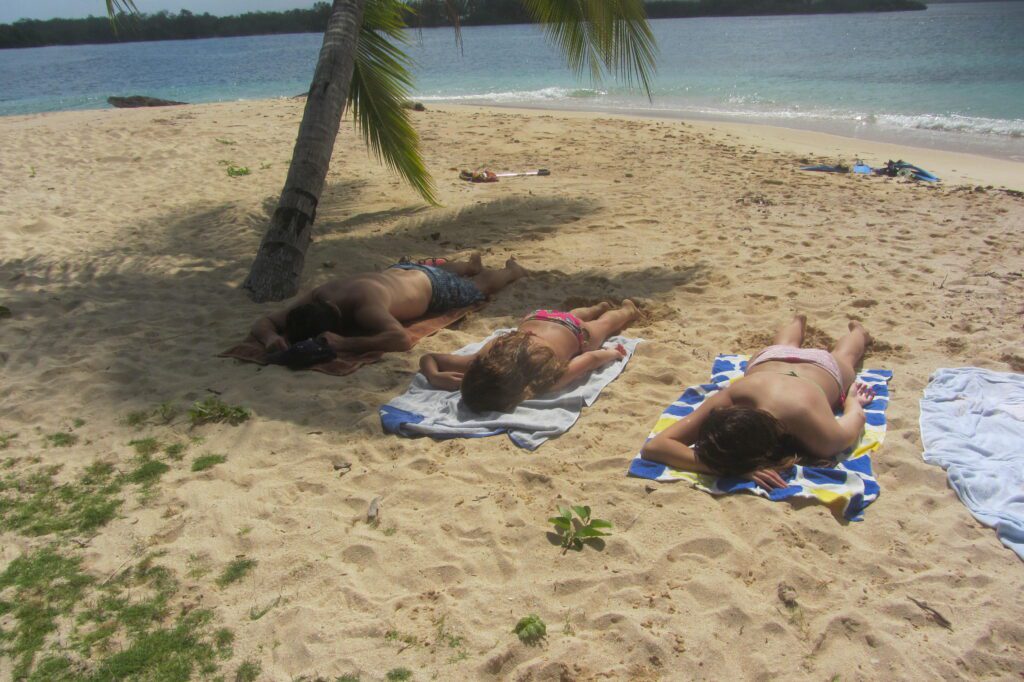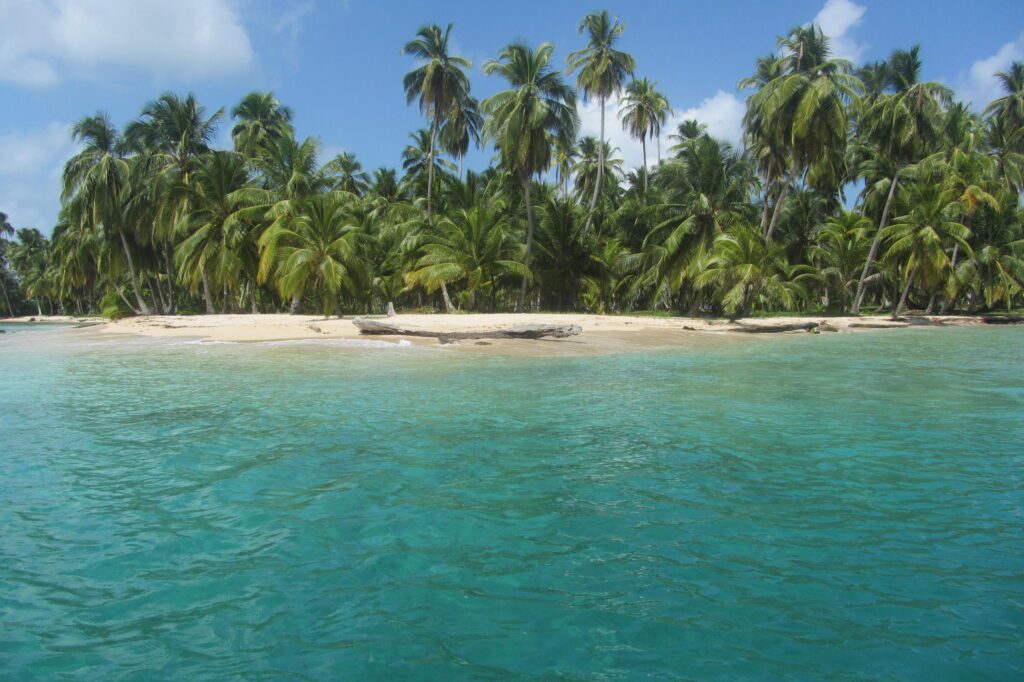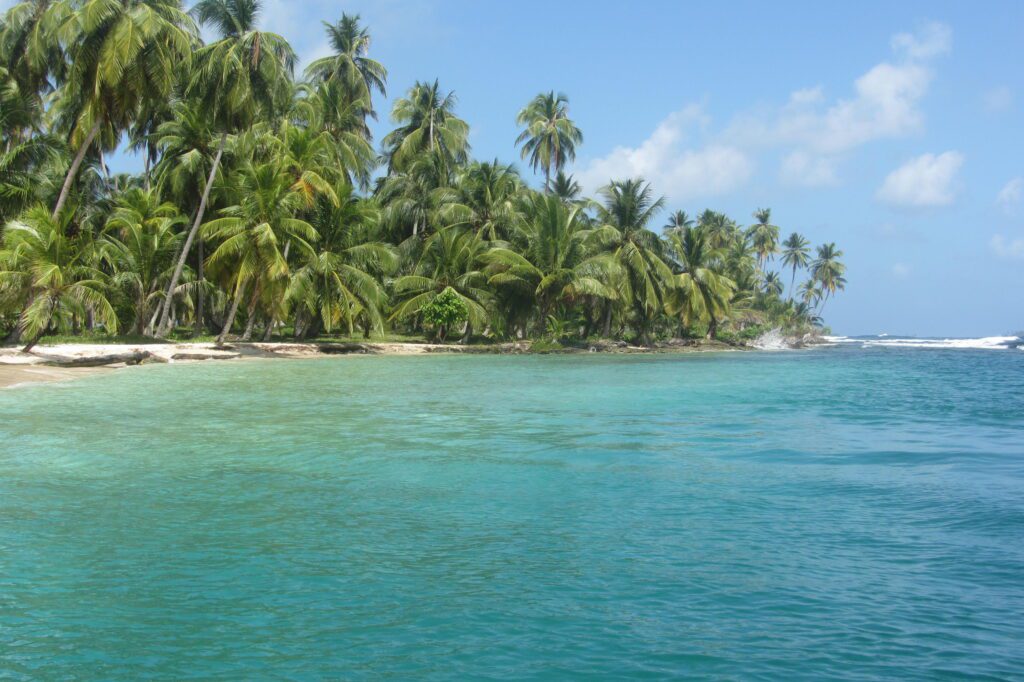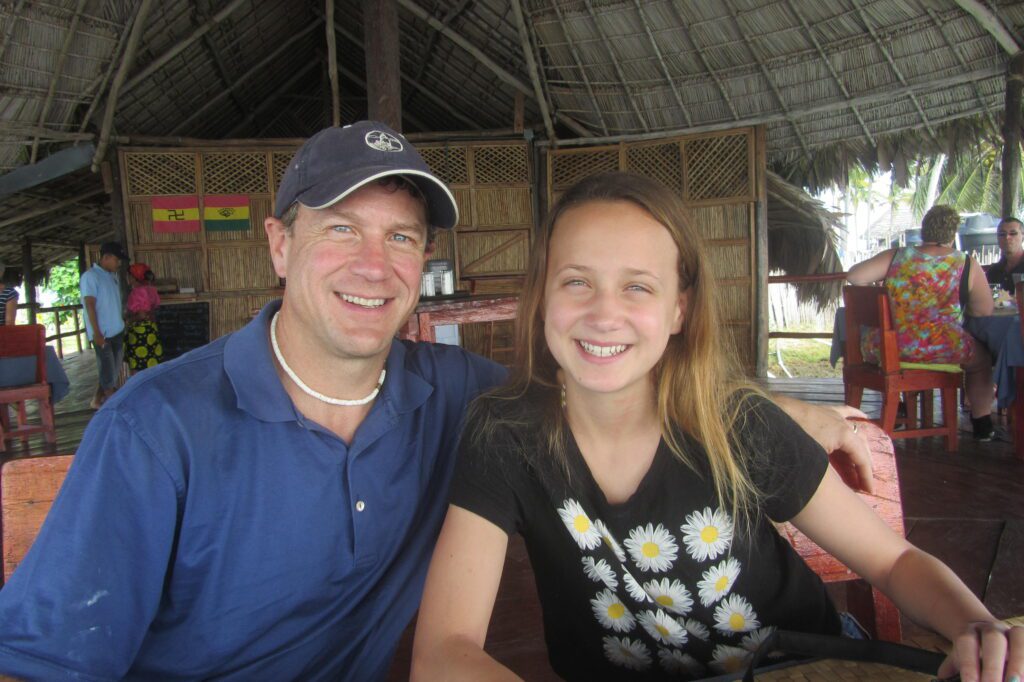 Heading to the Community
Our afternoon was spent visiting the local community on Achudup. The locals do no want you to take their photos. The village was alarmingly poor and the trash was overwhelming. We never saw an actual store, so we have no idea where they get the water bottles that were everywhere. The Panamanian government really needs to send trash boats to these communities regularly to help with this problem. Local women sell mola designs that you could make into pillows upon your return home. Small bracelets are also for sale. Yandup Island Lodge helps them with clean up several times a year.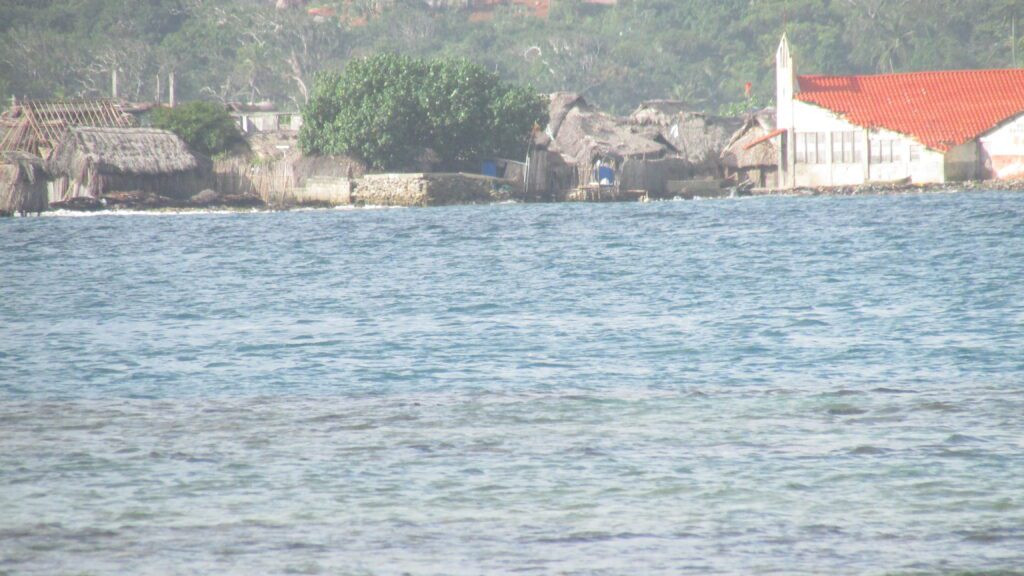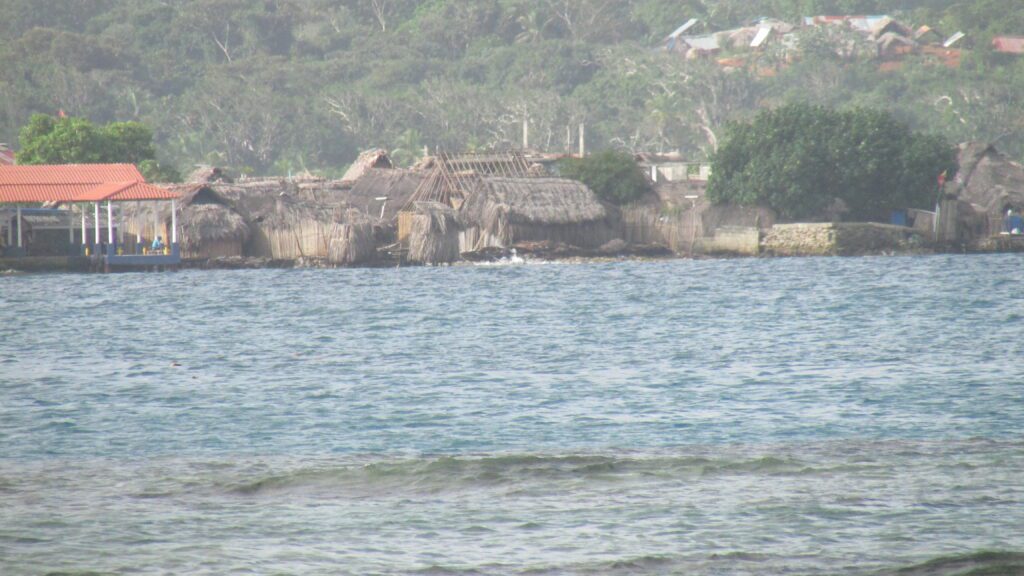 A Ride to Arridup
After breakfast, we grabbed our gear and headed out to Arridup. This island was a bit further away, and we definitely had swells getting there. Yandup Lodge's boat is not that big, so we could feel the motion of the ocean. The deserted island was breathtaking. We explored the entire length of it. We spent about two hours walking, snorkeling and swimming on Arridup.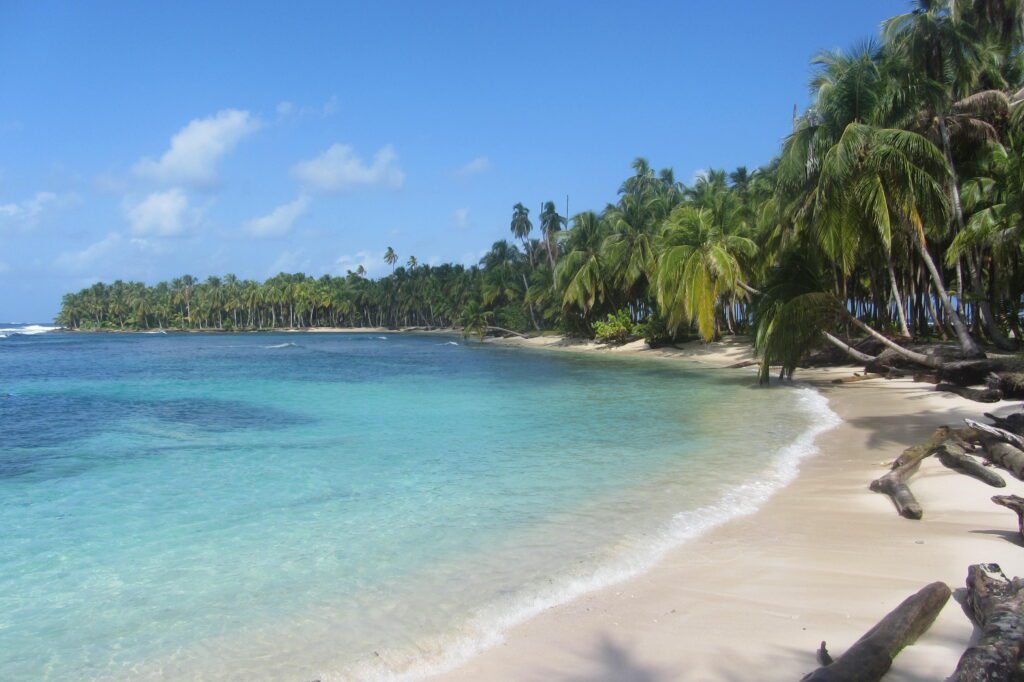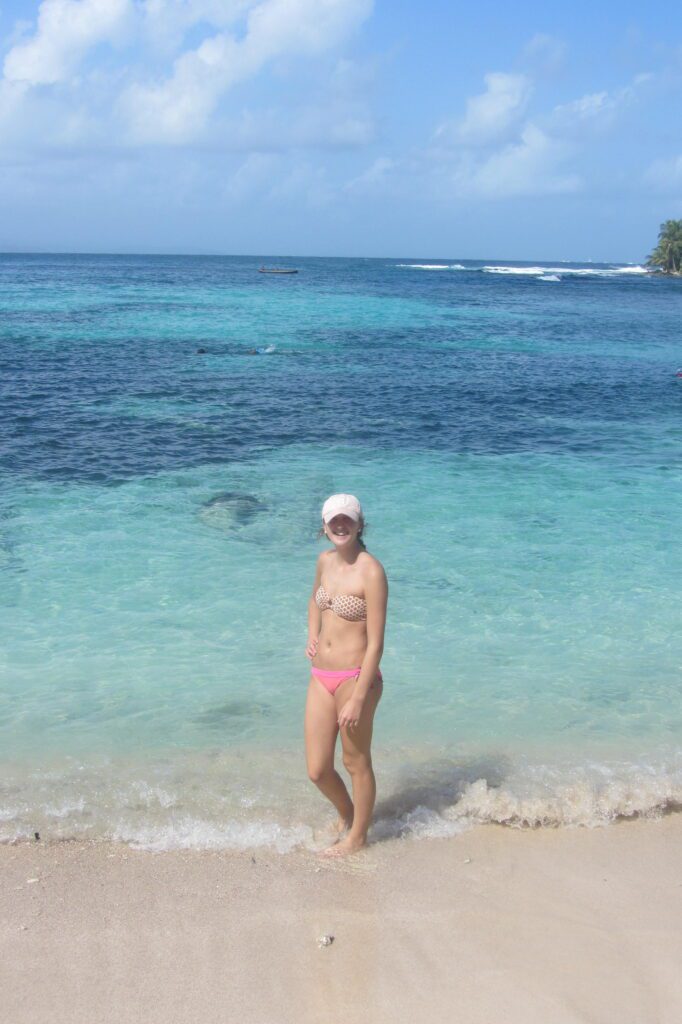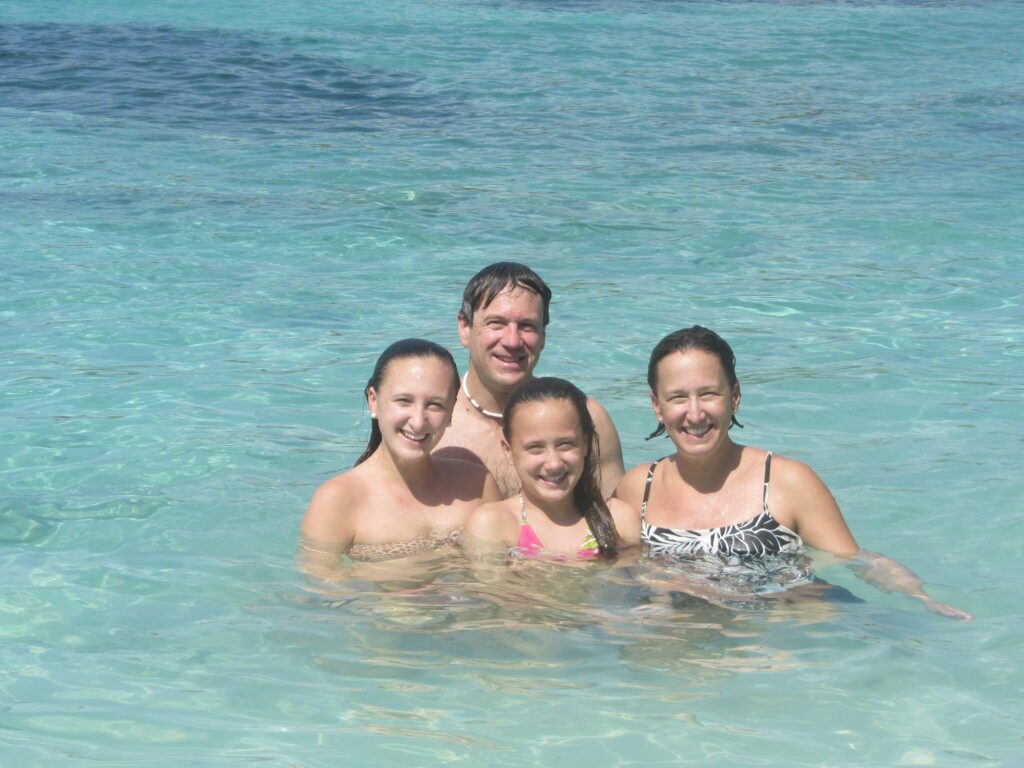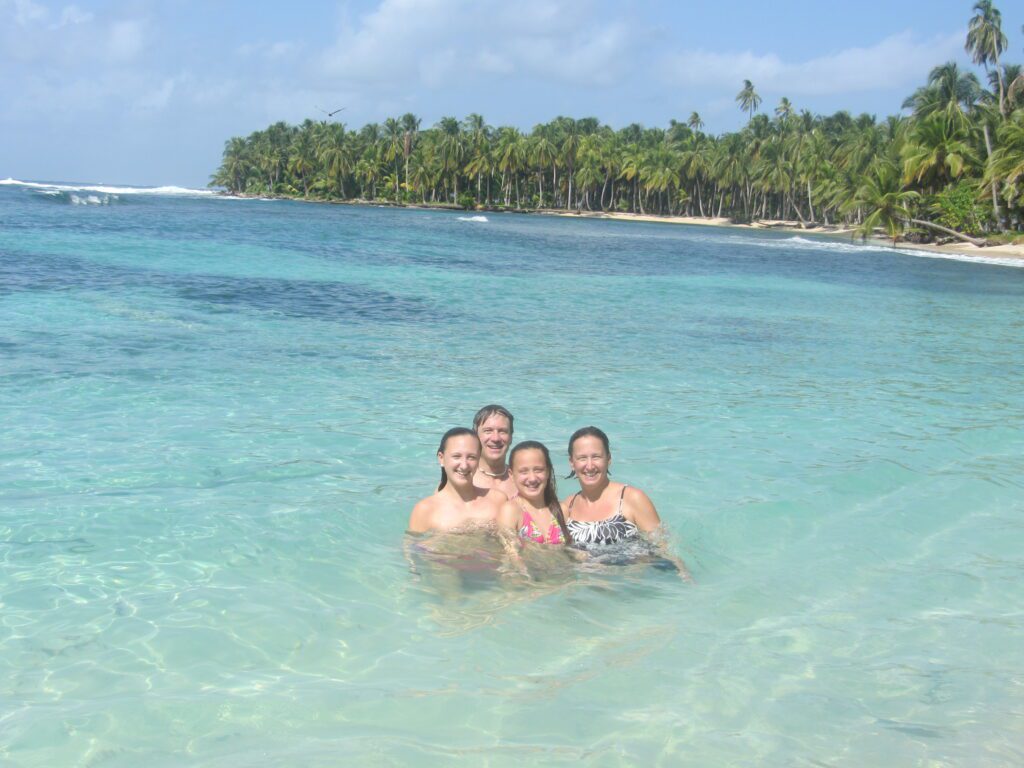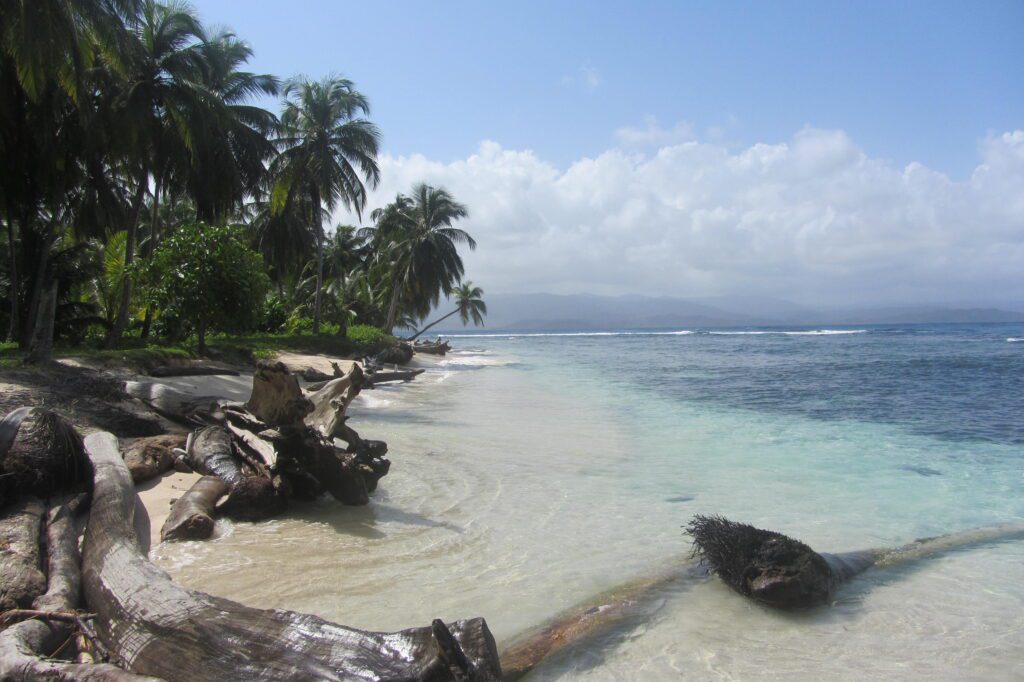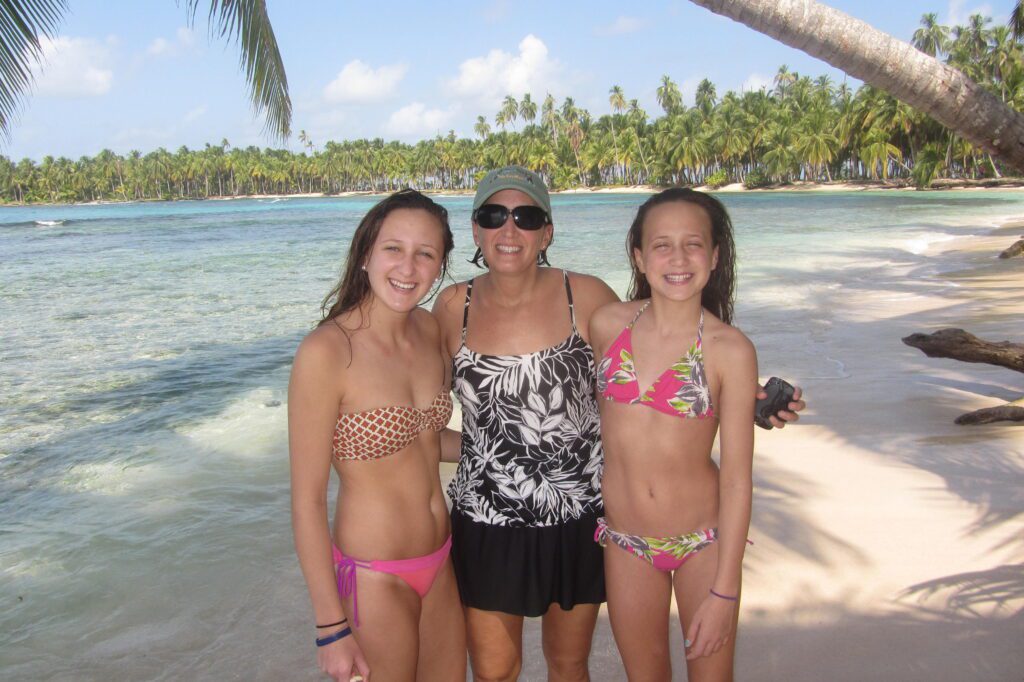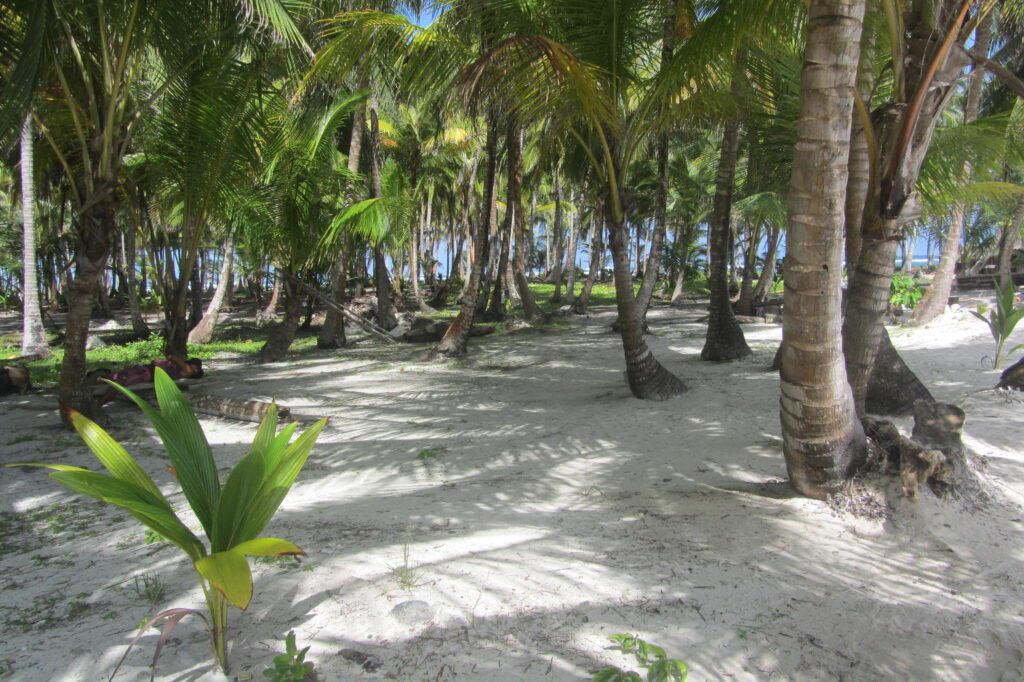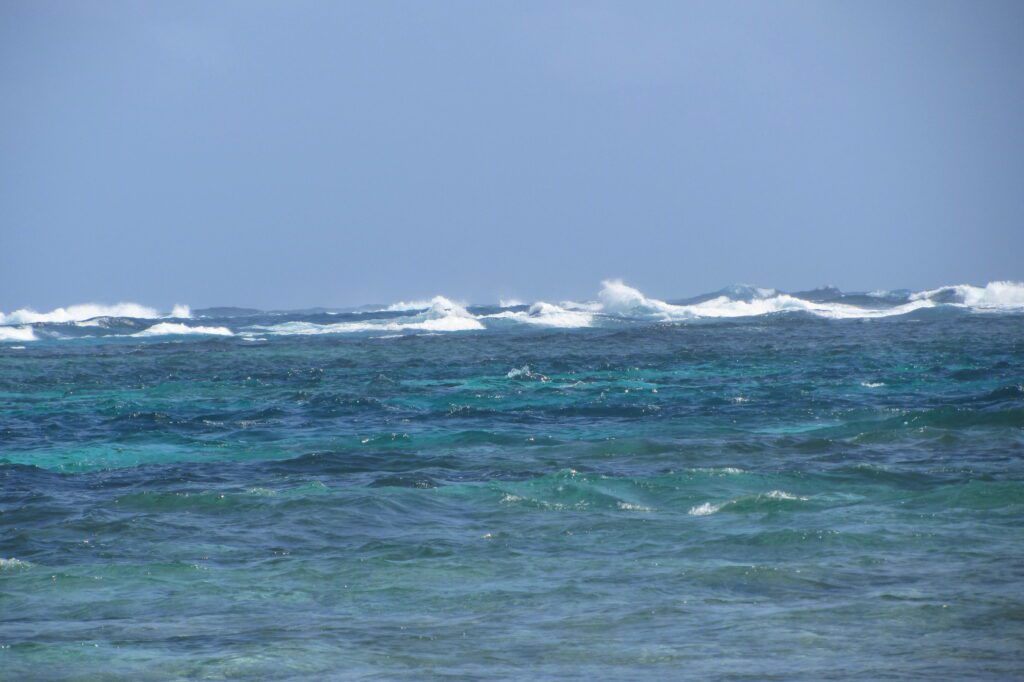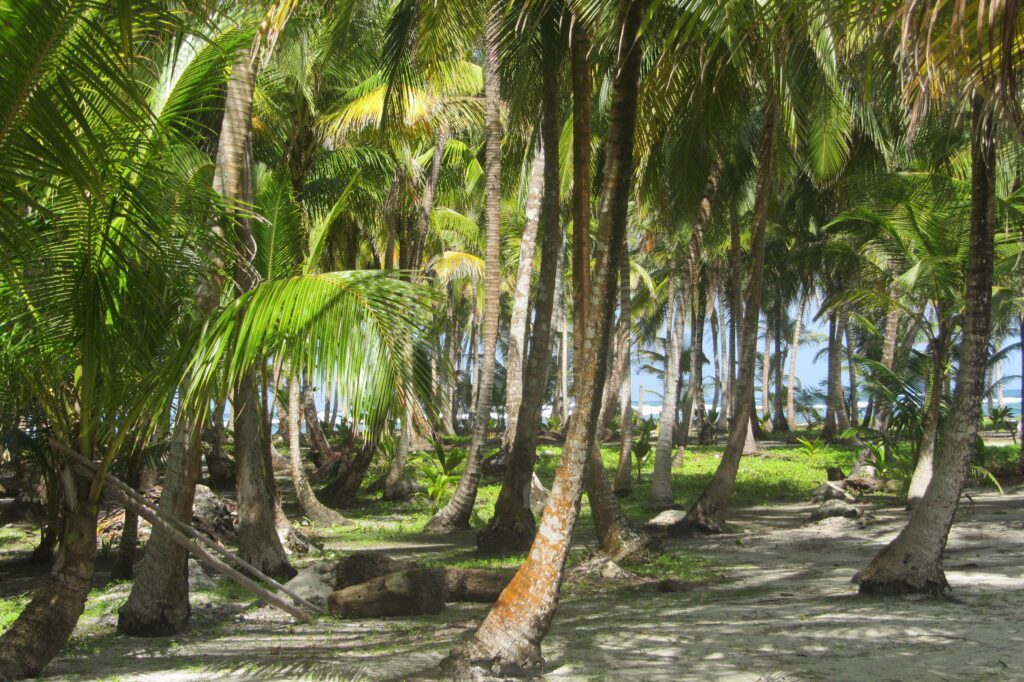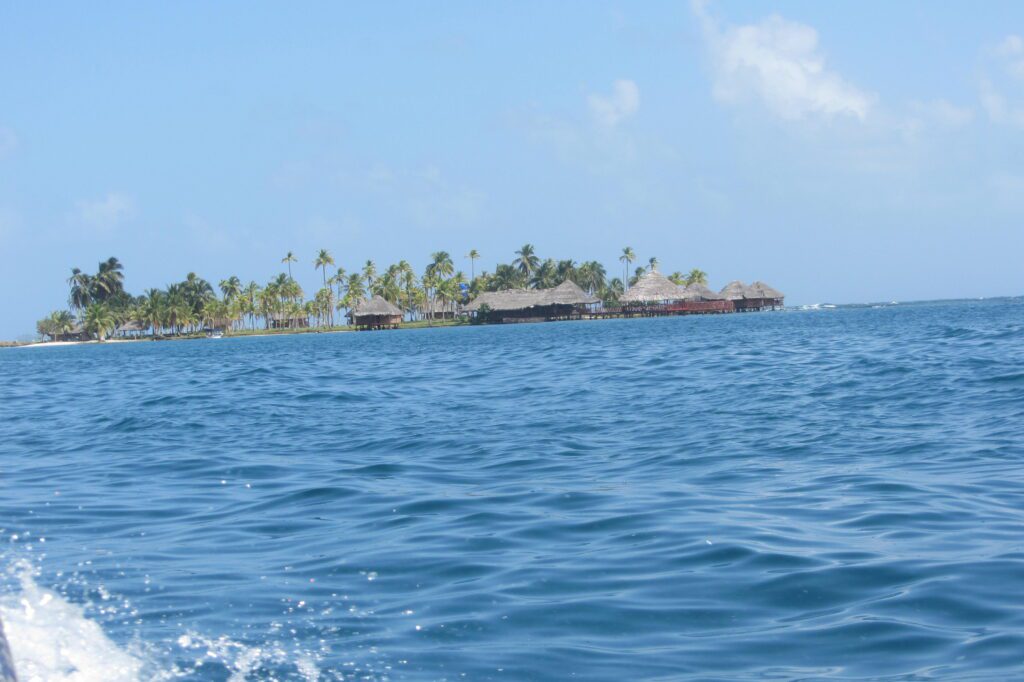 A Visit to the Kuna Cemetery
Our afternoon excursion was to the Kuna Cemetery, high above the air strip. It was culturally fascinating to learn how the Kuna honor their dead. Ultimately, the Kuna are buried in a hammock in a deep hole and their bodies do not touch the ground. Detailed information about the rituals can be found here. A great deal of information on the Kuna people can be found here.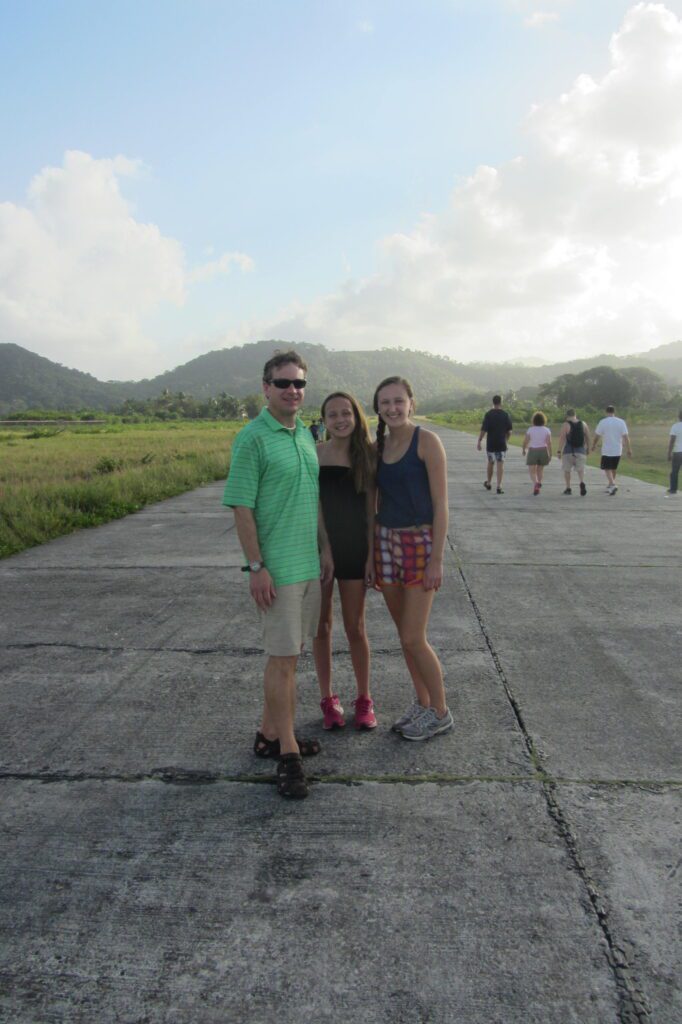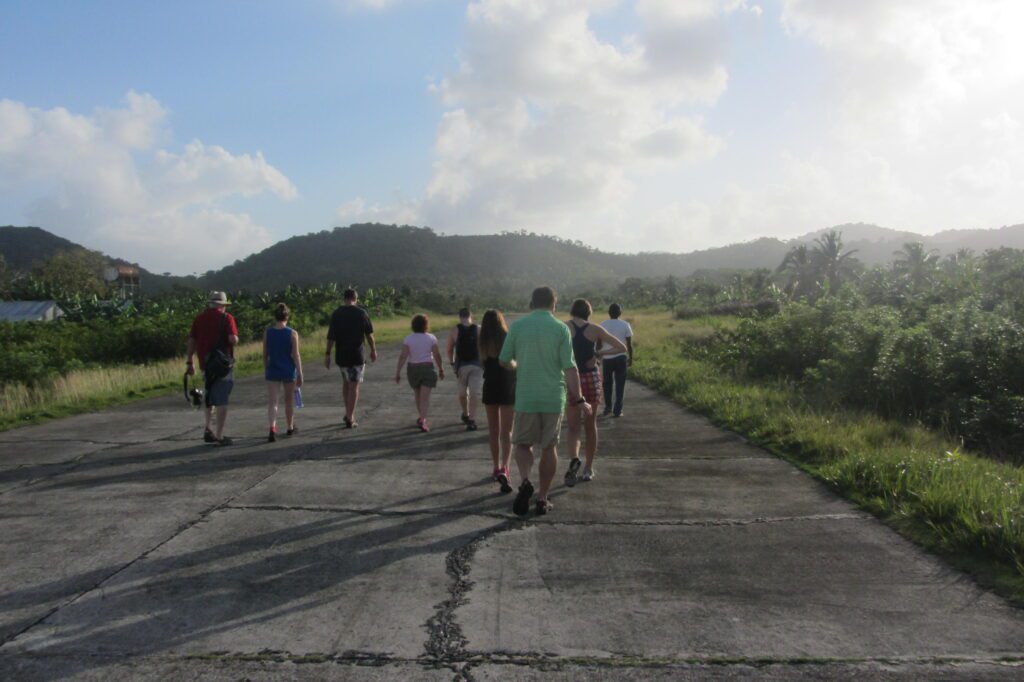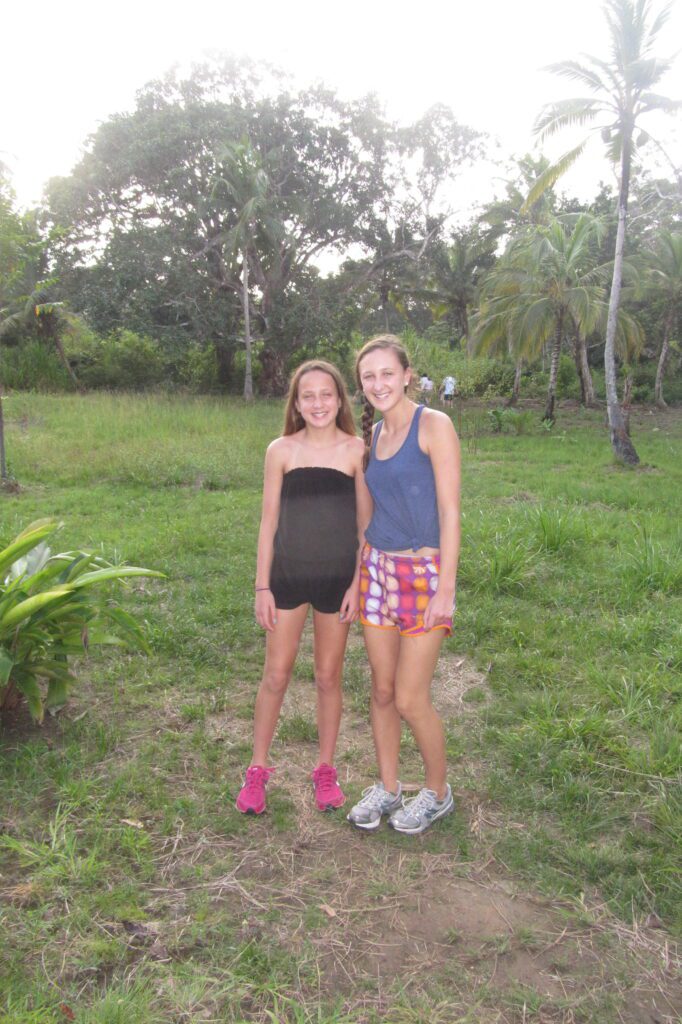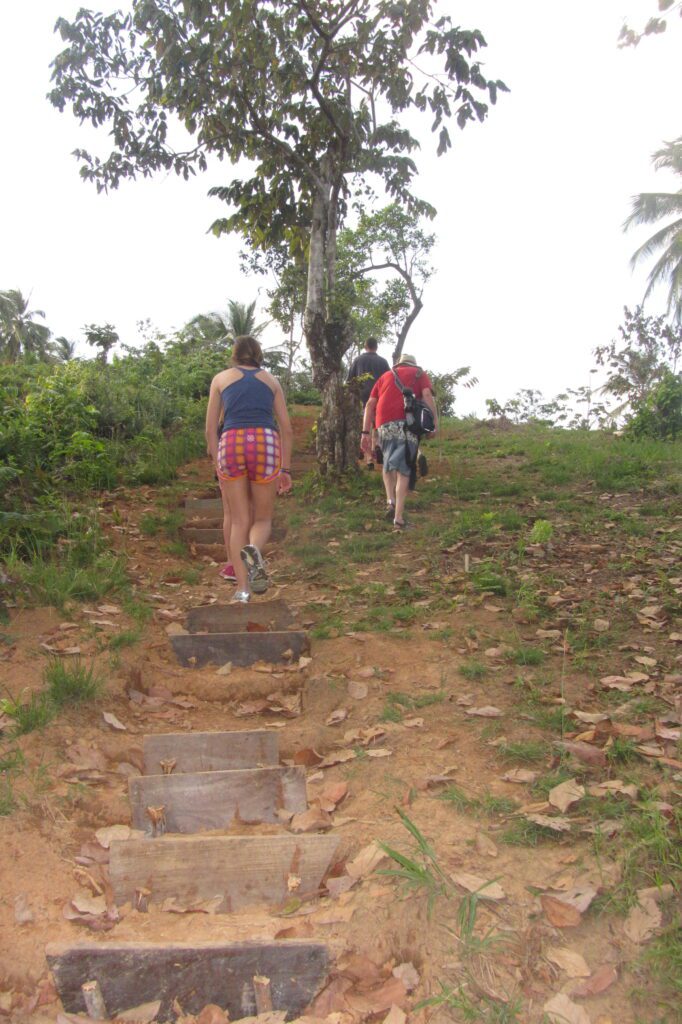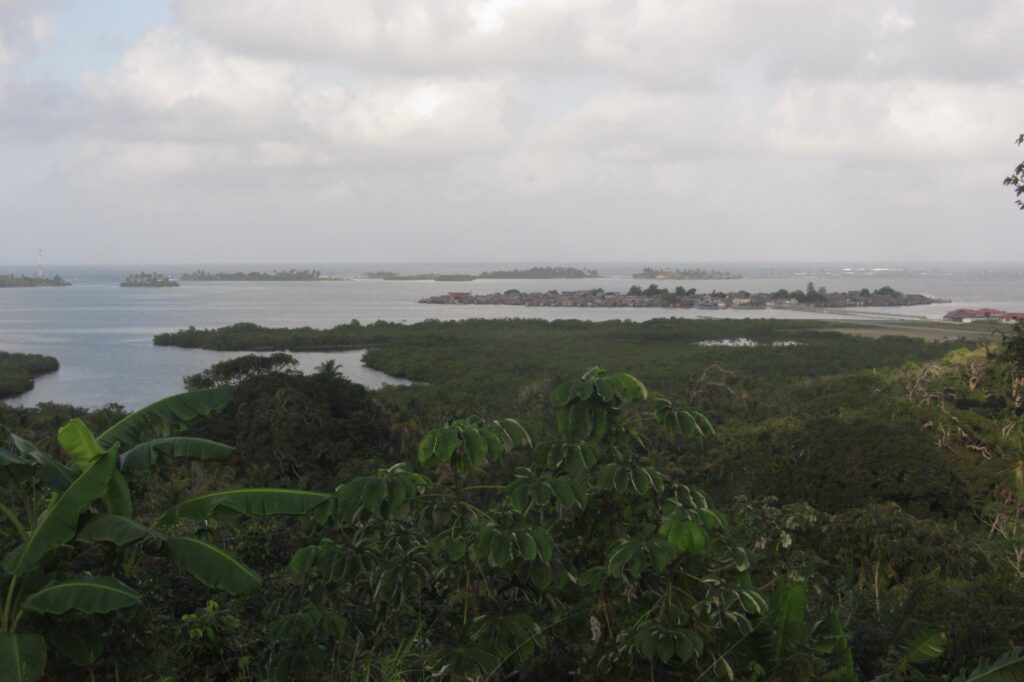 Pelican Island
On Christmas eve morning, Blanco took just our family to Pelican Island. This island was about 15 minutes away from Yandup. We swam, snorkeled, relaxed and read our book on this pristine little spot. It was a lovely way to spend the morning. Again, the only thing missing was beach chairs! We would have happily carried four folding chairs had they been available.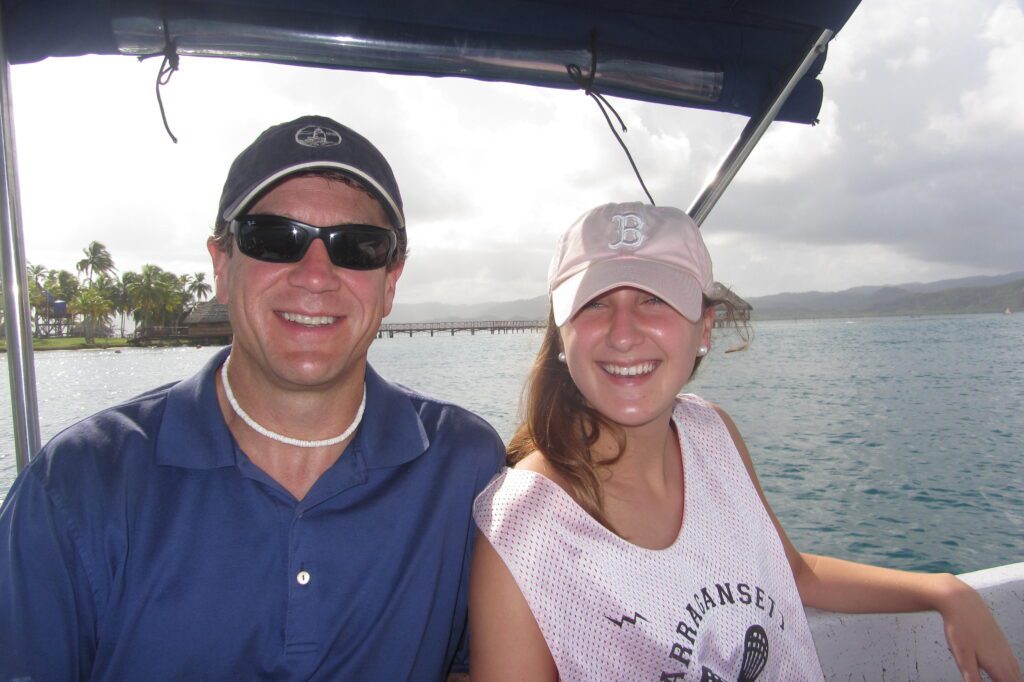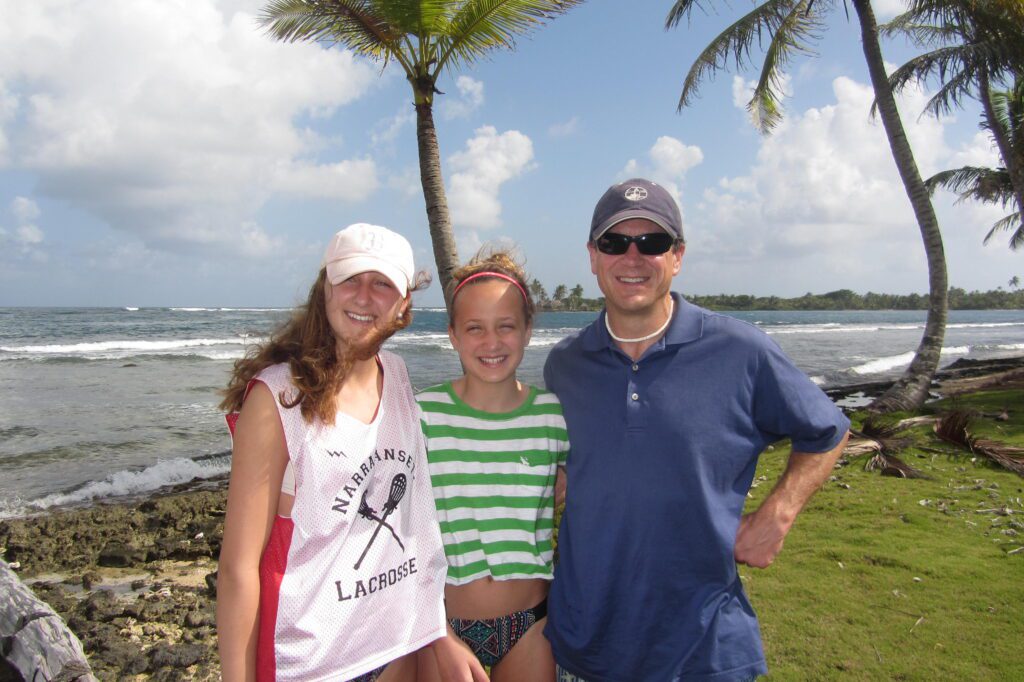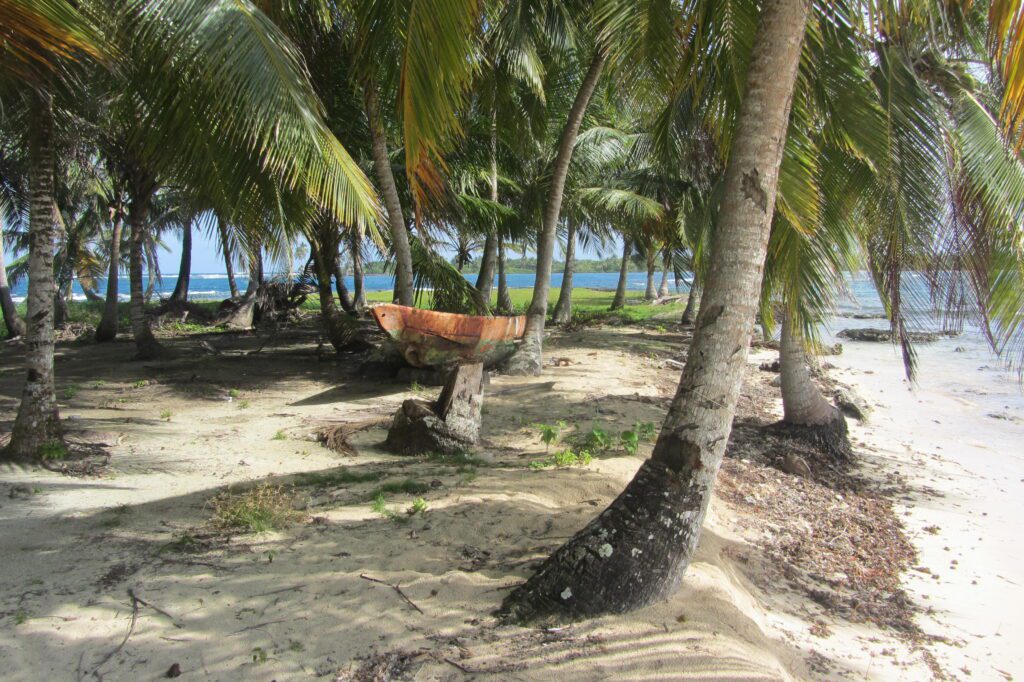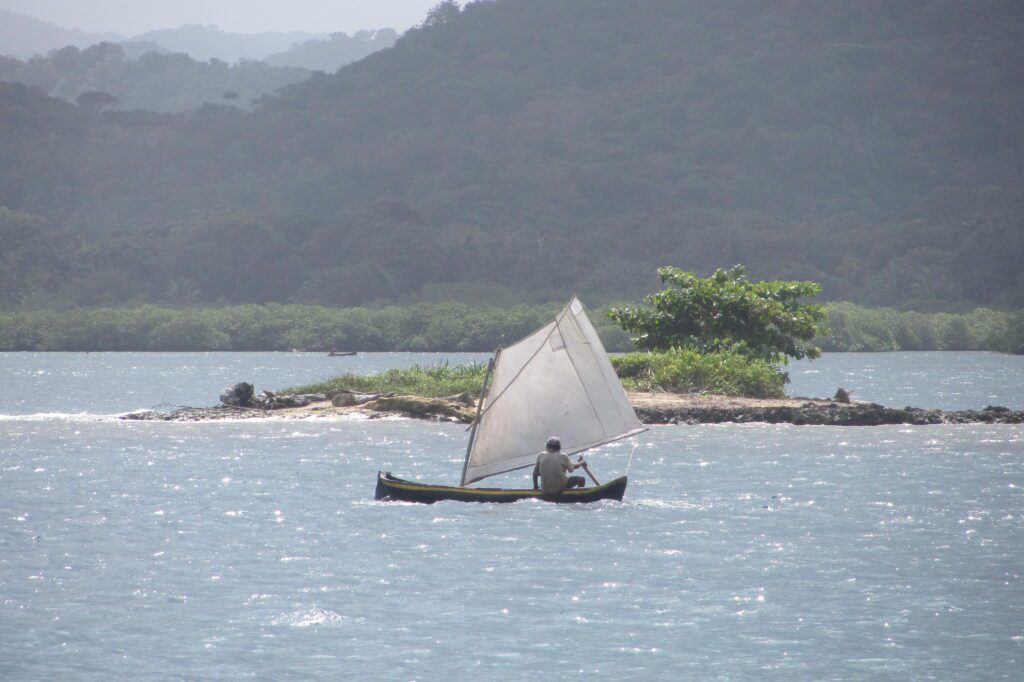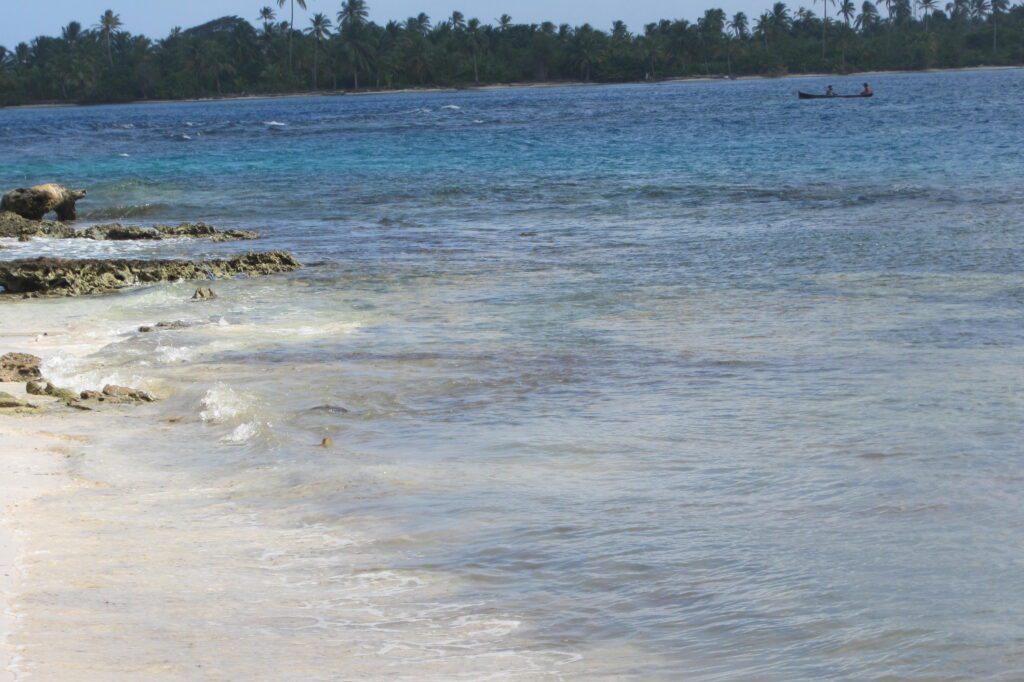 Christmas Eve Celebration
Christmas Eve in Panama is celebrated more than Christmas day. We have found this to also be the case in Costa Rica, the Dominican Republic, Mexico and Belize.
Yandup Island Lodge sat all of its guests outside, under the stars with a huge feast of delicious food. We had local music and dancing. It was a special, magical night. Alcohol was offered for free on this night. We had a wonderful evening.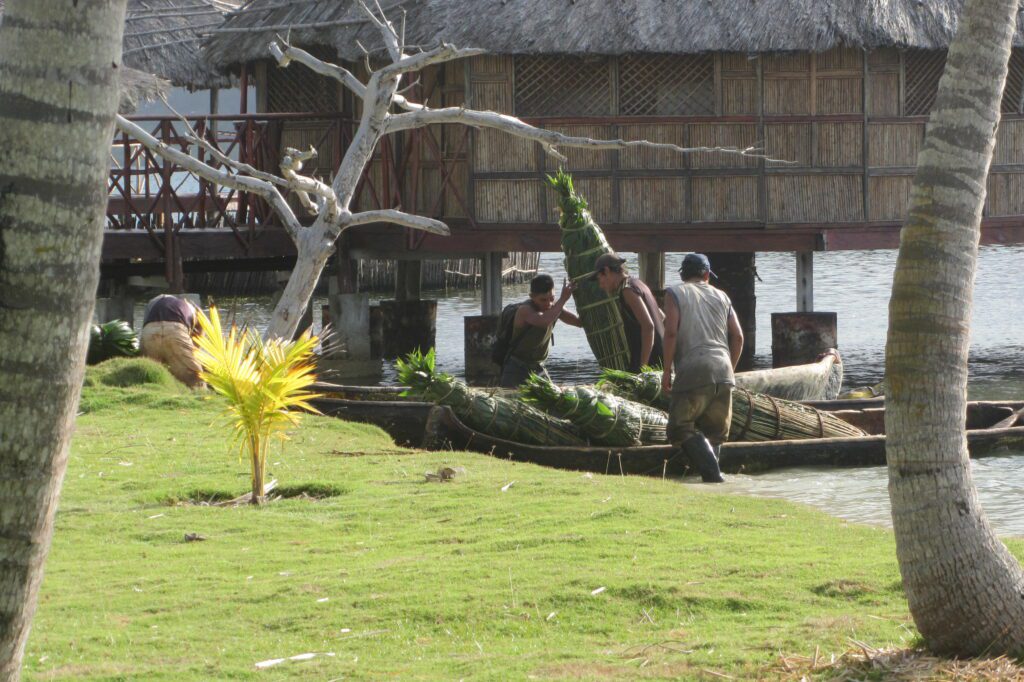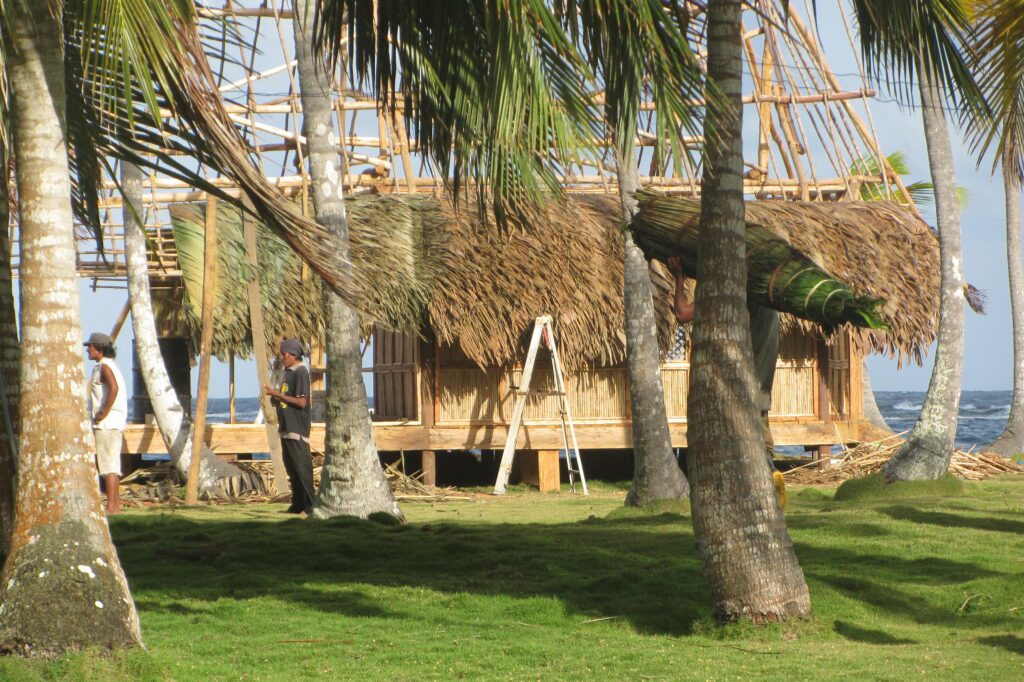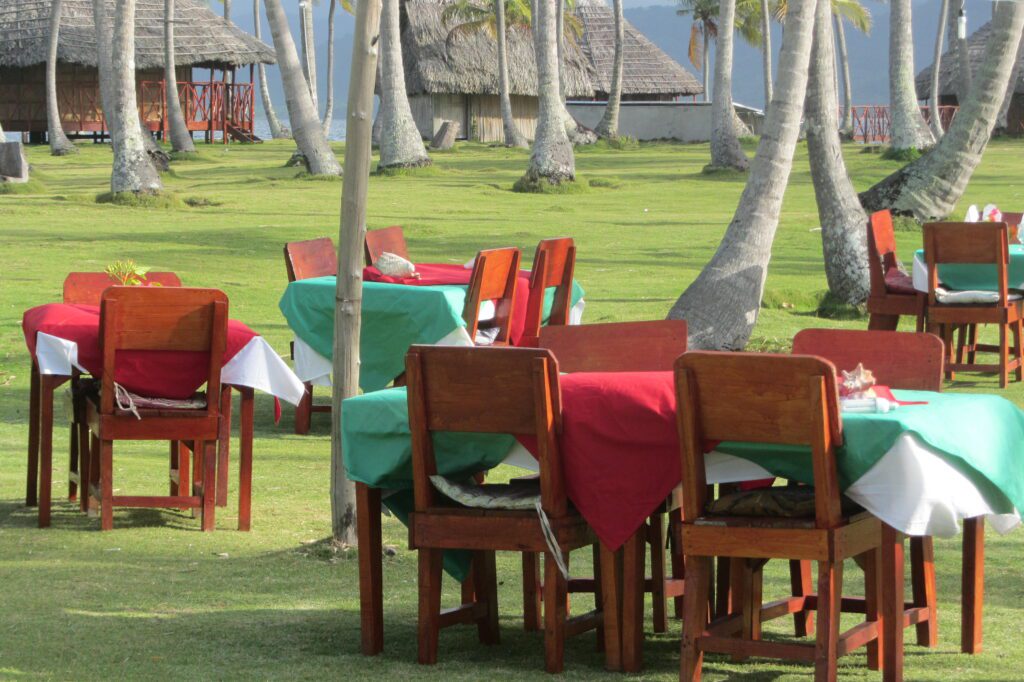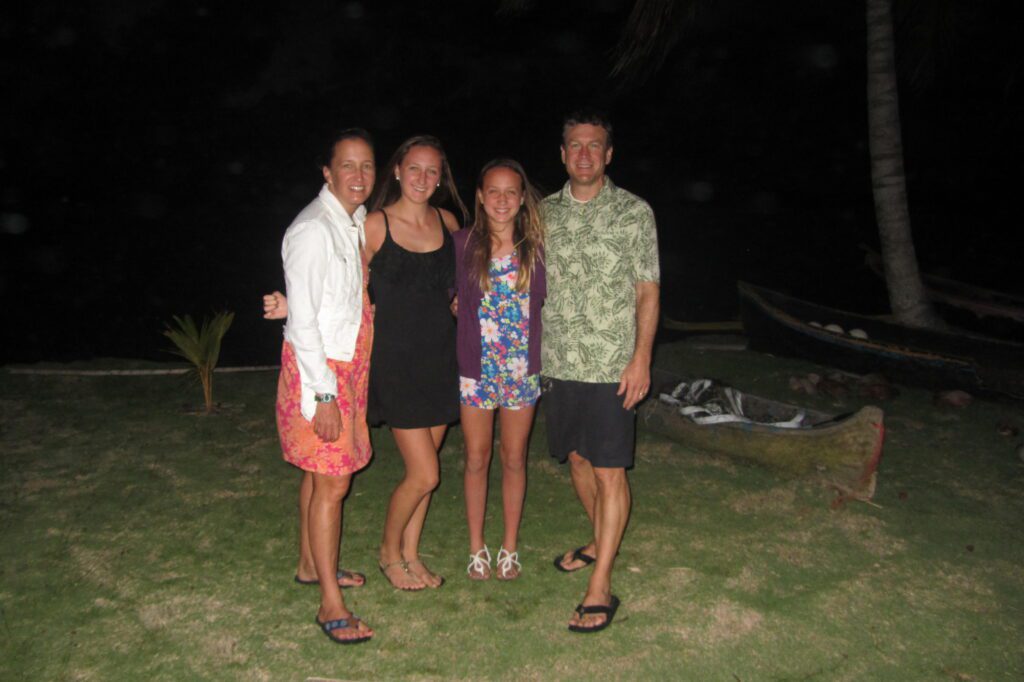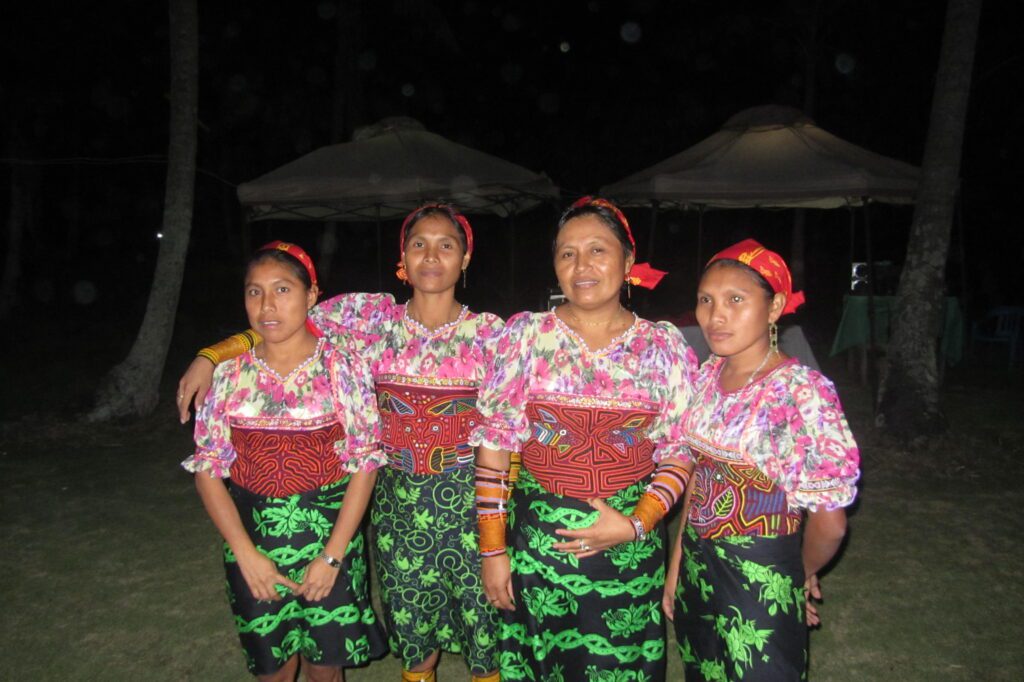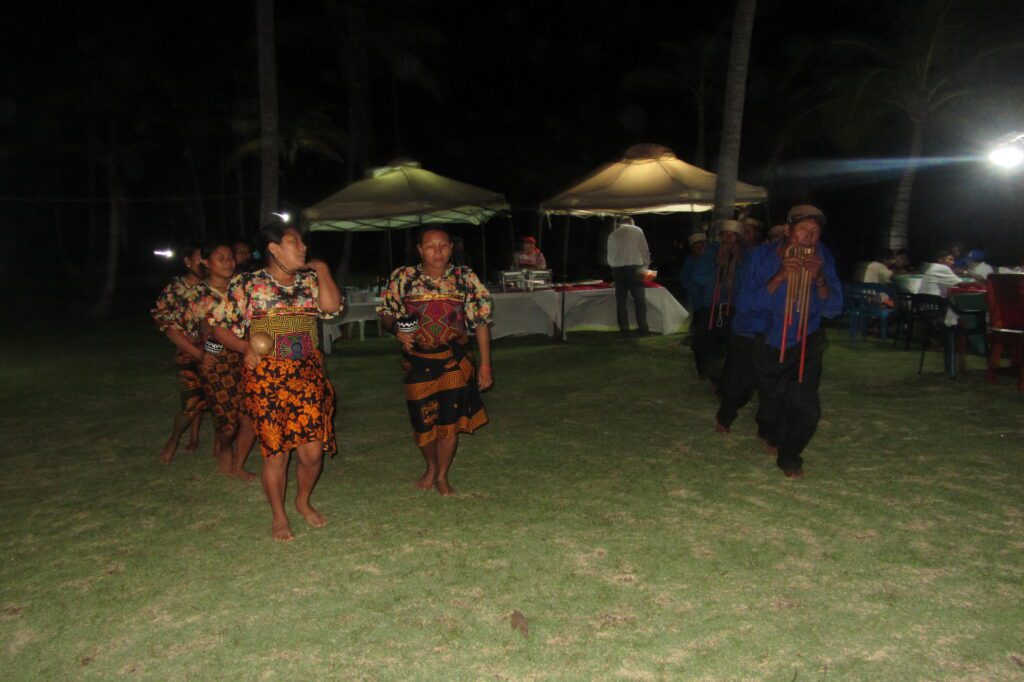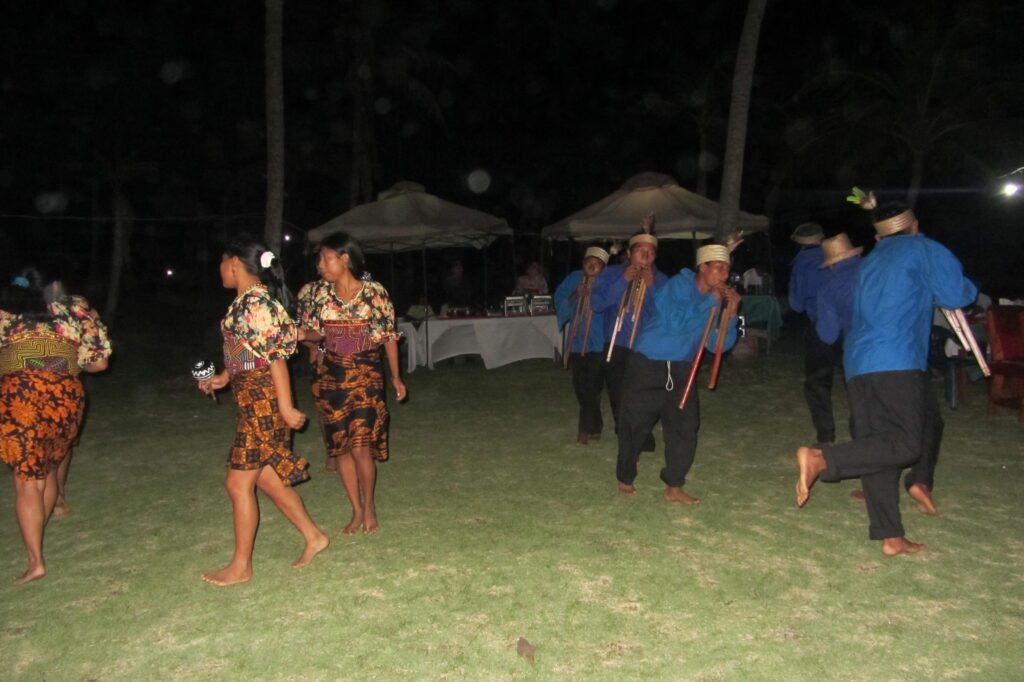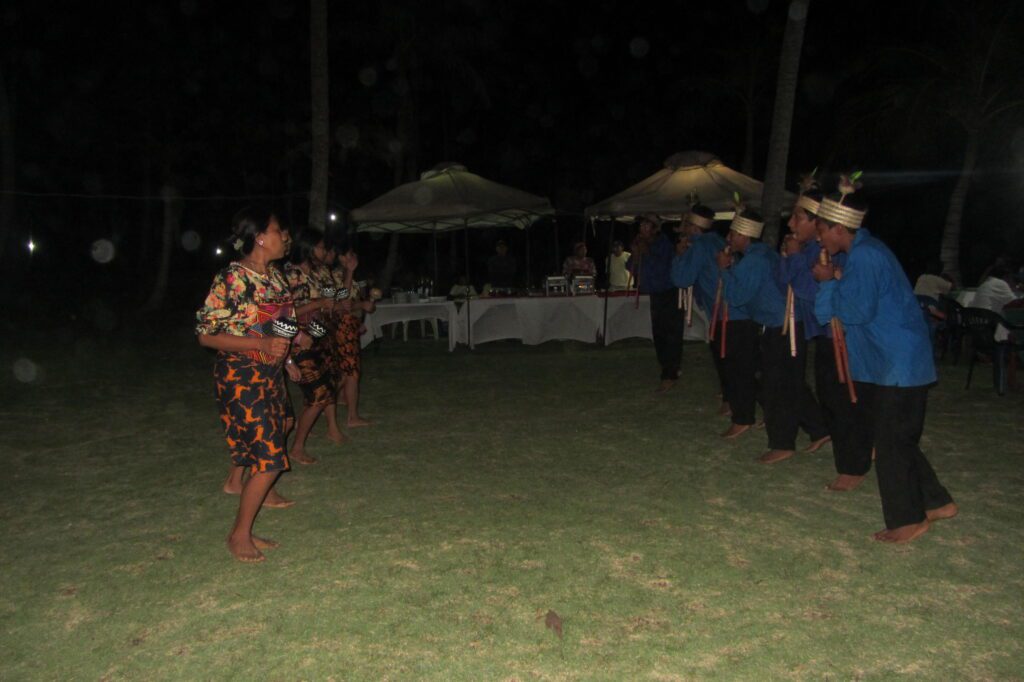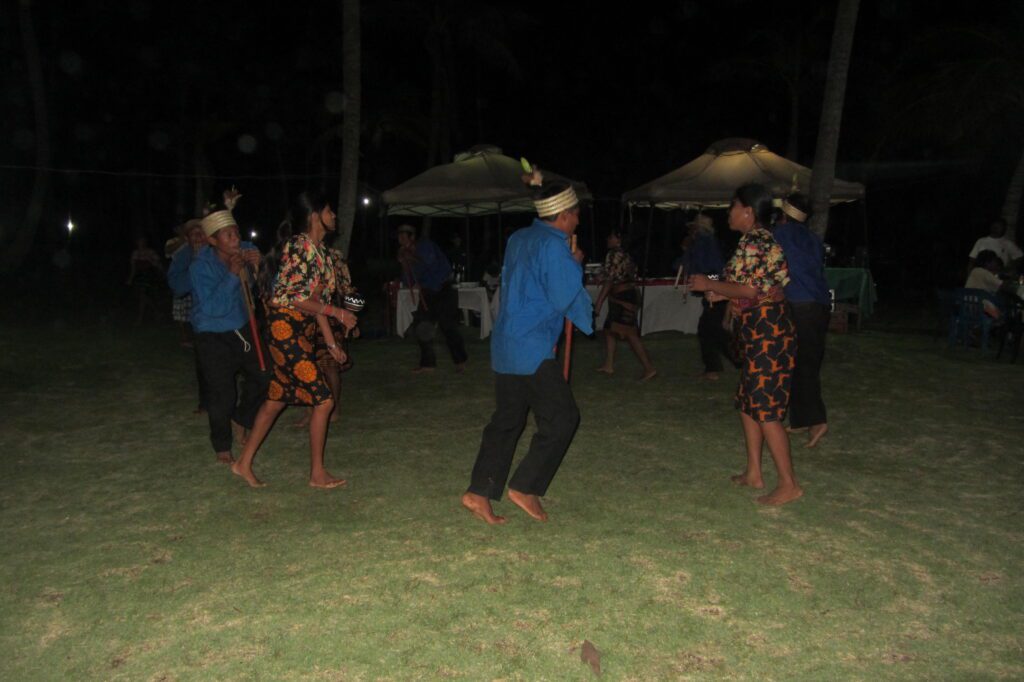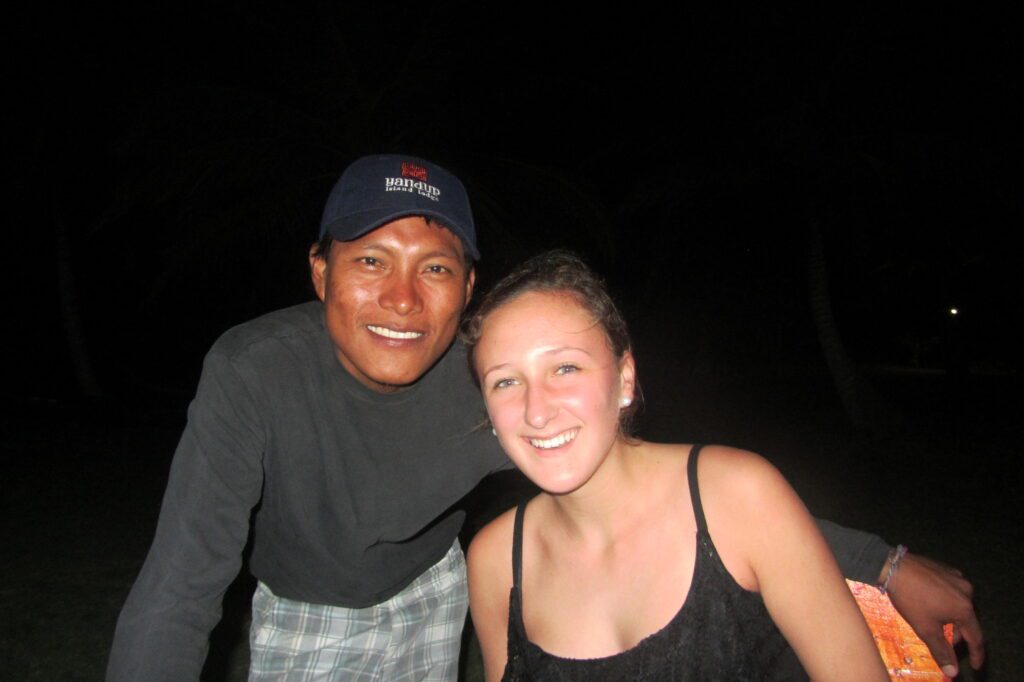 Christmas Day
On Christmas morning, we learned that the excursions were going to repeat to Diadup and the mangrove forest in the afternoon. We chose to read on Yandup's small beach, swim, snorkel, read and play several games of spoons. It was a wonderful holiday.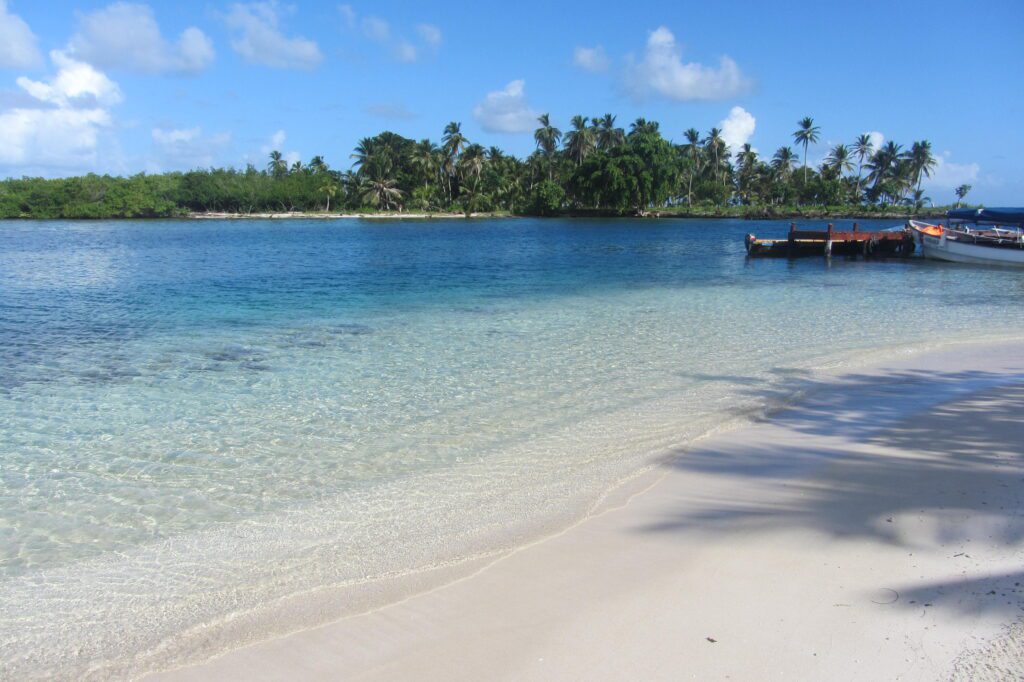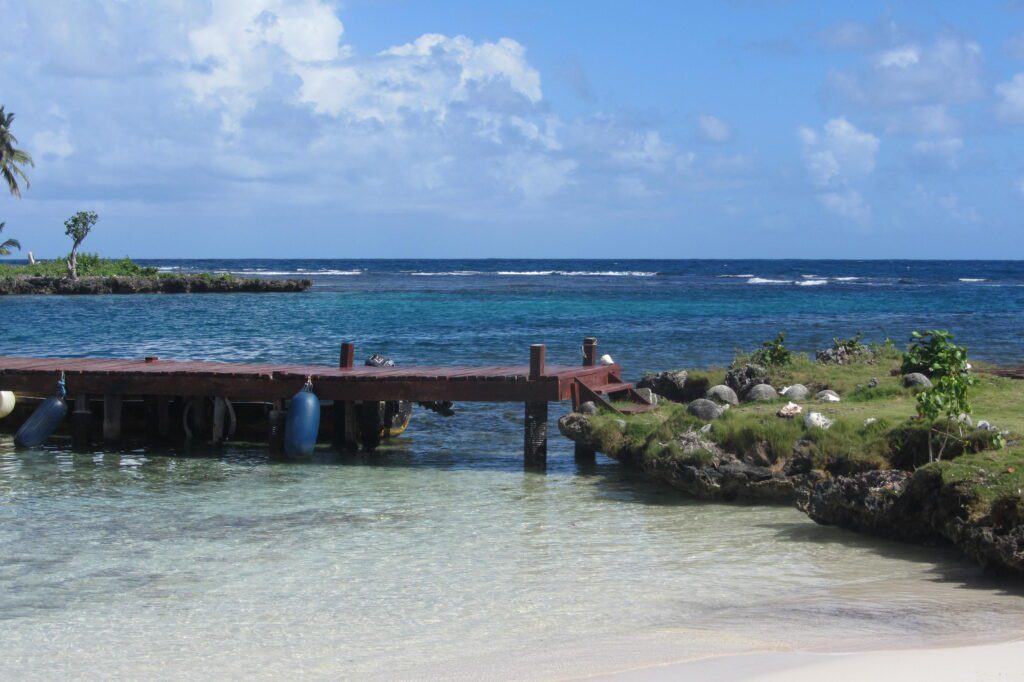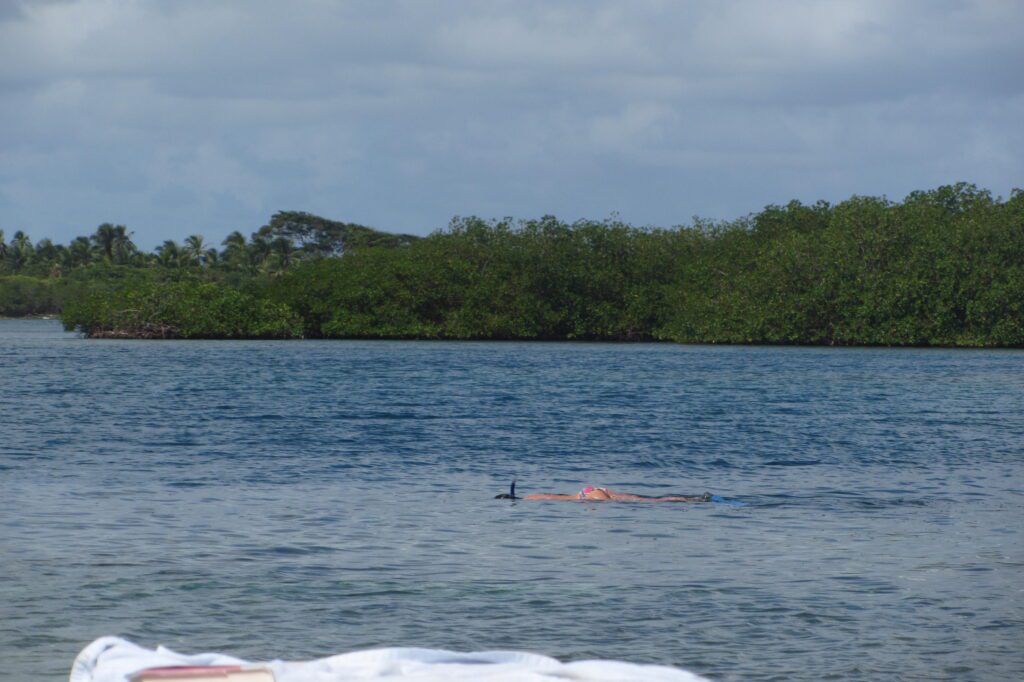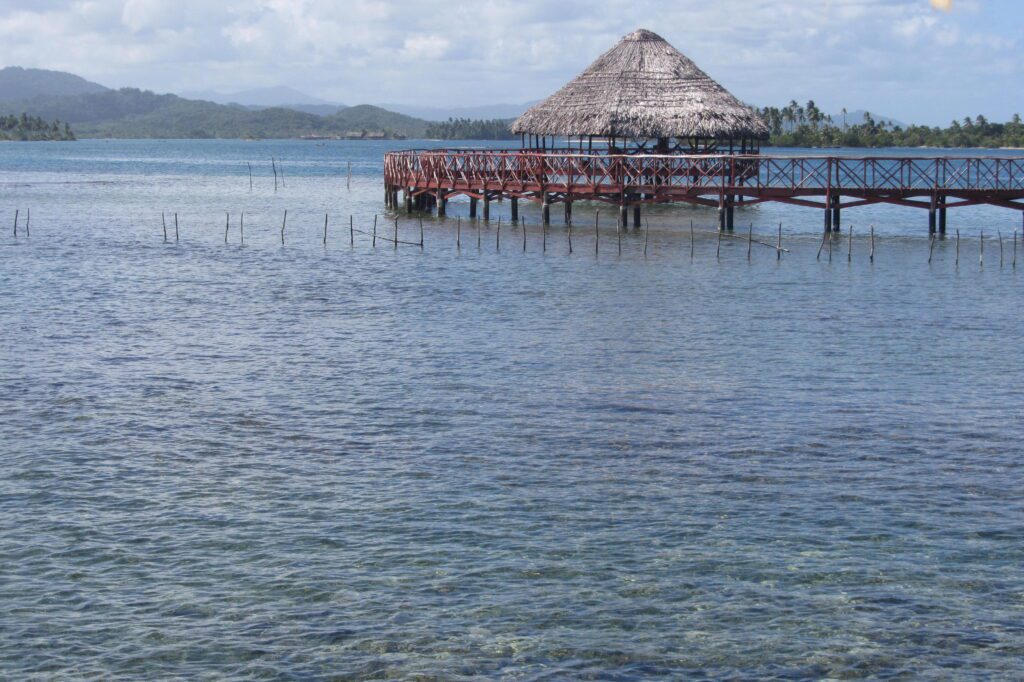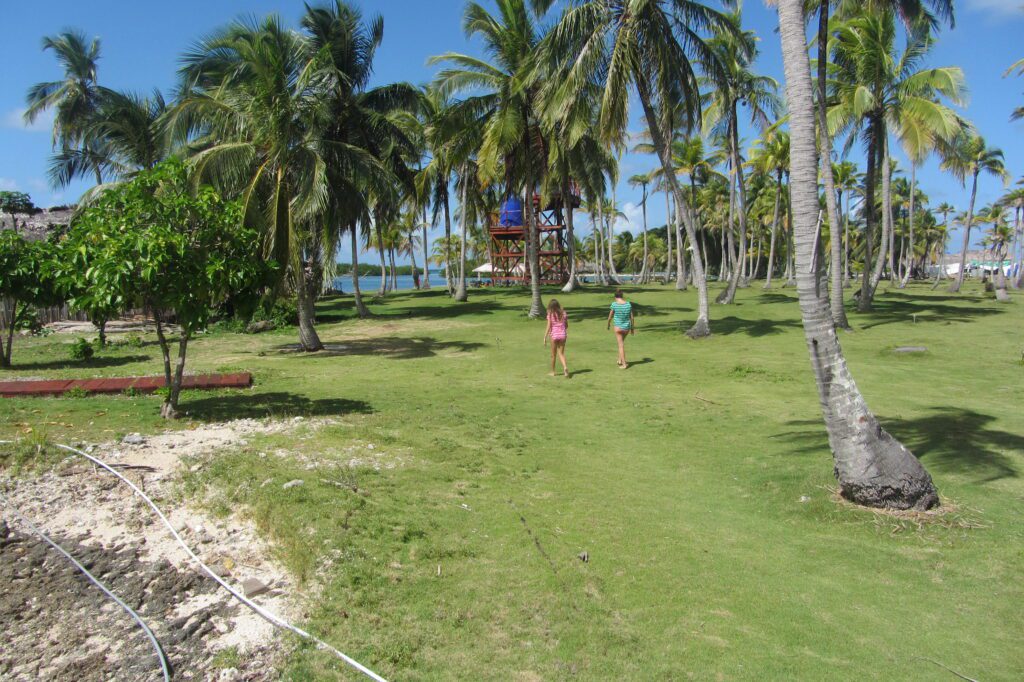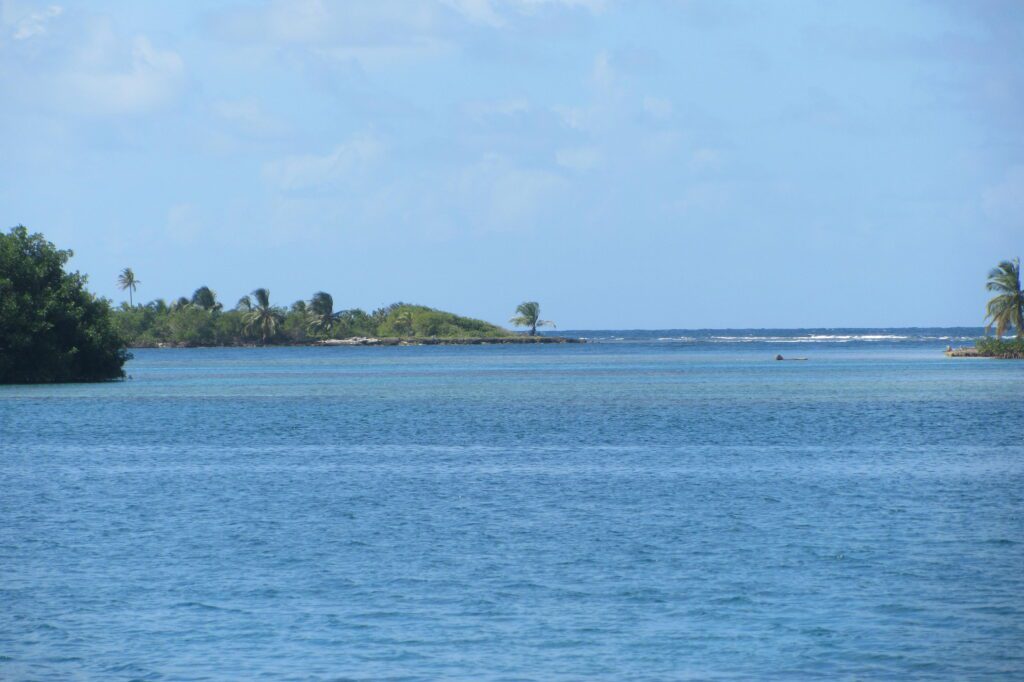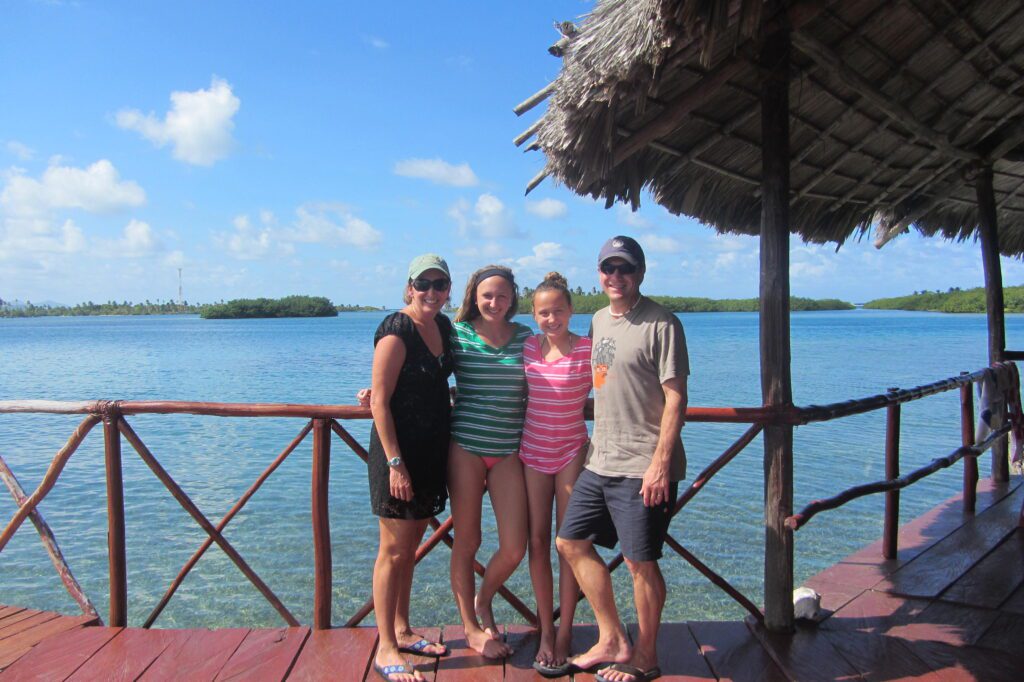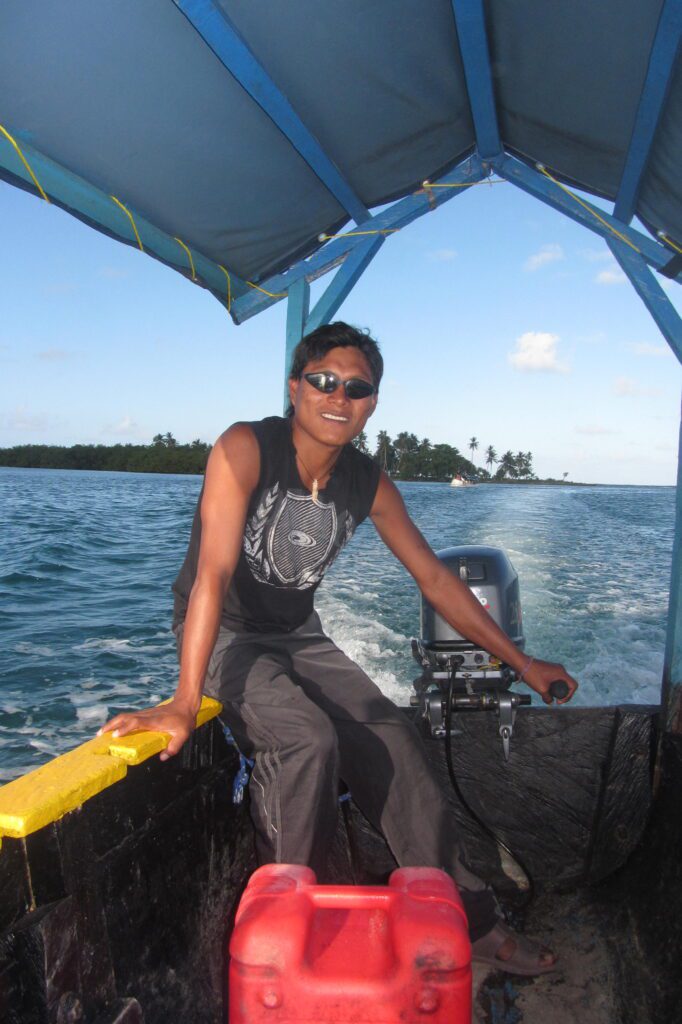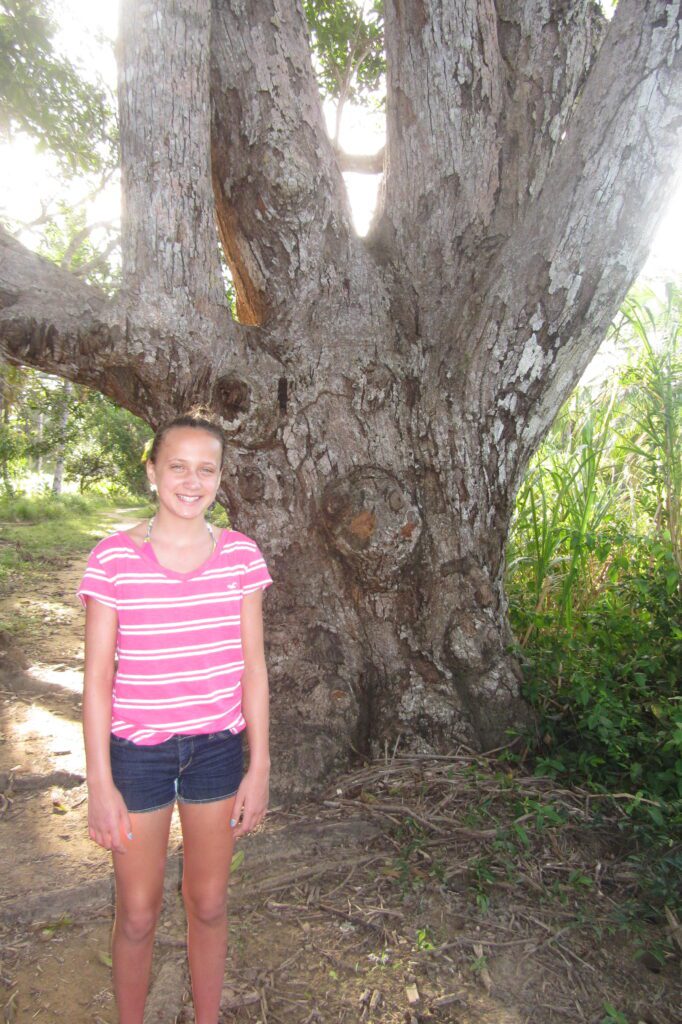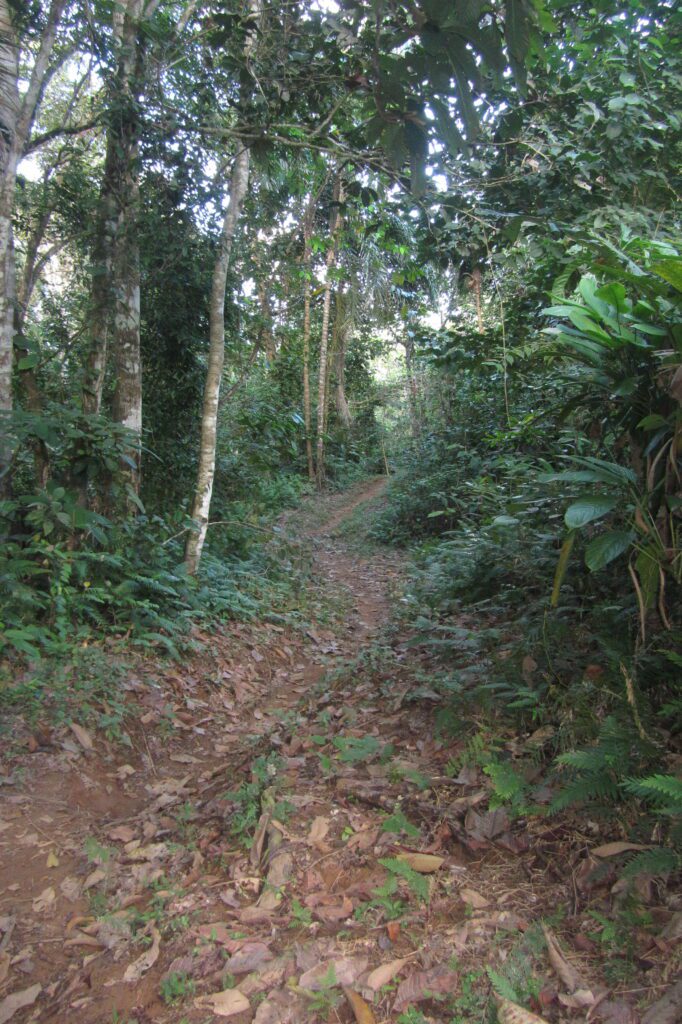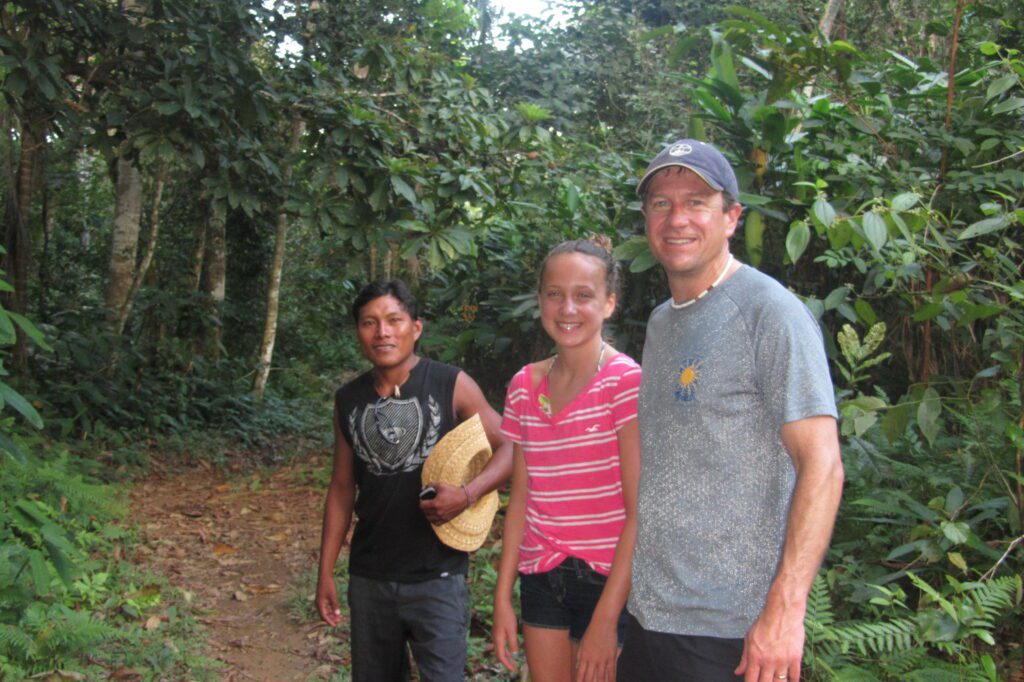 Back to Panama City
We rose with the sun as we had a 7am flight back to Panama City. The lodge fed us an early breakfast and we got into the boat. Our flight back on the tiny plane was uneventful. I did not pull out my camera fast enough to get a shot of all the boats waiting to use the canal!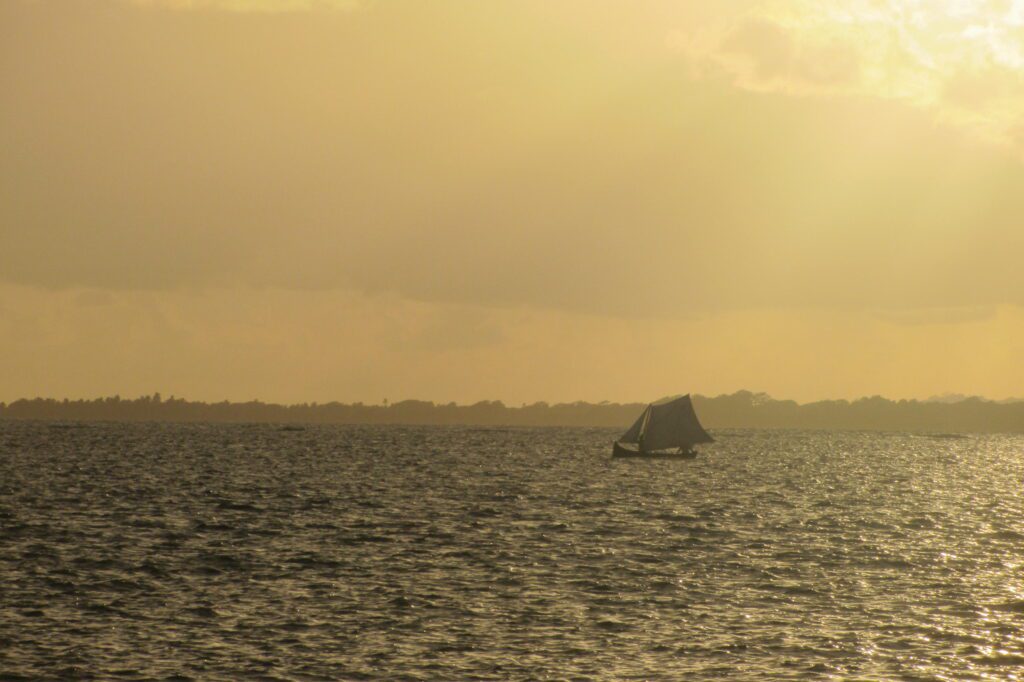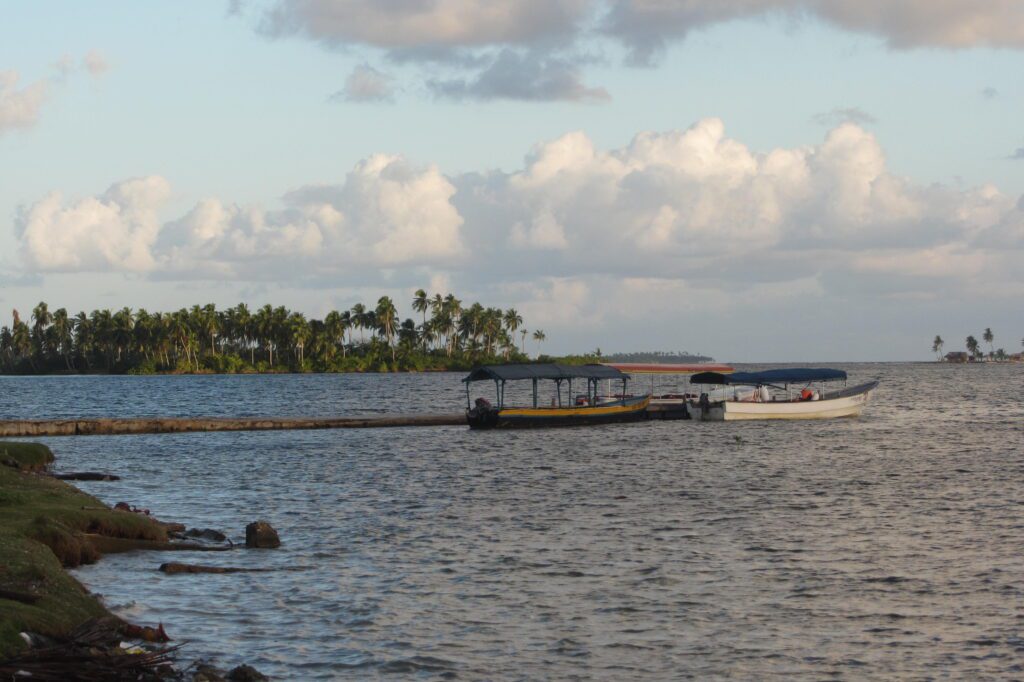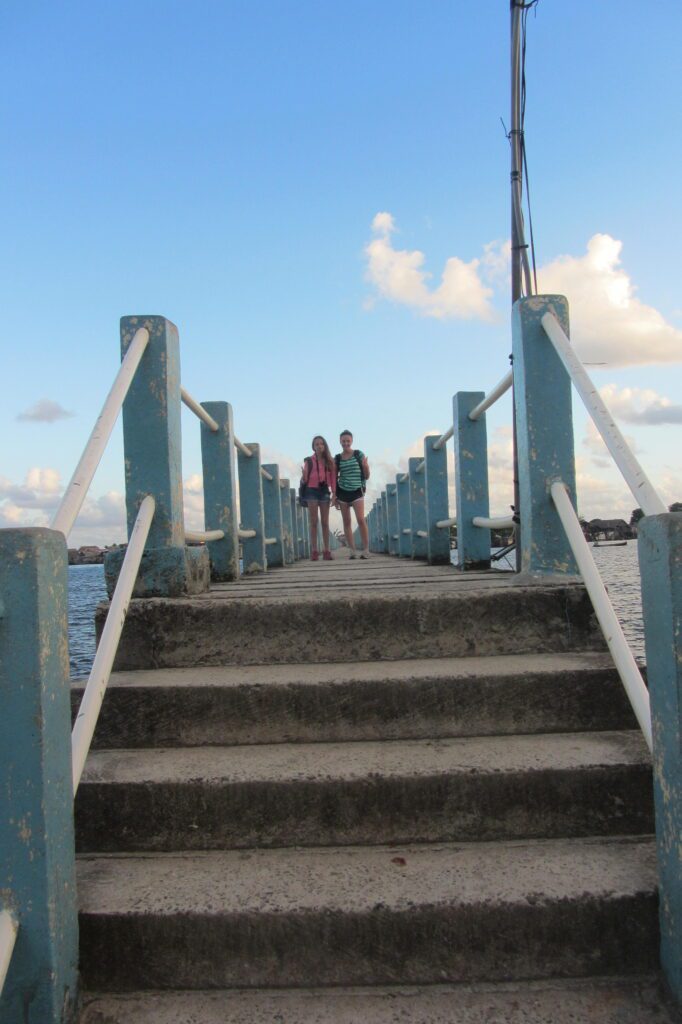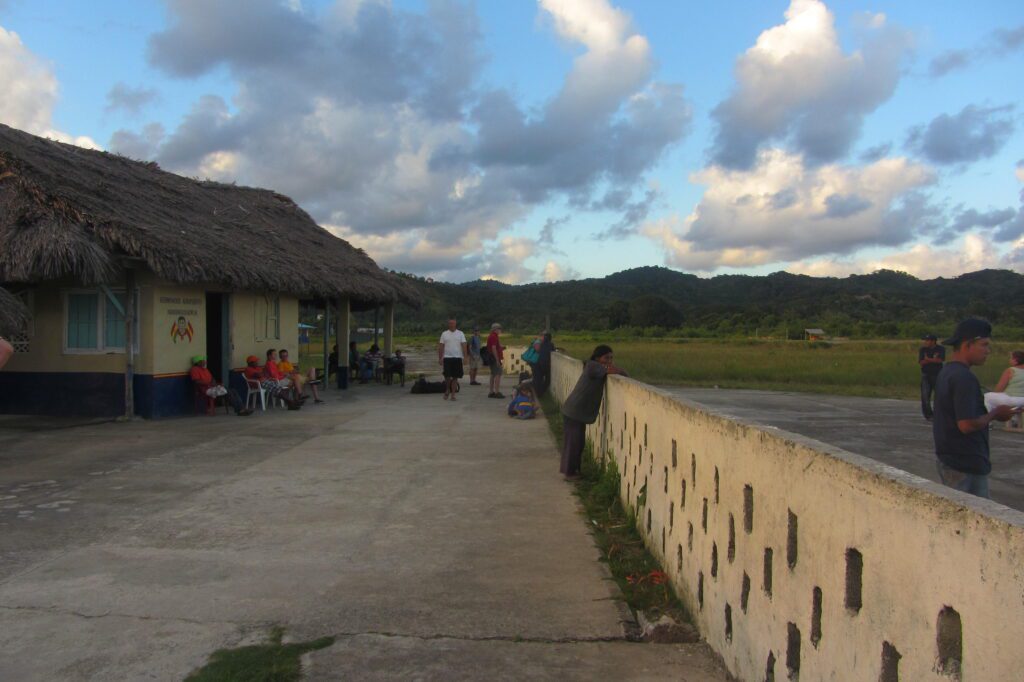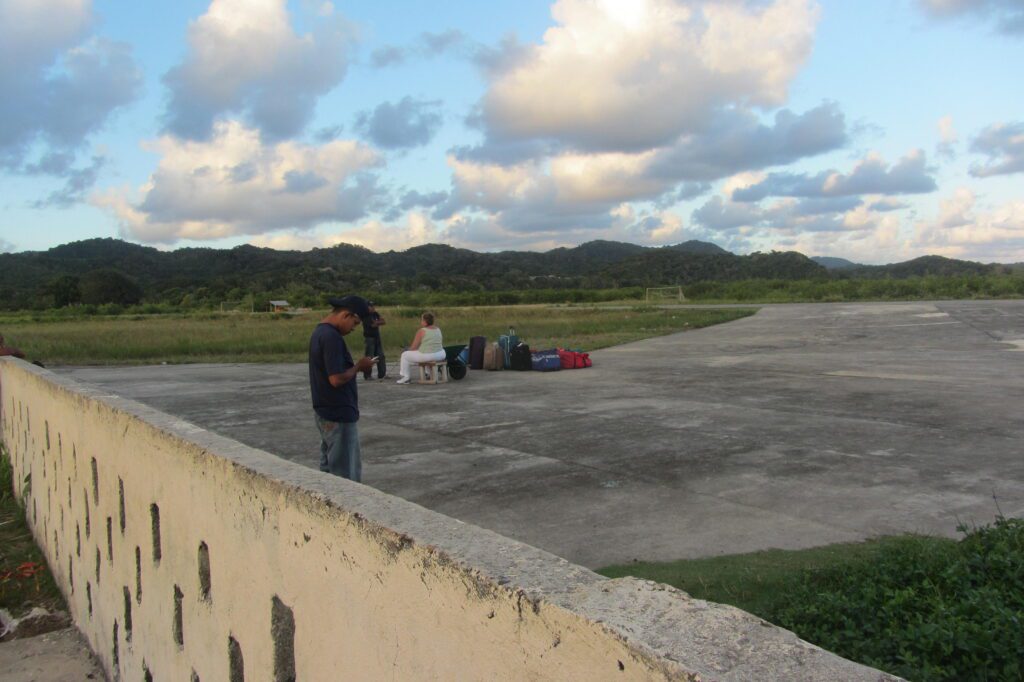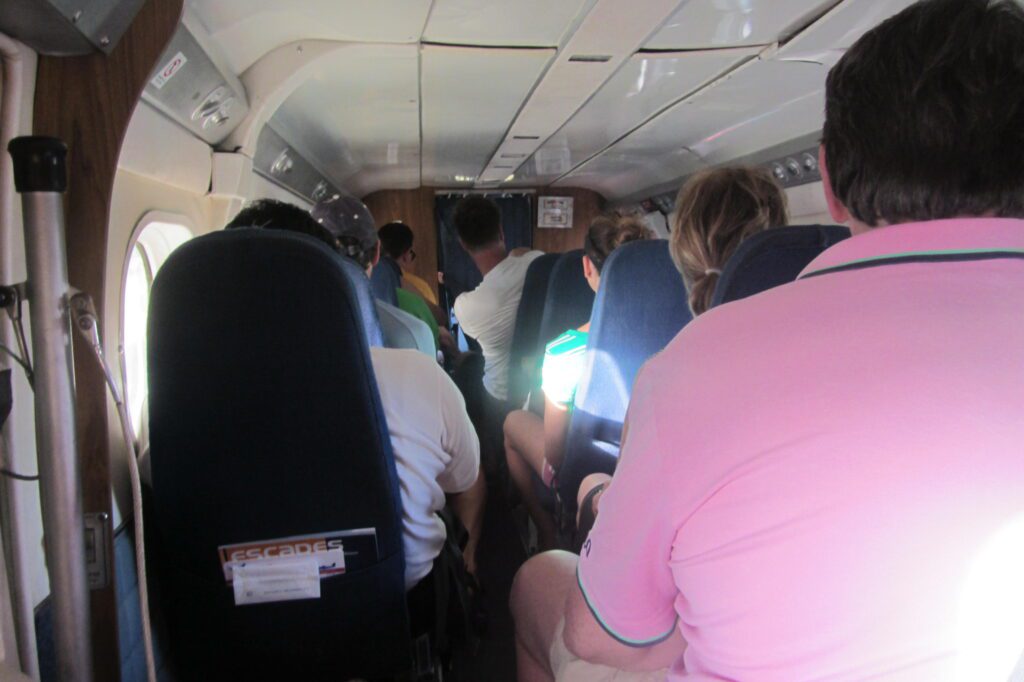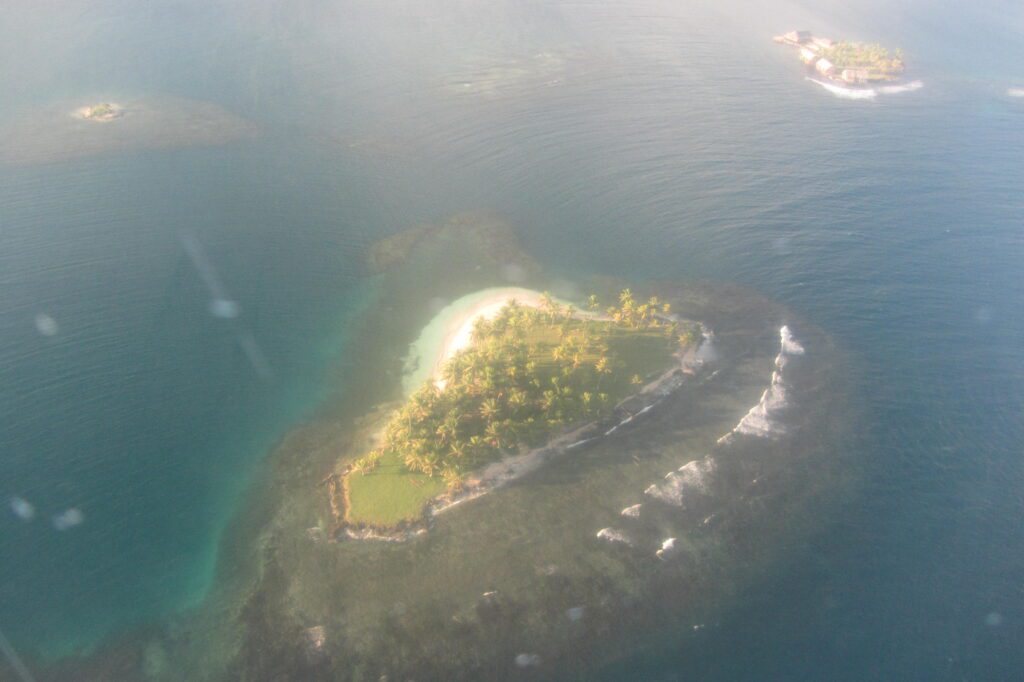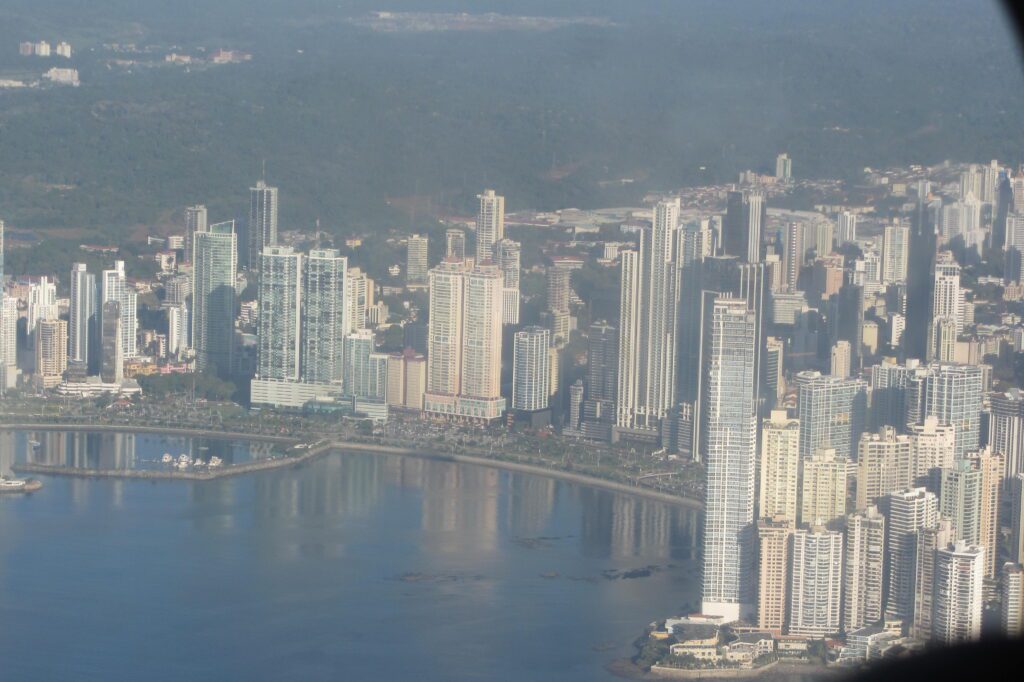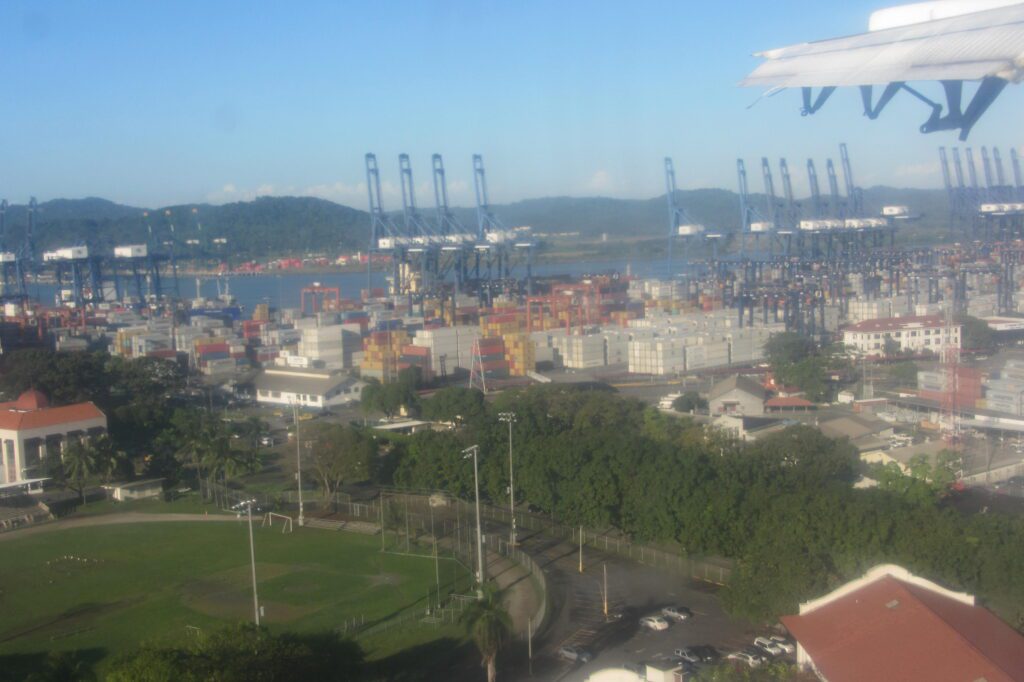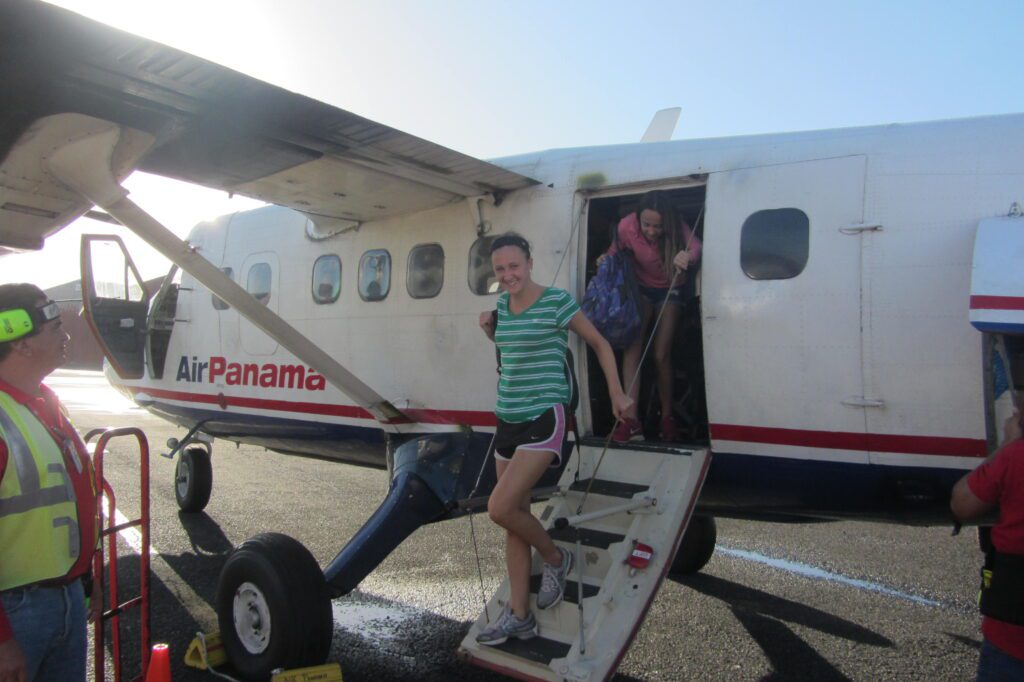 El Valle de Anton
Originally, when we first began to investigate a trip to Panama, we had planned to go to Boquete to do some white water rafting. However, a trip to Boquete required another flight as the drive was well over six hours. Going to Boquete would have had us spend another night in Panama City as the flight to David (where you fly to get to Boquete) left before we returned from Playon Chico. So, we chose to rent a car and drive up to El Valle de Anton. It took us two hours to get to the mountain village.
Park Eden Bed and Breakfast
We drove up to Park Eden Bed and Breakfast, located in a delightful neighborhood. All four of us stayed in a large room with a loft with a queen bed and a main floor with a king bed, a twin bed and a bathroom. We liked this B&B, but we should have splurged on the Los Mandarinos Hotel. TripAdvisor reviews are fine for Park Eden, and their breakfast was enormous and truly spectacular.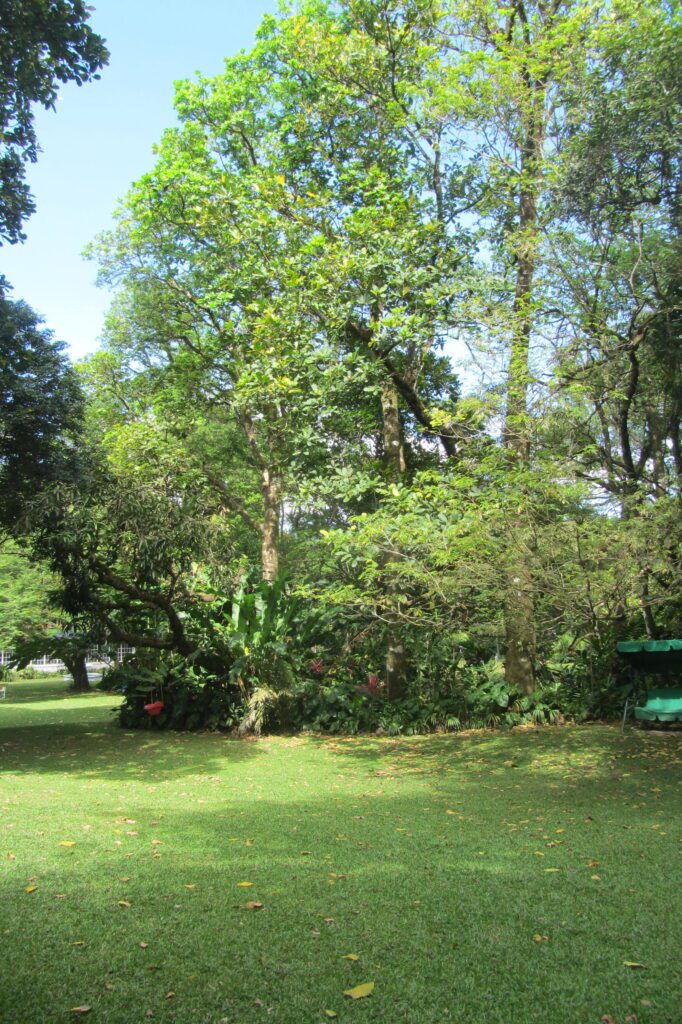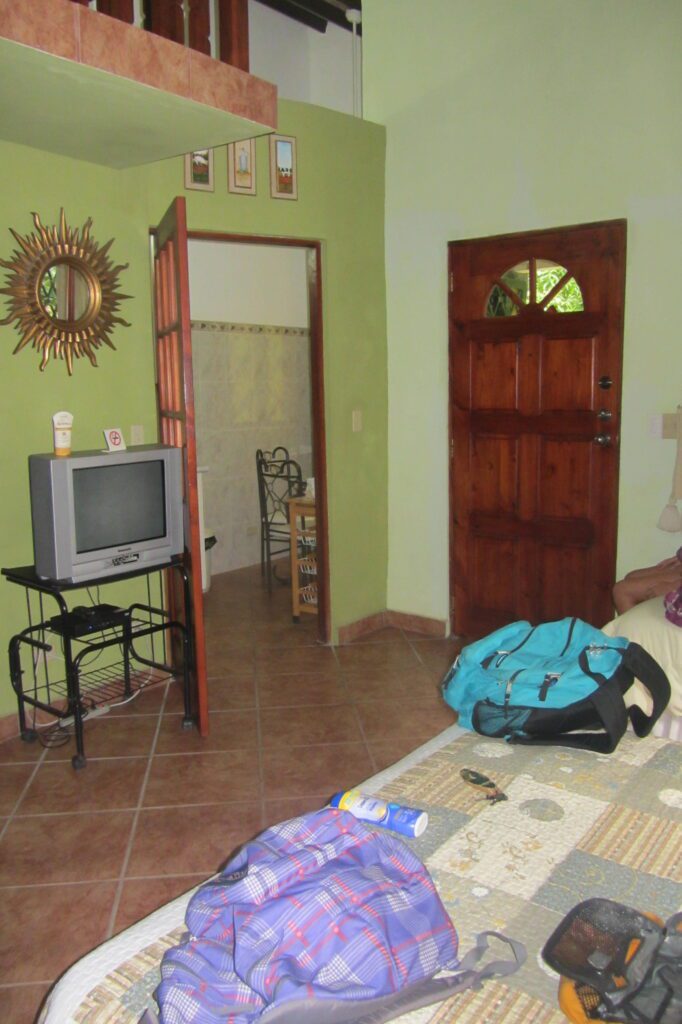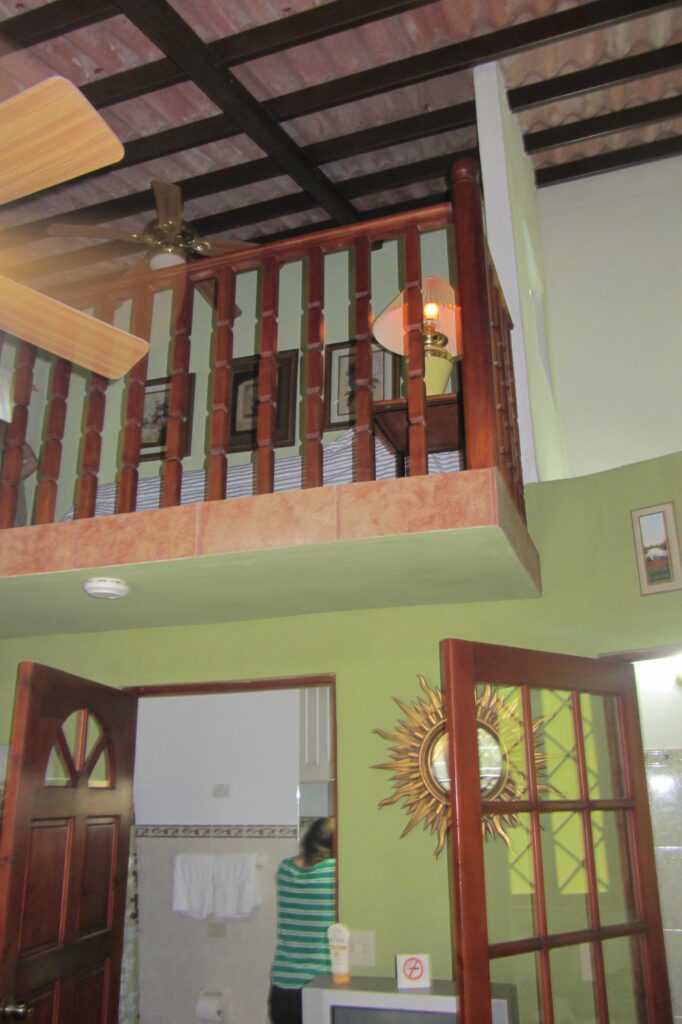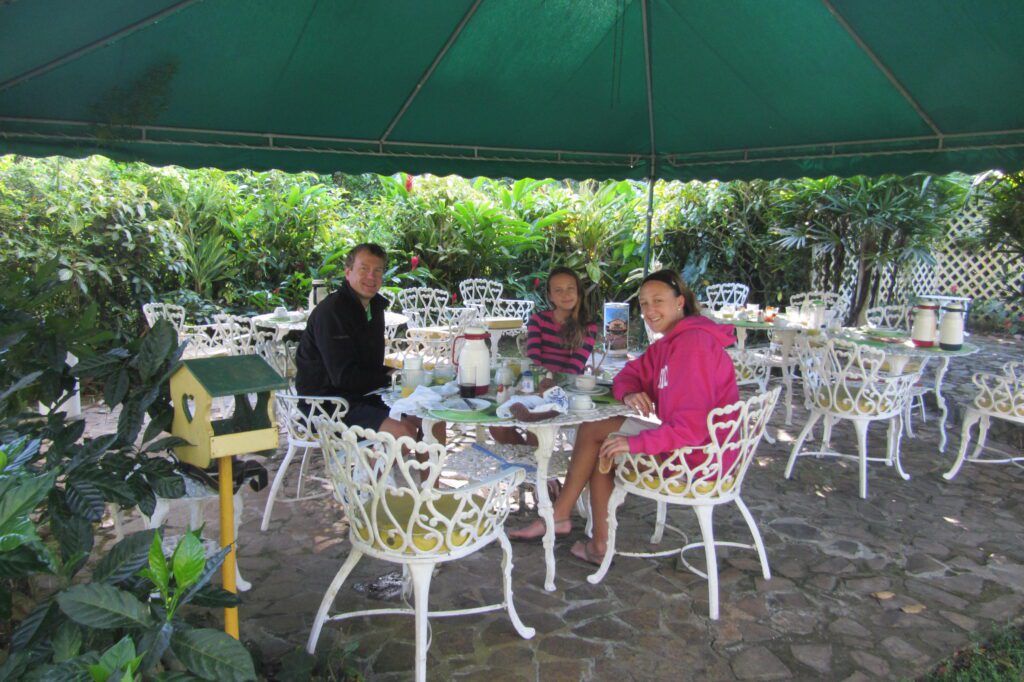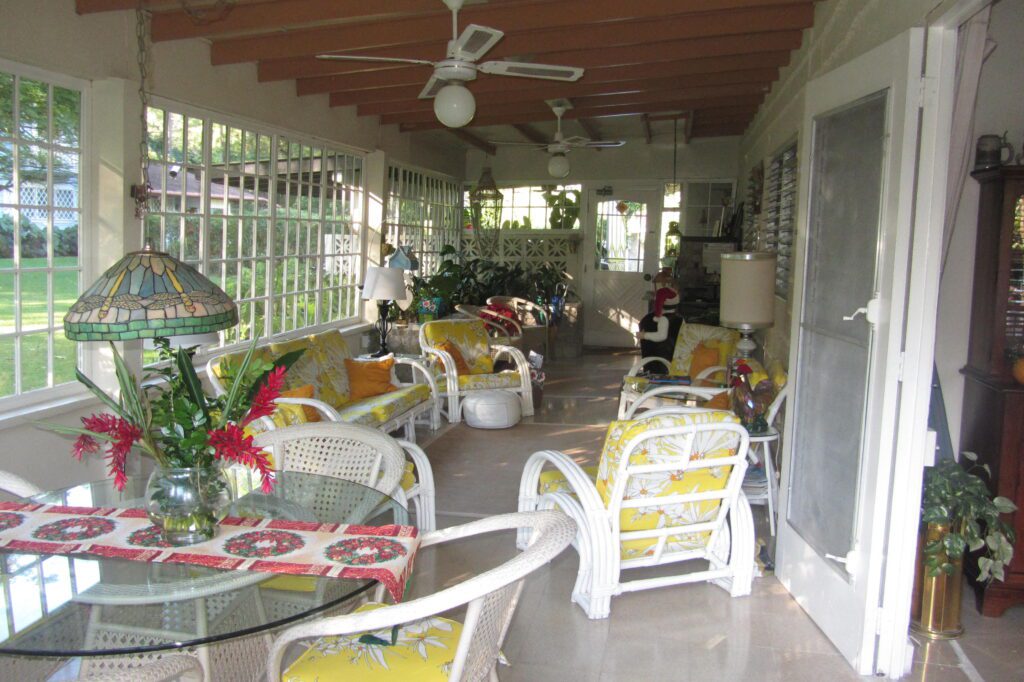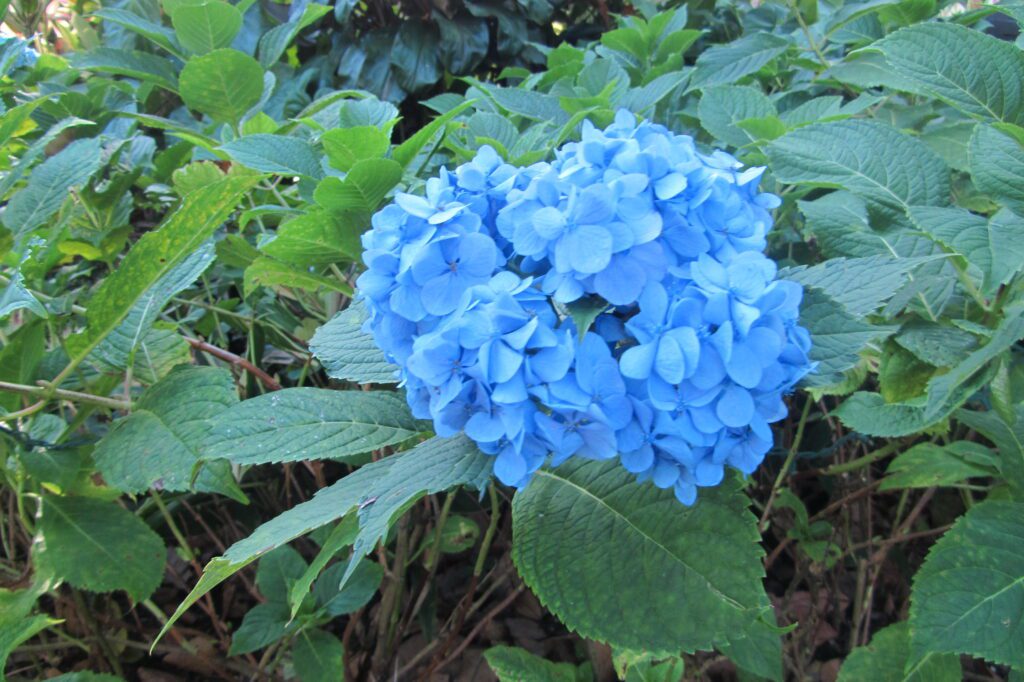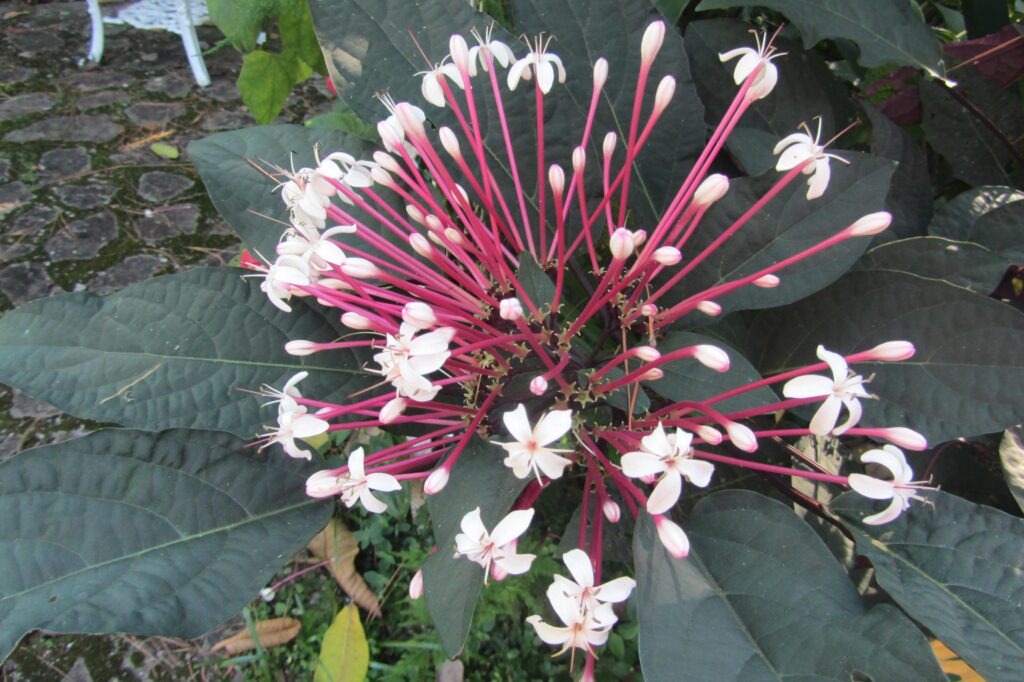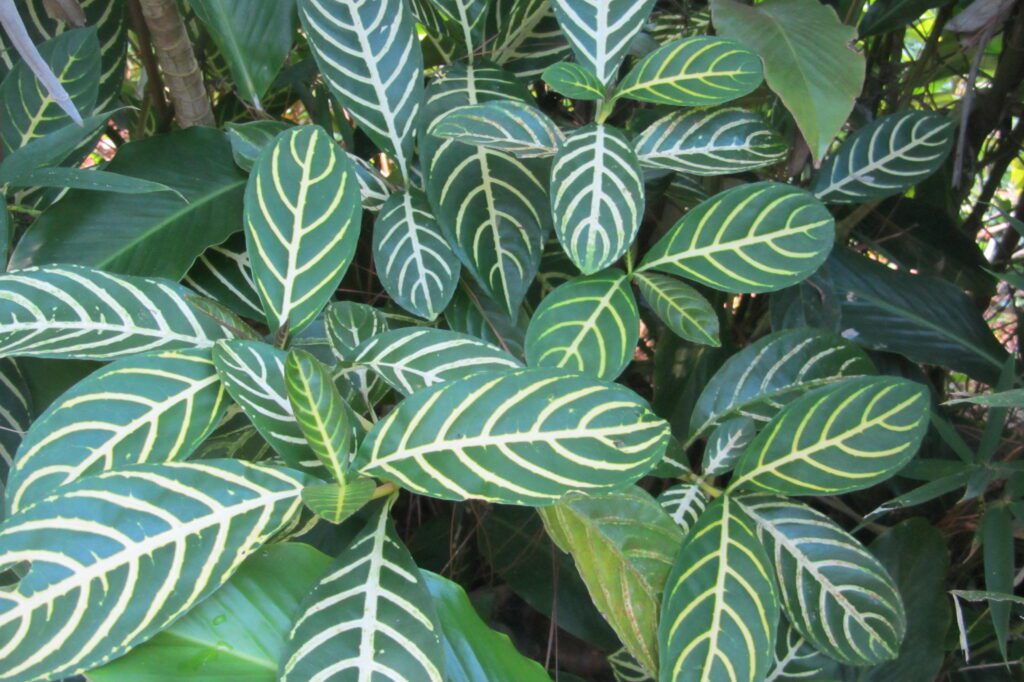 Lunch at Bruschetta, Horseback Riding and the Square Trees
We ate lunch at Bruschetta, a restaurant that still appears to be open. We had pizza and salad. The service was painfully slow.
After lunch, we rode horses around town for a while with a guide and then visited the square trees that are only found in Panama! To visit the square trees, park at the Hotel Campestre, pay the small admission fee and enjoy the nice hike.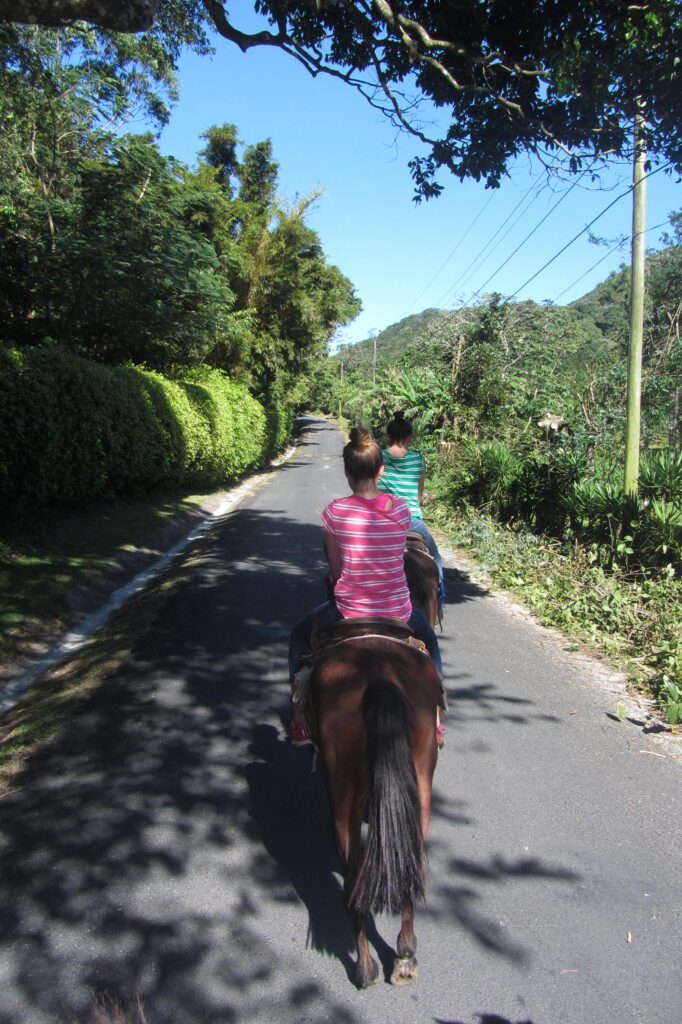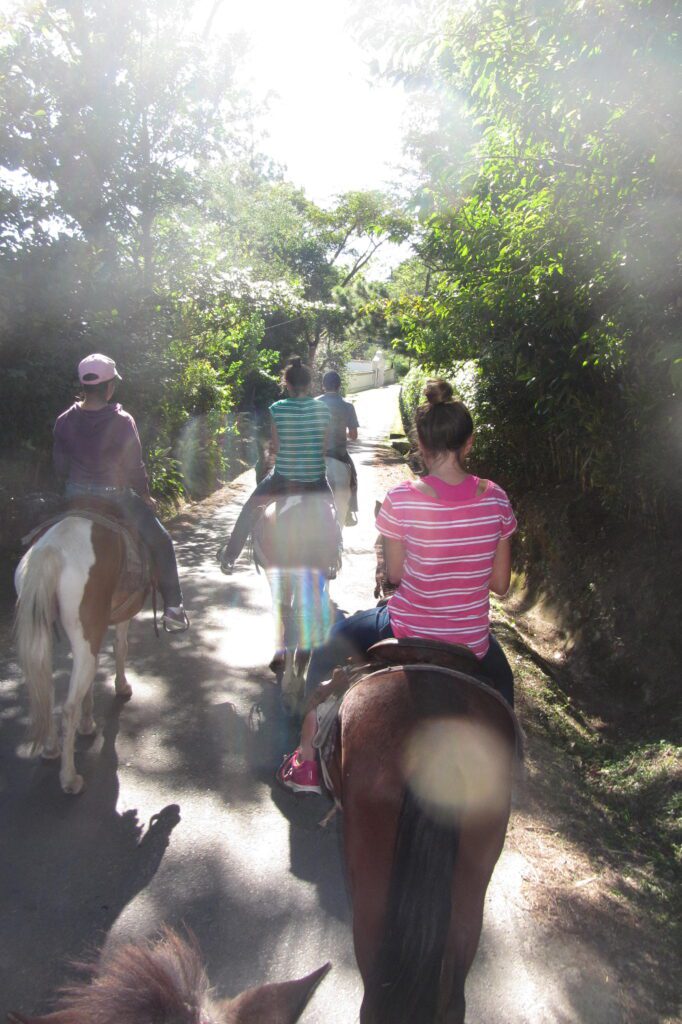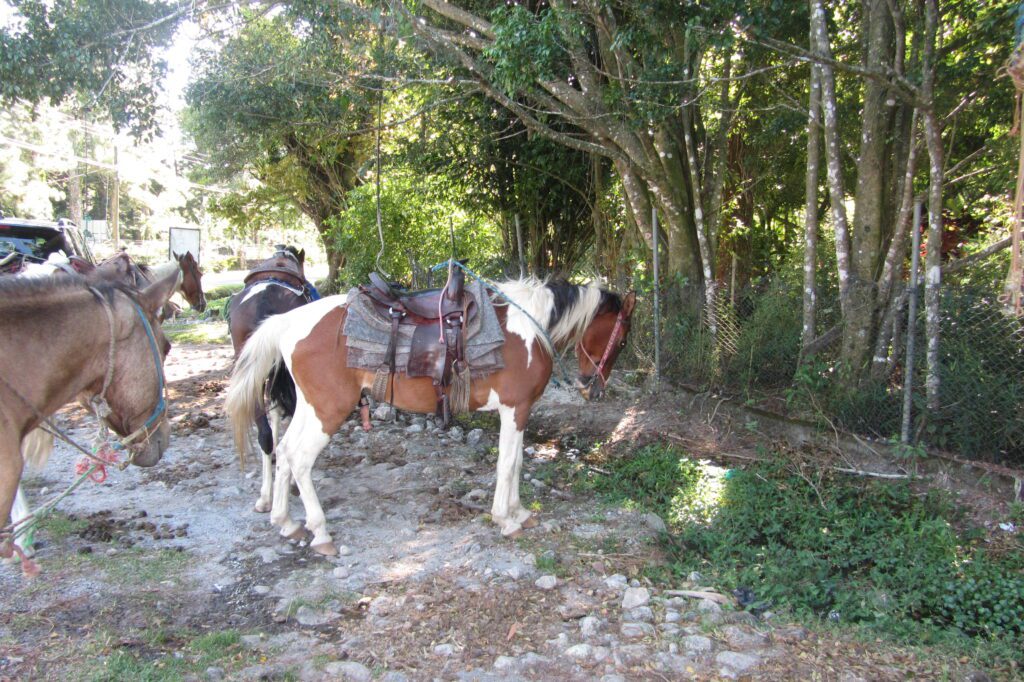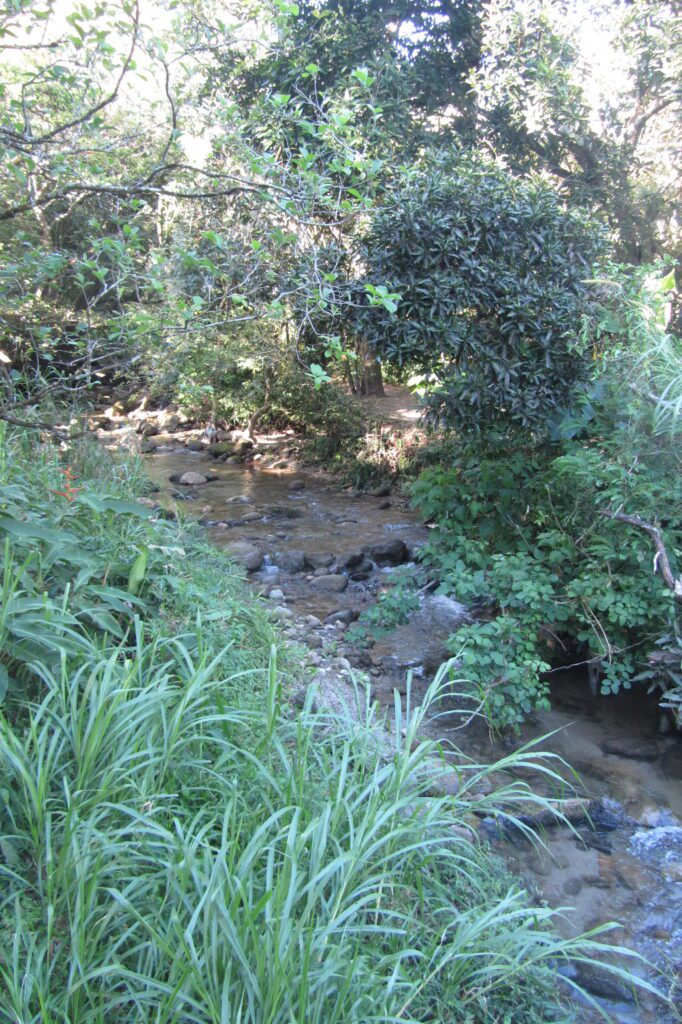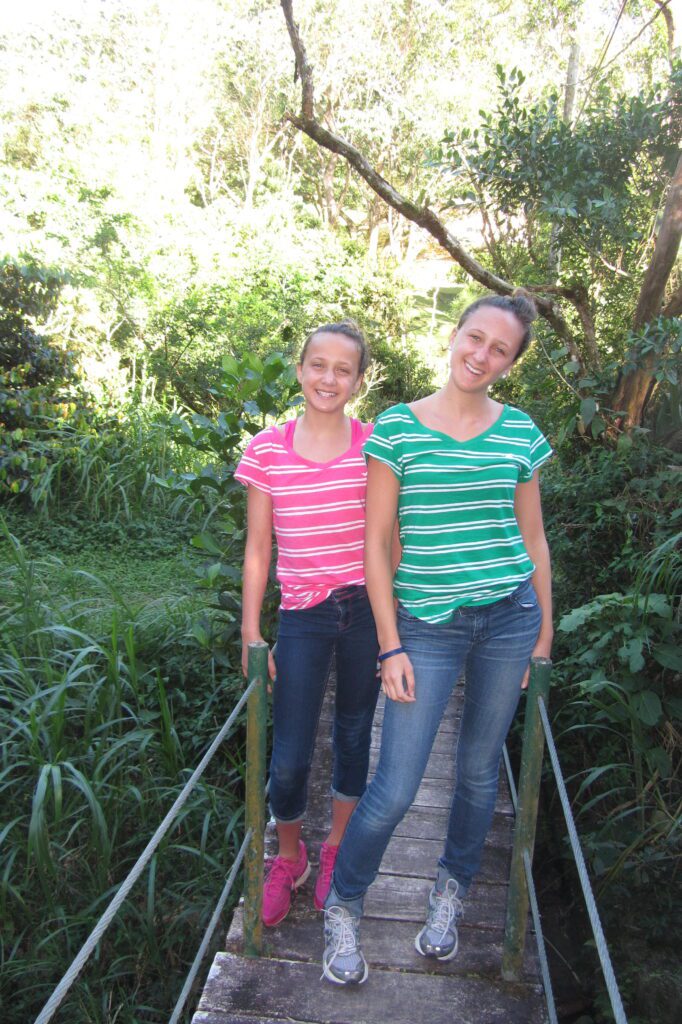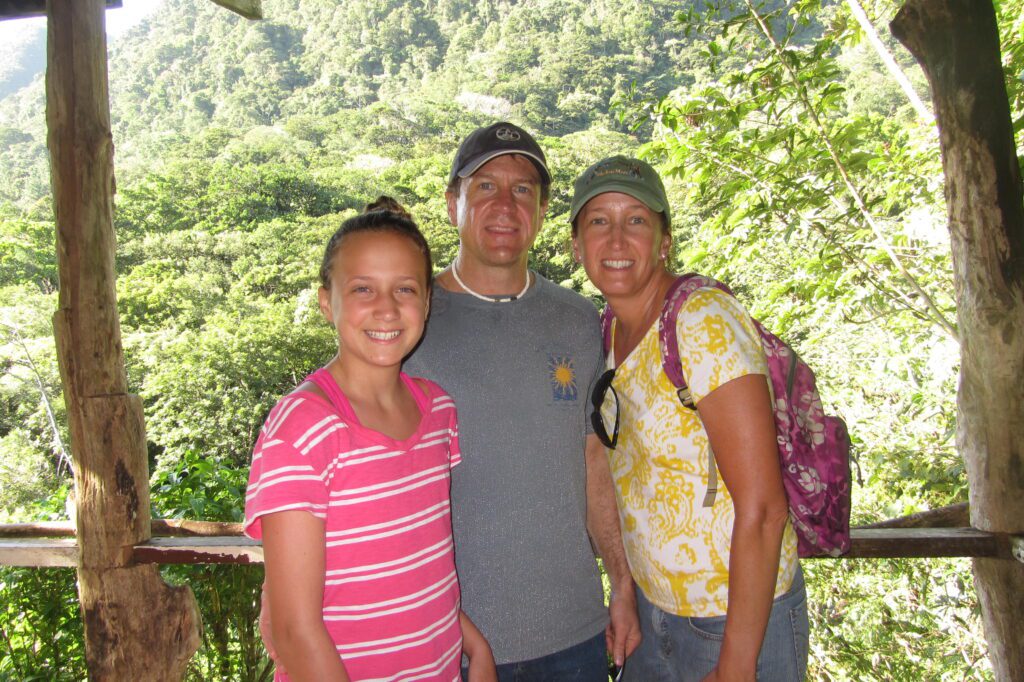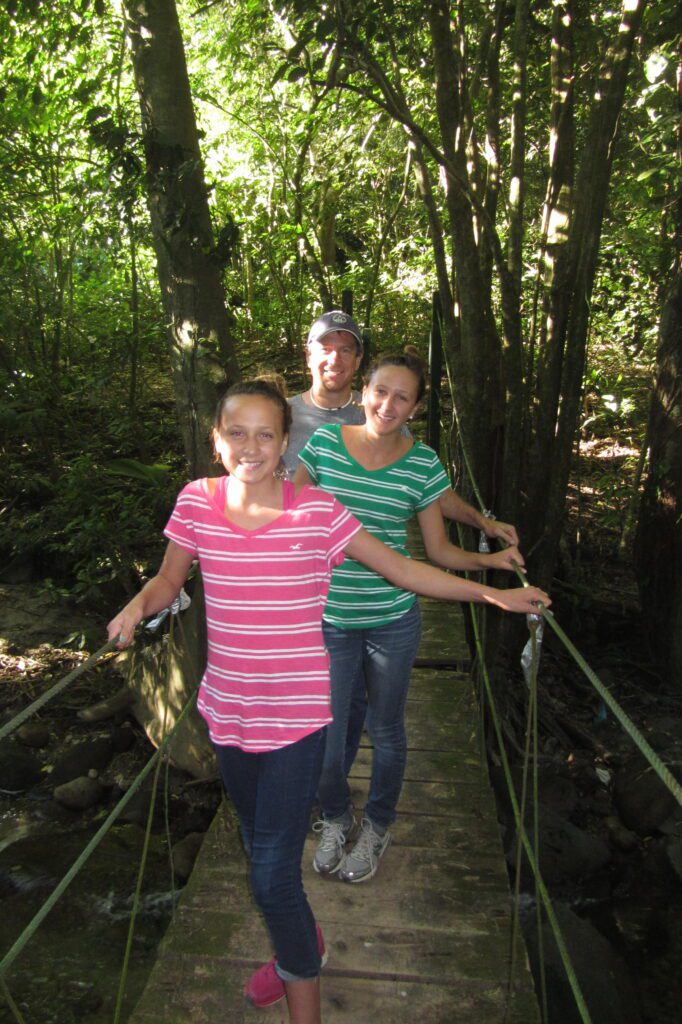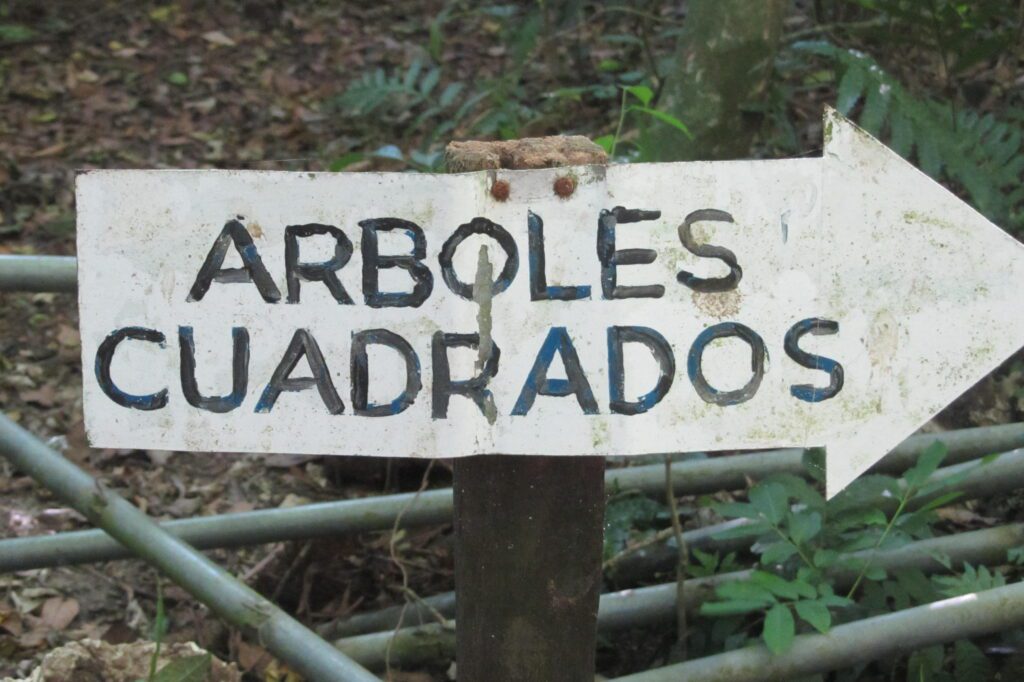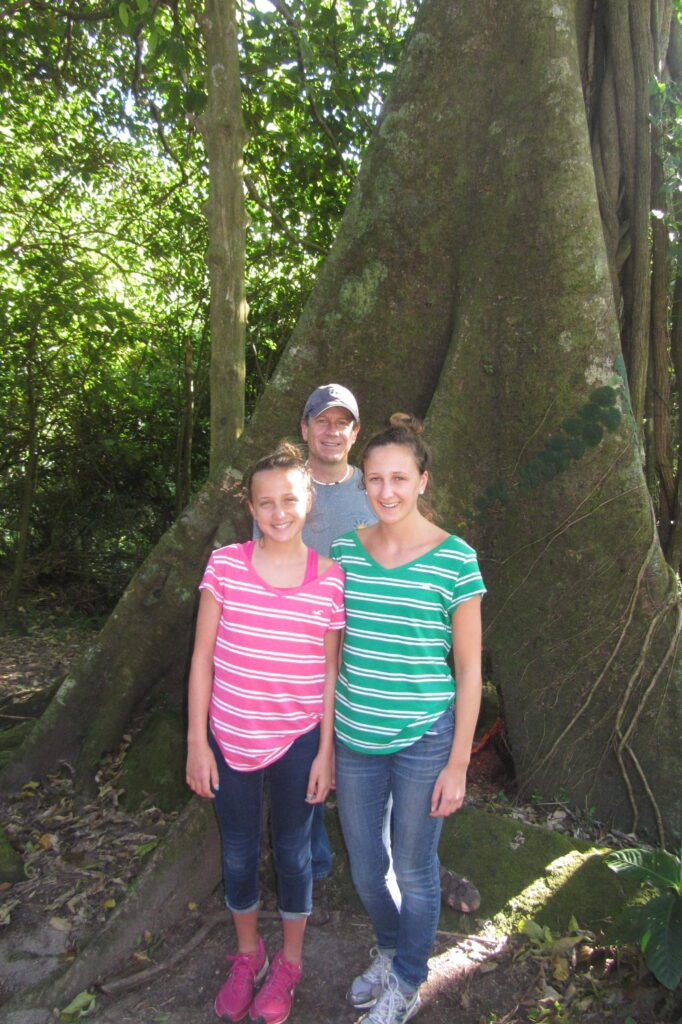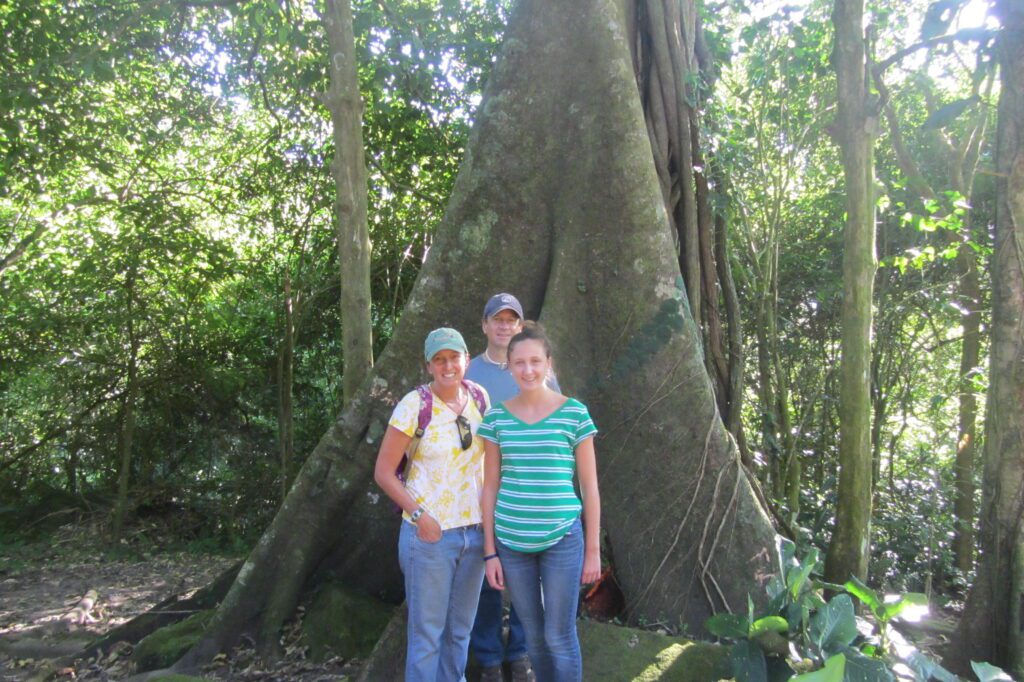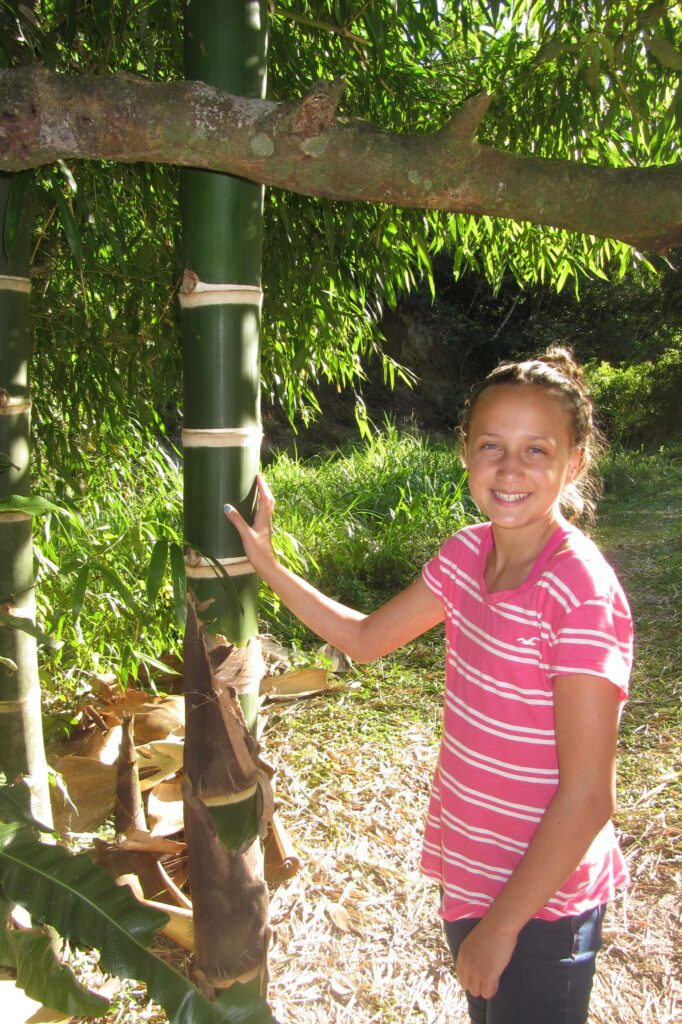 Chorro El Macho Zipline and Hike
We drove to Chorro El Macho. You do not need a guide or a tour to find it. This waterfall is just outside of town. At the falls, you can zipline on four lines over the waterfall, hike the bridges and swim in a natural pool. We chose to do all three. We hiked up a hill and then began to zip. At the bottom, we did the bridges and took a chilly swim in the waters coming from the falls. We enjoyed our stop here. We arrived first thing in the morning to beat the tour buses! Do not take a bus. Drive yourself.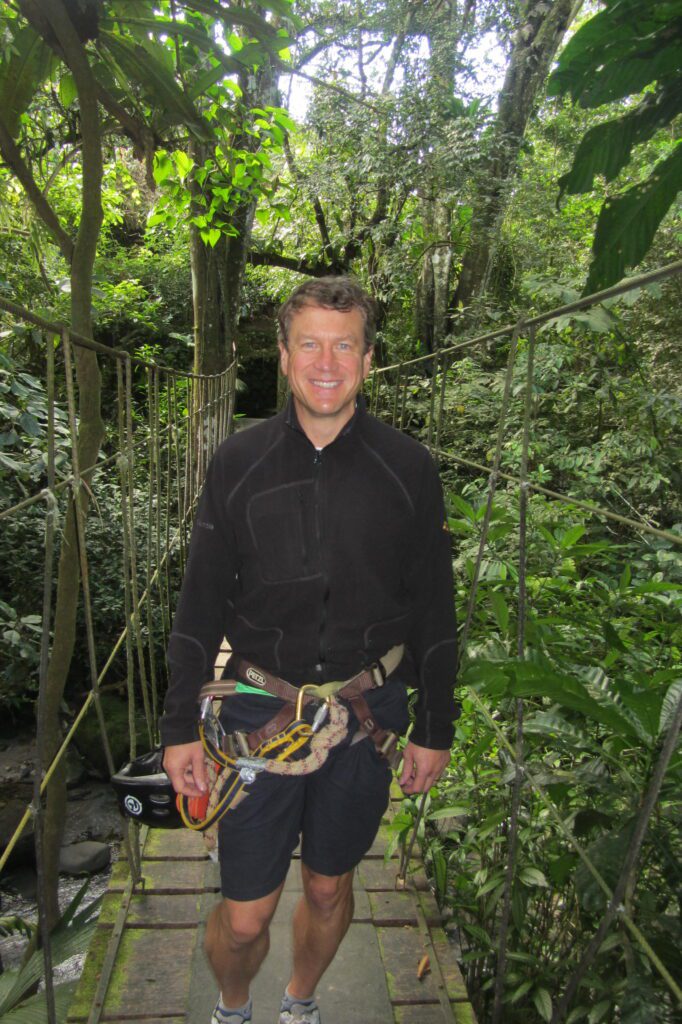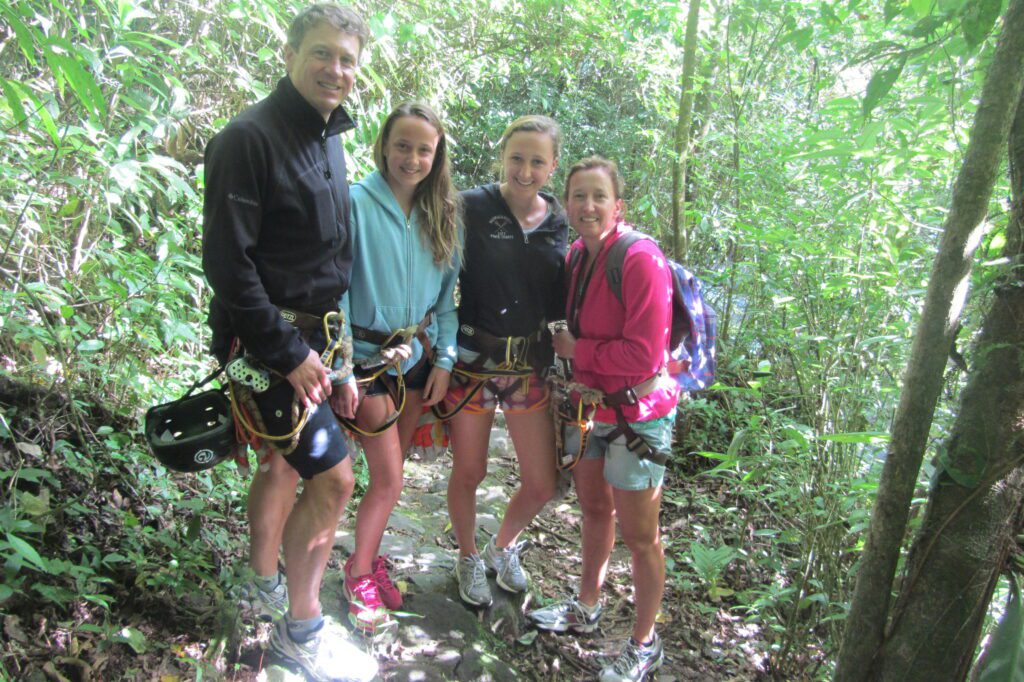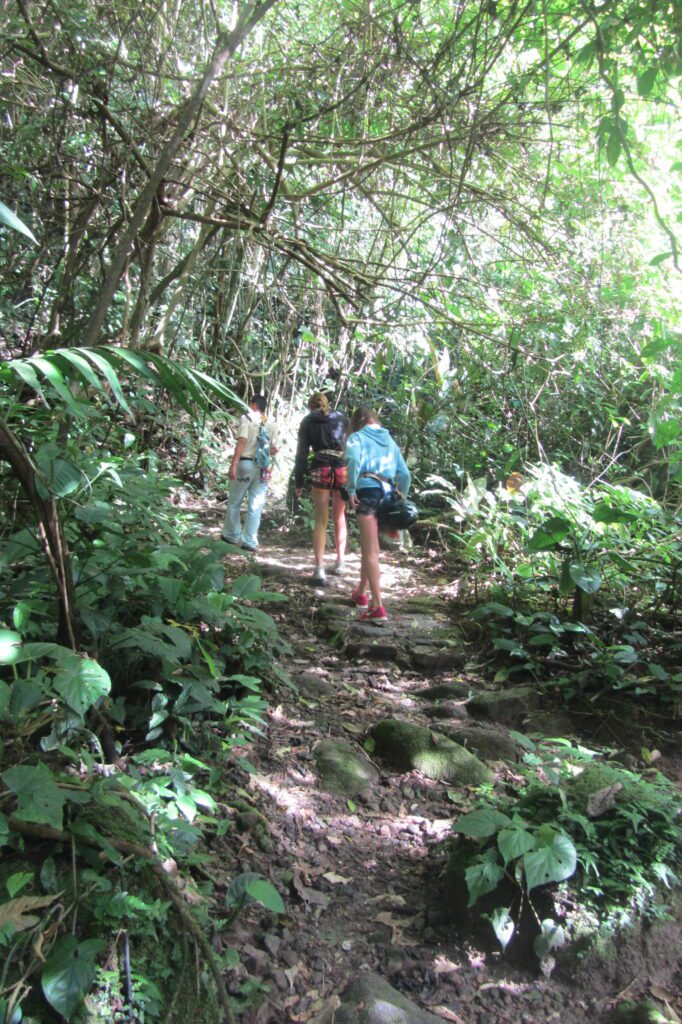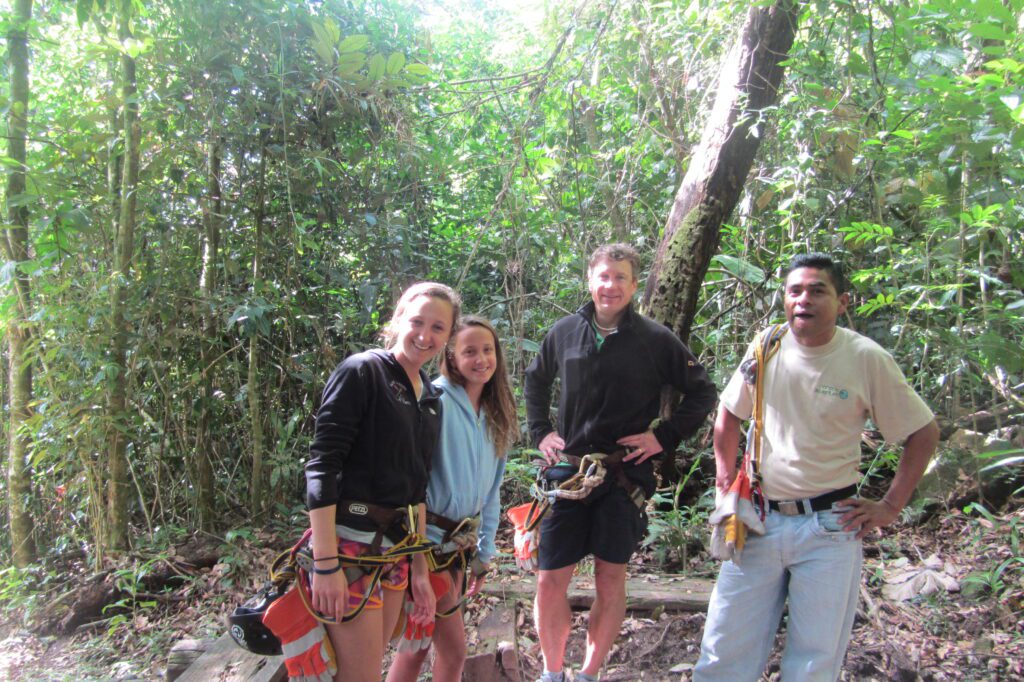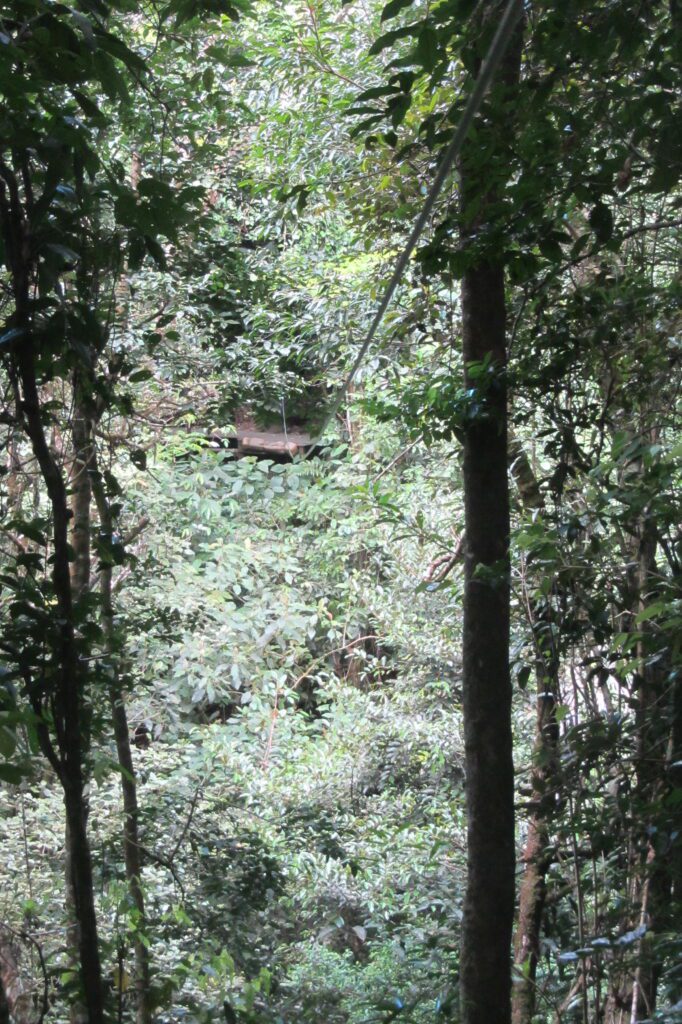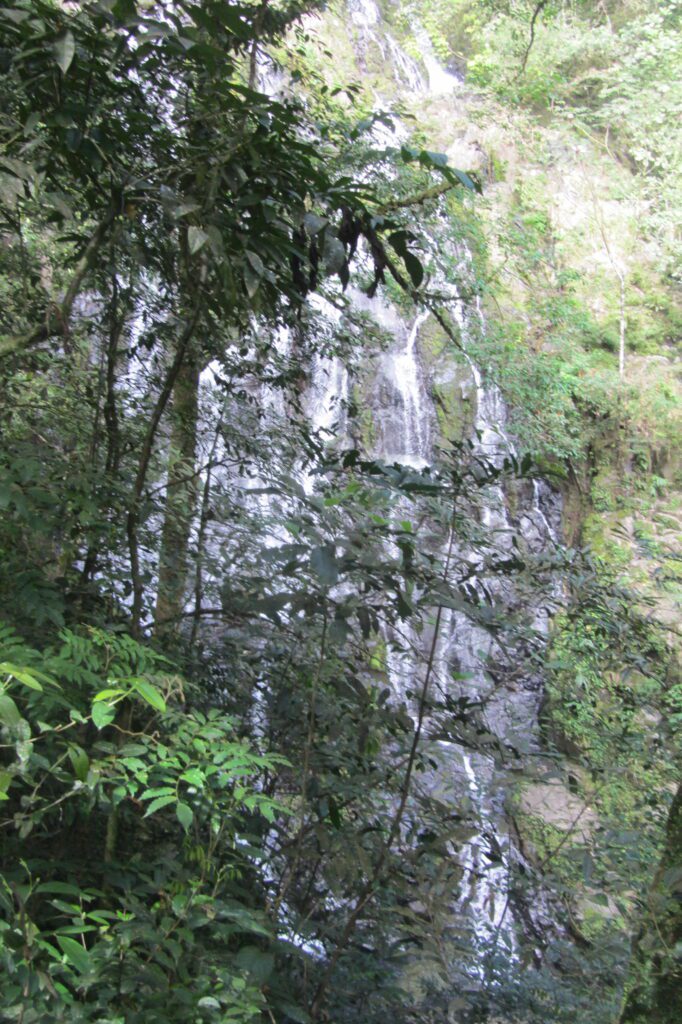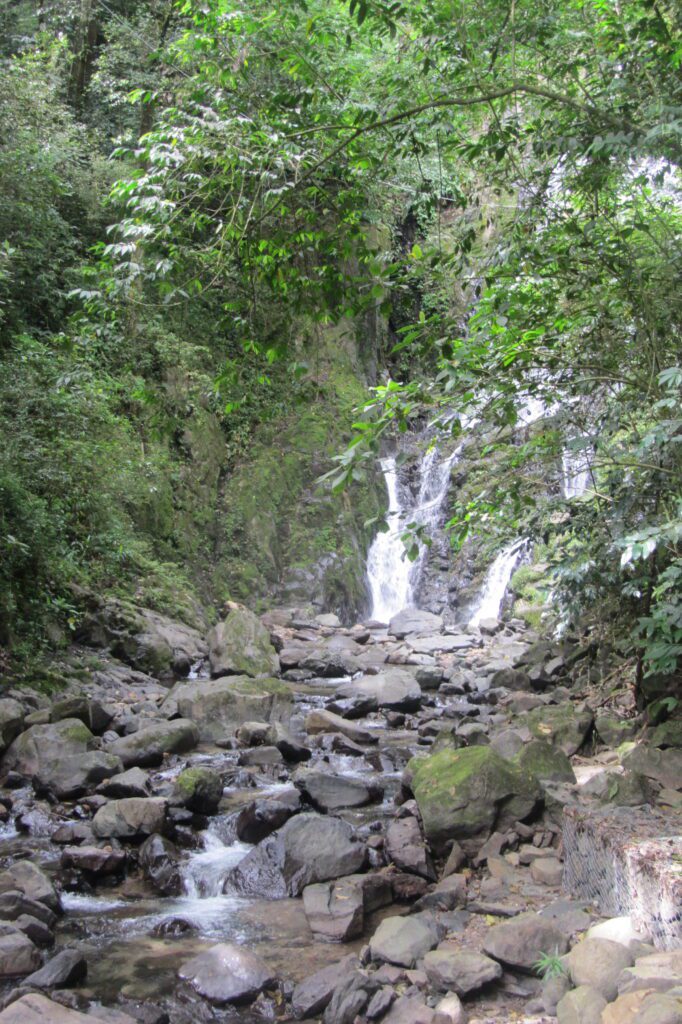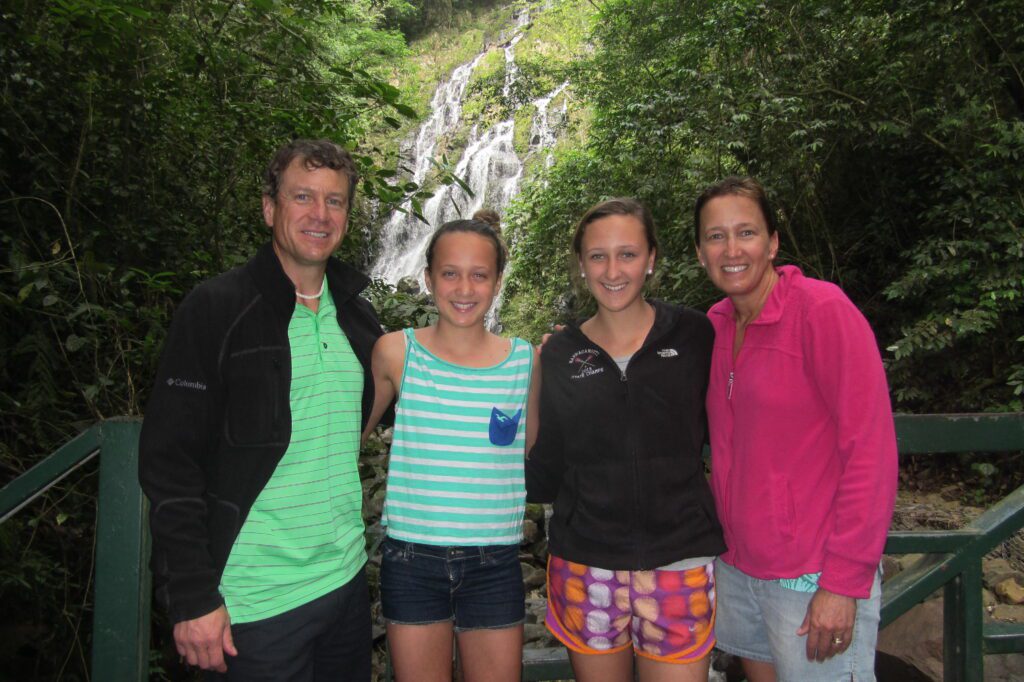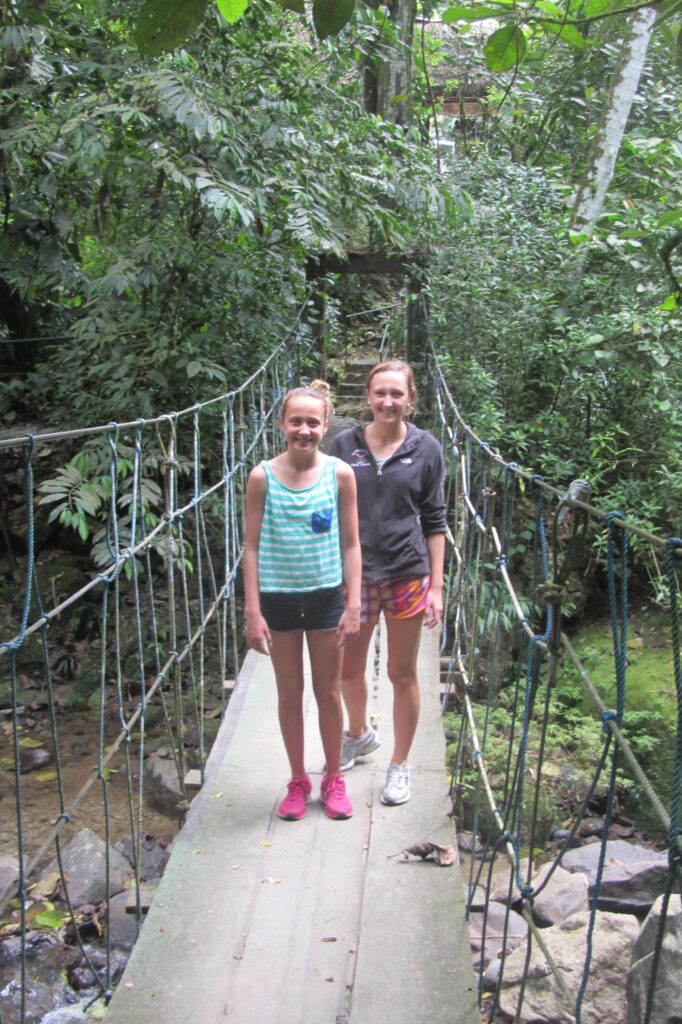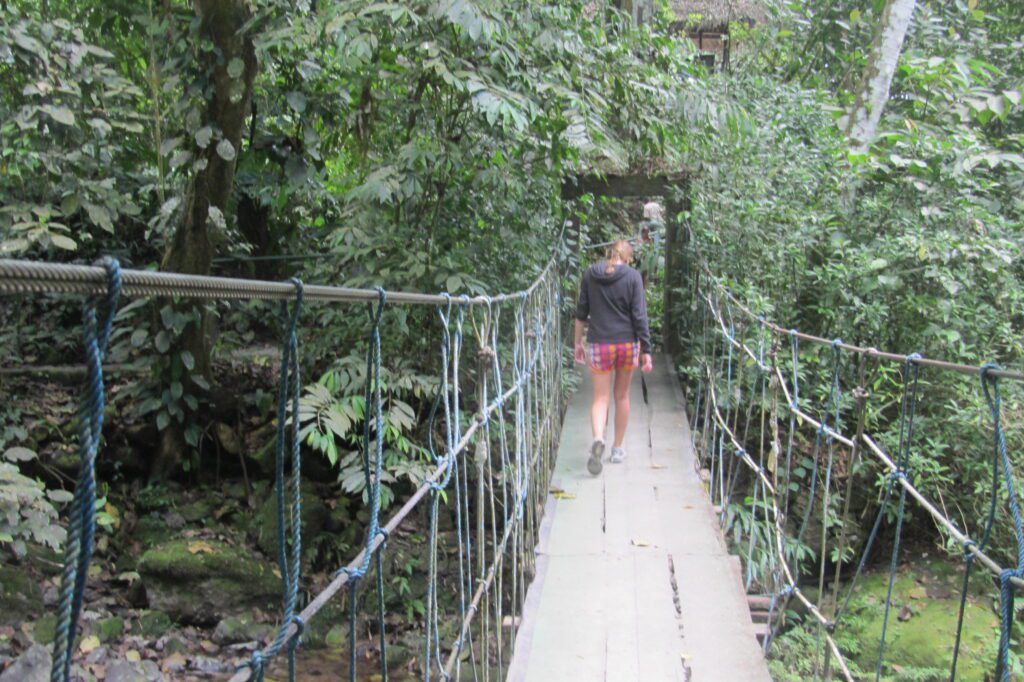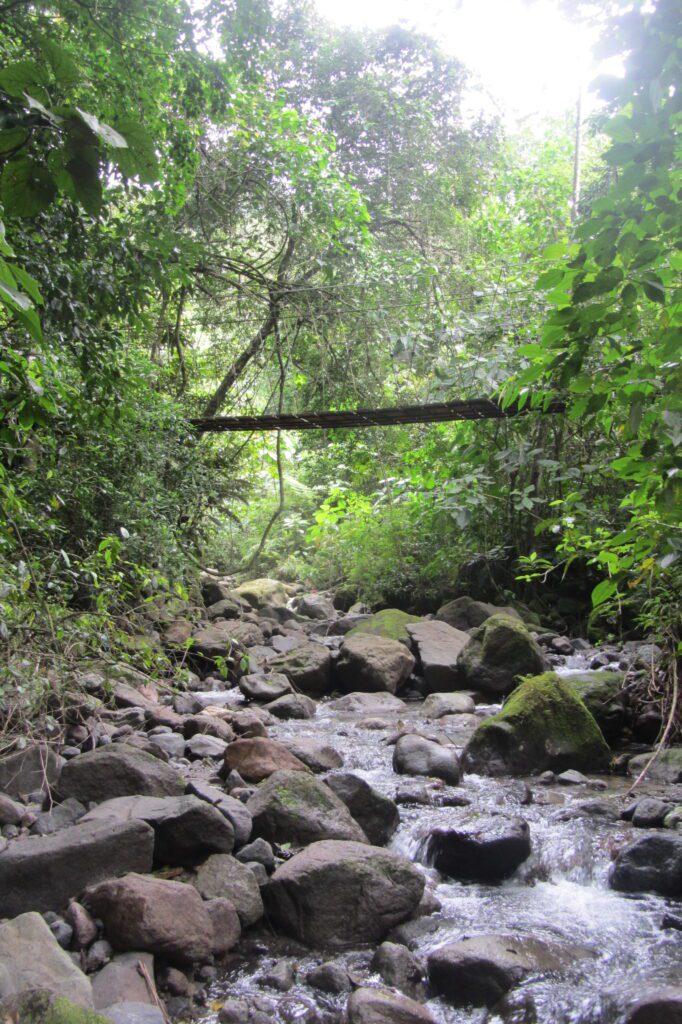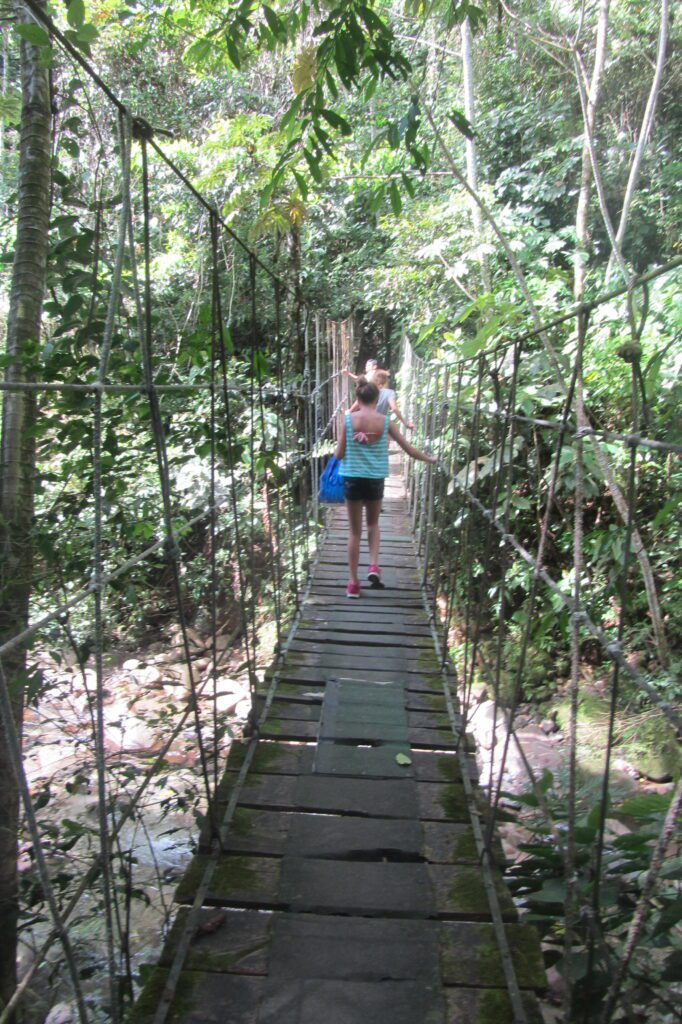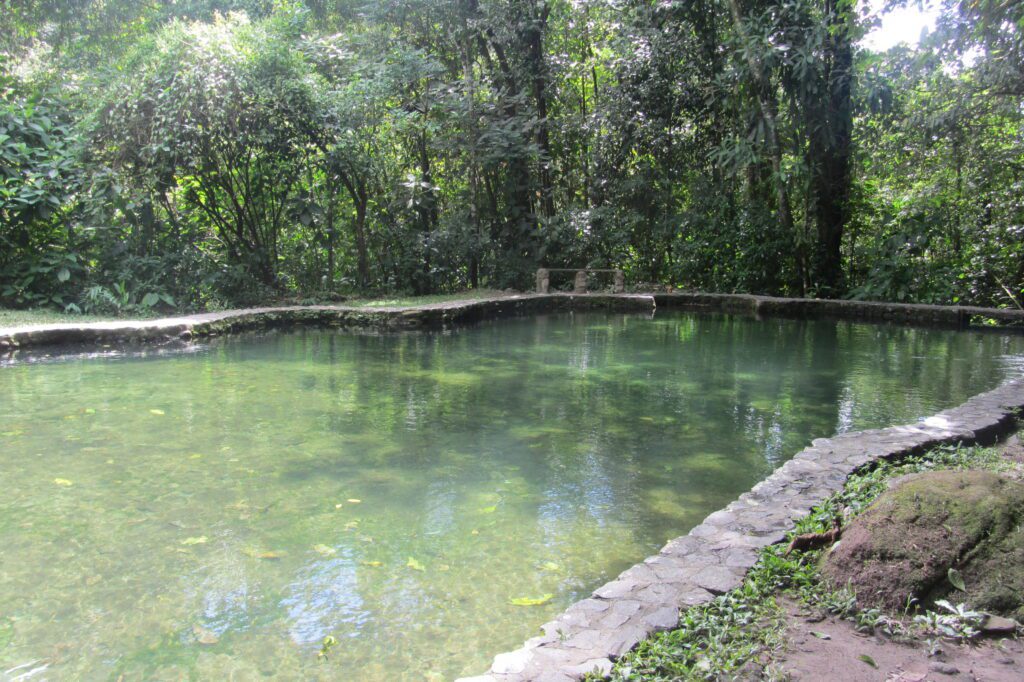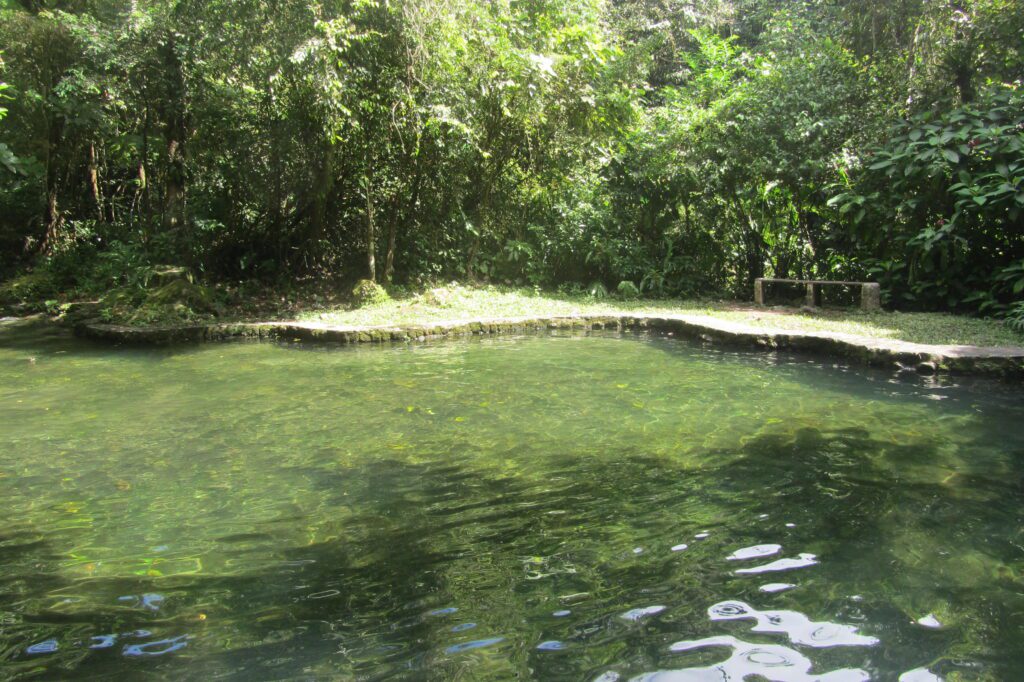 Chorro Las Mozas
We drove to the Maiden's Falls called Chorro Las Mozas. The owner of the B&B recommended to not go here on a weekend as it is a "drinking day." Lots of Panamanians party here on the weekends. We went on a weekday and it was just us. You pay $1/person and walk about four minutes down the river. We swam in a small pool and totally enjoyed the off-the-beaten-path adventure.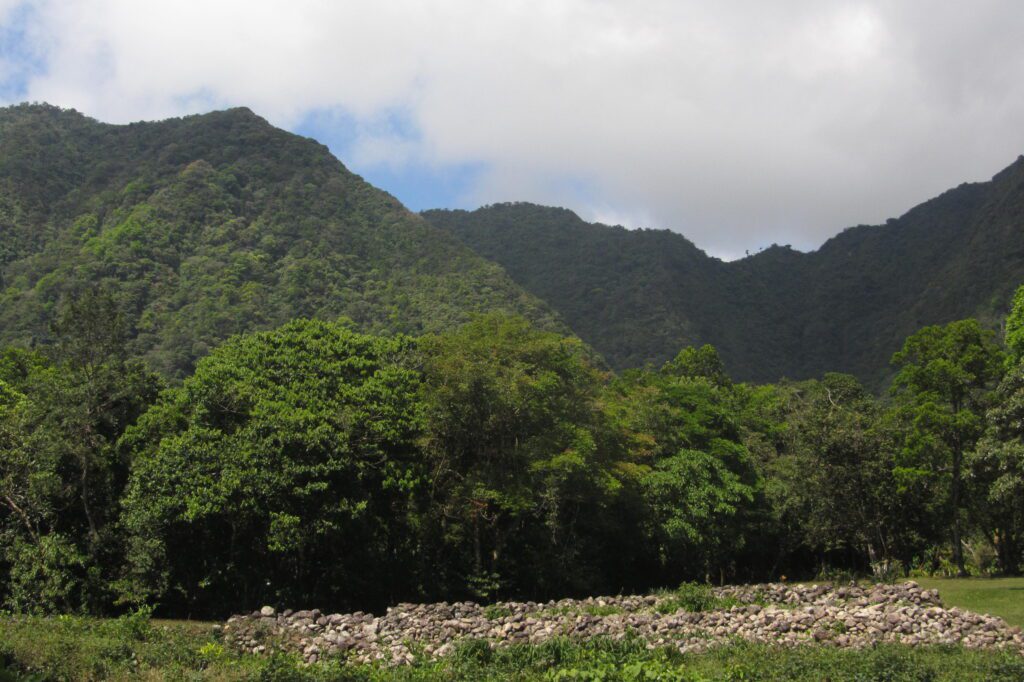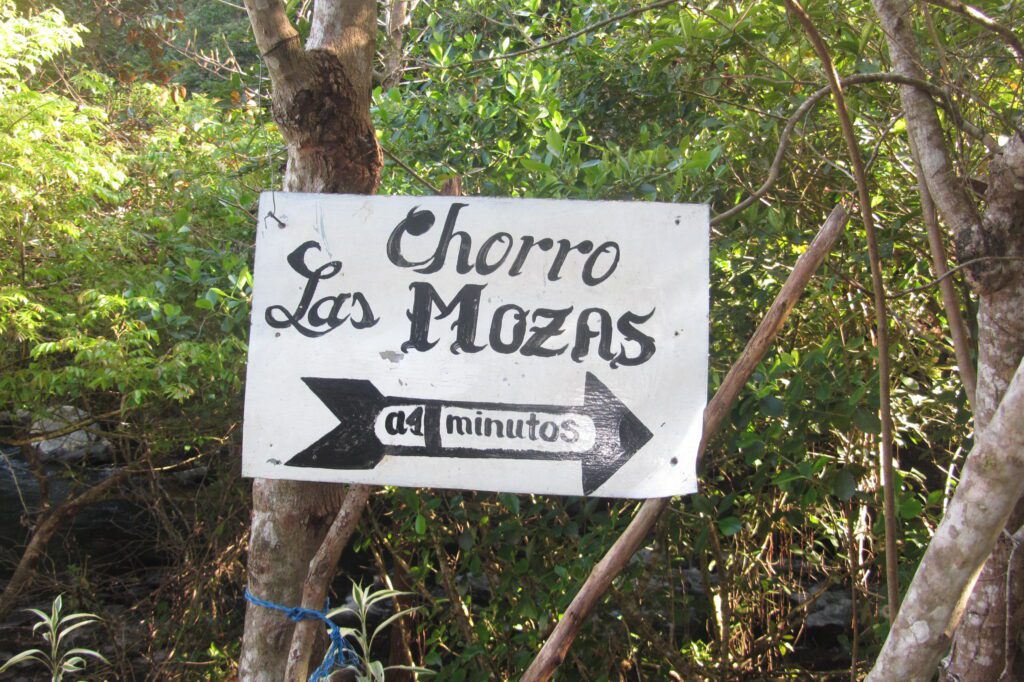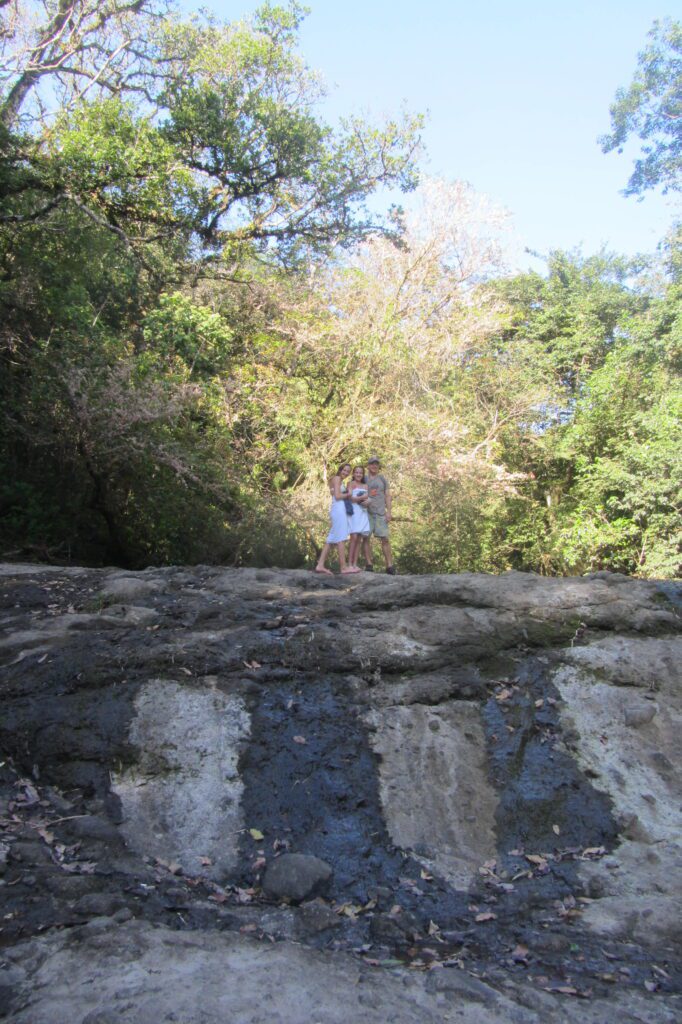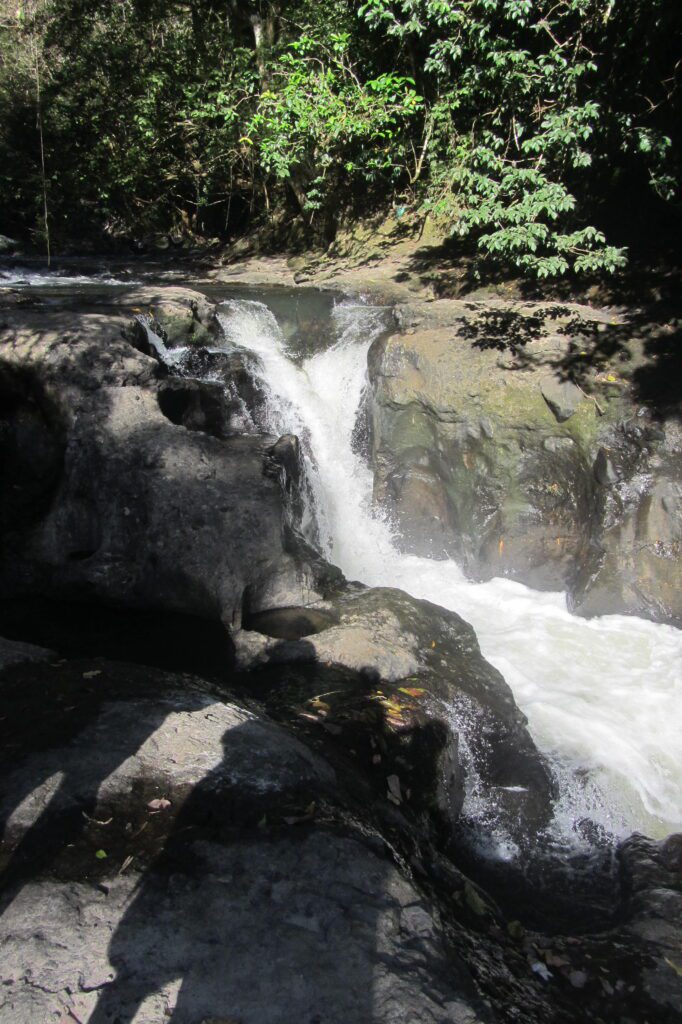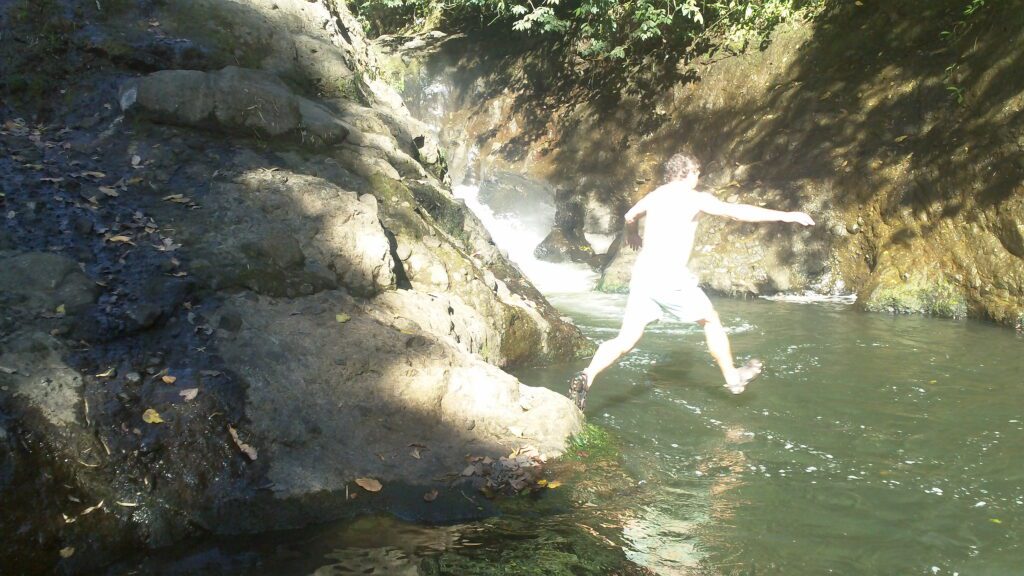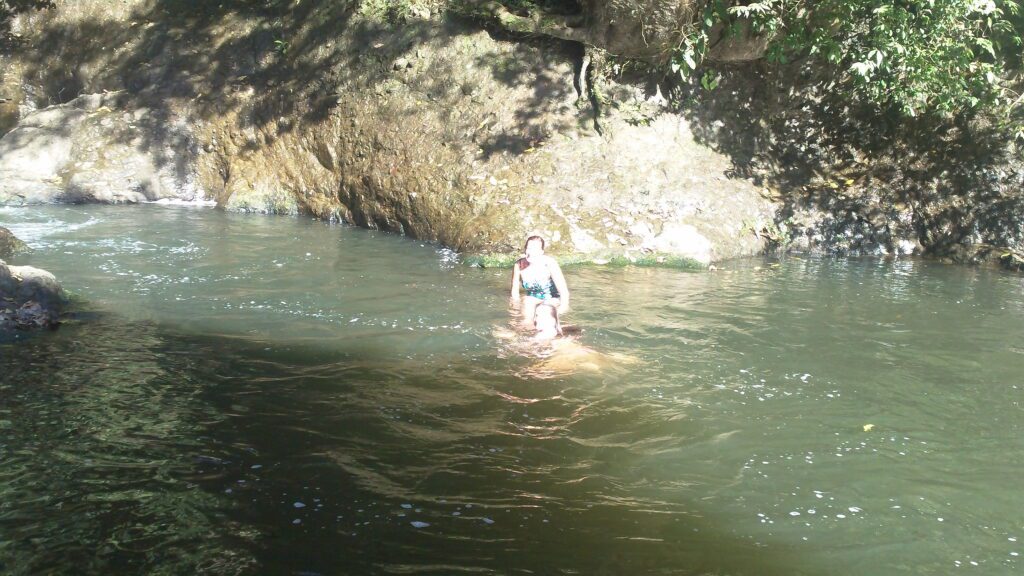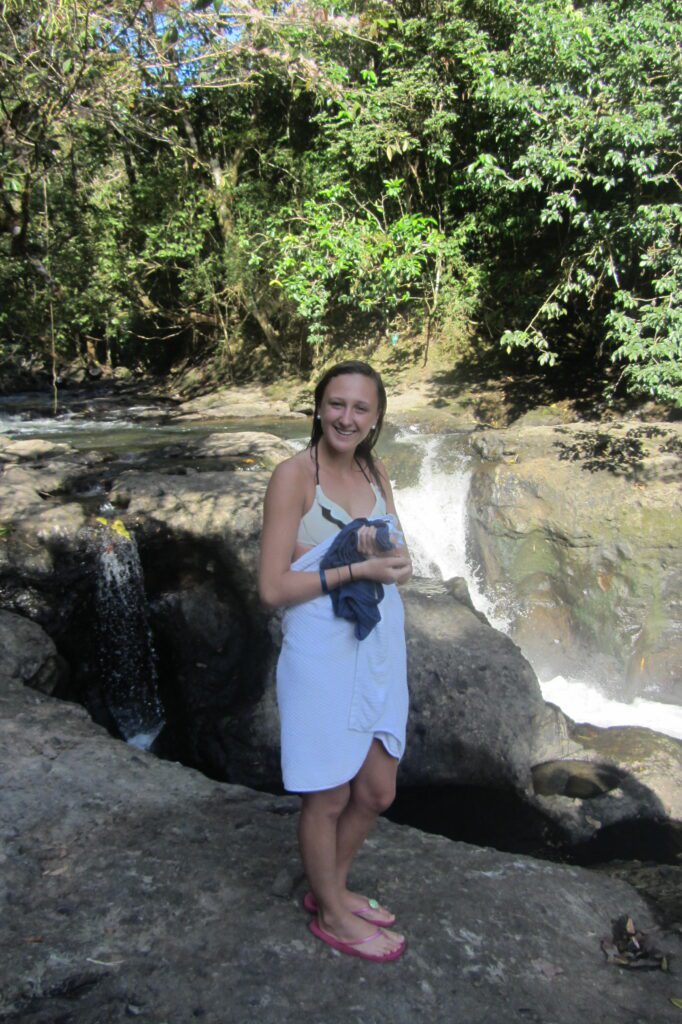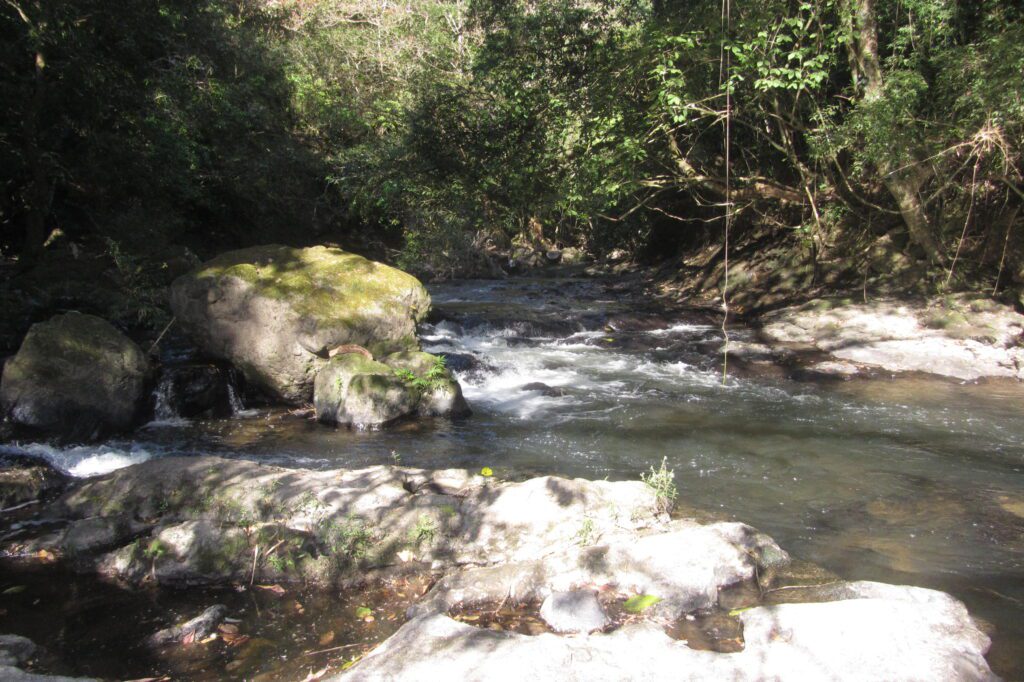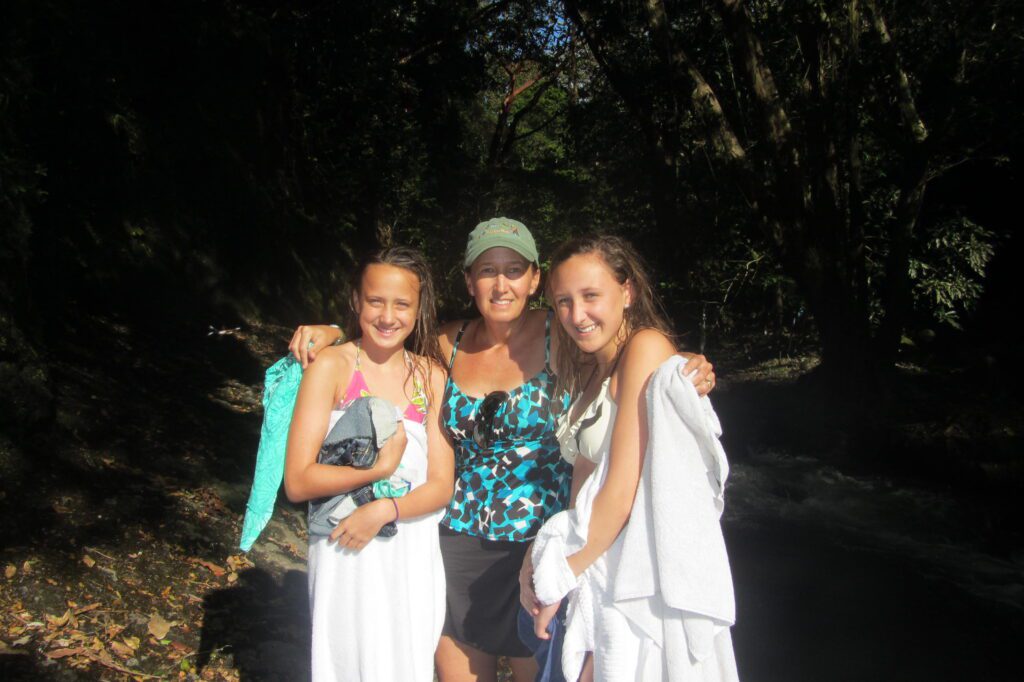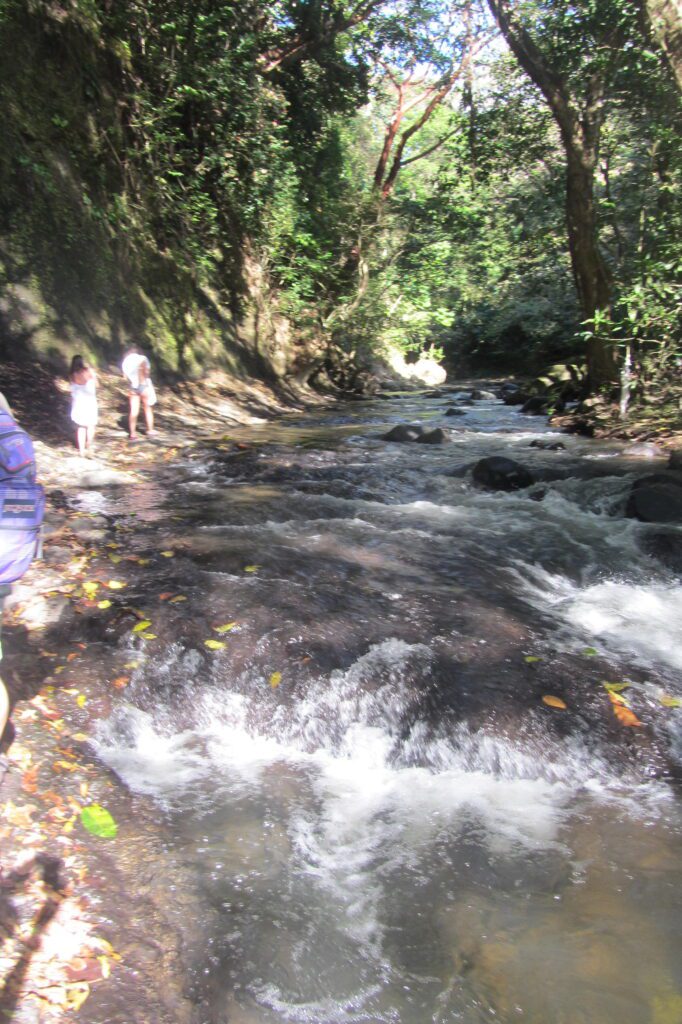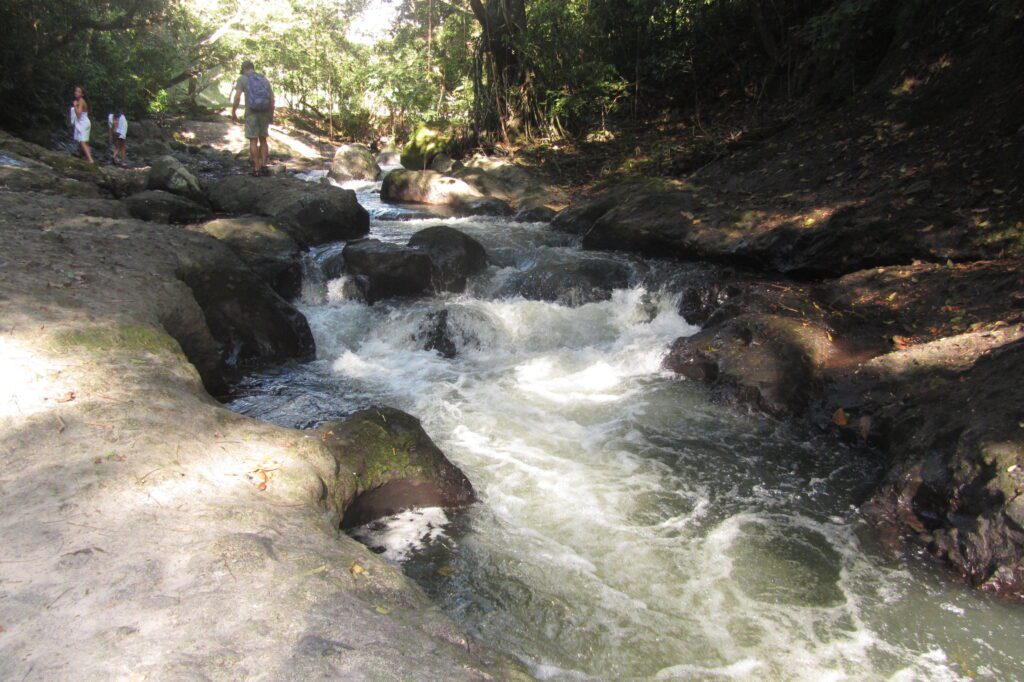 Los Pozos Termales
There is a small volcanic hot spring in town. It costs $3/person. We stayed for about half and hour for a mud facial. We chose not to go into the muddy water baths as it does stain your bathing suit. TripAdvisor reviews are fine.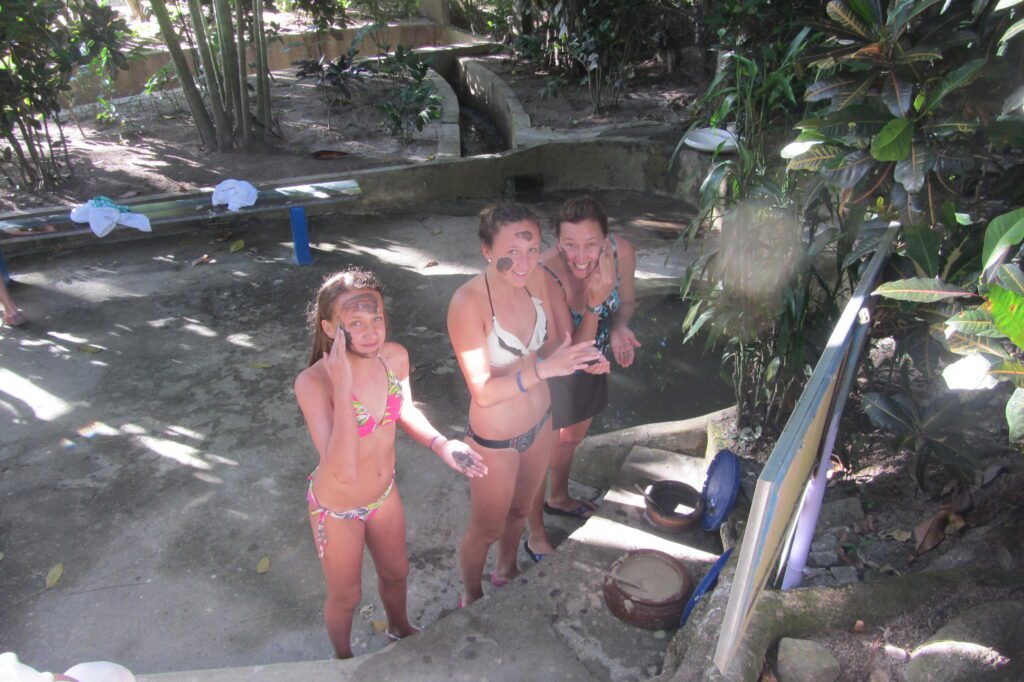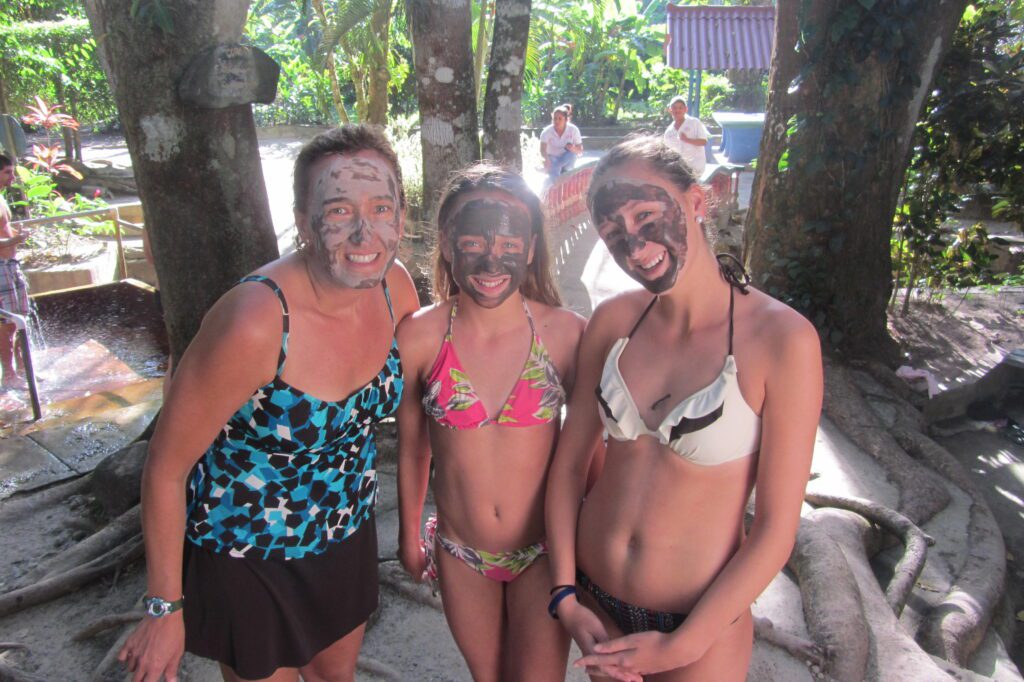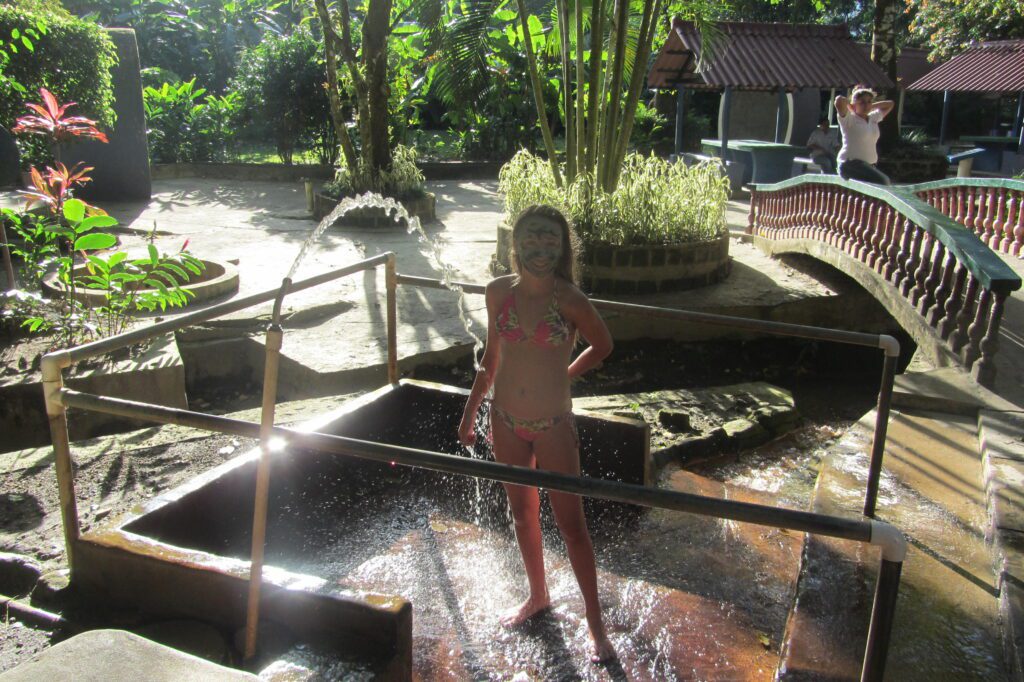 La Casa del Lourdes
Our best meal of the trip was has at La Casa del Lourdes. We loved everything about this hotel and restaurant. It is spectacular. If you visit El Valle de Anton, plan a visit here. TripAdvisor reviews are excellent.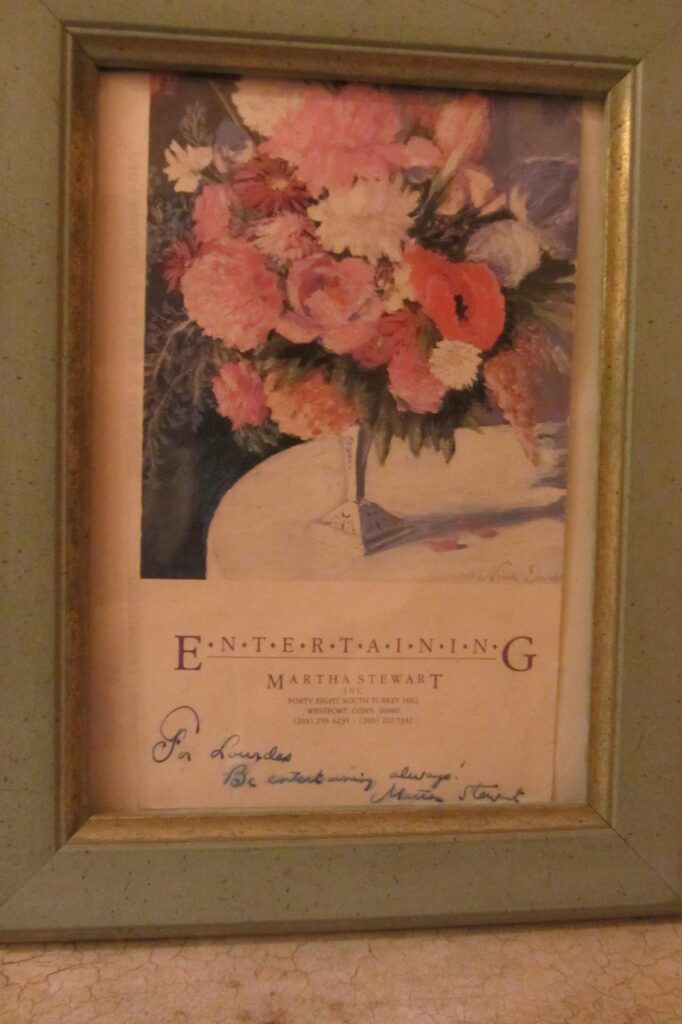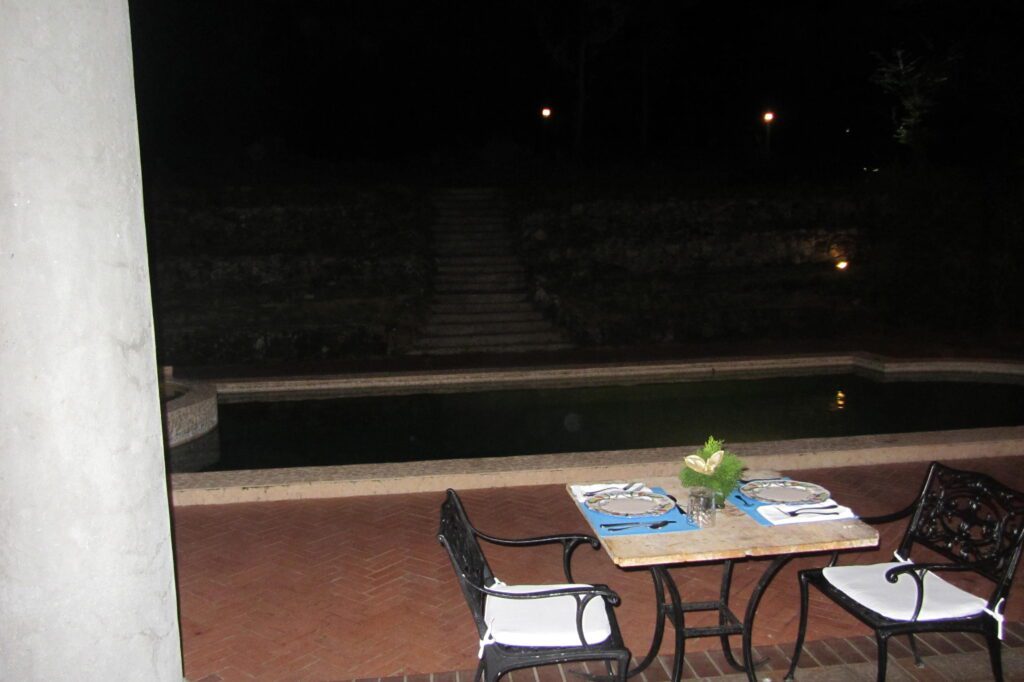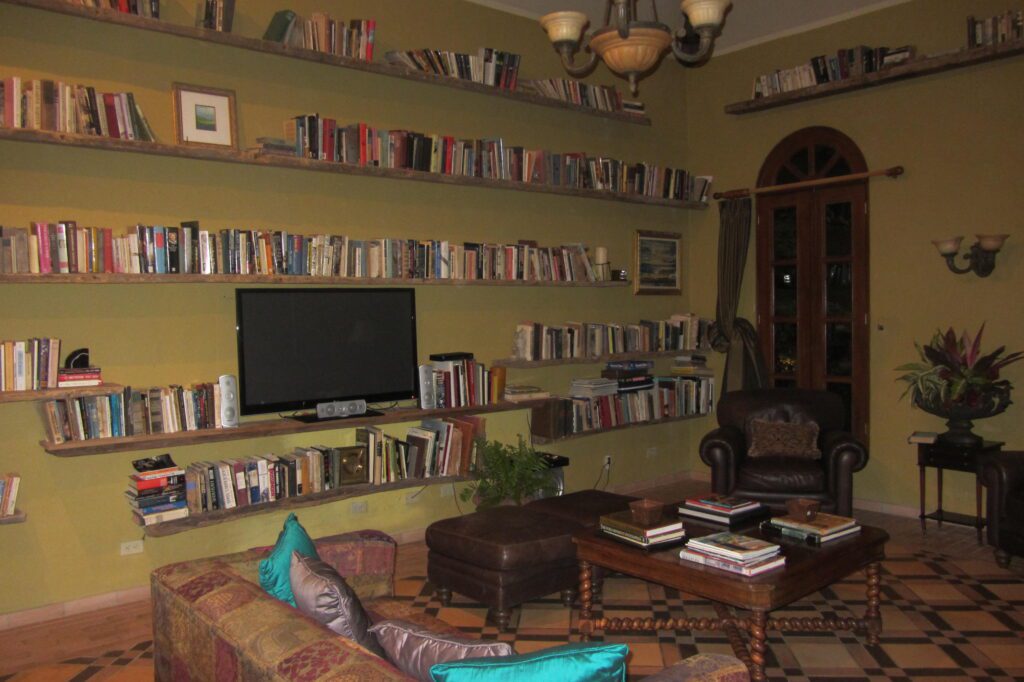 La India Dormida Hike
We took a lovely hike to the top of La India Dormida (the sleeping Indian). Legend has it that the first people who inhabited the volcano crater of today's El Valle de Anton, were the Guaymi Tribe. The tribe fought against Spaniards, who were trying to conquer the land. Luba was the daughter of chief Urraca; she fell in love with a Spanish soldier. A Guyami tribesman named Yaravi loved Luba. When Yaravi saw Luba did not love him but loved the enemy, Yaravi committed suicide in front of Luba by throwing himself off the mountain. Luba realized that she betrayed her tribe with her reckless behavior. Luba ran into the mountains where she died. One of the mountains is now in the shape of a female's body, and it is believed that it is Luba.
This hike is a quick 15 minute walk or short drive out of town to Piedra Pintada a site of ancient hieroglyphs. Keep walking up, past the waterfall Chorro de los Enamorados. Be sure to turn LEFT at the tiny sign once you pass the waterfall. It is easy to miss! From the top, on a clear day, you can see both the Atlantic and Pacific oceans. We had a foggy day. You can also appreciate how the entire town of El Valle de Anton is nestled in an ancient volcanic caldera.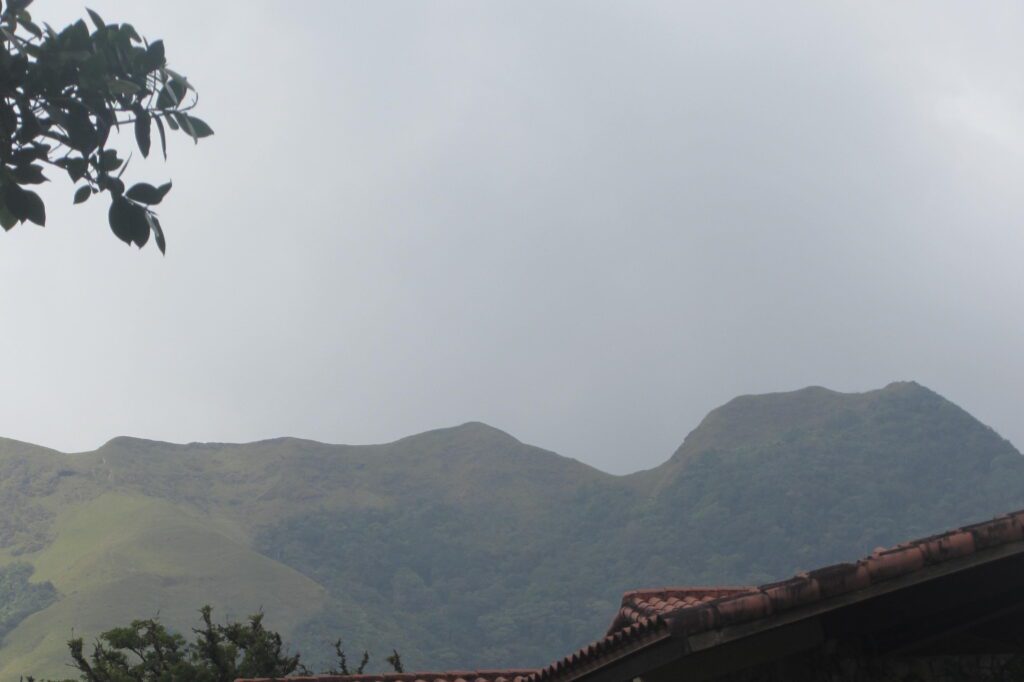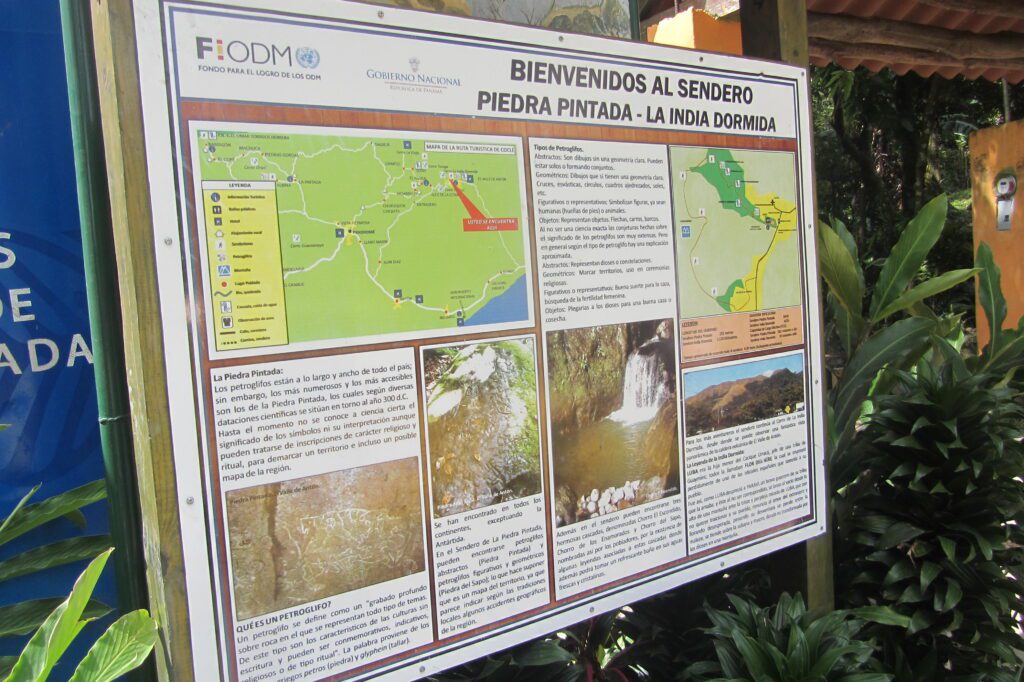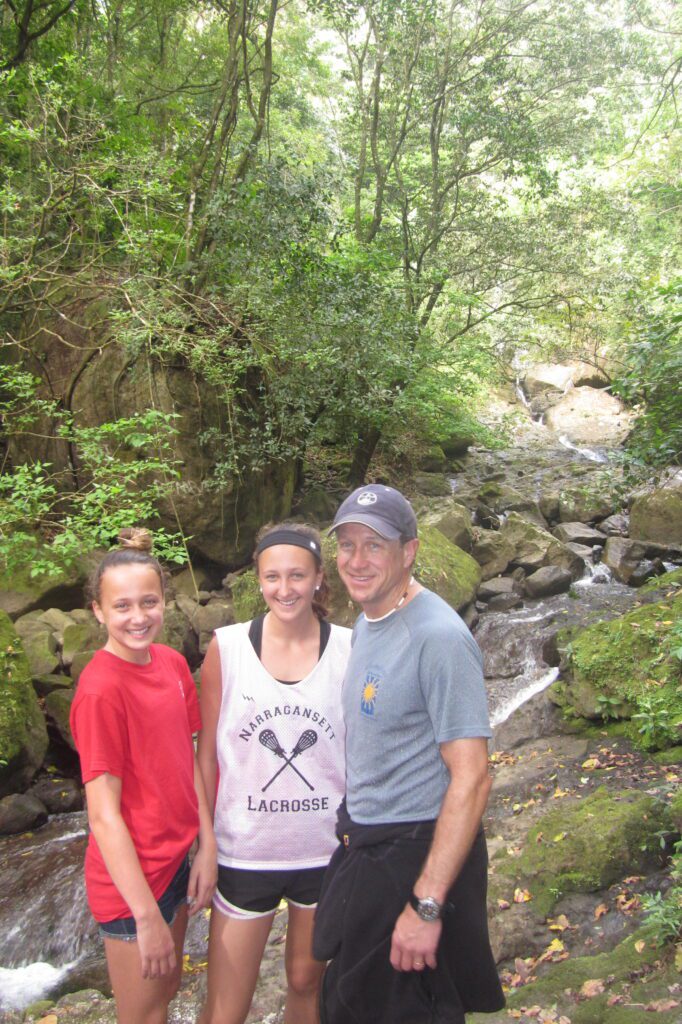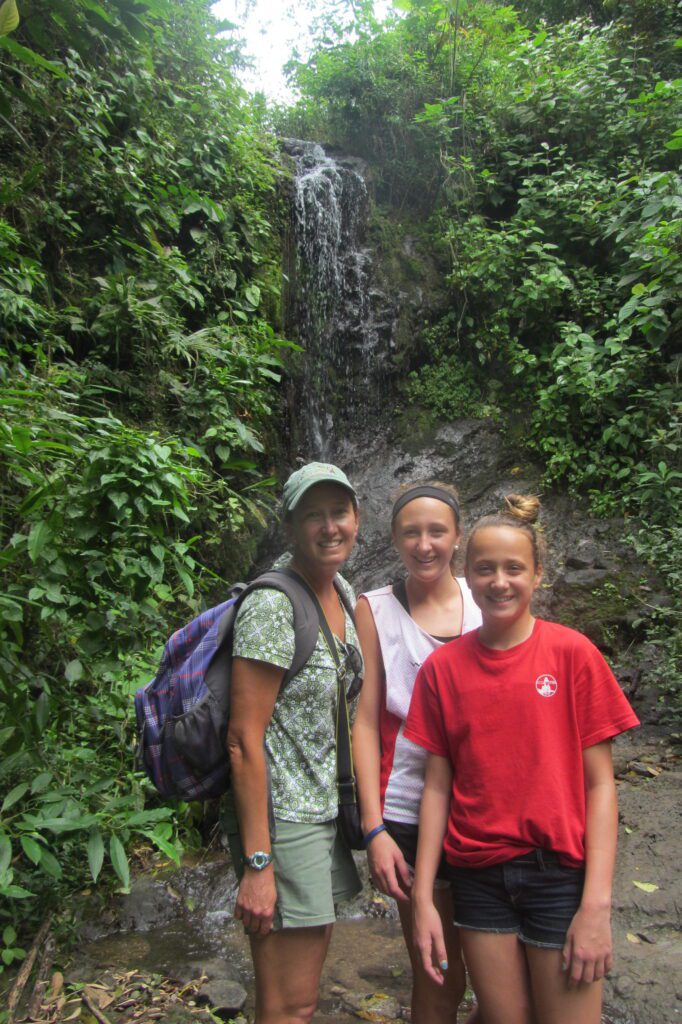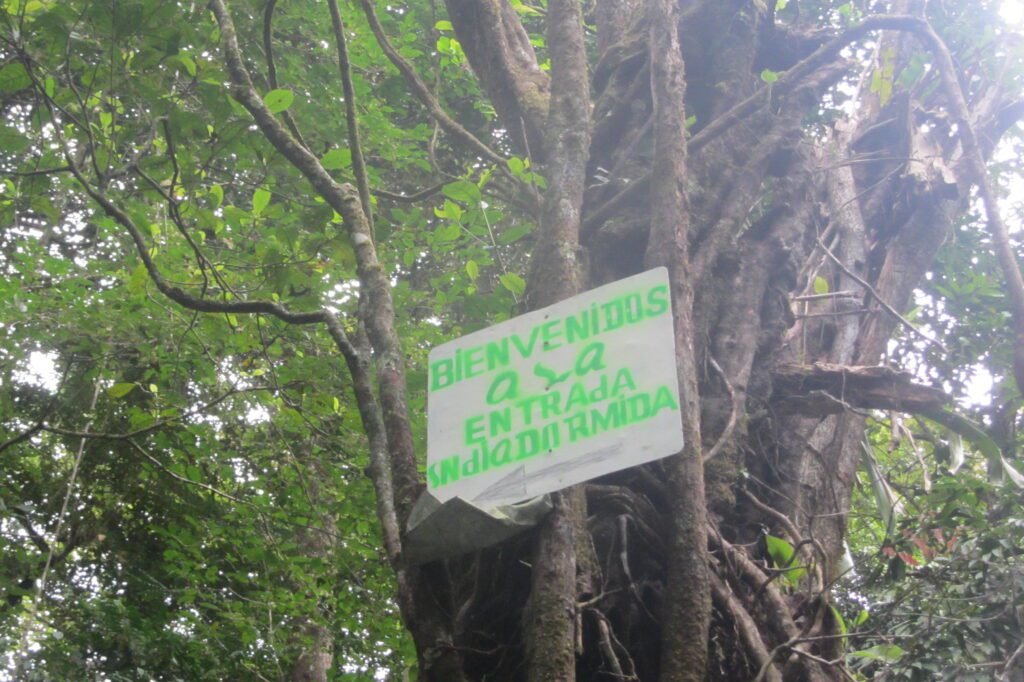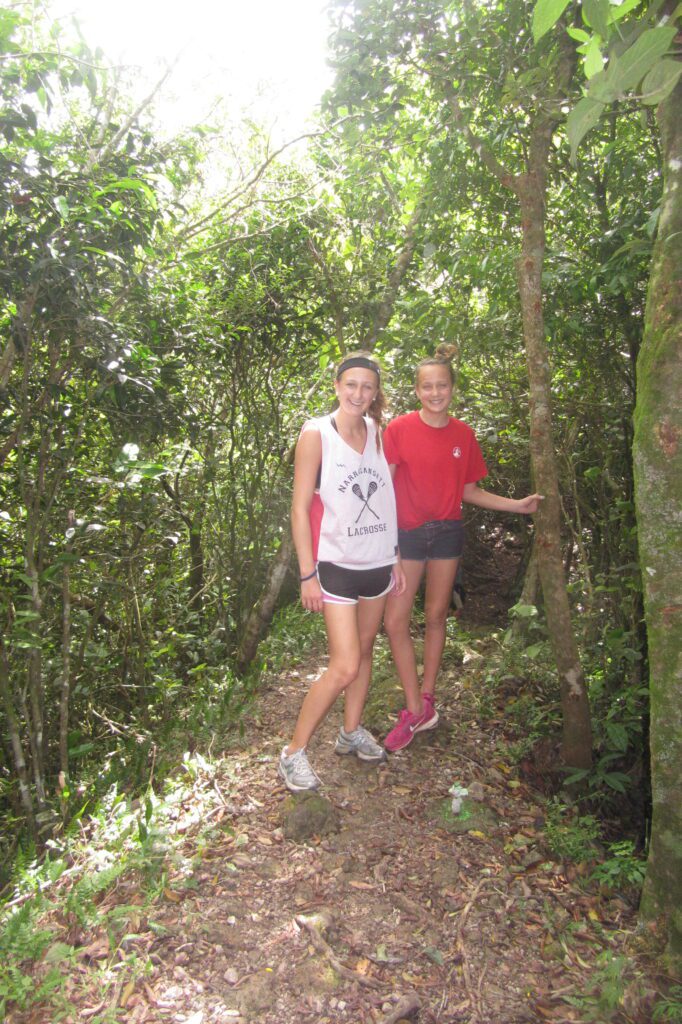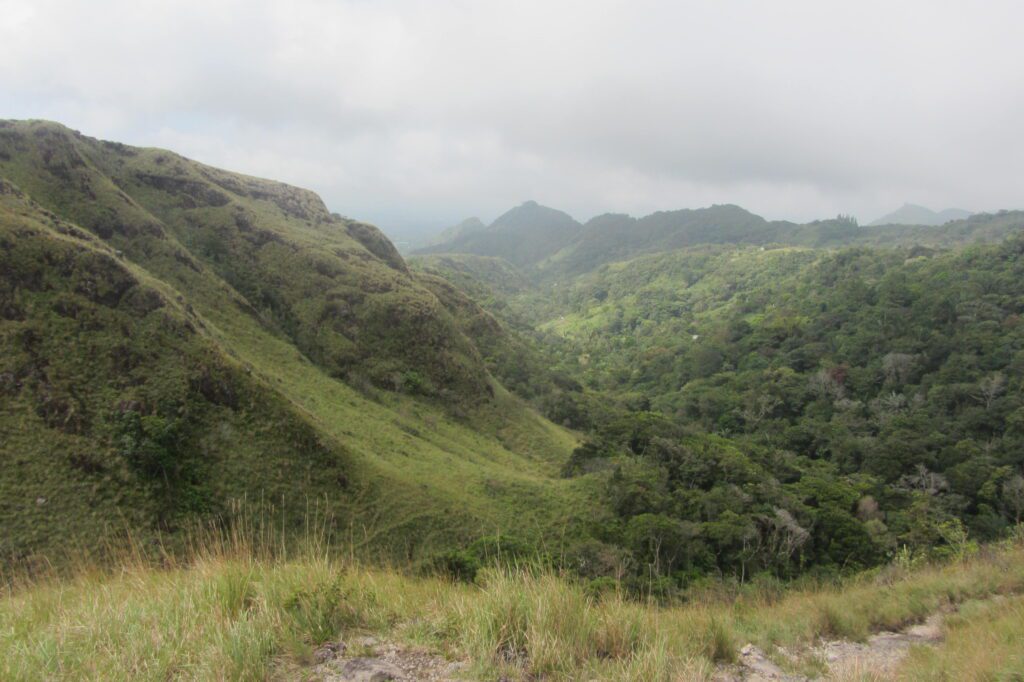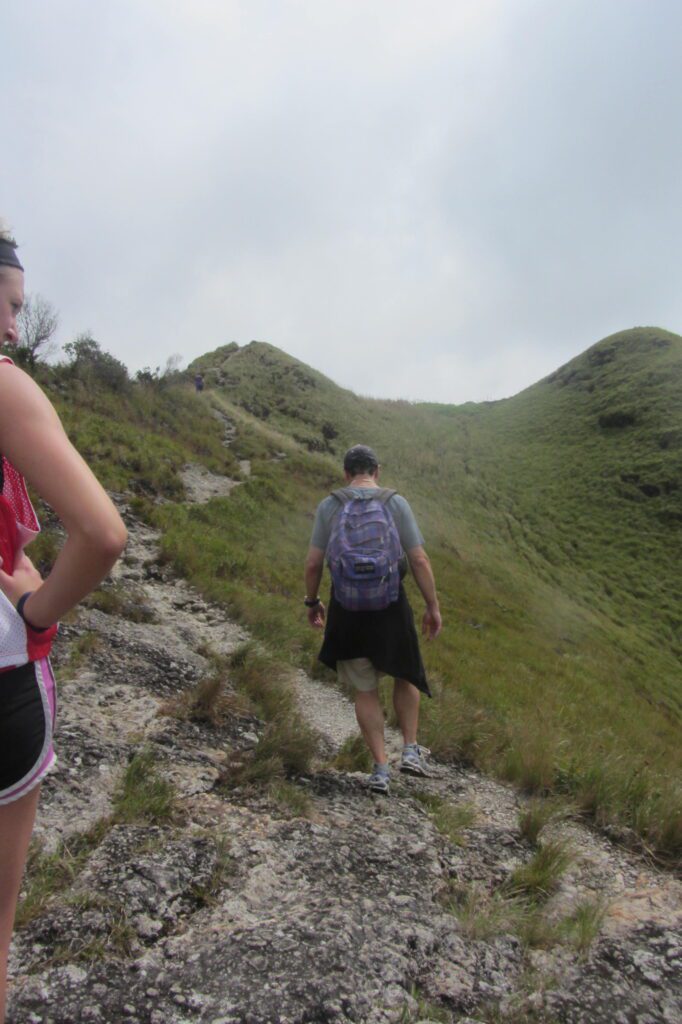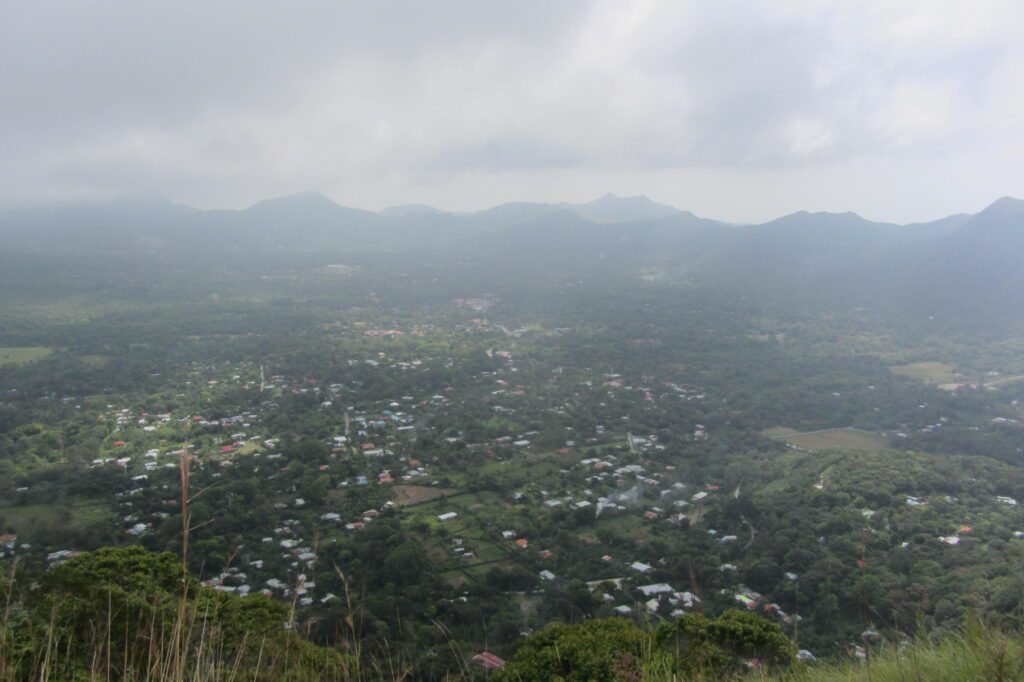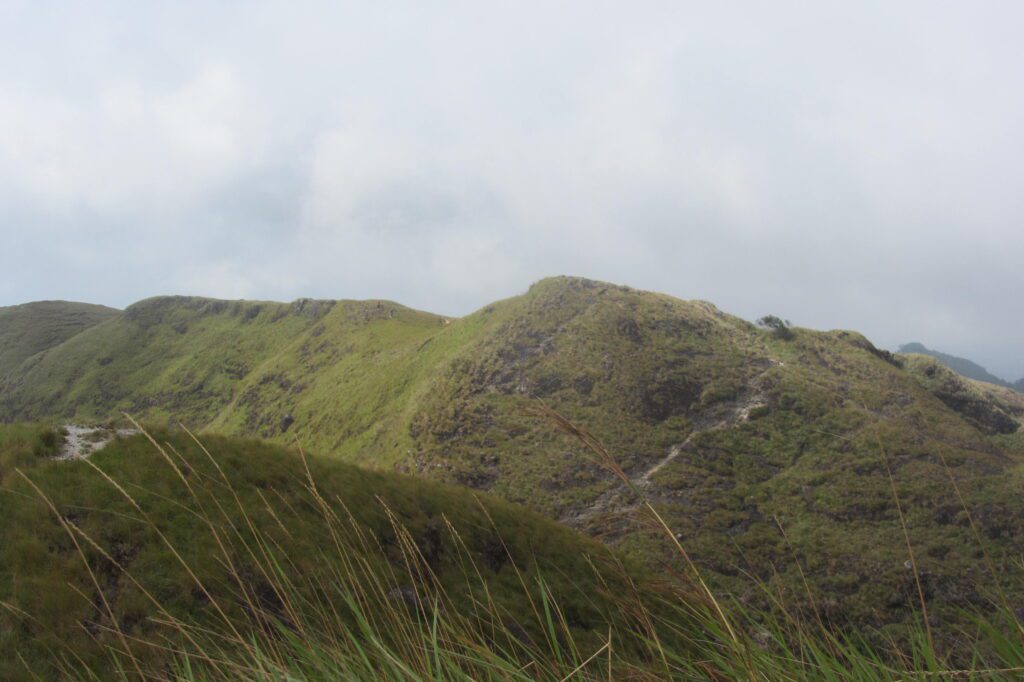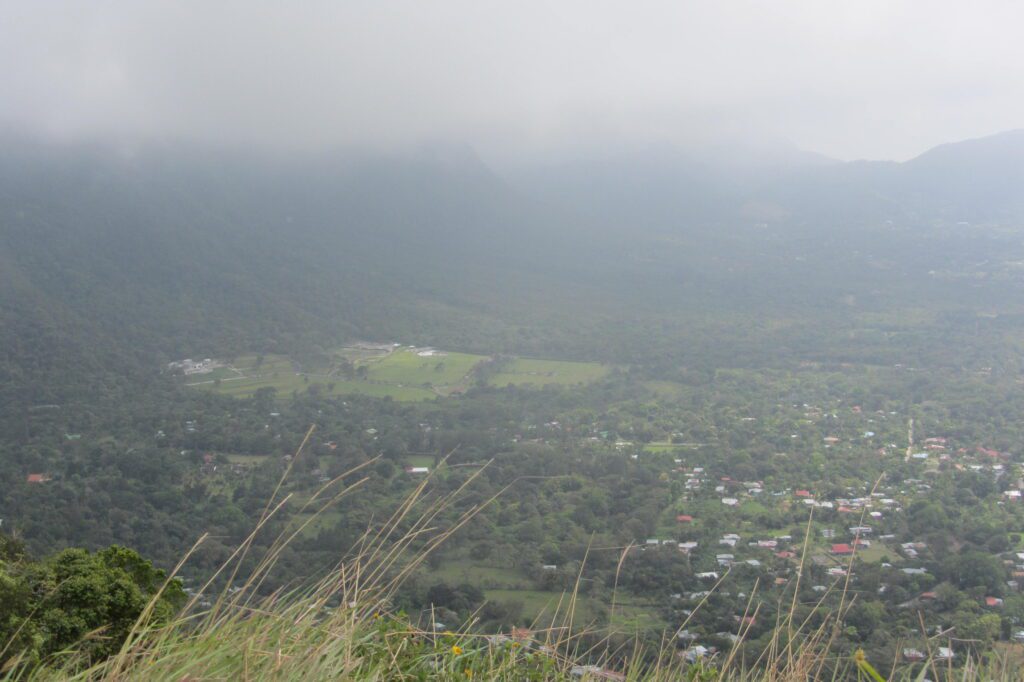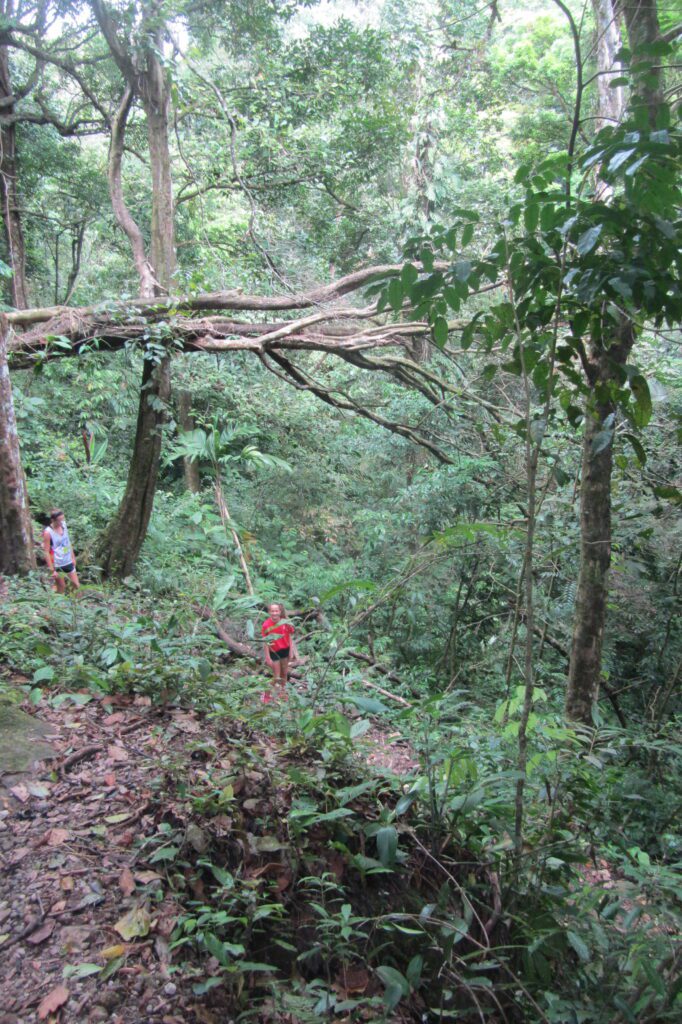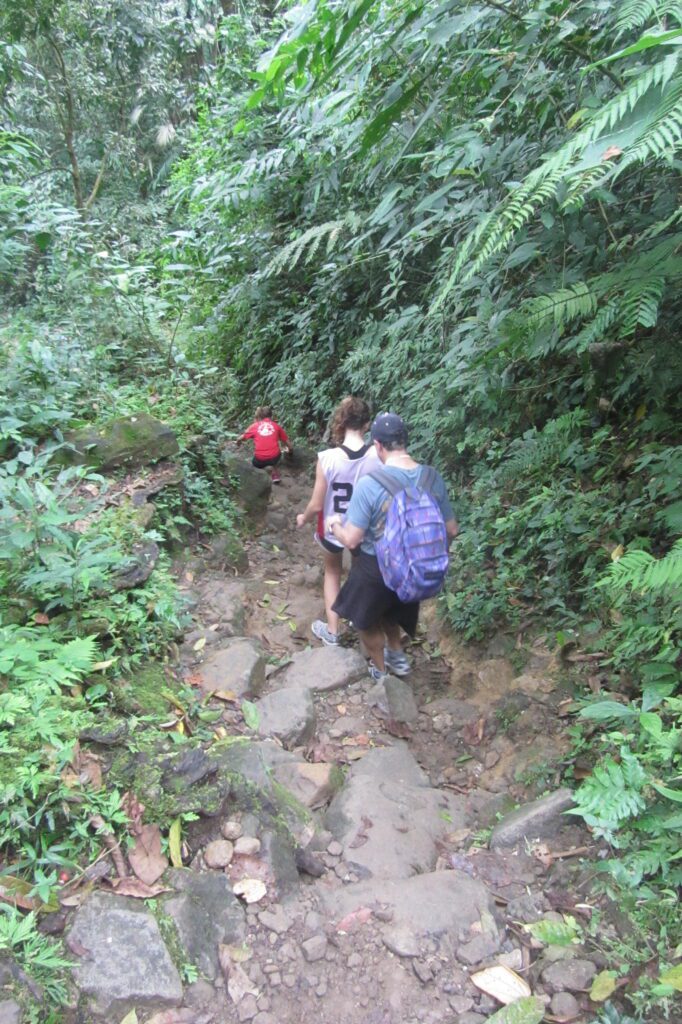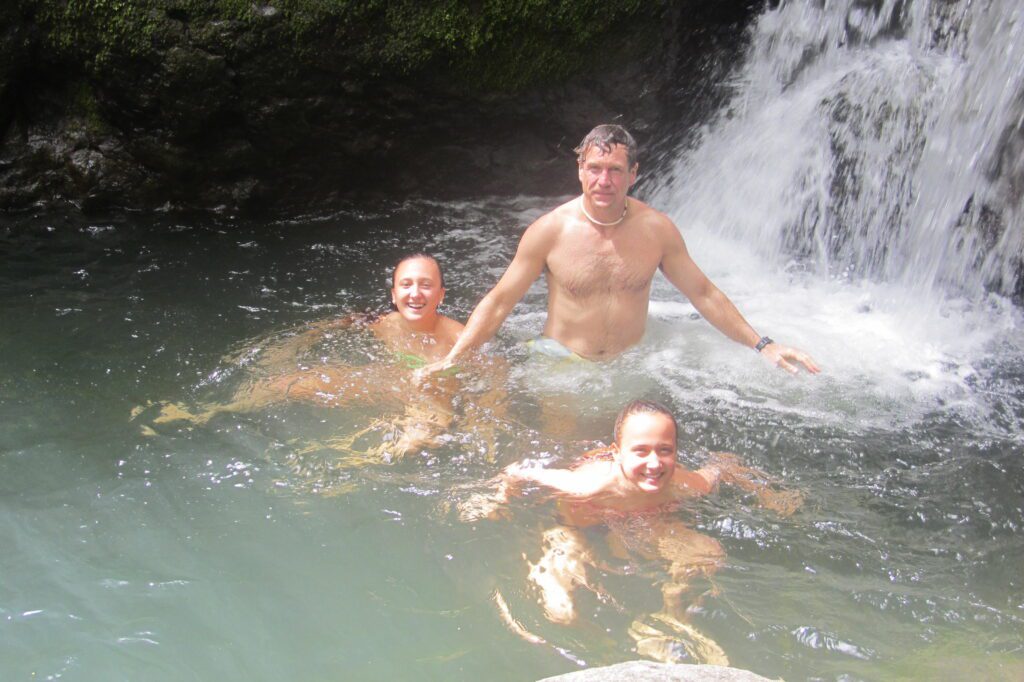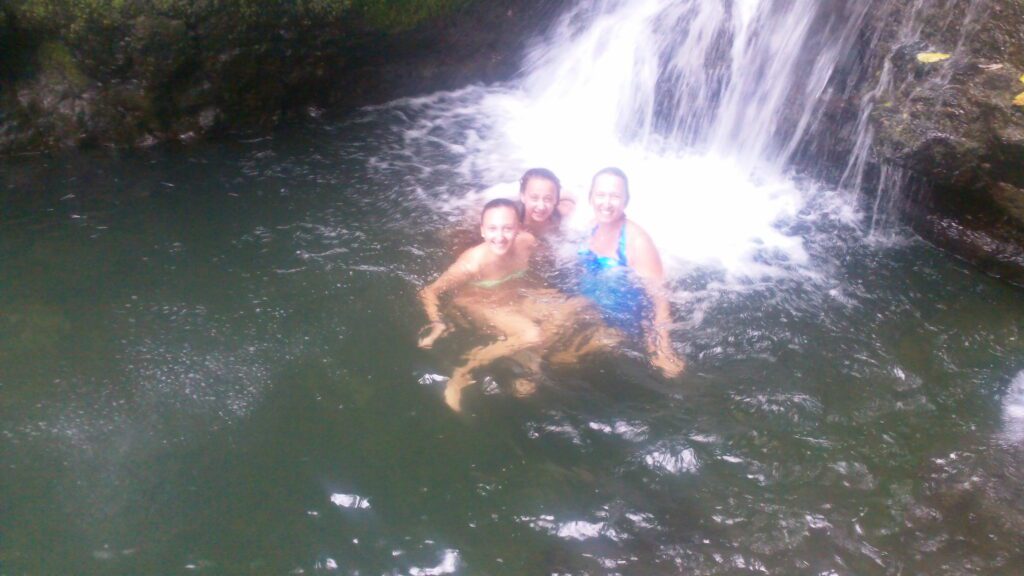 La Tasca De Triana
We had an incredible dinner inside the Los Mandarinos hotel at their restuarant La Tasca de Triana. It was fabulous, and the setting was beautiful. As I mentioned above, I wish we had stayed here as it was so lovely. Expensive, but lovely. TripAdvisor reviews are excellent.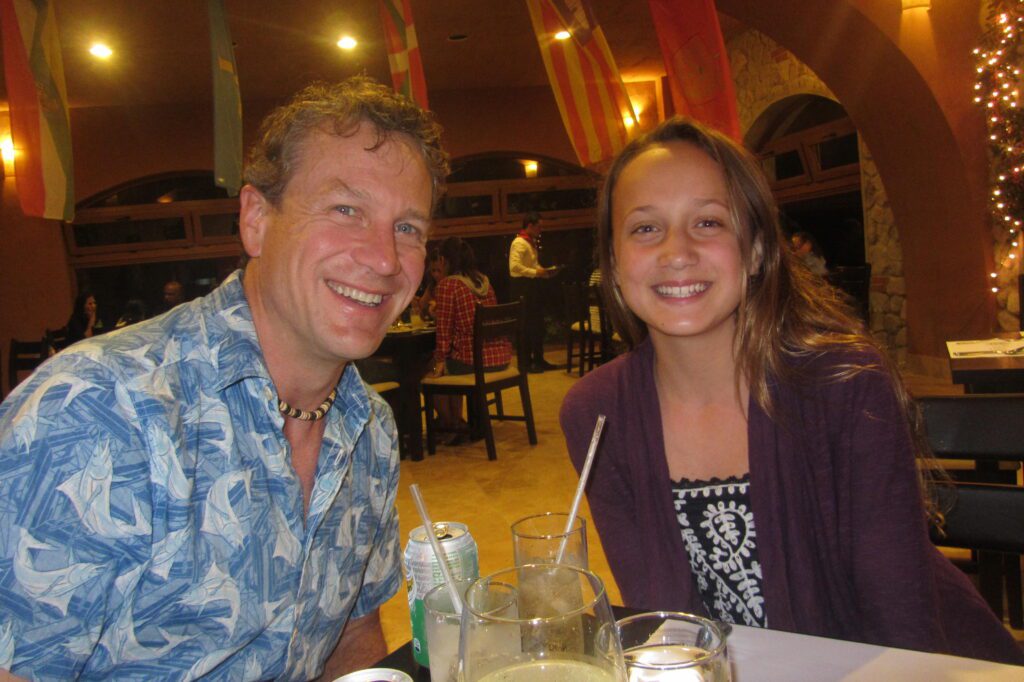 Panama Canal
We ate a delicious breakfast at Park Eden. The breakfast there is amazing. Lots of fresh fruits and breads and a full hot breakfast if you want it. We then headed to Panama City to see the Panama Canal.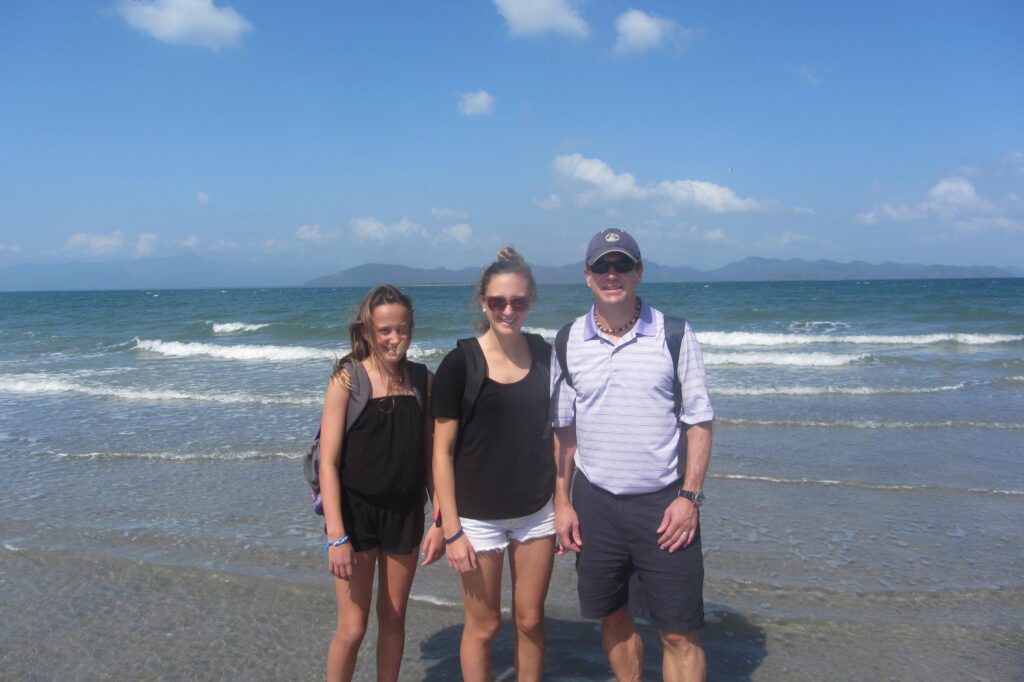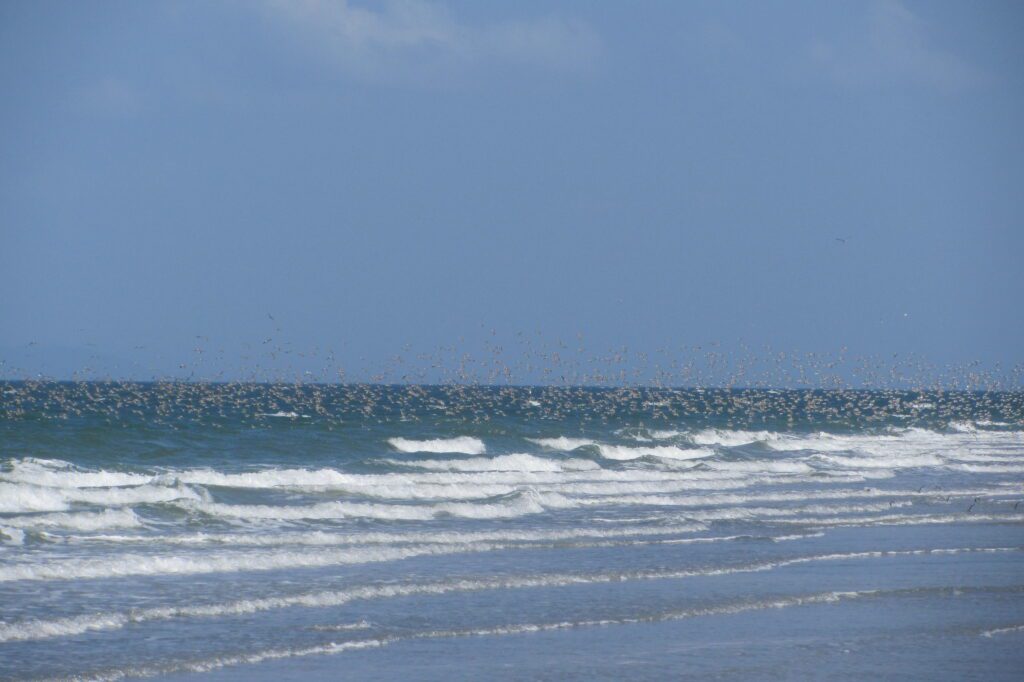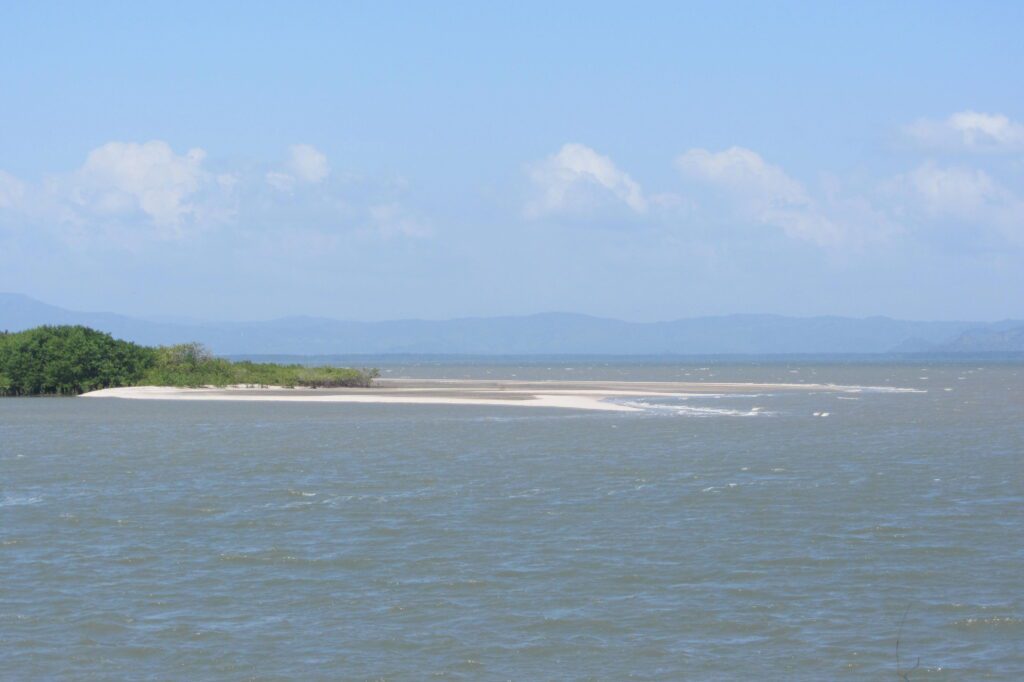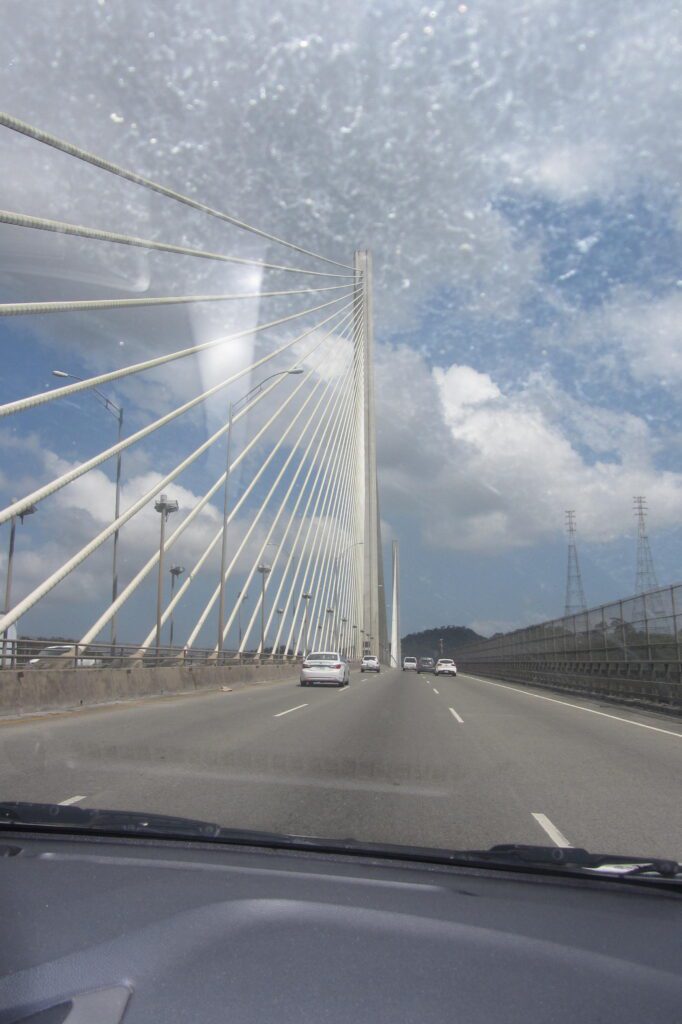 We navigated to the Miraflores Locks Visitor Center of the Panama Canal. It was fascinating! The canal is now larger than it was in 2013, so your experience may be different than ours was. We thoroughly enjoyed seeing this engineering marvel. The viewing platforms, Imax movie and museum was fascinating. We all loved it. This is a must-do if you are in Panama.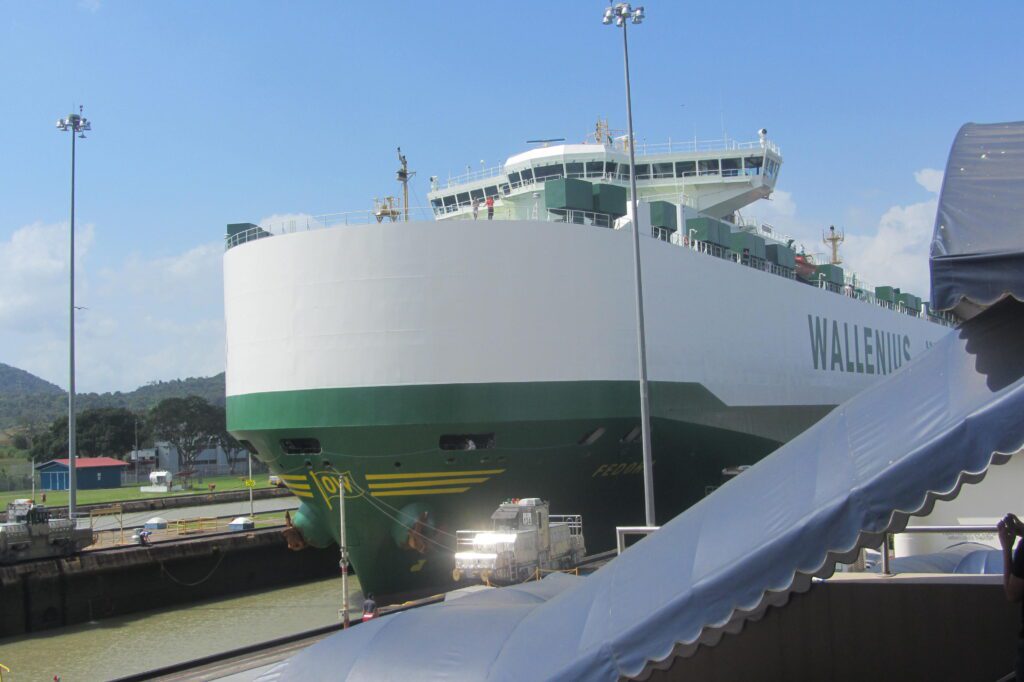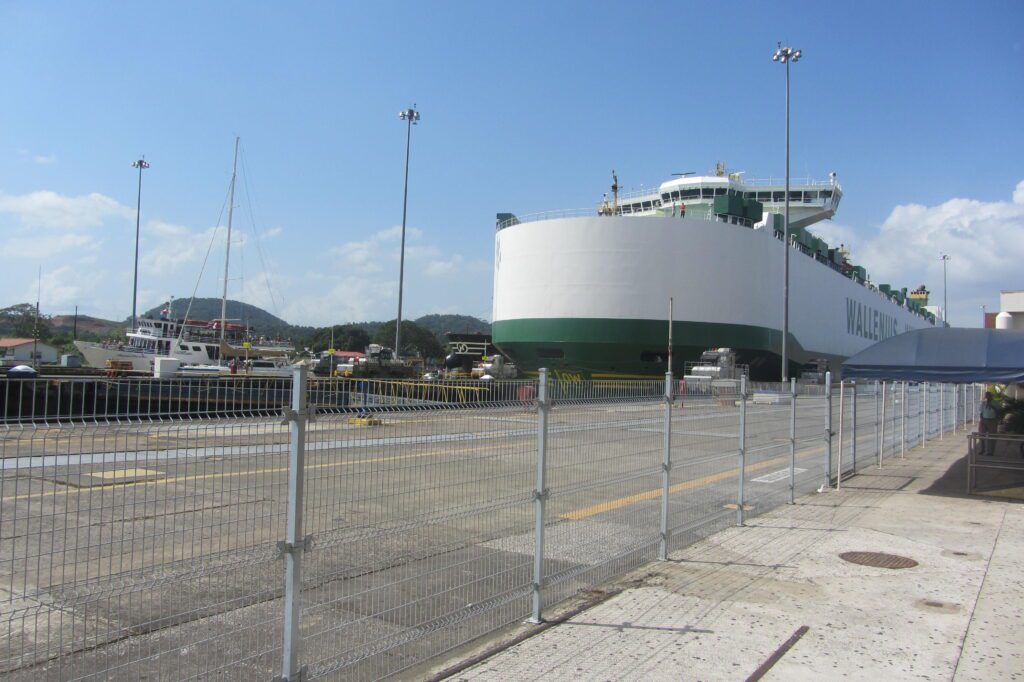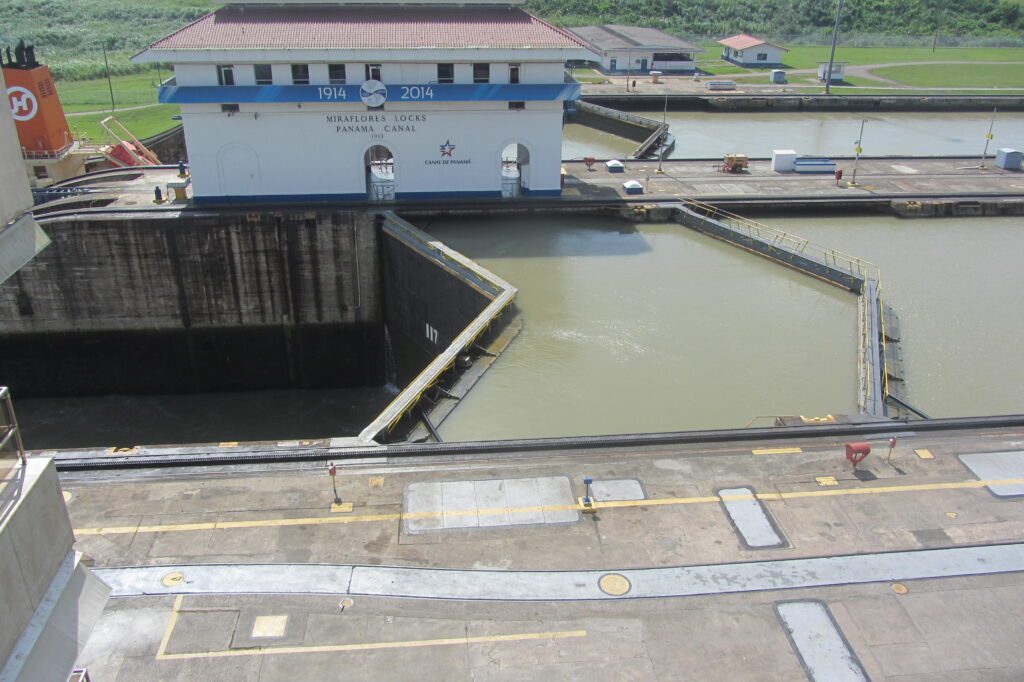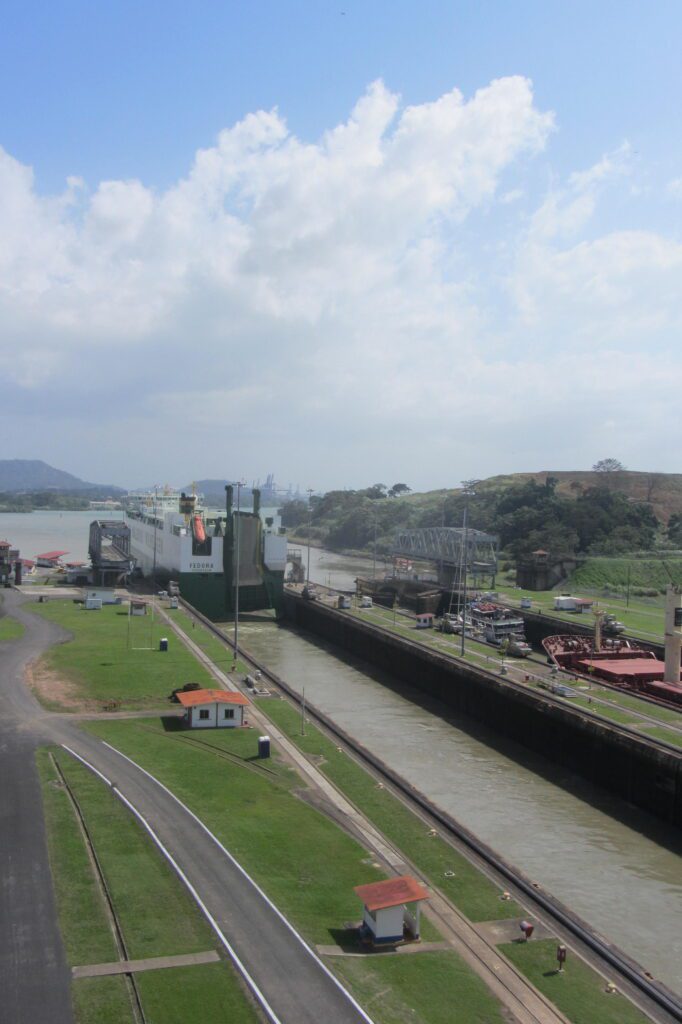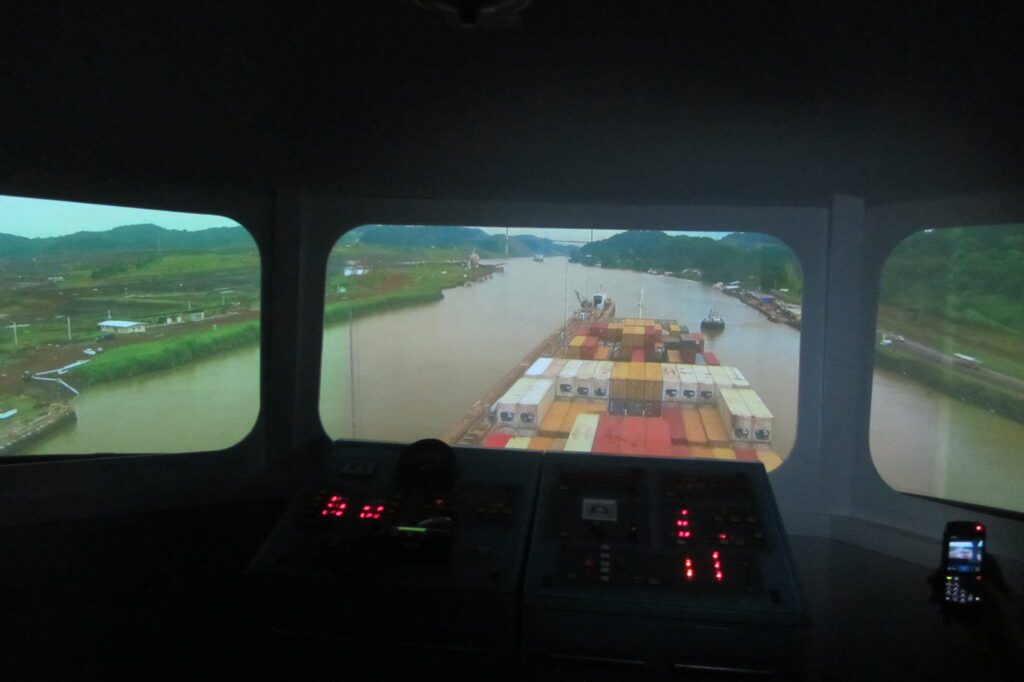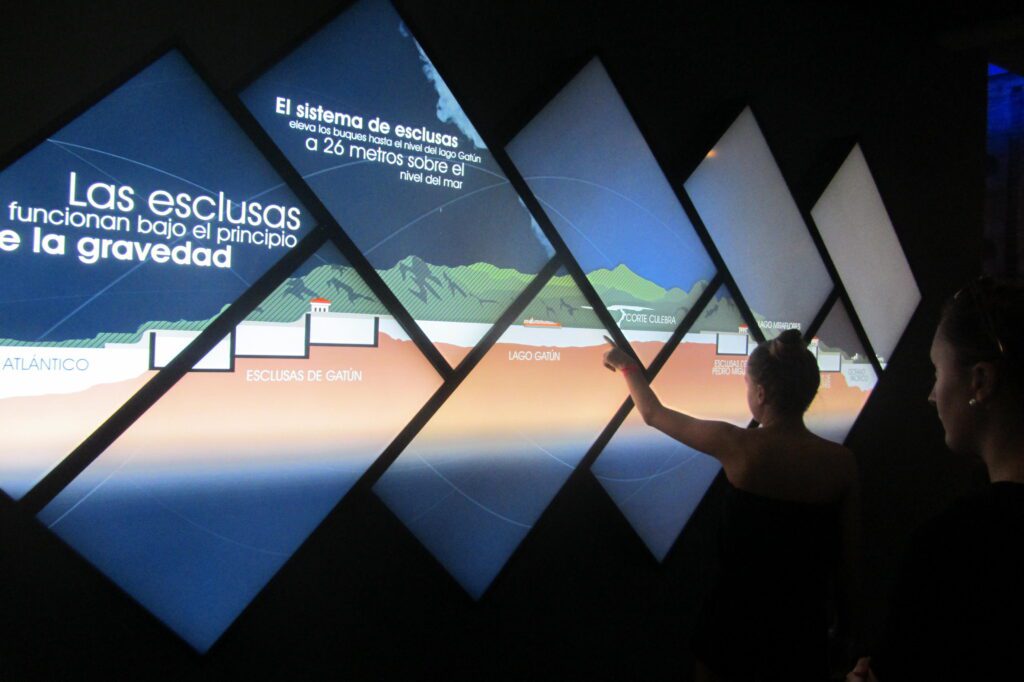 Casco Antiguo/Viejo
After a wonderful visit to the canal, we headed to Casco Antiguo it is also called Casco Viejo and San Filipe! This world heritage site has ancient buildings near chic new hotels and restaurants next to building that have been occupied by squatters for generations. It wasn't long ago that gangs patrolled these narrow brick streets and visitors kept far away, but these days the grand old colonial houses and crumbling pastel facades have become some of the capital's most stylish addresses.
We ate at a small deli, shopped for mola pillows and strolled the narrow streets. Had we had more time, we would have stayed for dinner and overnight. Our flight back to Boston left early in the morning, so we chose to stay at the airport. This area is very unique and should be seen by everyone who visits Panama City.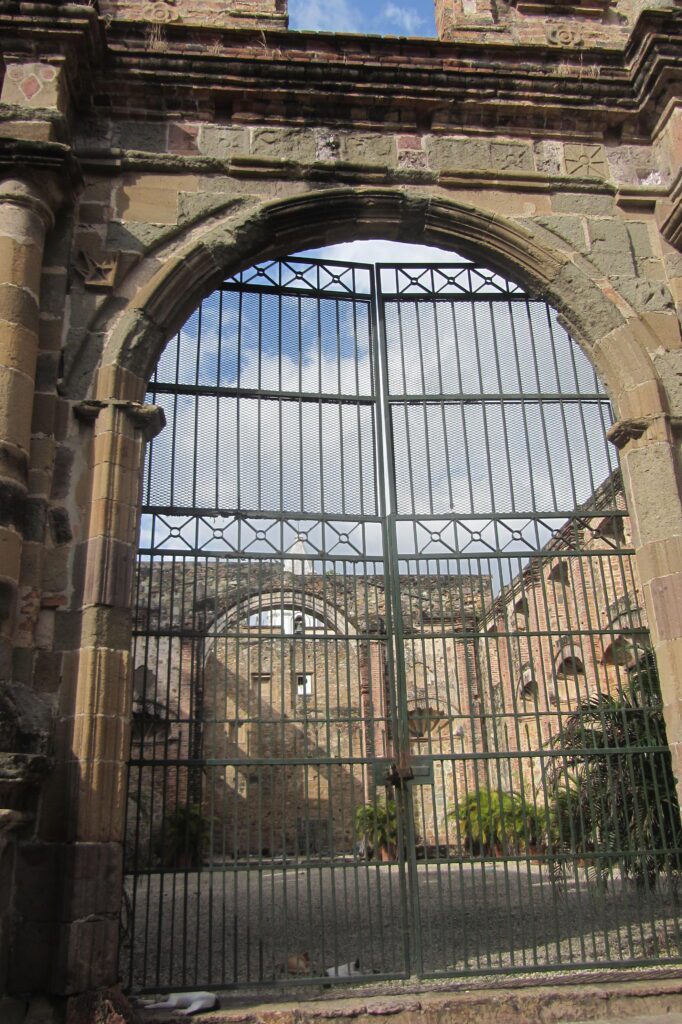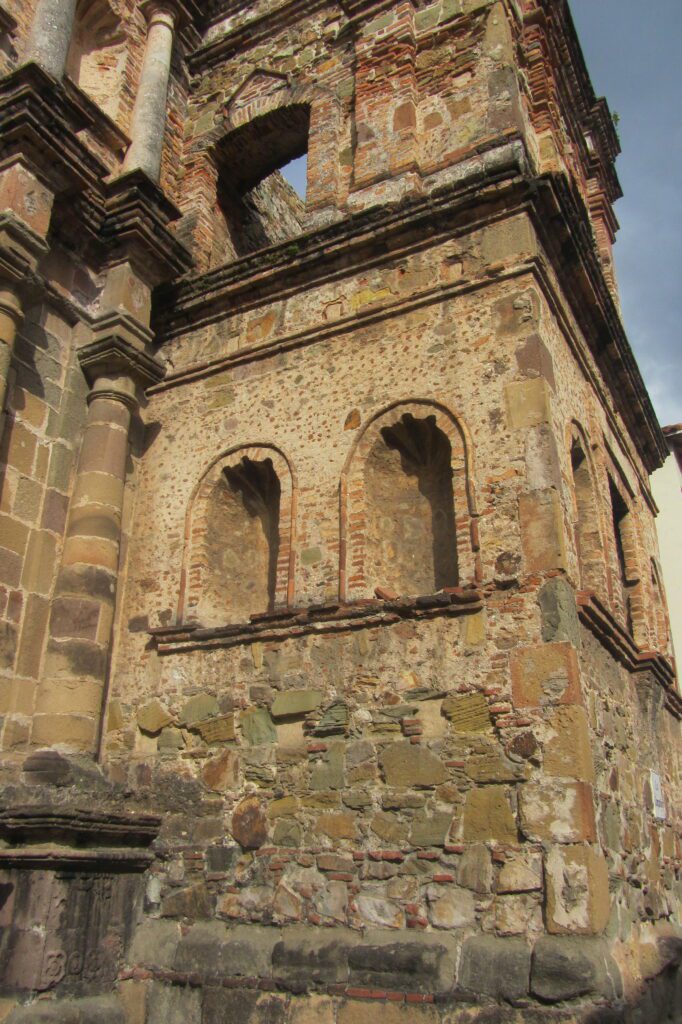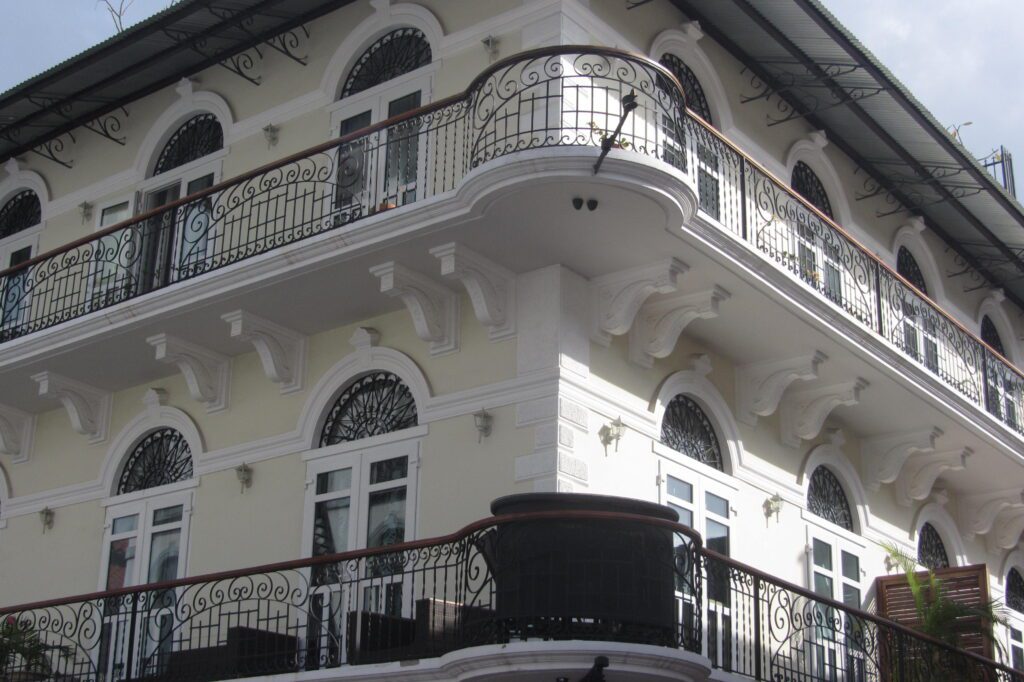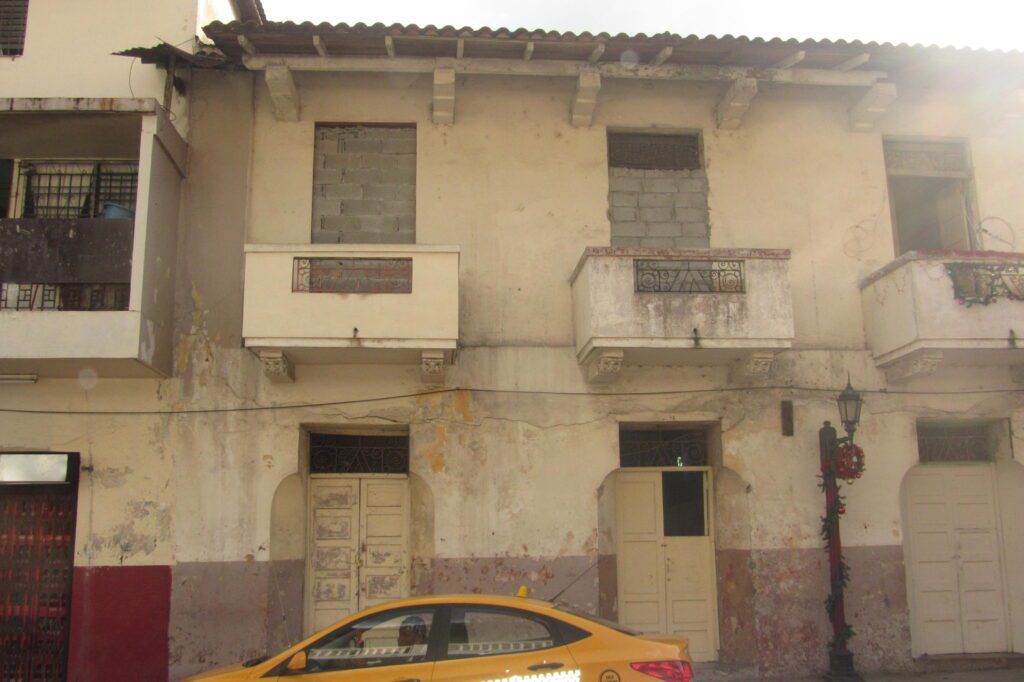 Riande Airport Hotel
We chose to stay at the Riande Airport Hotel at Tocumen International Airport. The international airport is about 30 miles by toll road outside of Panama City (buy your tolls in advance at the airport or a pharmacy or supermarket). Since we were leaving at 11am, we decided not to overnight in downtown Panama City in case we had any delays with custom, immigration or security. This modern, clean airport hotel is walking distance to the terminal and has a nice bar, restaurant, pool, spa and casino. We watched a football game, ate light dinner and went to bed. The free breakfast in the morning was very good. It appears that breakfast may no longer be included!
We loved our adventure in Panama. We relaxed on the beaches, learned about the Kuna culture, snorkeled, read, hiked, ate well, swam in waterfalls, took a mud bath, learned about the amazing Panama Canal and the old town of Panama – it was an excellent mix of fun, adventure and relaxation. The people we met were also truly wonderful.