Getting Ready
We went on the trip of a lifetime to Kenya, Tanzania and Zimbabwe from June 26-July 12, 2018
There are several ways to travel to Africa. There were two that I seriously looked into. They are –
Travel independently from place to place. More expensive, but more customized.
Travel with a group of 10-16 other people from place to place on a set itinerary.
We ultimately decided to travel using option #1. It is more expensive, but we got to stay exactly where we wanted to stay. And, often we were the only people in a vehicle made for nine people. The guides catered just to us, which I wanted.
Option #2 is much, much, much cheaper. But, you will find yourself with the same people for ten days to two weeks. This can be a blessing and a curse. I have friends who have done this option and absolutely loved it. I looked into so many companies that do this. My two favorites were Micato and Abercrombie and Kent. Both those companies can also do a fully customized option #1 safari as well. One thing to always look for when choosing option #2 – ask how many places they fly vs drive you to. If you have to spend every other day driving five+ hours to get from camp to camp, a fly-in safari is often worth the extra money.
I picked andbeyond.com for the safari because – they own more than 20 safari lodges in Africa. Many companies like Micato and Abercrombie put their guests into andBeyond.com lodges. andBeyond.com could fully customize exactly what I wanted to do. And, their lodges are very, very, very highly-rated.
I researched many places to go – Kenya, Tanzania, South Africa, Botswana, Zambia, Zimbabwe. While doing the research and reading recommendations, a lot of guides said, "If you have never been to Africa, start with East Africa." Ultimately it is what we did. Then, we added on a trip to Victoria Falls in Zimbabwe because we were so close and we wanted to see it!
All of the places we stayed were fully inclusive. They included room, board, drinks, laundry, park fees and game drives. Things like gratuities and balloon rides were extra. Micato Safari tour prices includes all gratuities which was one reason I almost booked with them. The gratuities are not a huge expense. Be SURE your park fees are included everywhere you go – they are often times about $100/per person/per day.
We used andBeyond to coordinate everything for us. Our advisor was Melanie – her e-mail is [email protected]. We highly recommend her. She is based in Malta. Everything I read said, "do not try to coordinate lodges and transportation on your own." So, she did it all for us. I coordinated the international flights with her.
Taking an African safari is extraordinarily expensive. Once you "make peace" with the fact that this trip may be the most expensive vacation you will ever take, you will enjoy the planning and the unforgettable experience. We certainly saw backpackers, campers and people doing the trip on tight budgets. We chose to splurge on this trip.
Vaccines – For a visit to Kenya and Tanzania, a Yellow Fever vaccine is mandatory. We also took the Typhoid pills. You take four pills every other day and you have immunity from Typhoid for five years. A Typhoid shot is available, however, it only gives you immunity for two years. Our children were up to date on all other vaccines. Jim and Michele did a DTaP booster, MMR booster, Hepatitus A shot (requires two visits) and Meningitis shot. We all took anti-Malaria medications. We started the day before we left and continued for a week after we returned. No one had any adverse side-effects. Each day we took a probiotic with our anti-Malaria medication. No one in our family had any stomach distress on this trip. We also brought four Cipro pills/person in case some one in the family contracted food poisoning.
Camera – I purchased a new Canon 80d camera. It included a 35mm lens and a 300mm lens. Rather than purchase a longer lens, I rented one from LensRental.com. It cost me $300 for the 18 days I needed it, and the price included shipping and tax. It was an excellent choice. To purchase the lens would have been $1600.
The best piece of advice I was given about photography was this – bring a pillowcase. When you are out on safari, you drive on dusty roads in an open vehicle. I put the long lens on my camera, and the camera strap around my neck. Having the camera around my neck stopped me from dropping the camera several times as we raced to find game. Having the camera around my neck and the camera inside a pillow case was genius. The pillowcase allowed me to have the lens cap off full time and kept my camera from getting dusty in the open vehicles.
I purchased a fantastic camera back pack that held all of my gear, lenses, chargers, extra batteries, computer and a few books. Amazon.com sells it for just $54. Highly recommended.
Luggage – If you are doing a fly-in safari, you will be weight restricted to 15kg per person for luggage and a carry-on. The small planes do not like bags with wheels. I bought four medium size duffel bags from LLBean. They were the perfect size and weight. I had each bag personalized with our first names. It made arrival so easy at each lodge as the porters knew our names and who was staying in which room.
We each brought a duffel and a carry-on. My carry-on was the heaviest as I carried all our camera equipment. We used our bathroom scale to weigh everything.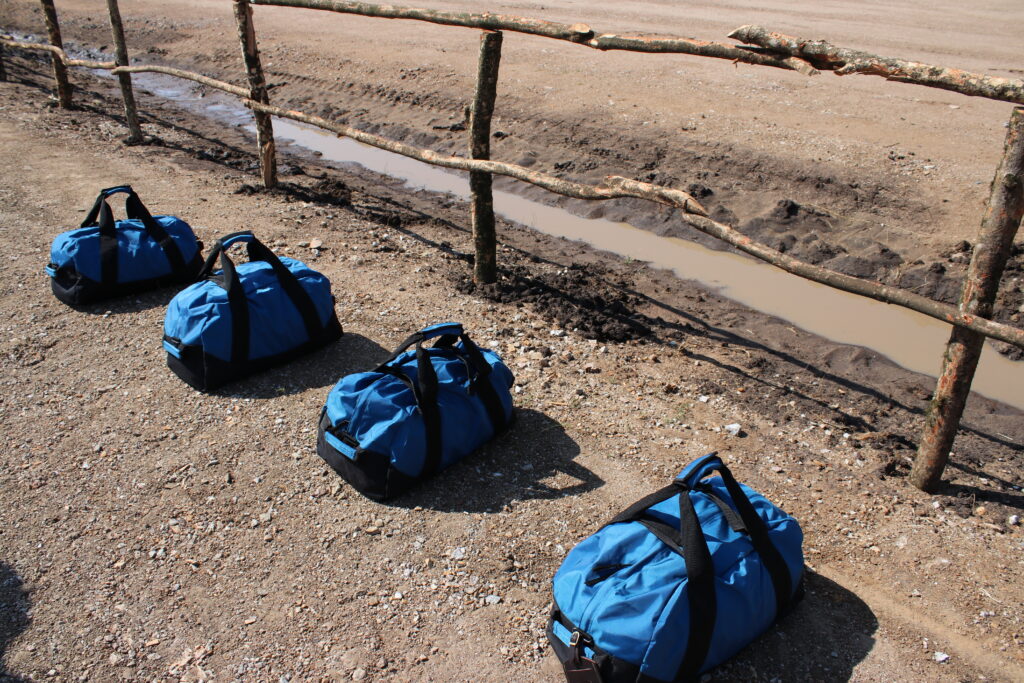 Here is a video I made of the trip. I made the mistake of using my heavy camera to take video at the beginning of the safari. Dedicate a smaller point and shoot or good quality iPhone to take your video and not your heavy long lens camera.
We flew overnight from Boston on Lufthansa to Frankfurt. The flight was on time, and the plane seemed brand new. The food was fine. We landed early in the morning. Frankfurt is a ridiculously enormous airport that is set up like a maze. We had to walk for probably 45 minutes to get from our arrival gate to our departure gate. And, we had to clear security again which involved waiting in line.
We then flew for eight more hours to Nairobi in Kenya. We landed at a remote area and had to take a bus to the immigration area. We never saw the inside of the airport. The immigration was housed in what felt like an airport hangar. You can get a visa upon arrival, but that line was huge. We secured our visas on line before we left the states. You will need information about your passport, hotels, onward itinerary and photos. It costs $1 more to apply online than it does to do it in person at the airport, but you will save time.
A representative from andBeyond met us just past immigration. We stood outside while he retrieved the car from the garage. Nairobi can be a dangerous city. Hold on to your luggage securely.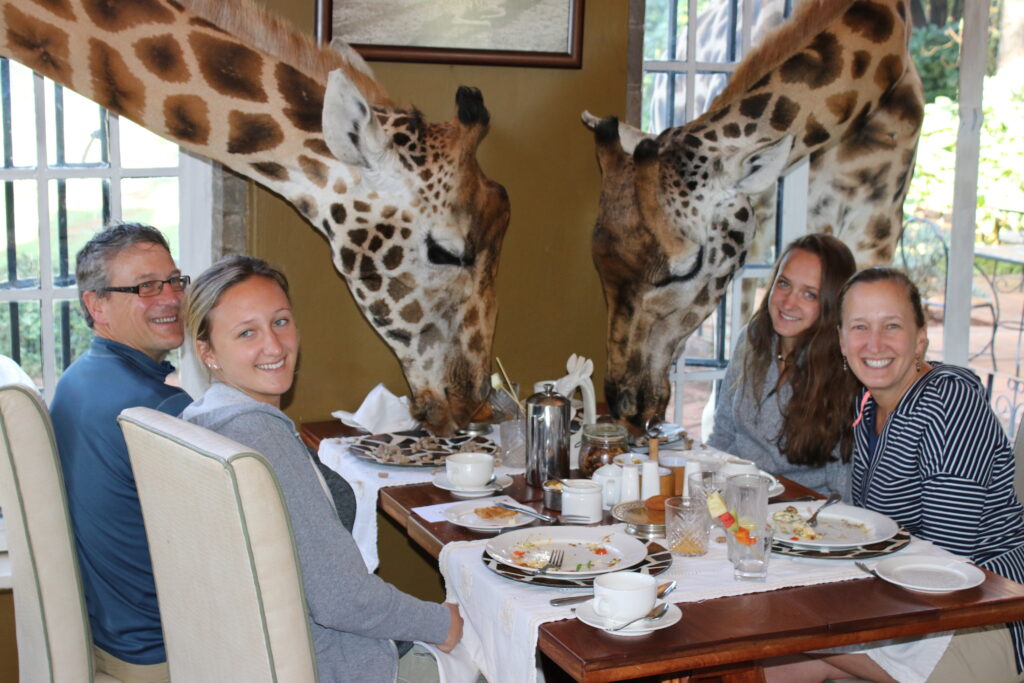 Kenya – Giraffe Manor
If you wish to stay at the magical Giraffe Manor, book at LEAST 15 months in advance. It is that much in demand. Giraffe Manor has 12 rooms in two buildings. Their website states,
"Giraffe Manor is owned by The Safari Collection and is an exclusive boutique hotel, set in 12 acres of private land within 140 acres of indigenous forest in the Langata suburb of Nairobi. As one of Nairobi's most iconic buildings, Giraffe Manor has extraordinary appeal, that harks back to the 1930s when European visitors first flocked to East Africa to enjoy safaris. With its stately façade, elegant interior, verdant green gardens, sunny terraces and delightful courtyards, guests often remark that it's like walking into the film Out of Africa: indeed, one of its twelve rooms is named after the author Karen Blixen.
However, the most fascinating thing about Giraffe Manor is its herd of resident Rothschild's giraffe who may visit morning and evening, sometimes poking their long necks into the windows in the hope of a treat, before retreating to their forest sanctuary."
It took us 40 minutes to get to Giraffe Manor. We arrived about 9pm. The manager, Tony, greeted us, gave us a safety briefing and served us dinner. The food was outstanding. All the other guests had already eaten, so we ate alone in the lovely dining room. We had chicken pot pie, fruit and wine. This hotel is outrageously expensive, but it is a magical experience. As we arrived, we could see a mother giraffe and her baby in the distance. We went to our upstairs rooms and went to bed.
Our rooms were small, but that bathrooms were quite large. We were in rooms "Lynn" and "Marlon."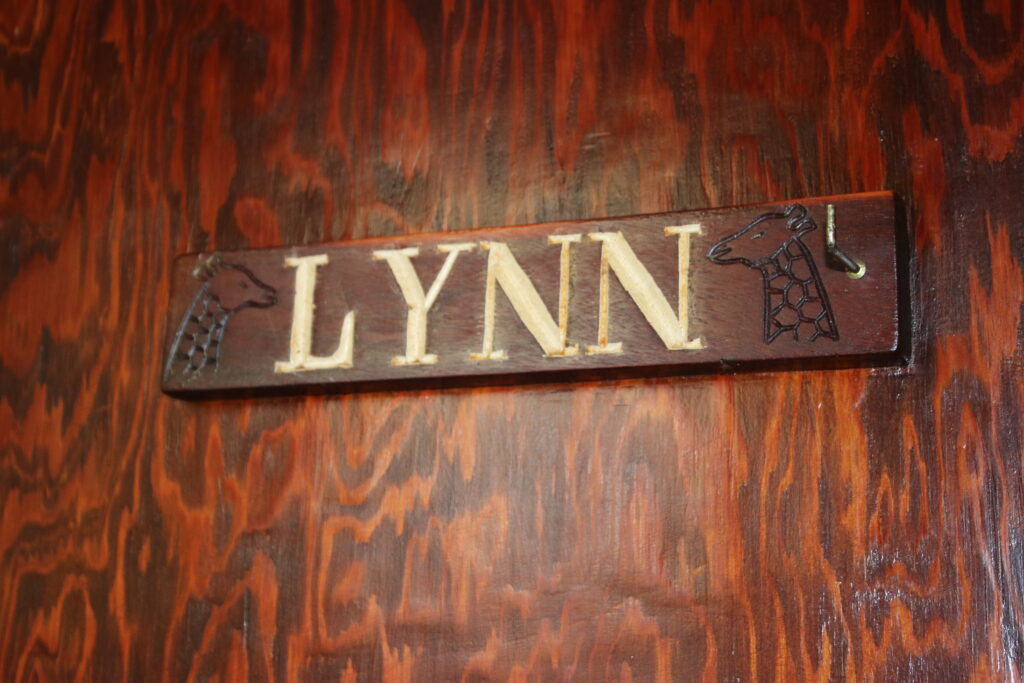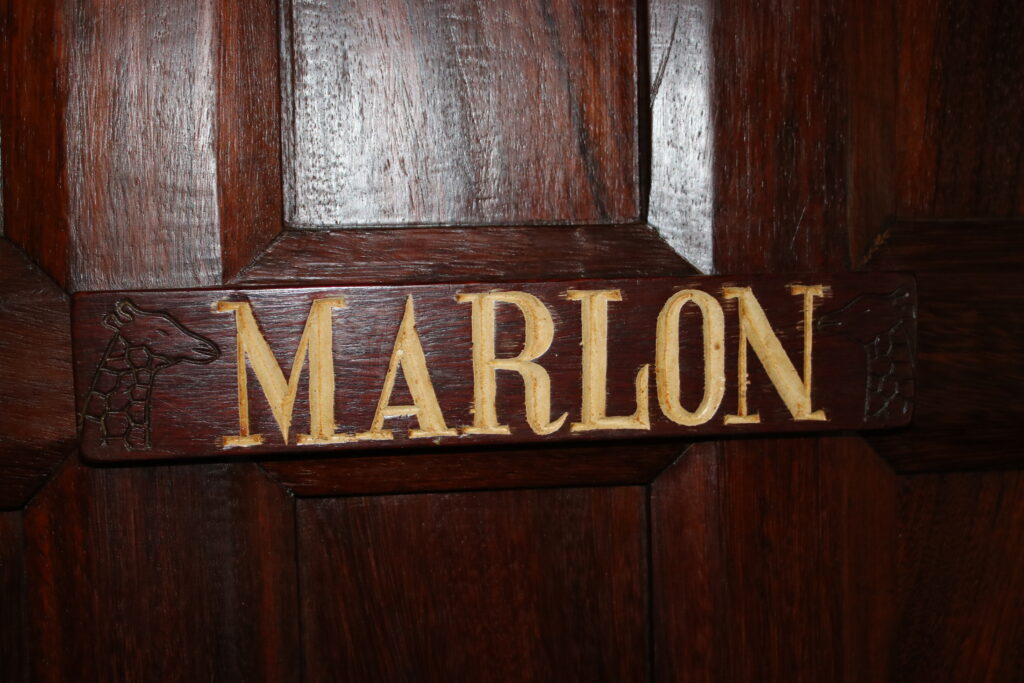 Breakfast is PURE MAGIC at Giraffe Manor. Pure, pure, magic. You can visit with the giraffes inside and outside. Listen to the safety rules! A giraffe can kick you in the head and kill you. So, follow the simple instructions. We spent over two hours feeding and playing with the giraffes while we ate an amazing breakfast.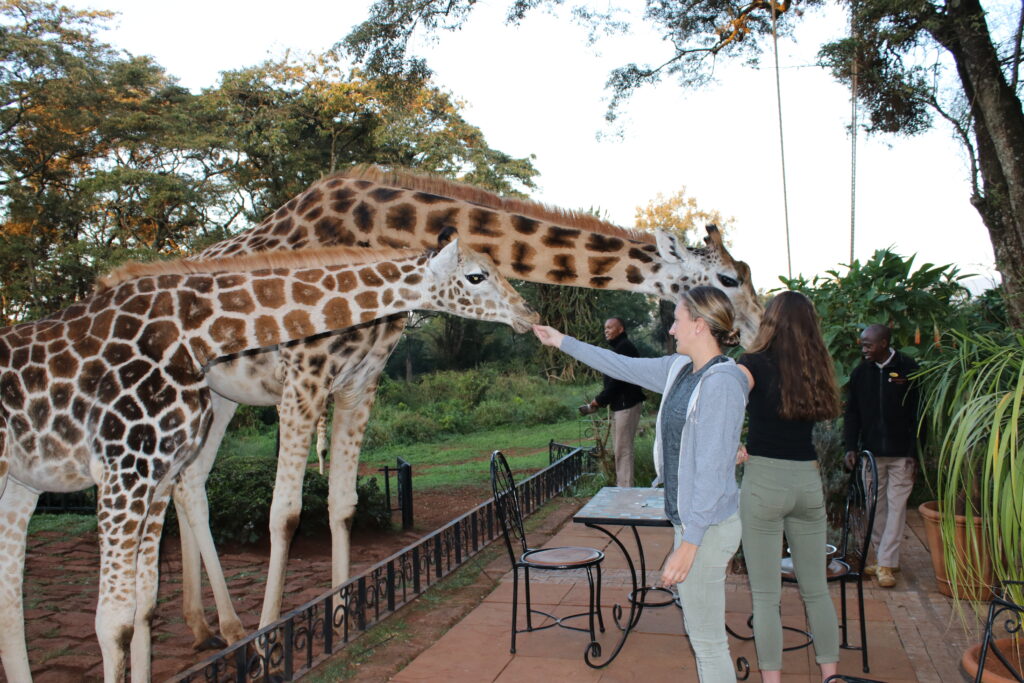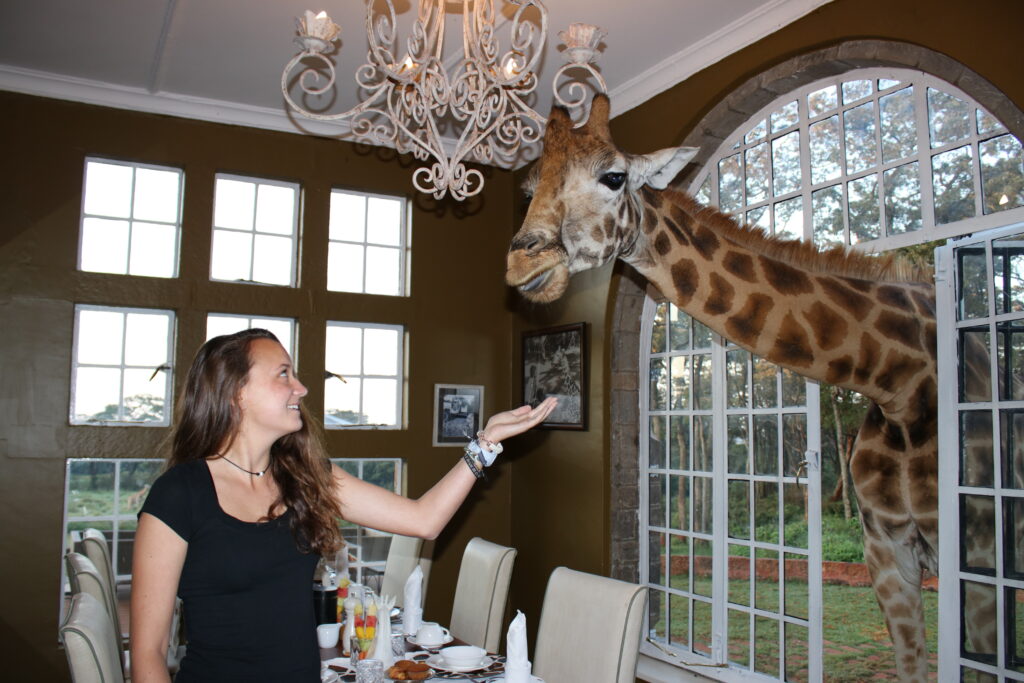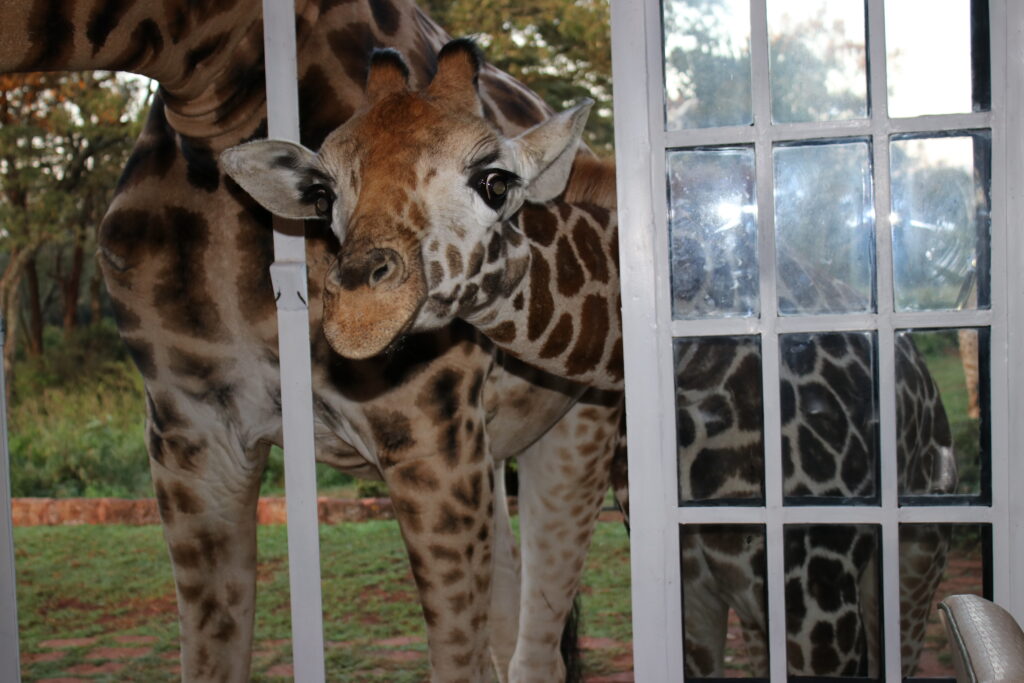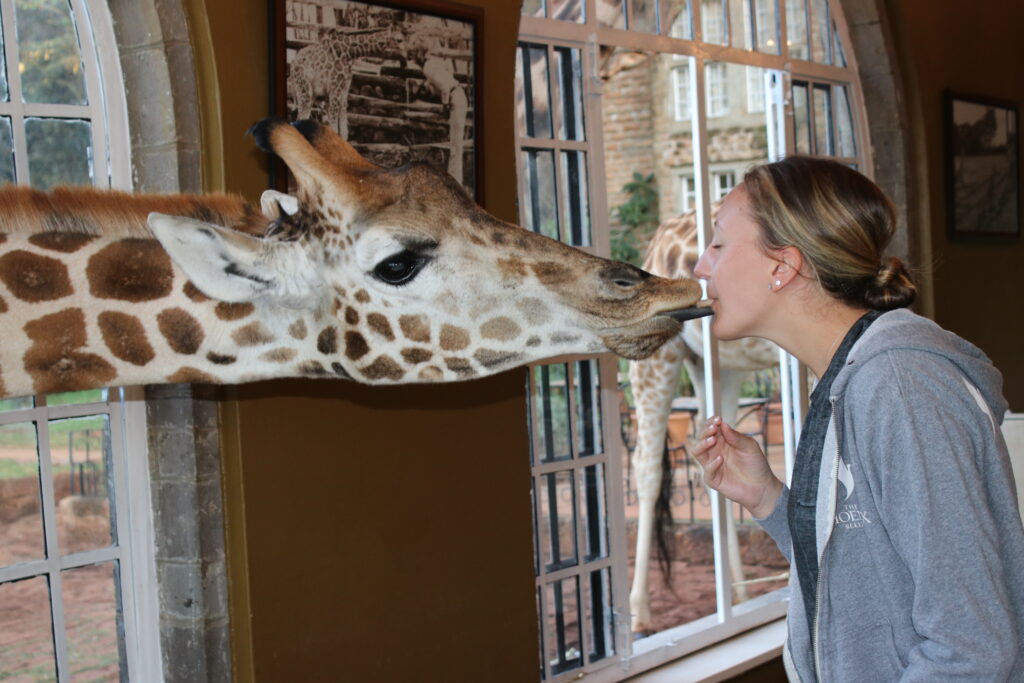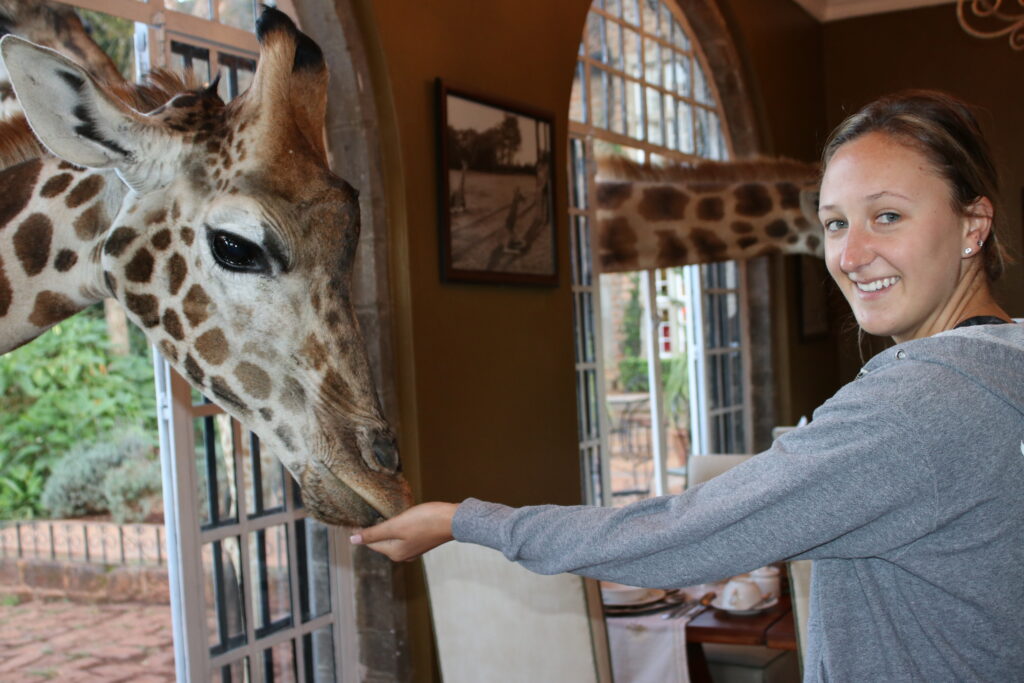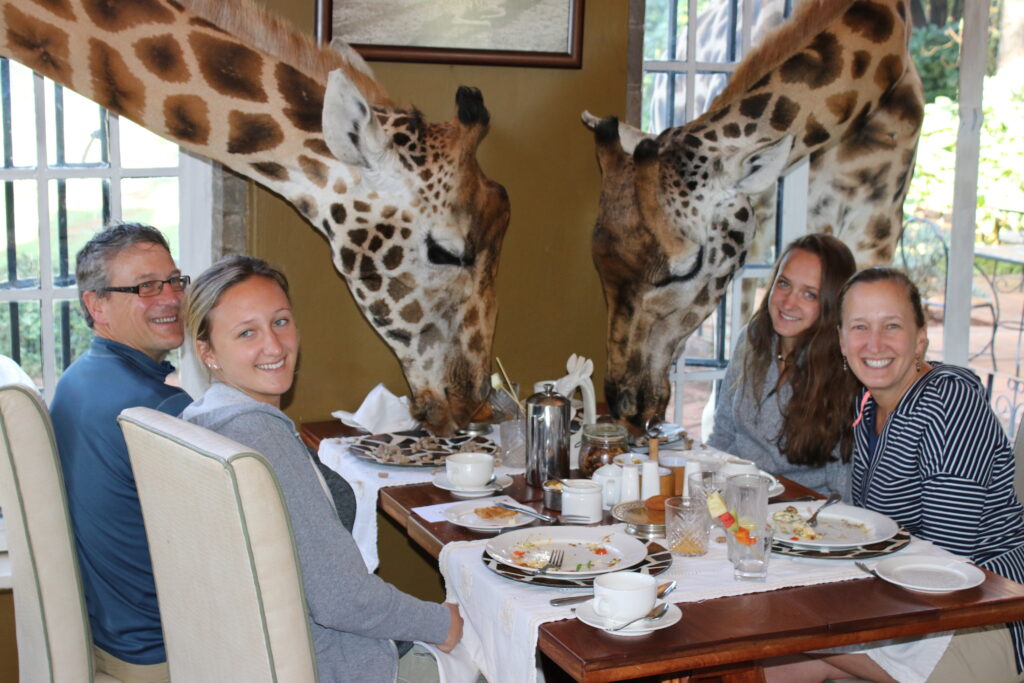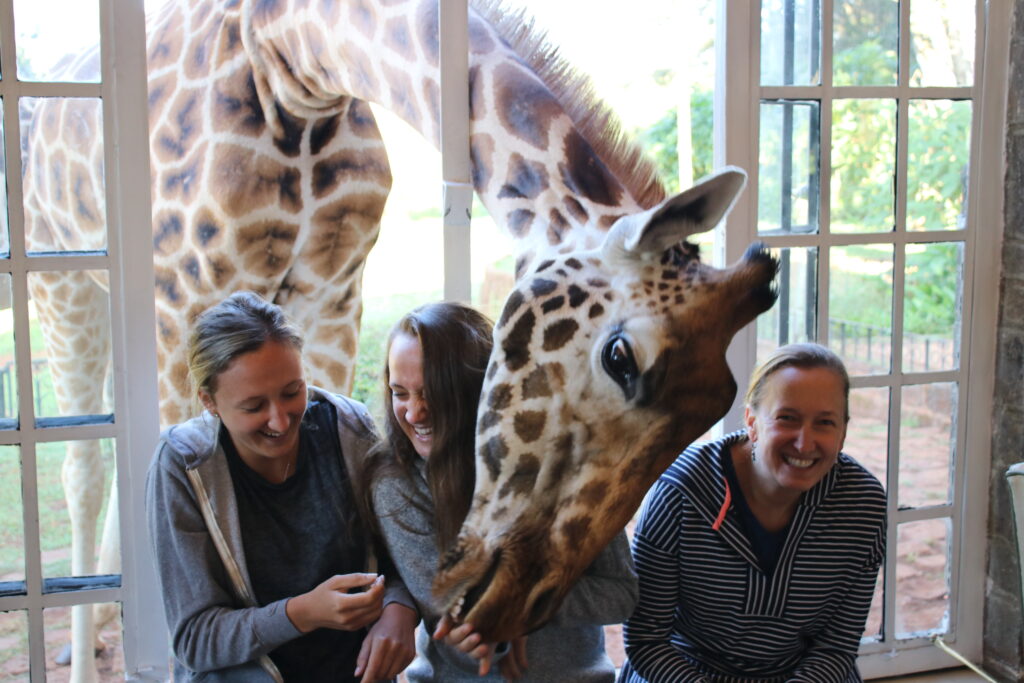 After breakfast, we had an andBeyond driver take us to the elephant orphanage and the Kazuri bead factory. I'll write about those in another section below.
We returned to the Manor about four hours later, and had lunch! Lunch was outside on the terrace, and it was superb!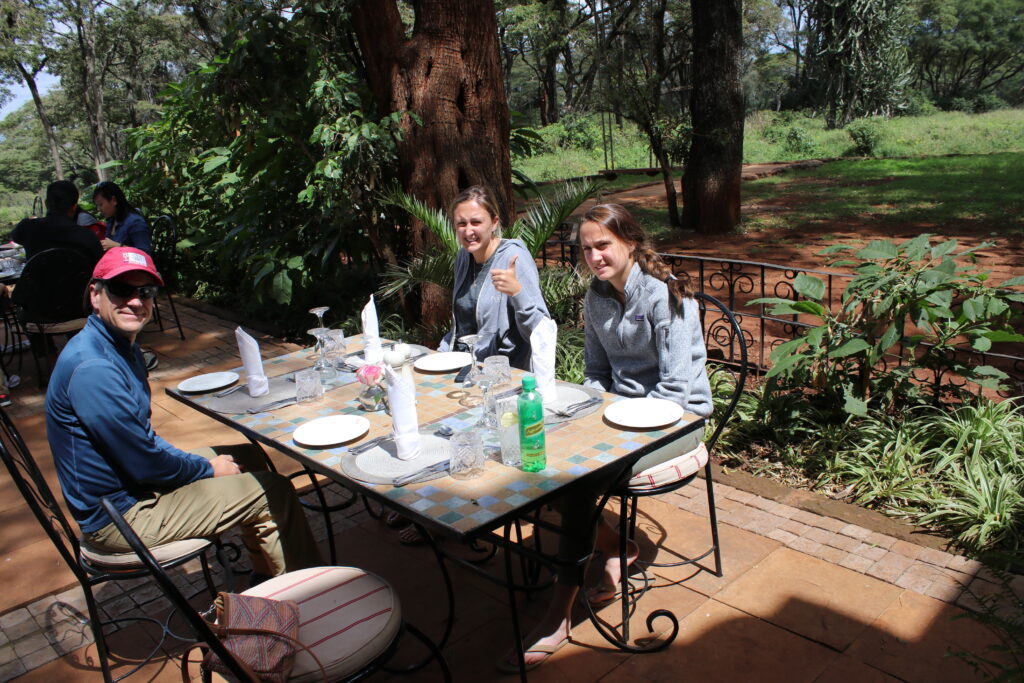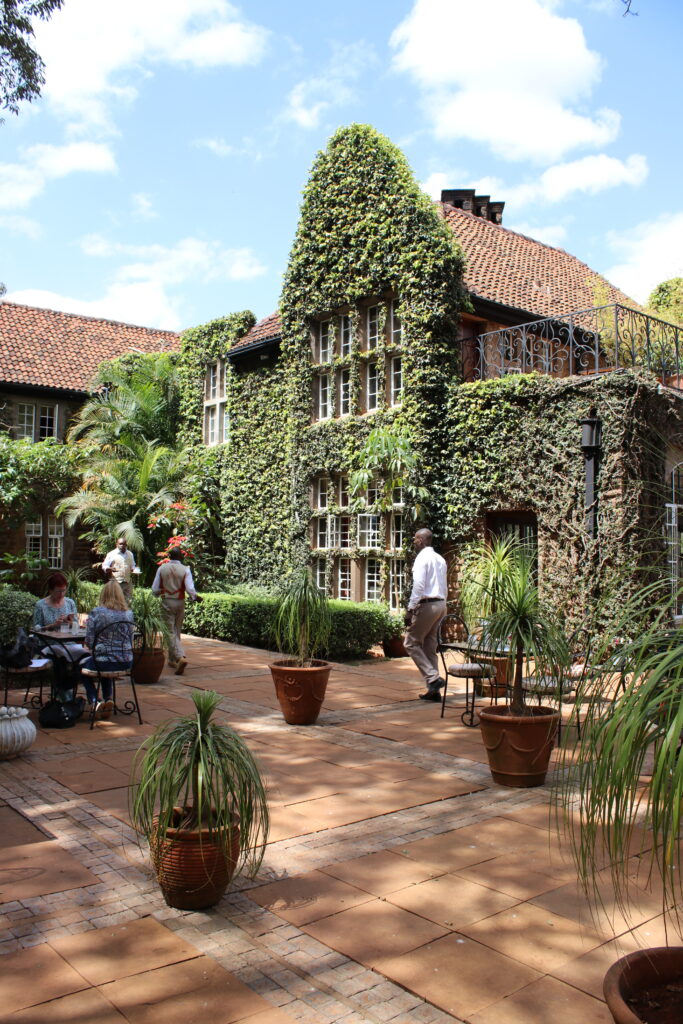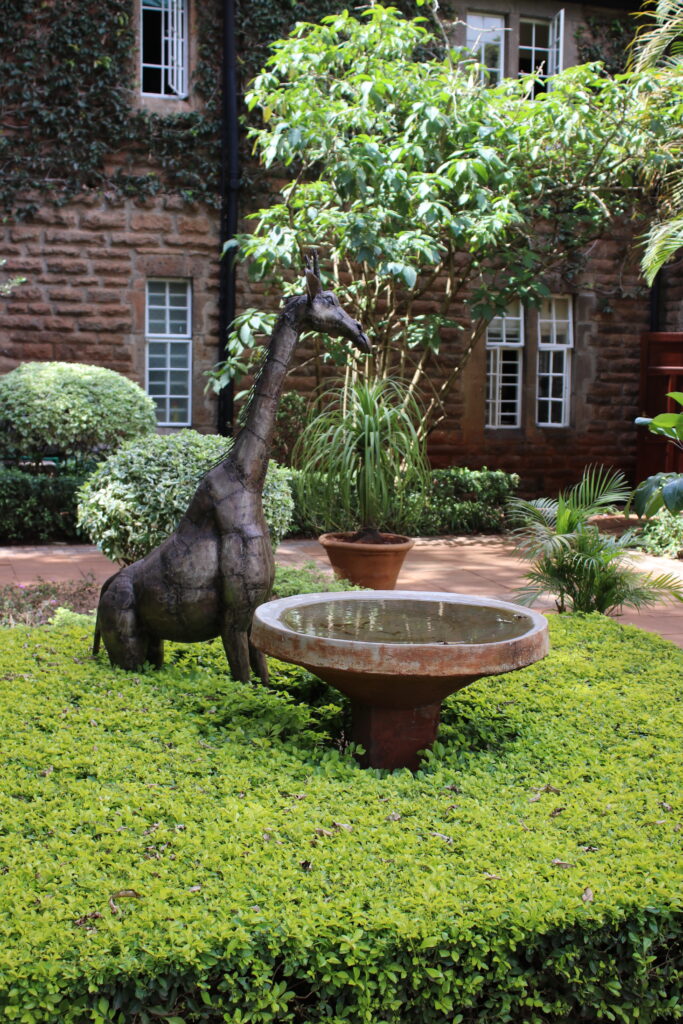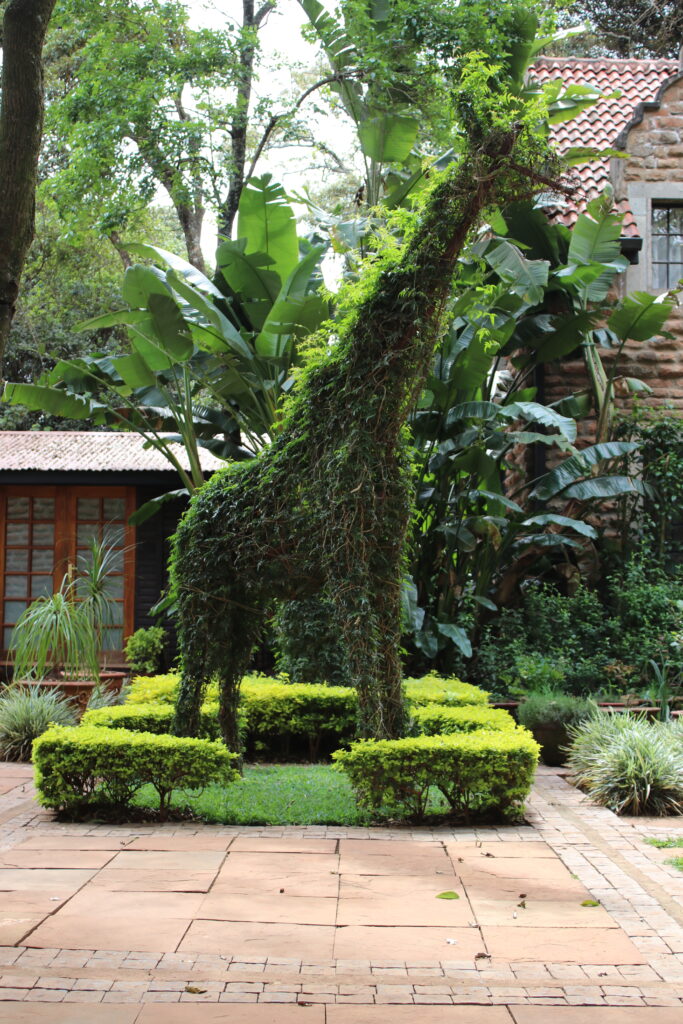 You do not interact with the live giraffes during lunch. At lunch time all the giraffes have walked over to the giraffe center. If you cannot afford to stay at Giraffe Manor, or if the hotel is unavailable, visiting the giraffe center is a great way to interact with the giraffes! You cannot eat at or visit Giraffe Manor unless you are an overnight guest. Overnight guests can also enjoy the fabulous on-site gift shop.
We retreated to our rooms for a nap, which felt awesome. It took 27 hours from our home in RI to get to the manor, so we were feeling it on Thursday afternoon. We woke to high tea with the giraffes.
High tea happens every day at 5pm. Tea, wine, sandwiches, pastries and waters are served outside while you interact with the giraffes. Like breakfast, it is magical.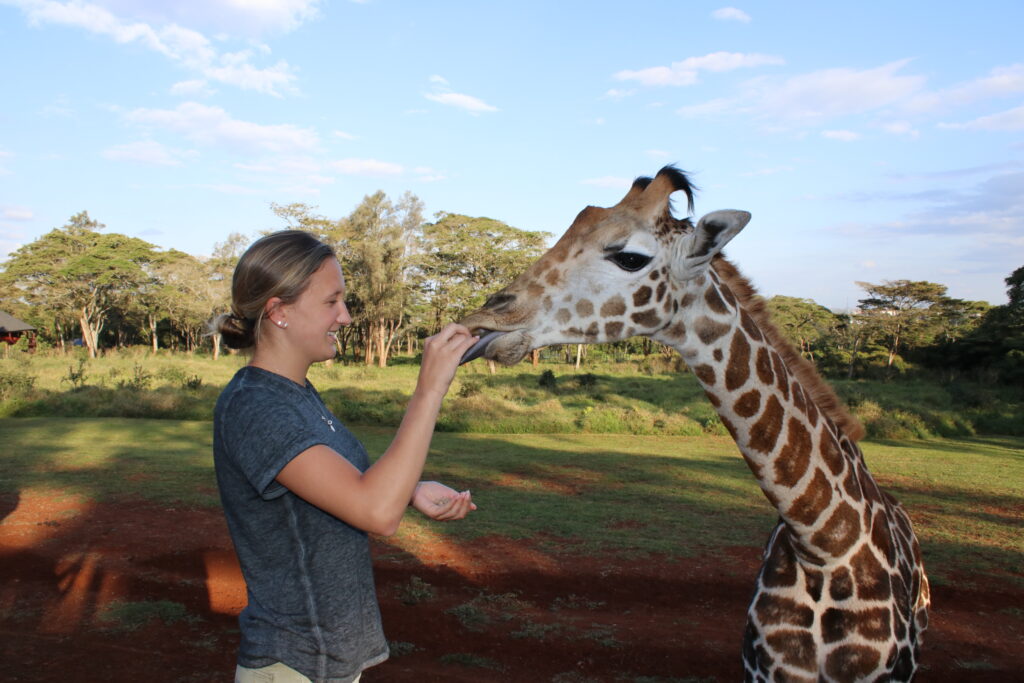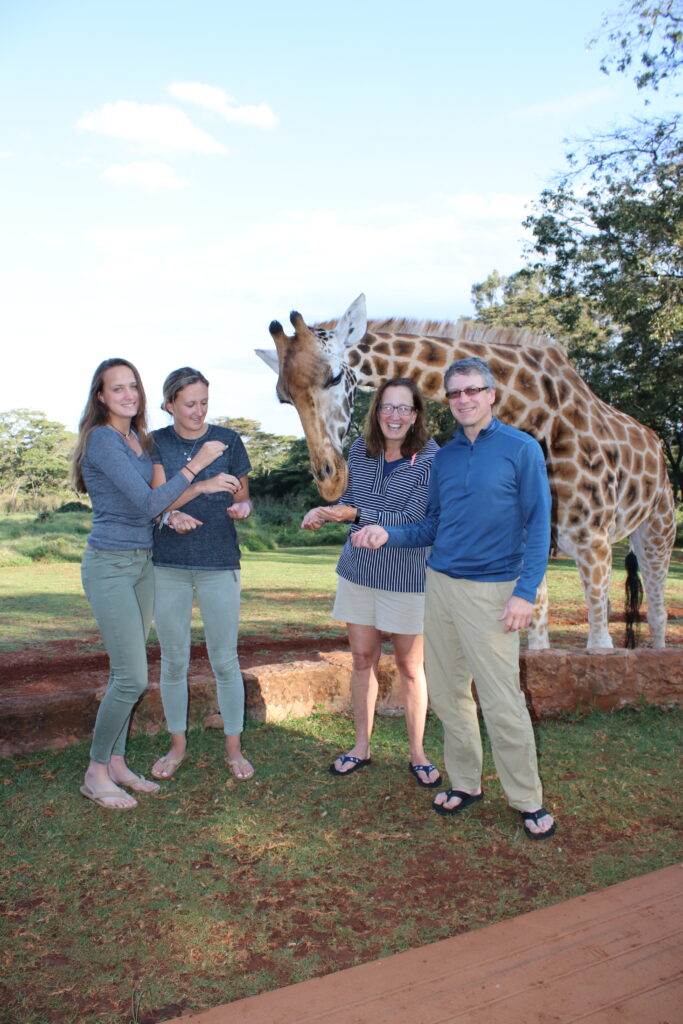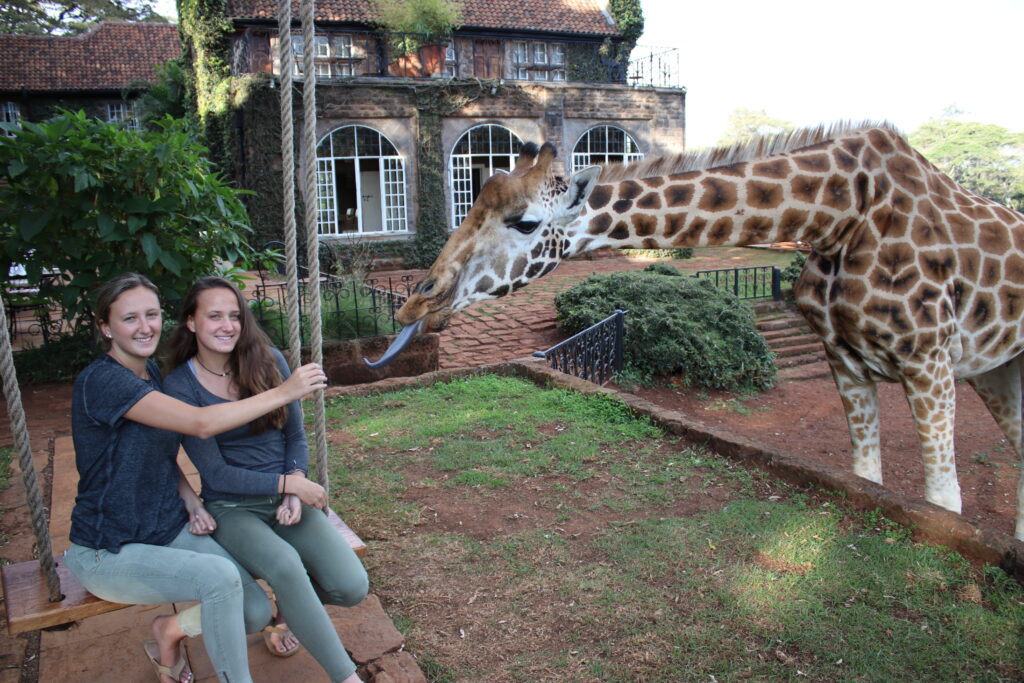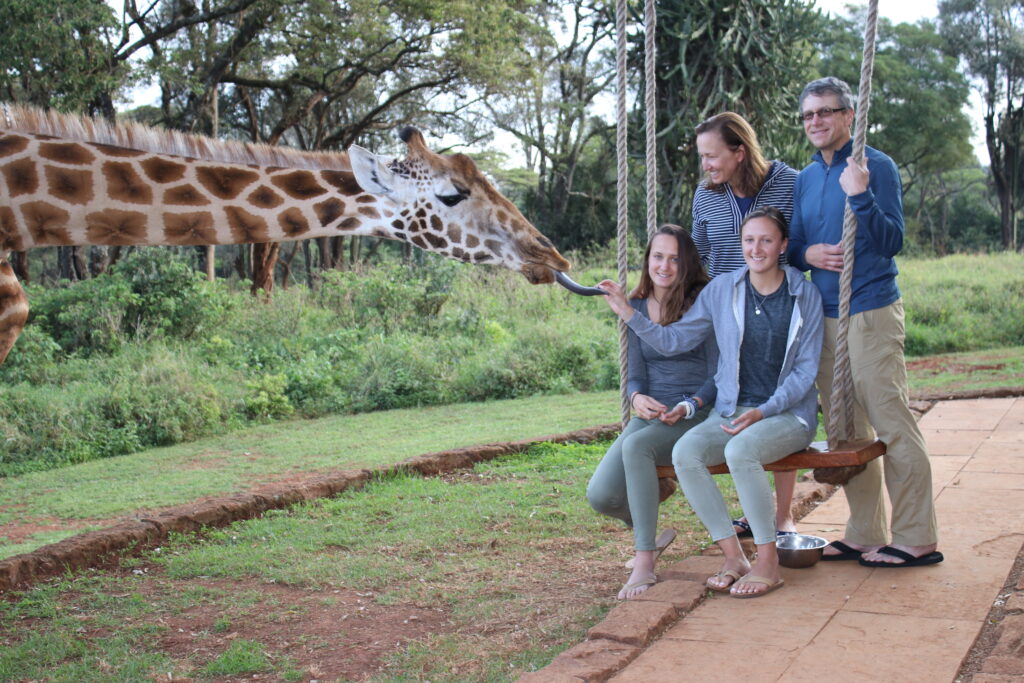 Dinner was outside, in the same place as lunch. It was awesome. We had a fantastic stay here and would highly recommend it.
We woke in the morning and had another breakfast with the giraffes. Then, we set off to the airport and the Masai Mara.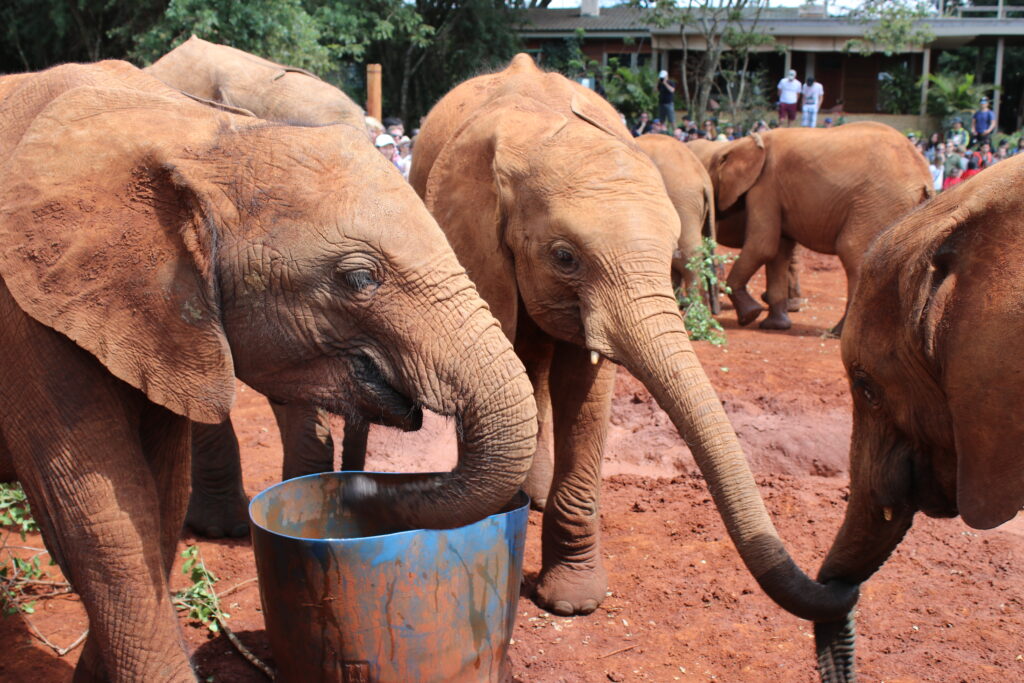 Kenya – David Sheldrick Elephant Orphanage
We visited the David Sheldrick Wildlife Trust and their elephant orphanage. The Orphanage / Nursery, which is located in Nairobi National Park, is open to the public for one hour every day, excluding 25th December, from 11am to Noon.
Our driver brought us to the orphanage about 10:40am. We were toward the front of the line. The cost is $7 to enter. We had a great spot along the rope. Hundreds of young school children filed in and stood in front of us along the rope.
They brought in 18 orphaned elephants for us to see. It was very educational. You can also adopt an elephant. I believe the cost is $50, and the website says,
"As an adopter you can visit the Nursery at the daily public visiting hour between 11am – 12 noon (entrance fee applies) and by appointment at 5:00pm when the elephants return to the stockades for the night. The evening visit is strictly for adopters only and the date must be booked in advance of your intended visit by contacting our Kenyan Office using the form at the bottom of this webpage."
As an adopter, you can put your elephant to bed for the night and feed it a bottle. We would have loved to have done this however, 5pm is when high tea is at Giraffe Manor, and we did not want to miss that. Giraffe Manor is incredibly expensive, and we wanted to do all they offered.
This is such a worthwhile organization that needs your support. We greatly enjoyed our visit here, and would highly recommend it.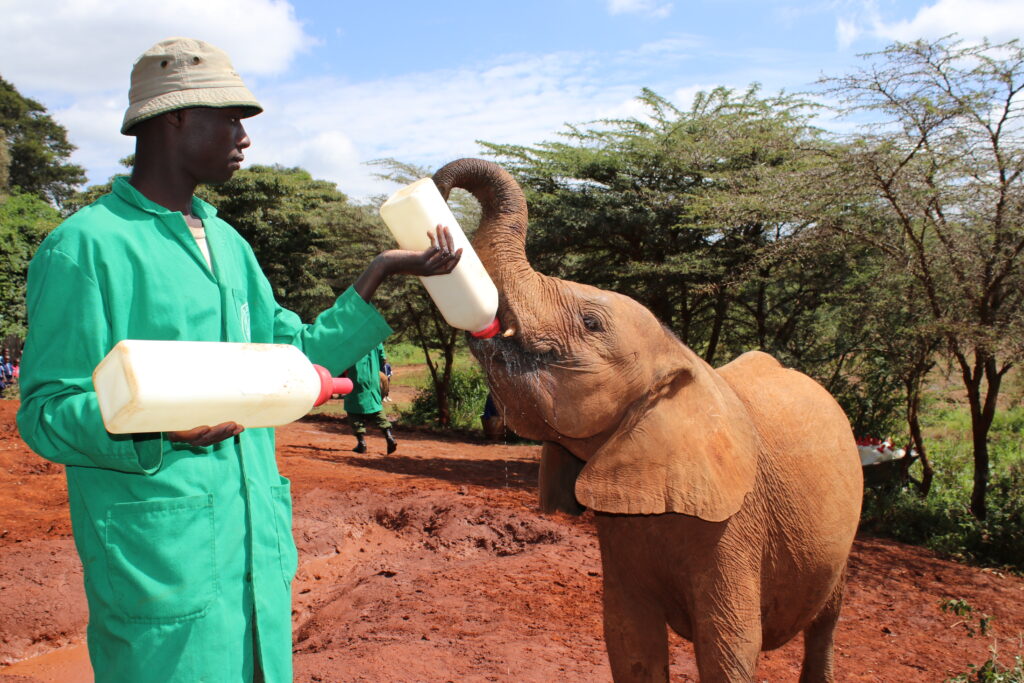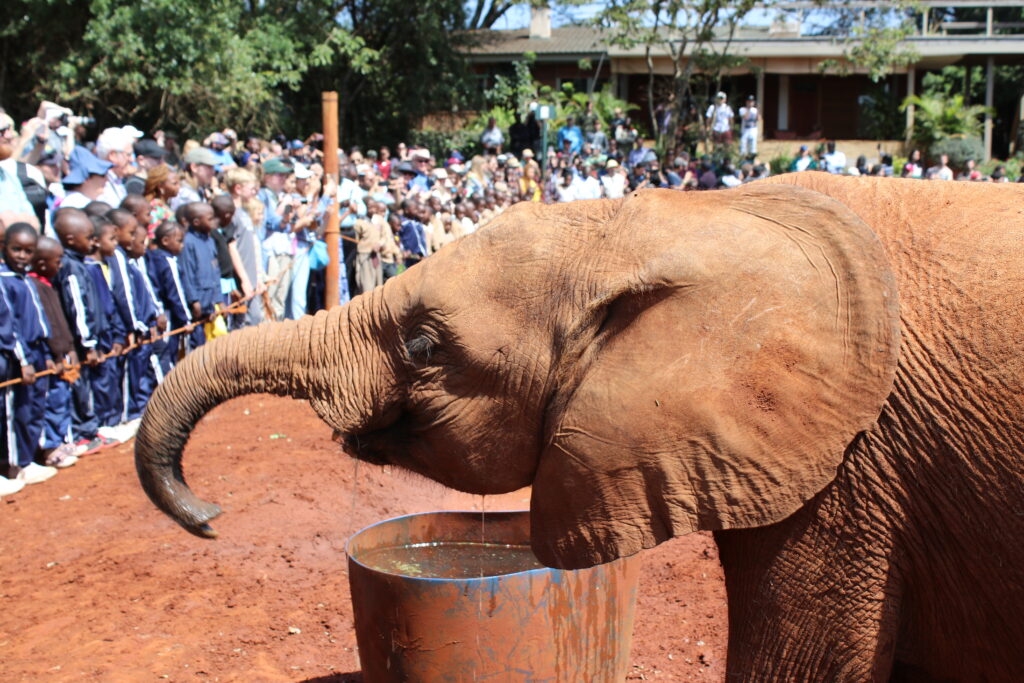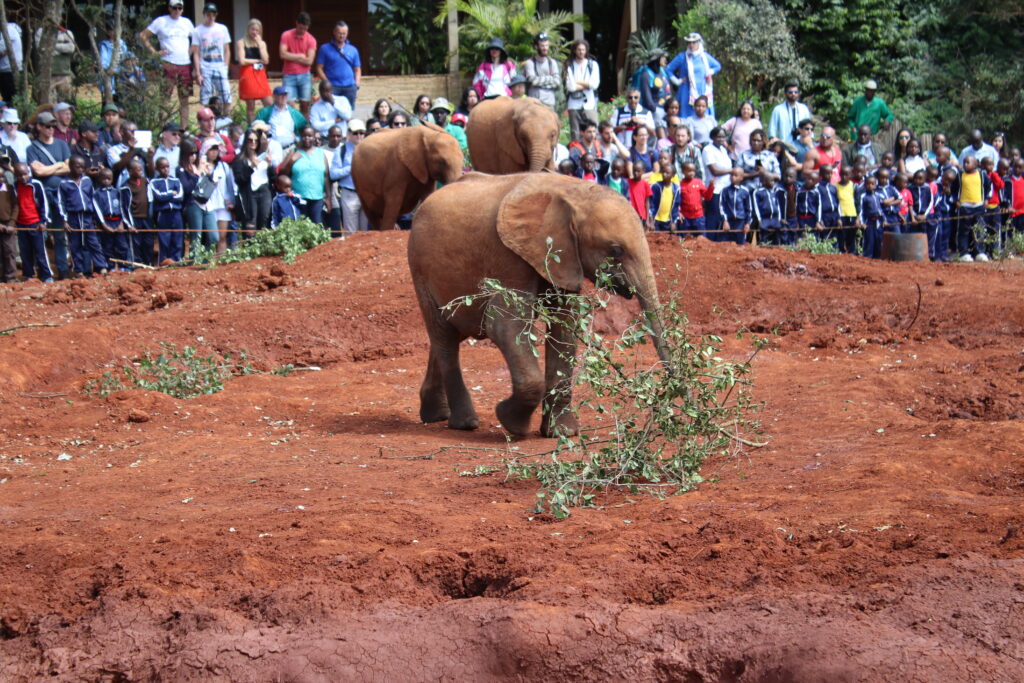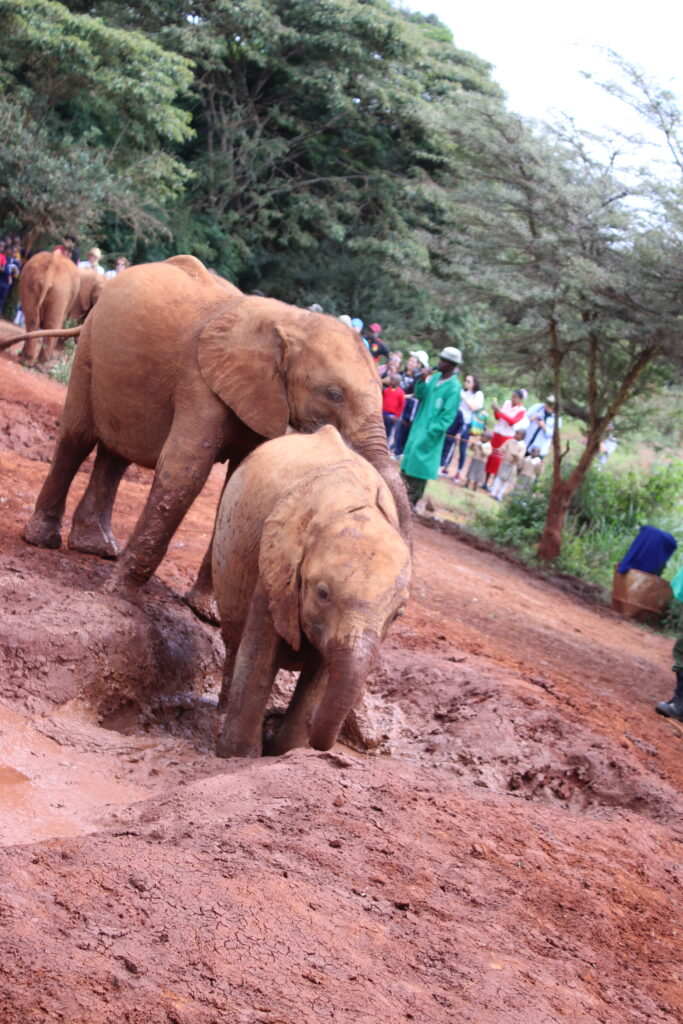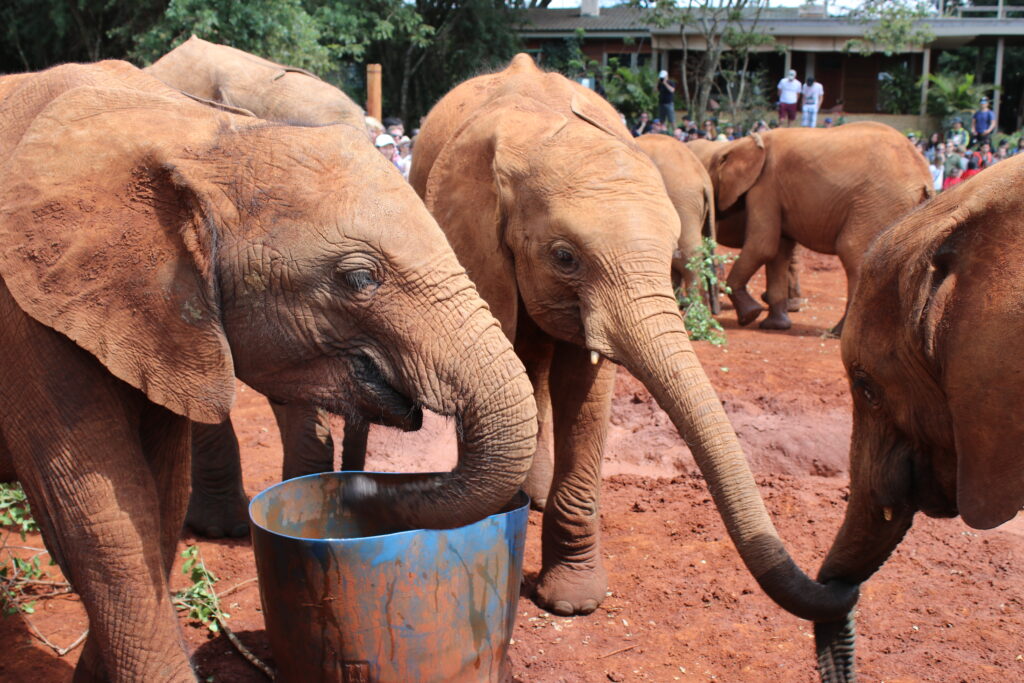 Kenya – Kazuri Bead Factory
Our driver took us to the Kazuri Bead Factory. The bead factory tour takes about 25 minutes. It is free, but a tip is suggested for your guide. The factory employs mostly single mothers, giving them well-paid work. We purchased a few bracelets. It was enjoyable. Our driver suggested lunch out, but we were tired, and lunch is included at Giraffe Manor, so we headed back to our place.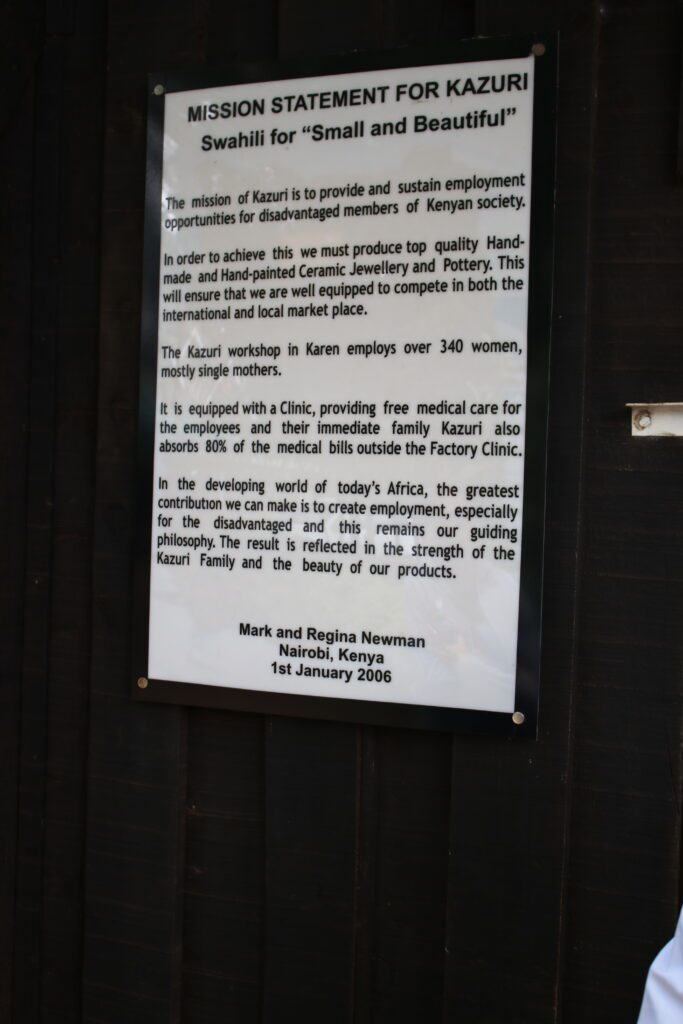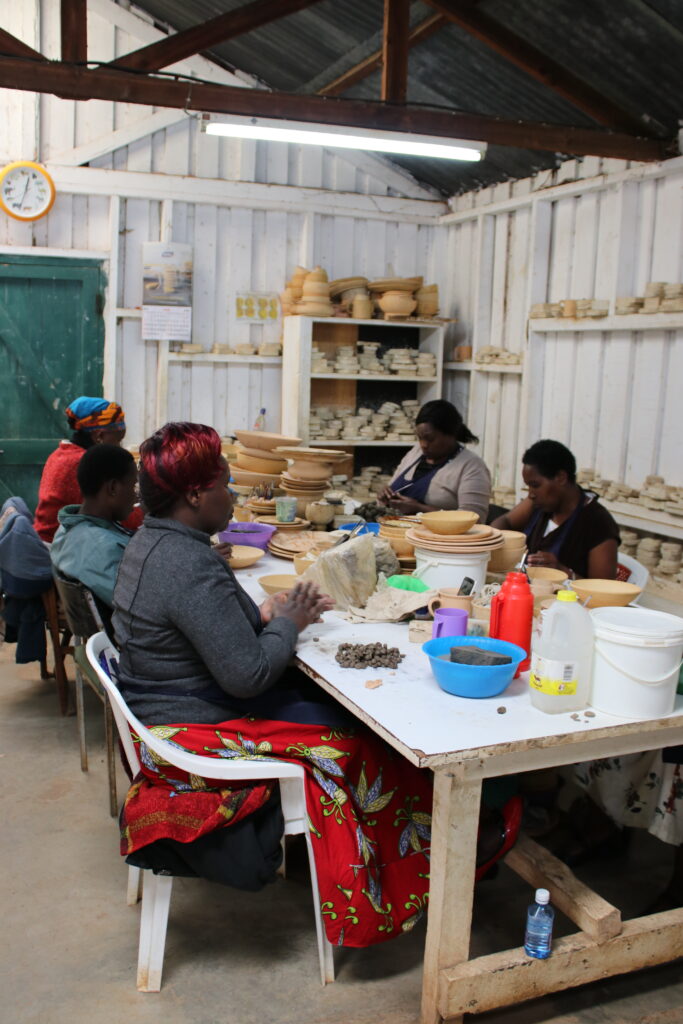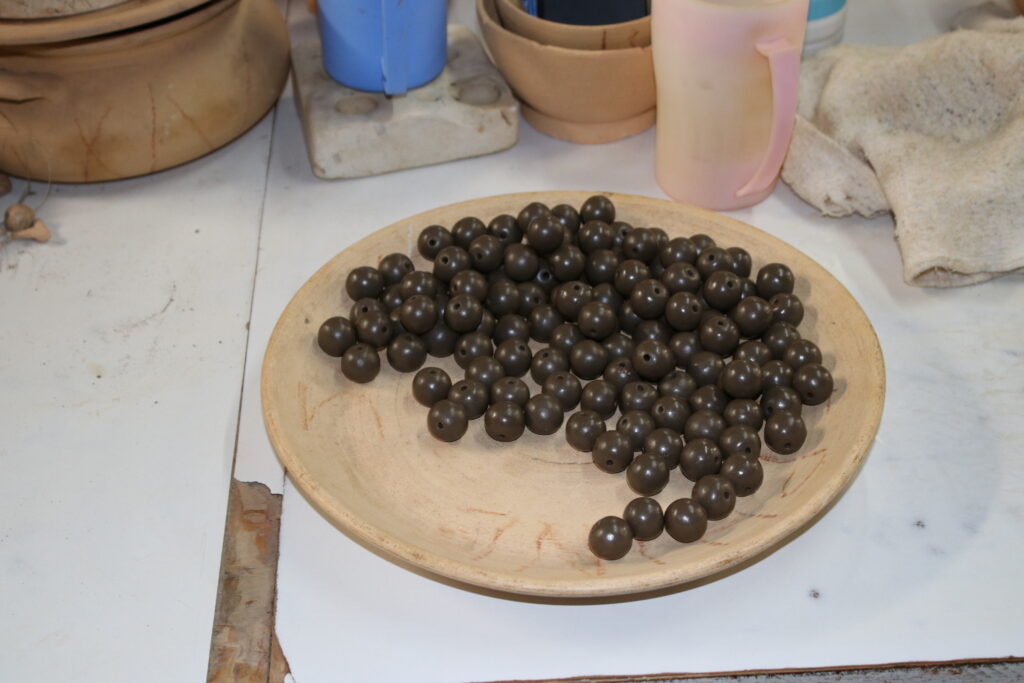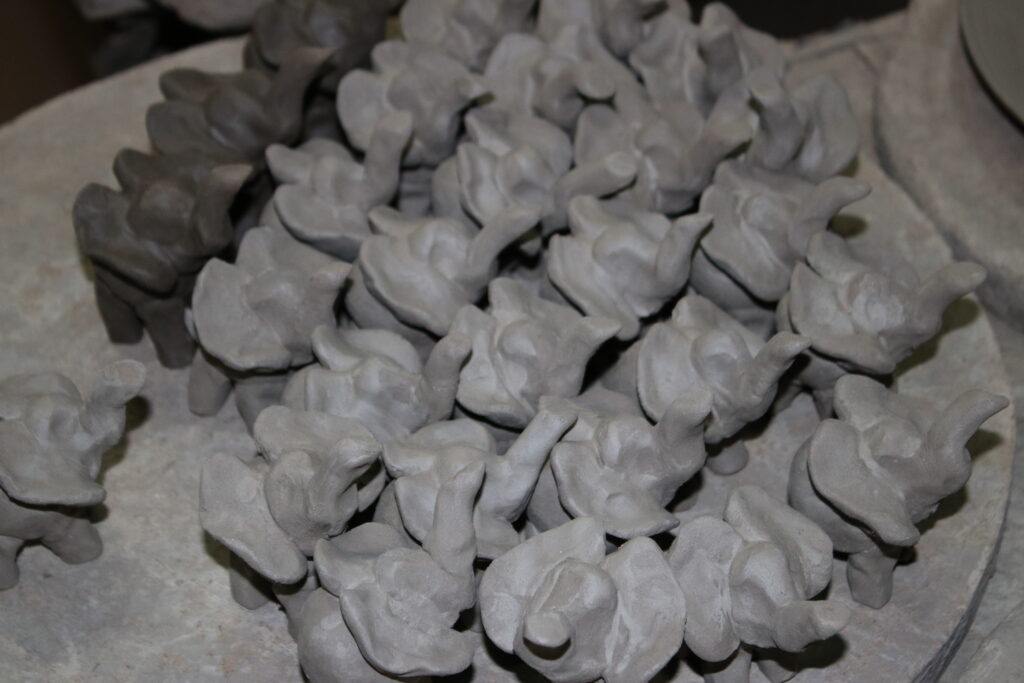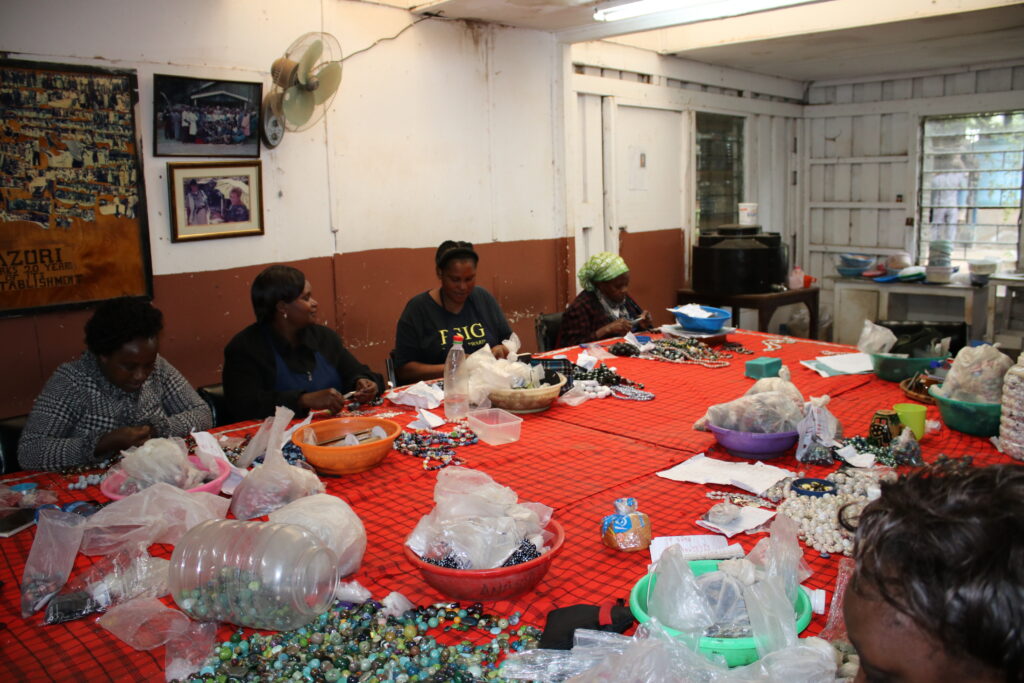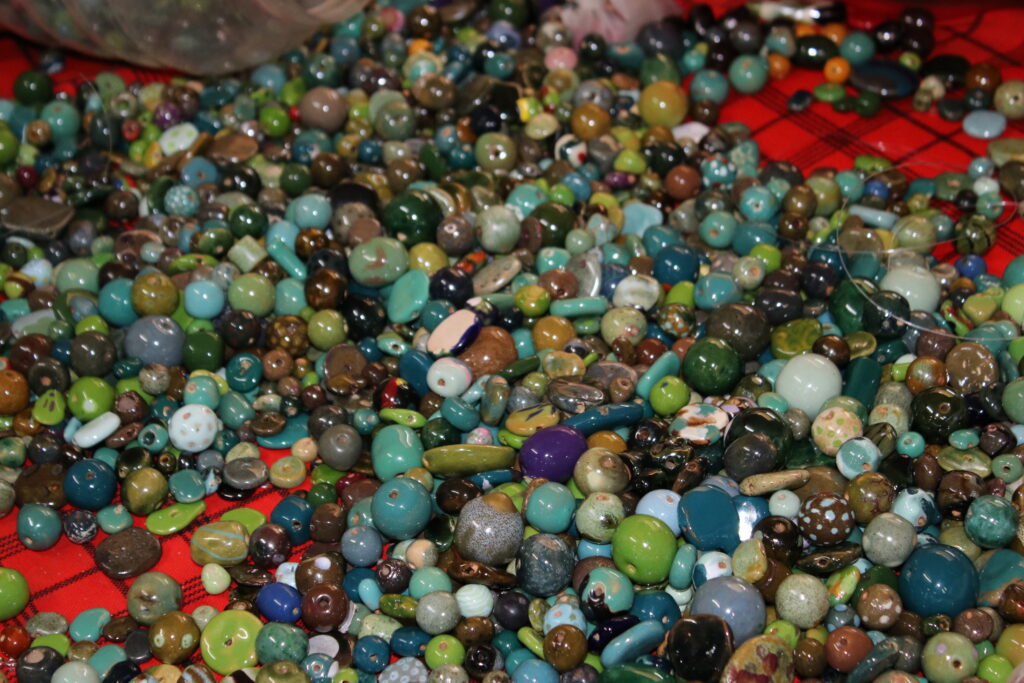 Kenya – Masai Mara – andBeyond Bateleur Camp
If you are planning a visit to Kenya, you must, must, must visit the Masai Mara. The Masai Mara is an almost 600 square mile national park in southwest Kenya. AirKenya and SafariLink fly to several different airstrips in the national park.
We left Giraffe Manor after a delightful breakfast with our tall speckled friends. Our driver took us to Wilson Airport. Honestly, when you pull up to the airport it feels like you are in an office park. Security is easy. You approach the desk and they weigh your bags. Our flight to the Masai Mara was on SafariLink. We held on to our carry-on bags and the airline took our duffle bags. If your bags are overweight, the airline may charge you a fee or insist you leave items in a locker in Nairobi.
When your flight is called, you walk across the runways with an escort, check to make certain your bags are loaded in the plane (having four unique-colored blue bags made this very easy every time we had to check), and take any open seat. The plane seats 13 people.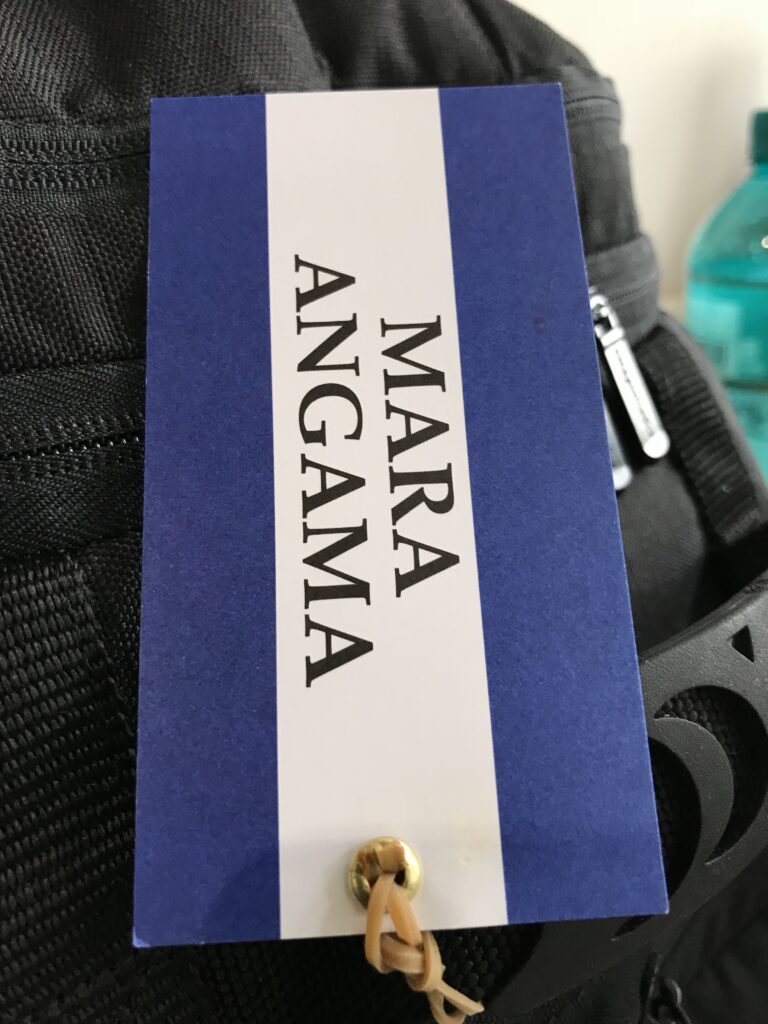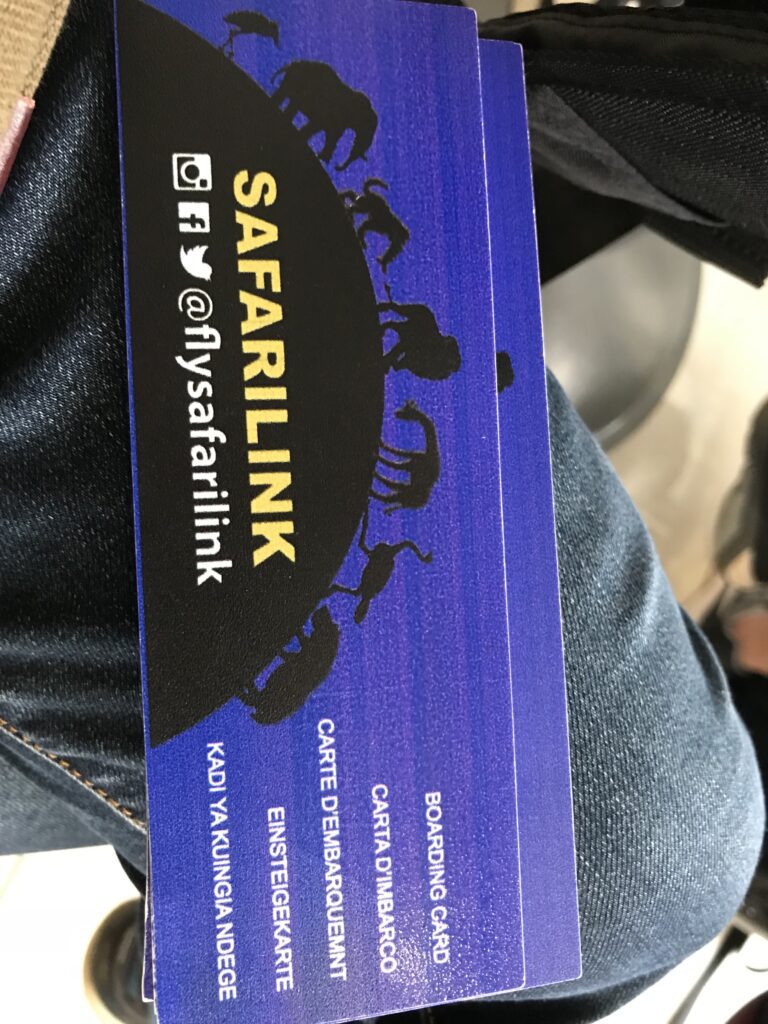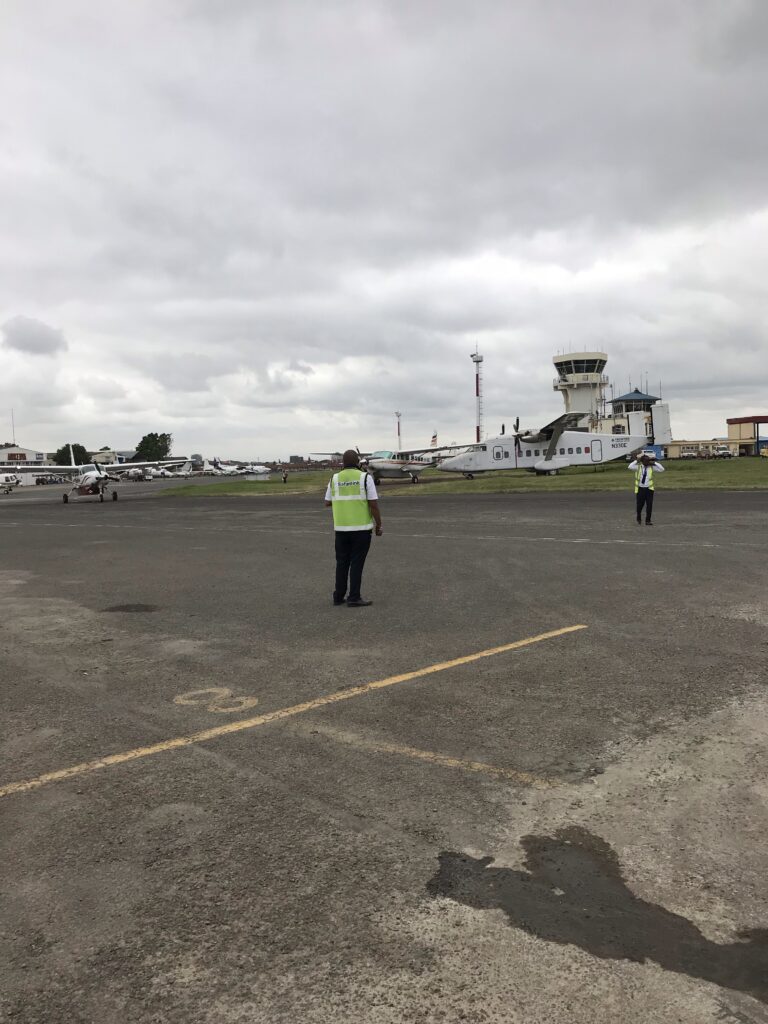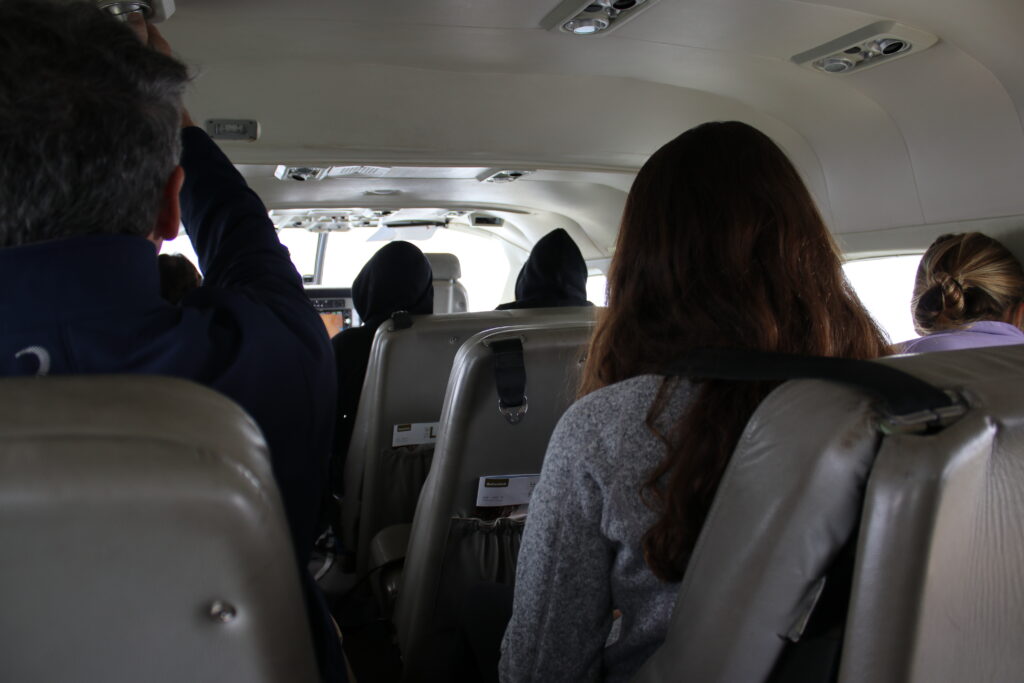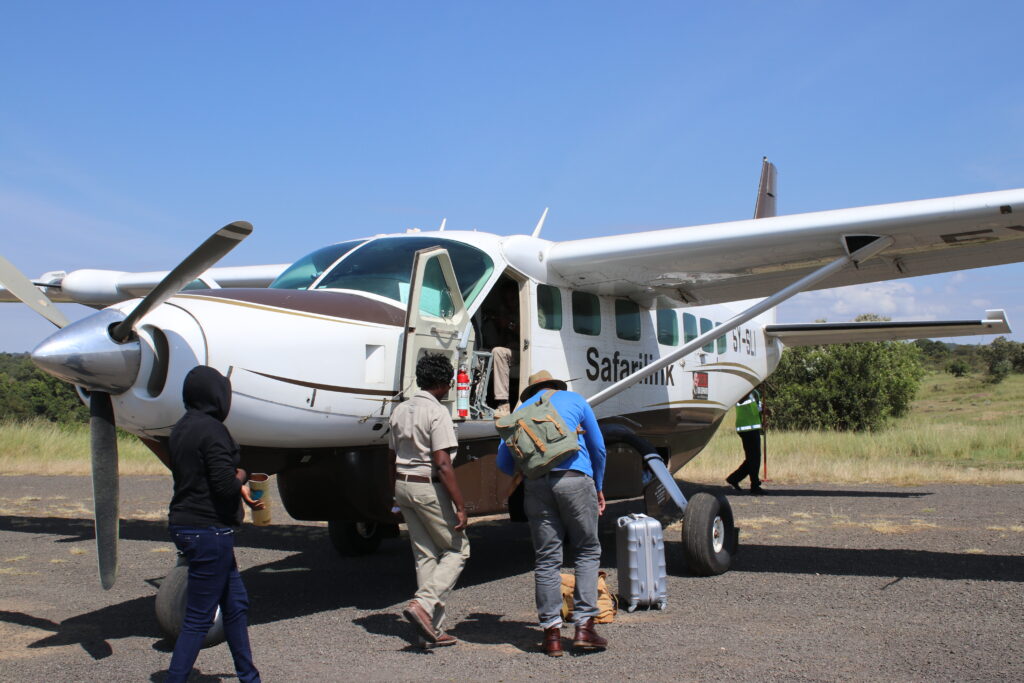 andBeyond Bateleur Camp has its own dedicated runway that andBeyond maintains, called Kichwa. Because the Kichwa airstrip was being serviced on the day we arrived, we flew to Angama. When you land at these airstrips, expect nothing – no facilities or services. Literally, the airstrips are dirt runways. Expect to see game as you land. During our stay in Africa, we regularly saw animals on the runways that the camp vehicles would encourage to move away. We also saw planes that had aborted landings due to game on the runways.
From Angama to the Bateleur Camp, it is about 35 minutes. We saw game and beautiful scenery along the way. Our guide, Protus, picked us up at the airstrip and stayed as our guide and day planner from the minute he picked us up until we flew away to the Serengeti.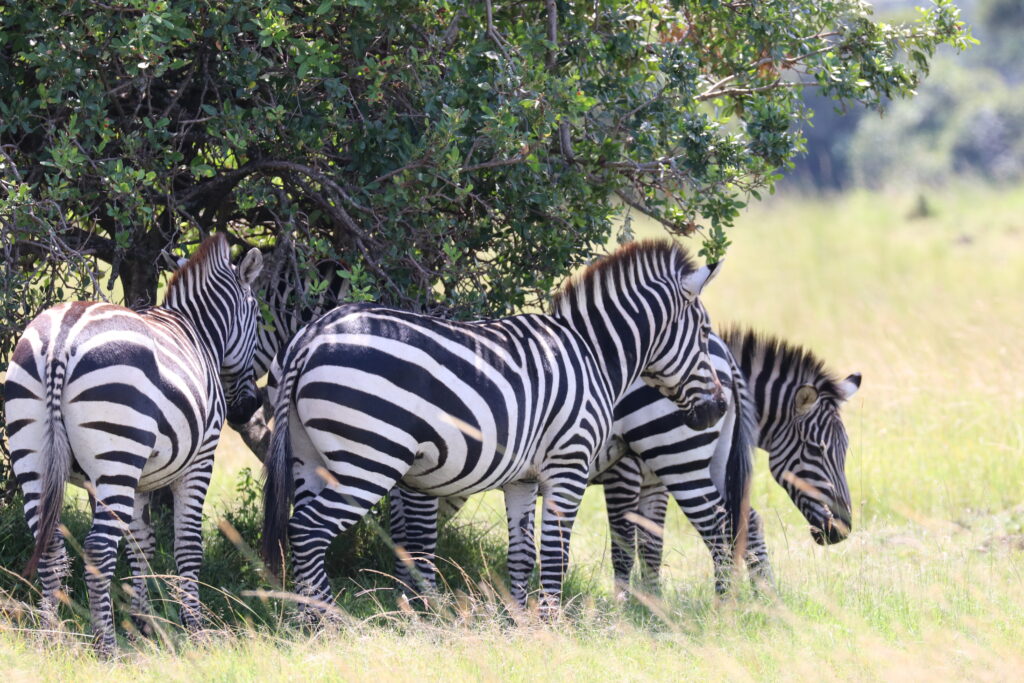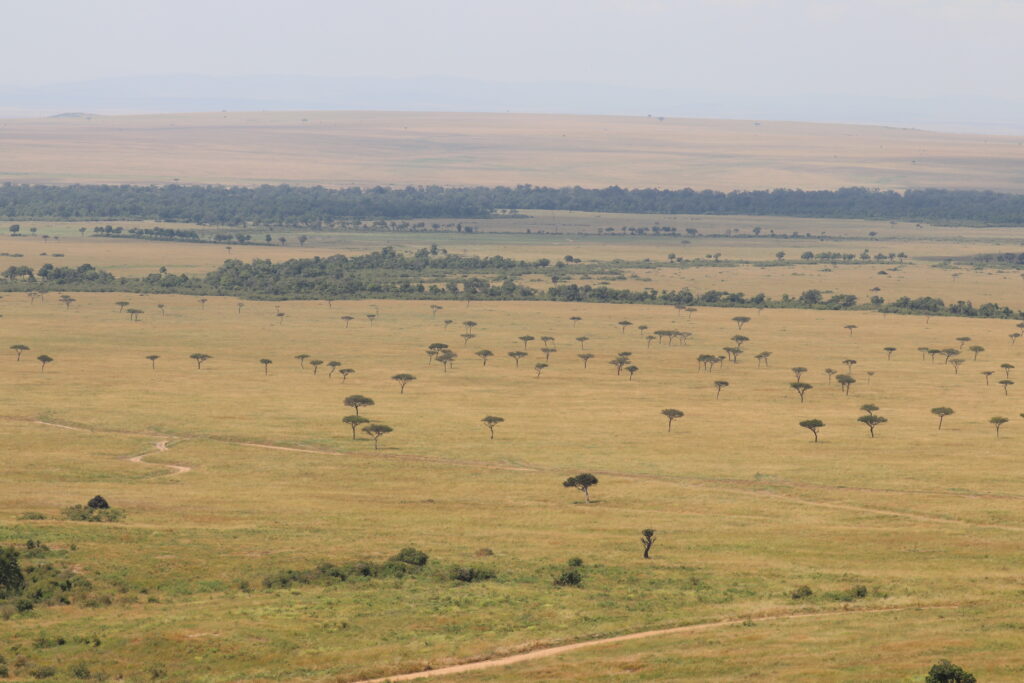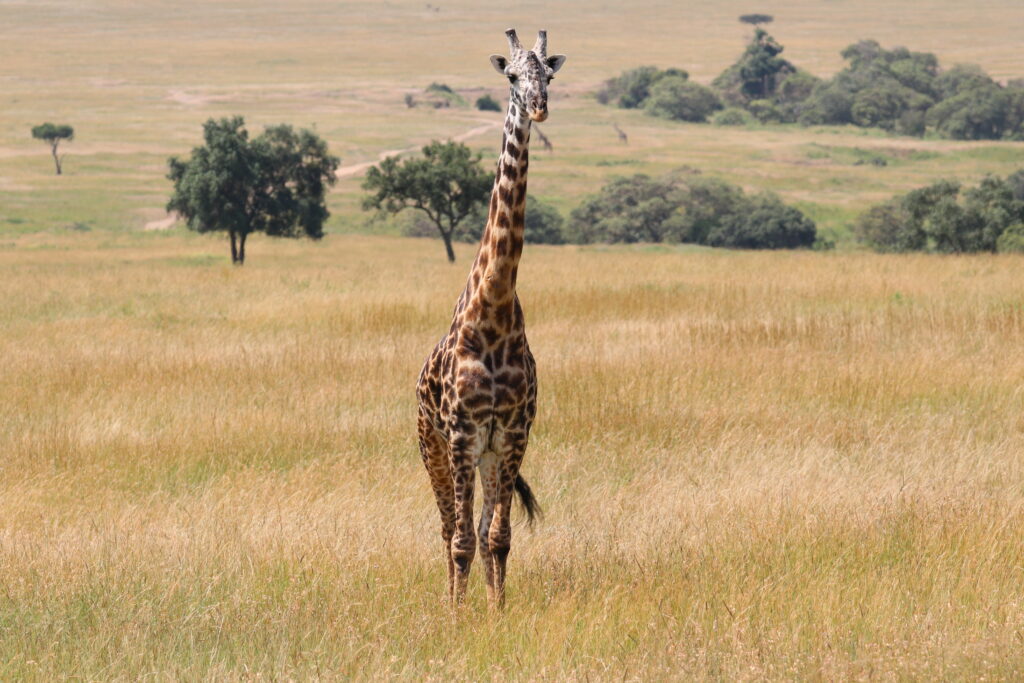 We arrived at andBeyond Bateleur Camp with singing from the staff and glasses of champagne. The camp manager, Esther, welcomed us and made us feel right at home. Her warmth was infectious. The camp was amazing. We had our safety briefing and ate some lunch! This camp is amazingly luxurious, private, and the service is amazing.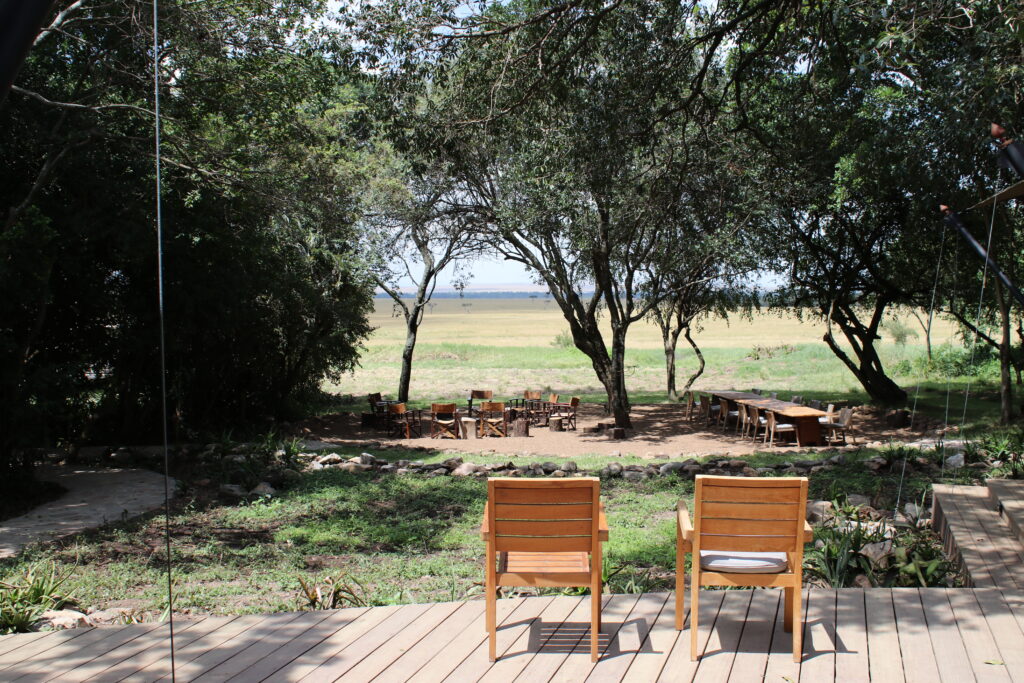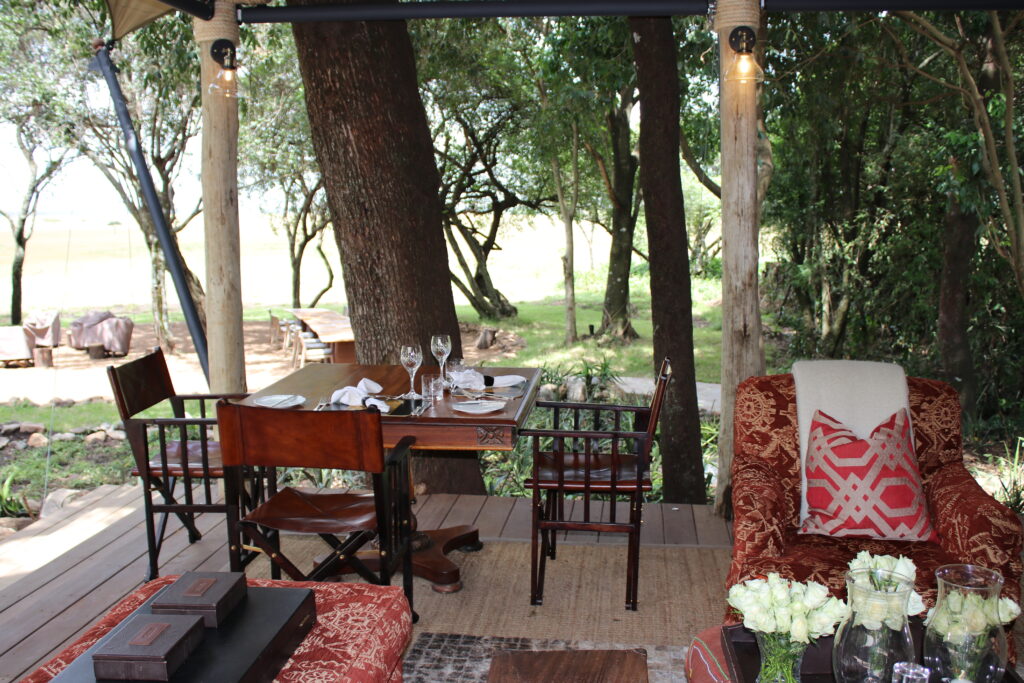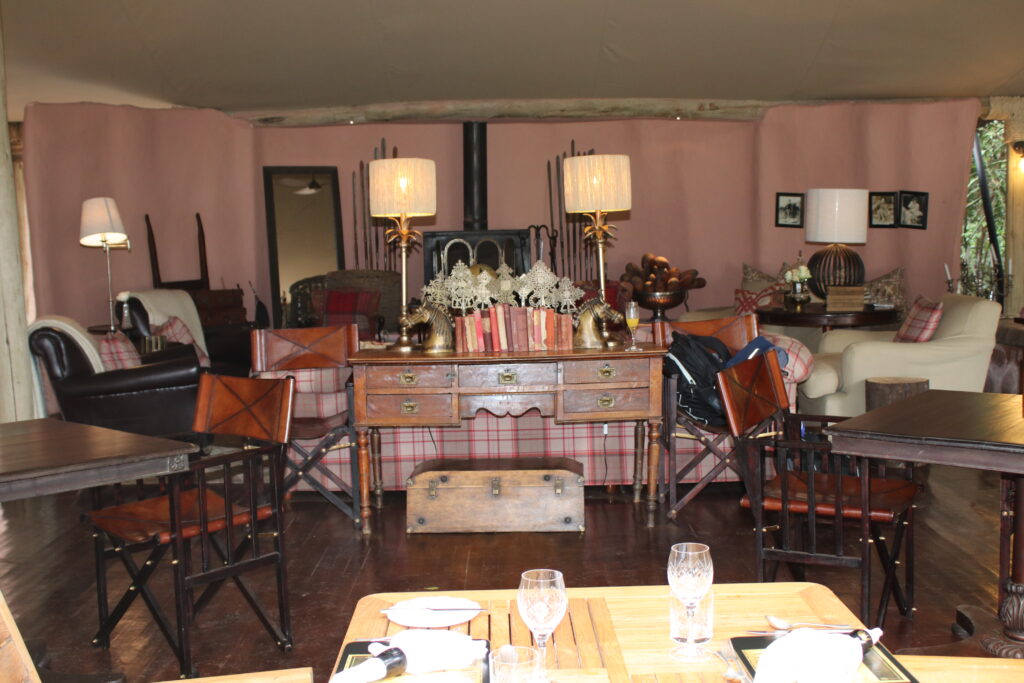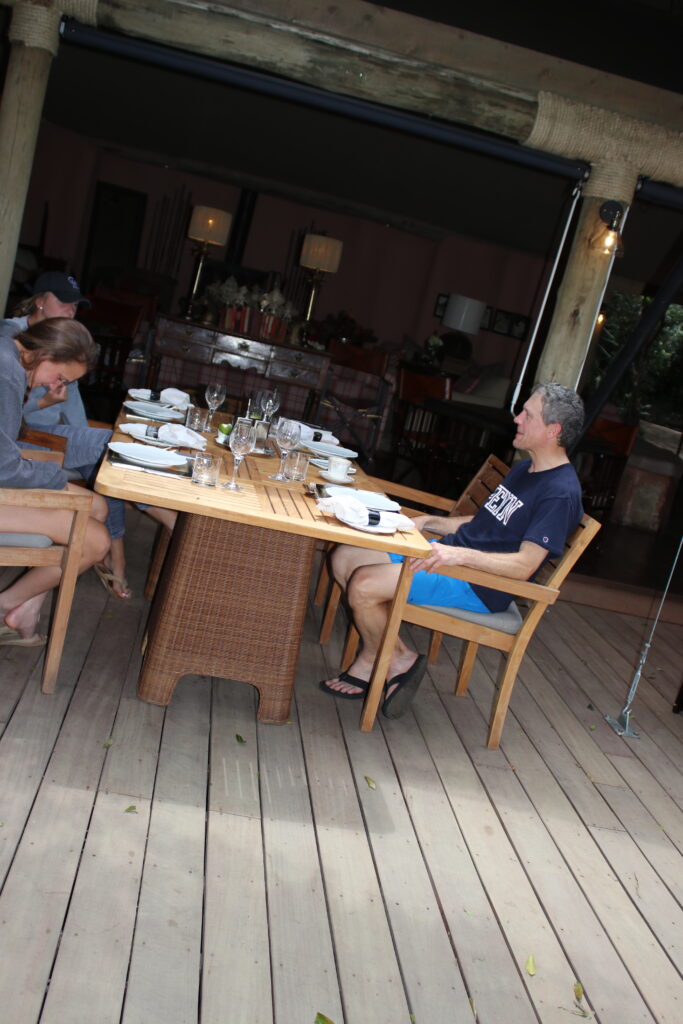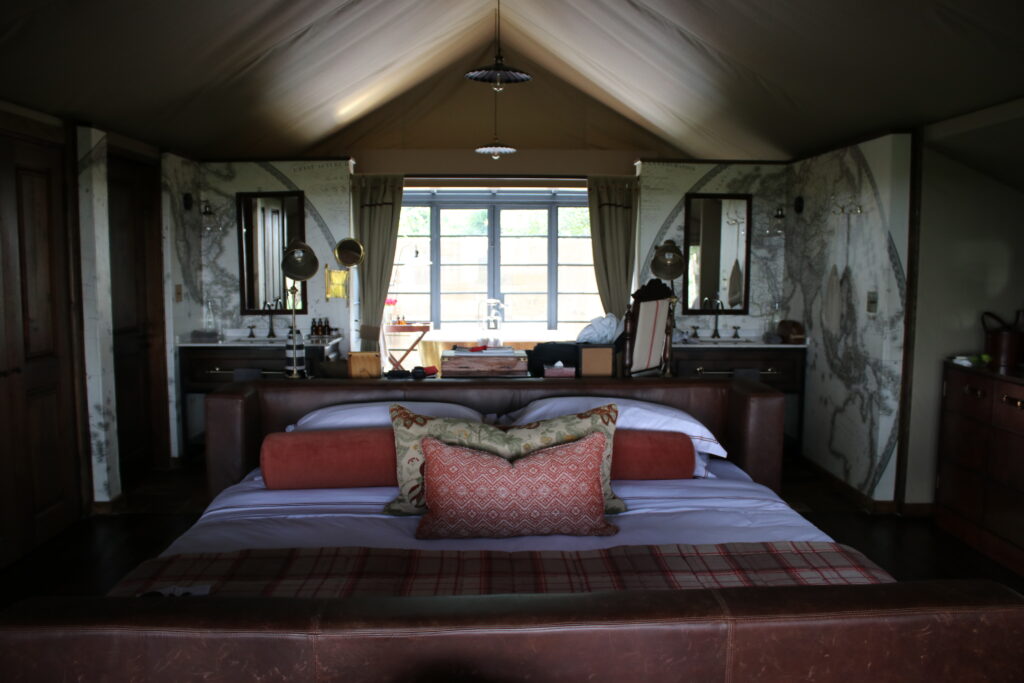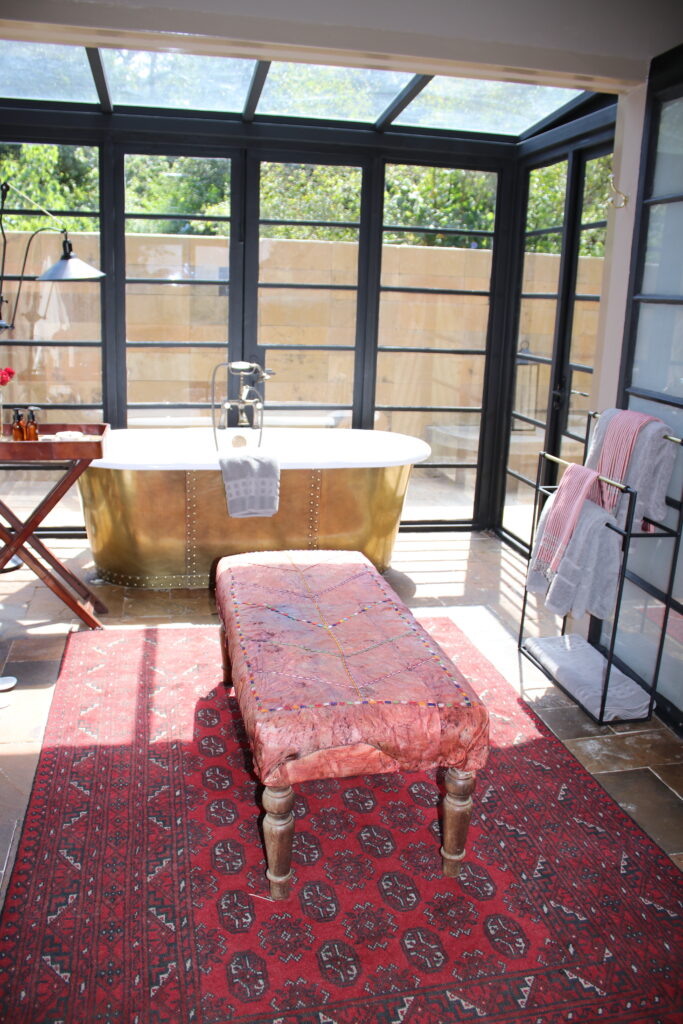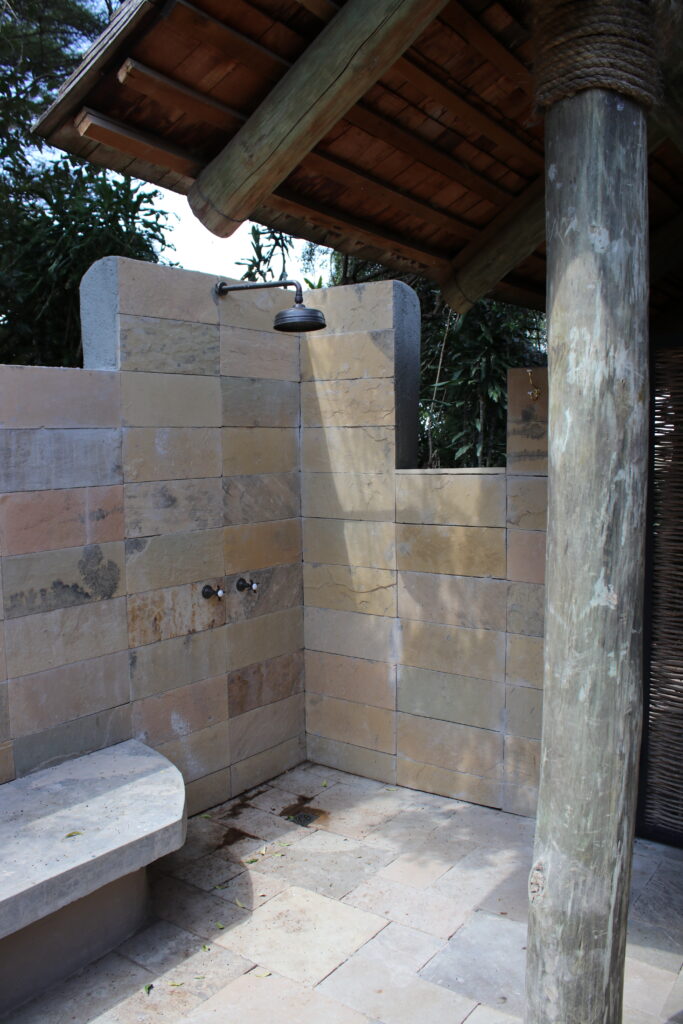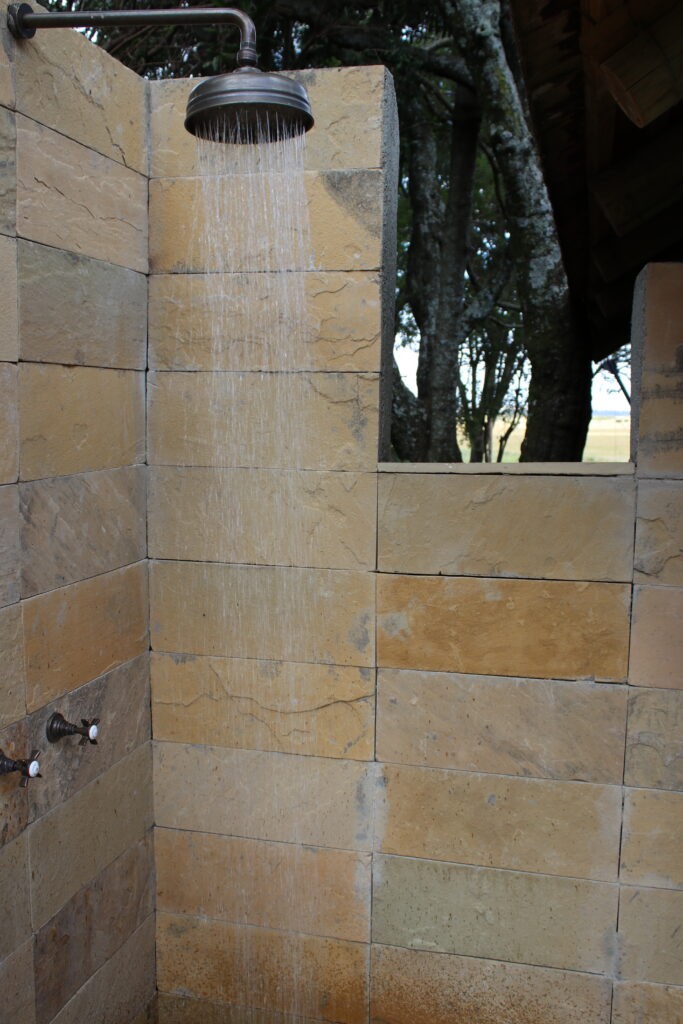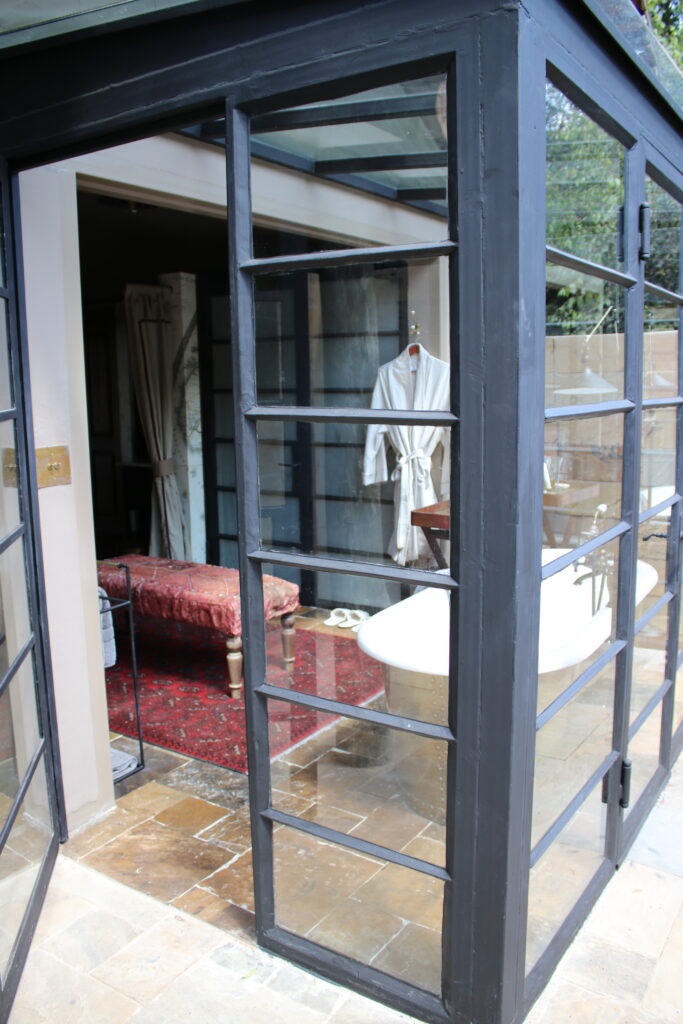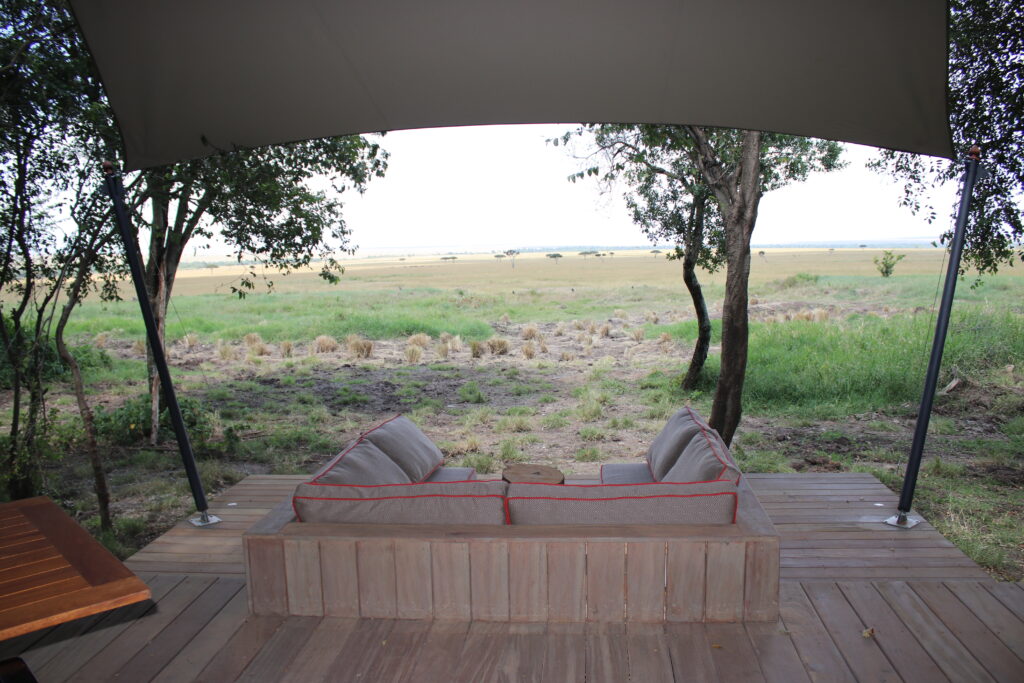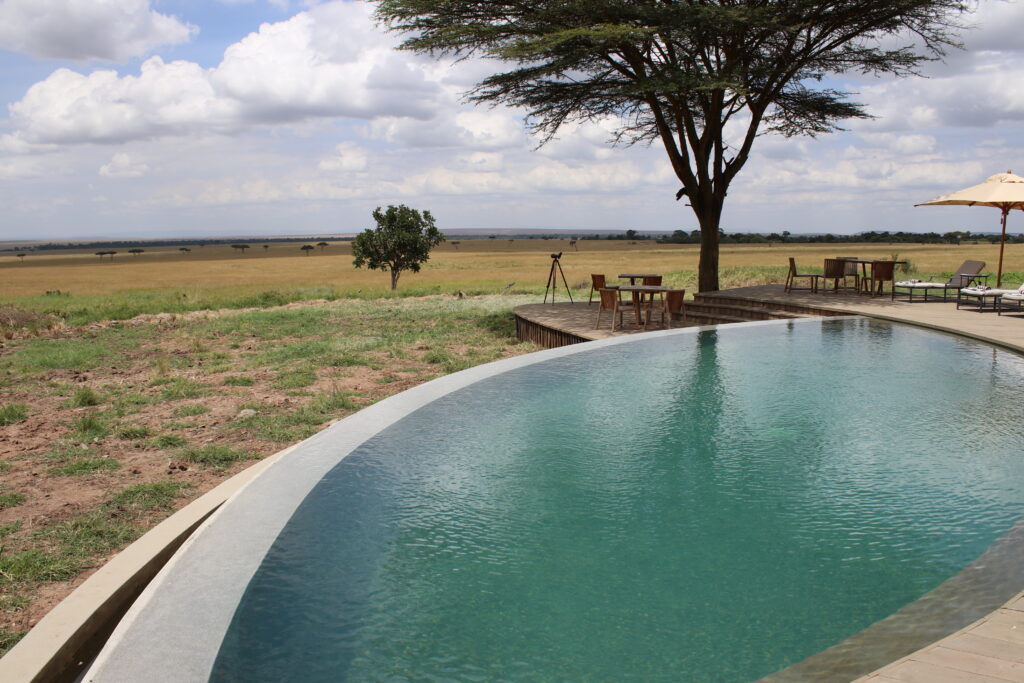 After lunch, a dip in the pool and a workout, we met with Protus about 3pm. Game drives are typically in the mornings and later afternoons when the animals are most active. We went out with another couple from Nairobi and saw some amazing animals. We planned to have a sundowner, but it poured rain on us. It was an amazing afternoon. I took hundreds of photos. These are a few favorites.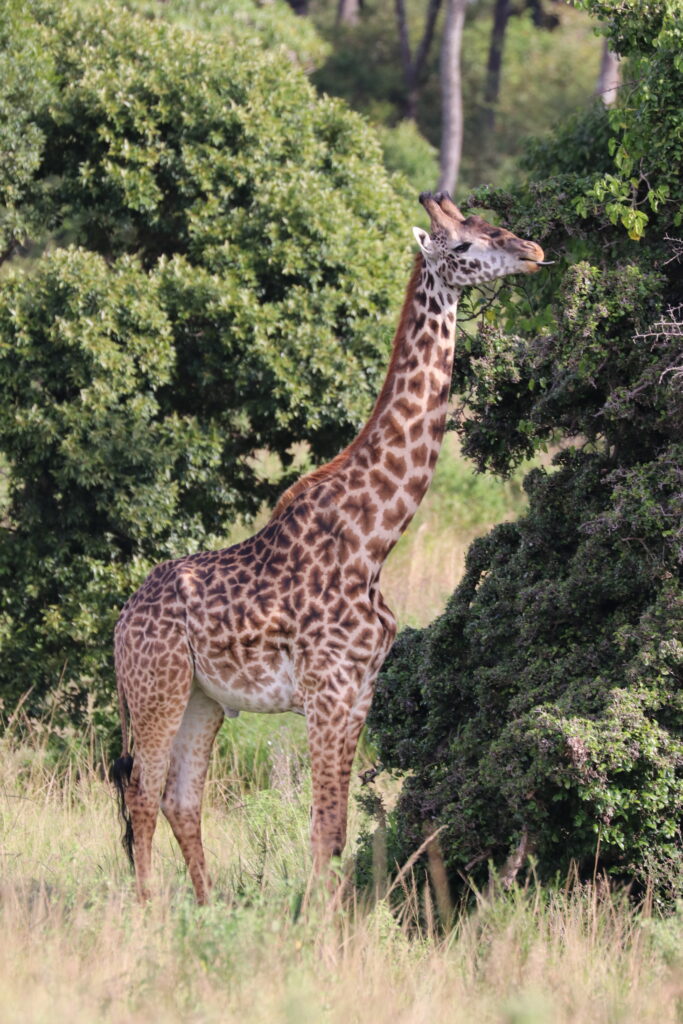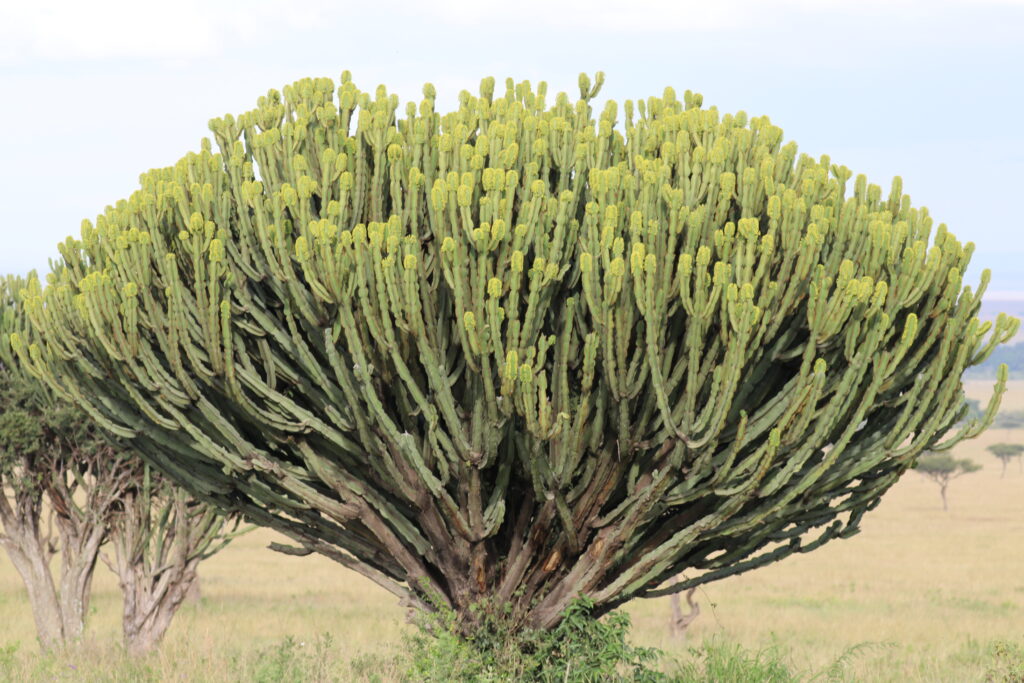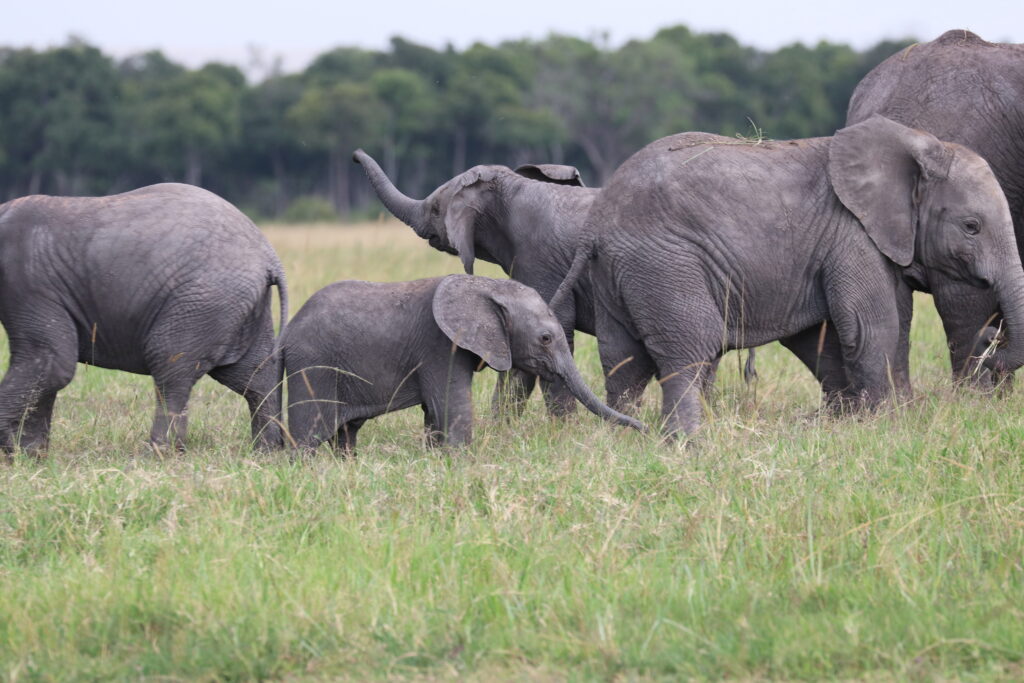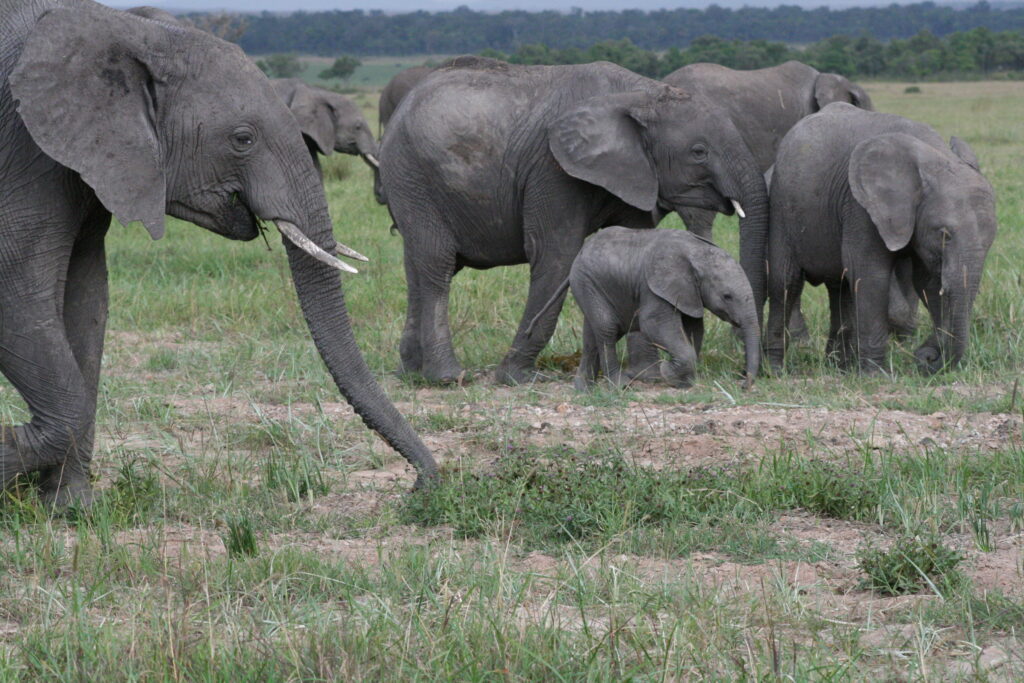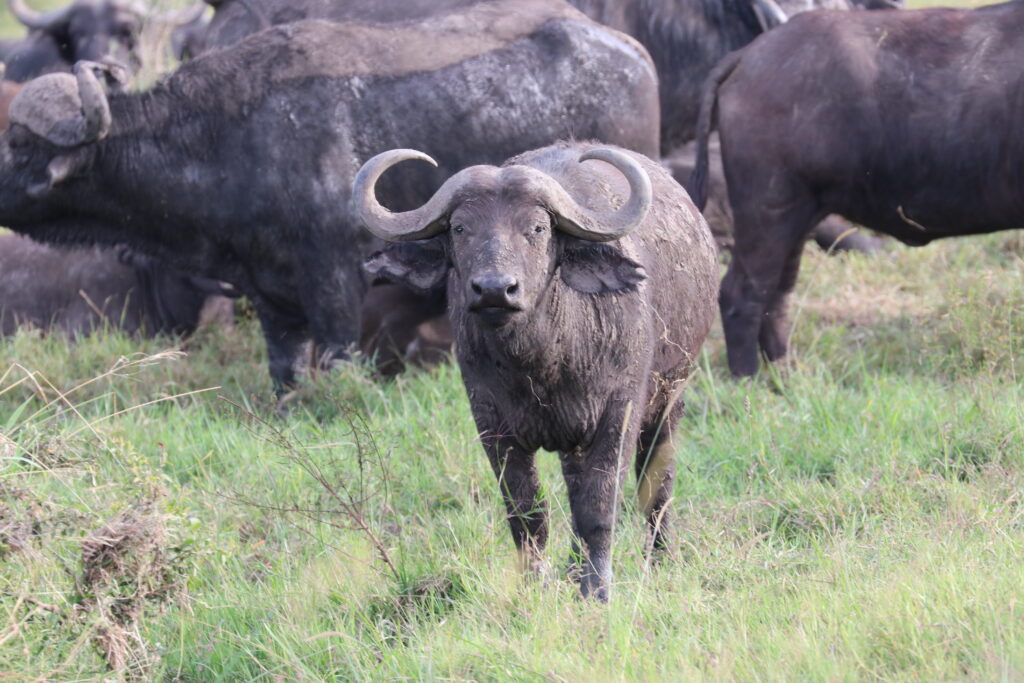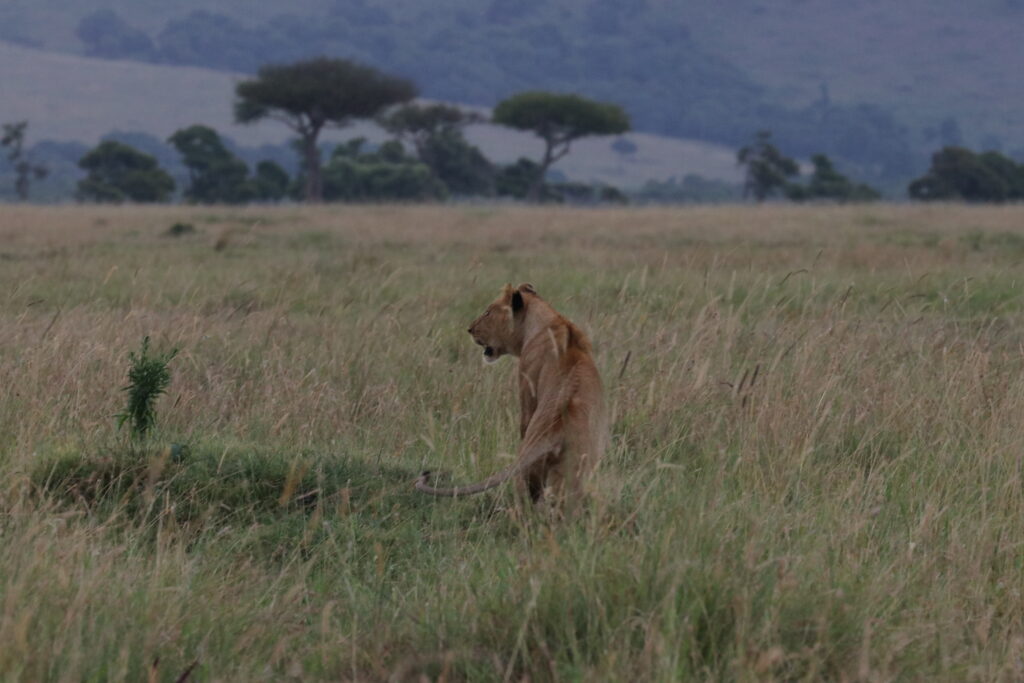 Dinner was incredible. We talked with other guest in the lounge parts of the common area. At all camps and lodges, you cannot walk alone at night. You need an escort to and from your room or tent.
We made a plan with Protus for the morning. andBeyond offers guests a personalized experience. We asked for an early morning game drive and a "bush breakfast," and that is exactly what we got!
We woke to the sounds of our personal butler bringing us coffee and cookies through our butler pass through. The rooms had full mini bars with waters and other drinks, too. We set out with Protus and one other guest for an inspiring morning. andBeyond vehicles in the Masai Mara can seat nine people. We were never more than six. Wildlife was everywhere.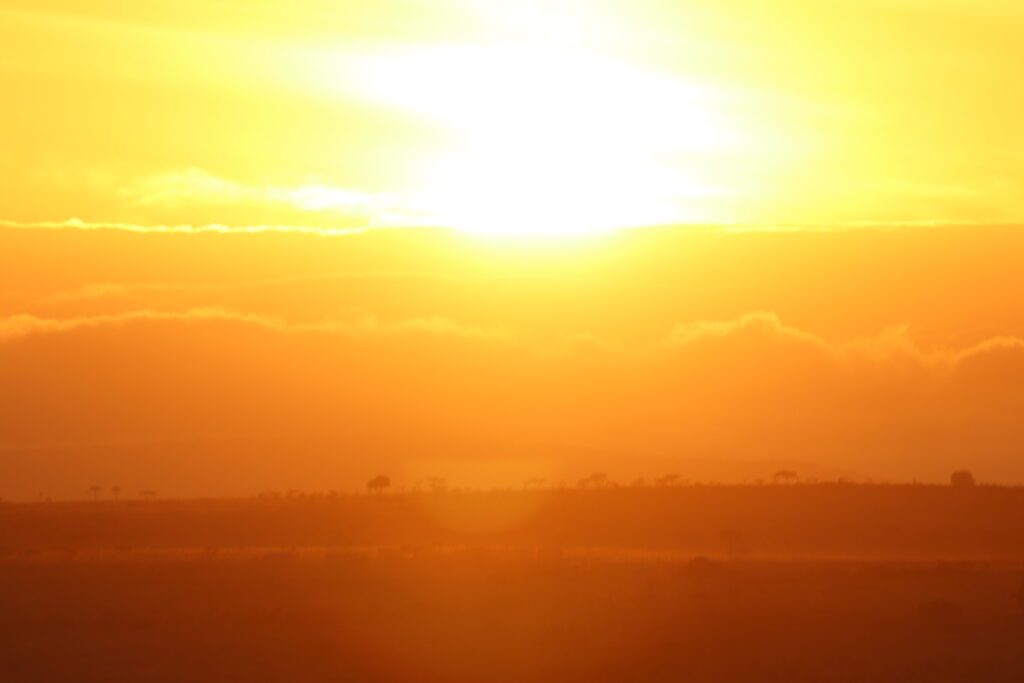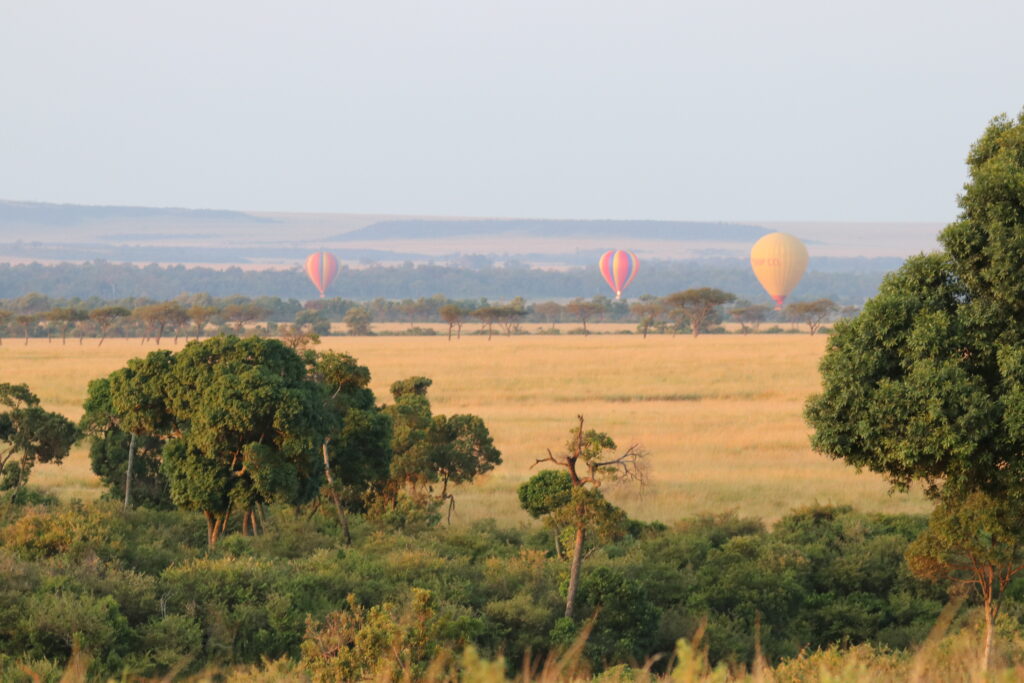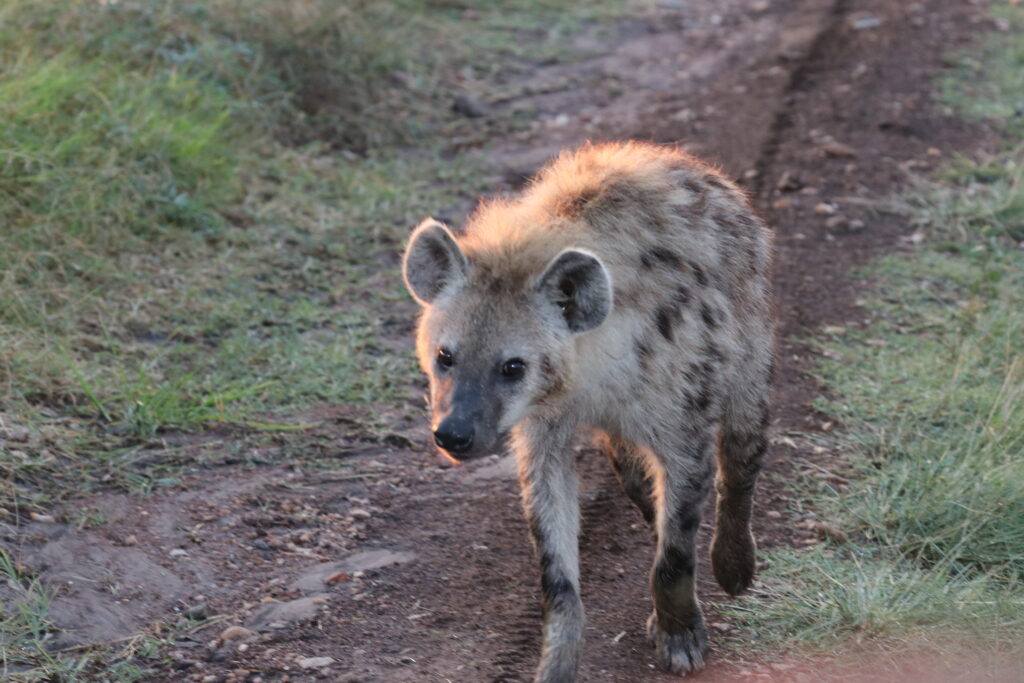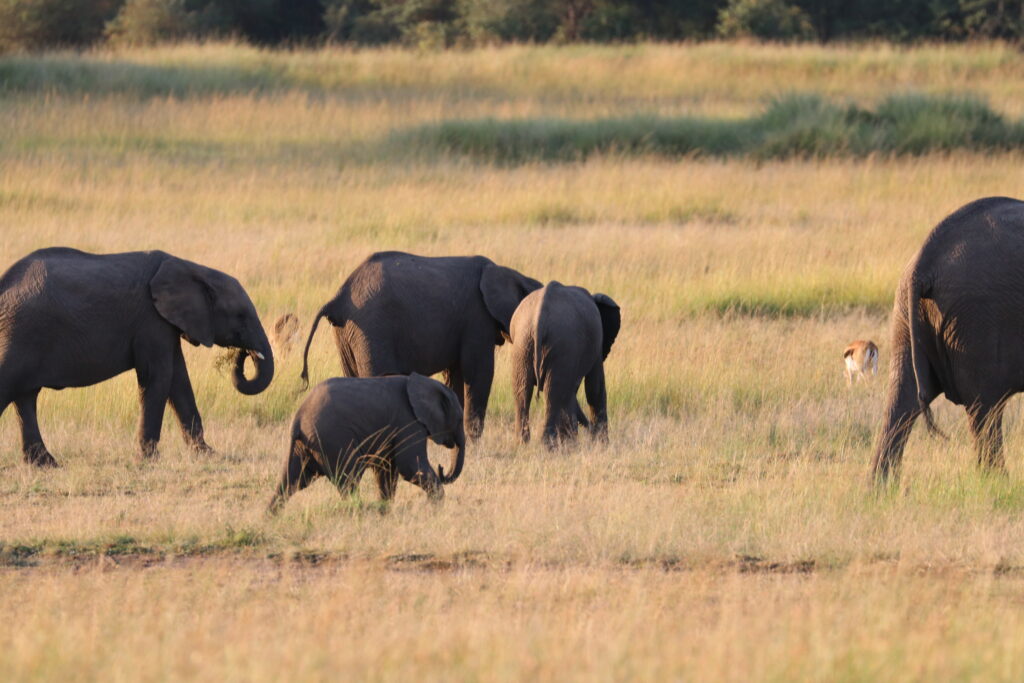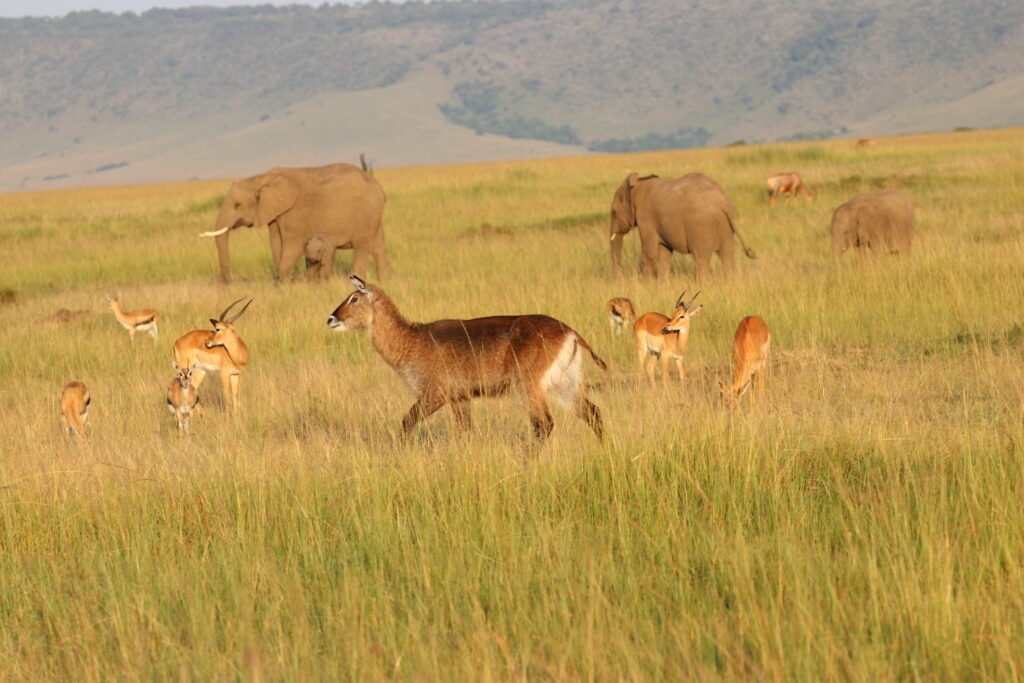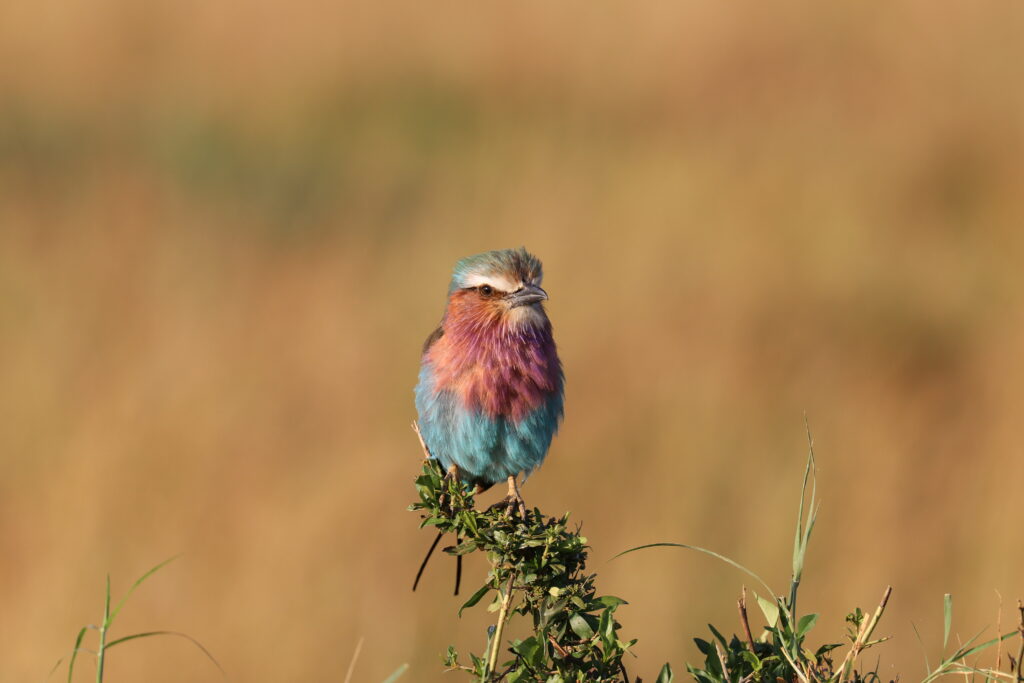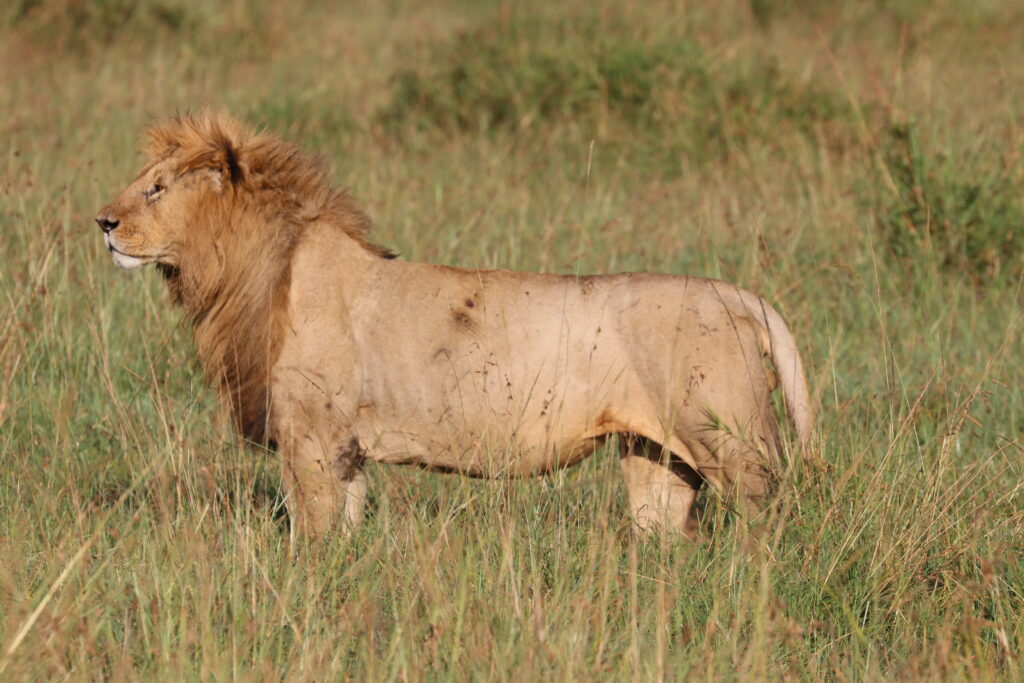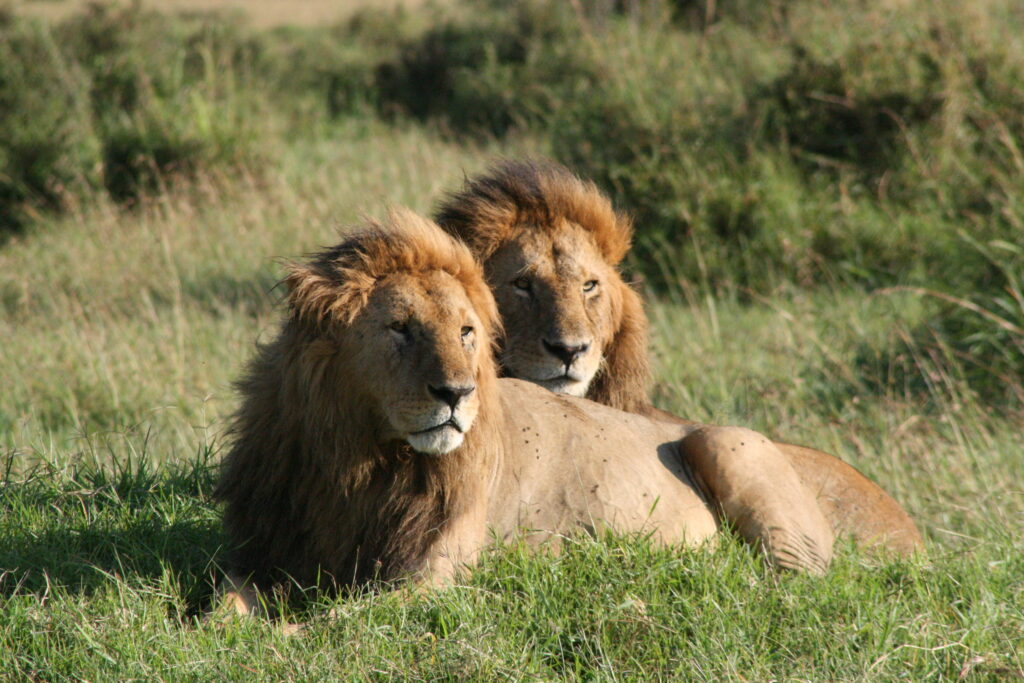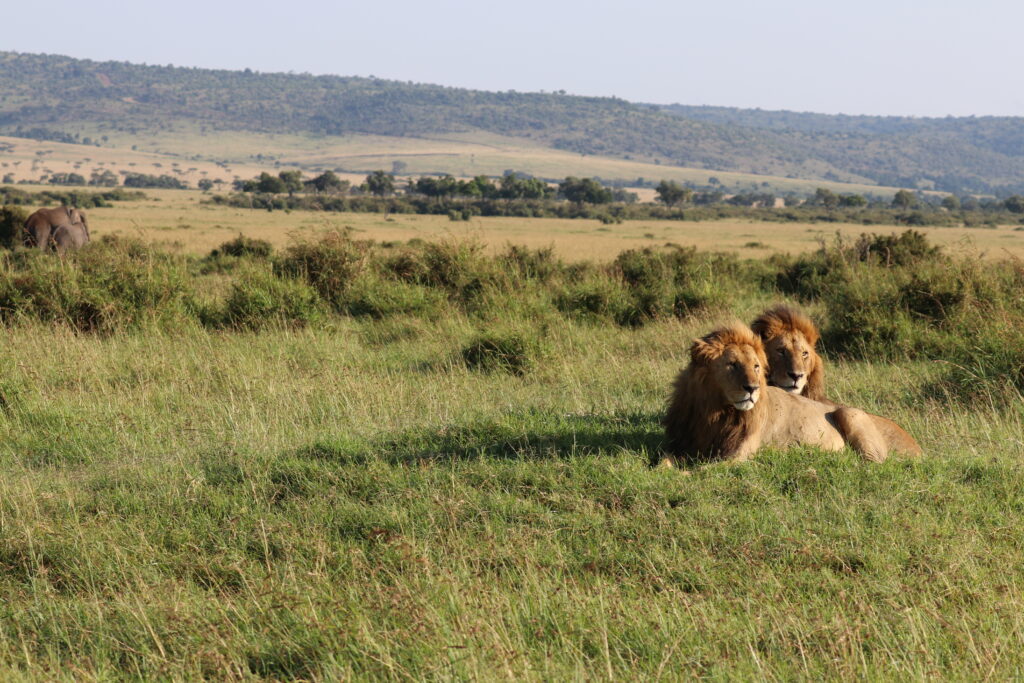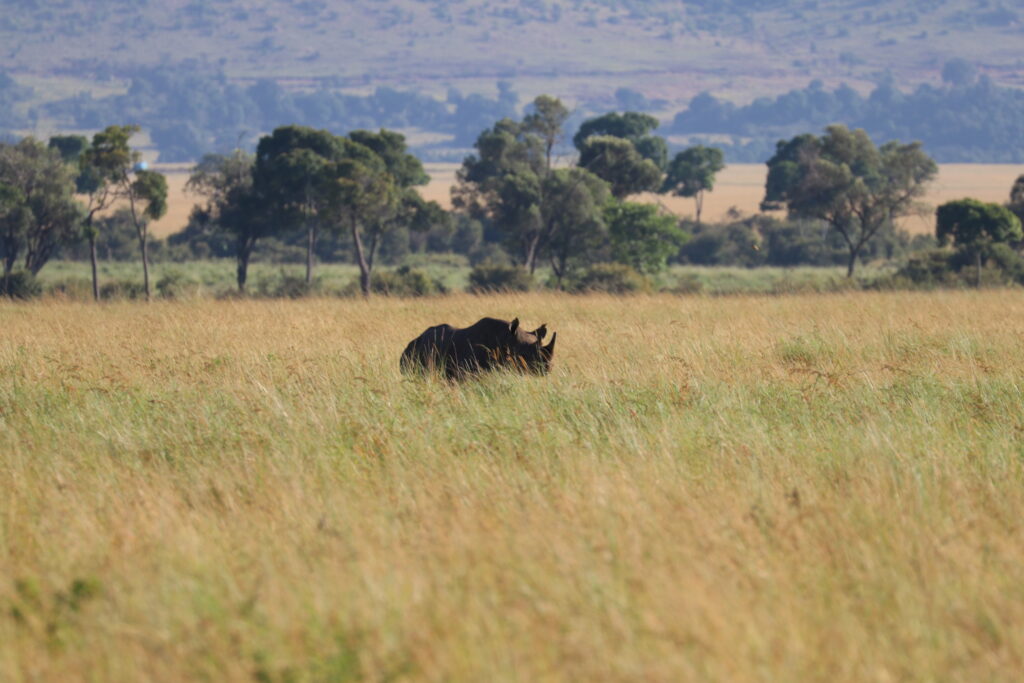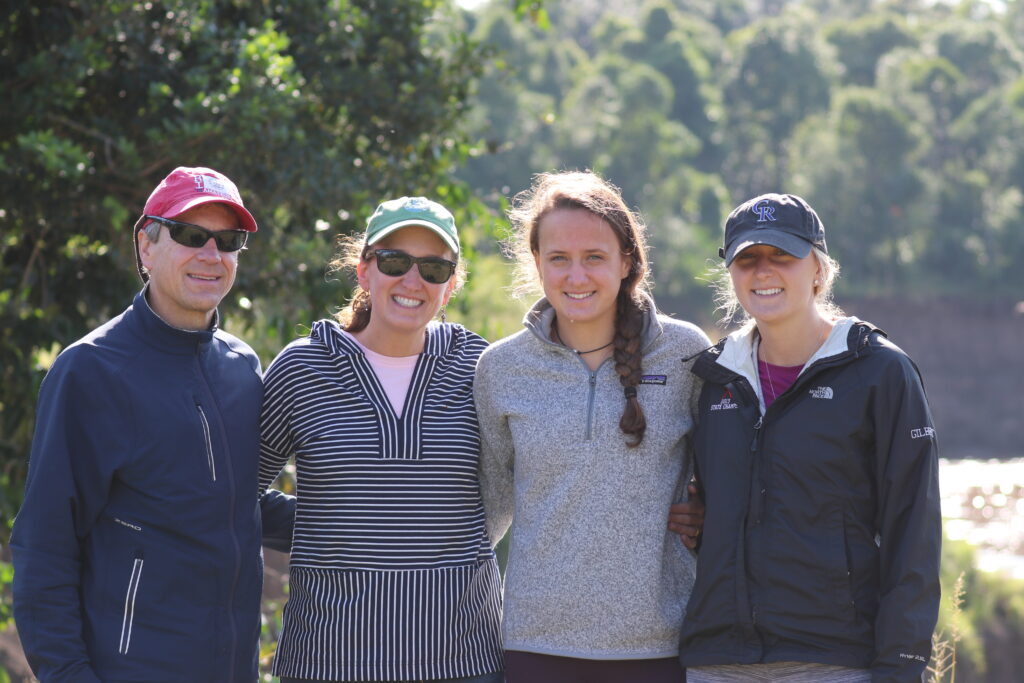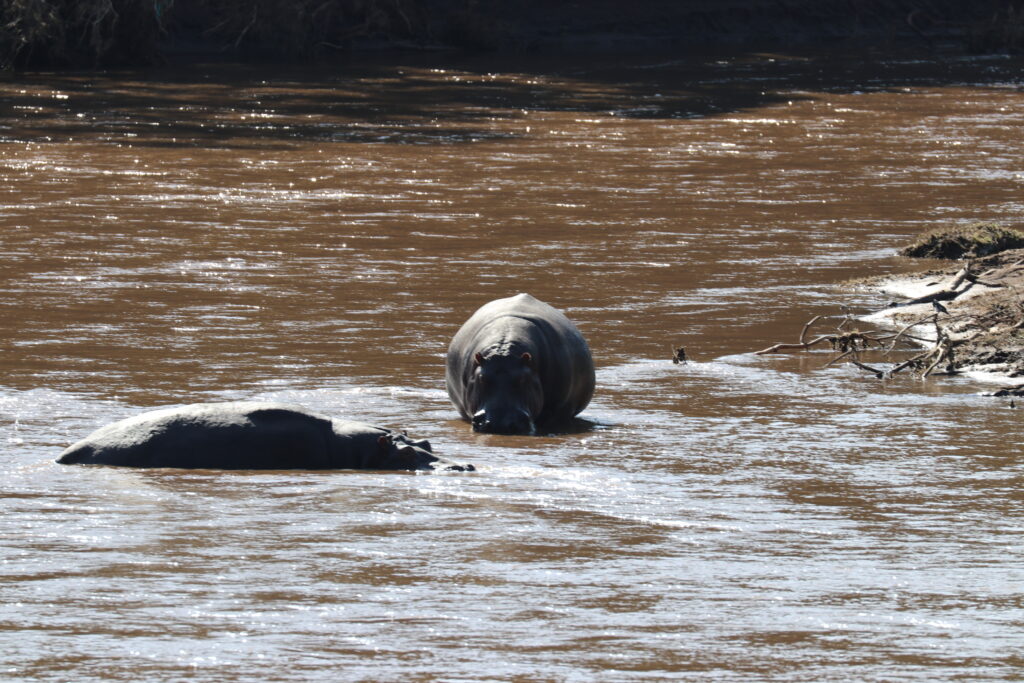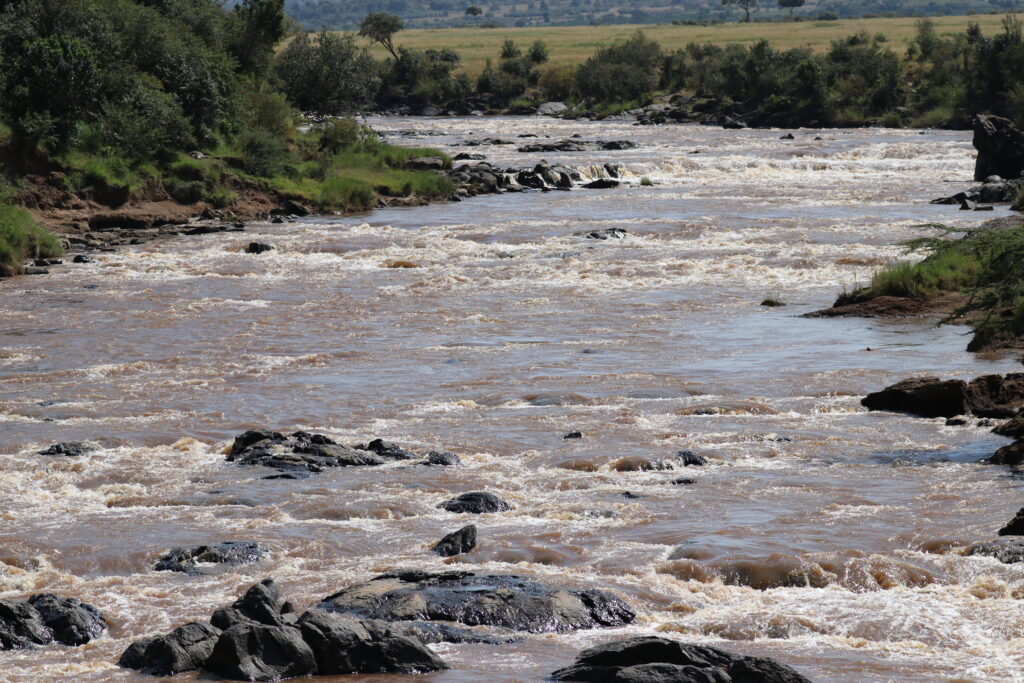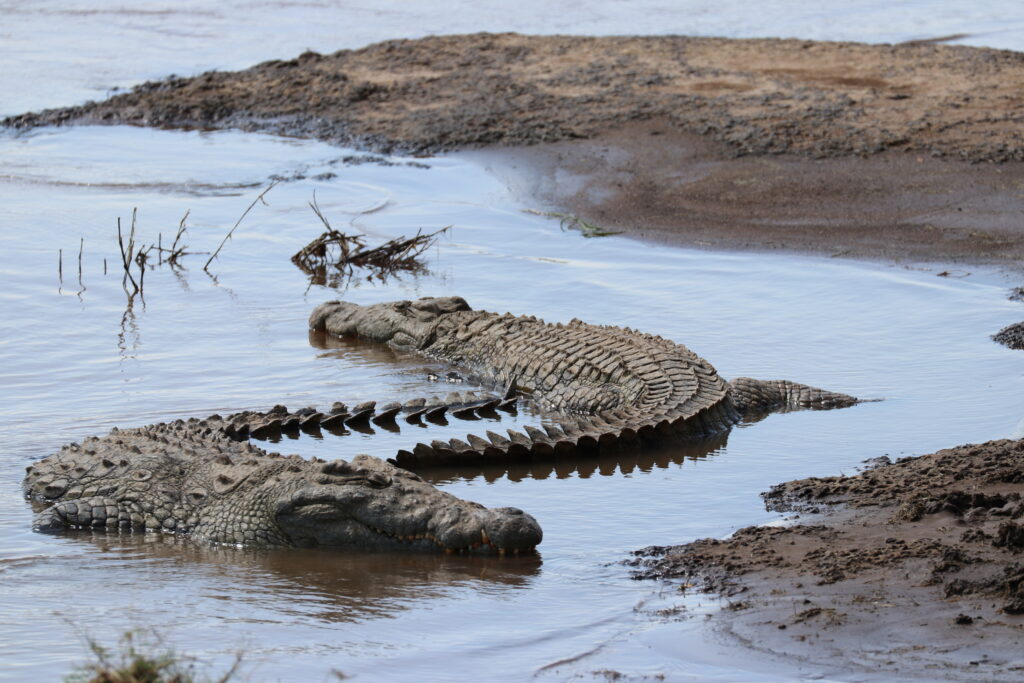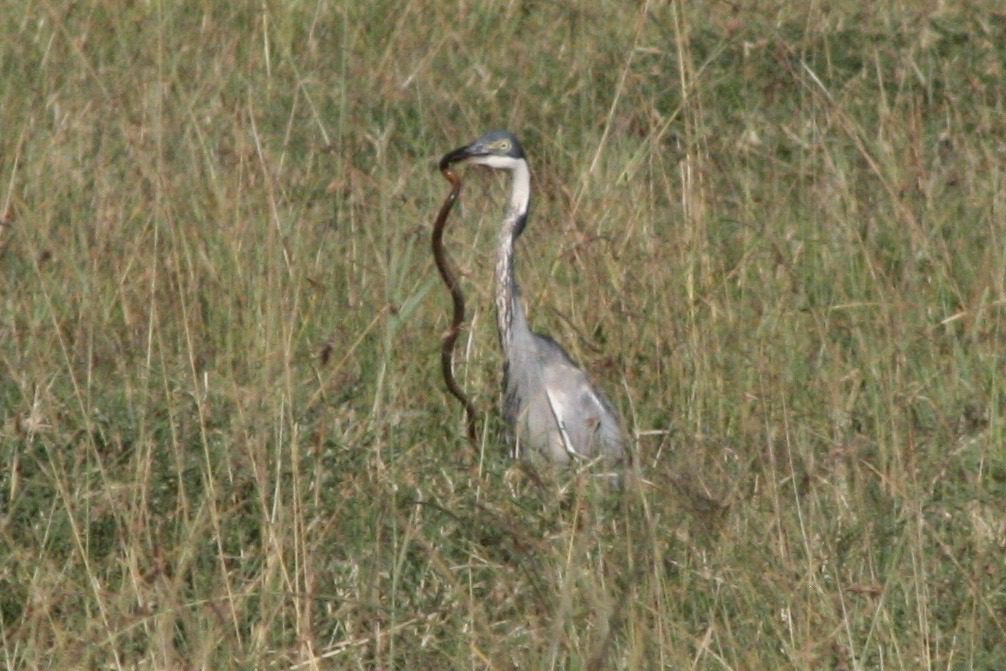 We returned to the camp about 12:30pm for lunch! Yes, they feed you a TON at these camps and lodges. We exercised in the small gym, swam and downloaded hundreds of photos.
Our afternoon game drive was equally as wonderful. I am not going to post more photos of that game drive and our sundowners. Your African experience will be unique to you, and I would not want anyone to compare the animals that we saw to the animals you will see.
In our time in Africa, we saw animals, sleeping, eating, peeing, walking, running, flying, waking up, lying down and interacting with their prides, towers, harems, dazzles and herds. It never got old. We never saw an actual hunt and kill, but we saw lots of eating!
We highly recommend andBeyond Bateleur Camp for its scenic beauty, access to game, incredible accommodations, superior service, delicious food, and most importantly for a wildly attentive staff who went above and beyond our expectations.
Tanzania – andBeyond Serengeti Under Canvas
The paperwork I received from andBeyond days before we left home said we would be flying from Kichwa, in the Masai Mara, to the Tanzanian border where we would cross by car. Then we would fly to the Kogatende airstrip in the Serengeti. Piece of cake.
However, when I looked at the paperwork I was given upon arrival in Nairobi, the paperwork said we would not be flying any longer to Kogatende, but we would be flying to the Grumeti airstrip.
Remember above when I wrote – use an Africa specialist to help you plan your intra Africa air?  This is why.  We were booked into a property called andBeyond Serengeti Under Canvas.  This camp moves four times a year, following the migration.  The camp decided NOT to move to the new location (as the animals were still close) while we were enroute from Rhode Island to Africa.  andBeyond handled this seamlessly.  I shudder to think what would have happened if we arrived at the Kogatende air strip with no guide to meet us.  Remember I said these are airstrips in the middle of the bush with nothing around!!!  Use an Africa specialist to coordinate your intra Africa transport!
We flew on SafariLink for about 13 minutes to a town (real shops, gas stations, homes and businesses) called Migori. From there, we met representatives in the air strip parking lot from Coastal Aviation. About 10 people boarded into three mini vans and we drove to the border which took about 30 minutes.
We went into the Kenyan embassy and had our passports stamped and our health documents checked (well, no one really checked them but you need to wave your yellow World Health Organization card in a person's direction).
We got back into the cars and drove two minutes down the road to the Tanzania embassy. We all purchased Tanzania visas for $100 CASH/person. You MUST have USA dollars. This took about 15 minutes. You can get a Tanzania visa in advance but it requires sending your passport to Washington, DC. I highly recommend using a passport expiditing or passport concierge service to do this. My husband has used this company CIBT for getting visas in advance. They charge a HUGE fee. For us, getting visas at the border was fine.
We then drove to the Tarime airstrip that truly felt like we were in someone's backyard. And, off we flew to Grumeti.
NOTE – some group tours will not use this SafariLink/Coastal Aviation partnership to cross you from the Masai Mara into the Serengeti.  They may fly you back to Nairobi, onto Kilimanjaro and then back to the Serengeti.  We HIGLY recommend splurging and doing the Migori/Tarime route with SafariLink and Coastal Aviation.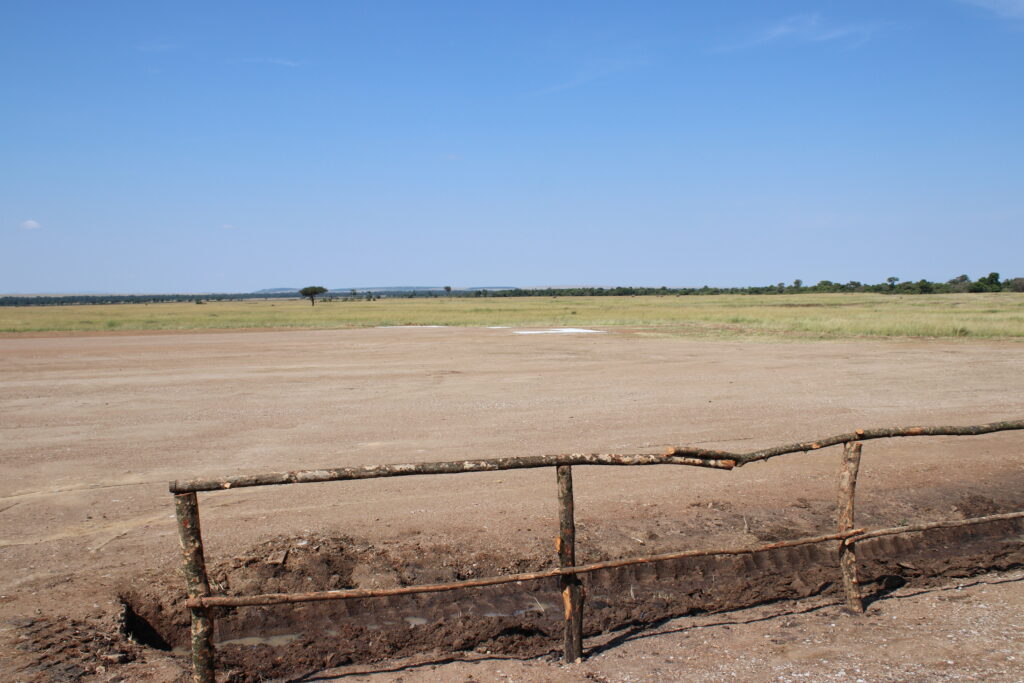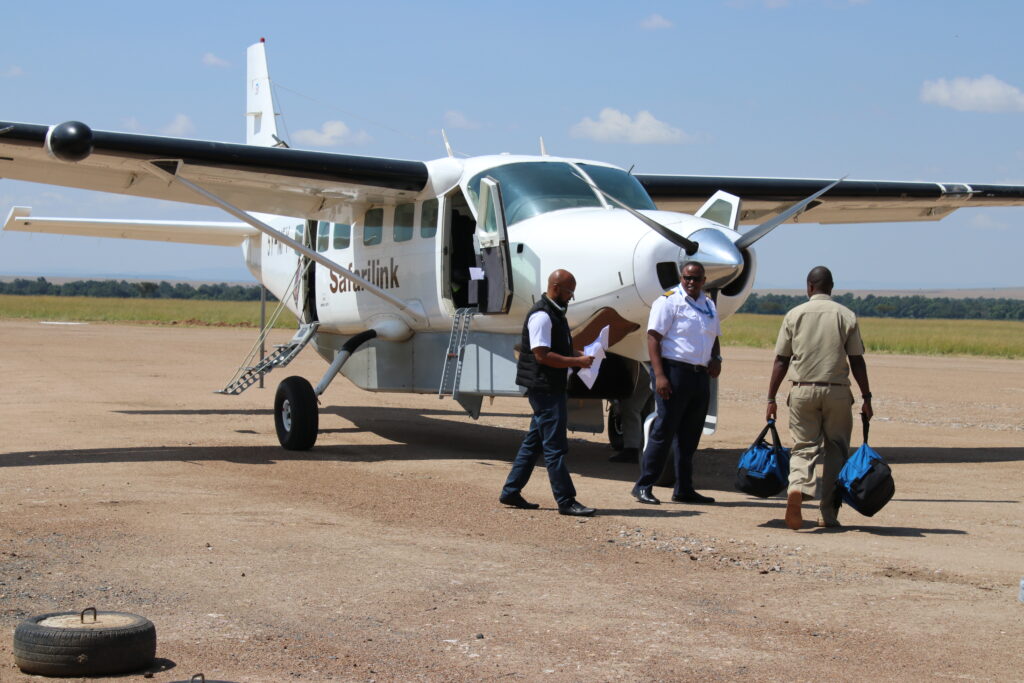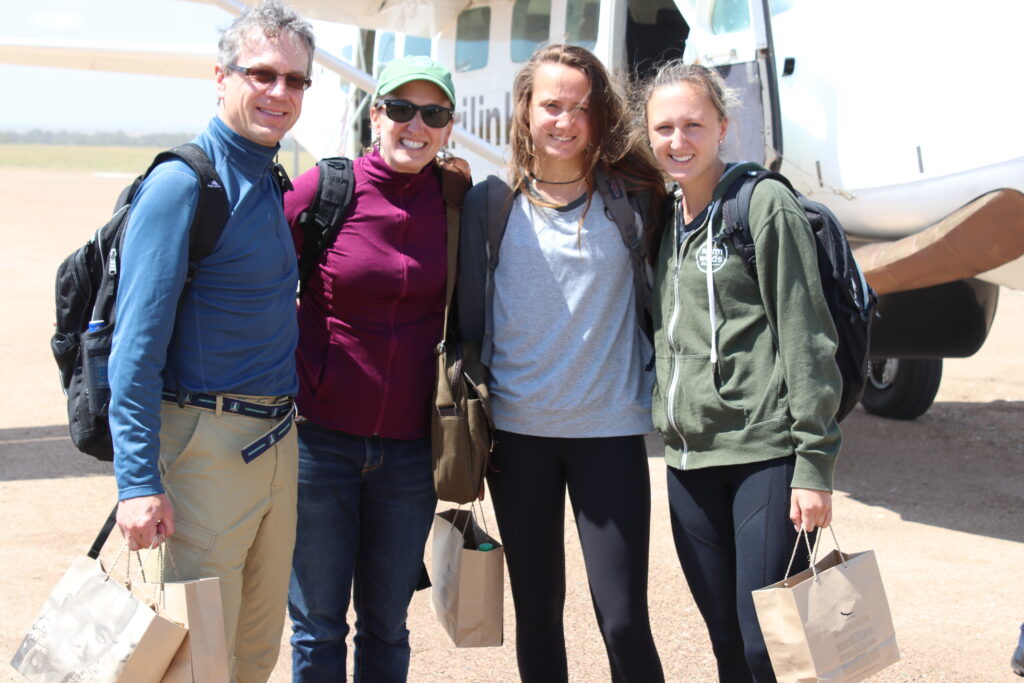 Our guide from andBeyond Serengeti Under Canvas, Feruzi, was at the air strip when our plane landed.  Like in the Masai Mara, he was continually with my family until we took off to Lake Manyara.  Feruzi met us with snacks and drinks at the airstrip.  We talked about what we wanted to see and do in the Serengeti.  
Almost immediately after leaving the airstrip, we crossed the Grumeti river. It was FULL of hippos.  We drove about 20 minutes to camp.
We chose andBeyond Serengeti Under Canvas because these are REAL (yes, super luxurious) tents in tall grass in the middle of the Serengeti.  Truly amazing.  We all exited the vehicle and said, "This is so cool!"  The camps move four times a year to stay close to the great migration.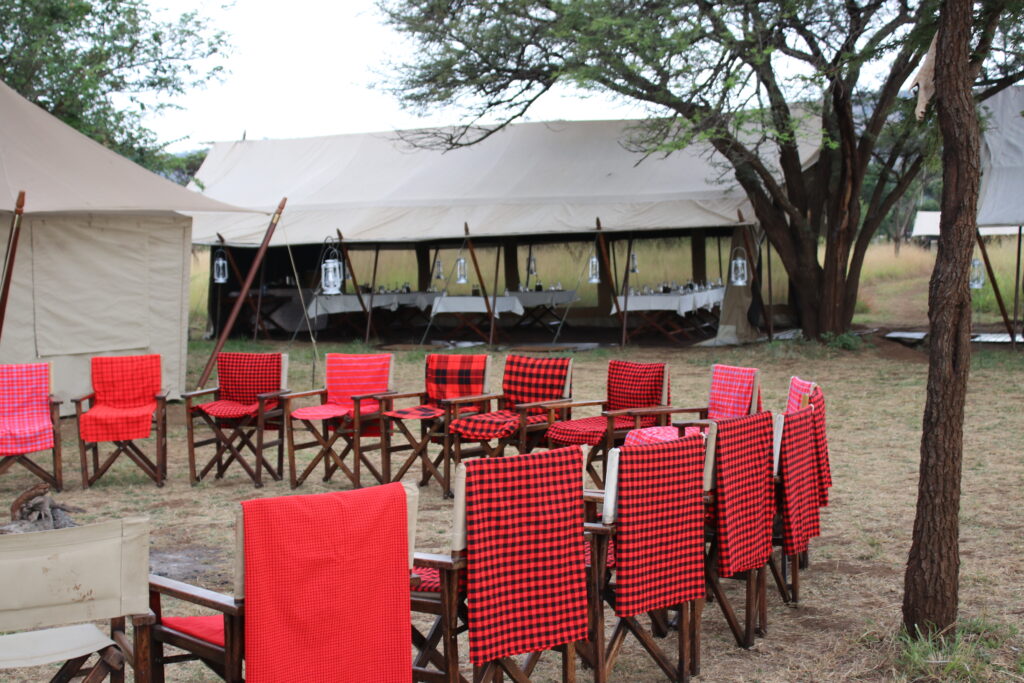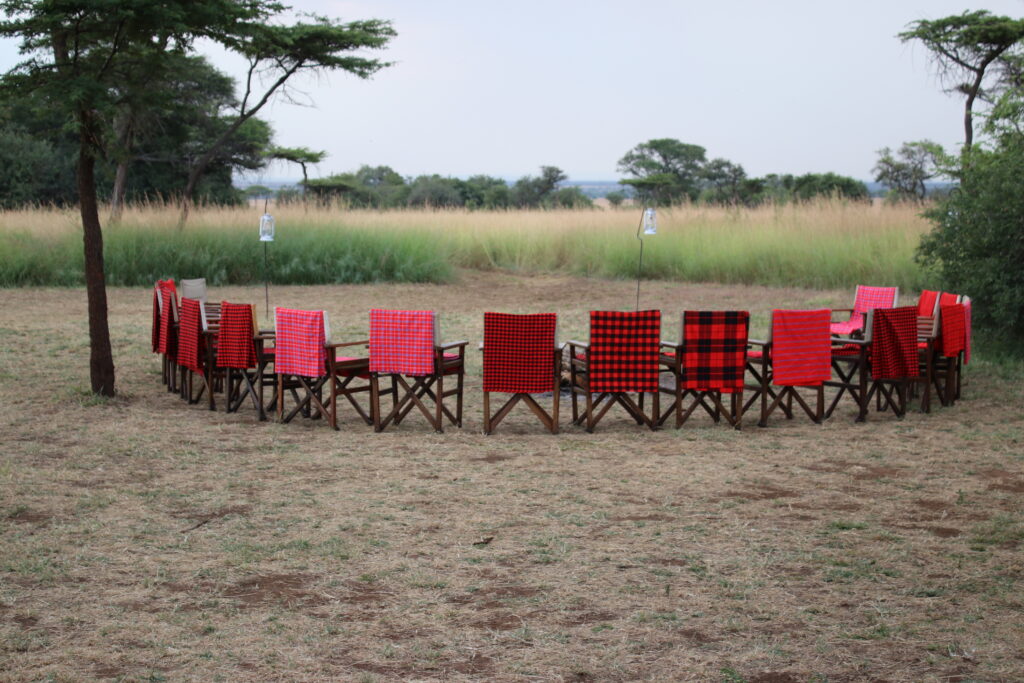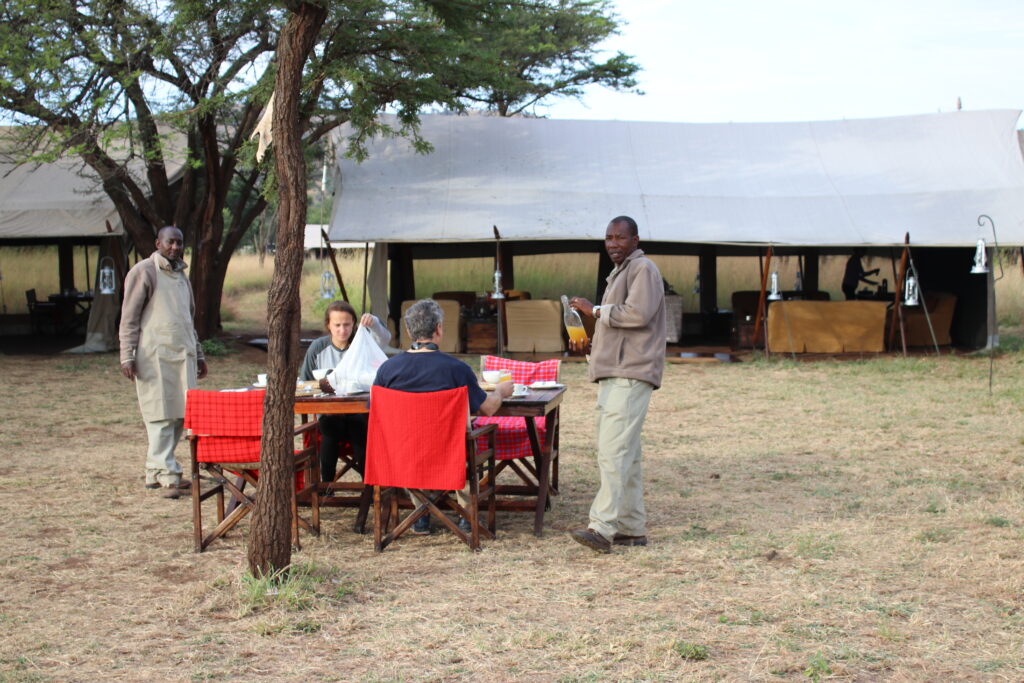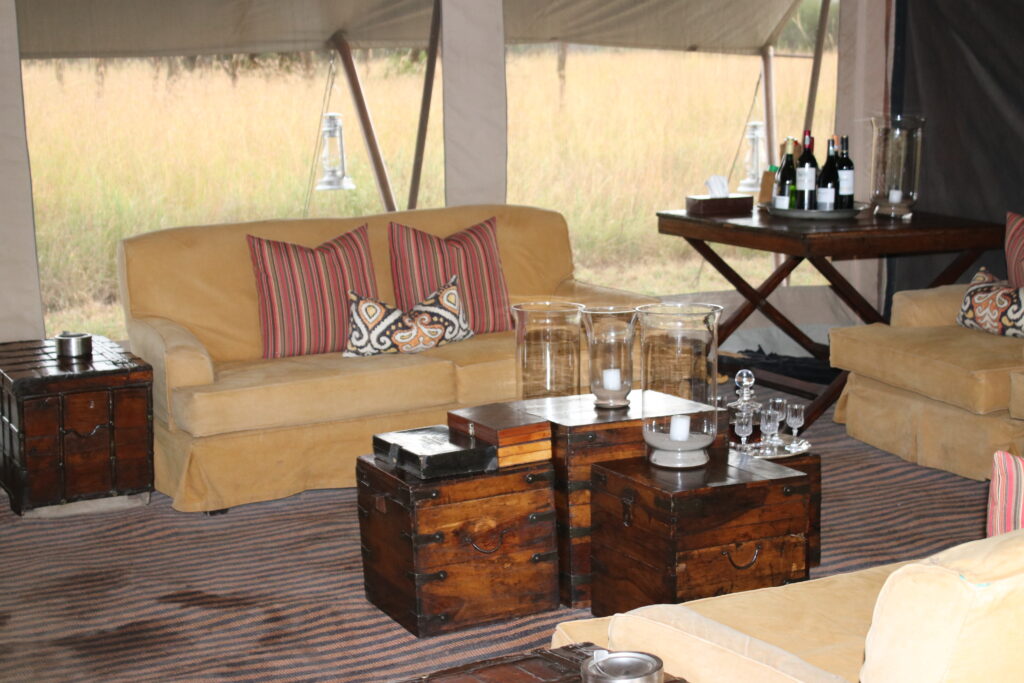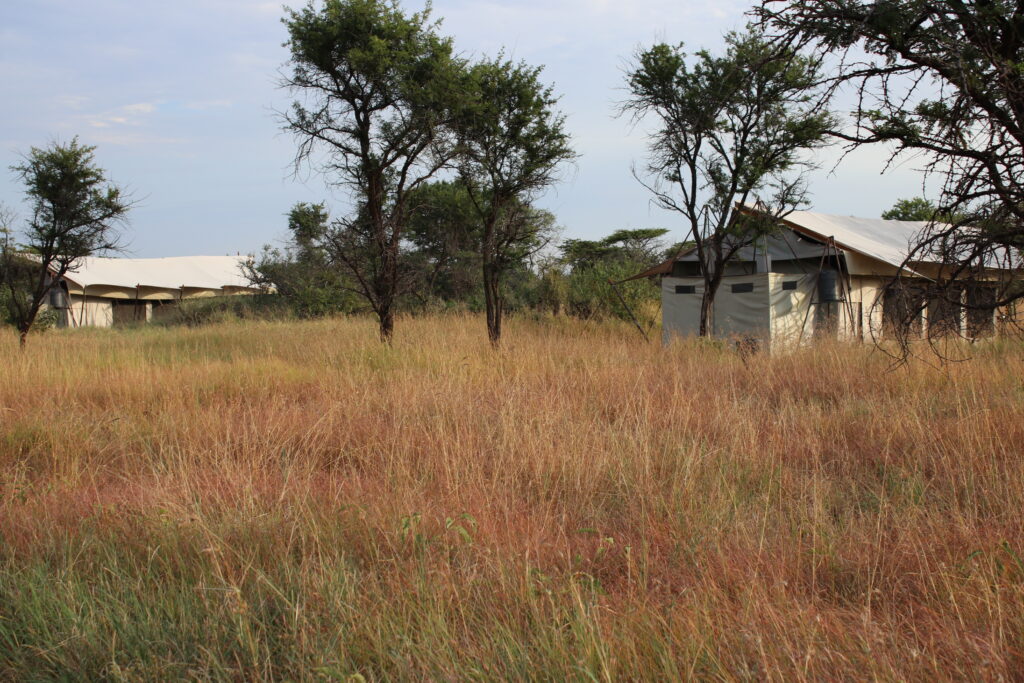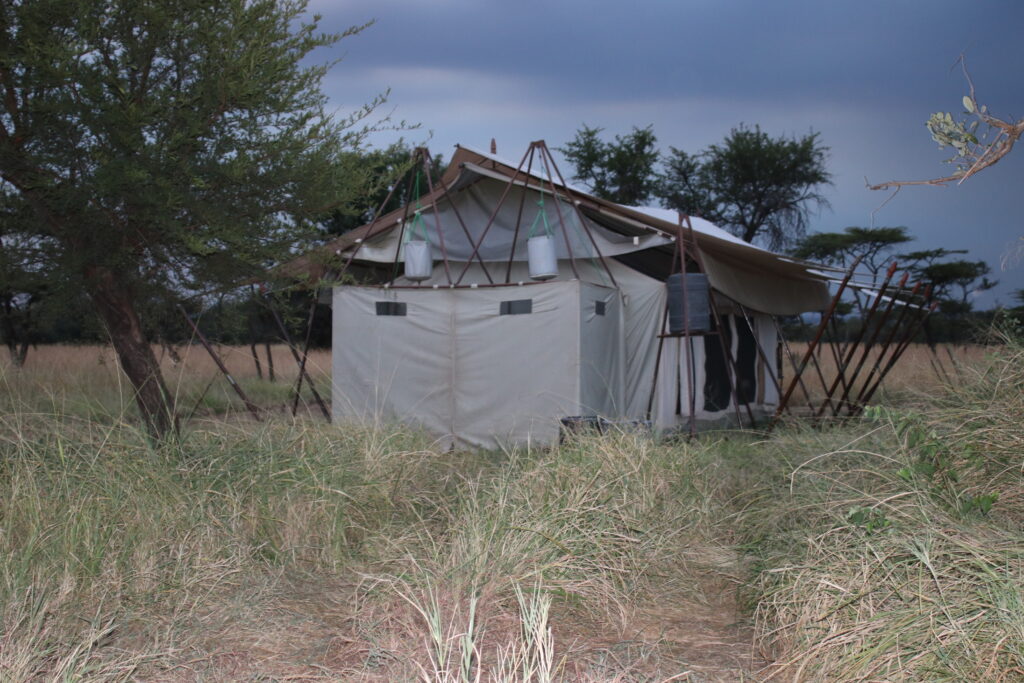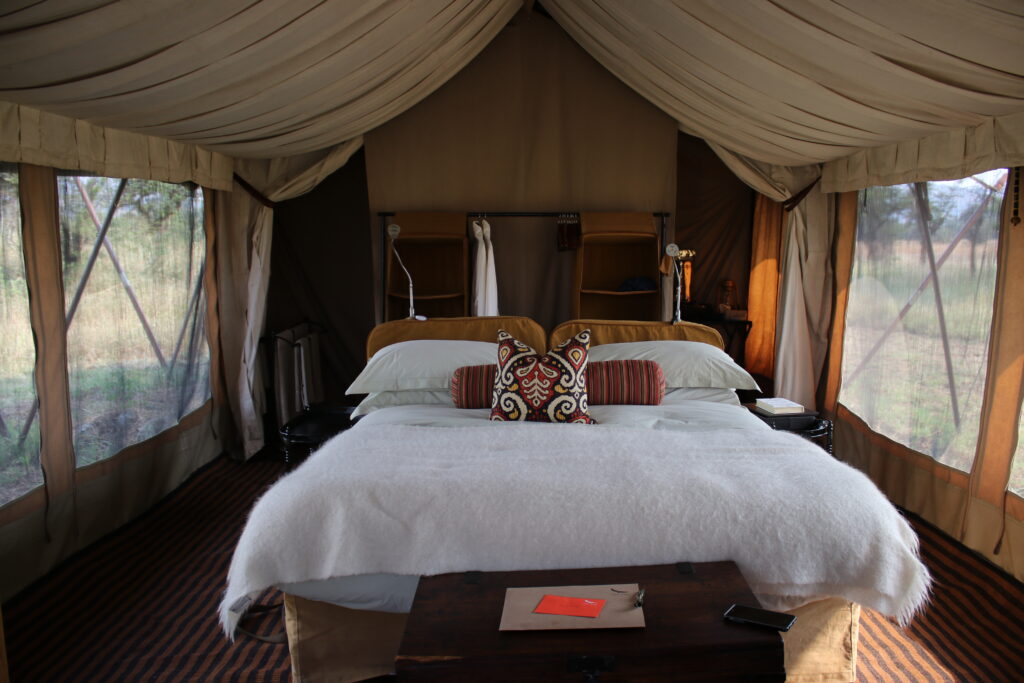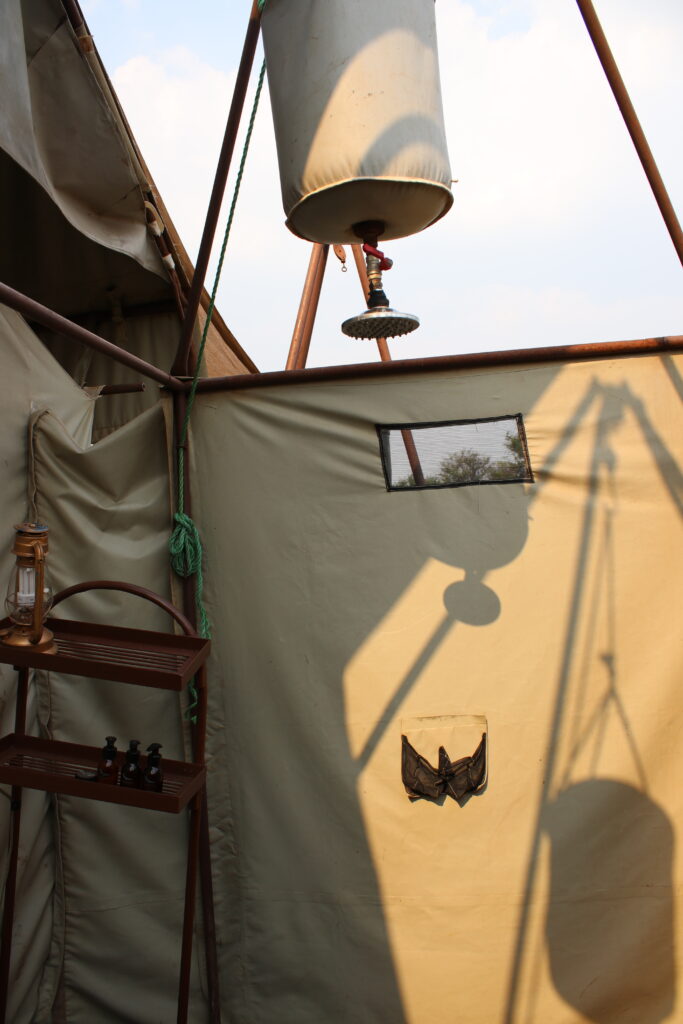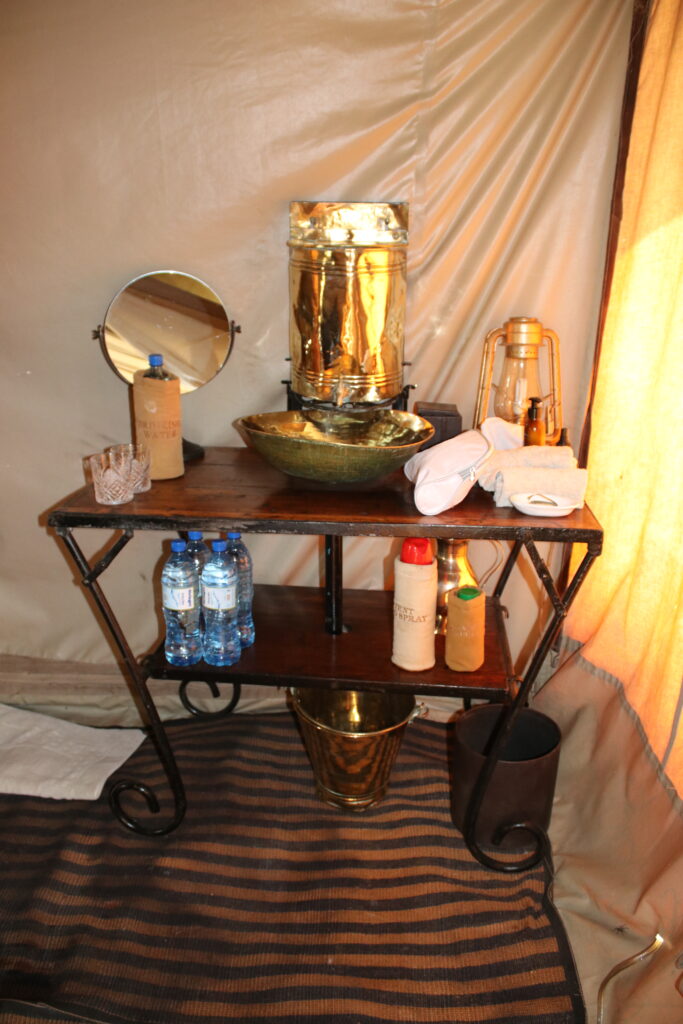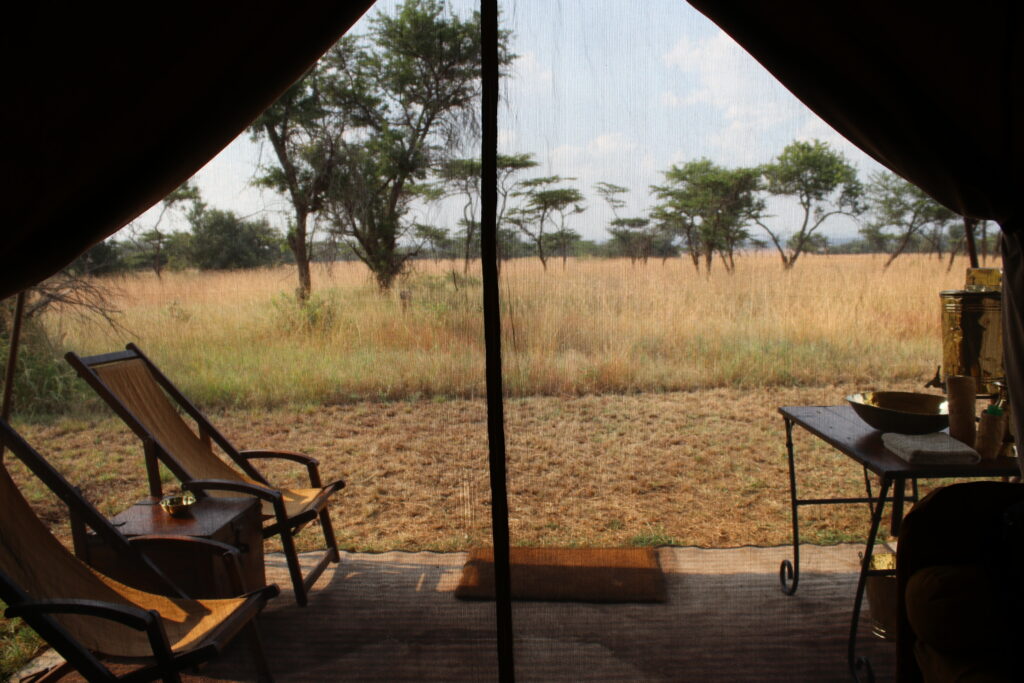 After settling in and being offered lunch (we declined as we were full from breakfast and the bag lunches!), we set off on a game drive, which was incredible. We saw troops of baboons, harems of impalas, towers of giraffes, a huge pride of lions along a river bank and a glorious sunset. Our first day in the Serengeti did not disappoint.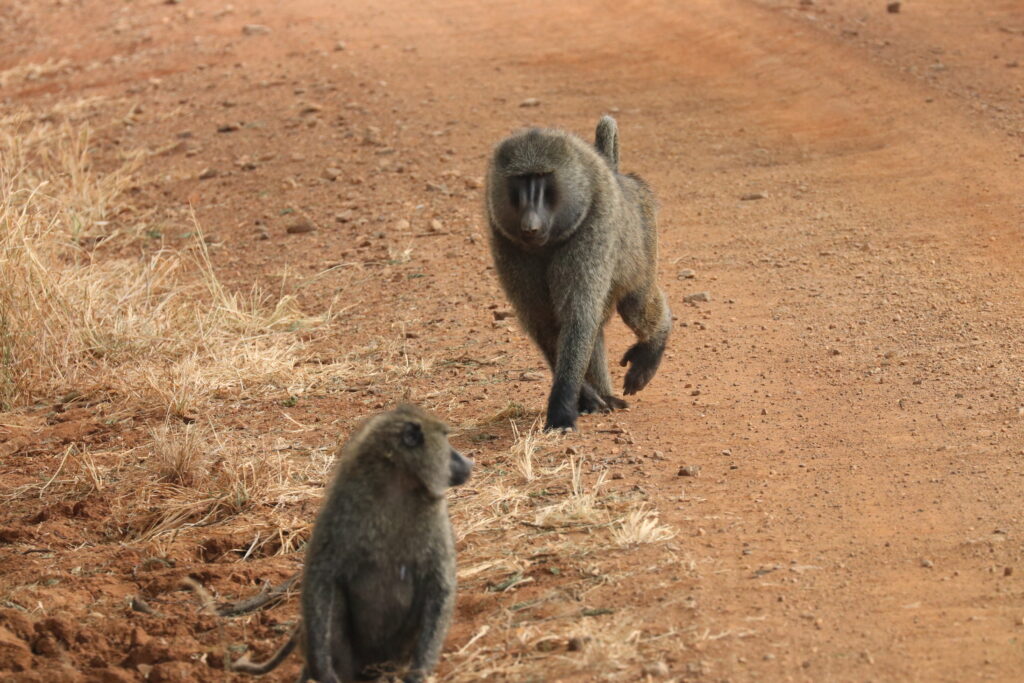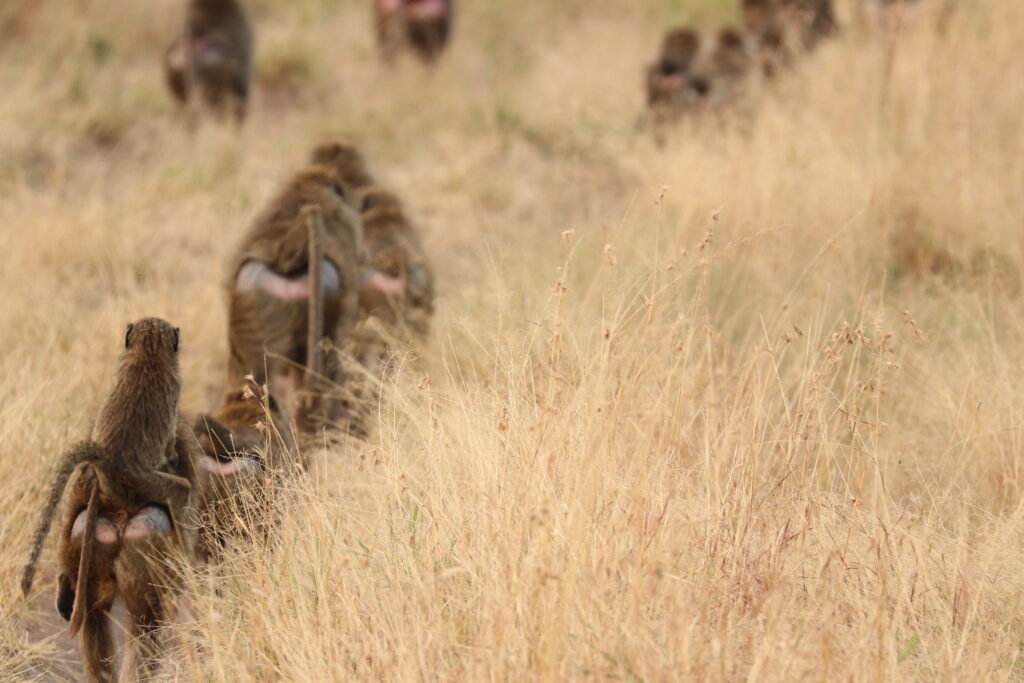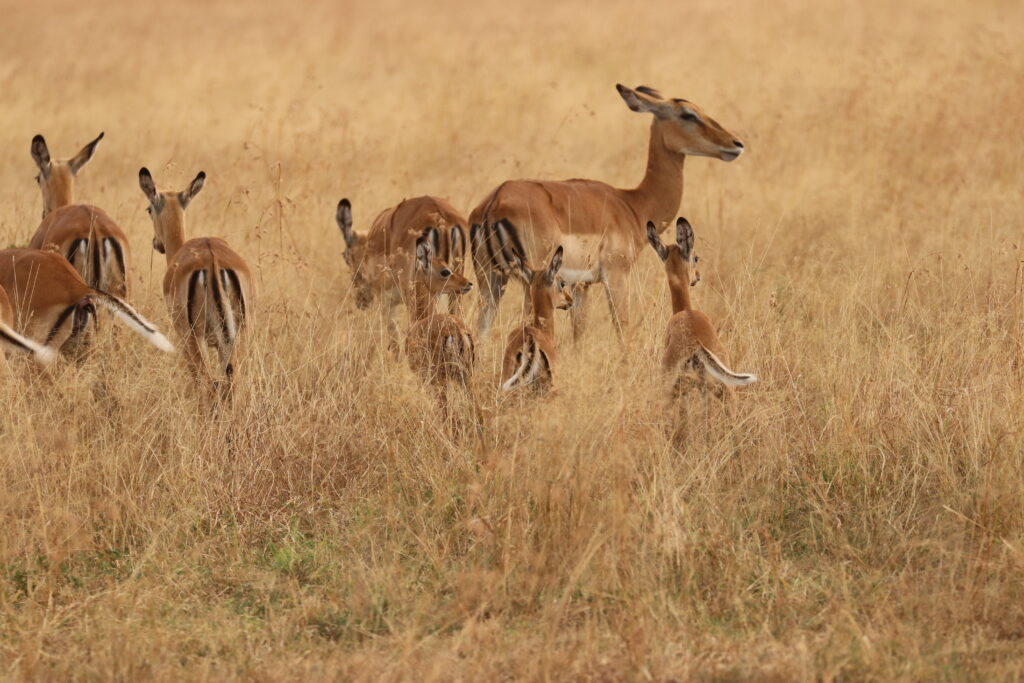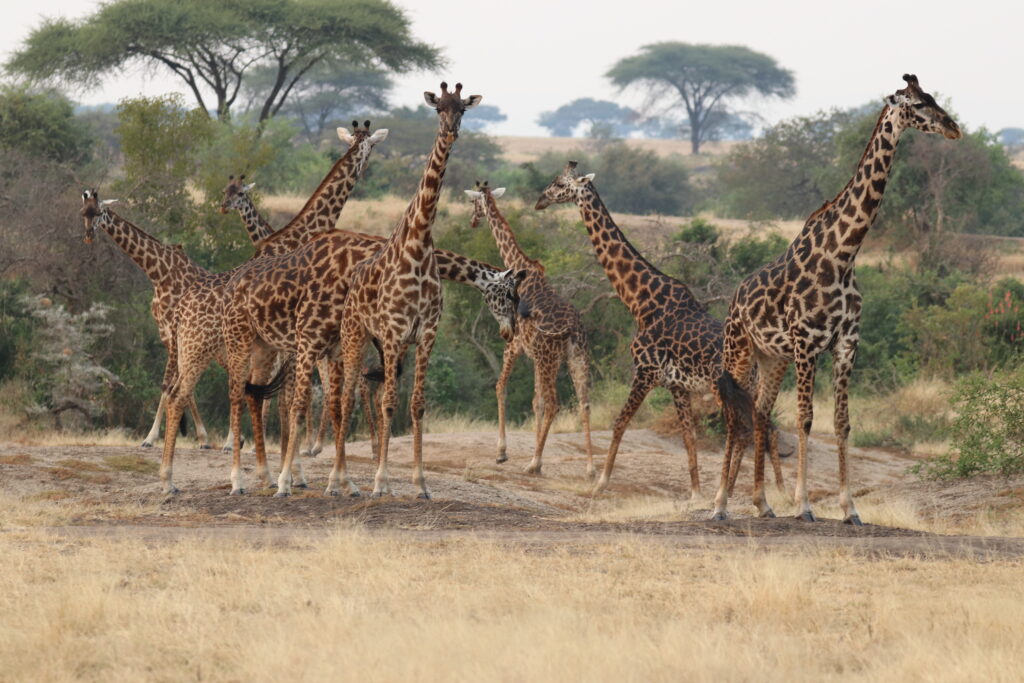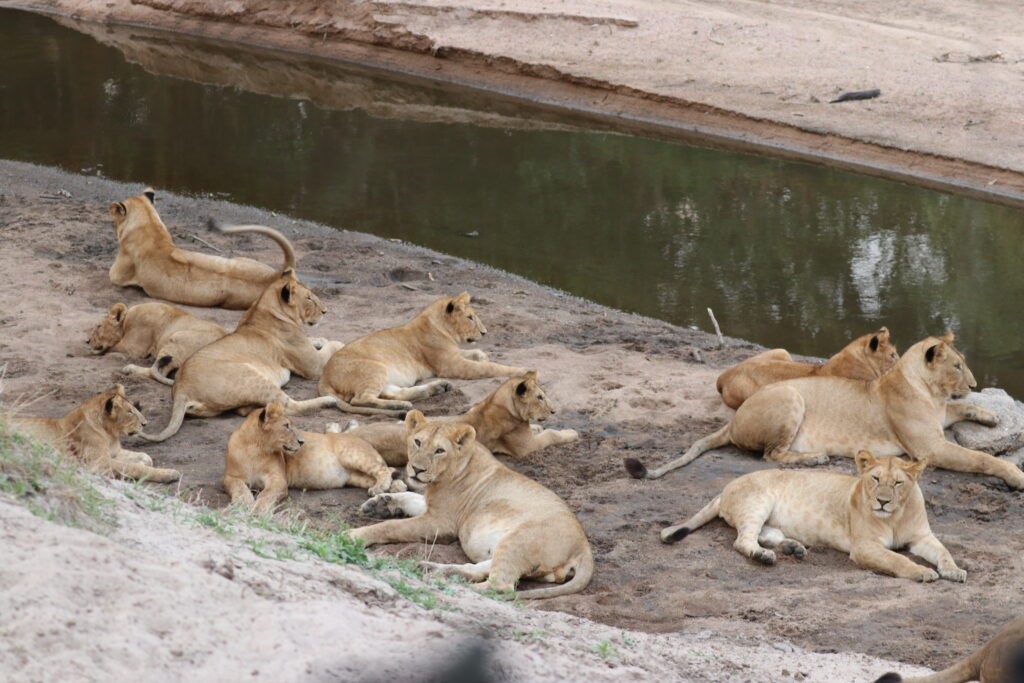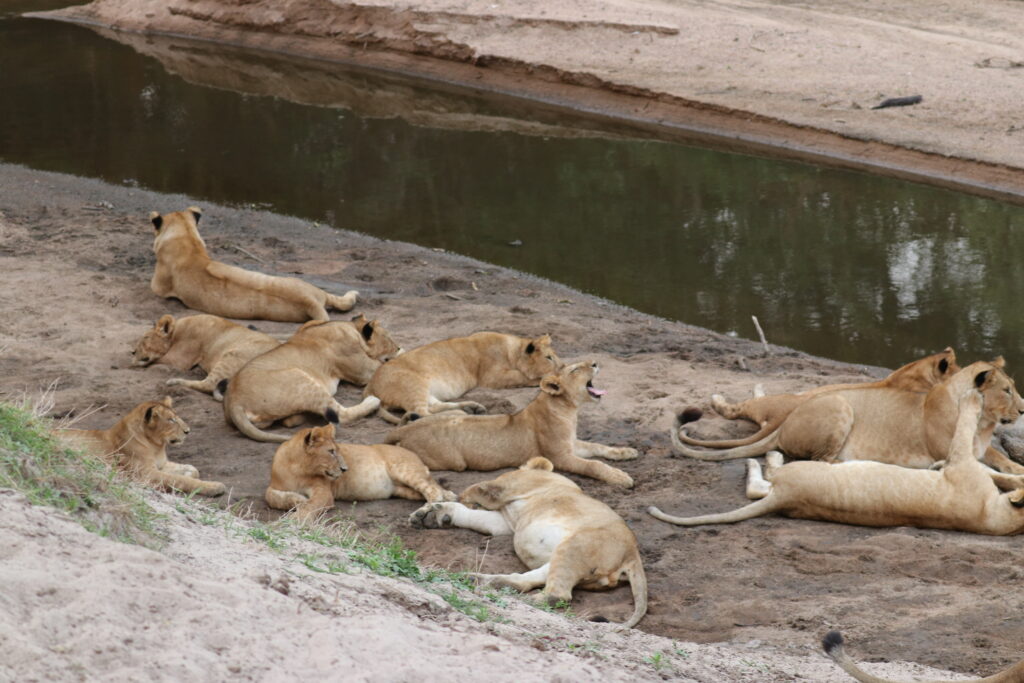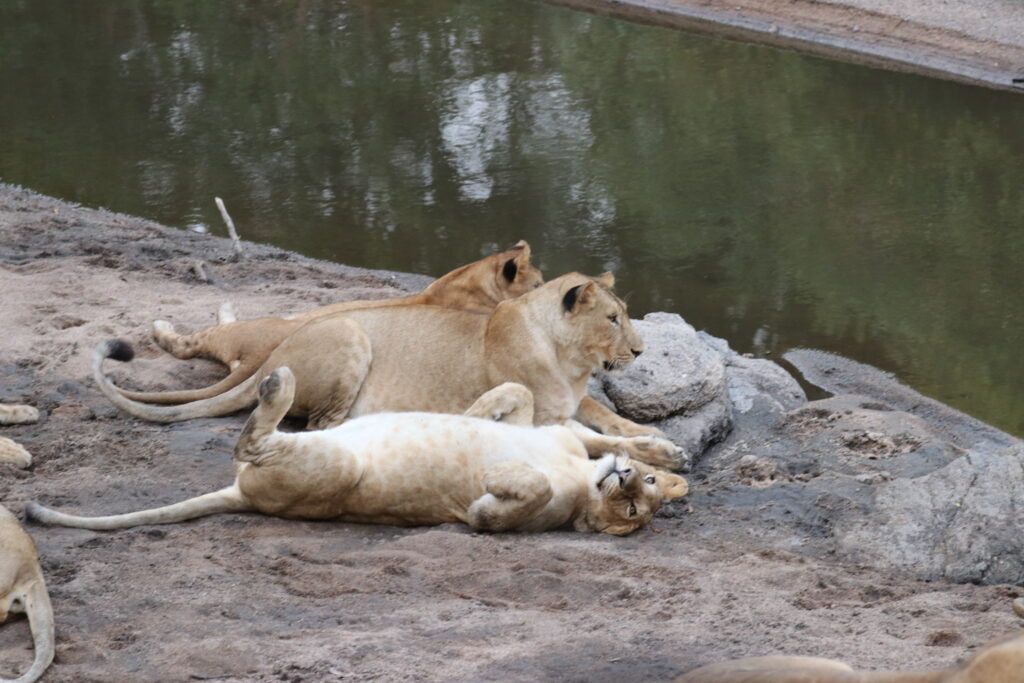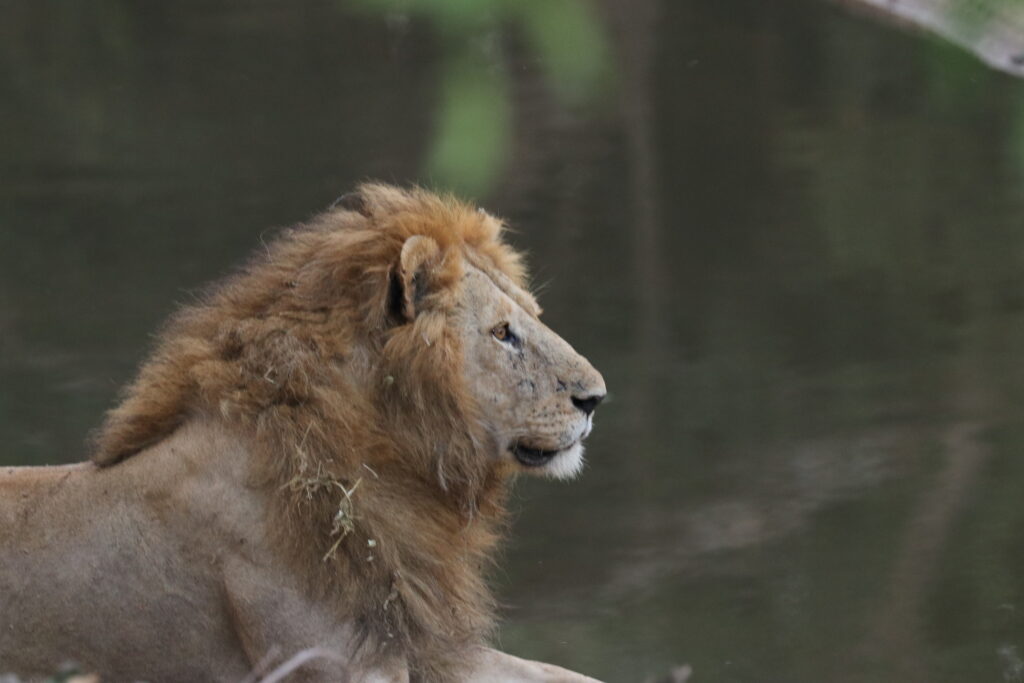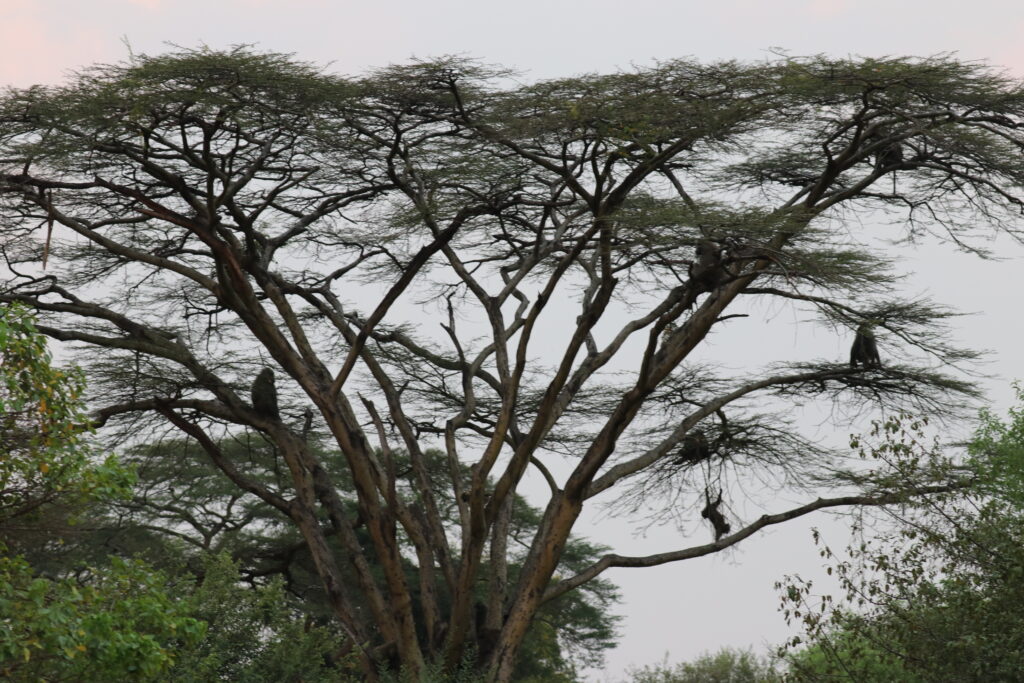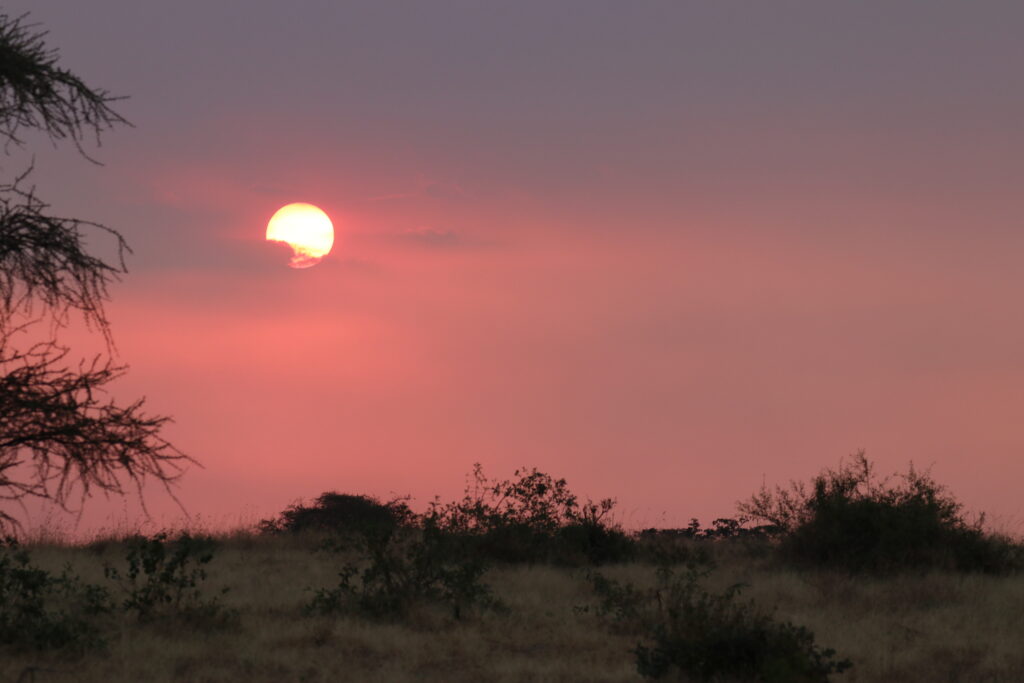 For our full day in the Serengeti, we sought to find the great migration. First, we found some hippos and then a mama lion and her cub with a kill. We found the swarms of wildebeests. We ate lunch in the bush. It was a fantastic day.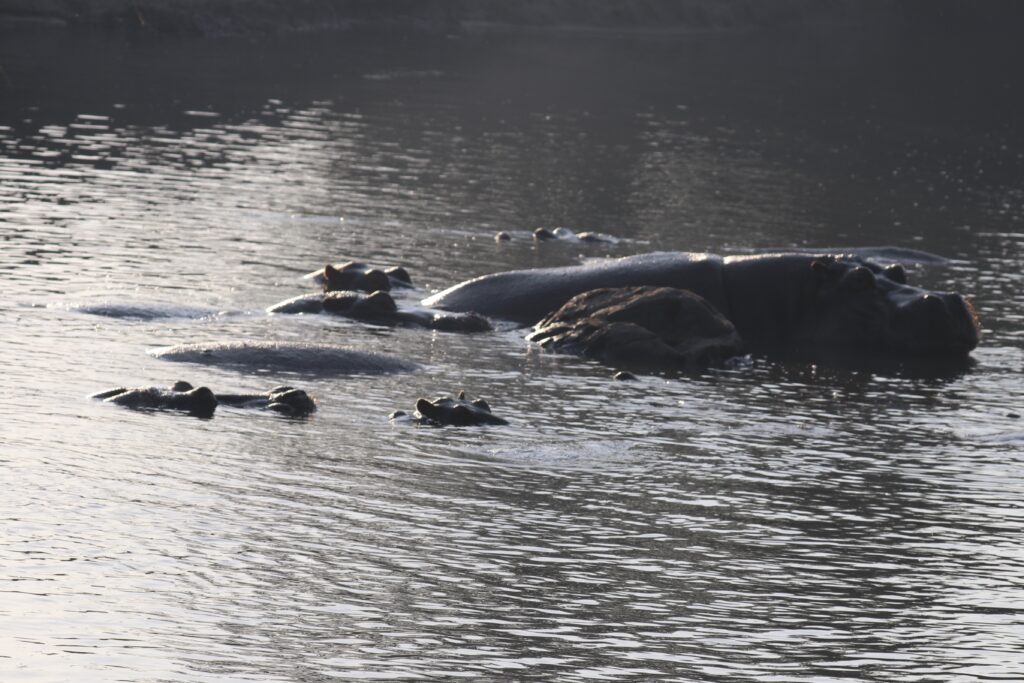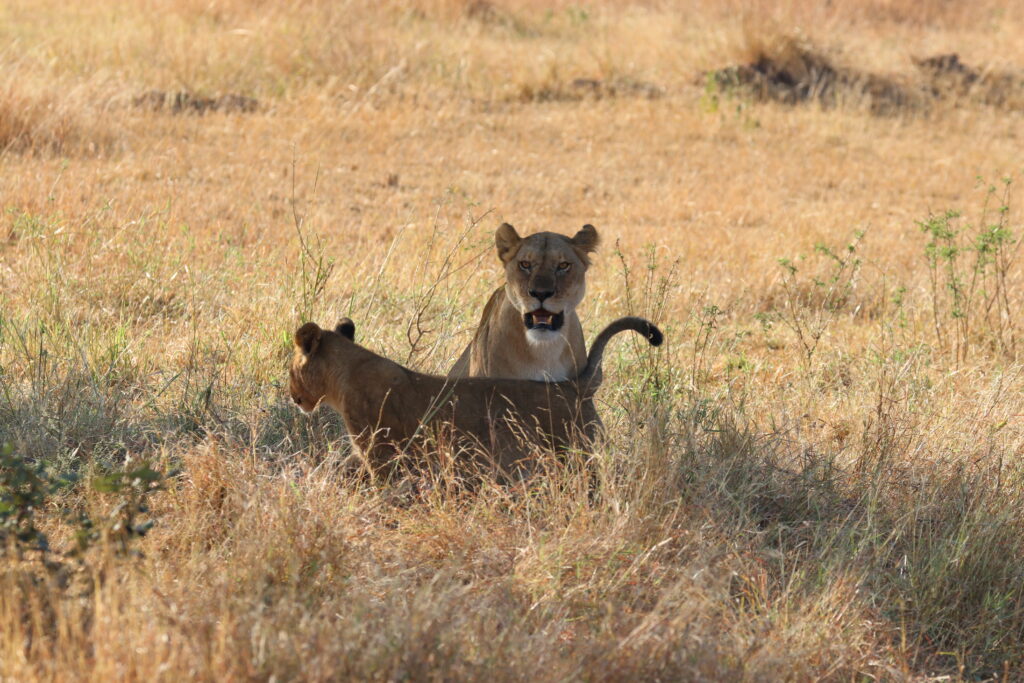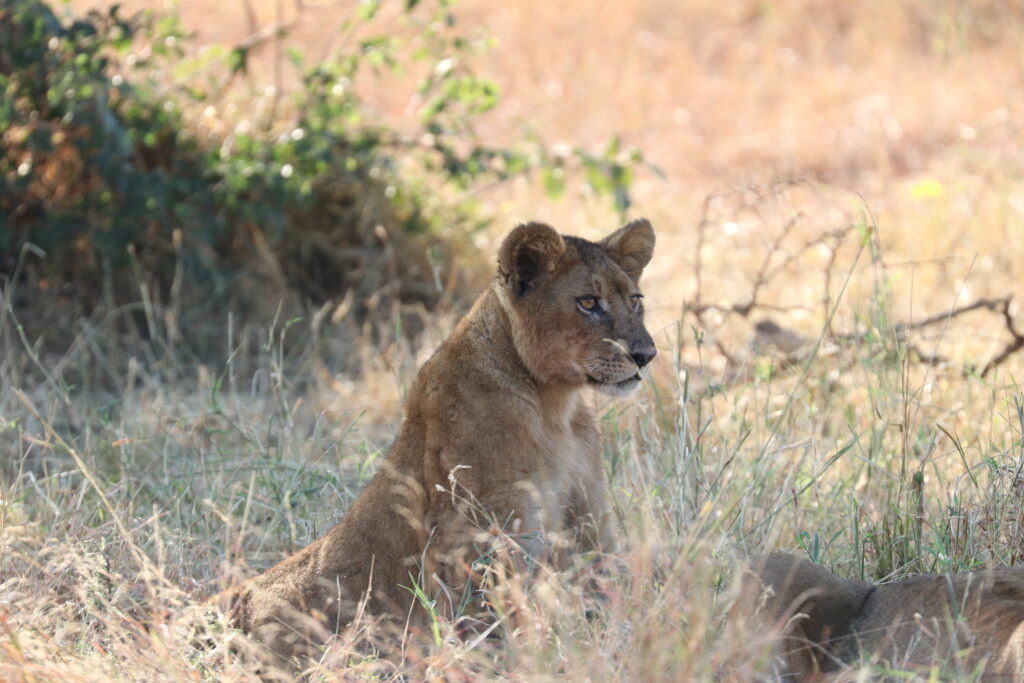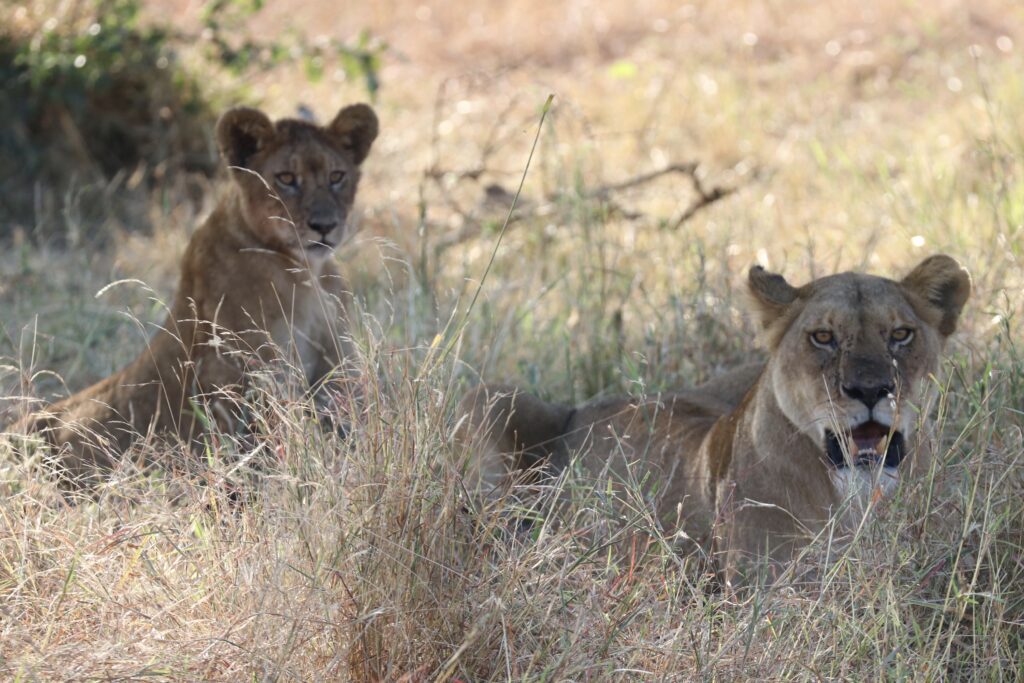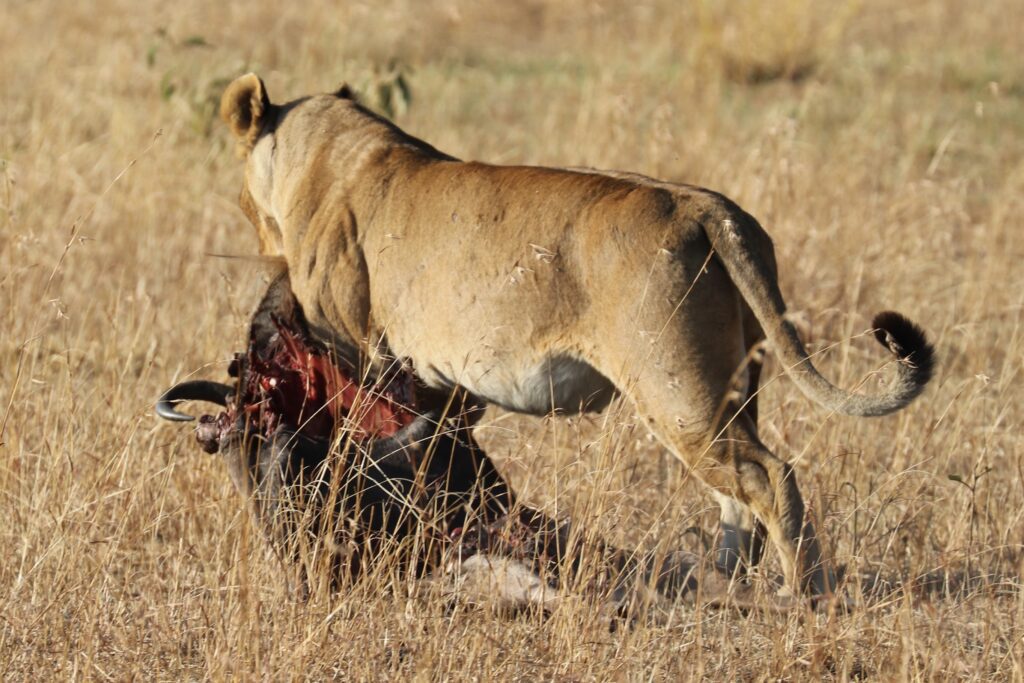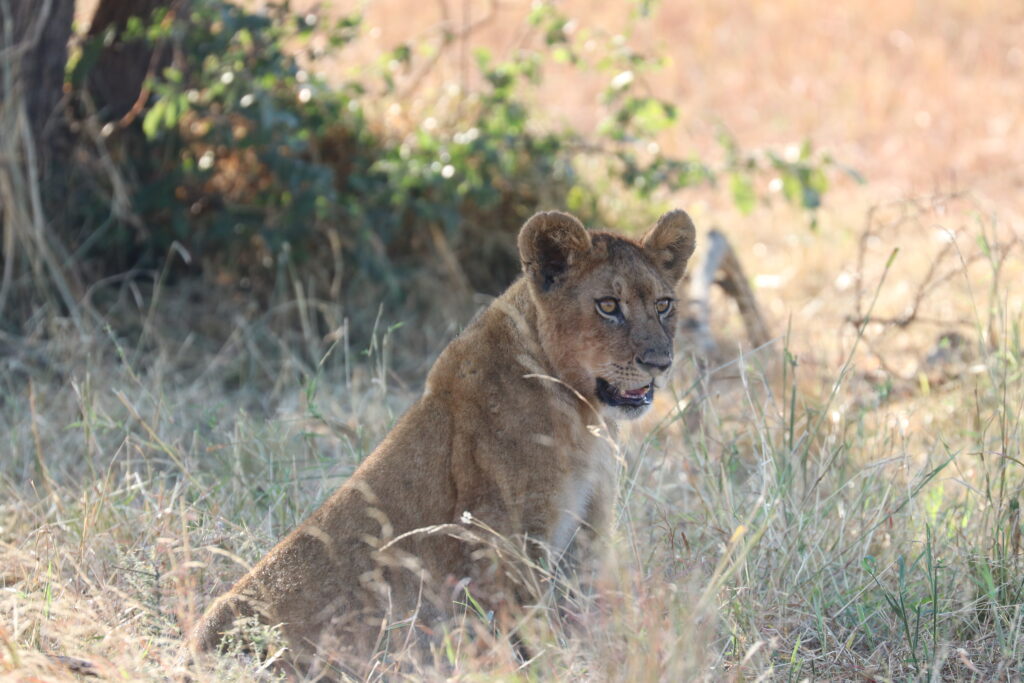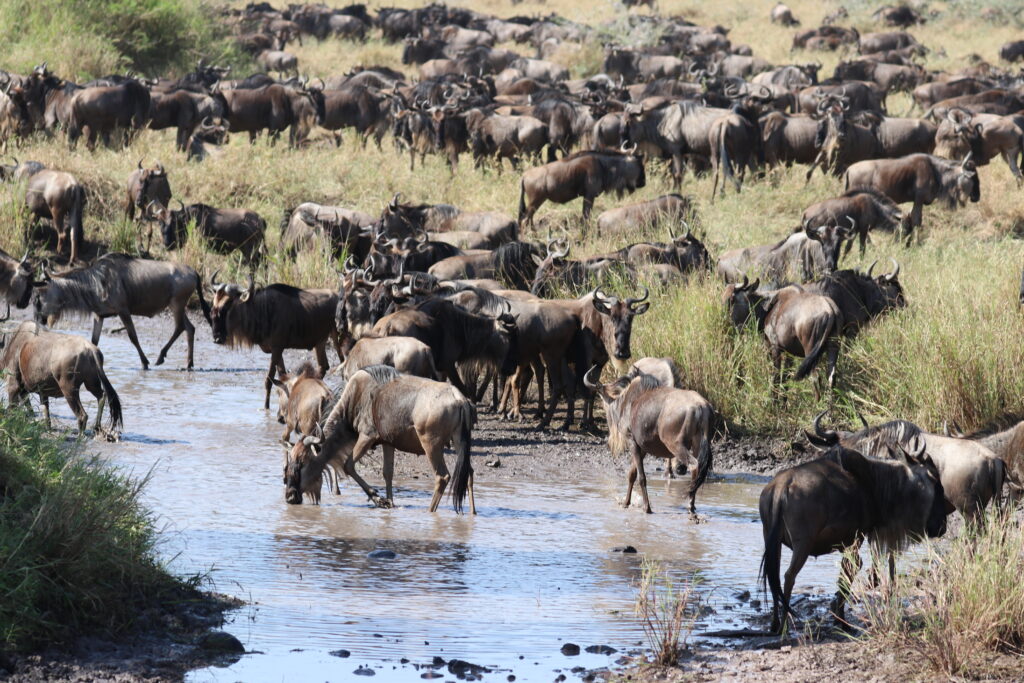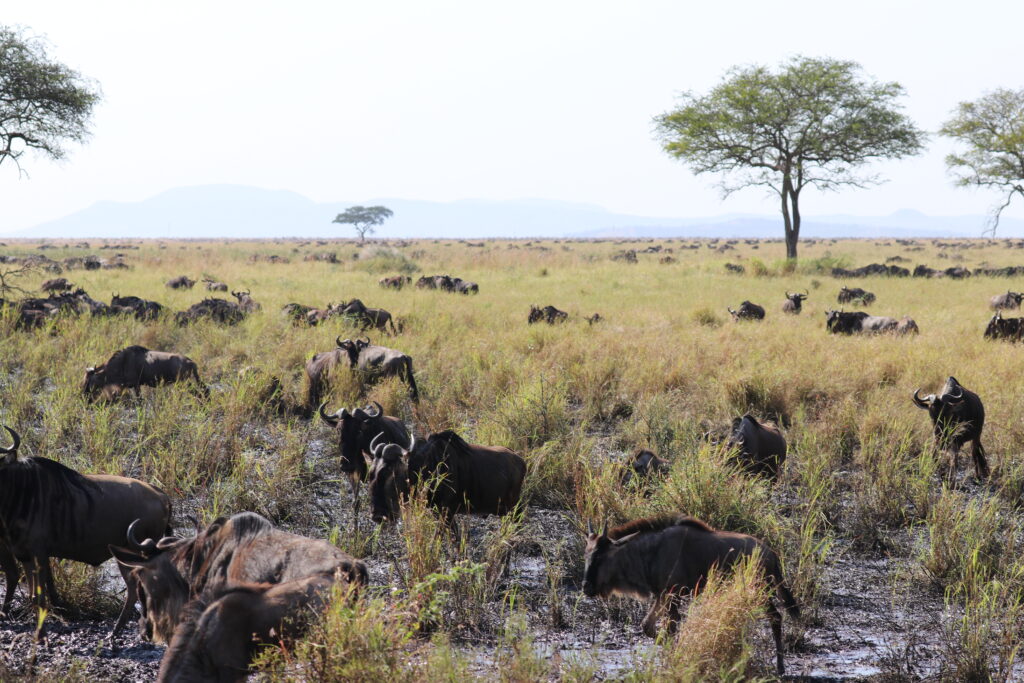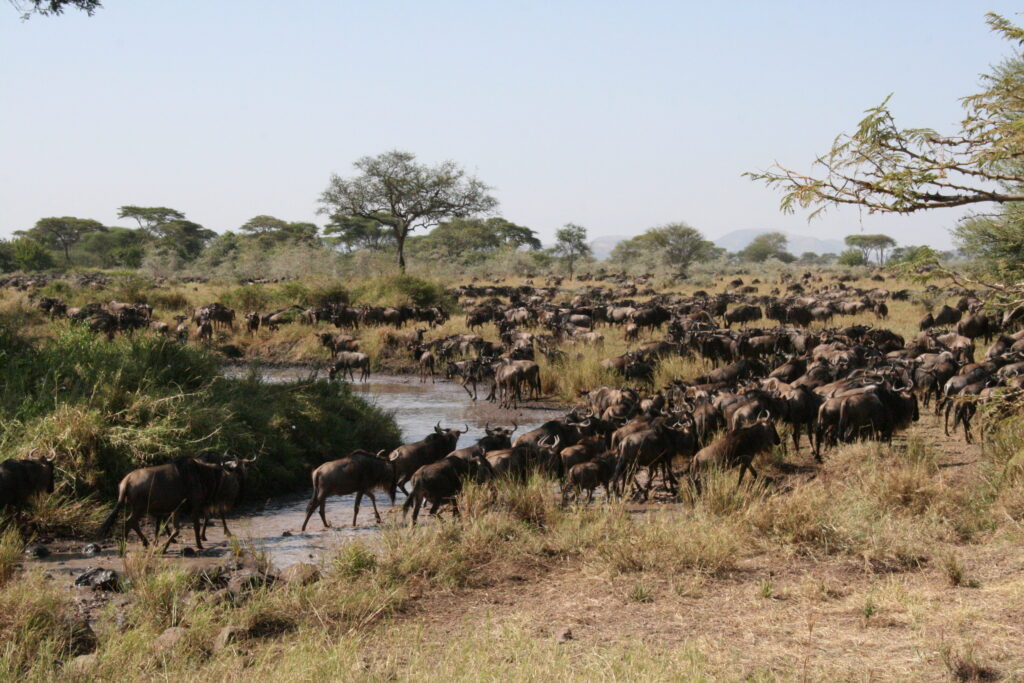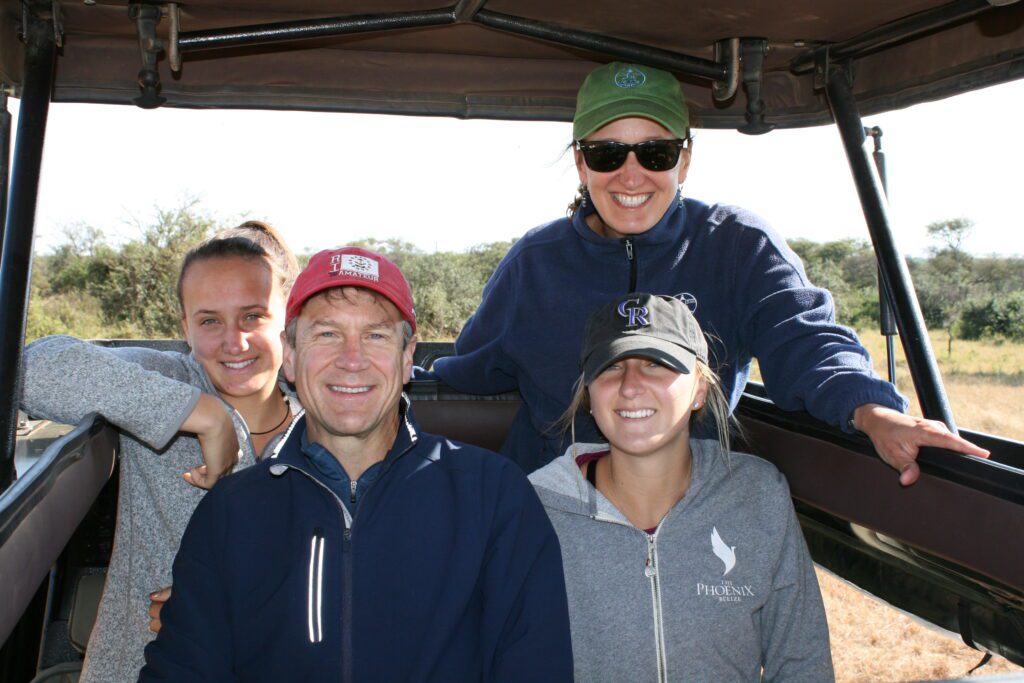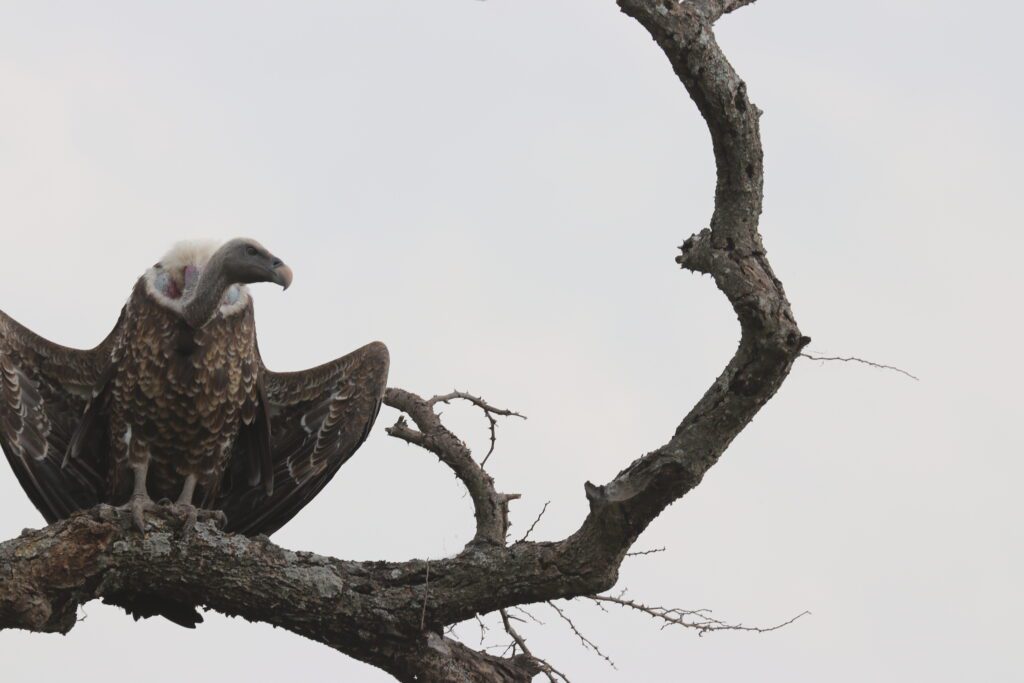 We would highly recommend staying at andBeyond Serengeti Under Canvas. It is a remarkable experience to stay in a tent in high grass in the Serengeti. We did see the Four Seasons Serengeti. It looked lovely; however, it looked like a hotel. What we did was so unique. The Four Seasons also cannot follow the migration!
Tanzania – andBeyond Lake Manyara Tree Lodge
After a delicious breakfast, Feruzi brought us to the Grumeti airstrip. He waited until the plane took off. We flew first to the Seronera airstrip for fuel.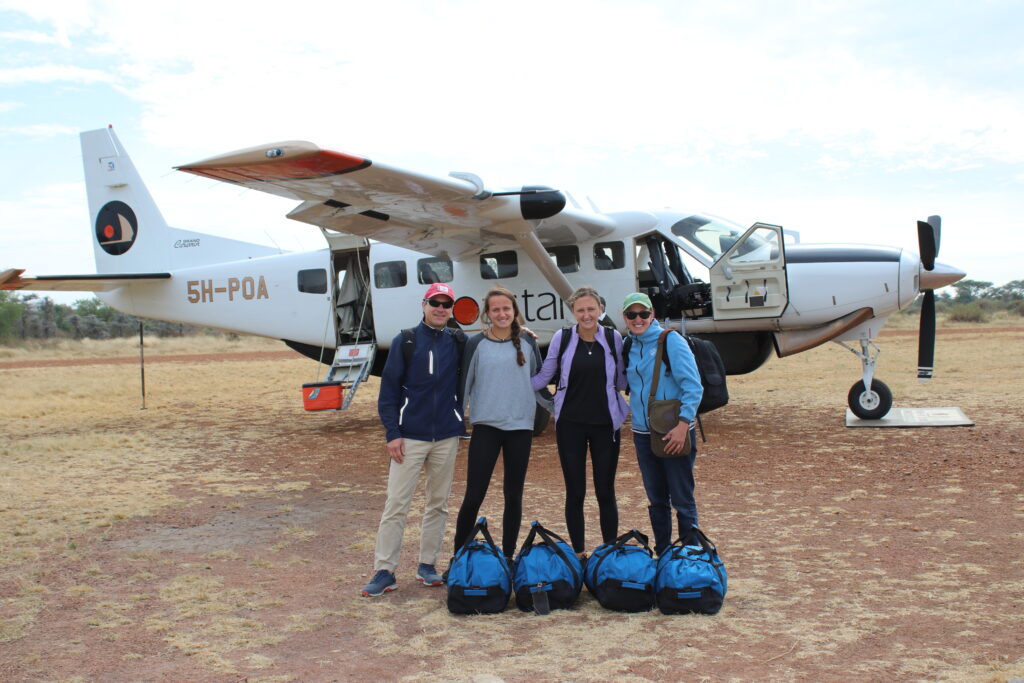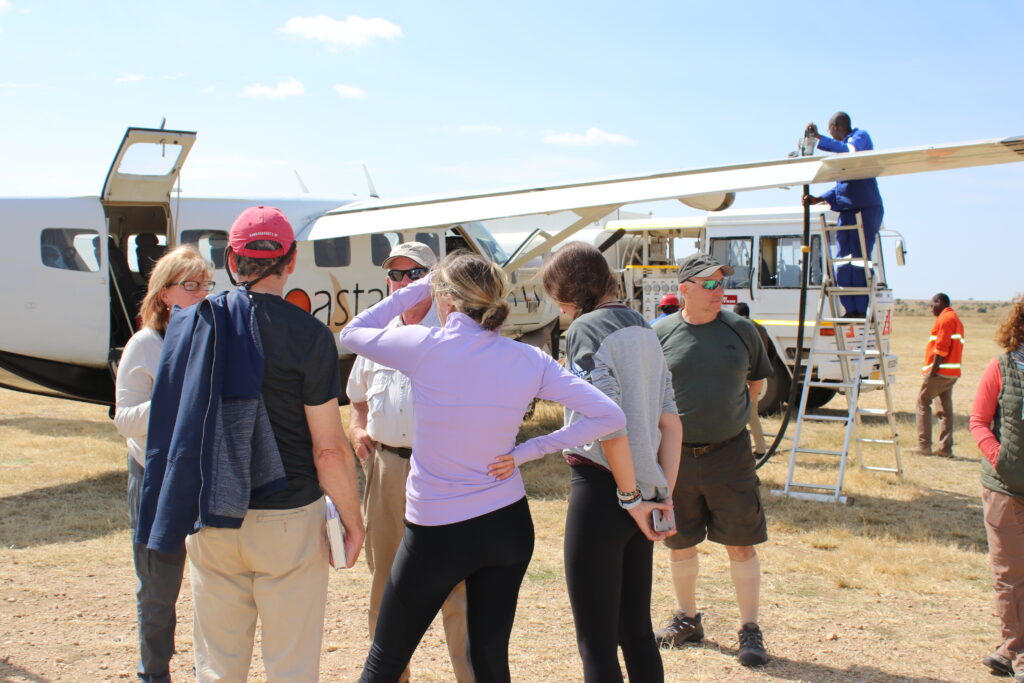 We landed at the Lake Manyara airstrip. This airstrip is in a small town. There are vendors and bathrooms at this airstrip. Our guide, Emme, met us with snacks and drinks. We headed into Lake Manyara National Park.
While we were staying in Lake Manyara, a new airstrip opened very close to the lodge. It took us five hours to get from the airstrip to andBeyond Lake Manyara Tree Lodge. However, we had a wonderful game drive along the way. Be sure to ask which airstrip you are flying into!
We found our ornament at the African Galleria, a huge gift shop close to the airstrip.
Our journey to the tree lodge was filled with elephants, baboons, cape buffalo, monkeys, birds and giraffes. Lake Manyara is famous for its flamingoes. Due to too much rain which made the not salty enough, the flamingoes moved to a different lake!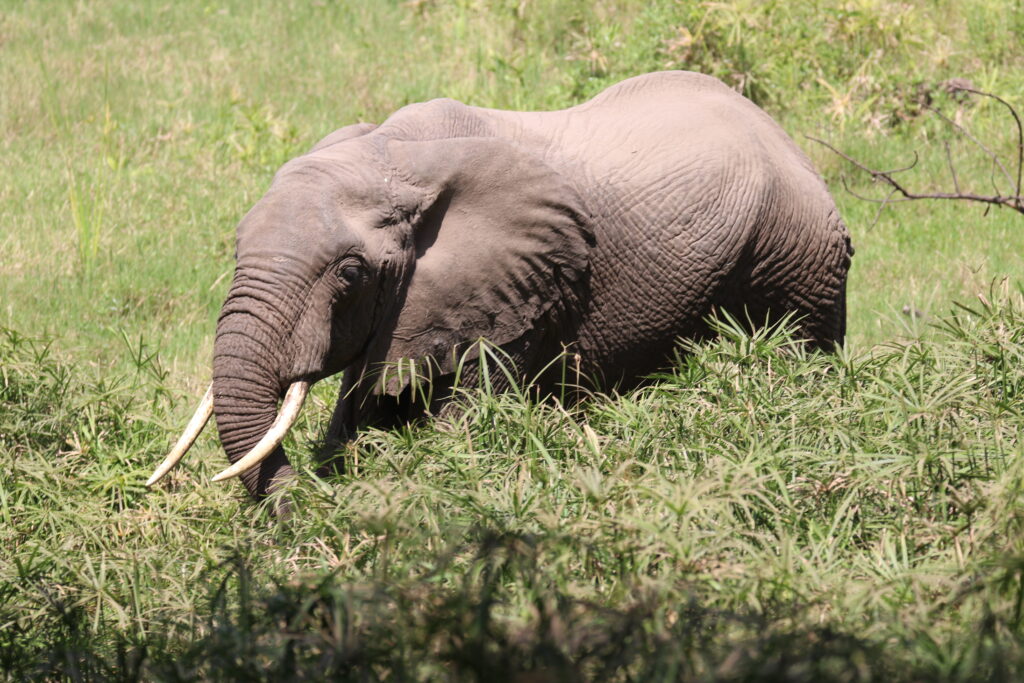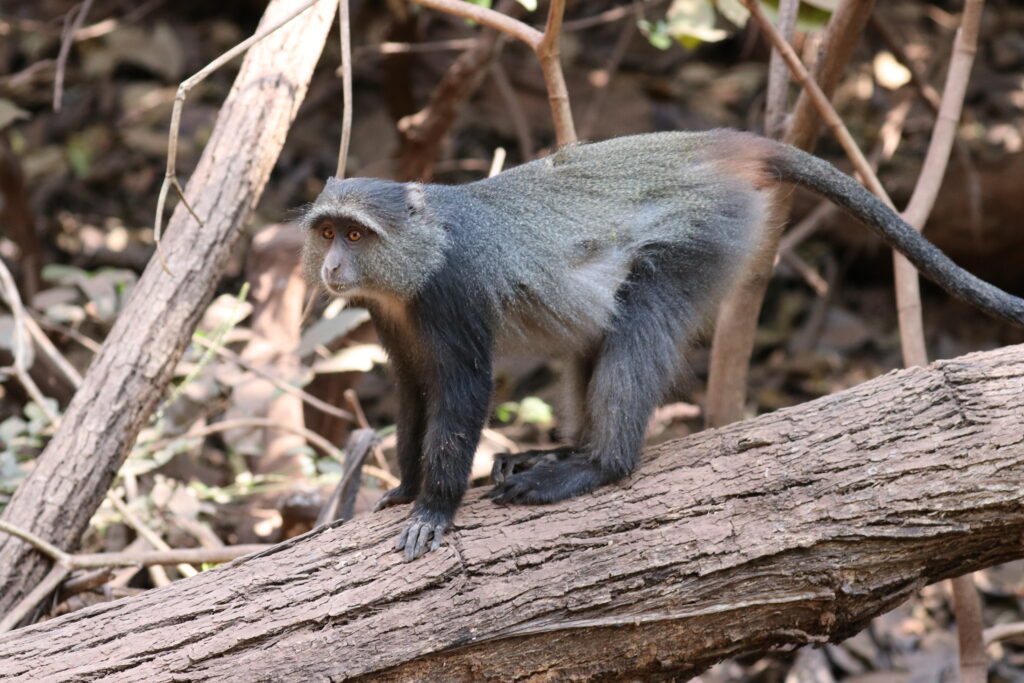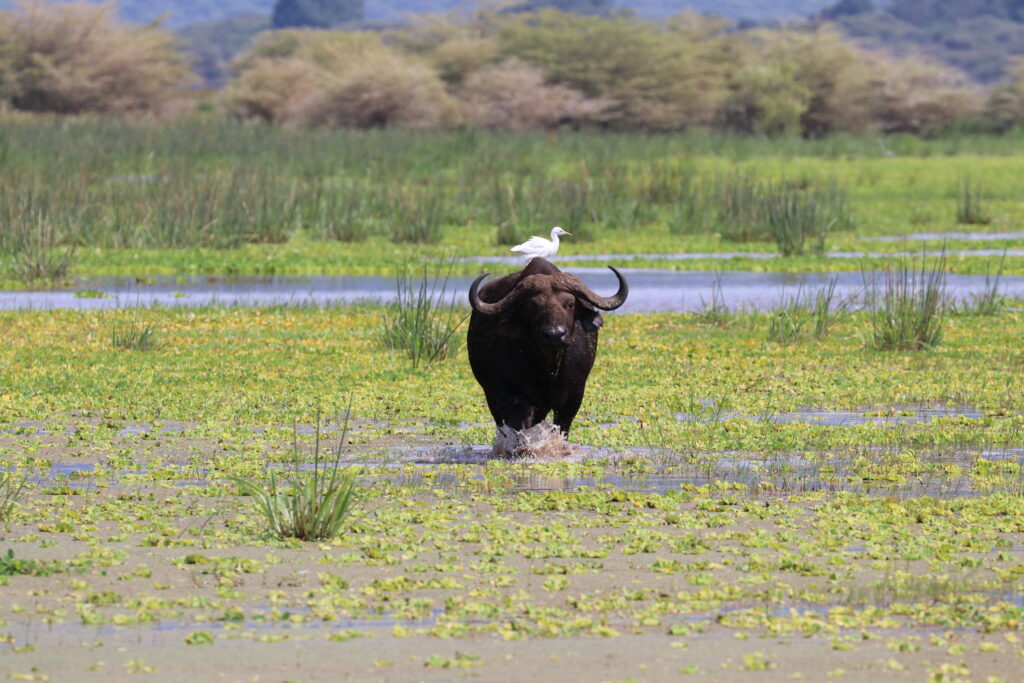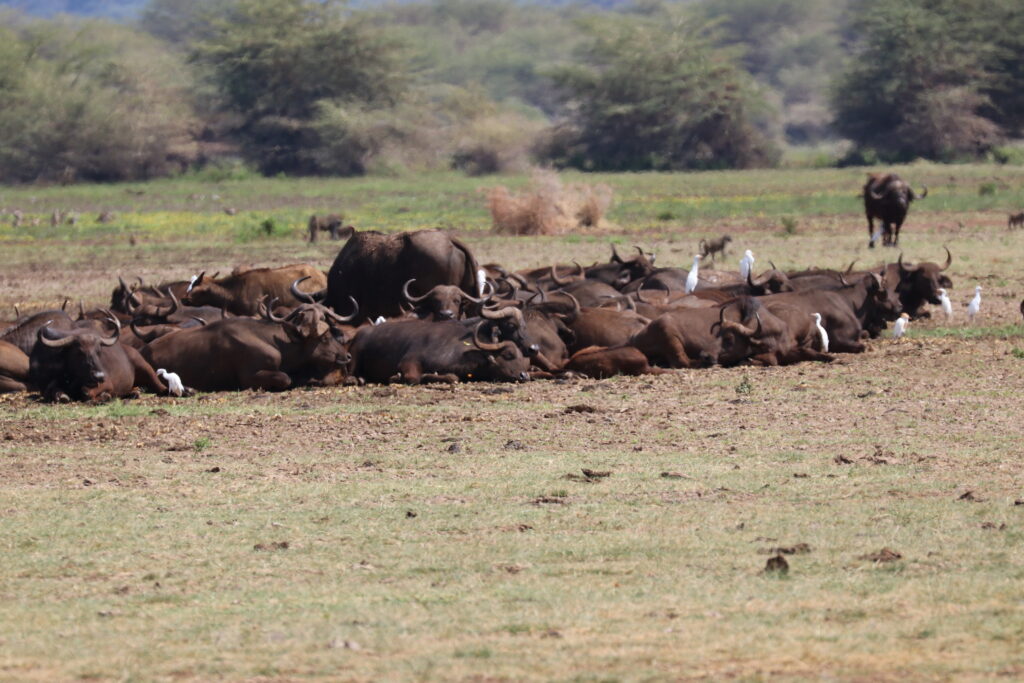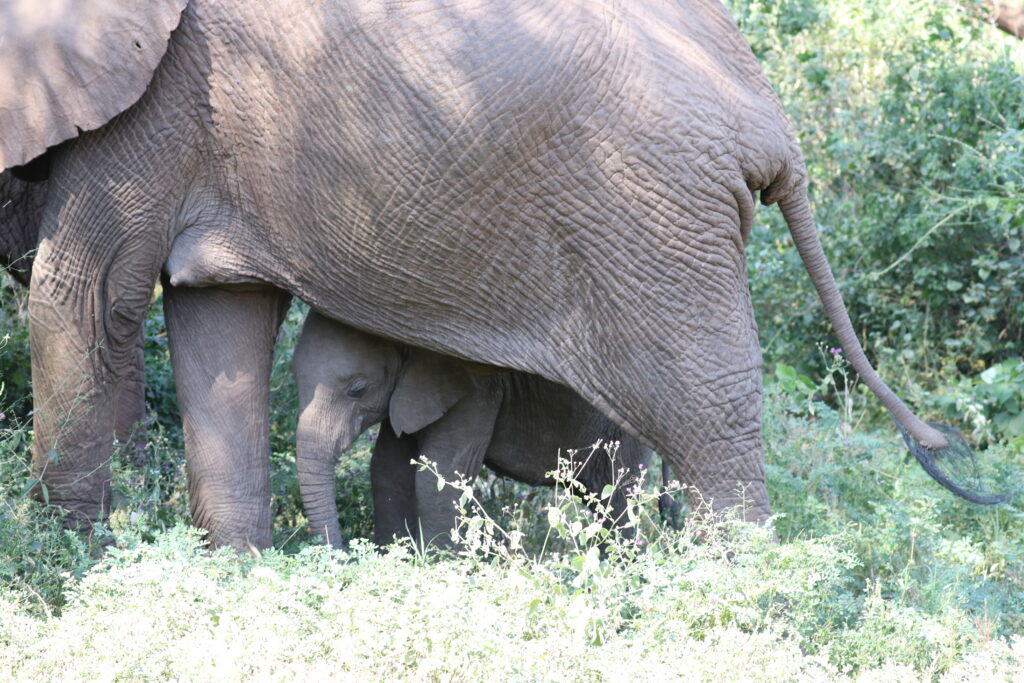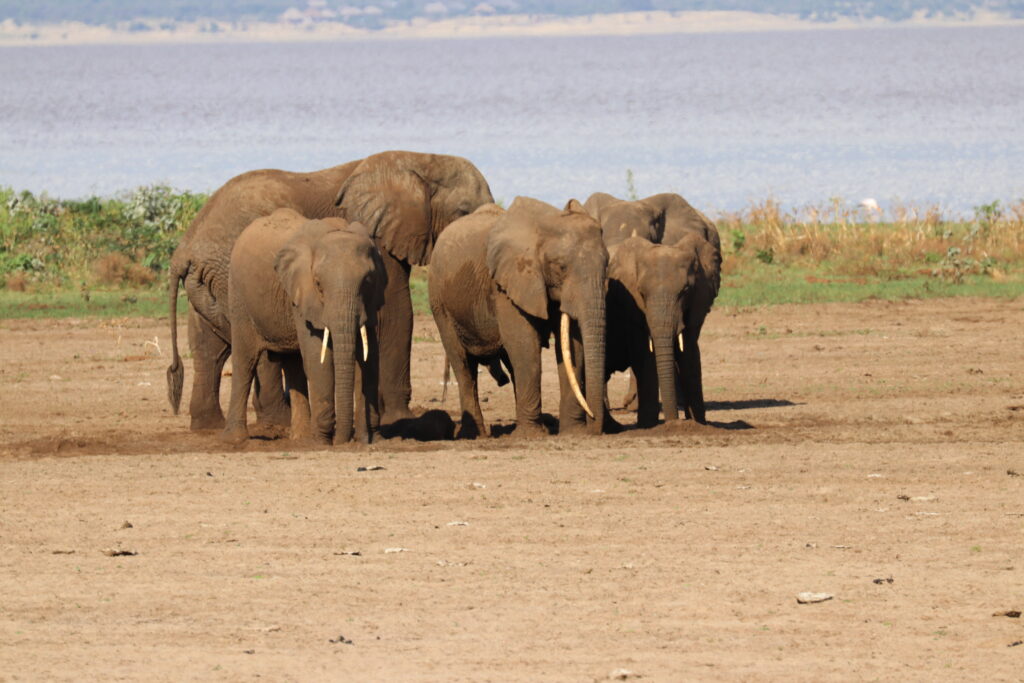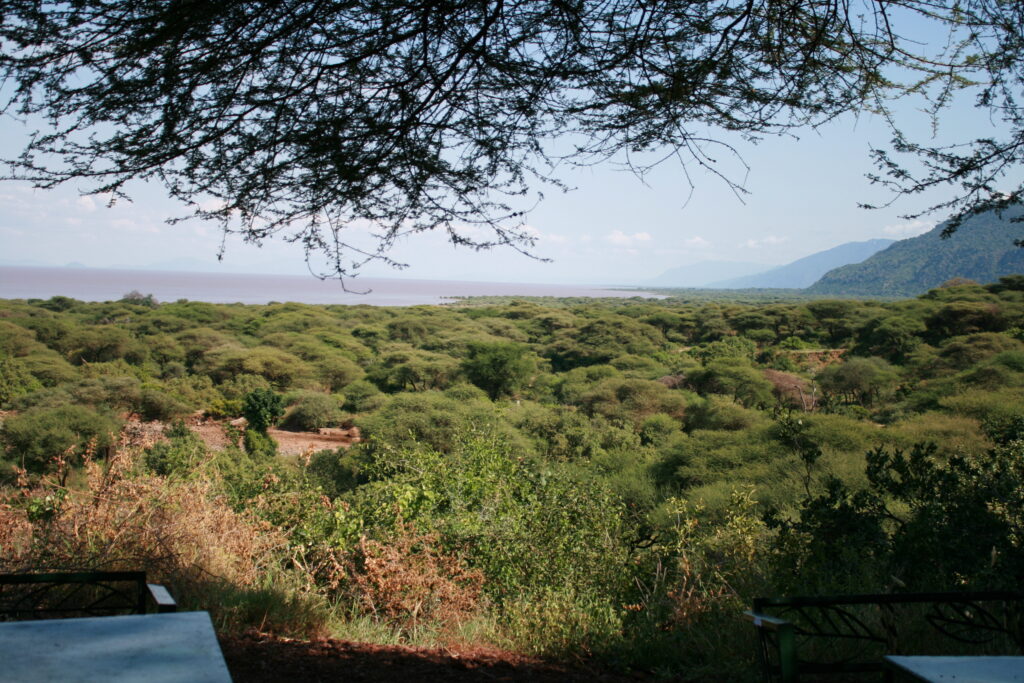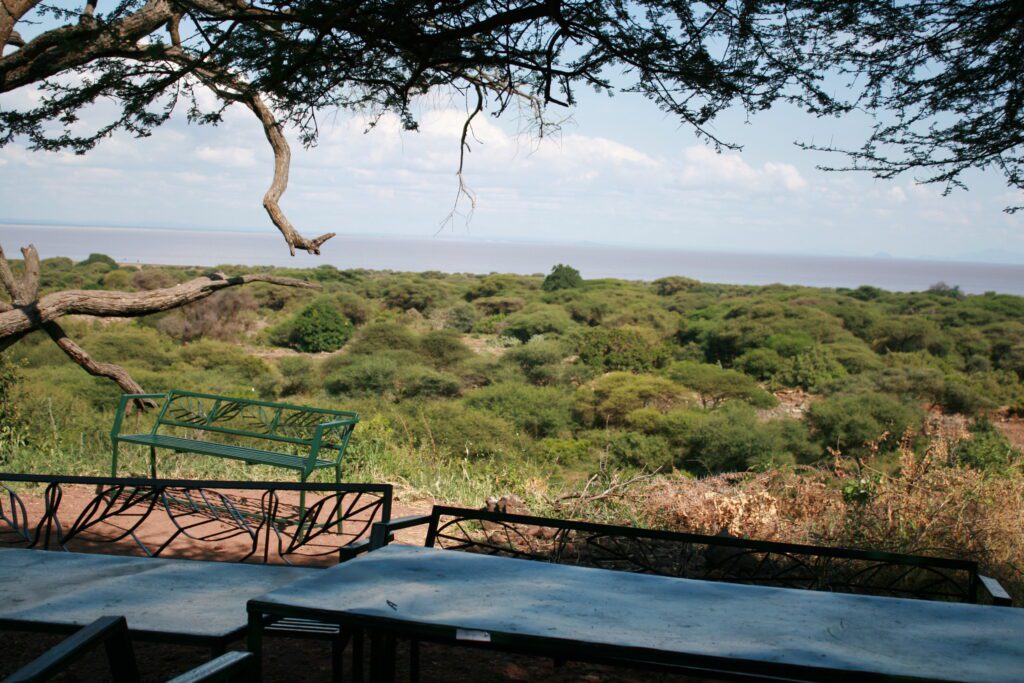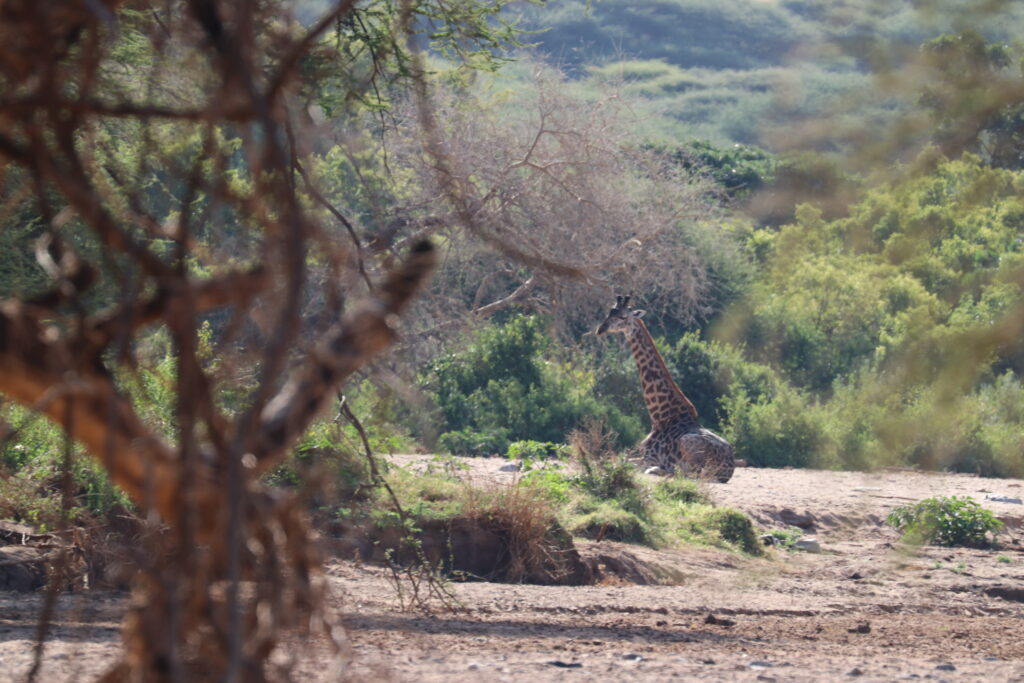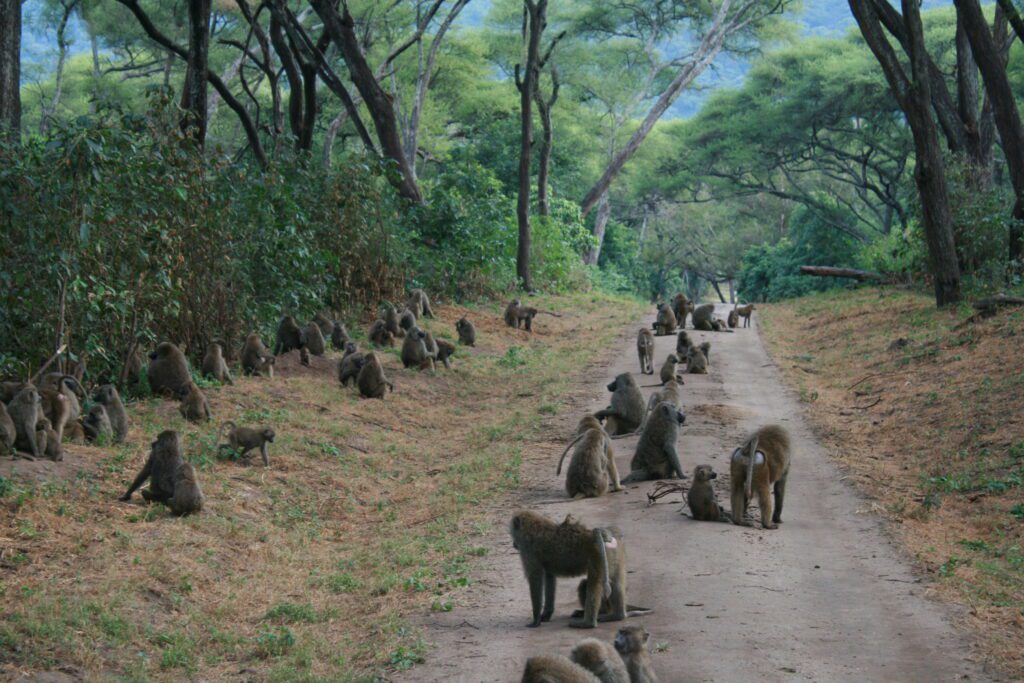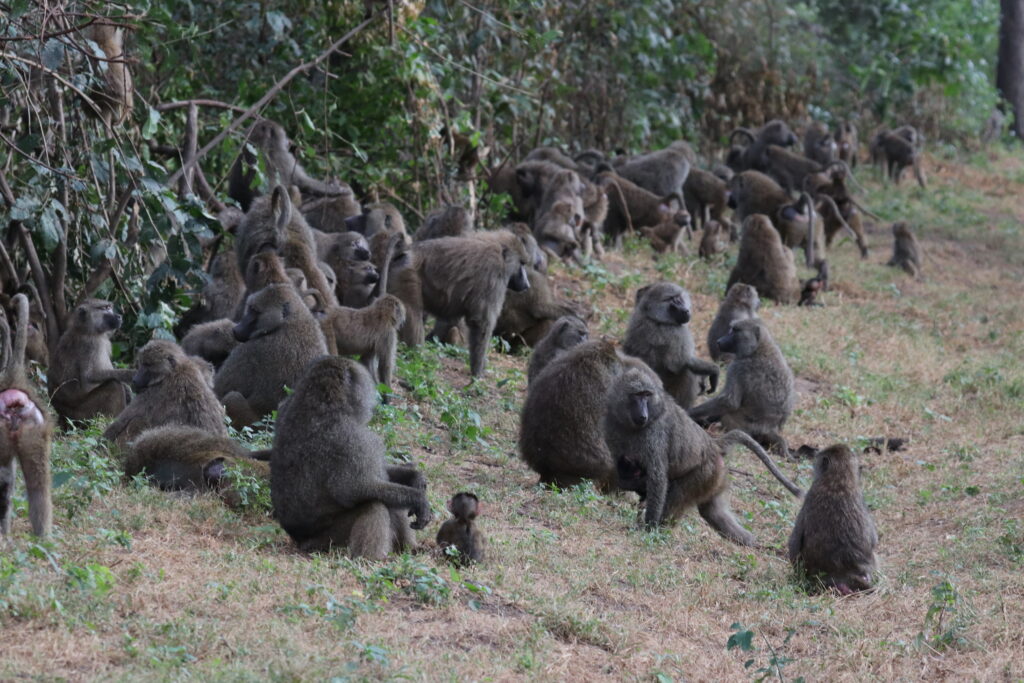 We arrived at Lake Manyara Tree Lodge as the sun was setting. We settled into our two tree houses, and went to the common area for frozen gin and tonics, appetizers and we made a plan with Emme for the morning. We could hear elephants breathing from our tree house!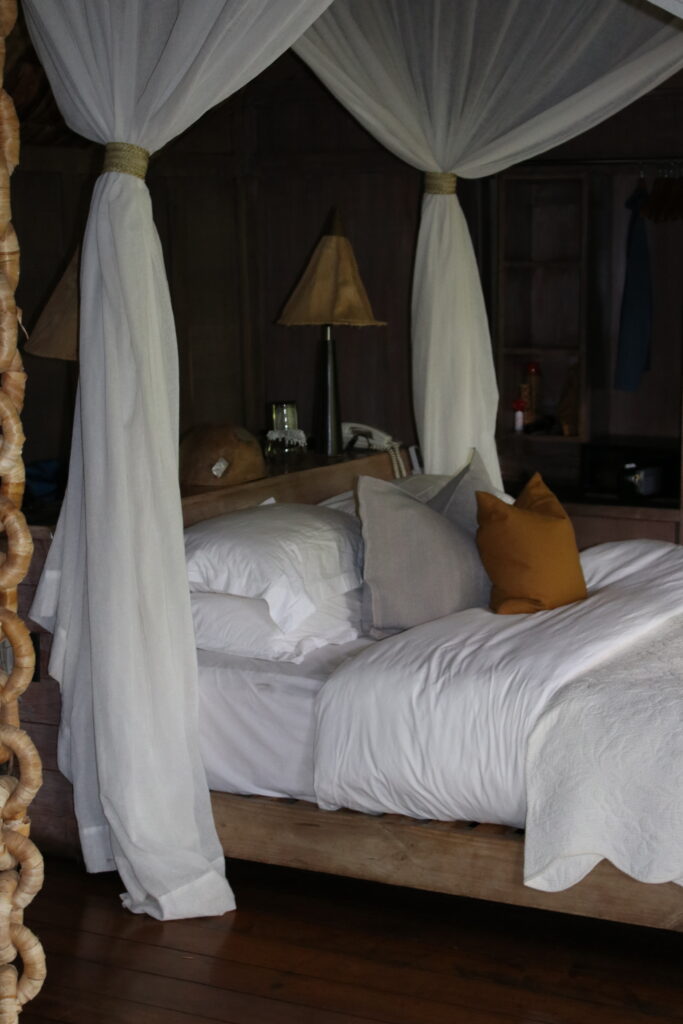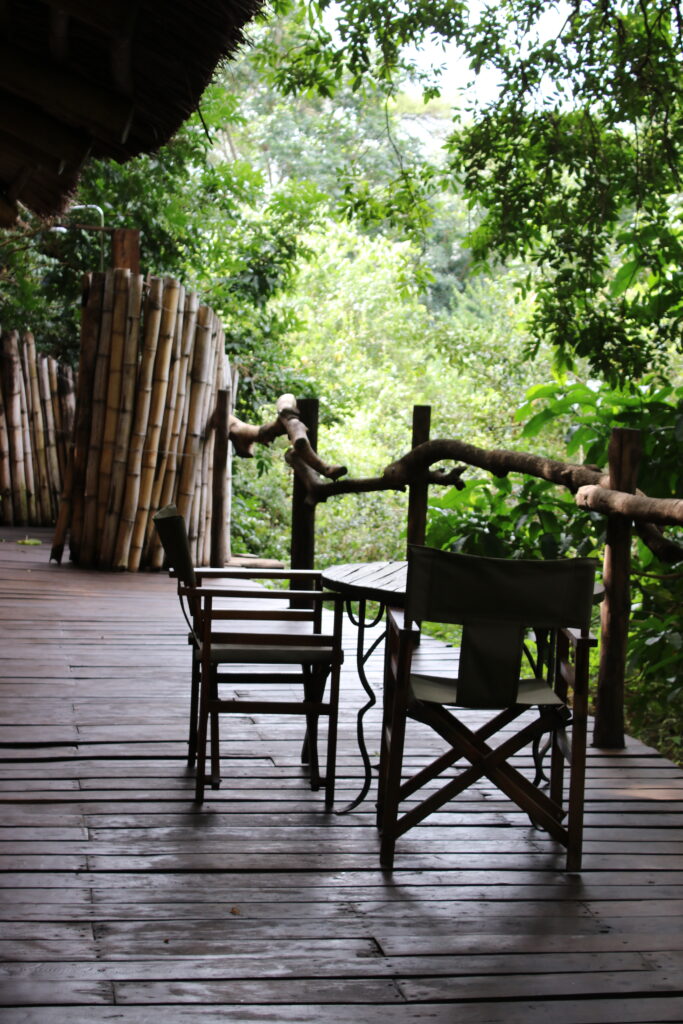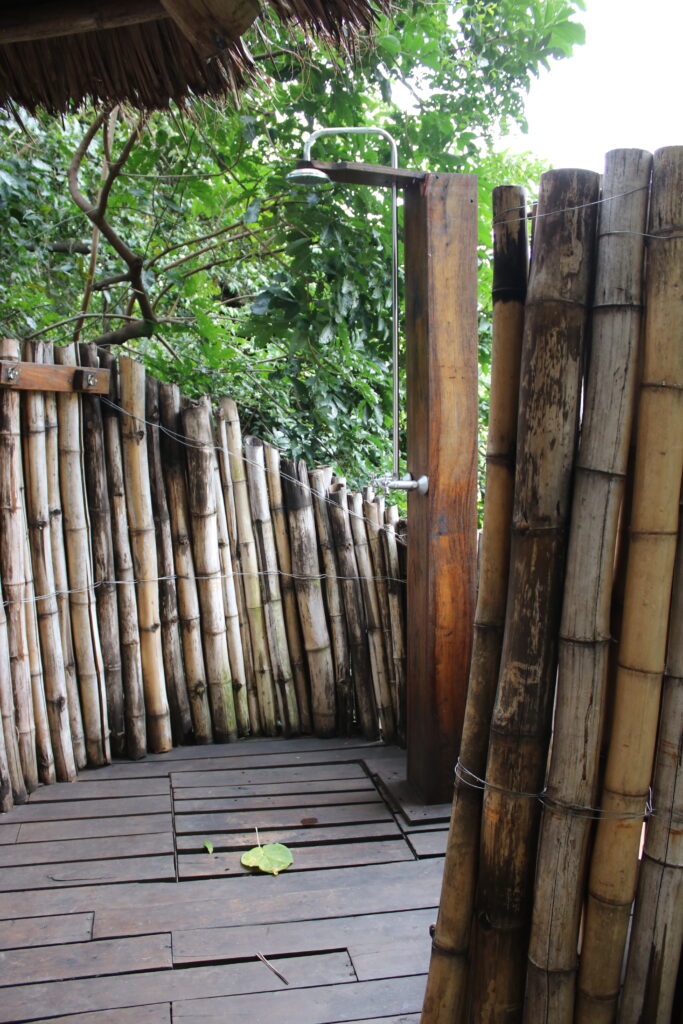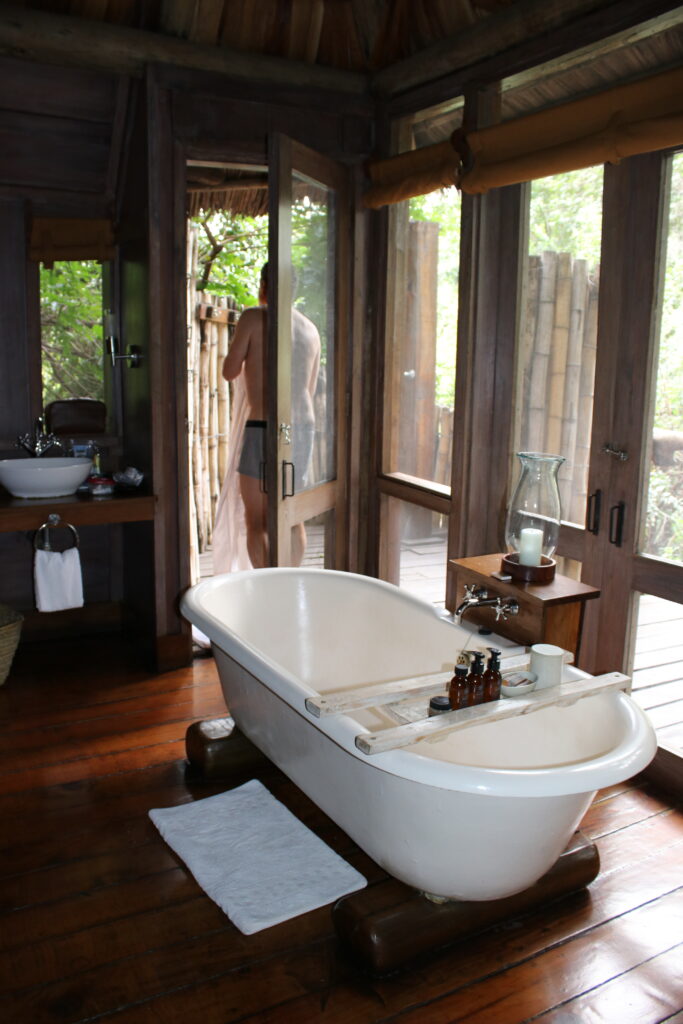 We spent the next day tracking lions and visiting a local school, which we loved. We heard the children sing. The kids were fascinated with our watches and painted fingernails.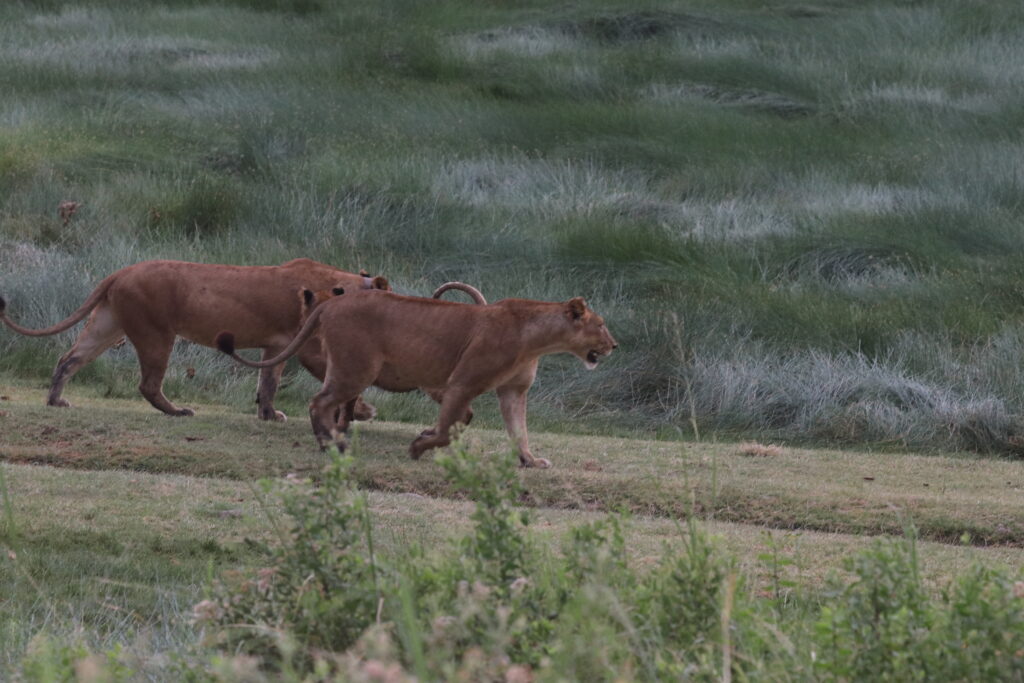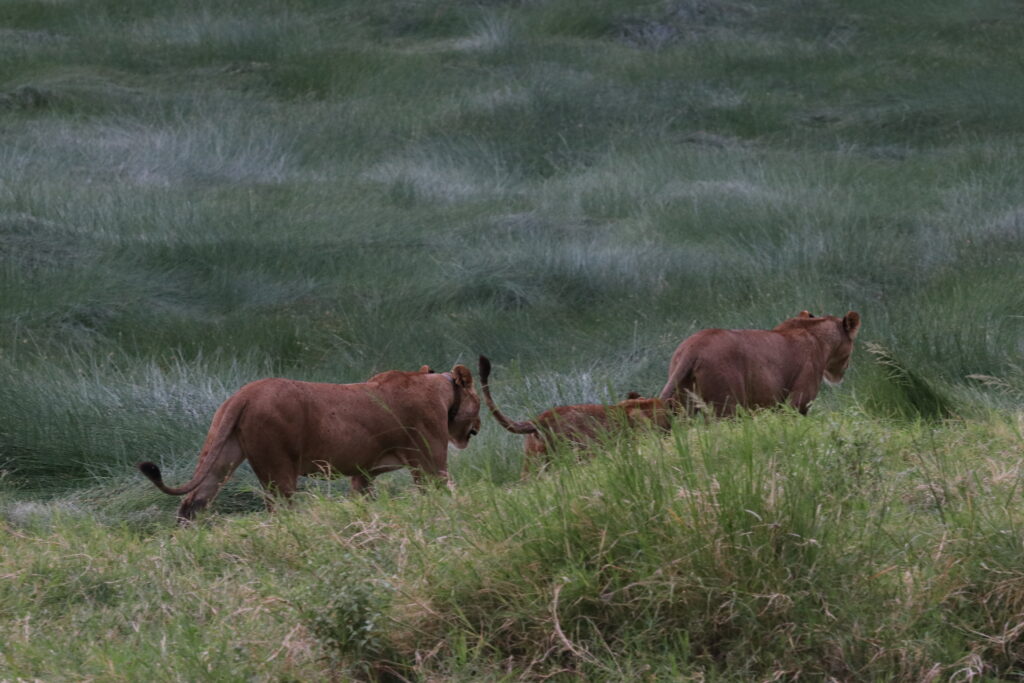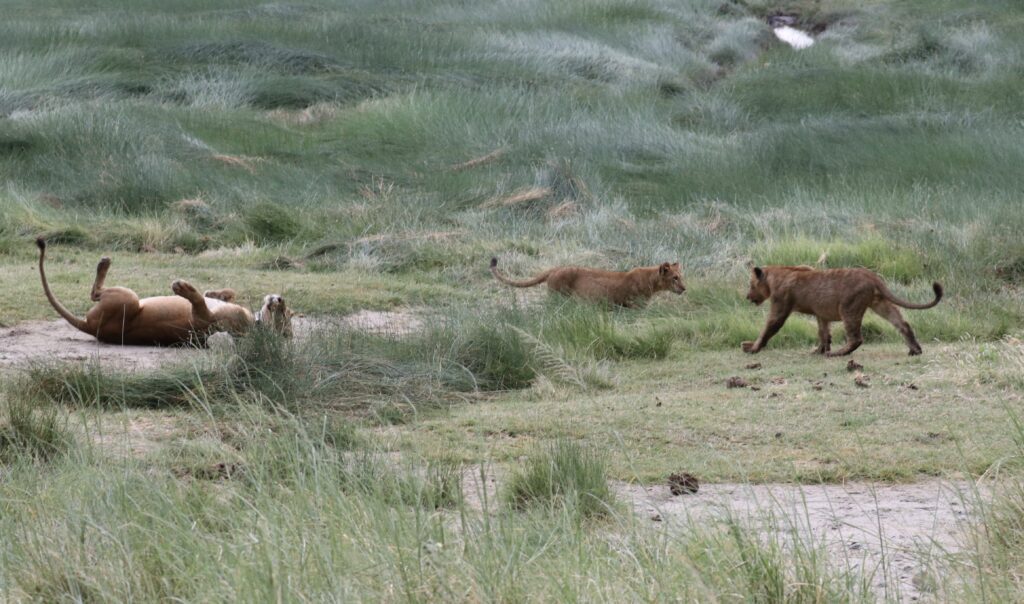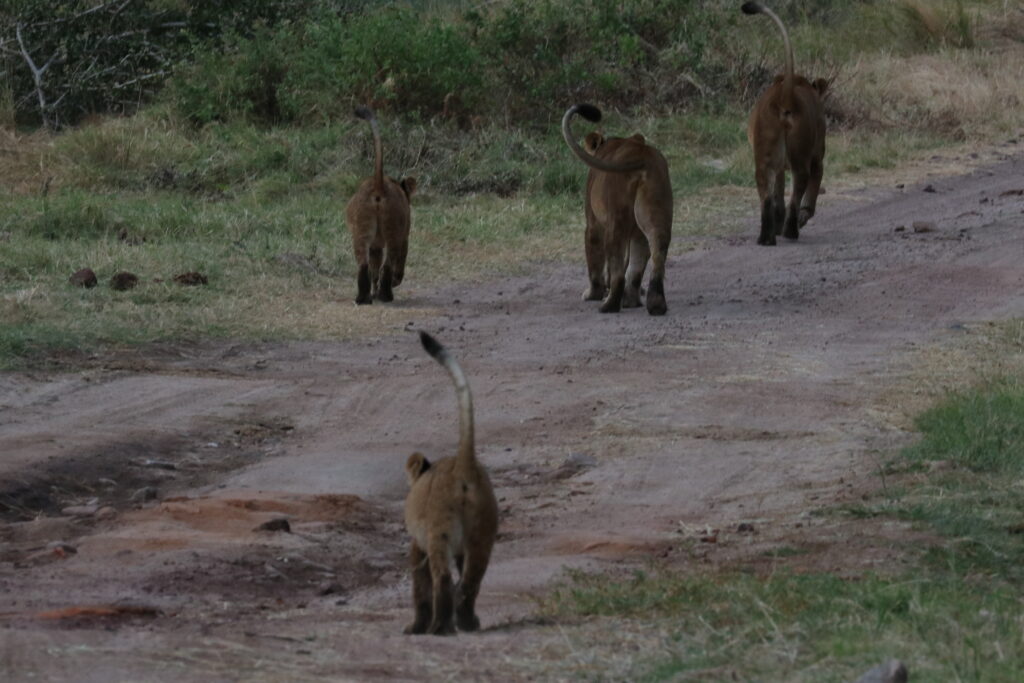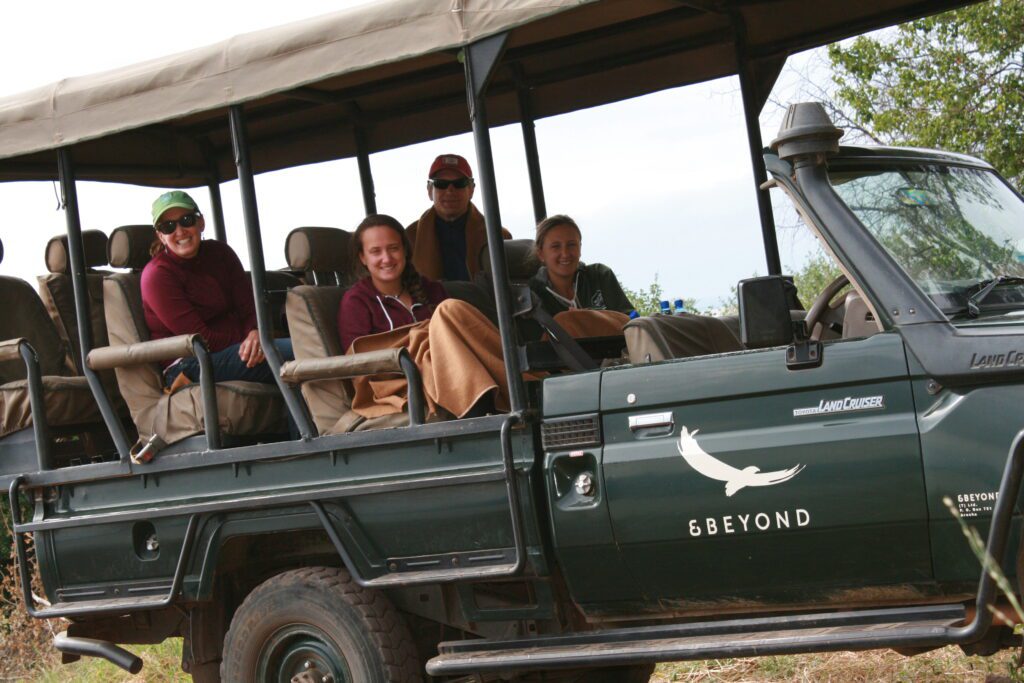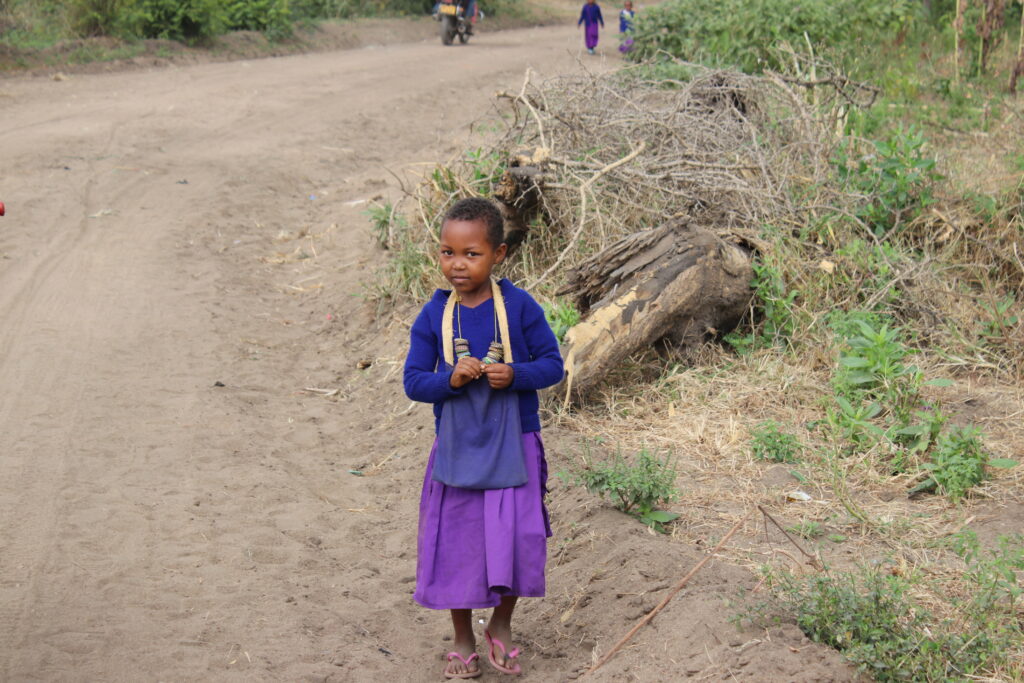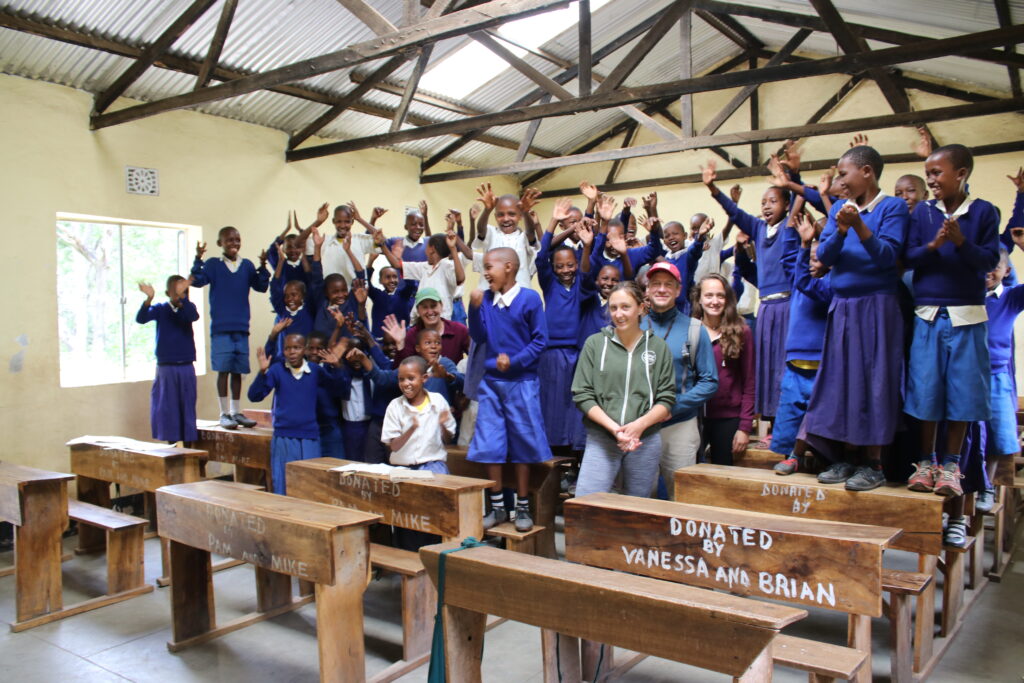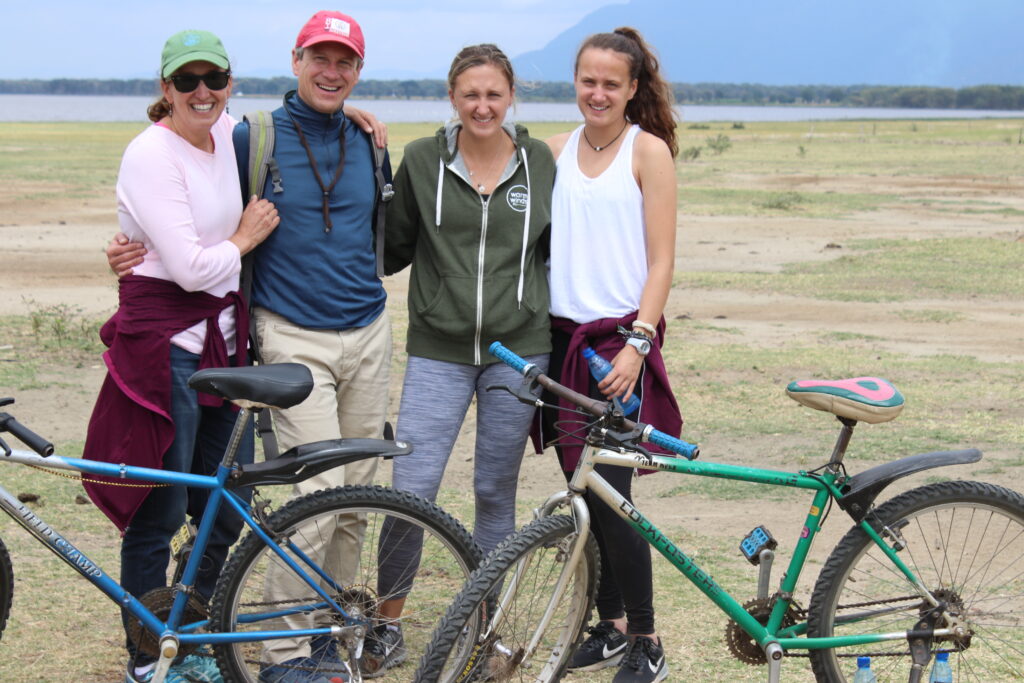 We highly recommend andBeyond Lake Manyara Tree Lodge. The service and food were outstanding. The enormous tree houses were awesome. While the game is not as good in Lake Manyara as at our other stops, we loved this experience.
Tanzania – andBeyond Ngorongoro Crater Lodge
After a delicious breakfast, we drove the 3.5 hour trip back to the Lake Manyara air strip and saw lots of game along the way. In the parking lot, we met Kitoi from the andBeyond Ngorongoro Crater Lodge. Kitoi drove us 75 minutes up to the almost unimaginable lodge. This place, while exorbitantly expensive was our favorite stop. Luxurious, quirky and elegant, the lodge sits atop the natural wonder of the Ngorongoro Crater.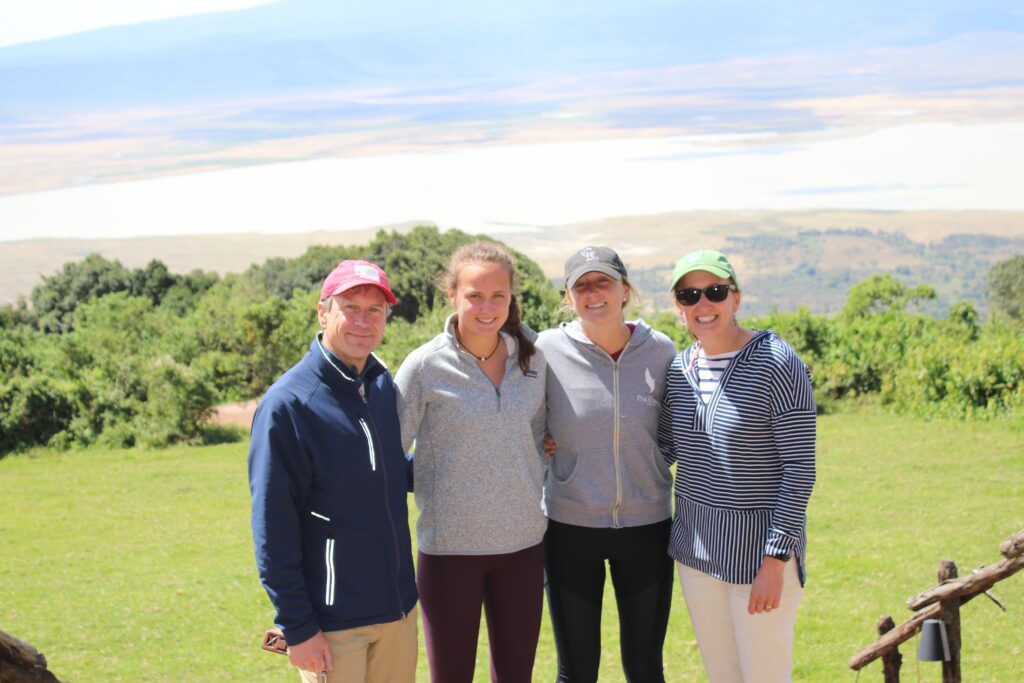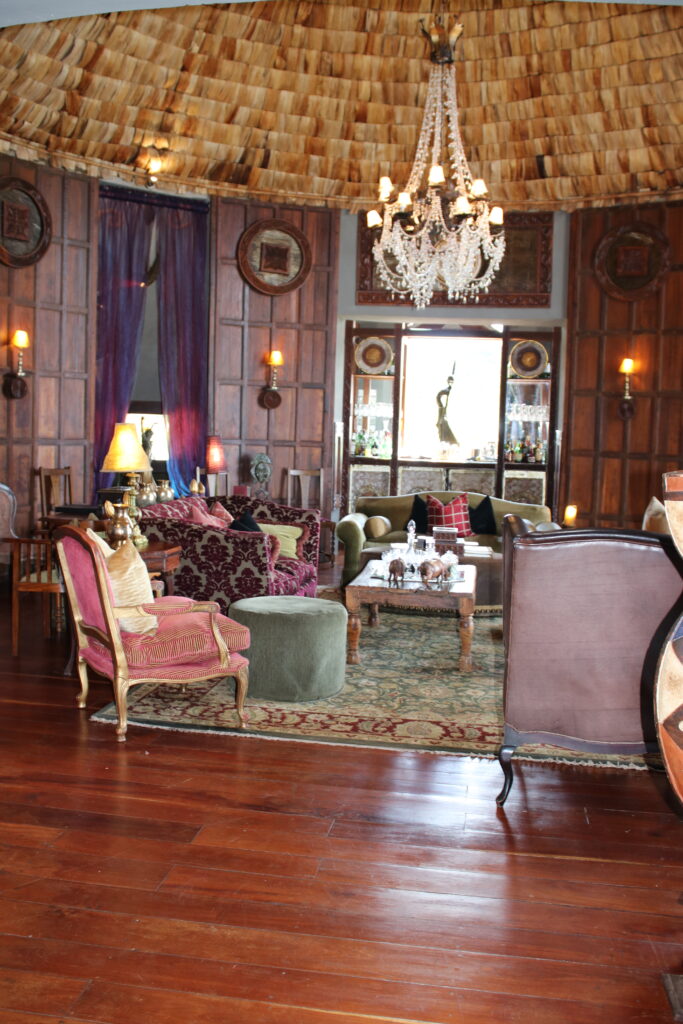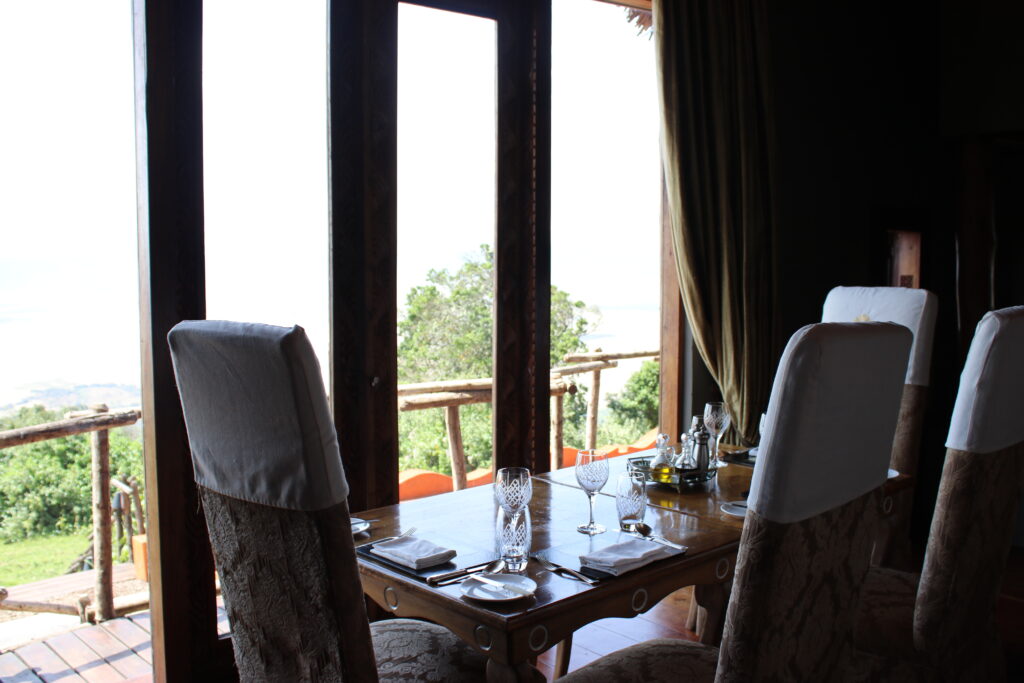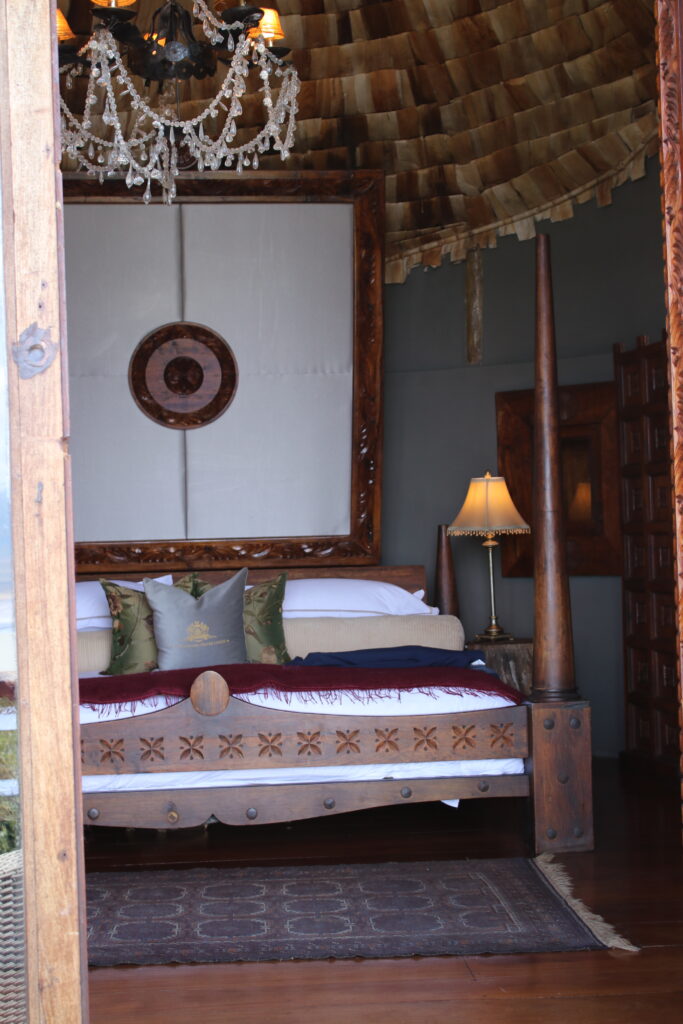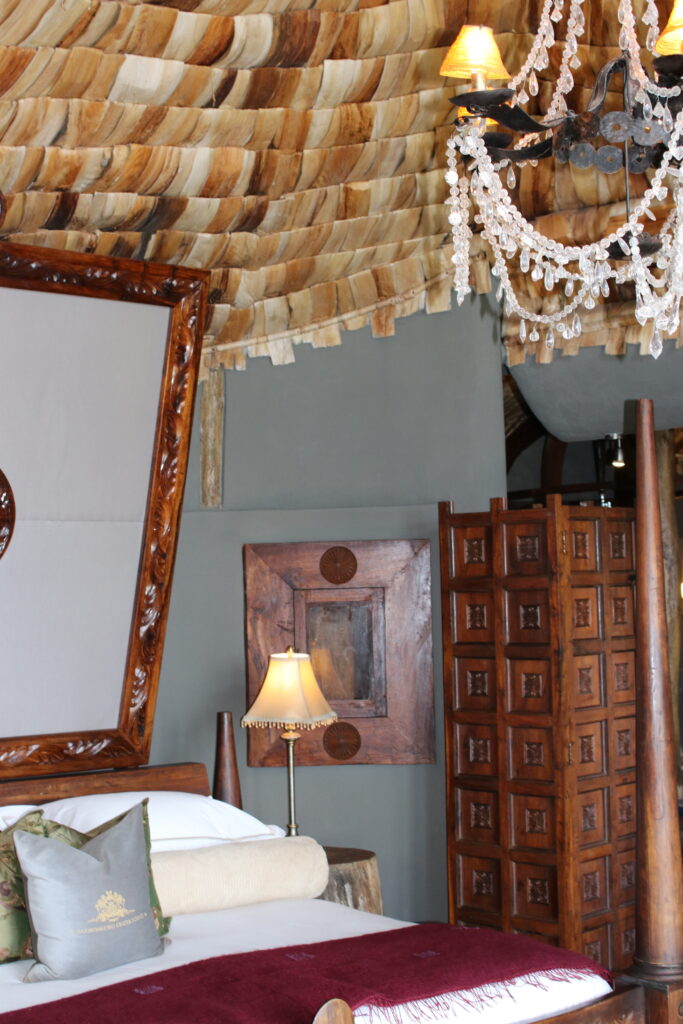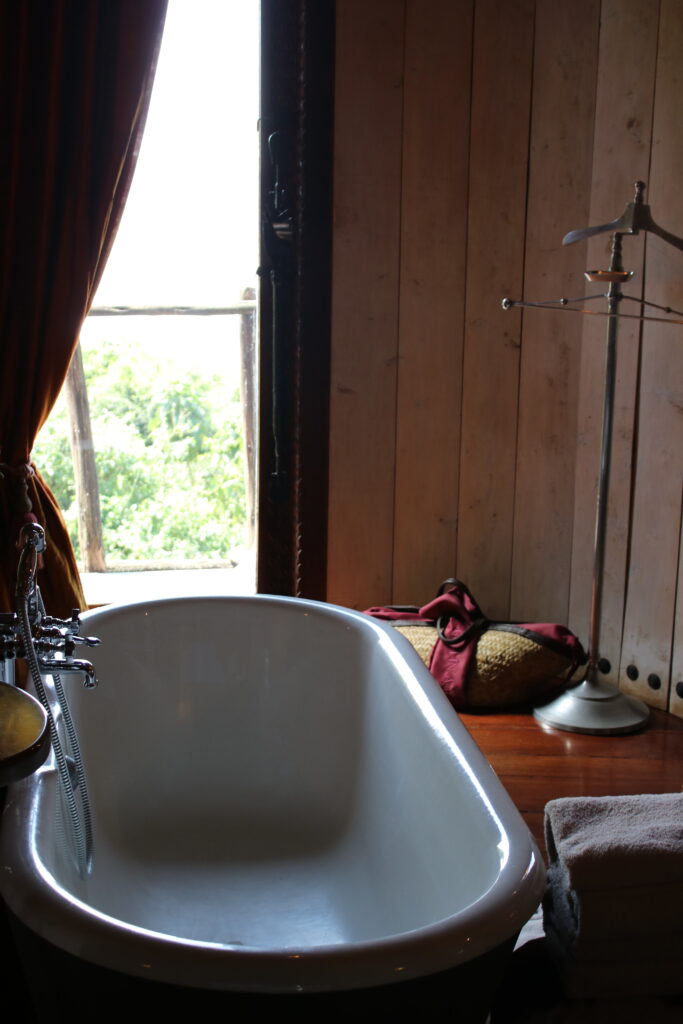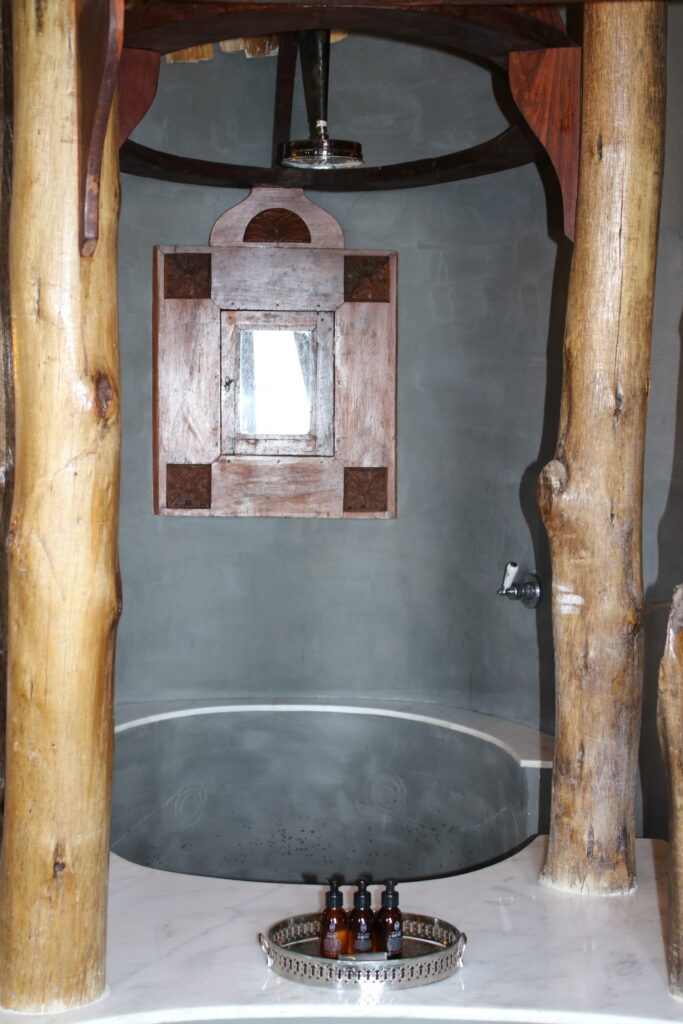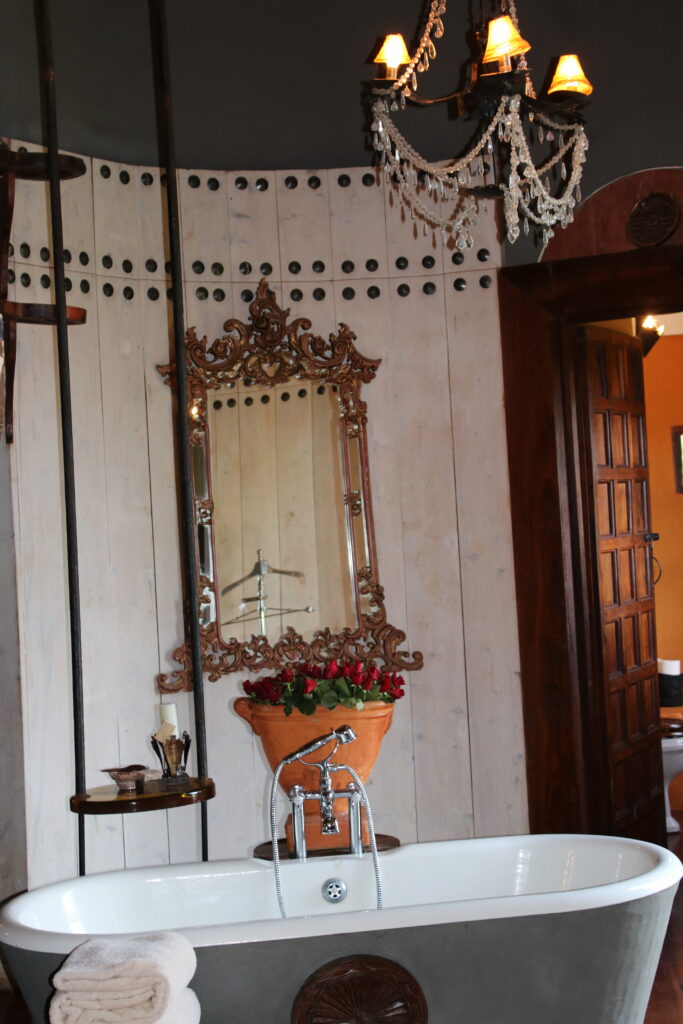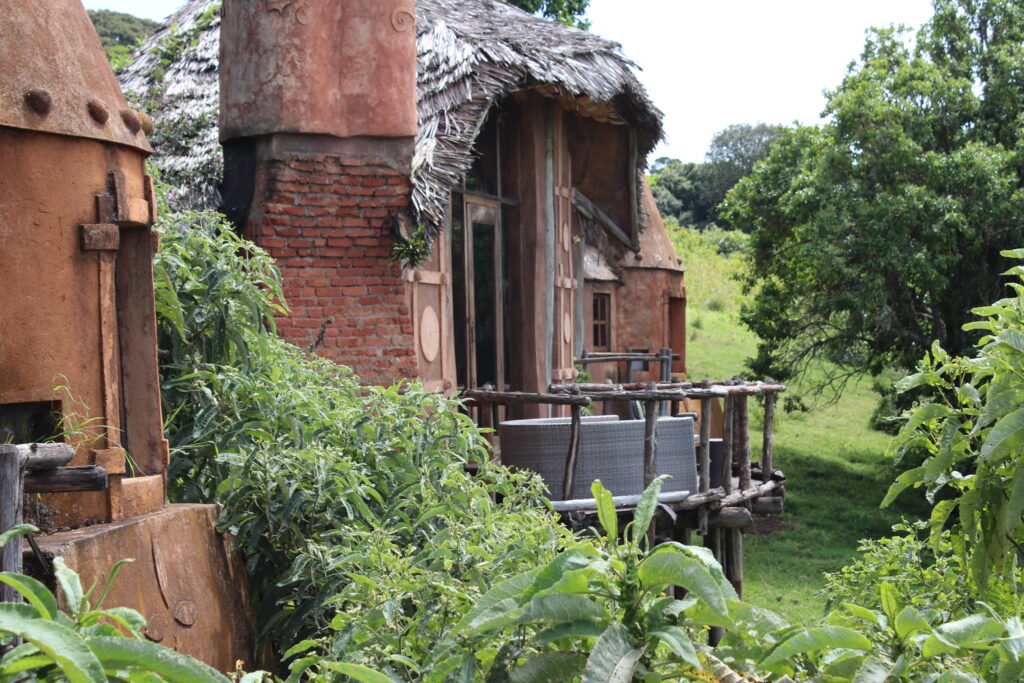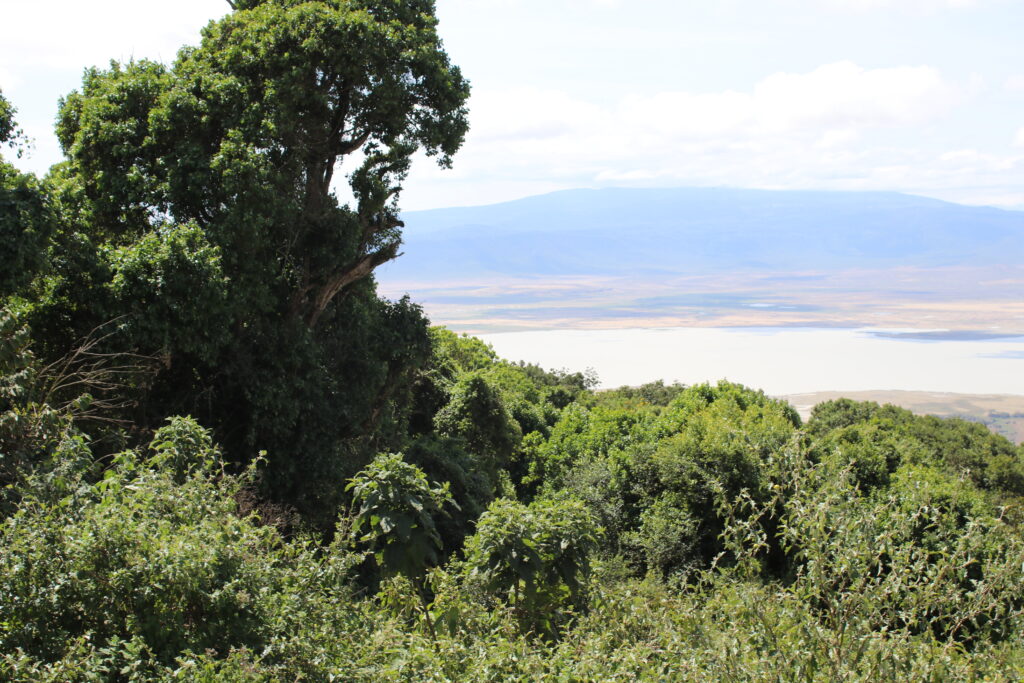 We did two outstanding game drives in the crater. There is so much wildlife. We went in the afternoon from 2:45 until almost 6pm and then from 6:30am-1:30pm the next day. Kitoi was an incredible guide. We LOVED it here.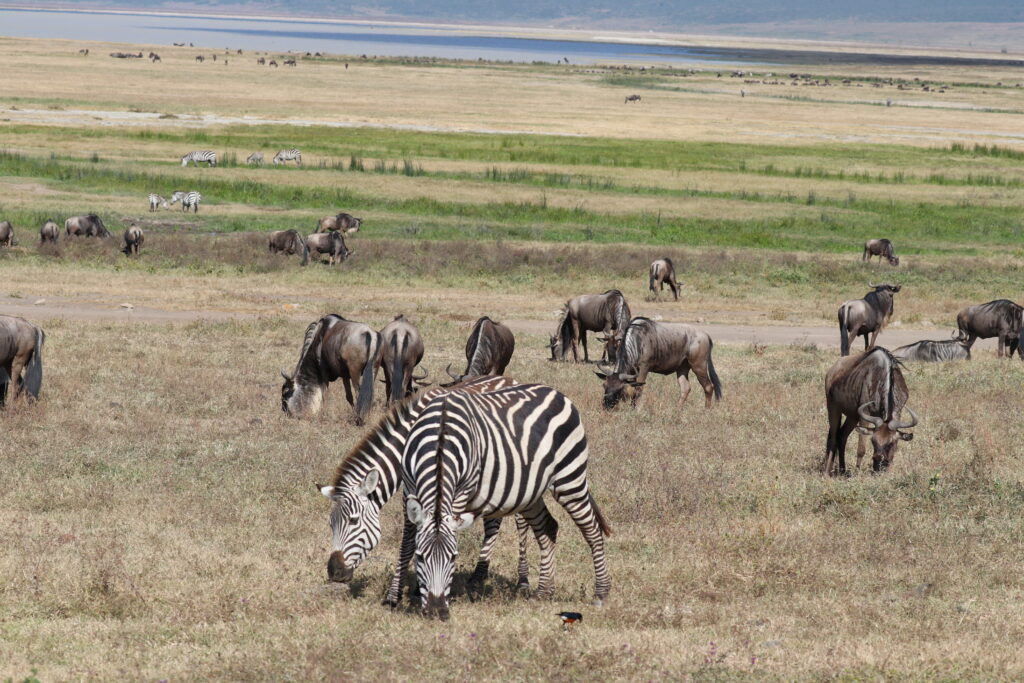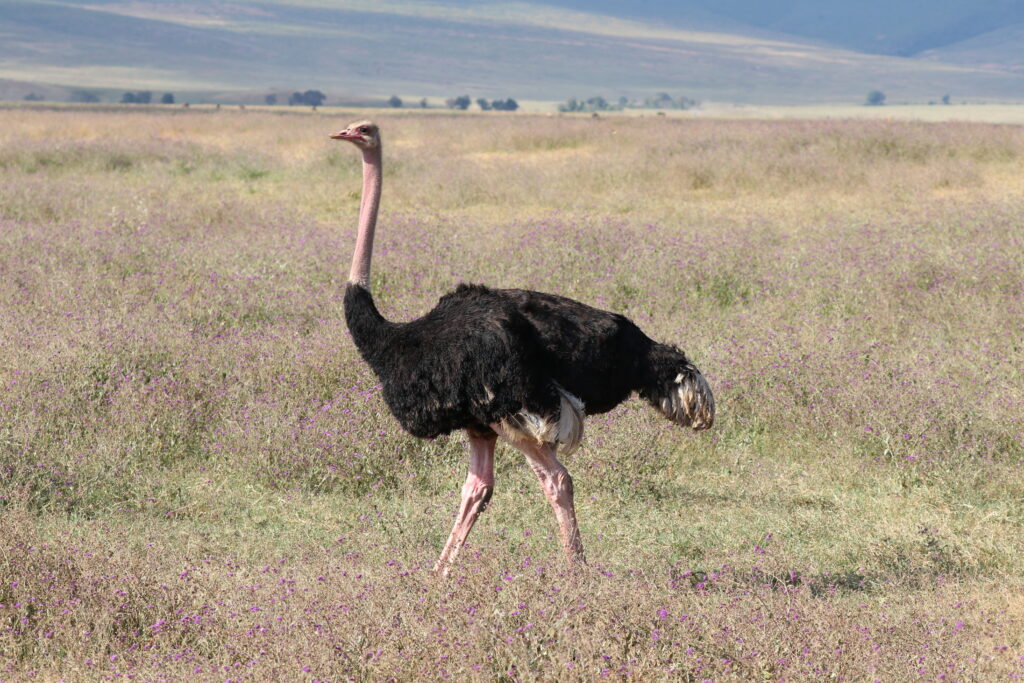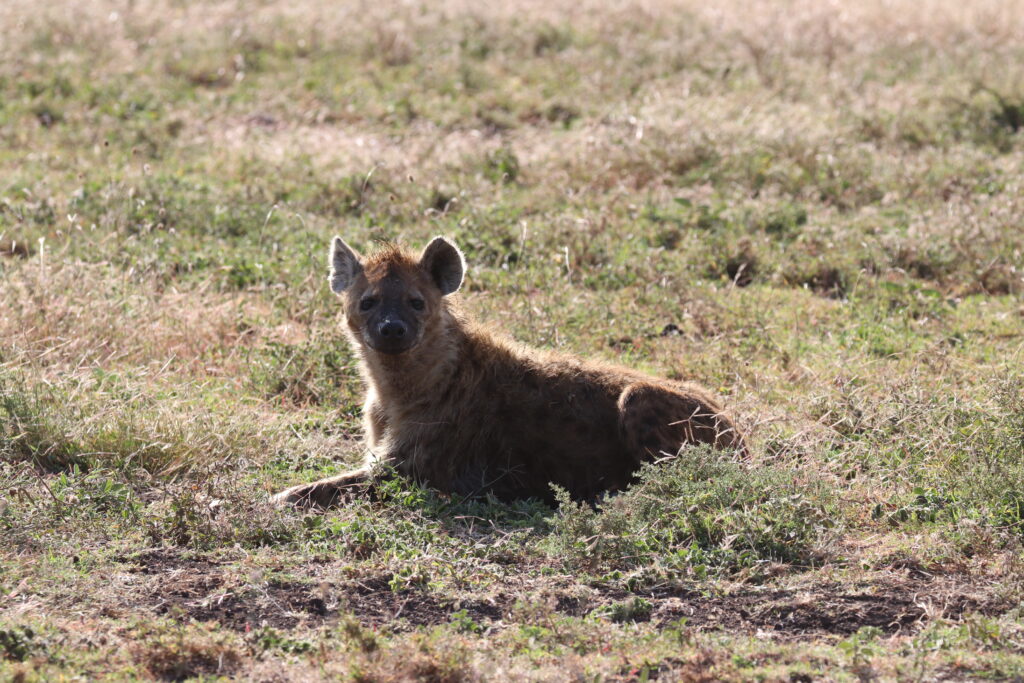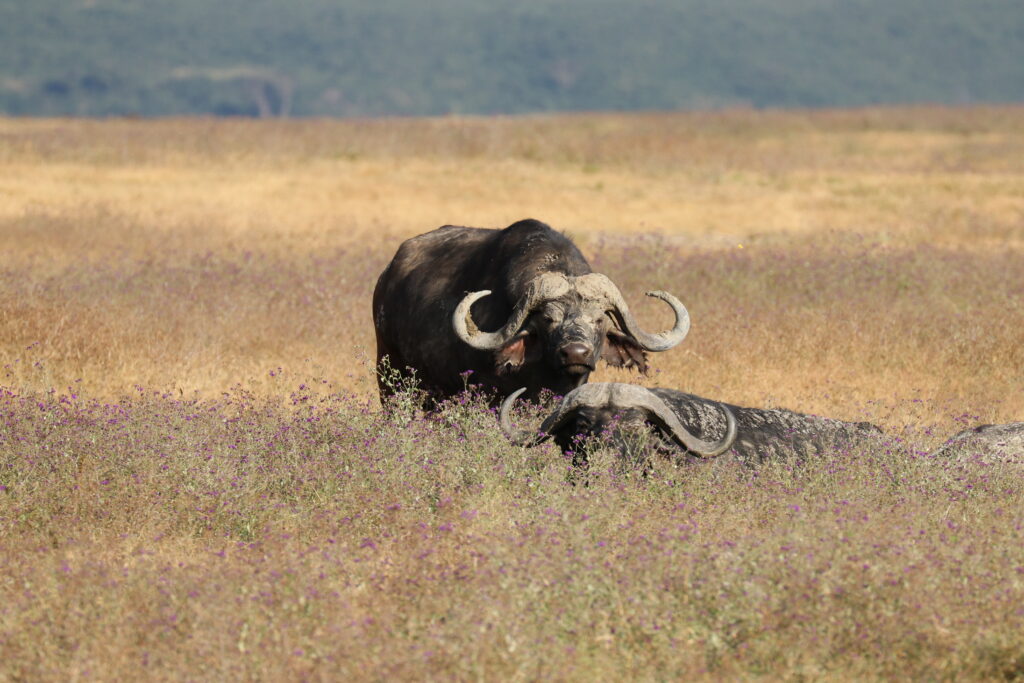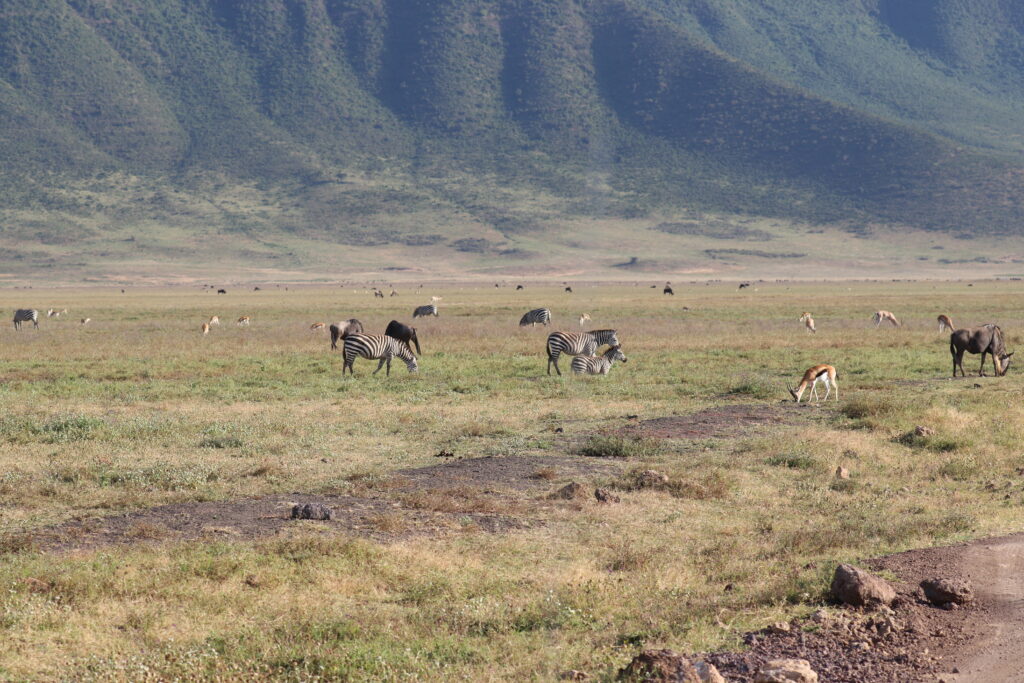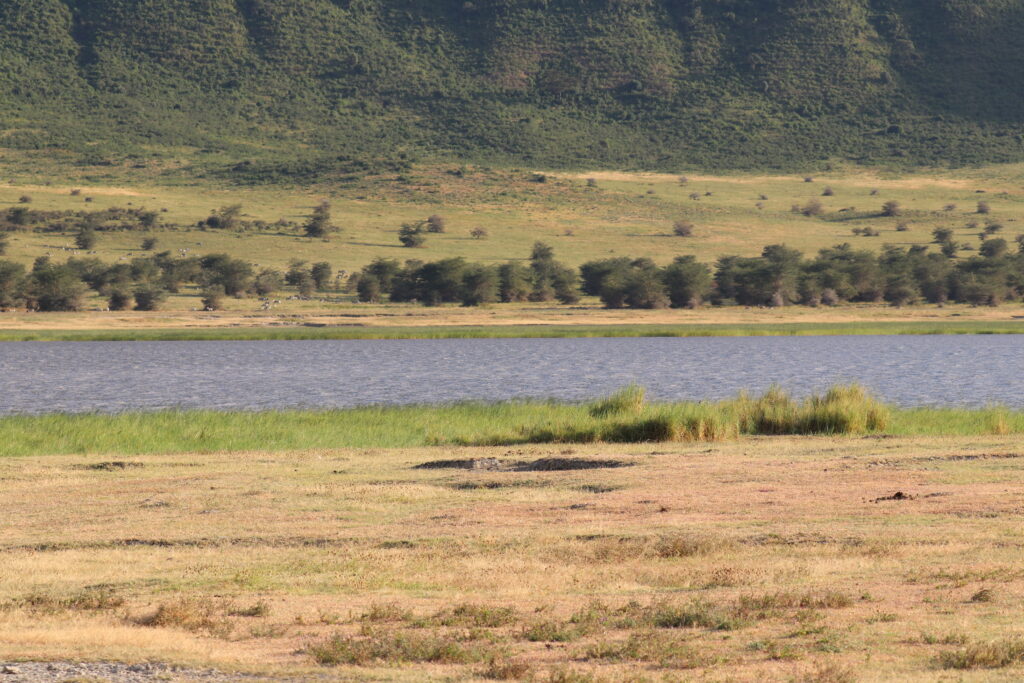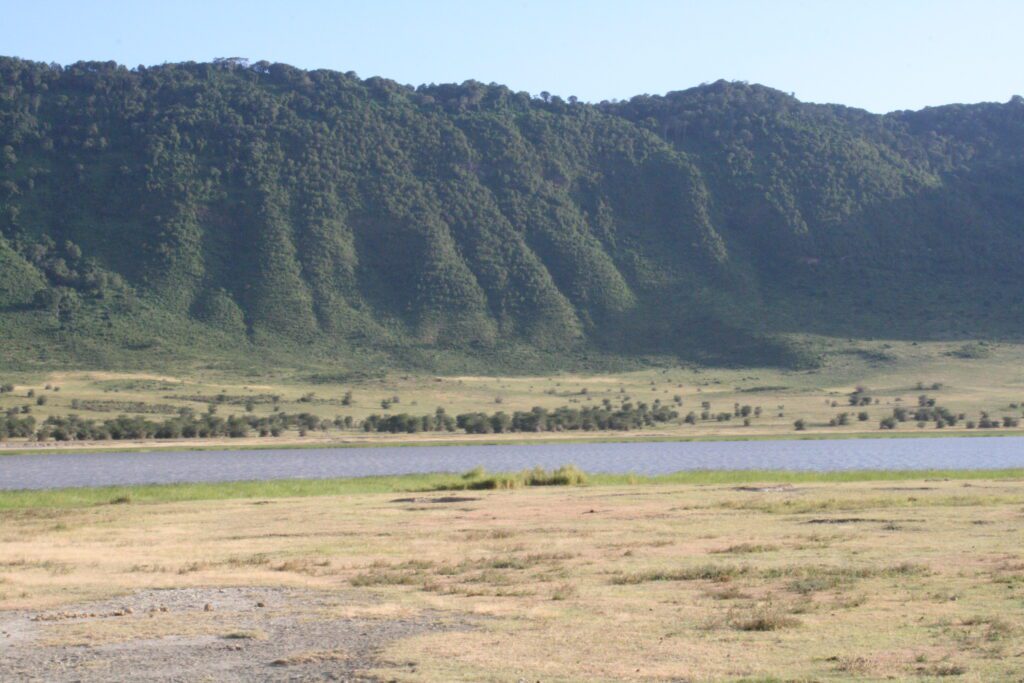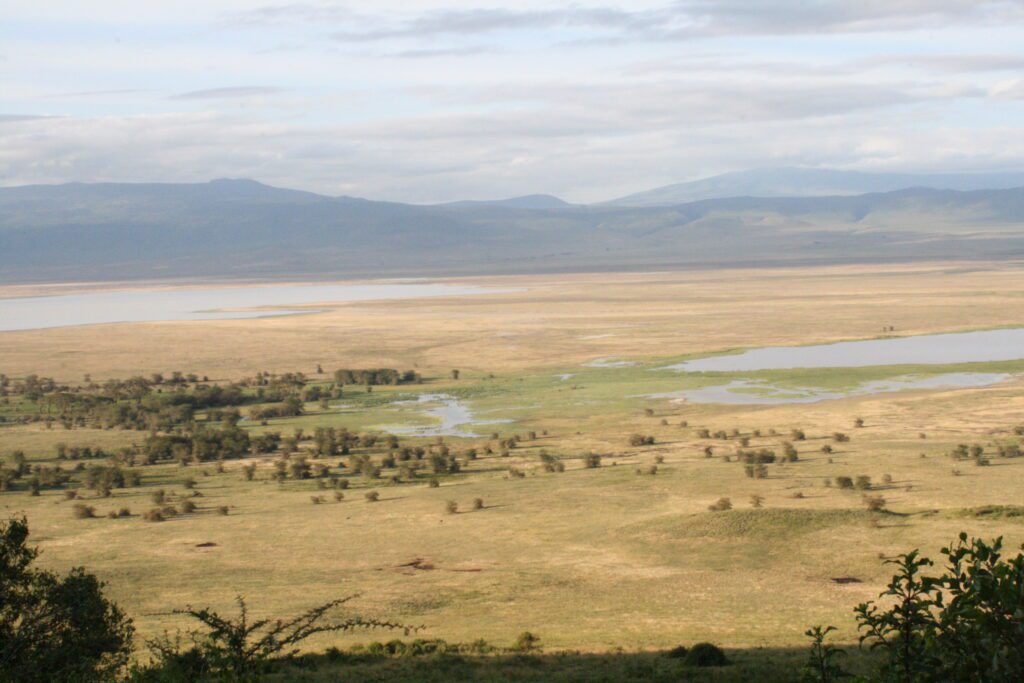 Our long morning game drive (we could have brought lunch and stayed all day, but we knew we would need a break!) was one of the very best of the trip. We saw a huge pride of lions moving from a kill to a watering hole. We saw juvenile lions playing in a tree. We saw a python and tons of hippos. We ate an amazing bush breakfast with Kitoi. It was an outstanding morning.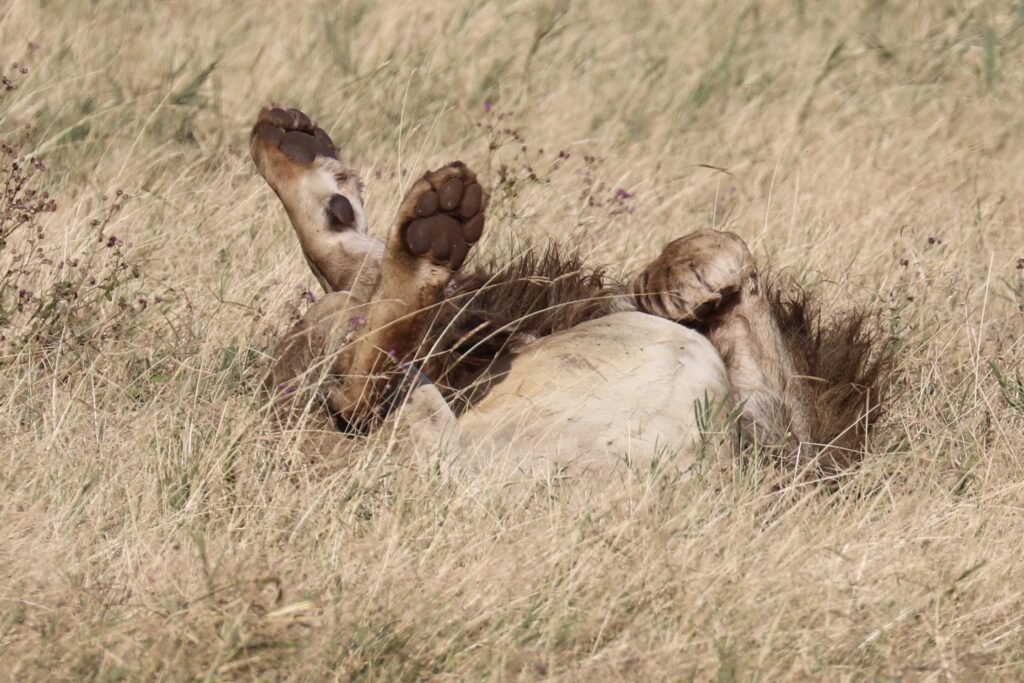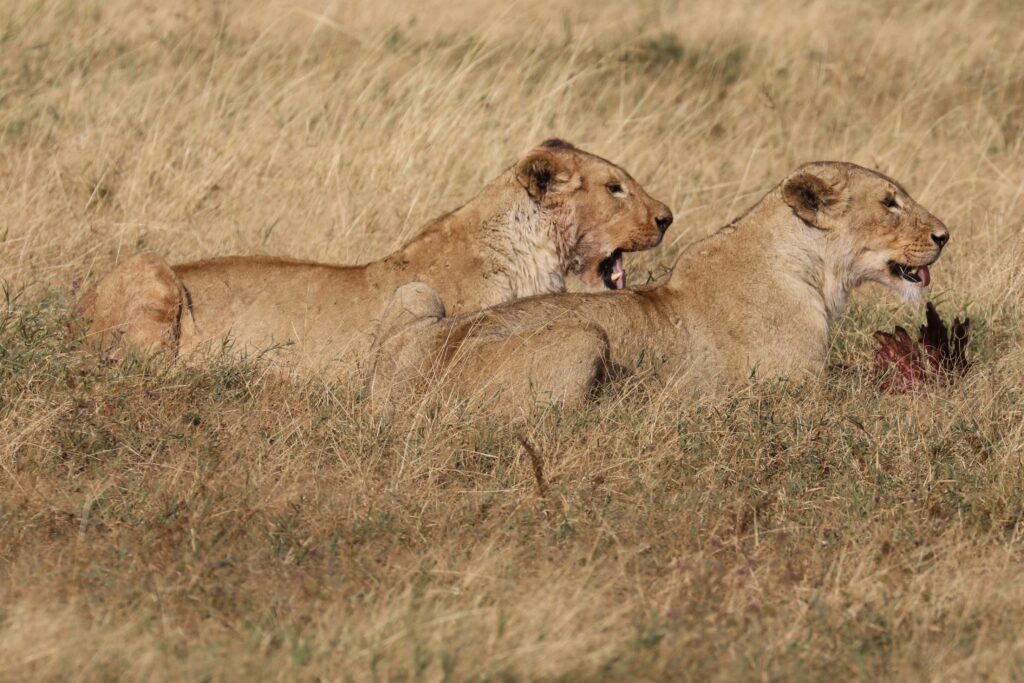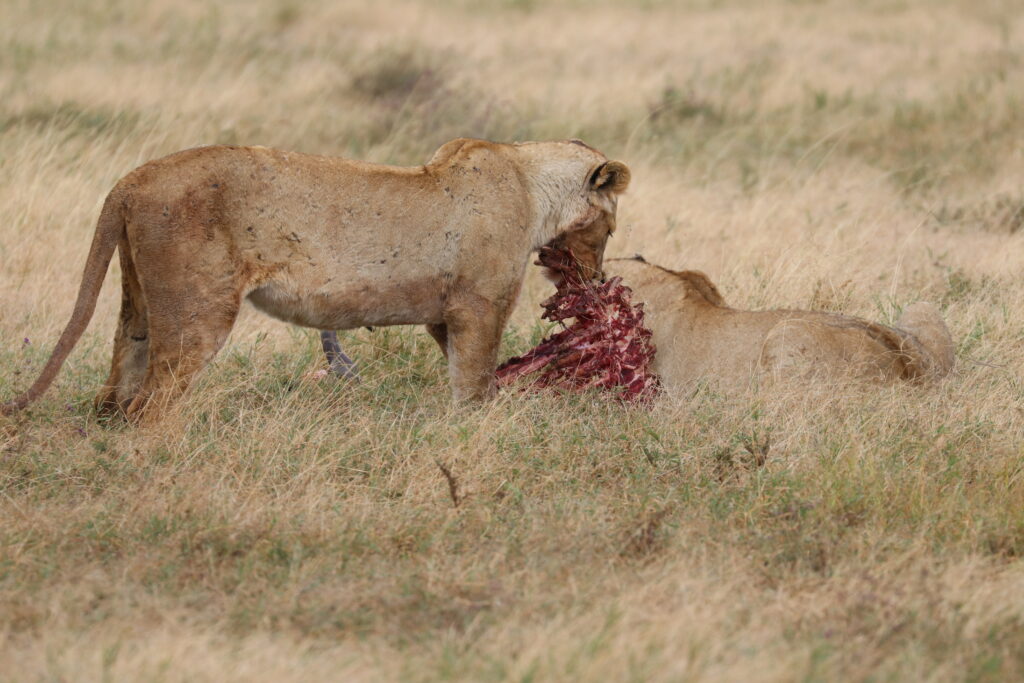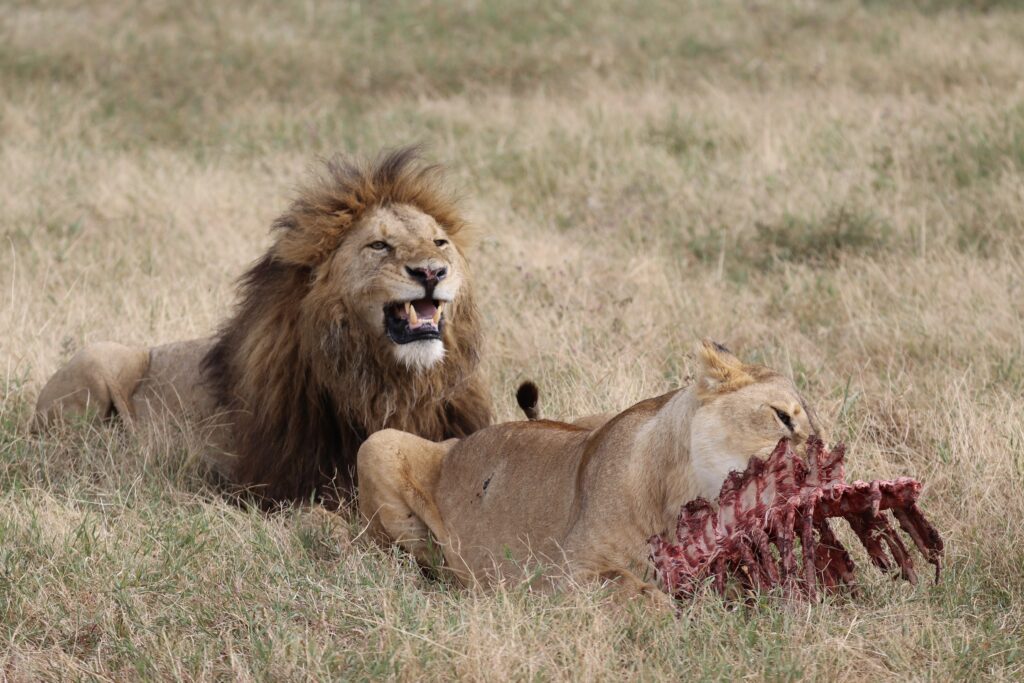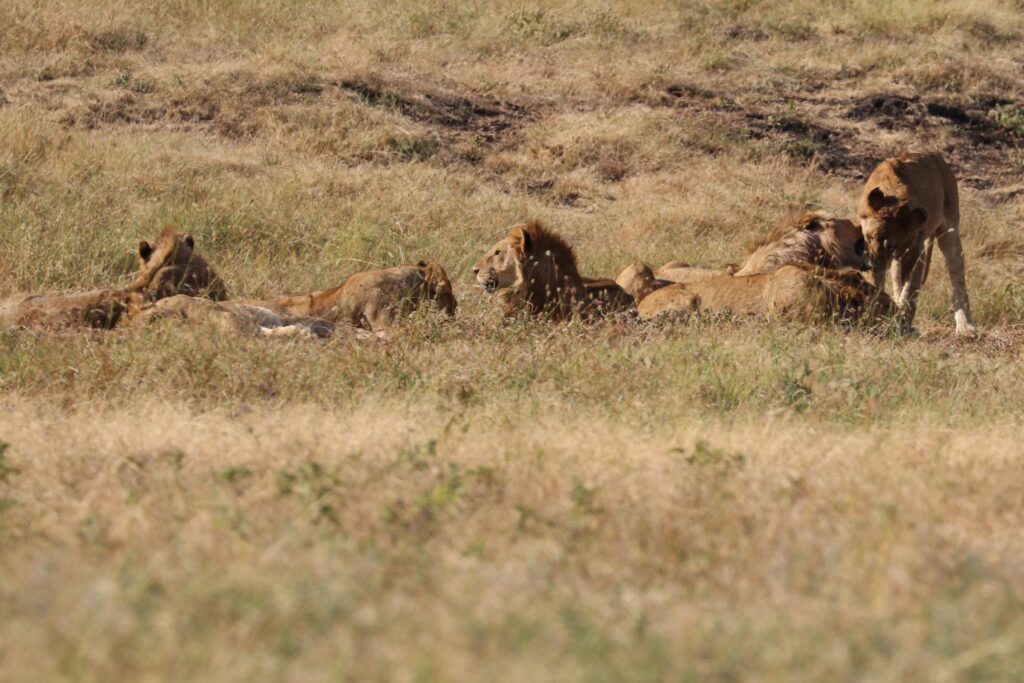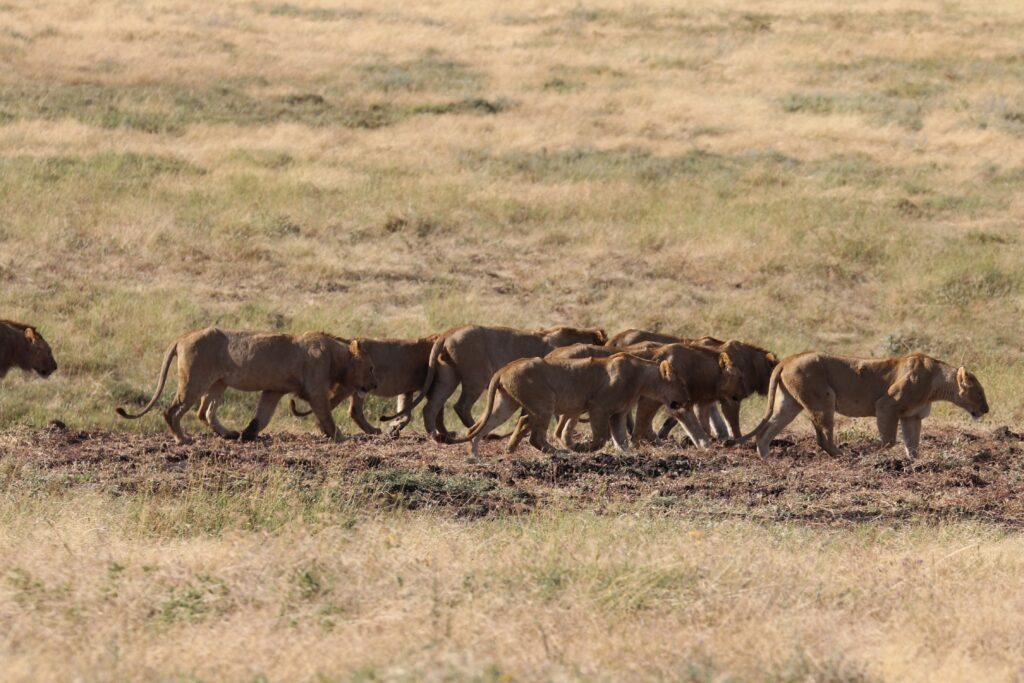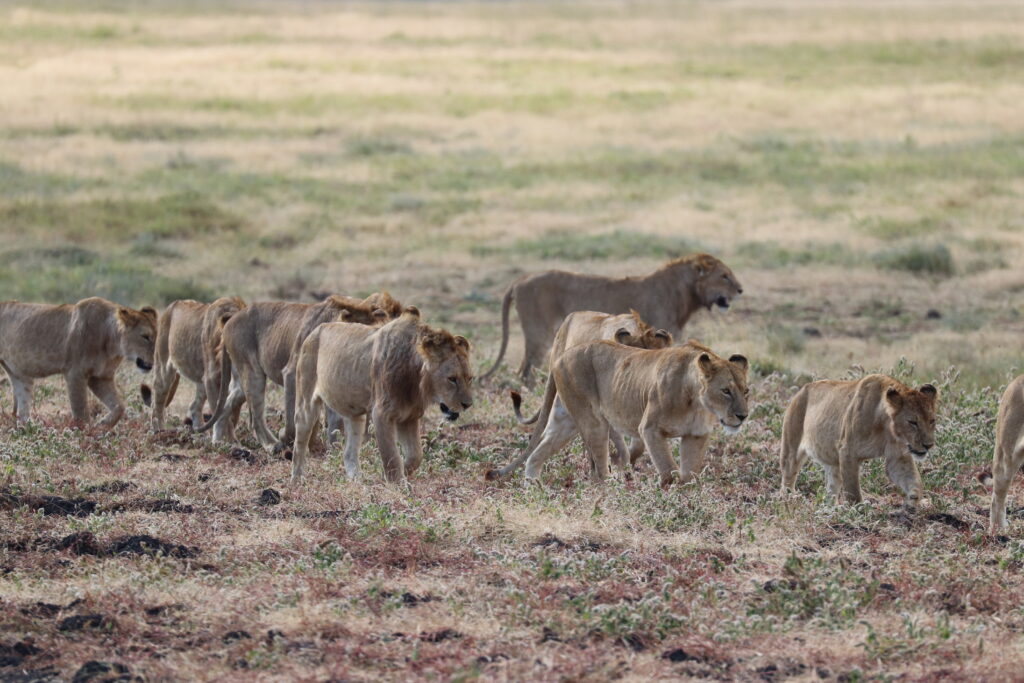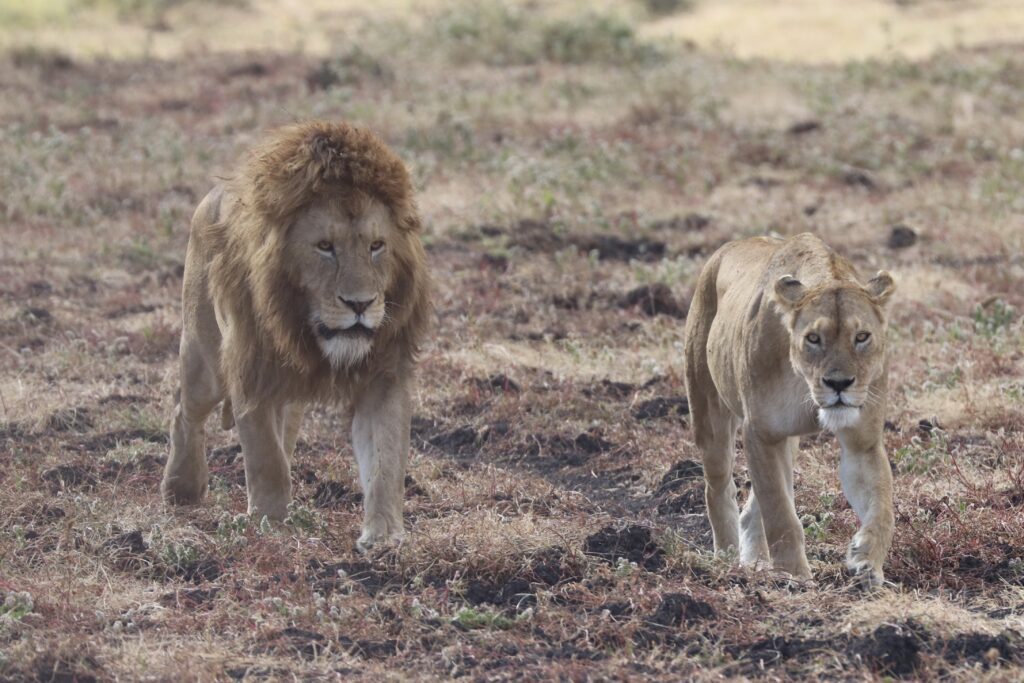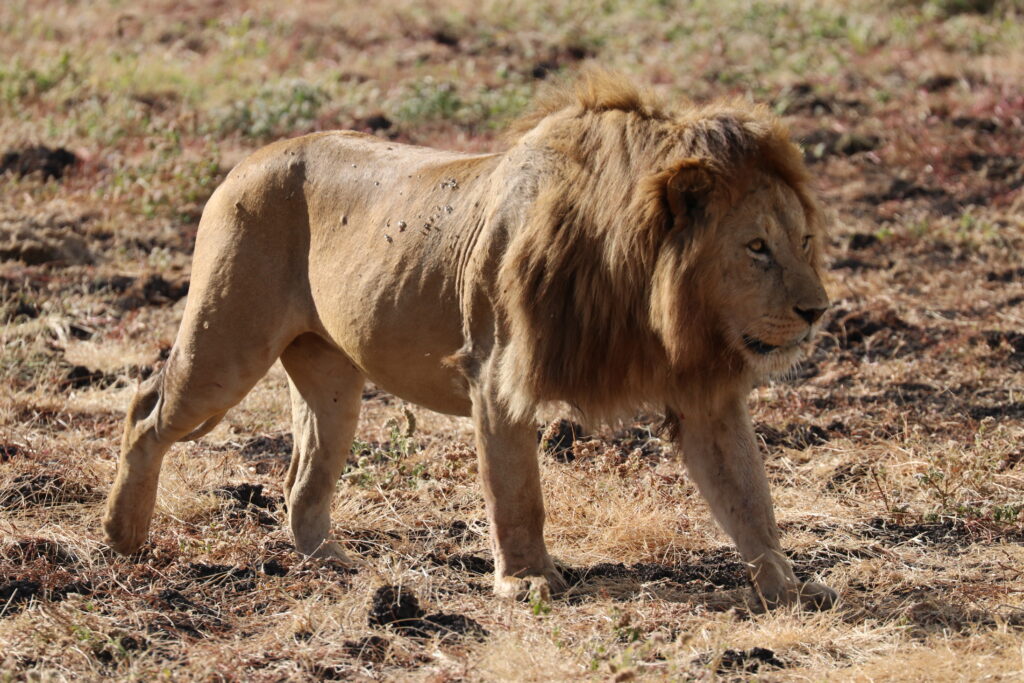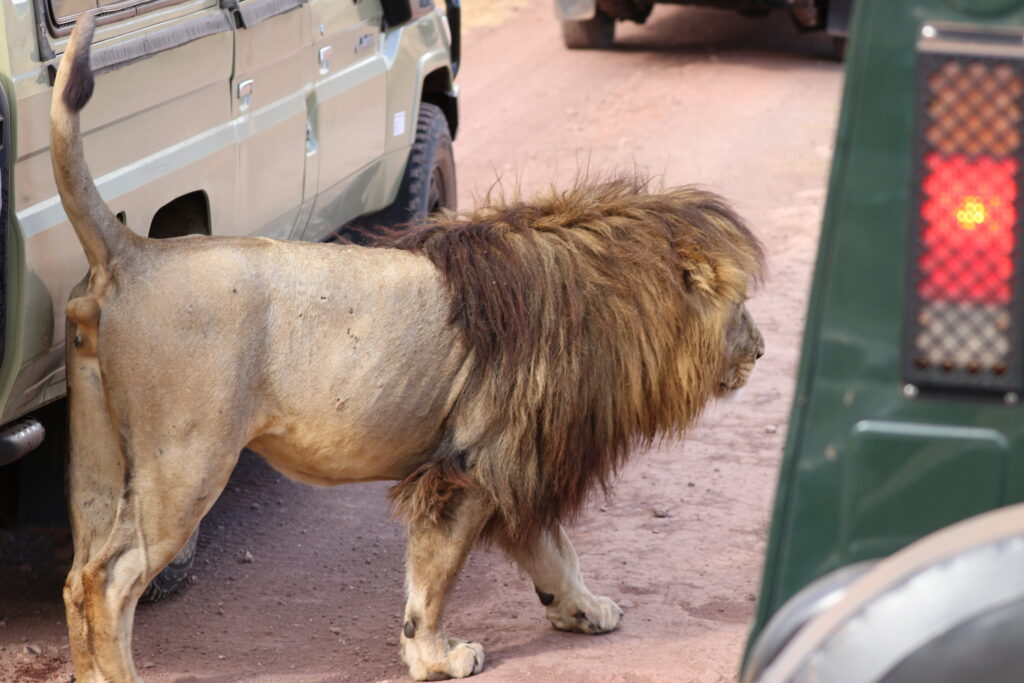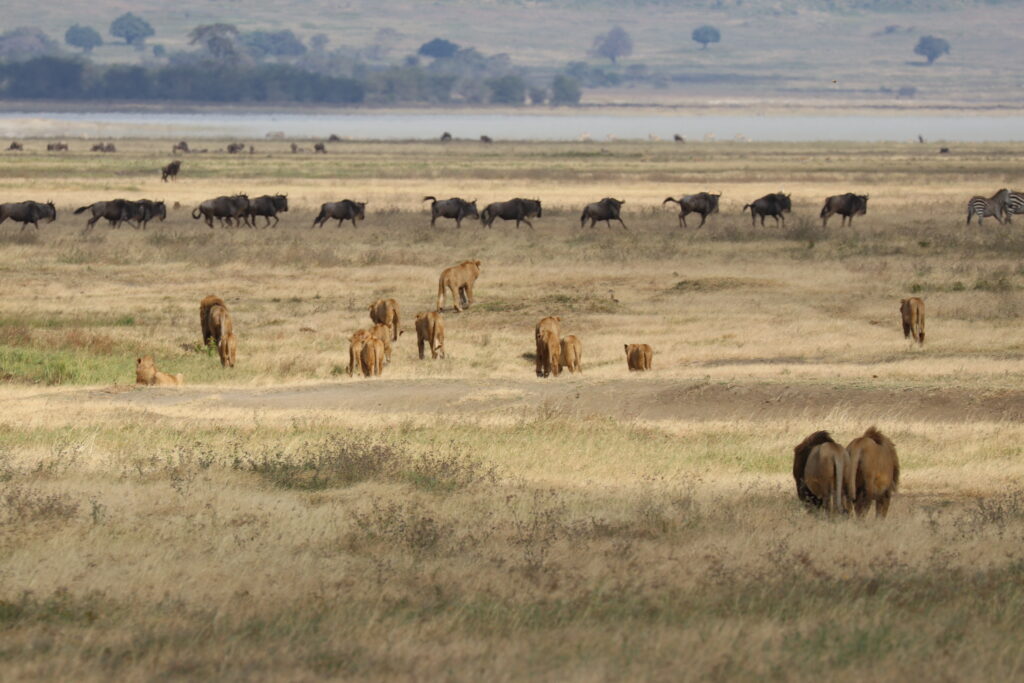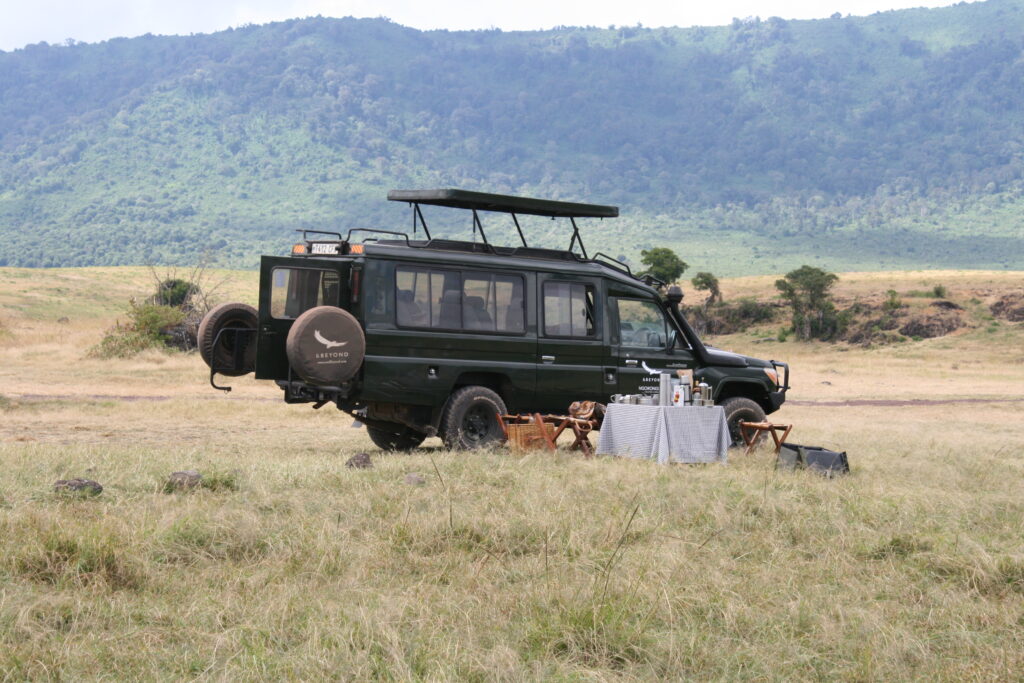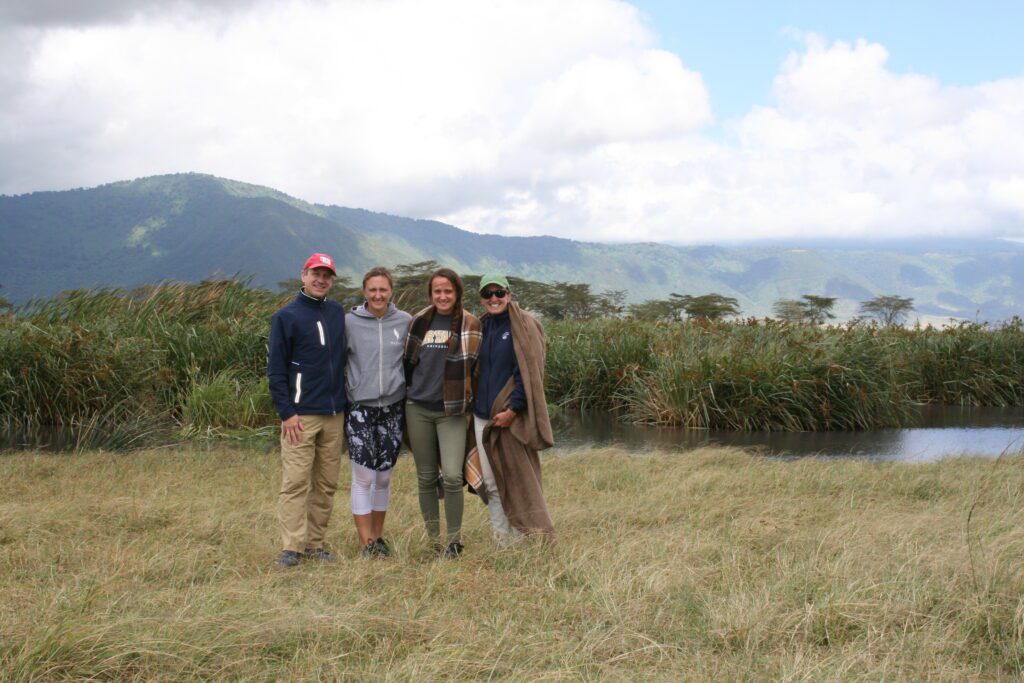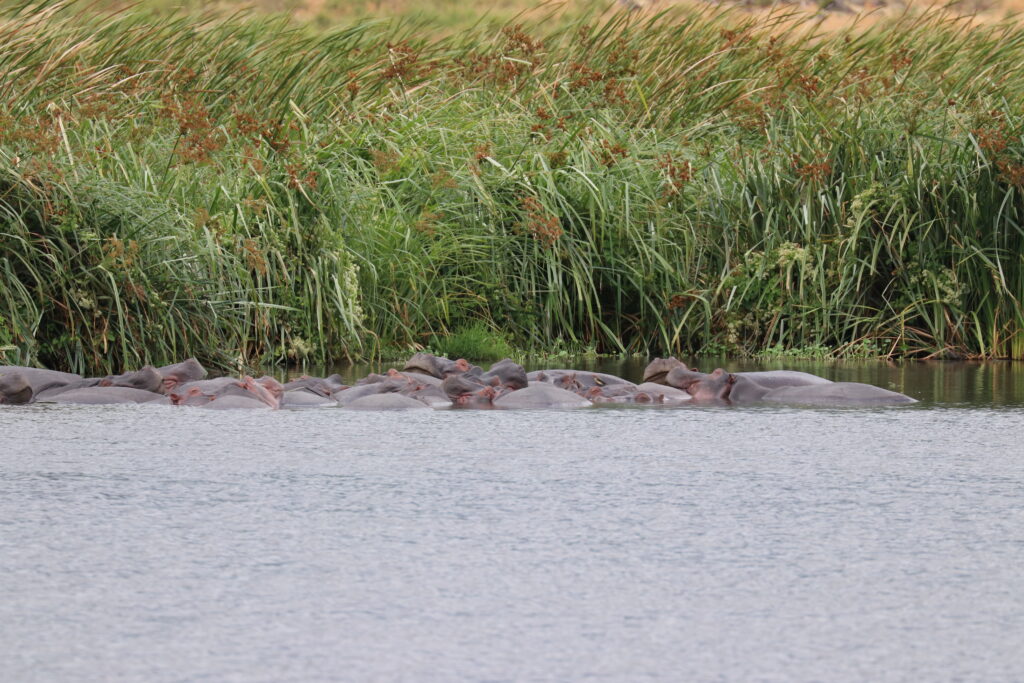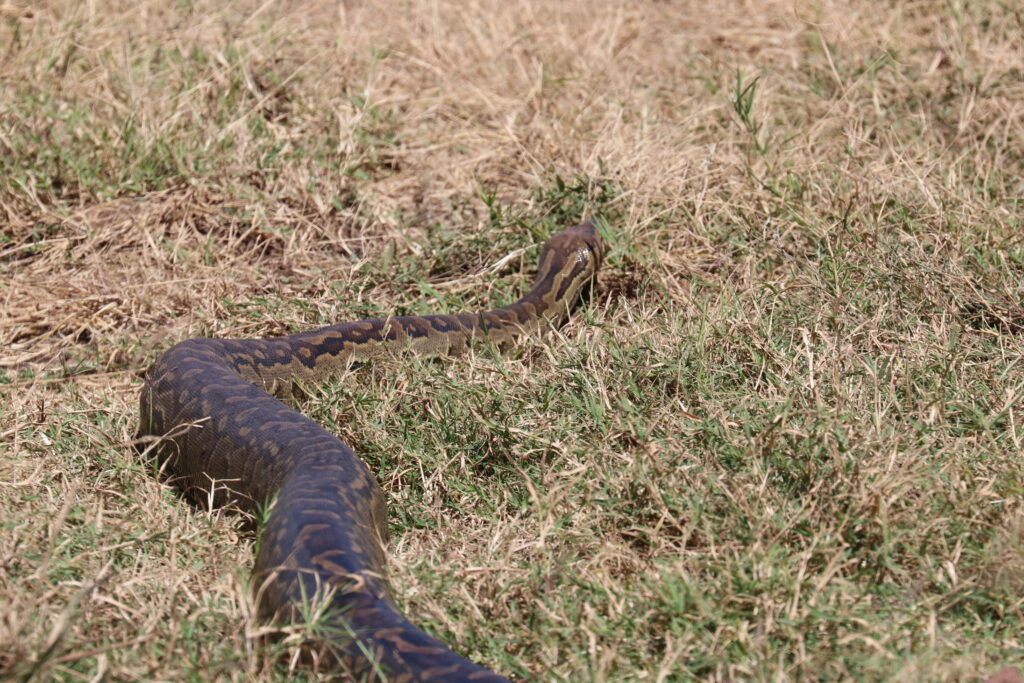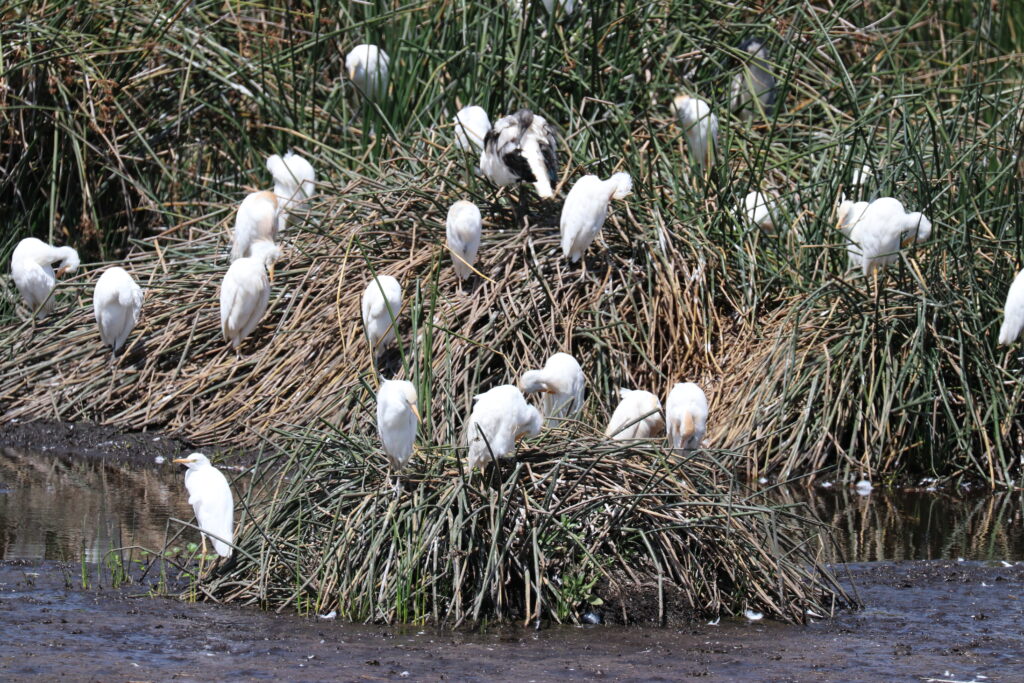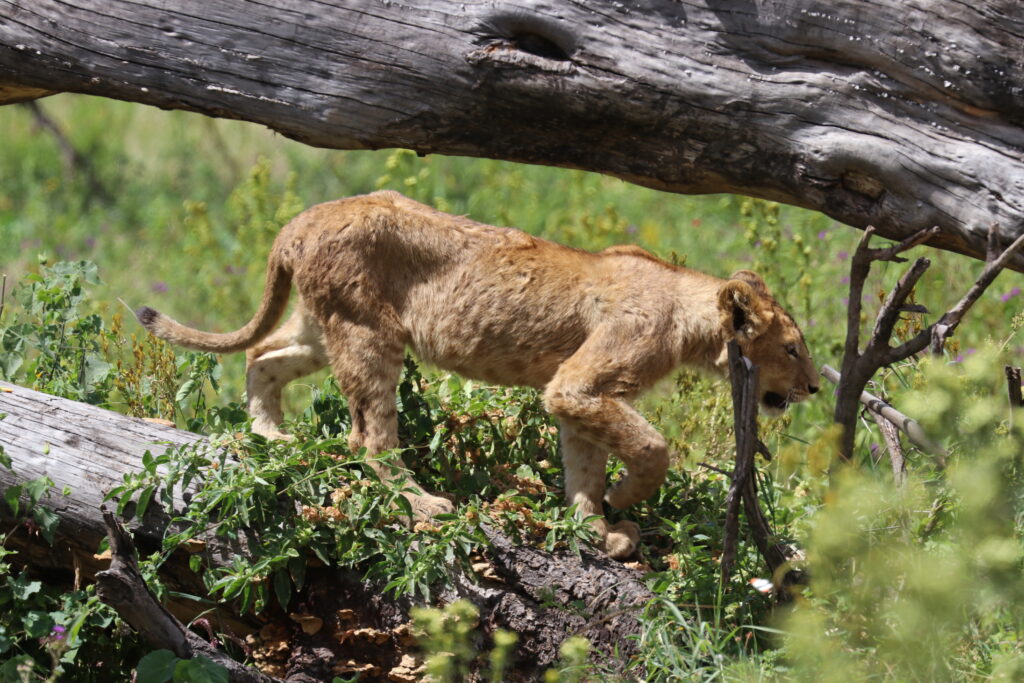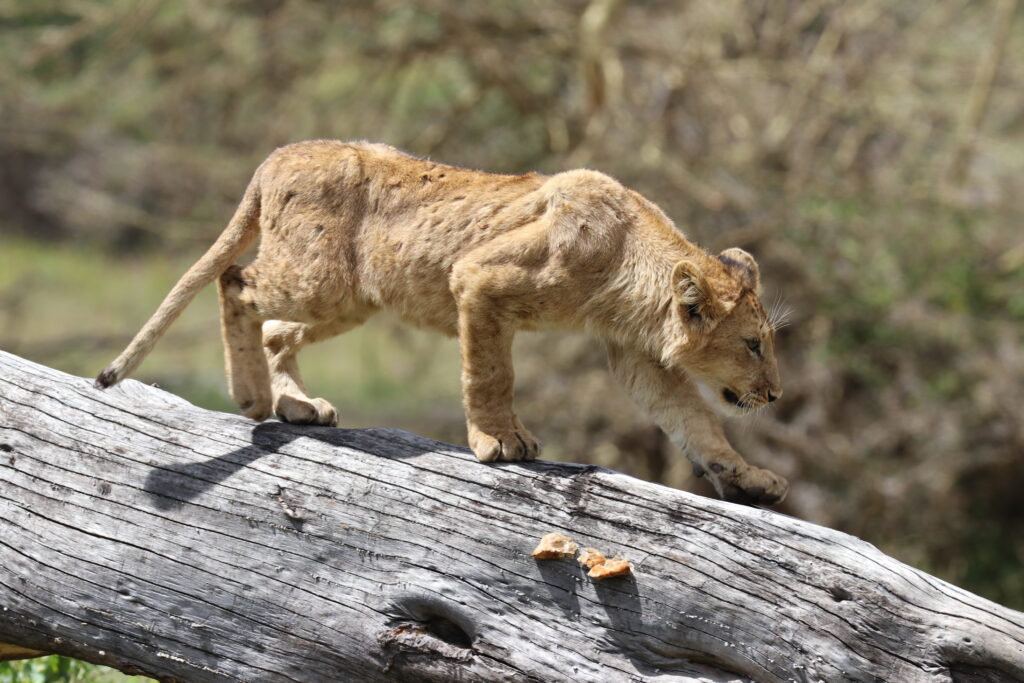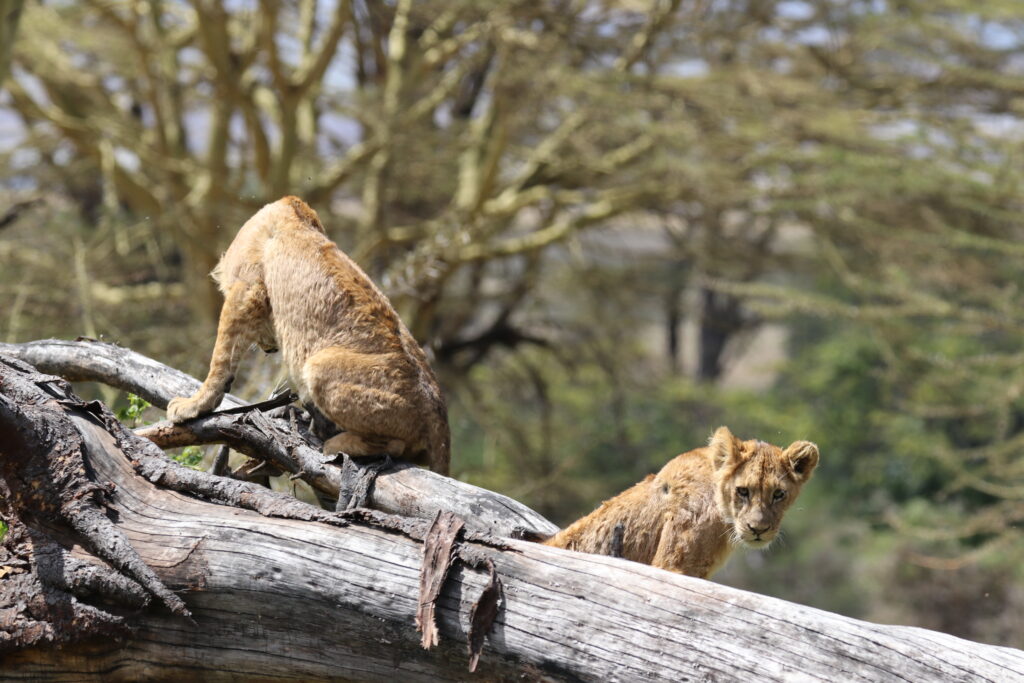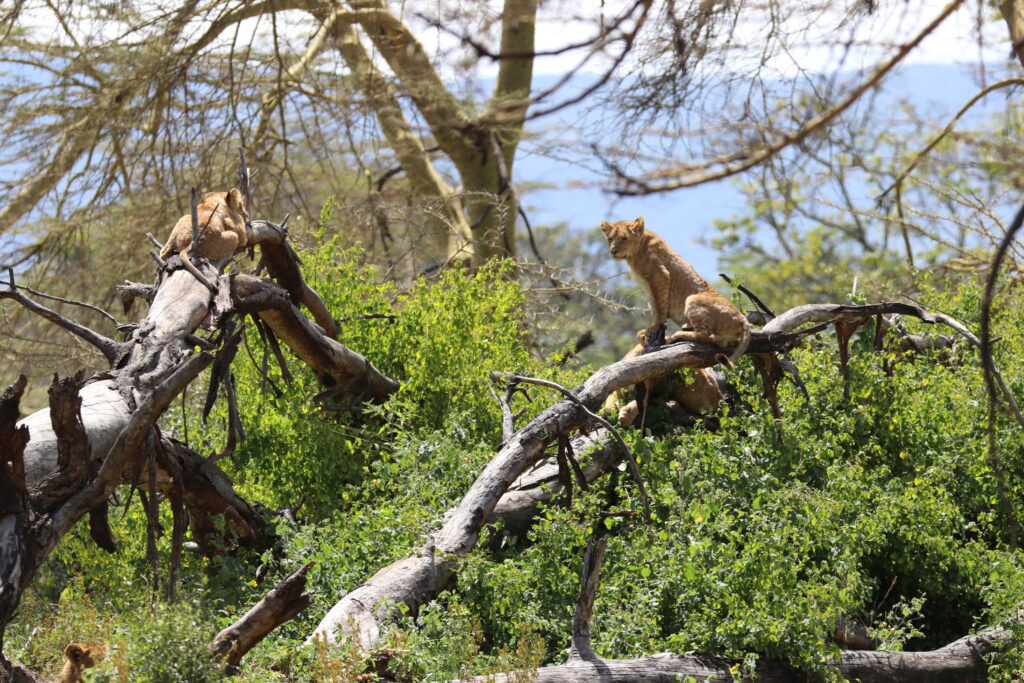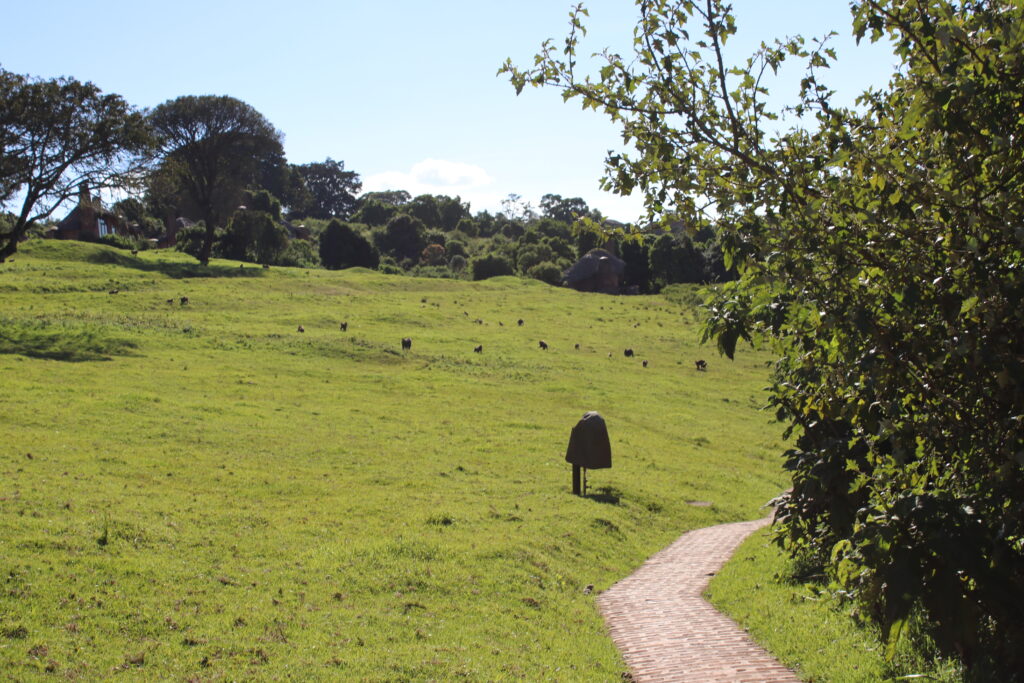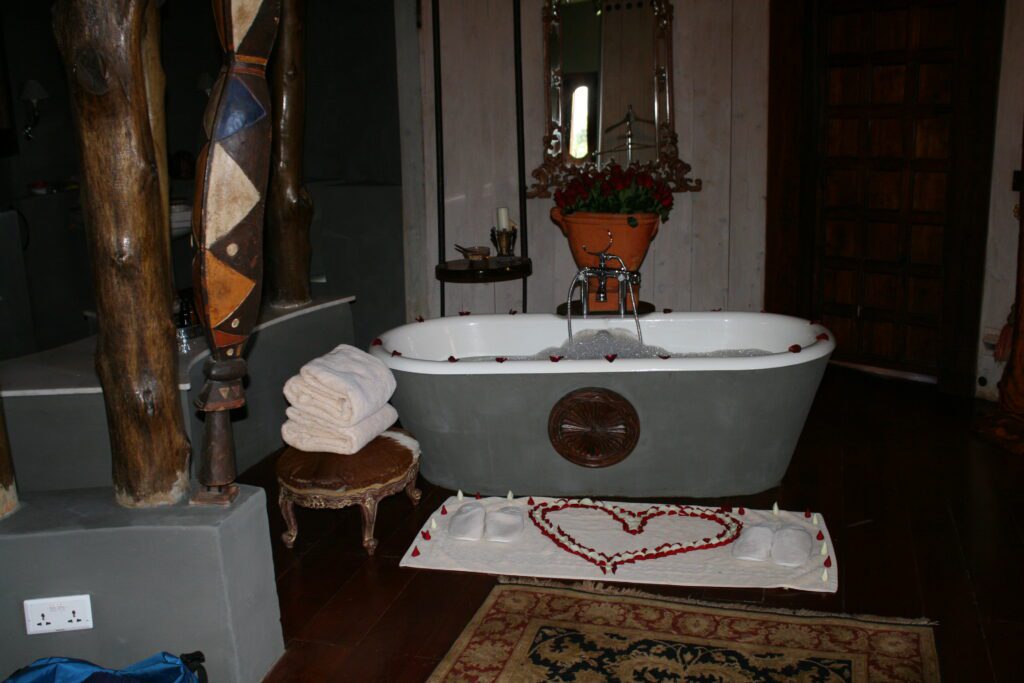 We loved the Ngorongoro Crater Lodge. It is insanely expensive. We highly recommend this property.
Zimbabwe – Matetsi Victoria Falls
We flew back to Nairobi via Kilimanjaro. Seeing Kilimanjaro from the air was very cool.
We stayed at the Norfolk Hotel for about 12 hours. Their fitness center and on-site restaurant were both great. Rooms were spacious and the bathrooms were super.
Our flight departed Nairobi at 7am for Victoria Falls, so we had a pick up at 4am. The hotel packed snacks for us. andBeyond bought us to the airport.
There is an extraordinary amount of security at the Nairobi airport. Before you enter the airport grounds, all guests must get out of the van and pass items through X-ray machines and go through a metal detector. The underside of the car is searched. You then return to your van. The van drops you off at least 100 yards away from the doors. Soldiers with machine guns greet you, and your bags are X-rayed again. You pass through another metal detector. You are still allowed to have water bottles at this point. Your ID is then checked and you are sent to another more traditional airport security for one more time through the Xray and metal detectors. Here is where you have to get rid of your water bottles. Honestly, it did not take us long to do this, but it was a bit disconcerting.
We were shocked to find a zillion people at the gates. Literally, like a zillion. When we arrived into Nairobi 10 days earlier, we took a shuttle from a remote gate, so we thought the airport was small. We could not find any chairs or the priority lounge which we can access. So, we bought some croissants and sat on a windowsill.
Kenya Airways was terrific. Flight was on-time. Food was good. Plane was brand new. There were some movies to choose. Kenya Airways started direct service from JFK to Nairobi a few months after our trip. We totally would have done this flight to save a stop in Europe, and the cost is reasonable.
Once we landed, we purchased a visa at the airport that was good in both Zimbabwe and Zambia. It cost $50/person, and you will need American dollars to purchase.
We stayed at Matetsi Victoria Falls. The property is about 20 miles away from the falls along the banks of the Zambezi River. Very private. The rooms were enormous.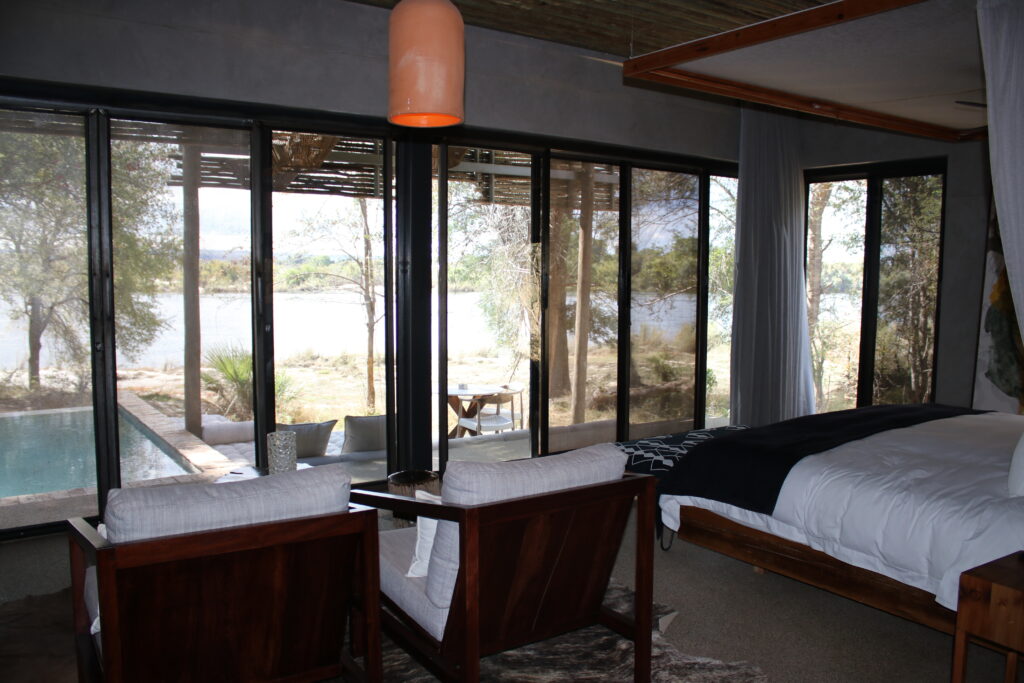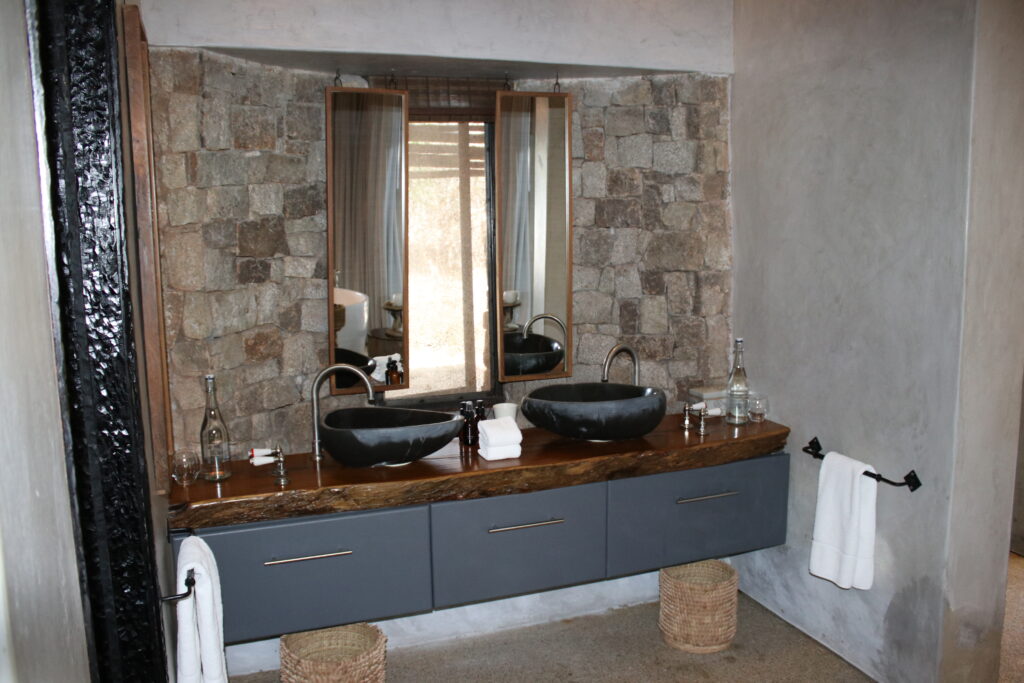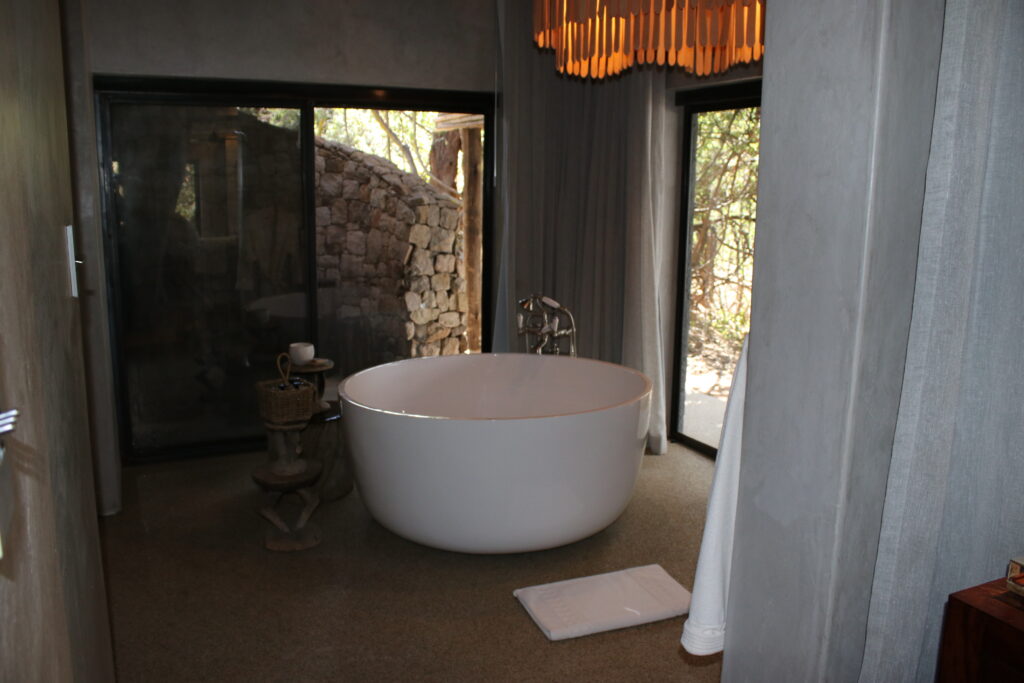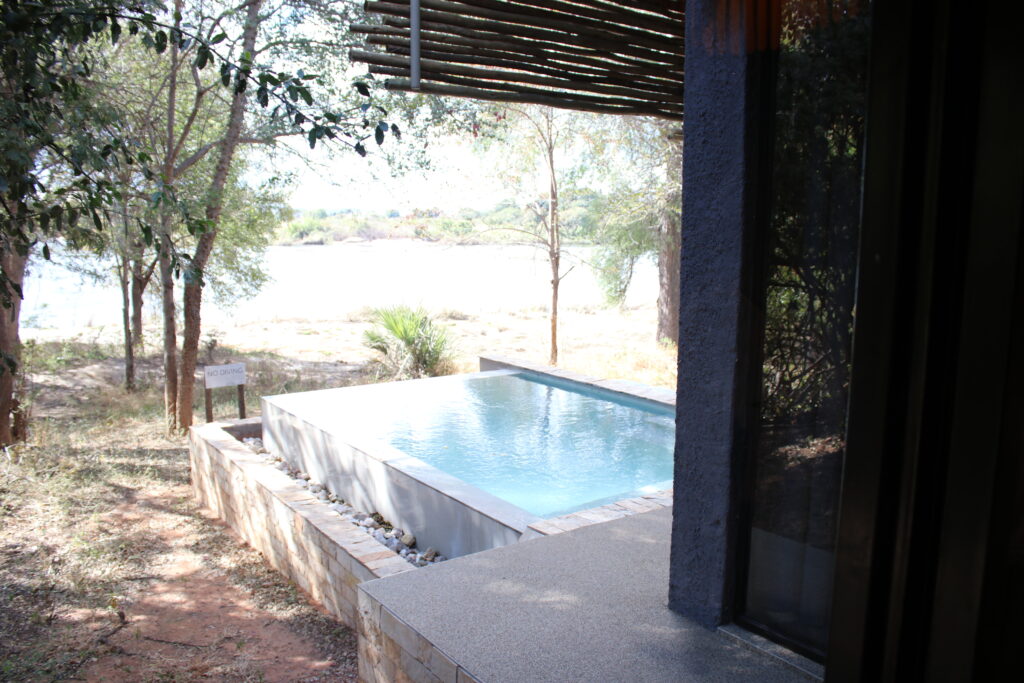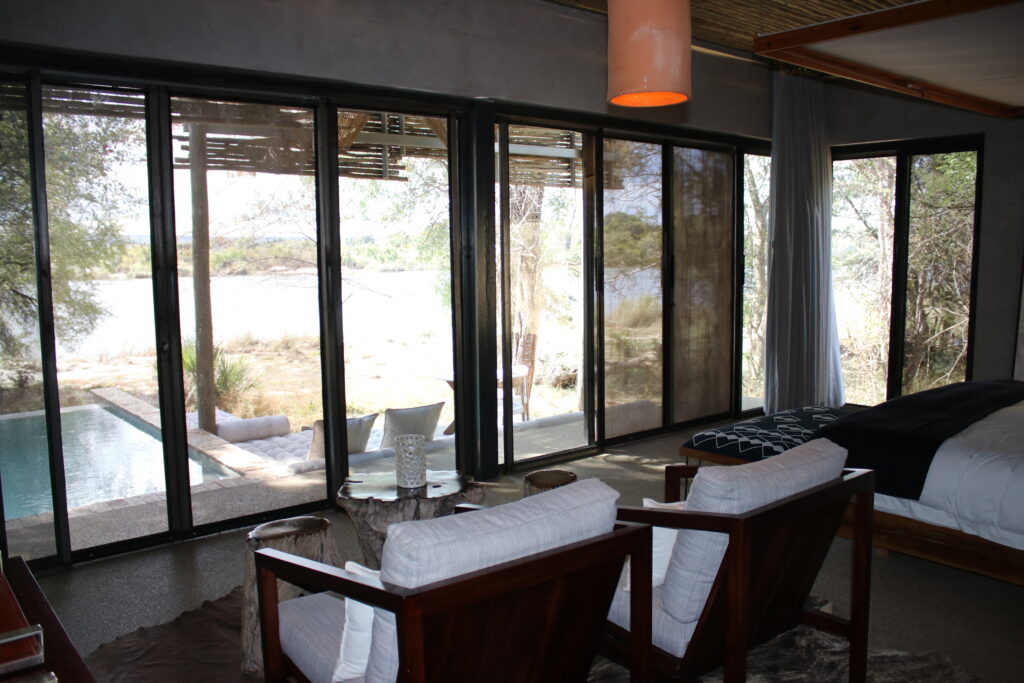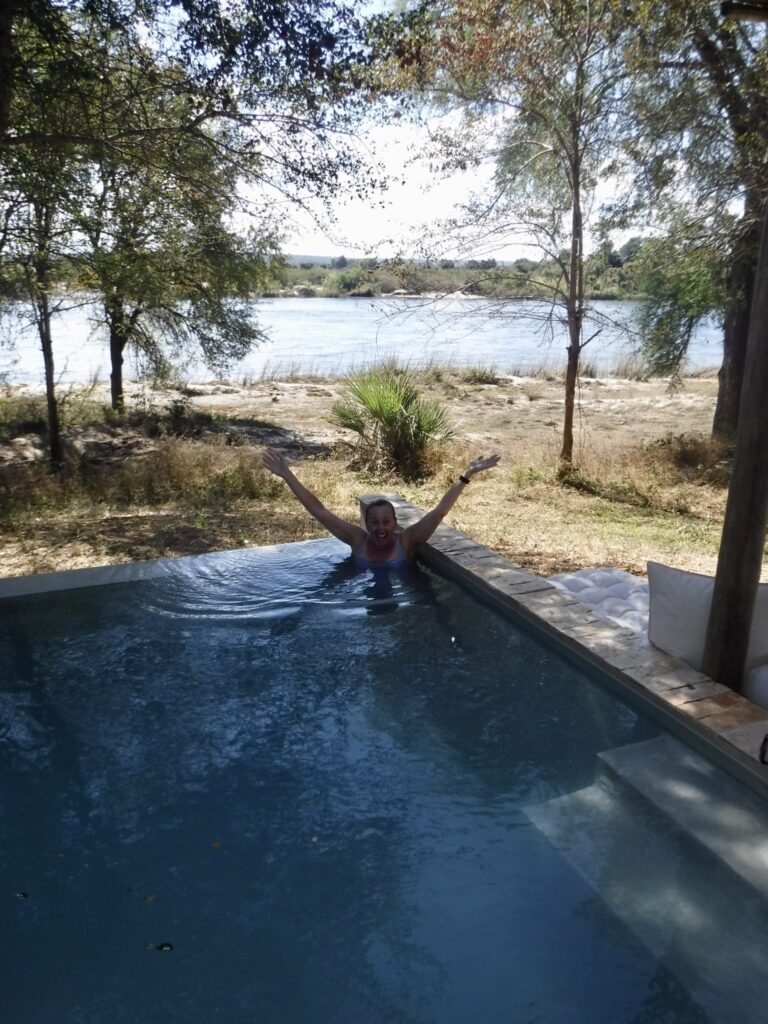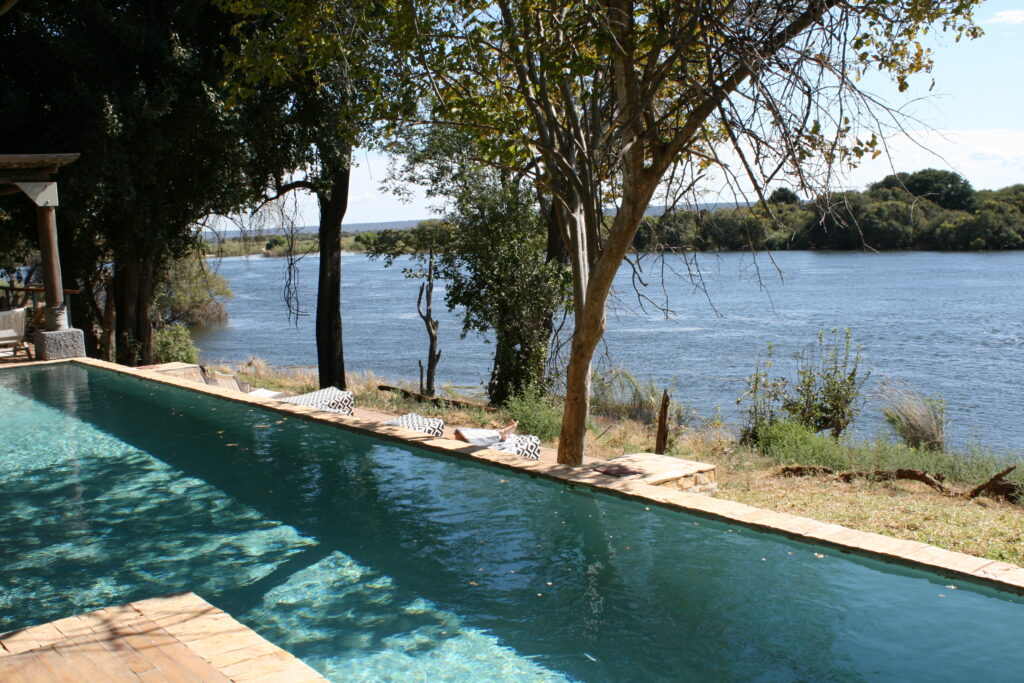 We spent three nights at Matetsi. We did three game drives, a boat game drive and visited the falls. In hindsight, we probably should have stayed right in the town of Victoria Falls as the girls wanted more than one day there. However, we would recommend this property for its sheer beauty, excellent food and privacy.
The game drives here were not as good as in Kenya and Tanzania. We saw many elephants, a wild dog feasting, a hyena den with puppies and amazing sunrises and sunsets over the Zambezi River. Our girls literally had a leopard on their patio when we returned from a tour of the falls. A trip highlight for them!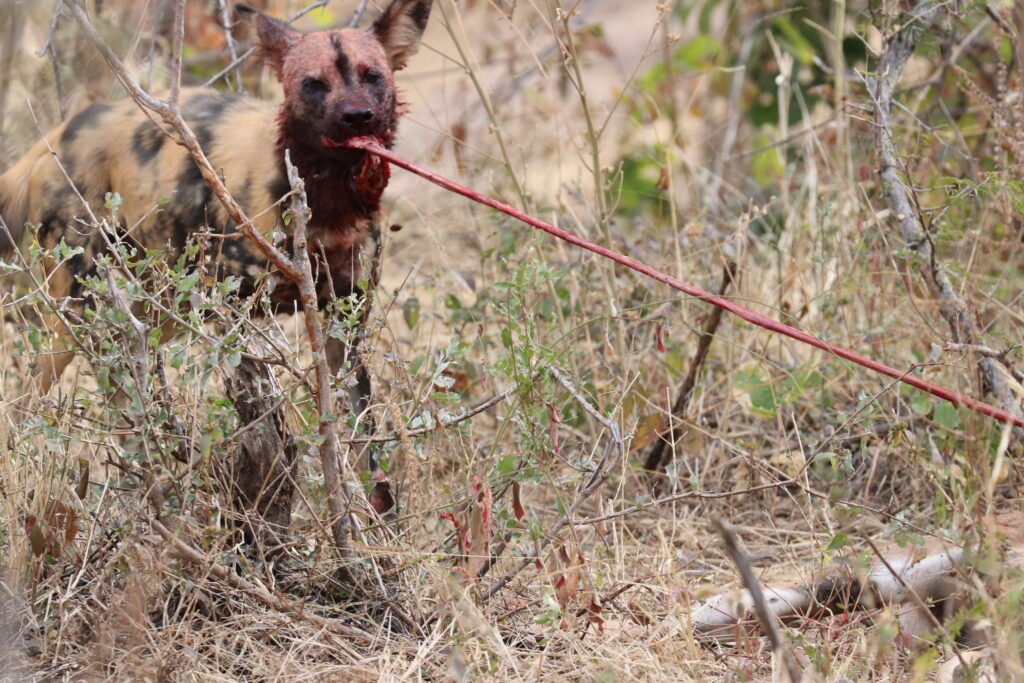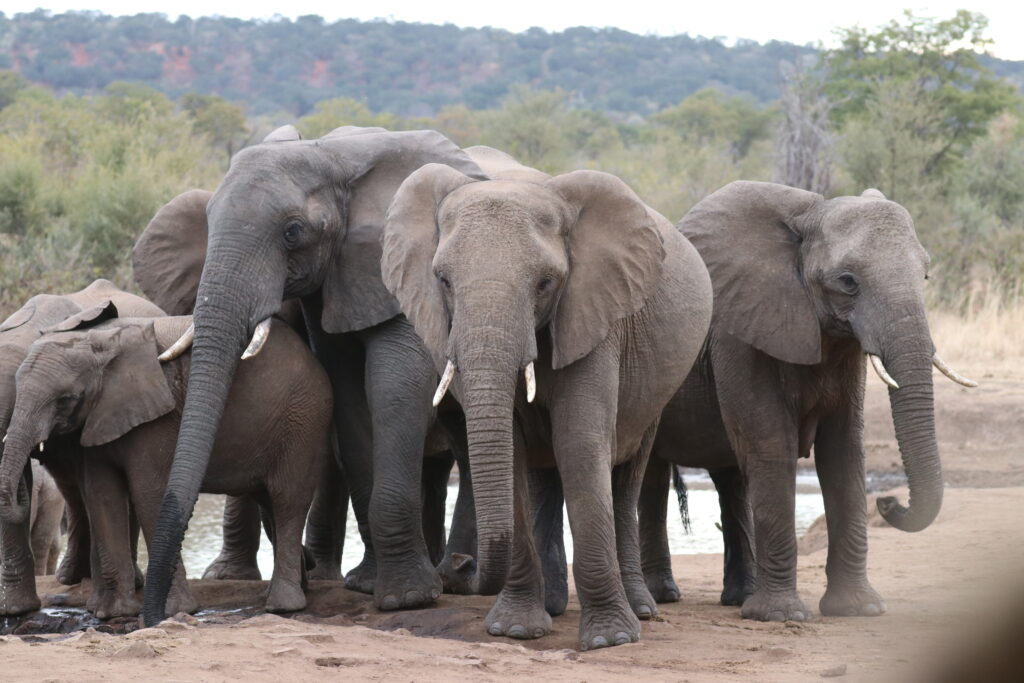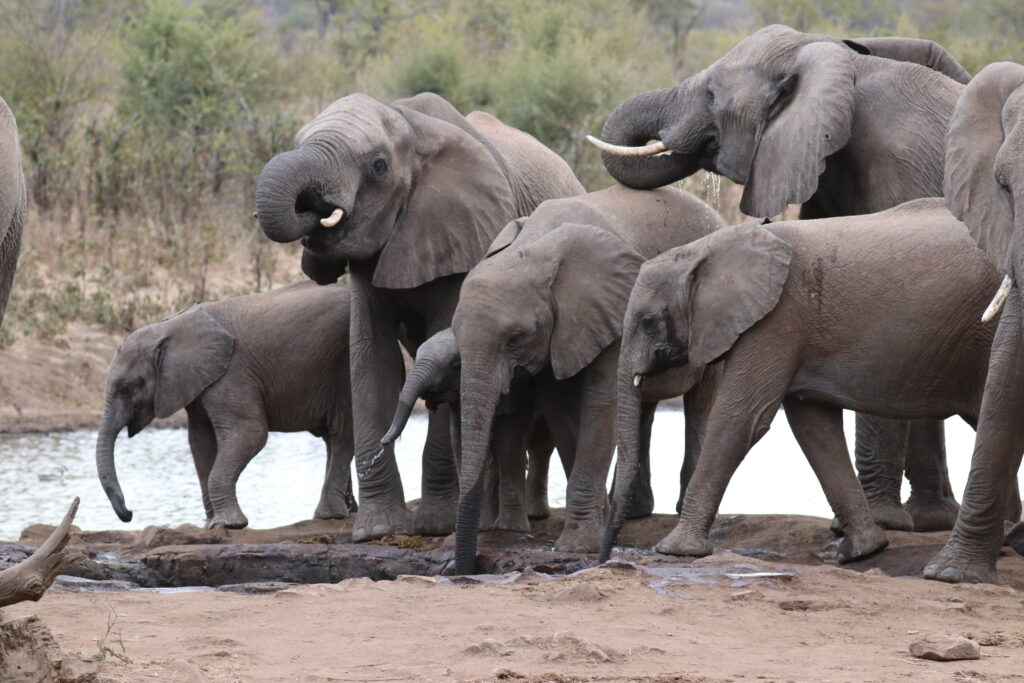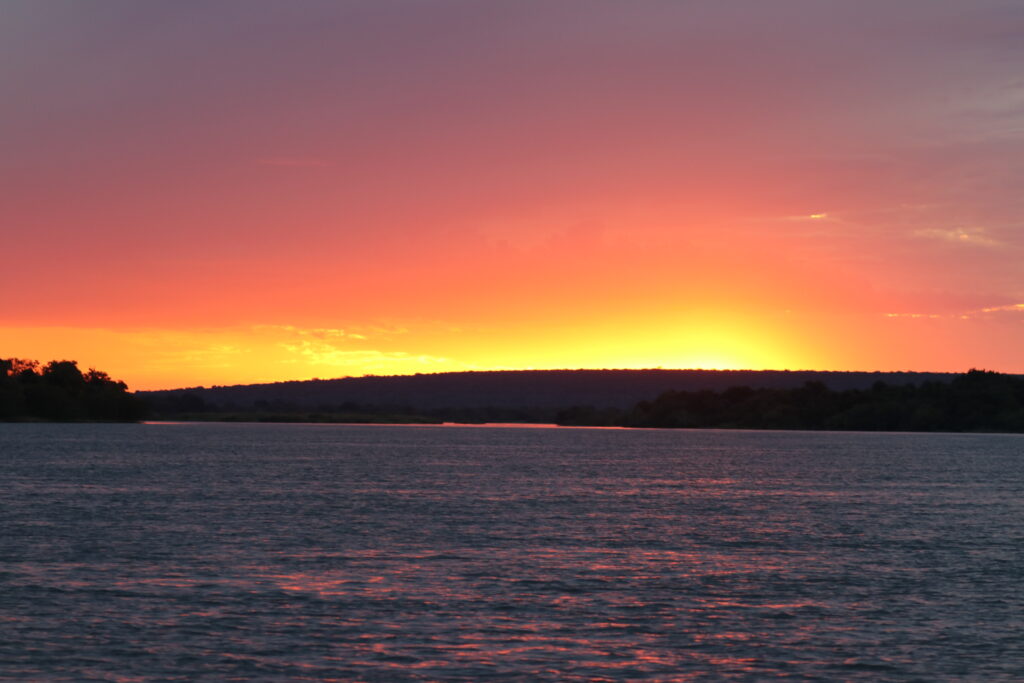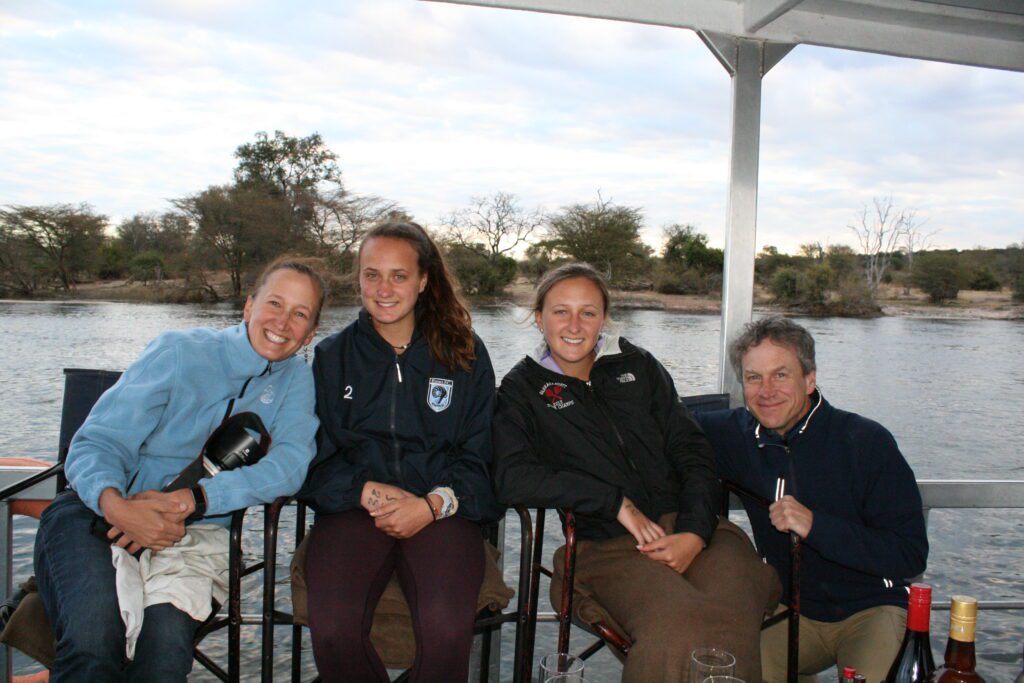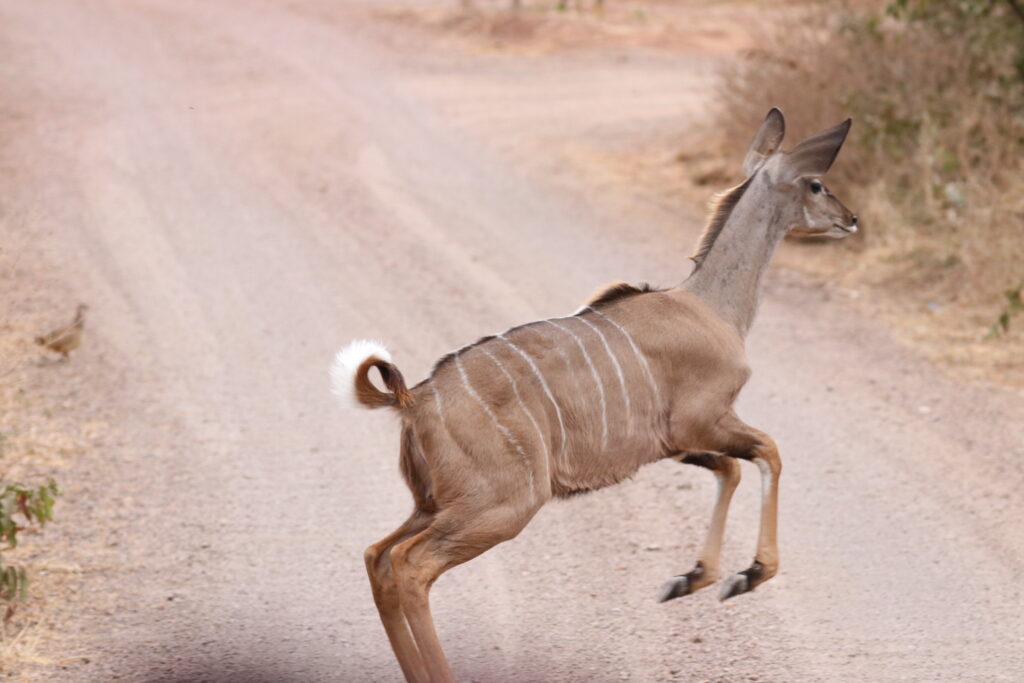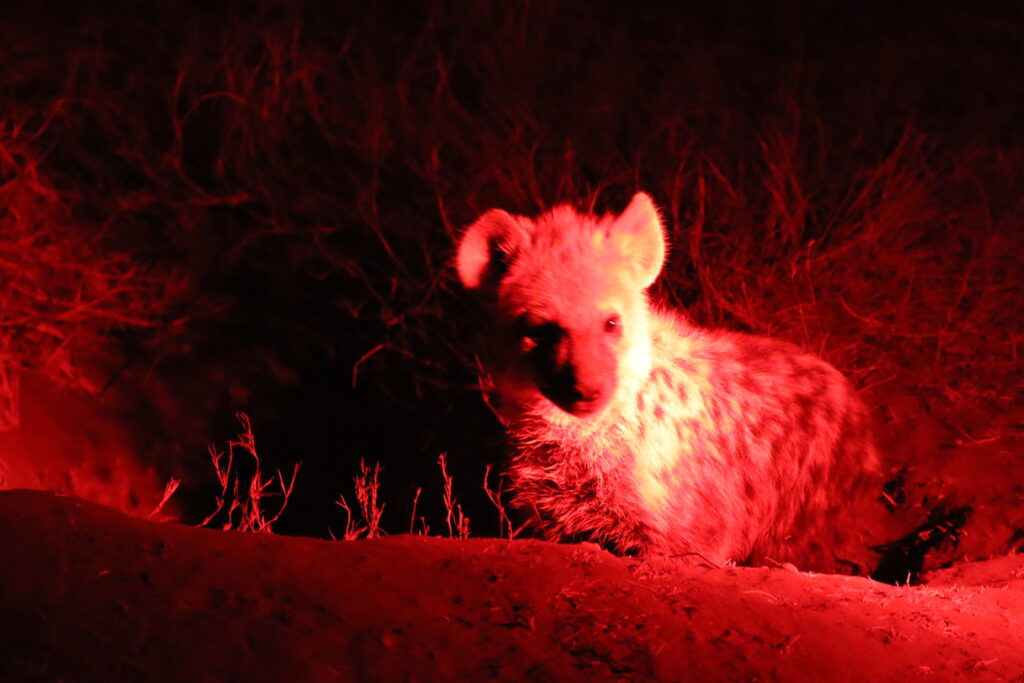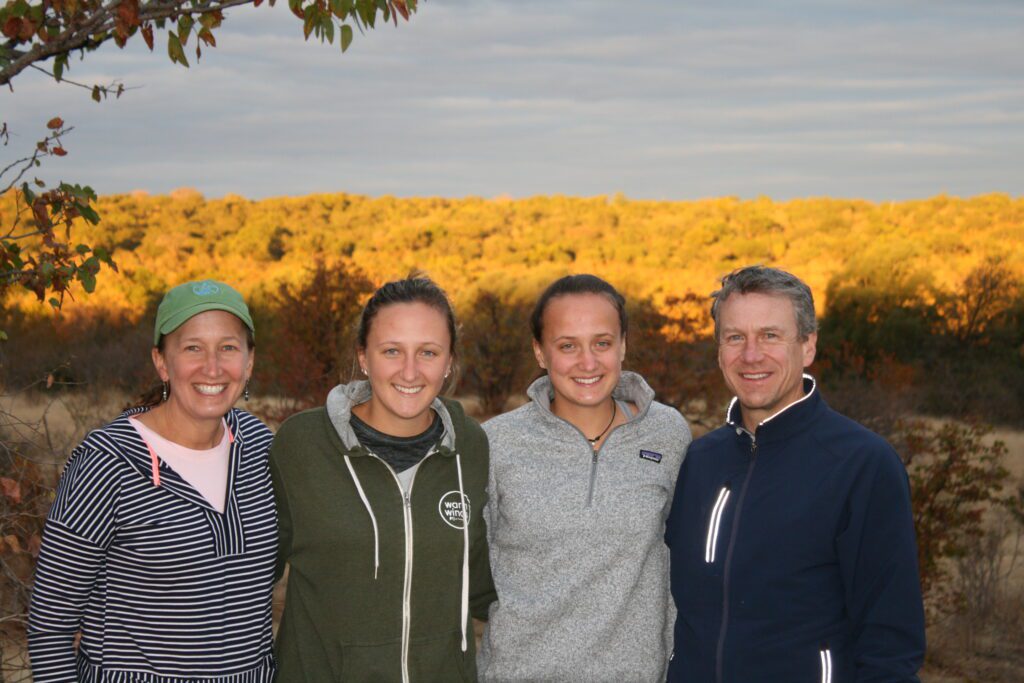 Every time we saw hippopotamuses in Kenya and Tanzania, I would patiently wait for them to open their mouths. I never saw an open-mouthed hippo until we came to Zimbabwe. There were dozens of hippos outside out lodge, and we could hear them snorting all day long. We loved it.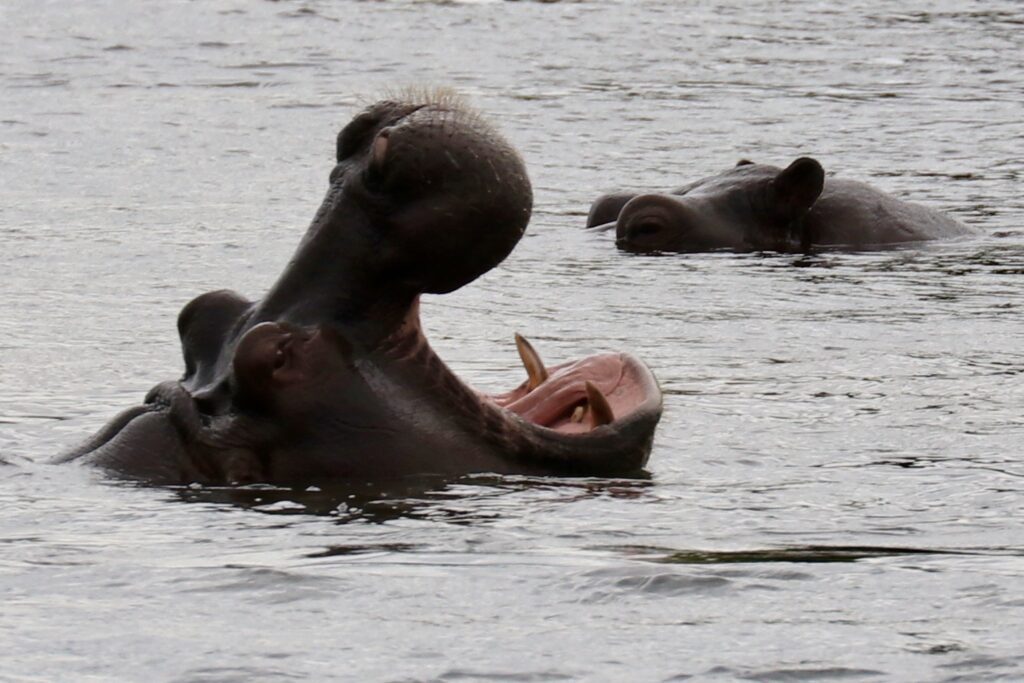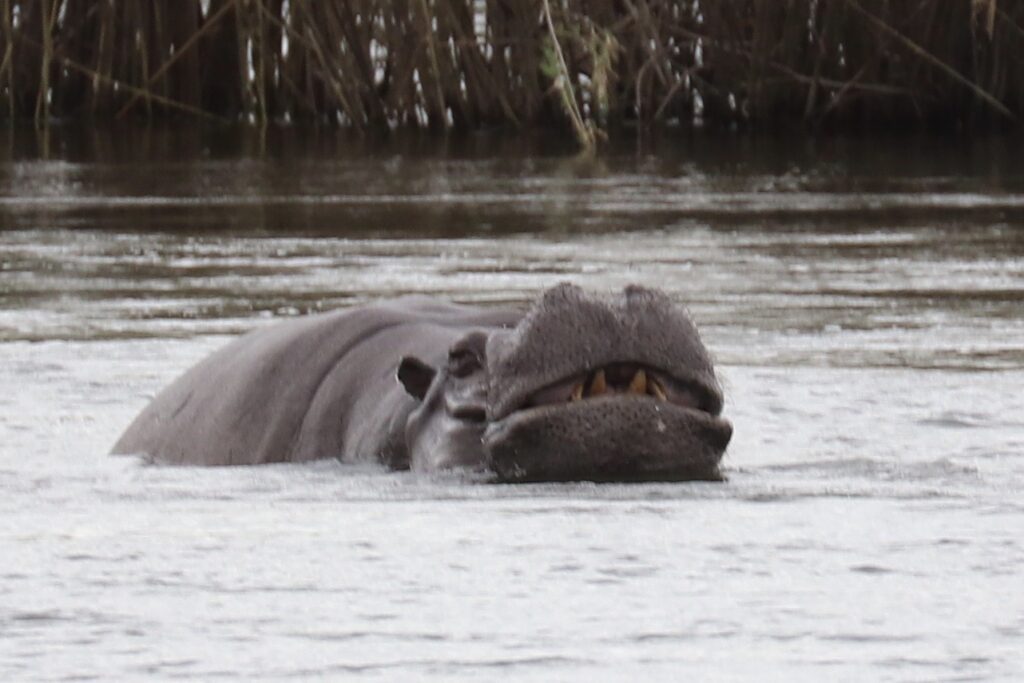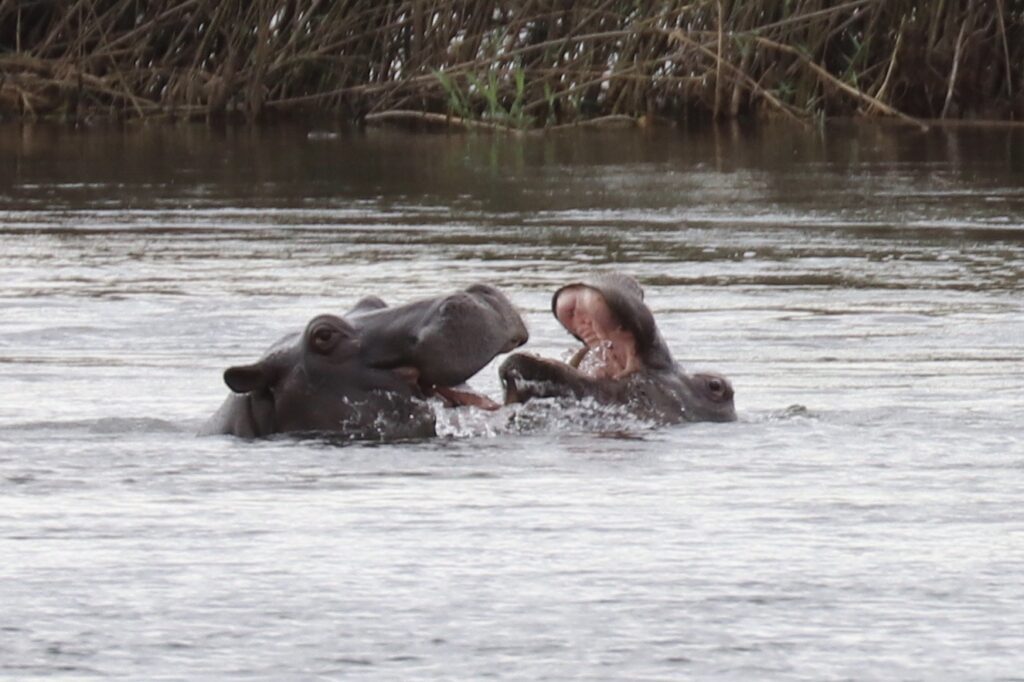 Zimbabwe – Victoria Falls
We spent about five hours in Victoria Falls, touring the falls and jumping into the Batoka Gorge. Bonkers.
Victoria Falls is incredibly gorgeous. The water was flowing when we went. We wish we had more time at the falls and to spend time in the town. There are rainbows everywhere.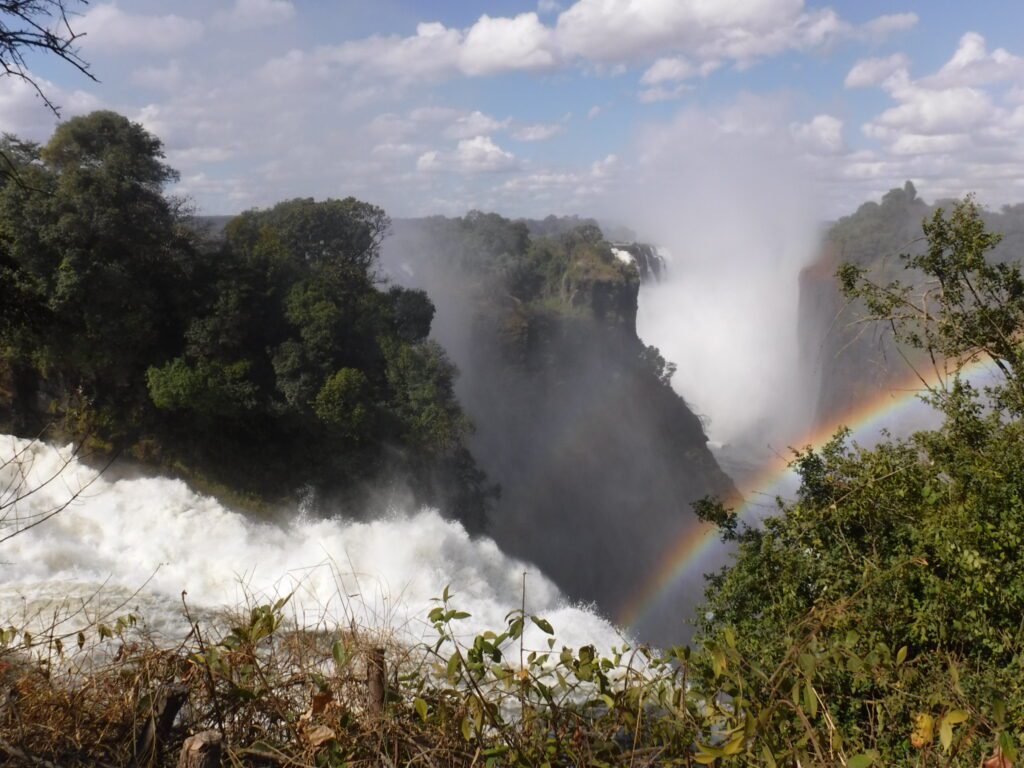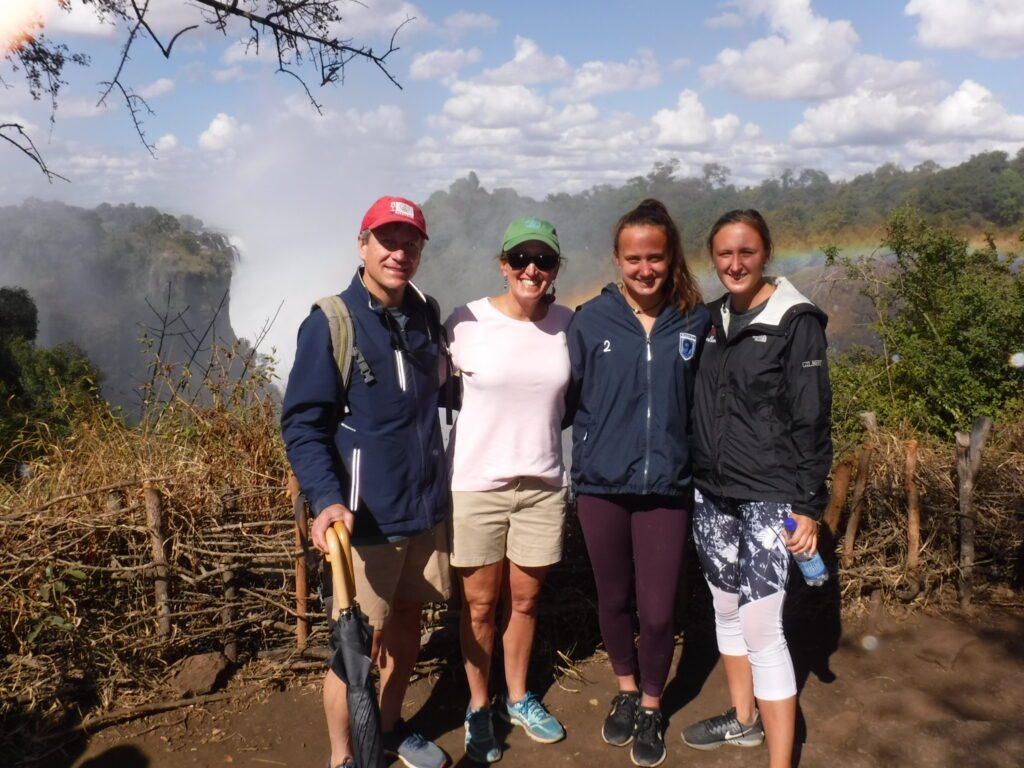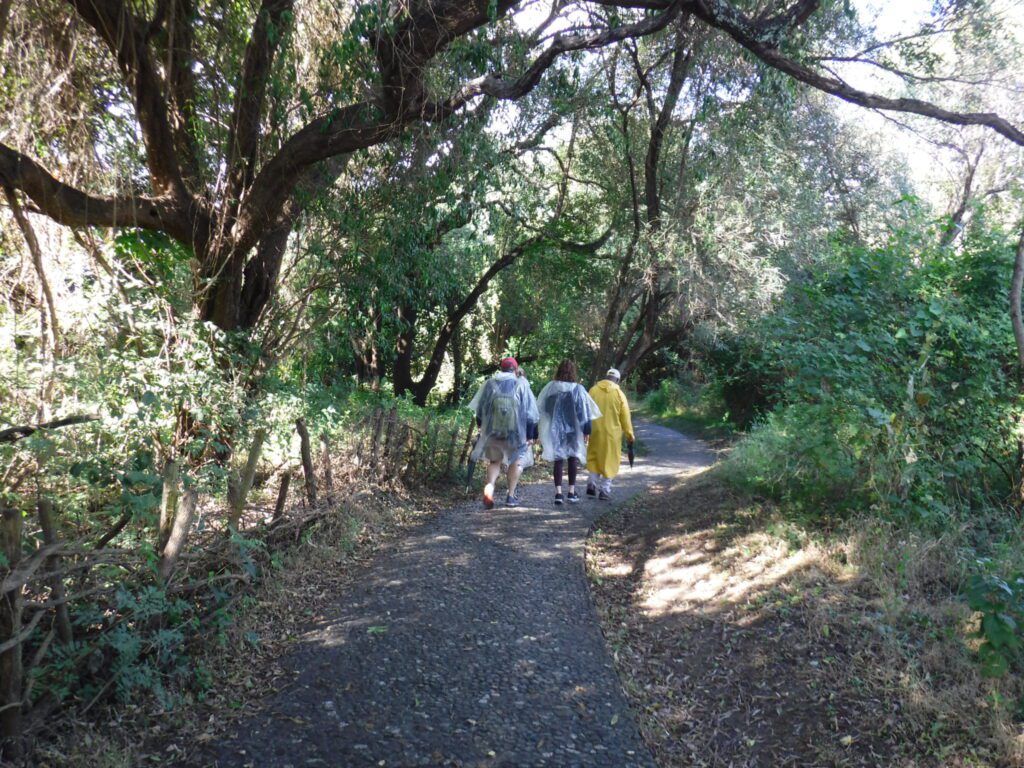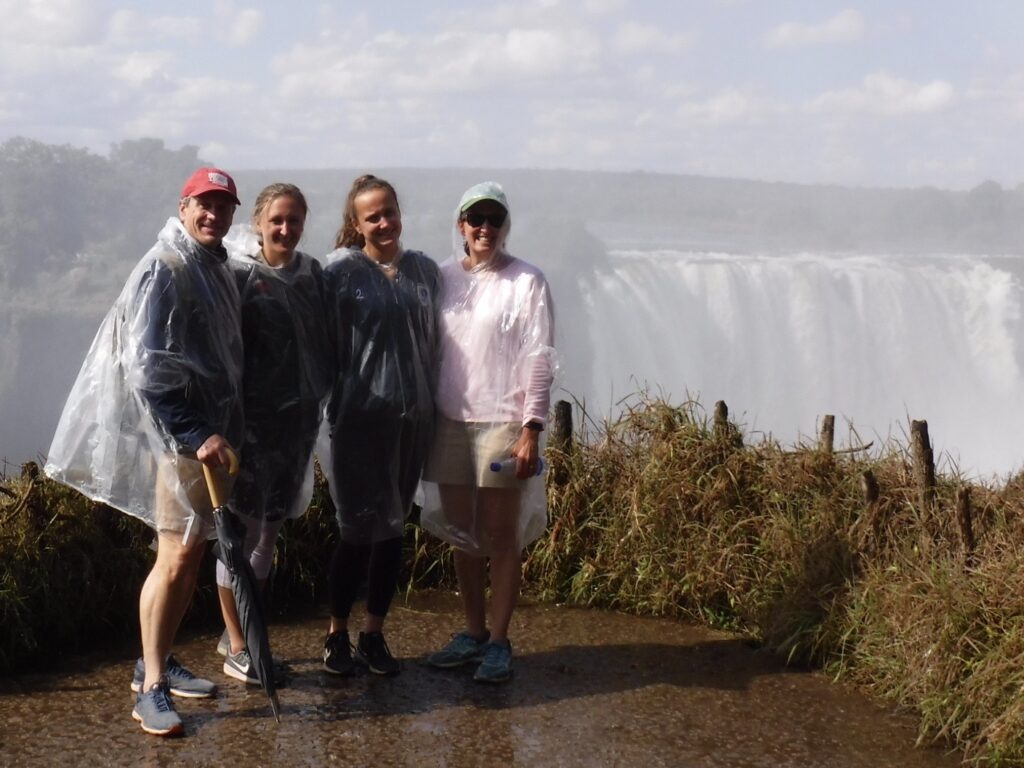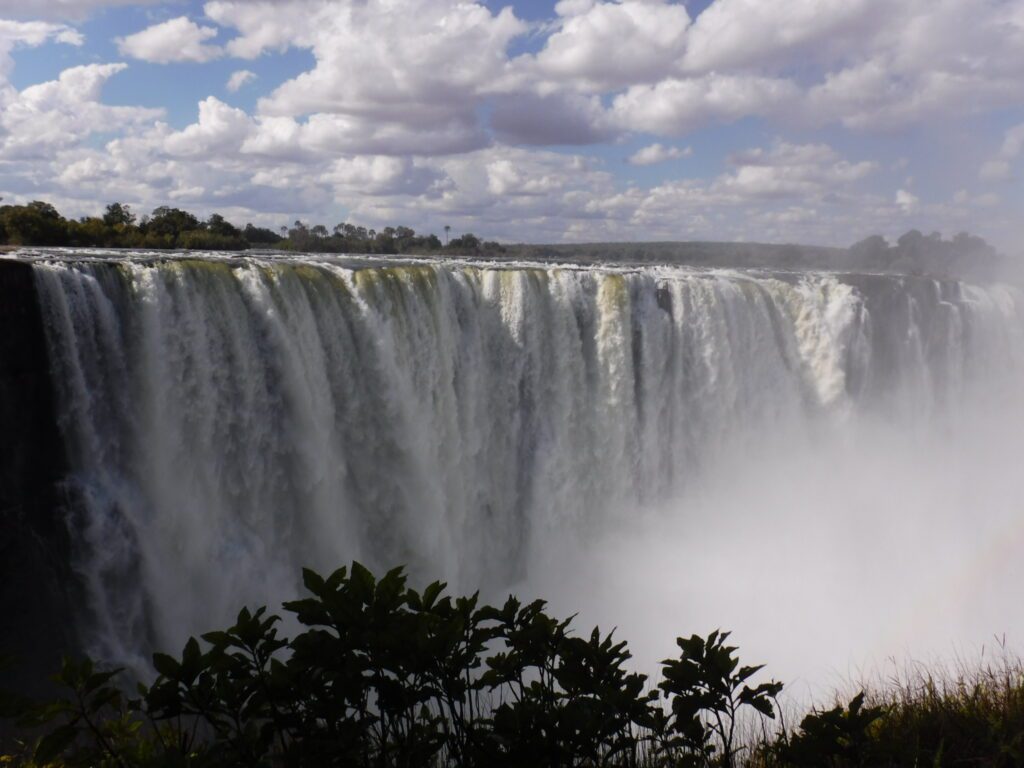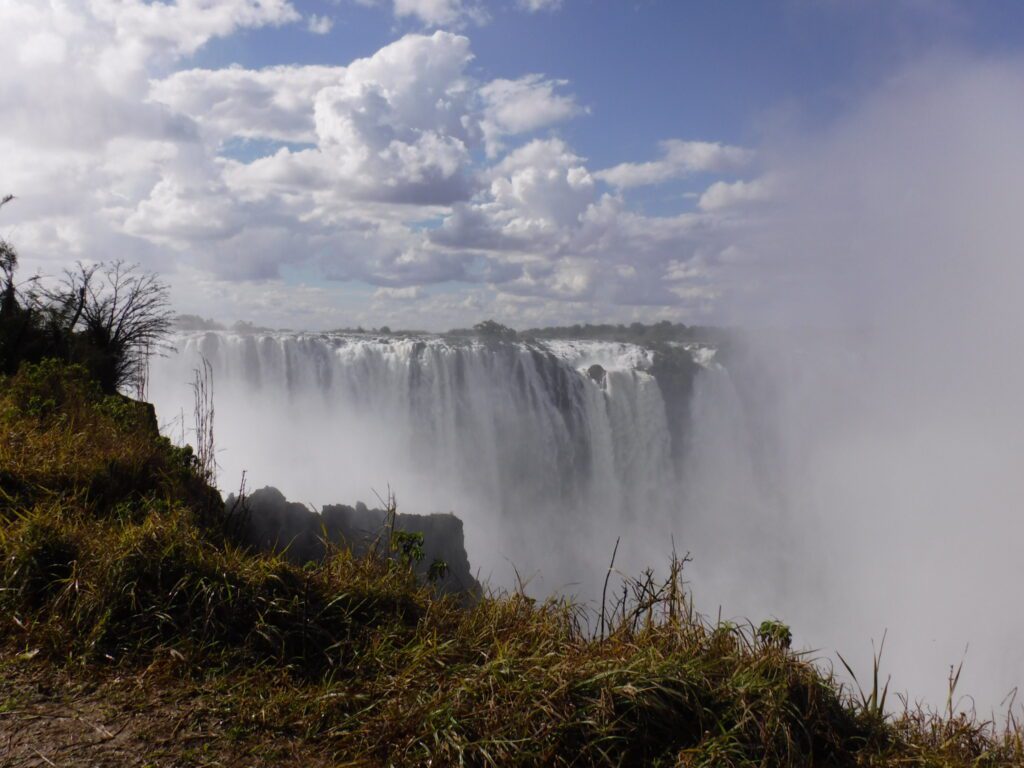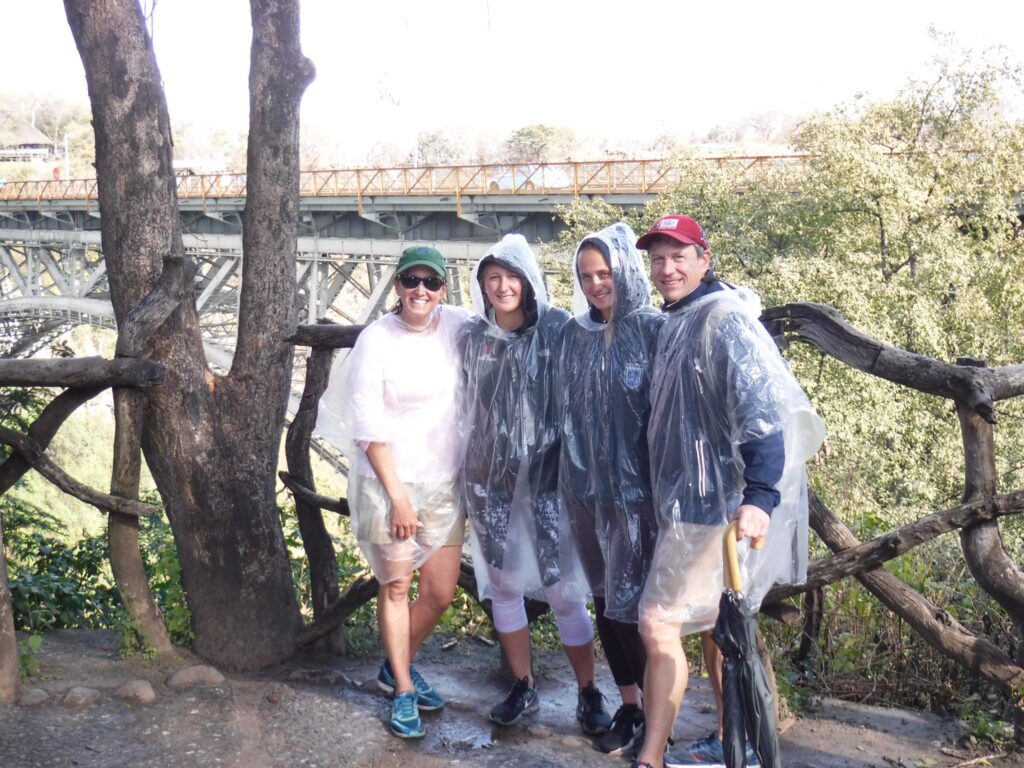 We did some shopping at the outdoor curio market. Every price is negotiable. If they say, "$10," offer them $2 and agree on $4.
The girls and Jim did the gorge swing at Wild Horizons. It was bonkers. They absolutely loved it. Wild Horizons also does tons of adrenaline adventures. The kids would have loved another day doing something insane.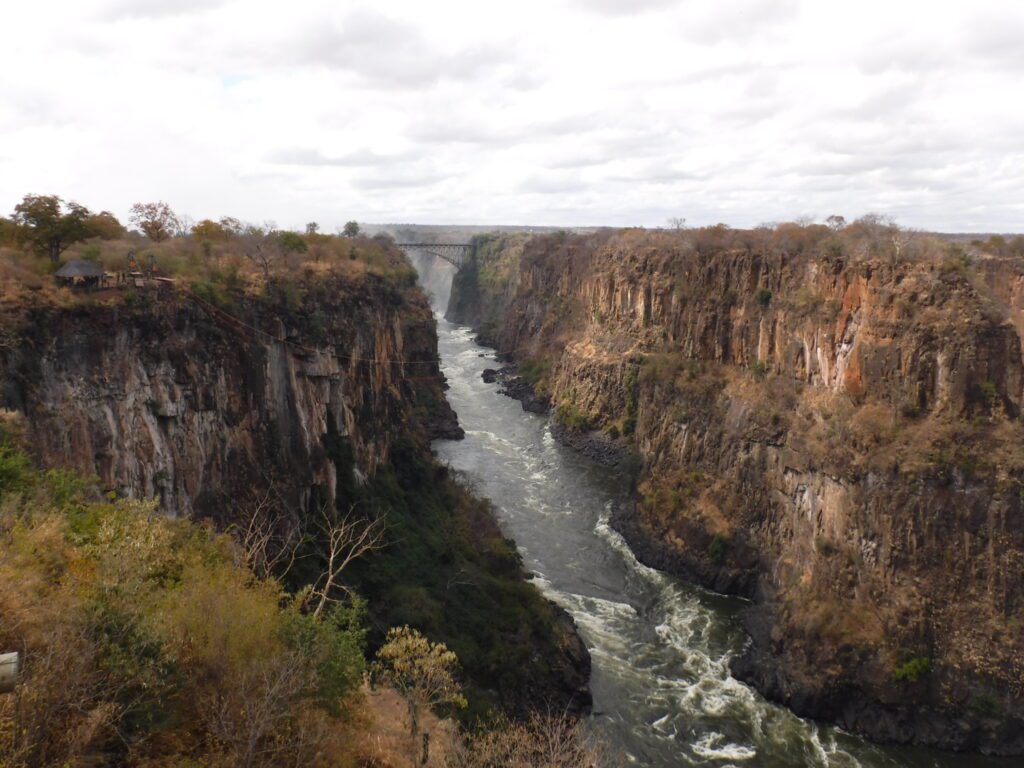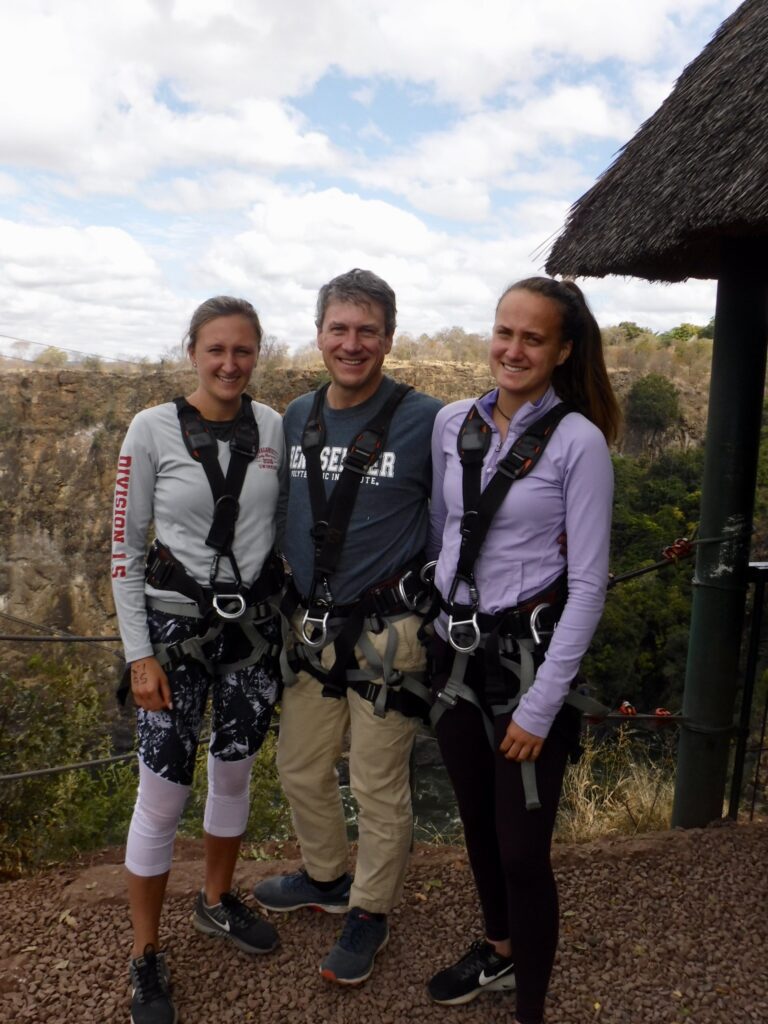 We had a 38+ hour journey back to Rhode Island, and everything was right on time. The Victoria Falls airport is delightful, and our PriorityPass(we get free access because of a travel credit card we use) access to the lounge got us free snacks and drinks. We flew South African Airways to Johannseburg. We did have to go through immigration and security, again!
We had four hours in Jo-burg (knowing this is one reason why we did not ever check any luggage. Jo-burg is known for checked luggage theft.) The Shongololo lounge was fantastic. Plenty of space, wifi, great food and drink!
We then flew on Lufthansa to Frankfurt where we had six hours to kill. It was challenging to find the LuxxLounge, but once we did, we were happy. You could even shower there for an additional 5 euros. We did have to exit security.
We flew back to Boston, and then it took us three hours in sucky Boston traffic to get home. Worth every single second and every single penny. Hakuna Matata!