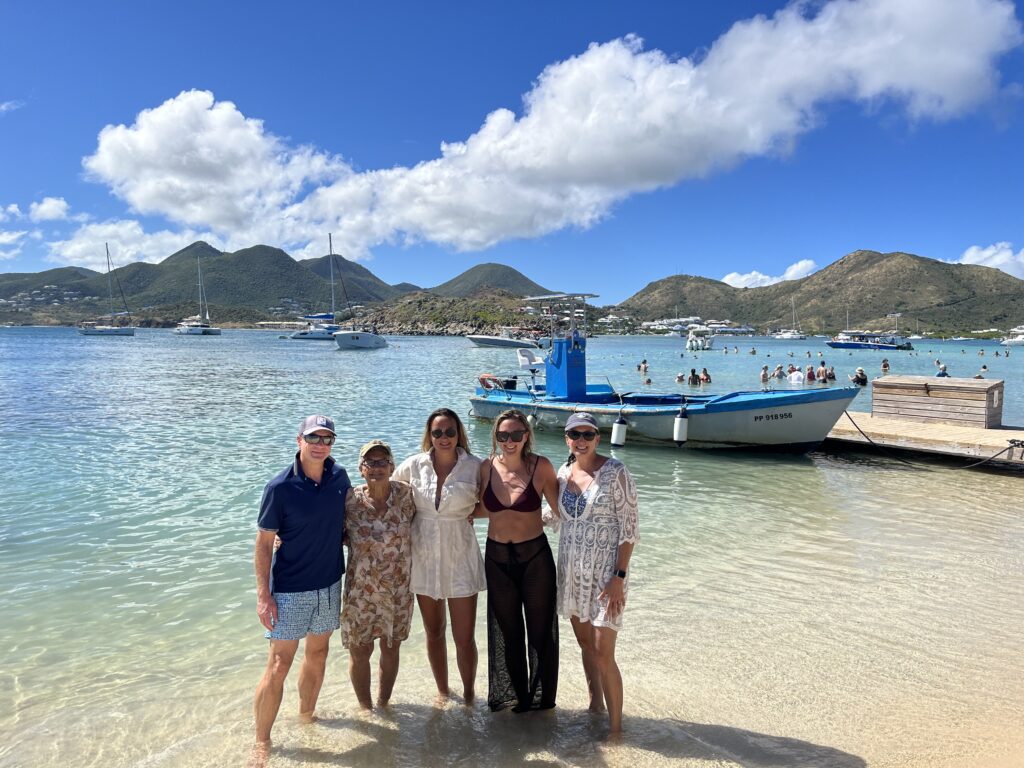 Traveling During Covid
There are rules we had to follow to enter Sint Maarten. They are constantly changing, so check the official government website for the most up-to-date information.
At the time we traveled we did not have to PCR or rapid Covid test since all five of us are fully vaccinated and boosted. But, we did need to complete the EHAS form and upload our vaccination cards. You also much purchase insurance for $15/person. After uploading and purchasing insurance, your vaccination cards and application for entry will be inspected by a health official in Sint Maarten. You will then receive a QR code in your email. Print this out. You will need to show the QR code and your proof of insurance (your insurance covers part of your quarantine if you test positive while on the island – it is MANDATORY) in the USA and upon arrival. It much easier if you have paper copies of these items as they are stamped in the airport in Sint Maarten.
We did bring our vaccination cards with us in these holders. However, photos of the cards were accepted at any business that asked to see it.
Please consult the official website. At the time of this writing, the EHAS form can only be completed within 72 hours of your departure to Sint Maarten. The requirements are CONSTANTLY changing.
New Camera!
Before Michele went to Iceland in November 2021, she purchased a new waterproof camera.  The Olympus TG-6 is a fantastic, sturdy, smart waterproof camera.  While it is not cheap, it gets the job done and takes amazing photos, both in and out of the water.  It is much bigger and easier to use than a GoPro.  Highly recommended!  If you have a cell phone, this pouch is excellent.  We have two of them.  We also have a Canon DLSR that takes great photos, too.  We like this tripod for ease of use.
Michele also upgraded her iPhone to the iPhone 13.  The camera is amazing.
Also, we bring our own masks and snorkels.  This brand is excellent and comfy.
Dutch Side or French Side?
There are two halves to St. Martin. One half is part of The Netherlands (Sint Maarten) and one half is part of France (St. Martin). Your jet will land on the Dutch side at the international airport. There is no border control to go from one side of the island to the other. The first decision you will make when planning a trip to this wonderful place is where to stay.
We chose the French side for a myriad of reasons. The French side has no high rises. Nothing can be built higher than three stories. The French side also does not have a cruise ship port. The French side has no gambling. The French side has more beaches than the Dutch side.The French side has Grand Case, a neighborhood that is considered the culinary capital of the Caribbean. Suffering more damage in 2017 from hurricanes Irma and Maria, the French side still has some rebuilding to do, but it did not impact our vacation in any way. Locals on the French side were protesting some government policies about land use and vaccines, so you may encounter the occasional road block. None happened during our visit. It is cheaper to get a rapid covid test on the French side.
The Dutch side has way more development than the French side. The cruise port in Phillipsburg can accommodate up to six cruise ships at a time which can cause traffic and congestion. There are several places to gamble on the Dutch side. There are huge high rises on the Dutch side. Pros of the Dutch side include walkability from several resorts to dining options, proximity to the airport and way more shopping. Folks who love to watch mega yachts will see more action in Simpson Bay and Simpson Bay Lagoon on the Dutch side.
We chose the French side as we loathe cruise ships, gambling and high rises. We also love French food. Grand Case did not disappoint us – we ate like royalty at most restaurants. The food was the very best we have ever eaten on an island. Honestly, when we visited the Dutch side, it just felt way too overdeveloped and too Americanized for our taste. The French side felt like we were in another country.
We stayed in between Friar's Bay and Happy Bay, five minutes from Grand Case. We rented a villa for ten days from December 20-30, 2021. Friar's Bay is accessible by car, and it has three cash-only restaurants. Happy Bay has no facilities at all, and you can only walk to it. You park in a dirt lot and walk about 1/2 mile to the sand. There is also a path from Friar's Bay to Happy Bay. It is gorgeous. Our villa could access this path so we could walk to the beach. Friar's Bay was exceptionally flat and calm on our visit. Happy Bay had a little bit more of a shore break. We loved them both.
Our villa had four bedrooms. One of the bedrooms could only be accessed from walking outside. It was basically a good size studio apartment that took up the entire basement. The master bedroom, common areas and pool decks were all great. The two upstairs bedrooms could have used another window or two. However, the location of the villa was amazing.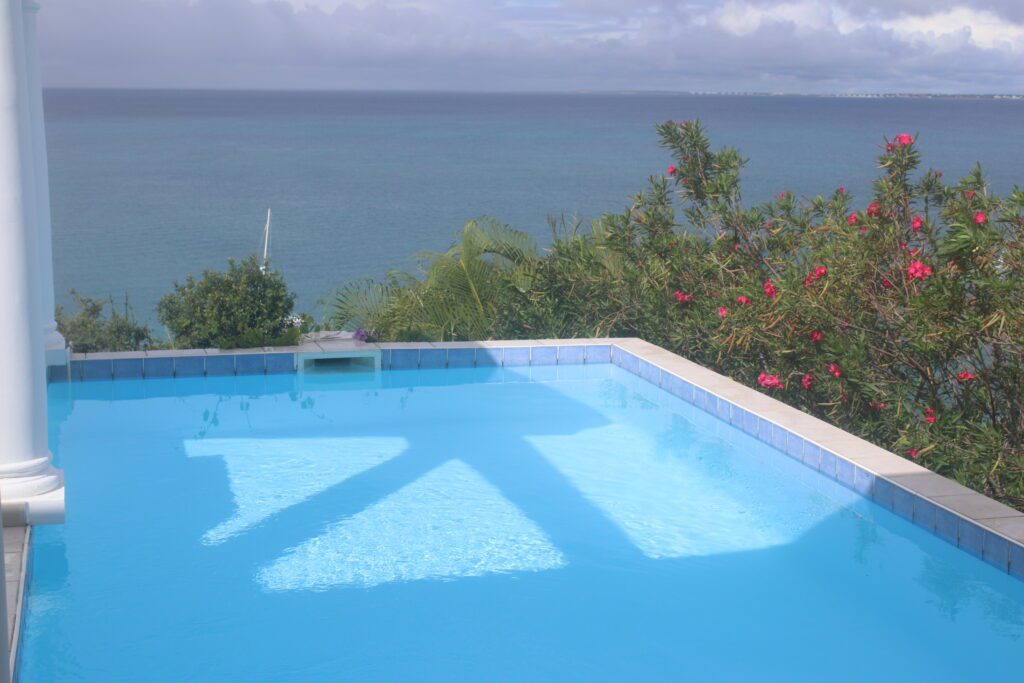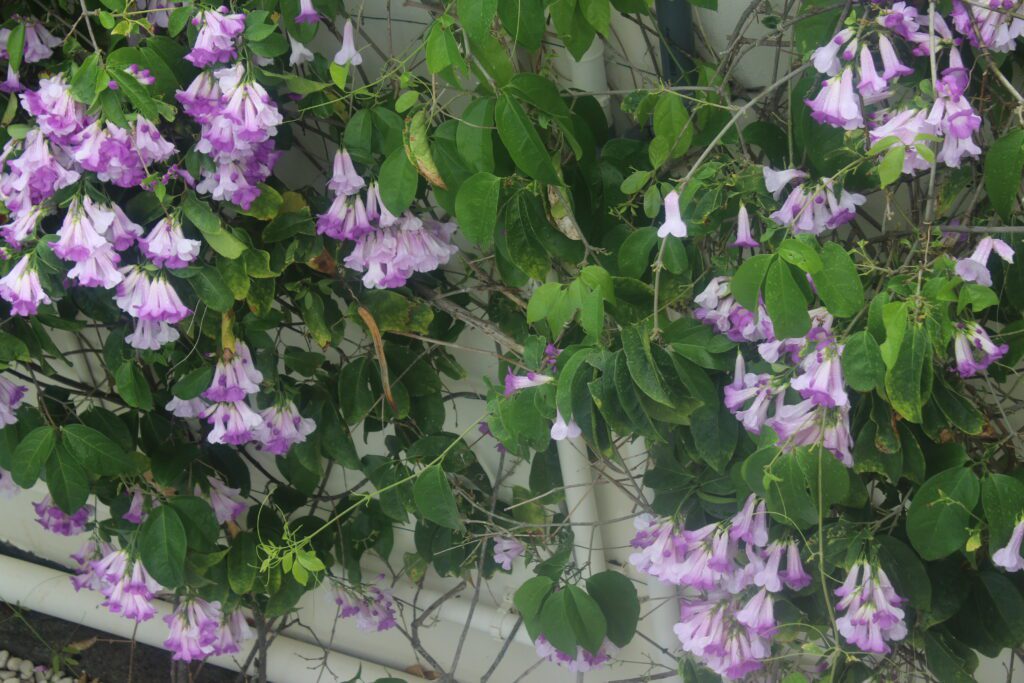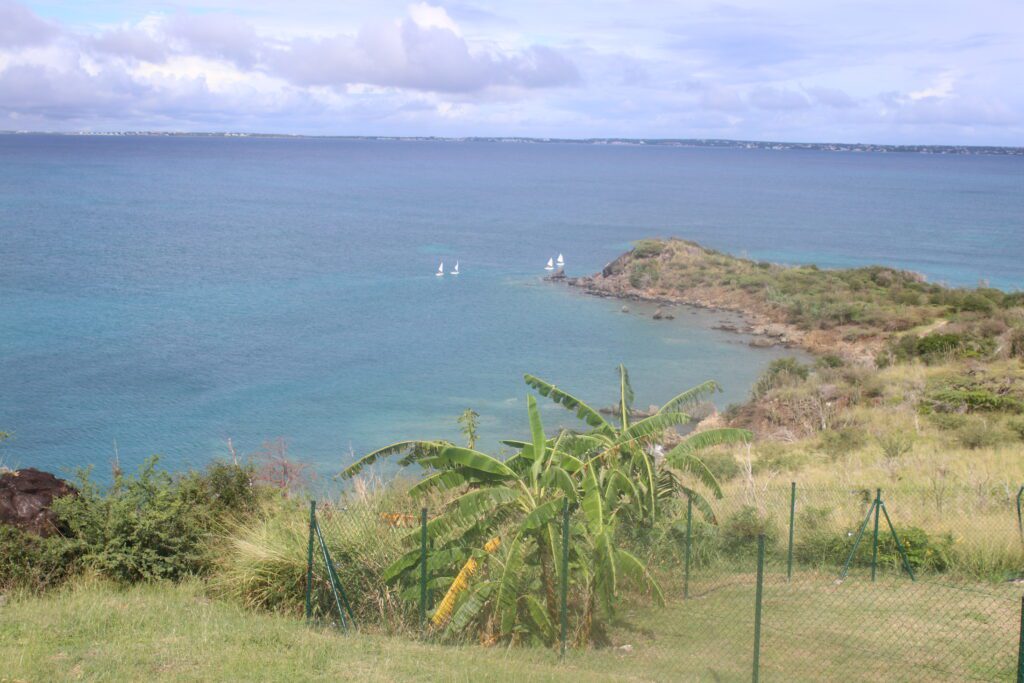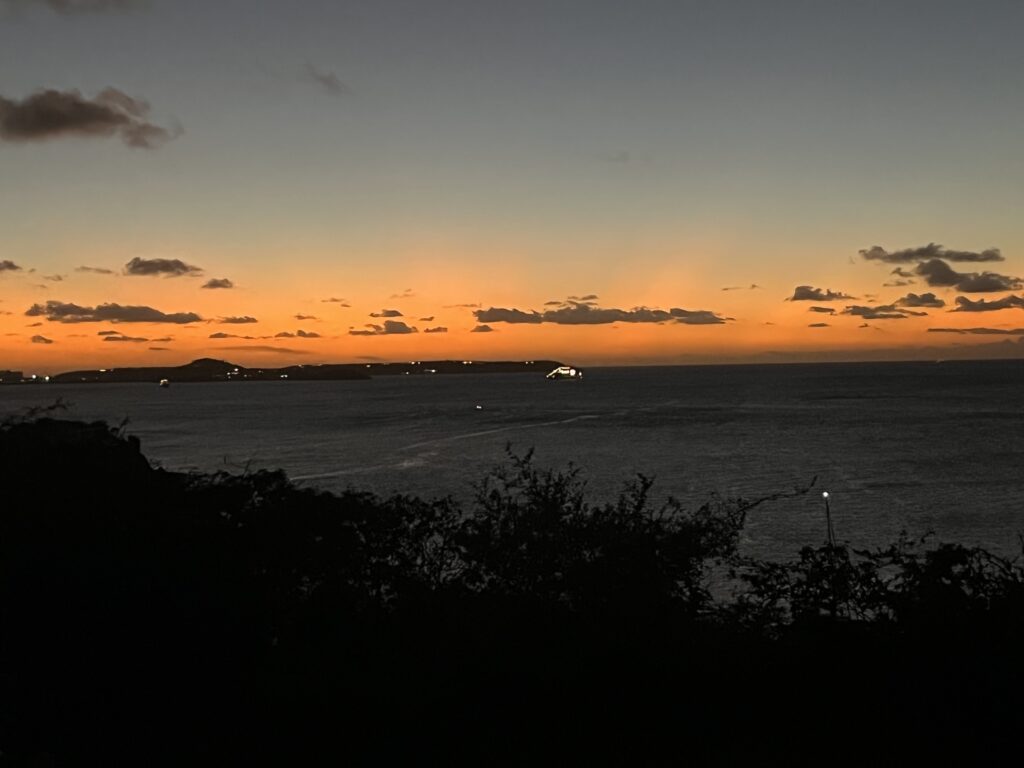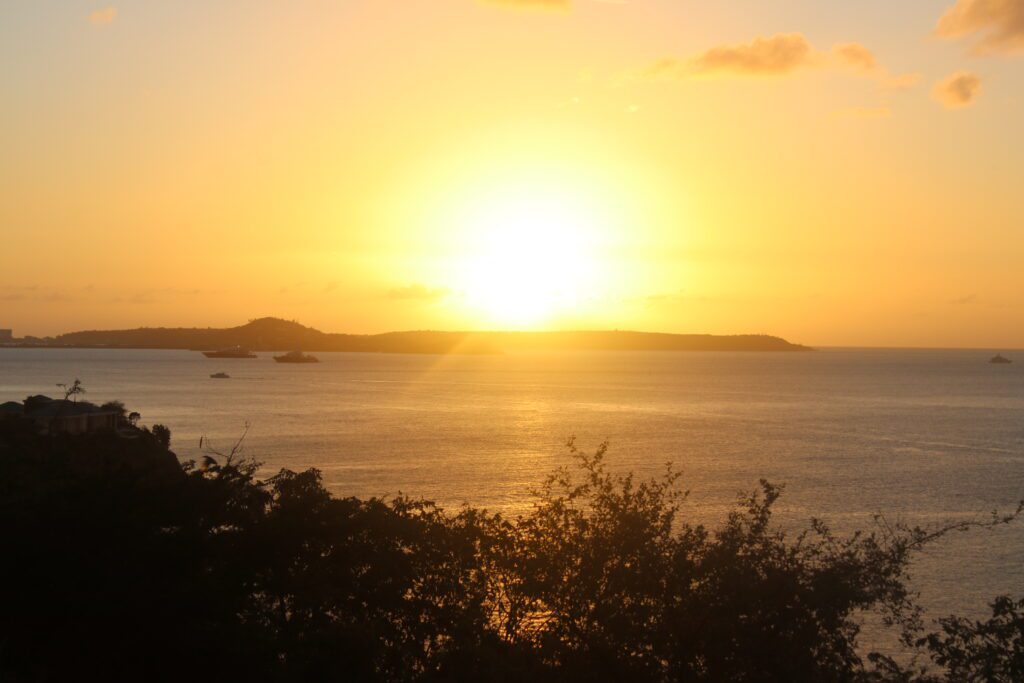 Groceries
We stayed in between Marigot and Grand Case on the French side of the island. There is a SuperU in both Marigot and Hope Estate, which is less than a mile outside of Grand Case. The SuperU in Hope Estate is WAY better than the one in Marigot. We recommend shopping early in the morning as the shelves are not restocked during the day. You can buy alcohol here as well. We found the prices to be way less than other Caribbean islands we have visited. Plenty of fresh vegetables and fruits. We usually buy breakfast and happy hour foods as we usually eat out for lunch and dinner.
Friar's Bay and Happy Bay
Friar's Bay is a lovely, calm beach with three restaurants on the French side. It is very easy to find. There are three cash-only restaurants on Friar's Bay. Friar's Bay Beach Cafe is amazing. So, so good. We also ate at Kali's Beach Bar, which was tasty, too. All the restaurants will rent you chairs for a fee.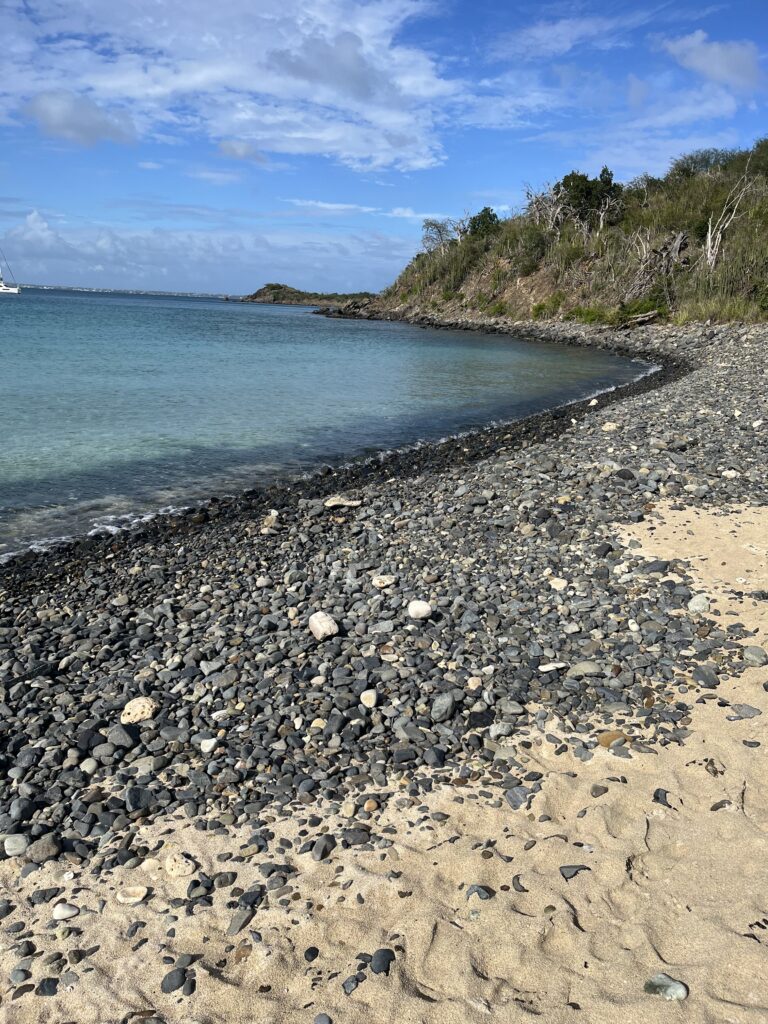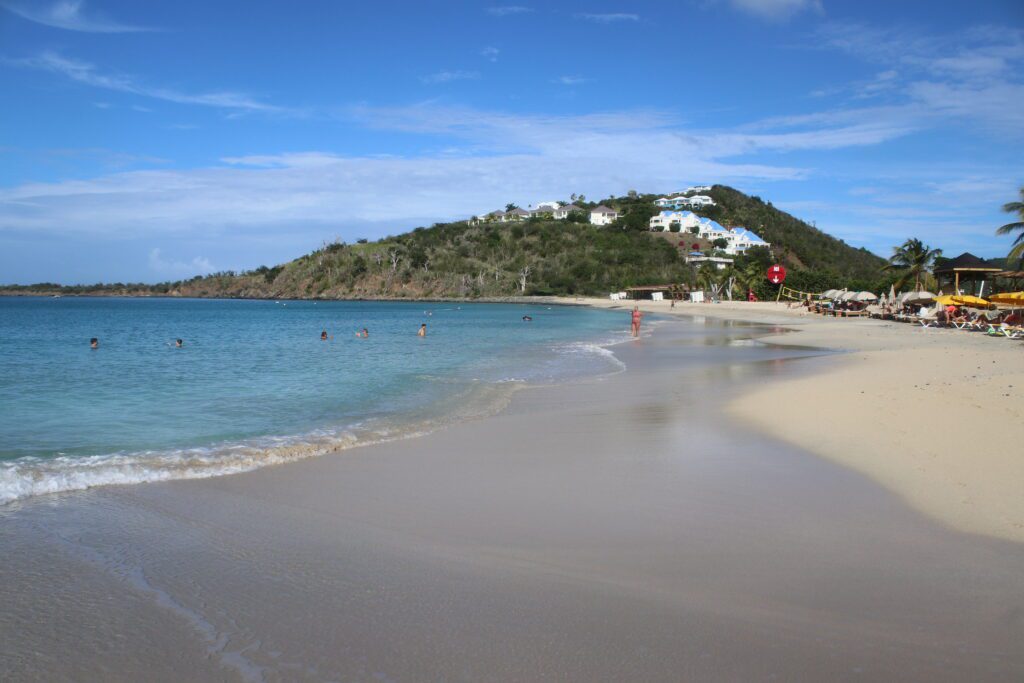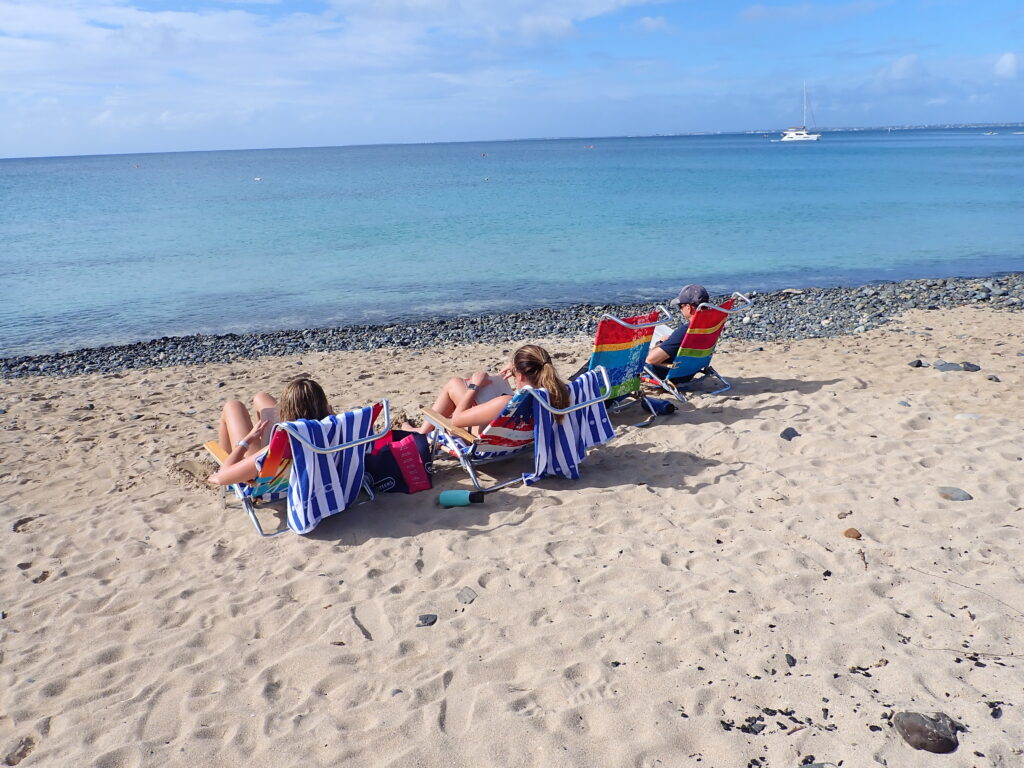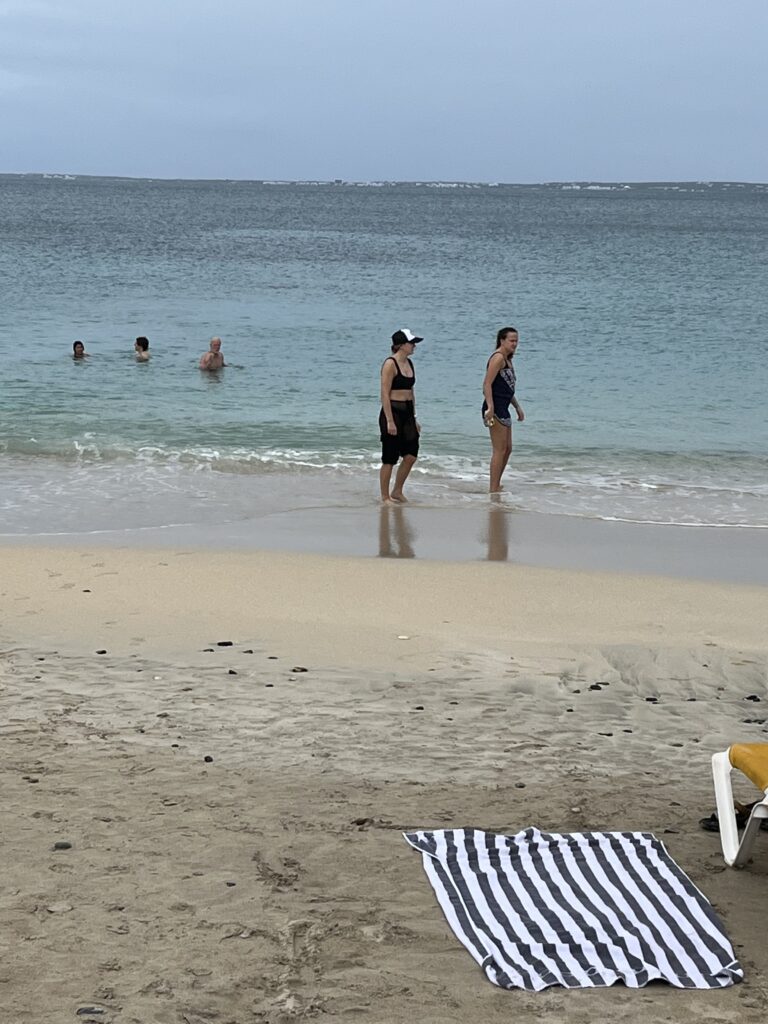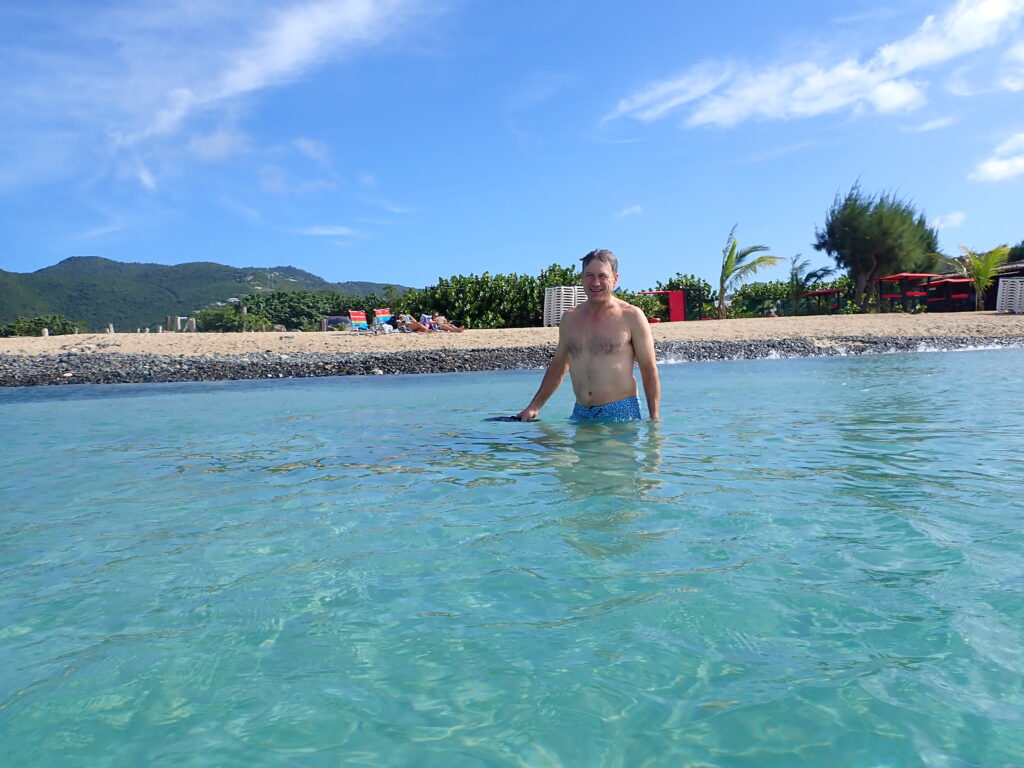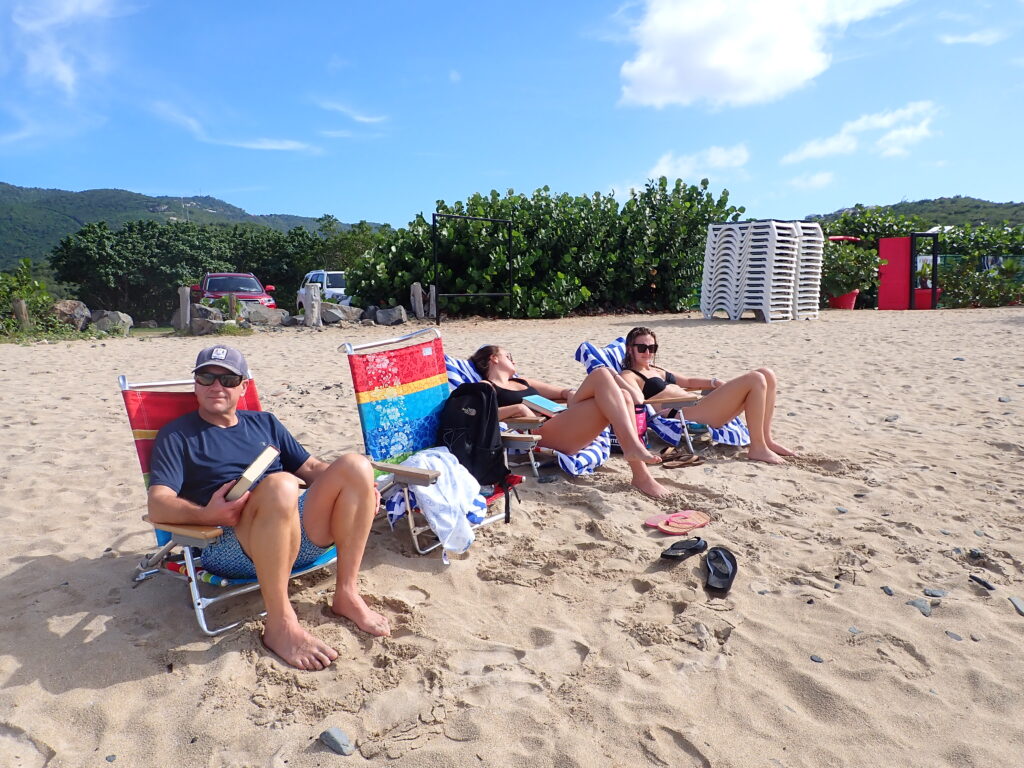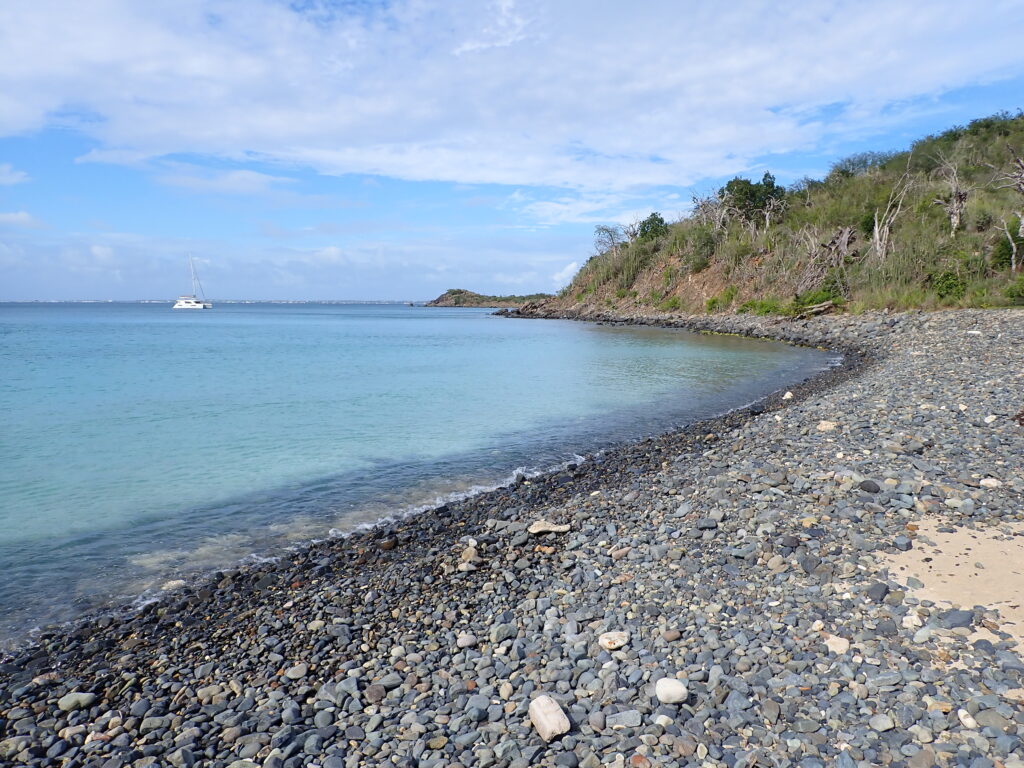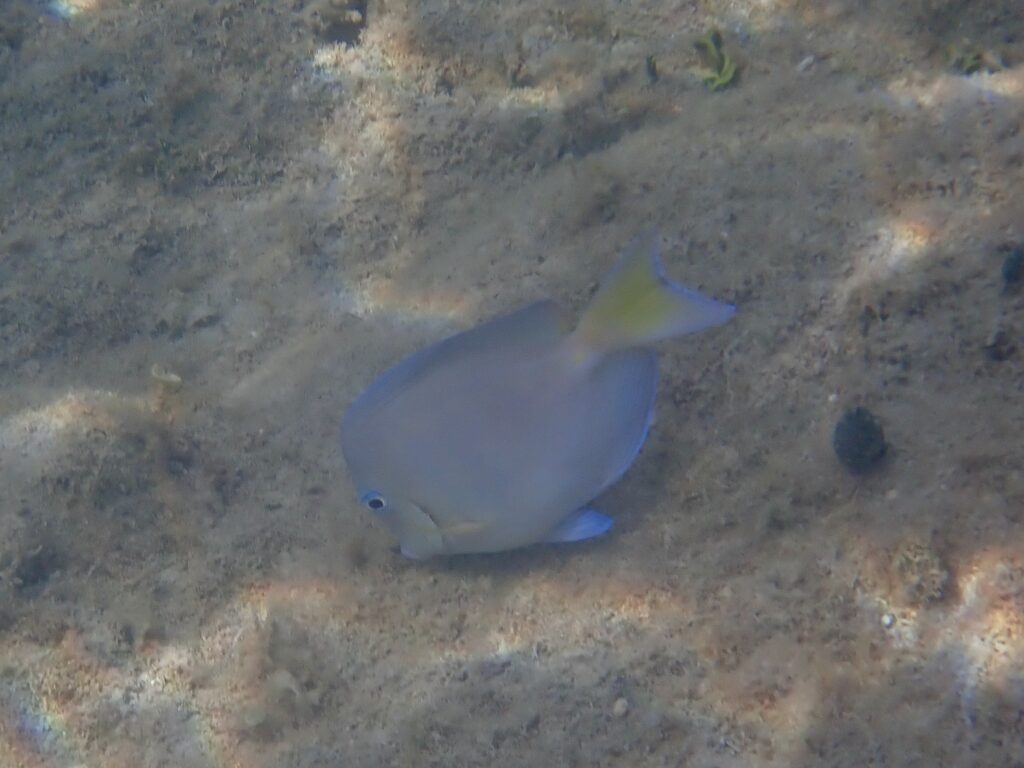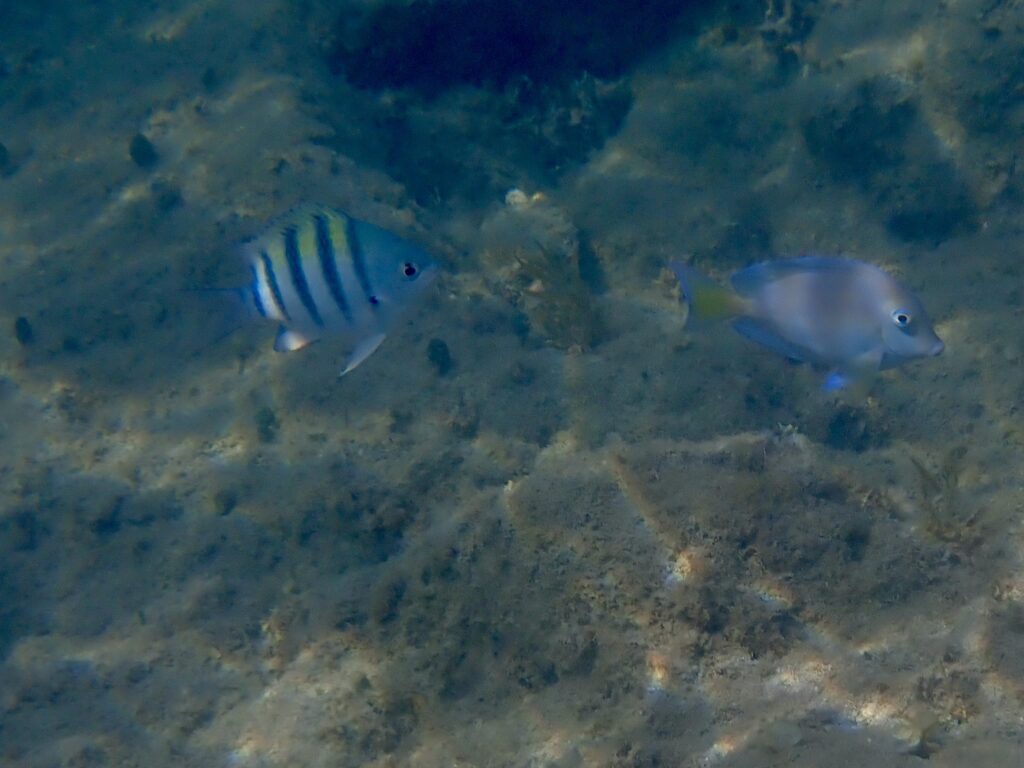 There is a lovely path that runs from Friar's Bay Beach to Happy Bay. It is awesome. If you park at Friar's Bay, you can walk in less than 10 minutes to Happy Bay. We walked or ran on this path every day we spent in St. Martin. Highly recommended.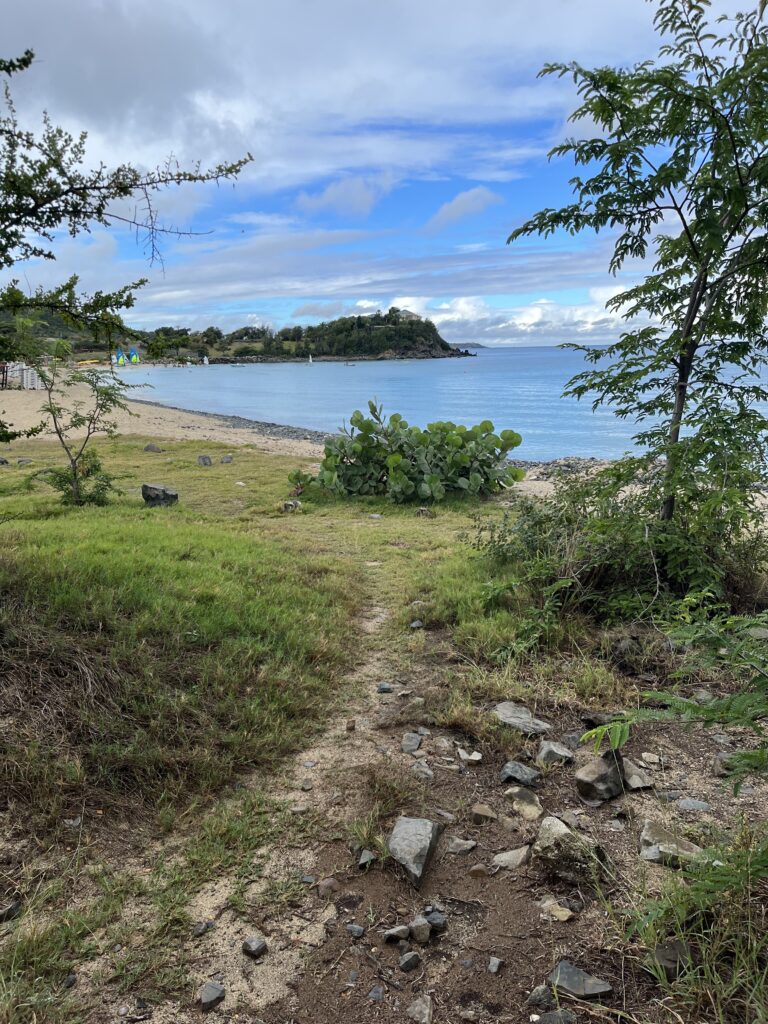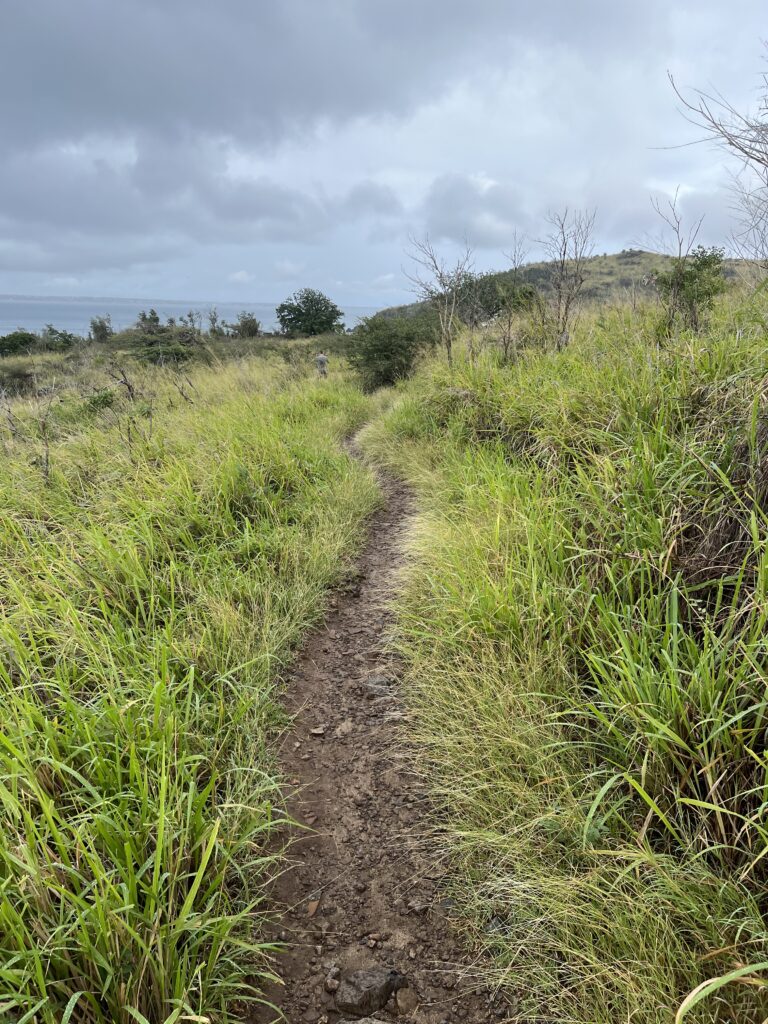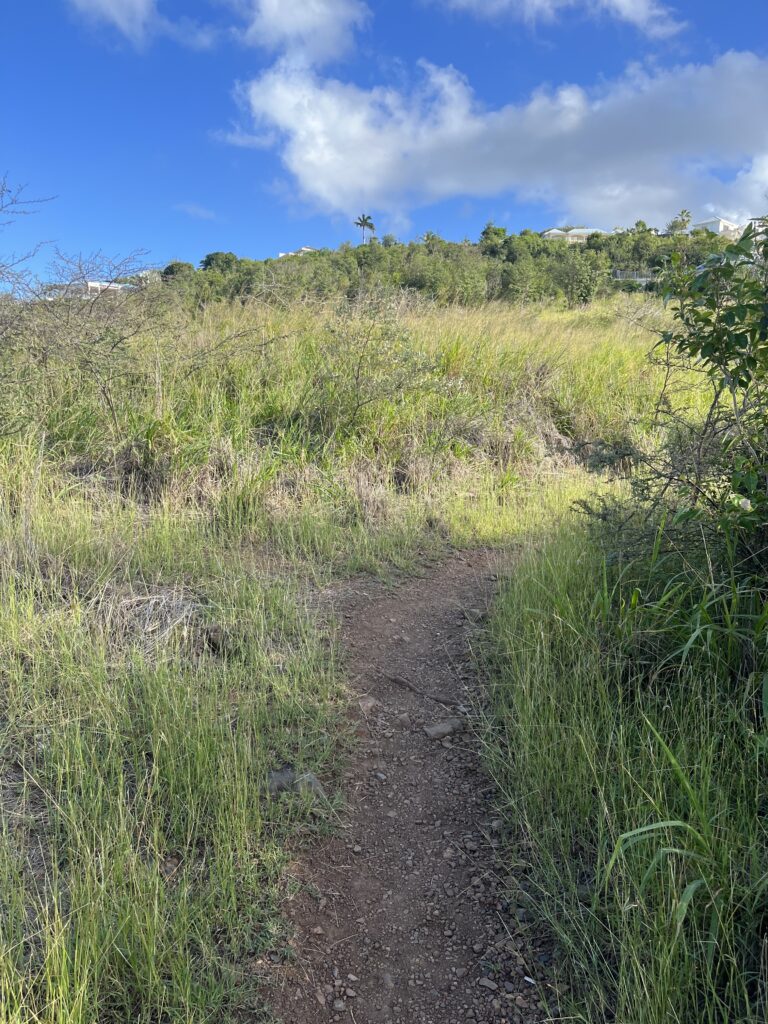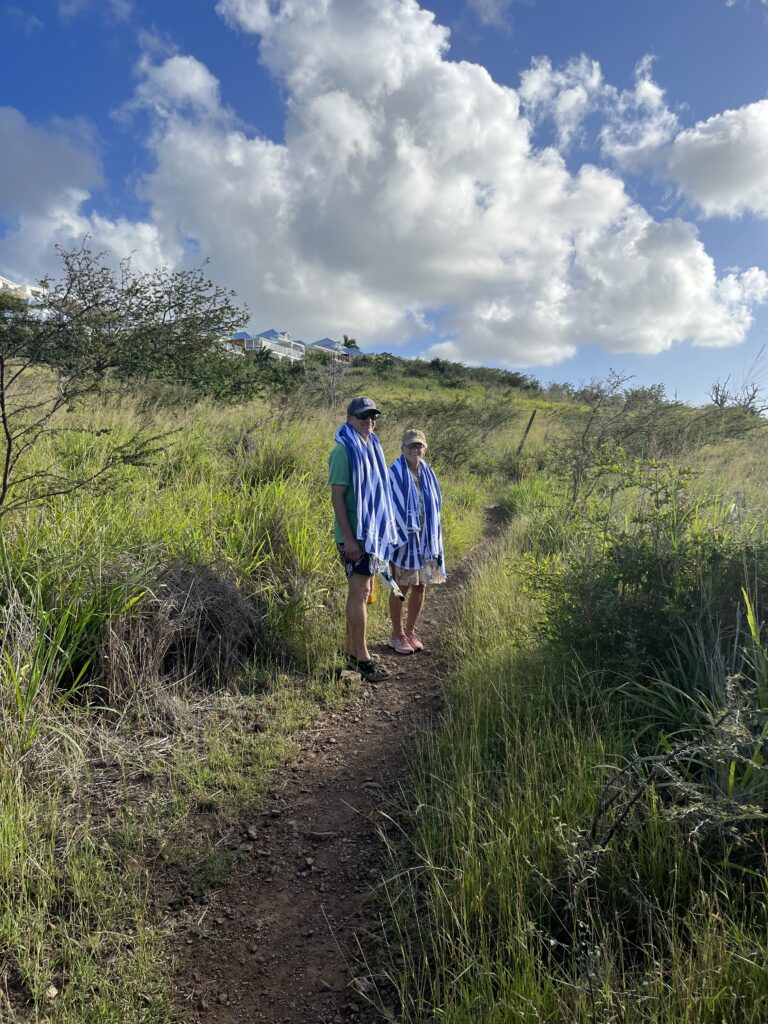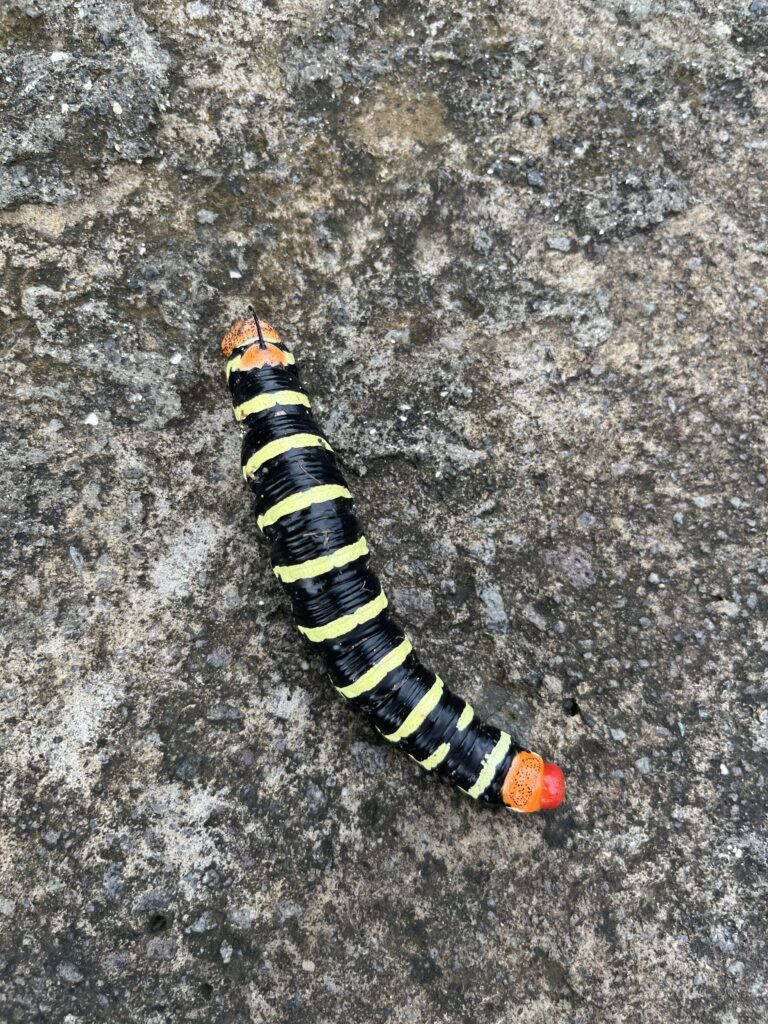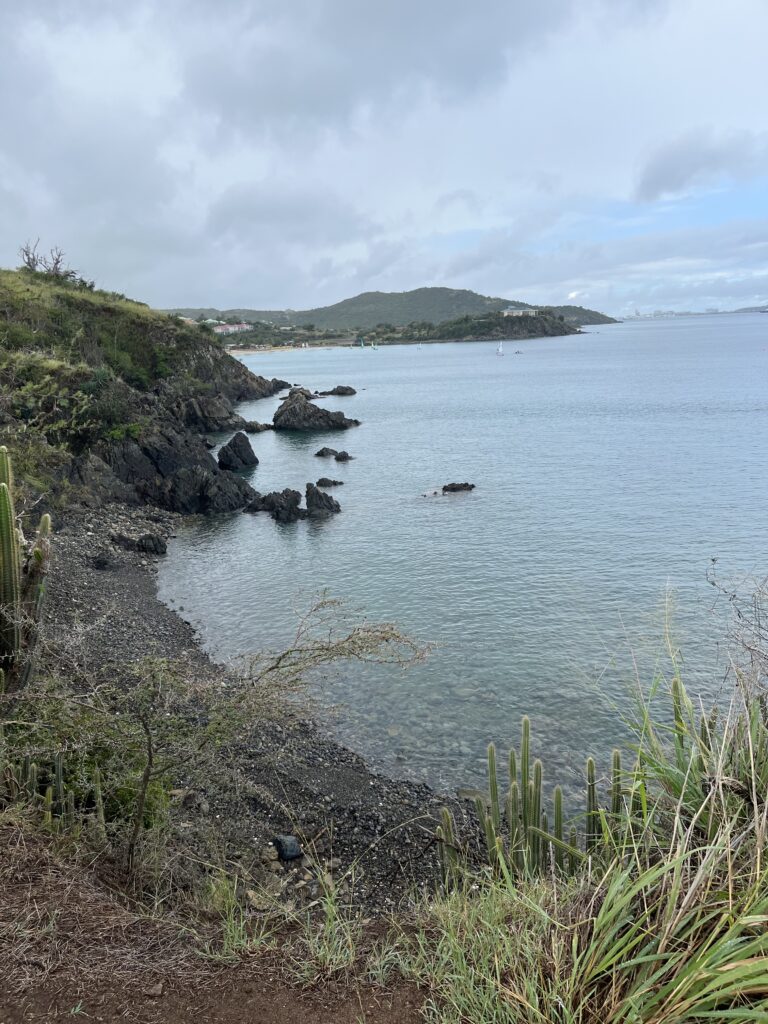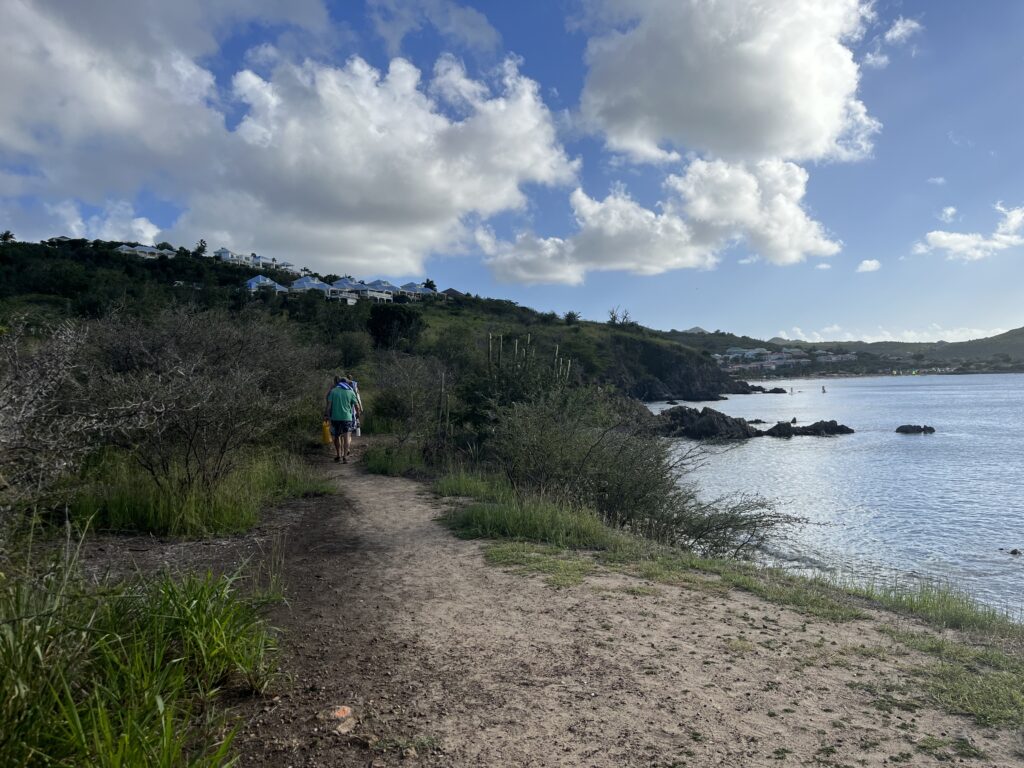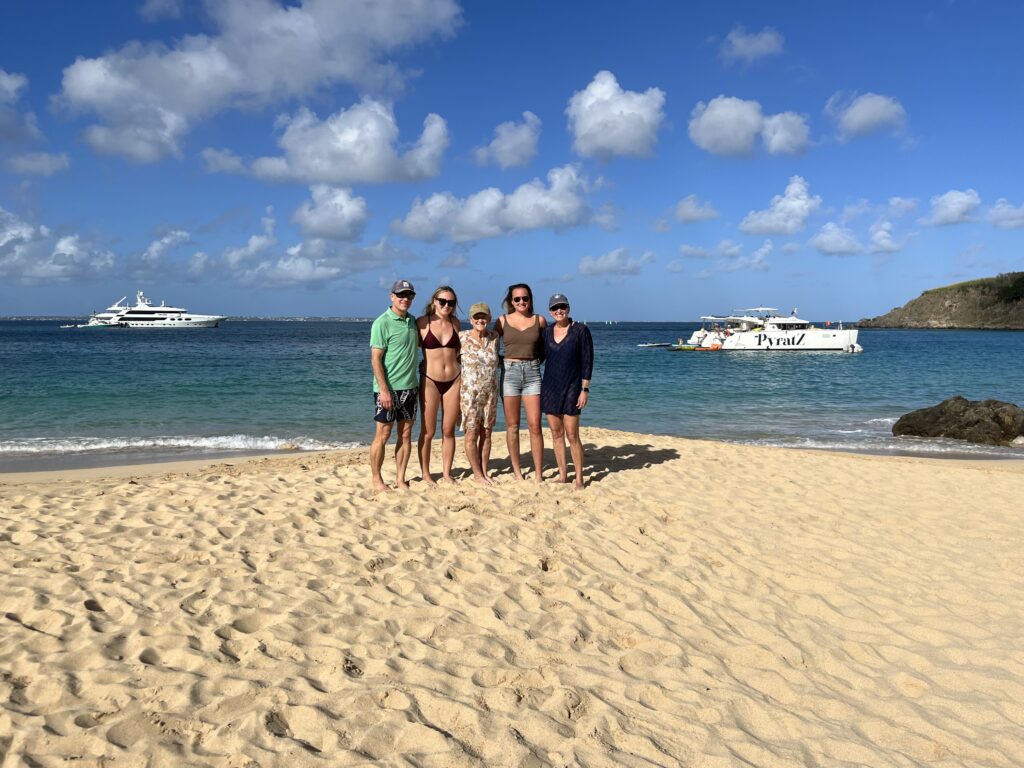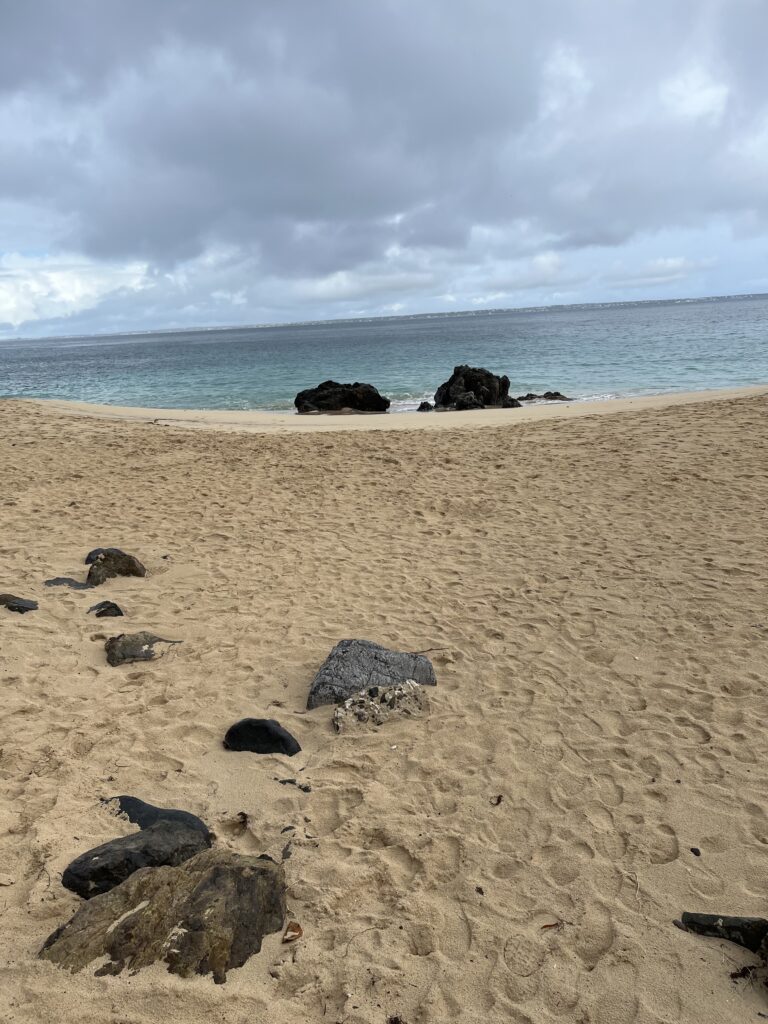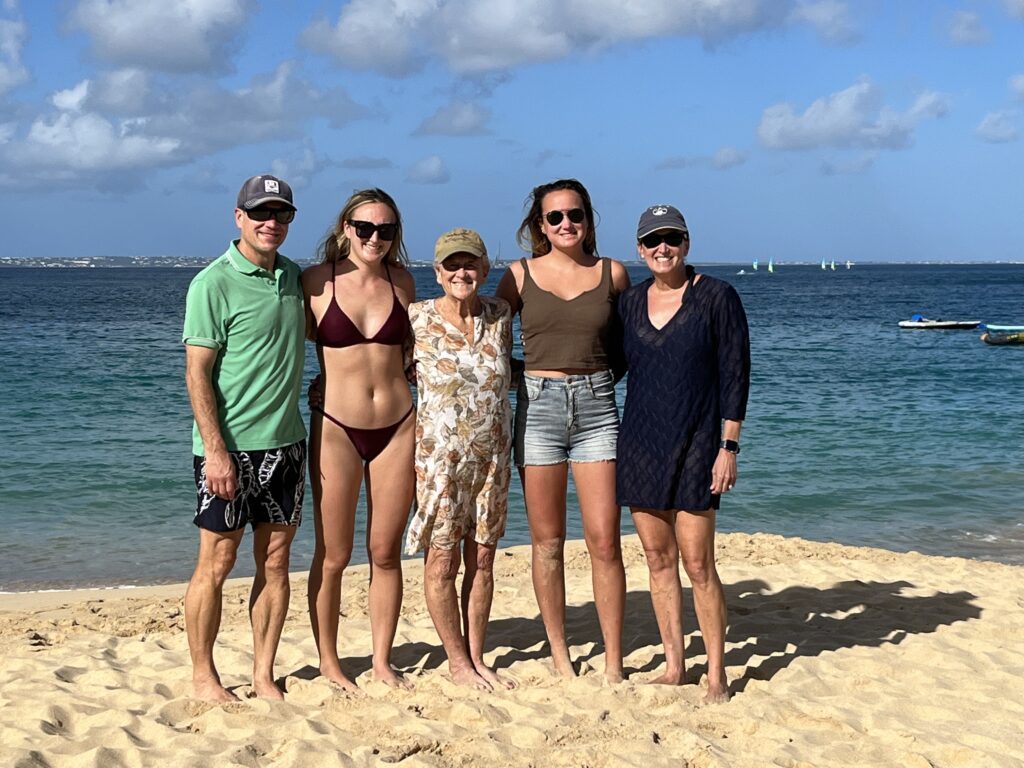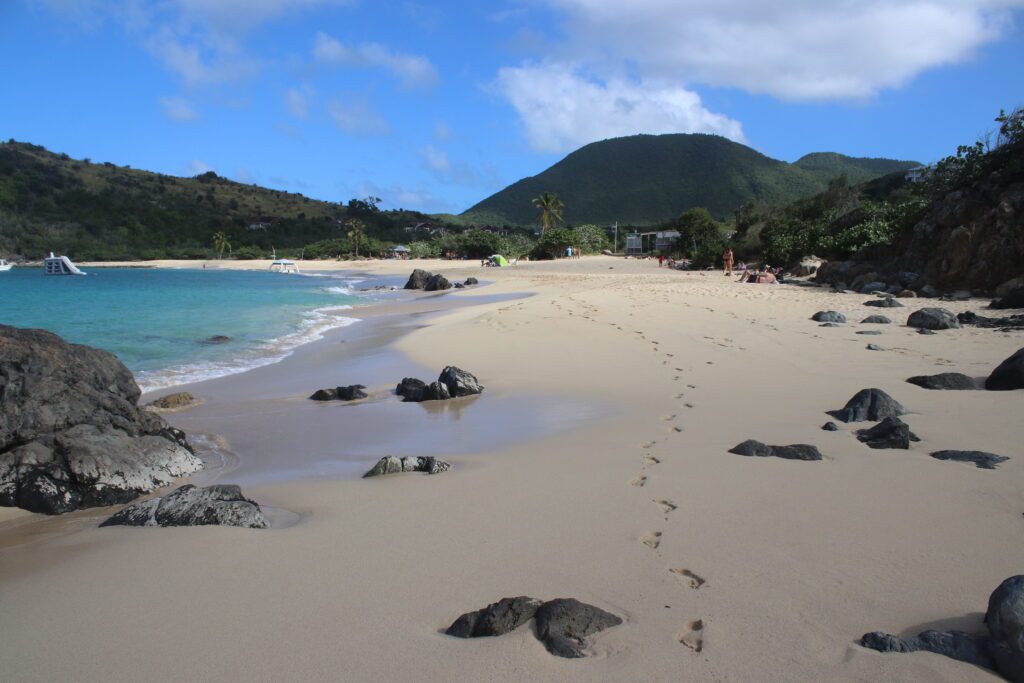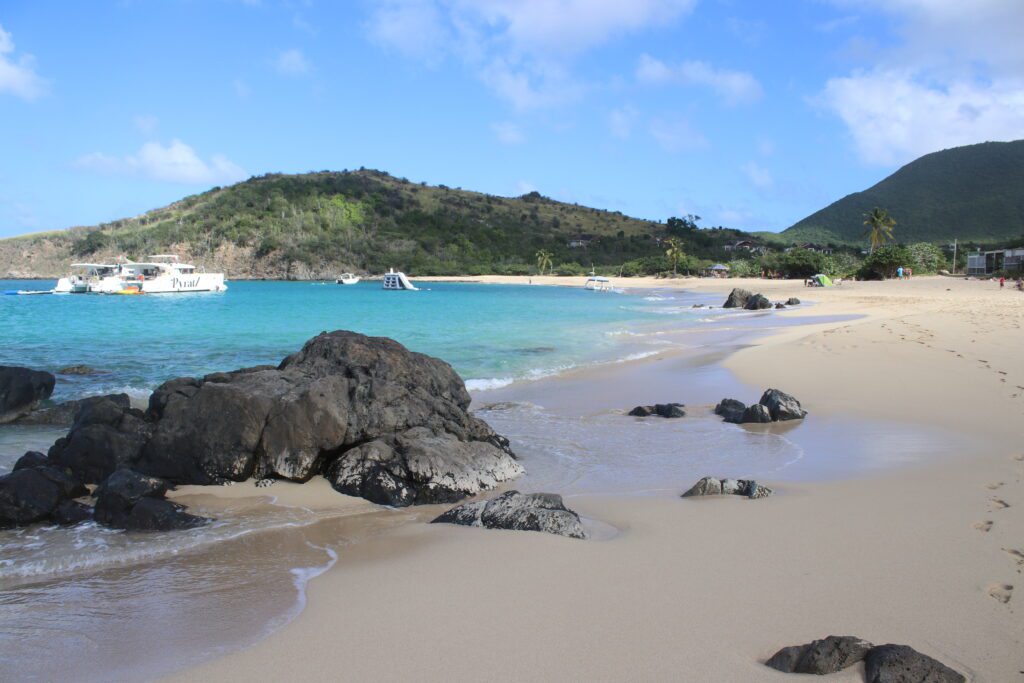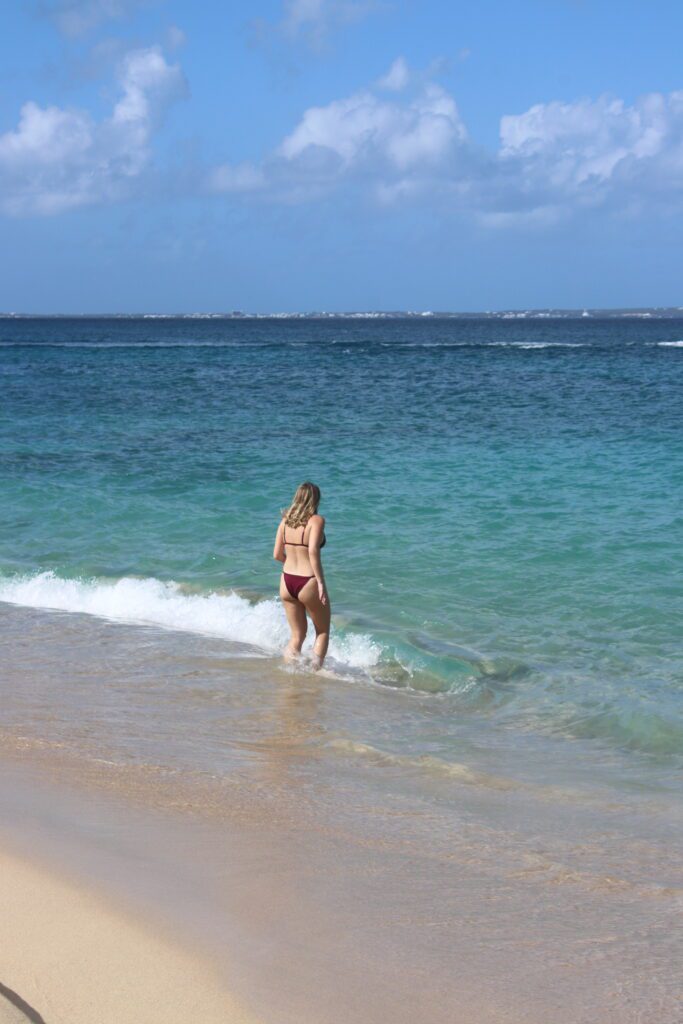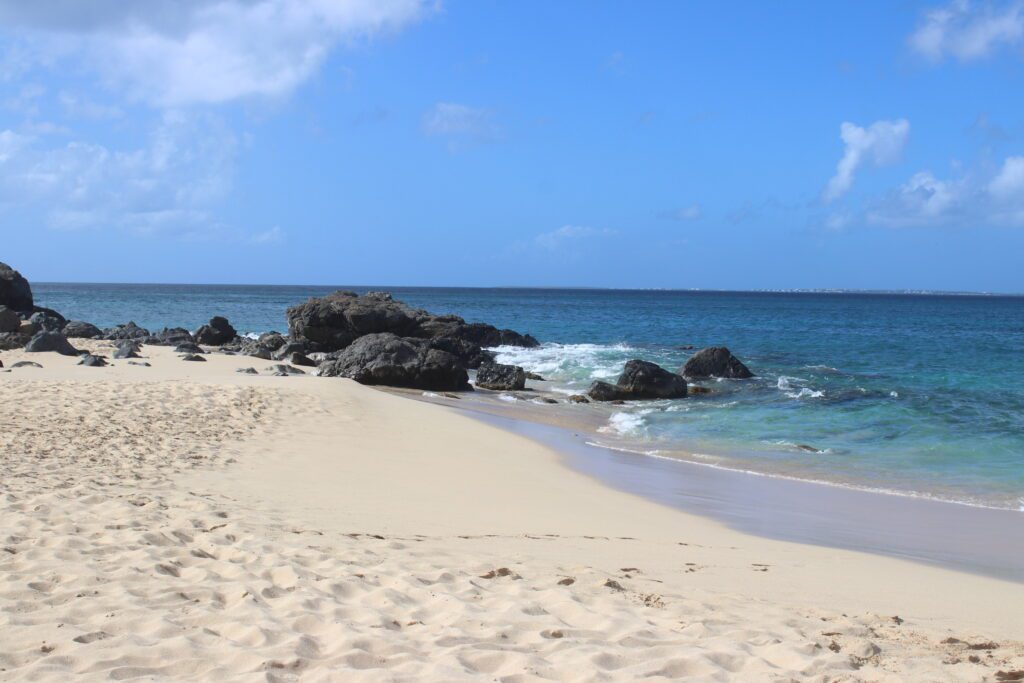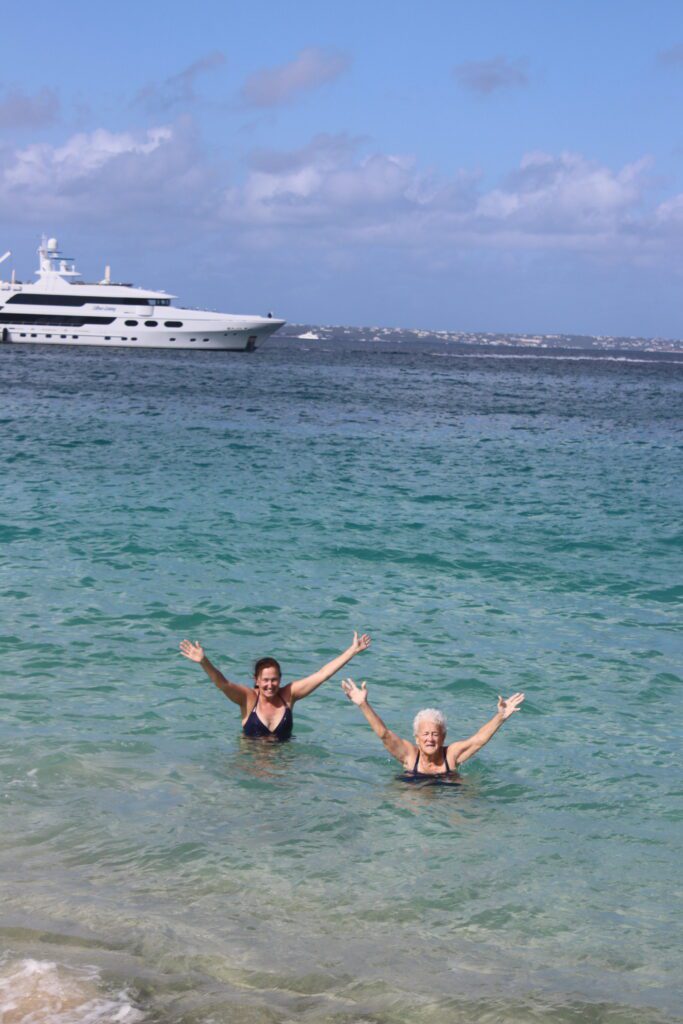 Where to Eat in Friar's Bay
There are three restaurants in Friar's Bay. All are cash only. We LOVED Friar's Bay Beach Cafe and liked Kali's Beach Bar.
Friar's Bay Beach Cafe
We ate here twice and LOVED it. The staff is friendly. The fish and salads were so good. The Greek salad is one of the best we have ever had, and we have been to Greece! Huge portions. The second time we visited, we ordered two Greek salads and split them between four people. Highly recommended. They only have a Facebook page. TripAdvisor reviews are very good. The cafe is closed Sunday and Monday.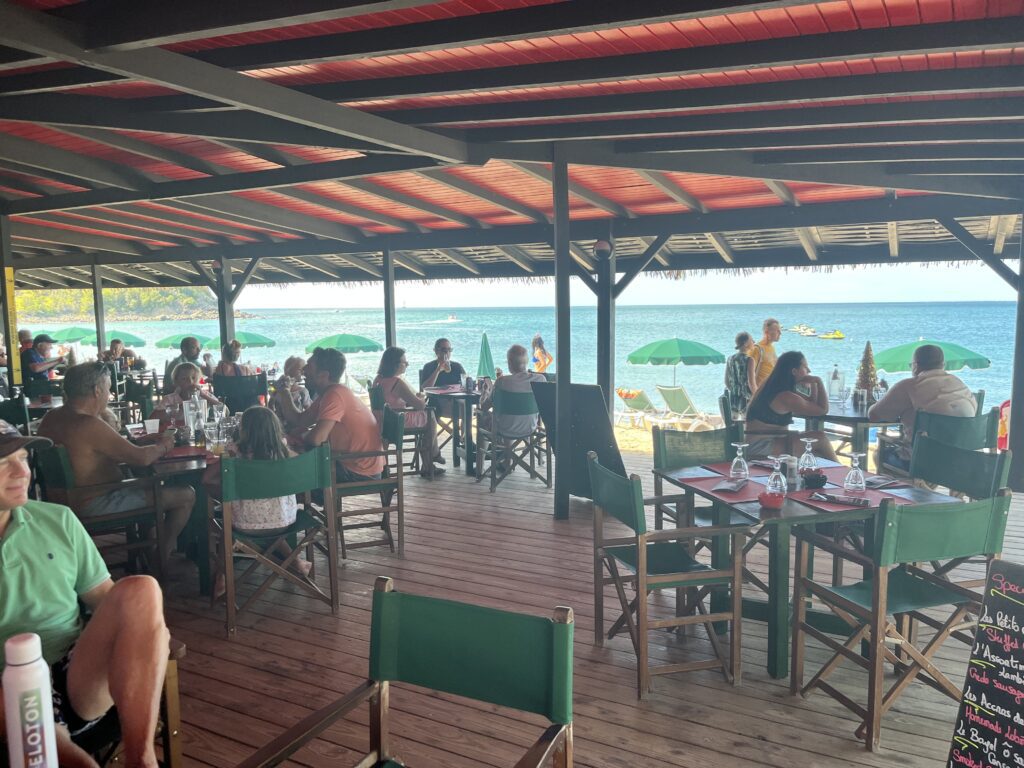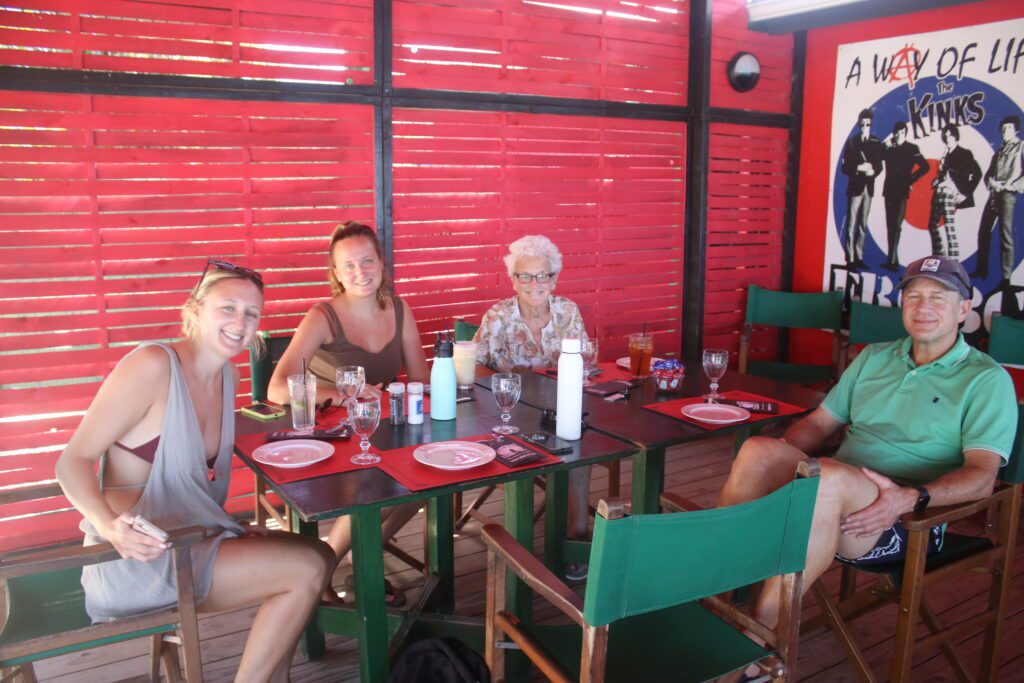 Kali's Beach Bar
We ate at Kali's Beach Bar for lunch. The service was very slow. They are very much on island time. However, the fresh fish was very delightful and authentic. The setting is wonderful. TripAdvisor reviews are a bit mixed. They have a Facebook page, but it has not been updated in years.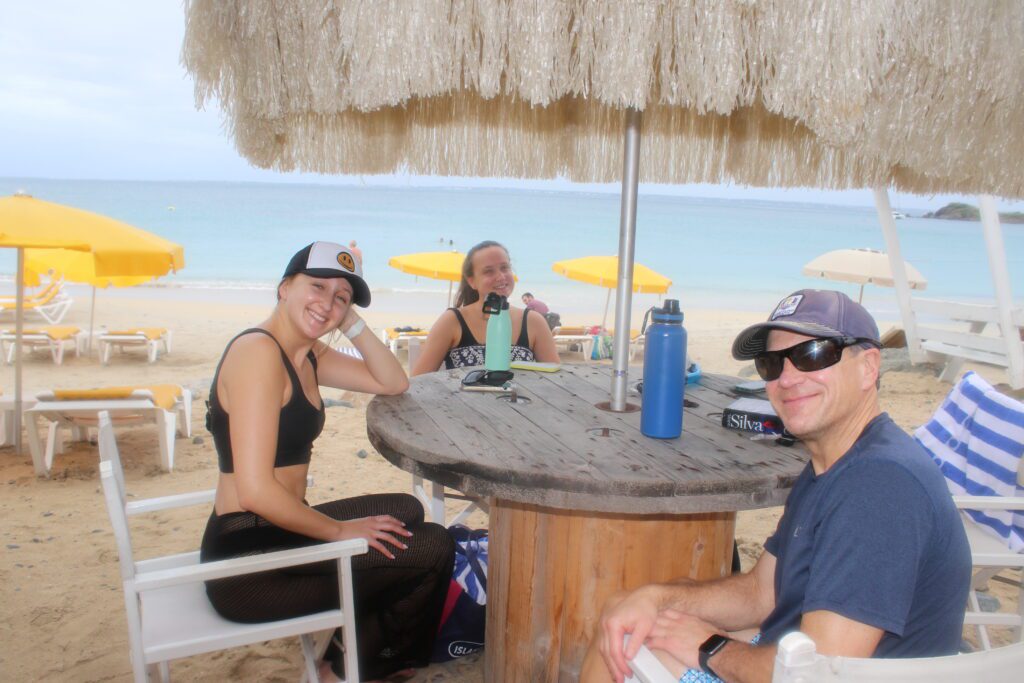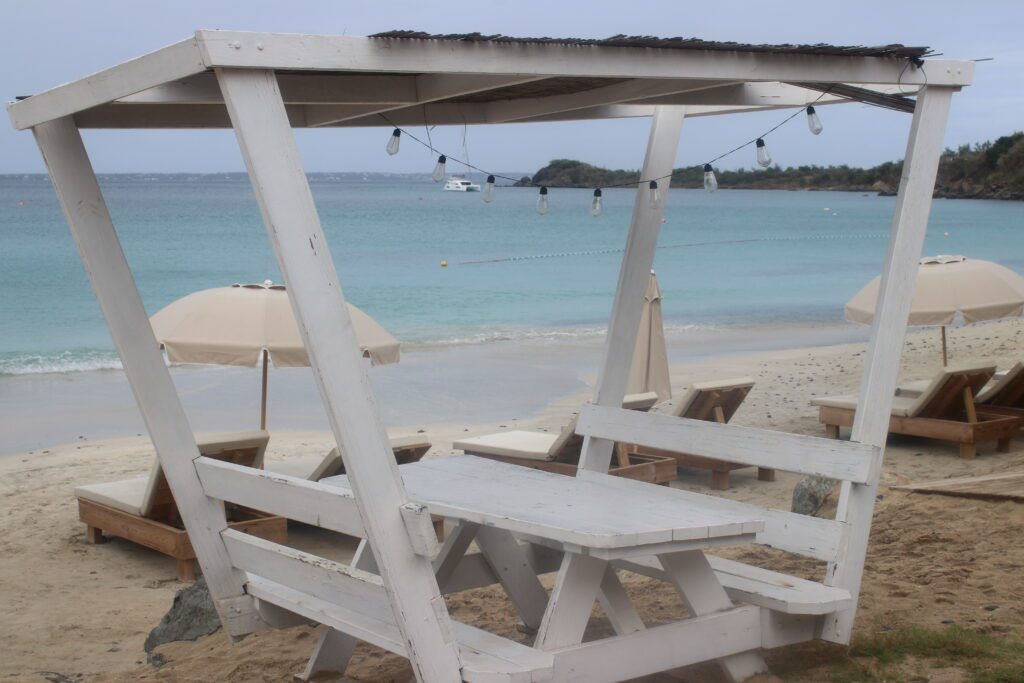 Paperboat Charters
We spent two days on the water with Paperboat Charters. Both were fantastic. Captain Etienne was wonderful. We had hoped to go to Anguilla one of the days, but in December of 2020, Anguilla still had stringent covid requirements which made it challenging to go. We could have done a day trip to St. Barths, but it is a solid hour each way in a boat. We should have investigated flying from Grand Case airport to St. Barths which would have taken 10 minutes.
Paperboat Charters is owned by a man named Elliot. He was not responsive to my questions on WhatsApp and e-mail. However, Etienne was great, and he cleared up a billing issue for me.
The boat leaves out of the Anse Marcel marina. You can park in the lot that is in front of the Secrets Resort. It is a quick walk to the boat.
On our first day, we met at 9am. We went to Creole Rock for snorkeling, through Grand Case Bay, into Happy and Friar's Bays. We then turned around and went to Pinel Island, ate lunch and then snorkeled off of Tintamarre. We stopped at Green Caye and then returned to Tintamarre for happy hour. We stayed exclusively on the French side this day. The cost was $1000, and it included time on the water from 9-5, snorkel gear, waters and sodas and open bar for happy hour. We had a great time both days.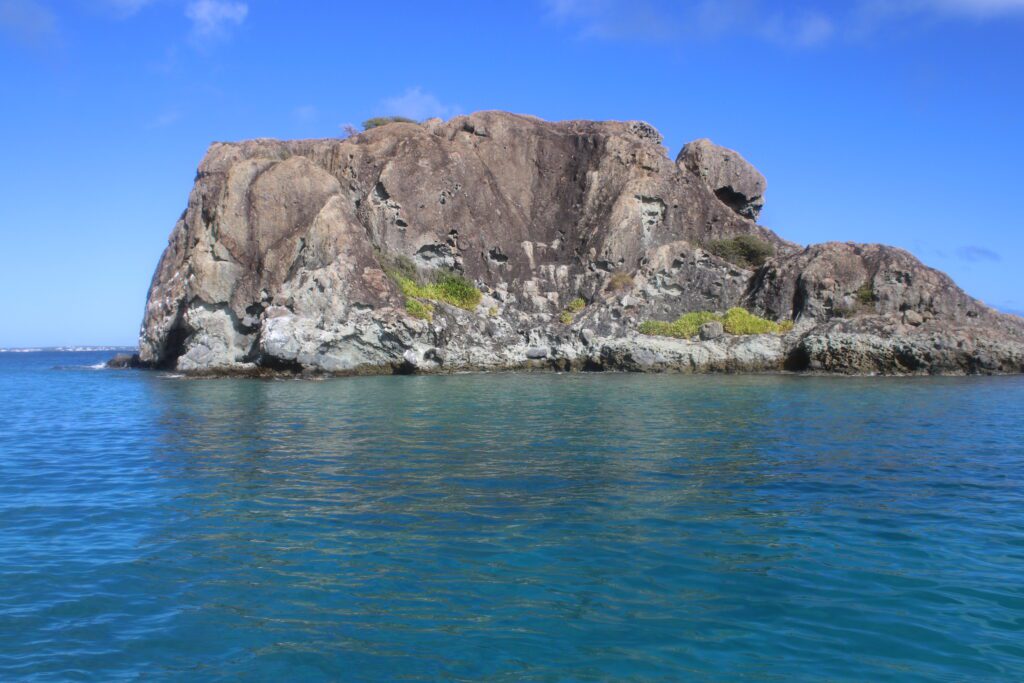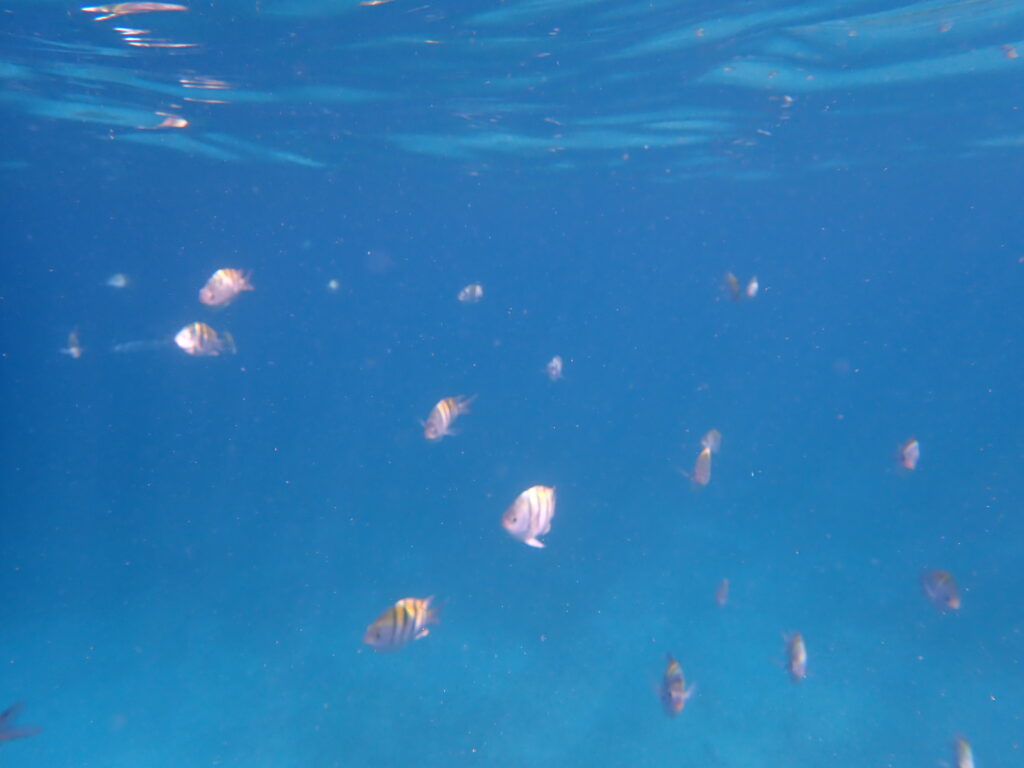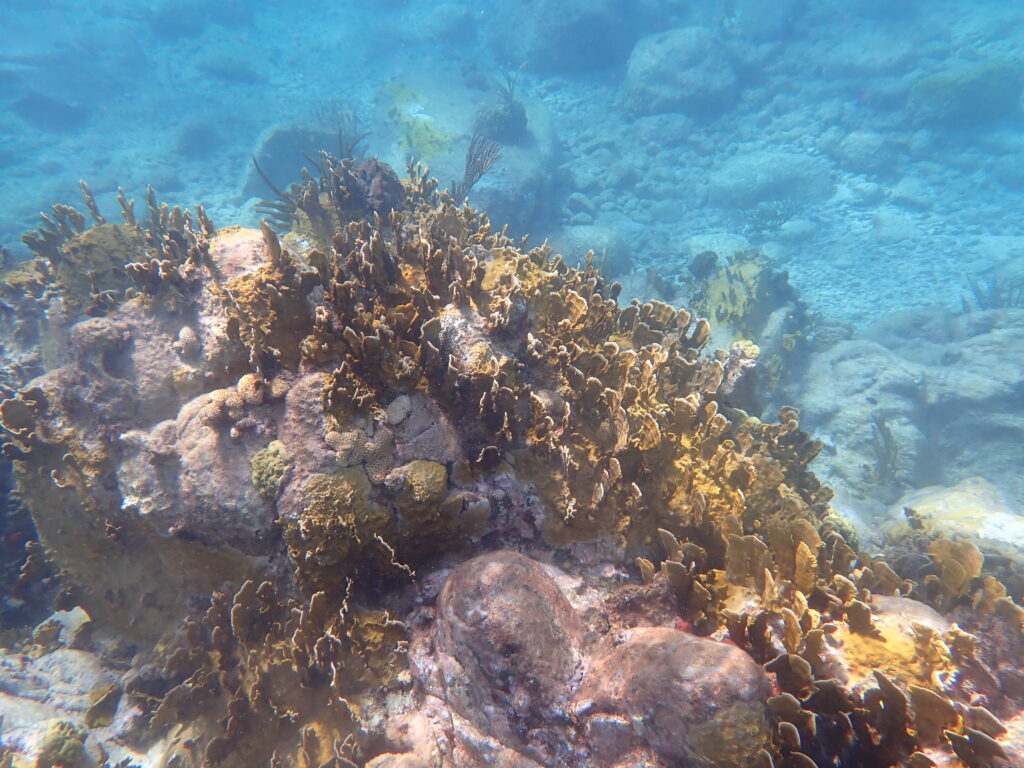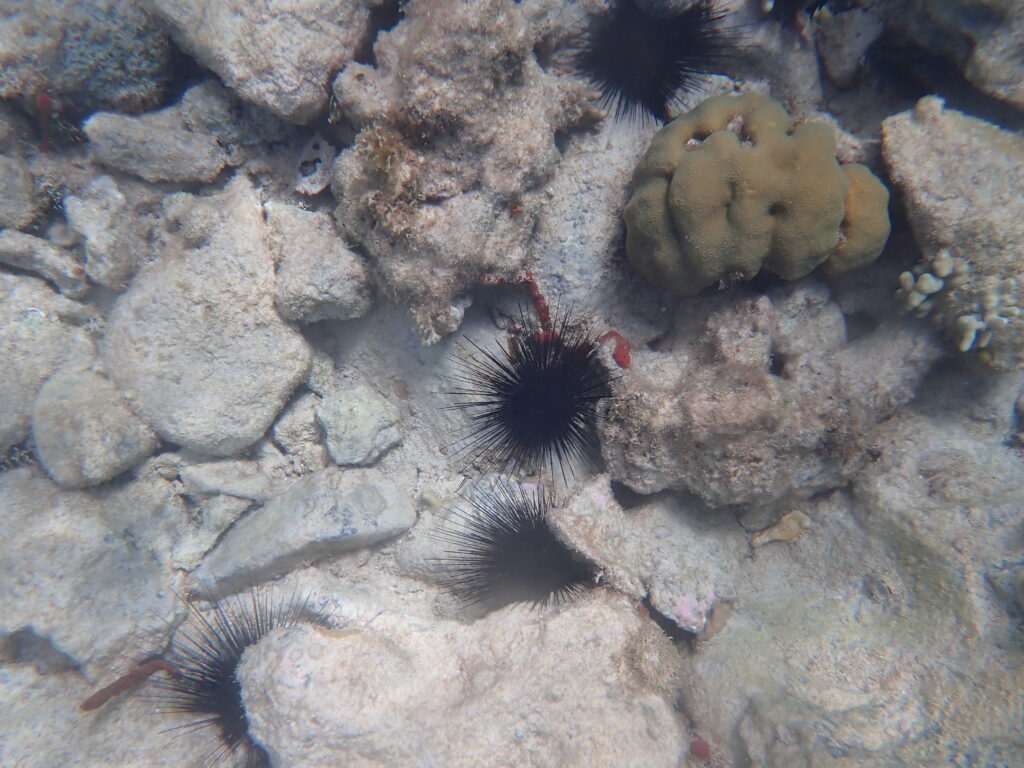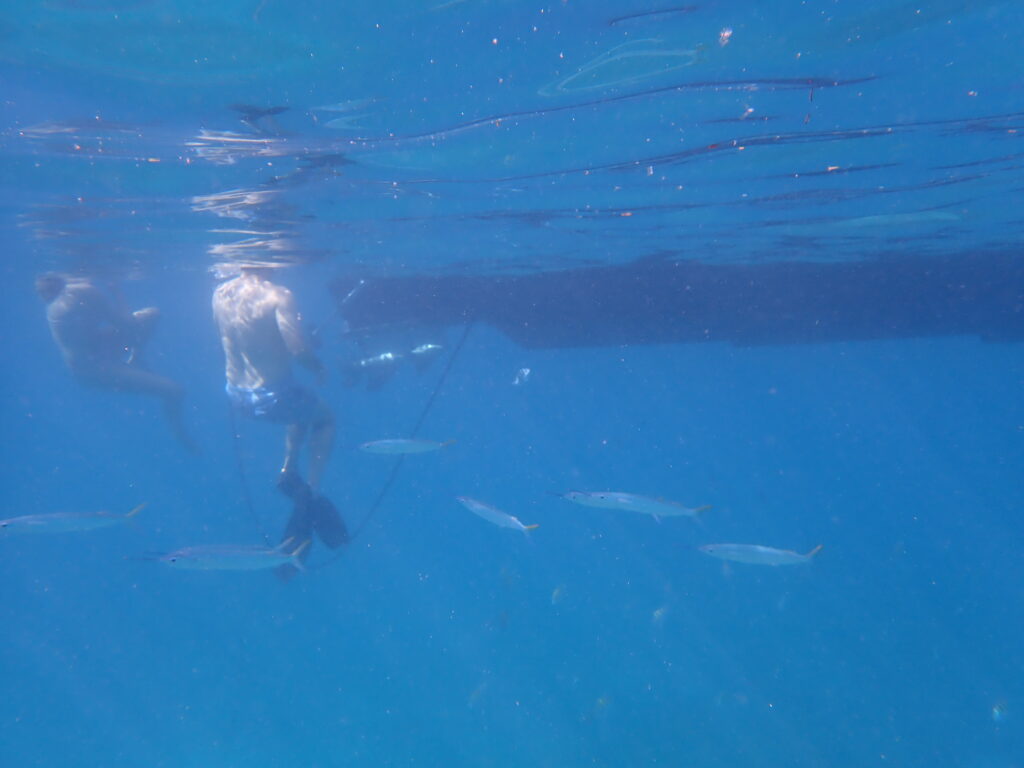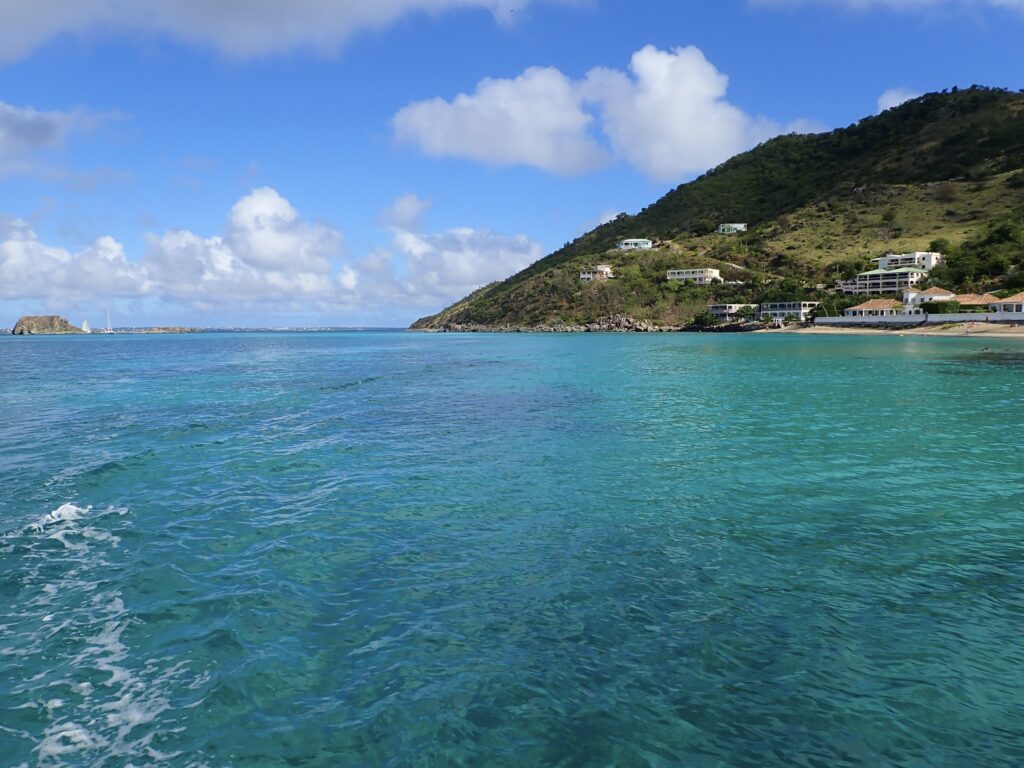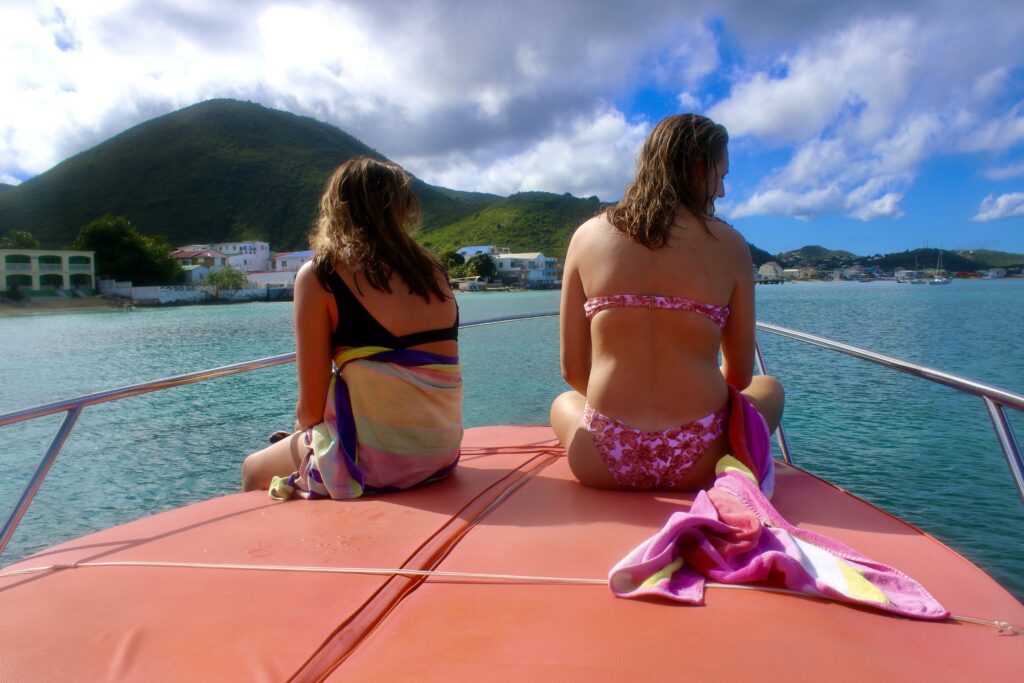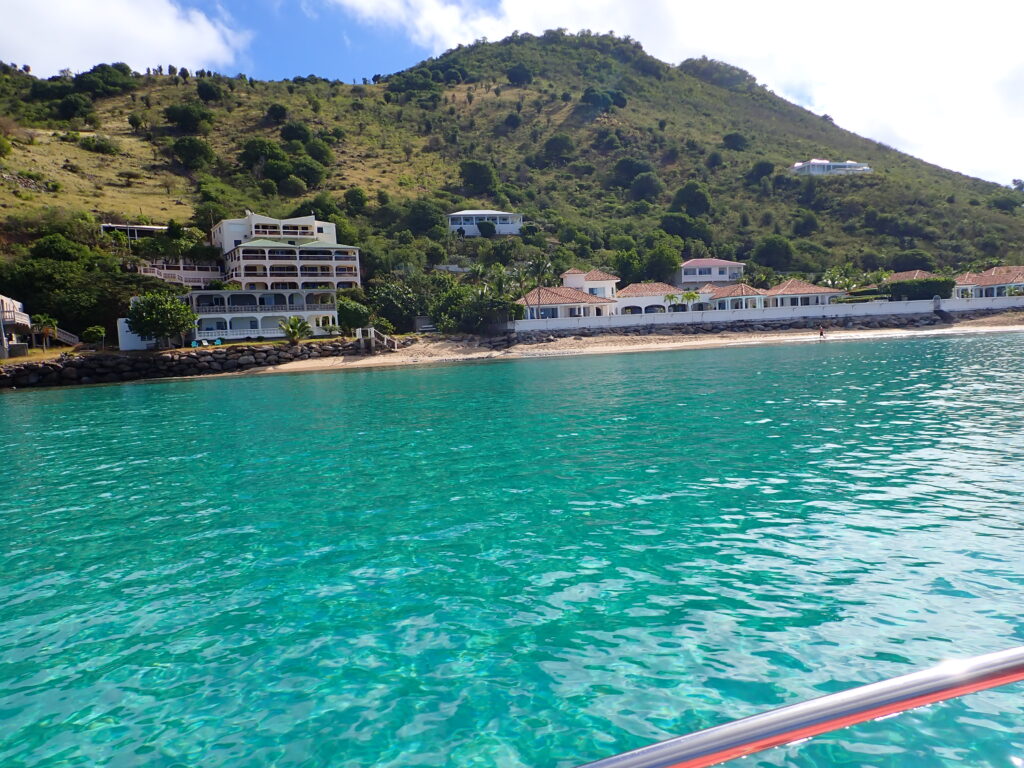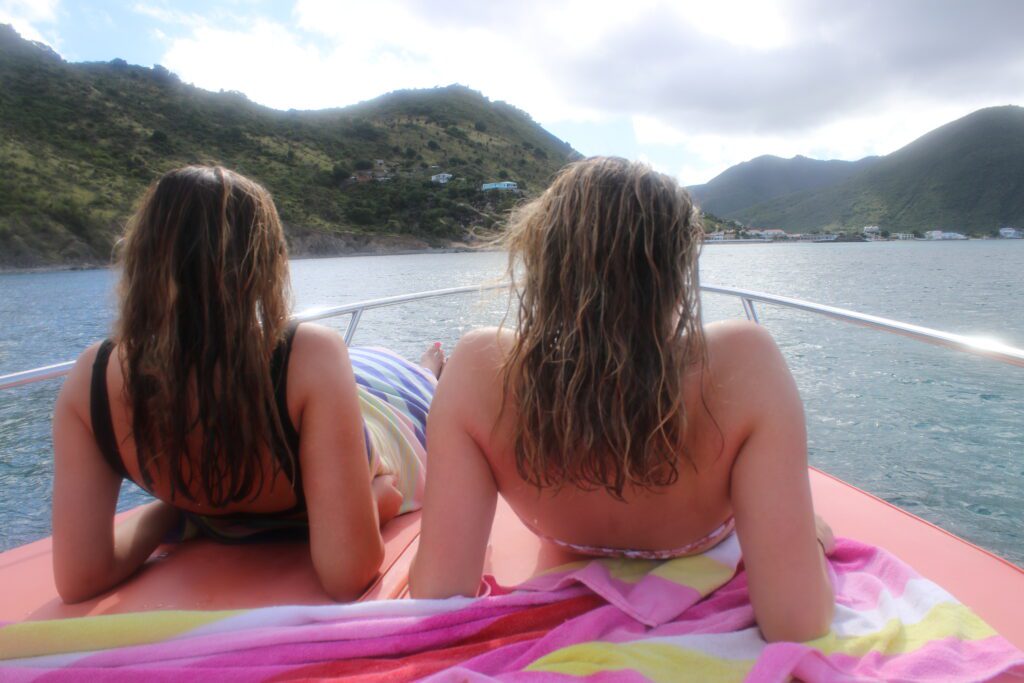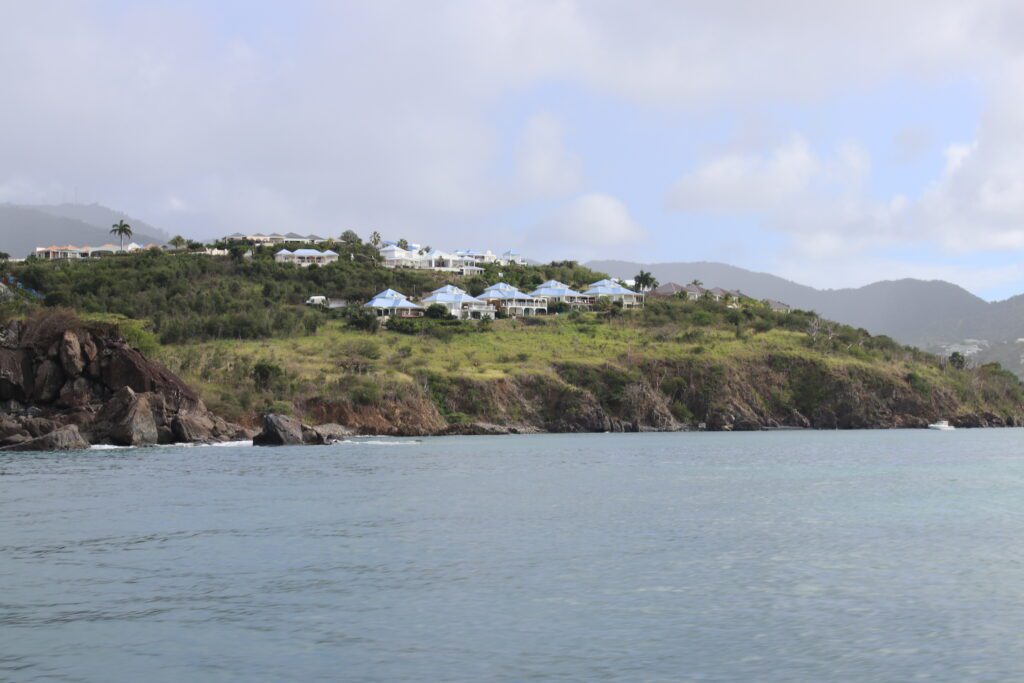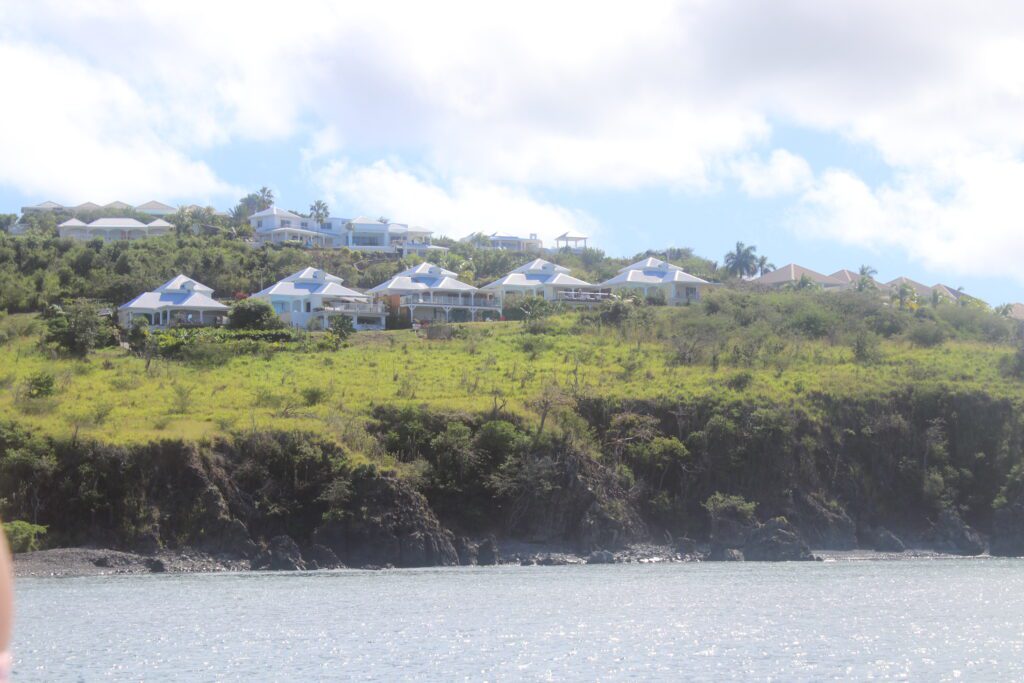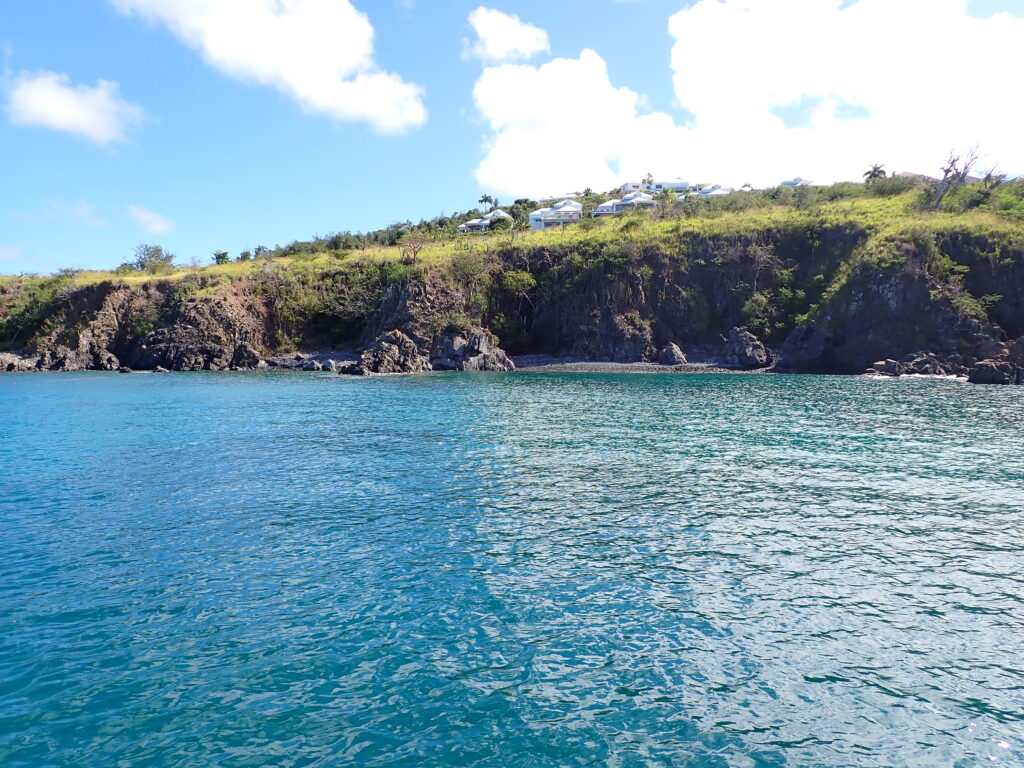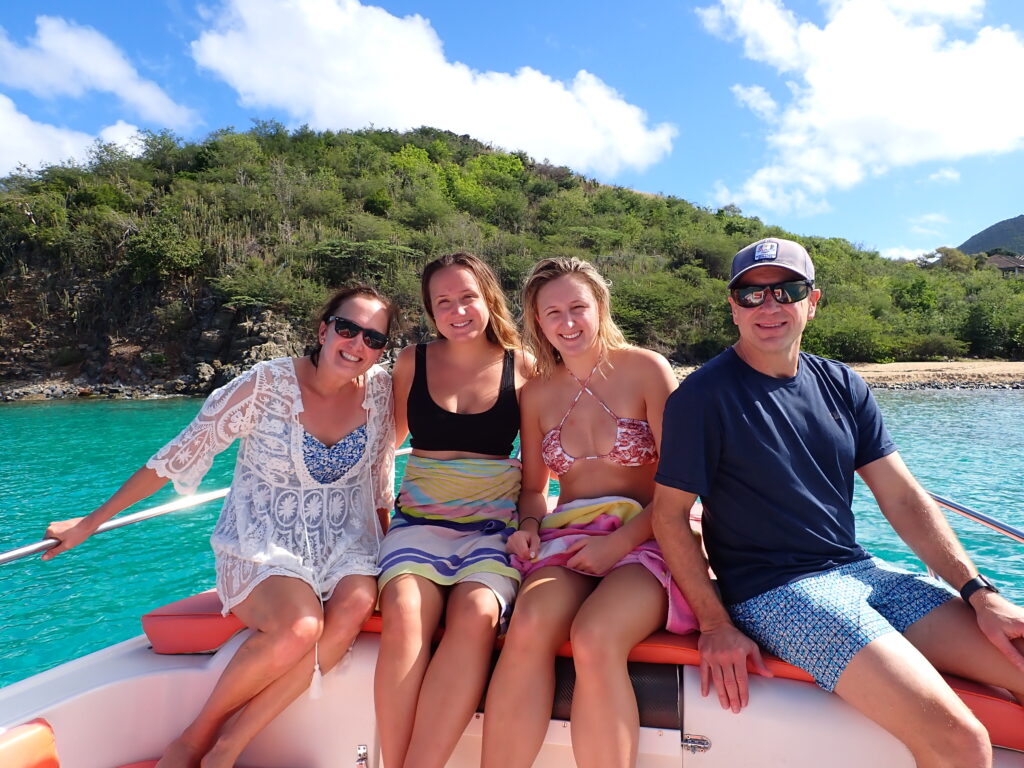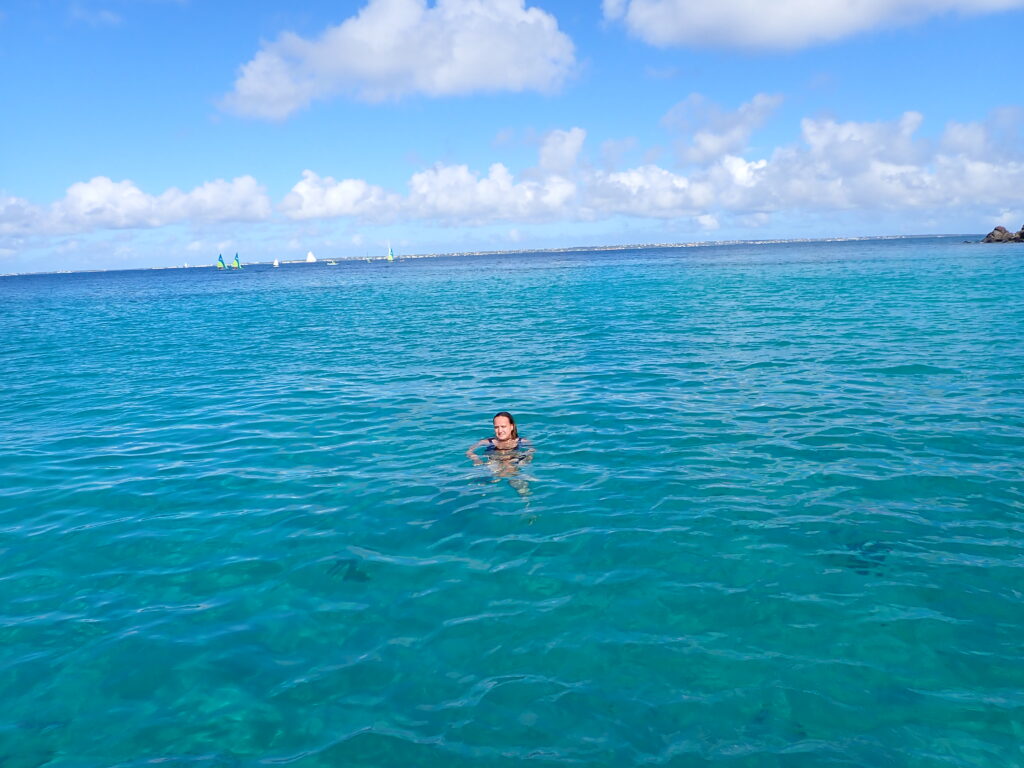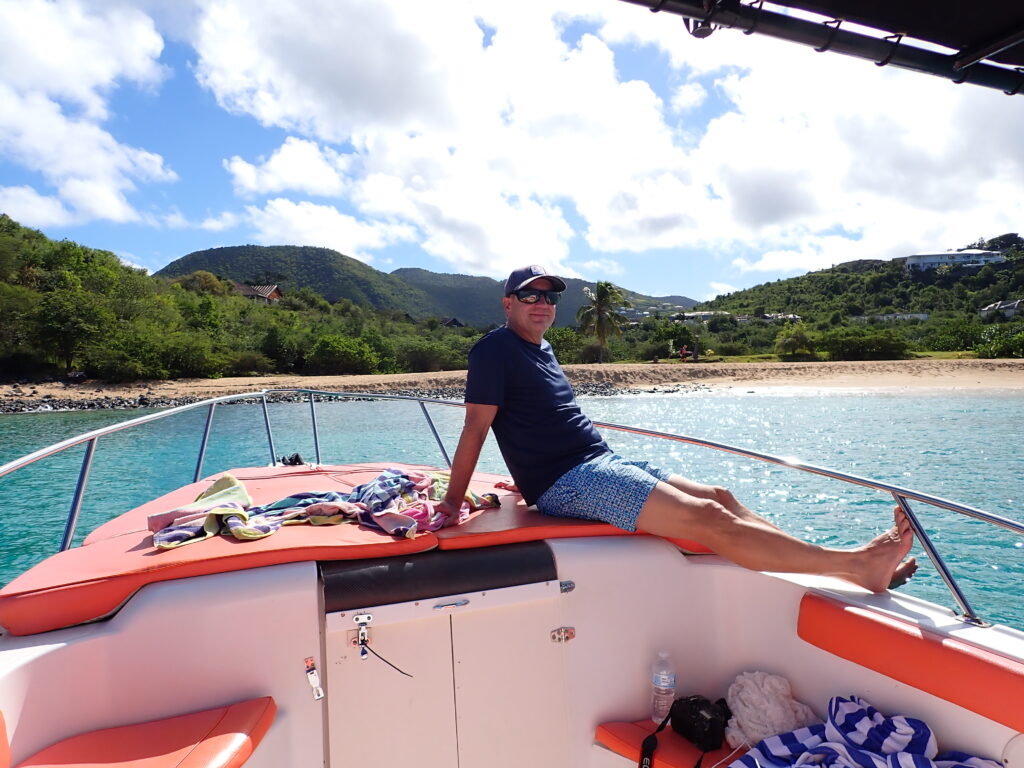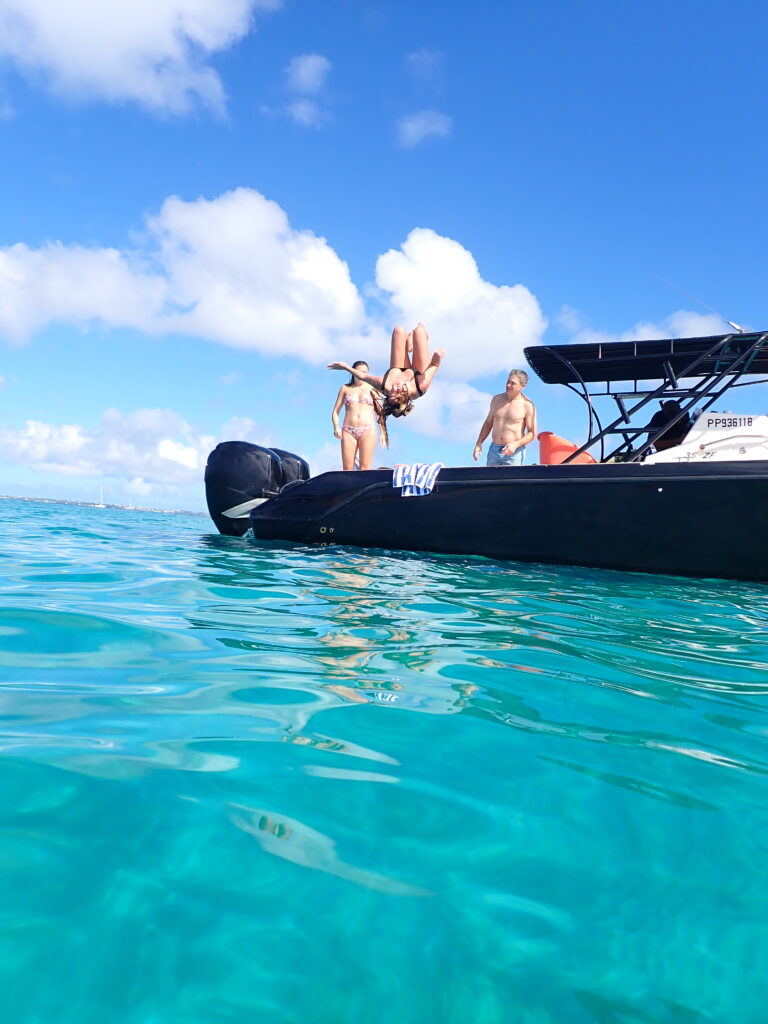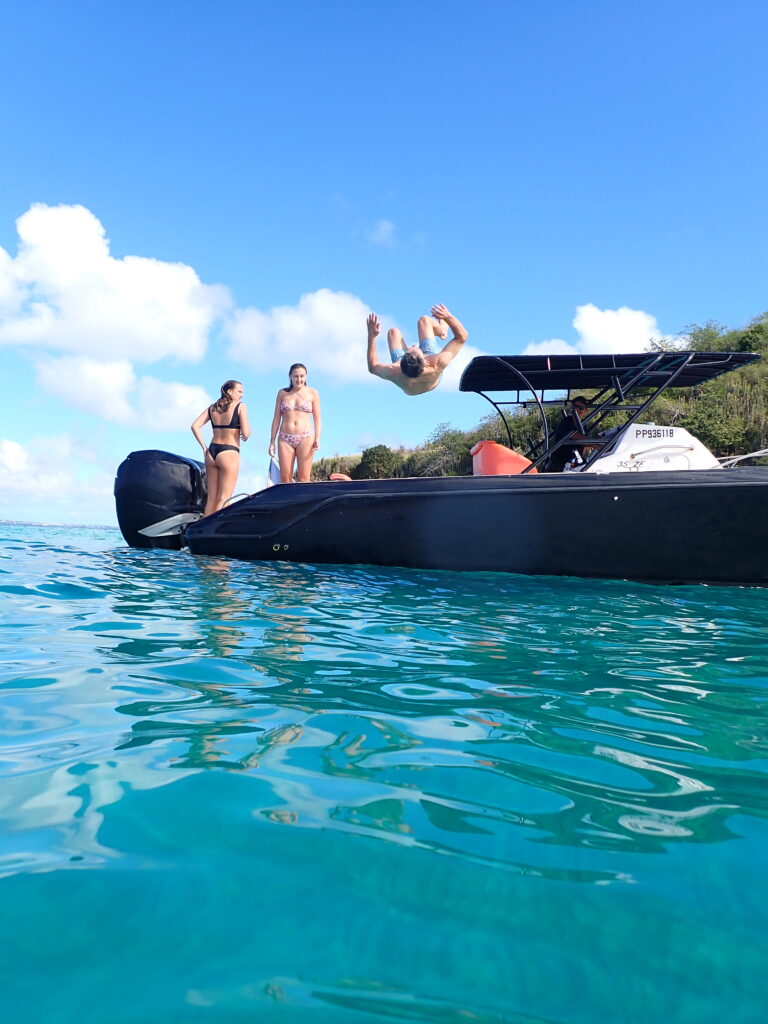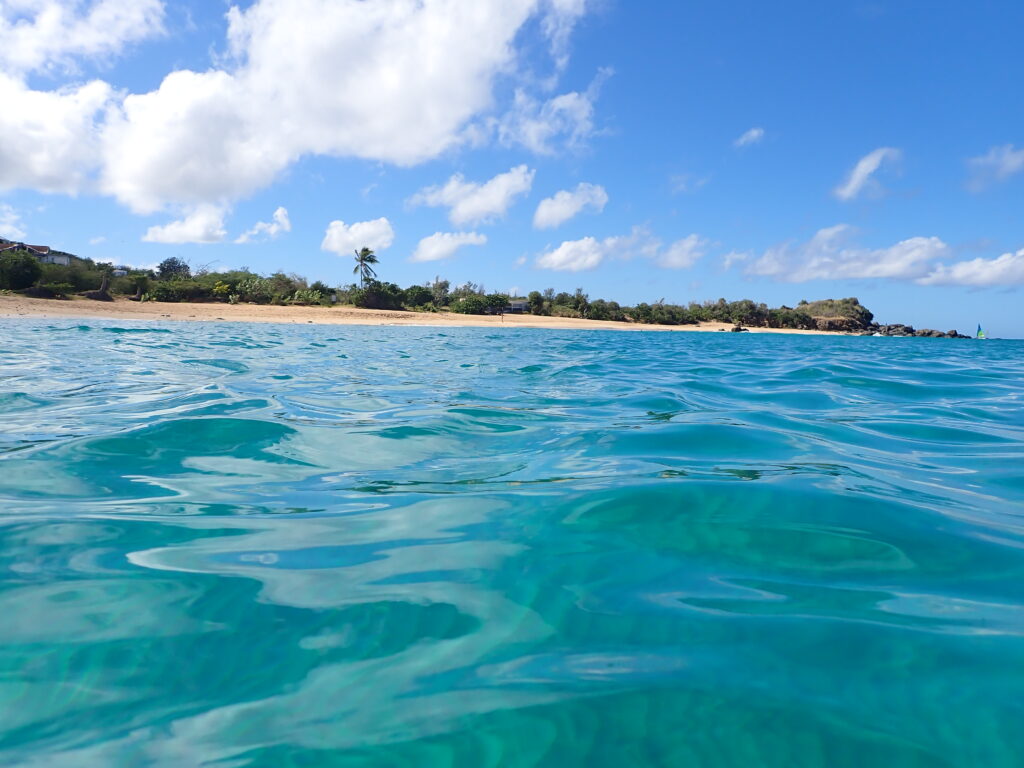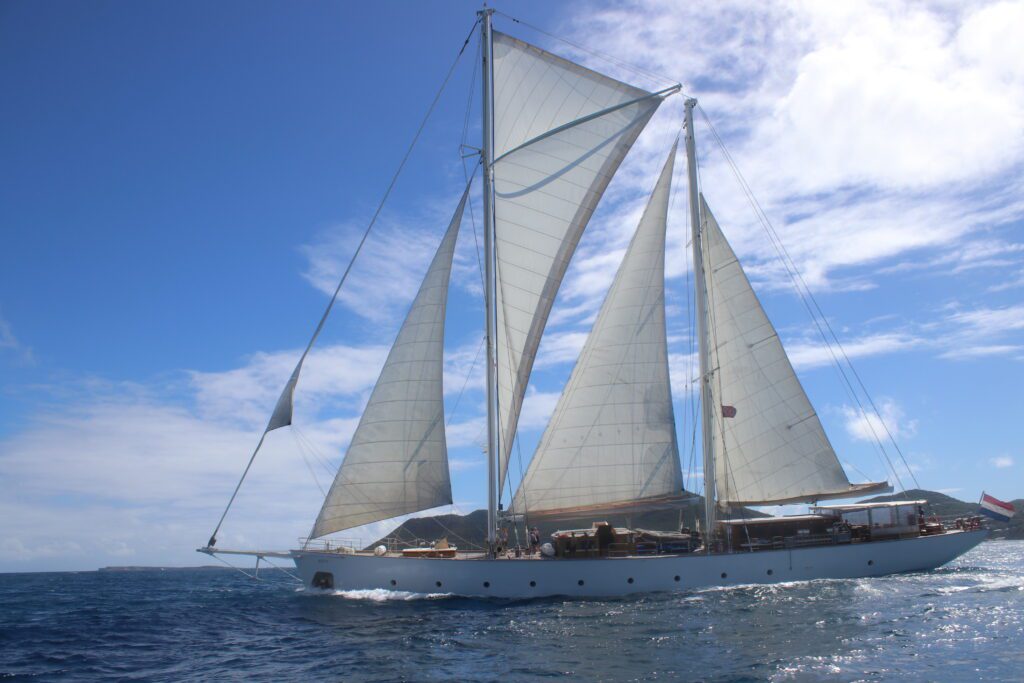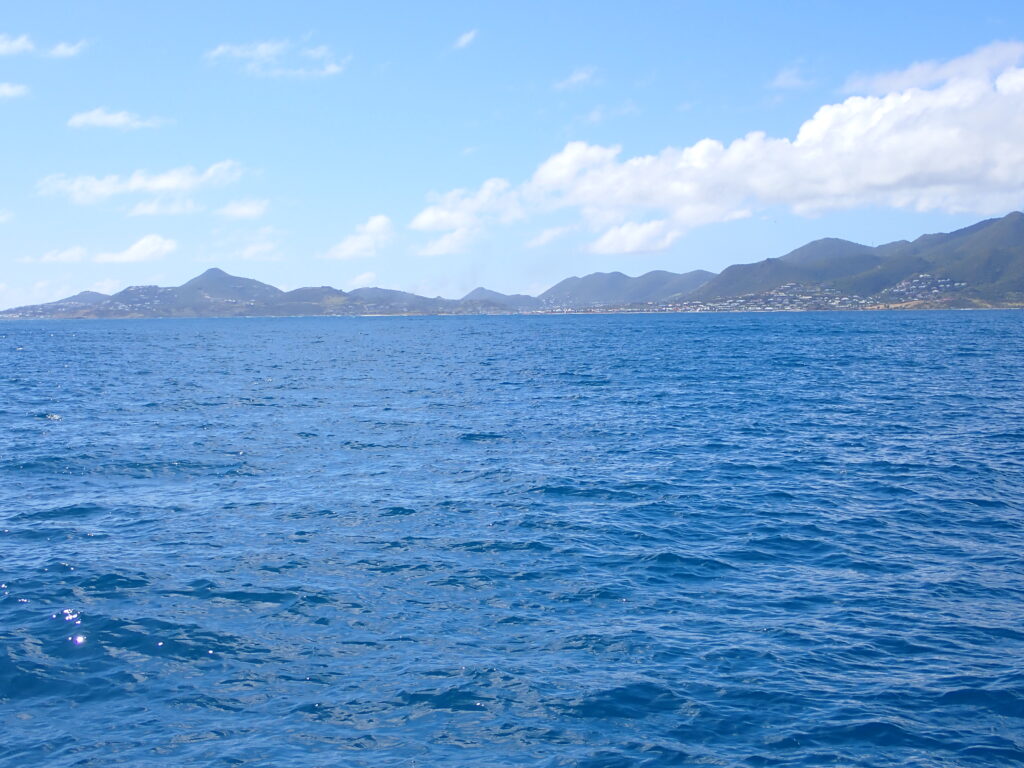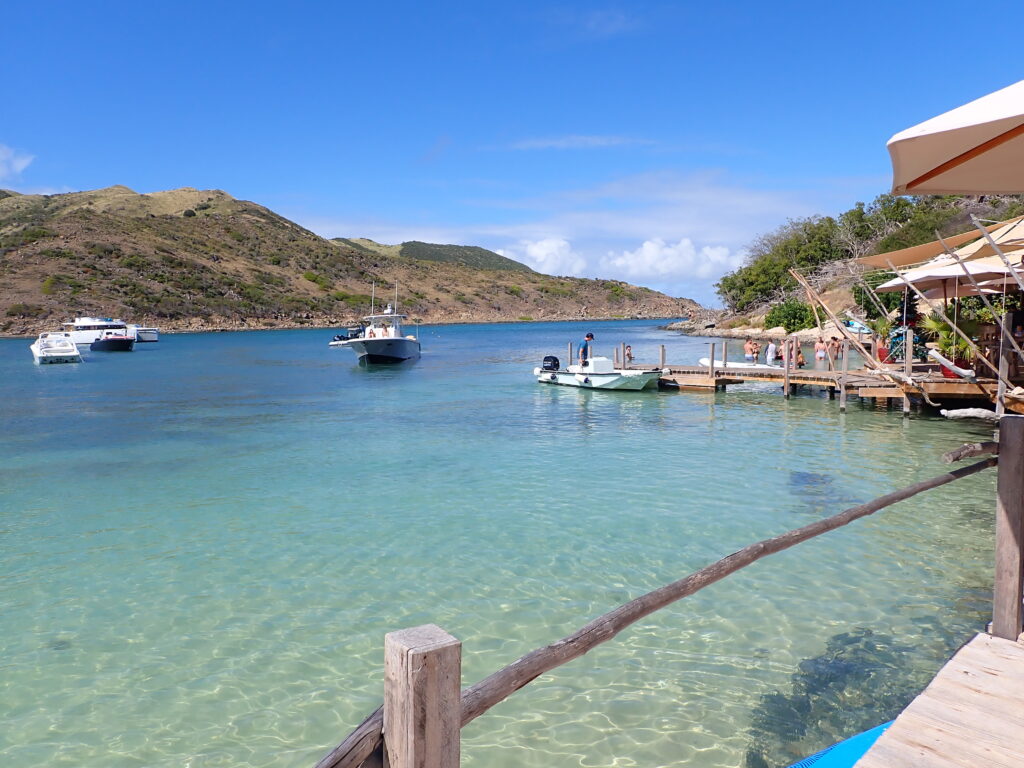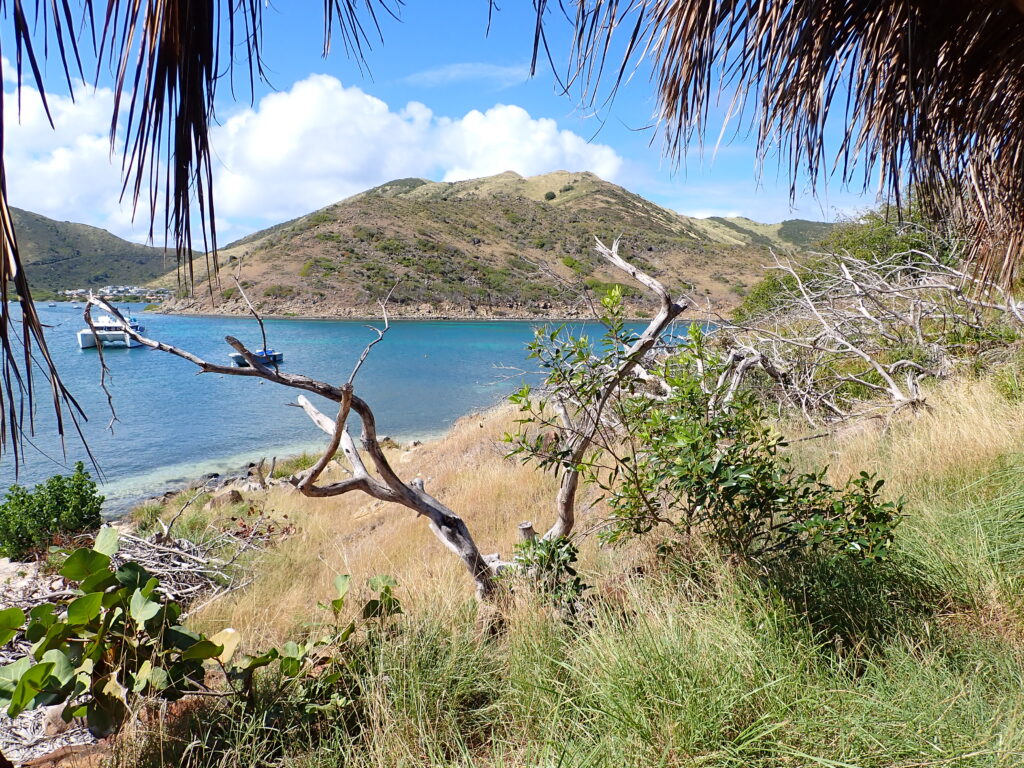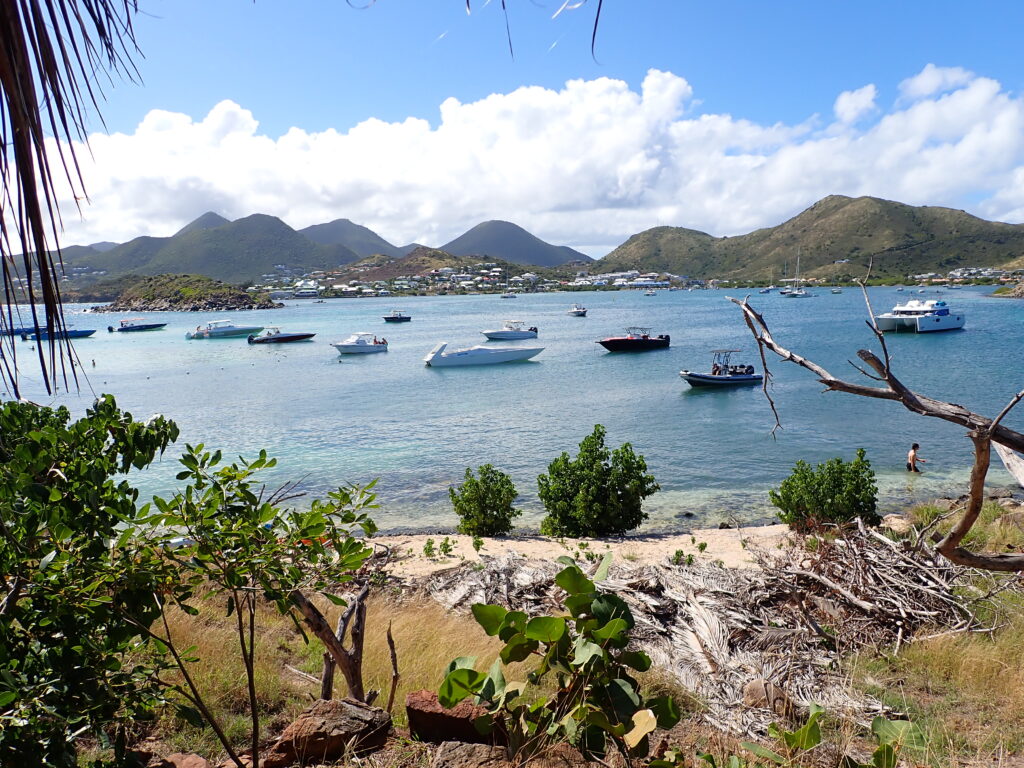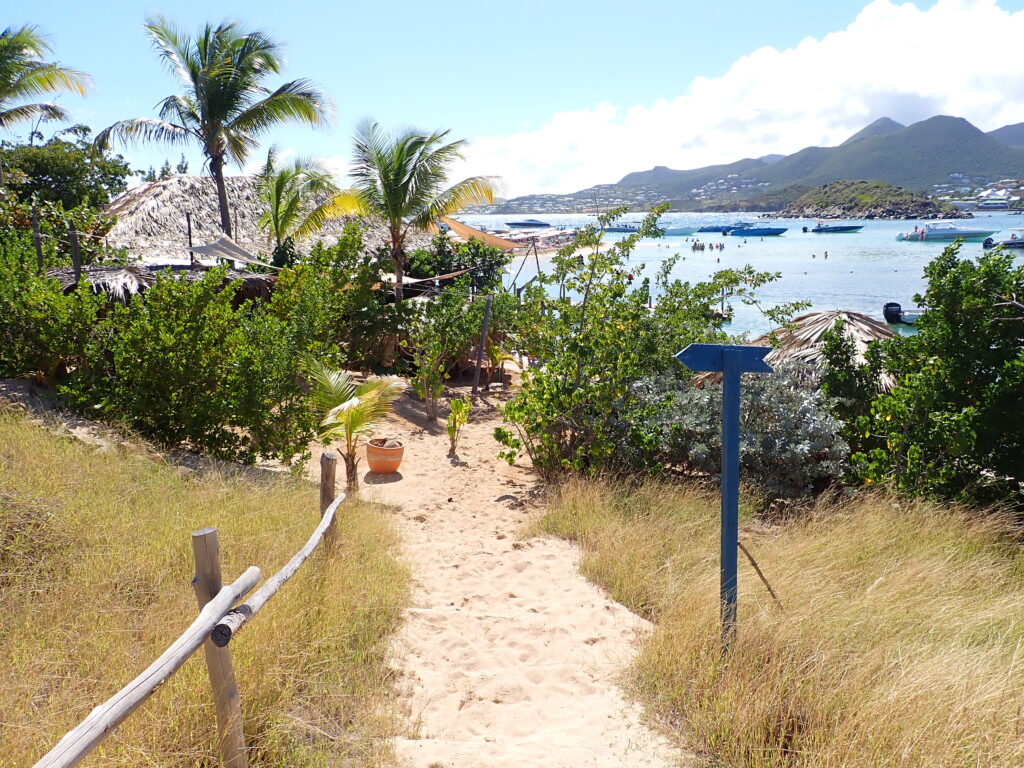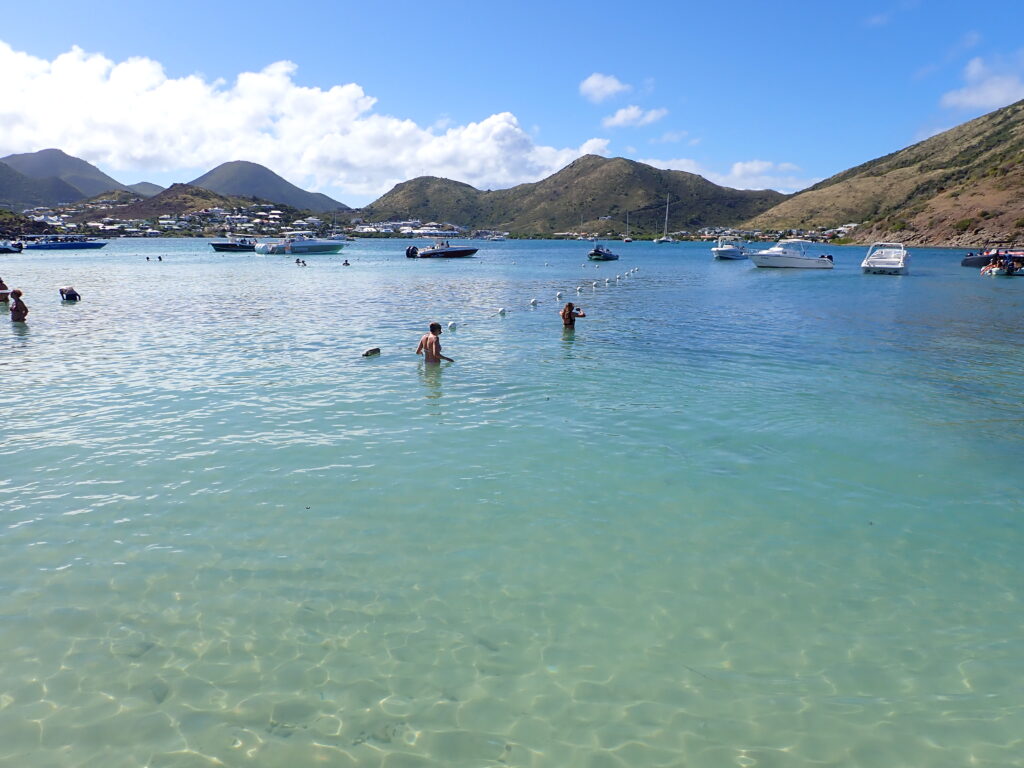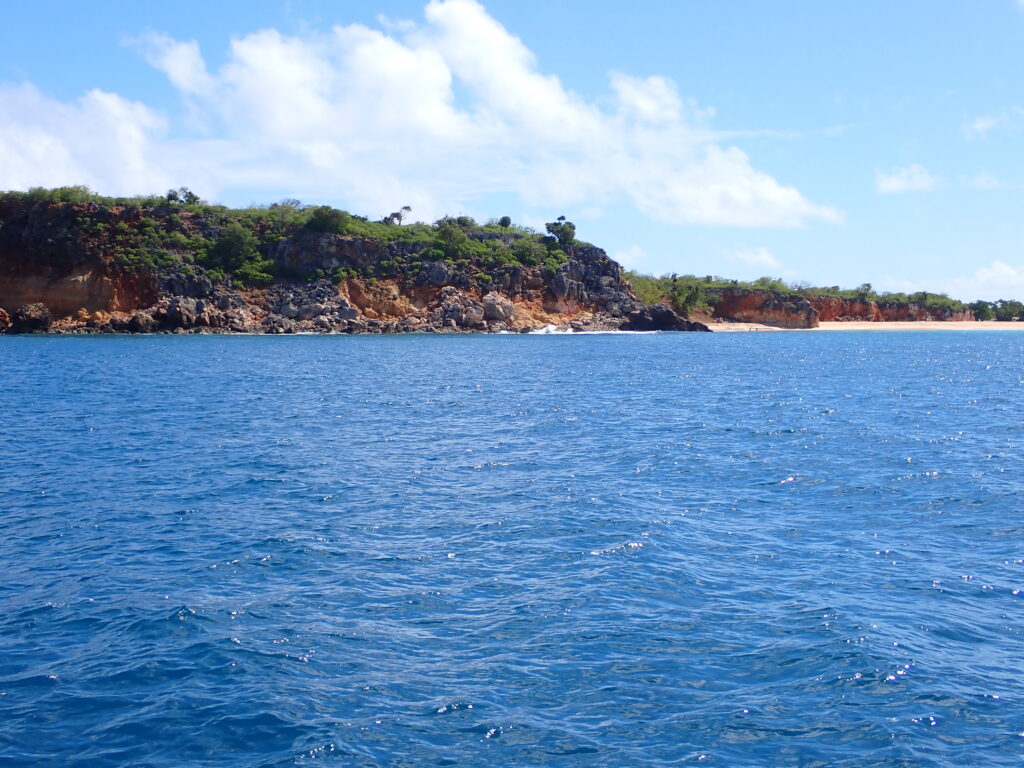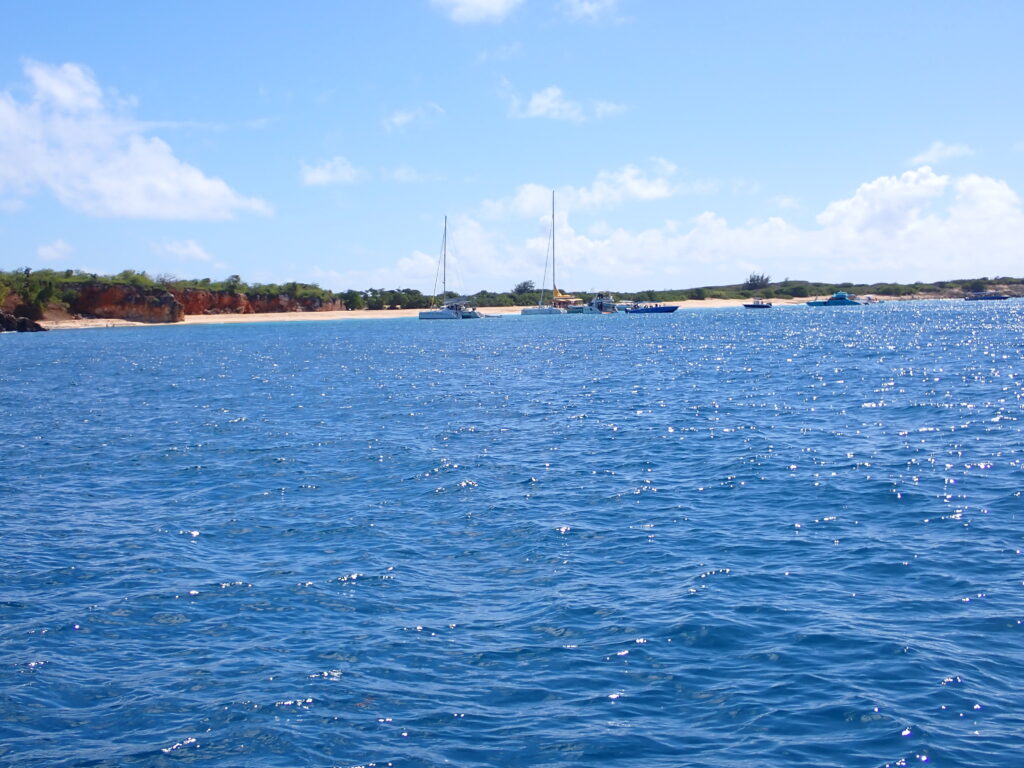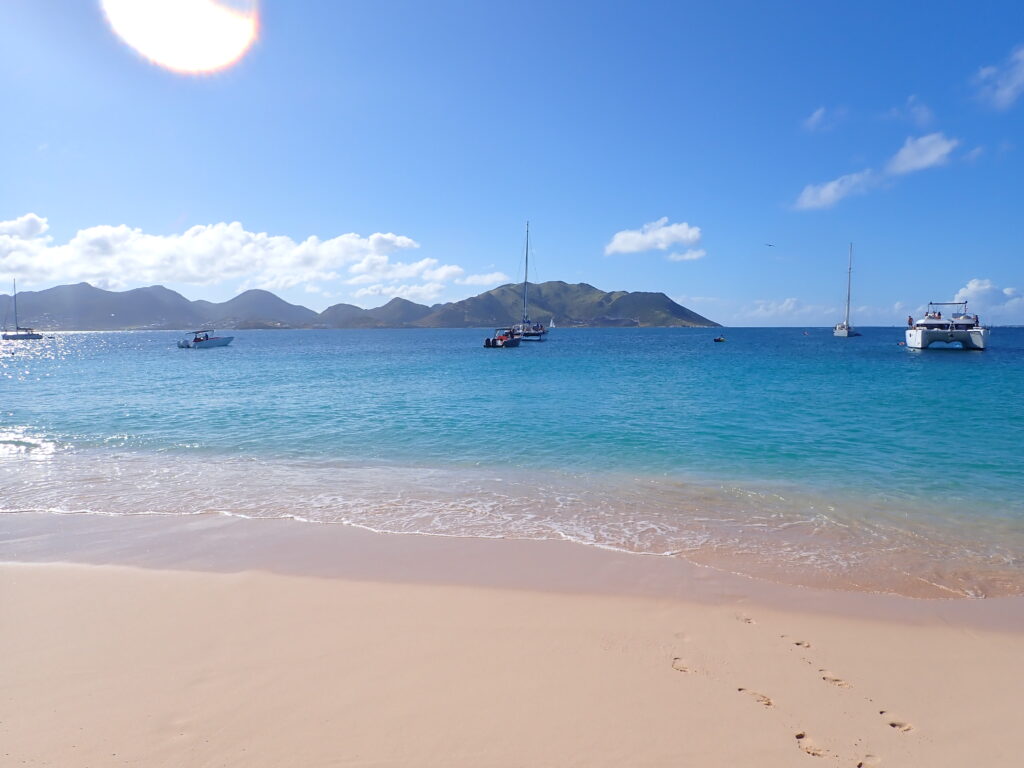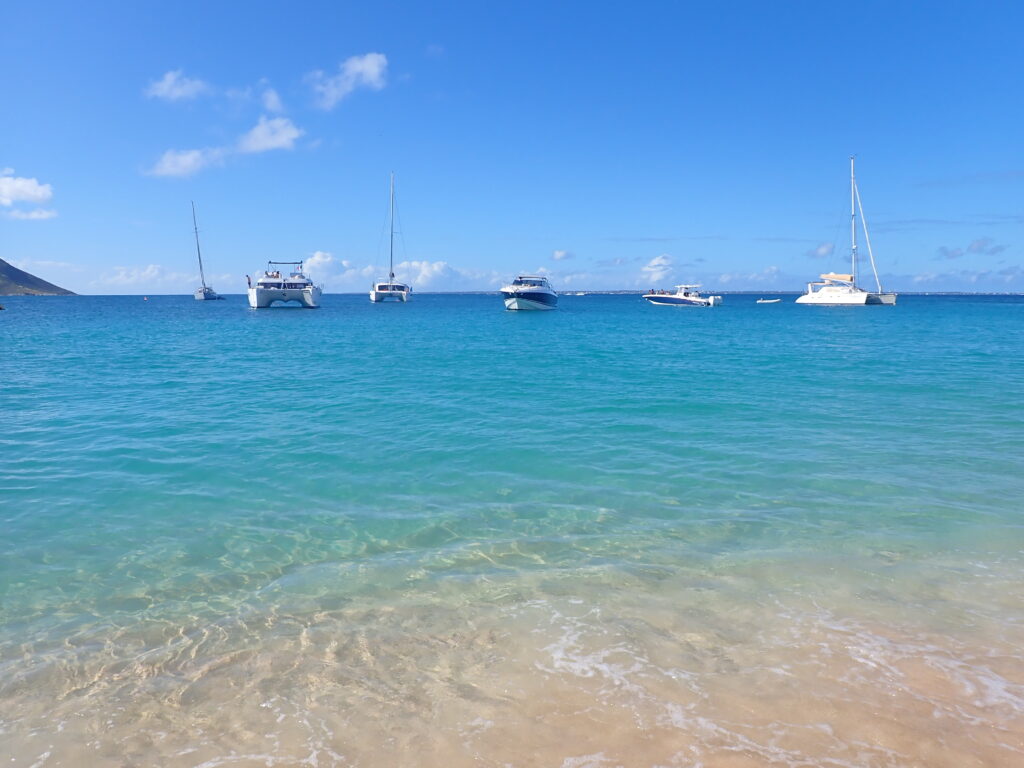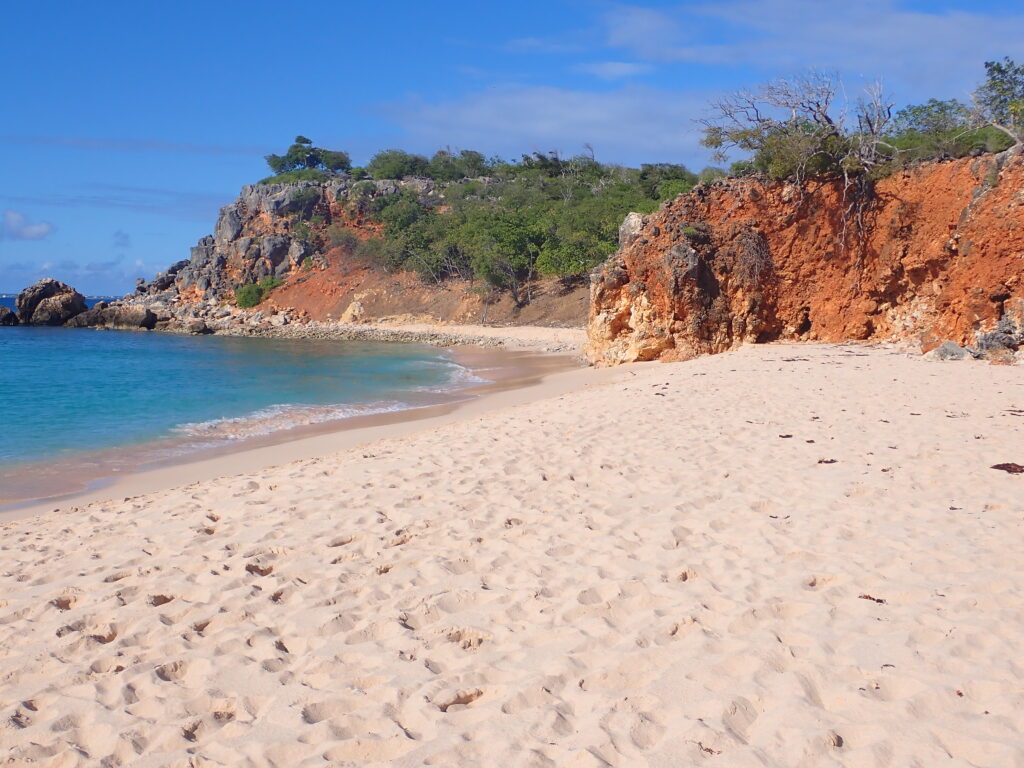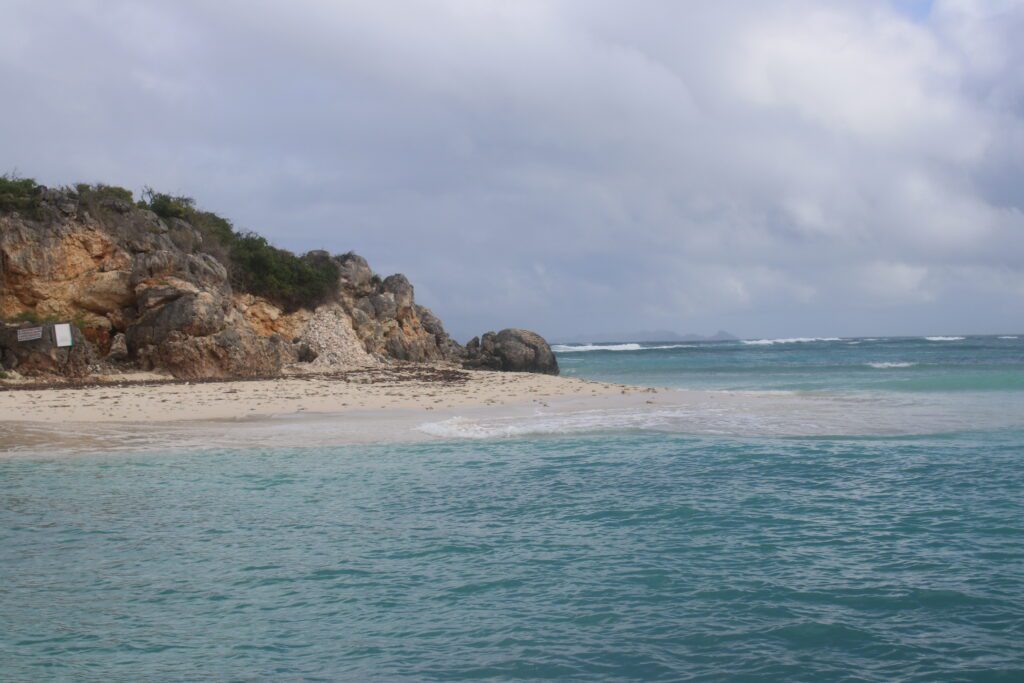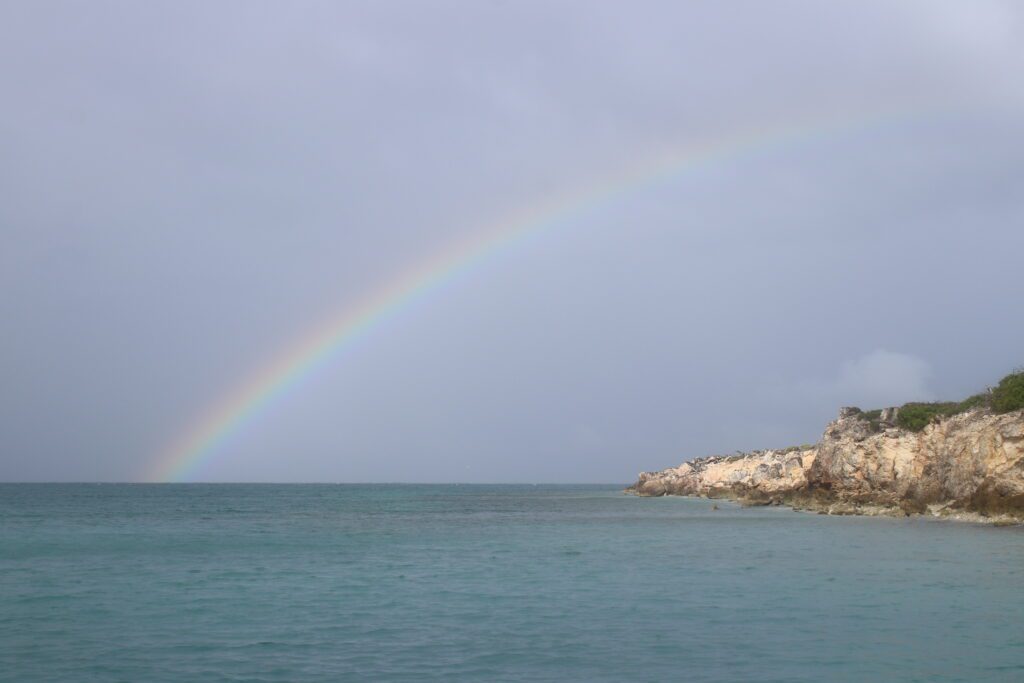 It was time for Happy Hour, so we went back to Tintamarre and had rose, rum punch and beer. It was the perfect way to end the day.
Four days later we spent another day with Etienne and Paperboat Charters. This day, we went past Grand Case, Happy Bay and Friar's Bay. We cruised into Marigot Harbor and past Baie Nettle and Baie Rouge to Baie Longue for a swim and a jump. Baie Longue has incredible blue water. We put our electronics and coverups in dry bags and swam into Da Waterhole for lunch in Mullet Bay on the Dutch side. We watched some planes land in Maho Bay (Dutch side). Then, we oogled mega-yachts in Simpson Bay and Simpson Bay Lagoon (Dutch side). We exited the lagoon in Marigot Harbor back on the French side and ended up at Creole Rock for a swim and Happy Hour. Another super fantastic day.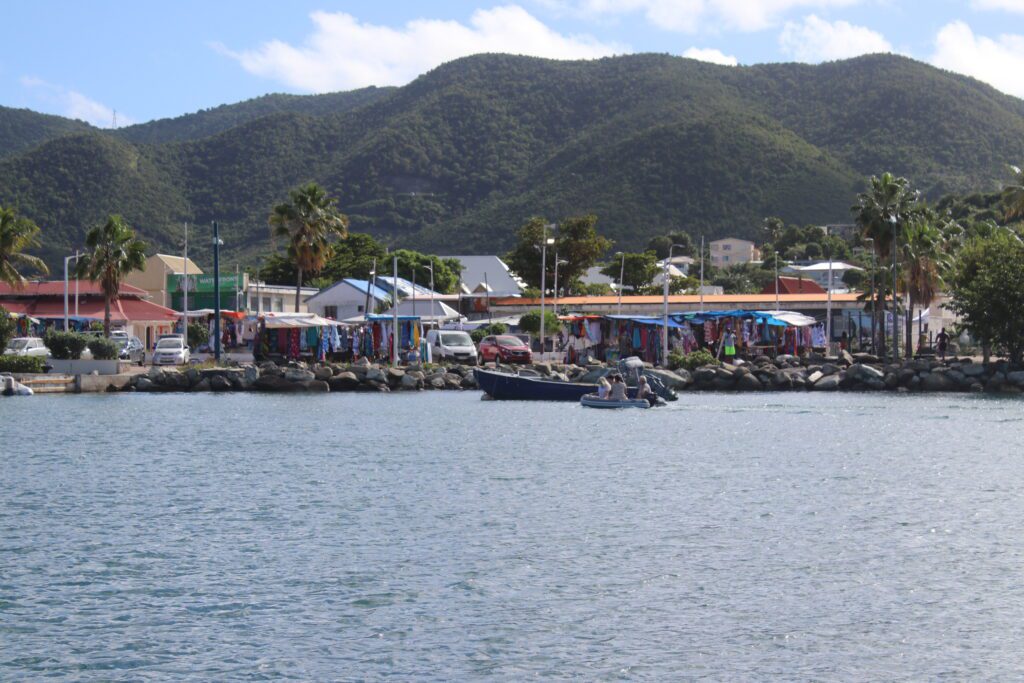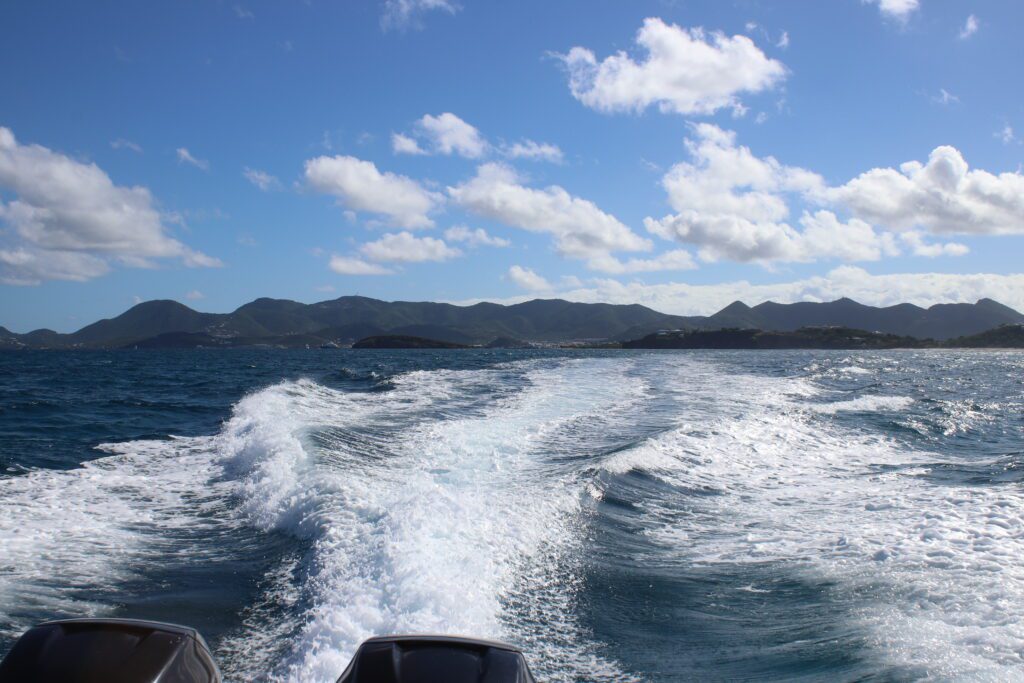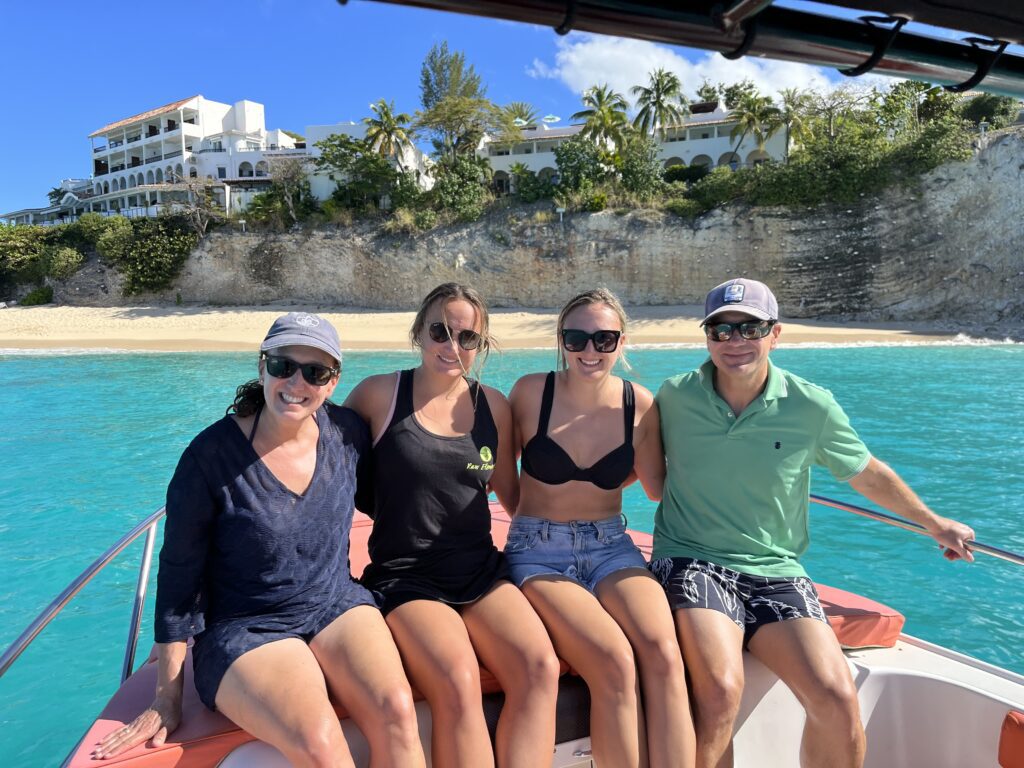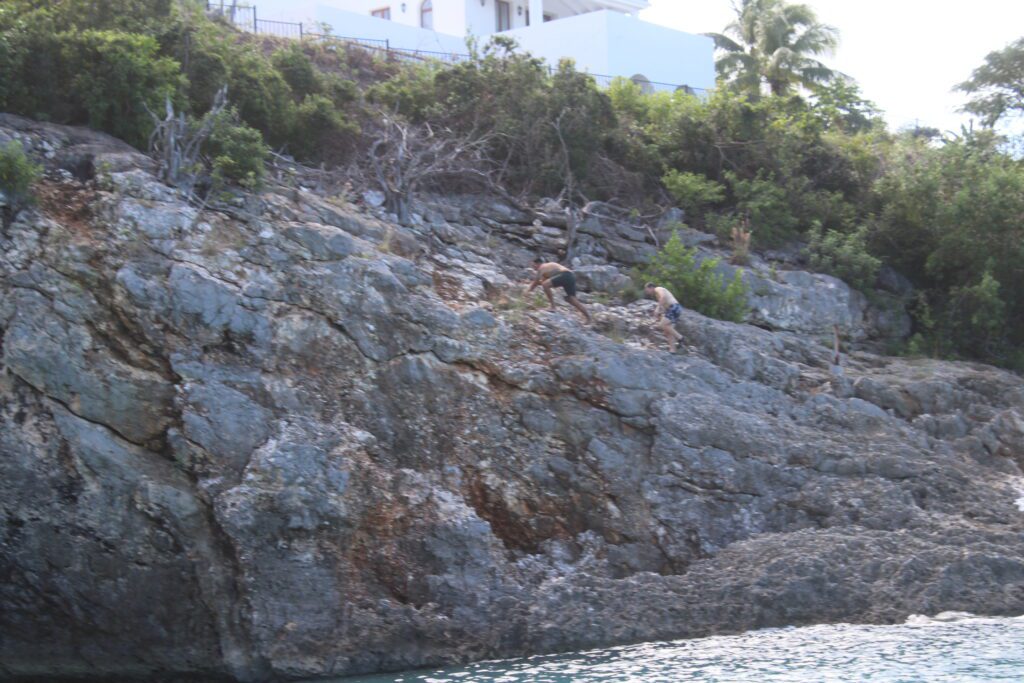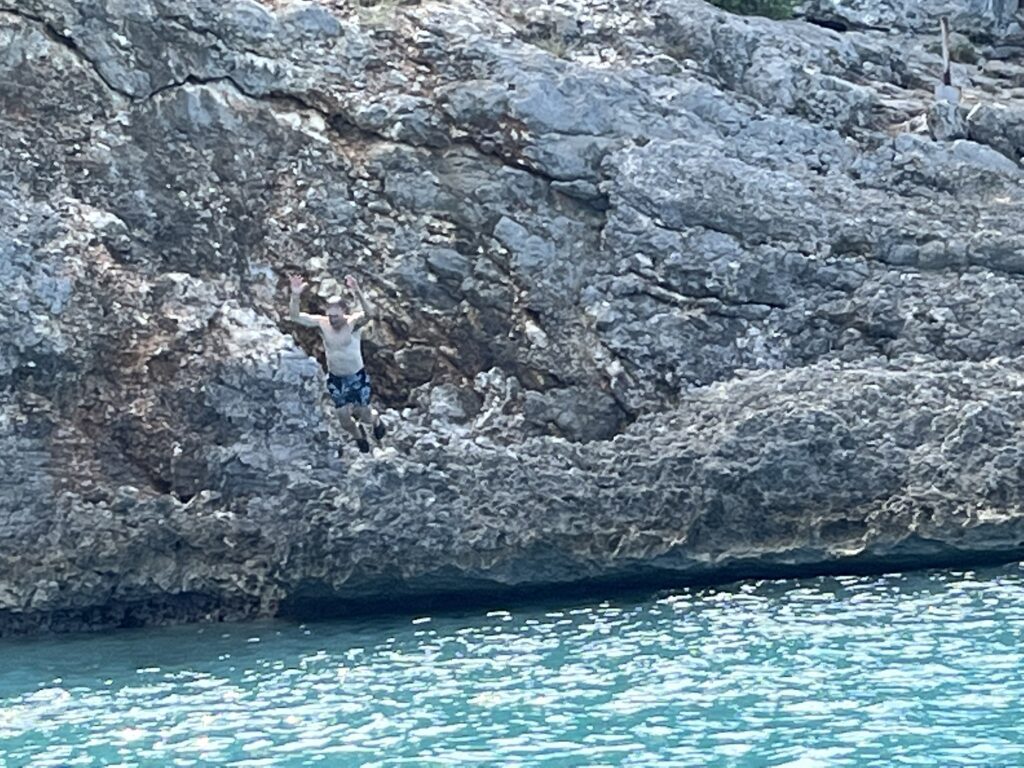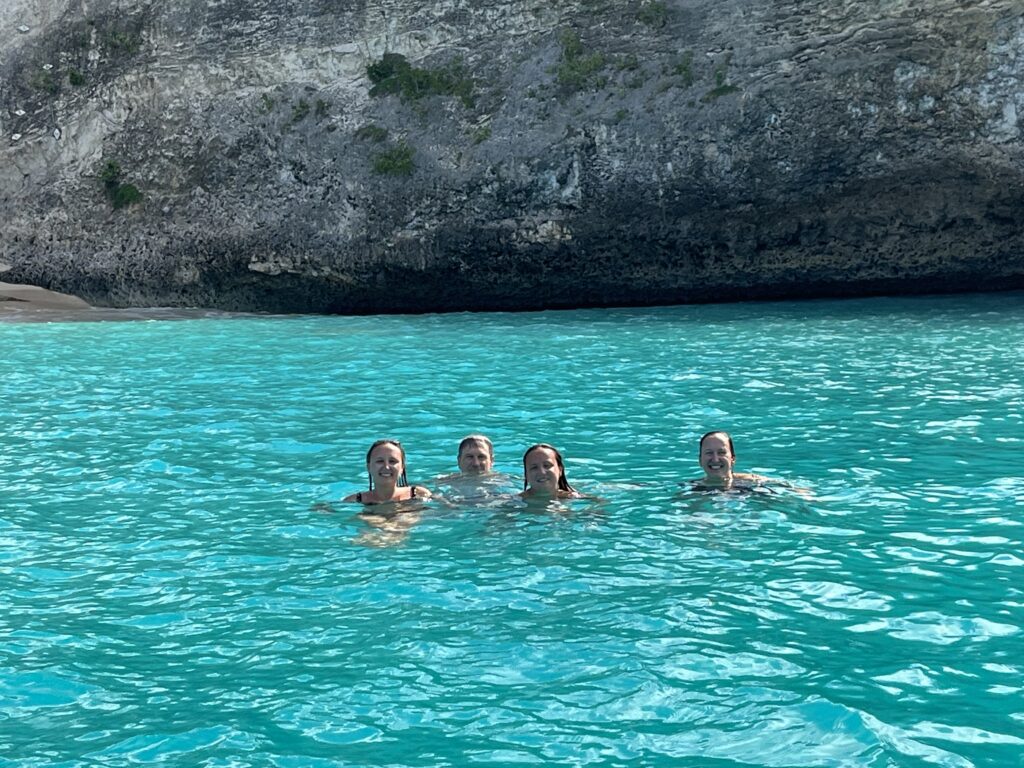 Mullet Bay Beach and Da Waterhole
We stopped in Mullet Bay and put down the anchor. Etienne gave us dry bags and we swam to the beach with our money, phones and coverups. We ate at Da Waterhole. The food was delicious and the service was very good. The kitchen does not open until noon, so we had to wait at the bar for 15 minutes. We had conch fritters, mahi-mahi and salads. TripAdvisor reviews are fine.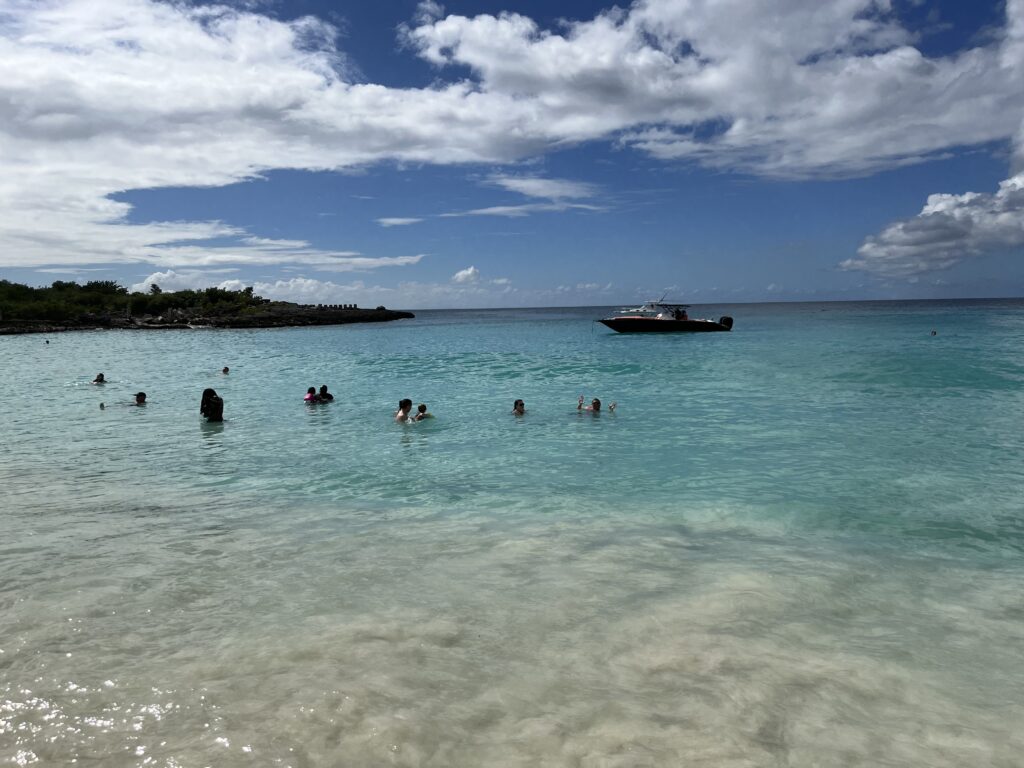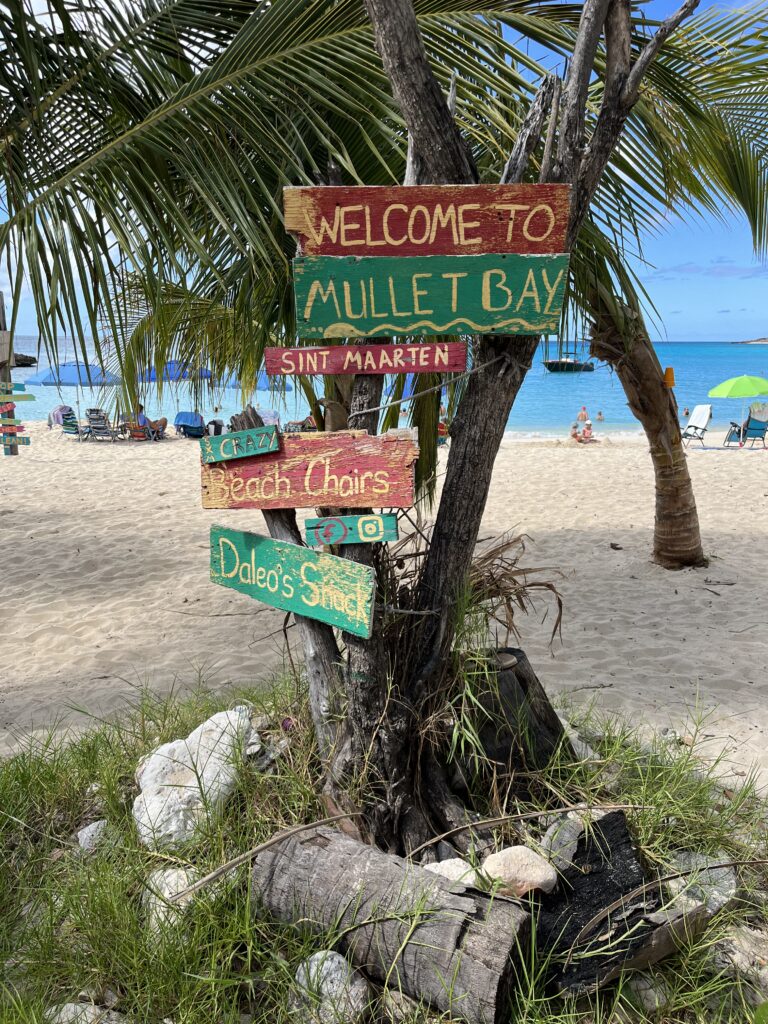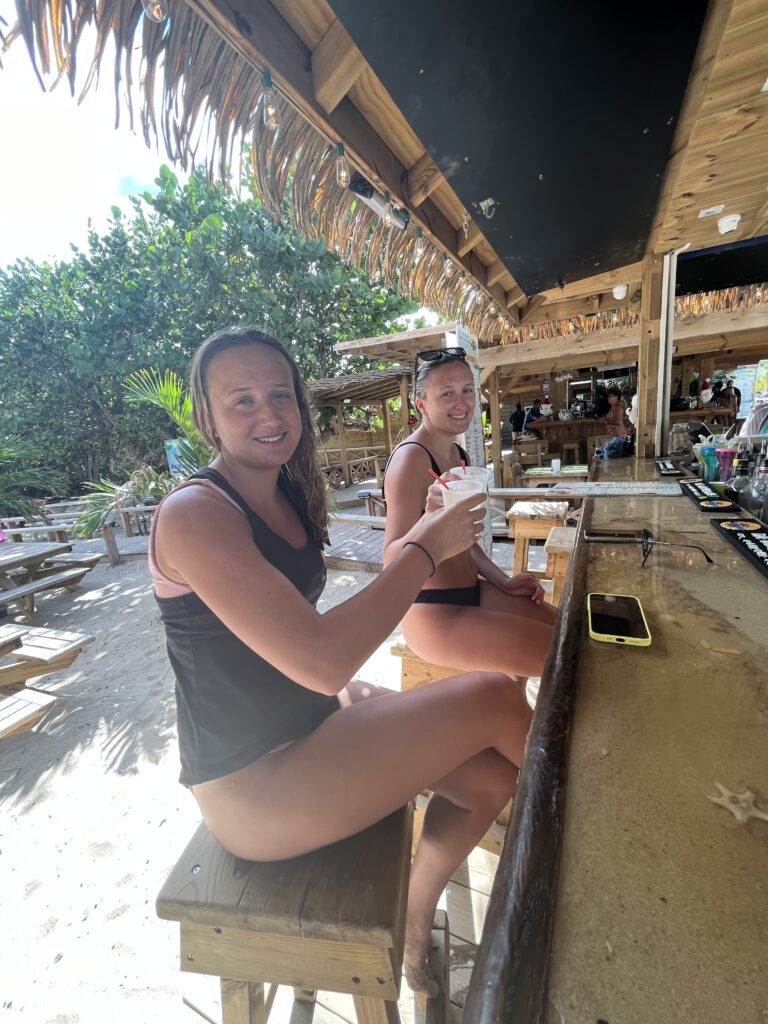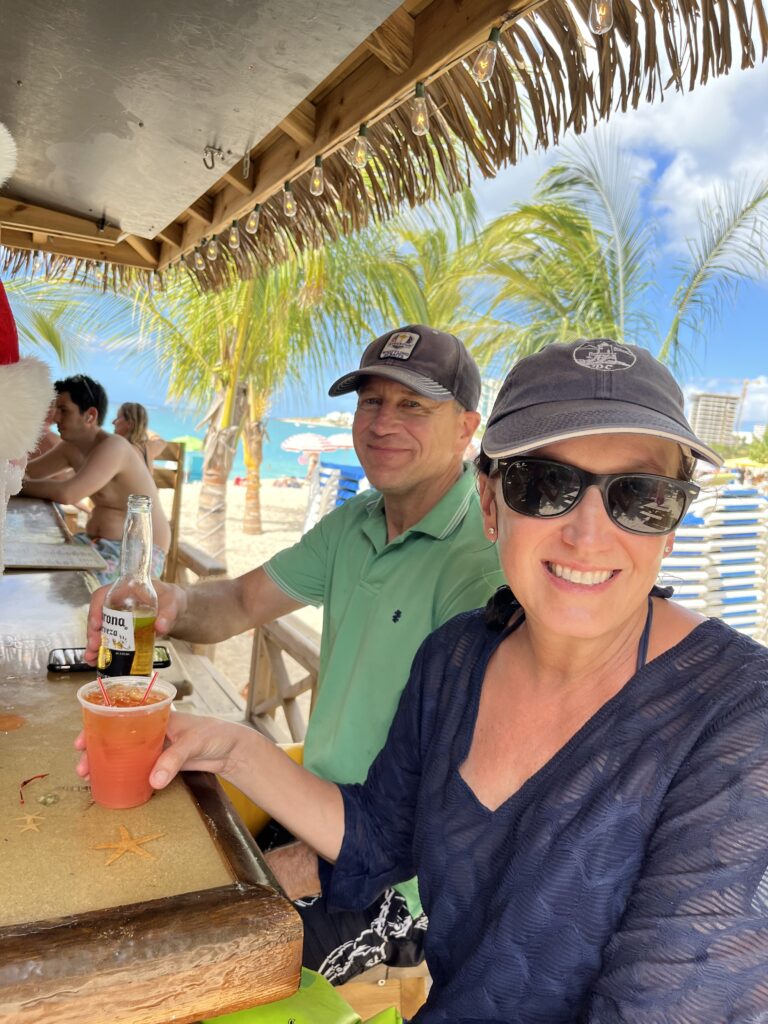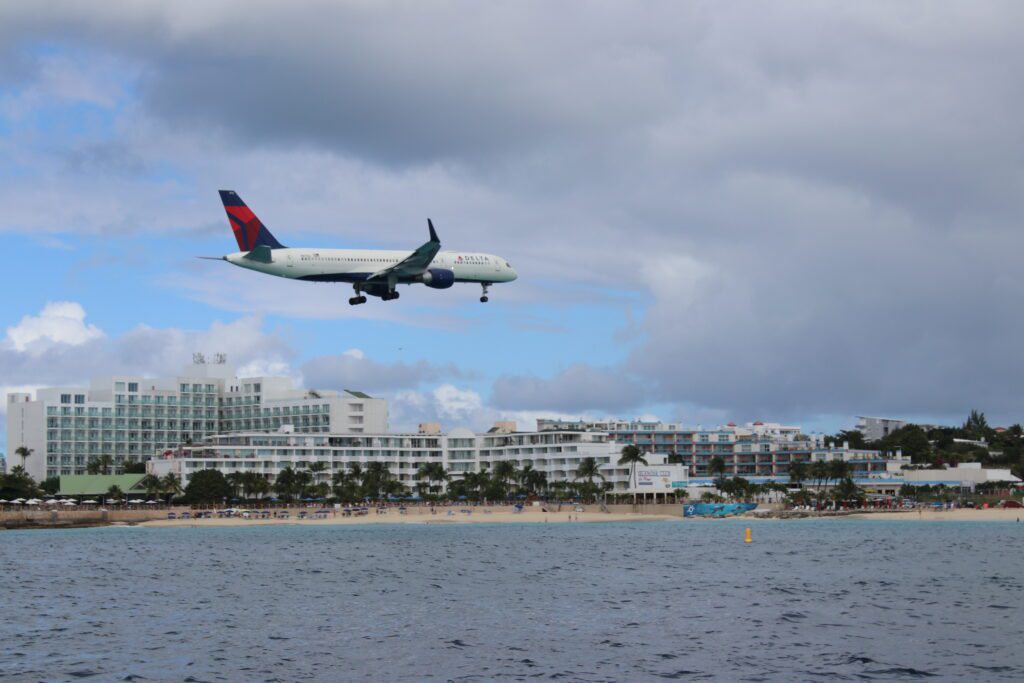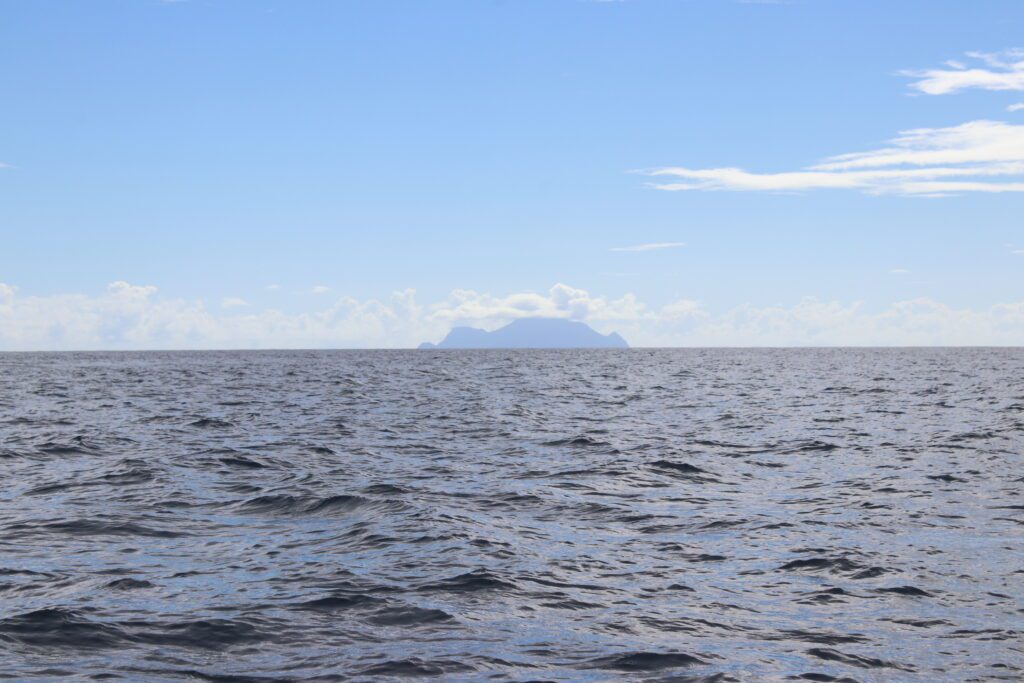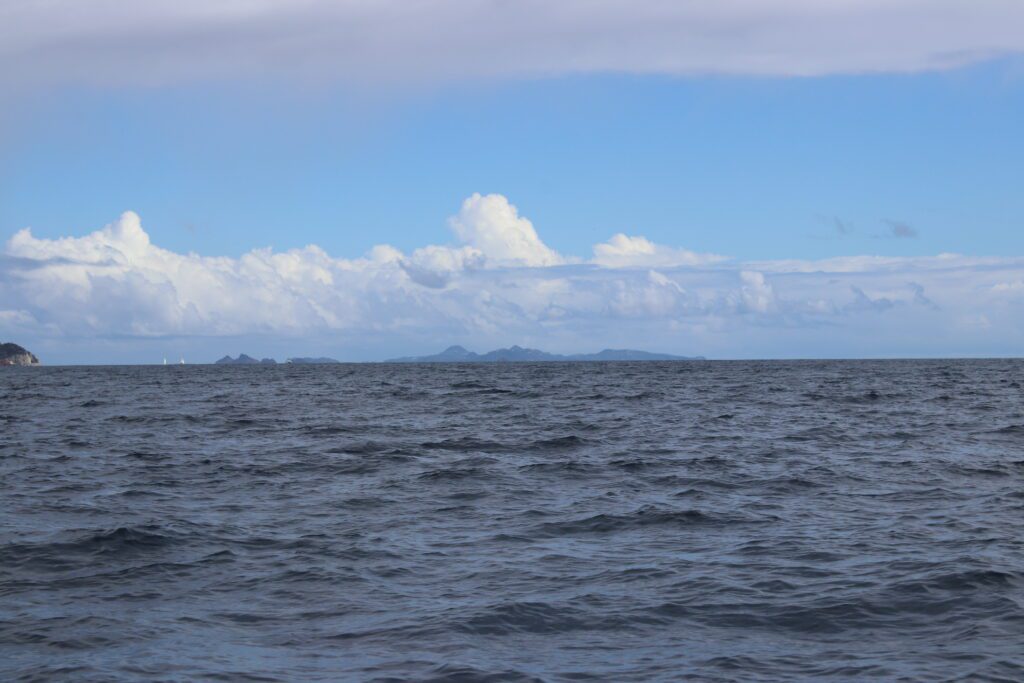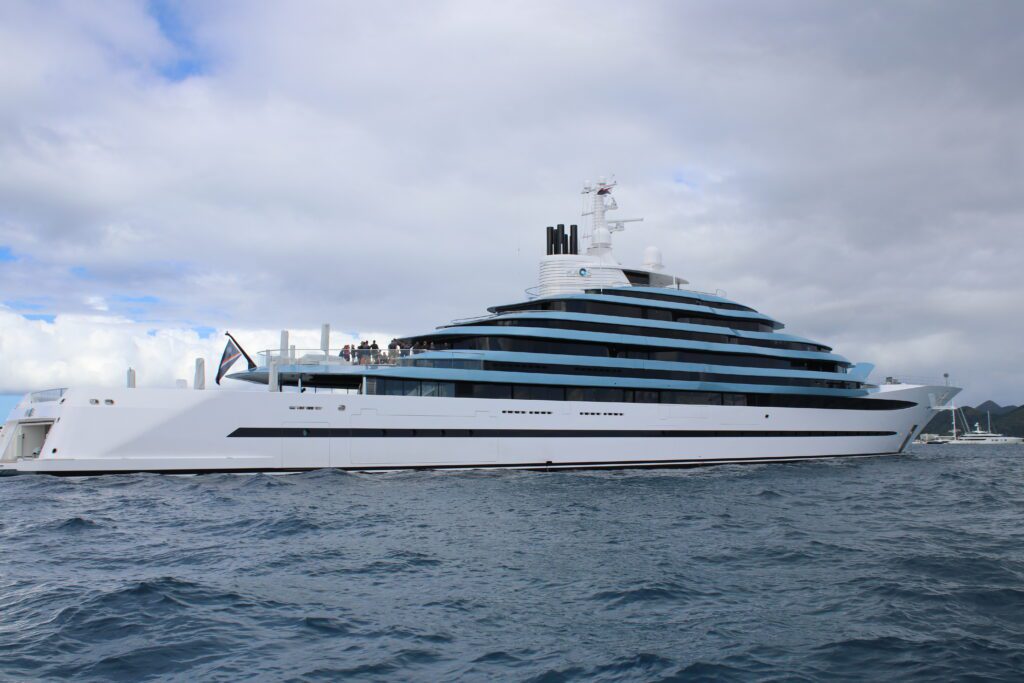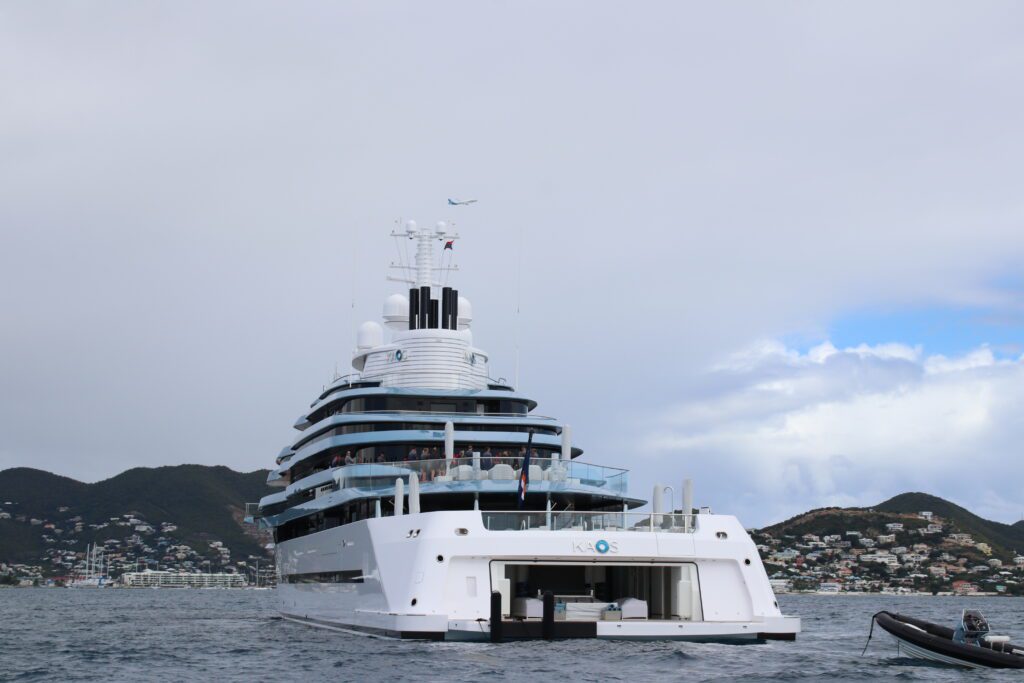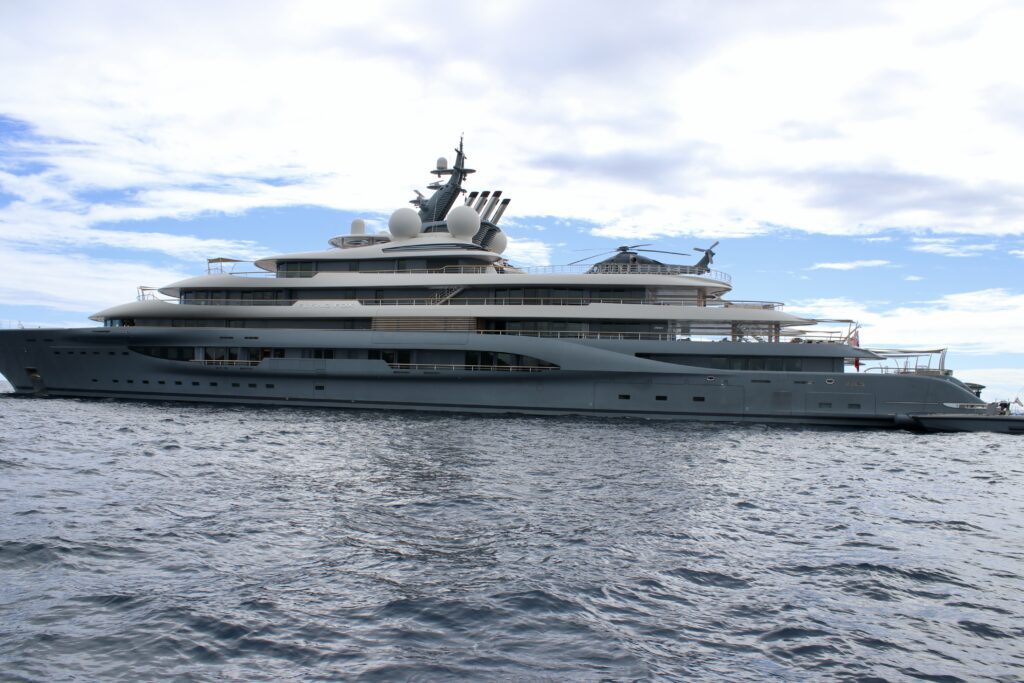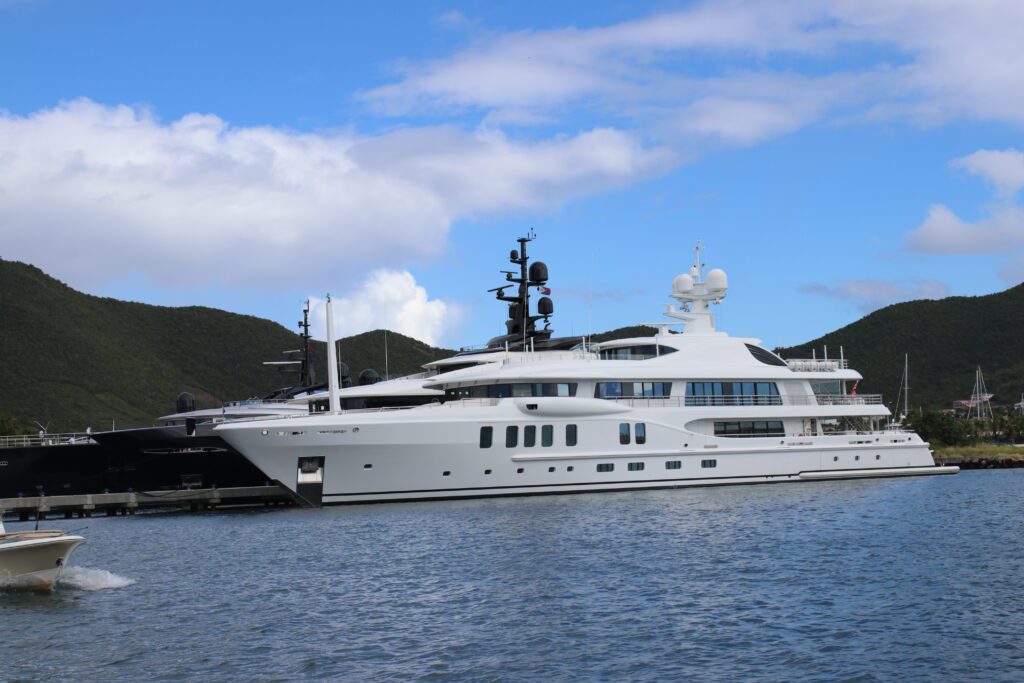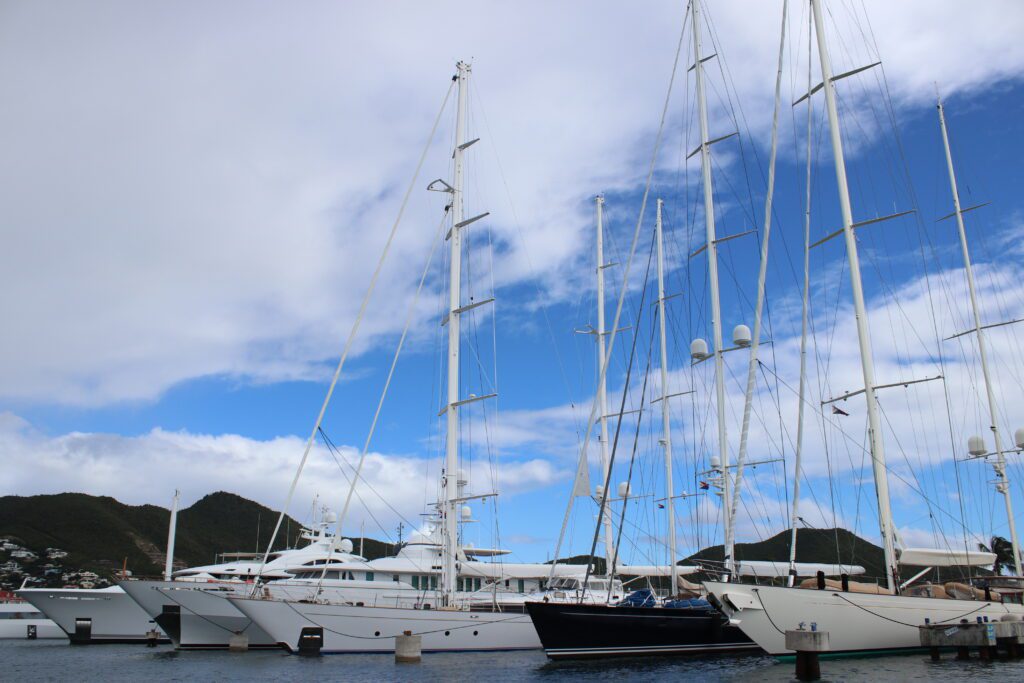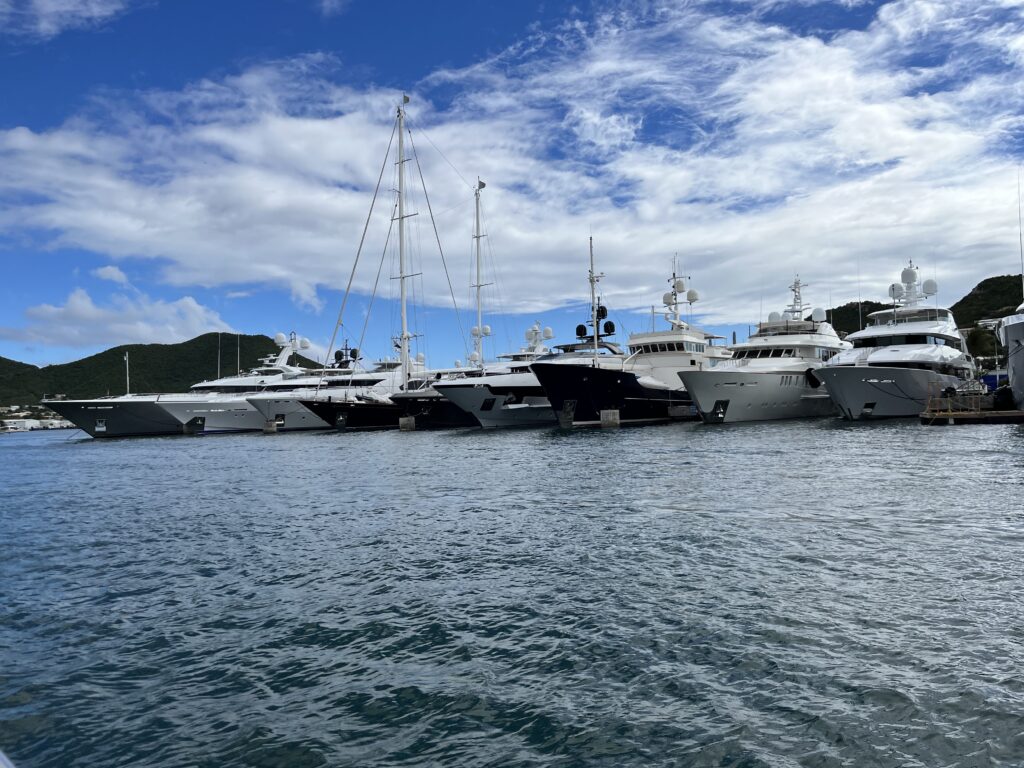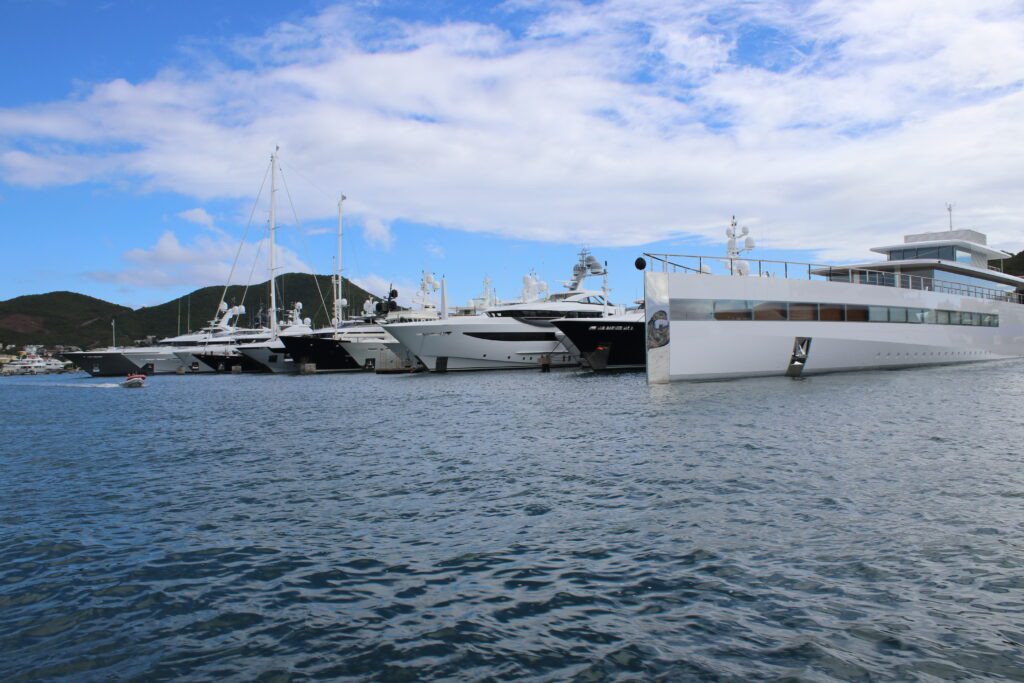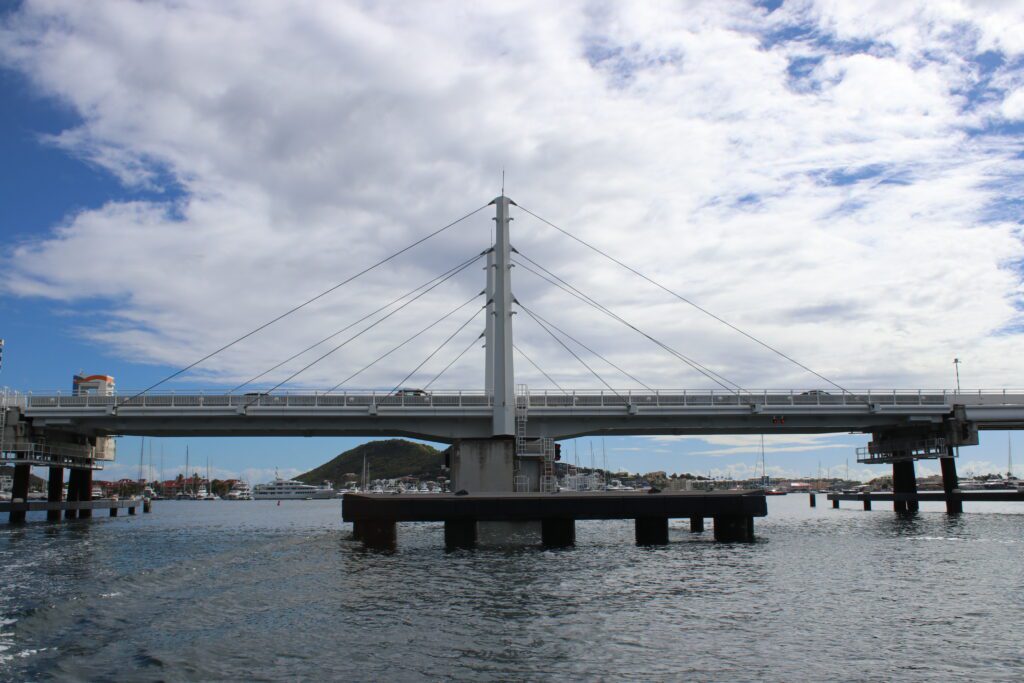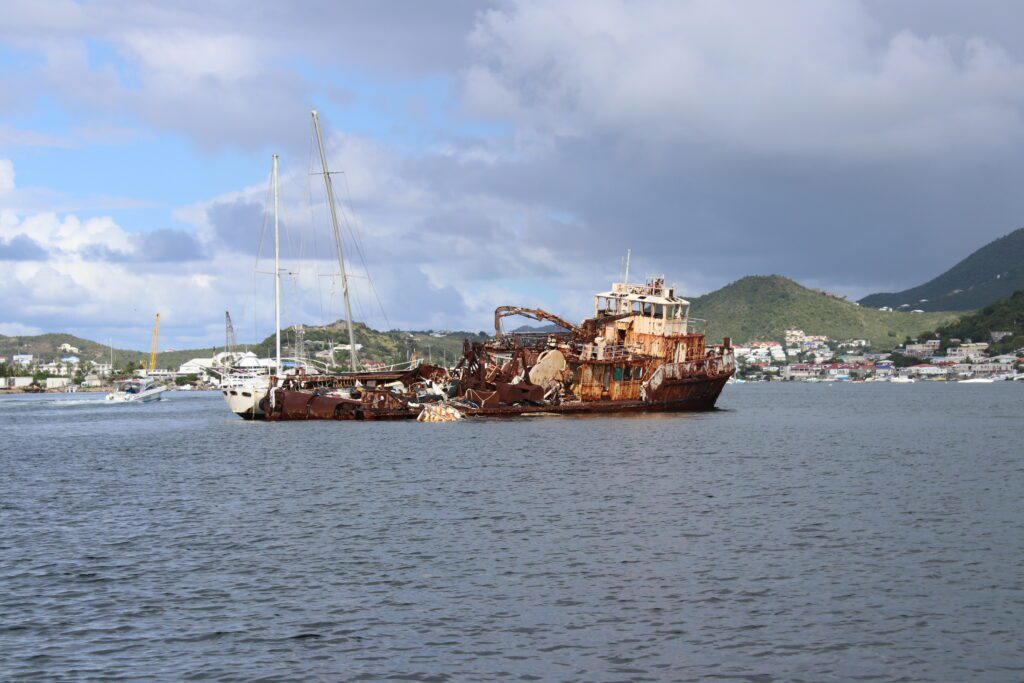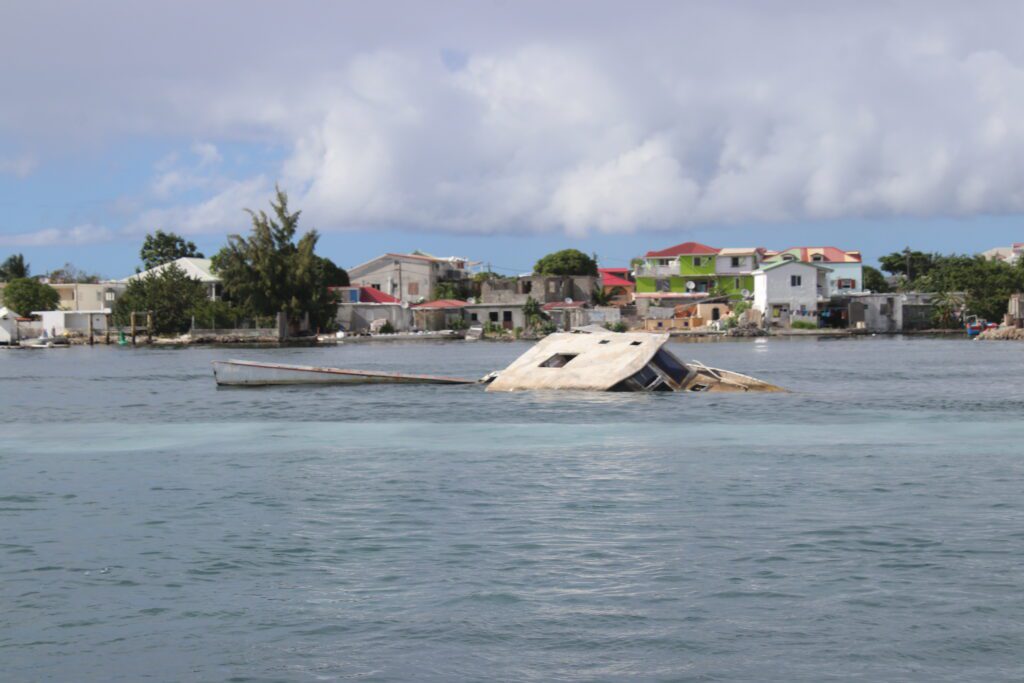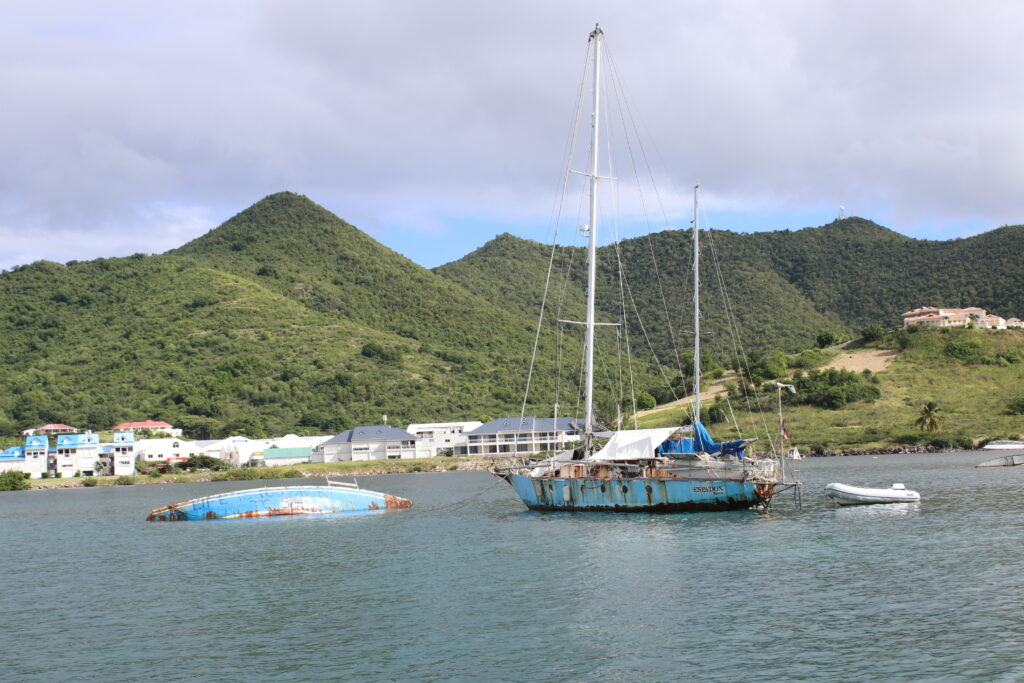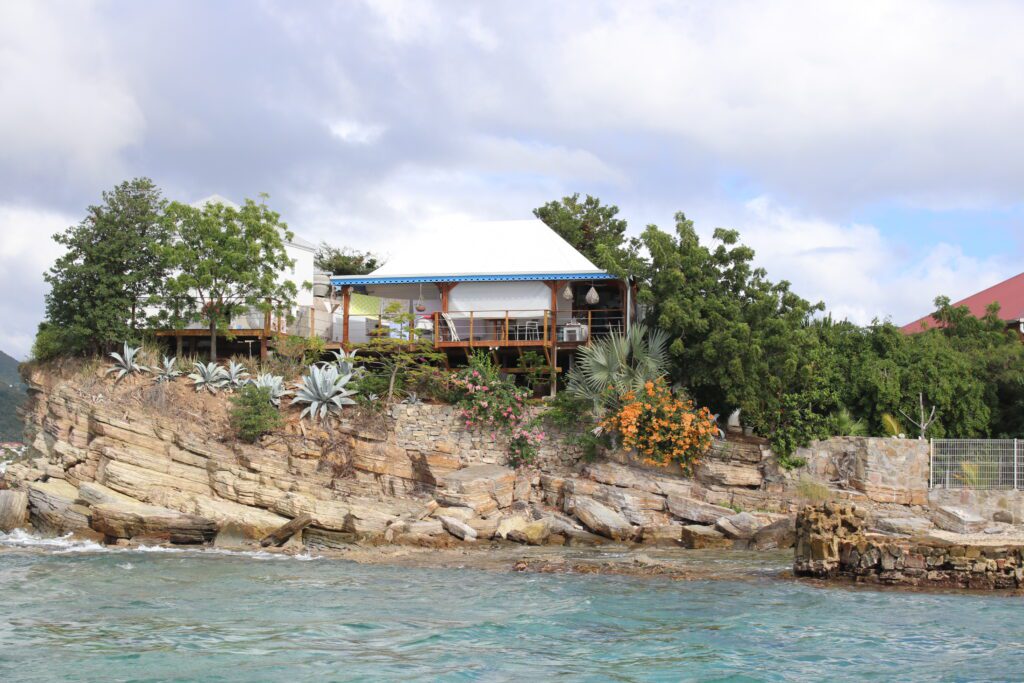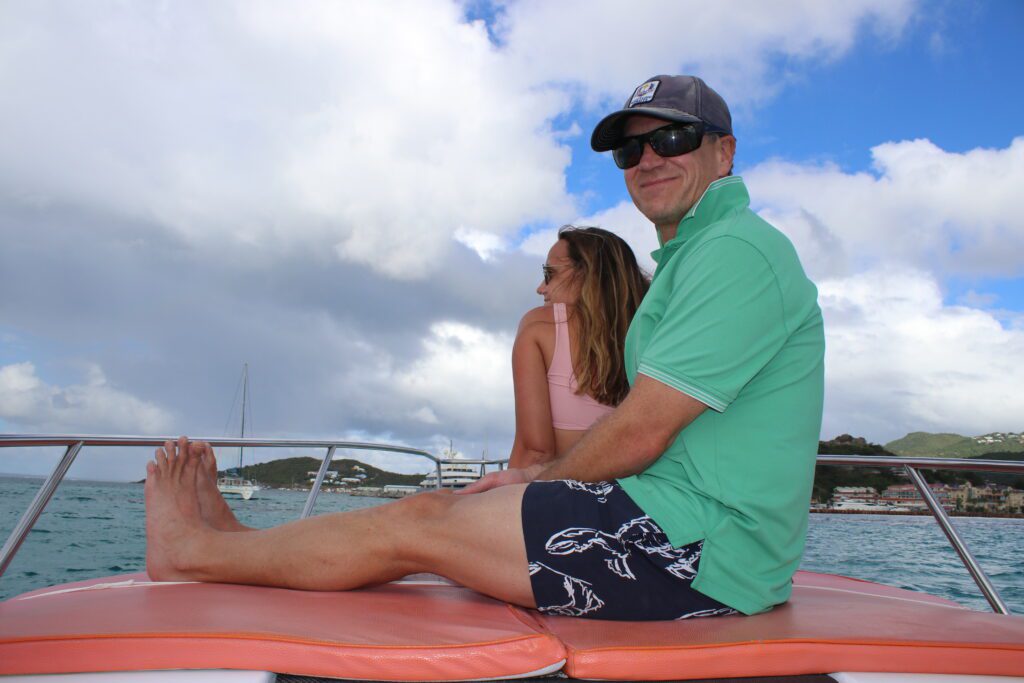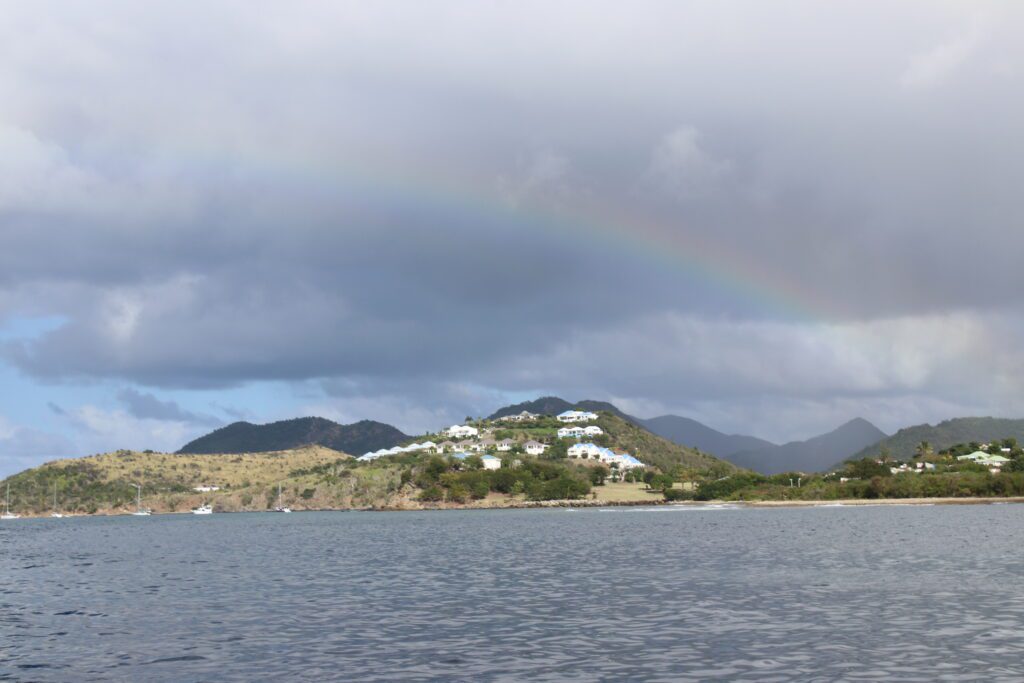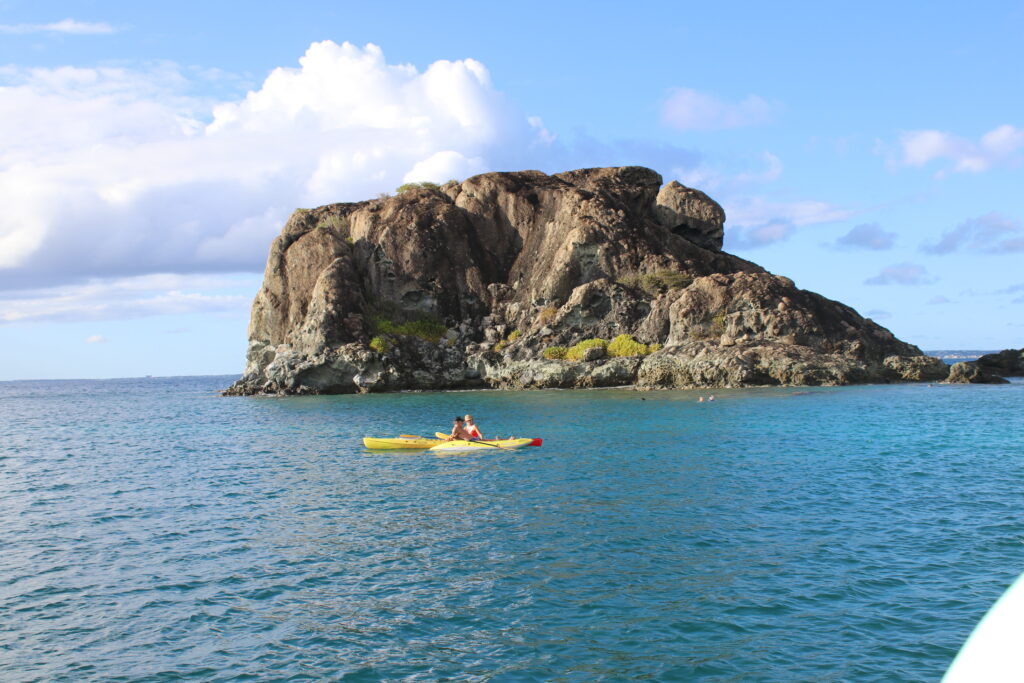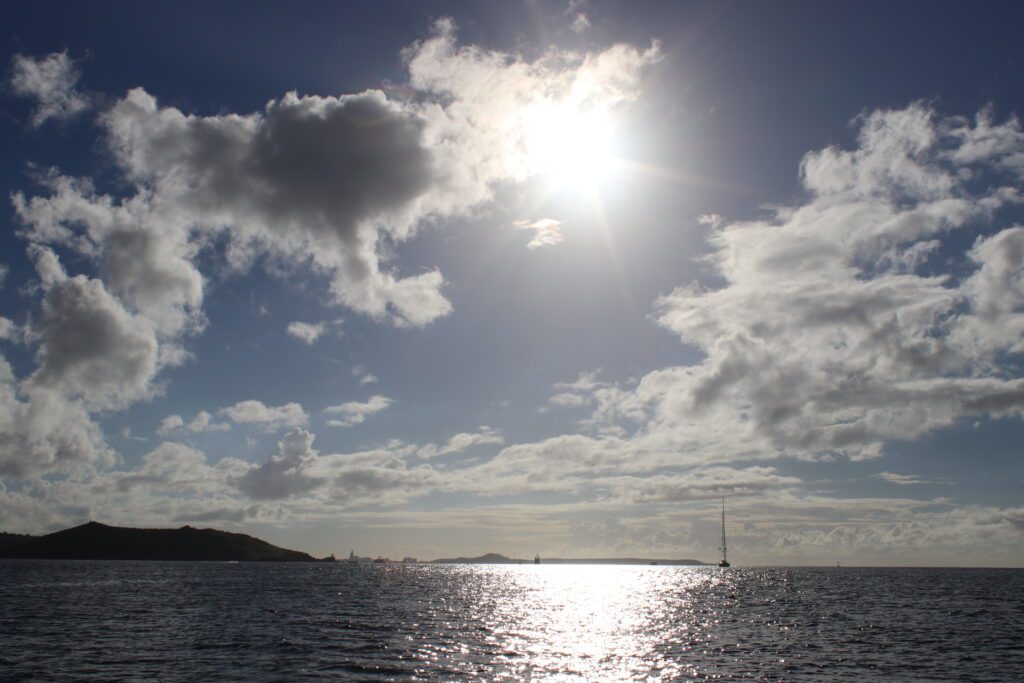 Rainforest Adventures
We drove to the Dutch side to visit Rainforest Adventures. This park is located on a mountain overlooking the island. To get to the top, you ride two extremely slow chairlifts. The top greets you with unbelievable views of the island, Anguilla, St. Barths, Saba and St. Eustatius.
For about $94/person, the four of us rode the chairlift, spent some time and the top and rode the world's steepest zipline, the Flying Dutchman, to the bottom. We spent $50 for Nana to take the chairlift roundtrip. The park also has a tubing ride called The Schooner. We chose not to do it. There is a very nice museum that describes the history of the area, slavery and agriculture. There is a bar at the top.
This activity is very popular with cruise ships. Check the cruise ship schedule and choose to go on a day when few are in port. A reservation in advance was required due to covid concerns. We recommend you also complete the mandatory waiver in advance as you have to upload a photo.
When you get to the top of Sentry Hill and exit the chairlift, go immediately to the zipline. Put your name on the list for the zipline. On busy days you may have to wait up to an hour. We waited about 40 minutes on Christmas Eve. Then, happily take photos in every direction.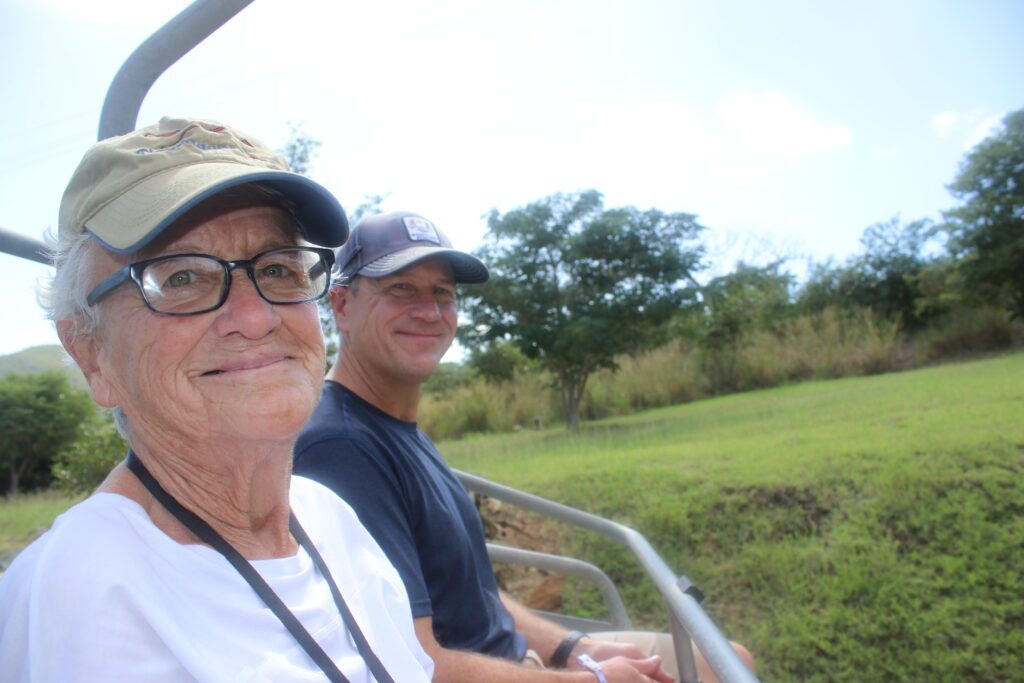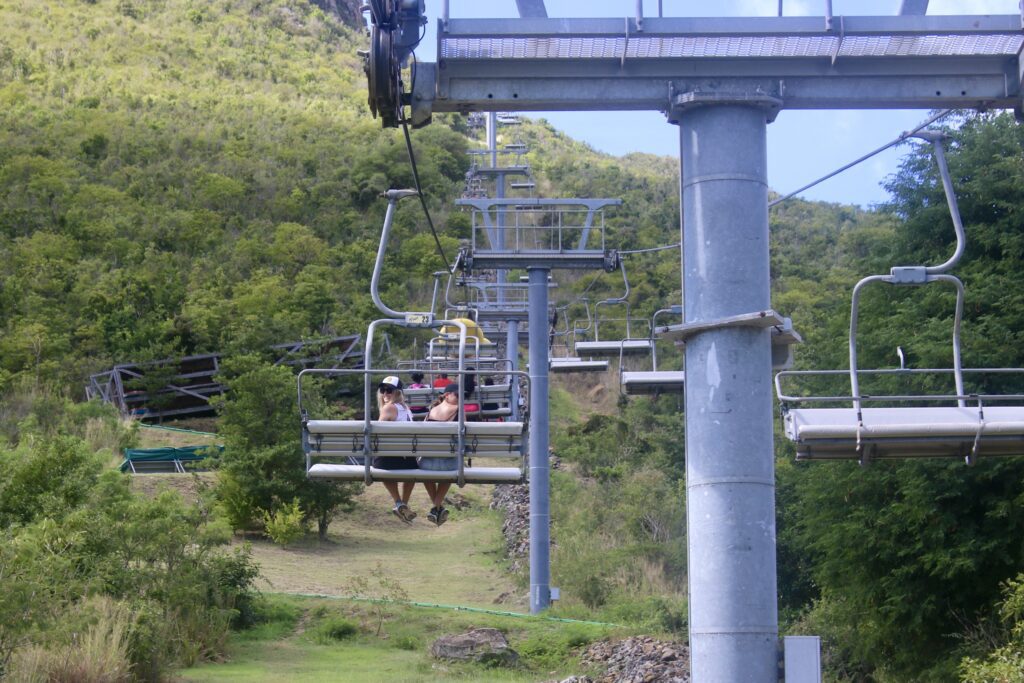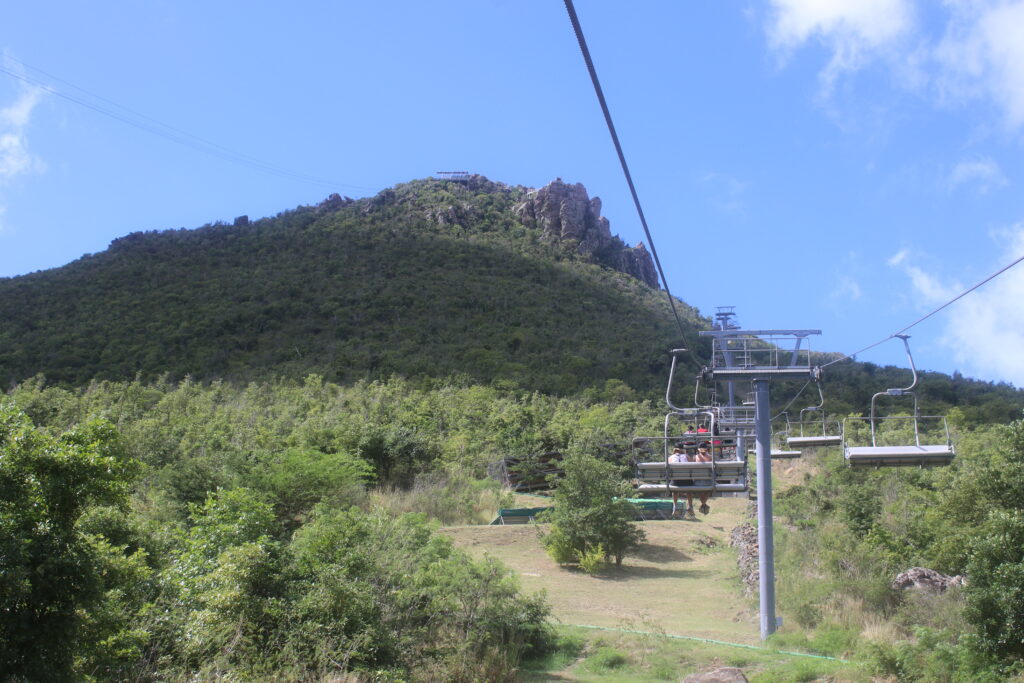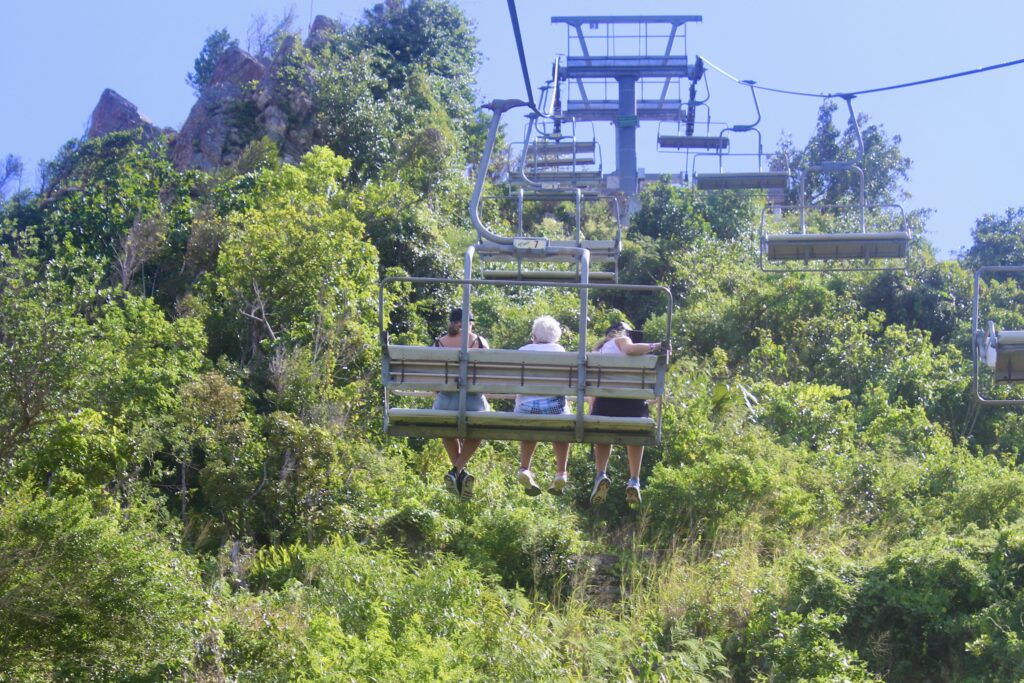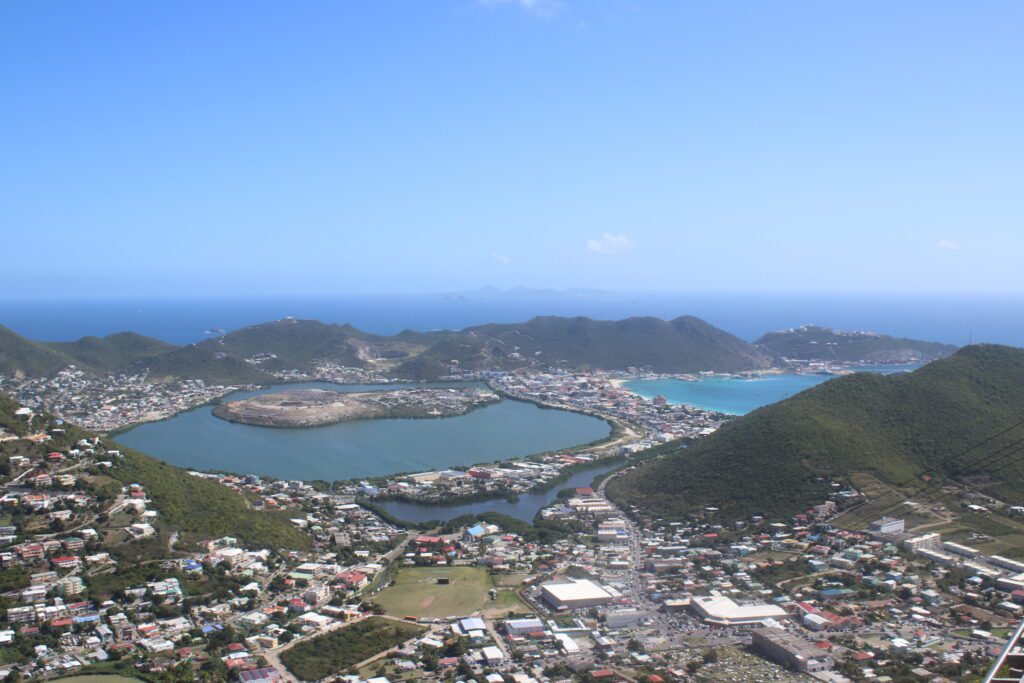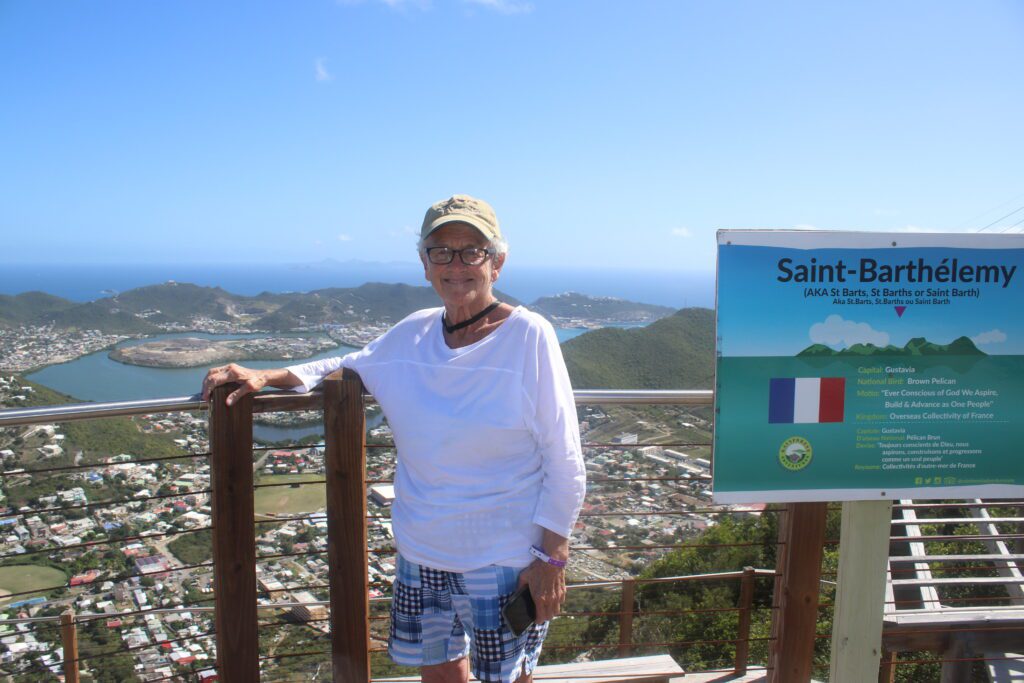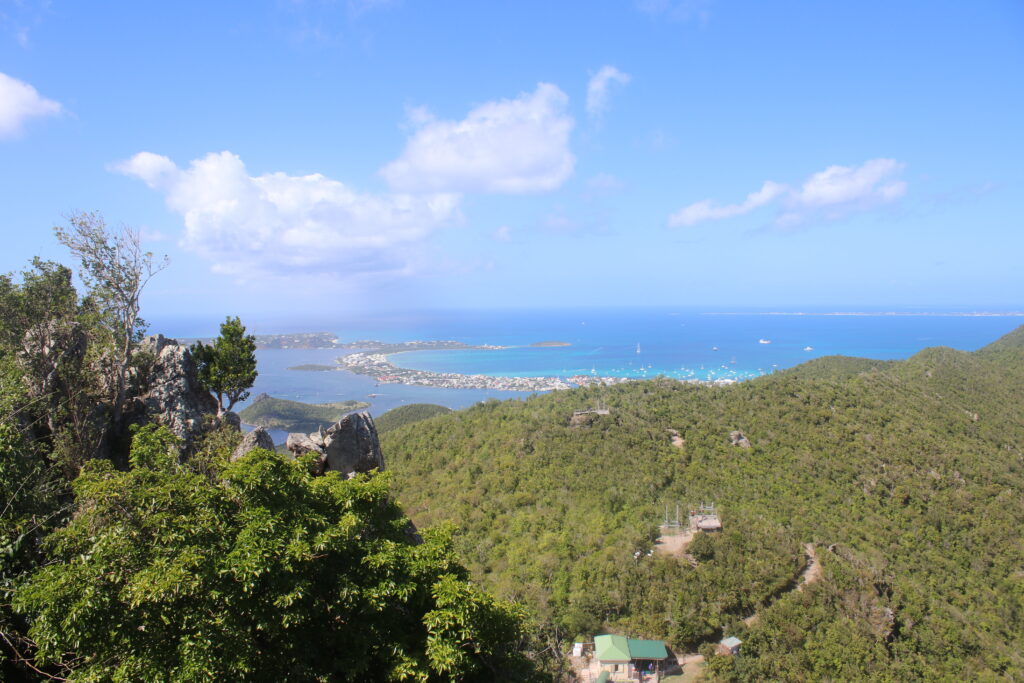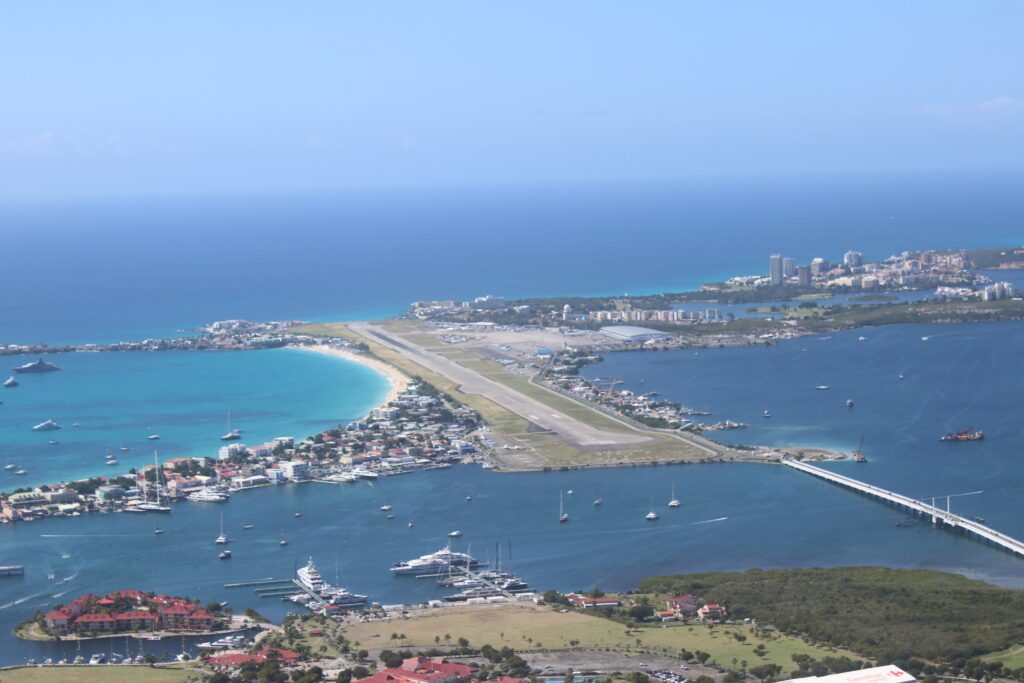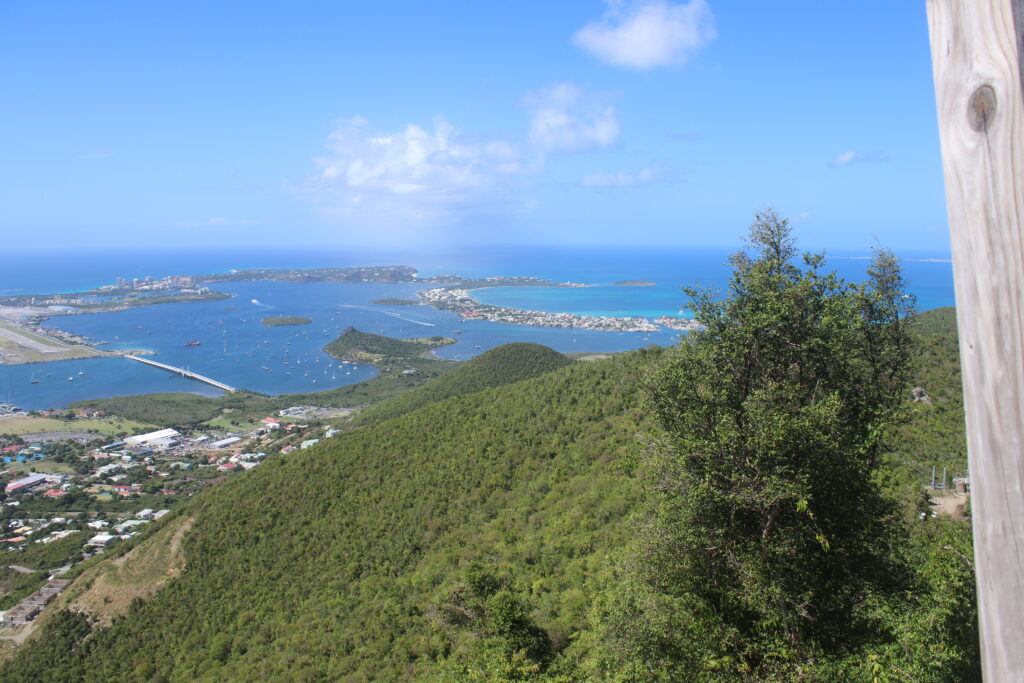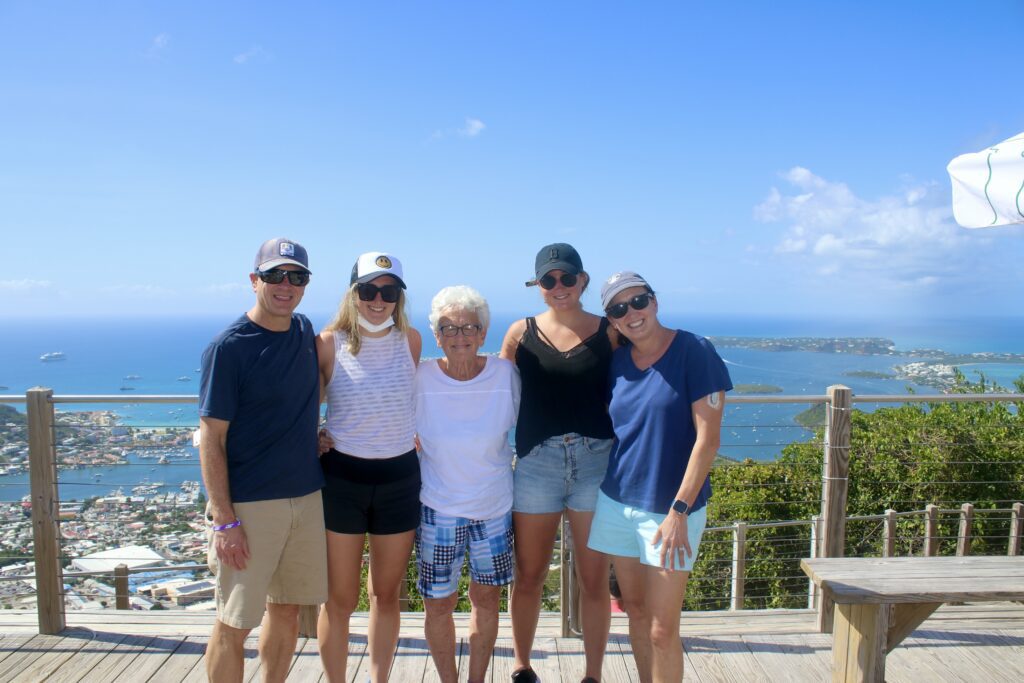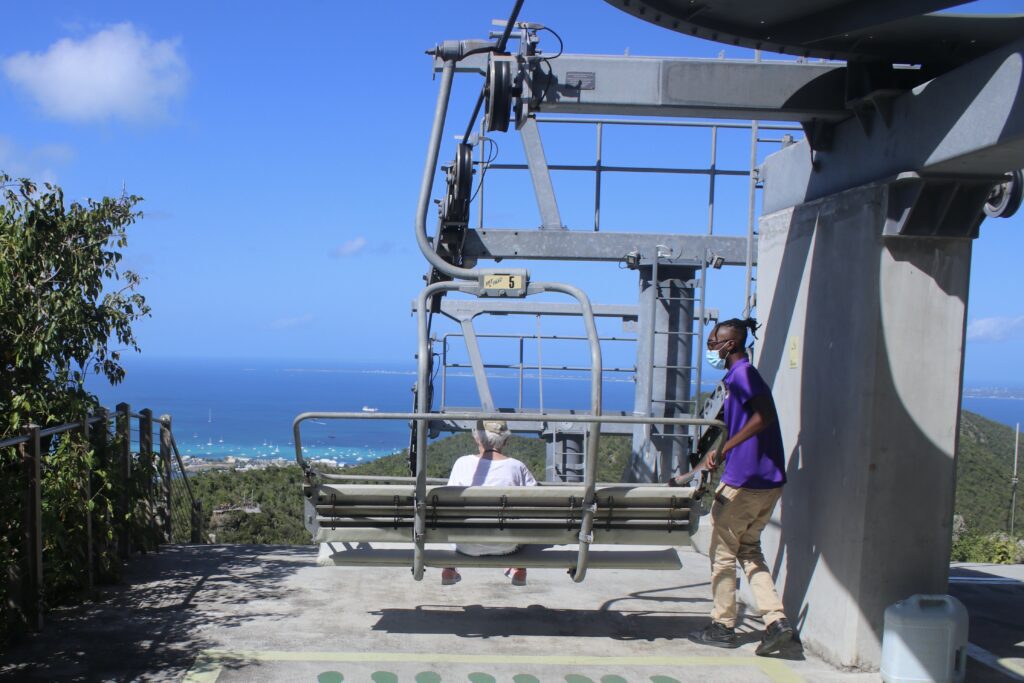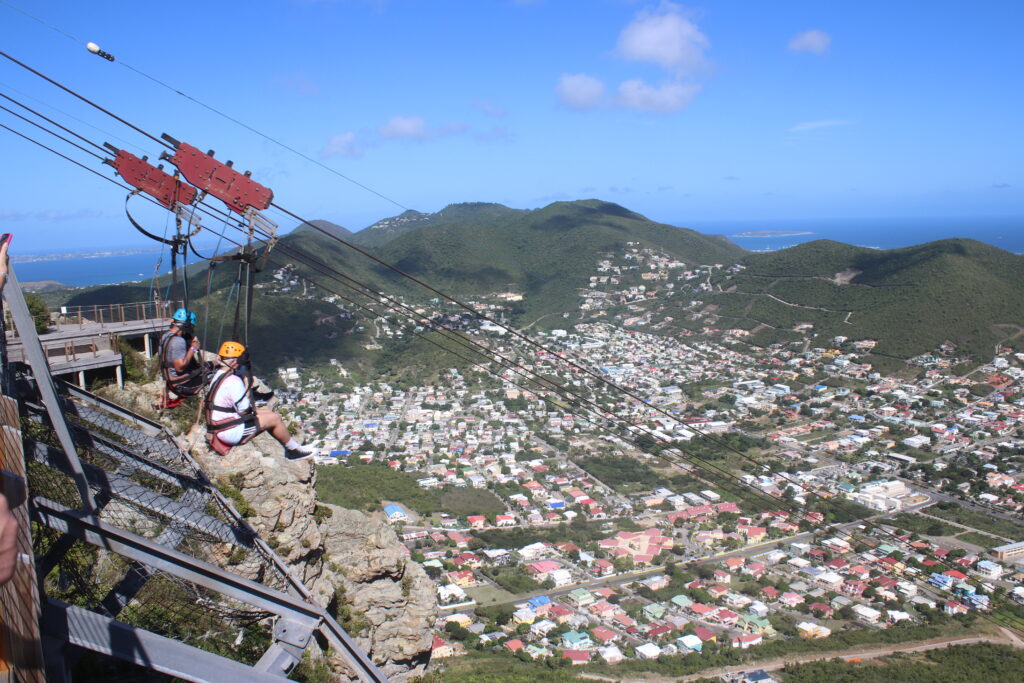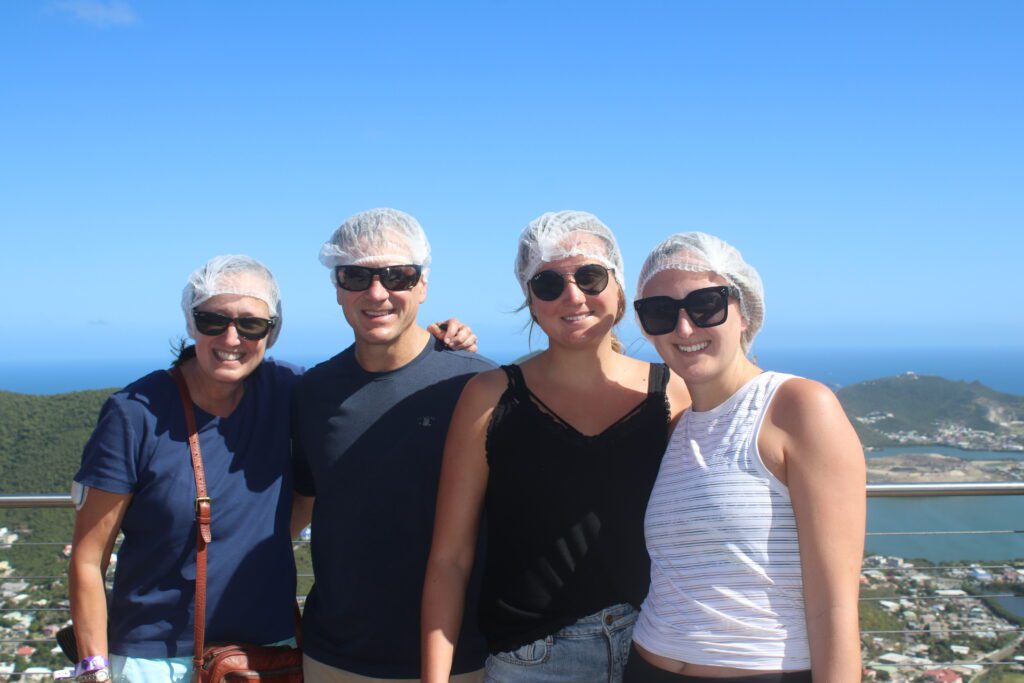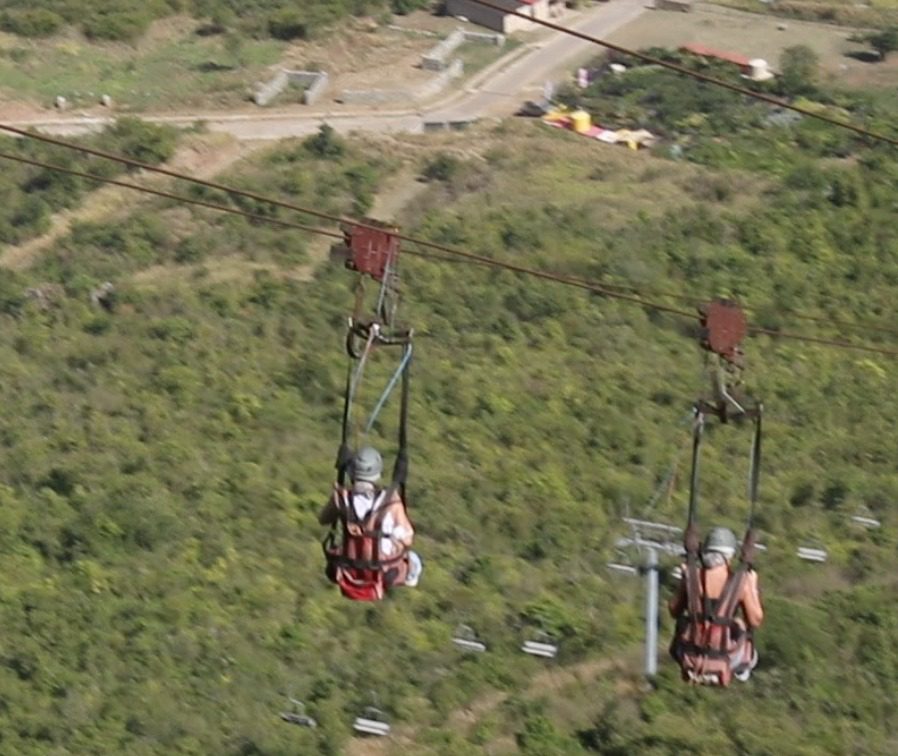 While this is pretty touristy thing to do, we LOVED it. It was not that crowded when we were there and the views are spectacular. You go about 55mph on the zipline, so that is a thrilling experience.
Maho Bay
A fun thing to do in Sint Maarten (Dutch side) is to head to Maho Bay/Beach to watch the planes take off and land. You can get very close to the planes. Be very careful when the planes depart as the sand blows like crazy! We did not sit on the beach as there are much prettier beaches on the island, but this was a fun stop for a few hours and lunch.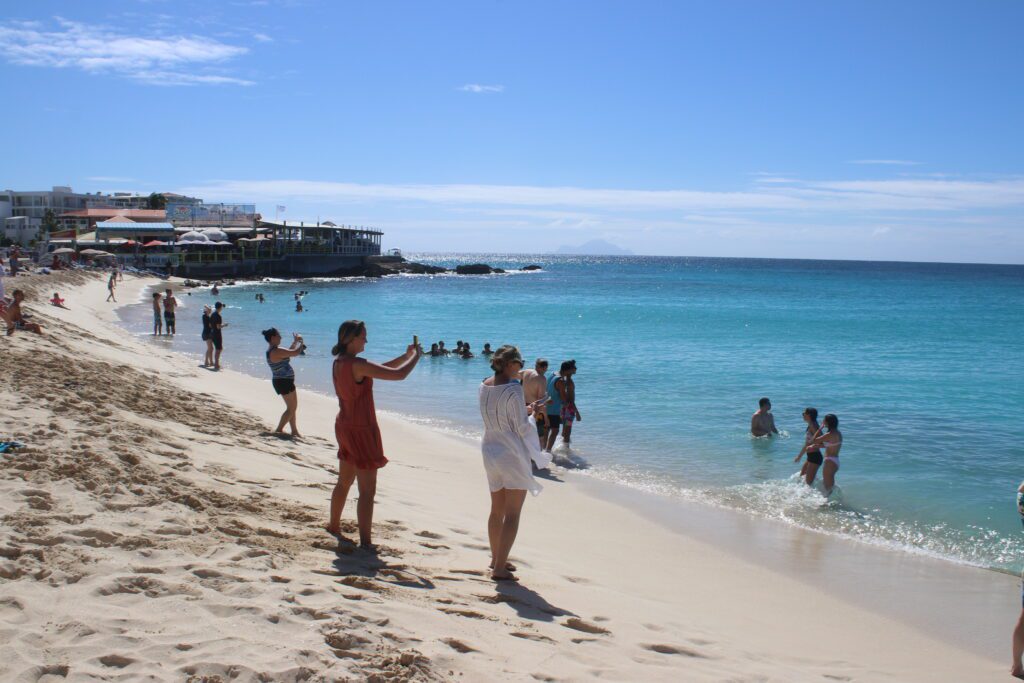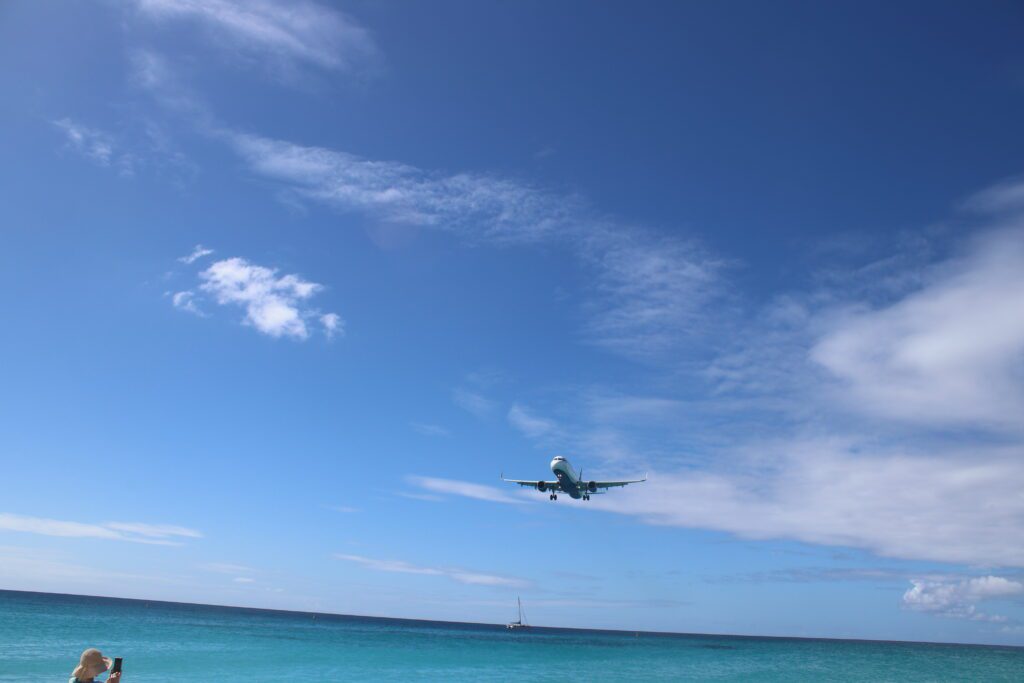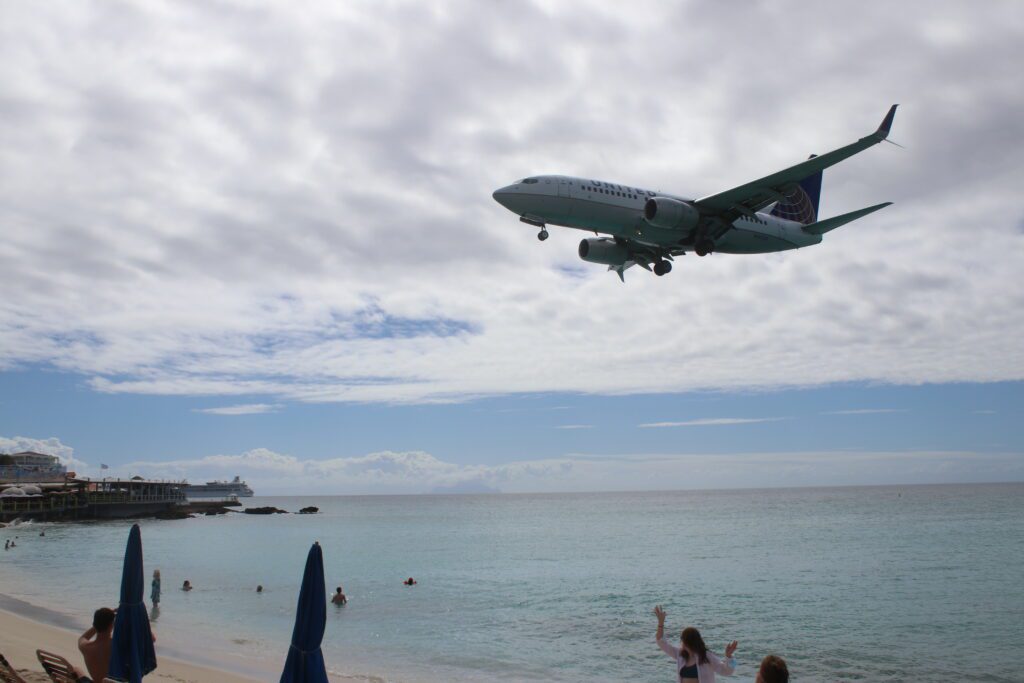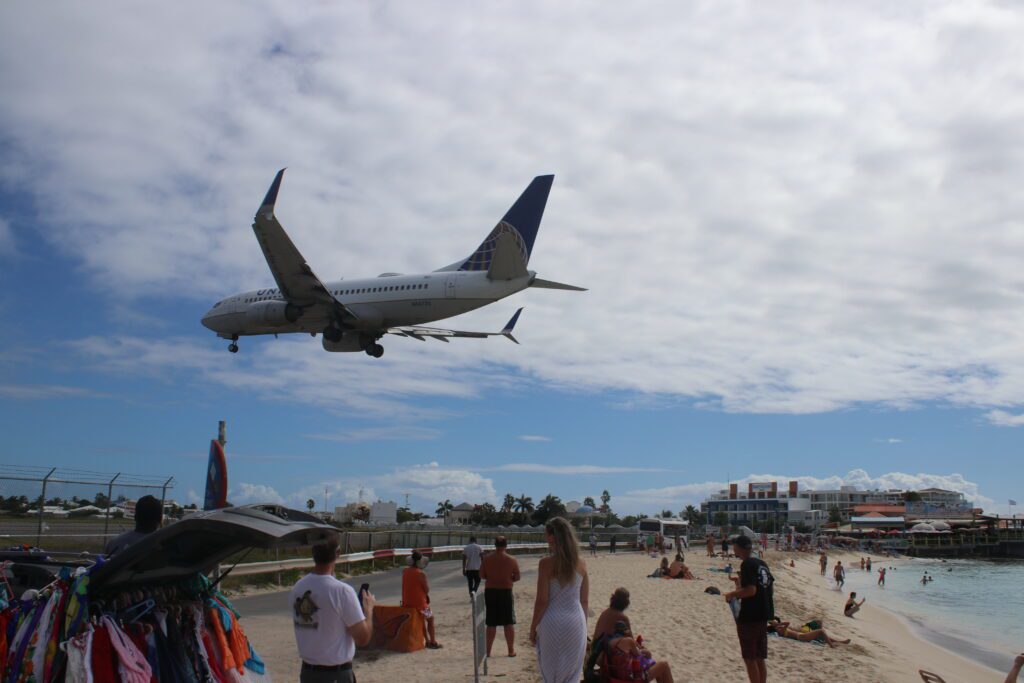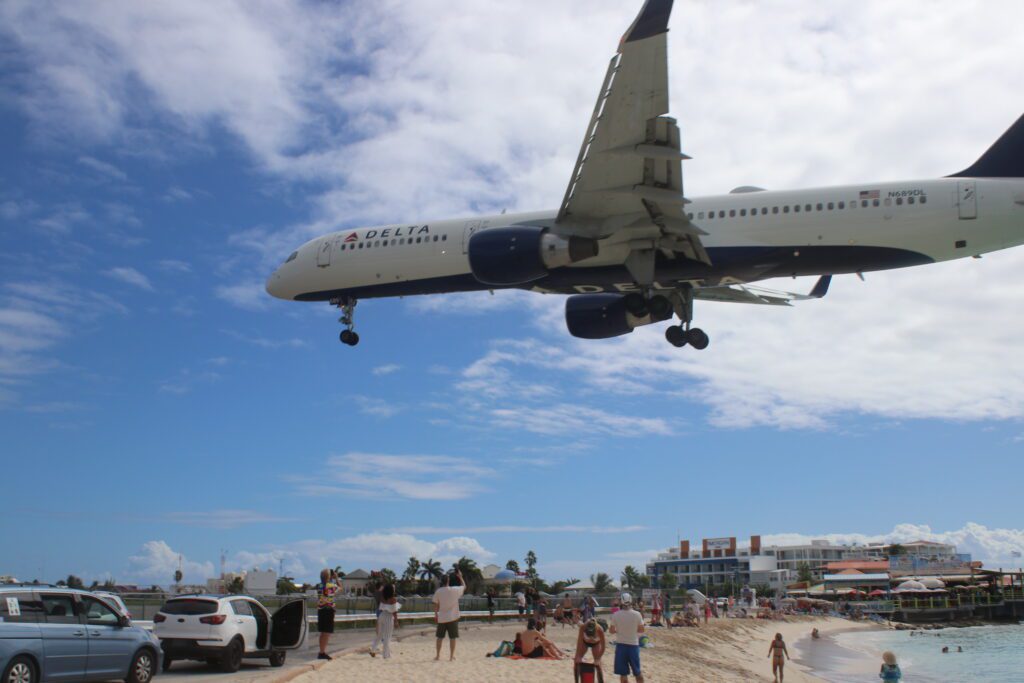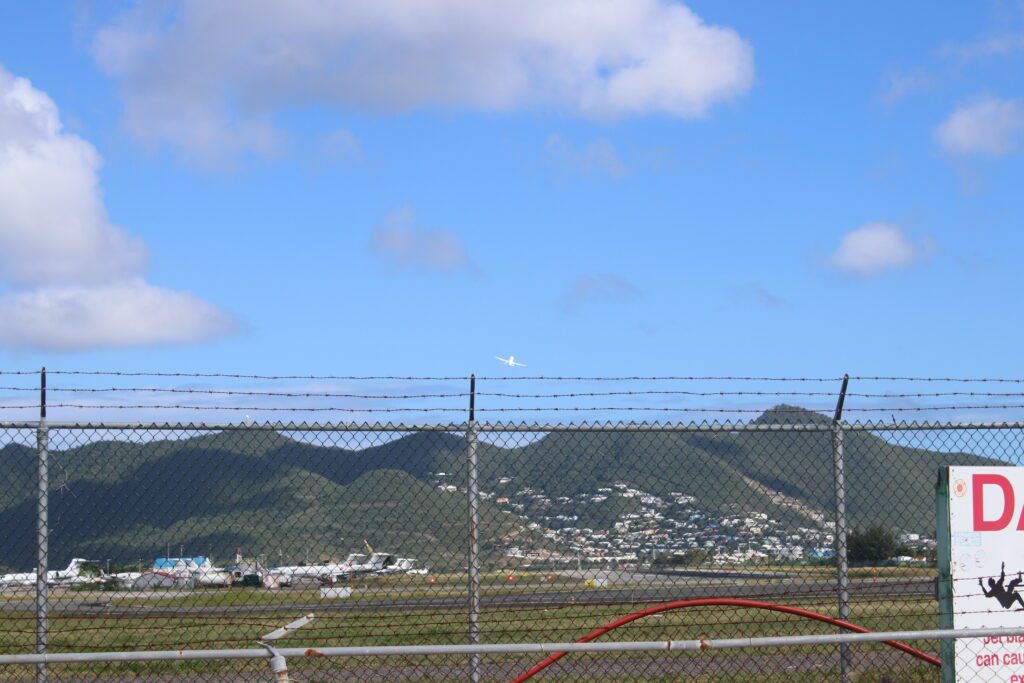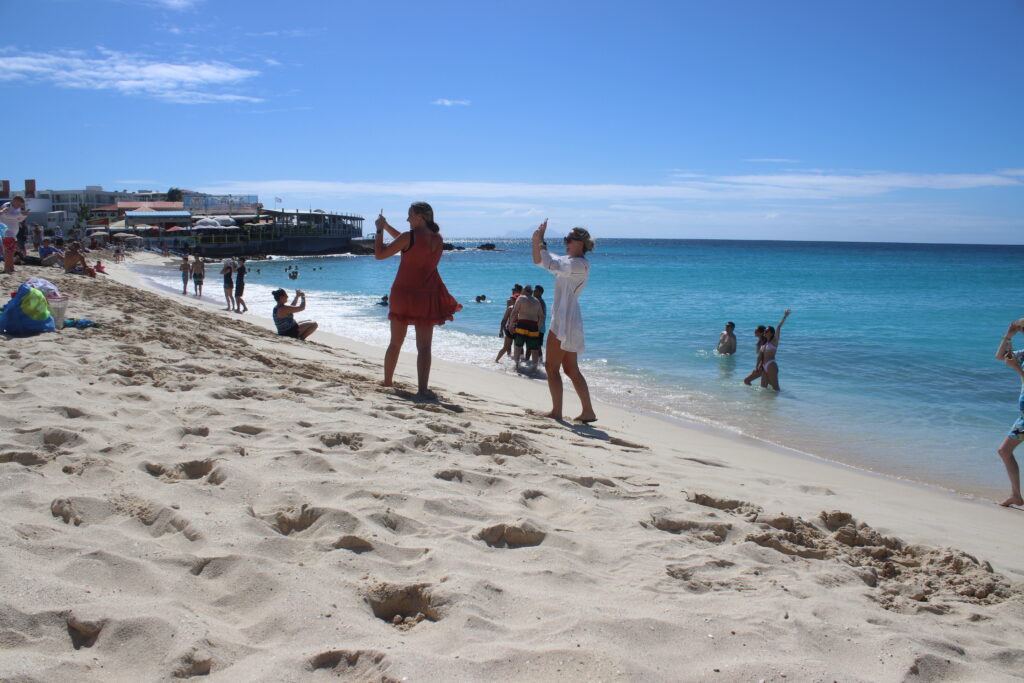 Driftwood Beach Bar
We ate at Driftwood Boat Bar on Maho Bay Beach while the planes were landing. The frozen drinks are enormous. We ate schwarma, salads and fish. This dive bar was a fun stop! TripAdvisor reviews are fine. We tried the other beach bar, Sunset, on Maho on our way to the airport. Due to covid I think they were extremely short staffed. So, we only had a drink and some guacamole.
Long Beach/Bay – Baie Longue
Baie Longue is a long, gorgeous stretch of sand with blue, blue water and a bit of a shore break. We also visited Baie Longue on one of our boat days with Paperboat Charters.
We arrived with our chairs and our books for a morning. We enjoyed strolling and swimming. The shore break needs to be respected!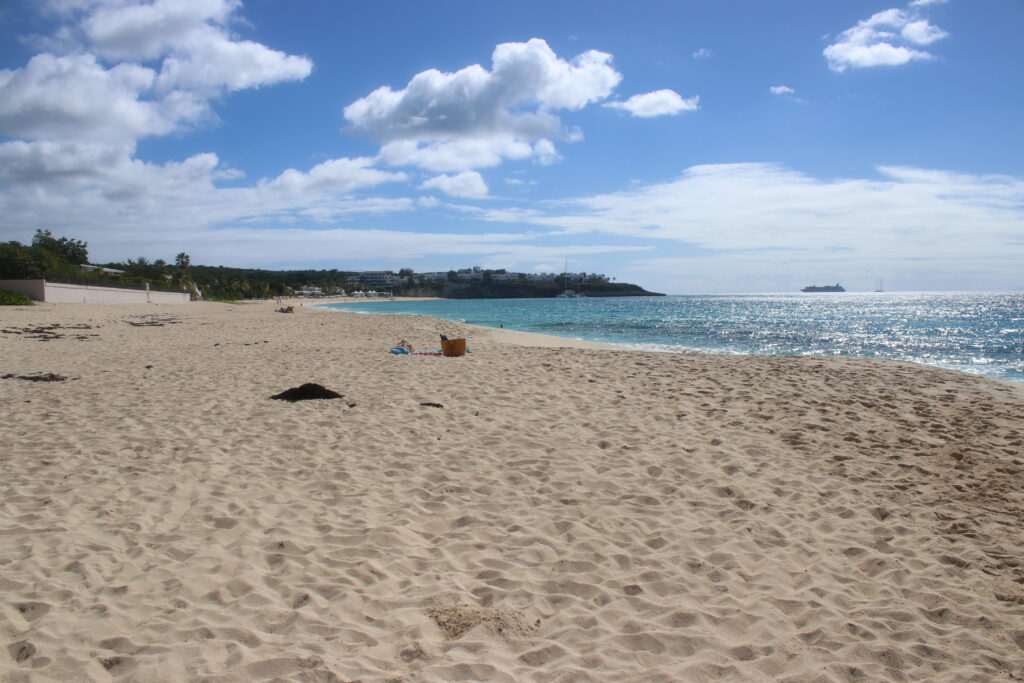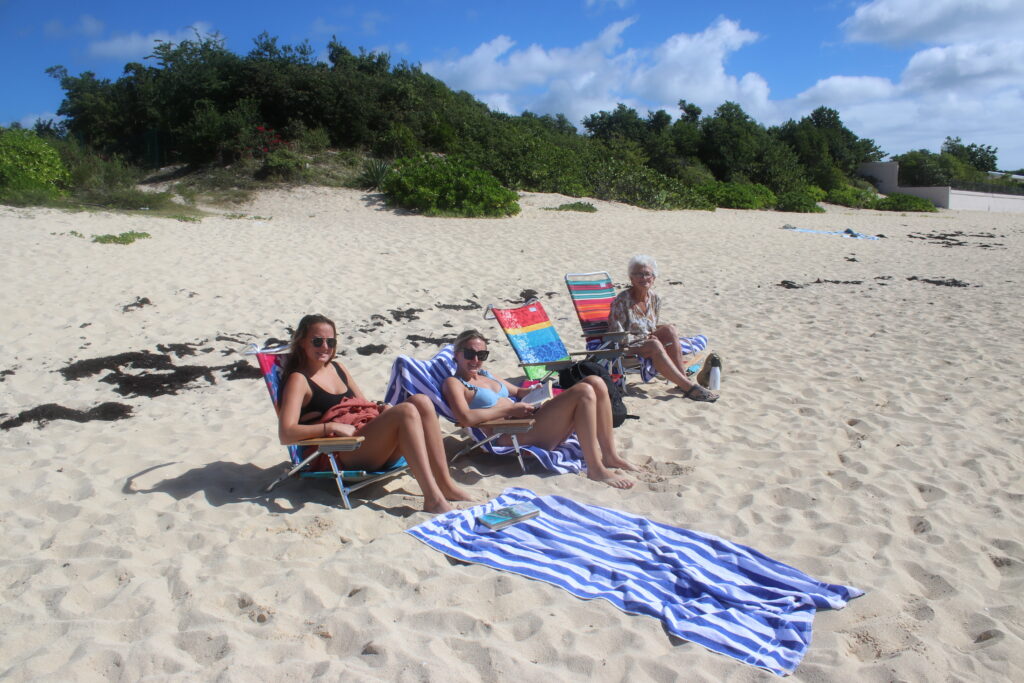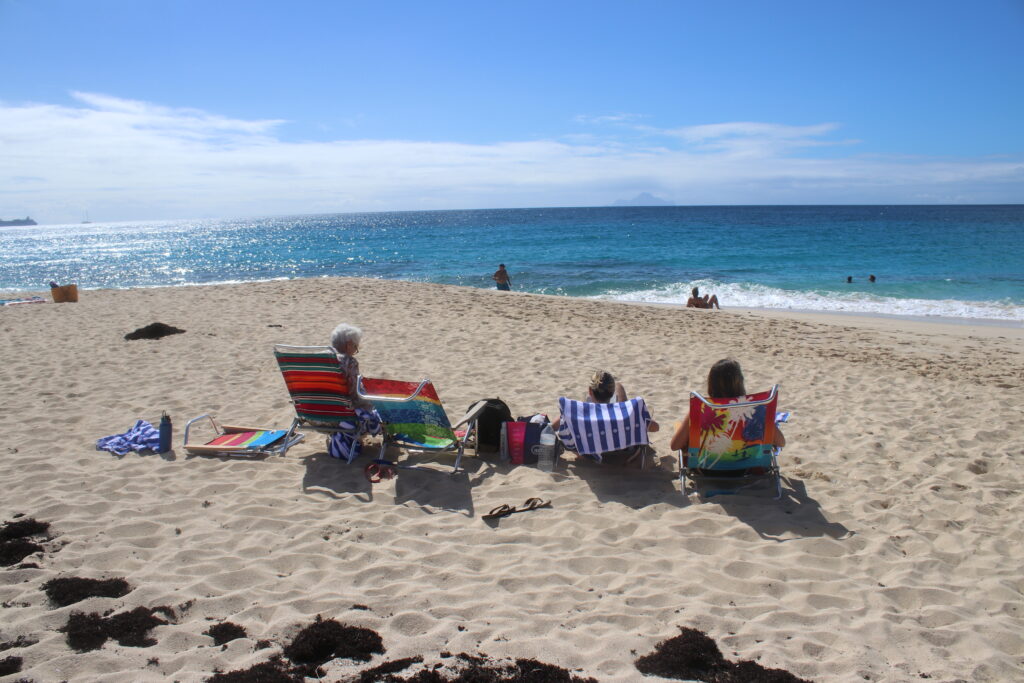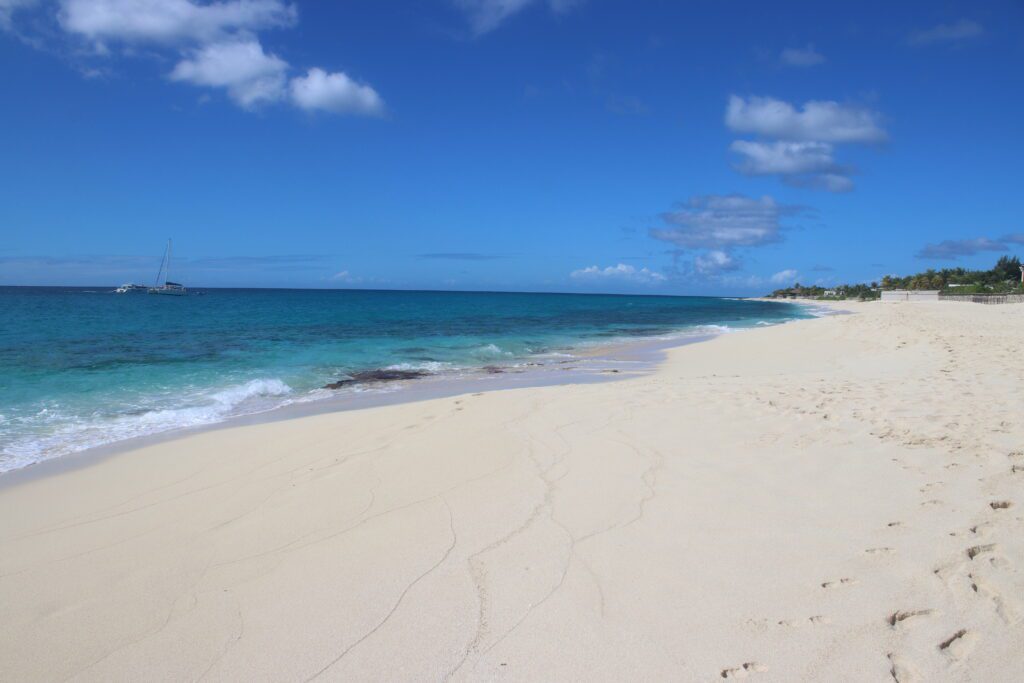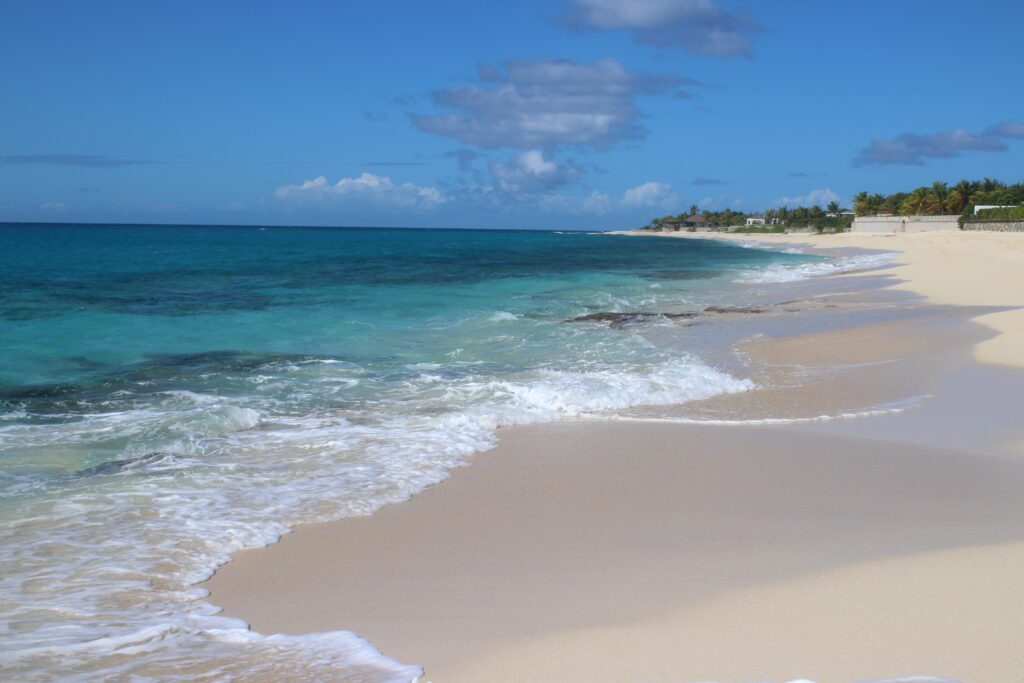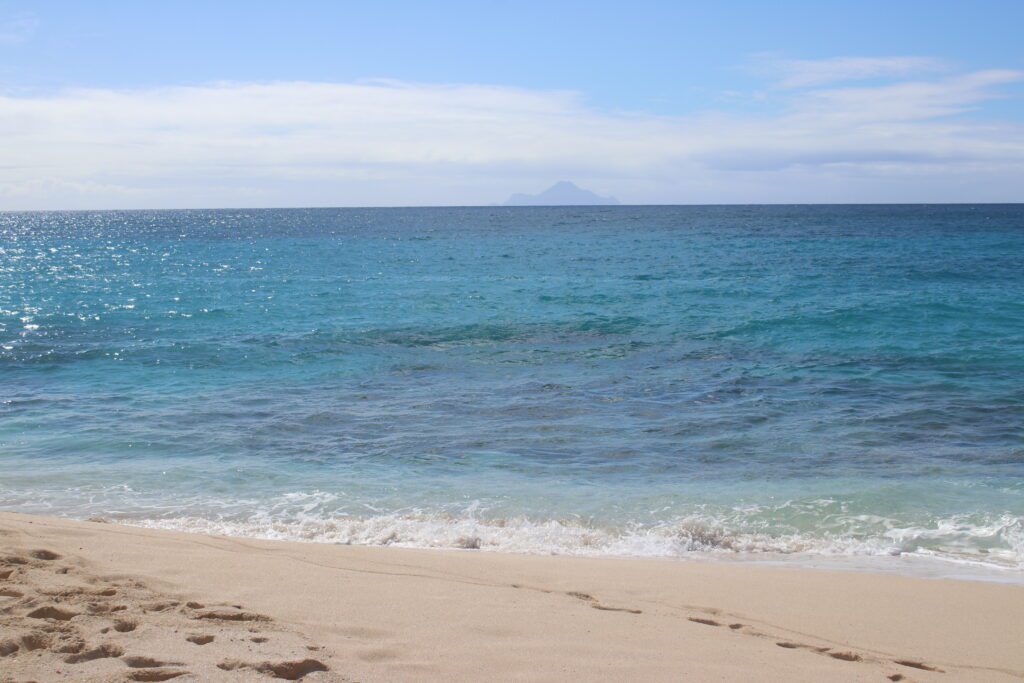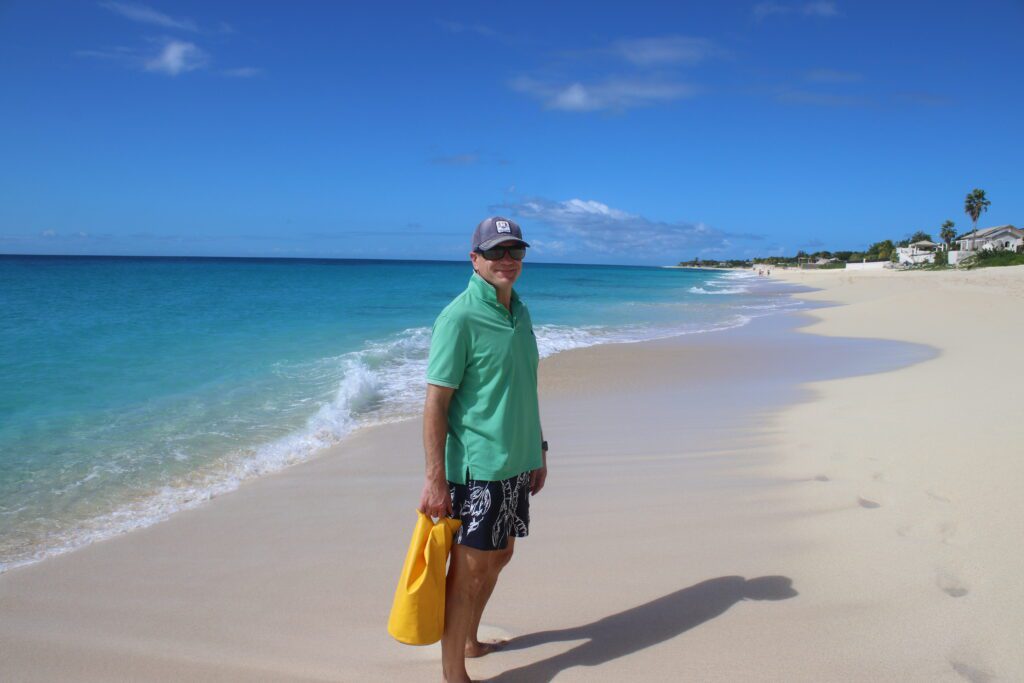 Pinel Island
Visiting Pinel Island was one of our most favorite stops on our vacation. The beach is so amazing. We also visited on our boat day for lunch at Karibuni. The main beach is completely out of the wind, so it is like a bathtub. There is some snorkeling. We also walked on the trails to see the rest of the island.
I made reservations well in advance of our visit as I wanted five chairs in the front row of Yellow Beach. Use WhatsApp to contact them and be very specific about what you want. I reserved chairs and lunch at a table at 12:30pm. You can eat and drink at your loungers, but I knew we wanted to sit in a chair. We saw many people coming off the ferry be turned away at Yellow Beach during Christmas week.
I like the beach at Yellow Beach better than the beach at Karibuni. But, the food is amazing at both spots.
We took the first ferry over to the island at 9:30am. The ferry leaves from the adorable town of Cul de Sac on the French side. It takes about 10 minutes on the ferry. Alternatively, you can rent kayaks or stand up paddle boards in Cul de Sac to visit the island. The cost for the roundtrip ferry is €10 or $12/person. We had $60 ready for the five of us, but the captain gave me $10 back! You pay the captain directly as you board.
We highly recommend spending the day at Pinel. The last ferry back to Cul de Sac leaves at 5pm.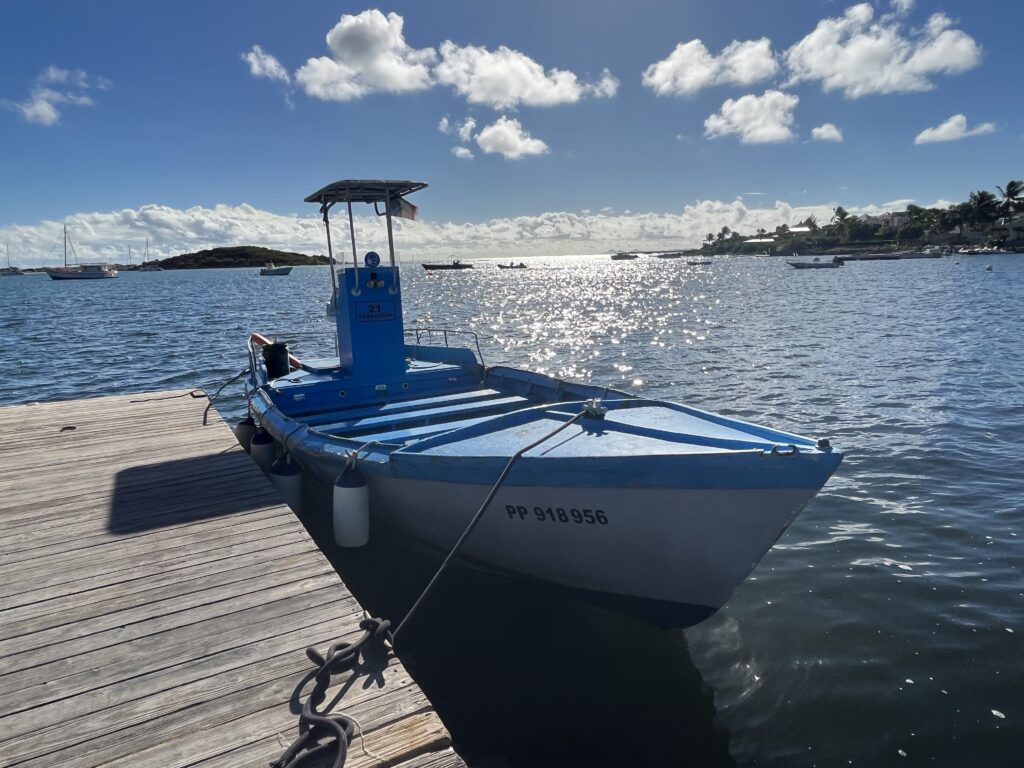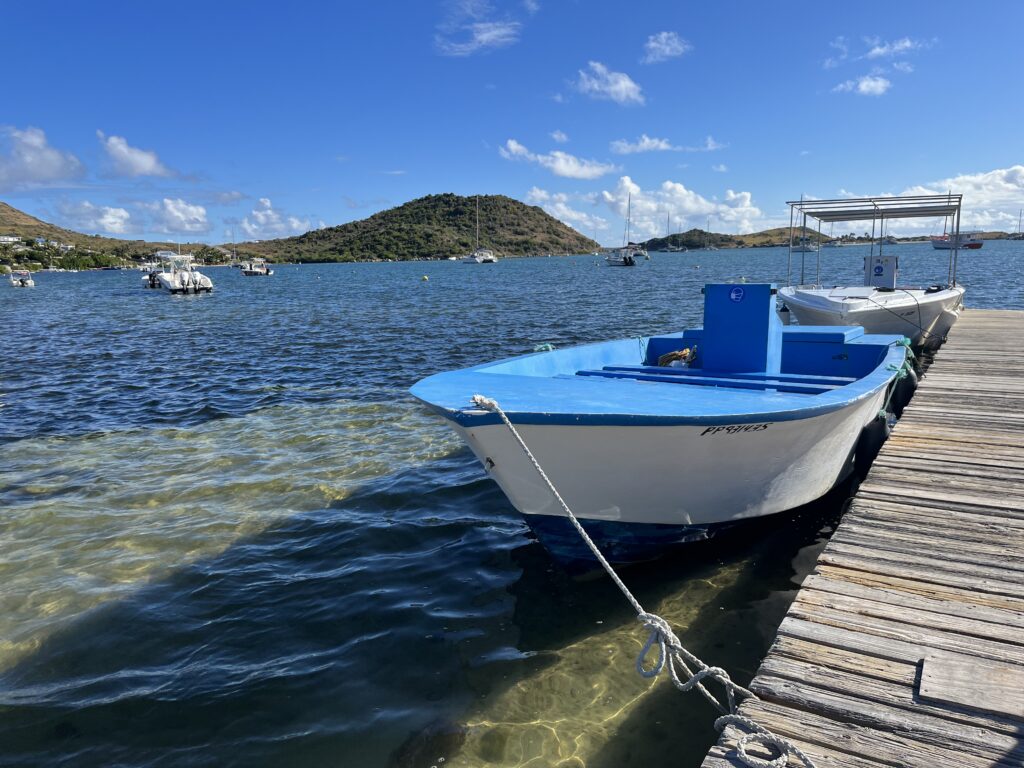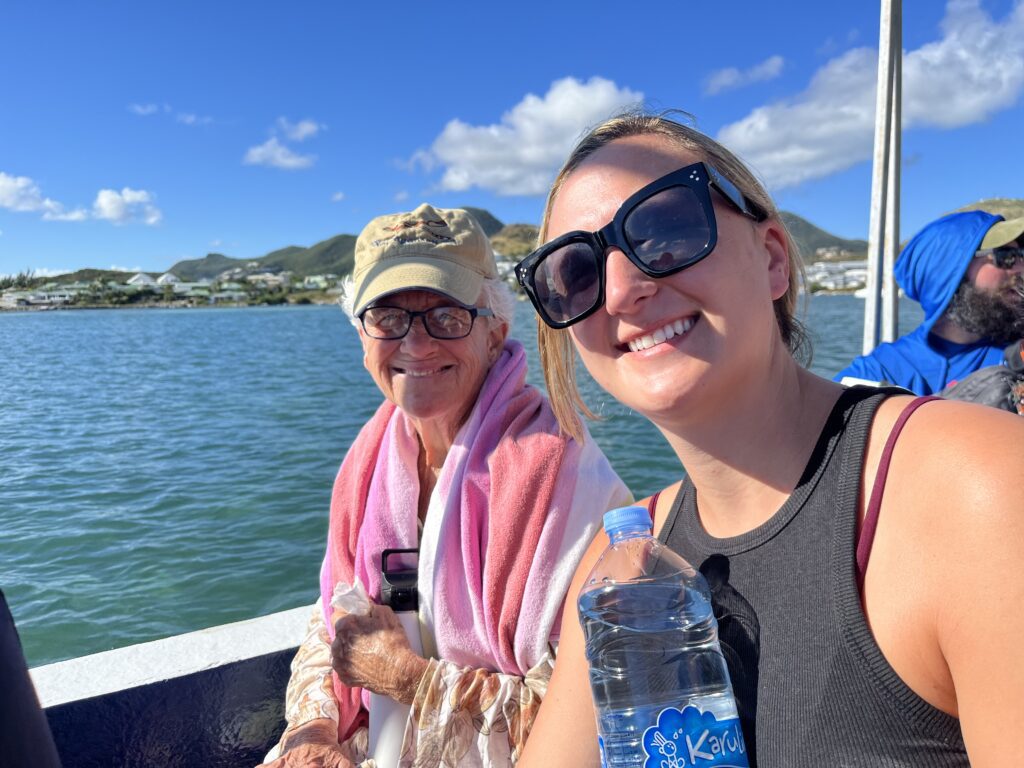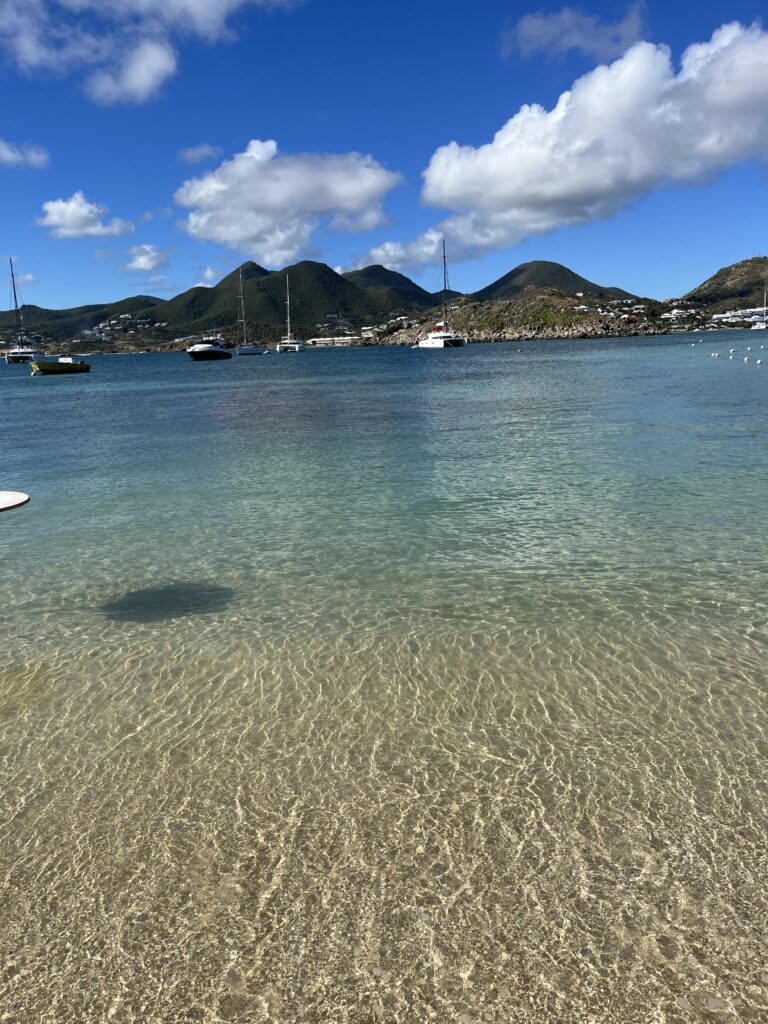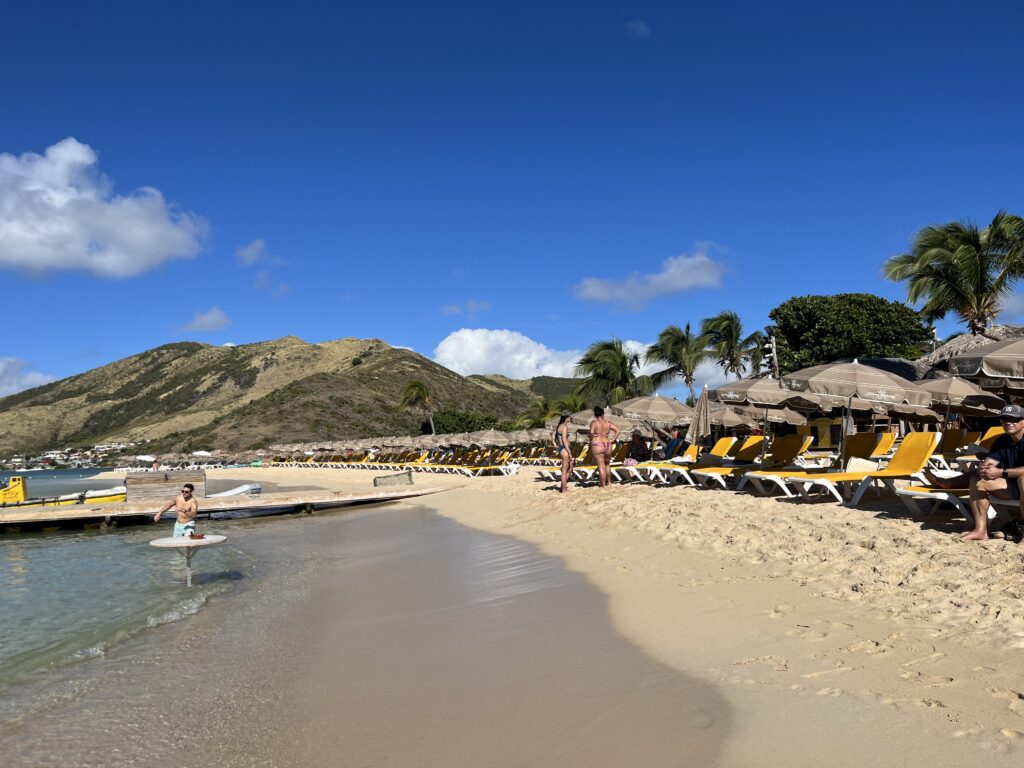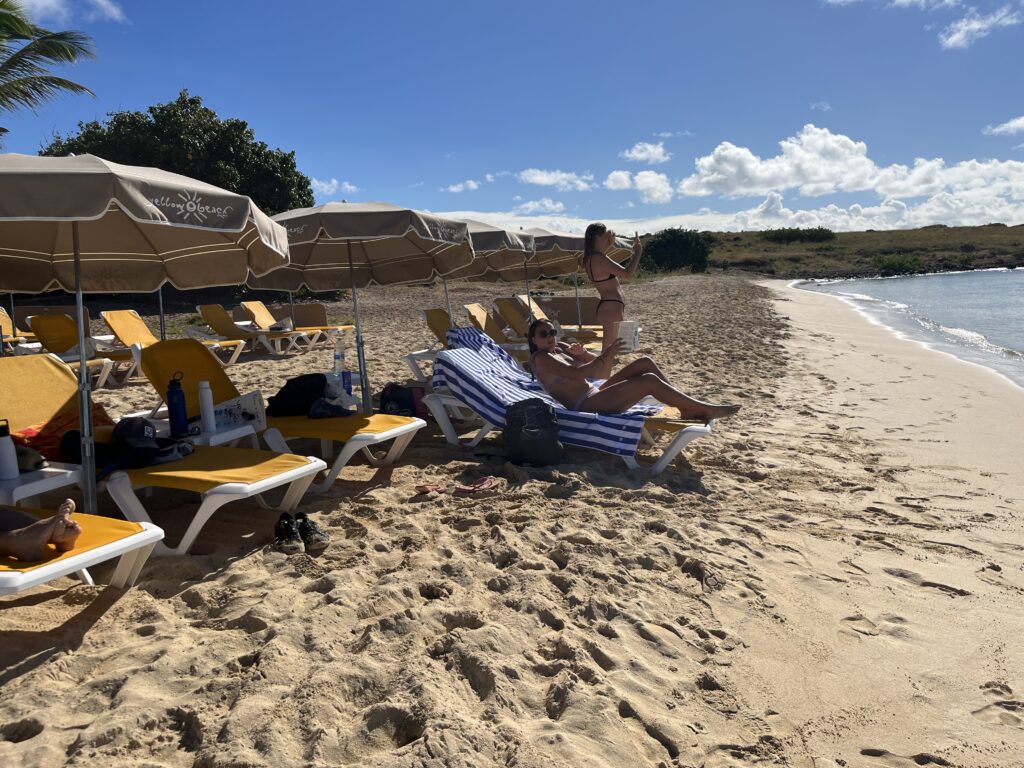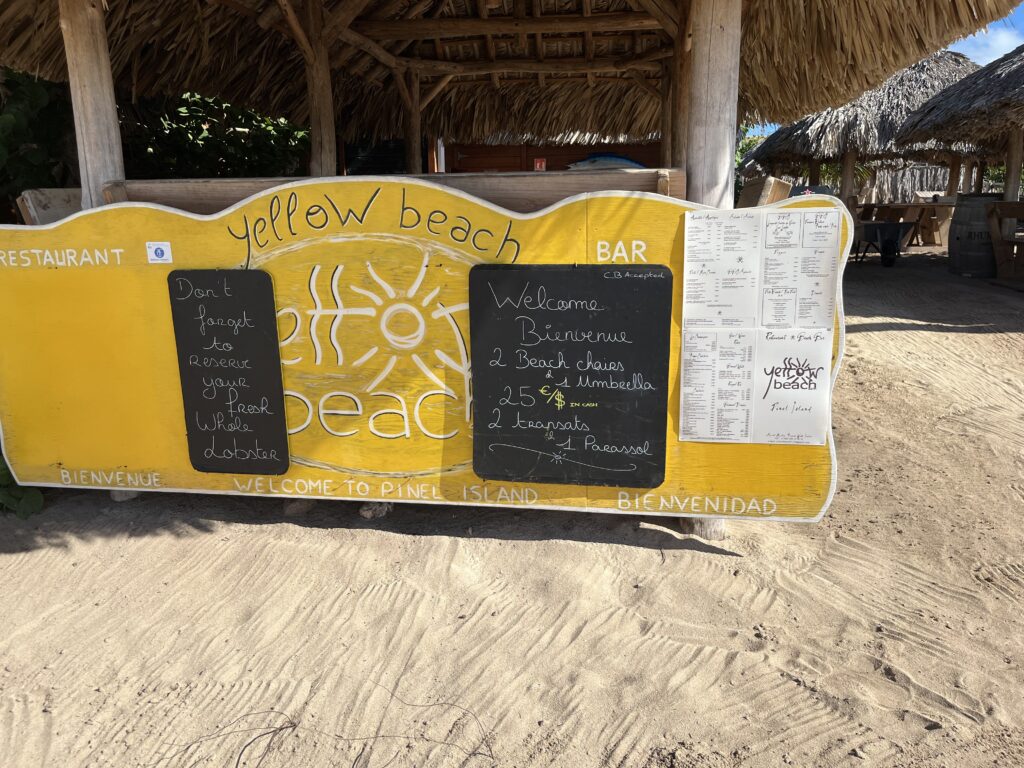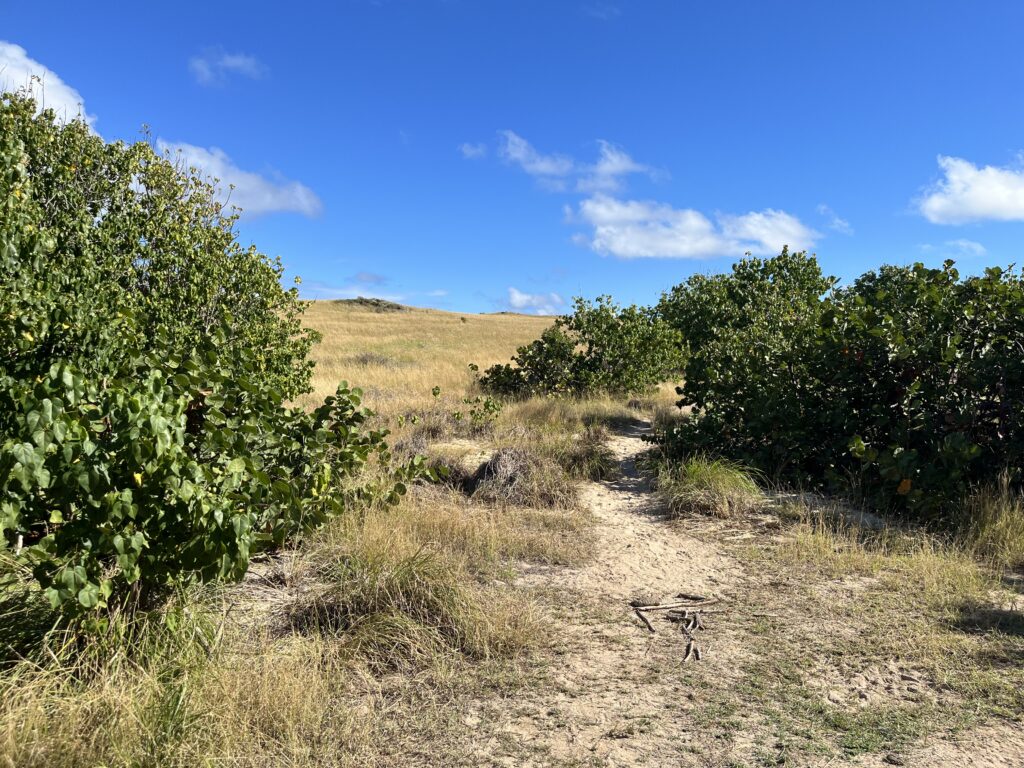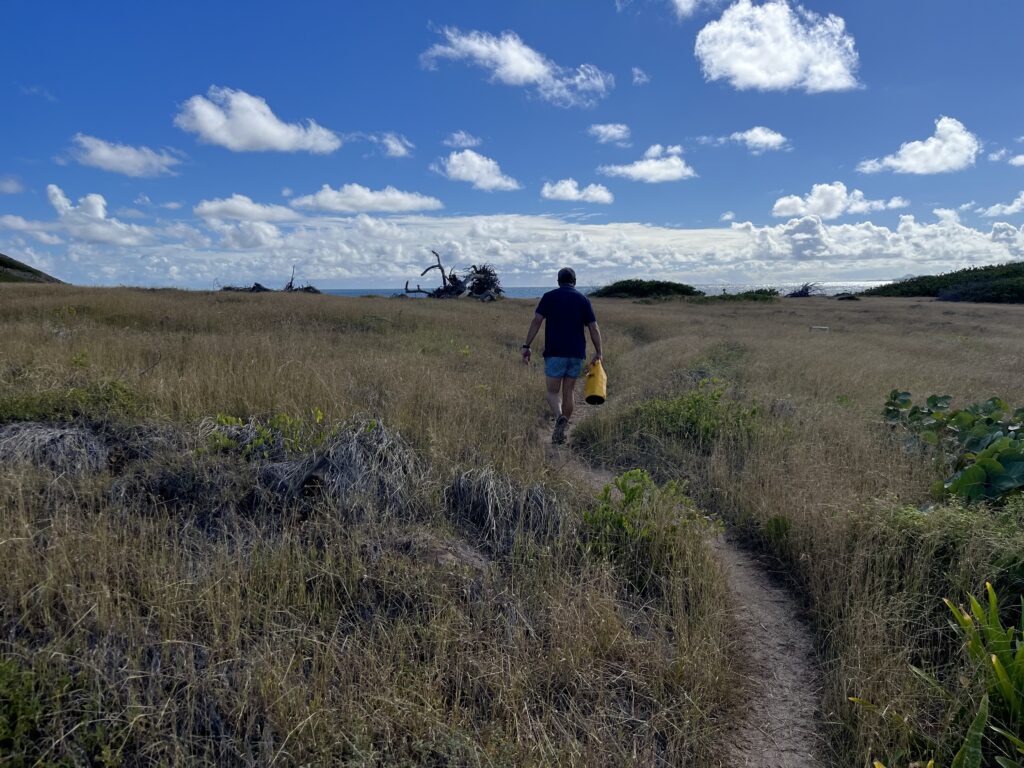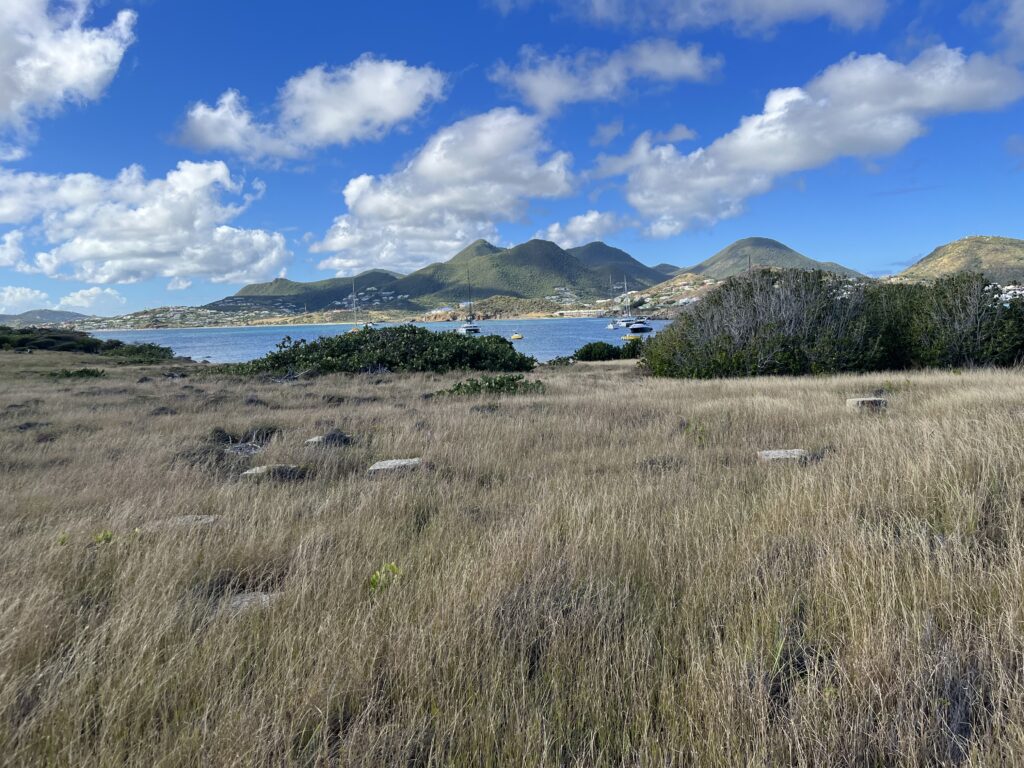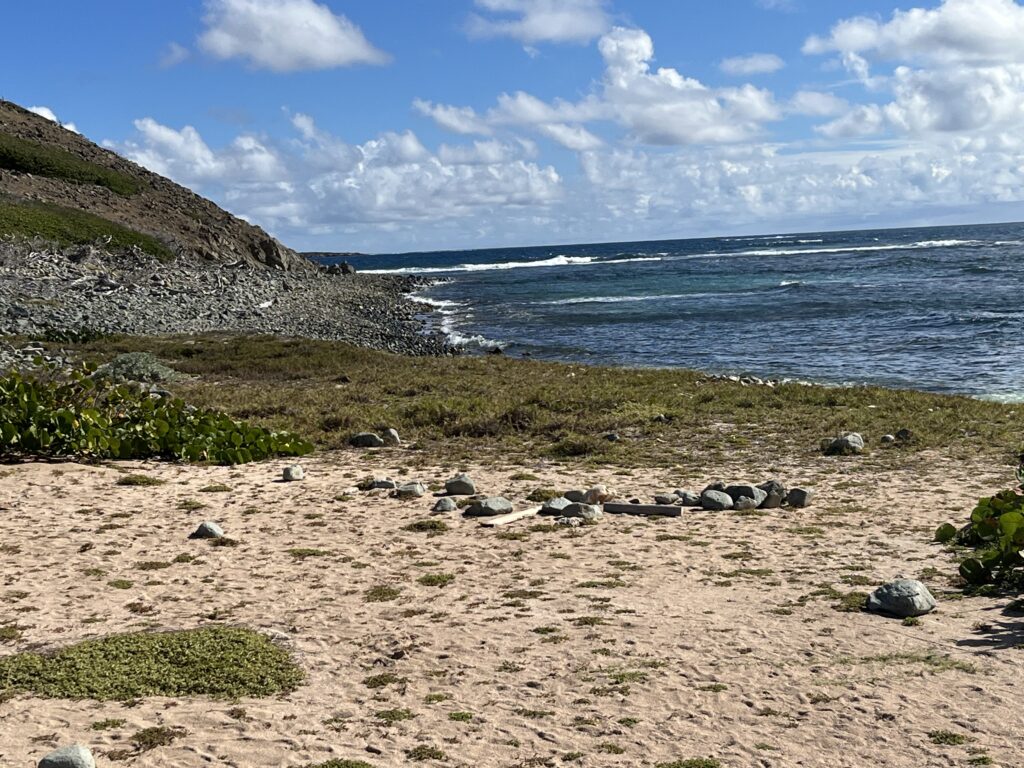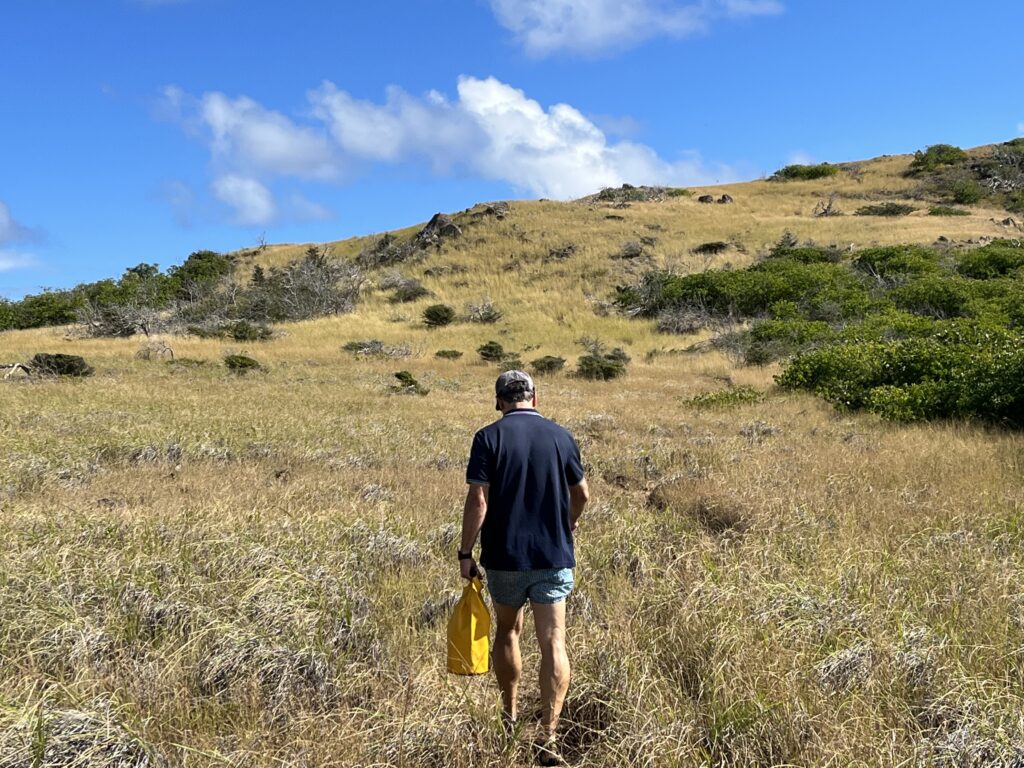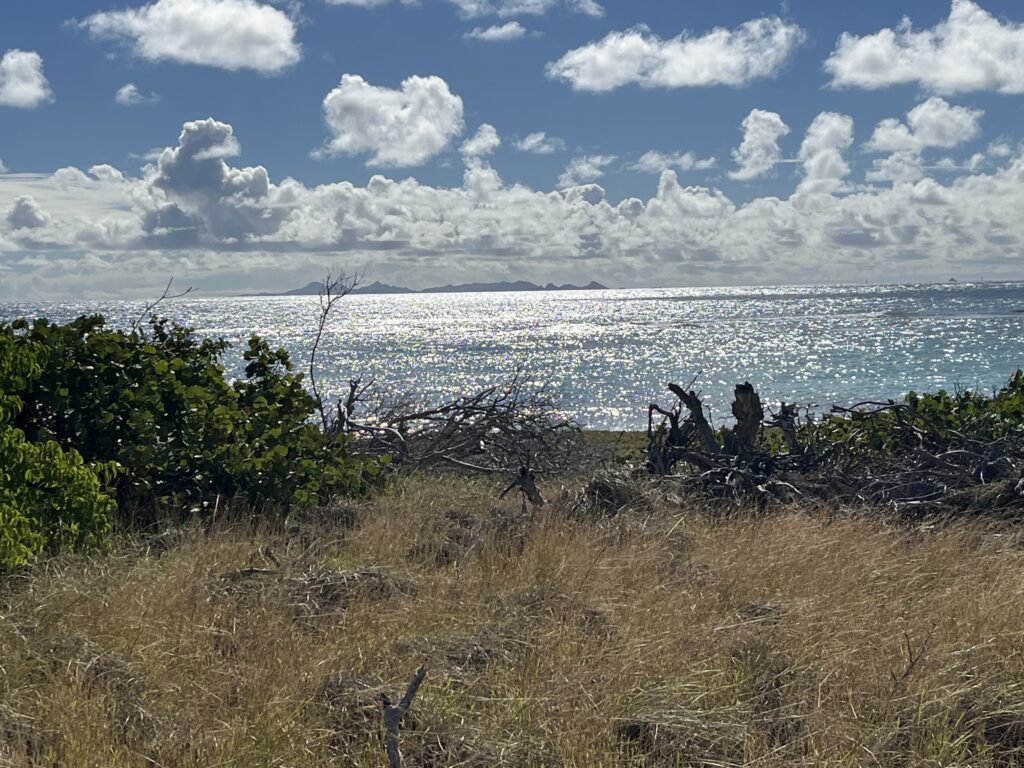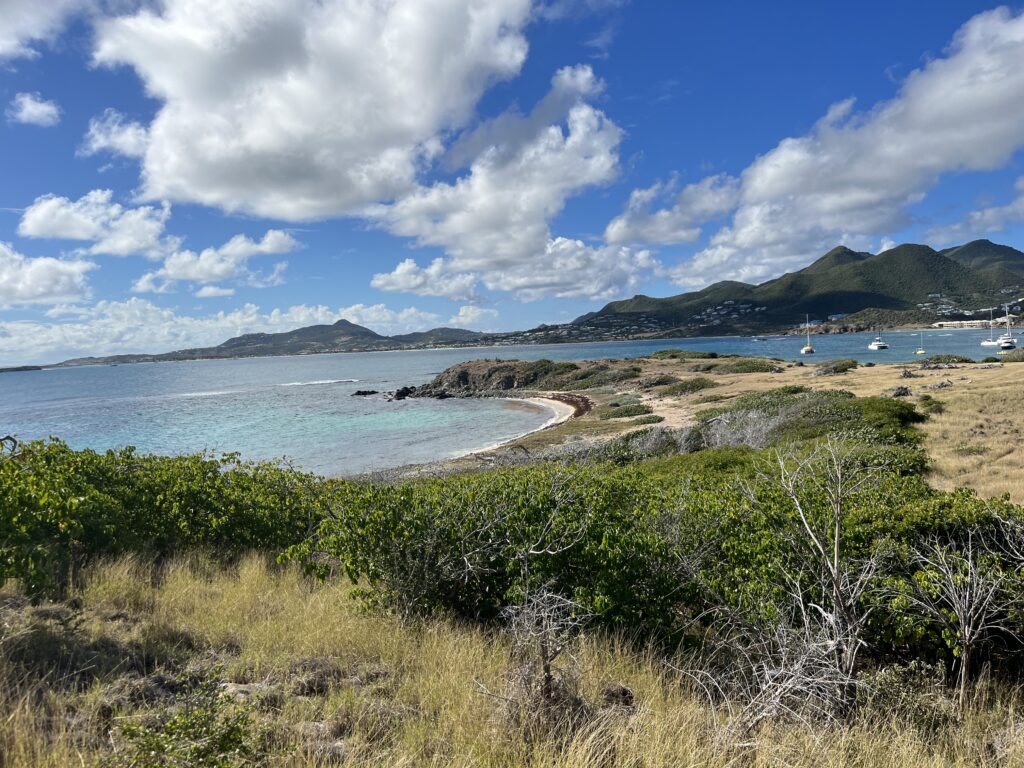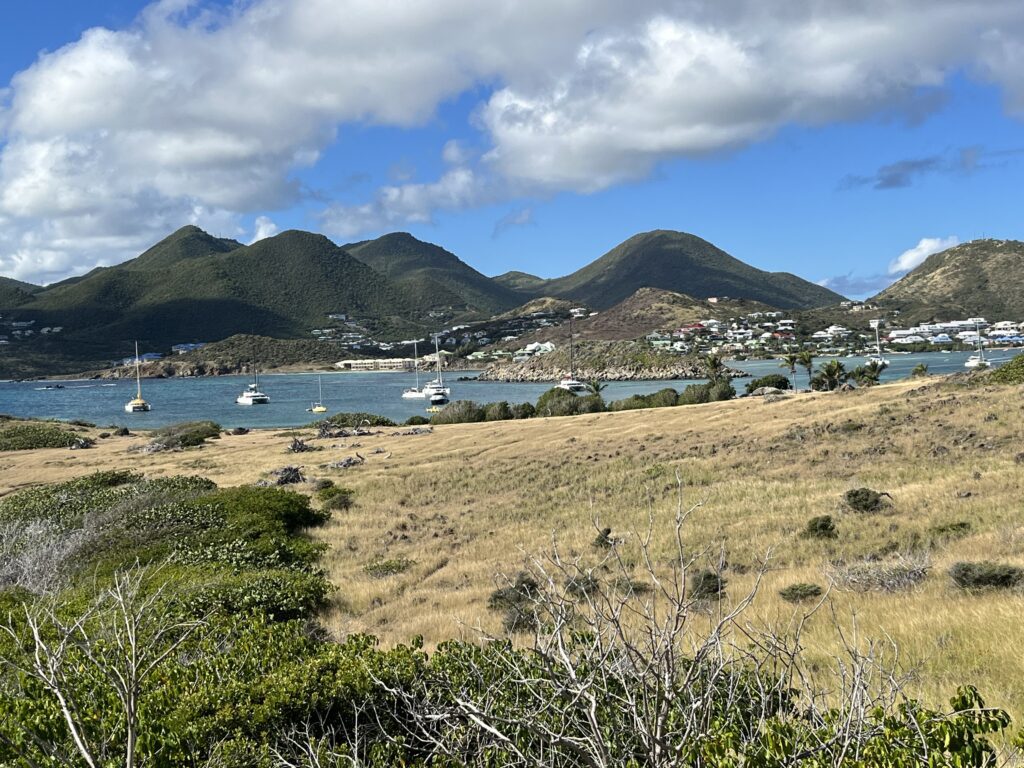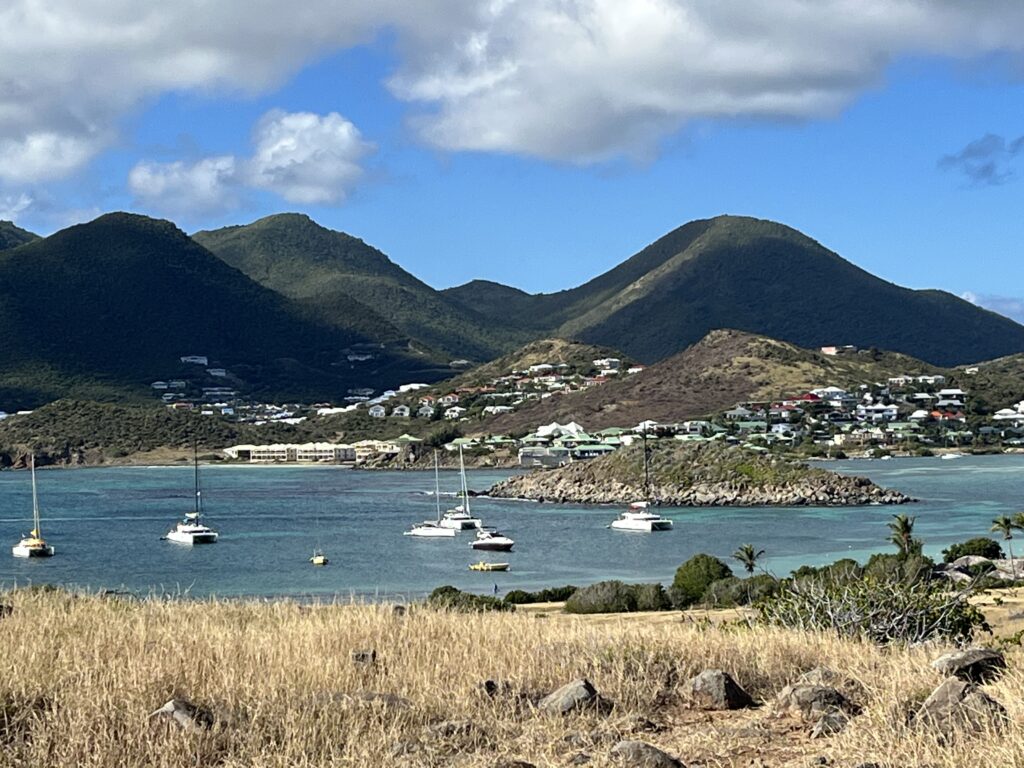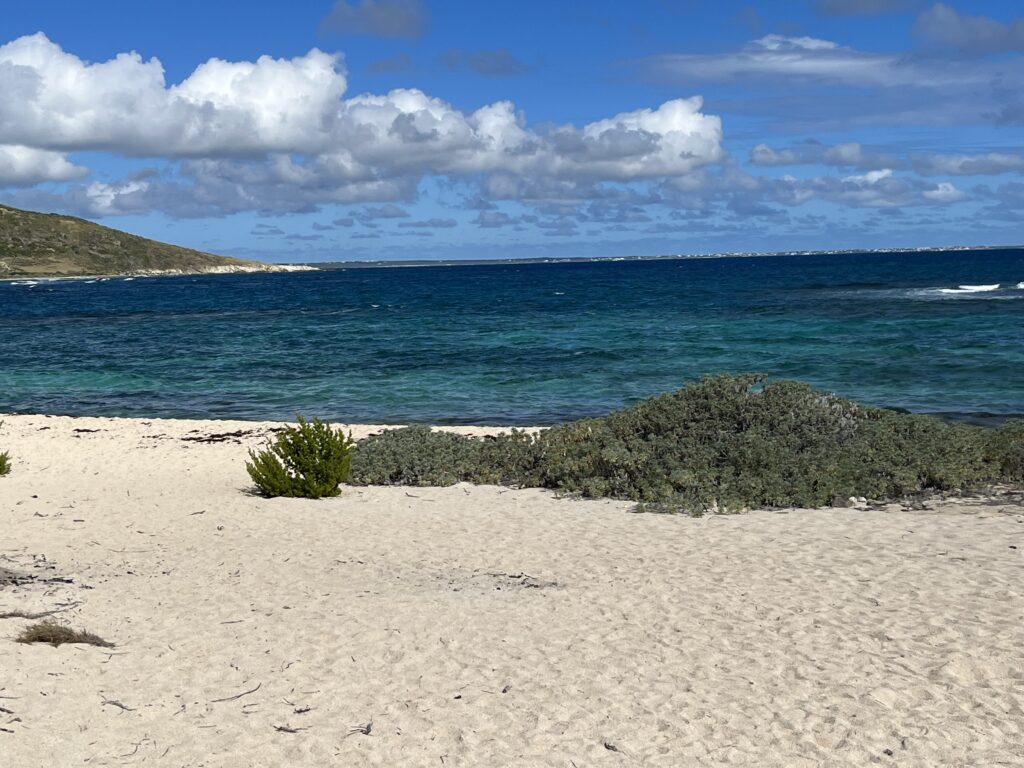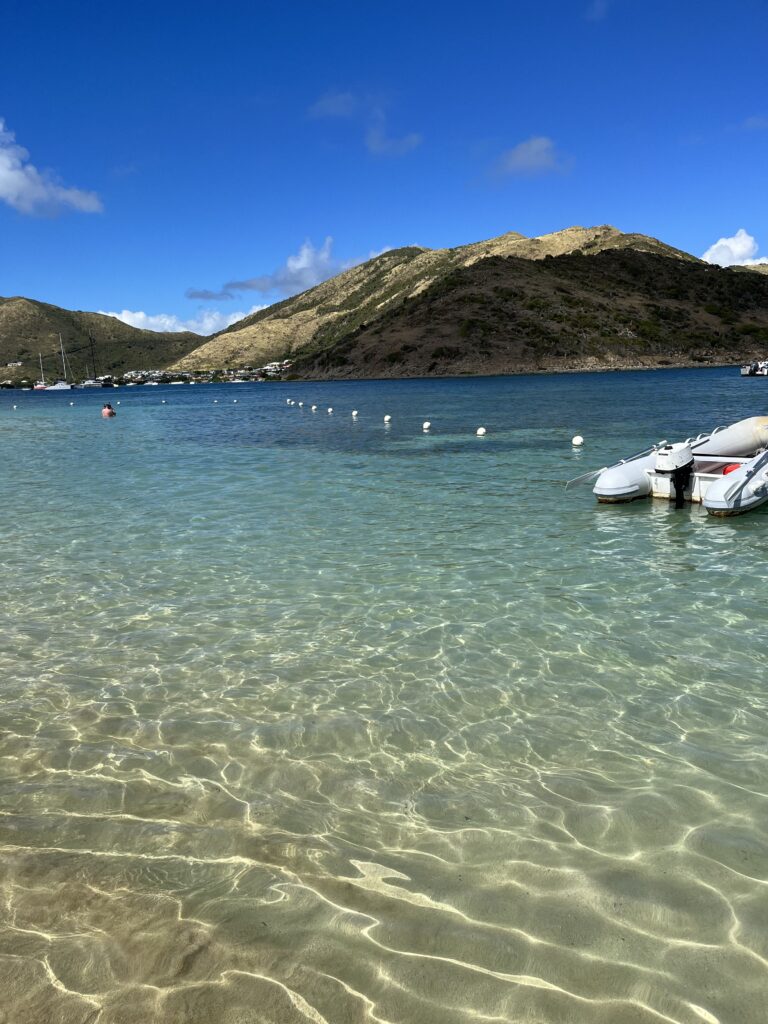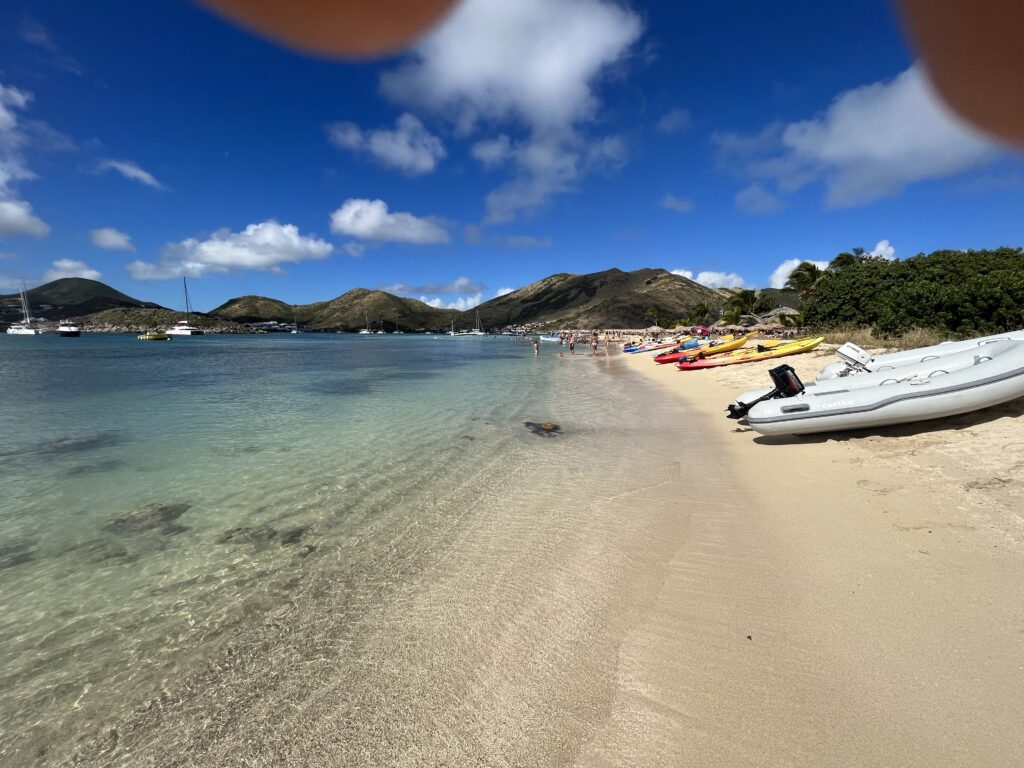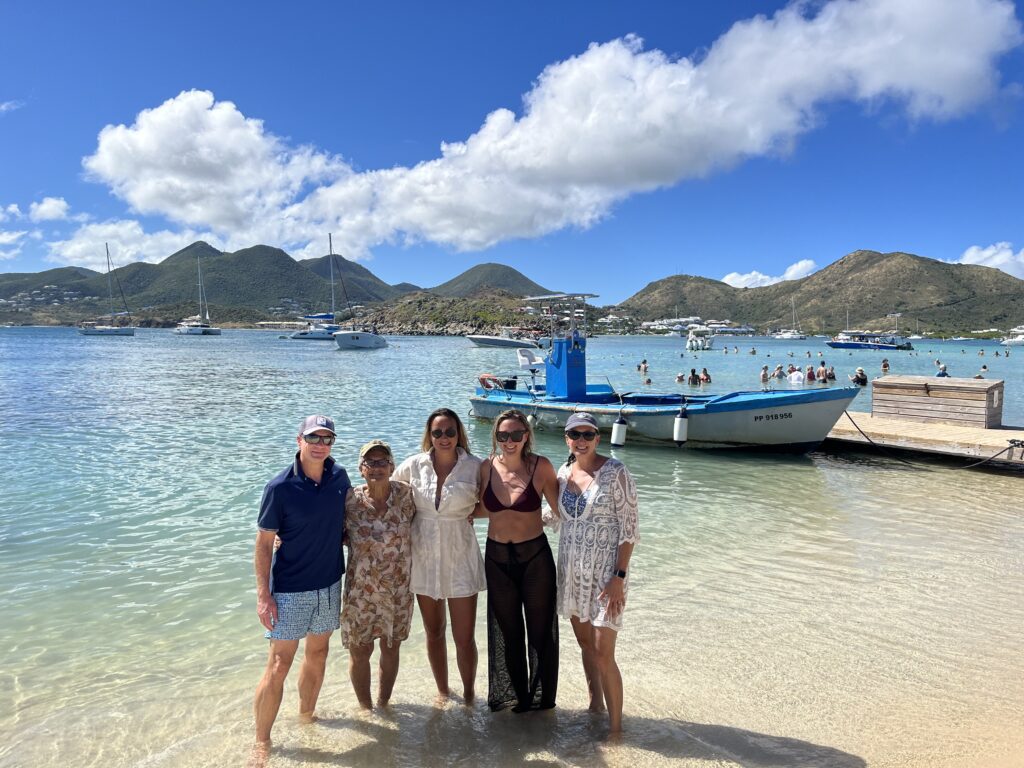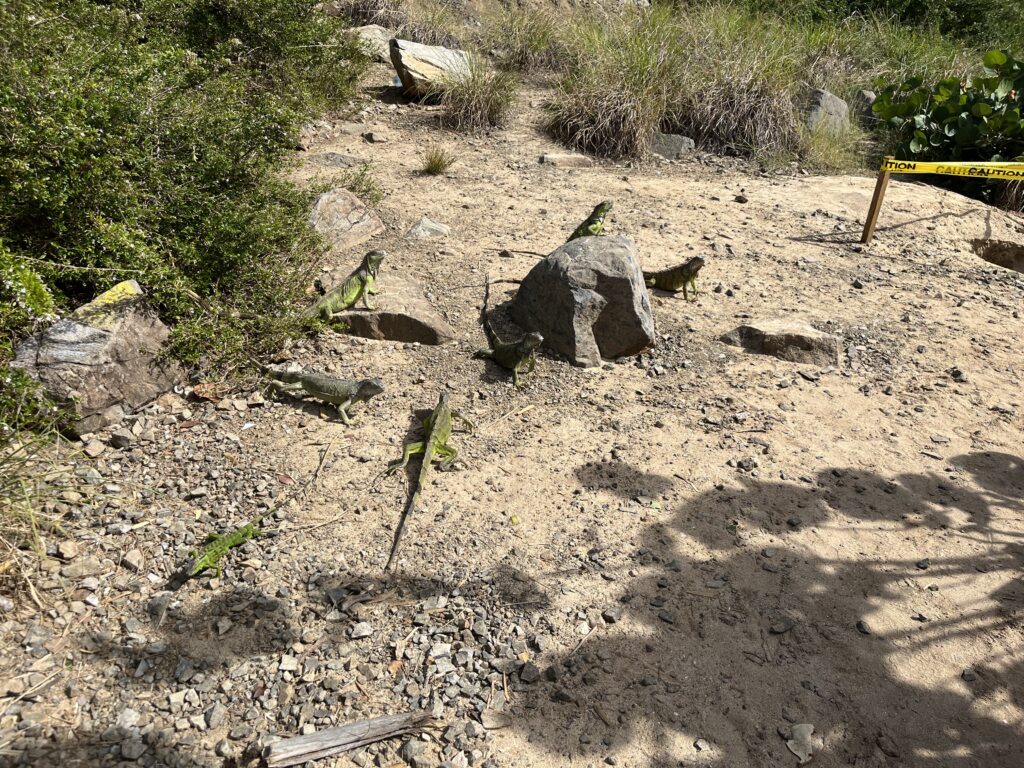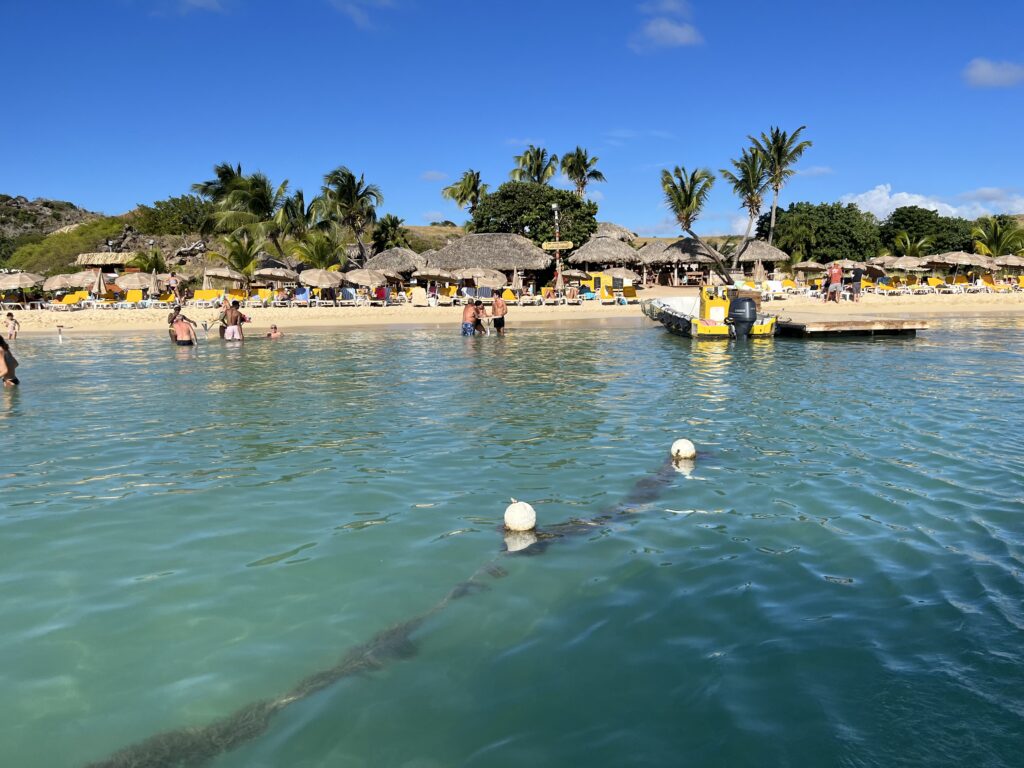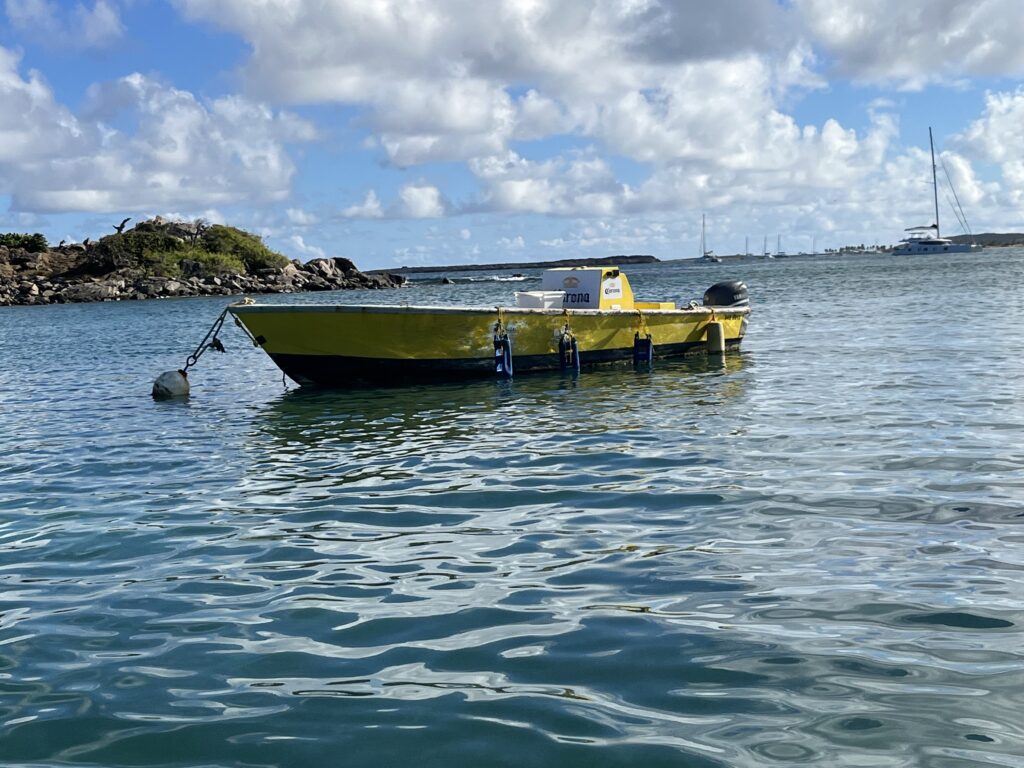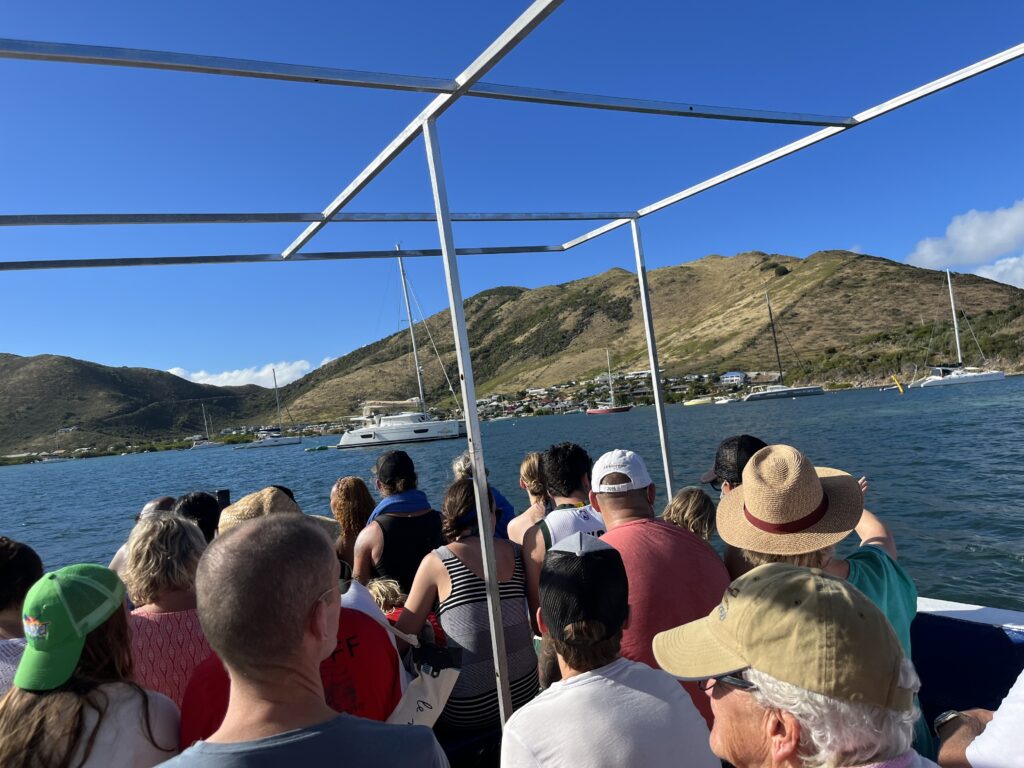 Yellow Beach Restaurant
We thoroughly enjoyed our meal at Yellow Beach. We had pizza, jalapeño fritters, escargot, tuna tartare and cooked tuna. The food and drink menus are extensive. All were excellent, and the view could not have been better. We did the traditional, complimentary end-of-meals shots. Be sure to make a reservation for loungers and a table if you want to eat at a table. The restaurant was jam-packed when we visited. They were extremely responsive on WhatsApp. The restaurant is only open for lunch. If you come by private boat, a launch boat will come pick you up.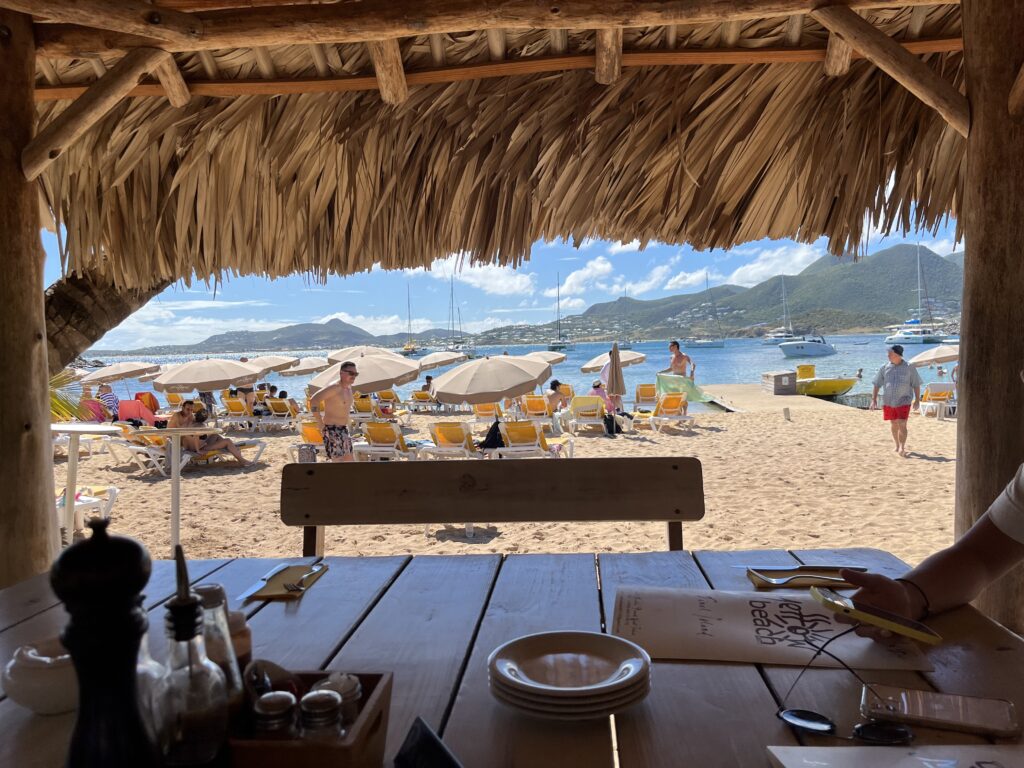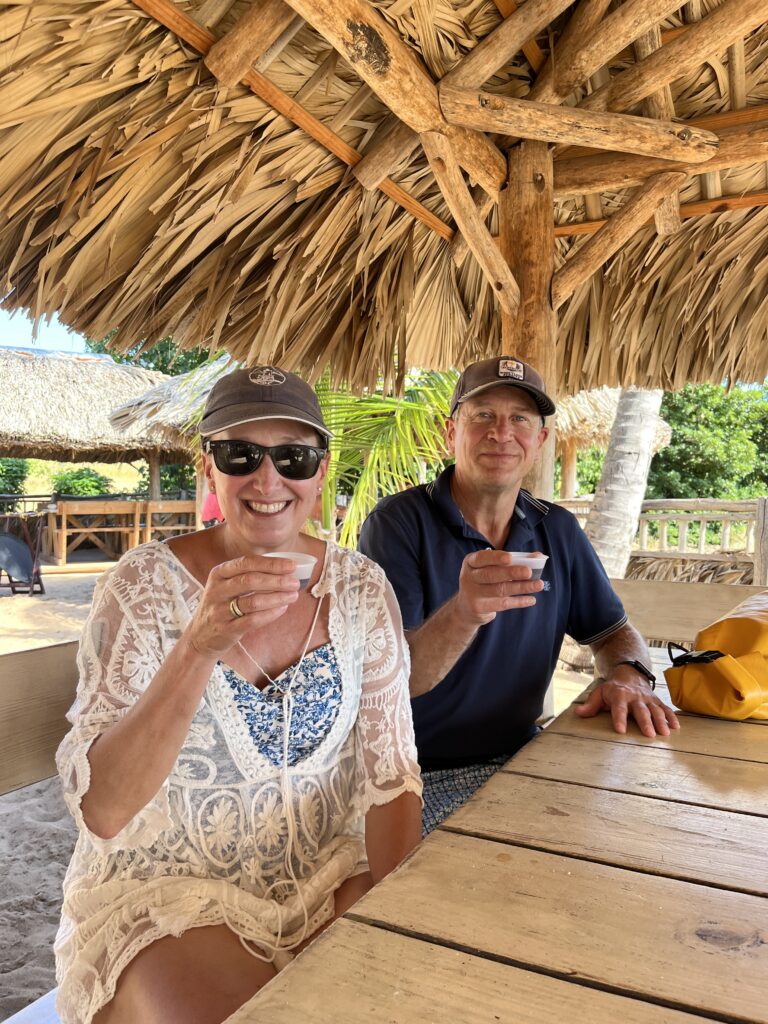 Karibuni
On our first boat day with Paperboat Charters, we stopped at Pinel for lunch at Karibuni. The food and the drinks were great as was the setting. We were lucky to get the last table of the day as our captain called them as soon as we got on the boat. Reserve in advance! We loved our poke bowls and fish sandwiches. The menu is delightful, and the staff works so hard to keep the place running. We did like the beach better at Yellow Beach as it was less crowded. The restaurant is only open for lunch. If you come by private boat (like we did), a launch boat will come pick you up.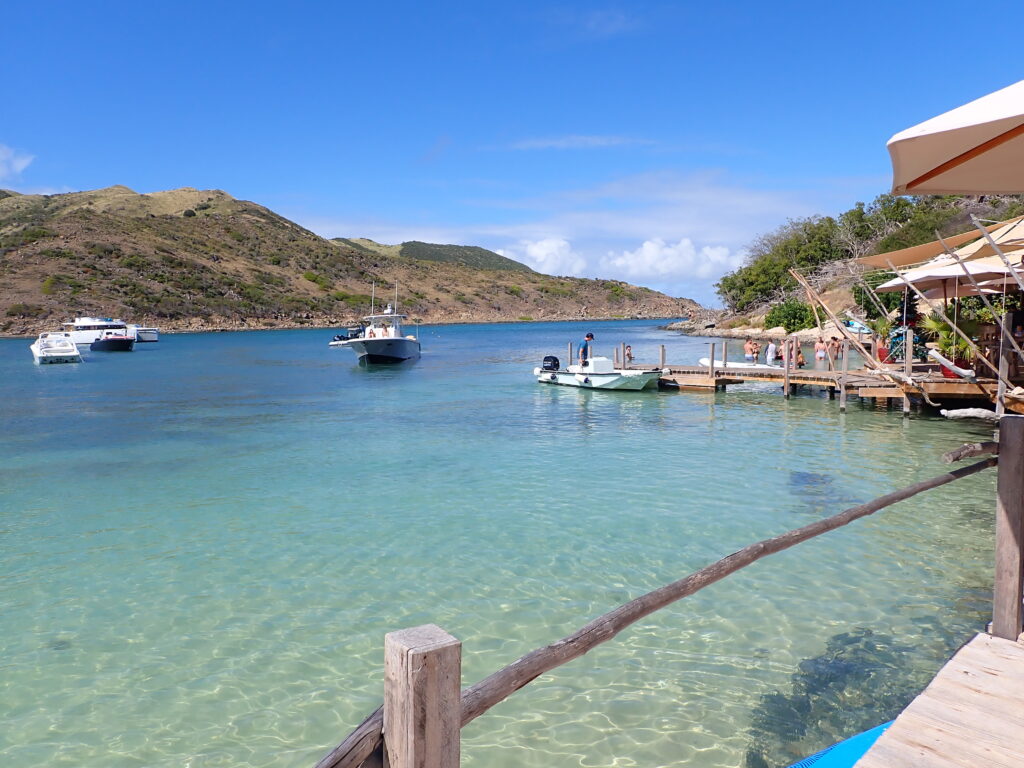 Anse Marcel Beach
Anse Marcel Beach is lovely with calm waters even on a windy day. Located 10 minutes from Grand Case and five minutes from Cul de Sac, the beach is small, taking about seven minutes to walk from one side to the other. Anse Marcel Beach Resort sits on one end and the all-inclusive Secrets sits on the other. We chose to sit in the middle with our rental chairs. The chairs at the beach resort were €30 for two chairs! This beach is gorgeous – perfect for swimming, walking and reading. And, the views as you drive over the hill from Cul de Sac are amazing.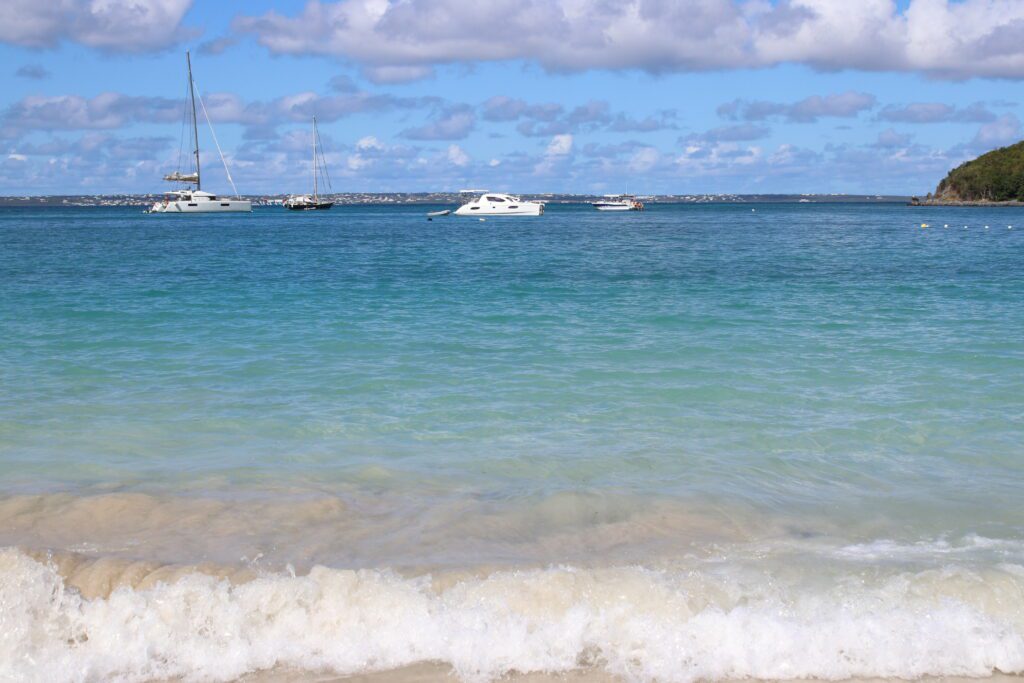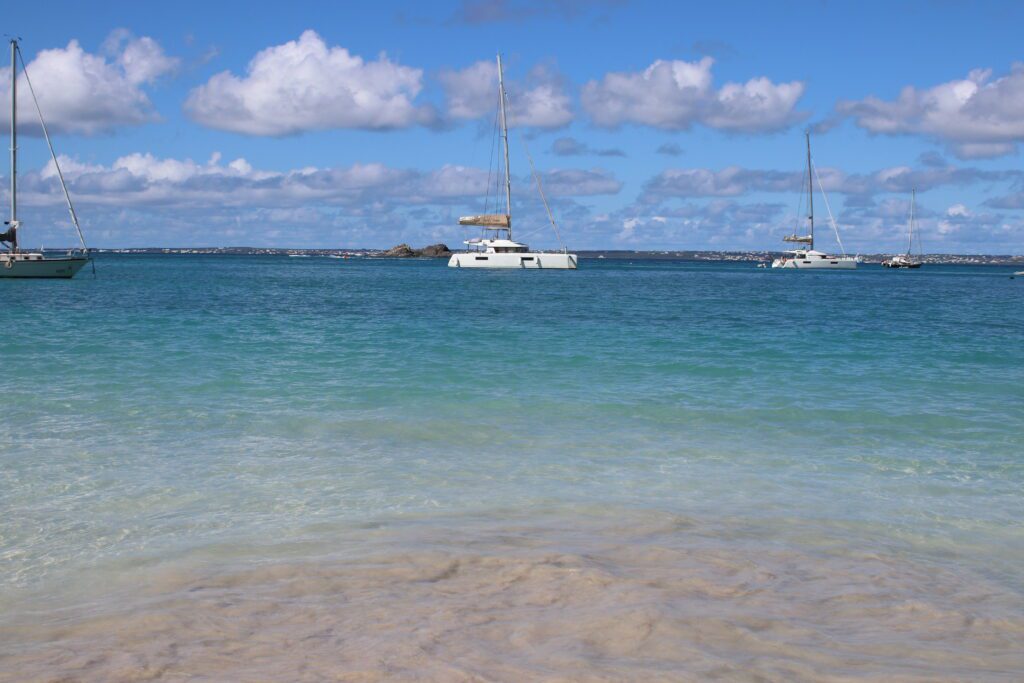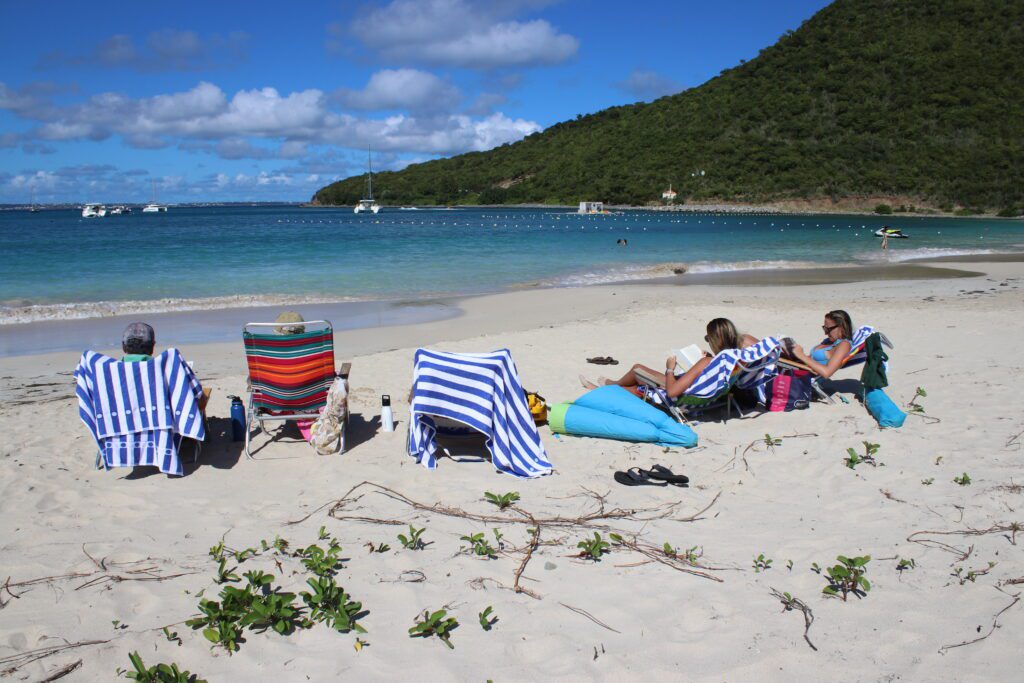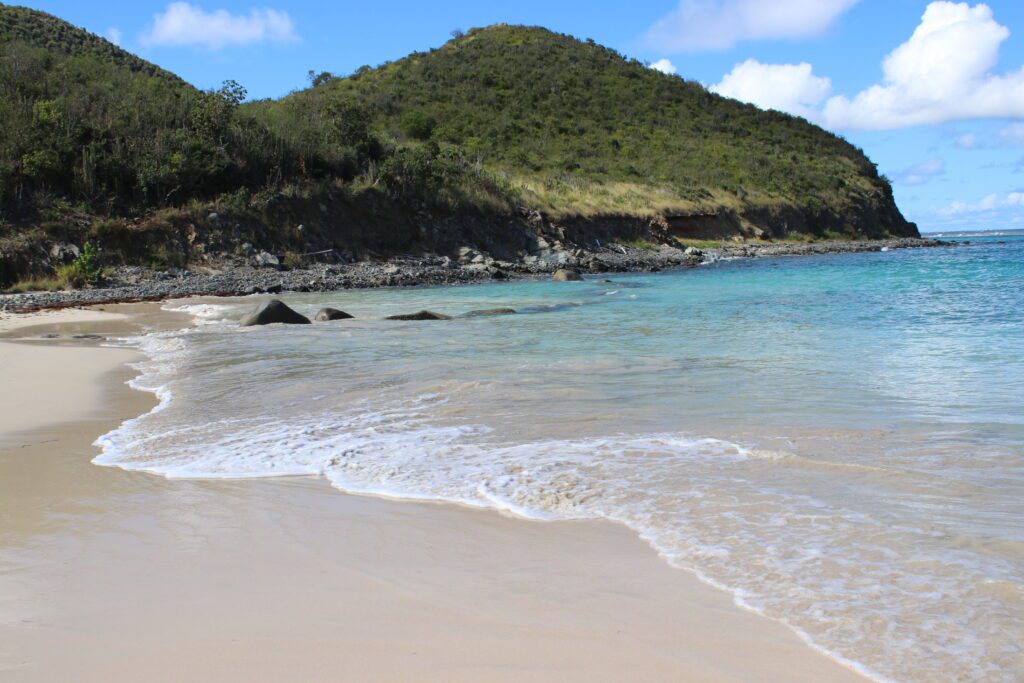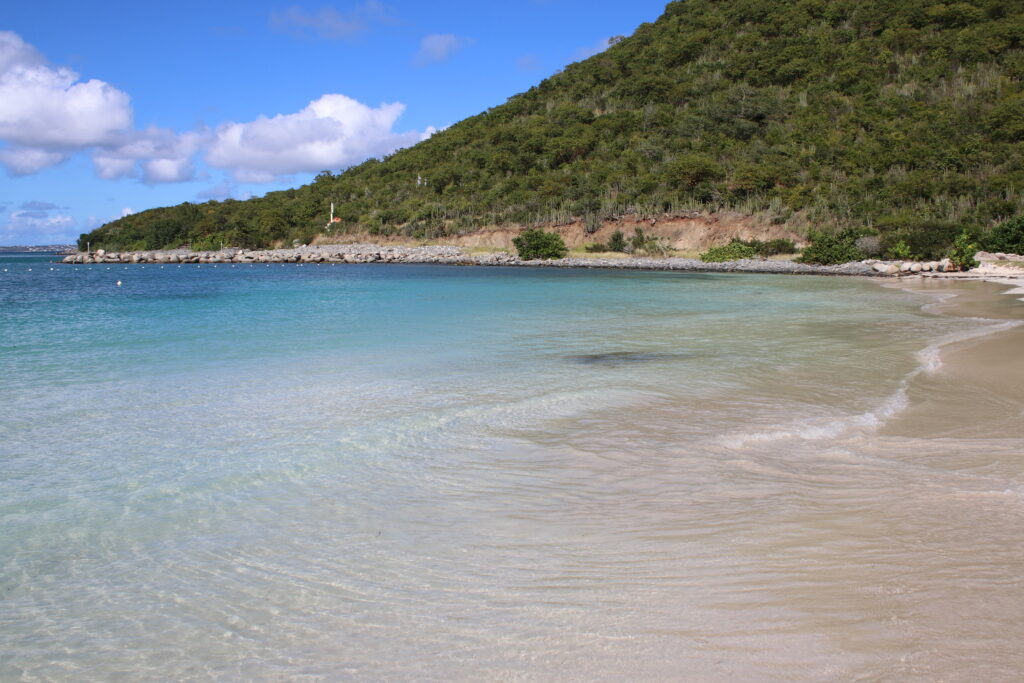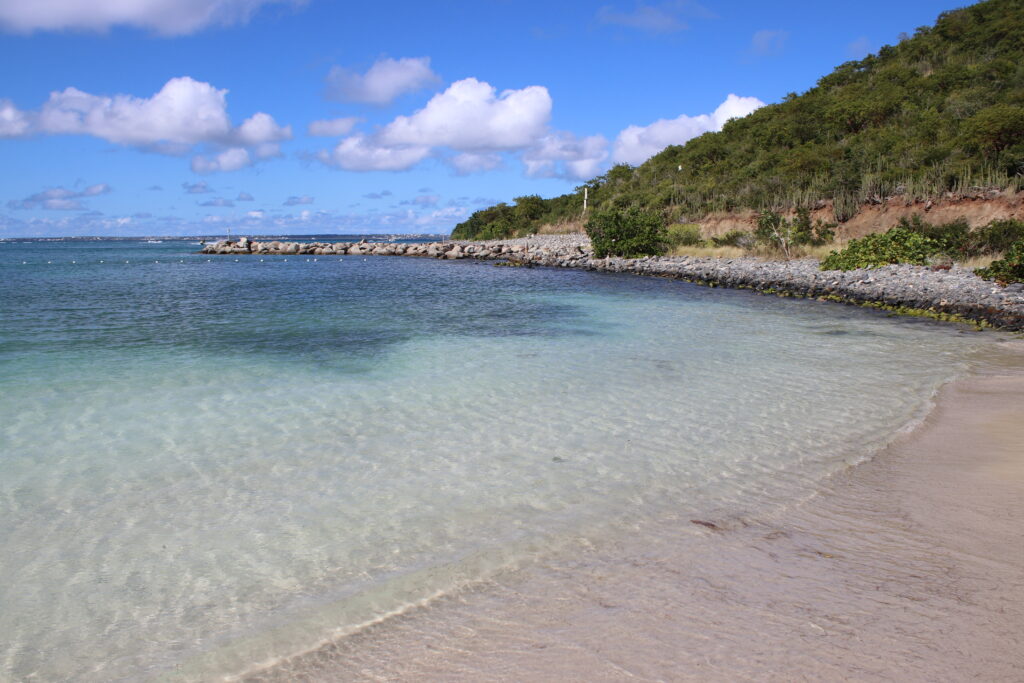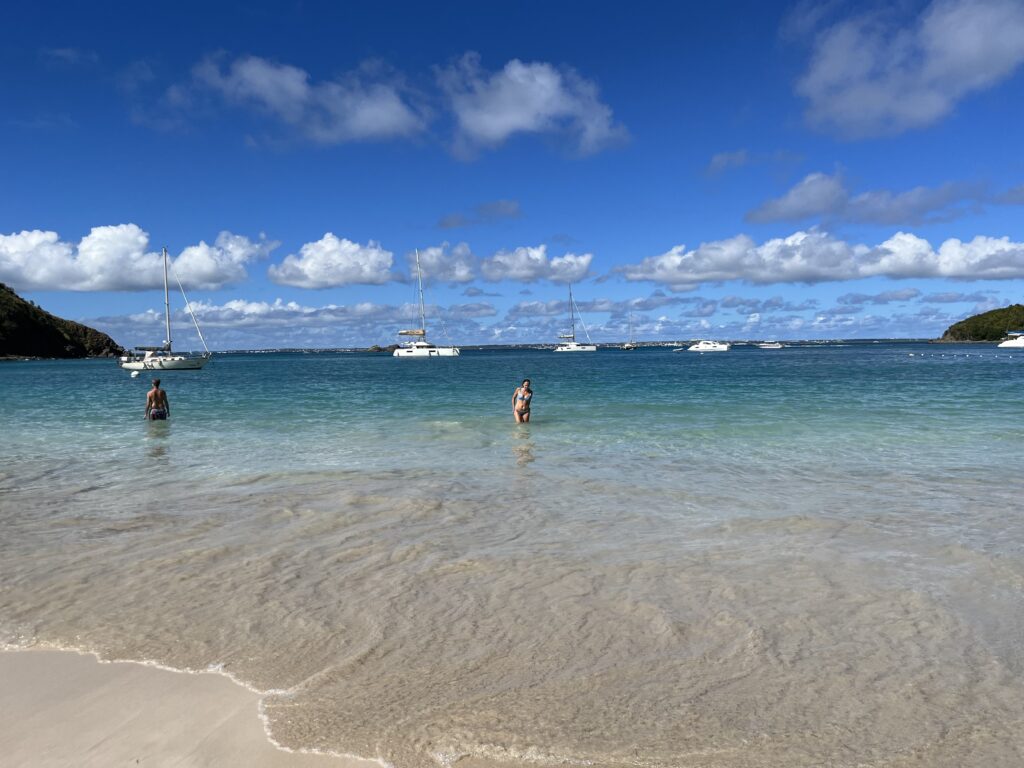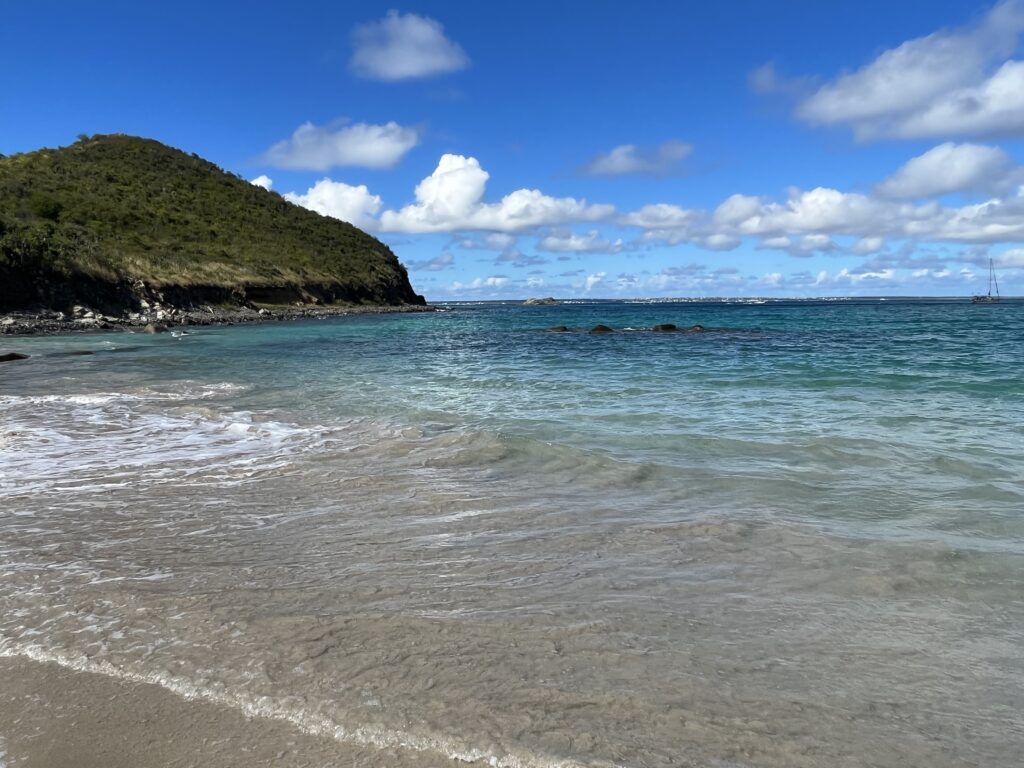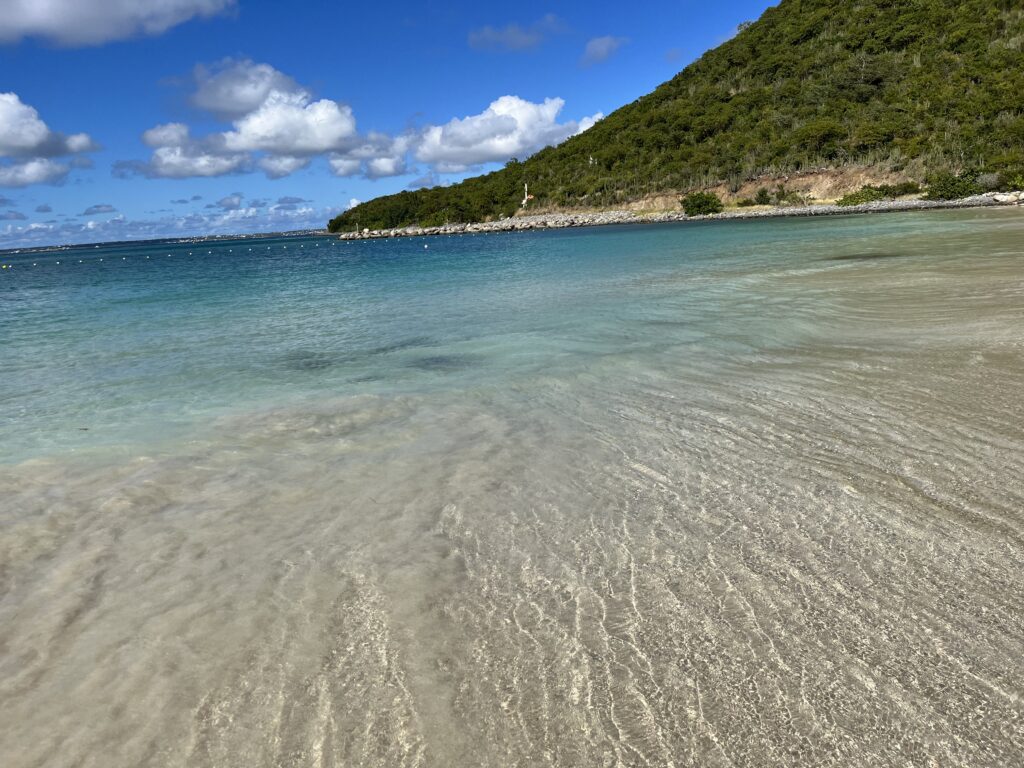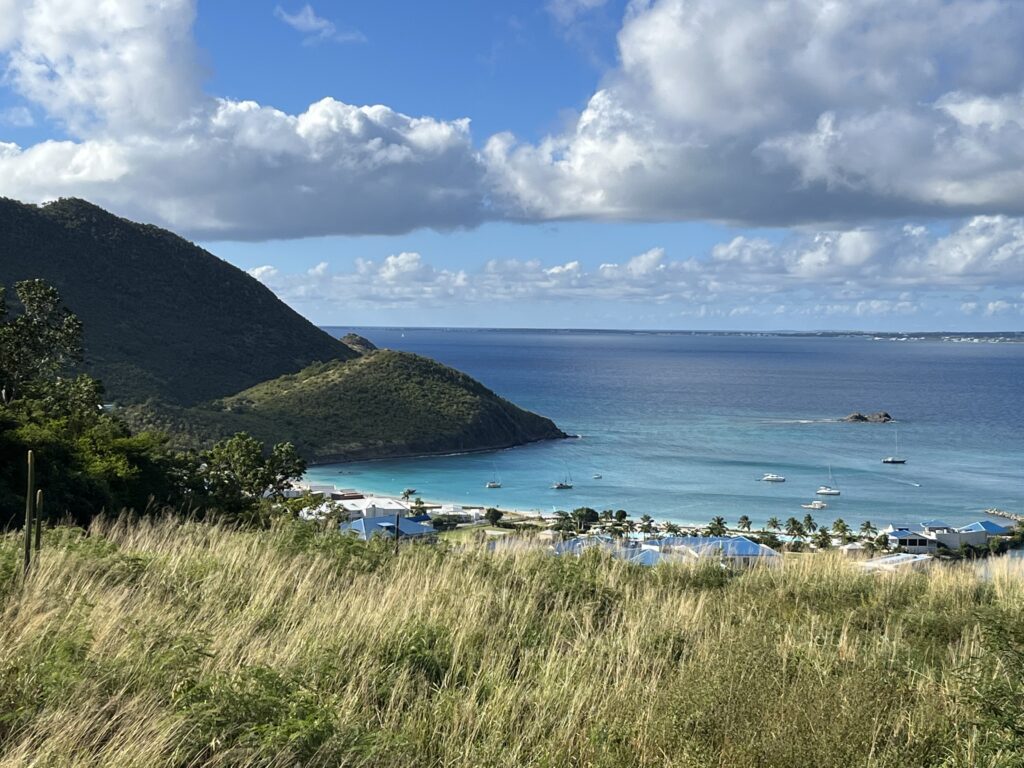 The Restaurant at Anse Marcel Beach Resort
We ate lunch on a Windy Tuesday at the Restaurant at Anse Marcel Beach Resort. We sat outside in a gazebo with a lovely view of the beach. We ate shrimp with fruits and veggies, ceviche, salmon with herbed cream cheese and black truffle risotto. All were amazing. The olive tapenade that accompanied the french bread was to-die-for. Nana ate a specialty dessert tart for lunch. This location is amazing, but the food is very, very expensive. We also chose not to sit in their very expensive beach chairs! The restaurant is only open for lunch. If you come by boat, a launch boat will come pick you up. TripAdvisor reviews are mixed due to the high prices. The restaurant only takes reservations by phone call, not by text or email. Use WhatsApp to call them.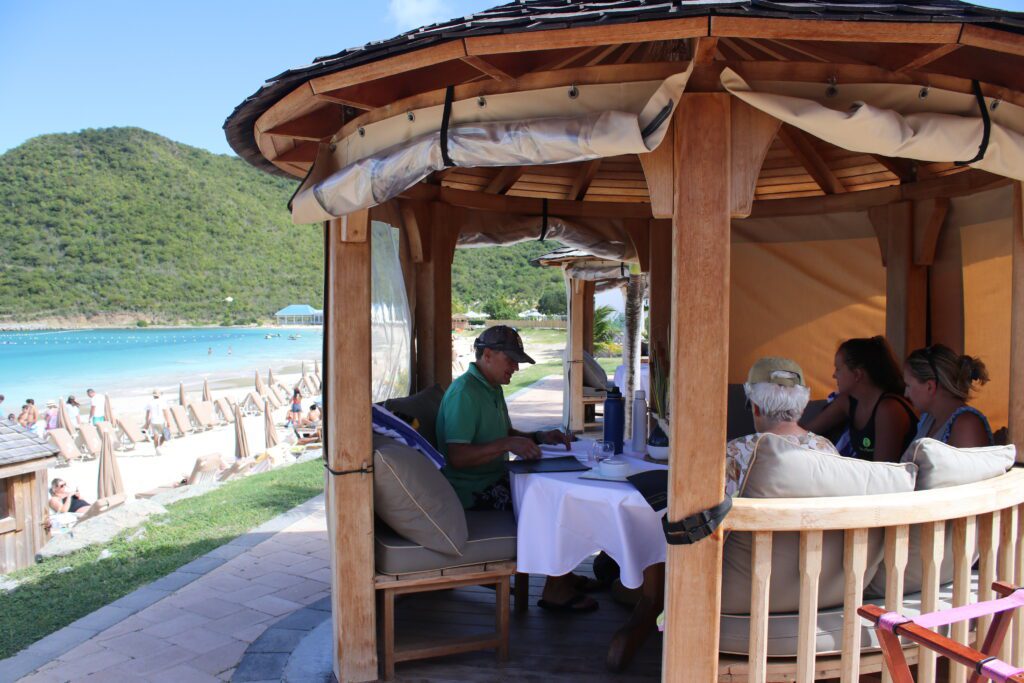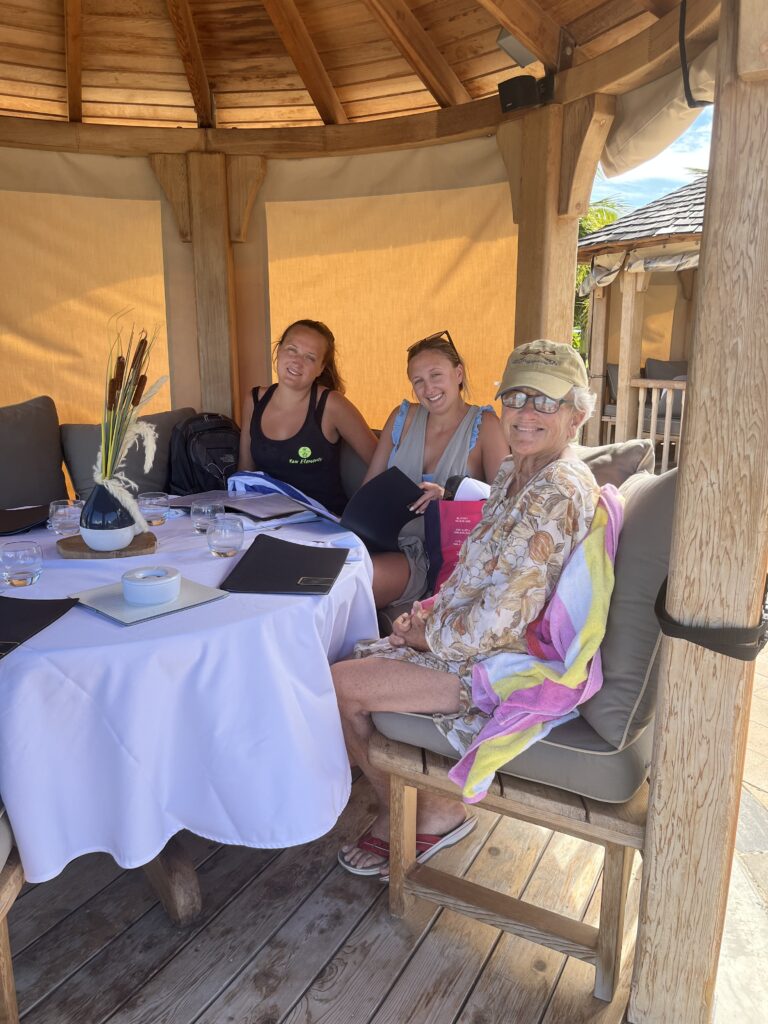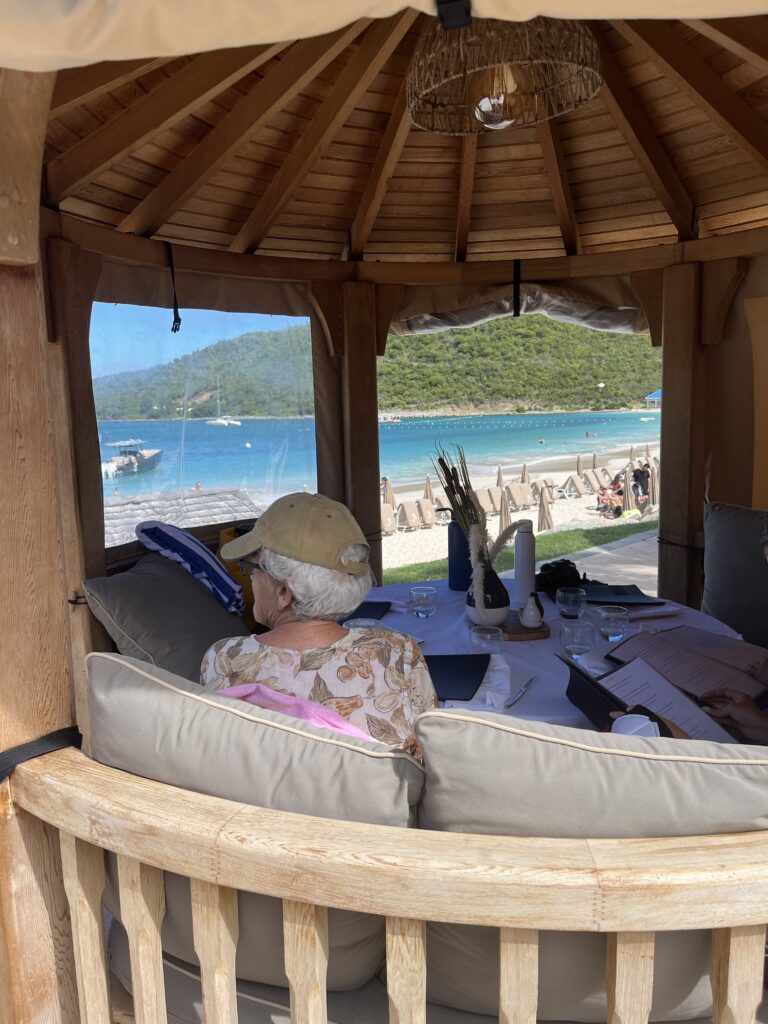 Captain Jo Boat Charter Sunset Cruise
In October, I booked with Blue Pelican boat charters for a 4-6pm sunset cruise. I specifically picked this company because they left at 4pm. A few days prior to our cruise, the company contacted me and said their boat was broken. They rebooked us on a sunset cruise with Captain Jo Boat Charter; however, that cruise was leaving at 5pm. I was assured by the owner of Pelican that we would have open bar with lots of snacks and chocolates. We had open bar and potato chips. And, the sun sets about 5:30pm, so a lot of our cruise was in the darkness.
I really wanted a 4pm departure to have more daylight so our 79 year-old Nana could see the island from a boat. The captain from Captain Joe Boat Charter could not have been nicer, but I was so disappointed with the darkness and the snacks. I would NOT recommend Pelican to anyone due to the bait and switch – my guess is – they got a 9-5pm all day charter and could not accommodate us. When I emailed the owner of Blue Pelican to tell him how disappointed I was – there were no snacks except a tiny bag of potato chips and no chocolates (Blue Pelican promises real hors d'oevres on their website), he replied with, "You were offered the chocolates but declined them." Bullshit.
We did have a good time with Captain Joe.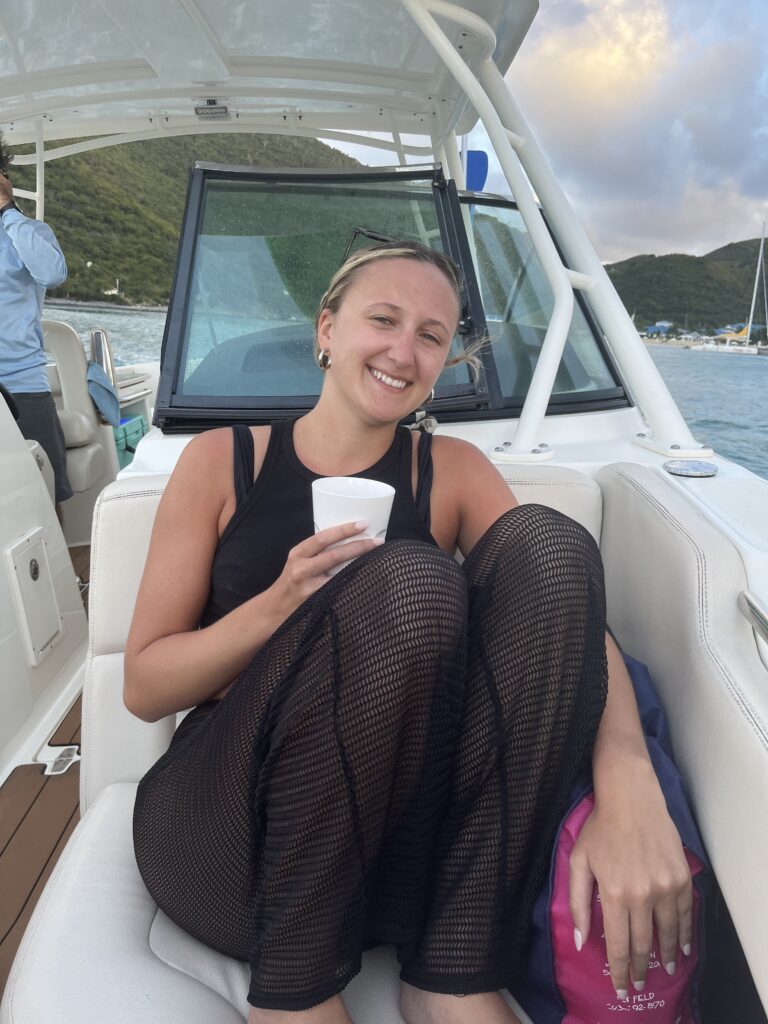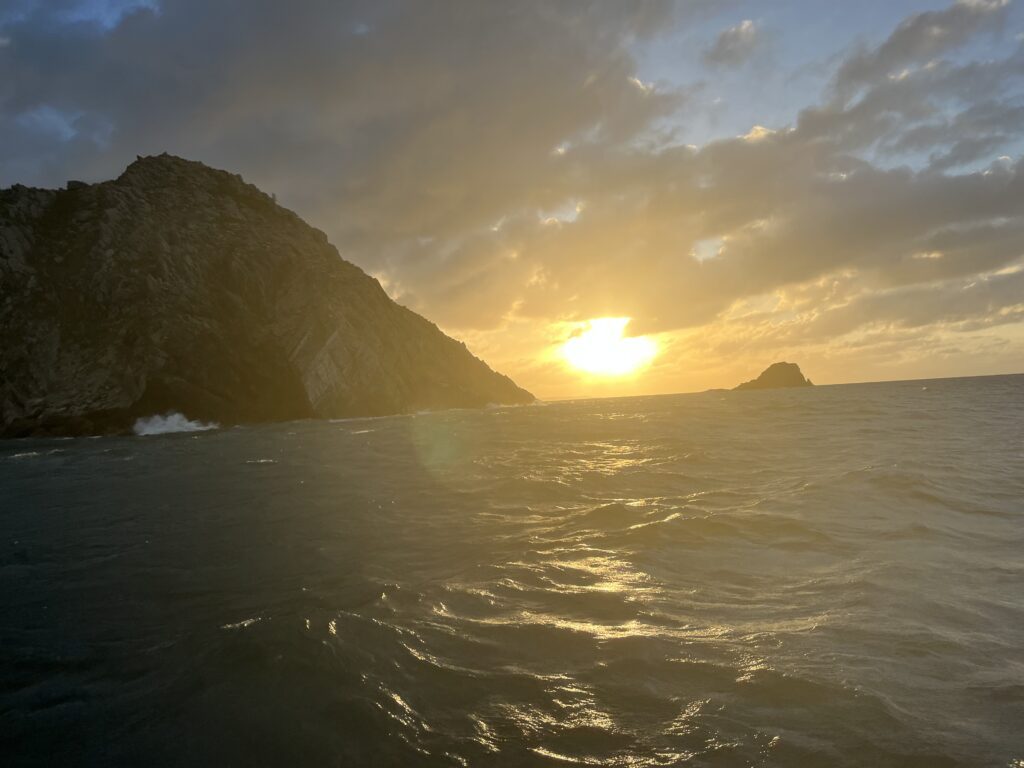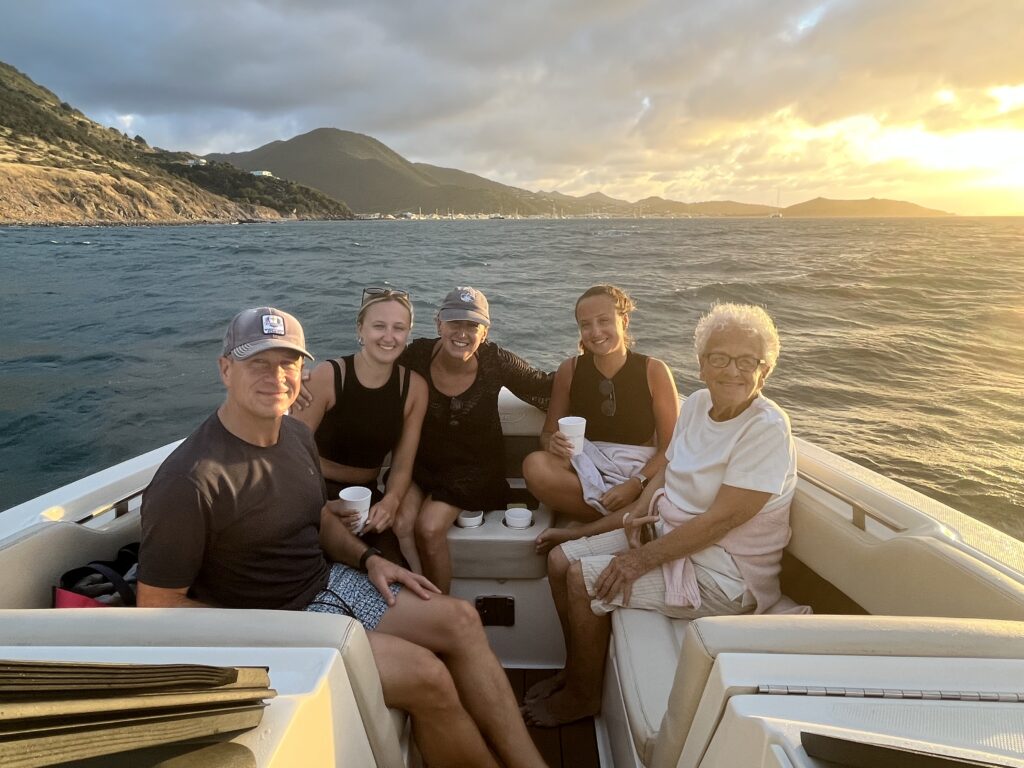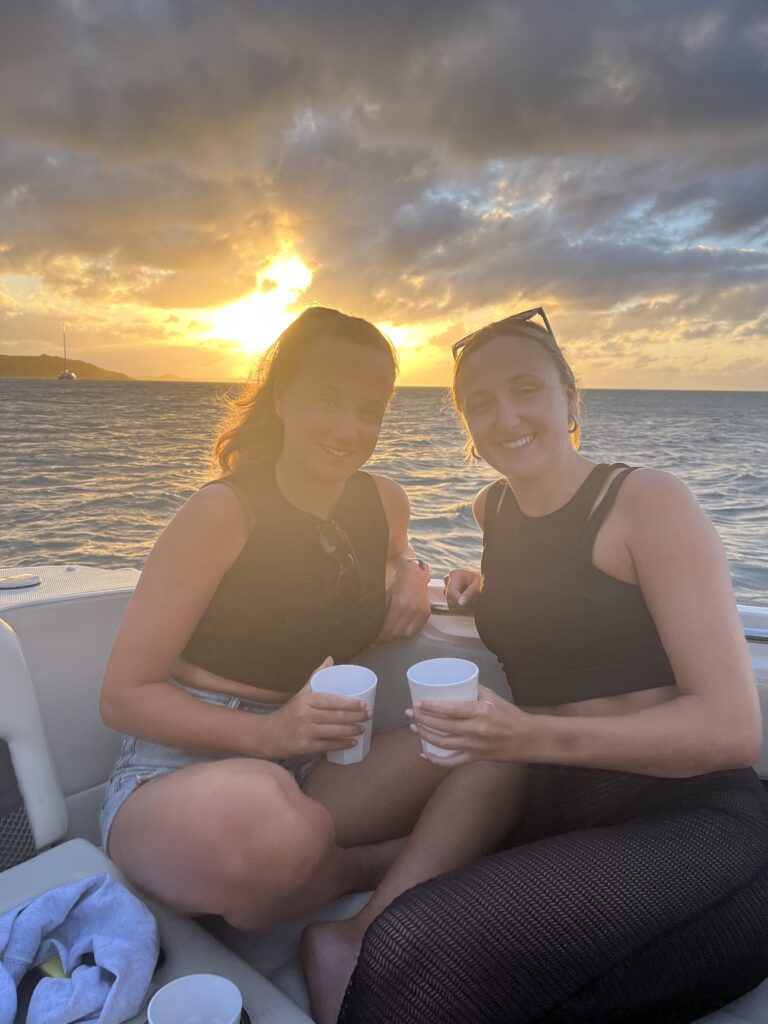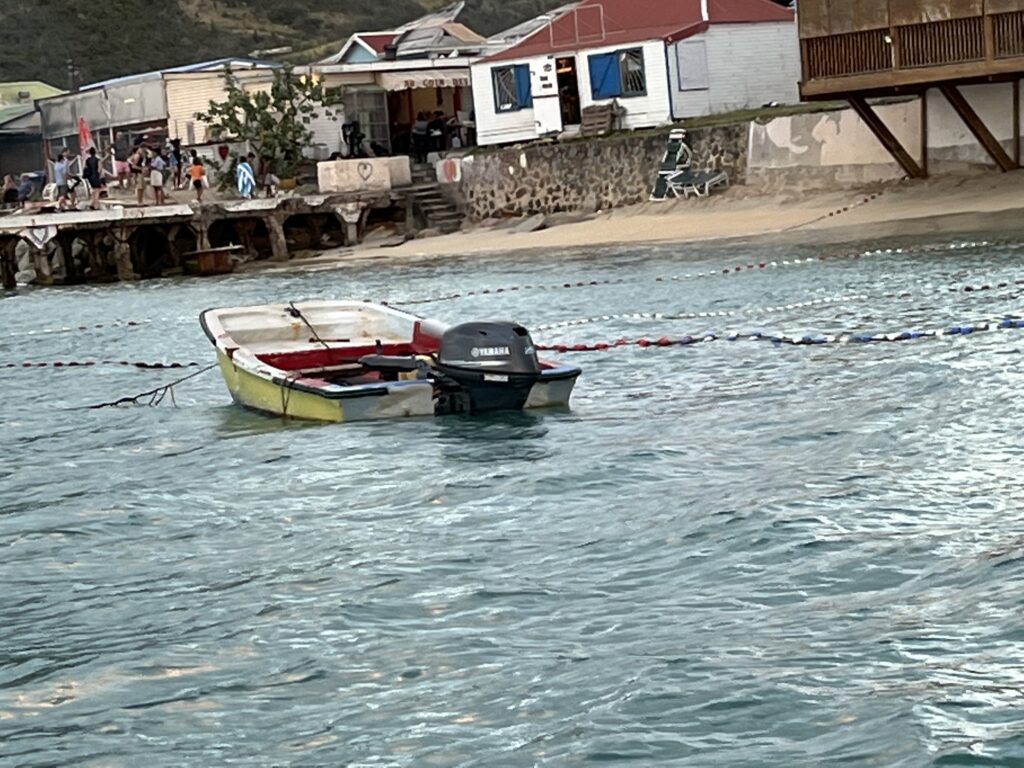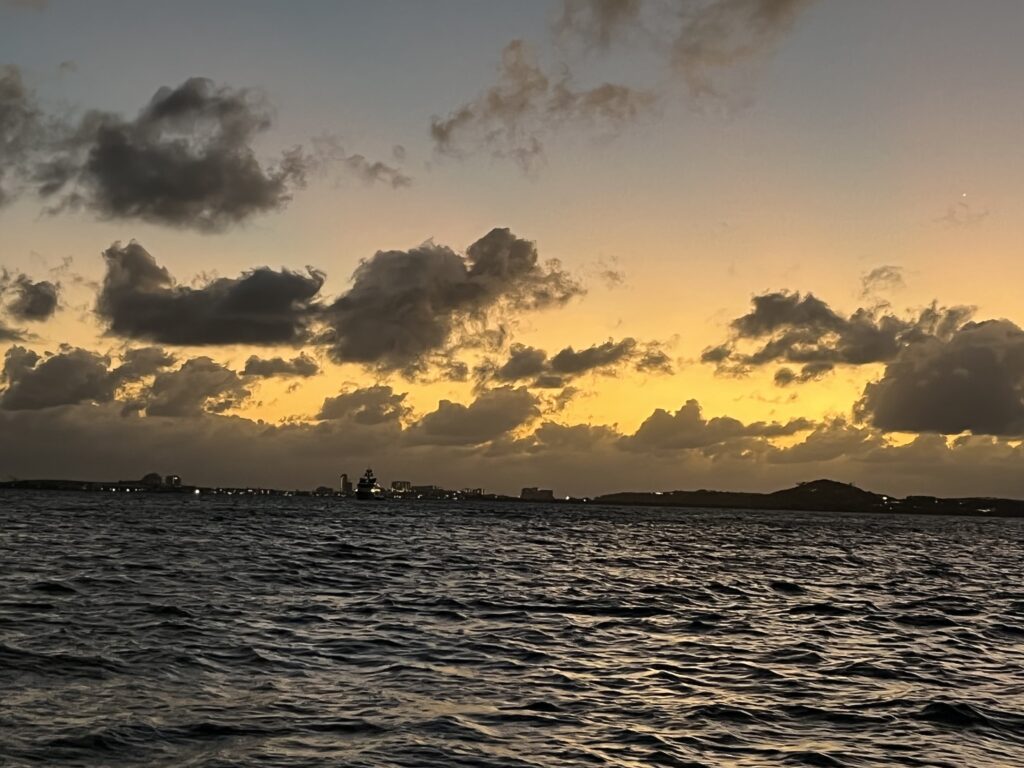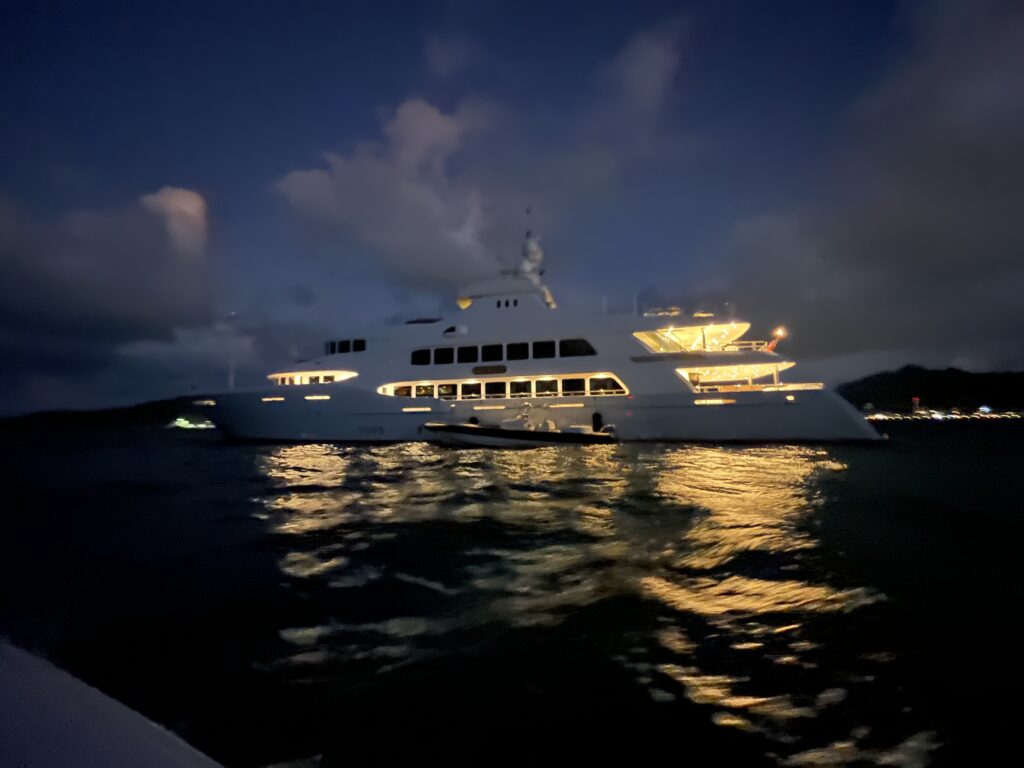 Restaurants
We ate SO well in St. Martin. Almost every restaurant at which we ate was in Grand Case – two were in Marigot, two were on Pinel and two were on the Dutch side. To read about the restaurants in Pinel and on the Dutch side, scroll up! When visiting Grand Case, have your GPS navigate to Le Pressoir. That will take you to the easiest free parking. There is a city lot in front of the restaurant.
Bistro Caraibes
We arrived on a Monday. I had reservations at Captain Frenchy for 7pm. I used Open Table to make the reservation. When we showed up, they were closing early. The hostess said they always close early on a Monday. When I showed them my reservation on my phone, they said "oh well." So, we walked around Grand Case Boulevard. We noticed tables open at Bistro Caraibes. We had a fantastic meal! The service, the ambiance and the food were all amazing. The only thing this restaurant was lacking was an ocean view! The escargot and fish were amazing. TripAdvisor reviews are outstanding. We feel so lucky to have been accommodated without a reservation.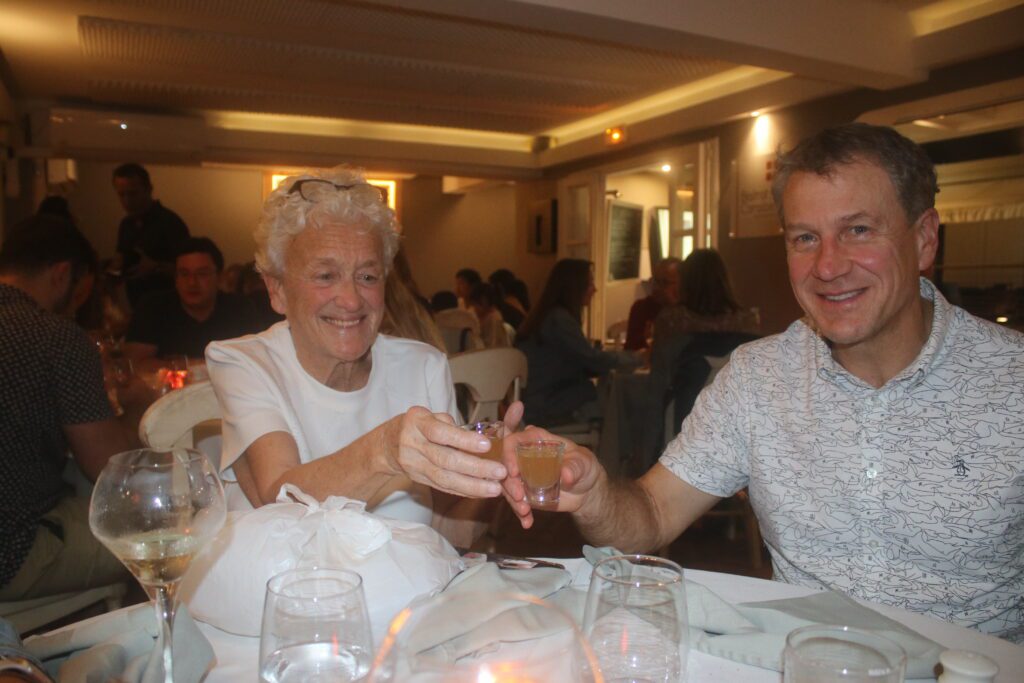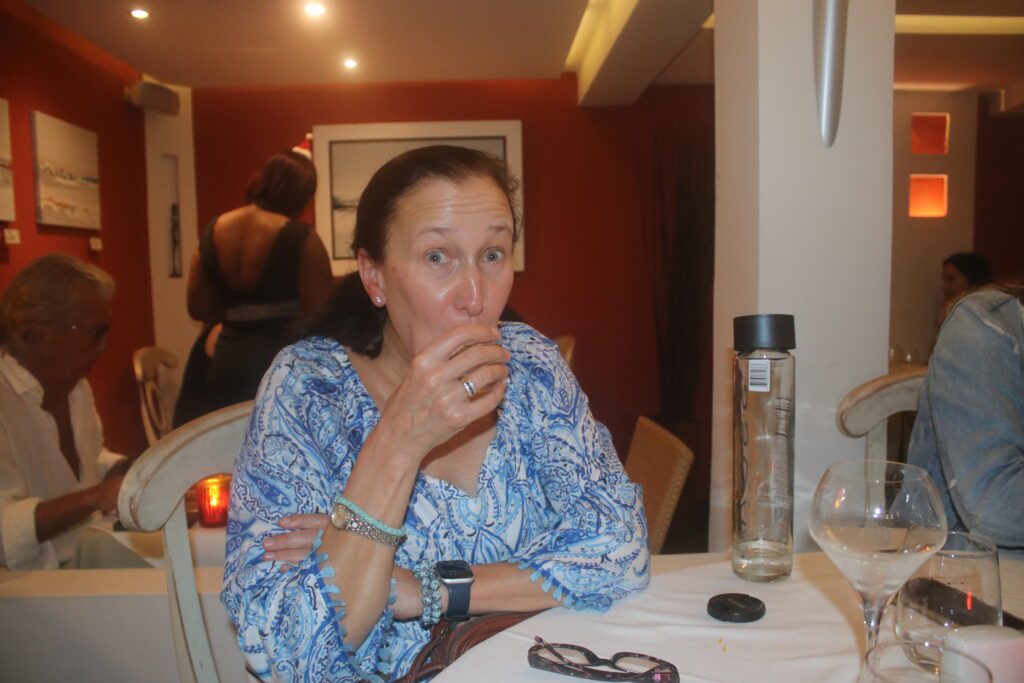 Ocean82
We ate at Ocean82 twice. Our first night (with a reservation) was amazing. We sat at the ocean's edge on Grand Case beach. We ate there again on Christmas night as the restaurant, Barranco, to which we had a reservation was closed. Luckily, we could get an inside table at Ocean82. Reserve early at Ocean82 and ask for a waterside table. Both our meals were amazing – escargot, tuna tartare, gazpacho and snapper were so, so good. TripAdvisor reviews are excellent.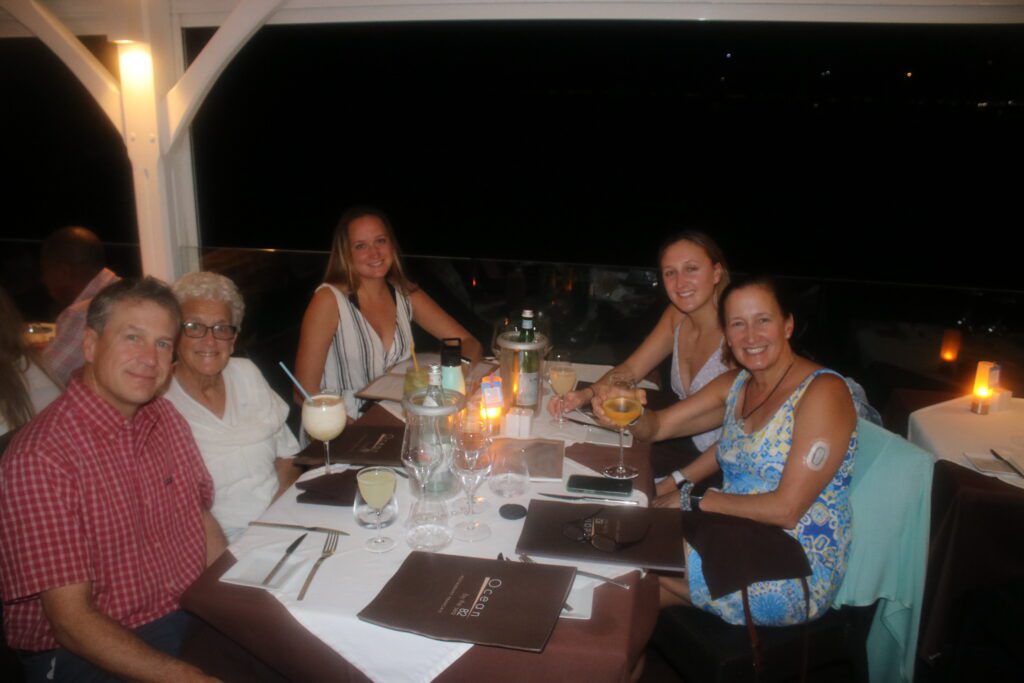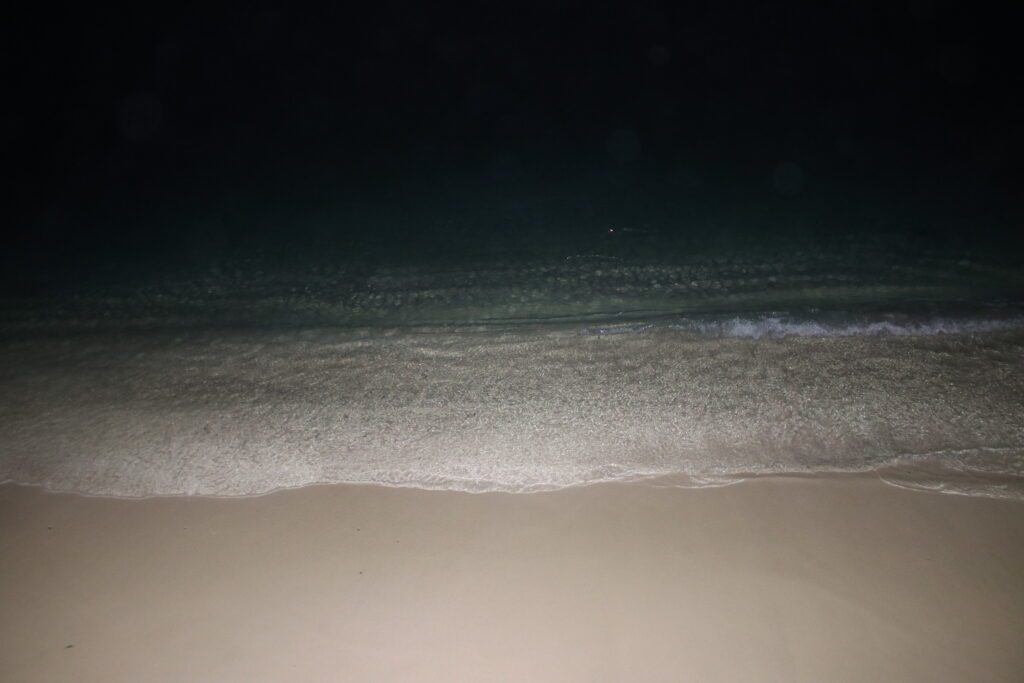 Mezza Luna
We drove through Marigot to Mezza Luna on Baie Nettle for dinner. When you drive up, the restaurant does not impress! But as you are escorted to the outside dining area, the views open up and the setting is amazing. The pasta, beef tartare and burrata salad were incredible. We loved everything about this place! TripAdvisor reviews are excellent.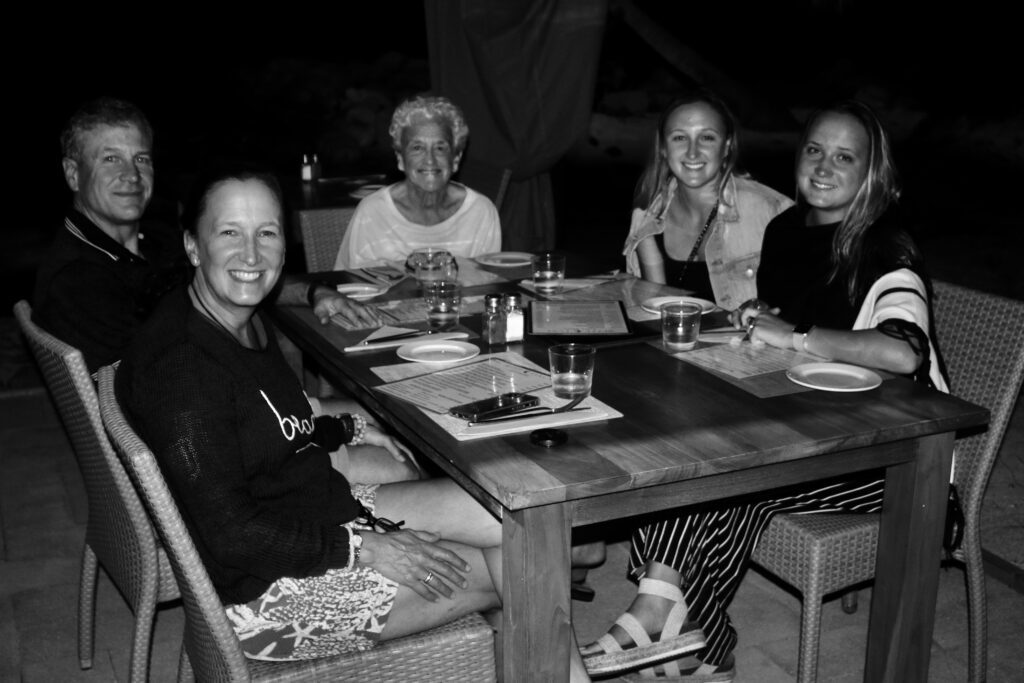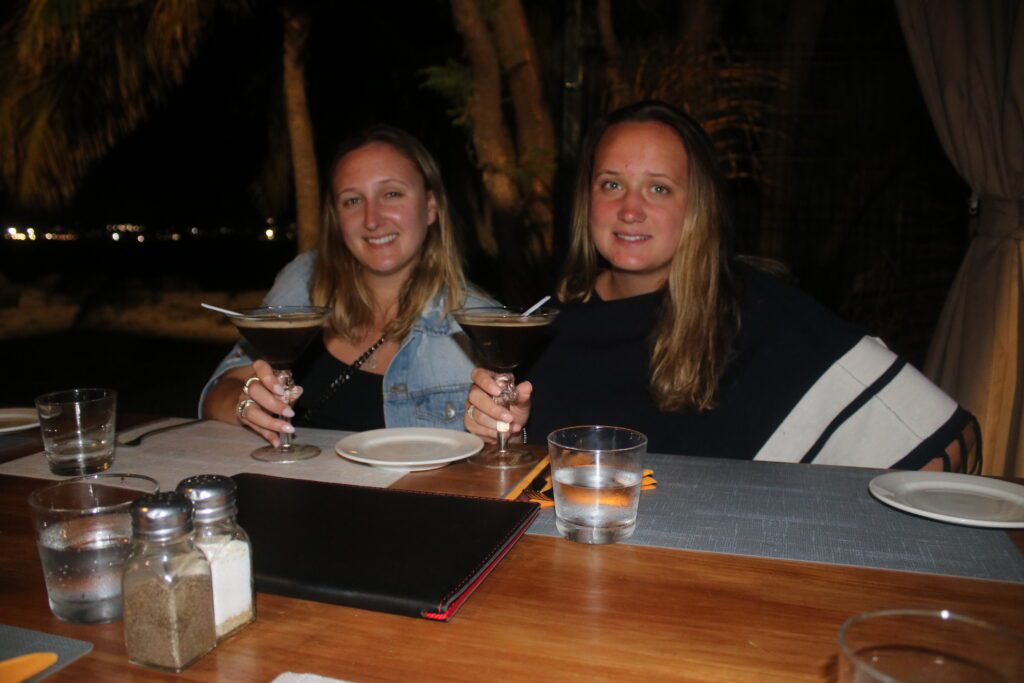 Rib Shack Lolo #6 Grand Case
There are several lolos in Grand Case. They are small, locally-run, "authentic" island food. Most are cash only. We had read great things about a lolo called Sky's the Limit. However, we decided to try it on a very hot day. Sky's the Limit is not waterside, so it was just too hot. We ended up at Rib Shack Lolo #6 on Grand Case beach. We had fish, shrimp, salad and fries. All were excellent. All lolos are cash only. The prices are reasonable. The service is painfully slow!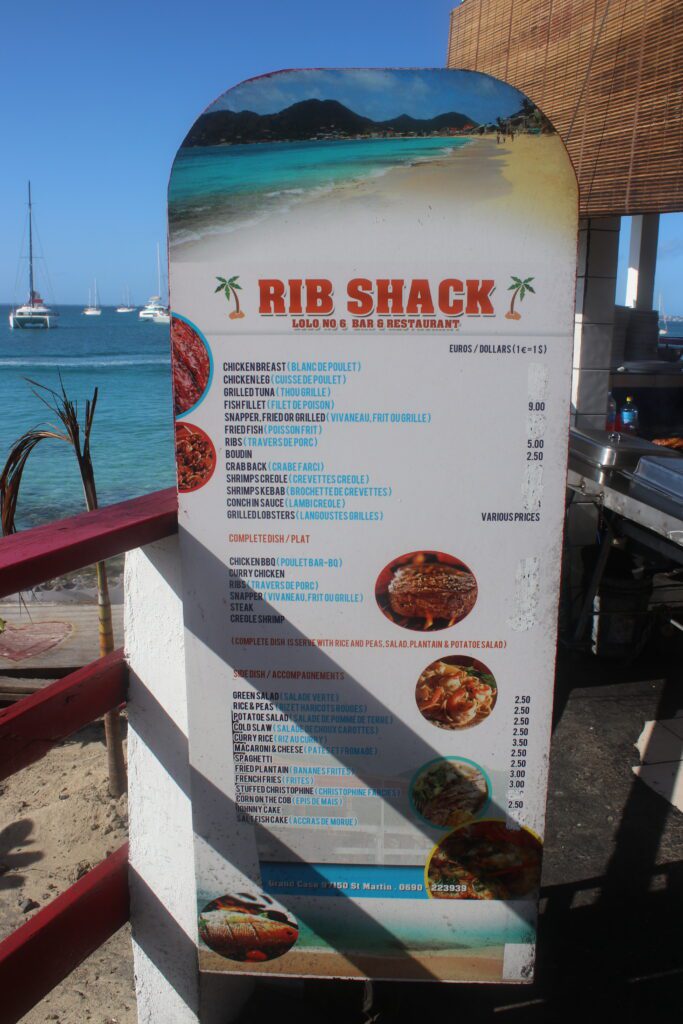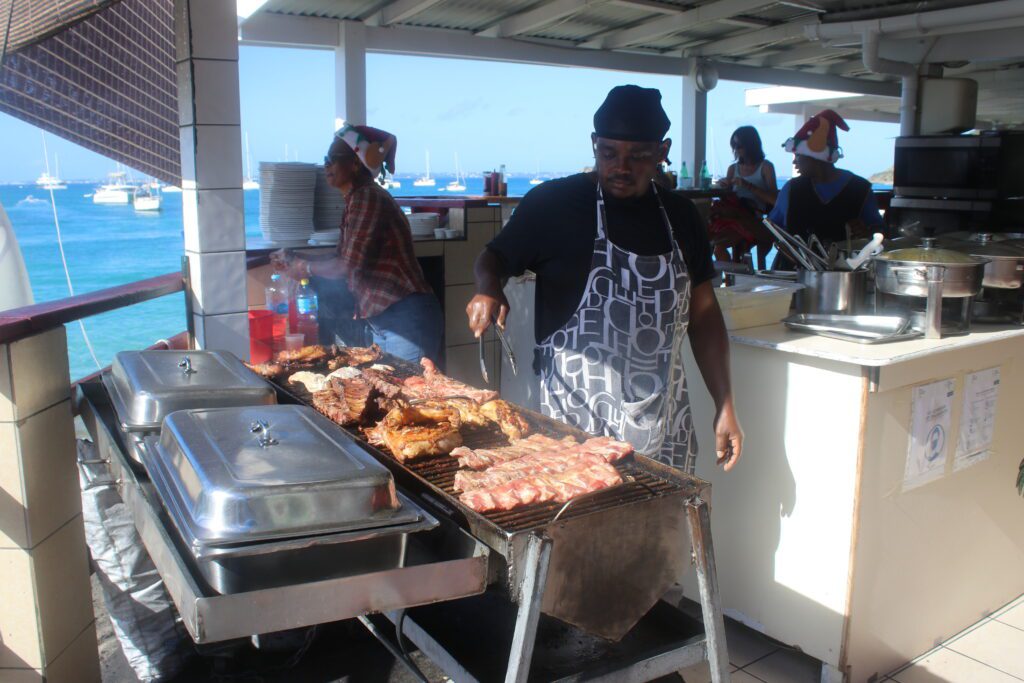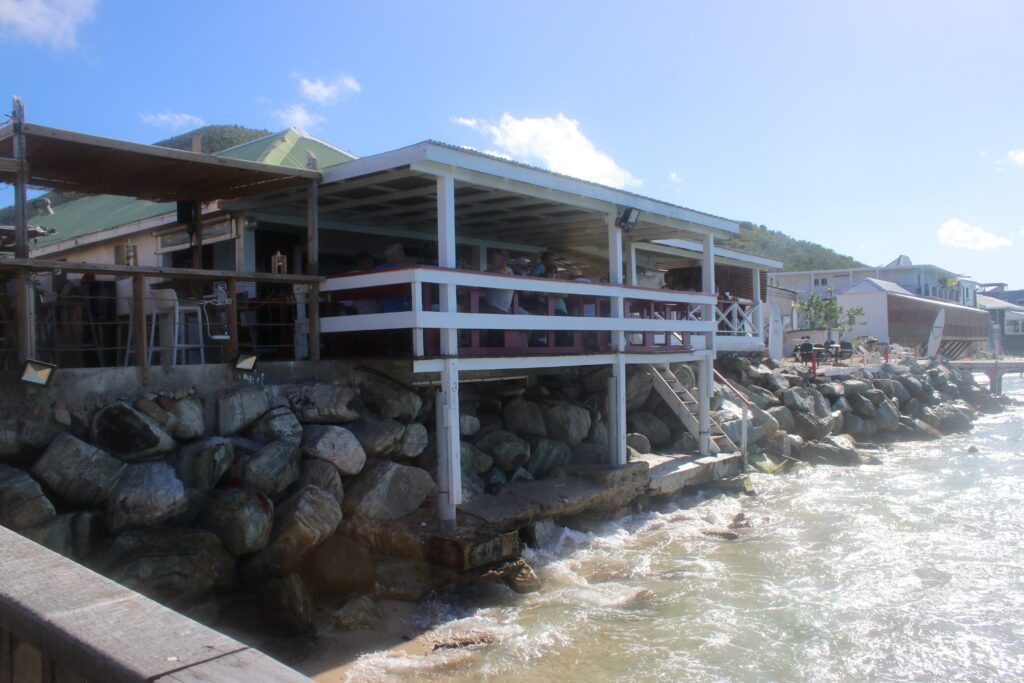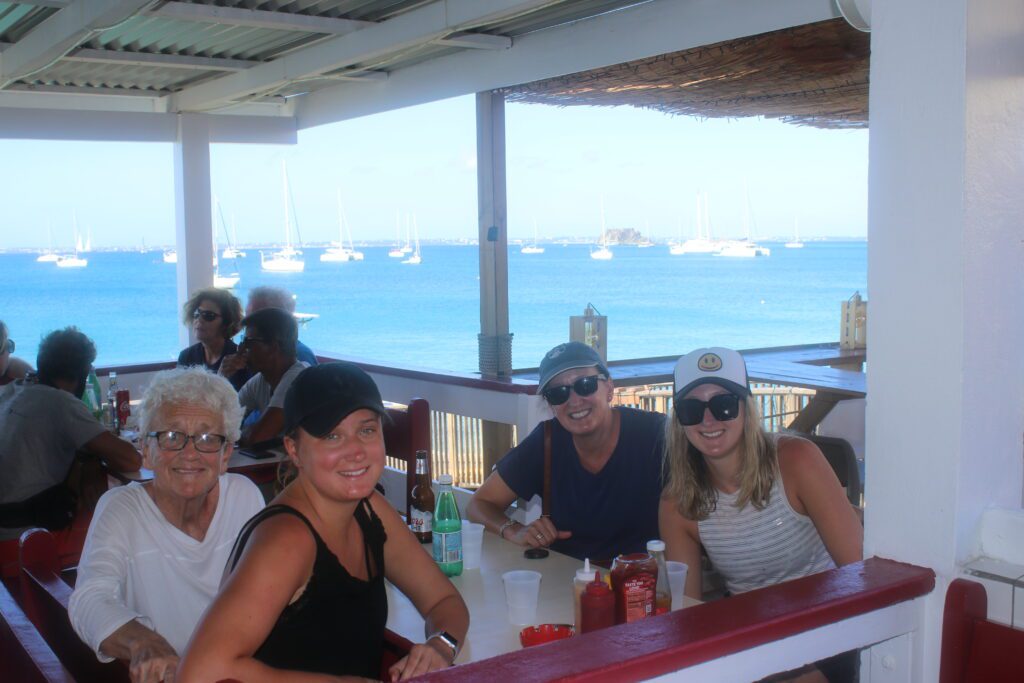 La Terrasse
La Terrasse sits atop a shopping mall in Marigot. While the entrance to the restaurant is charmless, the food is excellent, and the service is amazing. More tuna and salmon tartare, margaritas and escargot! The restaurant overlooks Marigot Harbor, and because I reserved early, we had the best table in the house. TripAdvisor reviews are excellent.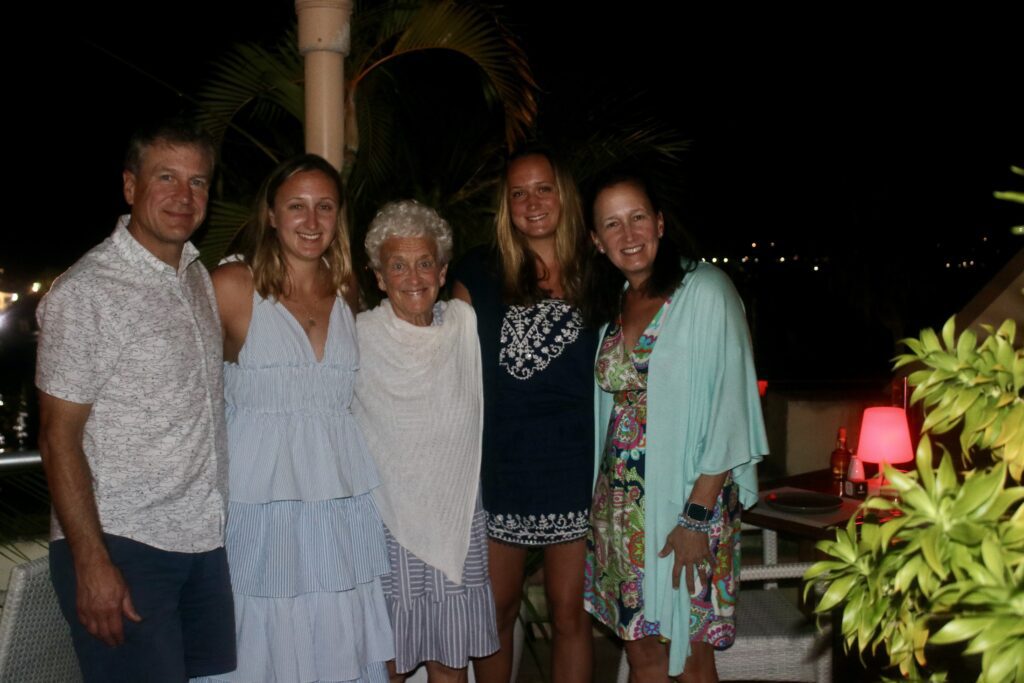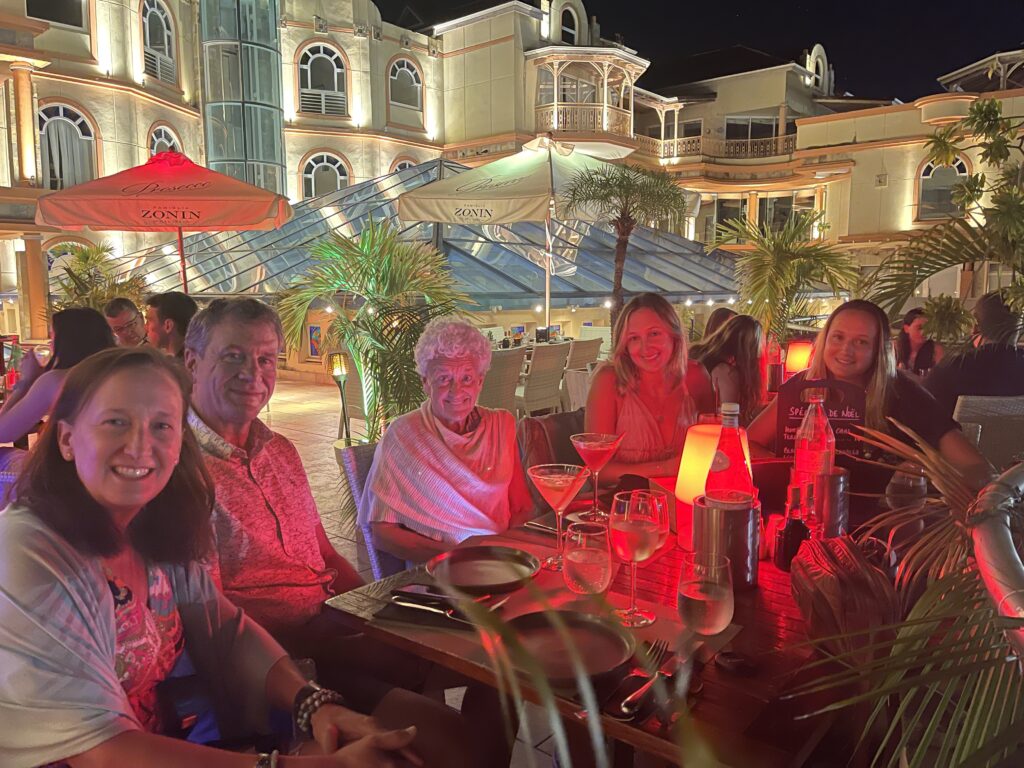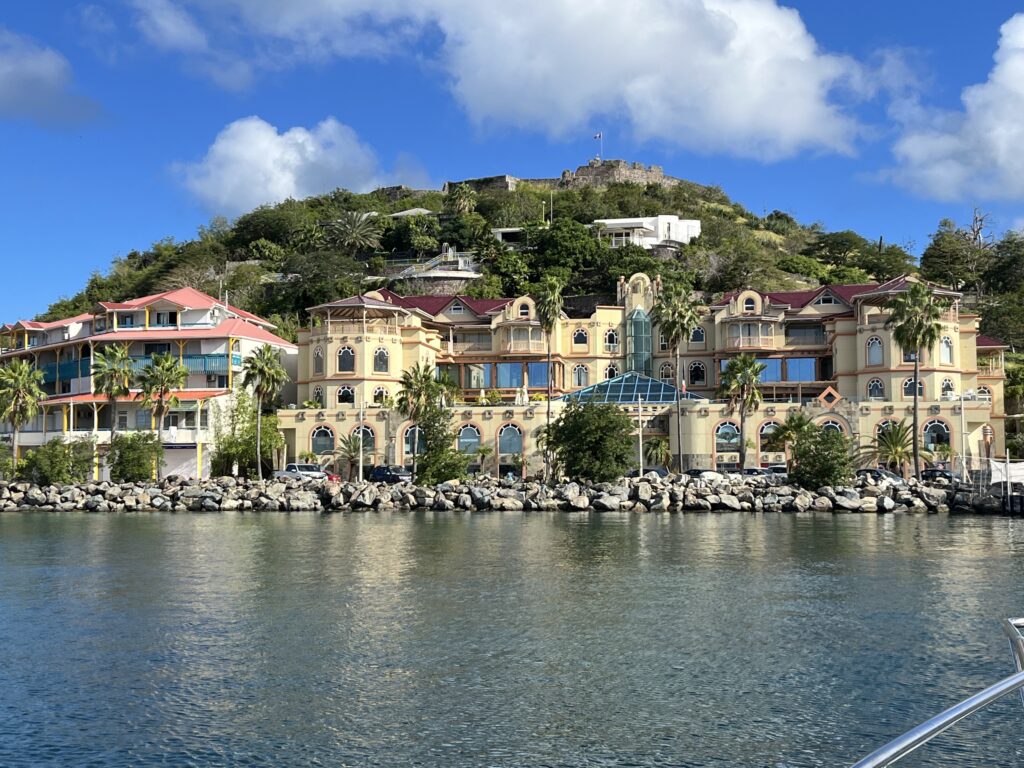 Sol e Luna
Sol e Luna is located in a small boutique hotel in Cul de Sac. Indoor and outdoor dining is available in this charming Creole house. The service was excellent and the food was very good. Be warned, the prices are extremely high – probably the most expensive on the island. We loved the ambiance. TripAdvisor reviews are very good.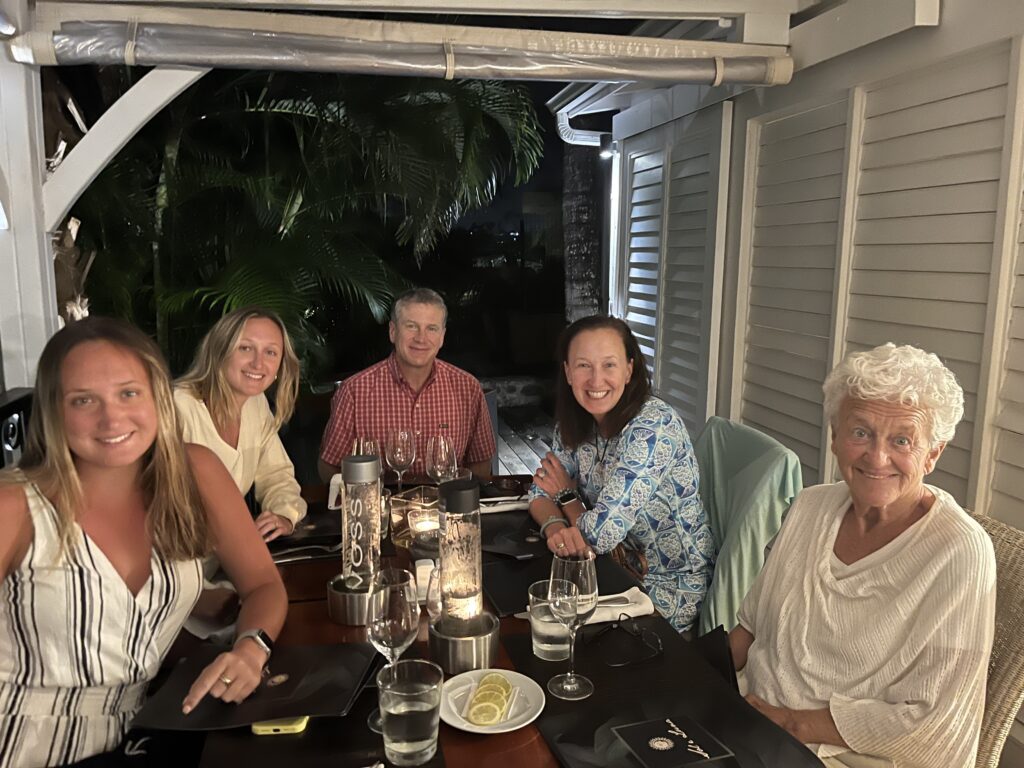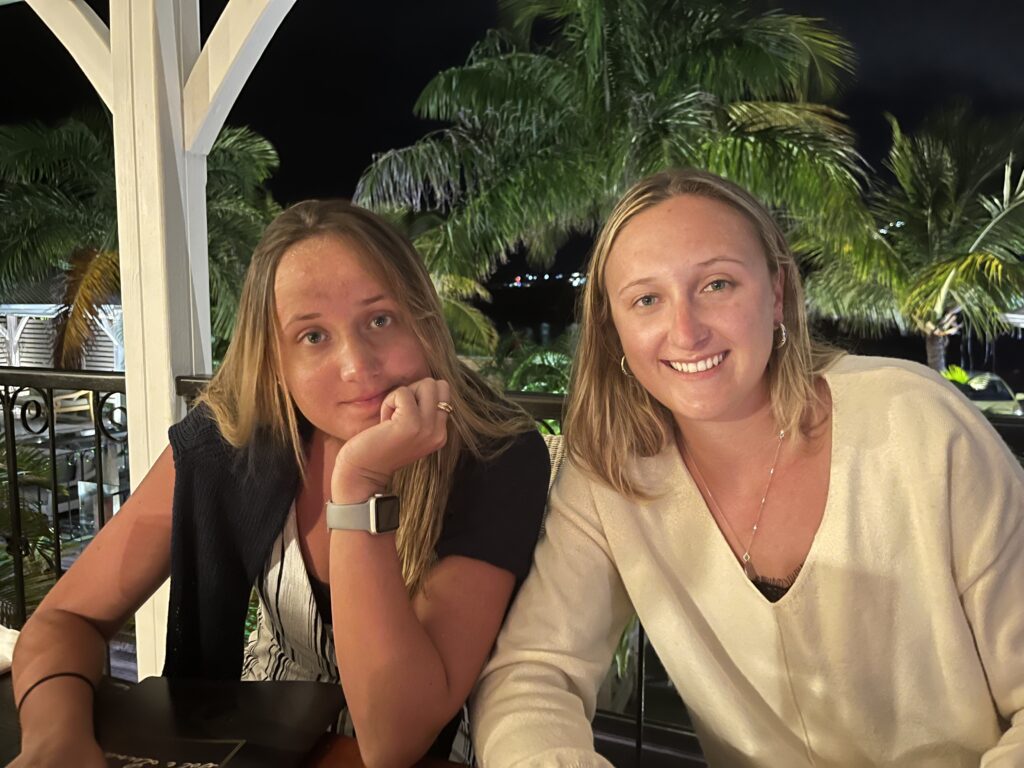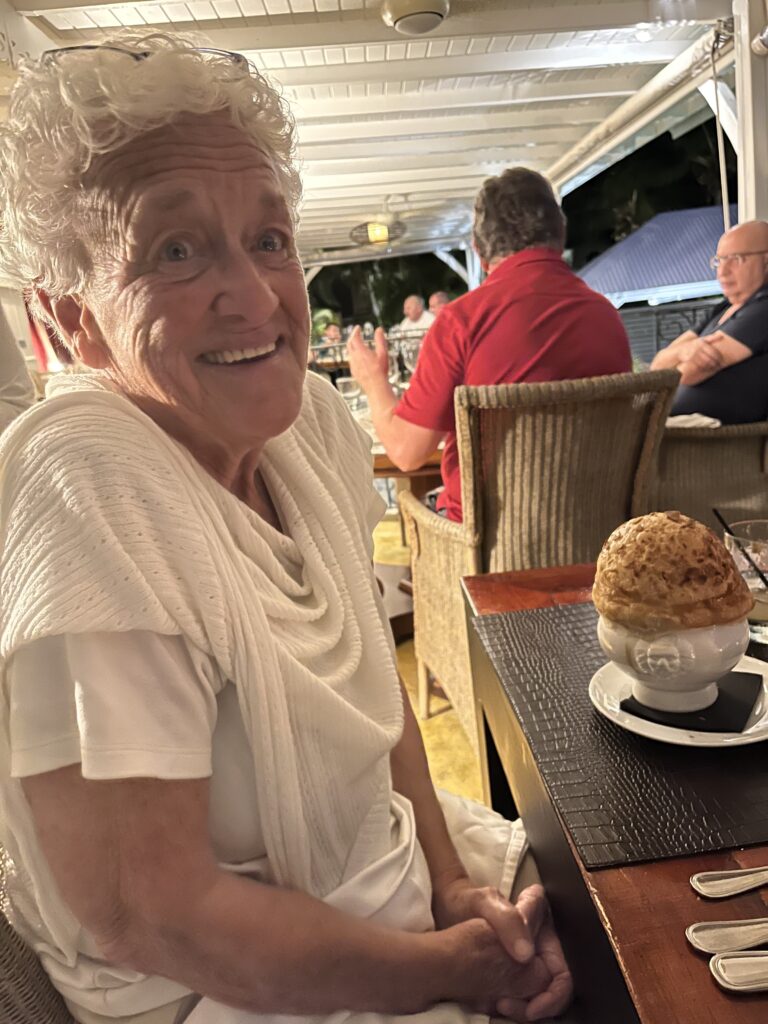 Sunset Cafe
We went to Sunset Cafe at the Grand Case Beach Club for drinks. The setting on the upper patio level was great. We did not try the food, so we can only recommend the ambiance in the outdoor area which was amazing.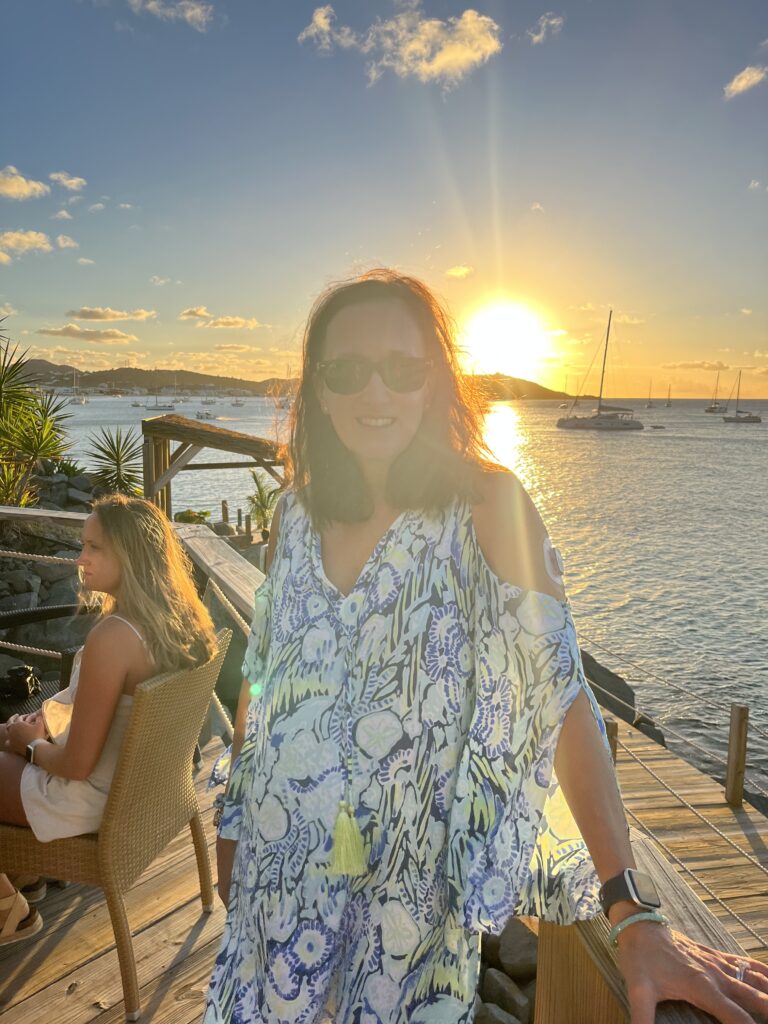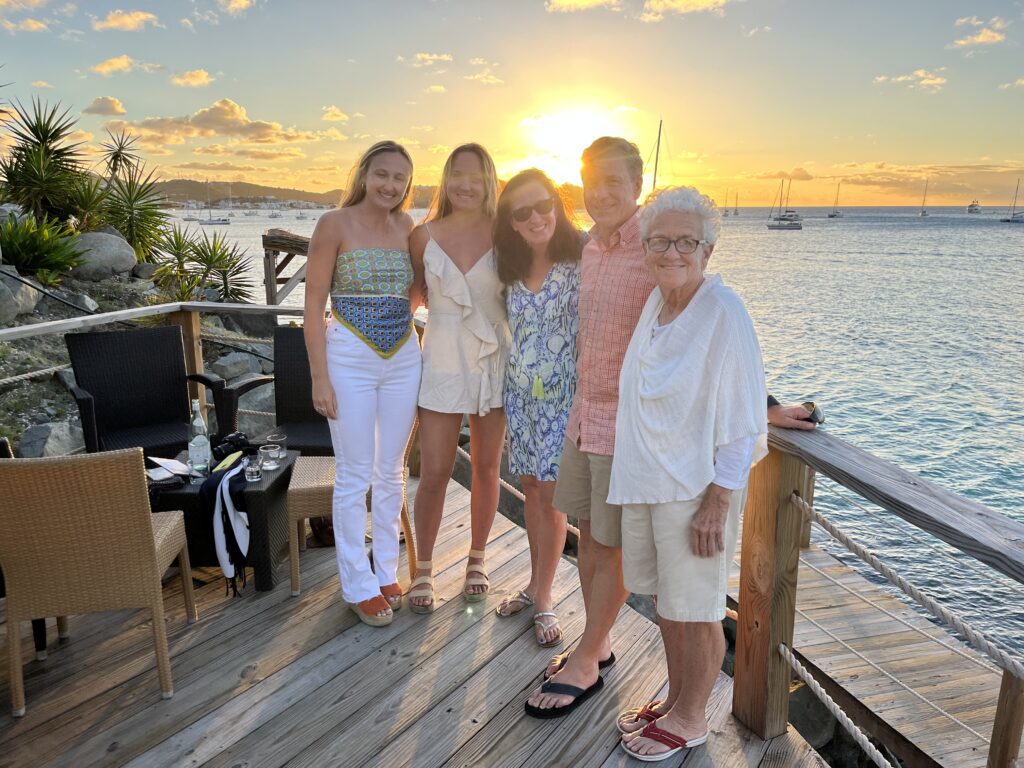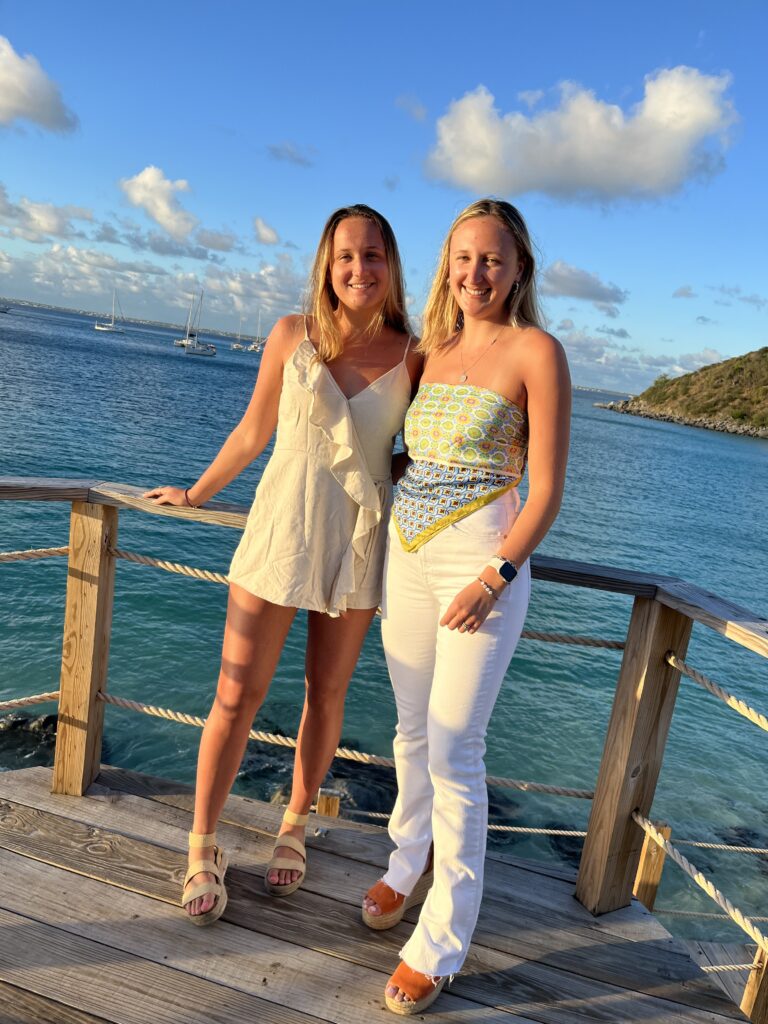 La Villa
La Villa in Grand Case was amazing. The food, the setting, the service – all were fantastic. Escargot, French Onion soup, vegan curry and sea scallops with asparagus were so yummy. No view here, but the restaurant had tons of character. TripAdvisor reviews are excellent.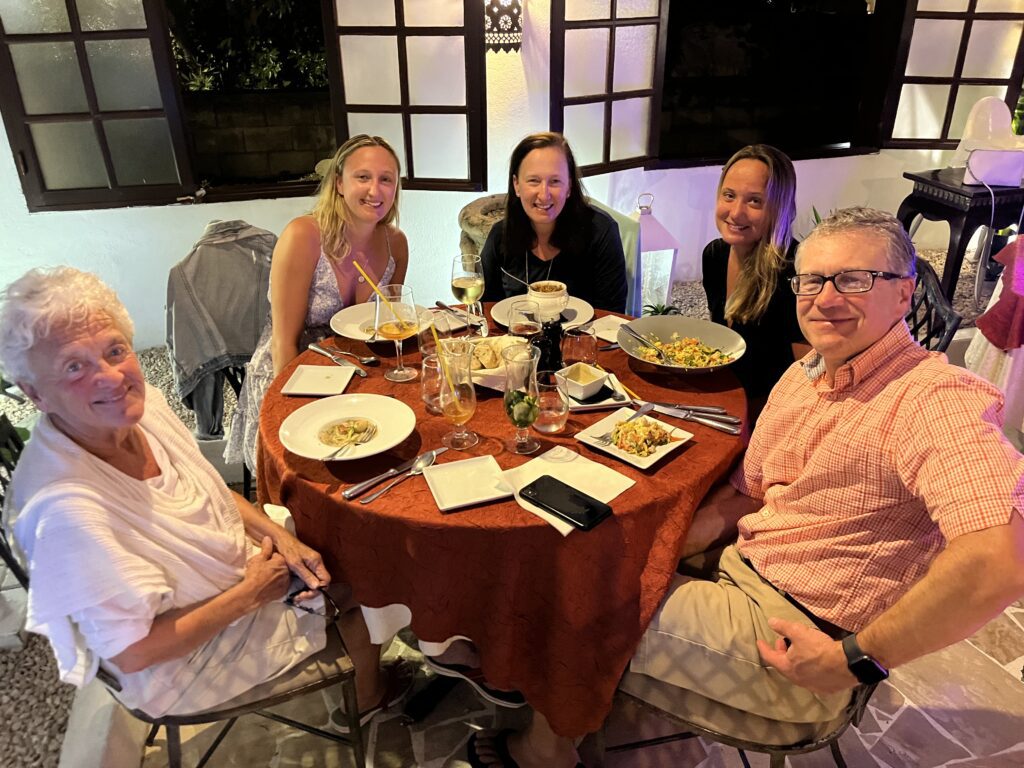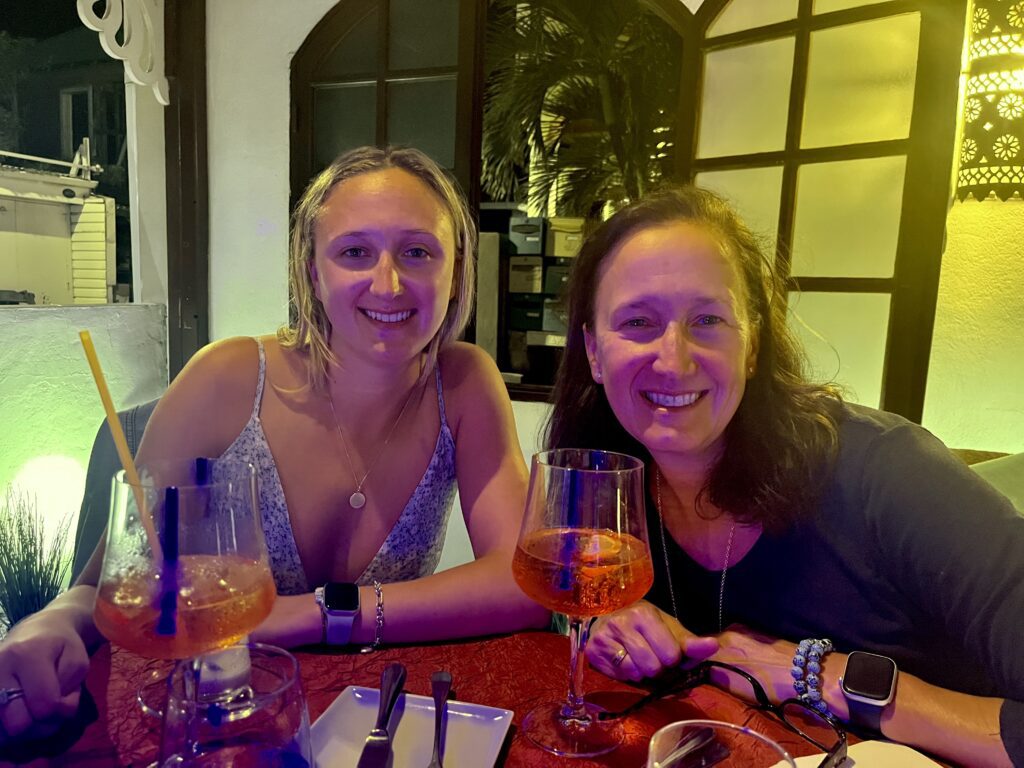 Blue Martini
Blue Martini is a wonderful restaurant on Grand Case Boulevard. The staff was so friendly. We ate a filet, veggie burgers and a hamburger. The home made fries were incredible. We loved it here. The portions are generous, and the steak was cooked to perfection. Highly recommended. TripAdvisor reviews are good.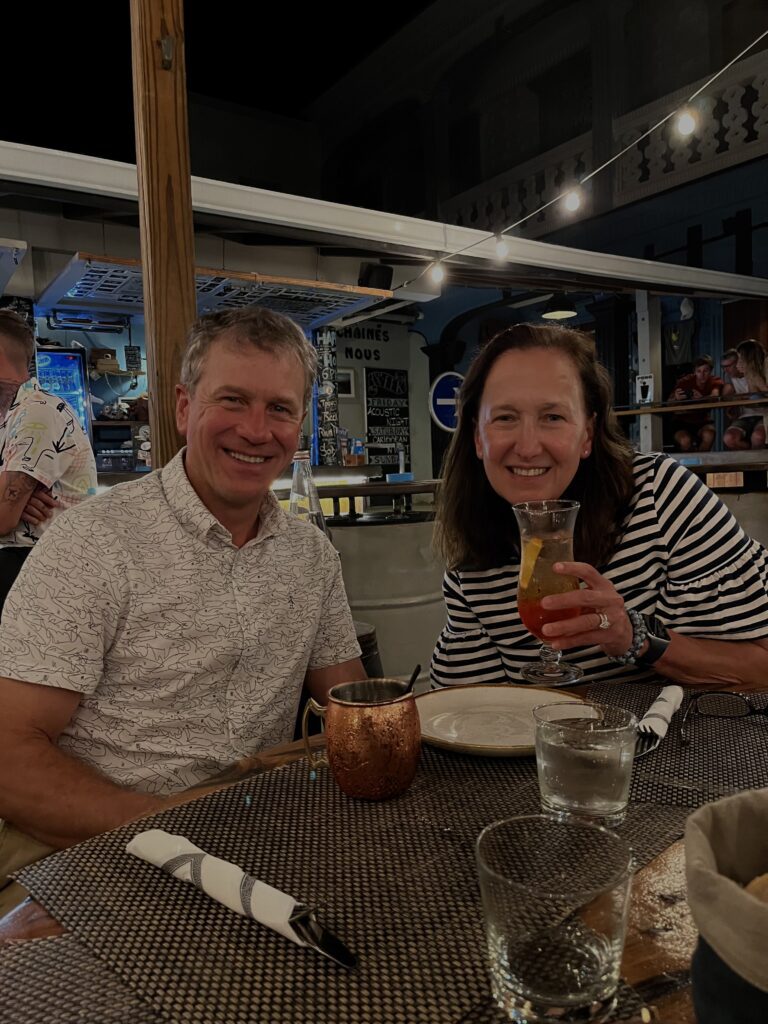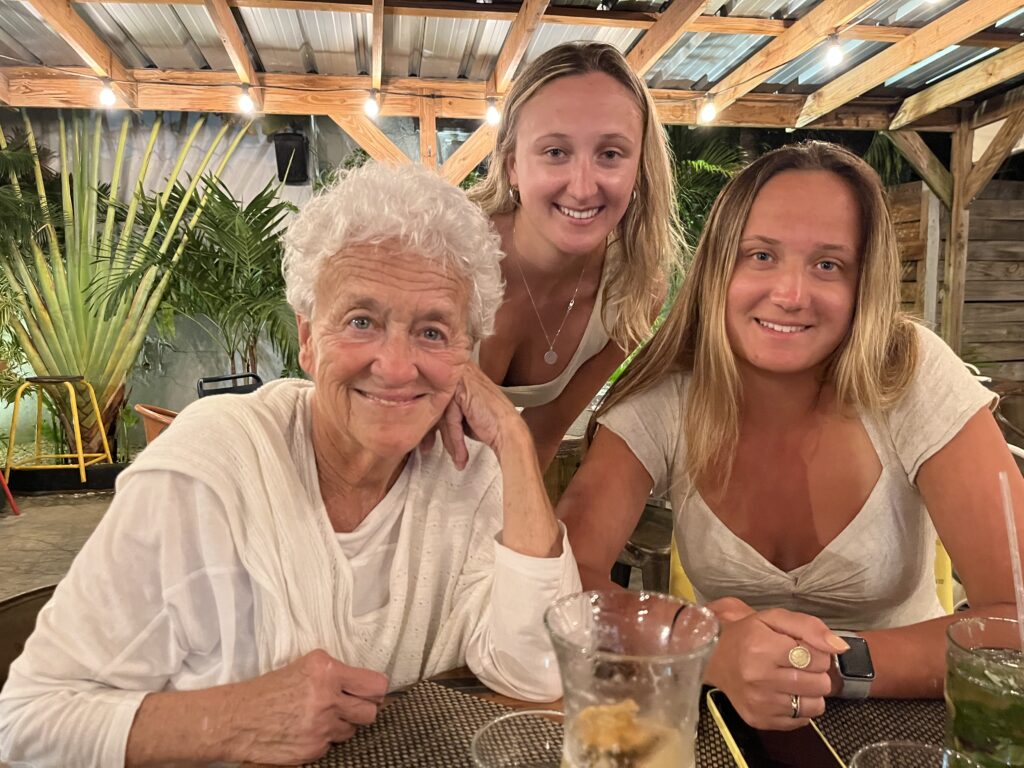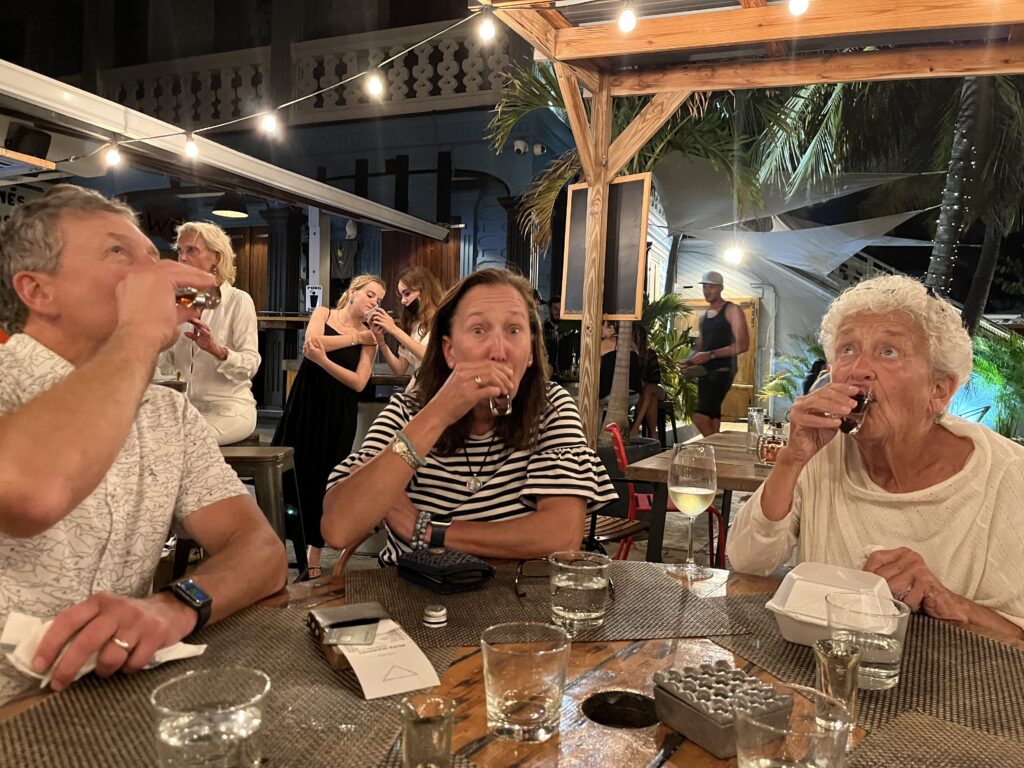 Le Cottage
Also sitting on Grand Case Boulevard, Le Cottage is a masterpiece of a restaurant. It is charming, beautiful and the food is wonderful. The staff is also so wonderfully nice. Highly recommended. TripAdvisor reviews are excellent. The linguini with shrimps, escargot and risotto with mushrooms were outstanding.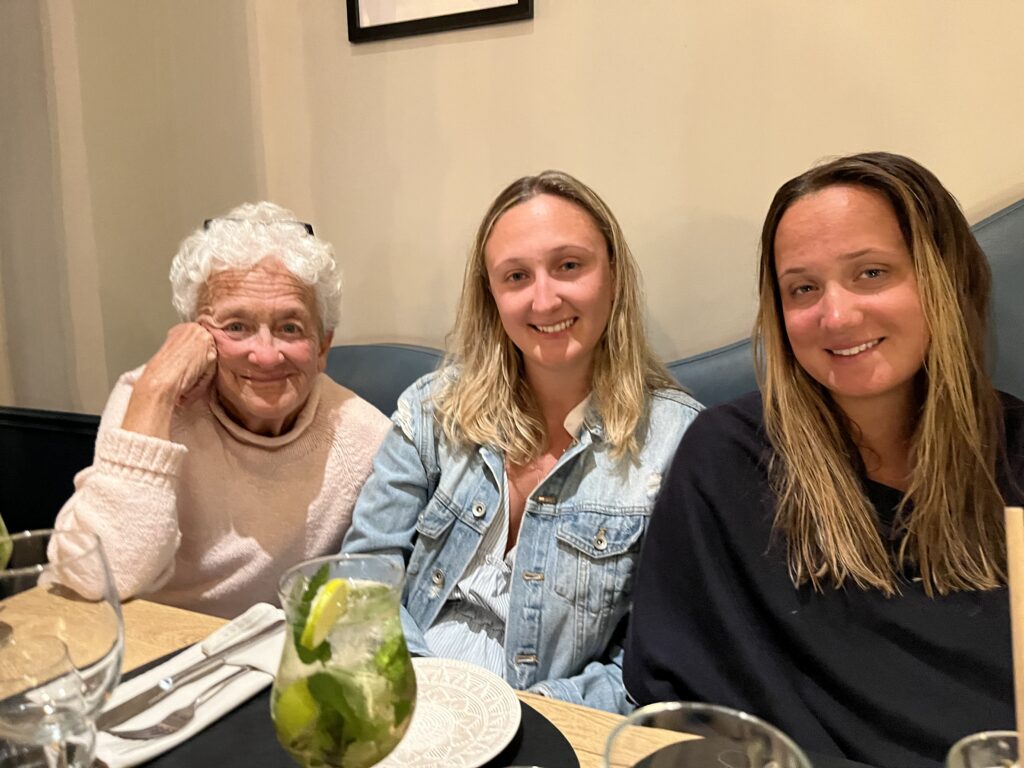 Tijon Perfume Making Class
While our family was on an eight hour boat day, Nana went to a "Mix and Match" perfume making class at Tijon in Grand Case. The 90 minute class allows you to make three beakers of perfume; the one you like the best is bottled and you get to bring it home. Nana liked the class; she did not love it. She thought it was "too complicated." I used Juliet, a taxi dispatcher to arrange transpiration for her to and from the house. Contact her on WhatsApp – 590 690 55-9715.
Covid Testing to Come Home to the USA
On the French side, there are "medical cabinets" all over doing covid testing. There was a huge facility about three minutes from our villa on Grand Case Boulevard. We arrived at 8am as they opened and were first in line. We had our results ready in less than 15 minutes. The cost was $30/person.
There is a nurse named Severine Gobert. She will come to your villa or hotel for $60/person. Your results are e-mailed to you within 15 minutes. She is very responsive on WhatsApp – 590 690 77 3325.
Most covid tests are the Dutch side are between $45-65/person. There is a rapid covid test center at the international airport. The cost is $110/person. Ouch.