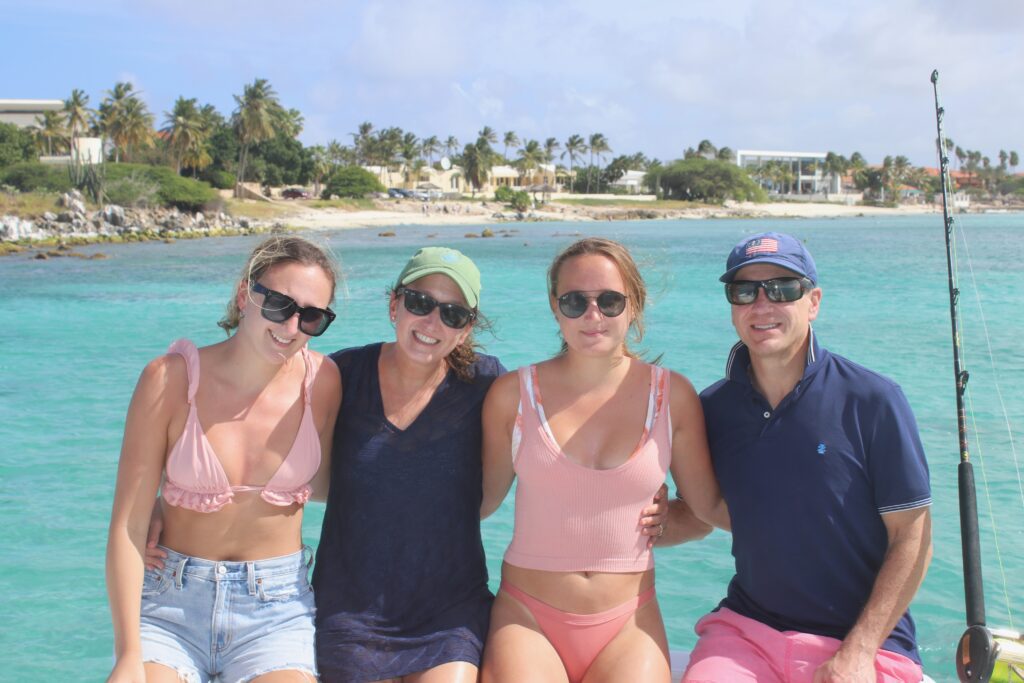 A few 2022 Updates
For a trip to Iceland and St. Martin in late 2021, Michele upgraded our waterproof camera to this Olympus model.  It has amazing reviews and takes a great photo. We also like this affordable, easy-to-use tripod.
Michele also upgraded her iPhone to the iPhone 13.  The camera is amazing.
We like these vaccination card holders for travel.
We upgraded our masks/snorkels to these.
Traveling During the Plague
UPDATE WINTER 2022 – The testing and entrance requirements change OFTEN. Check the official site, Aruba.com, well before you travel!
The time of covid has truly crushed the travel and hospitality industry. So many businesses have closed. We usually travel at Christmas, but in 2020 we were not sure if we were going to be able to go anywhere.
The summer of 2020 saw cases in Rhode Island and in many parts of the United States and the Caribbean going down. Our children were returning to residential college dorms (Kendall at Elon in North Carolina and Madison to an off campus apartment at Boston University for grad school), and the virus seemed to be getting somewhat under control. We talked endlessly about where to go and should we go. Michele reasoned that traveling, and staying in just our family group, was no more dangerous than our girls living at school.
Michele wanted to find a place that had mandatory pre-arrival testing with no mandatory quarantine upon arrival if you present a negative test. She also wanted a direct flight from Boston. After endless hours on the internet she narrowed it down to Aruba and Hawaii. Hawaii was just too far away from Boston. Wearing a mask for that long would be a challenge. God Bless the healthcare workers who do it daily. You are heroes. Thank you.
Aruba.com has incredibly detailed information on what you need to know before you go. Basically, you need to take a PCR test within 72 hours of your departure (of the plane that lands in Aruba, not an initial connecting flight). You must upload a .pdf or image of those negative tests results and complete an online immigration (ED) card. Then, you must buy supplemental health insurance for $30/person. Once this is complete, you will receive a green checkmark on your computer screen. Print this out. Print out the insurance e-mail you receive. Print out your negative test results. Bring all of this with you and your passport to the departure gate. If you cannot get PCR test results within 72 hours, you can test at the airport in Aruba; however, you will be required to quarantine upon arrival until your test results return.
Our daughter at Boston University is required to test once a week. Her results are typically returned within 6-12 hours. So, she tested at BU.
Rhode Island has dozens of test locations close to us. However, they are inconsistent with the amount of time it takes for results to be returned. To be extra careful, we chose to test twice. We tested once at the state run site and, we paid $119/test for tests from an Aruba-accepted home test provider called Vault Health.
The Vault tests are also accepted in Hawaii. They are a home-administered saliva test that you must take on a zoom call with a nurse. It took about five minutes each for us to do this test. They are shipped overnight to New Jersey. We tested at 9am on Thursday morning (our departure flight was 8:45am on Sunday – you must be within that 72 hour window); dropped the packs off at the UPS store at 9:45. Vault received them at 10am on Friday morning and the results were in our e-mail inboxes at 1am Saturday morning. Our RI tests came back in 24 hours, so we had two negative tests before boarding the plane. We printed out all of the tests results.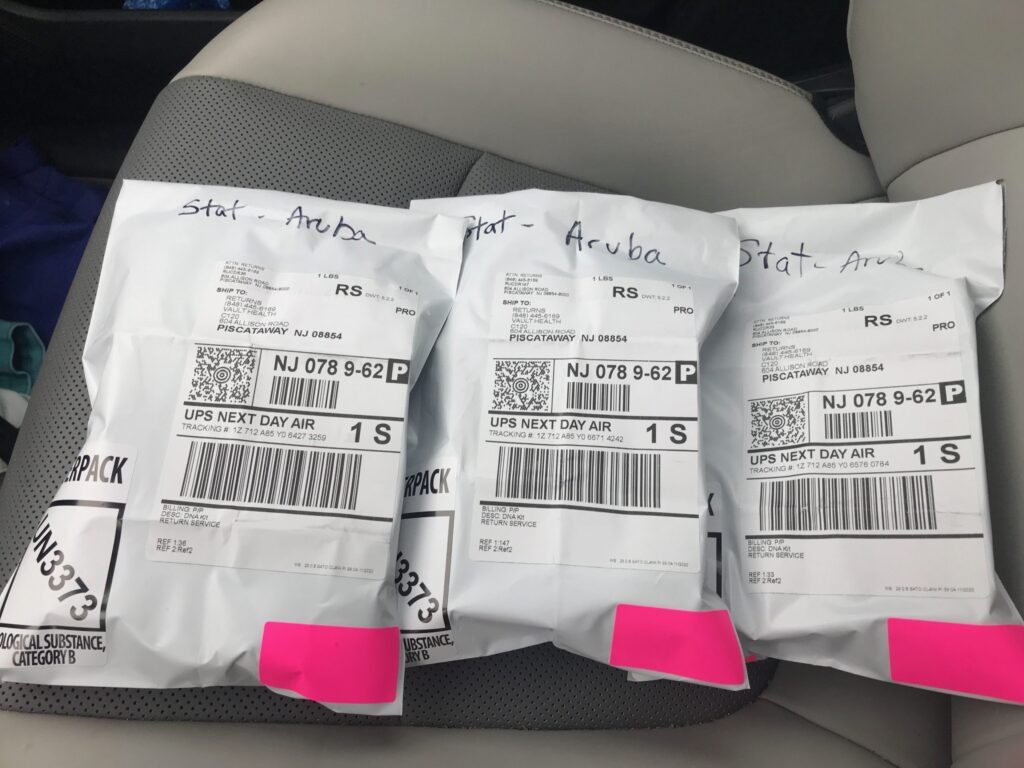 We flew JetBlue direct to Aruba from Boston.  JetBlue checked every single passenger's negative covid test and their online immigration (ED) cards.  They denied boarding to people who did not have green check marks from Aruba's online system.
We bought KN95 masks from Amazon and wore them underneath a cloth mask during the time in the airport and on the flight.  You are currently allowed up to 12 ounces of hand sanitizer per person on a plane.  This does not count toward your allowed carry-on liquids.  We each brought a six ounce bottle and a pack of hand wipes.  This was plenty for the entire 10 days.  We used sanitizer a LOT during this trip!
Upon arrival in Aruba, we had to show our printouts several times.  The airport staff in Aruba prefers a paper print out rather than showing a copy on your phone.  If everything checks out, they give you cards.  You must show these new cards to the car rental agency, and to your hotel or condo upon check in.
Throughout the week, we only ate at outdoor restaurants.  The weather is consistently good in Aruba, so we had no trouble with the weather eating outside.  We wore masks until seated.  We did not eat at any restaurants in resorts as we did not want to be around large groups.  We stayed to ourselves, traveling around in our rental car.  We did charter a boat for a full day and a half day – we used the same company both times and it was just our family on the boat.  We grocery shopped with masks and looked for our souvenirs with masks on, too.  We were VERY careful.  We also brought a forehead thermometer and checked our temperatures multiple times a day.  Most restaurants did a temperature check before seating us.  All servers at every location wore masks properly.
We chose to test two days before we left Aruba.  We made appointments in advance via e-mail.  We drove to the Horatio Oduber Hospital and waited in our car for about an hour to test.  Honestly, we should have walked up!  There was no wait for the walkers, but the drivers had to wait in their cars. We paid $75/person for covid tests.  Our results were back in eight hours!  All negative.  As of January 26, all US citizens must test in Aruba prior to boarding a flight back to the United States.  There are other testing options in Aruba besides the hospital.  The hospital is the least expensive.
The easiest way to schedule the covid tests at the hospital is to email [email protected] about five days before you need to test.  Include your return flight information and copies of your passports.  Then, download the Aruba Health app available in both app stores.  "Add Users" to the health app (very easy).  Be sure this health app is open on your phone when you drive or walk up.  The clerk has to scan a QR code on your app.  They take credit cards only for payment.
We flew home to Boston on December 30.  We tested at a RI Department of Health site on December 31 and January 3.
I am very glad we chose to take this vacation in December 2020.  We did not congregate in large groups.  We did not eat inside.  We wore our masks everywhere.  We kept social distance from others.  We washed hands and surfaces regularly.  We tested five times in 13 days.  This trip was a great stress reliever from an extraordinarily stressful year.
Most of the photos on this page were taken with a Canon DLSR.  We also like this affordable, easy-to-use tripod.
UPDATE 2021 – We like these vaccination card holders for travel.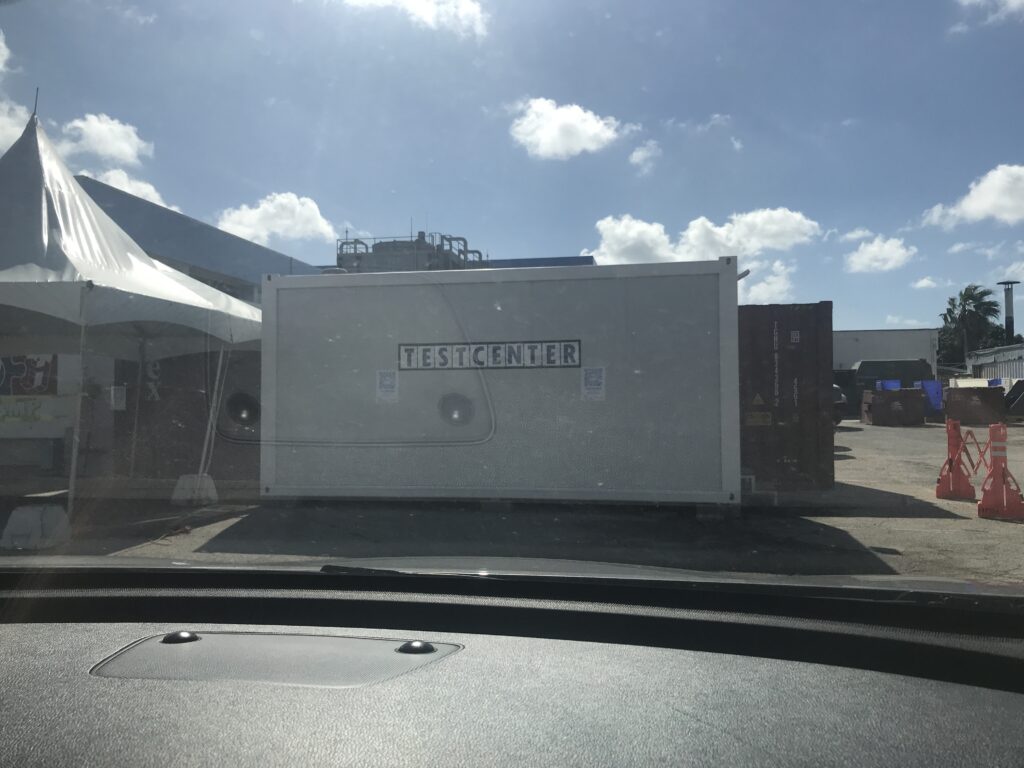 Where to stay
We traveled to Aruba from December 20-30, 2020.
Aruba is not a big island. It is about eight miles wide at its widest and 20 miles long. Resorts and condos are clustered in two main areas – Palm Beach and Eagle Beach.
Palm Beach is often called the High Rise Area. It is full of high rise hotels like literally, completely full of high rise, enormous hotels. We traveled during the time of covid (see above!). The boat captain we used said that during a normal Christmas holiday week, you cannot even see the sand on Palm Beach. Every single chair and palapa is full by 6am. If you pass by a roped off swimming area, he said it is often so full you can barely see the water!
The pros of staying on Palm Beach include being able to walk to a wide variety of restaurants, casinos and shops; and, on most of the beach there are no waves at all. It is exceptionally flat, like a lake.
Eagle Beach is also called the Low Rise Area. The condos and resorts are truly not that low, but they pale in comparison to the size and height of the Palm Beach mega-resorts. Eagle Beach is considerable less crowded than Palm Beach. There are palapas in front of many condos and resorts. If they are full, you can rent one from a vendor. There is a bit more of a shore break on Eagle Beach, but it is not a deal-breaker.
Another area we liked is the Mangel Halto Beach area in Savaneta. The beach is gorgeous. We did not check out any hotels, condos or AirBnBs here, but we floated past Aruba Ocean Villas which looked amazing!
Oceania Condos
We do not like crowds. We do not like getting up before sunrise to secure a palapa. We do not like high rise hotels. For these reasons, we concentrated our efforts to find an ocean view condo on Eagle Beach.
We chose to book with Prestige Vacations Aruba. They were offering huge covid discounts, a generous cancellation policy and a fantastic location right on Eagle Beach. The unit we rented can be seen here. The unit was clean and spacious – two bedrooms and two bathrooms, laundry, balcony, beach chairs, excellent wifi and plenty of kitchen items. Because of the desperate need to get travelers back to the island, we only paid $5834 for the 10 days in Aruba. This was a tremendous value for a holiday time period. TripAdvisor reviews are strong.
The pools were deserted during our stay. They are beautiful. The famous Eagle Beach is just across a two-way street. We heard no road noise from our unit. The road (J.E. Irausquin Blvd) also has a miles-long sidewalk that is great for walking and running. We used it daily. Palapas line the beach. If you cannot find an empty palapa, there are plenty of shade trees.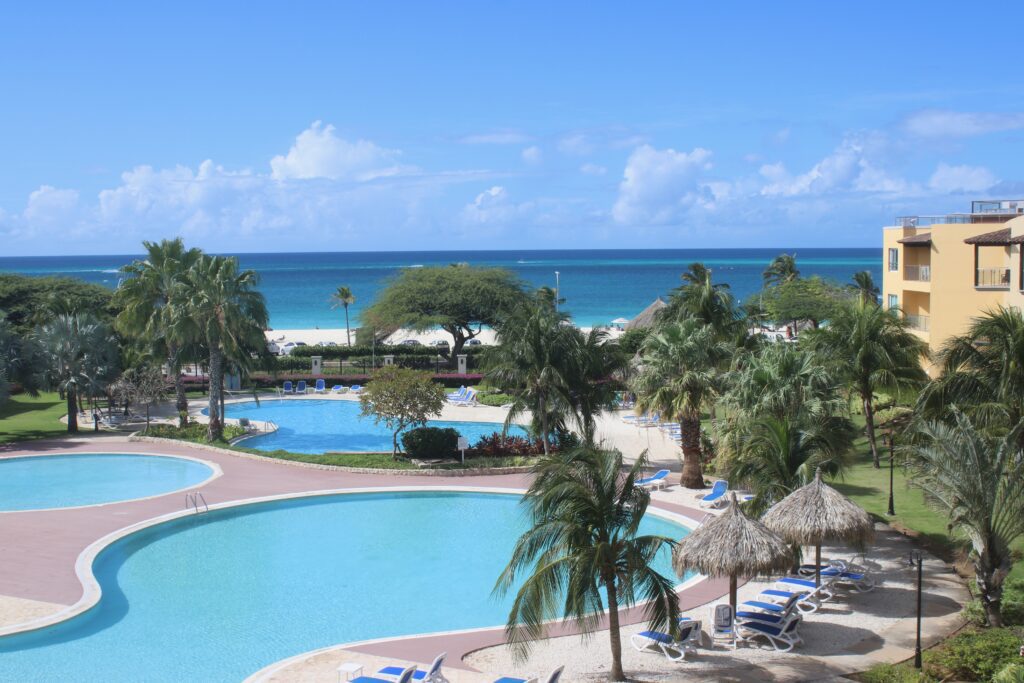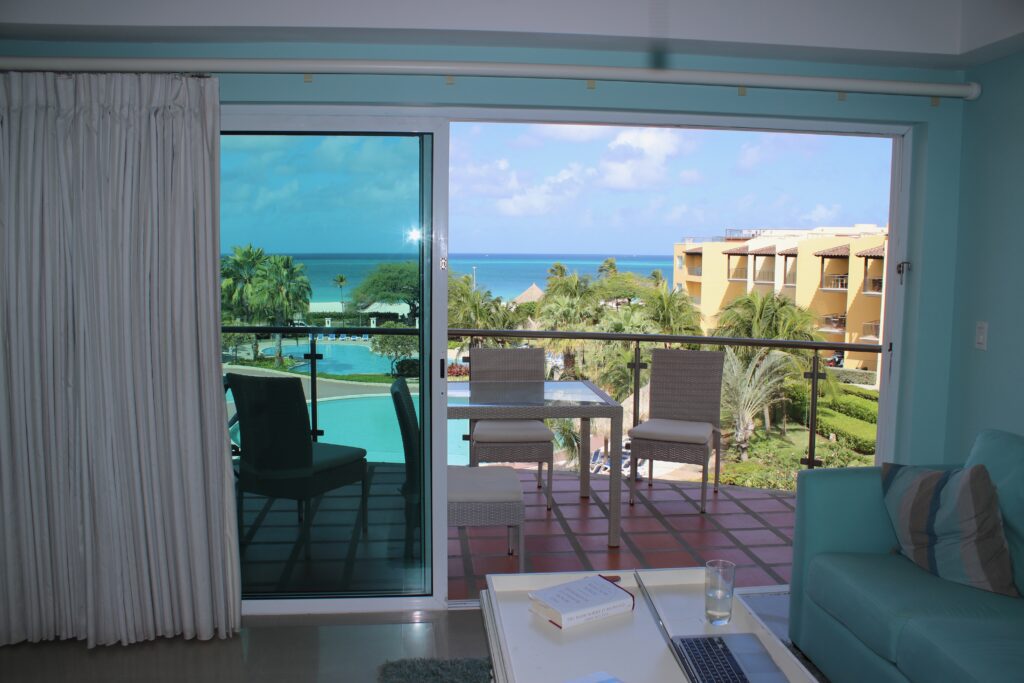 Arrival
Our flight out of Boston was delayed due to mechanical issue. Rather than arriving to the condo about 4pm, we showed up at 6:30. A masked-up rep from Prestige met us at our car and showed us around. Online check-in was smooth and easy. We unpacked and went to dinner.
Yemanja
During the plague, airlines do not have a lot of food options. We purchased breakfast sandwiches and ate them in the airport. We had a big delay, so by dinner time we were starving.
In normal holiday times in Aruba, you have to make reservations weeks in advance. I still stuck to this routine, as I wanted to be sure we were always eating outside.
We drove to Yemanja Wood Fired Grill. It was delicious and we sat in the garden outside. They have many vegan, vegetarian, gluten-free and dairy-free options. YUM! TripAdvisor reviews are excellent.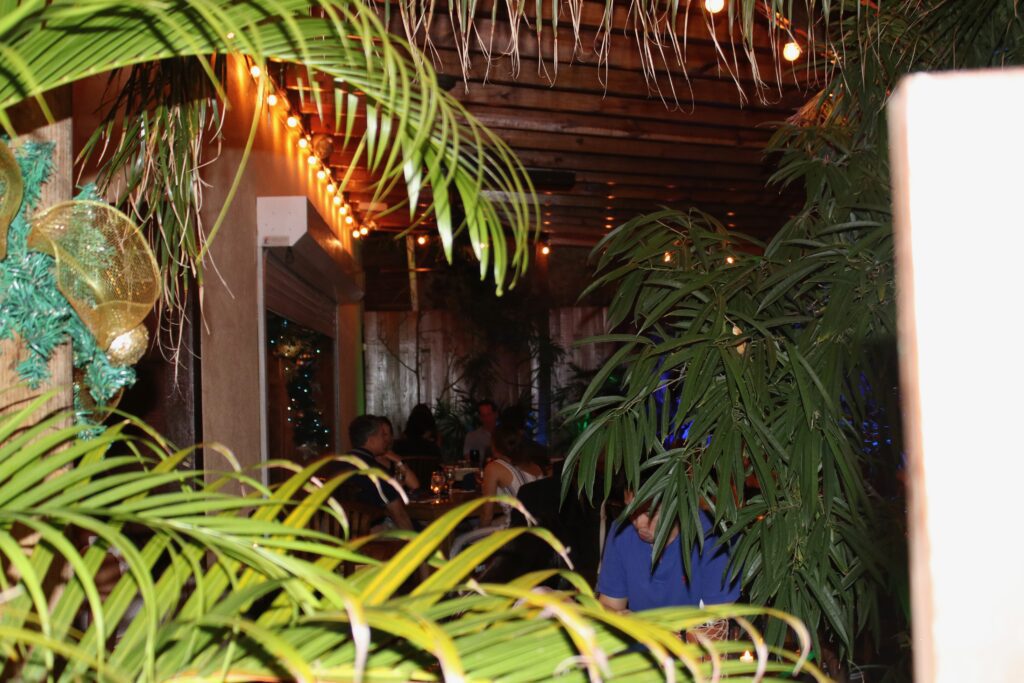 Eagle Beach
Our first full day was blissfully schedule free, so we checked out Eagle Beach, bought groceries and swam in our pool.
For groceries, we drove a short distance to SuperFoods. Research told me to shop at SuperFoods or Ling and Sons. SuperFoods was closer so we chose that. The store was clean and well-stocked. It was BUSY! We tried to get waters on Christmas Eve morning and there was a huge line out the door, so we went to a mini-mart.
Our quaint condo came with six beach chairs. They were the backpack kind, so they were exceptionally easy to carry. We brought our books and easily found a palapa. Eagle Beach is just lovely.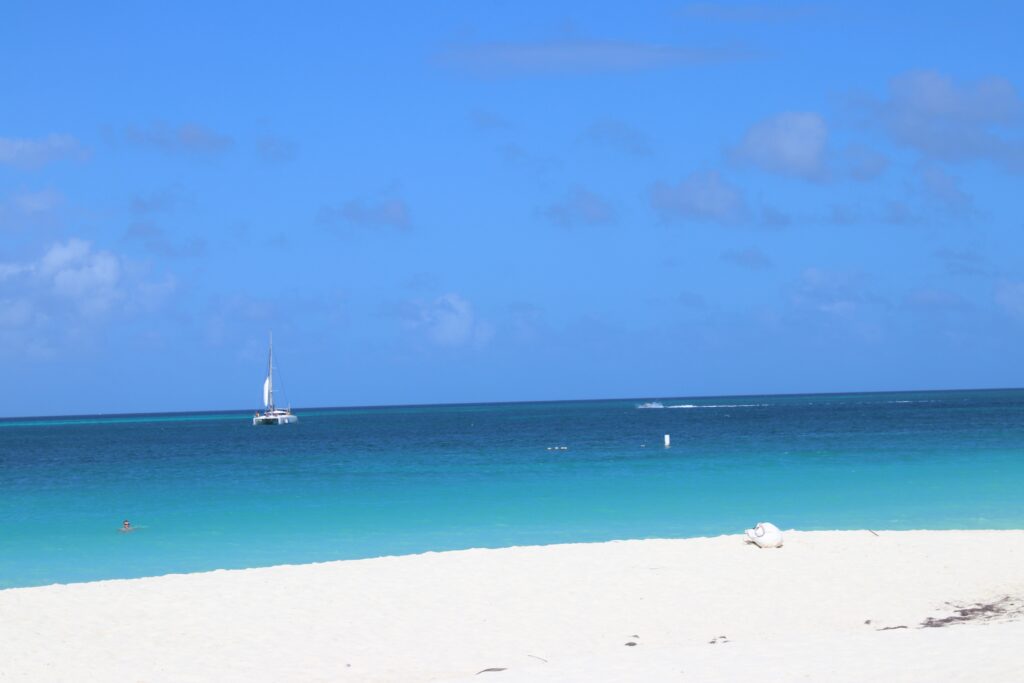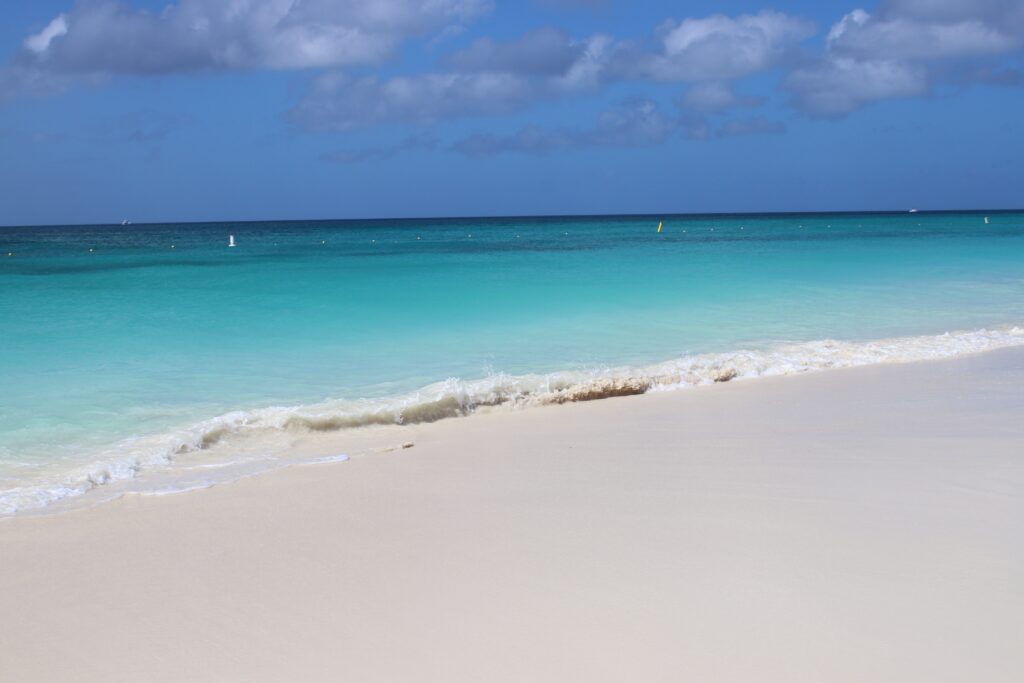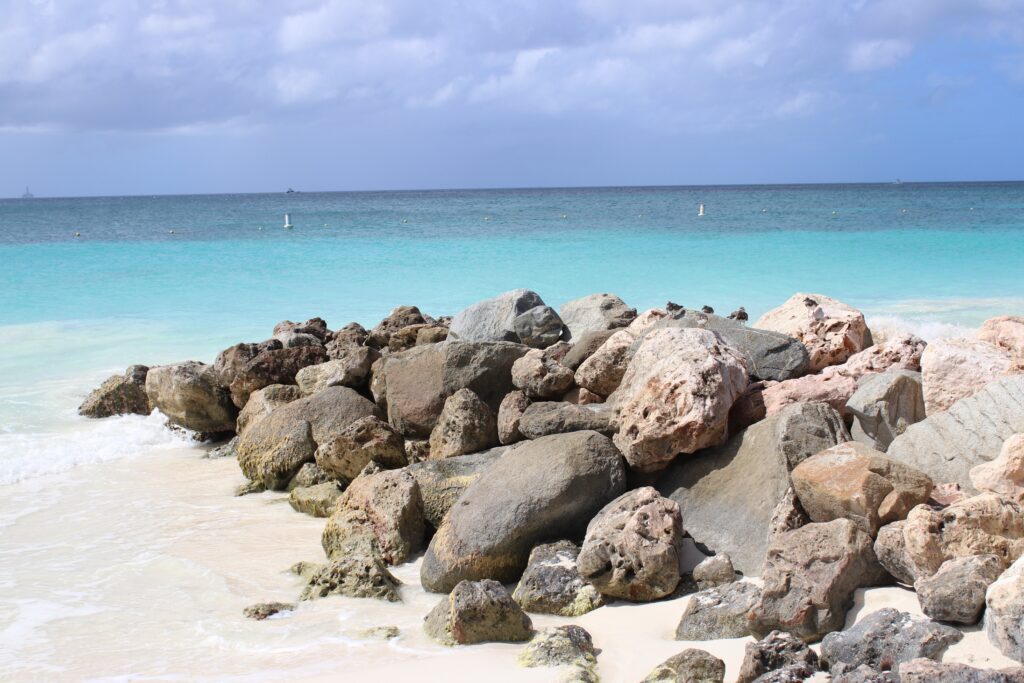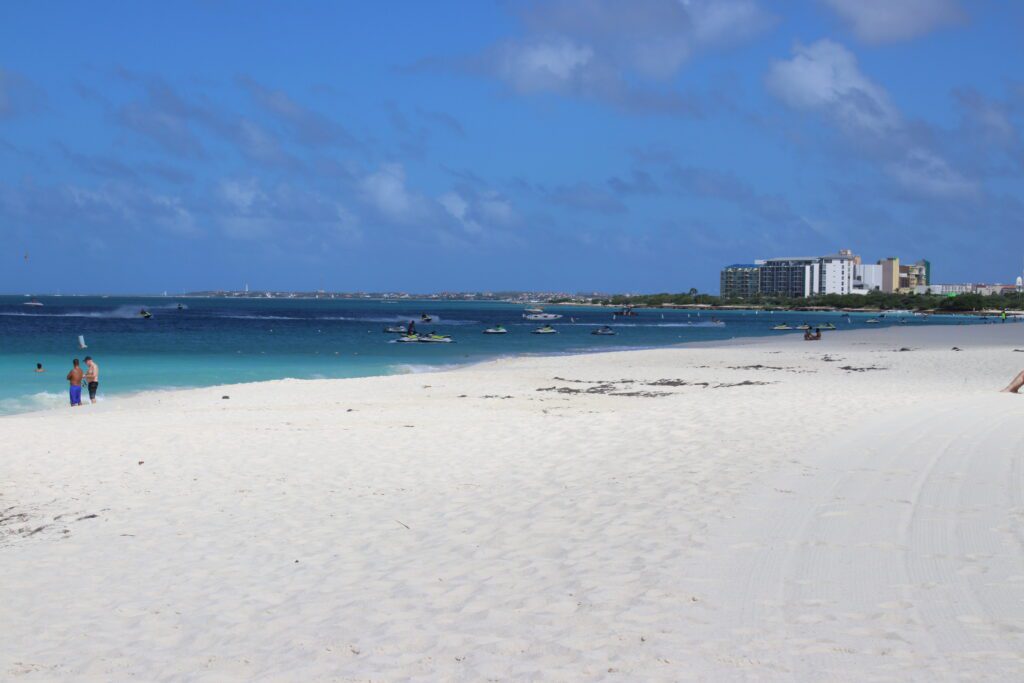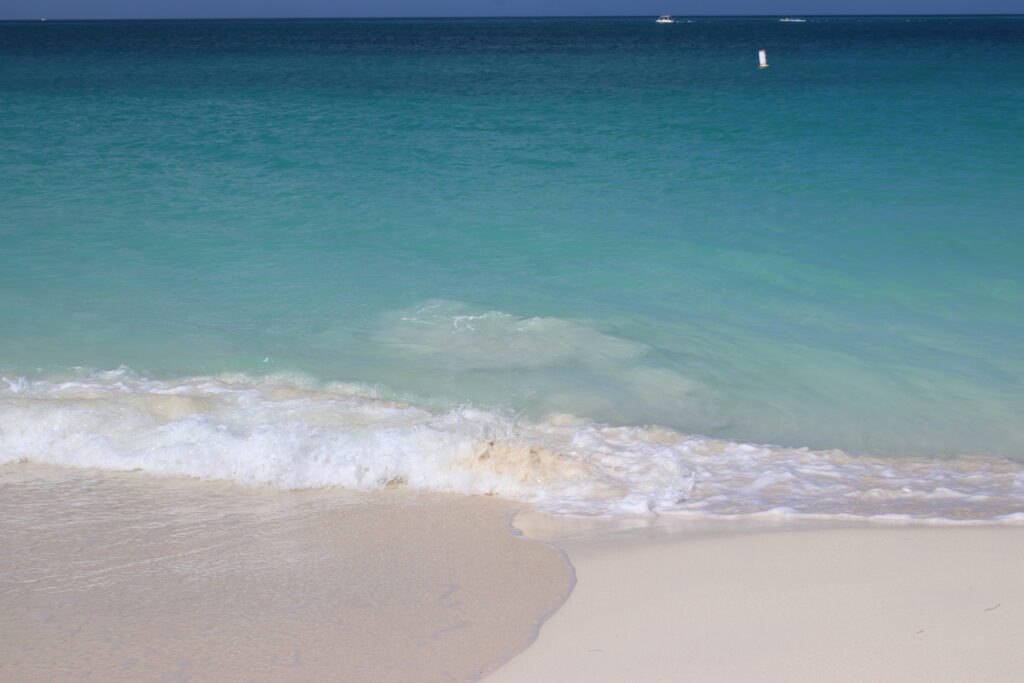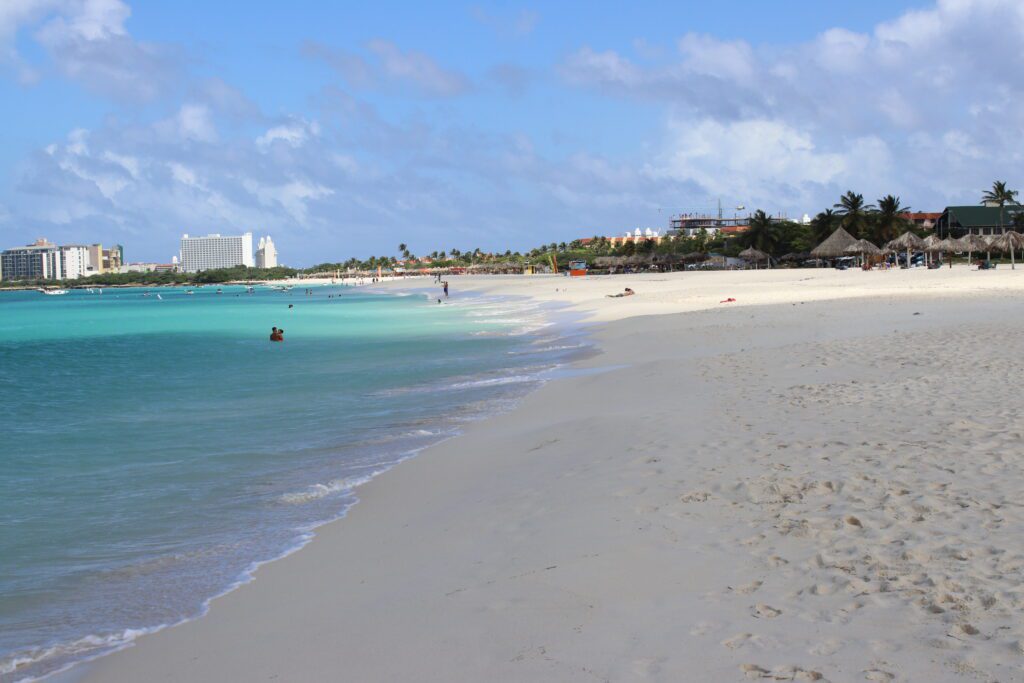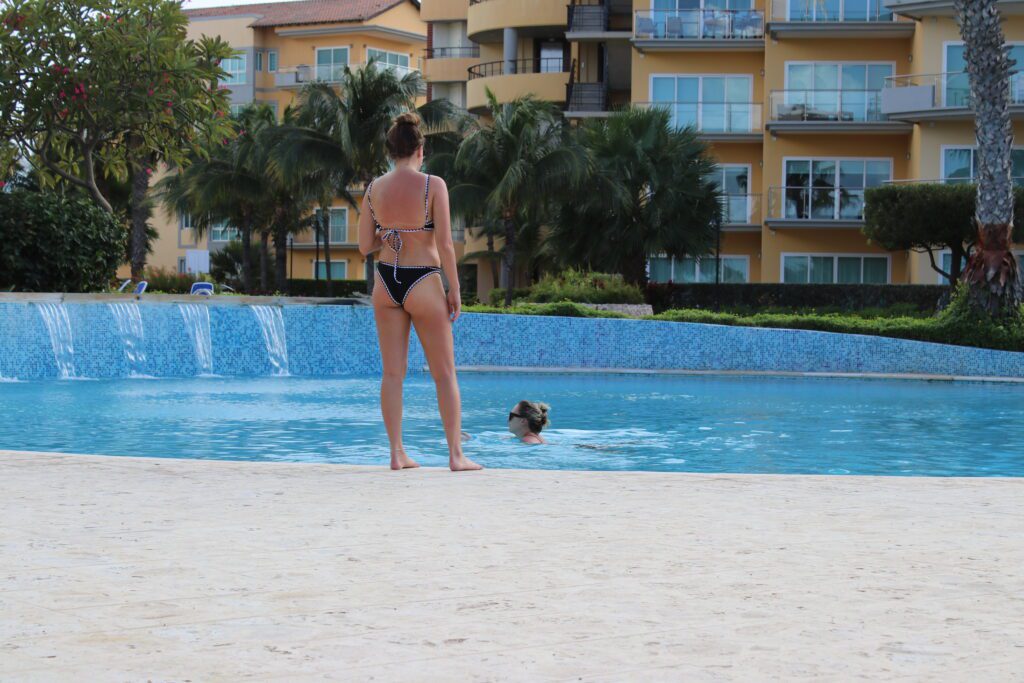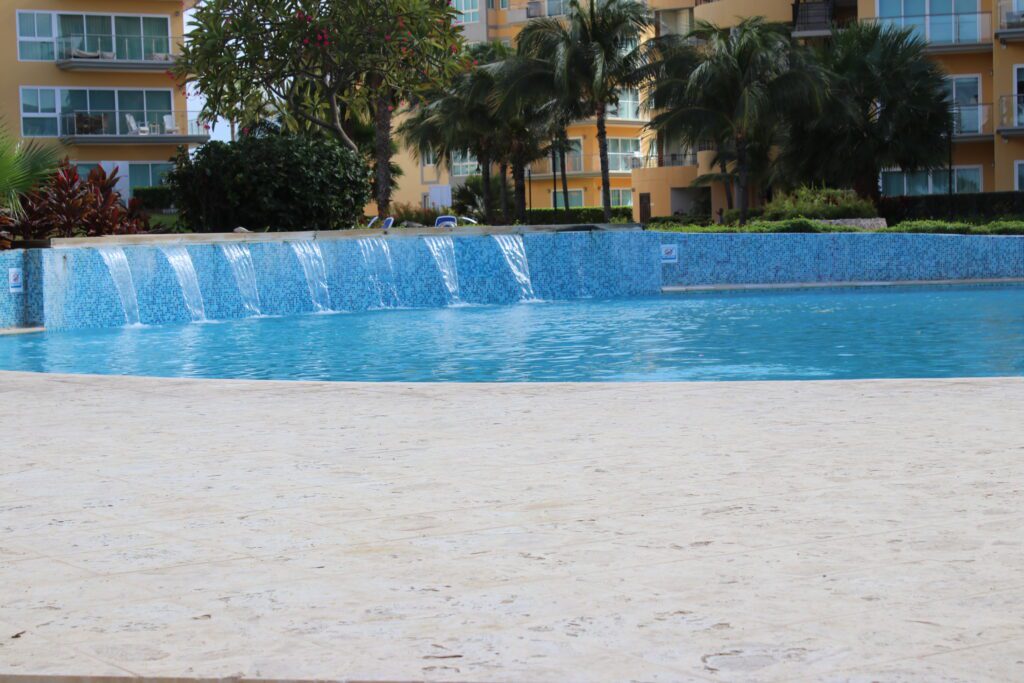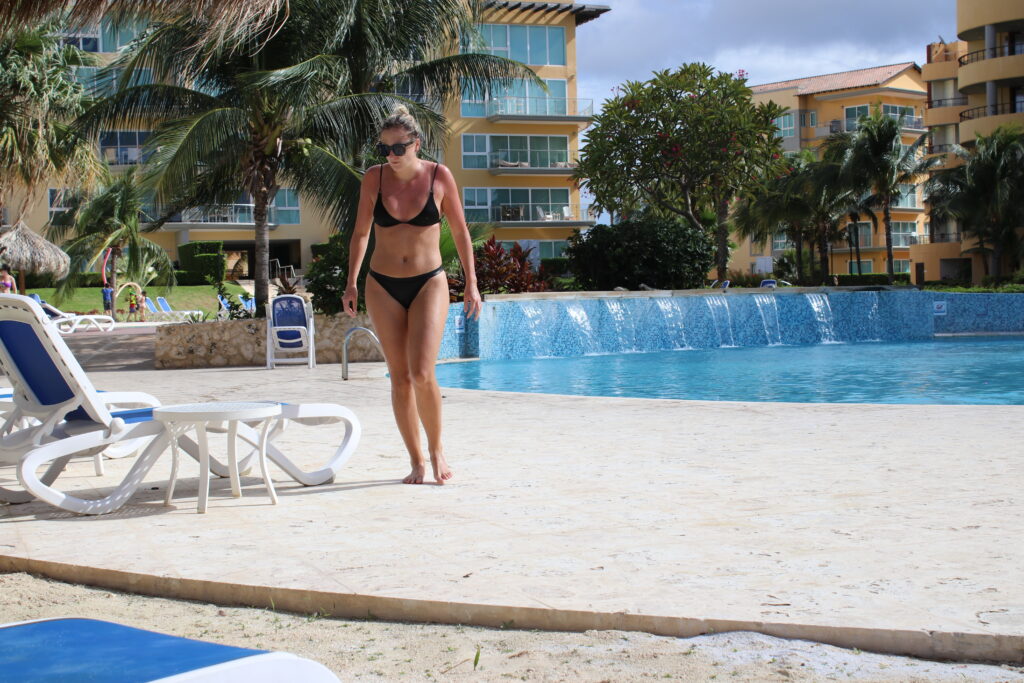 Passions on the Beach
Passions on the Beach is a lovely beachfront-toes-in-the-sand restaurant on Eagle Beach. We strolled down from our condo and had a delightful dinner. Excellent TripAdvisor reviews.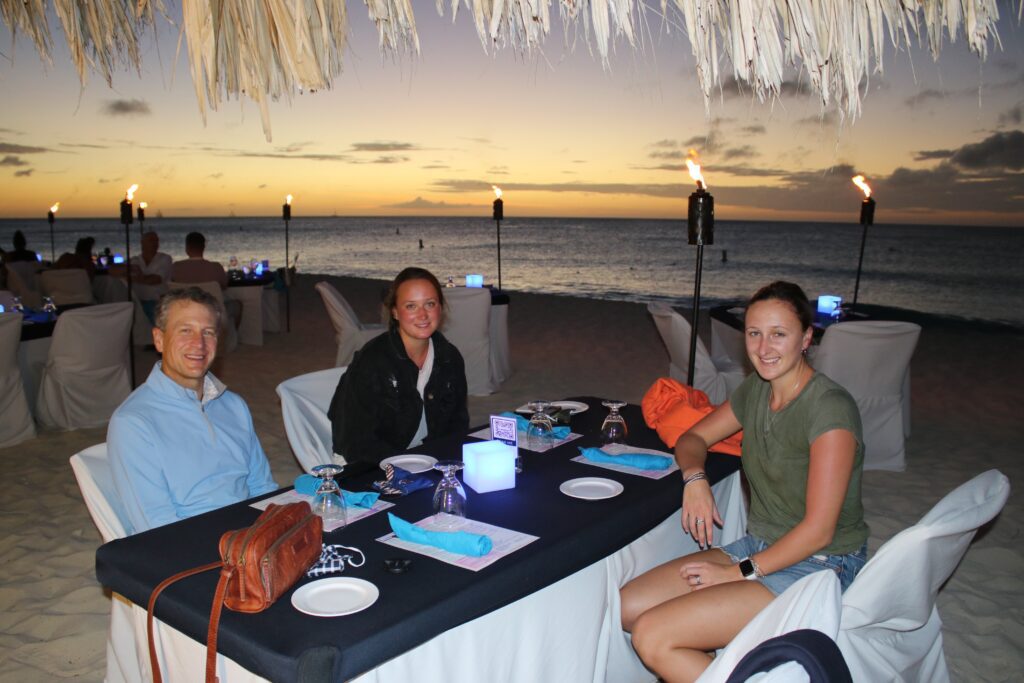 Moomba's
We worked out and spent some time on our beach on Tuesday morning. It was delightful. We chose to visit Moomba's on the busy Palm Beach for lunch.
Moomba's is a beach bar and restaurant that serves yummy food with your toes in the sand. We enjoyed the tuna bowl and the lunch fajitas. We visited during covid when the restaurant was not busy at all. I would guess in normal times that it is crazy busy. You can also rent chairs and palapas from Moomba's if you are not staying at a beachfront property. We enjoyed our visit, but probably would not have liked it if it was packed. Visit TripAdvisor for more reviews.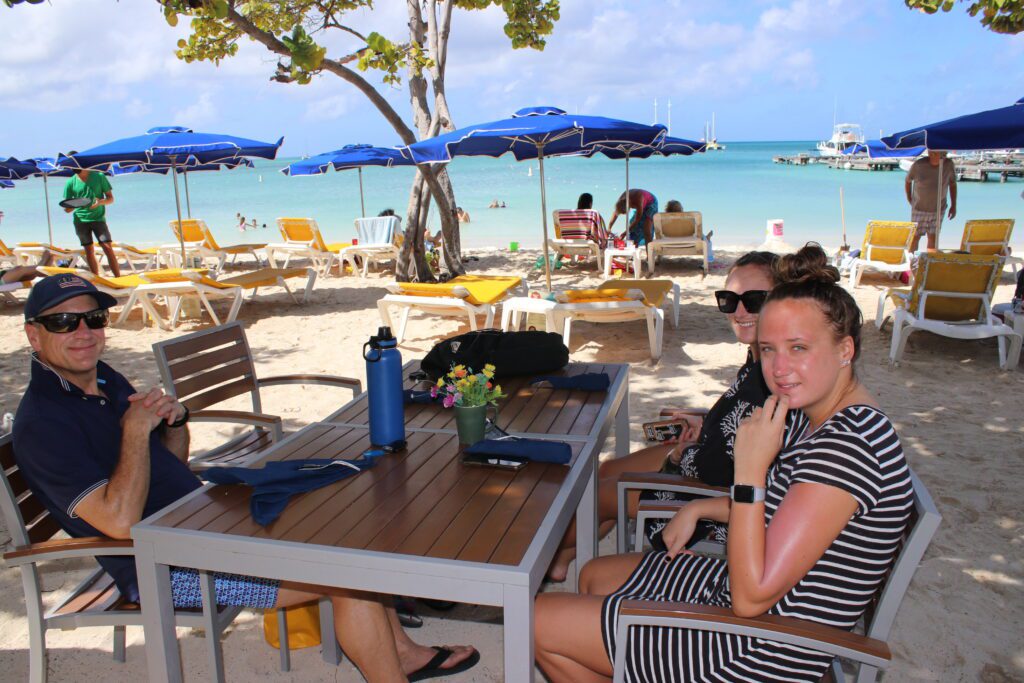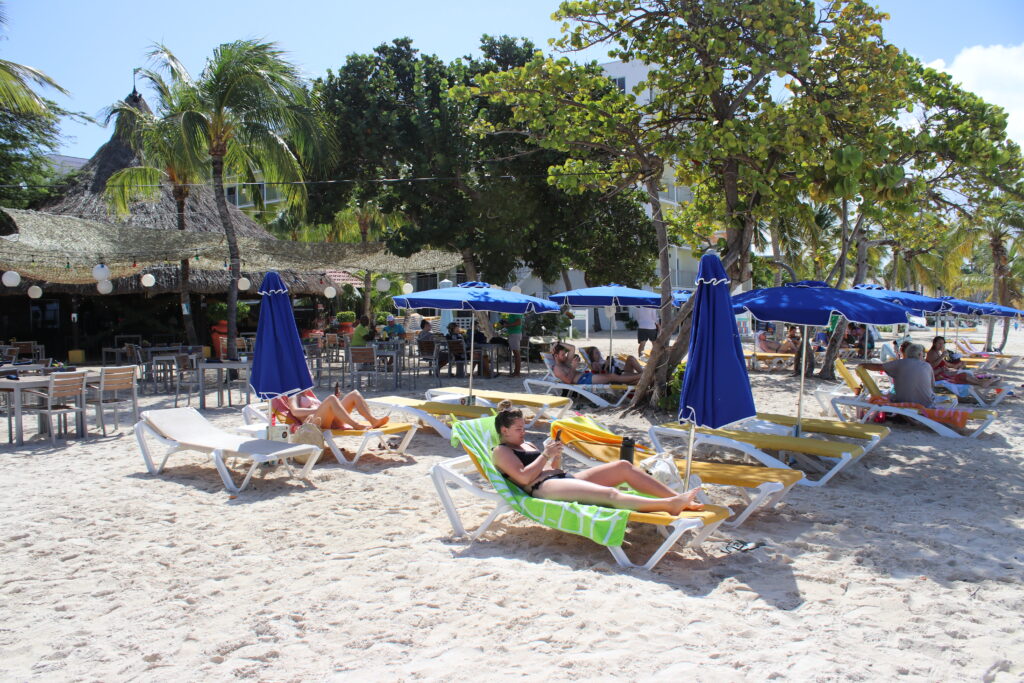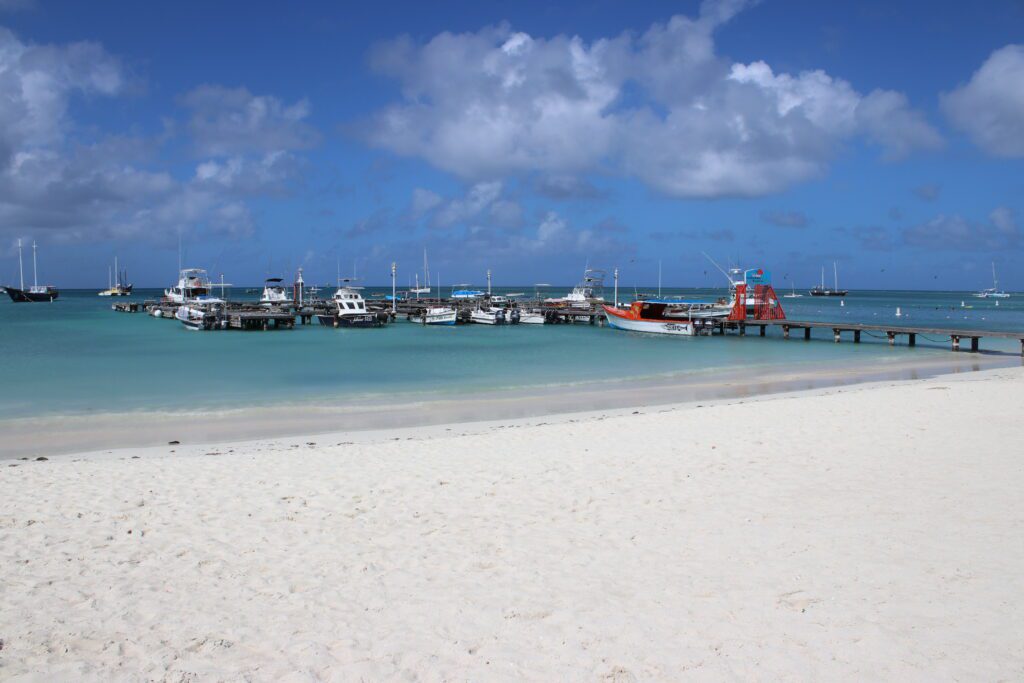 Boca Catalina
From Moomba's, we headed north to one of the prettiest spots on Aruba. Boca Catalina is a small, protected cove with some pretty corals and fish. We found a palapa and enjoyed the water, our books and the afternoon. We highly recommend spending some time at this lovely place. This website offers some snorkeling tips. Excellent TripAdvisor reviews. Nothing on Aruba is hard to locate as the island is so small! We bring our own masks and snorkels. This brand is excellent and comfy.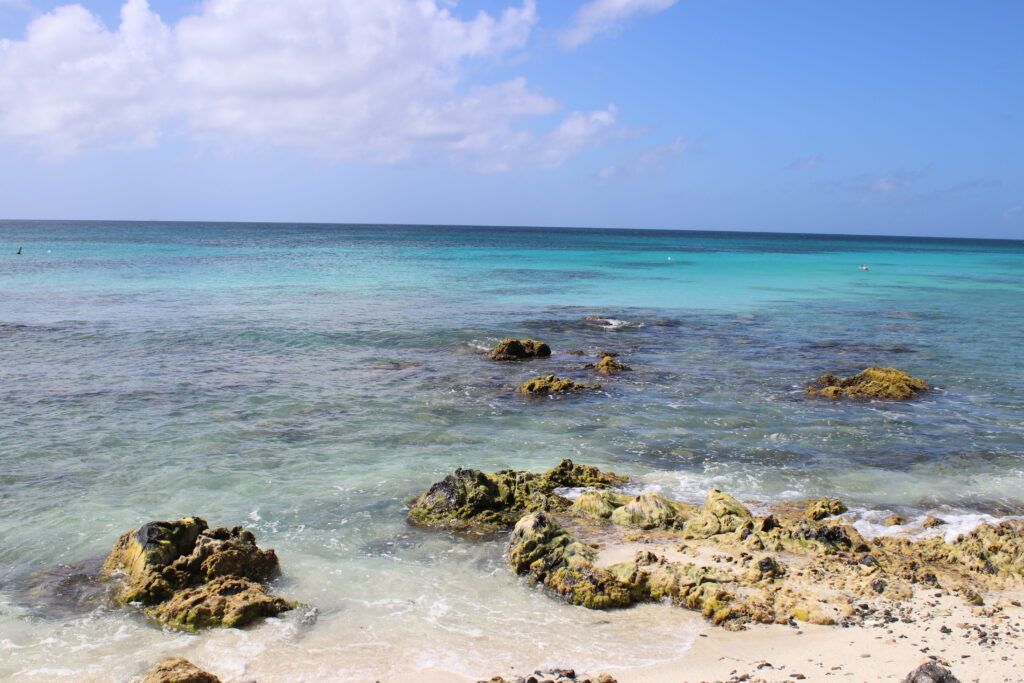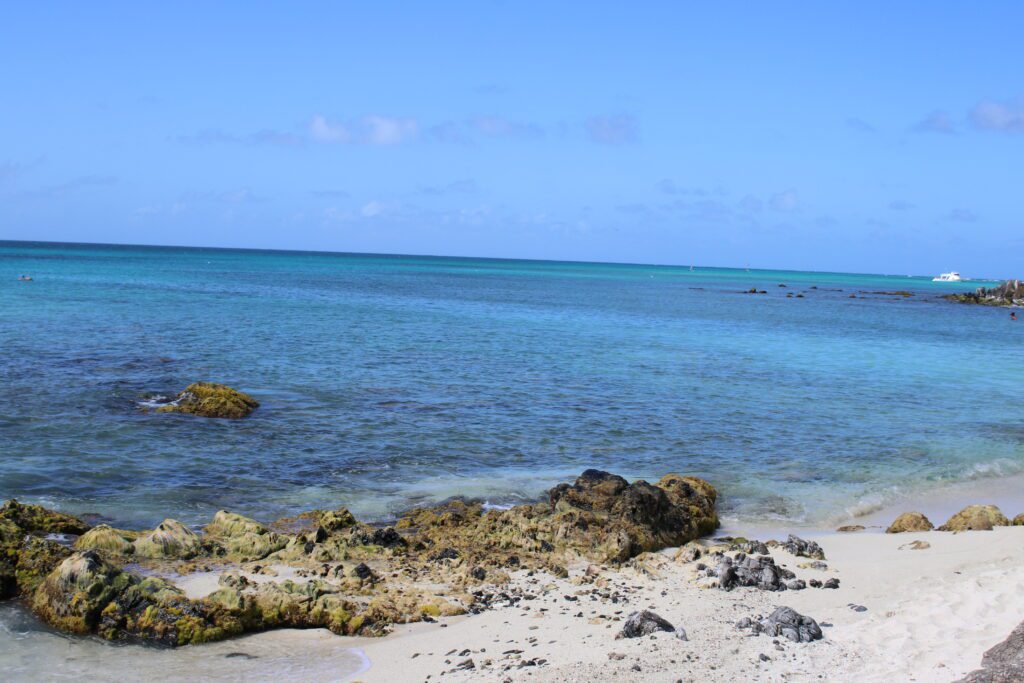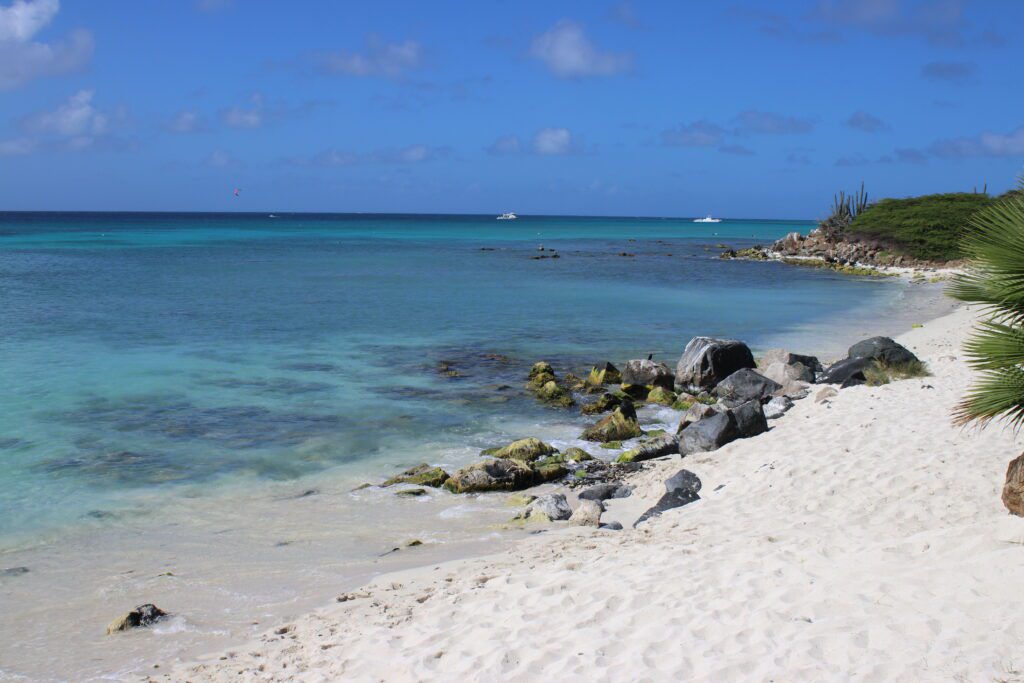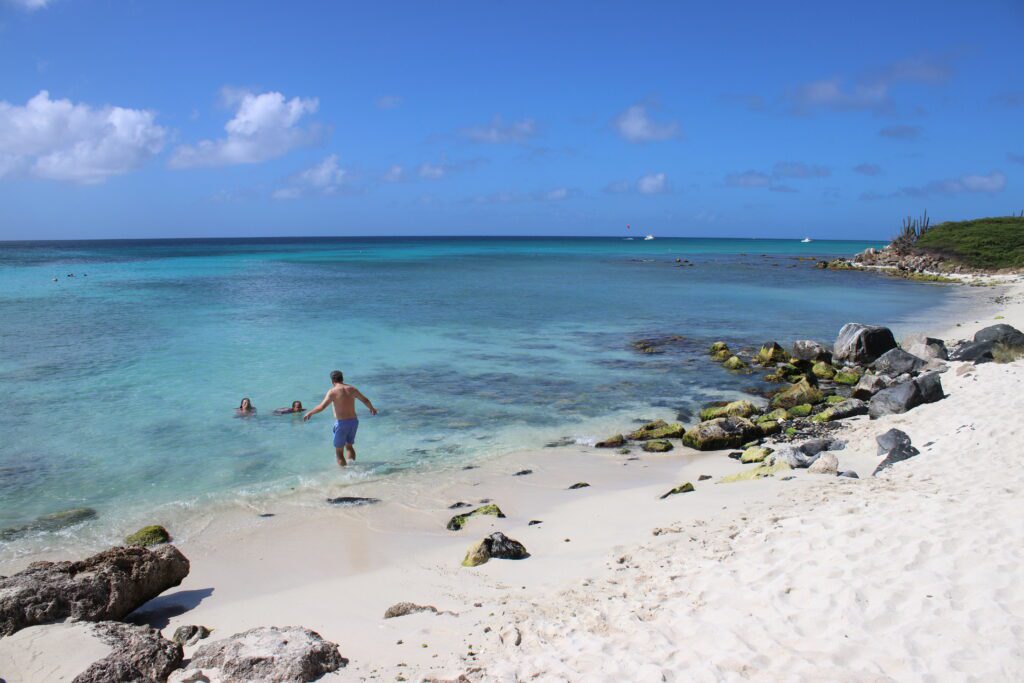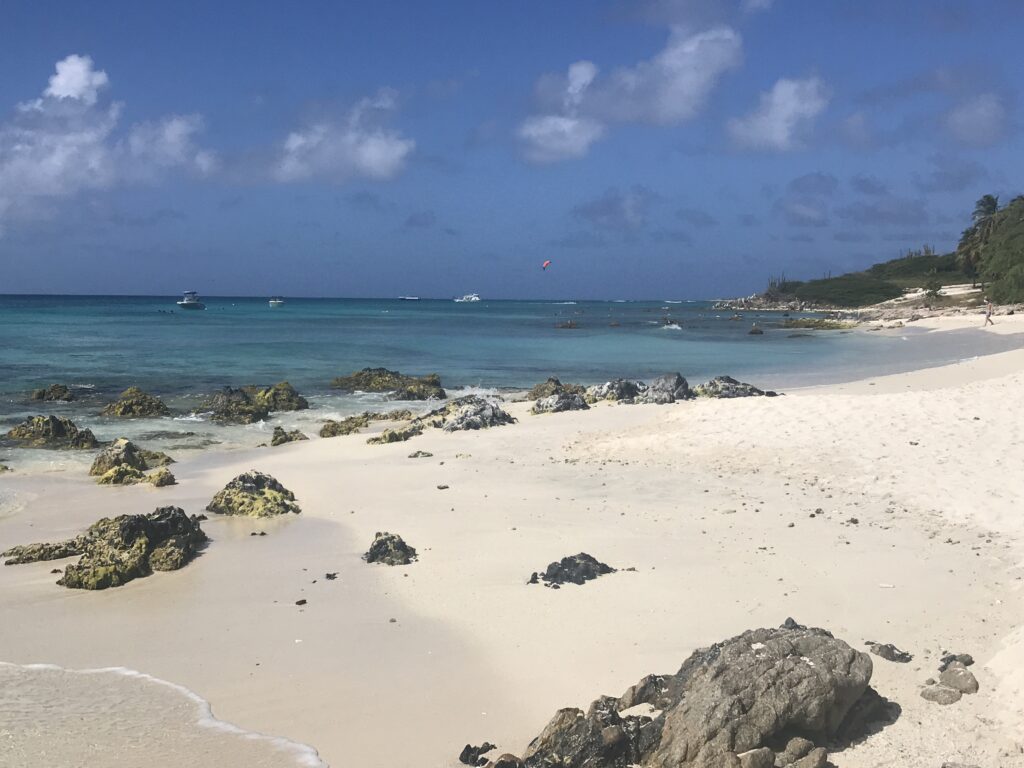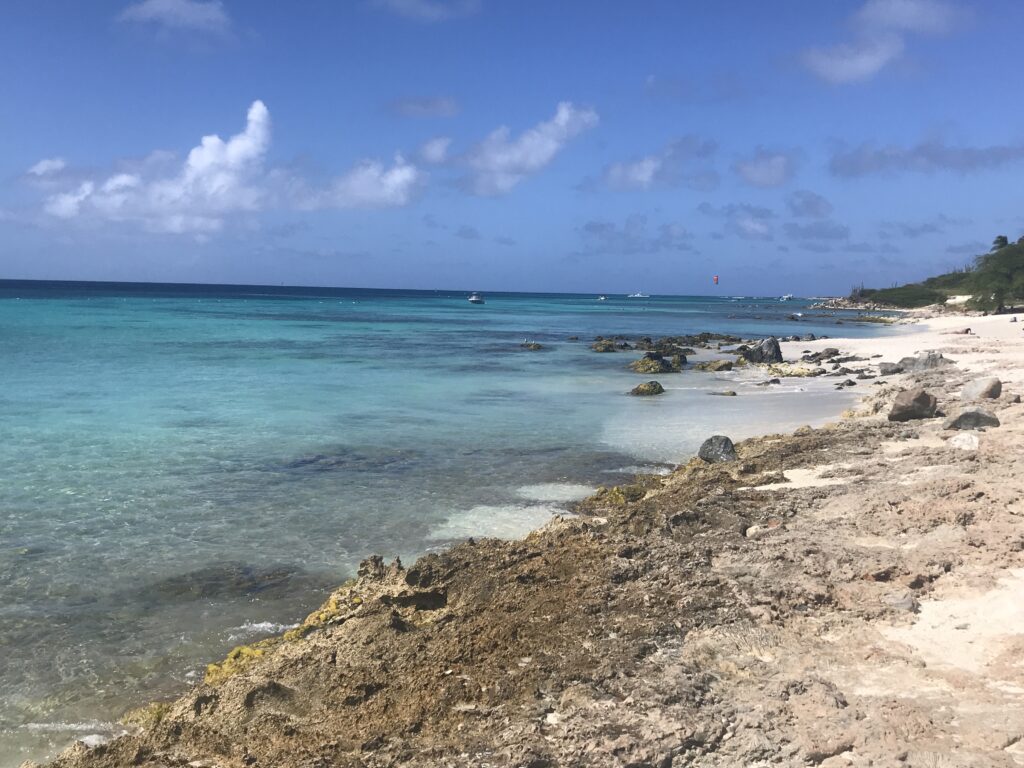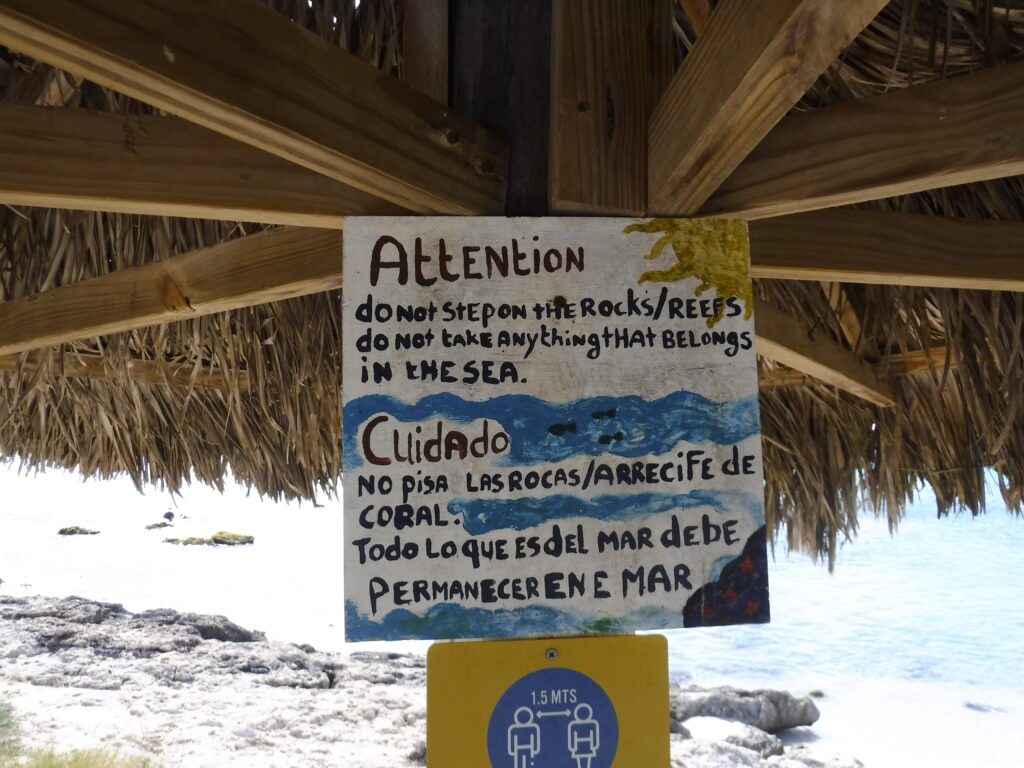 Pincho's
We had a DIVINE dinner at Pincho's on Tuesday night. The setting and the food were simply outstanding. We went for sunset, and it did not disappoint! We loved it here. The ceviche, shrimp and fish were incredible. TripAdvisor reviews are wonderful.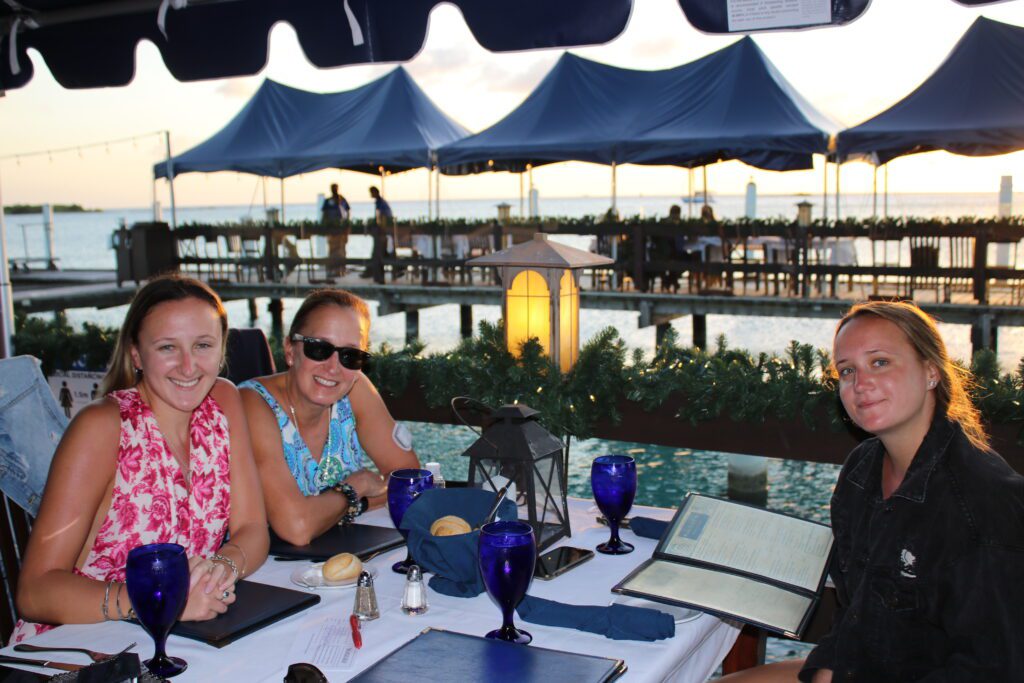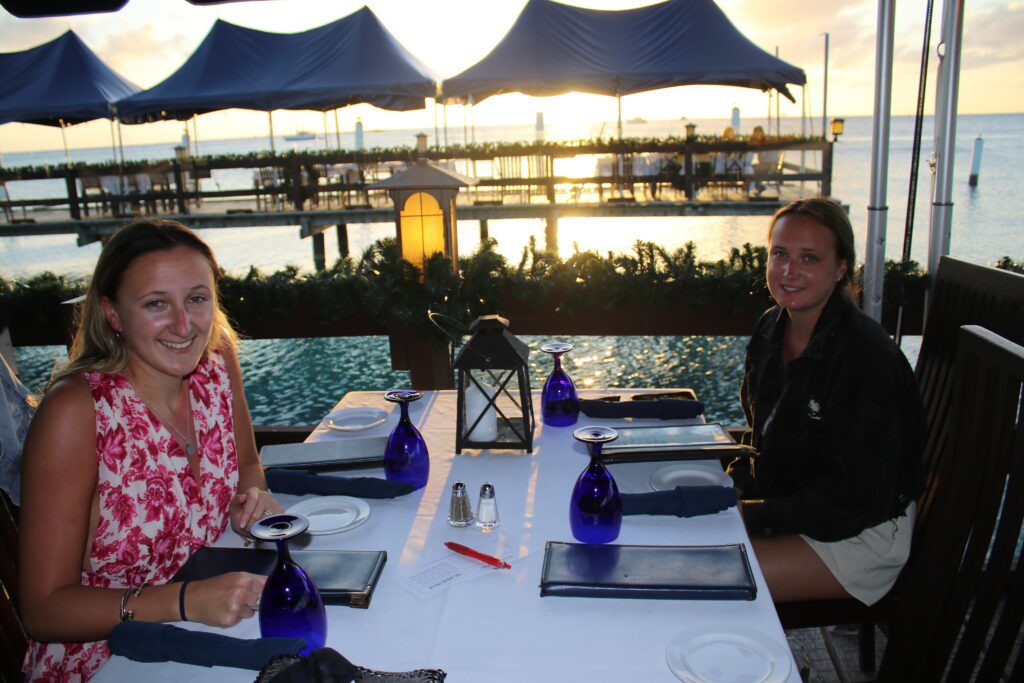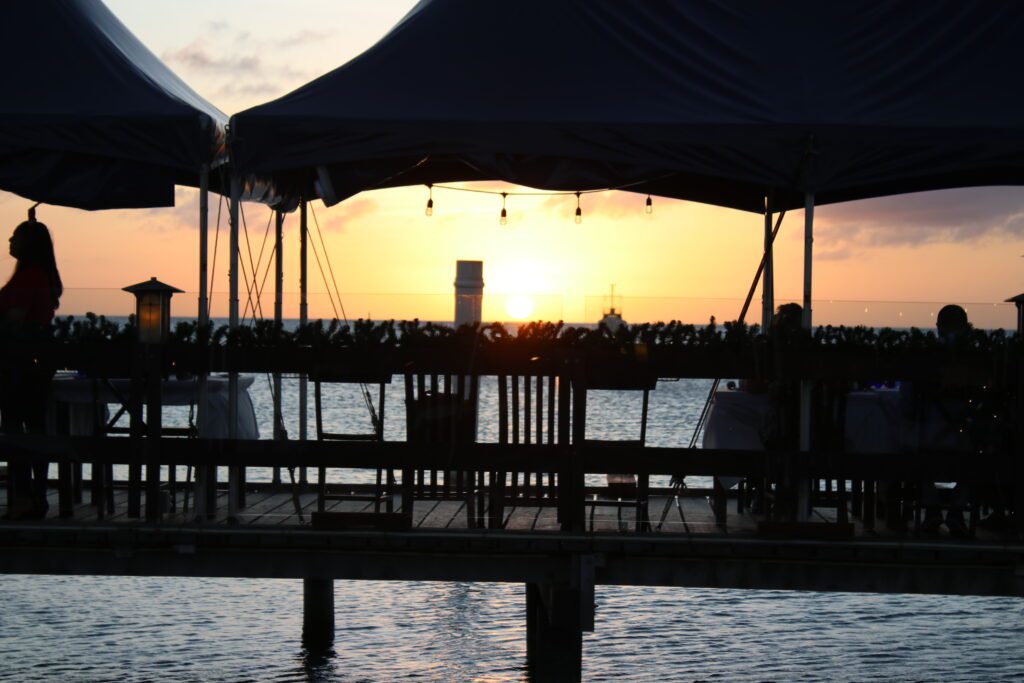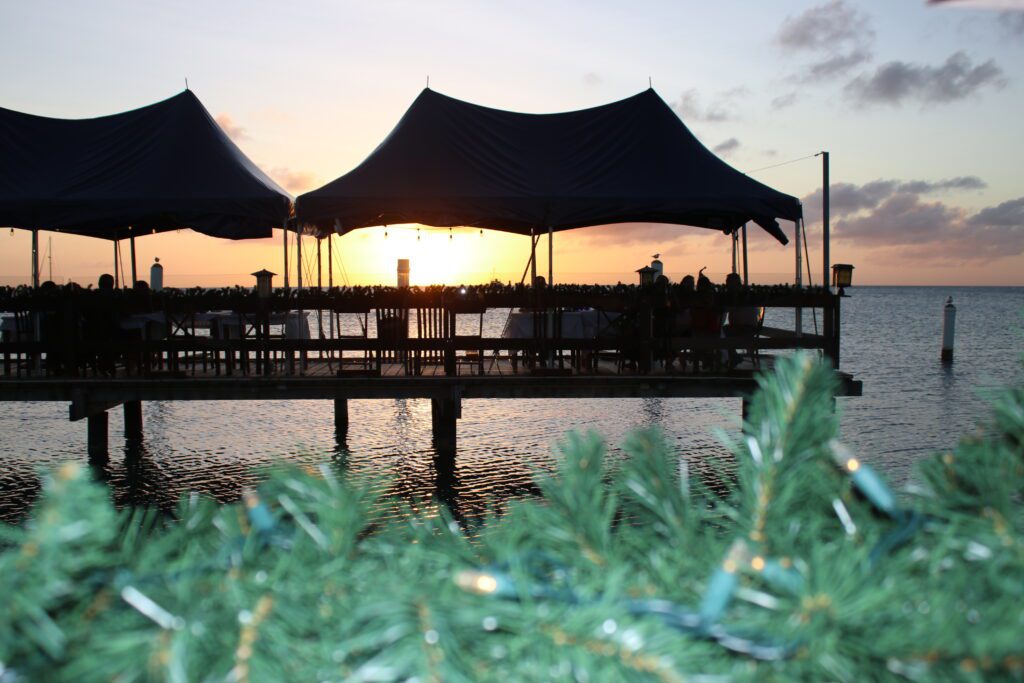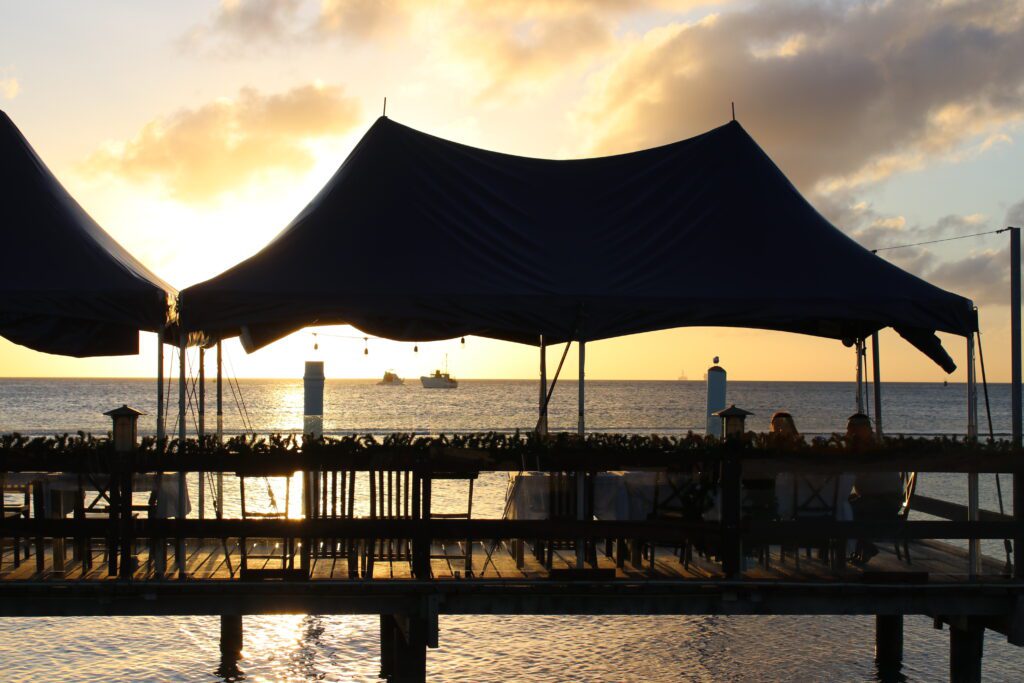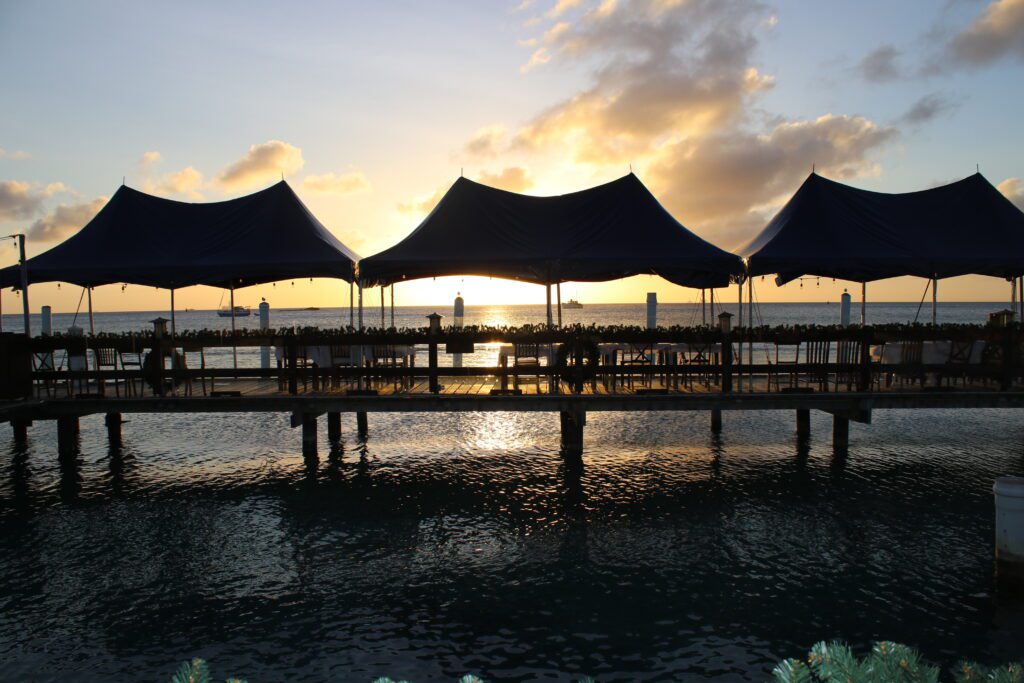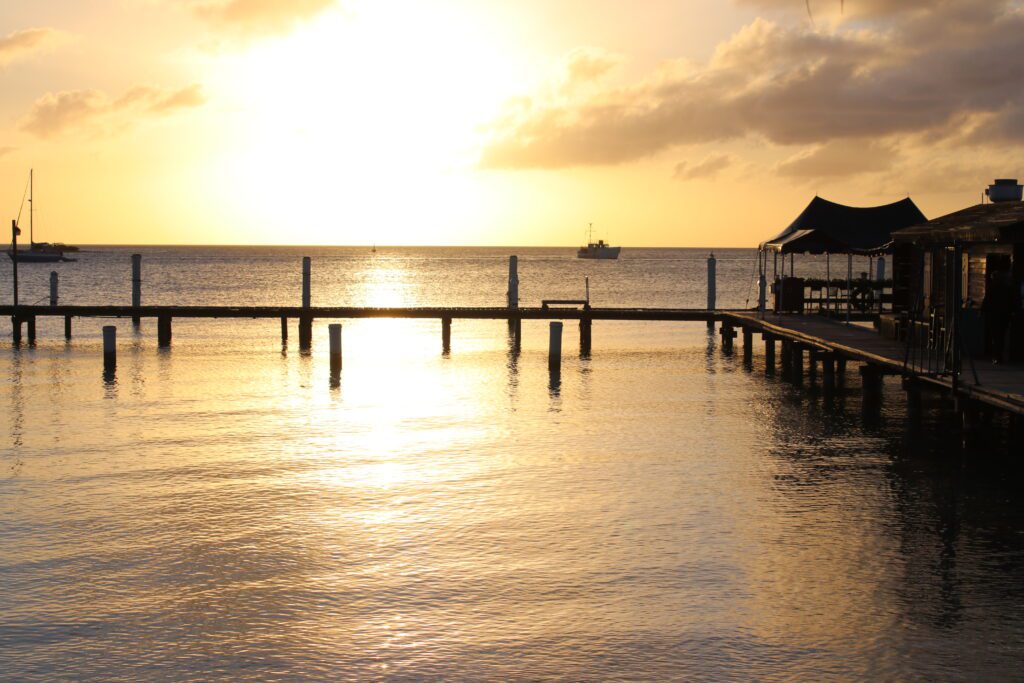 Santos
The families' favorite spot for coffee quickly became Santos in Eagle Beach. Walking distance from our condo, their delicious offerings gave a bright start to our days! TripAdvisor reviews are very good.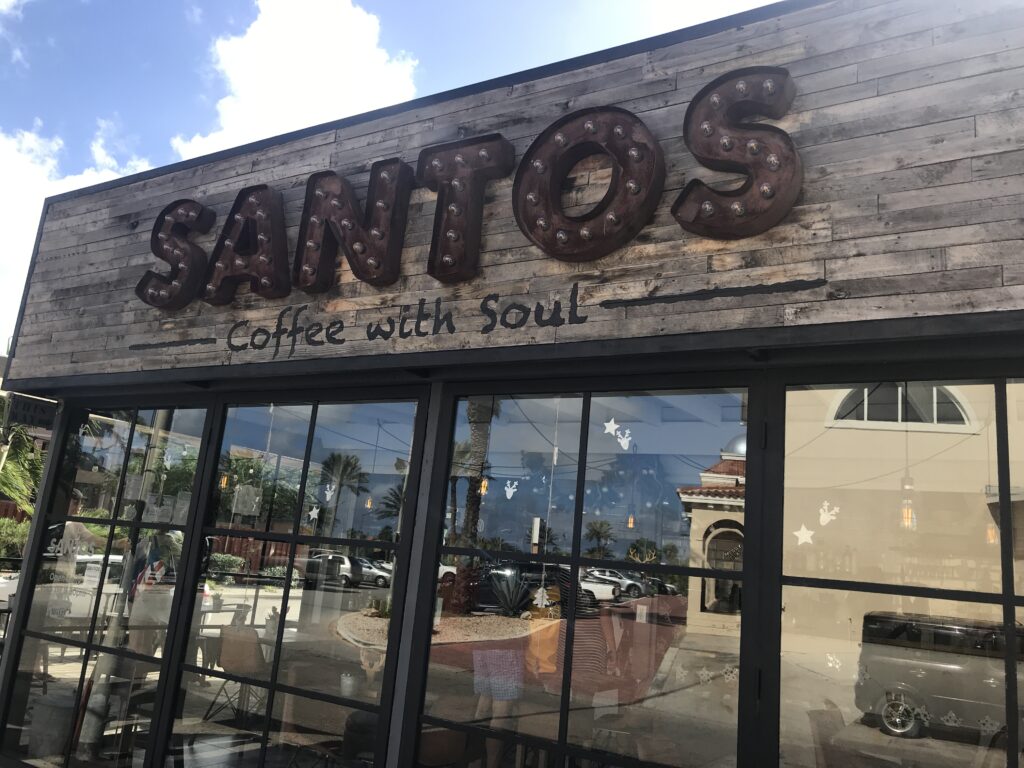 The family also discovered Clover Coffee. This adorable shop was just steps from our condo with great coffee, vegan and gluten-free options. Highly recommended. No photo!
Aruba Premier Boat and Dive
We had a truly fantastic day on Wednesday, December 23. We chartered a boat with Aruba Premier Boat and Dive and spent eight hours on the water with Captain AJ and his first mate and brother, Audric. The two brothers took great care of us and treated us like royalty. We HIGHLY recommend a day or more on the water with this operation. They fully customize your experience, and they are friendly and funny. A full day on the water included fruit, waters, soft drinks, a full BBQ lunch, appetizers and happy hour – we paid just $850 and we tipped them $100 each. It was an incredible value!
The 28 foot long boat is comfortable with an onboard bathroom. Their company can also provide you with complete snorkel, dive and/or fishing equipment. We have our own masks/snorkels, but we used their fins.
We met the brothers at 10am at their easy-to-find marina near the airport. After a safety briefing, we headed south.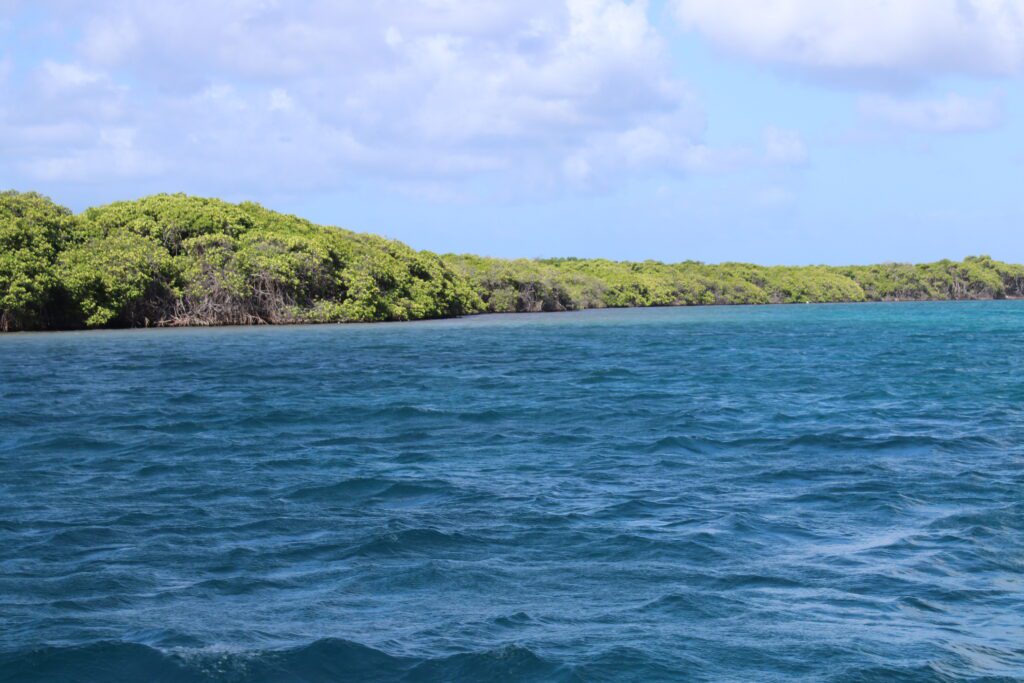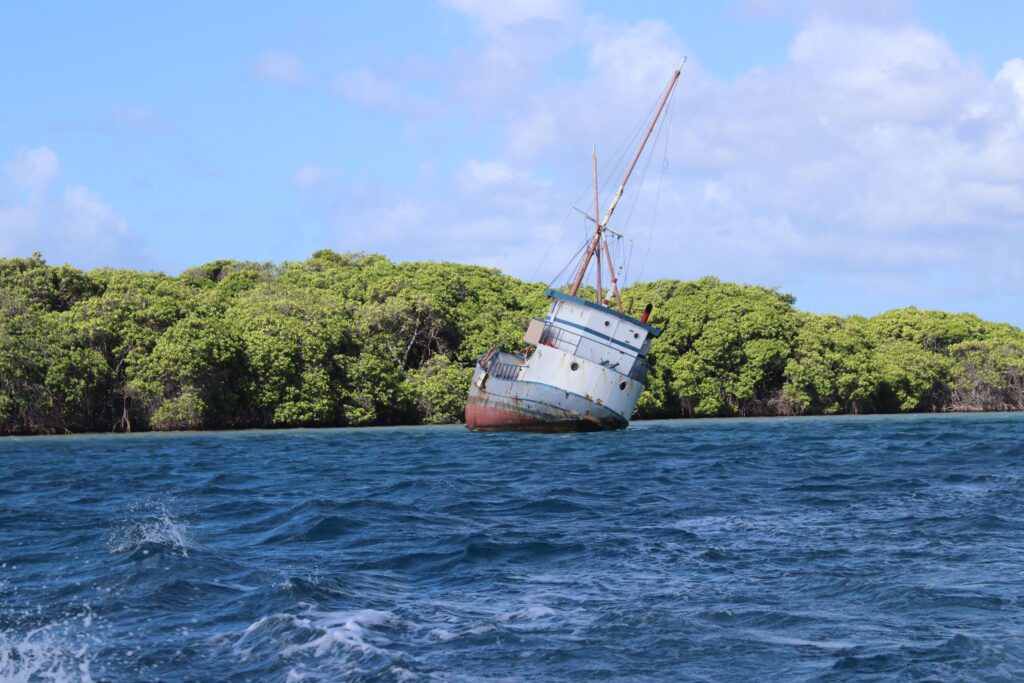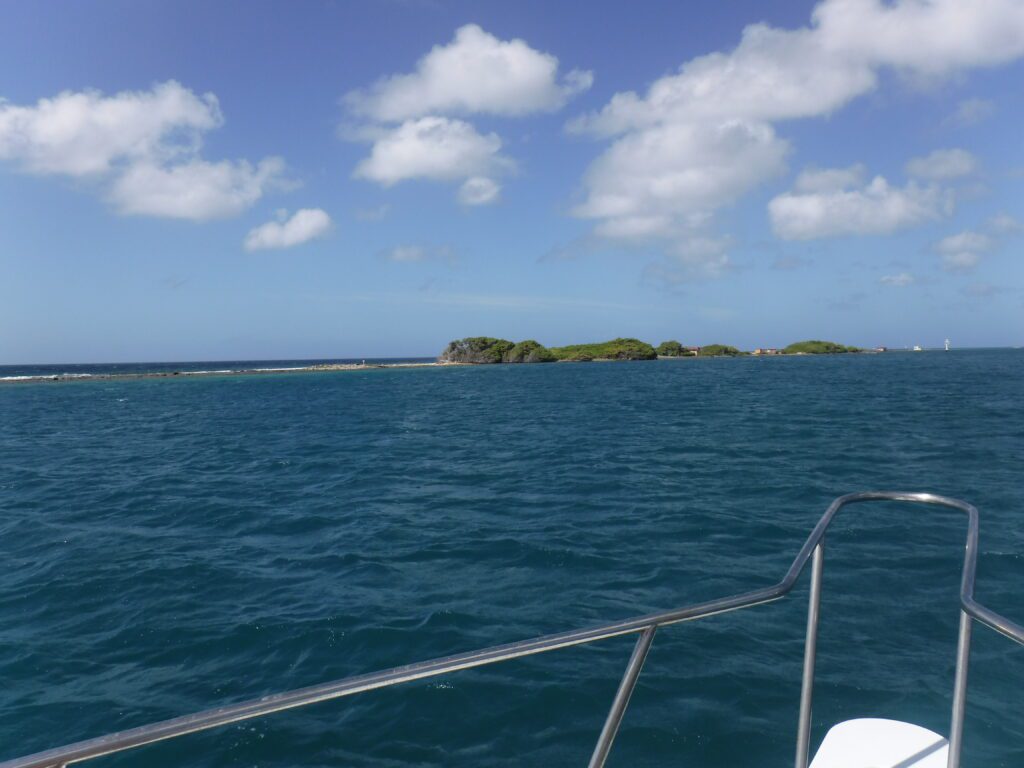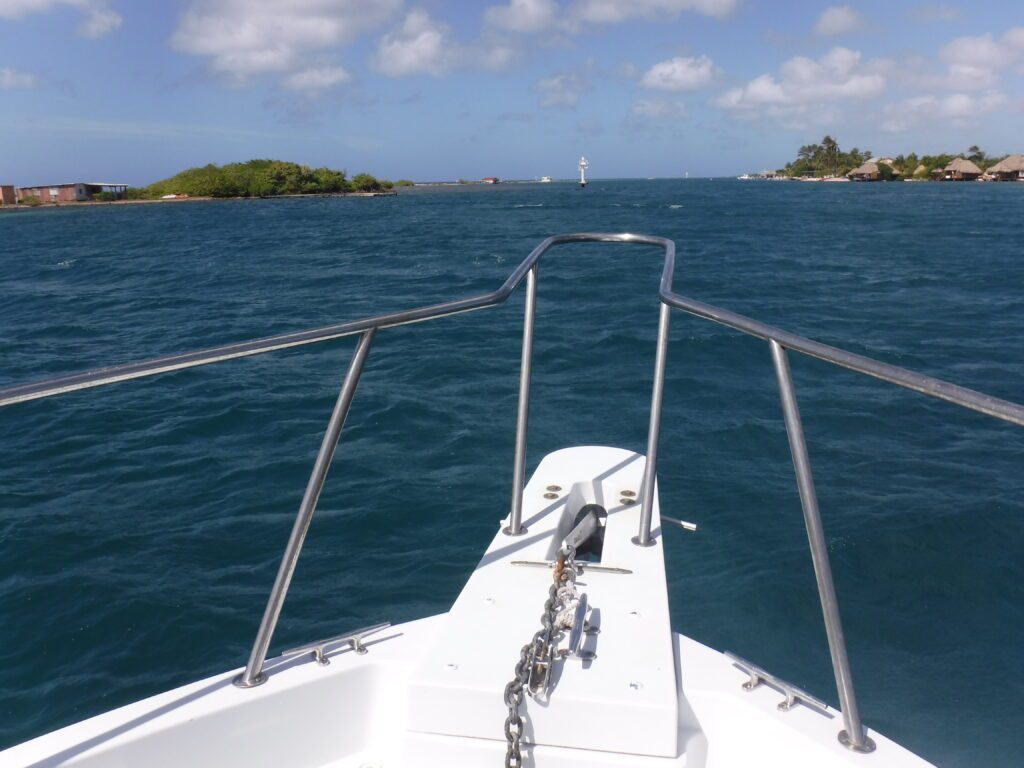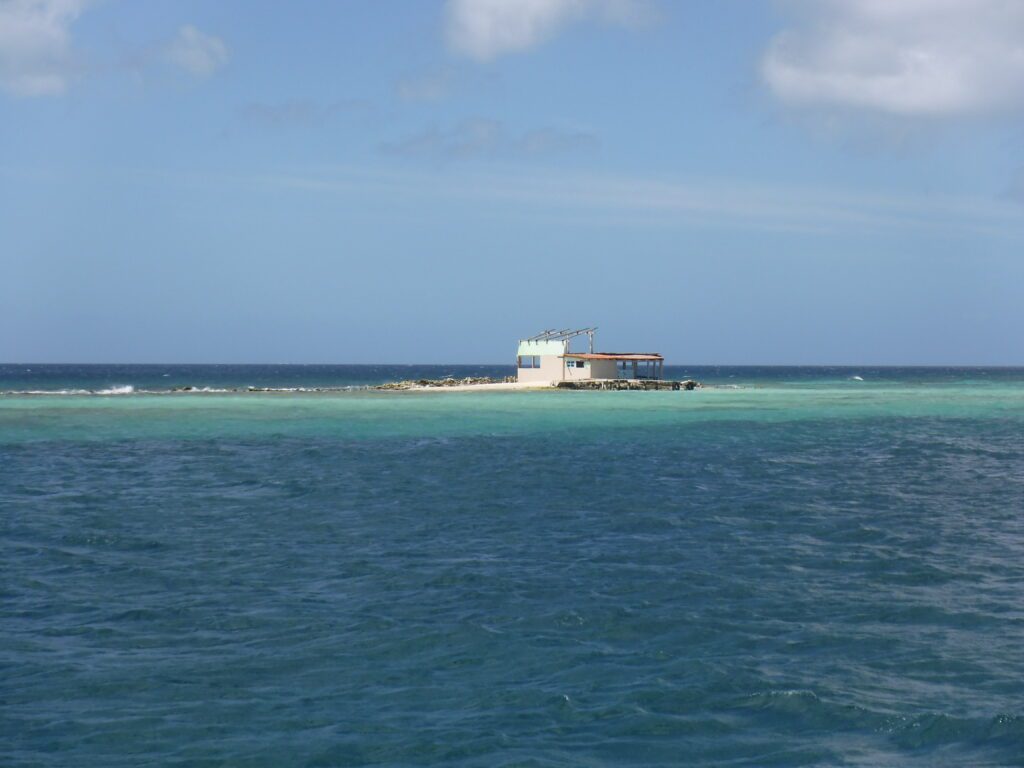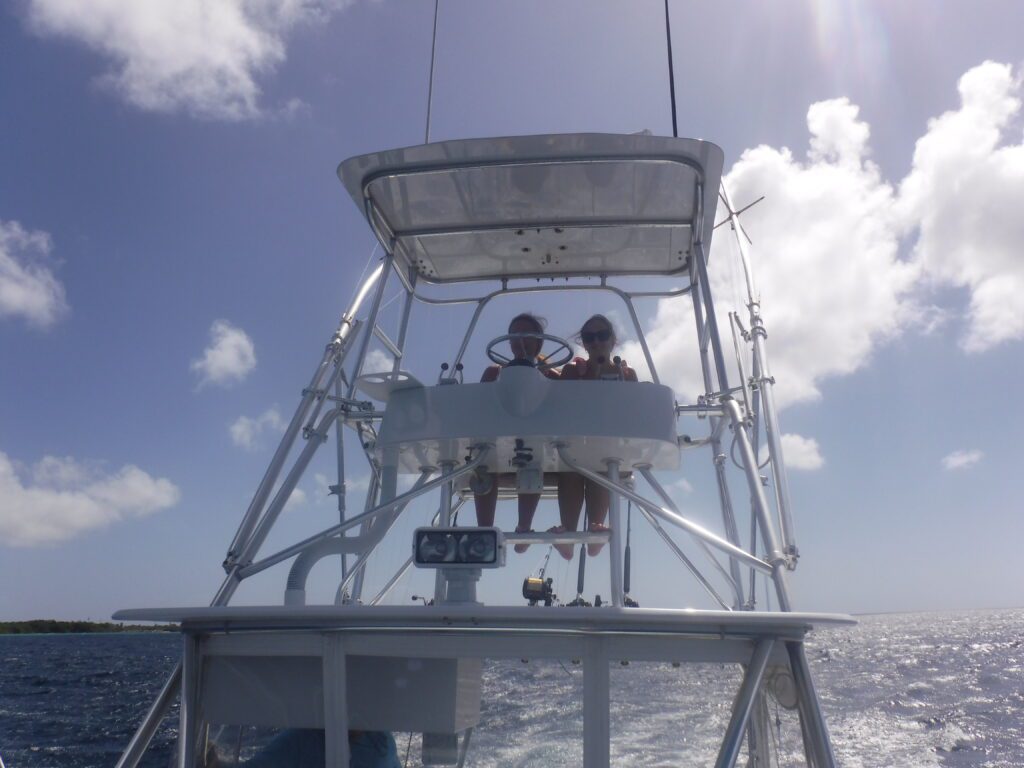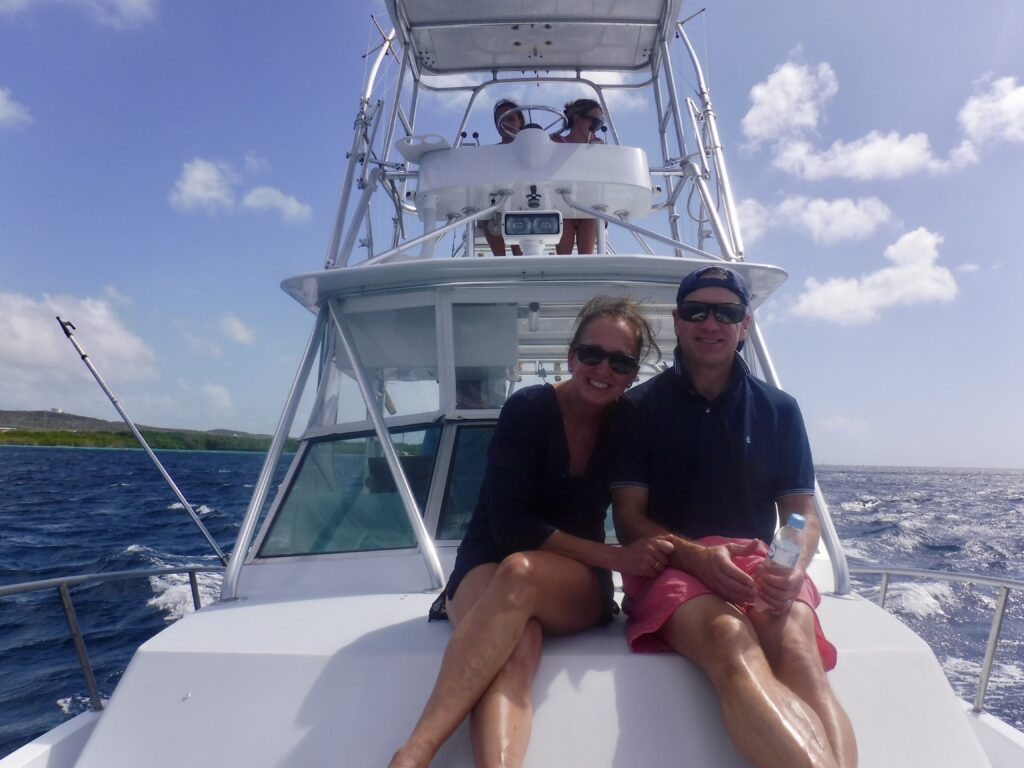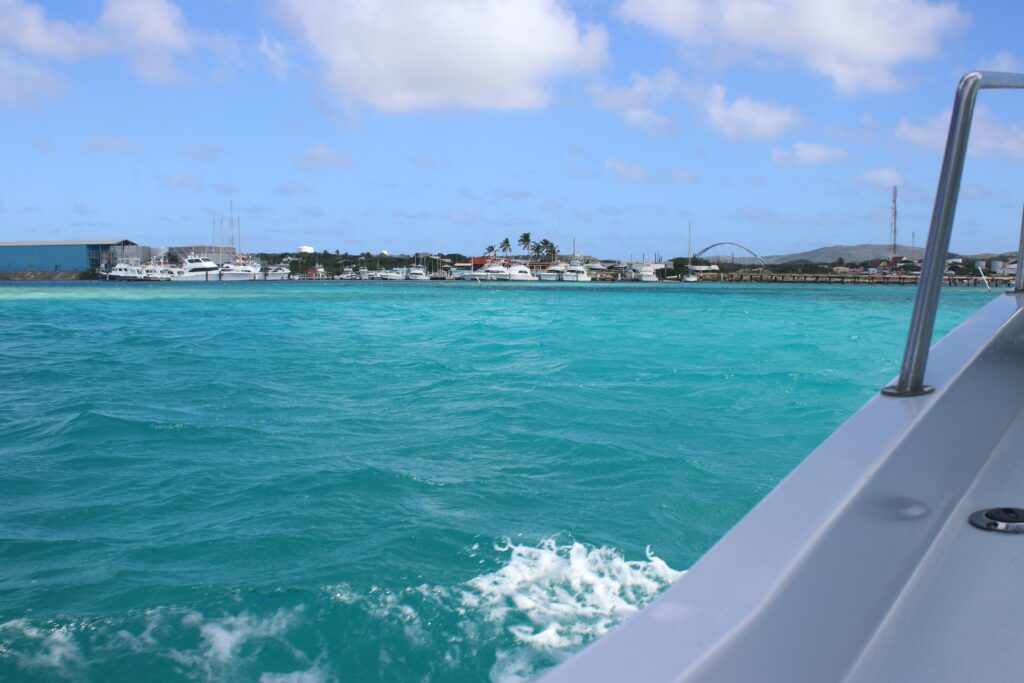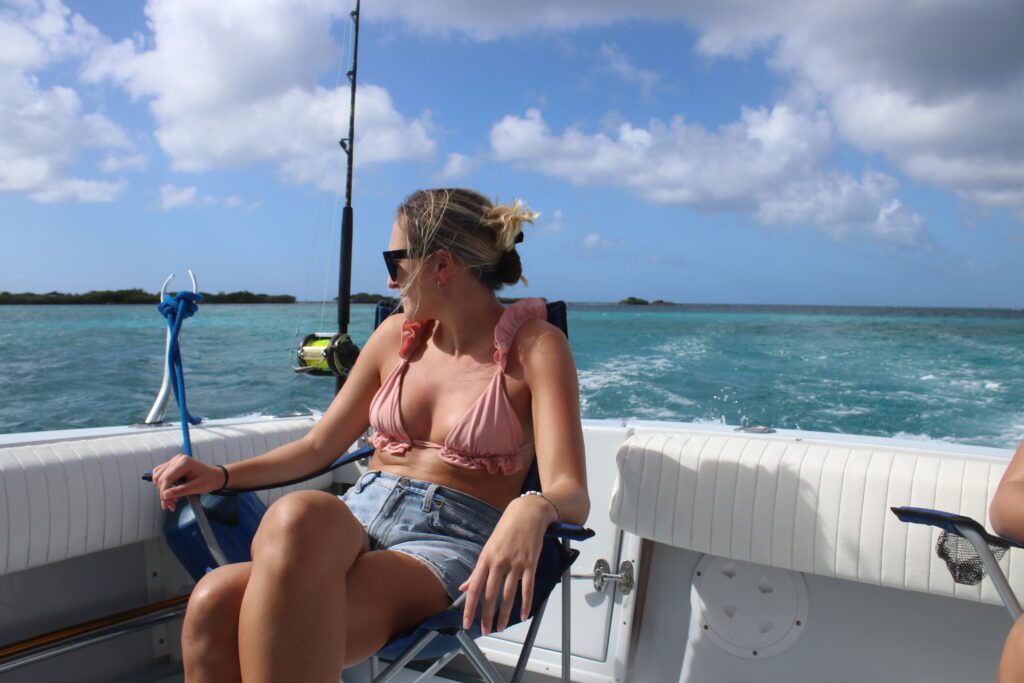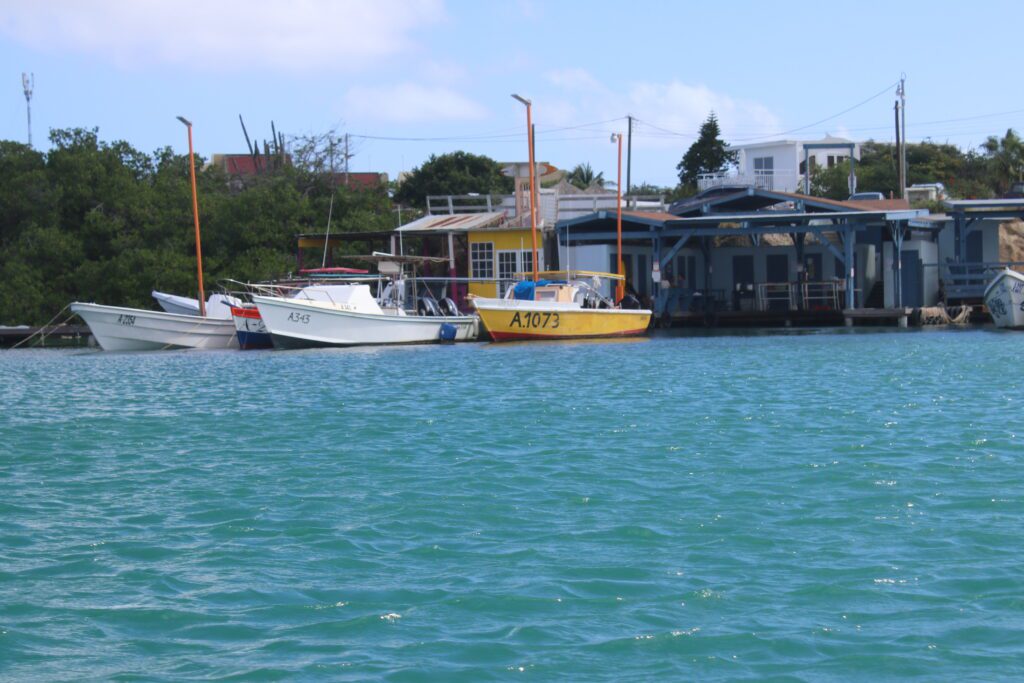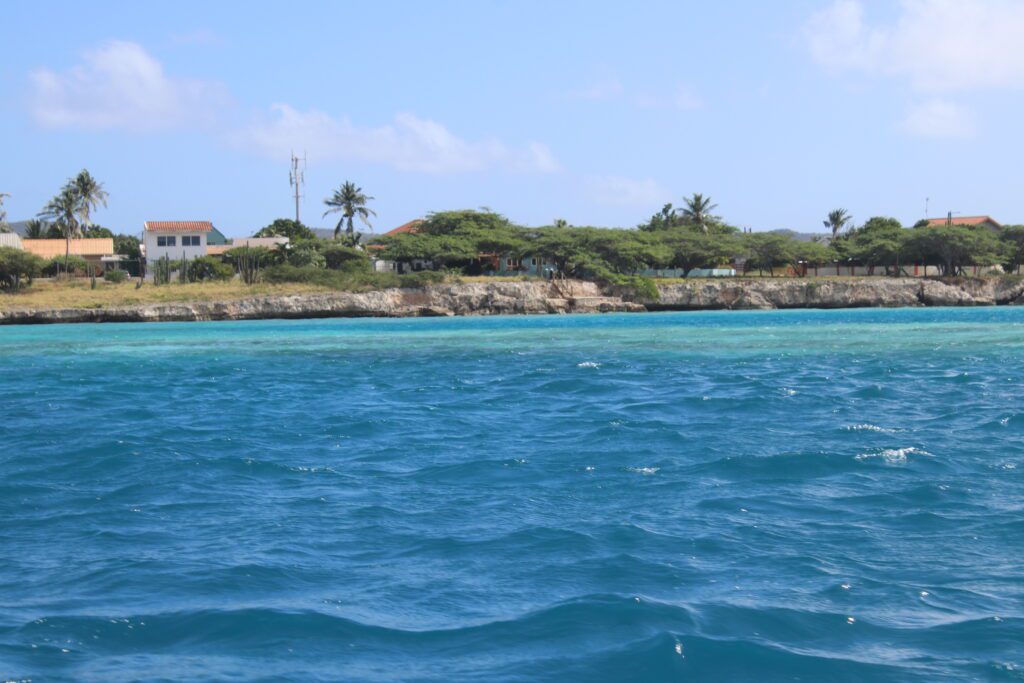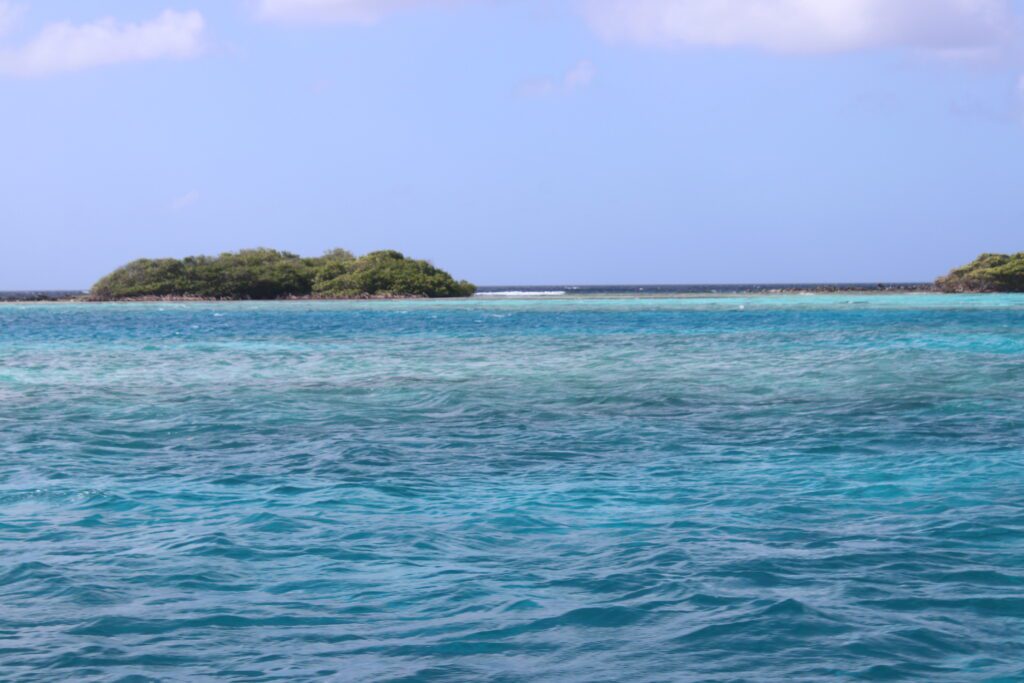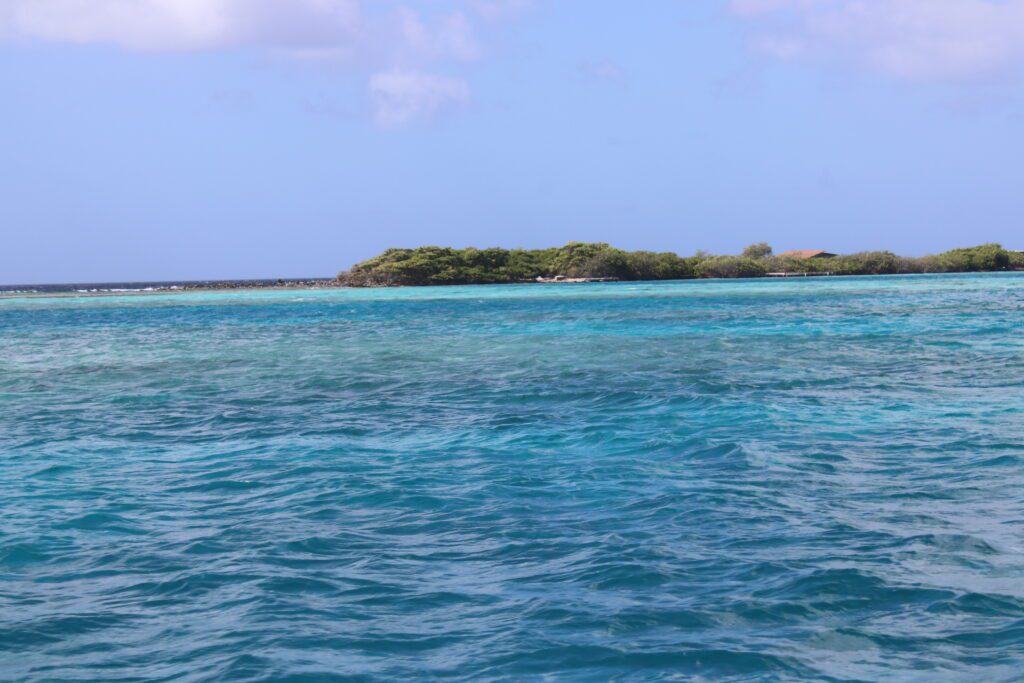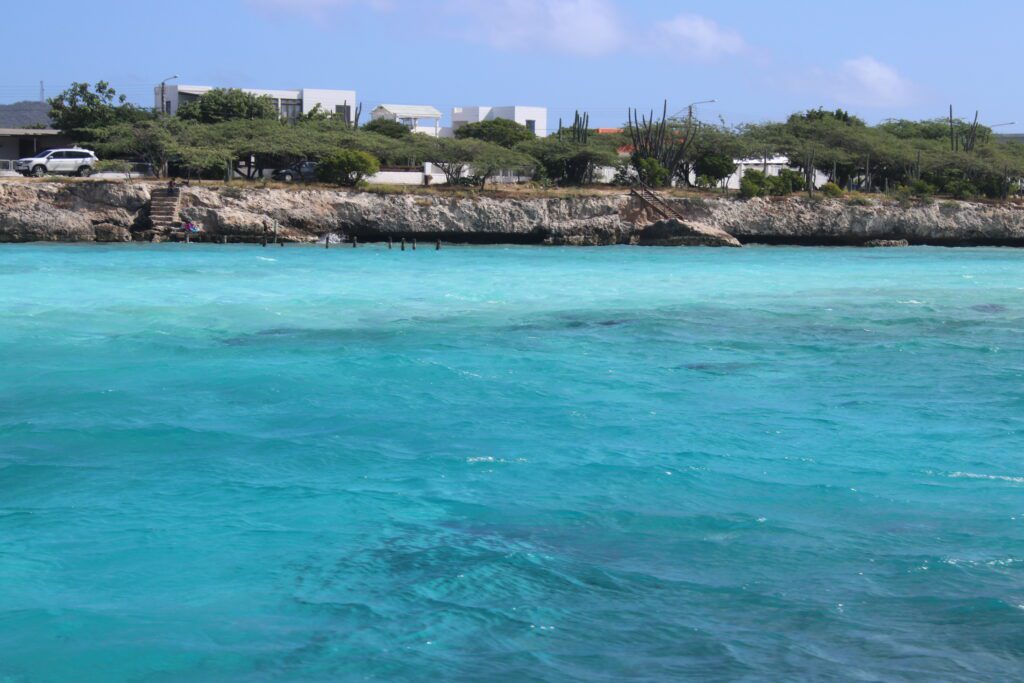 Captain AJ and Audric gave us lots of information on the history of the island, ship wrecks, tourism, water desalination and indigenous peoples. We learned a lot and had a fabulous time. We decided to snorkel at a super healthy reef not far from a barrier island. We did a drift snorkel. Audric swam with us while the captain stayed on the boat. We drifted with the current for about 40 minutes. We waved down Captain AJ and he came to pick us up. It was awesome!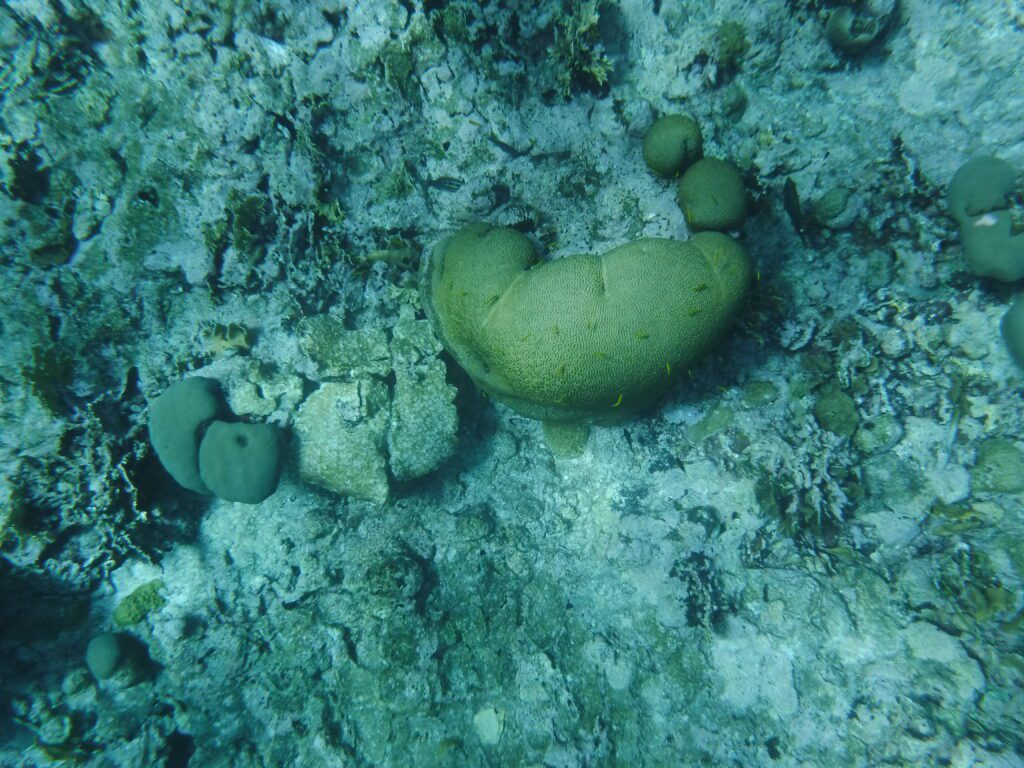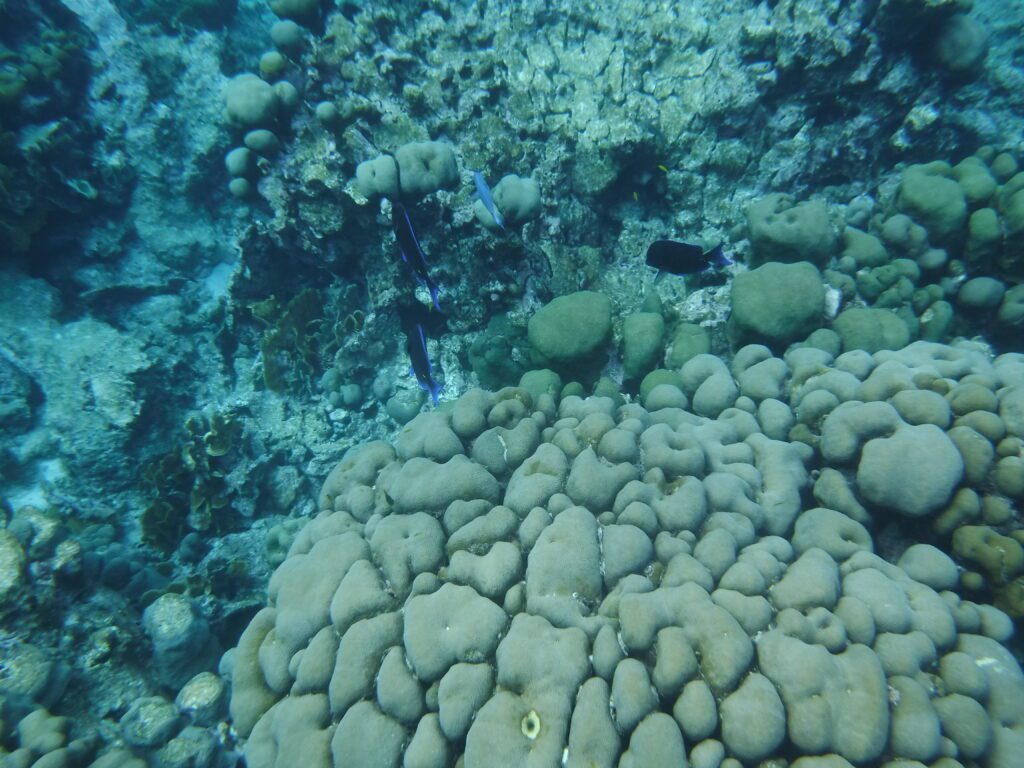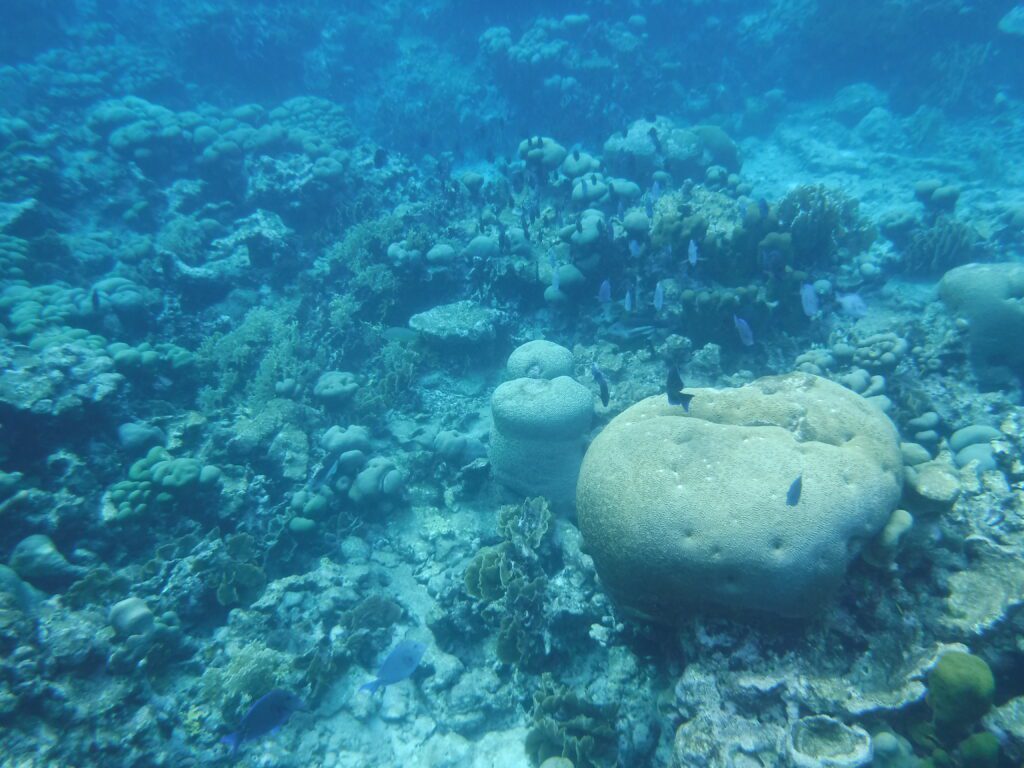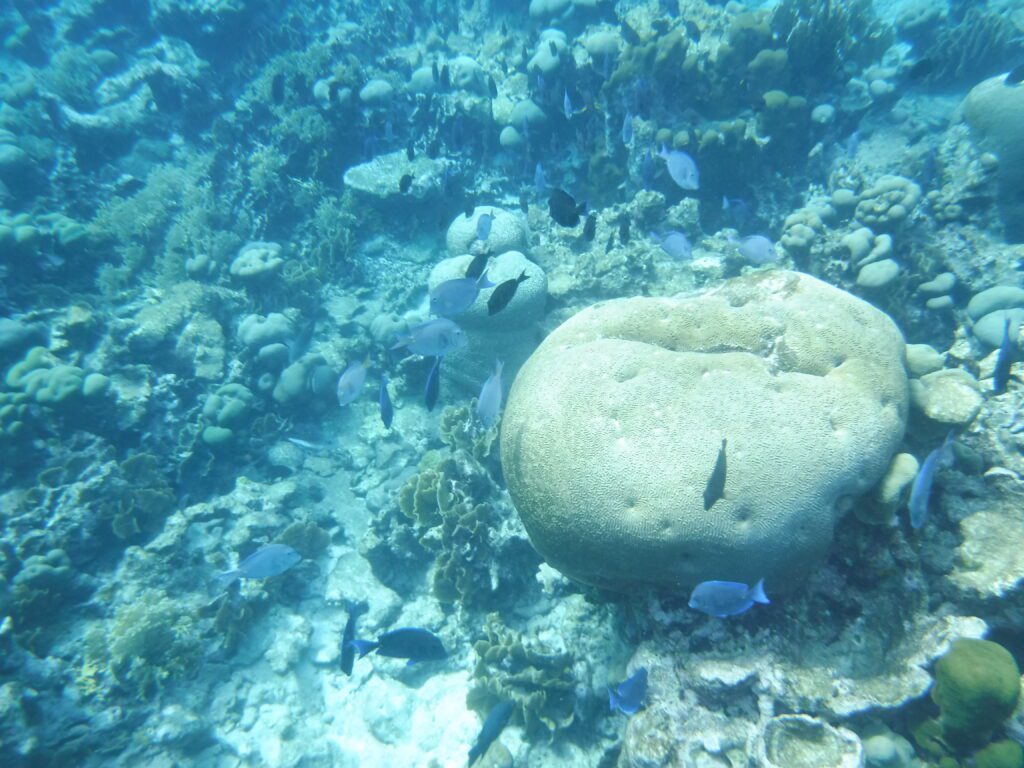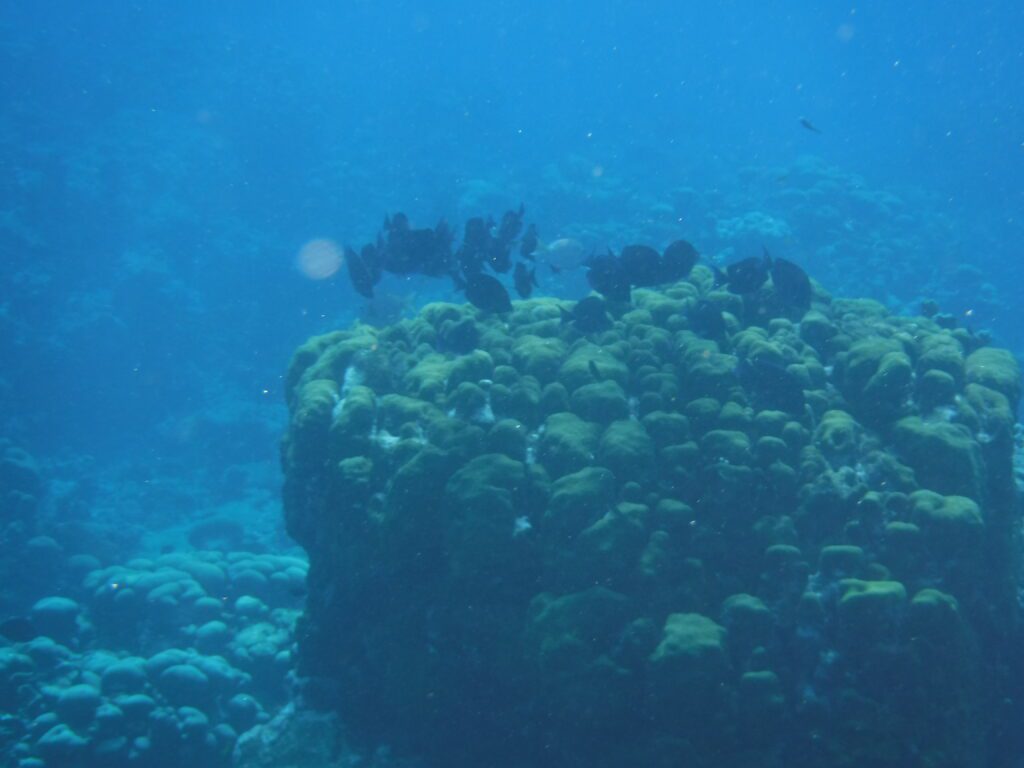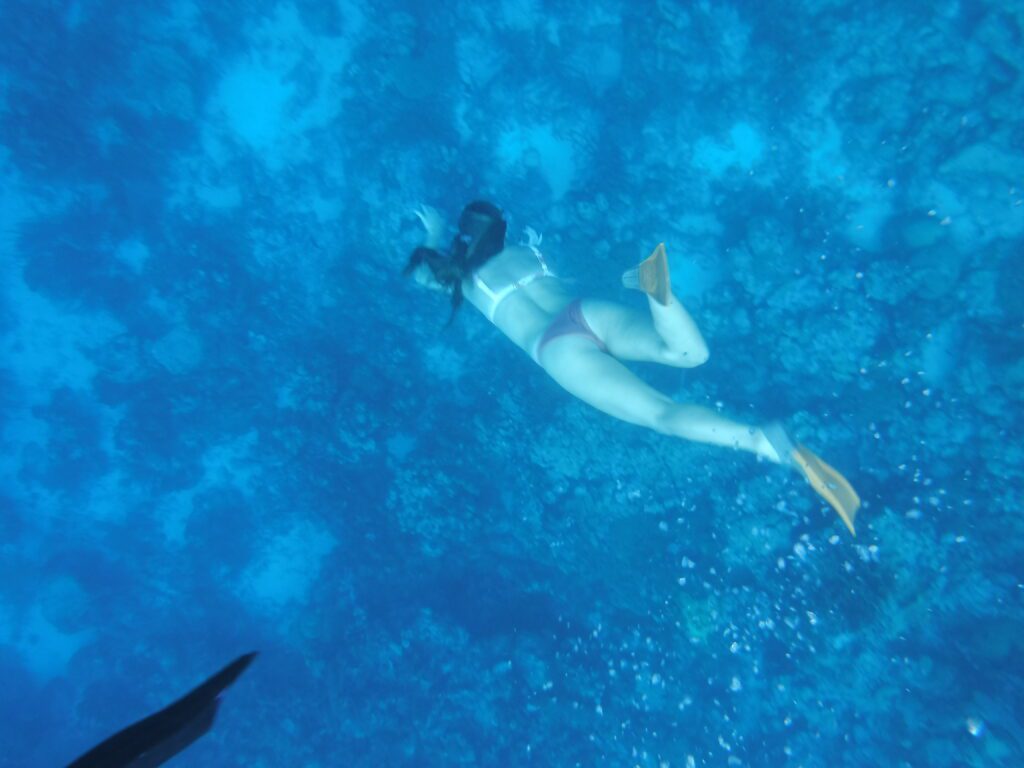 After getting out of the ocean, we enjoyed watermelon while we motored north. We sailed past our condo on Eagle Beach and the high rises of Palm Beach. We watched some super fast kite surfers and wind surfers as we passed Hadicurari Beach. Some of the kite surfers could go faster than our boat!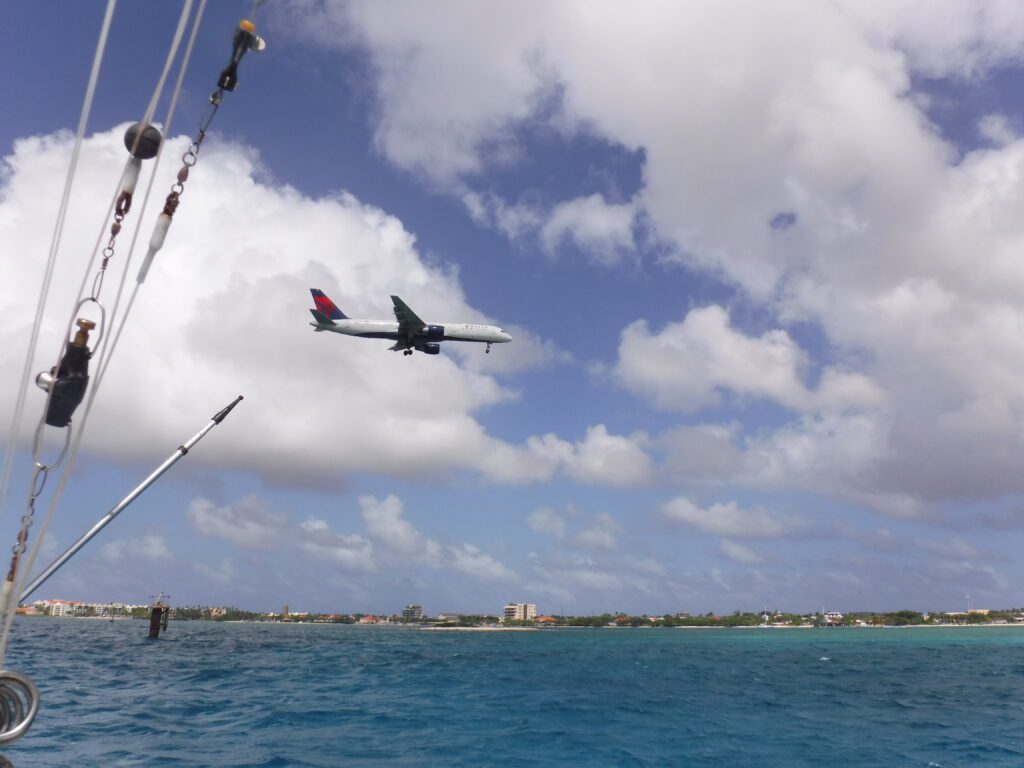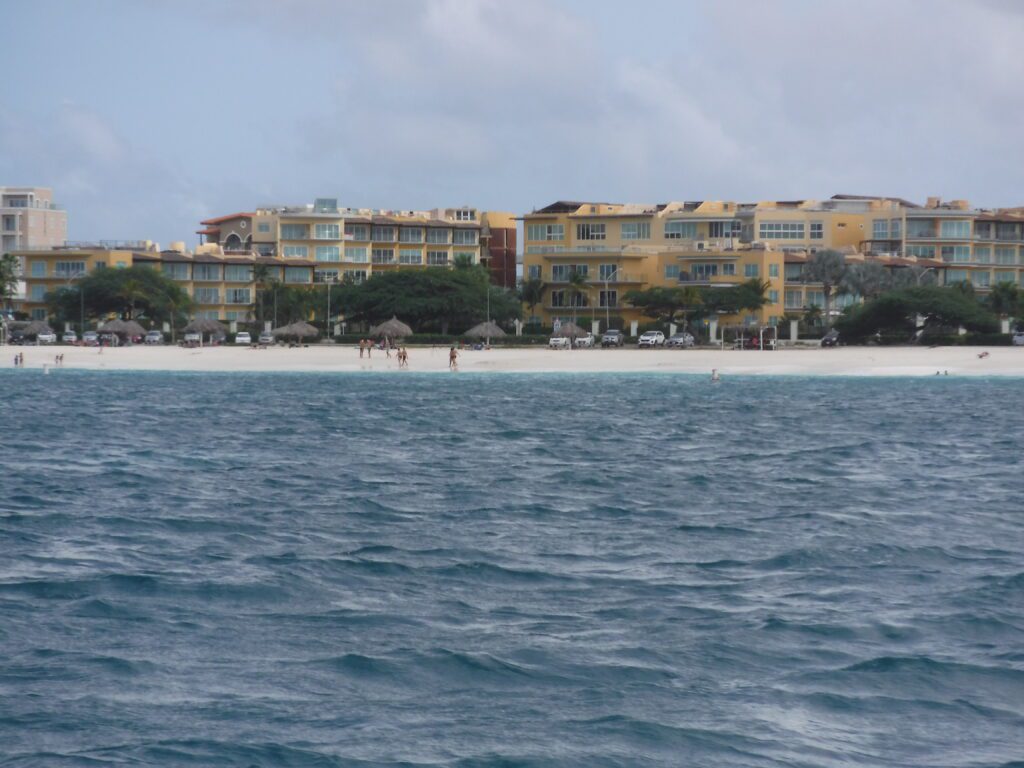 We stopped in Boca Catalina cove which is just as gorgeous from the sea as it is from the beach. The snorkeling is excellent! We snorkeled, jumped, flipped and ate an amazing lunch. Aruba Premier and Dive does deep sea fishing excursions. They served us freshly-caught yellow tail sashimi, fruit, coleslaw, grilled yellow tail, grilled corn cobs and sausage. It was delicious, and the setting was fantastic. Our day just got better and better!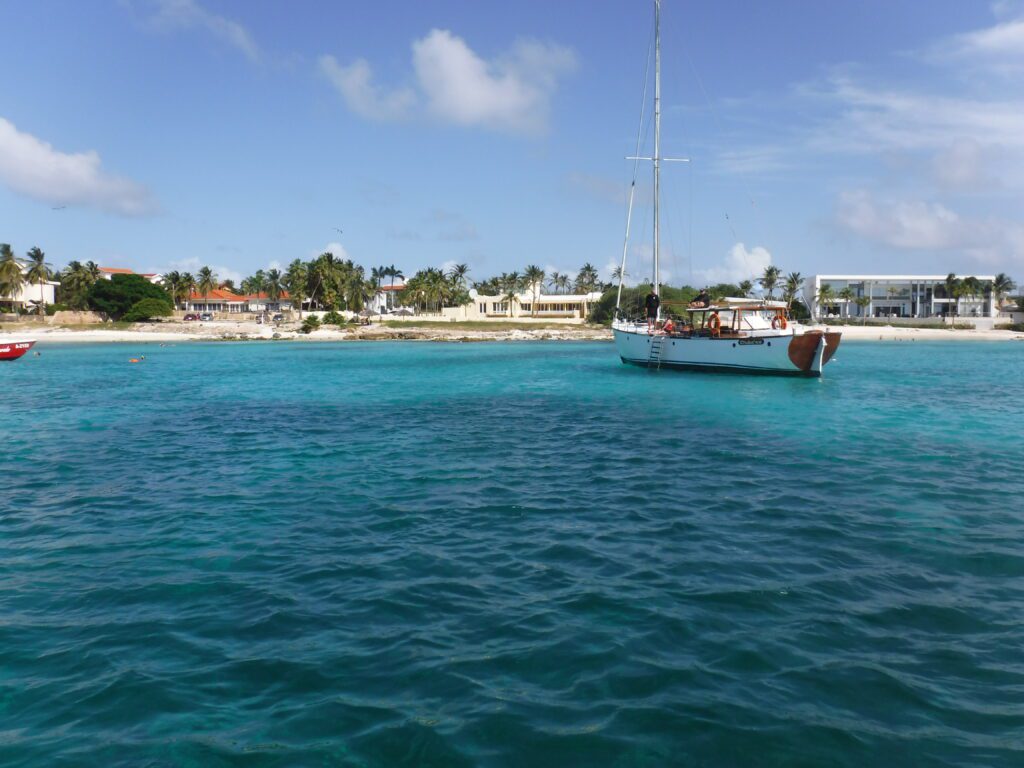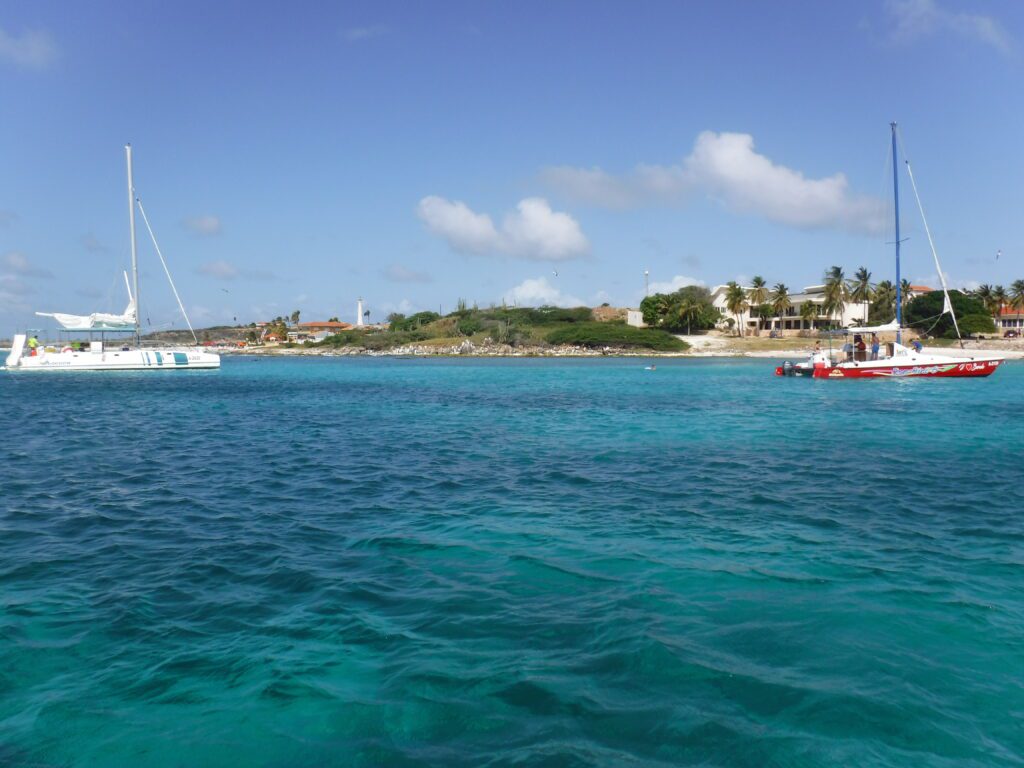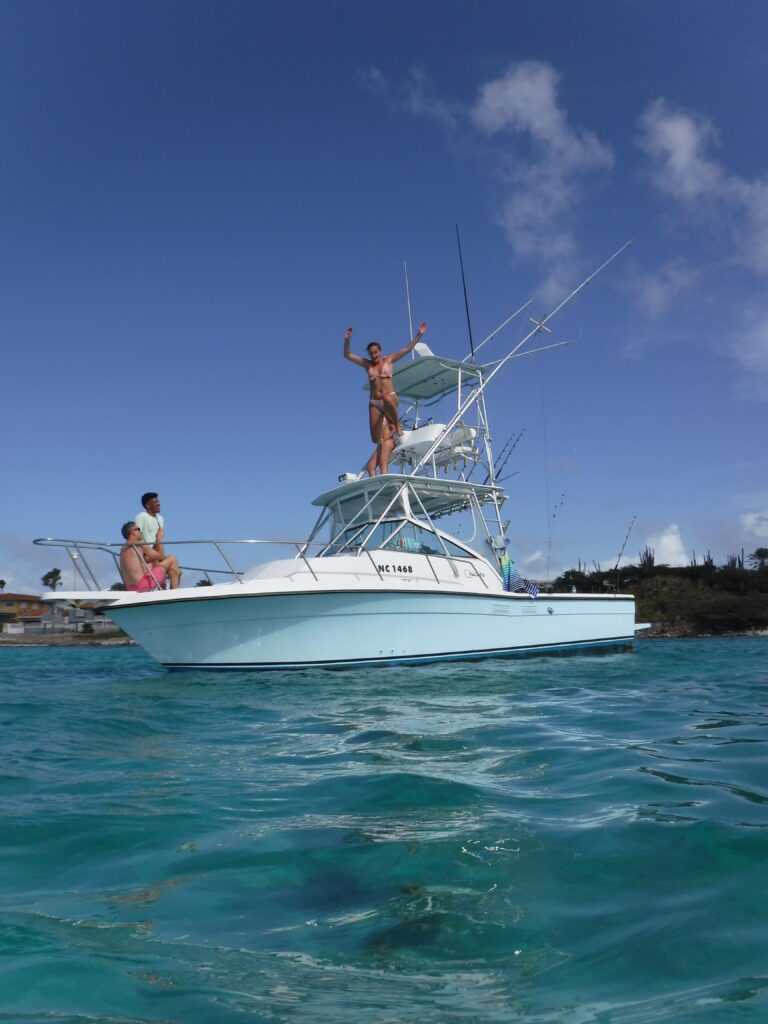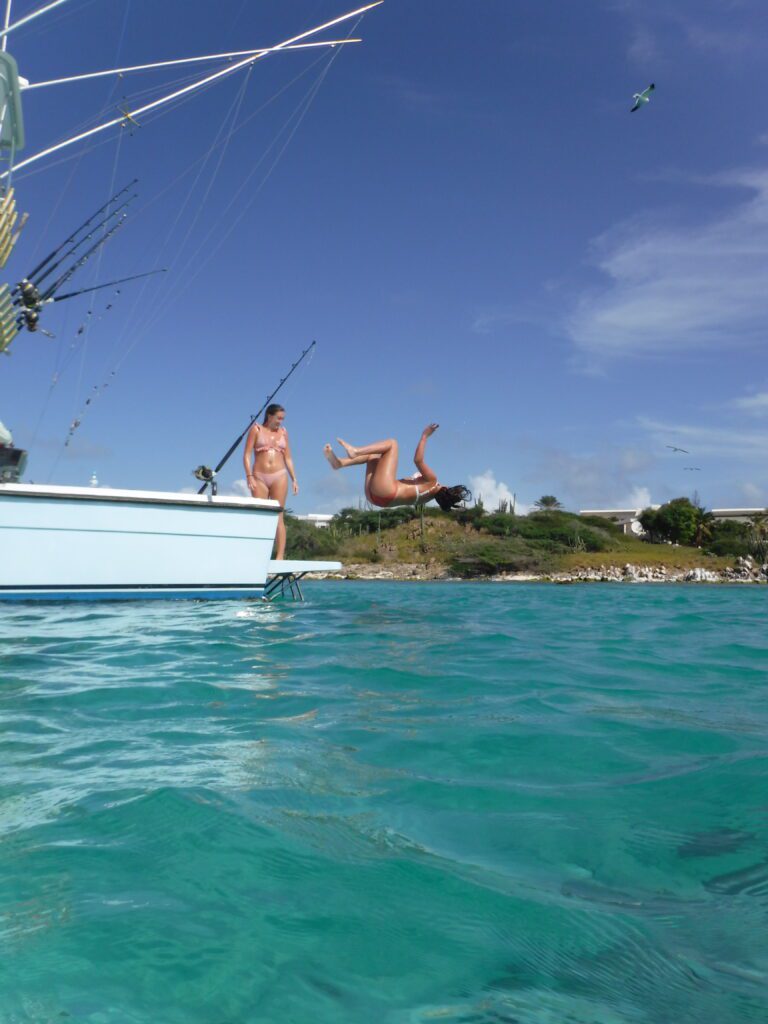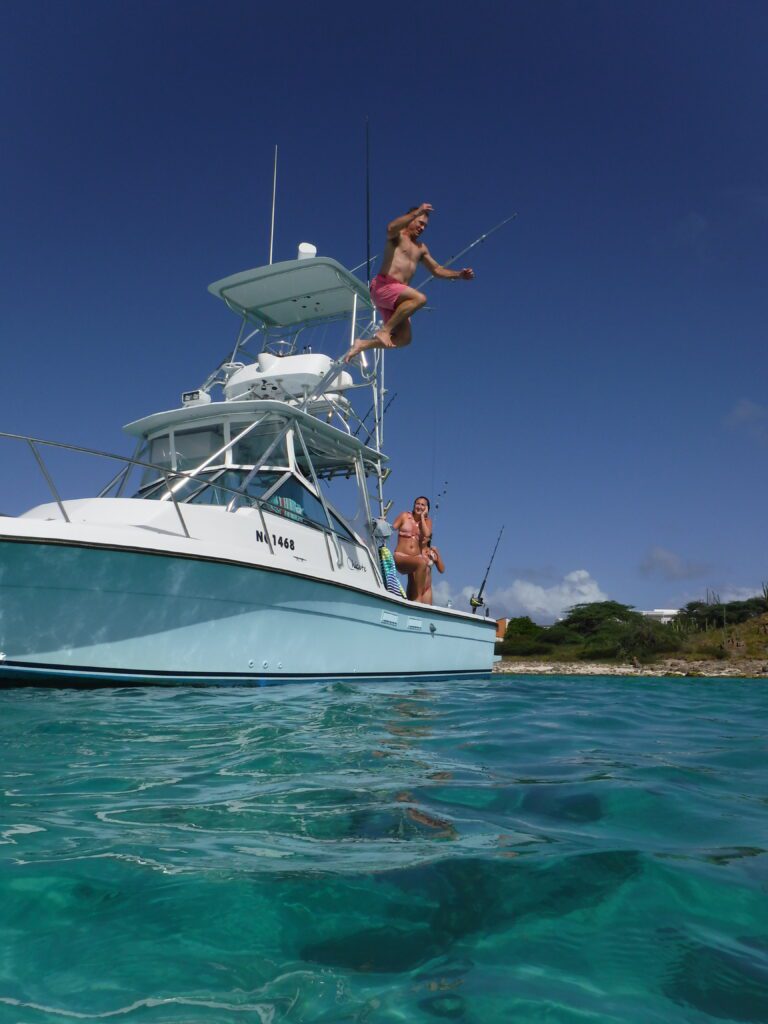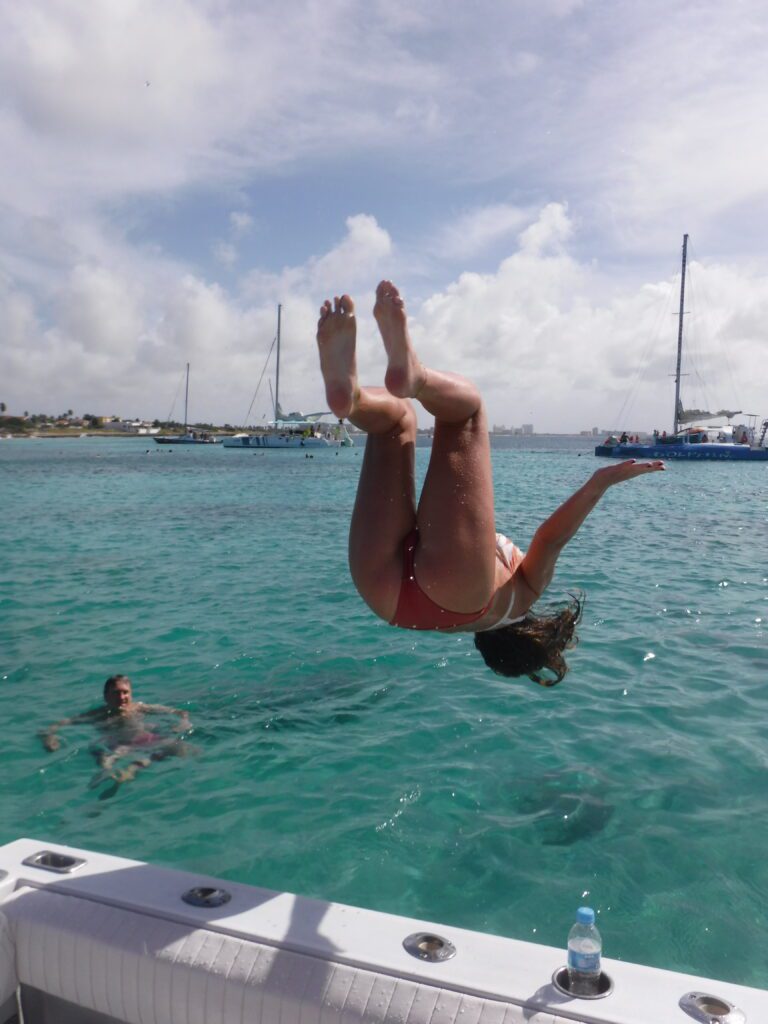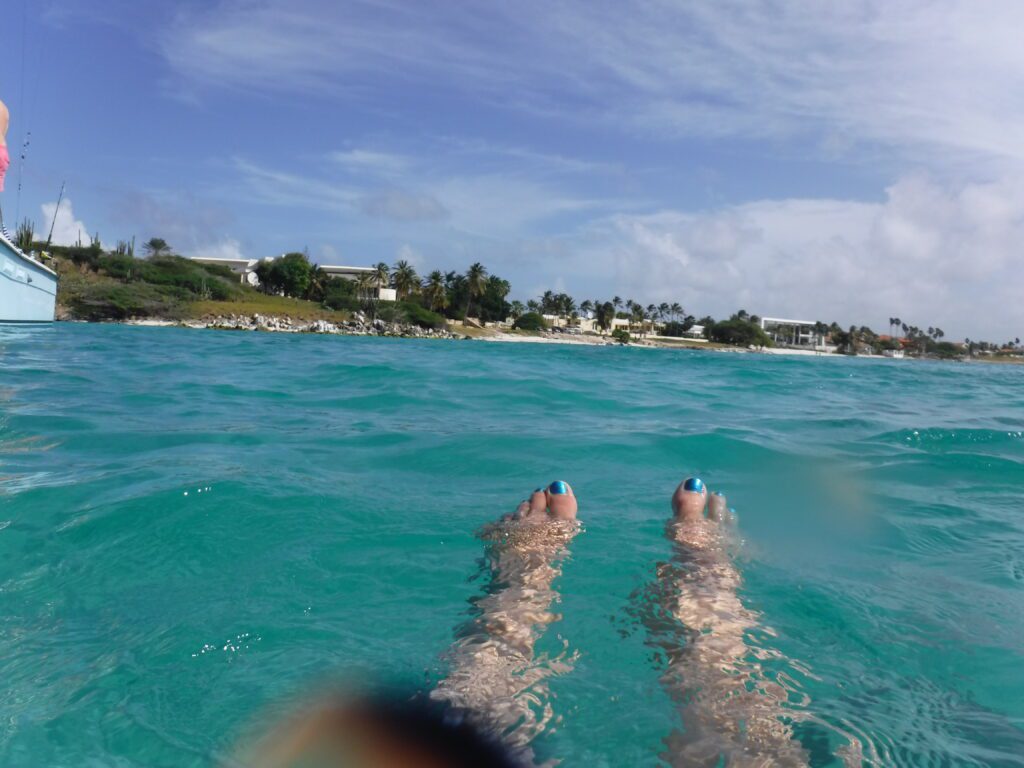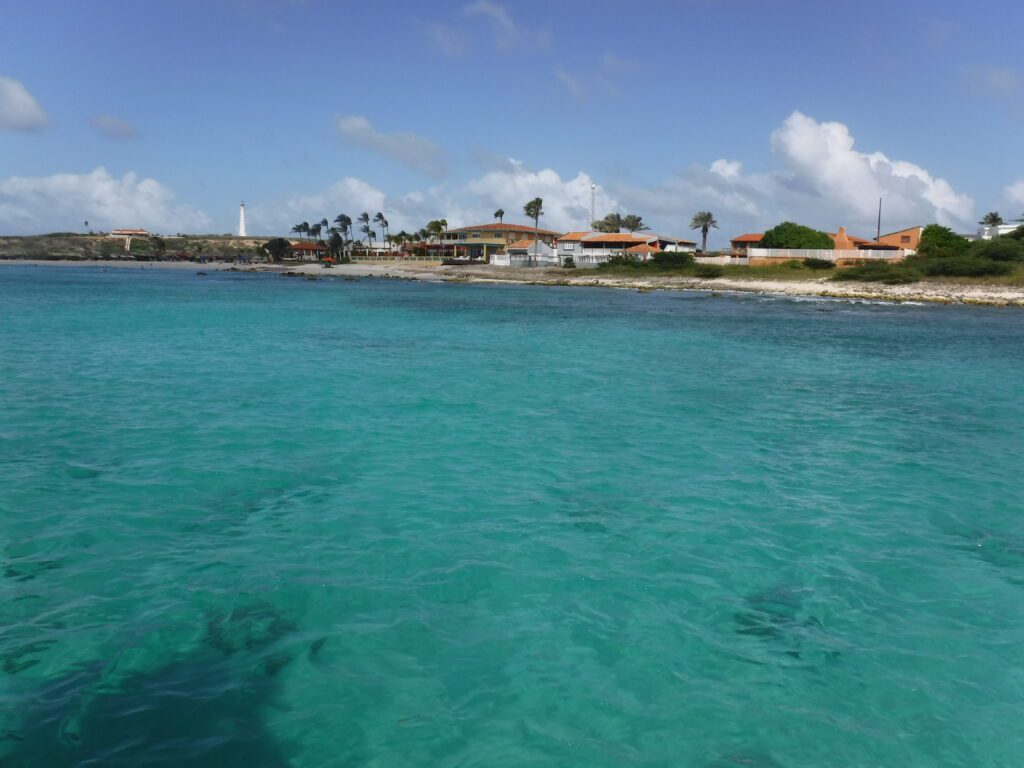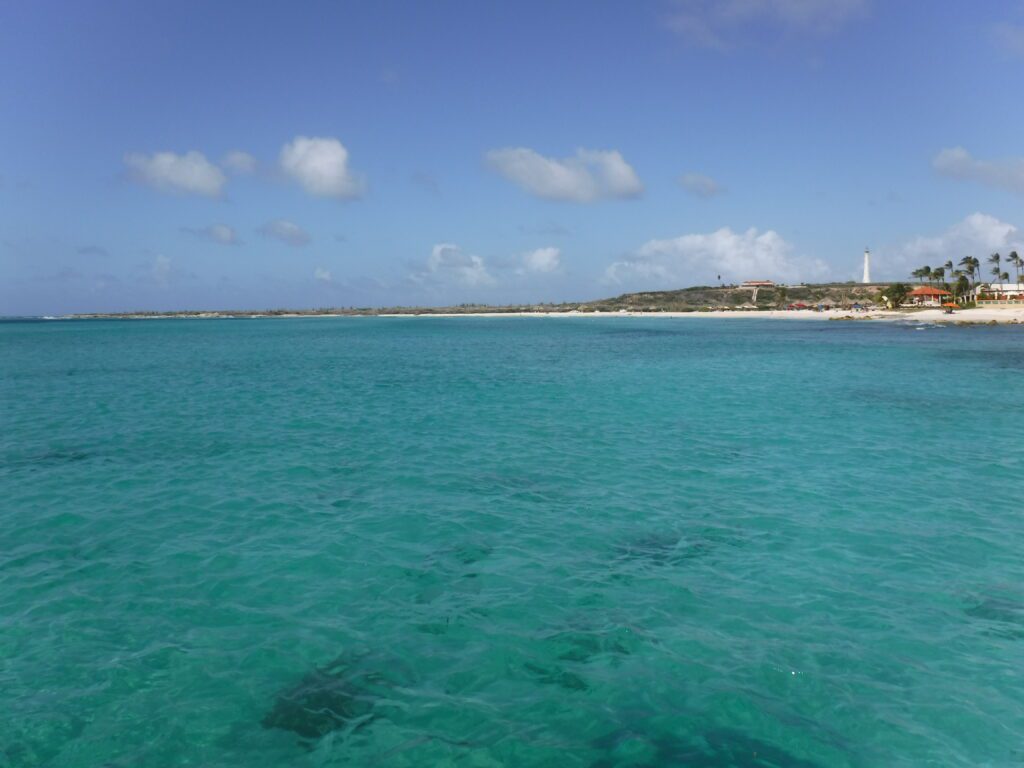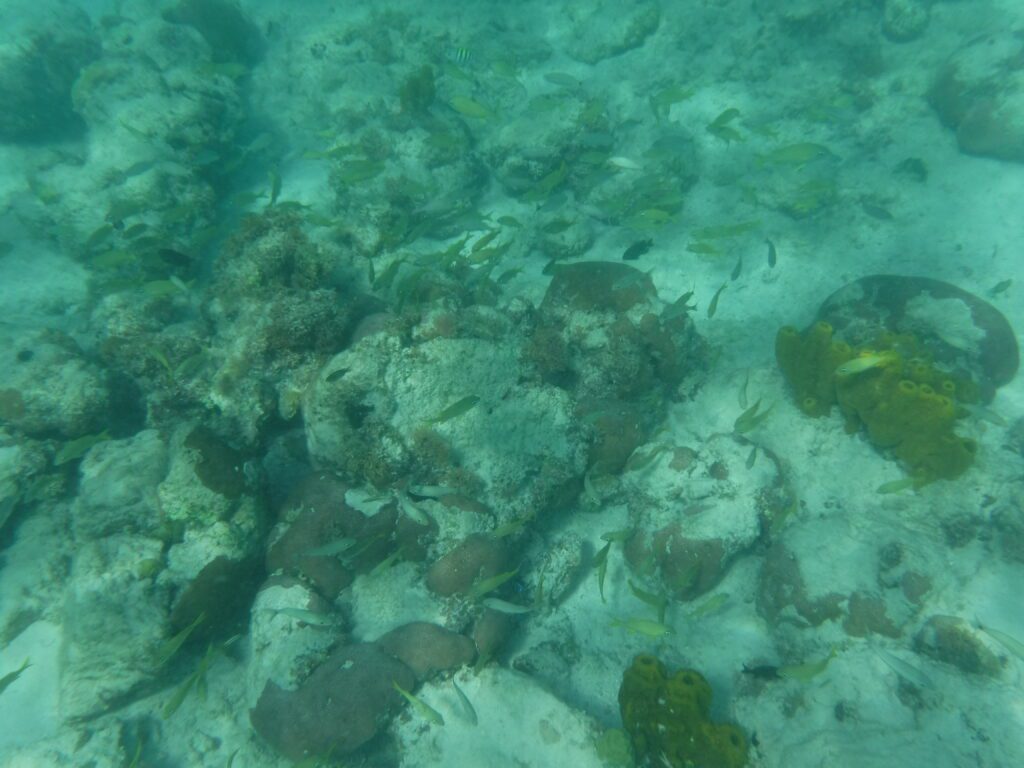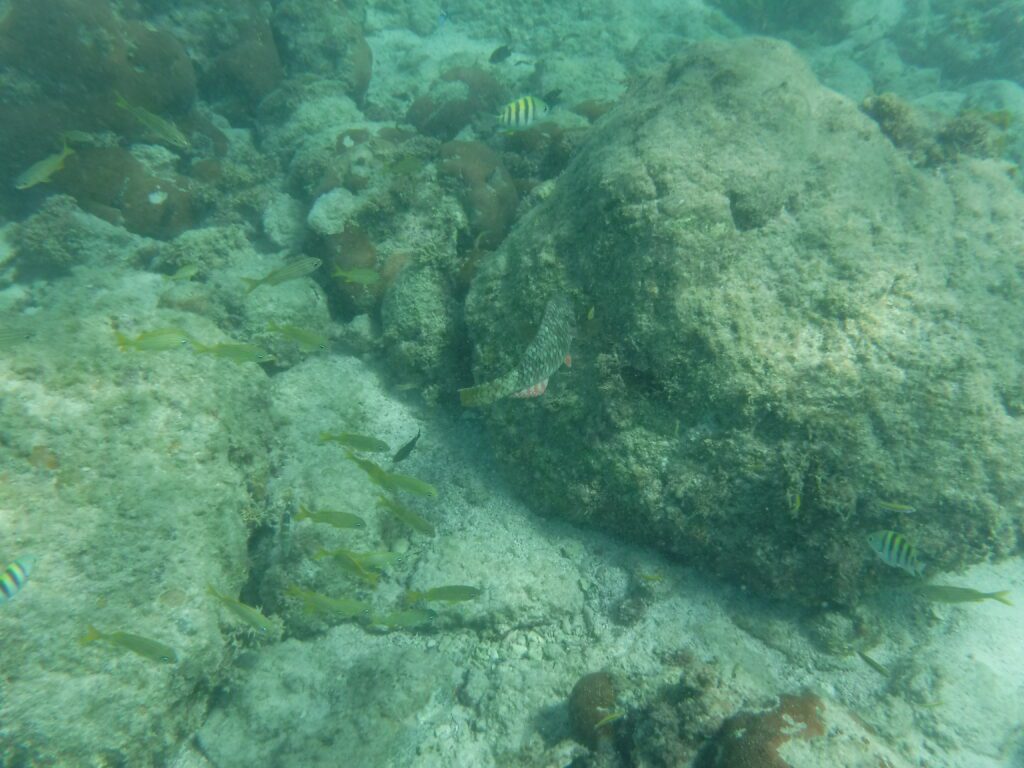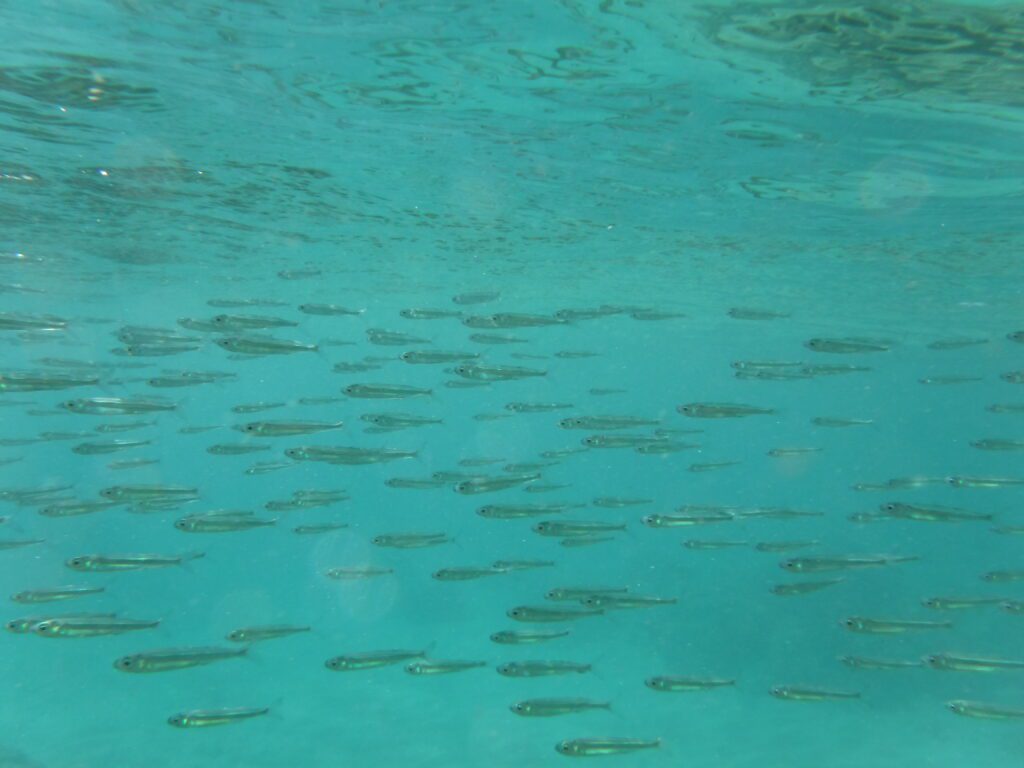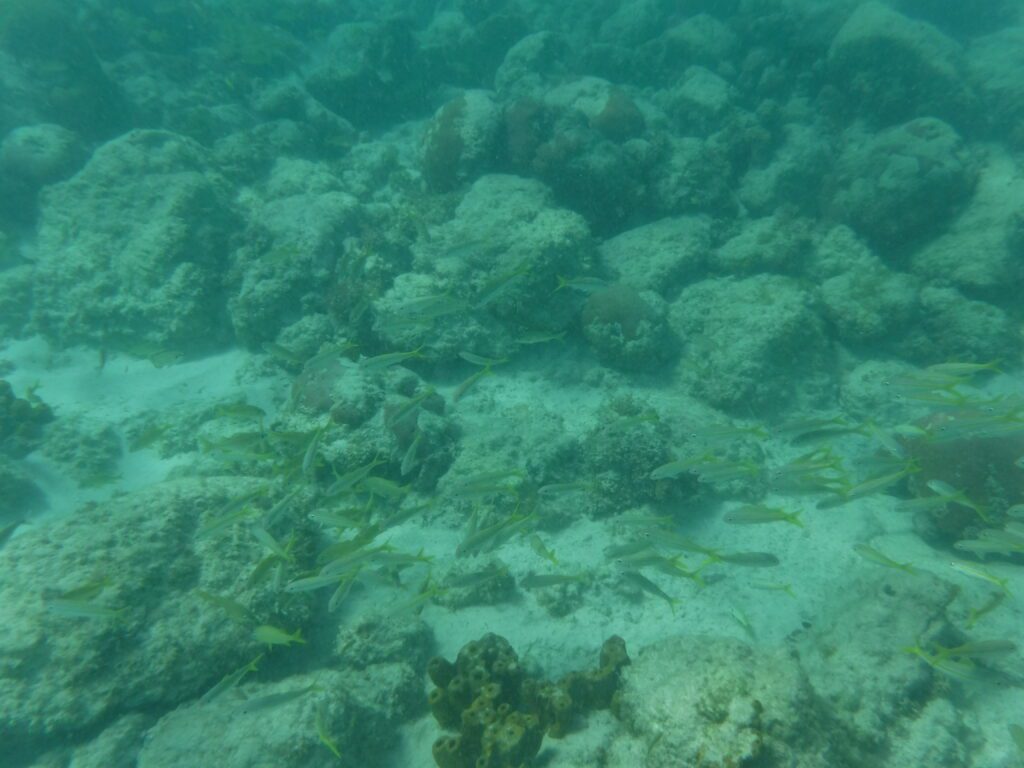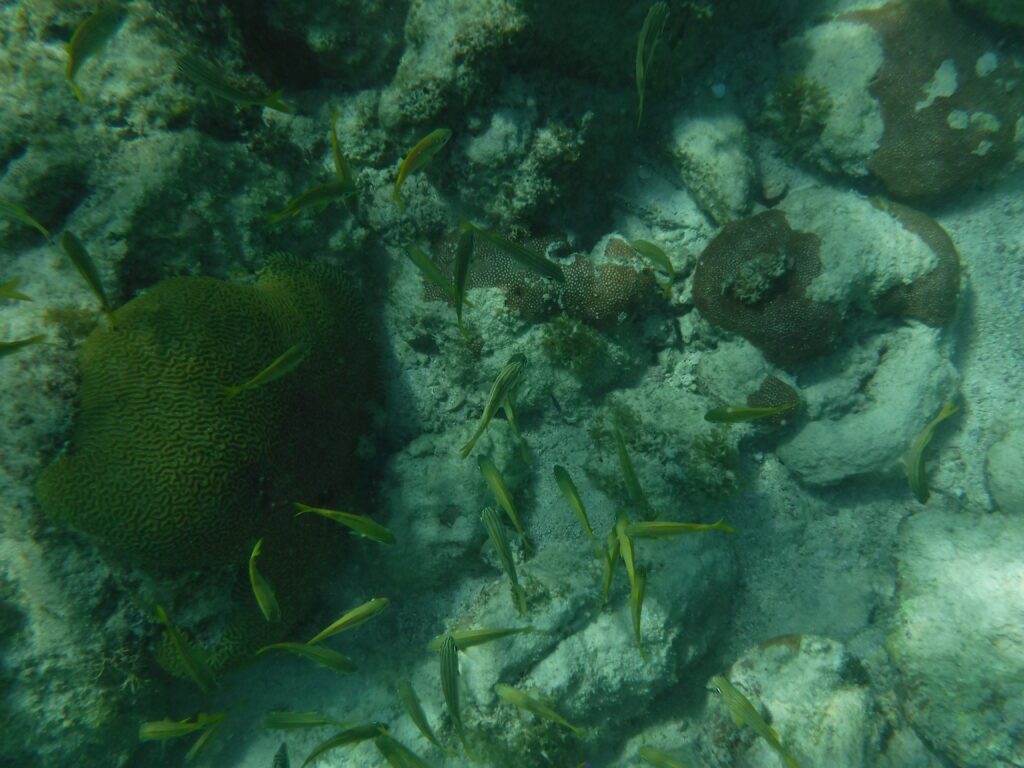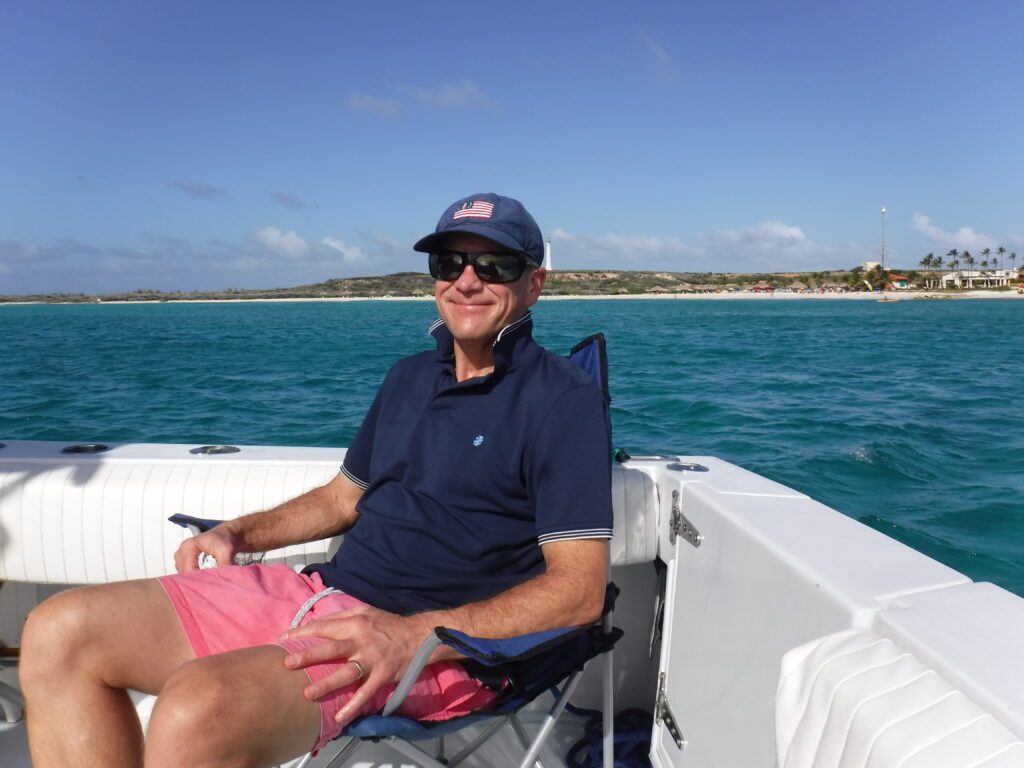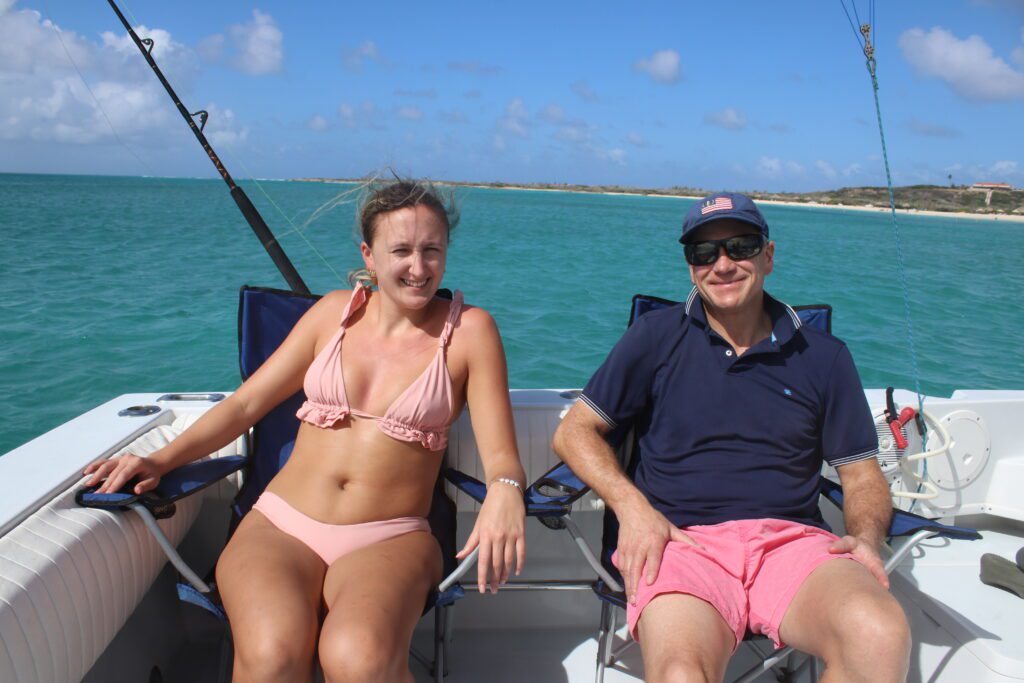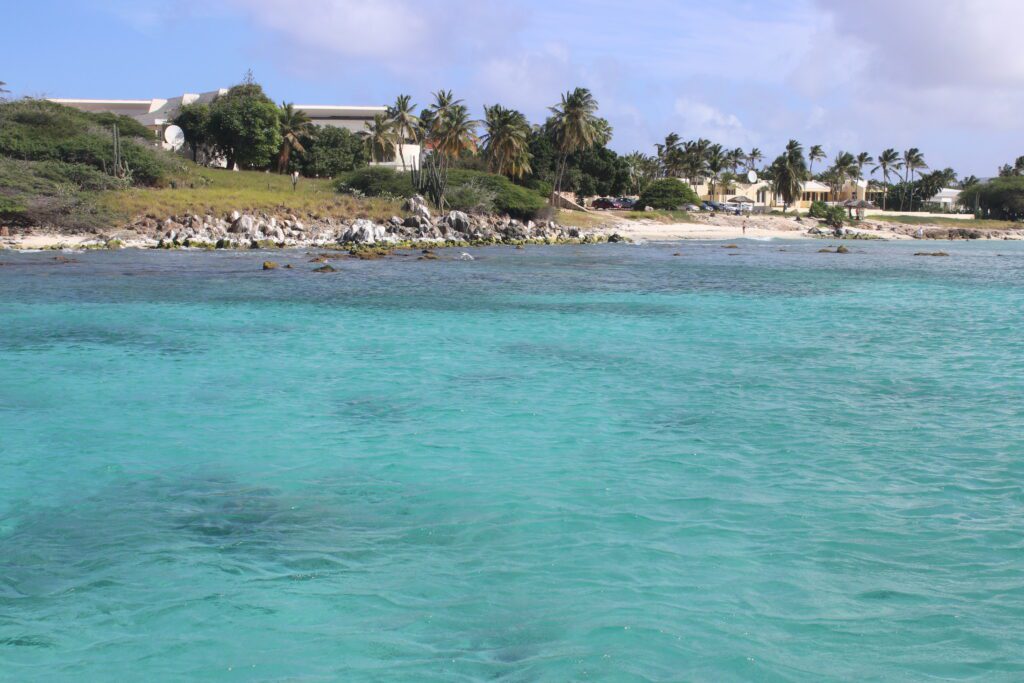 We headed north to take a closer peak at the California Lighthouse and some of the surfers surfing the reef.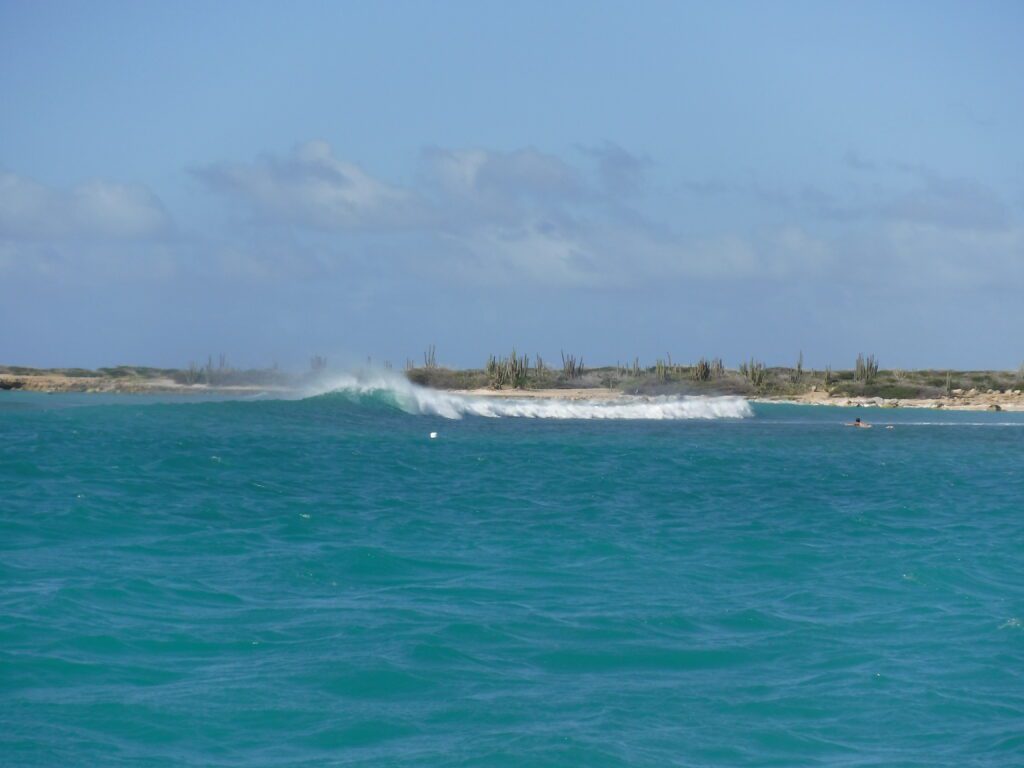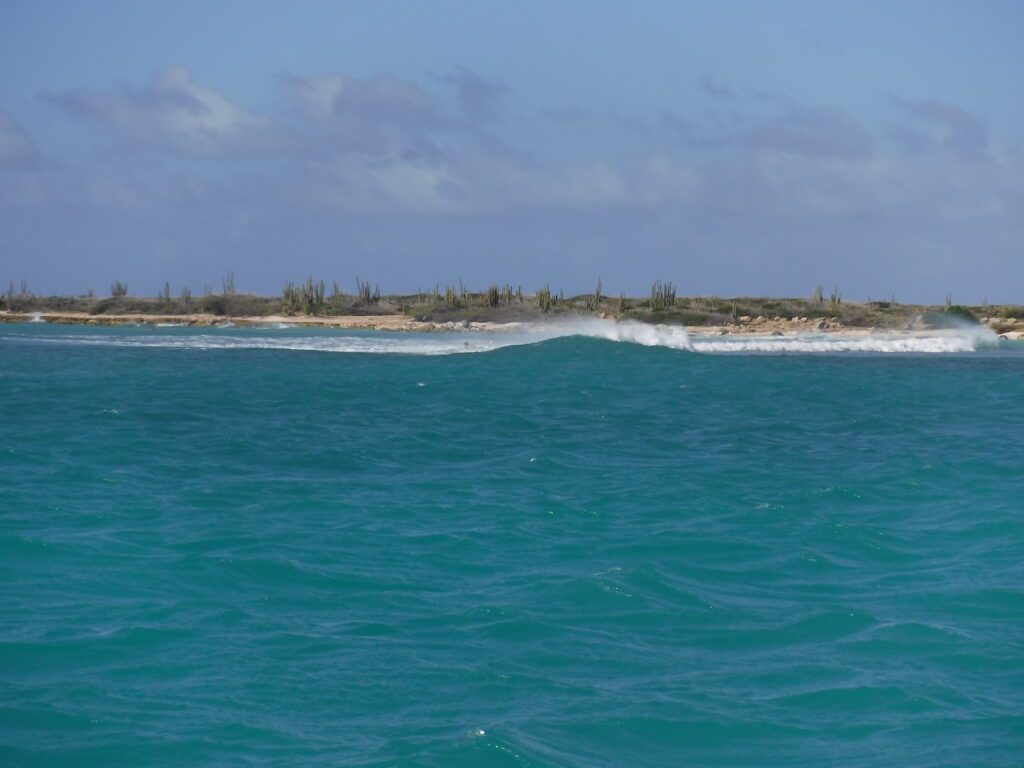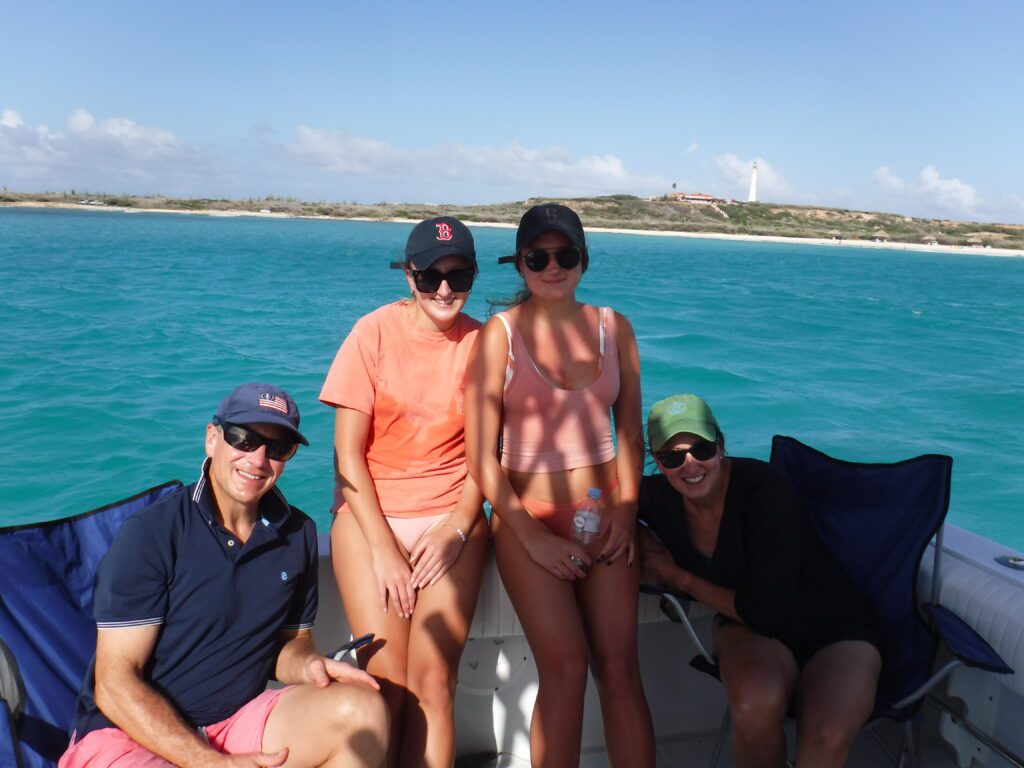 After admiring the lighthouse, we motored to the wreck of the Antilla. This four-hundred foot long German boat was scuttled by its crew as World War II began. This was fascinating to see and snorkel around. Highly recommended! Captain AJ had to tie up at a designated mooring near the wreck. So, we swam back and forth above the sunken ship with Audric.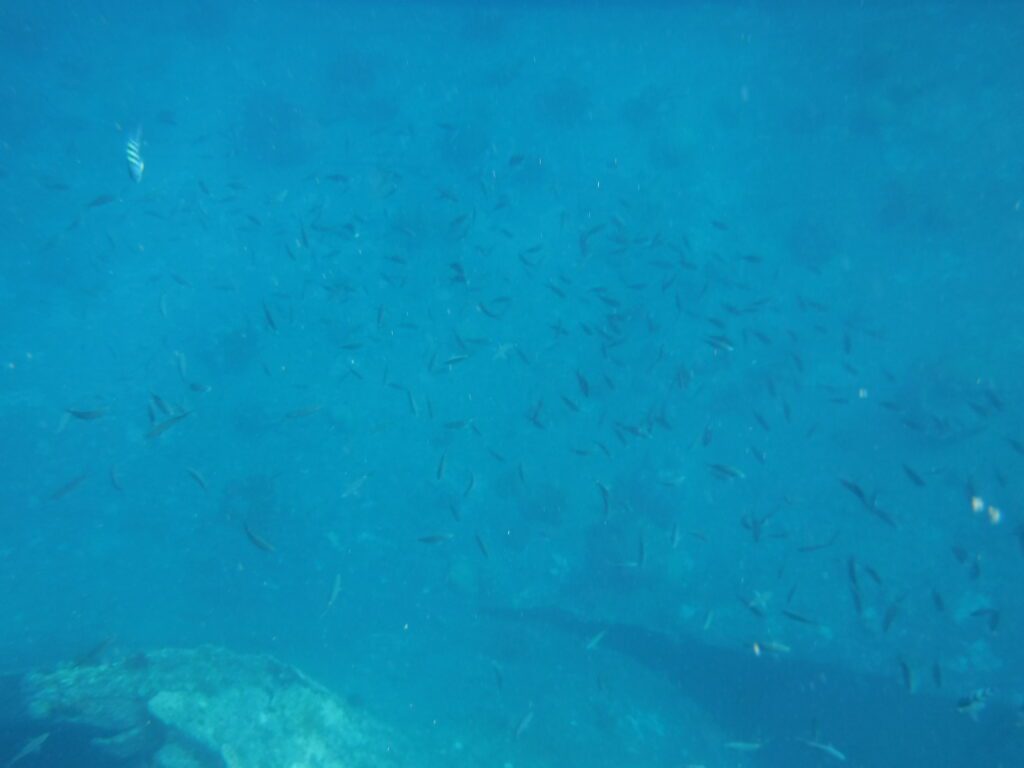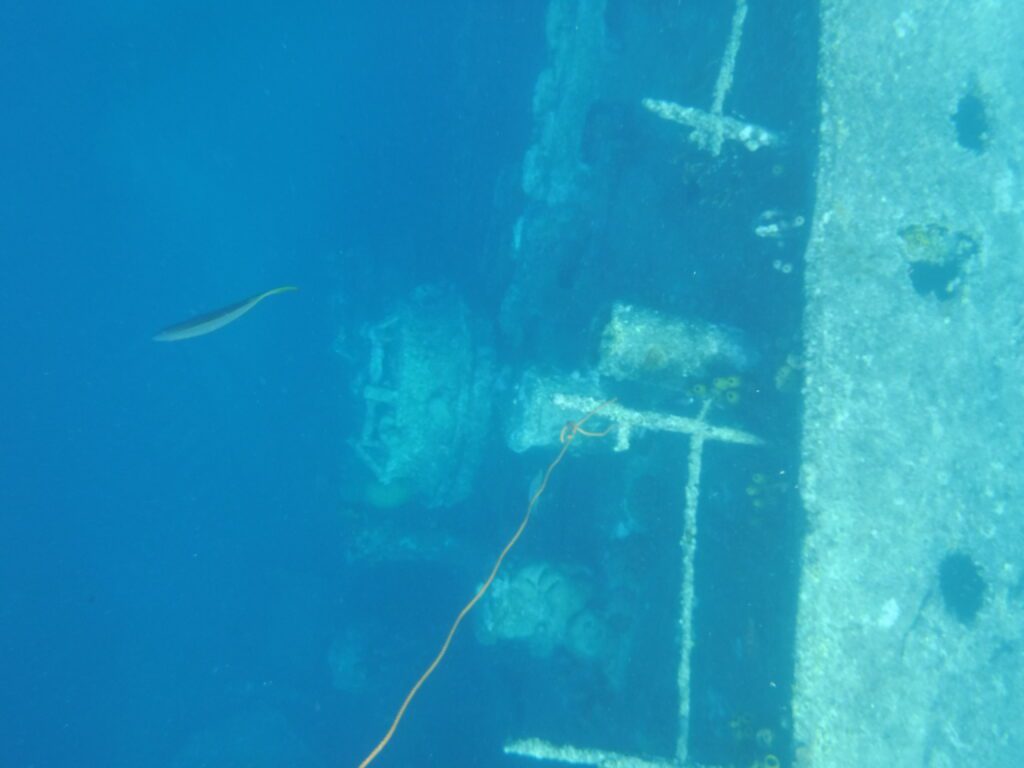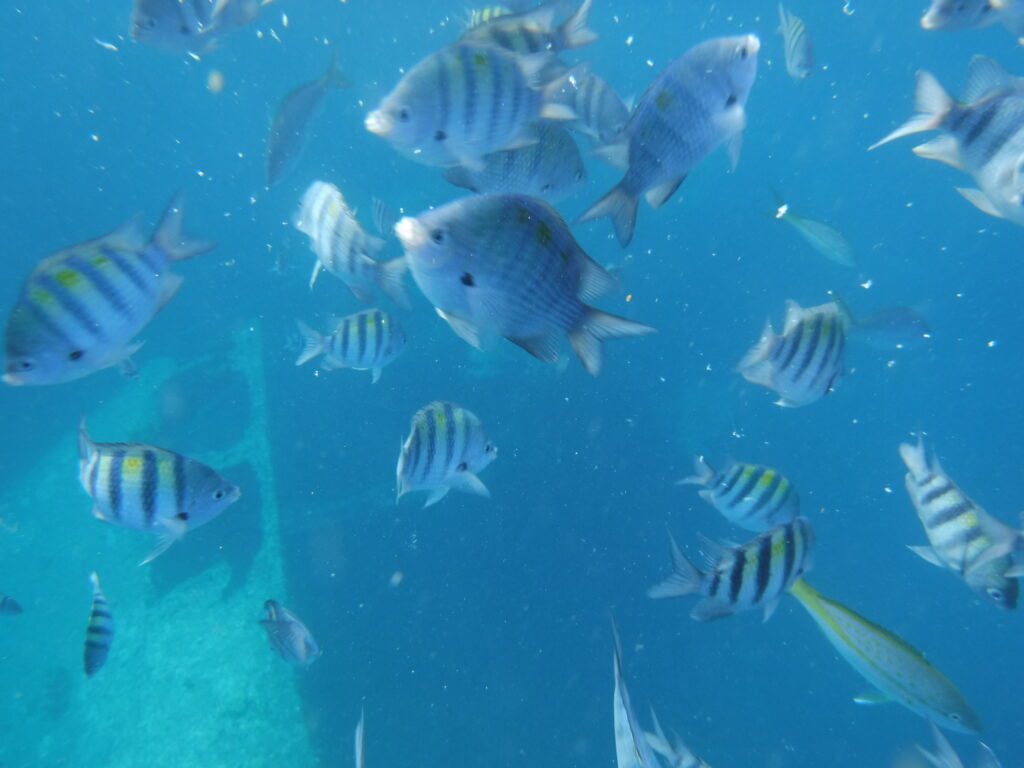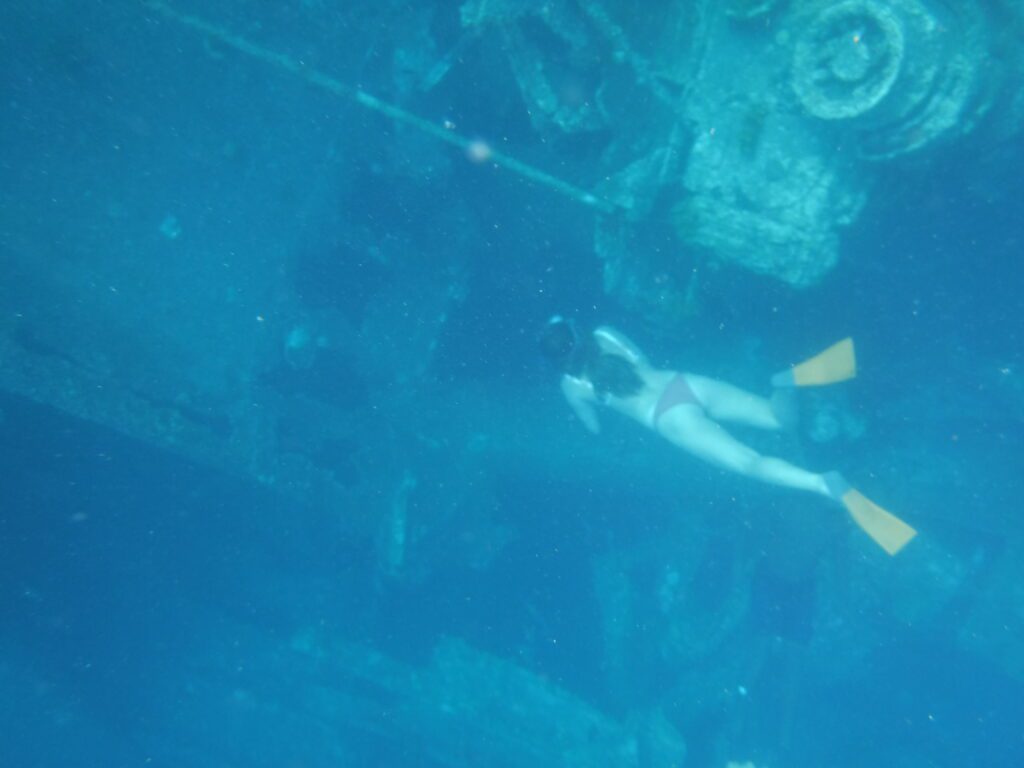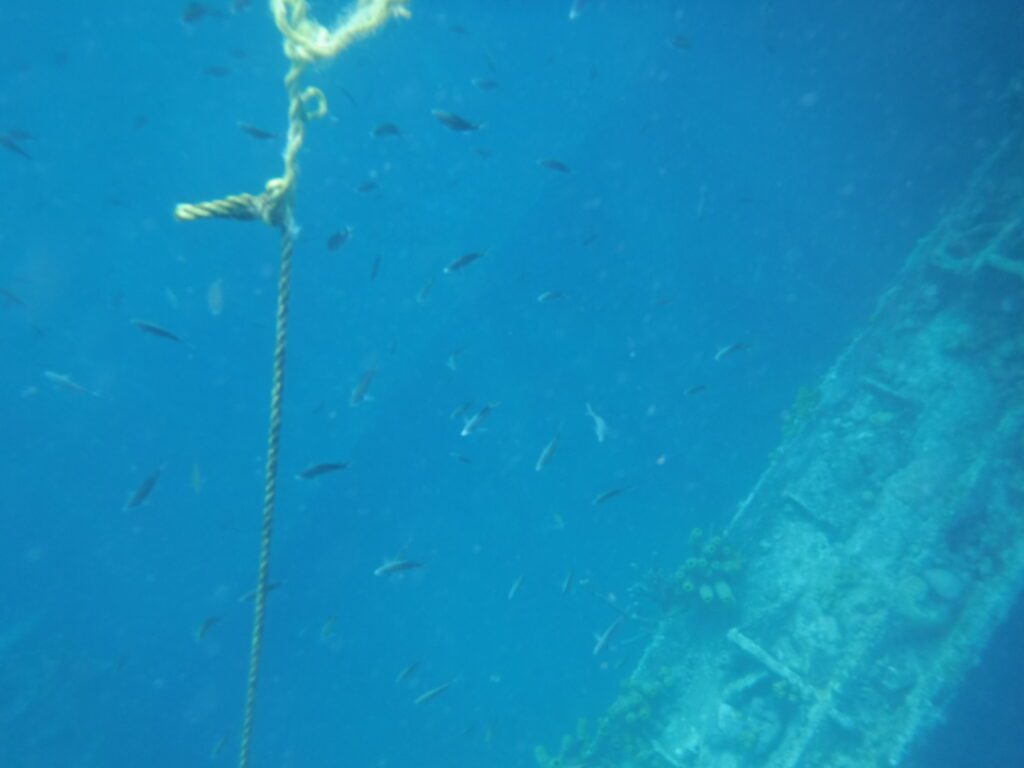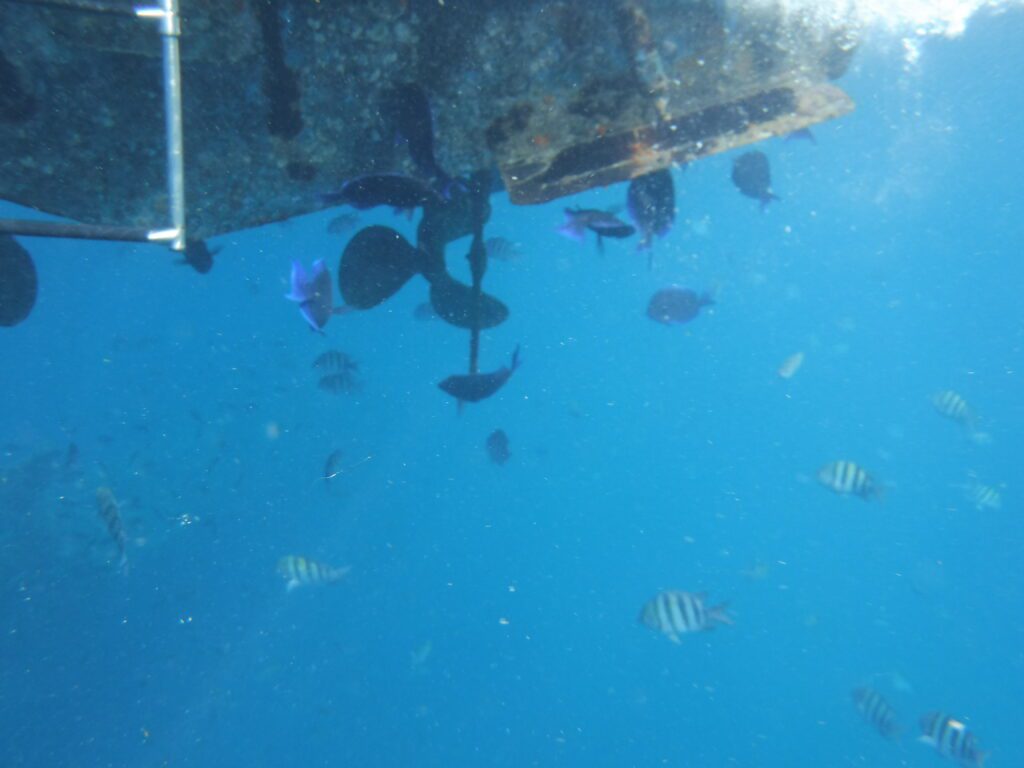 Once we finished our awesome wreck snorkel, it was about 4:15. Time for happy hour! Captain AJ brought a bottle of vodka and a bottle of rum, mixers and ice. We had rum punches and the girls had vodka/sodas. We motored back past Palm and Eagle beaches. We put the anchor down in the same cove as Pincho's. We enjoyed our drinks and appetizers and watched the sun go down!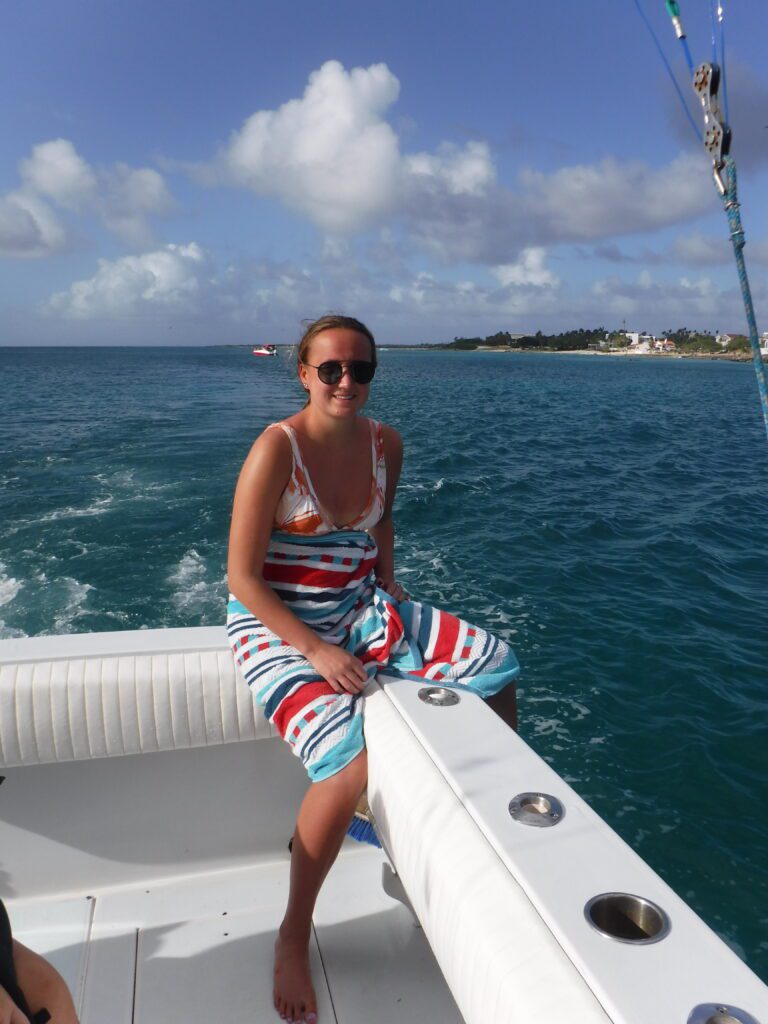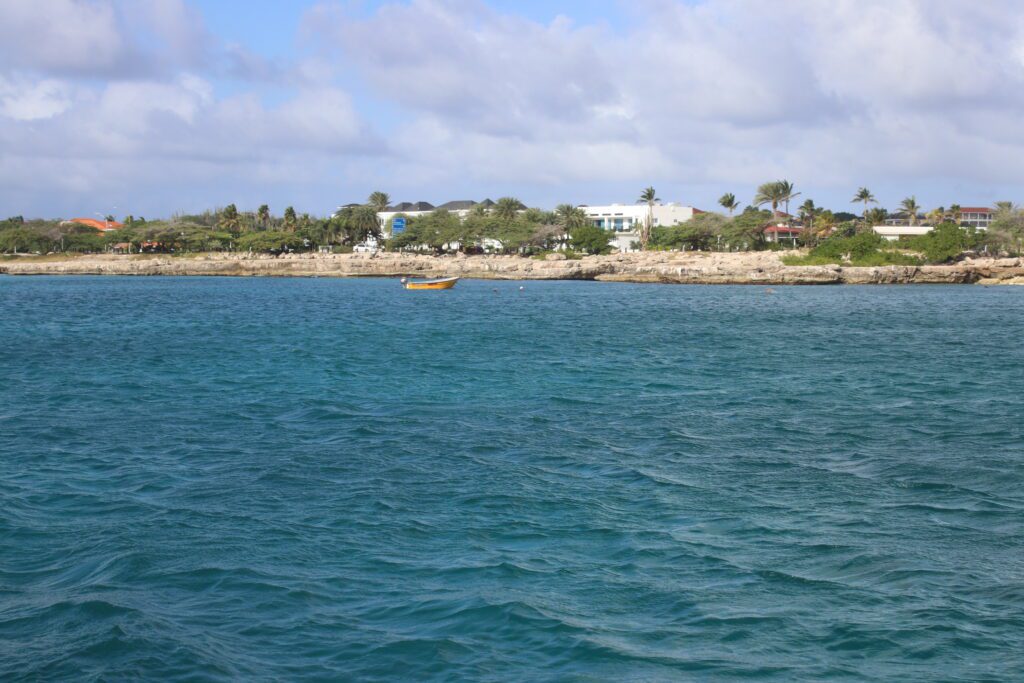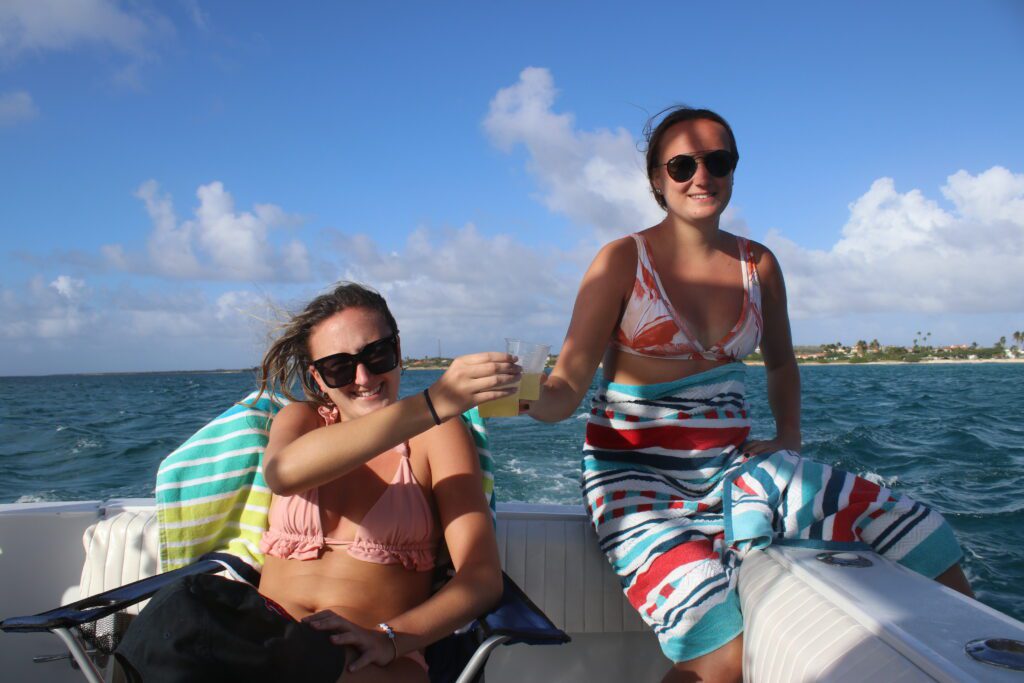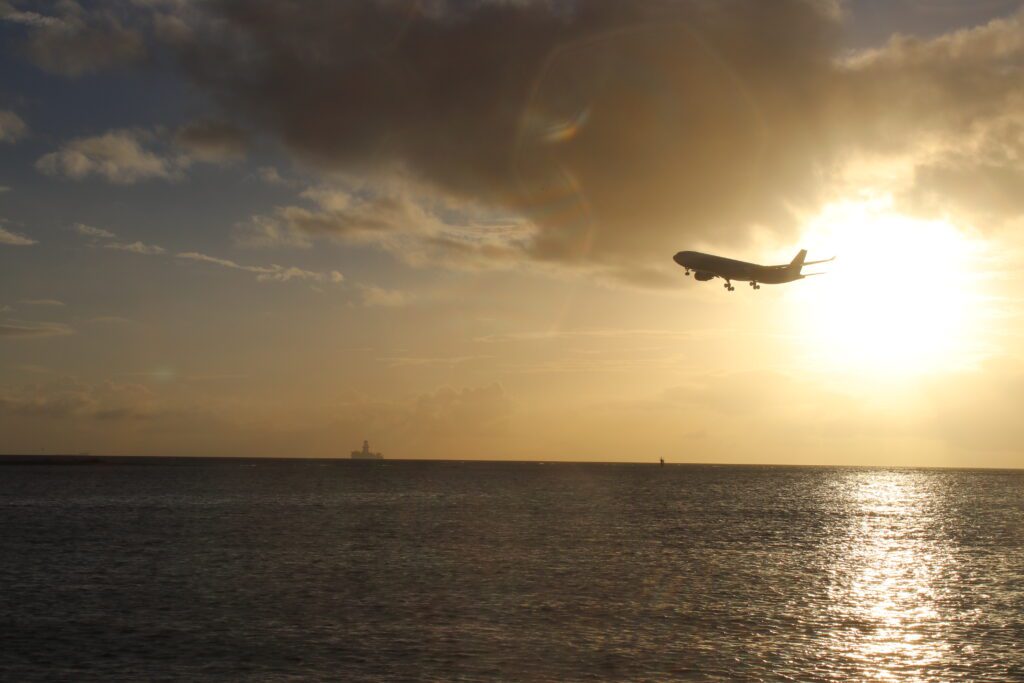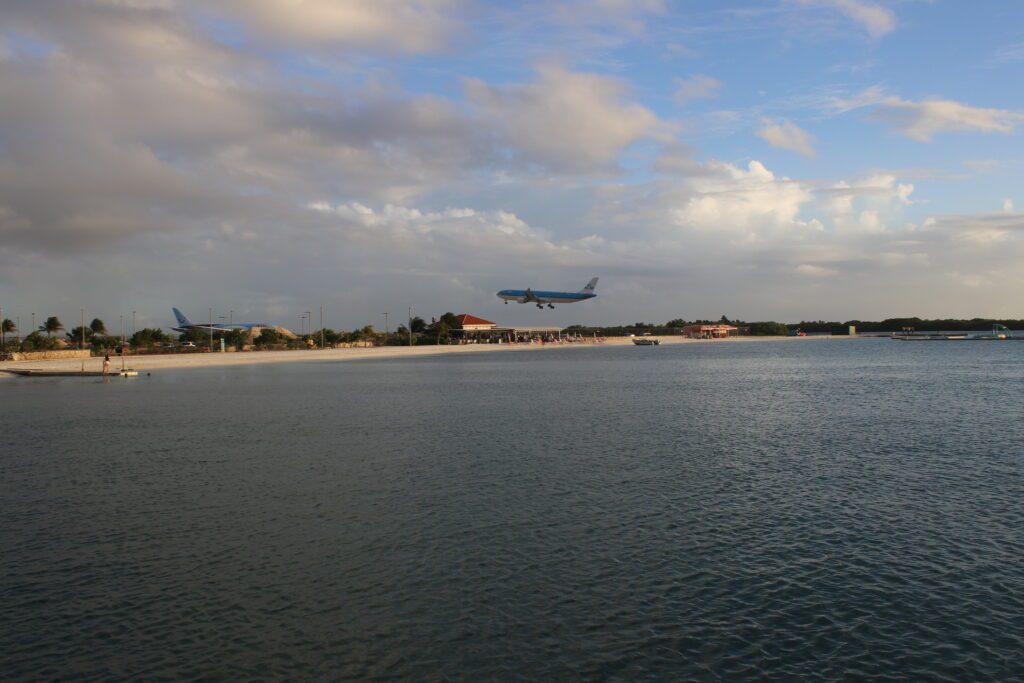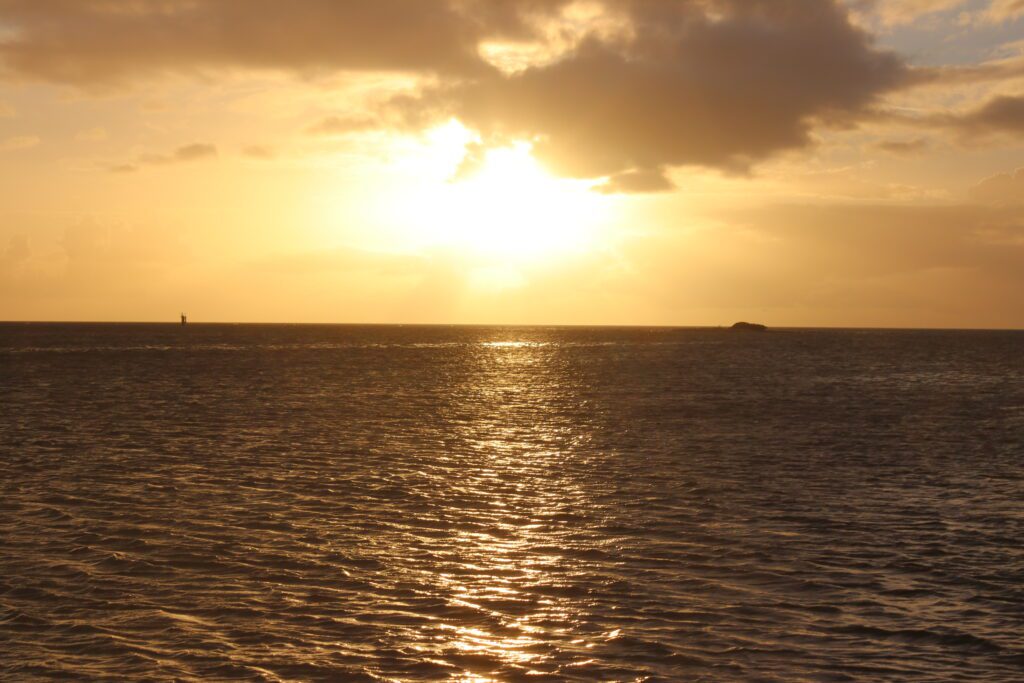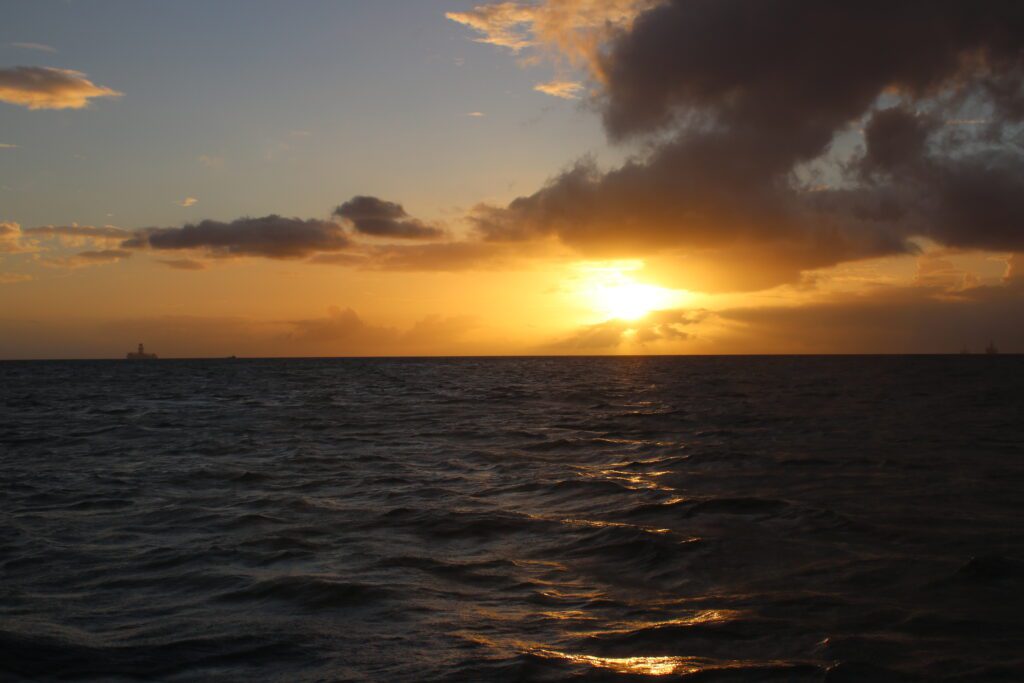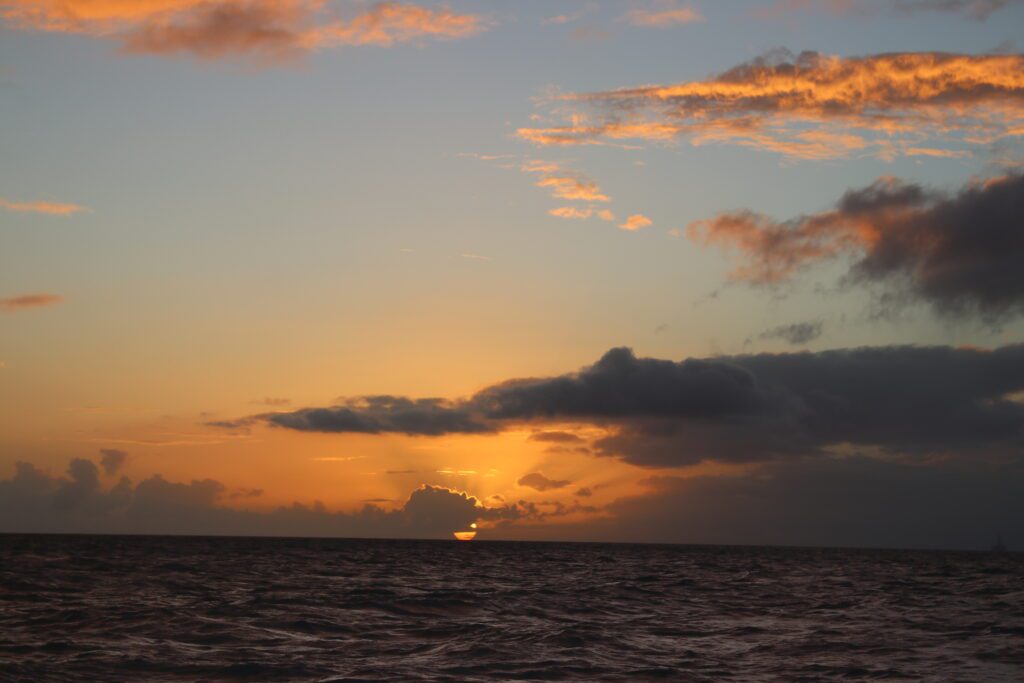 We had the MOST outstanding day with Captain AJ, his brother, Audric, of Aruba Premier Boat and Dive. Our adventure was an incredible value and tons of fun. We loved that the Captain allowed us to fully customize exactly what we wanted to do. The TripAdvisor reviews are excellent.
Matthew's Beachside Restaurant
After a very long day on the water, we drove to our condo to clean up. We drove a half mile down the road to Matthew's Beachside Restaurant. This restaurant is actually on the beach in front of Casa del Mar beach resort. Because of covid, we did not walk through the resort, but instead, walked around to the beach.
Our plan was to eat with our toes in the sand; however, it began to rain really really hard! We were able to eat under their open air palapa and no one was around us.
Michele had a delicious meal of seared tuna. Jim and the girls were simply too exhausted to eat much while to storm raged around us. The beachside setting is very nice. The TripAdvisor reviews are excellent.
Arikok National Park
We chose to visit Arikok National Park on Christmas Eve. This "wild side" of the island is breathtakingly beautiful. We wanted our first stop to be the famous Natural Pool; however, Michele was misinformed. We thought all you needed was an SUV to get to the Natural Pool. The road to the natural pool is only accessible by a Jeep or an ATV or UTV. BUT, UTVs and ATVs as of November 2020 are no longer allowed in the park. This new rule is mentioned NO WHERE on the national park's website. We rented a UTV on December 26 and we still could not go to the natural pool in the national park. This wonderful website tells you how to hike to the natural pool in the park. You can also hike from the park's Visitor Center where the distance is three miles each way in the blazingly-hot Aruban sun.
We first drove outside the main entrance of the national park to see Rancho Daimari. Do not attempt this road without an SUV, Jeep, ATV or UTV. You could easily damage a low rise car. We parked on the hill above the beach and admired its beauty.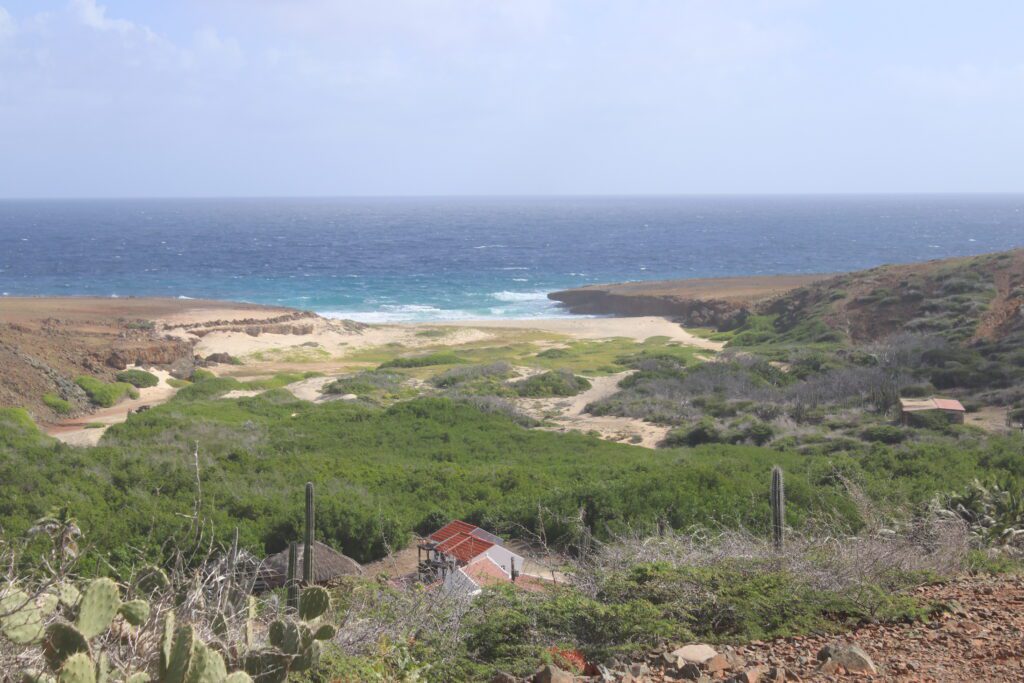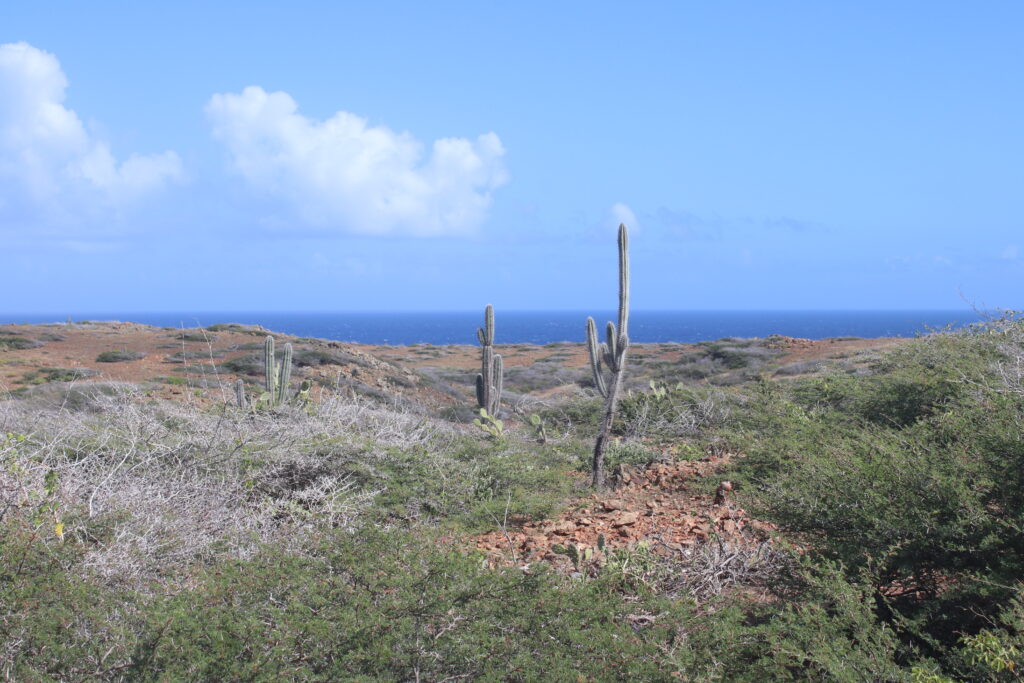 We entered the park and paid our $11/person admission fee. The main road leading to the ocean is mostly paved, but it has HUGE dips for drainage. You have to drive very slowly or you will ruin your front bumpers. Our first stop was Boca Prins. There is no swimming allowed at Boca Prins – the currents are way too rough.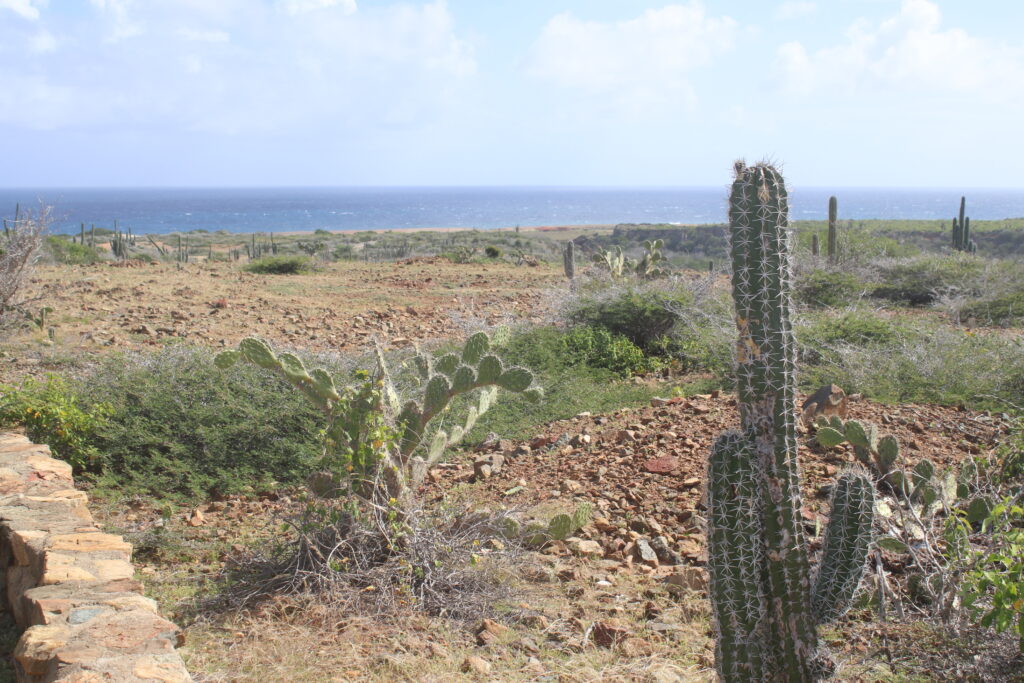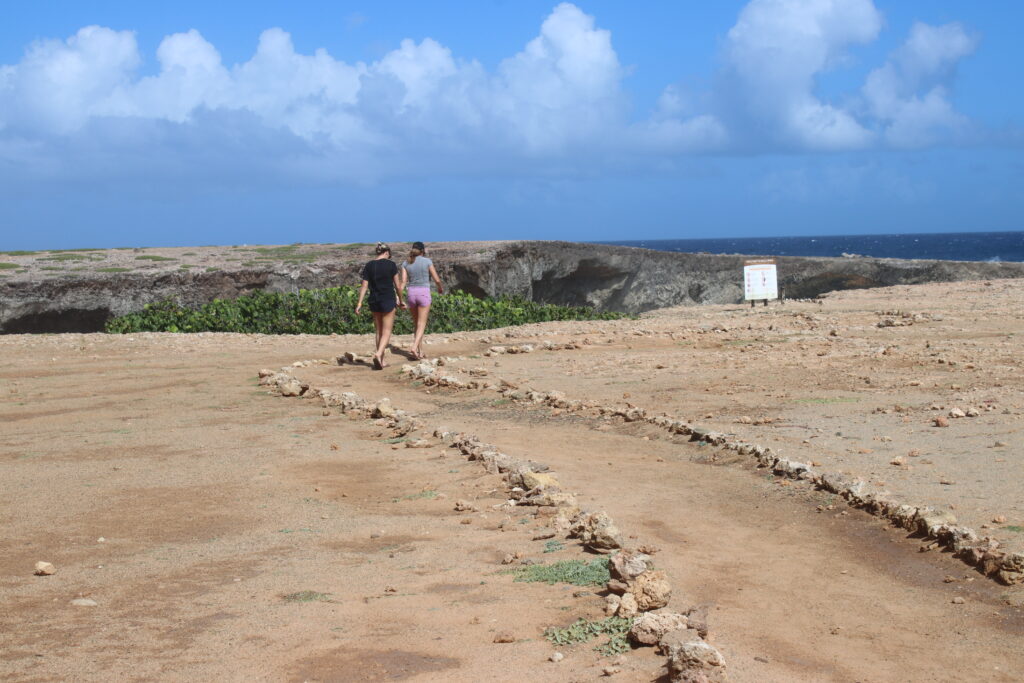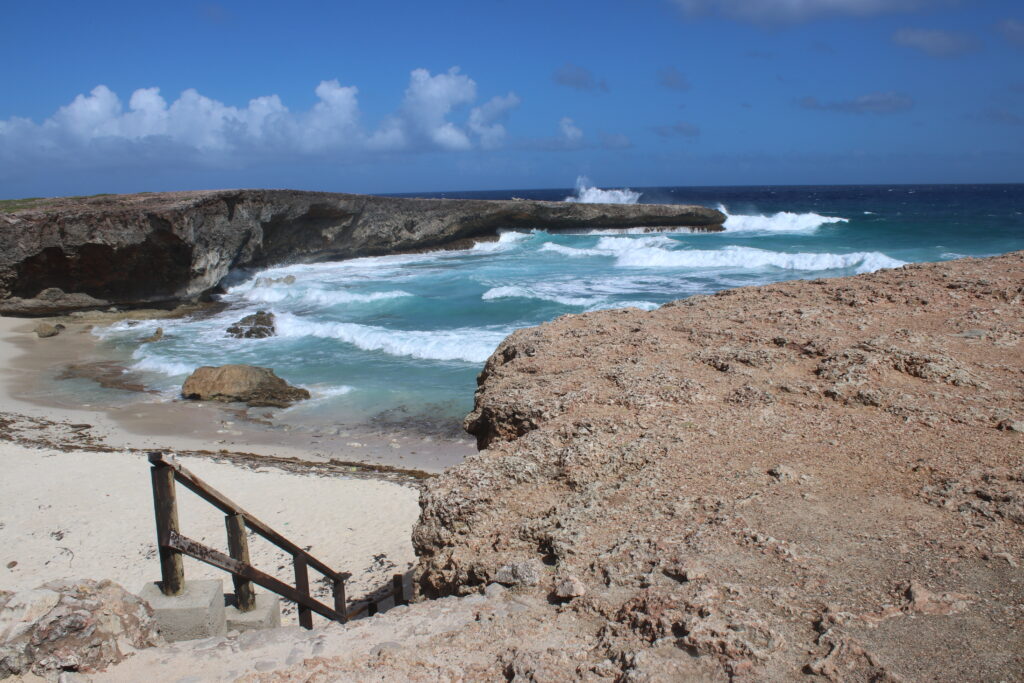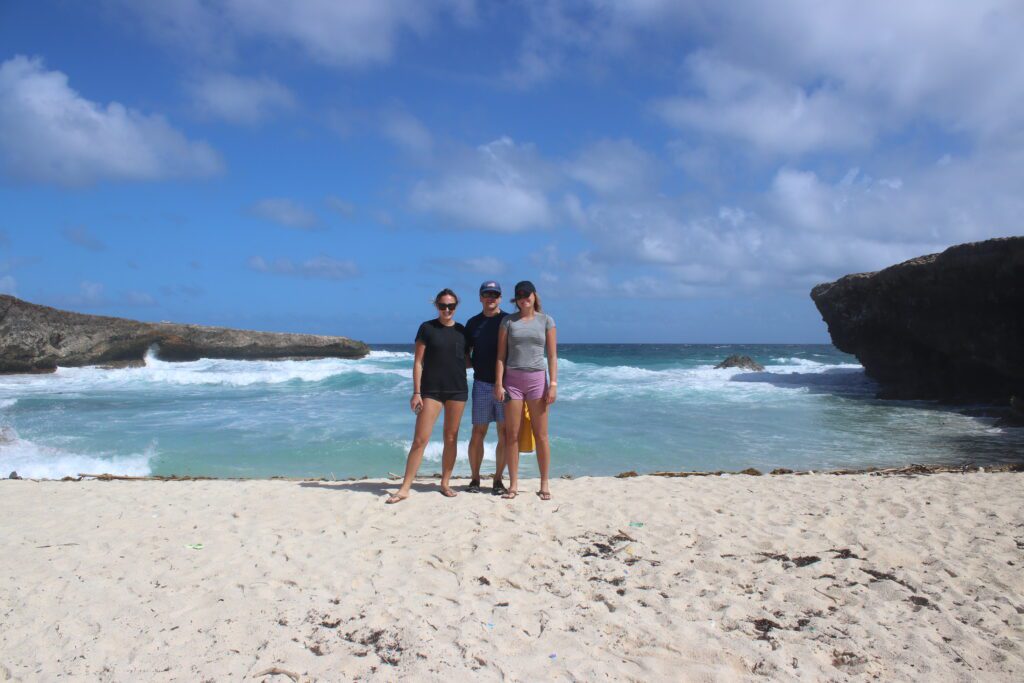 We drove to Dos Playa on a dirt road. A car is not recommended although we did see a few giving the trek a try. Dos Playa is the most important sea turtle nesting site on the island. Leatherback, Hawksbill and Green Turtles all nest here. We did not see any turtles, but we did see some surfers in the very, very rough surf.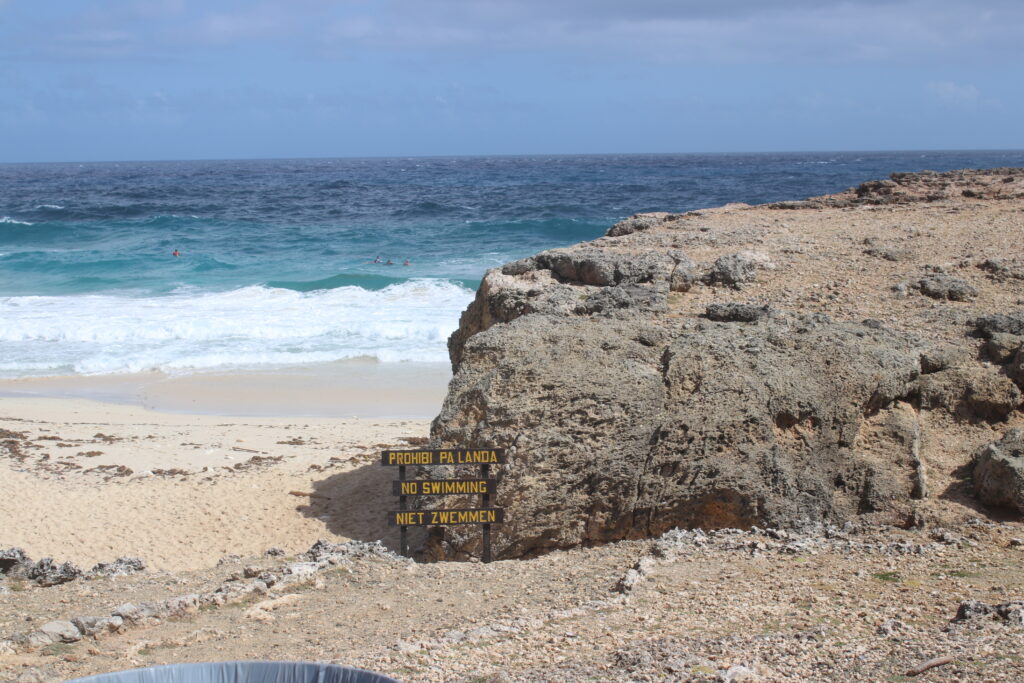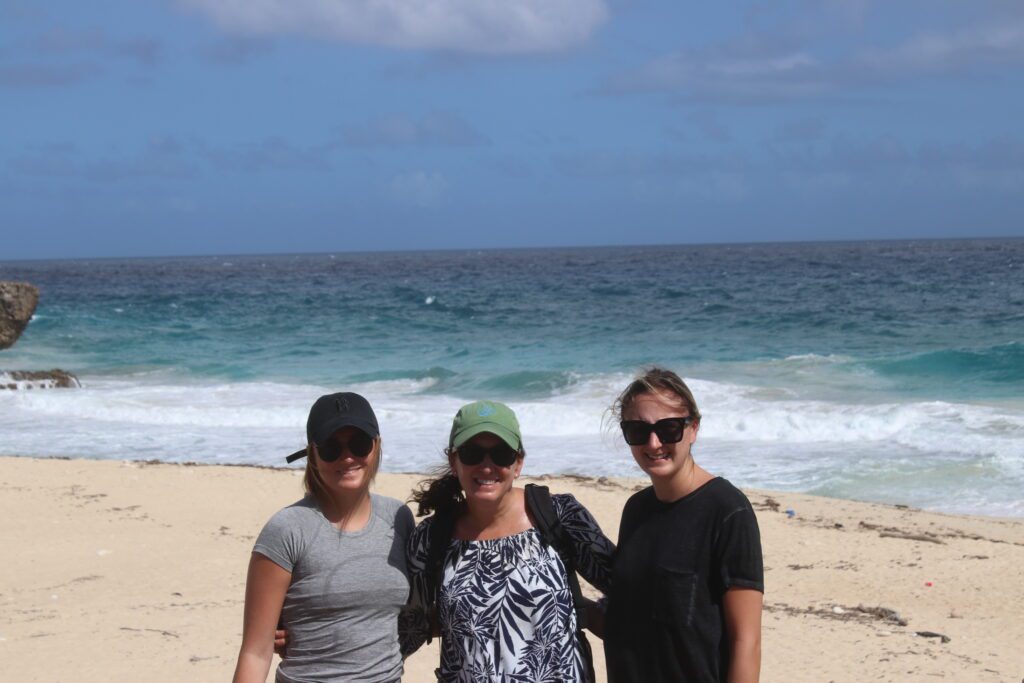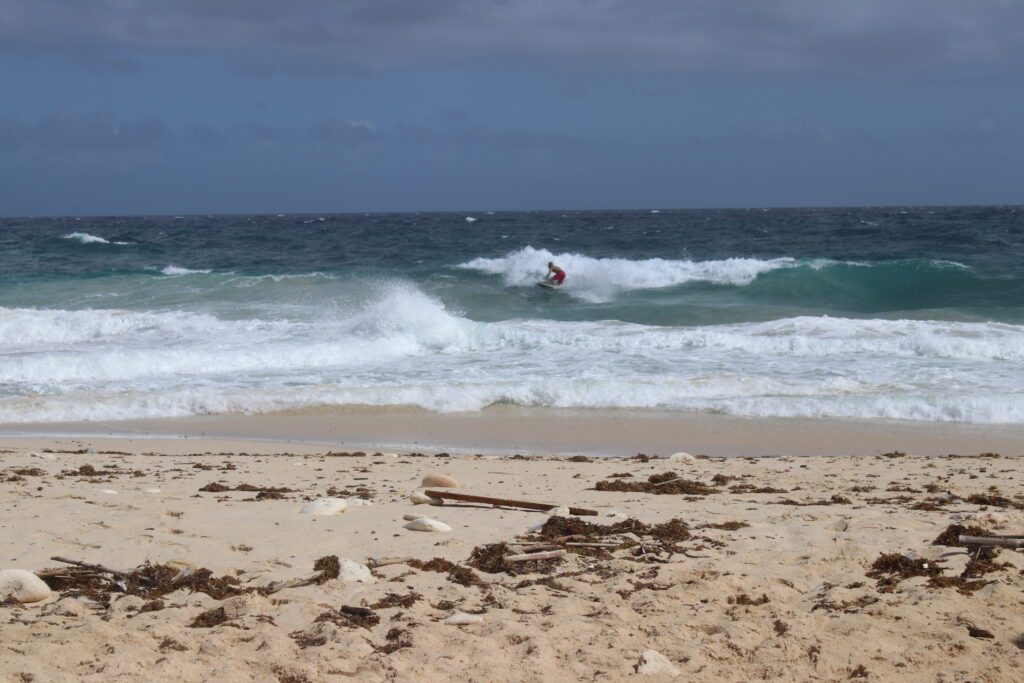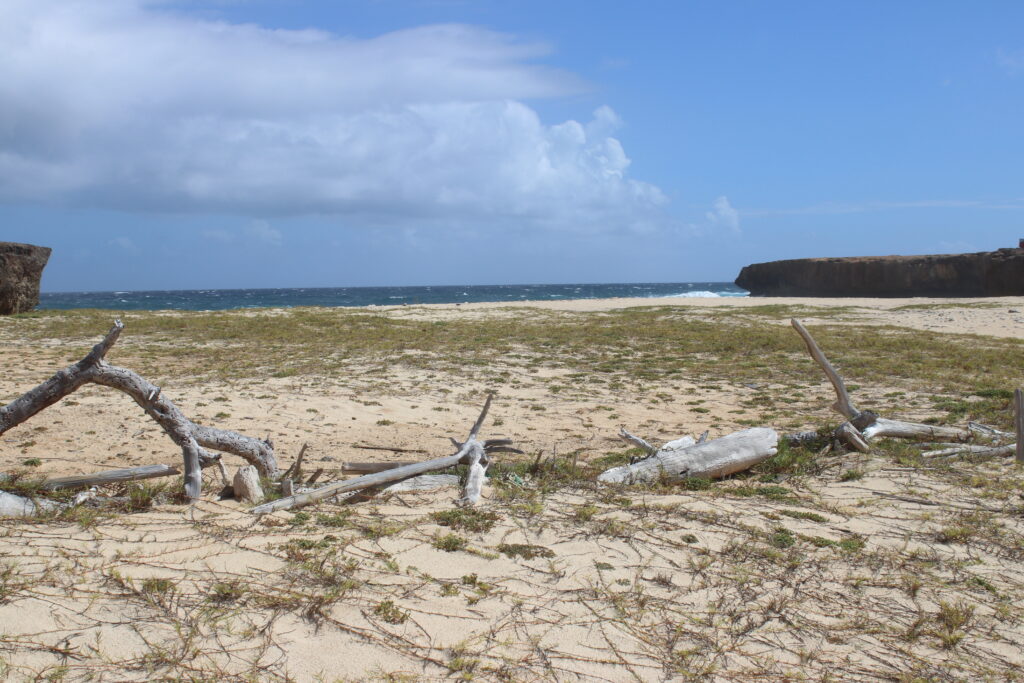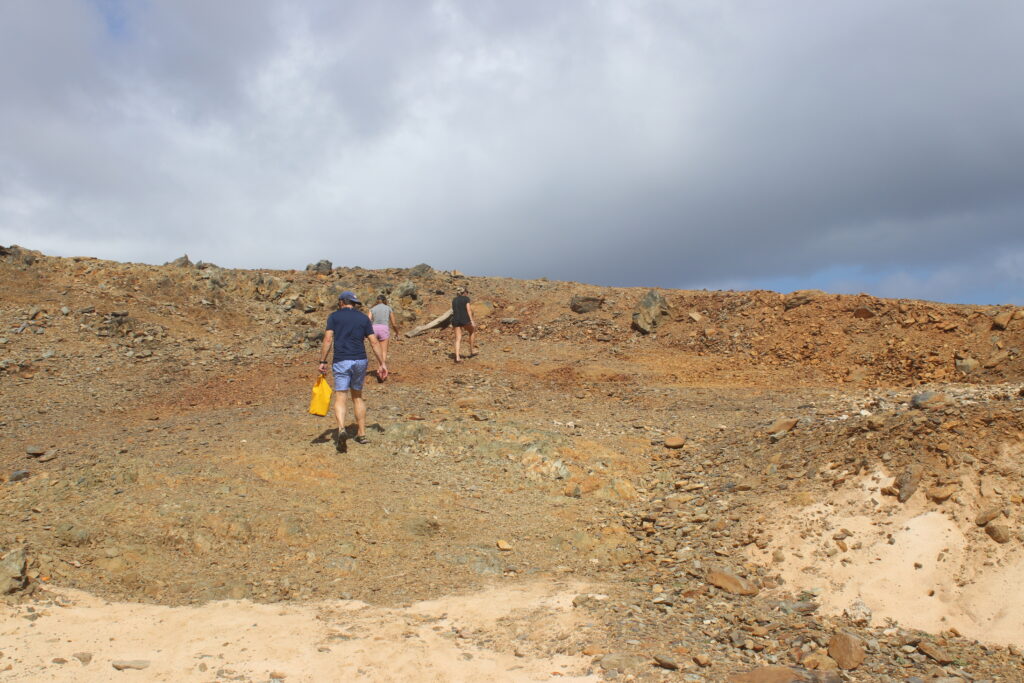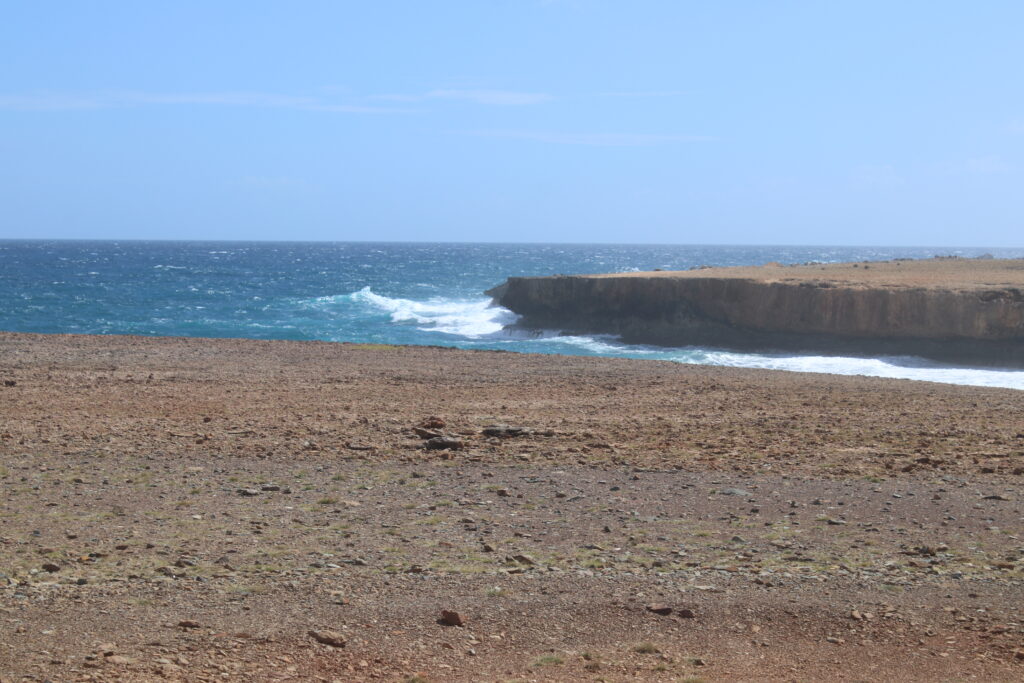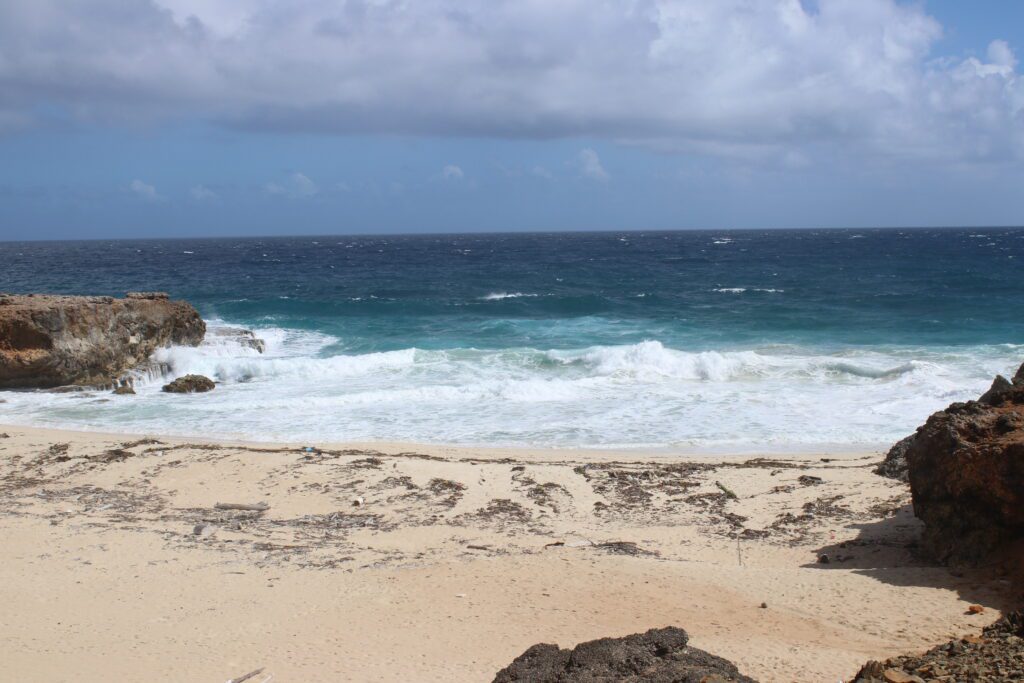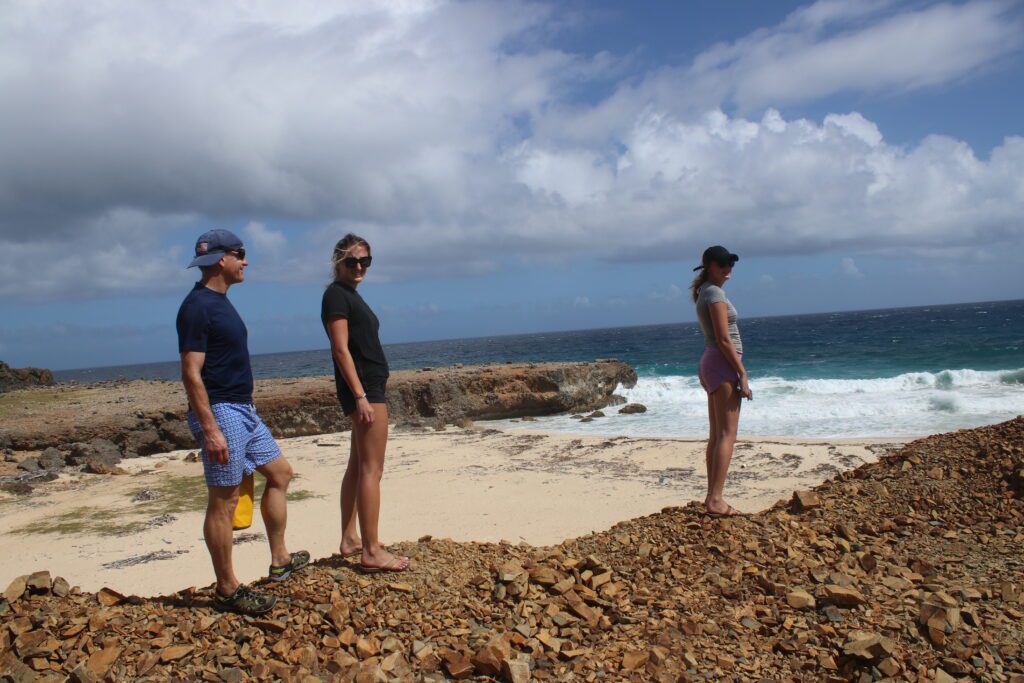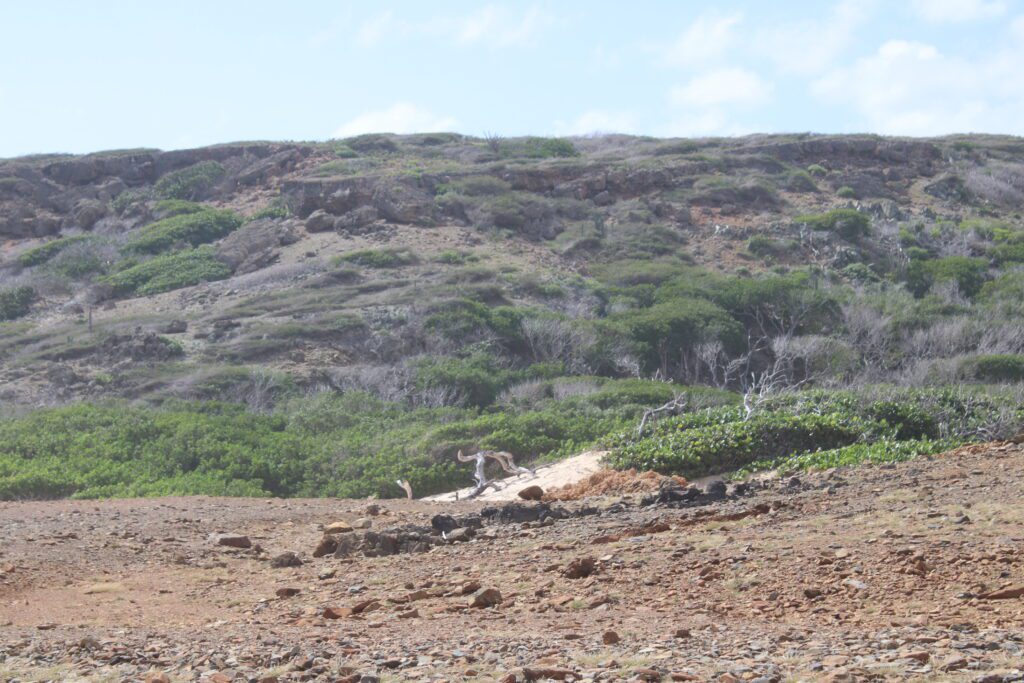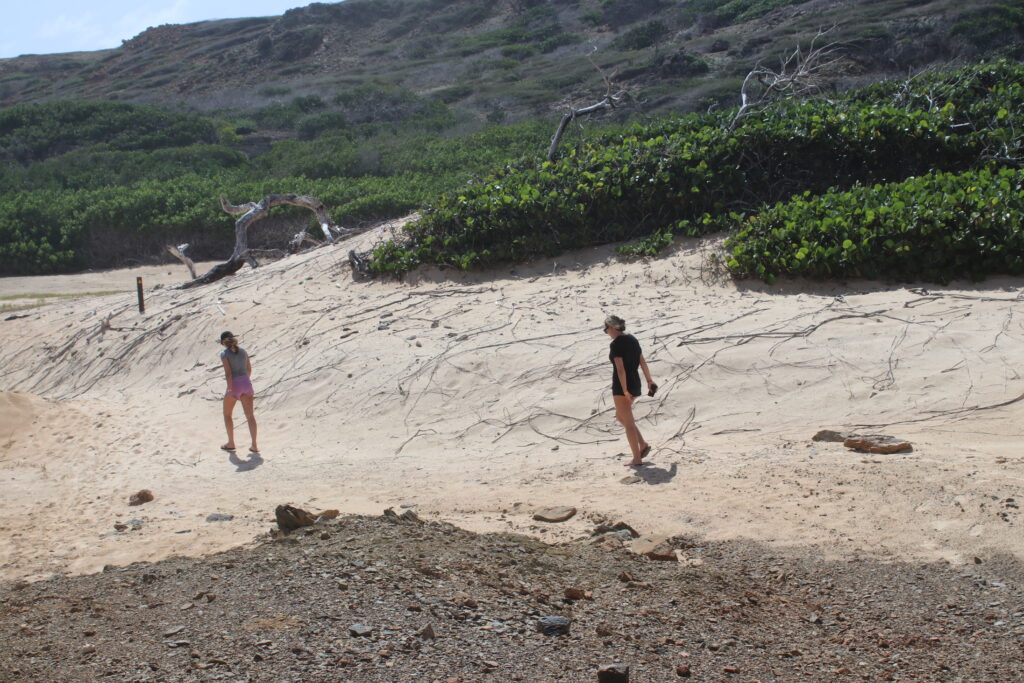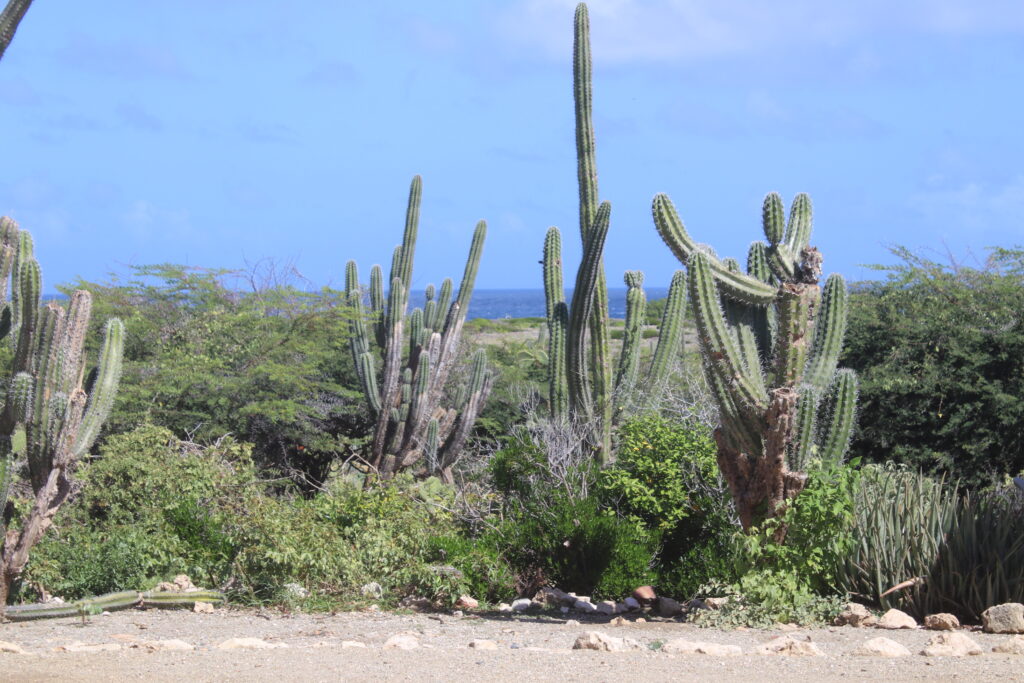 We drove to Fontein Cave in the park. We donned our masks and met a park ranger who gave us a tour of this small cave. Indigenous Peoples' pictographs line the walls and ceilings. It was too dark for photos. The cave tour was interesting and very quick! Our favorite spot in this cave area was a small pond where fish eat the dead skin off your feet. It made Michele laugh out loud!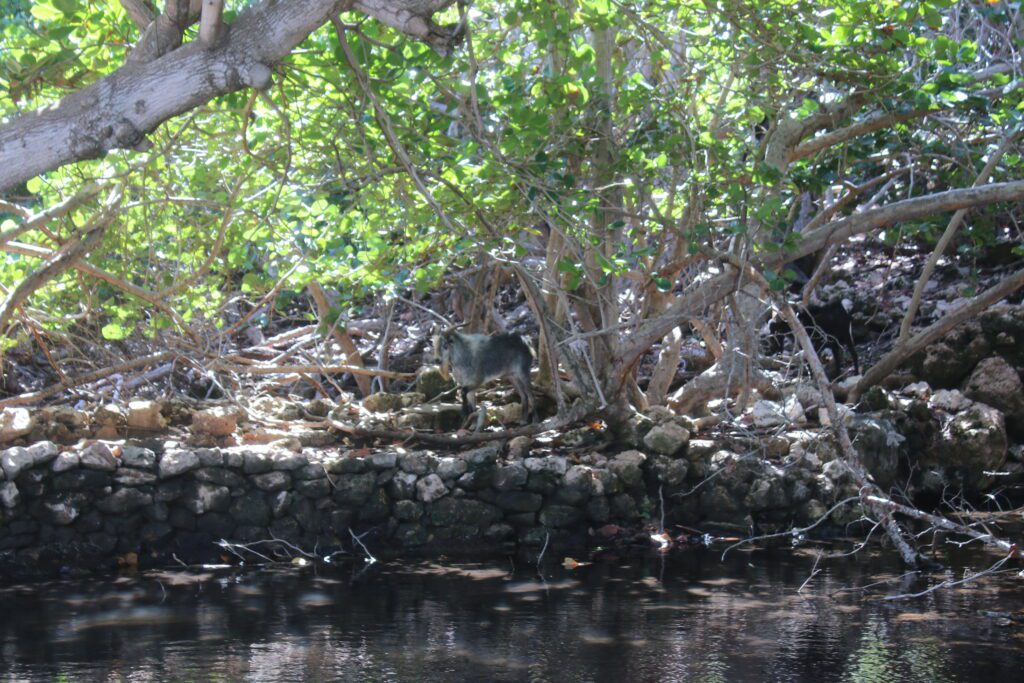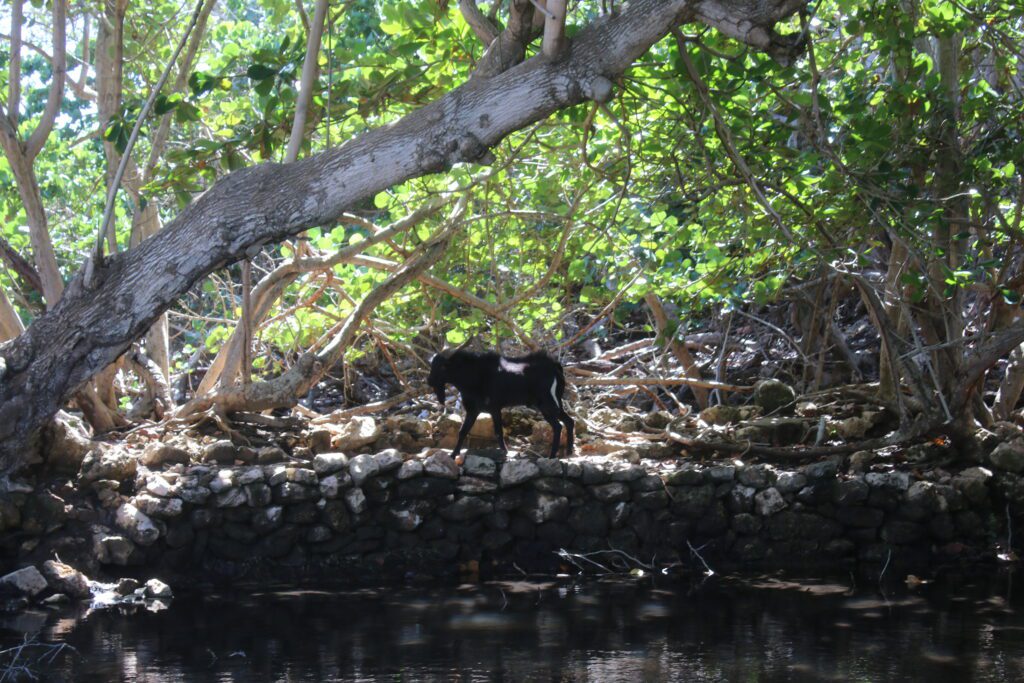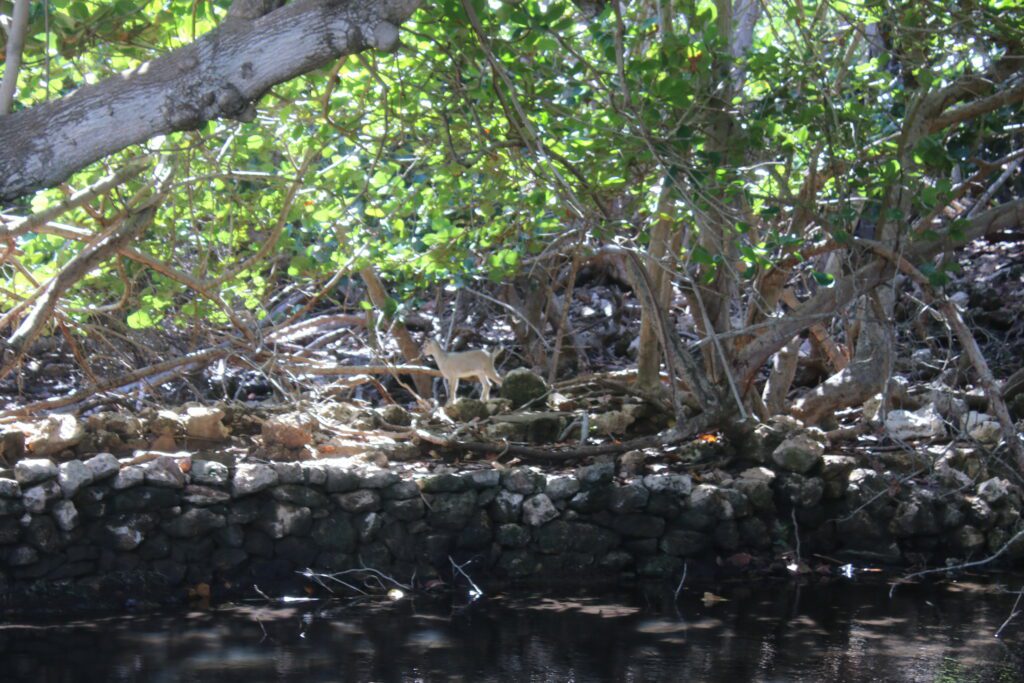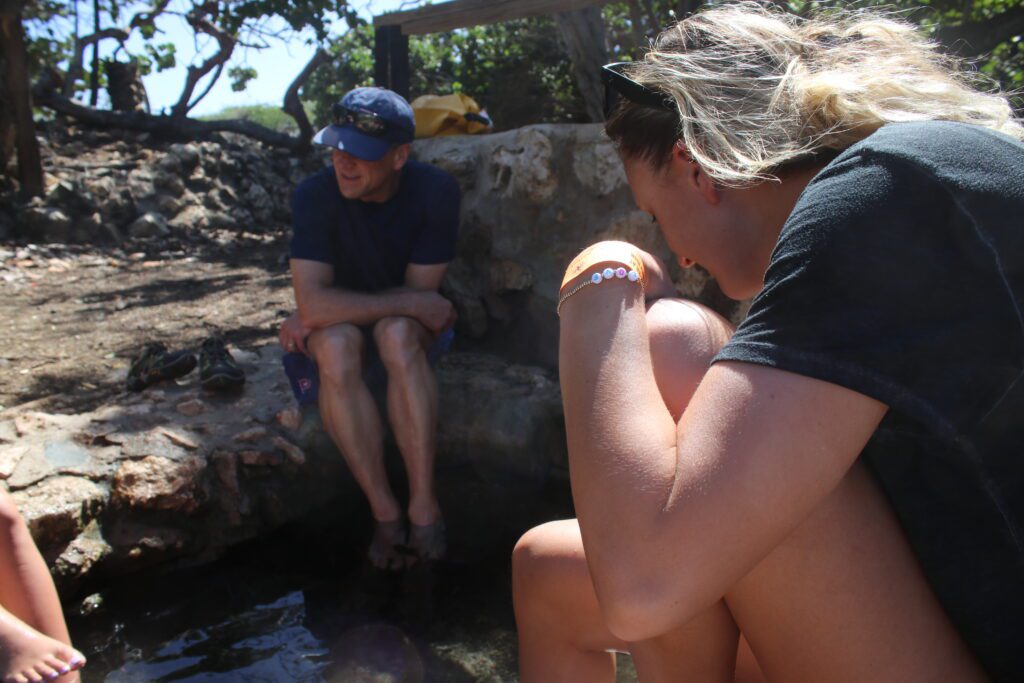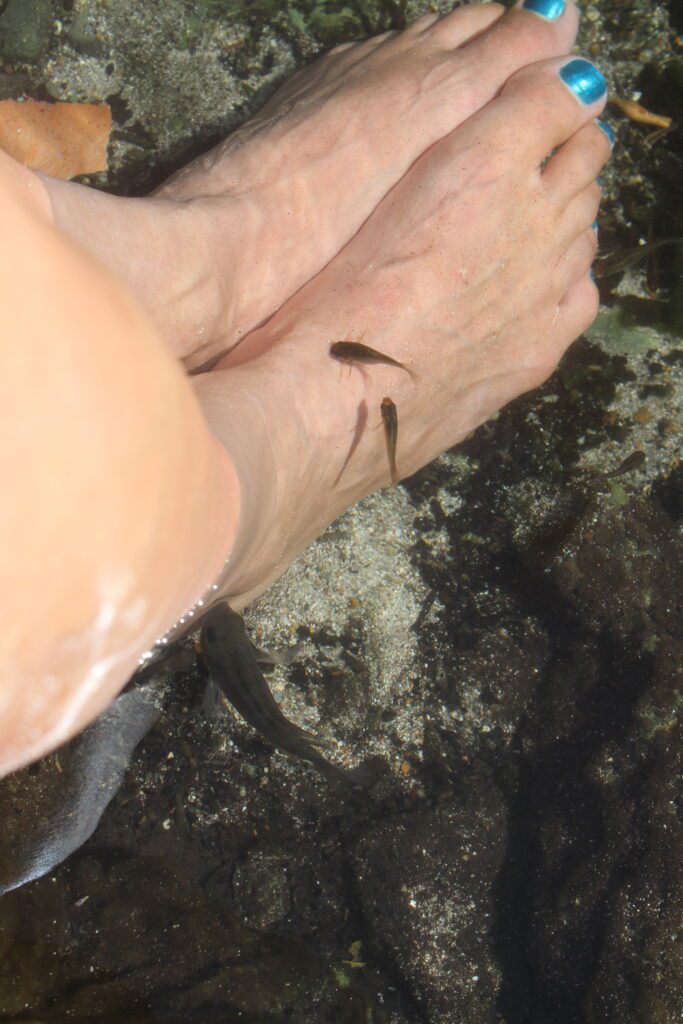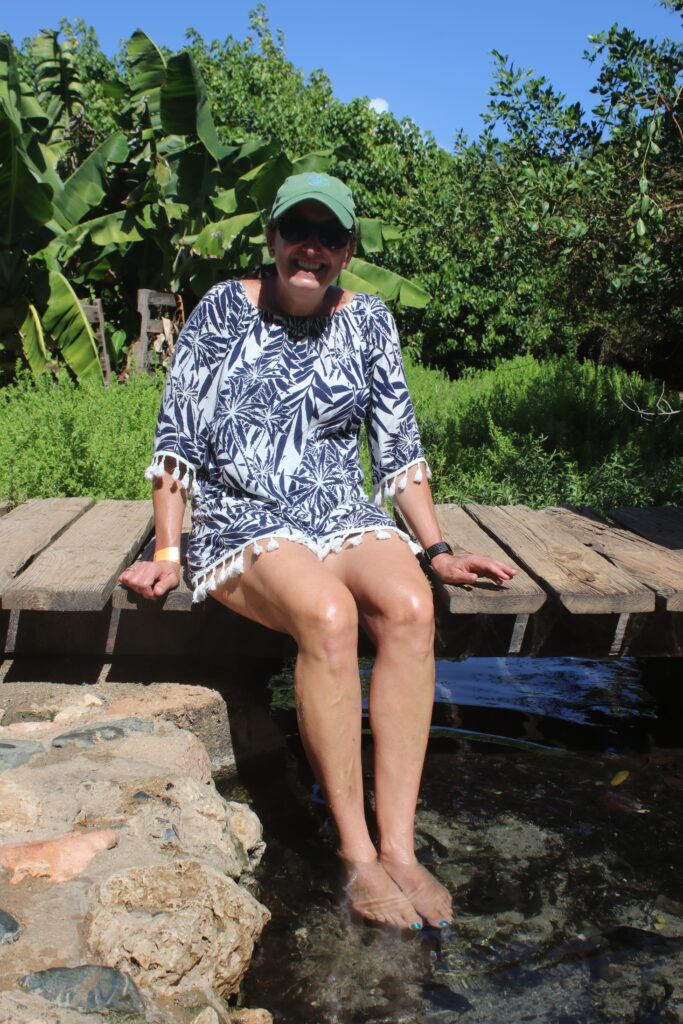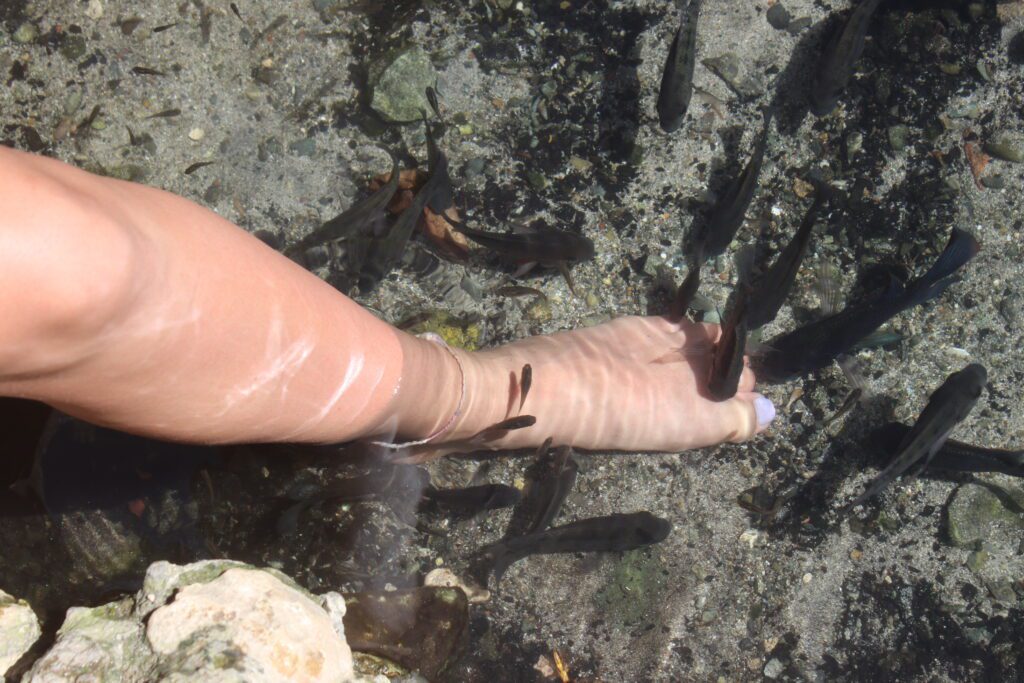 Urataka Center Pizza
After all the exploring, we were hungry! We headed to Urataka Center Pizza. Our boat captain, AJ, told us that it was the best pizza on the island and only the locals really know about it. The pizza place is on the road to the national park. The pizza and salad were wildly good! Highly recommended and very well priced.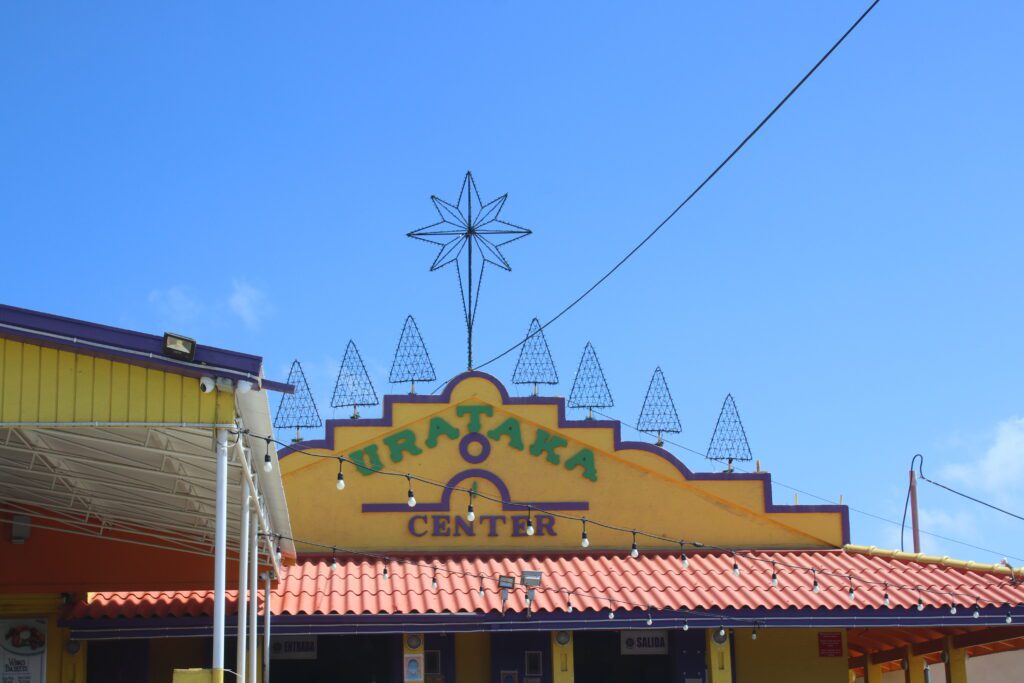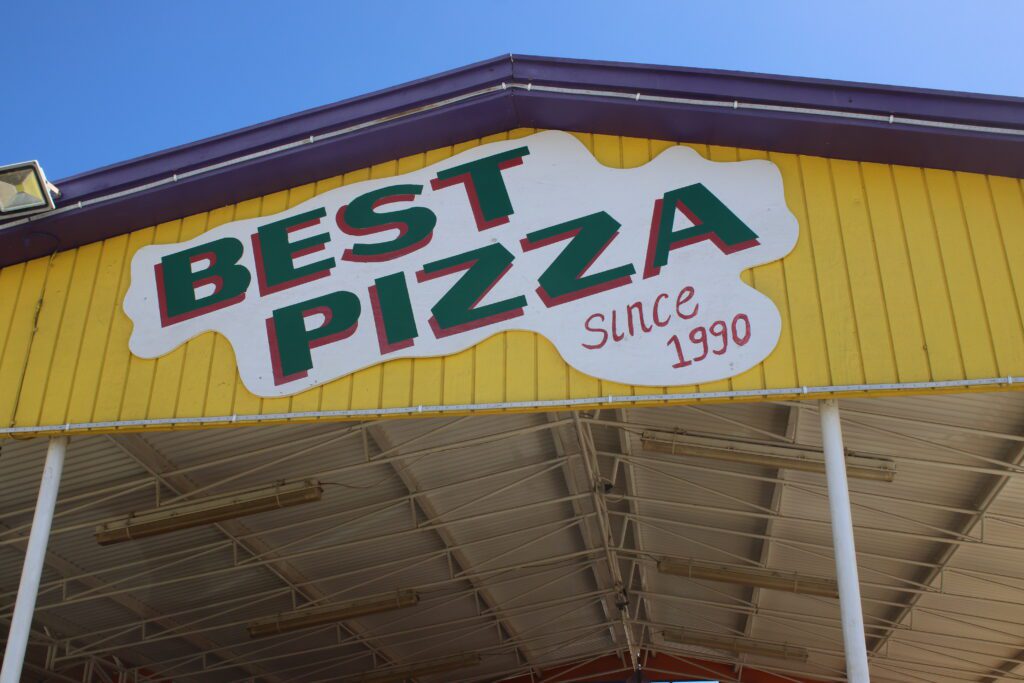 Natural Bridge
Until 2005, Aruba had one of the most famous natural bridges in the world. On September 2, 2005, it partially collapsed! There is no fee to enter, and you can access this spot with a regular car. A gift shop and restroom are close to the parking lot.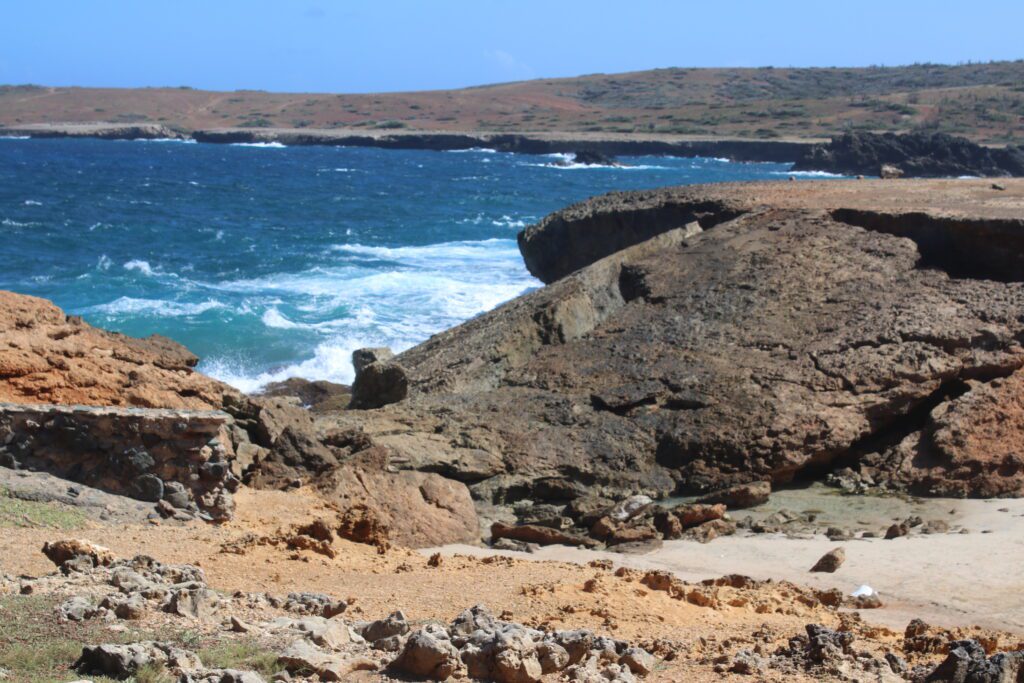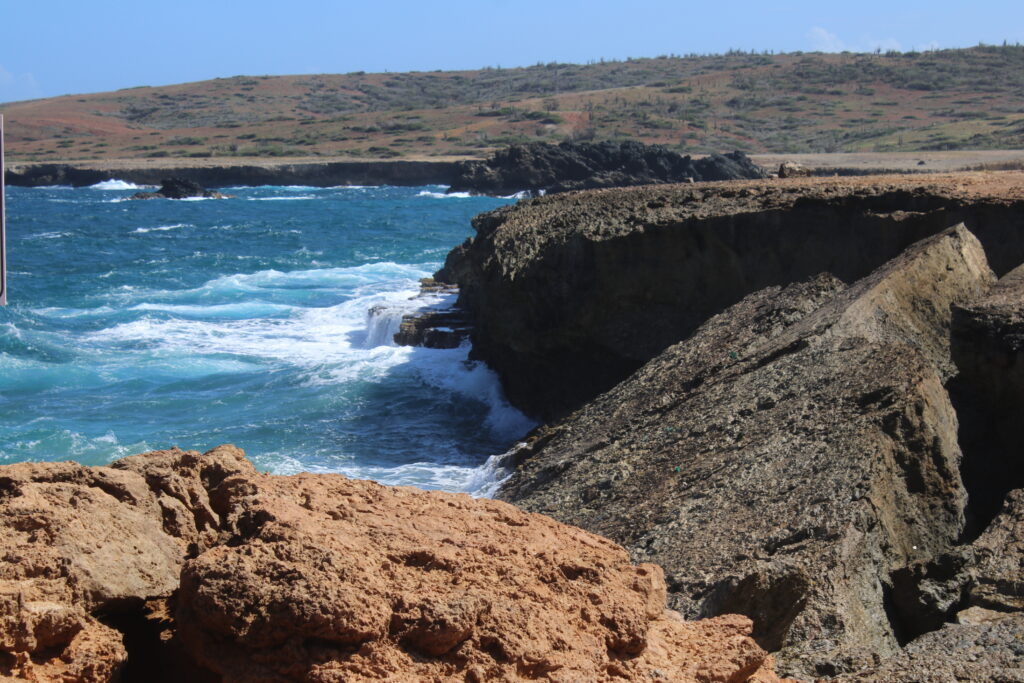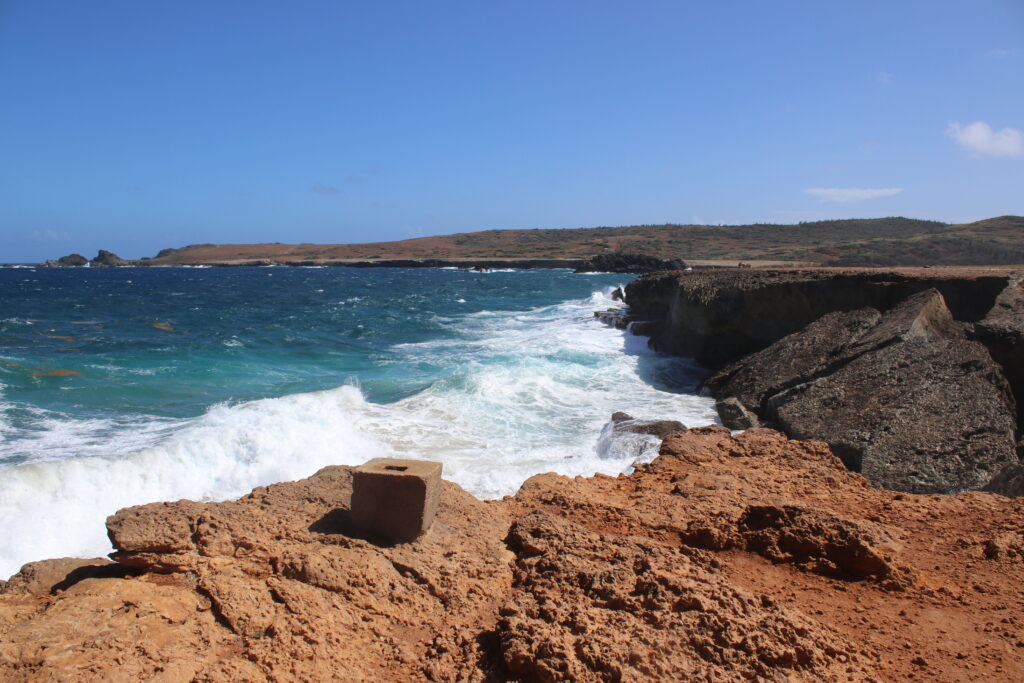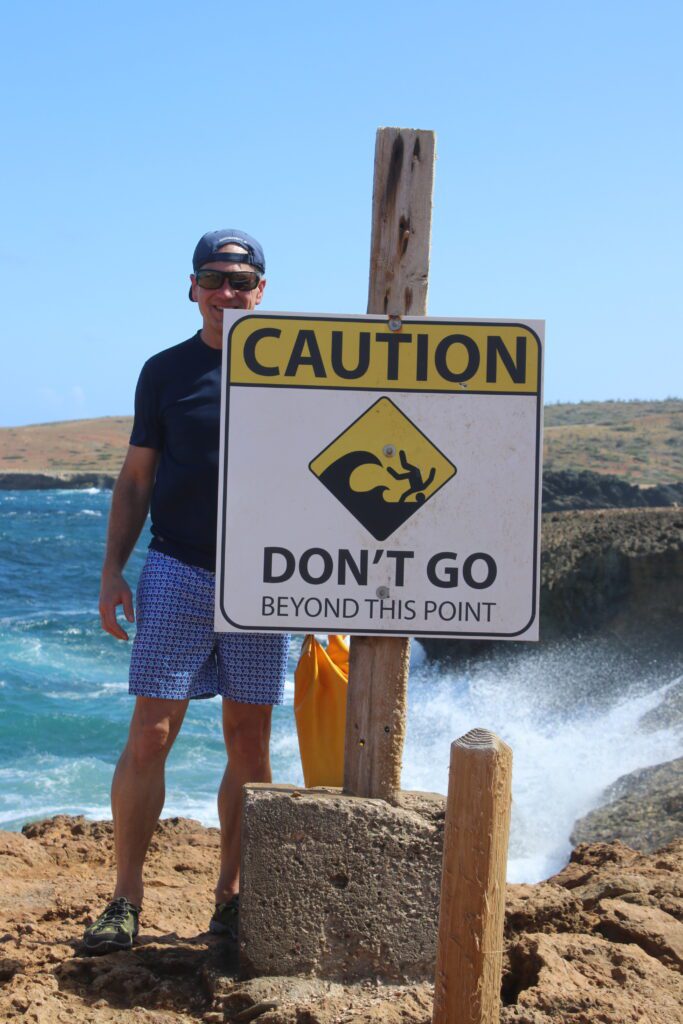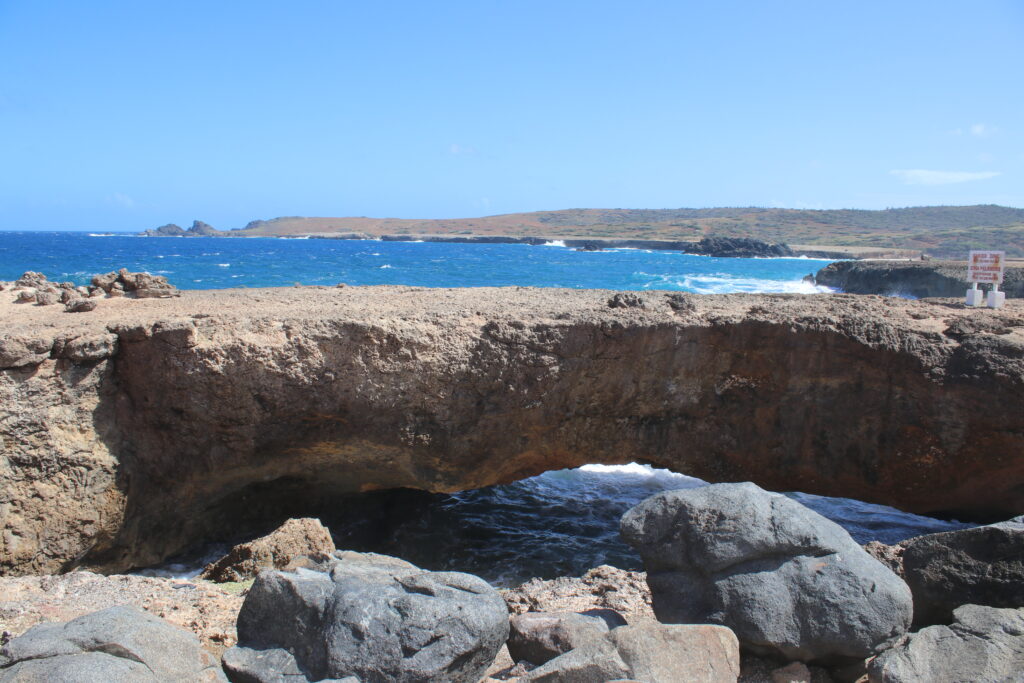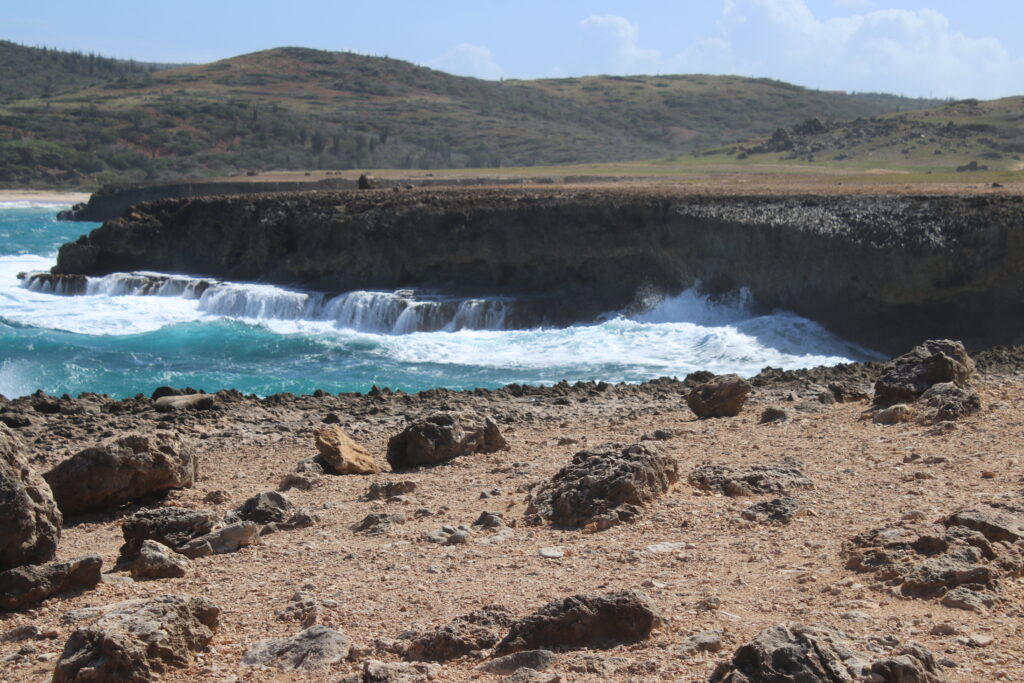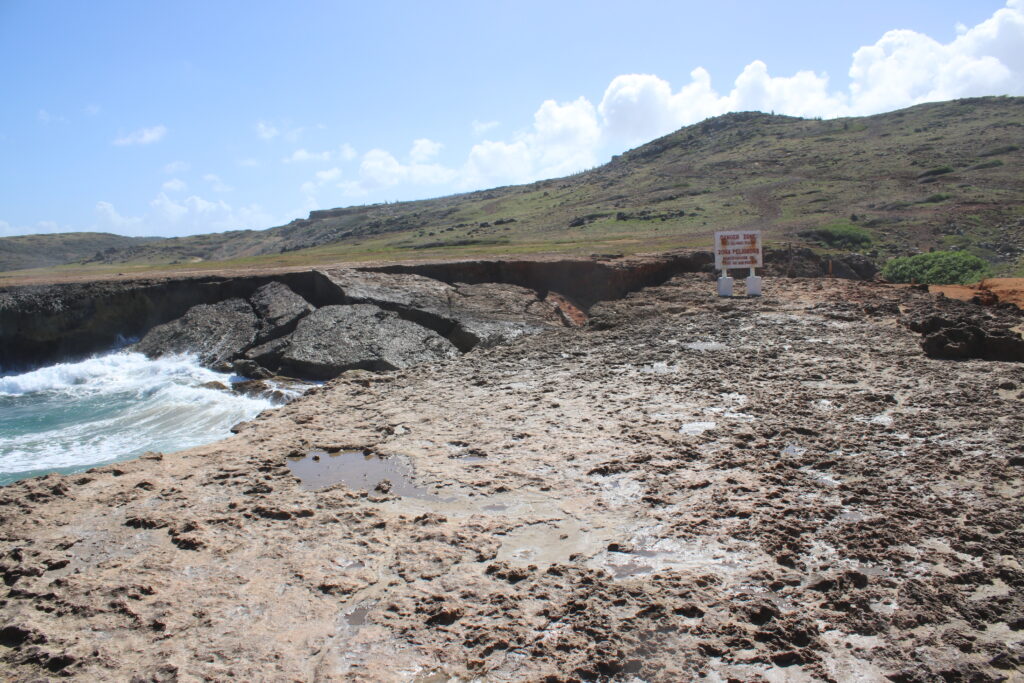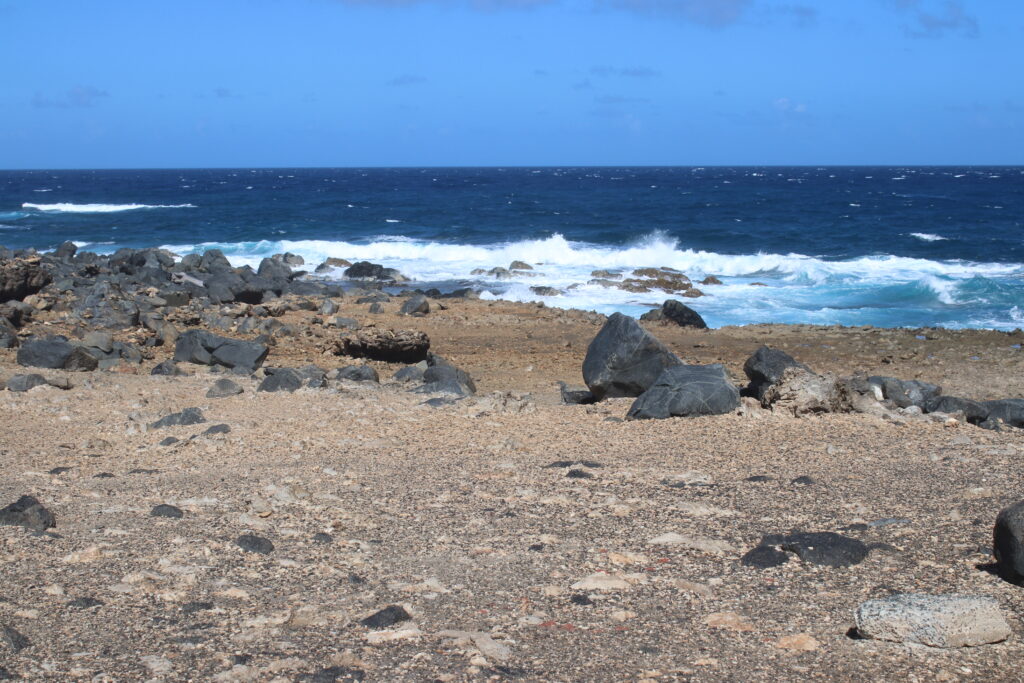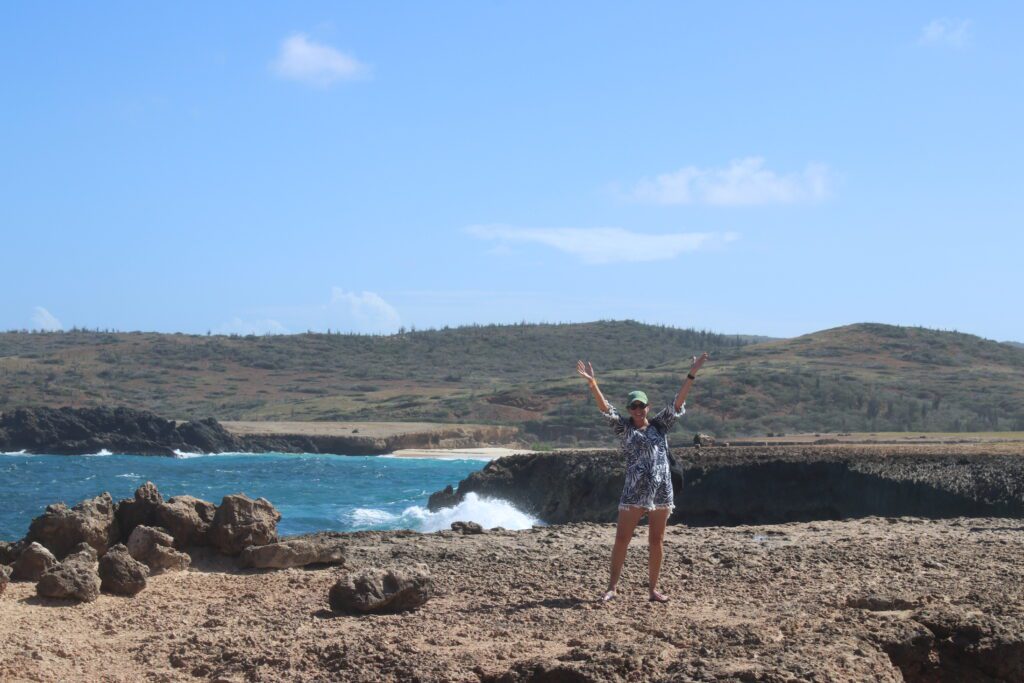 There was still more we wanted to see on the wild side, so we headed back to our condo and reserved a UTV for the day on December 26!
The West Deck
We drove to The West Deck for a Christmas Eve dinner. This delightful, small restaurant with deck space and tables in a pretty garden is right on the beach. The margaritas are enormous! The food was plentiful and delicious. TripAdvisor reviews remain strong.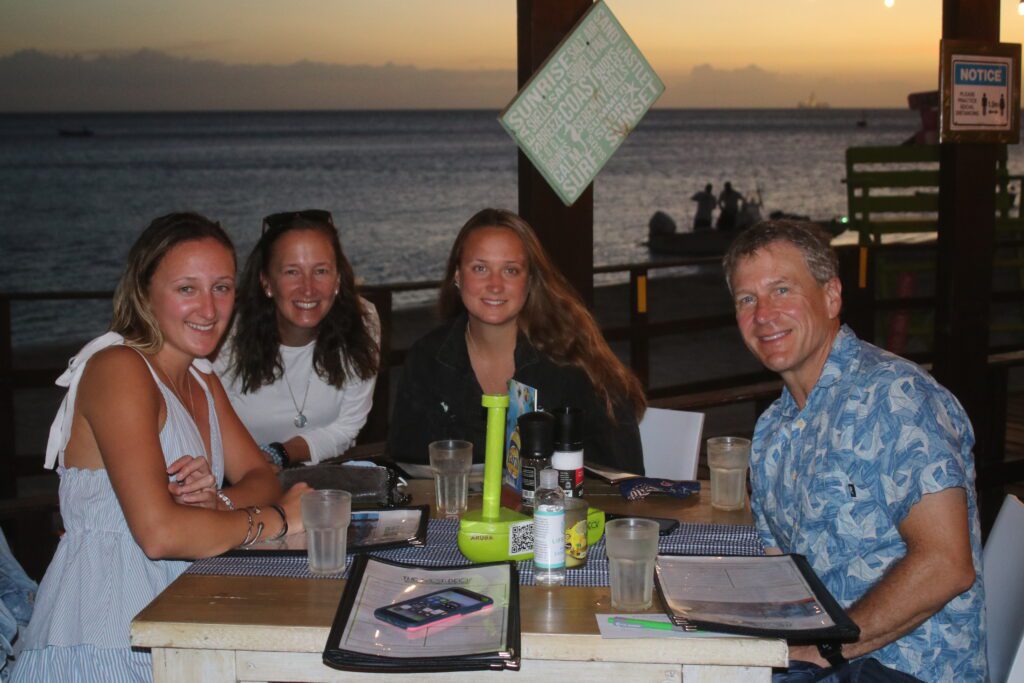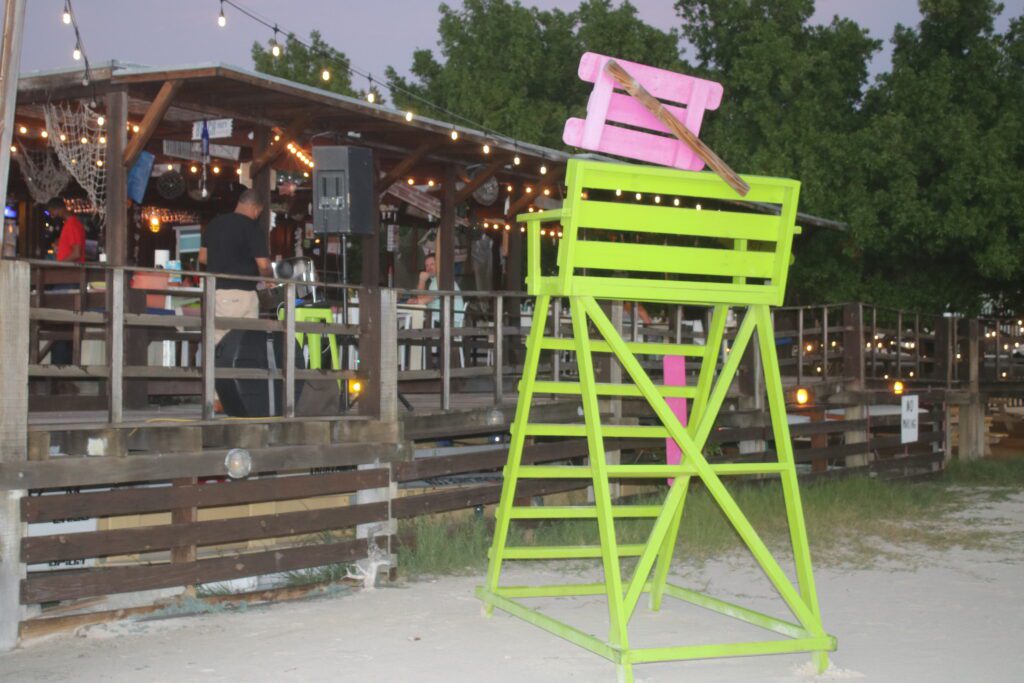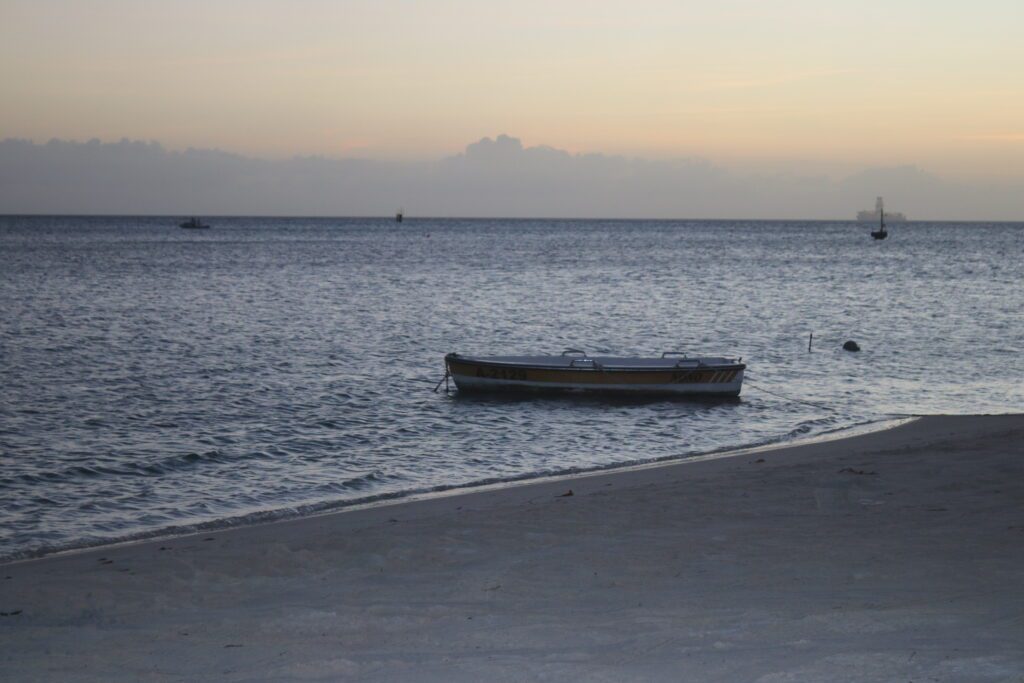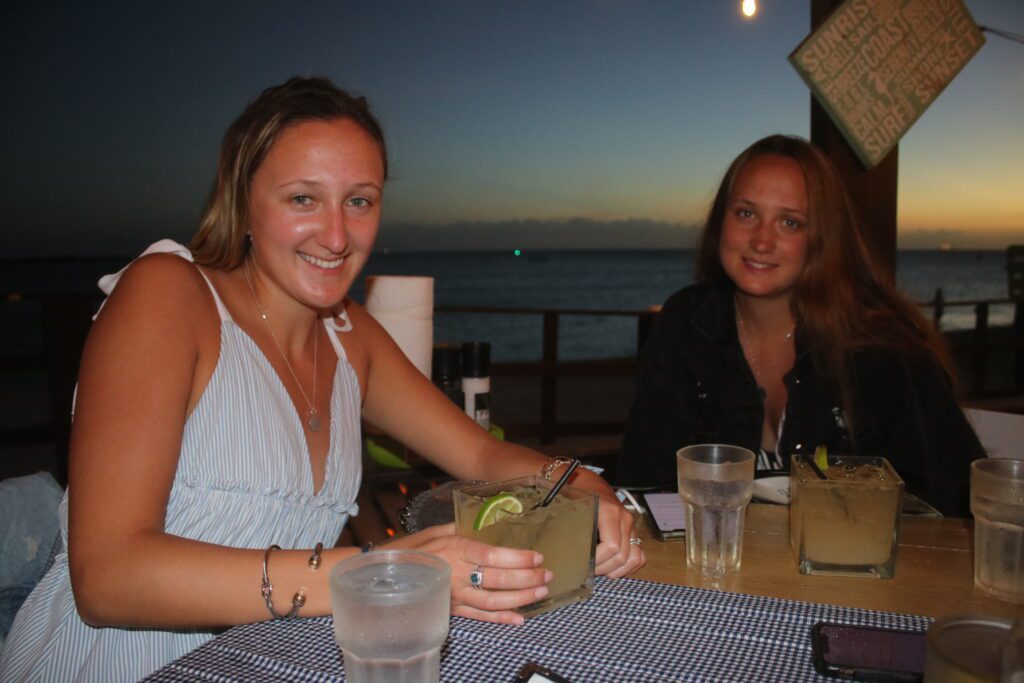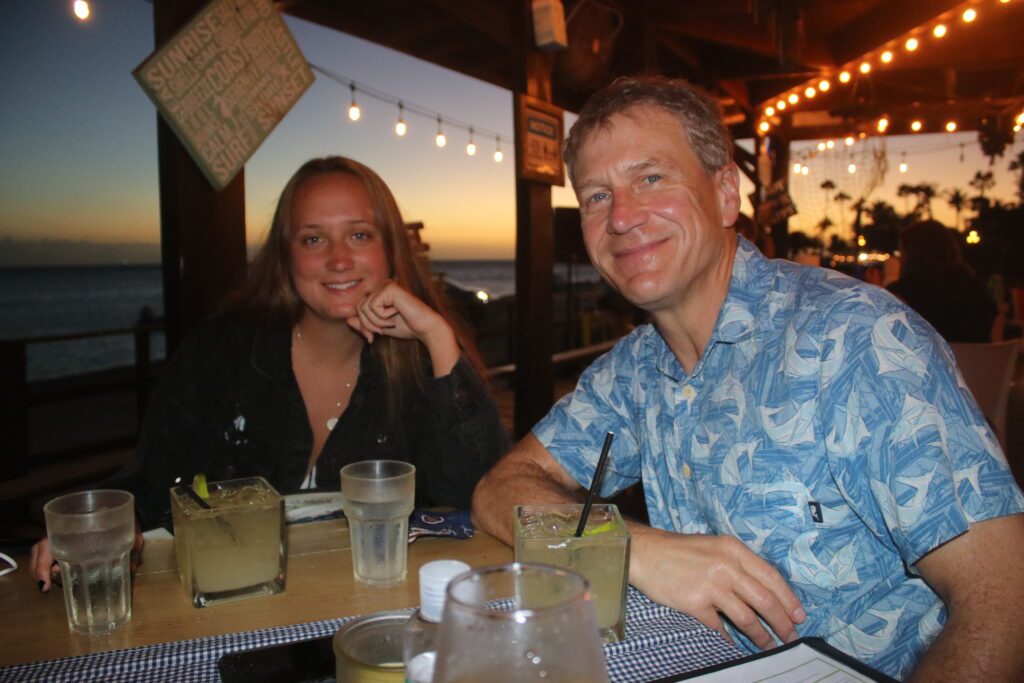 Christmas Day
The major grocery stores are closed on Christmas day. We made no plans for Christmas day. After exercising, we found a palapa and read our books. It was delightful. We walked to Santos and ate lunch in our condo.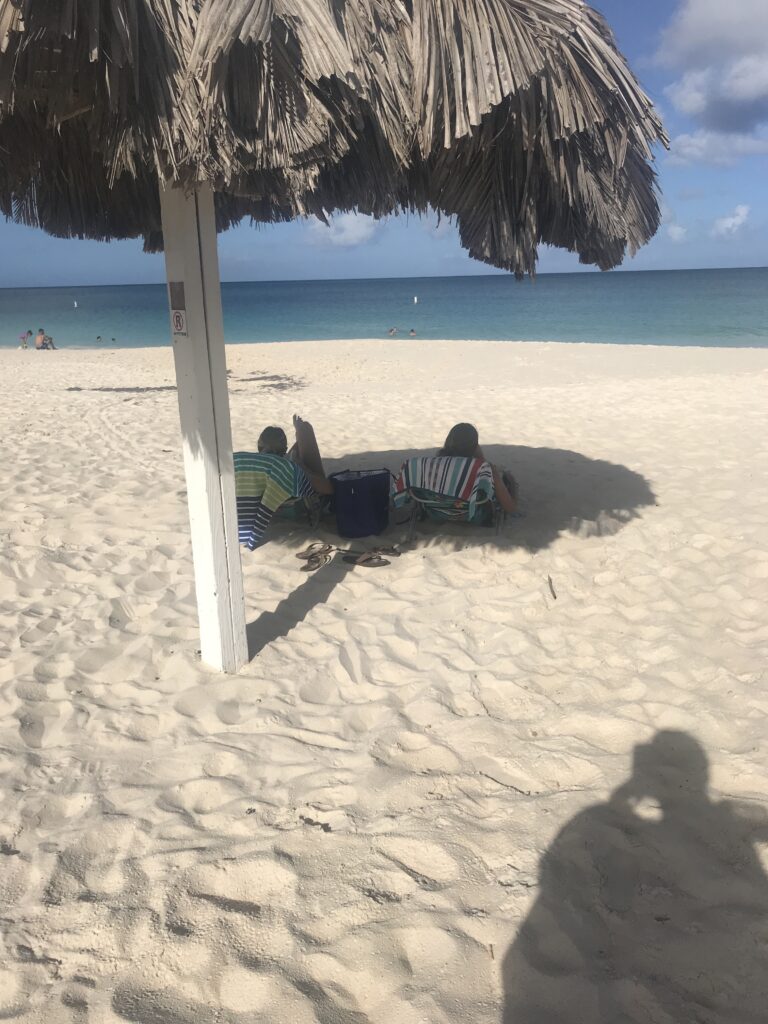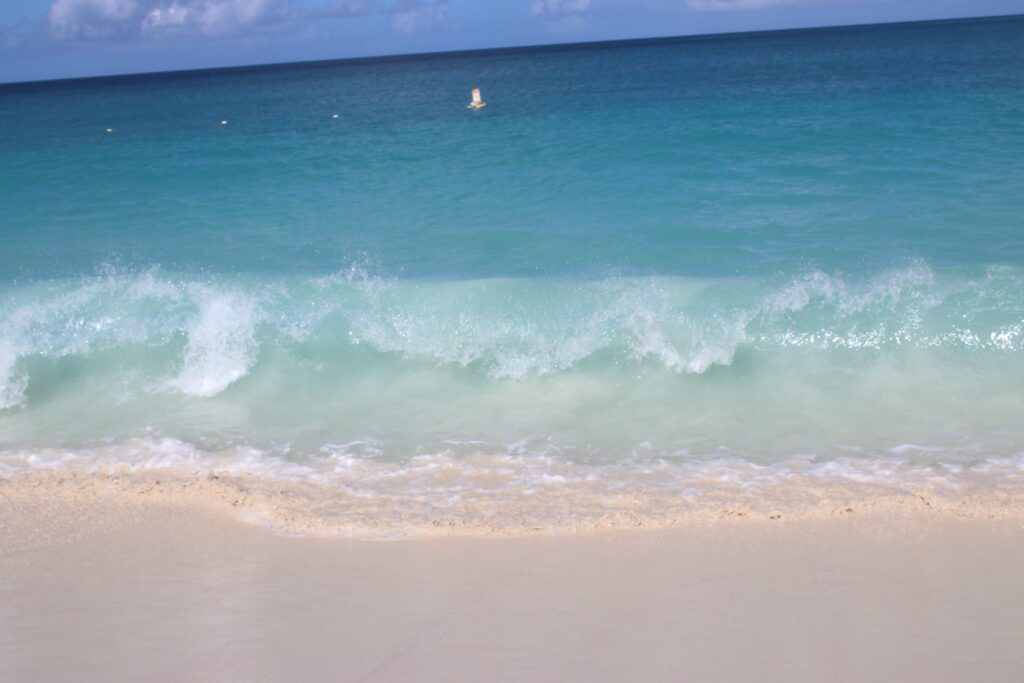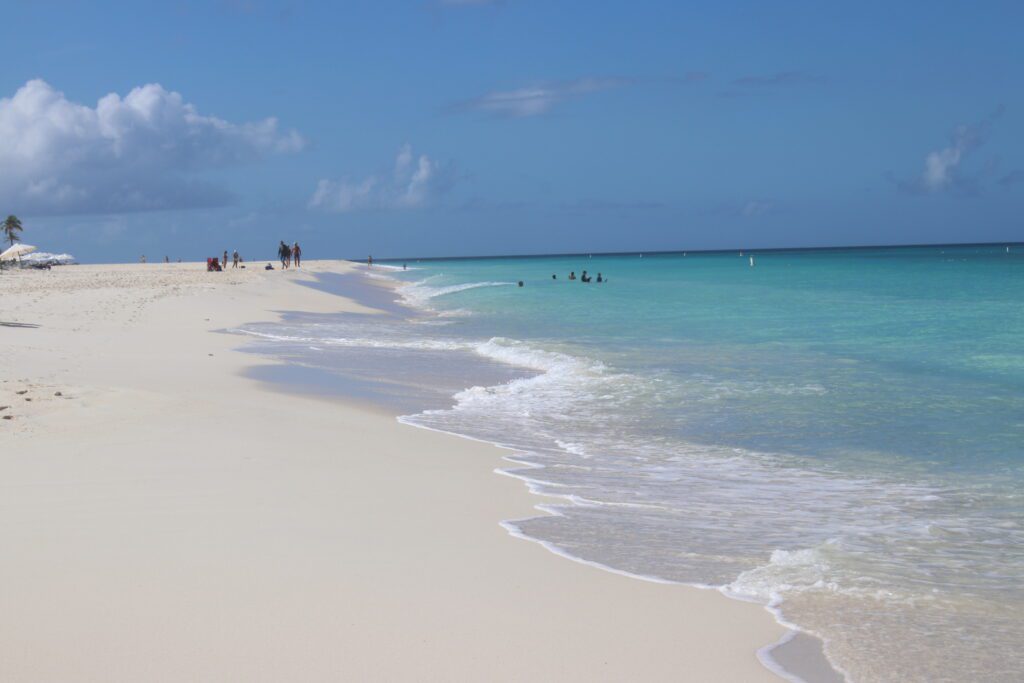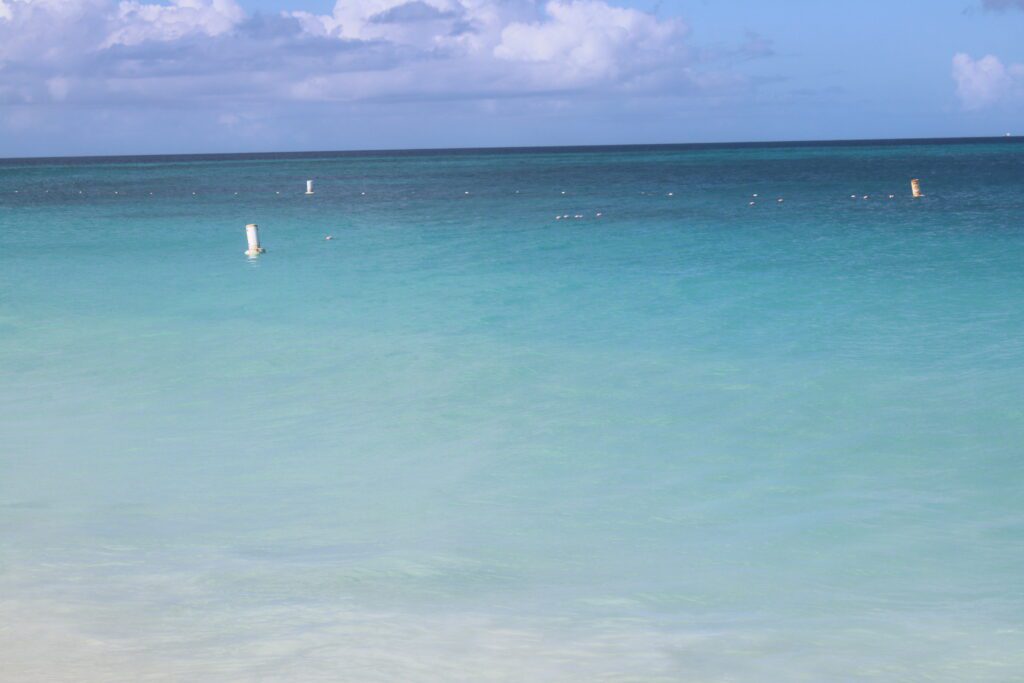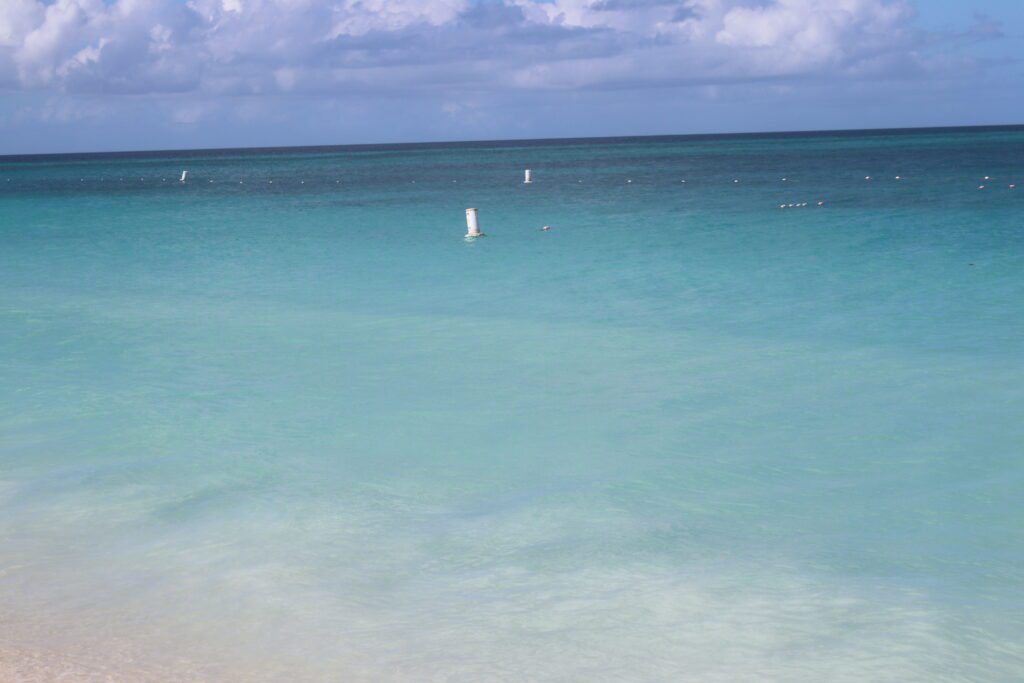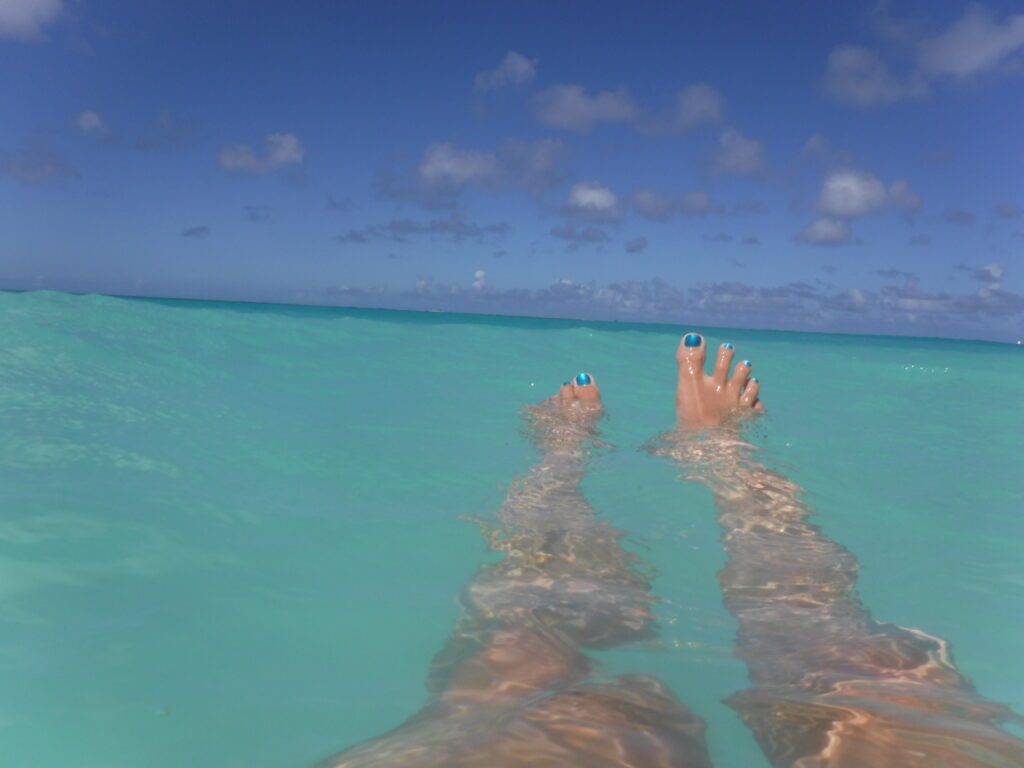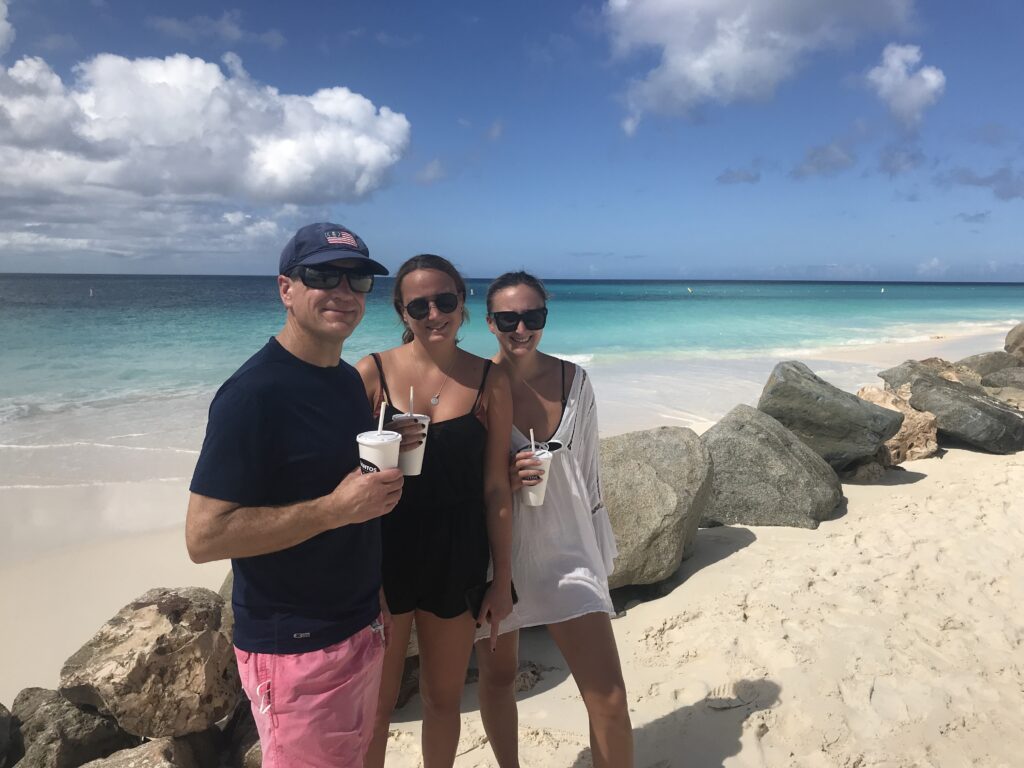 California Lighthouse
After lunch, we drove a few miles north to the California Lighthouse. Jim forgot his mask, so he could not climb to the top with us. Michele, Maddie and Kendall climbed up through the narrow stairs to the top. The top offers lovely views of Aruba. It costs five dollars per person to climb and the Aruba tourism authority has hours on its website.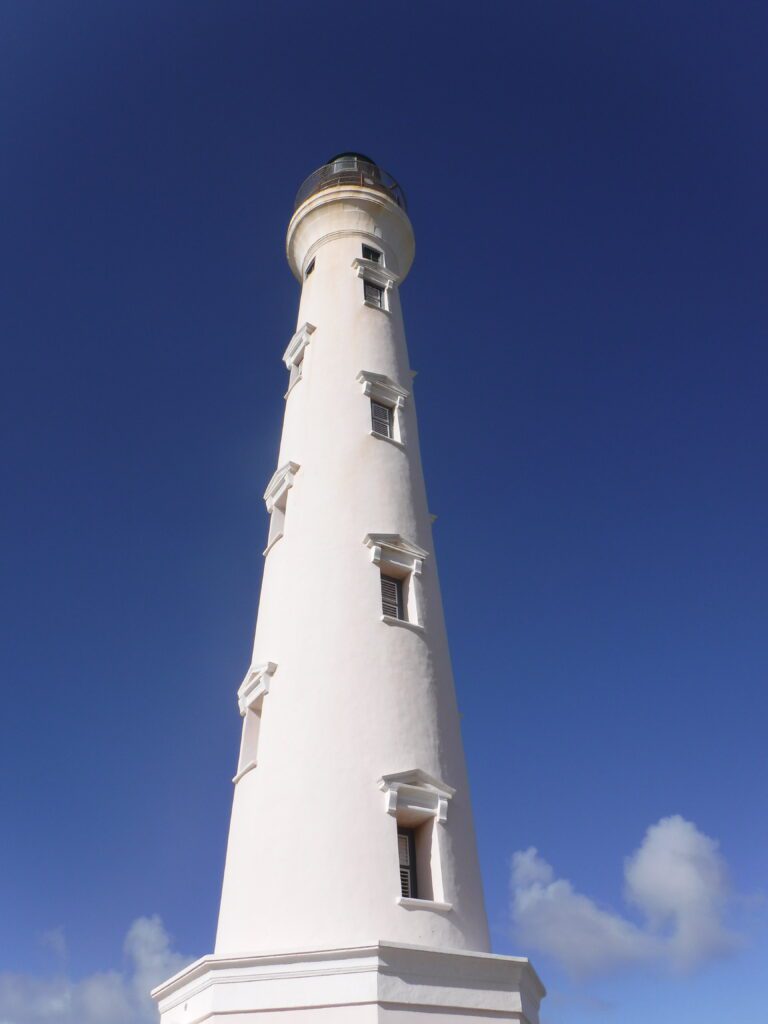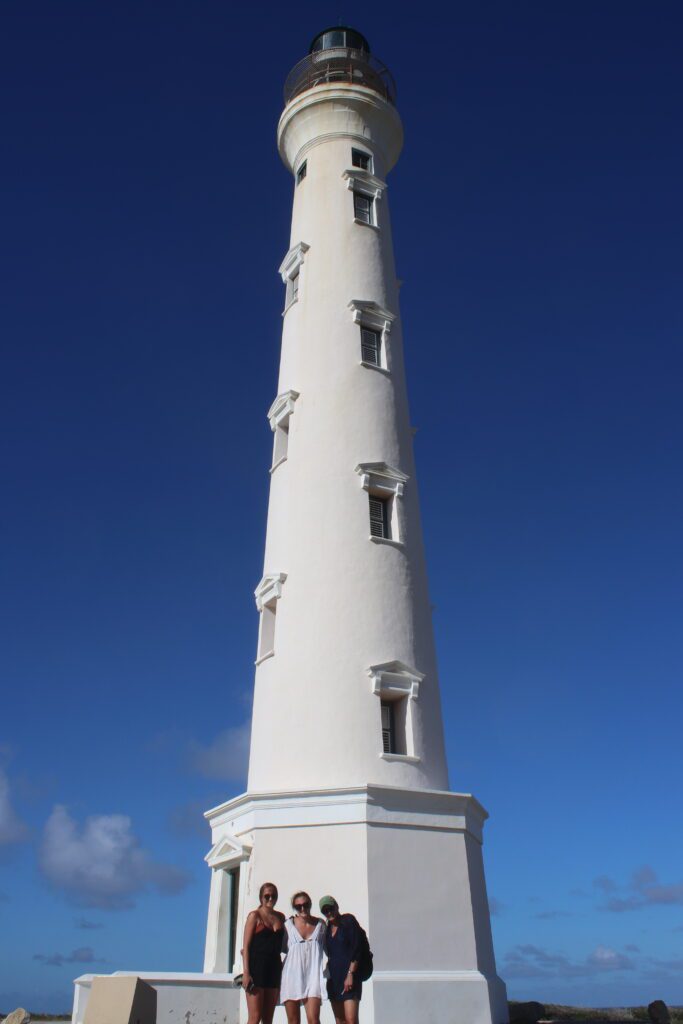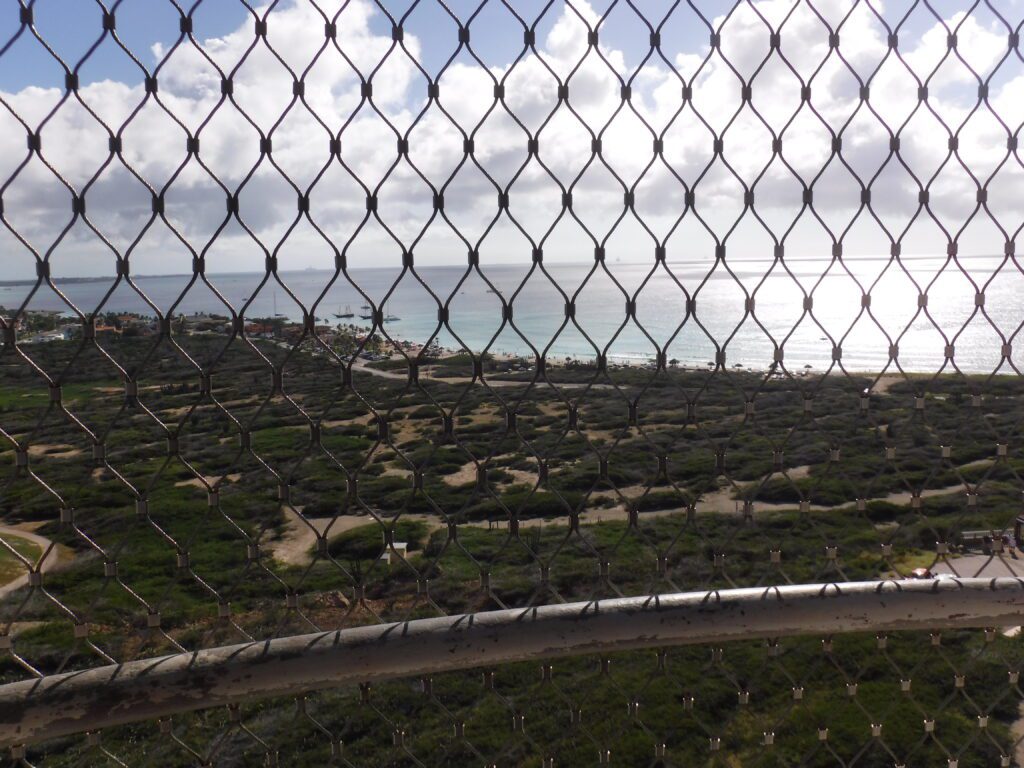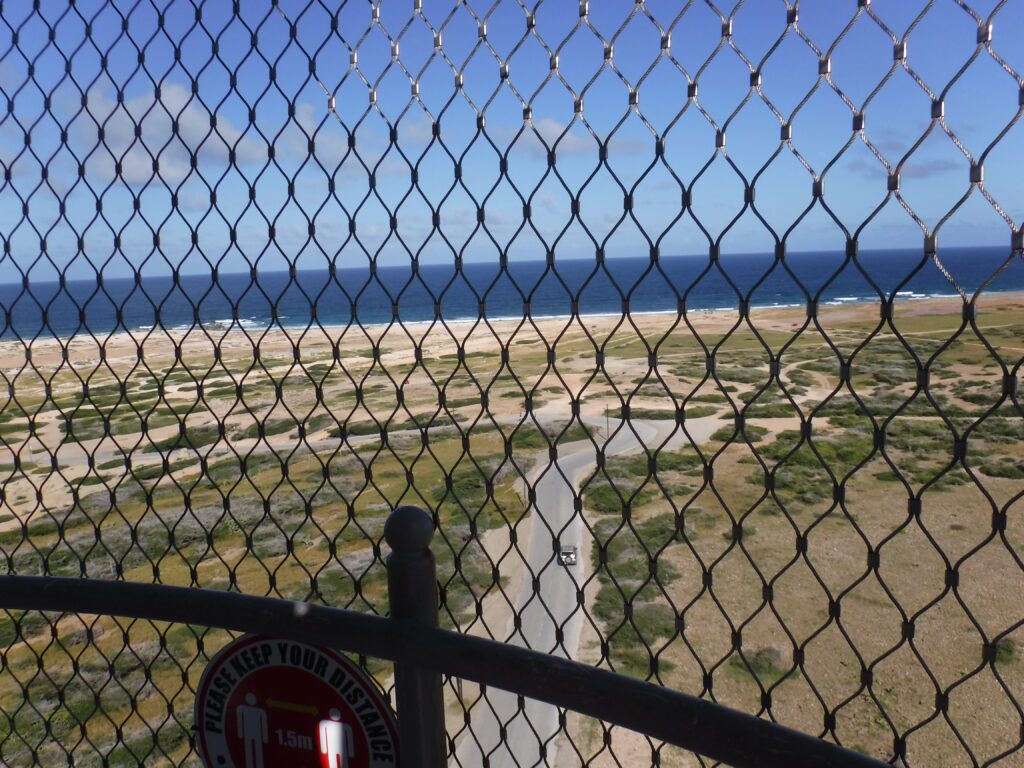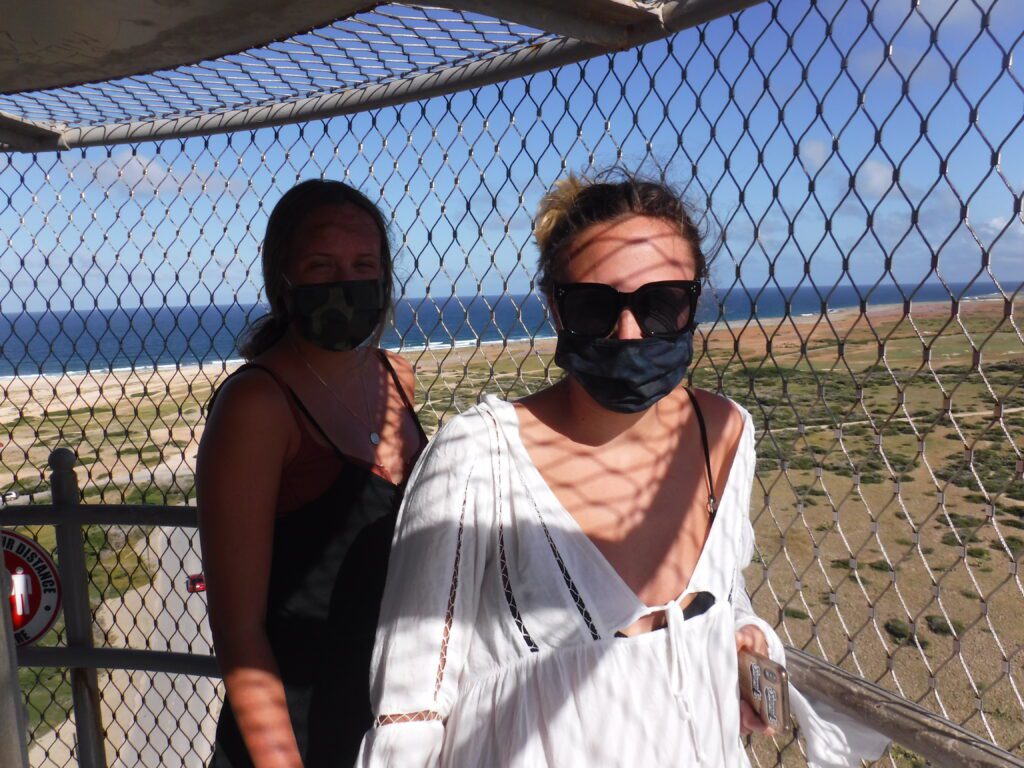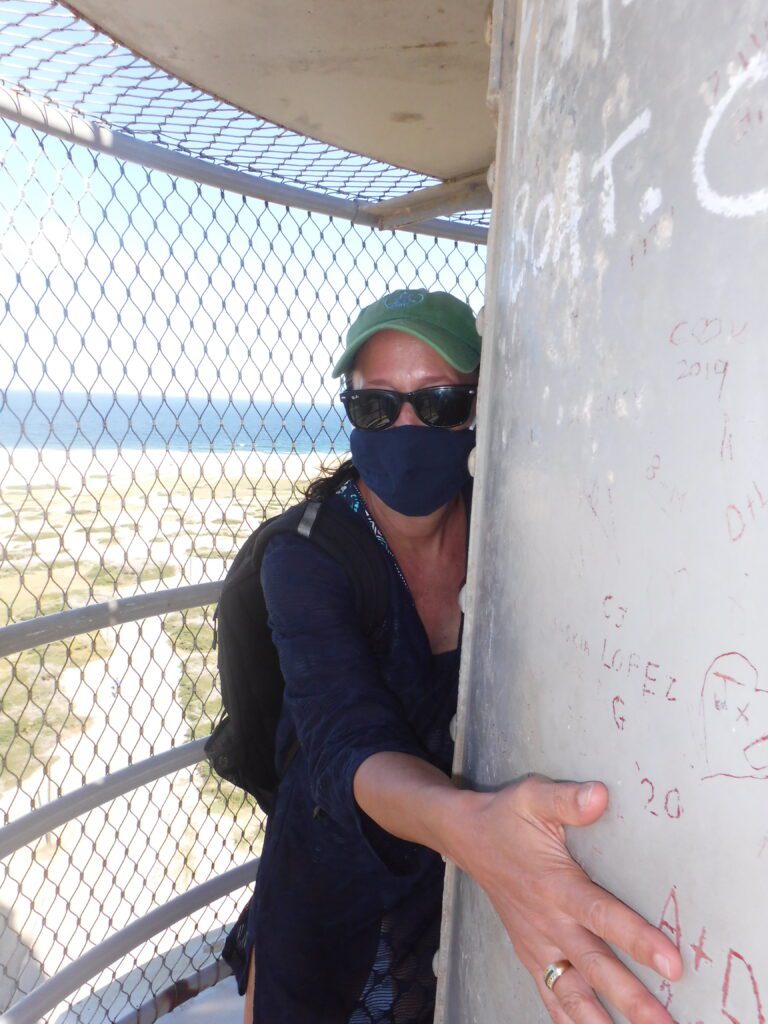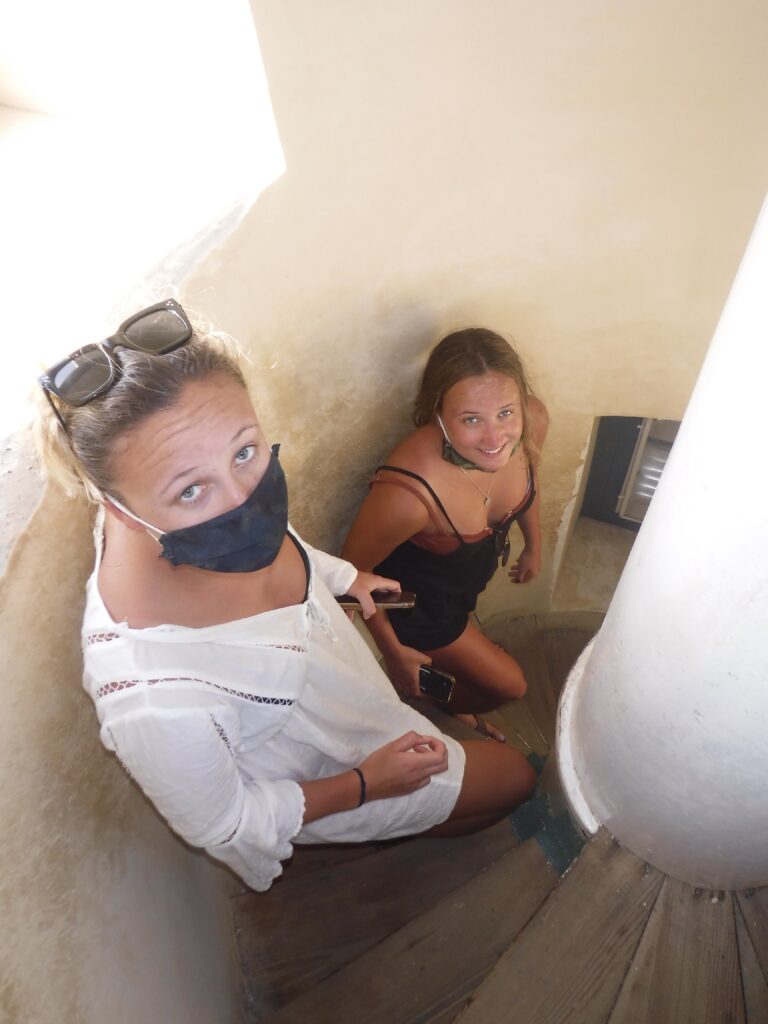 Flying Fishbone
Michele spends a great deal of time looking for unique restaurants in special locations. She tries to save the most unique dining experience for Christmas evening. This year was no different.
We headed south to the Flying Fishbone in Savaneta. It was a wonderful outdoor dining experience. However, they did not seem to be following some of Aruba's social distancing and "keep tables far apart" rules as everything is technically outside. We did love the food and the setting. Sunset was once again flawless. The escargot in garlic butter was tremendous. TripAdvisor reviews are excellent.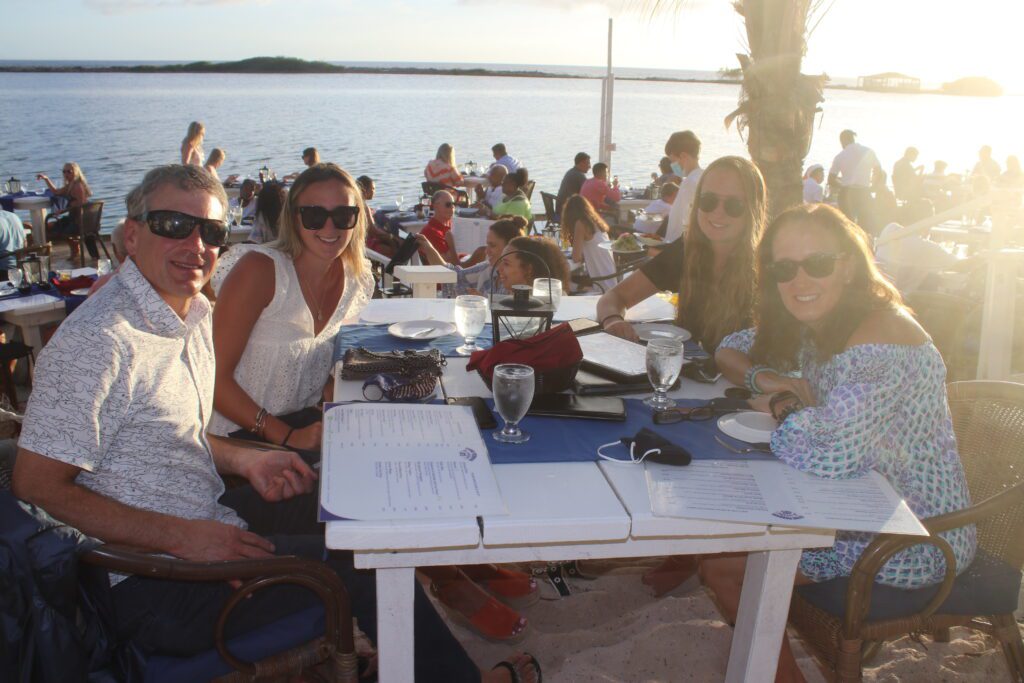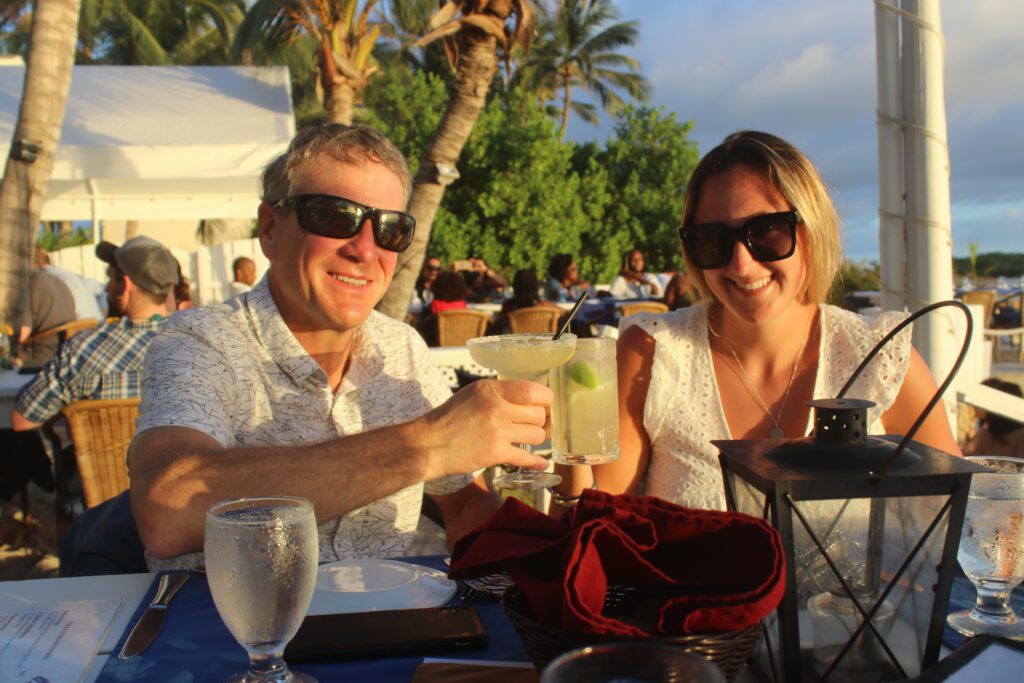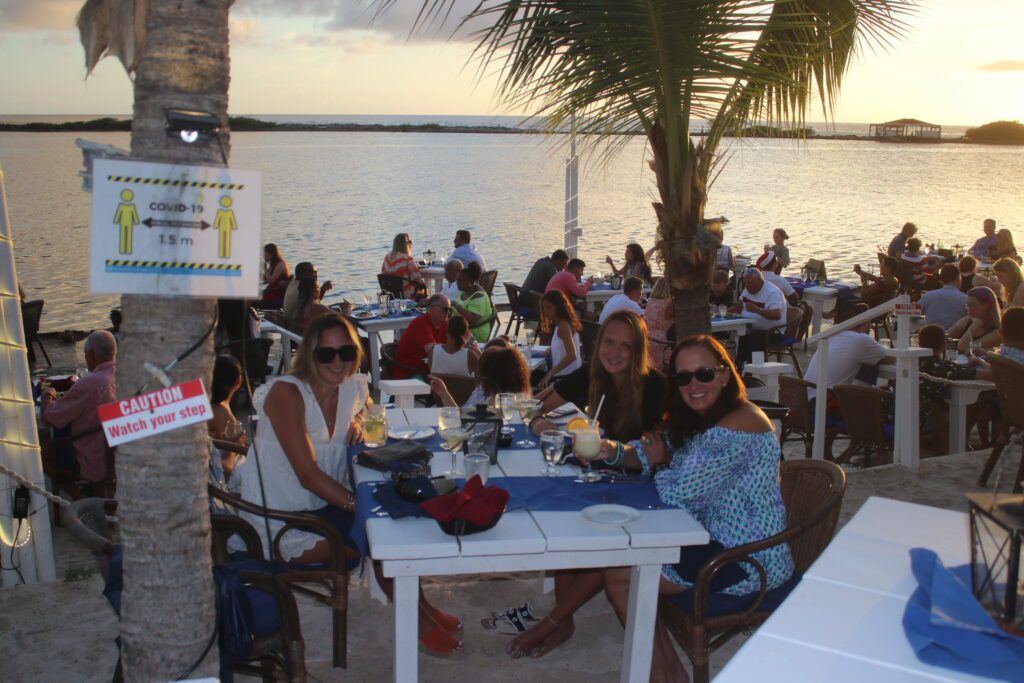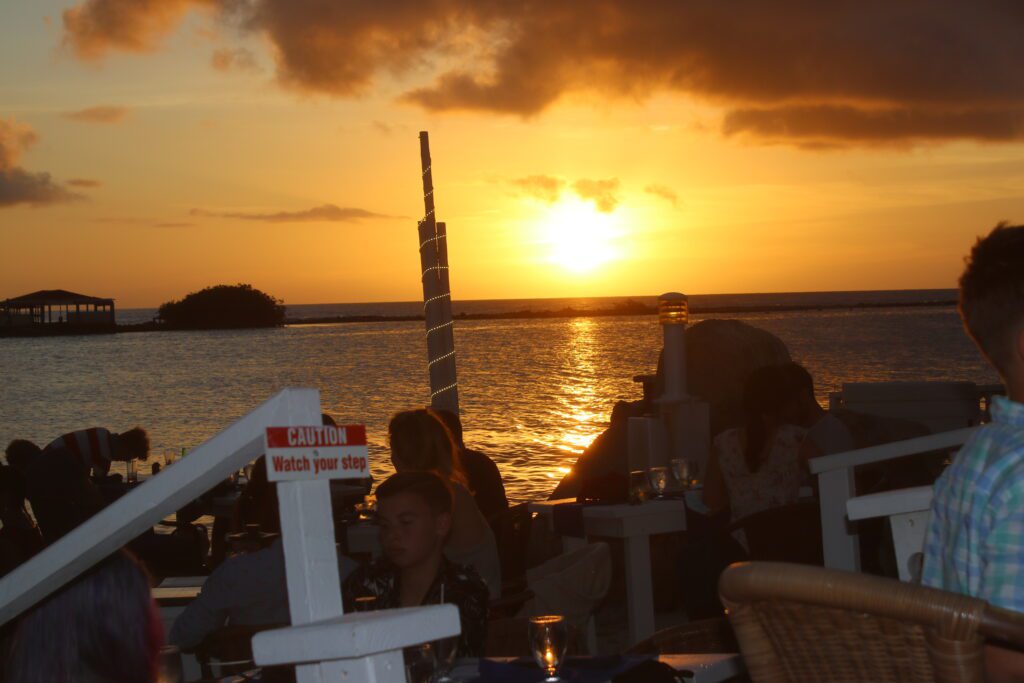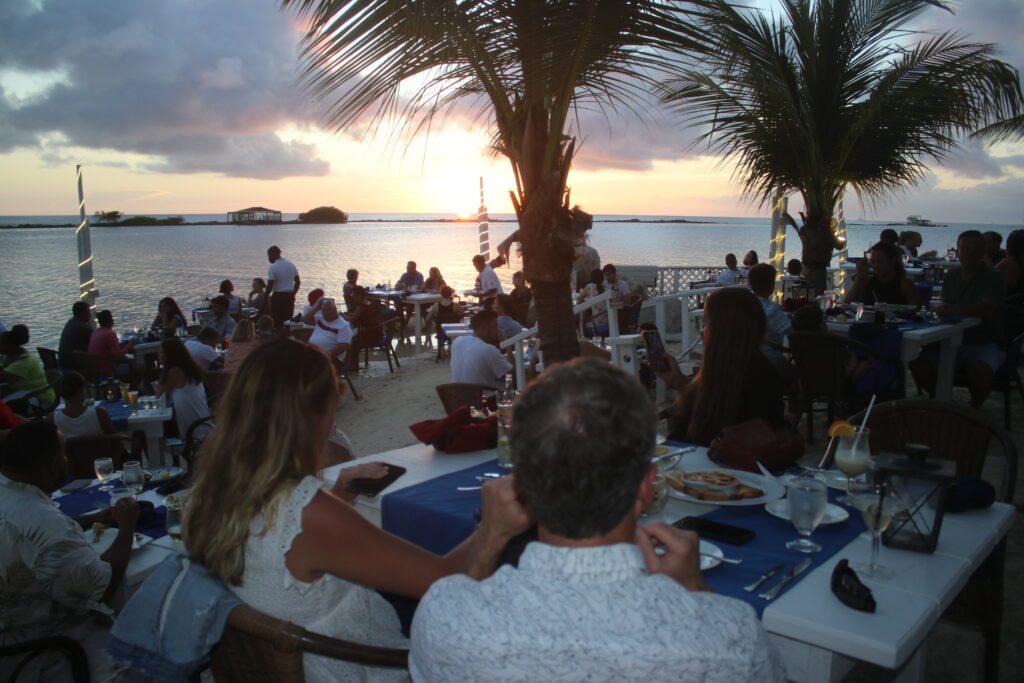 UTV to the Wild Side
When we visited Arikok National Park earlier in the week, we realized that we would need a Jeep or a UTV to see more of the wild landscape on the eastern wild side of the island.
We mistakenly thought that a UTV was allowed in Arikok National Park. They are NOT allowed in the national park. Only Jeeps are allowed in the national park. However, there is plenty to see outside of the park. Most UTV rental companies charge about the same for use of a vehicle. For eight hours including taxes and delivery, it cost us $300.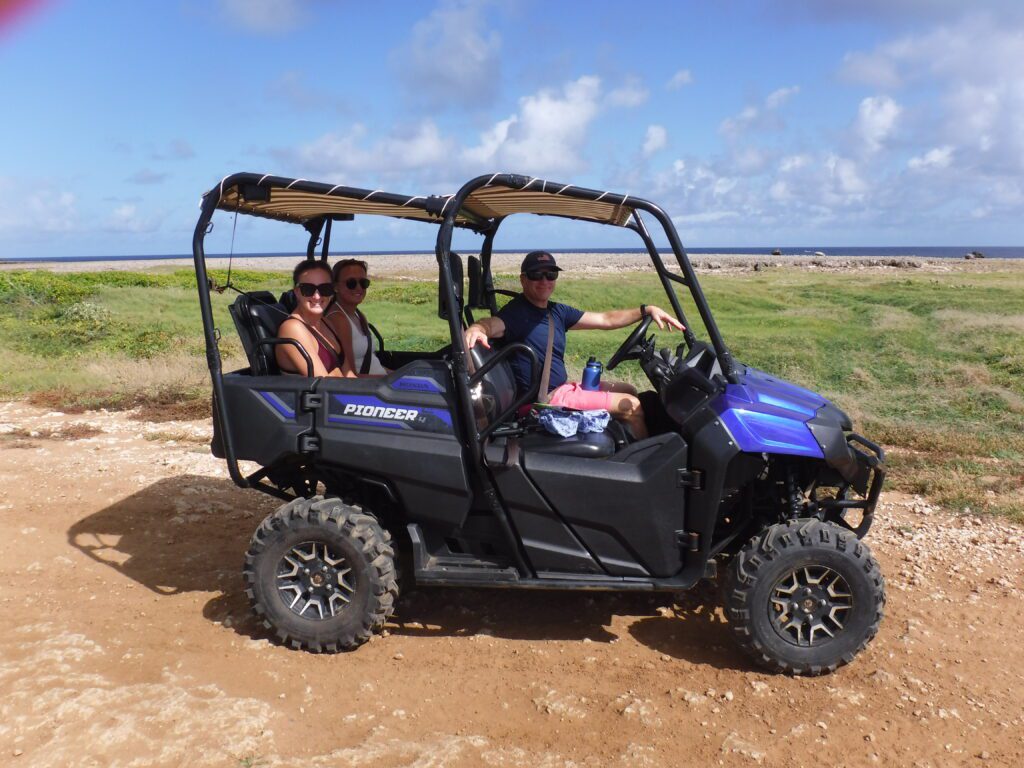 UTV to the Natural Pool
There are two natural pools in Aruba. One is called Conchi. It is located in Arikok National Park. The only way to access this Conchi is by Jeep or by foot. It is a larger natural pool. The smaller natural pool is located very close to the Bushribana gold mine ruins. This smaller pool is accessed by SUV, UTV, ATV or even a regular car. On the road to the Natural Bridge, you will come to a fork in the road, almost at the ocean. To the left are the Bushribana gold mine ruins. To the right is the Natural Bridge. At this fork, go straight. Park near the ladder. Wear water shoes! The coral is sharp.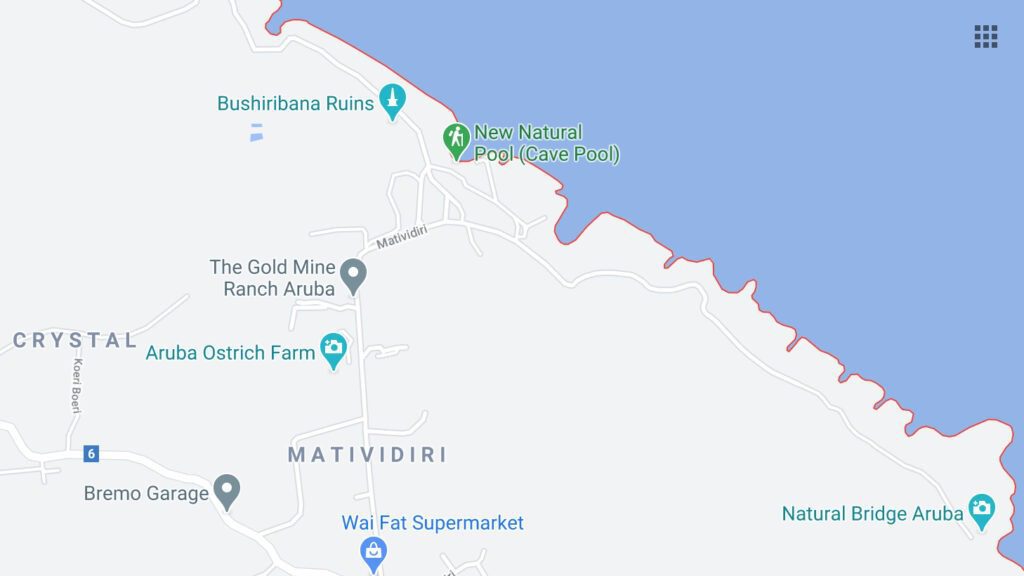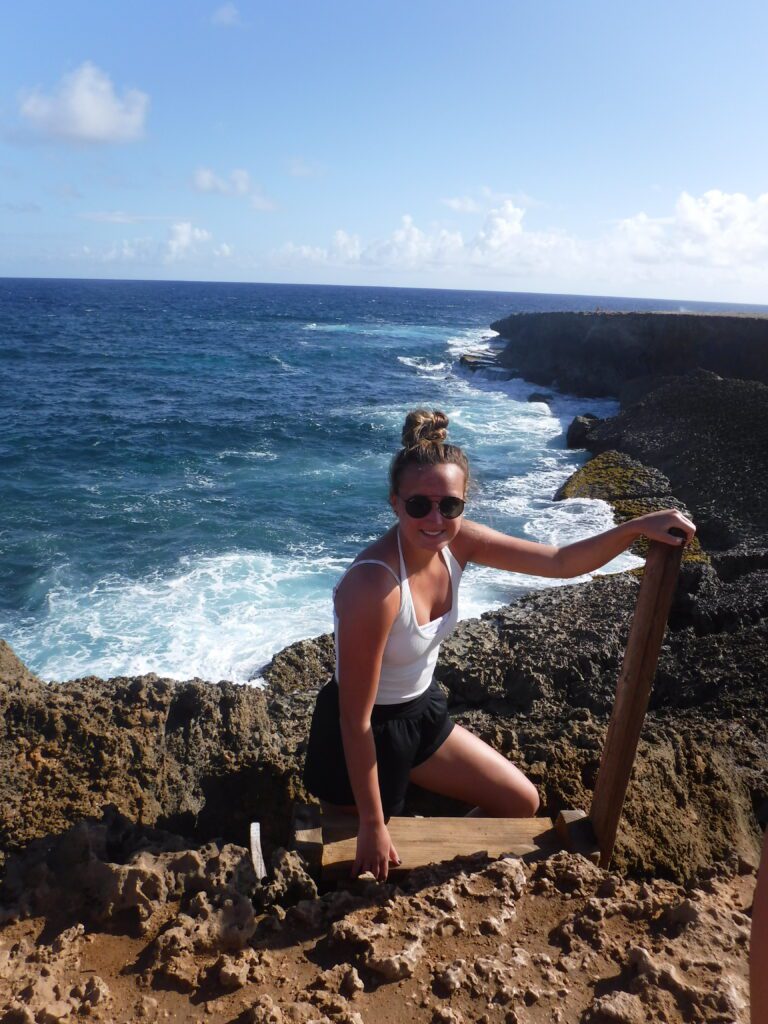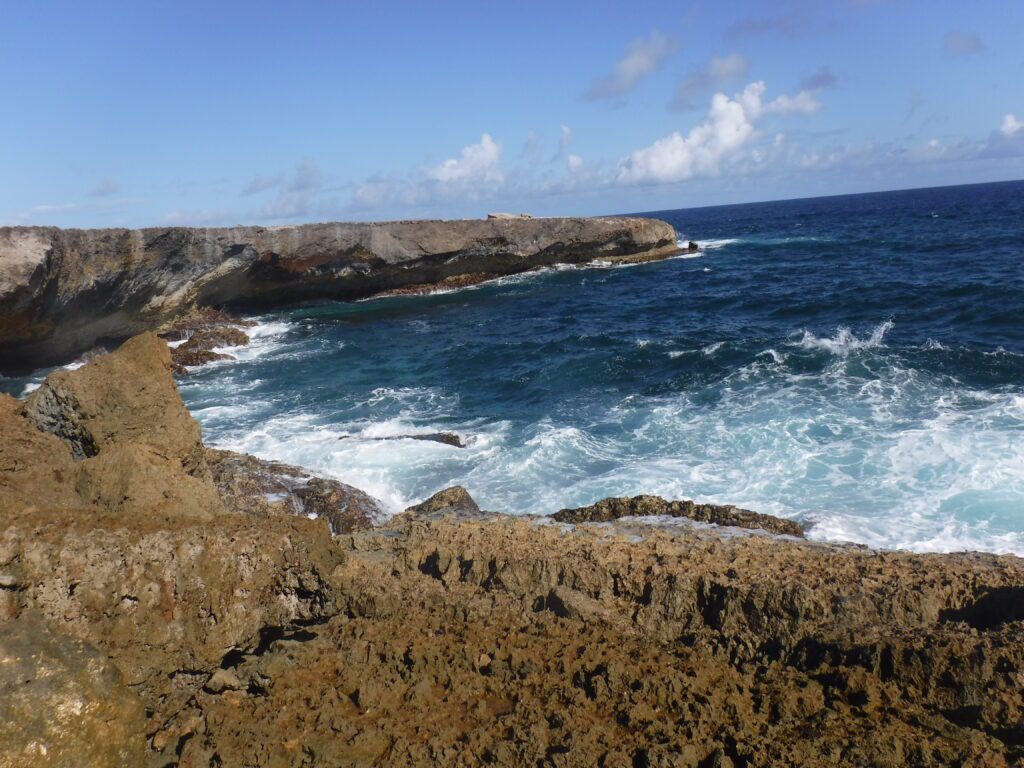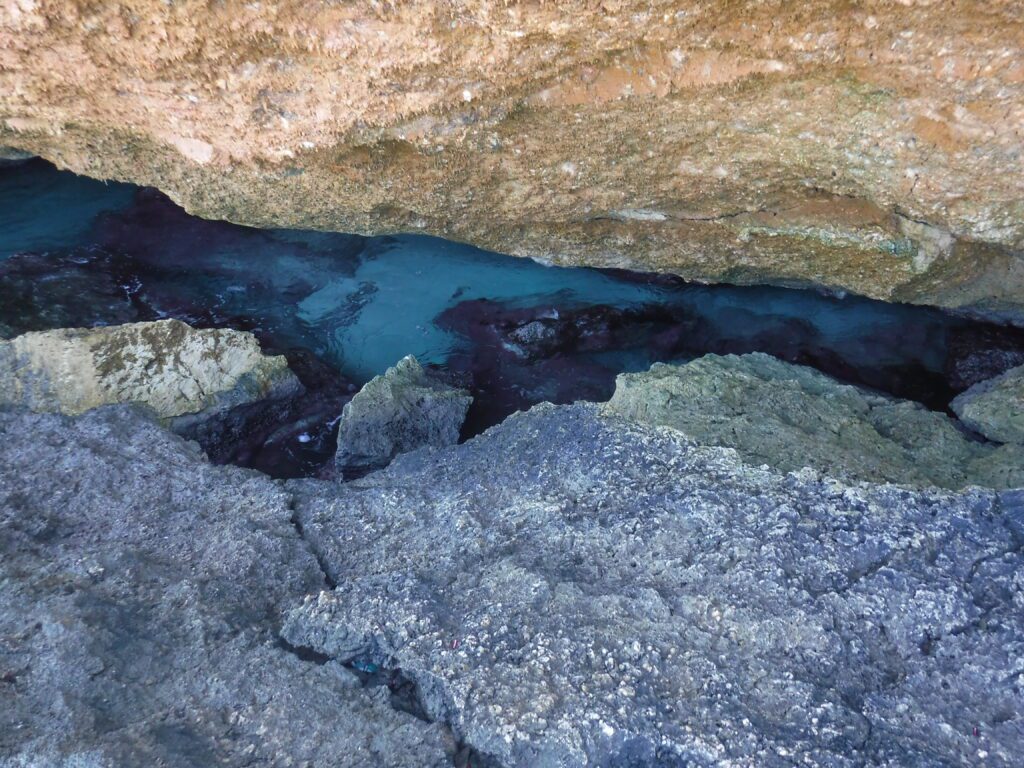 Our photos and videos in the pool are not great. The lighting was very challenging! A big UTV group was there before us. We waited for them to finish and then we jumped into the pool. We were alone for most of the time we were there while we were swimming. You need about 20 minutes or so here to jump a few times and enjoy the water. This stop is highly recommended!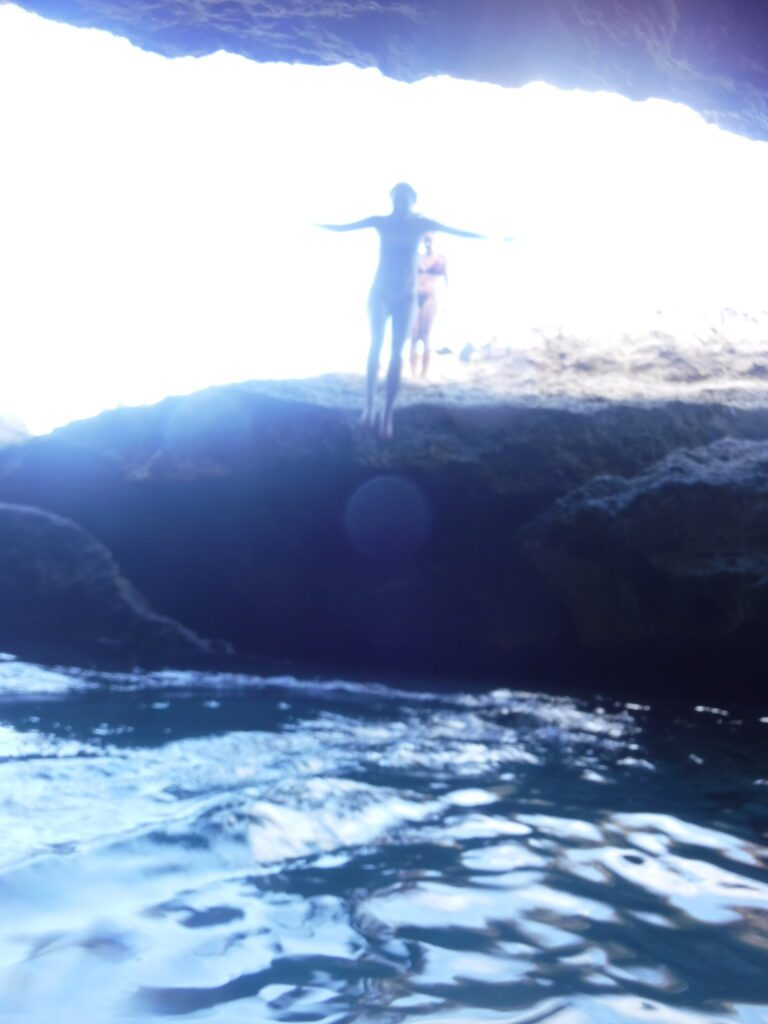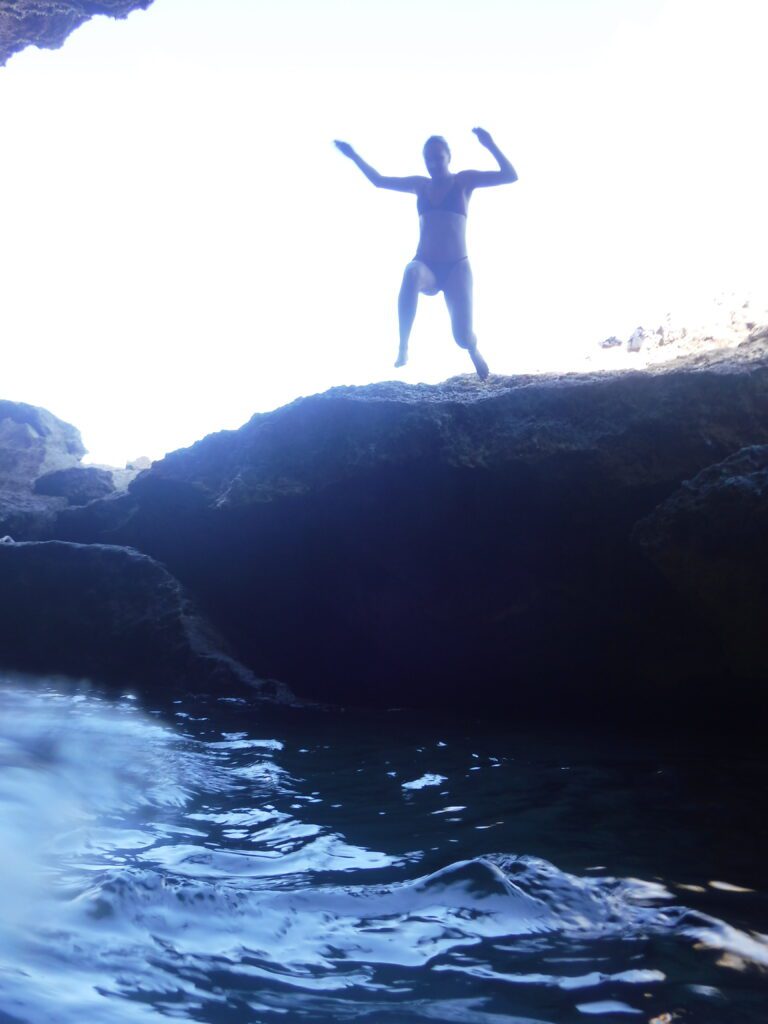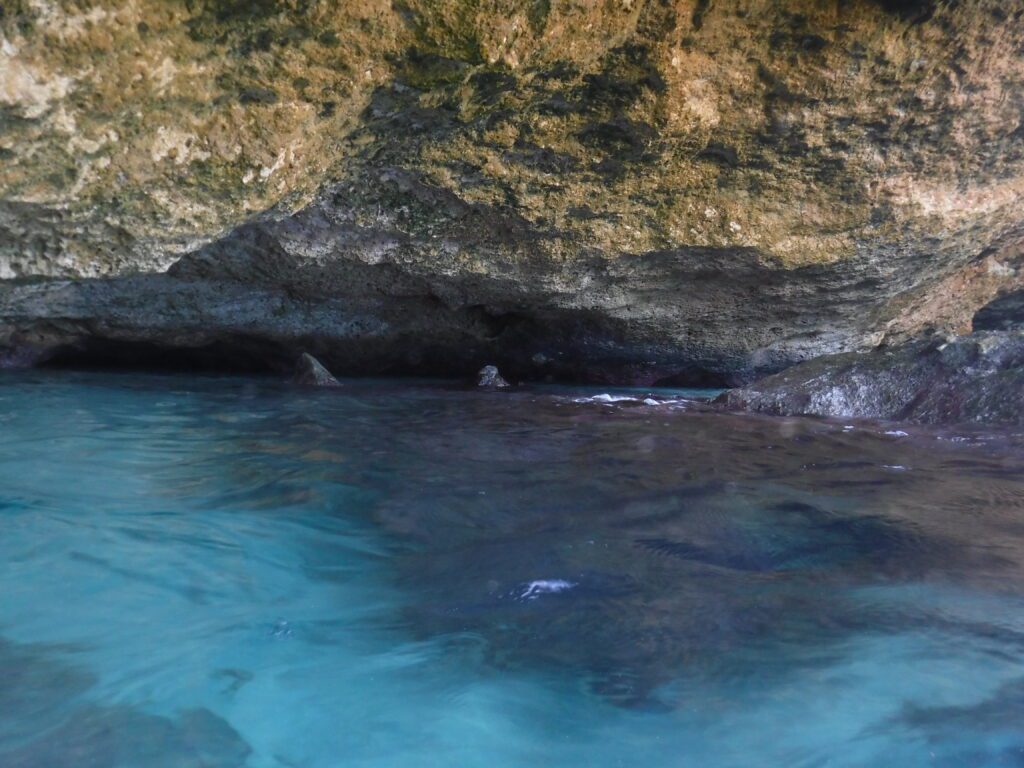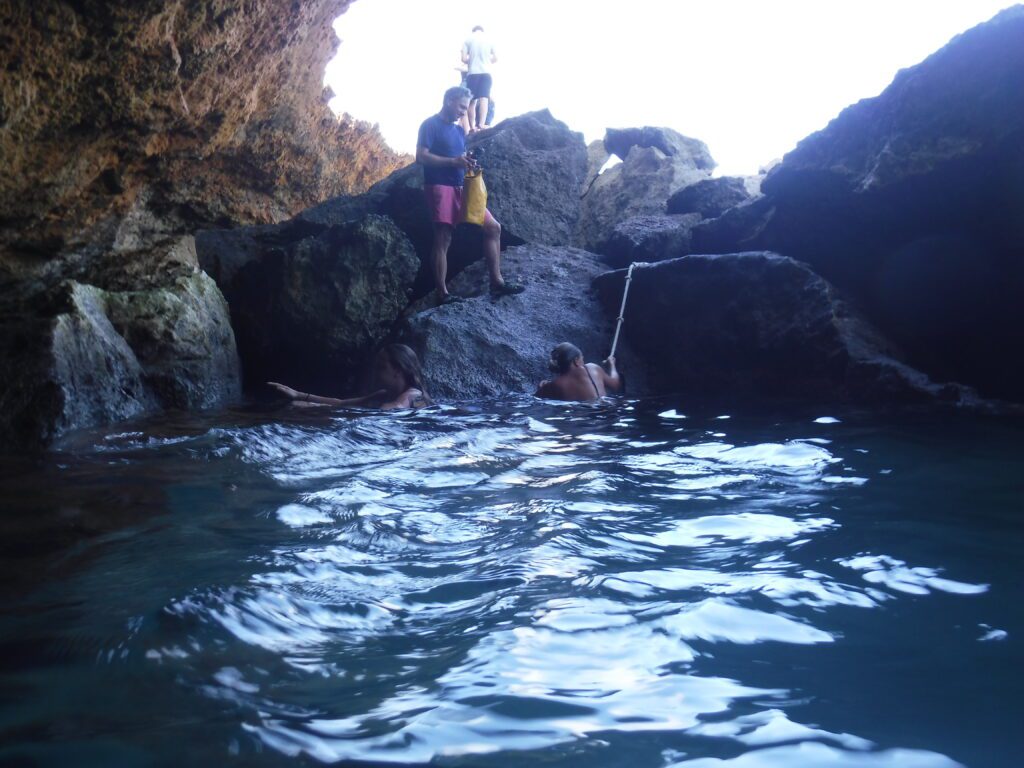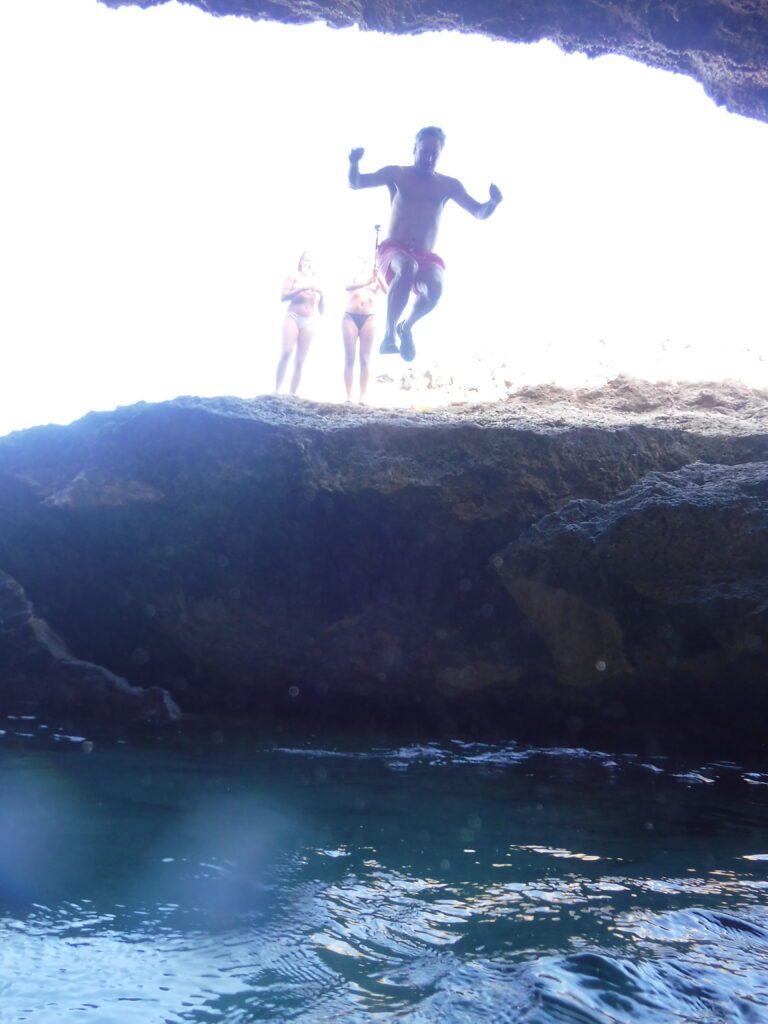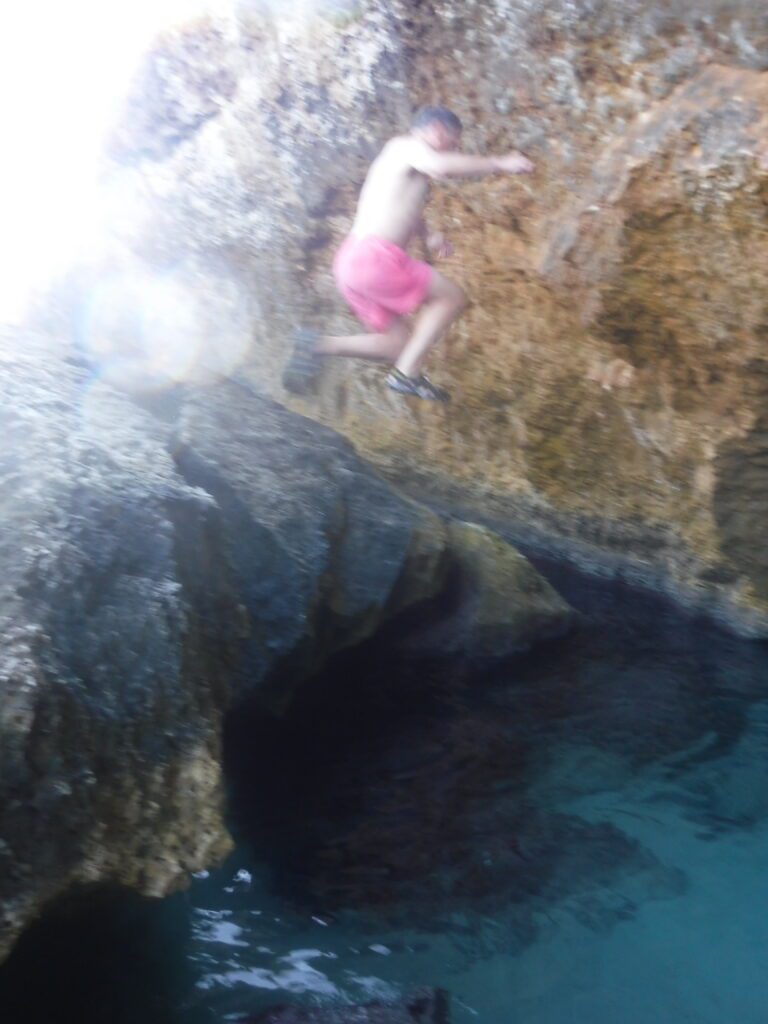 UTV to the Natural Bridge and Beyond
When we visited the Natural Bridge a few days earlier, we noticed a series of rough trail roads just beyond the parking lot of the Natural Bridge. These roads are ONLY accessible by UTV, ATV or a Jeep. They are very rutted, rough trails with dips and boulders. We did not allow the girls to drive on these portions of road. We drove from the Natural Bridge all the way to a ridge above Rancho Daimari.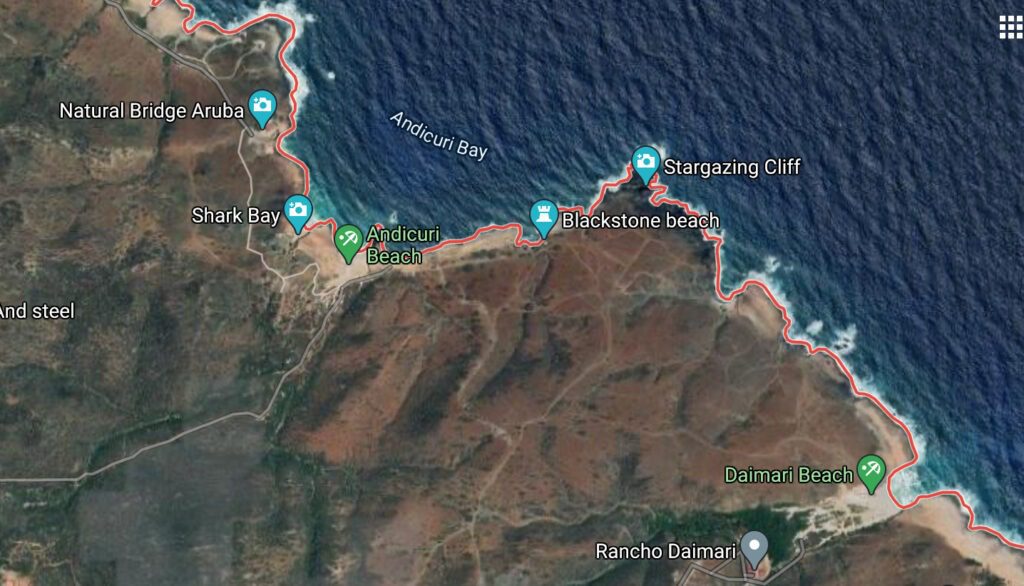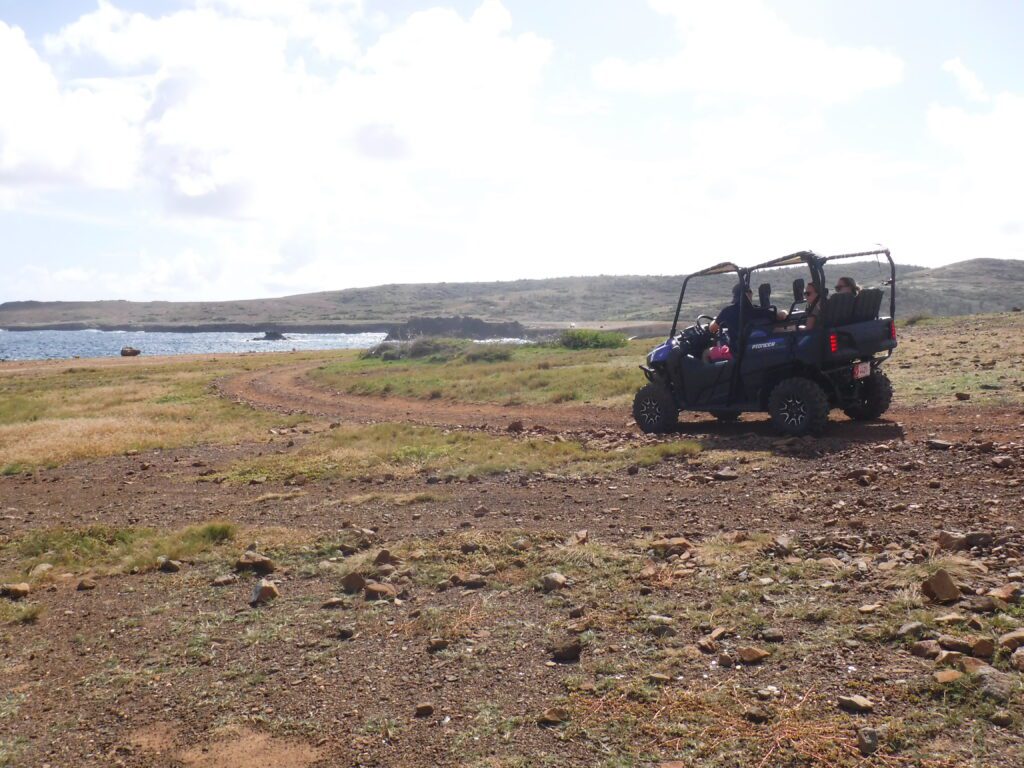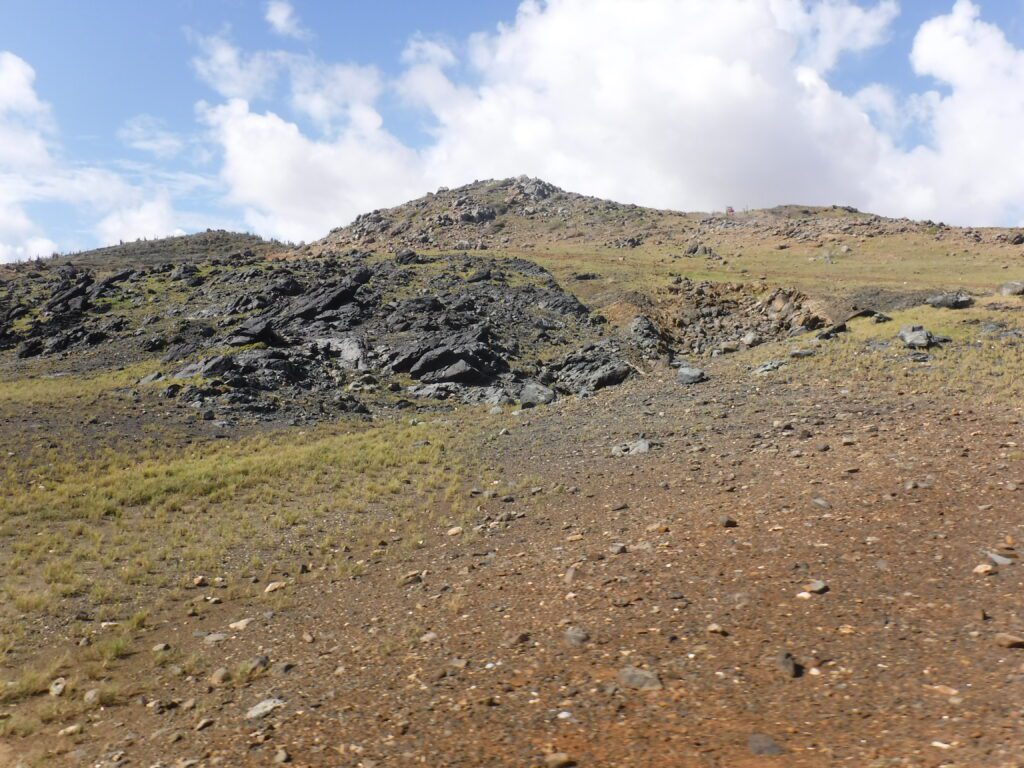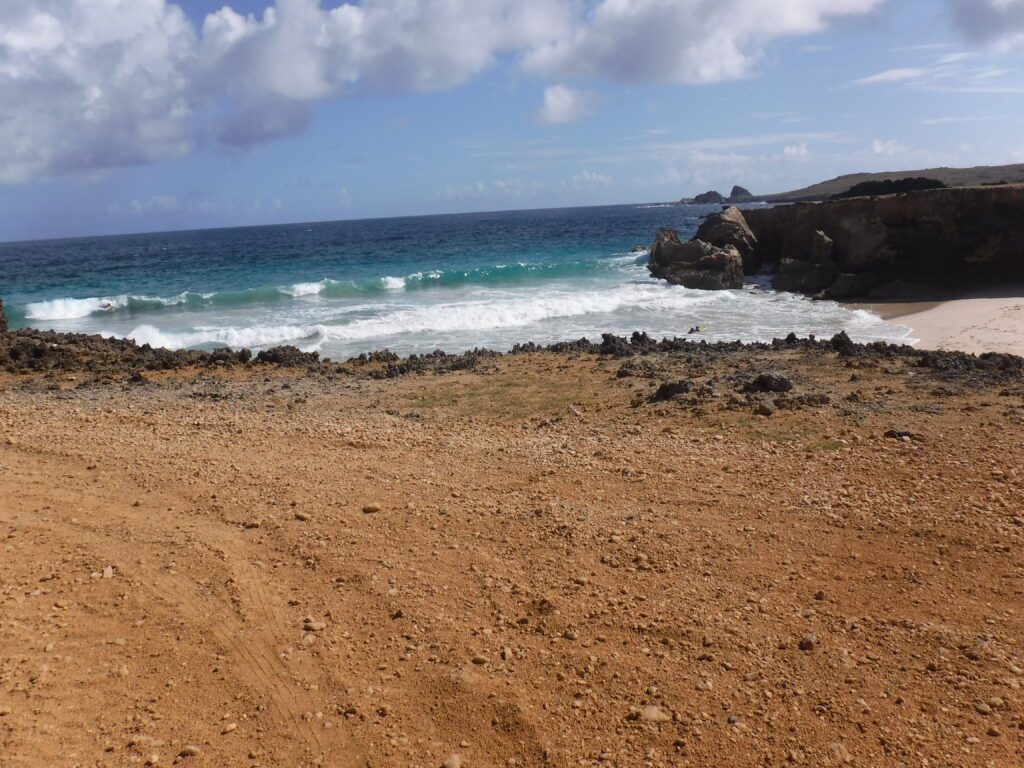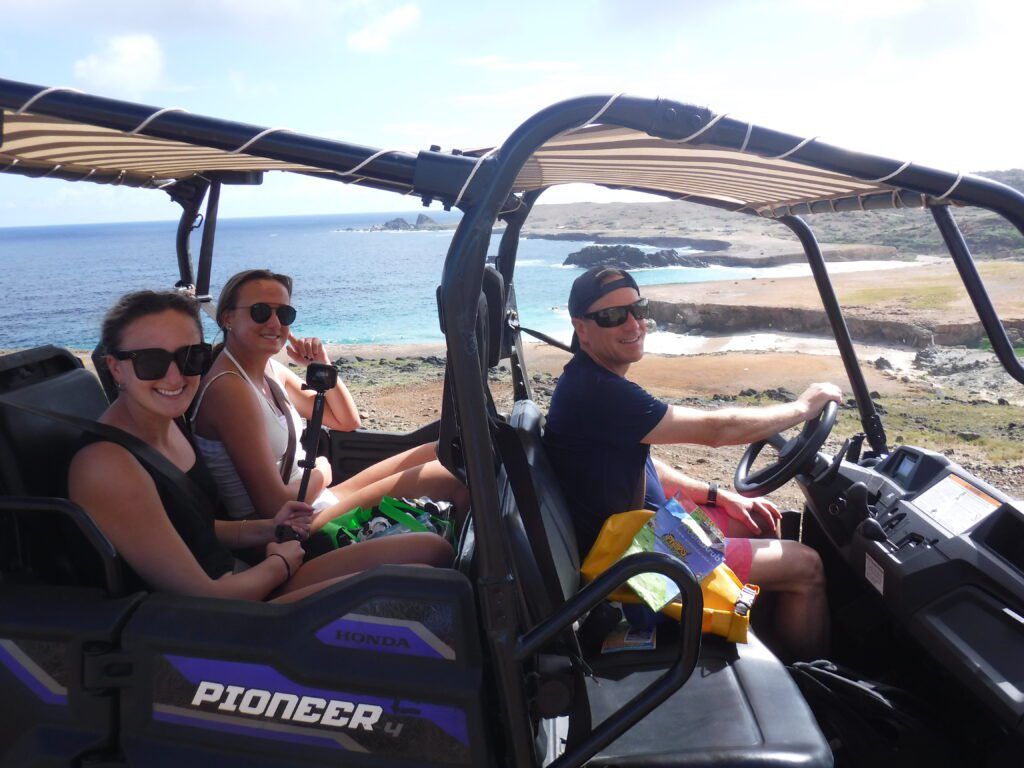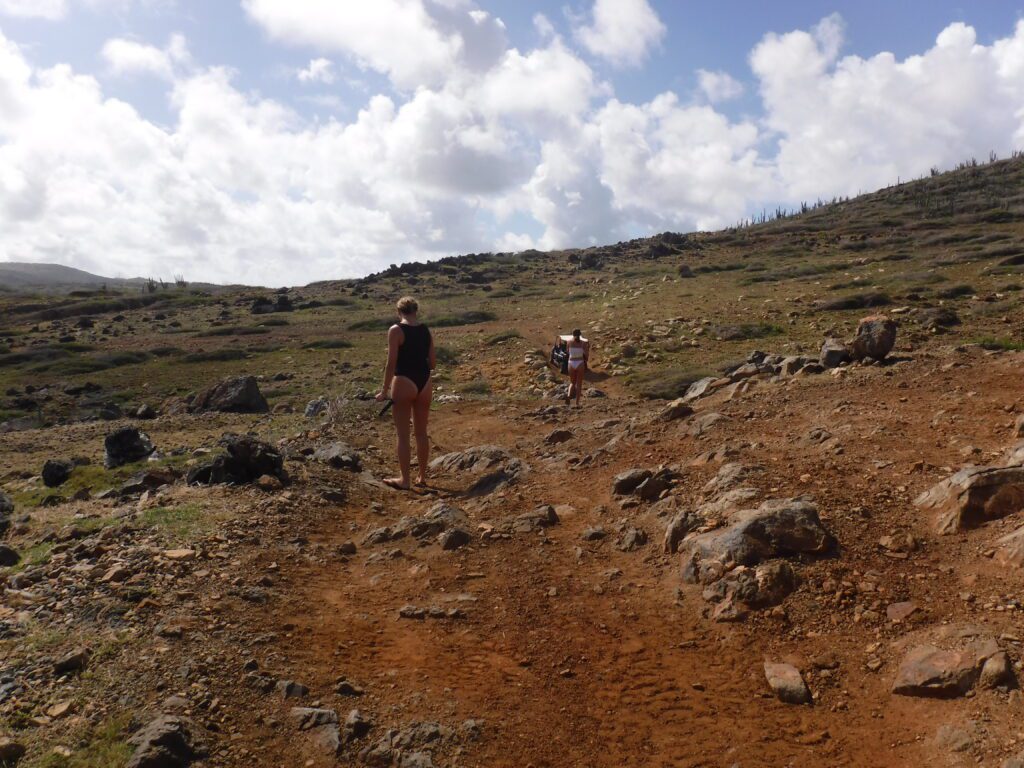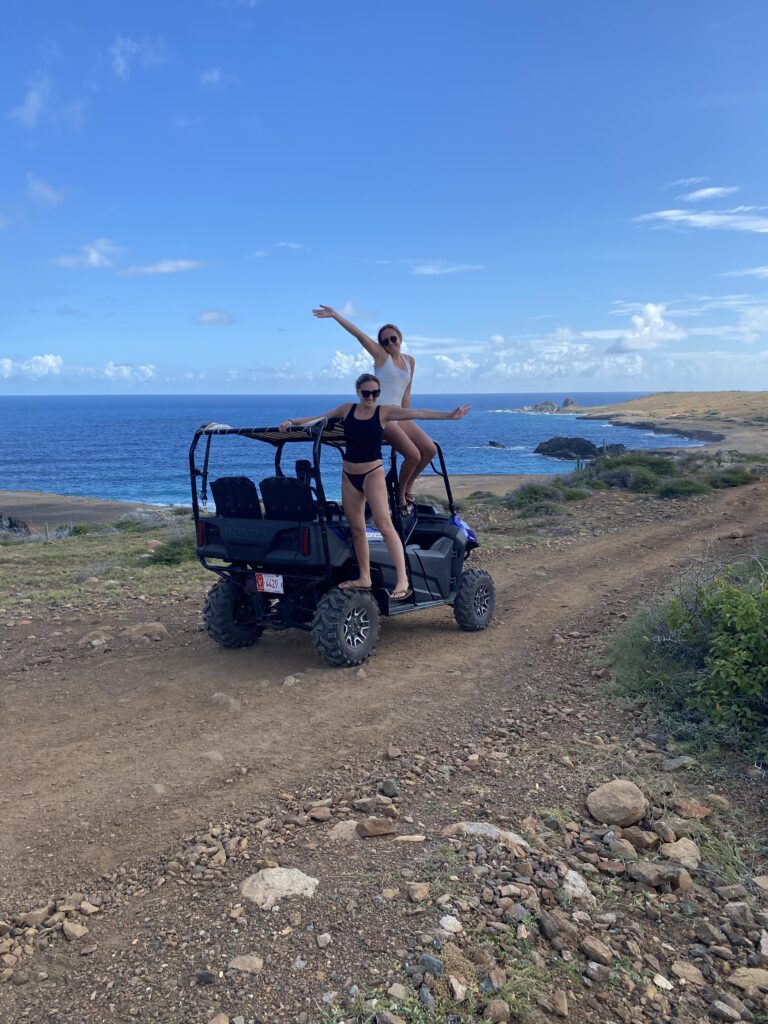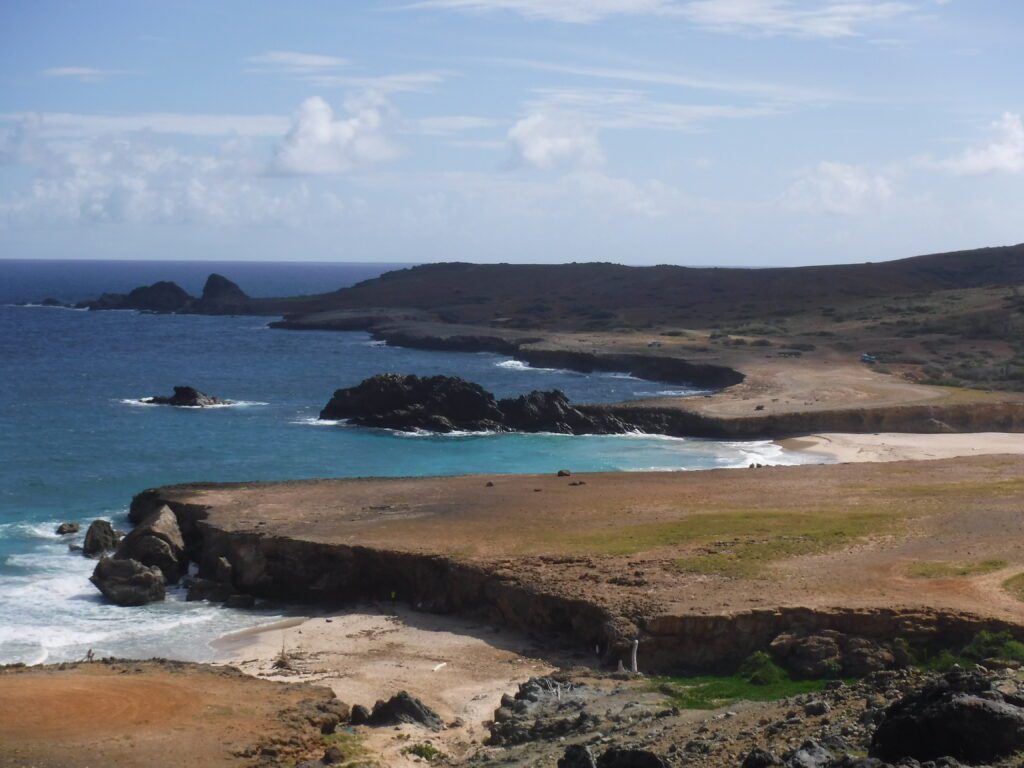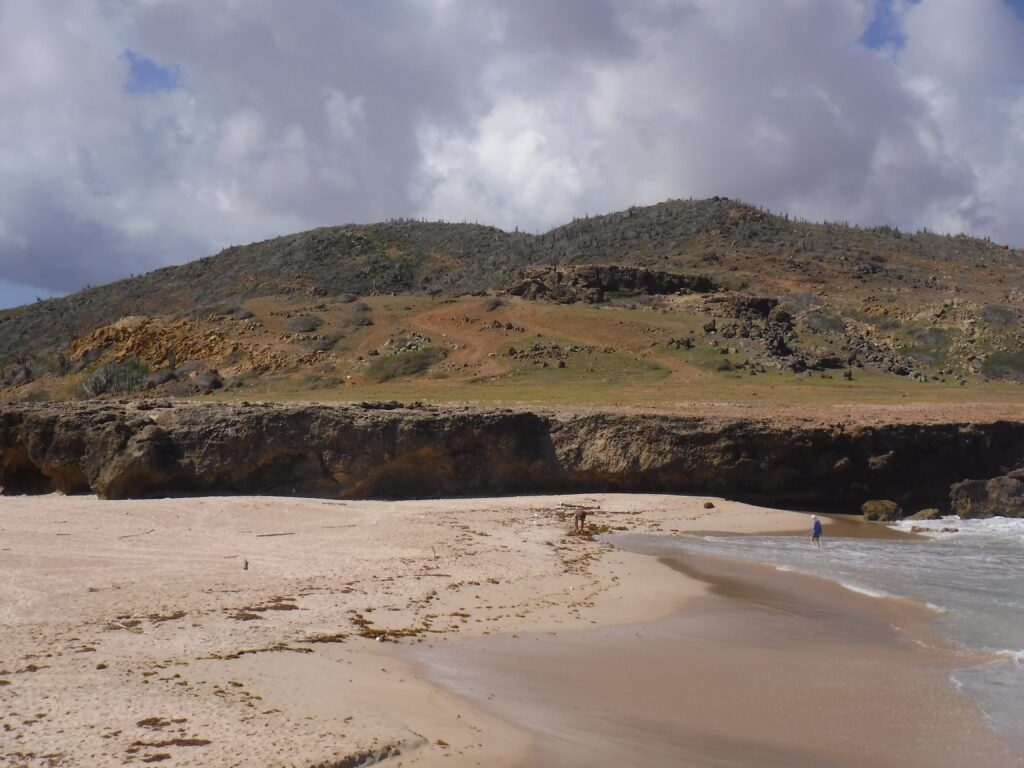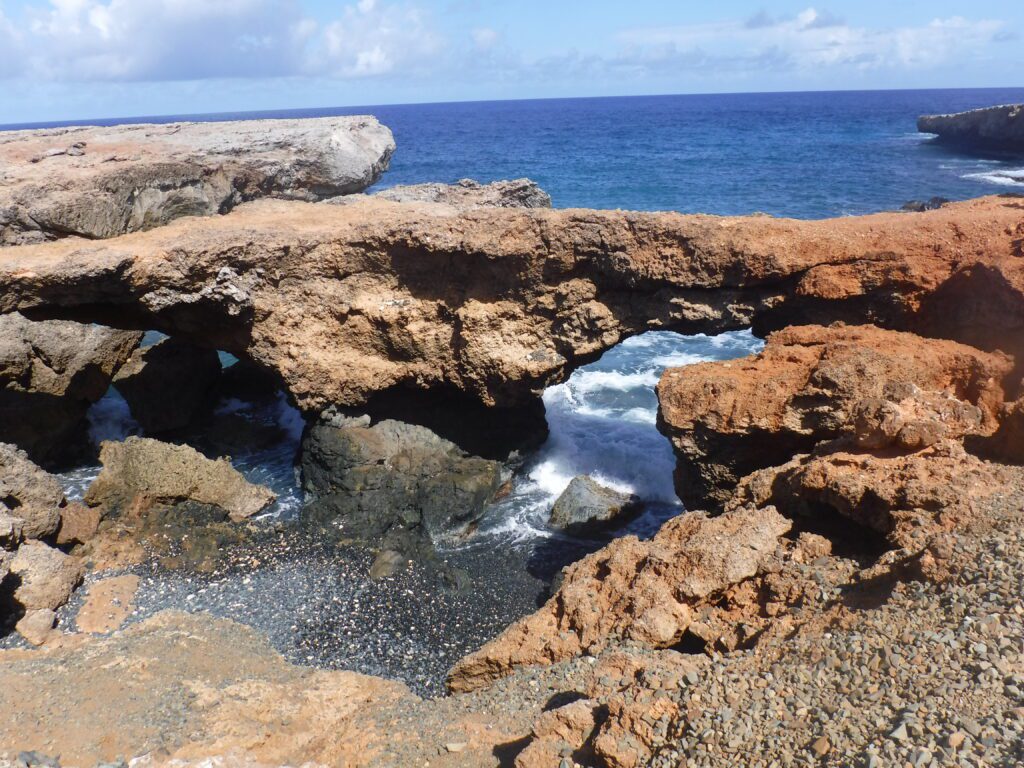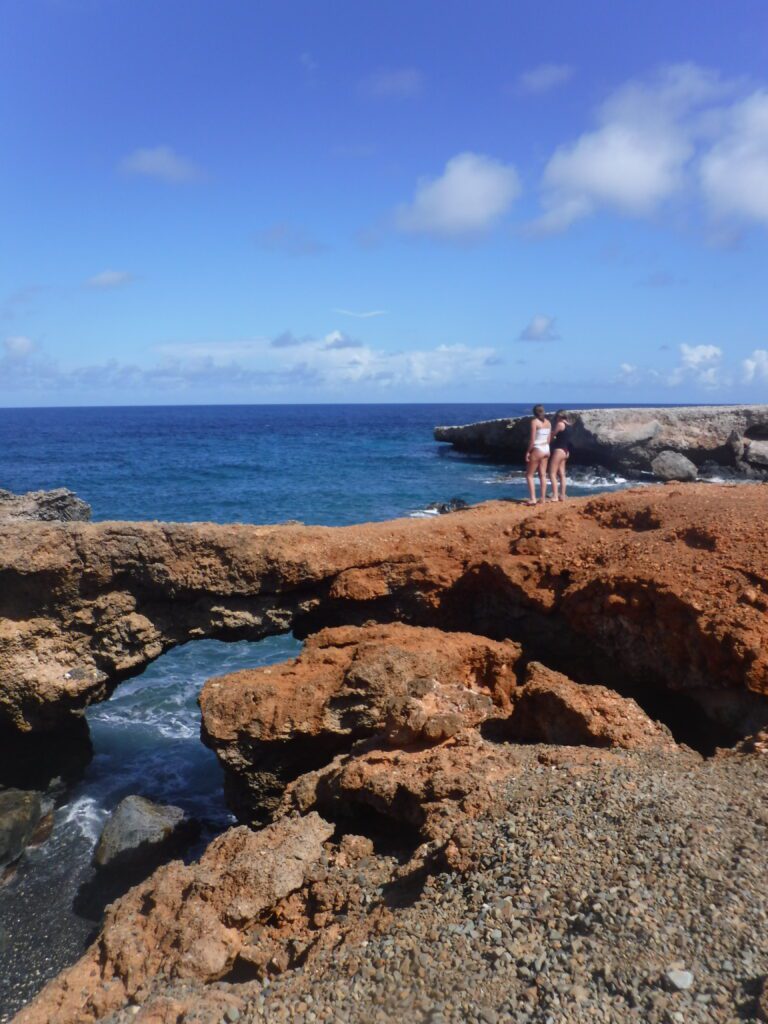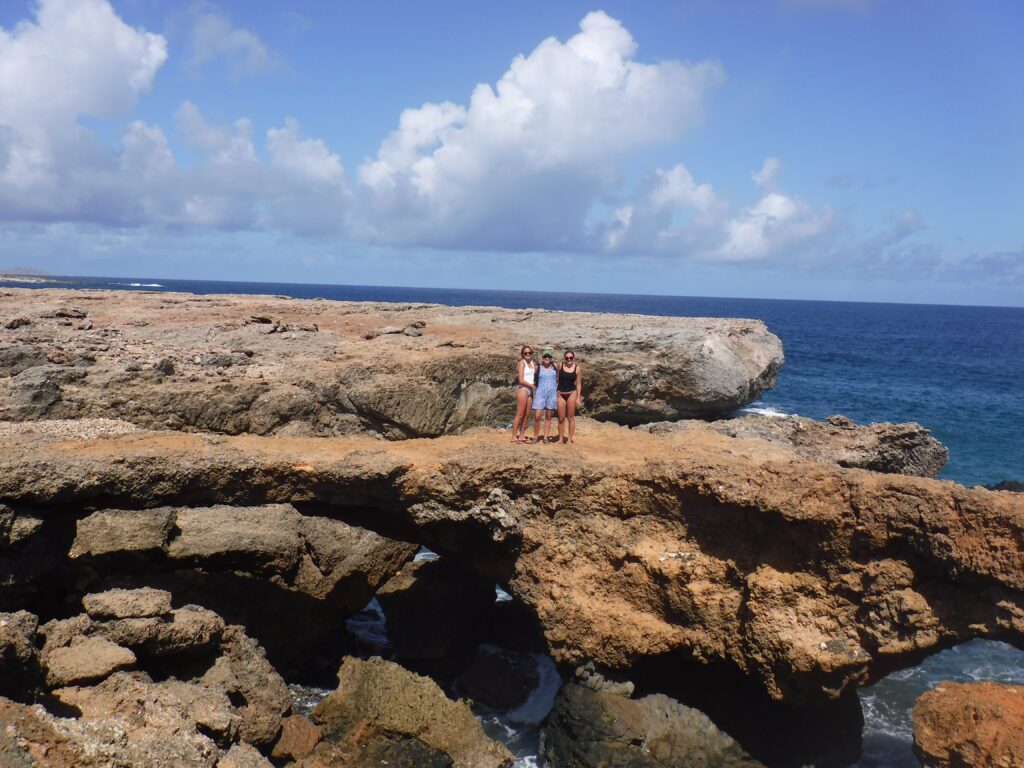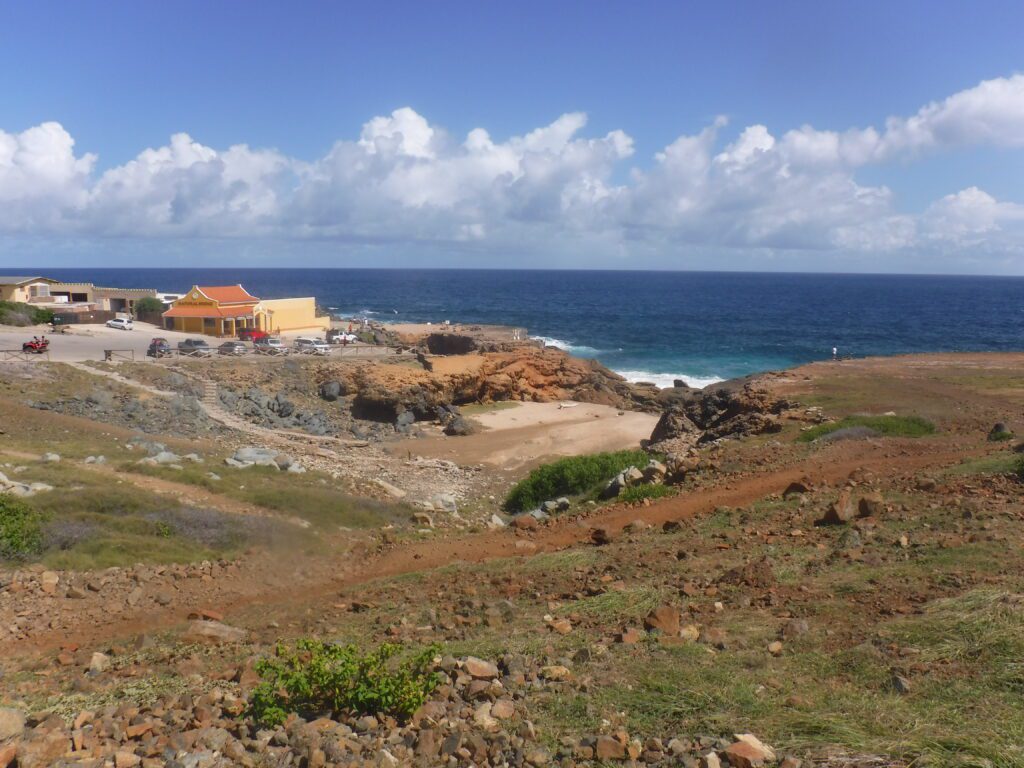 UTV North to the Calfornia Dunes and Lighthouse
We headed north and the girls began to drive. We stopped at many sites along the way. Be sure to bring lots of water and snacks if you visit the eastern wild side. You can get some snacks at the natural bridge store, but none of the rustic restaurants were open out here. From the Natural Bridge, to the lighthouse, you could use an SUV. We saw several cars along the way; if you go in a car, be careful!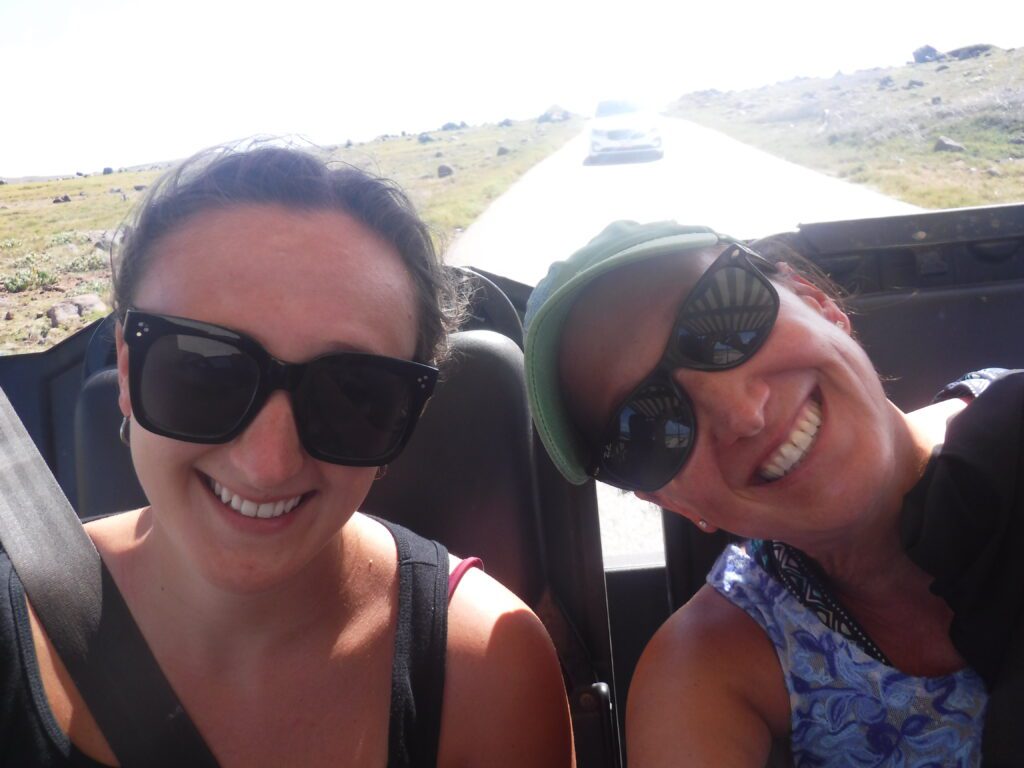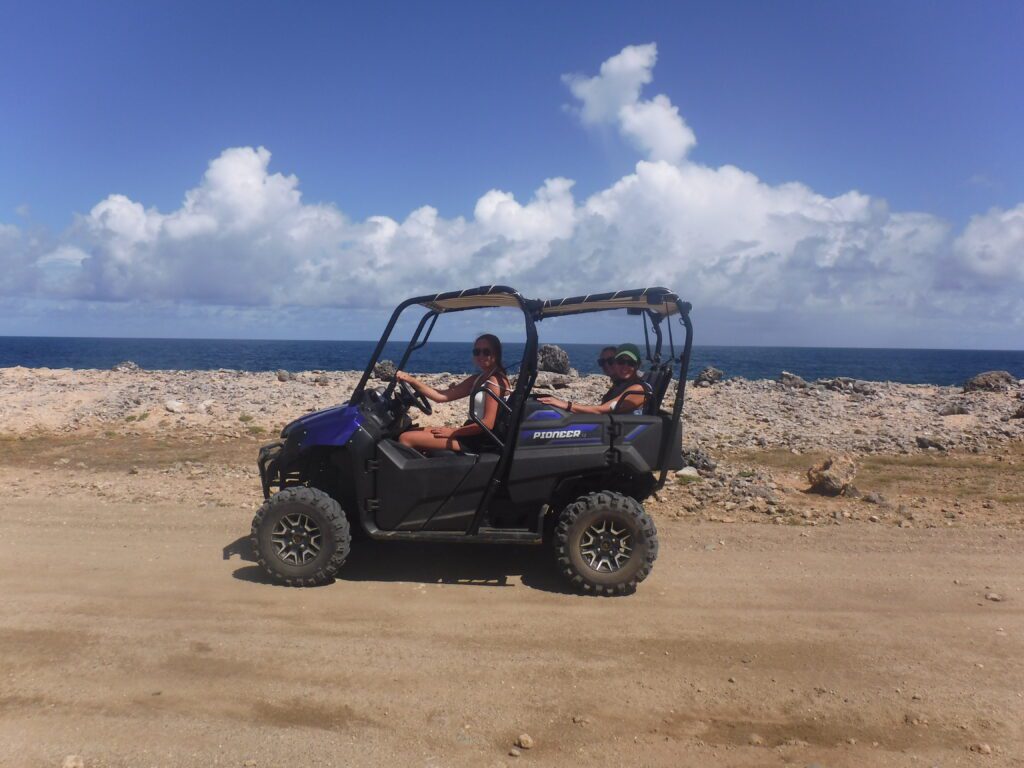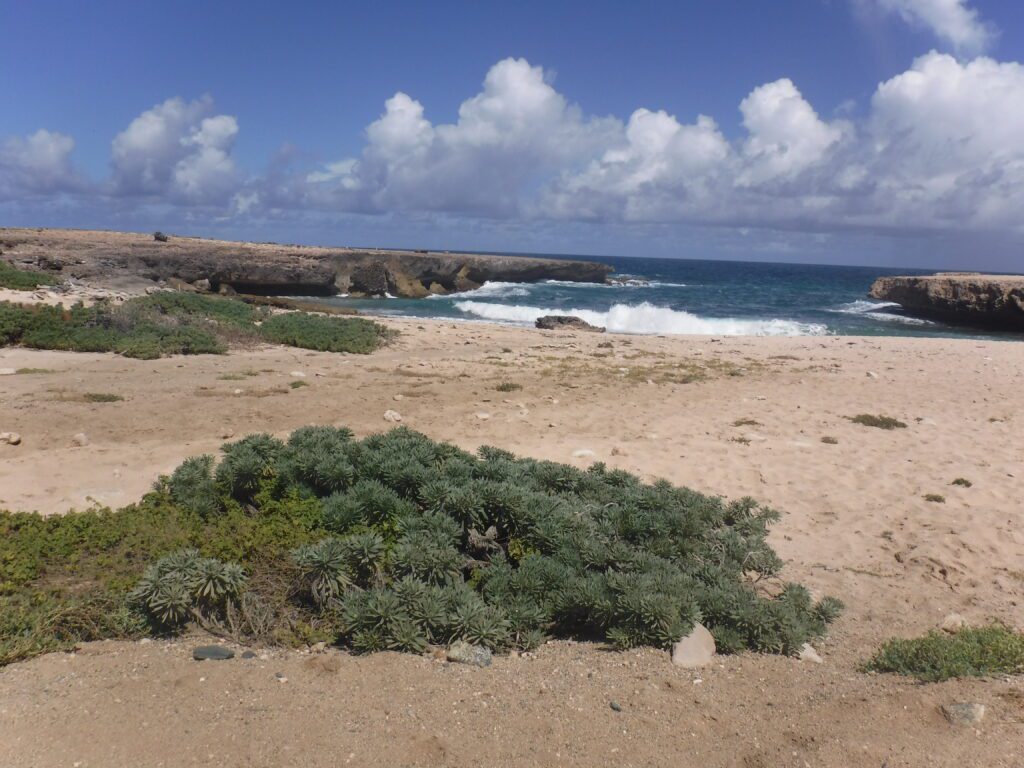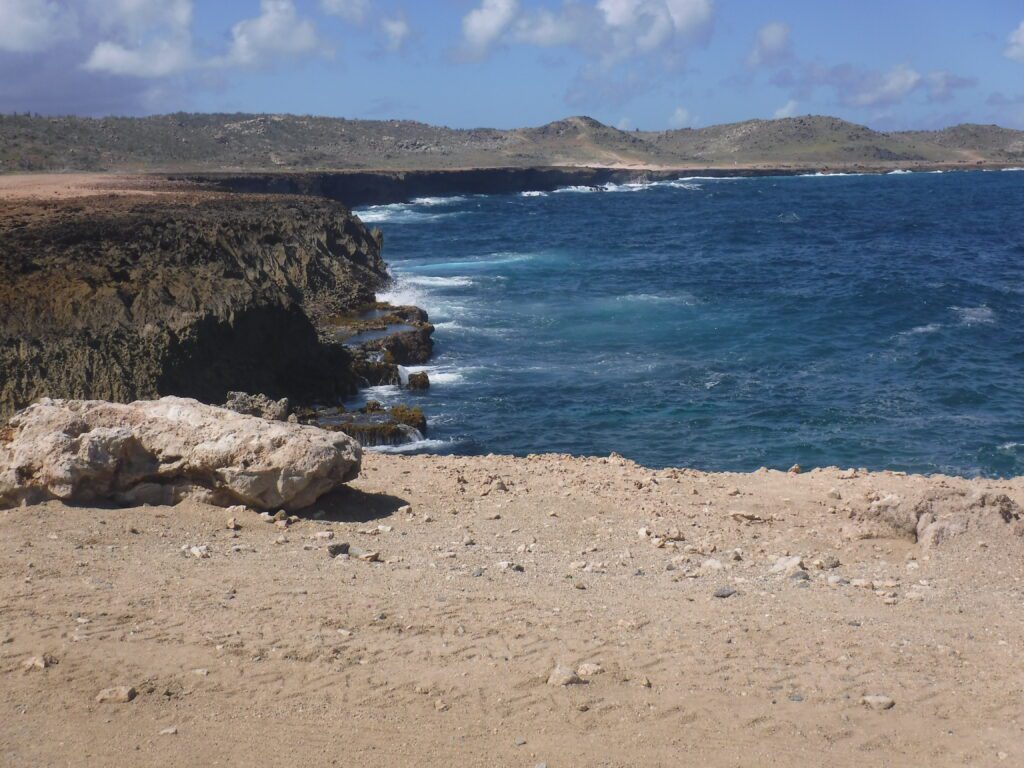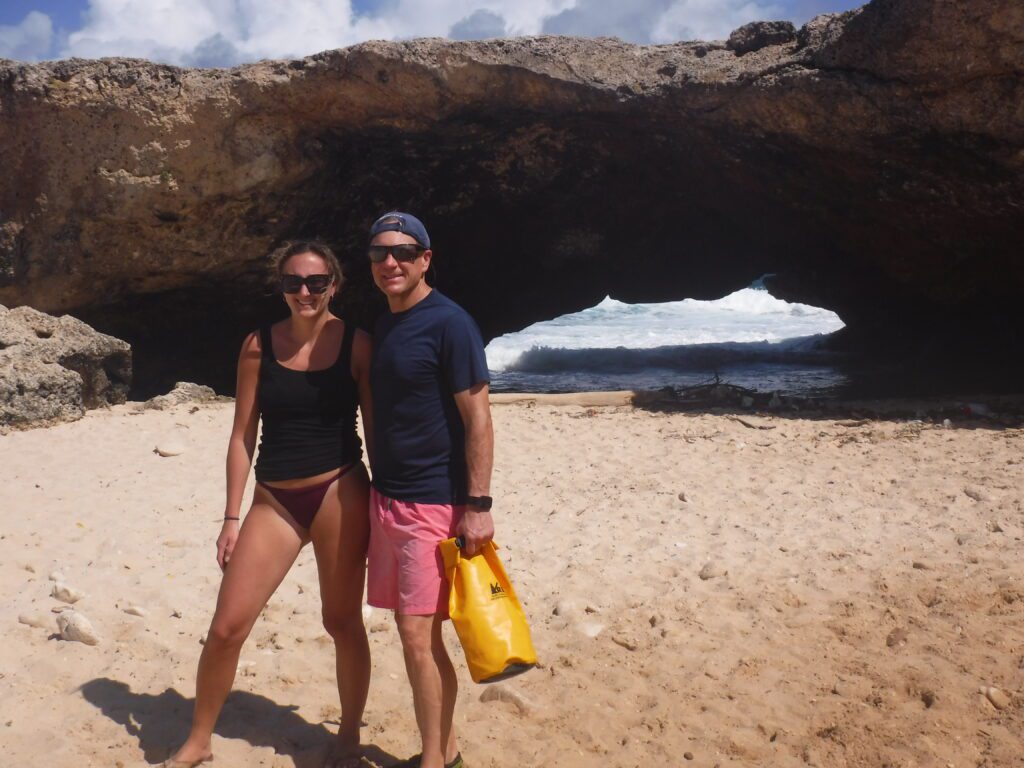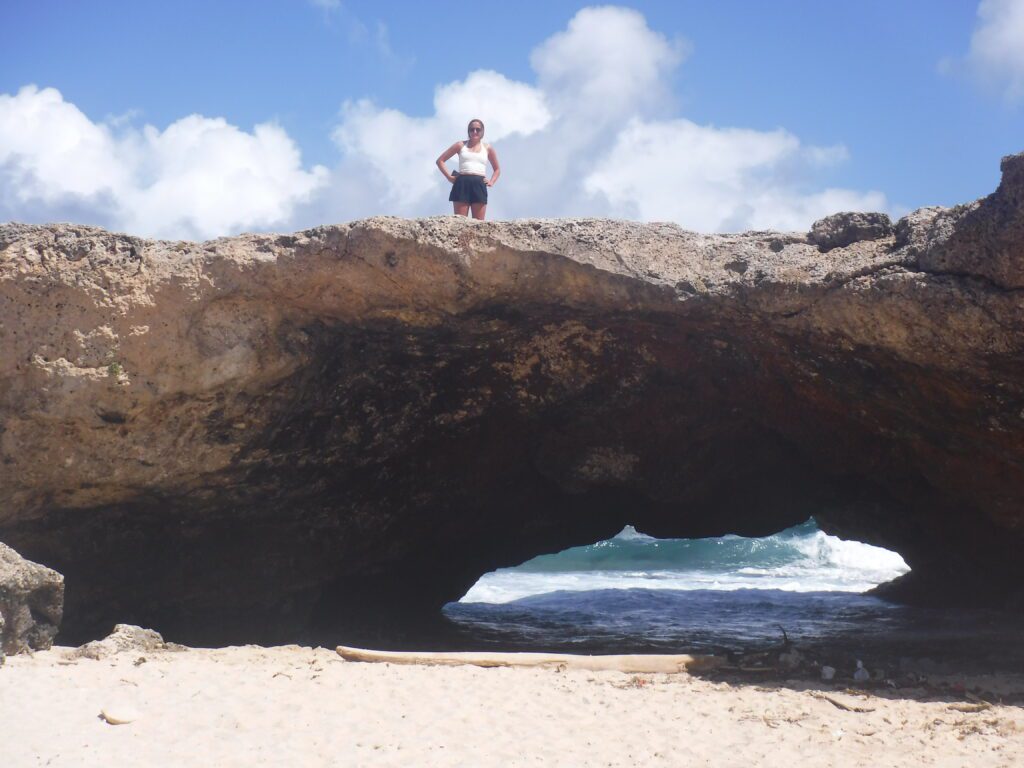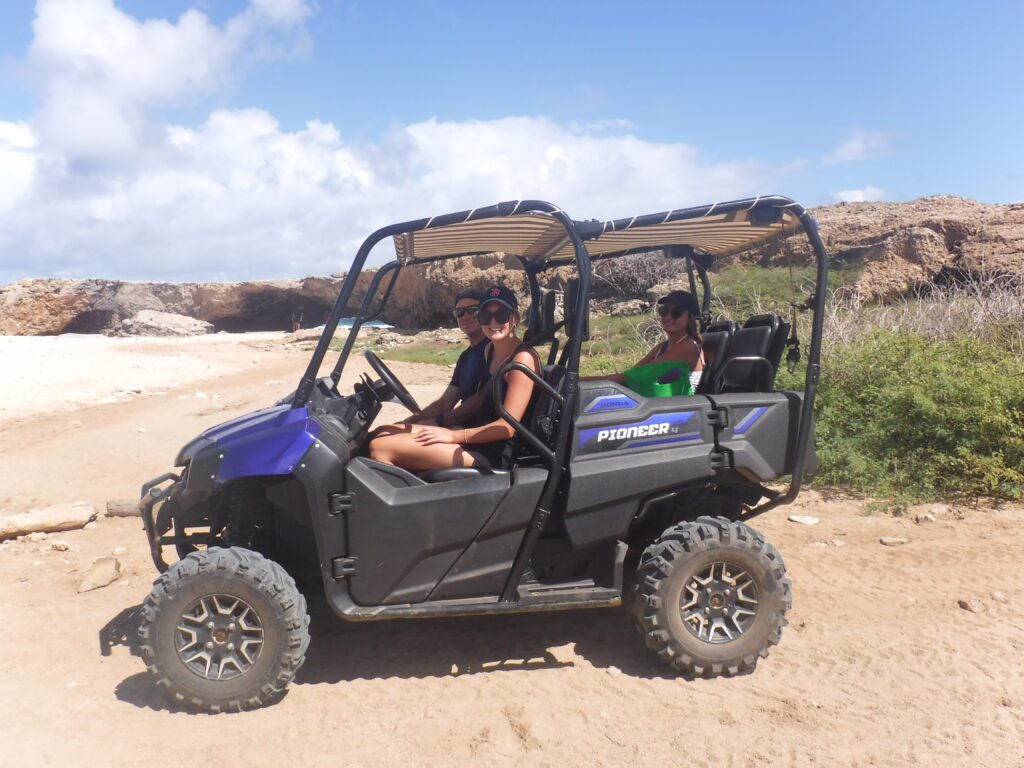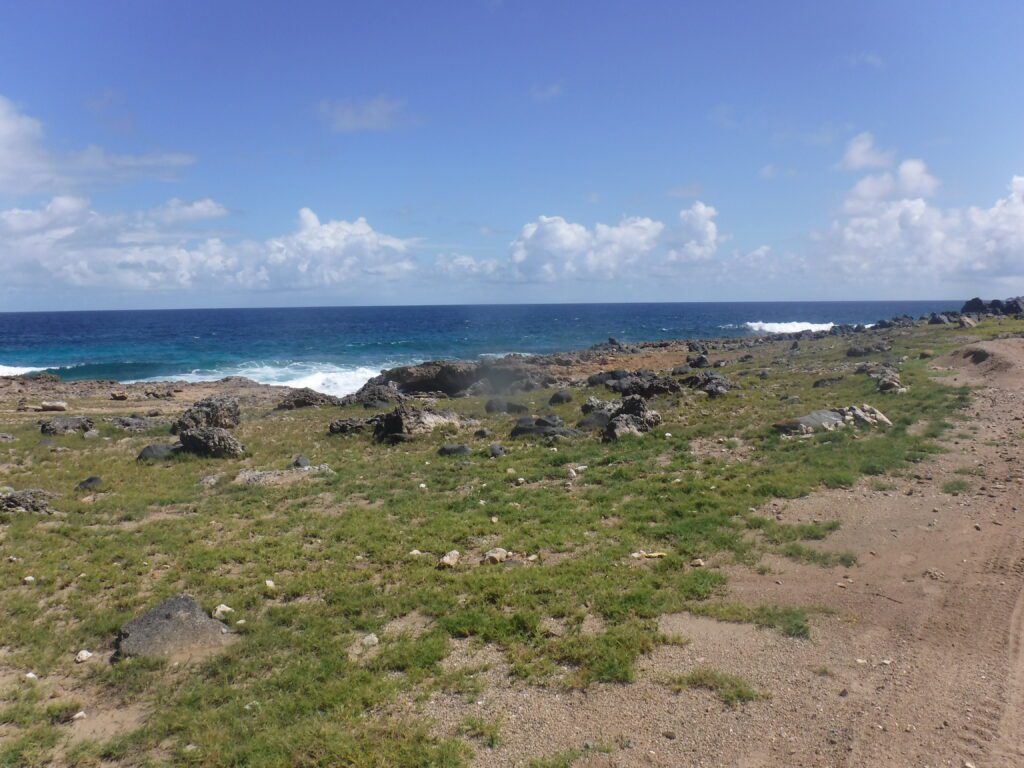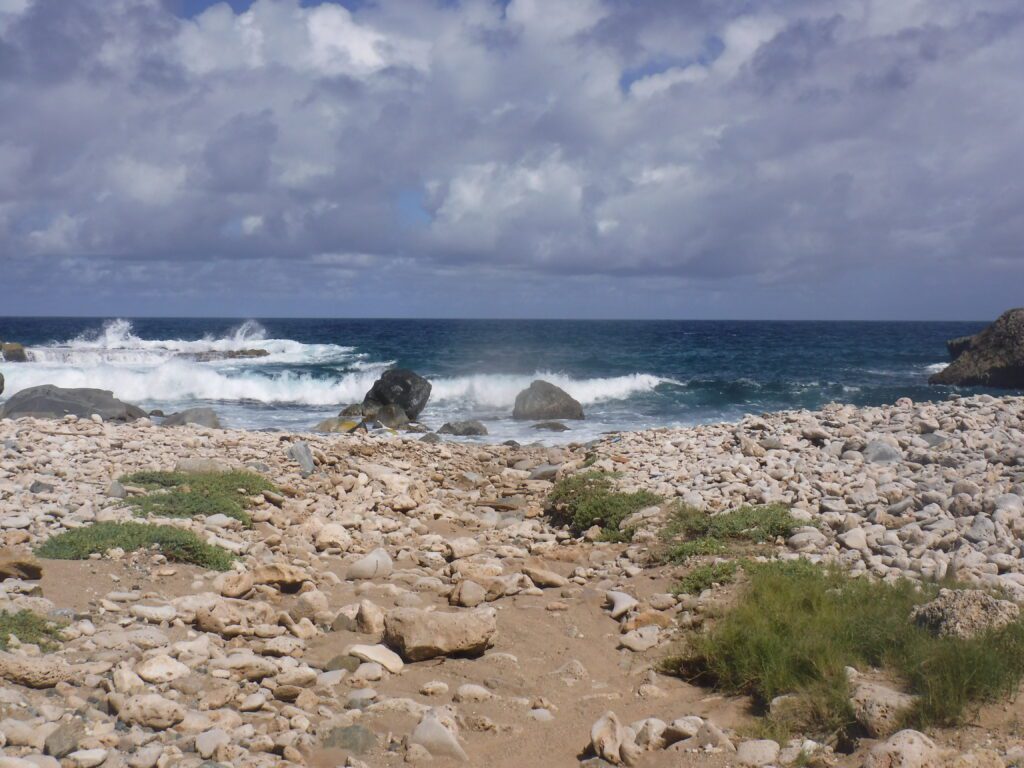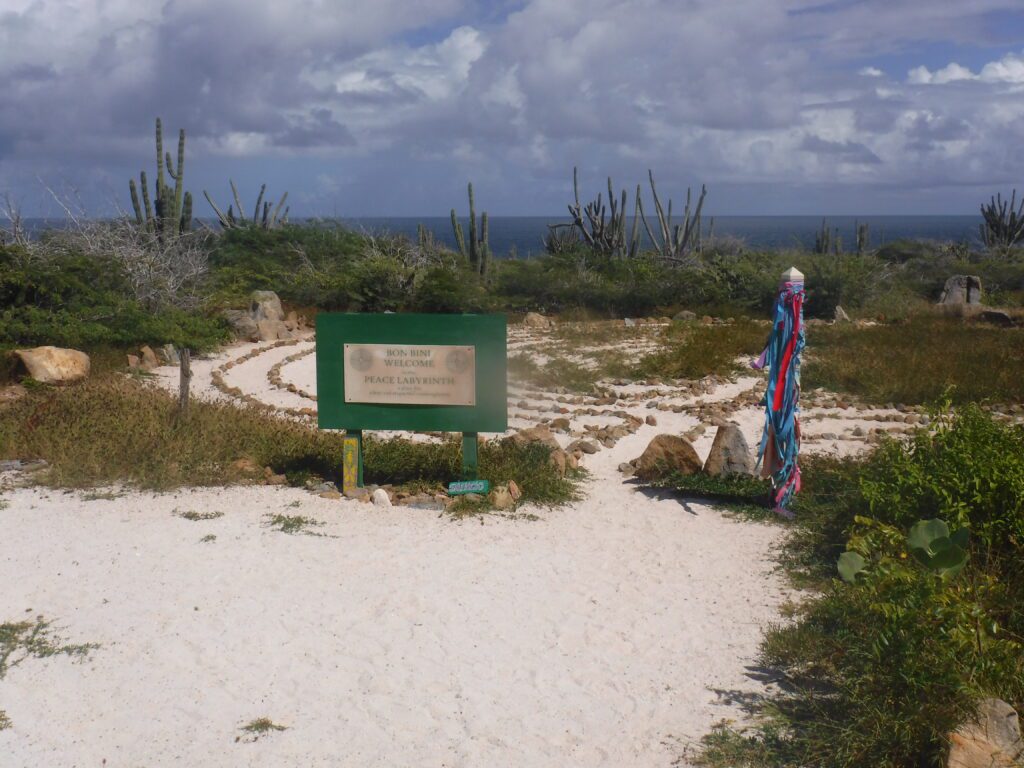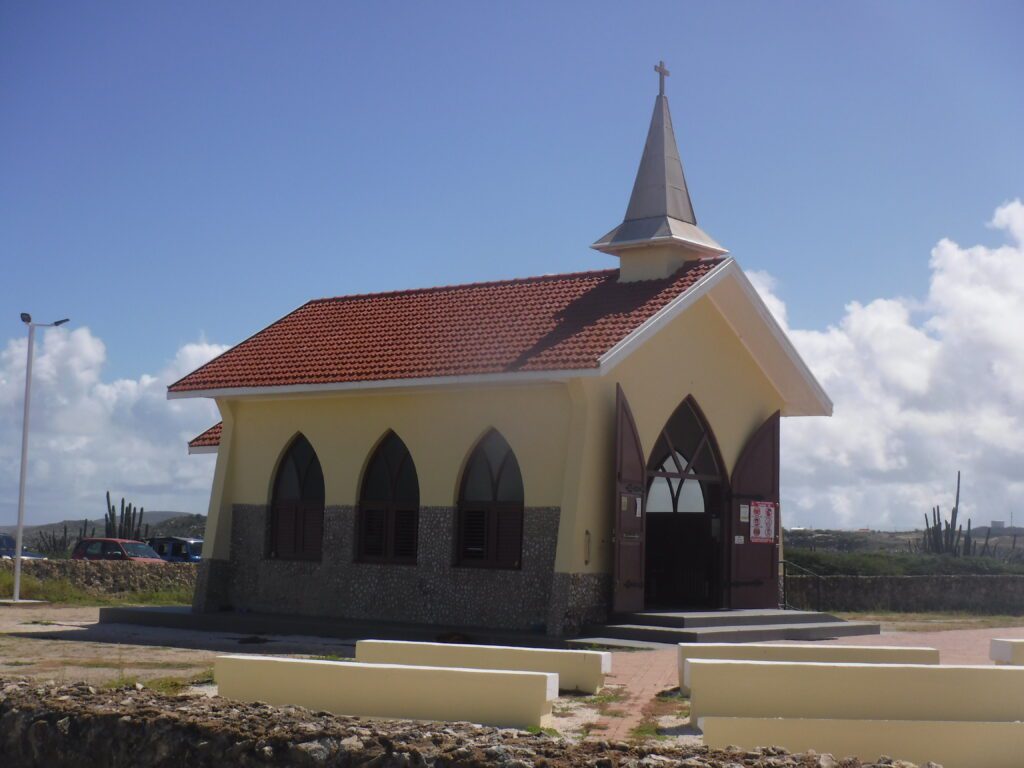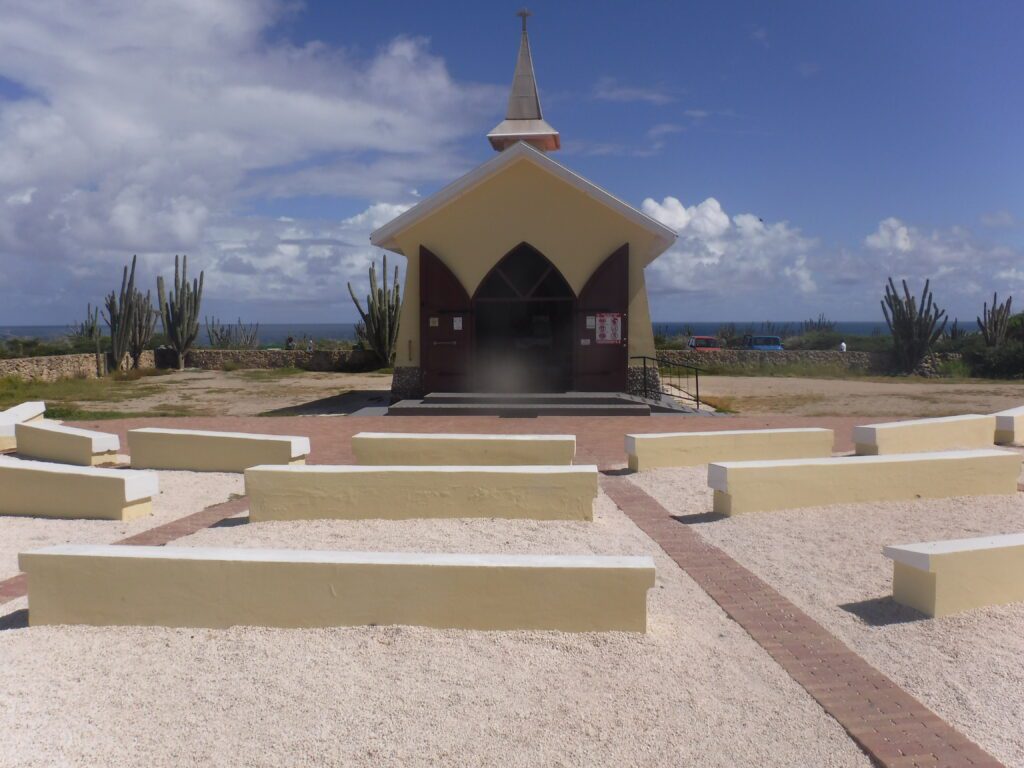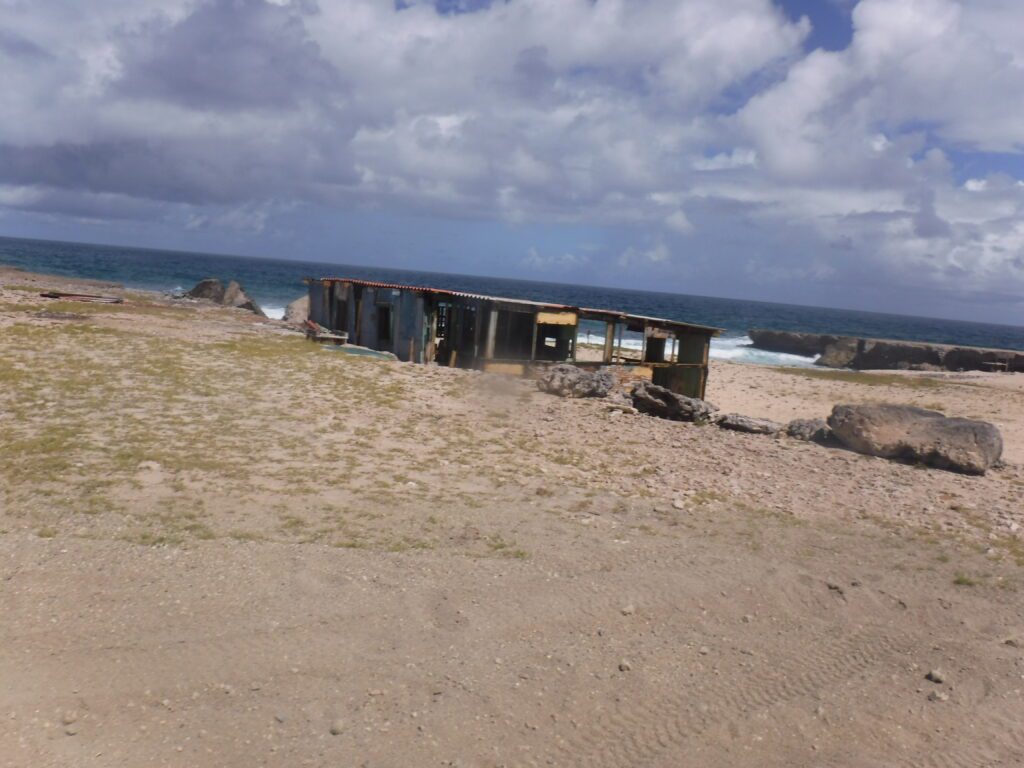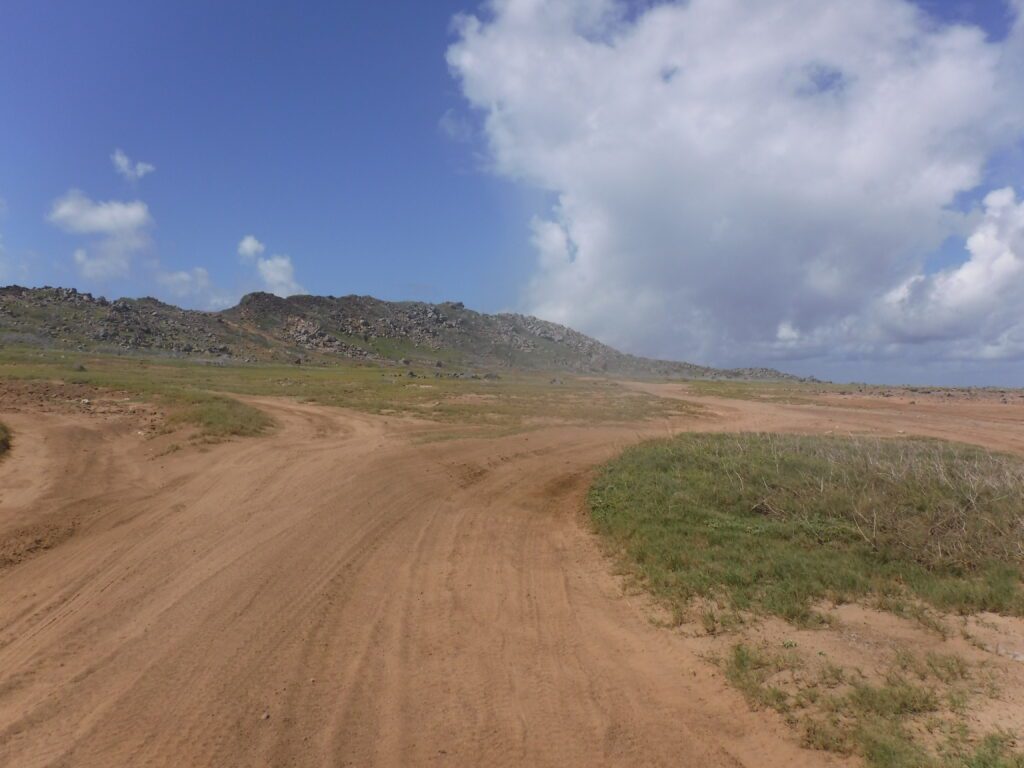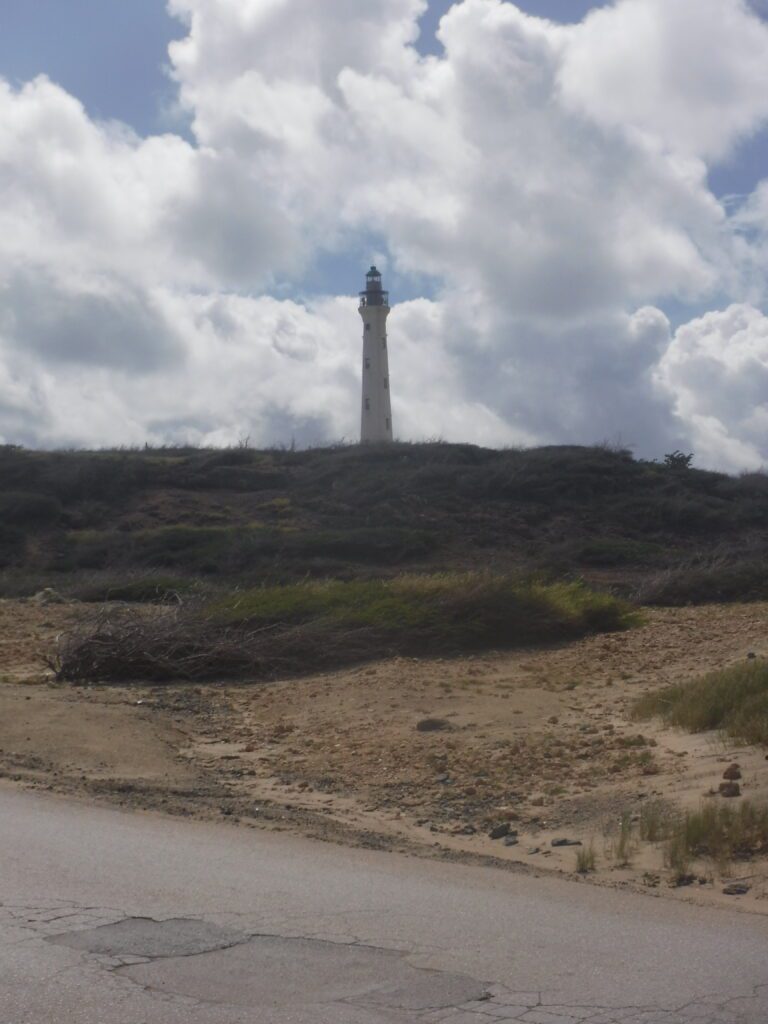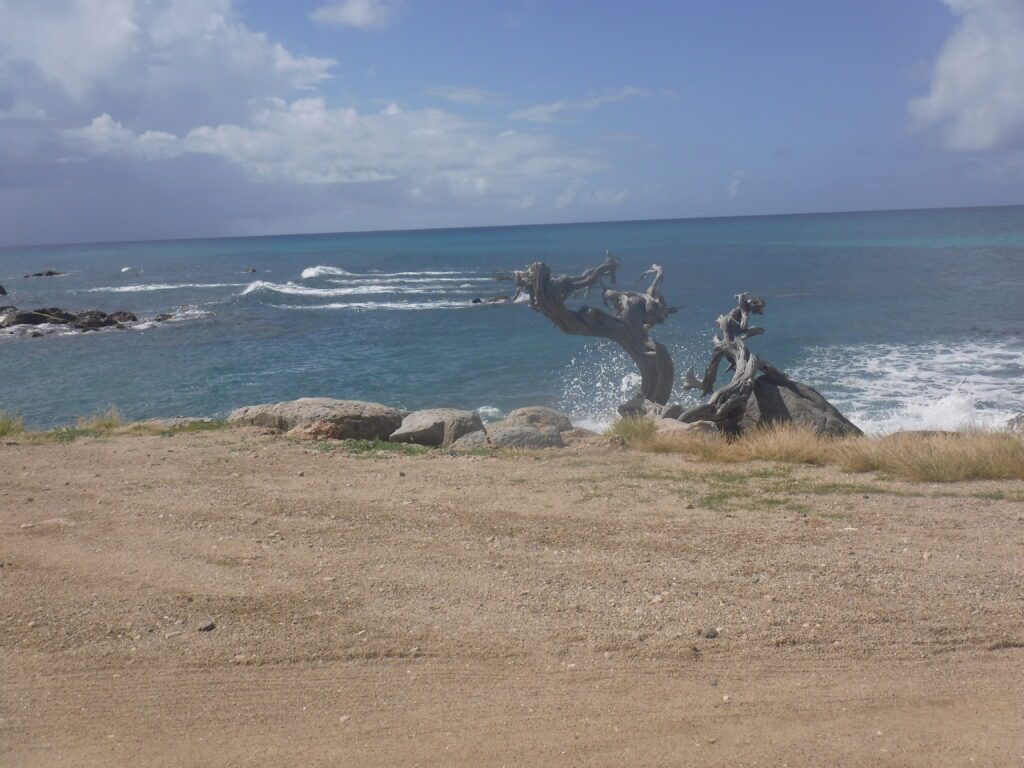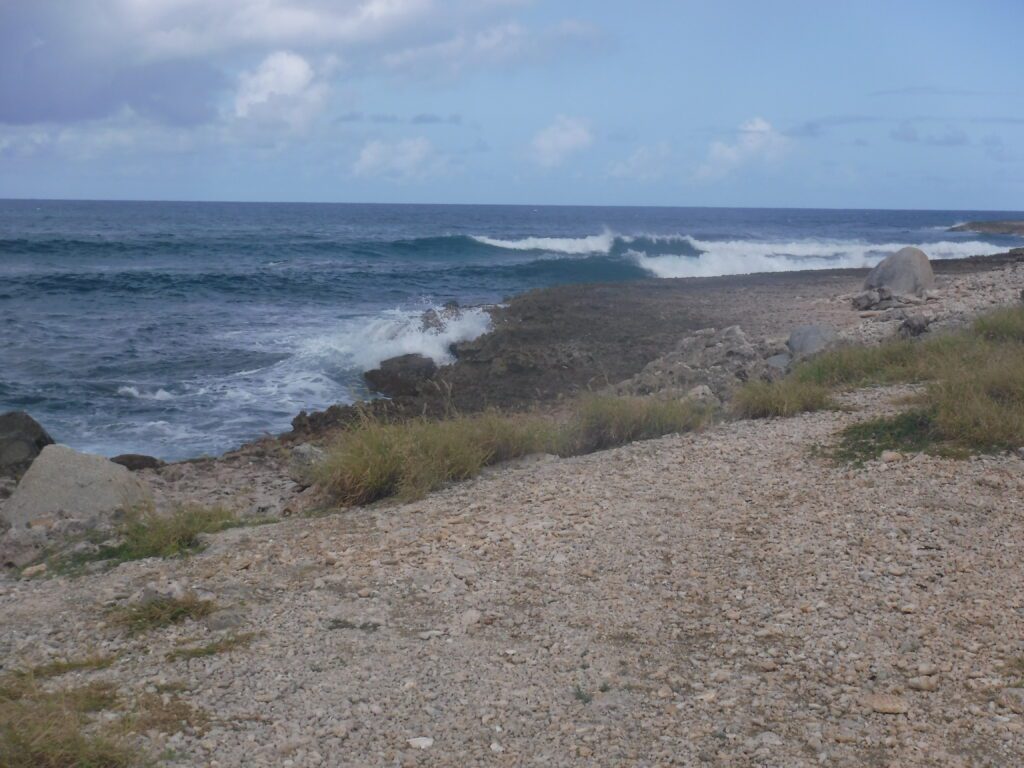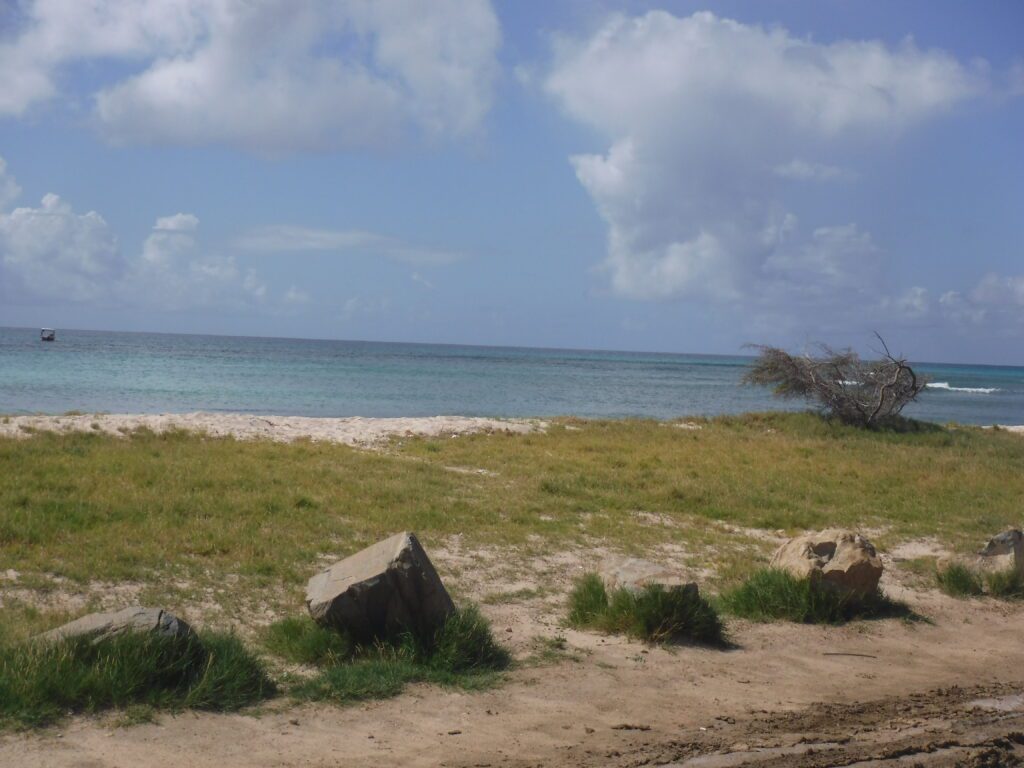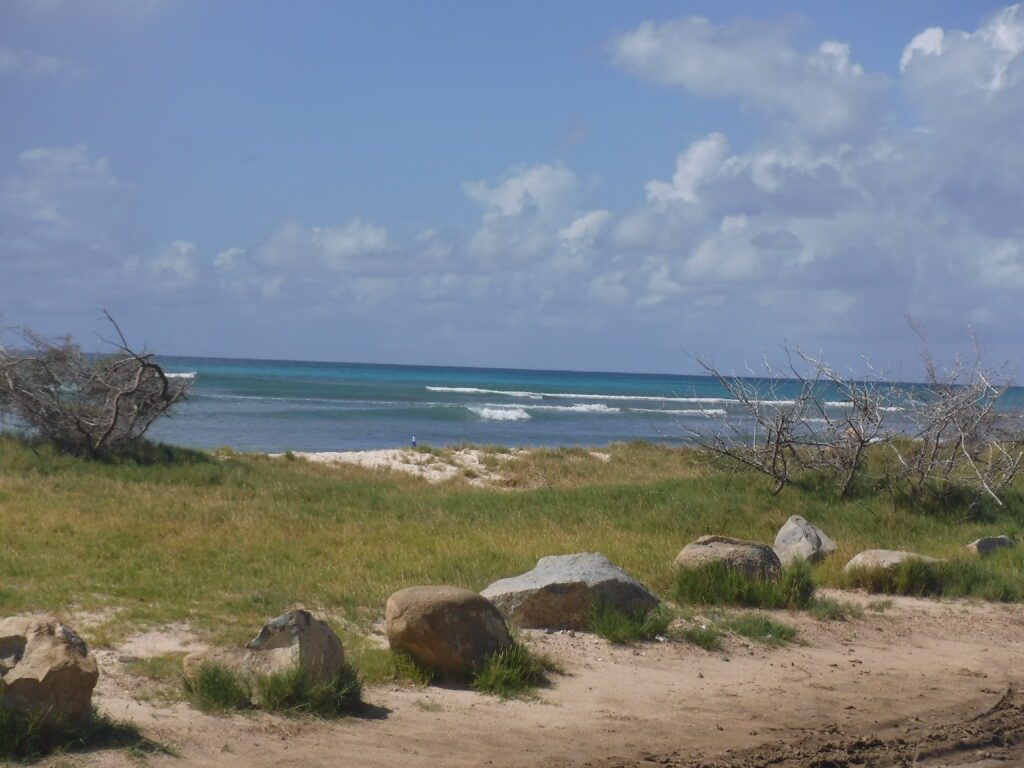 Once we toured the California Dunes area, we headed back to our condo. UTVs and ATVs are allowed on all roads in Aruba, except for the one in Arikok National Park that leads you to Conchi. We were on the UTV from 9-2. We could have kept it until 5:15, but we had seen and done plenty. We returned for lunch and a swim in the pool.
Barefoot
We drove through Oranjestad to Barefoot. Barefoot shares a beach with Pincho's and another bar called Surfside Beach Bar. Surfside needs to turn down its music! We loved this restaurant, but the noise coming from Surfside ruins it a bit. You cannot hear the music while at Pincho's. Barefoot is a toes-in-the-sand restaurant with excellent food. We enjoyed the Mahi-Mahi and goat cheese medallions. TripAdvisor reviews are excellent.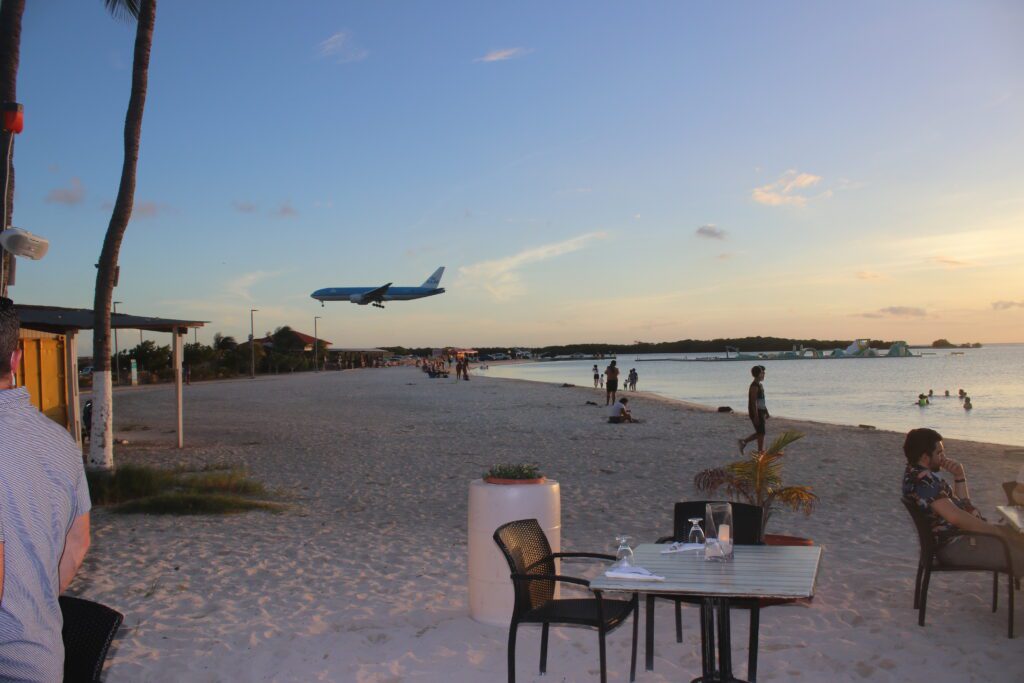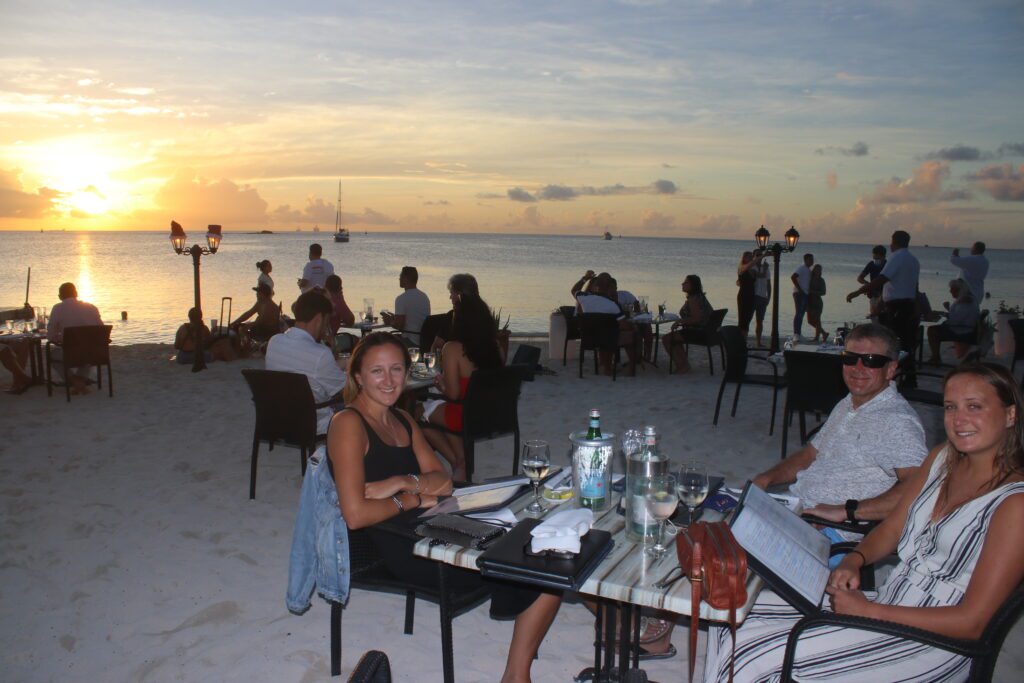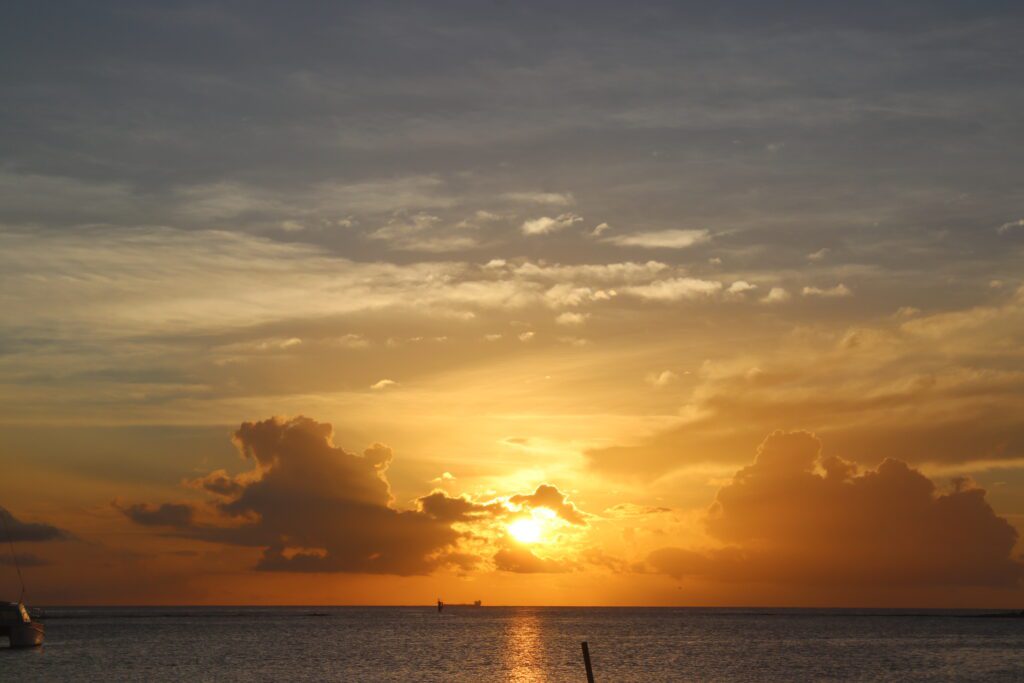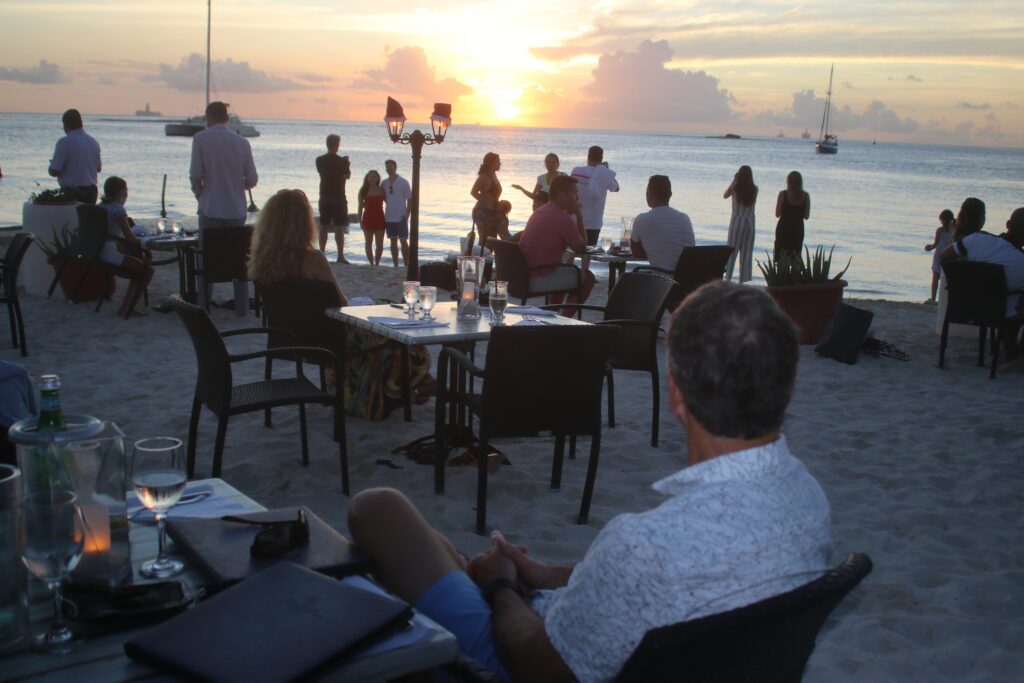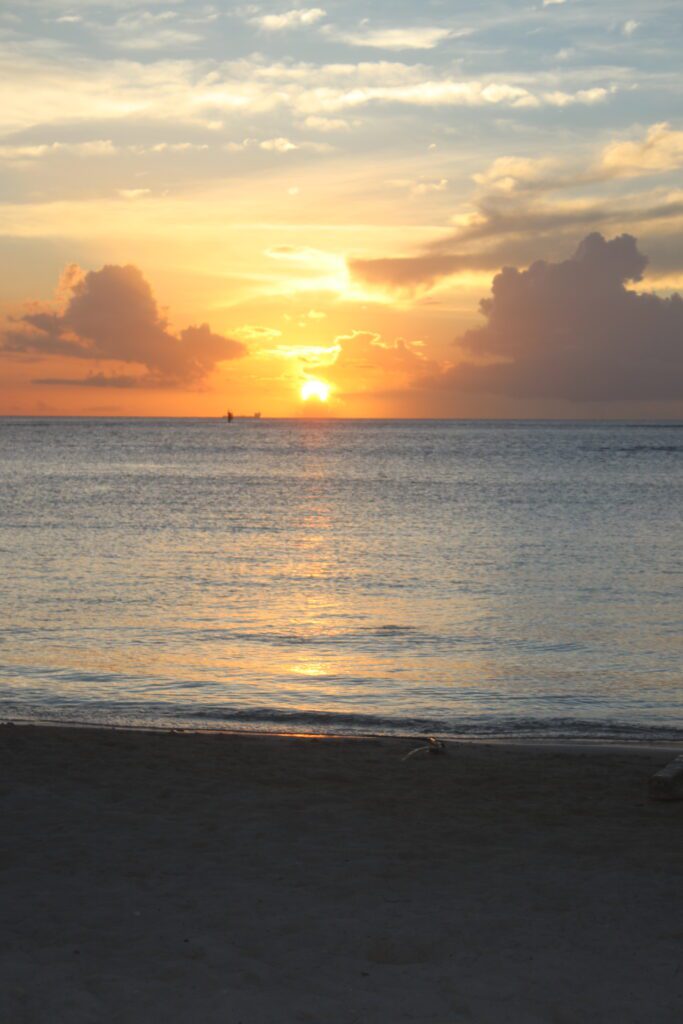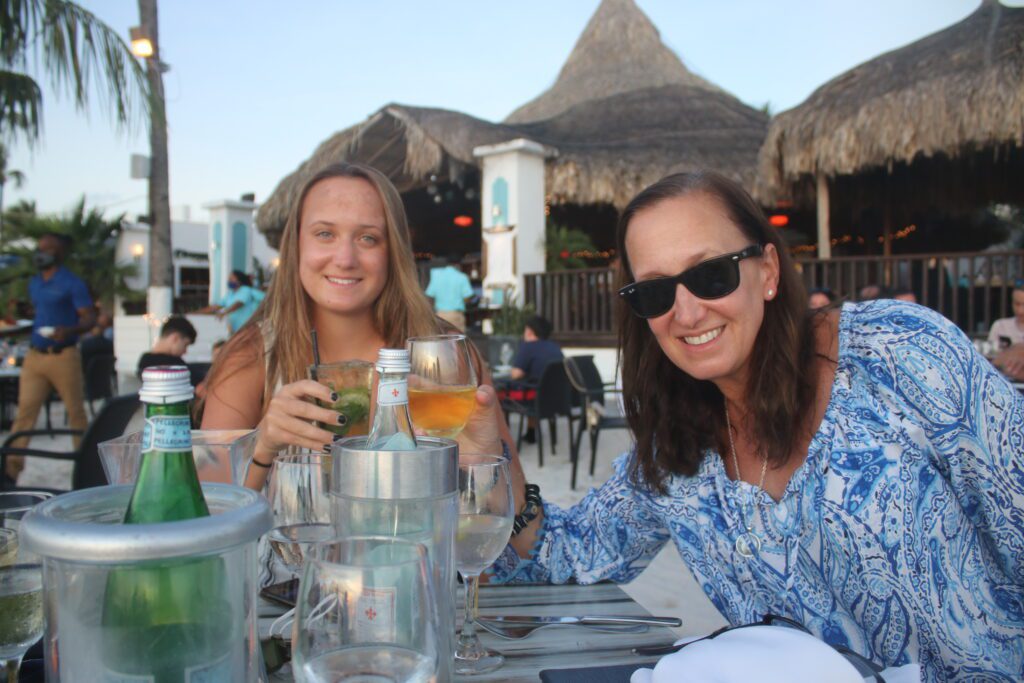 Aruba Premier Boat and Dive – Part 2
We decided to have another day on the water with our friends from Aruba Premier Boat and Dive. We spent from 9-1:30 on the sea with Captain AJ and Audric. Once again, we had an amazing adventures on their boat, The Chicote.
We headed all the way to the southern tip of the island. There is a massive oil refinery down there that closed down some years ago. The Aruban government is currently in negotiations with plans to restart it. The refinery takes up a substantial portion of the southern end of the island.
We motored to Rogers Beach which used to be a private beach for oil executives. We then had to go outside the reef to motor to the reef outside Baby Beach. This gorgeous, healthy reef was an excellent snorkel. If you visit Baby Beach by car, it is not advised to snorkel the outer reef due to currents and waves. We did a drift snorkel again, and it was fantastic. Audric snorkeled with us and Captain AJ picked us up when we finished.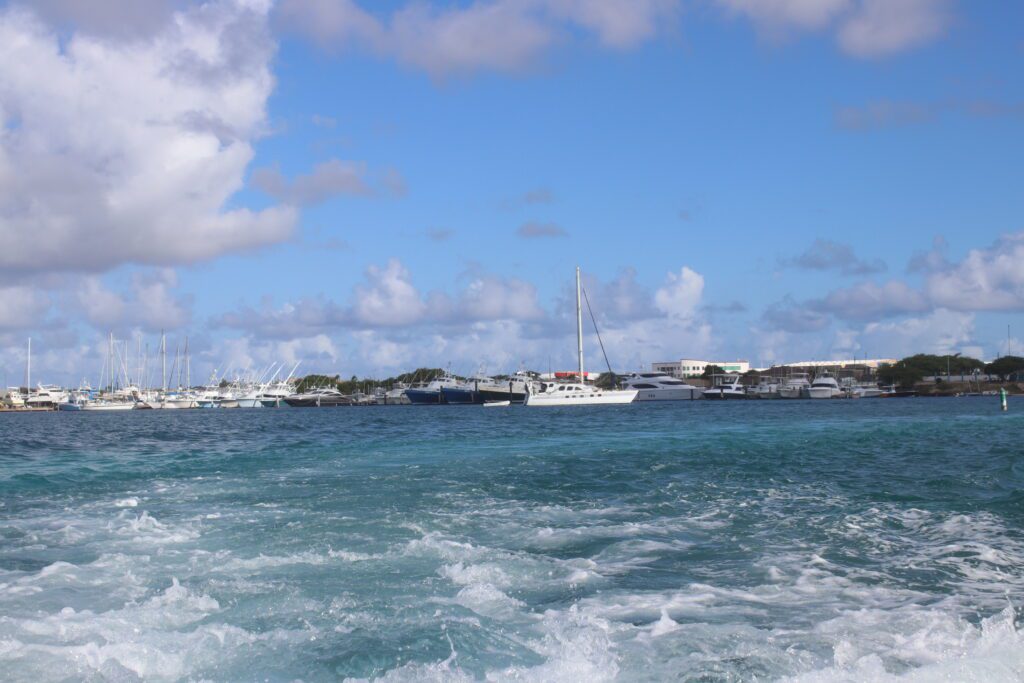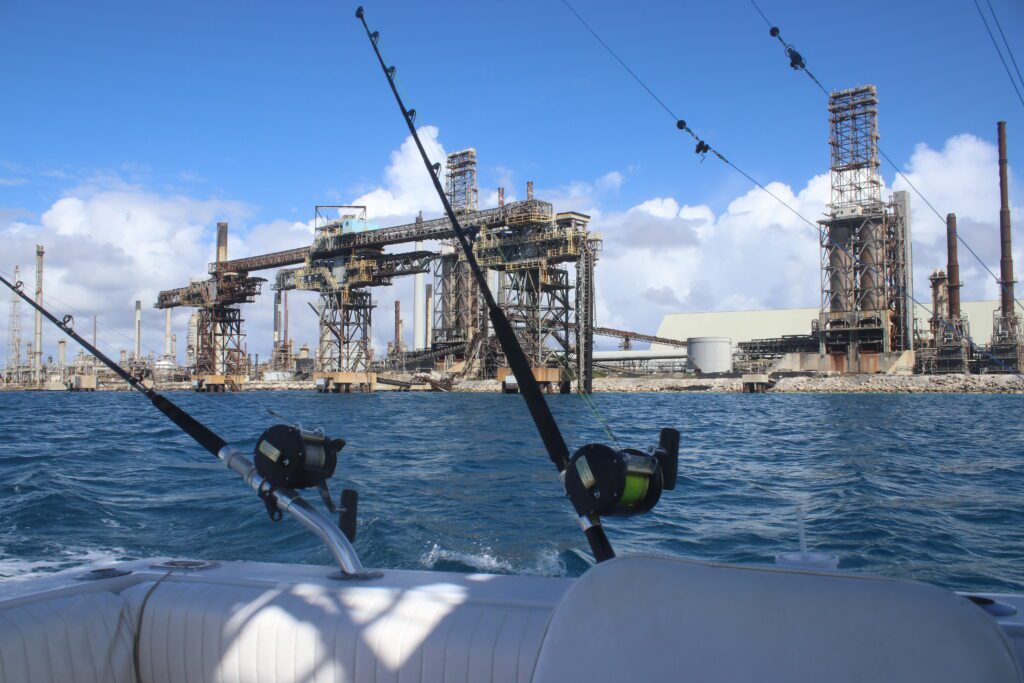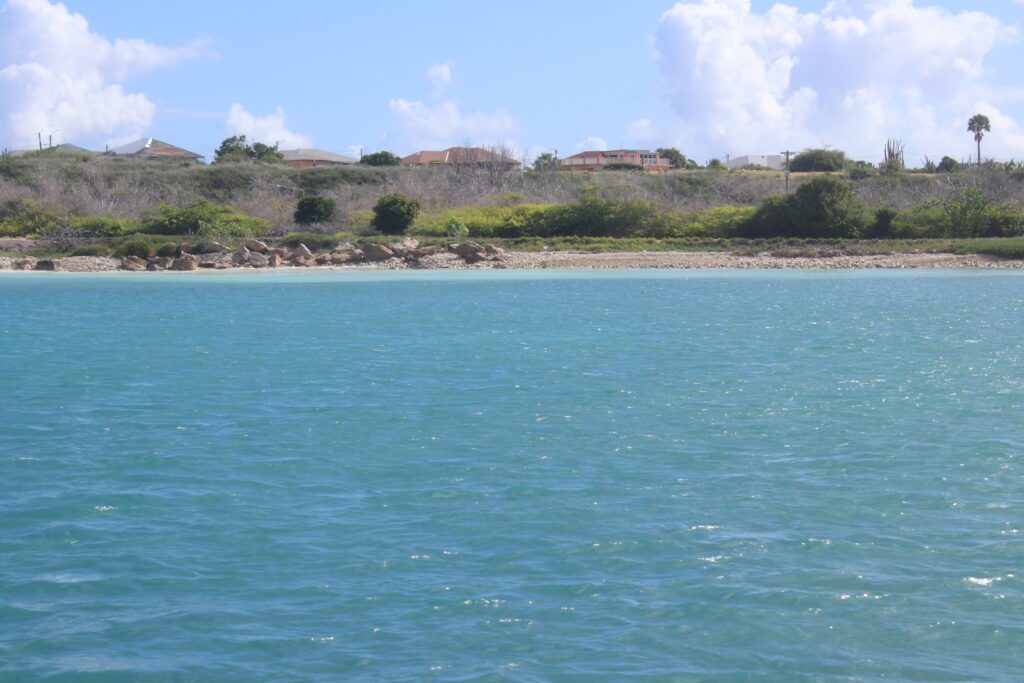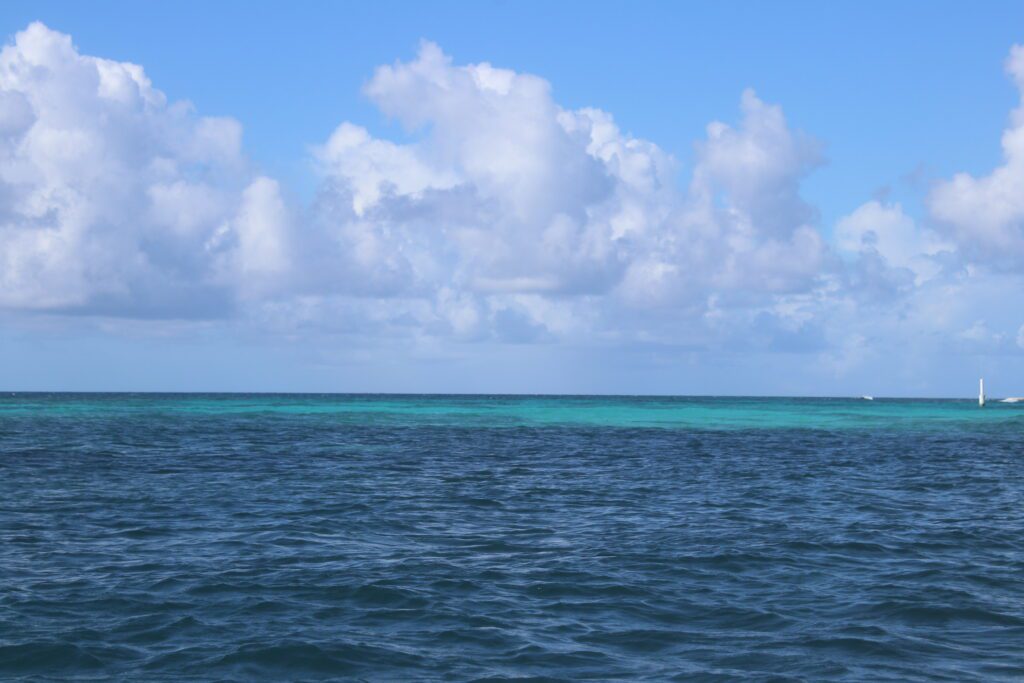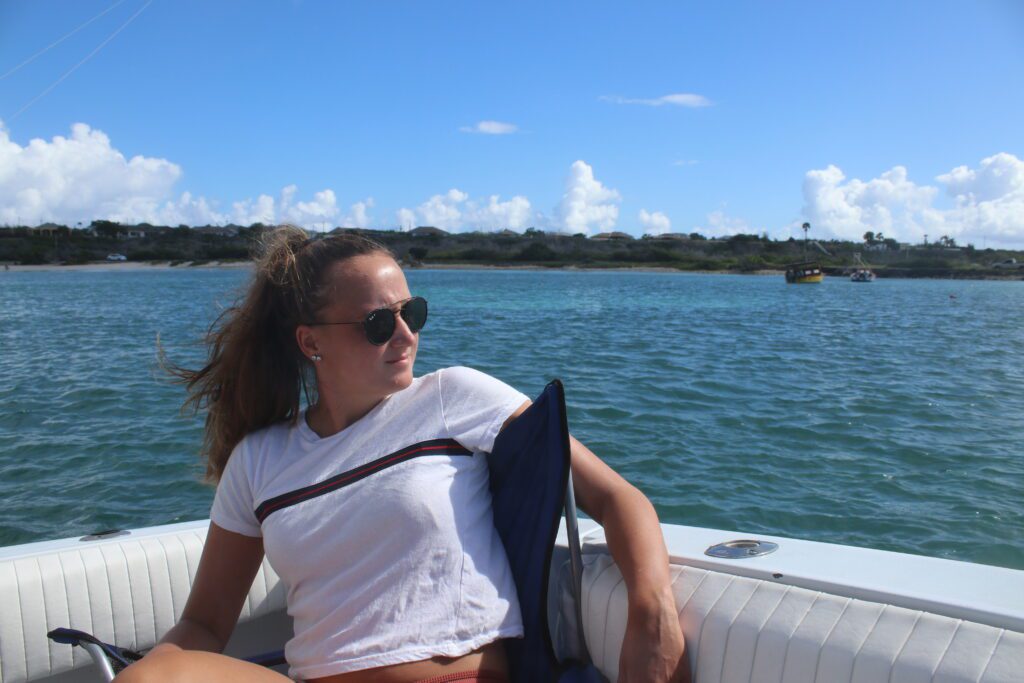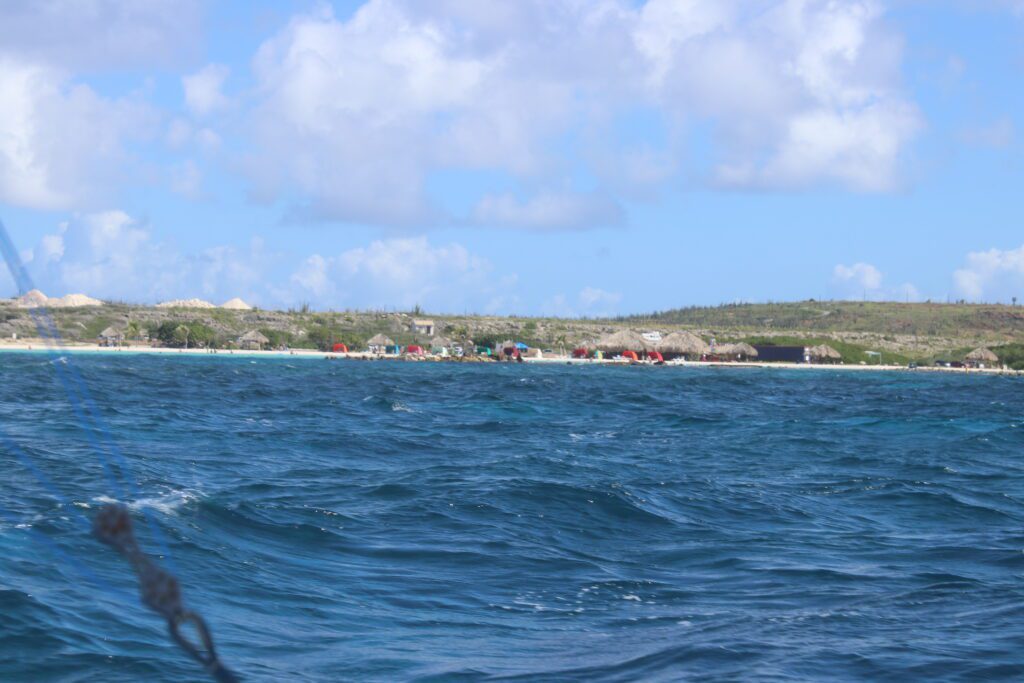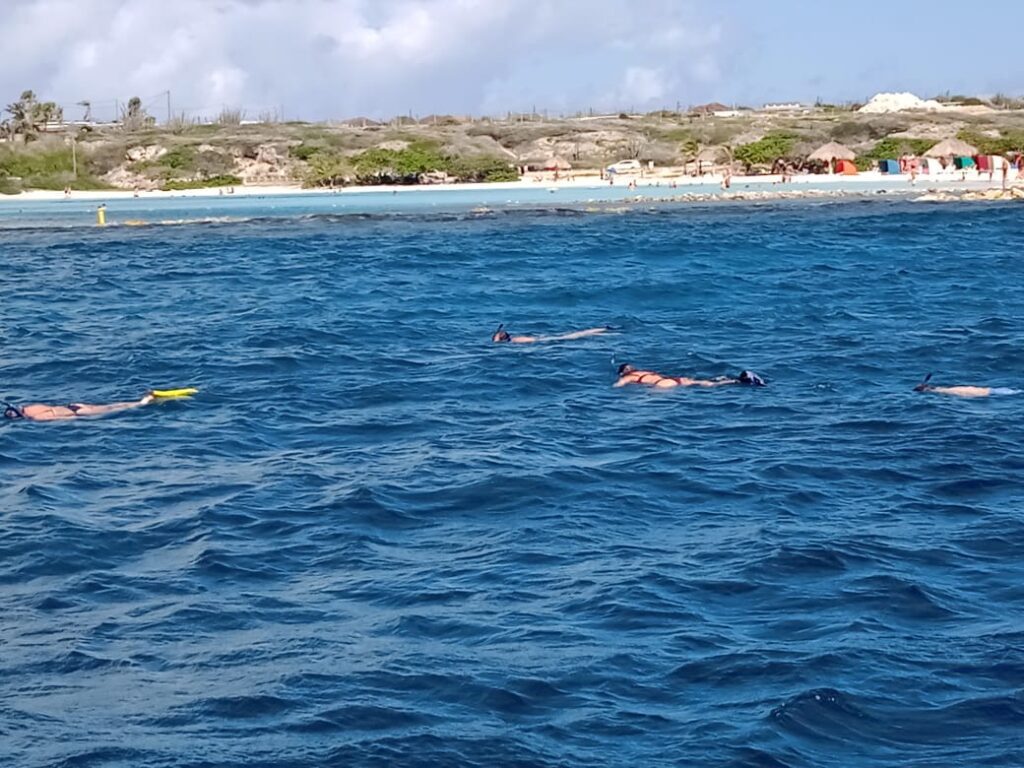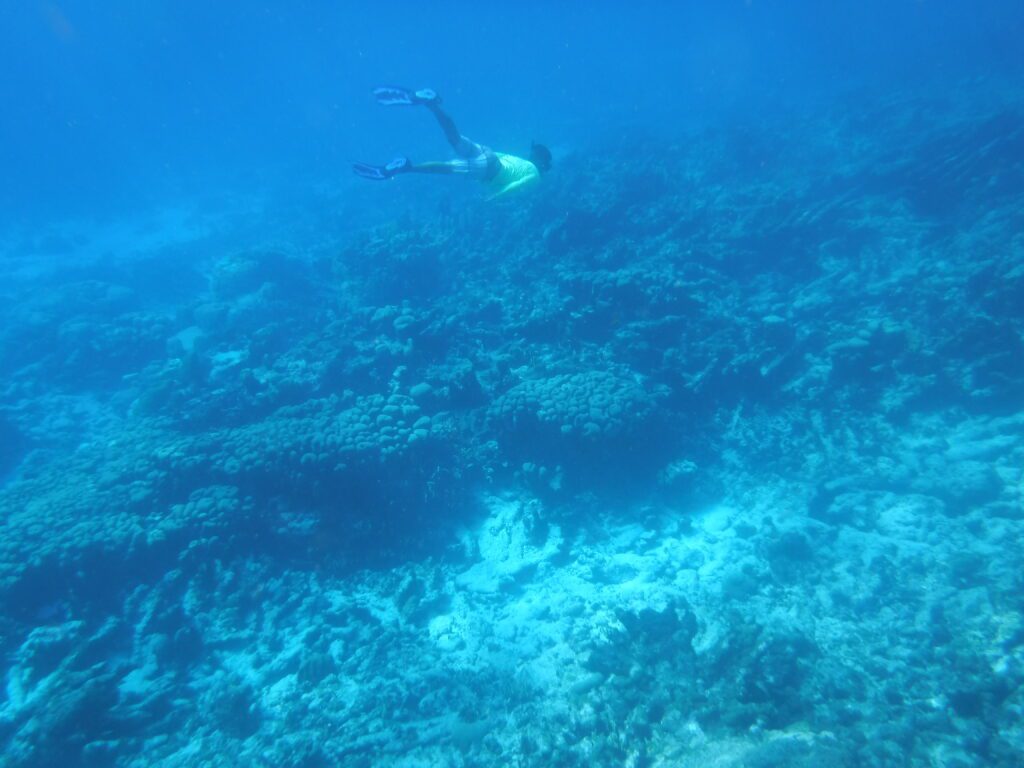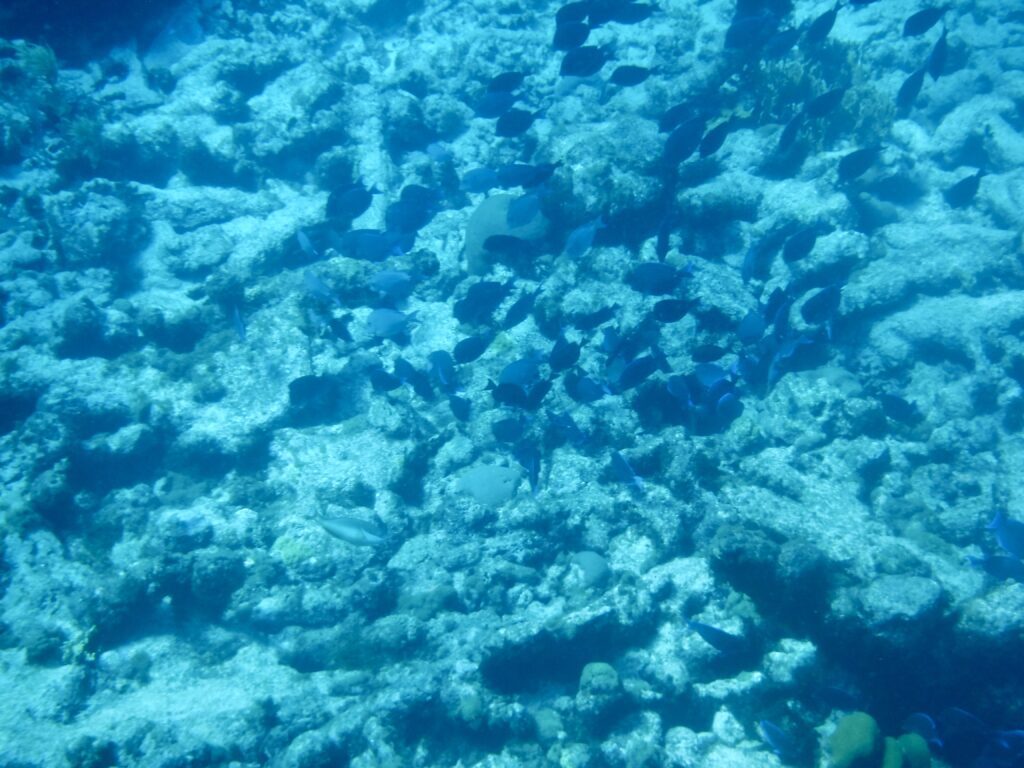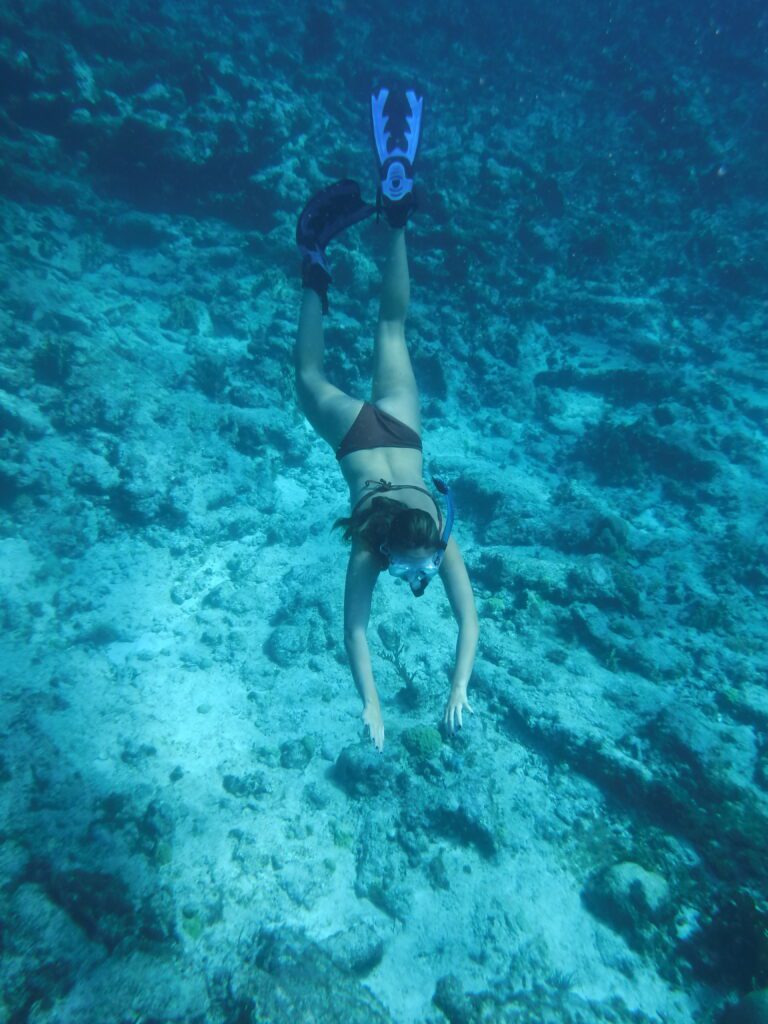 After a delightful snorkel, we ate ham and cheese sandwiches, water and fruit. We cruised to a barrier island. These islands are basically coral reefs with mangroves. Some locals have built small camps on the islands as get-aways. We visited one of these camps and swam in the sea.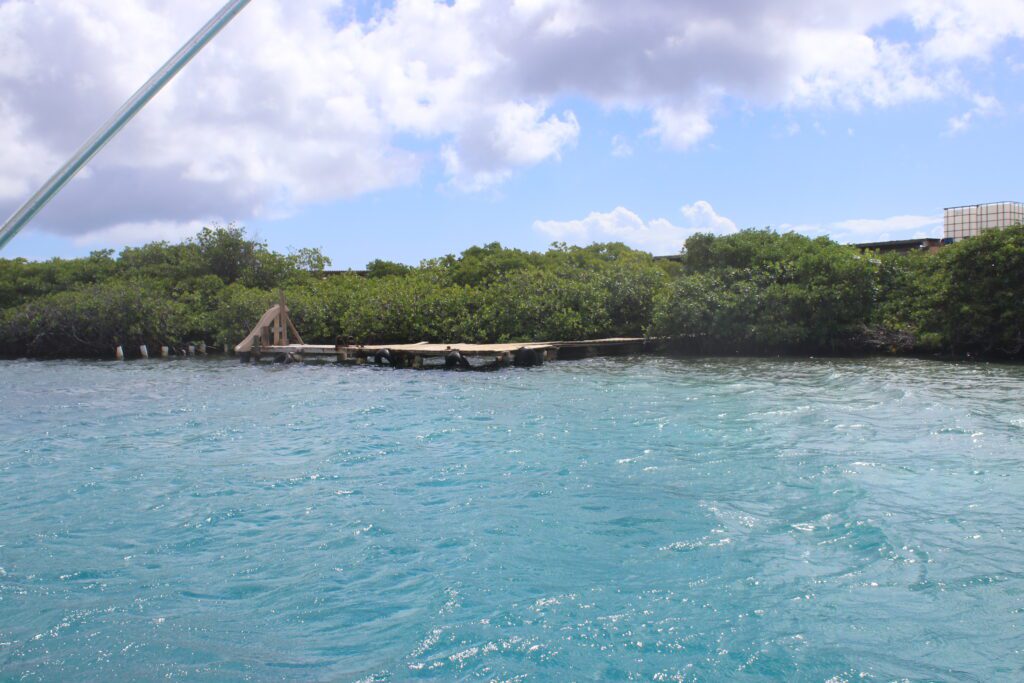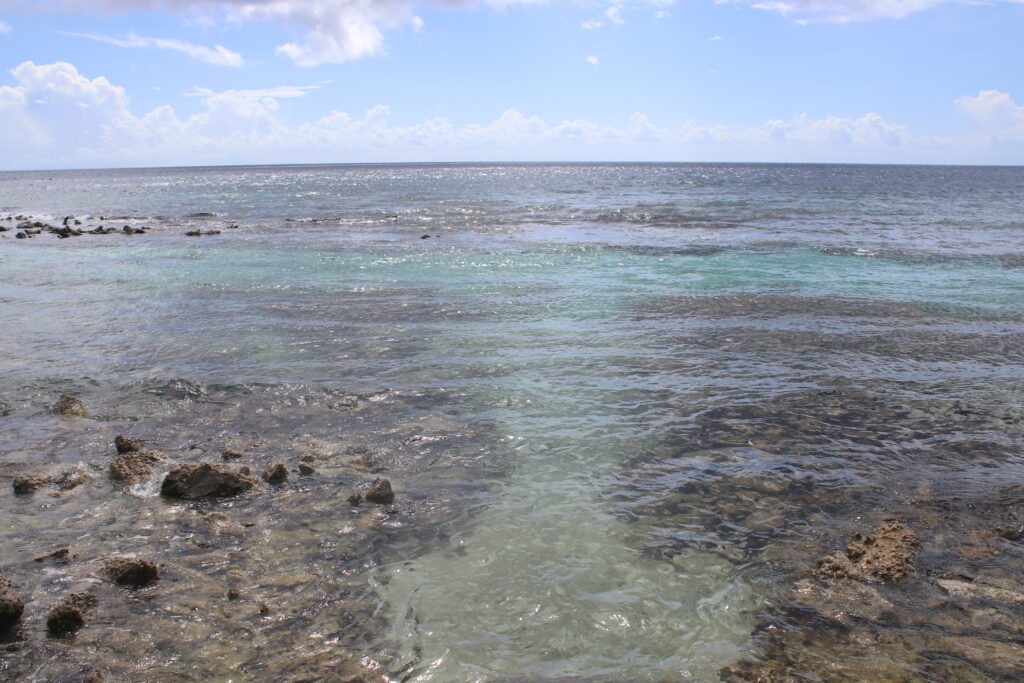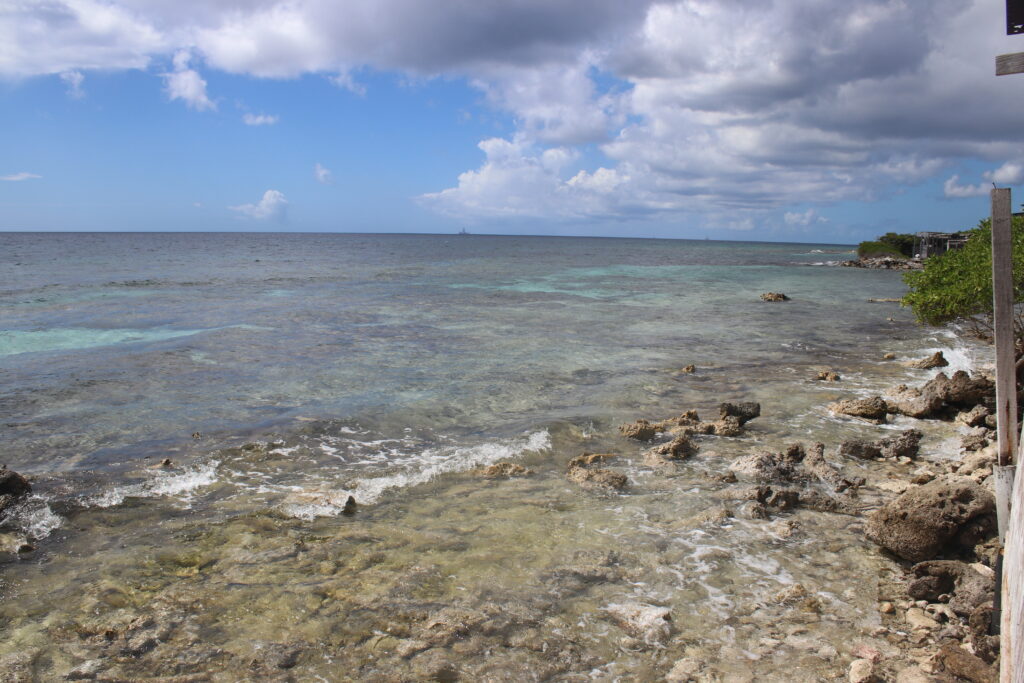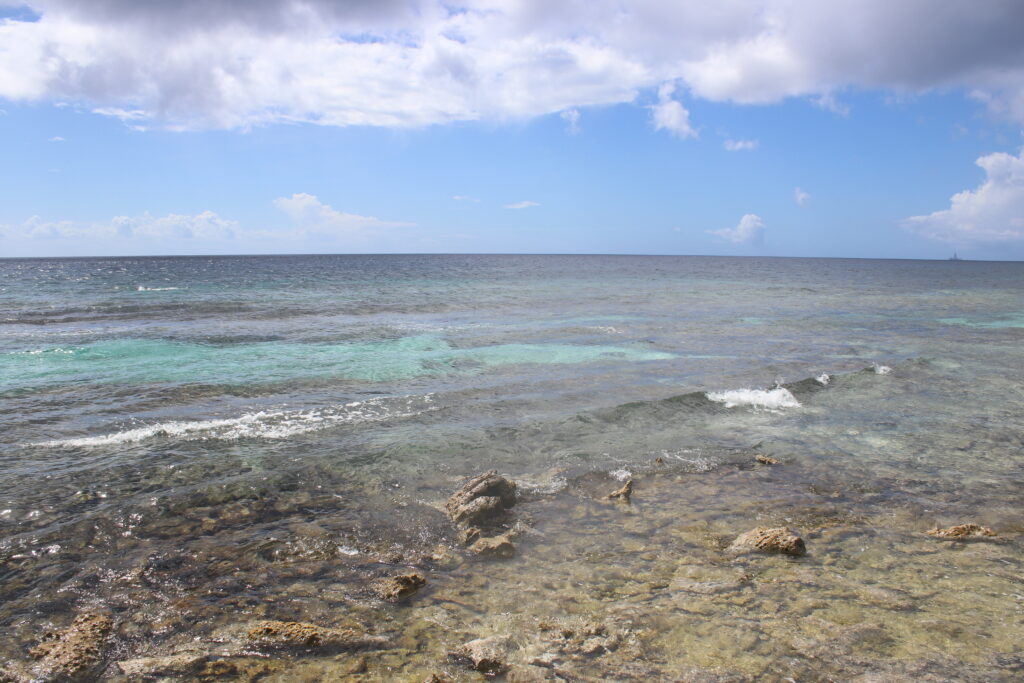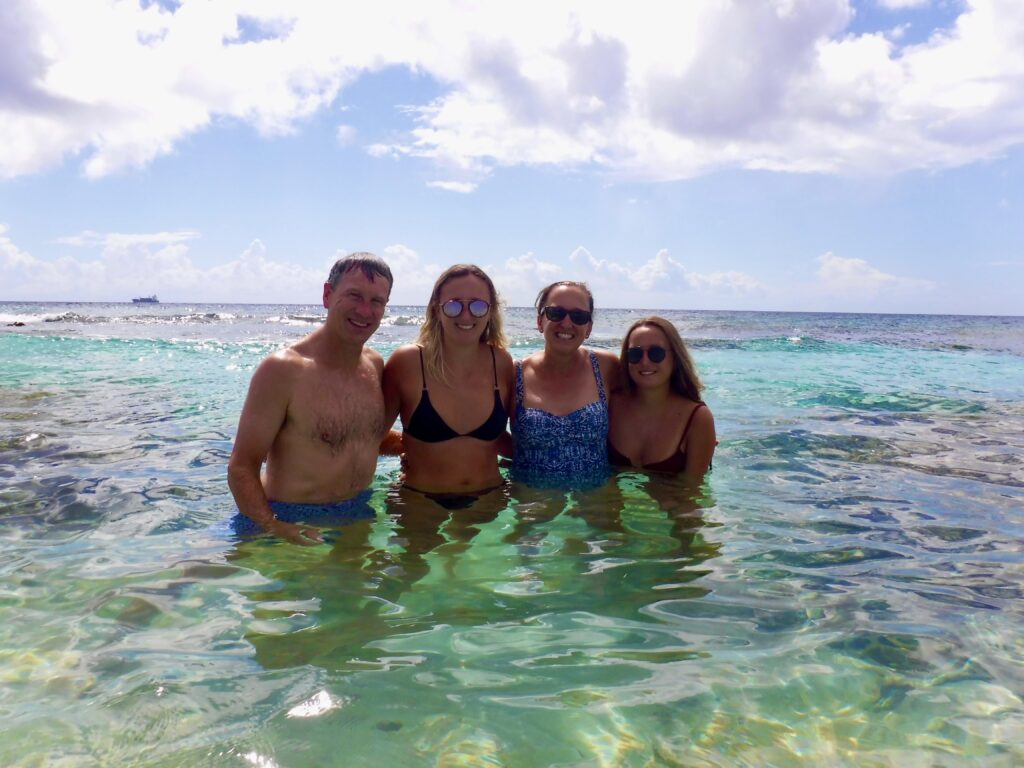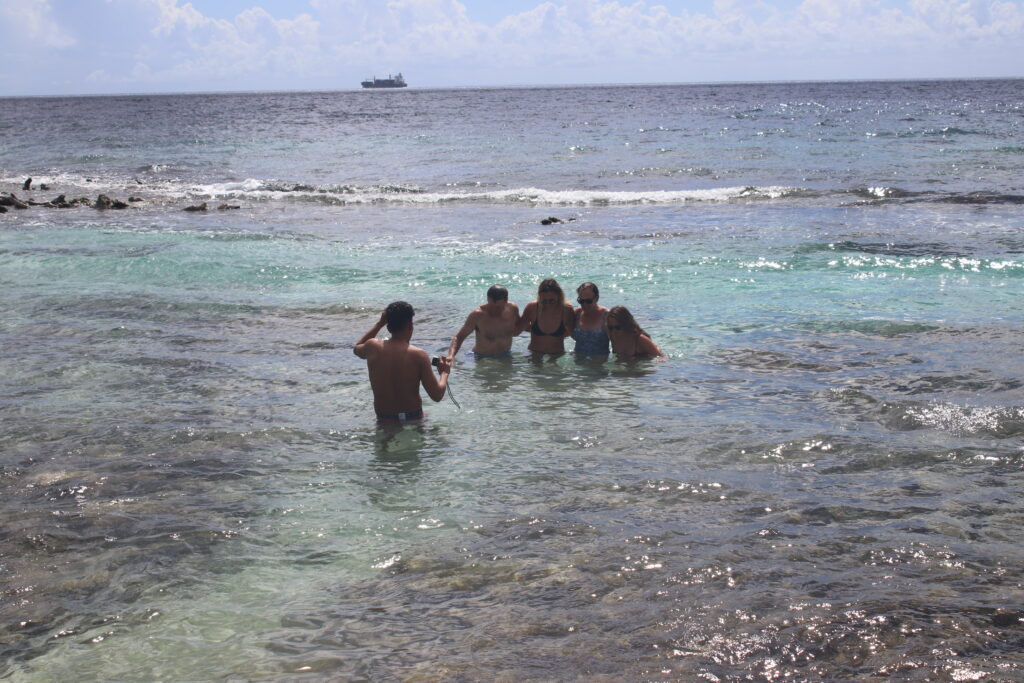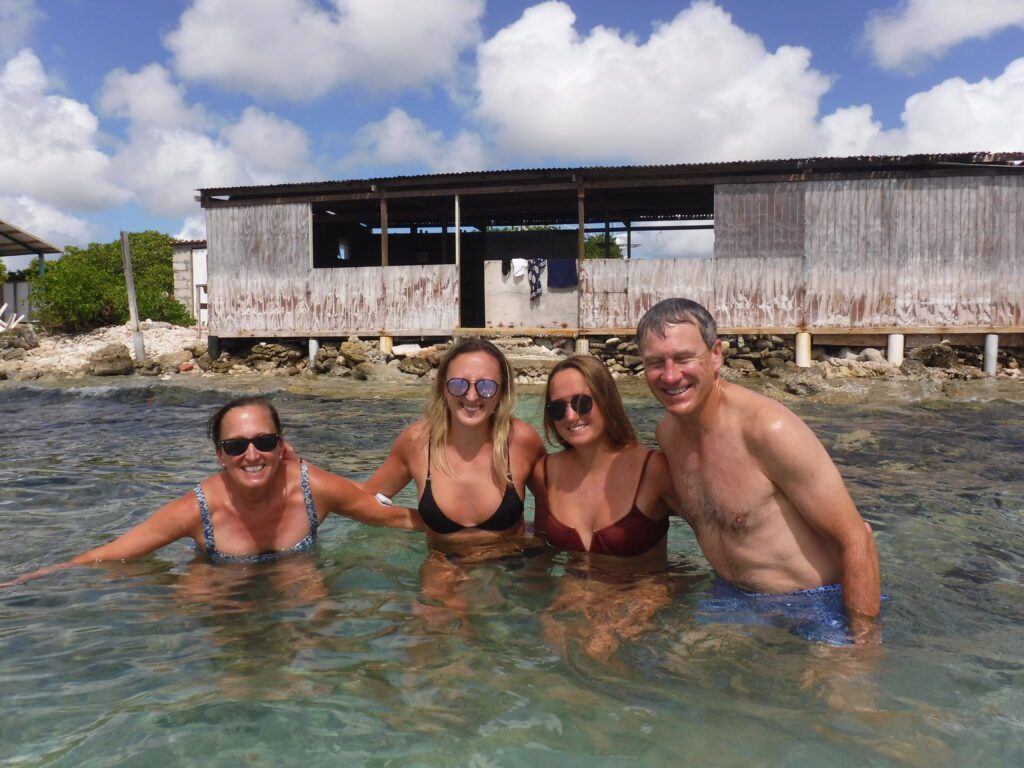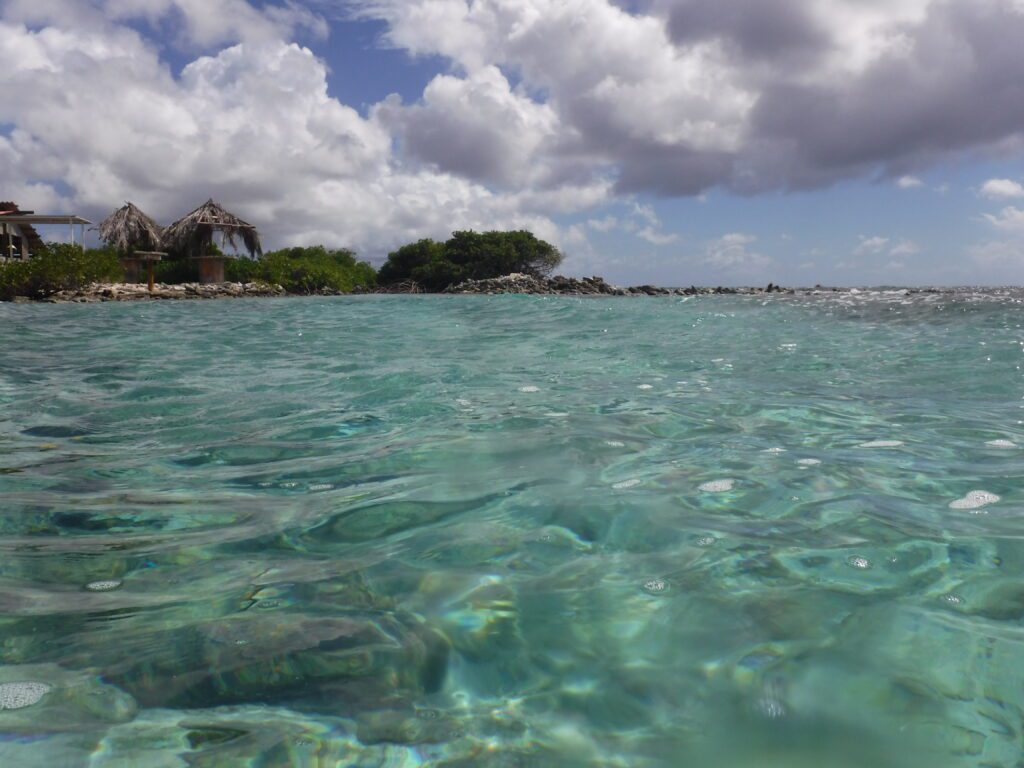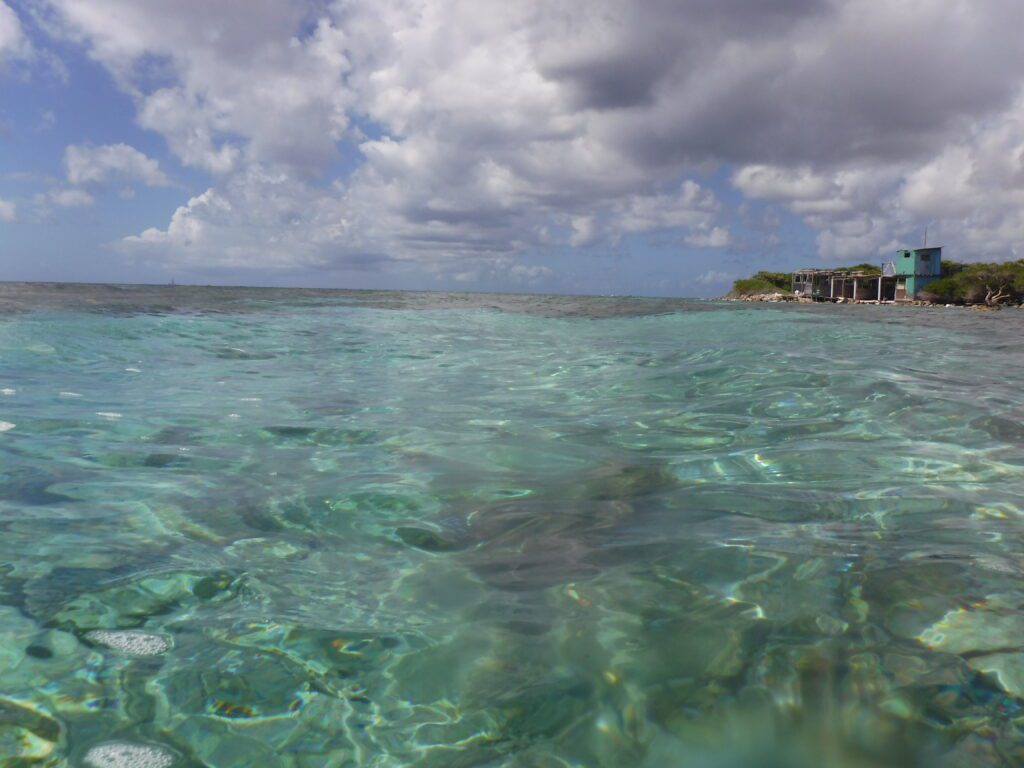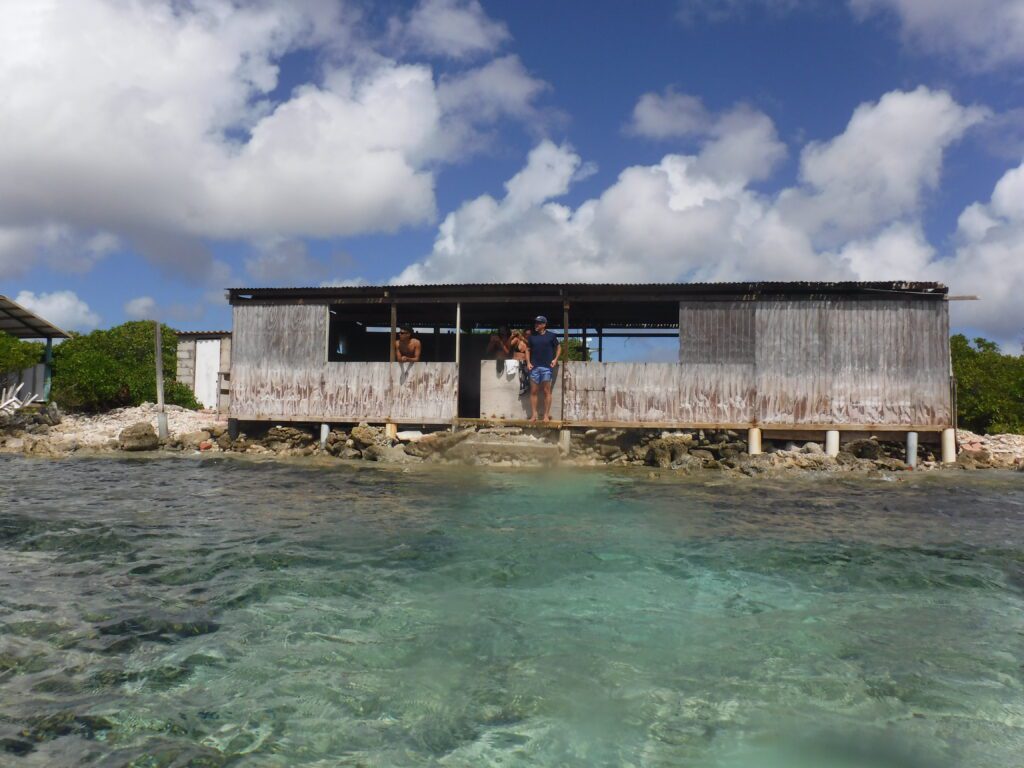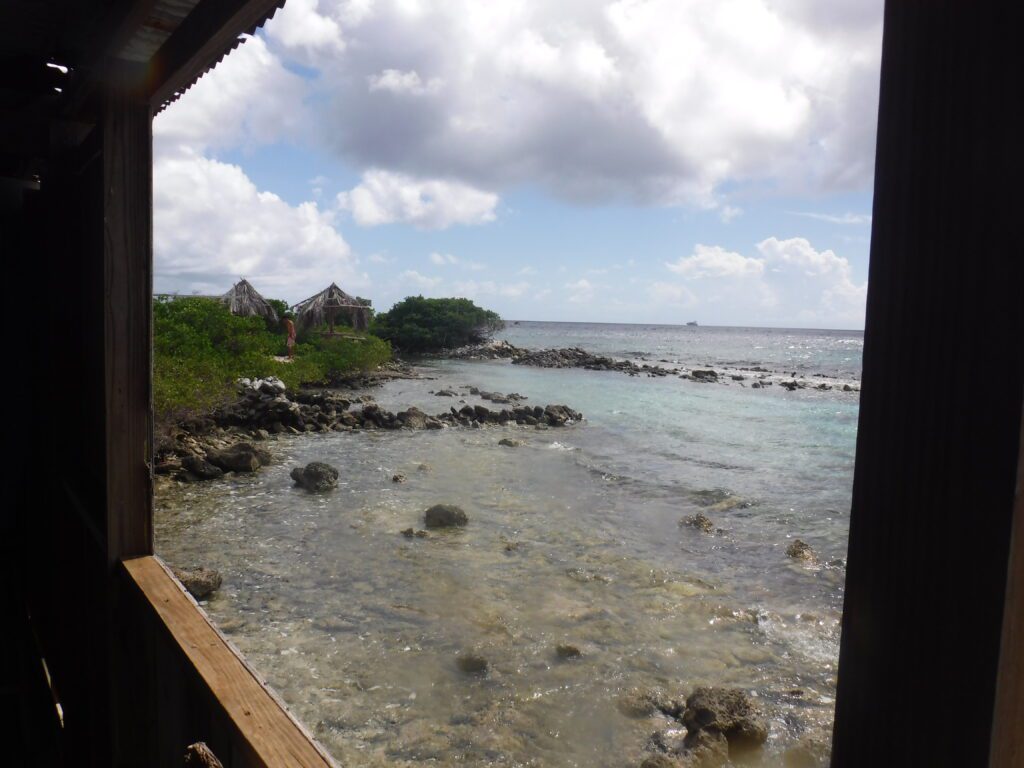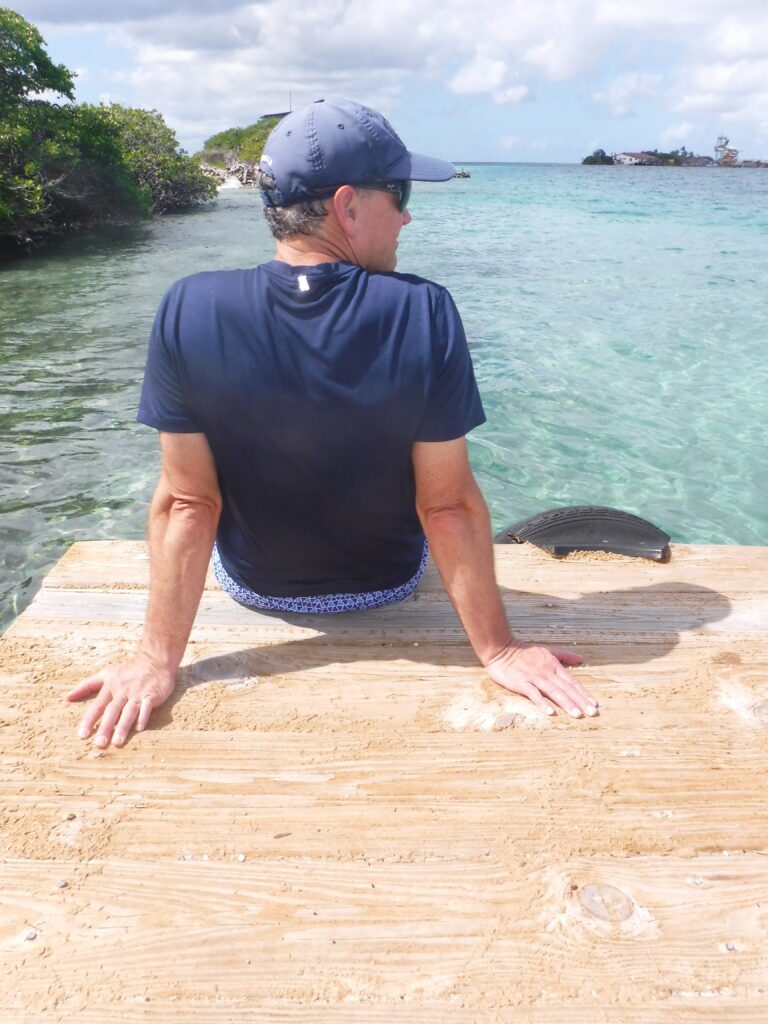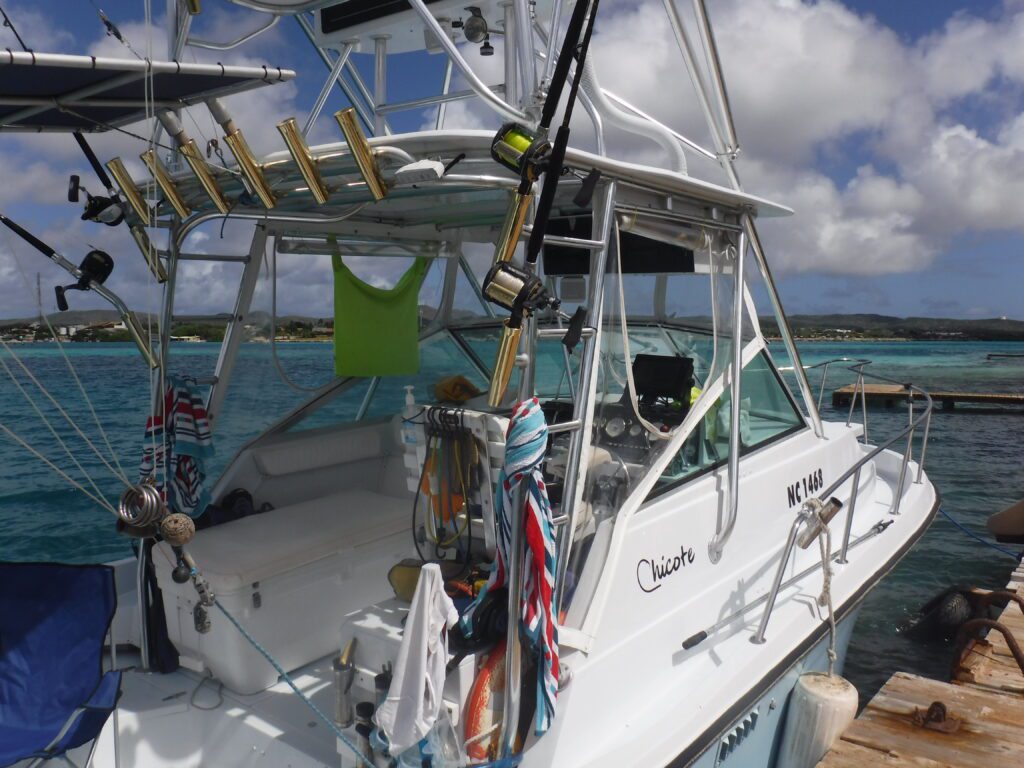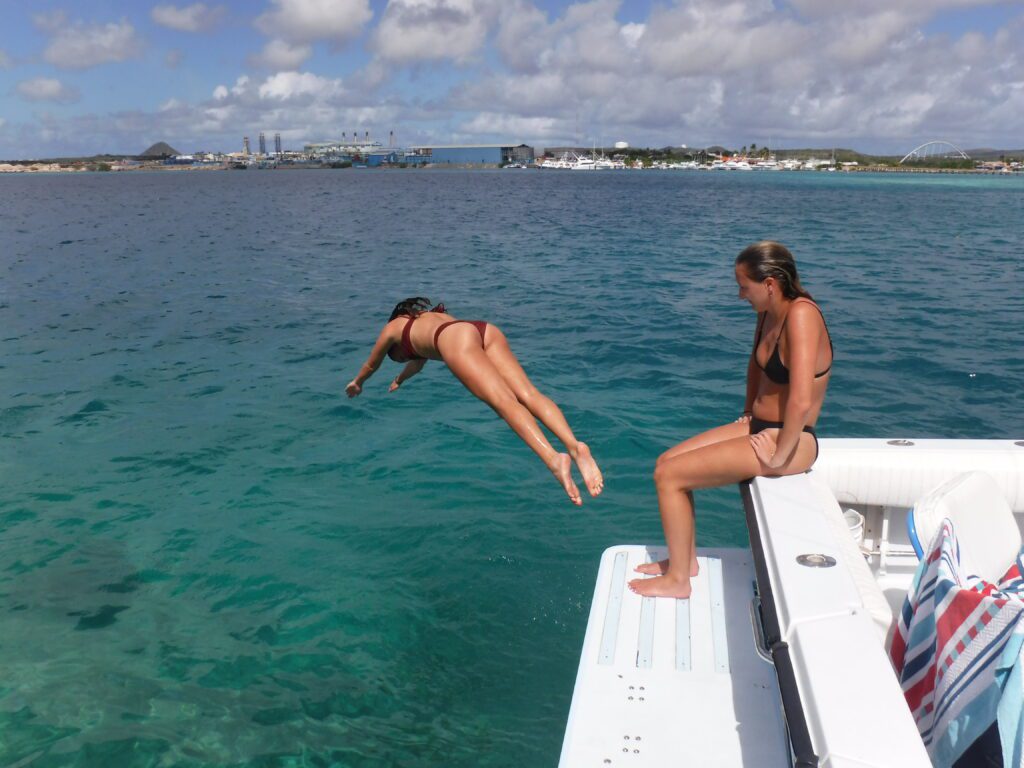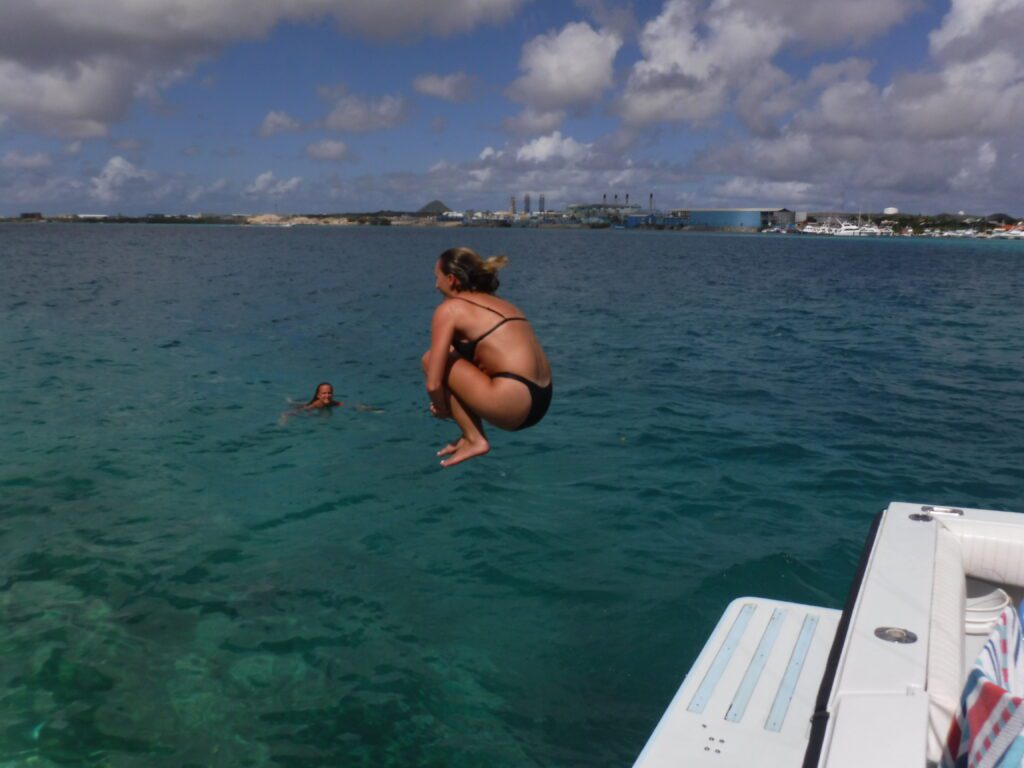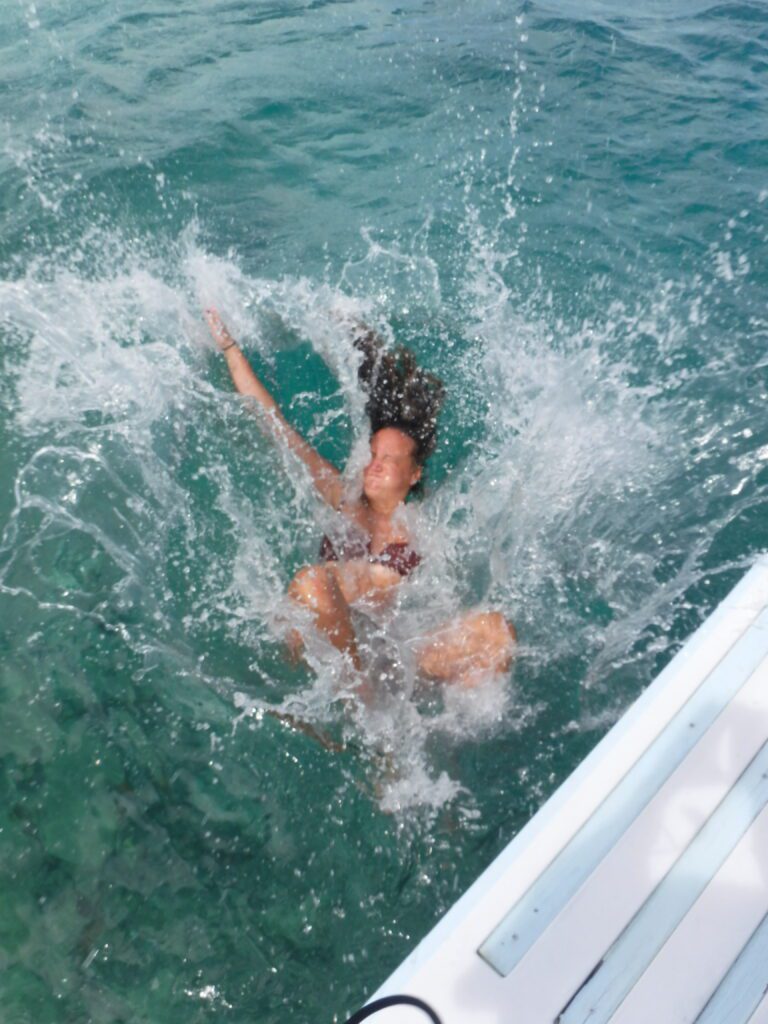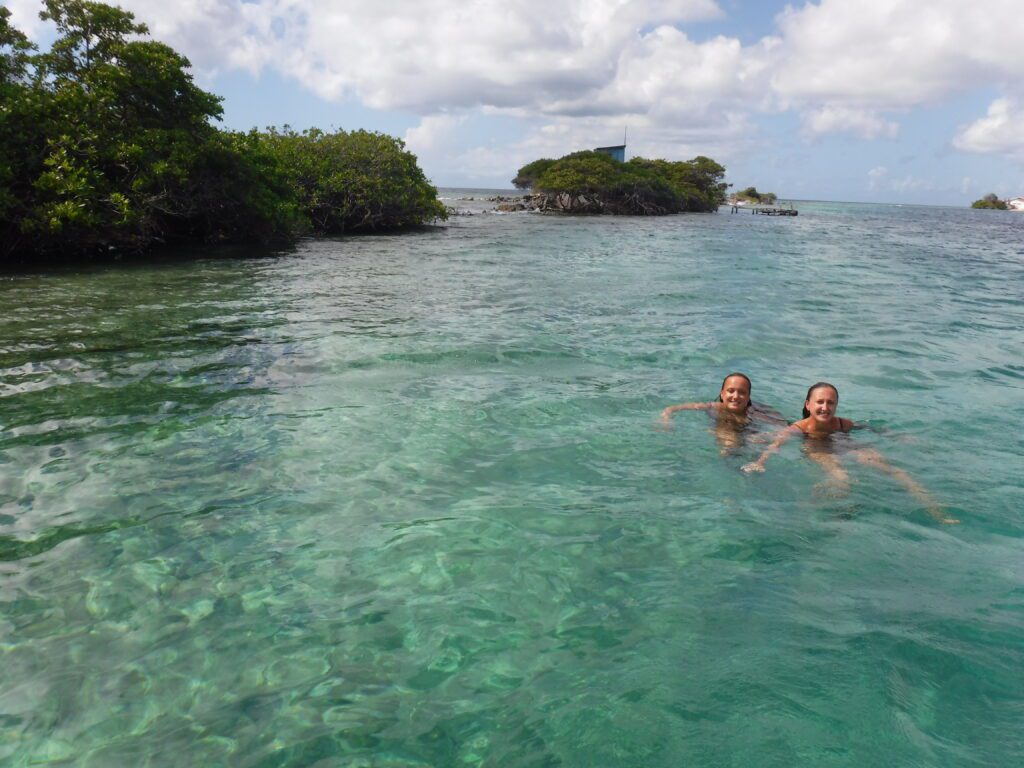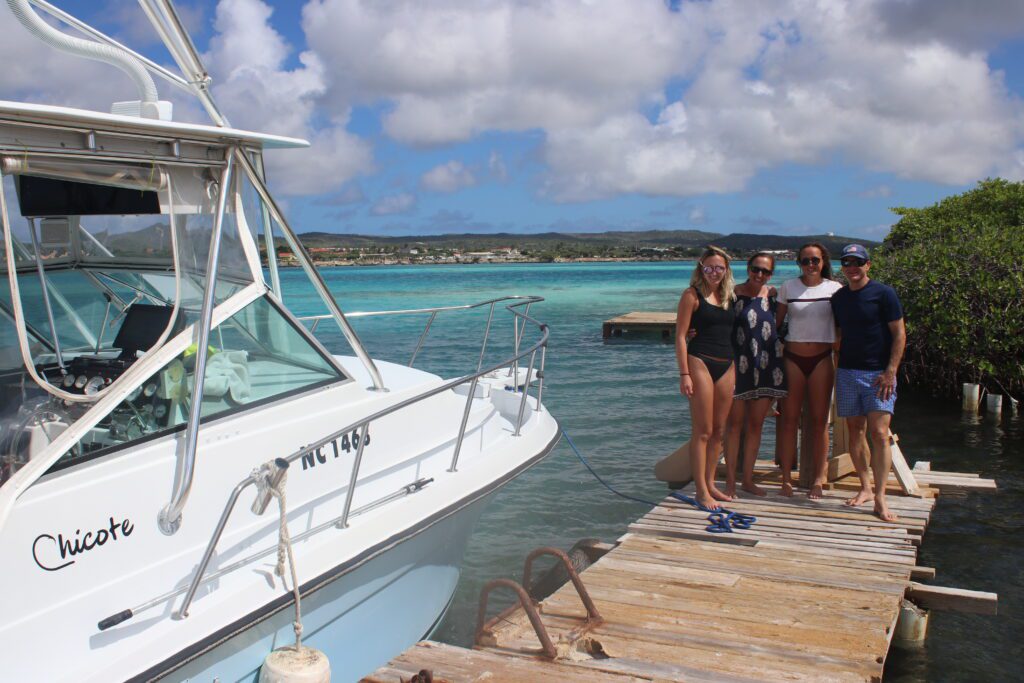 We had a great half day with Aruba Premier Boat and Dive. They did not rush us back to the dock. AJ and Audric are warm, professional and funny. We highly recommend this operation.
We stopped in Oranjestad to do some jewelry shopping. Most of the stores downtown are either jewelry stores or t-shirt shops. We found a Christmas ornament and headed back to our condo.
Screaming Eagle
We walked to a 7:30 dinner at Screaming Eagle, just two minutes away from our condo. This lovely restaurant only had patio dining open during the plague. We LOVED the food here. We enjoyed it so much we returned on the 29th for our final dinner! The tuna tartar was amazing! Trip Advisor reviews are strong.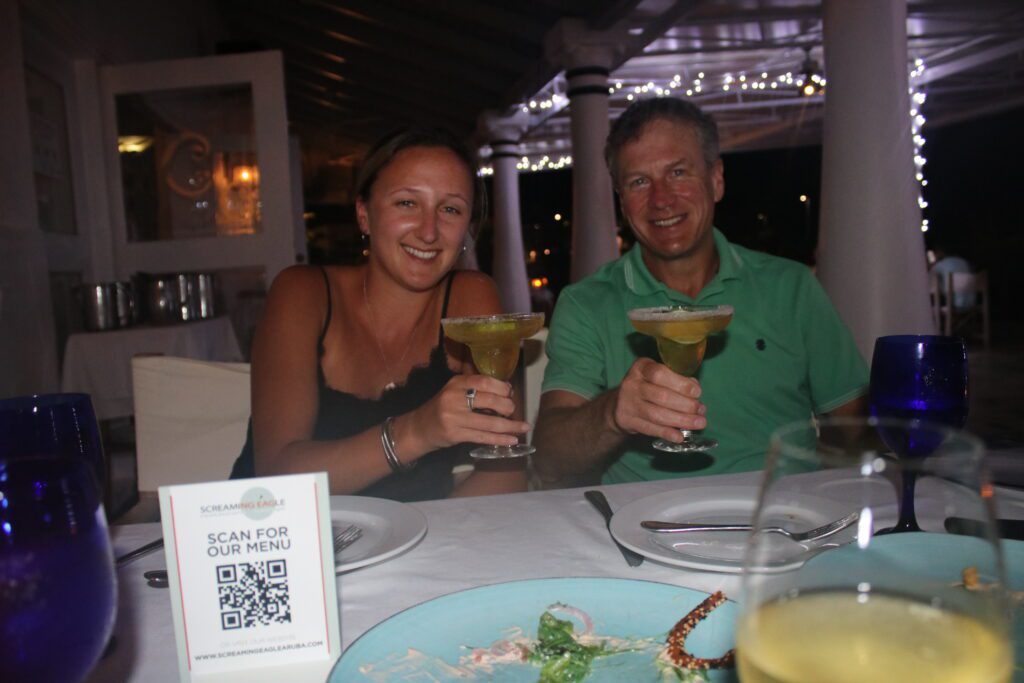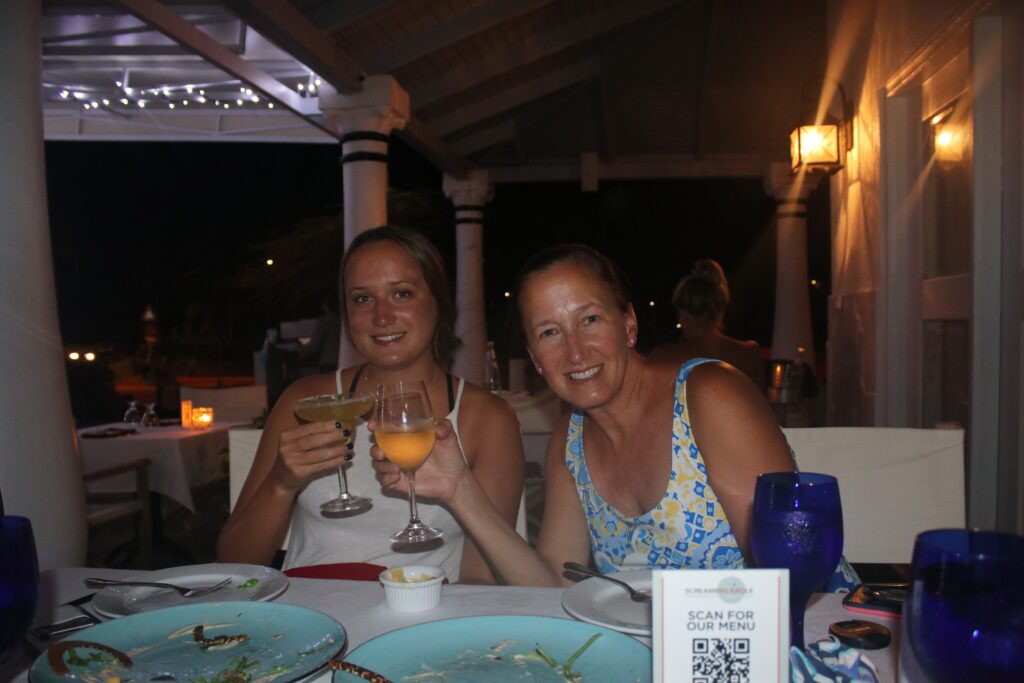 Mangel Halto Beach
On both our boat days, we passed through the Mangel Halto Beach area. The colors you can see from a boat are beautiful; however, you will see even more colors if you drive to the small beach area. The beach has free parking, palapas, shade trees and mangroves you can swim between. The shallow reef makes for great snorkeling, too. Infinitely Instagrammable, Mangel Halto is a relaxing treasure of a beach. Do not skip this one!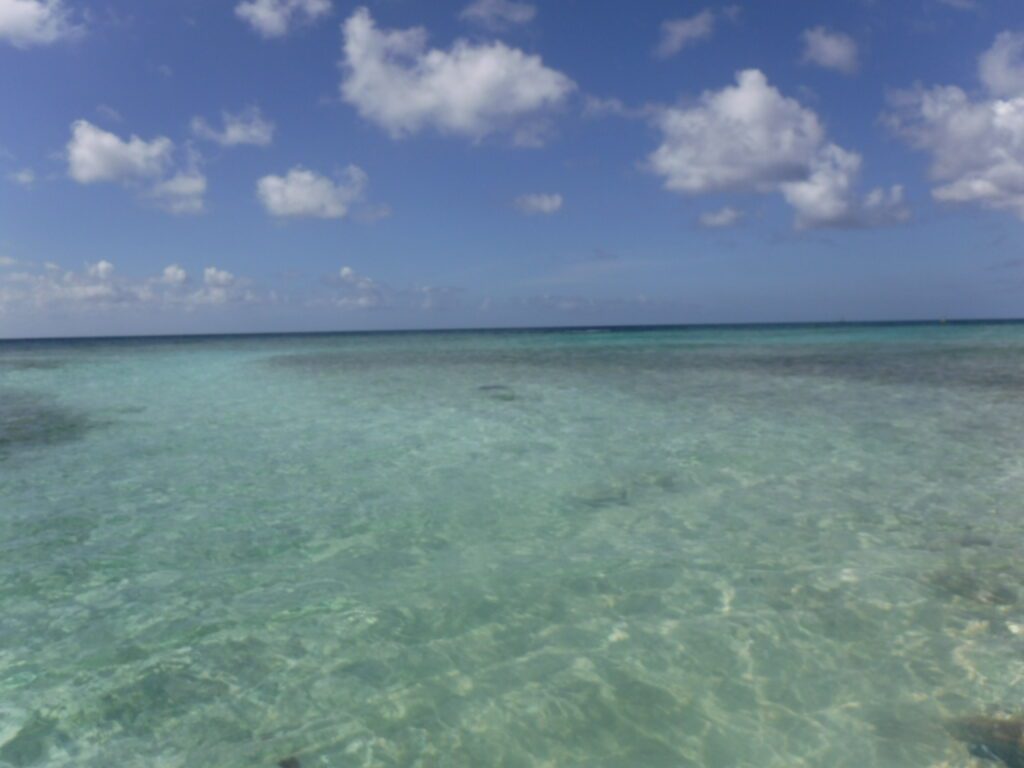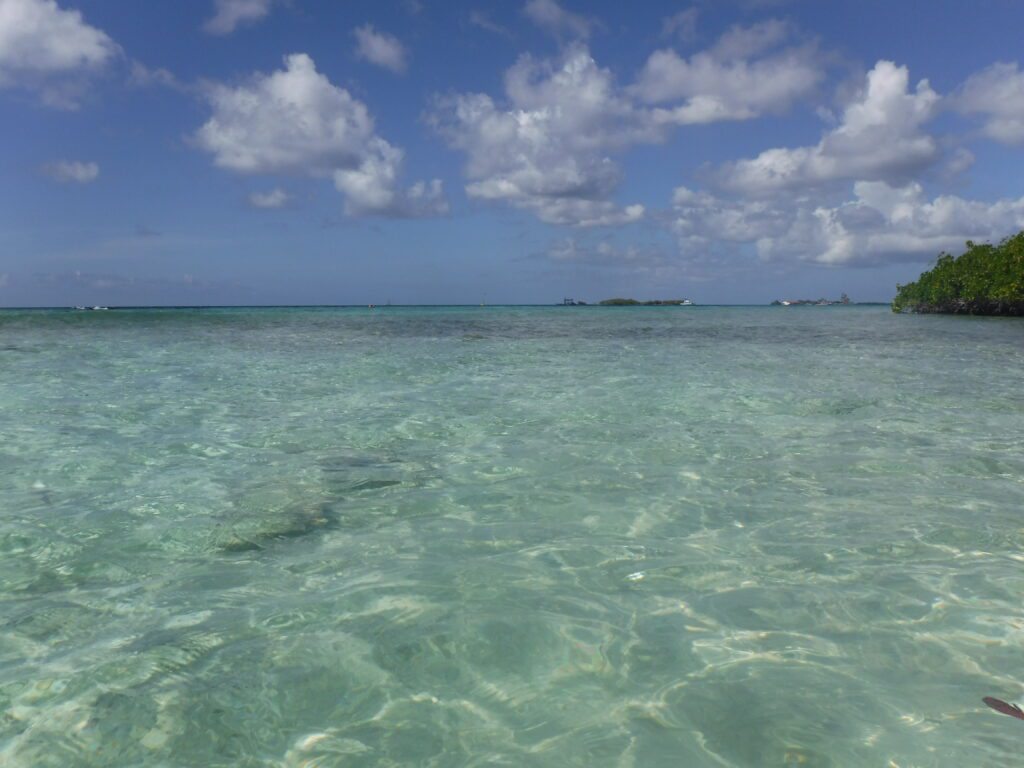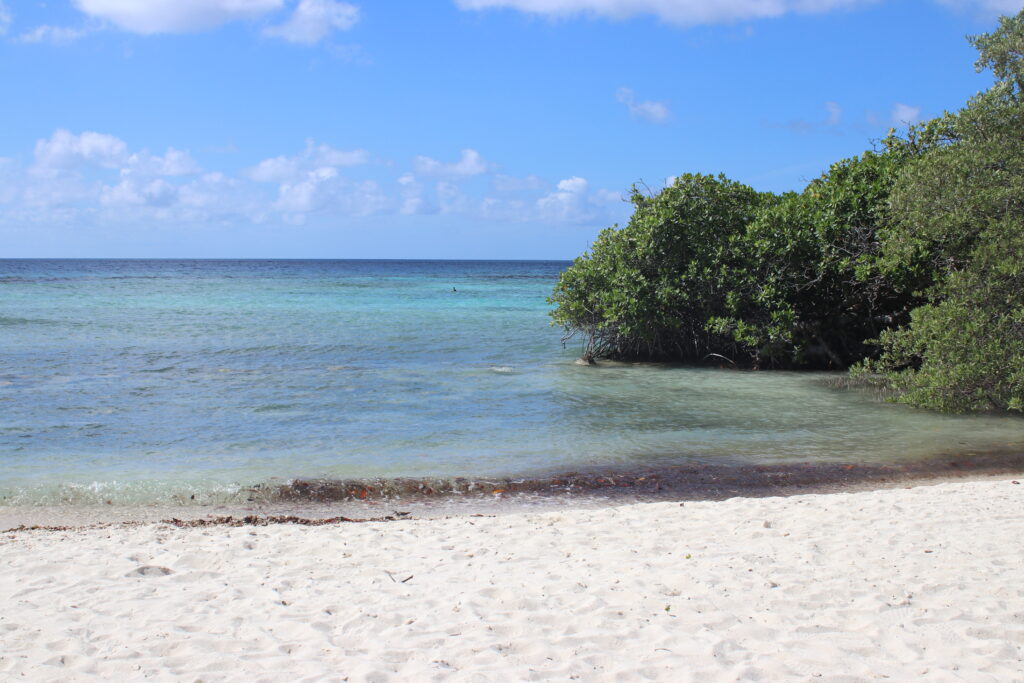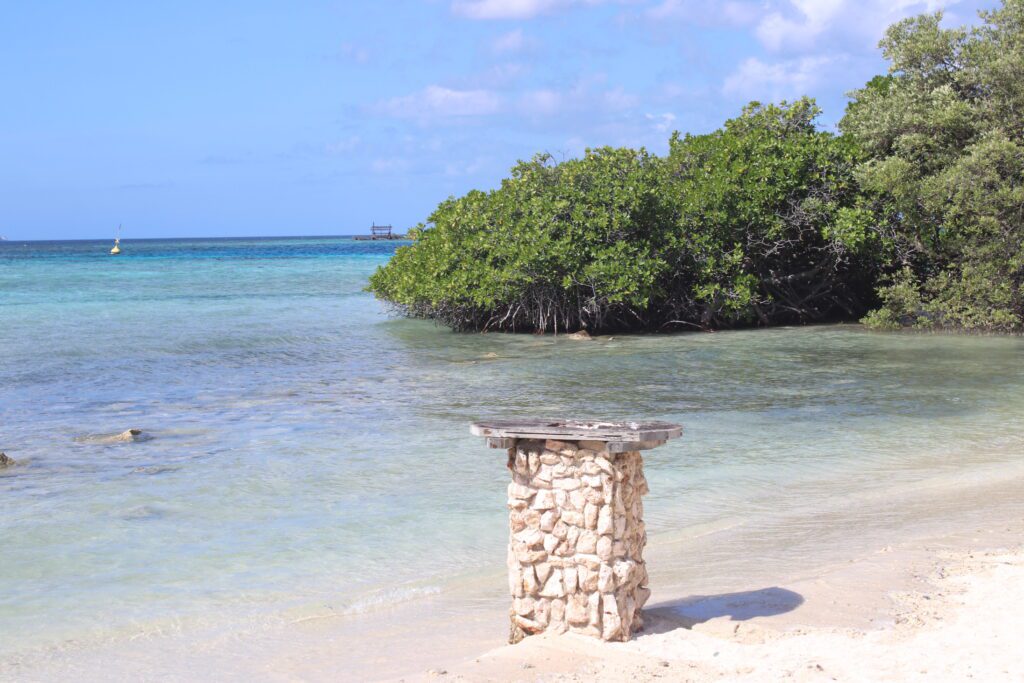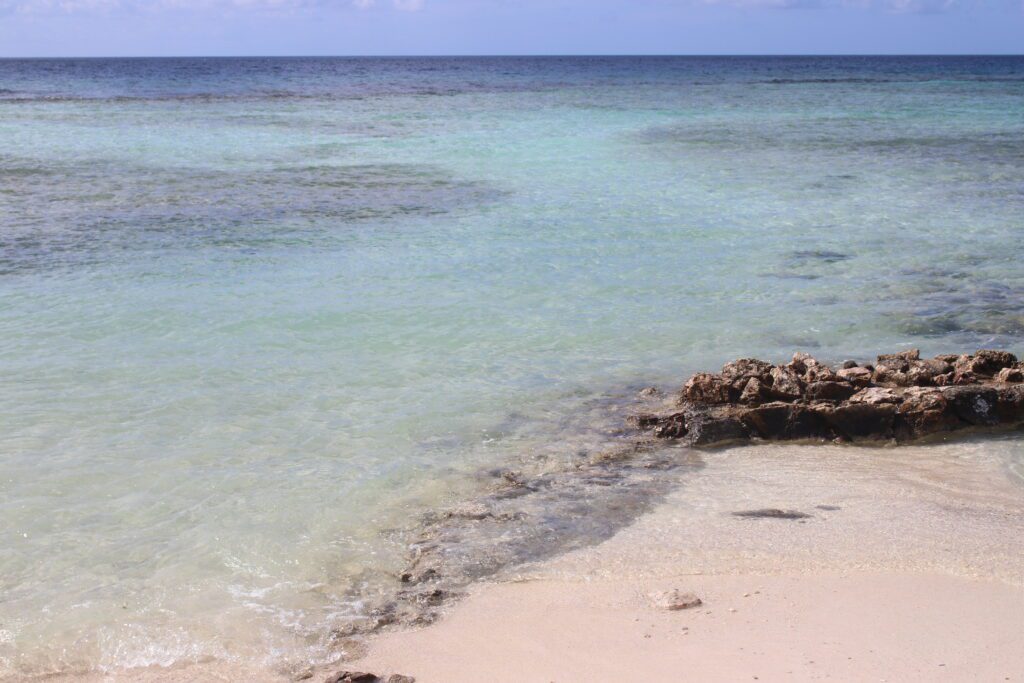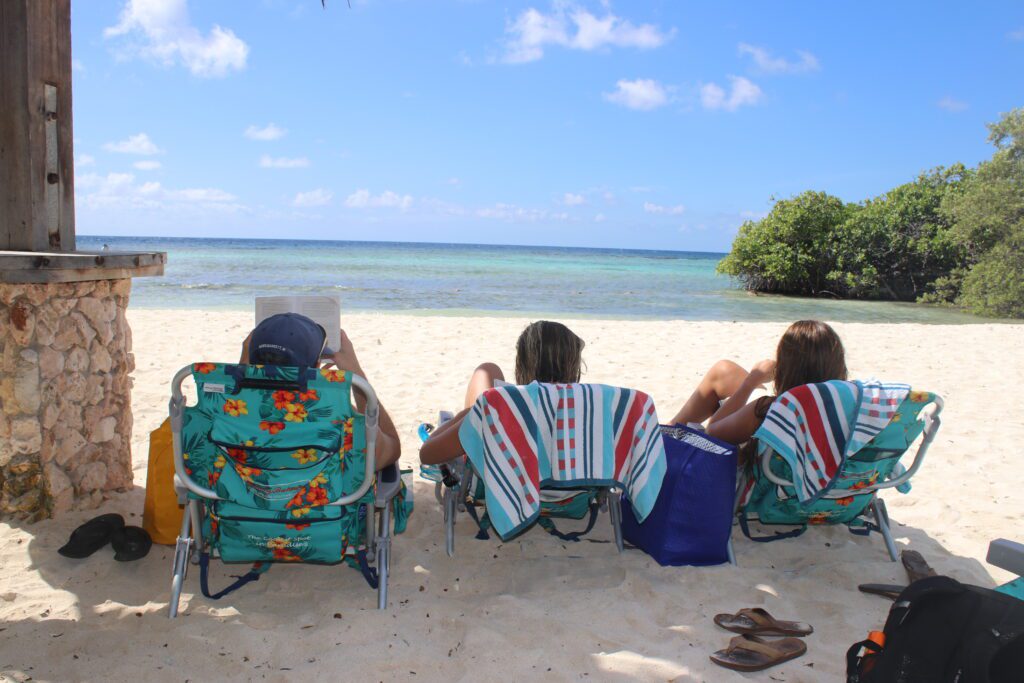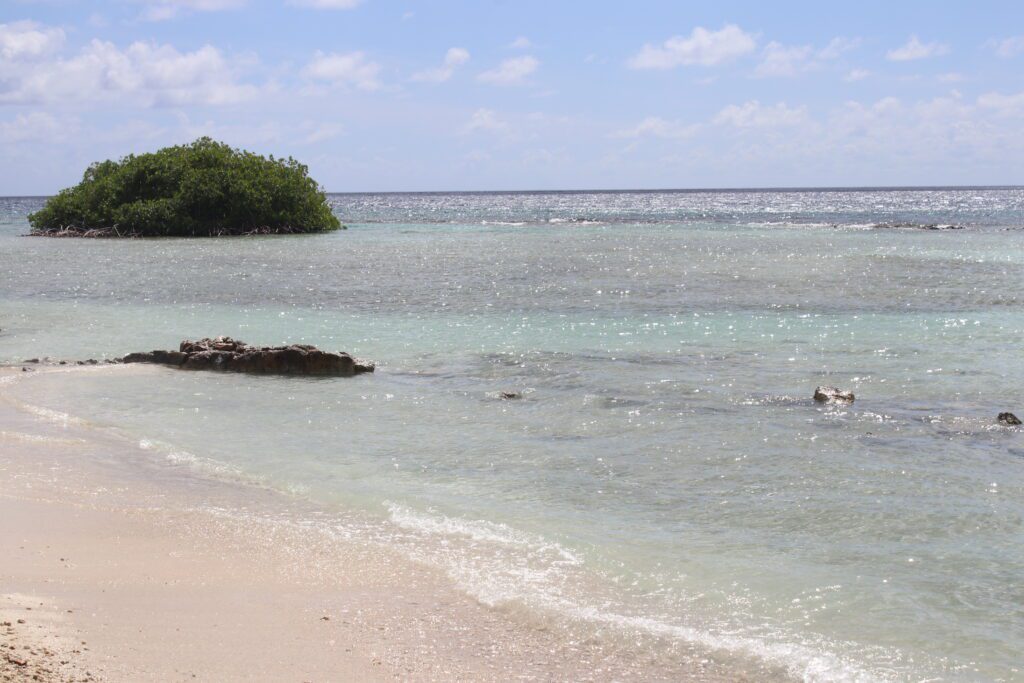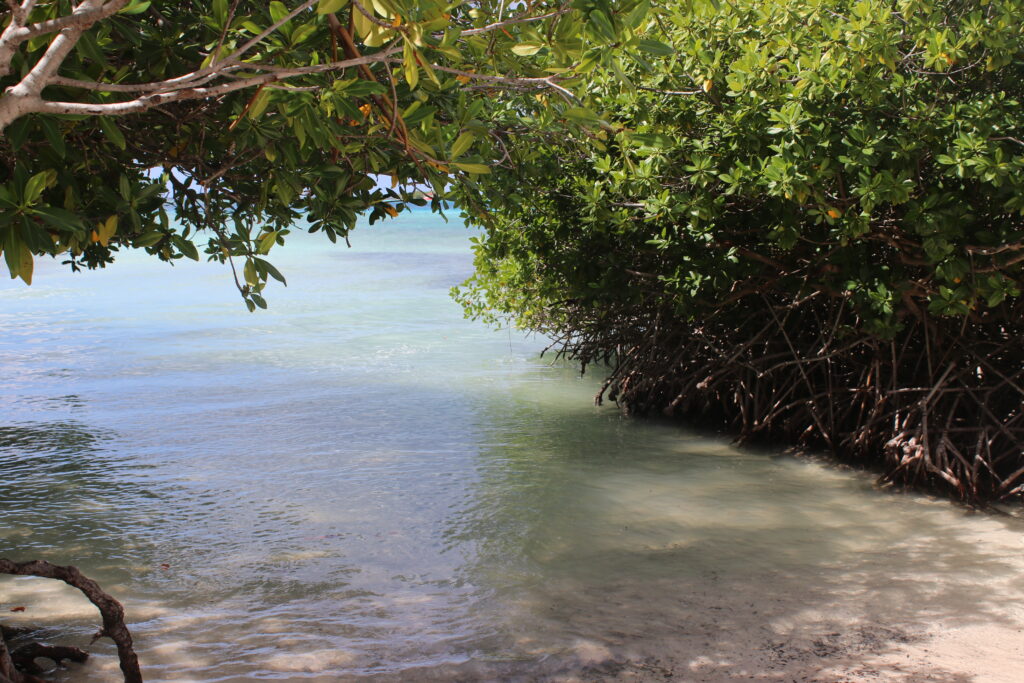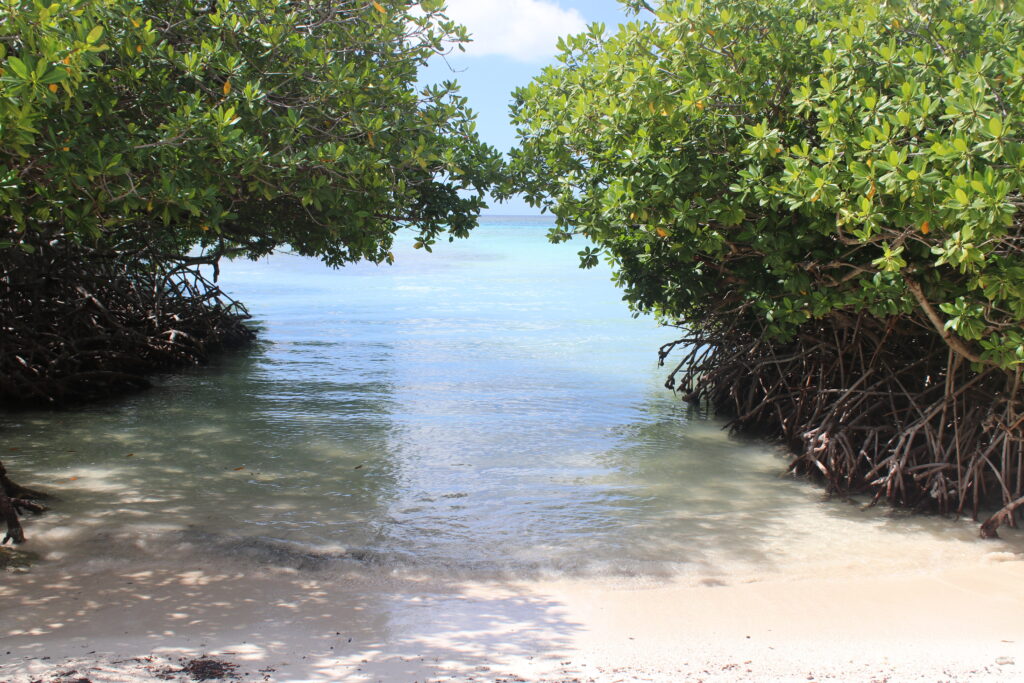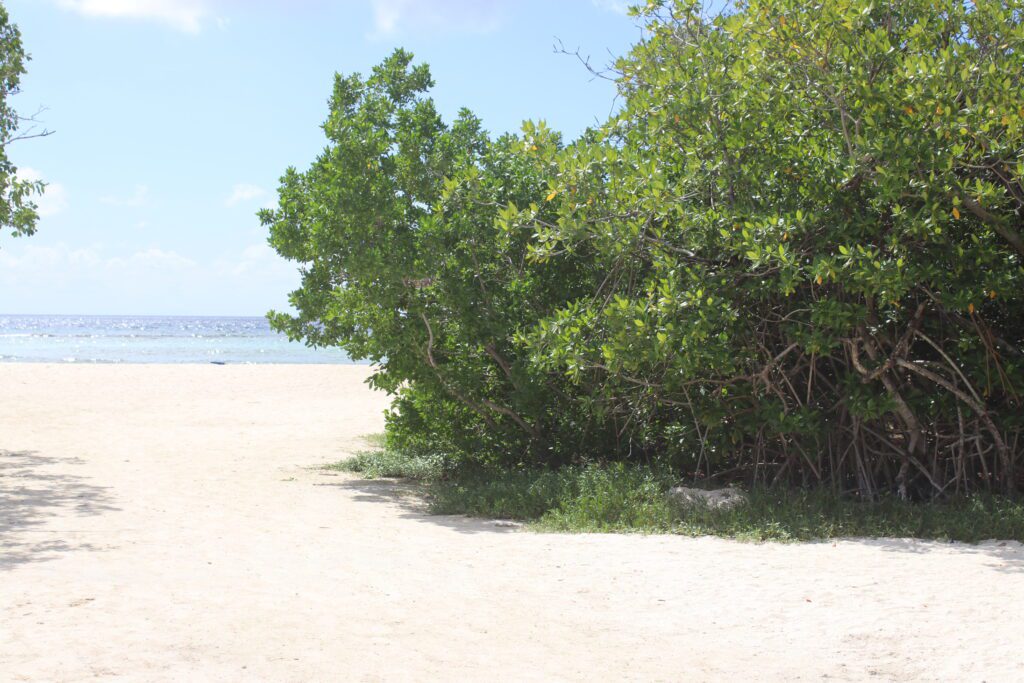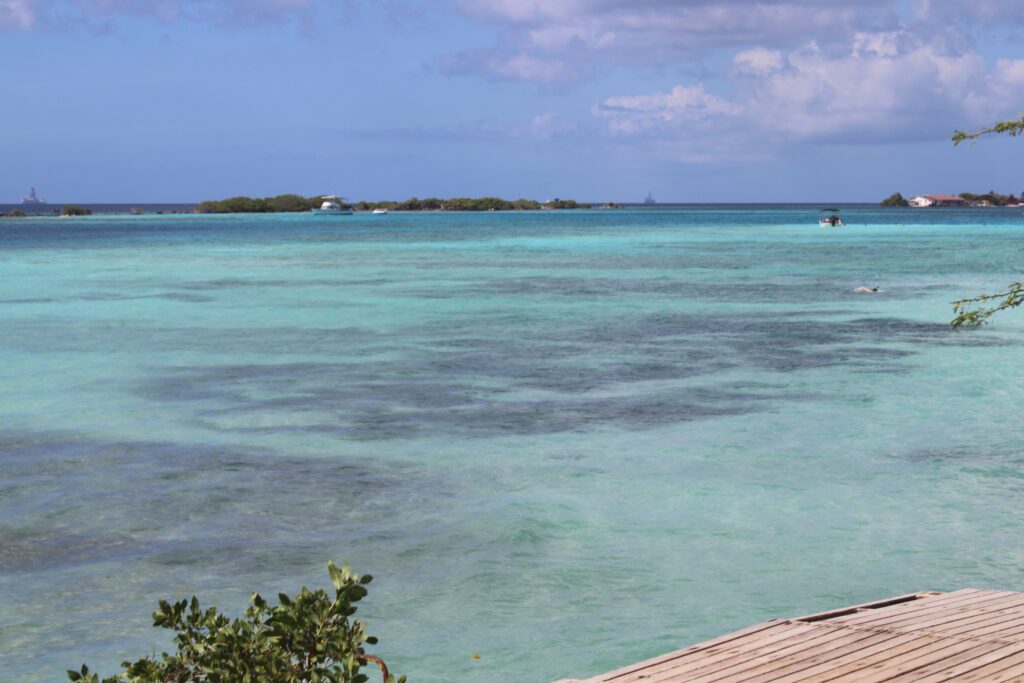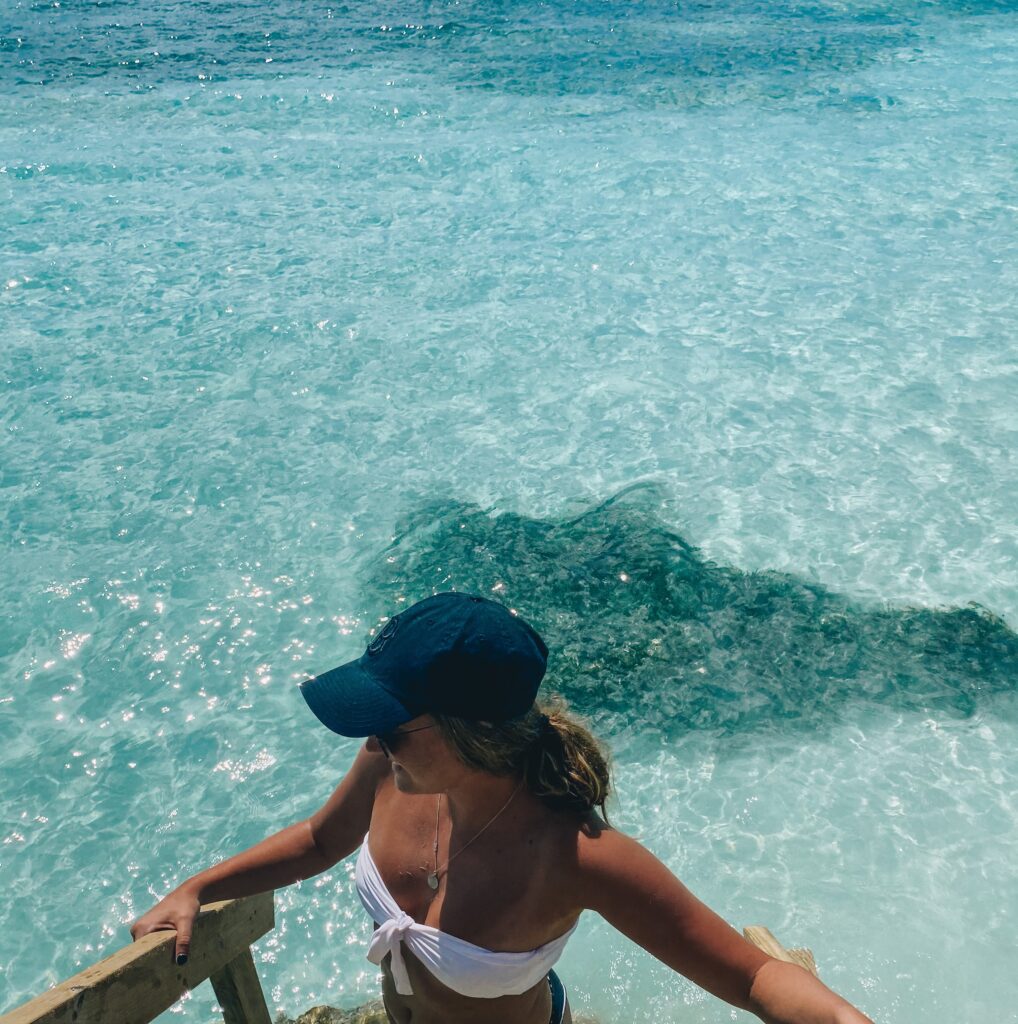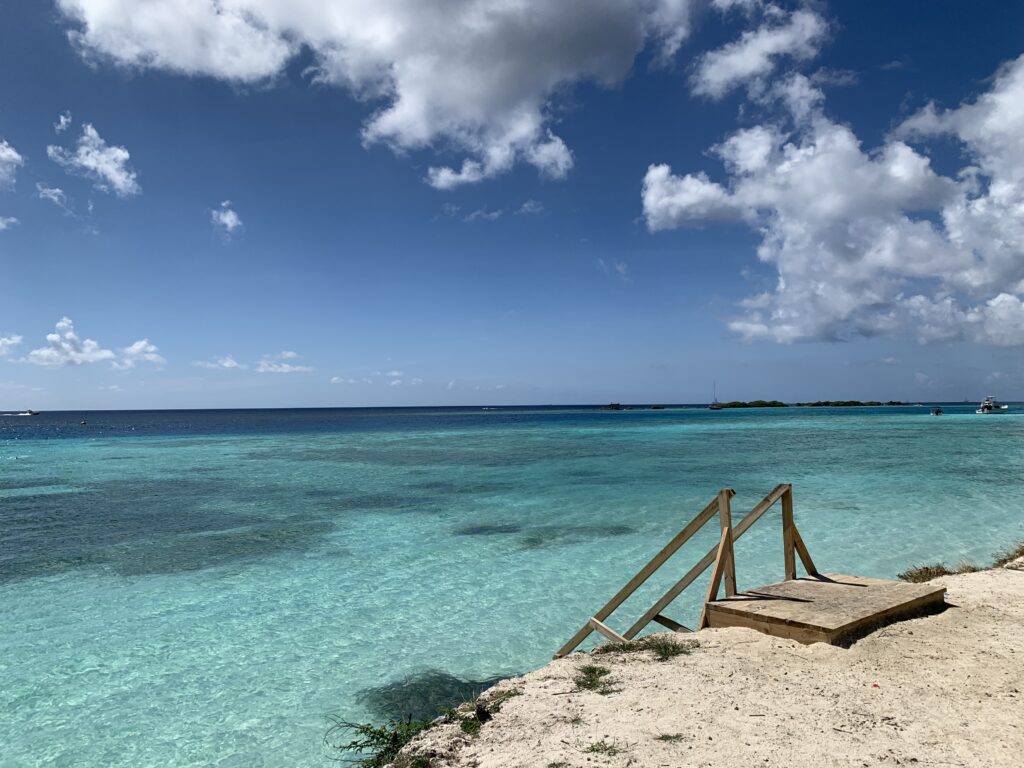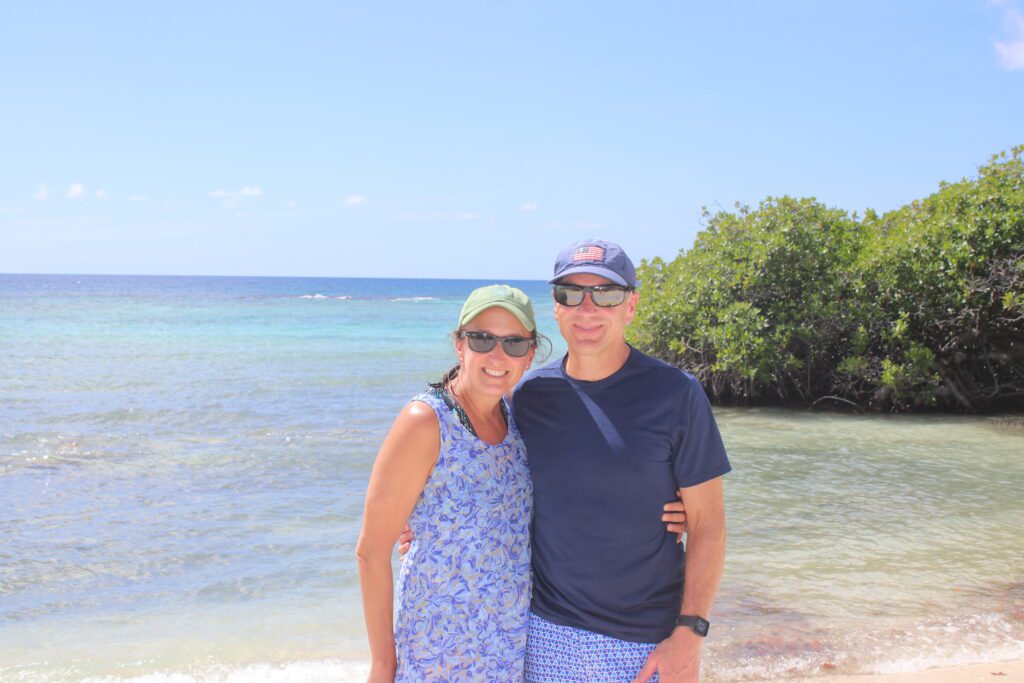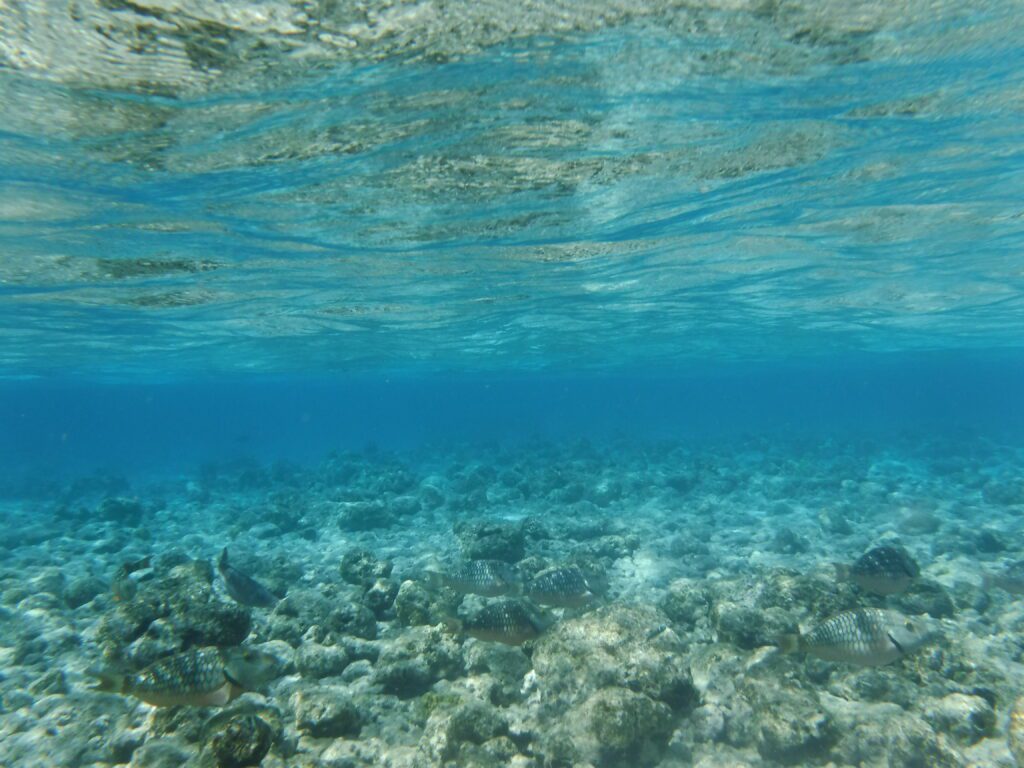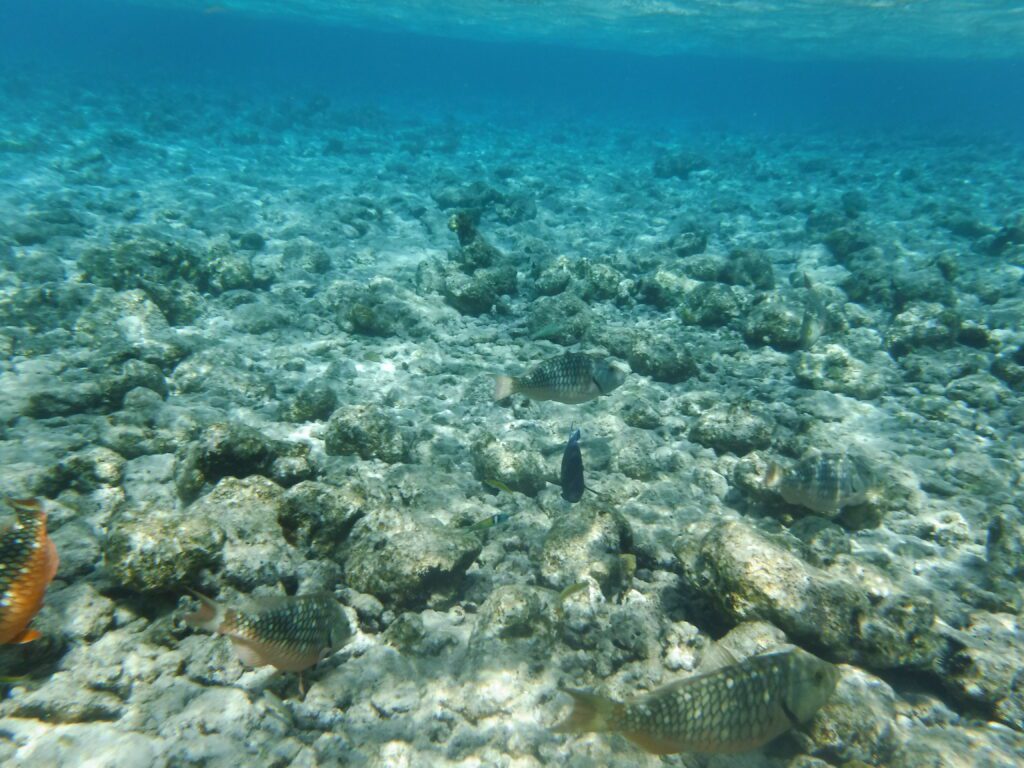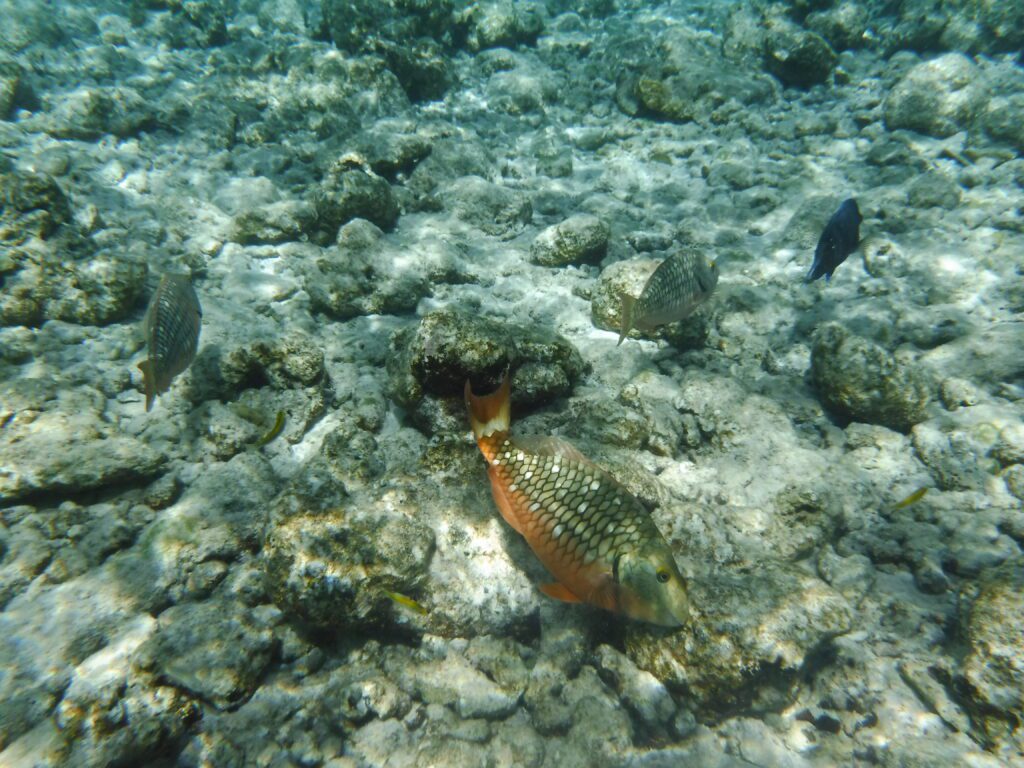 Zeerovers
Once we tired of the beach and the sun, we were hungry. We drove a short distance to Zeerovers. This local, affordable restaurant serves amazing, just-caught fresh fish. You get what they give you. The people in front of us had snapper and we had wahoo. The french fries, onion sauce and tartar sauce are incredible. For about $44 we had an enormous lunch, four waters and two beers. We had WAY too many fries. We did not need four orders of fries – two or three would have been plenty. The fish is flash fried with no batter, so gluten free followers can enjoy it too! We had no wait in a long line as some people complain about. We sat on the dock with a roof for shade. It was phenomenal. Zeerovers is cash only. Do not skip this place! TripAdvisor reviews are excellent.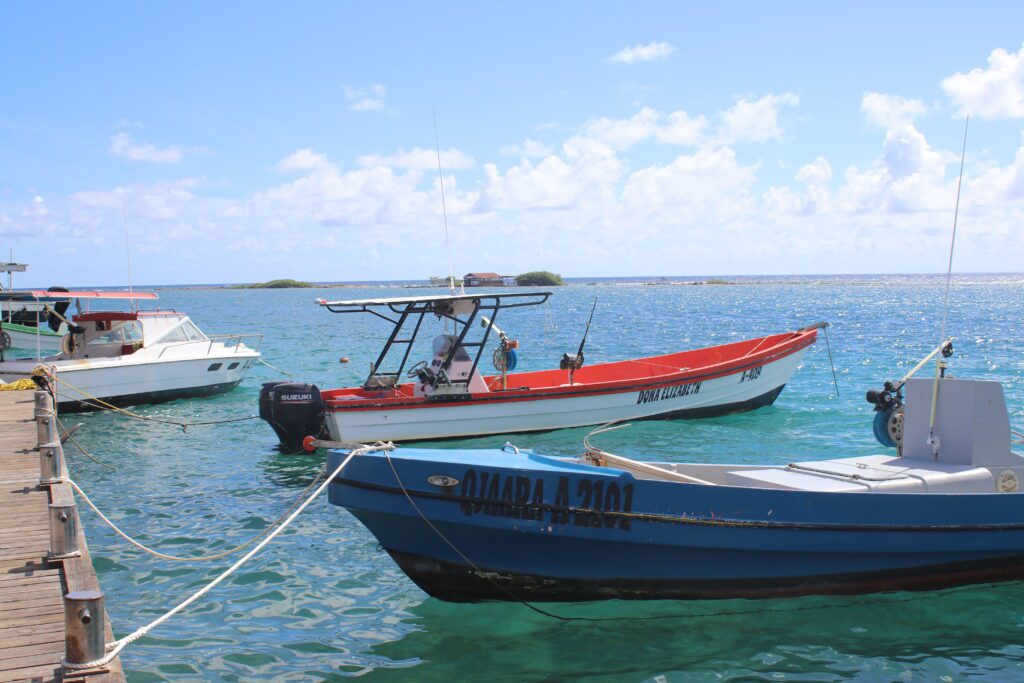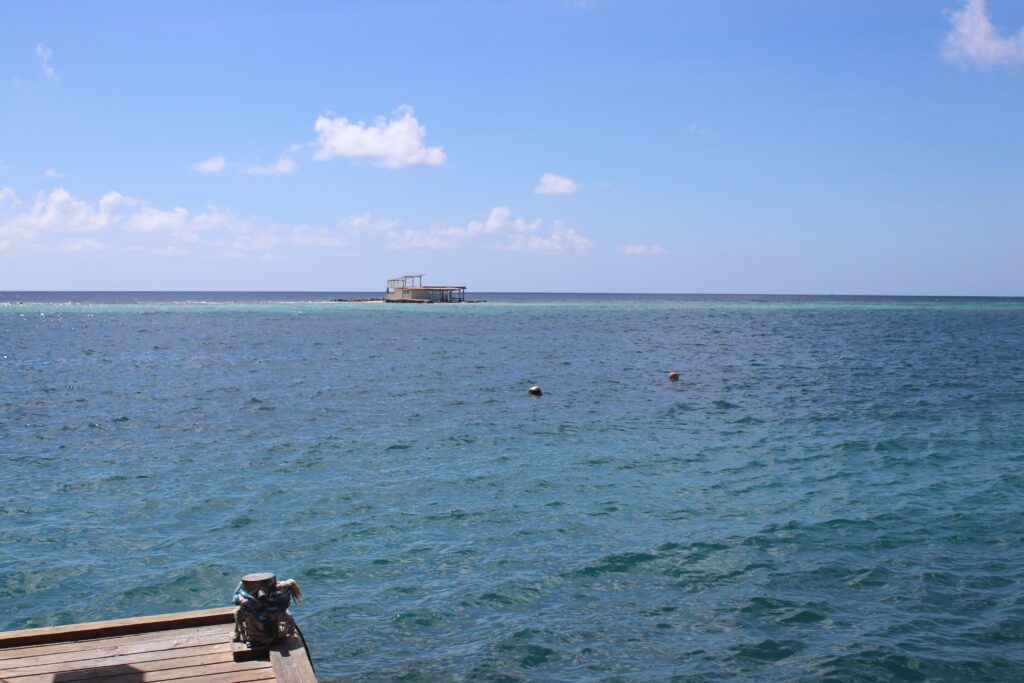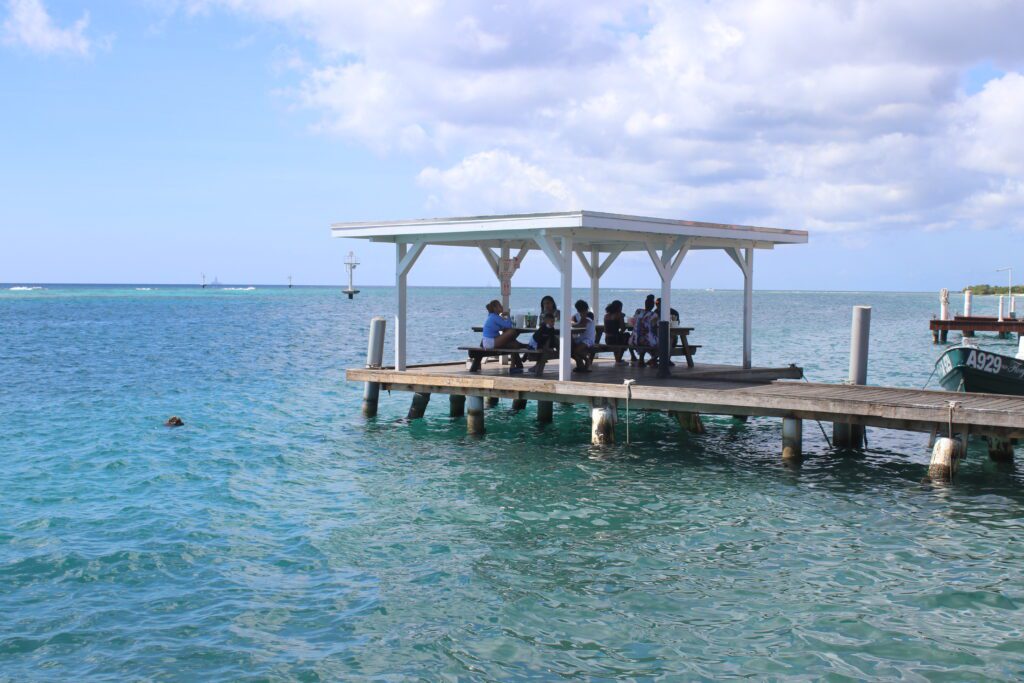 Faro Blanco
The girls wanted a change from all the fish we were eating, so we went to Faro Blanco for dinner so they could have pasta. Faro Blanco is right by the California Lighthouse with an enormous patio. We ate under a full moon. The pasta was delicious as was the fish. Unfortunately, they were out of the vegan, gluten-free pizza Jim wanted to try. If you go before the sun sets, you will have a tremendous view. TripAdvisor reviews are good.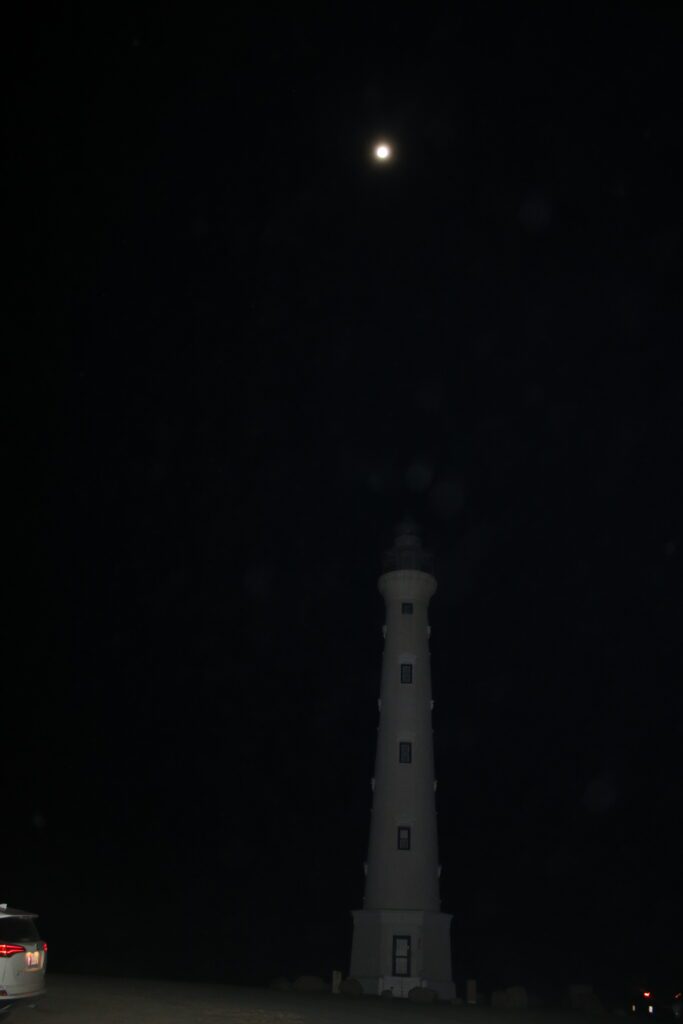 Baby Beach
After a workout, we drove south to Baby Beach. This lovely cove is past the town of San Nicholas. We did drive around San Nicholas to see some of the street art.
Baby Beach is calm. We sat toward the Rum Reef restaurant with picturesque views of the cove and beach. We found shade under a tree as all the palapas were gone. If you sit toward Big Mama Grill, you can rent shade tents or snorkel equipment. The beach near Big Mama Grill is as flat as a swimming pool. There were lots of very young children on that side. The issue with this side of the beach is that you have a view of the cove and the old oil refinery! We liked our views better.
There is fun snorkeling, but stay inside the reef. The current is way too strong on the outside. We had a lovely day here.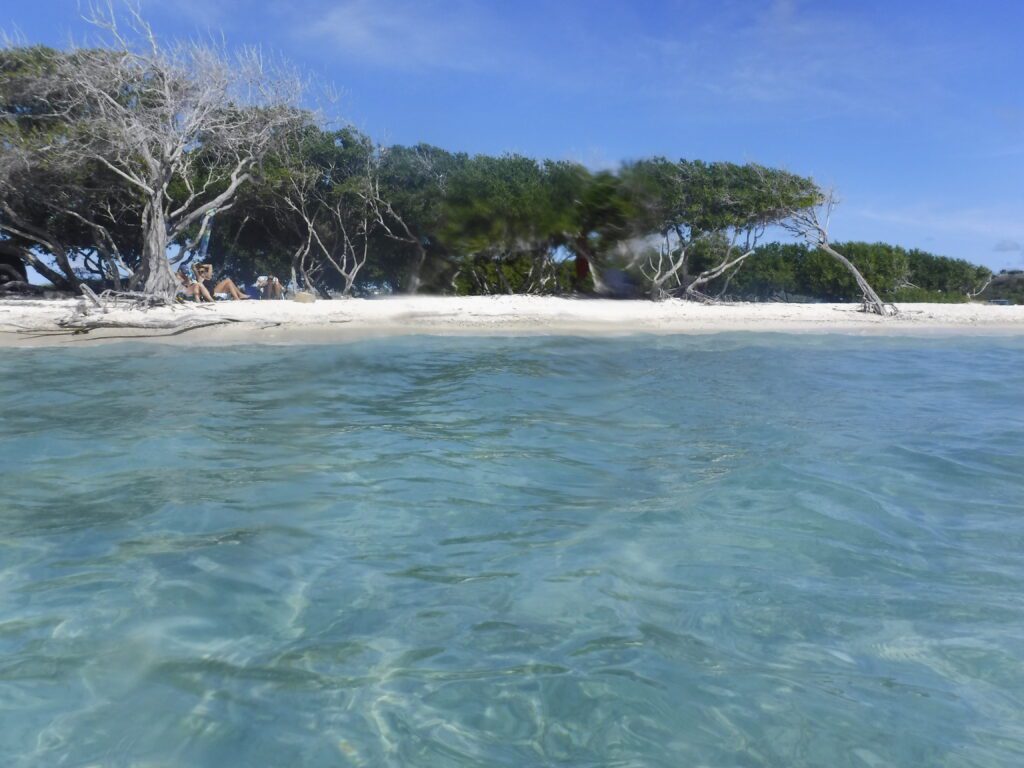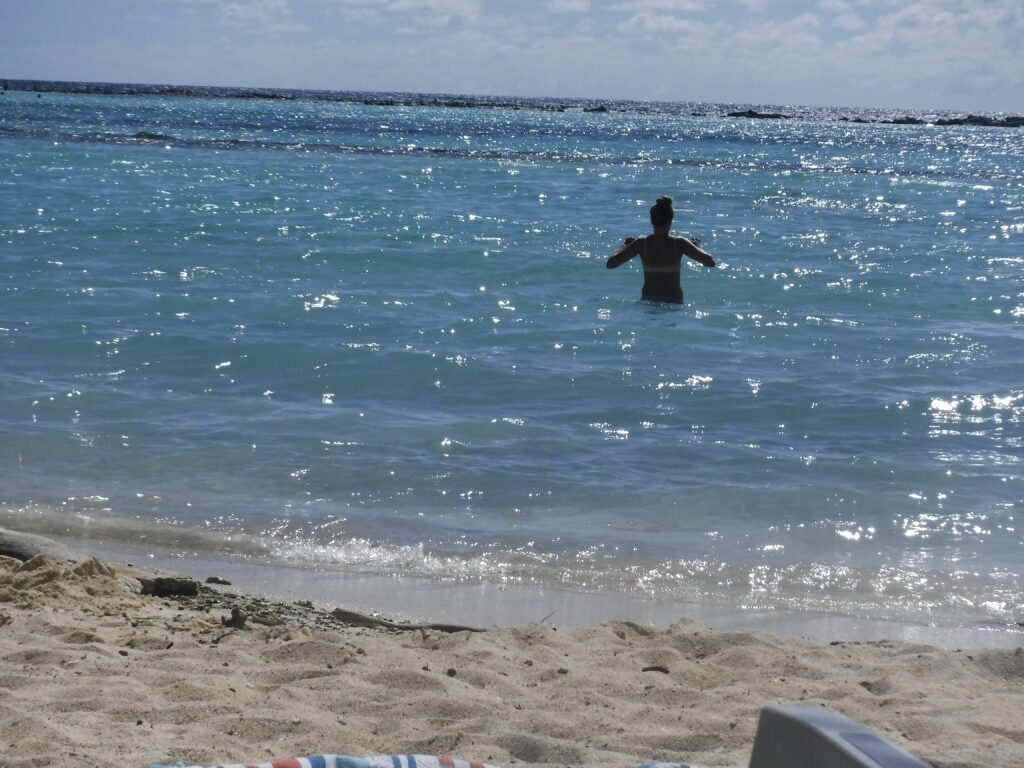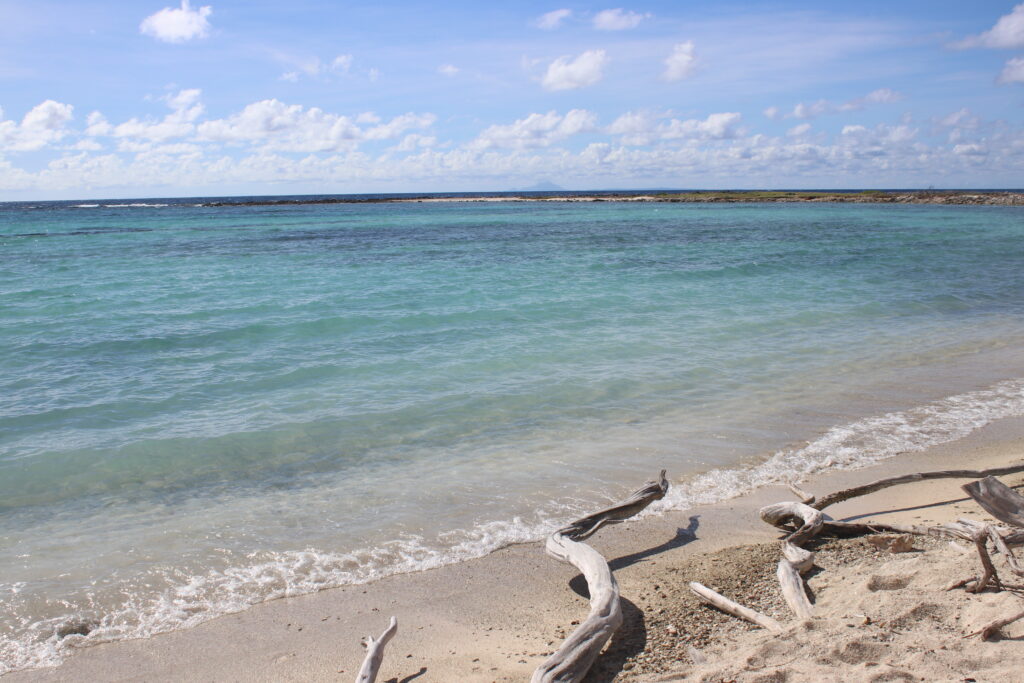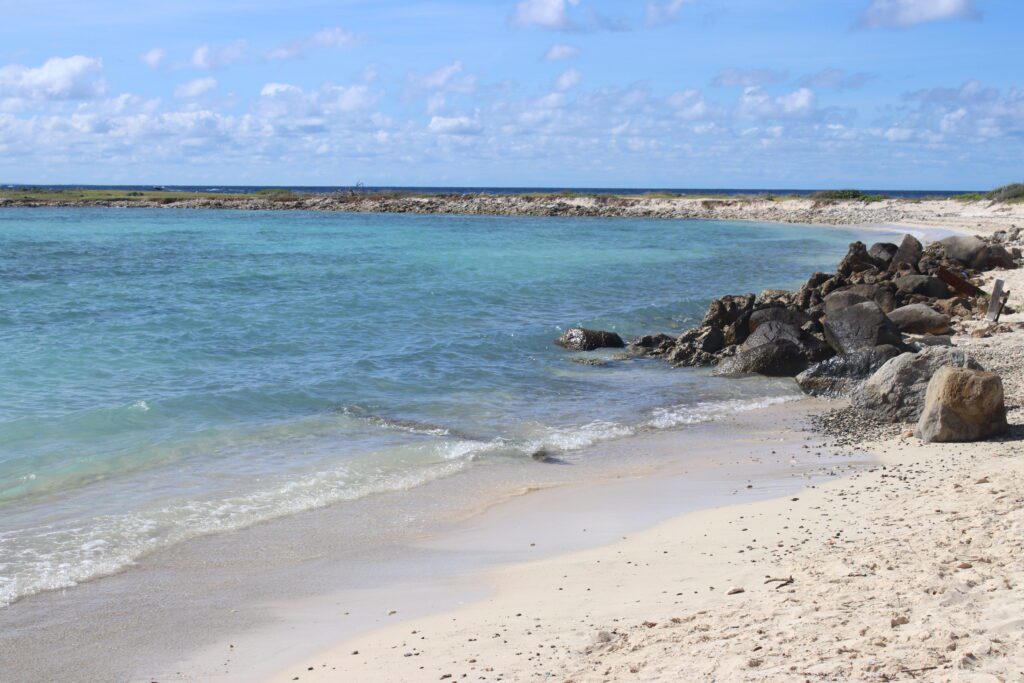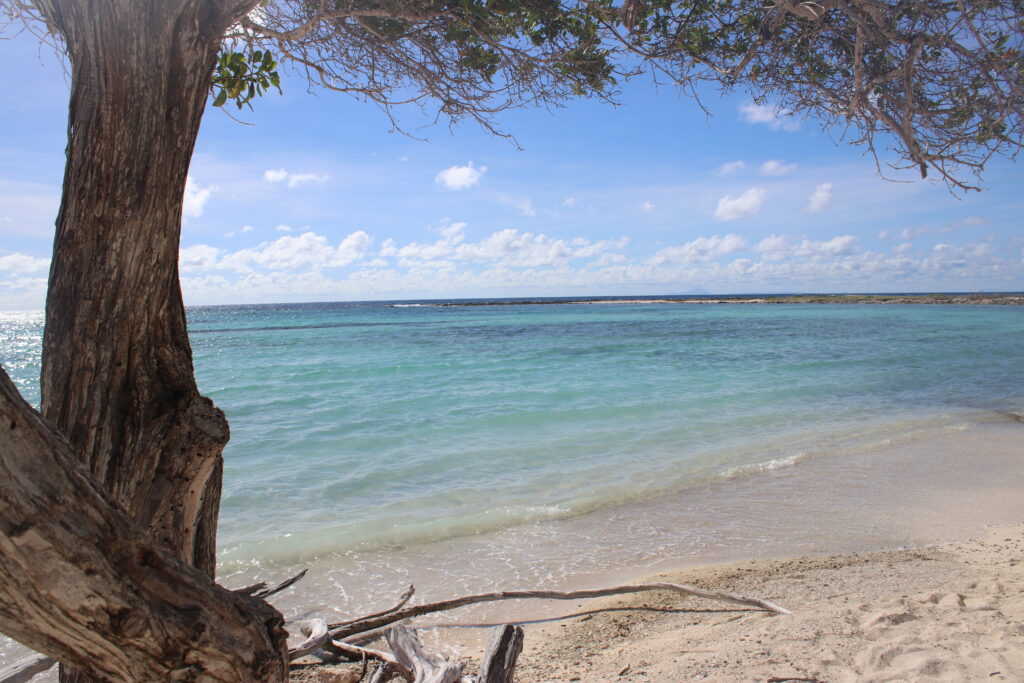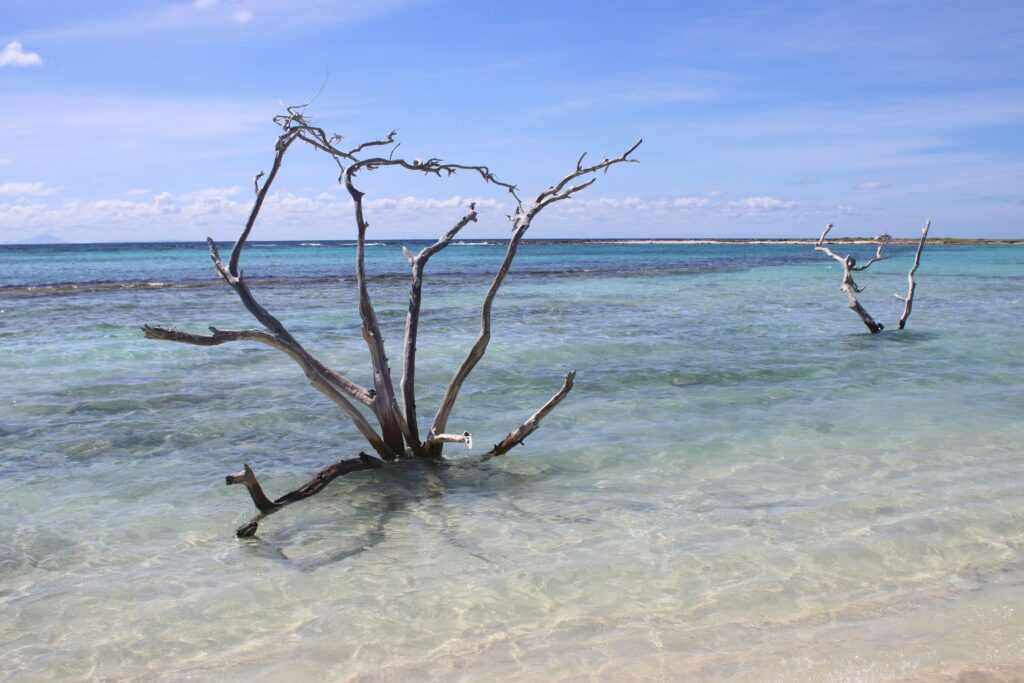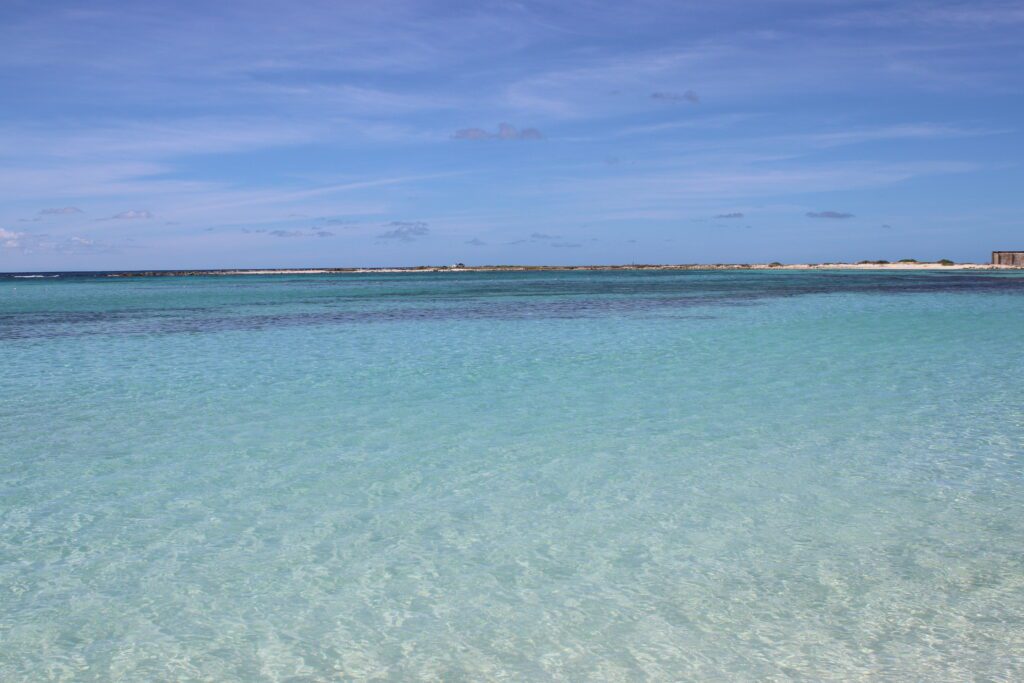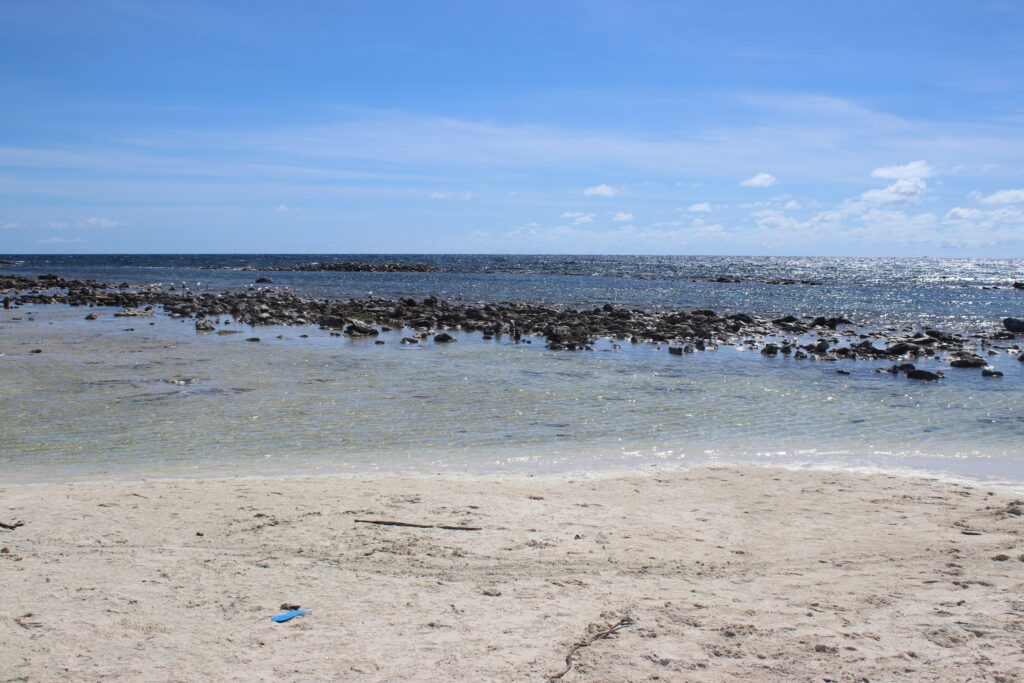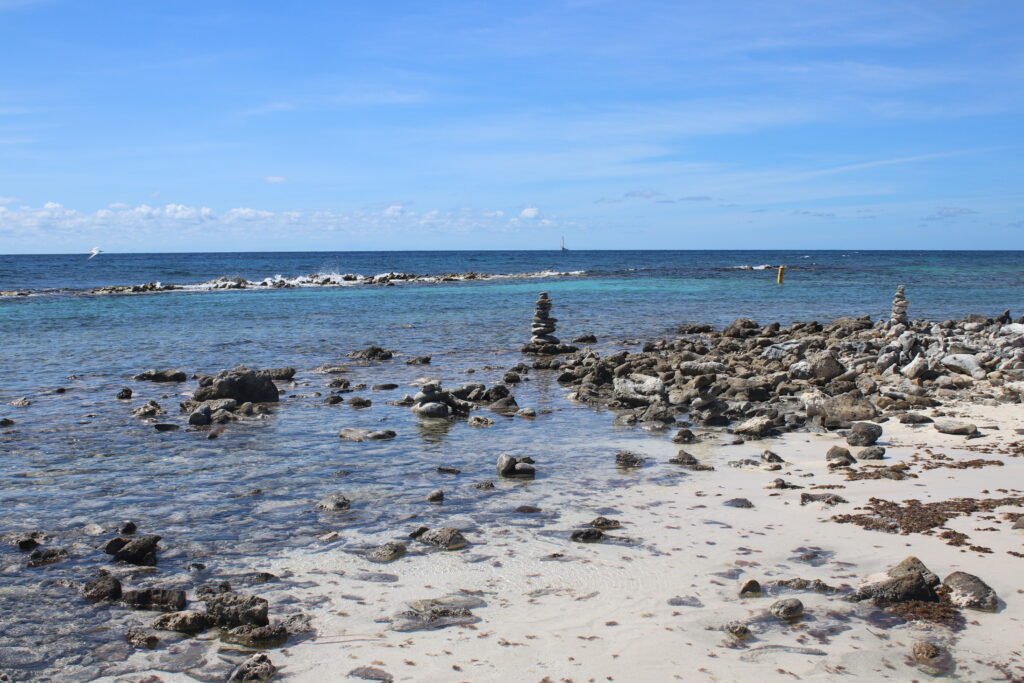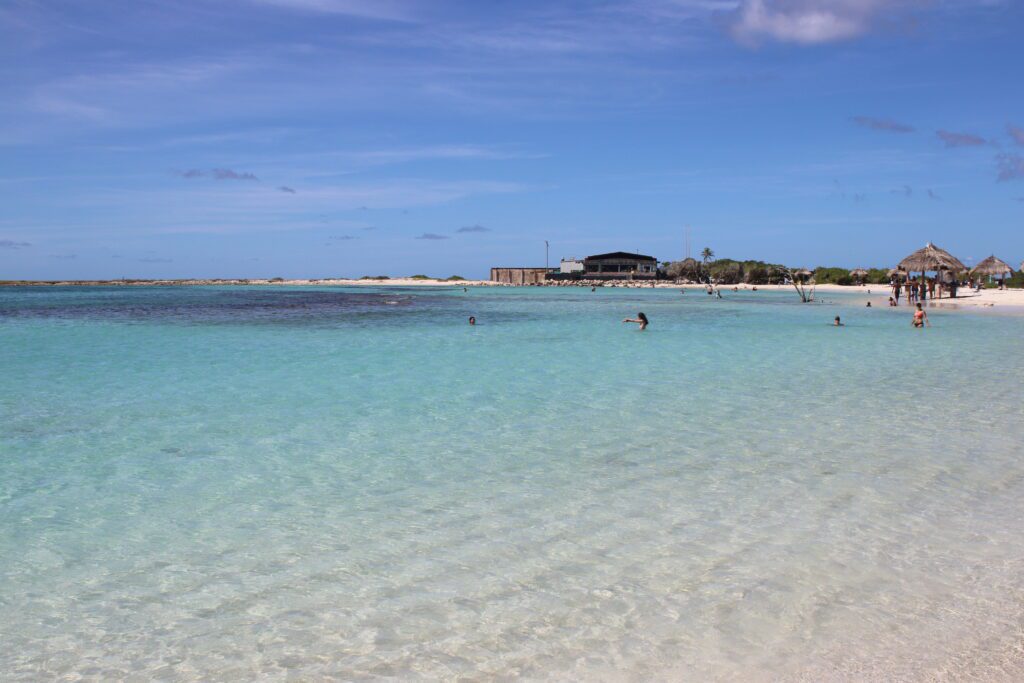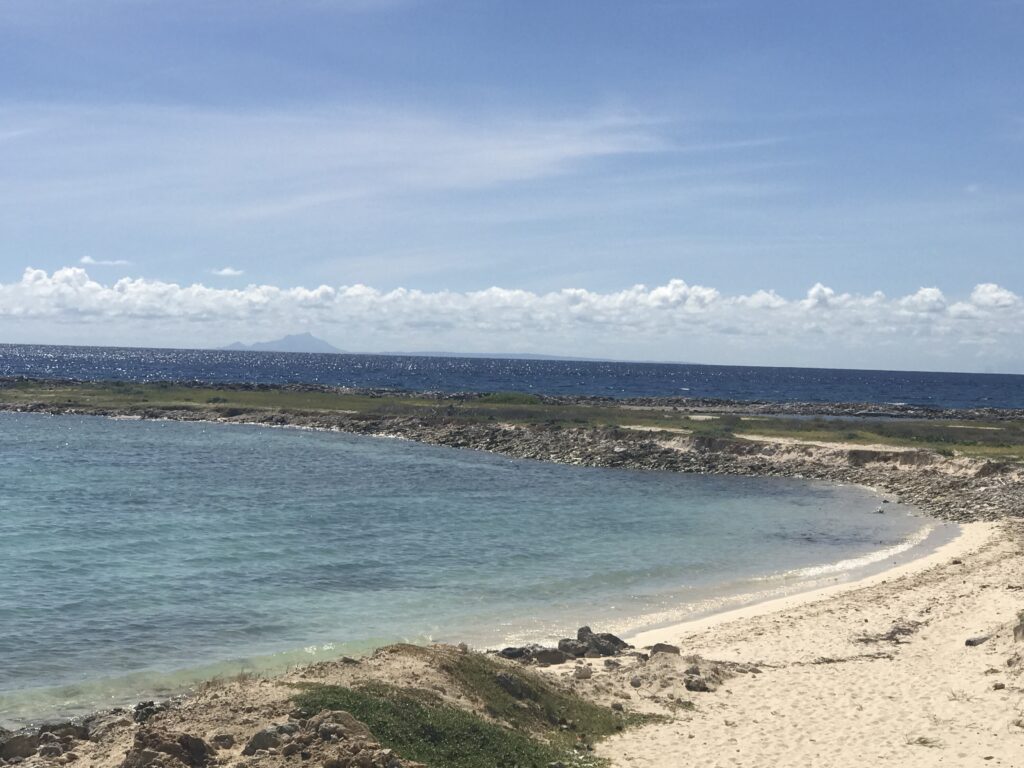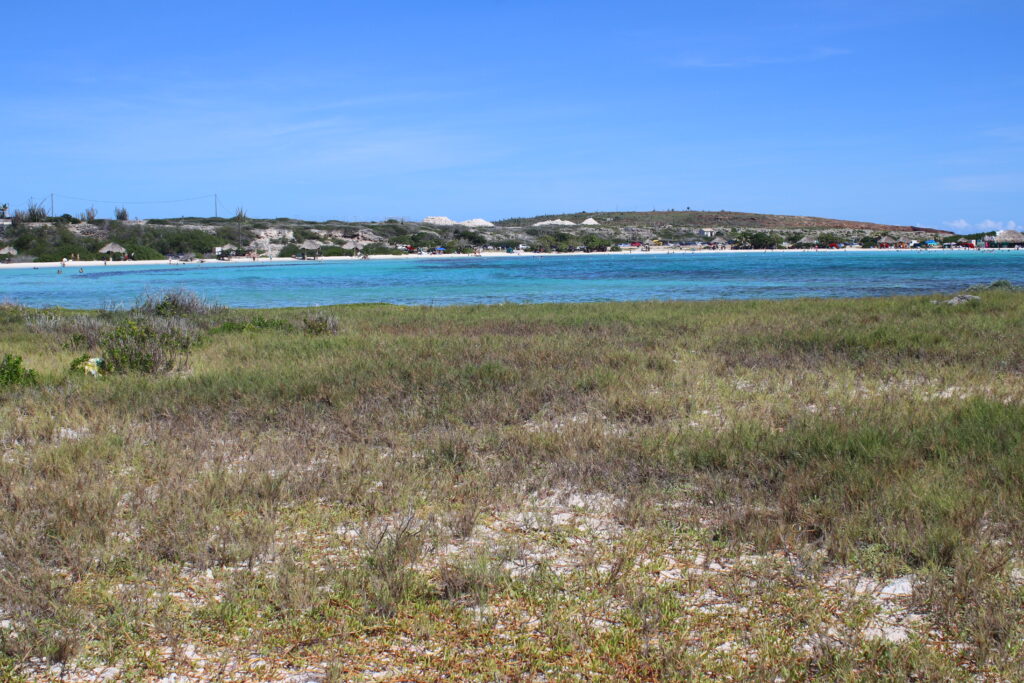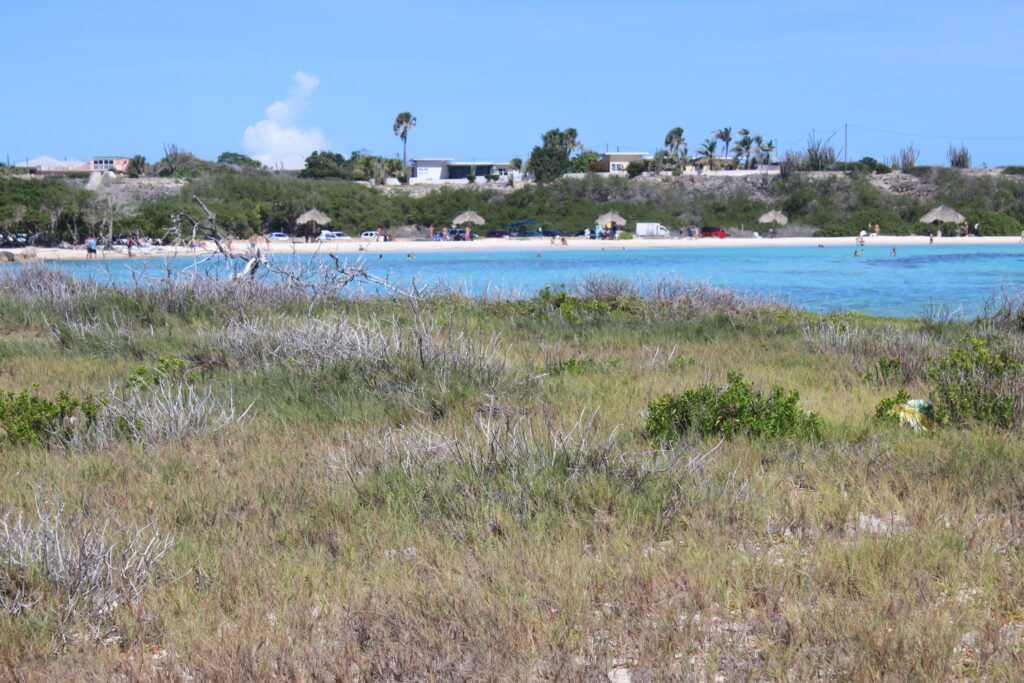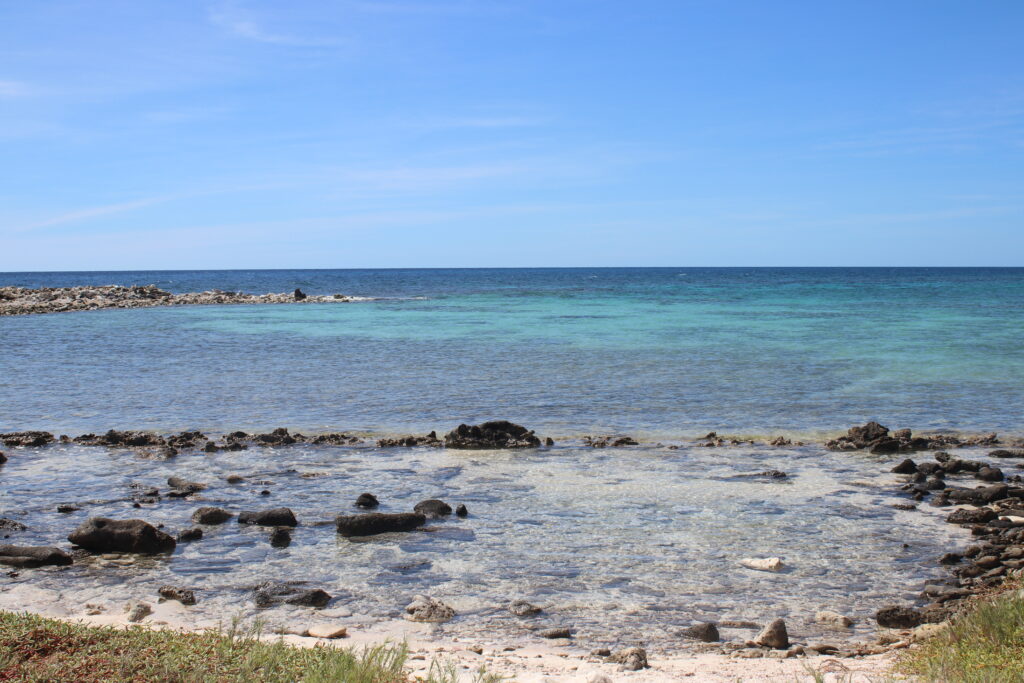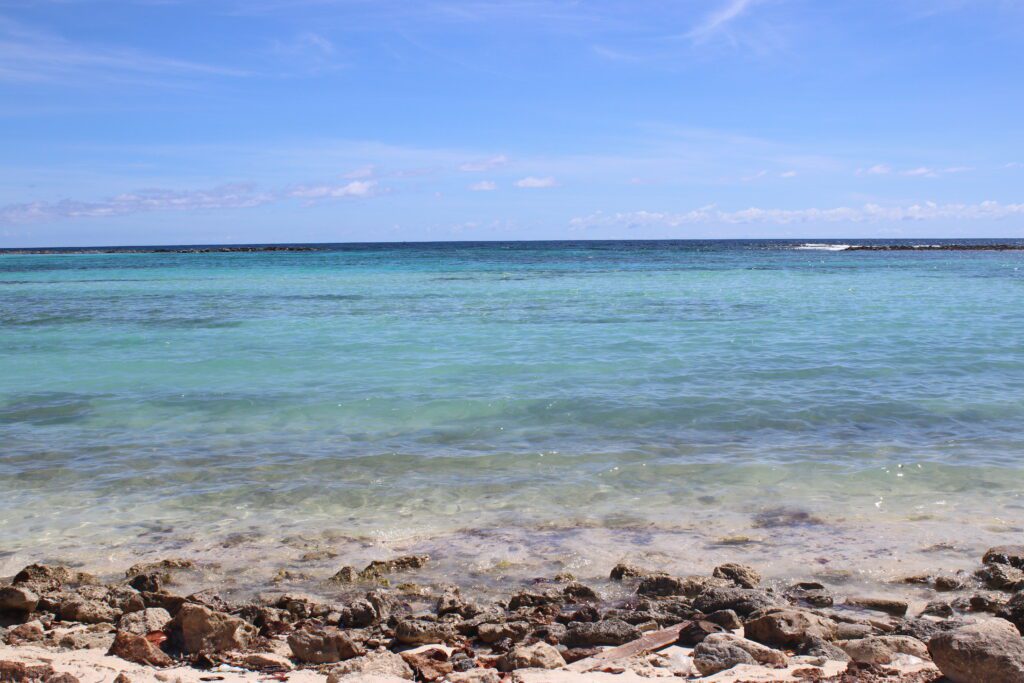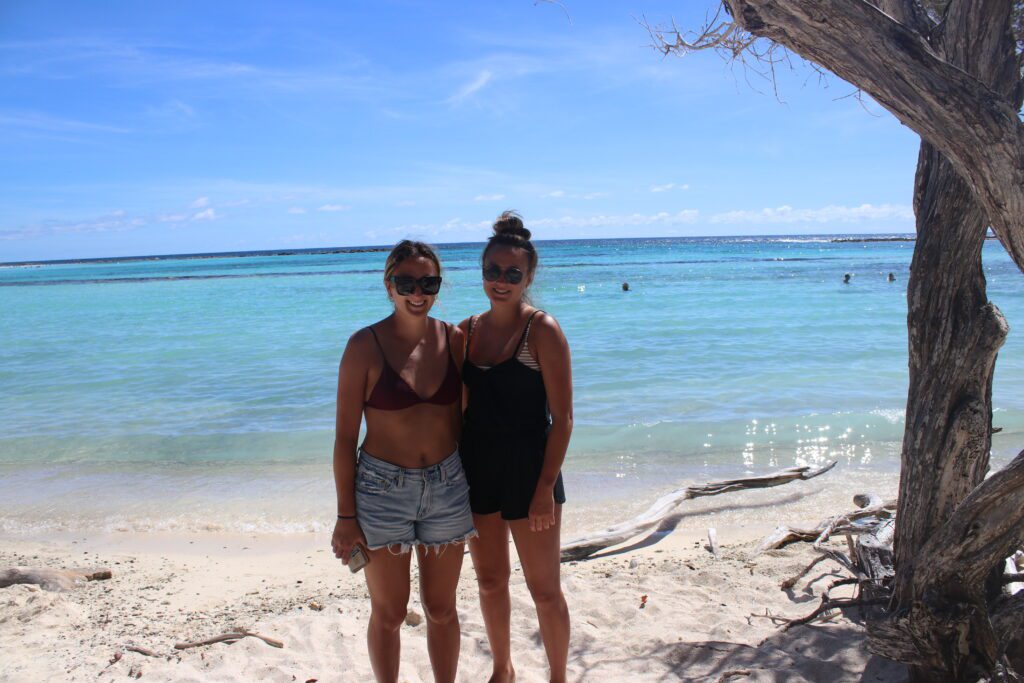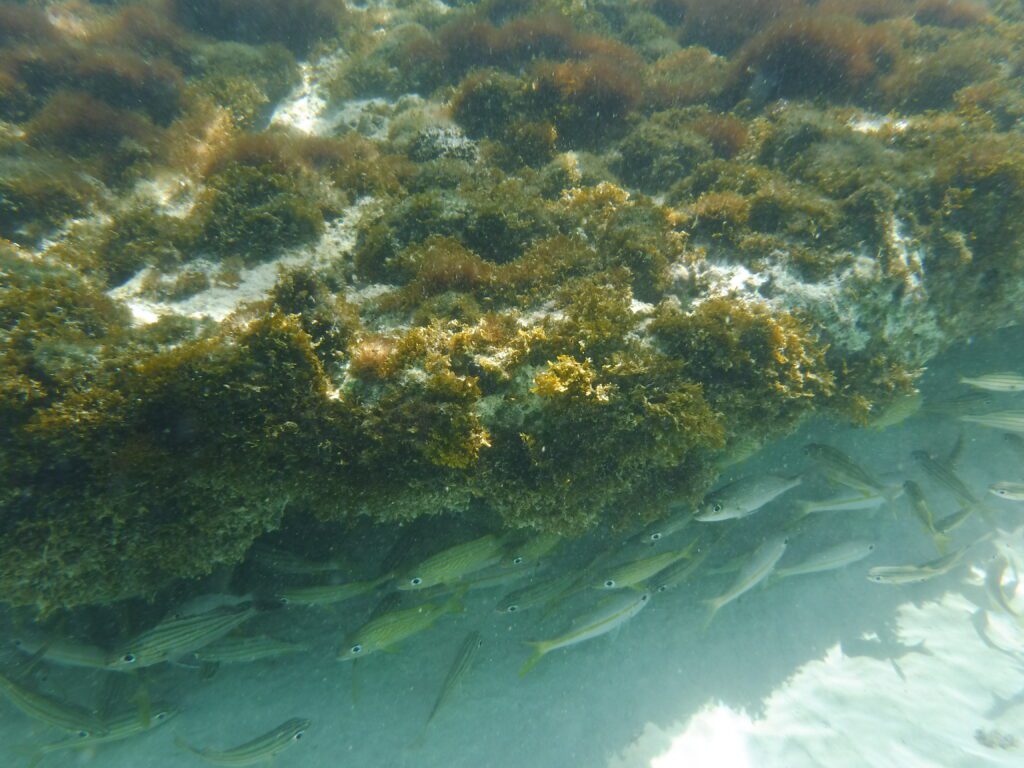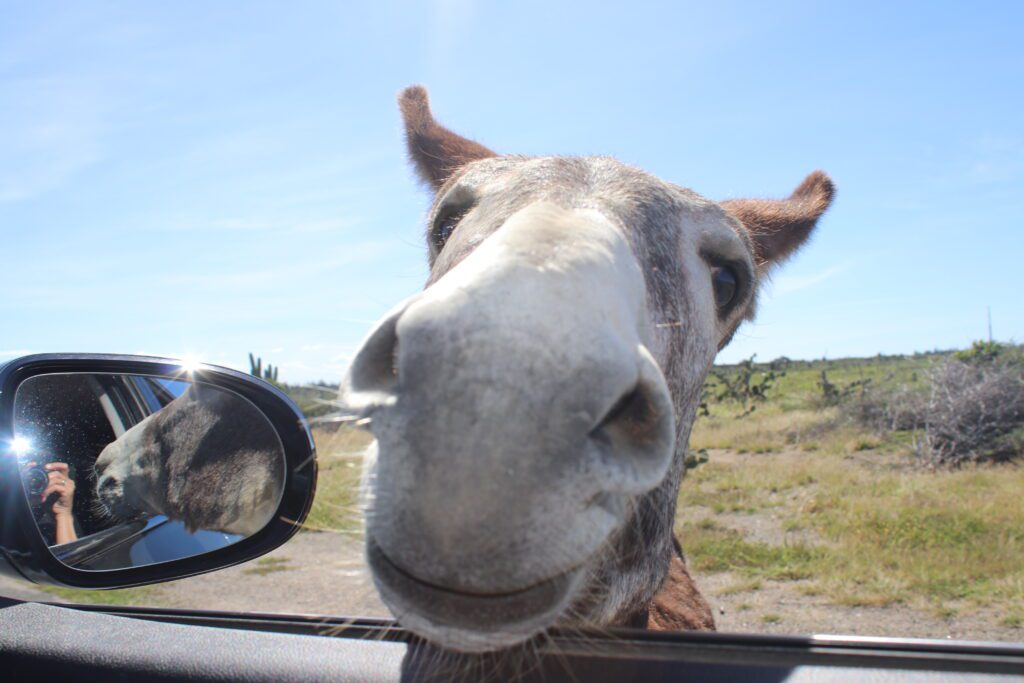 Rum Reef
When we became hungry, we left our chairs under the tree and walked over to Rum Reef. This dive shop/restaurant has a lovely swimming pool and open air layout. The menu is a simple piece of paper with no descriptions. We all tried the grouper platter which is flash fried grouper, fries and plantains. The platters were fantastic! Michele tried a strawberry daiquiri which was also delicious! Trip Advisor reviews are strong.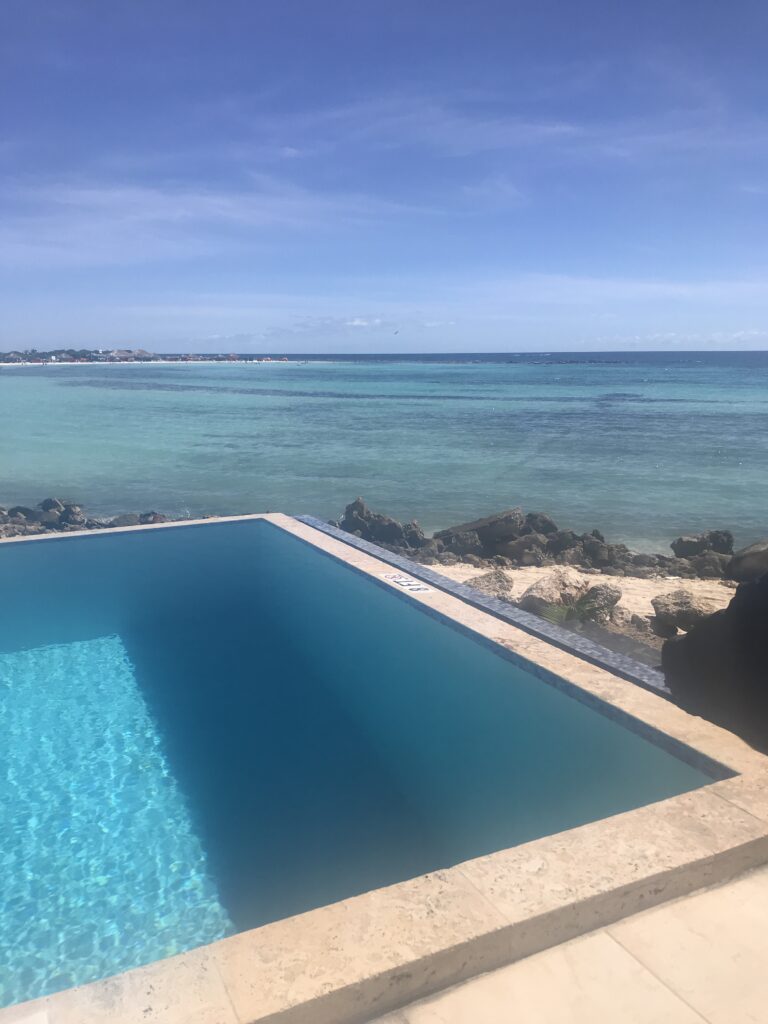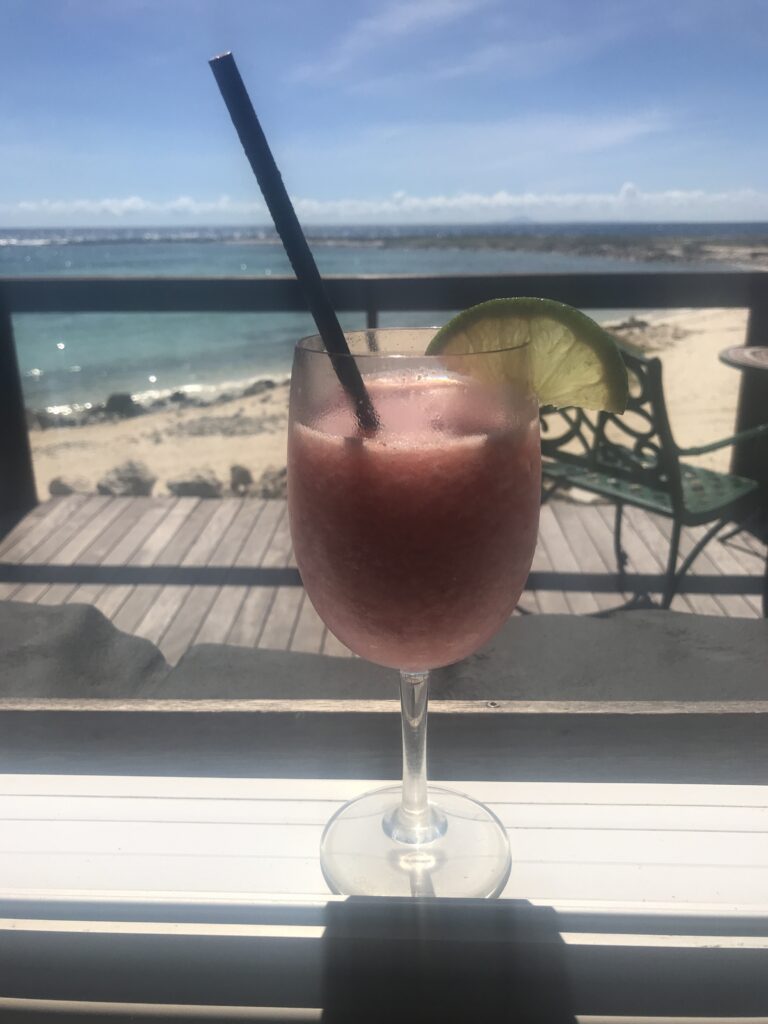 There is another famous place to eat in San Nicholas called Charlie's Bar. It is right on the main drag. They are known for their burgers. The bar is mostly inside, so we chose not to eat there. If you go, be sure to bring something to leave on the walls like an old license plate, street sign, or library card.
Studio Murano Glass Blowing
After leaving Baby Beach on December 29, we headed home to our condo. We walked to Screaming Eagle for dinner which was very tasty again!
We enjoyed workouts and walks on December 30. The condo company required us to check out at 11. Our flight was at 4pm, so we drove to Studio Murano Art to see some glass blowing and eat lunch. This adorable little place requires a reservation for the glass blowing. We were told to come any time between 11:30-12:30. We watched a woman making glass beads and learned how they were made. It would have been much more exciting if there was an artist making a glass animal or vase. TripAdvisor reviews are excellent.
The food is delicious. Really, really good pizza. We also had a yummy tuna wrap and veggie wrap. We enjoyed out visit here. The food is worth a stop.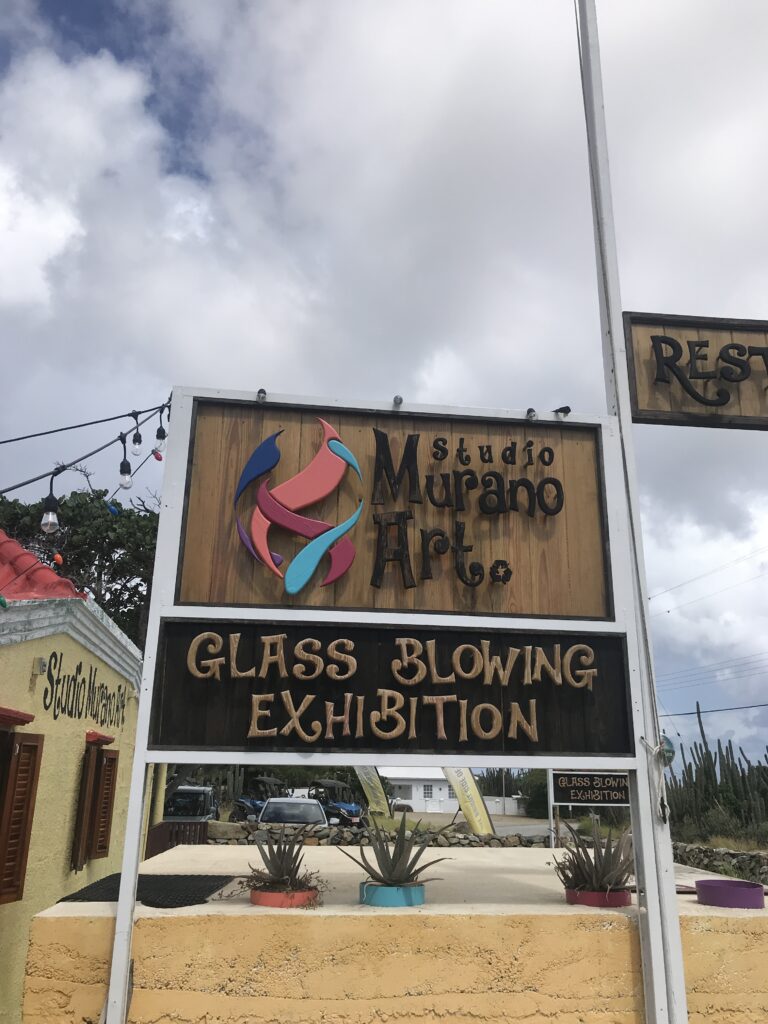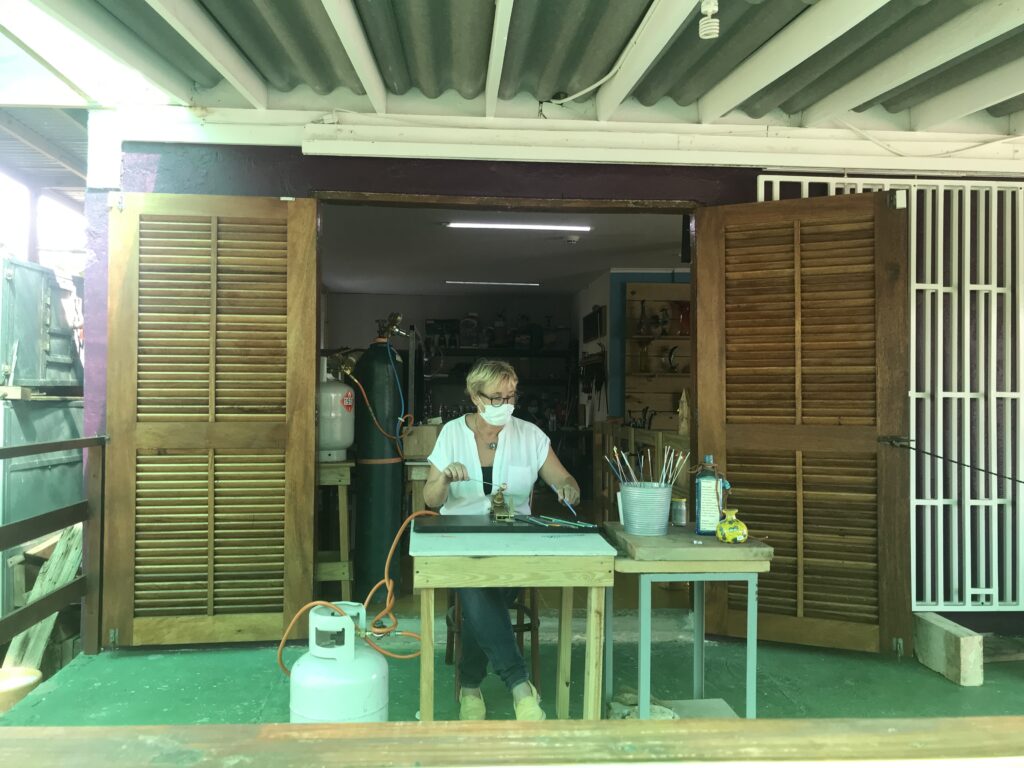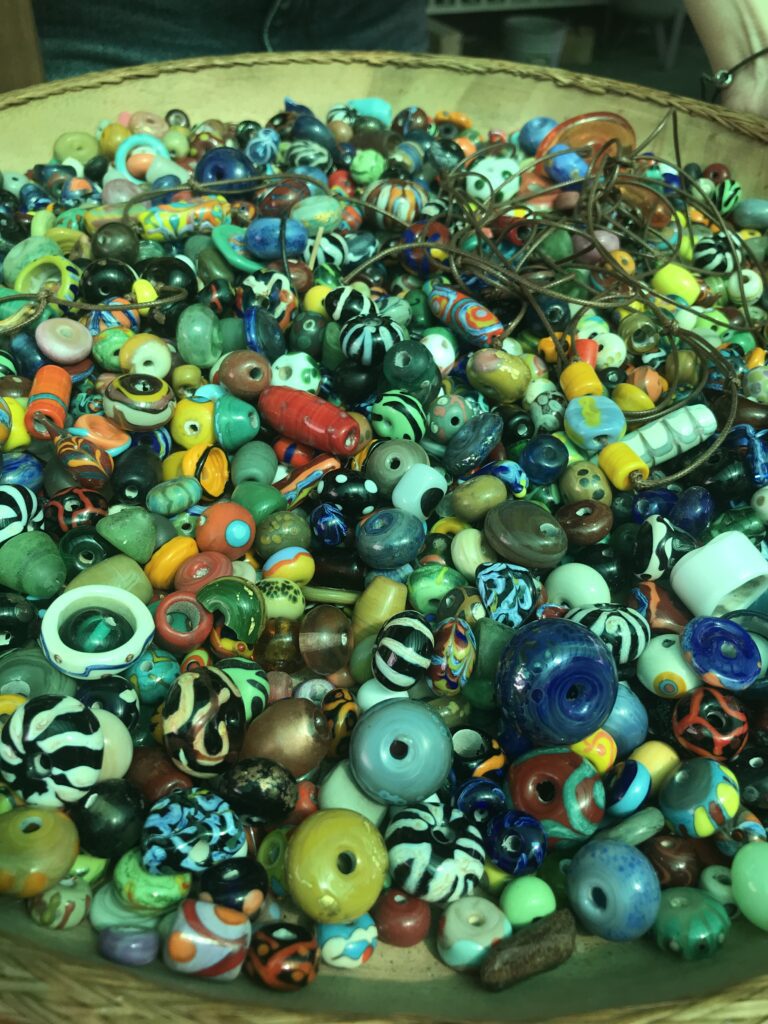 Flying Home
Aruba's immigration department and several Facebook posts told me we absolutely had to the at the airport at least three hours before we left for Boston. You have to clear customs and immigration and DUAL security in both Aruba and the United States.
We returned our rental car and headed inside. It took us about 40 minutes to get through the dual security and immigration areas. There is definitely a big maze to get through, but because of the plague, it was really easy. The biggest pain is that, even with Global Entry, you must take off your shoes, hat and jackets, and remove your liquids and laptops in BOTH the Aruba area and the United States area. Global Entry has the potential to save a lot of time if the lines are long in the United States area. It is delightful to get off an international flight and get right to your car.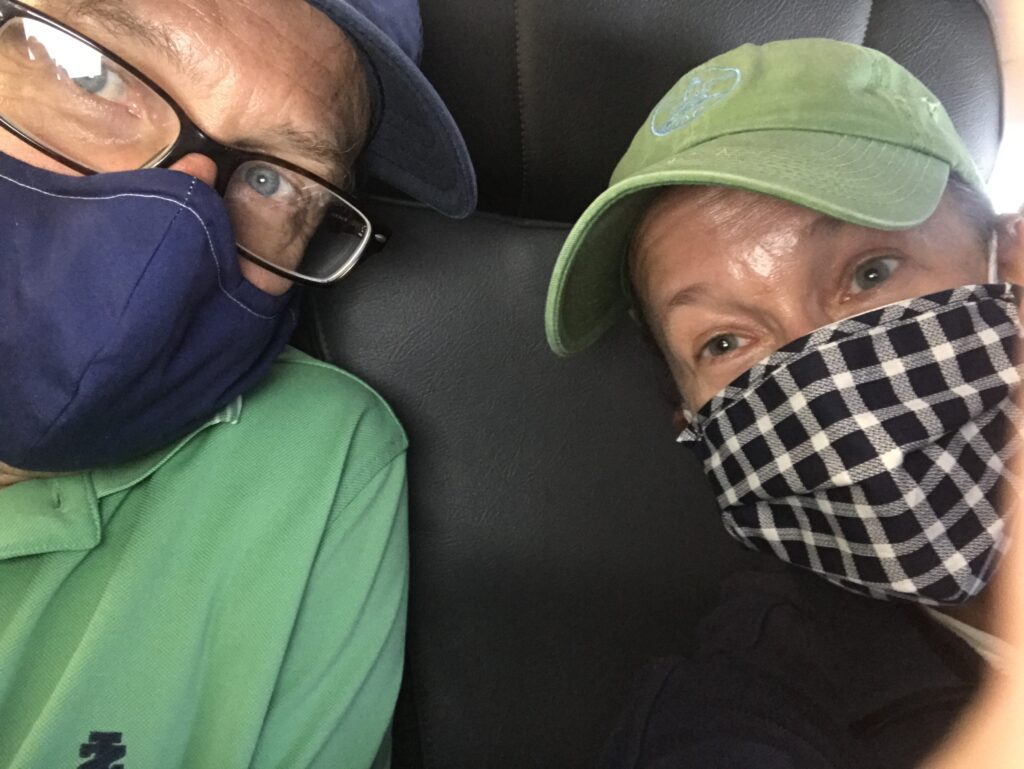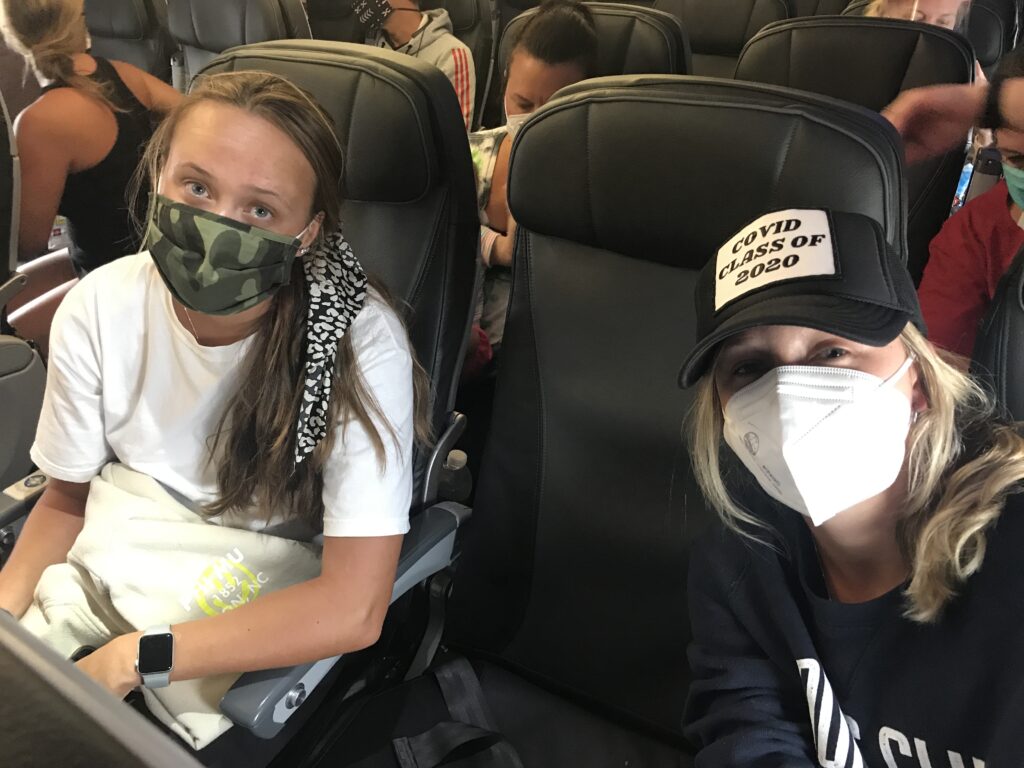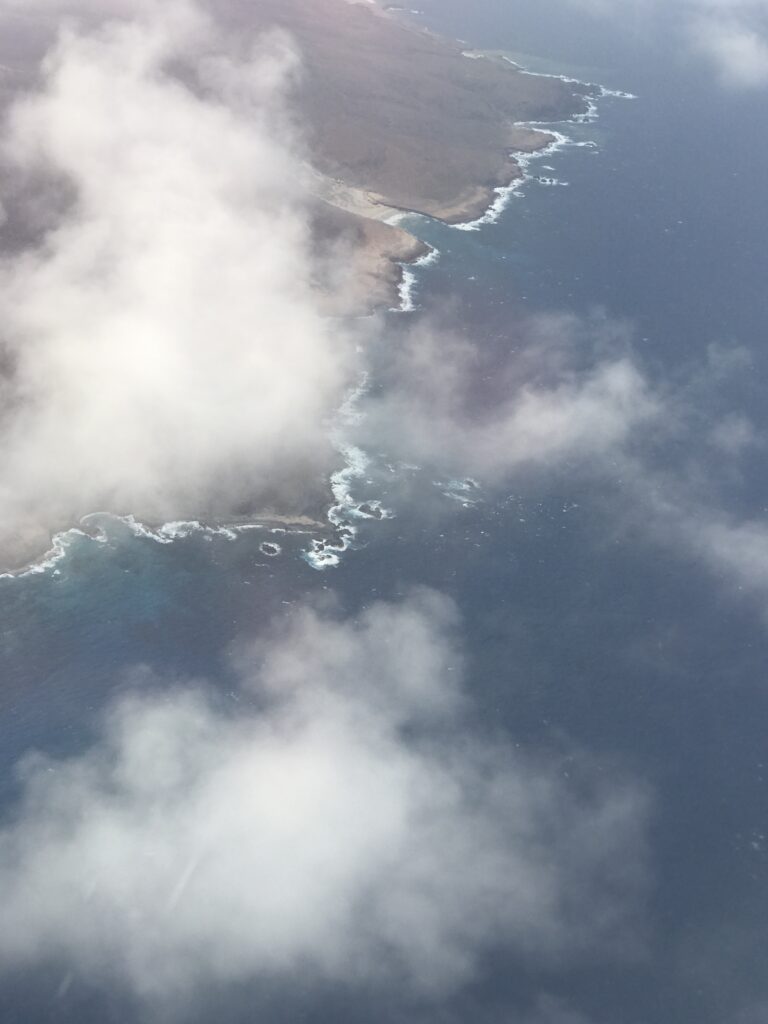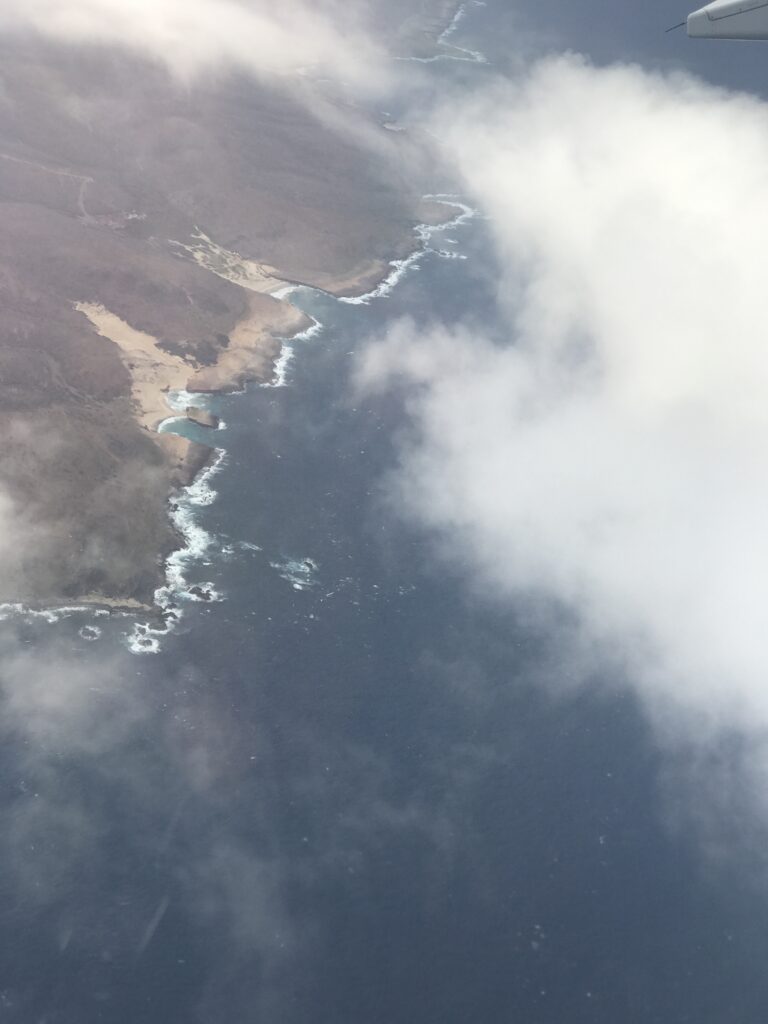 We loved our vacation to Aruba. We highly recommend a visit here. To see everything we saw, you will need at least a week. Enjoy One Happy Island!