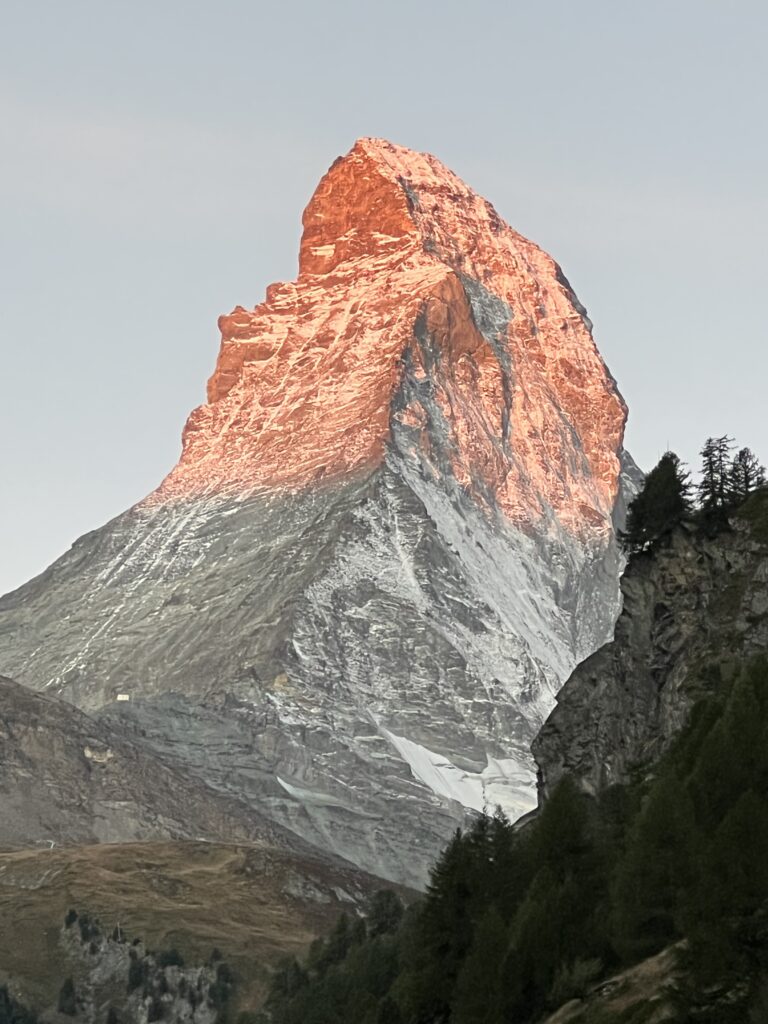 Choosing to Use the Train System and Not Rent a Car (New for Us!)
Jim and Michele visited Switzerland from September 8-18, 2022. When researching this trip and pricing out our options, we learned it is much faster, easier, cheaper and more environmentally-friendly to use the incredible Swiss public transportation system than renting a car. We are so very glad we chose to use the trains – they are extraordinarily-punctual, clean and efficient. There are hundreds of rail tunnels in Switzerland designed to move you efficiently from one place to another. There are far less tunnels for automobiles. So, taking the train is often much faster.
There are hundreds and hundreds of websites, YouTube videos and checklists you can use to select the most appropriate train pass for you. After a great deal of research, we chose to purchase a Second Class eight-day Swiss Travel Pass Flex. This pass is only available for tourists from outside the country. This pass allows you to get on and off any train, bus or boat in Switzerland at any time, without a reservation for eight non-consecutive days in one month. We purchased the passes before we left. The cost was $854 for two adult passes. We chose the dates we wanted to activate them online and then stored the individual day's tickets electronically in our iPhone wallets. Once you activate a day, you can change it up until 5am the day of activation. This is how you activate your pass once you purchase it. Know this – some mountain trains, cable cars and gondolas are excluded from the Swiss Travel Pass/Flex. Our decision making went something like this –
Why Second Class instead of First Class? – We chose second class as the first class ticket was not worth the extra money. First class offers slightly bigger seats and perhaps a few more open seats on a crowded train. An eight-day Swiss Travel Pass Flex in first class costs about $250/person more than a ticket in second class.
Why a Swiss Travel Pass Flex and not a Swiss Travel Pass? – We knew that we would have a day or two where we would not need a train pass at all. So, the flex was our best option. The Swiss Travel Pass must be used on consecutive days.
Does the Swiss Travel Pass/Flex offer you discounts? – YES! The Swiss Travel Pass/Flex both offer you up to 50% off many mountain excursions. Please note – to get the 50% off an excursion, you will need to have an active Swiss Travel Pass/Flex ticket for that day. For example, we woke in Zermatt on a Monday morning. We had no plans to use the train system. However, we wanted to take the Gornergrat Bahn (not included on the Swiss Travel Pass/Flex) to the top of the mountain. So, we needed to show an active Swiss Travel Pass/Flex ticket for that Monday. Then, we received 50% off the ticket to go to the top of the Gonergrat. You will have to do your own math to see how the benefit best works for you.
Are Panoramic Trains Included in the Swiss Travel Pass/Flex? – YES! Our eight-day Second Class Swiss Travel Pass Flex allowed us to take the wonderful Glacier Express from St. Moritz to Zermatt. If we had purchased a ticket directly from the Glacier Express, the cost of that one-way ticket would have been over $150/person. The ticket cost was included with our Swiss Travel Pass/Flex. However, we did need to make a seat reservation (do it well in advance!) at about $50/person. Your seat reservation MUST be in the same class as your Swiss Travel Pass/Flex (for example, if you have a second class pass, you must reserve a second class seat.).
Is there a mobile app? – YES! The SBB.ch mobile app is amazing. You simply enter in where you want to go and it pulls up all available options for you. It is by far, the best public transportation app we have ever used. The user-interface is so intuitive, and the app updates in real time. We highly recommend using this app.
A word to the wise – Traveling by bus and train is done on the honor system all over the country. Often, you will board a bus or a train and not be asked for your ticket. This may tempt some to break the rules. You should know that if a conductor does ask for your ticket, and you do not have one, you will be removed from the train/bus. The fine is about $90 along with the cost of the missing ticket.
Gear for Switzerland
We did purchase a few new pieces of gear for this adventure. We participate in the Amazon affiliate program. We may receive a tiny commission (at no cost to you) if you purchase gear by clicking on these links.
We bought these easy to use backpack rain covers. They were great and took up no room in our bags. You get two for the price of one!
Michele LOVED her new hiking poles. They made the descents so much easier. They also collapsed easily for storage and travel. Highly recommended. Know that US airlines do not allow hiking poles in carry-on luggage.
Michele loved her new Merrell hiking books. They were super comfortable! Jim chose an Altra trail running sneaker. He liked them very much.
Michele wanted a water bottle she could clip to her backpack so her hands would be free to use her hiking poles. She did not want to have to carry a water bottle or put one in her backpack side pocket. This water bottle with a carrying strap was perfect. She used a clip she already had to clip it to her backpack. She could easily lean down and take a drink while walking and using her poles.
Switzerland uses plugs similar to the rest of Western Europe; however, sometimes you may find them to be a bit more recessed and circular than the typical European plug. This adapter set was perfect and we needed it at several hotels.
Jim had a few pairs of rain pants. Michele did not. She really liked these. She wore a size small and she is five feet six inches tall and weighs 140 pounds. The pants kept her warm and very dry on the days she needed them.
This may sound silly, but Michele wanted a way to store her iPhone 13 Pro Max around her neck when we were biking. She did not want to have to stop and unzip a pocket every time she wanted to take a photo (which was all the time). This phone lanyard worked great, although she did have to turn down a corner of it to expose all three camera lenses on the iPhone 13 Pro Max. When Jim's Mom broke her hip, we got her one of these lanyards, so when she was home alone after rehab, her phone was always on her person. Way easier and cheaper than a "help, I've fallen and I can't get up" service.
These $10 gloves that allow you to text and use your iPhone camera were perfect!!! Love these!
Michele upgraded her phone to the iPhone 13 Pro Max. It took the most amazing photos in low light and truly, every light. Every photo on this post was taken with the phone. Michele has been a big DLSR user for years, and this phone is so smart and so easy. This case works great.
This remote control selfie stick may have been Michele's favorite purchase. For $20, this stick allowed us to get great photos of the both of us in remote locations. We traveled on shoulder season, so often we were the only ones on the trail. This easy-to-use stick can extend up to 69 inches. We loved it! Be sure to hide remote control!
Our Focus for this Trip
We wanted the focus of this journey to be on mountains, views, vistas, hikes and charming small places. We flew in and out of Zurich, but chose not to spend any time there at all. We wanted to see as many lakes, glacier rivers, charming rustic farms and mountain tops as possible.
Luzern was the largest city we visited, but we spent as much time as we could in the surrounding hills. Know that Switzerland's cities are truly immaculate. They are so clean. The country has also invested heavily in wind, solar and hydro- energy, so the air is so fresh, even in the heart of a big city.
St Moritz
We landed into Zurich early Friday morning. It was very easy to clear immigration. We did not check our bags, so we headed right to the train.
The train tracks are located on level -2. Keep taking the escalators down, following the pictures/signs for Bahn. We took a 10-minute train to the main train station in Zurich – Zurich HBB. From there, the mobile app told us to take a one-hour train to Chur. We switched trains again and spent the next two hours traveling on a gorgeous train ride to St. Moritz. The journey took about 3.5 hours from the time we left immigration in Zurich. We both worked and took a nap – some trains in Switzerland have wifi and some do not.
Where We Stayed – Art Boutique Hotel Monopol
We chose to stay at Art Boutique Hotel Monopol. This very well-located hotel is above the lake in the heart of town. The hotel shuttle picked us up at the train station and drove us up the hill. The walls of the hotel are covered in unique pieces of art, many of which are for sale. After a generous welcome Prosecco, we enjoyed a free upgrade to a junior suite which was a great size with a peek of the lake. The breakfast is delicious. They had traditional continental items, eggs, bacon, sausage and meats. If you asked, they would make you an omelet or eggs to order which Michele took advantage of. The rooftop bar is funky with nice views of the lake. You are walking distance to a grocery store, Chantarella which is a ski/hiking funicular, restaurants, shopping and a church. Like almost all hotels in the St. Moritz area, if you stay two nights or more, they give you a complimentary Engadin Railways Pass. We recommend this property. TripAdvisor reviews are strong.
We considered Badrutt's Palace which is an iconic property with stellar views of the lake. However, we simply could not justify the cost. We walked past the property several times, and it does look incredible. We also considered the Kempinski Palace – also, looks amazing, but just way too much money when we knew we were going to be out all day long.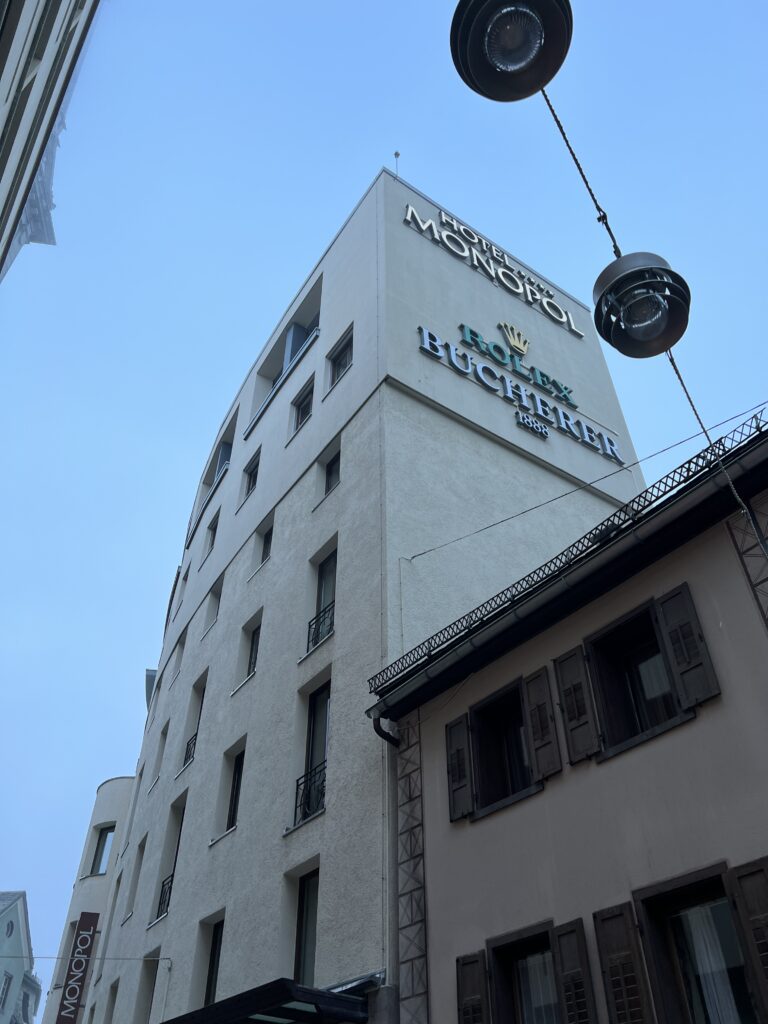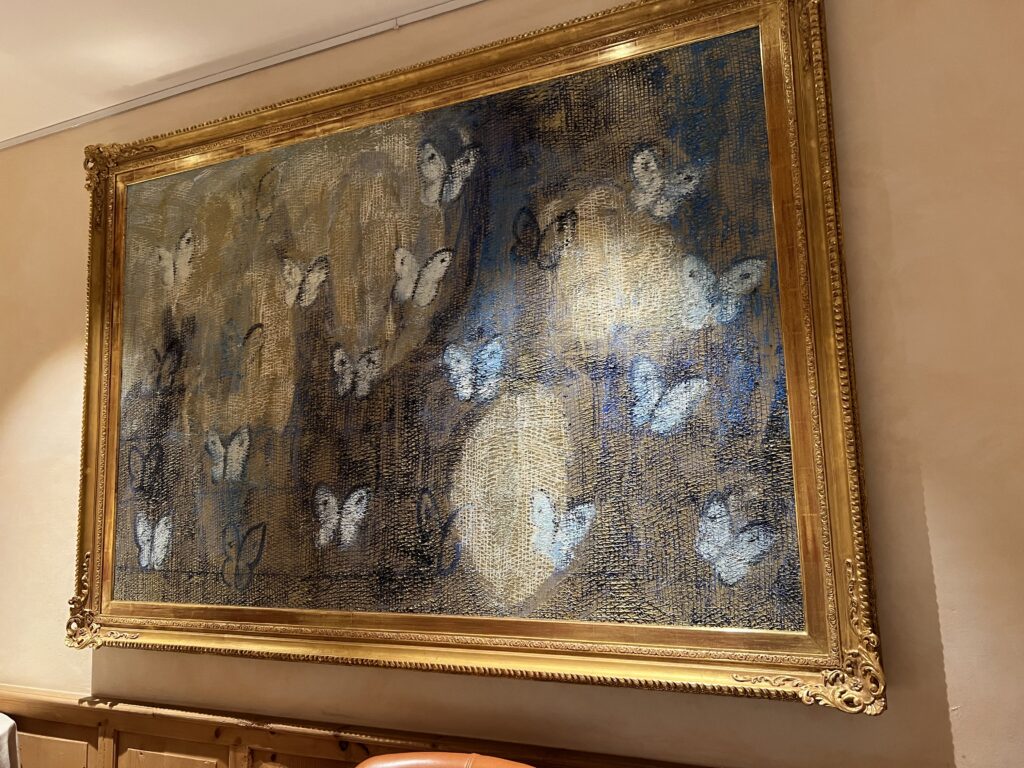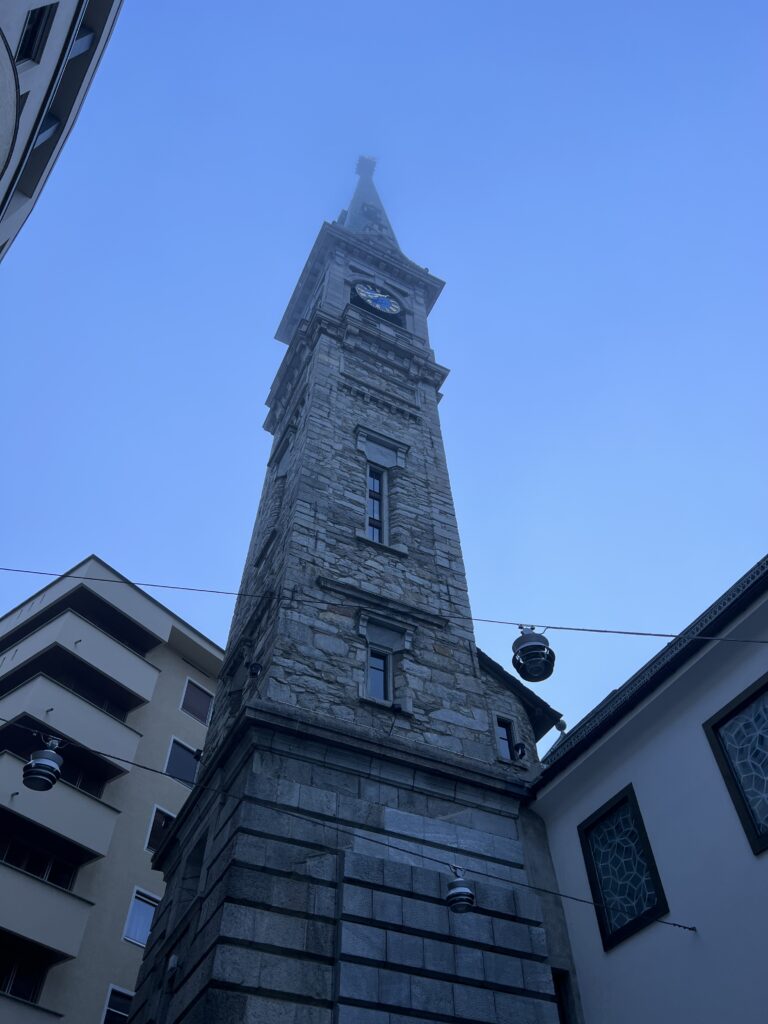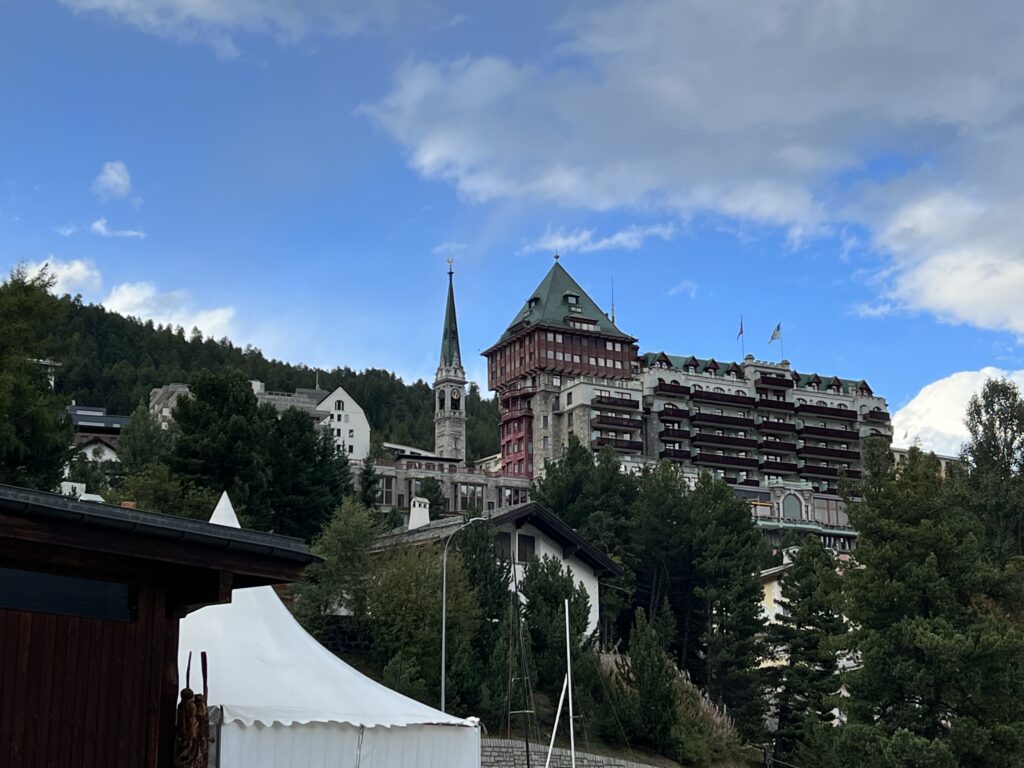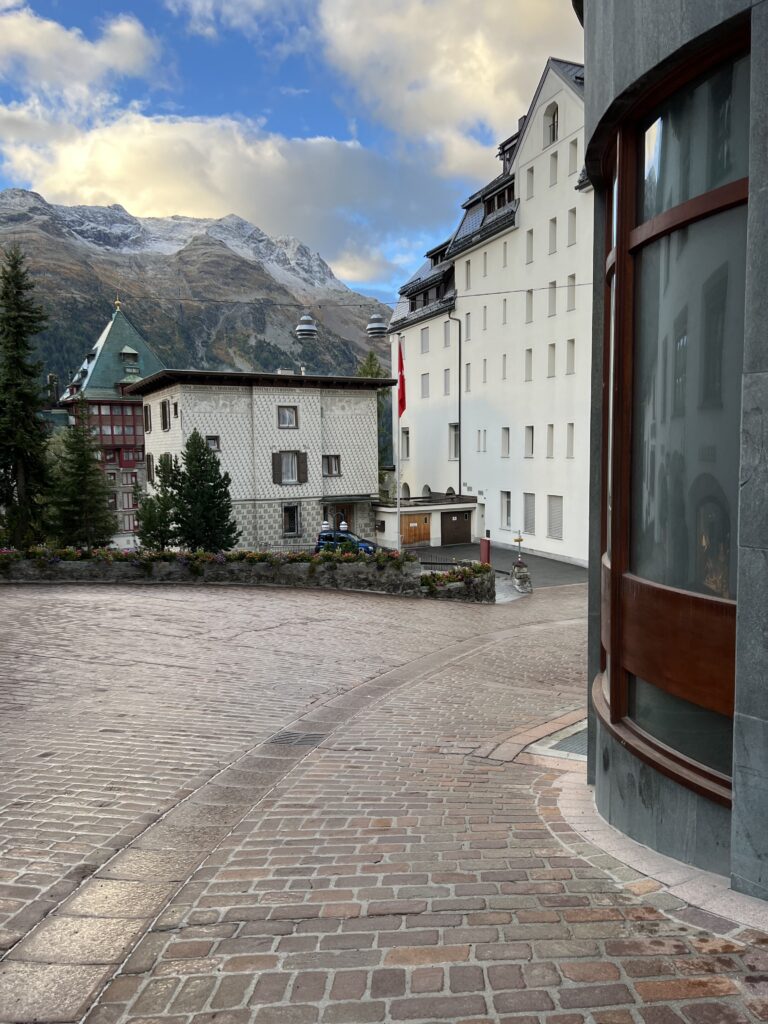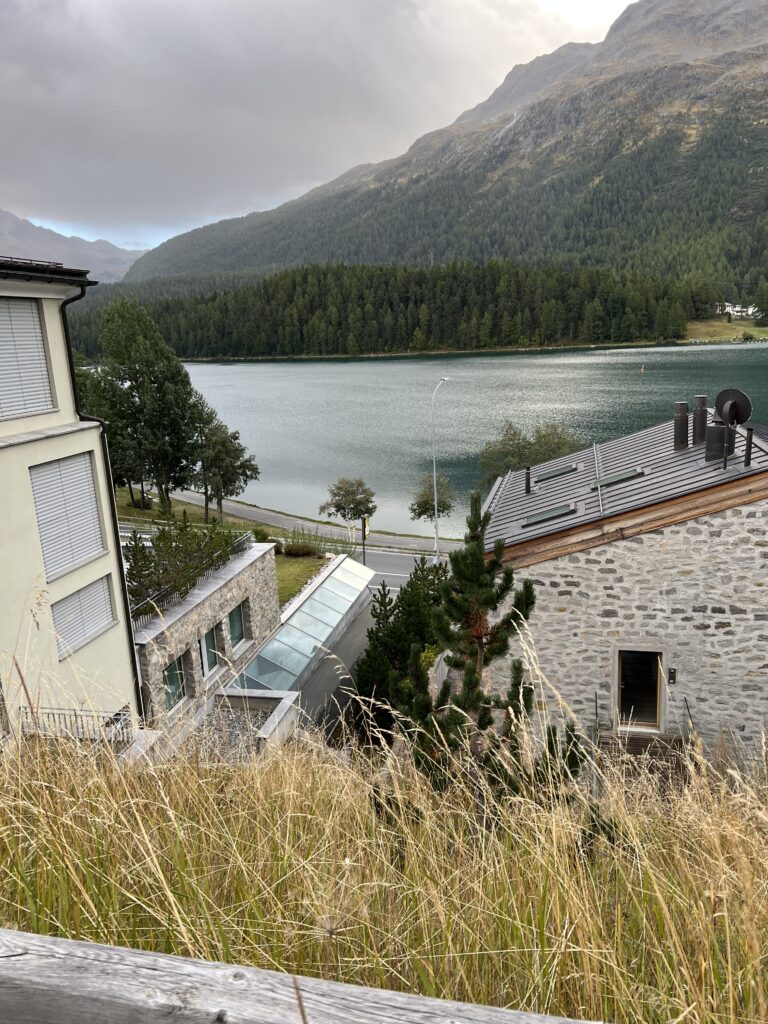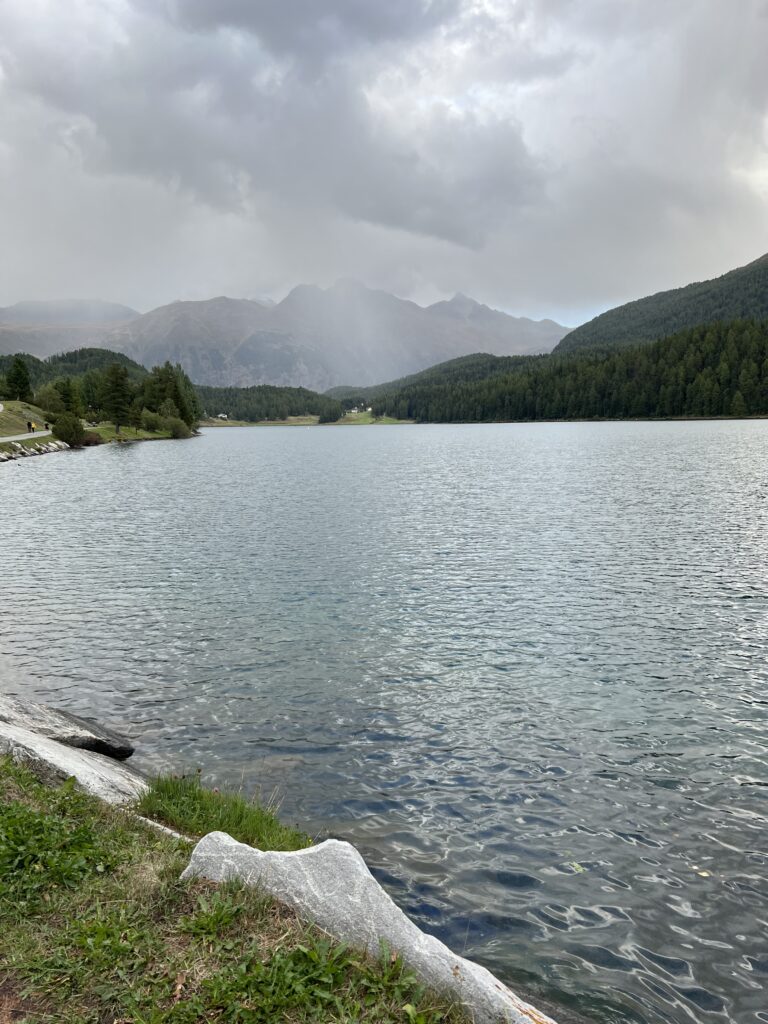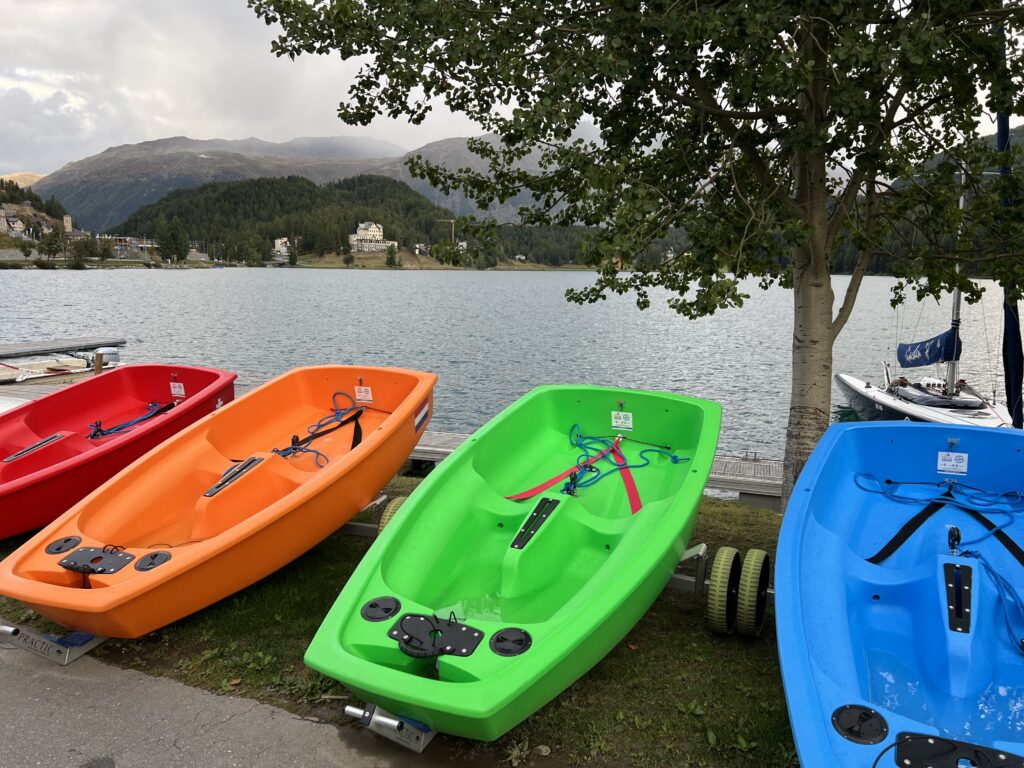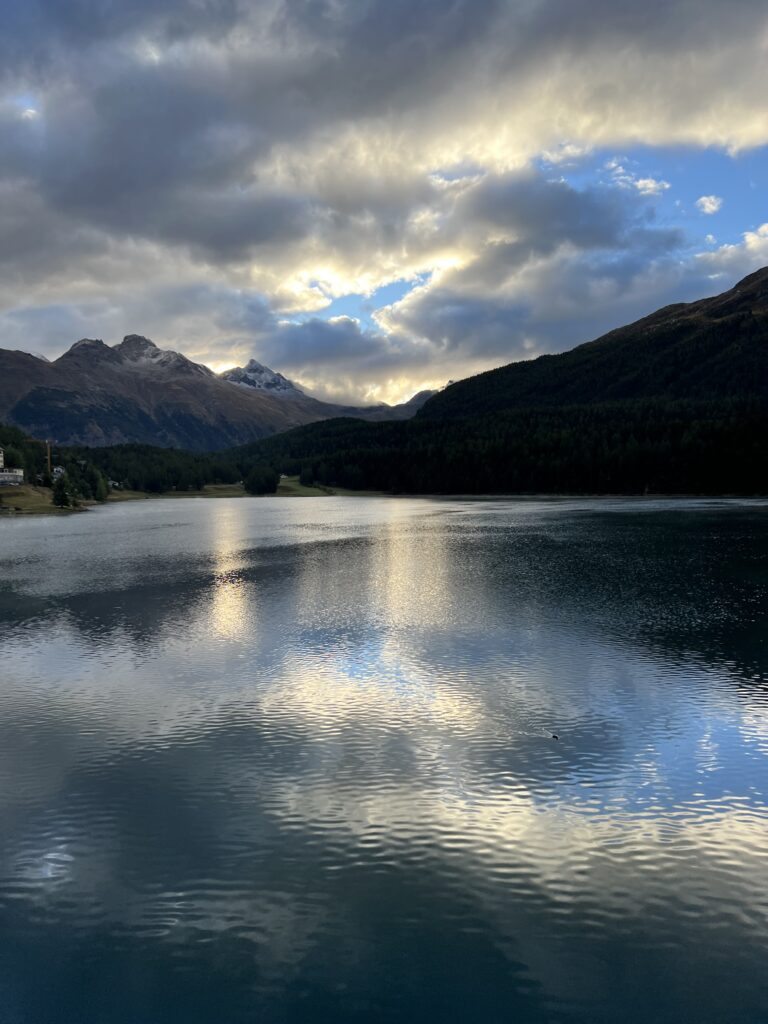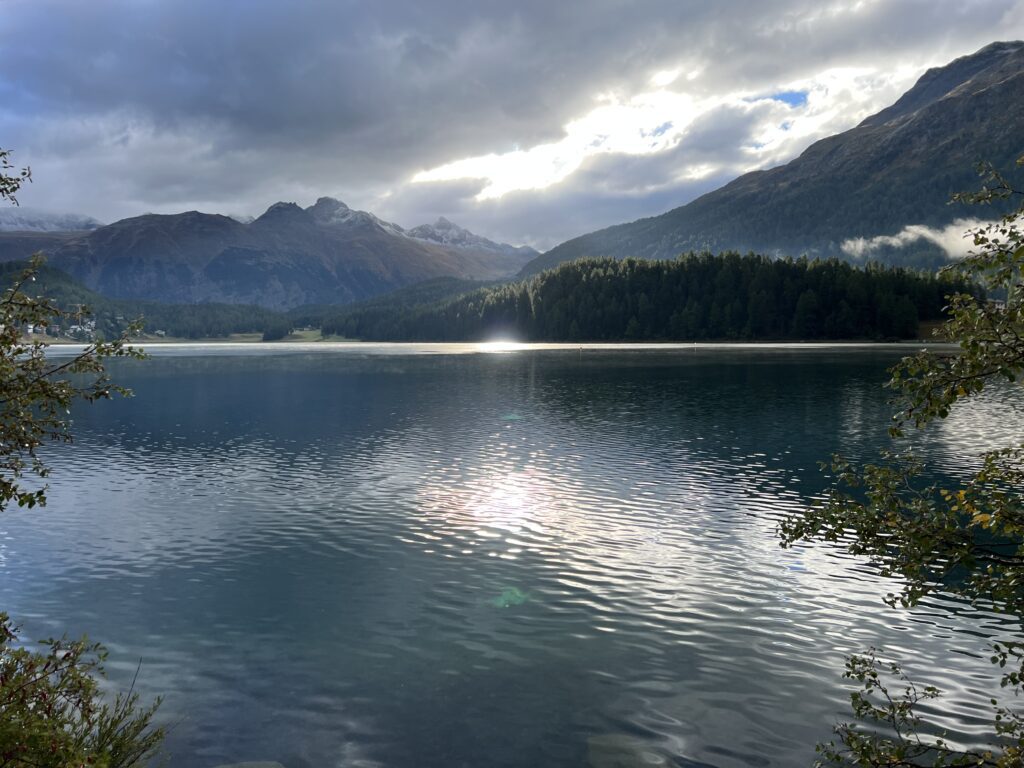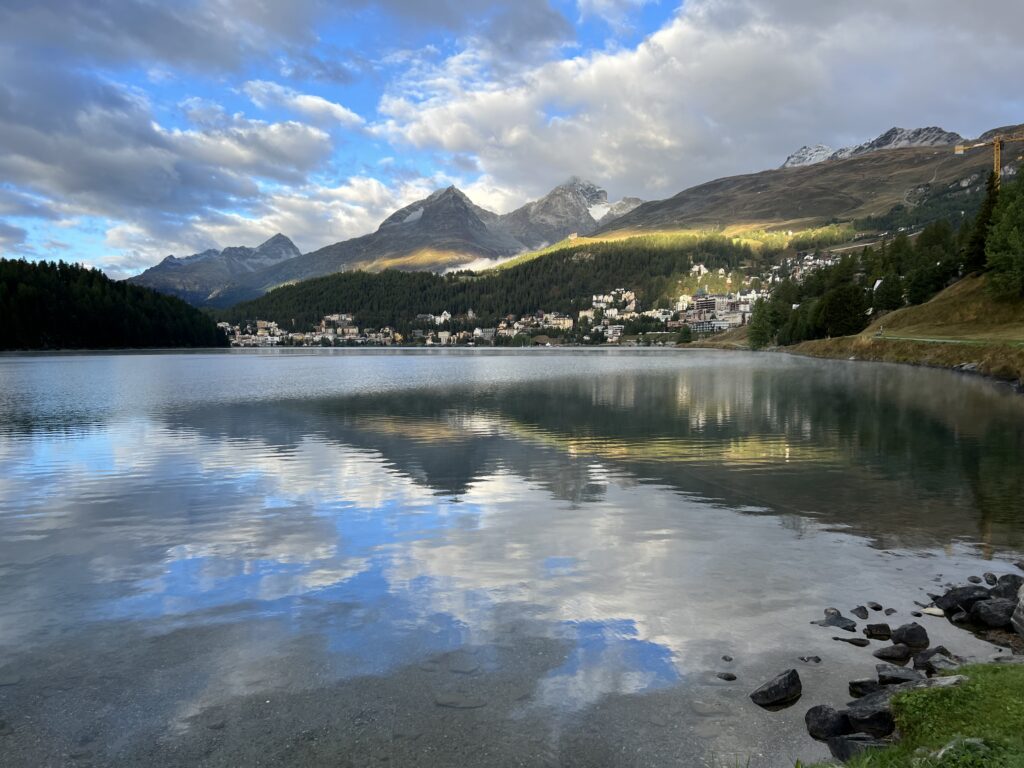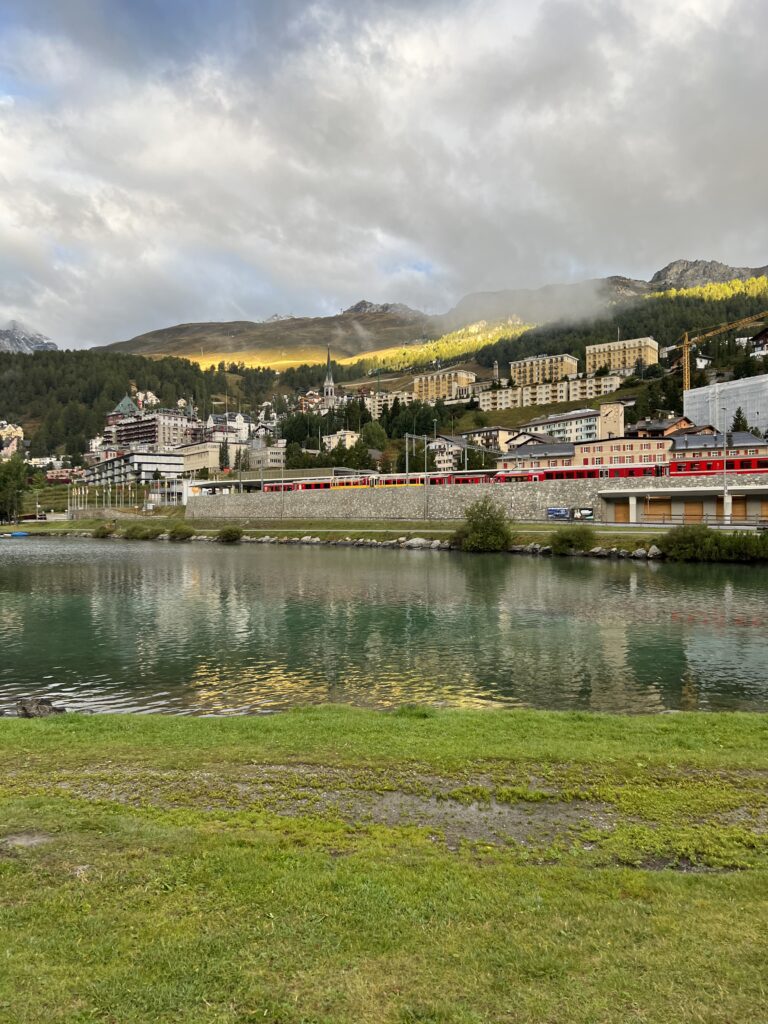 Hiking in St. Moritz
We hiked from noon until 3pm on the day we arrived into St. Moritz. On our second day, we hiked for over 15 miles, combining three major hikes into one huge, day-long hike. Swiss Family Fun is a superior website for hike planning in Switzerland. Tanya, the author, offers incredibly detailed information on hikes all over the country.
Piz Nair to Lej Suvretta and Back to the Corviglia Middle Station
We had just flown overnight, and we were tired. So, we did this wonderful three-hour hike and then returned to our hotel to take a nap. A hiking and mountain biking map of the area is here. Timetables are here. This was 100% free for us to ride the funiculars as our hotel gave us the complimentary Engadin Railways Pass.
Just steps from our hotel, we boarded the funicular to Chantarella. You wand your ticket in front of a scanner going into and out of each funicular. From there, we boarded another funicular to Corviglia. We walked across the grass to the cable car which took us to the top of Piz Nair. We took some photos and began the steep descent to Lej (lake) Suvretta. We saw a few mountain bikers, but we were the only hikers on the trail. It was wonderful.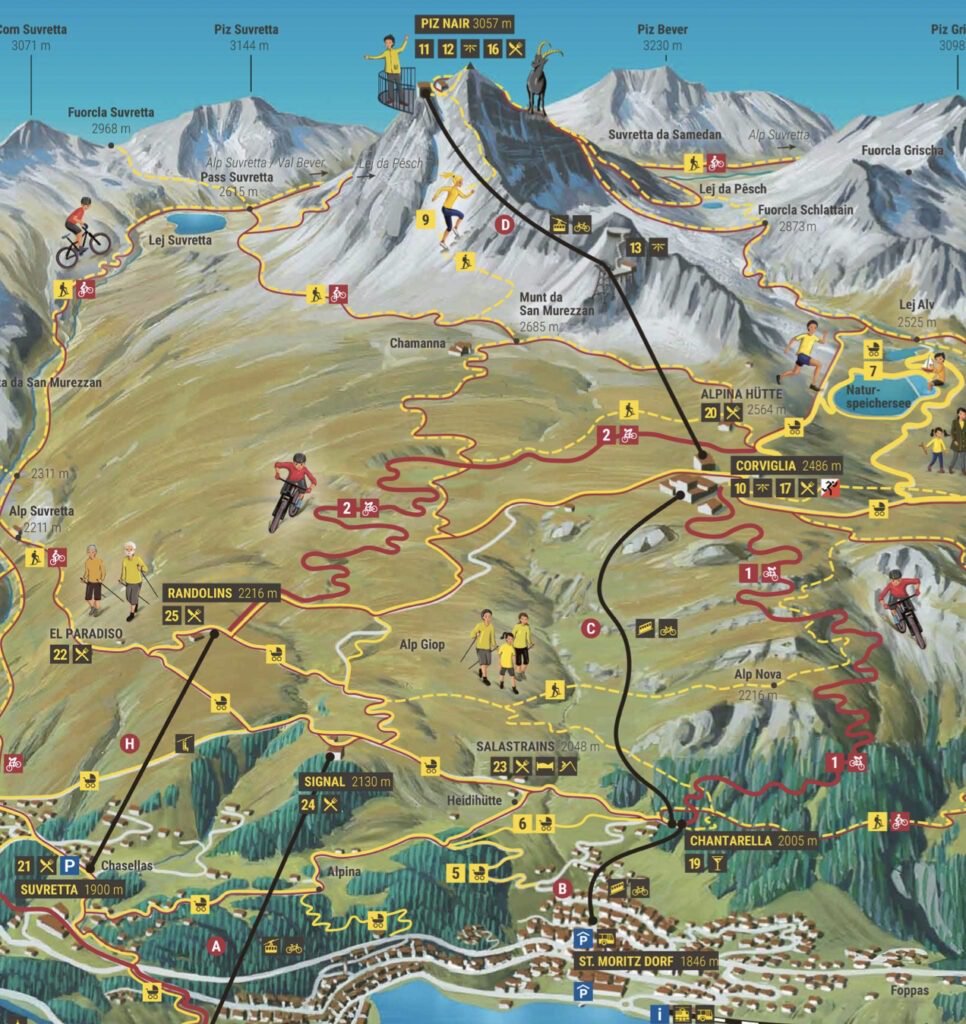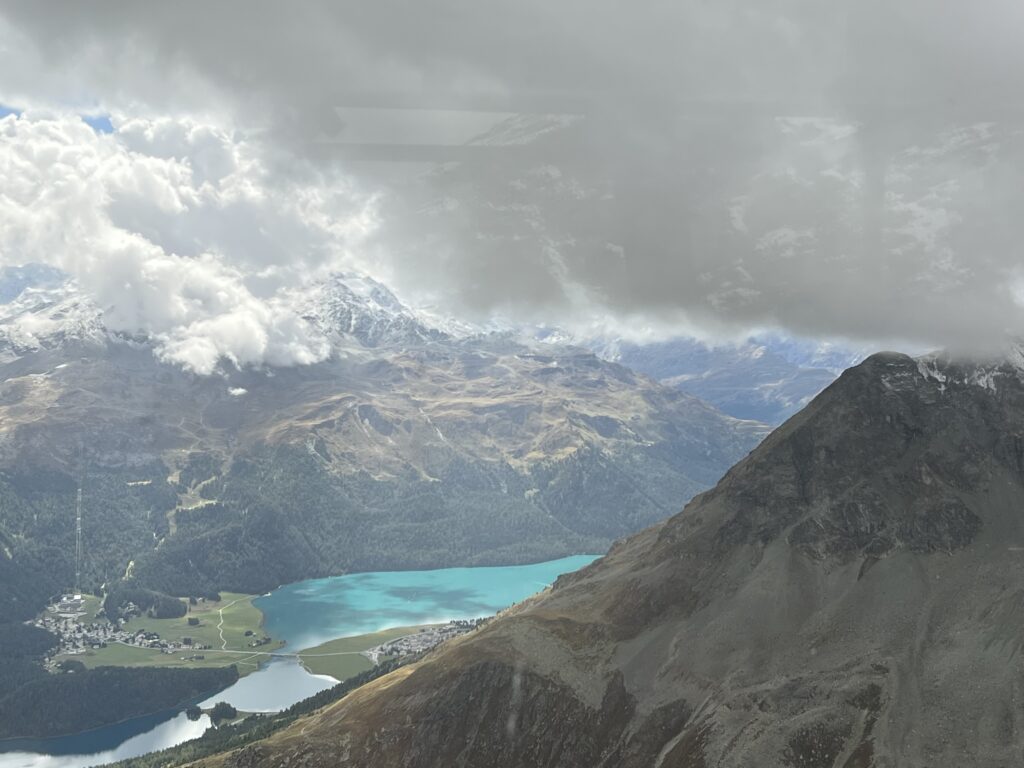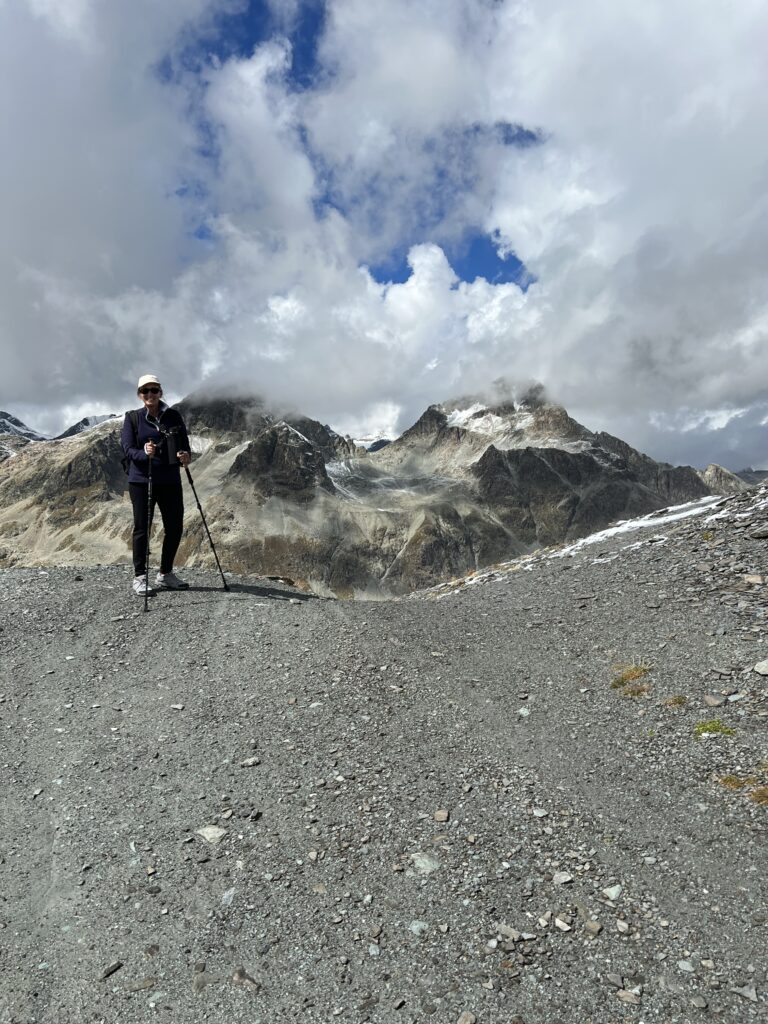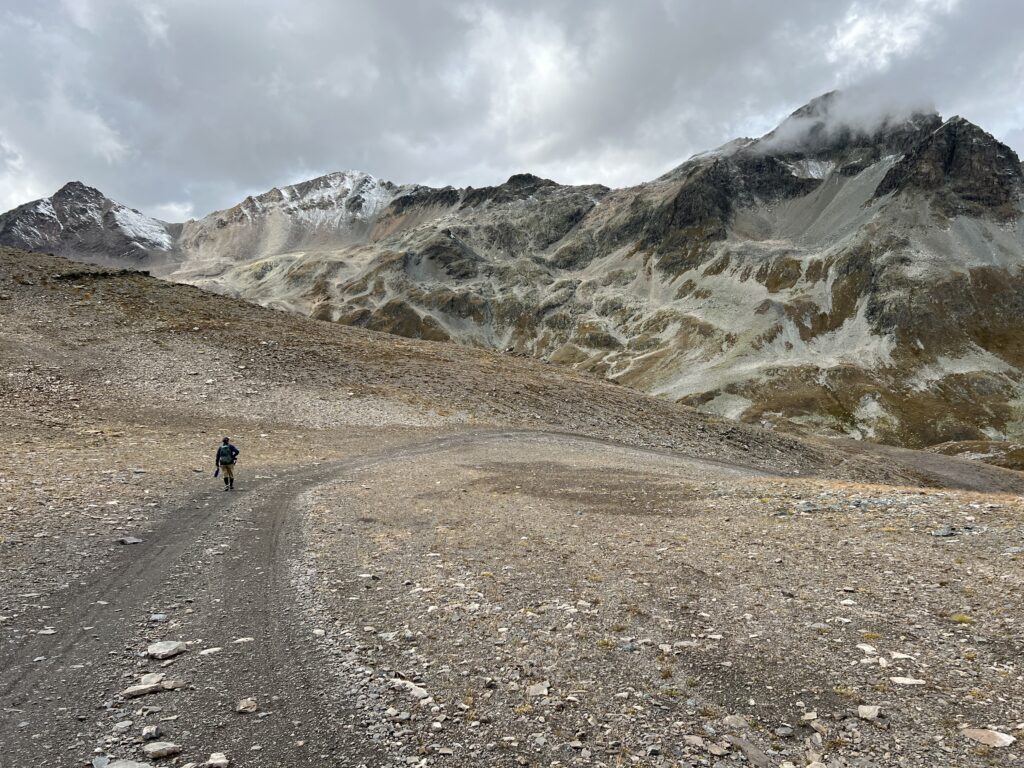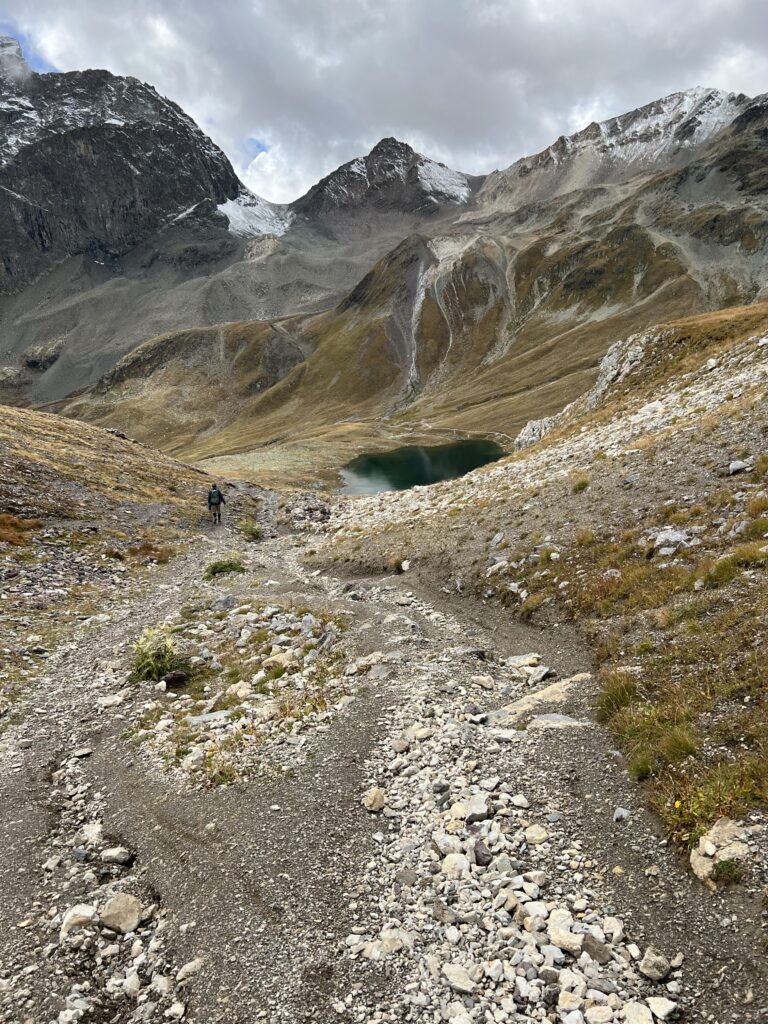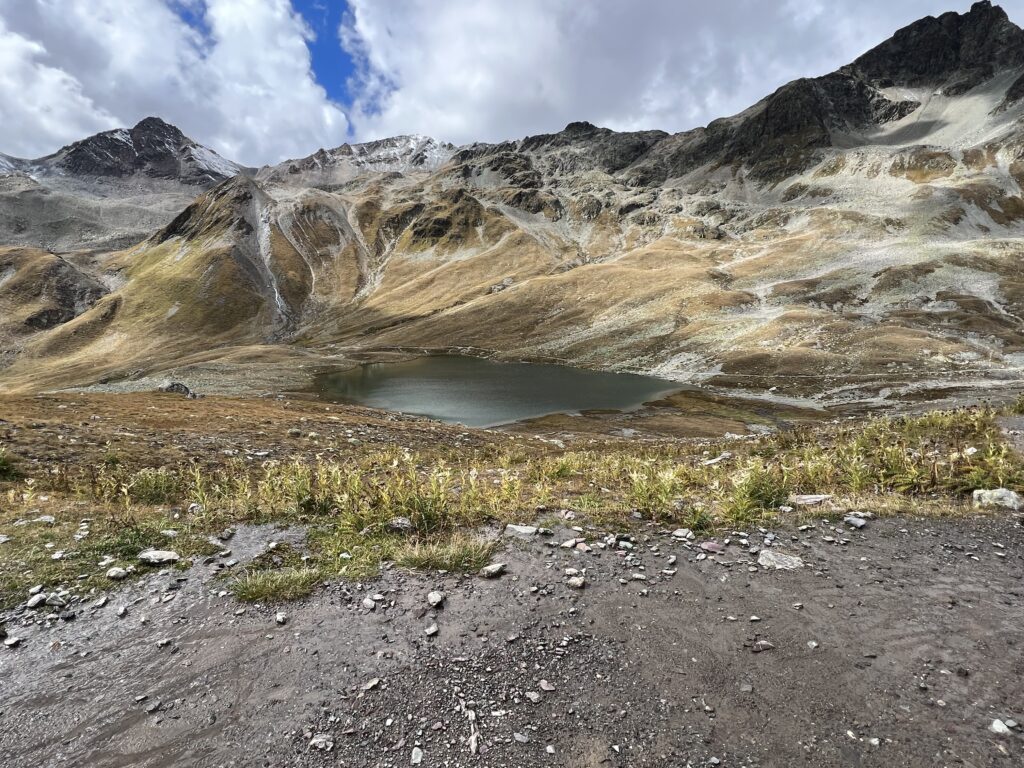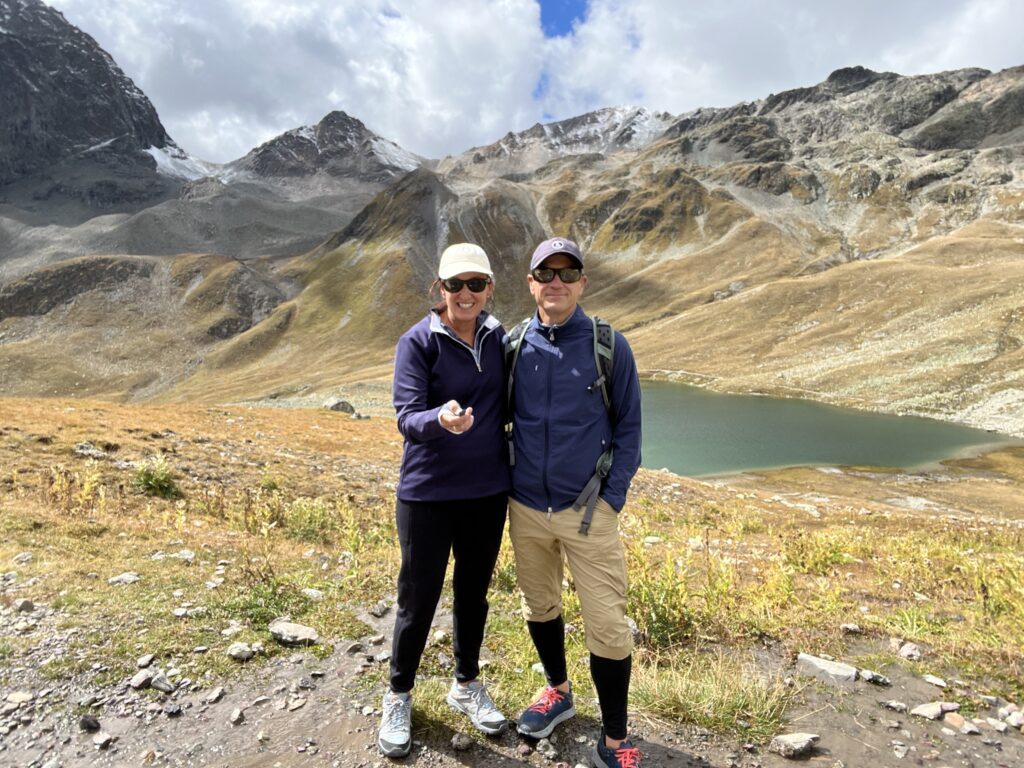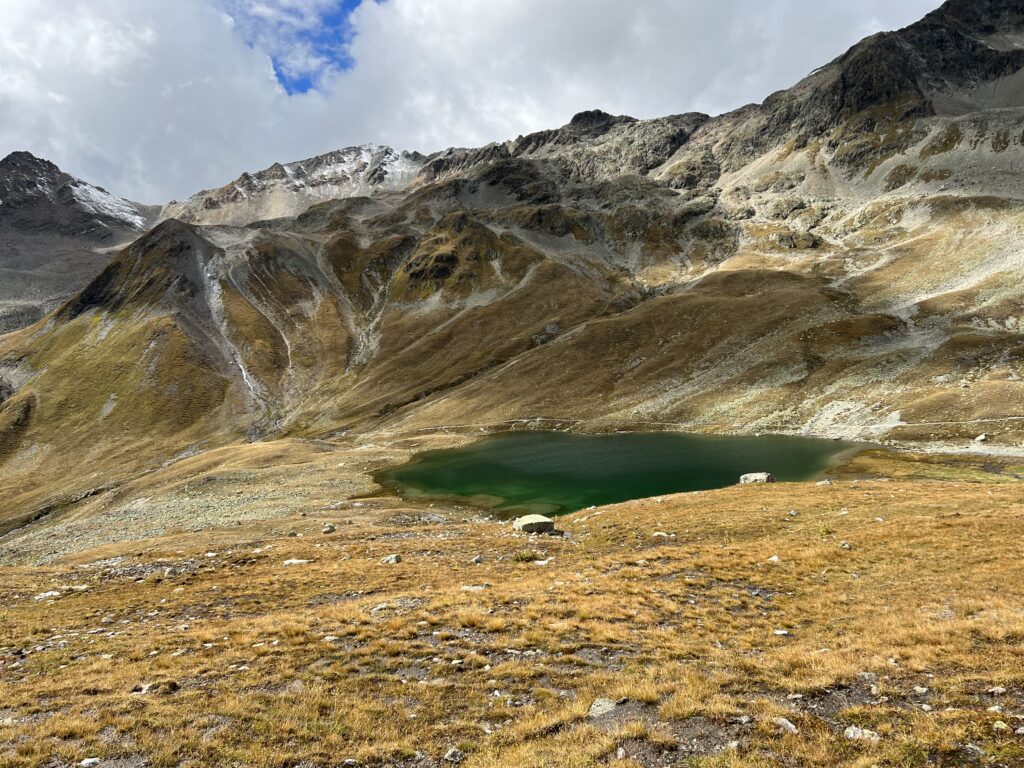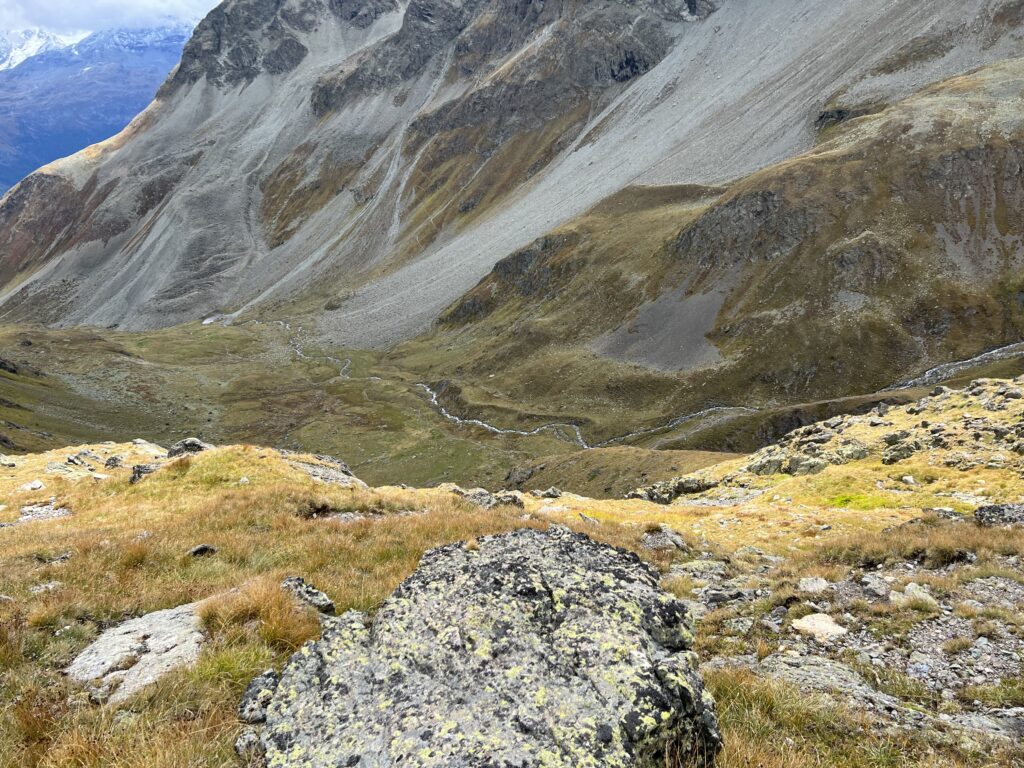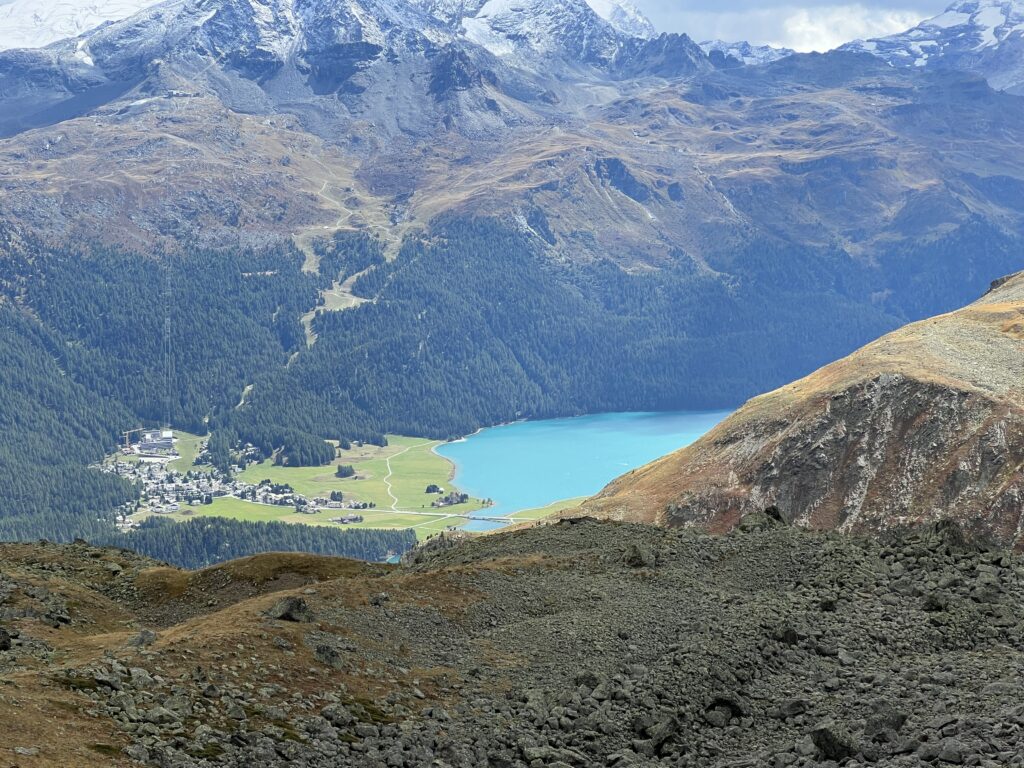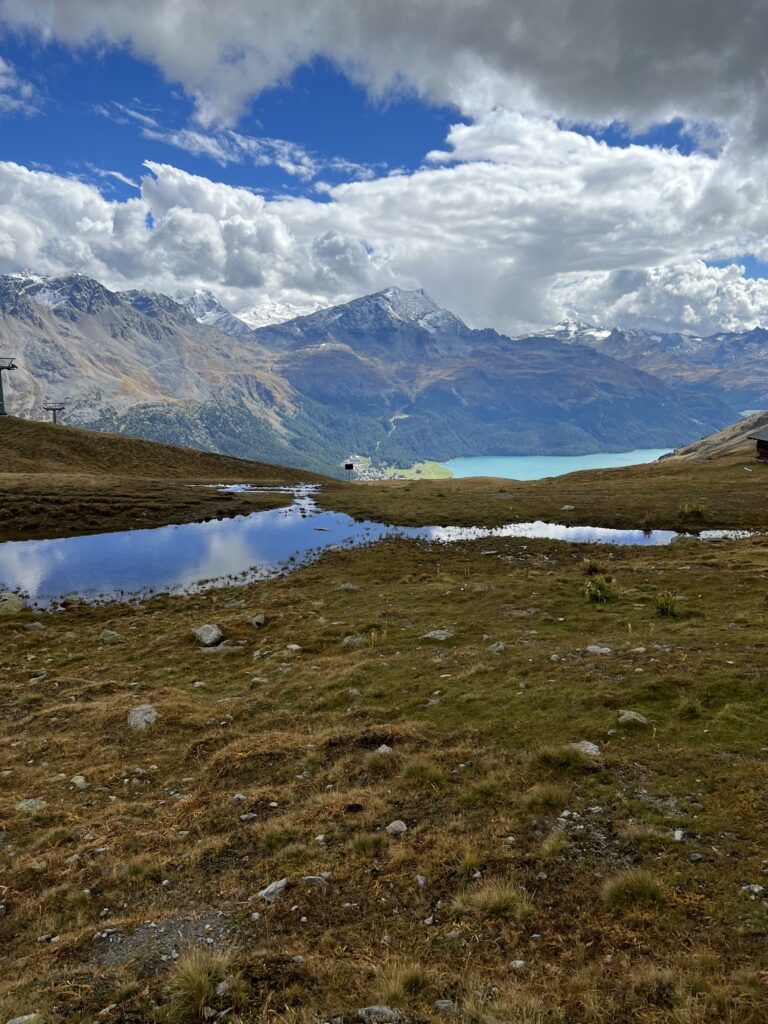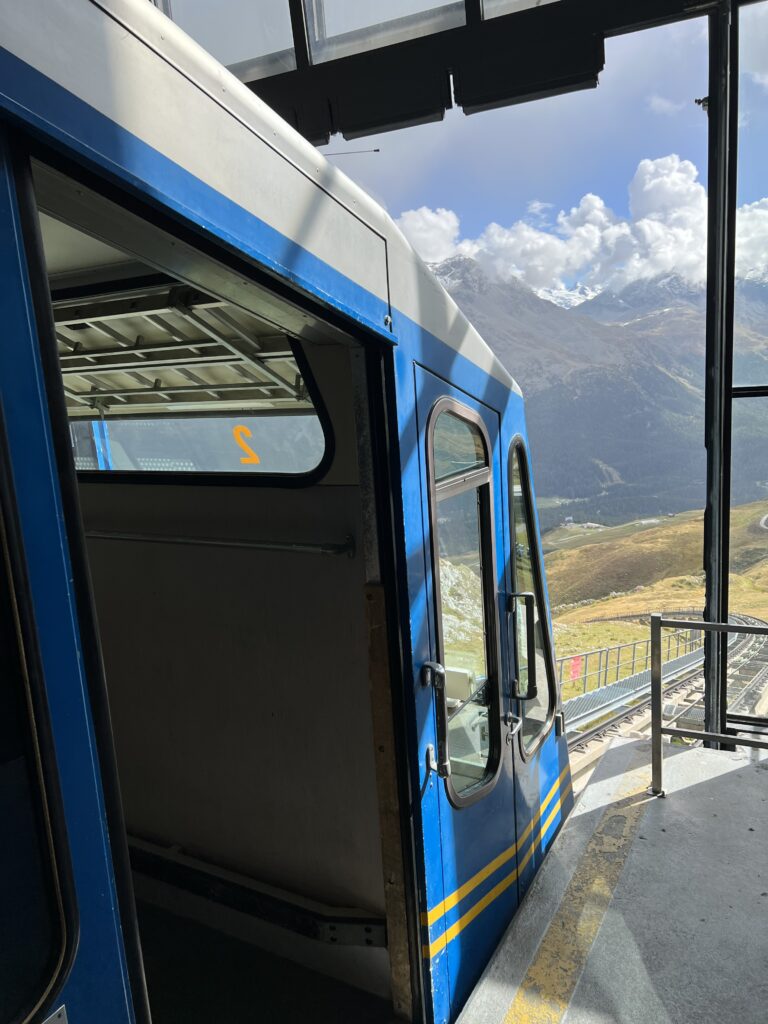 We Combined Three Hiking Trails into an EPIC Hike – Do 1, 2 or all 3!
On our first morning in St. Moritz, we ate a delicious breakfast at Monopol. We set off to spend the entire day hiking in the Corvatsch ski/hike area outside of St. Moritz. After consulting many websites, we set out to do the Wasserweg (water trail) to the Panoramaweg to the Fuorcla Surlej to the bottom of the Val Roseg. The links will take you to the Swiss Family Fun website which has very detailed descriptions of each hike.

The Wasserweg – The Water Trail
We did this hike early in the morning on Saturday, September 10, 2022. It was raining in St. Moritz, but there was a temperature inversion so it was sunny at the mountain peaks. We bought many layers that came on and off all day! On this map, we did hike #9.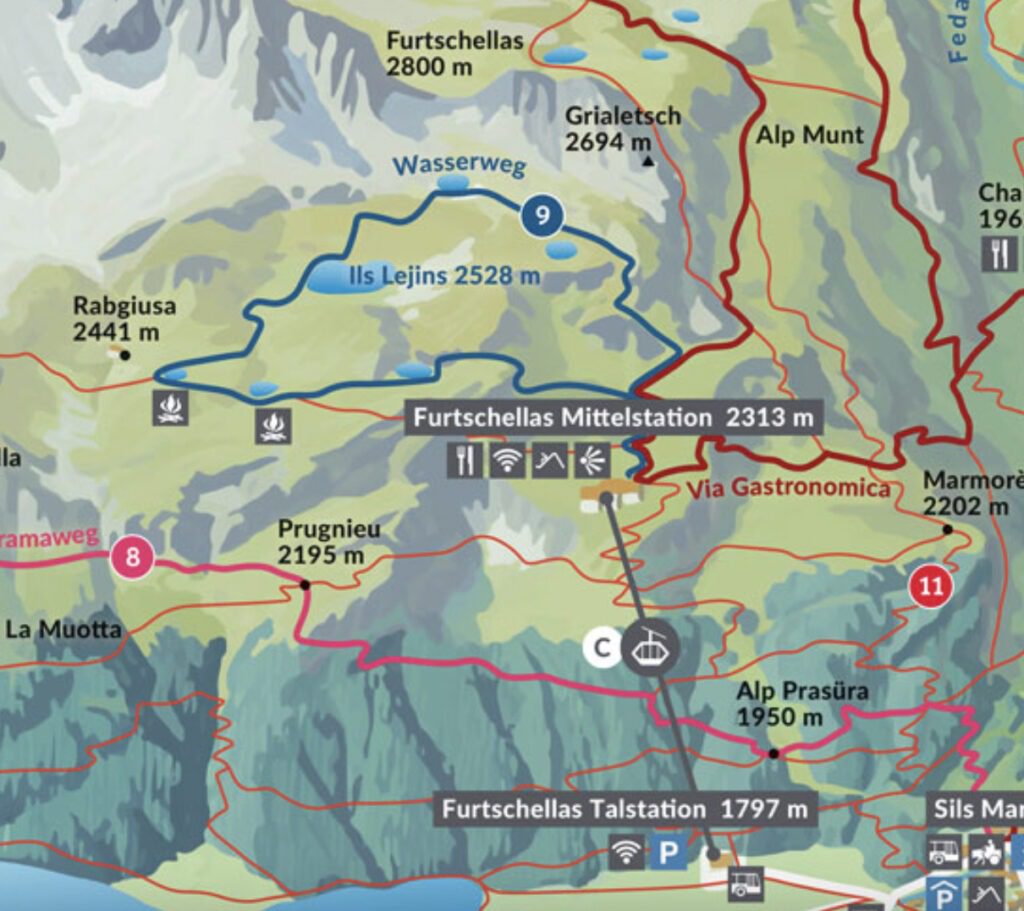 To begin our hike, we took the public bus from just outside our hotel to the Furtschellas Talstation. It took about 30 minutes on a very uncrowded bus. We hopped on the Furtschellas Talstation cable car to the Furtschellas Mittelstation (middle station). The bus and the cable car were included with our complimentary Engadin Railways Pass.
Follow yellow signs with the green box – 721 Wasserweg. It is a steep start – we began walking uphill to the lakes. You are supposed to see six lakes, but we missed the first two. Jim checked a sign without Michele, and we believe he misread it. The four lakes we saw were just gorgeous. If you do the entire six lakes hike and return to the Furtschellas Mittlestation, it would probably take you about three hours. Use the Swiss Family fun website if you plan to do this hike.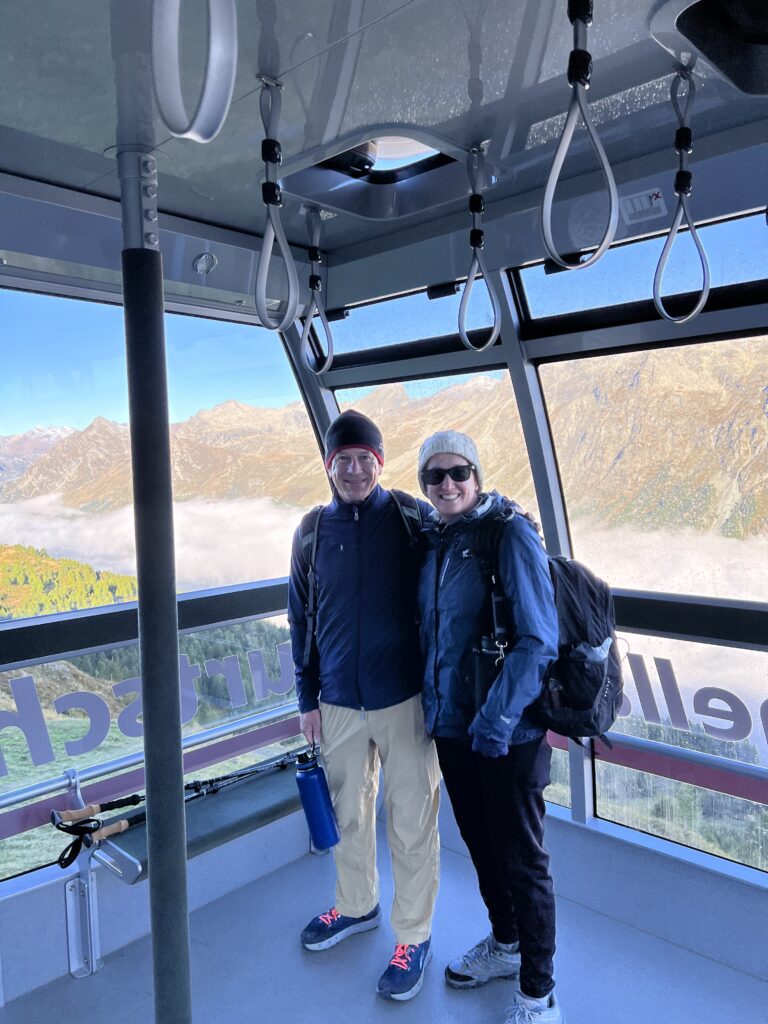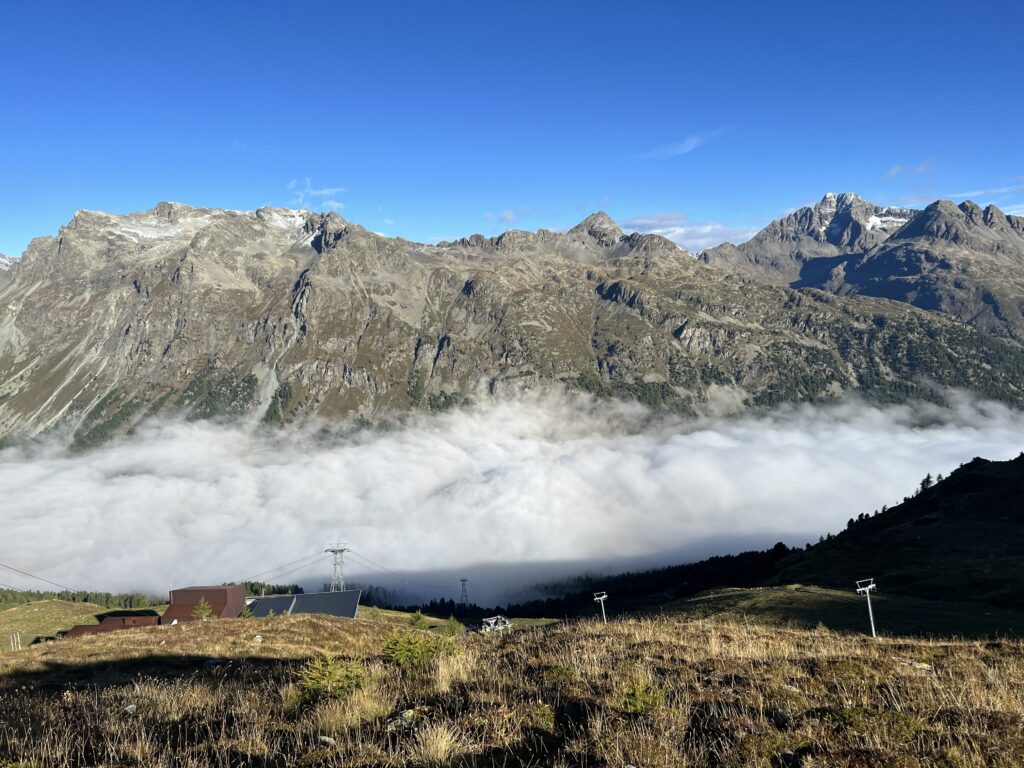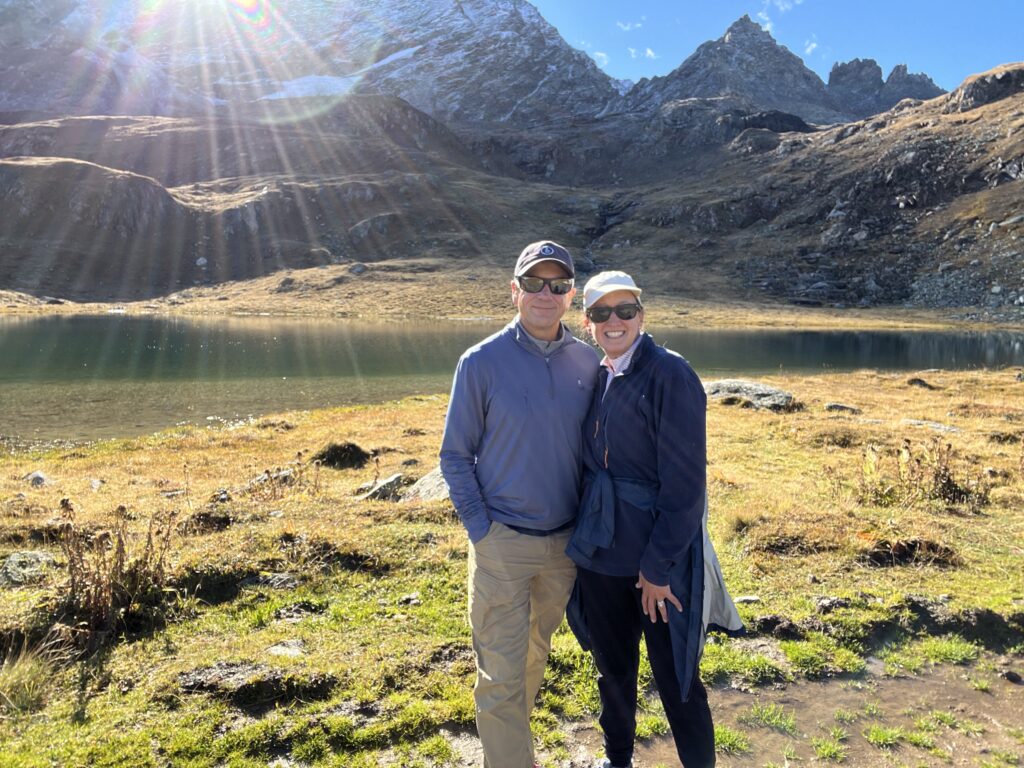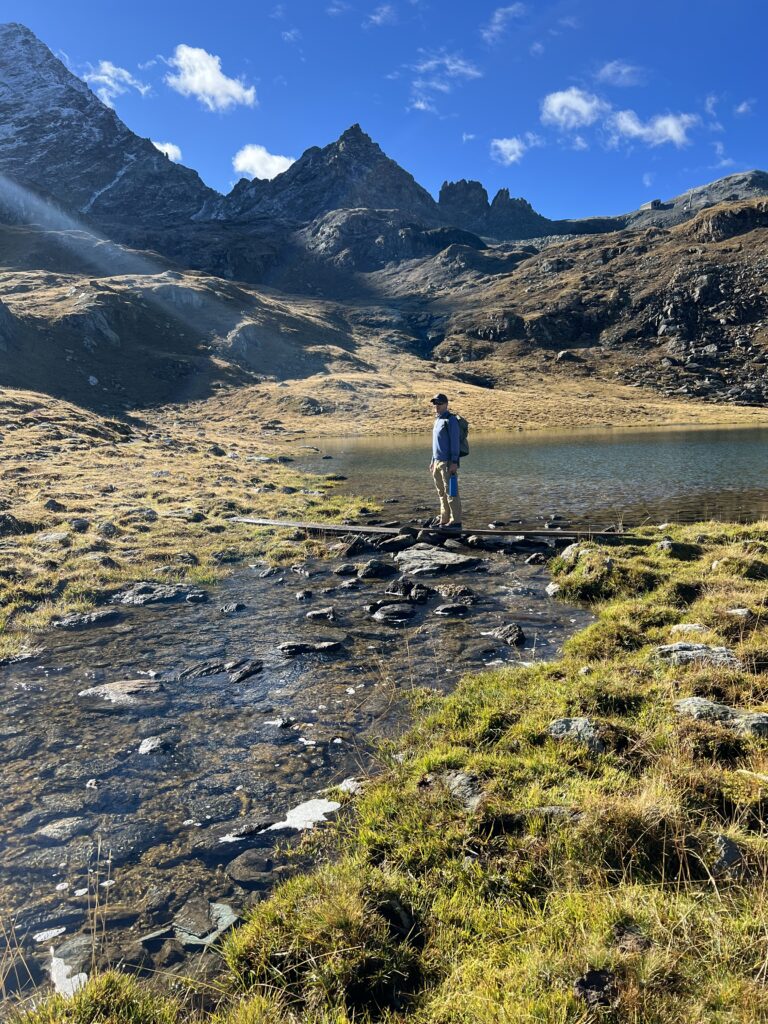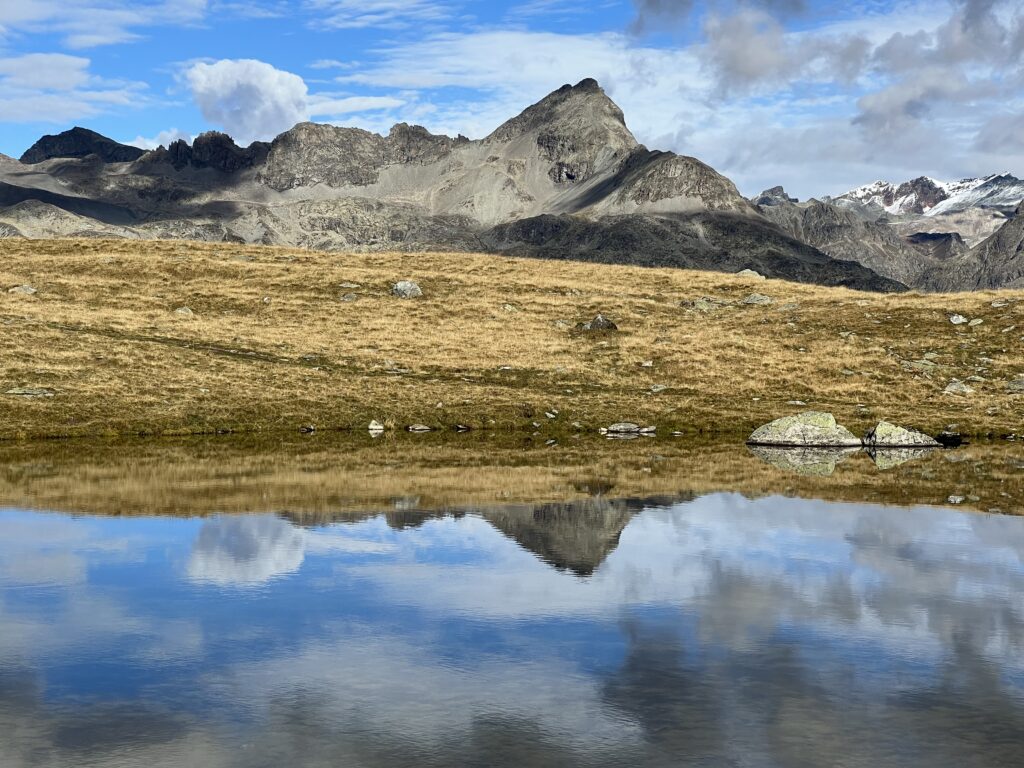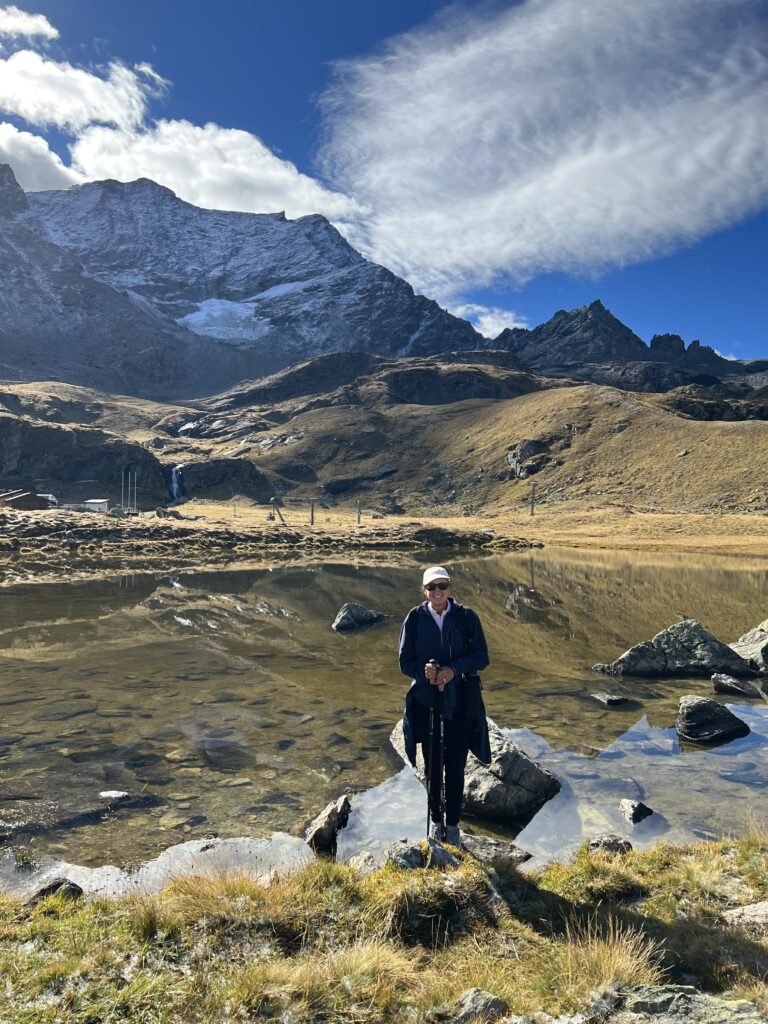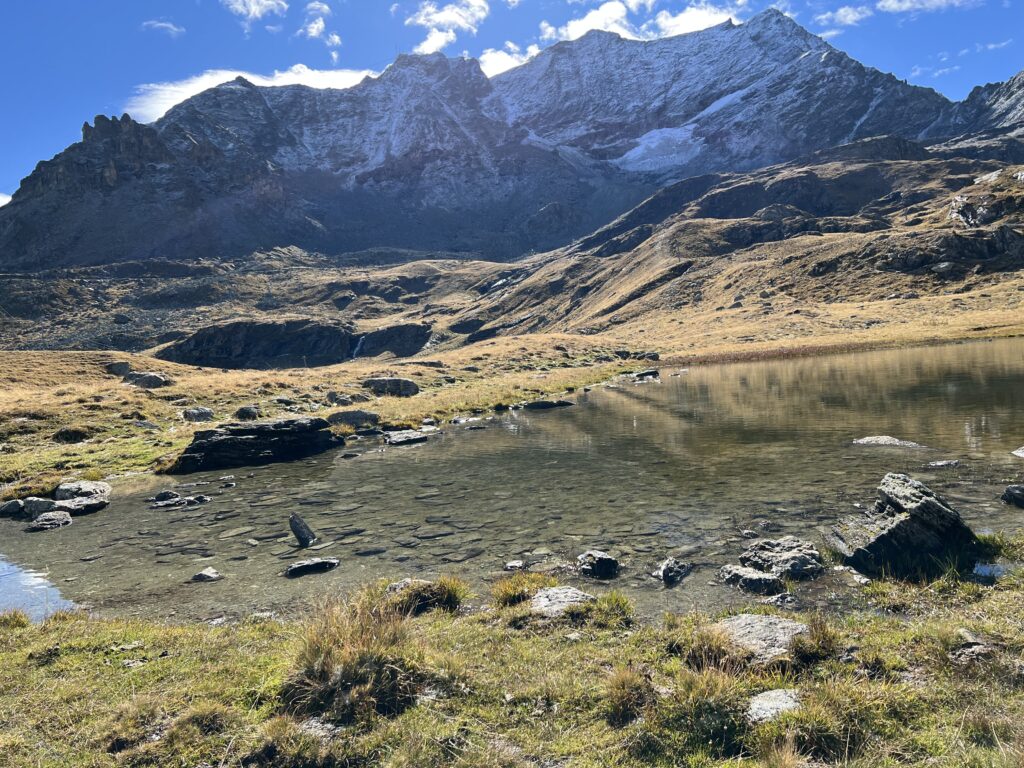 We had seen Lake #6 in the distance from a ridge, so we did not feel compelled to walk to it. So, we turned around and headed toward the Panoramaweg trail.
Panoramaweg Trail
From the Wasserweg, we turned toward Rabgiusa and began walking toward the Panoramaweg, which is trail #8 on this map.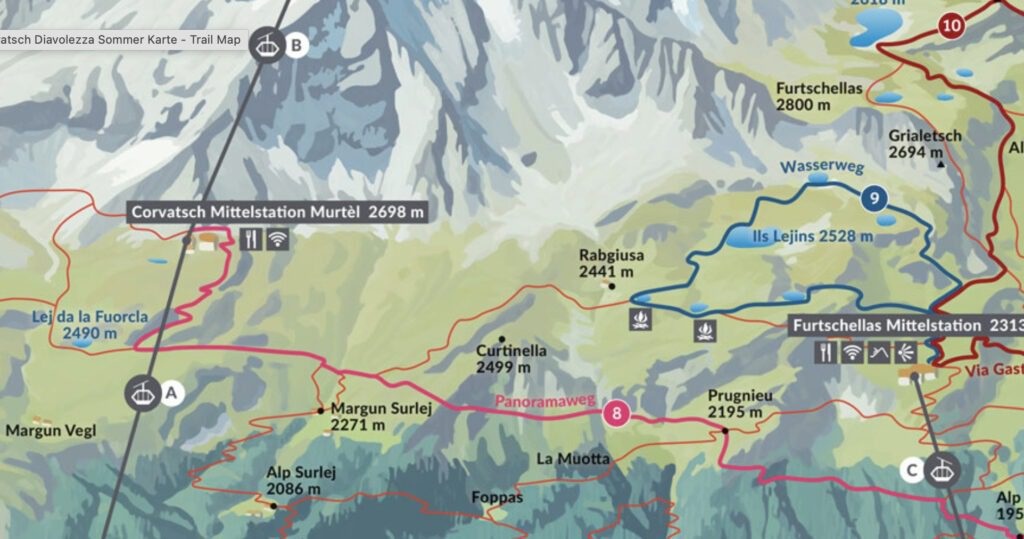 We climbed up steeply from Lake #4 toward Rabgiusa and then descended toward the Panoramaweg through Curtinella. From there it was a very difficult slog uphill to the Corvatsch middle station. Many layers were added and subtracted on this leg. It took us over two hours to do this. This hike is much, much, much easier if you begin at the Corvatsch middle station and end at the Wasserweg. We chose to do it in the steep direction as we knew we planned to add on another hike. That third hike had 3000 feet of descent which we did not fee like doing uphill! No matter which direction you walk, the views on the Panoramaweg are amazing. Just gorgeous!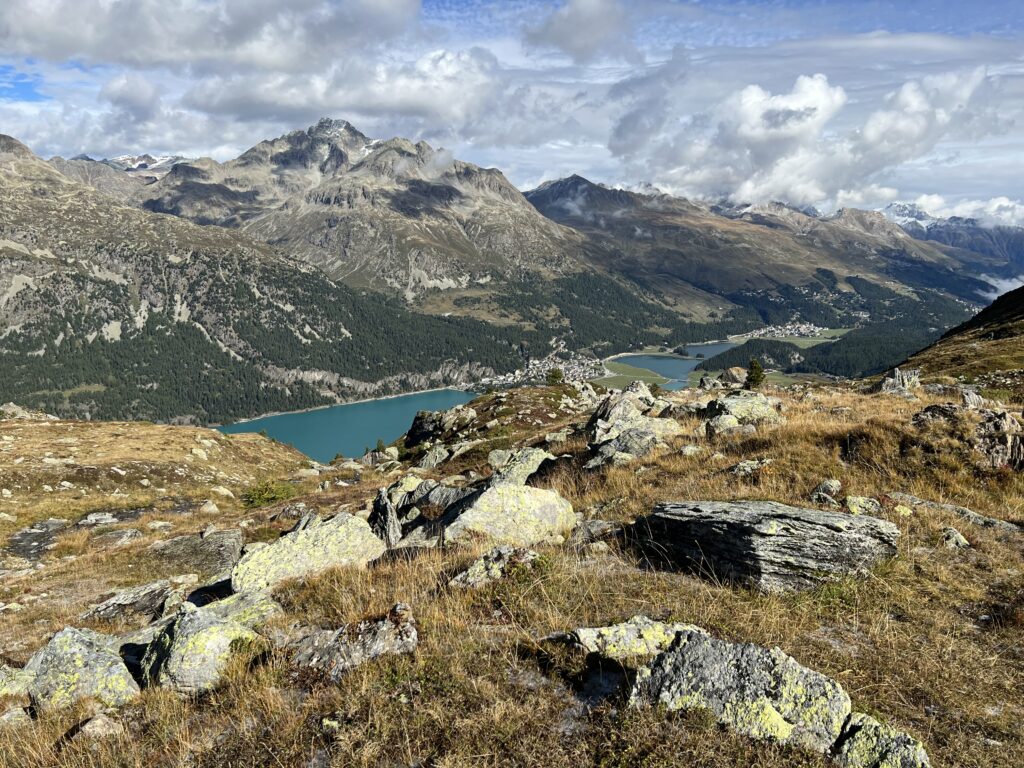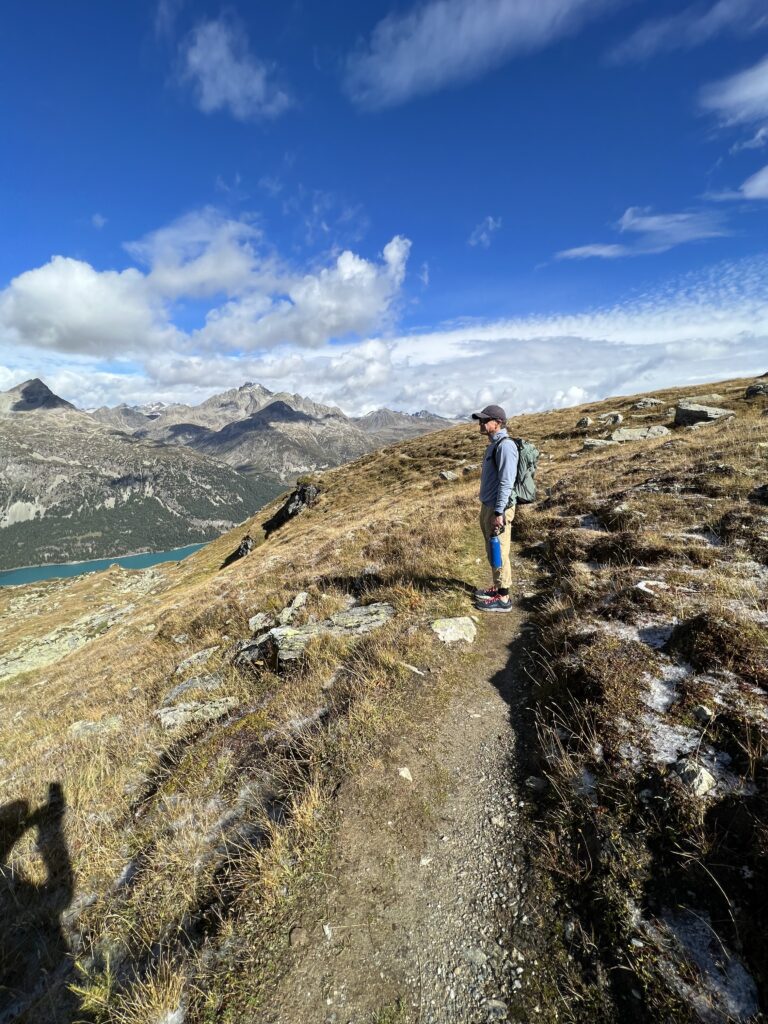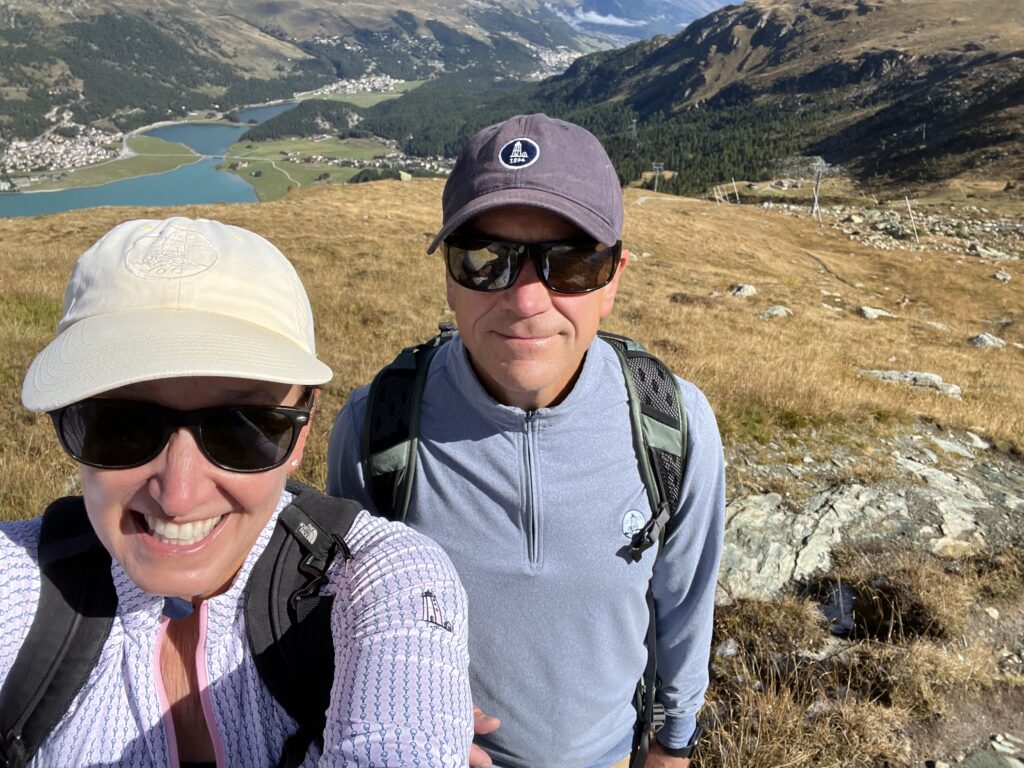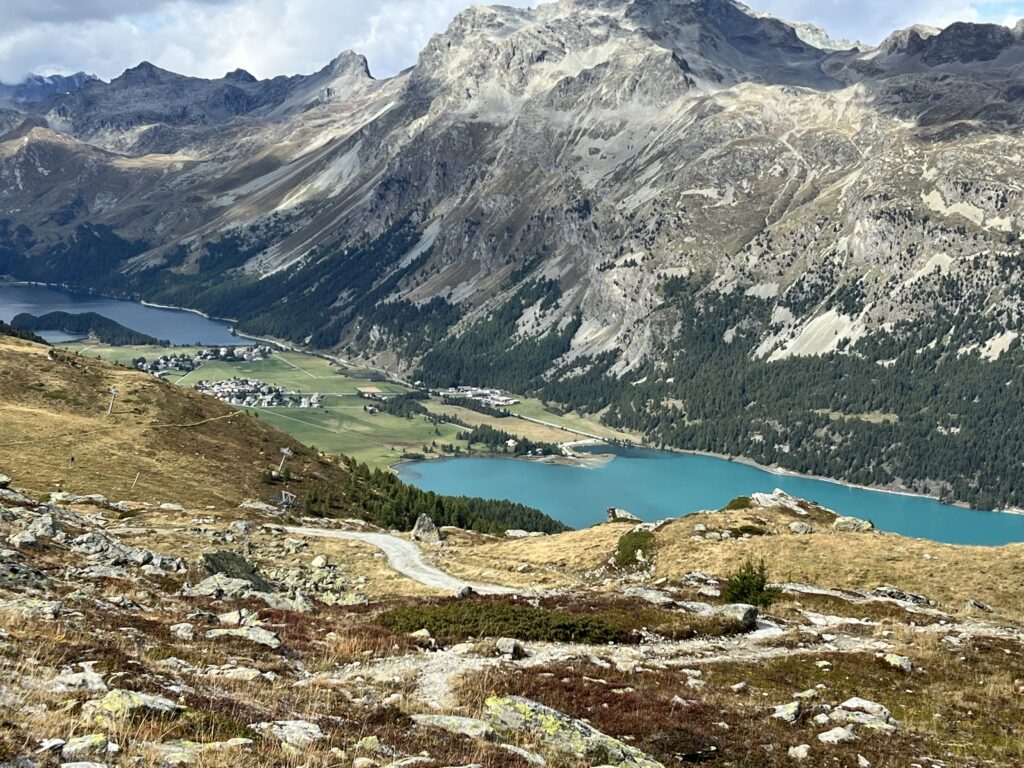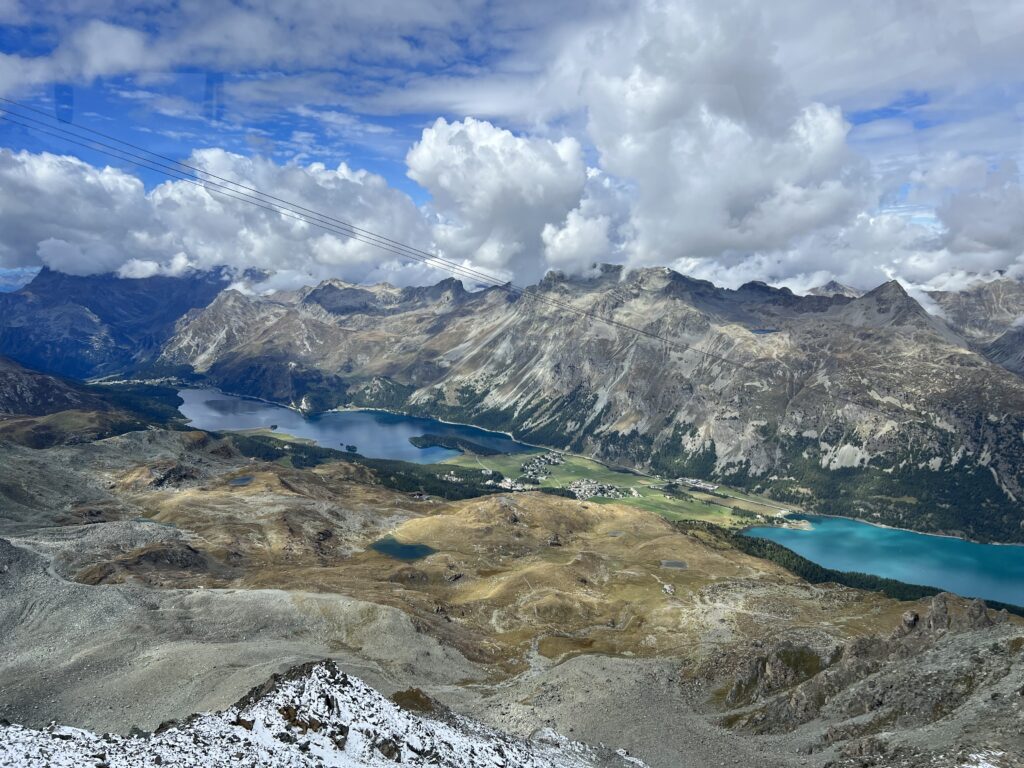 Corvatsch Bergstation Summit
After hiking up the Panoramaweg to the Corvatsch middle station, we boarded a cable car to see the summit – Corvatsch Bergstation. The cost of the cable car is included in the Engadin pass. It is gorgeous up there. We spent 27 minutes at the summit and caught the next cable car back to the middle. The summit gives you a great view of the glacier and the lakes in the valley below. There are dining options up there if you are hungry.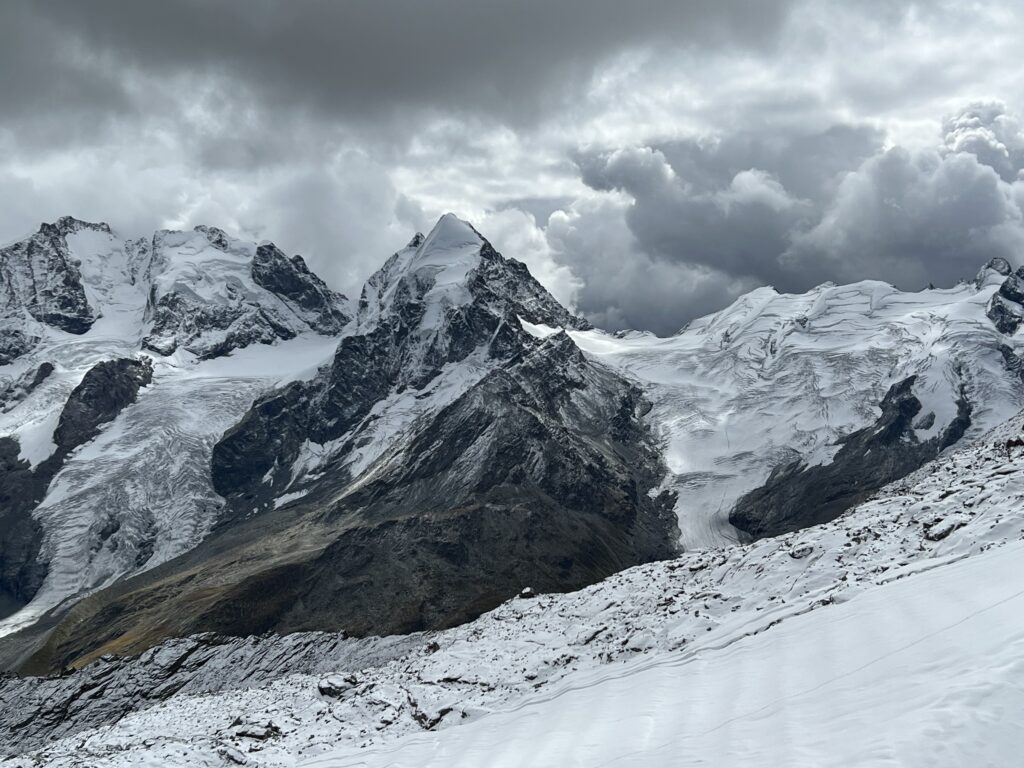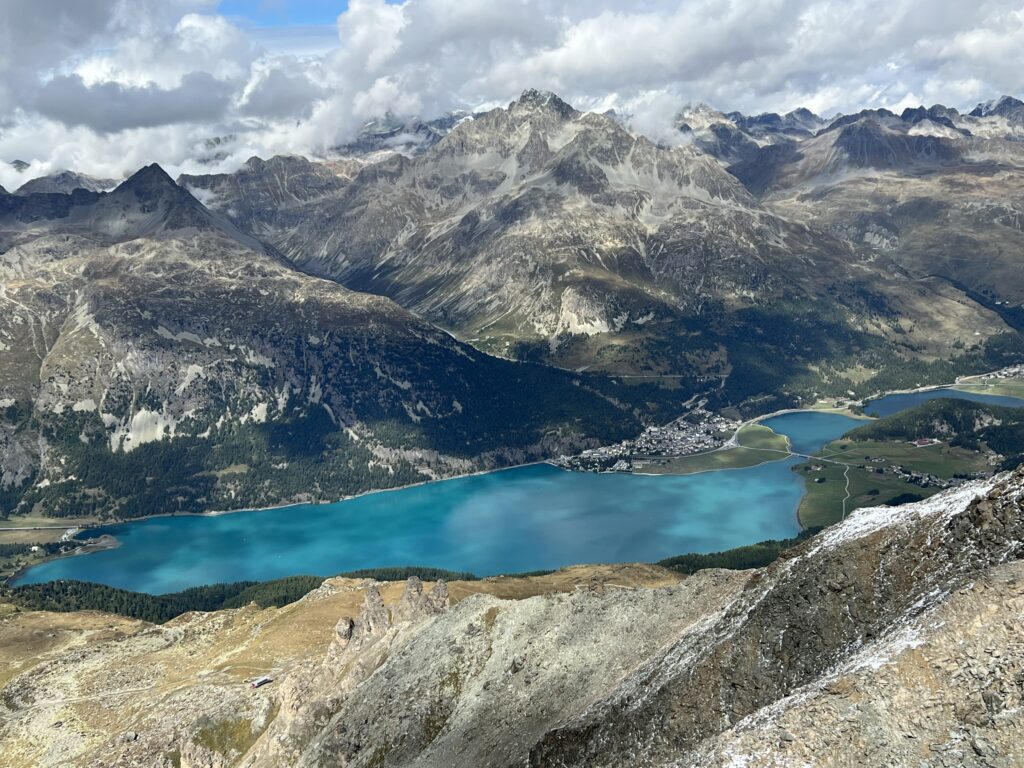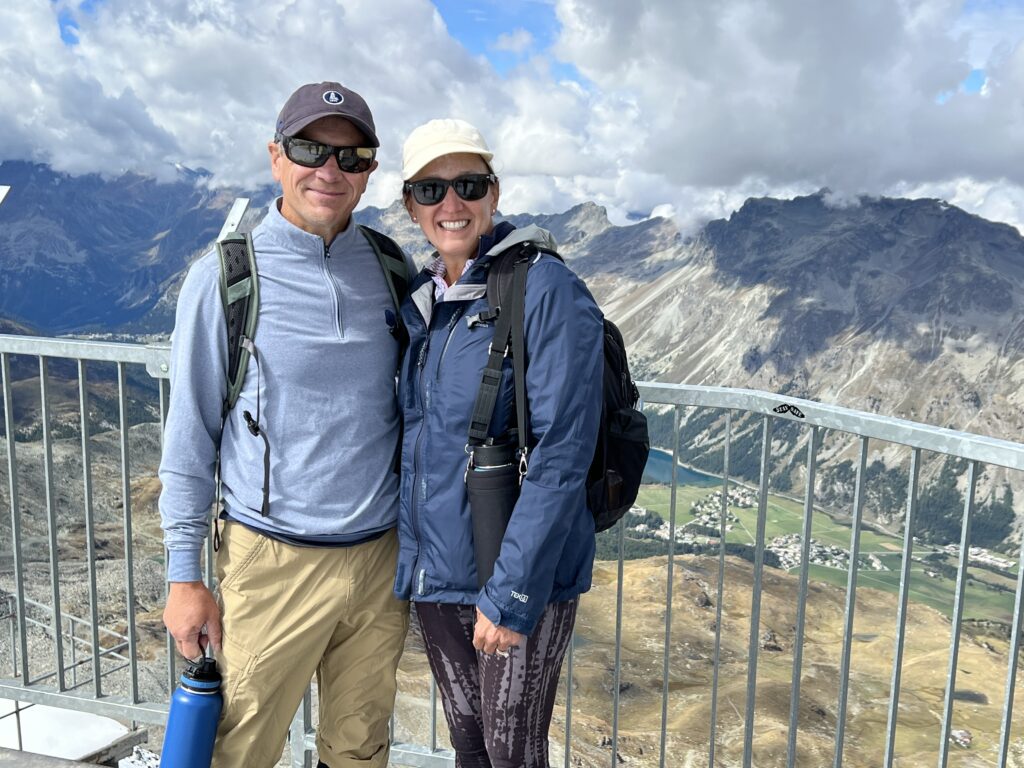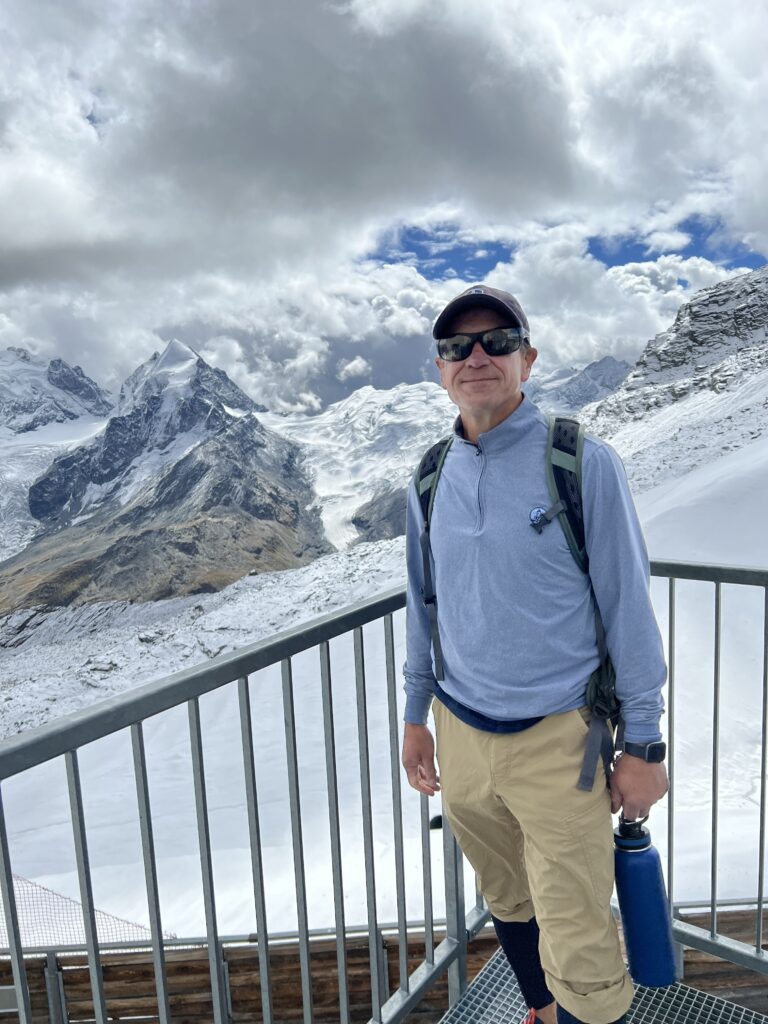 Fuorcla Surlej to Val Roseg to Pontresina.
After admiring the top of Corvatsch we rode the cable car back to the middle station. We chose to hike up an hour to the Fuorcla Surlej (a mountain pass with a restaurant and rustic hotel). We admired the views there for a while, and then we began a 3000-foot descent to the Val Roseg. It was gorgeous and steep. We loved the views. We had to change our layers several times. After arriving at the Hotel Roseg, we walked another seven kilometers down to Pontresina where we caught a bus back to St. Moritz!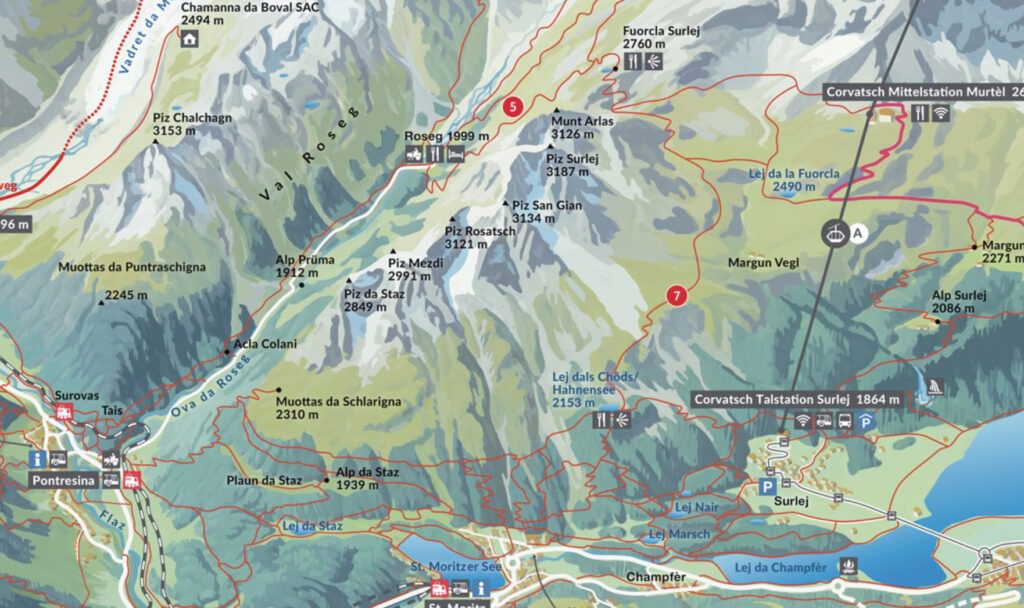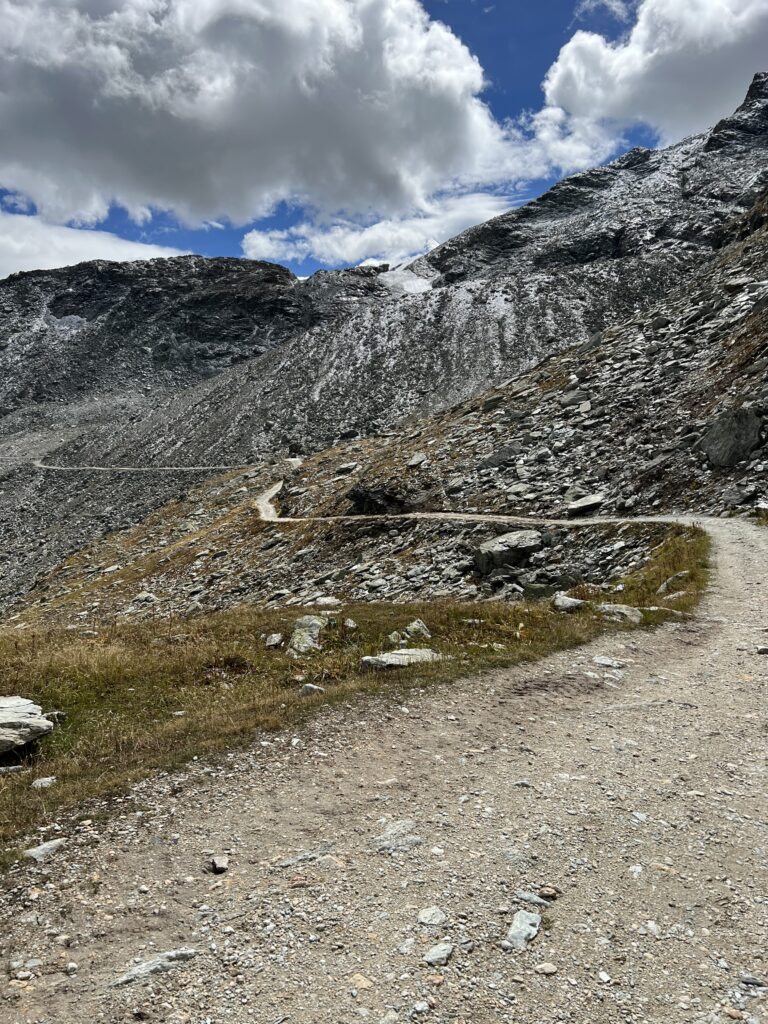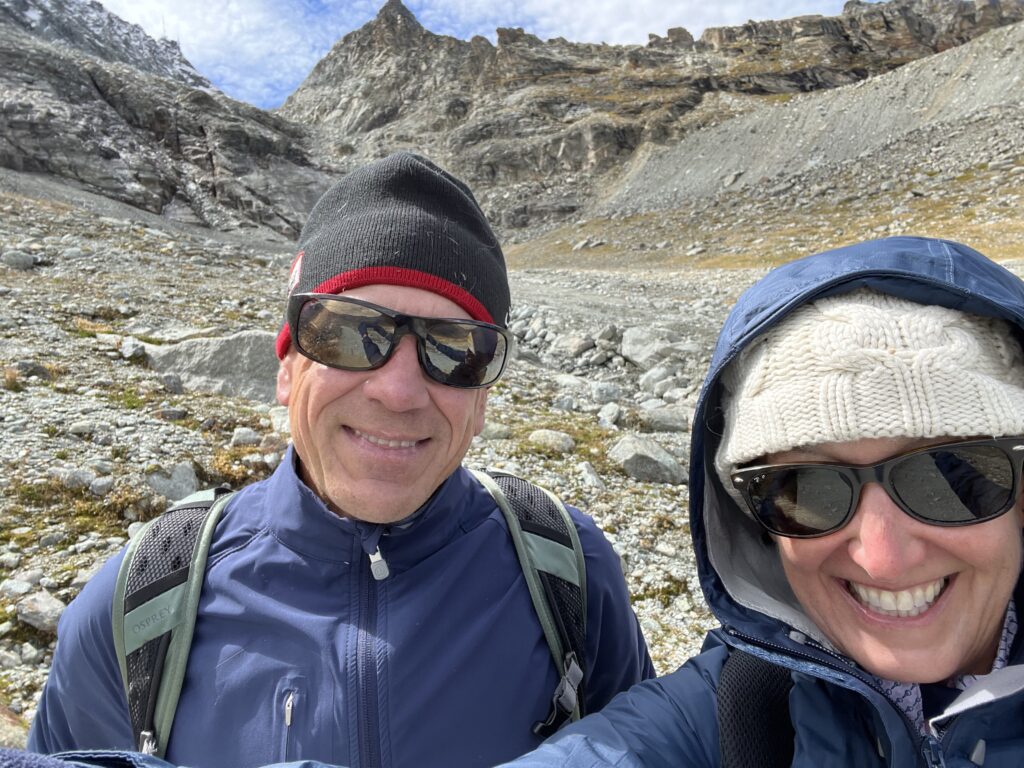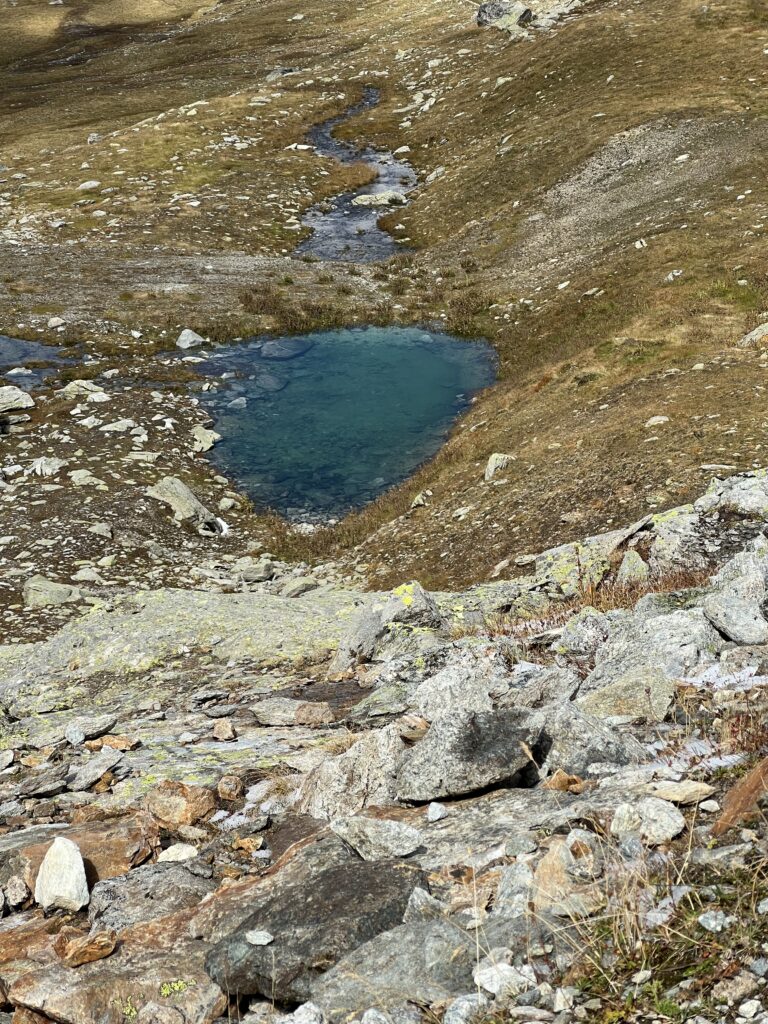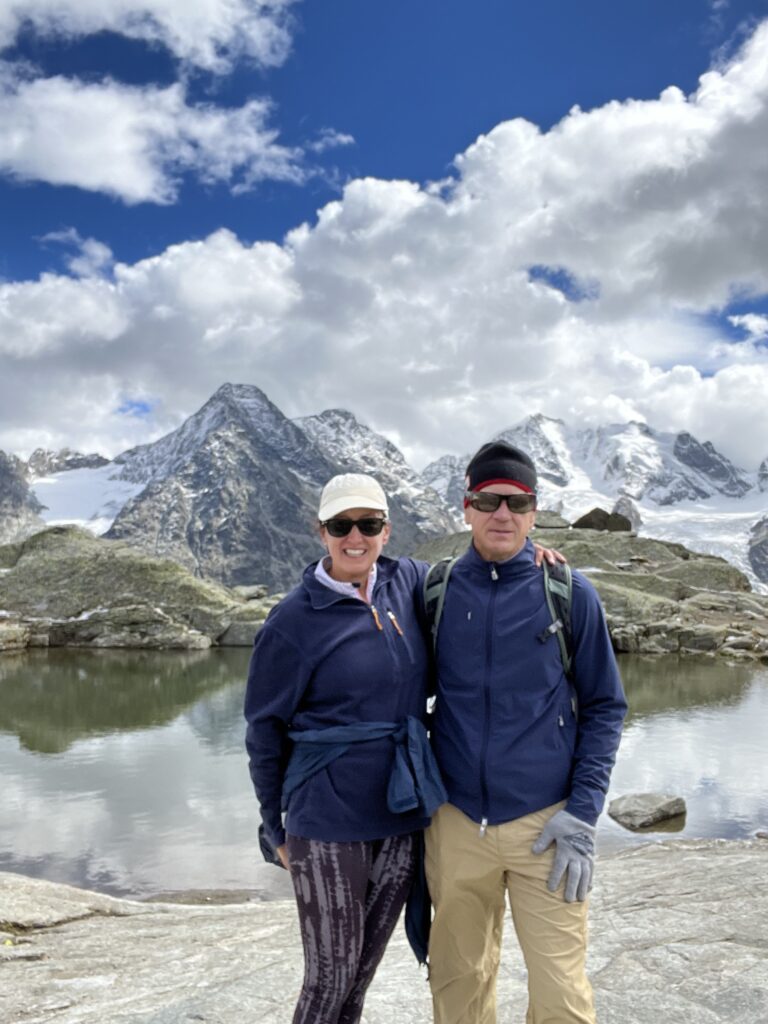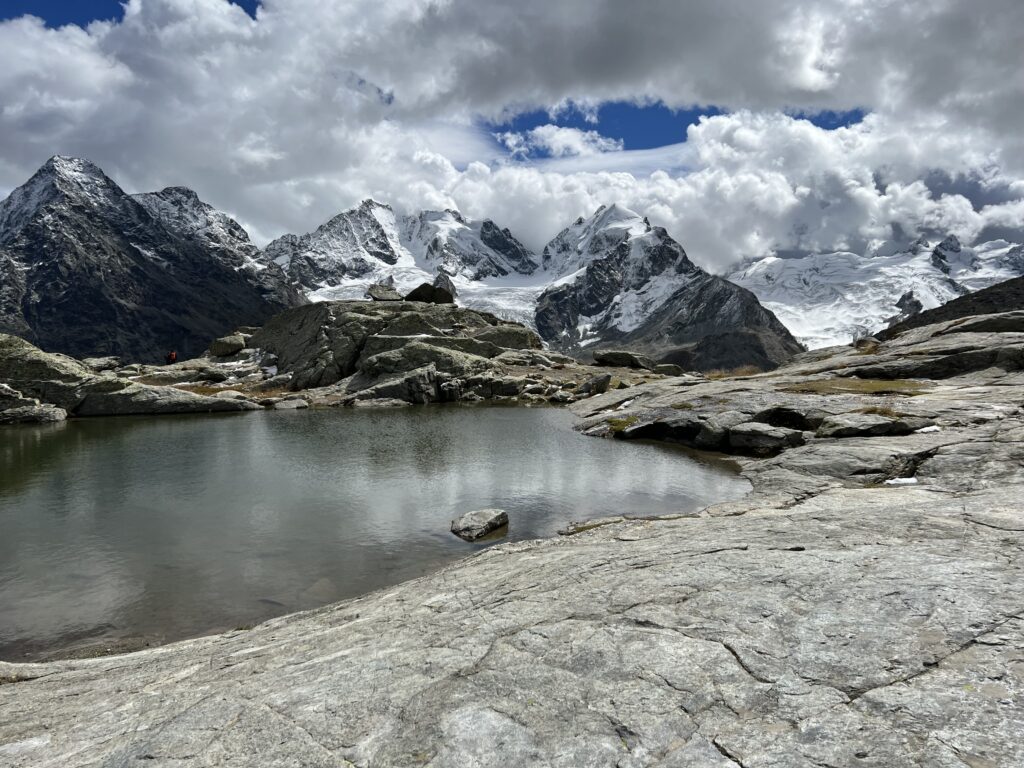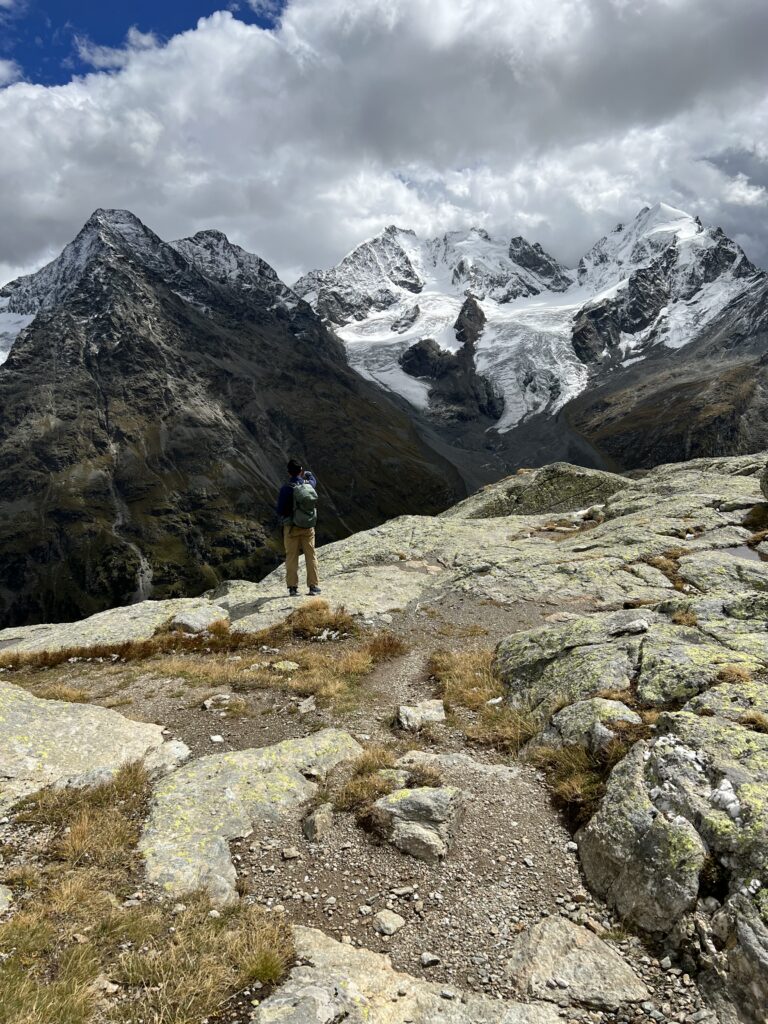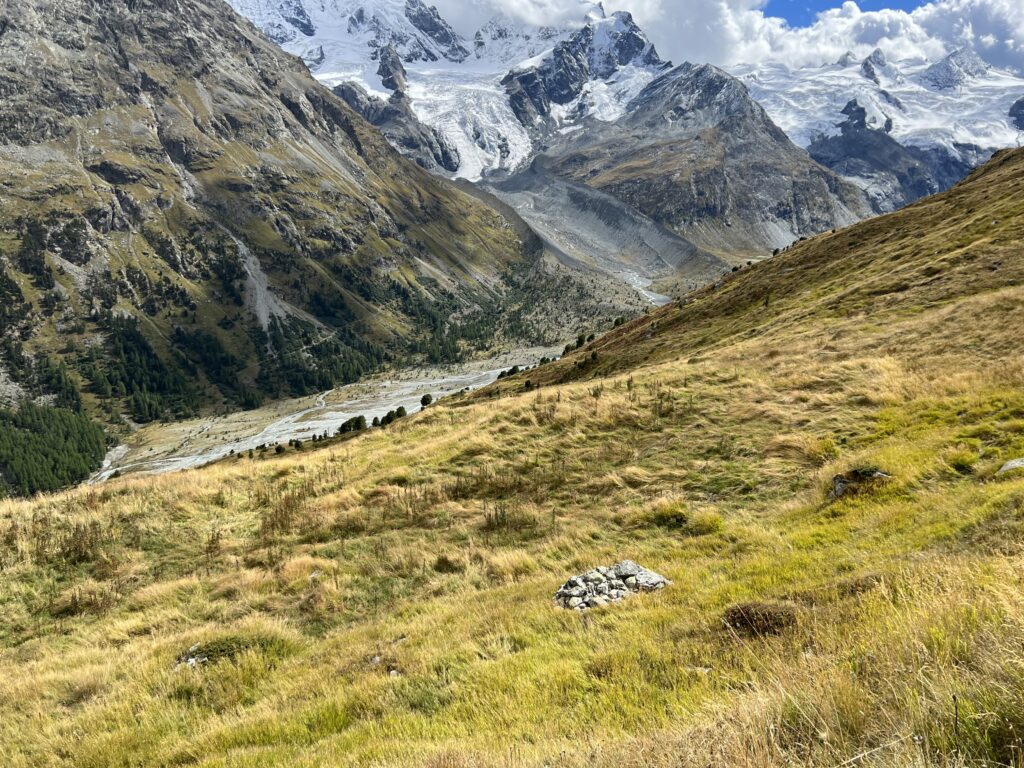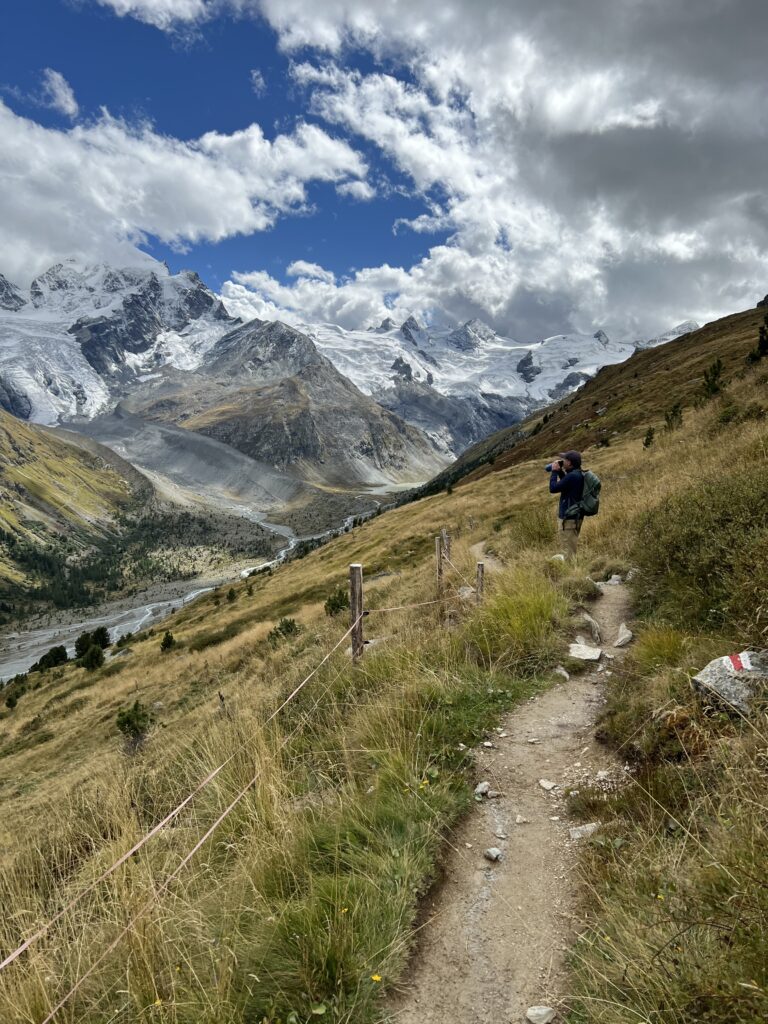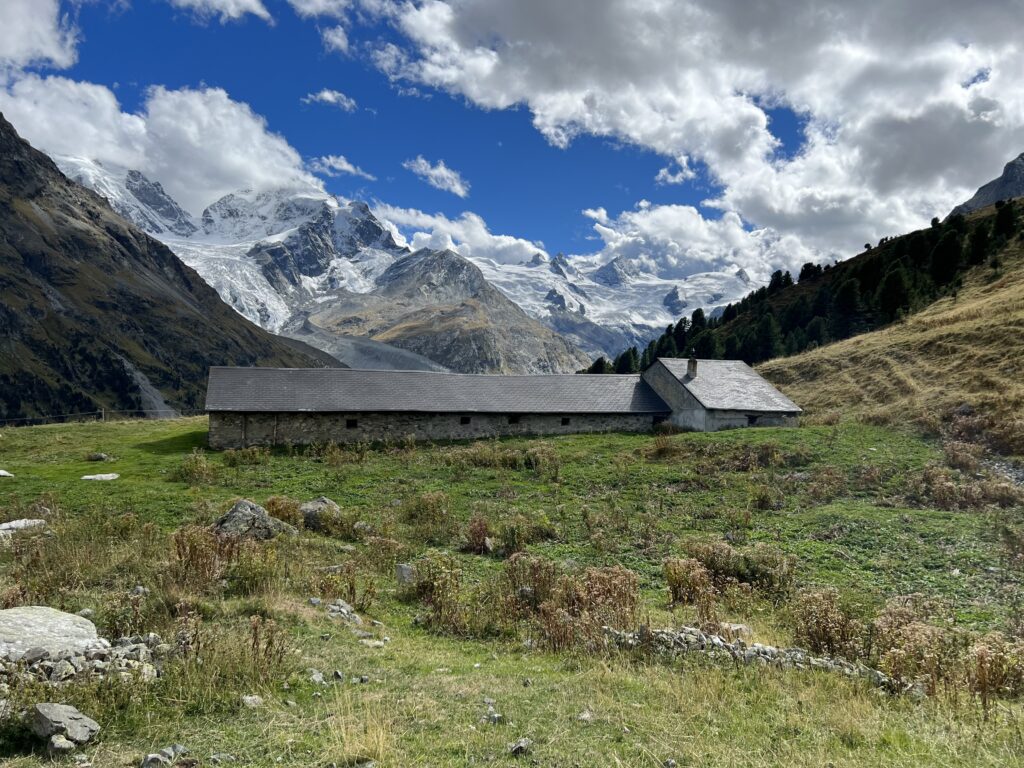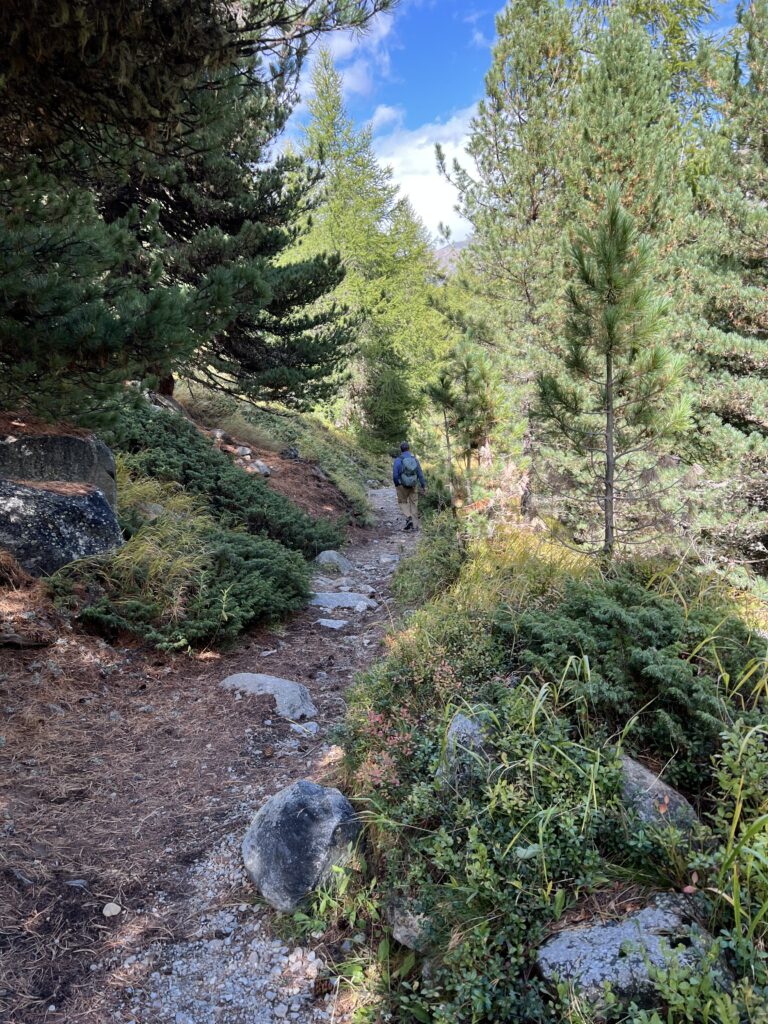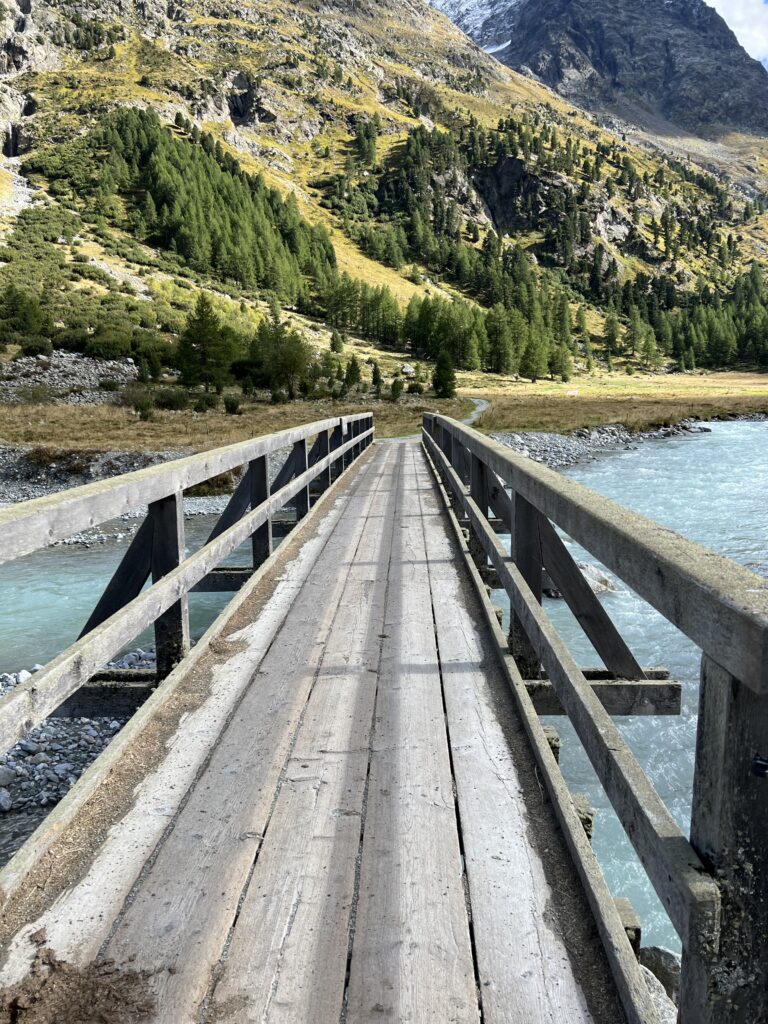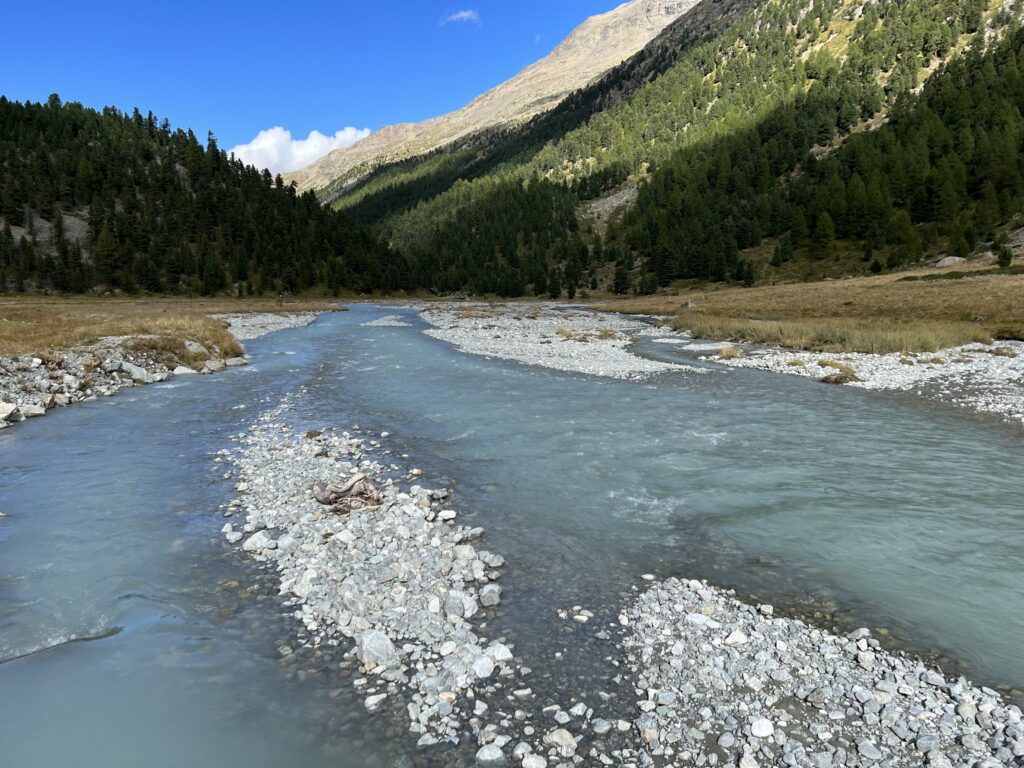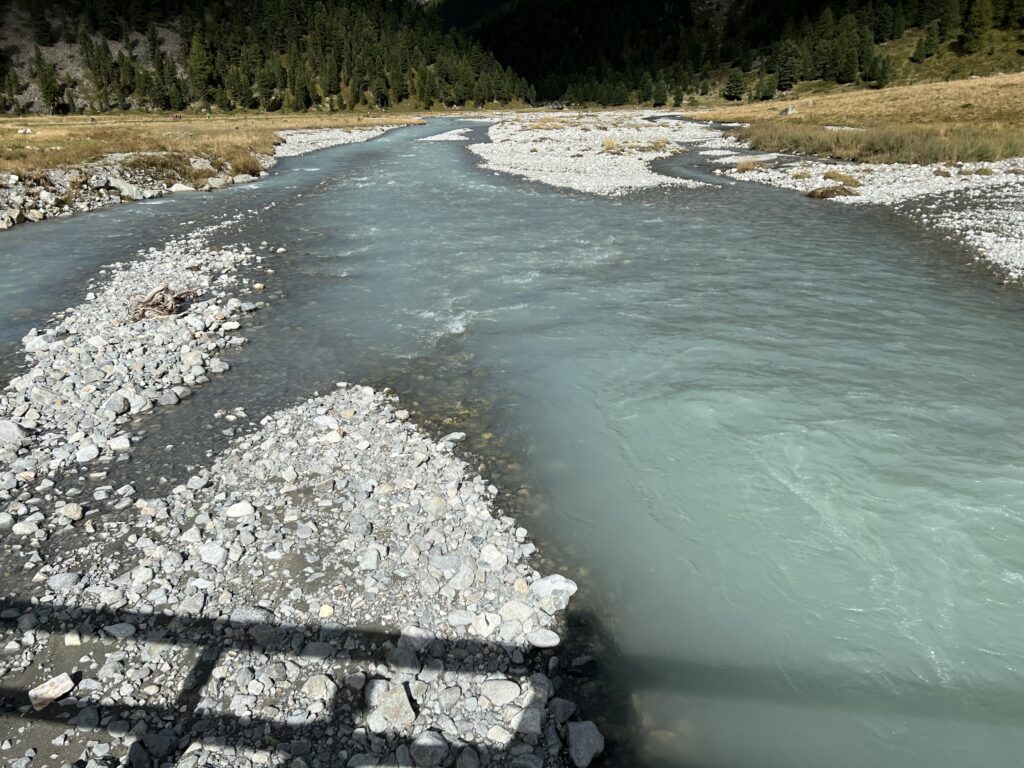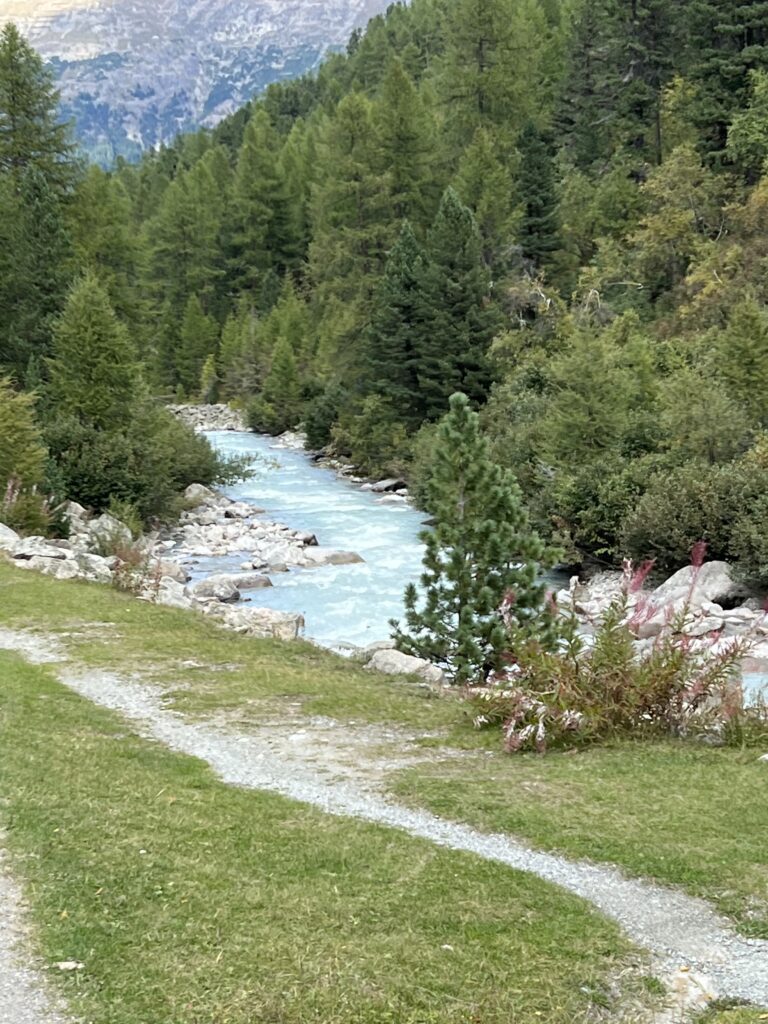 We happily arrived in Pontresina a few minutes before the bus. We used the SBB mobile app to learn the departure times. The bus dropped us off just a few feet from our hotel at the stop we used at 7:48am to catch the bus to Furtschellas!
Where We Ate in St. Moritz
We ate breakfast twice at our hotel, which was included with the price. We thoroughly enjoyed our meals at our hotel. Lunch and snacks were on the trail – we think the COOP supermarkets have wonderful, healthy options including ready-made-in-store food choices. Their grab and go items were fresh and delicious. We used the COOPs all over the country.
There are several Michelin-starred restaurants in St. Moritz. And, there is very elegant dining at several hotels. This was not what we wanted on this vacation. We brought hiking clothes and jeans and that is about it. So, we stayed away from the super-pricey options in this village and ate in the more casual options.
Pier 34
We ate two dinners in St. Moritz. Our first night, we ate at Pier 34 right on the lake. It was an easy walk from our hotel. We wanted to eat outside, but it was a bit rainy and cold even with the heaters and overhangs. So, we dined indoors. Jim had beef skewers. Michele had fish and chips and a barley soup. Everything but the barley soup was great. The service and setting was very nice. TripAdvisor reviews are mixed.
Engiadina
Our second night, we ate at Engiadina, a traditional Swiss restaurant with fondue, snails and racclette. Located in a charming small hotel, the restaurant had great, great service and yummy food. We did a fondue, snails, gnocchi and salad. Located just off the lake, the restaurant was a quick walk from Monopol. TripAdvisor reviews are strong.
Glacier Express
We chose to take an eight-hour train ride on the Glacier Express panorama train. We boarded in St. Moritz, and eight hours later exited in Zermatt. We were a little concerned that we might get bored or hot on the train, but we did not. We loved this experience. The views changed constantly, and the seats were very comfortable. We do recommend wearing layers, especially in the summer. We each had shorts in our backpacks, but did not need to take them out. We did have to remove our sweaters.
Have a Swiss Travel Pass/Flex? – If you have a Swiss Travel Pass/Flex, all you need to do is visit the Glacier Express website and reserve a seat in the same class as your pass. For the journey from St. Moritz all the way to Zermatt, the cost was about $49/person. Reserve well in advance – we were supposed to travel with friends in September 2022; they cancelled at the last minute due to a death in the family. They had the seats right next to ours. Their seats were the only two empty seats on the train once we left Chur. Most people do not take the train for the entire eight-hour route. Also, be sure to have an active ticket on your Swiss Travel Pass/Flex for the day your are taking the Glacier Express. You need BOTH an active ticket on your pass and a seat reservation.
No Swiss Travel Pass? – If you do not have a Swiss Travel Pass/Flex, simply visit the Glacier Express website and purchase a ticket. Then, reserve your seat. You must have both a ticket and a seat reservation to board the train. You can reserve a seat farther in advance than you can purchase a ticket. See their website for details.
Things to know – A few tips to ride this wonderful train –
There is no good or bad side of the train to sit on. The views constantly change.
If you want to take the best photos, stand in-between the cars and lower the windows down. Almost no one on the train knows this trick! Michele probably spent half the journey standing. She told one of our seat mates about this trick, and they spent so much time chatting and taking great photos. The windows did not lower in between every single set of train cars.
Know that there will often be power lines in your photos.
The train serves everything from very simple items to a five-course meal with wine tastings and everything in between. The prices are very high. You can reserve a meal in advance; this is not required, but some items will sell out. We brought a picnic which is completely allowed.
The configuration of the train in second class is four seats around a table. Sit across from your partner rather than next to him/her. First class does offer a single seat configuration (two people face-to-face at a table with no seat mates), which is what Michele wanted as she knew she would get up constantly to take photos. As mentioned above, you need to make a seat reservation to match the class of your Swiss Travel Pass/Flex. Michele has learned that if you have a second class Swiss Travel Pass/Flex, but make a first class seat reservation, the conductor will charge each person about $60. Michele would have made this choice if our friends were not joining us on the journey. They cancelled last minute, so we had the entire table and seats to ourselves. We totally spread out!
The train offers ear phones at every seat. Whenever you hear the sound of a gong, put your ear phones in. The train will give you some interesting information about the topography, history, railway engineering, tunnel length, politics, myths and culture of the area in which you are passing. We loved listening! It often made Michele jump up to get more photos for what was coming outside our windows.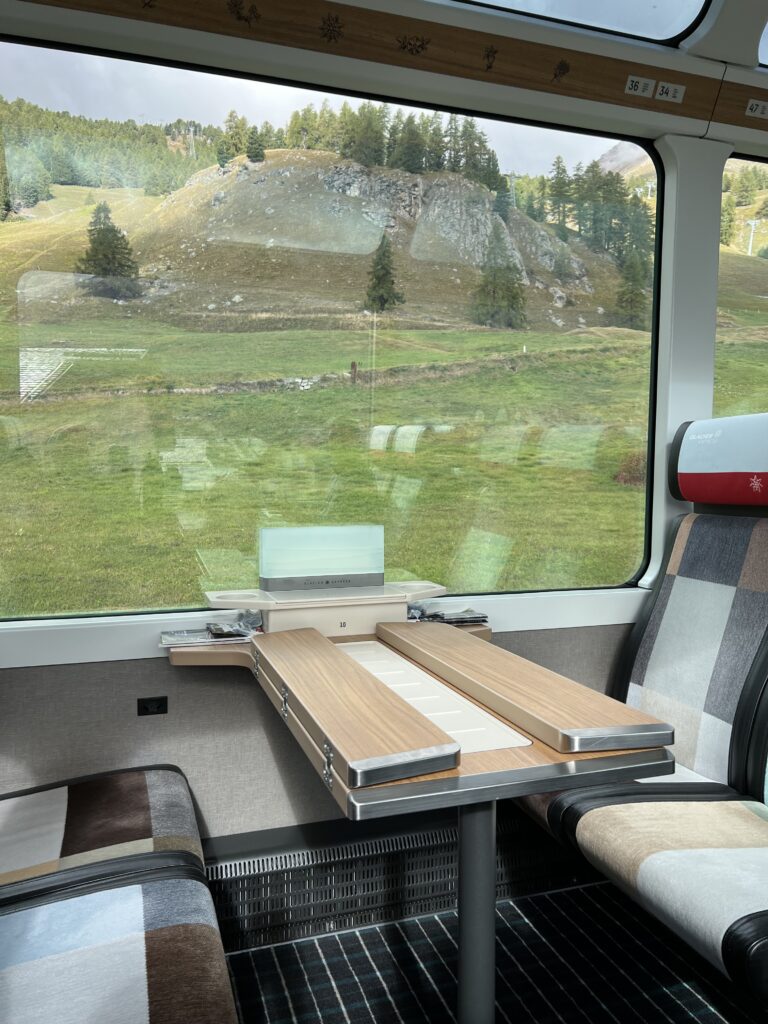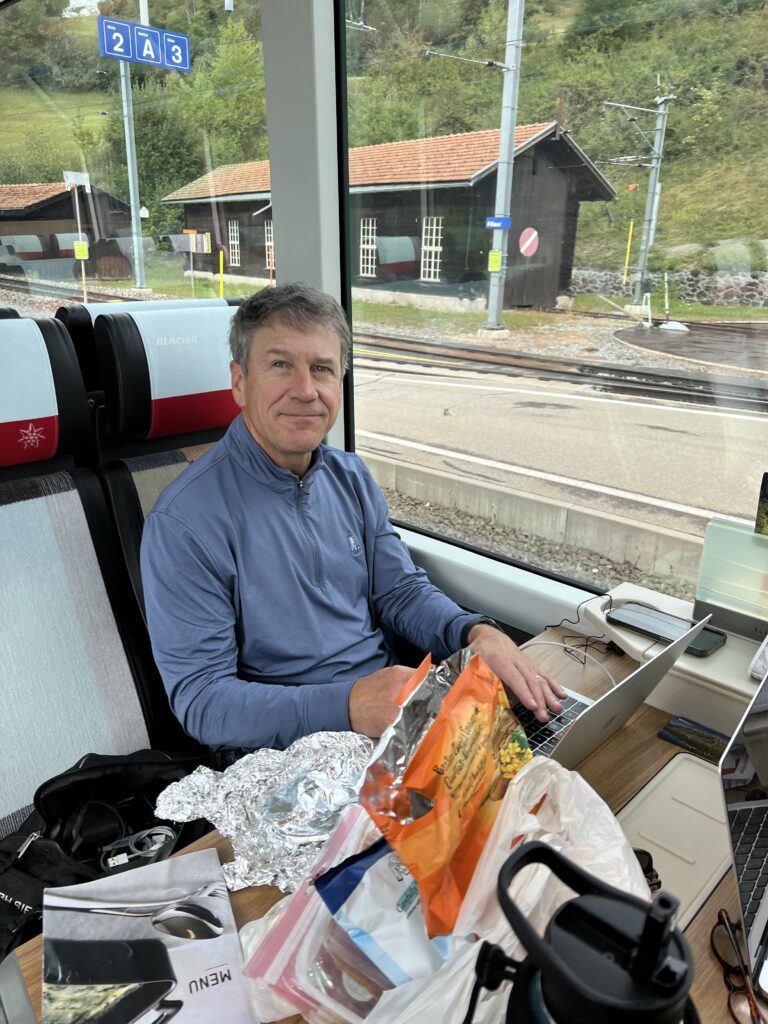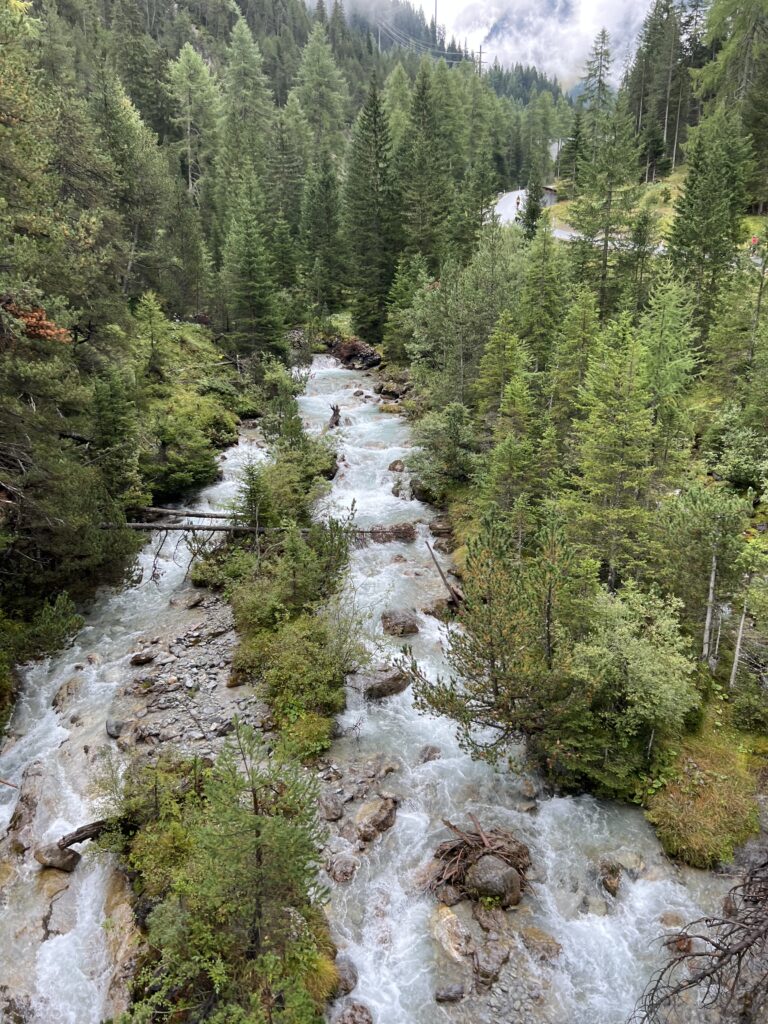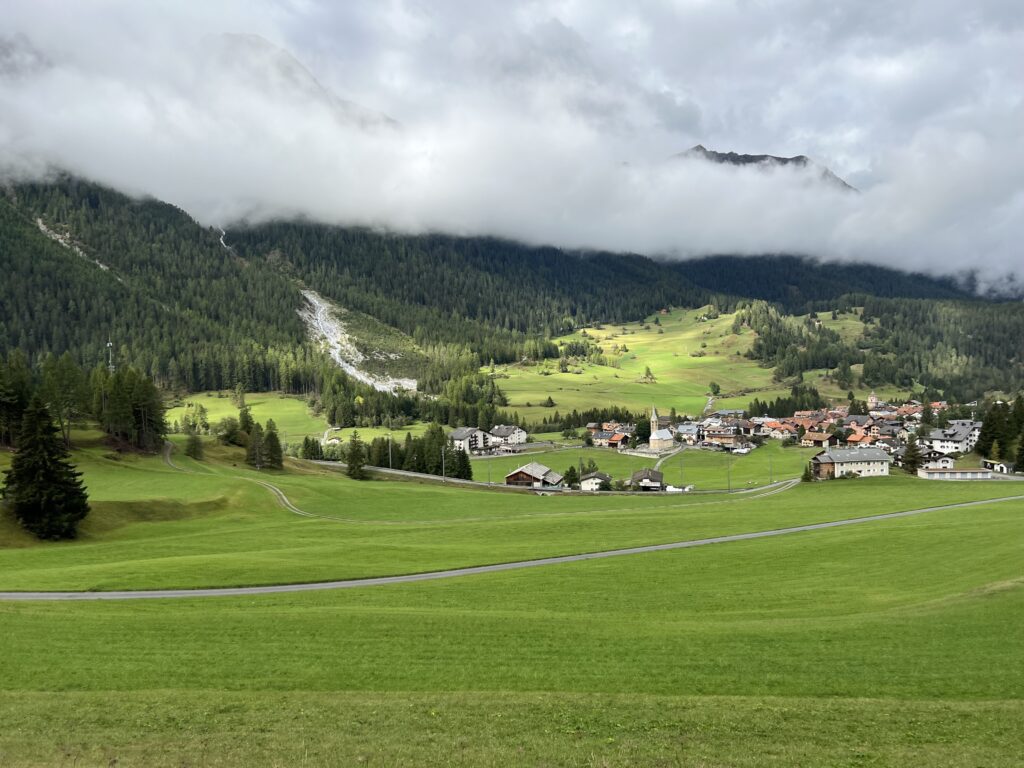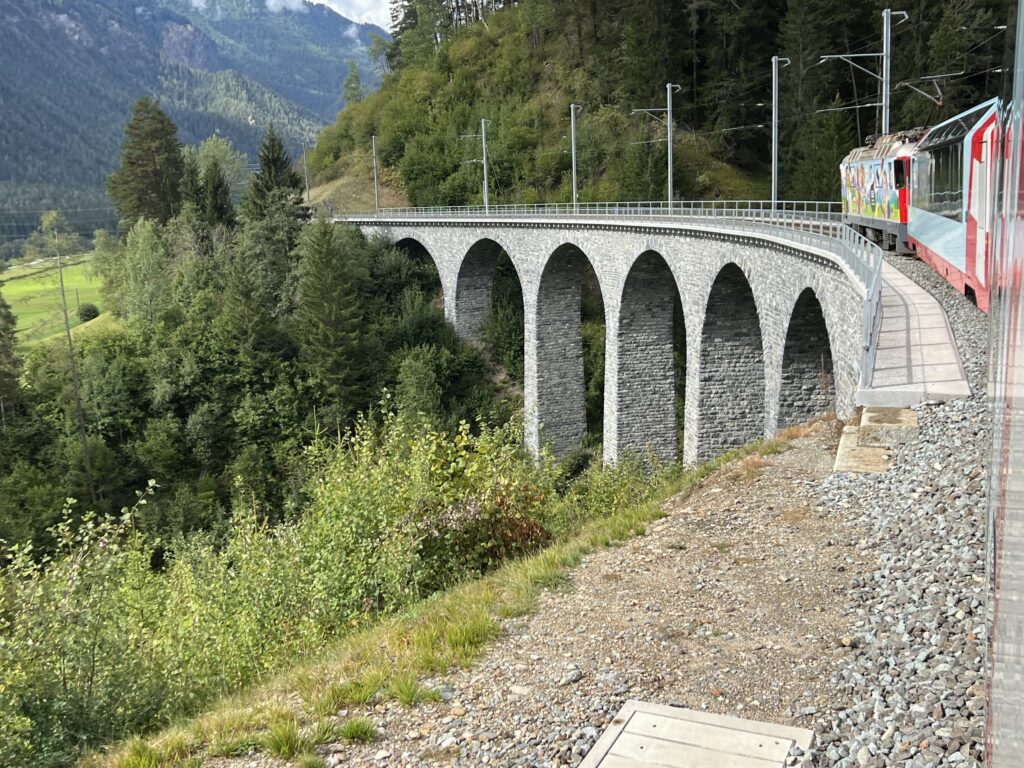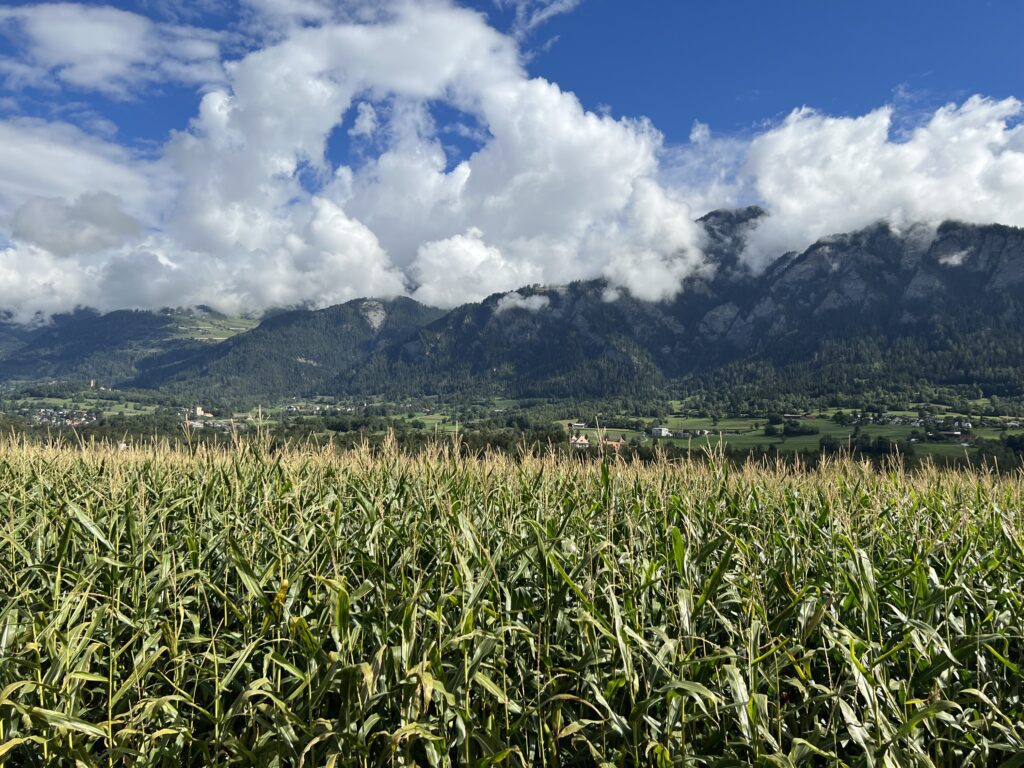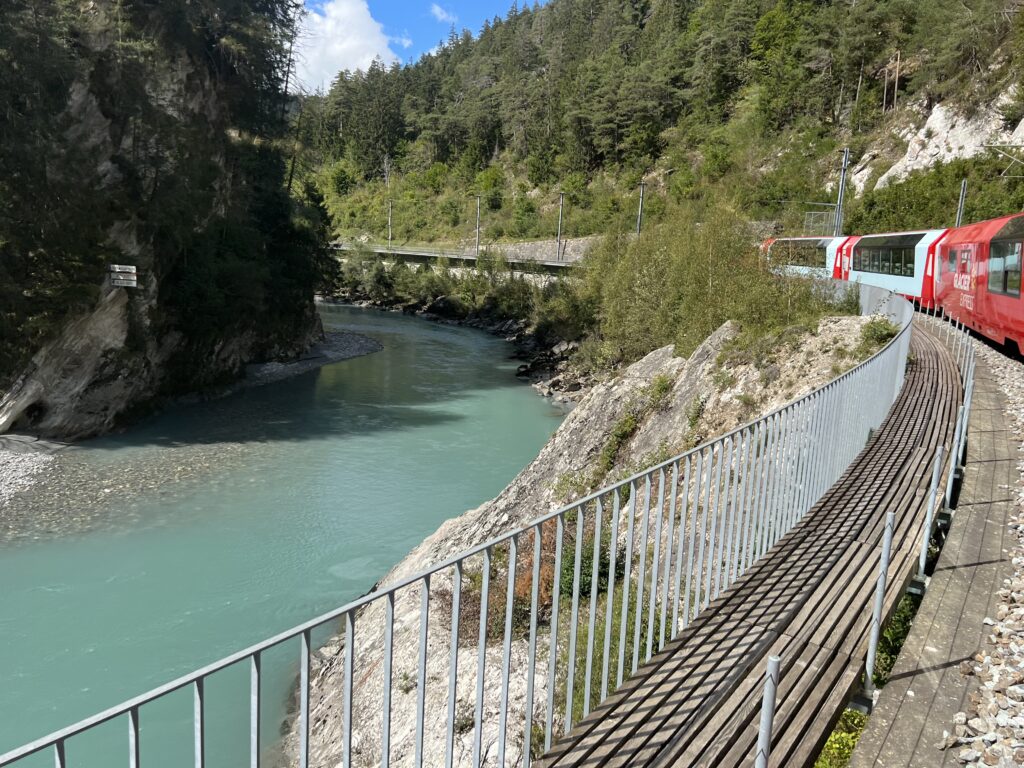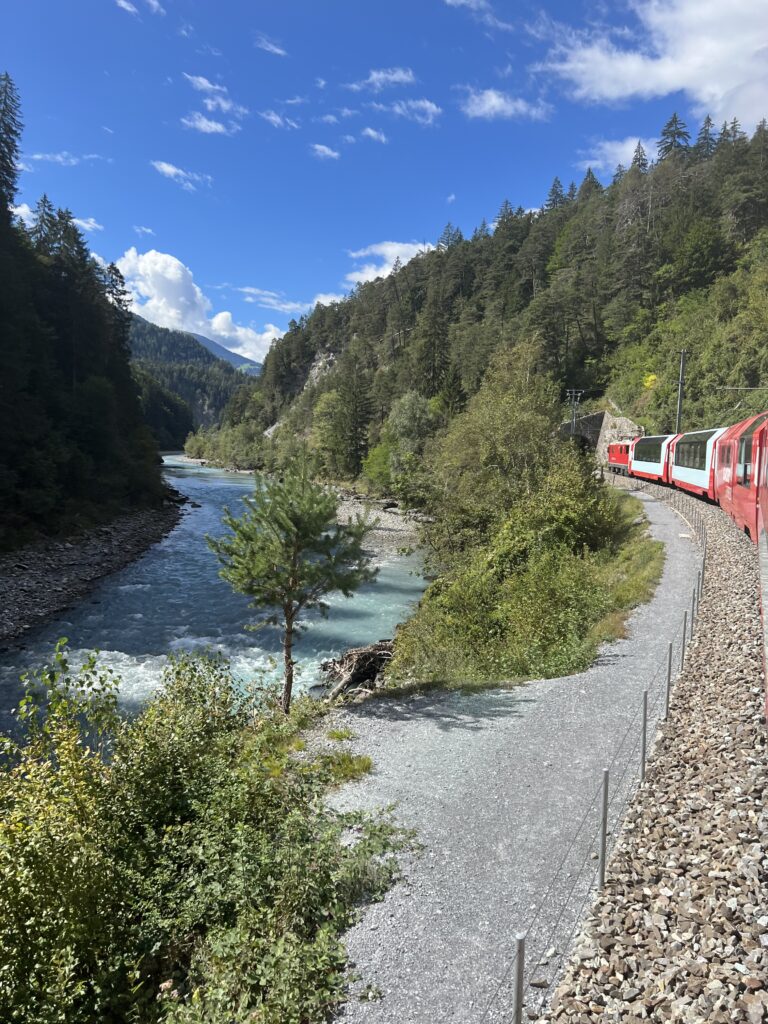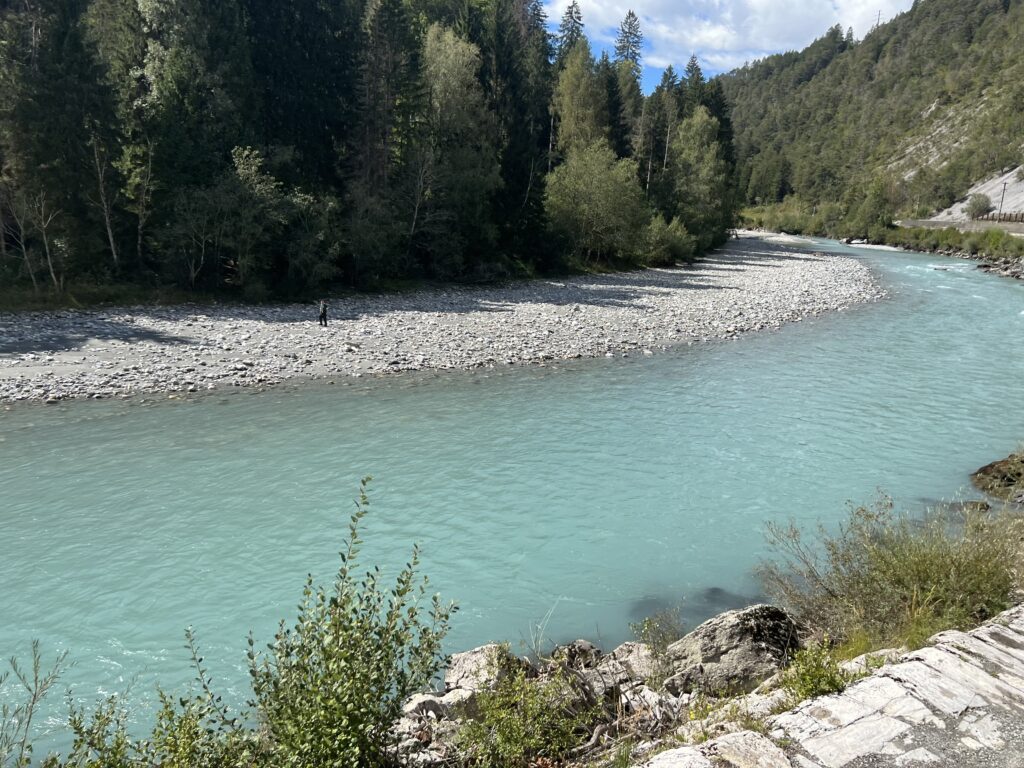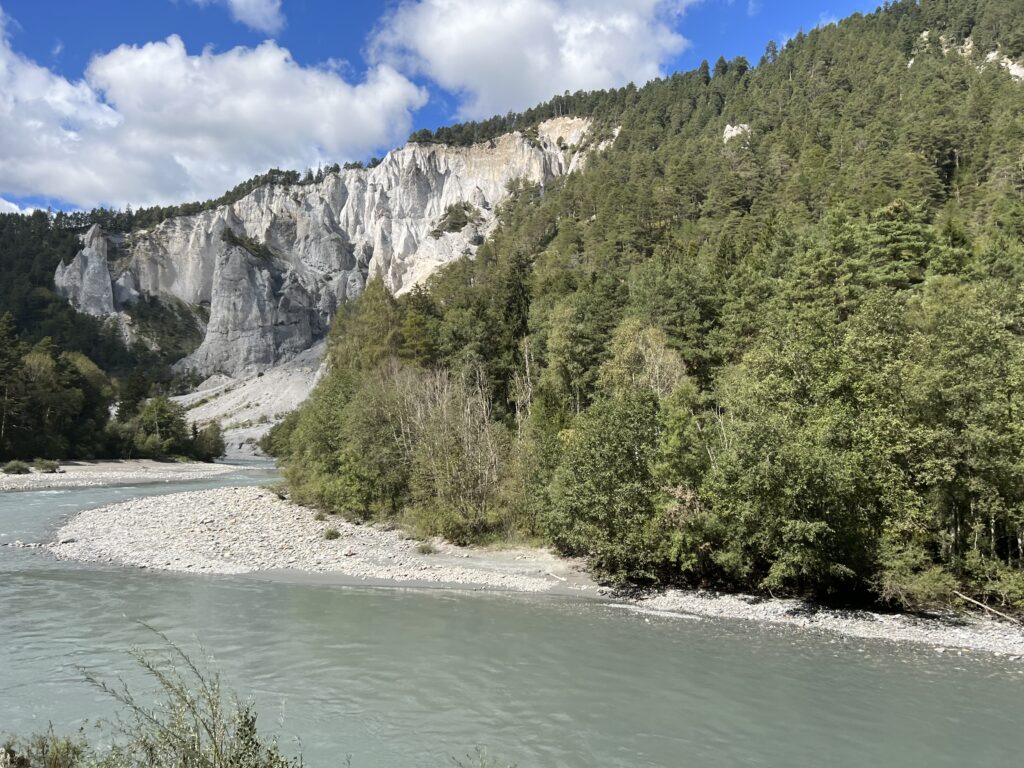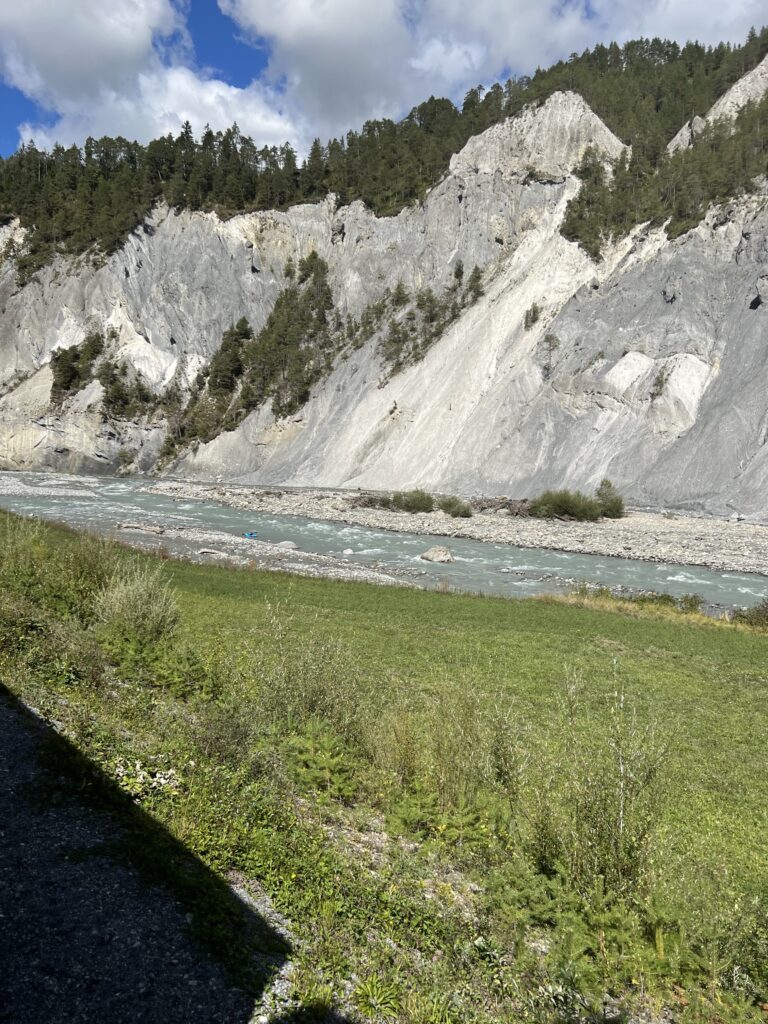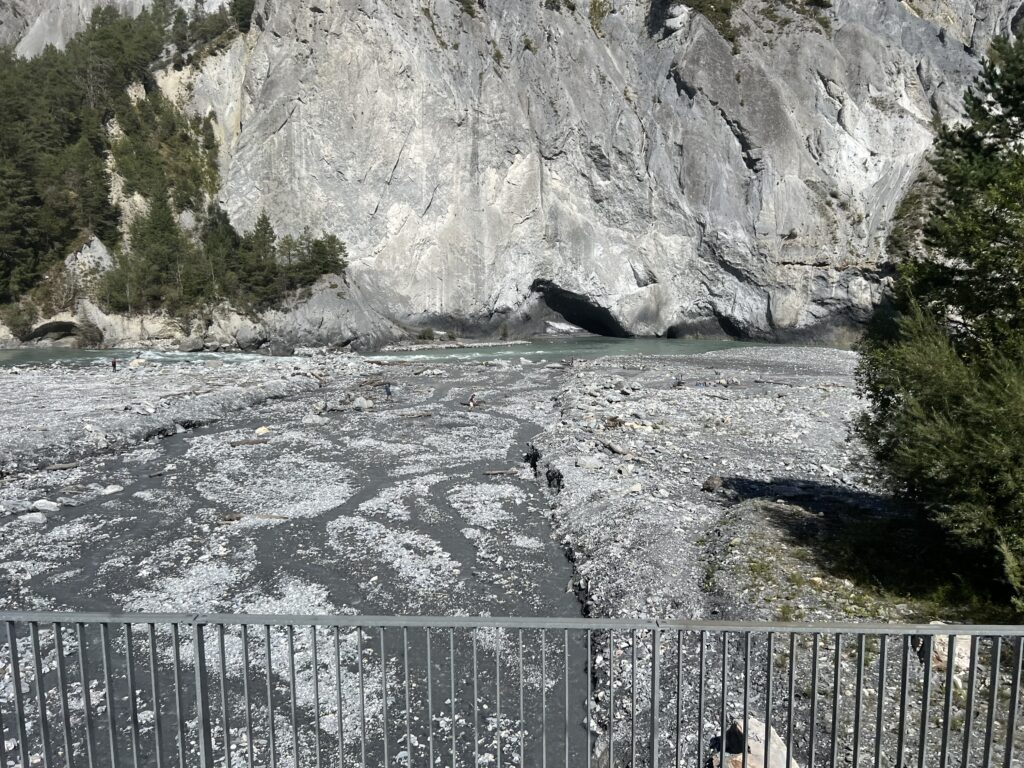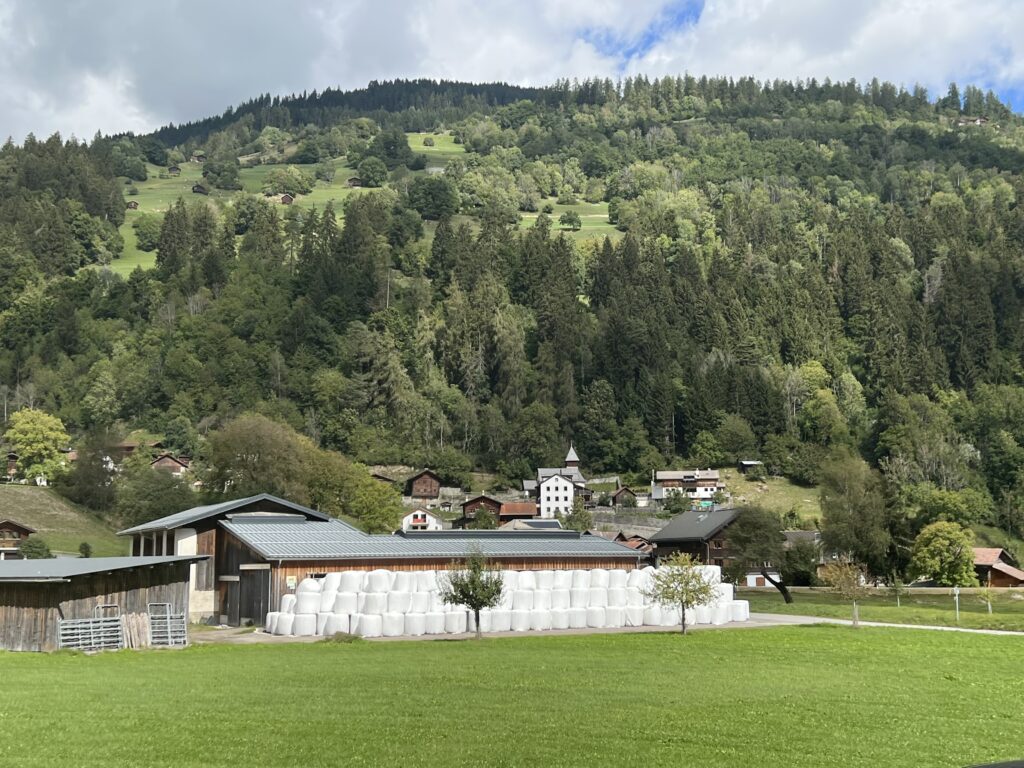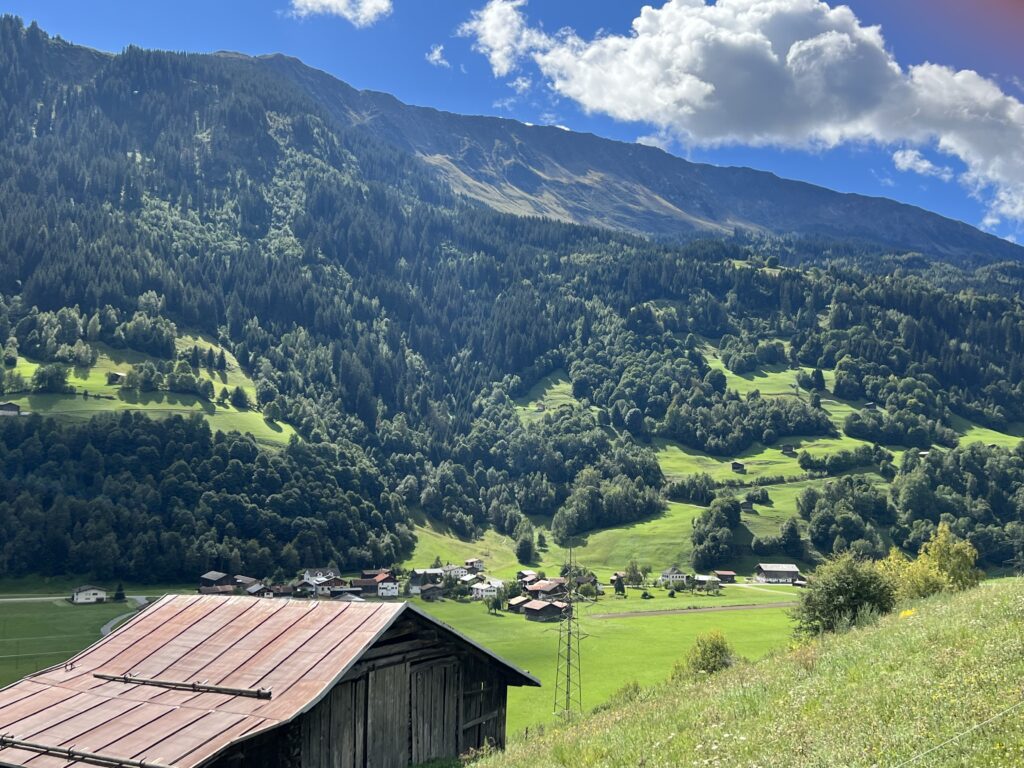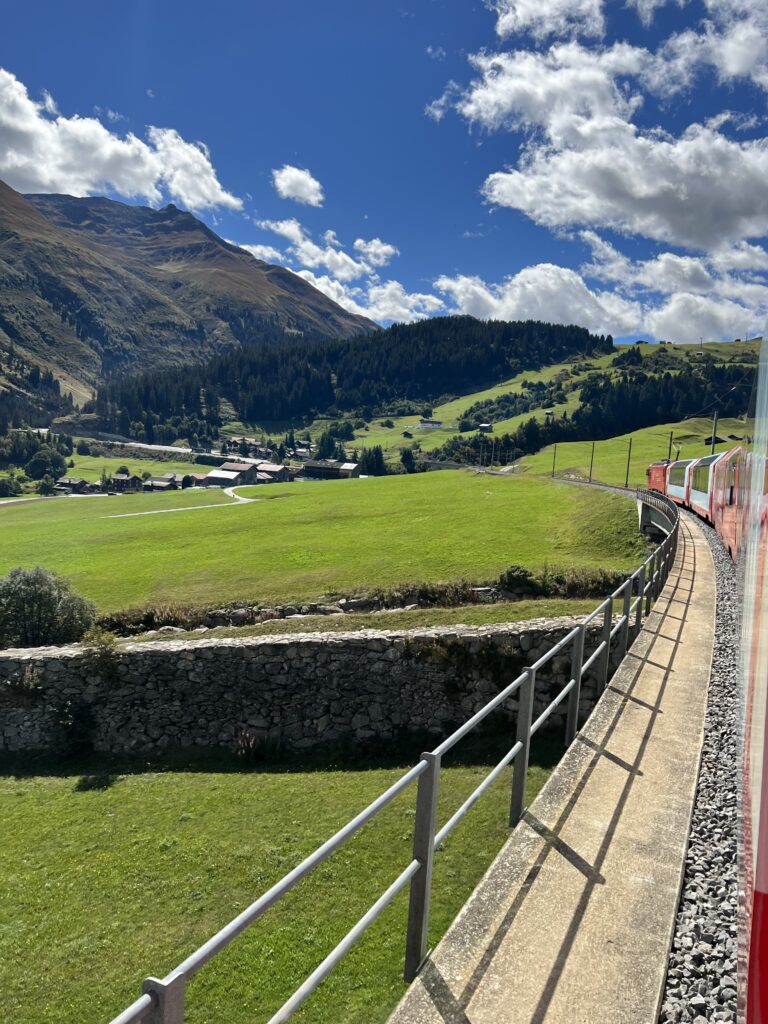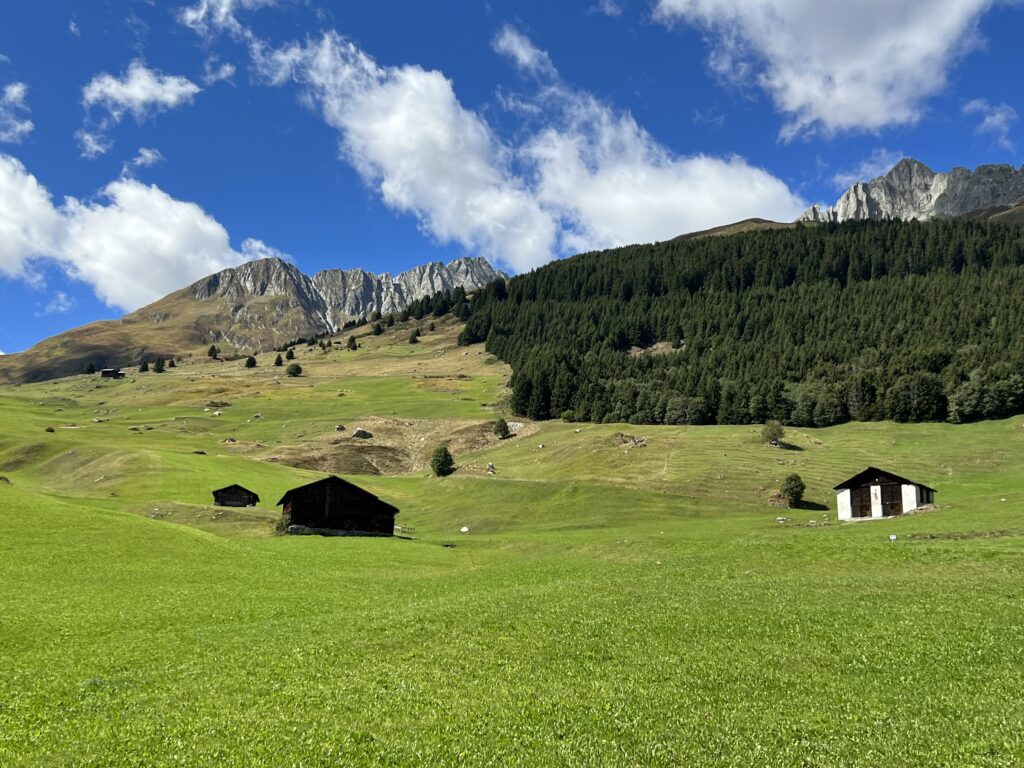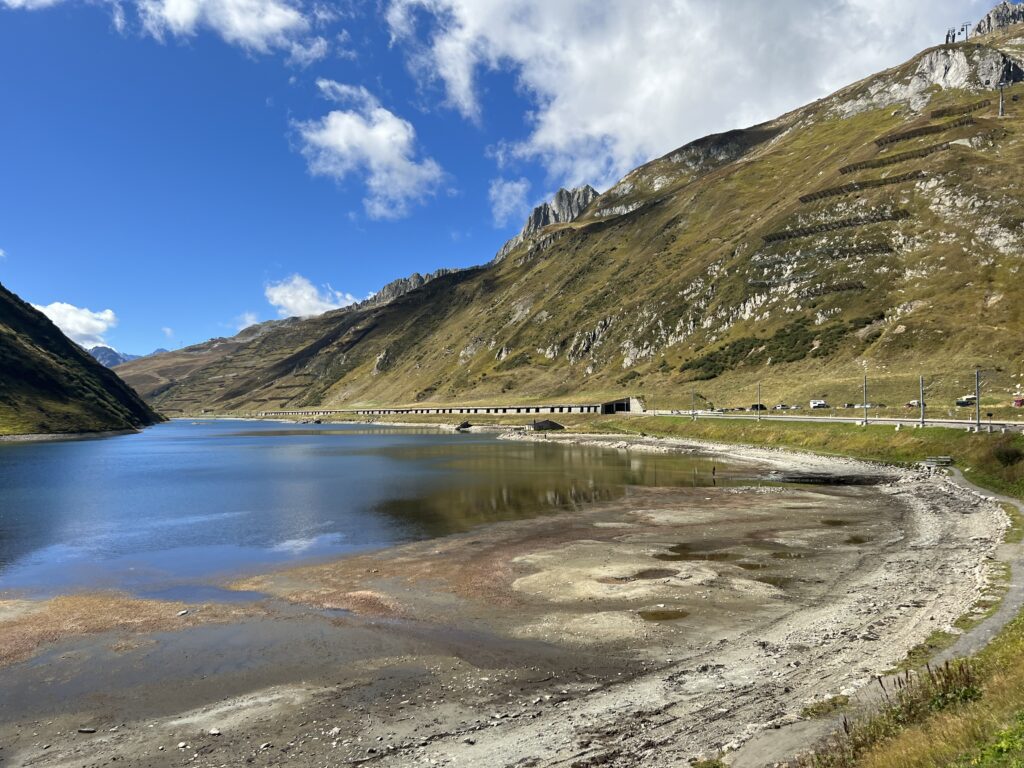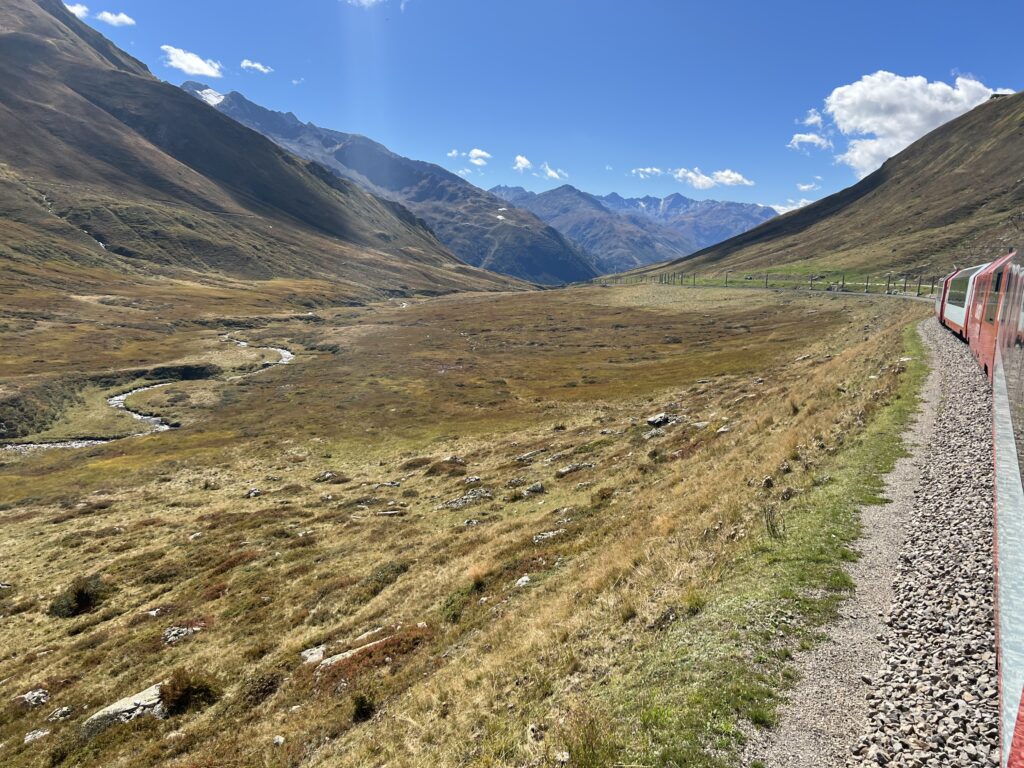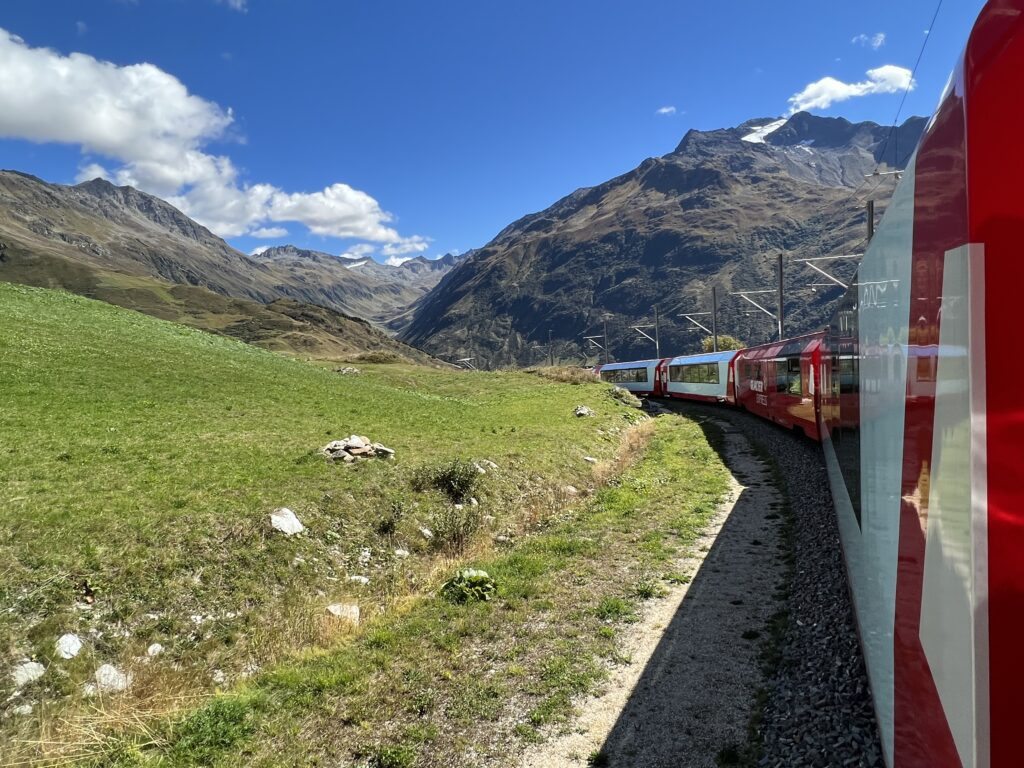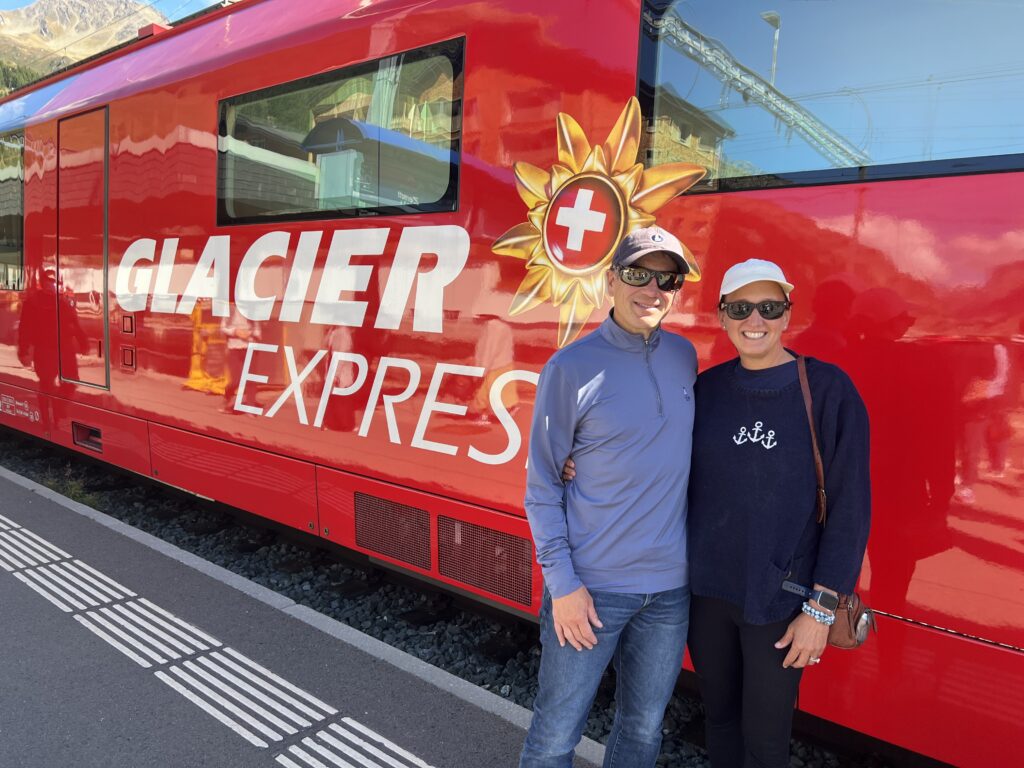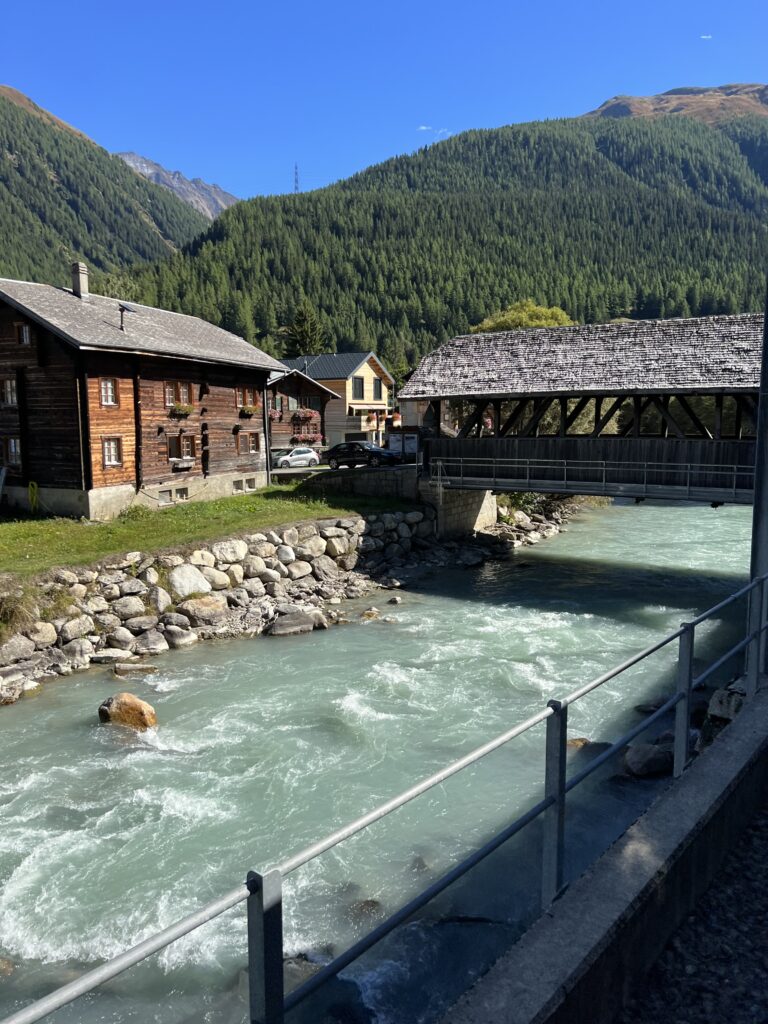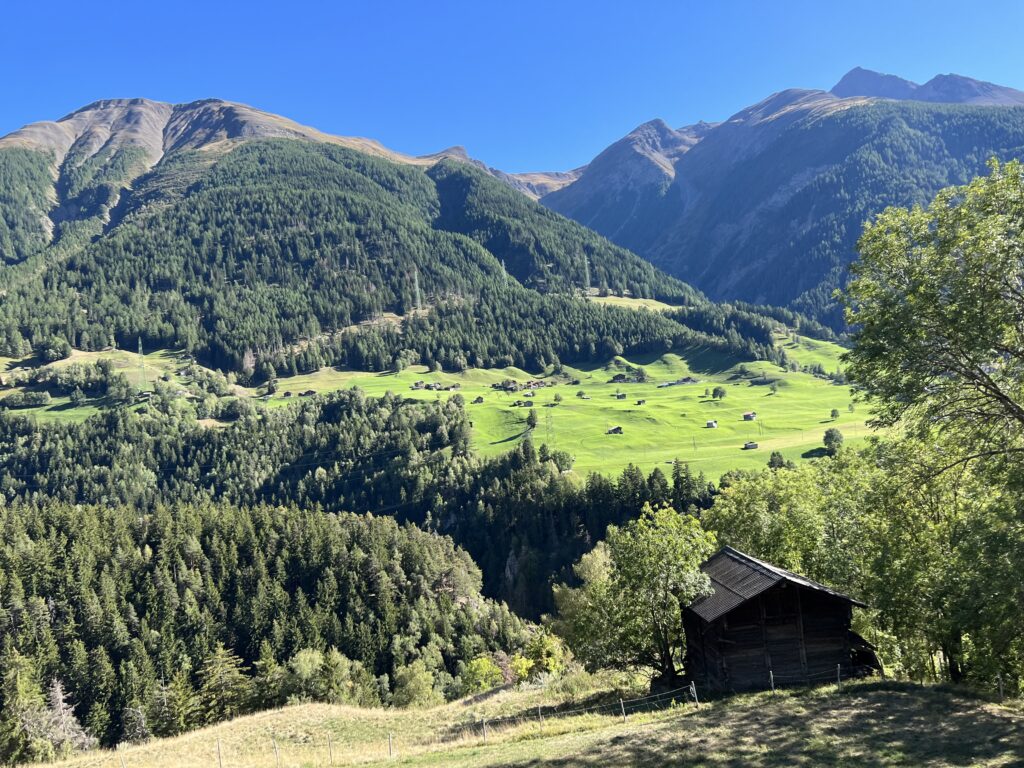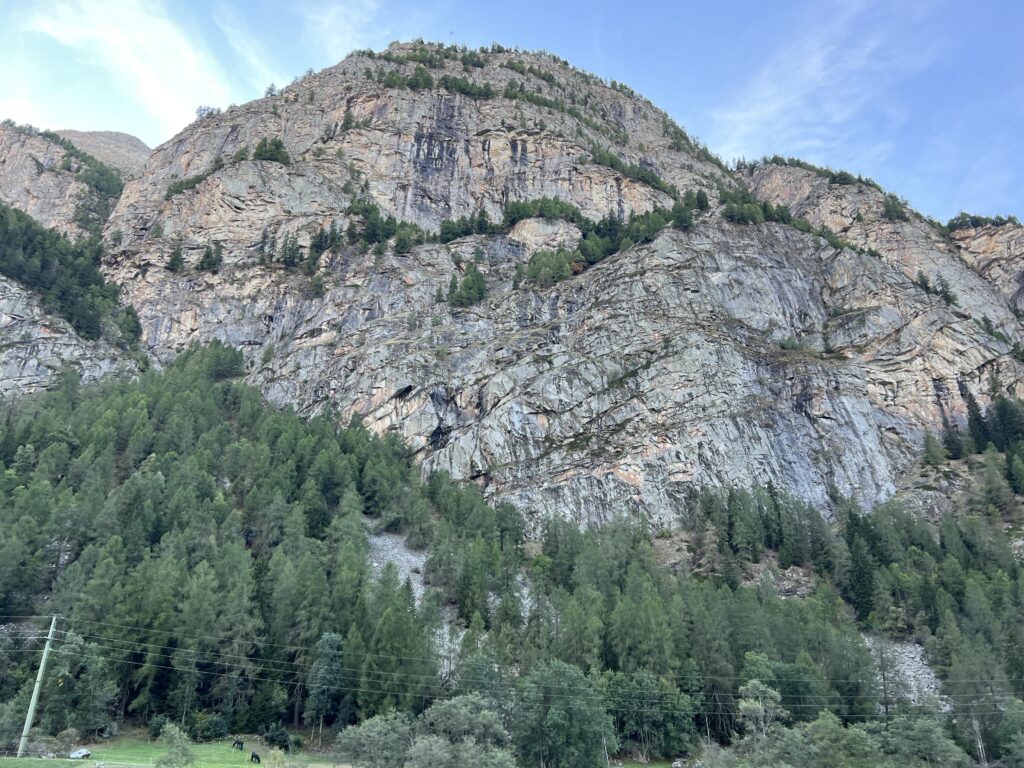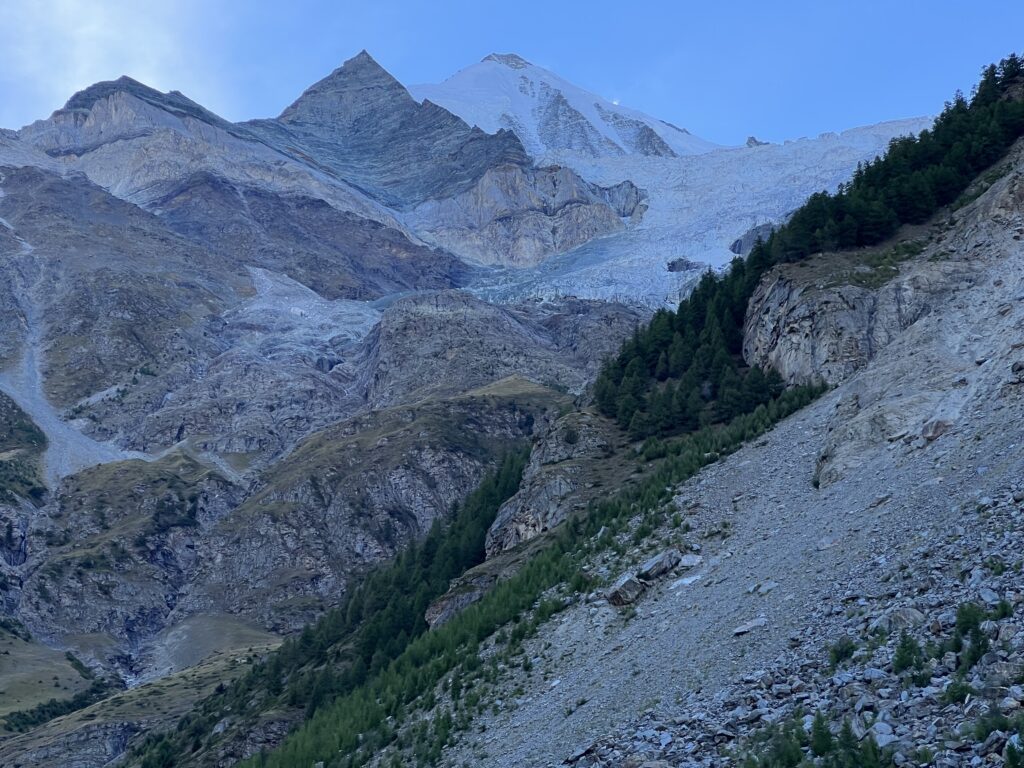 We thoroughly enjoyed this experience. We left St. Moritz at 9:48am and we arrived into Zermatt right on time at 6:18pm. It is a long day, but we met nice people on the train, enjoyed our picnic, saw amazing scenery, learned a bunch about Switzerland and took spectacular photos. Highly recommended!
Zermatt
Zermatt is an incredible small town at the base of the iconic Matterhorn. We had absolutely perfect weather for our two days and nights here. The transportation system in and out of Zermatt is top-notch. The village is car free – electric vehicles only – and it just oozes with charm.
Where We Stayed – Hotel Coeur des Alpes
Hotel Coeur des Alpes in the heart of Zermatt is in our top five hotel list! The list is currently (in no particular order) Every lodge we stayed in Kenya, Tanzania and Zimbabwe; Pezoules in Santorini, il San Pietro in Positano, Hotel Porto Roco in the Cinque Terre and Hotel Coeur des Alpes in Zermatt.
This well-located hotel is funky, filled with art and light. The views of the Matterhorn are outstanding. The breakfast is amazing, and the drinks are generous. We had a junior suite with a view of the Matterhorn, hot tub and hotel patio. Our room was exceedingly clean, interesting and unique. We had an enormous balcony. Bathrobes were comfy. The owners and staff were incredible. You can actually eat breakfast or have a cocktail sitting on a piece of glass over the indoor pool! We cannot say enough wonderful things about this property. TripAdvisor reviews are excellent.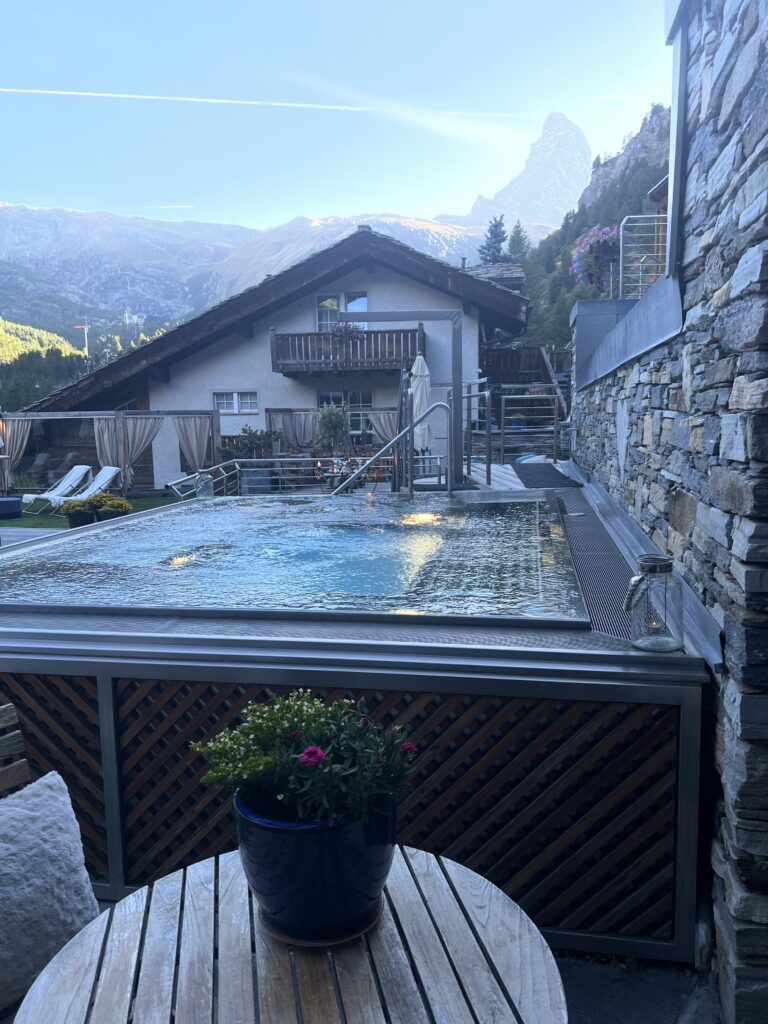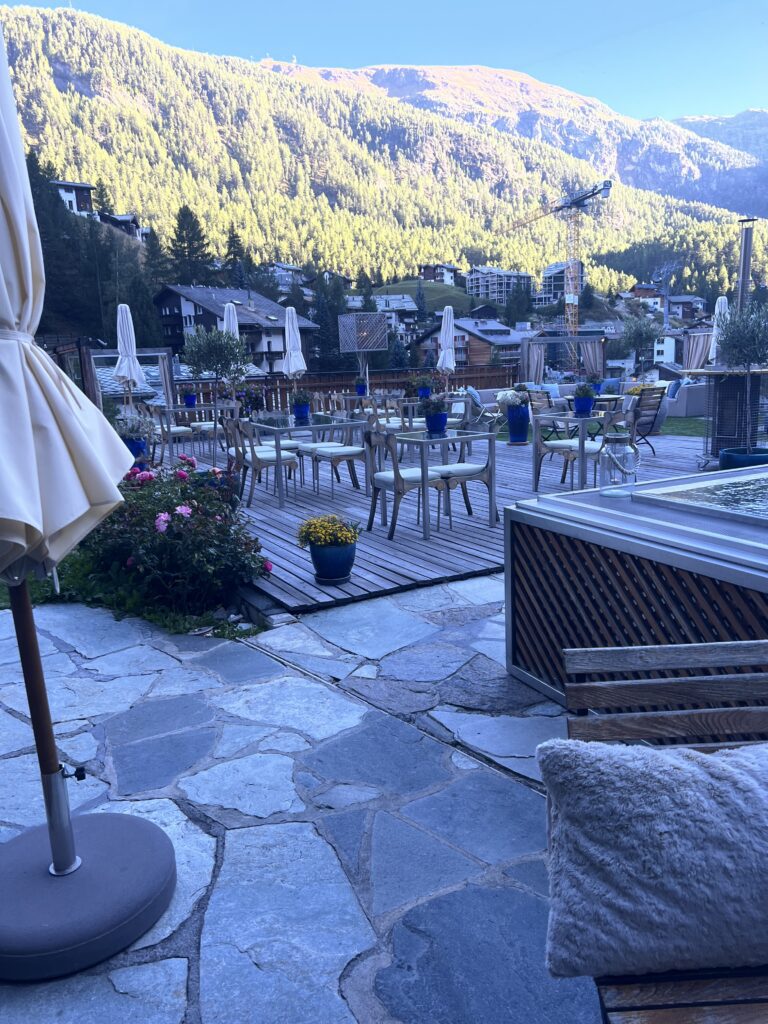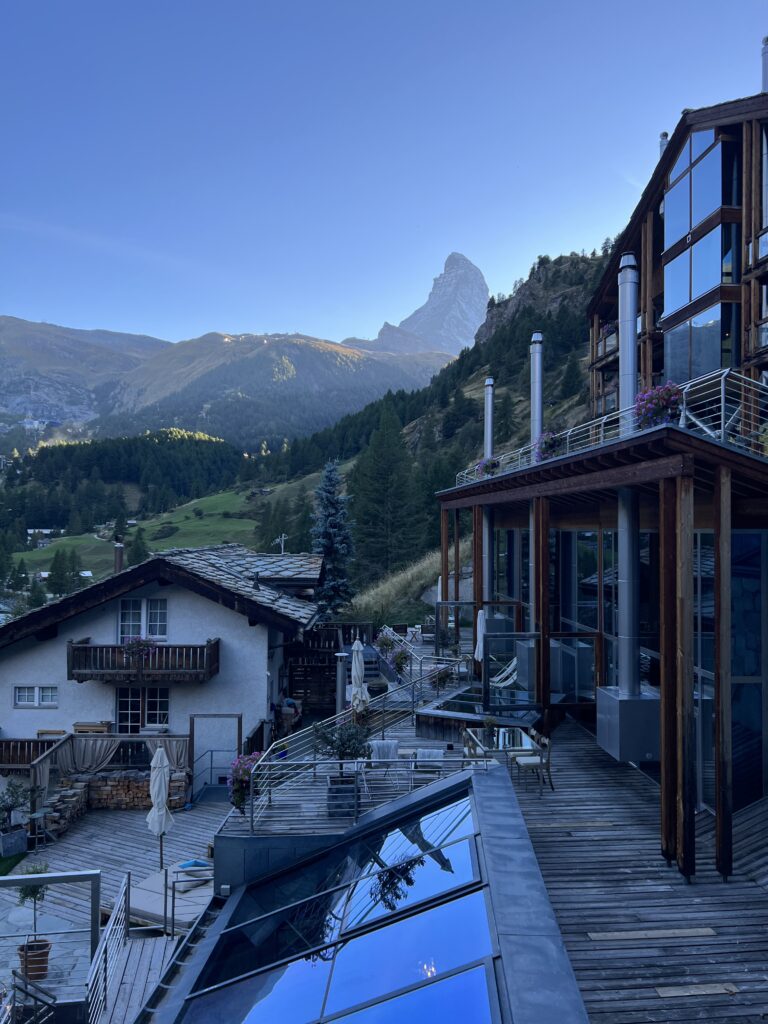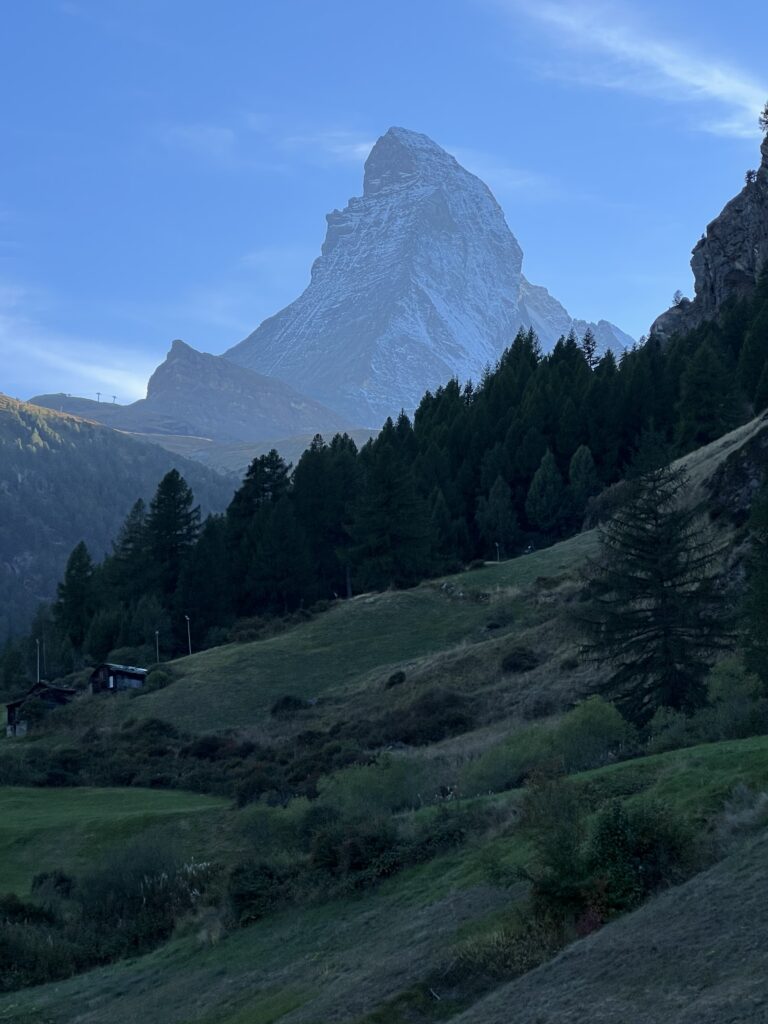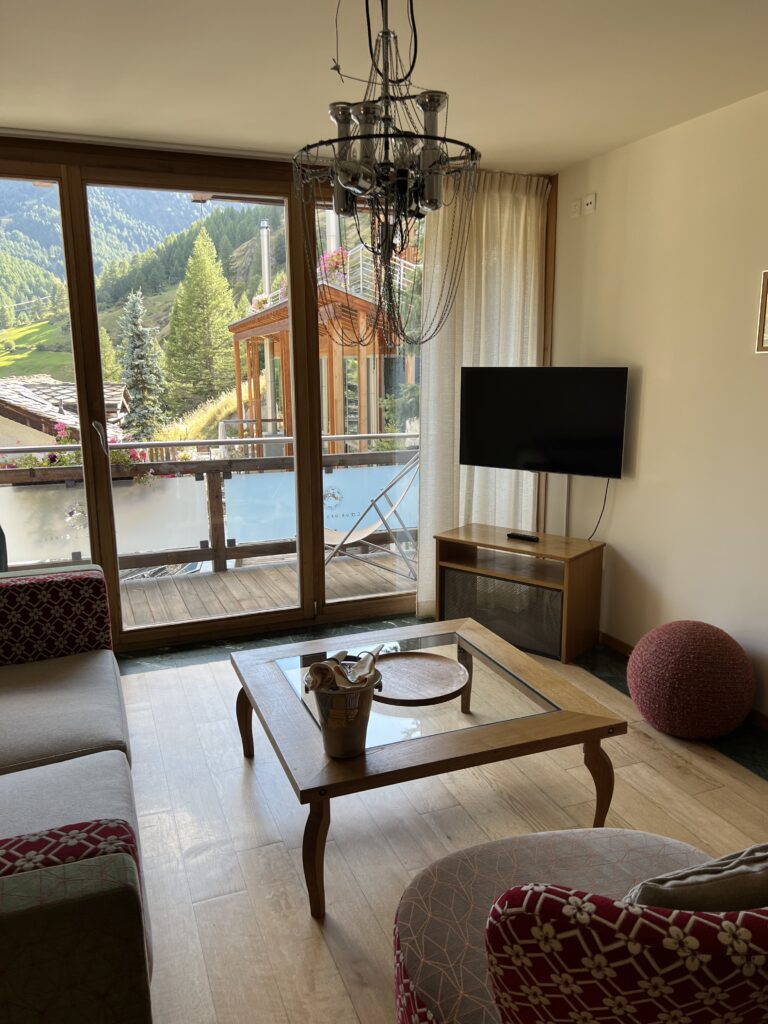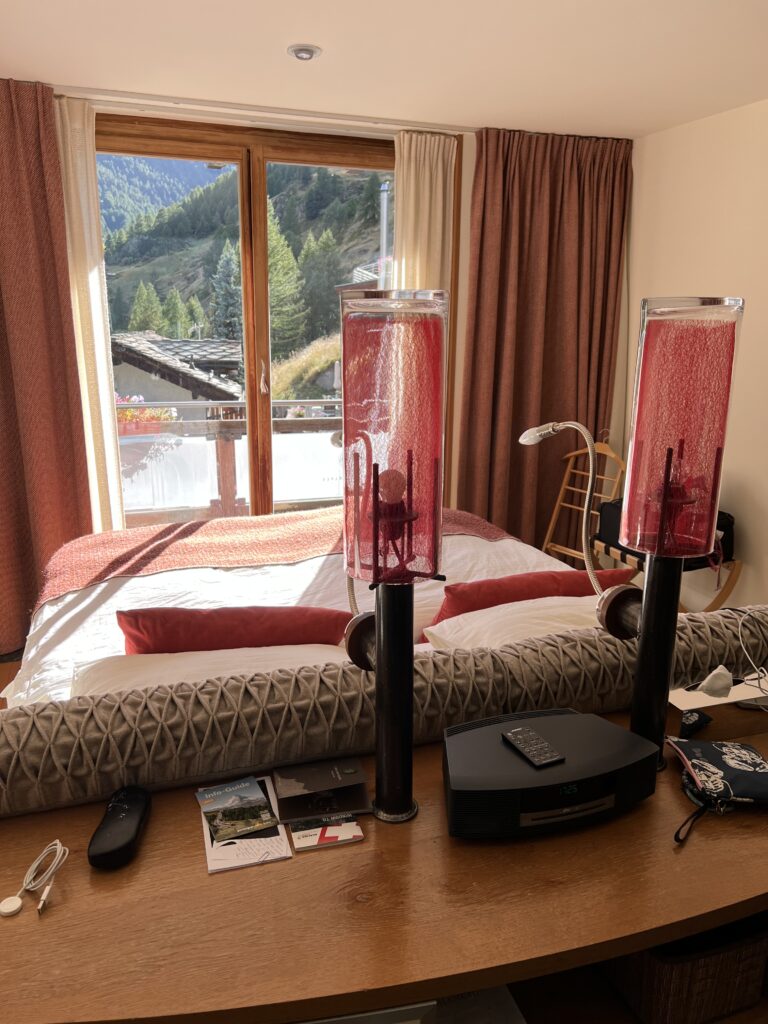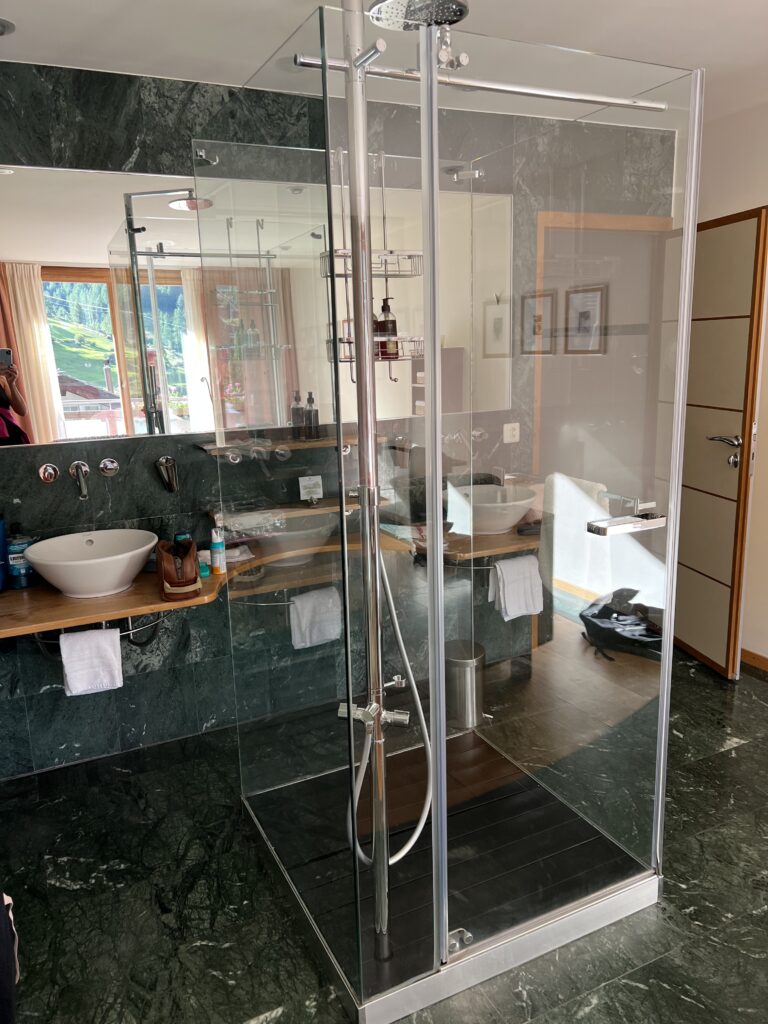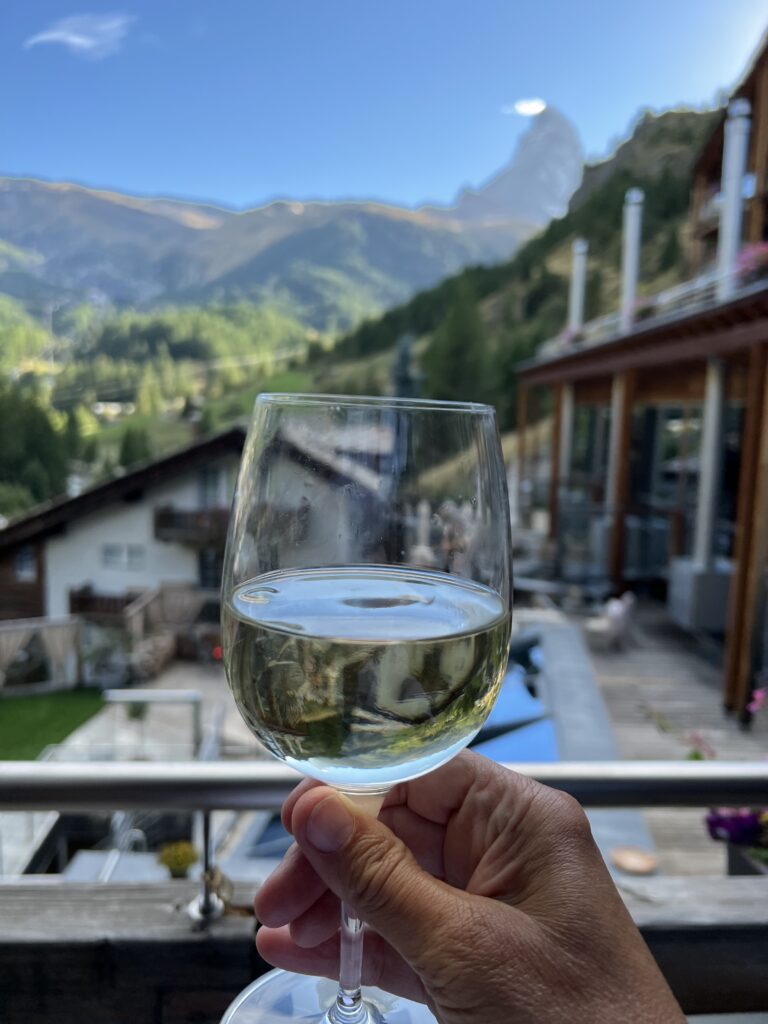 Thomas, the owner of the hotel, told us to set our alarms for 6am to see sunrise on the Matterhorn. We woke up and looked outside. We could see climbers going up the mountain – their headlamps were bobbing along. Sunrise took about an hour, and we finished watching while we ate our breakfast. It was, quite possibly, the most magical morning of our lives.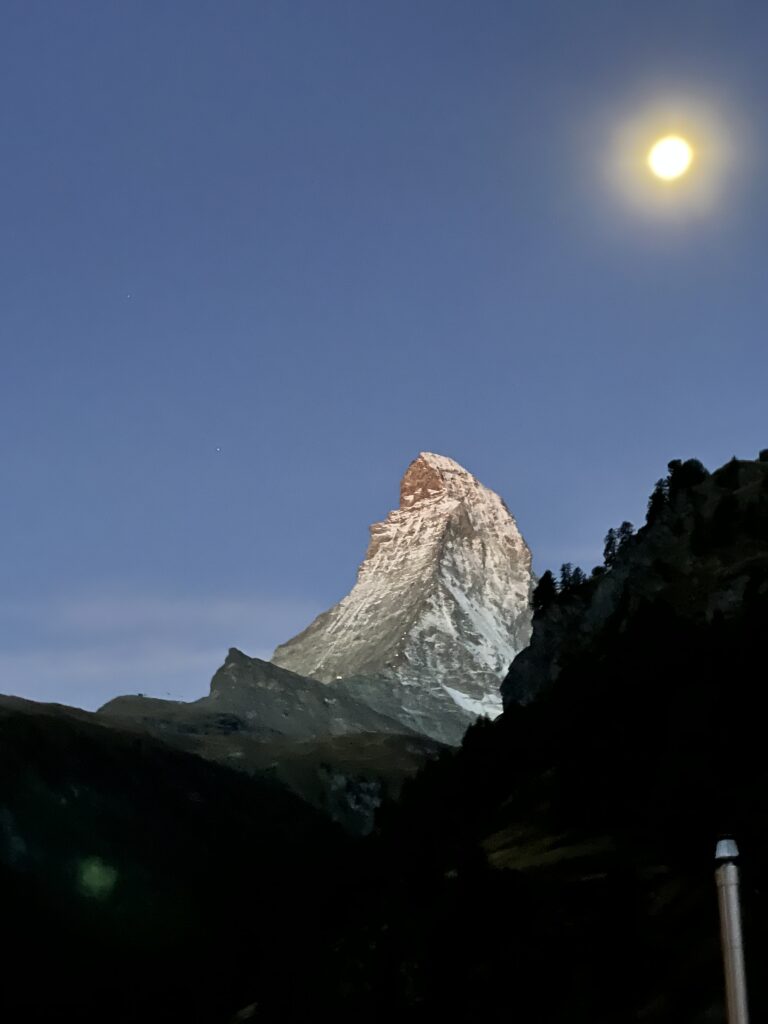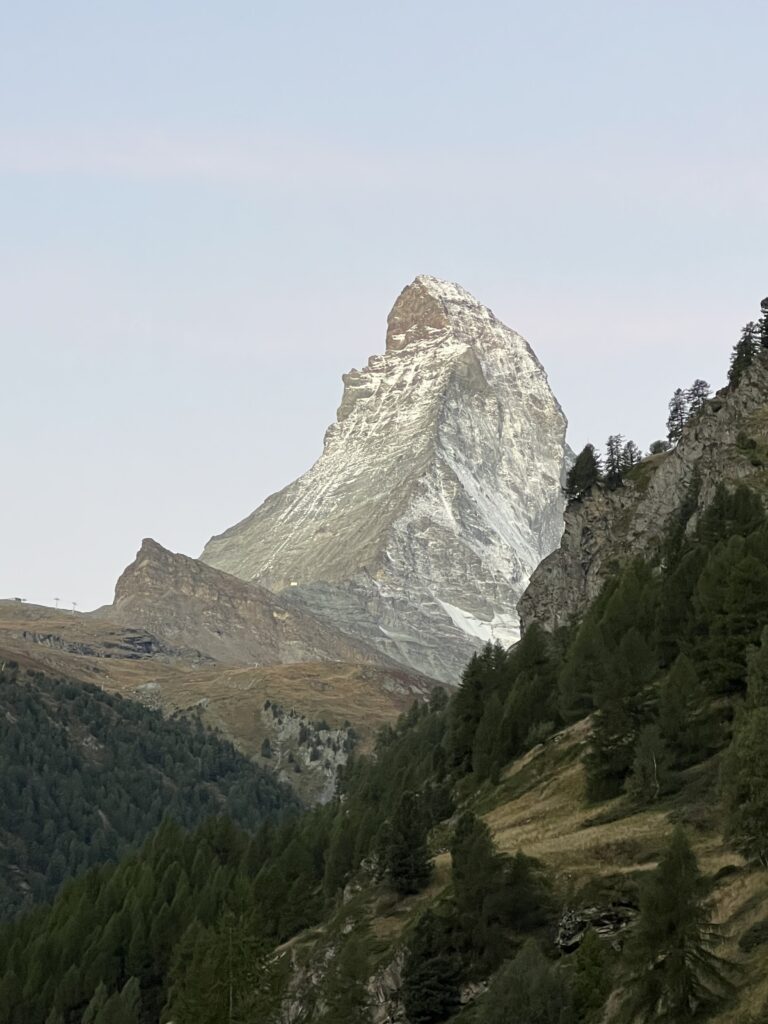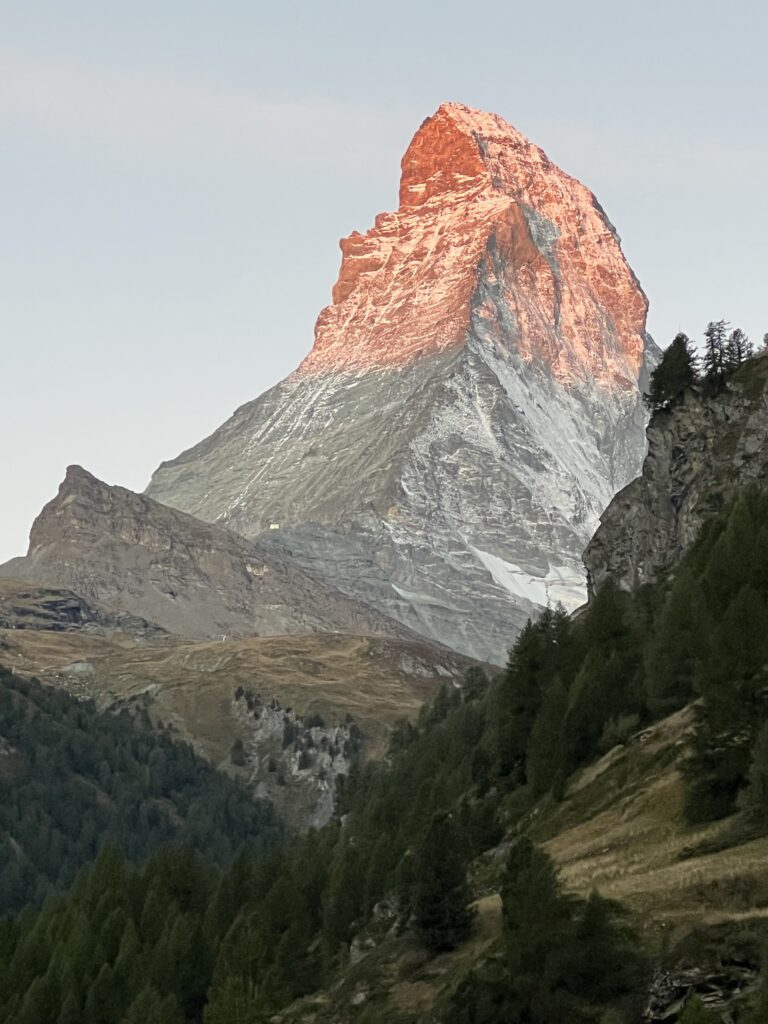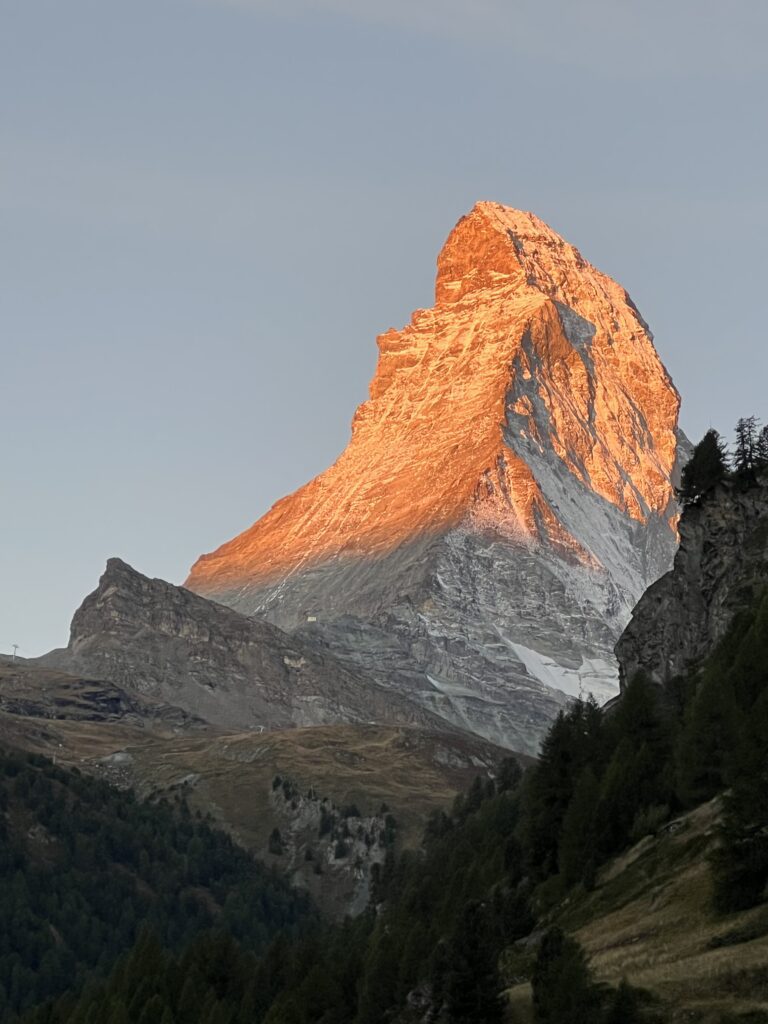 Hiking in Zermatt
We did two major hikes in Zermatt. Both were highly-recommended and loaded with incredible views of the region. On our first day, the sky was most epically blue.
A Combo Hike – The Top of Gornergrat to Rifflesee to Riffleberg to Furi to Zermatt
We used the EarthTrekkers website and the Swiss Family Fun websites to help plan our day. Both websites have outstanding hiking suggestions. Our plan for the day included a hike from the top of Gornergrat to Rifflesee to Riffleberg. Then, once in Riffleberg, after a snack, we hiked down the Gletschergartenweg to Furi. Arriving in Furi, we paused our hike and took two gondolas up to the top of Matterhorn Glacier Paradise. After seeing the views, we returned to Furi in the cable cars and hiked back to our hotel in Zermatt. It was an epic day! You do not have to combine these hikes into a day long adventure. Both are excellent hikes on their own.
This day-long hike began with a walk from our amazing hotel to the Gornergrat Bahn.
The scenic Gornergrat Railway is not included in the Swiss Travel Pass/Flex; however, if you have an activated ticket for that day, you can get 50% off of the cost of your Gornergrat rail ticket. To further explain, when using the Swiss Travel Pass, you have three, four, six, eight or 15 days of consecutive rides on any train or bus in Switzerland, except for special mountain railways and cable cars. So, if you are using an already activated Swiss Travel Pass, you will have an activated ticket for the day you wish to use the Gornergrat Railway.
If you are using a Swiss Travel Pass/Flex, you must activate a ticket for the day in which you wish to use the Gornergrat Bahn to receive a discount. For example, we wanted to go up the Gornergrat Bahn on Monday, September 12. So, we needed to be sure we had an activated ticket on our Swiss Travel Pass/Flex for that day. We showed our activated Swiss Travel Pass/Flex ticket to the person at the ticket window, and she sold us a ticket on the Gornergrat Bahn for 50% off. We also chose to purchase a one-way ticket (not round trip) to the top. Our plan was to walk all the way back to Zermatt. However, if you only plan to walk down a bit, purchase a return ticket at a lower station to save some money.
Note – if you have the Swiss Travel Pass or Swiss Travel Pass/Flex, you can only receive the discount at the Gornergrat Bahn walk-up window. You will not receive a discount if you purchase your ticket online. As of this writing, a roundtrip ticket on the Gornergrat Bahn with no discount is about $110/person.
After purchasing our tickets, we sat in the last car of the train on the right side, near a window that opens. This will offer you the best views on the way up the mountain. It takes 33 minutes to get to the Gornergrat summit train station.
At the top, take a look around, use the restroom, buy a snack and inhale the fresh mountain air. It is just magnificent up there!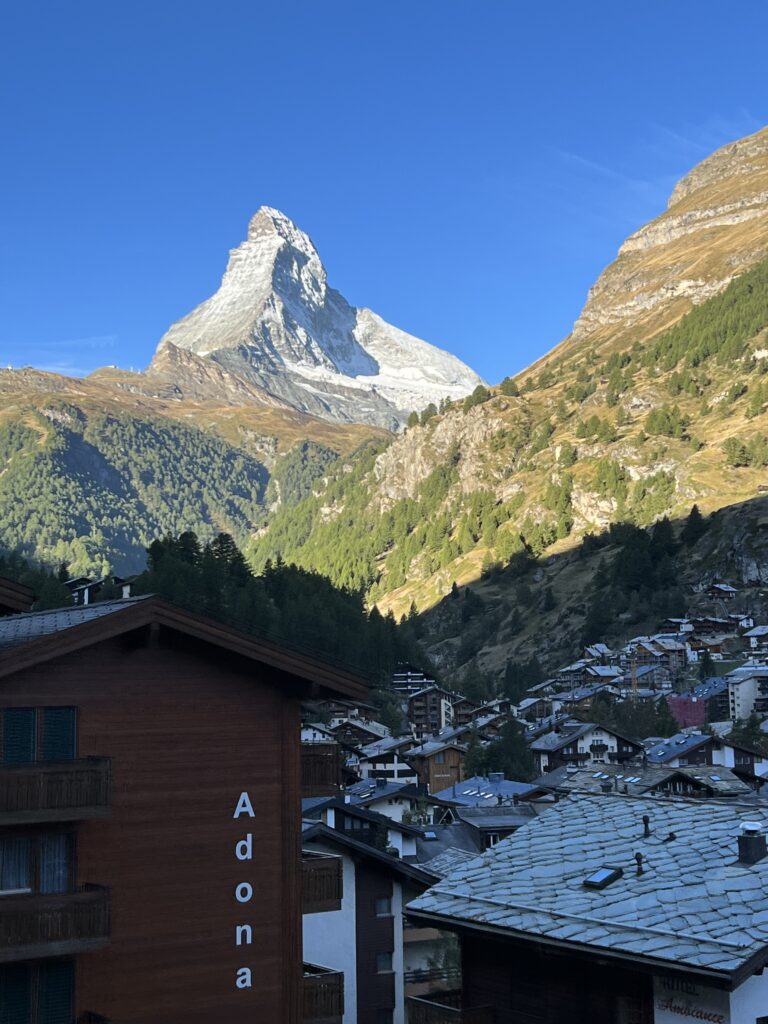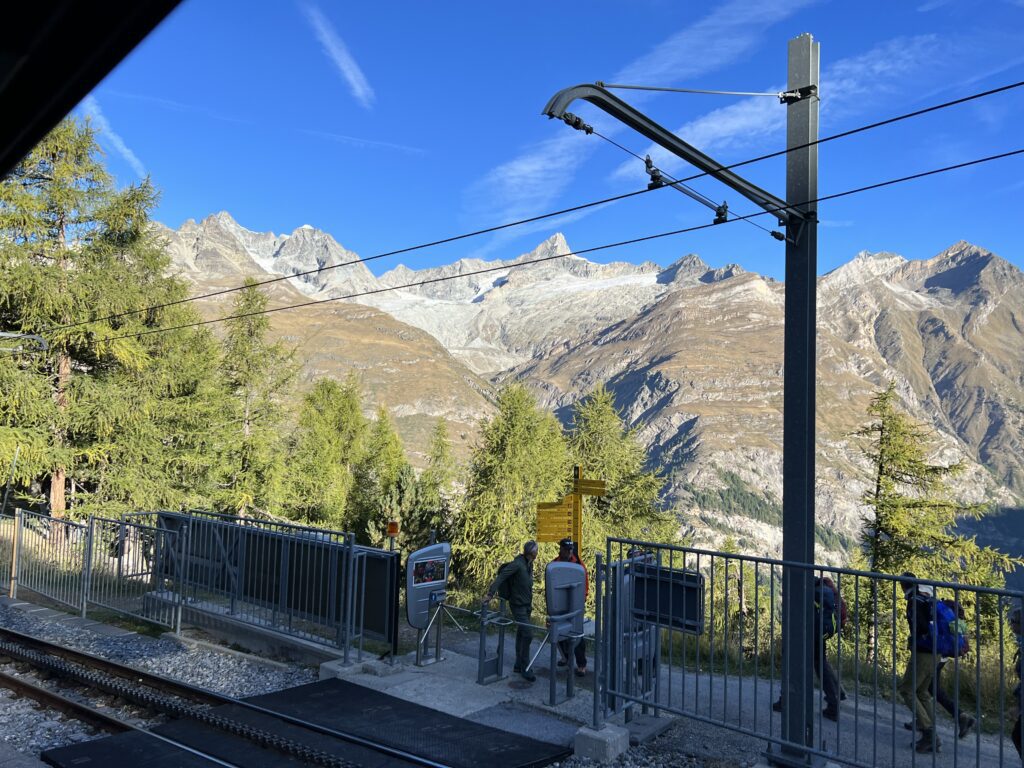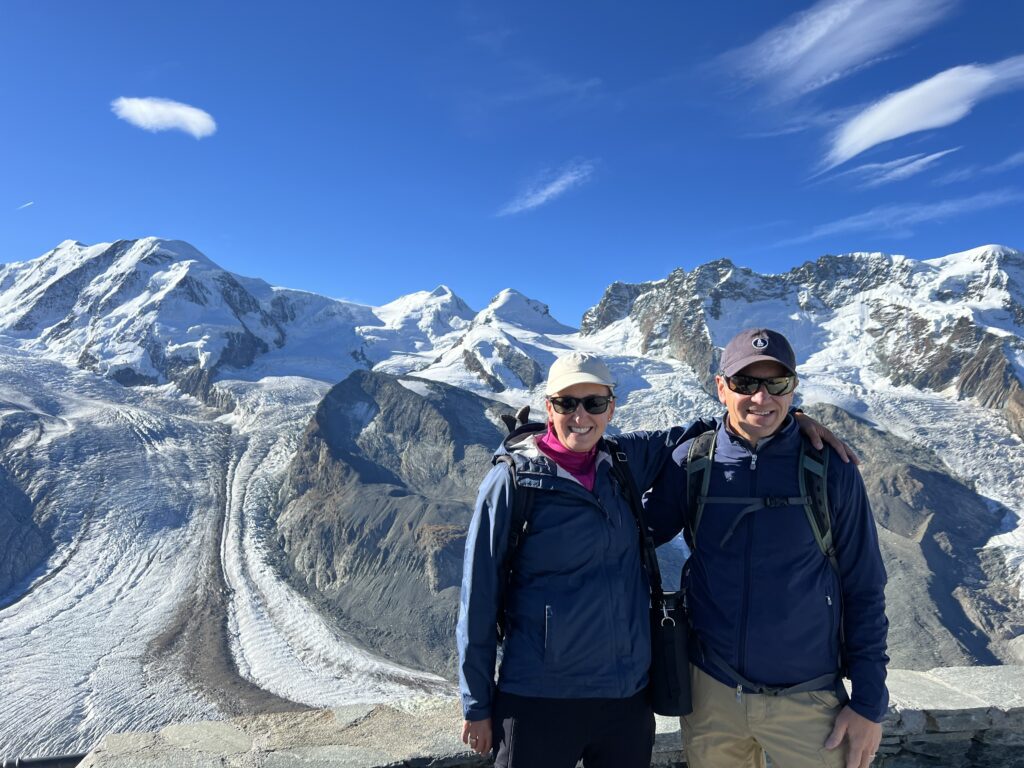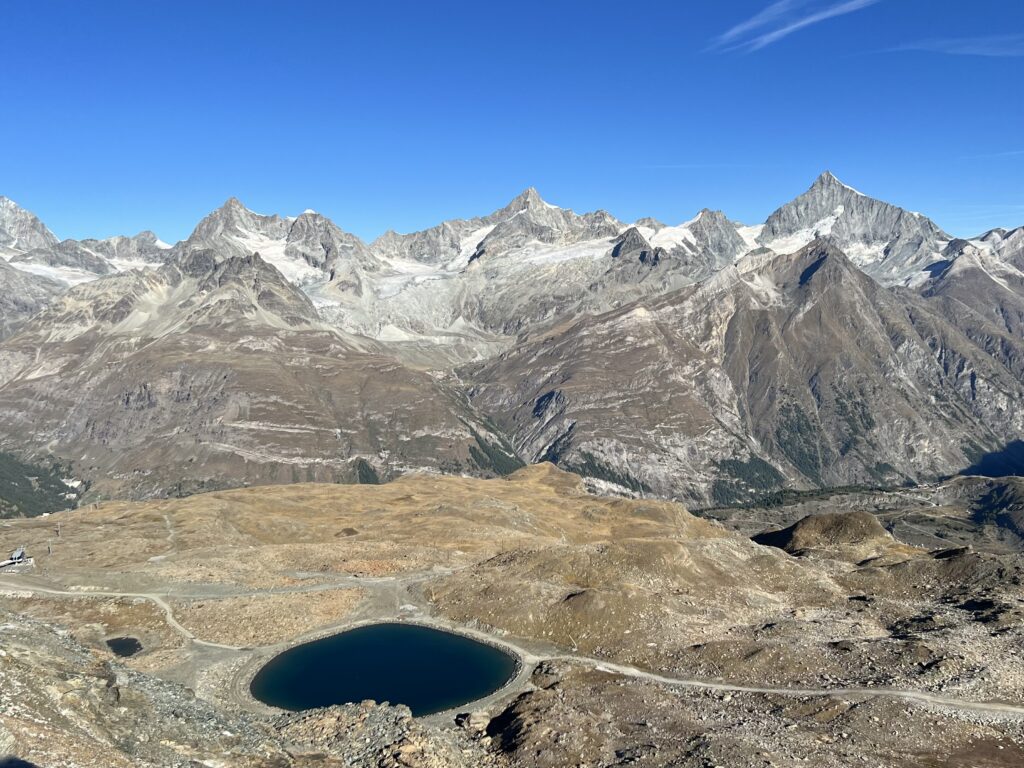 After enjoying the incredible view, we followed the easy-to-find trail signs to Rifflesee. The train is on your right as you head down hill. It took us about 35 minutes downhill to get the Rifflesee.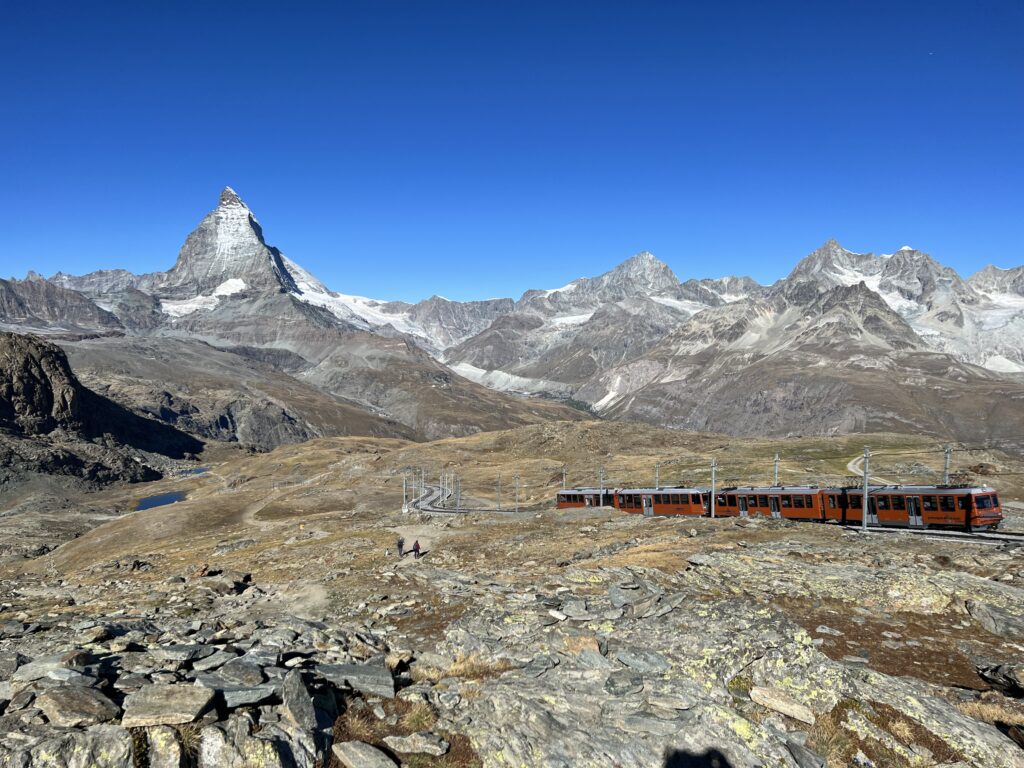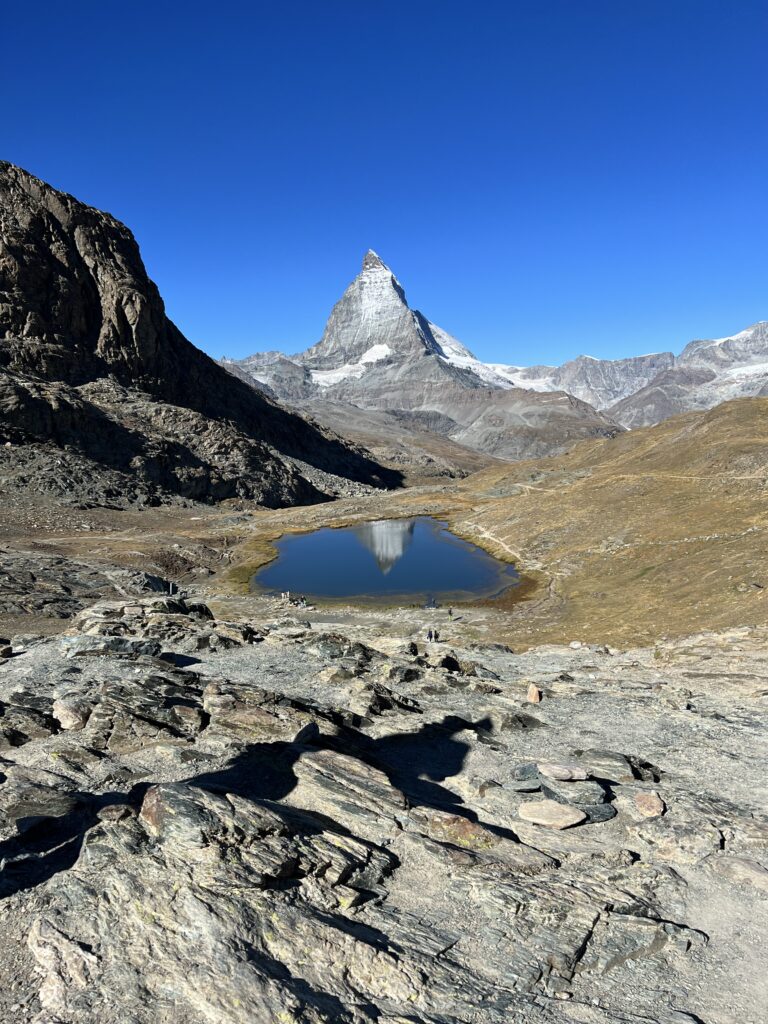 If you do not wish to hike from Gornergrat to Rifflesee, you can still see the lake. Exit the train at the Rotenboden station and walk either to the viewing area overlooking the lake or down to the lake. We highly recommend walking around both lakes for amazing photos.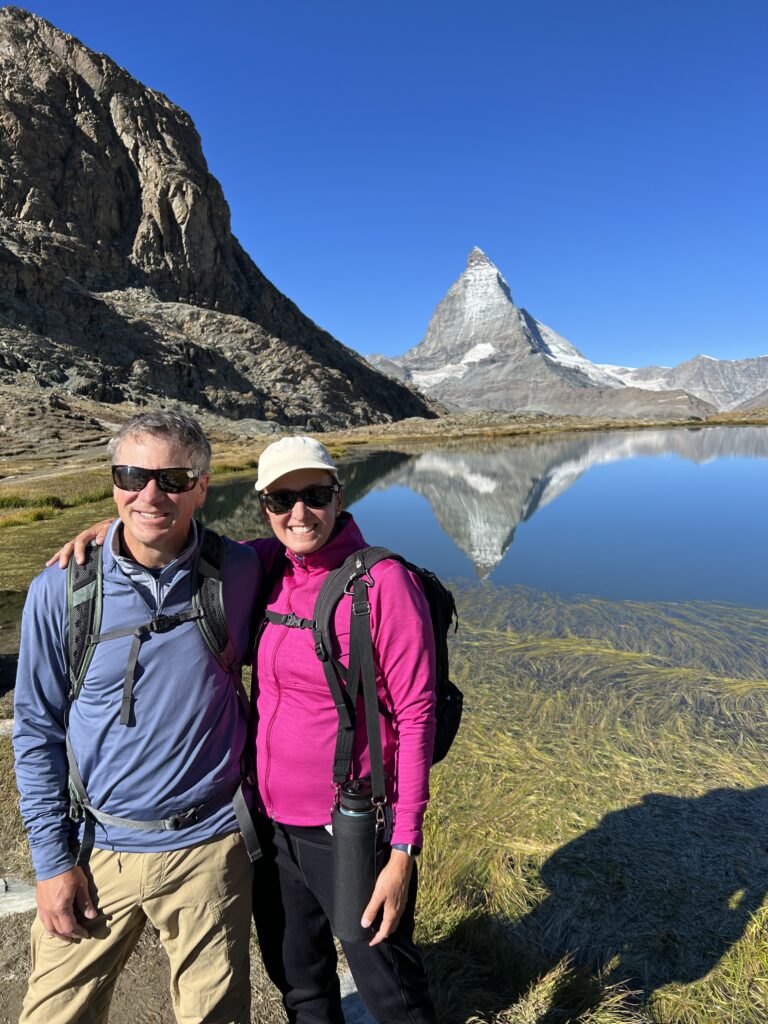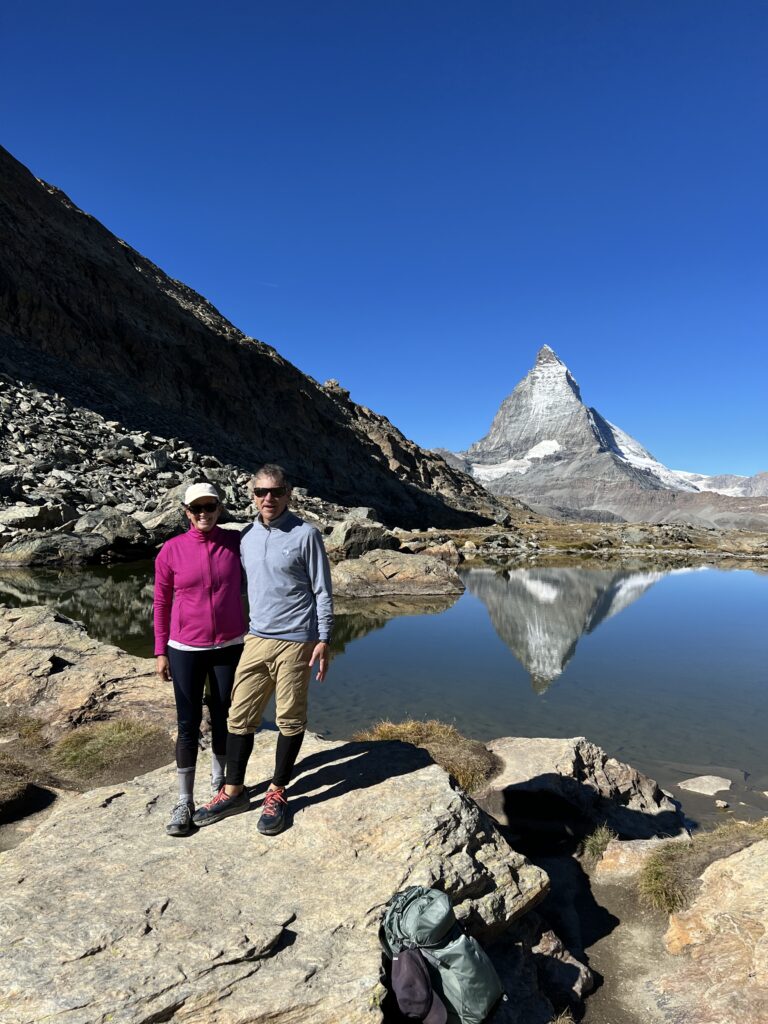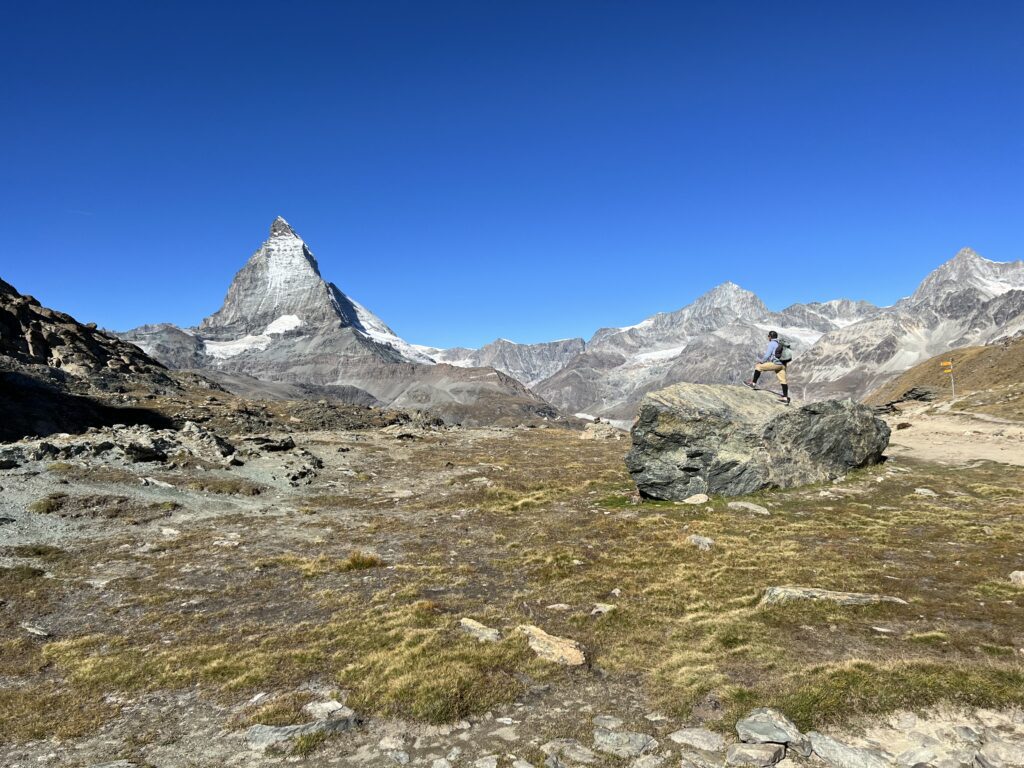 From the second, smaller lake at Rifflesee, we followed the Riffleseeweg all the way to Riffleberg. It took us about an hour as we stopped so often for photos. Simply stay on the Riffleseeweg and keep following the signs to Riffleberg. The Swiss TopWalk trail will also get you to Riffleberg a few minutes faster than the Riffleseeweg.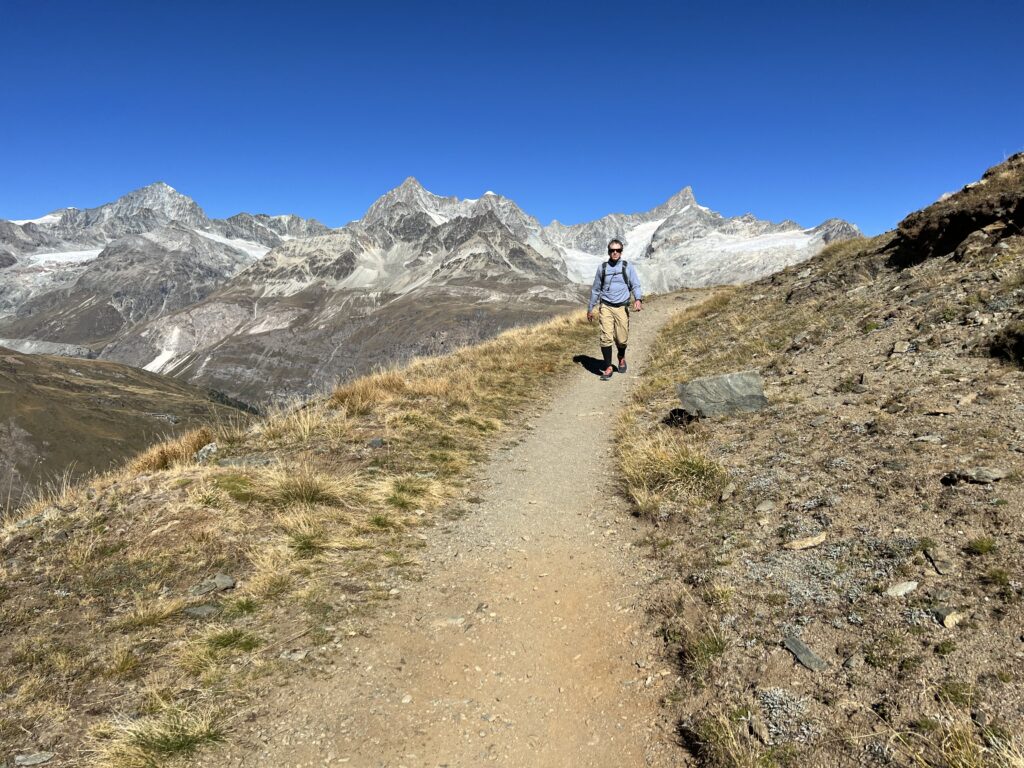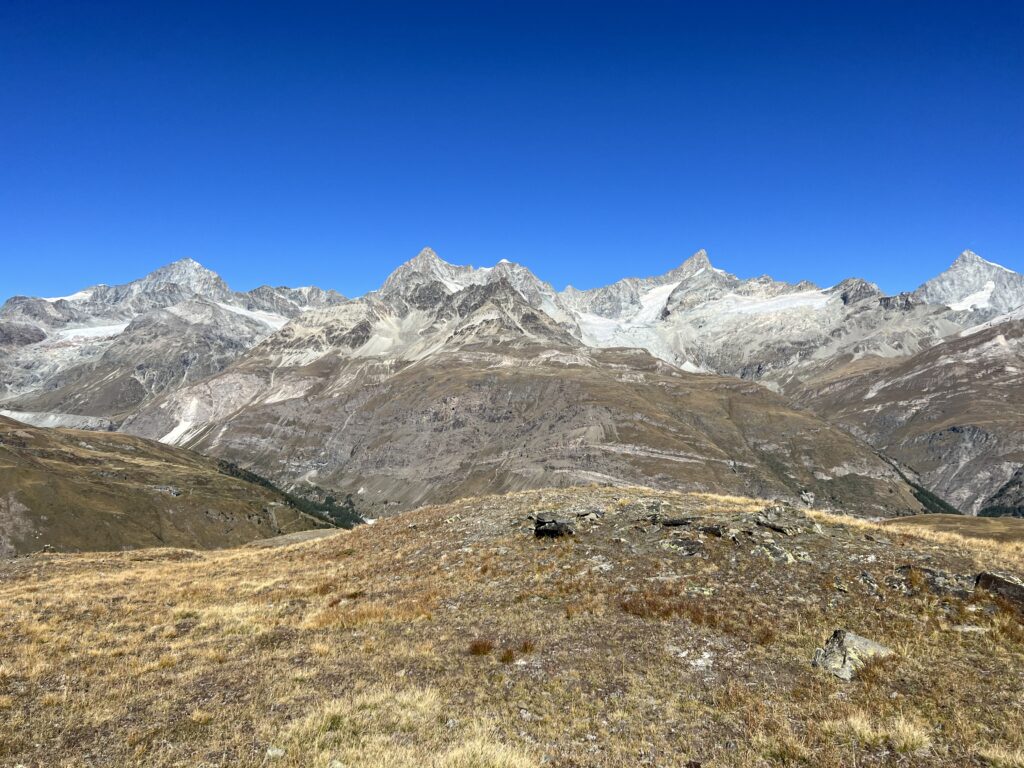 Once in Riffleberg, we purchased some waters and began hiking the down the Gletschergartenweg toward Furi. We followed the signs from Riffleberg to Gletschergartenweg and did a steep descent to a glacier river. There was stunning scenery at every turn. Hiking poles helped Michele with some of the steeper sections.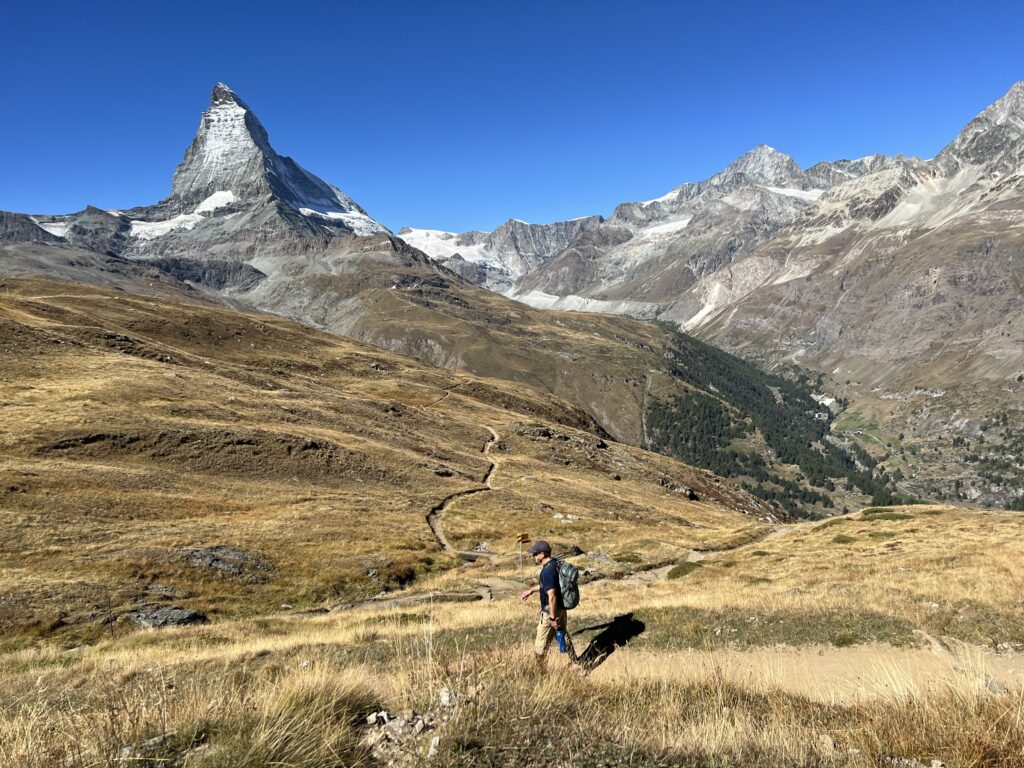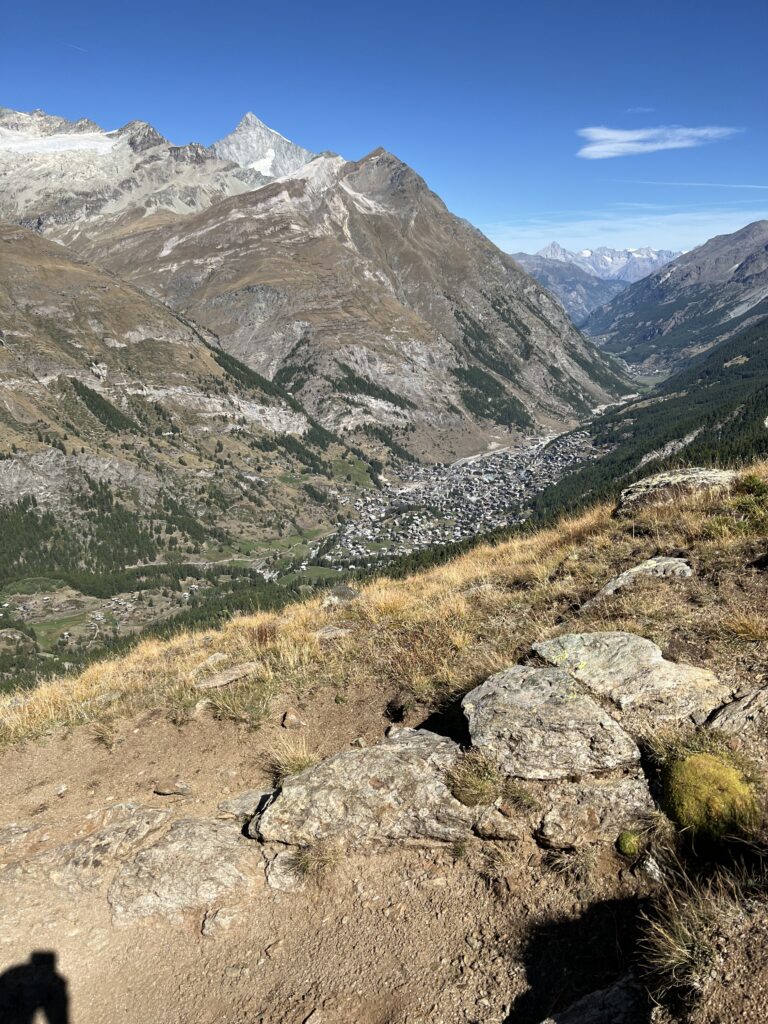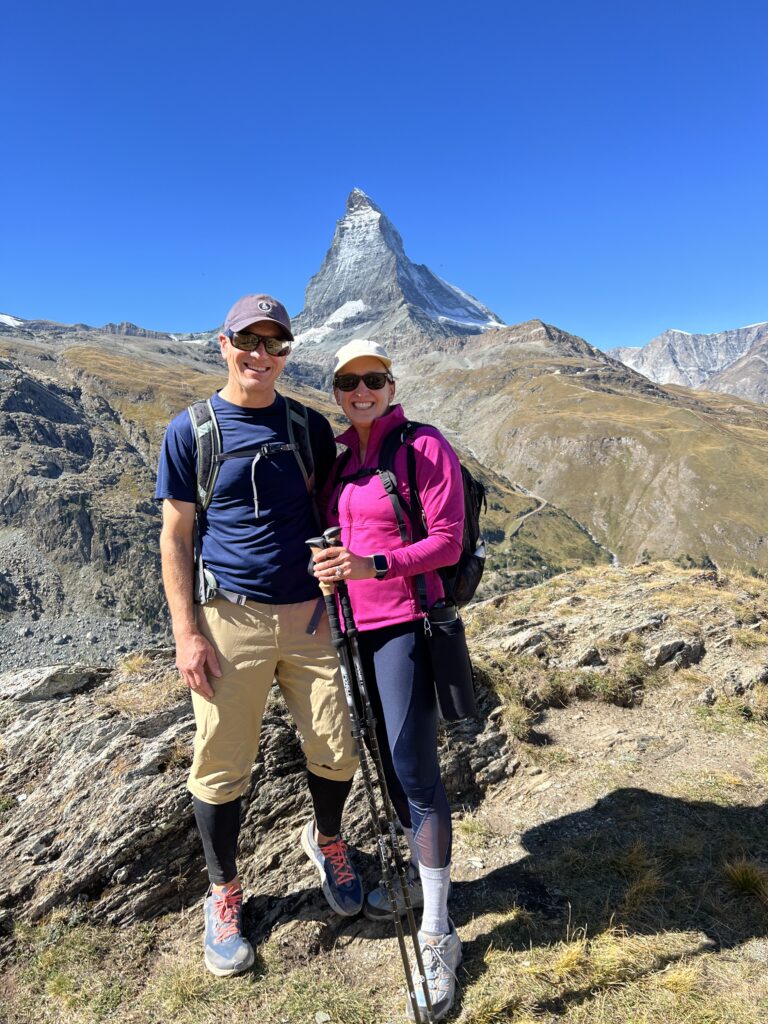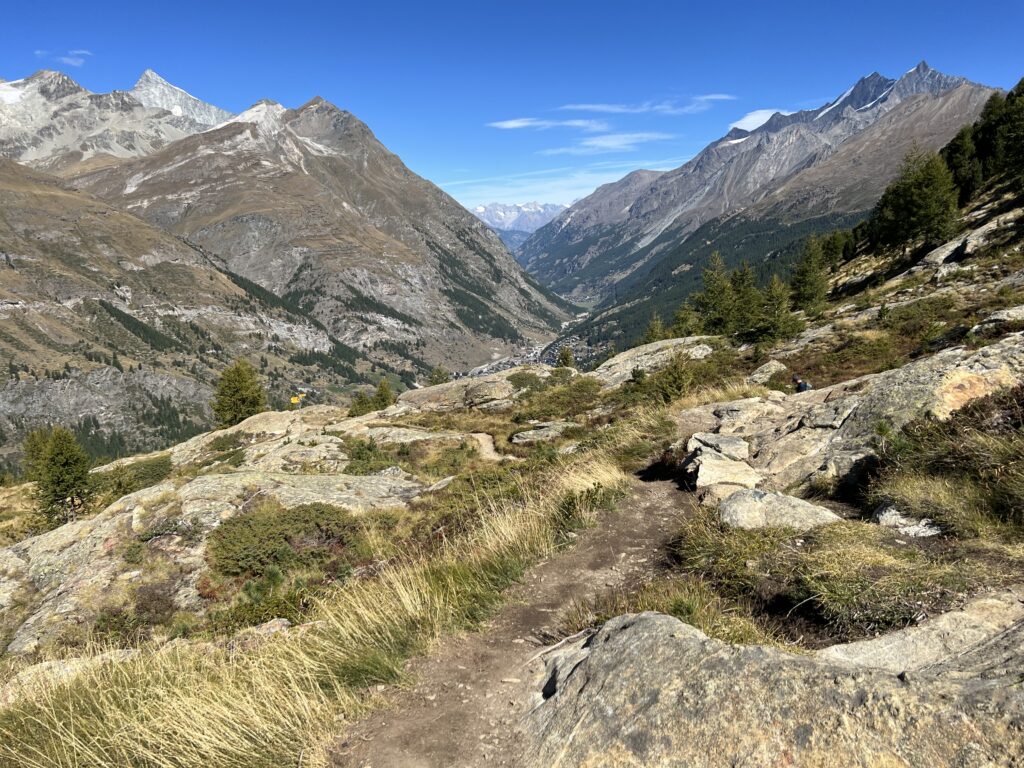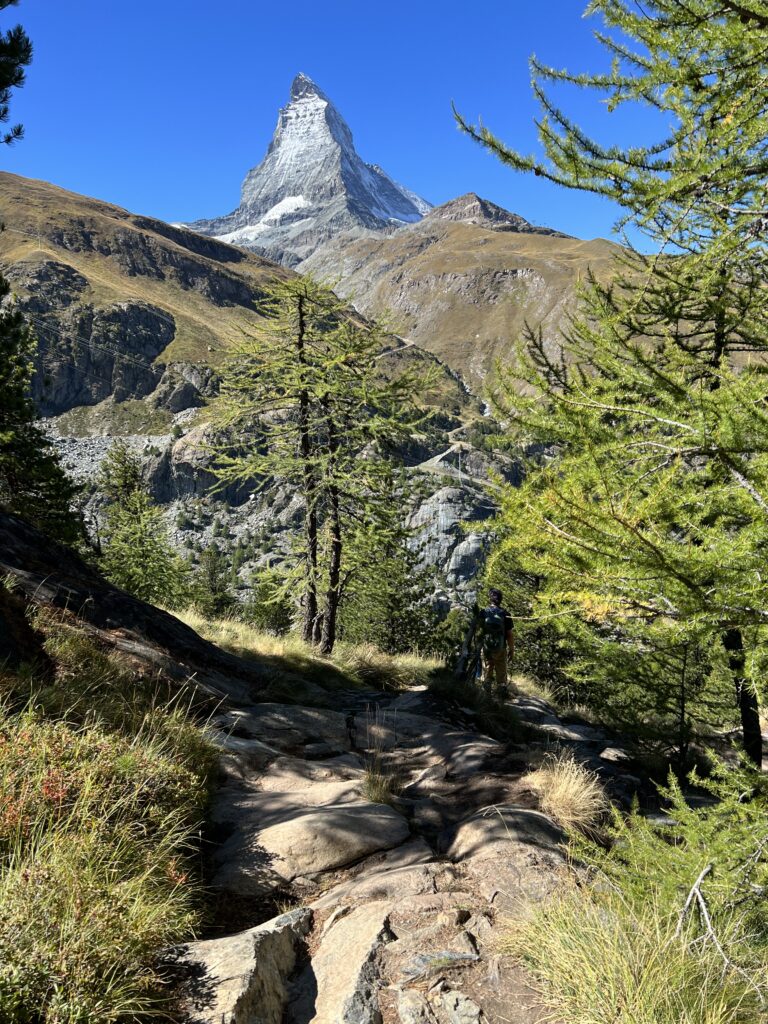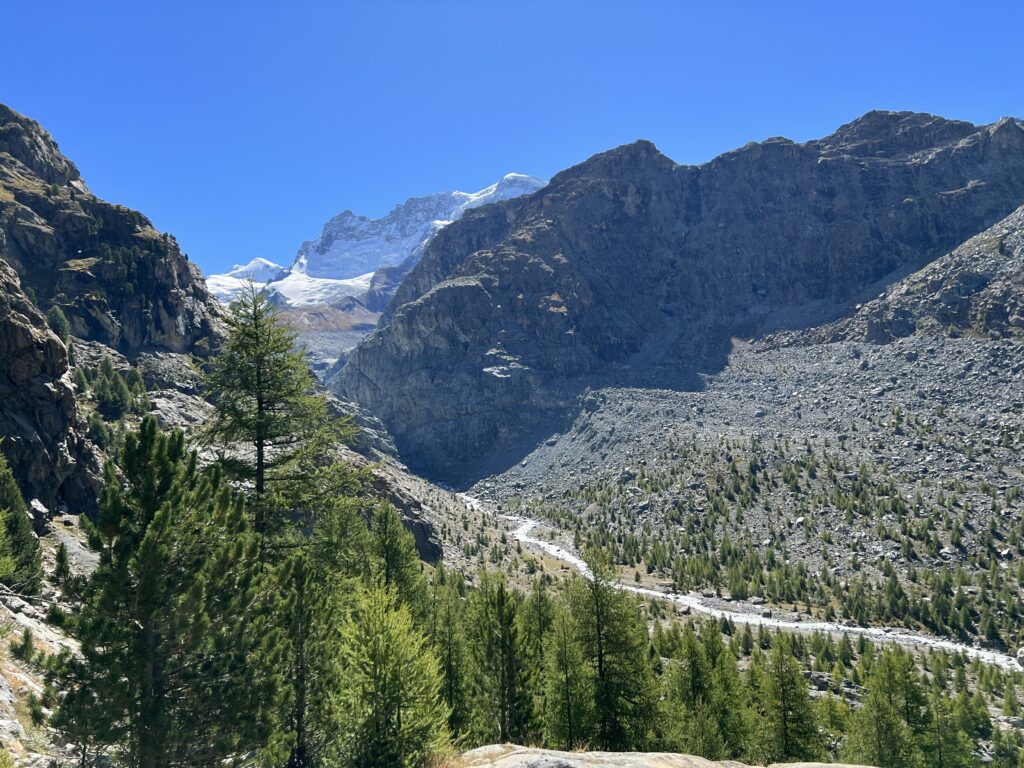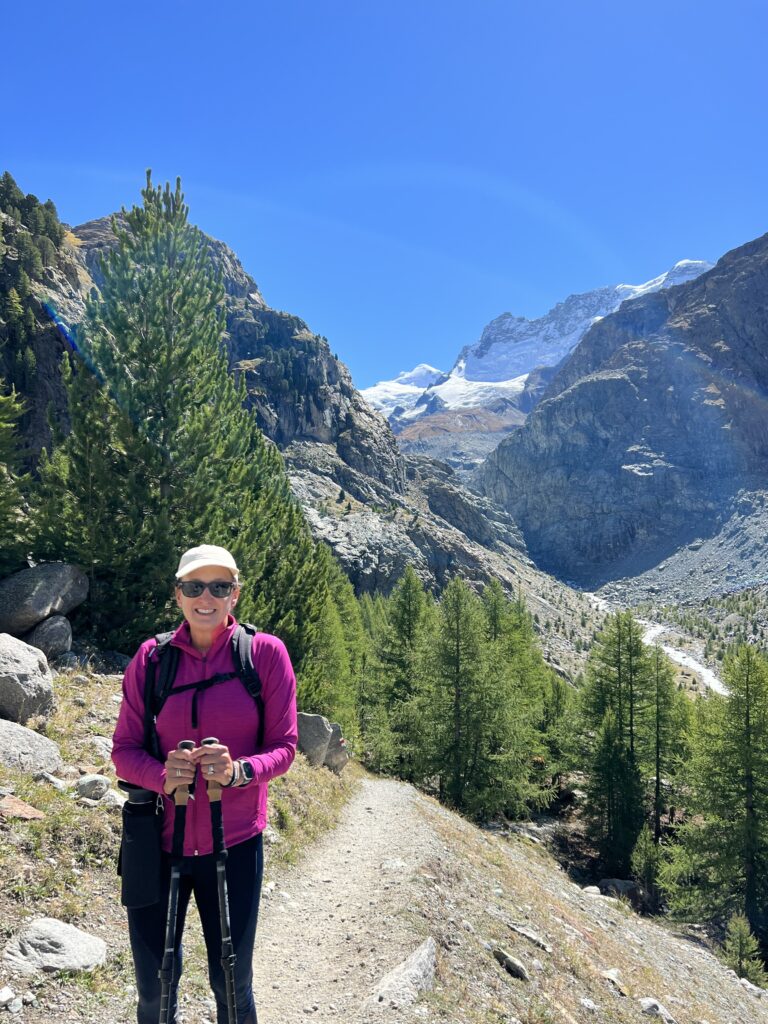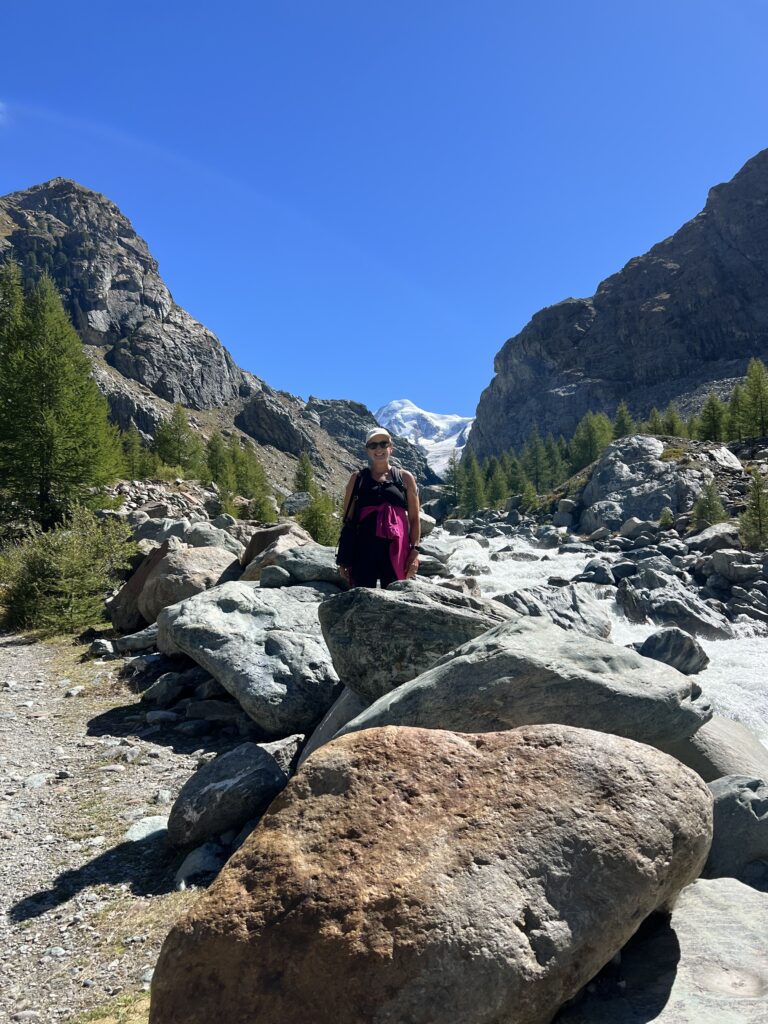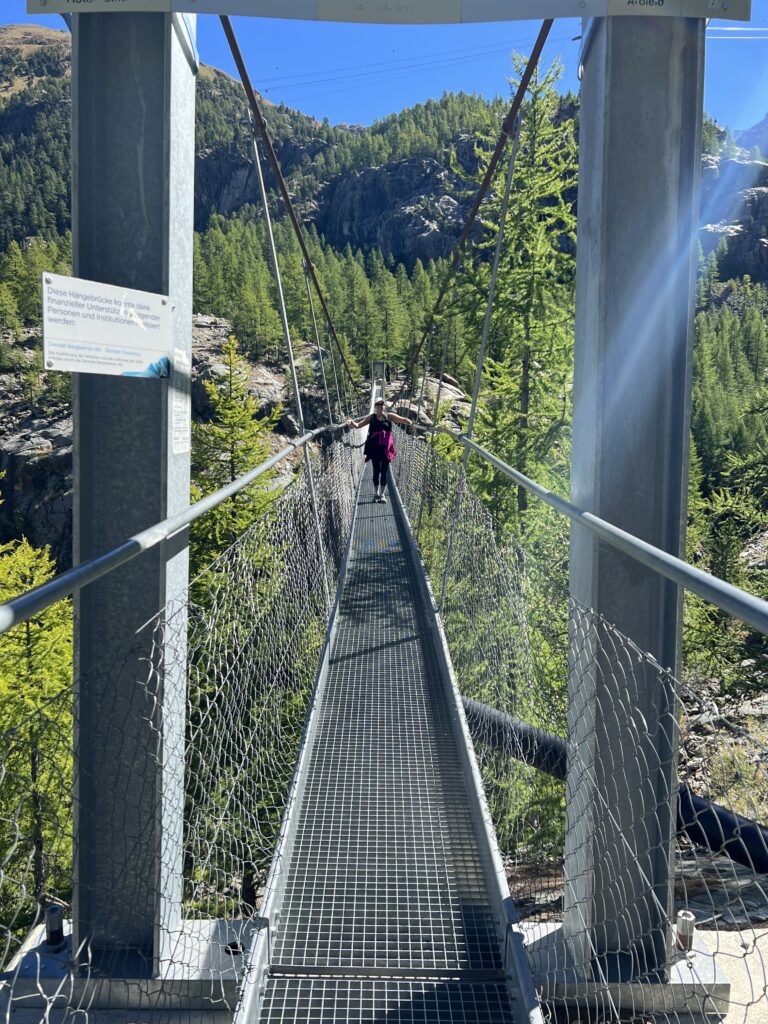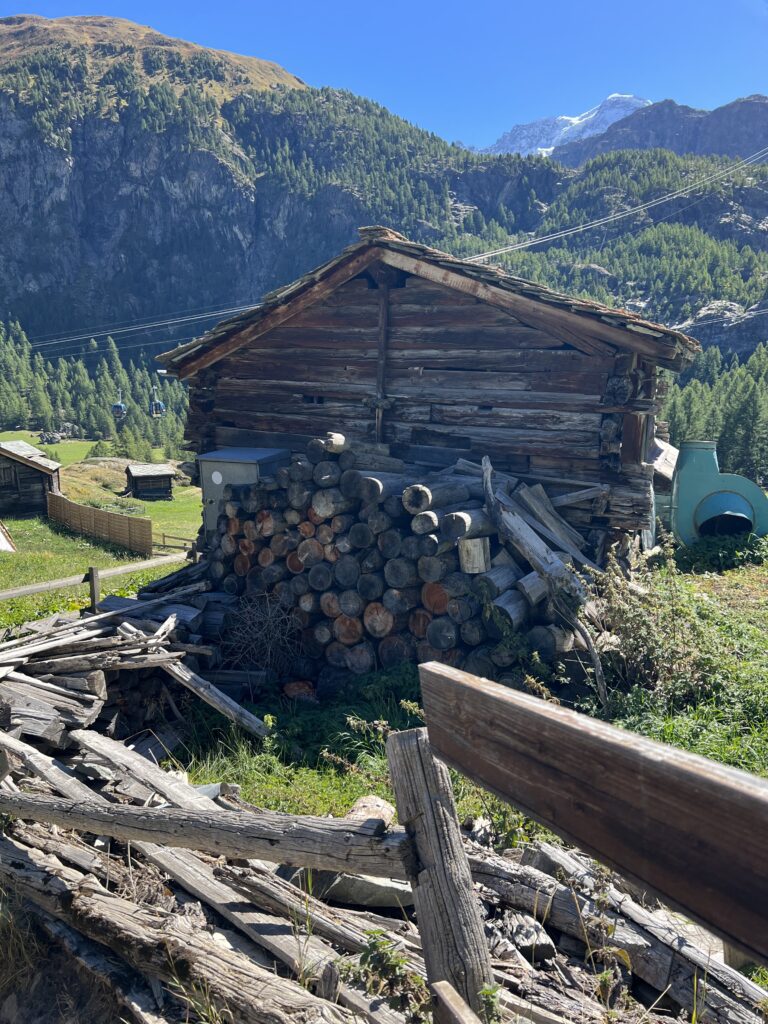 A Hiking Stop – We stopped in Furi and Took the Cable Cars to Matterhorn Glacier Paradise
After walking all the way from the top of the Gornergrat to Furi, we decided to ride two gondolas to Matterhorn Glacier Paradise, the highest cable car station in all of Europe. We received 50% off the fare as we had the Swiss Travel Pass/Flex and an active ticket for that day. The cost with the discount was $48/person roundtrip from Furi to Furi. The cable car extends into Zermatt, so a Zermatt-Zermatt roundtrip is also an option.
We thoroughly enjoyed the two cable cars and the journey up. We had to put all of our layers back on. There are plenty of activities and dining at the top, but we enjoyed the view and headed back down.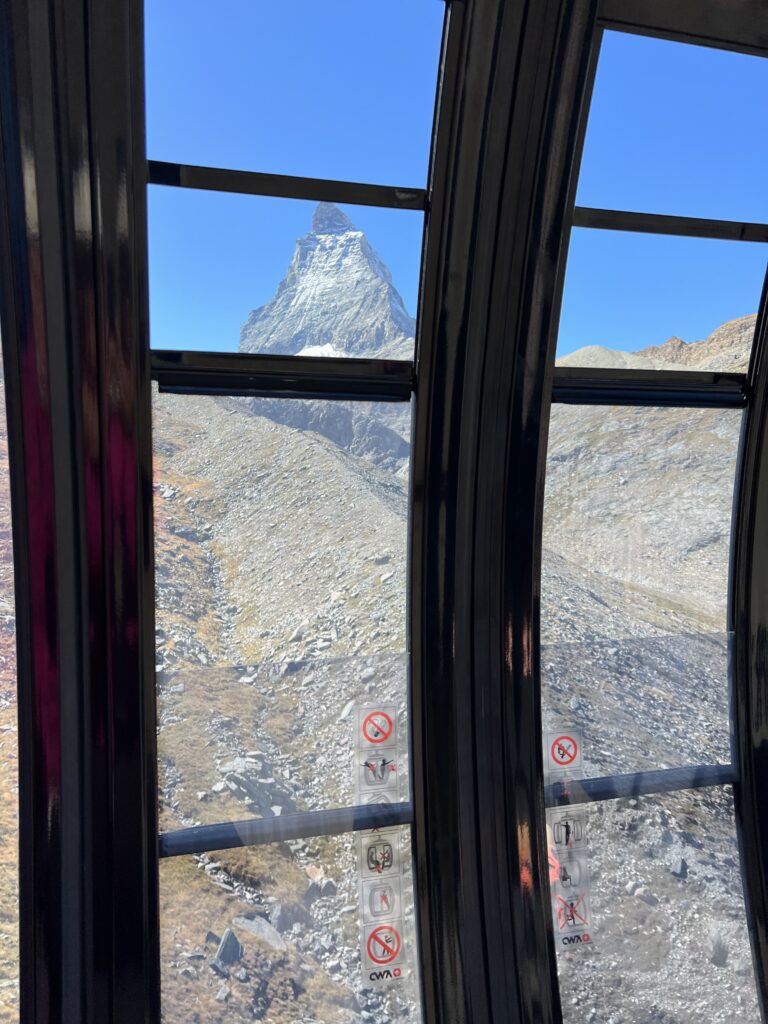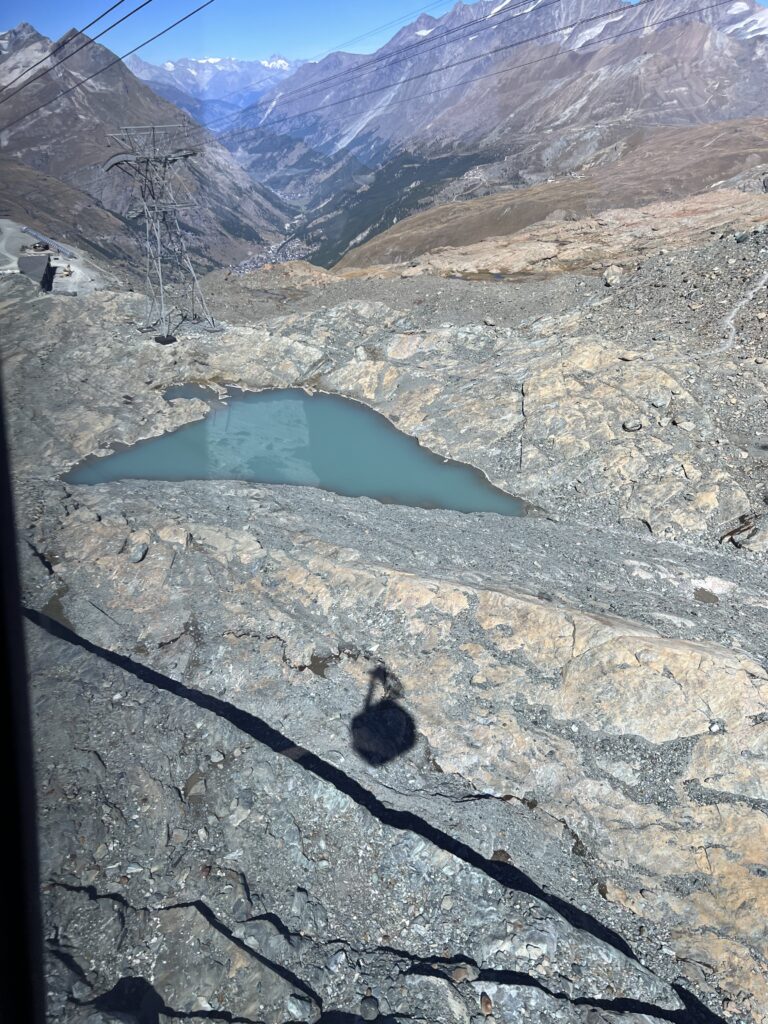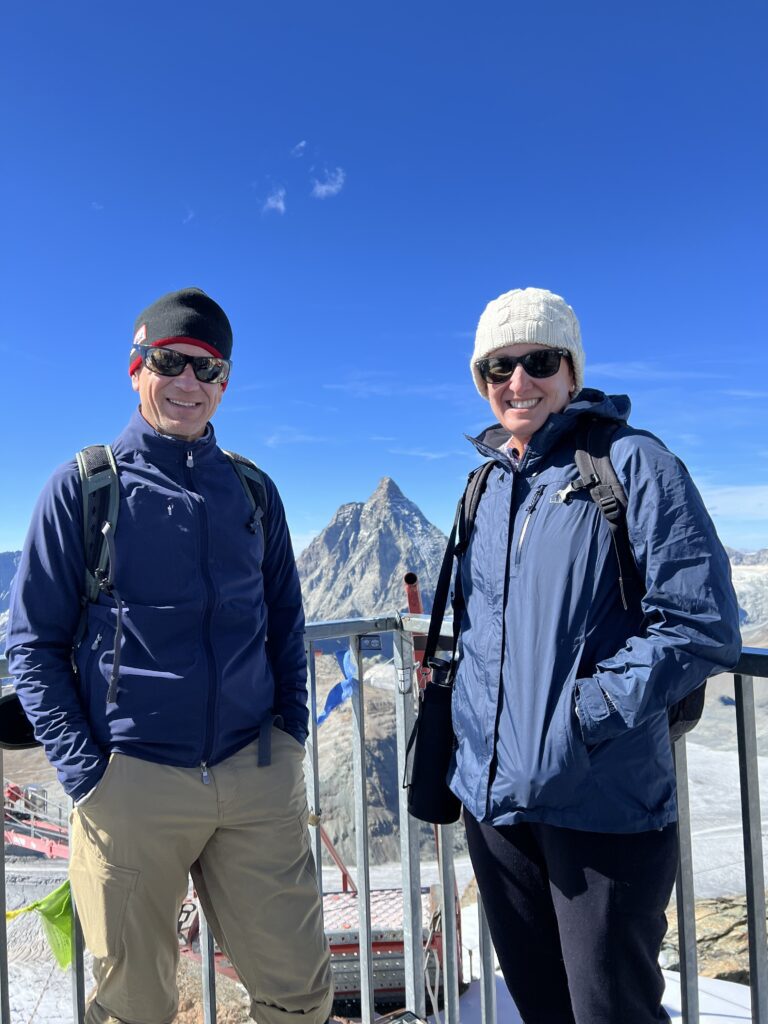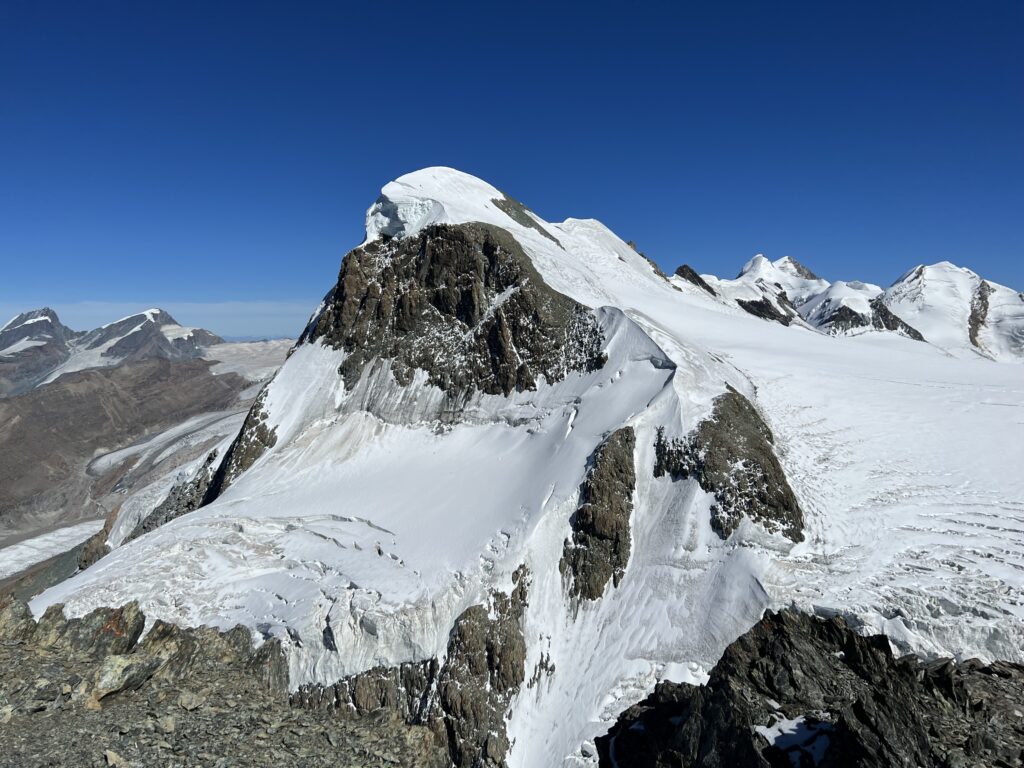 We returned on the series of two cable cars back to Furi. We could have taken the car all the way to Zermatt. But, we chose to exit and walk all the way back to Zermatt. It was a wonderful day!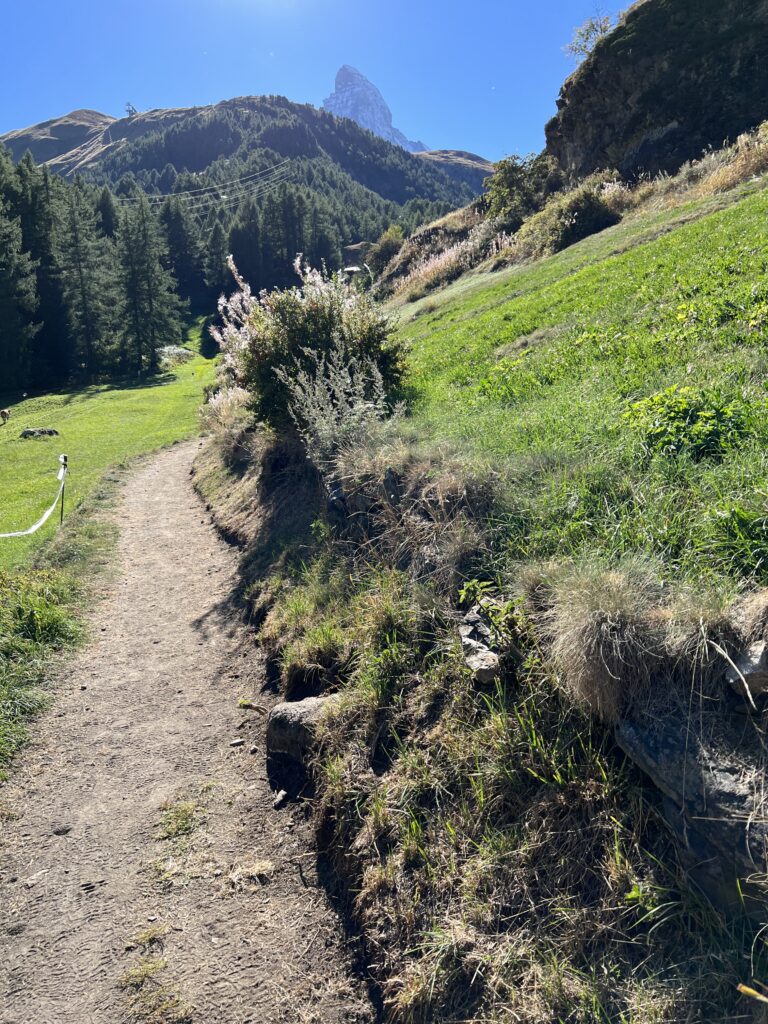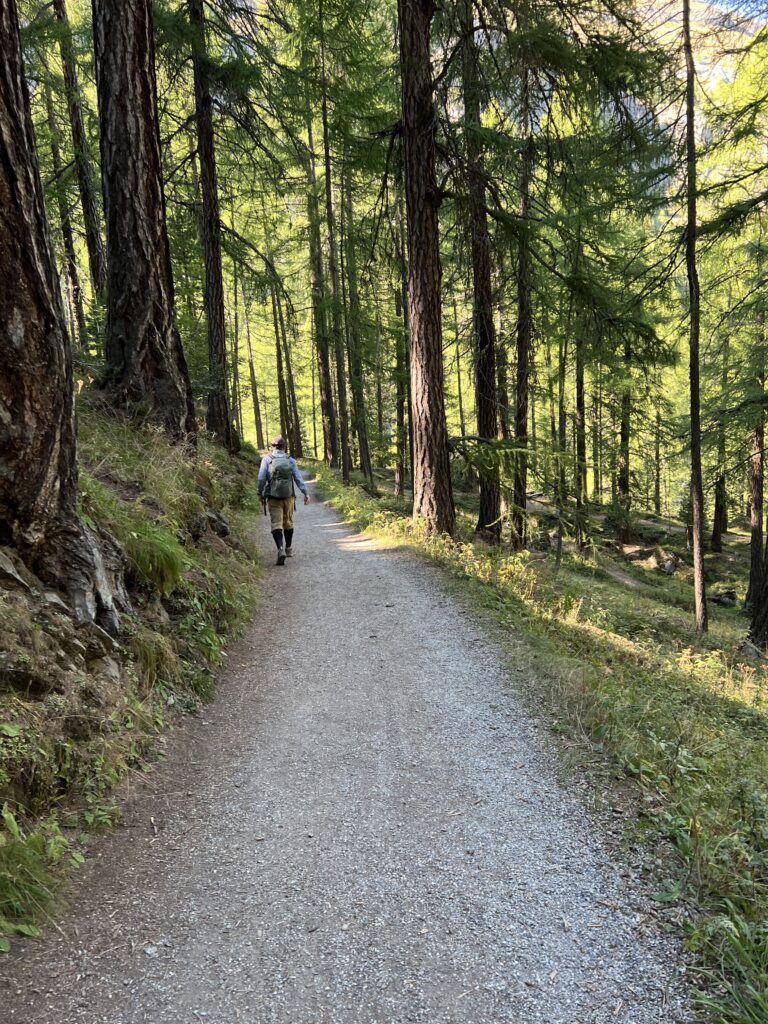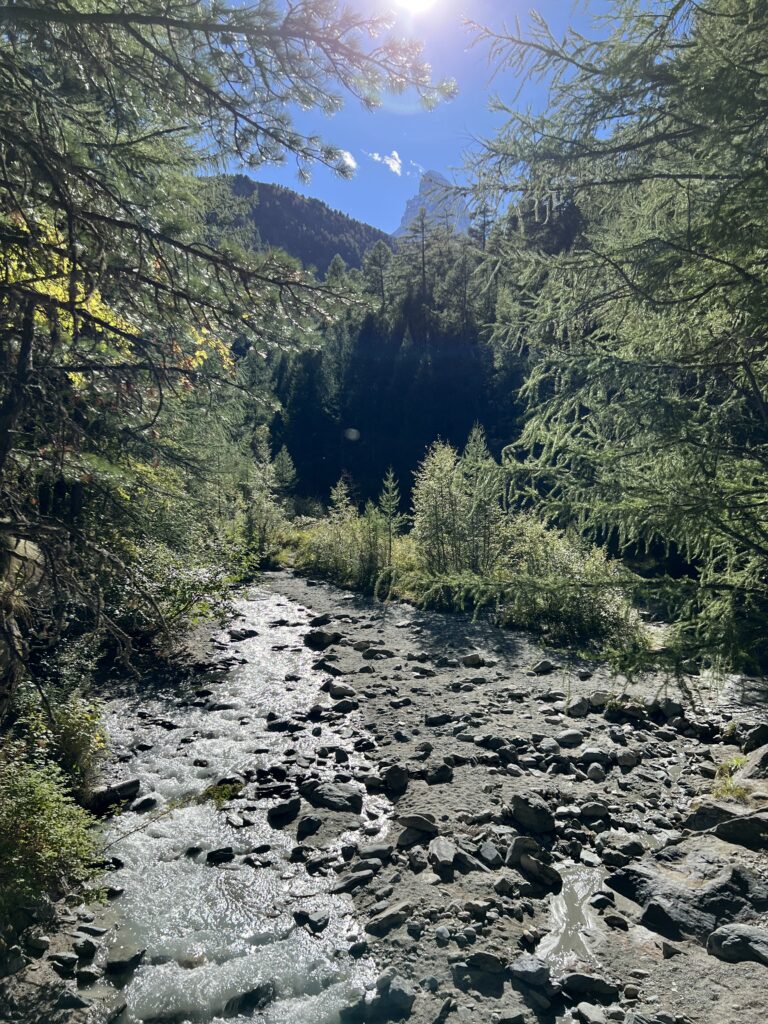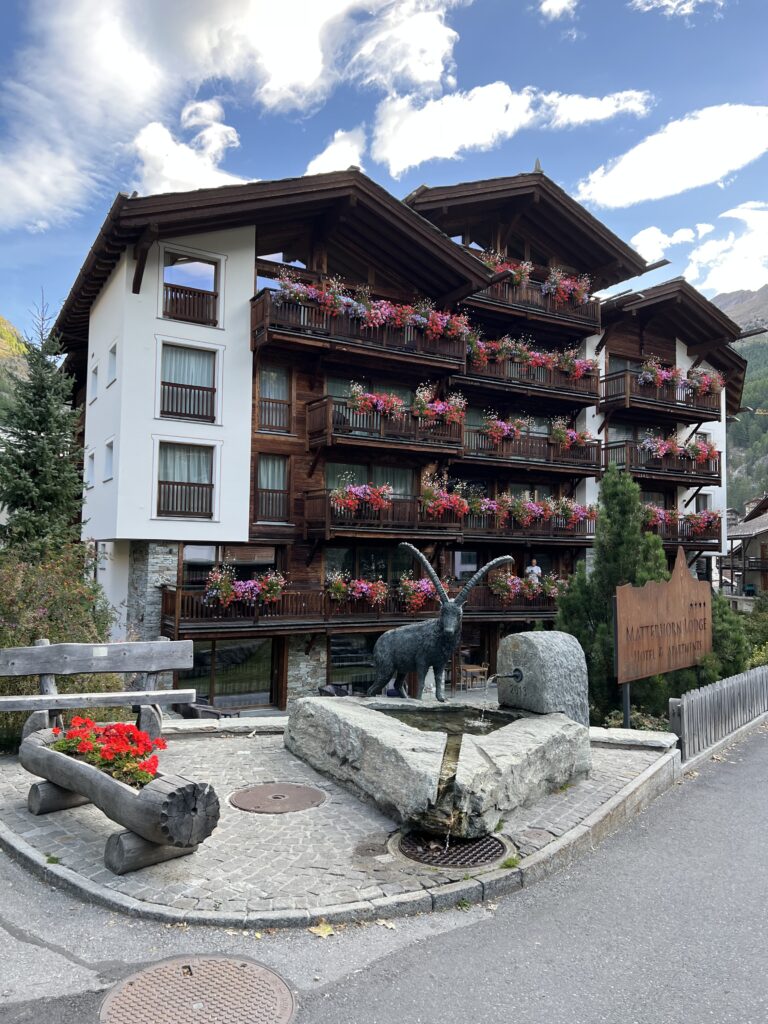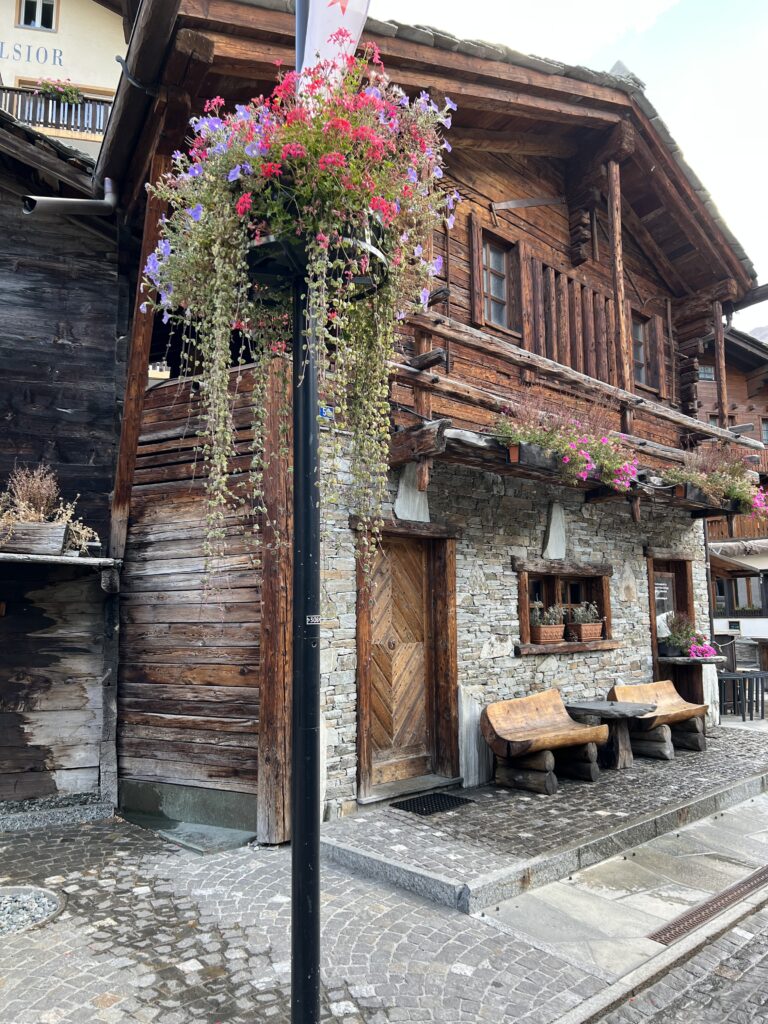 The Five Lakes Hike (5-Seenweg) with a Stop at Chez Vrony
We enjoyed another amazing morning of views and vistas at Coeur des Alpes. Breakfast and coffee were outstanding. The sun was shining so we set off for our hike.
It took us a few minutes to walk to the Sunnegga-Blauherd-Rothorn Funicular. We had an active ticket on our Swiss Travel Pass/Flex for the day. We purchased a "Five Lakes Ticket" for 50% off the list price. It was about $22/person for a ticket to Blauherd with a return from Sunnegga back to Zermatt.
The first part of your climb is in a funicular that leaves Zermatt every 20 minutes or so. This takes you to Sunnegga. After exiting the funicular, we walked to the gondola that takes you to Blauherd. We exited at Blauherd. From there, you can take a cable car to the summit of Rothorn. We knew we did not have enough time to visit the top as we planned to go to Interlaken in the afternoon.
From the gondola exit, we followed the signs for the Five Lakes/5-Seenweg trail. Within about 15 minutes, we were at the first lake, Stellisee.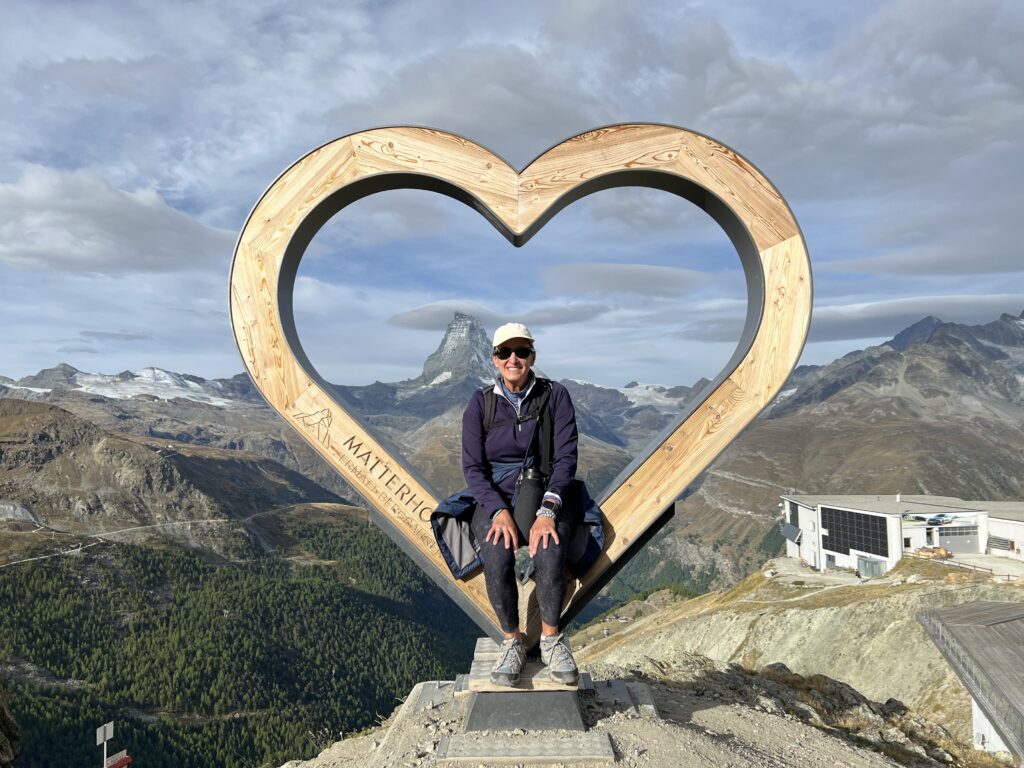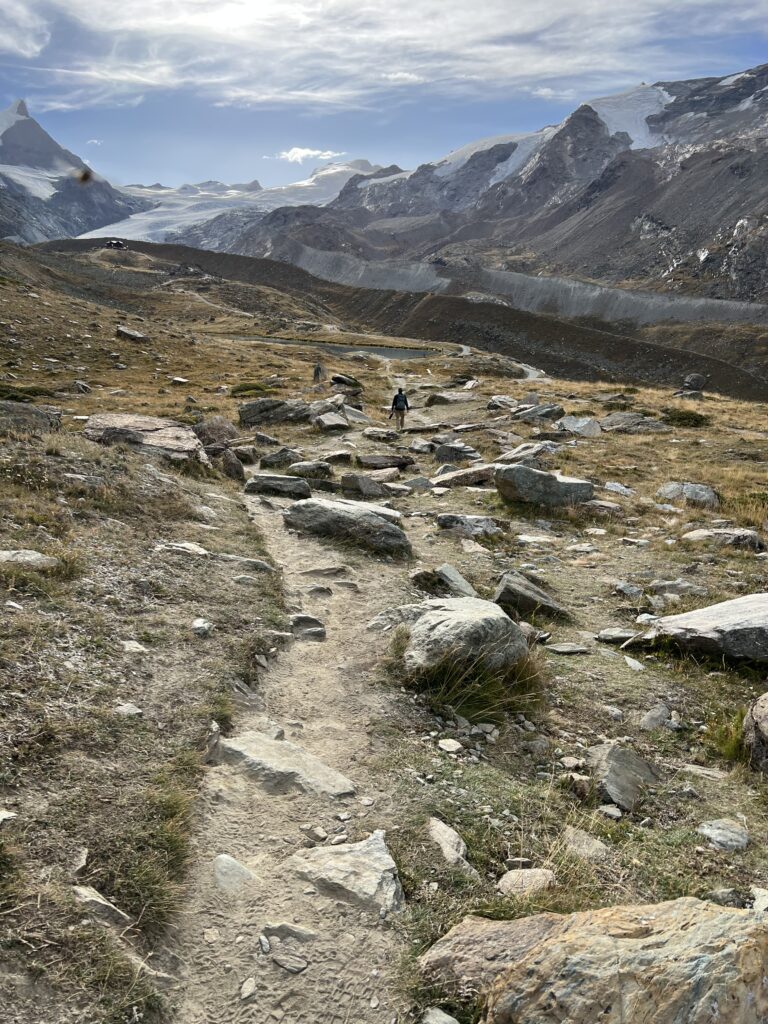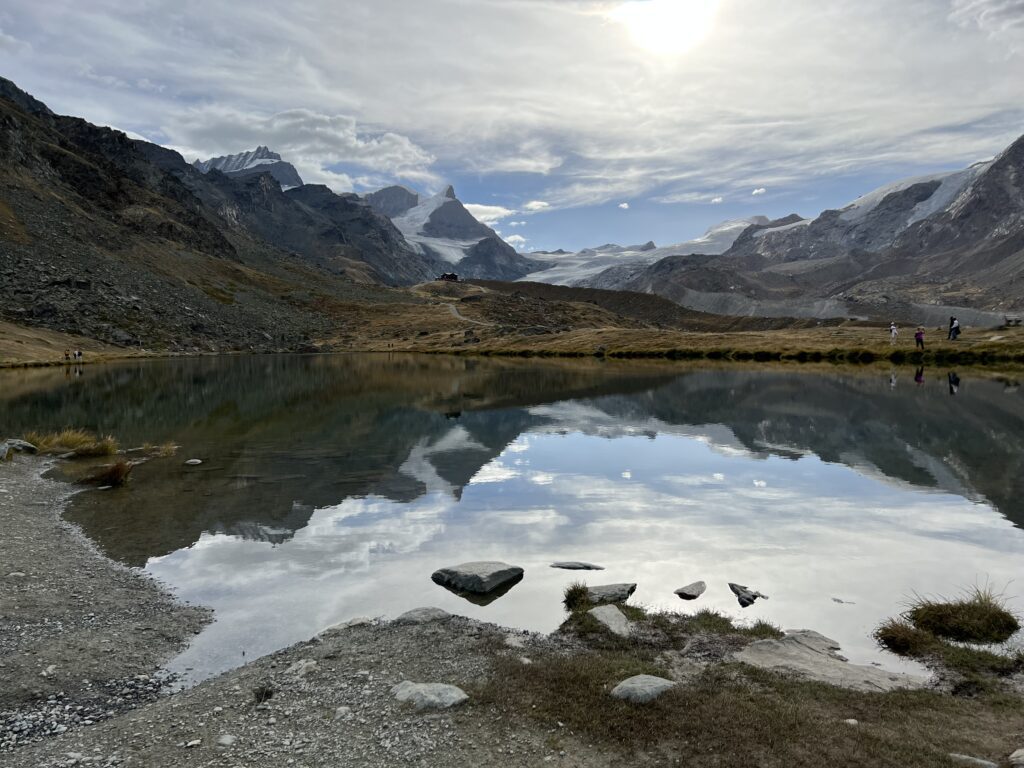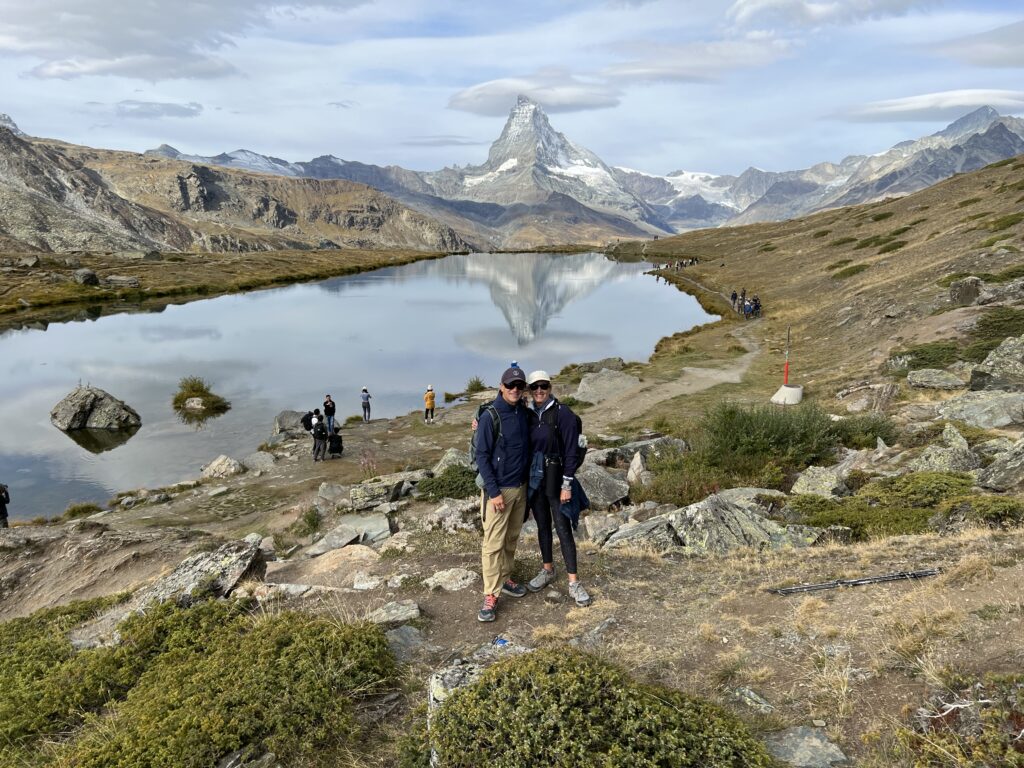 You now have a decision to make – 1. Walk back to your first view of the Stellisee lake when you arrived from Blauherd. From there, take a gravel fire road down to the next lake which is called Grindjisee. Follow the 5-Seenweg trail and signs to Grindjisee. OR, 2. If you are on the far side of the Stellisee (where we are standing in the above photo), there are signs for 5-Seenweg and Grindjisee there. This way will take you on much, much longer trail to Grindjisee. You will go past the Fluhalp Lodge and on a ridge tail high above Grindjisee. This is what we did. See photos below.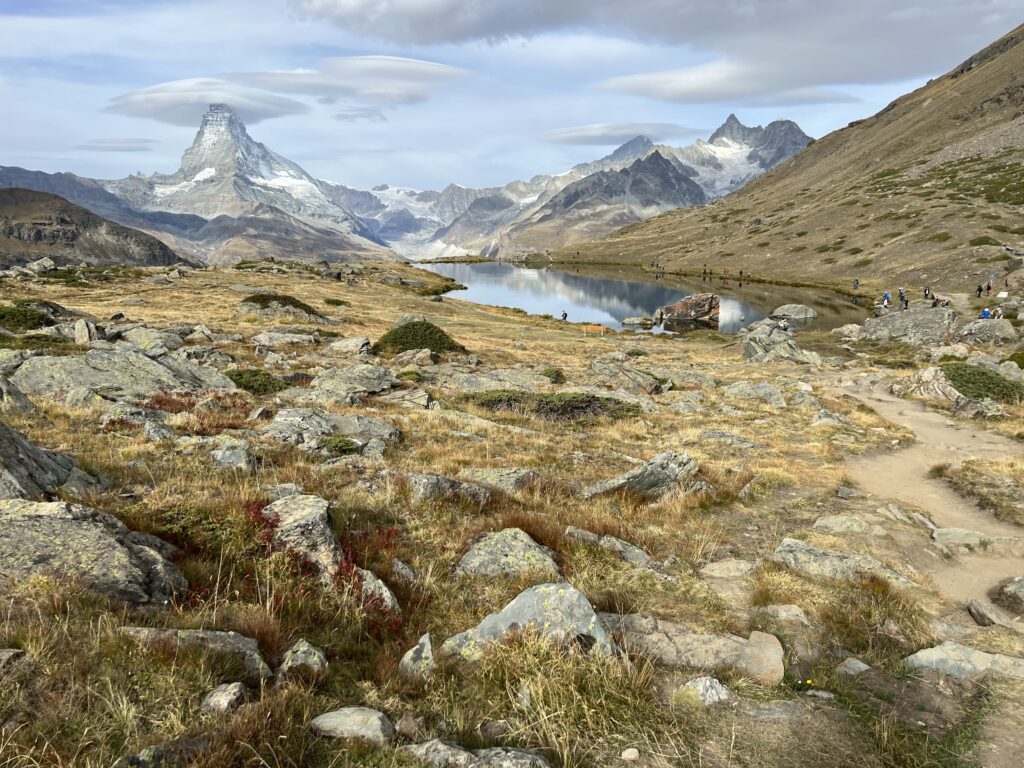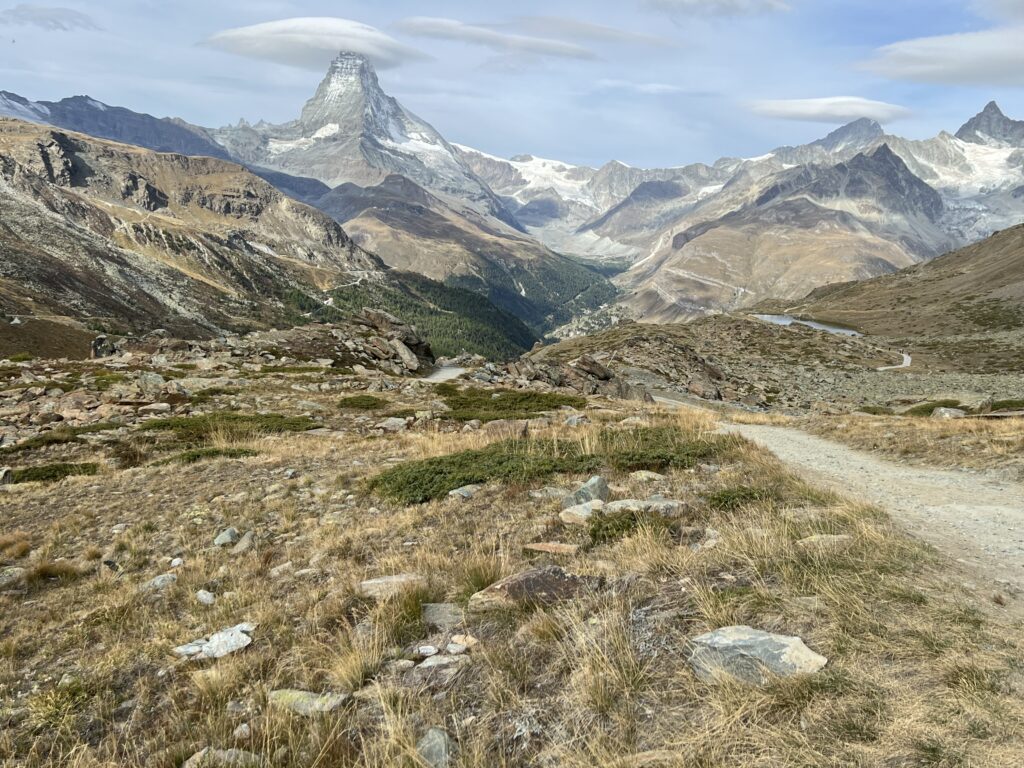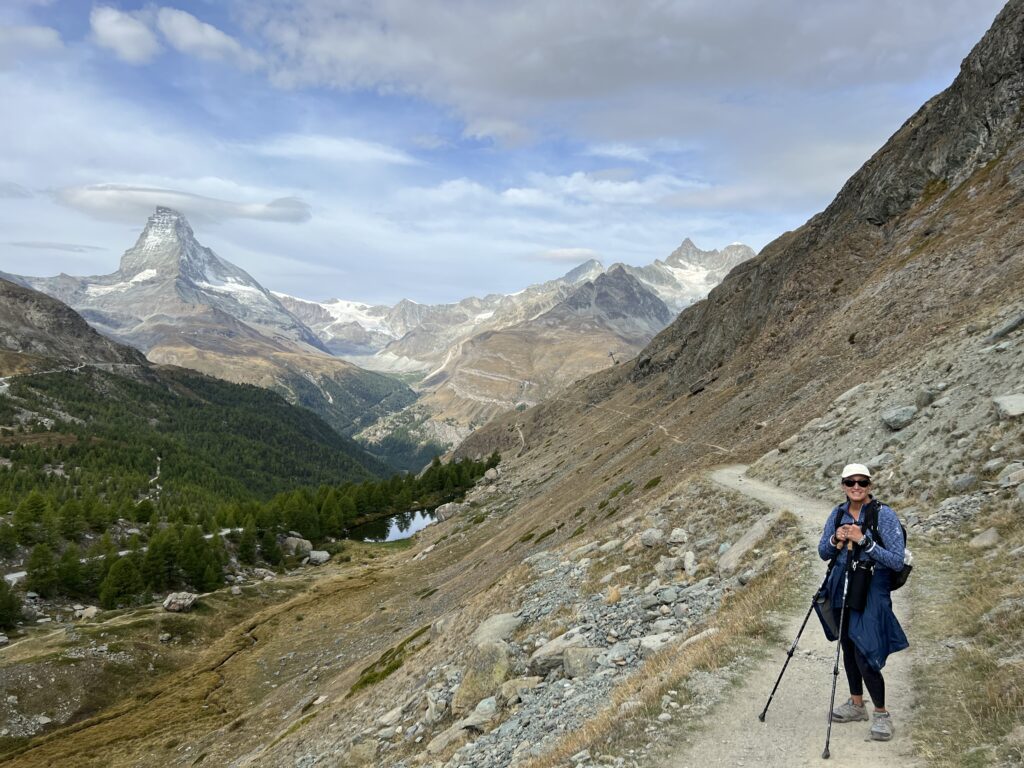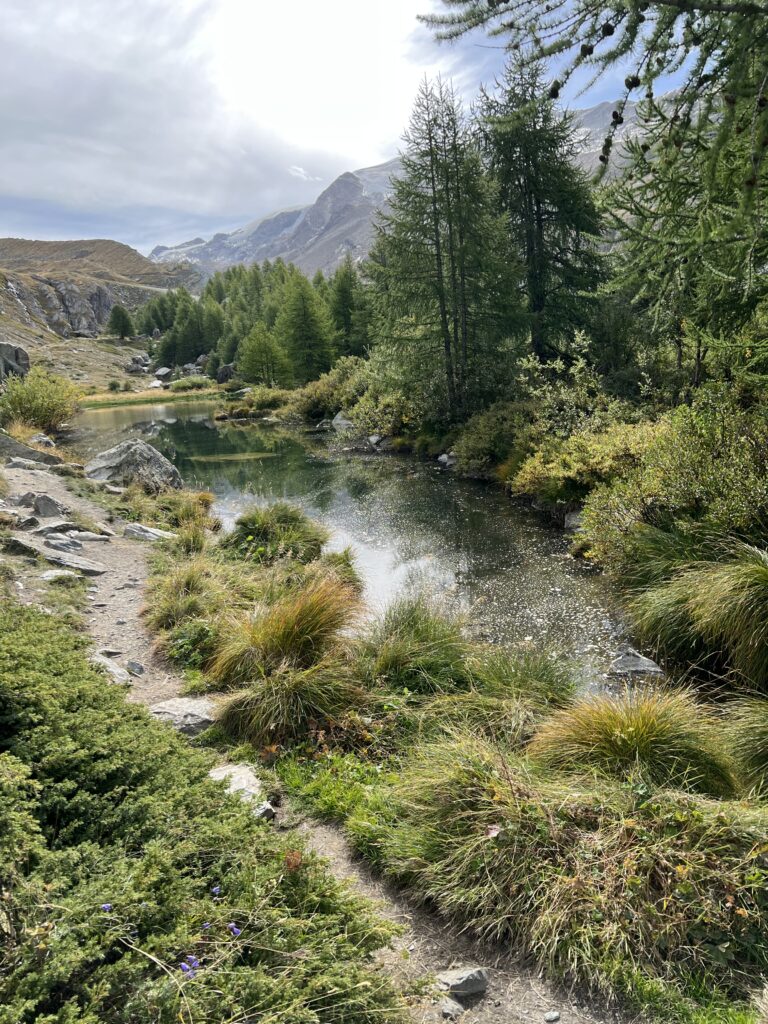 After Lake #2, you will walk mostly on a flat fire road. You will cross some glacier rivers and ski lifts. It takes about 20 minutes to get to Lake #3.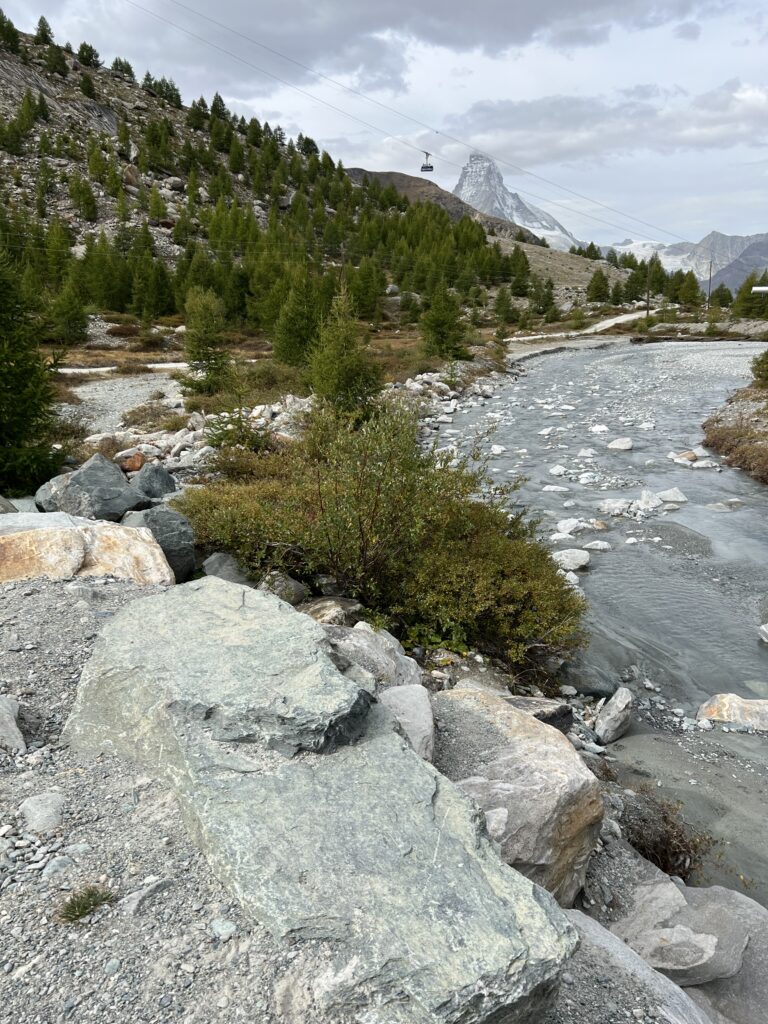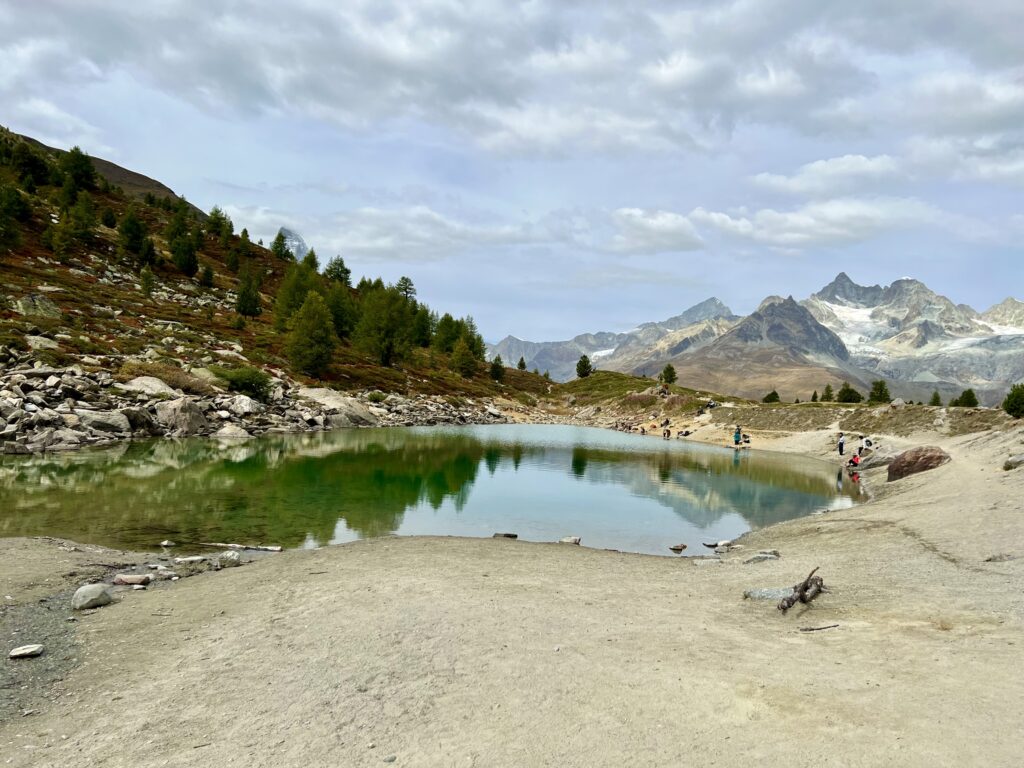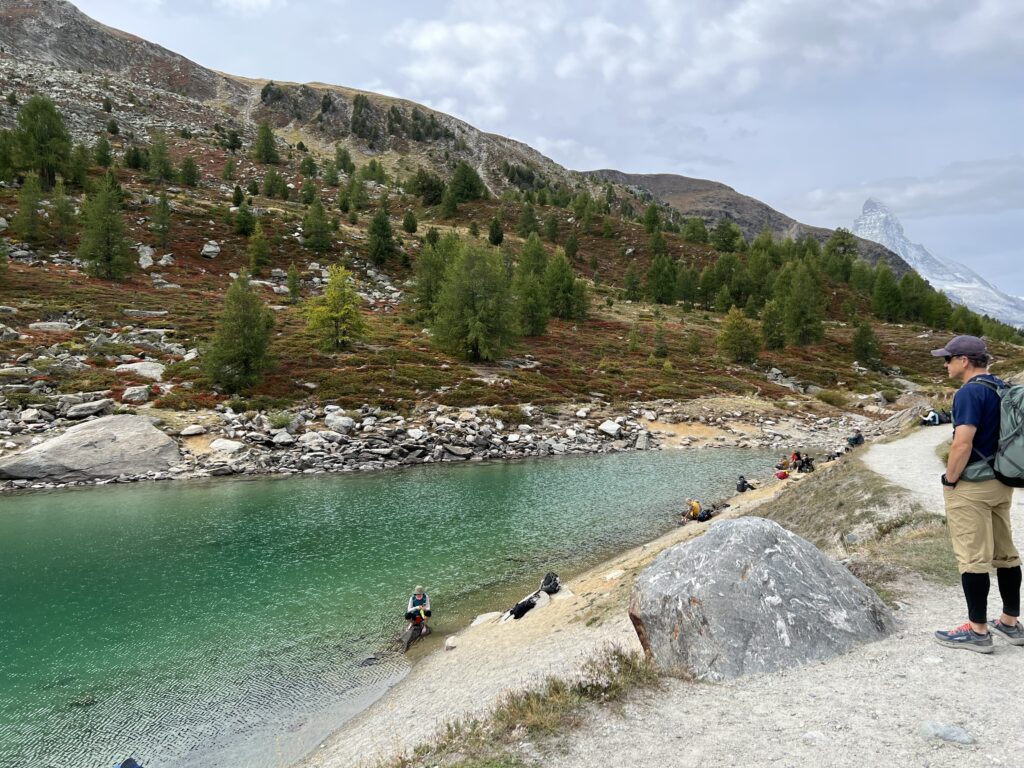 We decided to skip Lakes #4 and #5. When we were on the ridge trail above Lake #2, we could see Lake #4, Moosjisee, in the distance. Moosjisee has a hydro electric dam next to it, so the lake did not really interest us. We had seen Lake #5 on the gondola from Sunnegga to Blauherd.
Just after Lake #3, we detoured to Findeln. It was a very steep descent through the forest. Once we got to the river, it was a super steep hike up to the hamlet of Findeln and Chez Vrony. It was totally worth the effort. The restaurant and its views are pure magic.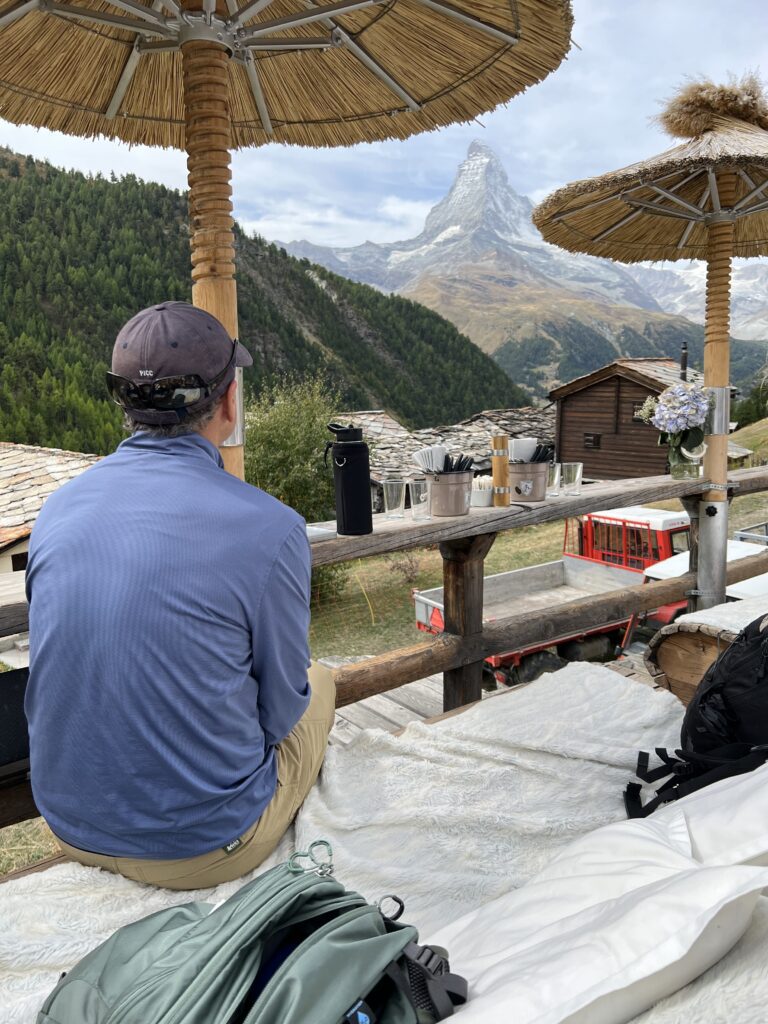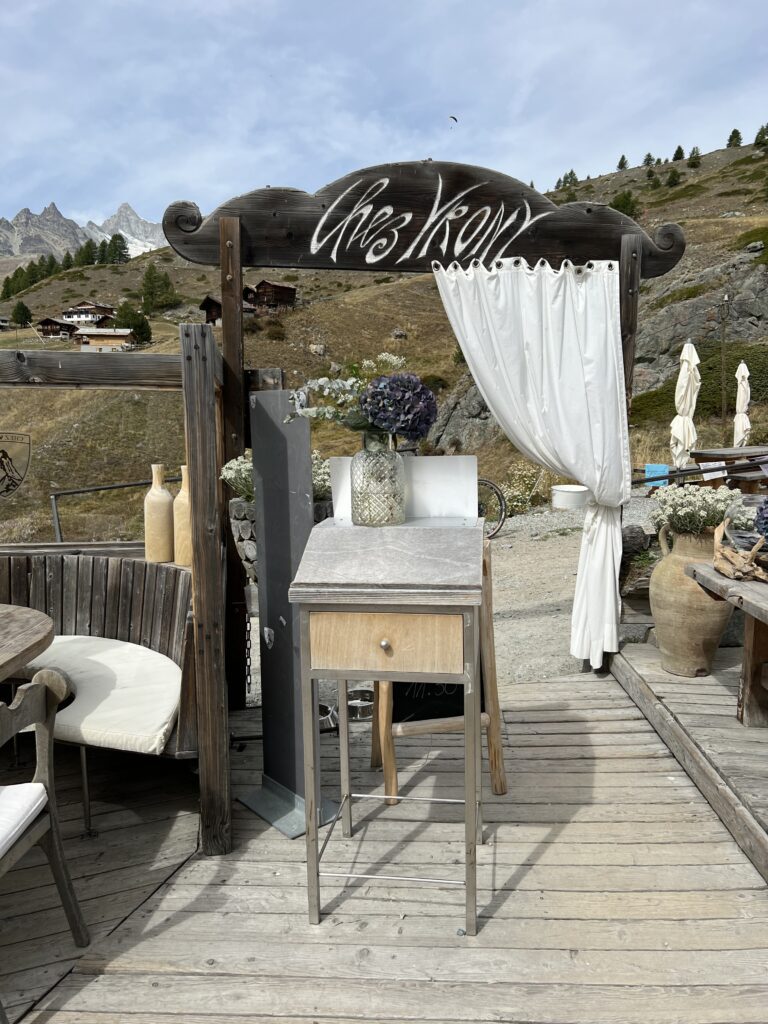 After you eat at Chez Vrony, you have a choice to make – a one-hour steep downhill walk to Zermatt through a forest or a 30-minute steep uphill walk to Sunnegga. We chose to walk up to Sunnegga as our toes were toast from the downhill hike yesterday and today's hike from Lake #3 to Chez Vrony. You can even hike from Chez Vrony to Lake #5 and take an elevator up to Sunnegga.
Where We Ate
There are restaurants all over Zermatt – cuisine of every type. The COOP supermarket remains a fantastic choice for picnic and snack food. If you have a kitchen and plan to cook, it is the best spot in town.
Grampi's
Zermatt is close to the Italian border, so there are dozens of Italian restaurants in this amazing village. We chose to eat at the funky Grampi's which is right in the center of town. We loved the food, the decor and the menu. Jim loved the gluten free pizza and Michele ate a caprese salad. Because we had a reservation, we had a wonderful table by the window, overlooking the fun street. The restaurant treated us to limoncello shots when we finished our meal. TripAdvisor reviews are great.
Pizzeria Roma
Our second night, we also craved Italian. Our hotel recommended Pizzeria Roma, which was great. We sat inside in a cozy, warm setting. TripAdvisor reviews are good.
Interlaken
We took a train from Zermatt to Visp; a train from Visp to Spiez, and then a quick train from Spiez to Interlaken. We chose to stay very close to the train station as we were only spending one night in Interlaken. We arrived into Interlaken about 7:30pm. We walked to dinner and went to bed. The plan was to do an e-bike tour in the morning and then head up to the Bernese Oberland.
Where We Stayed – Carlton-Europe Adults Only Hotel
We stayed at the Carlton-Europe Adults Only Hotel. This hotel is totally quirky with crazy antiques and artifacts all over. We had a tub in our bedroom and a lovely view of the main thoroughfare in Interlaken. The welcome drink and the breakfast were very generous. There is an old and a new part of the hotel. Stay in the old part as it has way, way, way more character than the new part. TripAdvisor reviews are fine.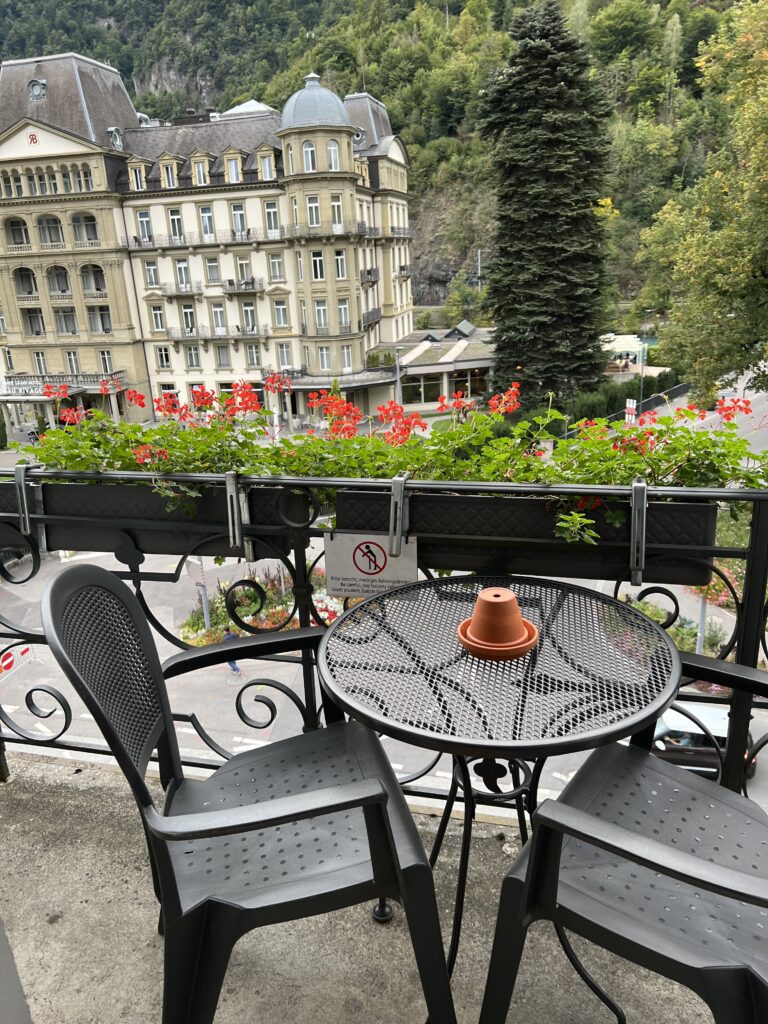 Brasserie 17
We only ate one meal in Interlaken. We walked from our hotel to Brasserie 17. It was simple and reasonably-priced. The hotel is part of the Happy Inn Lodge which caters to budget travelers. We enjoyed our meal. TripAdvisor reviews are good.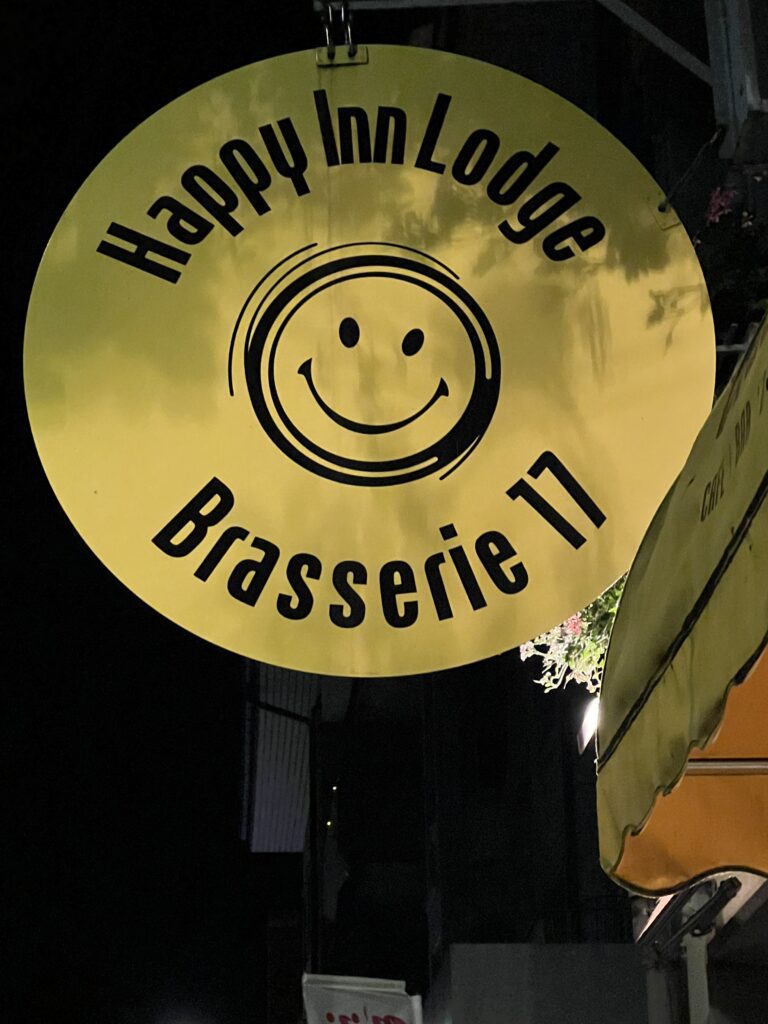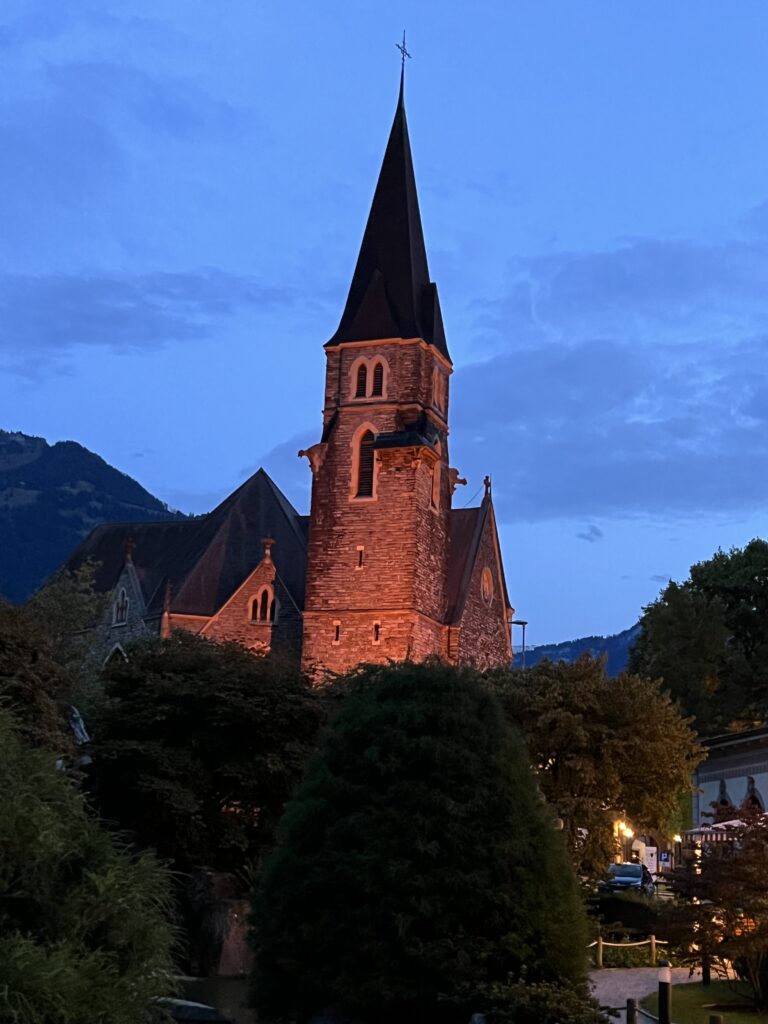 Flying Wheels e-Bike Tour to Lauterbrunnen
Normally, we would never take an e-Bike tour. We would always opt for the real bike and do the work ourselves. However, Flying Wheels in Interlaken only offers three- or six-hour e-bike tours. We chose to the six-hour e-Bike tour to Lauterbrunnen. It was fantastic. We booked a private tour as the group tours did not run on our only available day. We met George at the bike store at 8:15am and were cycling by 8:30pm. The bikes were so easy to use, and we could cover so much more distance than a regular bike.
We cycled out of the city in traffic, but nothing was scary. We headed to Lauterbrunnen on a combination of roads and trails along the Lütschine River. George was an amazing guide. The tour included the bikes, a picnic lunch, an afternoon surprise and entrance to the Trümmelbach Waterfalls. We were back in Interlaken by 2:45pm. It was a fantastic day. We highly recommend this company.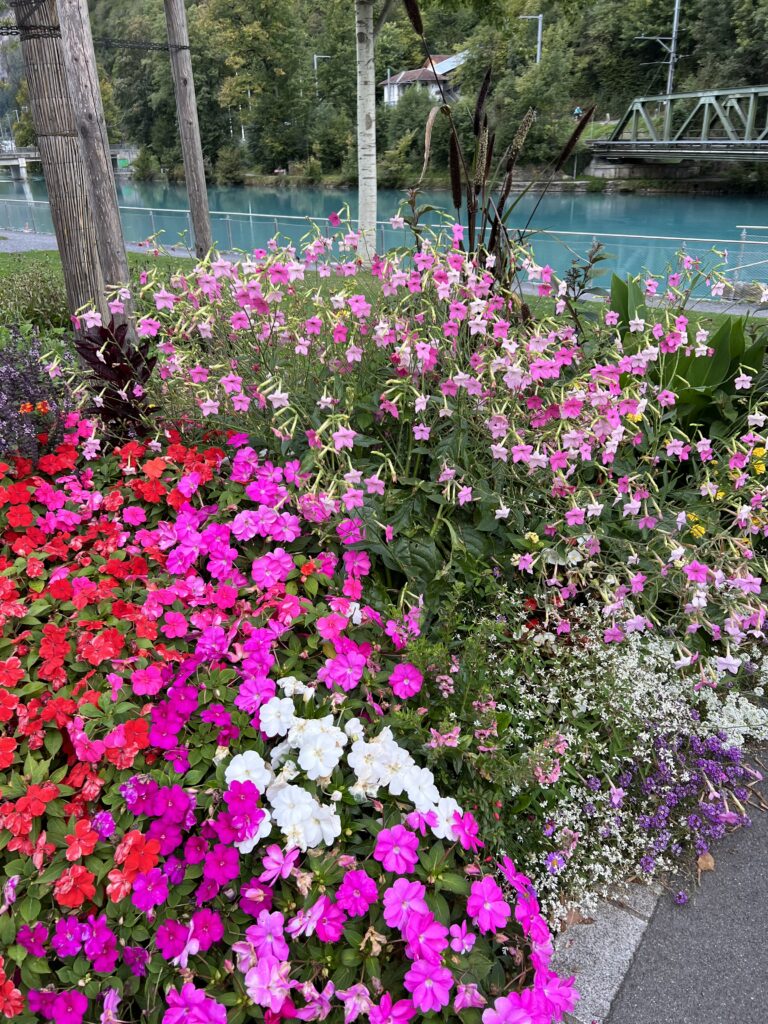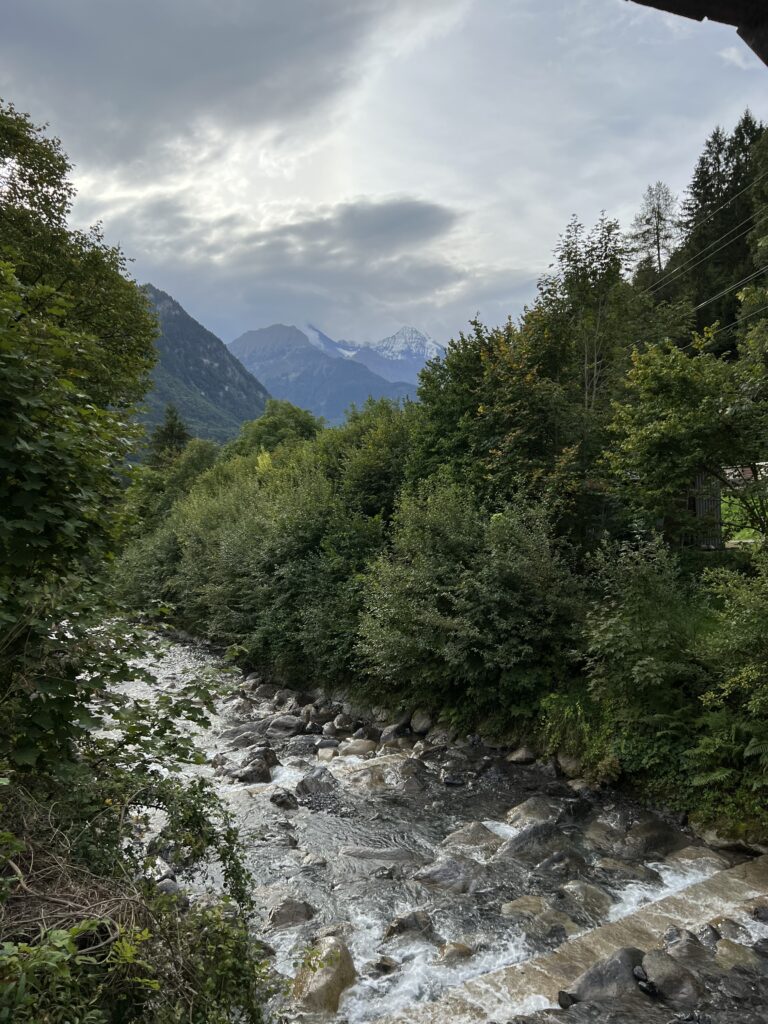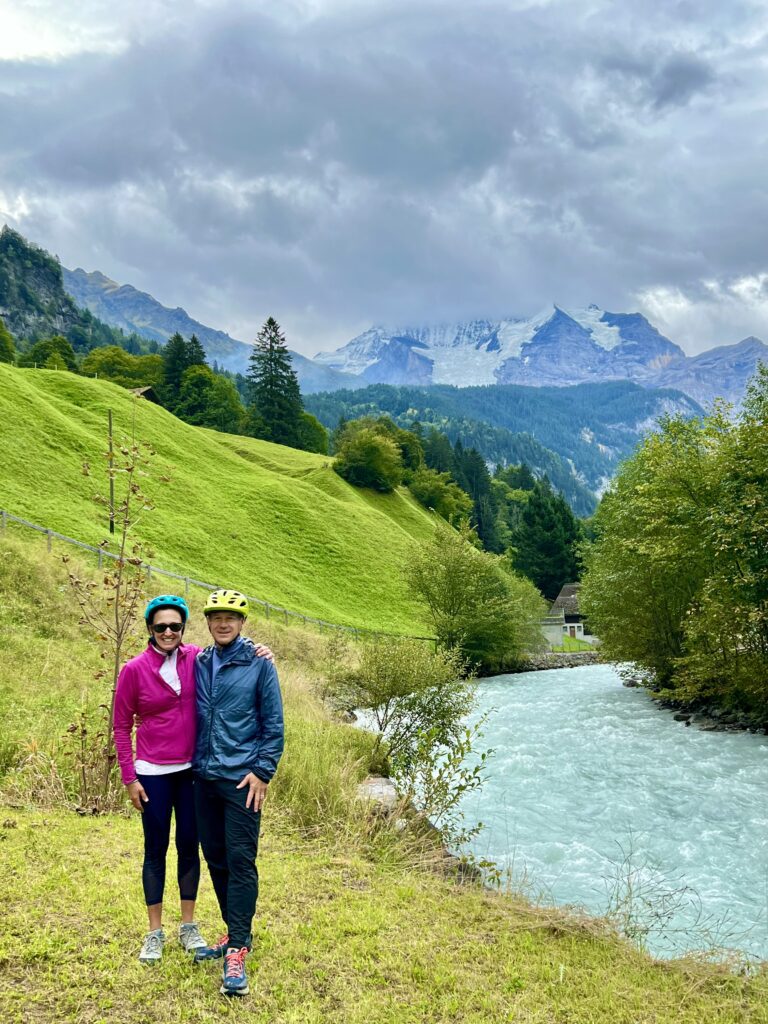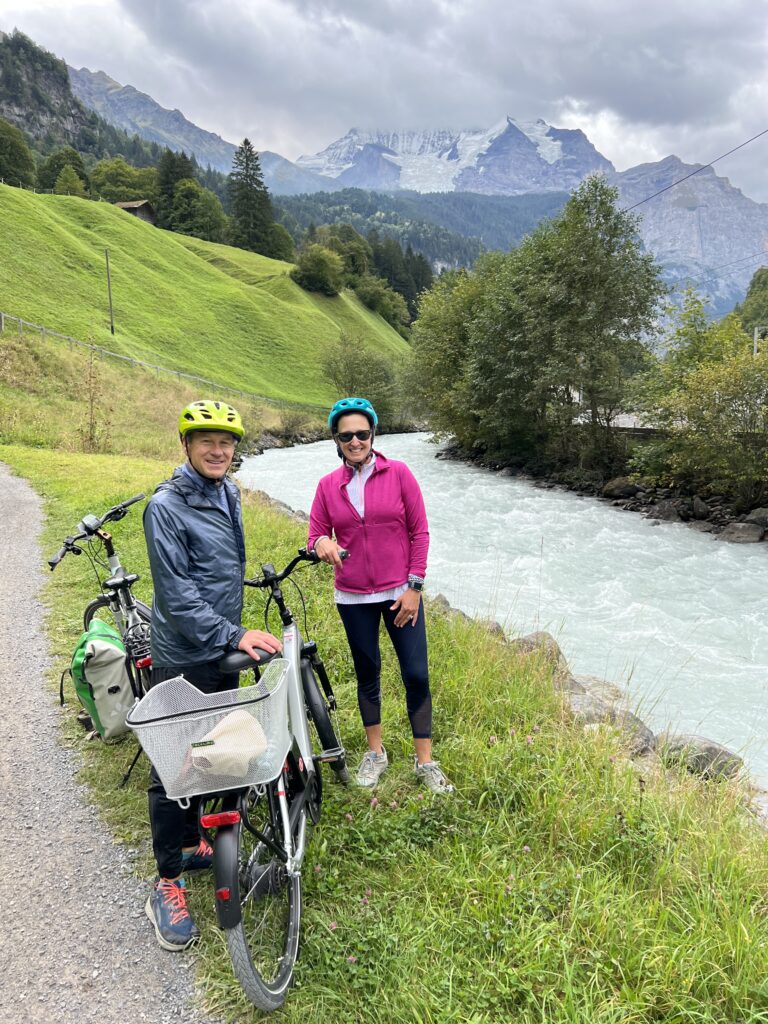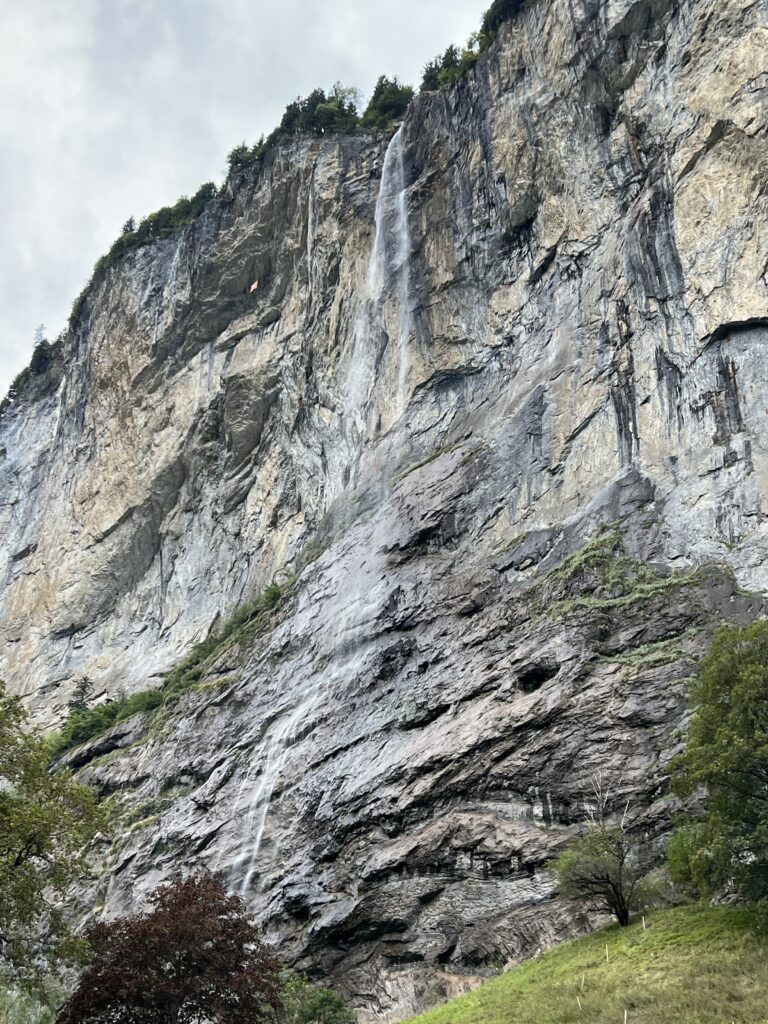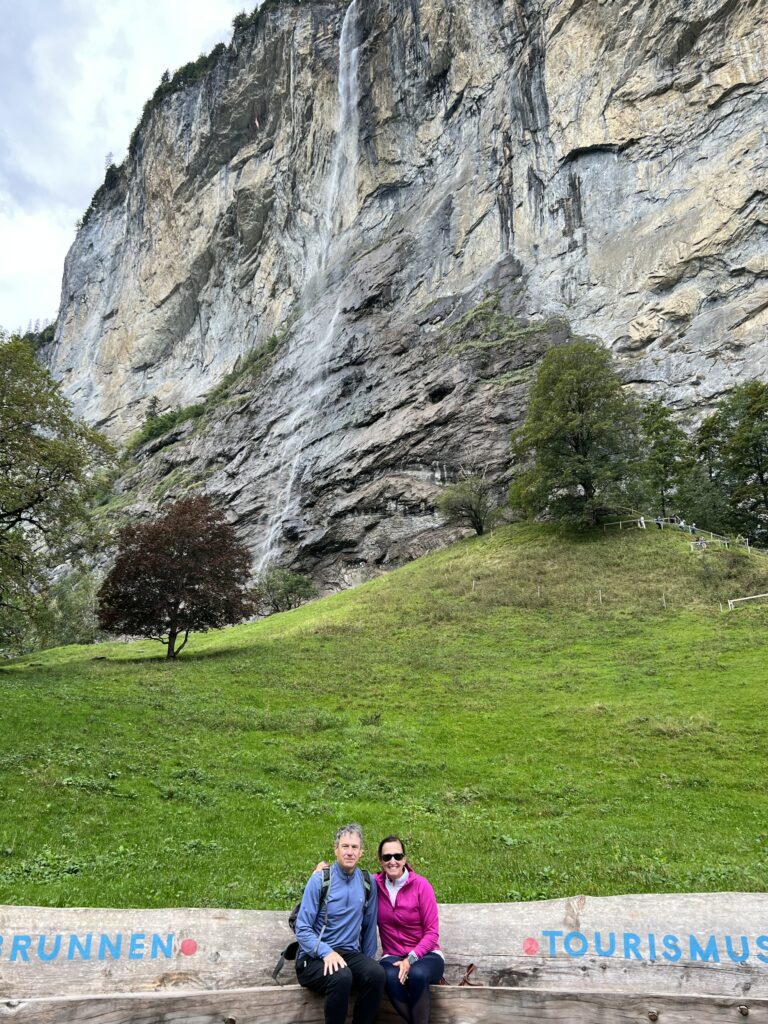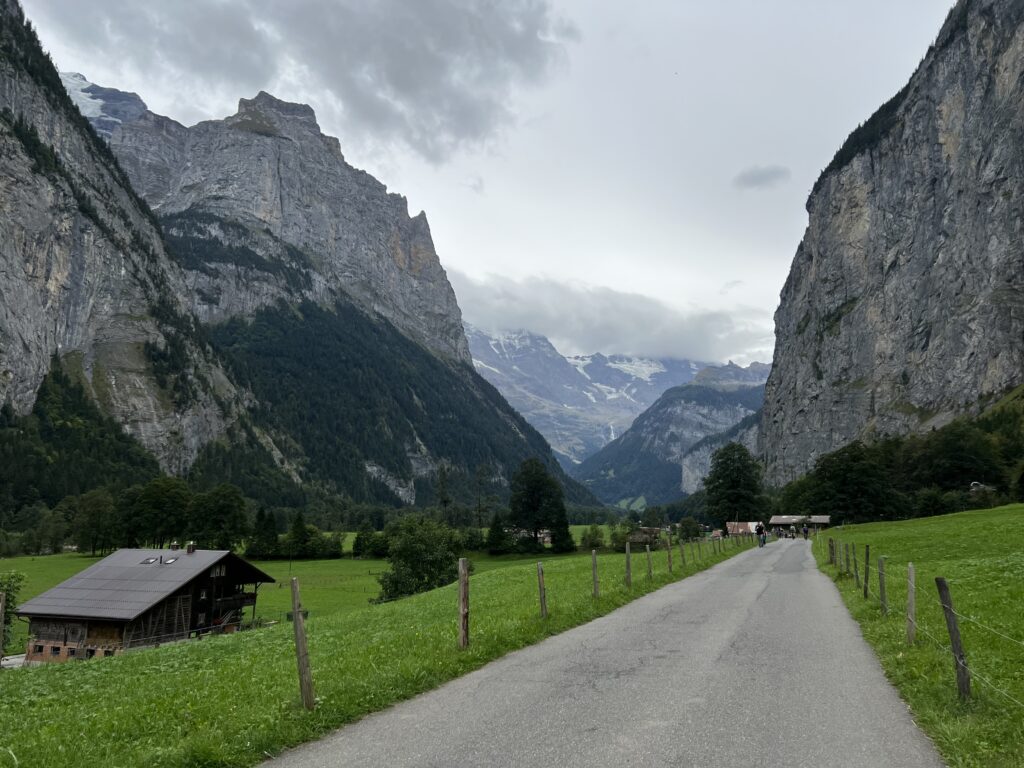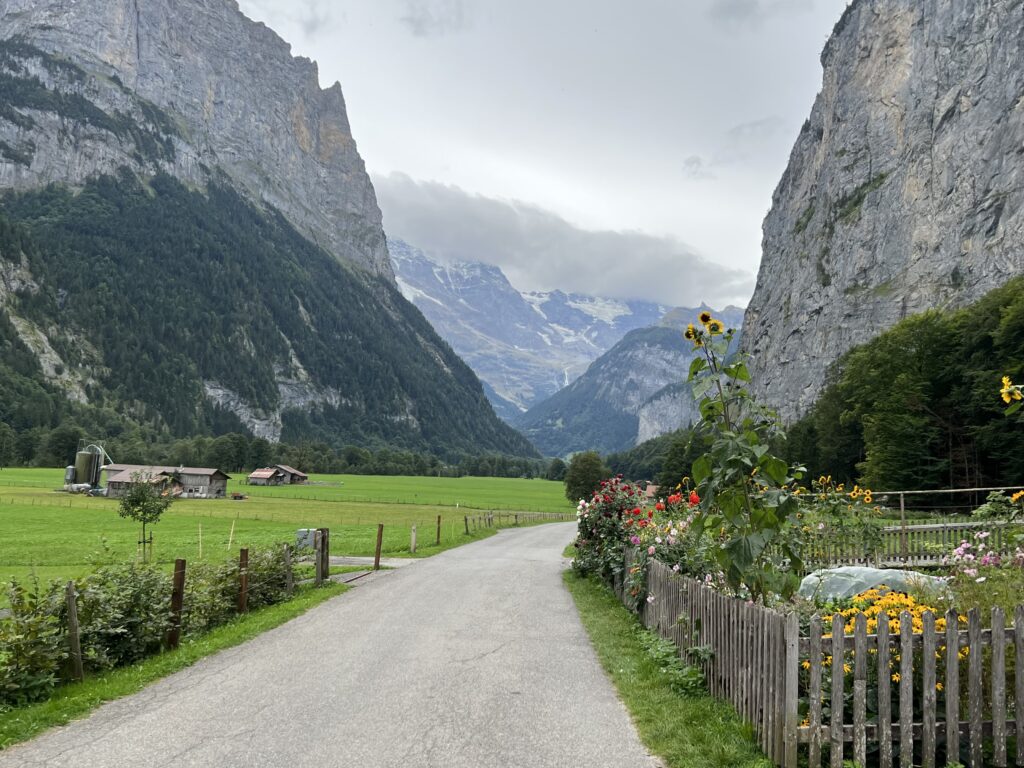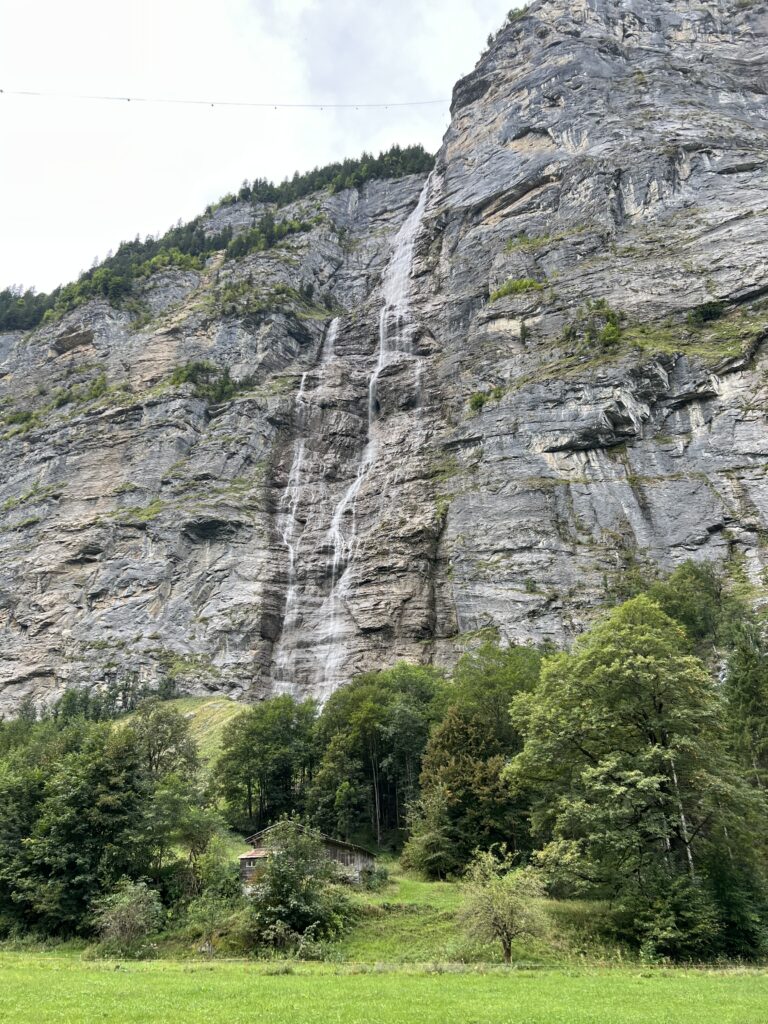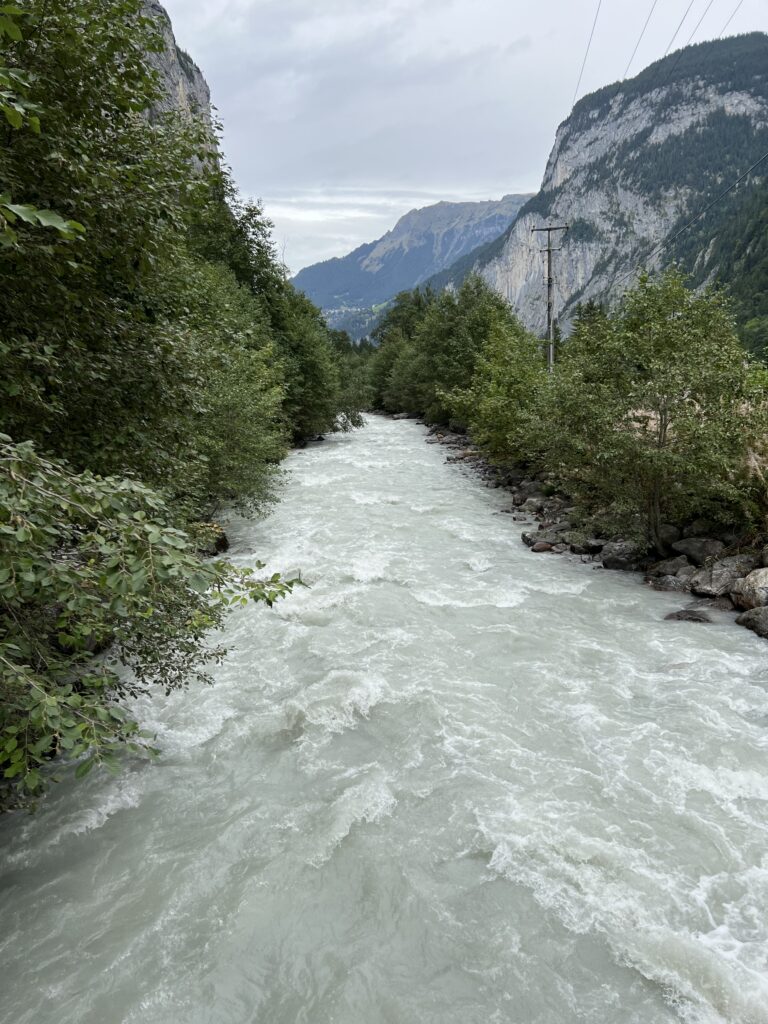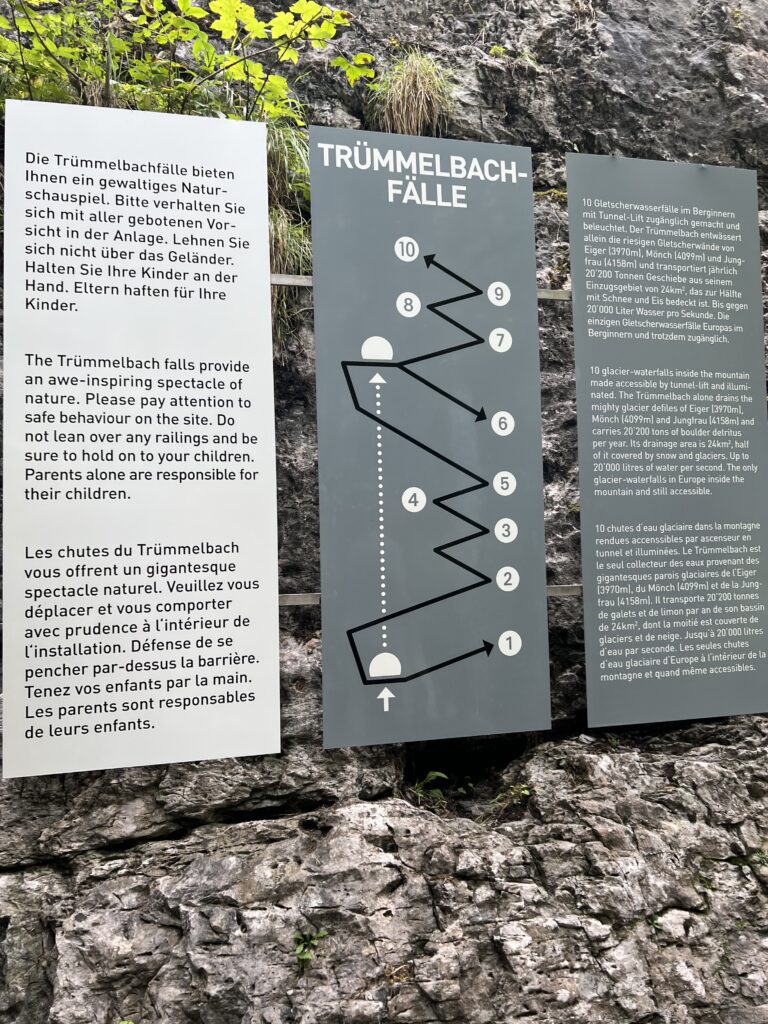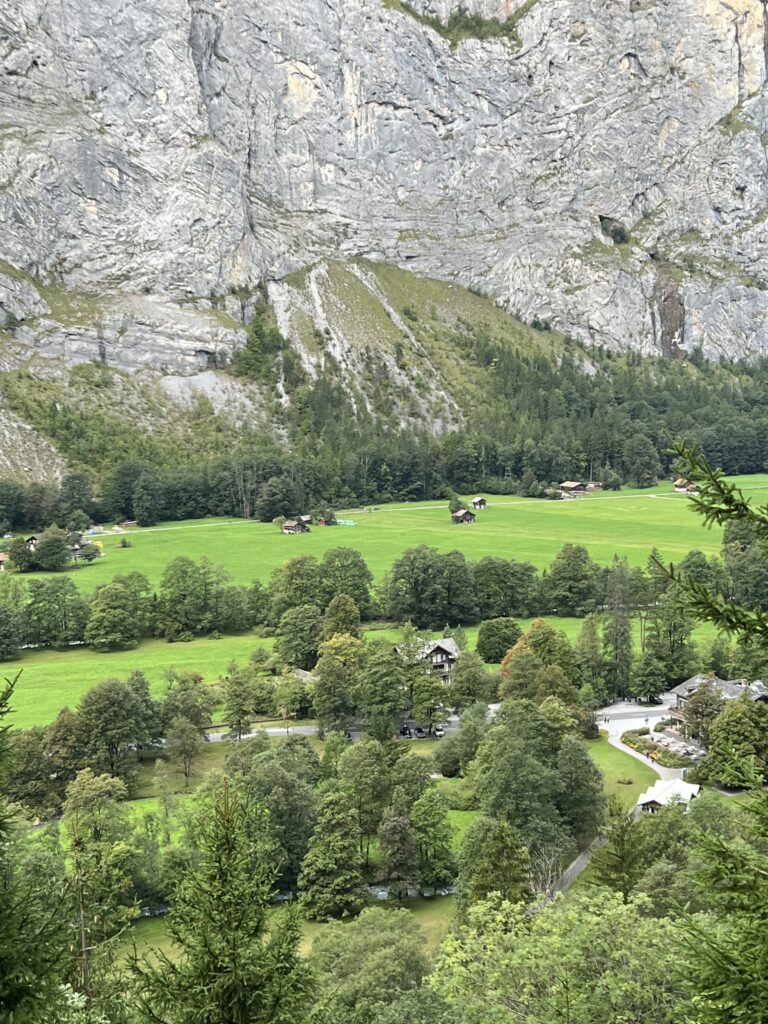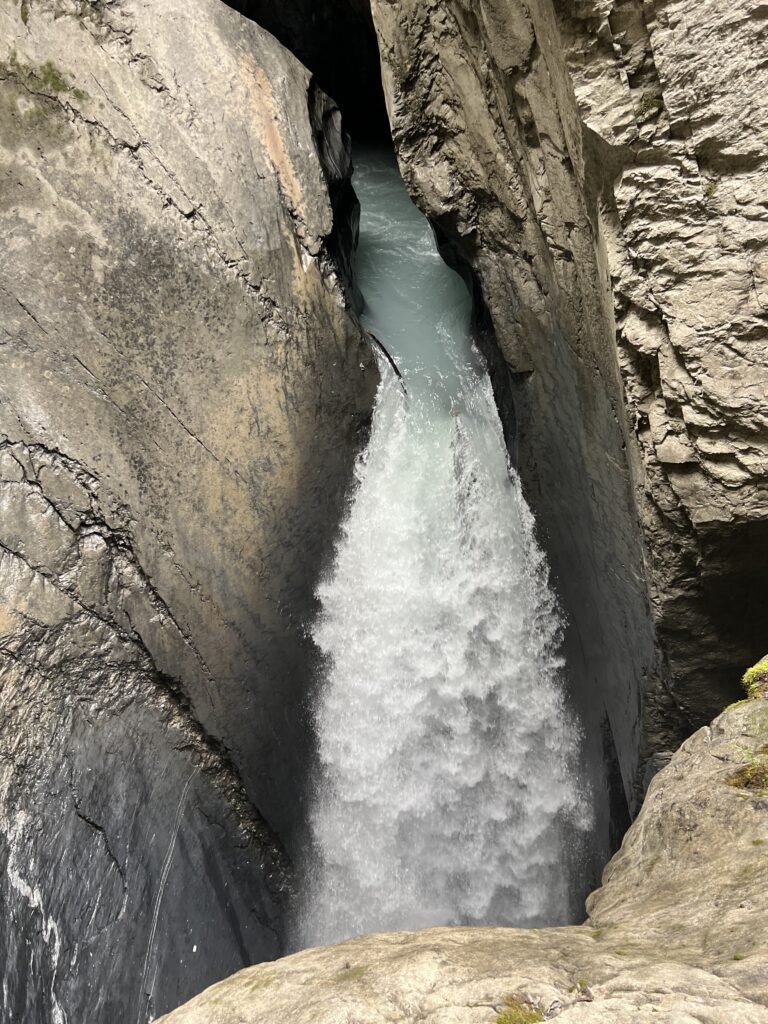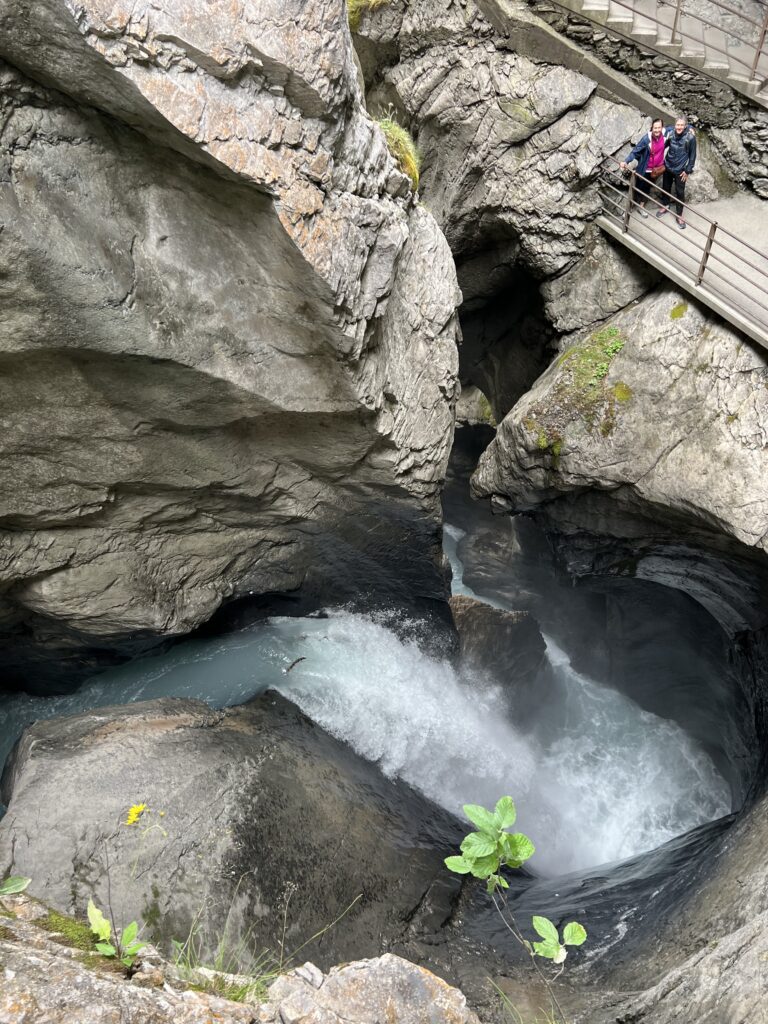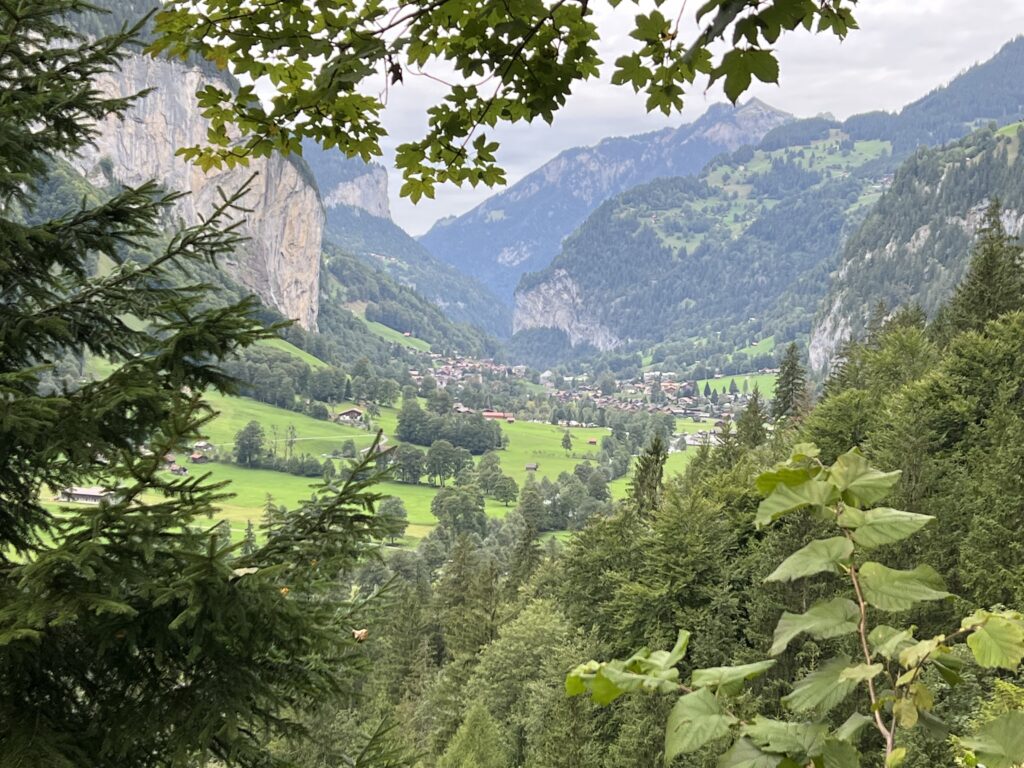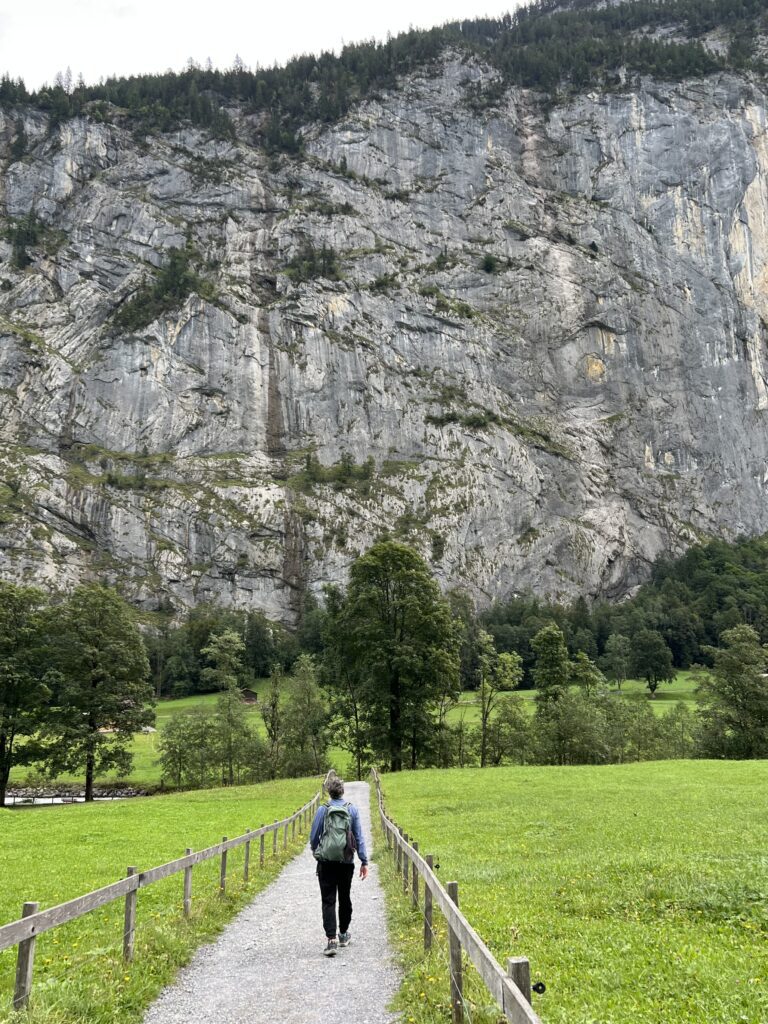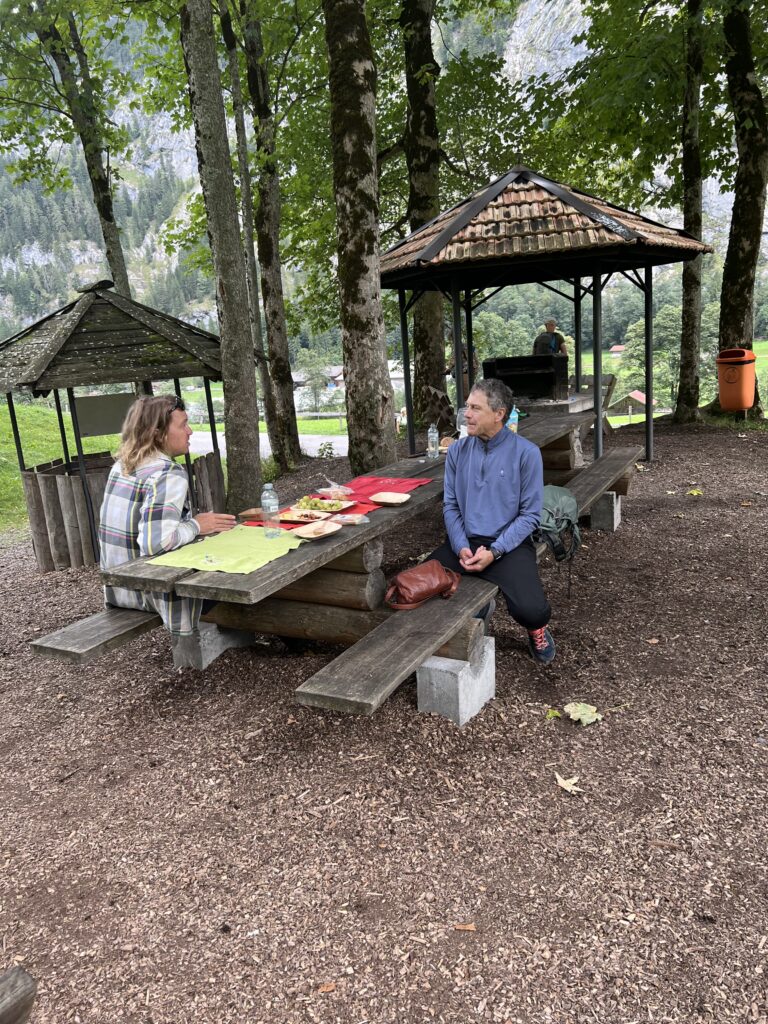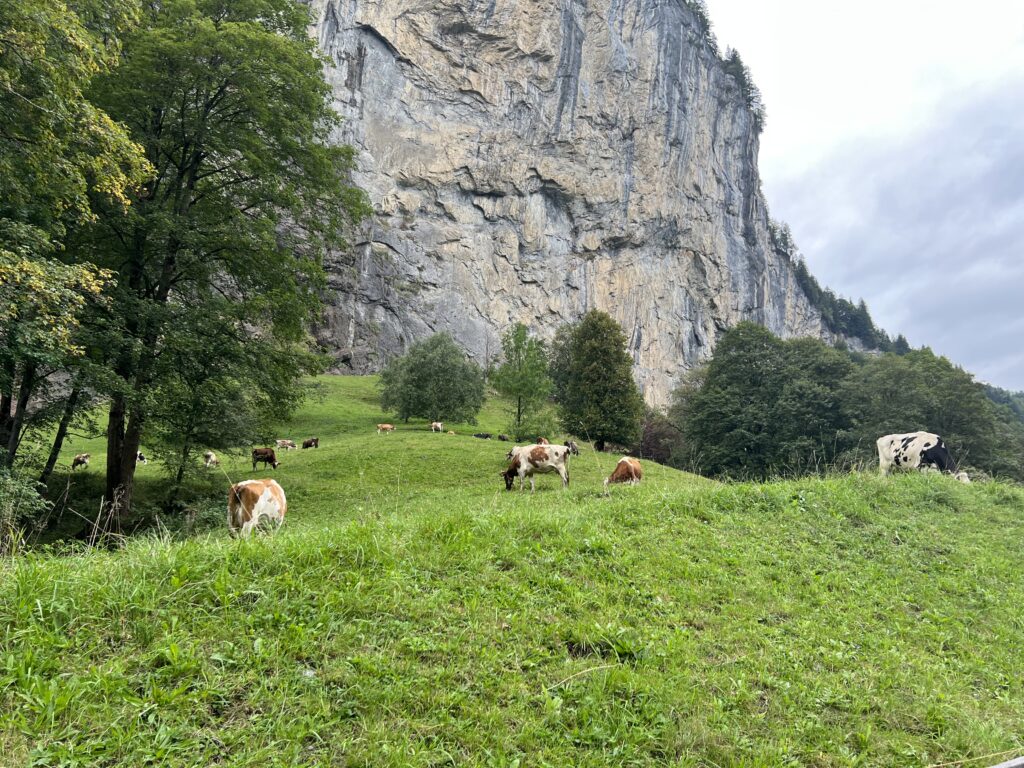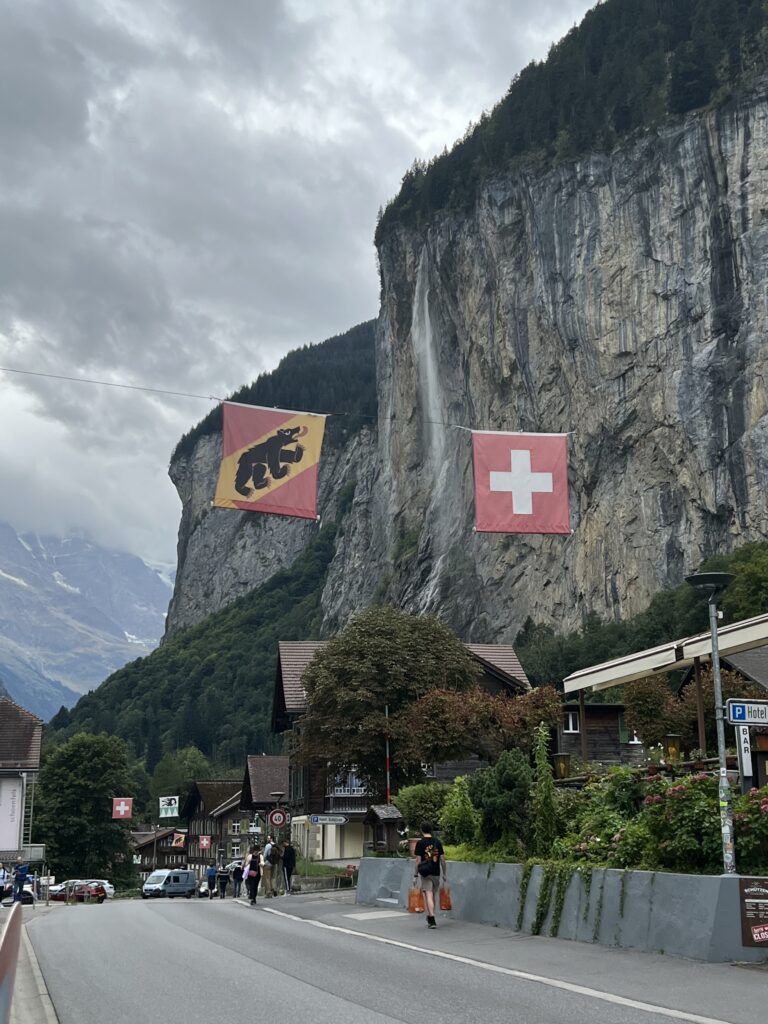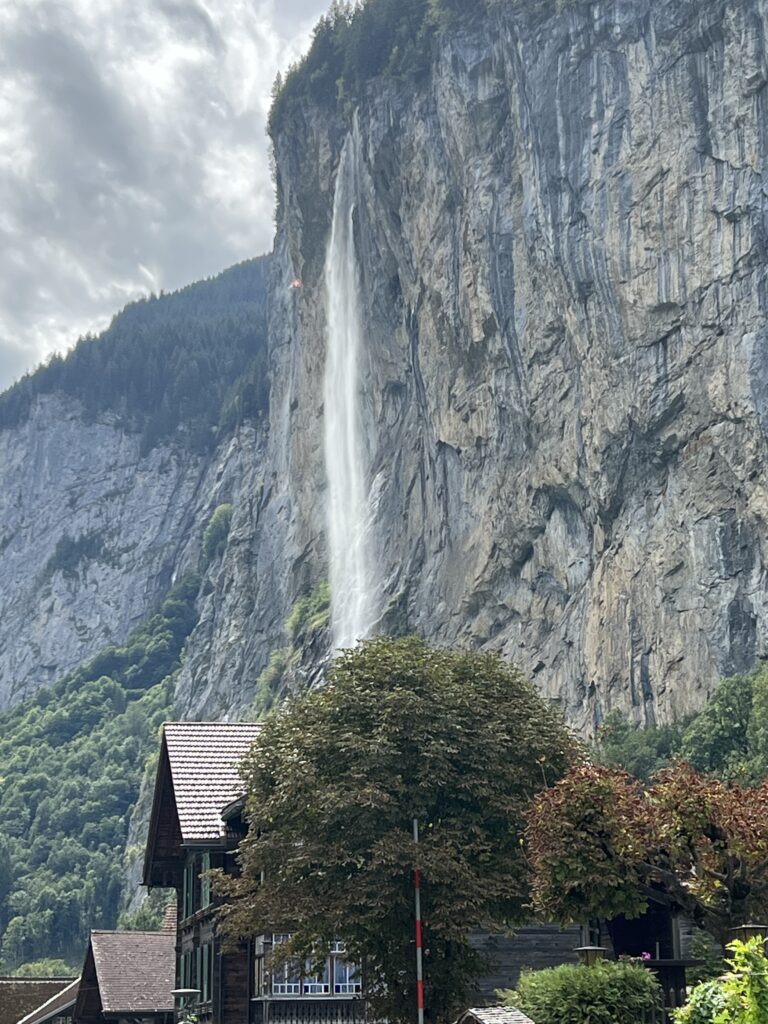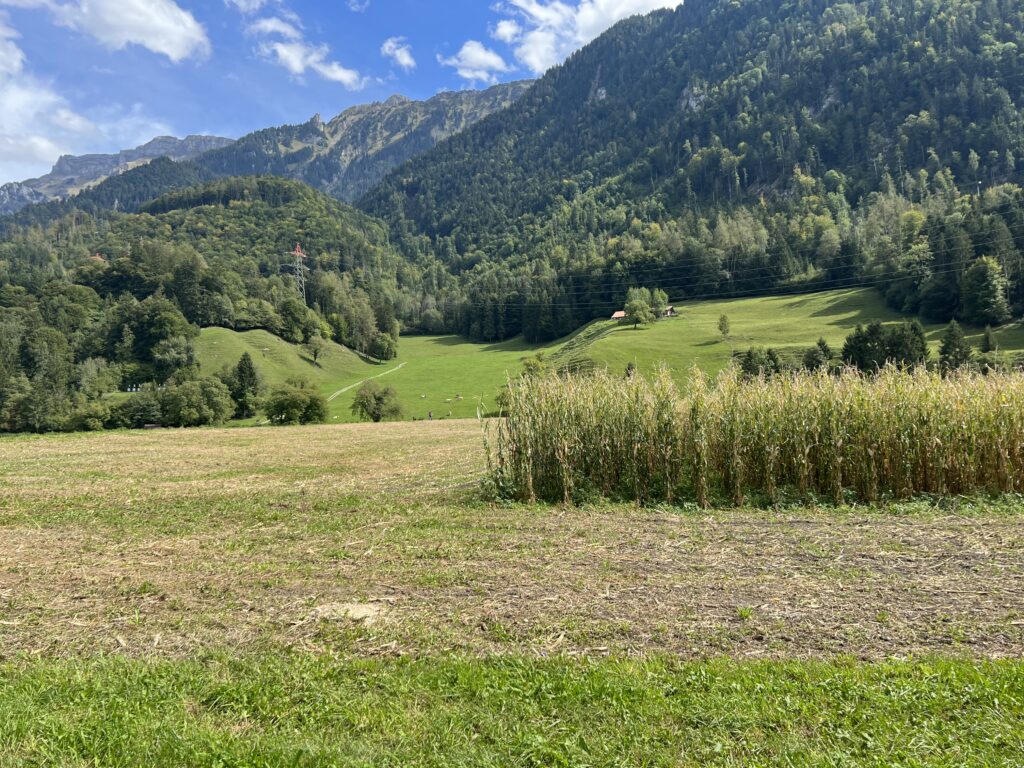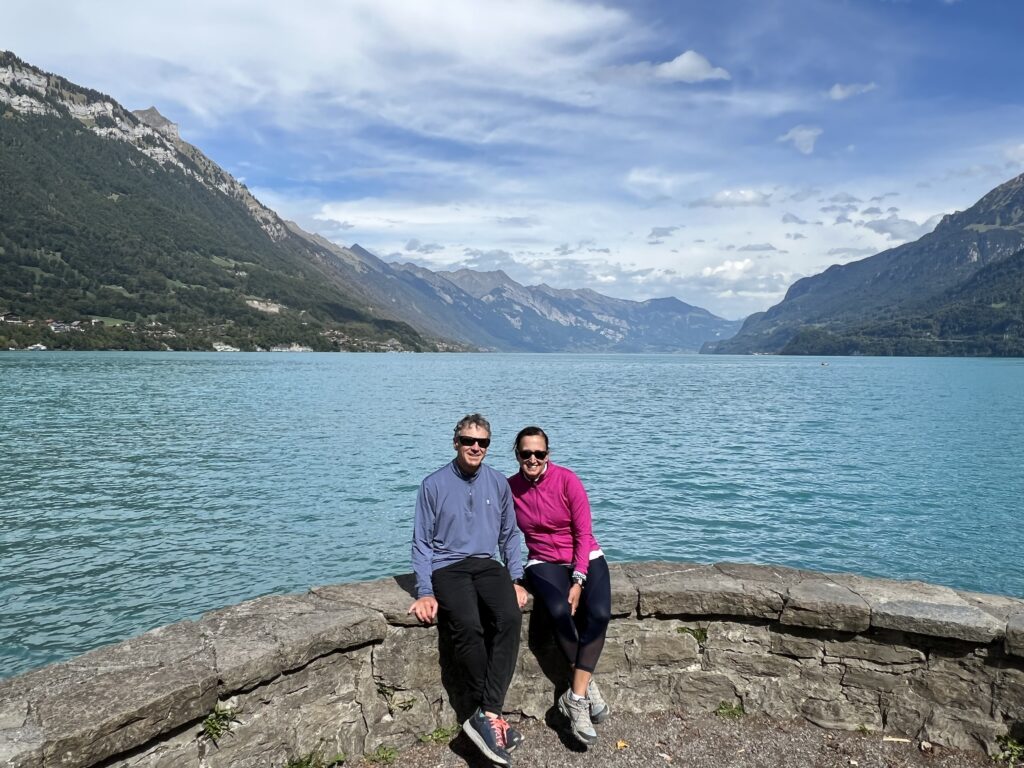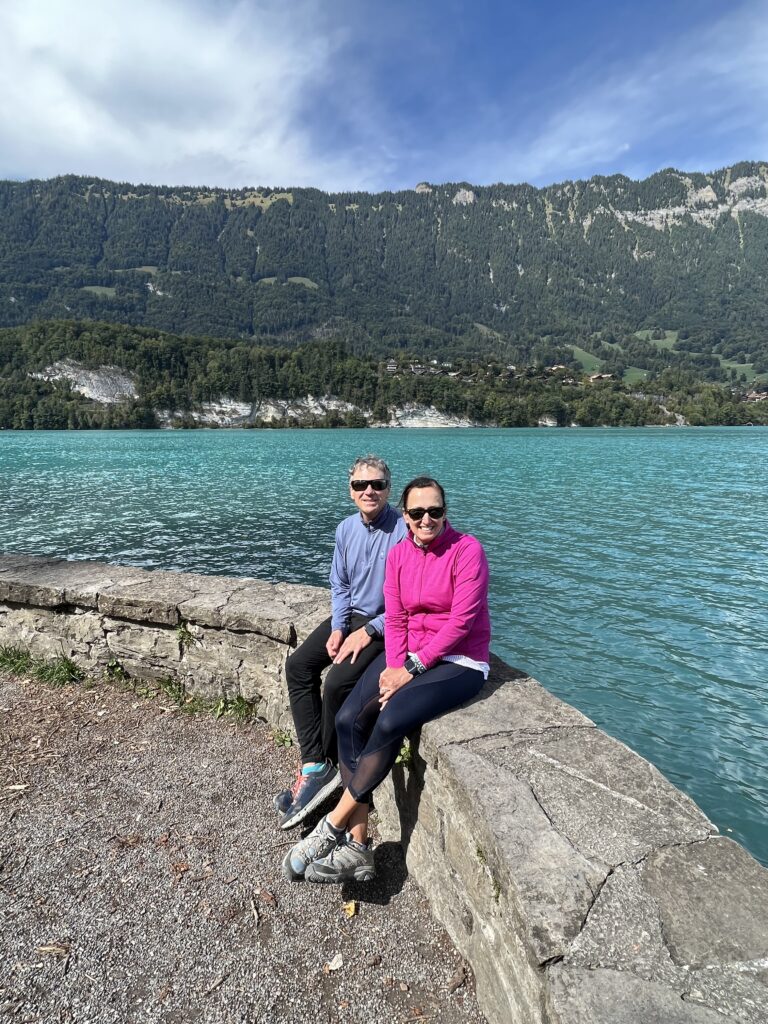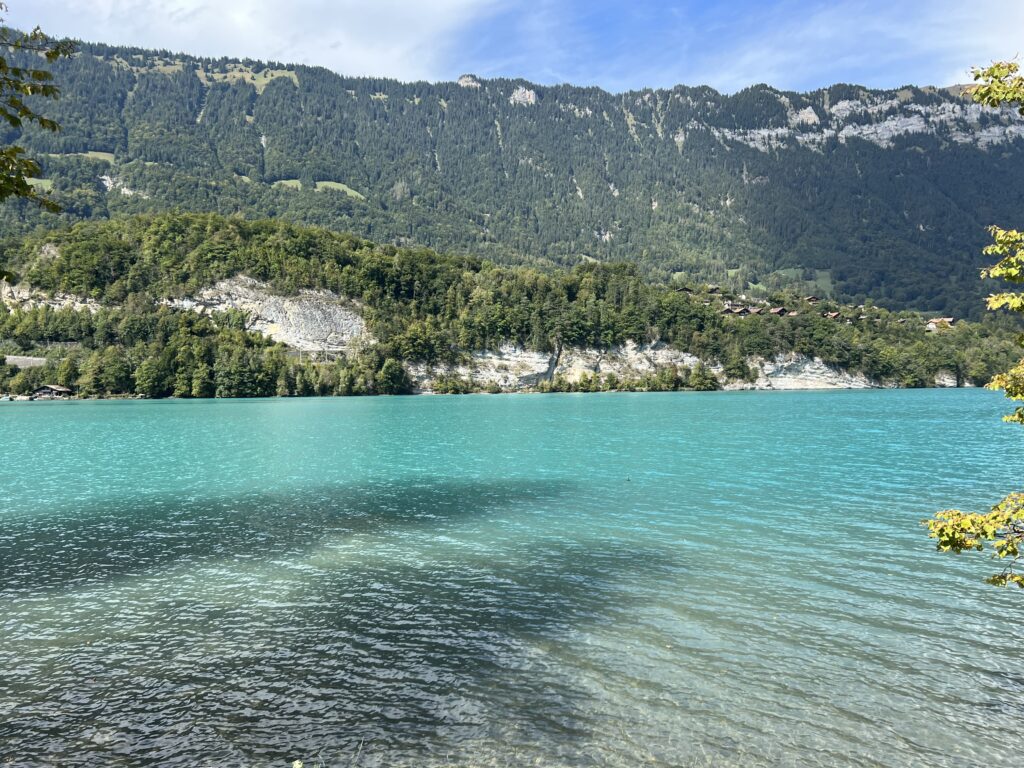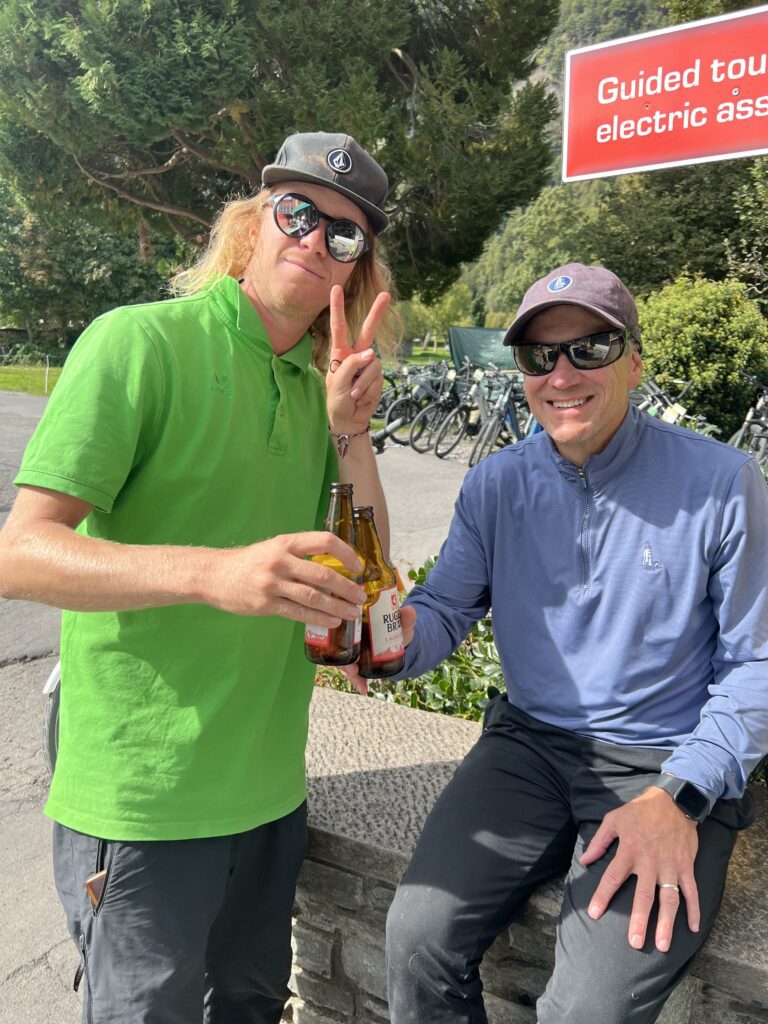 Harder Kulm
Harder Kulm is a funicular that is just steps away from the Interlaken train station. We walked from the bike store to the ticket office. It cost us about $18/person for the round trip excursion on the funicular. We had an active Swiss Travel Pass/Flex for that day that gave us 50% off the cost of the ticket. You can hike up and/or down for free. You can also buy a one-way ticket is you plan to hike up and ride down. There are not a great deal of views until you get to the top. Ticket prices and a timetable can be found on the official website. We enjoyed the views. There are dining and more hiking options up top. Food prices are high. No picnics are allowed at the restaurant. We enjoyed our quick visit here after our bike ride.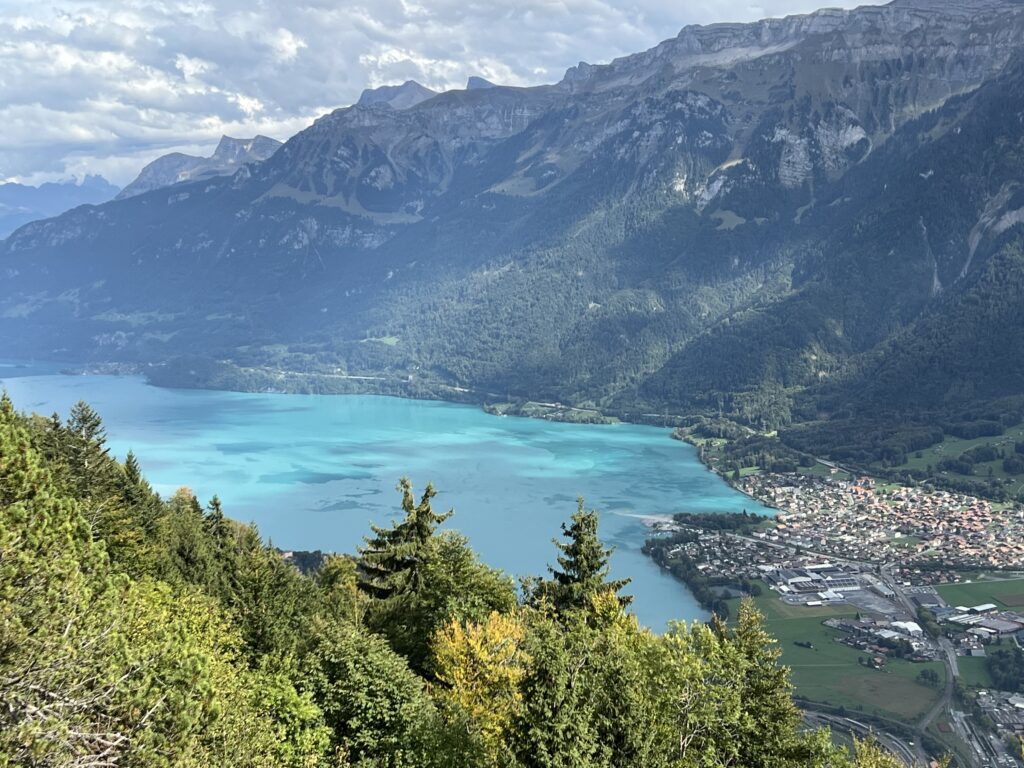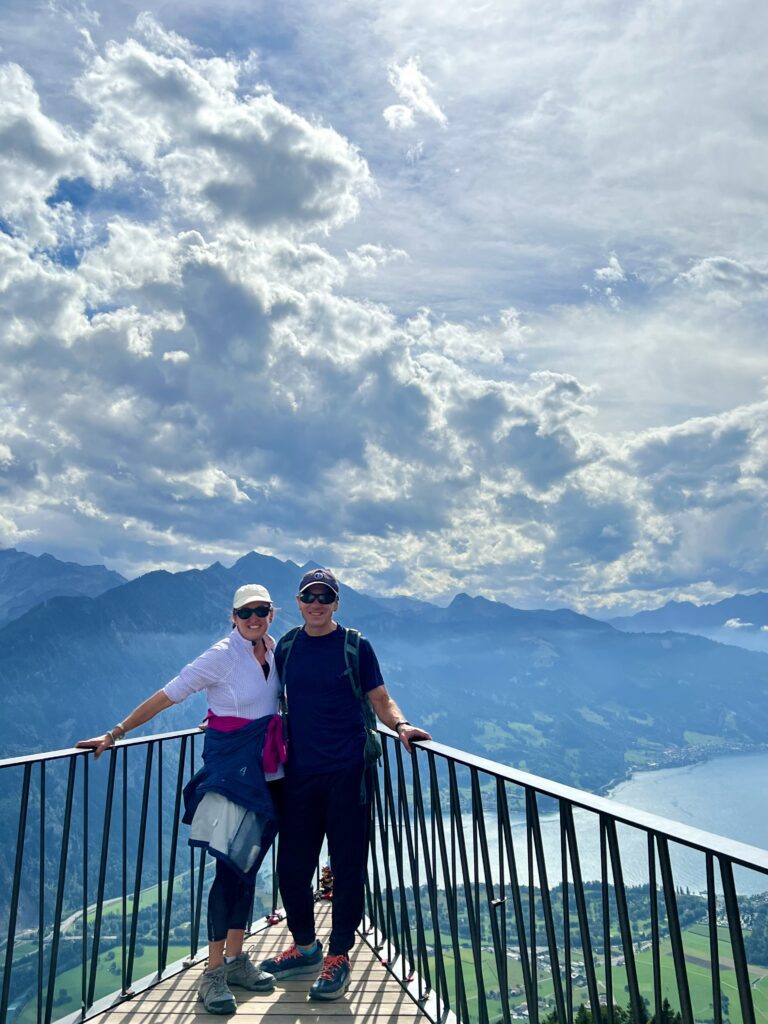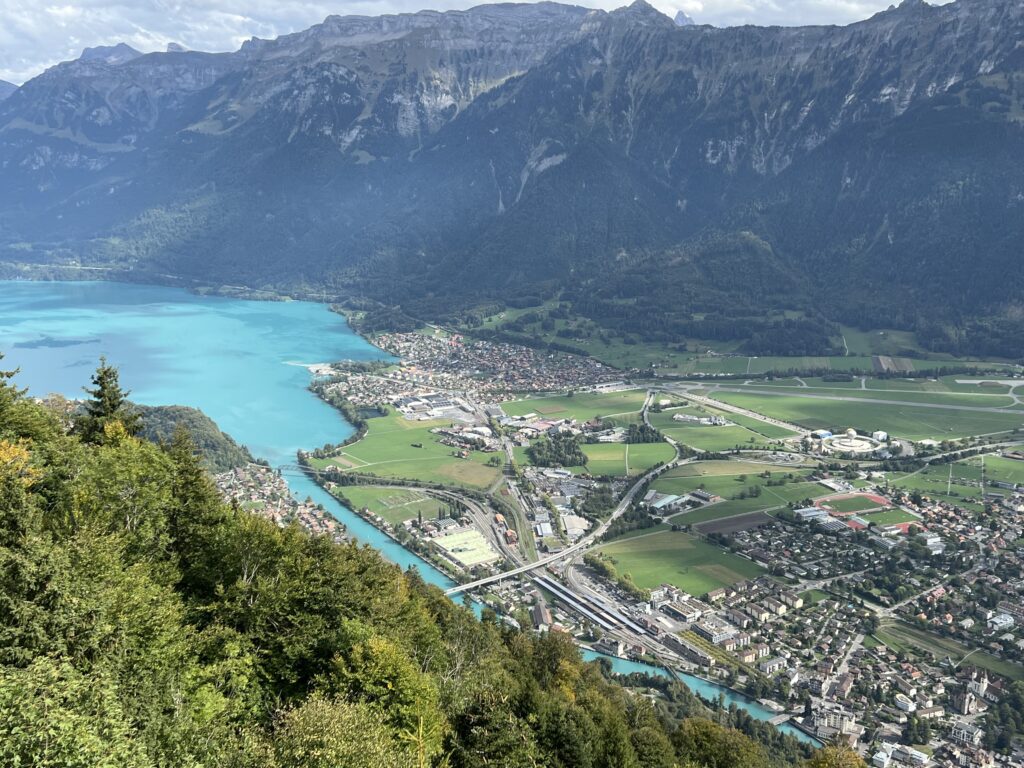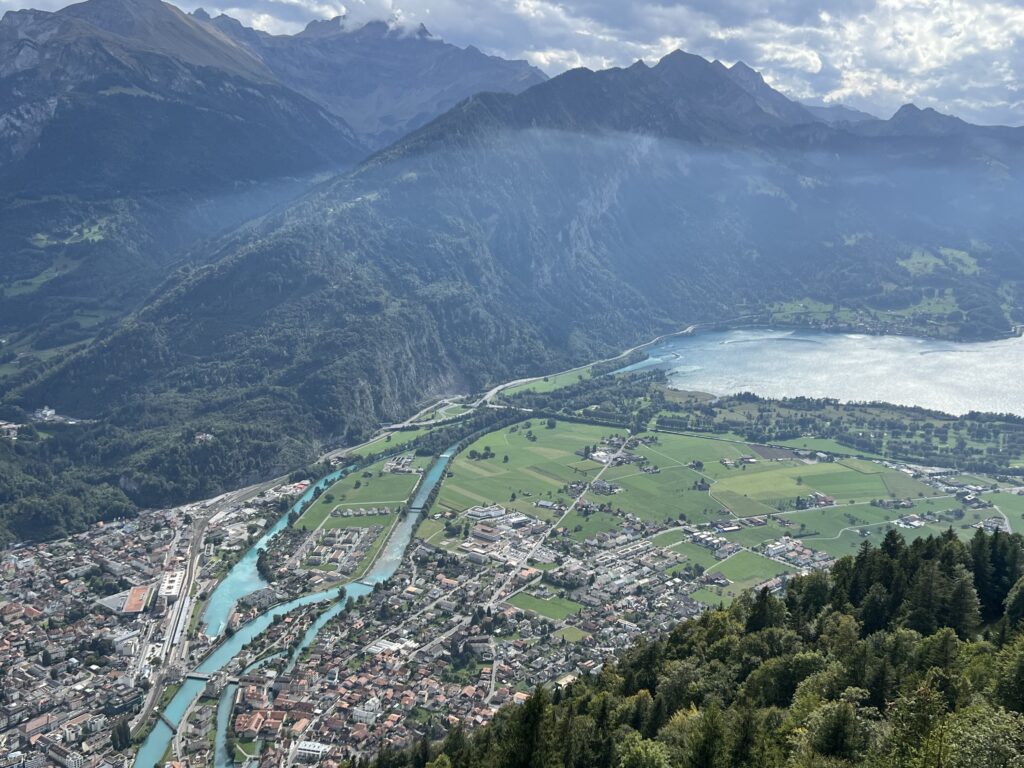 Mürren
Not far from Interlaken is the incredible car-free village of Mürren, nestled high above the Lauterbrunnen Valley. The only way to get to the village is to take public transportation. You could park a car in Lauterbrunnen or Stechelberg.
We took a quick 23-minute train from Interlaken to Lauterbrunnen. At the Lauterbrunnen train station, we exited and walked across the street to a cable car which left shortly after the train arrived. The cable car brought us to Grutschalp in about four minutes. It is a gorgeous ride. We hopped on a tiny train from Grutschalp to Mürren arriving in 13 minutes. The trains and cable cars are all timed so there is very little waiting, which is fantastic. All trains and the cable car are included on the Swiss Travel Pass/Flex.
The view from the tiny train to Mürren is amazing. Sit on the left side and open the window for excellent photos. Michele probably took 50 photos on a 13-minute train ride. So many people did not realize the windows open! We happily shared this knowledge with fellow travelers. Note that the train to Murren is tiny. There is no overhead storage for luggage. The train does have an open air car attached for luggage that they cover with a tarp when it is raining.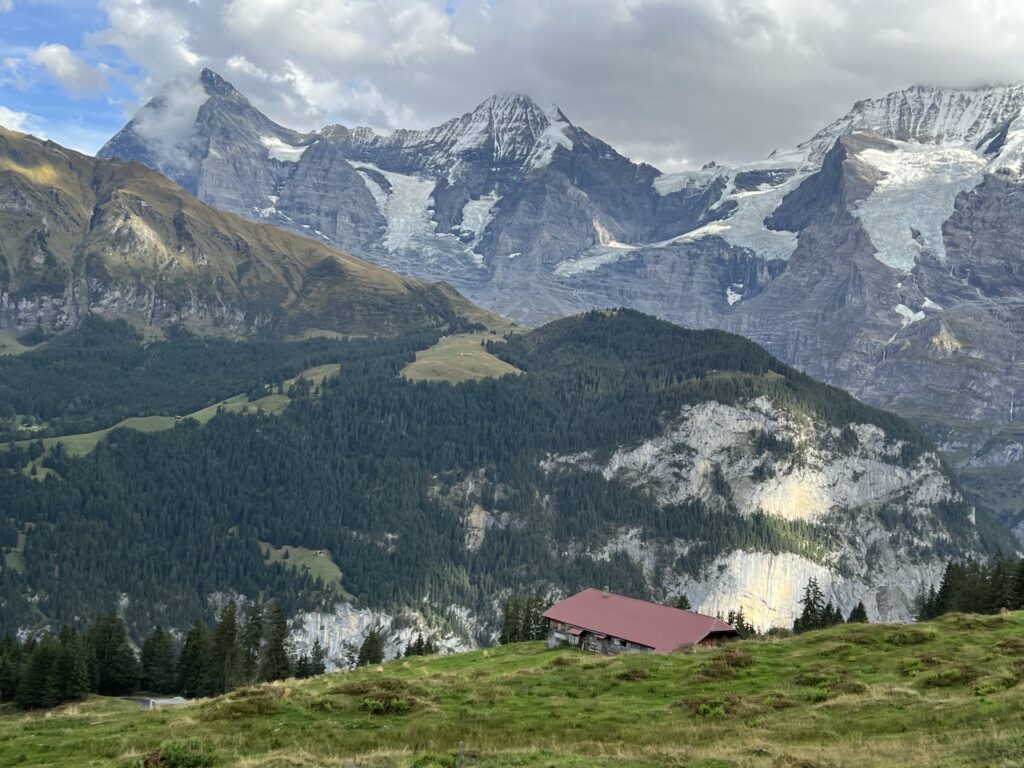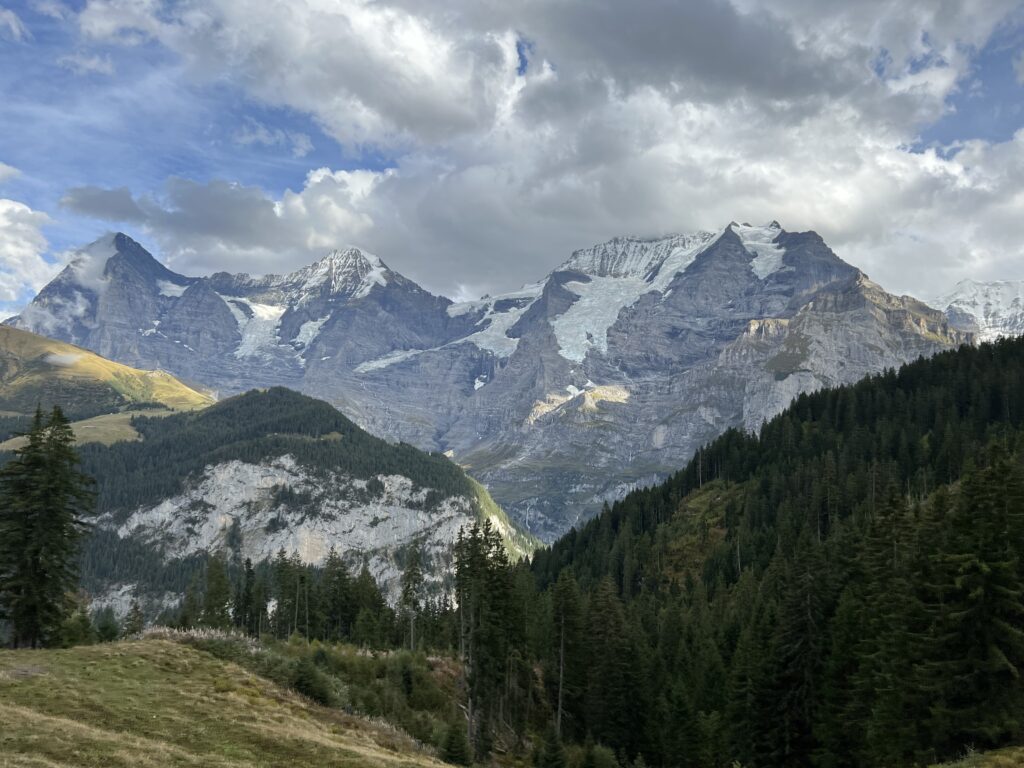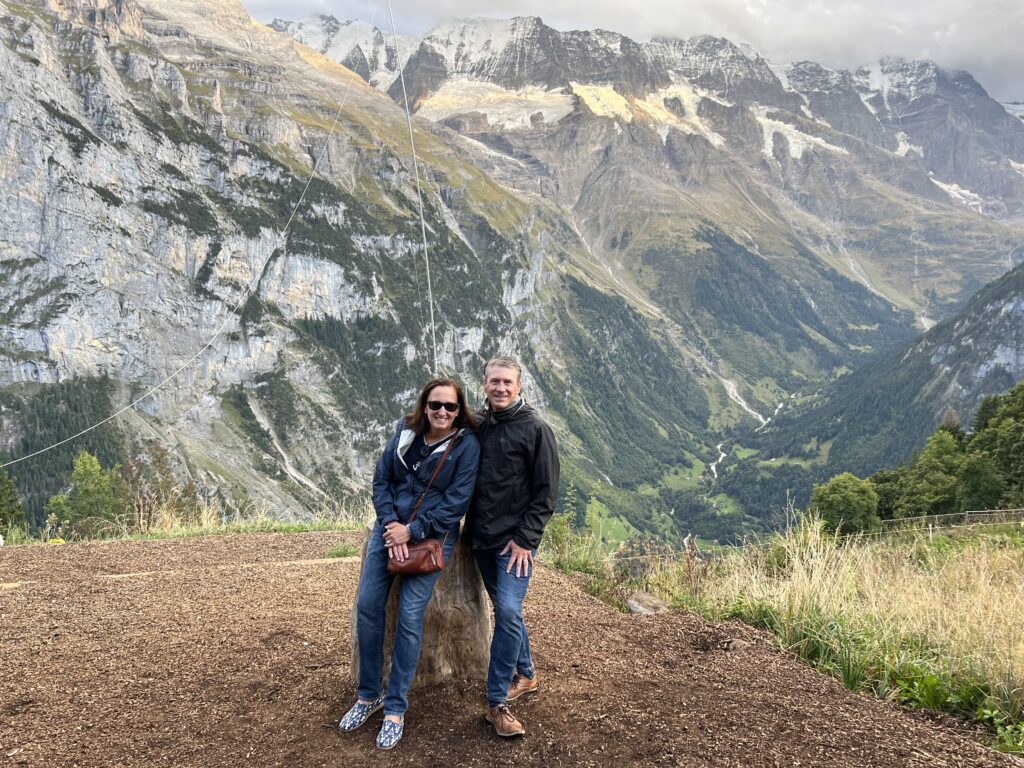 Where We Stayed – Hotel Eiger Mürren
The Hotel Eiger Mürren is a spectacular hotel with outstanding views of the Eiger Mönch and Jungfrau. The service is outstanding. The breakfast is generous and delicious, and the breakfast room has a to-die-for view. The indoor pool and saunas were fun. The hotel encourages you to stroll to the spa facilities in your bathrobes.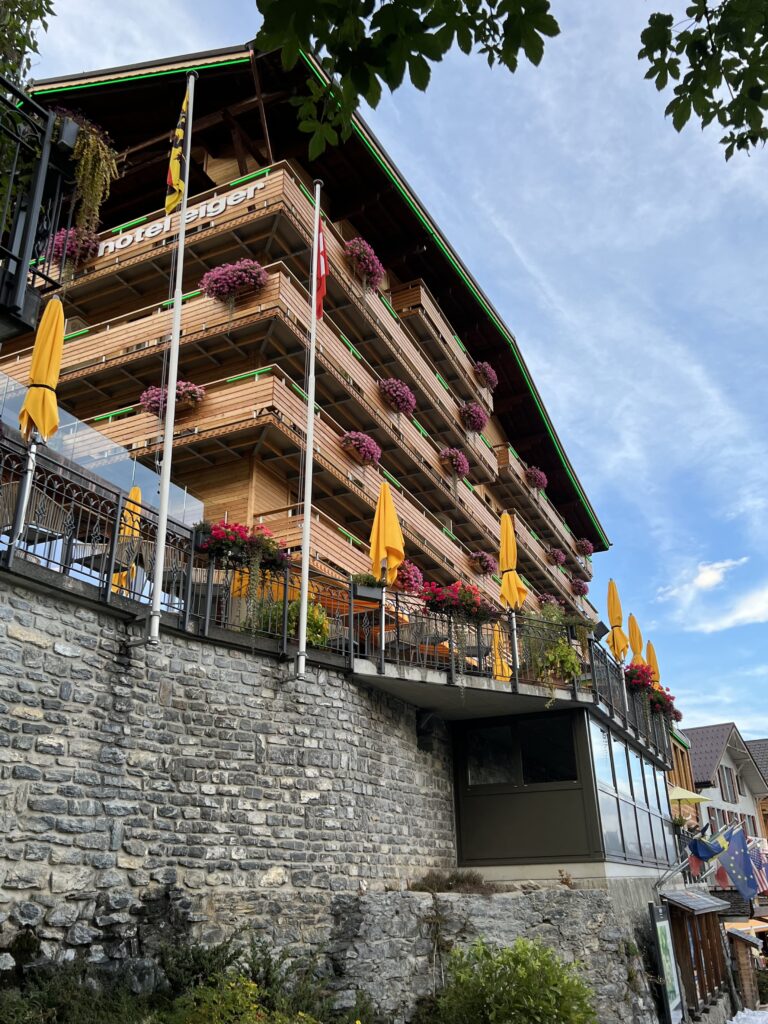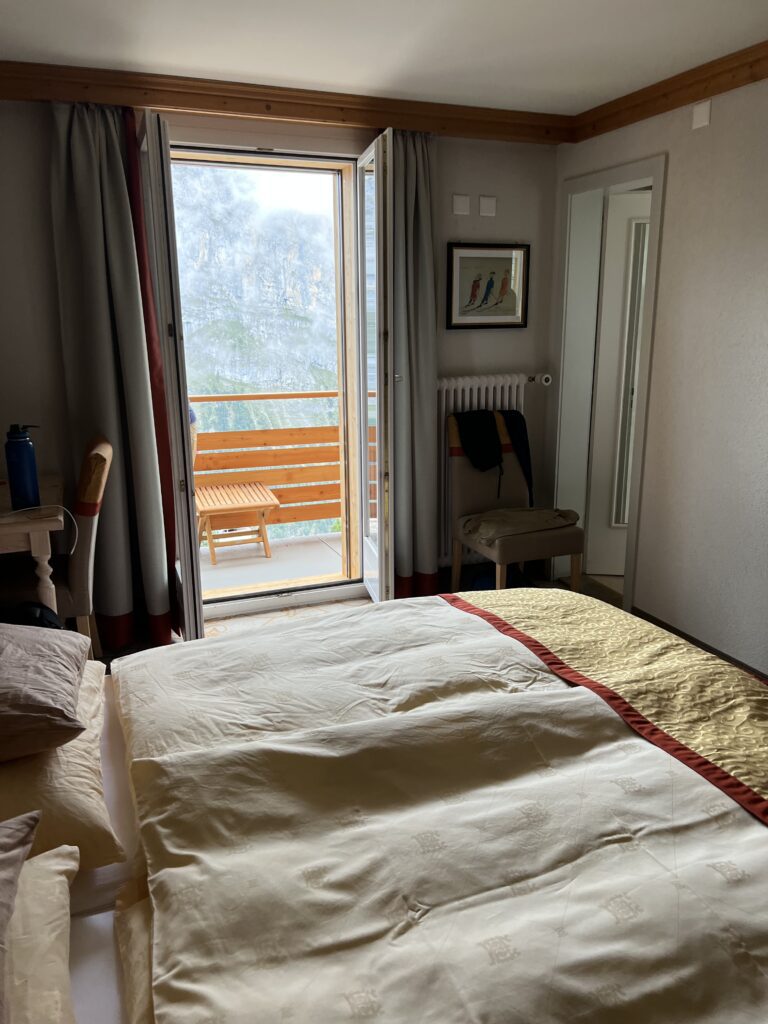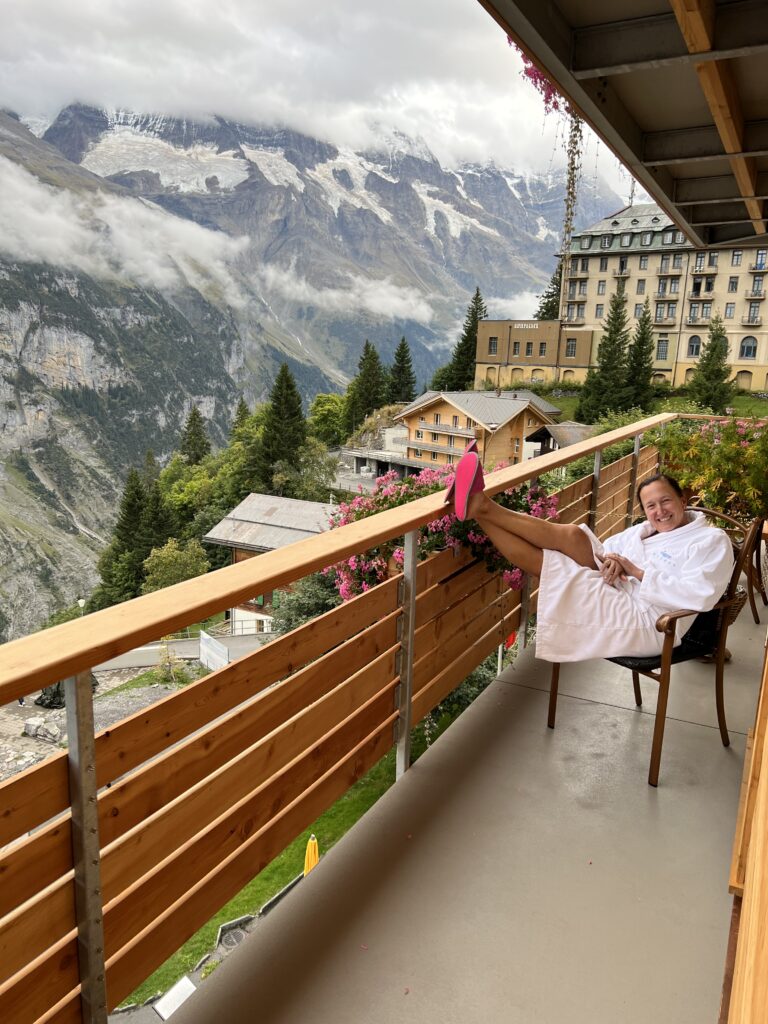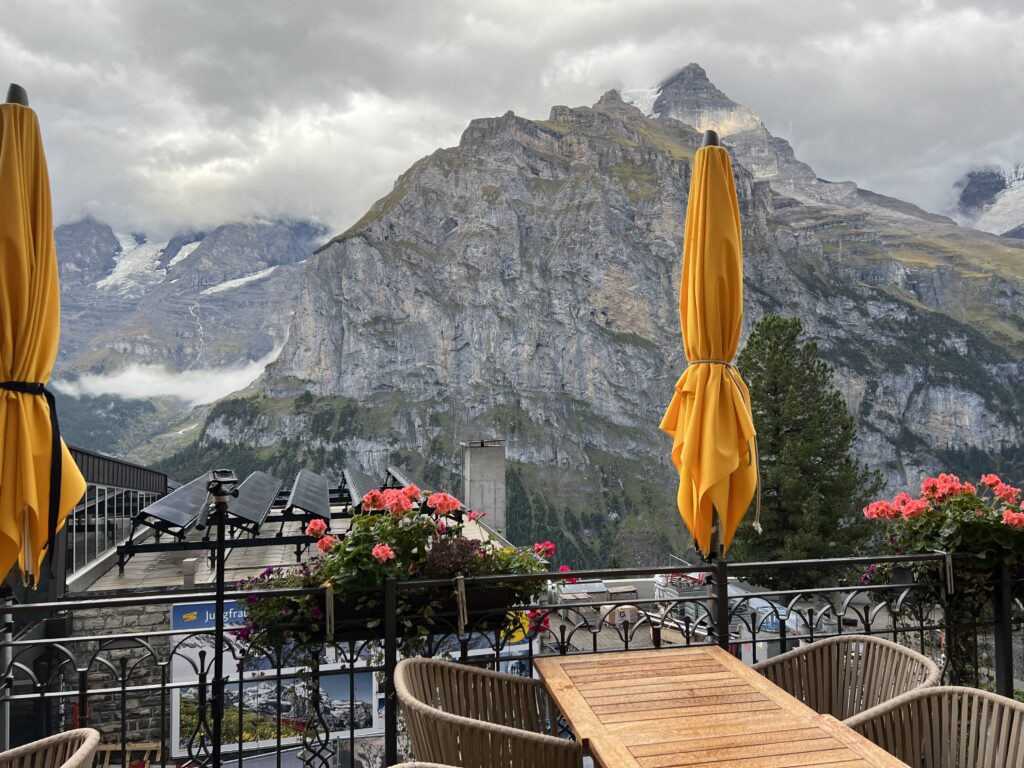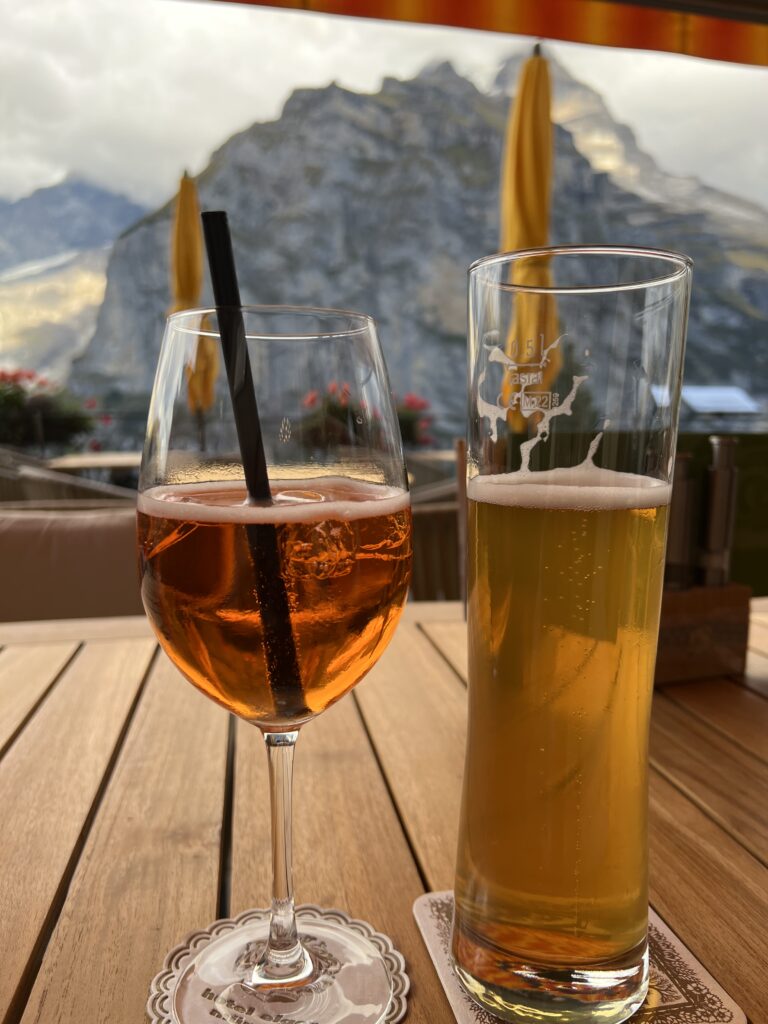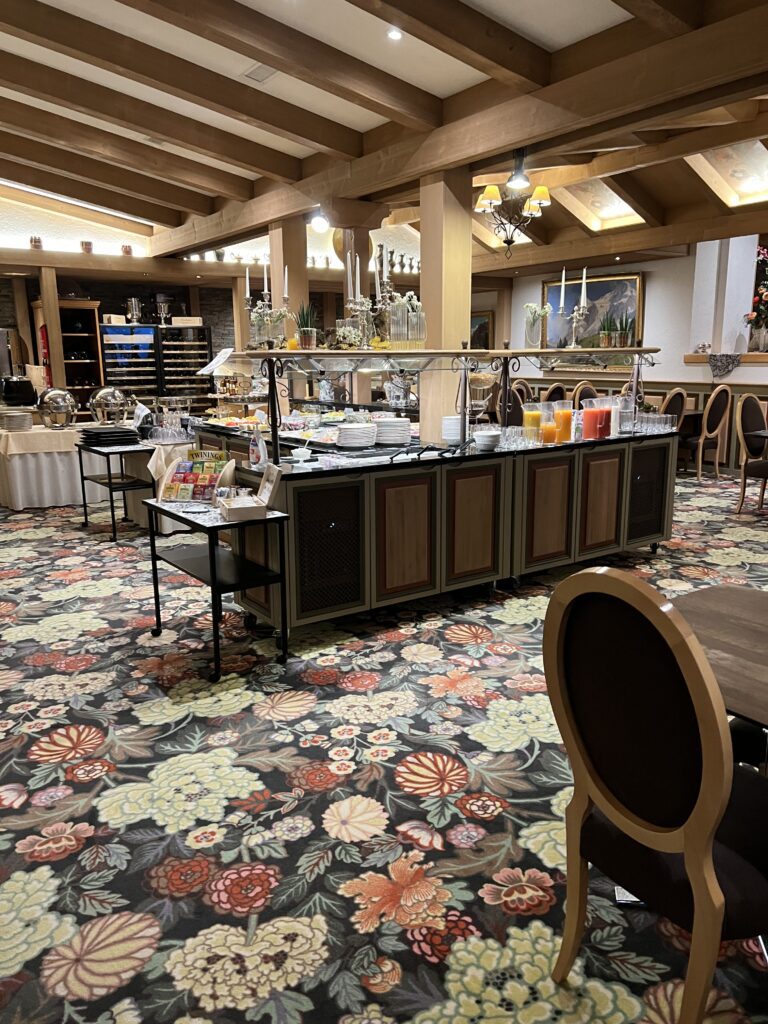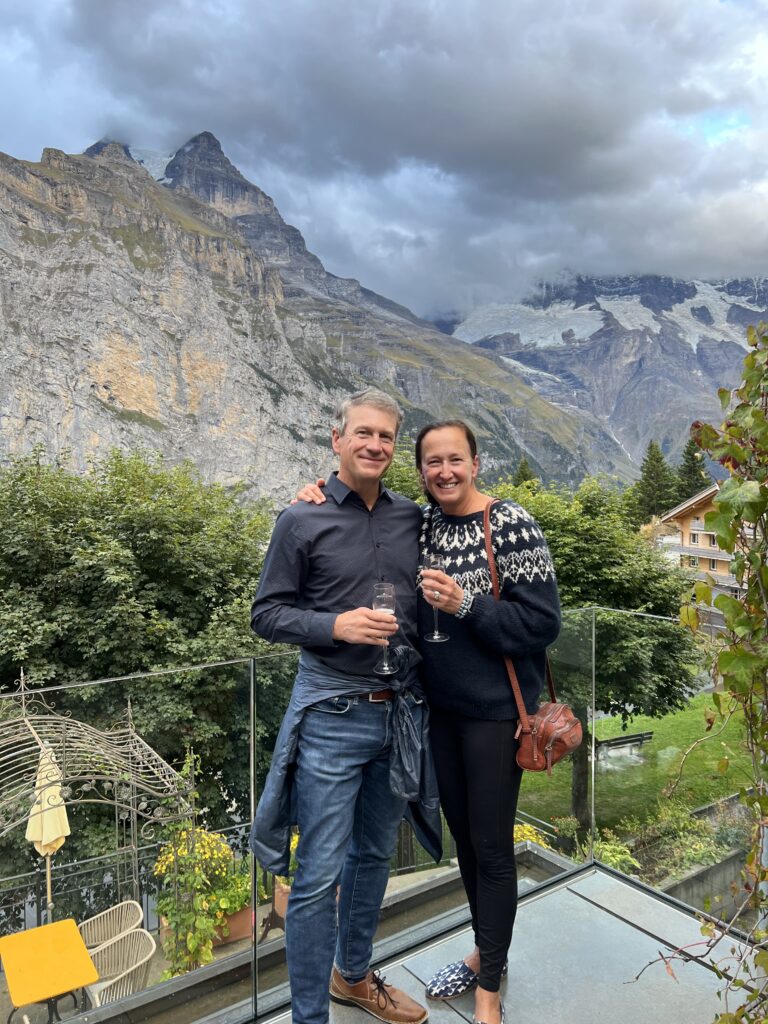 Hiking the Northface Trail and Mountain View Trail in Mürren
We planned to do an almost full-day hike in Mürren and then a shorter one the following day with a ride to the top of the Schilthorn on a series of cable cars. The weather did not cooperate at all on day two. So, we can only report on a two hike combo that we made into one long hike.
We had a great deal of overnight rain in Mürren. The rain was lessening as we ate breakfast. We piled on our rain gear and headed out.
We first walked down to the cute village of Gimmelwald. This is a very easy downhill walk on a paved road. The village is adorable. We were there early in the morning, so the Honesty Shop was yet to open. We enjoyed our walk here.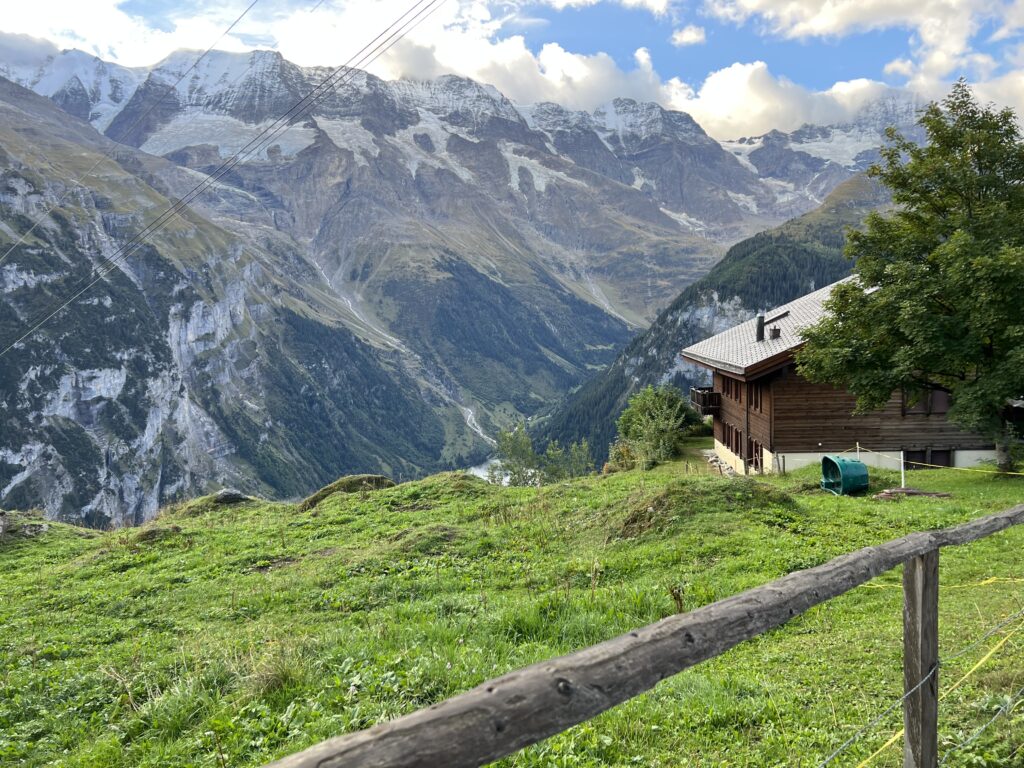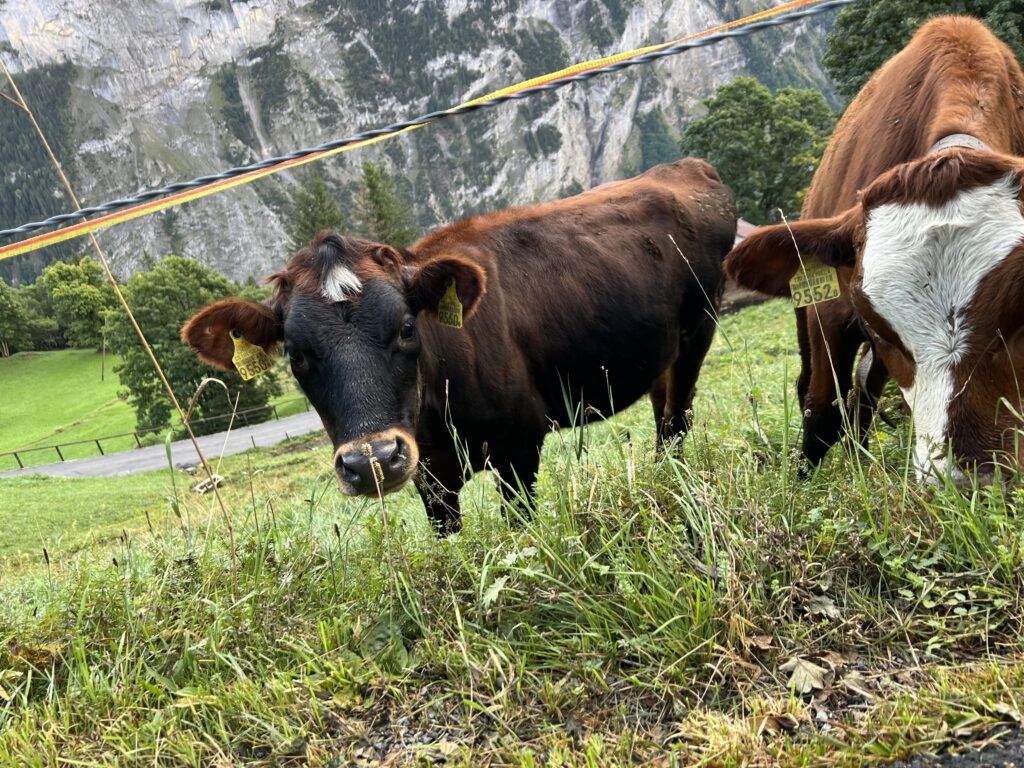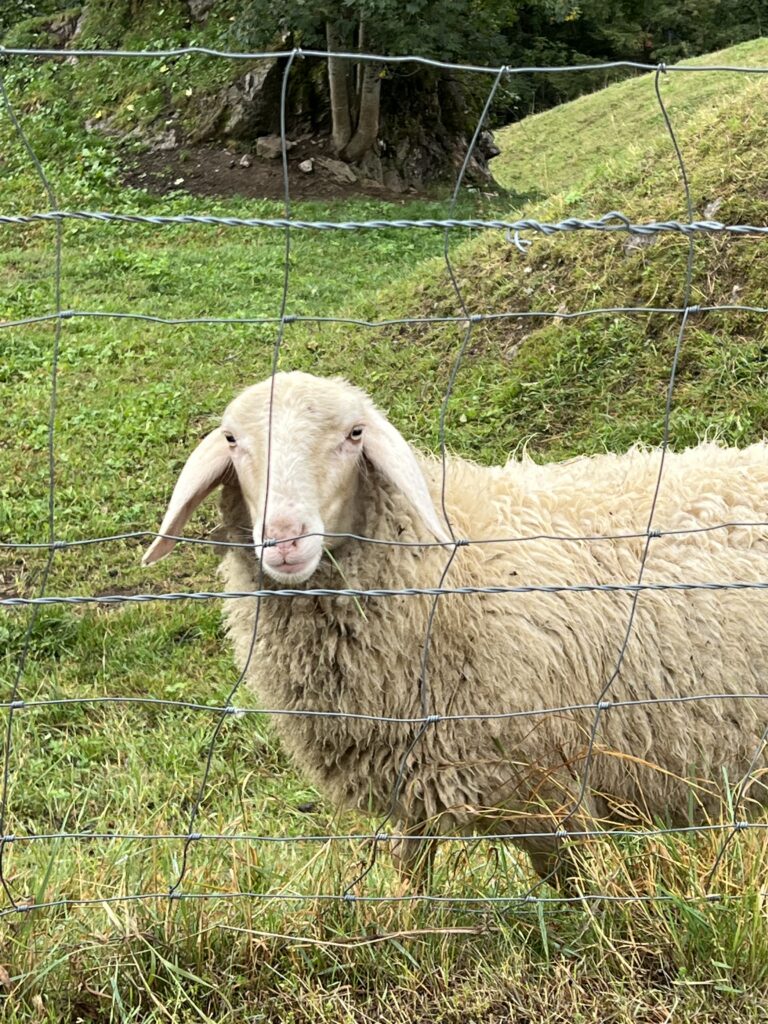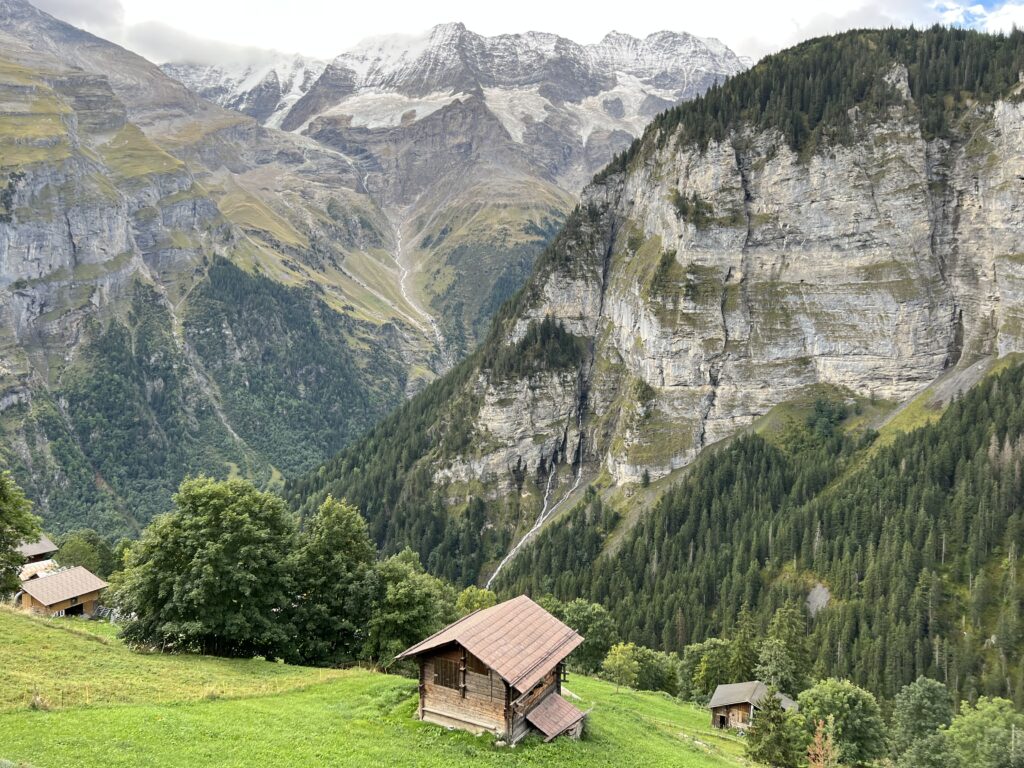 A light rain was beginning to fall. There is a cable car that runs from Gimmelwald up to Mürren. This cable car is free if you have an active Swiss Travel Pass/Flex for the day. We chose NOT to activate a ticket for this day. Here is why —
Our original plan was to arrive into Mürren on the previous afternoon after our bike/Harder Kulm excursions. After checking into our hotel, we planned to hike down to Gimmelwald and continue down to Stechelberg, seeing waterfalls along the way. We already had an activated ticket for the previous day, so the two cable cars from Stechelberg back to Mürren would have been free for us. However, we arrived into Mürren much later than anticipated, so we chose not to hike as night was falling.
Because of the rain, we chose to hike down to Gimmelwald at the start of the full day of hiking. The rain was on and off, so we decided to take the cable car back to Mürren to begin our next hike. Rather than activate a day on our Swiss Travel Pass/Flex, we bought two one-way tickets from Gimmelwald up to Mürren. This cost us $6/person. By doing this, we saved our eighth day on the Swiss Travel Pass/Flex for our last day in the country. On our last day, we used our passes to go from Luzern to the Zurich airport. The cost of those tickets if we had no days left on our Swiss Travel Pass Flex would have been $32/person. Geez, that was a long answer. I hope it makes sense.
We began at the Mürren cable car station and followed the Northface Trail in a clockwise direction all the way to Allmendhubel. We also visited the Sprutz waterfall which is a detour off of the Northface Trail. You can do Sprutz as an out and back through a forest on the Northface Trail. Or, you can do Sprutz as a loop from the Northface Trail – simply walk behind the falls and up the hill past the bench. Follow the signs to Speilbodenalp. We absolutely adored this entire hike even with the rain and fog. A hiking map of the area is easy to read.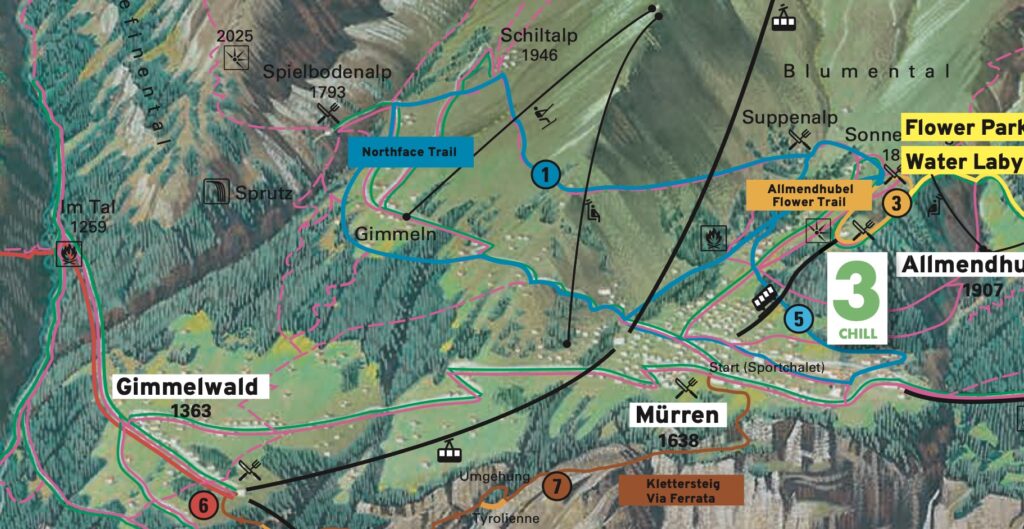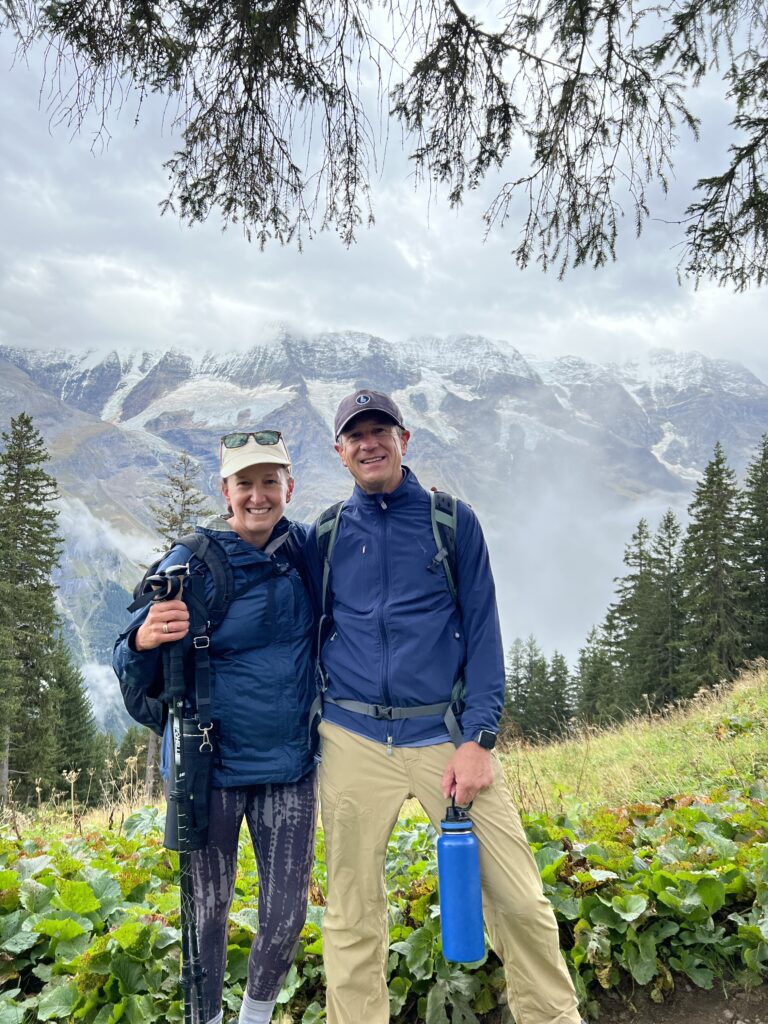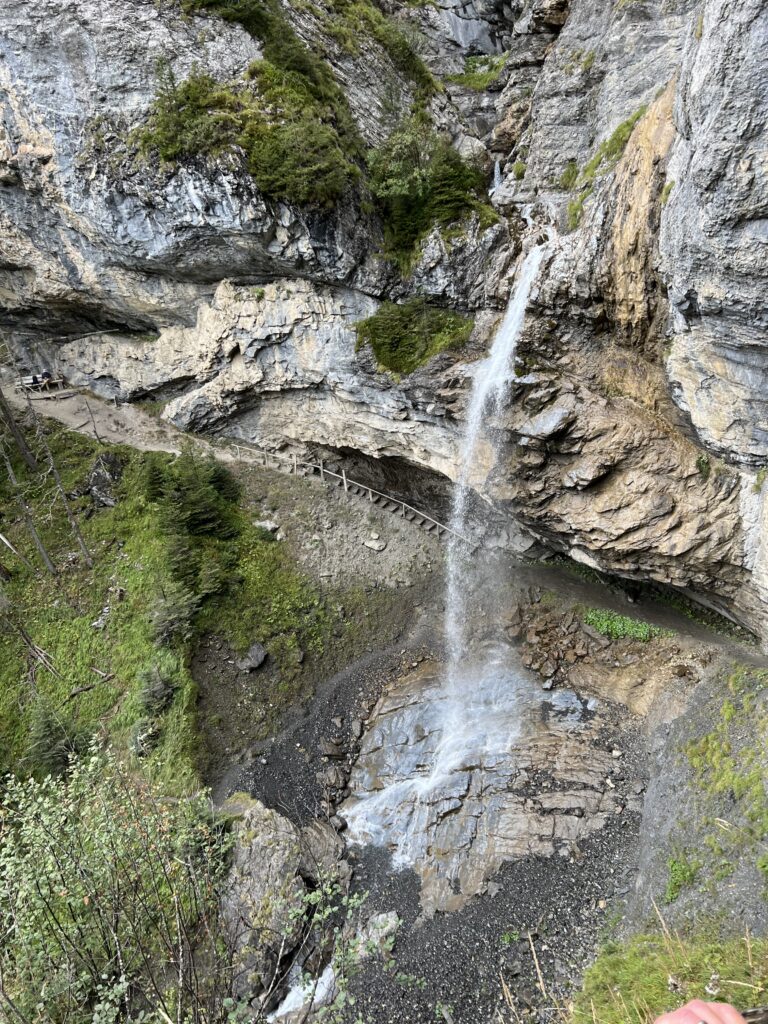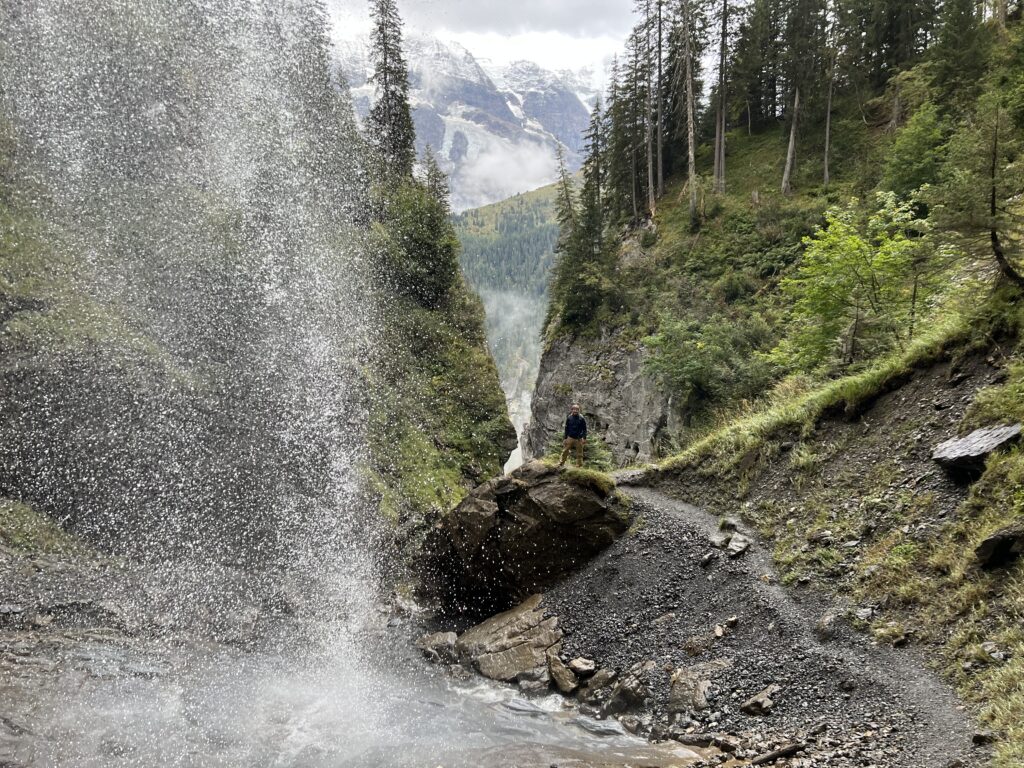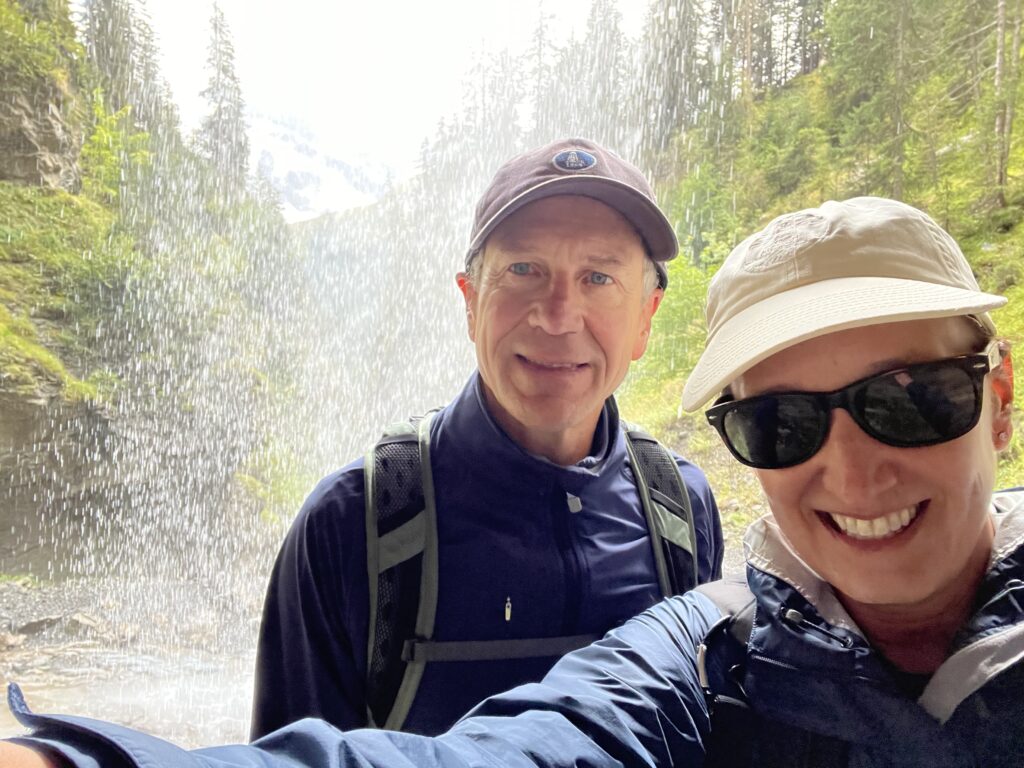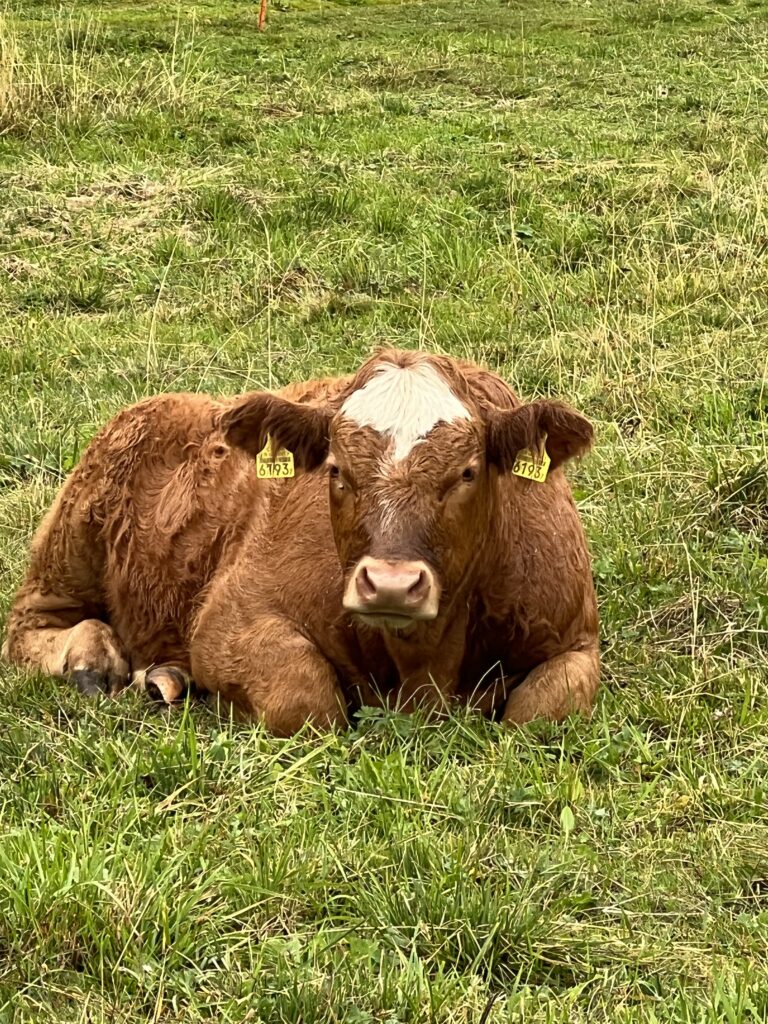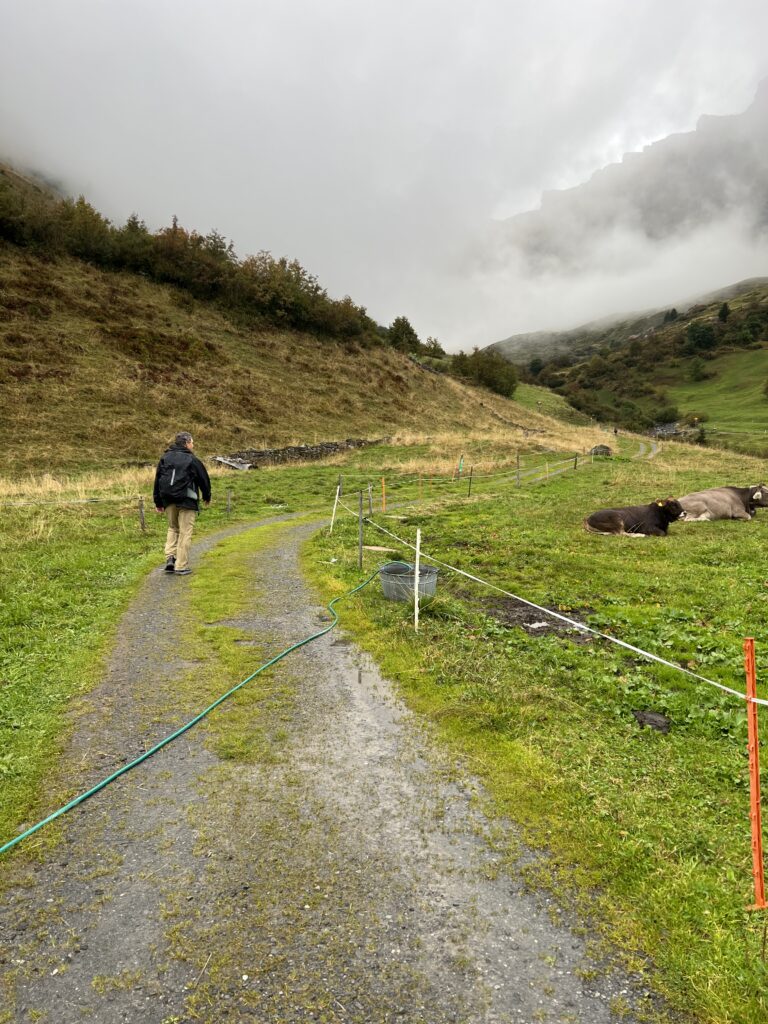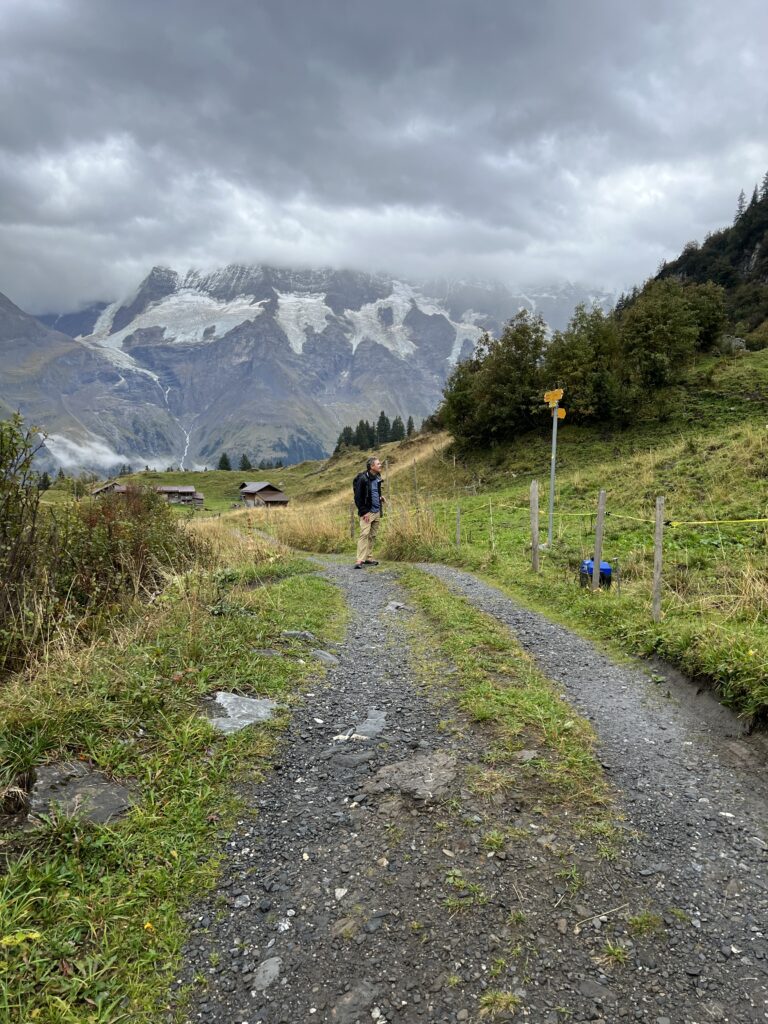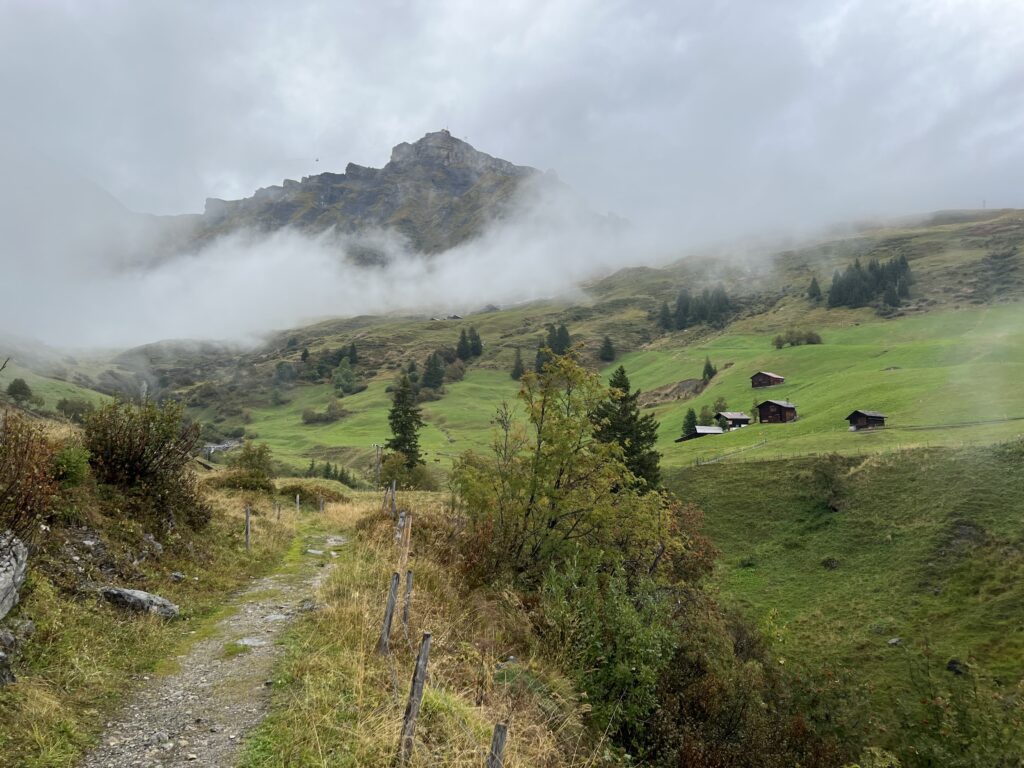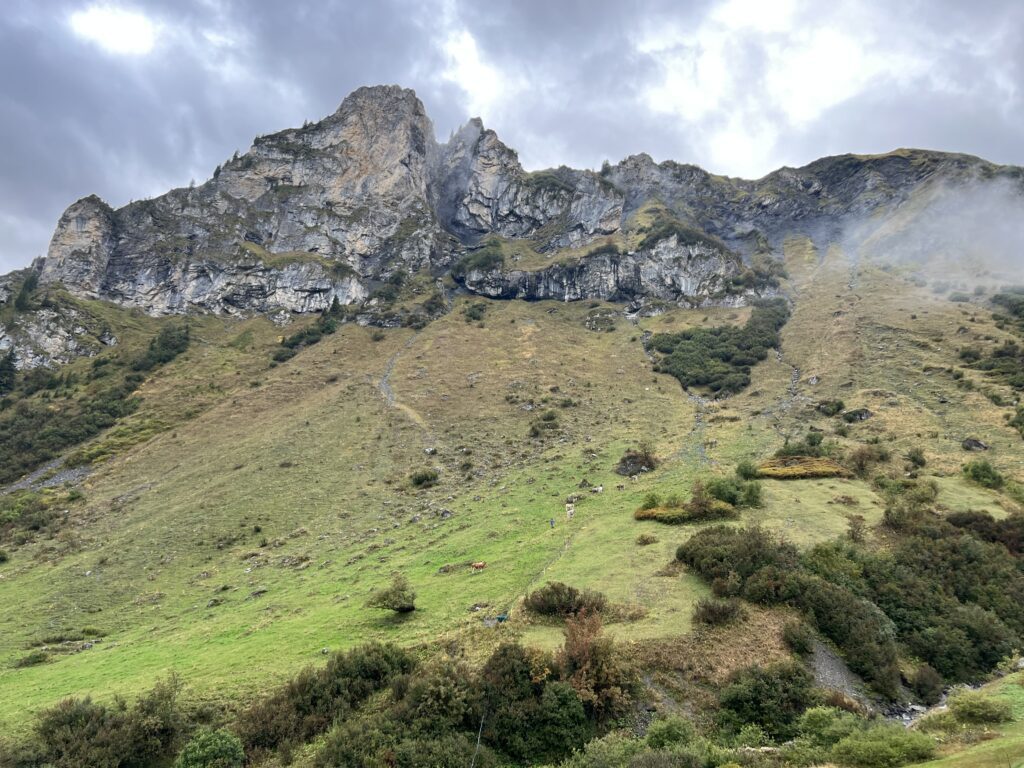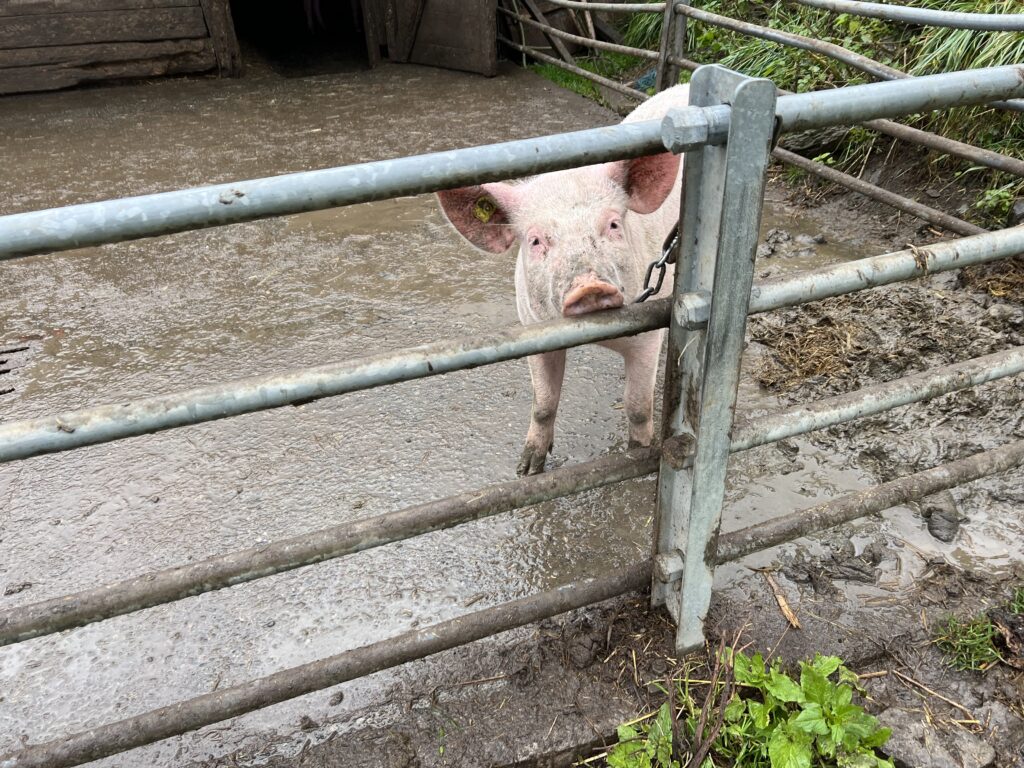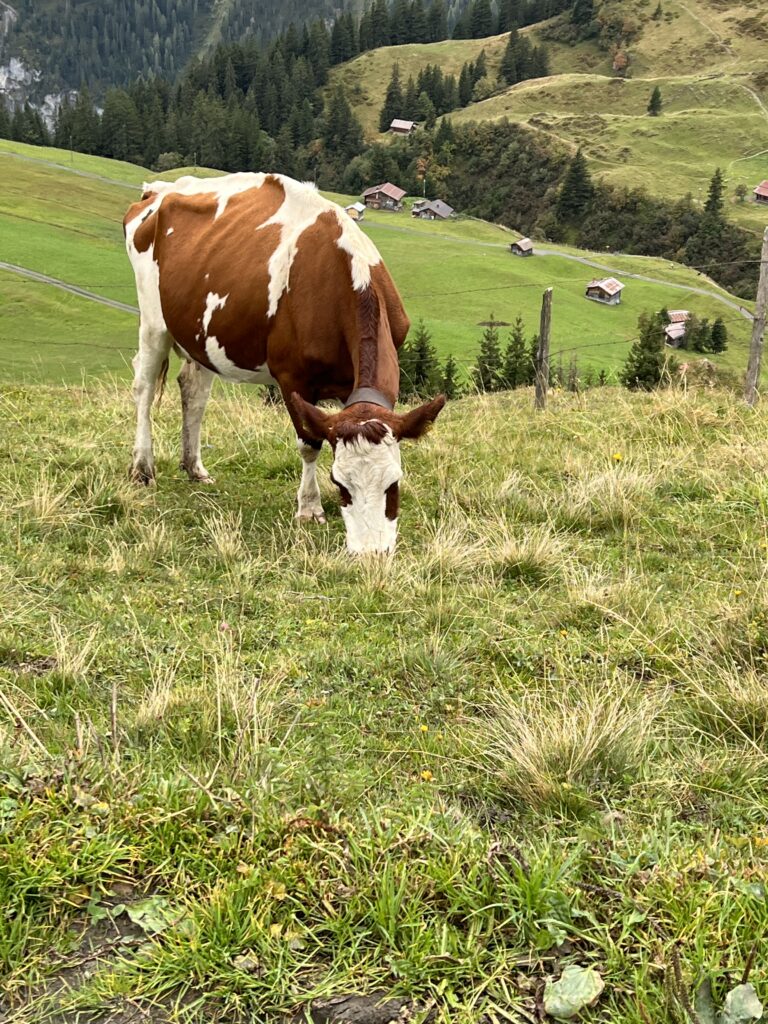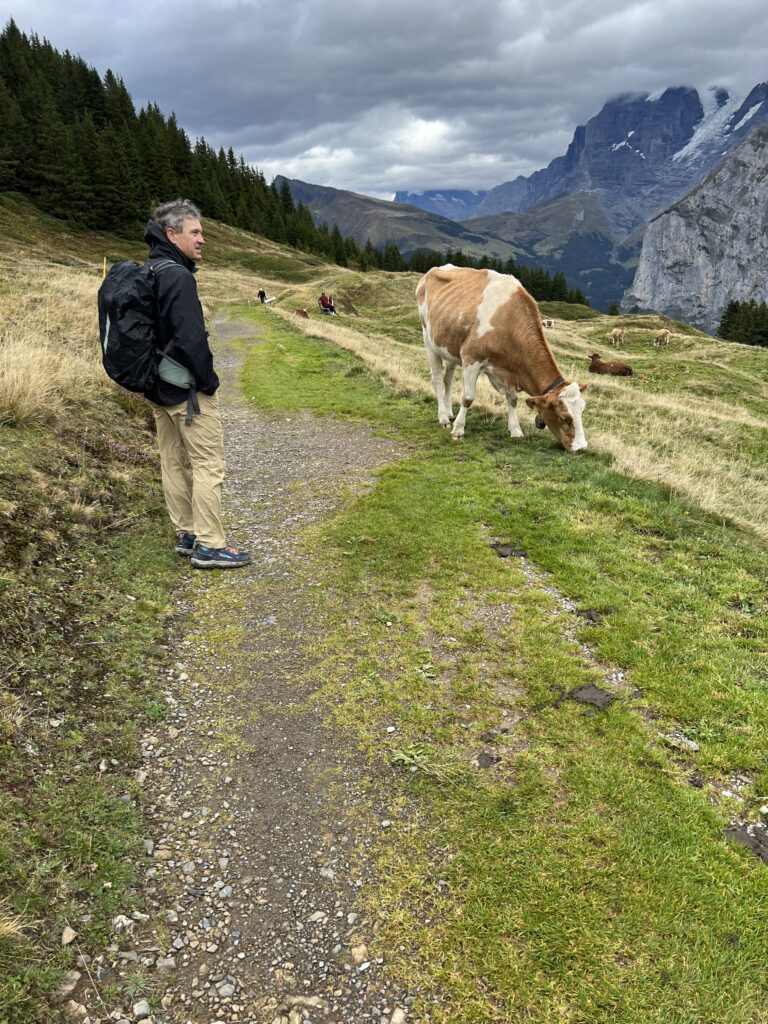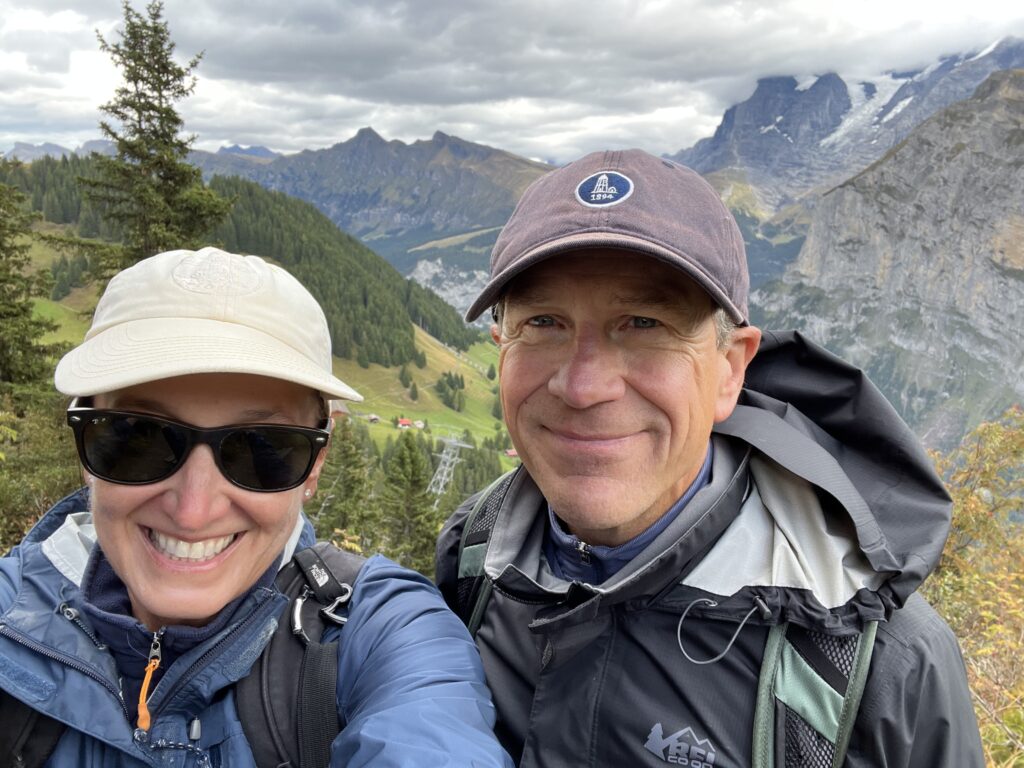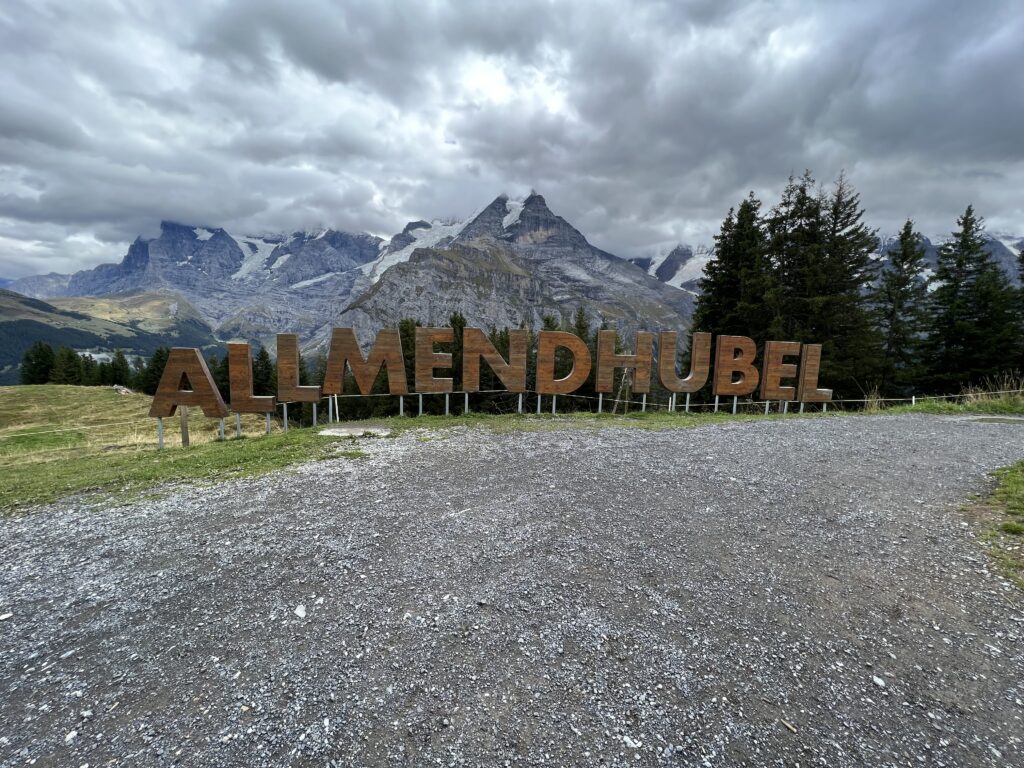 After our lunch, we had a choice to make. Clouds were rolling in, so going to the top of the Schilthorn (our first choice) was not an option. We had no plans to hike the Mountain View Trail to Grutshalp as you get similar views to what you see on the small train. However, all other options seemed to be socked in with fog. So, we did the Mountain View Trail to Grutschalp, passing lovely fields of wild flowers along the way. We wish we could have gone all the way to the Saustal Valley, but the weather was not cooperating. Next time!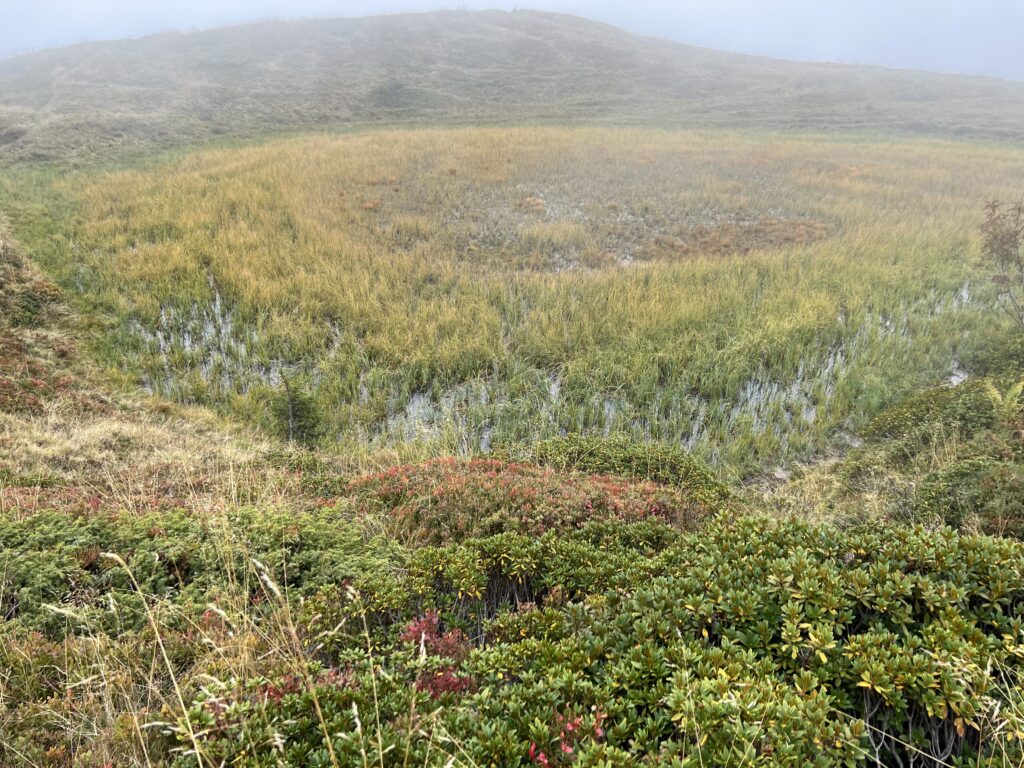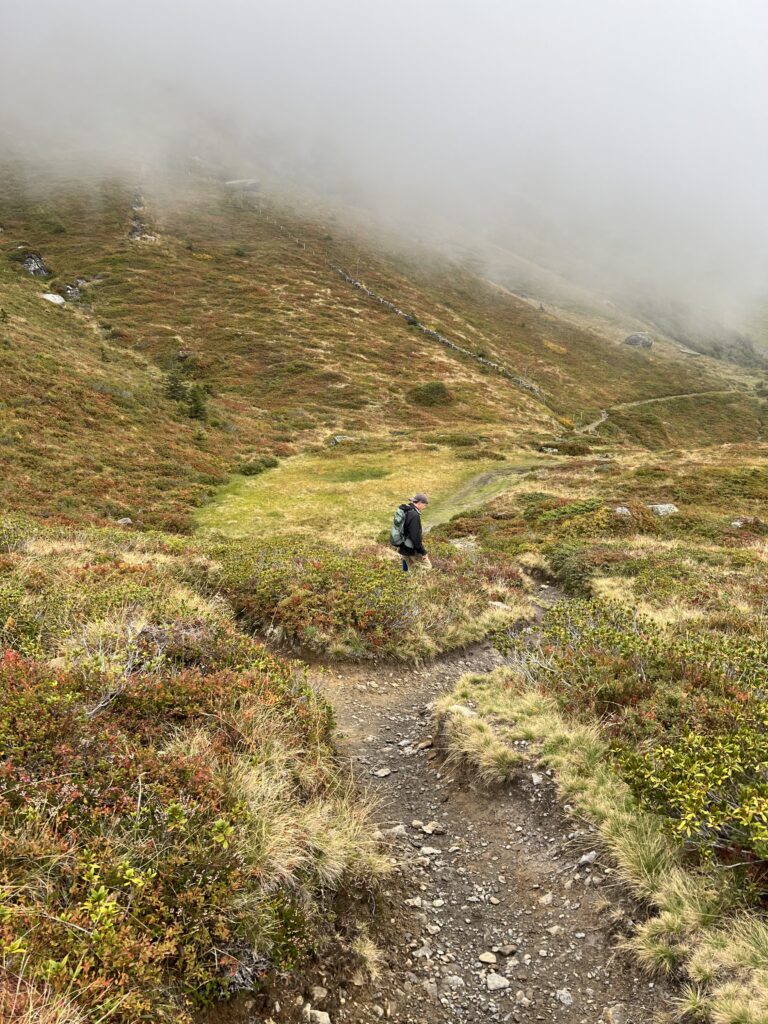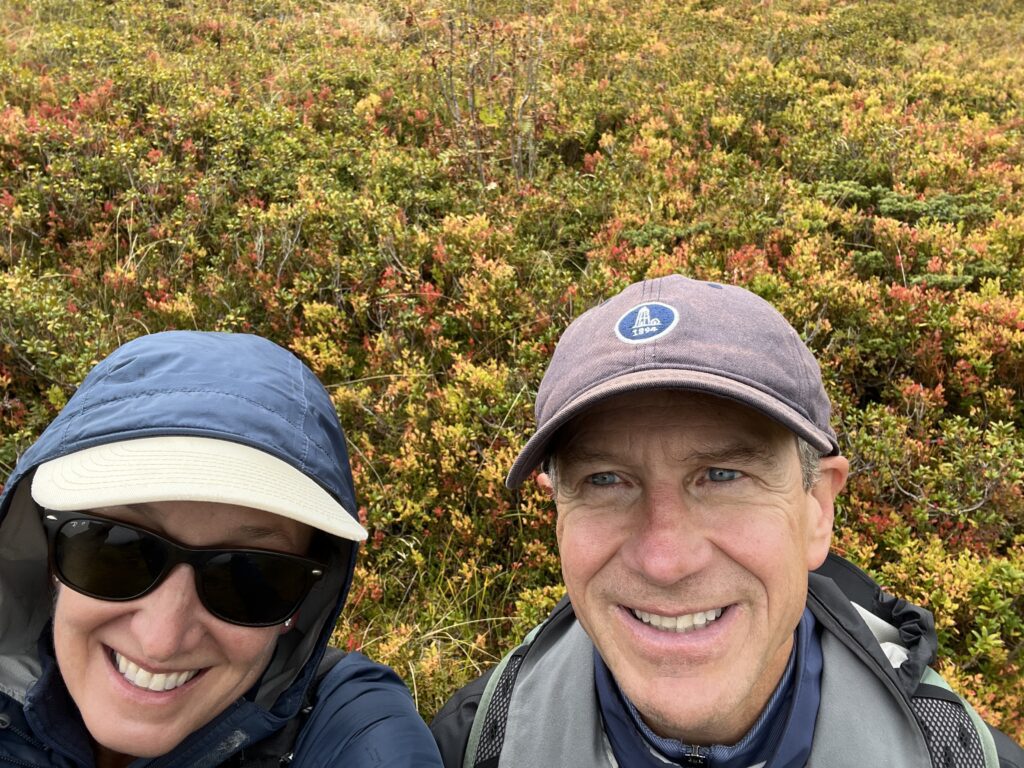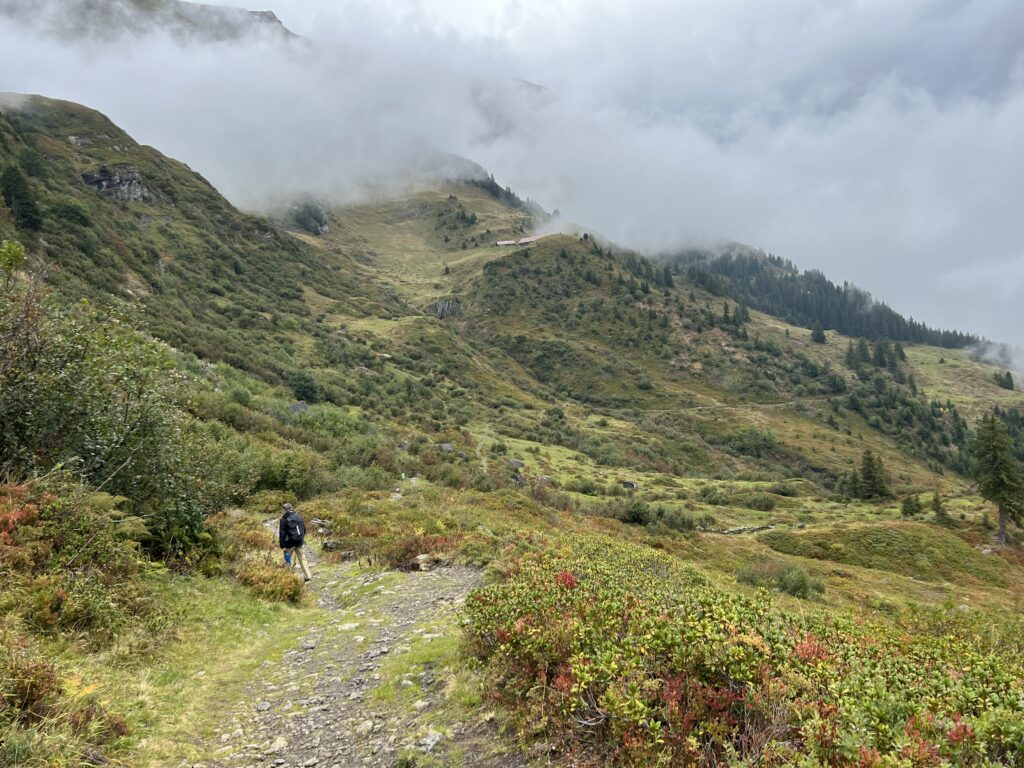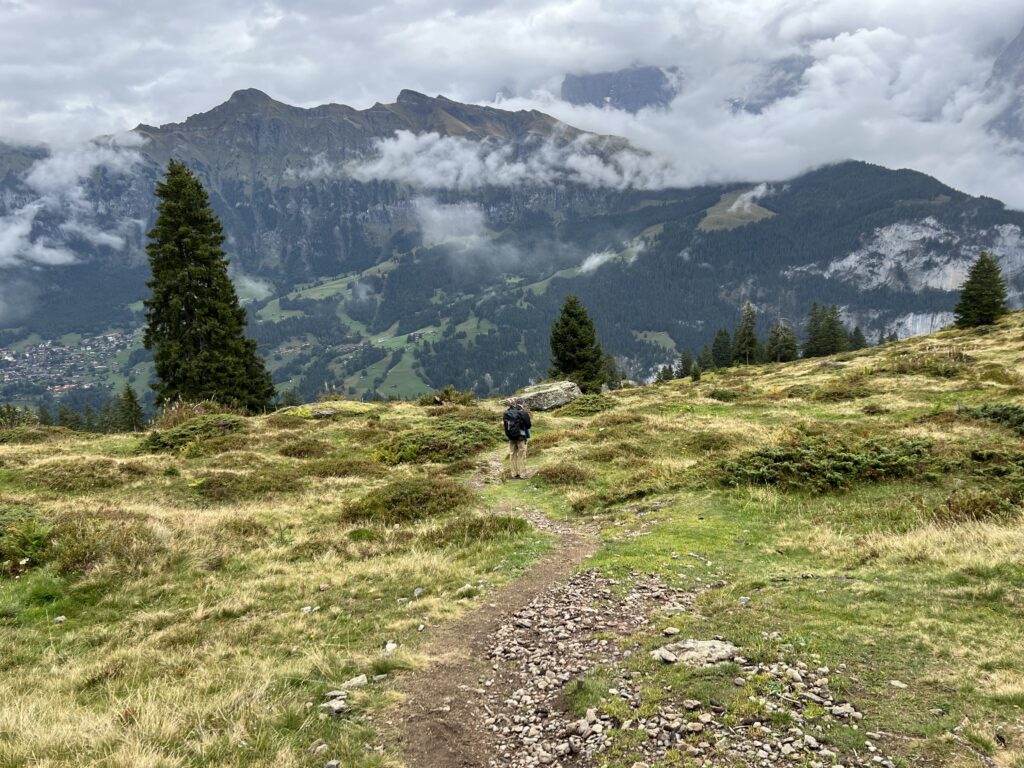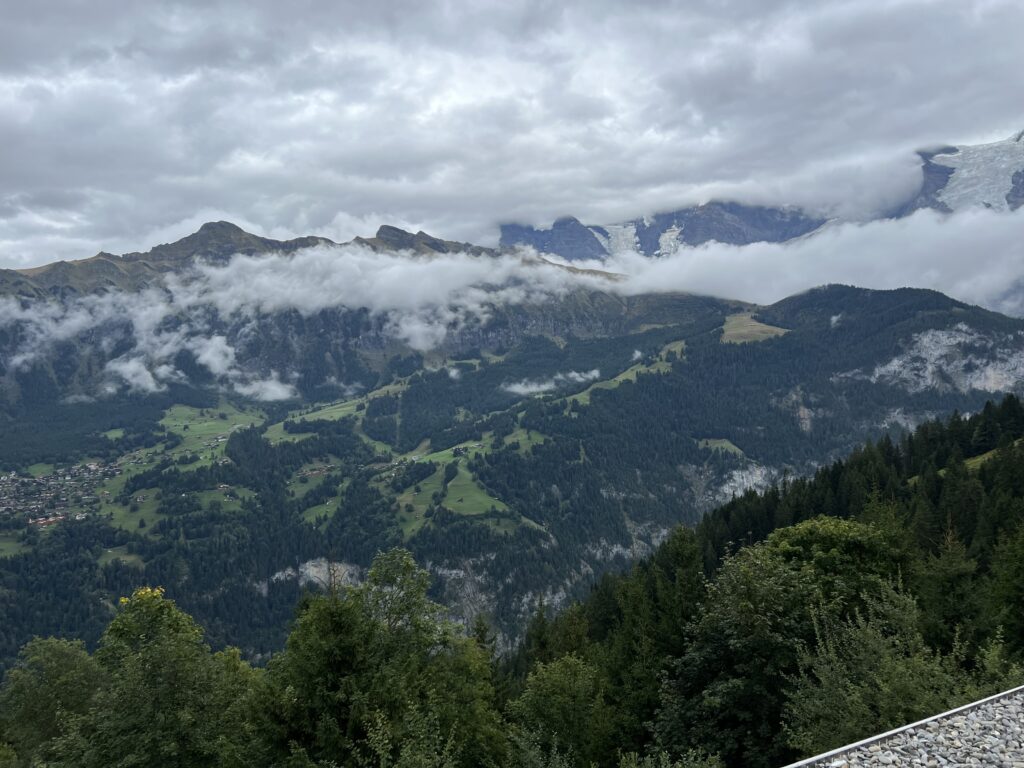 Where We Ate in Mürren
Mürren is an adorable little village. When we visited, many shops and restaurants were closed for the shoulder season. Most dining occurs at hotels in Mürren. We would have loved to have eaten at a small café, but they were resting from the busy summer season and preparing for the busy alpine season.
Hotel Alpenruh
On our first night in Mürren, we walked to the Hotel Alpenruh for a cocktail. We sat on their outside patio under an awning. We had an Aperol Spritz and a beer. The hotel dining room was completely full. We enjoyed our drinks, and the view is spectacular.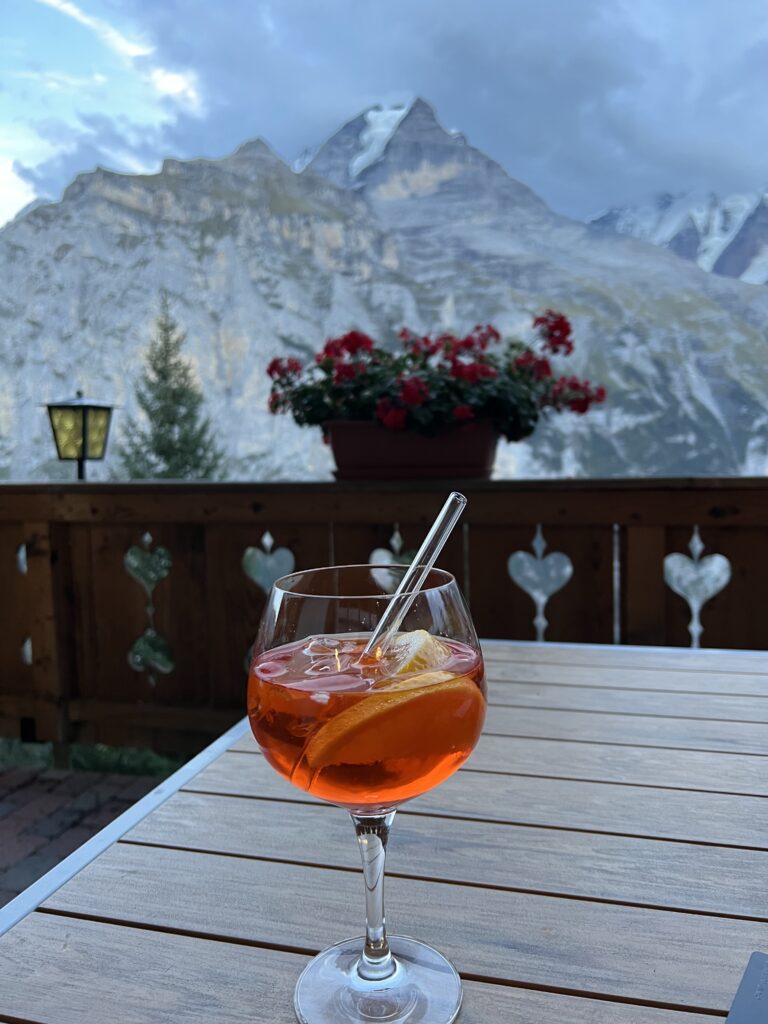 Hotel Bellevue
Our dinner the first evening was at the Hotel Bellevue. We had a reservation, and we are glad we did. The dining room was completely full and they were turning people away at the door. This was the best meal we had in all of Switzerland. Michele had the steak which was absolutely perfect. Jim had the baked potato which was an entire meal. The dining room does have a view, but we were not lucky enough to get a table with a view. It is a charming space and should be on your list when visiting Mürren. TripAdvisor reviews are excellent.
Hotel Eiger Mürren
We ate at our hotel on our second night. The Hotel Eiger Mürren has one of the best and most expensive restaurants in the village. The two dining rooms are elegant, and the dinner has classic Swiss dishes as well as Asian-inspired specialties. Jim and I both had the Tom Ka Gai with coconut milk and chicken. Michele ate a large summer salad as her entree, and Jim had an Indian curry with lentils. TripAdvisor reviews are excellent. We highly recommend this restaurant for lunch or dinner.
Luzern
We woke early in Mürren and ate another fantastic breakfast. We had hoped to go to the top of the Schilthorn mountain to check out the views. We were then going to do a short hike from Birg to Grauseeli before heading to Luzern. The weather was not cooperating, at all. We took a quick, rainy stroll around the village. We decided to catch an 8:58am train out of Mürren. It took us two hours to get to Luzern. We rode the train from Mürren to Grutschalp; the cable car from Grutschalp to Lauterbrunnen; the train from Lauterbrunnen to Interlaken; and, finally, the train from Interlaken to Luzern. Sounds complicated, but it was not. We had lovely vistas along the way.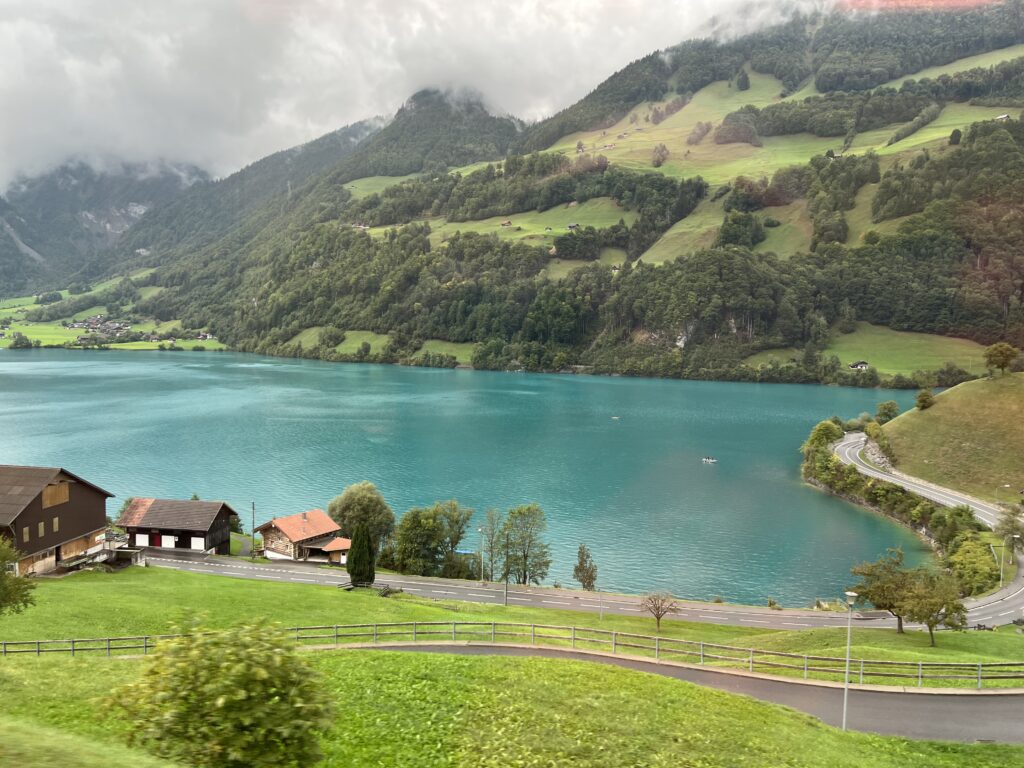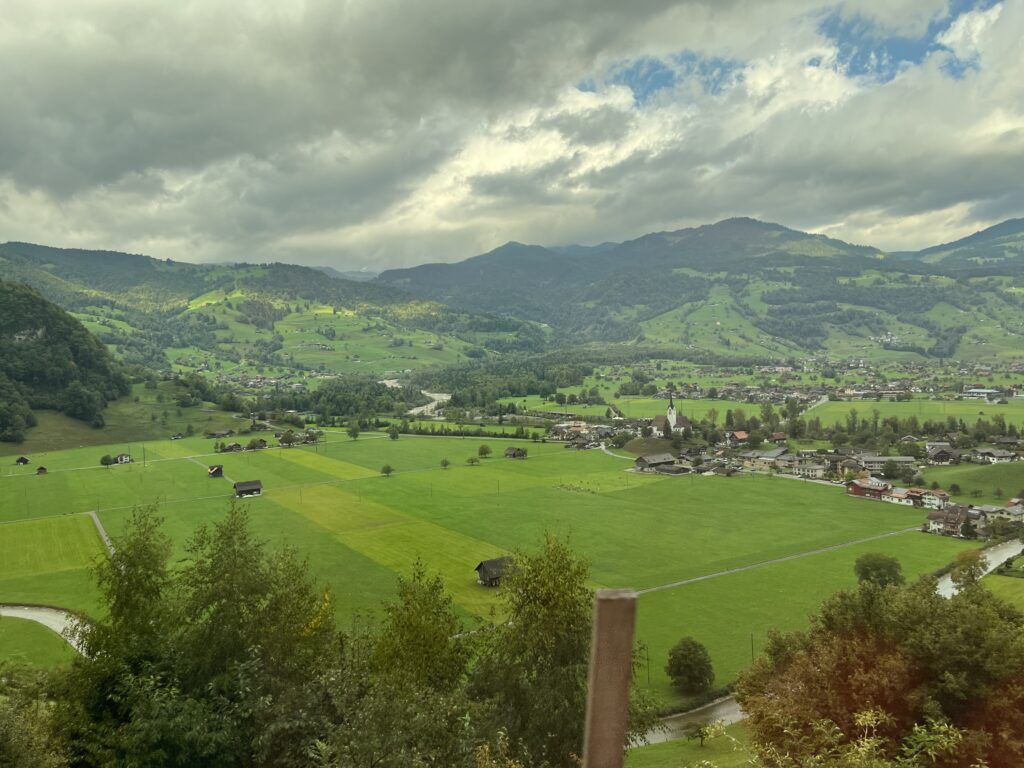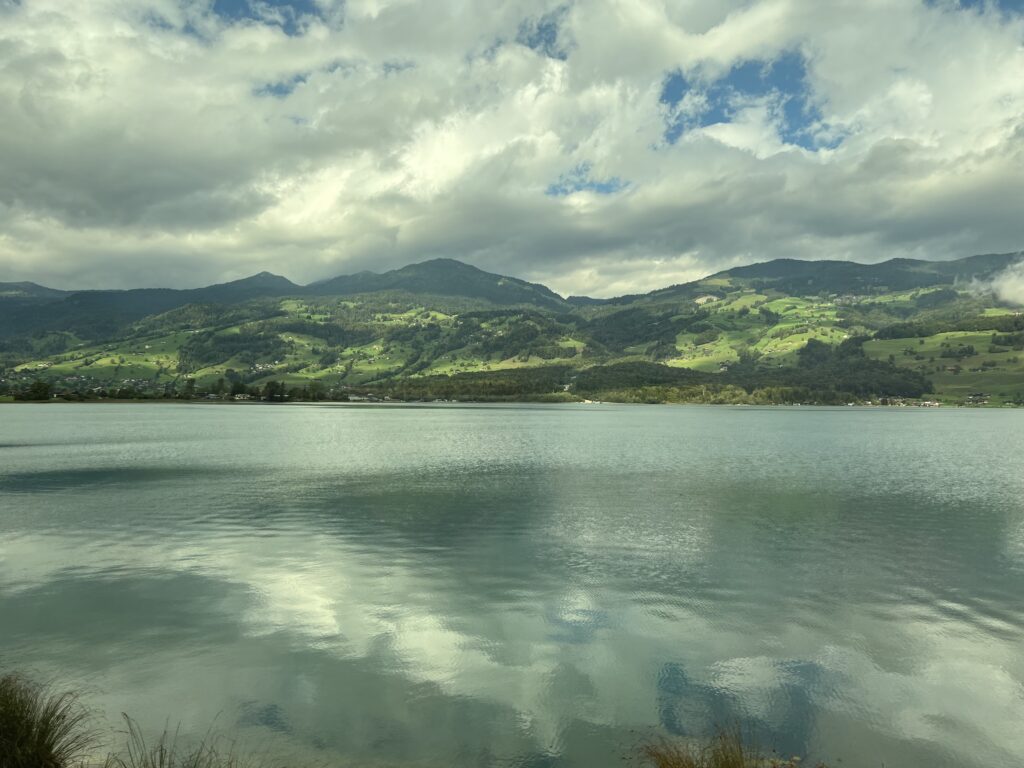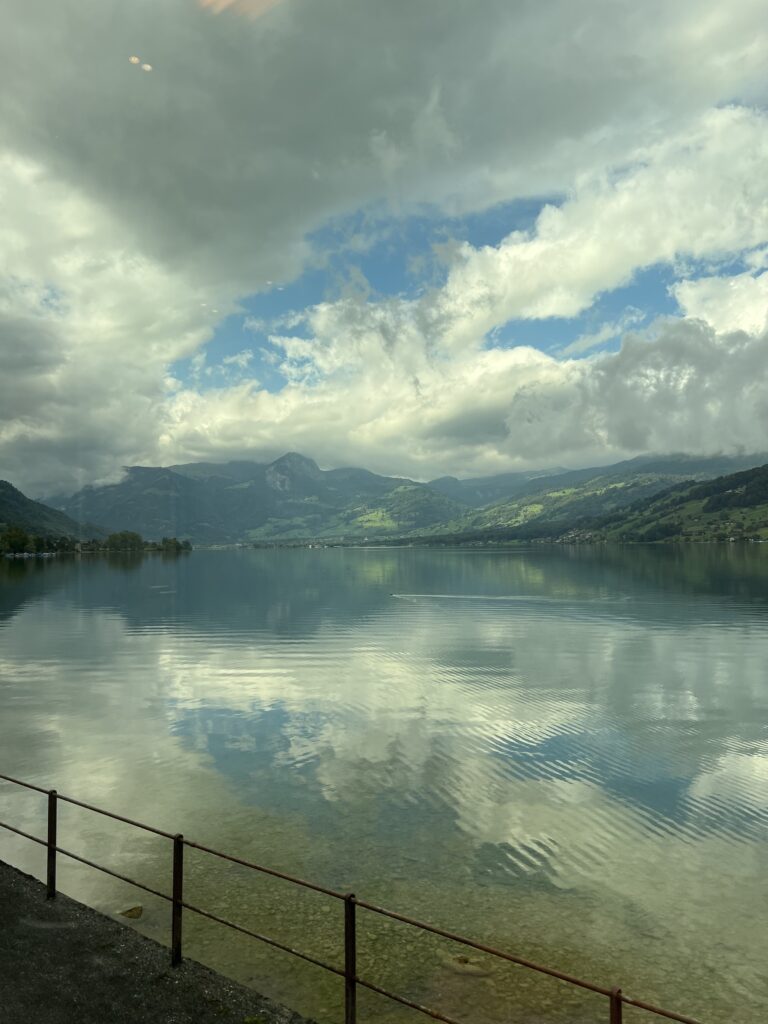 Where We Stayed – Hotel Zum Rebstock
We chose to stay at the Hotel Zum Rebstock, which was close to the train station, the heart of old town and a block off Lake Luzern. Luzern has many palatial hotels with palatial price tags. We chose something small and charming. Our room was spacious; the bathroom was spotless. We had two wonderful breakfasts at the hotel. No eggs, but plenty of bacon and hot chocolate in a lovely little room off the lobby. We did eat lunch at their café one day and it was quite good. They have a cute bar with indoor and outdoor tables. TripAdvisor reviews are good to mixed.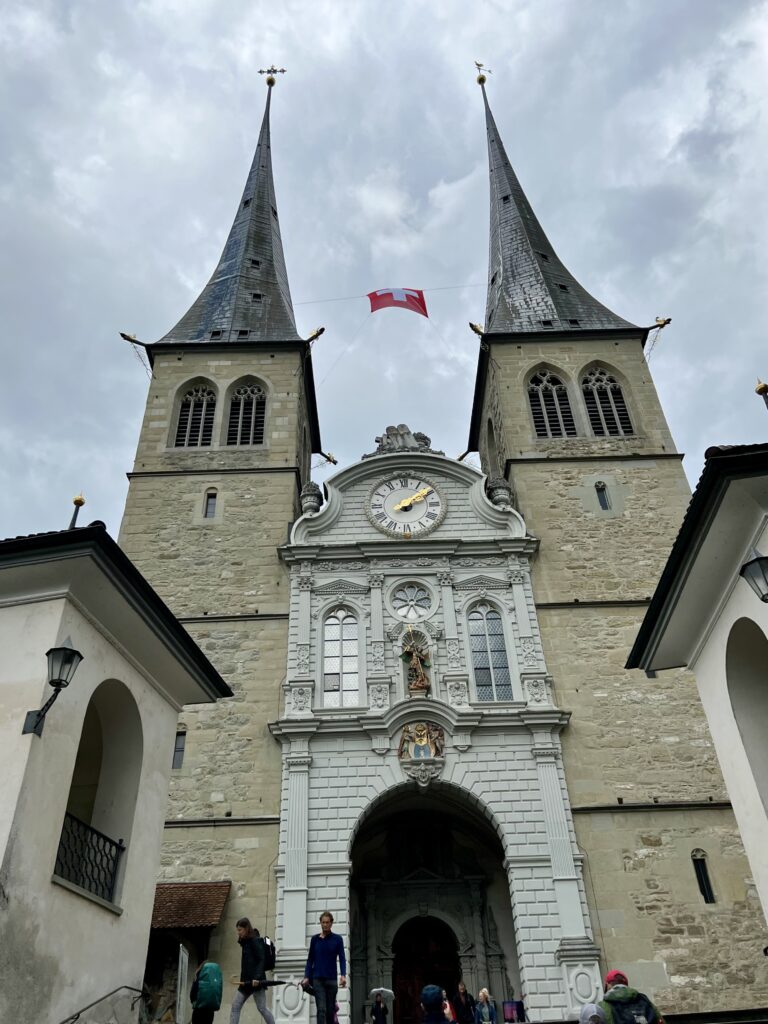 Old Town Luzern, Chapel Bridge, Jesuit Church, Lion Monument and Musegg Wall
We spent time walking all over the old town, a charming portion of Luzern. We enjoyed seeing the painted buildings, walking over the bridges, peering into churches and climbing the Musegg Wall. We also took a brief walk to the Lion Monument and strolled on a promenade around Lake Luzern; the correct name of the lake is actually Vierwaldstättersee.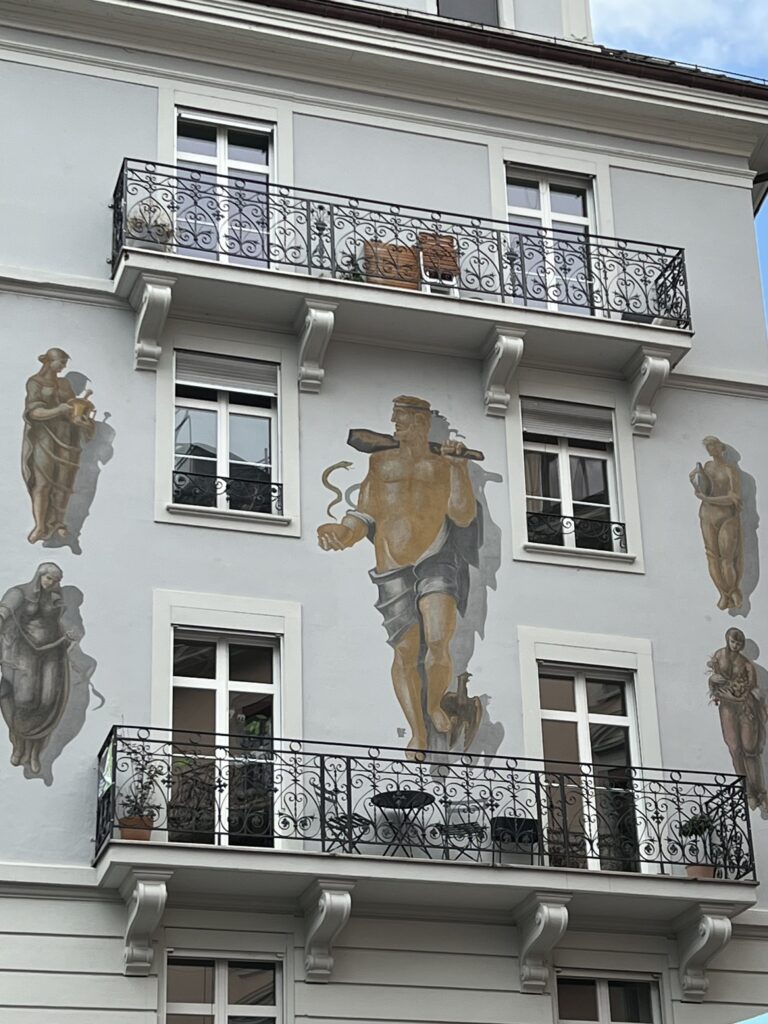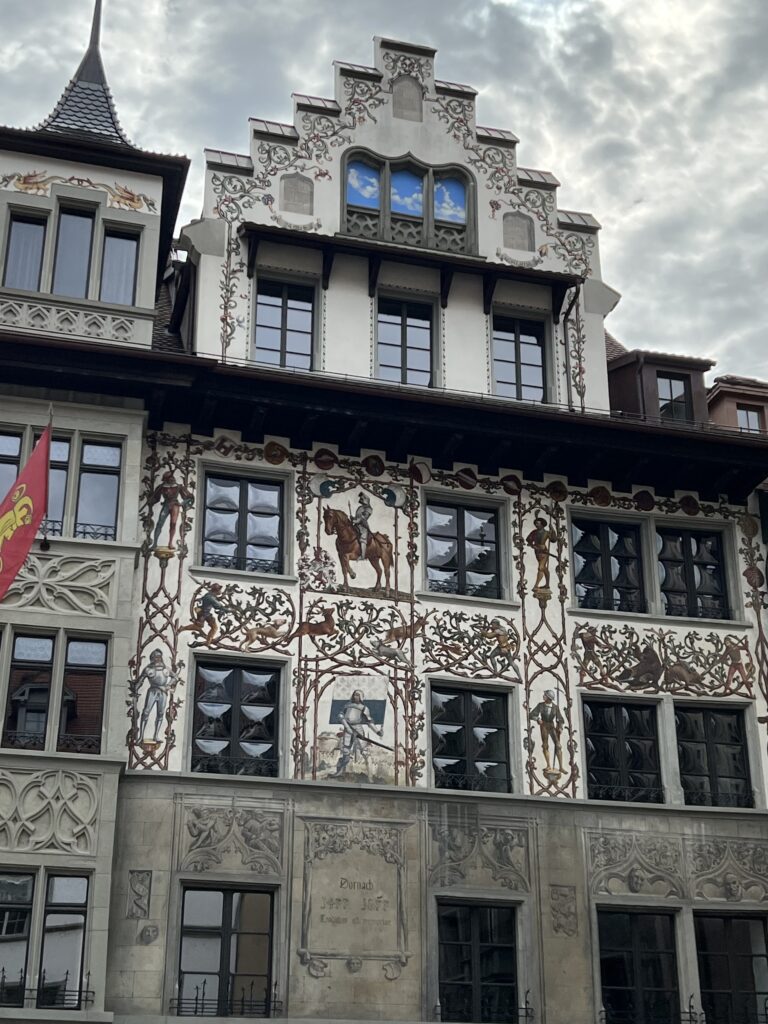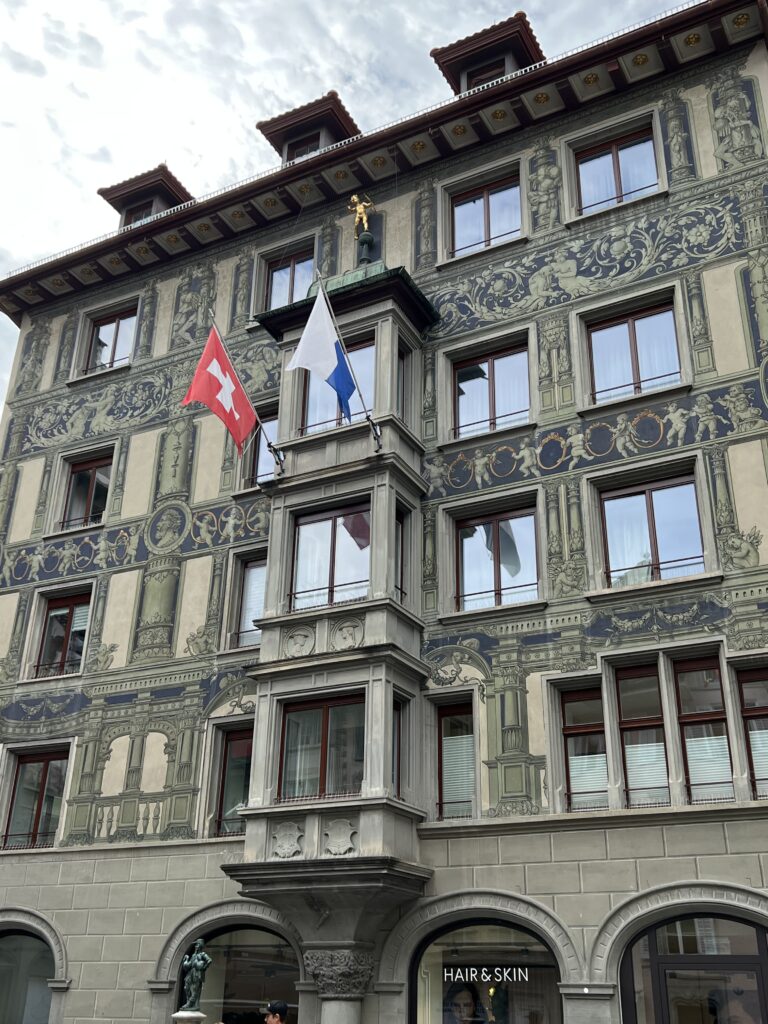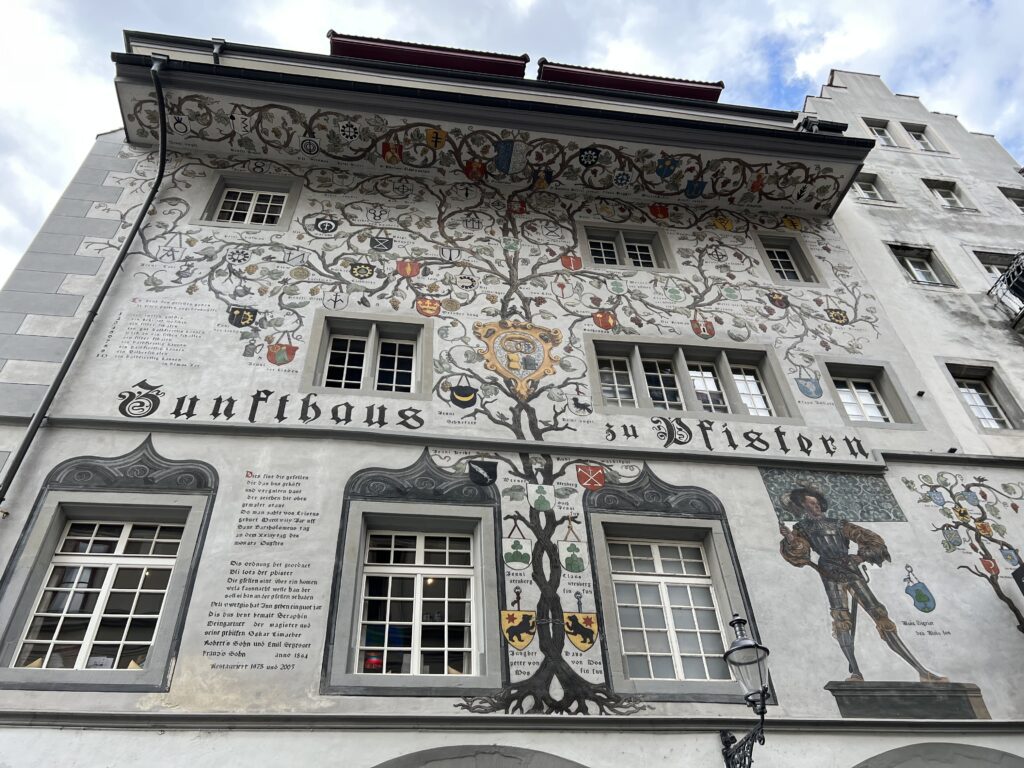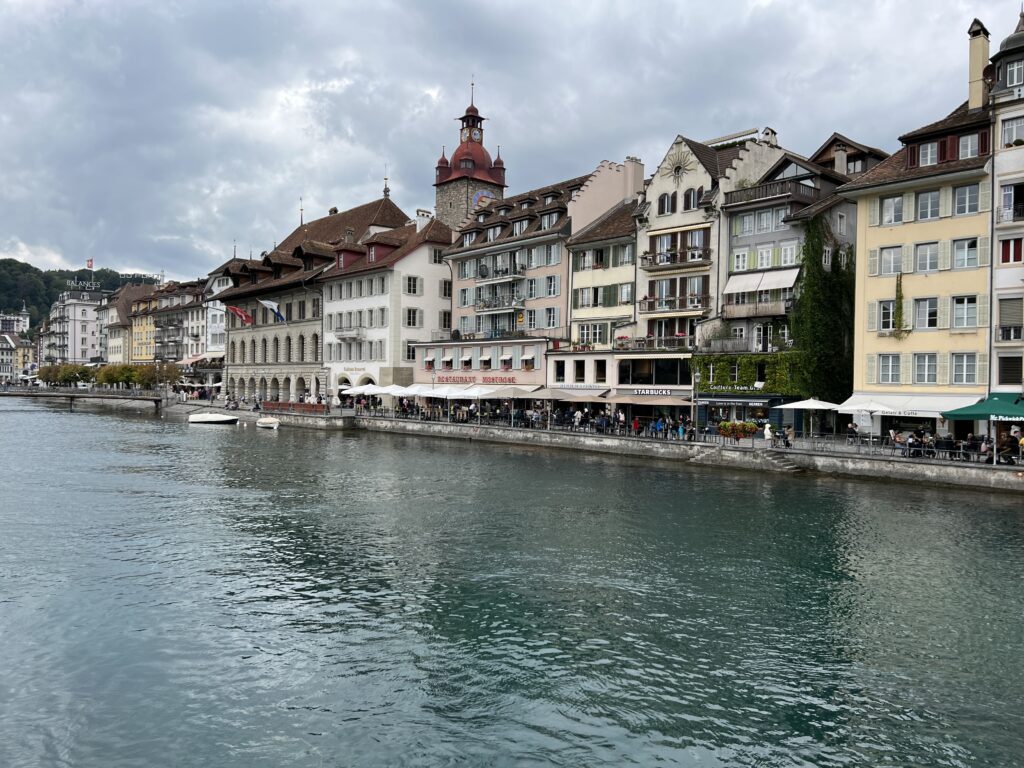 There are two wooden bridges in Luzern that date to the 14th and 17th centuries. The most famous and most photographed is the Chapel Bridge or Kapellbrücke. The other, smaller bridge is called Spreuer Bridge or Spreuerbrücke. Both are worthy of your time! Near the Chapel Bridge is a Jesuit church that is very beautiful.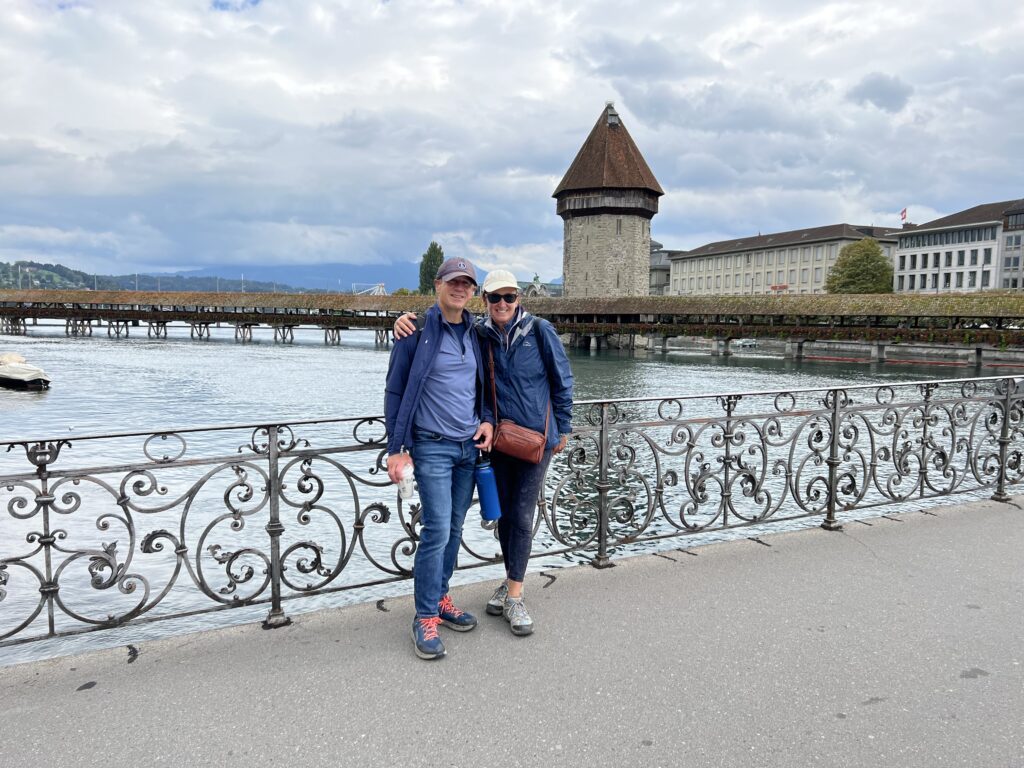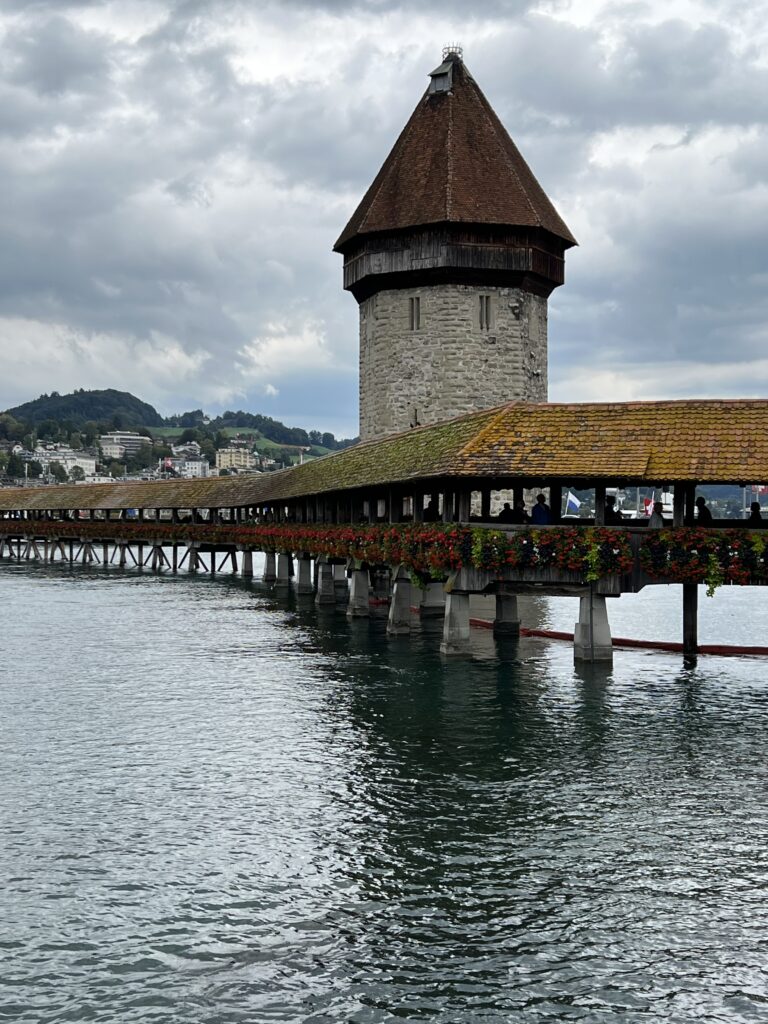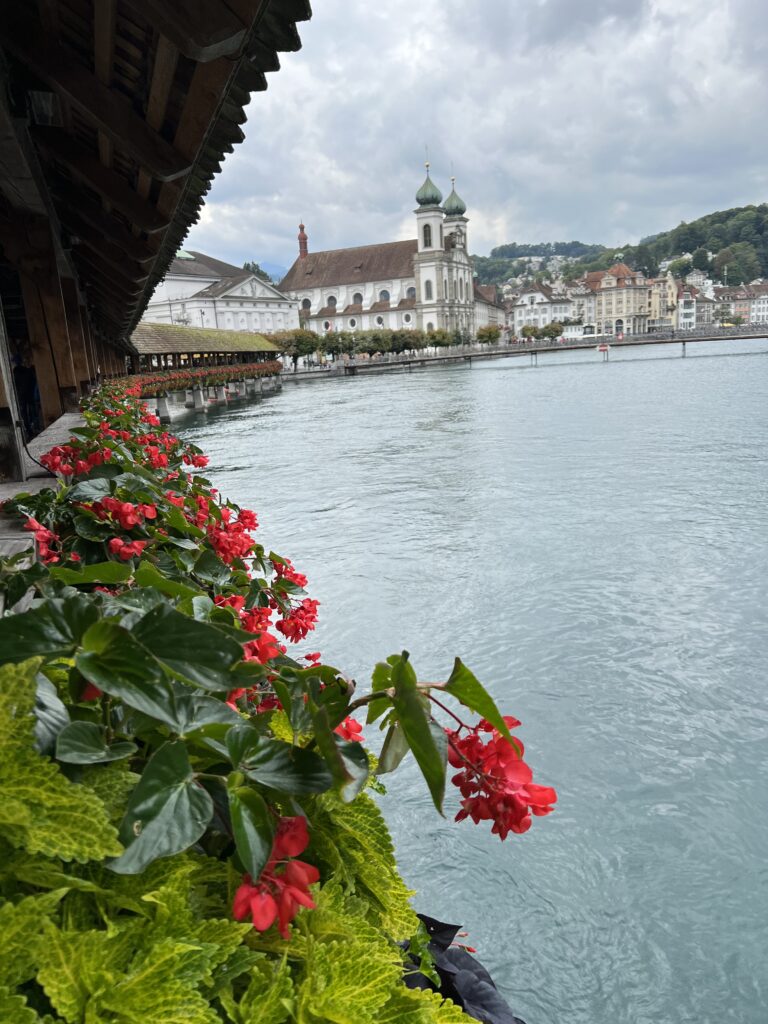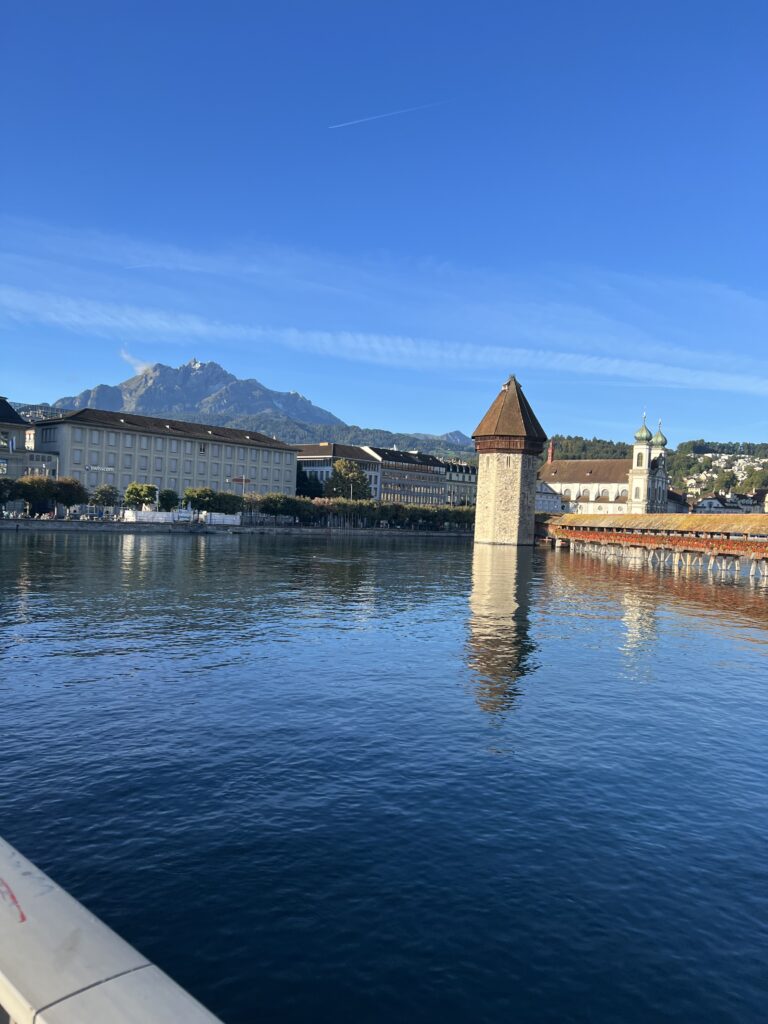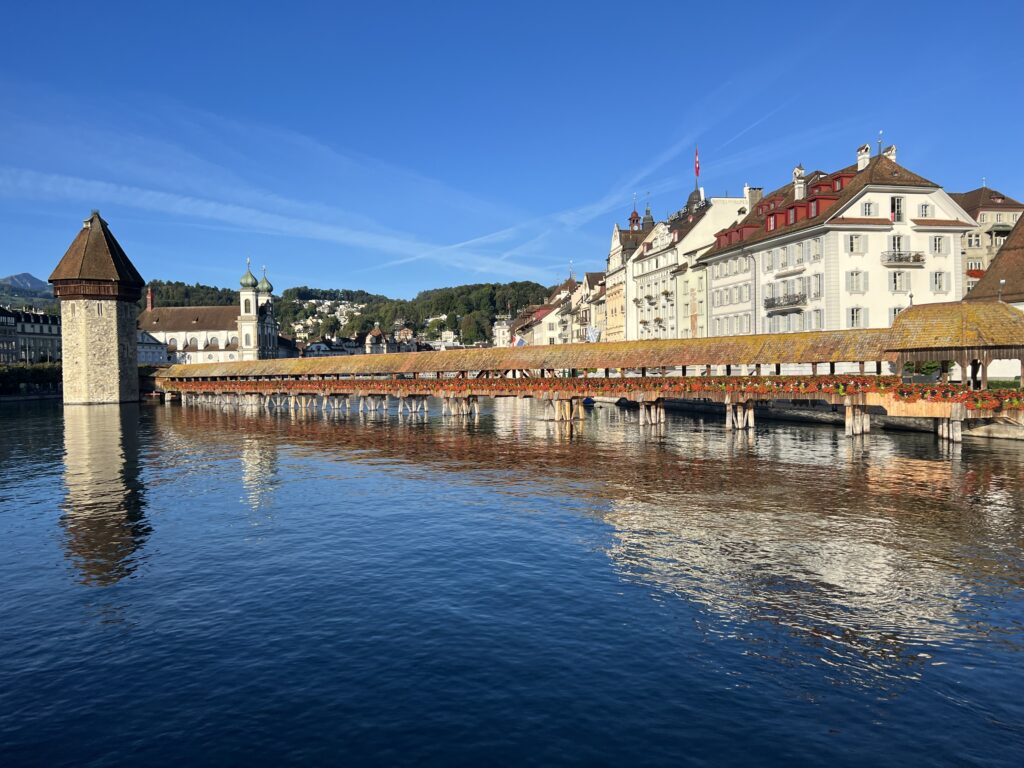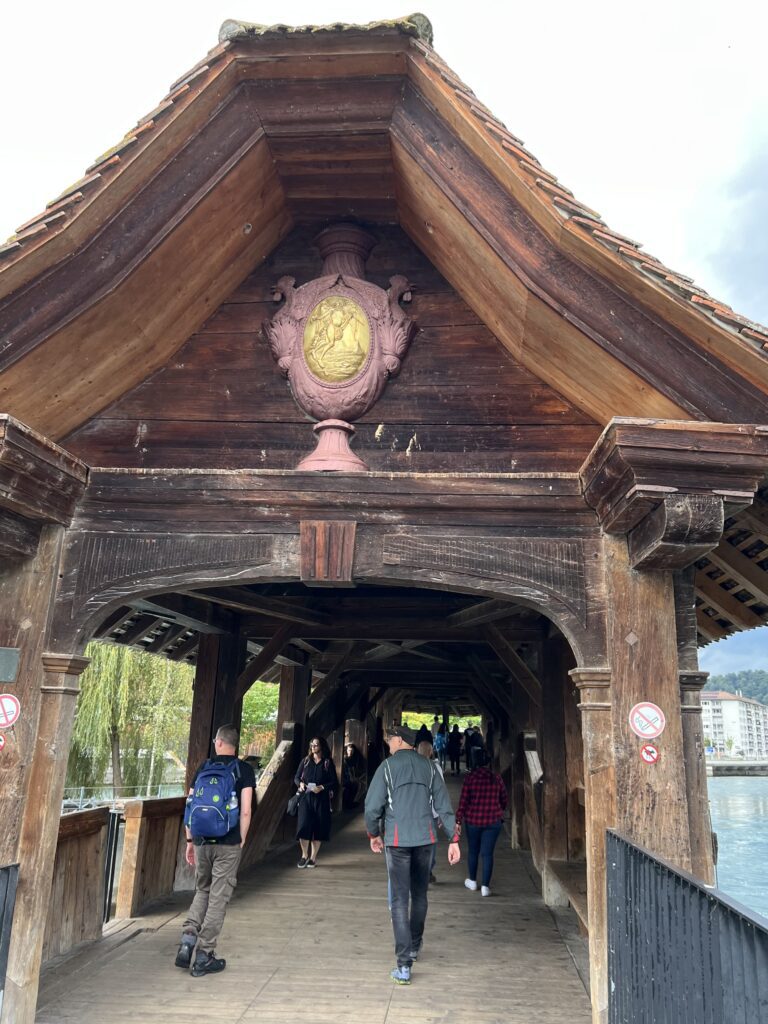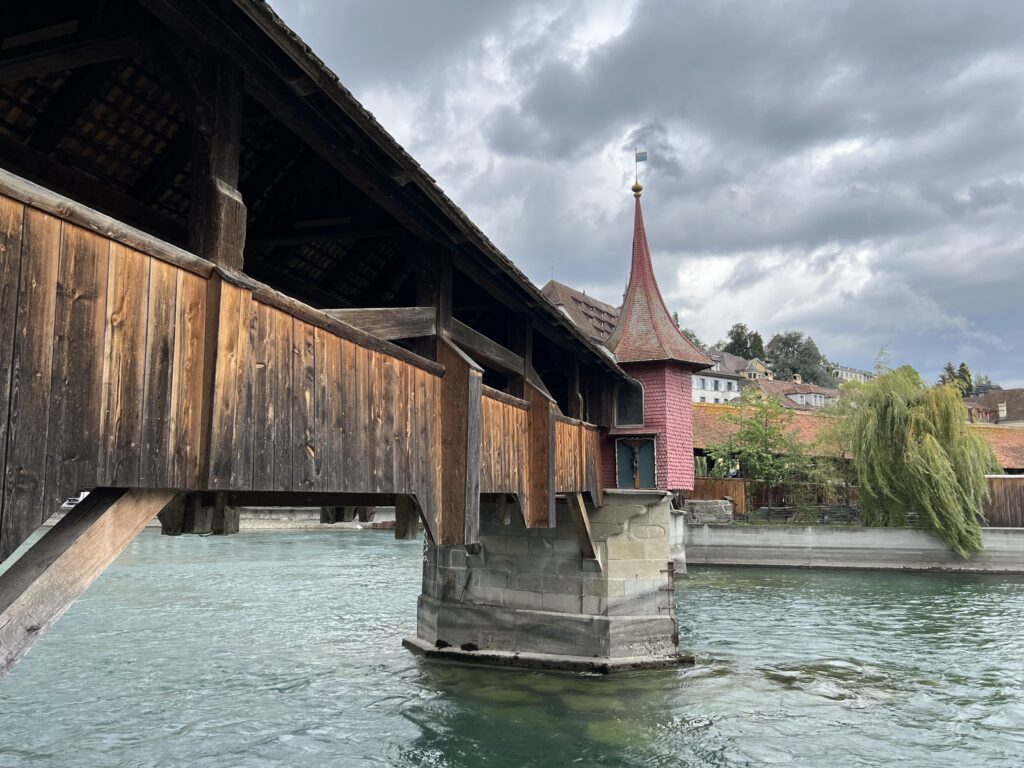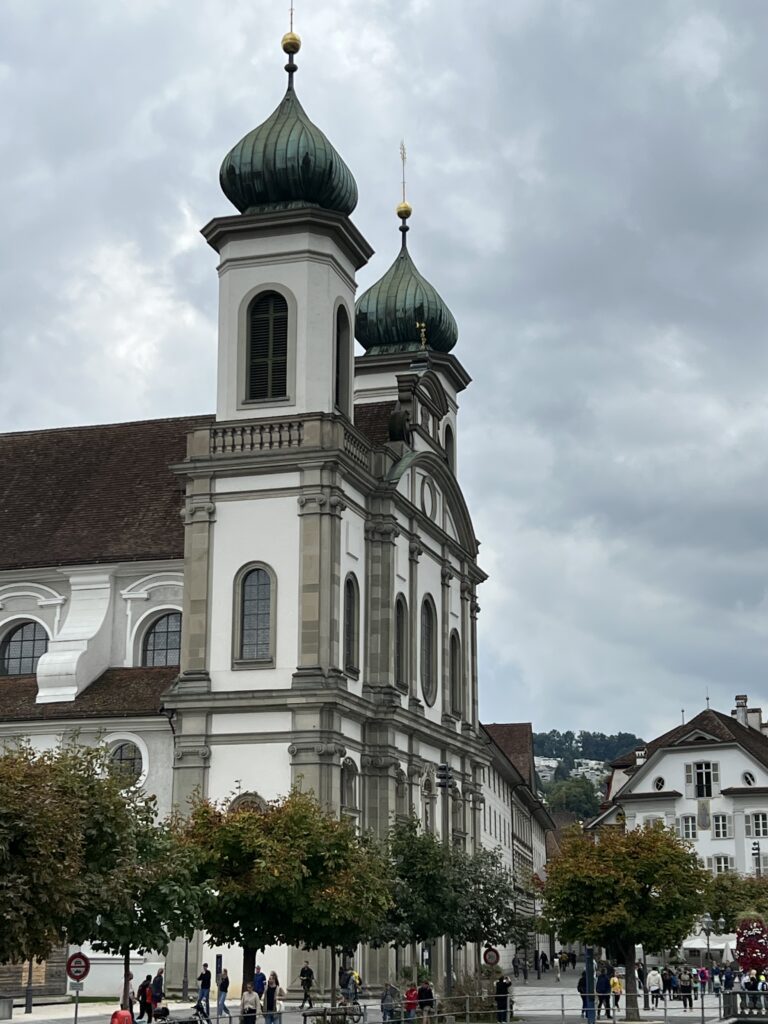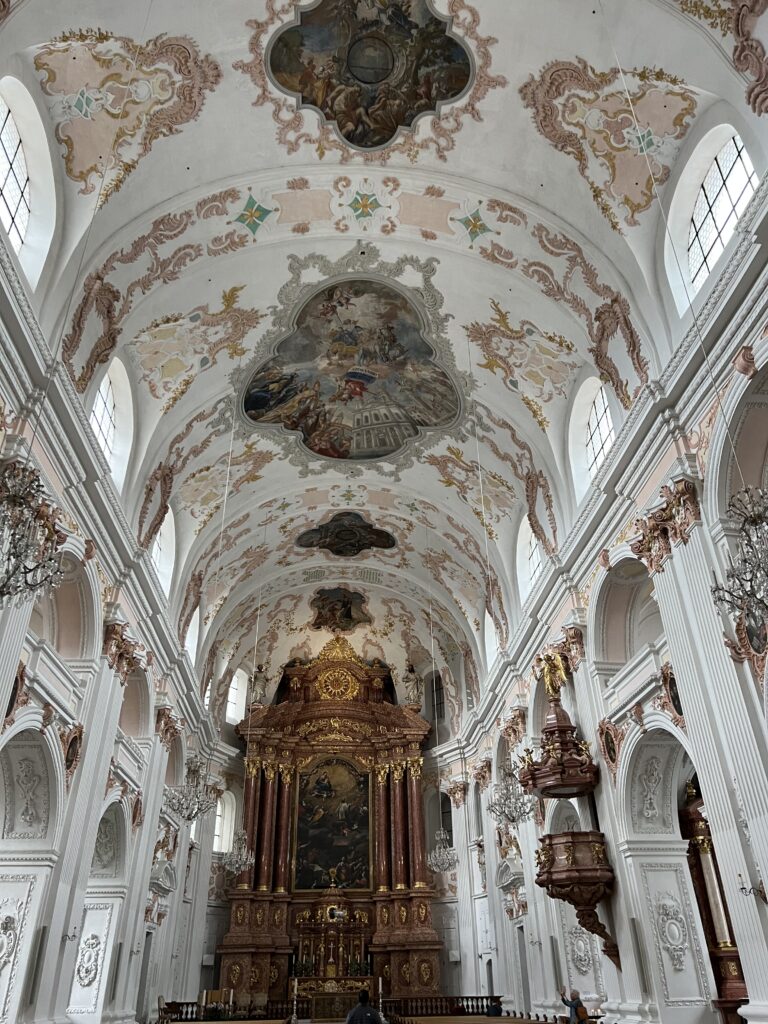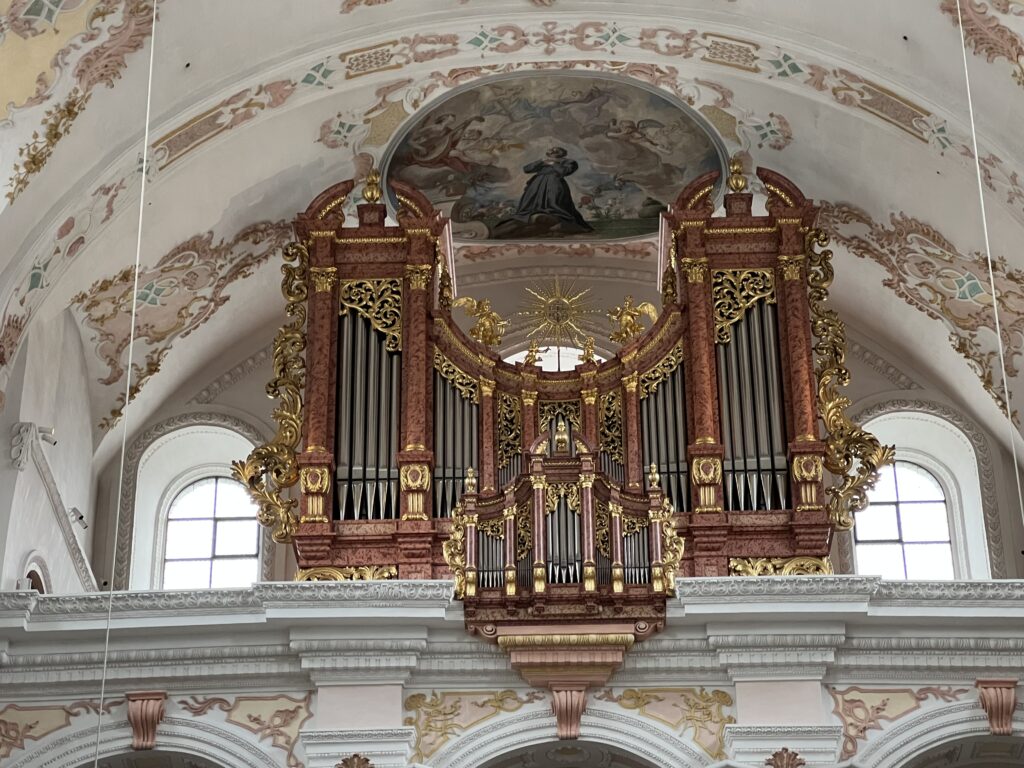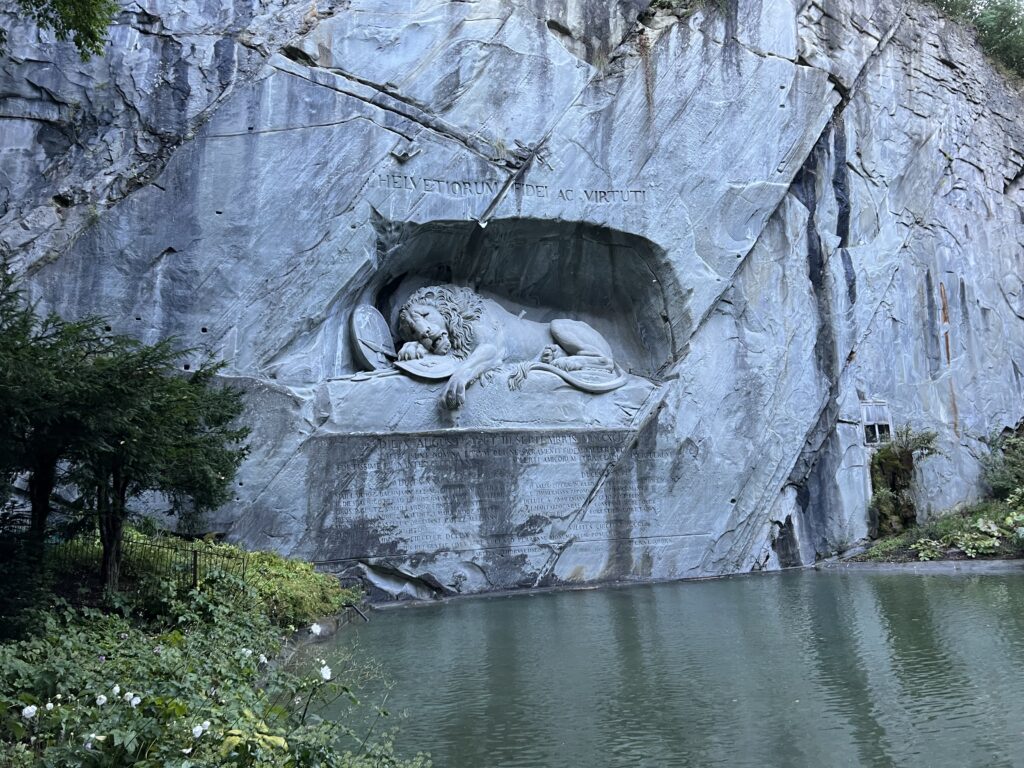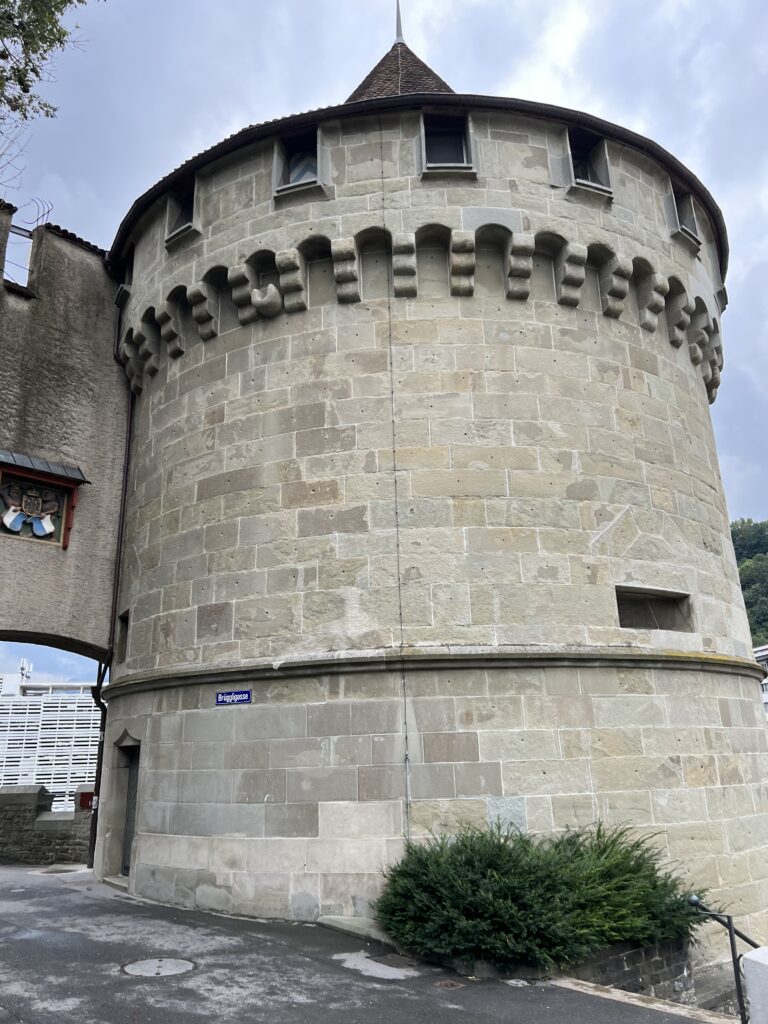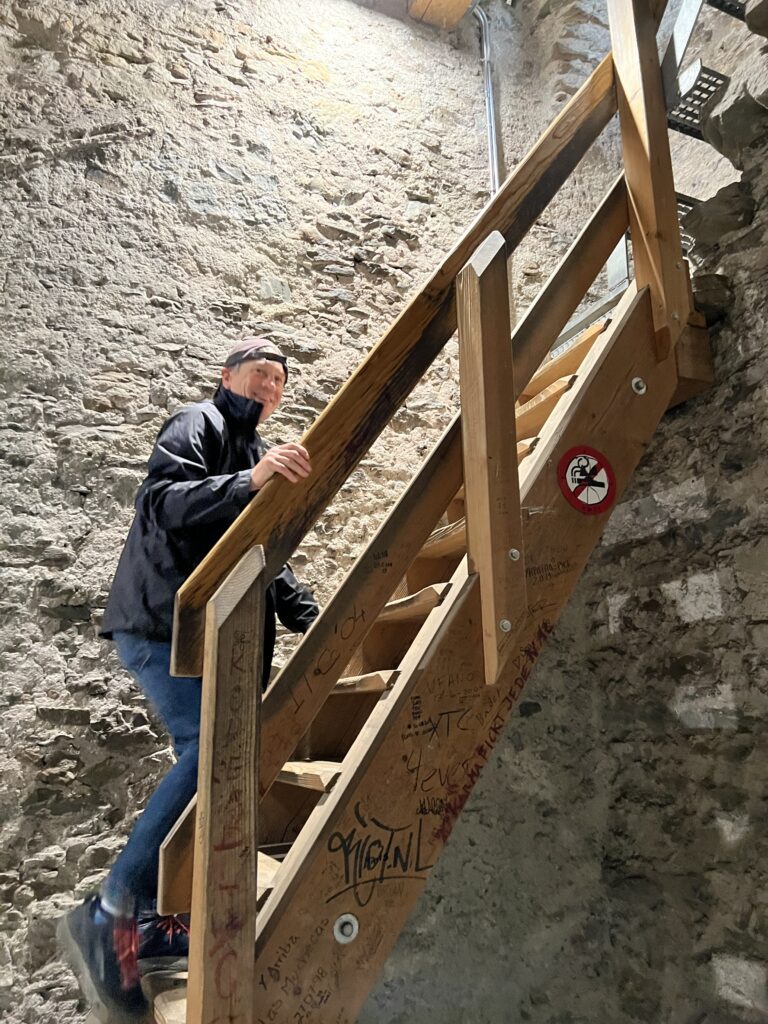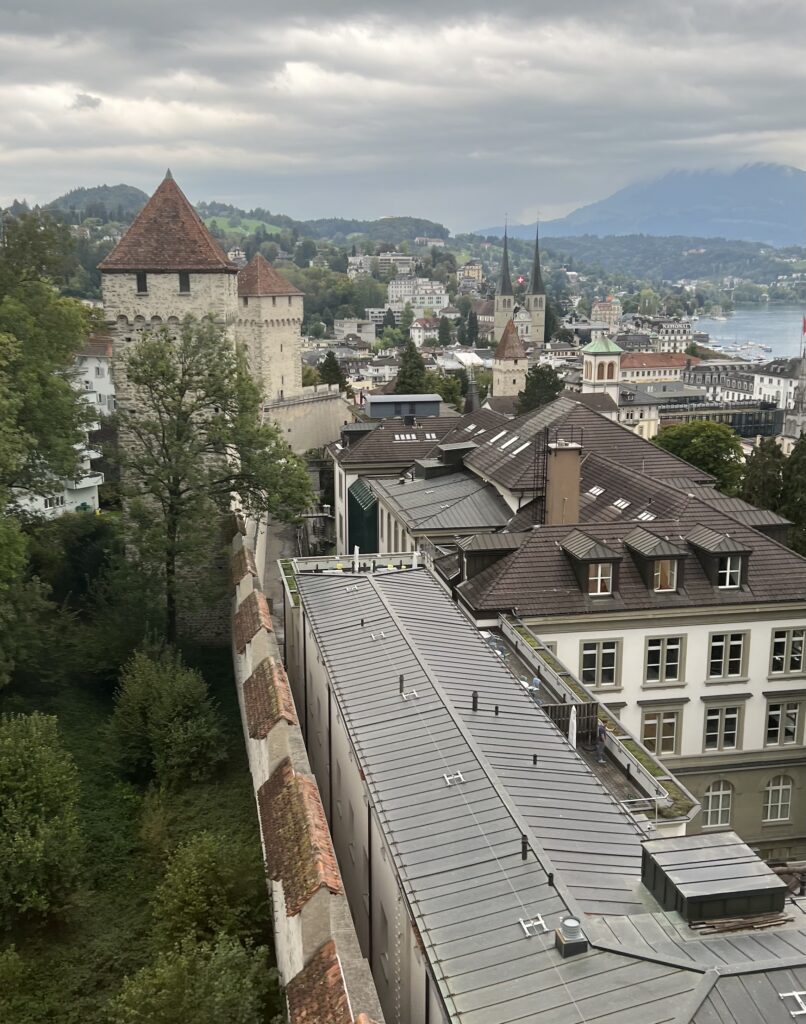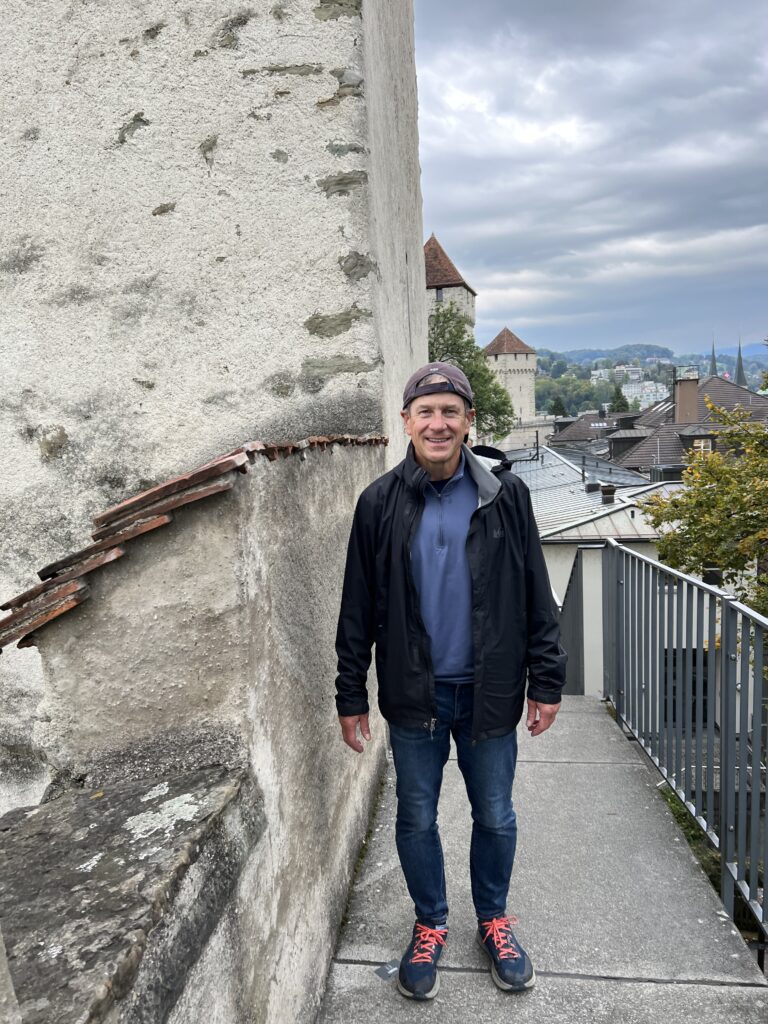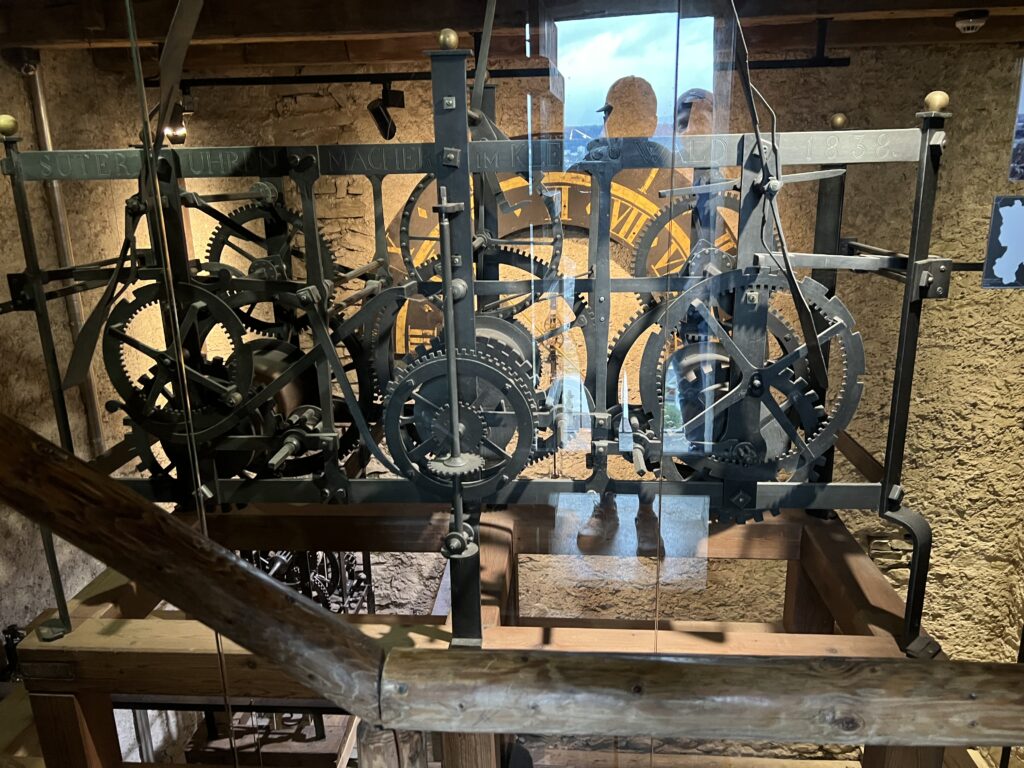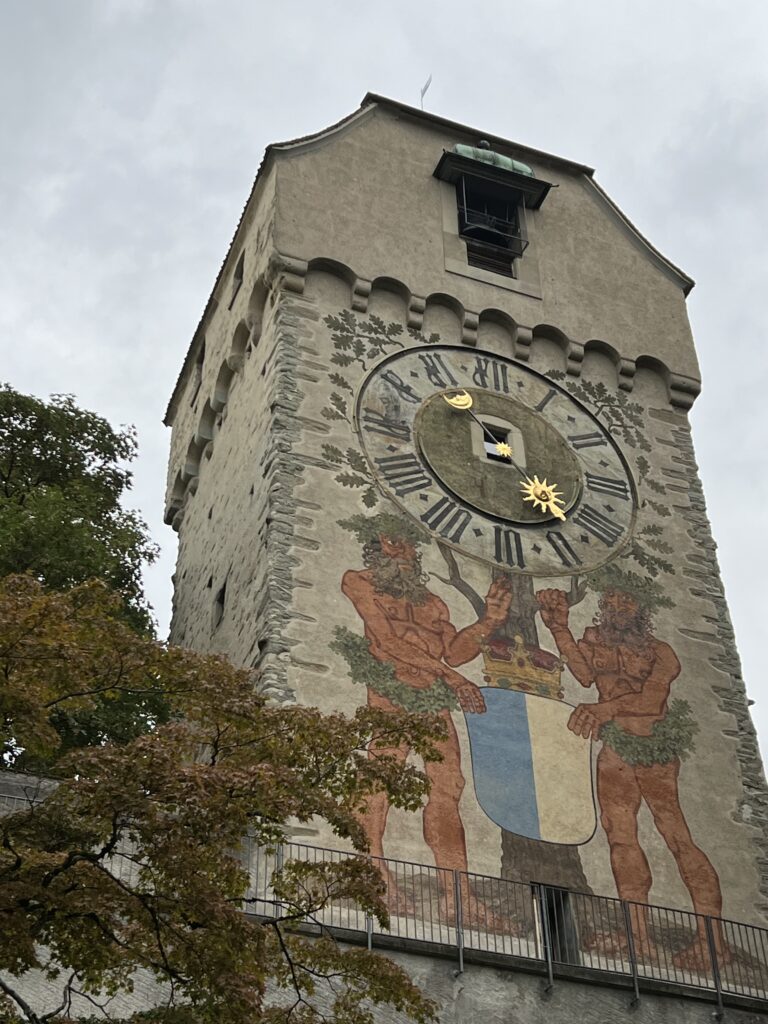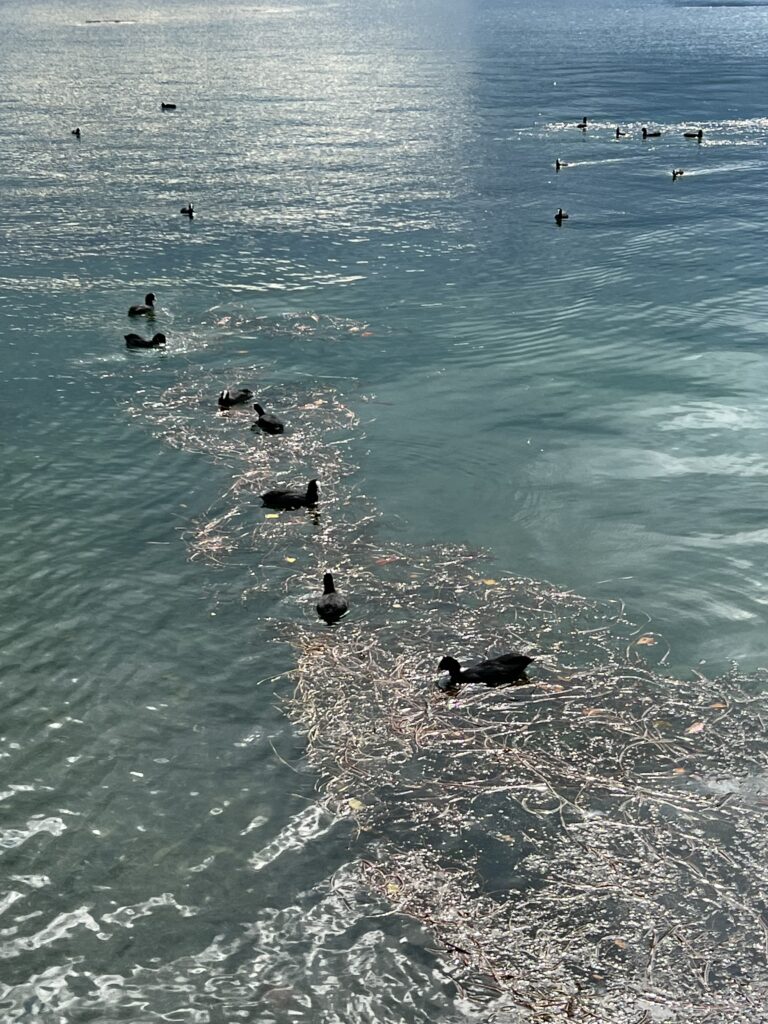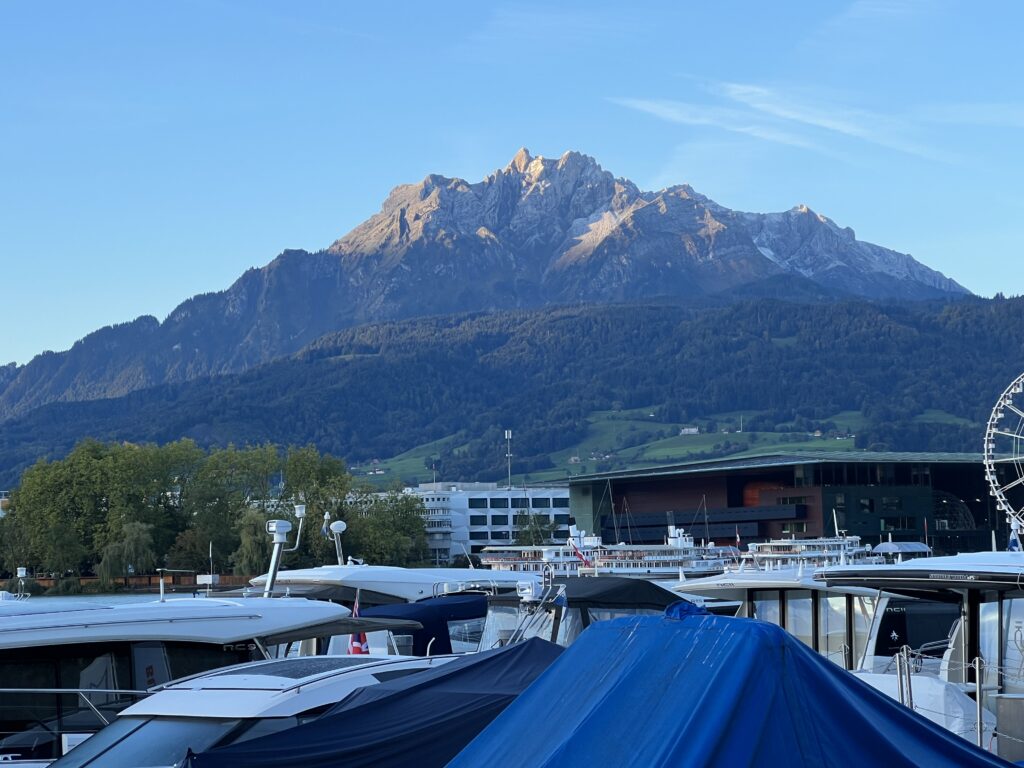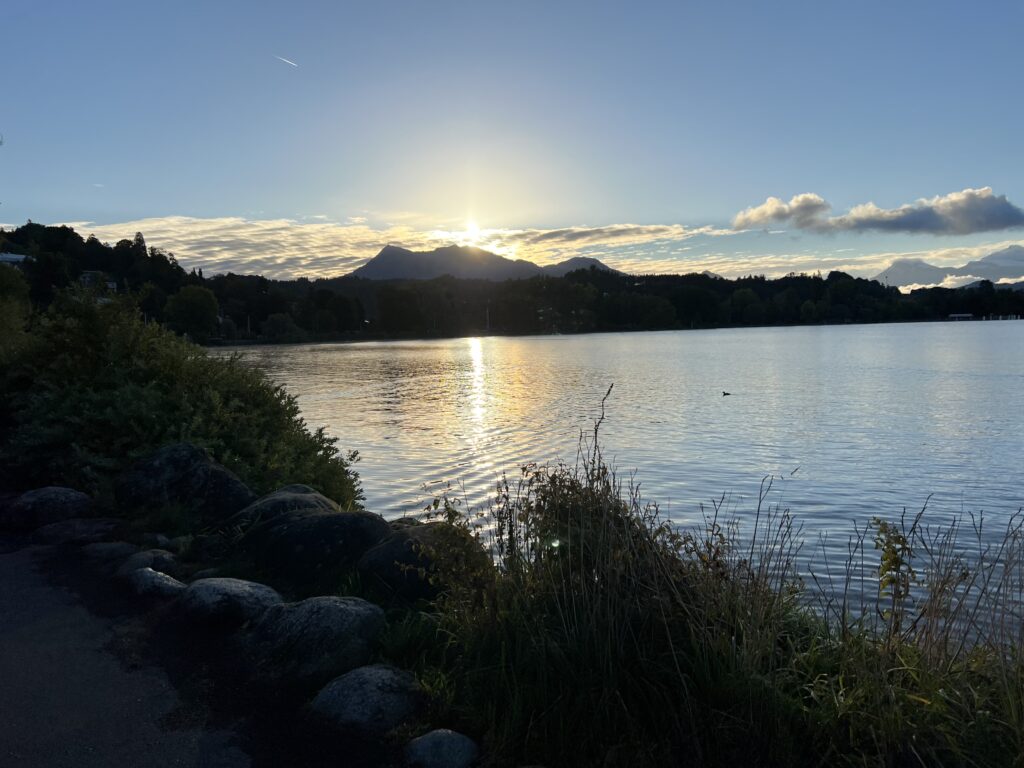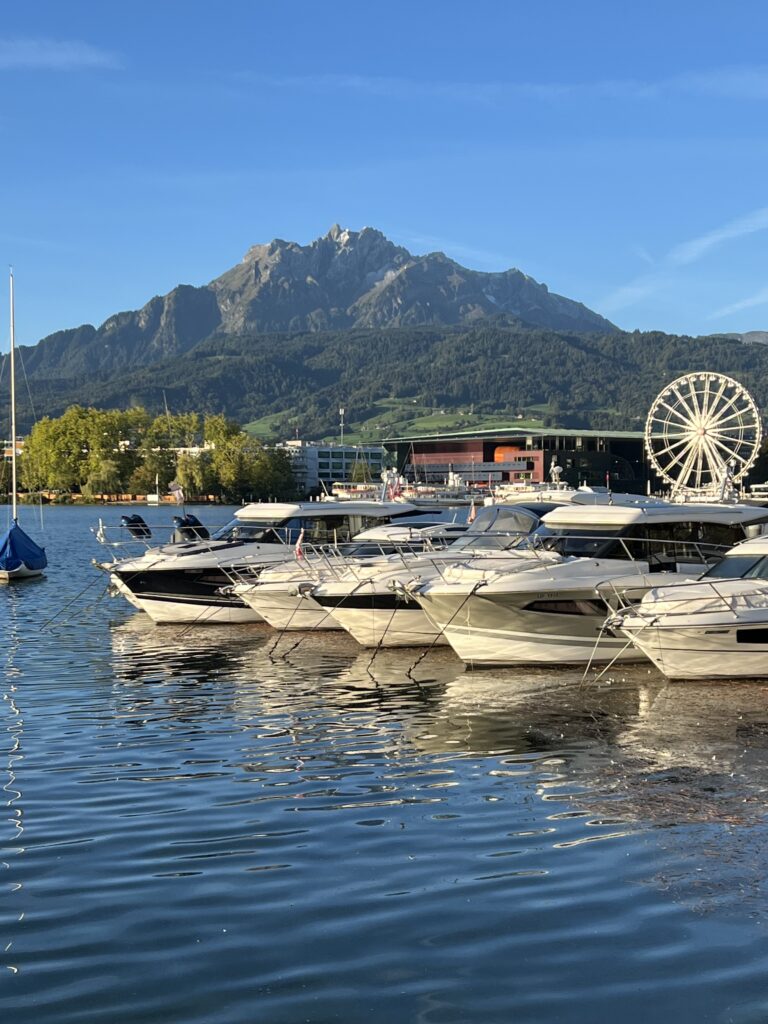 Hiking Mount Rigi
Our plan for our only full day in Luzern was to do an epic hike on Mount Rigi. We planned to take the train from Luzern to Arth Goldau. There, we would board the cog wheel railway to the top of Rigi Kulm. All trains, cable cars and lifts at Rigi are included in the Swiss Travel Pass/Flex. We would walk around the top, and then we planned to spend the day hiking to all the vistas. Stops were to include Staffel, Rotstock, Rigi Kaltbad, Rigi Scheidegg, Rigi First, the Felsenweg – cliff walk, Rigi Scheidegg and then a walk through the forest down to Weggis. At Weggis, we planned to take a boat back to Luzern (the boat is included in the Swiss Travel Pass/Flex)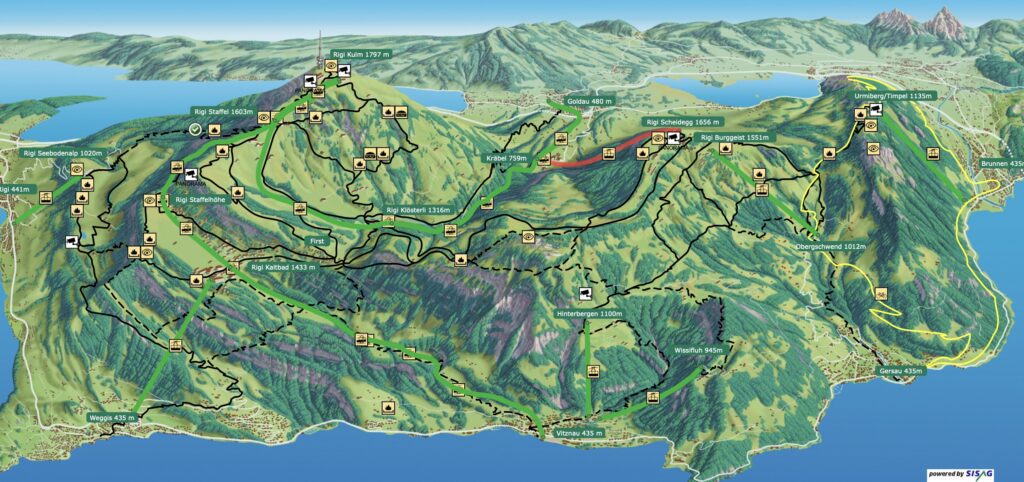 Well, the rain made sure that none of that happened. So, we had to pivot. We still took the train from Luzern to Arth Goldau (top center of map). From there, we took the train to the top of the mountain, Rigi Kulm. It was socked in with cold, icy fog and light snow. We hopped on the train from the summit at Rigi Kulm that was heading toward Vitznau (bottom center of above map). We decided we would exit the train once we came out of the clouds. We could see the lake and there was no rain at the Romiti Felsentor stop (not visible on the map). From there, we hiked all the way down to Weggis. It was a lovely hike. We needed our rain gear.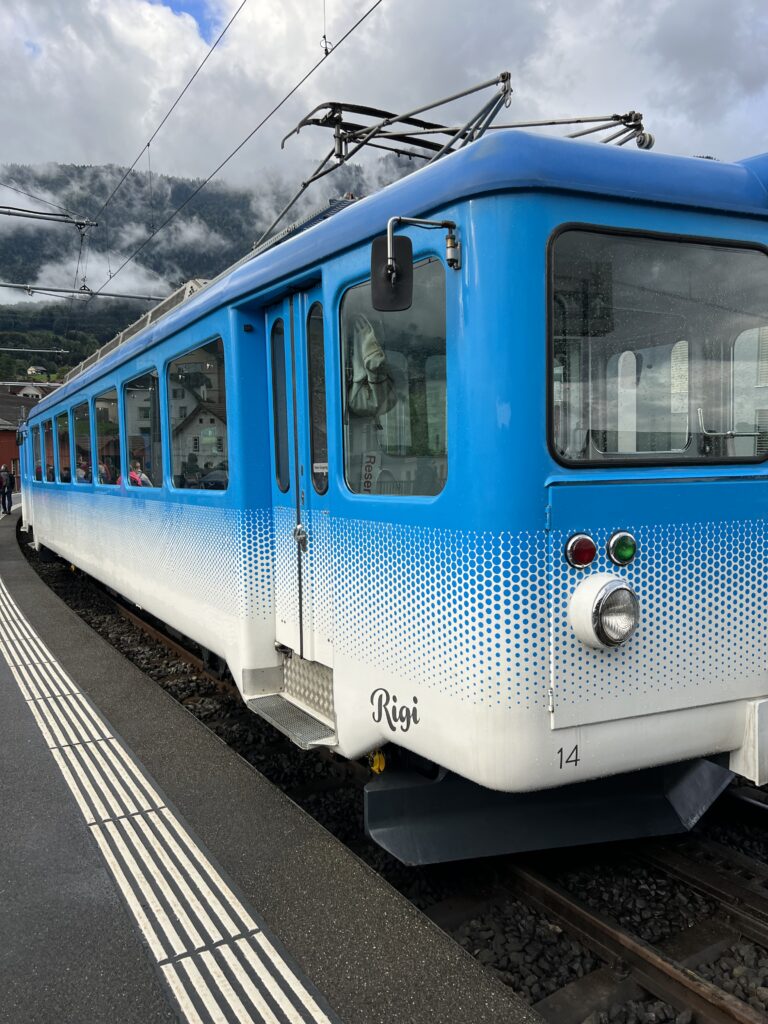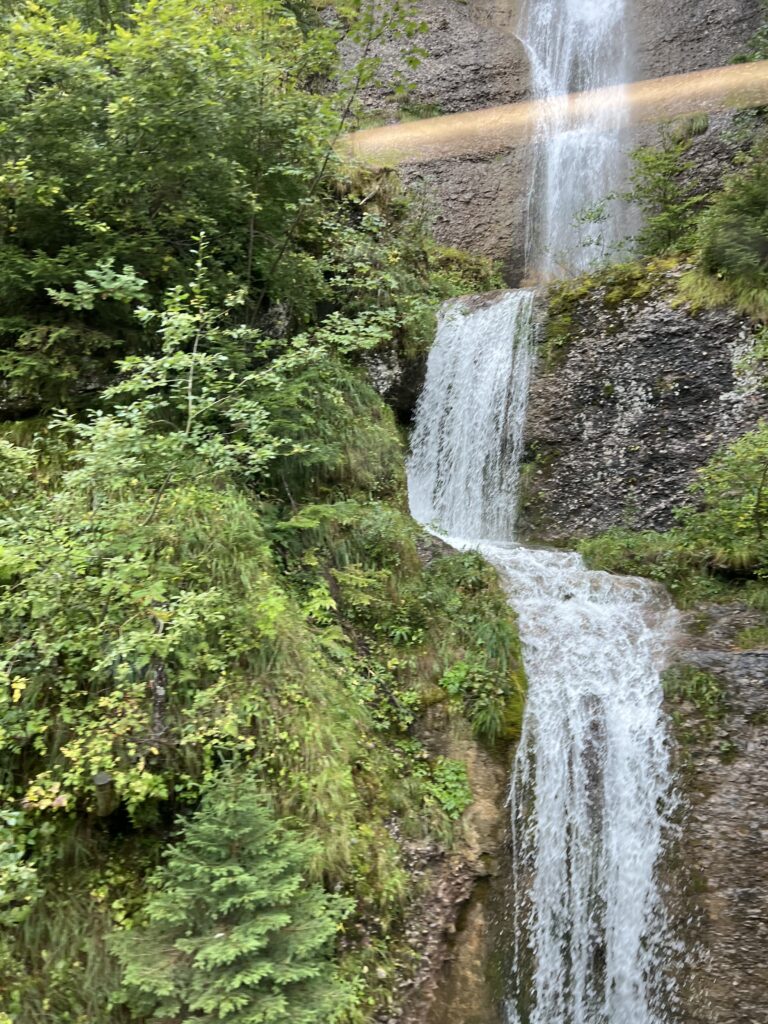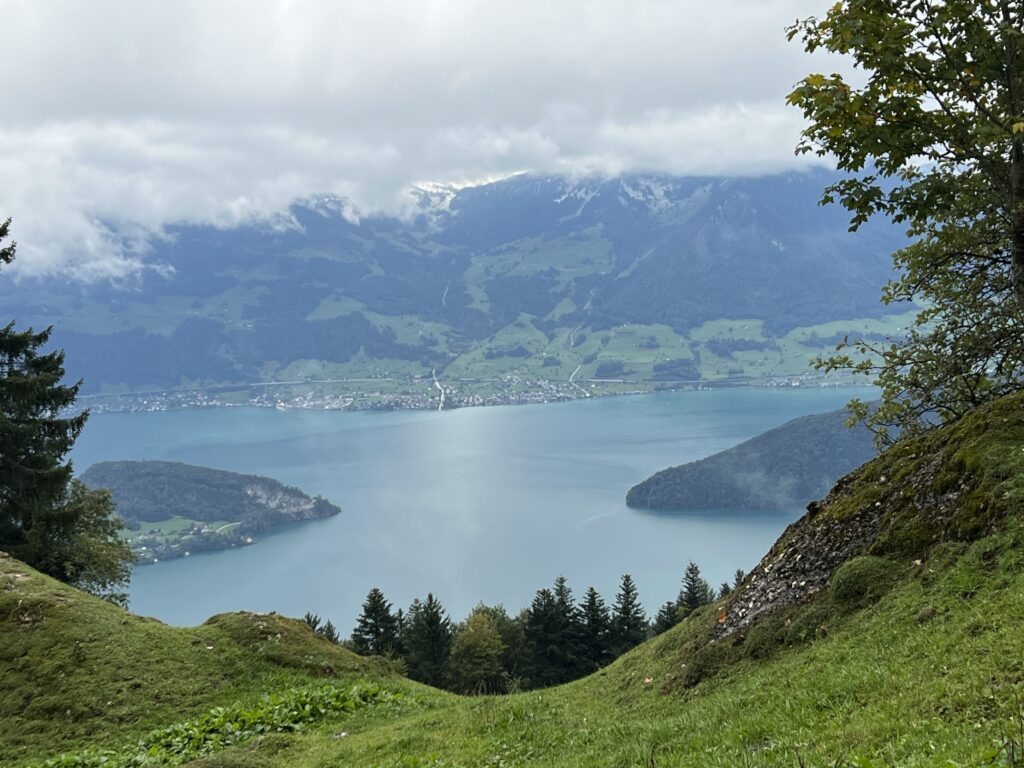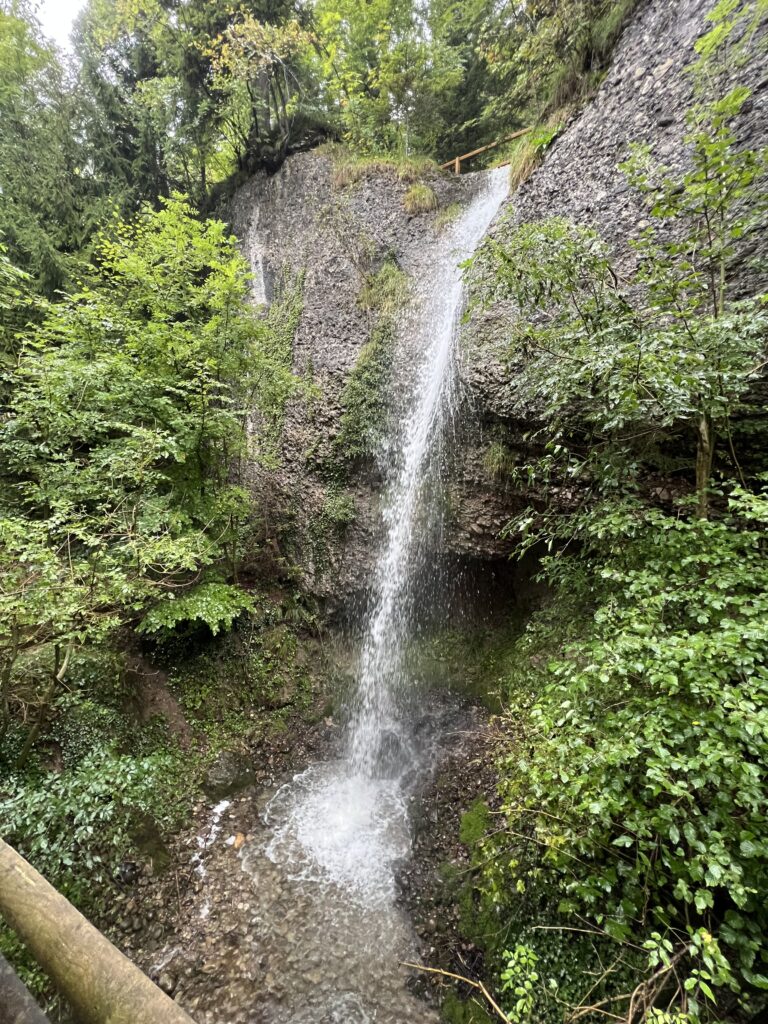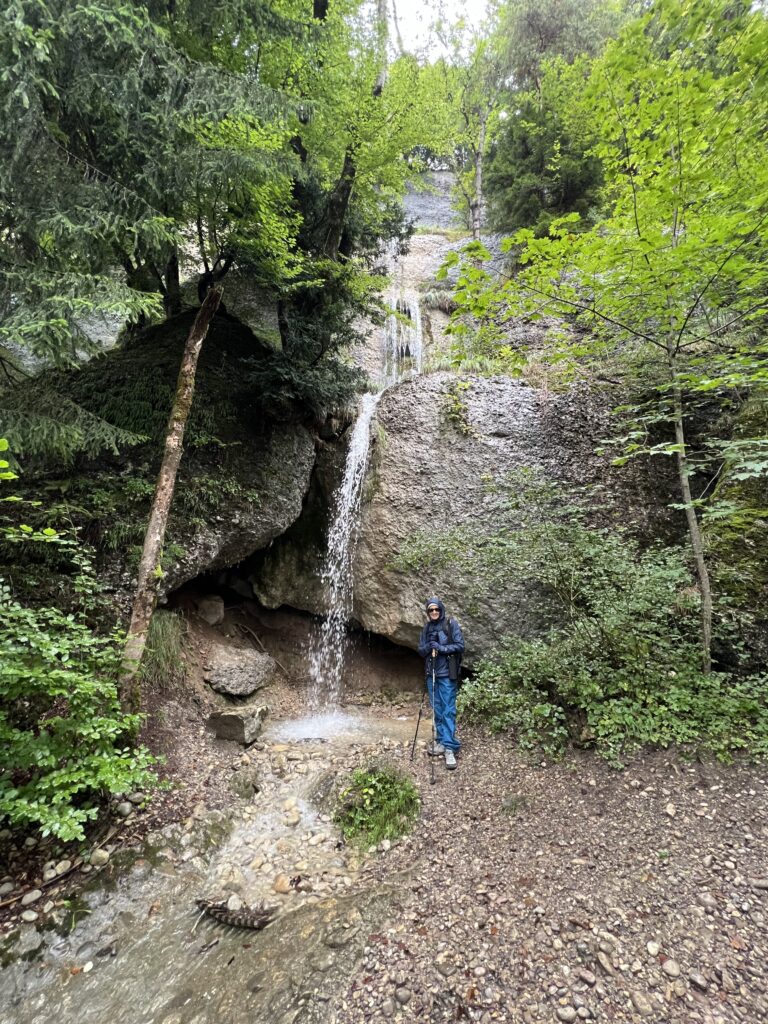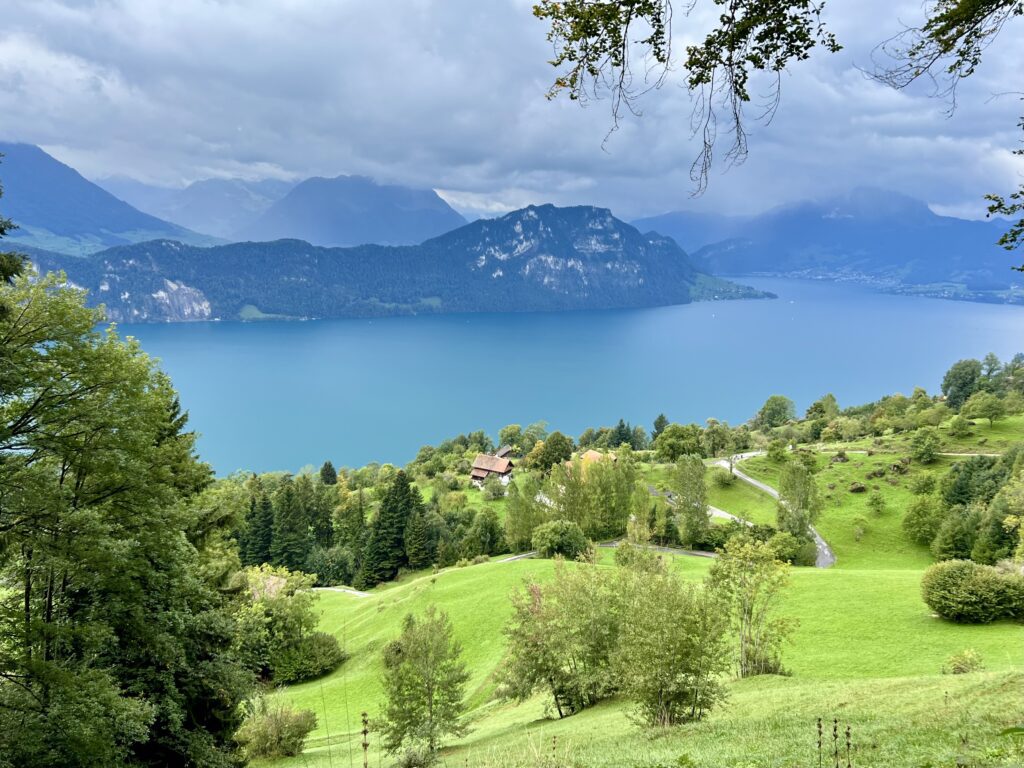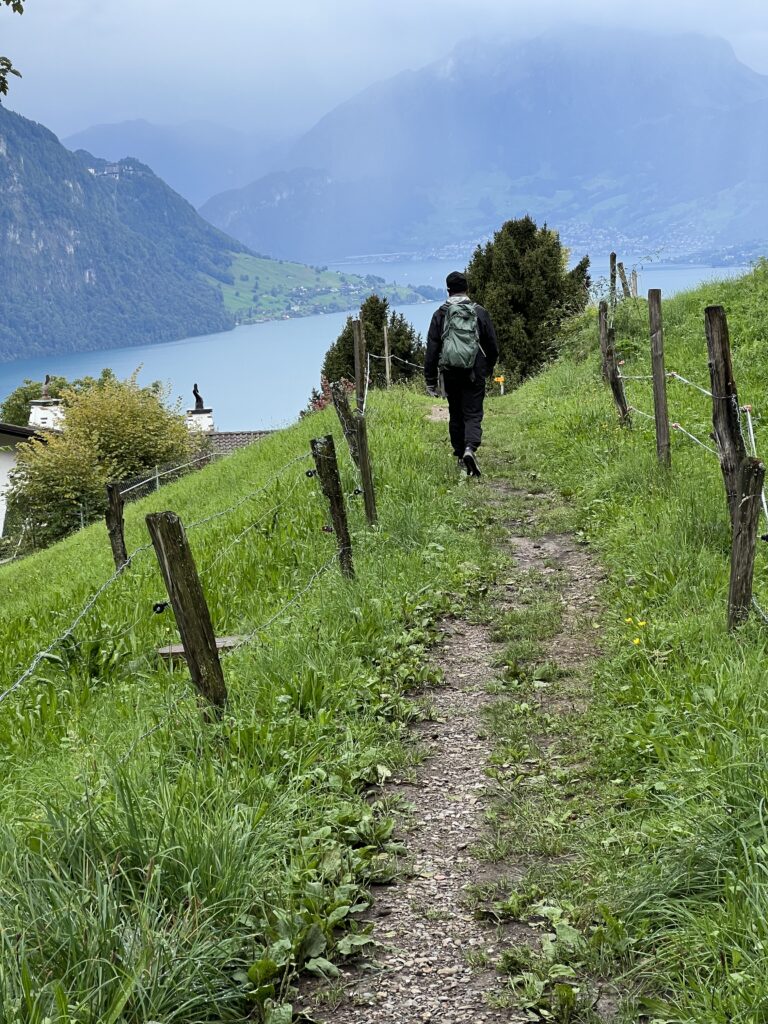 Mount Stanserhorn and the Cabriolet Cable Car
After arriving in Weggis, we noticed the boat back to Luzern had recently left. The next boat was not for another hour. We used the fantastic SBB.ch mobil app and learned a bus was coming in six minutes. It would take us to a train station that would have us back in Luzern in 25 minutes. Yay!
Once in Luzern, we took a 12-minute train to the tiny village of Stans. We walked to the Stanserhornbahn, an ancient funicular that dates to 1893 which took us halfway up Mount Stanserhorn. We then boarded Switzerland's only cabriolet cable car, so we rode up on the roof of the car. Mother Nature gave us some sun and some views. It was chilly with the wind. At the top, we were completely socked in with foggy snow. We ate a snack and took the next cable car back down to Stans. Our plans to hike around the top were dashed. It was a really fun excursion and very close to Luzern. The entire voyage was included with our Swiss Travel Pass/Flex.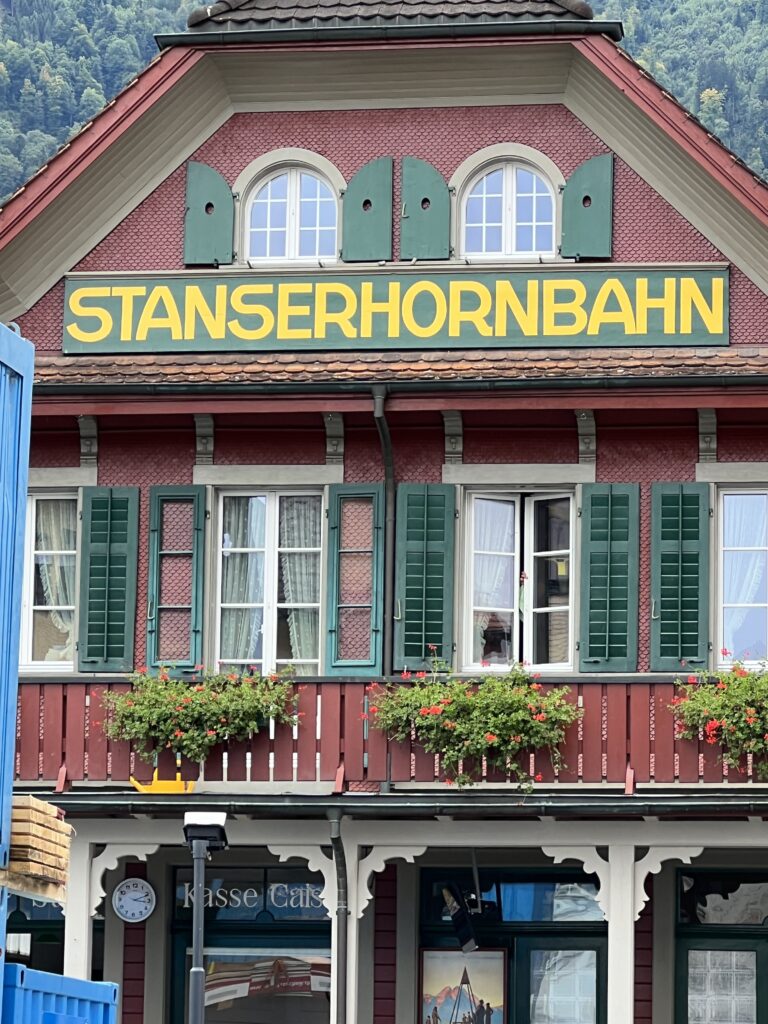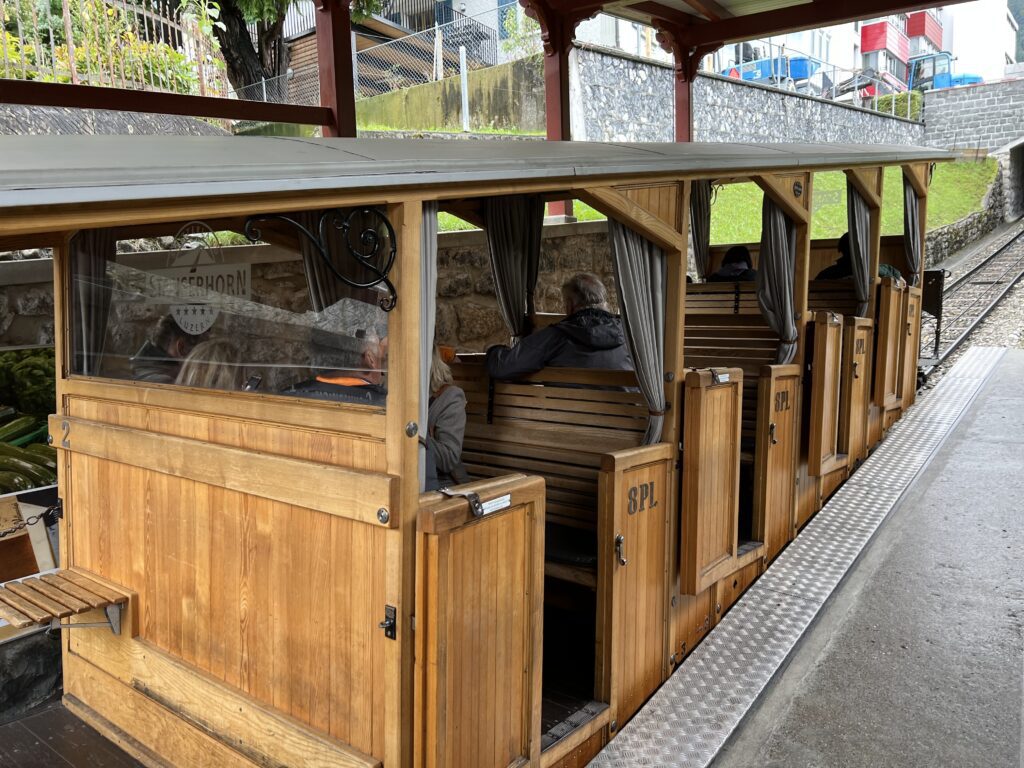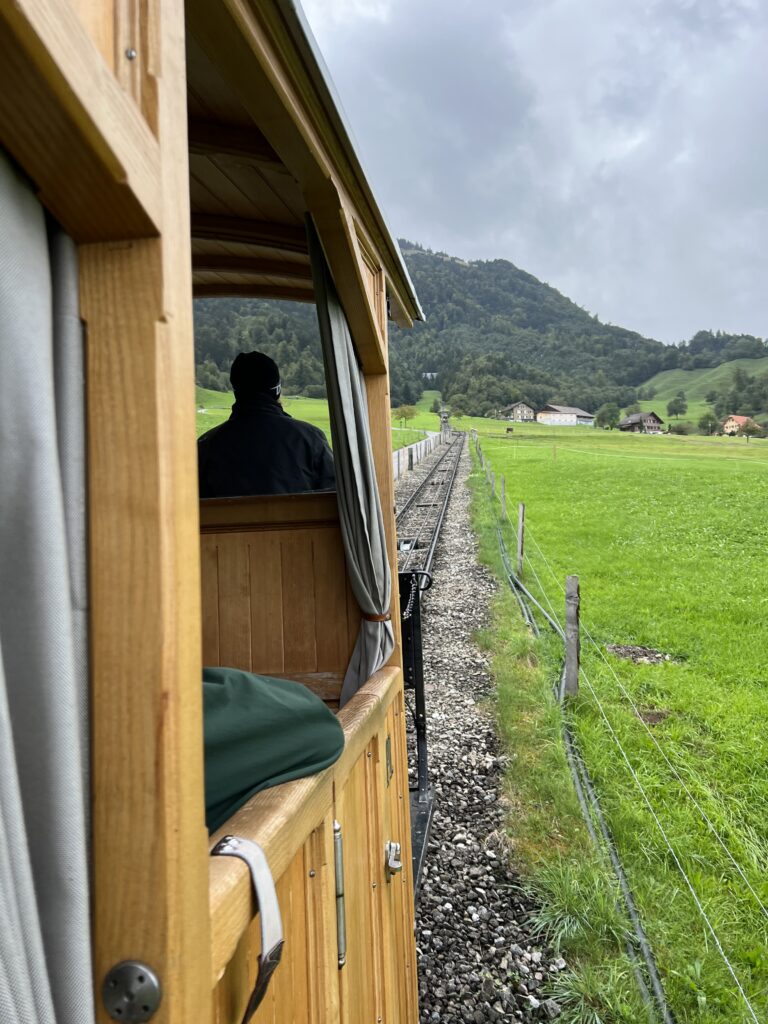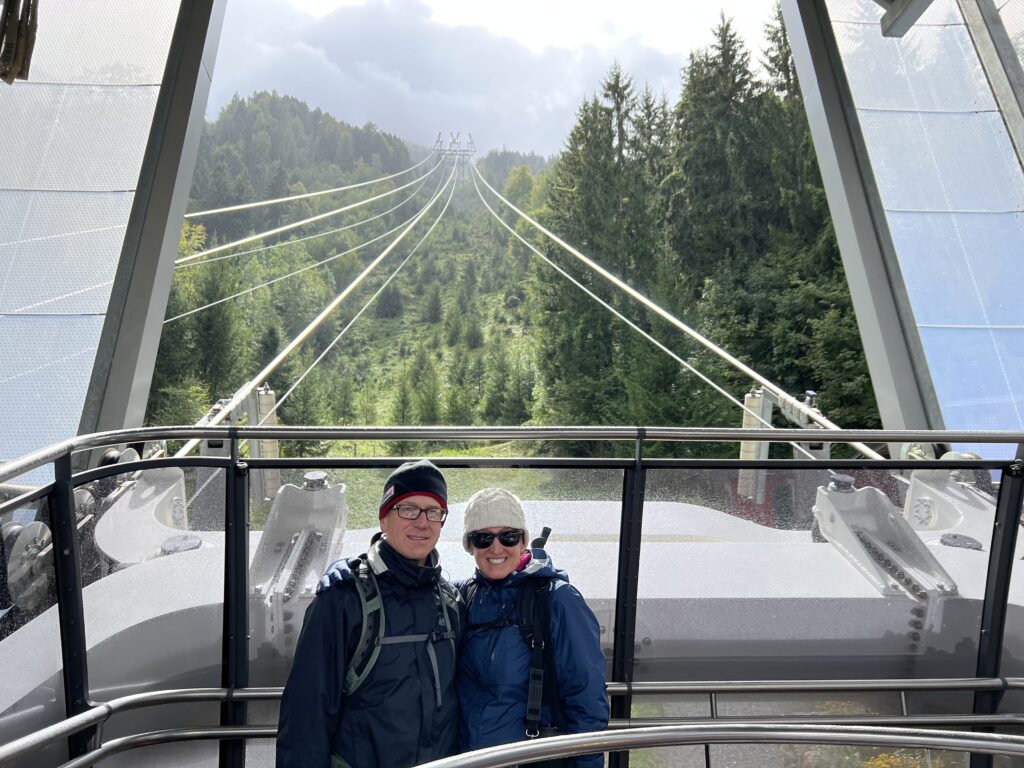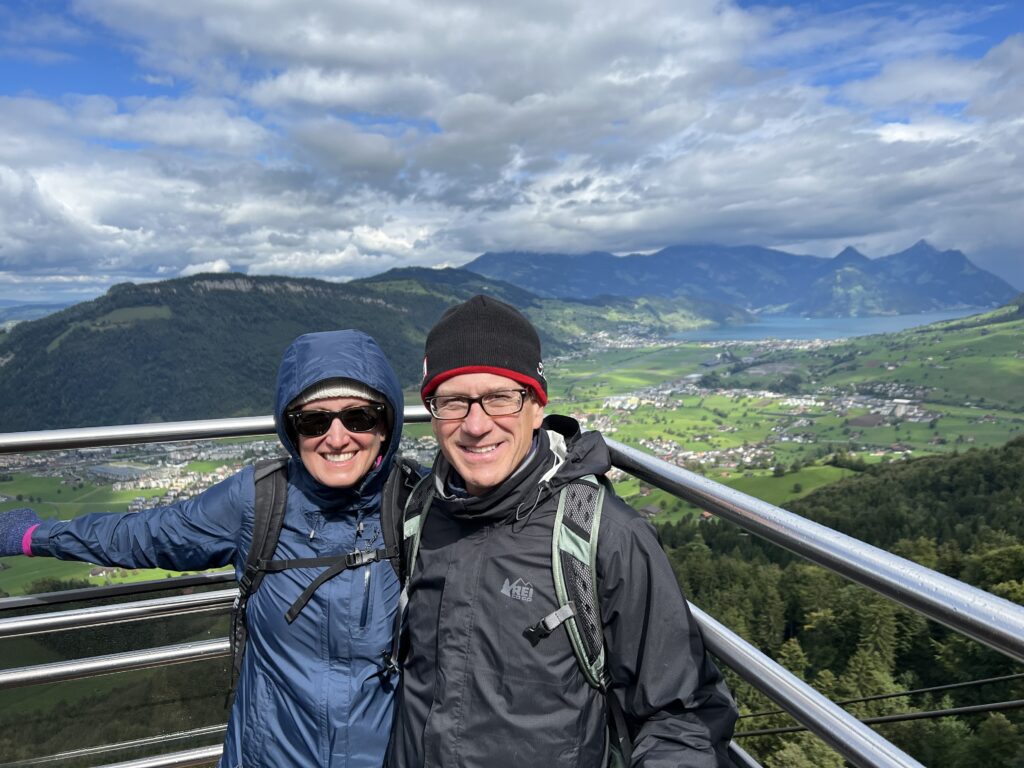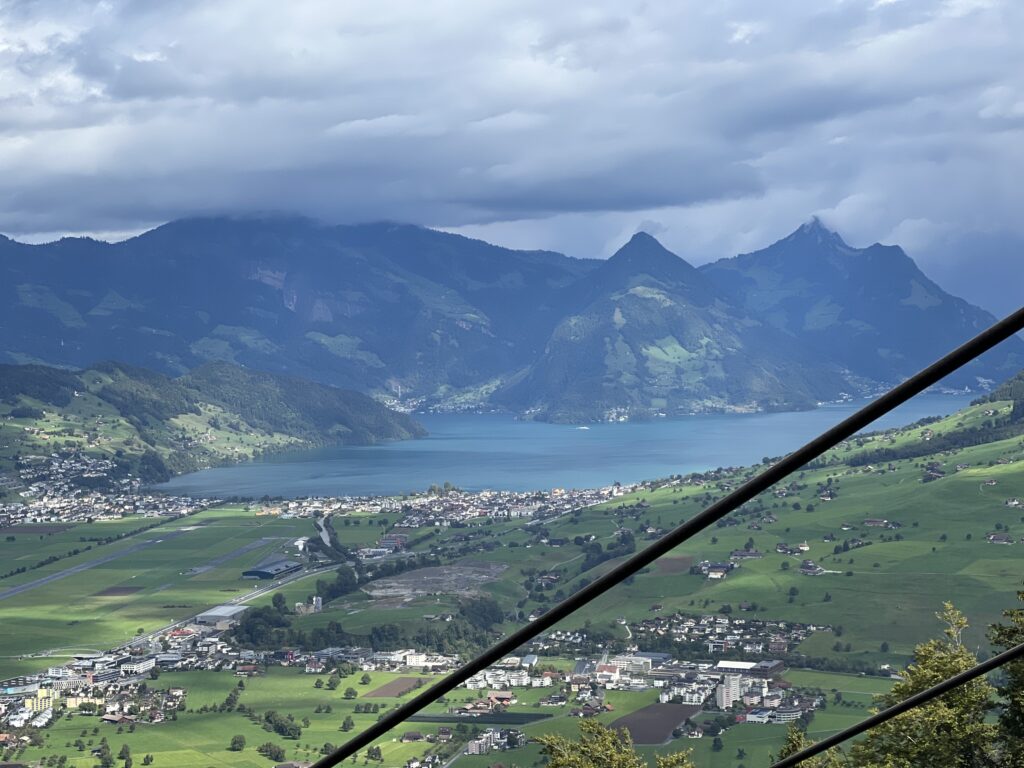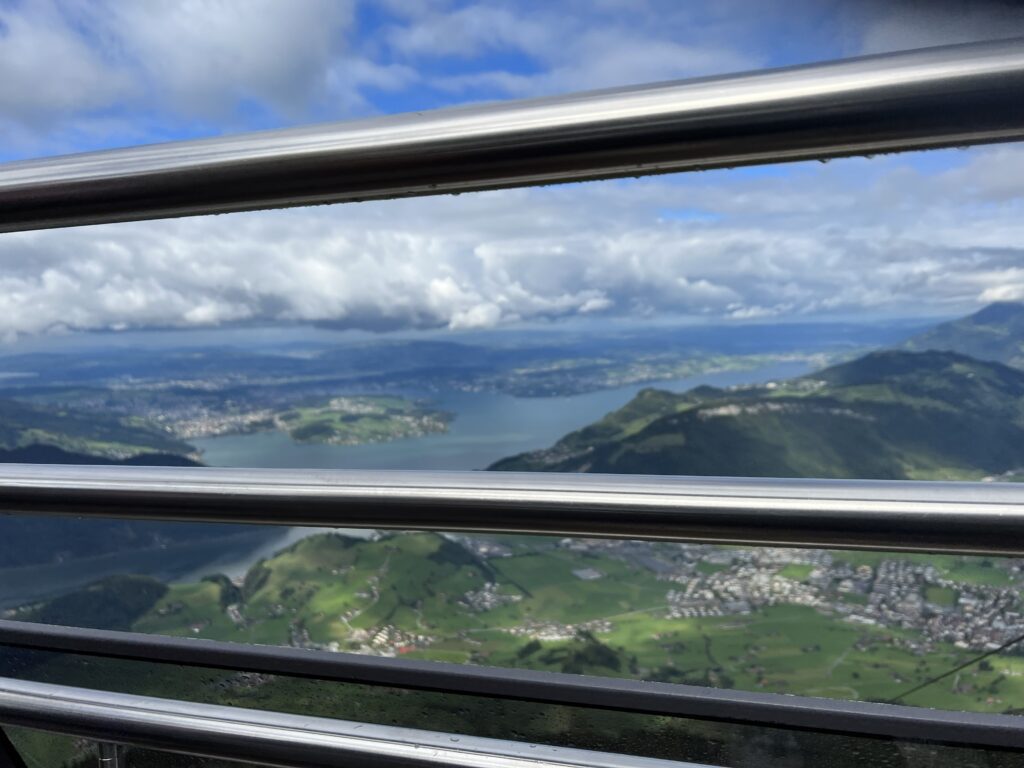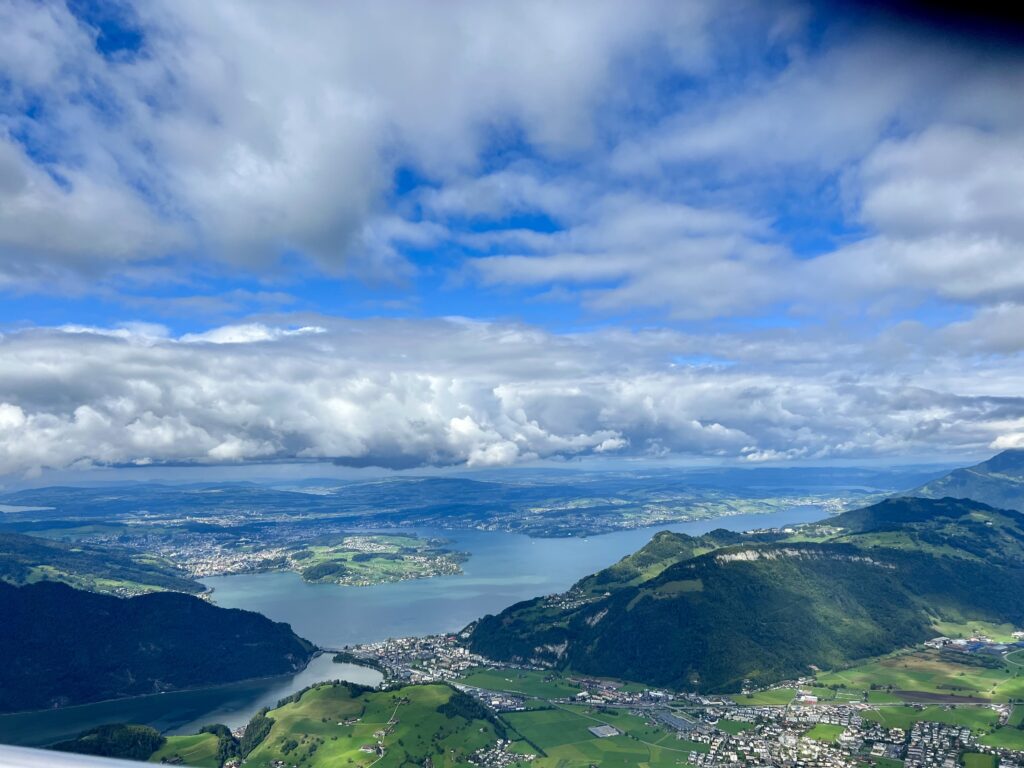 Where We Ate
Breakfast was included at our hotel. We ate two dinners in Luzern and one lunch. The lunch was at our Hotel – Hotel Zum Rebstock, and Michele's salad was good. Jim was not hungry. Our second lunch was snacks from COOP which is a truly great supermarket. Our dinners were here –
Jeff's Burgers
We stumbled across Jeff's Burgers while trying to find a place to eat. It was a Friday night in a busy city, and Michele did not have a reservation. We walked into so many restaurants that had 10+ tables open. The hosts said they were full. If you make a reservation for 8pm, it is your table for the entire night. Even at 6pm they refused to seat us. Jeff's Burgers had a high-top table that we shared with two men from Switzerland and Germany. They were a total blast. We loved our burgers. The fries and onion rings were amazing.
Rathaus Brauerei
Michele made a reservation before we left the states for Rathaus Braurerei which fronts the lake. They only accept reservations for their indoor tables. Outdoor tables are first-come, first-served. It is a loud, lively, funky brewery with great Swiss food. We really enjoyed our visit here.
Heading Home
After a delightful breakfast and a stroll around the lake, we walked the 10 minutes from our hotel to the train station. It took less than an hour from the Luzern station to the Zurich Airport with gorgeous views. It takes a while to get through security, customs and immigration at the very busy airport. Give yourself at least three hours. You are constantly moving through mazes, up escalators, down escalators and onto a train. The airport is massive, with shops, restaurants, bars and souvenirs. Our flight left a few minutes late. It took us about eight hours to get back to Boston. We loved our adventure. This country is so clean, green and friendly. There is literally no trash anywhere. The food and the people are amazing. Happy planning! Ask us anything!!!