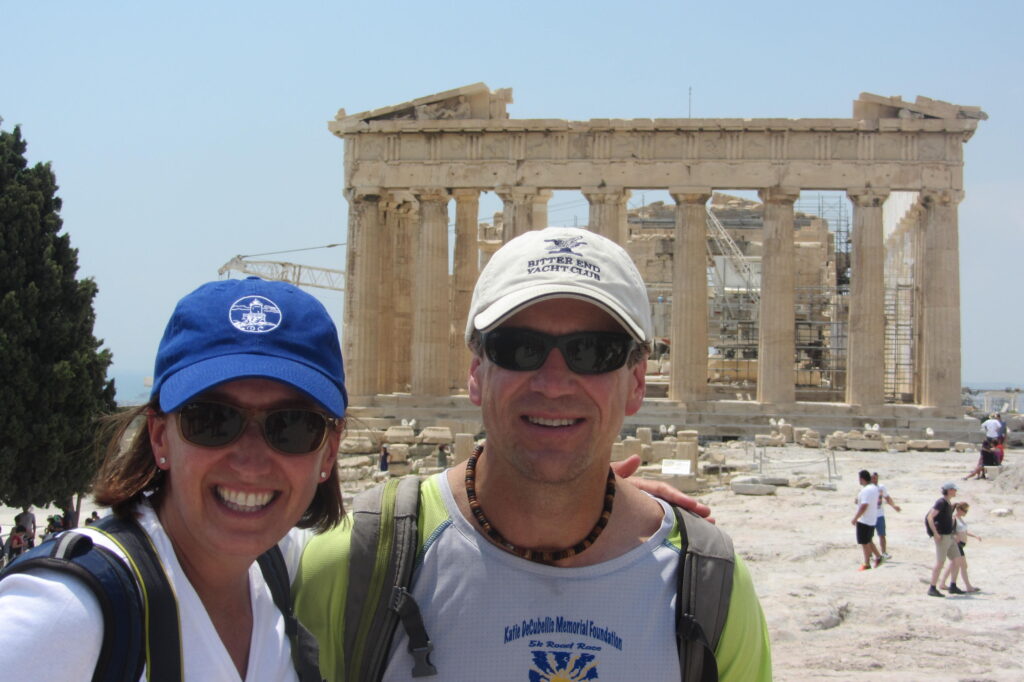 A few 2022 Updates
For a trip to Iceland and St. Martin in late 2021, Michele upgraded our waterproof camera to this Olympus model. It has amazing reviews and takes a great photo. We also like this affordable, easy-to-use tripod.
Michele also upgraded her iPhone to the iPhone 13. The camera is amazing.
We like these vaccination card holders for travel.
Athens – Electra Palace Hotel
We went to Greece from July 17-27, 2014. All restaurants and recommendations have been double-checked to be sure they are still in business.
We flew from Providence to Athens via Philadelphia on American Airlines. We landed into the Athens airport. Customs and immigration was easy. The airport is easy to navigate and is squeaky-clean!
I arranged for a driver from George's Taxi to pick us up. The driver was waiting for us. His car was clean, and he brought us directly to our hotel. Highly recommended!
We motored to the Electra Palace Hotel in the Plaka district. The Plaka is the oldest part of Athens and hosts artisan shops, small taverns with delicious local food and amazing museums. It was an easy walk up to the Acropolis from the hotel. This website has outstanding information about the Plaka and everything else (literally) in Greece. I relied on the guide heavily during my planning.
Since it was only 10am, our room was not yet ready. When we returned at 3pm, our room was ready, clean and just fine for us. We had a king size bed, sitting area, tiny balcony and large bathroom.
The best part of this hotel, aside from its location, is the rooftop swimming pool and roof deck with gorgeous views of the Acropolis.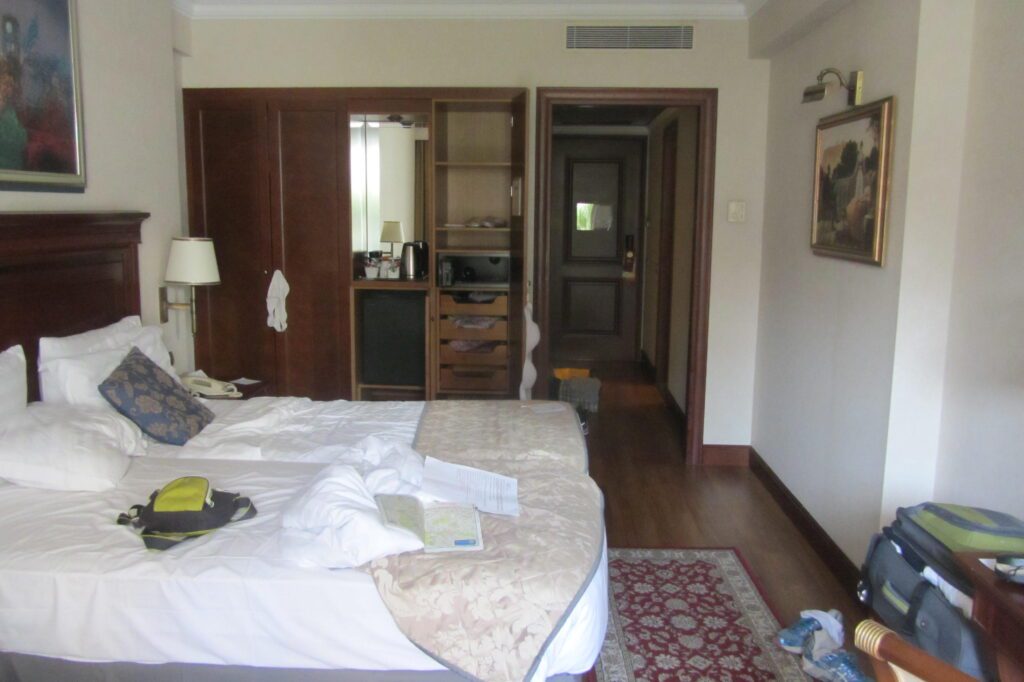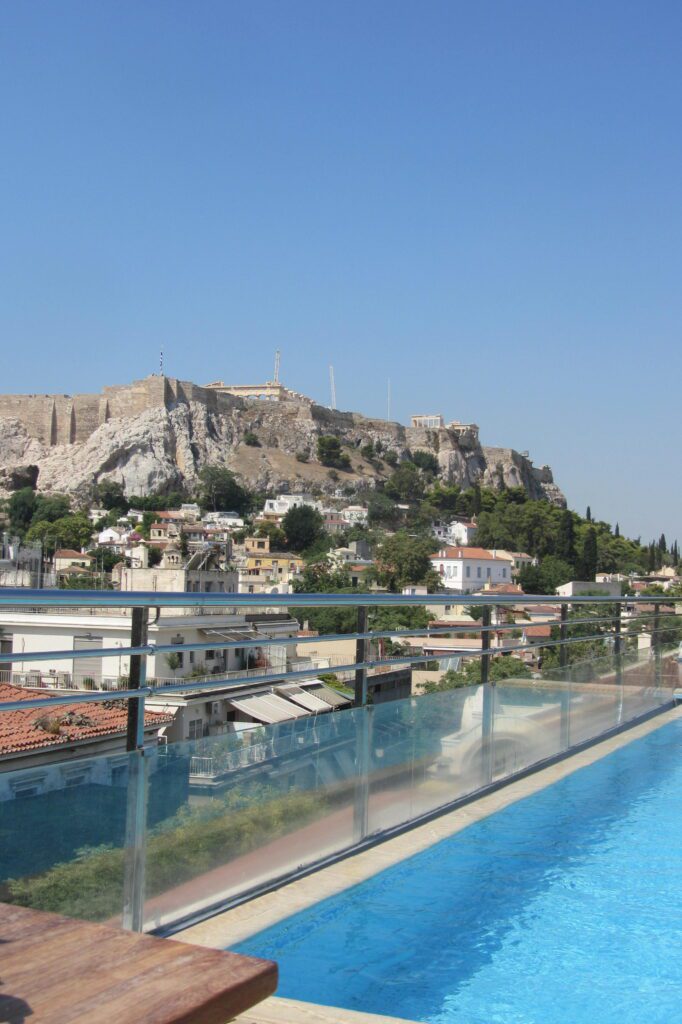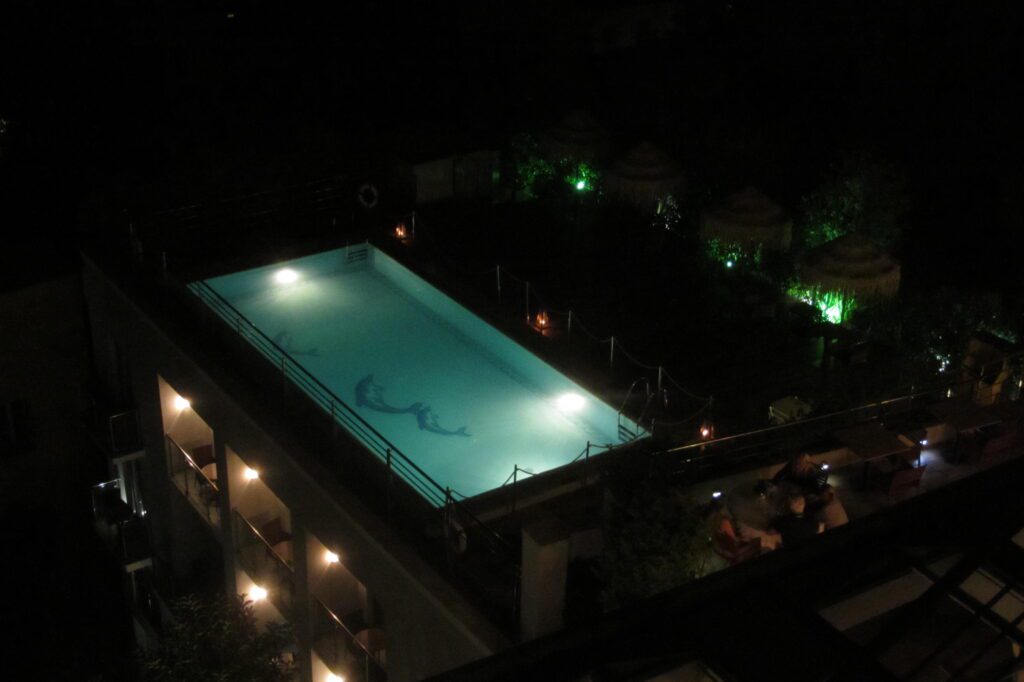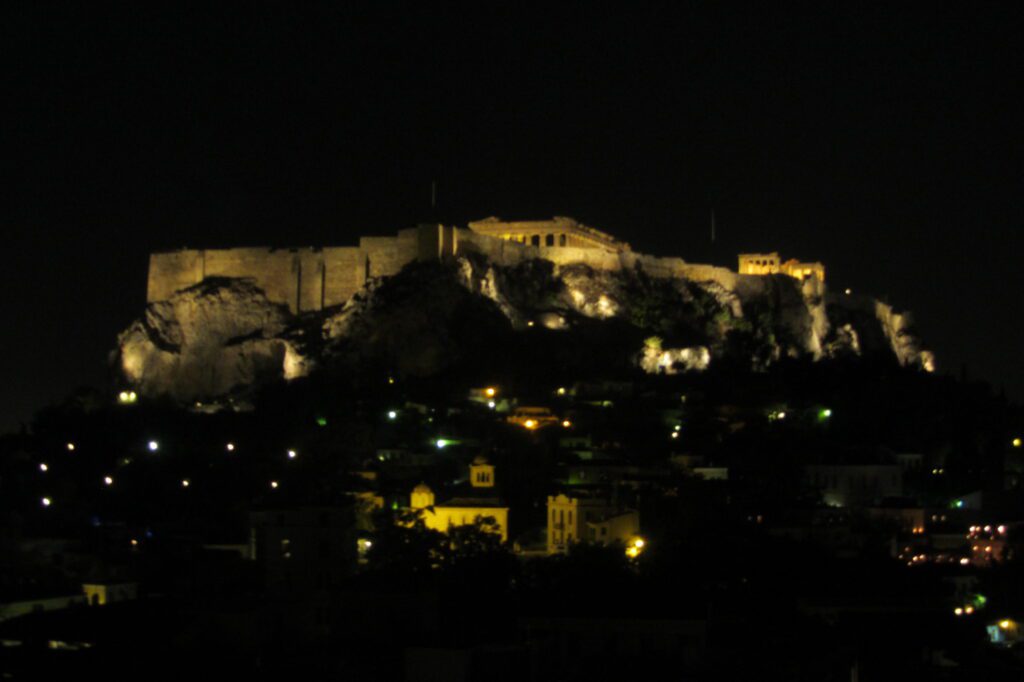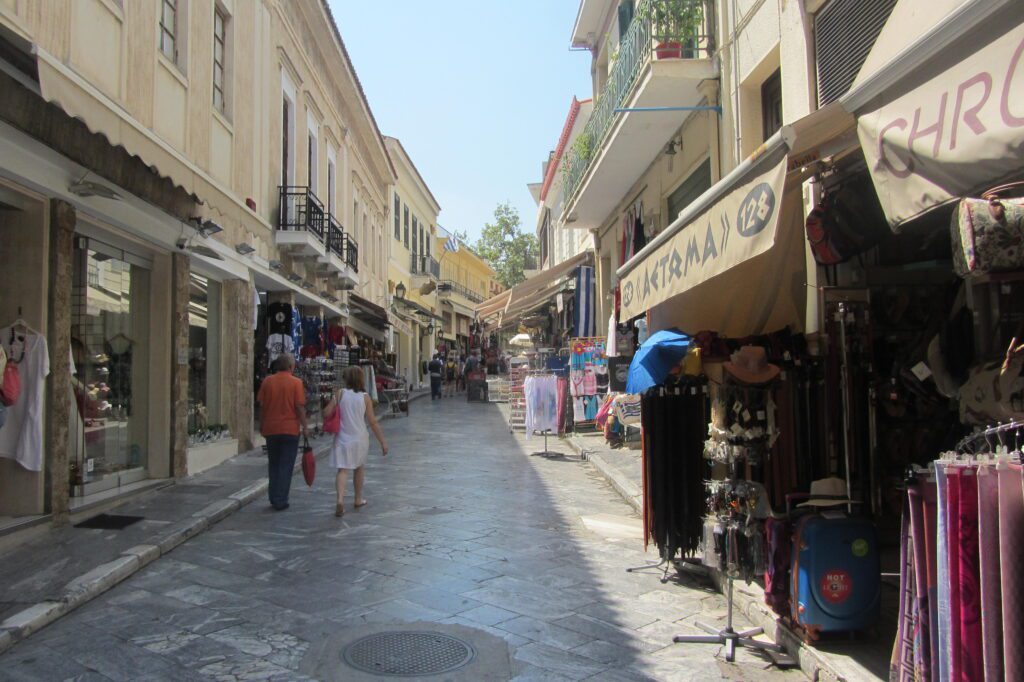 We spent the entire day and night walking around the Plaka and the Acropolis. There are so many ruins to see. You purchase a ticket to the Acropolis which also gives you access to several other historic sites around Athens. Information on tickets (20 euros per adult) can be found here. We bought our tickets as we walked up the hill at one of the lesser known sites. This allowed us to skip the long line at the main entrance to the Acropolis.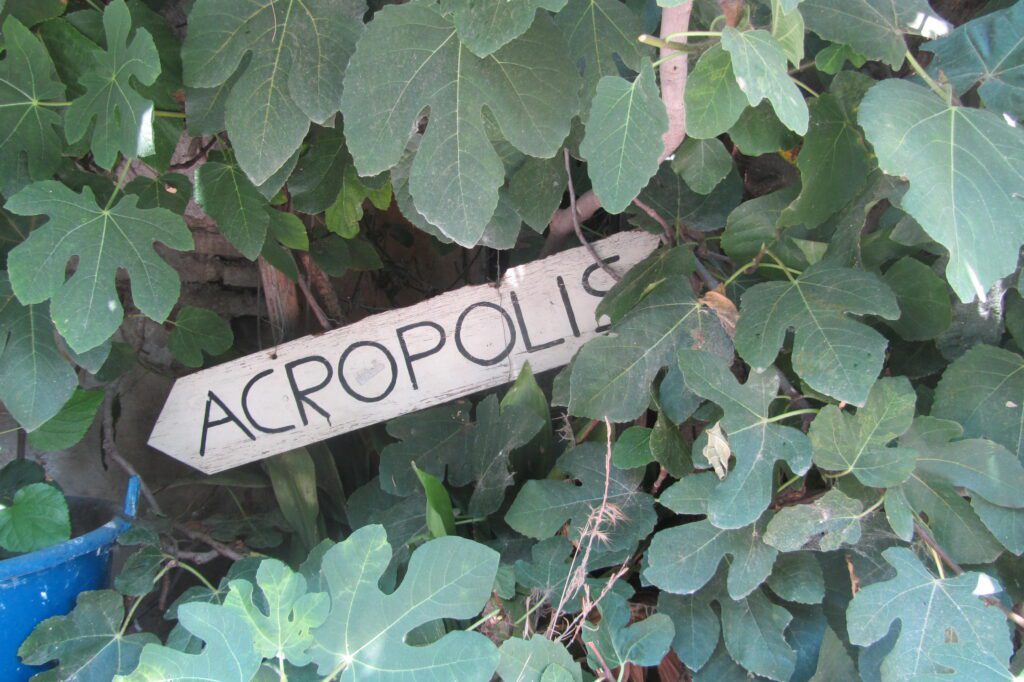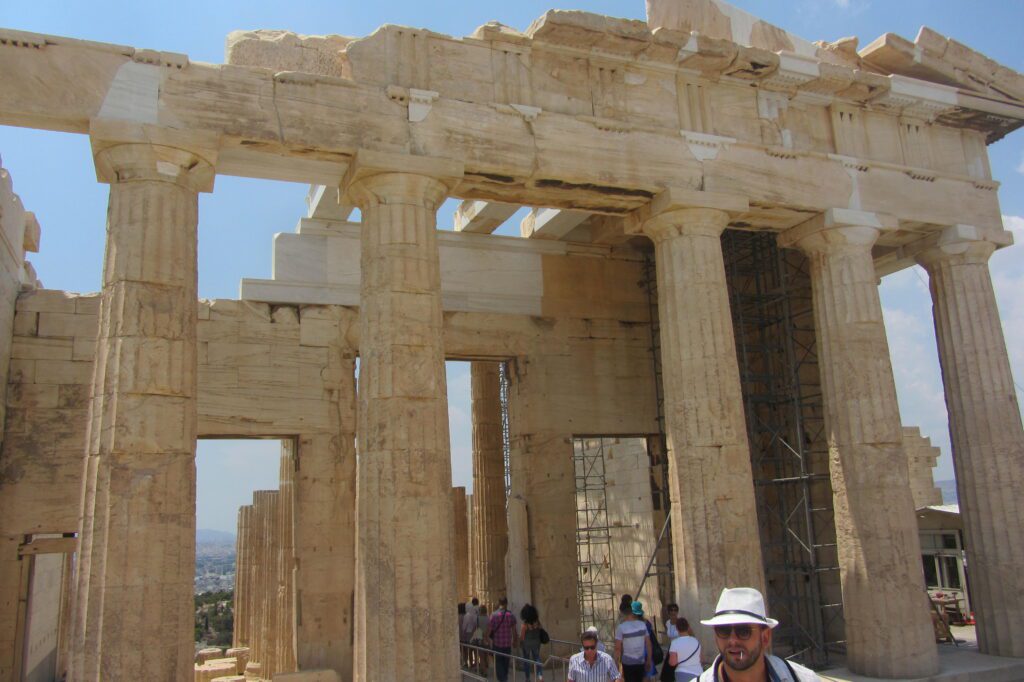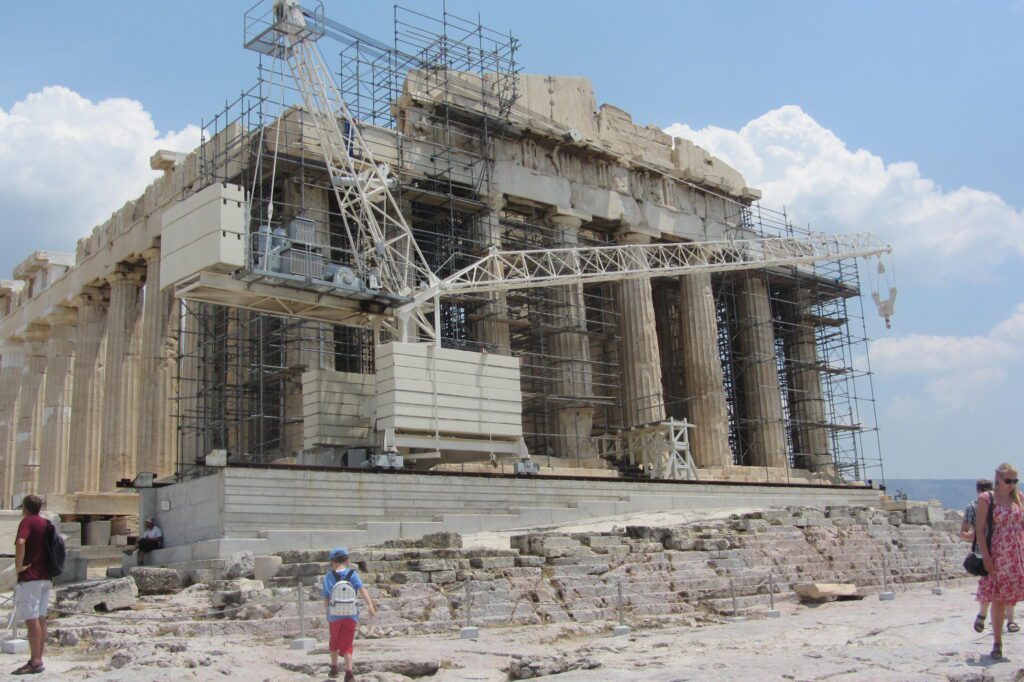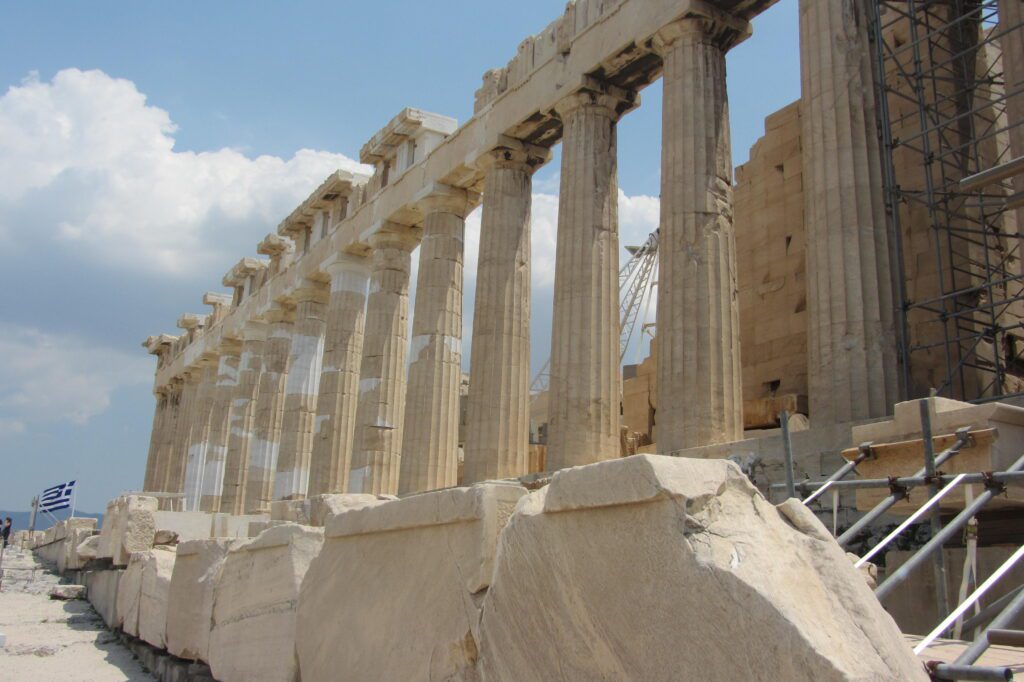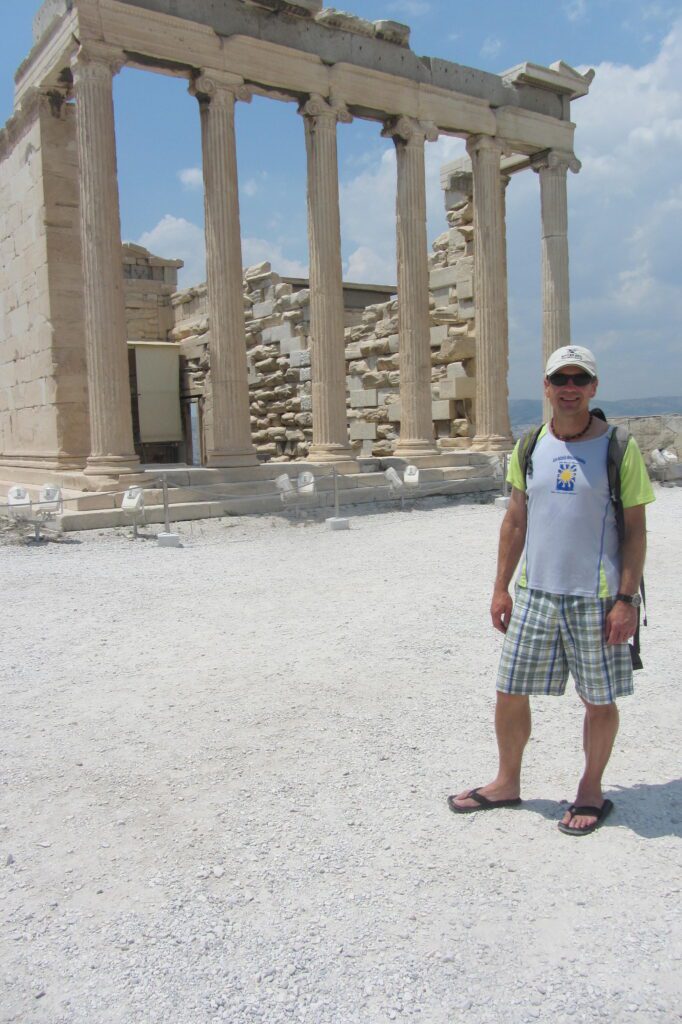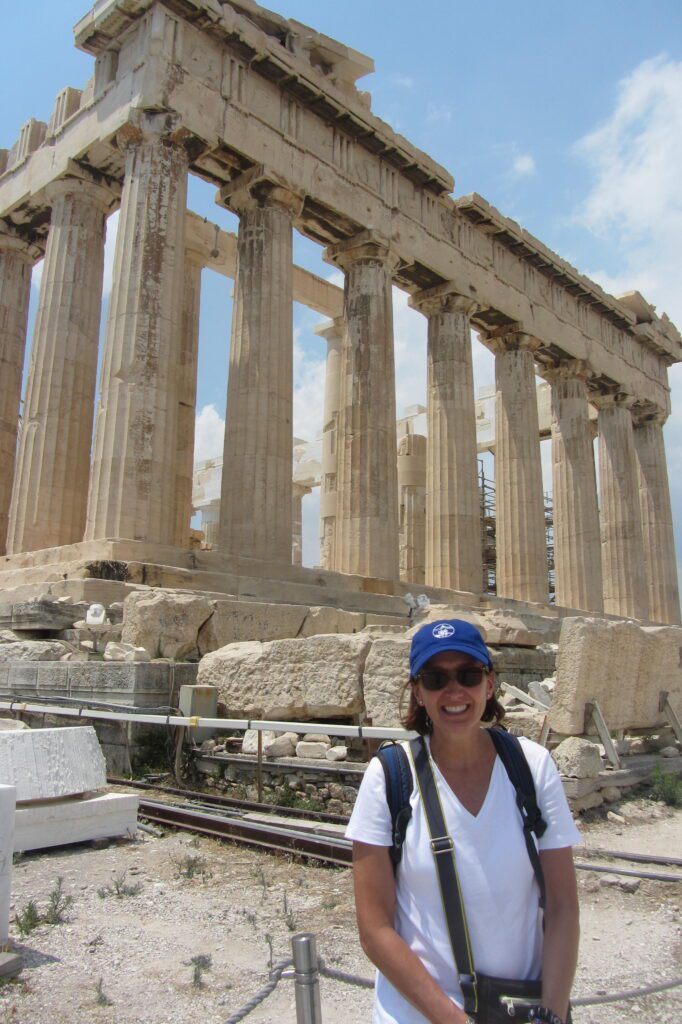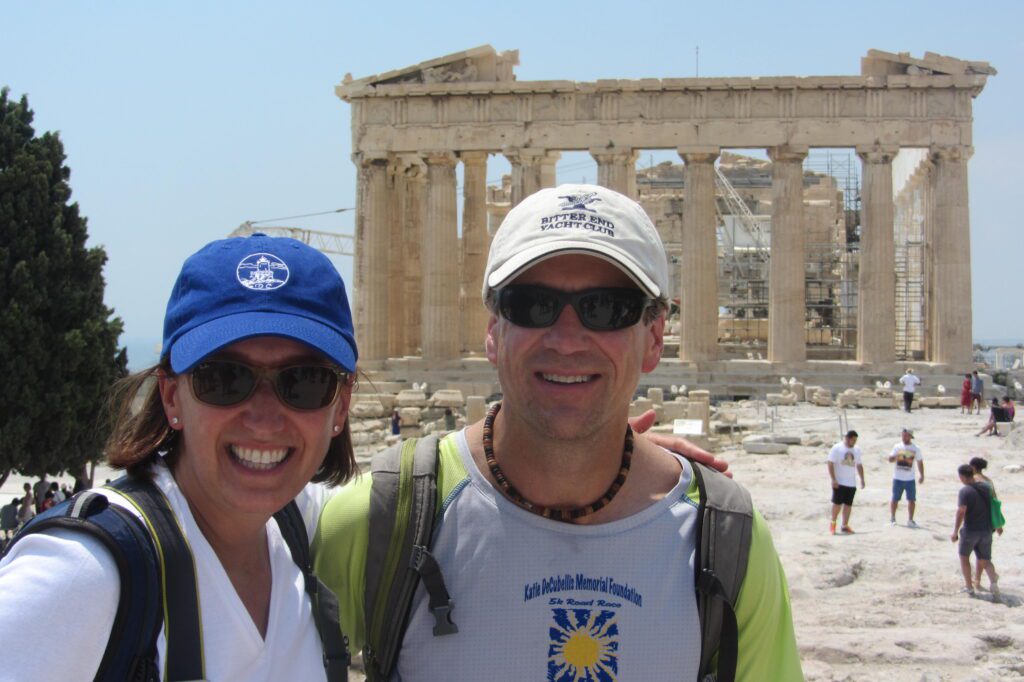 We walked until 3pm and then checked into our hotel and took a nap! We dressed and walked to Hadrian's Arch and the Temple of Zeus.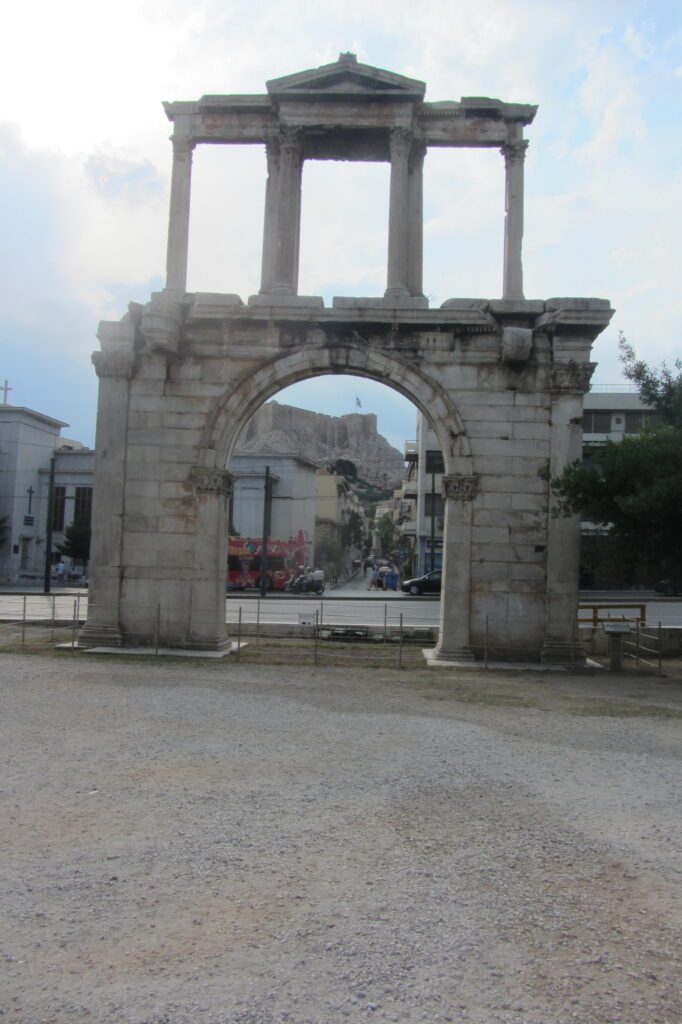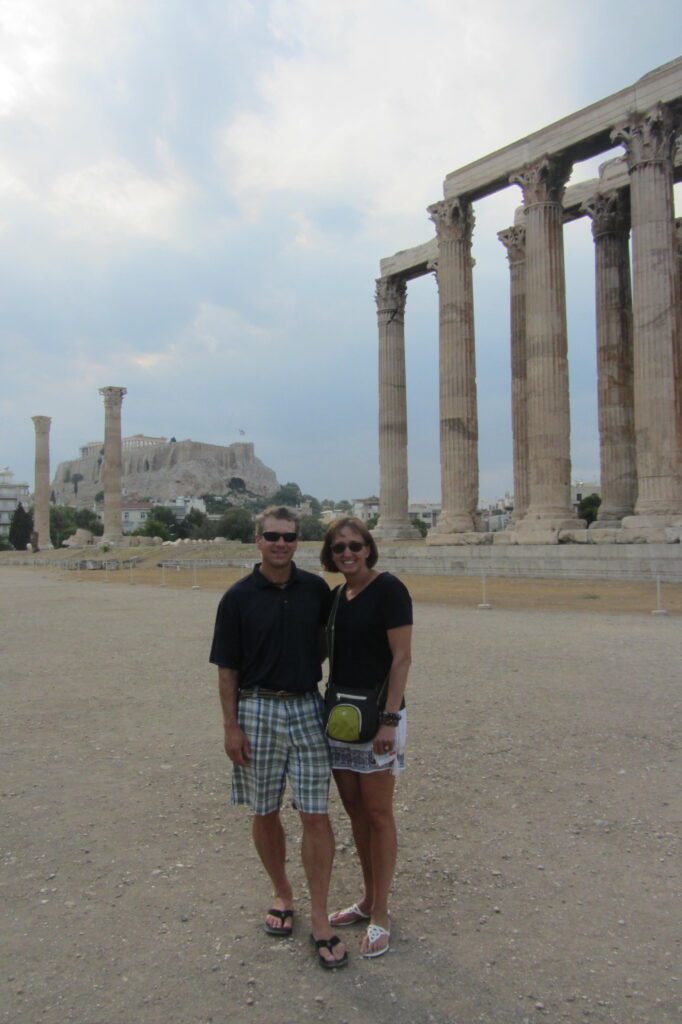 Daphne's
We stumbled upon the delightful Daphne's. We loved our meal here. The setting, the food and the service were delightful. TripAdvisor reviews are good.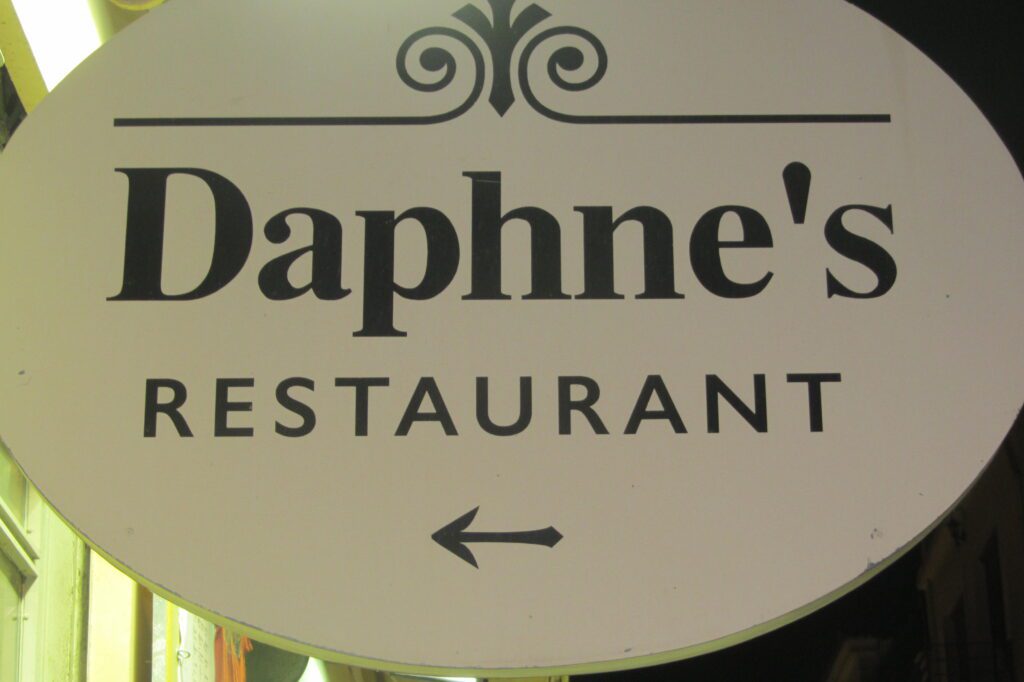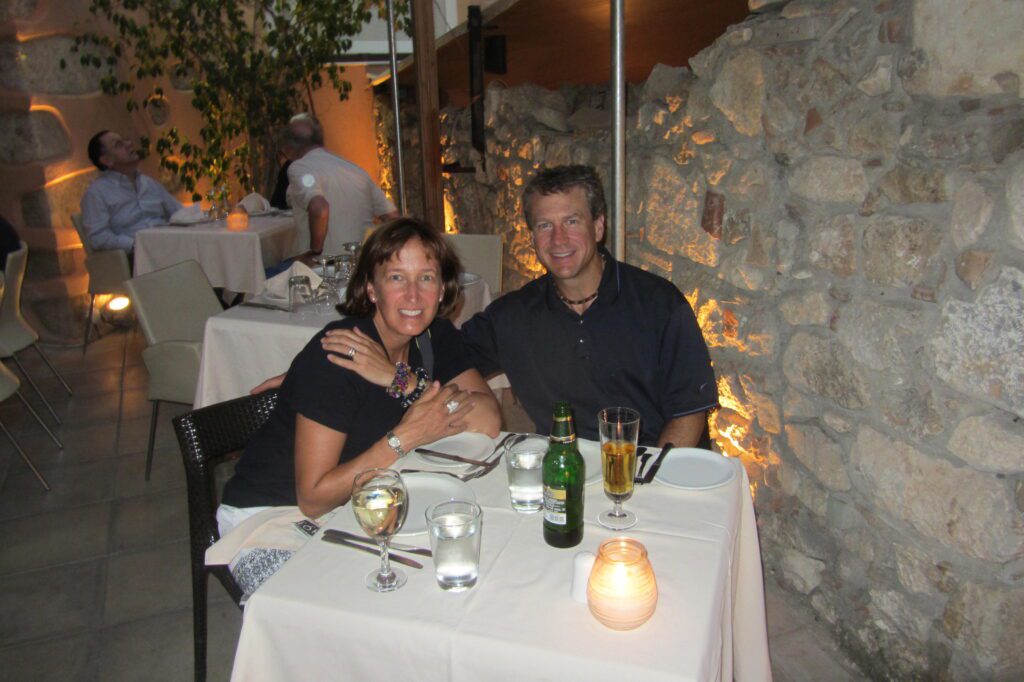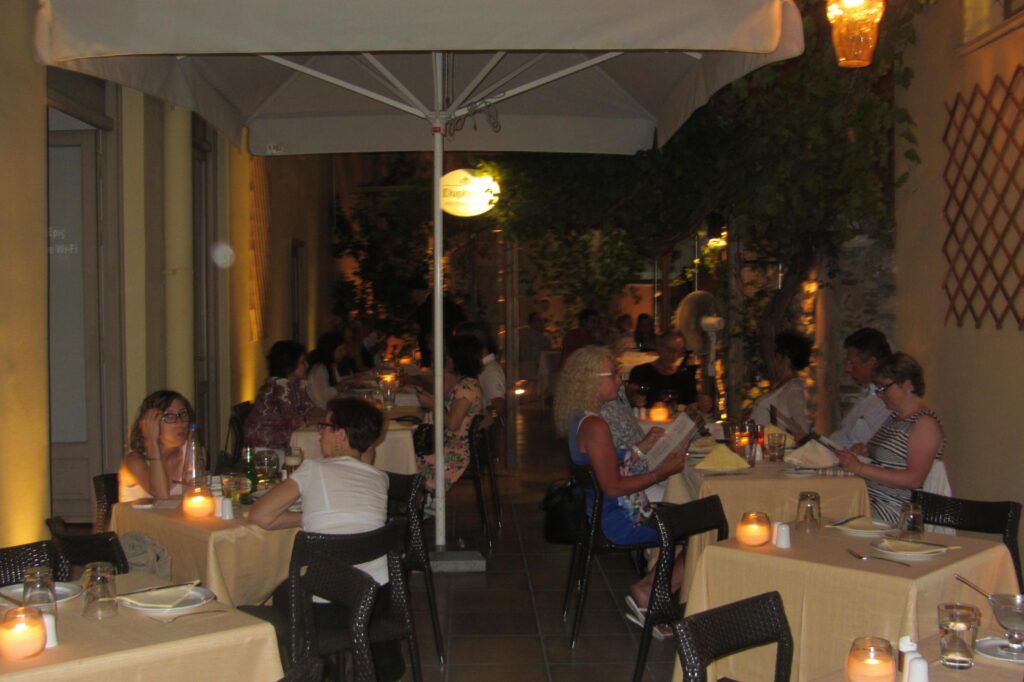 Bretto's
For a nightcap, we ended up at the hip, happening Bretto's. We loved it. Bretto's is an ouzeria. They make ouzo and lots of flavored liqueur. Jim loved the ouzo and Michele loved the raspberry liqueur. Trip Advisor reviews are excellent. We walked back to our hotel, exhausted from a very full day!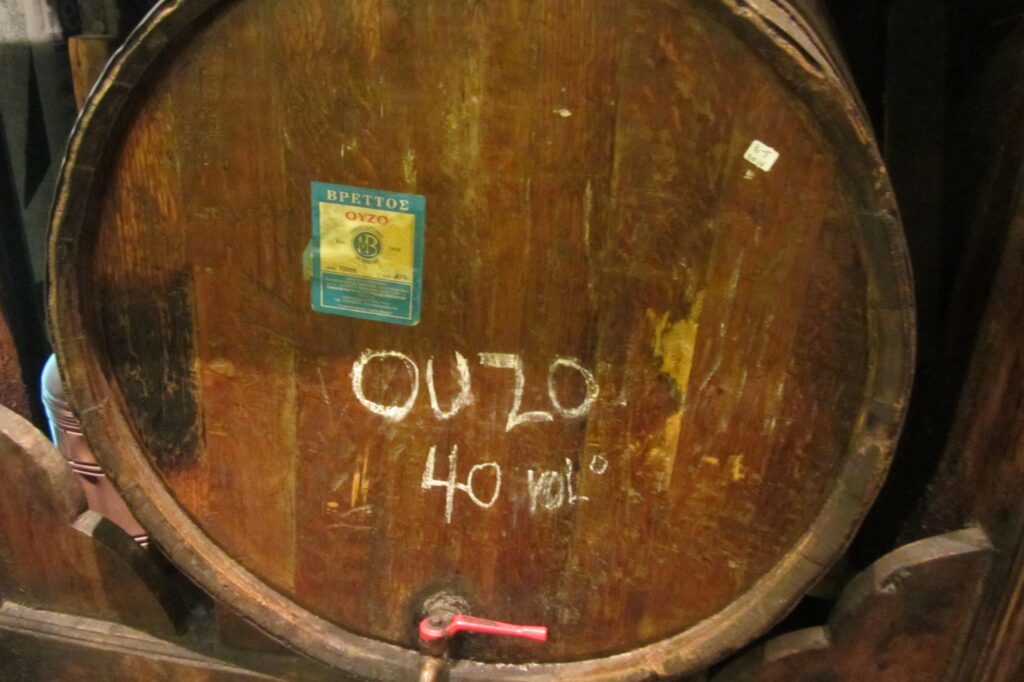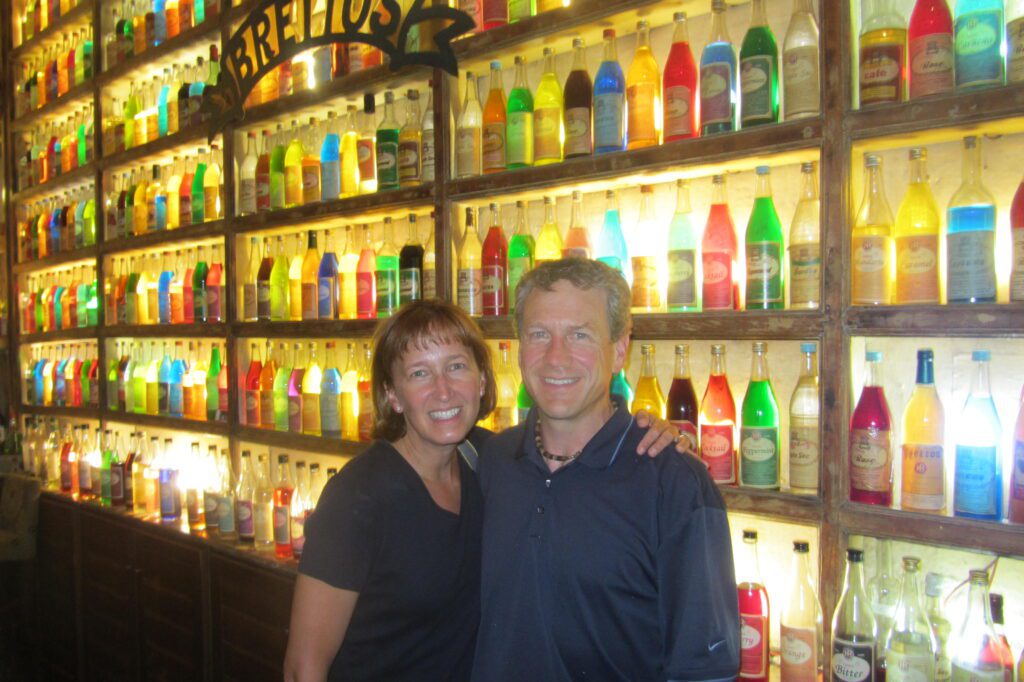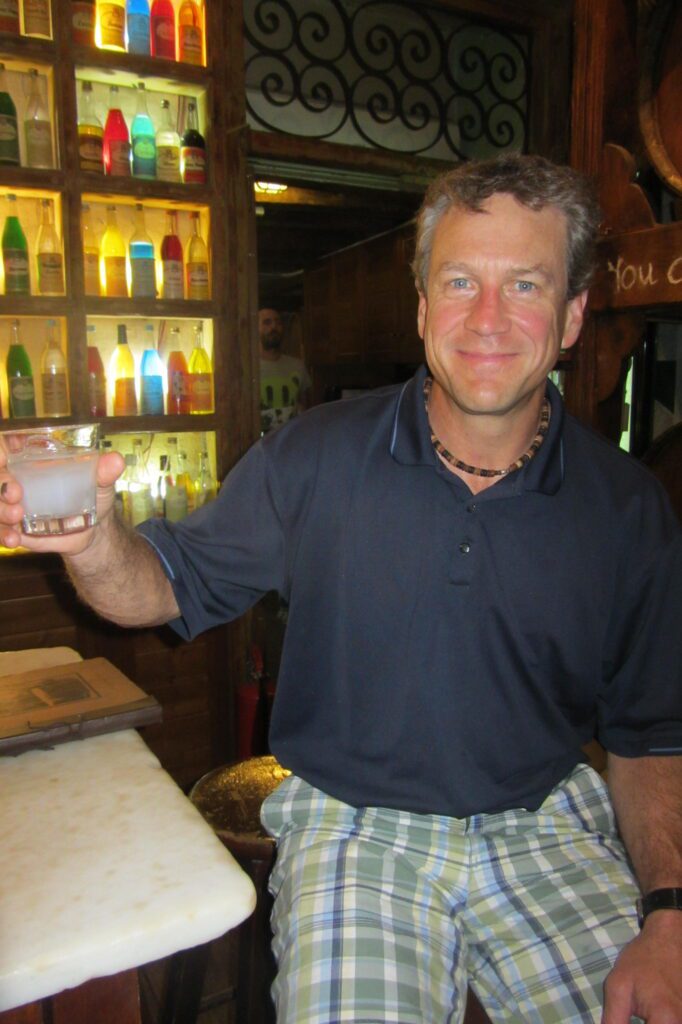 Acropolis Museum
The breakfast at the Electra Palace Hotel was generous. We set out to see ruins and the dazzling Acropolis Museum. Highly enjoyable!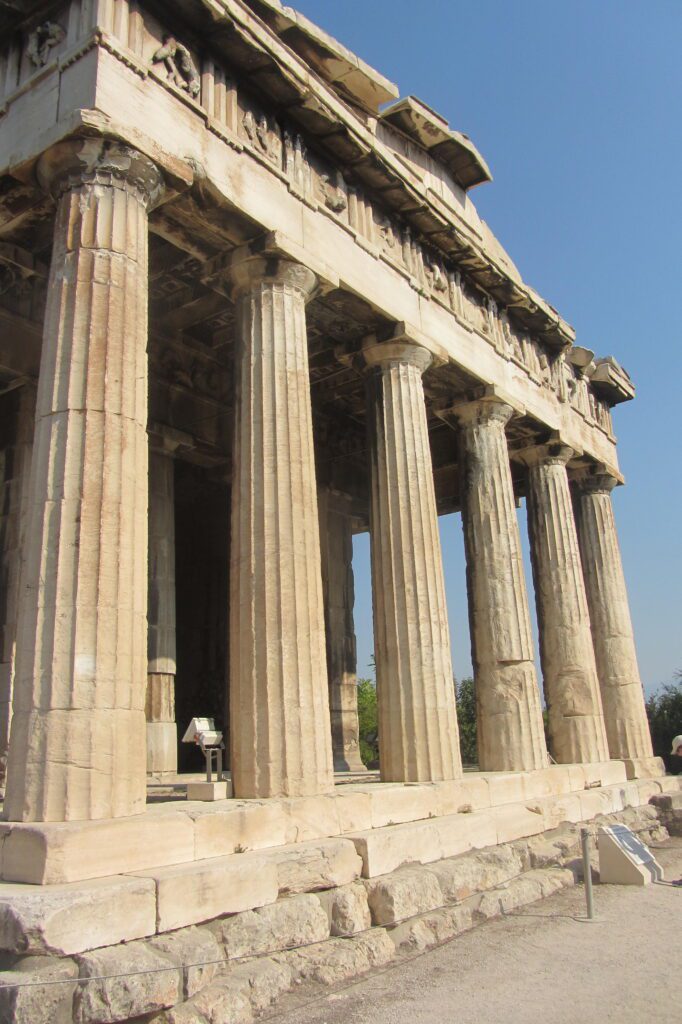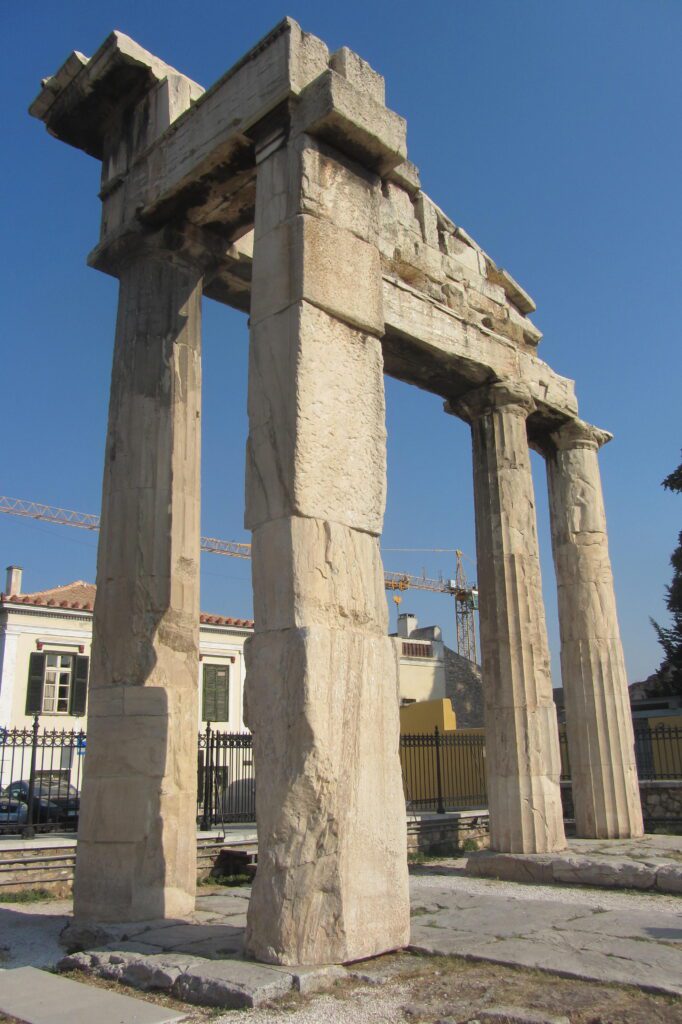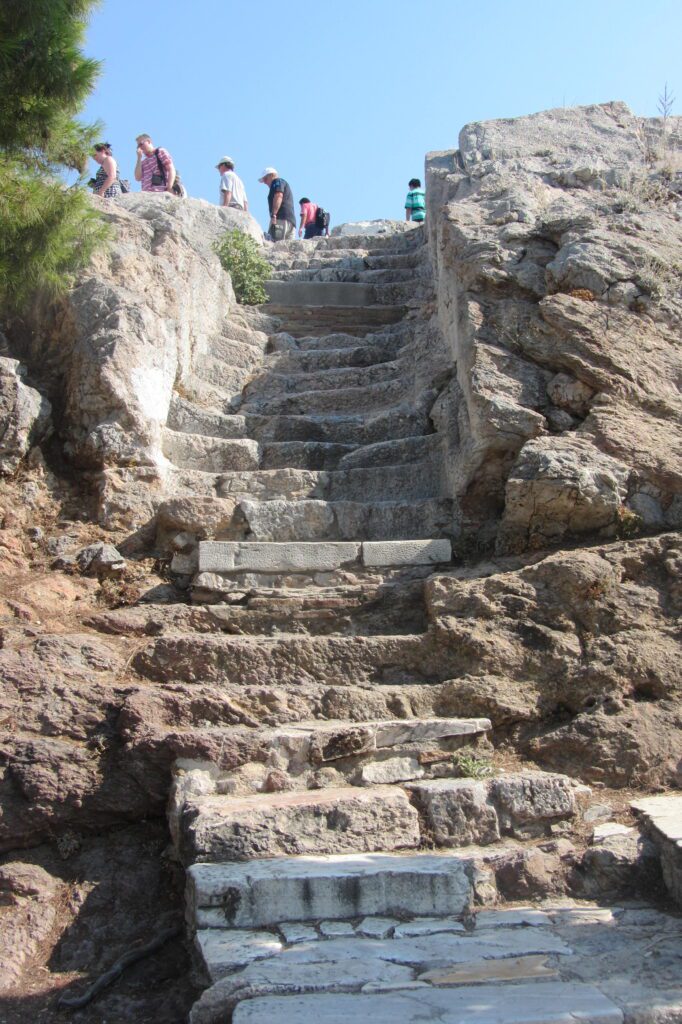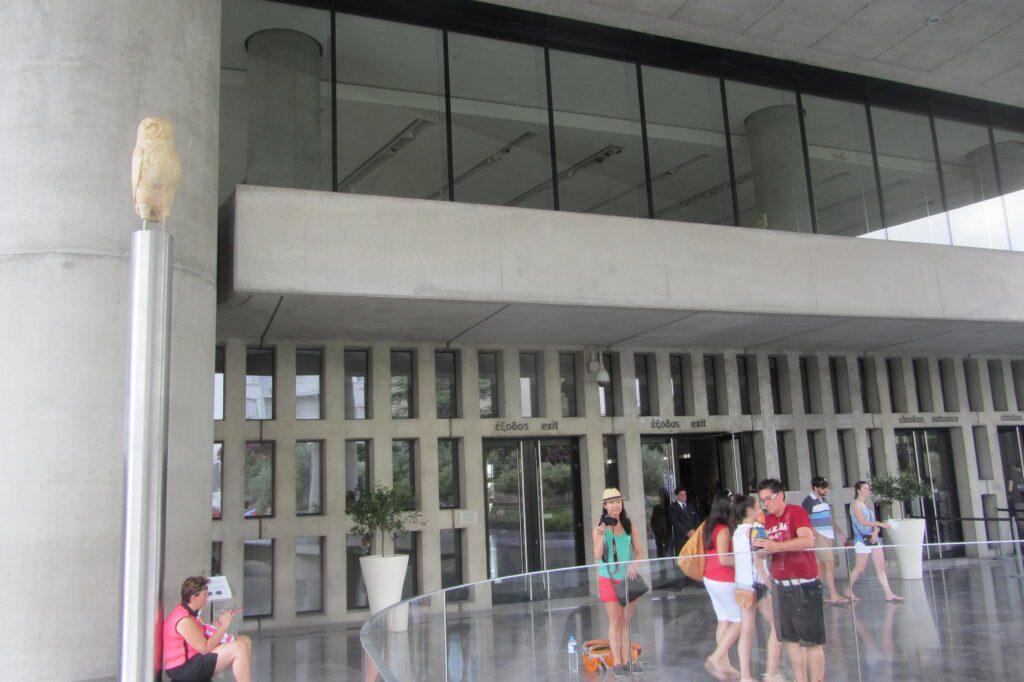 Mt. Lycabettus
We walked to the funicular to get to the top of Mt. Lycabettus. The funicular takes a few moments to get to the top; however, the ride is in a tube, so there is no view. For that reason, we chose to walk back down which was enjoyable!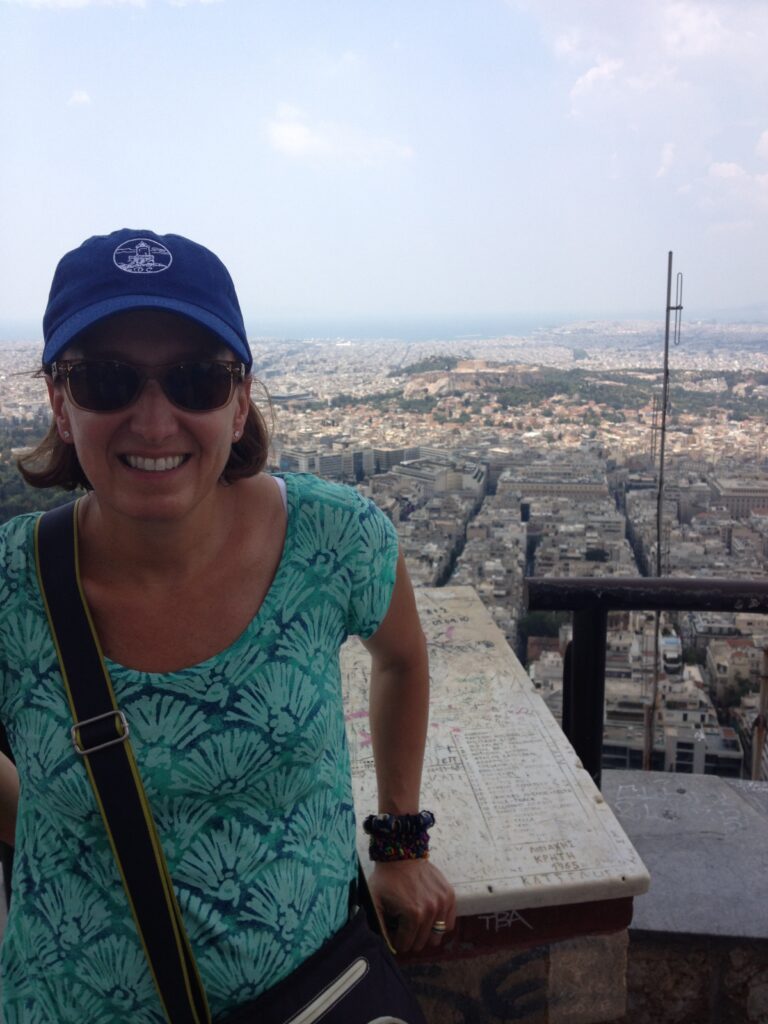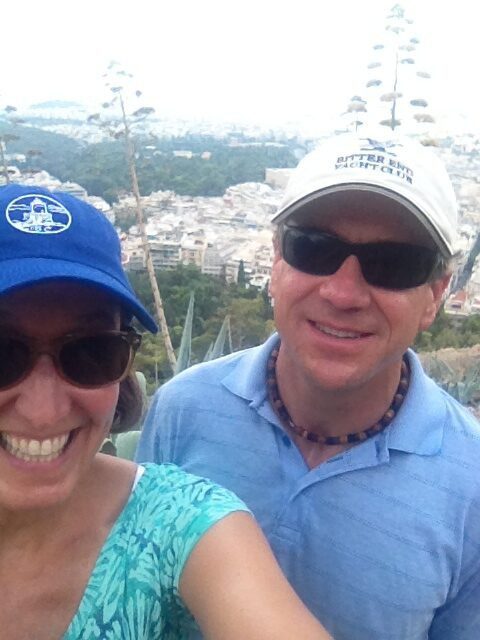 We enjoyed our walk down the hill. Had we known walking up was an option, we would have skipped the funicular.
We walked to Monastiraki. Lots of windy, narrow streets, plazas, shops and restaurants. The area becomes a very crowded flea market on Sundays. We ate outside at a rustic restaurant for tzatsiki and Greek salad. This area is busy, crowded and noisy. Lots of character!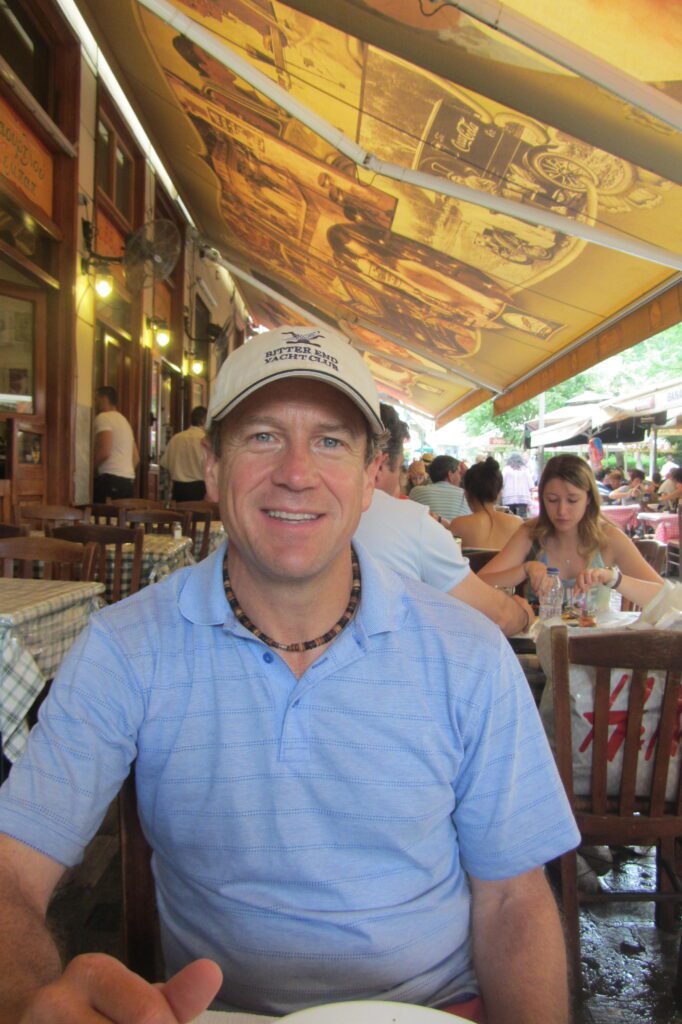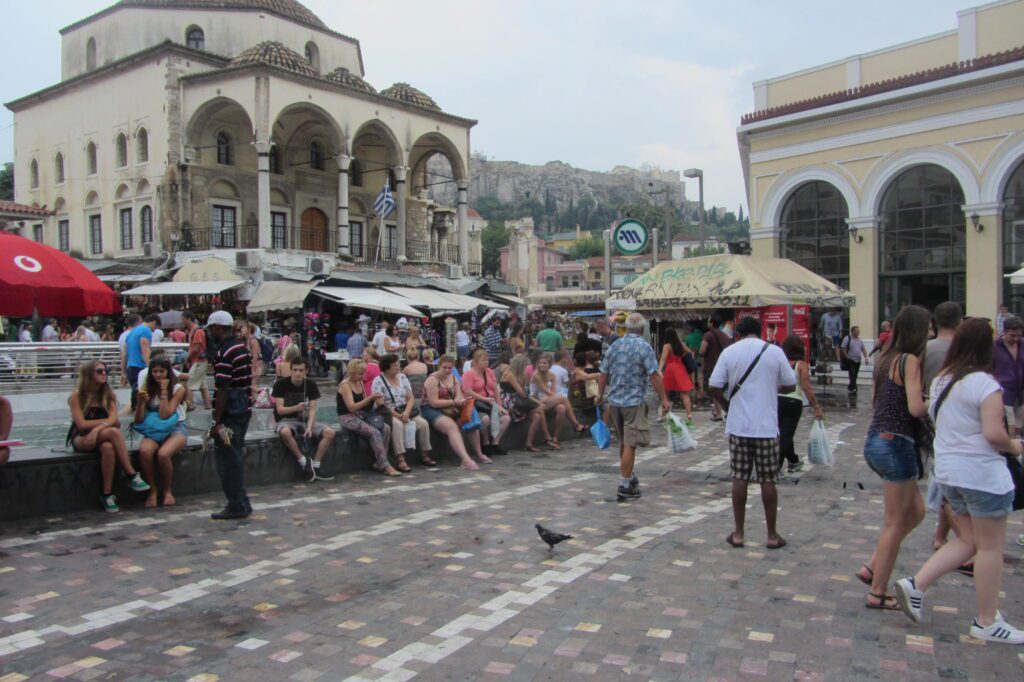 We wandered to the ancient cemetery of Kerameikos. Our tickets from yesterday at the Acropolis gave us free entrance. It was a lovely stroll around some ancient graves.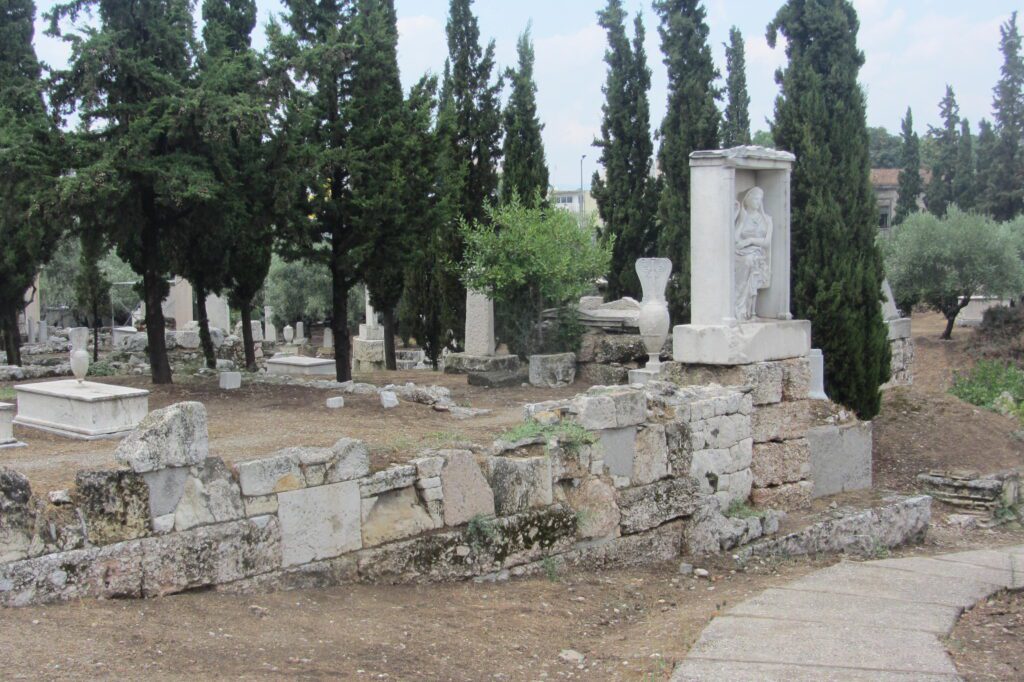 We walked back to the hotel and got ready to go back out again. Wifi was excellent at the hotel and at almost every restaurant we went to in Athens.
We enjoyed cocktails on the roof of our hotel. Simply spectacular.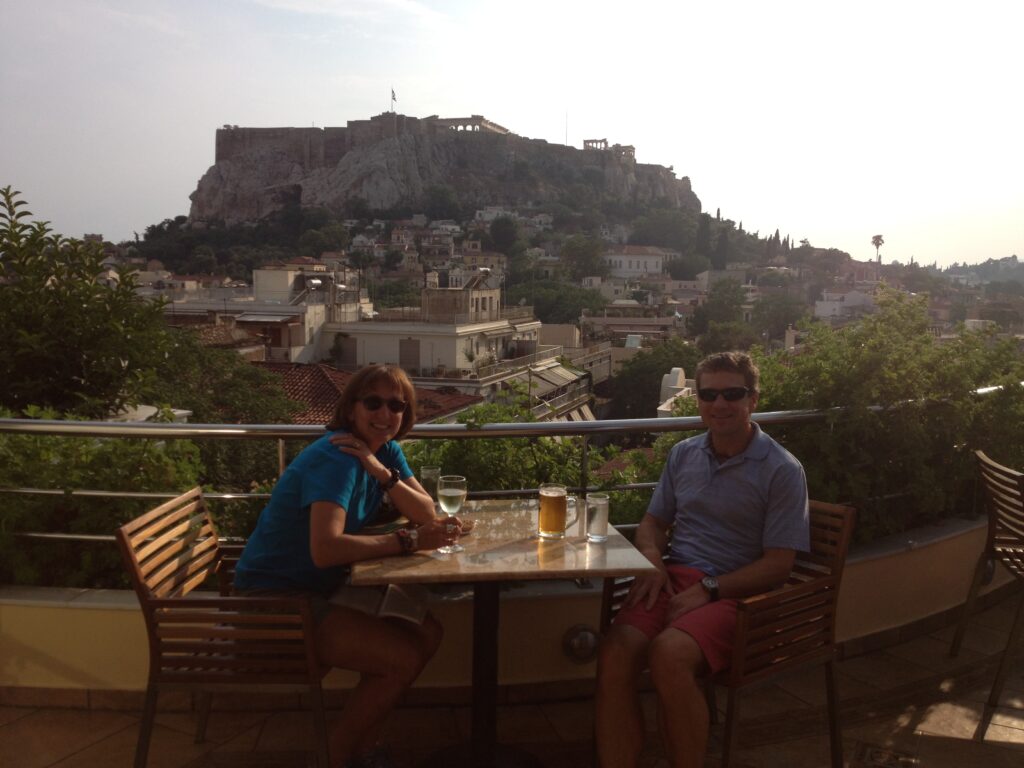 Dionysos Zonar's
We ate at the amazing Dionysos Zonar's. Located at the base of the Acropolis, this restaurant is not to be missed. Delicious food, and an incredible view of the ruins. We loved it. Trip Advisor reviews are good.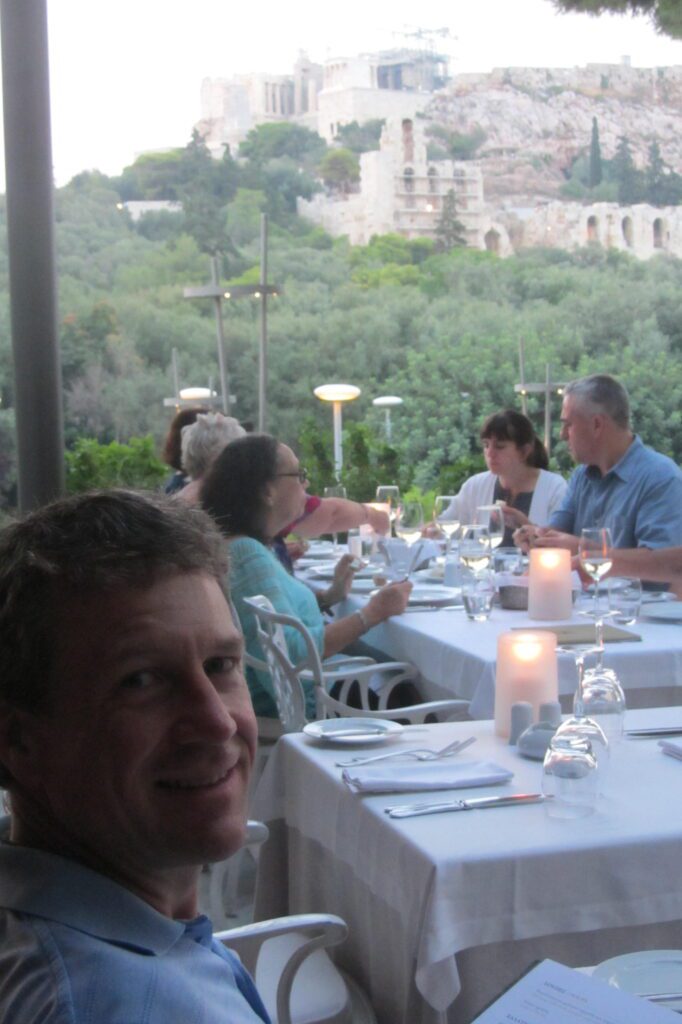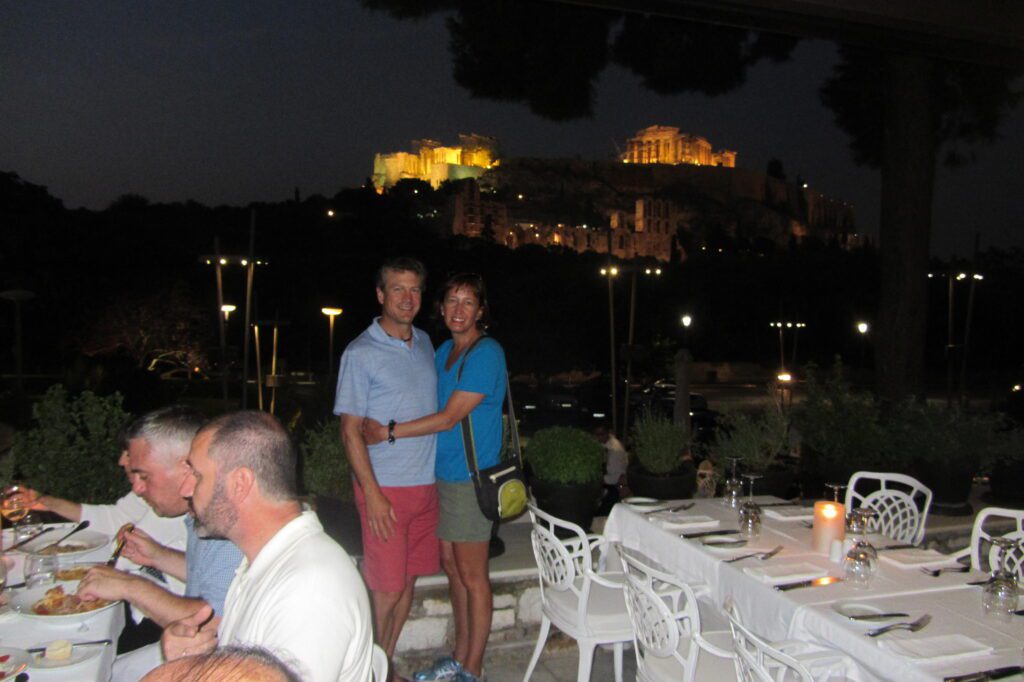 Oia, Santorini – Pezoules
We planned to spend four nights on Santorini. Michele had visited Santorini after college. She stayed in a craptacular place in Fira. For this visit, we chose to stay in Oia which is a little less busy.
We investigated taking a ferry from Piraeas to Fira on Santorini. The fastest we could get from the Piraeas (the main port in Athens) to Santorini was four hours and 35 minutes with a 7am departure. The port of Piraeus is about 30 minutes from the Electra Palace Hotel with no traffic. The one-way ferry cost was 180 euros.
The Electra Palace Hotel is 40 minutes from the airport. A one-way ticket for a 27 minute flight to Santorini was 58 Euros. So, we flew! Easier, faster and cheaper. Olympic Air flies a dozen non-stops a day to Santorini during the summer months.
We ate our delicious breakfast at the hotel and had George's Taxi pick us up and bring us to the airport. Our flight was on-time and left a little after 10am. Twenty-seven minutes later, we touched down on Santorini.
Santorini is a very popular island. There are many, many places to stay. After driving and walking around a good chunk of the island, we feel like the best place to stay is in Oia. Oia is away from Fira where the dreaded cruise ships dock. Oia has tremendous sunsets. Oia's views of the caldera are spectacular. Oia is also exorbitantly expensive.
We stayed at Pezoules. It was one of the nicest hotels at which we have ever had the privilege to stay. This seven room boutique cave hotel is divine. The owners and staff are outstanding. The rooms are spacious, private and quite frankly, amazing. The cave hotel is built into the side of a cliff, overlooking the caldera. Our room had a private hot tub. We cannot recommend this hotel highly enough. Trip Advisor reviews remain outstanding. Book way in advance as it sells out quickly.
The owner arranged for pick-up at the airport for us for a small fee. We were dropped in a parking lot as cars cannot drive in the main sections of Oia. An incredibly strong porter met us and carried our things down steep stairs to the hotel. There are many stairs to descend to the hotel. We saw this as a workout each time we left the hotel. If you do not like stairs, do not stay here.
Upon arrival, we gasped at the beauty! We spent four nights in the Althaea room.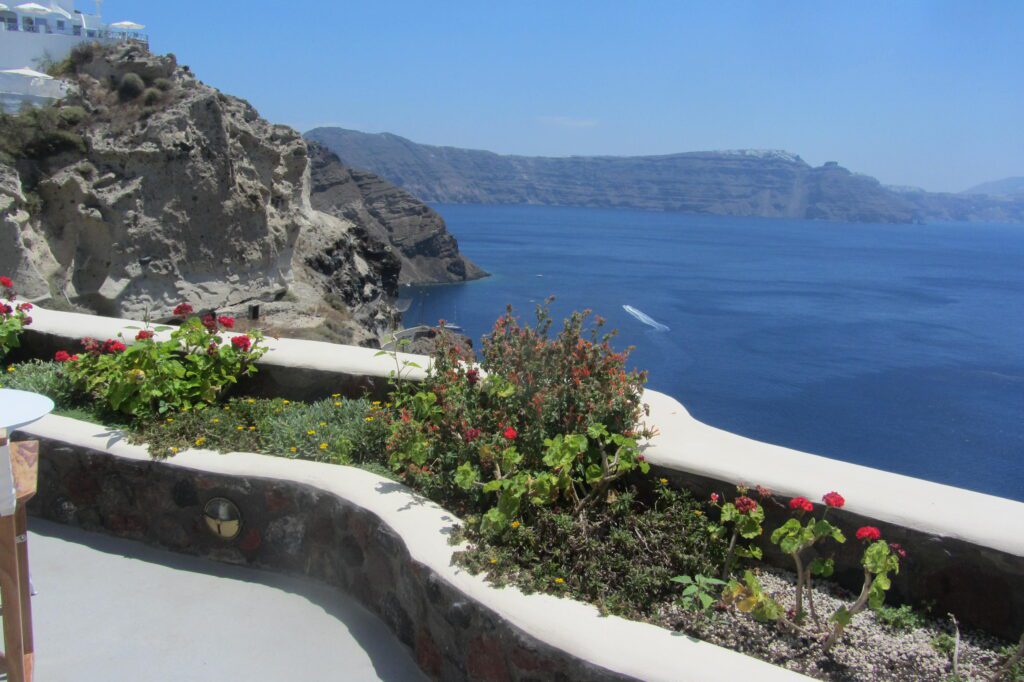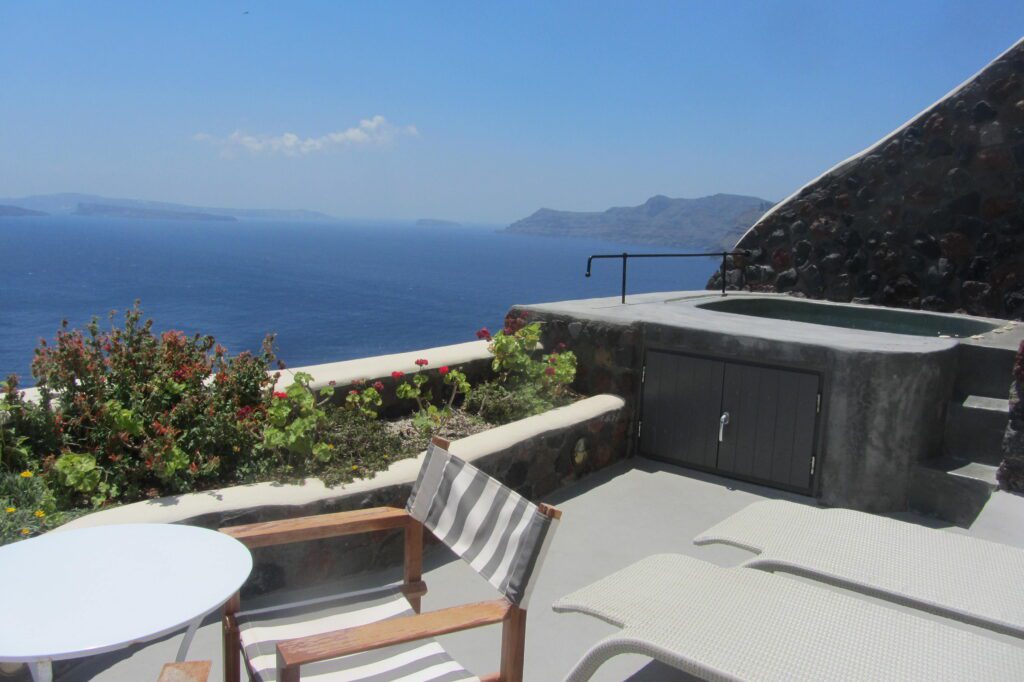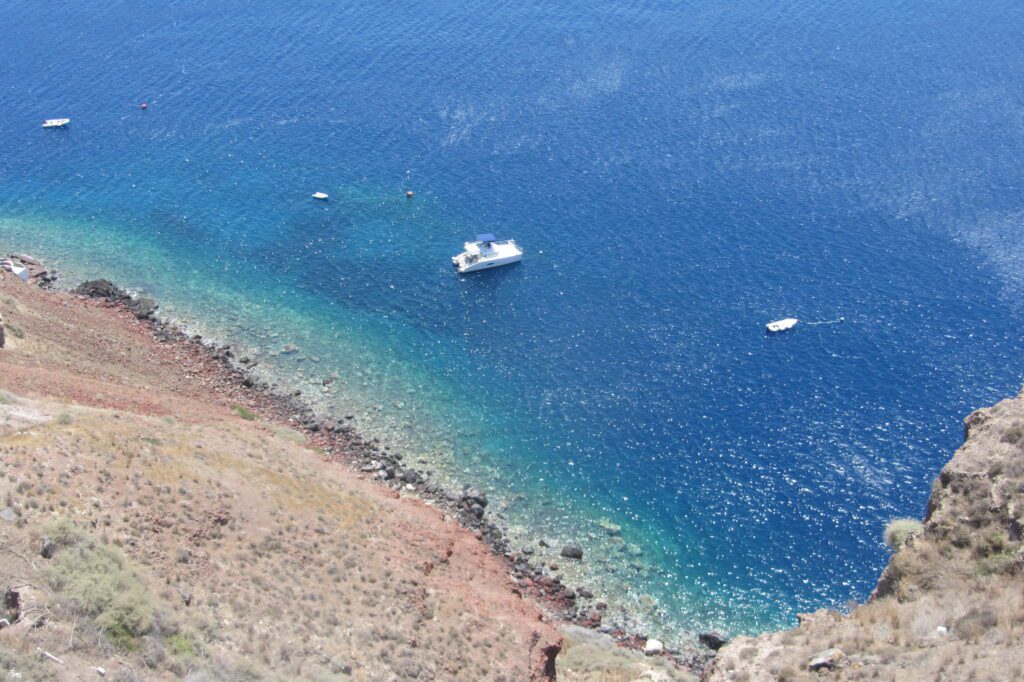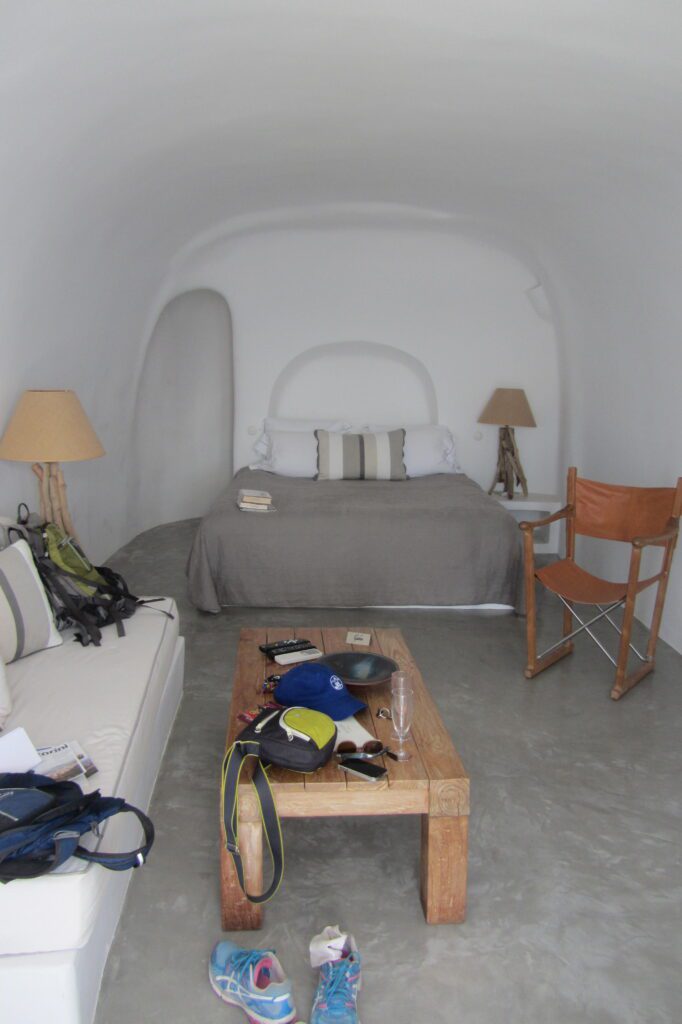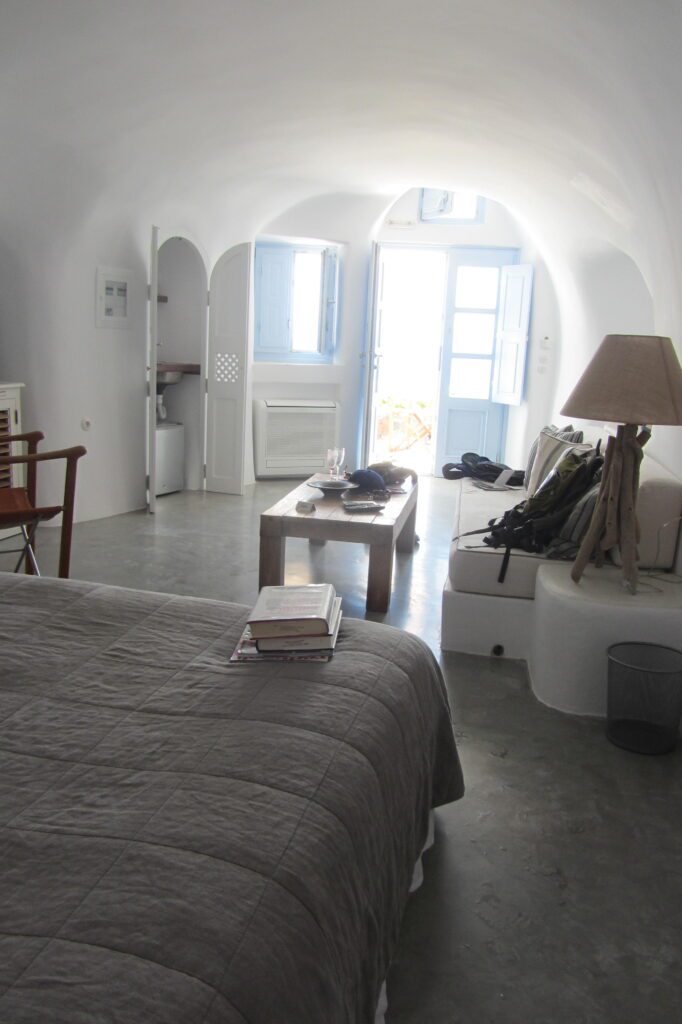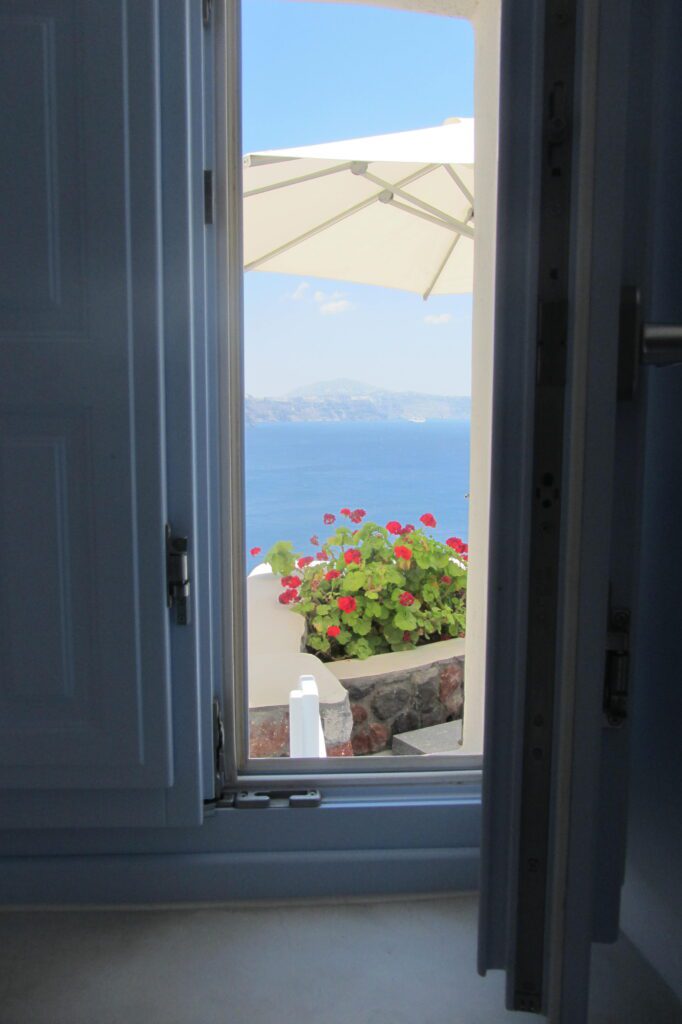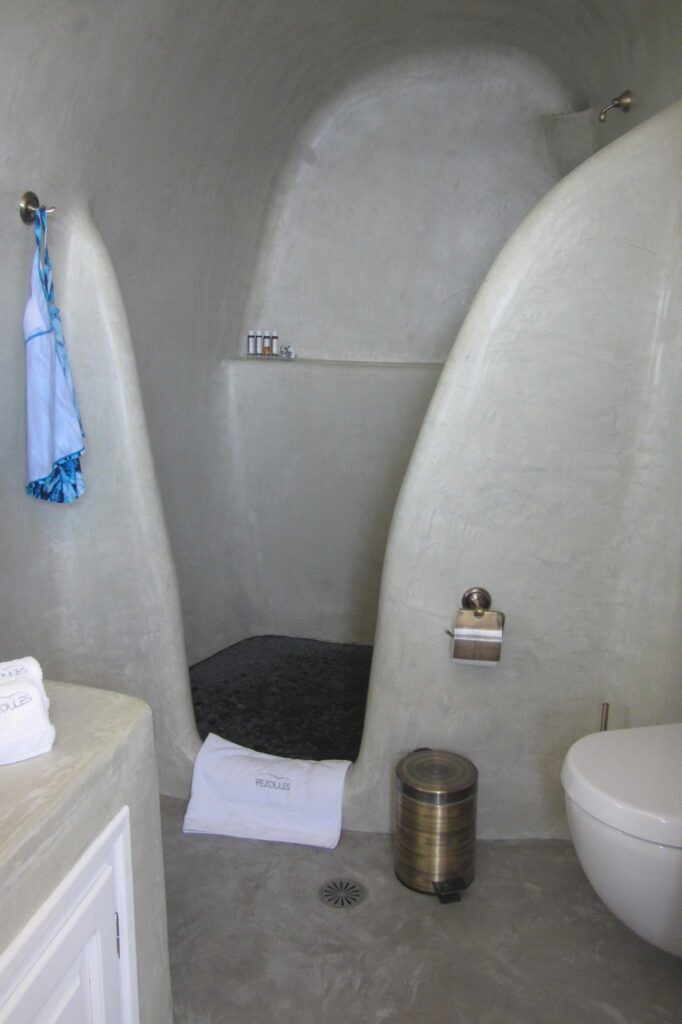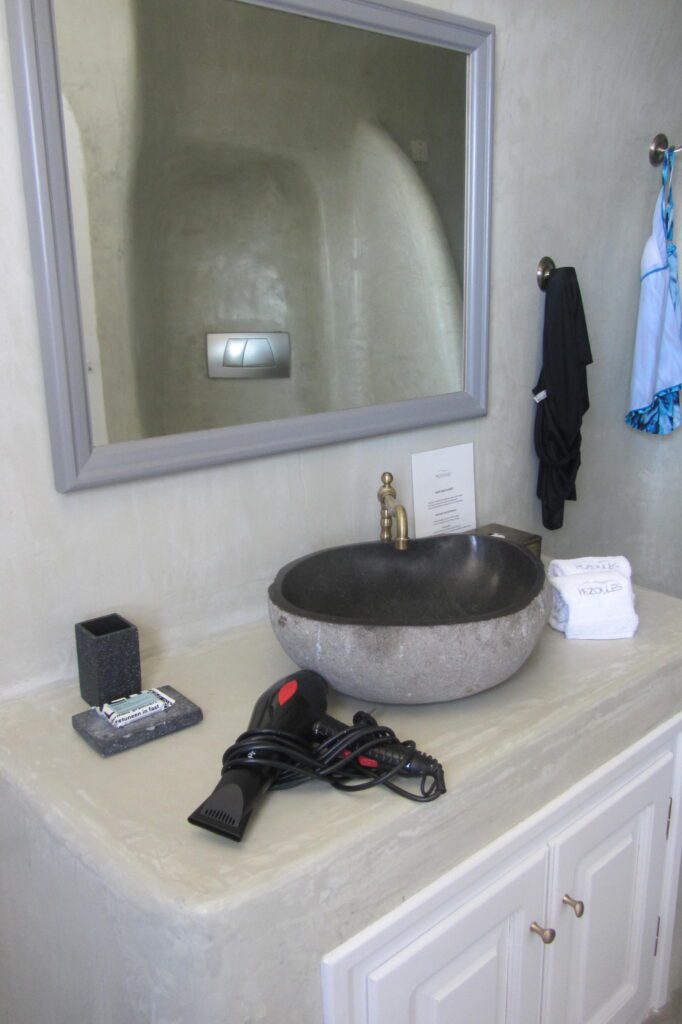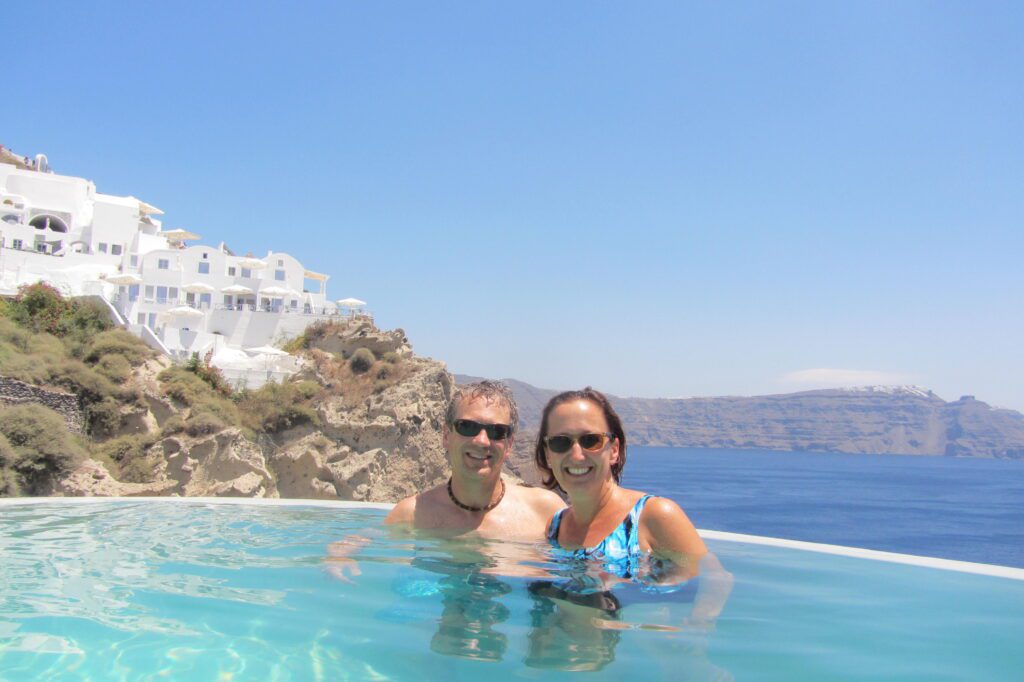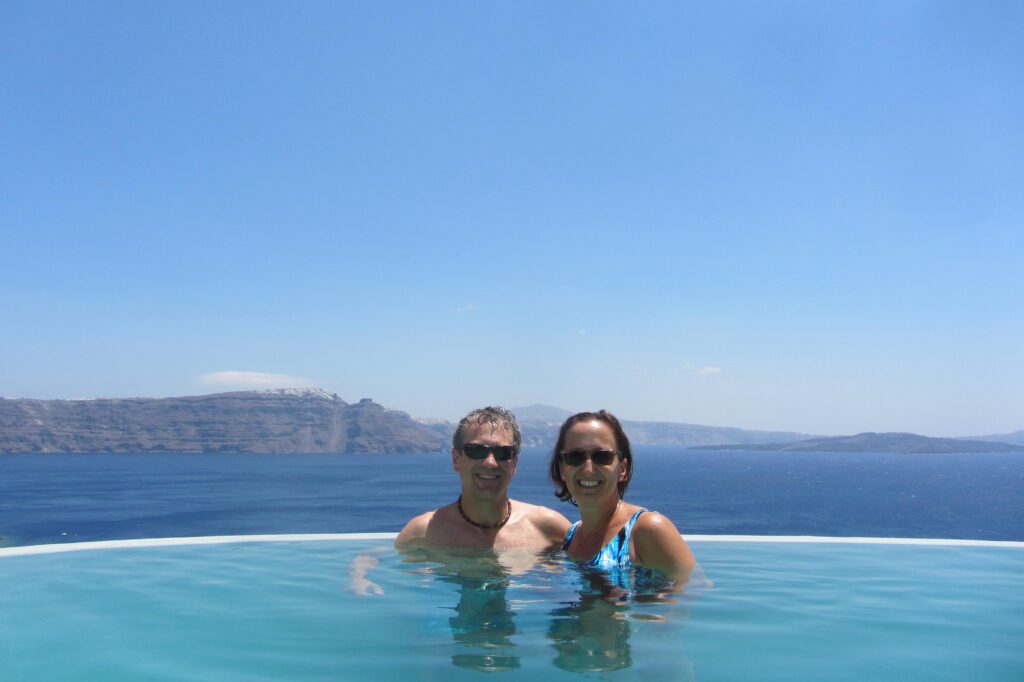 Roka
We ate lunch at the fantastic Roka. Roka faces away from the caldera. However, the food is fantastic. Incredibly fresh food, lovely setting and wonderful service should place this restaurant at the top of your list. Trip Advisor reviews remain stellar.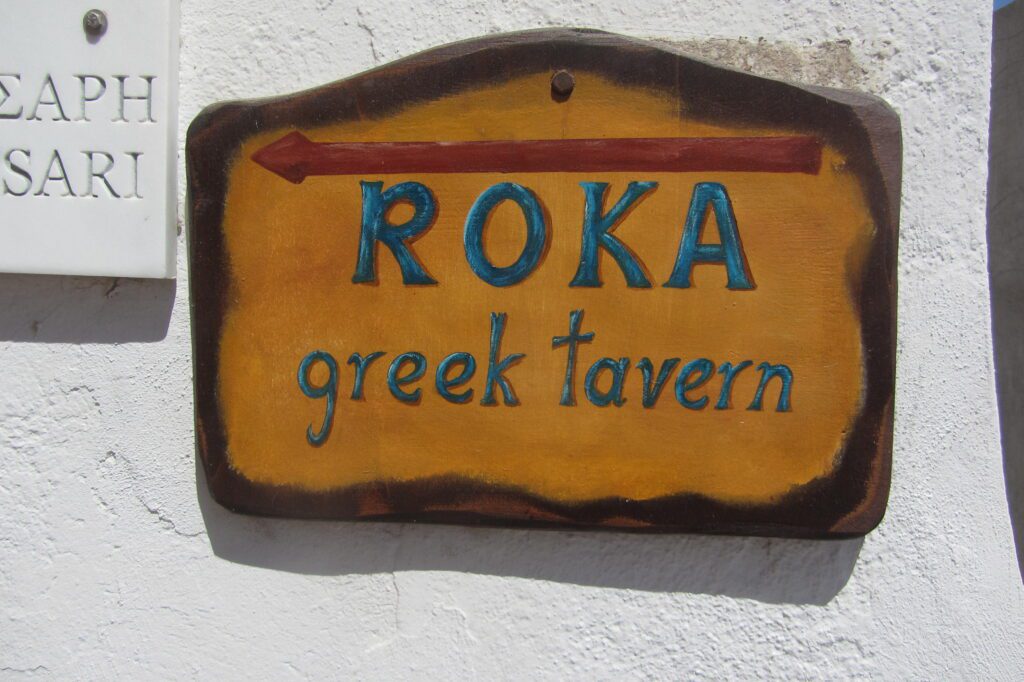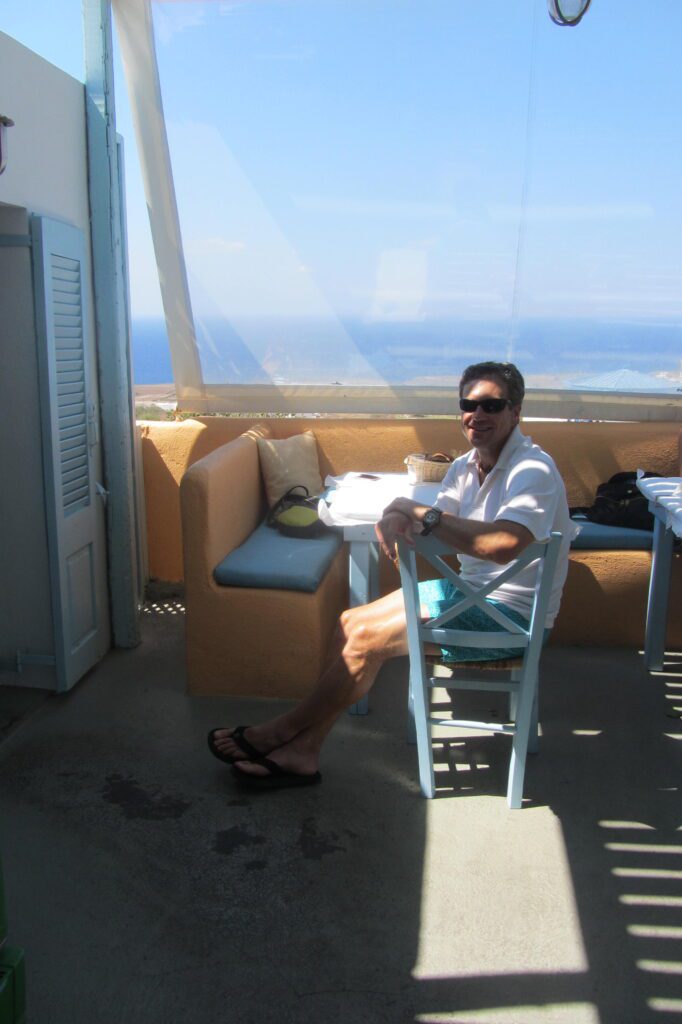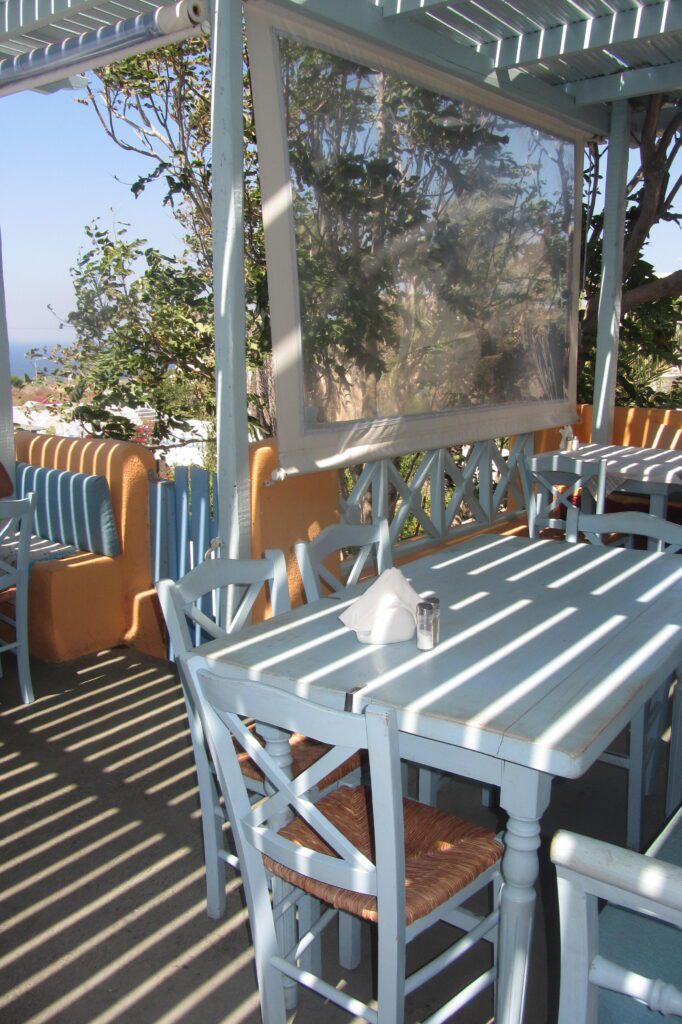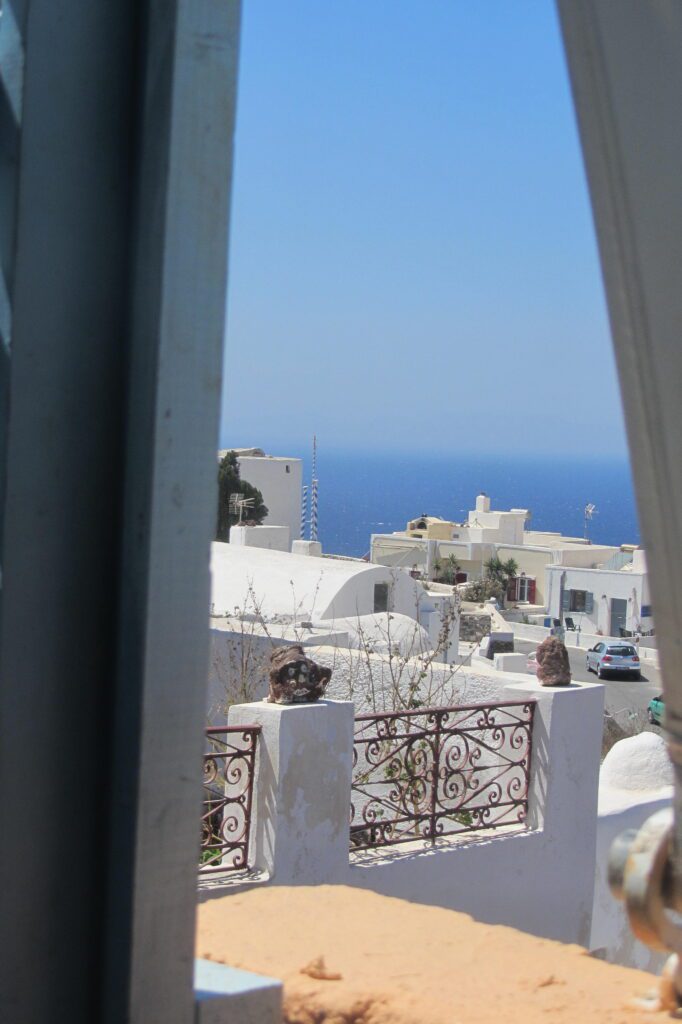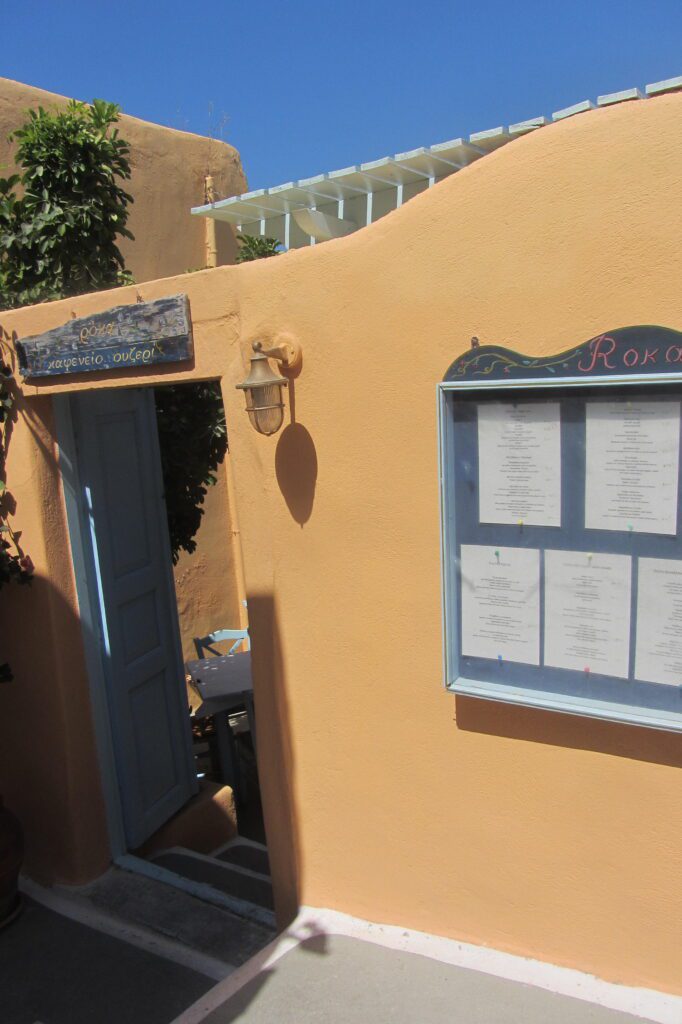 Oia is stunningly beautiful. Yes, there are swarms of tourists. But, there are way fewer tourists here than in Fira. Strolling around the tiny streets is a lovely way to spend the day.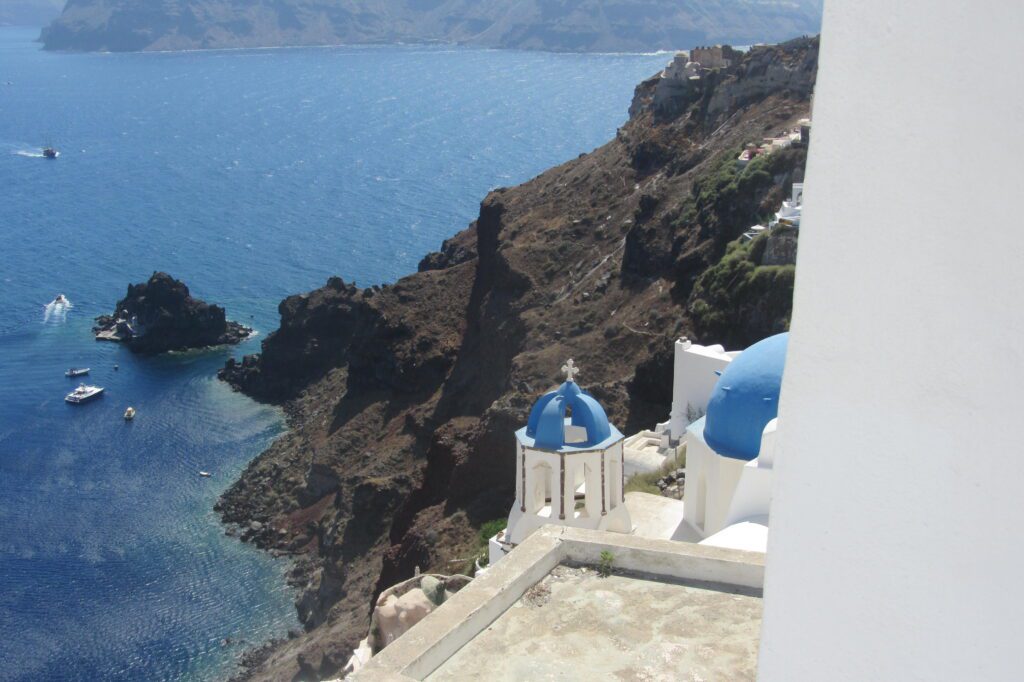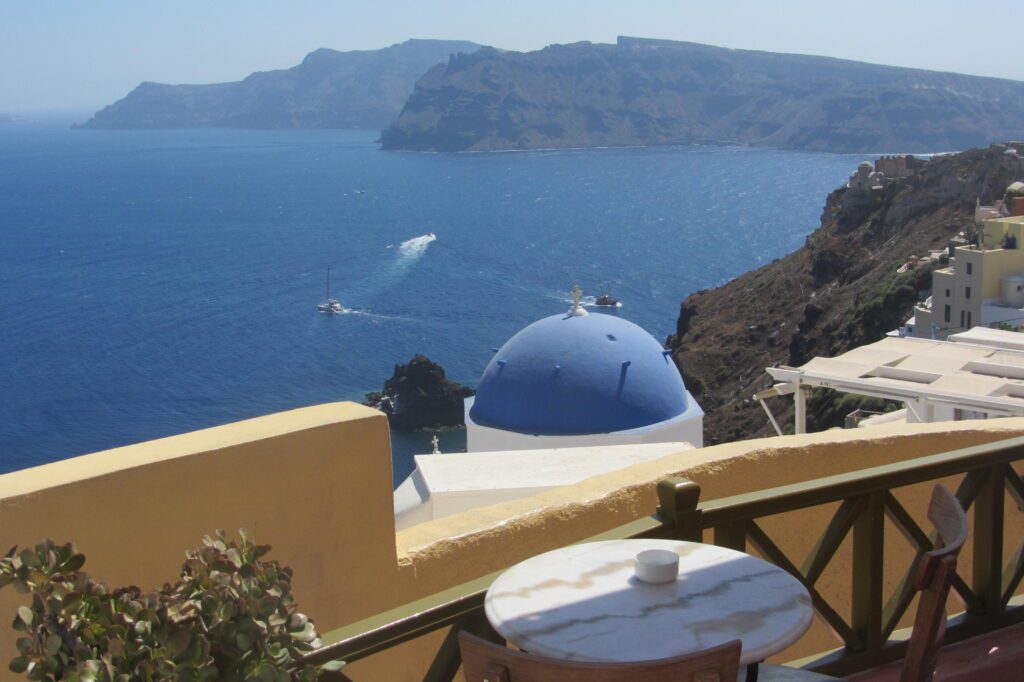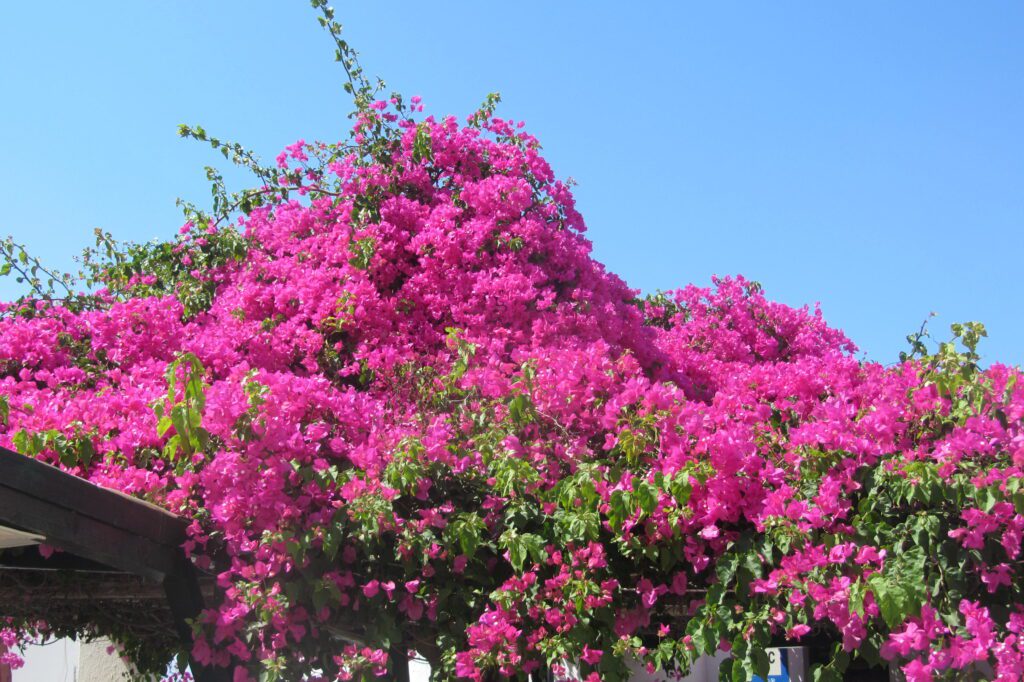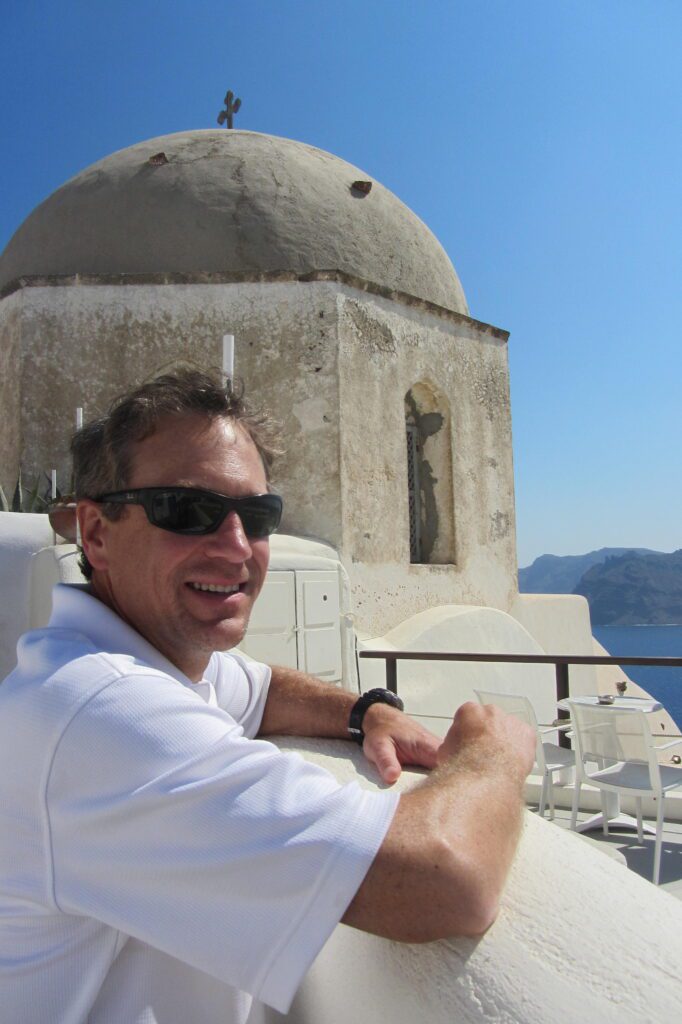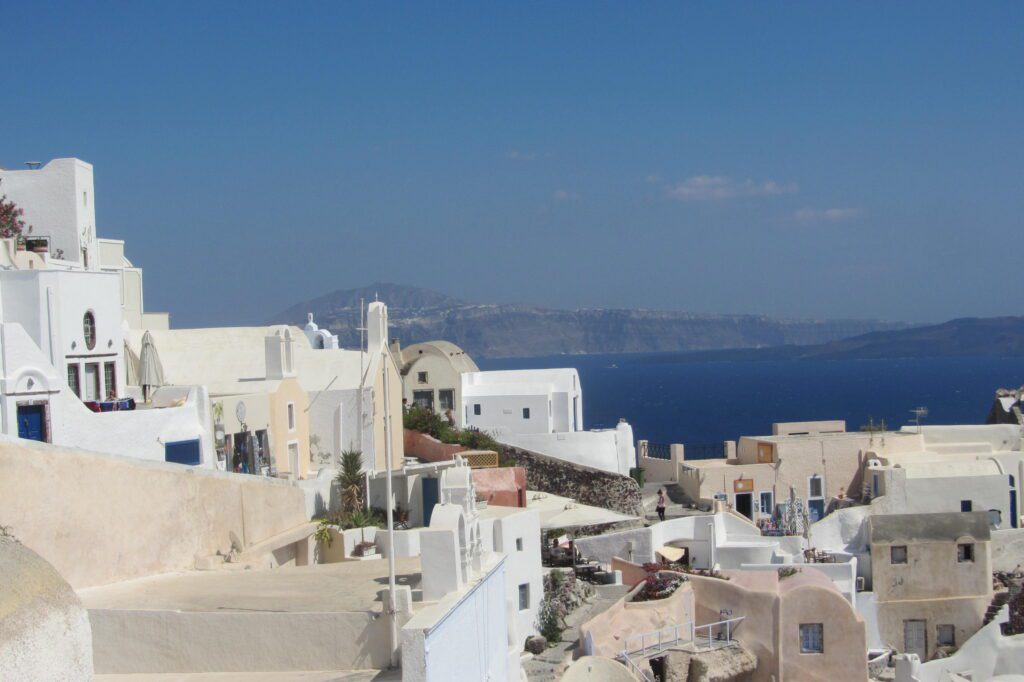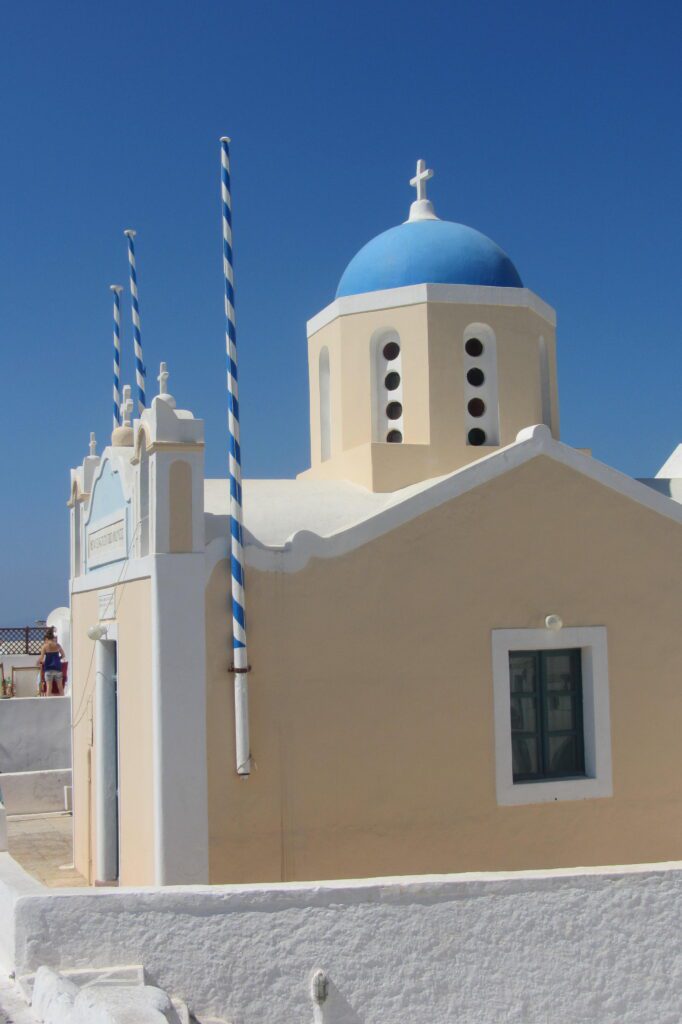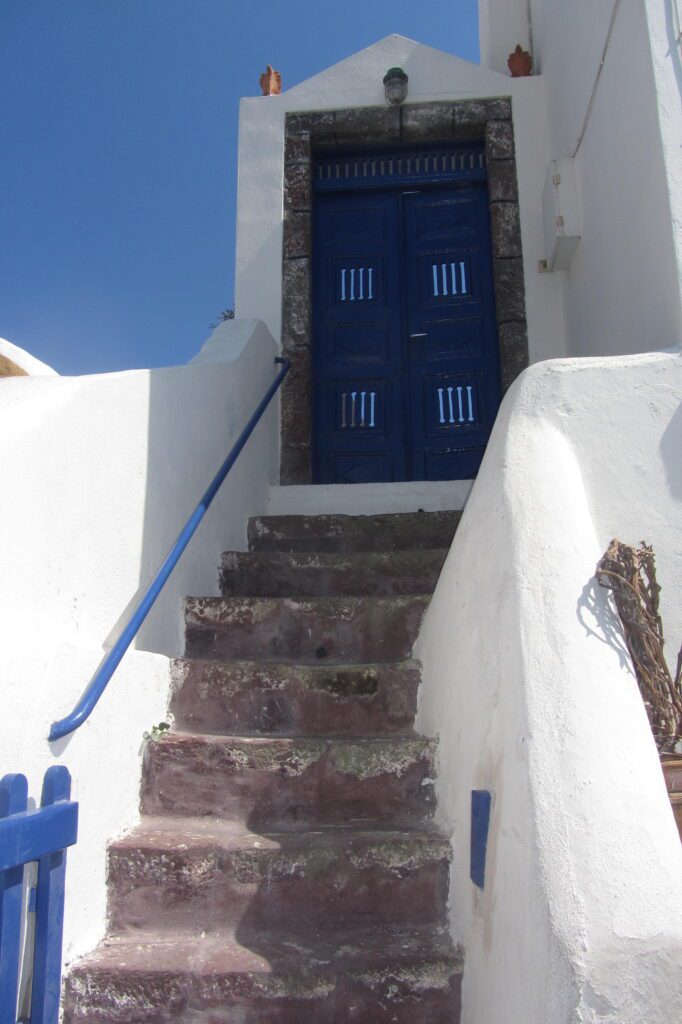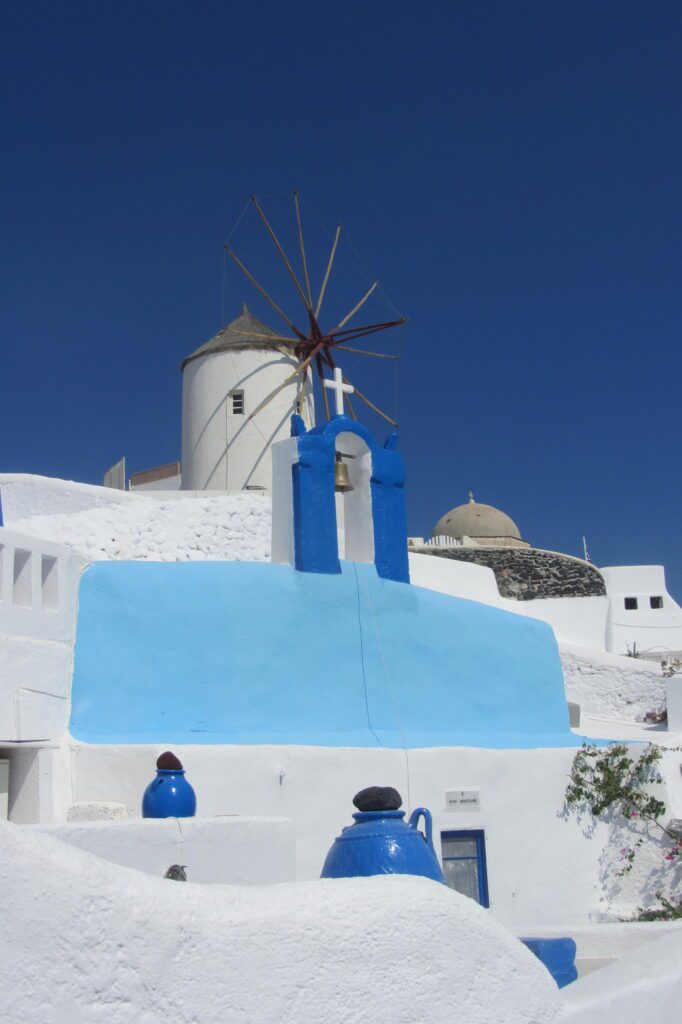 After a delightful afternoon, we came back to Pezoules to change and have a cocktail. We found a small grocery store near us that sold local wines. Yummy!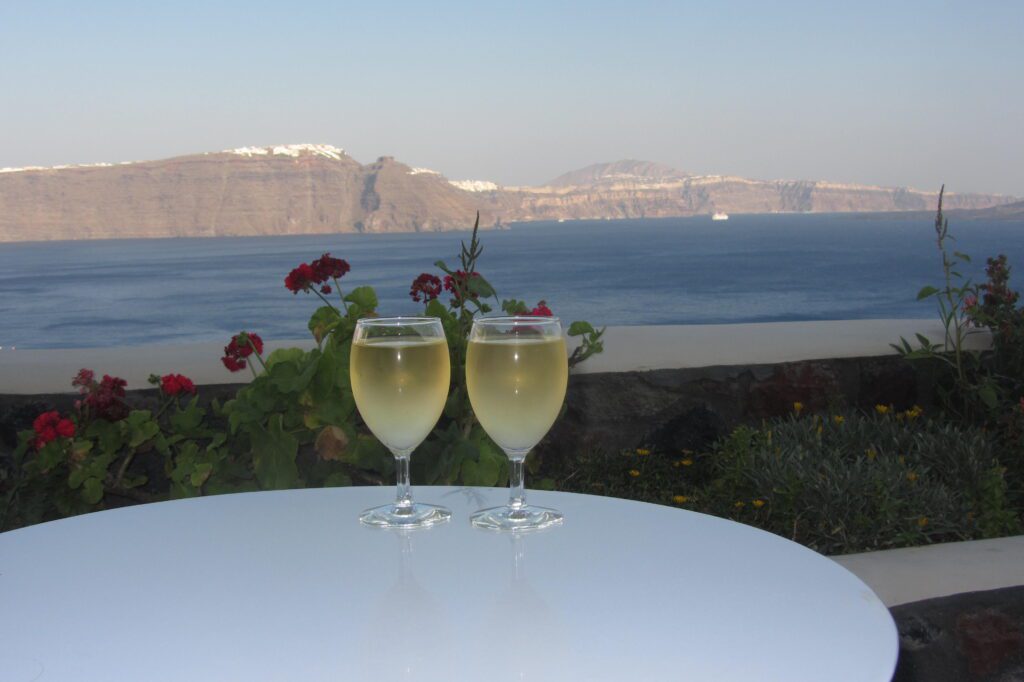 Sunset Ammoudi Taverna
Sunset is world famous in Oia. We believe the best place to watch the sunset is in Ammoudi Bay. There are about 278 steps to get to Ammoudi Bay. A taxi can get you there and back to a spot near your hotel. We enjoyed the walk. We wore sneakers for the walk down and the walk back up, and we brought nice shoes to wear while dining.
Dmitri, the owner of Pezoules, knows everyone on the island. He can get you the best table anywhere. He made a reservation for us at Sunset Ammoudi Taverna when we arrived earlier in the day. We had a fantastic table overlooking Ammoudi Bay and the sunset. The food was fine. It was not our favorite meal; however, the setting is spectacular. Trip Advisor reviews are fine.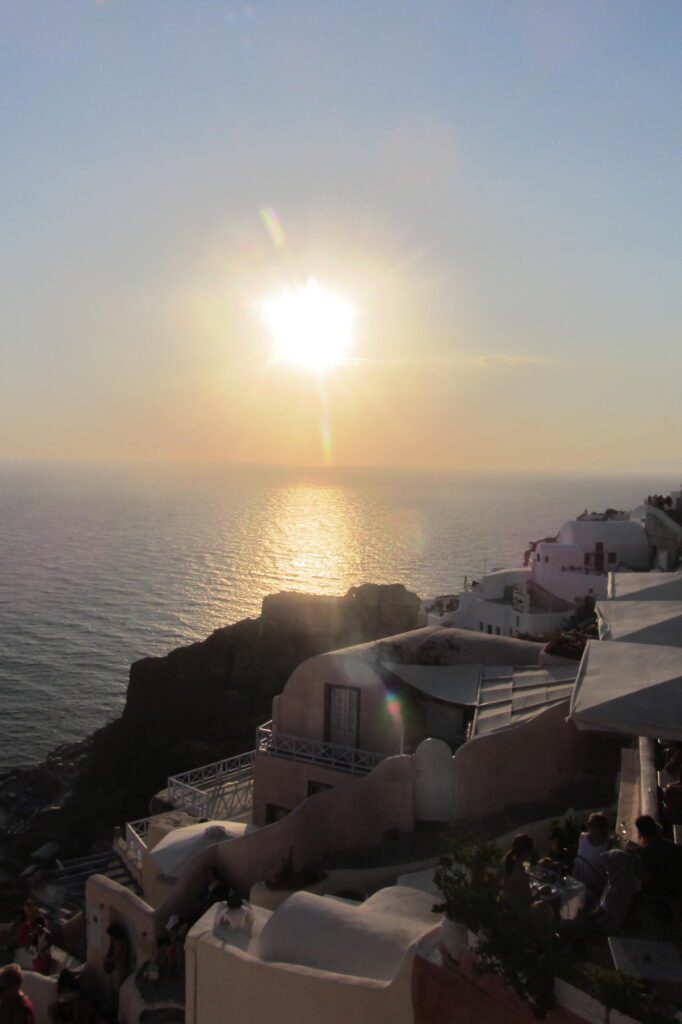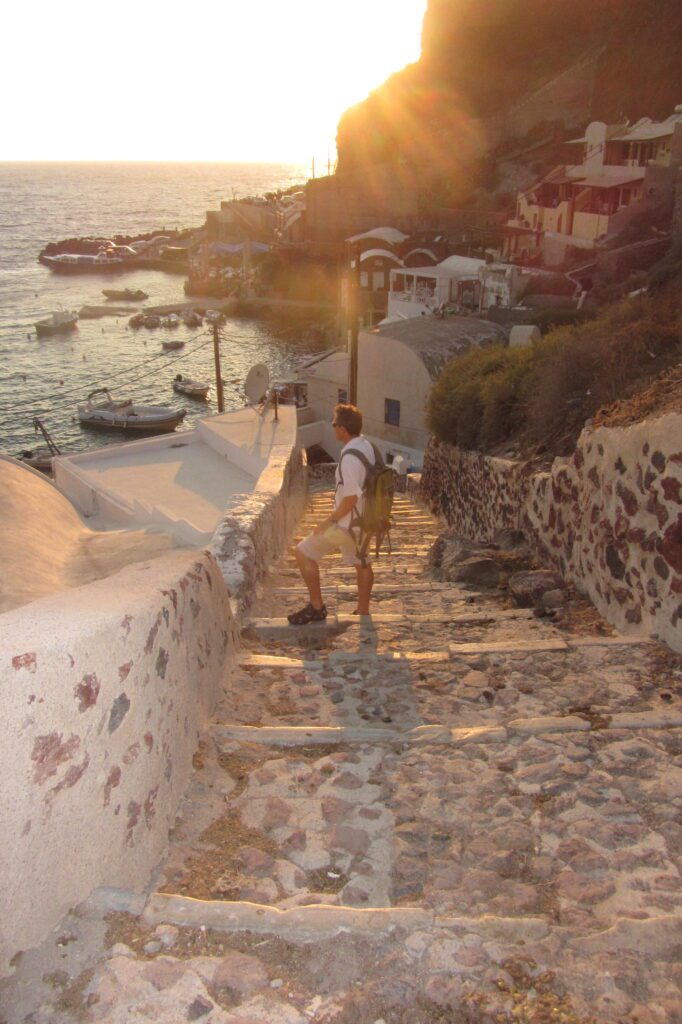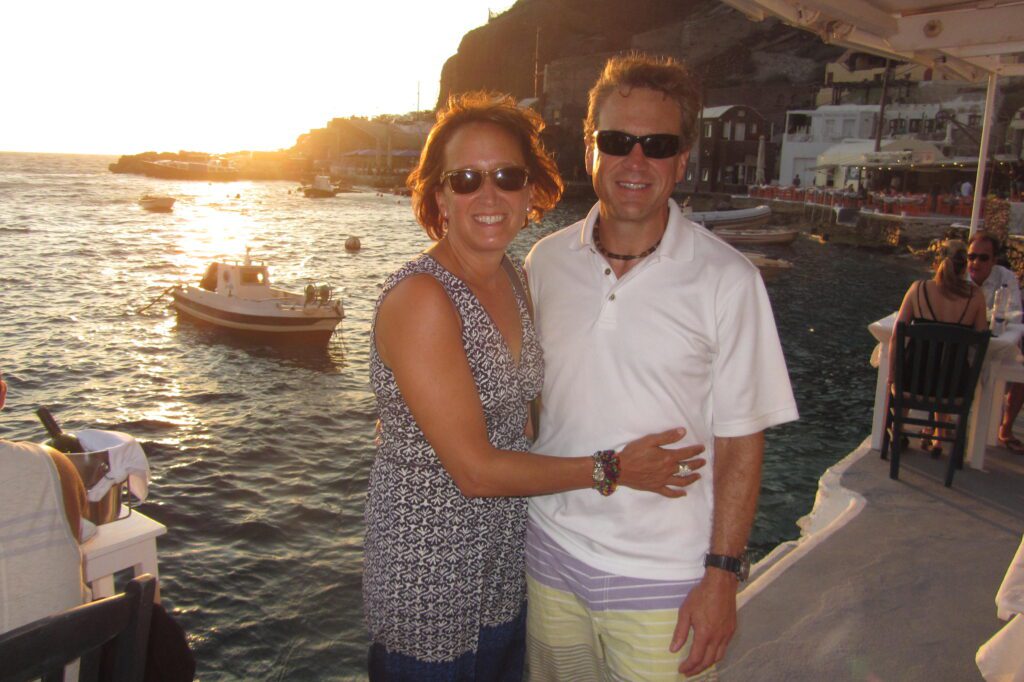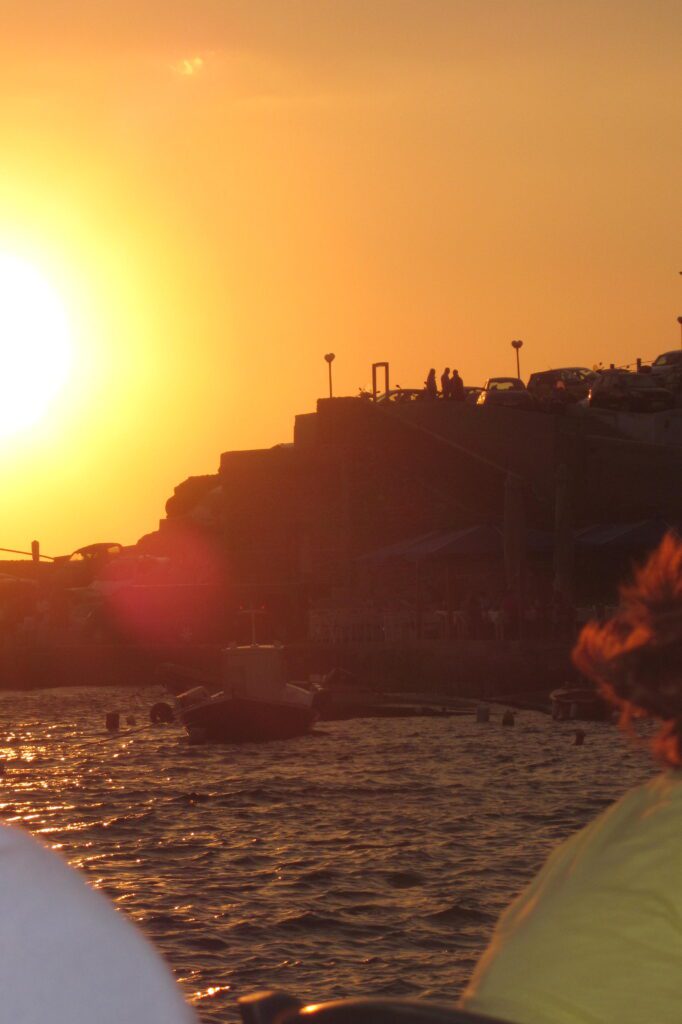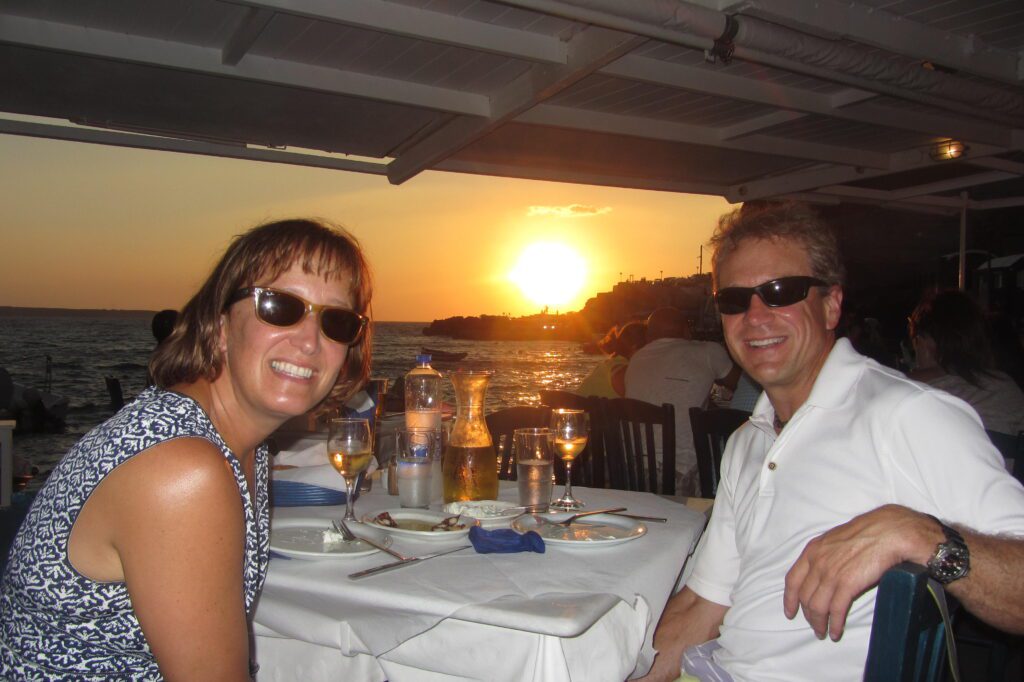 Santorini by Boat
We cannot say enough good things about the wonderful, delicious and generous breakfast at Pezoules. Eating on our deck was heavenly.
We strolled through Oia on our way back down to Ammoudi Bay.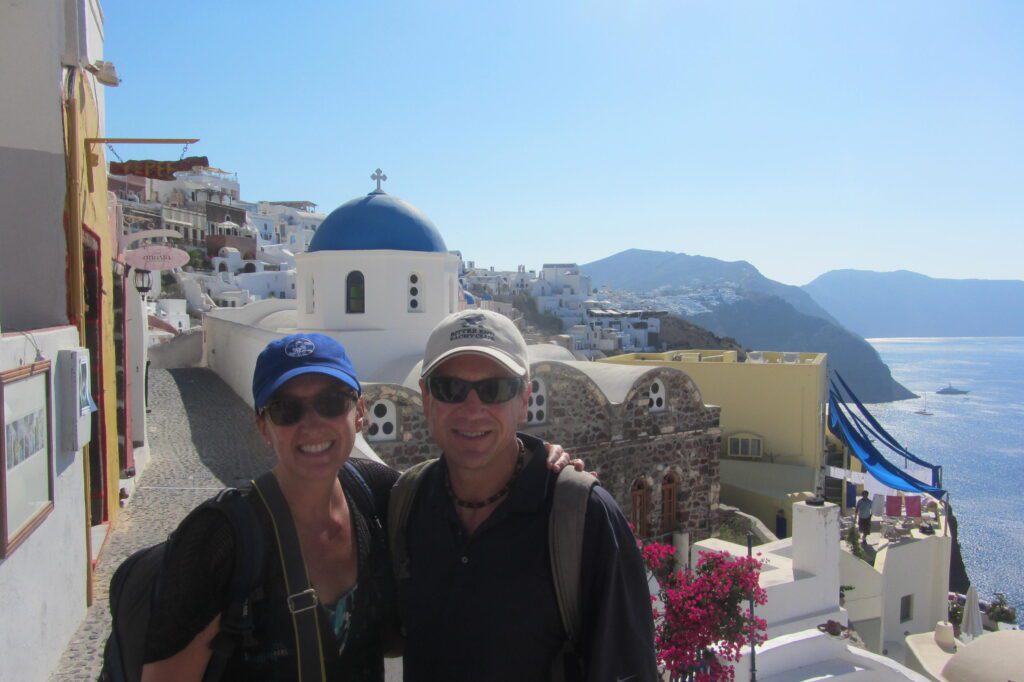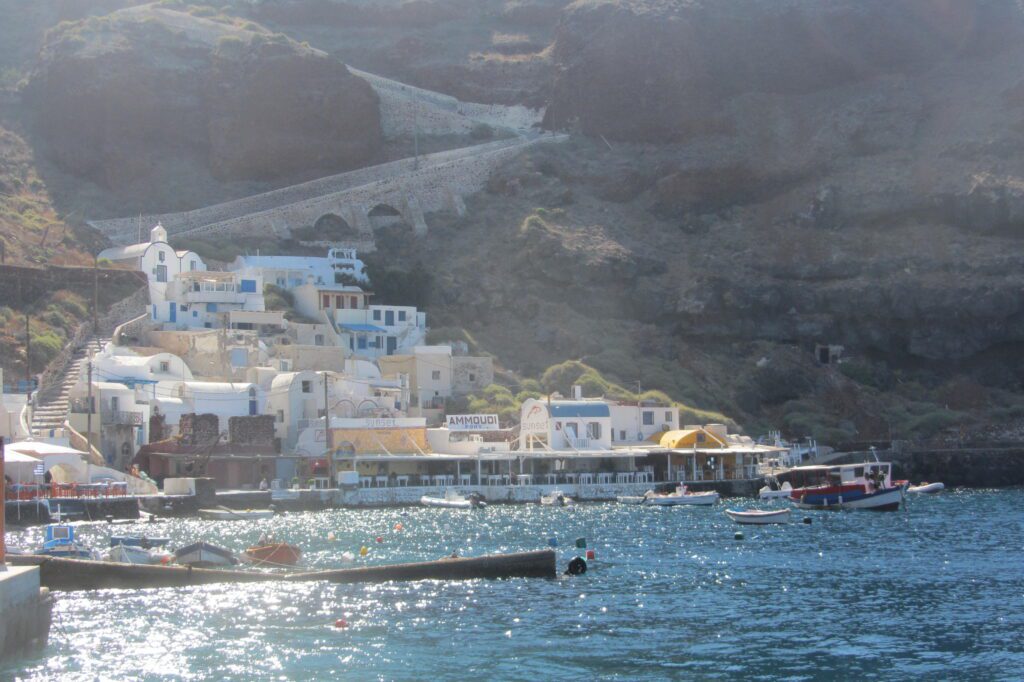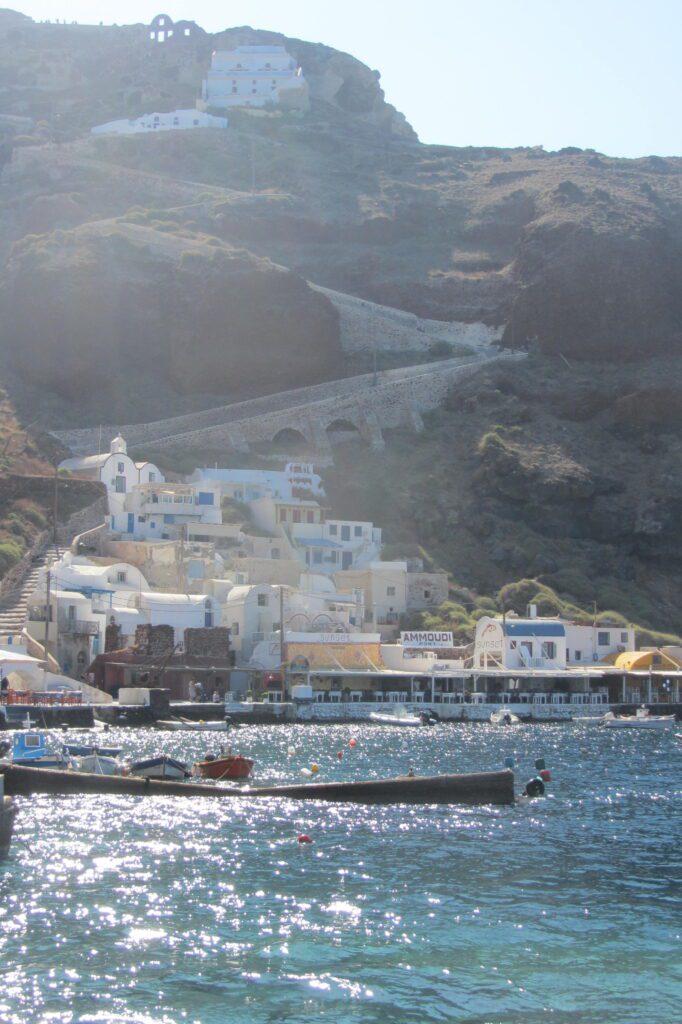 We chose to do a five hour sail with Sunset Oia. We did the Diamond Cruise. The current cost is 190 Euros/person. We highly enjoyed our day on the boat. They take you to three swimming spots, feed you a fantastic lunch and sail around the caldera. A sunset cruise is also available. The crew was very nice and helpful. Trip Advisor reviews are excellent. The maximum number of guests is 20. The boat could easily hold 40.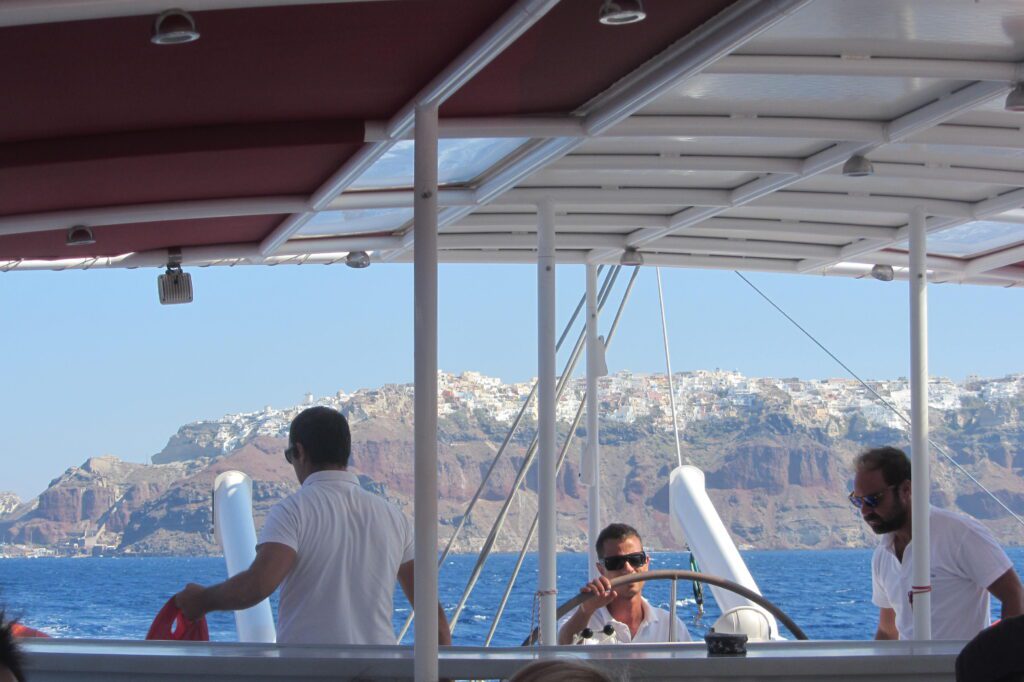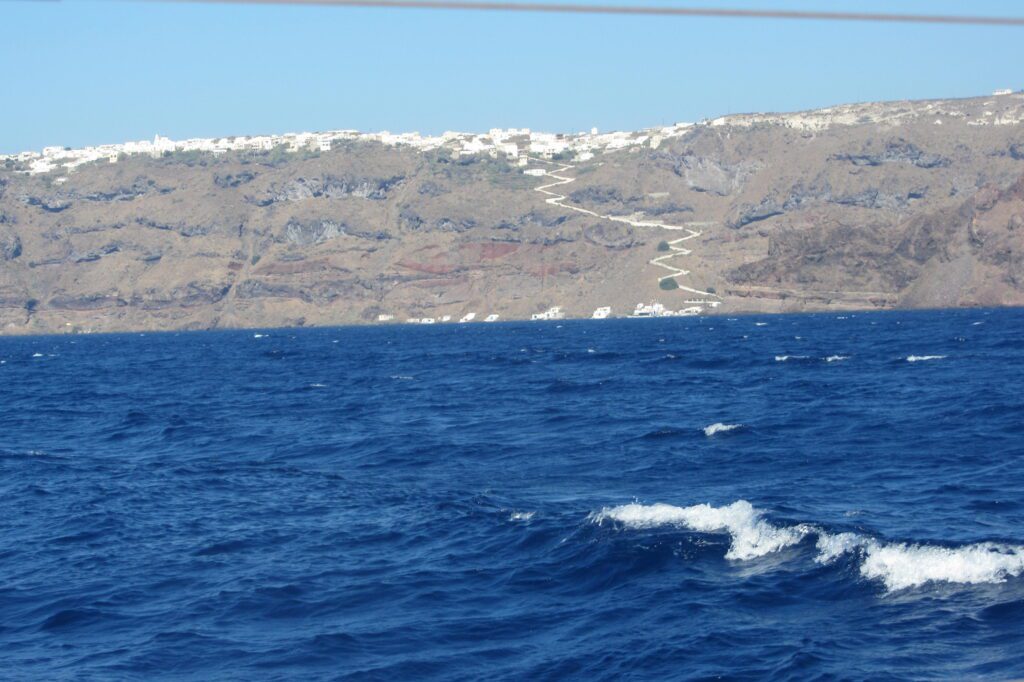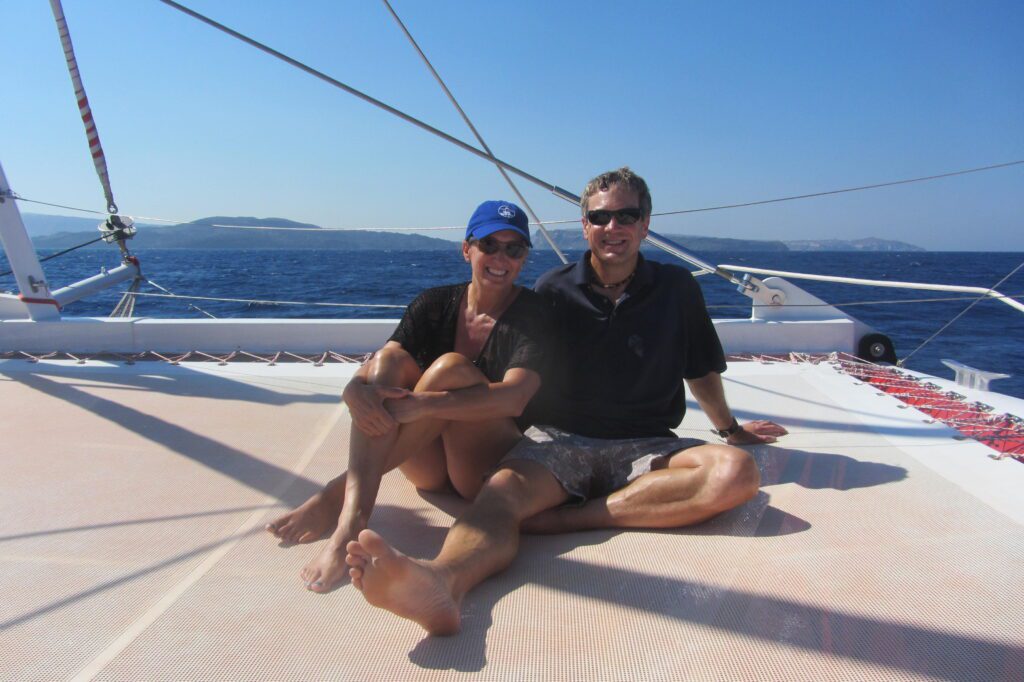 The first swimming spot is at the hot springs area. You can jump off the boat and swim into warmer waters. The mud is said to have healing properties. Michele swam into the hot springs after college and covered herself in mud. She never got the mud entirely out of the white portions of her bathing suit. So, we jumped off the boat and stayed away from the mud!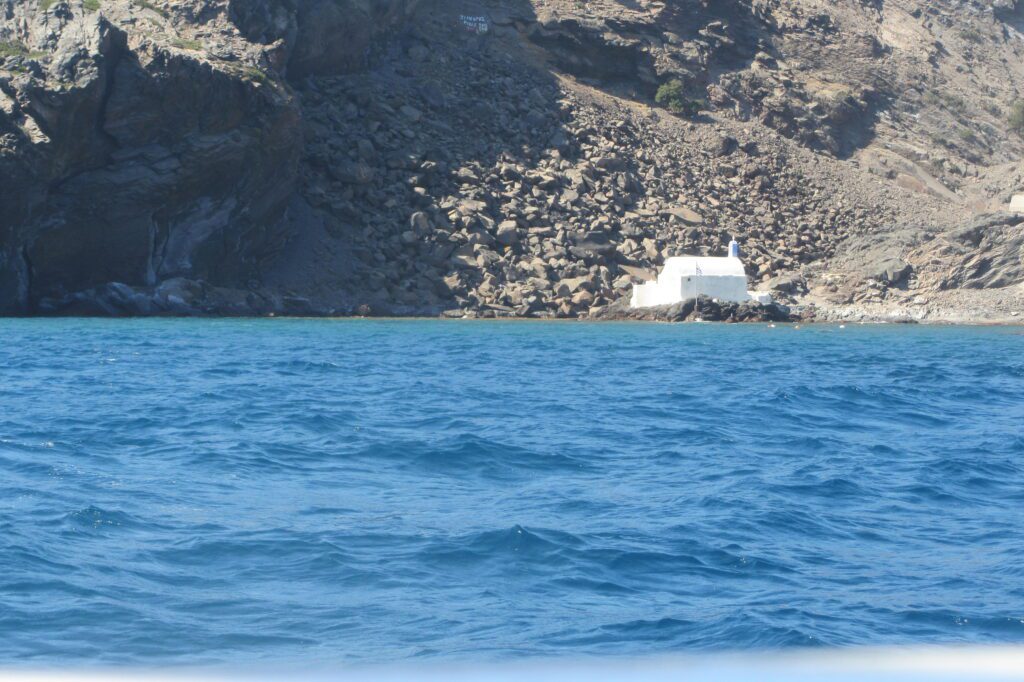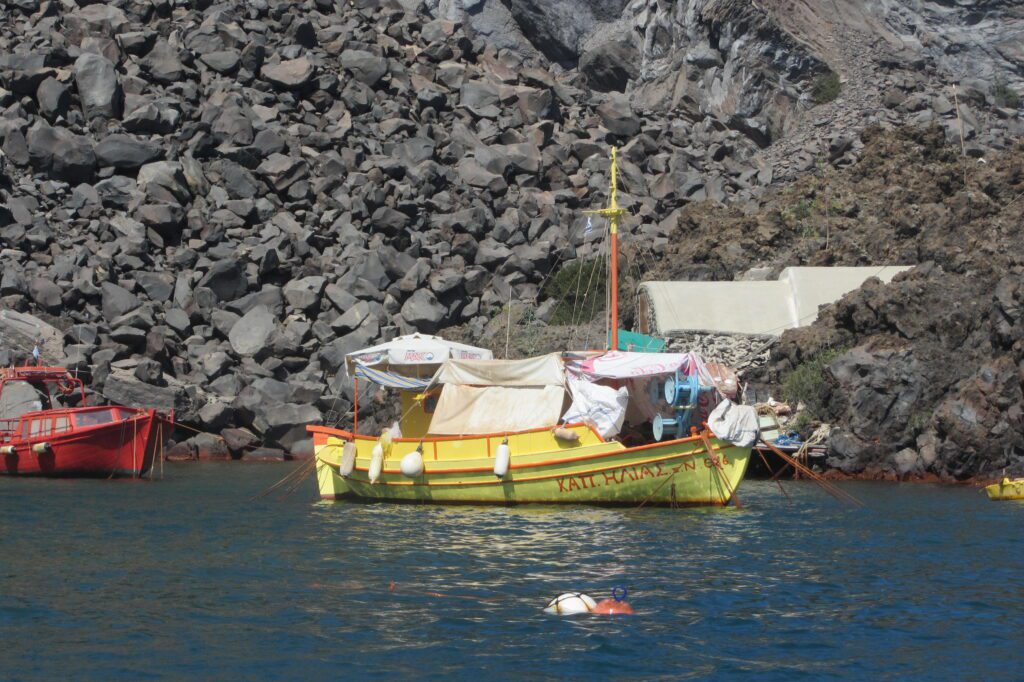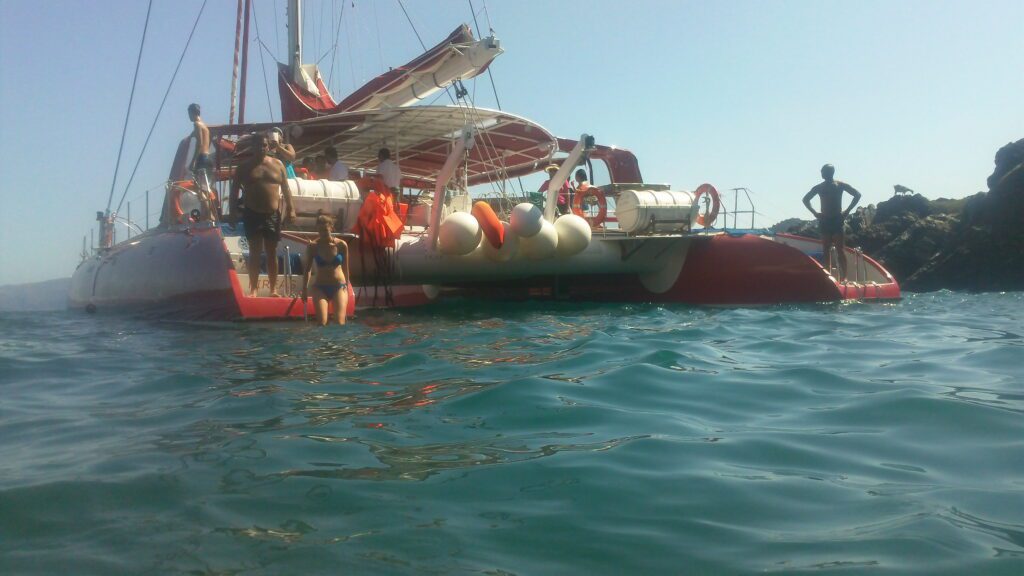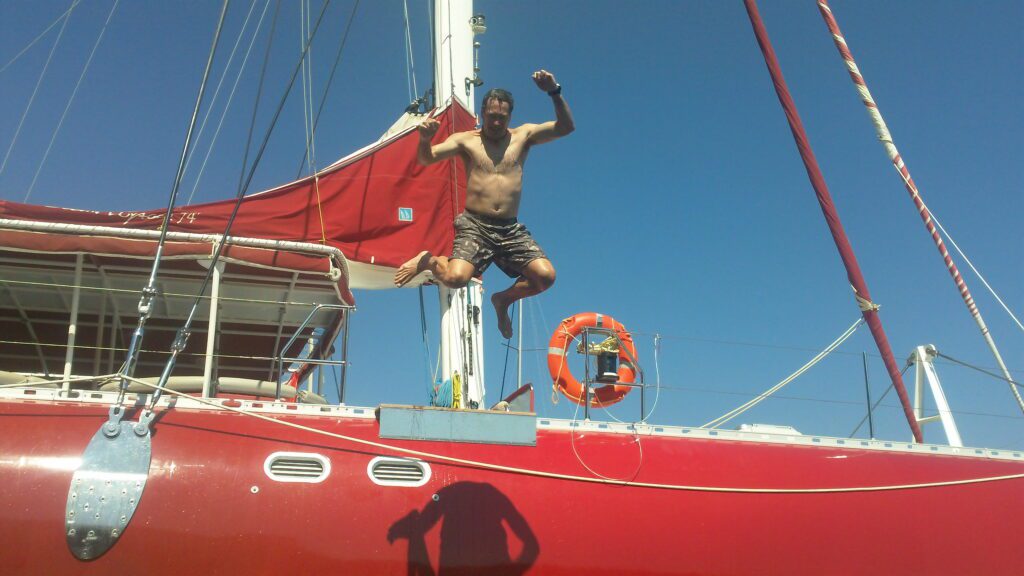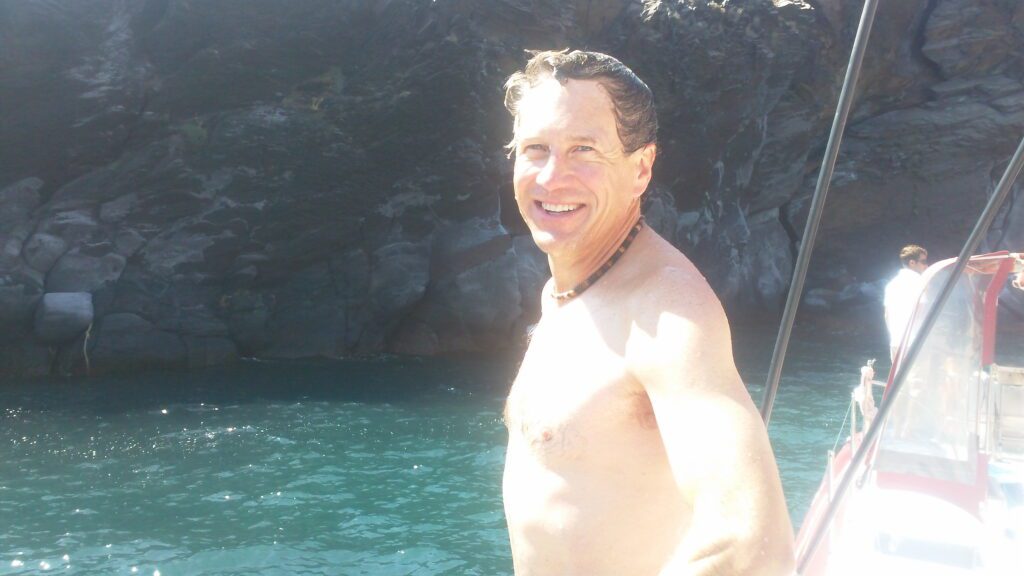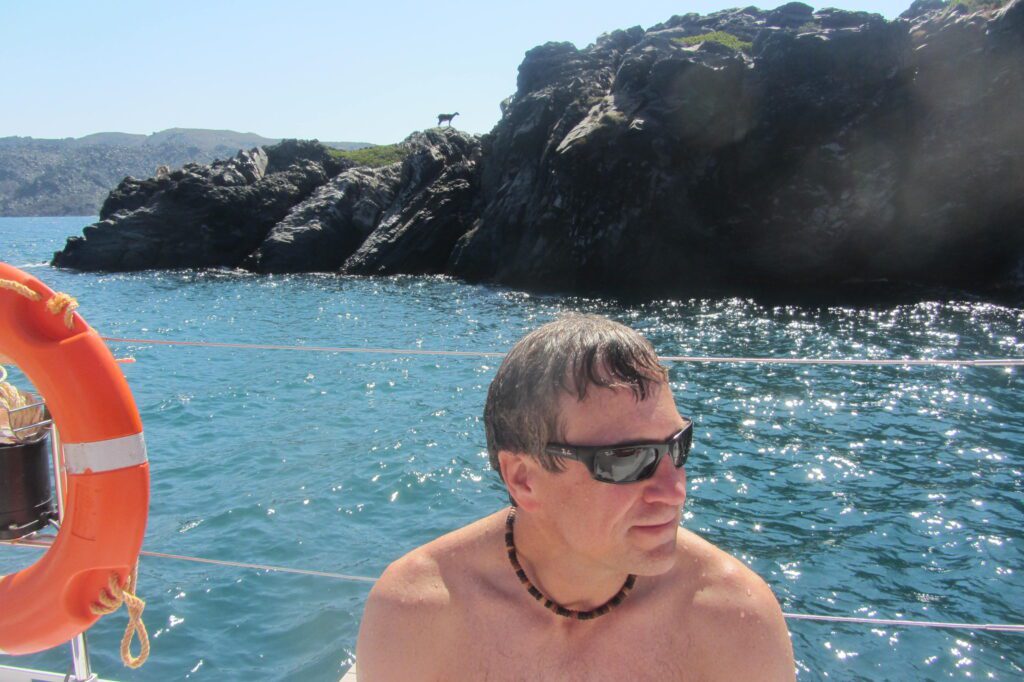 We then sailed for a longer time to the Red Beach. We swam and snorkeled there. It was lovely.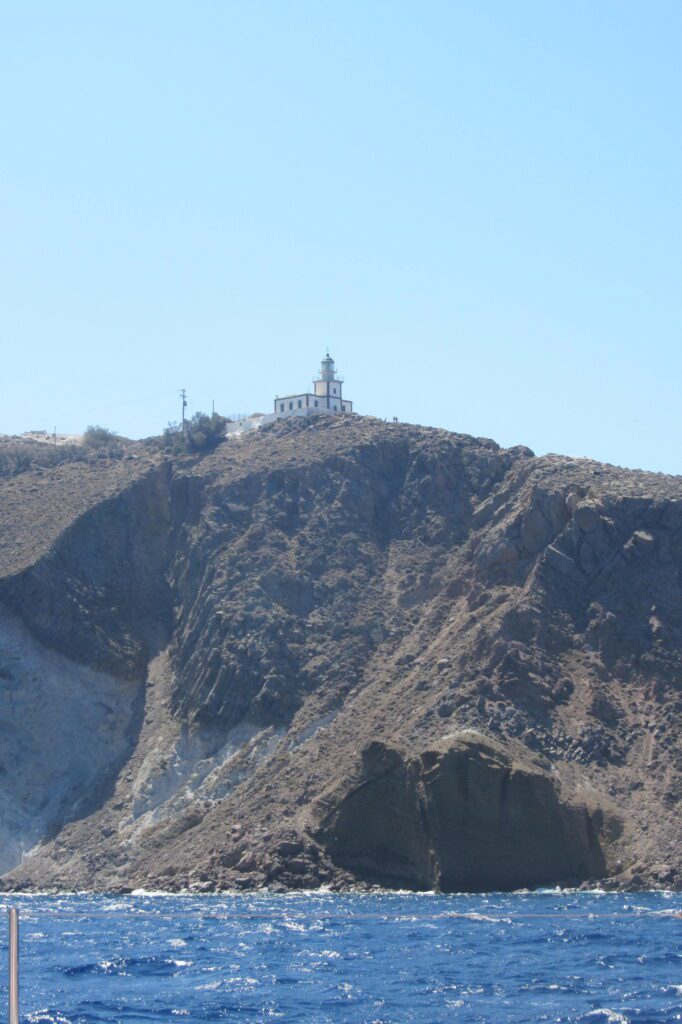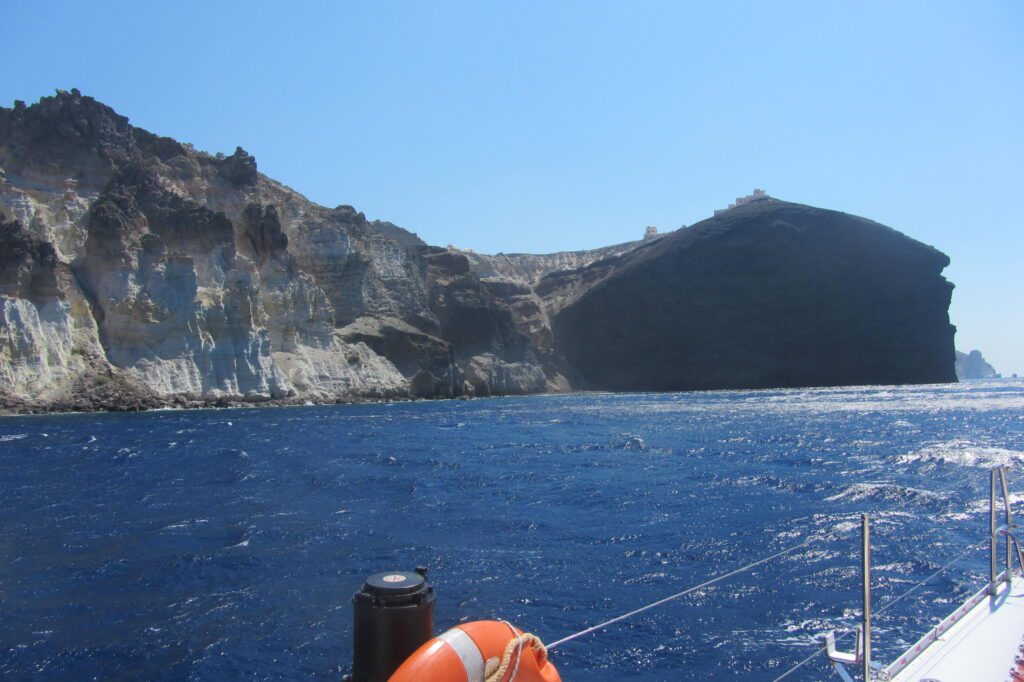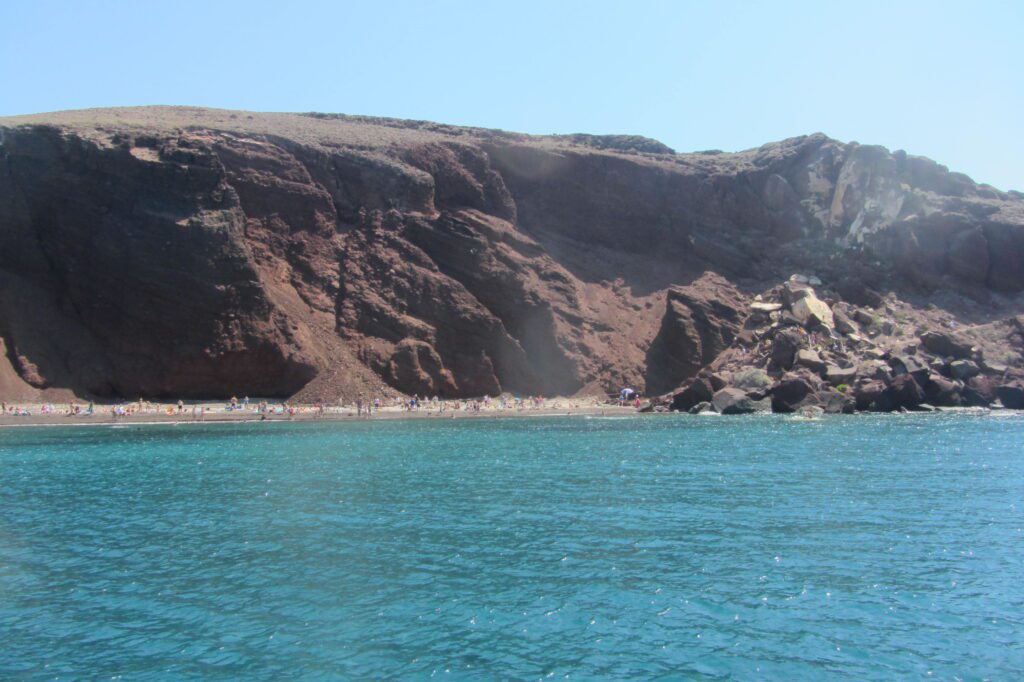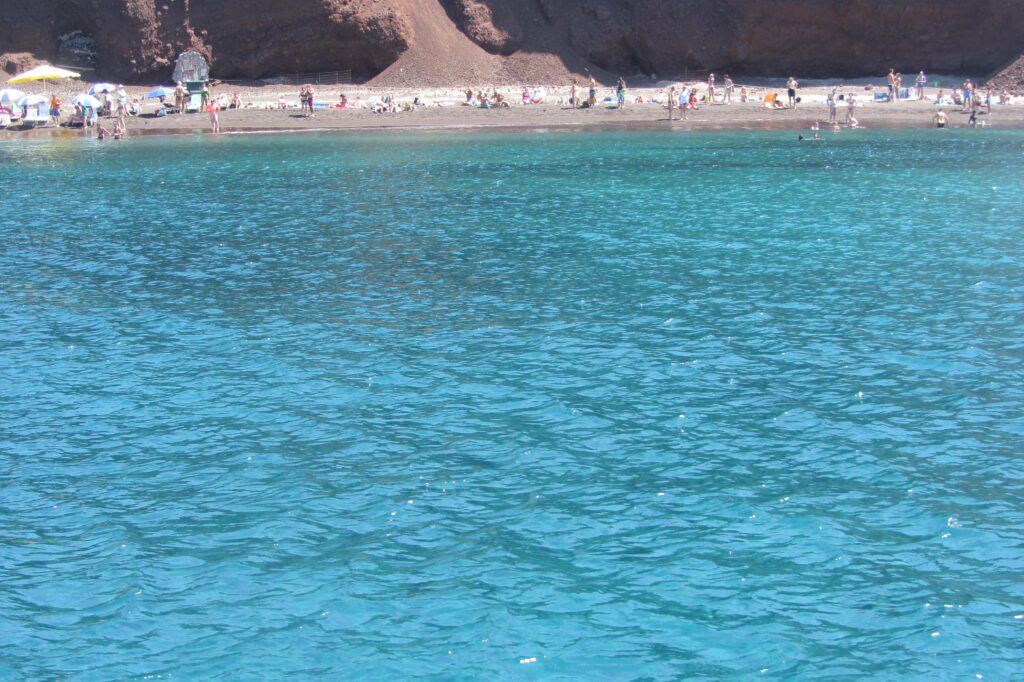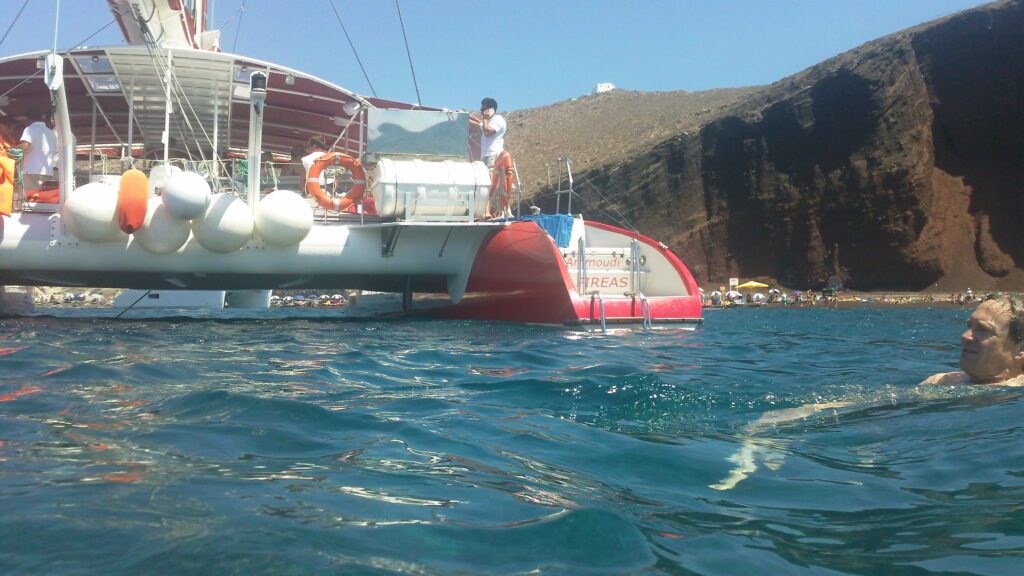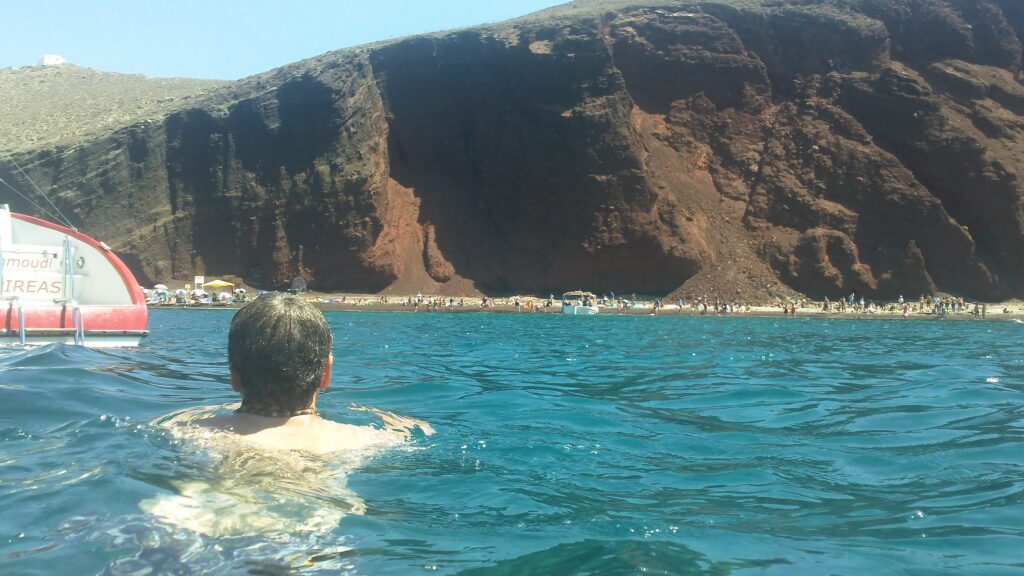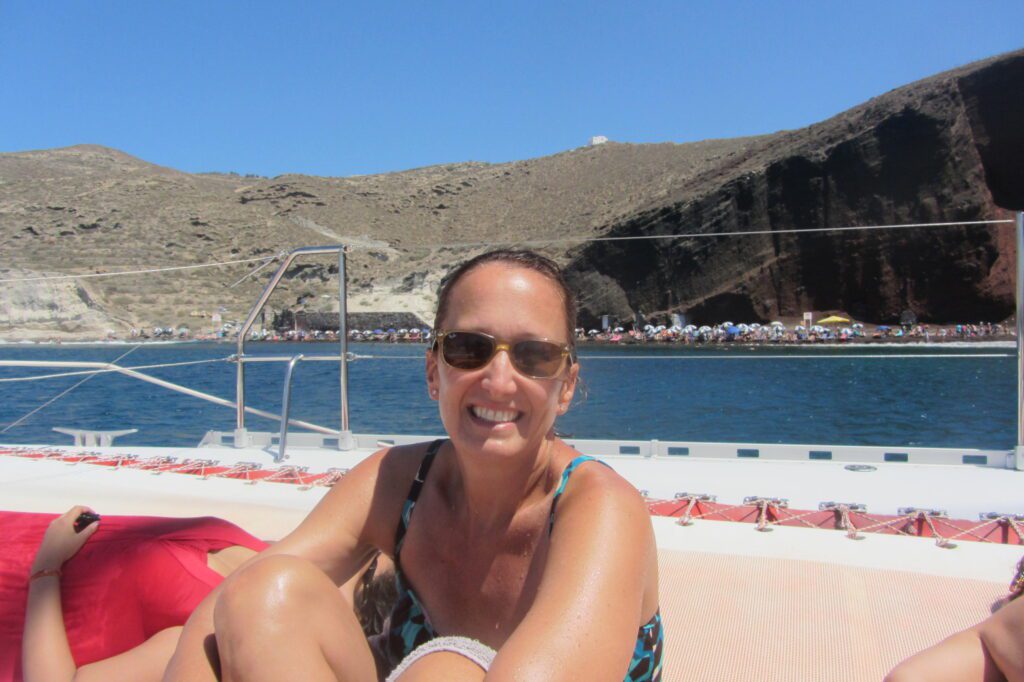 We sailed for about 15 minutes or so to the White Beach area. Here, you could swim and snorkel. The crew cooked us a fantastic lunch of Greek salad, shrimp saganaki, grilled chicken and pork skewers, roasted vegetables, pasta with red sauce and stuffed vine leaves. The bar was open!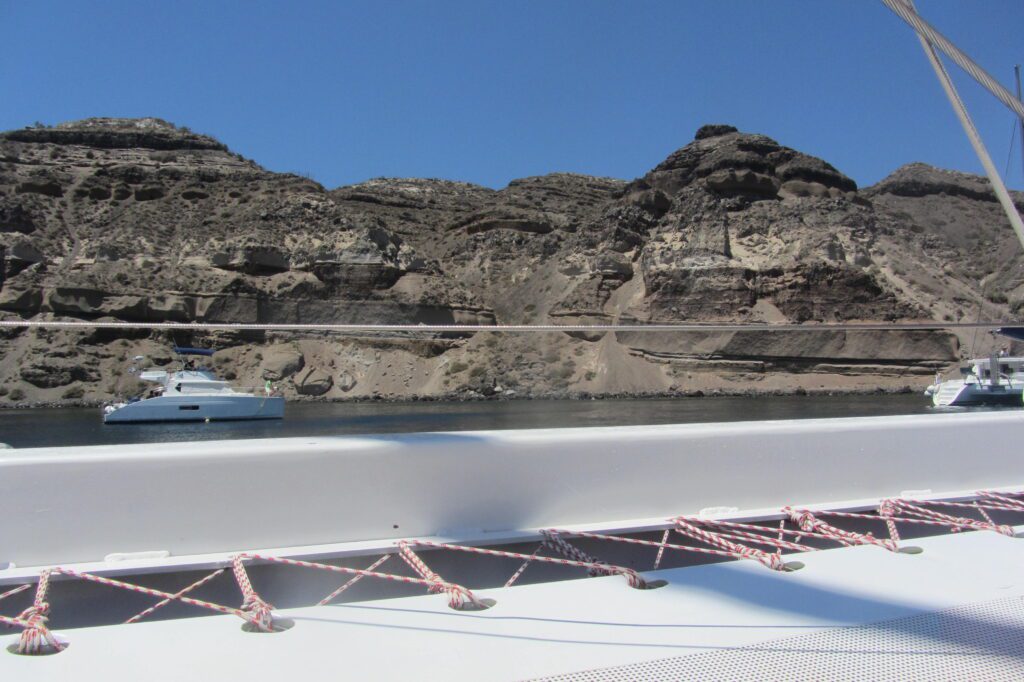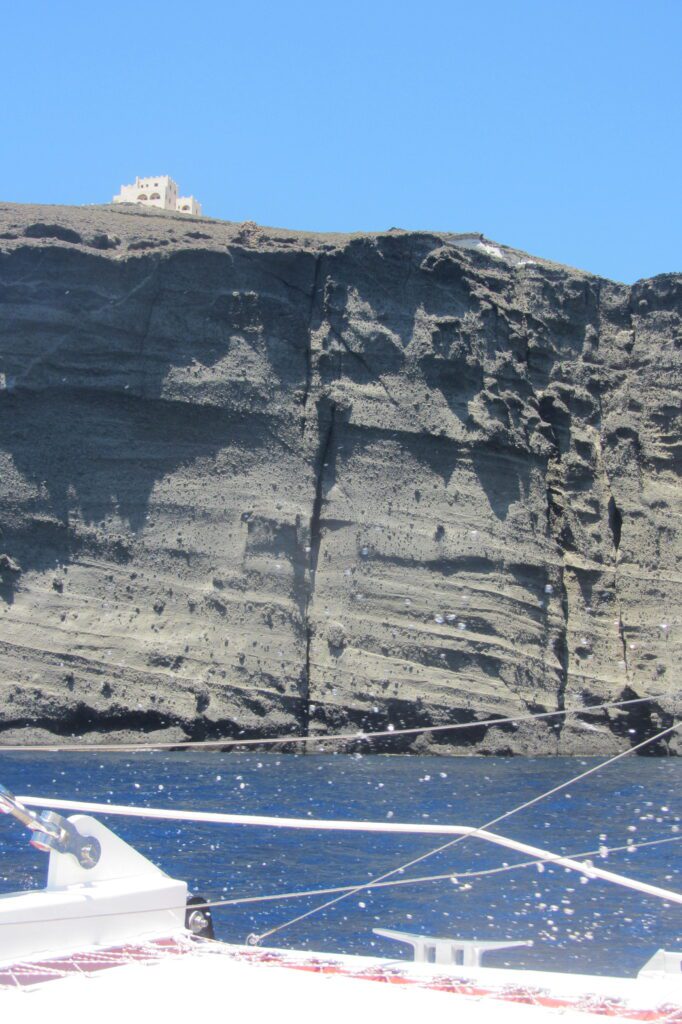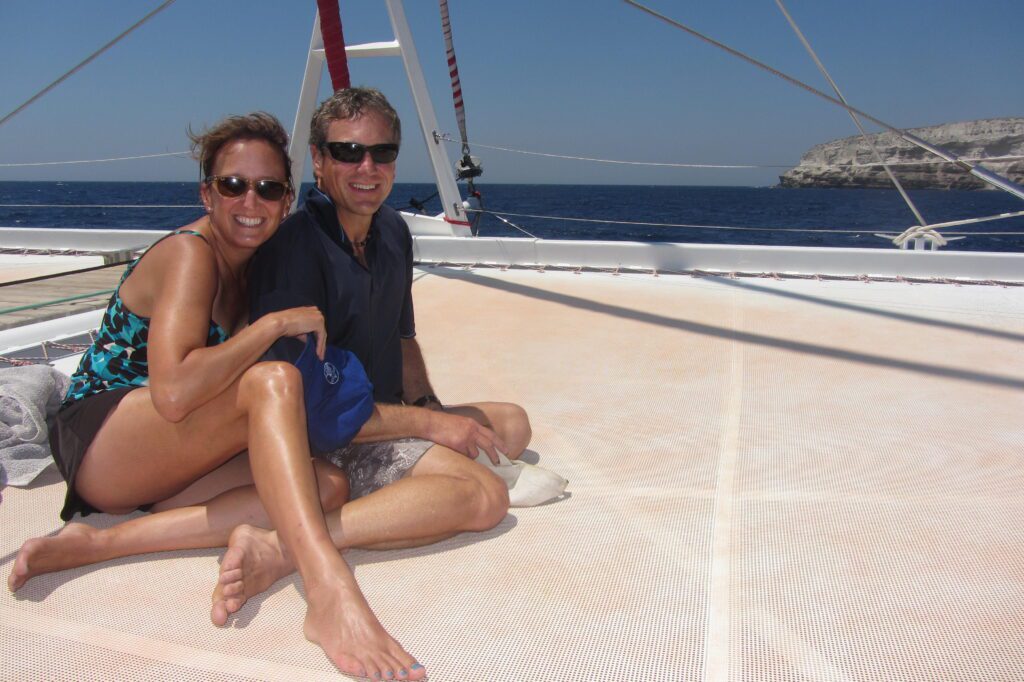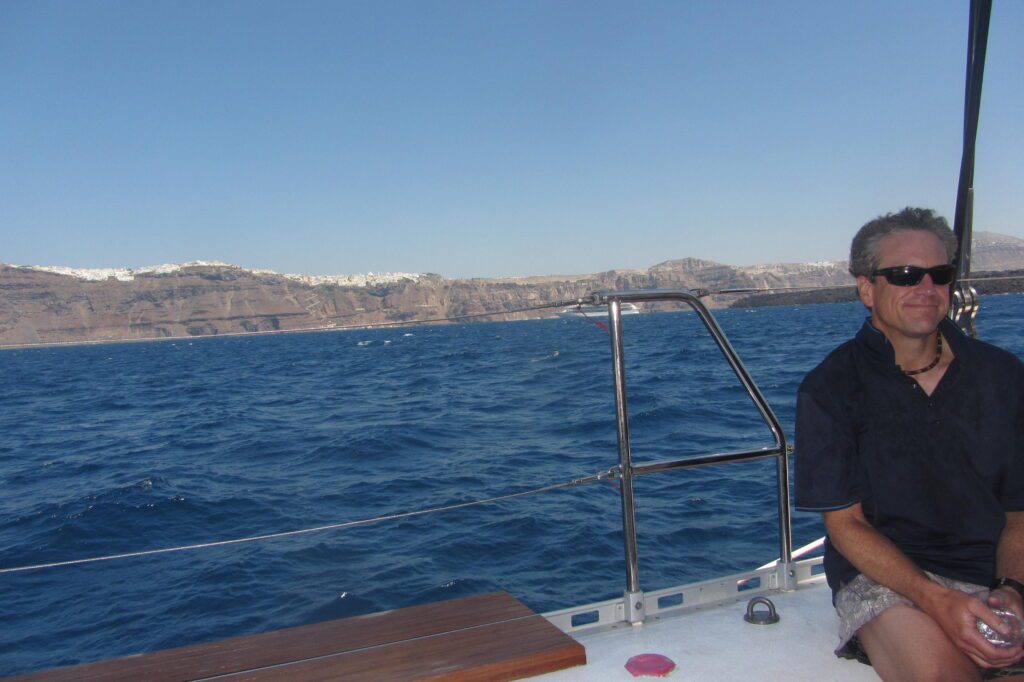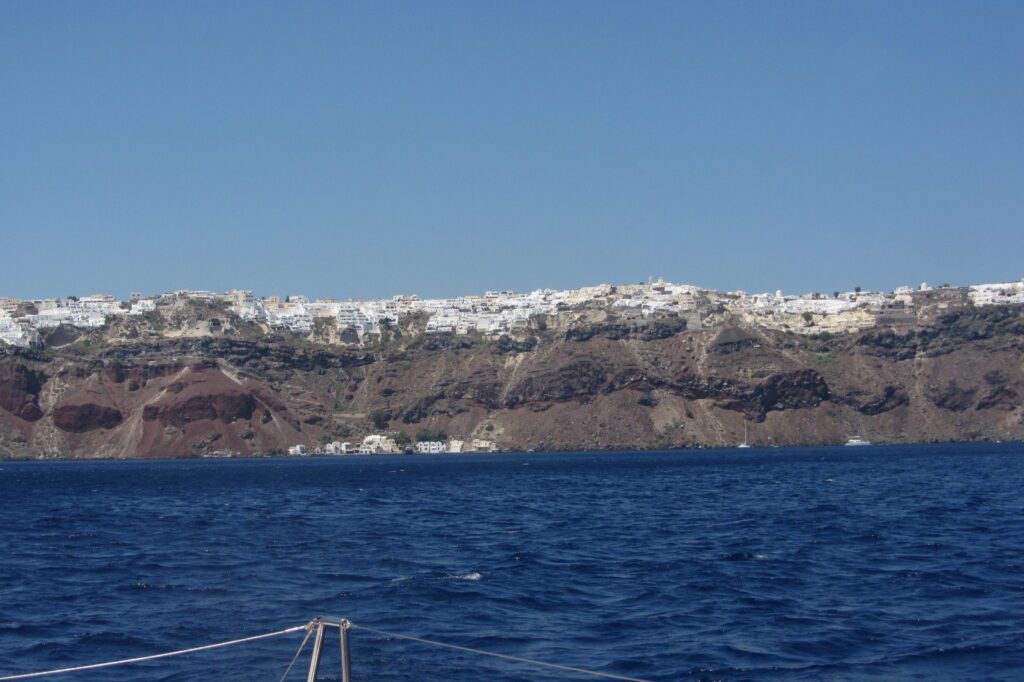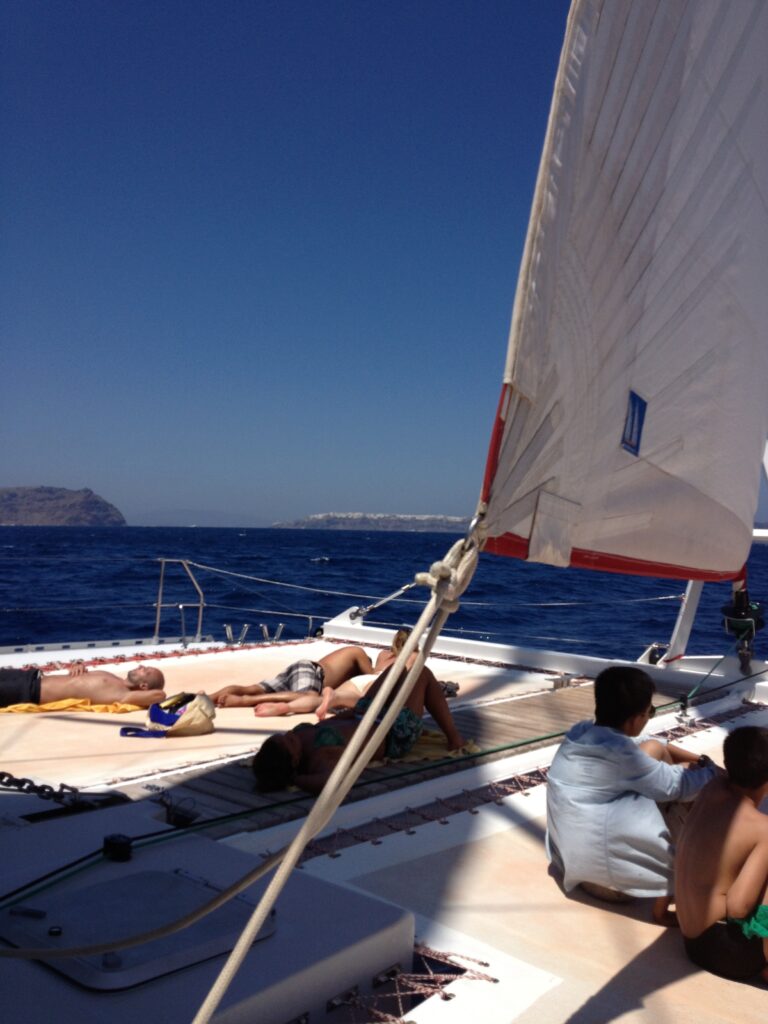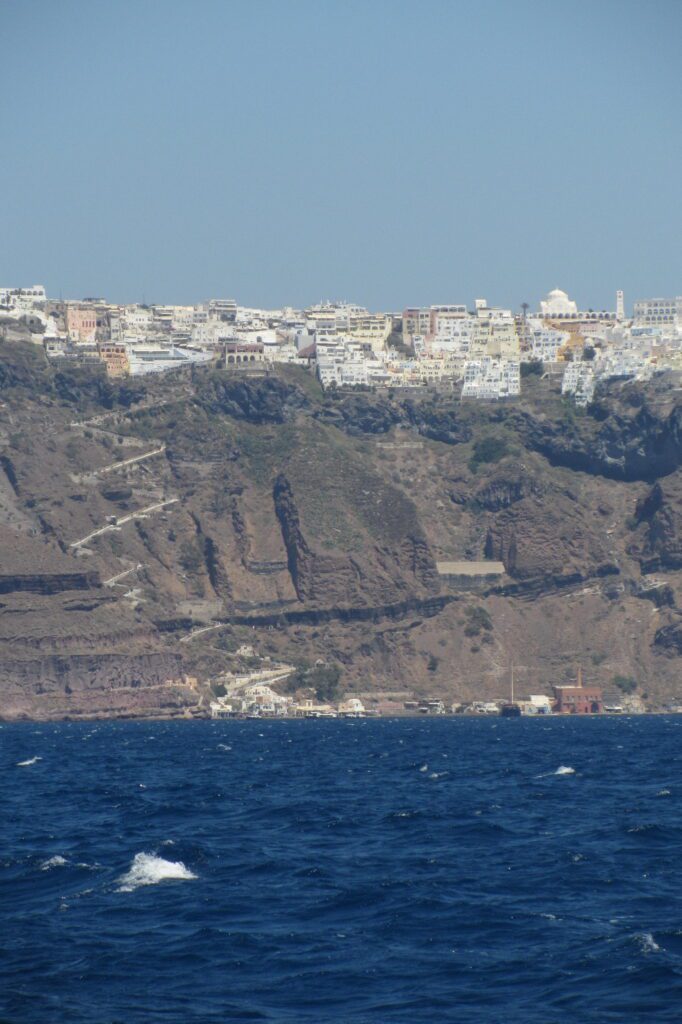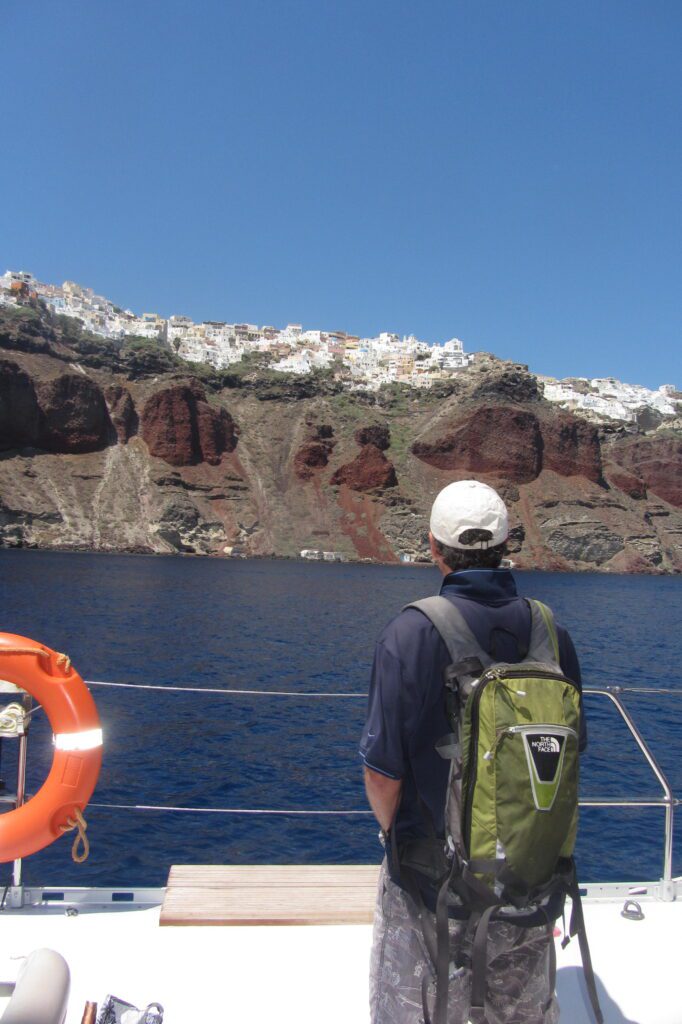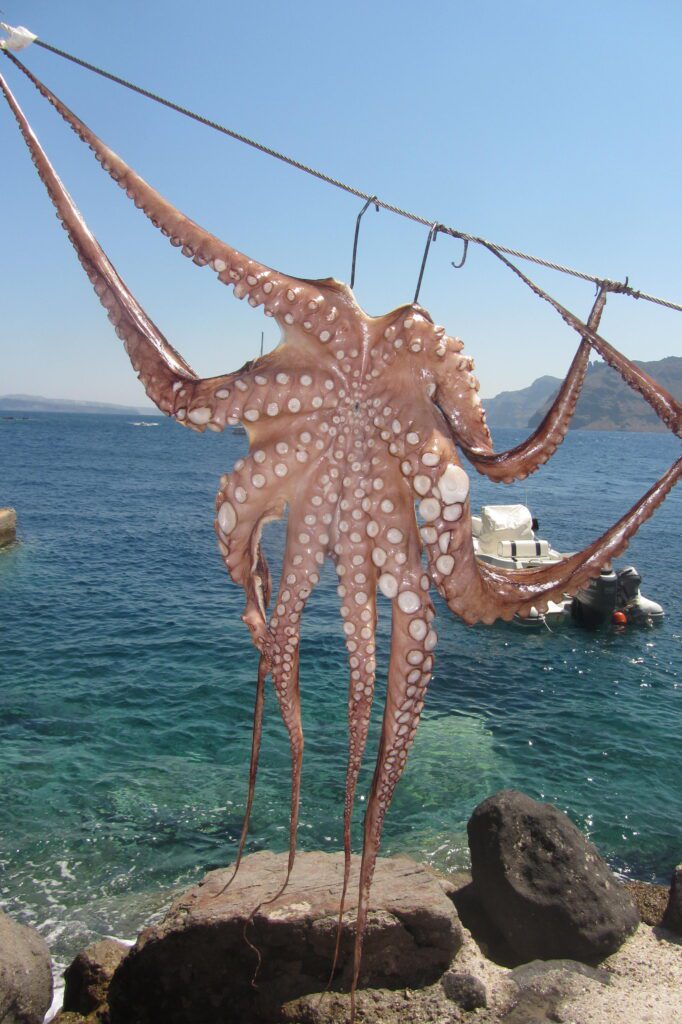 We would highly recommend this company, Sunset Oia. It is a wonderful way to see the caldera by boat. We docked in Ammoudi Bay, and walked back up the many steps!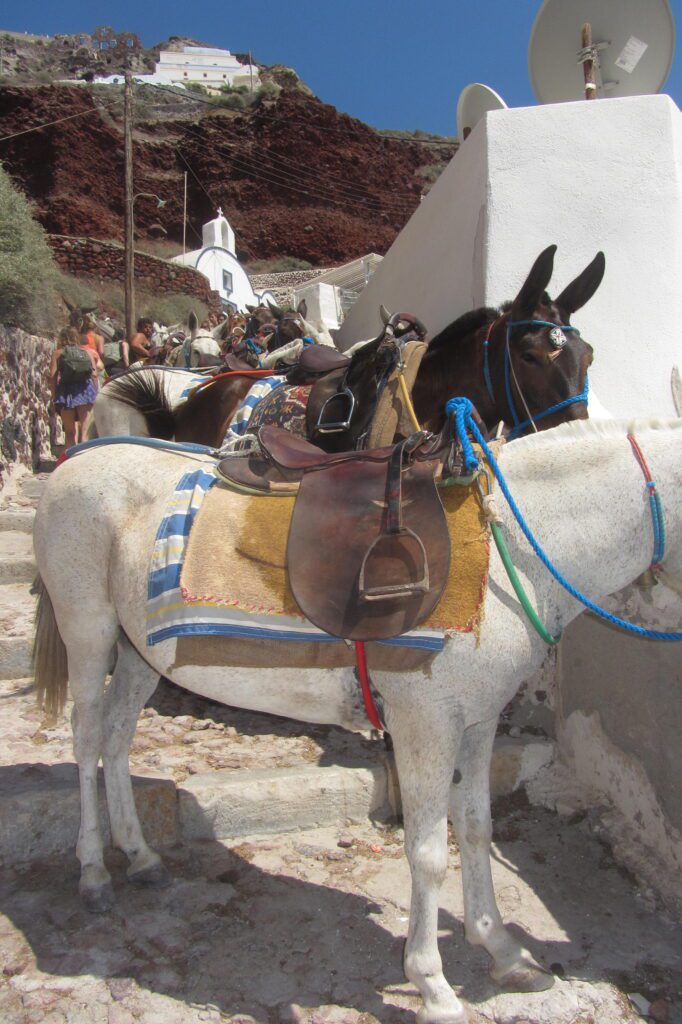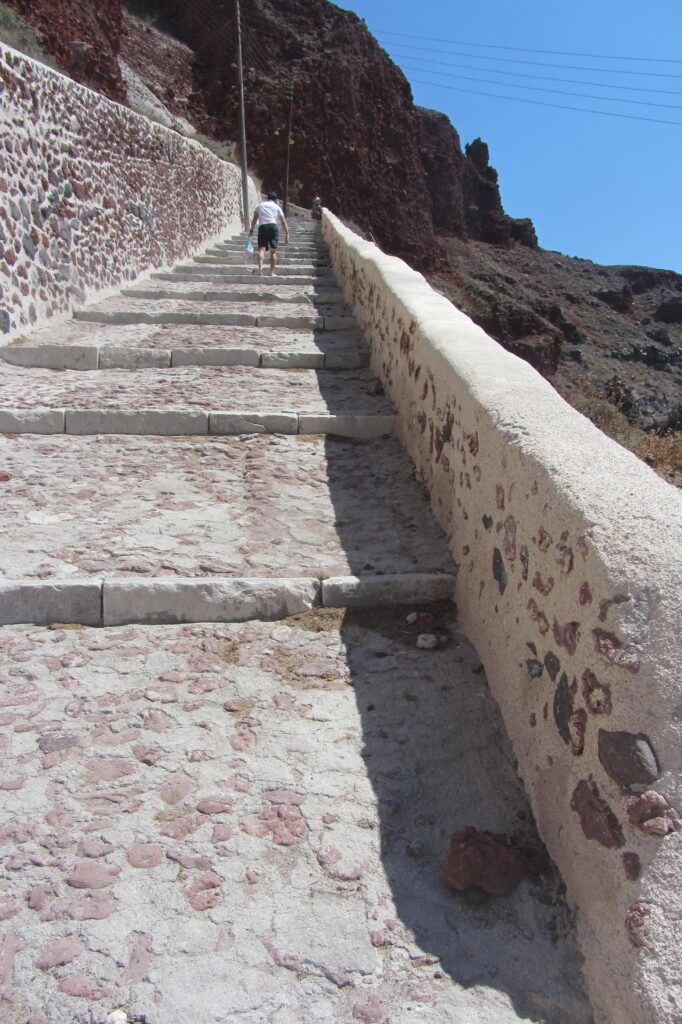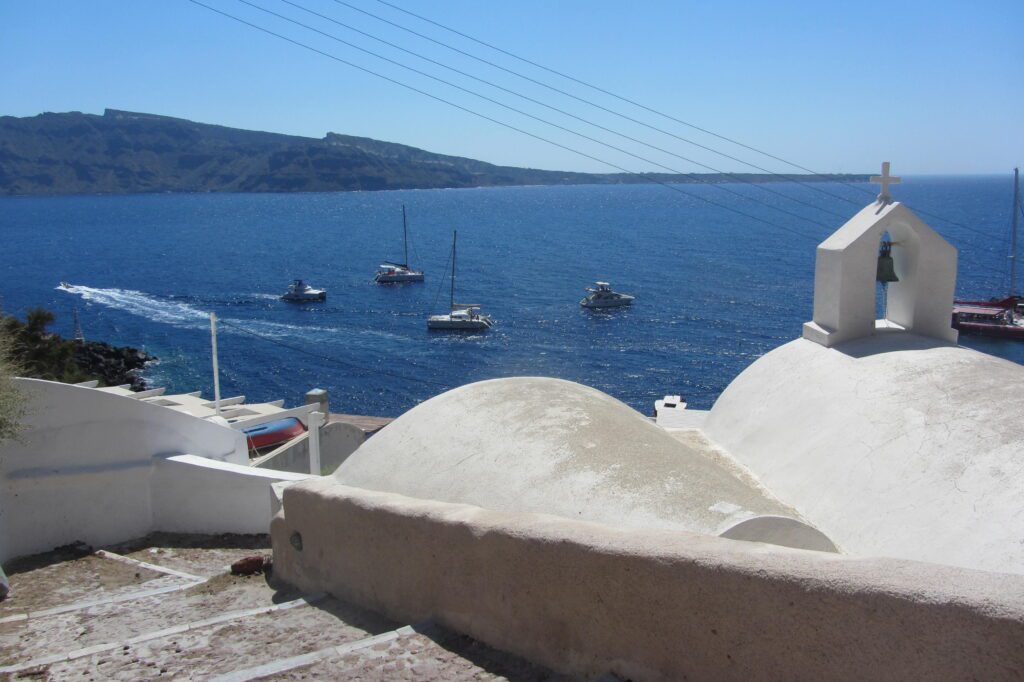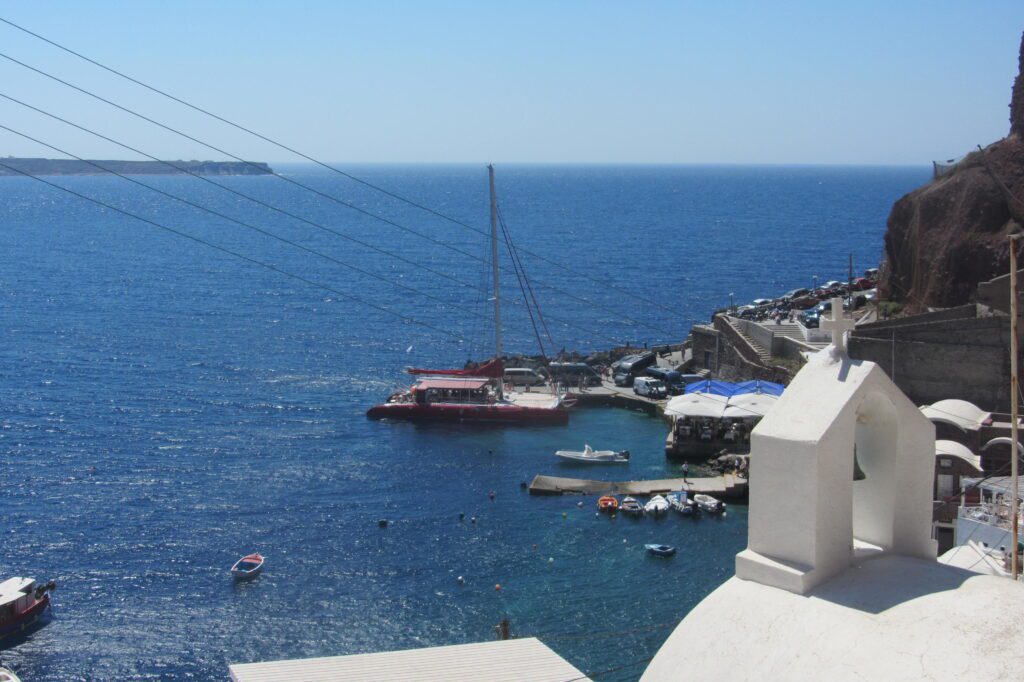 Ferredini
We spent the afternoon strolling and enjoying our deck. Dmitri made us reservations at Ferredini. The food was outstanding. Our table was flawless. There are two places to sit – the sidewalk level with a nice view and the lower level with an incredible, more private view. We sat on the lower level at the best table in the house. And, we tend to eat early as we rise early. The restaurant was completely full by the time we left. Trip Advisor reviews are excellent.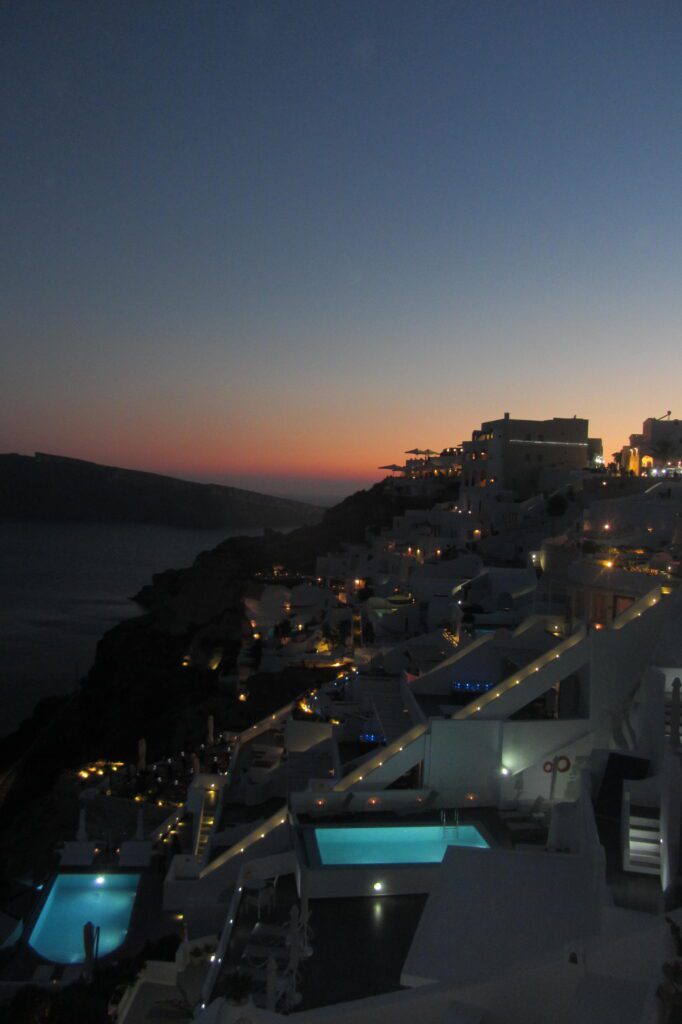 Santorini – Hike from Fira to Oia
After our delicious breakfast, we walked out to the road and caught the public bus from Oia to the larger town of Fira. It took about 30 minutes on the bus. We wore sneakers, sunscreen and workout clothes. We planned to walk the 6.5 miles from Fira back to our hotel in Oia. Initially, we planned to walk from Oia to Fira; however, Dmitri, the wise owner of Pezoules, said, "walking BACK to your hotel is a better option." He was right. It was nice to take the short bus ride at the beginning of our hike rather than at the end.
In 2014, we simply followed the signs in Fira to the cable car/funicular. Once we got on there we just started walking toward the caldera. It was very easy to find the route.
This website has lots of updated information about the hike and how to locate it. We had no trouble finding our way. If you're walking on the road (with cars) you're doing it wrong. You should be on a footpath almost all of the way. The main exception is between Imerovigli and Oia when you need to walk along the road for a short stretch.
We loved everything about this hike. It is beyond gorgeous. Anyone with a moderate level of fitness can do this walk.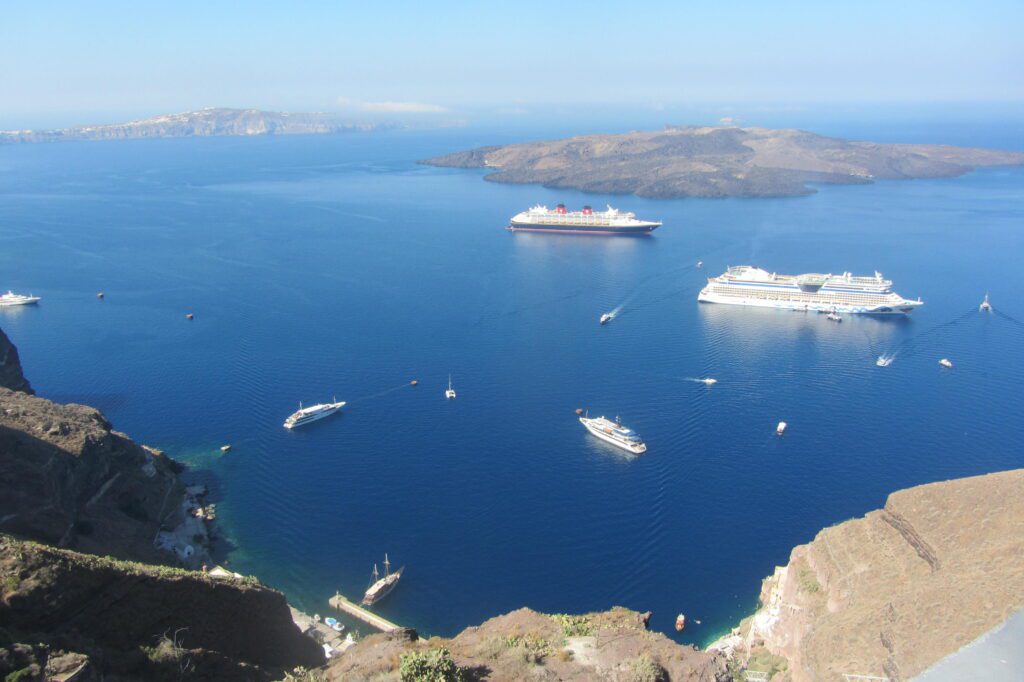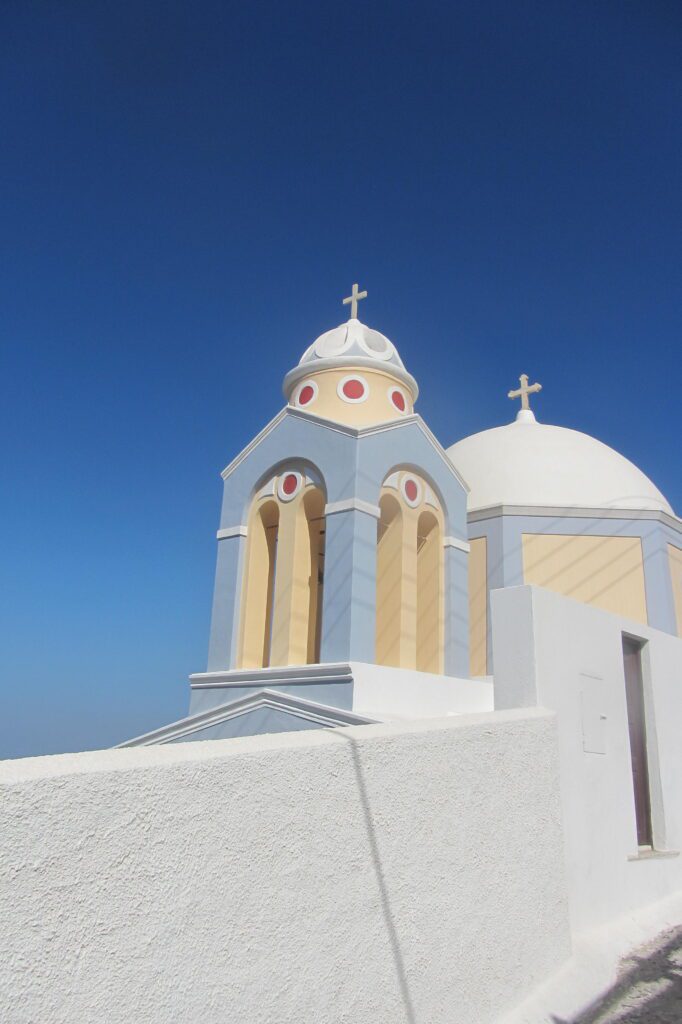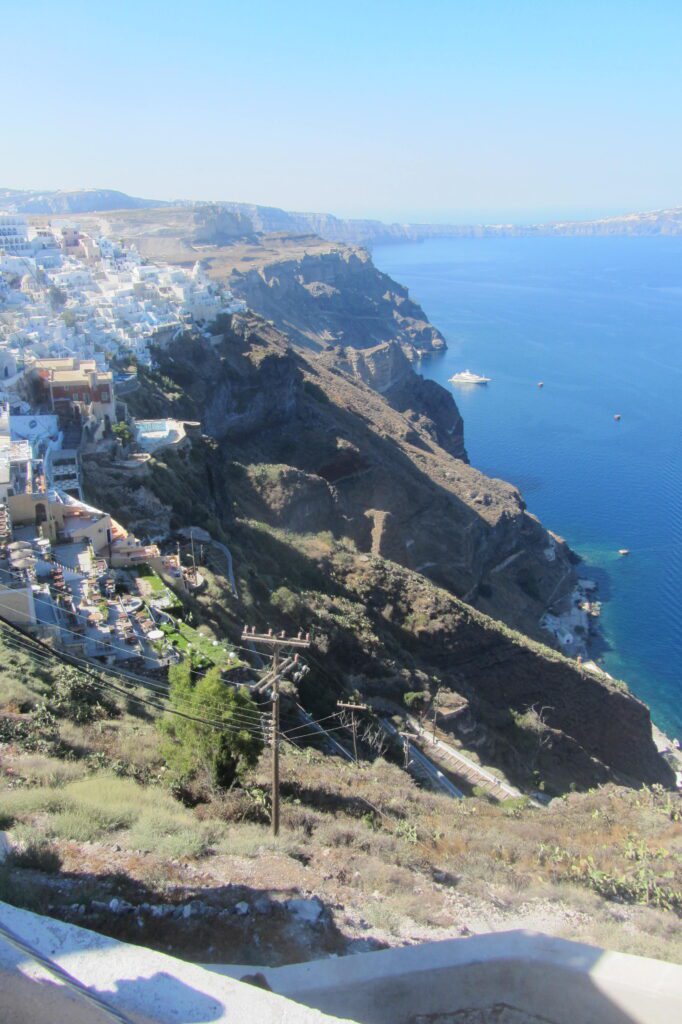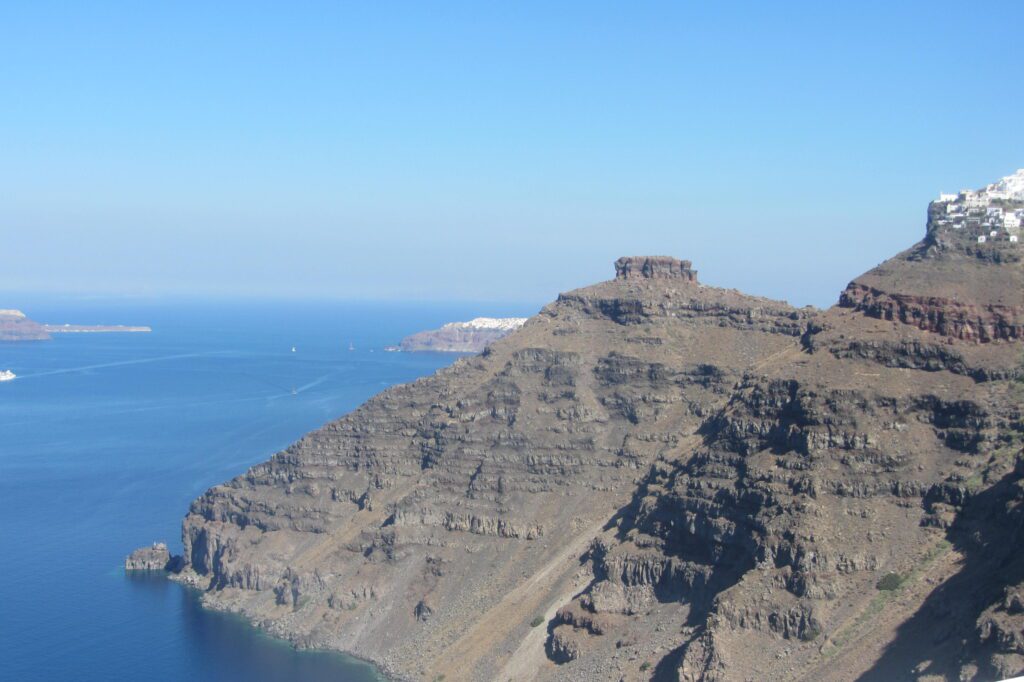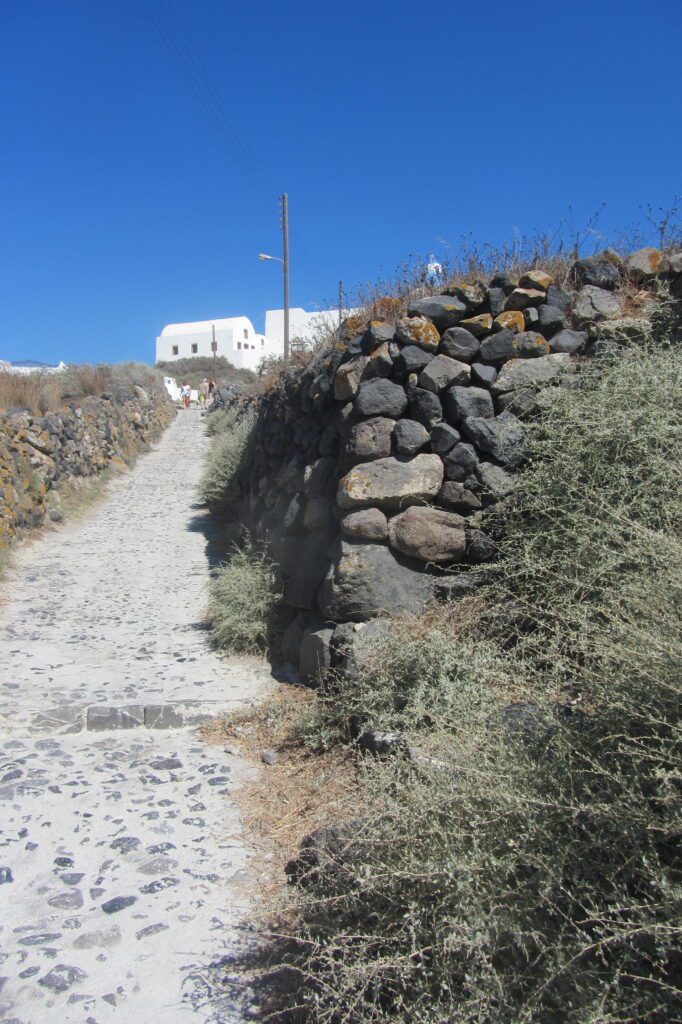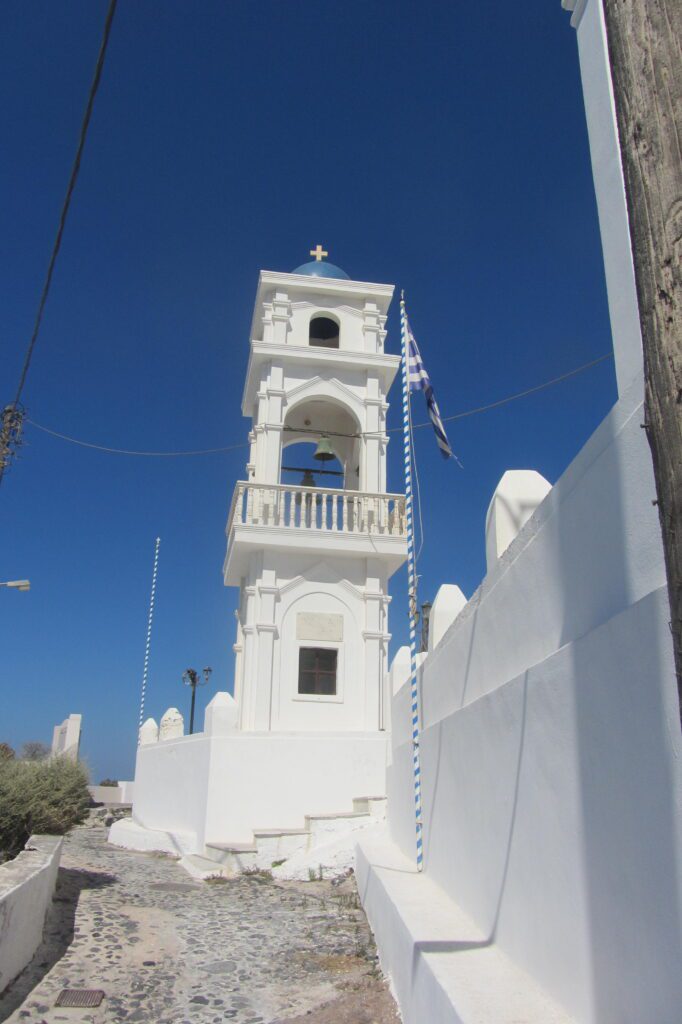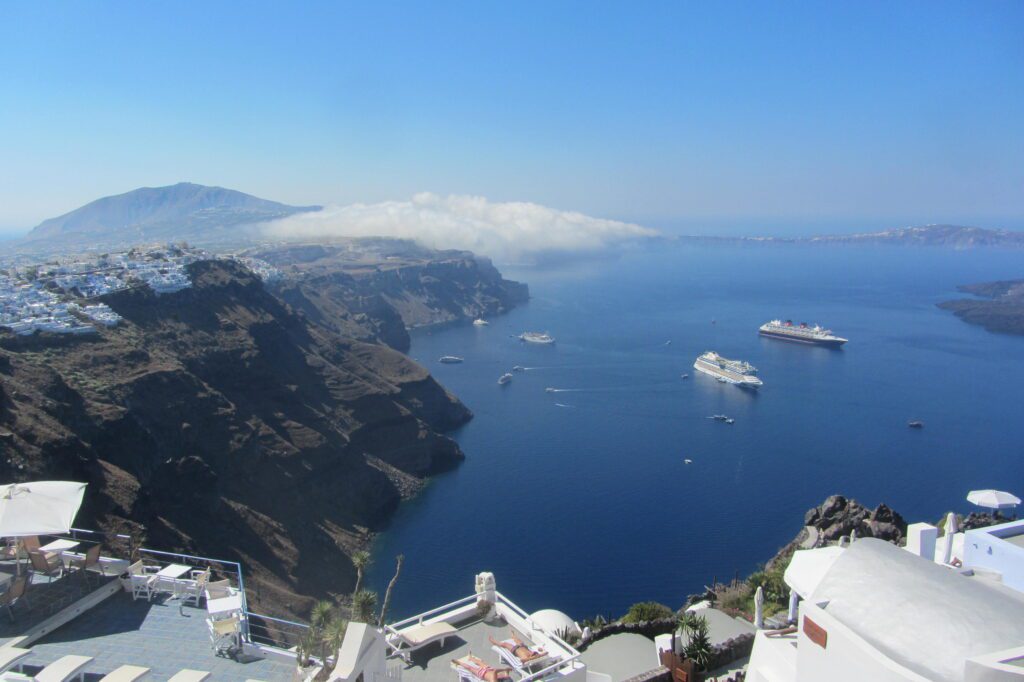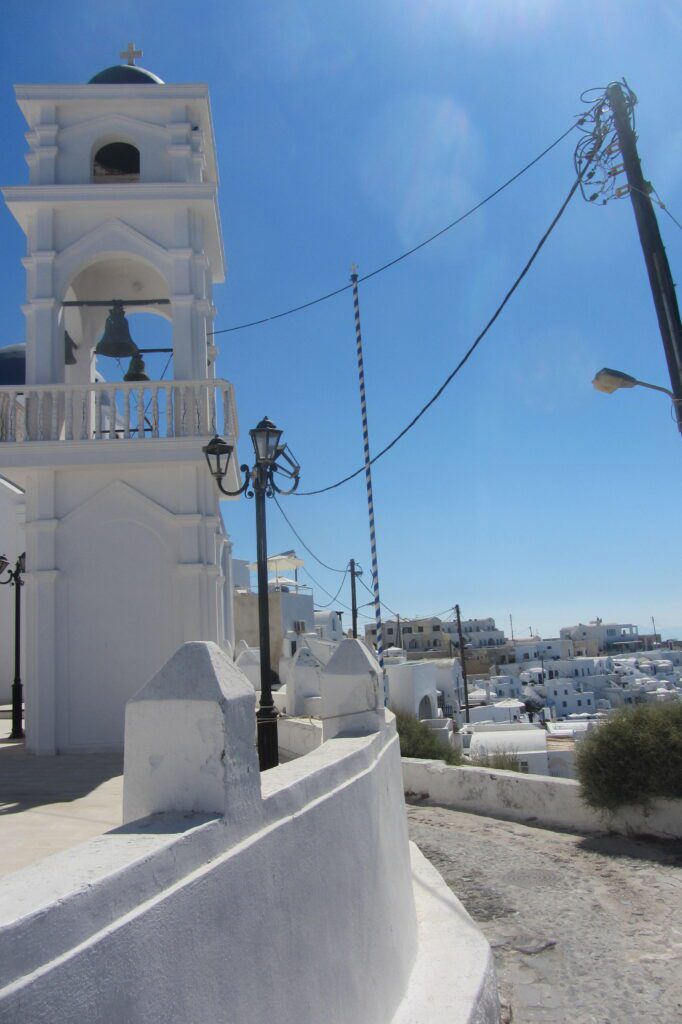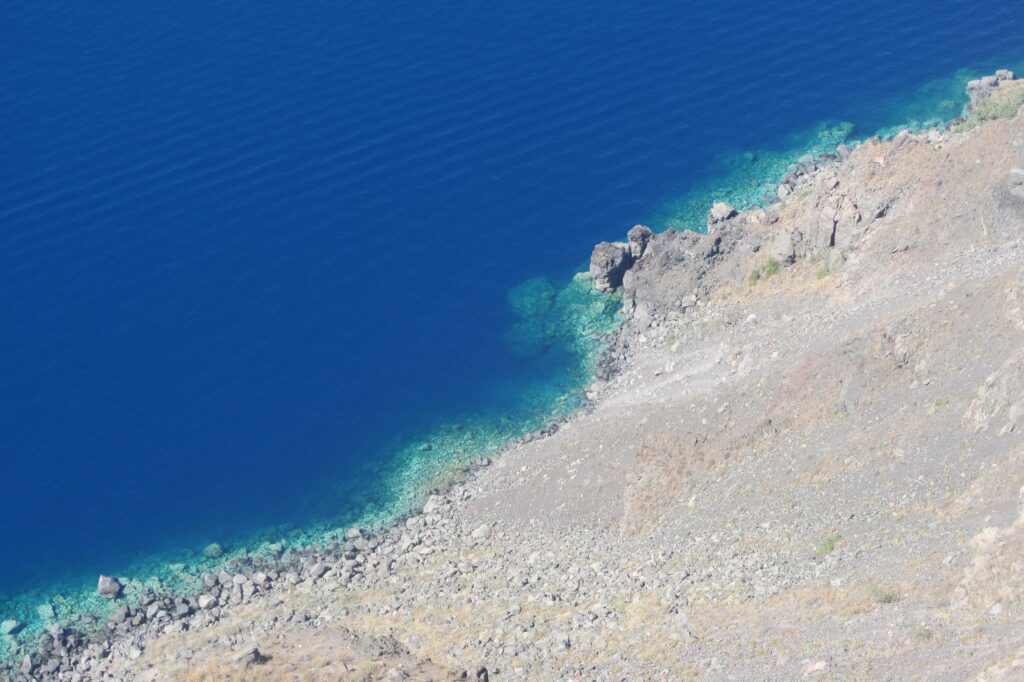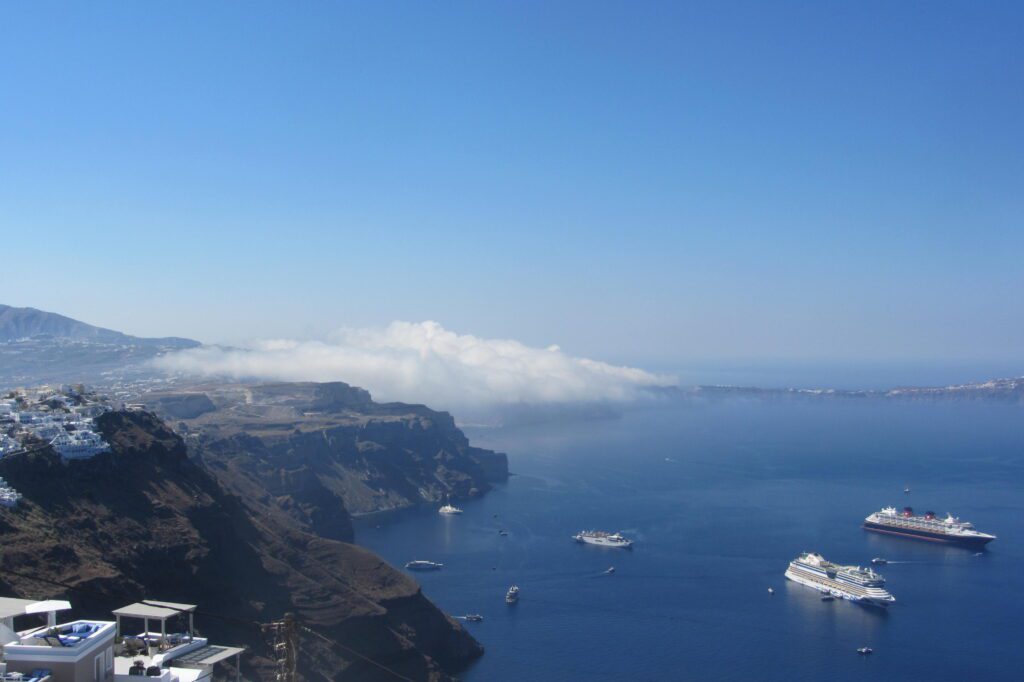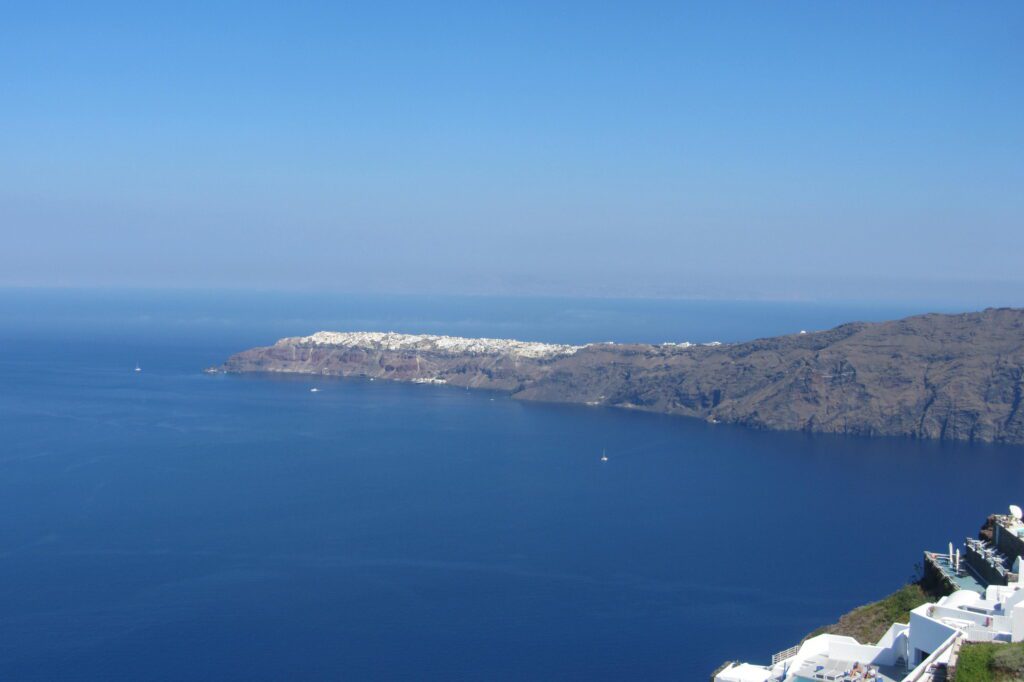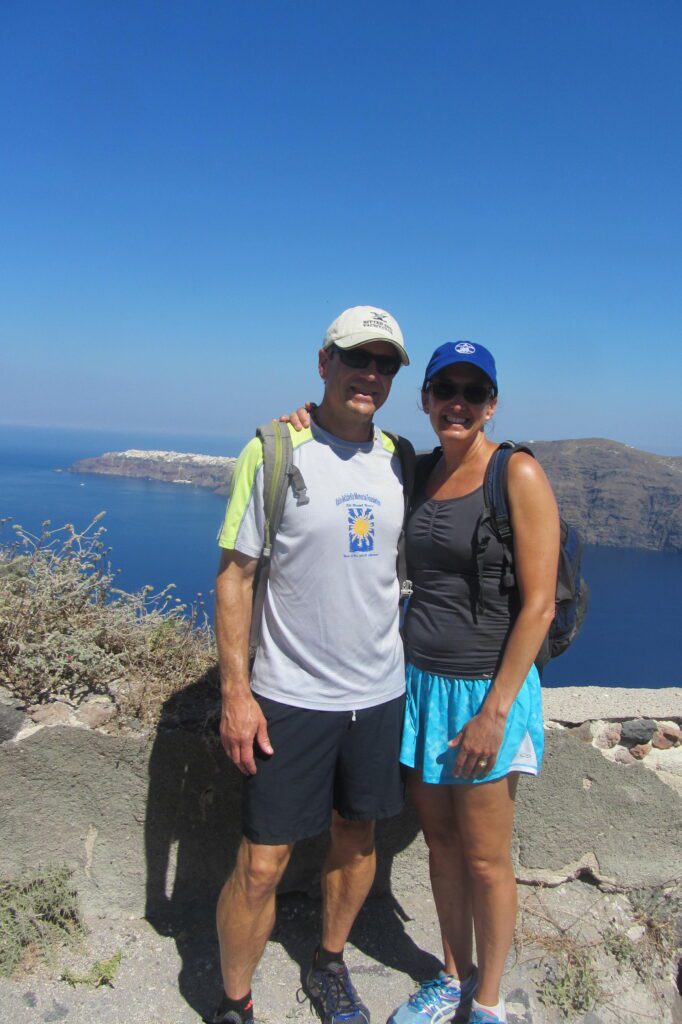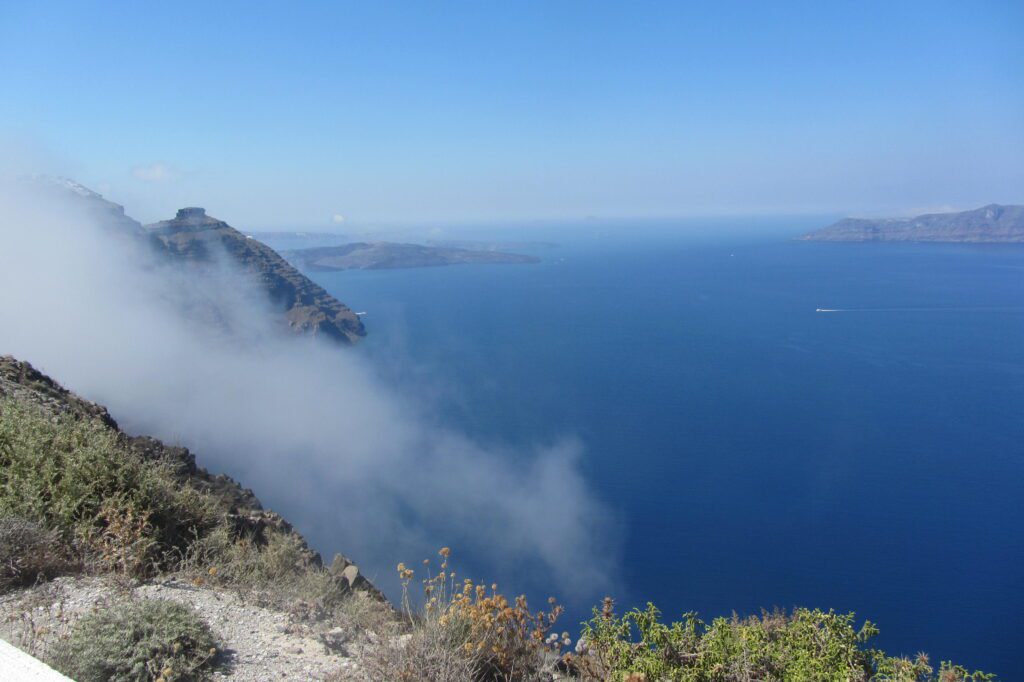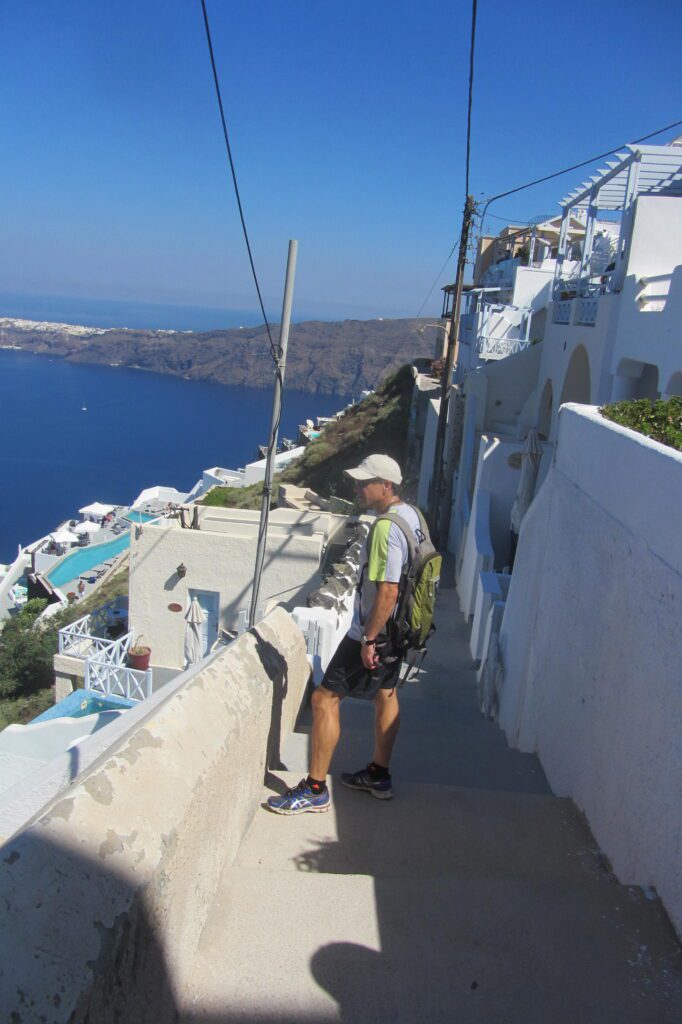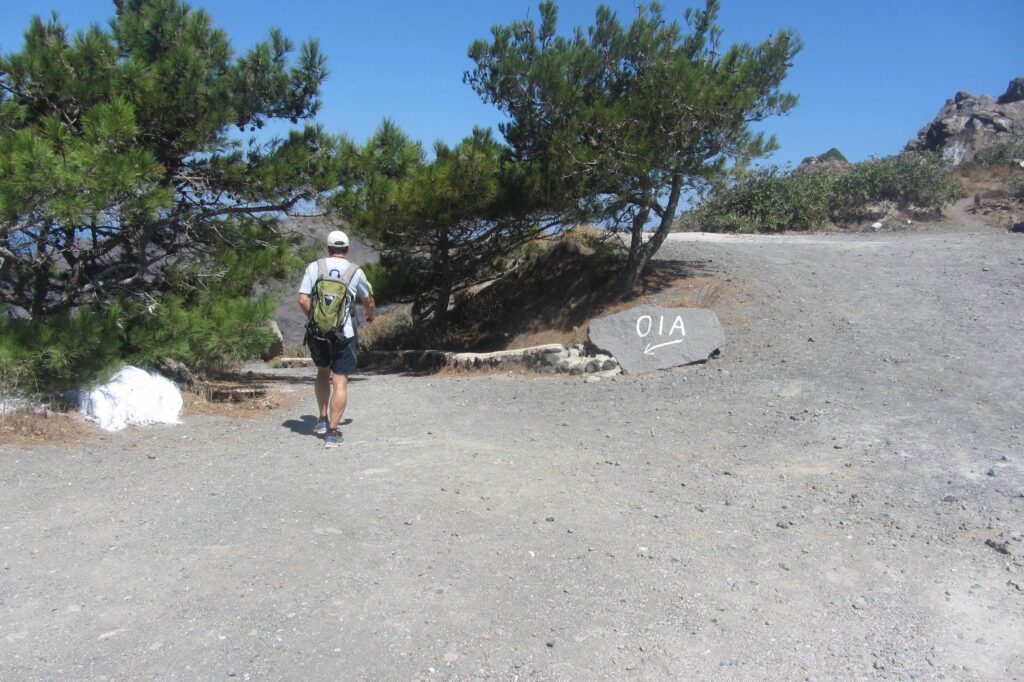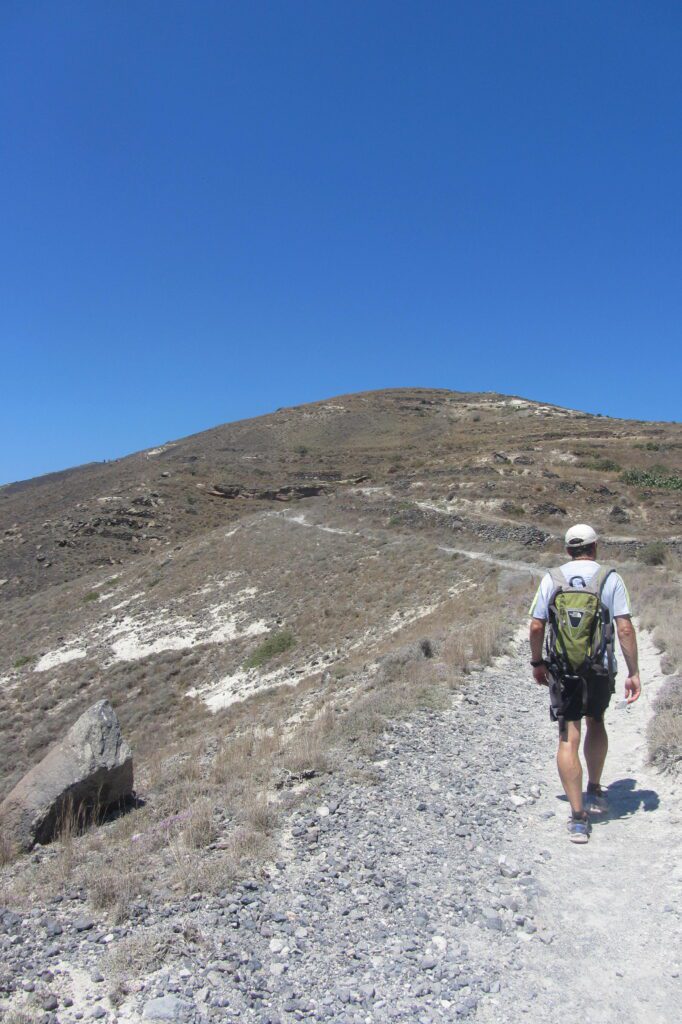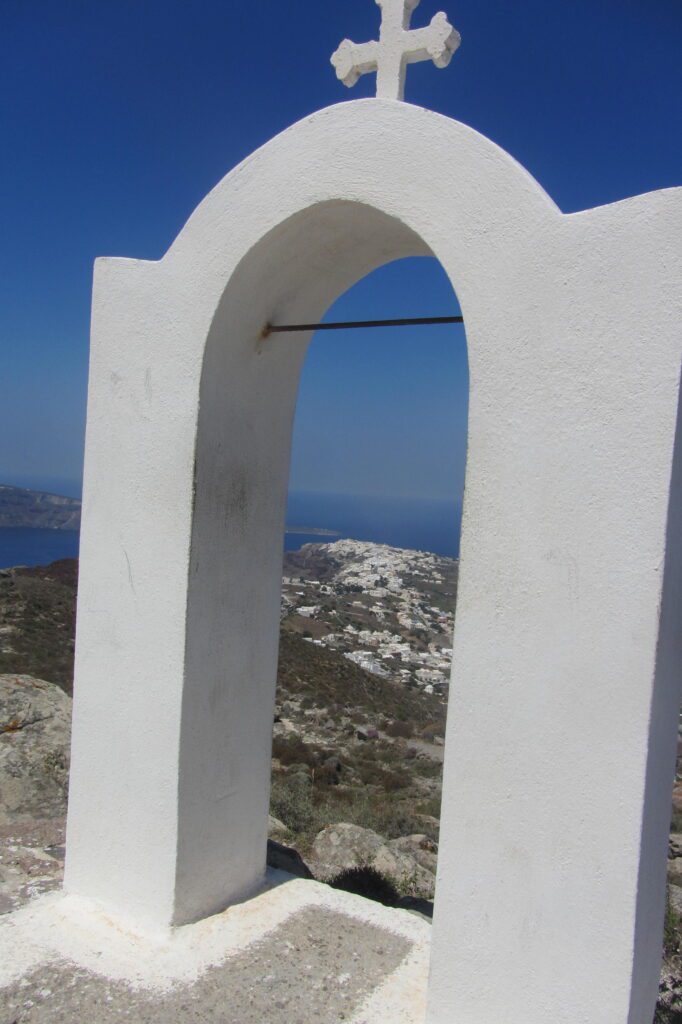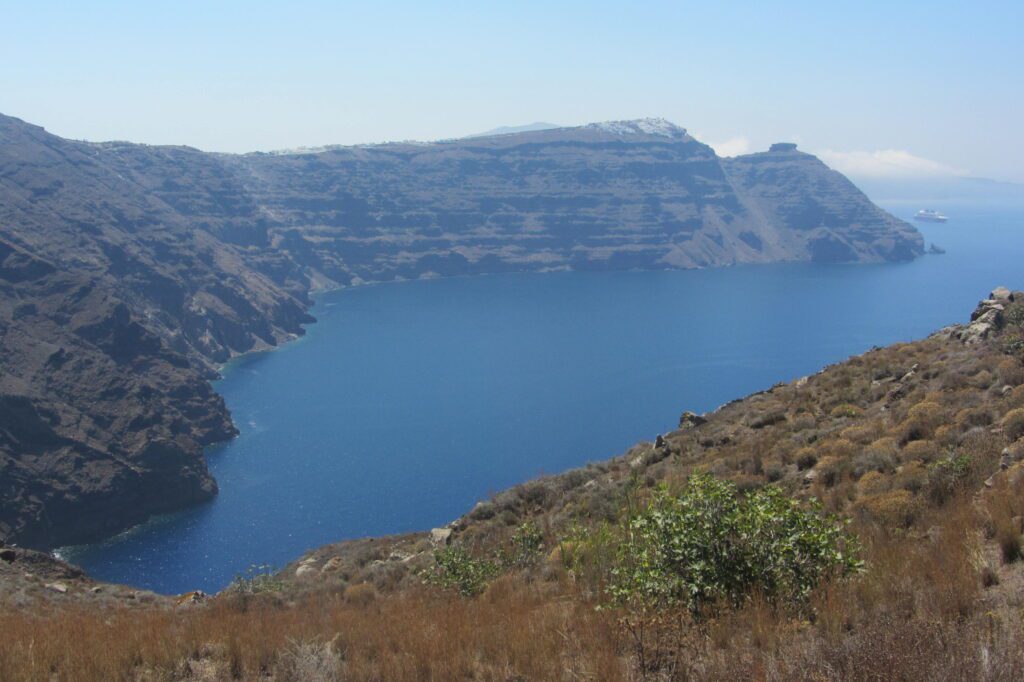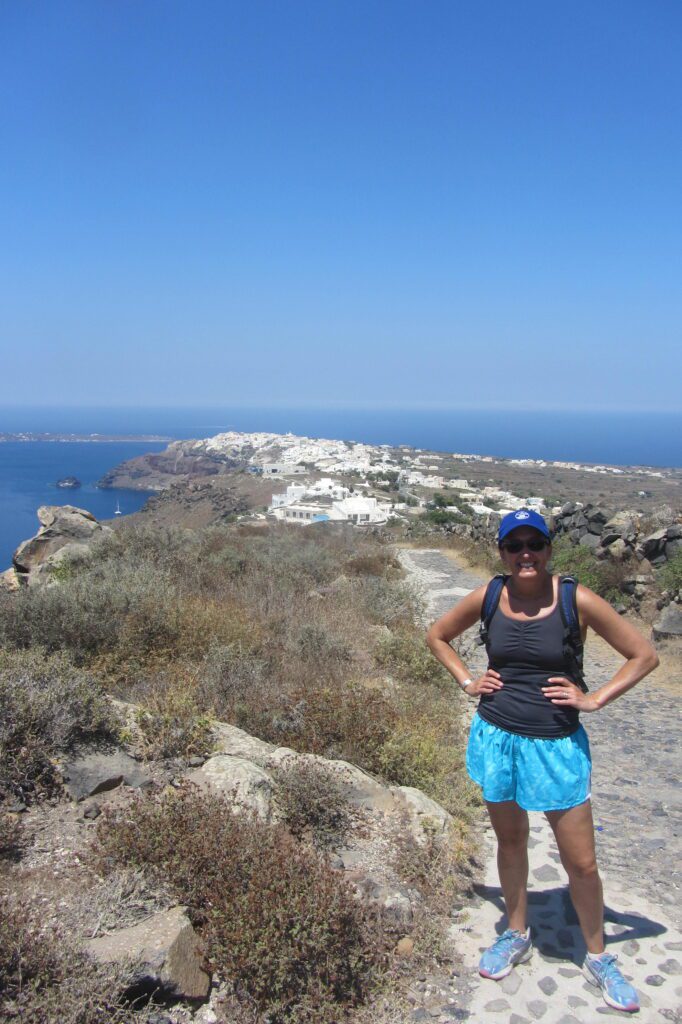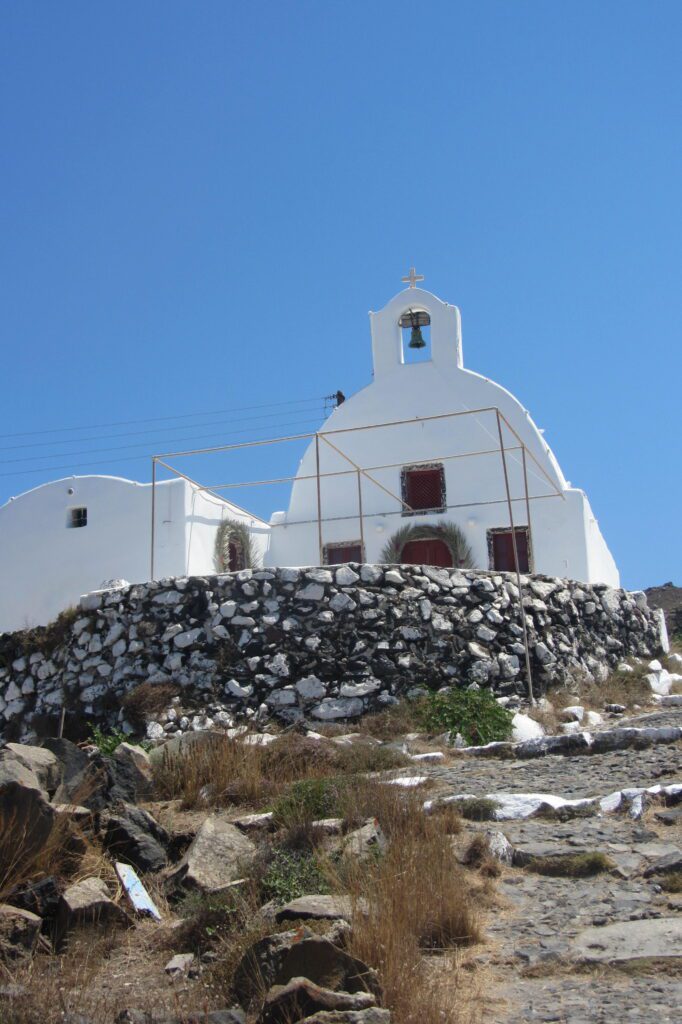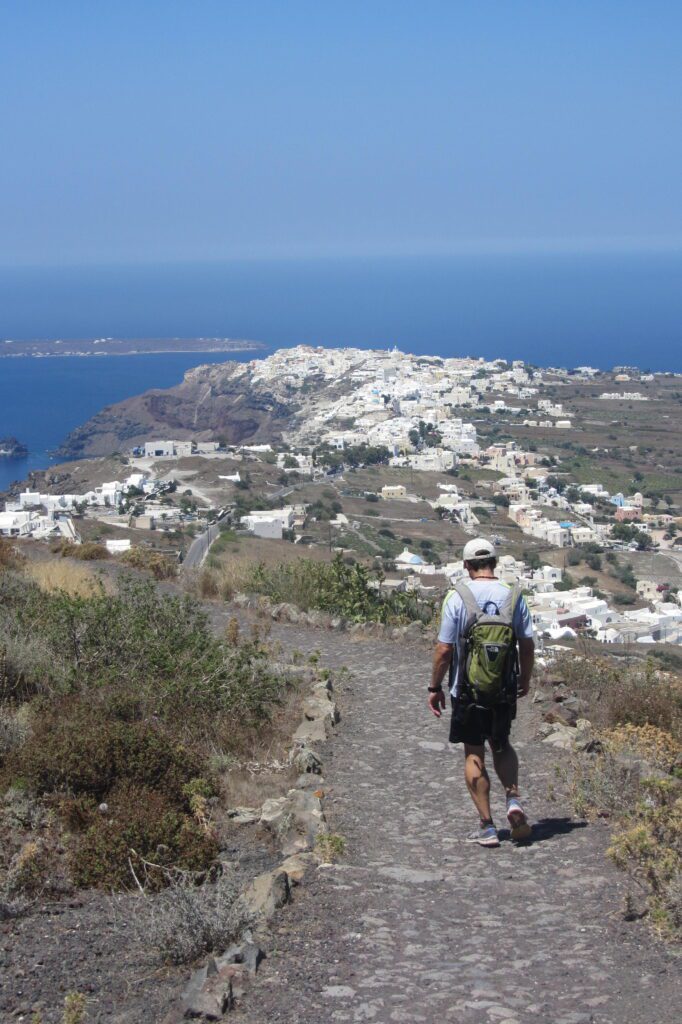 We loved this adventure. We walked back into Oia and stopped for lunch. We decided that lunch would be ice cream! We ate at Melenio which had amazing desserts, ice cream and cafe food. The view is fantastic.
Because we cannot sit still, we decided to walk down the stairs to Ammoudi Bay, AGAIN! We were told there was a cliff jump, so we set off to find it. You really should have water shoes. Jim had water shoes, and Michele did not. So, Jim did the jump while Michele took photos.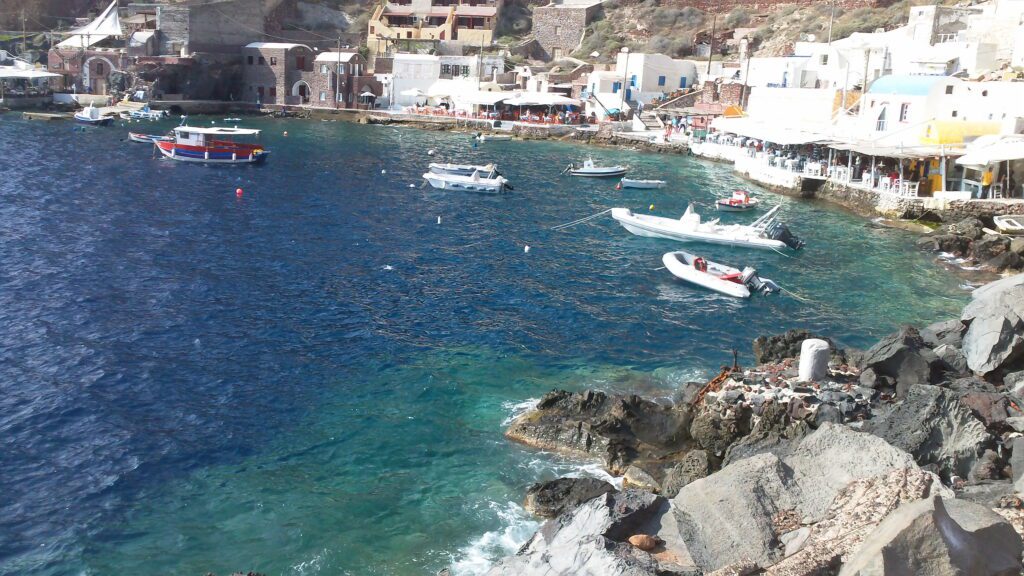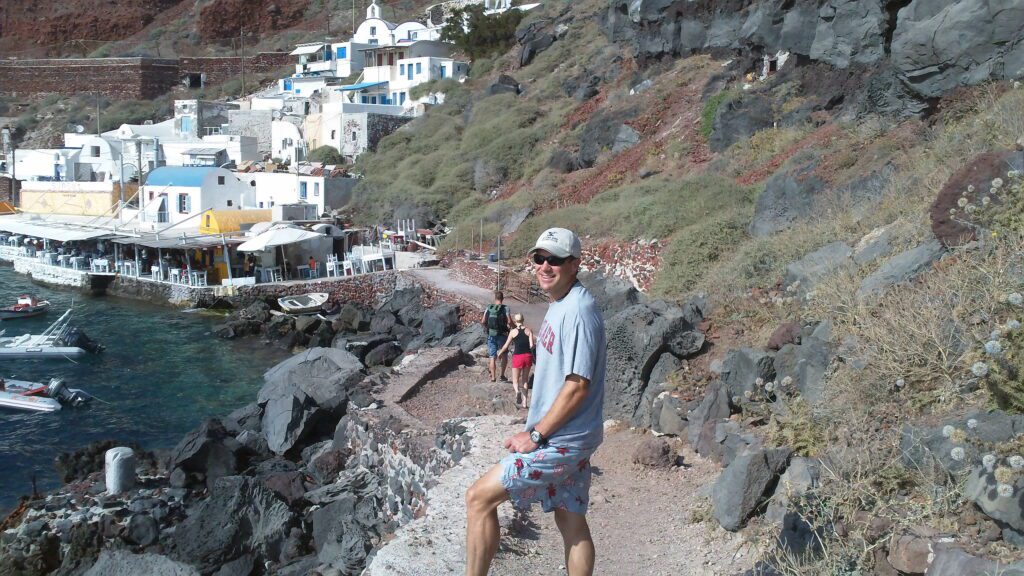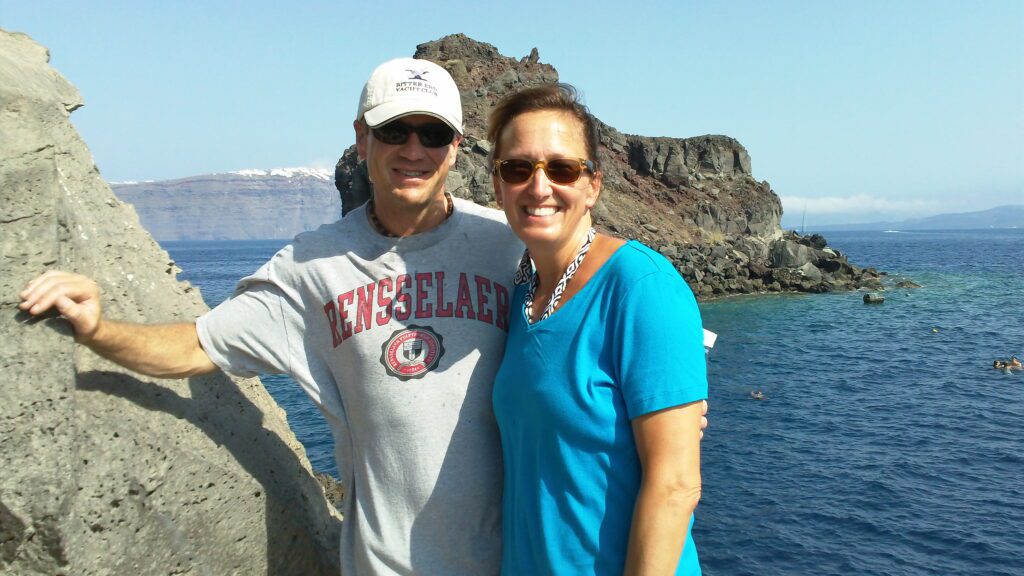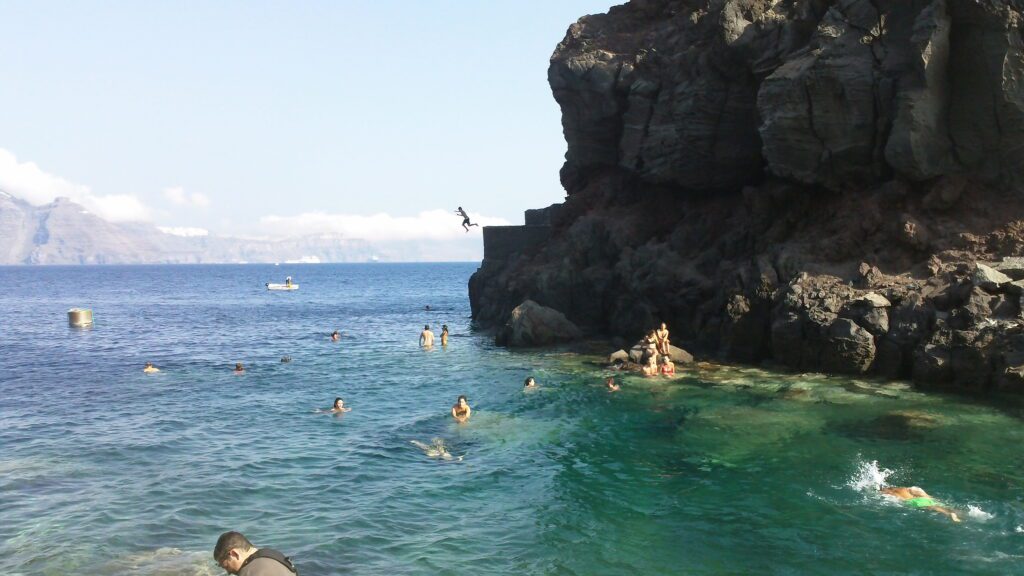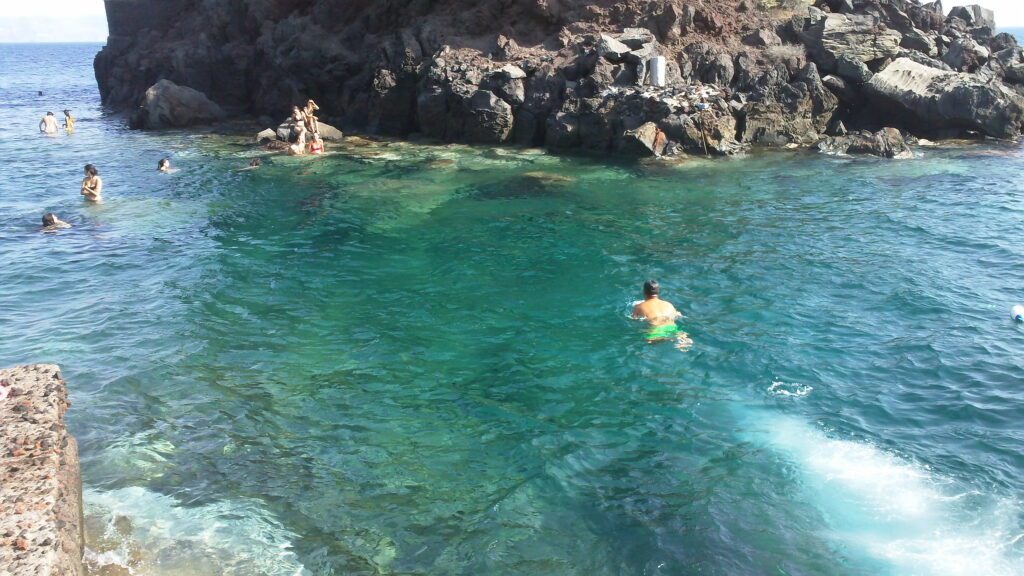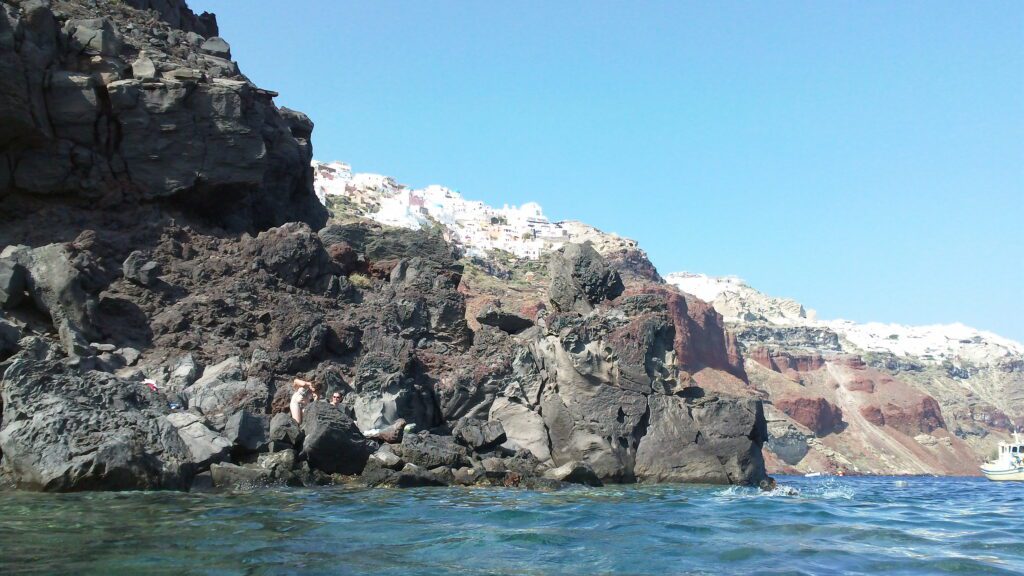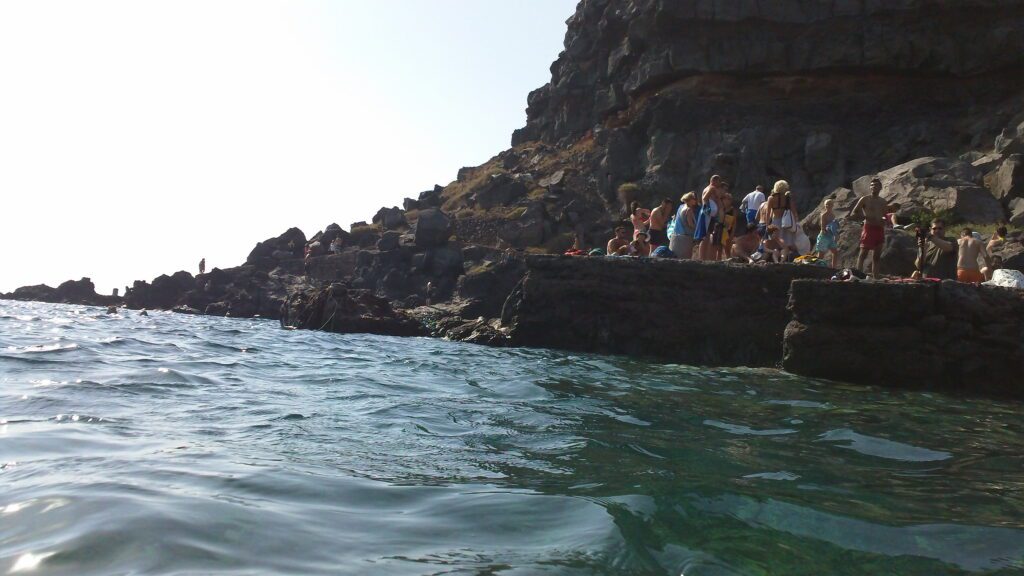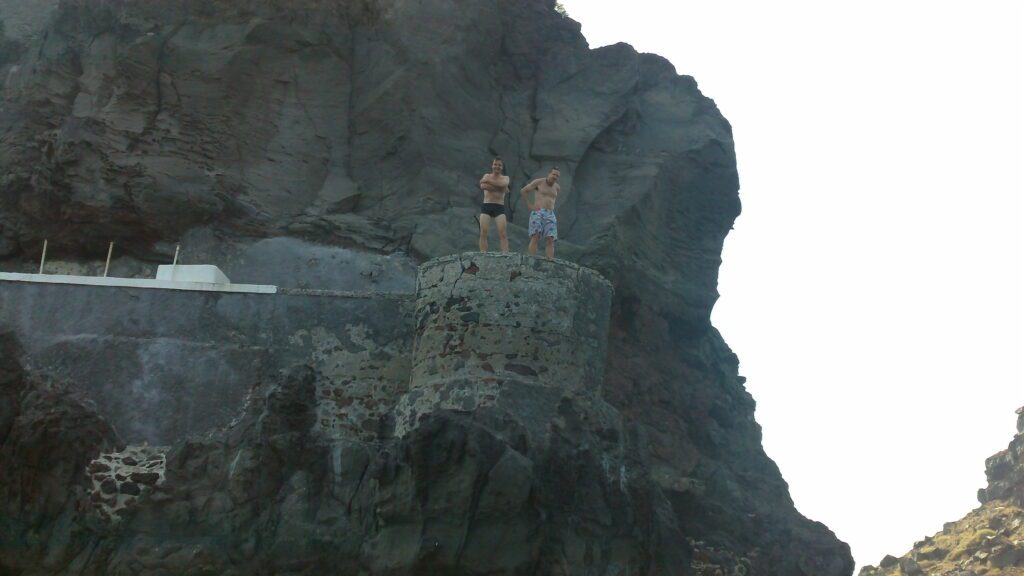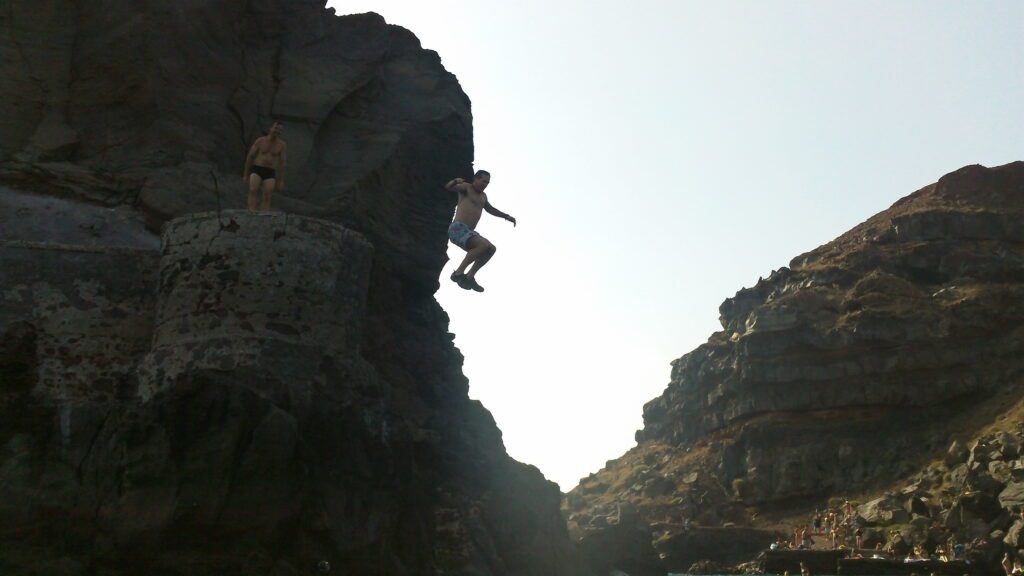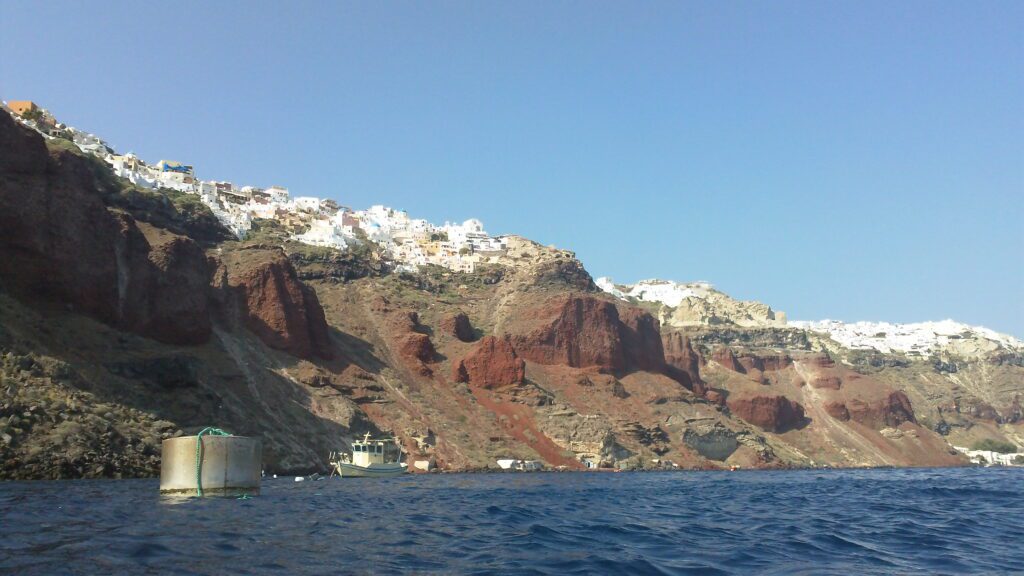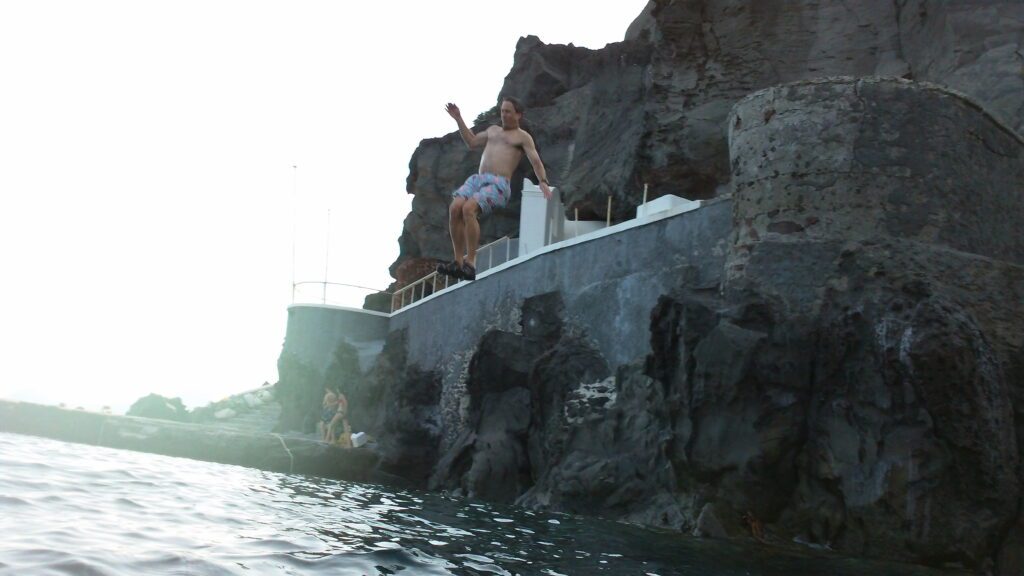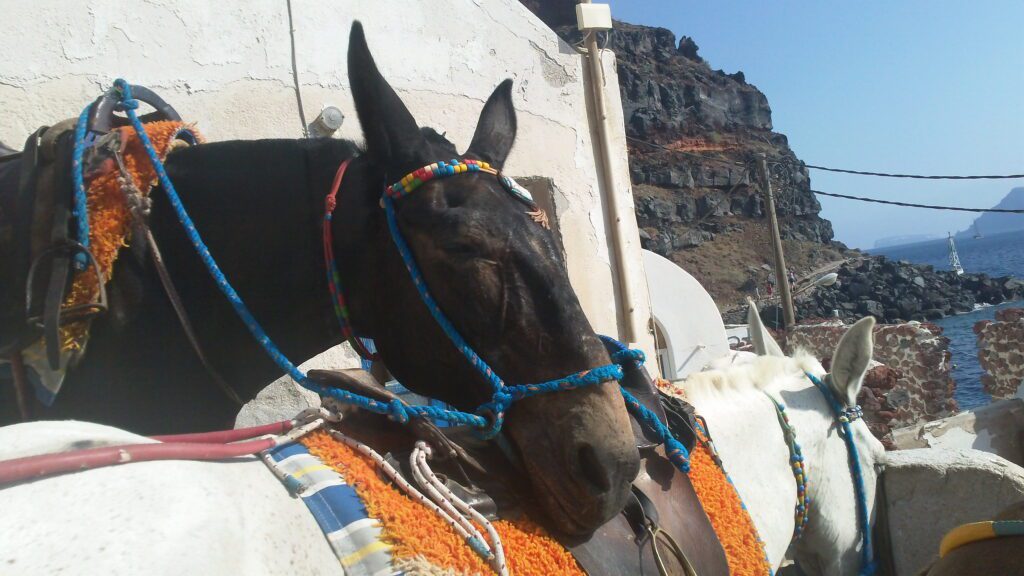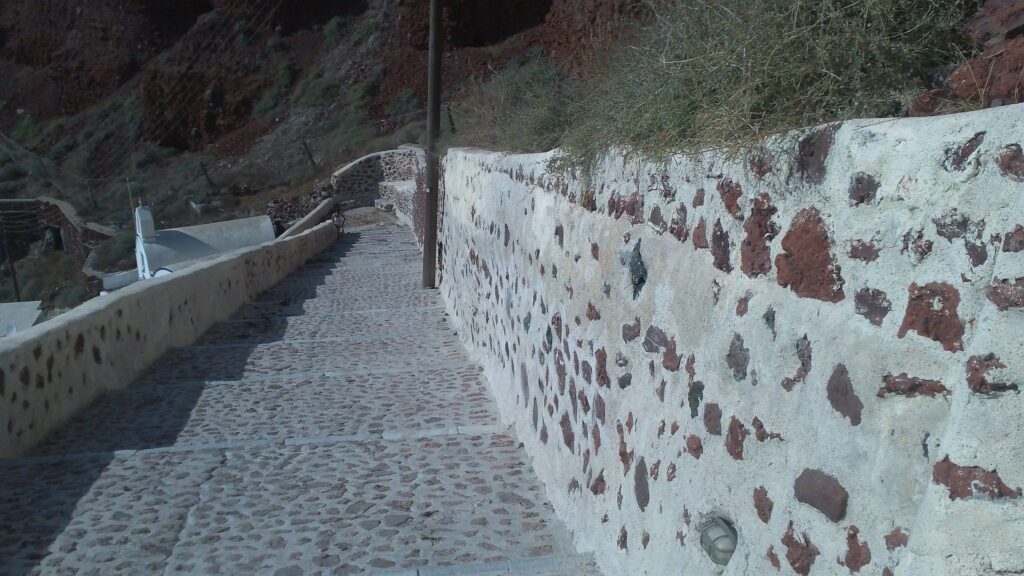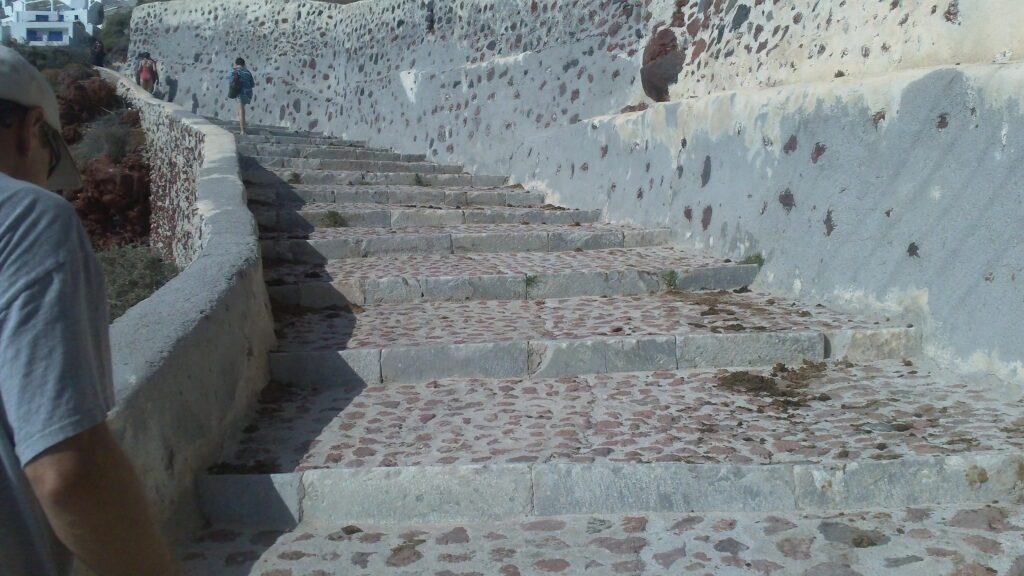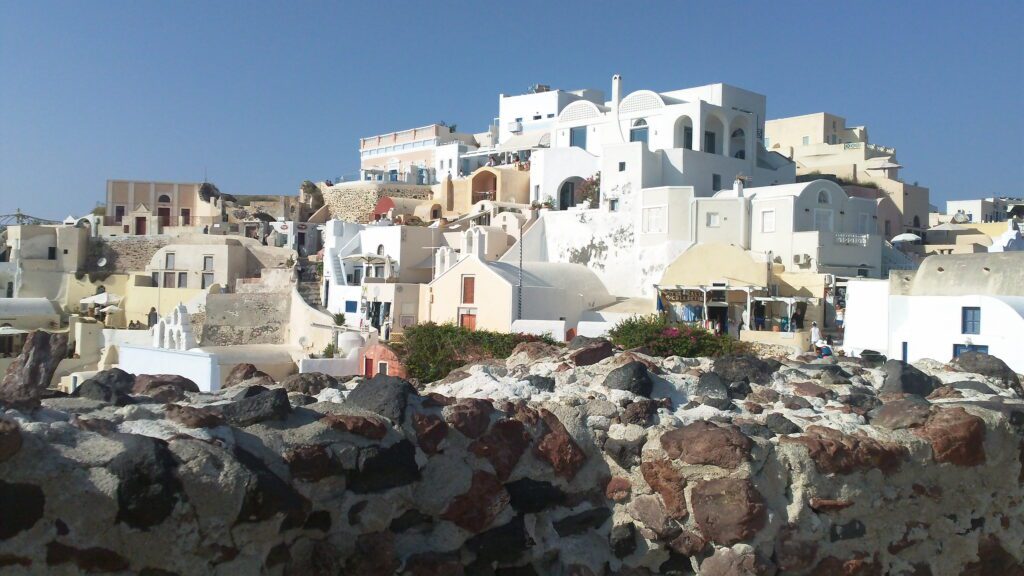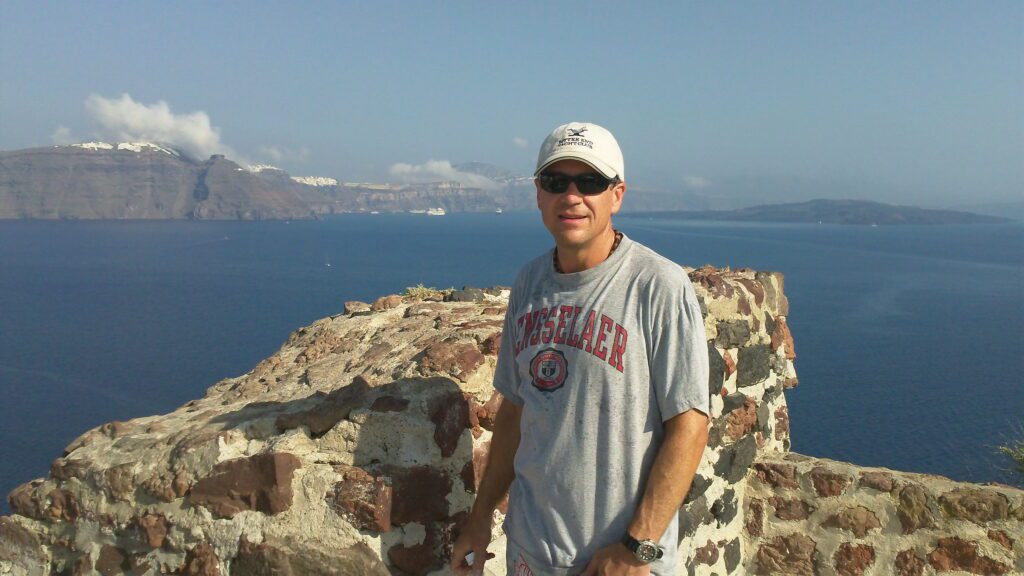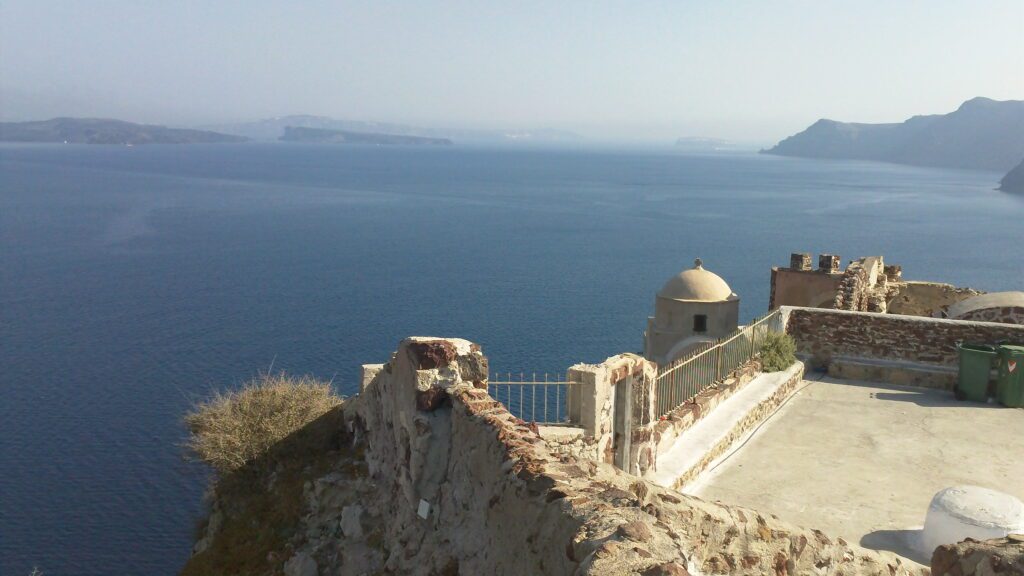 We swam in our pool and enjoyed cocktails. We were not that hungry due to our late lunch of ice cream. We did some shopping and ended up at Meteor, a small cafe with pretty views. We ate Greek salad and went to bed as we had another busy day planned.
Akrotiri
We chose to rent a car to see the rest of the island. The car rental was very inexpensive, less than $100 for the full day including gas and insurance. Dmitri helped us find a local dealer, Vazeos, who brought the car to a parking lot near the hotel.
Our first stop was the ancient ruins on Akrotiri. It is about 21 kilometers from Oia to Akrotiri. The simple map from the car rental company worked just fine. No need to turn on cellular data for information. Tickets are 12 Euros, and there was plenty of parking.
Akrotiri is believed to have been settled in the 4th millennium BC. The large size of the settlement, the elaborate drainage system, the sophisticated multi-storyed buildings with the magnificent wall-paintings, furniture and vessels, show its great development and prosperity. The various imported objects found in the buildings indicate the wide network and importance during the time. Historians believe the residents had commerce with Crete, the Greek mainland, Cyprus, Syria and Egypt. Probably in the 17th century BC, earthquakes began to plague the area, so the residents abandoned it. When Thera erupted, the ash preserved the site for thousands of years until it was discovered in 1967.
After you park and purchase your tickets, you walk into a well-lit building. The site is still being excavated. The building protects the site from the elements. It was a fascinating morning.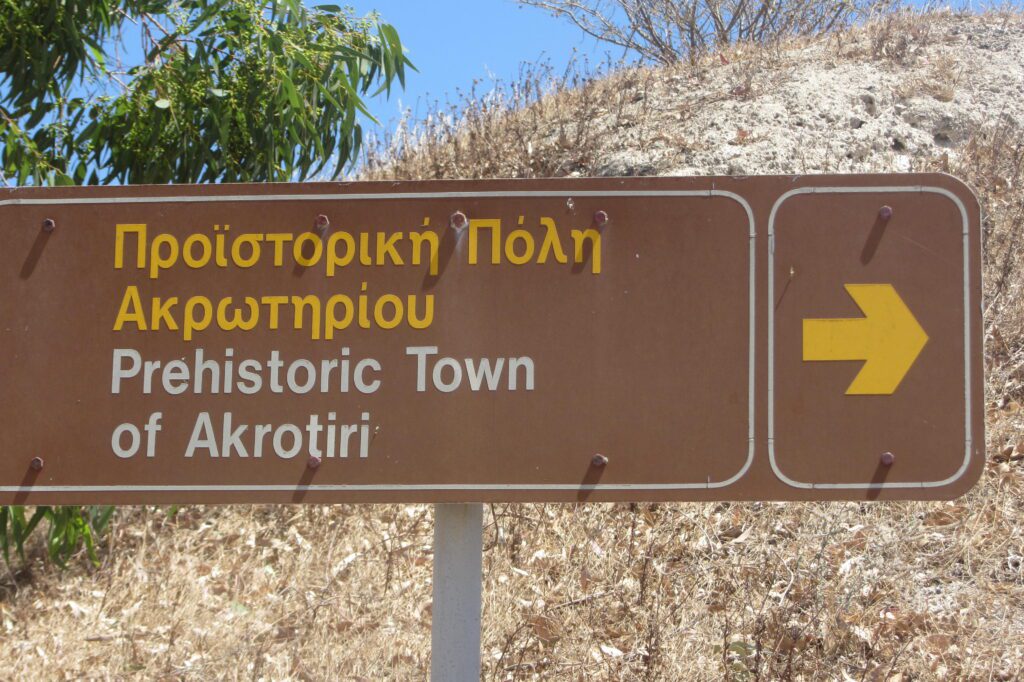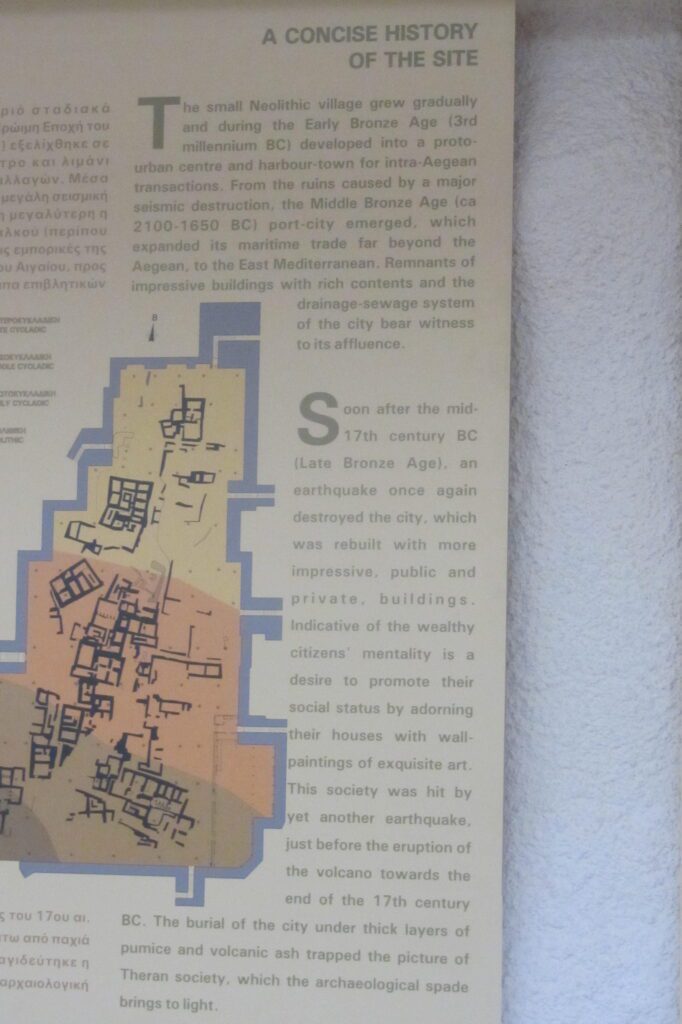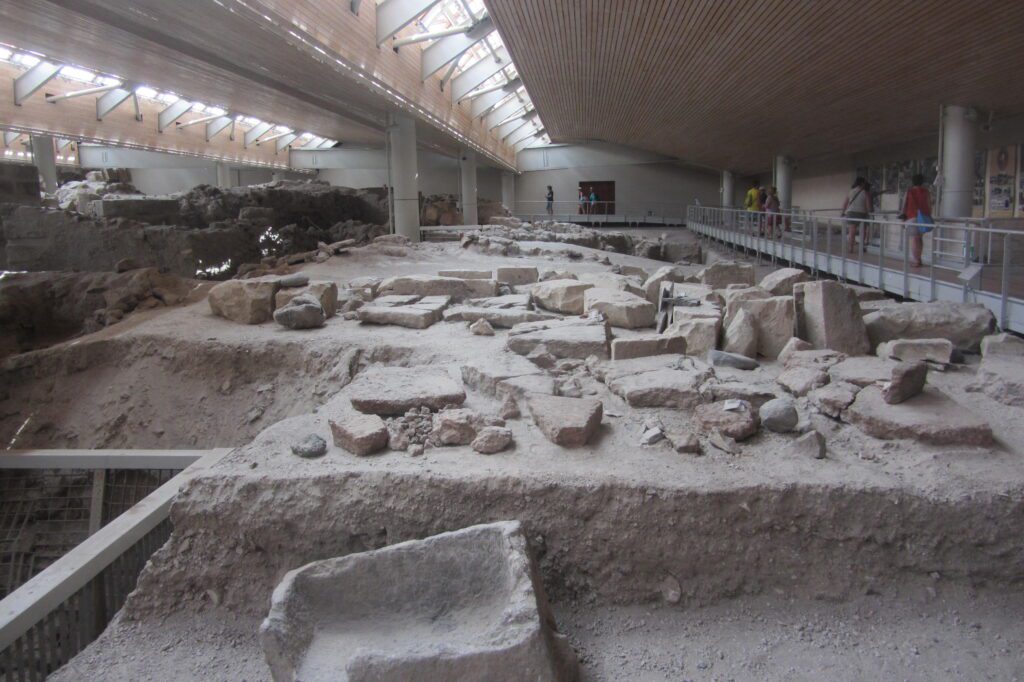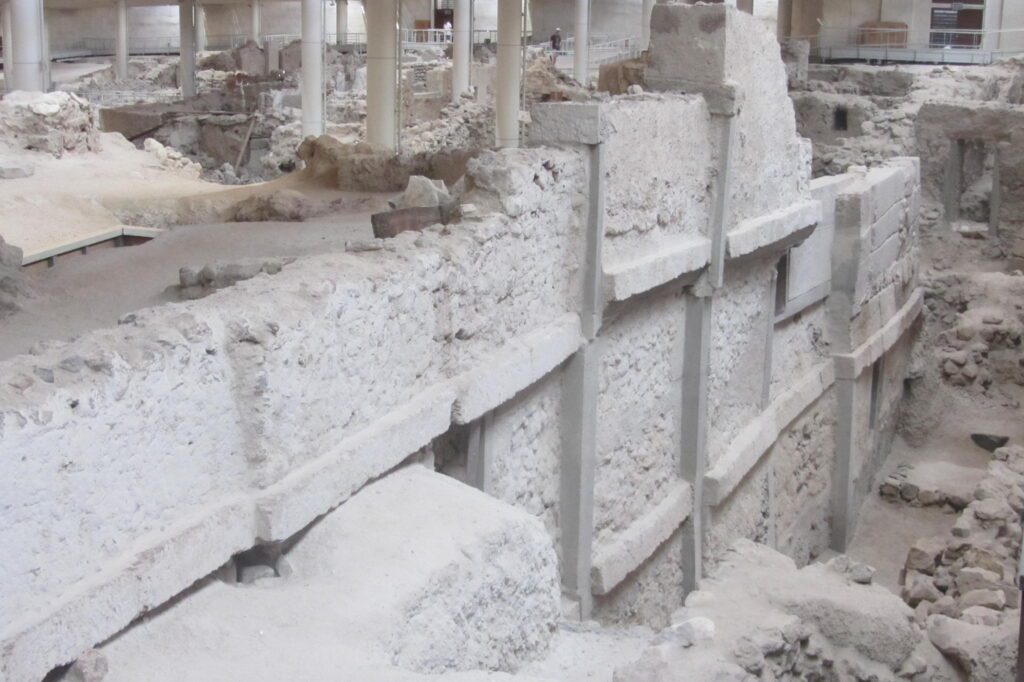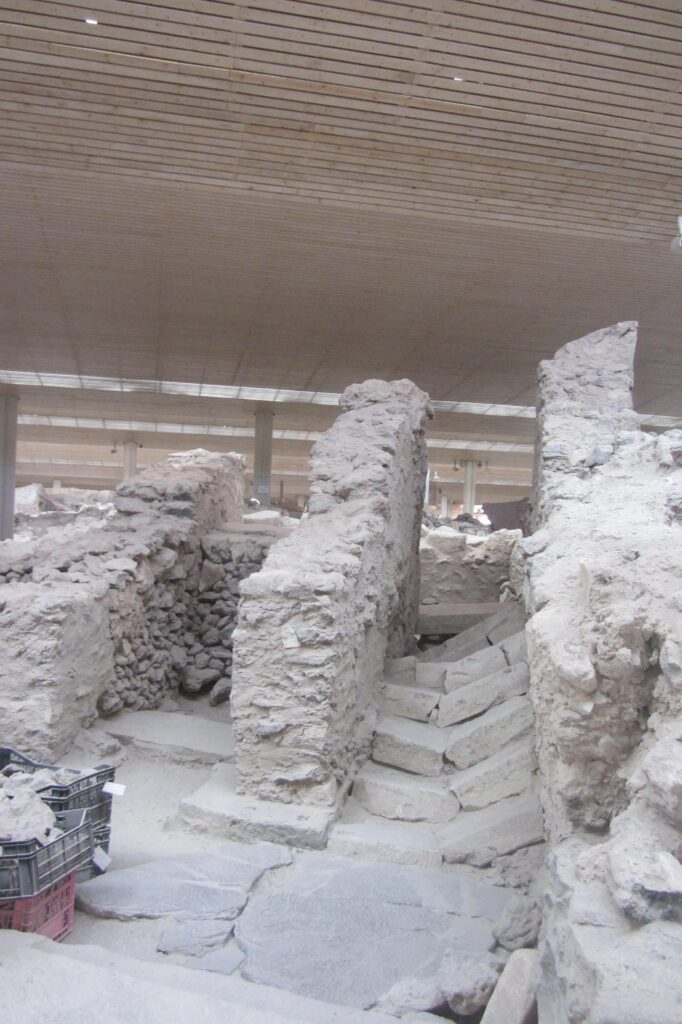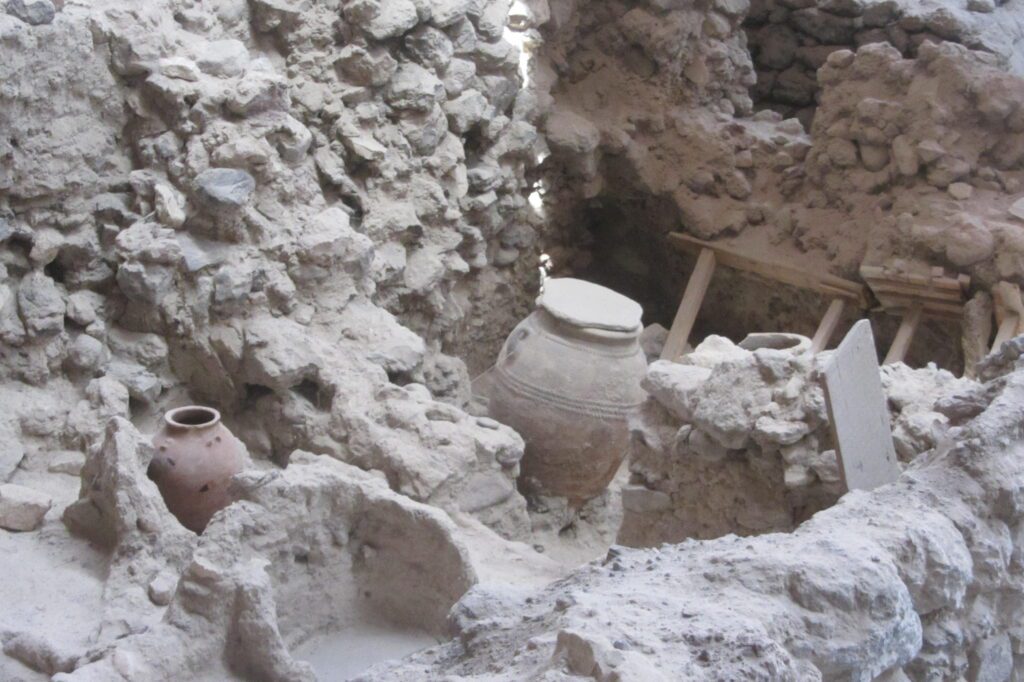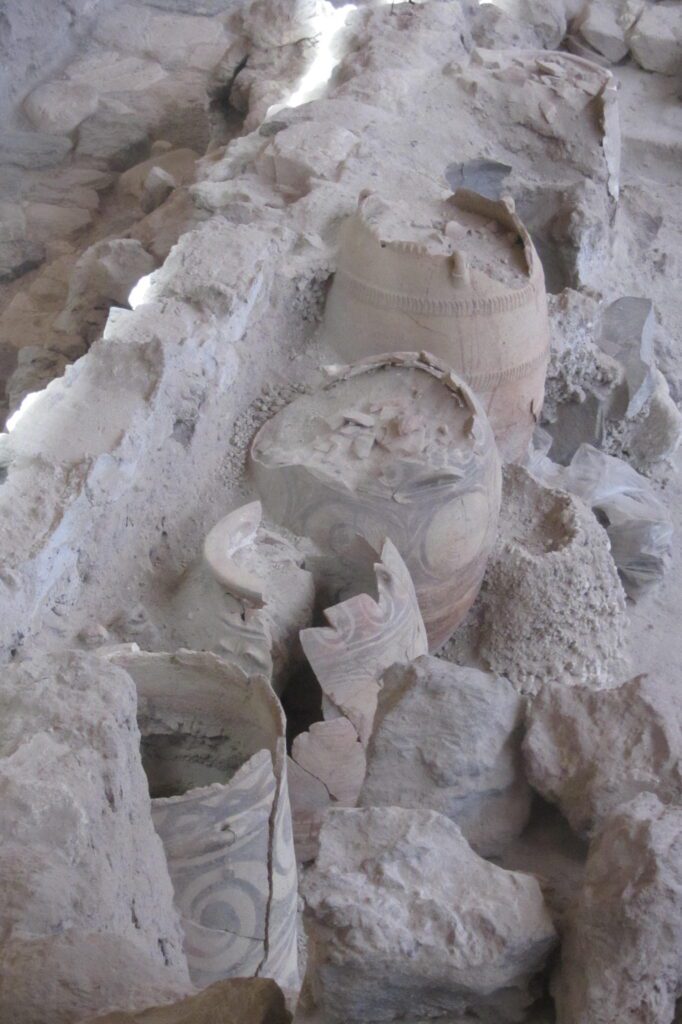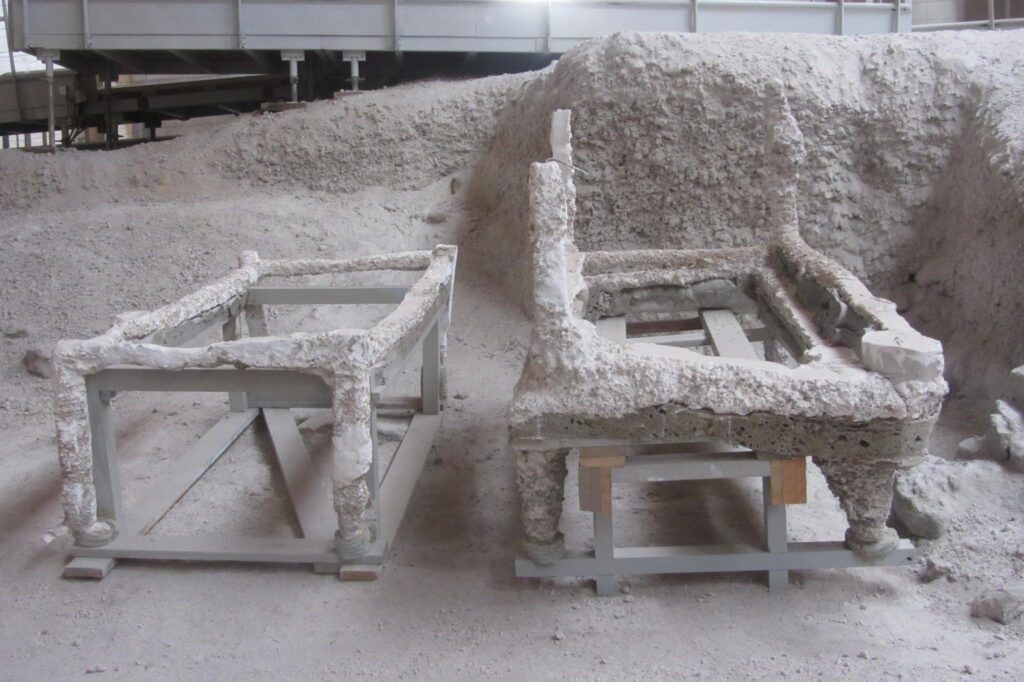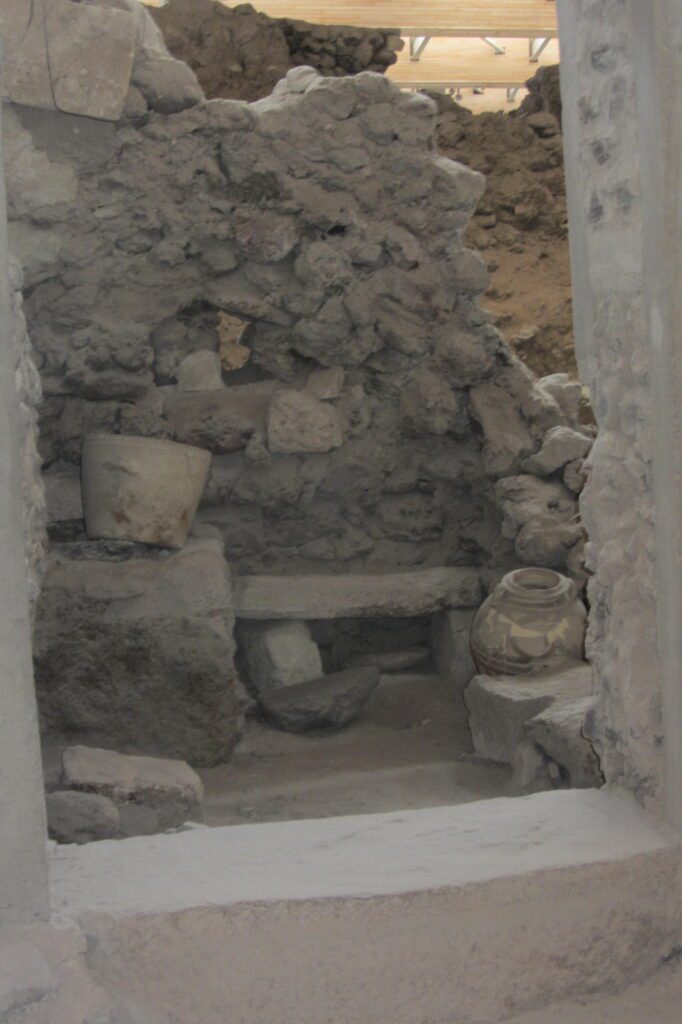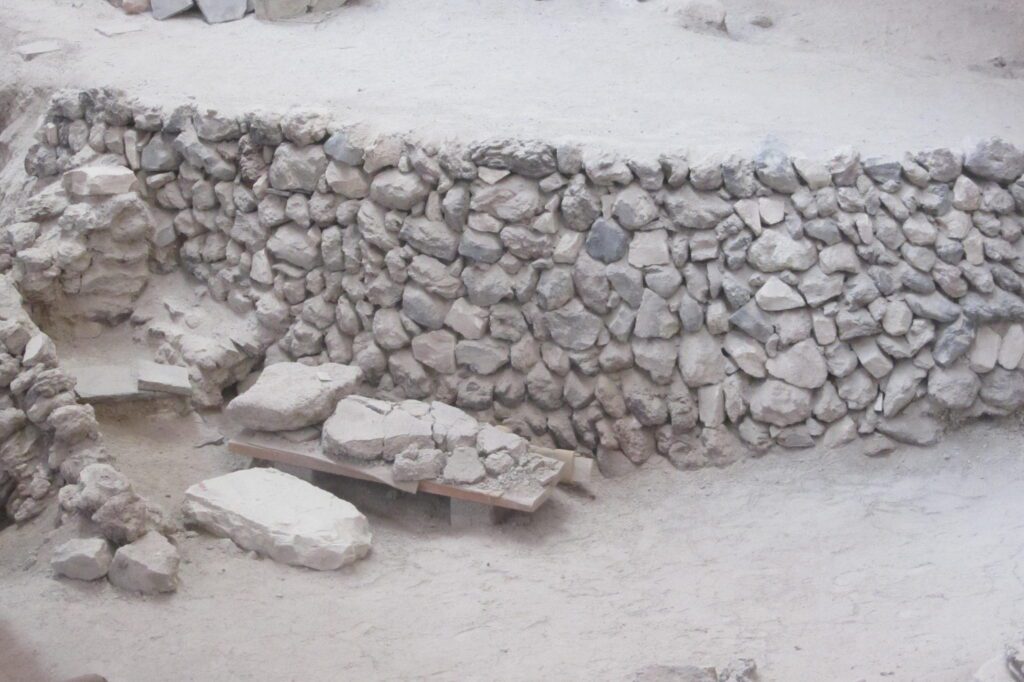 Vlyhada
We enjoyed our visit, and would recommend a stop at Akrotiri. Akrotiri is very close to the Red Beach we saw from the boat two days earlier. Since we had seen it from the water we chose to visit a different beach. Michele visited Red Beach in college via a bus from Fira. It is a gorgeous beach, worth the effort to get there. Be sure to bring water shoes as the beach is rocky.
We drove six kilometers to Vlyhada, sometimes called Vlichada or Vlychada on maps and GPS points. We found easy parking and walked past the umbrellas to a quiet spot in the sand. There are striking cliffs that have been carved by the wind and the sea. The sand is black. We read our books and enjoyed the beauty.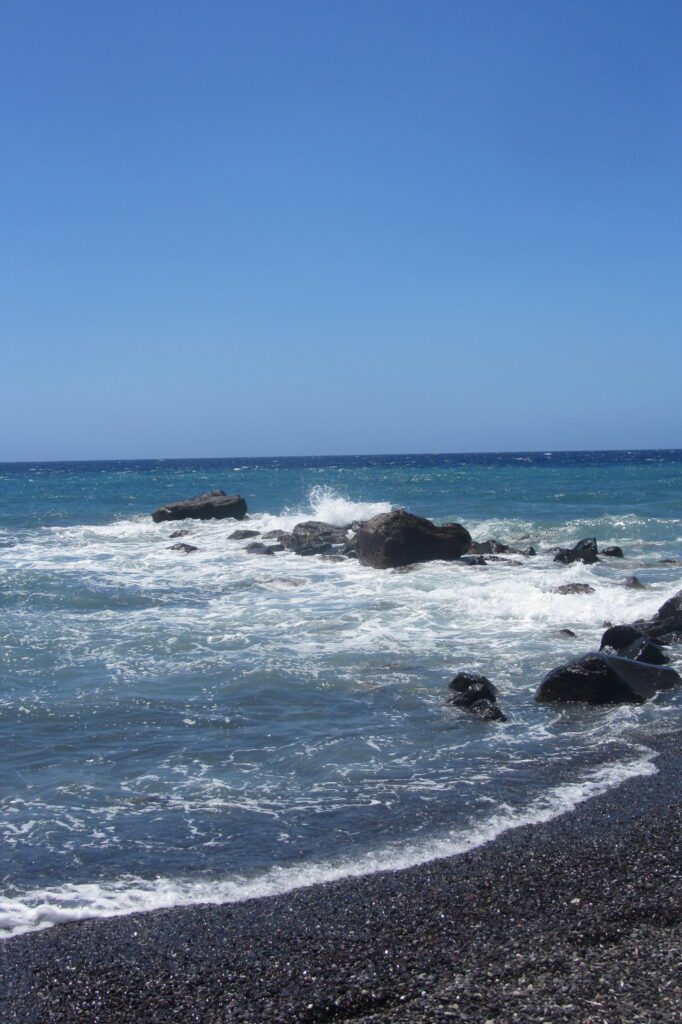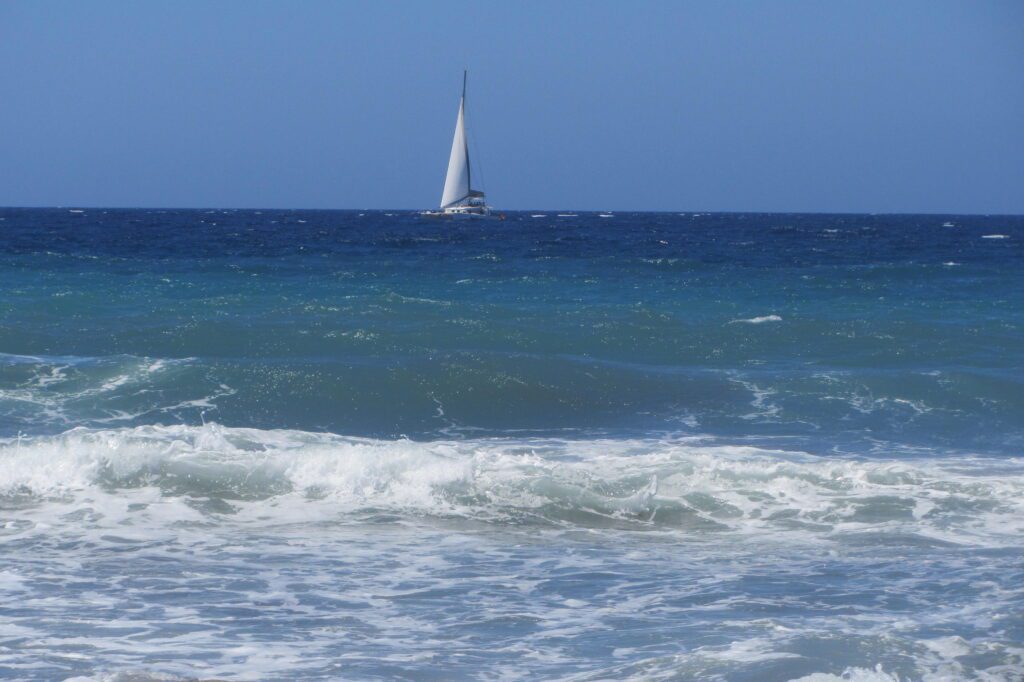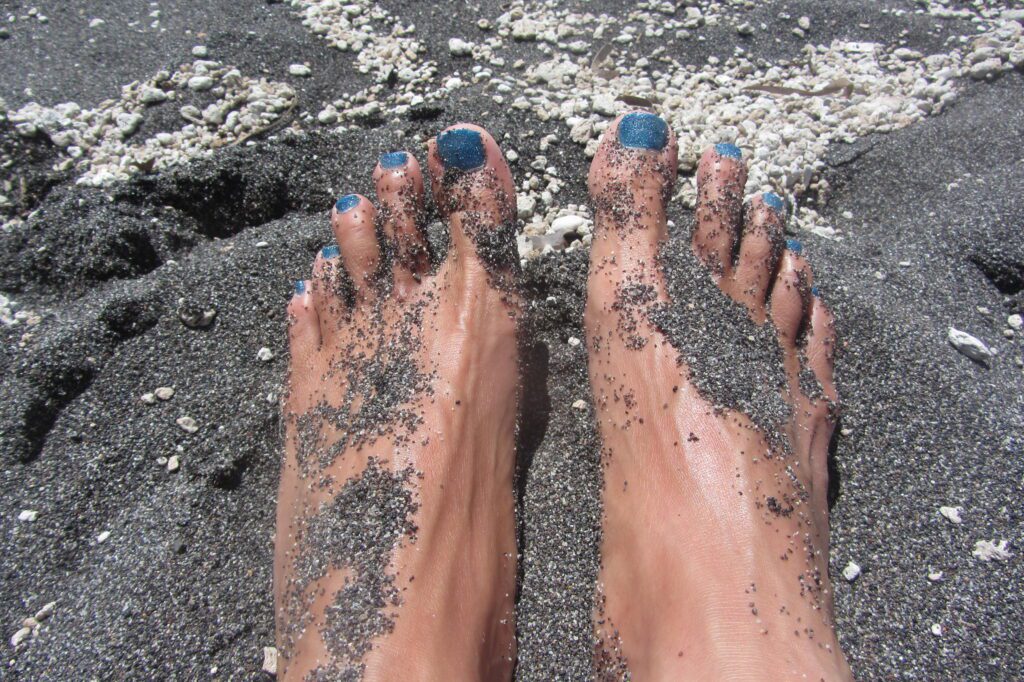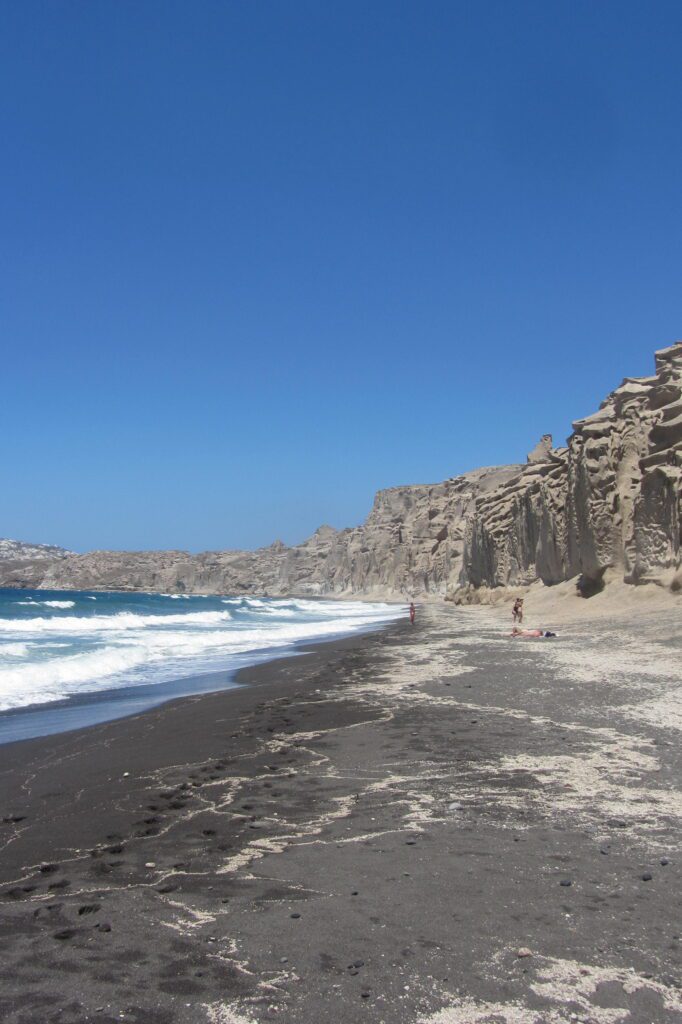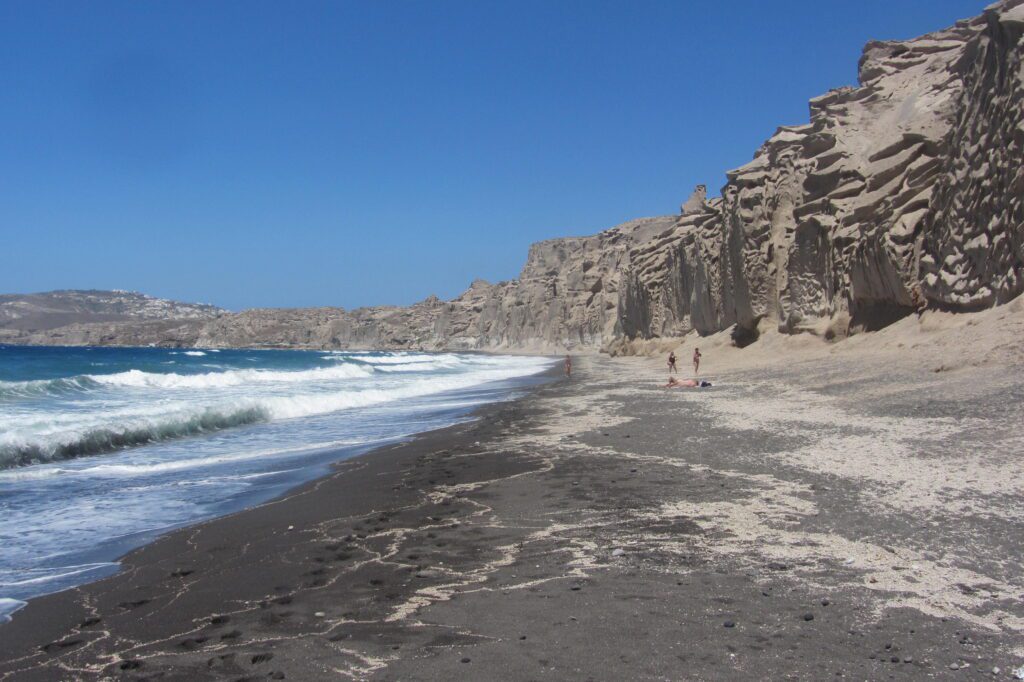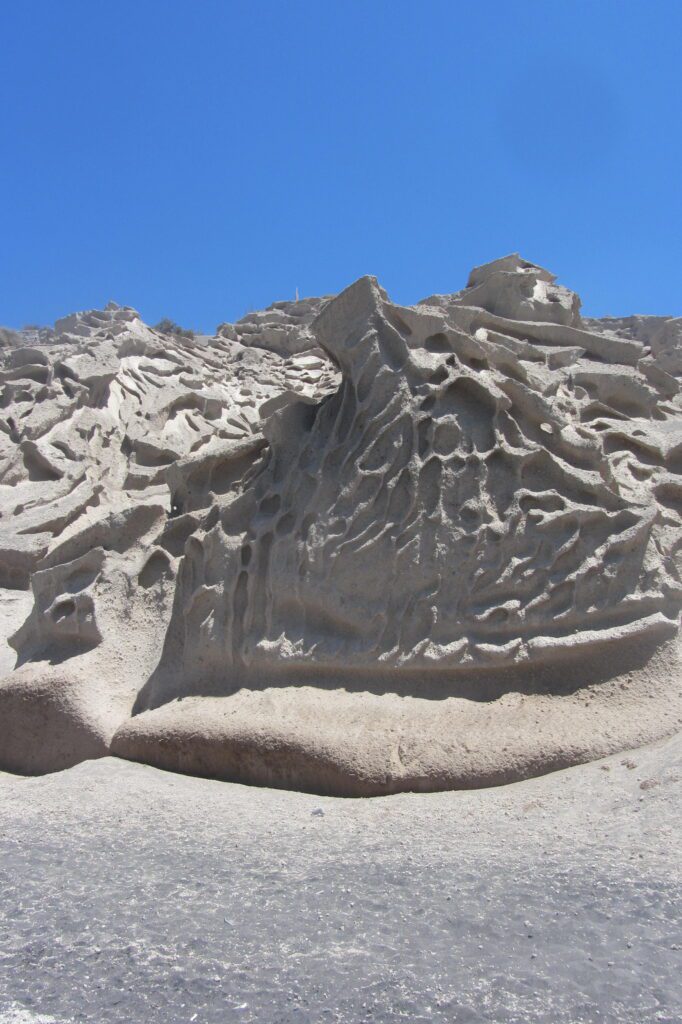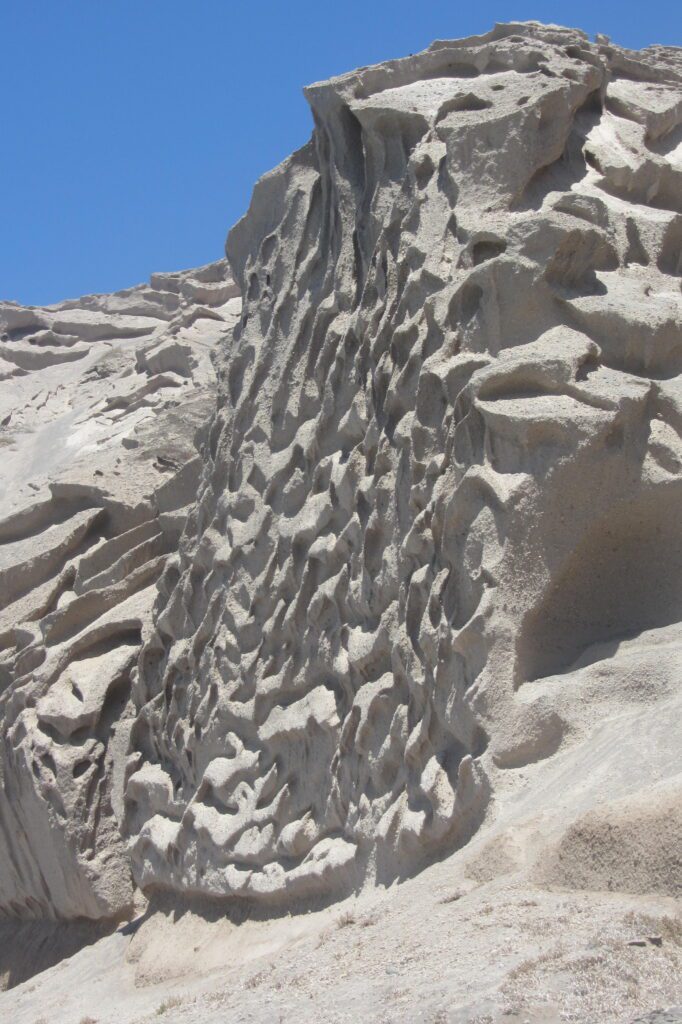 Psaraki
A short walk from Vlyhada beach brings you to a small harbor. Perched above the harbor is Psaraki. It is enchanting! There is a large building that has seating for many. However, if the weather is right, sit across the small street at the outdoor area. You will have a lovely view of the harbor and the sea. The outdoor area is small, but does have a roof and plastic windows in case of bad weather. Trip Advisor reviews remain strong. We highly recommend a stop here!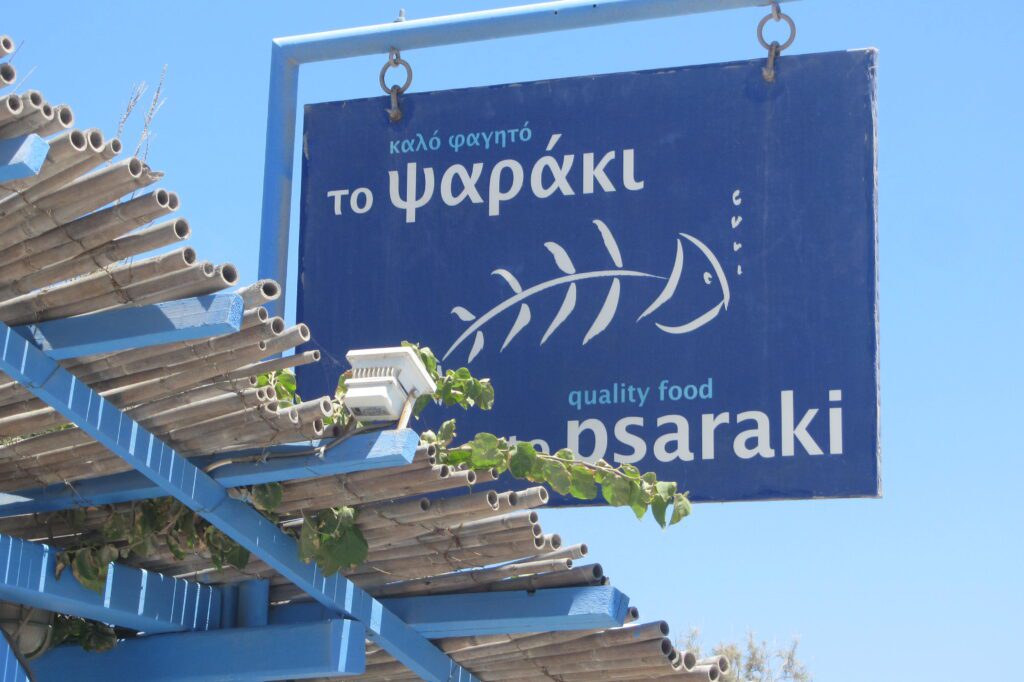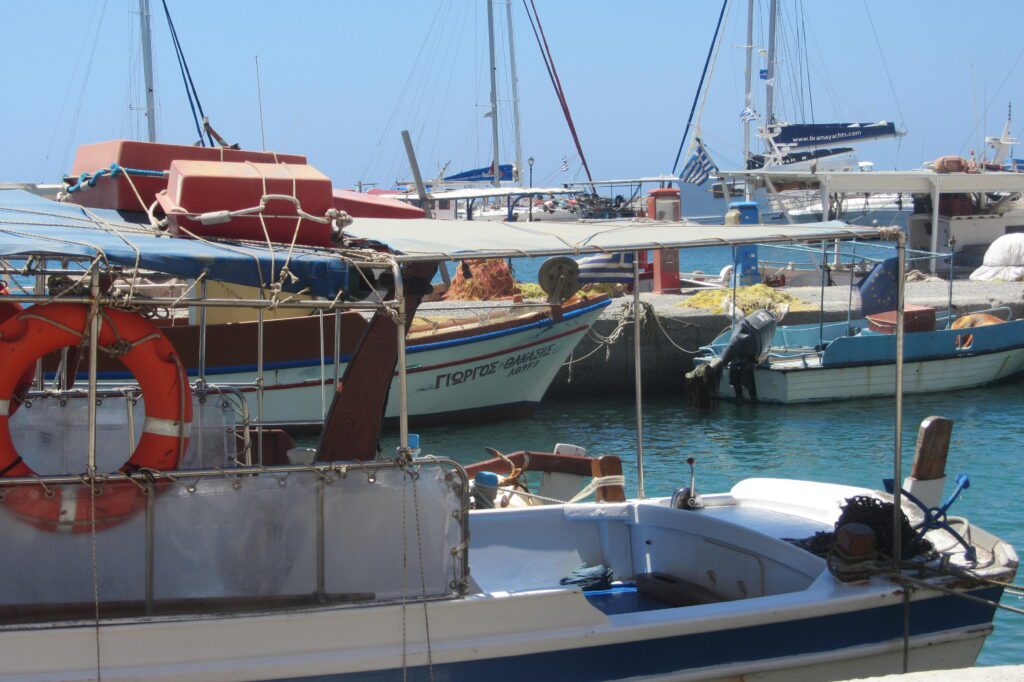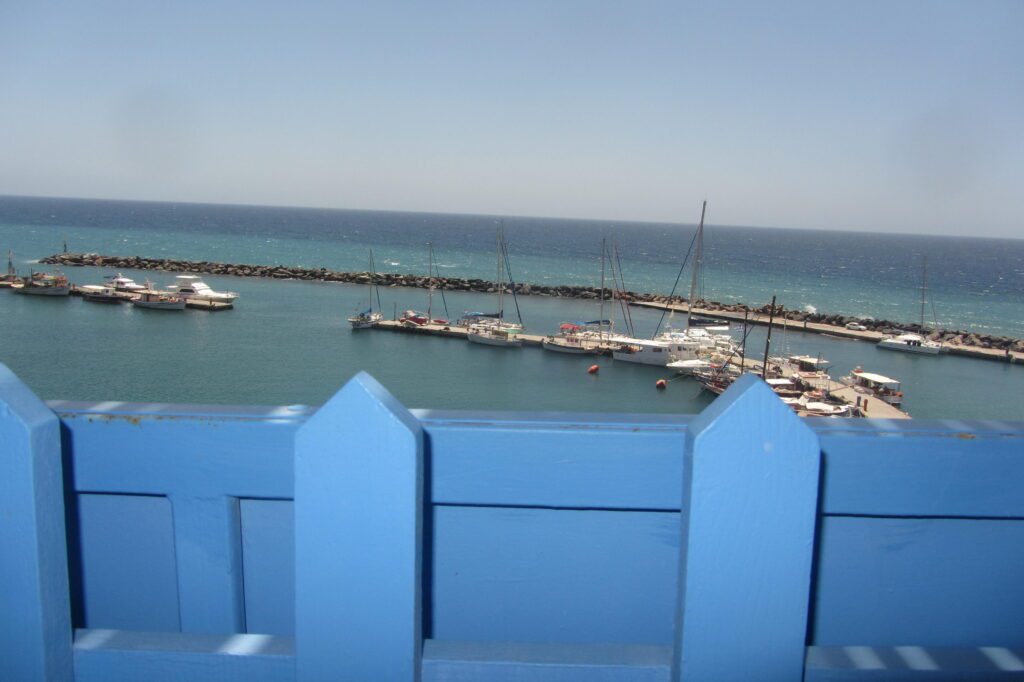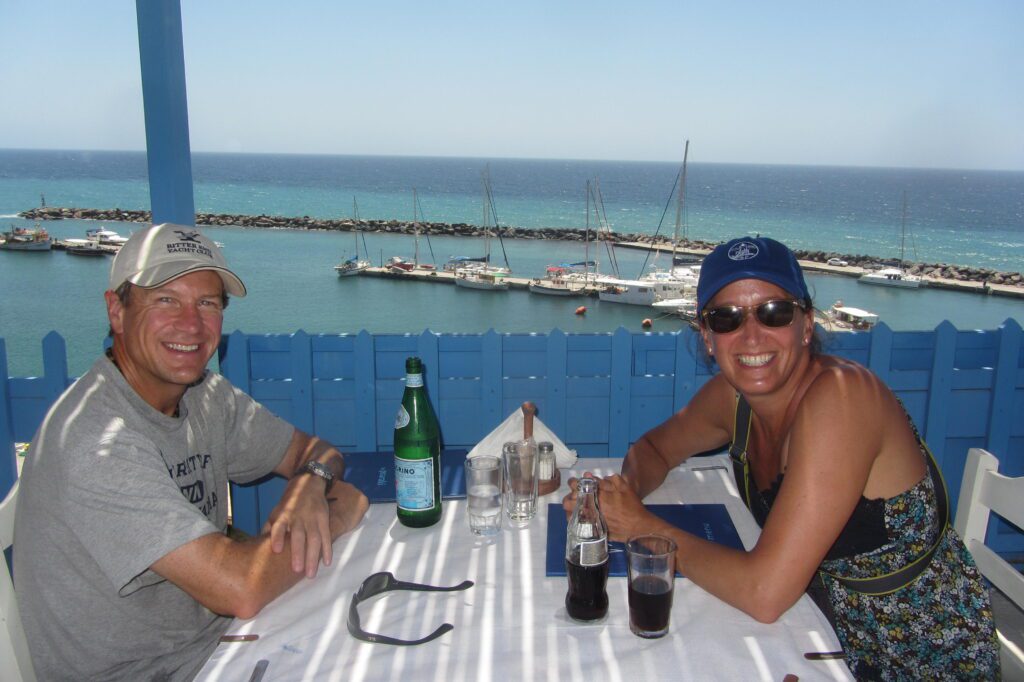 After a fabulous lunch, we drove through the beach areas of Perivolos and Perissa. Both black sand beaches looked nice. They were both BUSY. Lots and lots of tourists. It is my understanding that it costs less to stay in this part of Santorini than in Fira or Oia. Staying here would be an option if you wanted a calm beach to walk to and swim rather than a caldera view. We did not get out and walk around. Lots of small hotels, B&Bs, bars, shops and restaurants. We drove through and then continued on our adventure.
We stopped at Santos Winery to enjoy the views. Since we were driving, we did not do a tasting. Instead we bought a few bottles for our room. Lots of tourists. Tastings, tours and gourmet grocery shopping are available here. There looked to be nice food. The decks are gorgeous with rapturous views.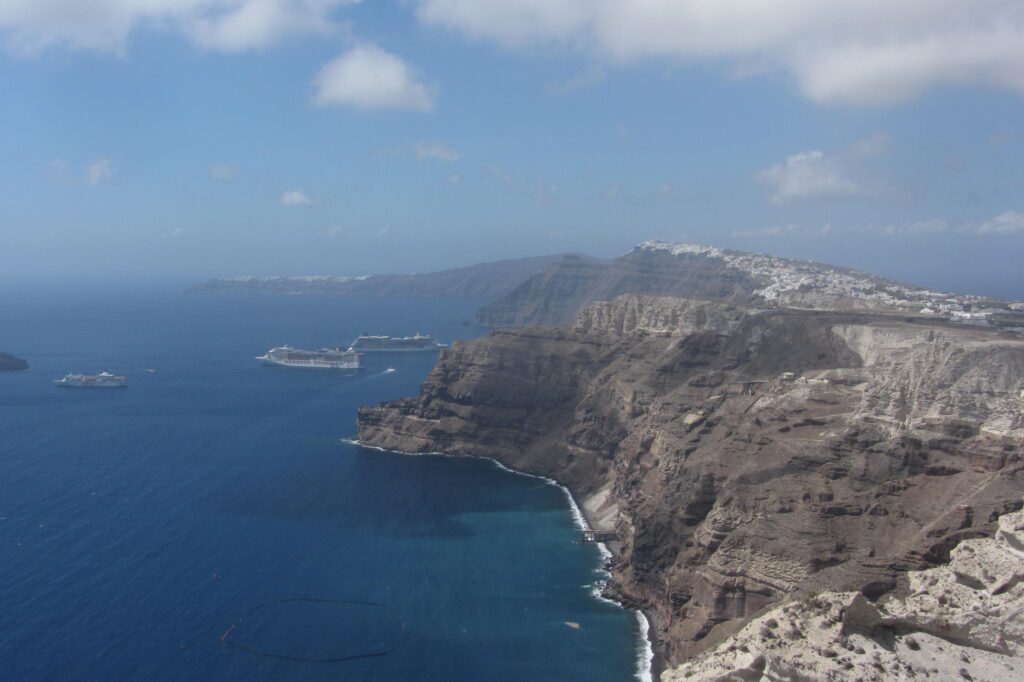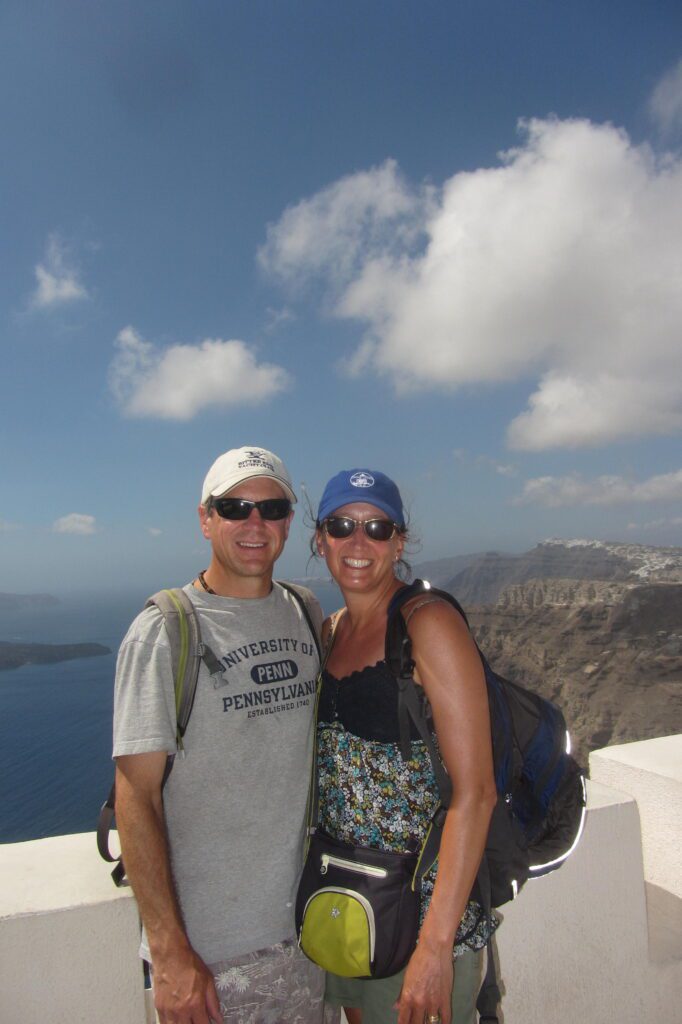 Pyrgos
We continued to the cute village of Pyrgos. We enjoyed rambling around the ancient streets of the former capital of Santorini. There are some cute shops, bars and cafes. It was quiet and delightful. Worth your time.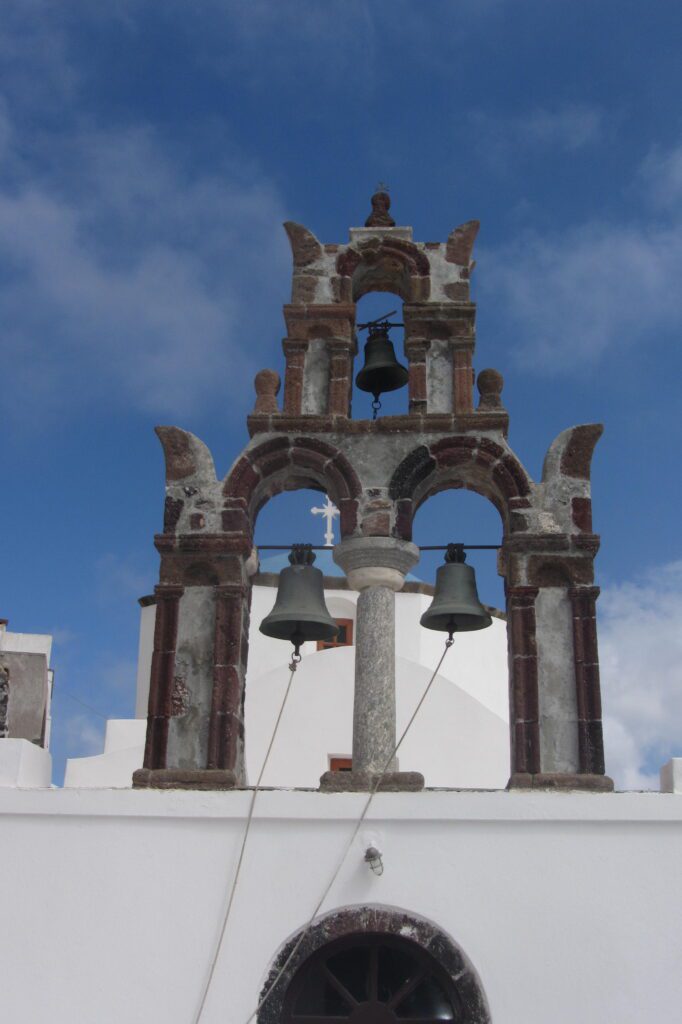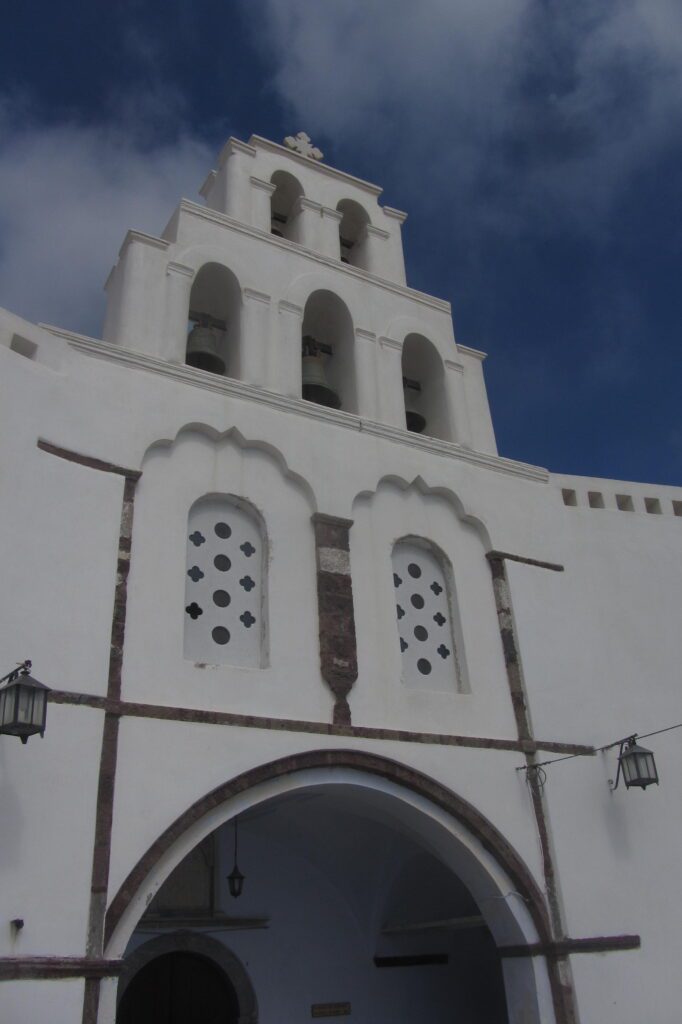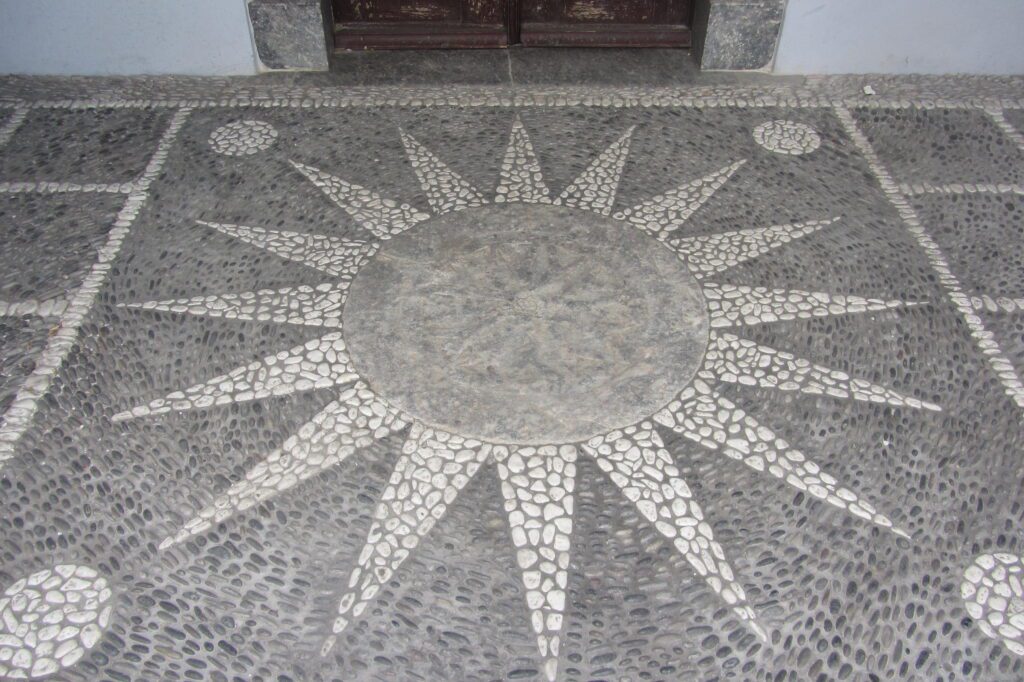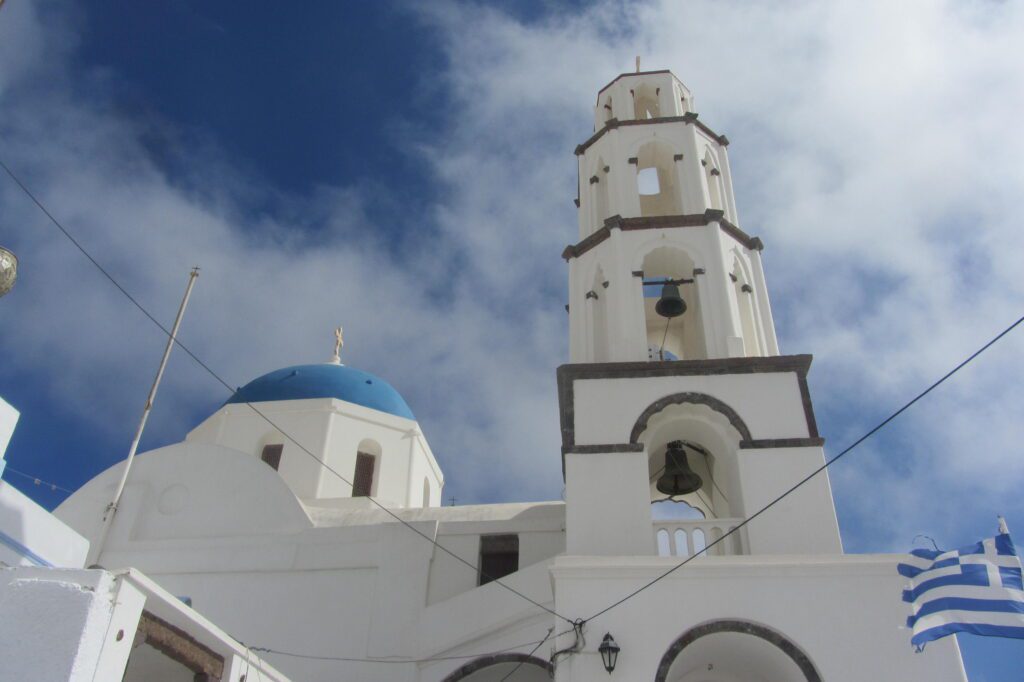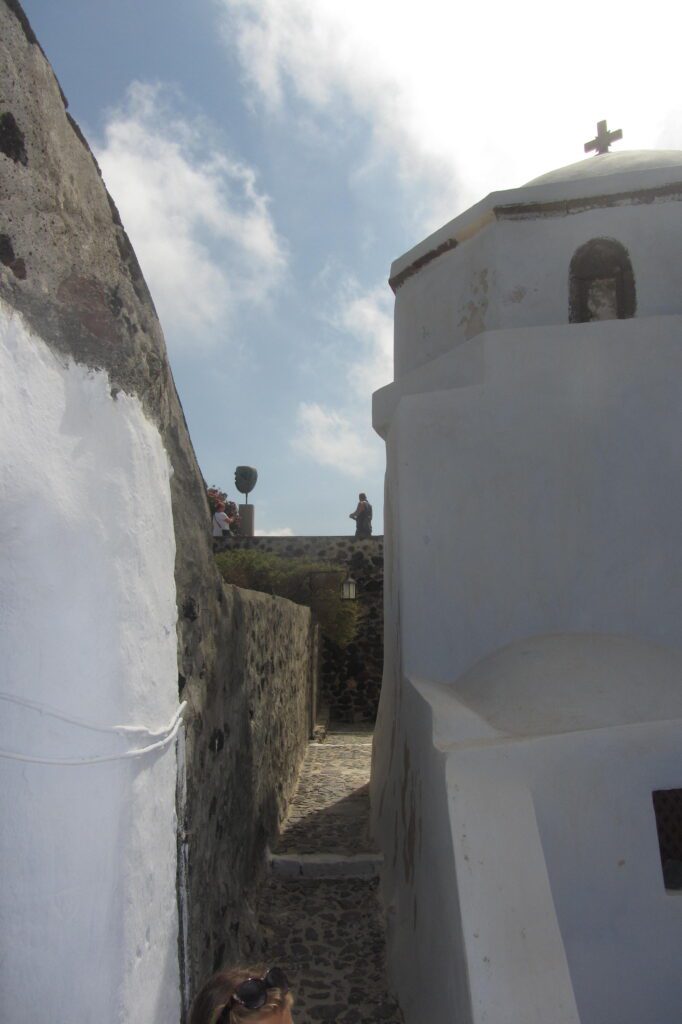 1800 Floga
Our day with a car was a most excellent adventure. We saw such beauty along the way. We highly recommend renting a car for a day to explore this magnificent place.
Perched just above Pezoules on the main pedestrian walkway is 1800 Floga. When we were there in 2014, the restaurant was simply called Floga. Dmitri made a reservation for us, and of course we had the very best table along the rail with a fantastic view of the darkening caldera. It appears to have combined into a roof garden and a larger restaurant below. We enjoyed our meal here, and the setting was fantastic. Trip Advisor reviews remain excellent. Highly recommended.
Armeni Bay
We enjoyed our last breakfast on our terrace at the fantastic Pezoules. Each day, breakfast was an enormous treat. We cannot say enough good things about Pezoules.
Below Pezoules, there is a small bay called Armeni Bay. During our stay, we saw luxury yachts and some tour boats dock down there. The tour boats would often bring the happy tourists back up the hill on donkeys. We decided to walk down the steep stairs and take a look.
To visit Armeni Bay from the main pedestrian walkway in Oia, take the stairs at 1800 Floga and Apsithia. The stairs are steep and easy to miss. Walk past the Caldera Villas and keep walking until you get to the water. With water shoes, you can jump into the sea. Now, it appears there is a restaurant in Armeni Bay. It was not there when we visited.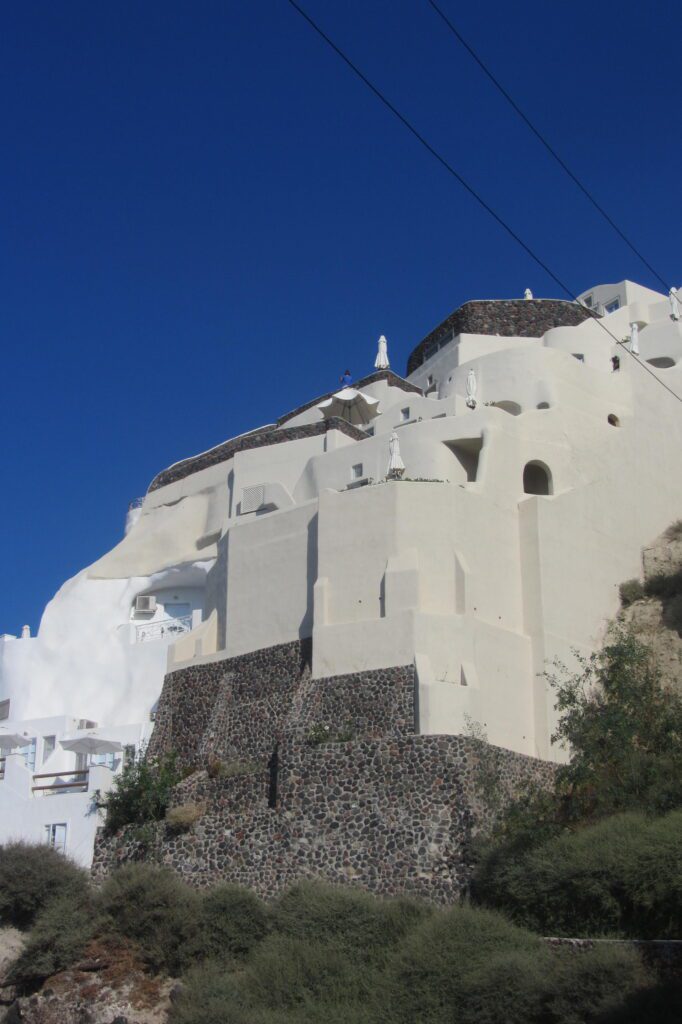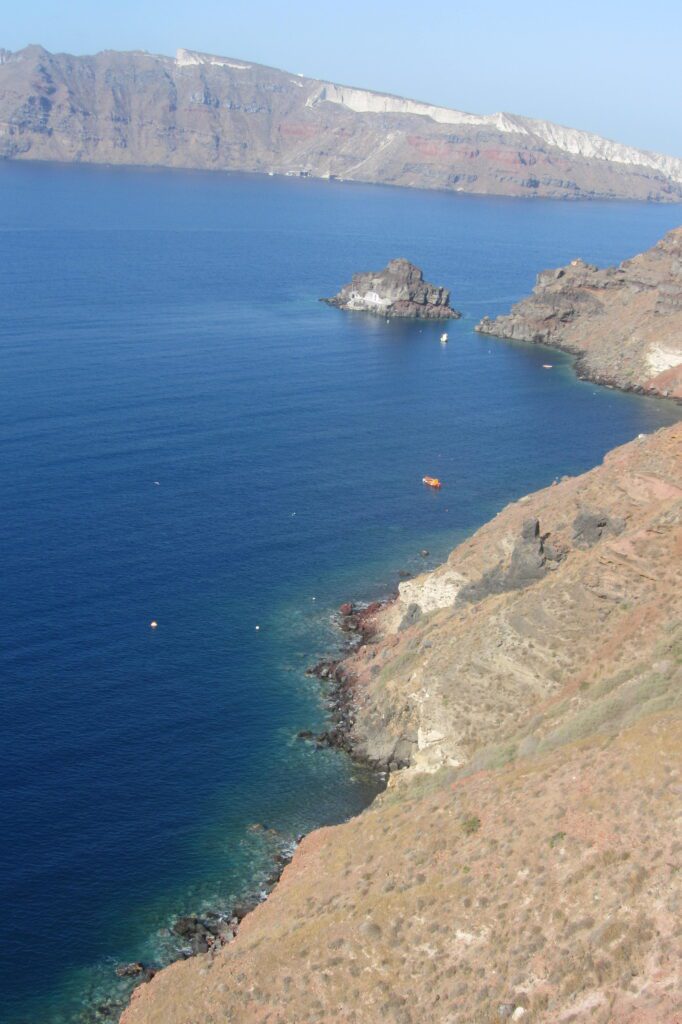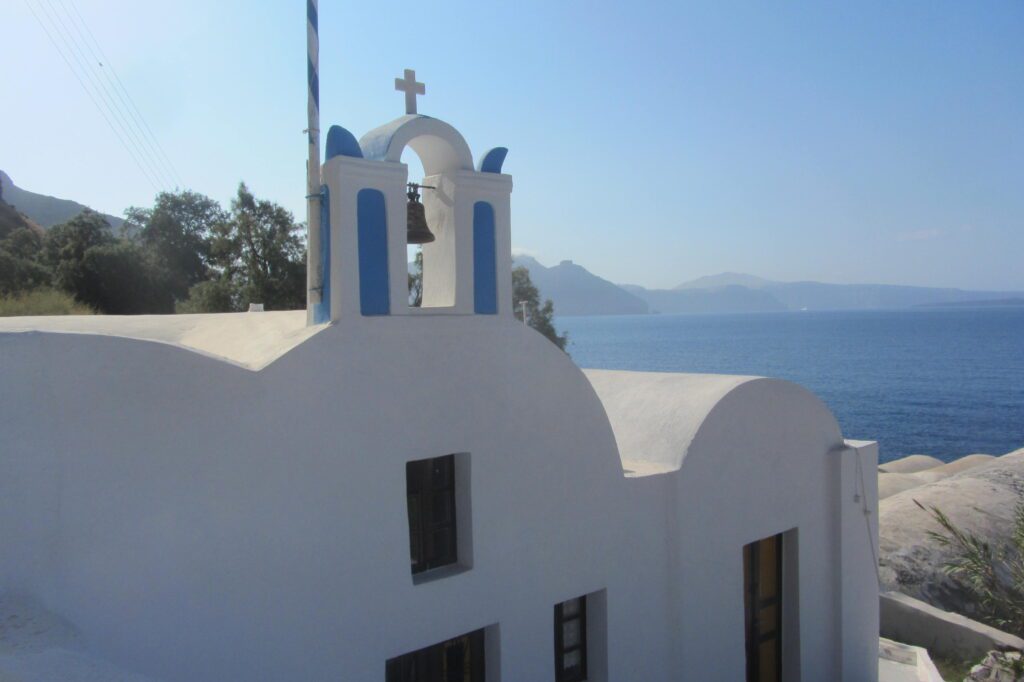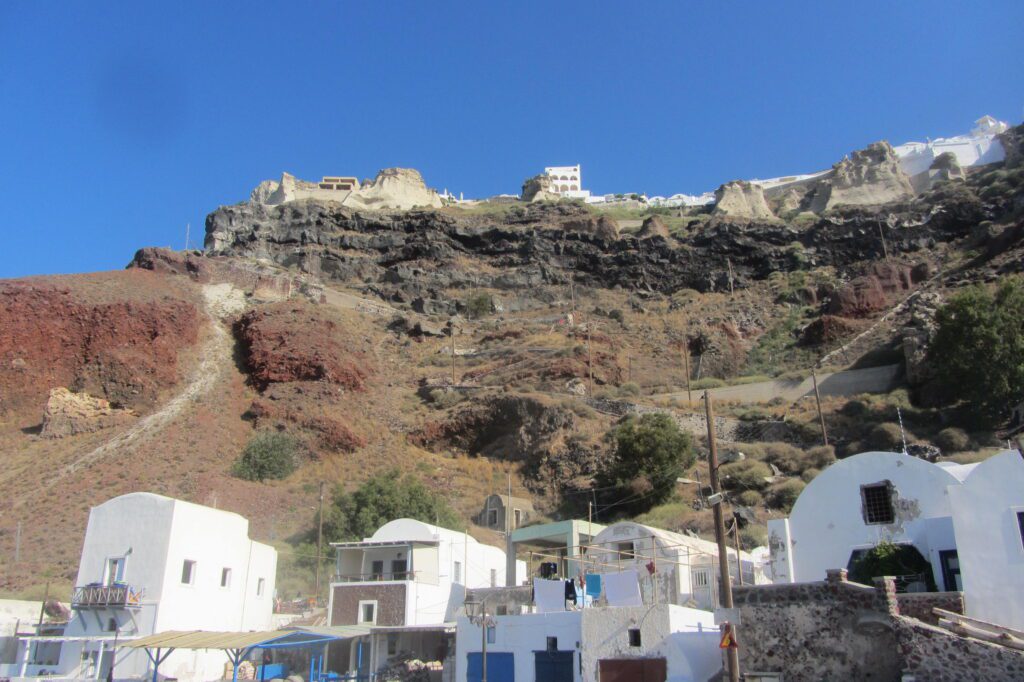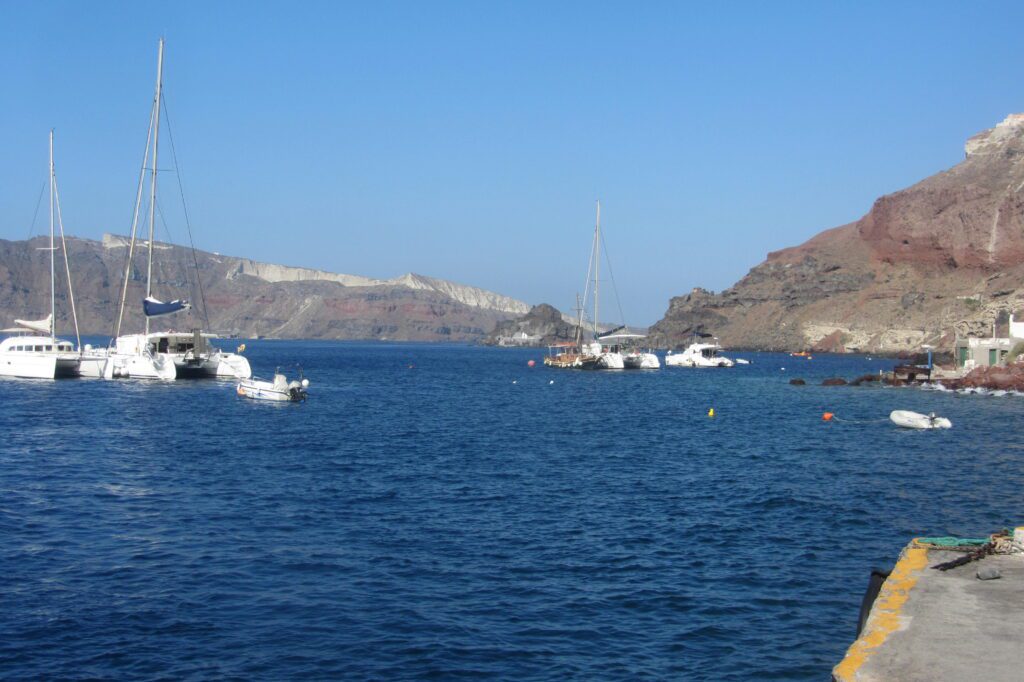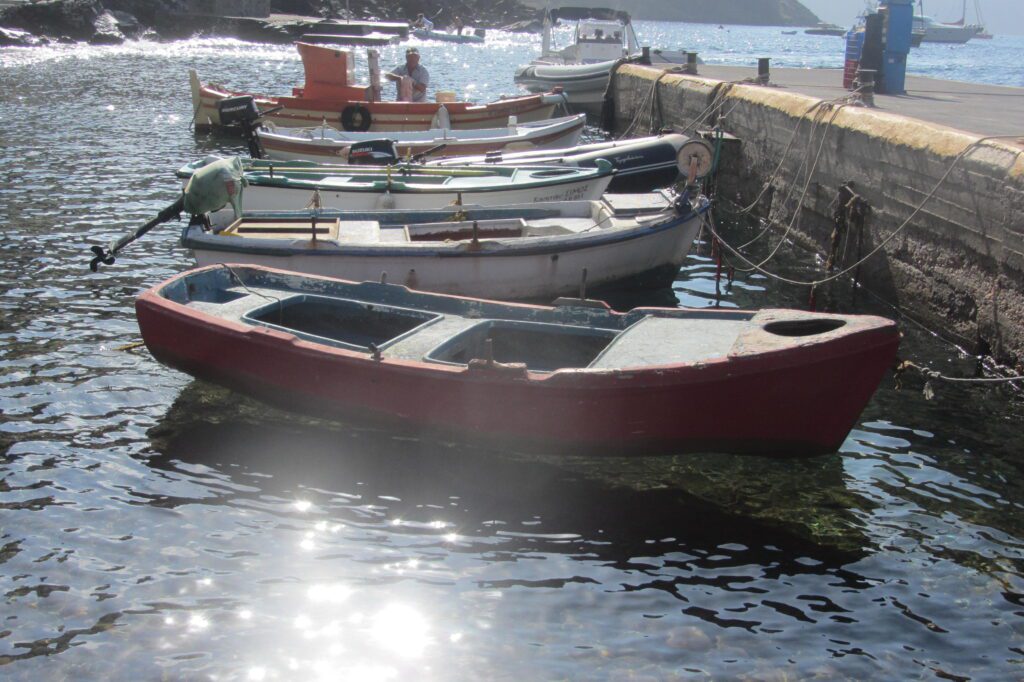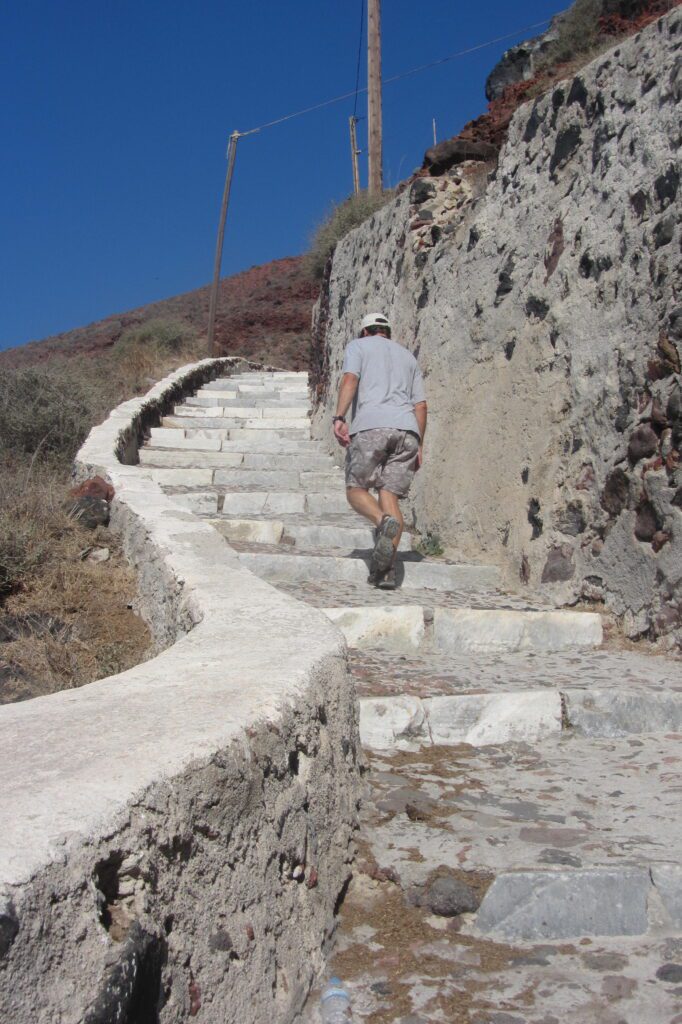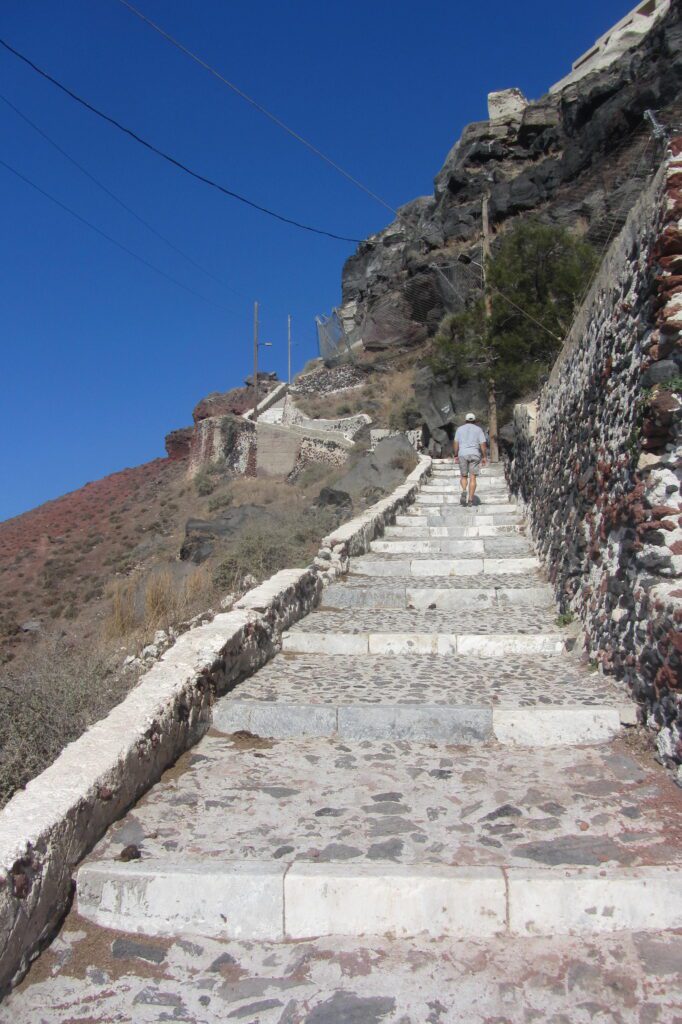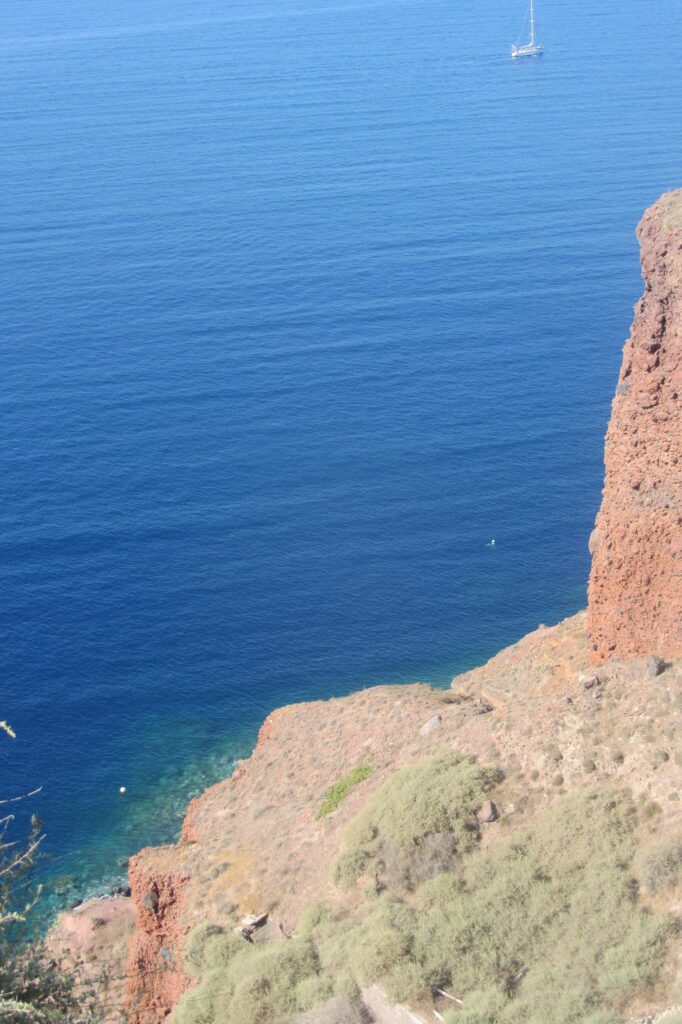 Milos
We enjoyed the infinity pool one last time, shopped for our Christmas tree ornament and ate lunch. We ate at Blue Sky. The food was fine, just not our favorite. We had hoped for lunch at Roka again, but it was closed that day. Bummer. Trip Advisor reviews for Blue Sky are mixed.
In July 2014, our stay at Pezoules for four nights, including a huge daily breakfast was $3400. The rates are higher now. The location, service, amenities and character cannot be beat! Highly recommended.
Dmitri arranged for transport for us to the ferry port in Fira.
The ferry port is chaotic and busy. Ferries and coming in and our all day long. There are many bars and restaurants at the port.
When we were planning this vacation, we decided to fly from Athens to Santorini. The plan was to visit one more island for a few days and head back to Athens. Michele had visited Santorini, Mykonos, Naxos and Paros in college, so she wanted someplace new. We chose Milos for several reasons, one of which was that high speed ferry transport from Santorini was available. We were thrilled with our choice of this lesser-visited island.
We bought tickets in advance on SeaJets. SeaJets has a few ferries that do not take any vehicles, which means you get in and out of a port much faster. SeaJets has both good and bad reviews on line. It was just shy of two hours from Fira to Milos. However, the boat was running late, so we had some extra time in the port, so we ate! The online bad reviews for SeaJets are typically about lateness. Buy and secure your tickets online in advance and you will save yourself frustration. The fast ferries are more expensive, and will sell out during busier times. We sat inside in economy seats, and it was just fine. Drinks and snacks are available on board most ferries.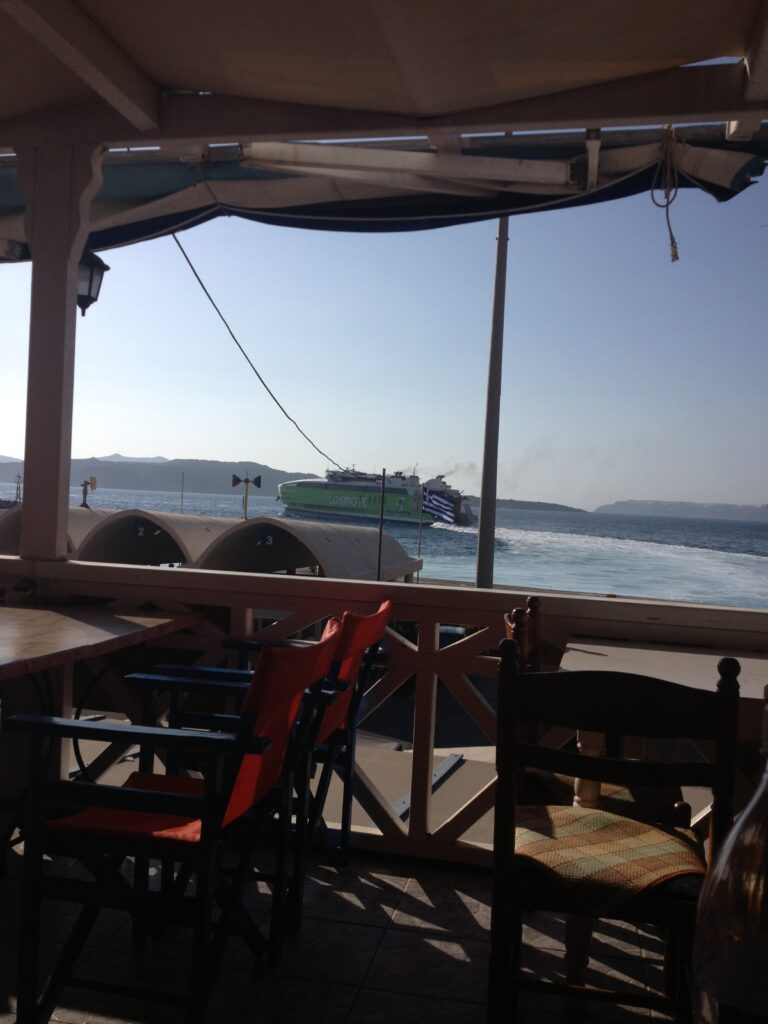 Miland Suites
We arrived into Milos about two hours late. Our hotel, Miland Suites, had a driver waiting for us. Miland Suites is 2.5 kilometers from the port in Adamas. We were enthralled with this hotel!
Antigone, the owner, greeted us with wine and snacks. We were hungry, but did not feel like taking a taxi back into town. So while we took a nighttime swim, Anti made us cheese pies and sent them to our room, Suite #9. This hotel is beyond awesome. Highly recommended! Trip Advisor reviews are excellent! The only negative thing I can say about Miland Suites is – I wish it was closer to town for dining options. Taxis were not expensive.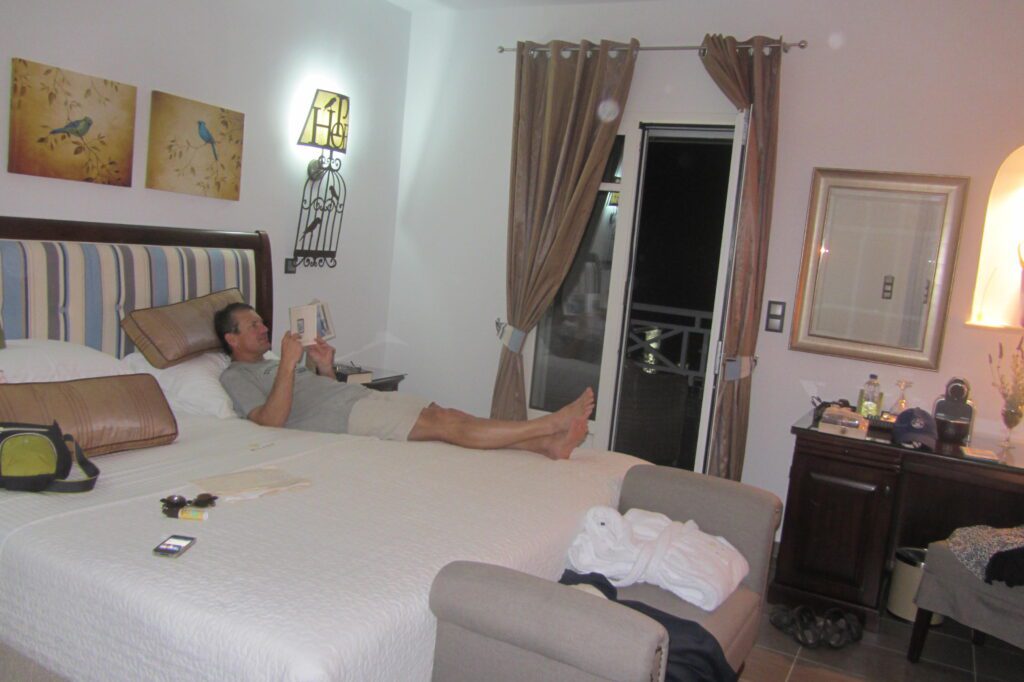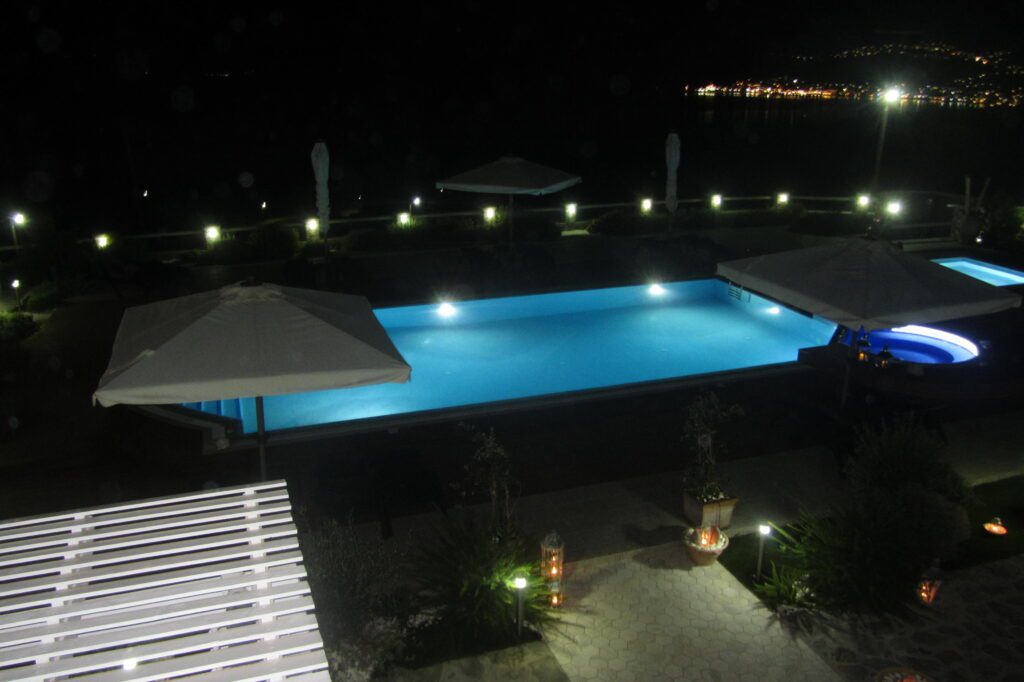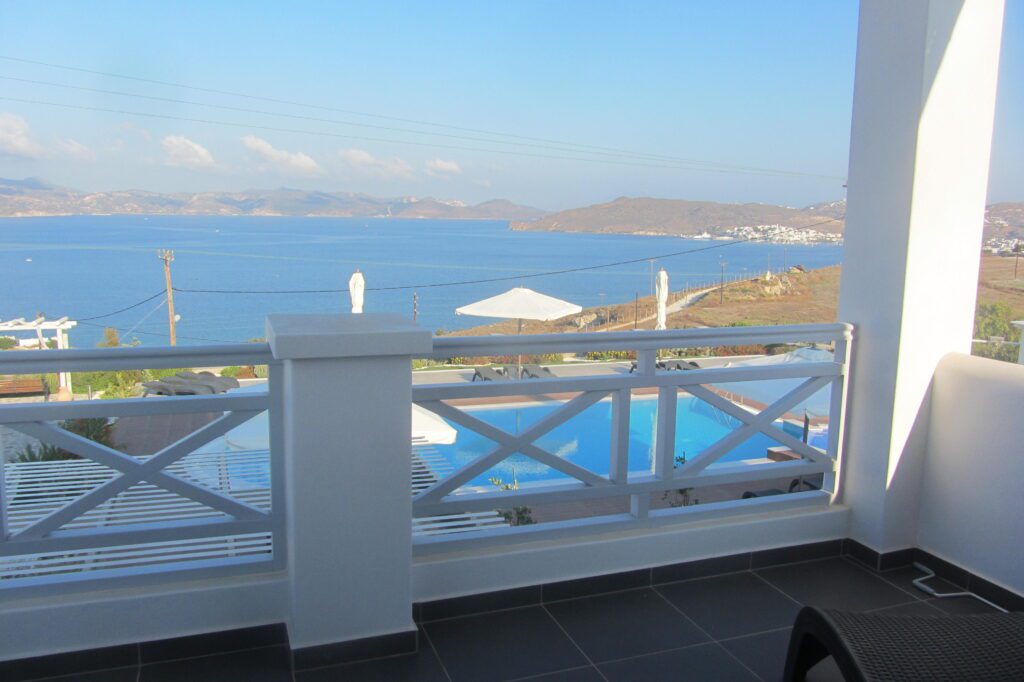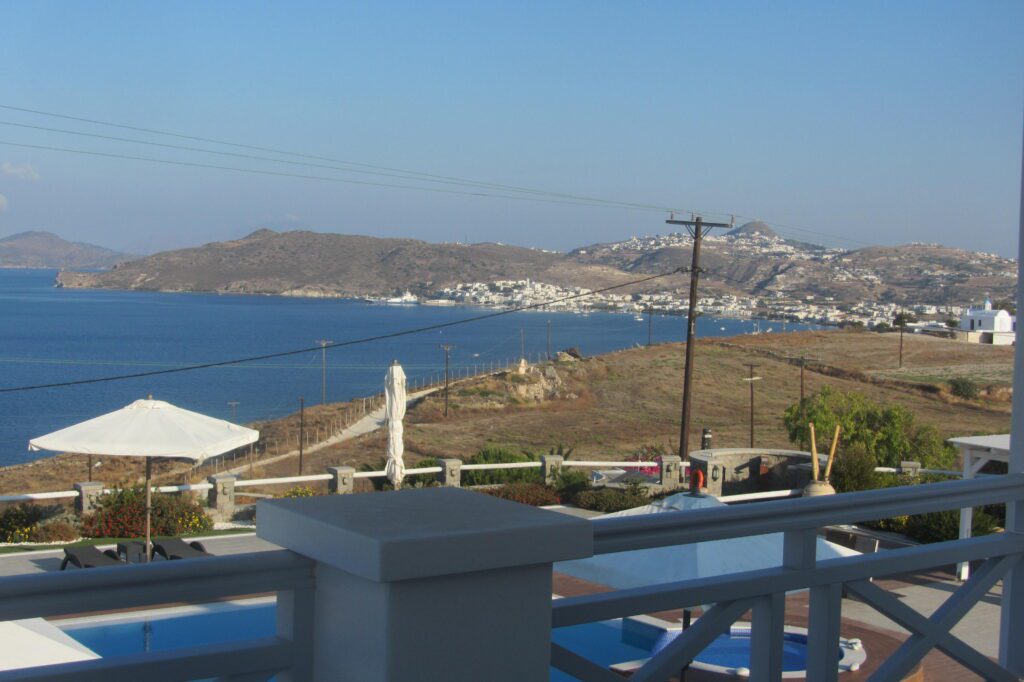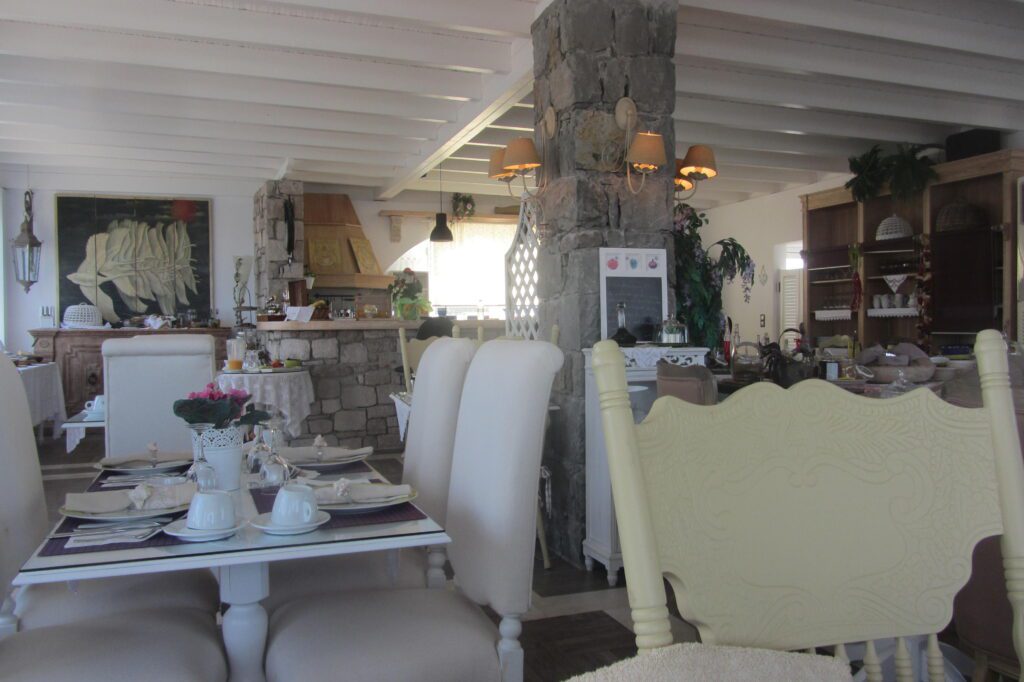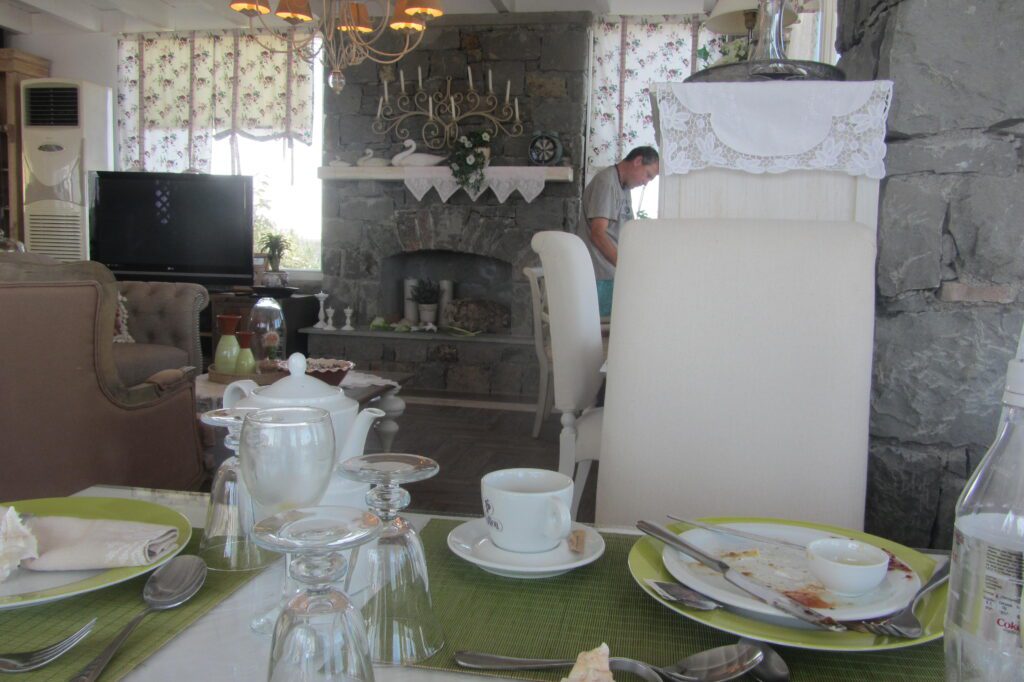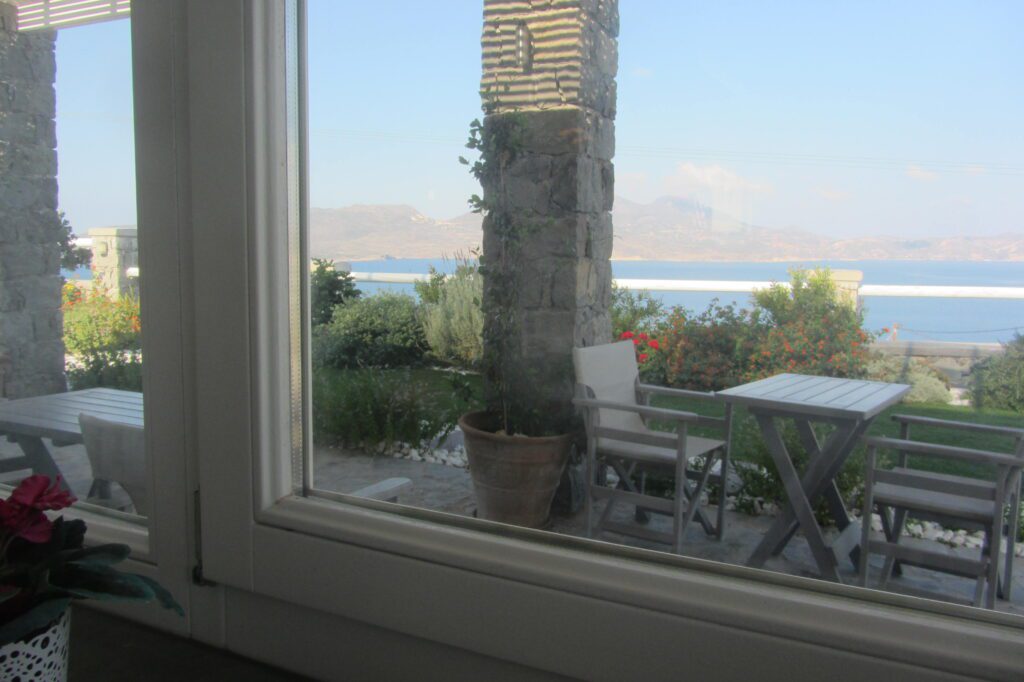 Circling Milos by Boat – Chrysovalandou
Antigone's father, who does not speak English, drove us to Adamas. He was adorable.
Milos is know as "the island of colors." You get to experience an abundance of colors if you circle Milos by boat. It is spectacularly awesome.
Before leaving home, I booked two spots on the Chrysovalandou catamaran. The website appears to currently be in the middle of a redesign. The photo/map of the tour that is currently on site it NOT the one we did. We circled the entire island heading out toward Klima, Sarakiniko, Glaronisia, Poliegos, the sulfur mine, Firlingos, Gerakas and then Kleftinko. We ate dinner on the boat in Kleftinko and than sailed around the caves and remainder of the island, coming into Adamas as the sun was going down. It was awesome. Trip Advisor reviews are good; however, if they have discontinued the circumnavigation of Milos, you may want to investigate another operator.
We highly recommend circling the island. Polegios was our favorite spot, so do not miss it! Our boat had 20 people on it, and a wonderful crew. In 2014, it was $220 for the two of us to do this all day adventure. The price included coffee and pastries, sandwiches and fruit for lunch, open bar and a delicious dinner with ice cream cones for dessert.
Polco has the cruise that we did. We cannot speak about the company as we did not experience their boat and their service; however, their Trip Advisor reviews are excellent.
Bring sunscreen, a few towels and dry clothes. It was nice to put dry clothes on for sunset as we were very wet all day long.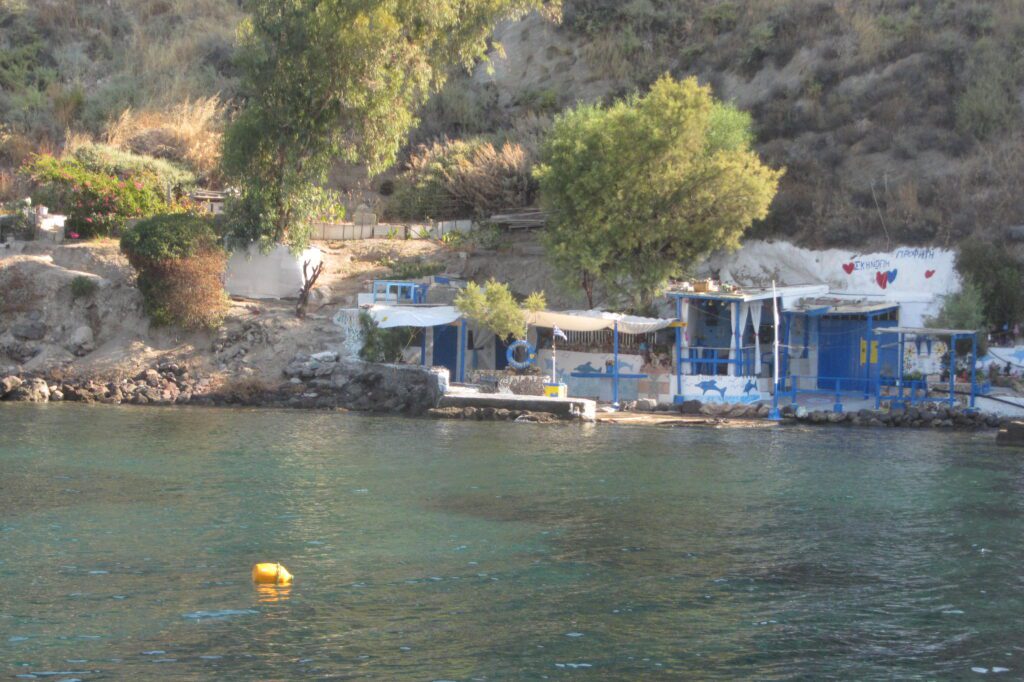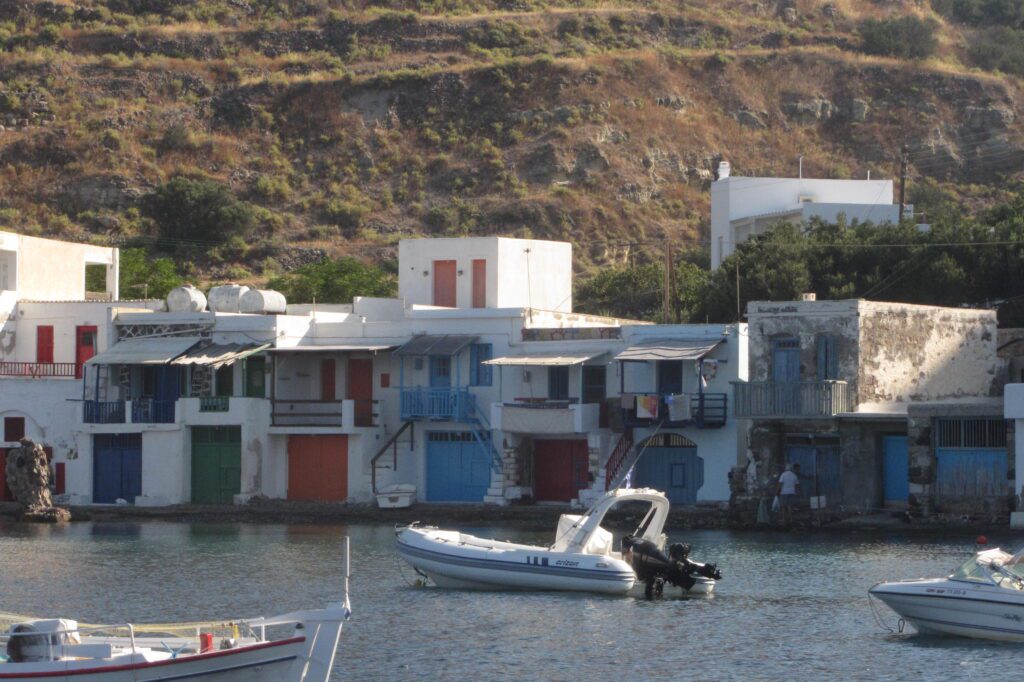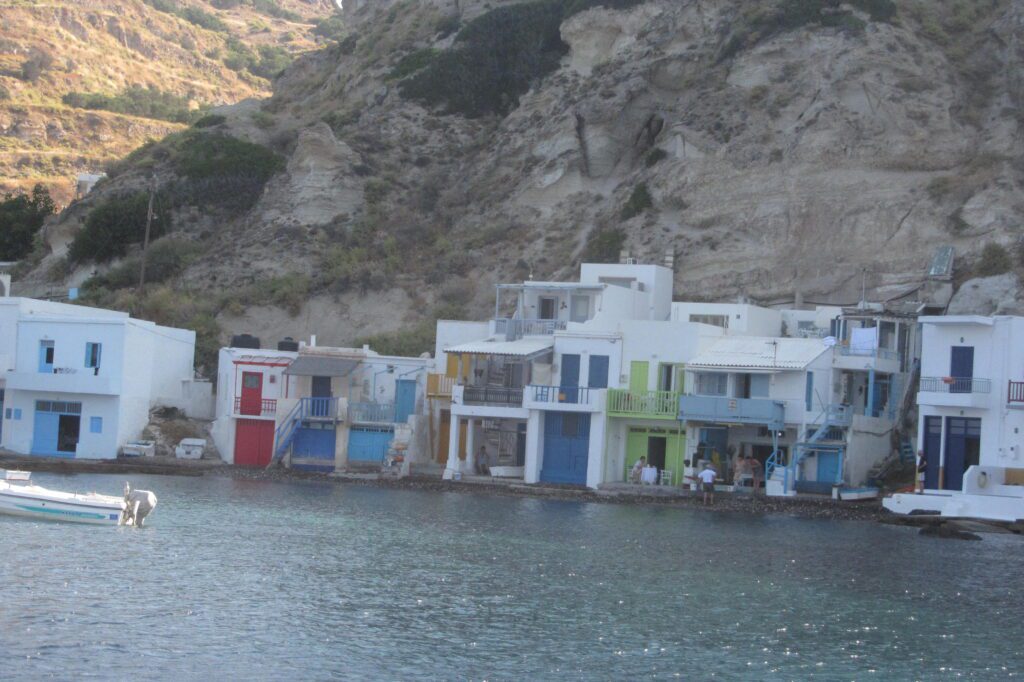 Next, we sailed past the bunny and the bear rock. If you look at it one way, it looks like a bunny. The other way, it looks like a bear.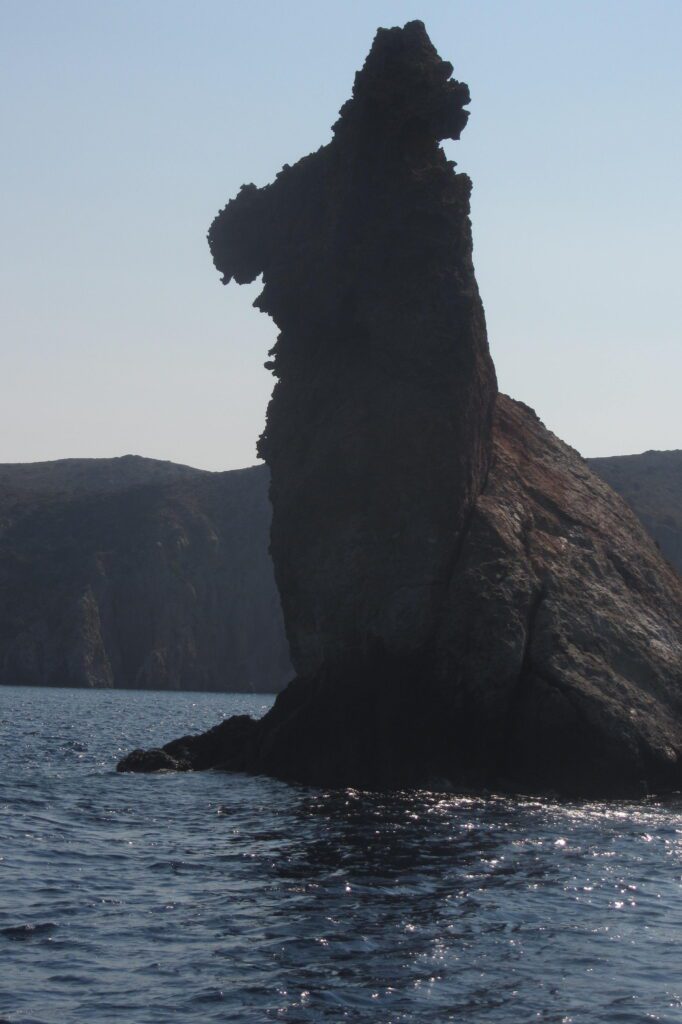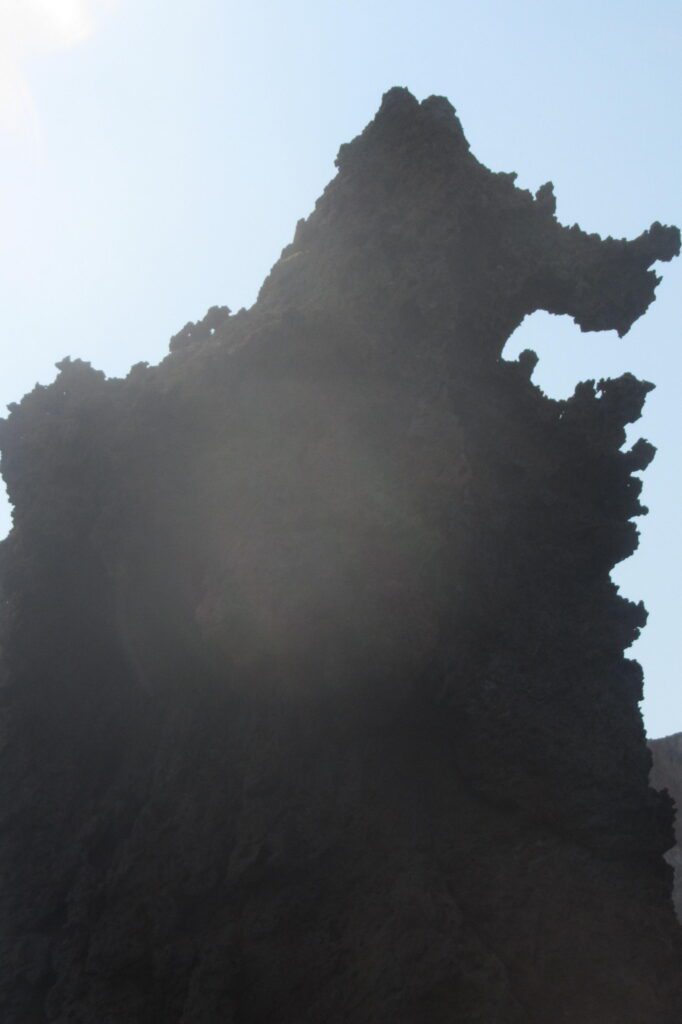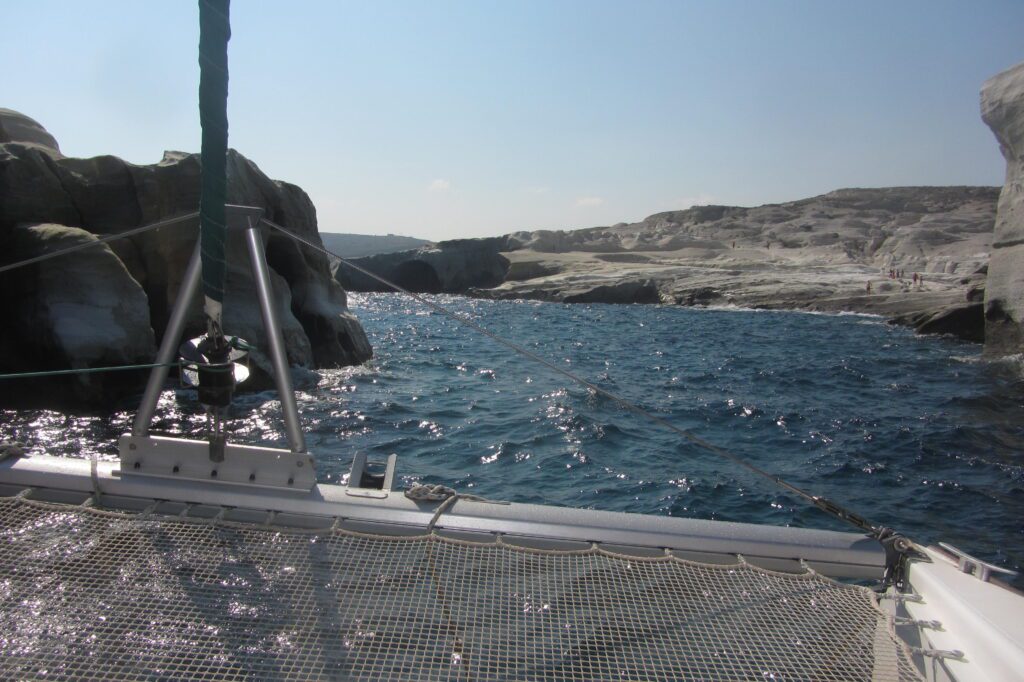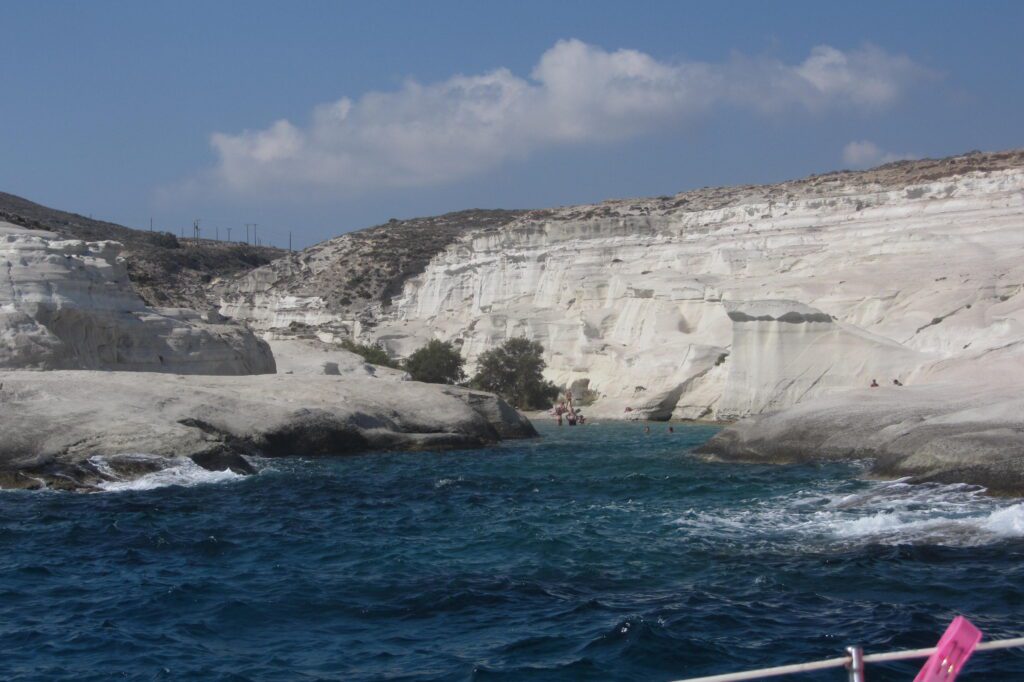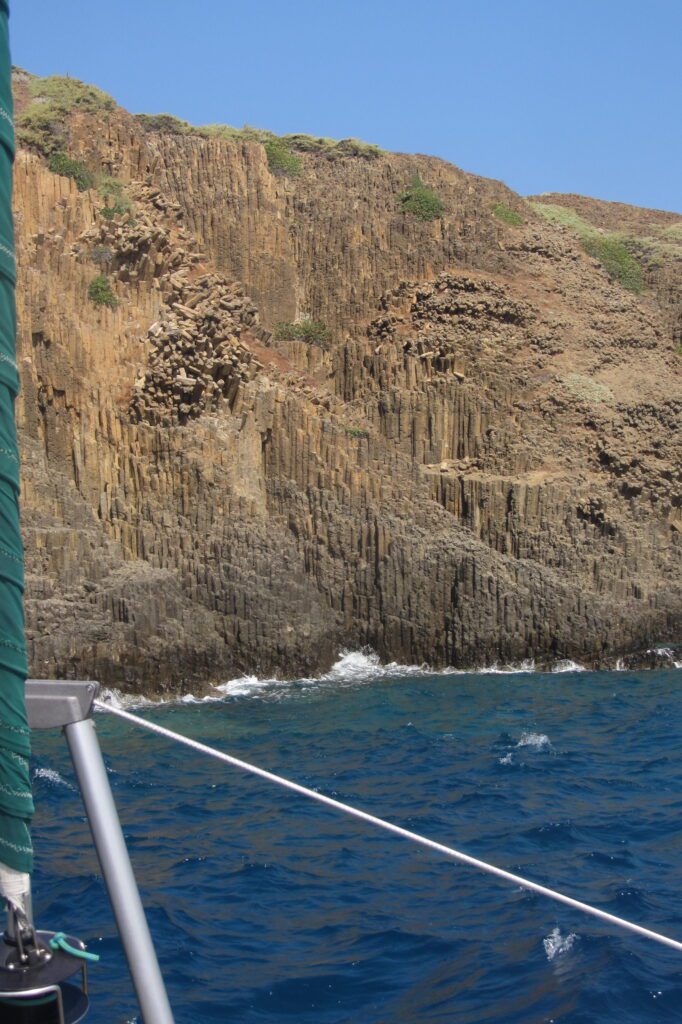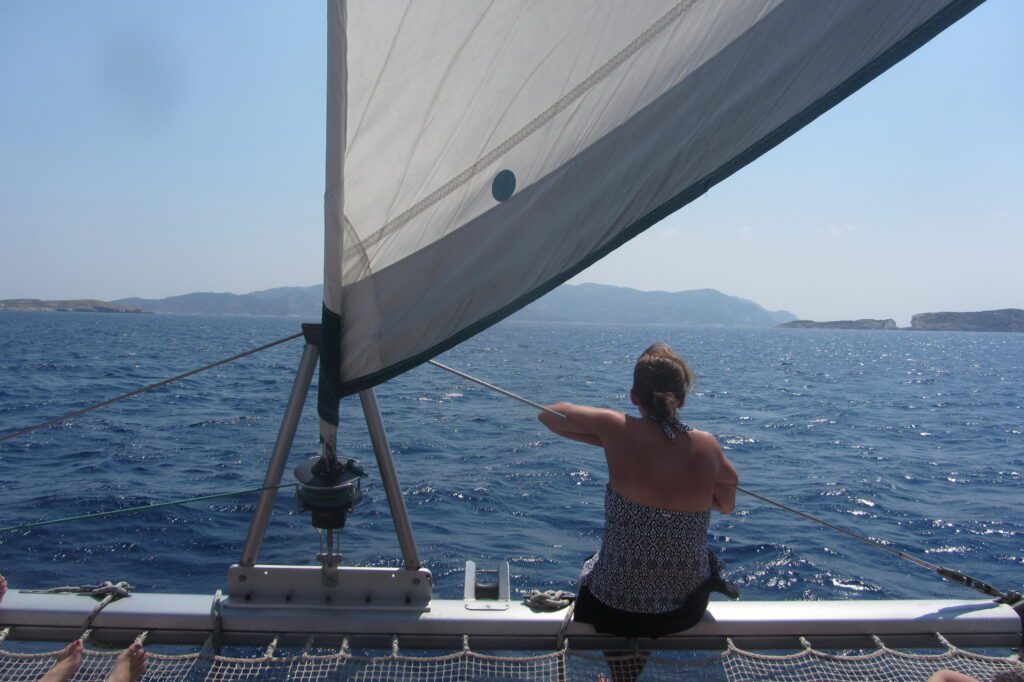 We put the anchor down in a small bay on the island of Poliegos. The warm water was impossibly blue. We loved jumping off the boat into the sea. Fantastic. Do not miss a stop here.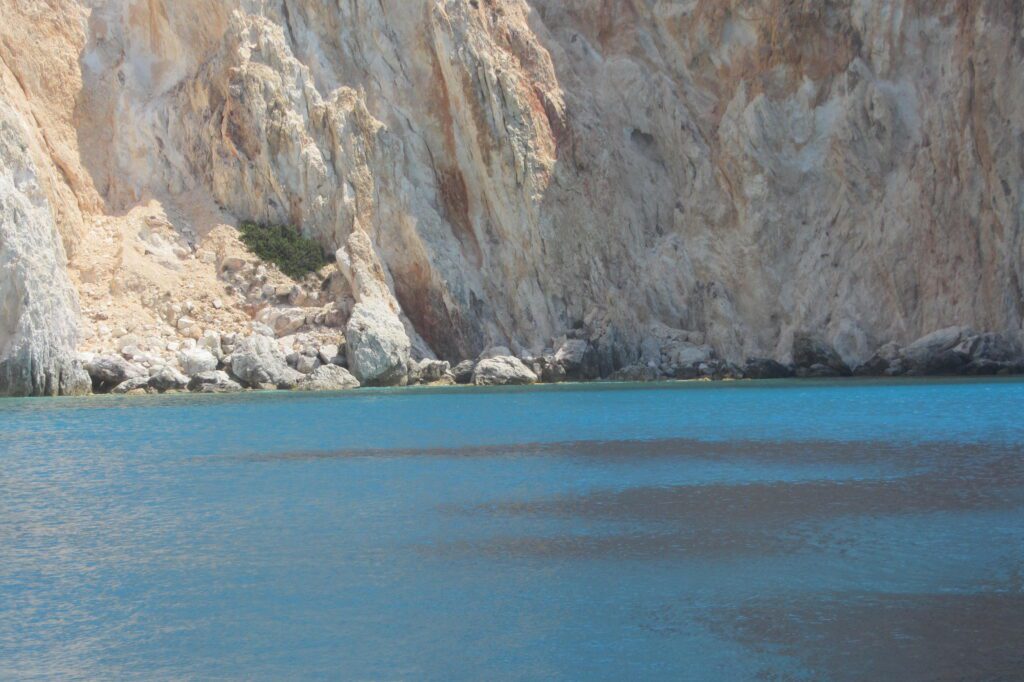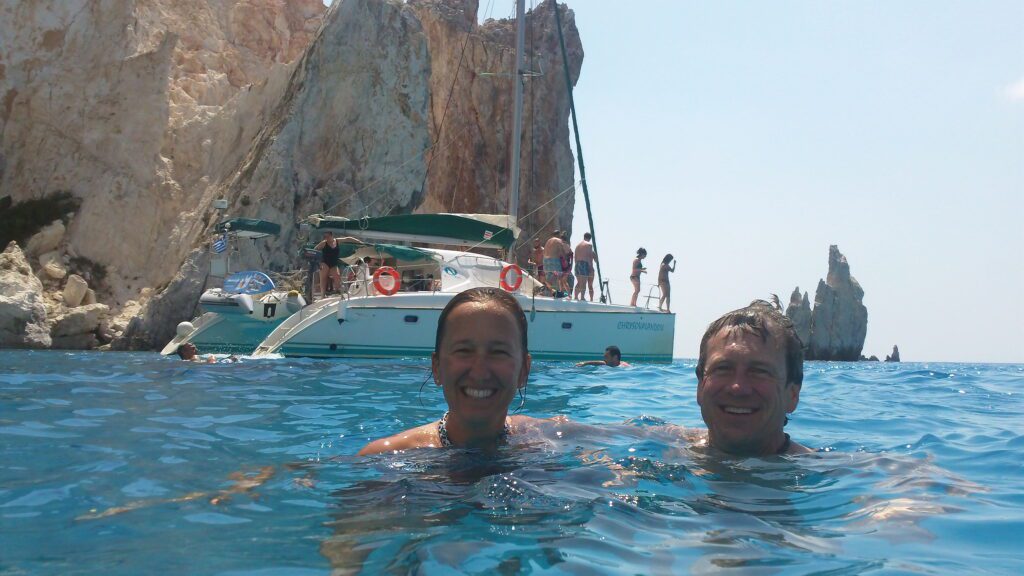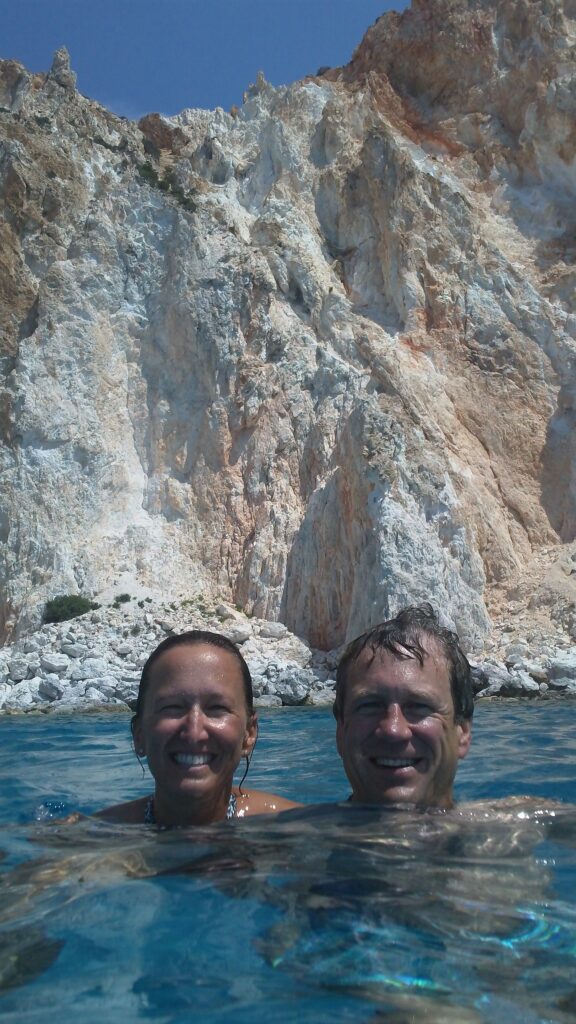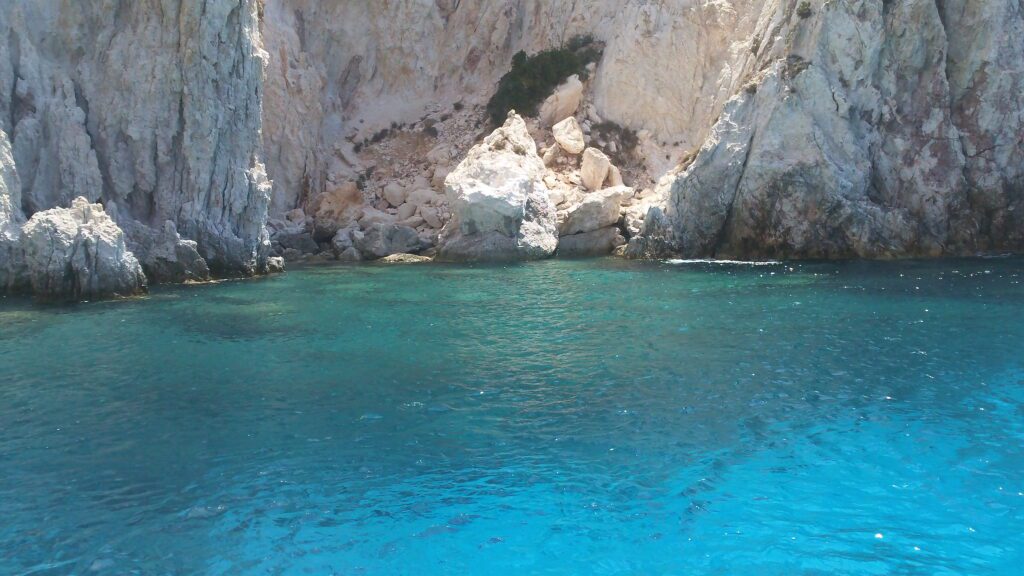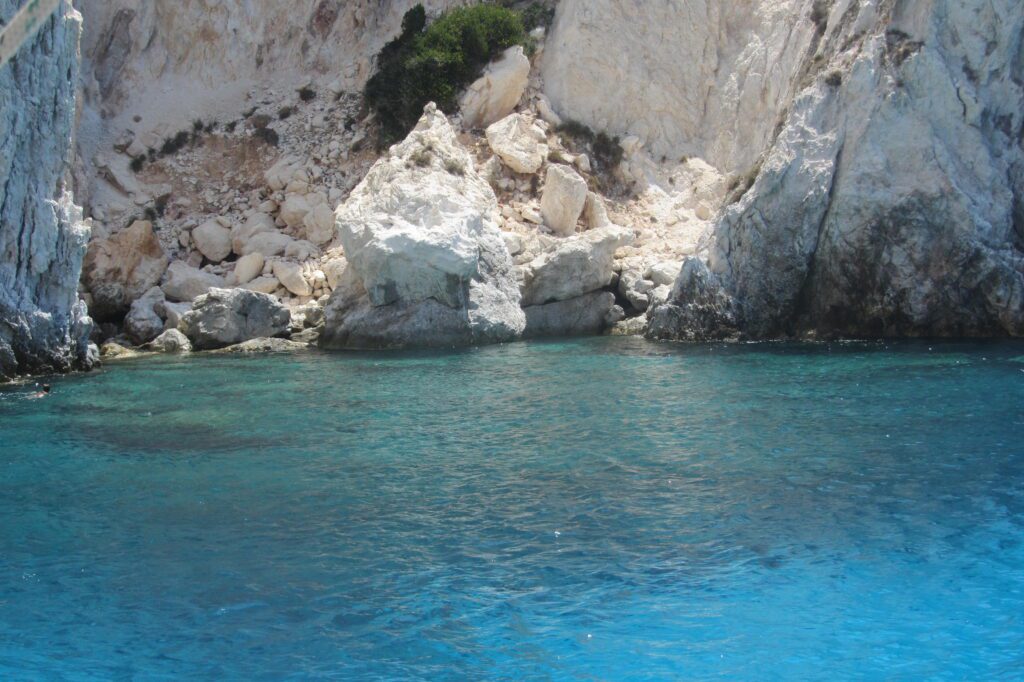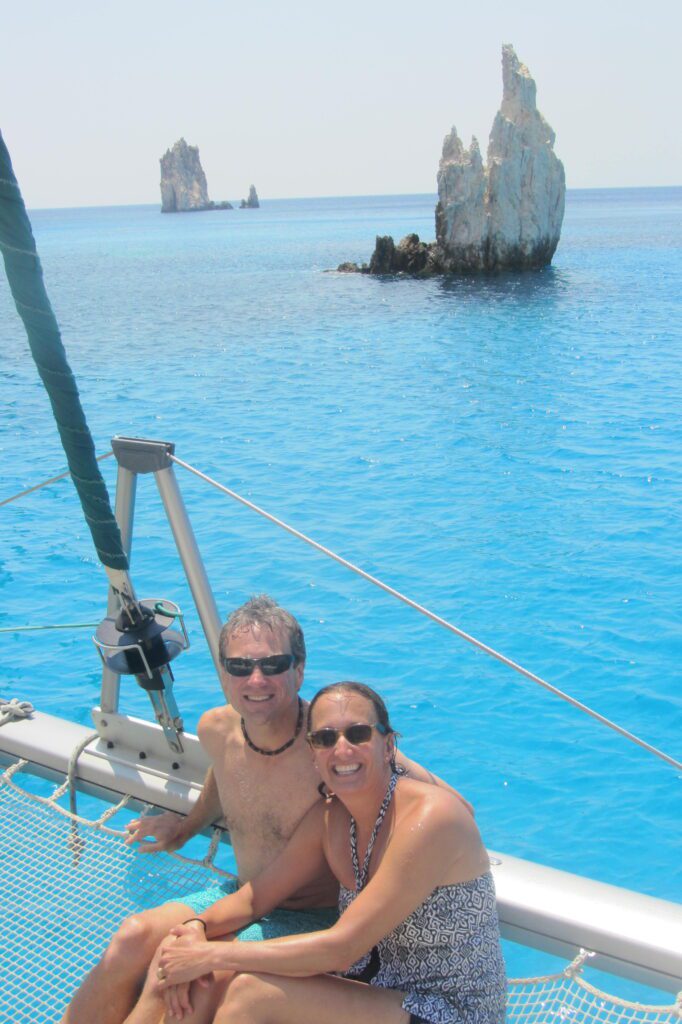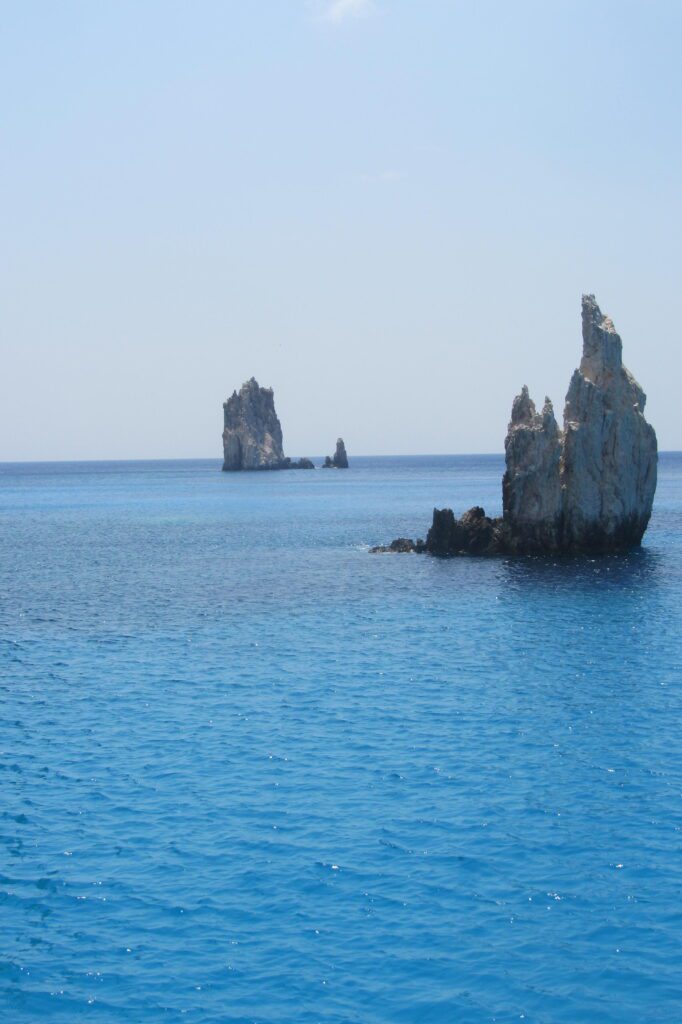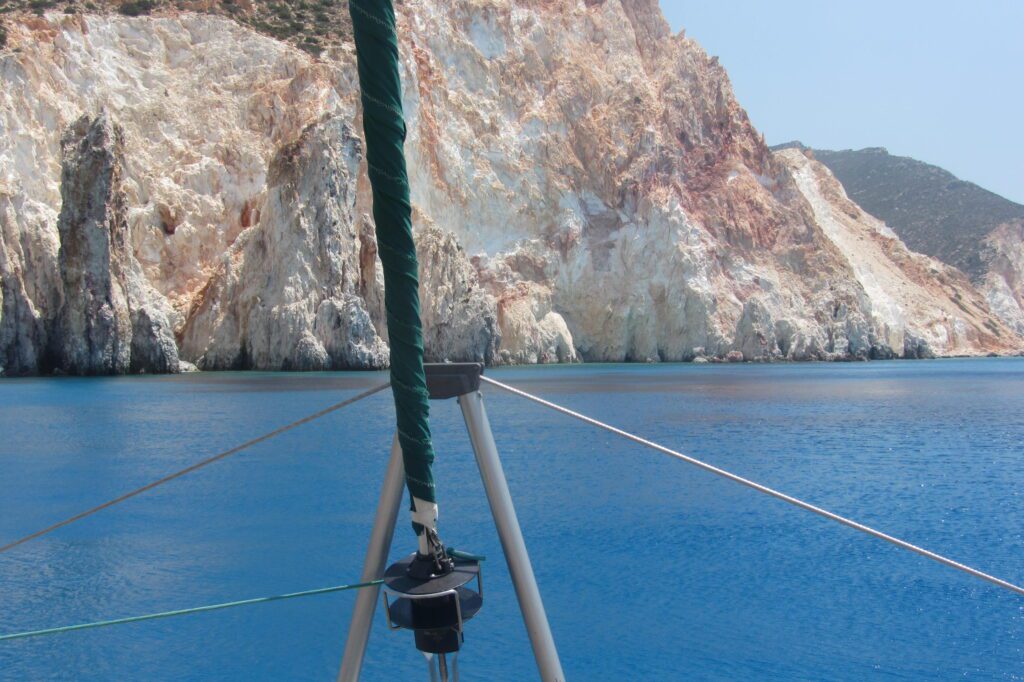 We passed an old sulphur mill on Milos.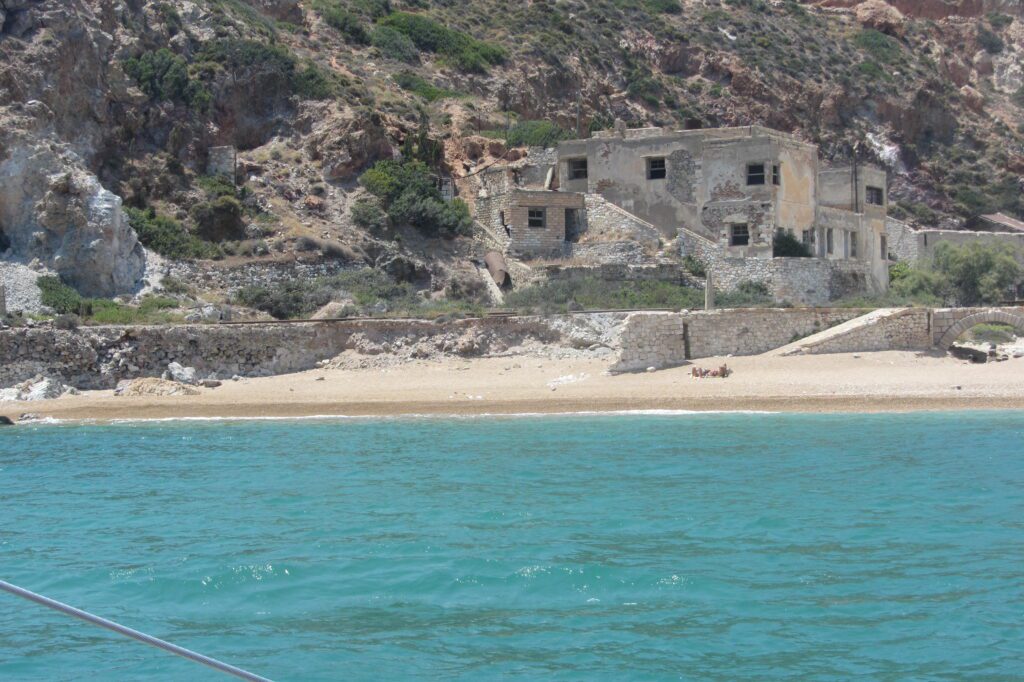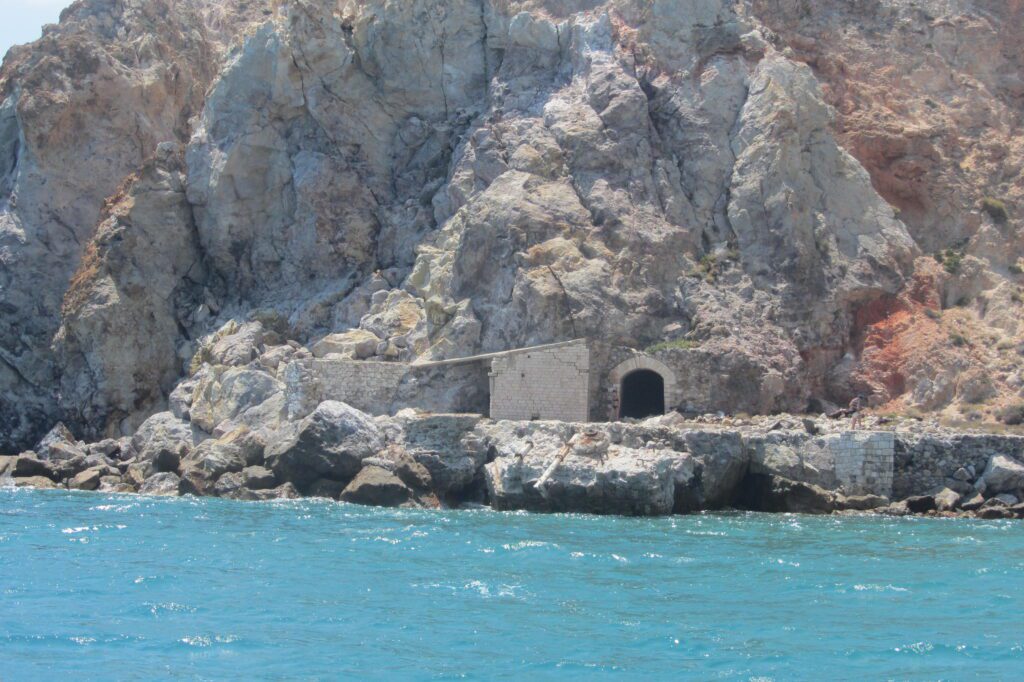 We continued to our second swim spot, Firlingos (some sites spell it Firligkos). More BLUE water.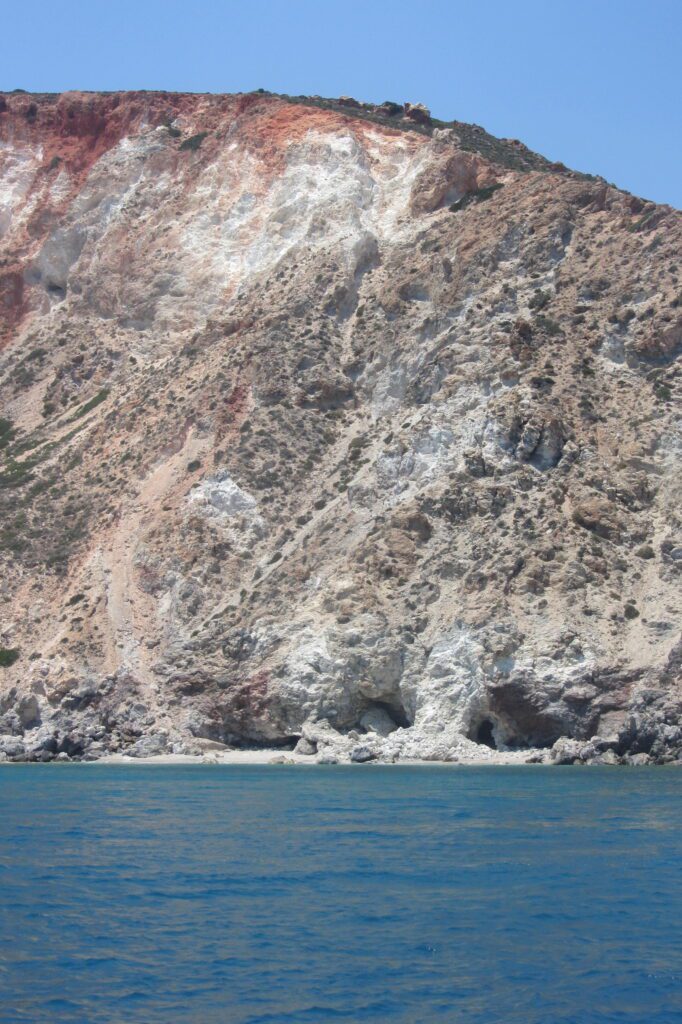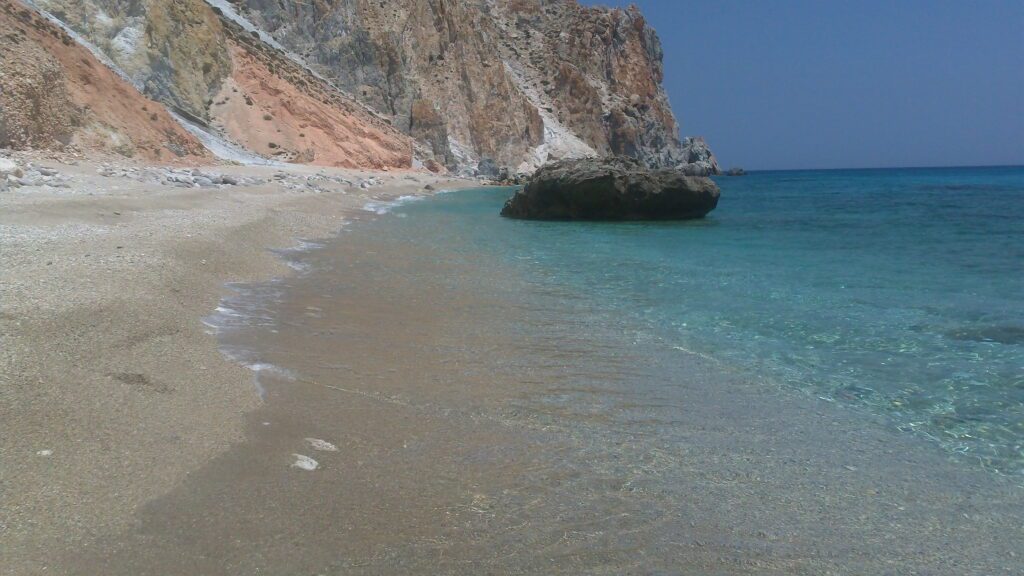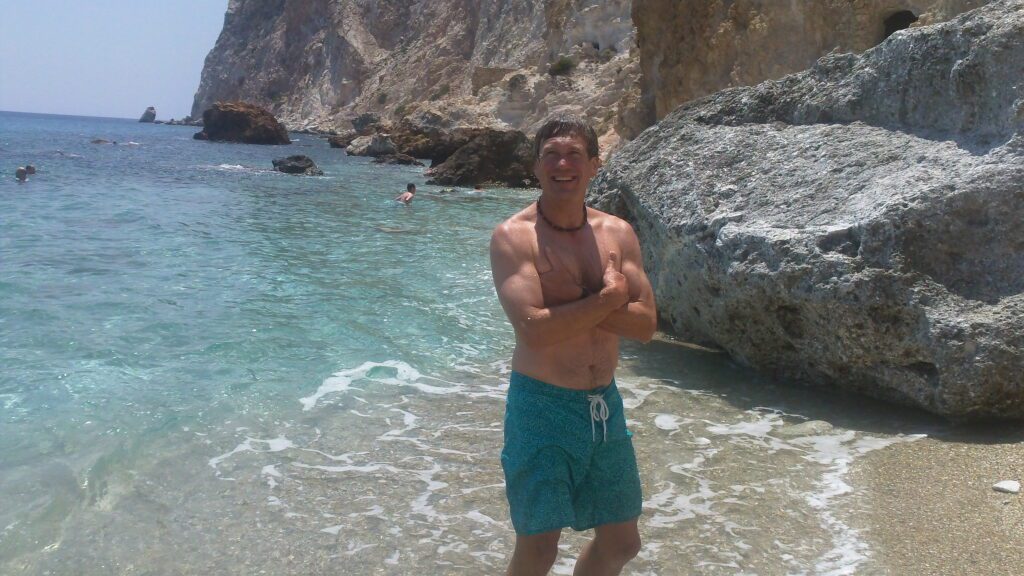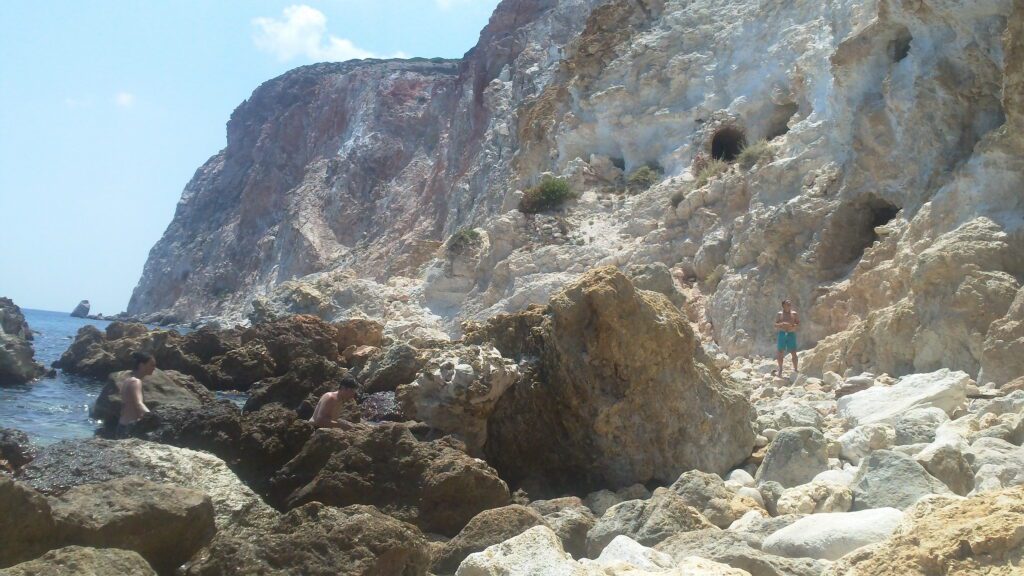 After enjoying a swim, we returned to the boat. We set out for Gerakas. Gerakas is on the island of Milos, but only accessible by boat.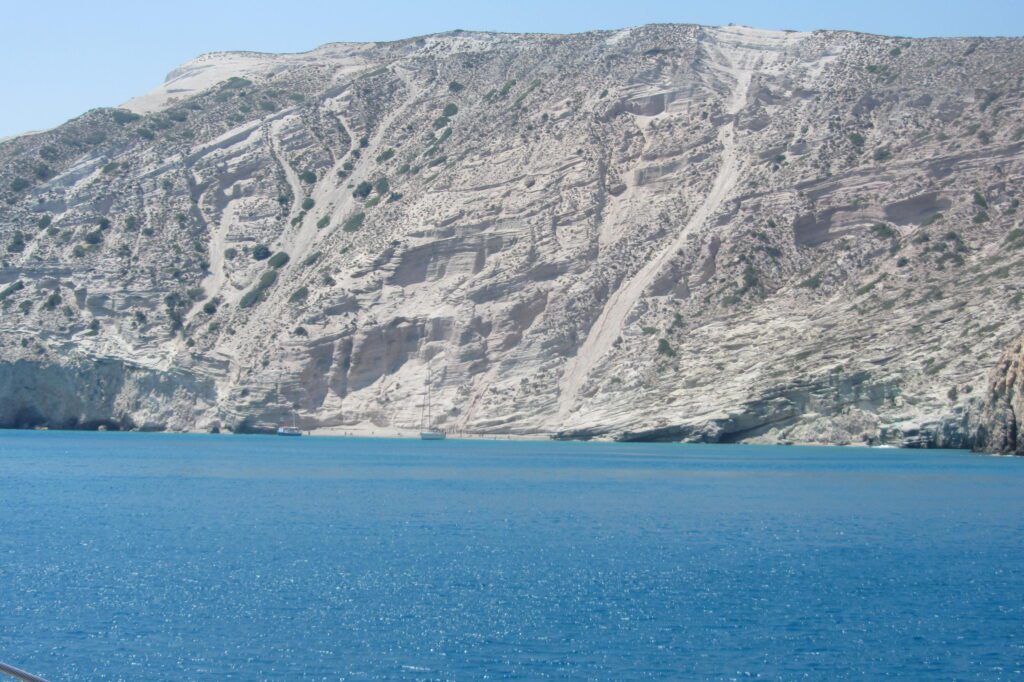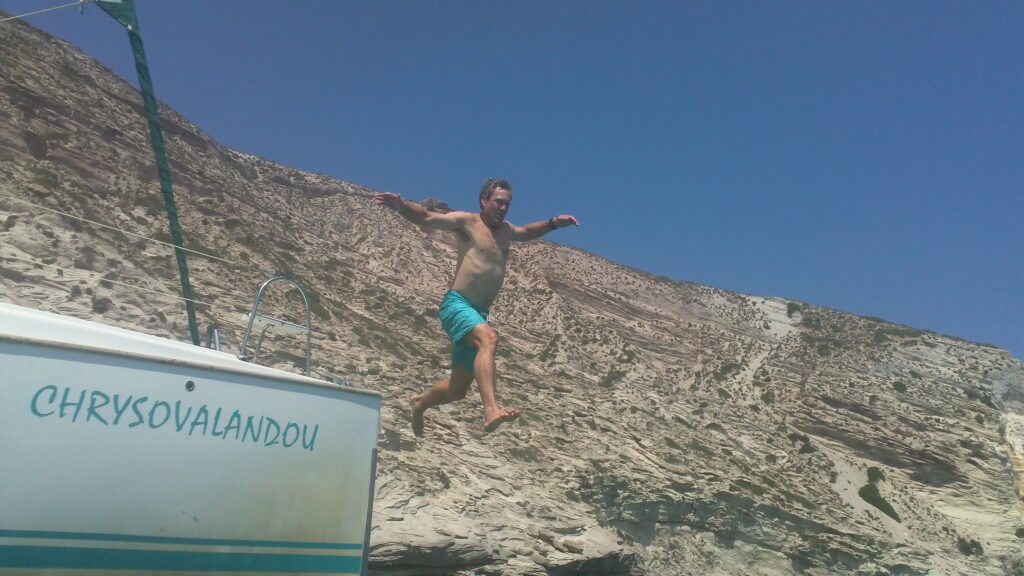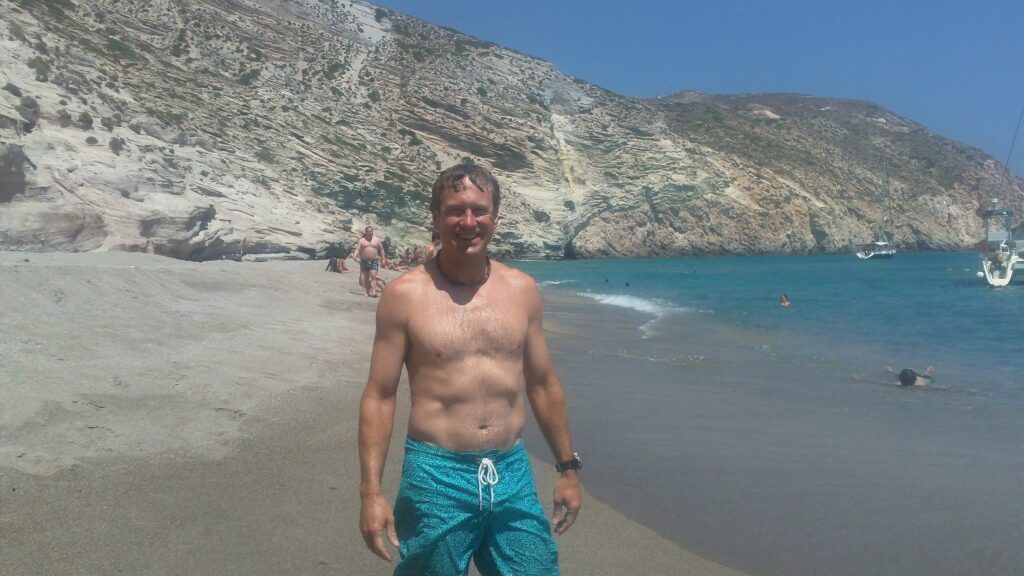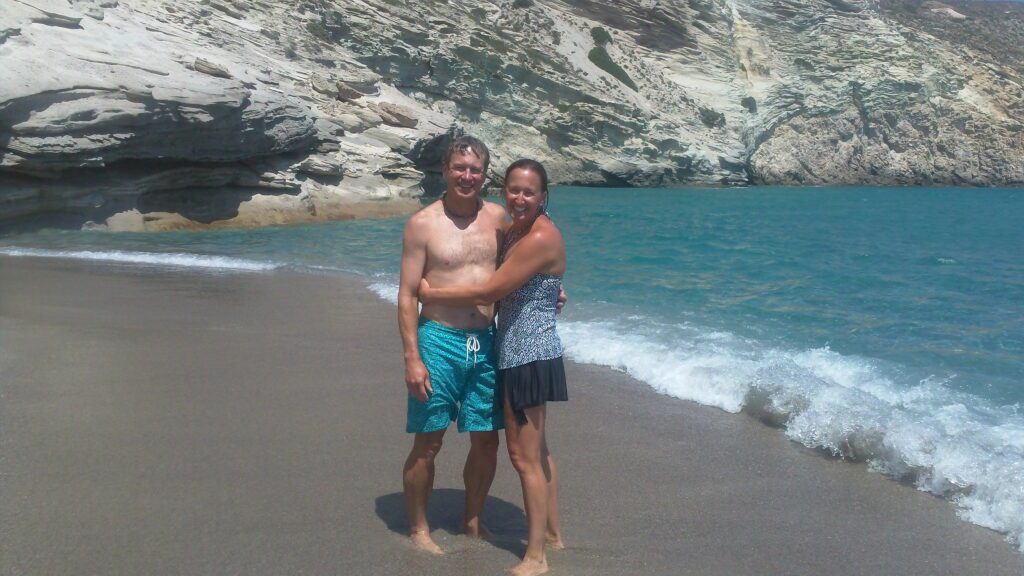 It took about 30 minutes to sail to Kleftiko. Kleftiko is on the island of Milos, but is only accessible by boat. It is gorgeous, and you must visit when you are on Milos. You must.
Kleftiko means a place of thieves. For centuries, Kleftiko was used by pirates as a hideout. Enormous white and grey rocks create an incredible landscape. Swimming and snorkeling here is fantastic. Not many fish to see, but caves and rocks are cool.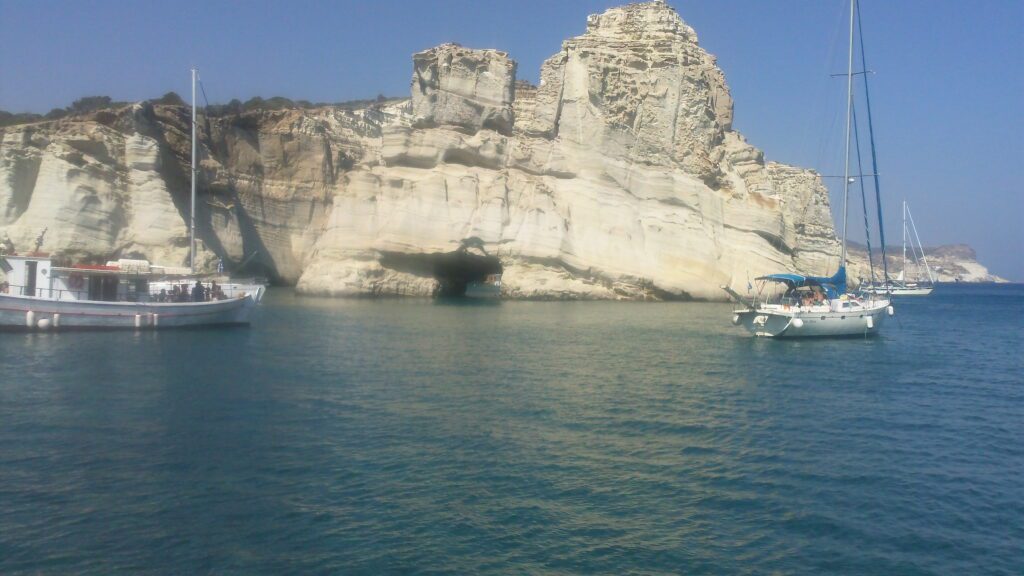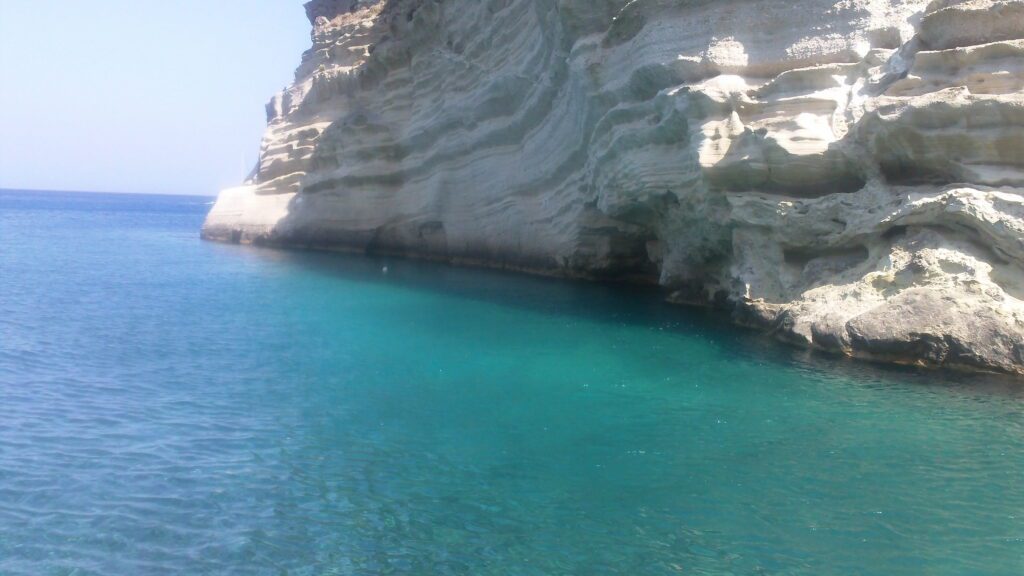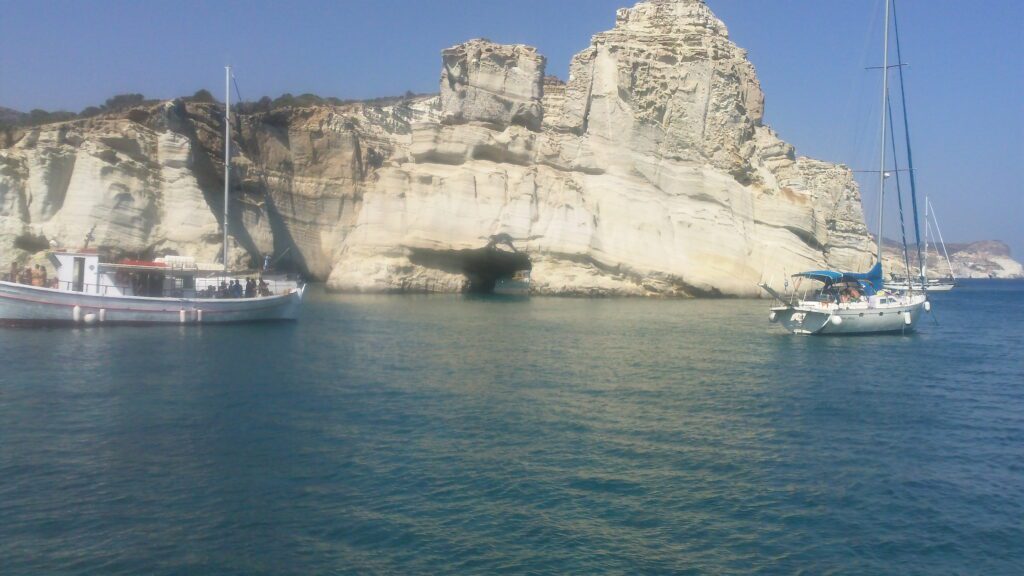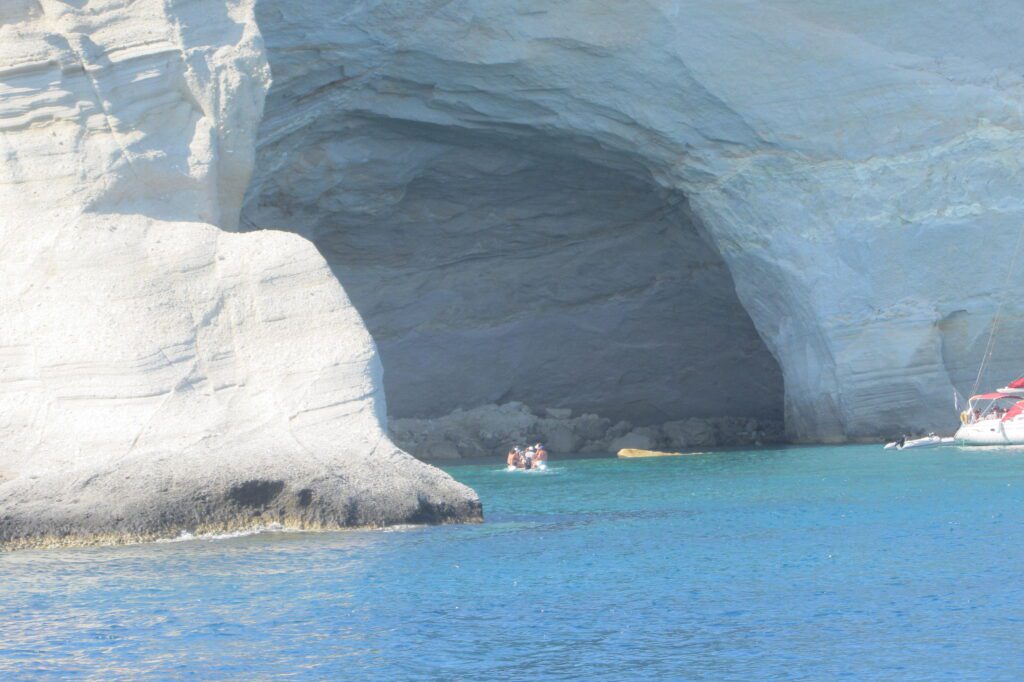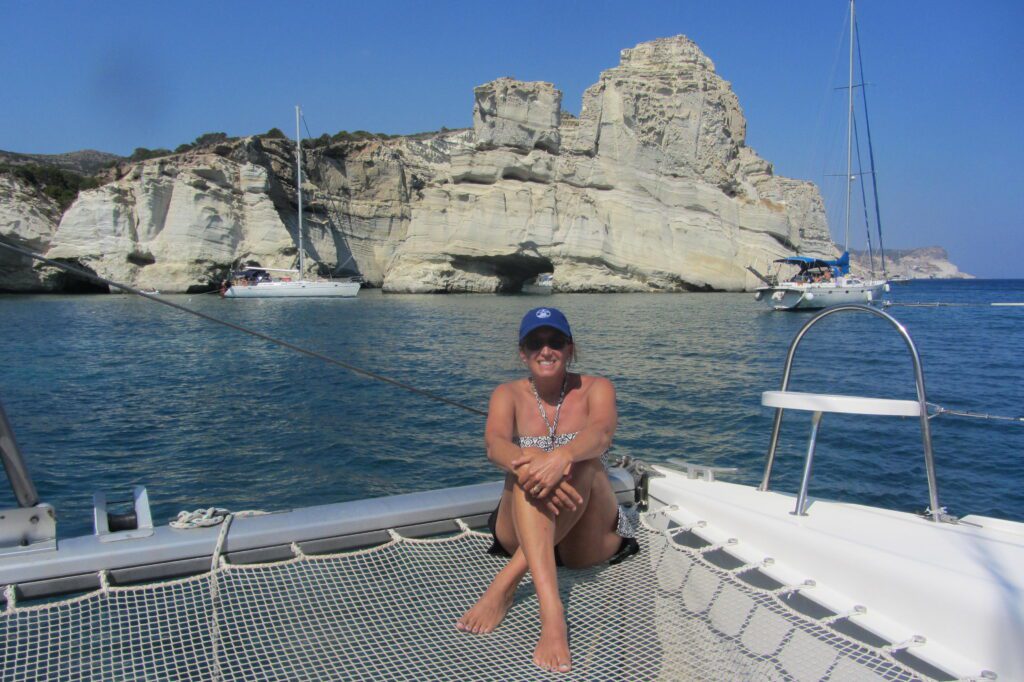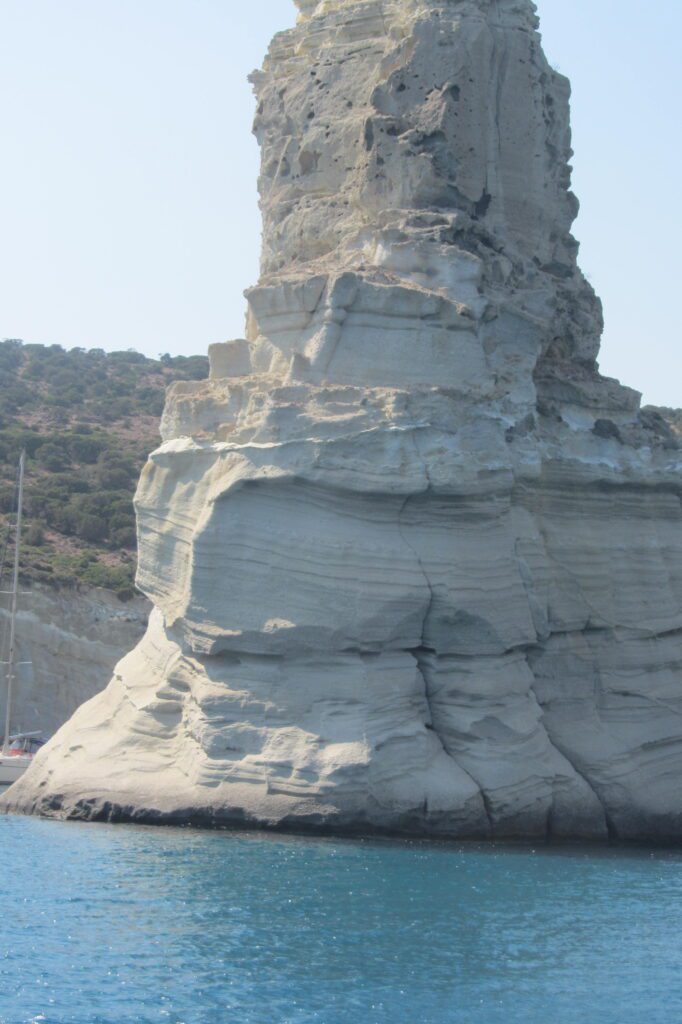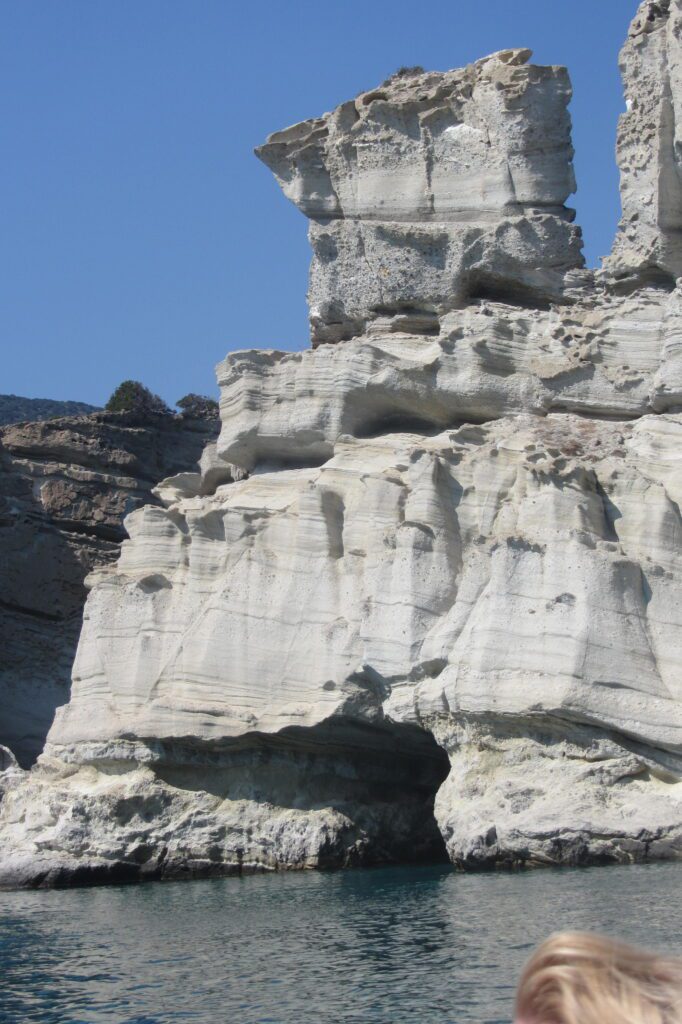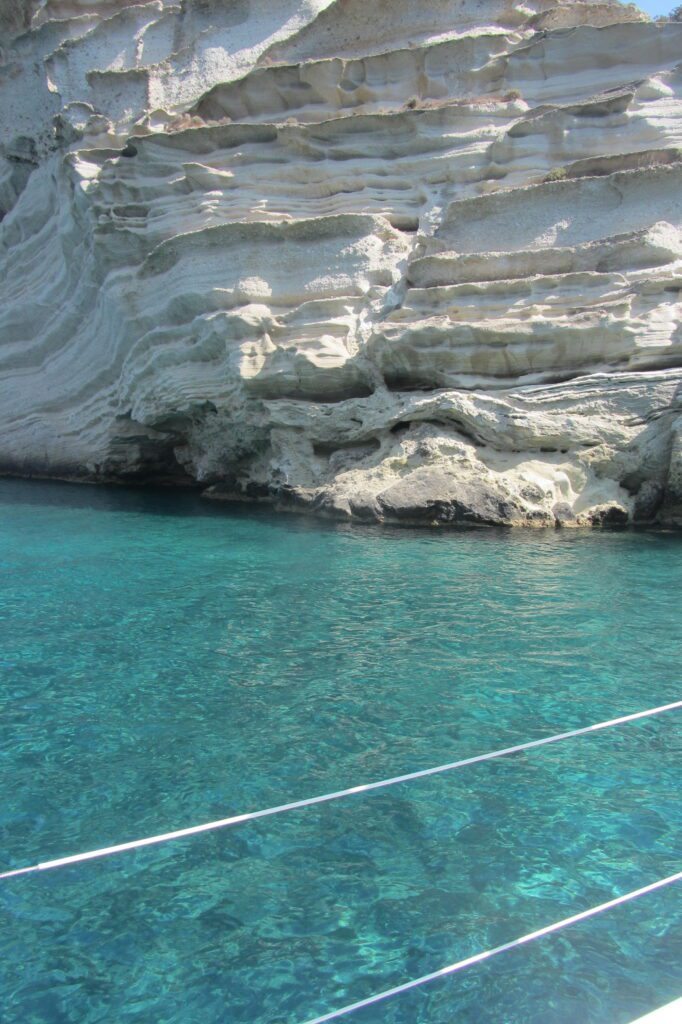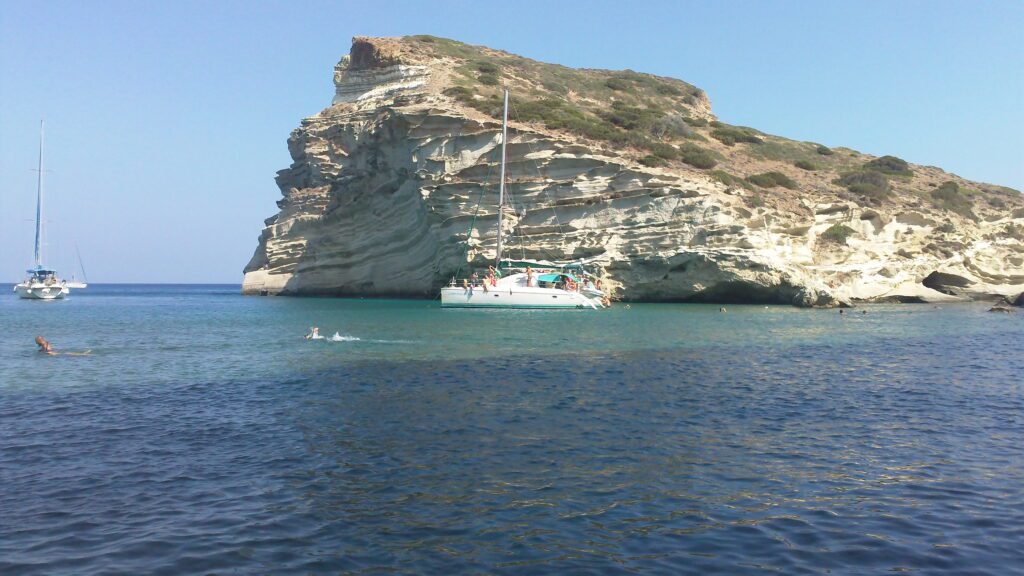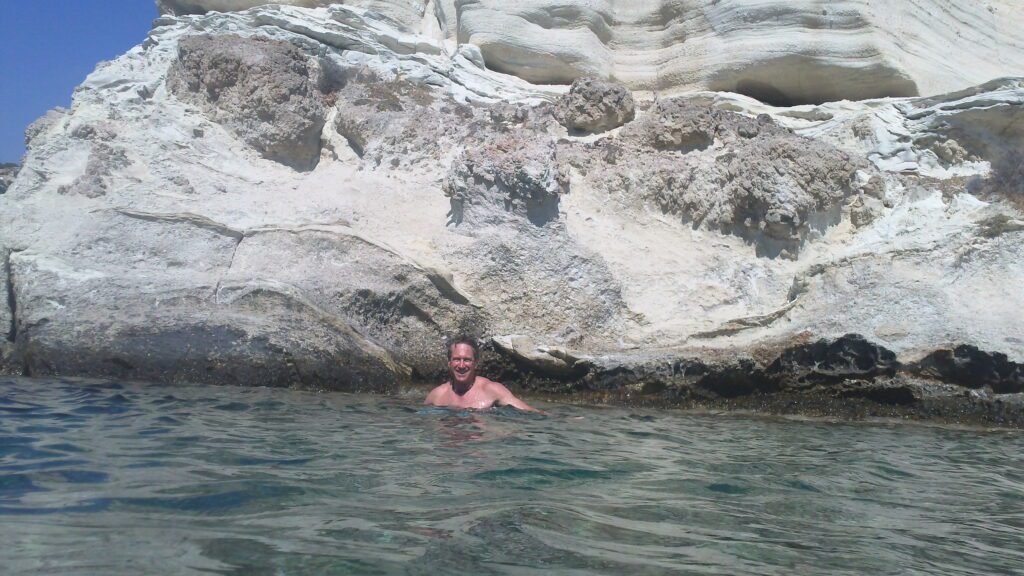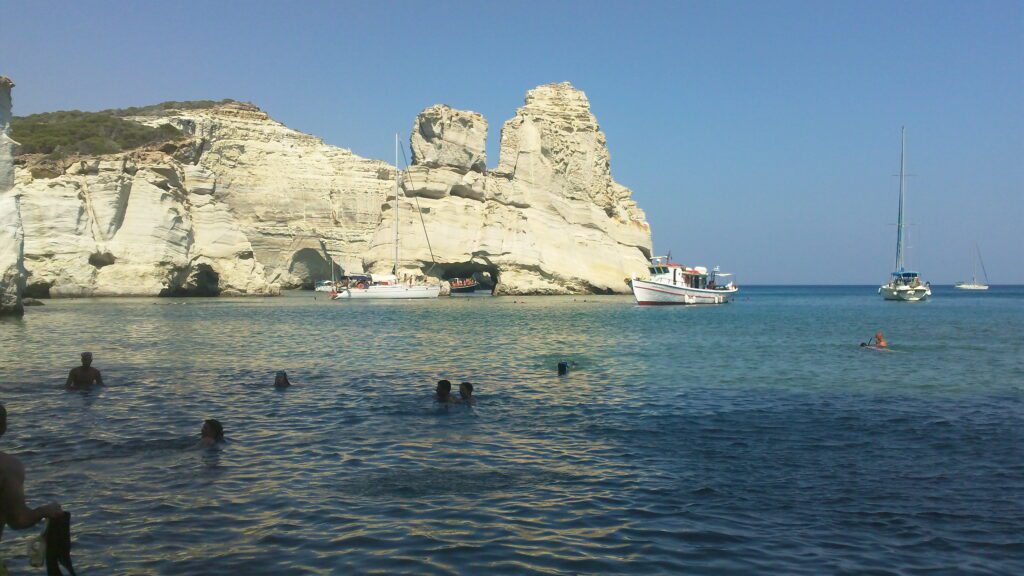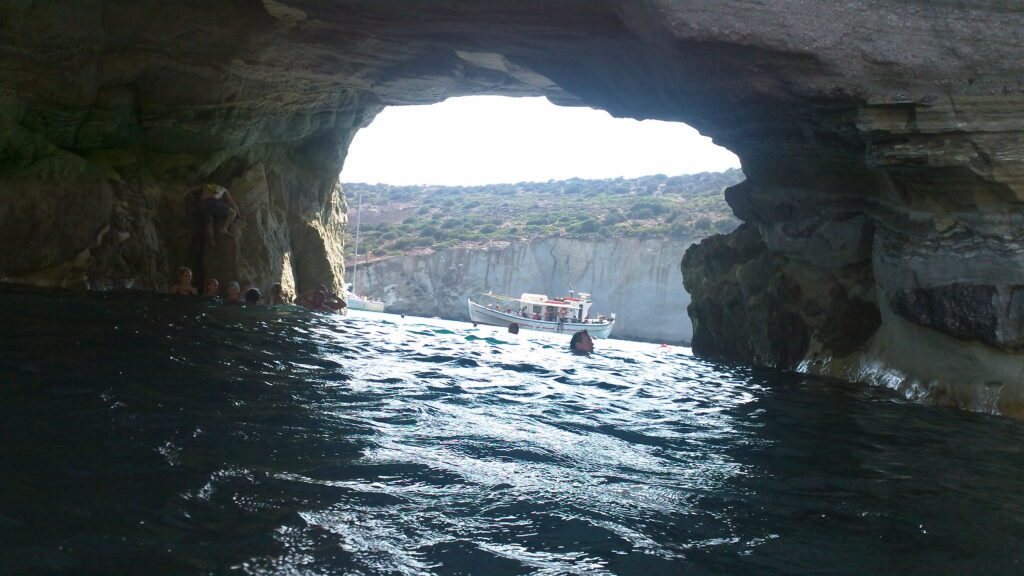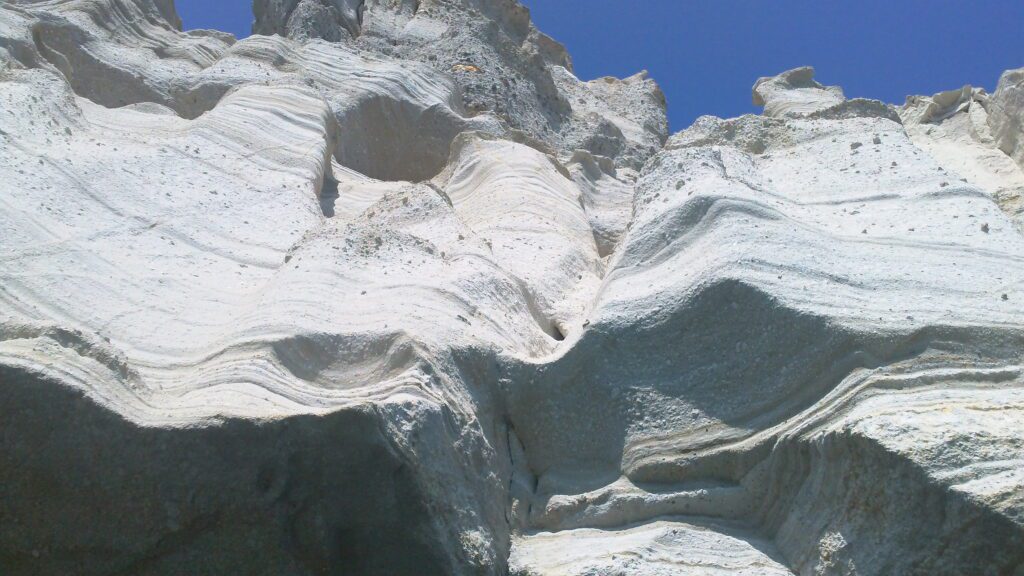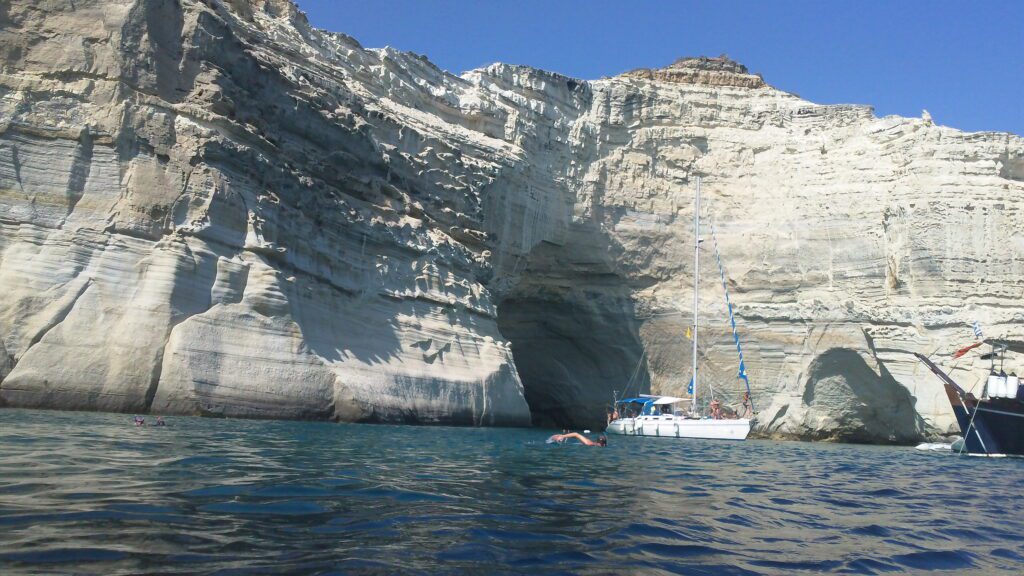 We spent so much time in the water, that we were very late for dinner. The crew waited for us to return – we never heard the bell summoning us back to the boat. We were good-naturedly jeered by the other guests.
The feast prepared for the 20 guests on board was enormous. Fish, salad, shrimp, wine, ouzo, beer, veggies, chicken, tzatski, grape leaves were all included. On our day, there were 10 couples on board. The women sat around the table and the men sat on the hull behind their date/partner/spouse/friend. Before we ate, we had introduce ourselves to the others at the table. Dinner was delightful. We jumped back into the sea for one more swim before we left.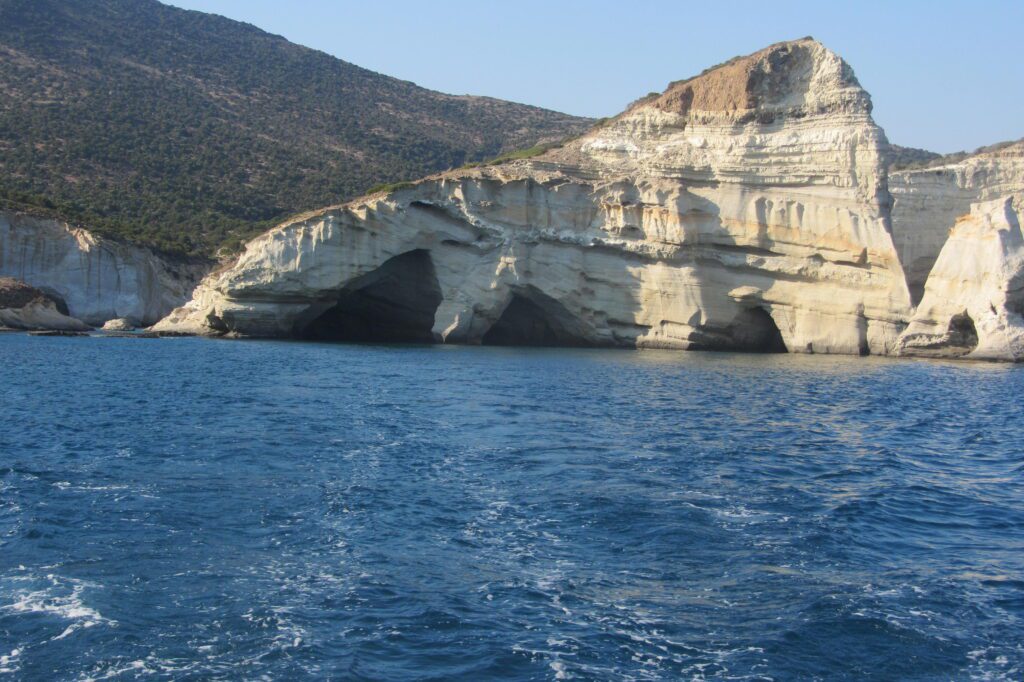 We began to head back to Adamas. Drinks were flowing and the waves were a bit bigger. Several people sat on the front of the boat and let the waves soak them. We chose to stay away from the spray, have some wine and enjoy the ride.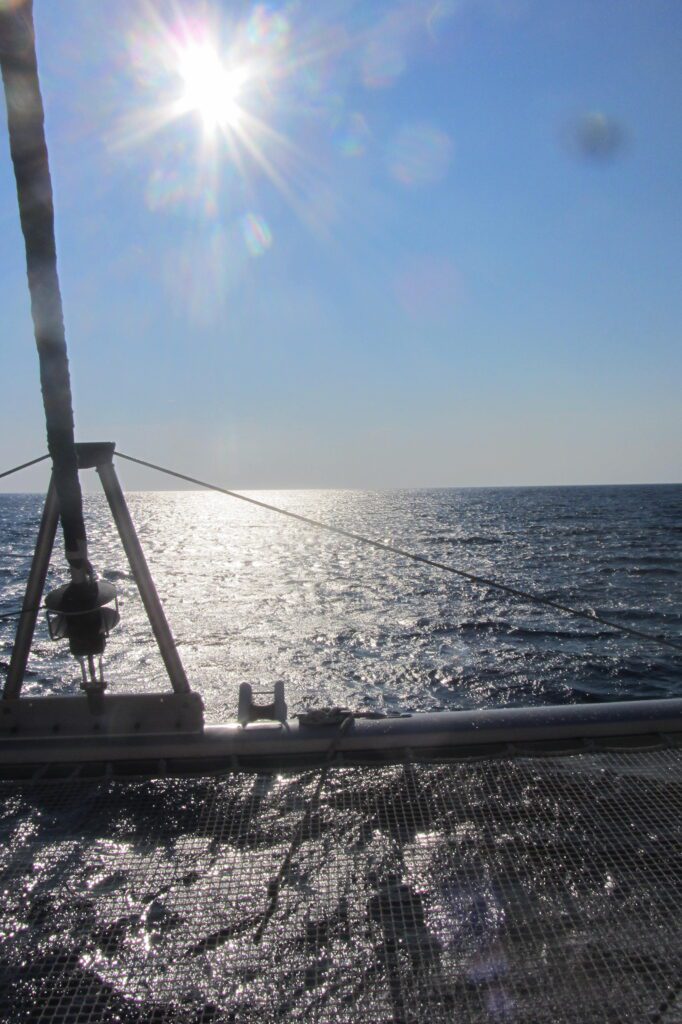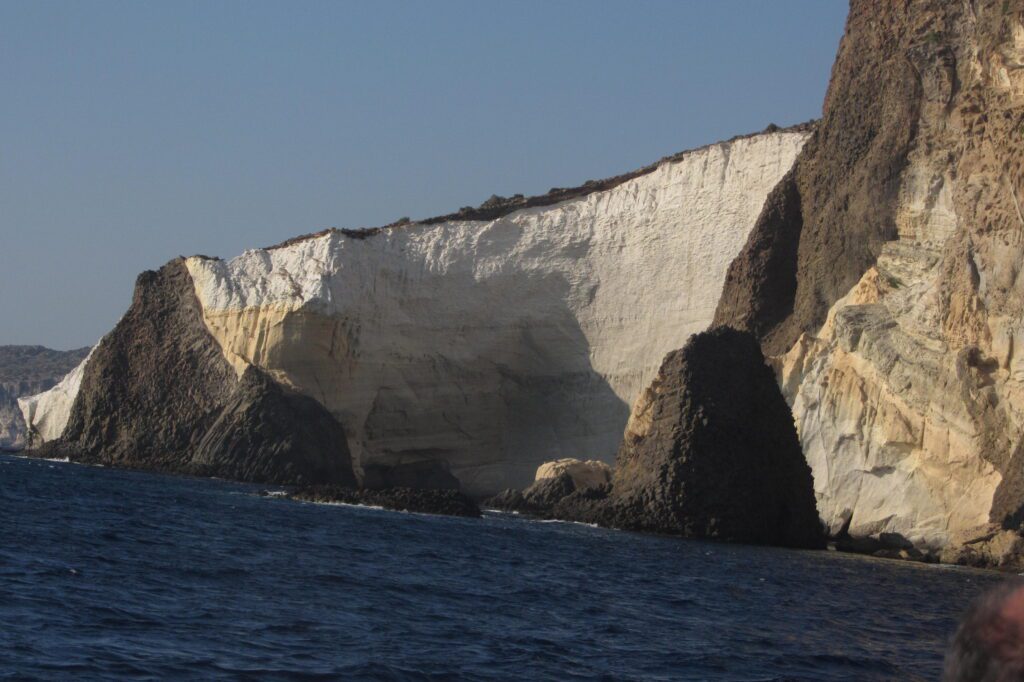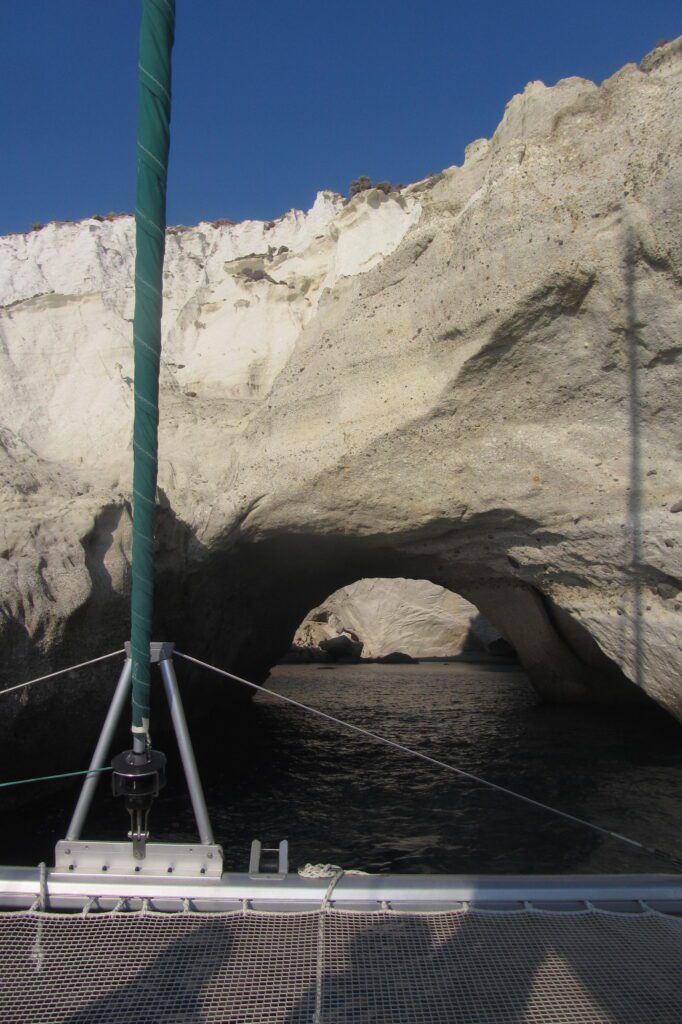 As we passed the giant rock of Vani, the crew passed out ice cream cones. We tiredly watched the sun go down and disembarked in Adamas.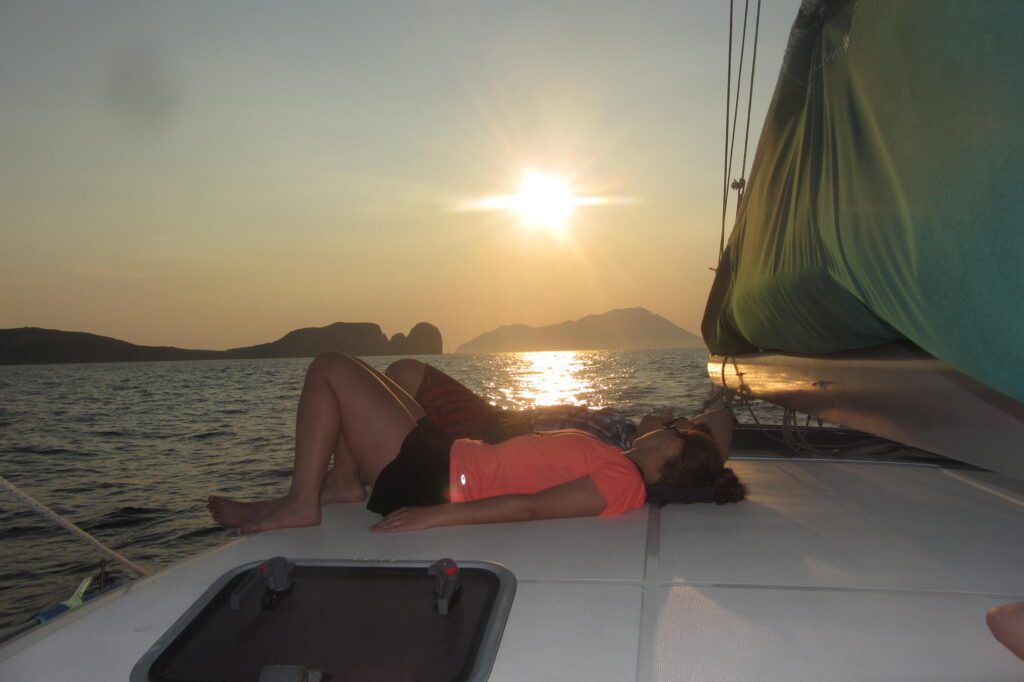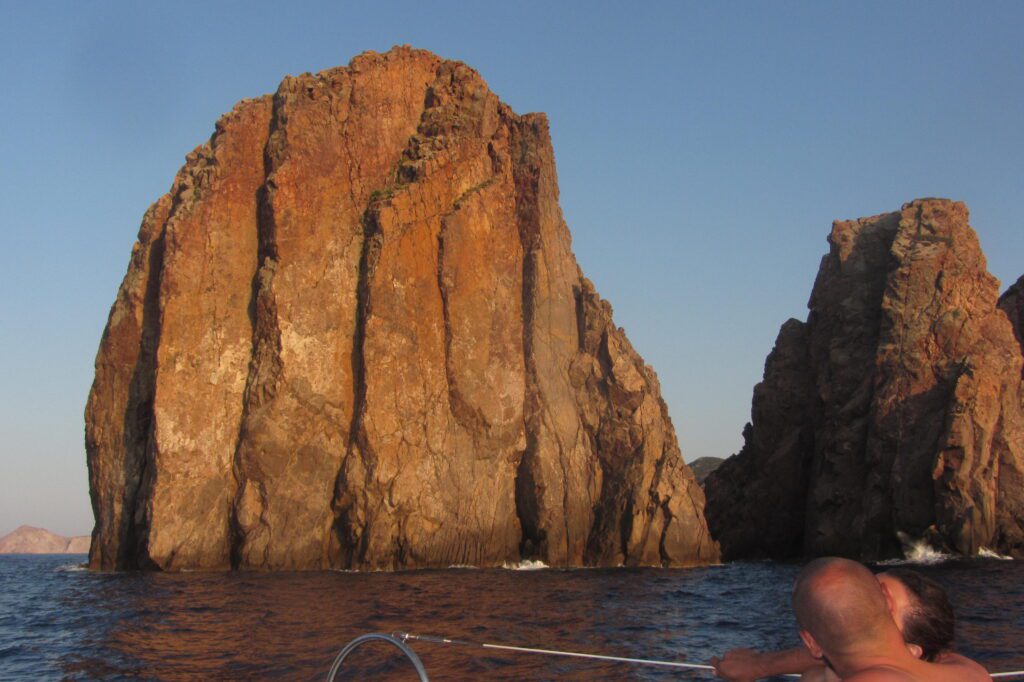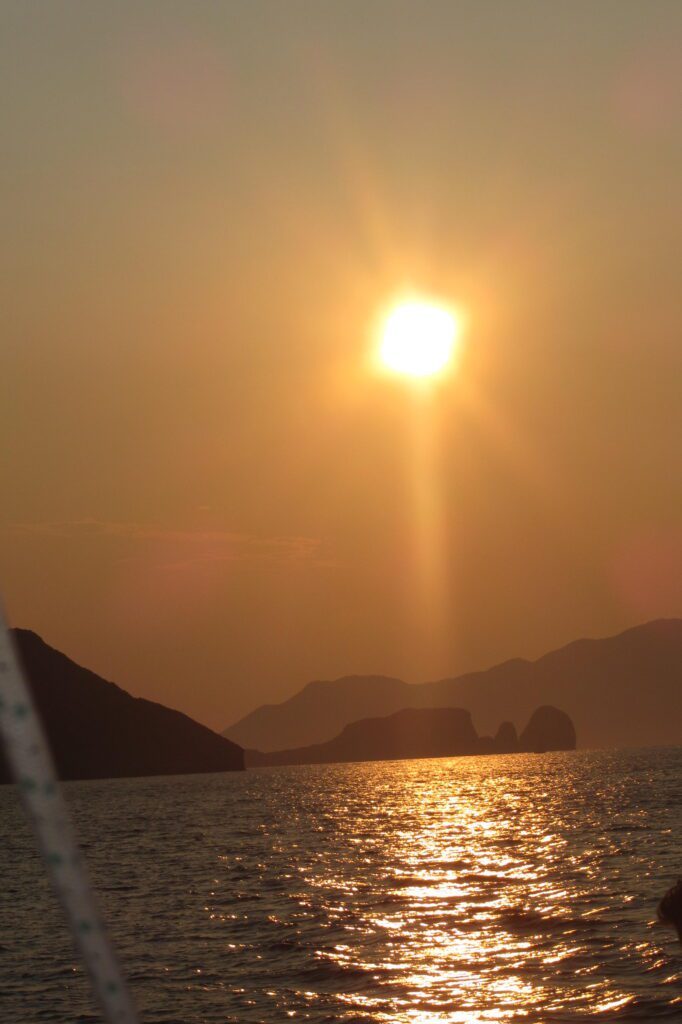 We got back to port about 8:00pm. We highly recommend a day on the water in Milos. Dinner was served on the early side, so we grabbed a salad and took a quick taxi back to Miland Suites. It was a superb day.
Driving Around Milos
Antigone, the owner of Miland Suites, arranged for a local rental agency to bring a car to the hotel after breakfast. We used a paper map and drove all over the island. We highly recommend doing this for a day. We stopped several times, swam, ate and saw the sights.
We first headed to the Plaka village.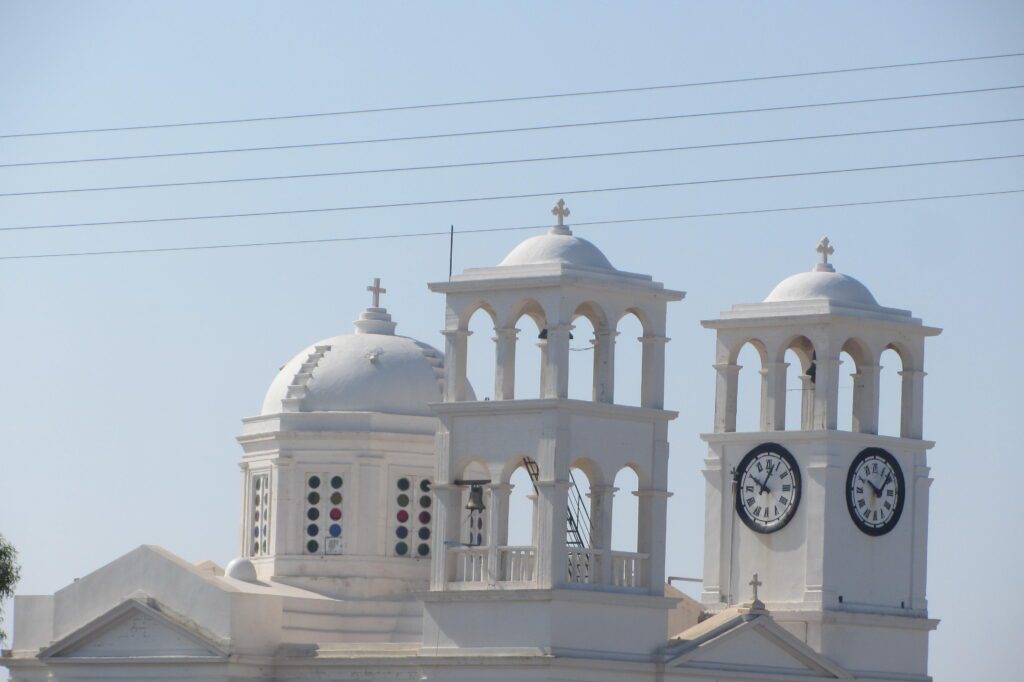 We drove to the Catacombs of Milos, an ancient Christian burial ground overlooking the sea. We bought tickets for 4 Euros and looked inside. It was very interesting. About 30 minutes here is enough time to see the ruins.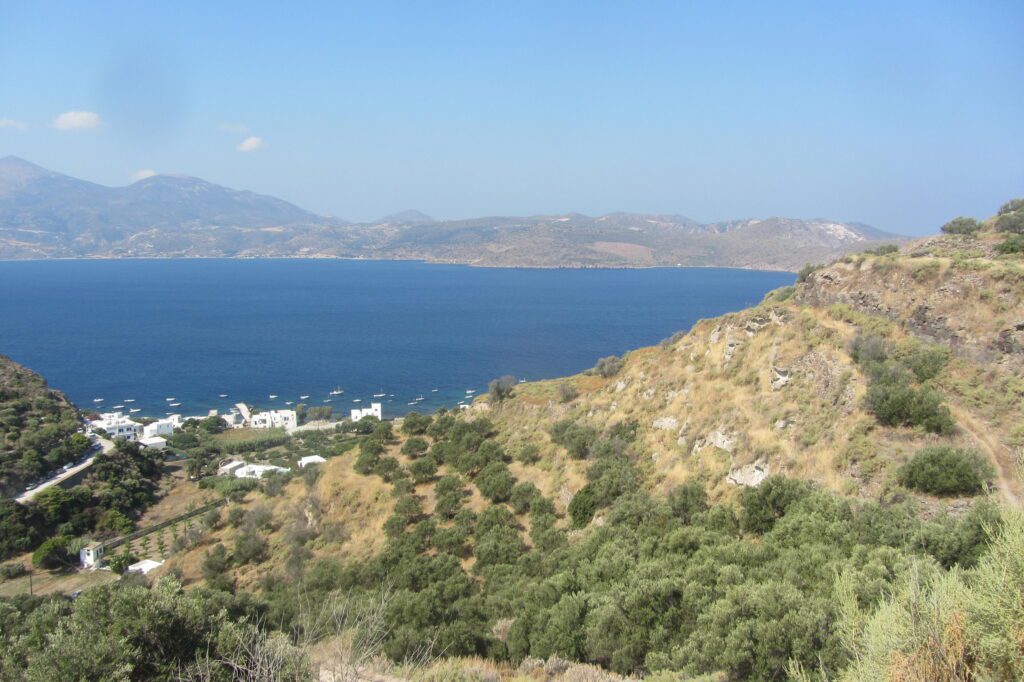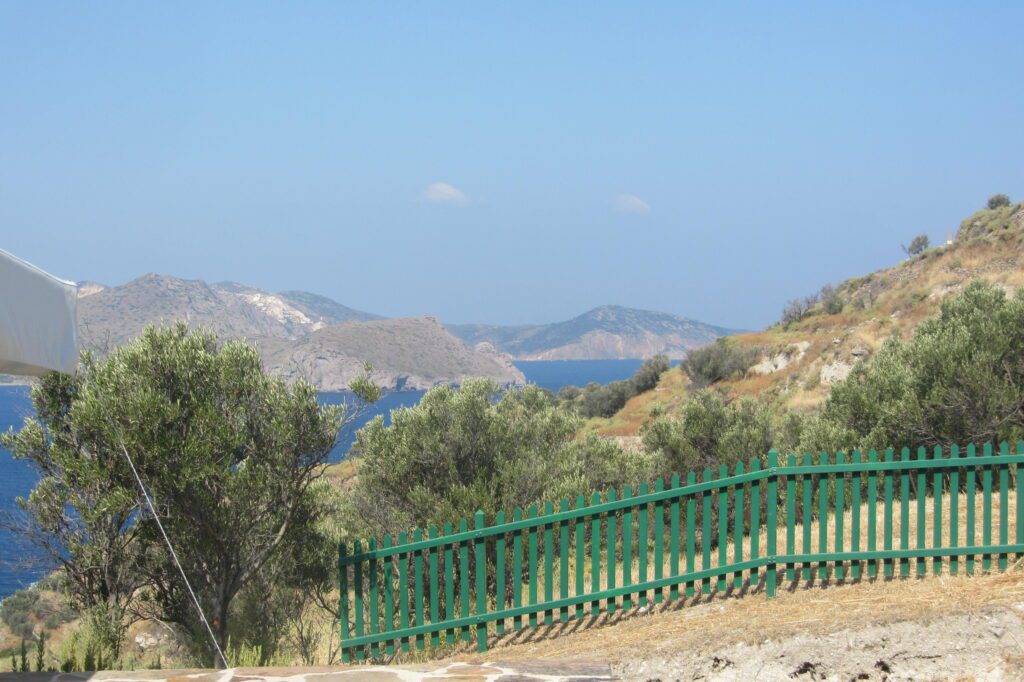 We decided to skip the Plaka Castle walk. We focused this day on seeing Milos' colorful beaches.
We returned to our car. Leaving Plaka proved challenging and we ended up on a few one-way streets going the wrong direction. This was the only time in the day where we wished we had a GPS. However, we eventually found our way out of town and headed to Firopotamus, which was gorgeous!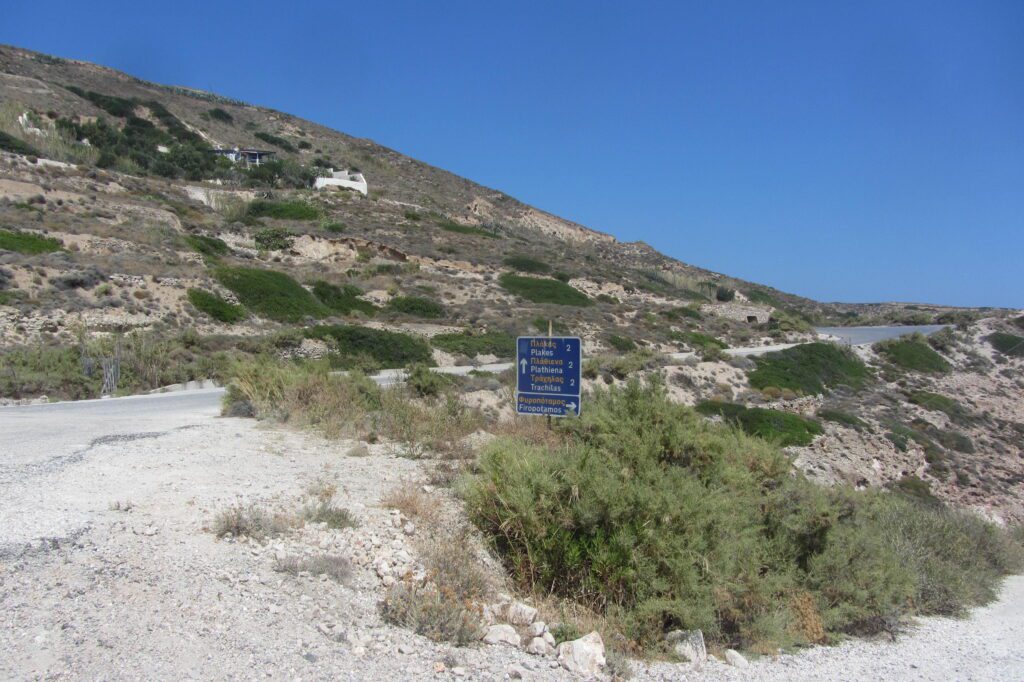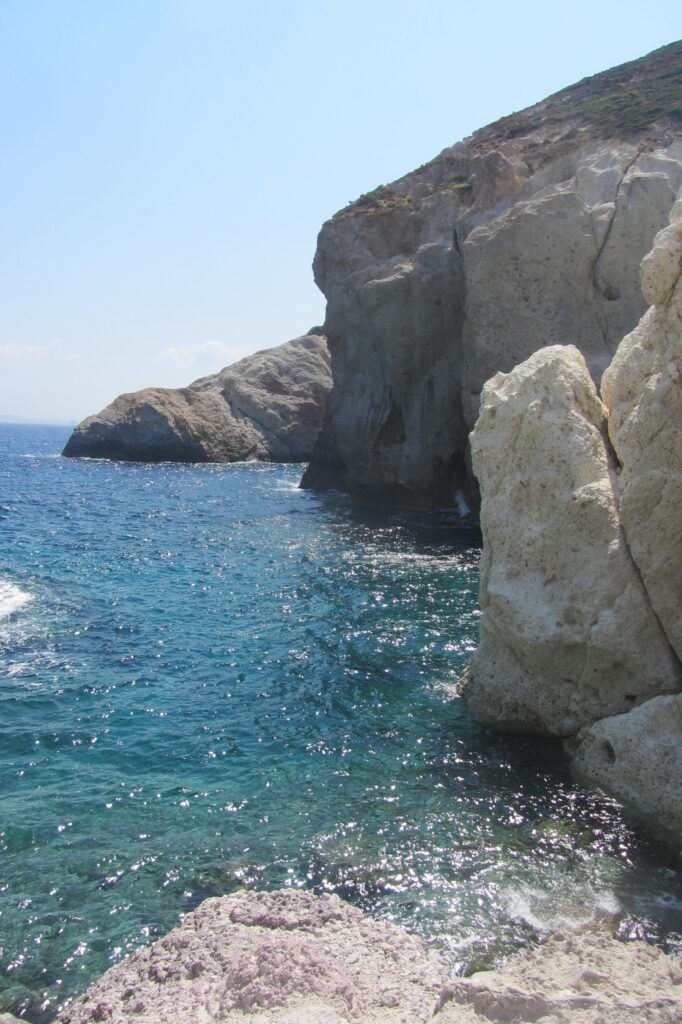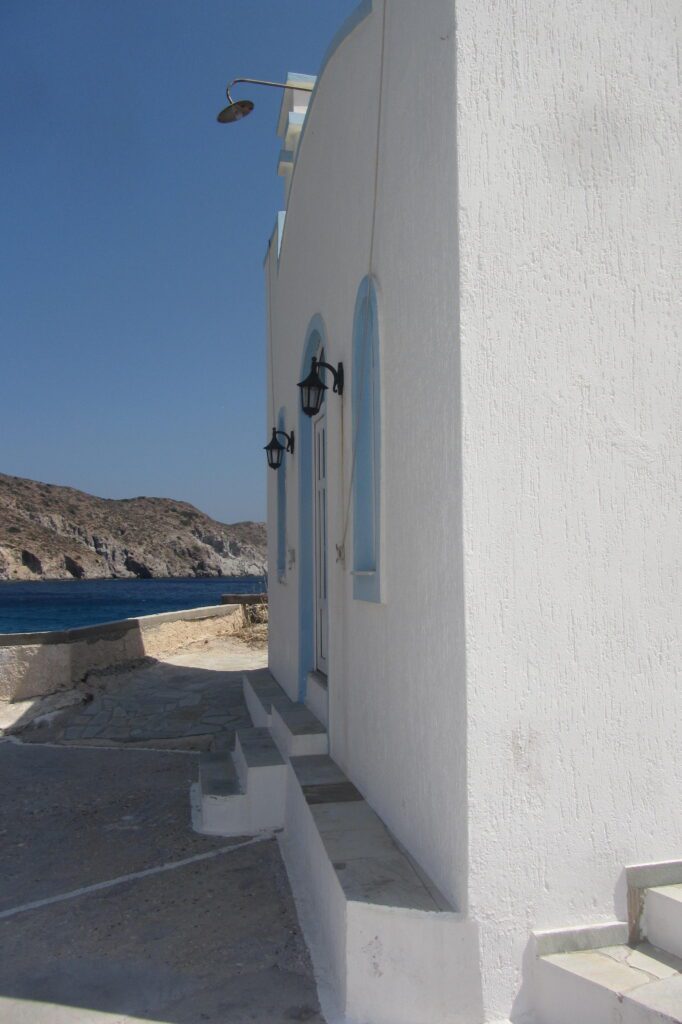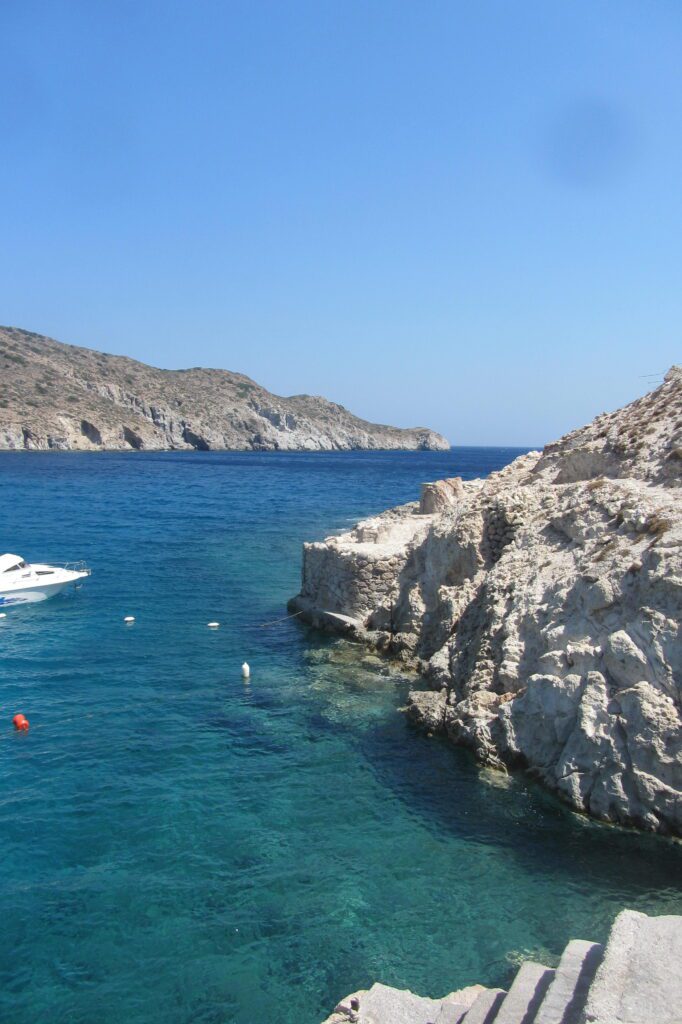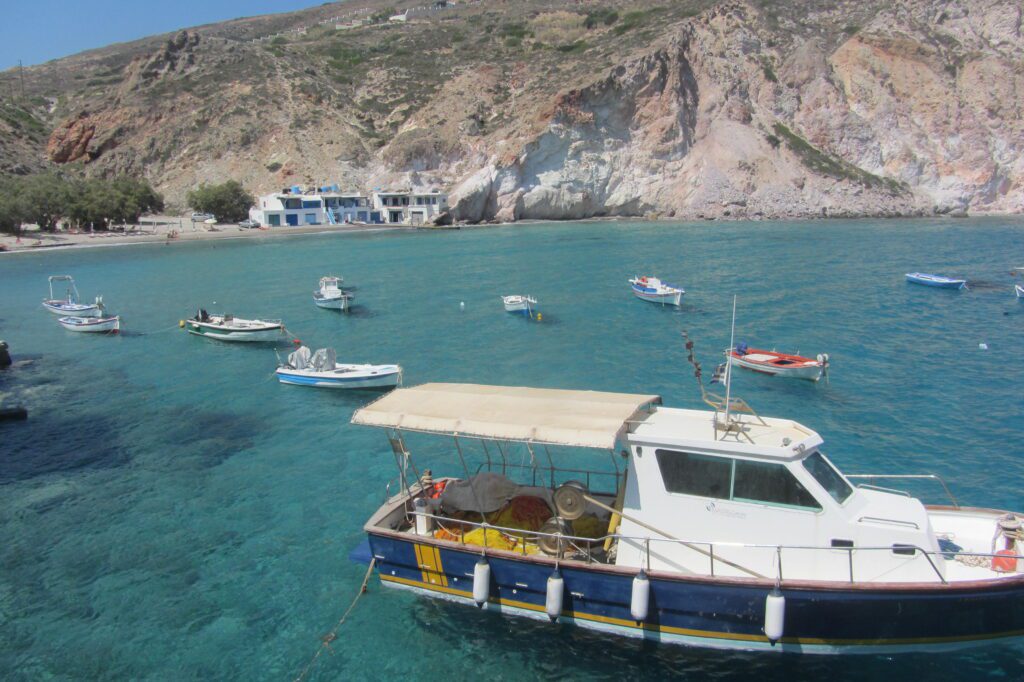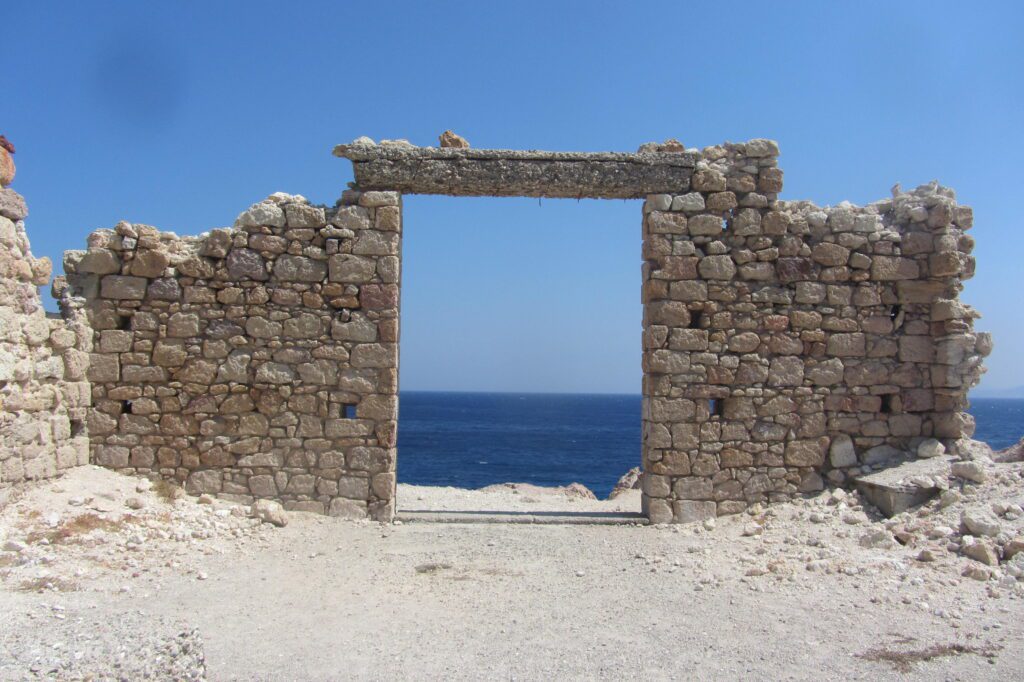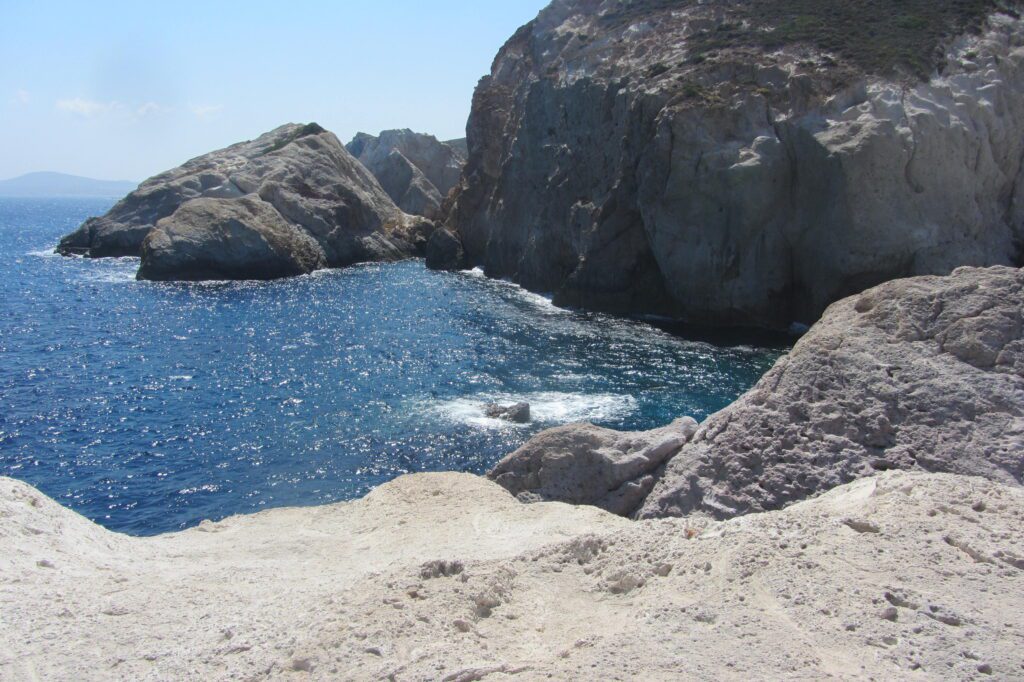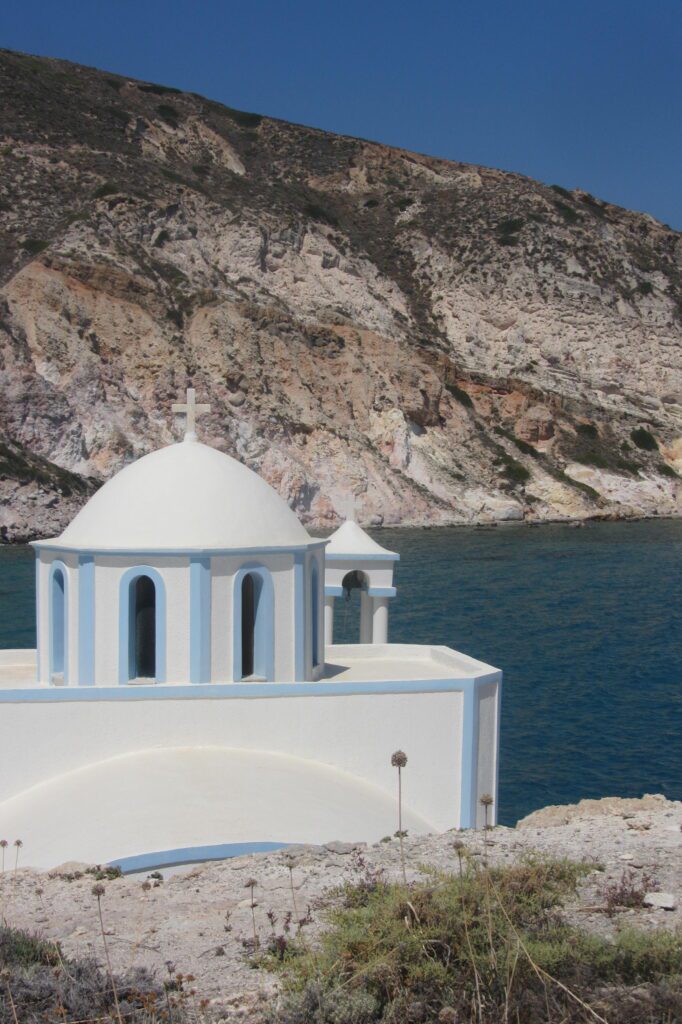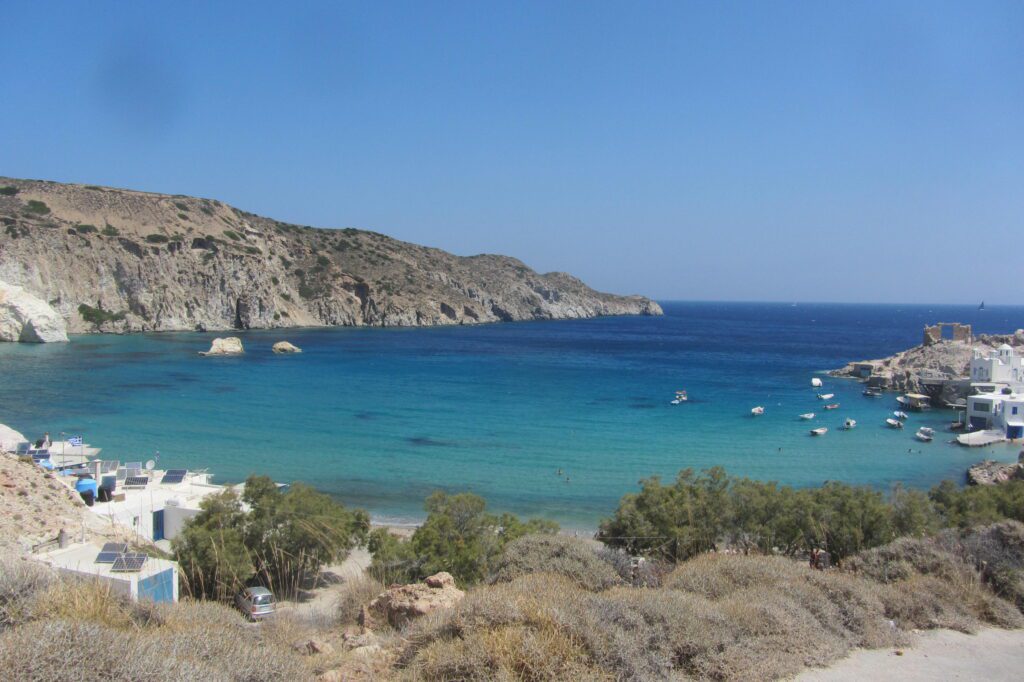 Sarakiniko
We headed to the moon-like Sarakiniko. We saw it from the sailboat, and wanted to check it out. It is worth a stop!
Sarakiniko beach is located on the northern coast of Milos. It's 2.2 km from Adamas, 5 km from Plaka and 9 km from Pollonia.
Sarakiniko, unlike any other on Milos, is a formation of long horizontal pumice rocks. Volcanic activity shaped the stones. No trees or vegetation grow here so there is little shade. Water gently laps a tiny sandy beach. We relaxed on the rocky ledges.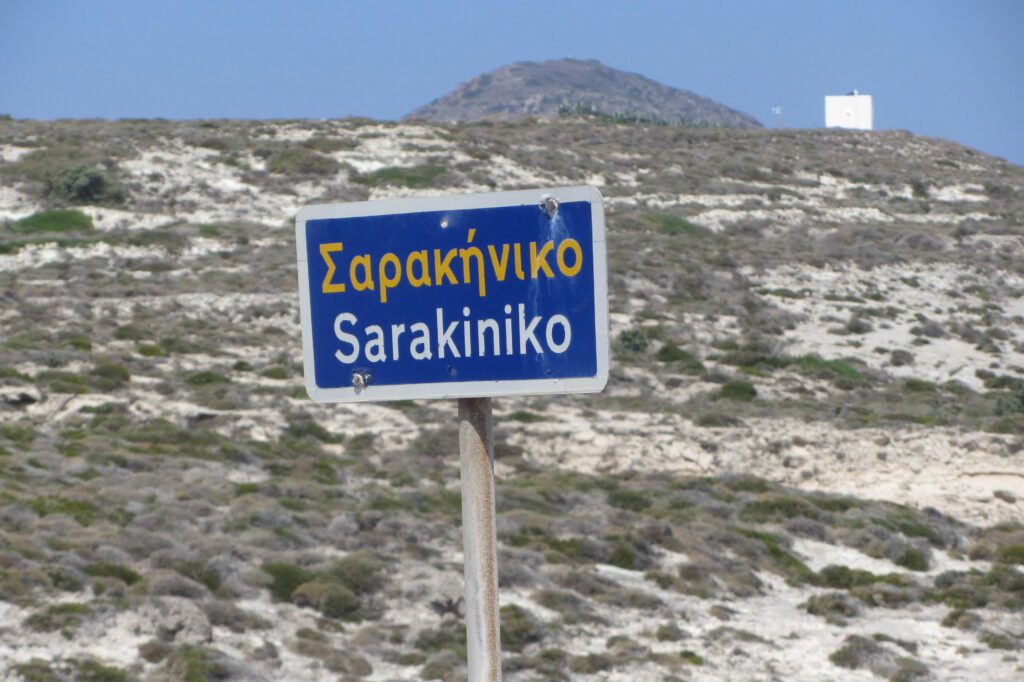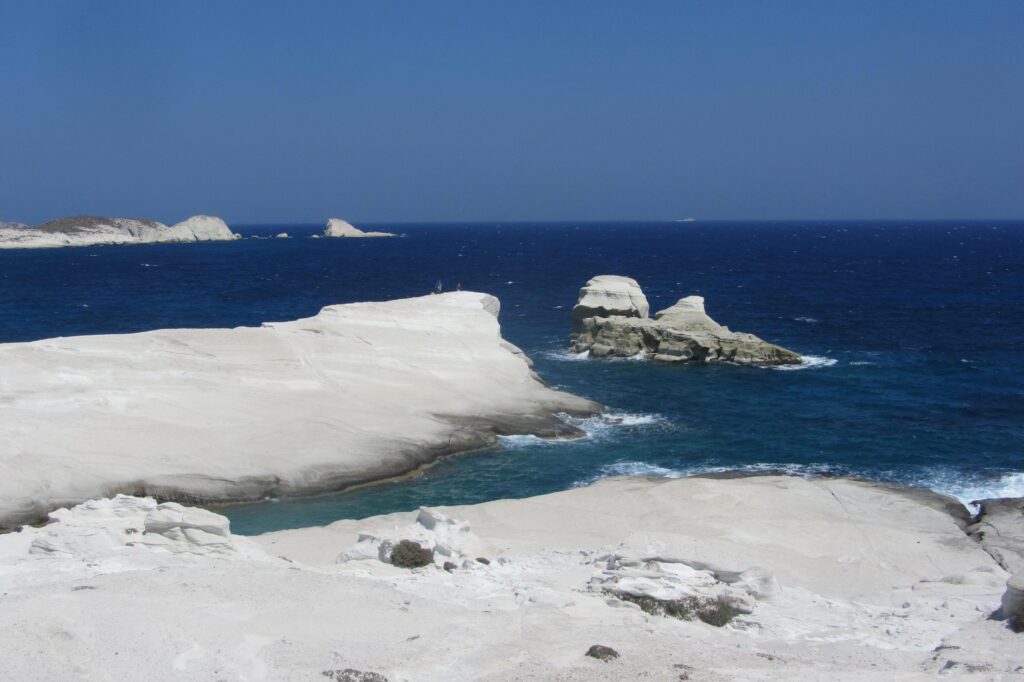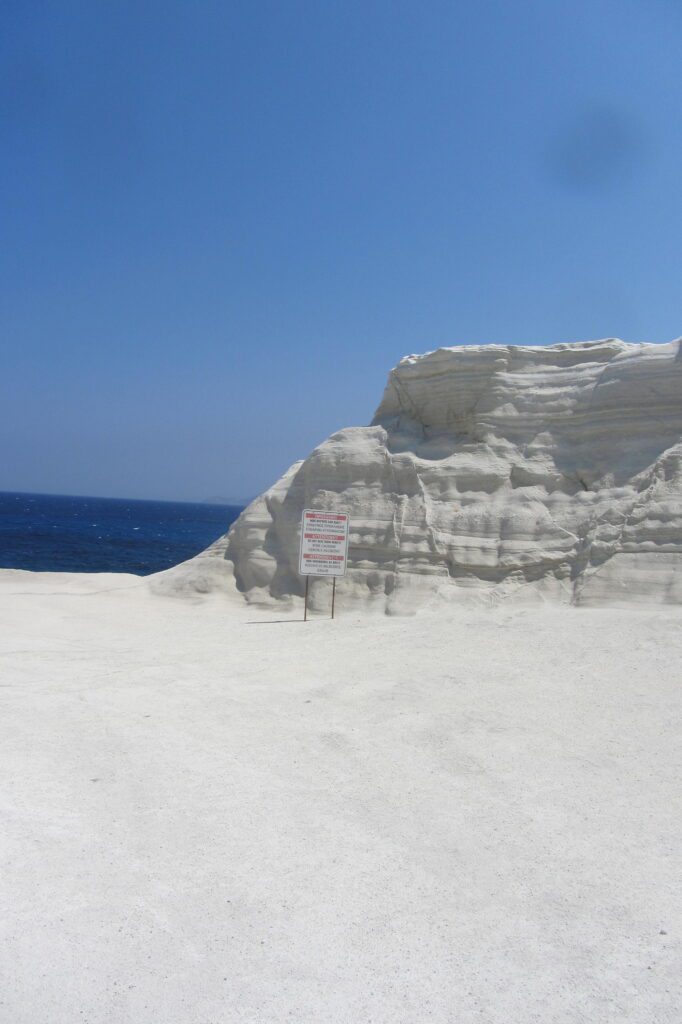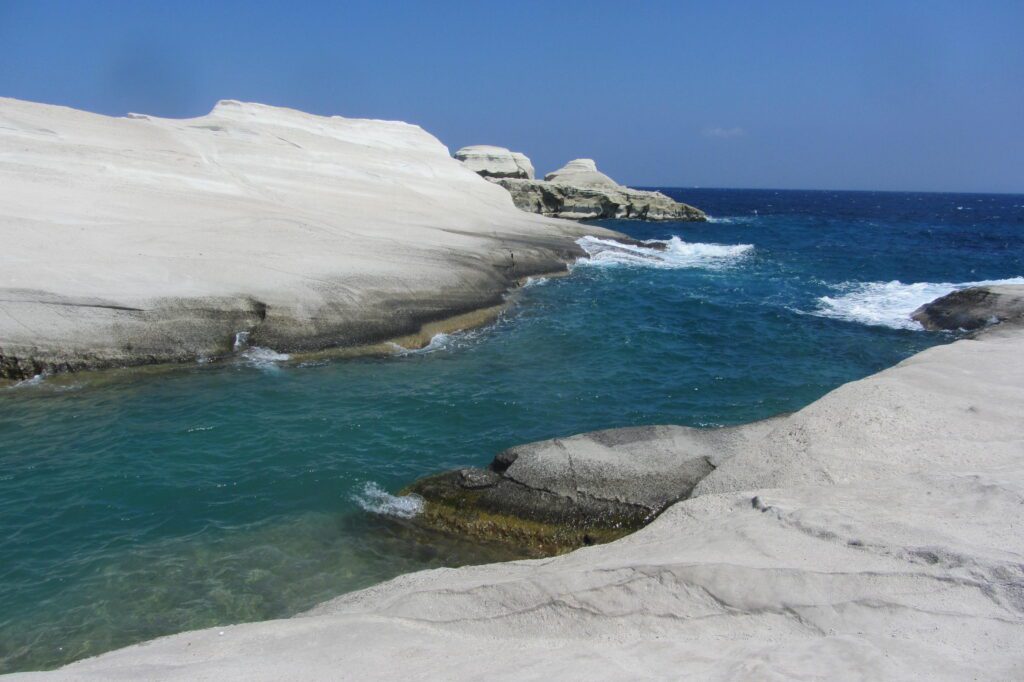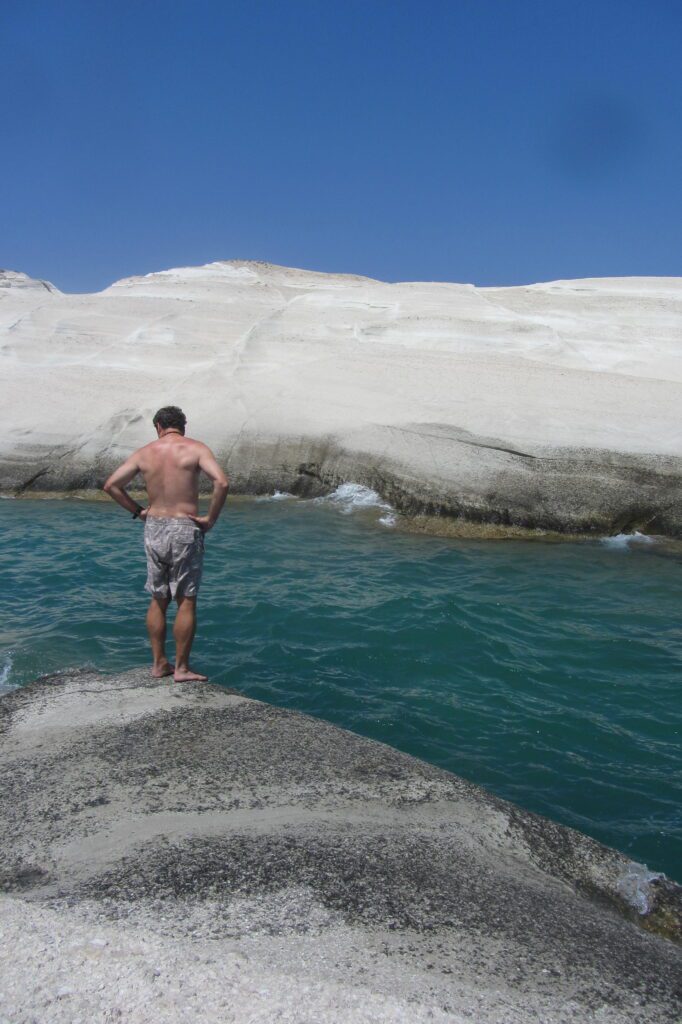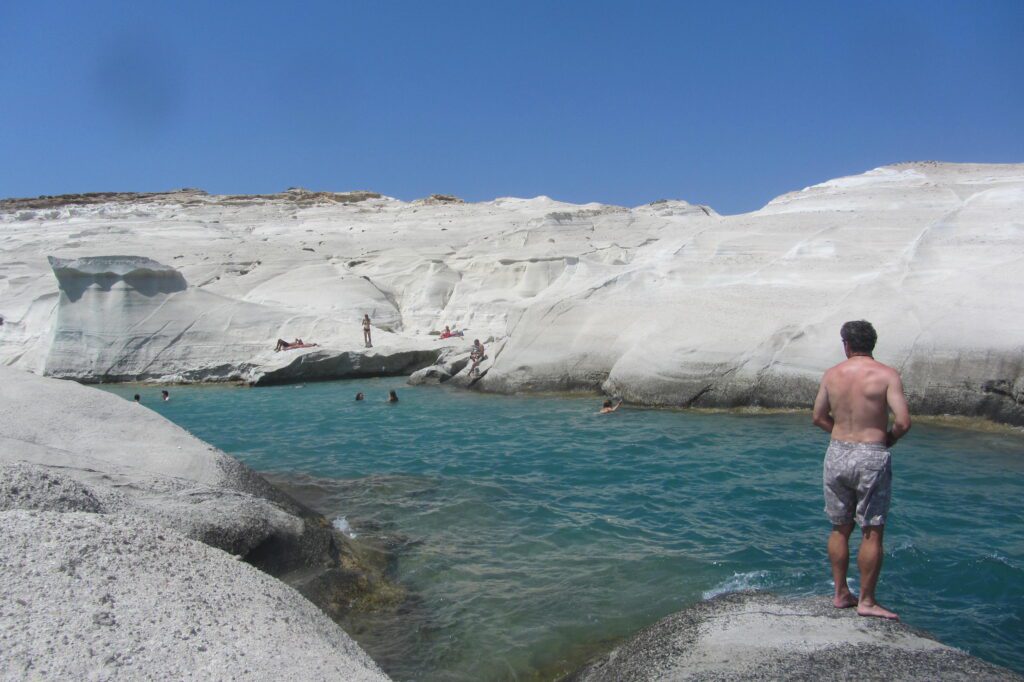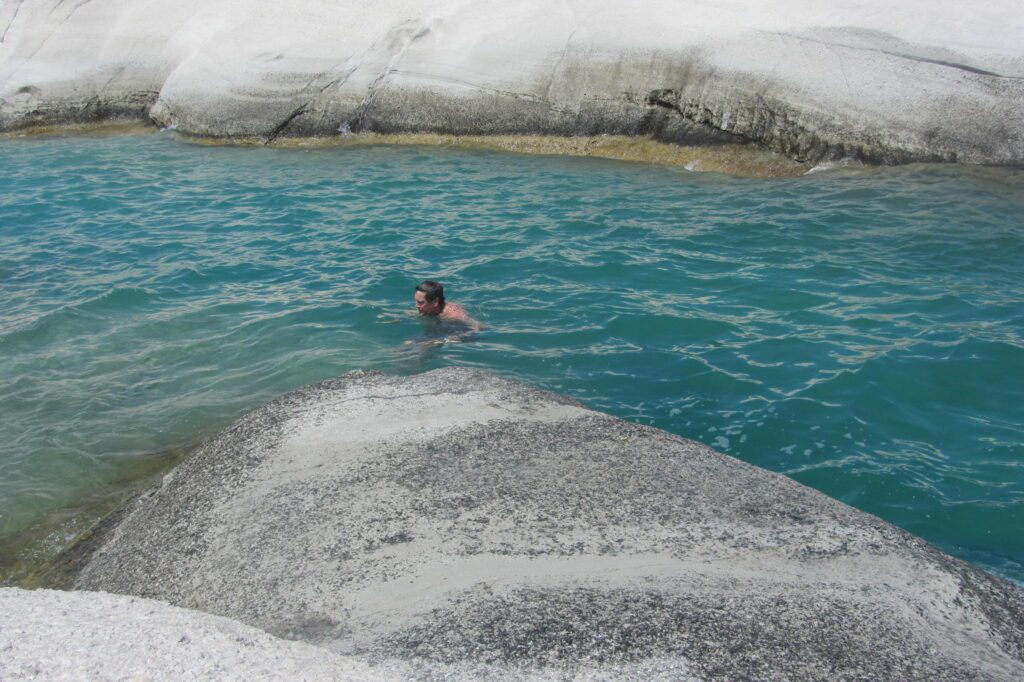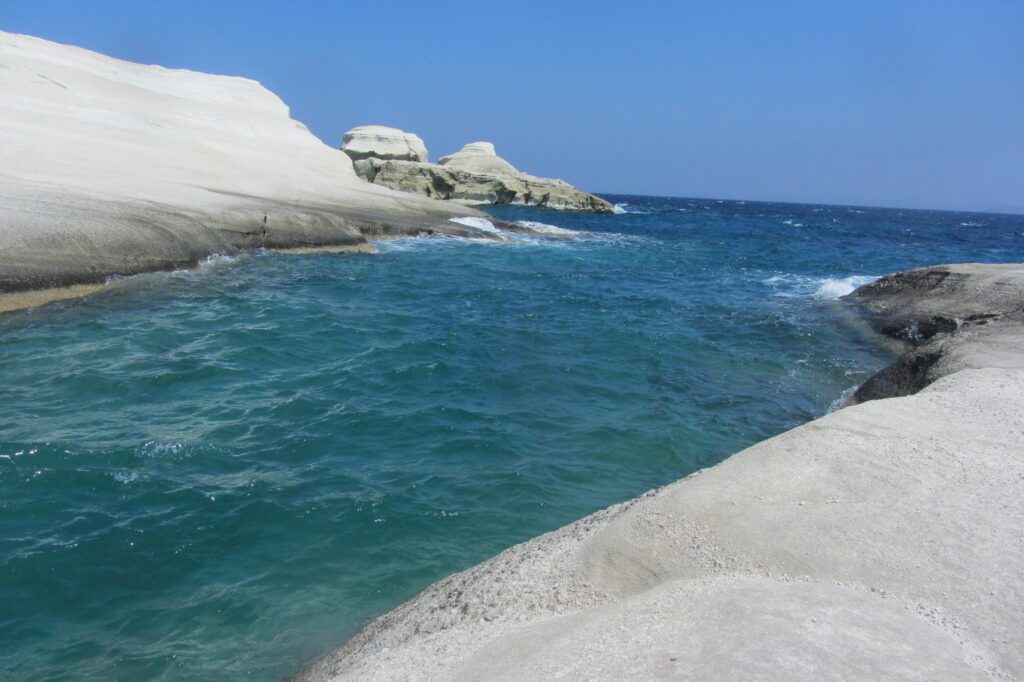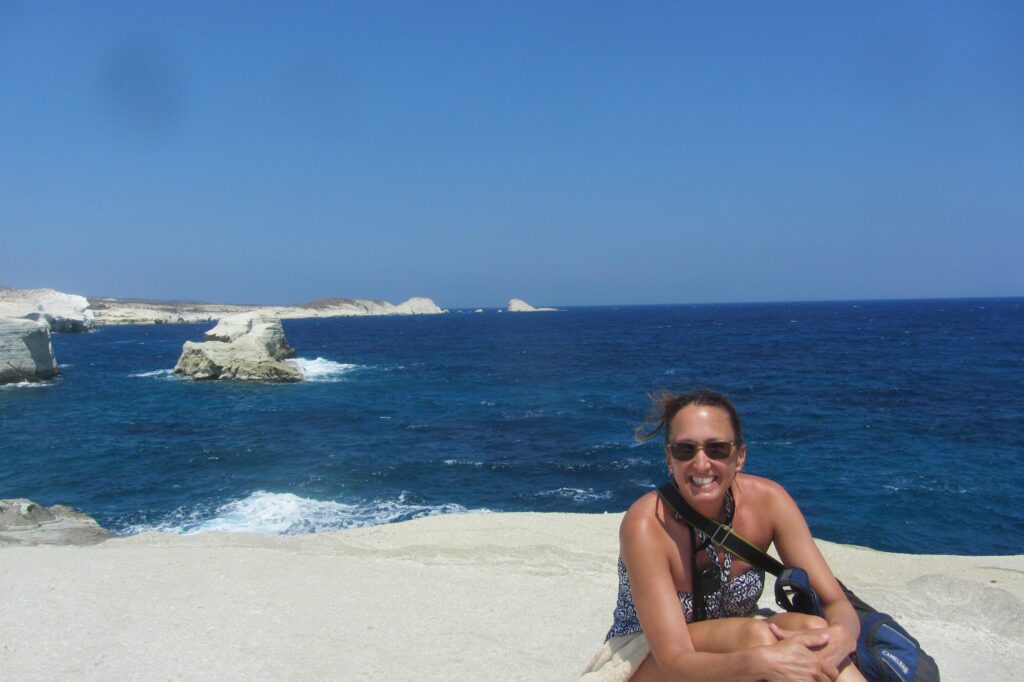 This travel blogger has some excellent tips about spending time in Sarakiniko.
Using our handy-dandy map, we set out to find the beach at Papafrakas. A website told us that we could swim through a cave there, but it looked kind of sketchy. So, we chose not to swim. It is gorgeous. The website description said,
"The small beach at Papafrakas is like no beach you have ever seen. One of the most bizarre places to swim it is a long channel cuth through the rock going inland about 75 yards and ending in a small beach. Part of it is covered so in order to get to the sea you swim through a cave."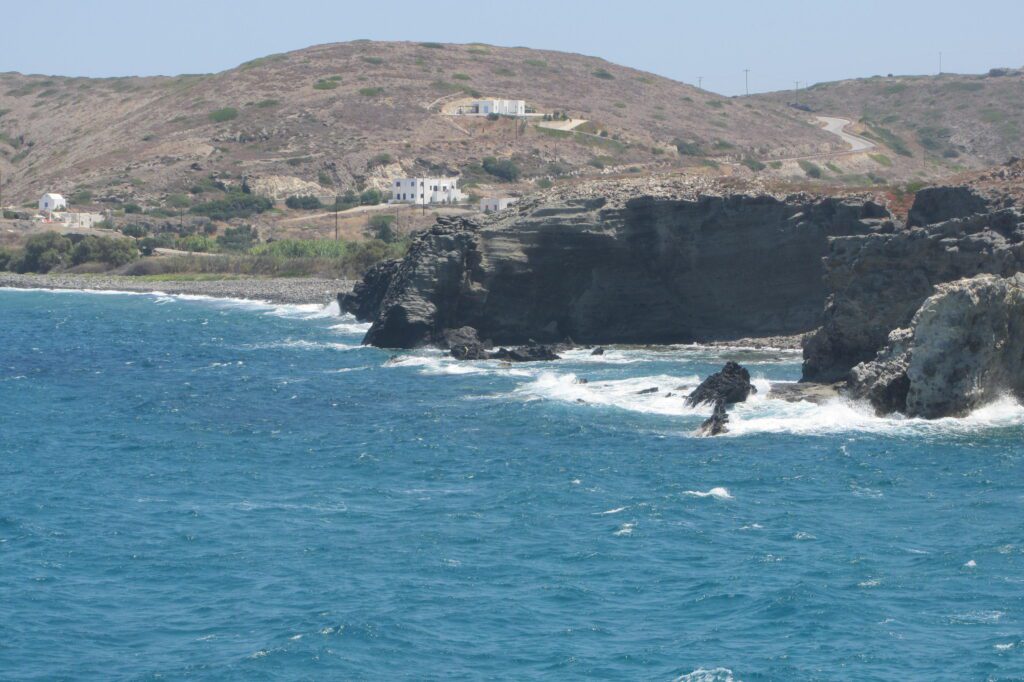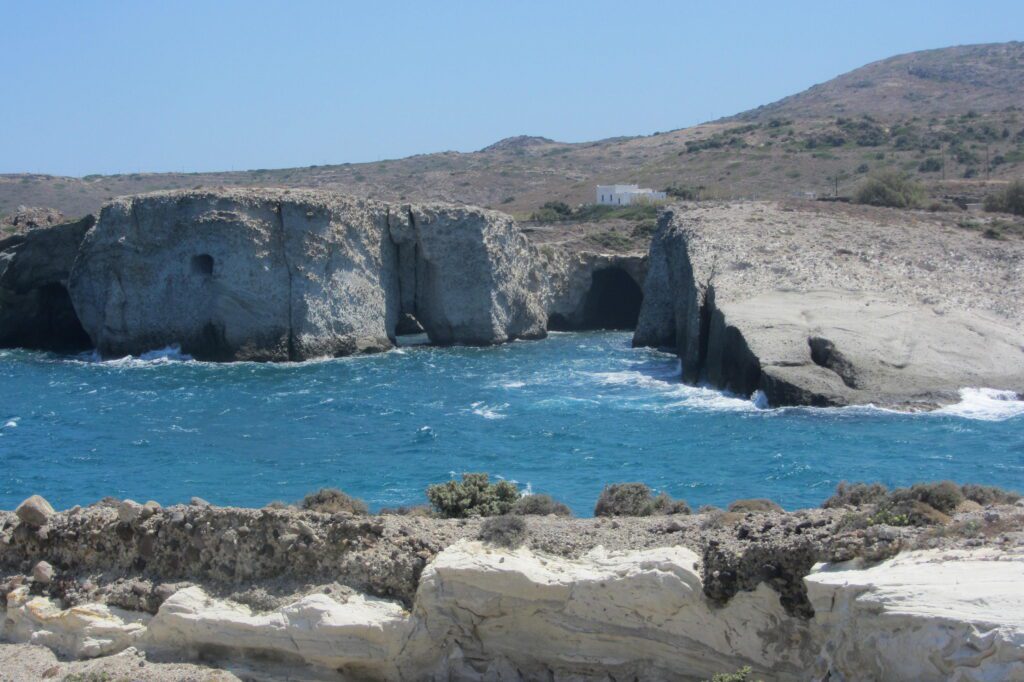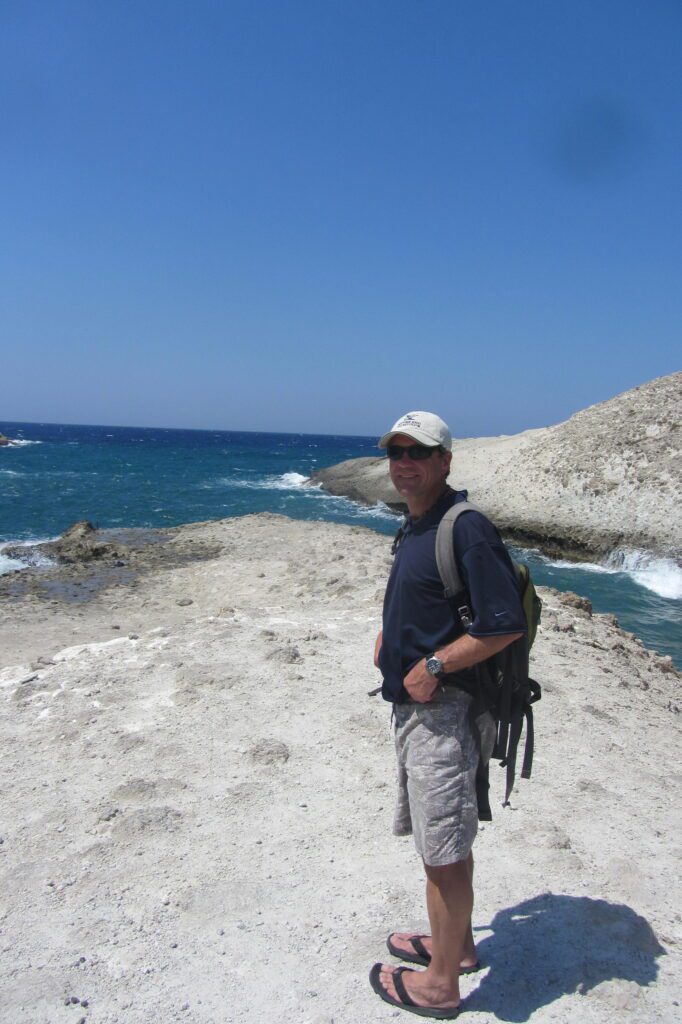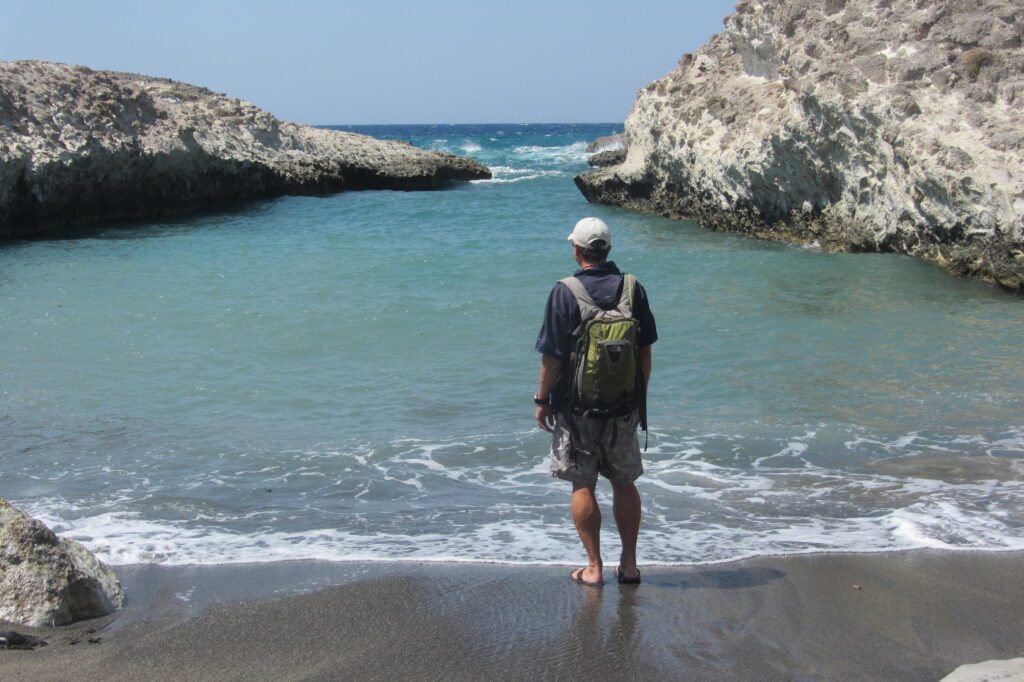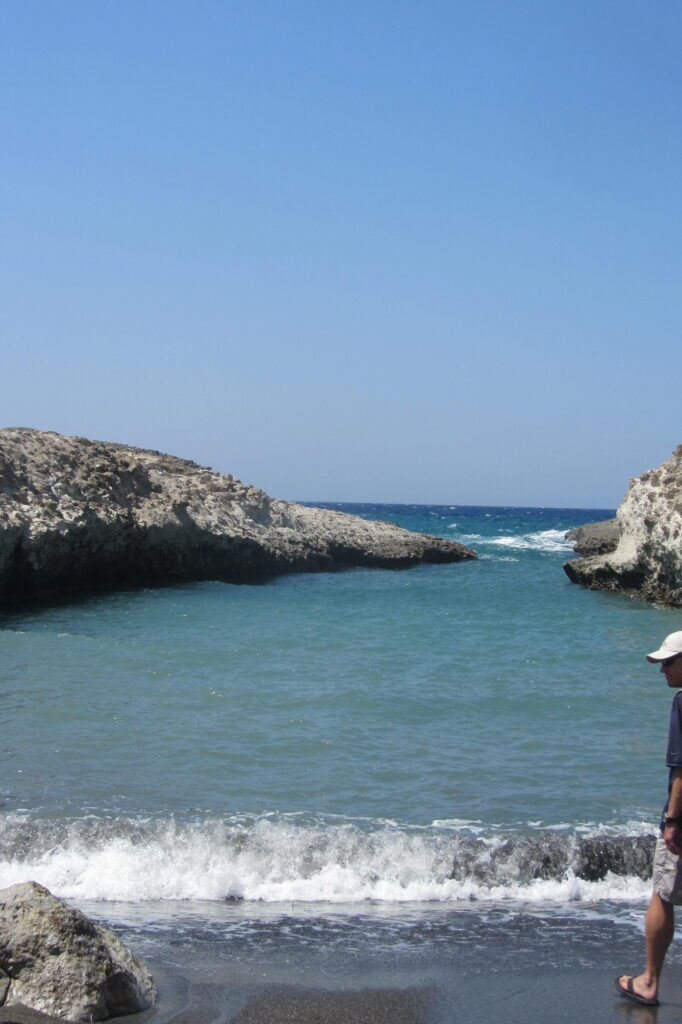 Pollonia
We continued to the adorable seaside village of Pollonia for some lunch. Pollonia is 10 kilometers from Adamas. Seaside dining, walks and a nice beach are found here.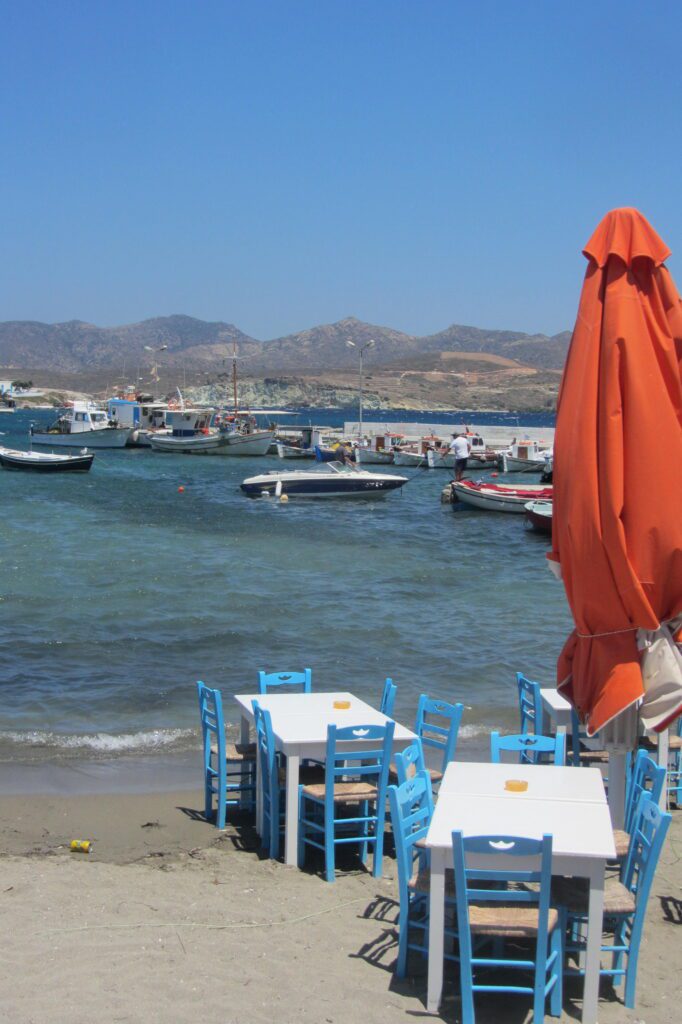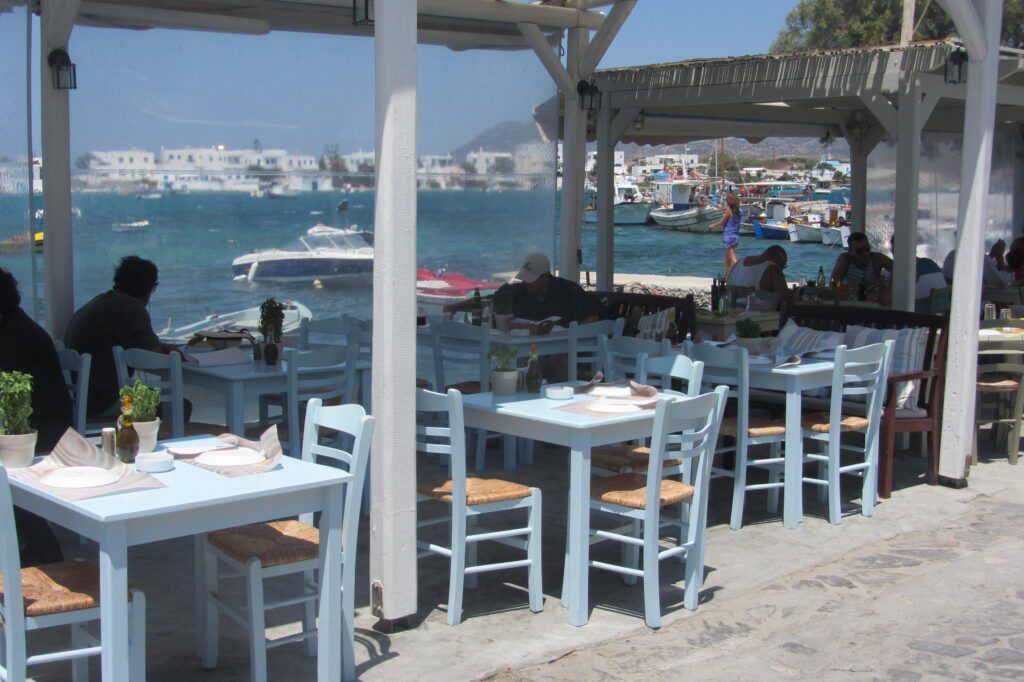 We ate at the seaside restaurant of Ammos. The owner's son was our waiter and he was terrific. Trip Advisor says it is closed. We are unsure if it went out of business or it has closed for the winter. The setting, service and food were terrific.
Stopping here is sure to be a wonderful experience for you. We enjoyed walking around the village.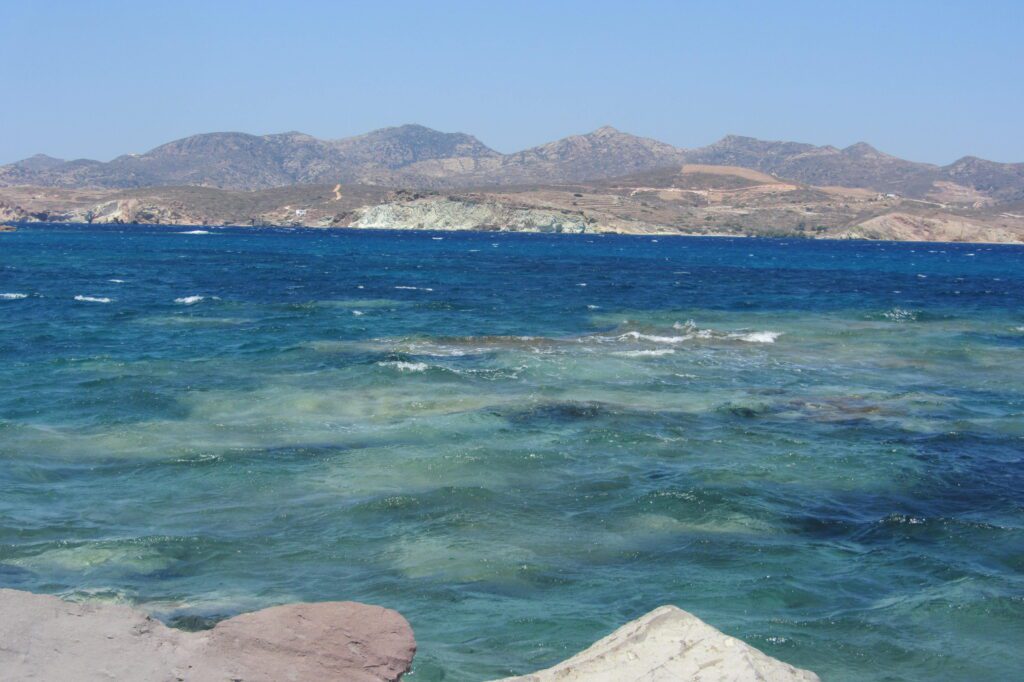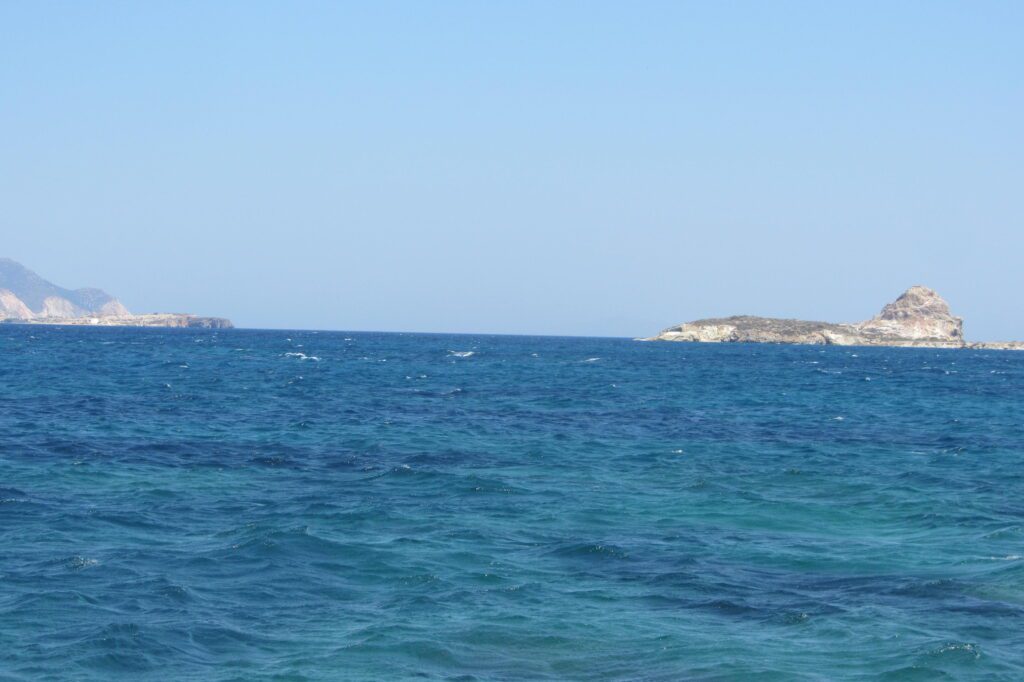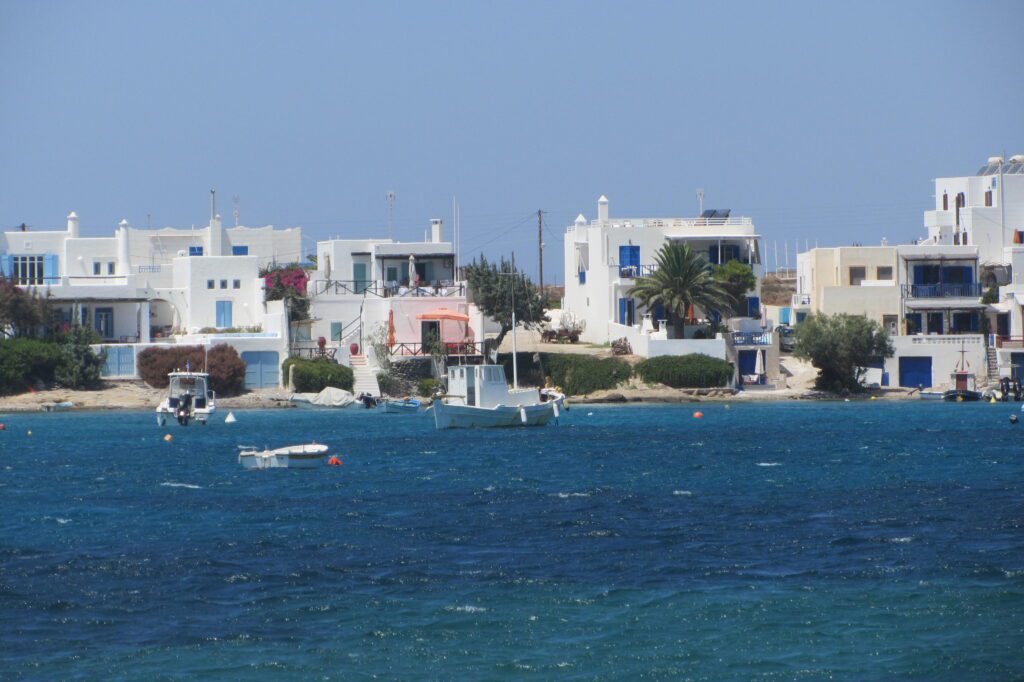 The secluded bay of Tsigrado is exceptionally beautiful. However, you must descend through a crevice in the rock to a steep ladder. It was just too scary for Michele. This travel site gives you good information about Tsigrado.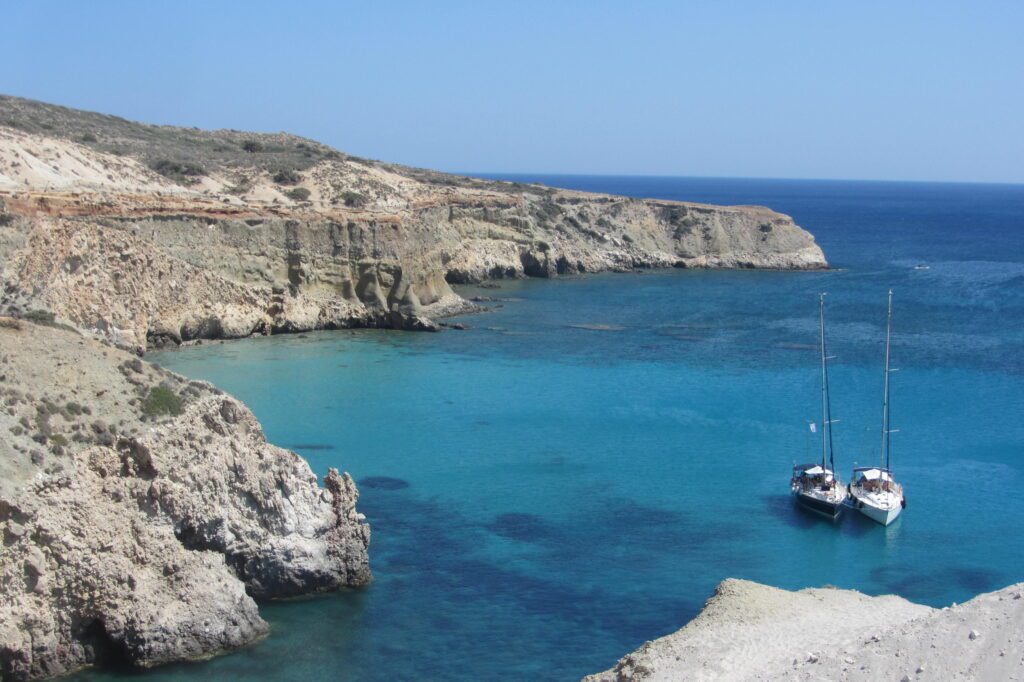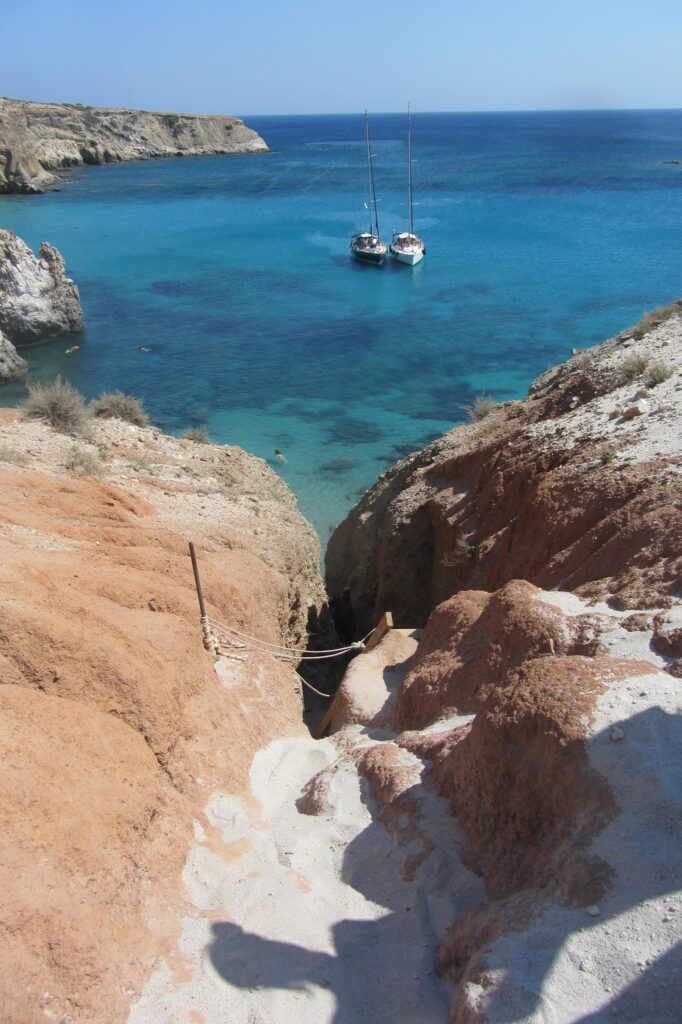 Fyriplaka
Around the corner from Tsigrado beach is Fyriplaka. You park in a small lot down a dirt road near the beach. This fills up early! We drove down the road; cars were parked on both sides. It was wildly dangerous. We decided to park near the top and walk on a skinny path to the water. Go early in the day to avoid the crowds. We were well after lunch. We had a quick swim. It is beautiful here.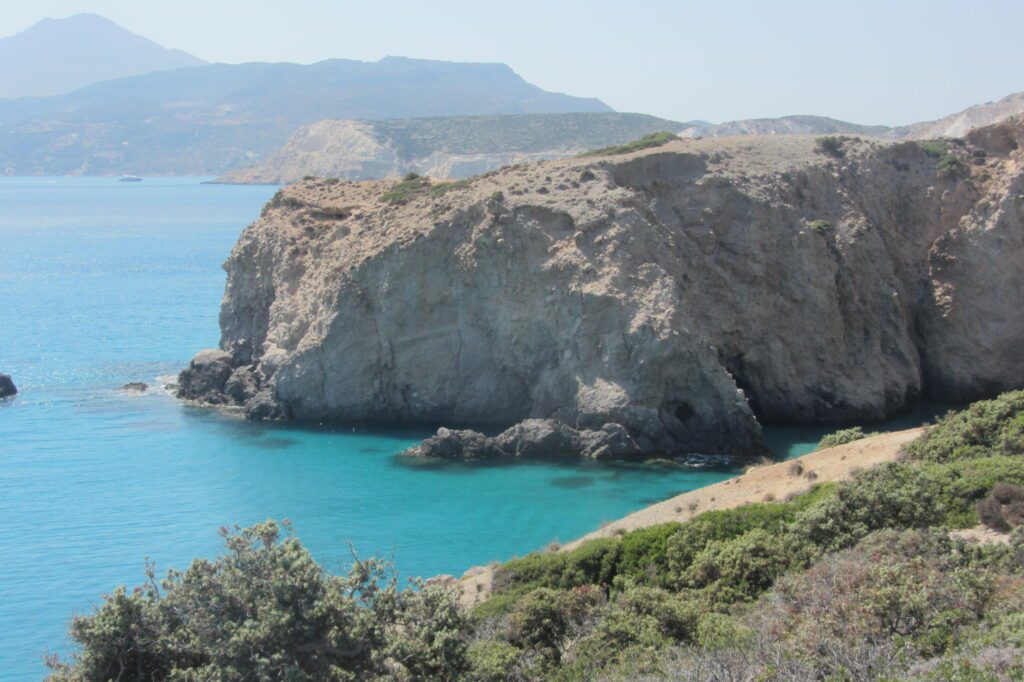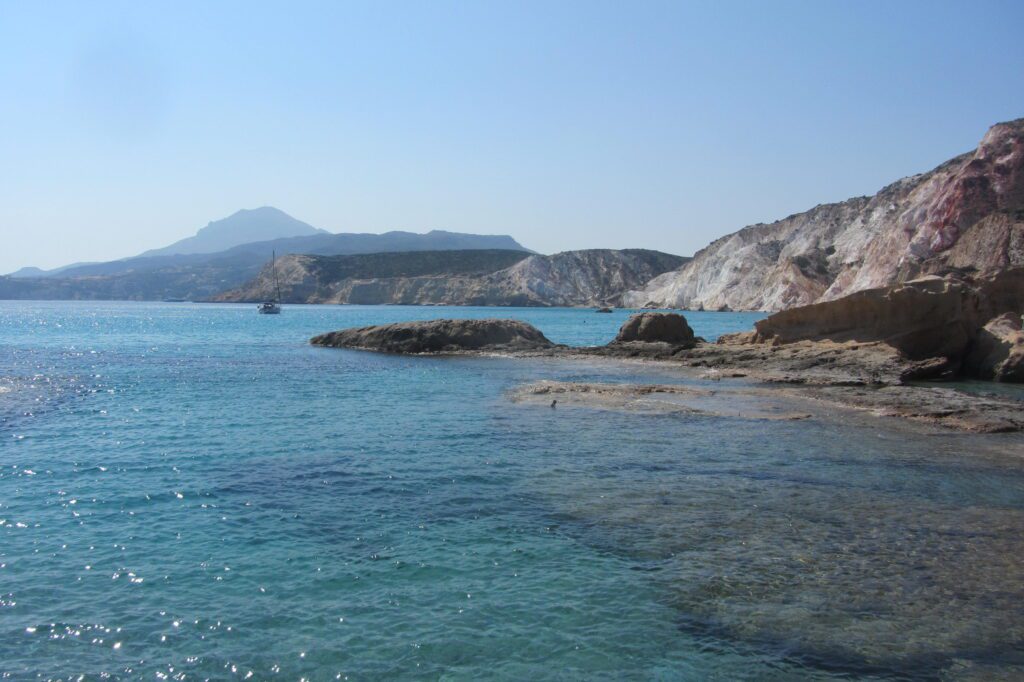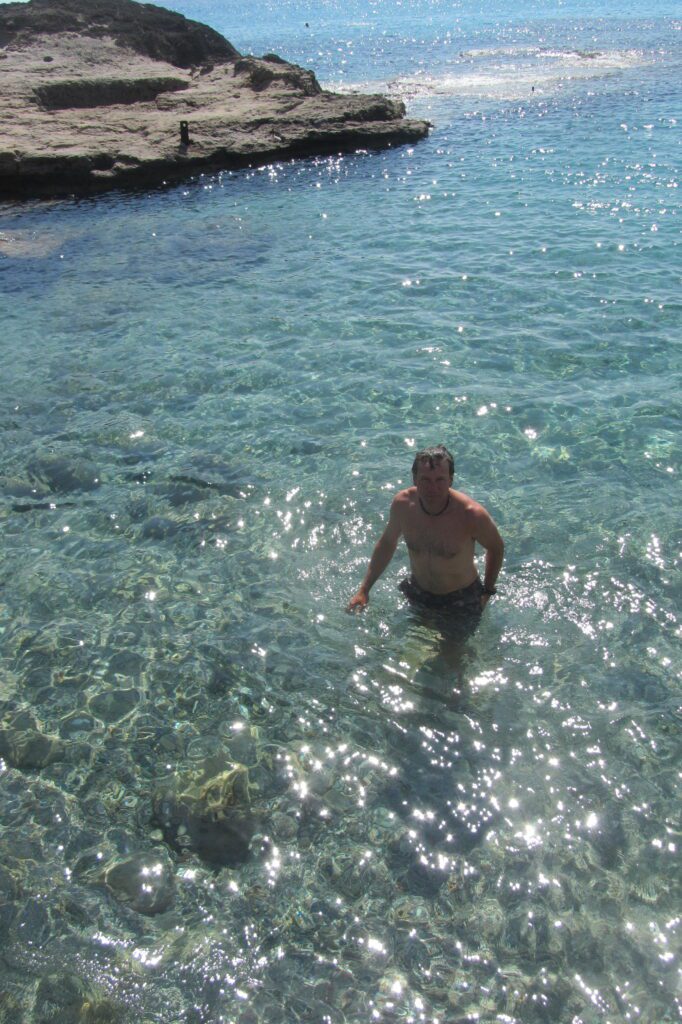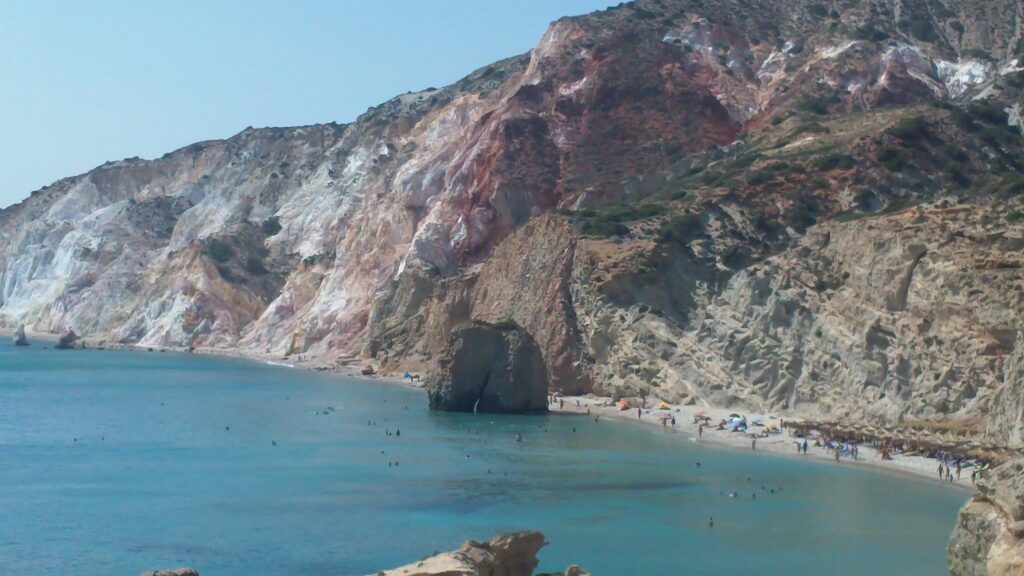 We checked out of Miland Suites before we began our all-day adventure. The wonderful Antigone allowed us to return the car to her parking lot. She gave us permission to use the pool and outdoor showers and changing rooms to be clean for our ferry. We were also able to store our luggage at the hotel for the day. Her hospitality was very much appreciated.
Our ferry scheduled to return us to Athens was to depart at 8:10pm. It was 90 minutes late. We walked around Adamas and ate at Flisvos. It was delicious, right in the port, with a view of the sea. Trip Advisor reviews are excellent.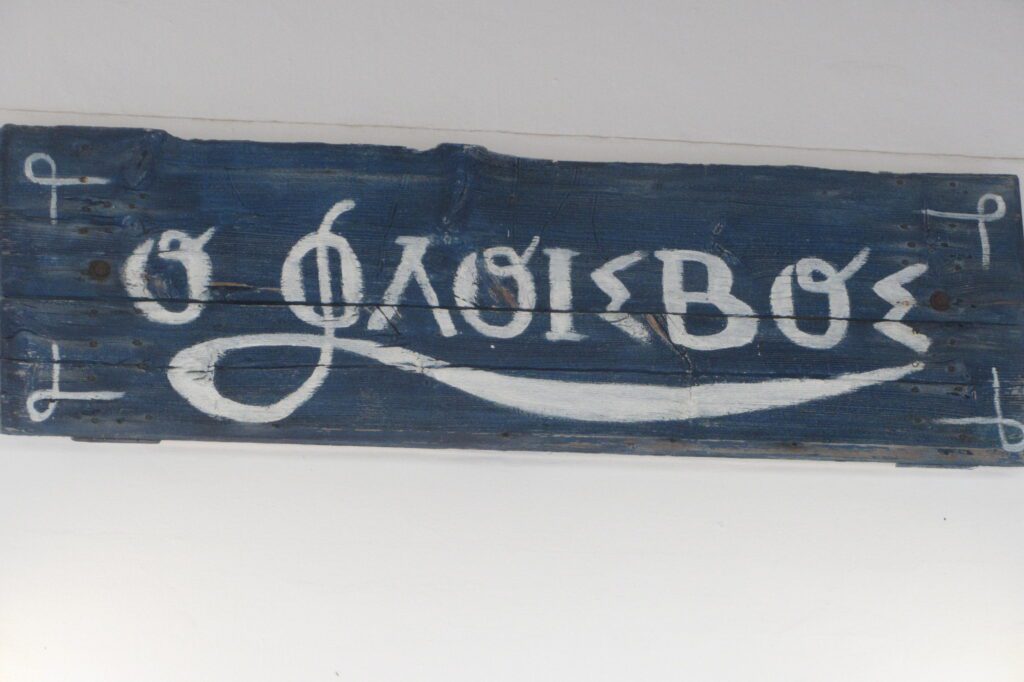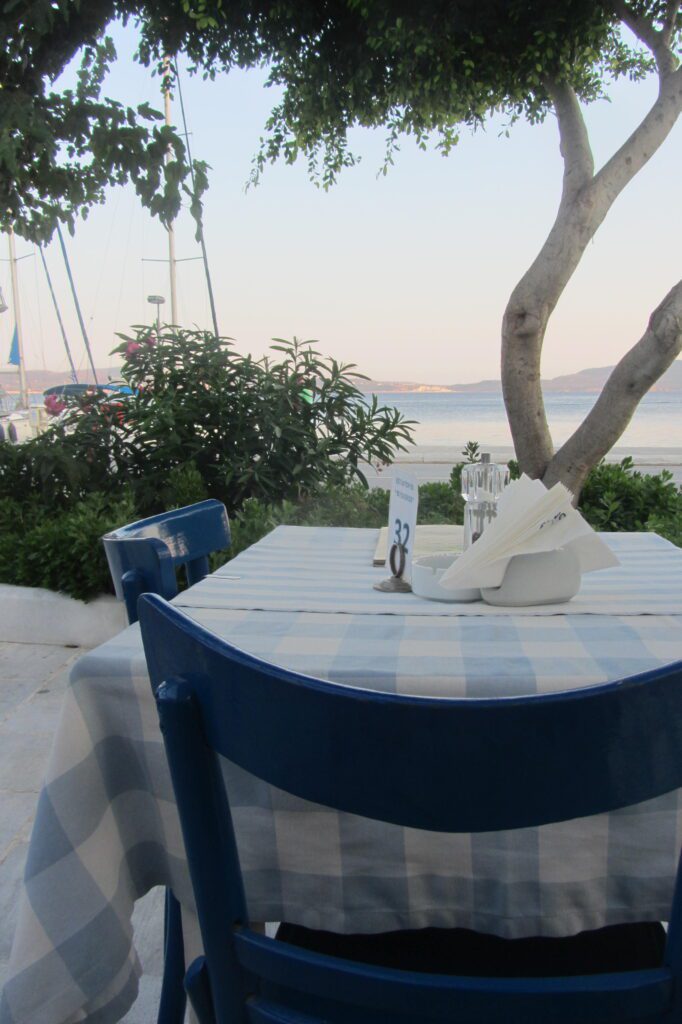 The ferry took three hours and 15 minutes. When I was booking this trip, I looked into flying from Milos to Athens. The only afternoon option was a 4pm flight back to Athens. Since we only had two days on Milos, we wanted a full day. So, we opted for the three hour ferry ride. Currently Olympic Air has a 7pm flight back to Athens. Had that been available, we would have taken it.
We arranged again with George's Taxi to pick us up at the port. Our driver was waiting for us.
Our international flight back home was at 11am on Sunday morning, so staying at the Electra Palace Hotel again was not a good choice. We stayed at the Sofitel at the Athens airport. The breakfast was incredible, and we literally walked across the street to security.
We loved everything about this adventure – ancient ruins, a fascinating city, gorgeous beaches, incredible experiences on boats, visiting towns, villages and a winery. We never felt unsafe, and the hospitality we experienced was outstanding.