We traveled to St. John, USVI from December 22-December 31, 2015. Hurricanes Irma and Maria devastated the US and British Virgin Islands in the Summer of 2017. St. John is up and running and welcoming tourists. Before recommending a tour, restaurant or experience, I double-checked to make certain that the business is still operating.
Update 2022
For a trip to Iceland and St. Martin in late 2021, Michele upgraded our waterproof camera to this Olympus model. It has amazing reviews and takes a great photo. We also like this affordable, easy-to-use tripod.
Michele also upgraded her iPhone to the iPhone 13. The camera is amazing.
We like these vaccination card holders for travel.
We upgraded our masks/snorkels to these.
Where to Stay? Things to Know
You cannot fly to St. John. You must fly to St. Thomas, drive to Red Hook (about 40 minutes from the airport) and take the ferry to St. John.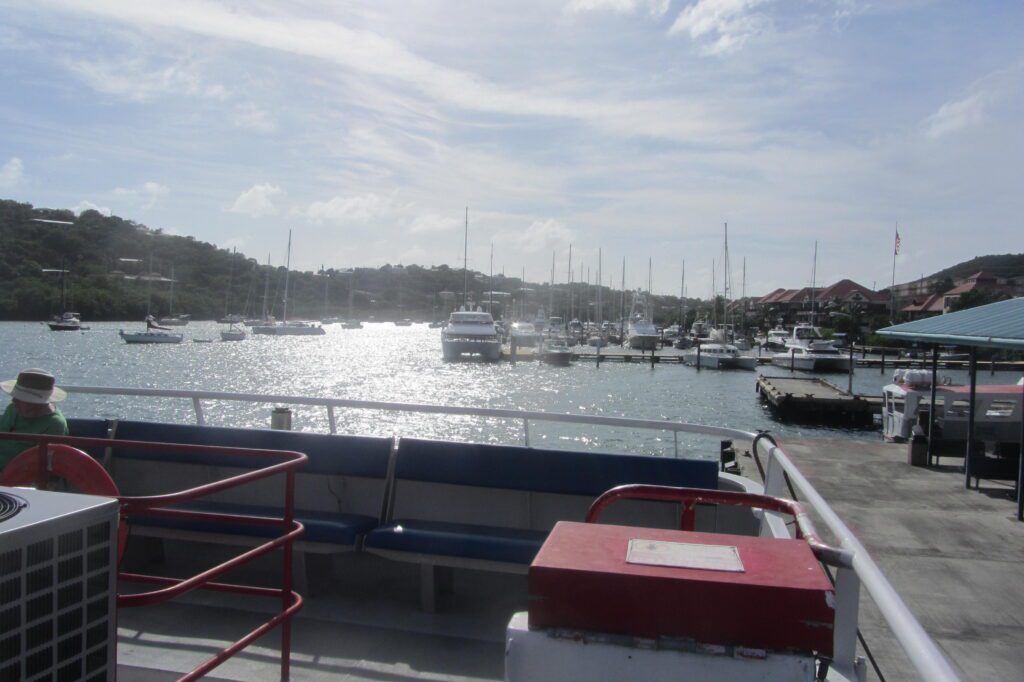 Hotels and Resorts – There are not a lot of hotels on St. John. We love St. John for its lack of development, high rises and pricey resorts. About 75% of the island is a National Park.
Since the hurricane, the Westin St. John is up and running. We took a day trip out of the Westin. It looks even nicer now that it has been repaired and updated since the hurricanes. The Trip Advisor reviews are mixed.
Gallows Point Resort suffered damage during the hurricanes. But the resort is up and running and taking reservations. When we visited St. John in 2015, we had friends who were on St. John at a condo they own at Gallows Point. We visited them for drinks and a tour of the property. It is a lovely resort, walkable to many shops and restaurants. They do not have a real beach, so if wading into a beach is required, do not stay here. Trip Advisor reviews remain very good. The sunsets from the roof top bar are spectacular.
The world-famous Caneel Bay Resort was utterly destroyed. There is no timeline to rebuild.
Cruz Bay – We chose to rent a small condo above Cruz Bay. The cute little town of Cruz Bay is loaded with shops and restaurants. The very quick ferry from St. Thomas lands in Cruz Bay.
We rented with Caribbean Villas. The company representatives were very pleasant. Their current inventory seems to have a wide variety of choices.
We stayed in a condo complex called Cruz Views which was a half a mile above Cruz Bay. We stayed in unit #10 with one bedroom, one bathroom plus a loft. It was clean and private with pretty views. The Caribbean Villas website has 2019 photos on it that show the condo in its current state. Holiday rates are $354/night. Cruz Views is in a great location with easy parking, and is convenient to downtown and a grocery store.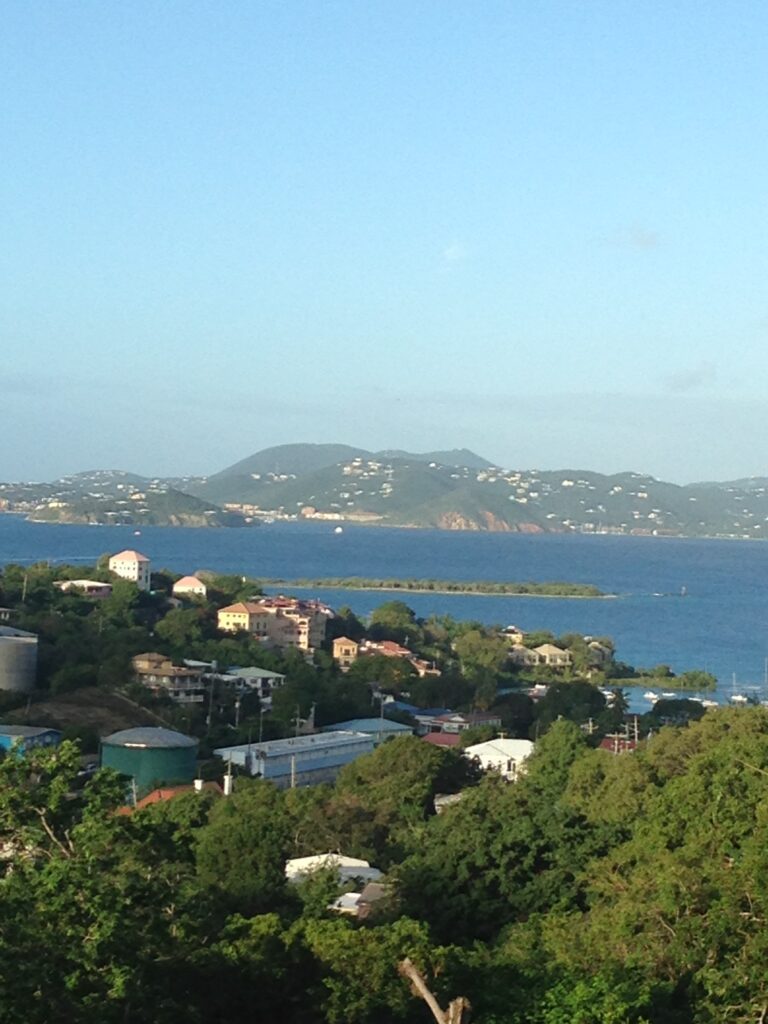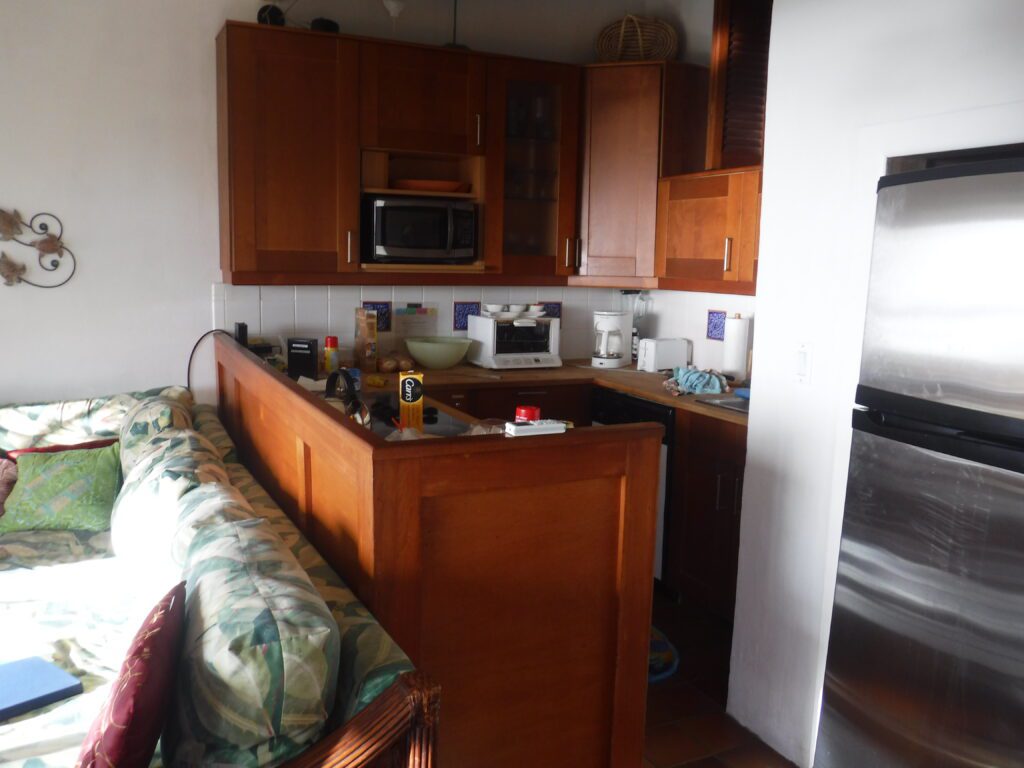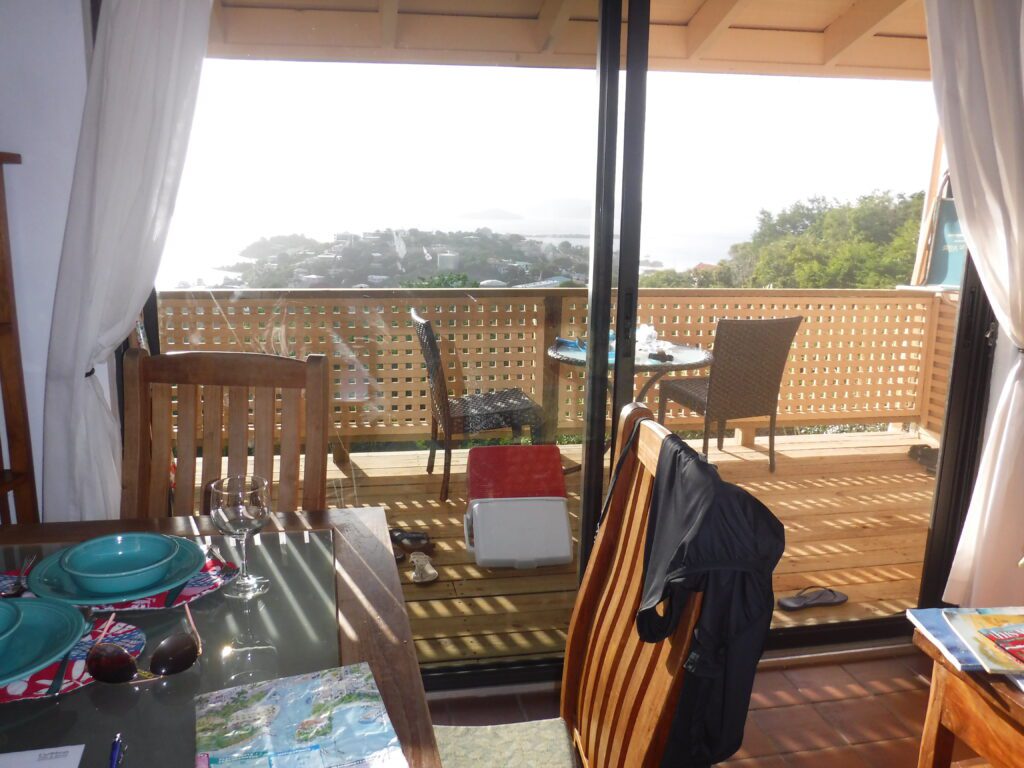 Coral Bay – There are numerous vacation rentals in Coral Bay, which is the other side of the island from Cruz Bay. While Coral Bay is only 8.2 miles from Cruz Bay, there are over 150 turns in the hill-side road. It is quieter over here, and far from nightlife. We ate lunch in Coral Bay twice. Plenty of dining options are open on this side of the island. Gorgeous beaches line the Coral Bay side of the island.
Rental Jeep – Be sure to rent a car EARLY. We booked our December vacation in August 2015, and I struggled to find a car rental company with availability. Renting a car is highly recommended. You will have to drive on the left, but having your own vehicle gives you so much more freedom and flexibility.
We used L&L Jeep Rental. They are a three minute walk from the ferry dock. And, renting with L&L gives you parking all week long in their centrally located lot in Cruz Bay if you pay an additional $50. We regularly drove down the hill to dinner, parked in their lot and walked to our dinner destination. The parking is challenging in Cruz Bay, and knowing we could always park in their lot was so helpful.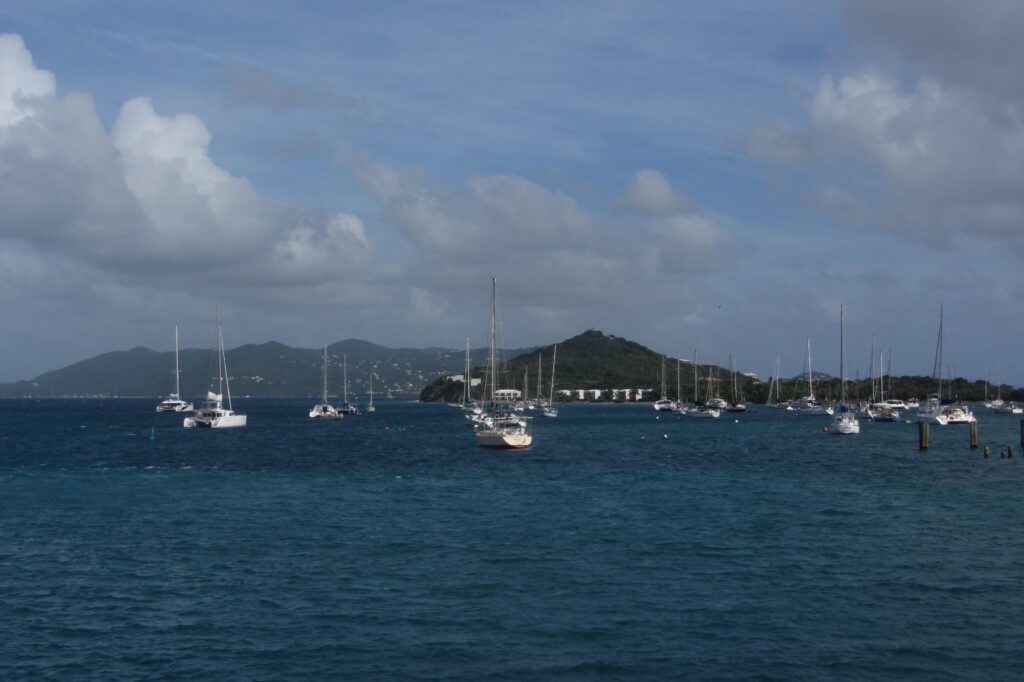 Snorkel and Mask – If you charter a boat or do a boat tour, most often the operators will have masks, fins and snorkels for you. However, St. John has awesome walk-in snorkel opportunities. There are dozens of operators locally who can rent you a mask for these walk-in snorkeling sites. We bring our own masks and snorkels. This brand is excellent and comfy.. I used Sharpie to write our names on the snorkels. Purchasing your own mask at home can save you lots of money on rentals. We used the tour operators' fins when we chartered boats. We found that we did not need fins for the walk-in snorkels we did.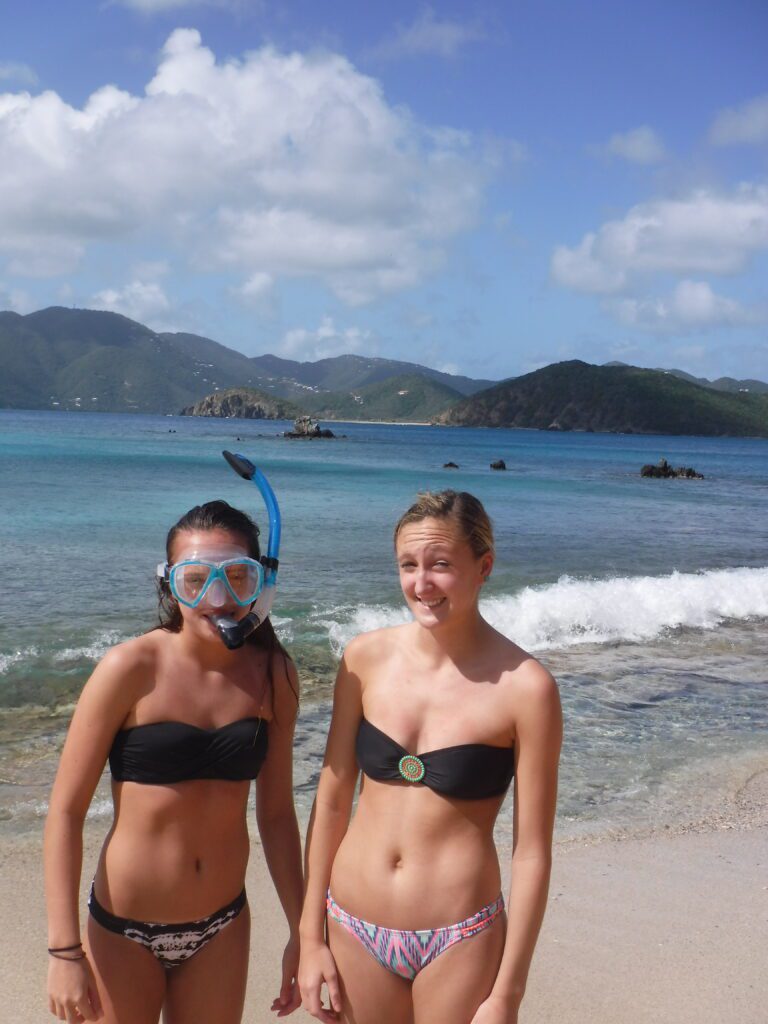 Day 1 – Fly from Boston to St. Thomas, Cab to Red Hook, Ferry to St. John, Cruz Views villa
We flew on JetBlue, direct from Boston to St. Thomas. We have always appreciated the service and cleanliness on JetBlue flights. JetBlue continues to have direct service to Boston. The flight takes about four hours.
Since St. Thomas is a part of the United States, no customs or immigration is necessary. However, if you plan to visit the very close British Virgin Islands, you will need to bring your passport.
There is not an airport on St. John. Once you land, you will need to gather your belongings and get to the Red Hook ferry dock. The distance from the airport to Red Hook is about 17 kilometers. Rather than wait in a taxi line, I made a car reservation with Warren G. He was waiting for us when we emerged from the airport. A native of St. Thomas, Warren provides excellent customer service. He drove us over the mountains to Red Hook as the day we arrived there were five cruise ships in port on St. Thomas. To go through "town" would have taken double the time, which a cab on a meter might have done to raise the waiting time on the fare.
You purchase ferry tickets in the Red Hook terminal building. The ferries run from 6:30am until midnight. Cost is $6/person. It is a short 20-minute ride to St. John on the ferry.
If you cannot find a rental car on St. John, there are car rental agencies who will rent you a car on St. Thomas, and you can use a ferry to bring the car across. The Big Red Barge can bring your car rental to St. John for $50 round trip.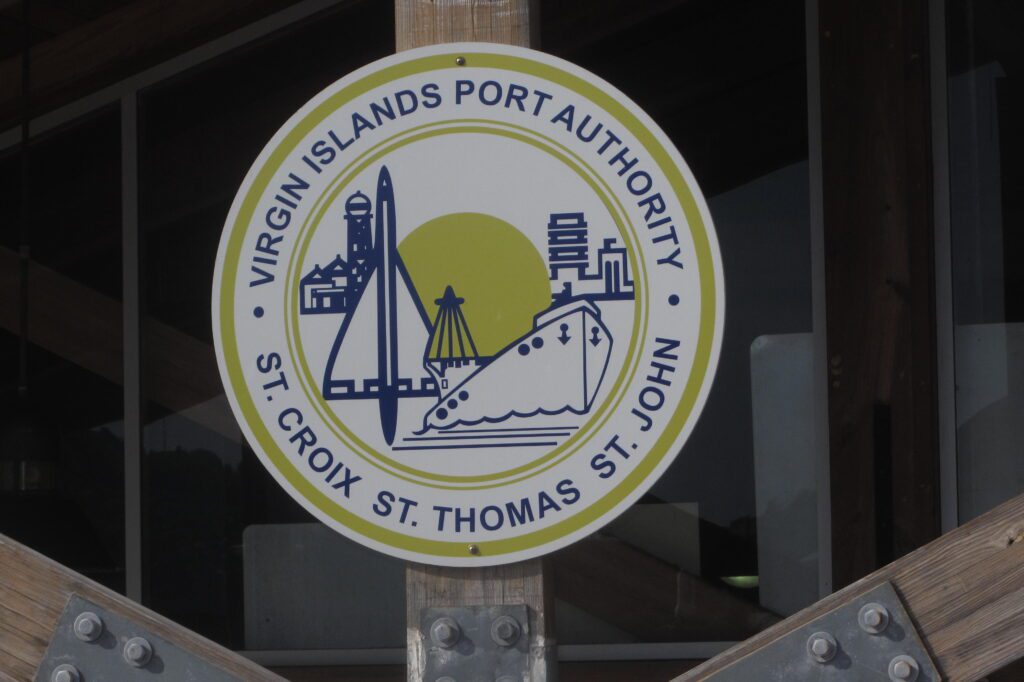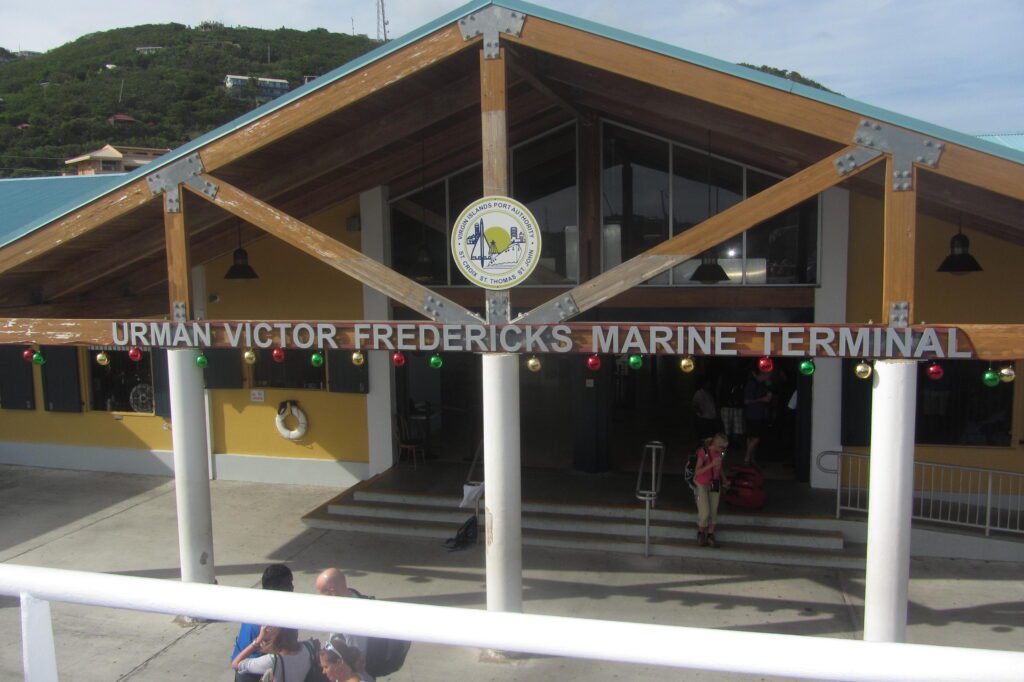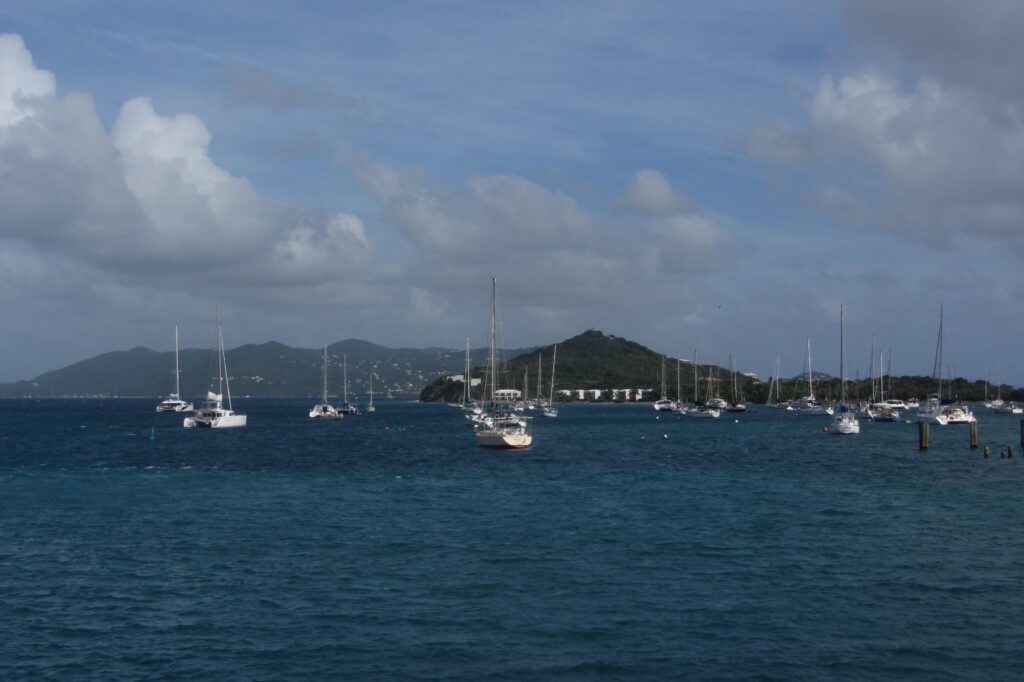 After renting our car and settling into our condo at Cruz Views, we walked around the waterfront in Cruz Bay. We ate a very nice dinner at Waterfront Bistro which is now closed. It had excellent views and a nice deck overlooking the harbor at Cruz Bay. The Terrace (Trip Advisor reviews are good) and the Beach Bar (Trip Advisor reviews are good) are open, and are in the same location.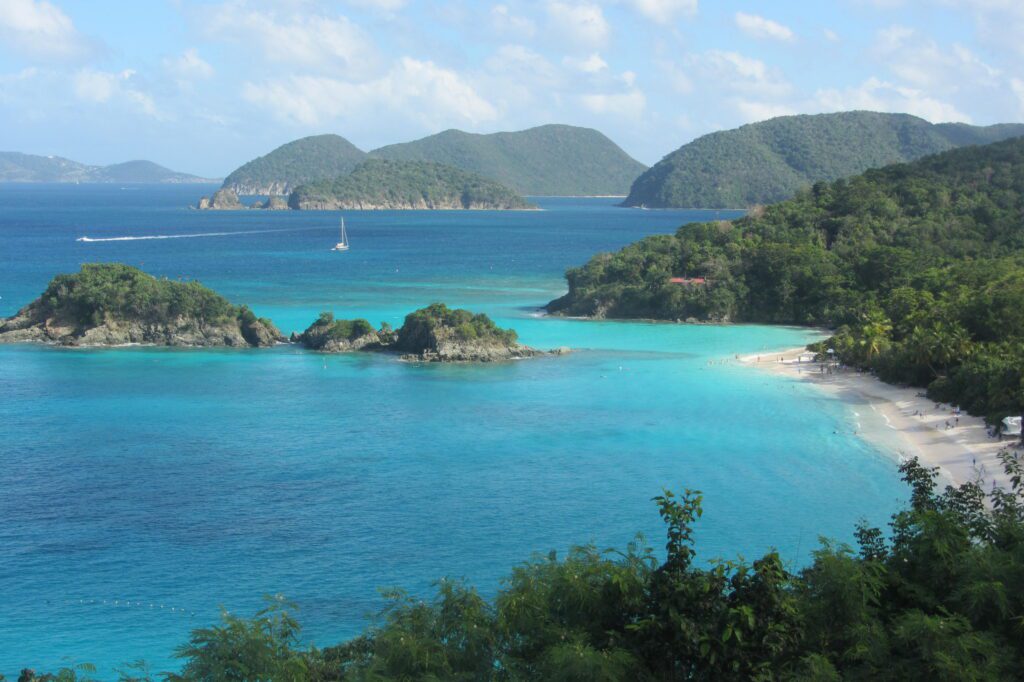 Day 2 – Trunk Bay, Cinnamon Bay, Francis Bay
We decided to visit the famous Trunk Bay after doing some grocery shopping at the Starfish Market. Be prepared for your groceries to be expensive. We thought Starfish was a way better market than the Dolphin Market or St. John Gourmet.
On this vacation, we tended to eat breakfast at our condo, have a picnic or deli-type lunch out, and eat dinner at a restaurant.
There are dozens of beaches in St. John. All are free except for Trunk Bay. If you visit Trunk Bay, you need to pay $5/person or $20 for an annual pass. Since the cost was the same for us, we bought the annual pass. The fees schedule also includes camping rates.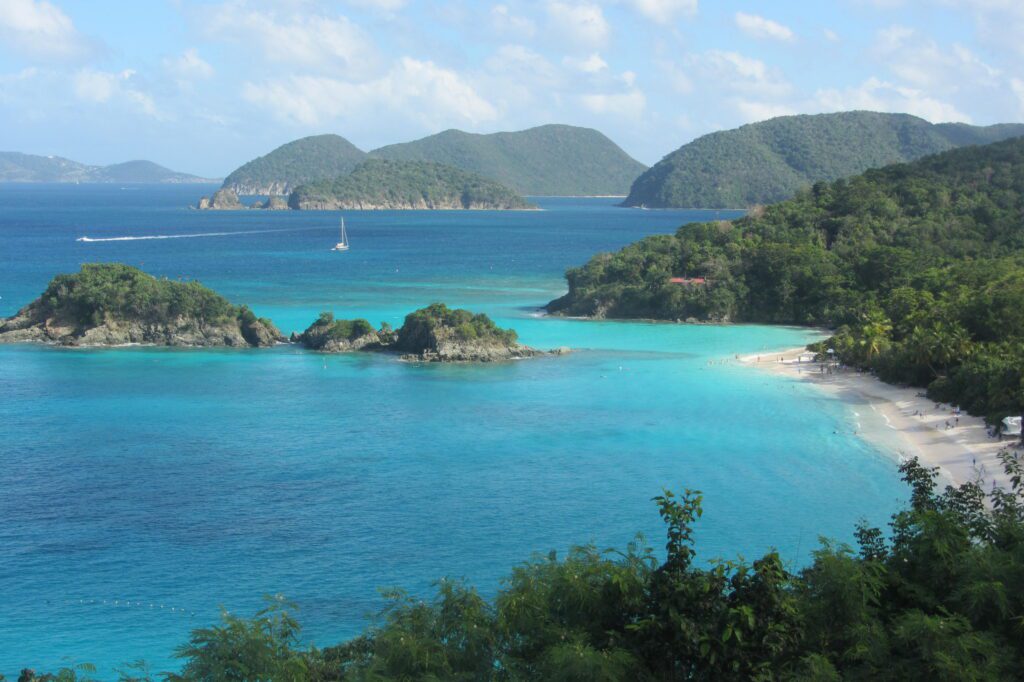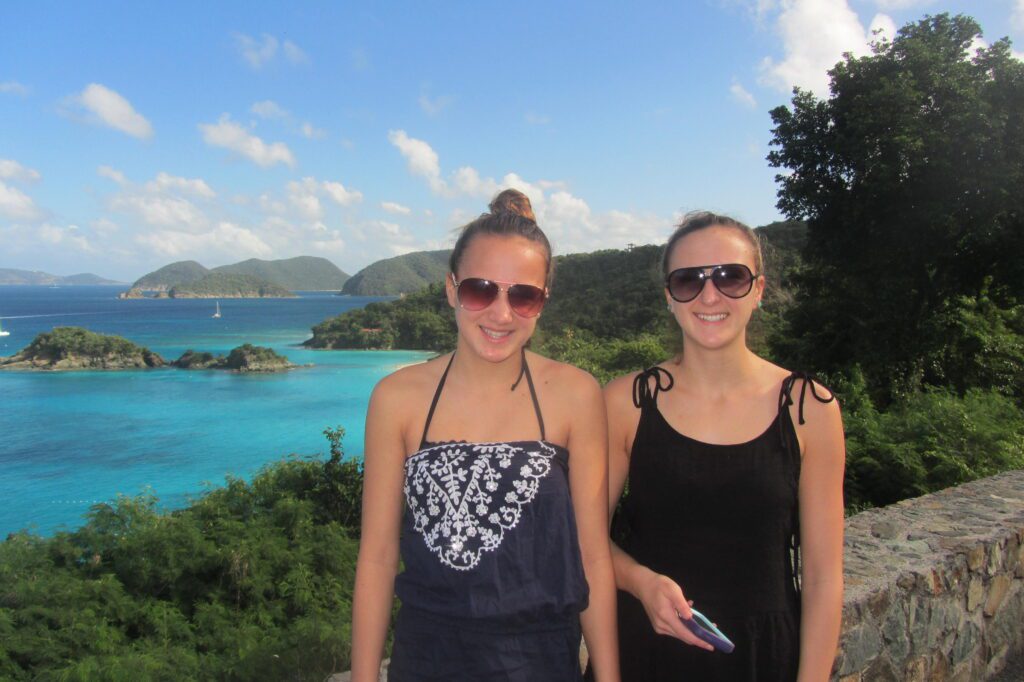 Trunk Bay has an underwater trail that you can snorkel around. We did a piece of it. There were dozens of tourists in the water, so we broke off and did our own thing. The National Park website says,
"Trunk Bay with the Underwater Trail is a great place for beginners and anyone who wants to learn about marine life by reading the plaques along the trail. The trail follows the west side of Trunk Bay Cay for about 300 feet before making a U-turn back to the beach. The coral and fish are well represented here. The reef continues beyond to the cay's northern tip, however do not venture past where you are in view of the lifeguards. The farther out you go, the rougher the water is."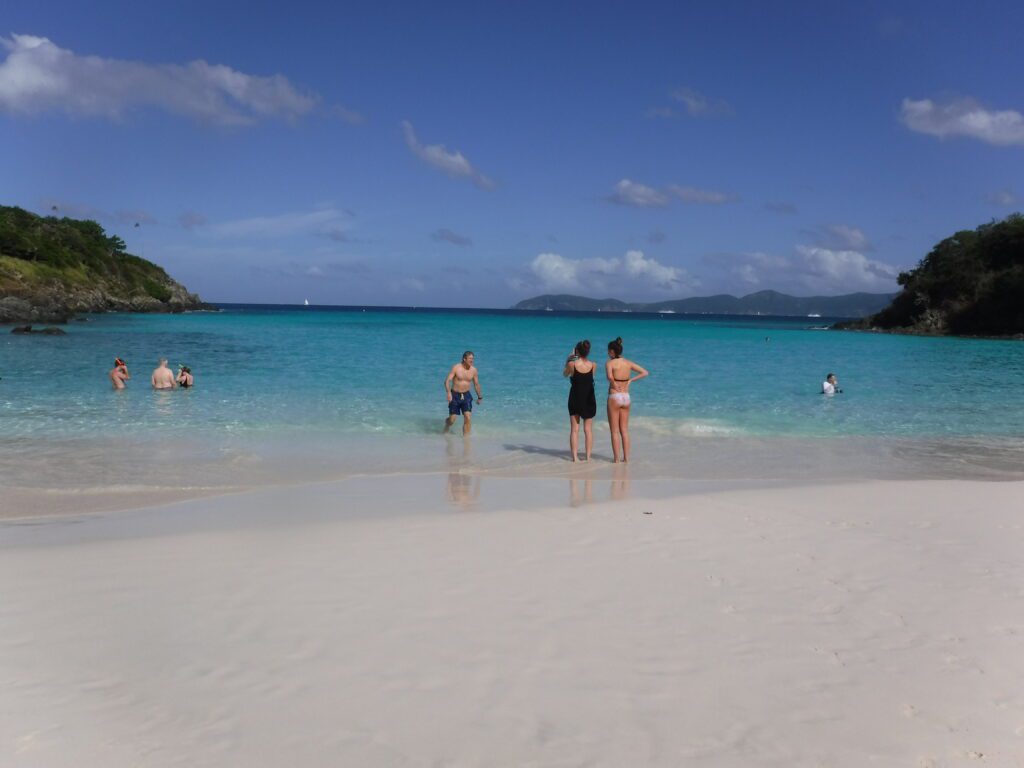 While no cruise ships are allowed on St. John, they are allowed on St. Thomas. Several tour operators will take cruisers on small boats and bring them to Trunk Bay. Avoid cruise ship days if possible. Be sure to check the schedule.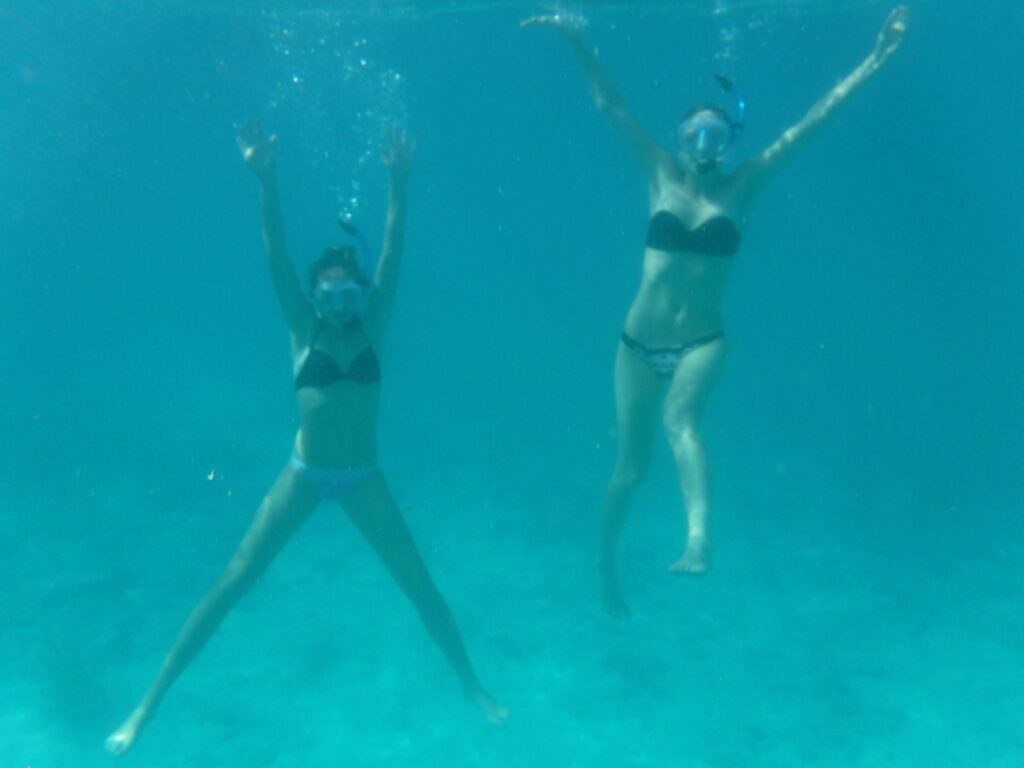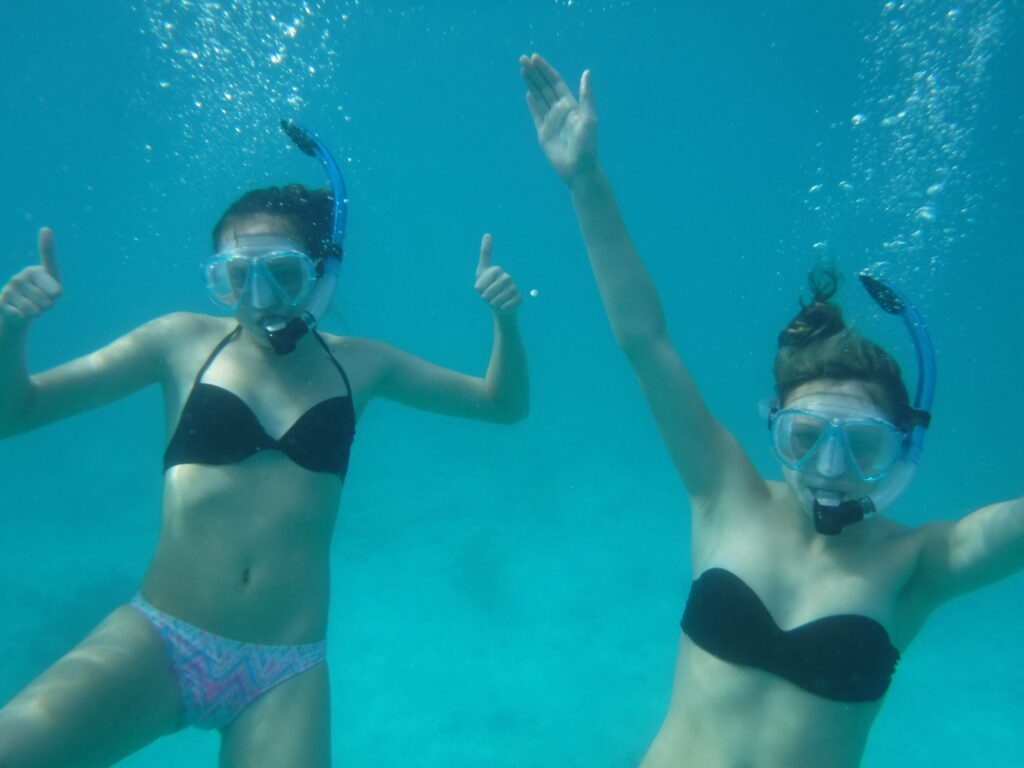 There is tremendous beauty at Trunk Bay. However, it is the busiest and most popular of all the beaches in St. John. Therefore, it was our least favorite. We hate crowds.
Trunk Bay is open to visitors following the hurricanes. The snack bar is not yet restored, however, food trucks line the road and there are options to rent chairs. Trip Advisor reviews for Trunk Bay are excellent.
After some swimming and some reading, we left Trunk Bay and continued to Cinnamon Bay. No entry fee here.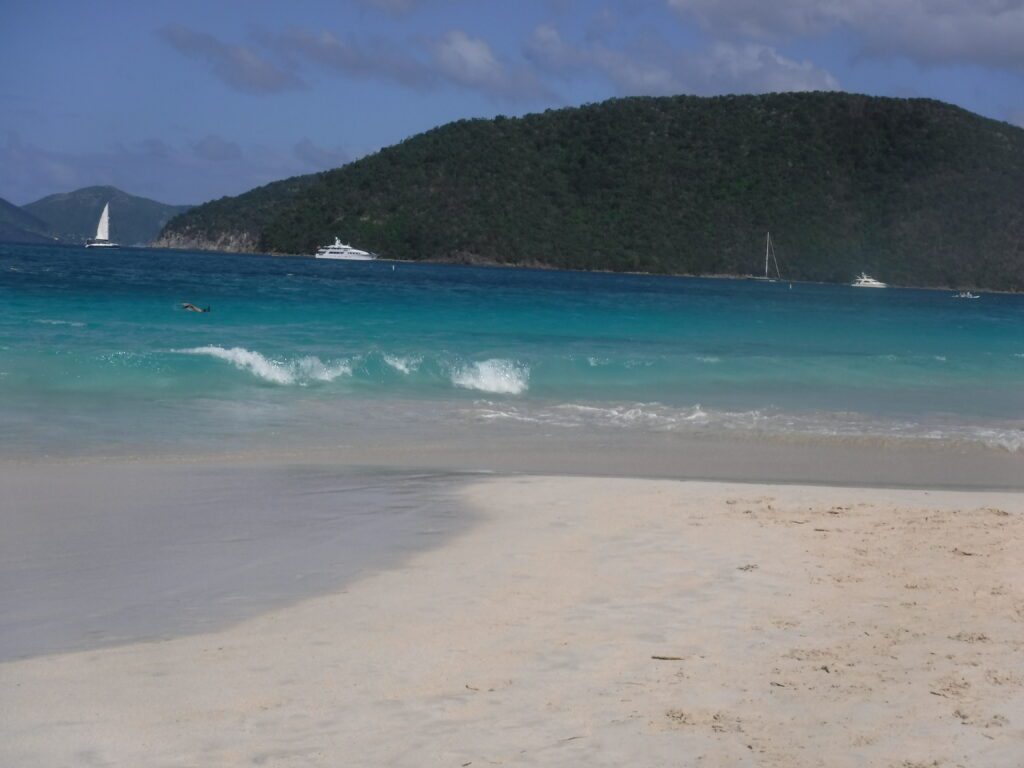 Most of the facilities were destroyed at Cinnamon Bay during the hurricanes of 2017. According to the US National Park service as of December 2019, here is the status:
"The management of Cinnamon Bay Resort & Campground was transitioned to a new concessions operator, CinnOpCo, LLC, in May 2019. The new concessionaire has steadfastly completed removal of all the hurricane and vegetative debris and has demolished and removed the remains of the destroyed cottages. Although much work has been done since May, there remains a considerable amount of work left in order to repair/rehab/replace the damaged tents, bath houses, and electrical, water and waste water systems and to rebuild the cottages and Trunk Bay snack bar. Currently, there is no scheduled reopening date for Cinnamon Bay Campground, however visitors are urged to visit the concessionaire's Facebook page for updates and pictures of their progress. Visitor's can also email Cinnamon Bay at [email protected] or contact the Concessions Specialist, Elba Richardson, by phone at 340-776-6201 ext. 221 or via email at e-mail us for any status updates.
We loved how uncrowded Cinnamon Bay was. We went on a gentle day, so the water and snorkeling was great. Trip Advisor reviews note the lack of facilities, but stress the beach is lovely.
Lunch was calling! We went to North Shore Deli in Cruz Bay. The cute deli has a huge breakfast and lunch menu and great customer service. Expect it to be way more expensive than your deli at home. However, we stopped here three times for excellent lunch and picnic food. Trip Advisor reviews are superb.
To get a little off the beaten path, we spent the afternoon swimming, reading and snorkeling around Francis Bay. This beach is gorgeous and usually deserted. Trip Advisor currently says "the shade is returning."
To get to Francis Bay, take North Shore Road ( RTE 20) past Maho Bay beach. The road divides just beyond Maho beach. Follow the road until you reach a "Y". Keep left.
About a 1/4 mi. down this road you'll see the entrance on your right. Take this dirt road to the end. Depending on the time of day – you can park a short walk away form the beach.
There is a walking trail around the Francis Bay pond that takes about 15 minutes to loop.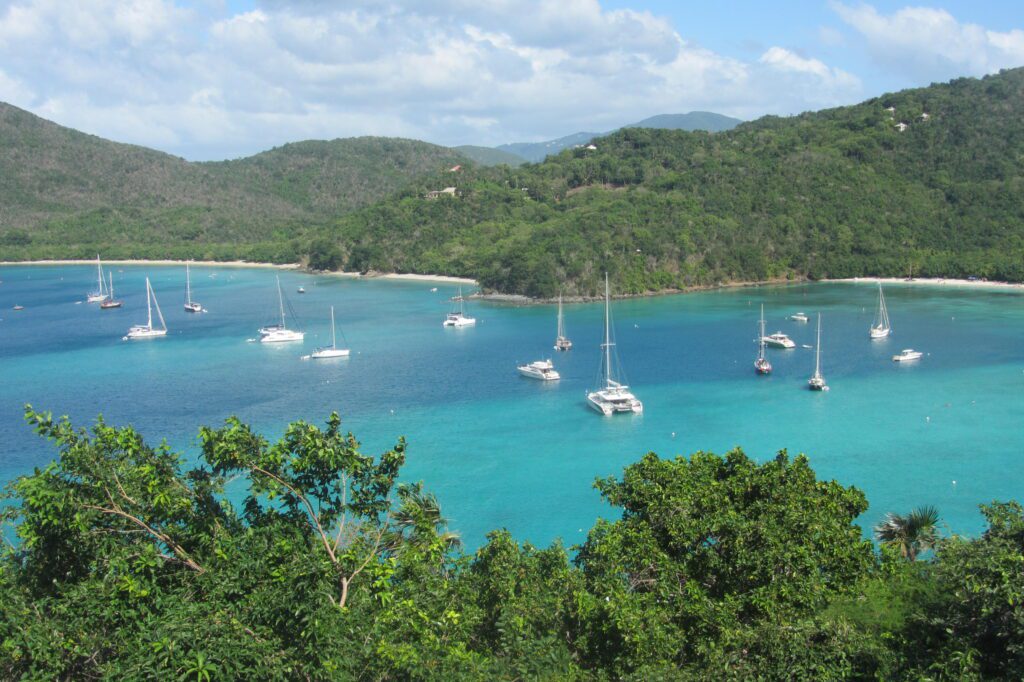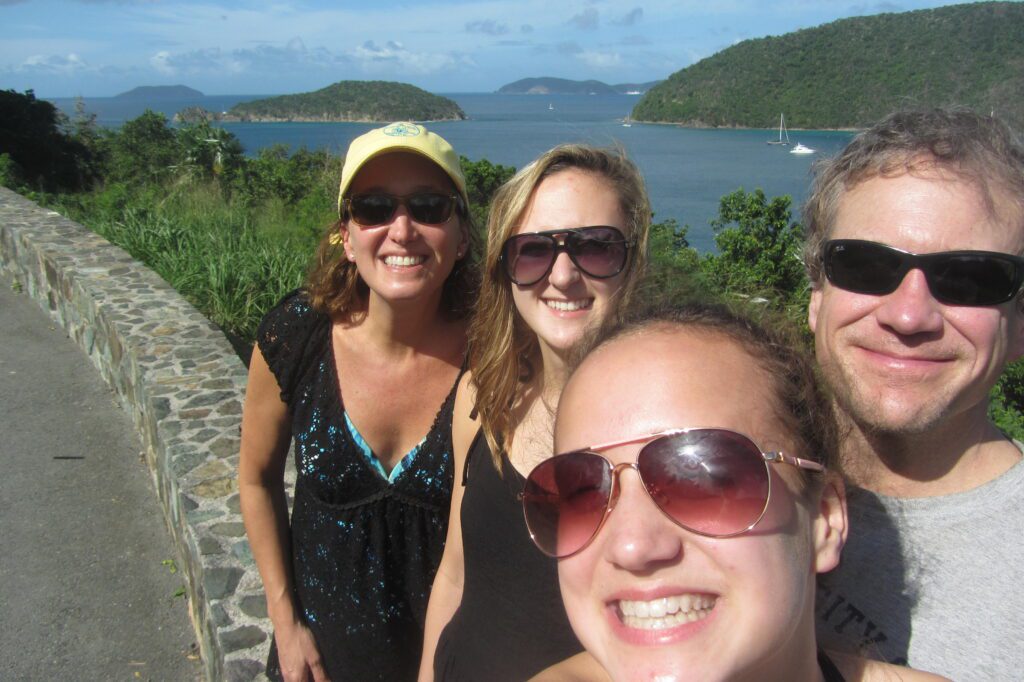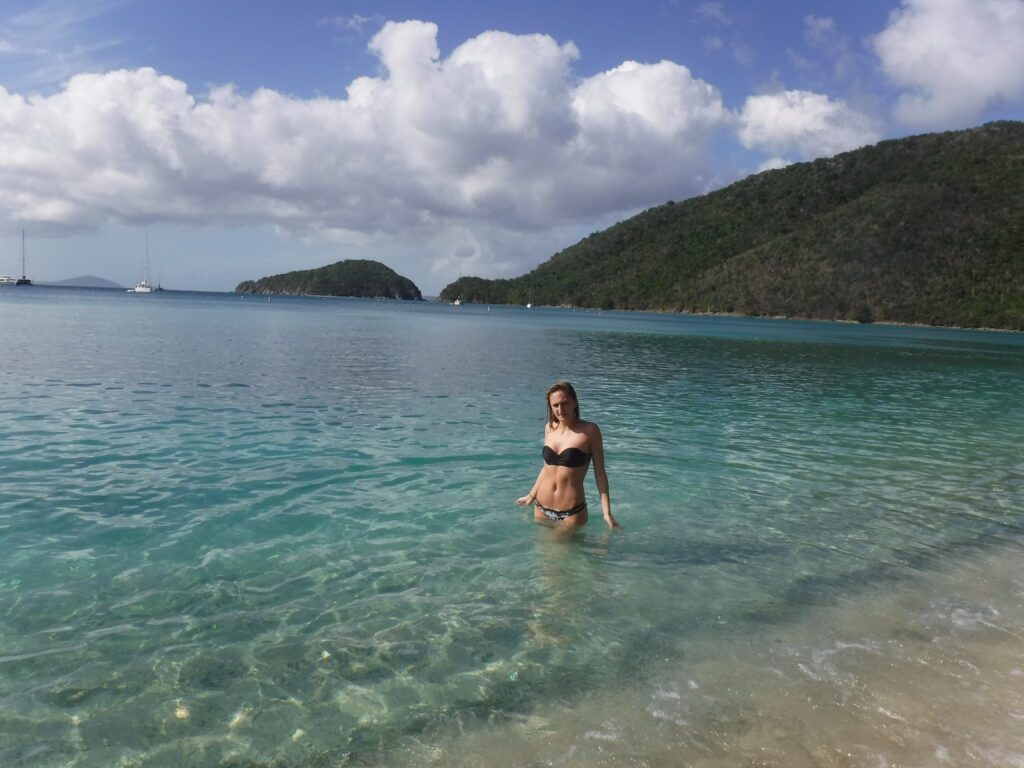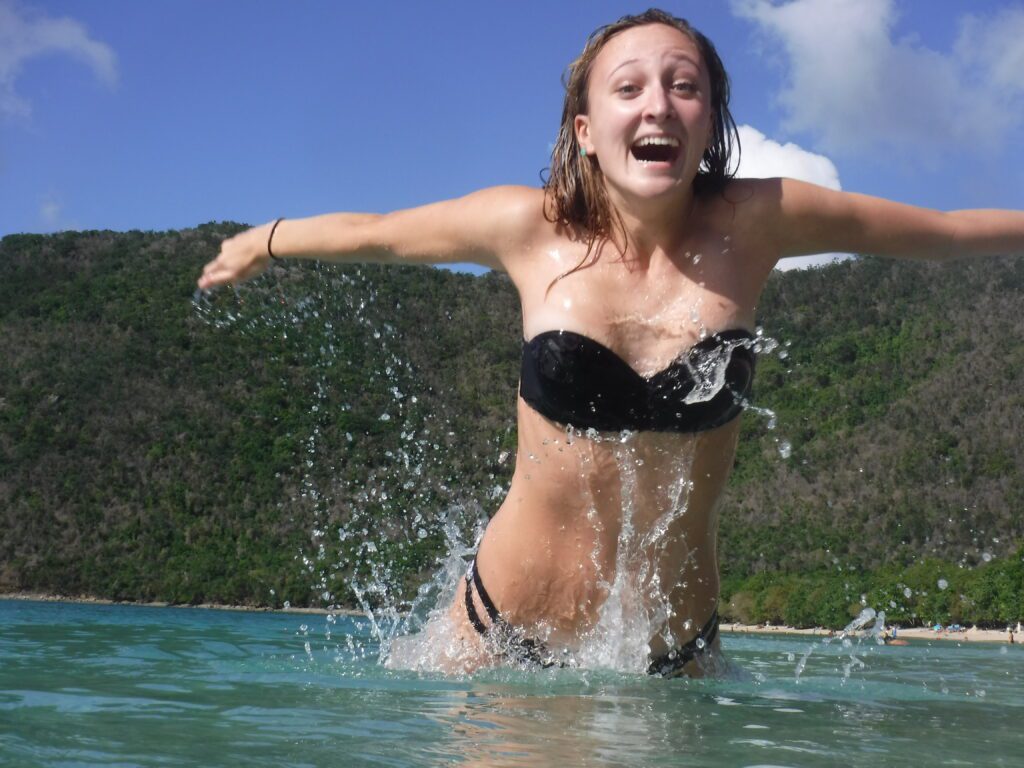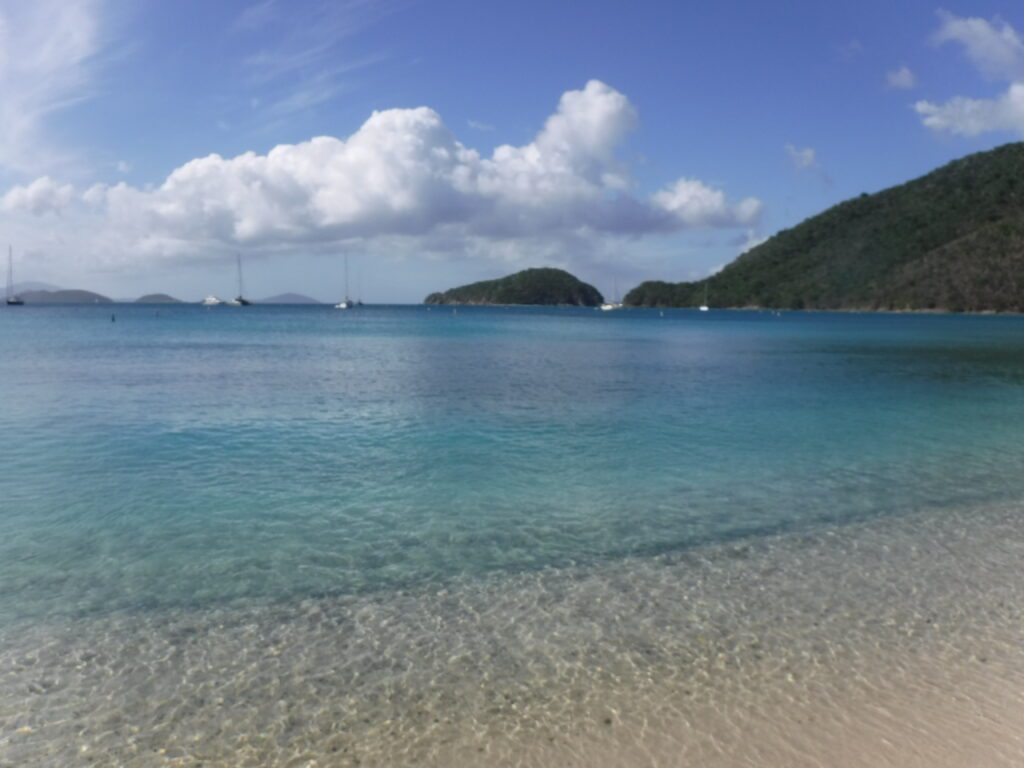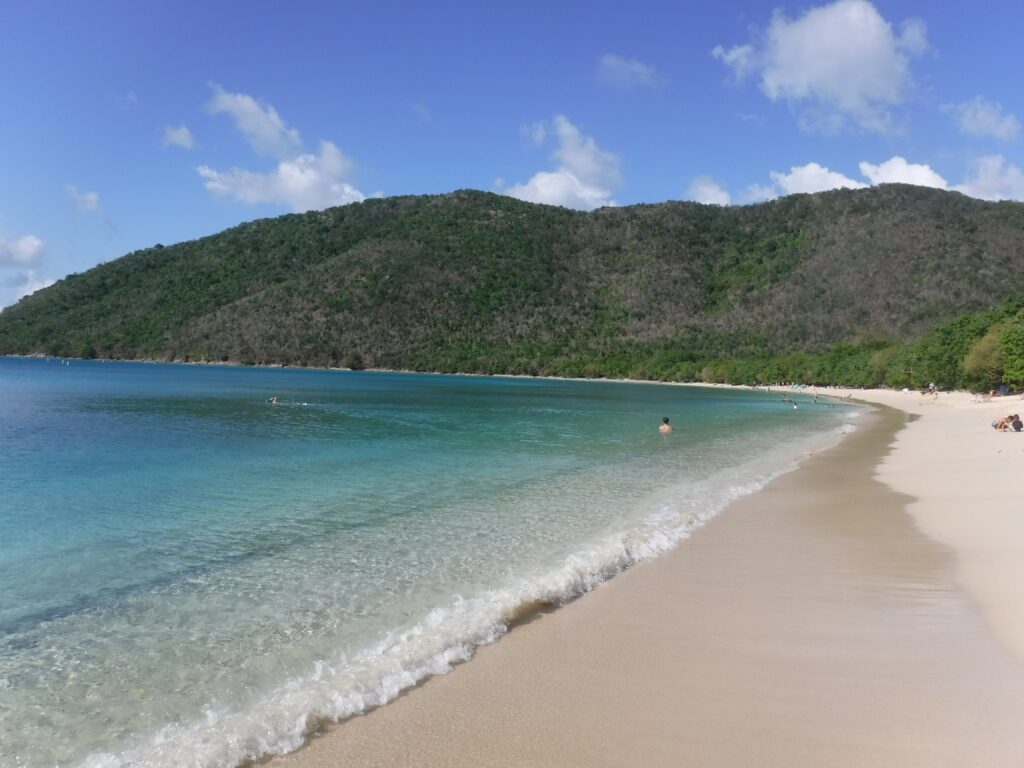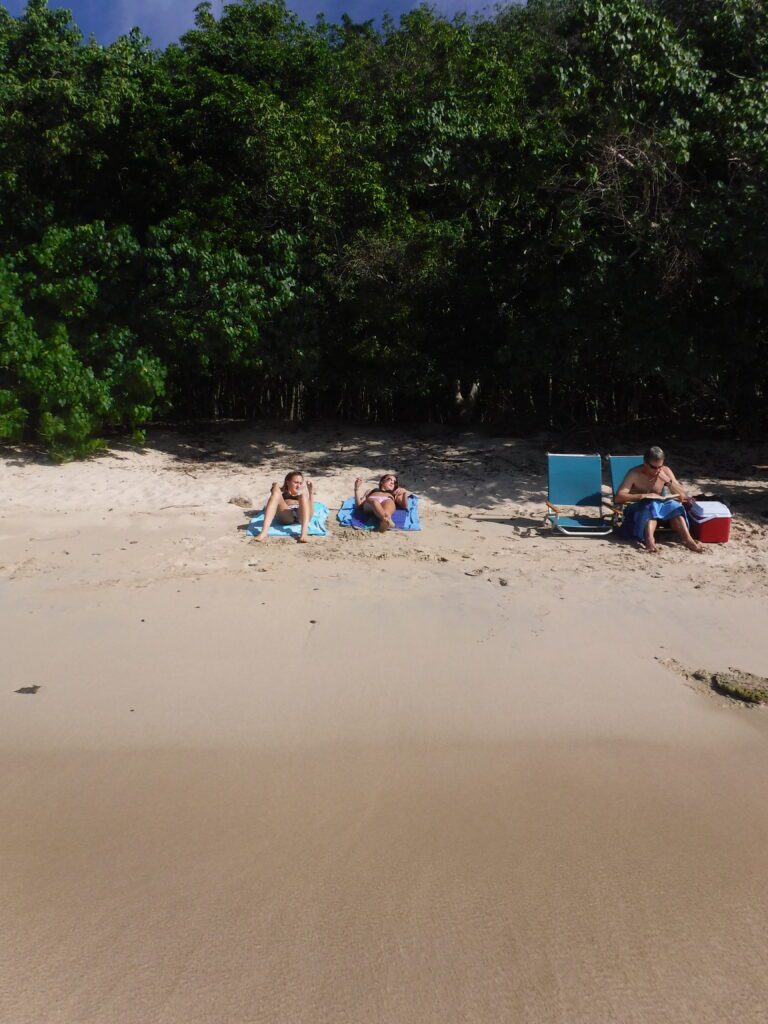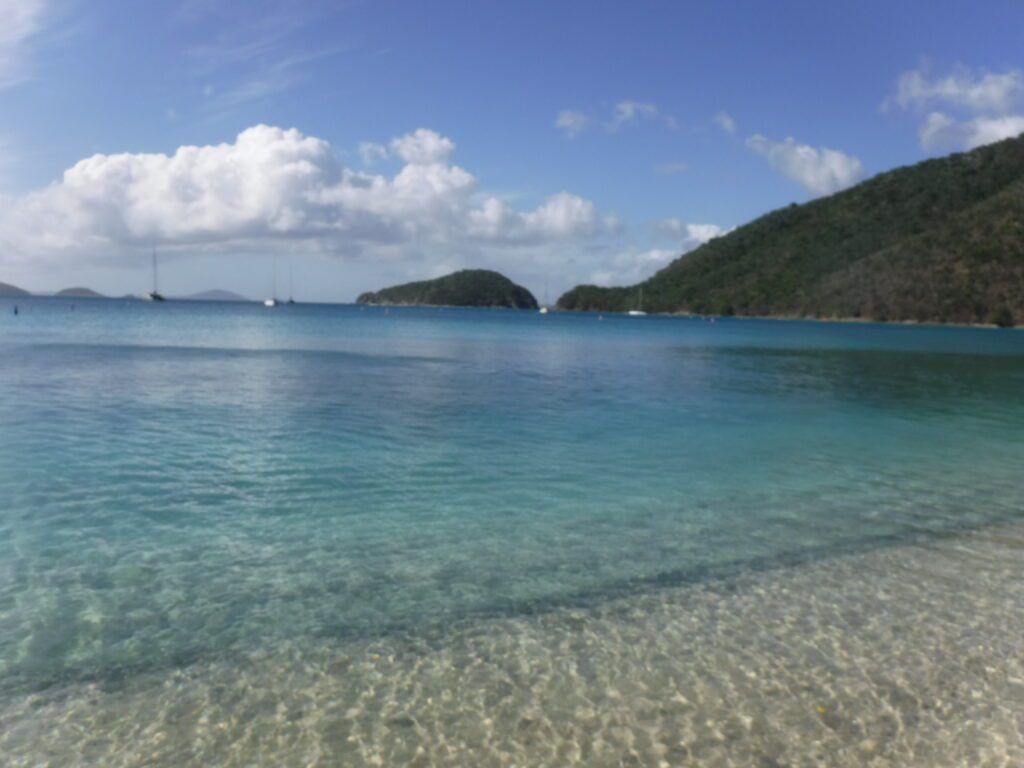 We drove into Cruz Bay for dinner. We ate at the delightful High Tide. The setting on the water was great, and so was the food. Trip Advisor reviews are strong.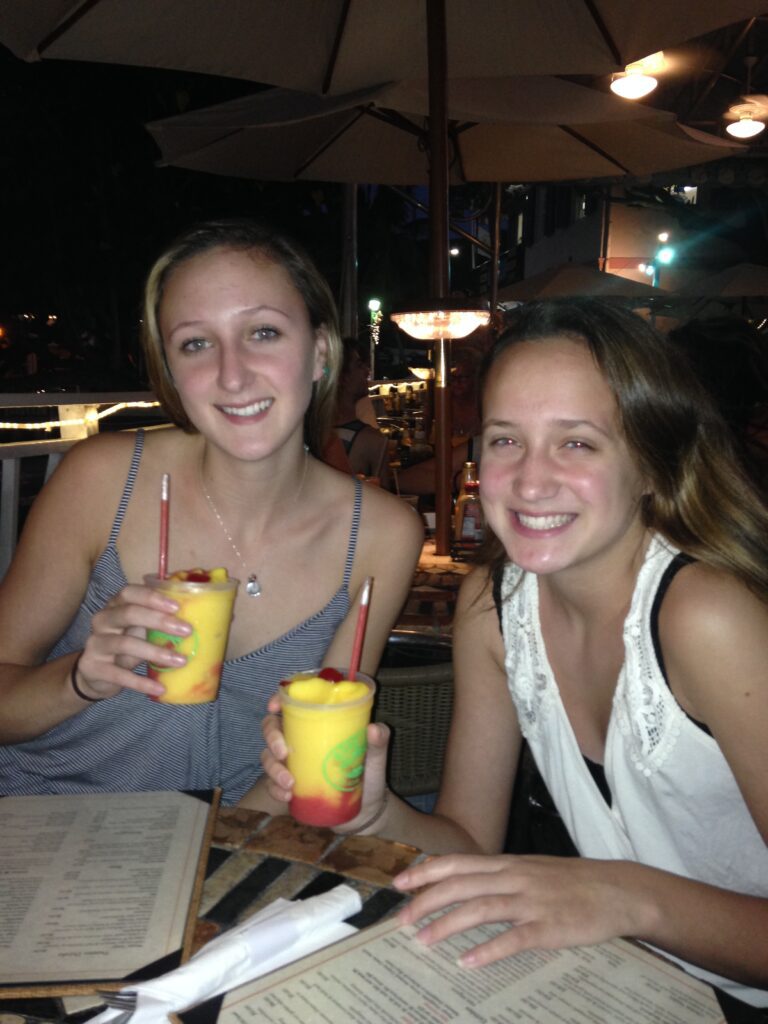 We decided to explore the Coral Bay side of St. John. From Cruz Bay, it takes about 25 minutes and 150 twists and turns to get to Coral Bay. You simply follow the signs to Centerline Road/Route 10. It is a beautiful ride in an open air Jeep! If you use GPS, be sure to put SOUTH Haulover Bay into your mapping program. South Haulover Bay is about 5 kilometers away from Coral Bay.
We met Sara with Hidden Reef Eco Tours. Unfortunately, Hidden Reef Eco Tours appears to be out of business. You do not need a guide to kayak Haulover Bay. But, you will need a vehicle large enough to carry kayaks or SUPs as there are no facilities at Haulover Bay. It is too bad that this company is no longer in business. We were the only family on the three-hour tour, and Sara gave us bountiful snippets of local history and information. A stop at Haulover Bay with a kayak or SUP is highly recommended.
There is a North Haulover Bay beach. It is a bit rockier with a healthy reef. We visited North Haulover Bay later in the week while on a boat.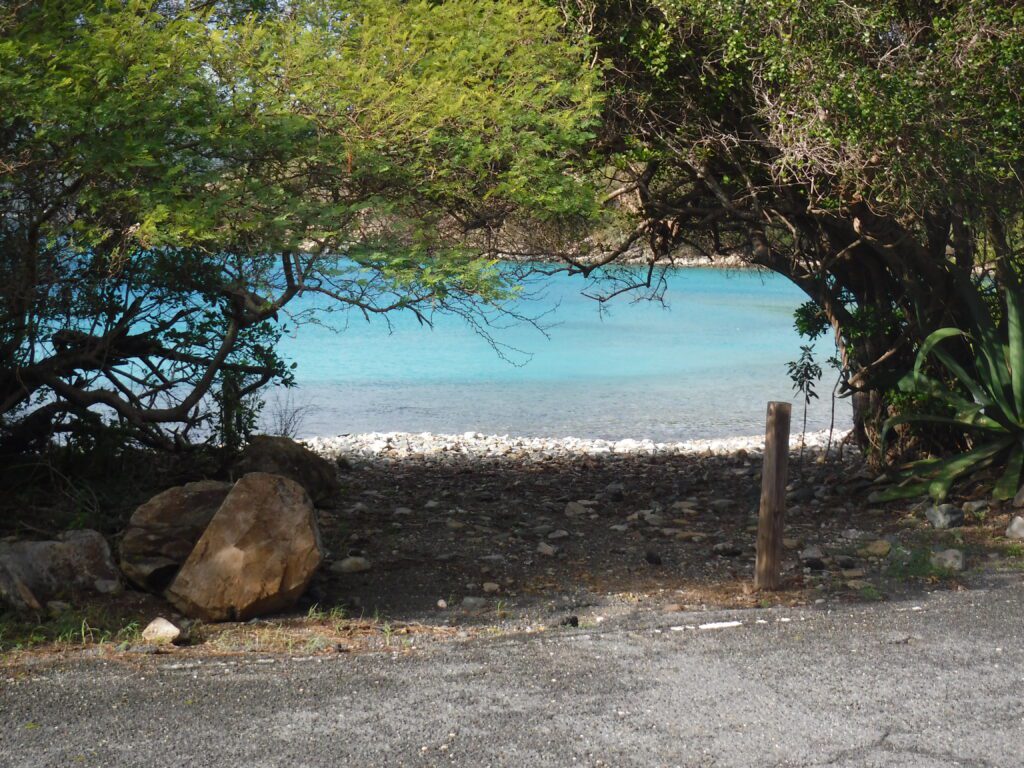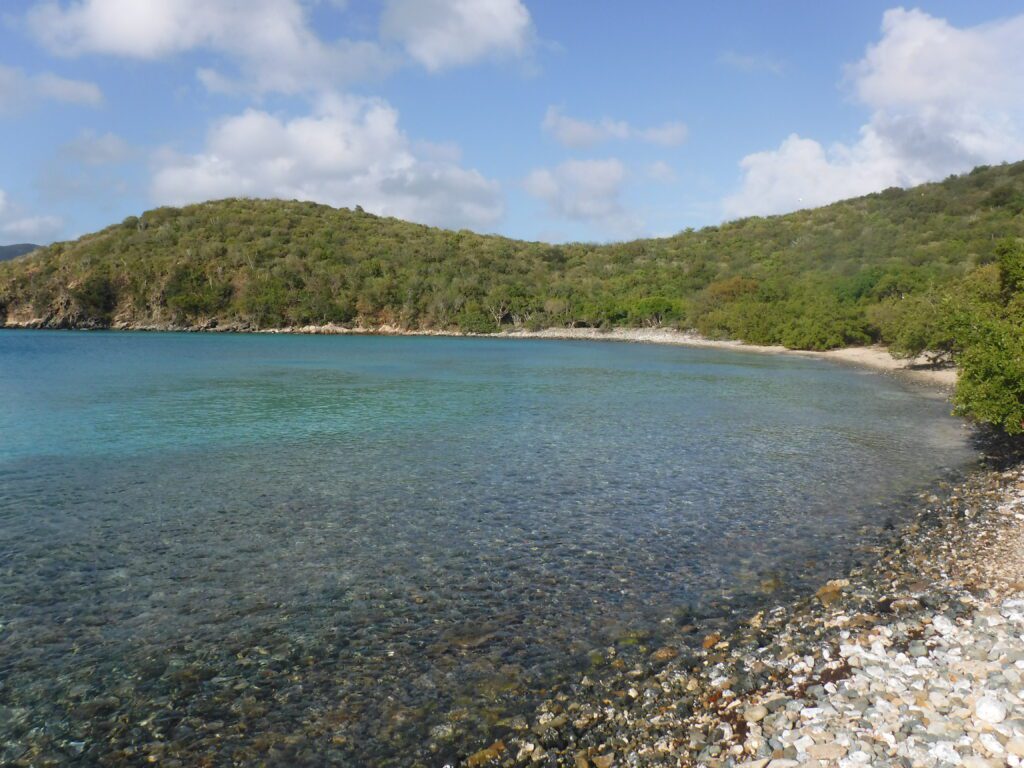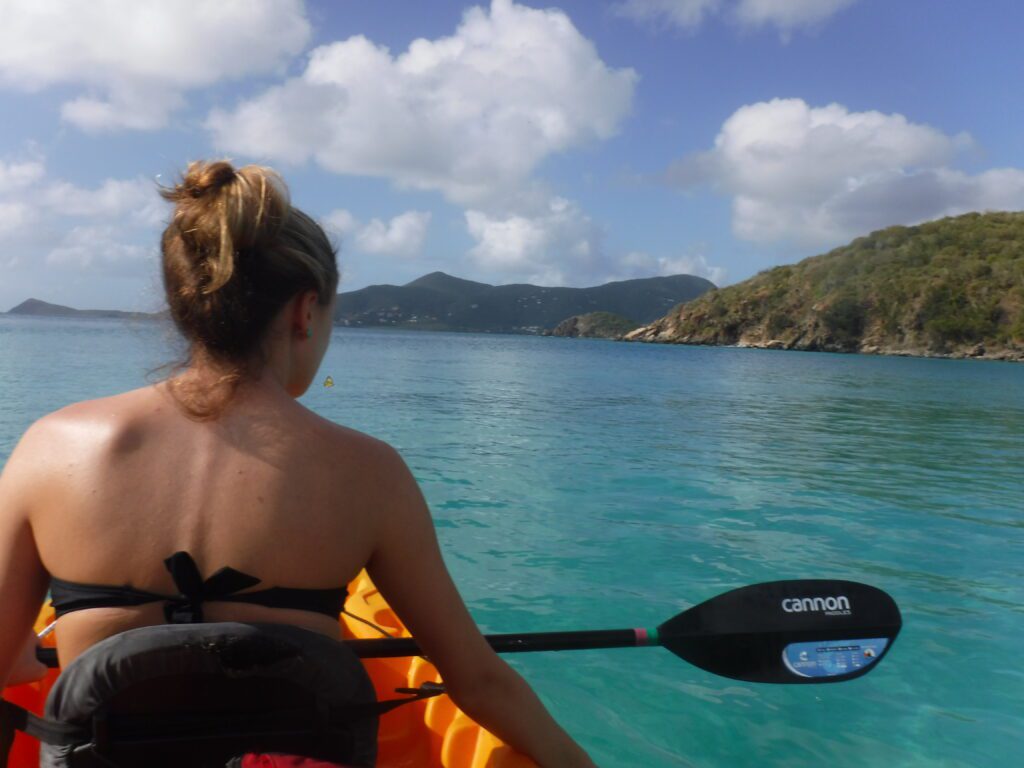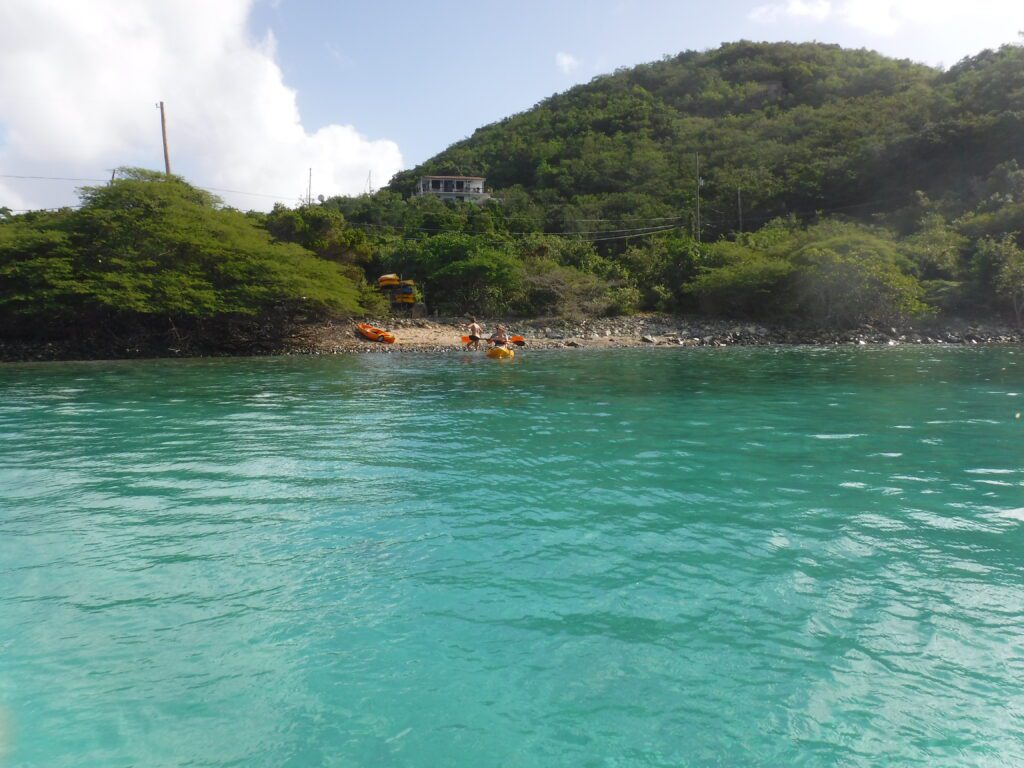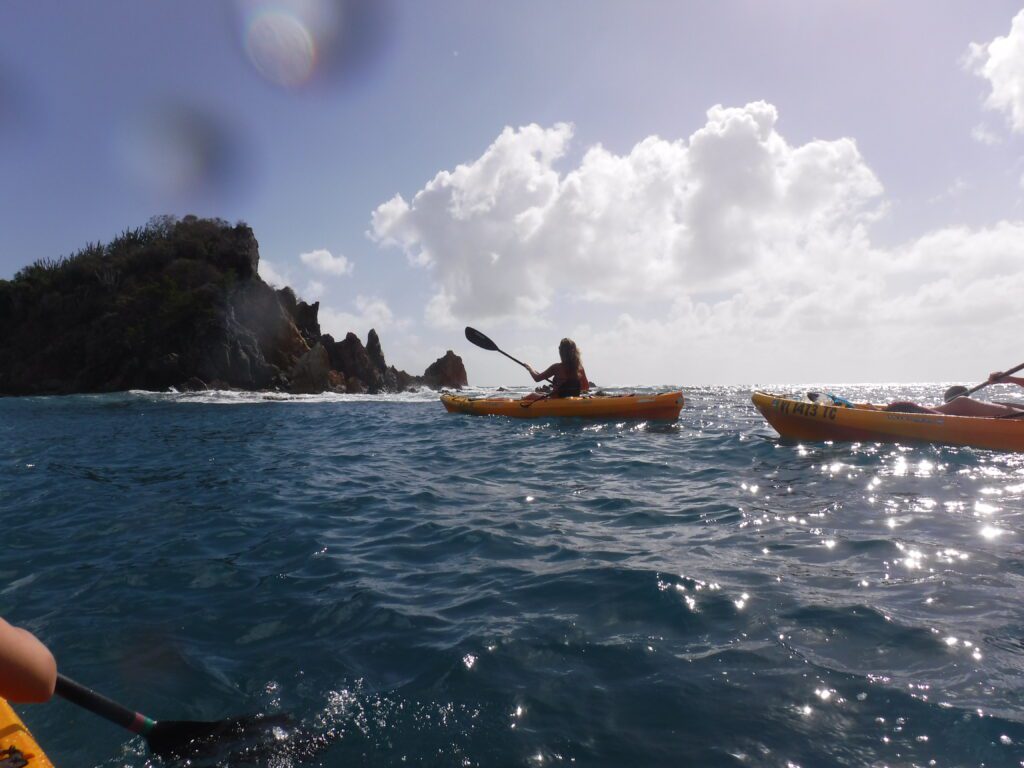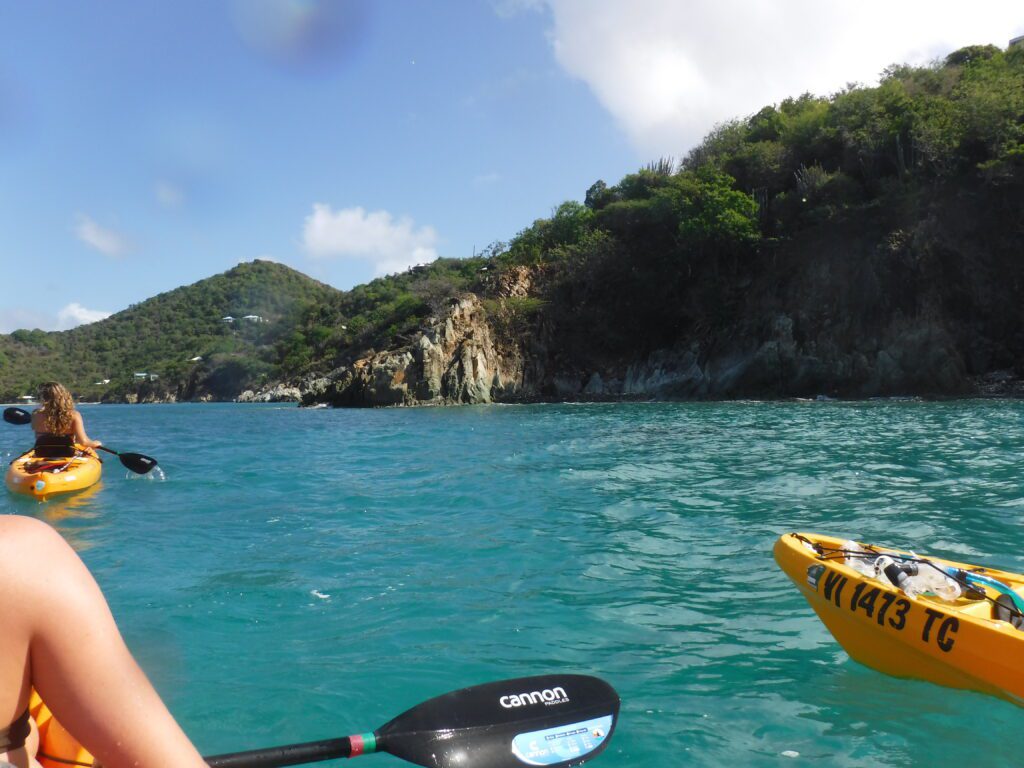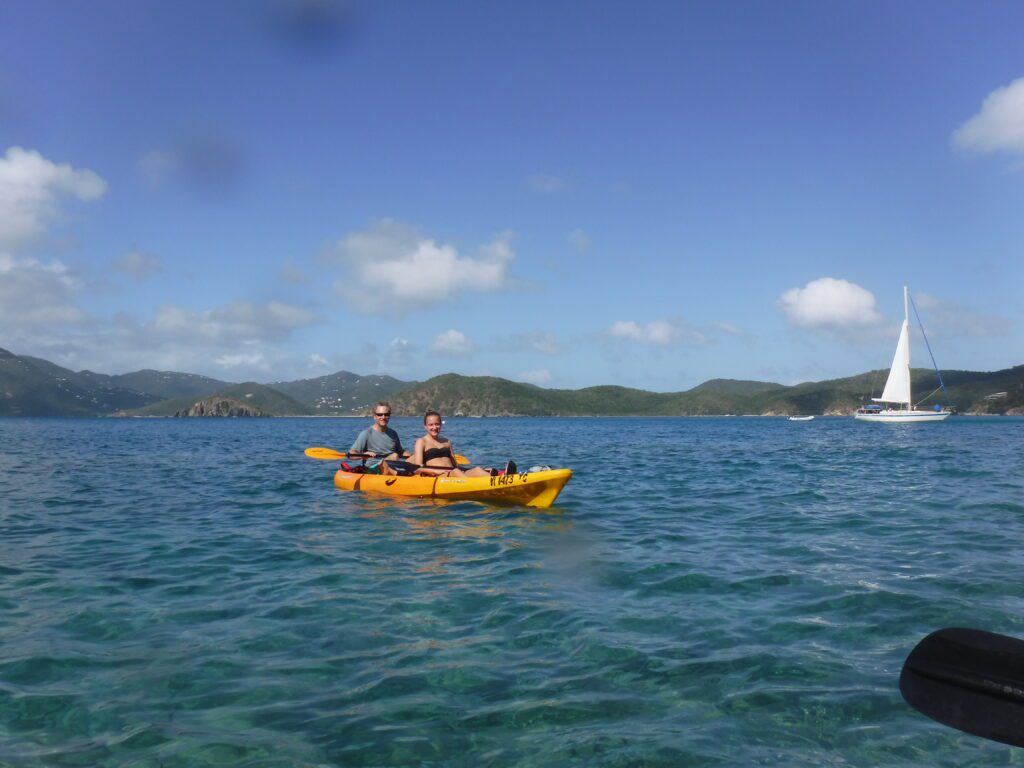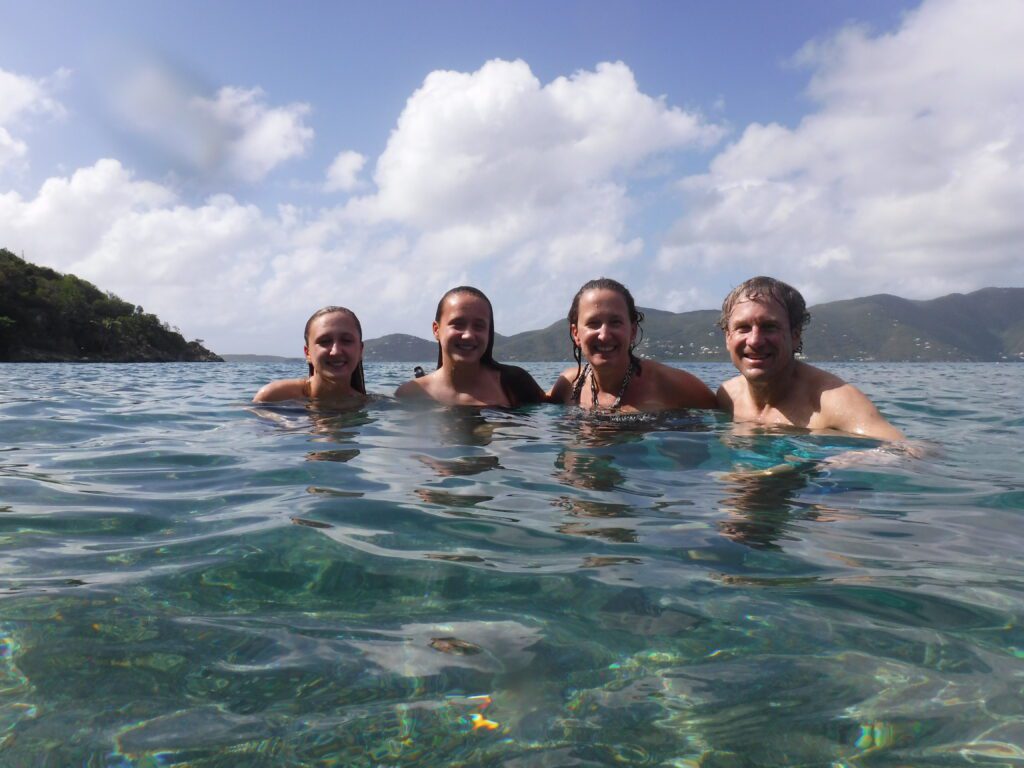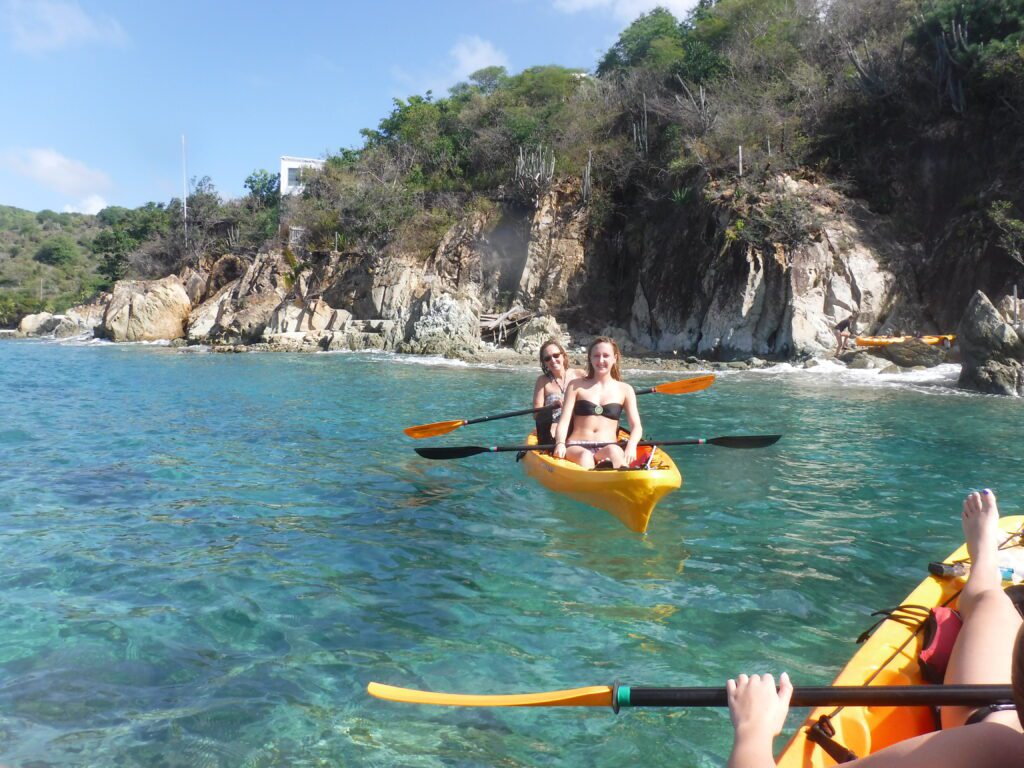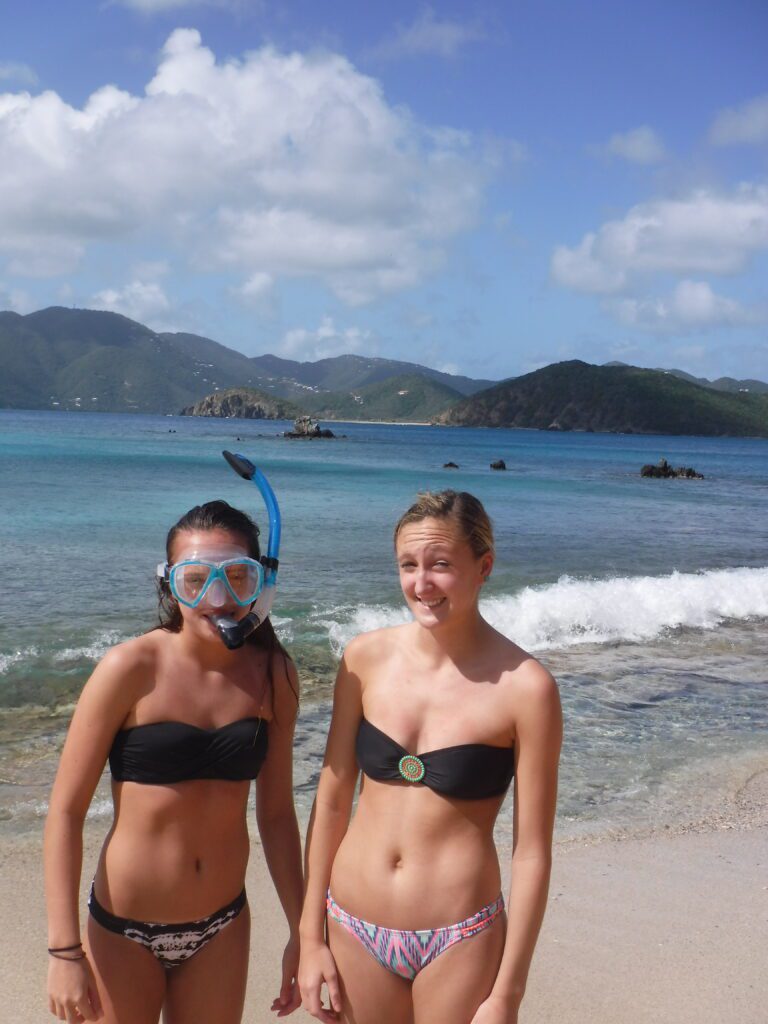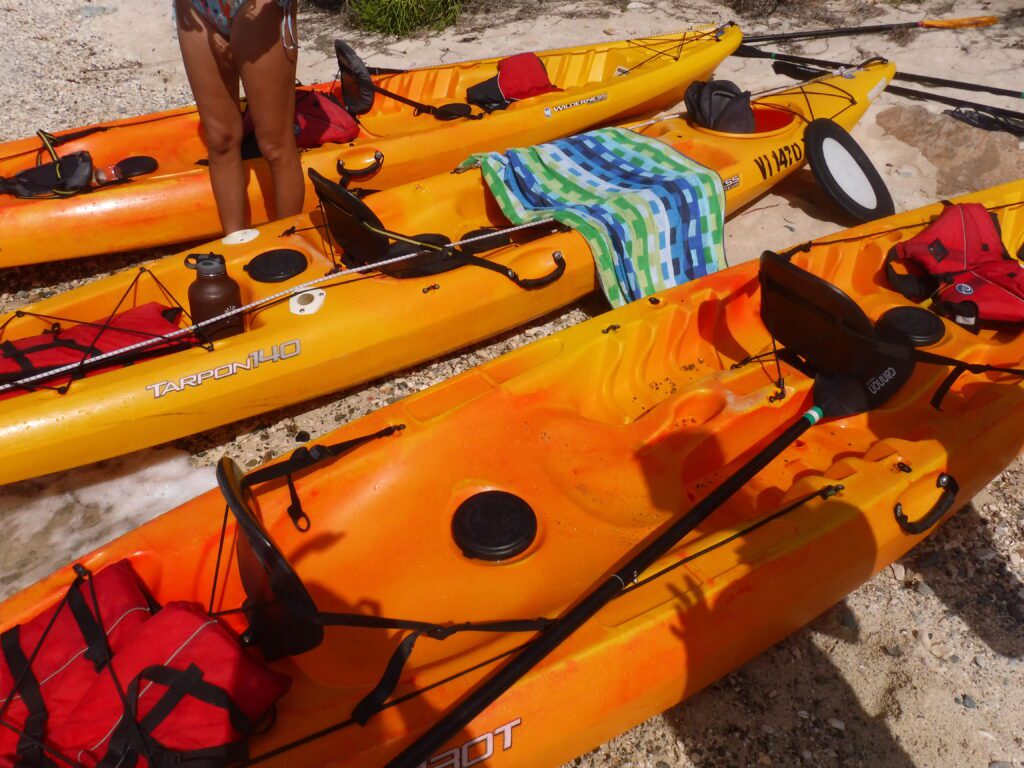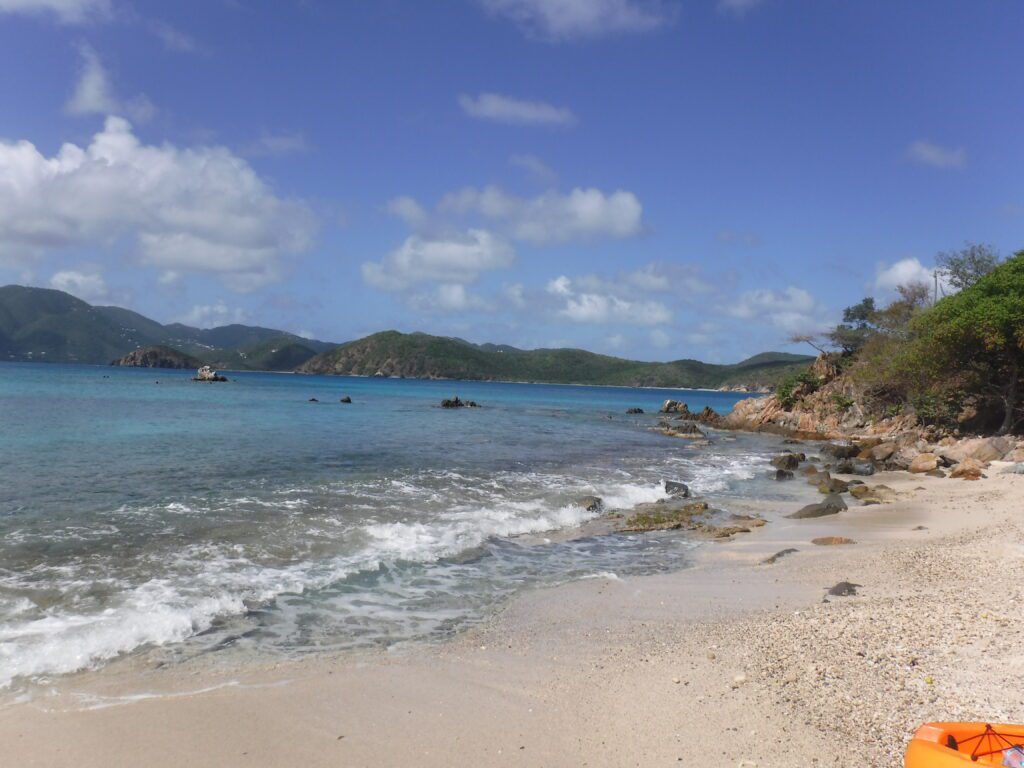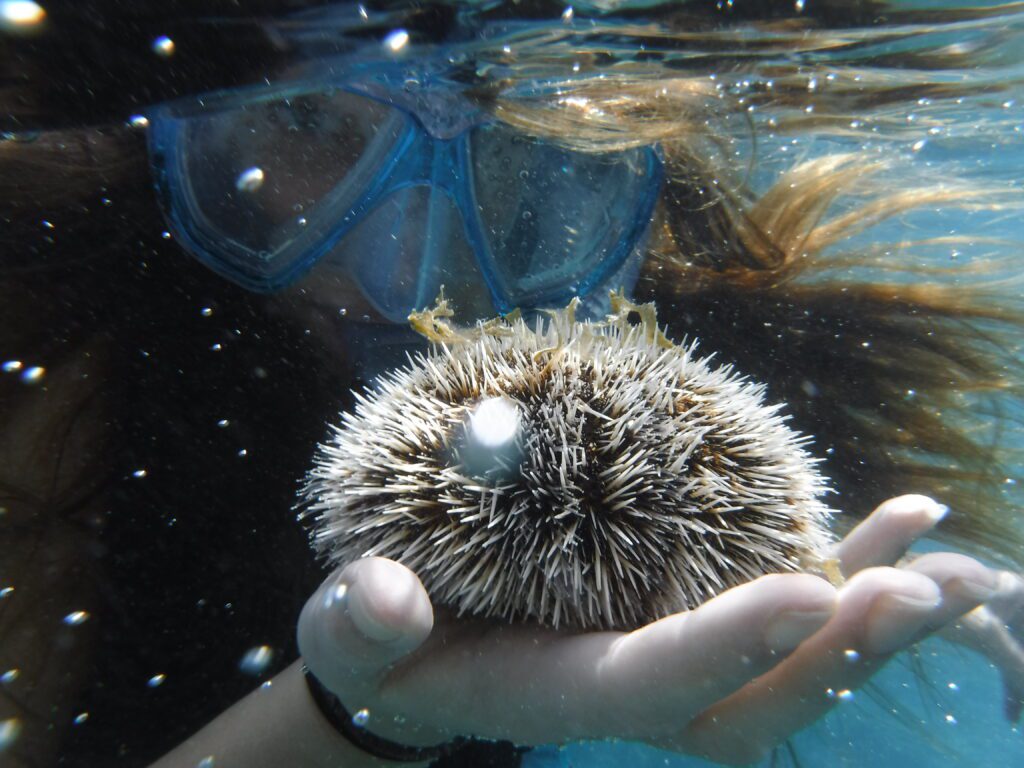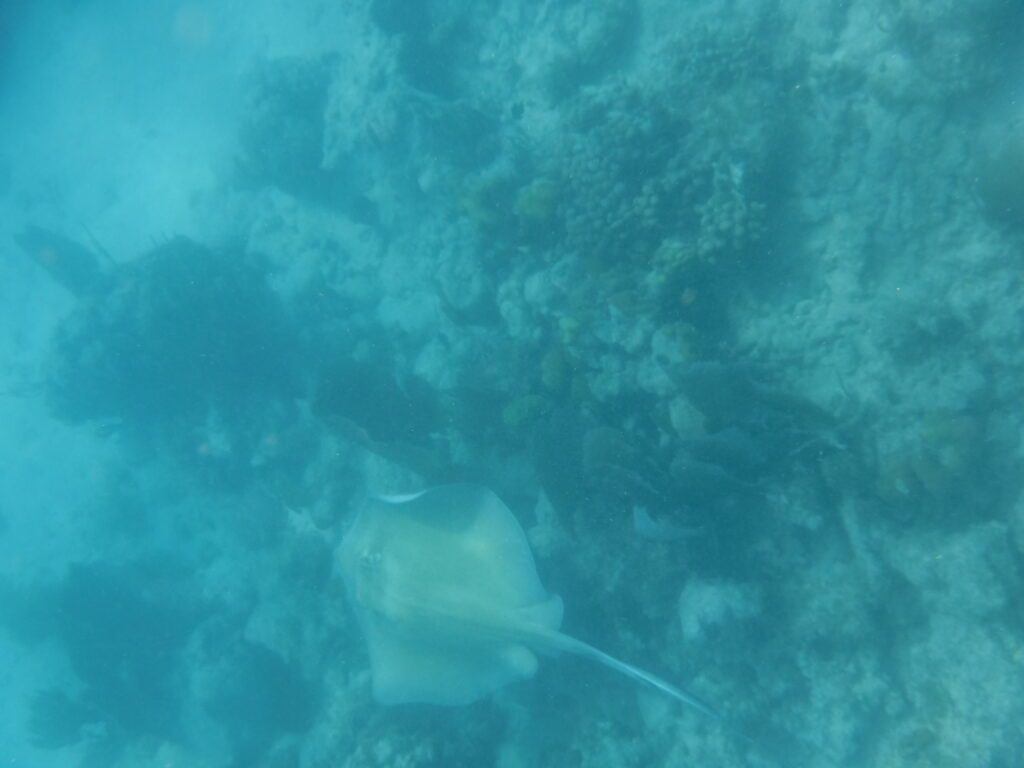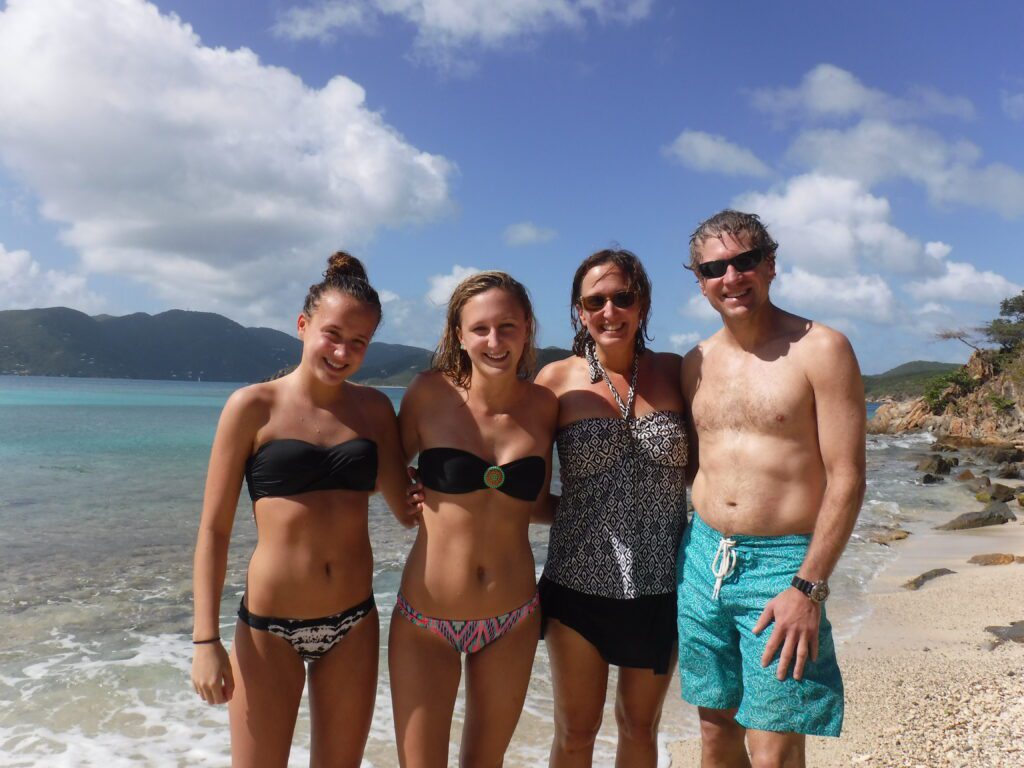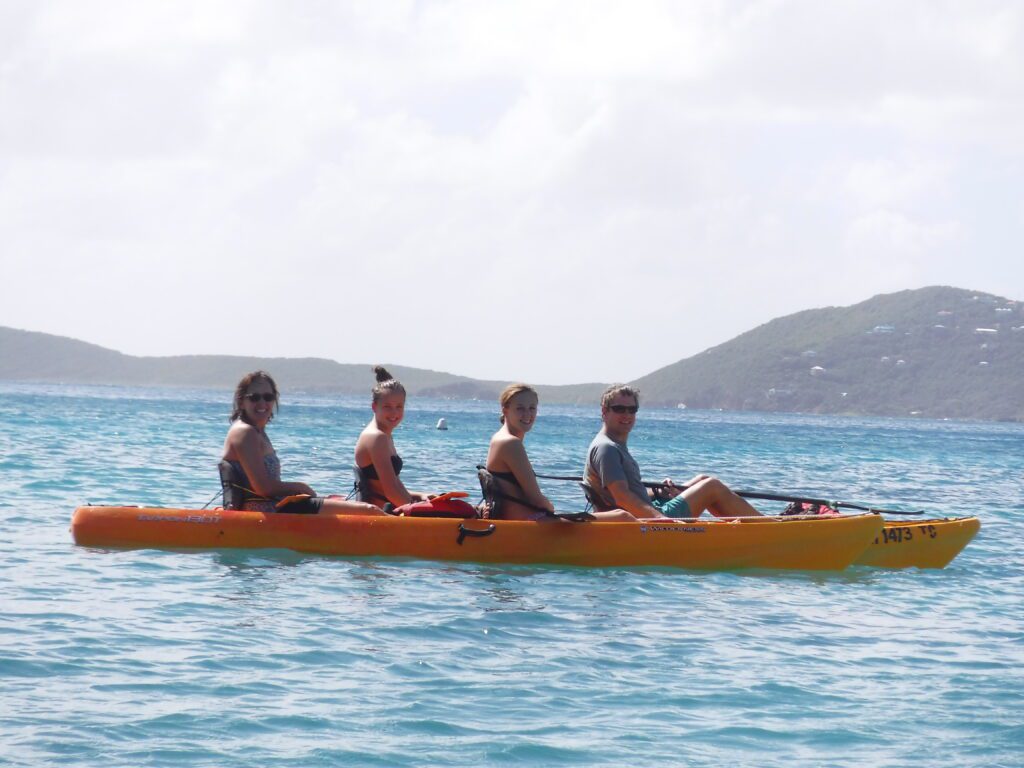 Sadly, the lunch spot we found, Shipwreck Landing, was leveled in the hurricanes.
We drove out to the stunning Salt Pond Bay on the far east end of St. John. To get to Salt Pond Bay from Coral Bay, turn onto Route 107 and follow the signs for about six kilometers. There is a 7-10 minute downhill walk to the protected cove.
This beach remains spectacular. Hikers can take an easy walk out to Rams Head Point.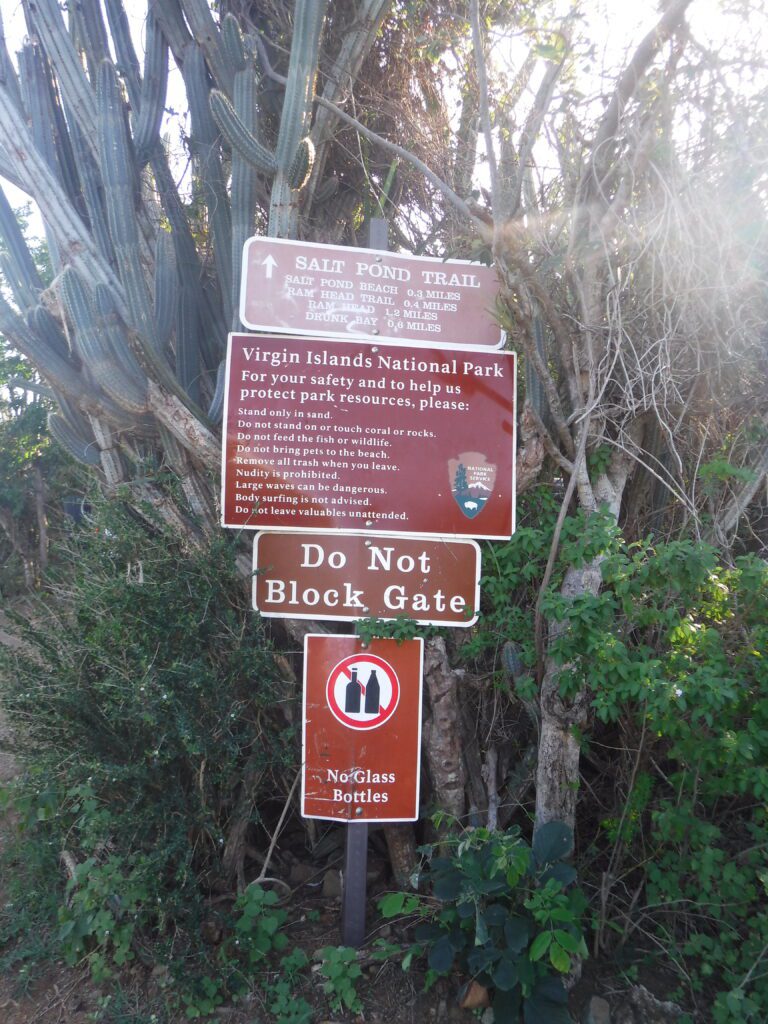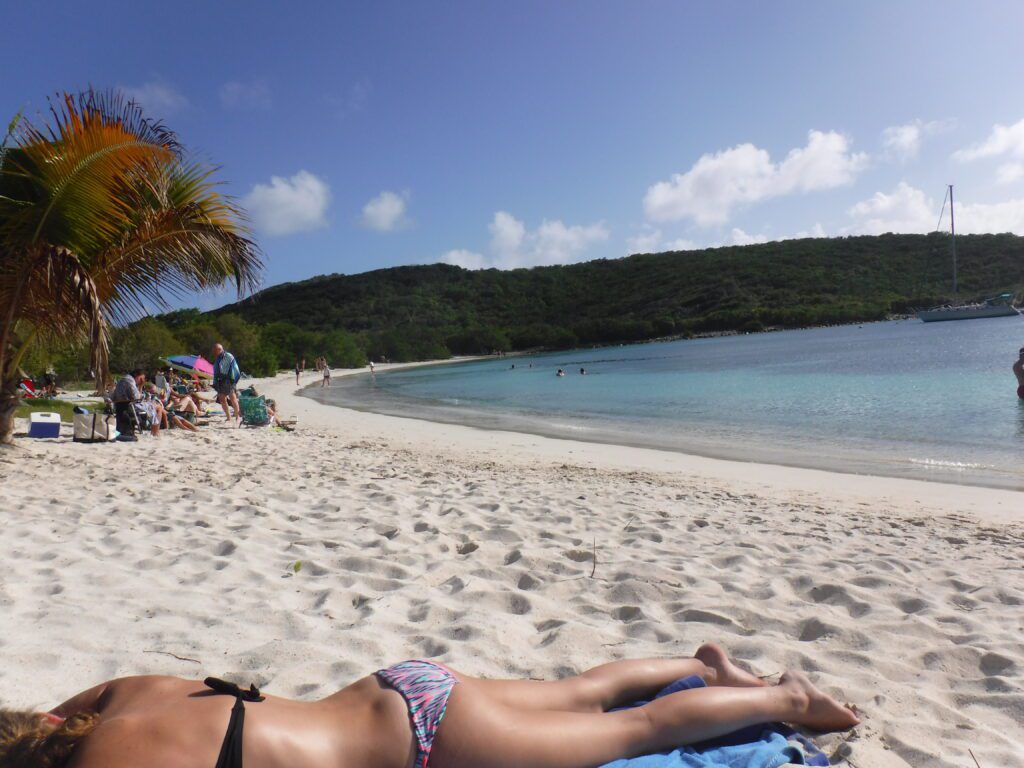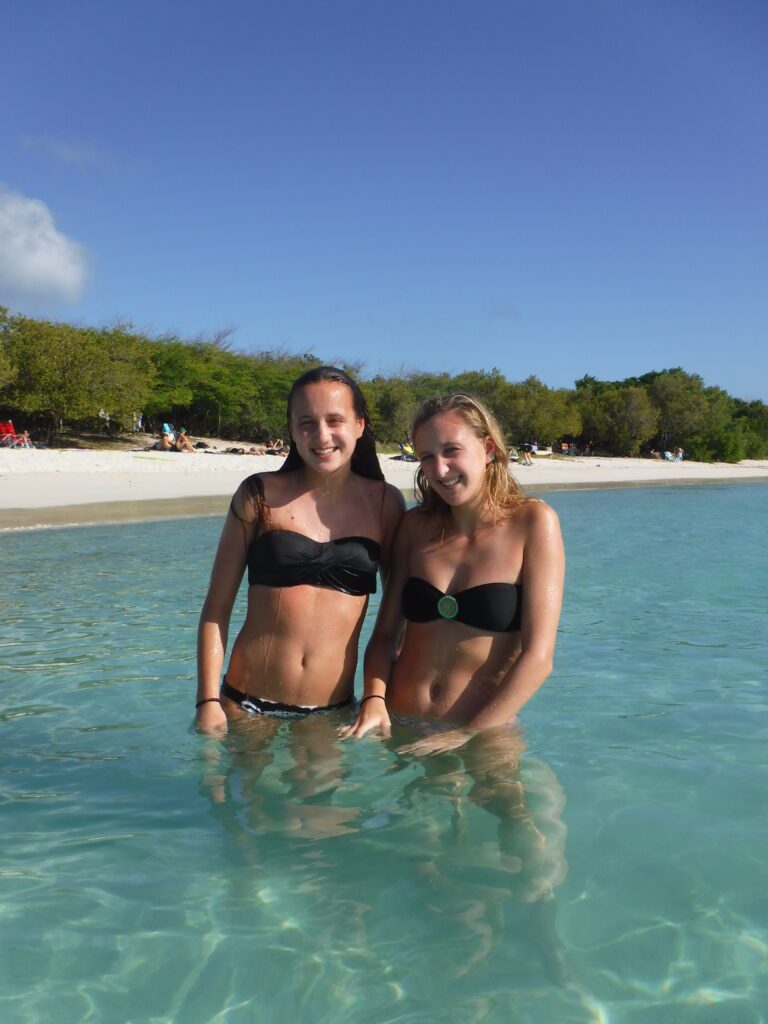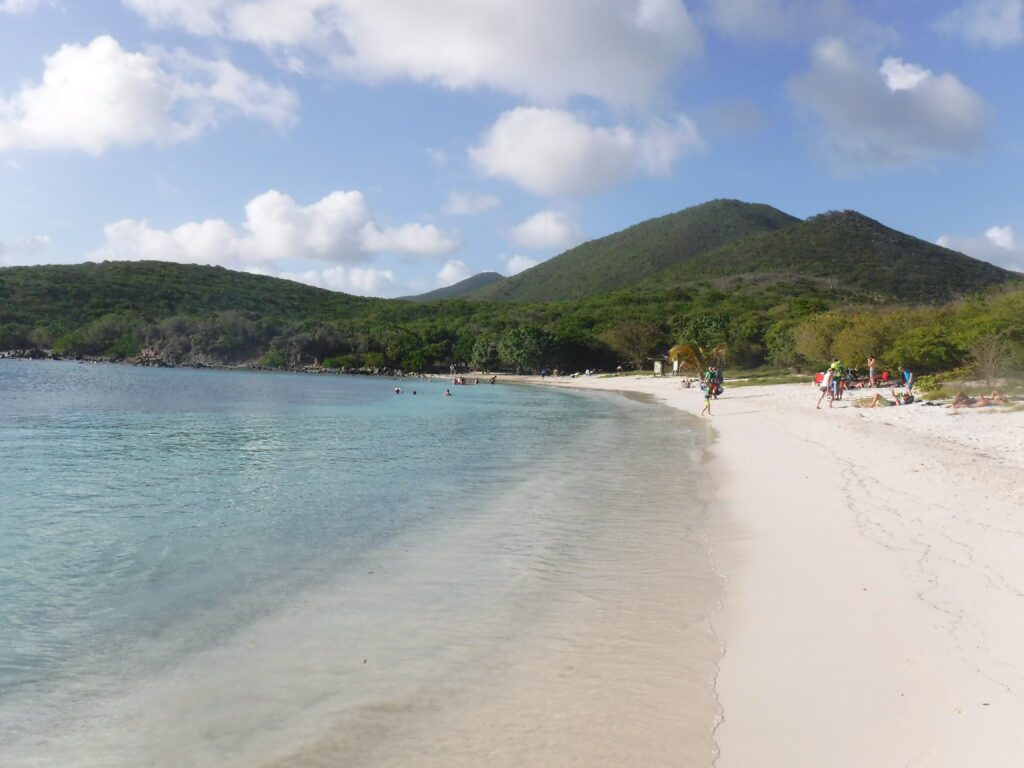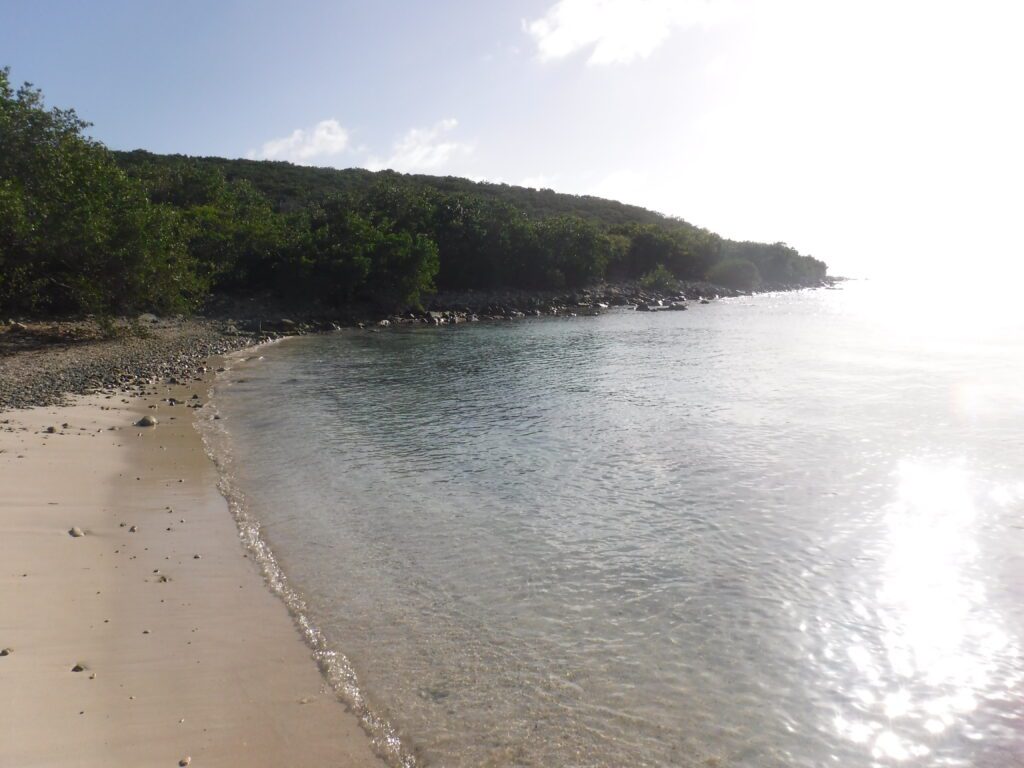 Day 4 – Lion in da Sun
We chartered a boat called Lion in da Sun for a full day. In 2015, when we chartered the boat, the cost was just $595 for a full day. Now, the website says the cost is $695 plus the cost of fuel. This is a great deal compared to a booze cruise that can cost $200/person for a half day. We had a fantastic day, and Captain Rick was wonderful.
Captain Rick picked us up in Cruz Bay at the National Park dock. We brought sandwiches from North Shore Deli and drinks from the Starfish Market grocery store. The boat comes with a cooler and ice. There are plenty of restaurants for lunch that Rick can bring you to if you do not want to pack a lunch.
Bring several dry towels, sunscreen and dry clothes. If you have snorkel gear, bring that, too. The boats do have snorkel gear; we brought our own masks and snorkels and used Captain Rick's fins.
We had hoped to go all the way to the Baths in the British Virgin Islands, but the seas were too rough. So, we hopped between Tortola in the BVIs (bring your passports!) and St. John and the off shore cays. We had a fantastic day with Rick – he was charming and funny.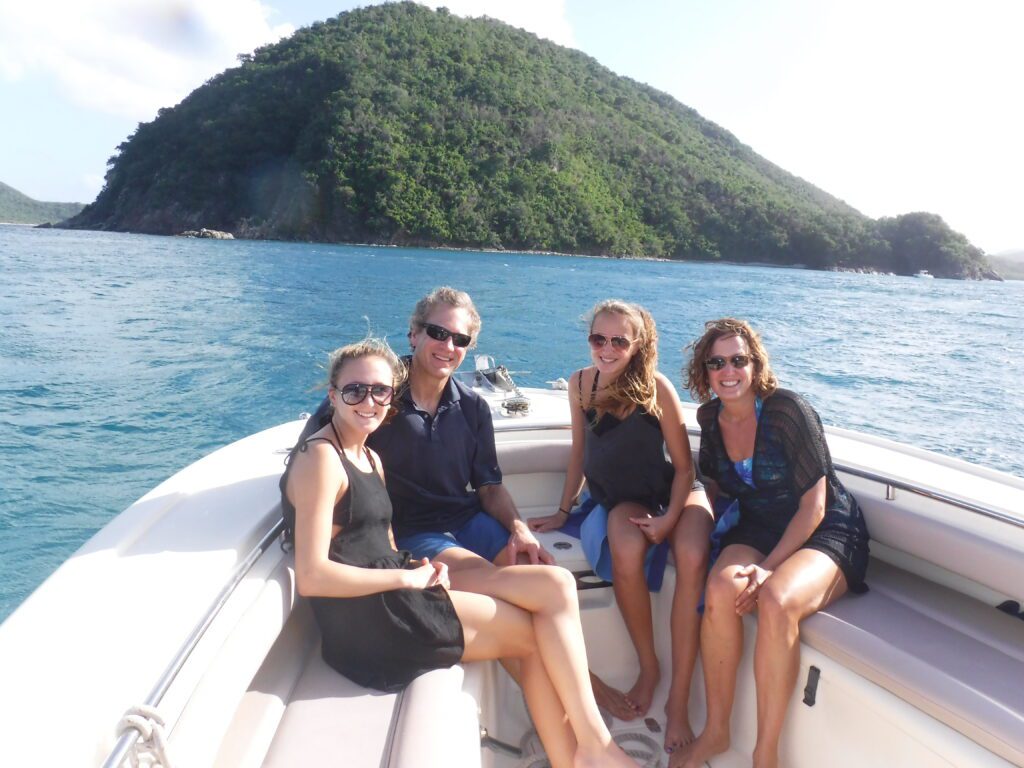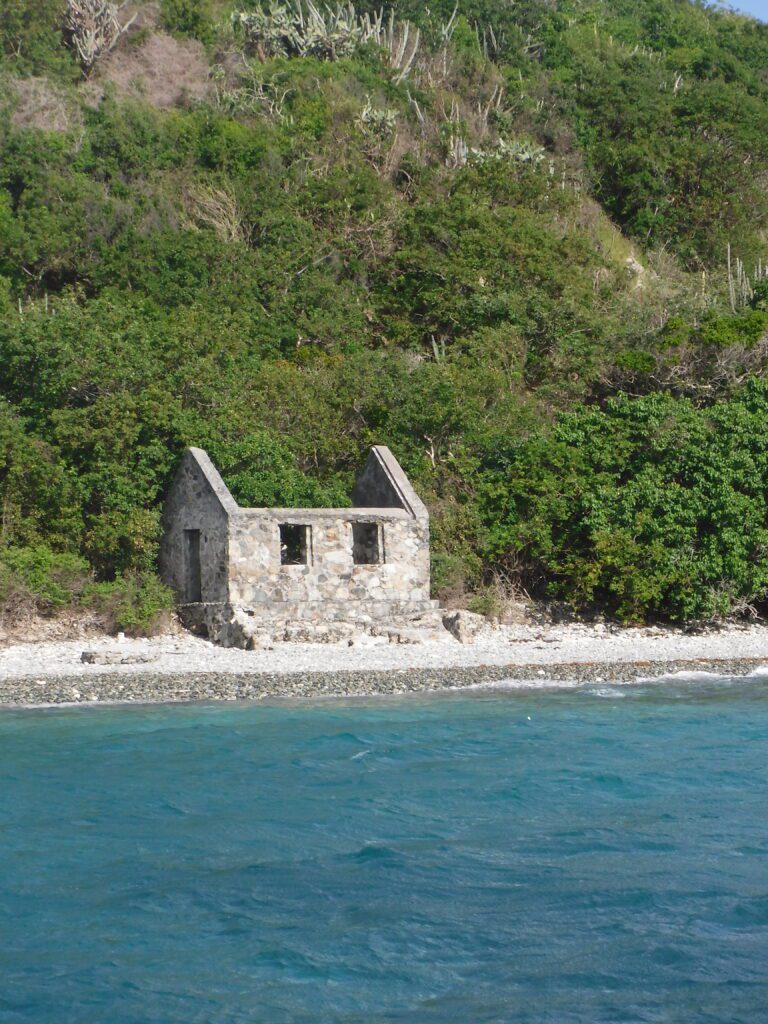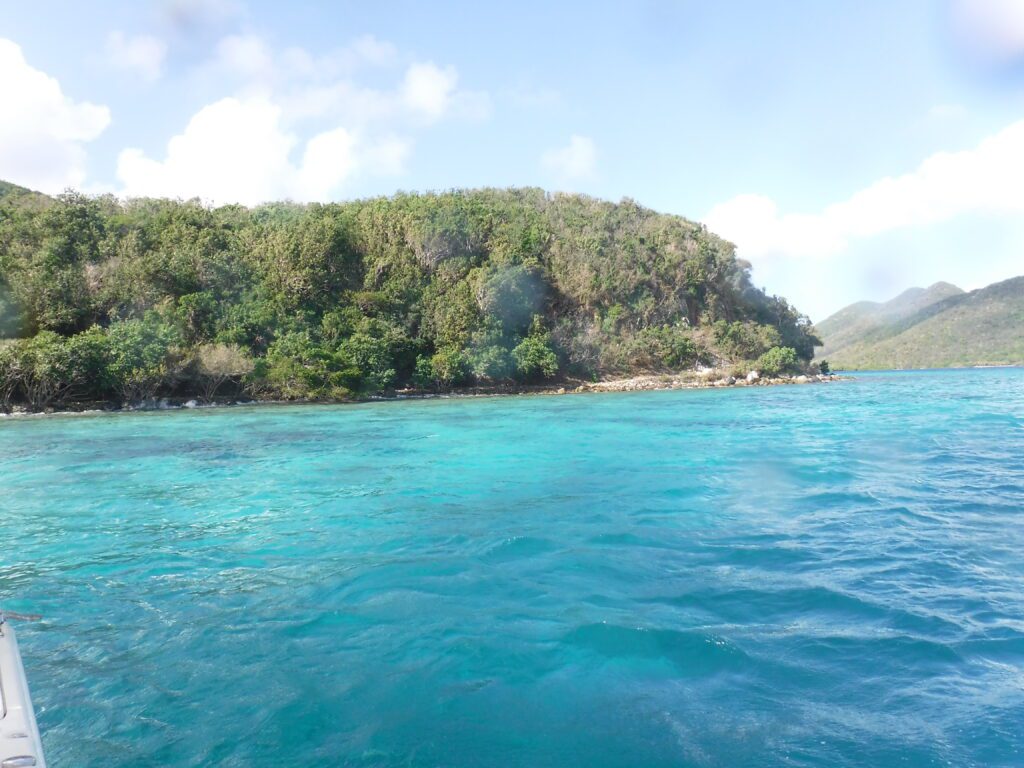 After we snorkeled at Watermelon Cay, we headed to West End, Tortola, British Virgin Islands. We had to pay the entrance fee which is now $65/person and must be paid in CASH. We were caught in a deluge on the way over. Luckily the rain did not last long. We walked around the West End while the rain subsided.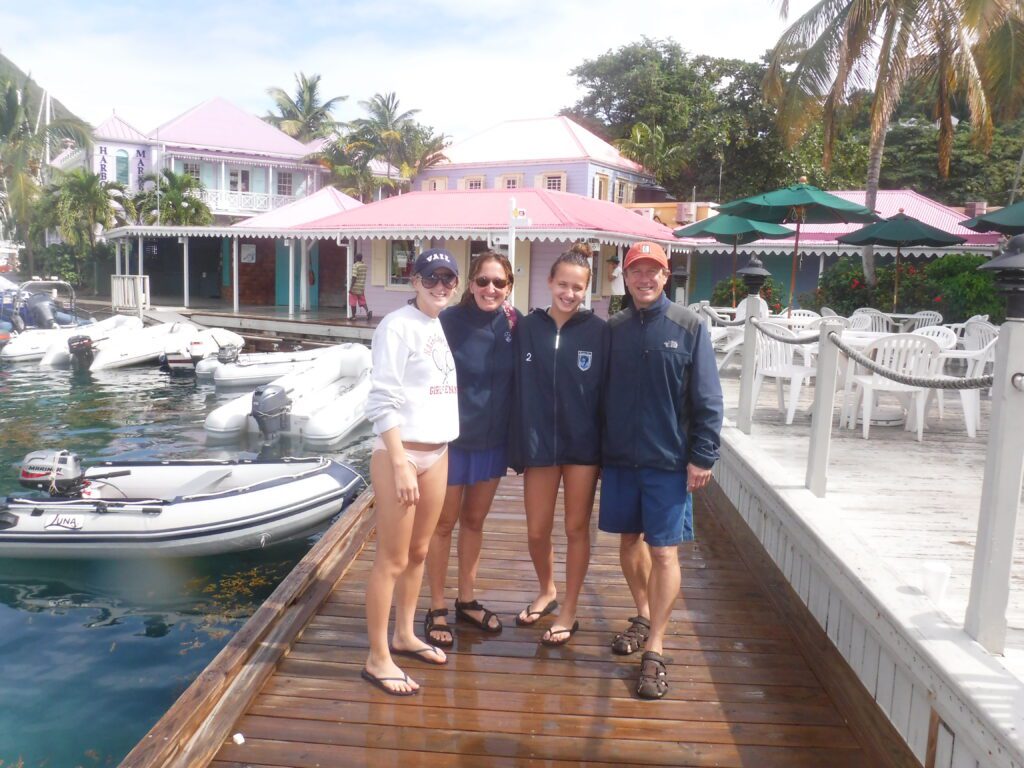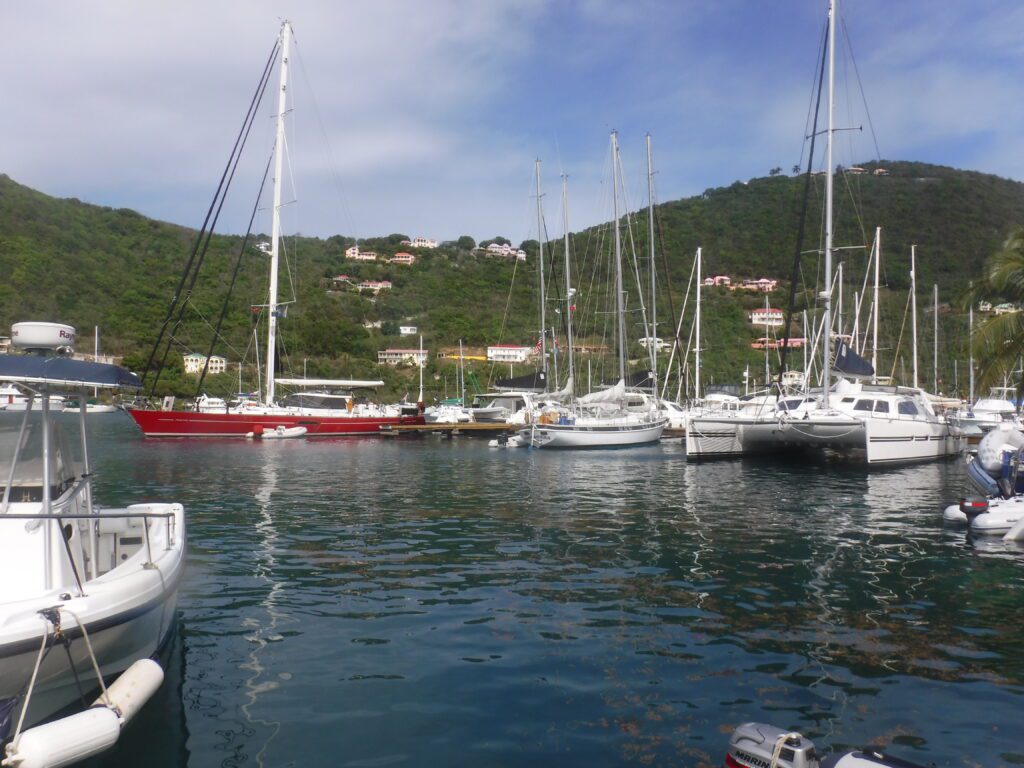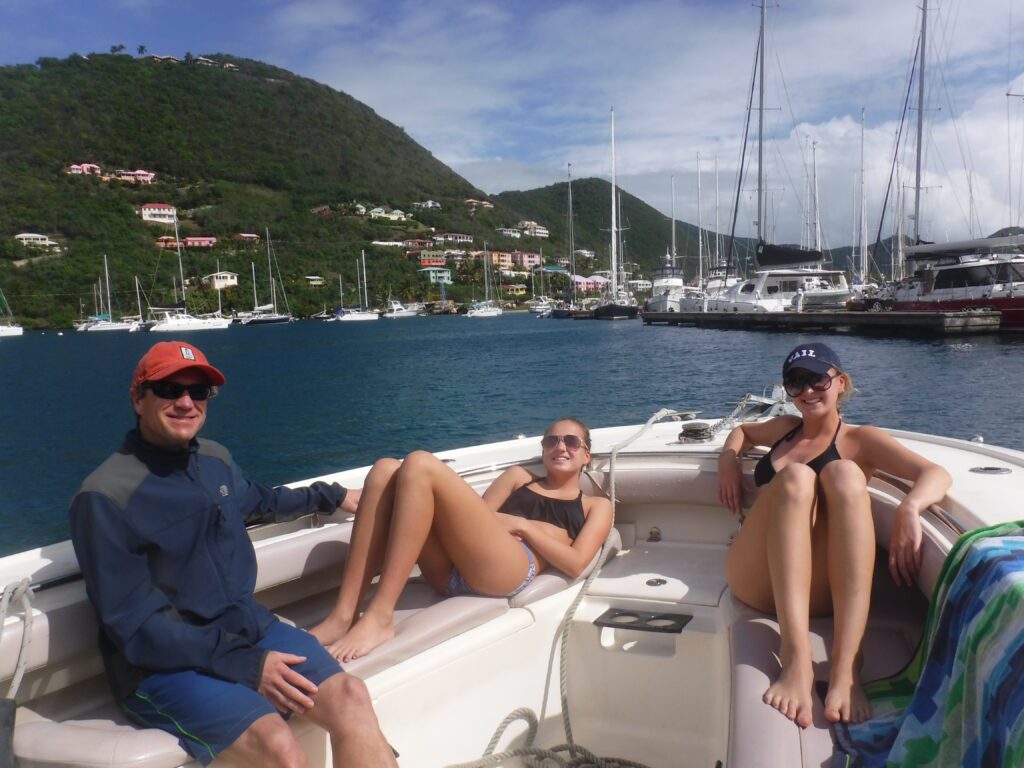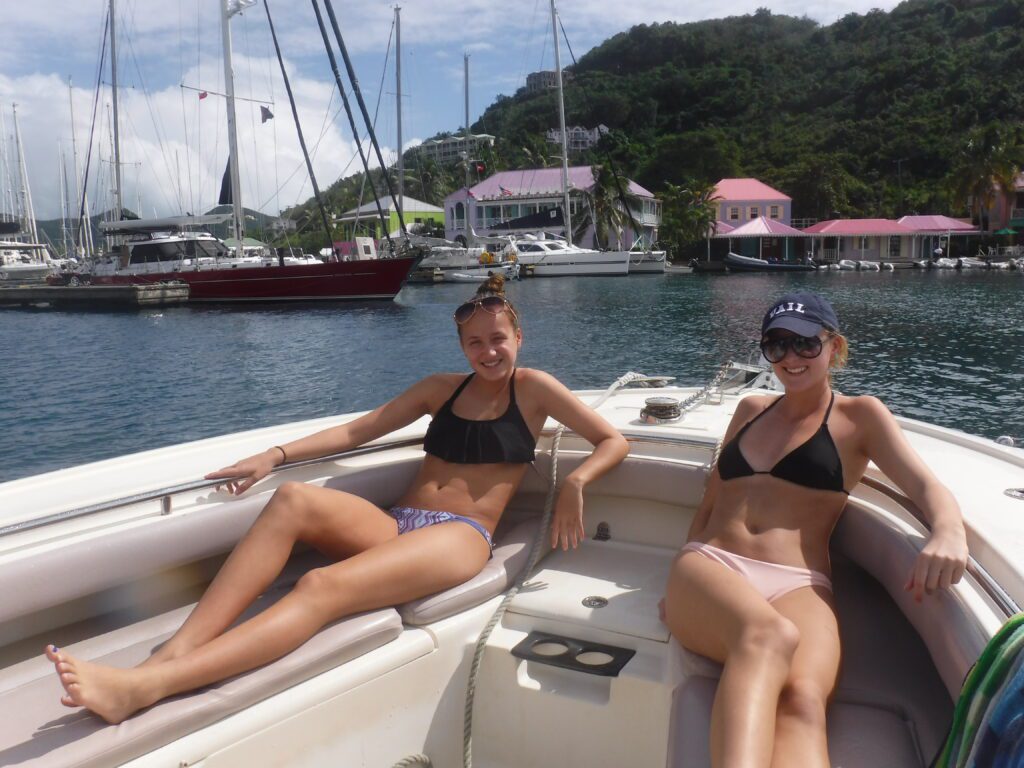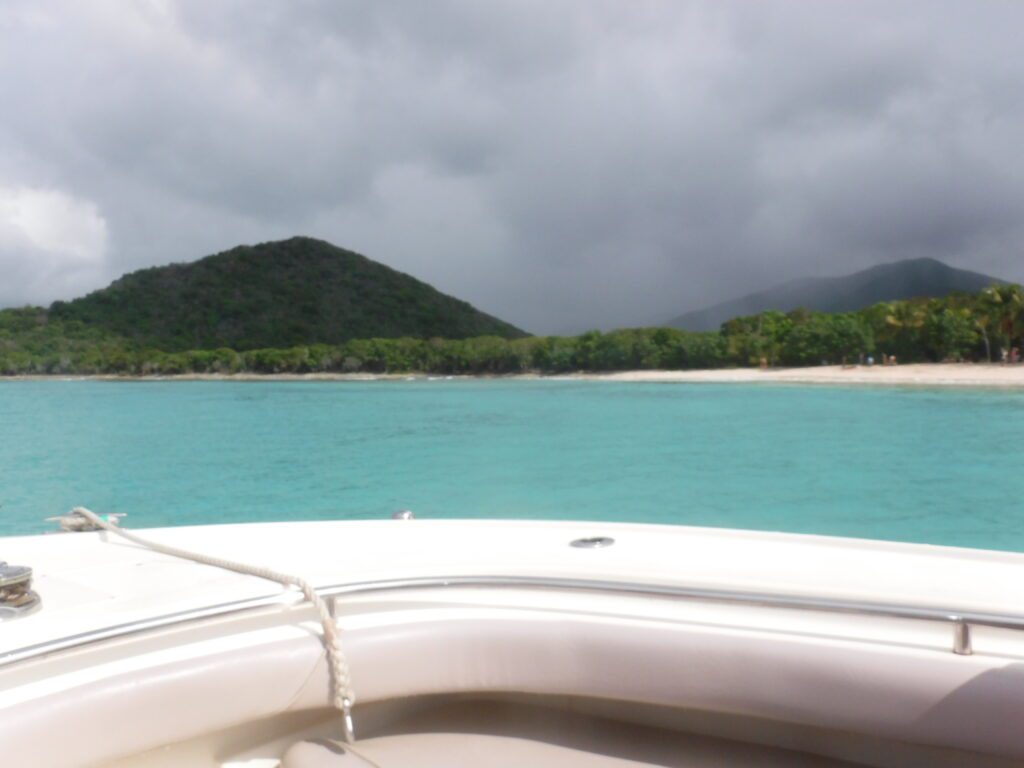 We headed toward Jost Van Dyke. We stopped at a small island called Sandy Cay which the local's call Gilligan's Island. We jumped off the boat, swam and ate our lunch.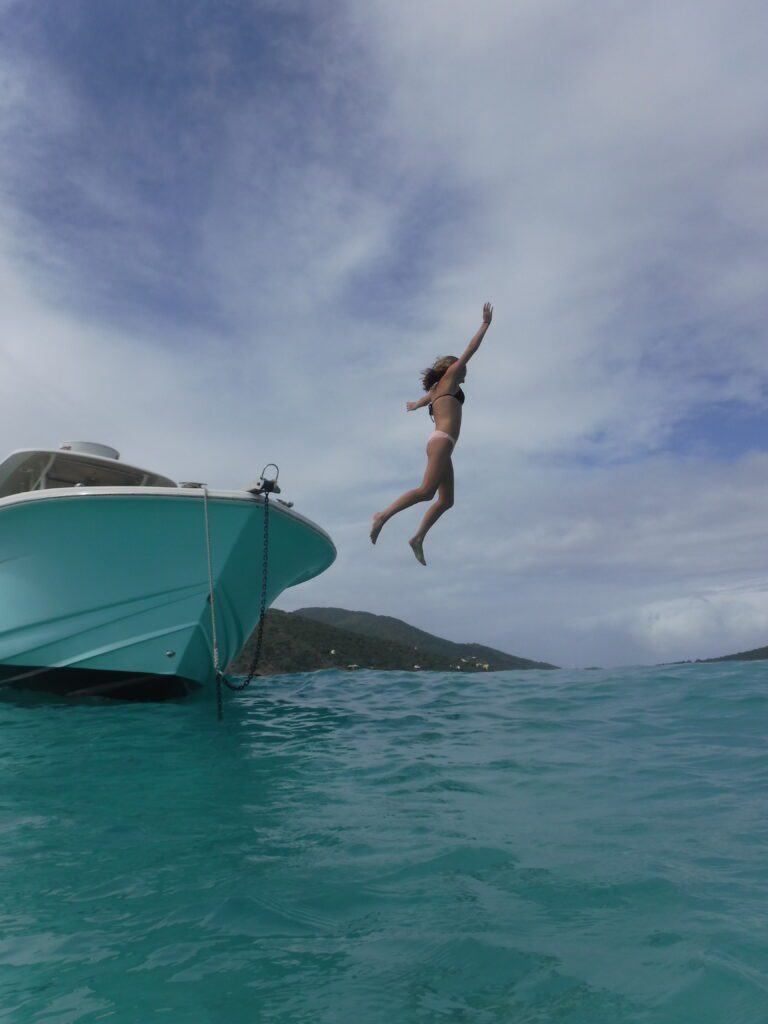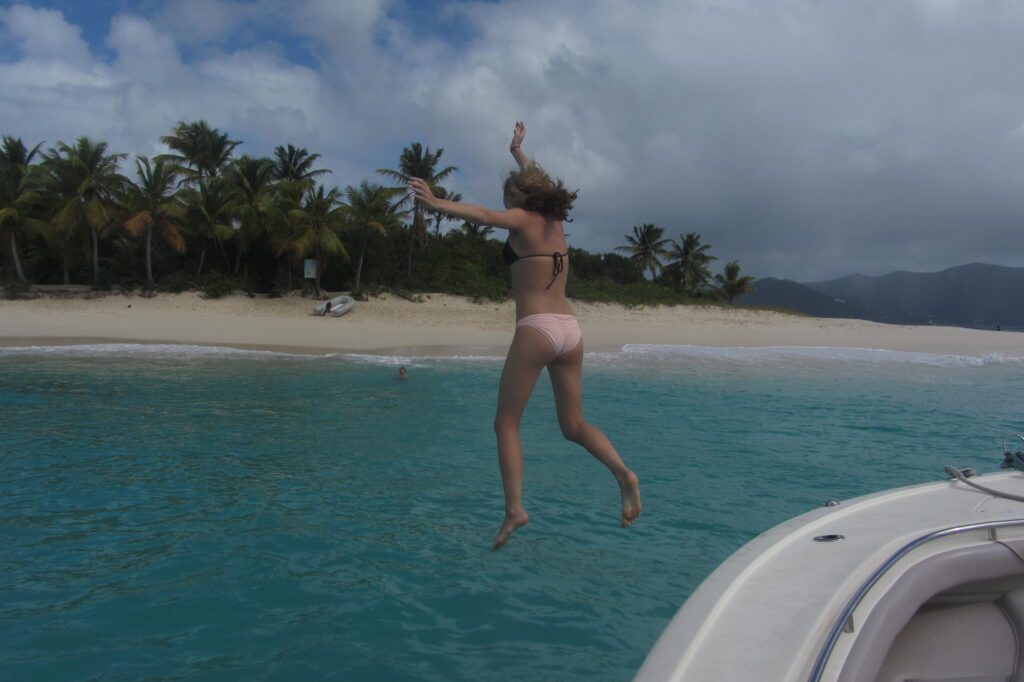 Michele and Jim chose to walk around the island. It takes about 15 minutes to explore the coral and see the local hermit crabs. For the last five minutes of our walk, we were swarmed by mosquitoes! So, bring some bug spray!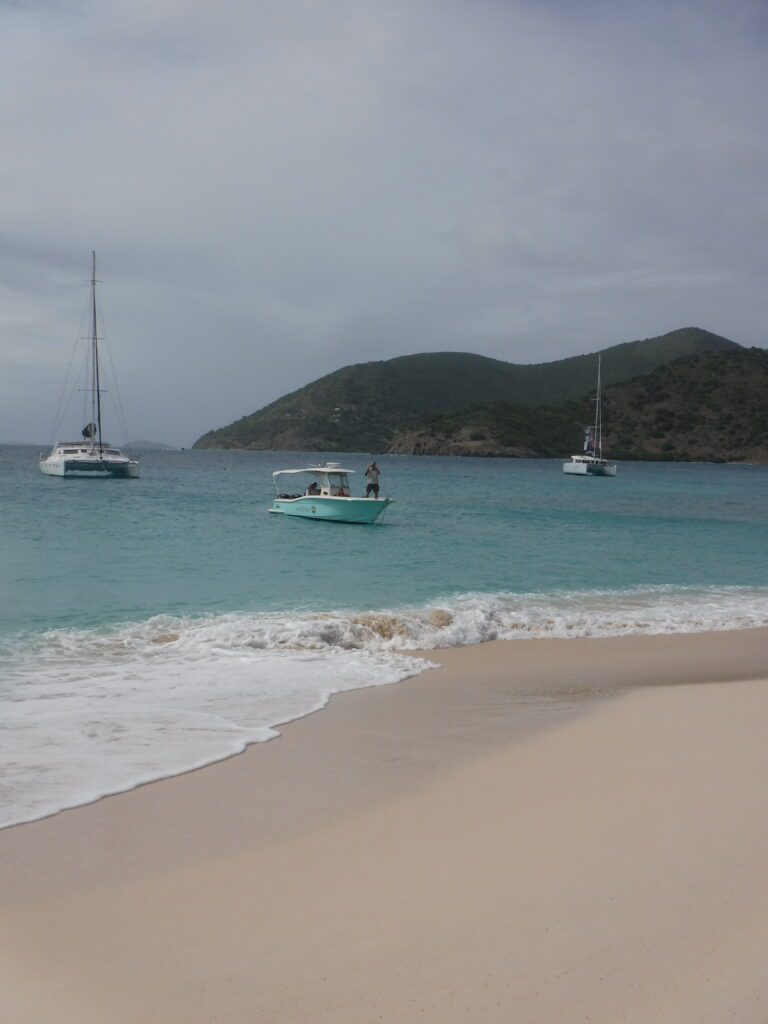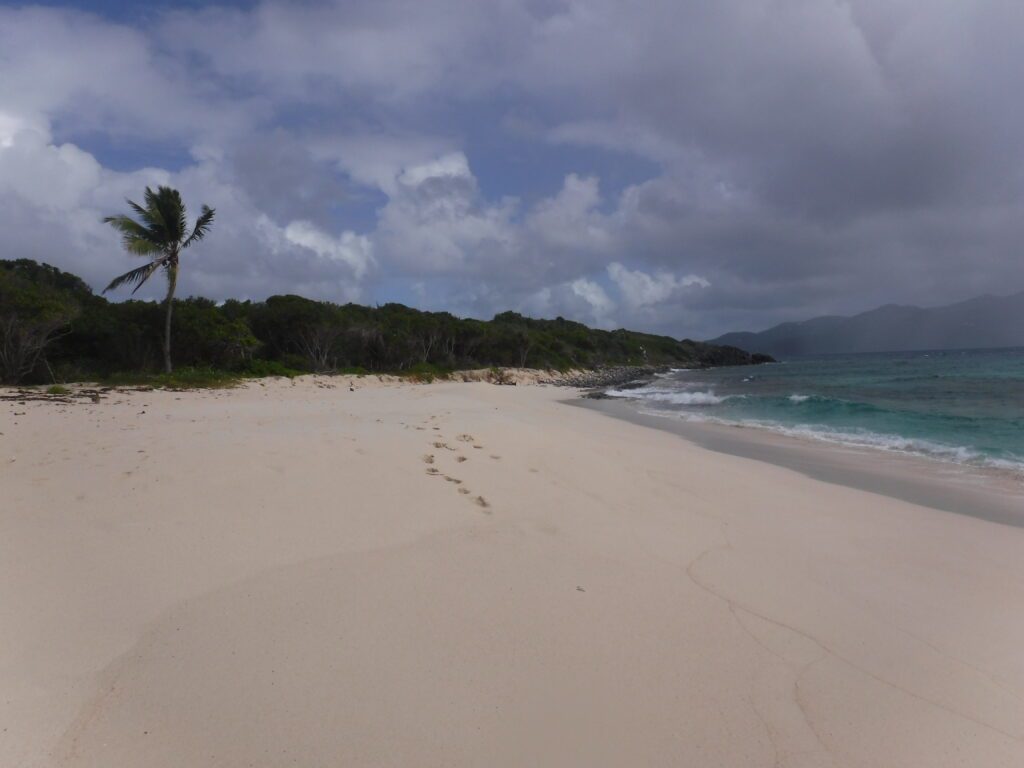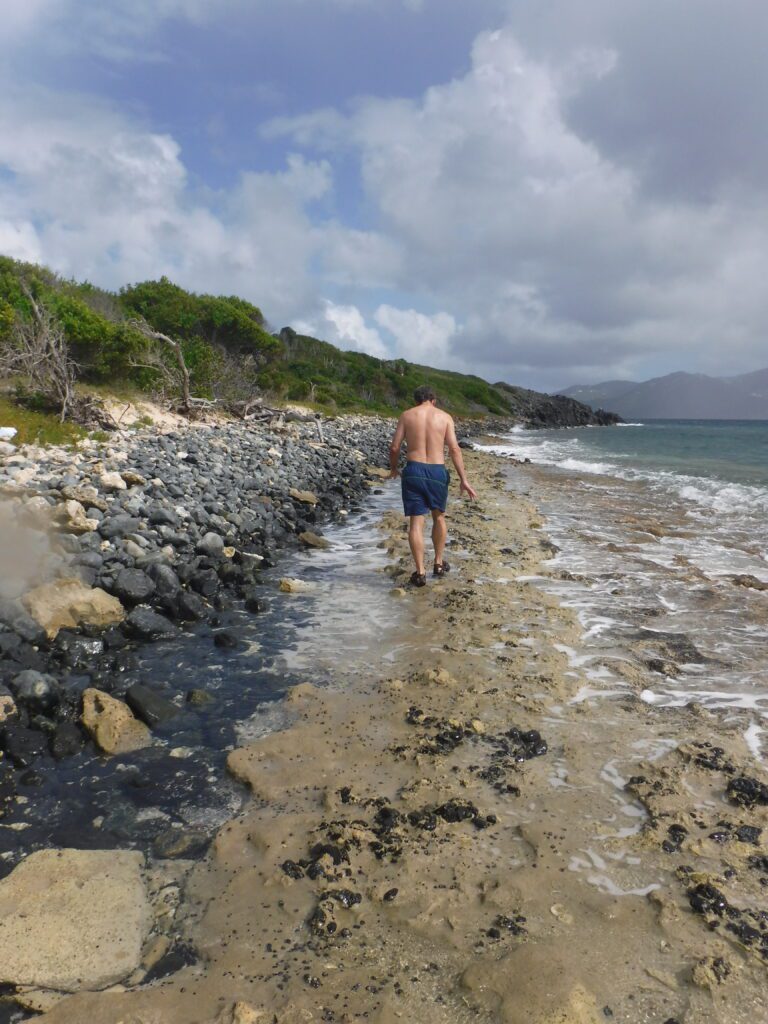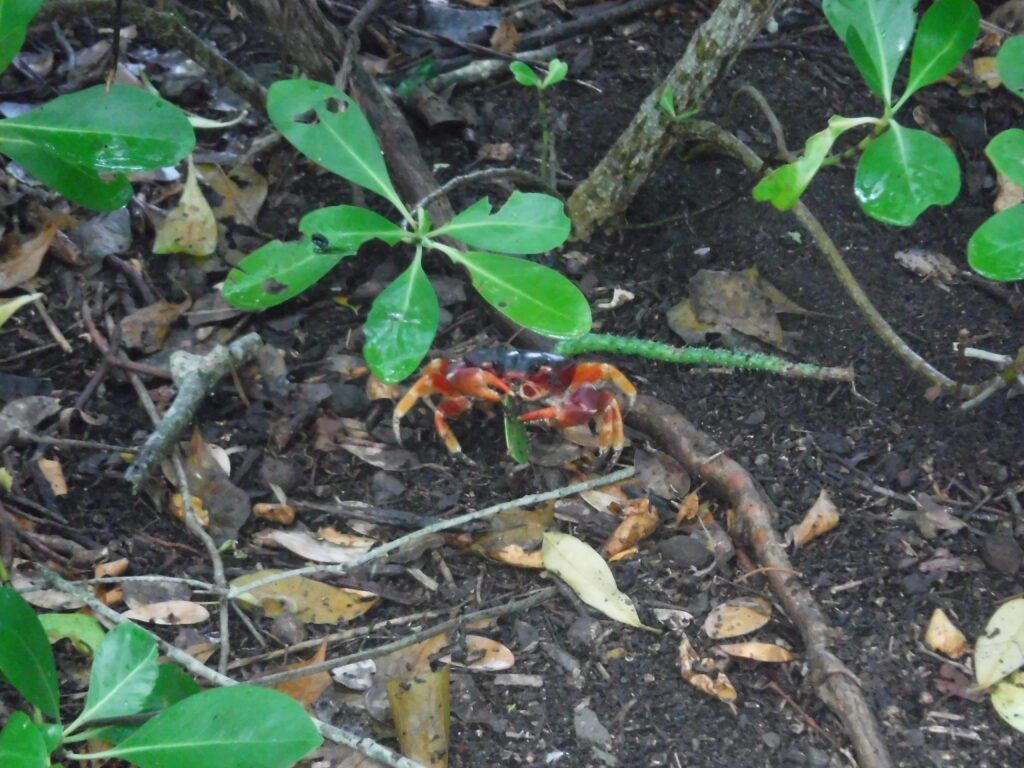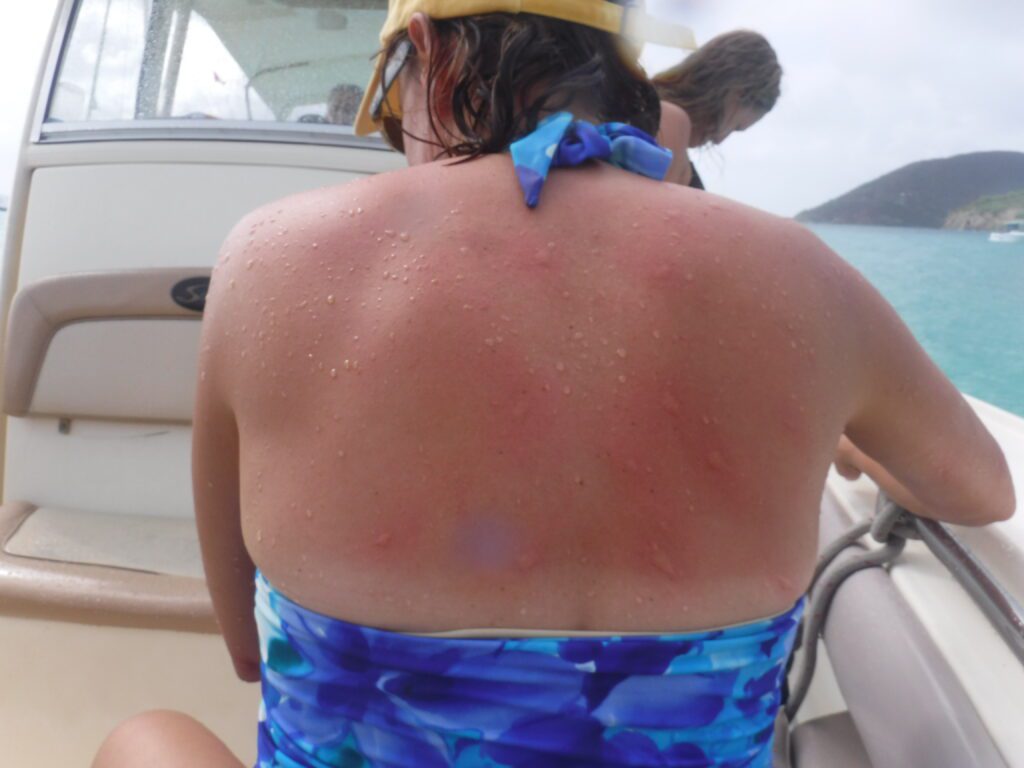 Our next stop was the world famous Sandy Spit. Sandy Spit is a sandbar that epitomizes the word sandbar! Gorgeous blue water, white sand, uninhabited, tiny and sparkling, Sandy Spit is a must-stop if you are in the BVIs. Many commercials have been filmed here.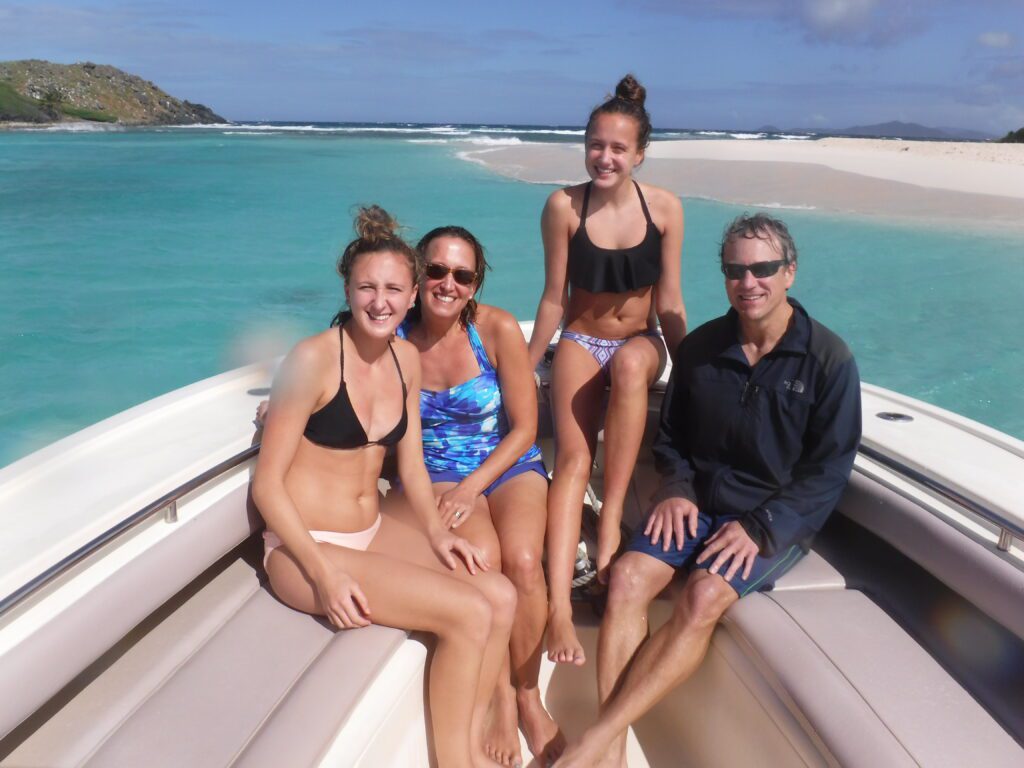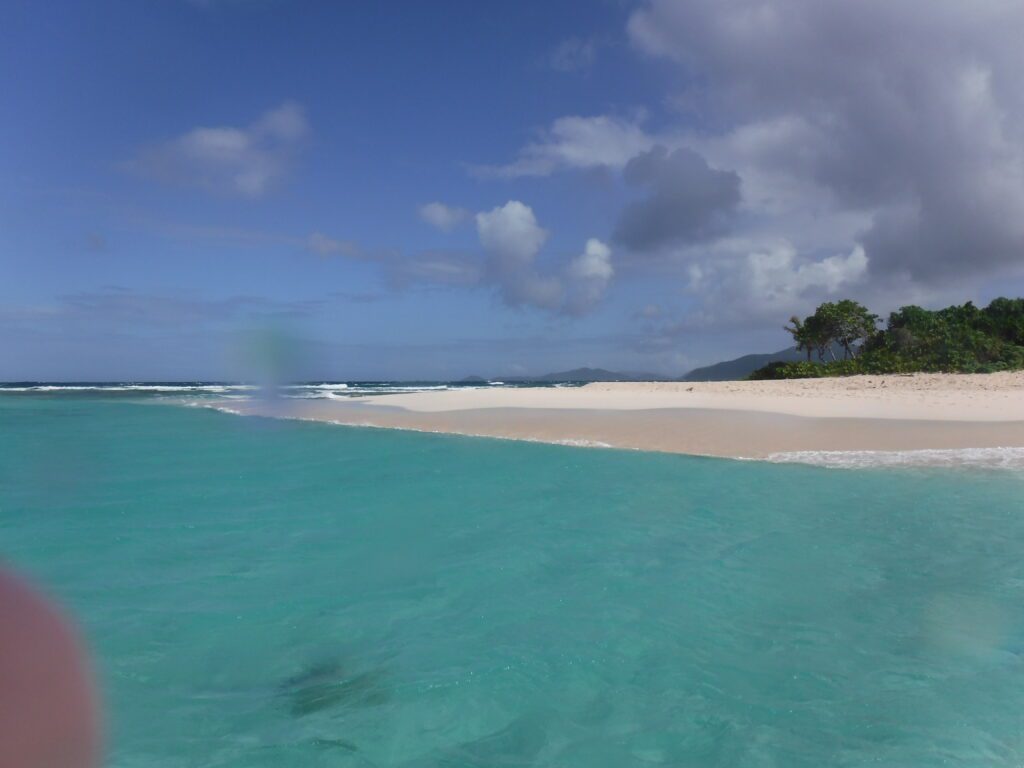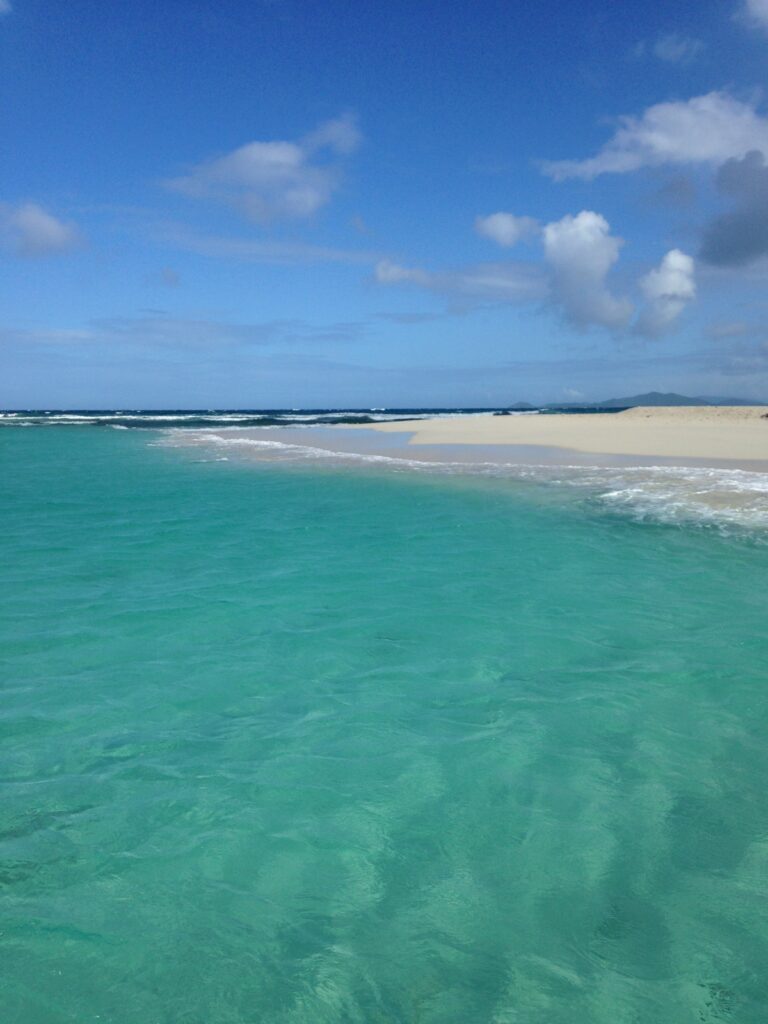 We understand that the hurricanes wiped out most of the vegtation on the tiny Sandy Spit, but it is beginning to return.
We cruised over to Long Bay which is between Jost Van Dyke and Little Jost Van Dyke. We docked in Great Harbor near the famous Foxy's restaurant. Trip Advisor reviews remain strong.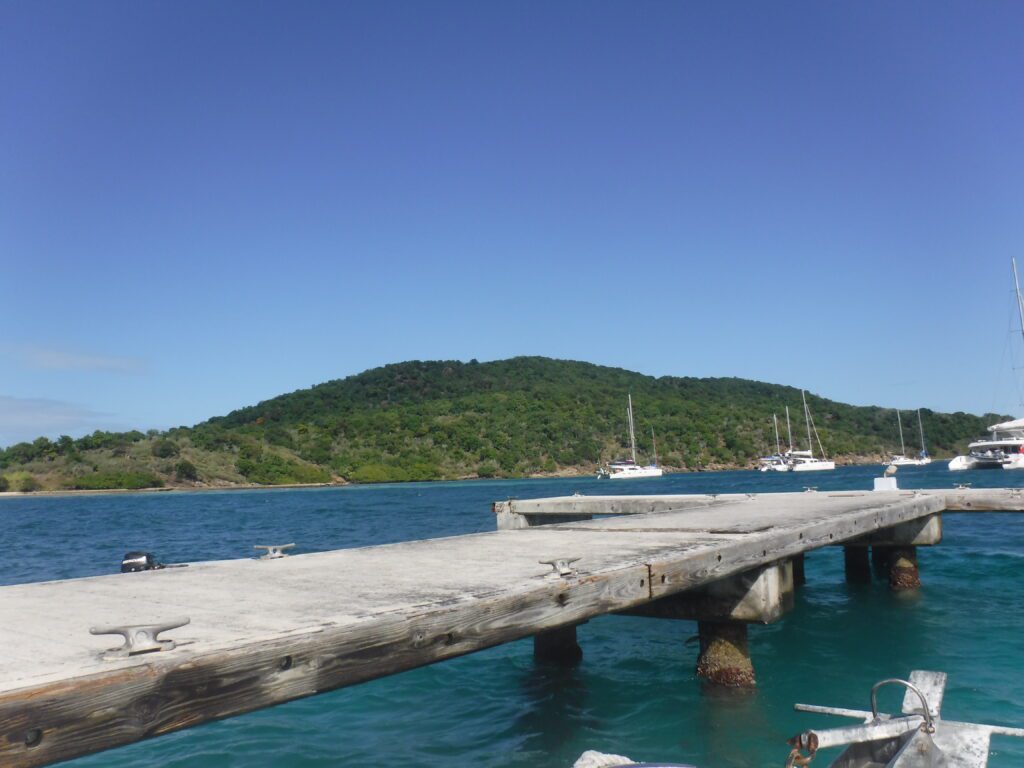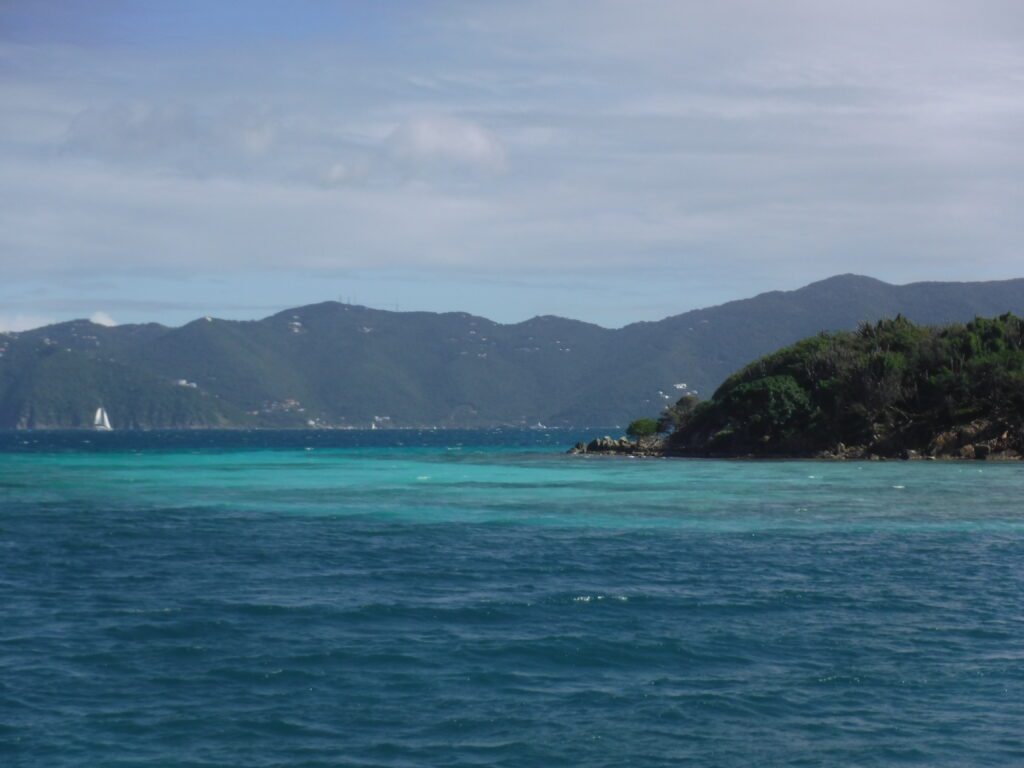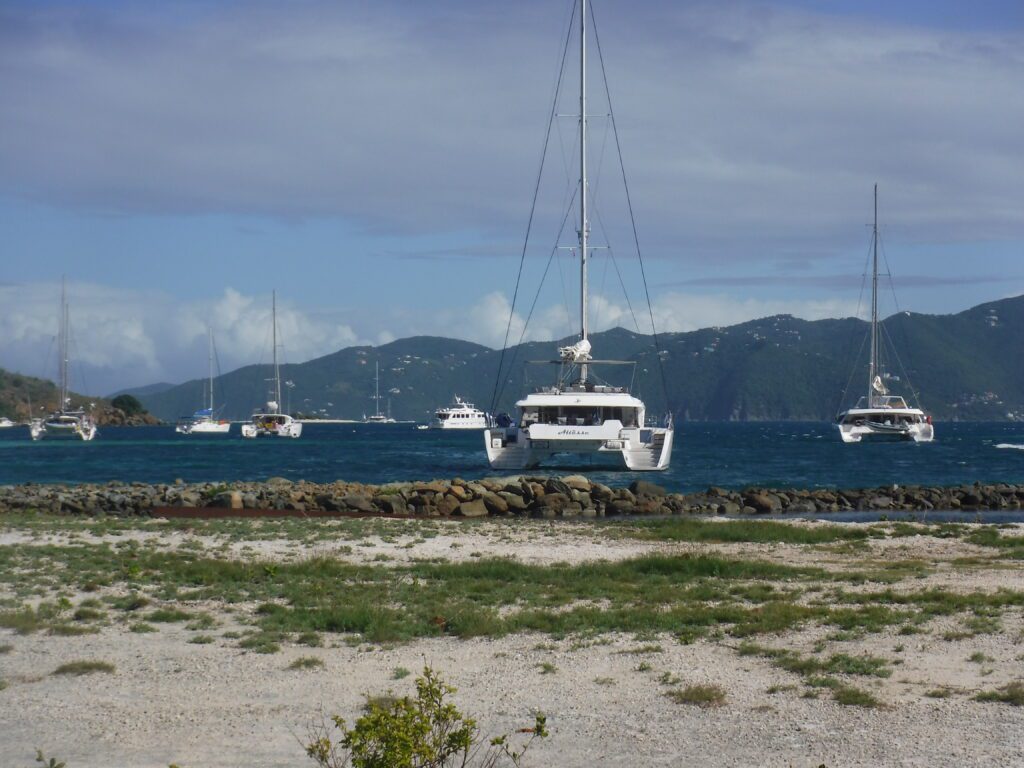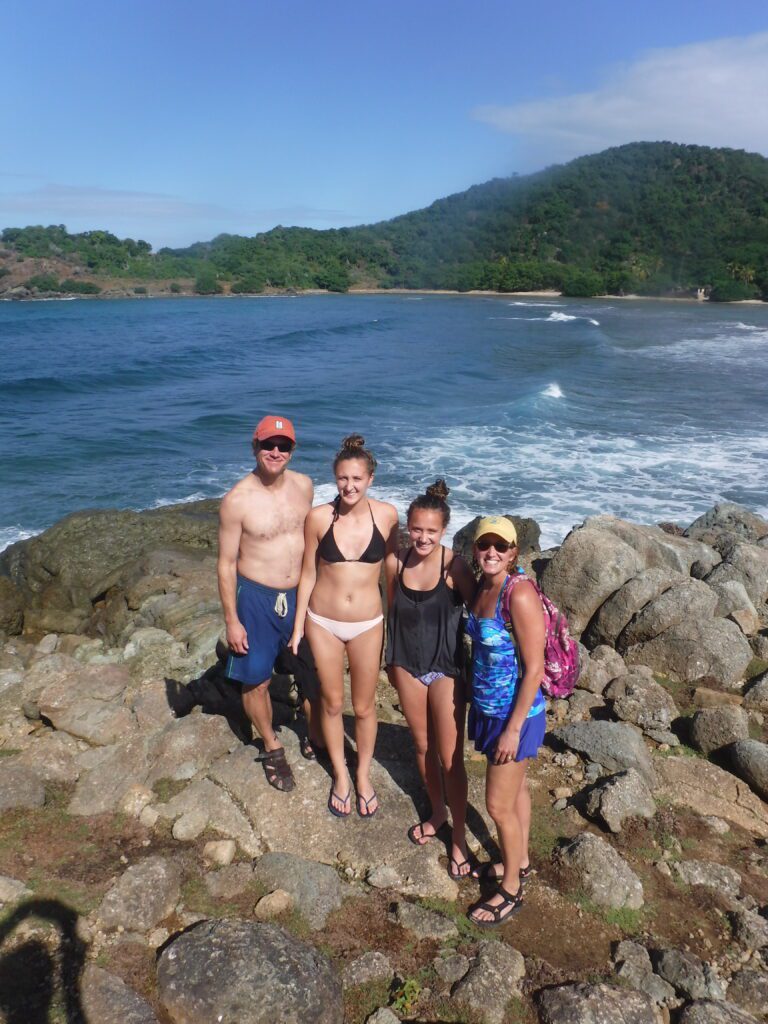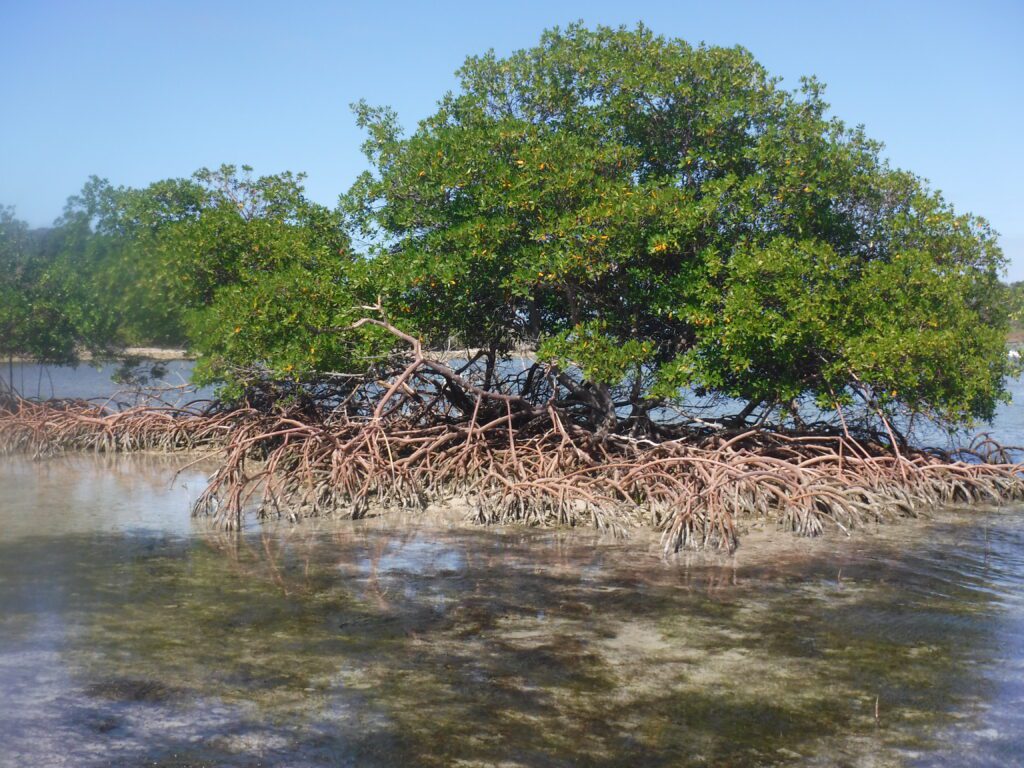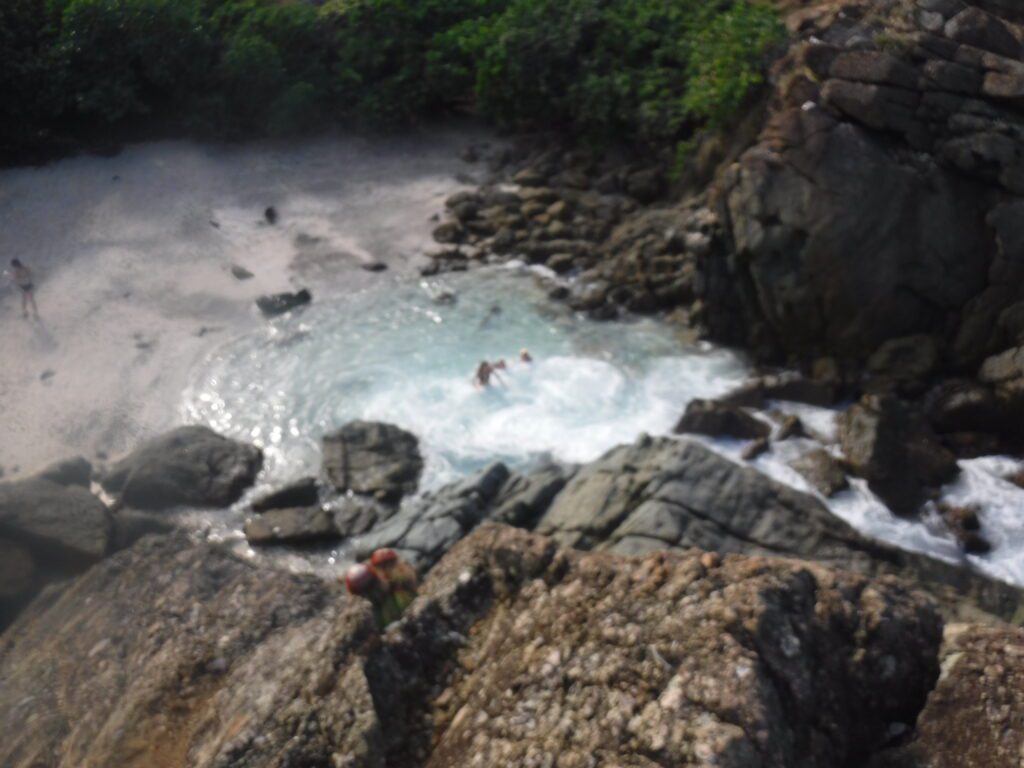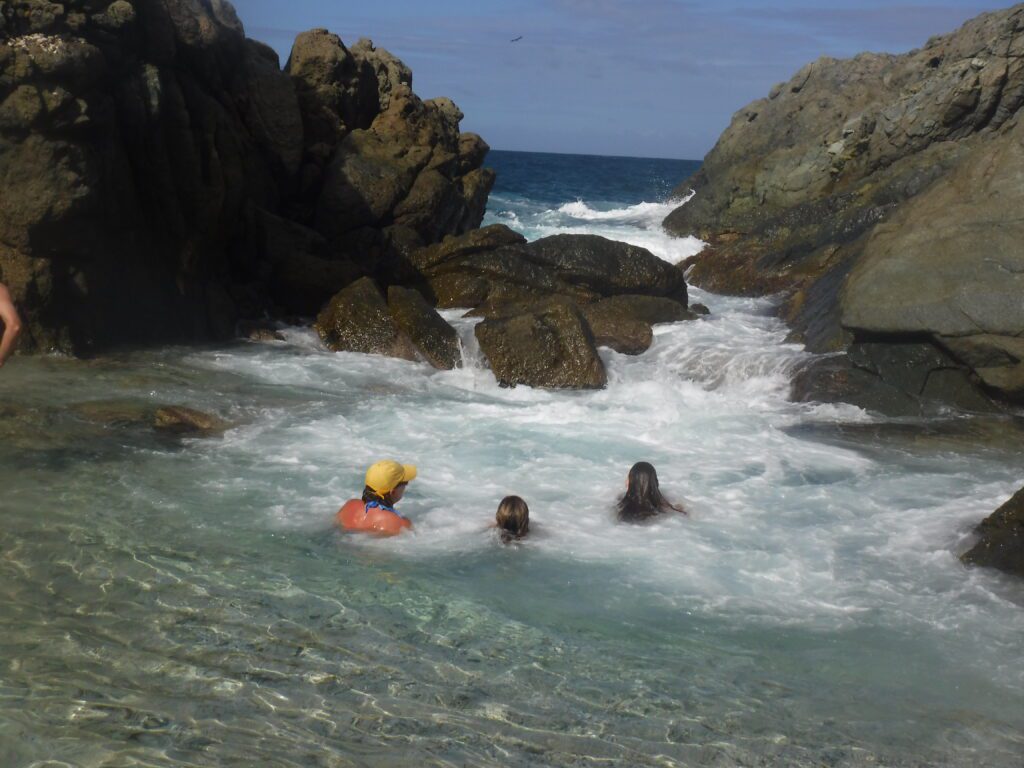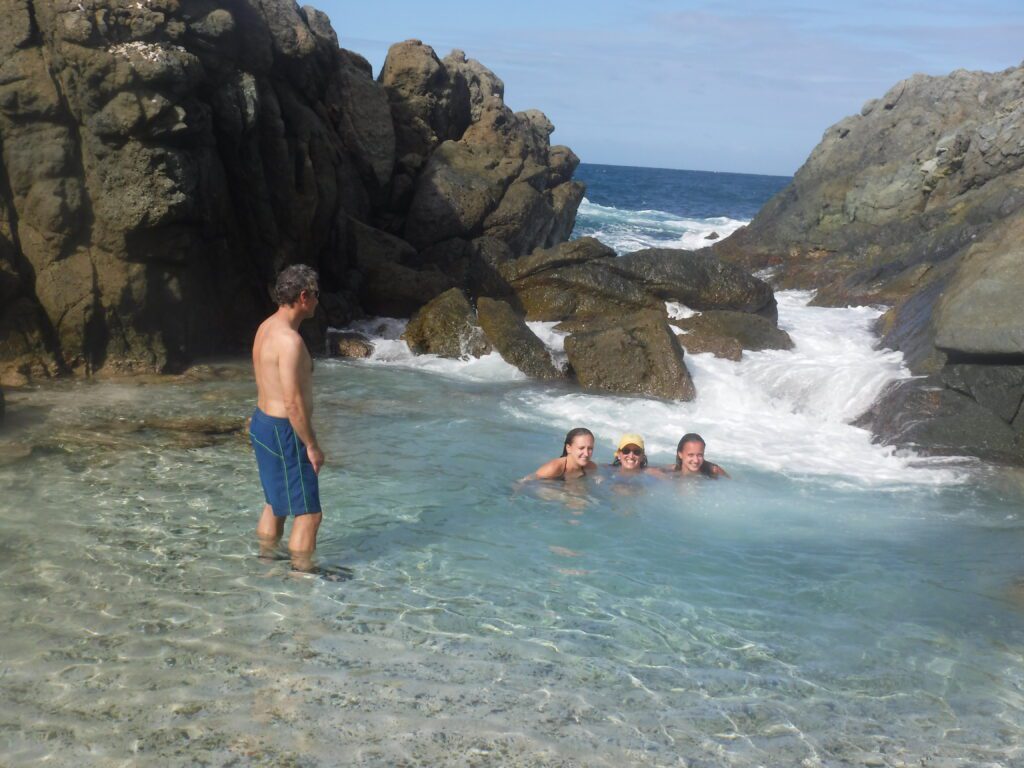 After enjoying Jost Van Dyke, we motored back to Lovango Cay for some snorkeling. We were back at the dock at 4:30. We had a terrific time even with some rain and rough seas.
Dinner was at The LongBoard in Cruz Bay. We loved this restaurant. It is right in town, and oh-so-cute. Trip Advisor reviews are excellent.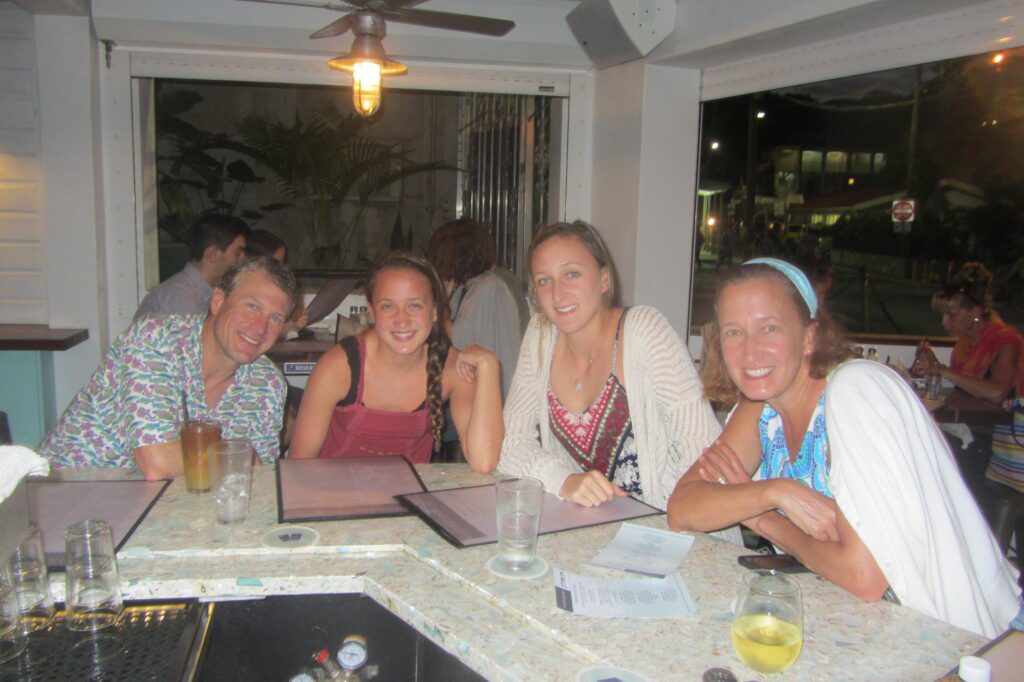 Day 5 – Rockhoppin Charter and Pizza Pi boat
We planned to charter boats on two days in St. John. Unfortunately, we had to do them back to back due to the busy schedule at Christmas time. The plan for today was to see more of St. John, and not visit the BVIs.
We used Rockhoppin Charters, and they were excellent. The boat was incredibly fast and comfortable. Current rates for a full day start at $690 and this includes fuel if you stay in the area of St. John and St. Thomas. Rates are higher if you go to the BVIs or Anegada. The Rockhoppin website gives a February 2020 update on the condition of popular spots on St. John.
We met our boat right in Cruz Bay near the ferry landing. We told our captain the stops we made the previous day. Our first stop was North Haulover Bay. It took about 30 minutes to boat there. This double engine speedboat was FAST.
The snorkeling was very good at North Haulover Bay. You can drive by car to this bay and South Haulover Bay which is excellent for kayaking or SUPing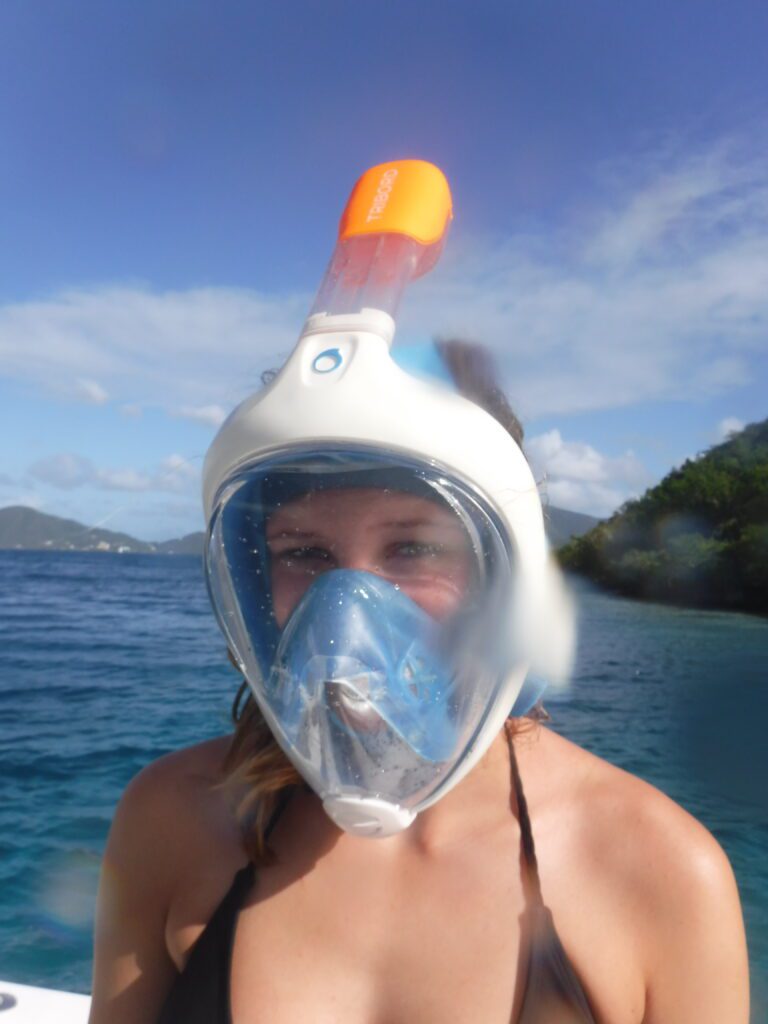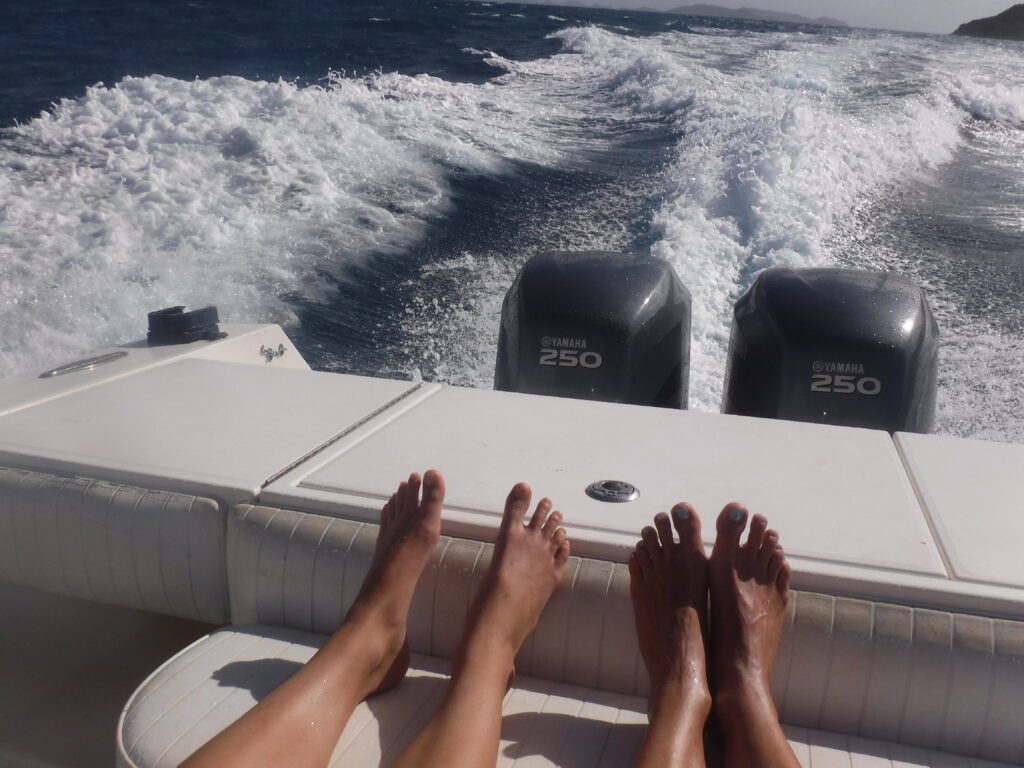 We next went to Mary Katherine's point for some snorkeling where we saw some turtles. This was a great stopping point!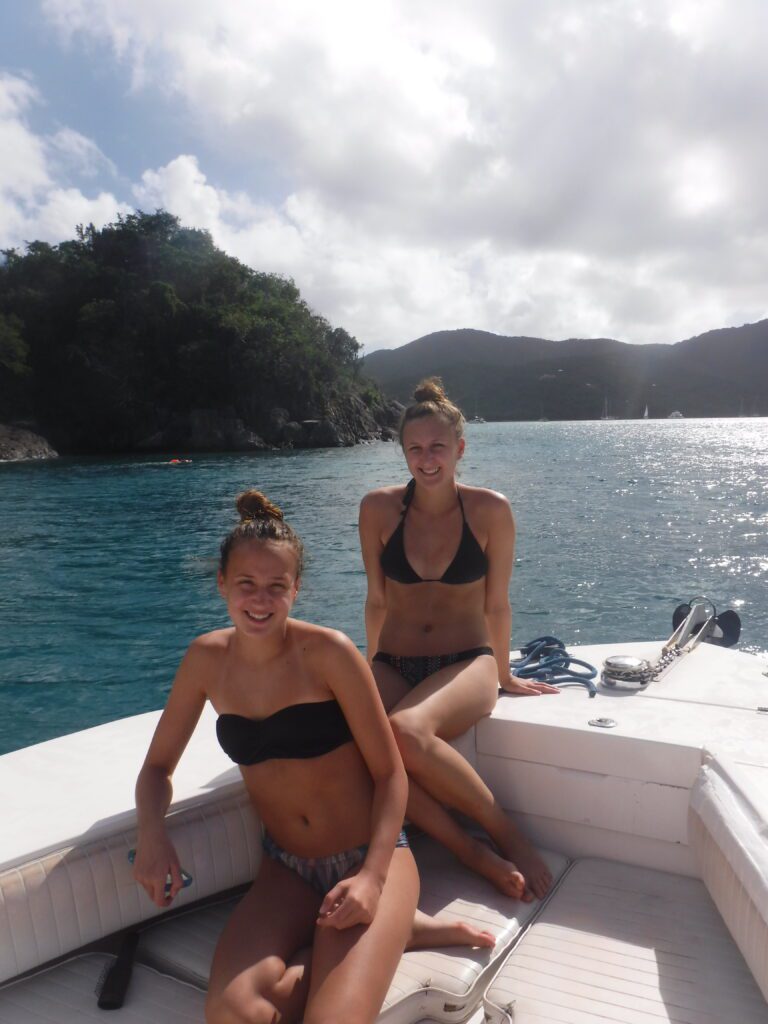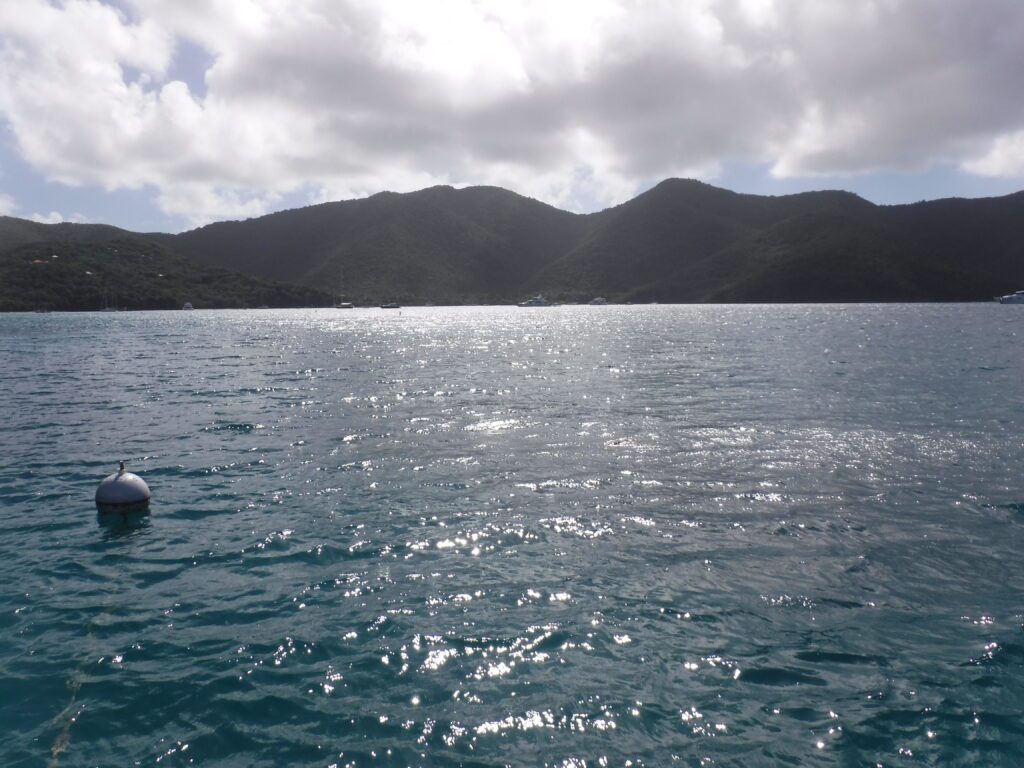 Our next snorkel stop was between Lovango and Congo Cays to snorkel. It was beautiful here.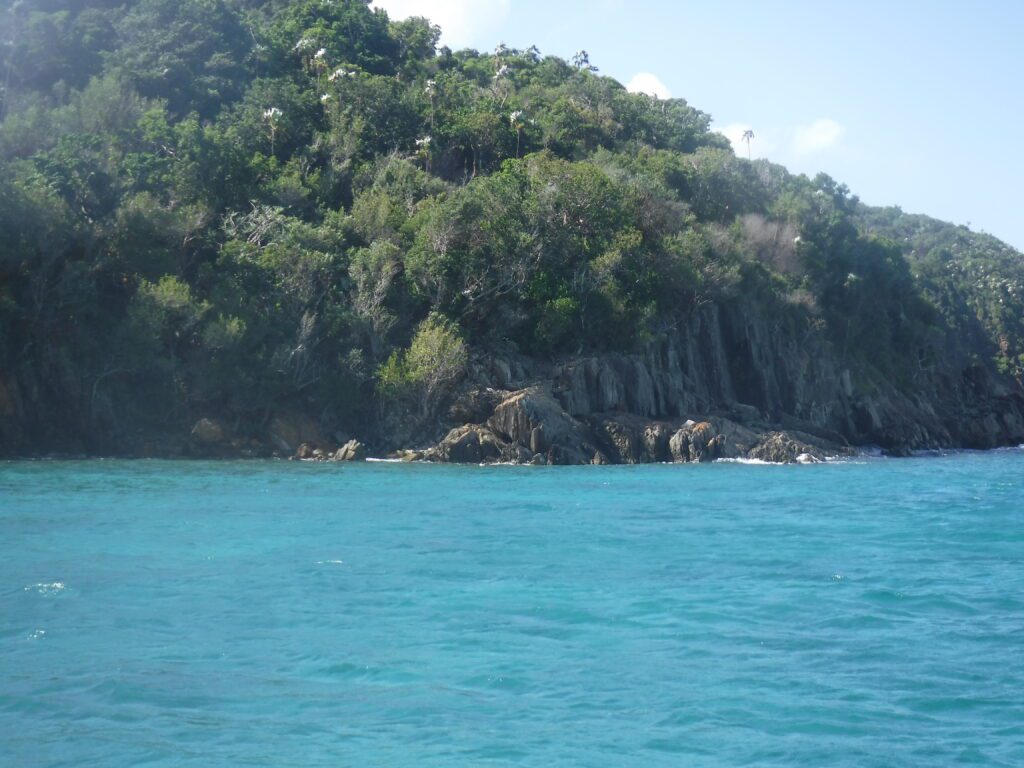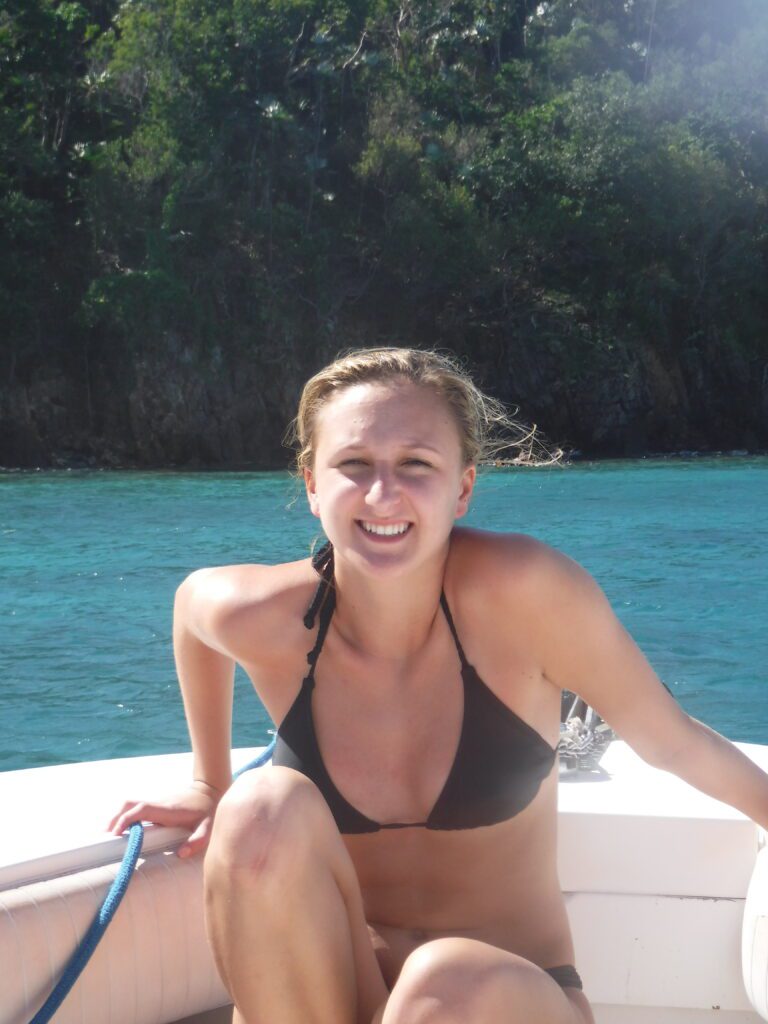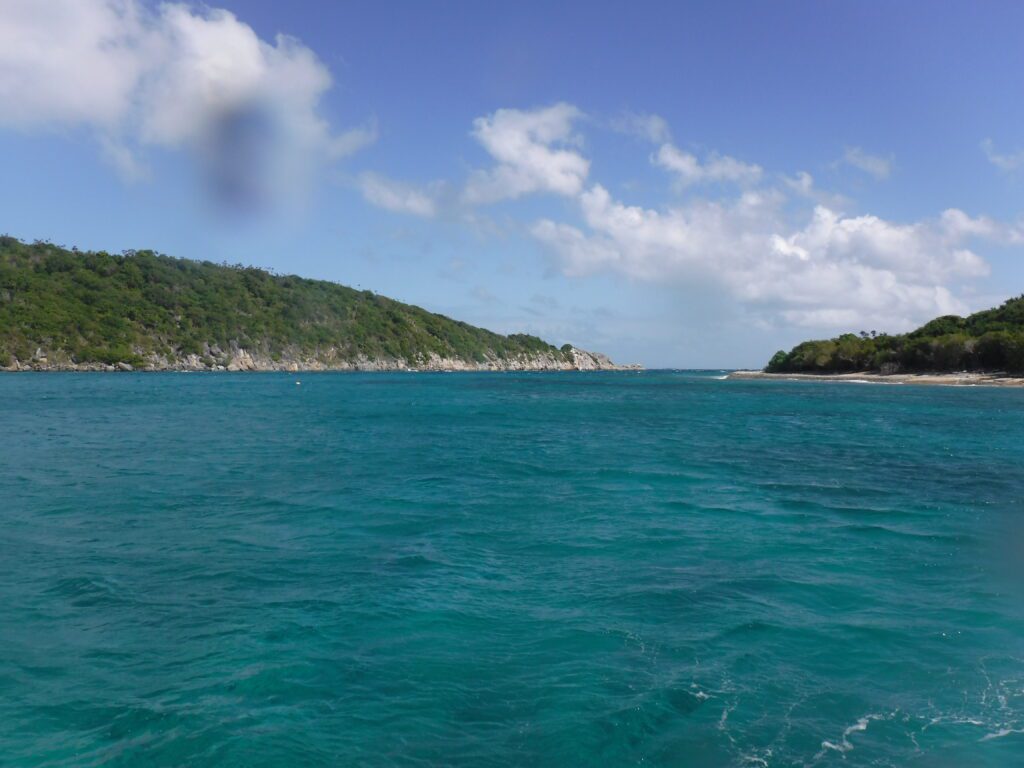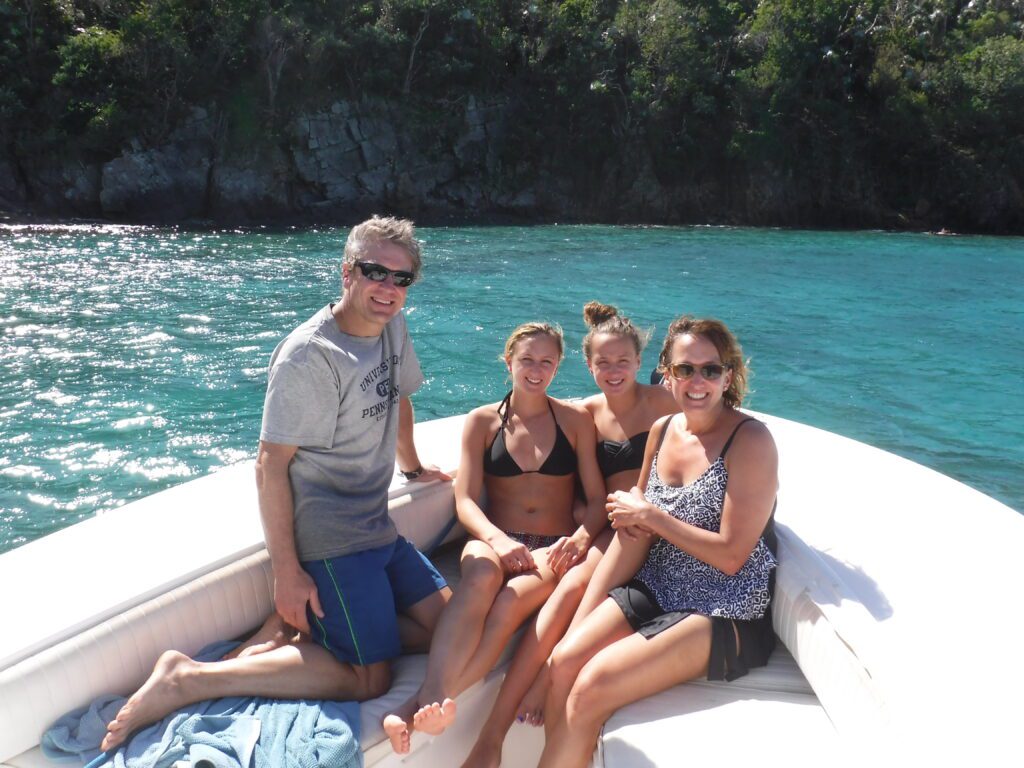 Lunch in Christmas Cove was a highlight of the day. We stopped at the Pizza Pi boat for incredibly delicious pizza. The pizza is made fresh on the boat. We bought two pizzas, and two orders of Pizza Stix. You can only visit this restaurant if you come by boat! Trip Advisor reviews are excellent.
Christmas Cove is gorgeous. After we ate, we snorkeling and swam in Christmas Cove. We highly recommend a stop in the cove and at the pizza boat!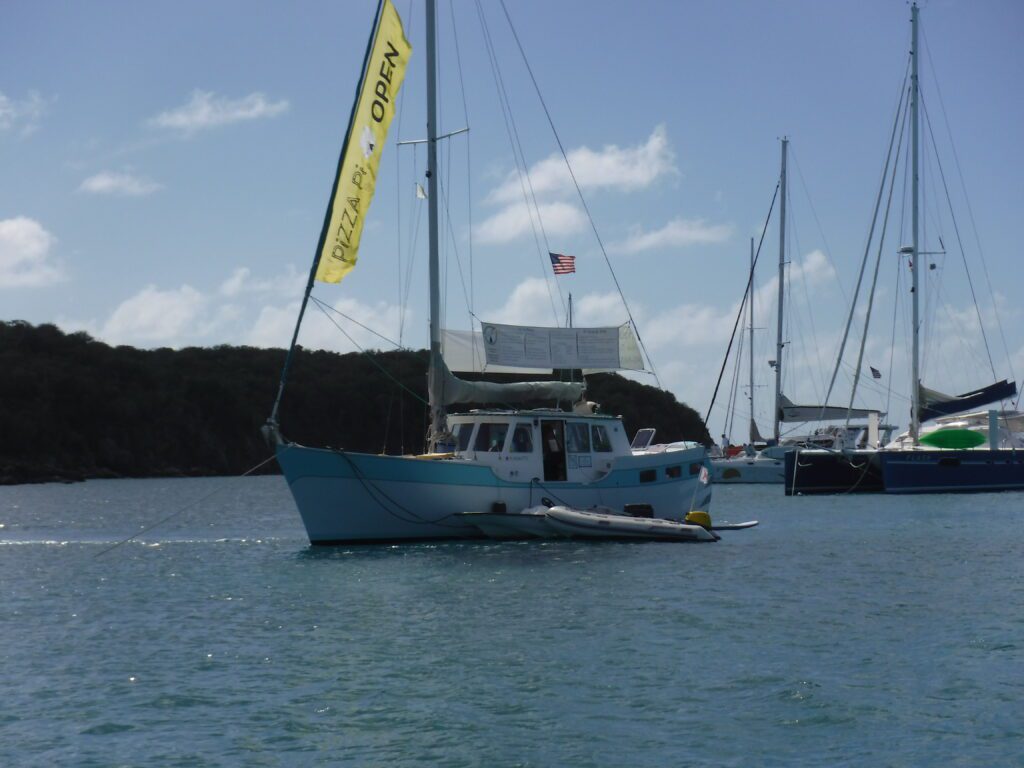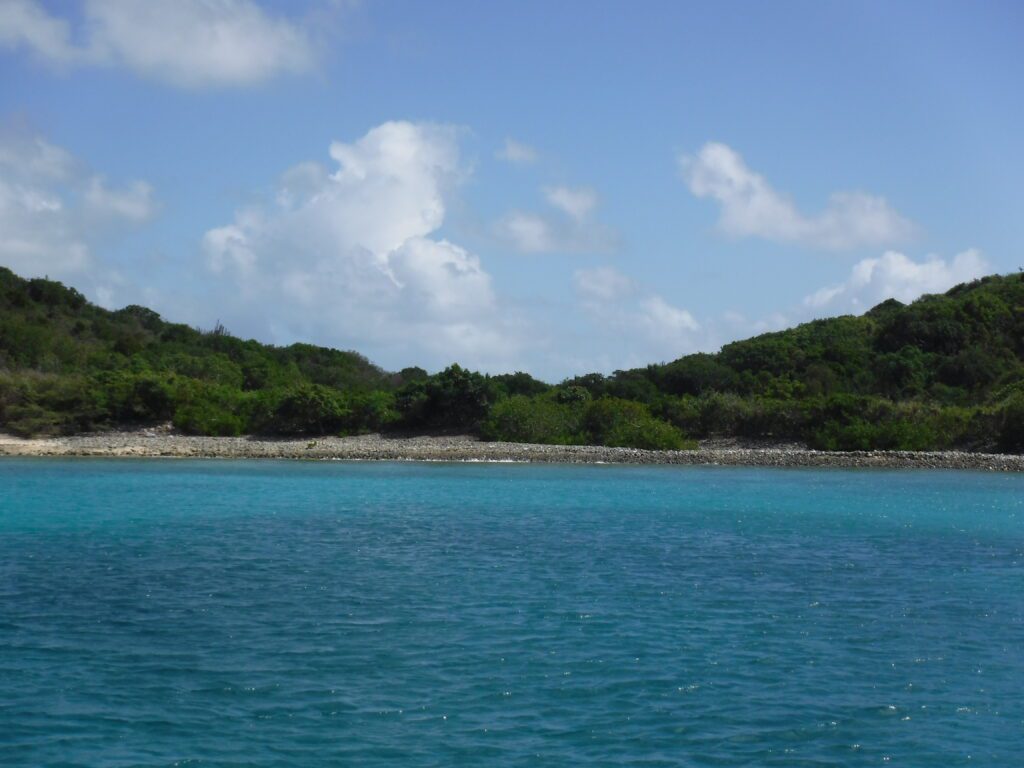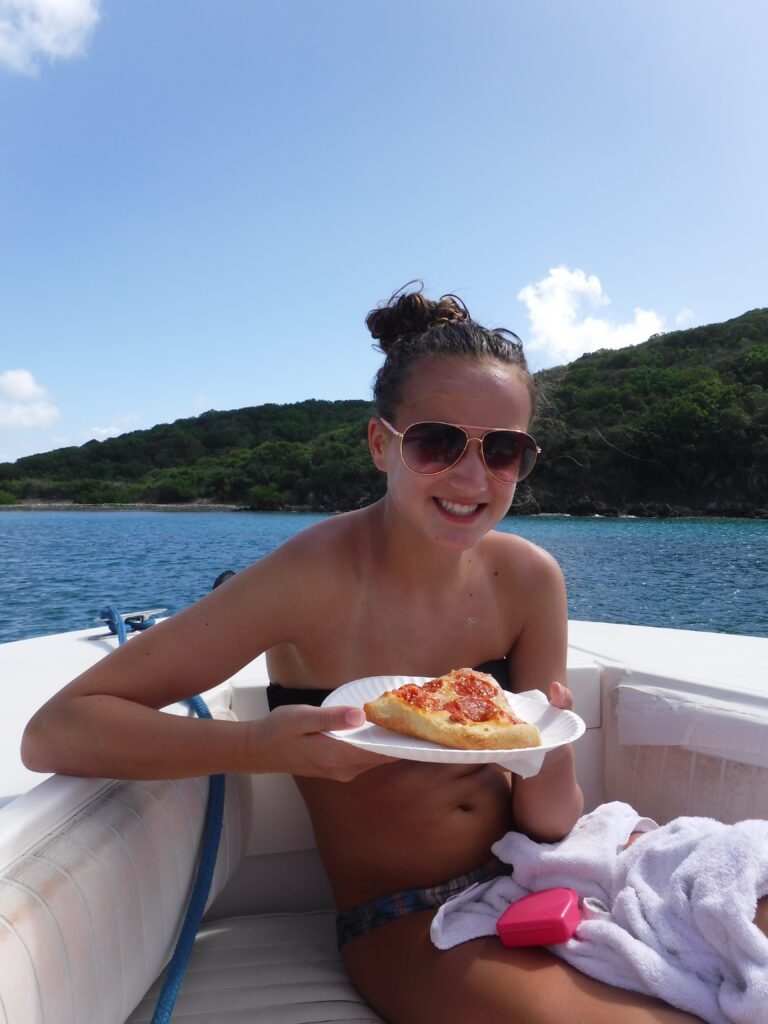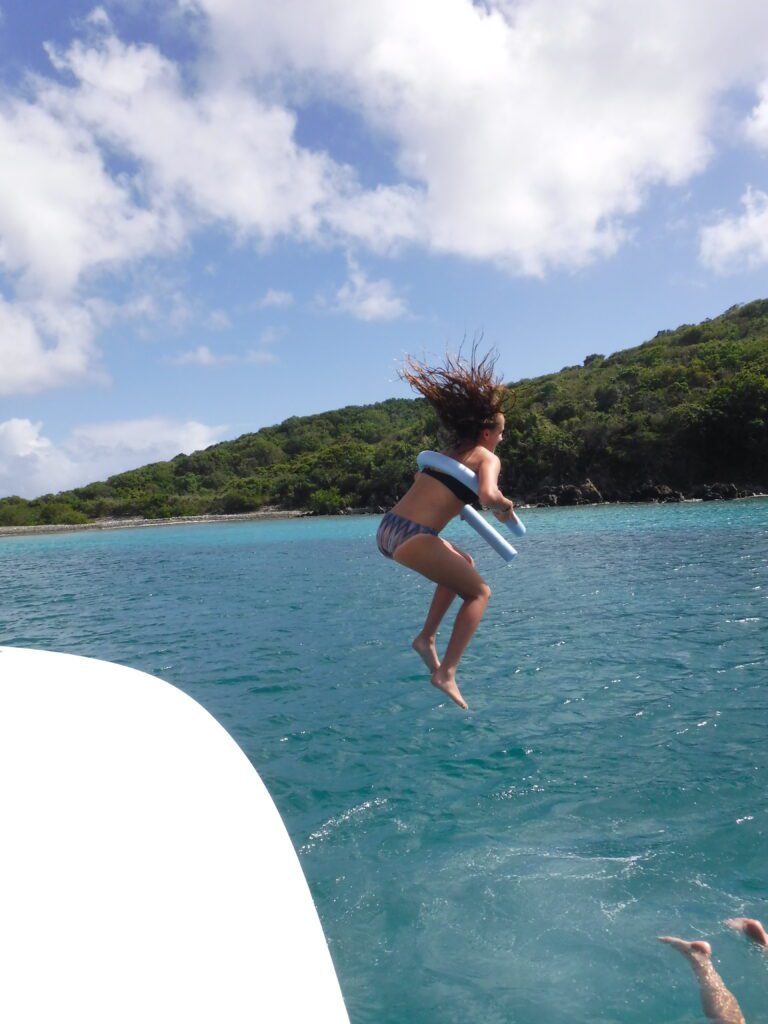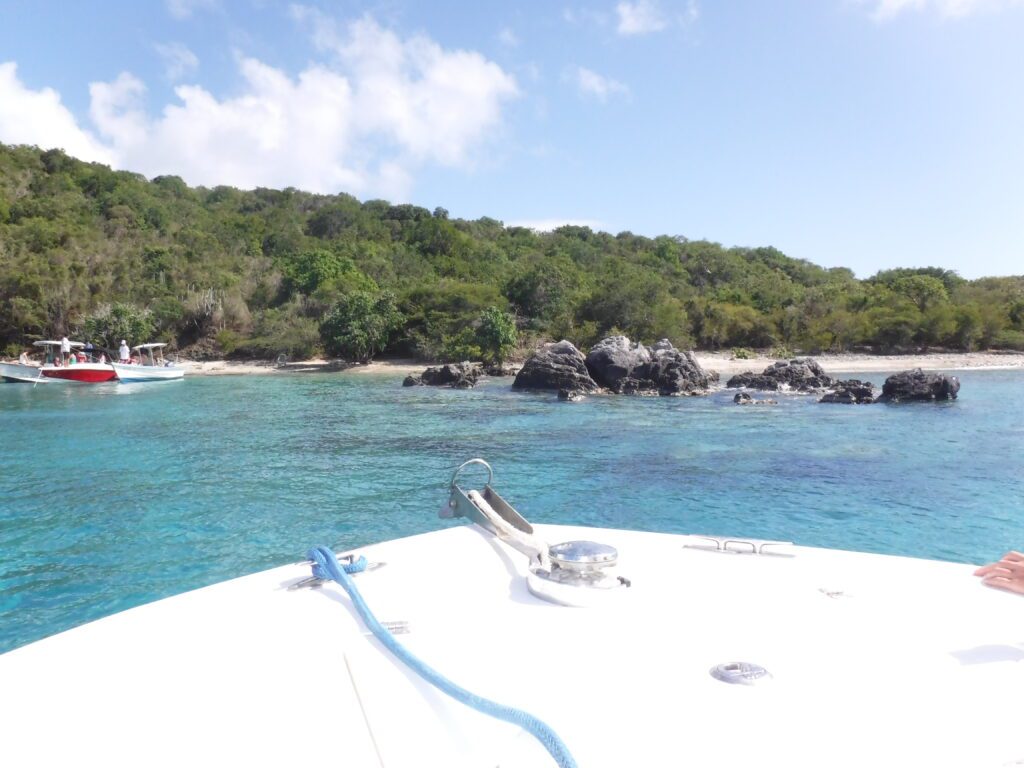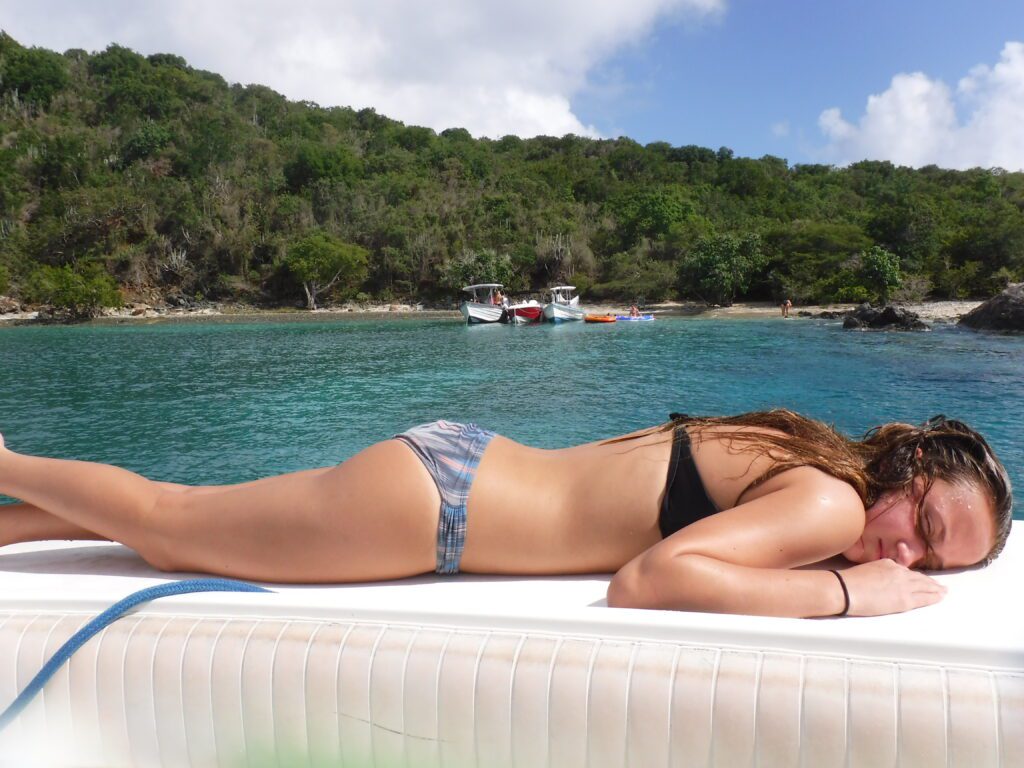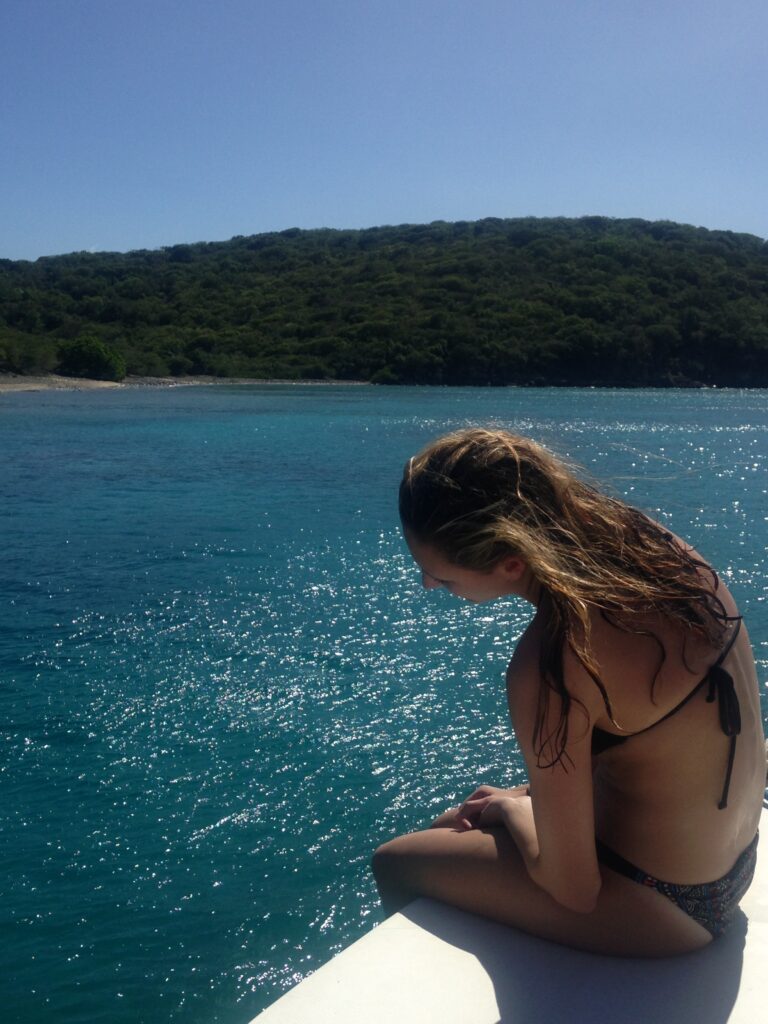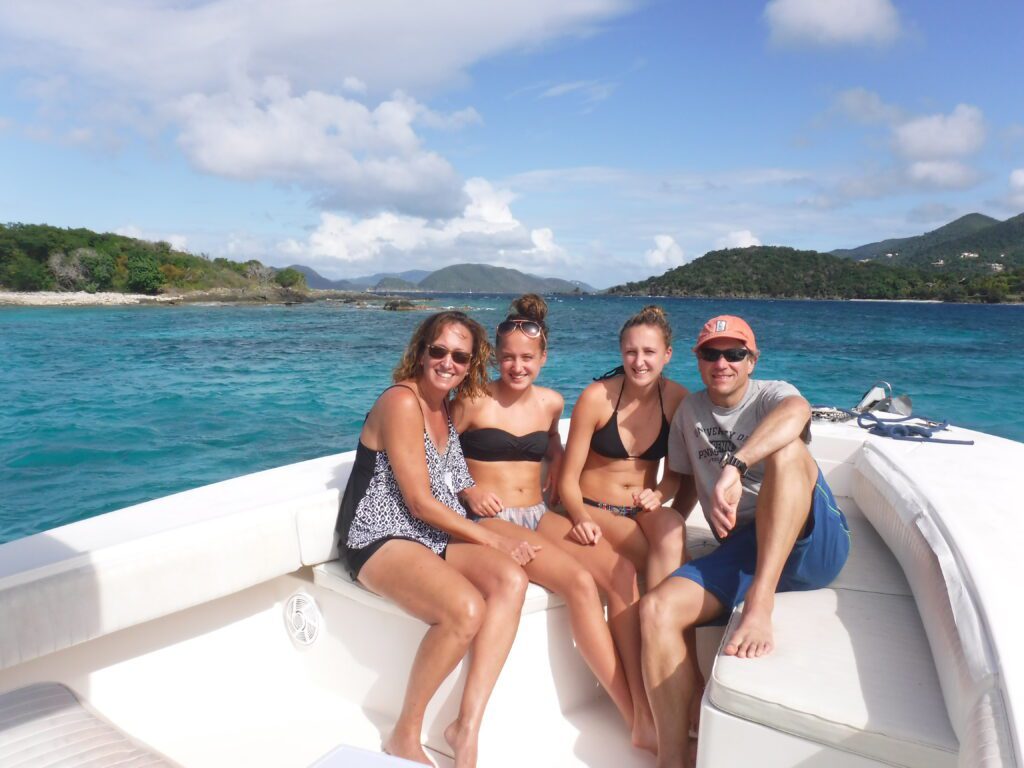 Our final stop of the day was in Maho Bay. Maho Bay is spectacularly pretty, and there are many turtles there in the sea grass. We did some back flips!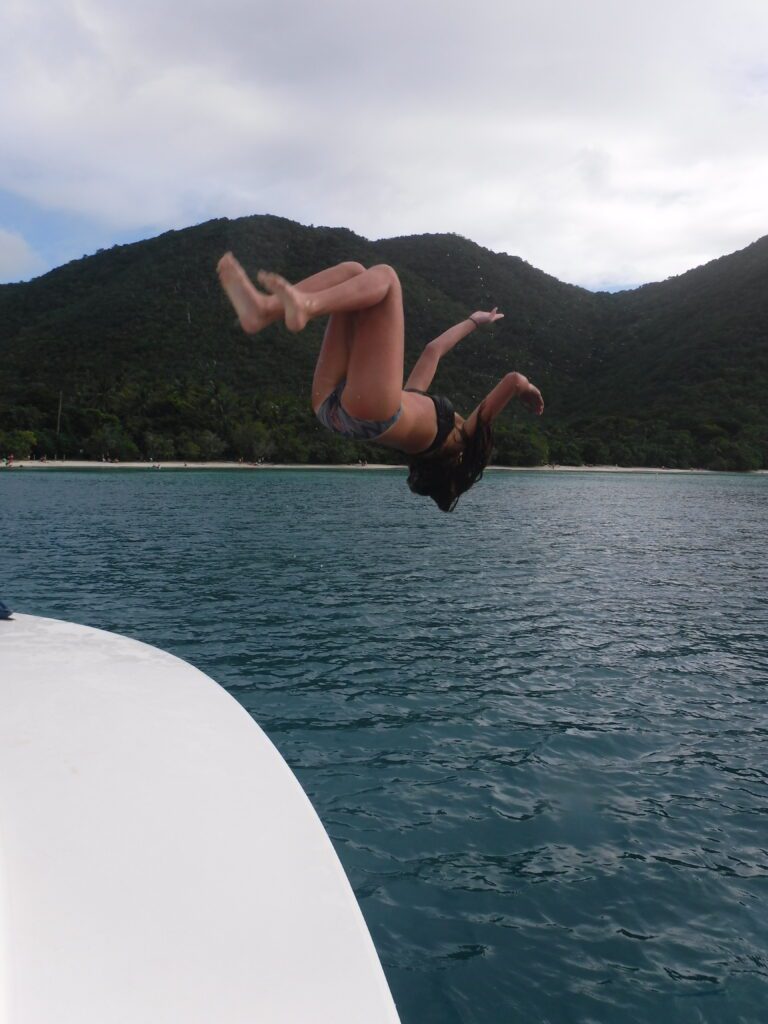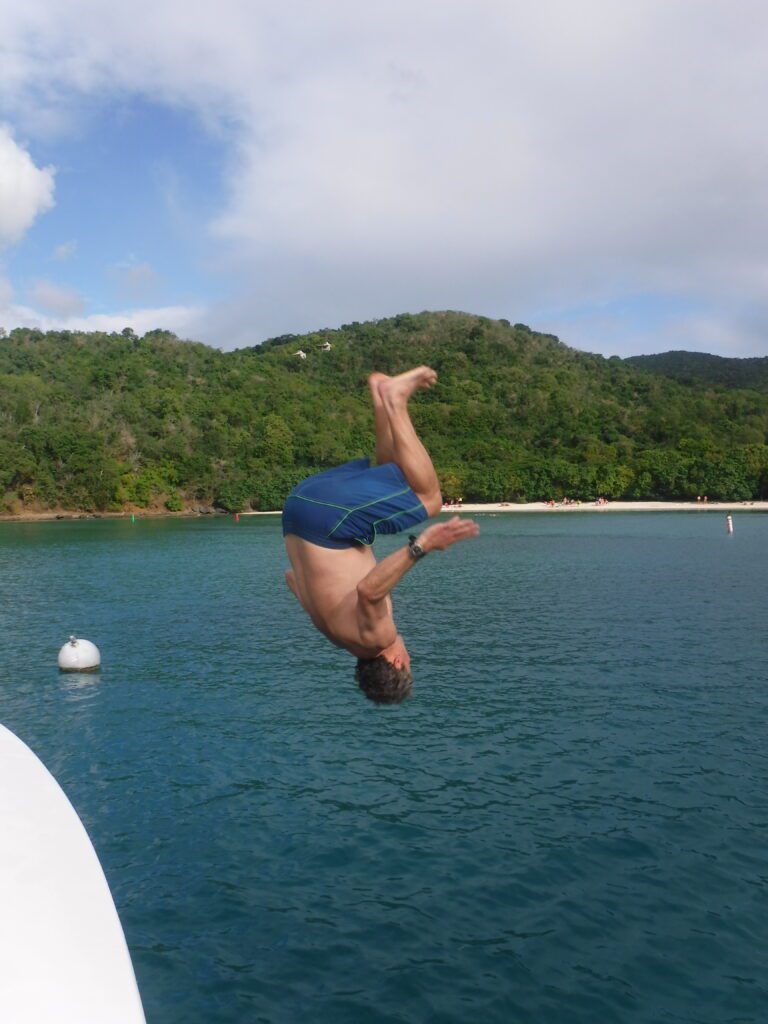 Our full day on Rockhoppin was fantastic, and it was a great value.
After getting cleaned up, we ate outside at The Banana Deck which was great fun! Trip Advisor reviews are good. During busy times, make a reservation.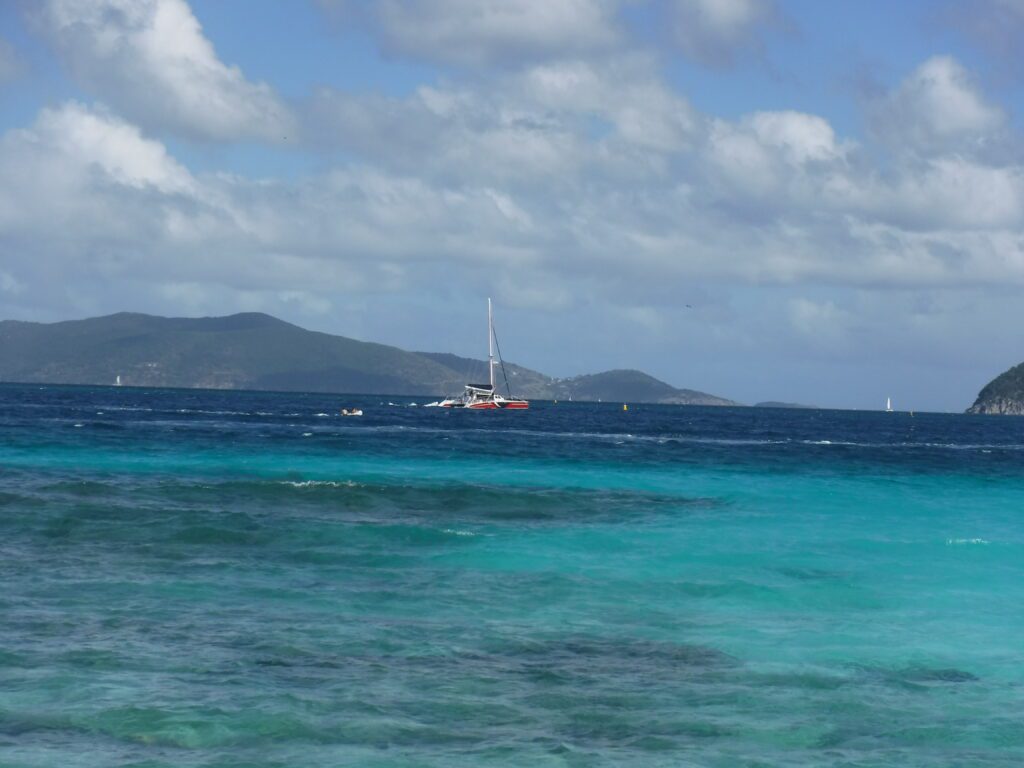 Day 6 – Denis Bay
We met some friends and traveled to the lovely Denis Bay. This mostly deserted beach is a wonderful place to spend a day. There are no facilities at all, so you will need to bring chairs, a cooler and a picnic. The snorkeling is good.
To find Denis Bay, Leave Cruz Bay on North Shore Road. After about 1.5 mi you will see a small parking area for the Peace Hill Trail on your left. Not far up the trail is a narrow path to your right – which leads down to Denis Bay Beach. The Peace Hill trail takes about five minutes to walk to the top to see the vistas.
We enjoyed our stay at Denis Bay and would recommend visiting this lovely Bay.
We ate with our friends at their rental home, so we have no restaurant recommendations for today.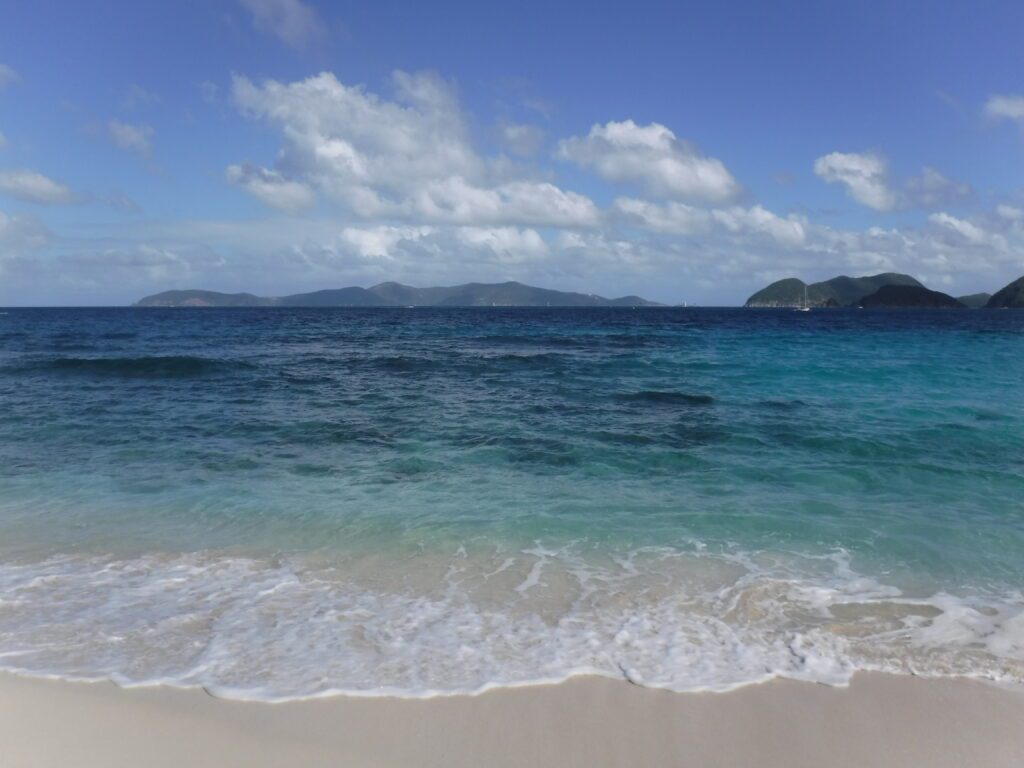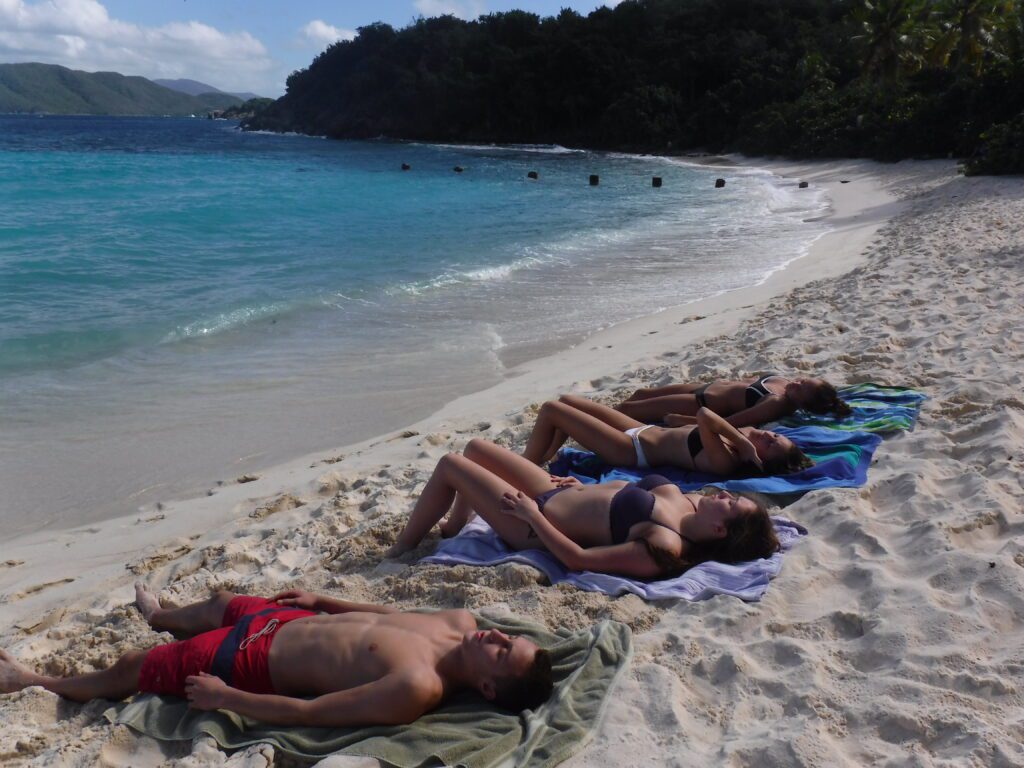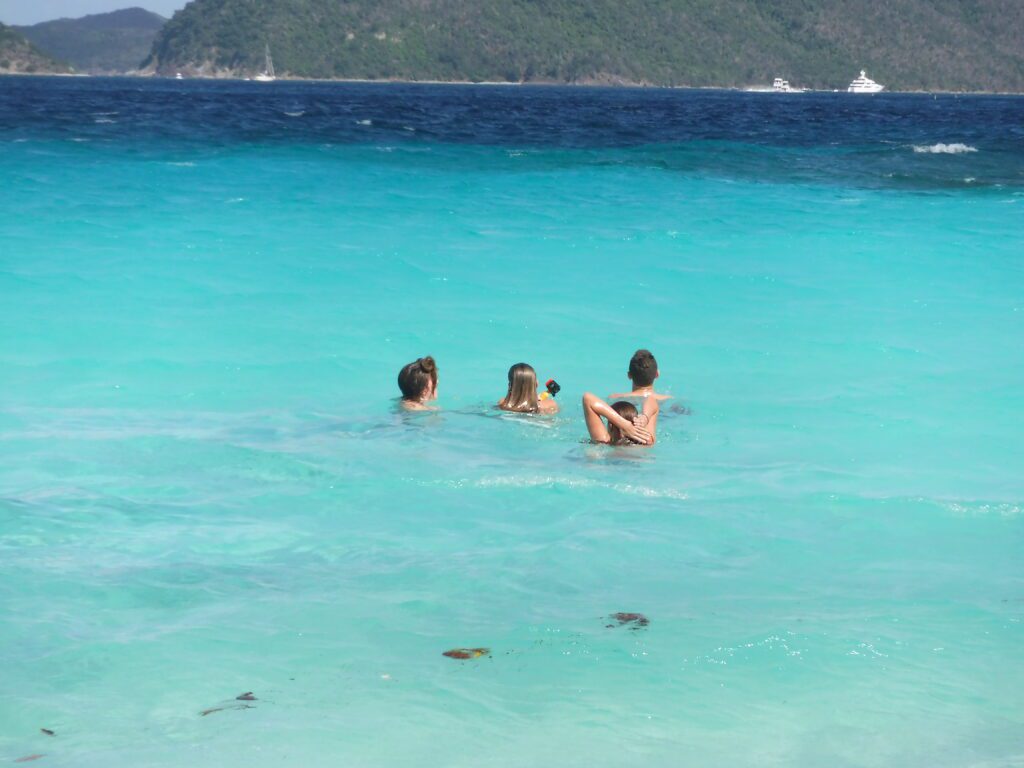 Day 7 – Little Lameshur Beach Hawsknest Bay
We woke to another gorgeous day in paradise. After breakfast at our condo, we headed to the Coral Bay side of the island. We drove to Little Lameshur Beach, and it did not disappoint.
This beach is only recommended for Jeeps or vehicles with four wheel drive or high road clearance. To get to Little Lameshur Beach, take Centerline Road ( Rte 10) toward Coral Bay. At the bottom of the hill bringing you into Coral Bay, take a right and travel the twisty road for about 5 miles, past Concordia and Salt Pond. At the end of the paved road you'll find the entrance road to the Virgin Islands Environmental Resource Station (closed since the hurricanes) and the two Lameshur bays.

You will first pass Great Lameshur Bay. In 1.5 miles from the entrance, you will arrive at Little Lameshur Beach. We parked in the woods near the beach.
Little Lameshur Beach is beautiful with white sand and blue water. There are picnic tables and rusty grills. Bring a cooler and a picnic as no facilities are close by.
This beach is a delightful place to spend some time. Trees offer some shade. The snorkeling is good on the sides of the beach.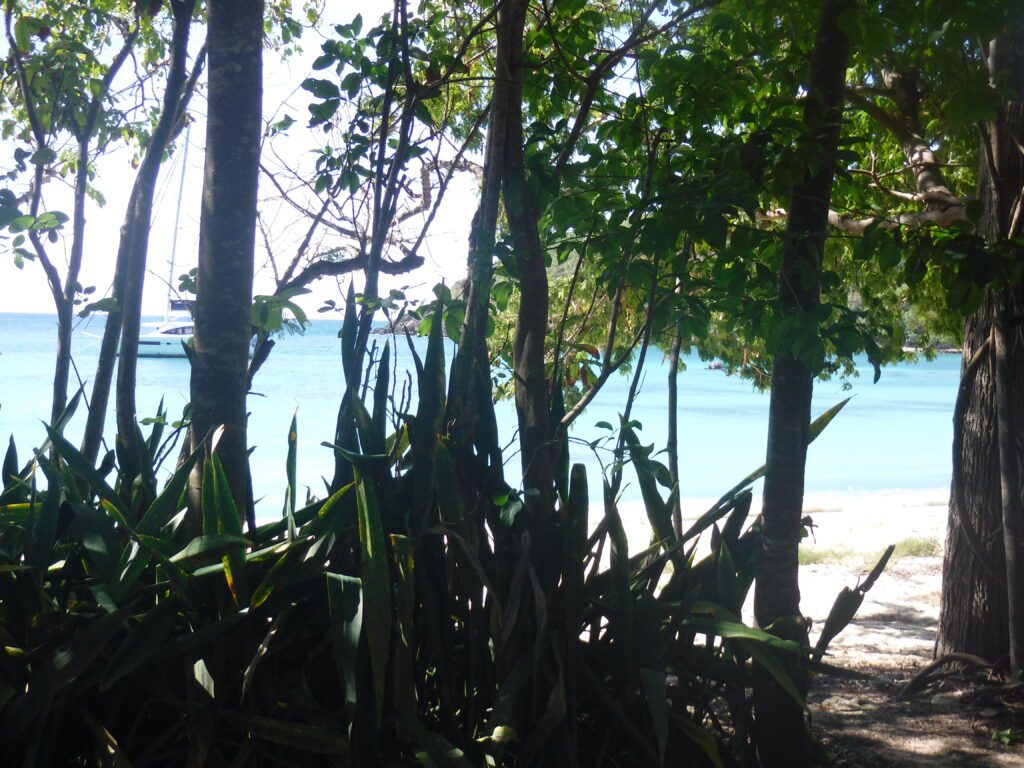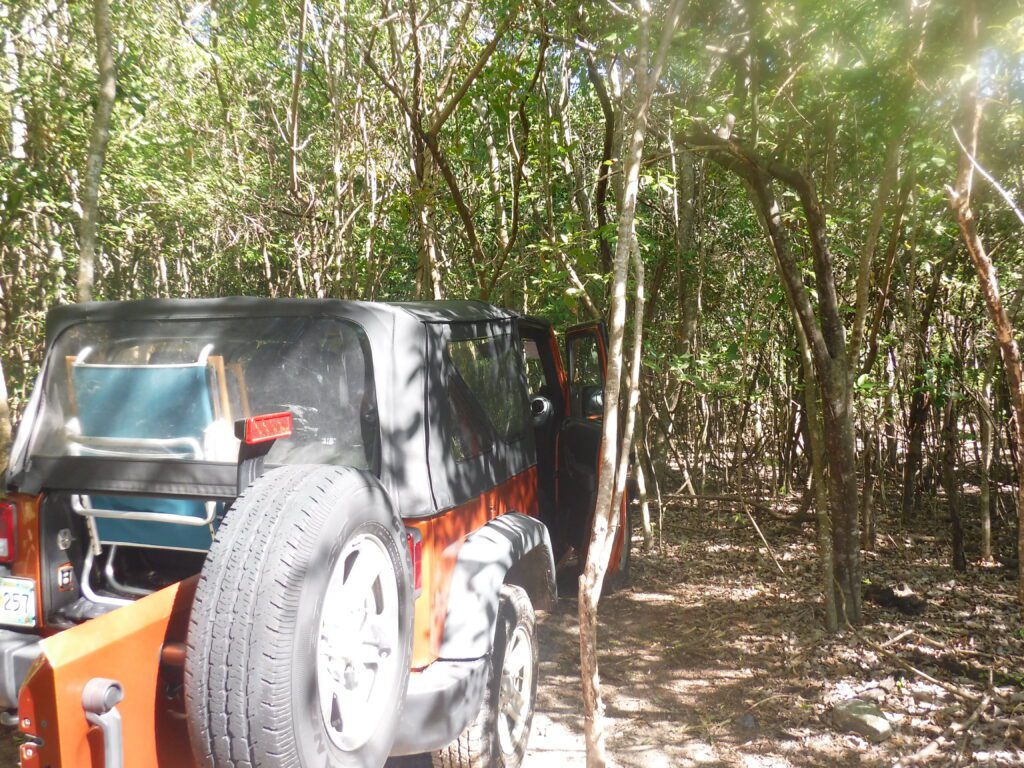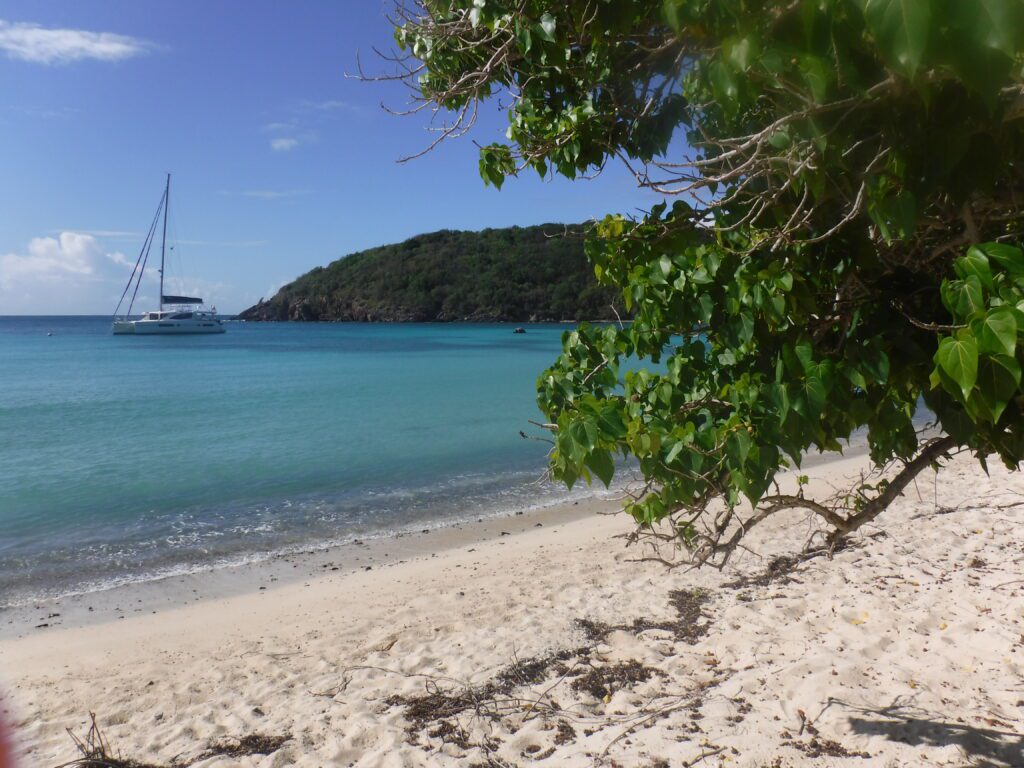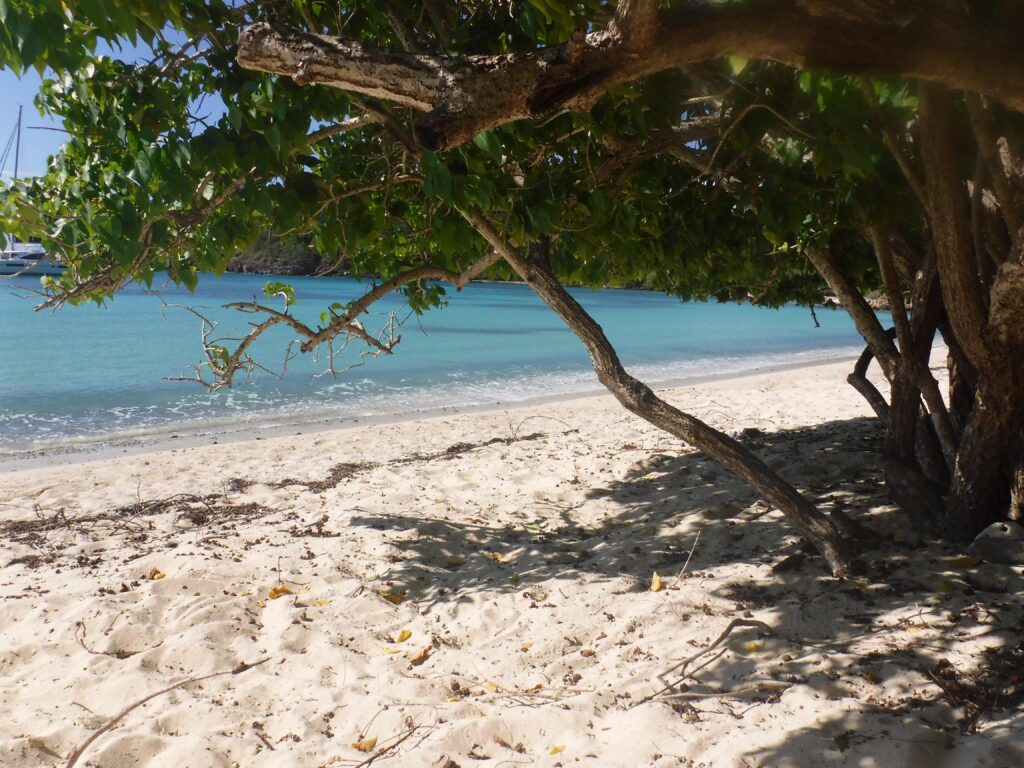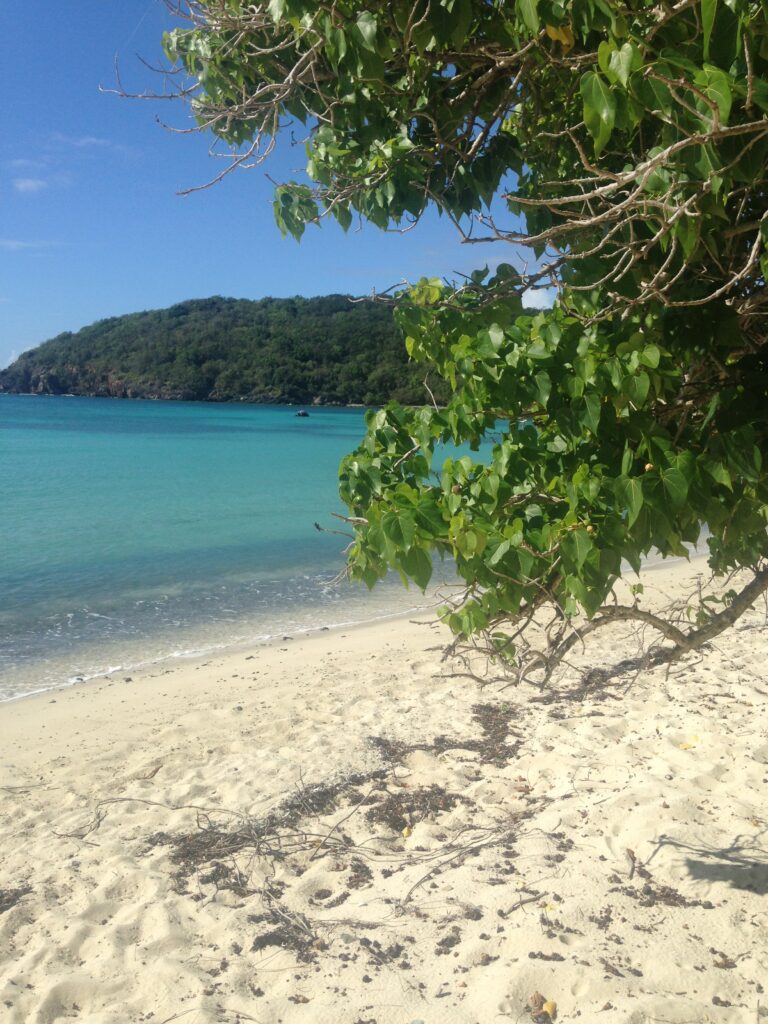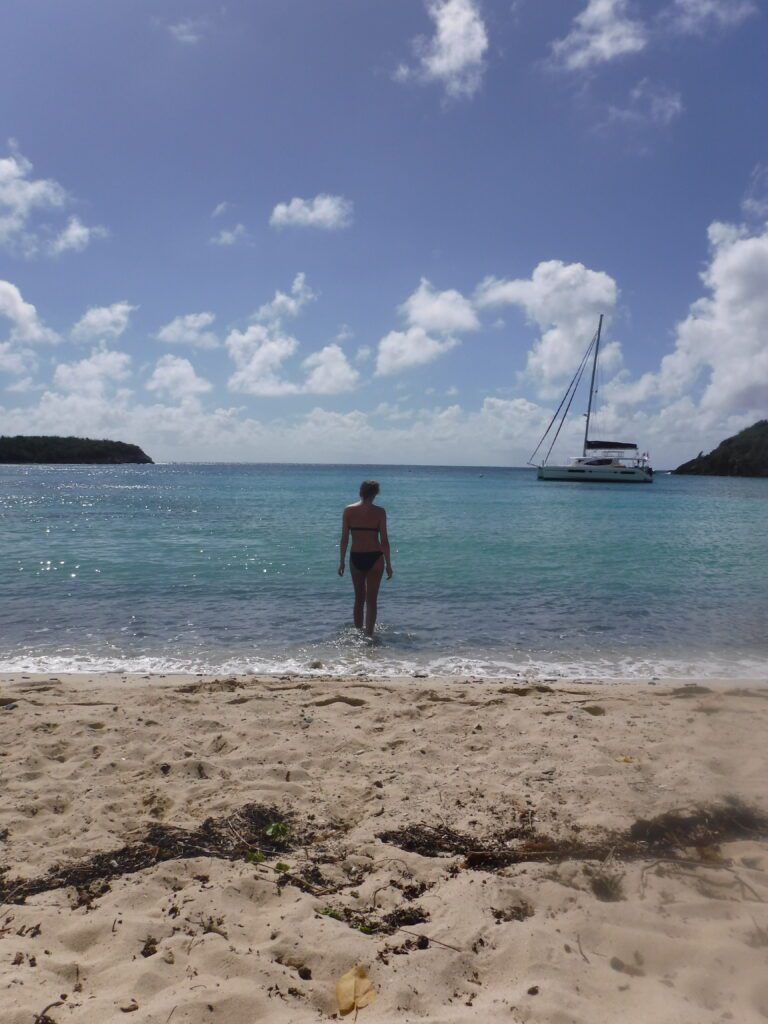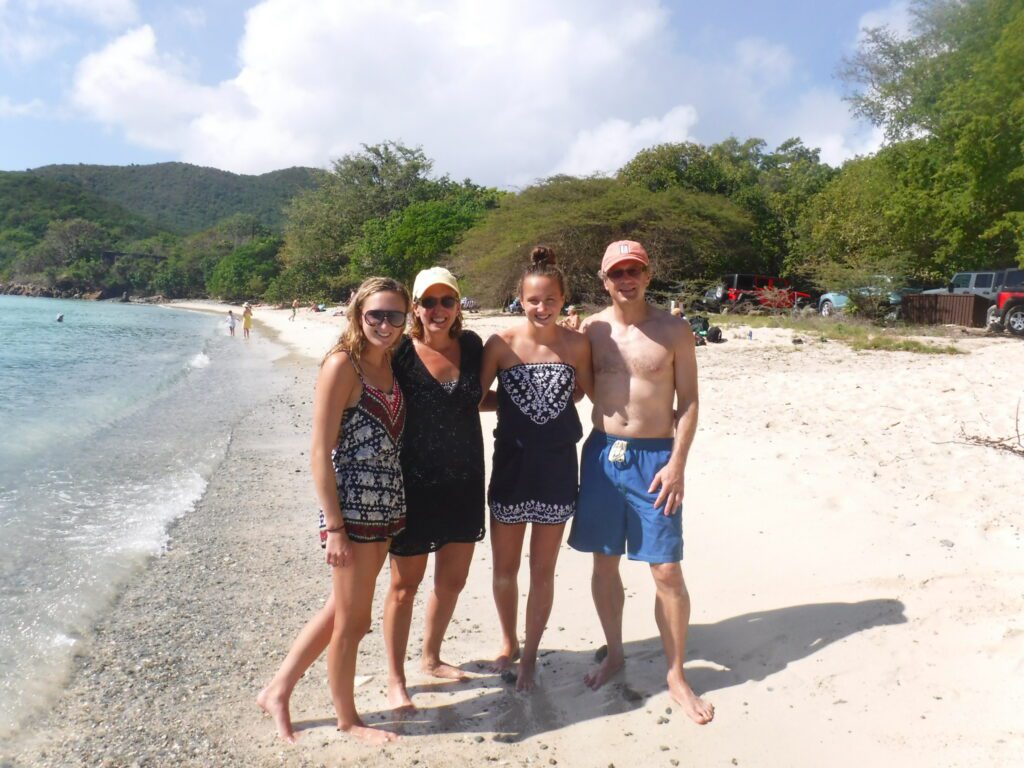 Following a glorious morning at Little Lameshur, we headed back to Coral Bay. We ate outside at Aqua Bistro. The restaurant is located in a small shopping plaza across the street from the water. The food was good. Trip Advisor reviews are decent.
We spent the afternoon reading and swimming at Hawksnest Bay on the North side of the island. This bay is also gorgeous, peaceful and calm. There is some snorkeling. Extraordinarily relaxing!
Hawksnest Bay is about two miles from Cruz Bay on North Shore Road (Route 20). There is ample parking on your left. Recent Trip Advisor reviews are good.
We enjoyed a gorgeous sunset at our Cruz Views condo. We ate left overs for dinner and stayed in.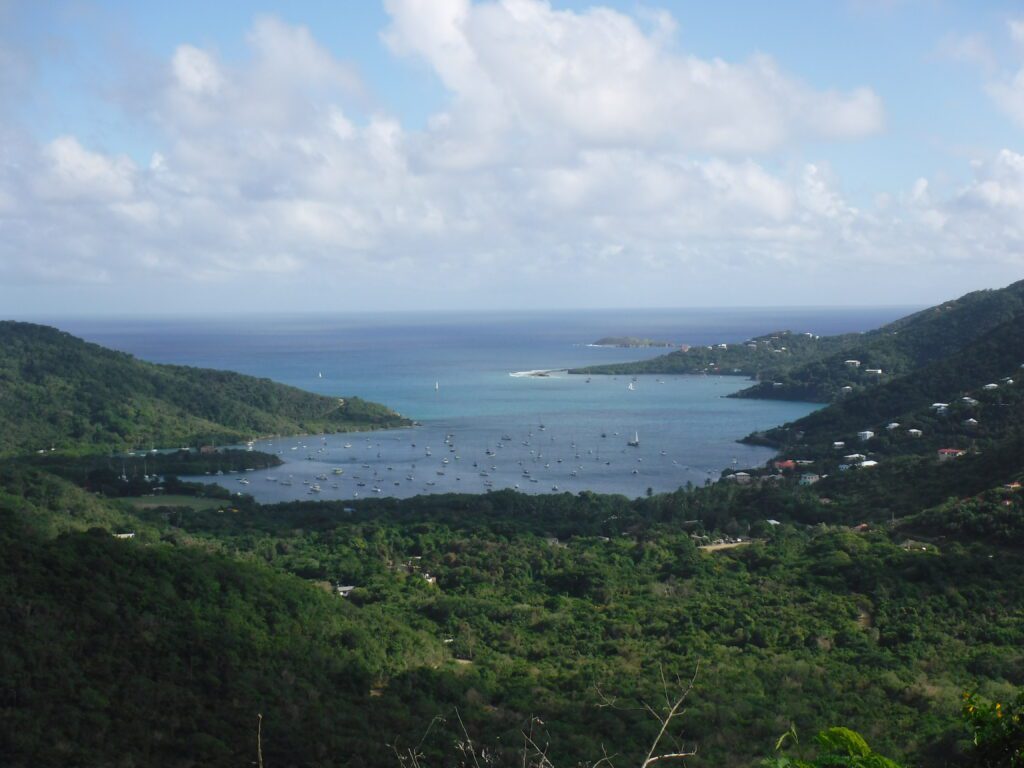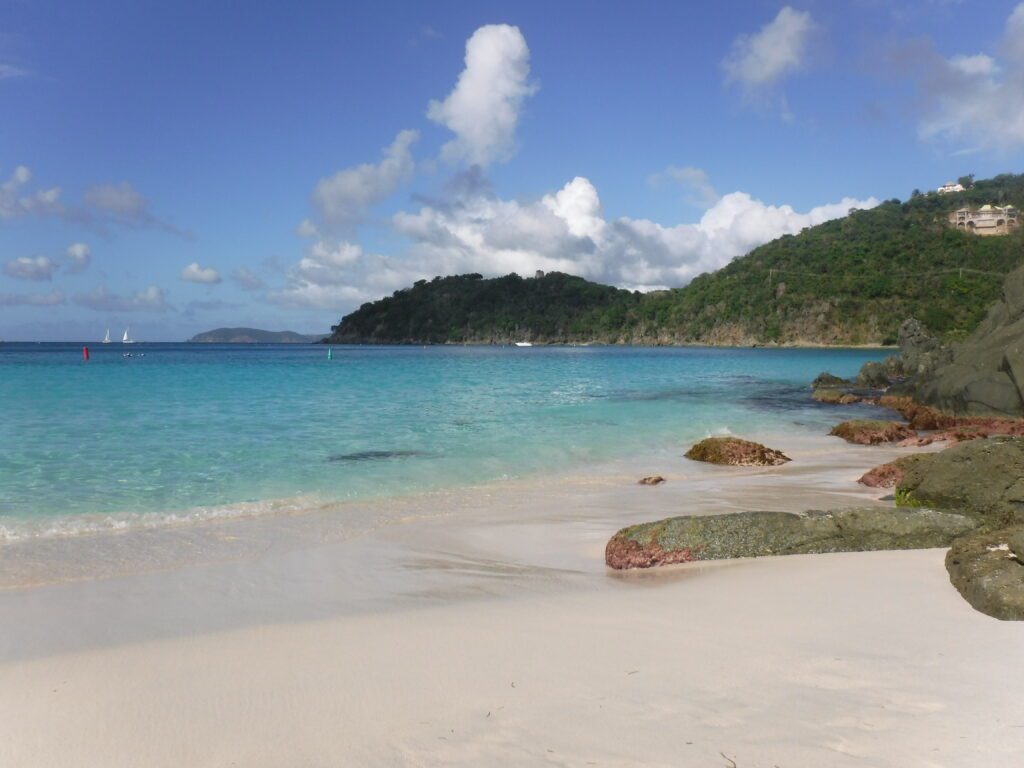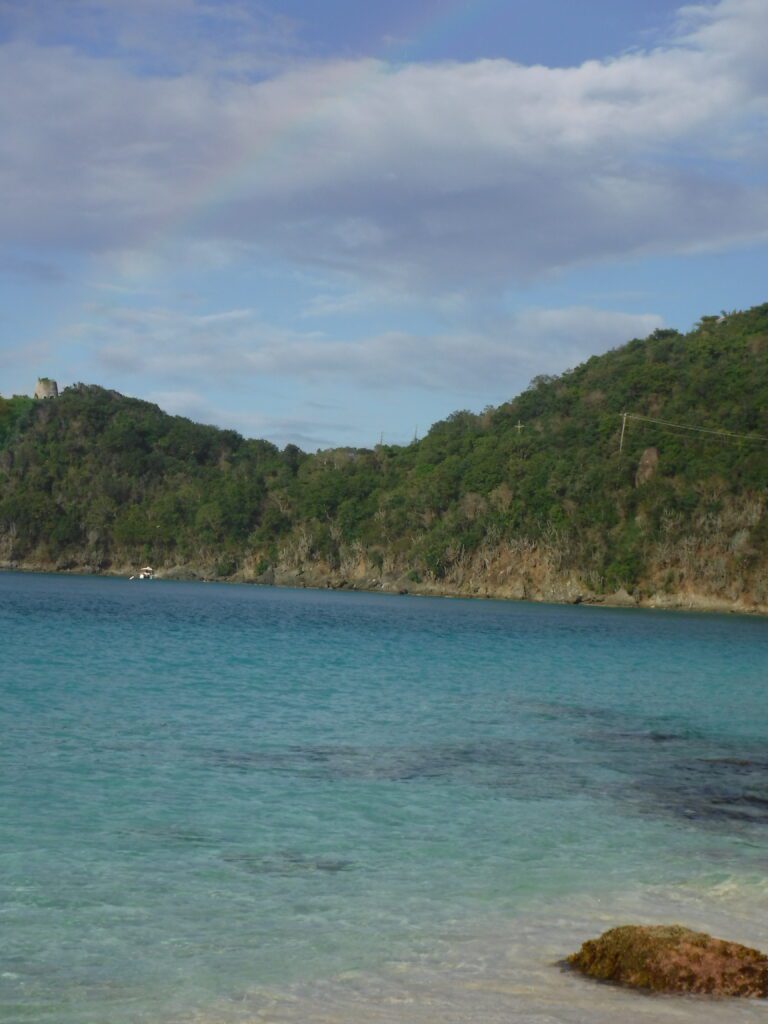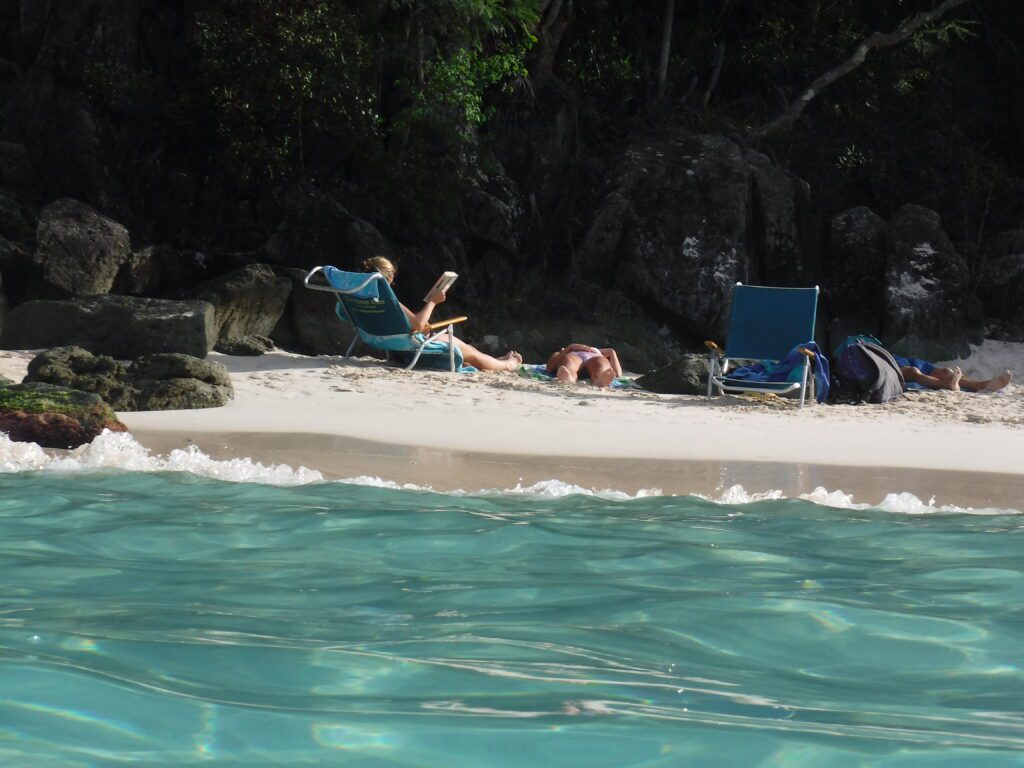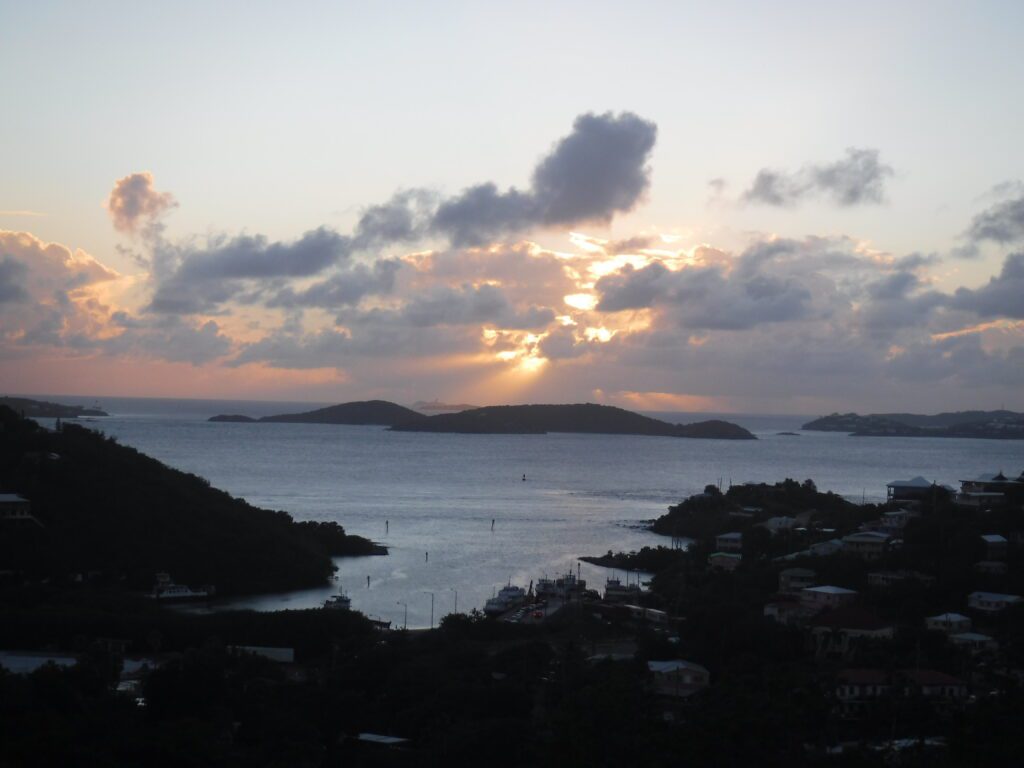 Day 8 – Jost van Dyke, Soggy Dollar Bar
We chose to drive to the Westin Hotel today and venture out with Island Spirit Catamaran, part of Cruz Bay Watersports. This is a much bigger boat than we usually choose. Luckily, it was not too crowded and we had a nice day. We went to the Gibney Bay on St. John and then ventured to Jost Van Dyke in the British Virgin Islands and the famous Soggy Dollar Bar. There is another famous bar in the White Bay of Jost Van Dyke called One Love Bar and Grill. It looked fun, but we did not visit it.
The Soggy Dollar Bar was destroyed in a hurricane, but has been rebuilt. Due to covid, the tour we took is no longer offered.. The boat was professional, safe and well run. Jost Van Dyke is a beautiful bay that we recommend.
Our first stop was Gibney Bay for some snorkeling. It was delightful.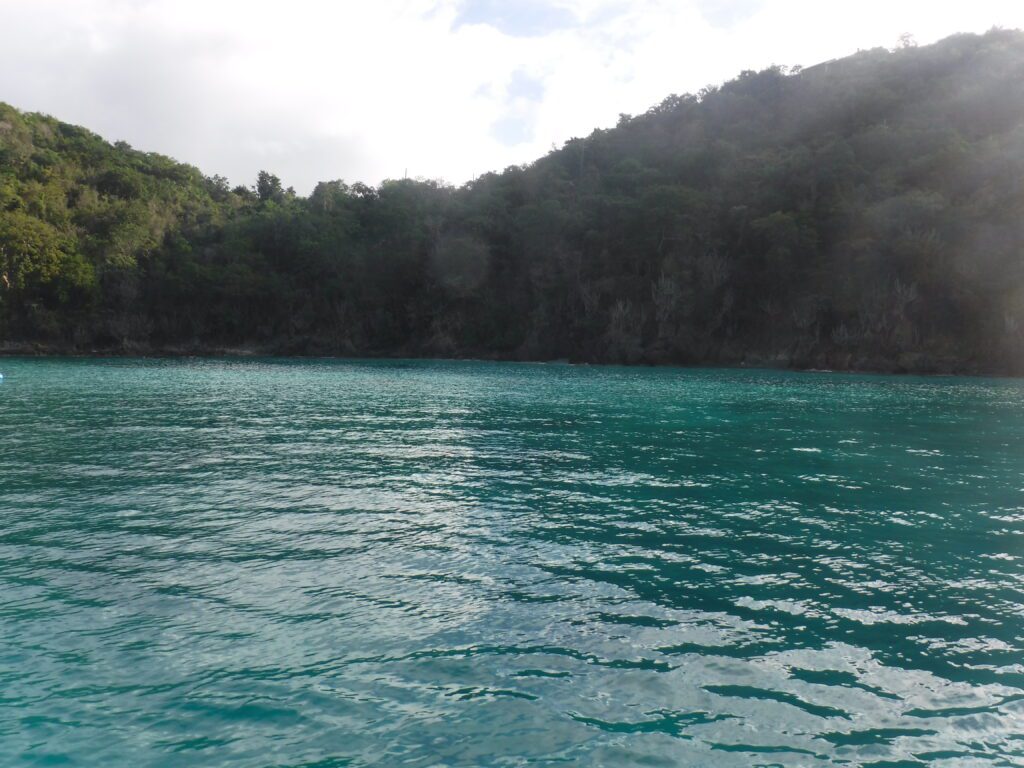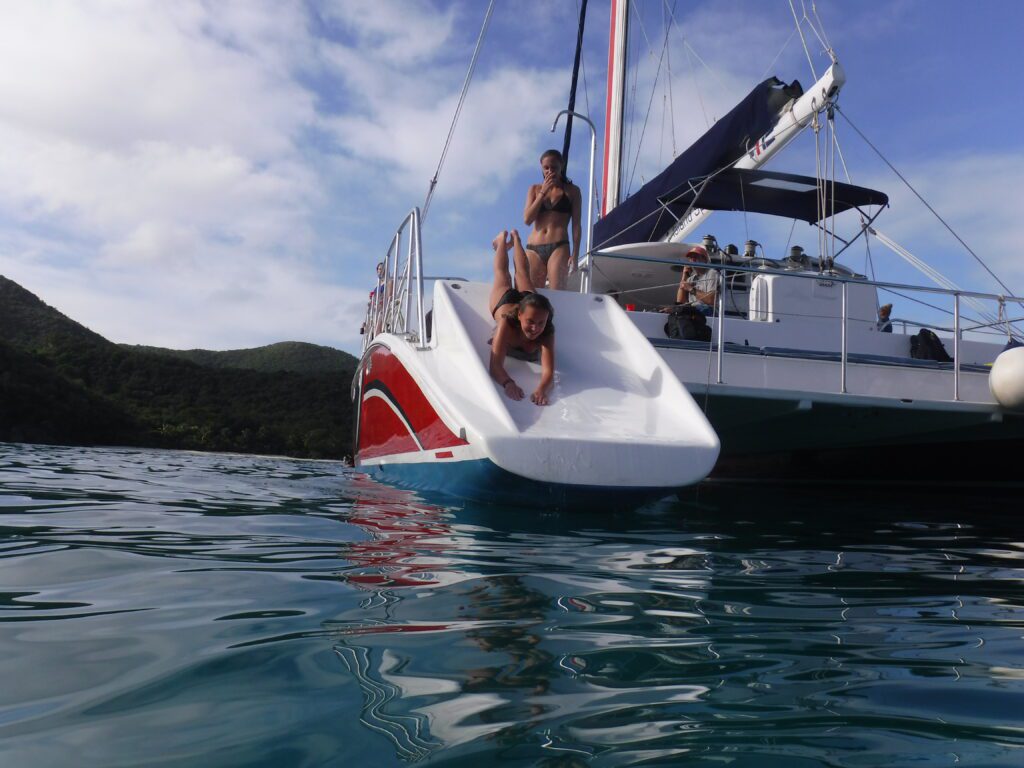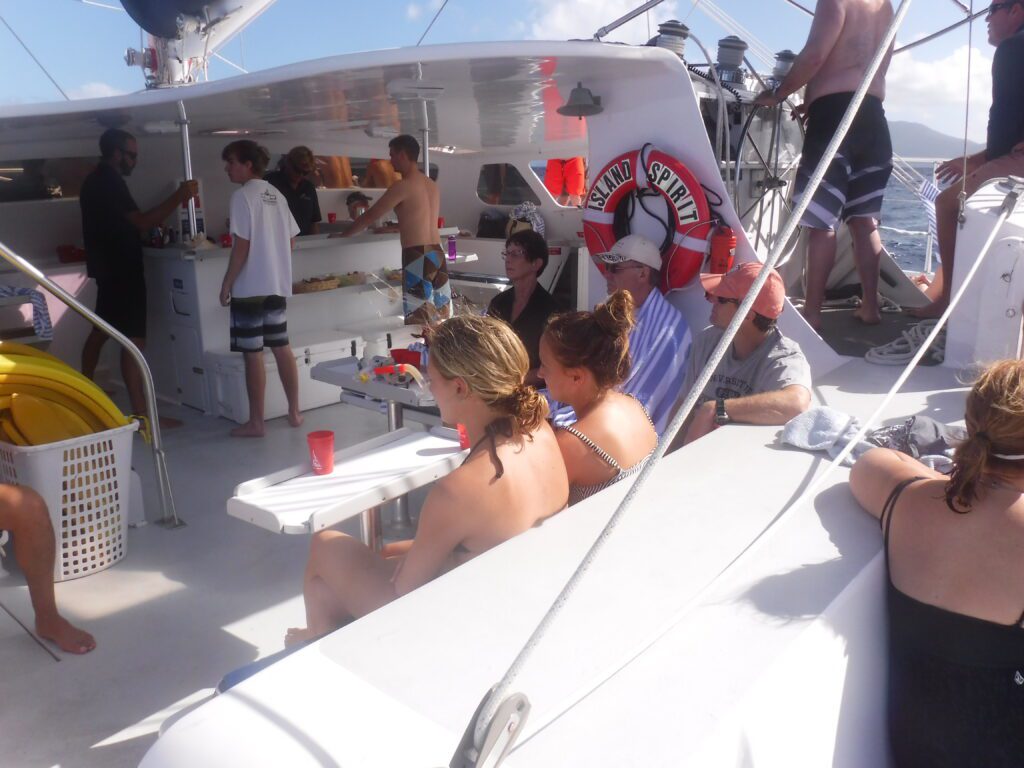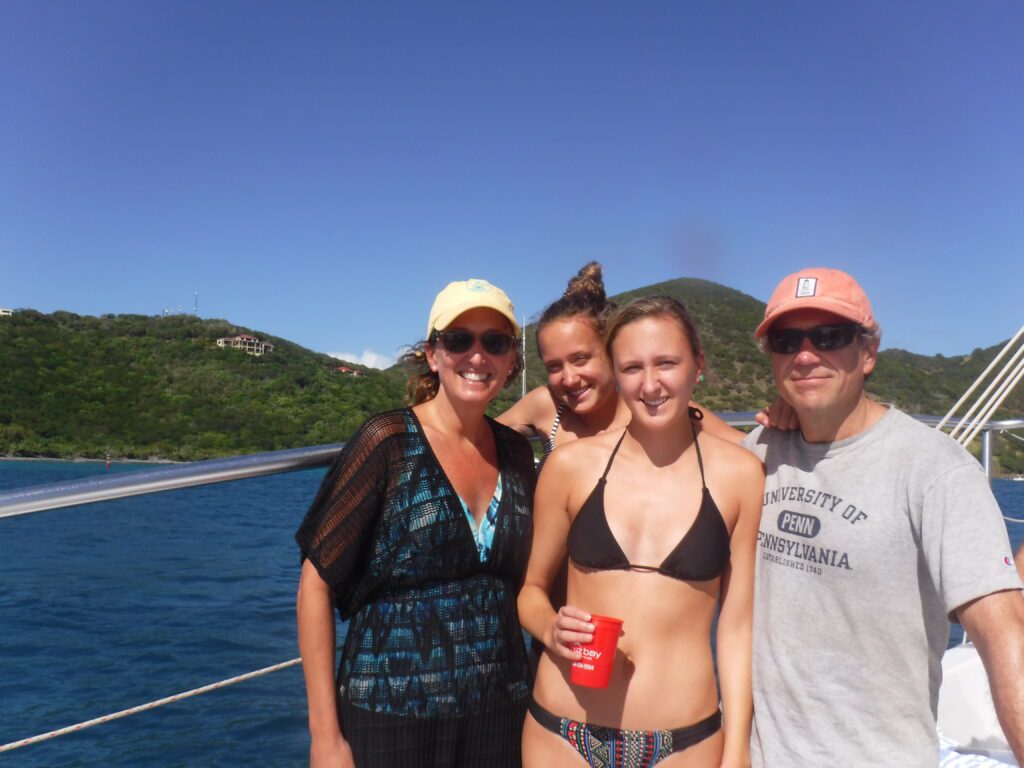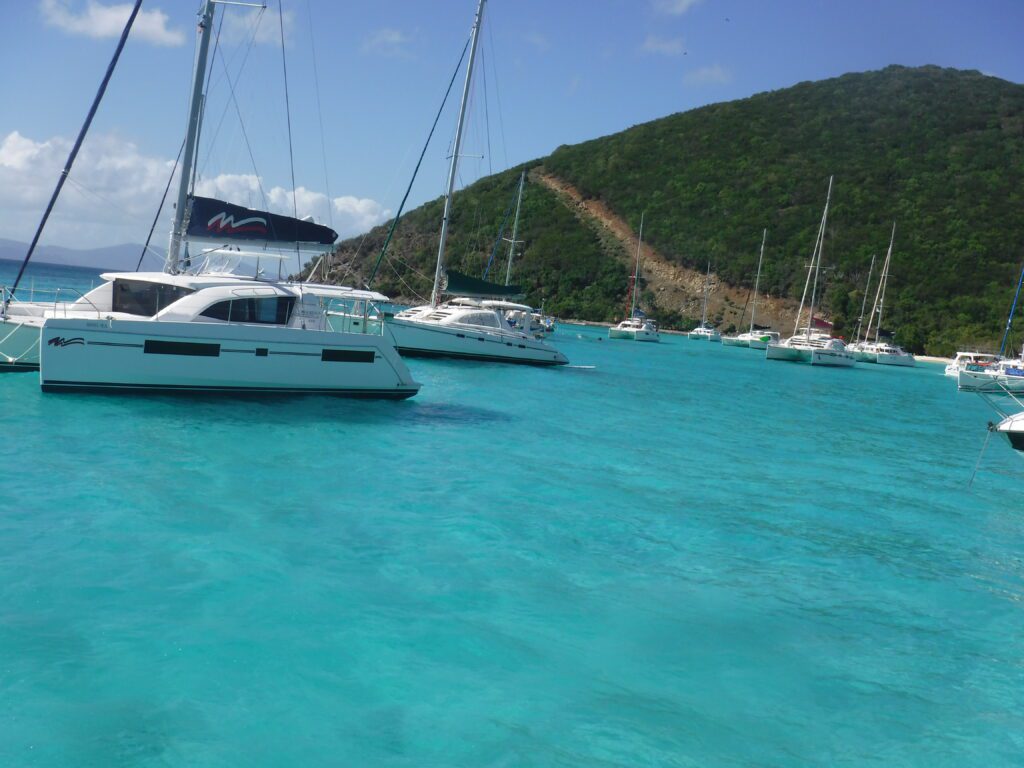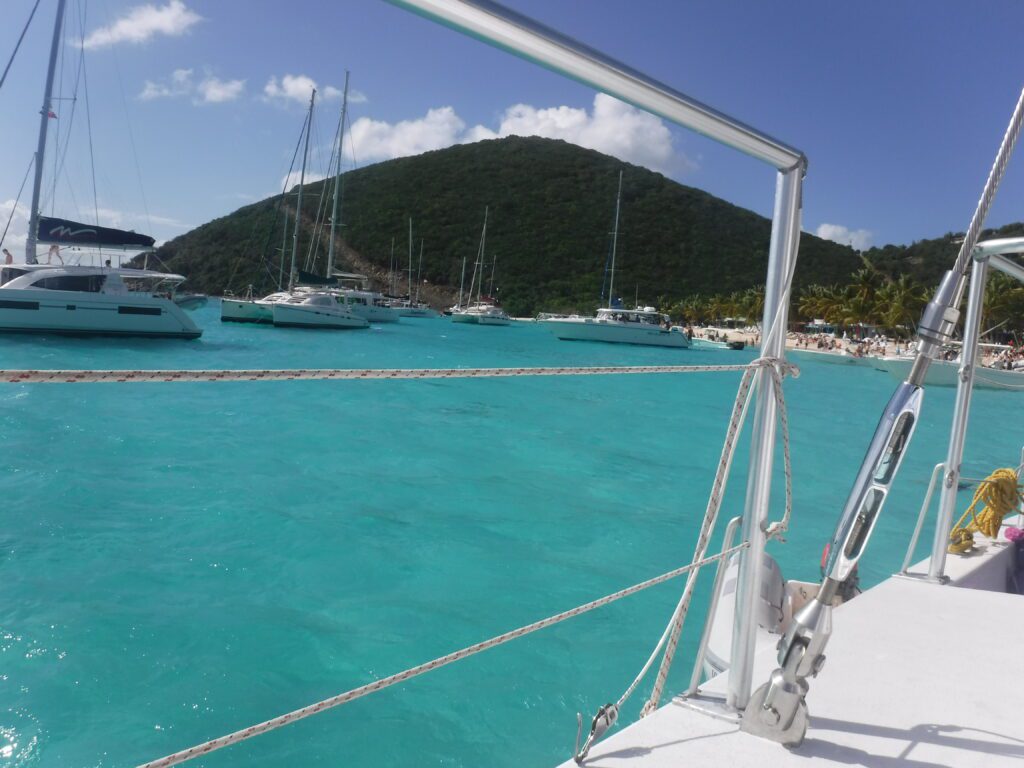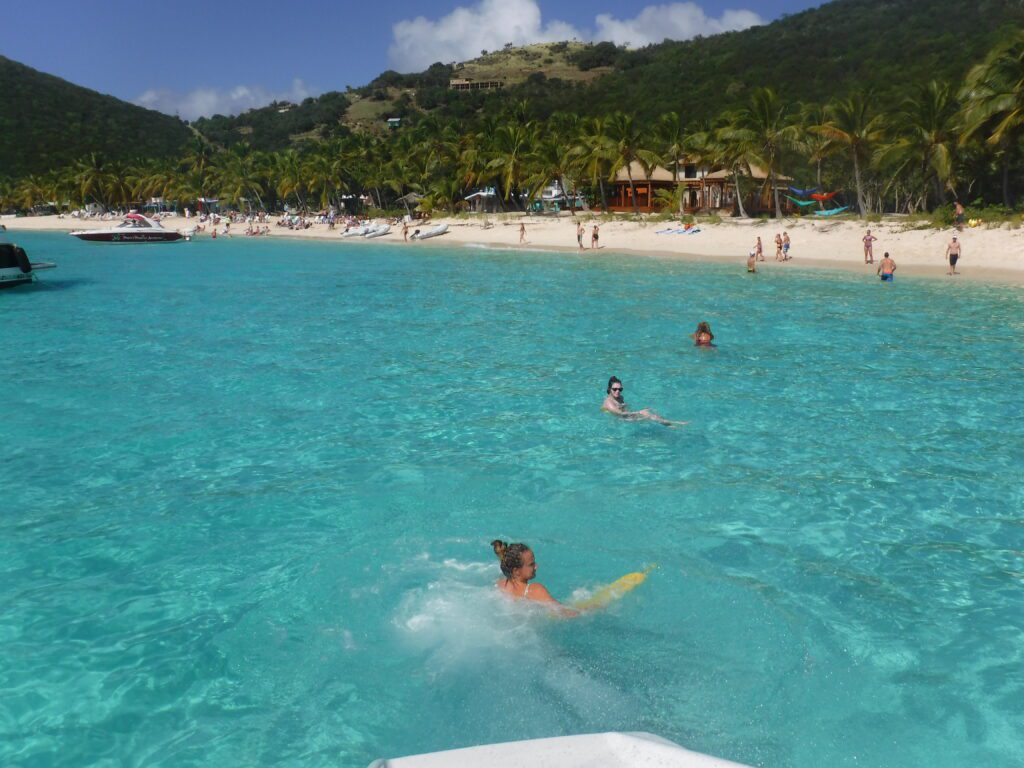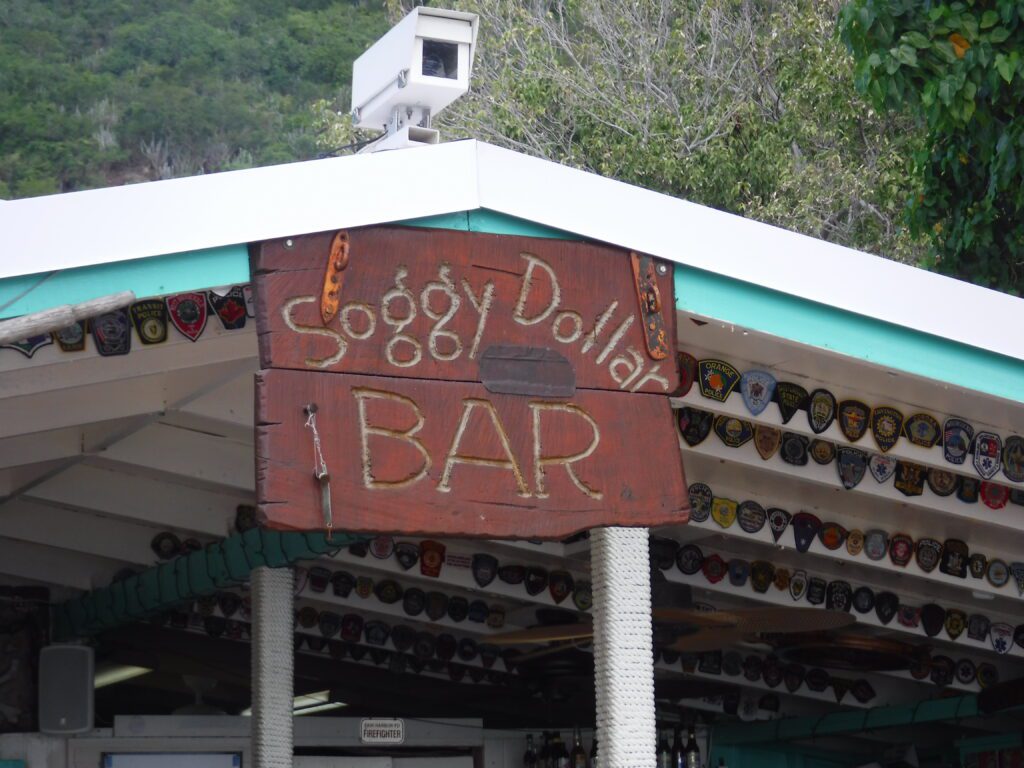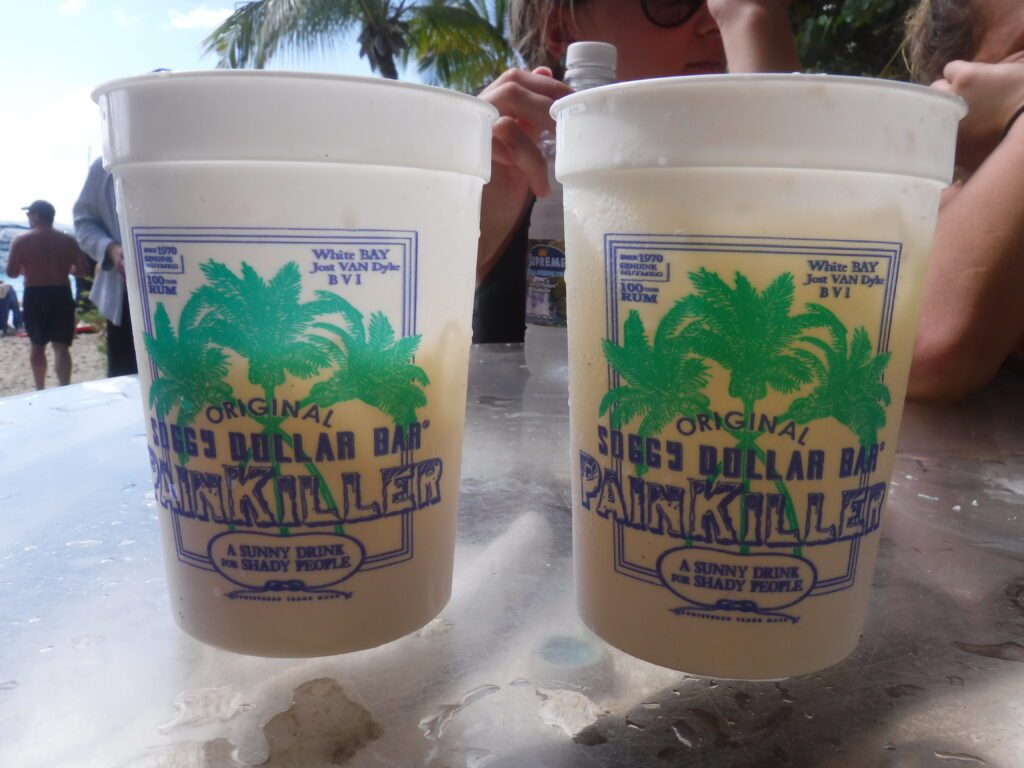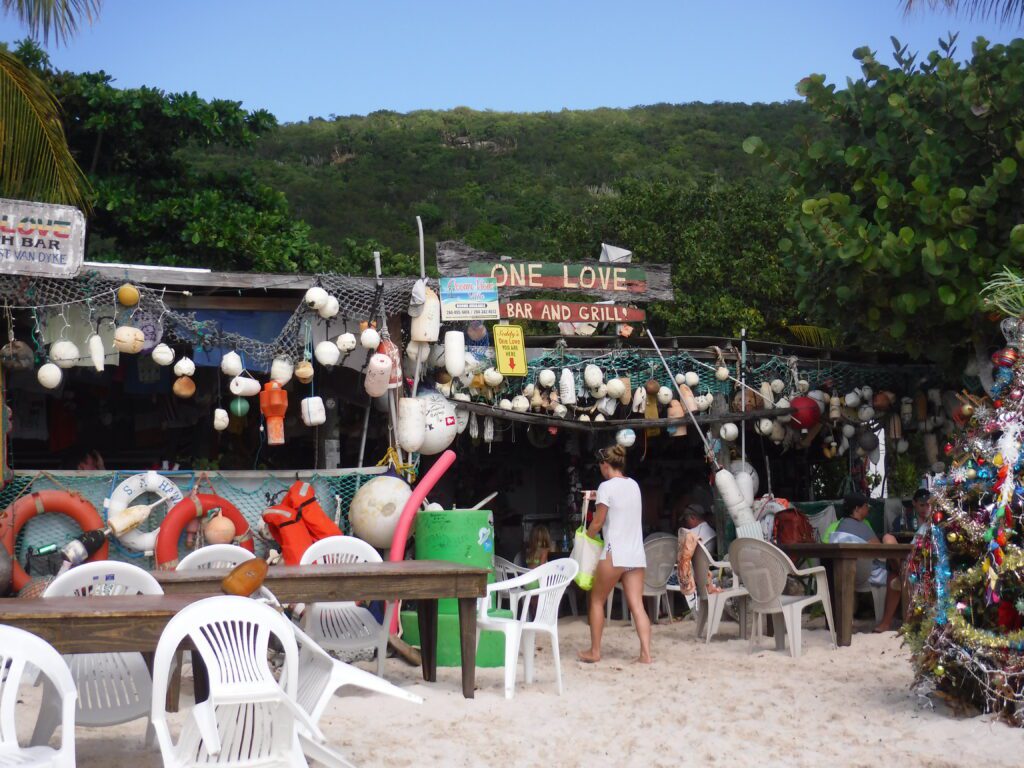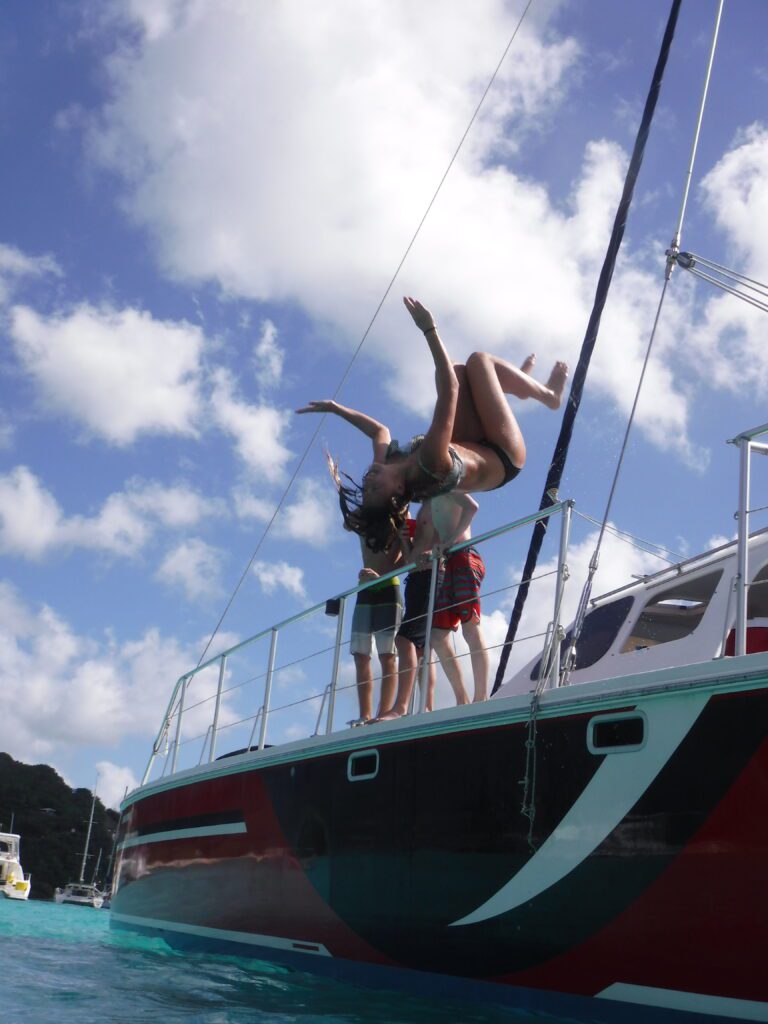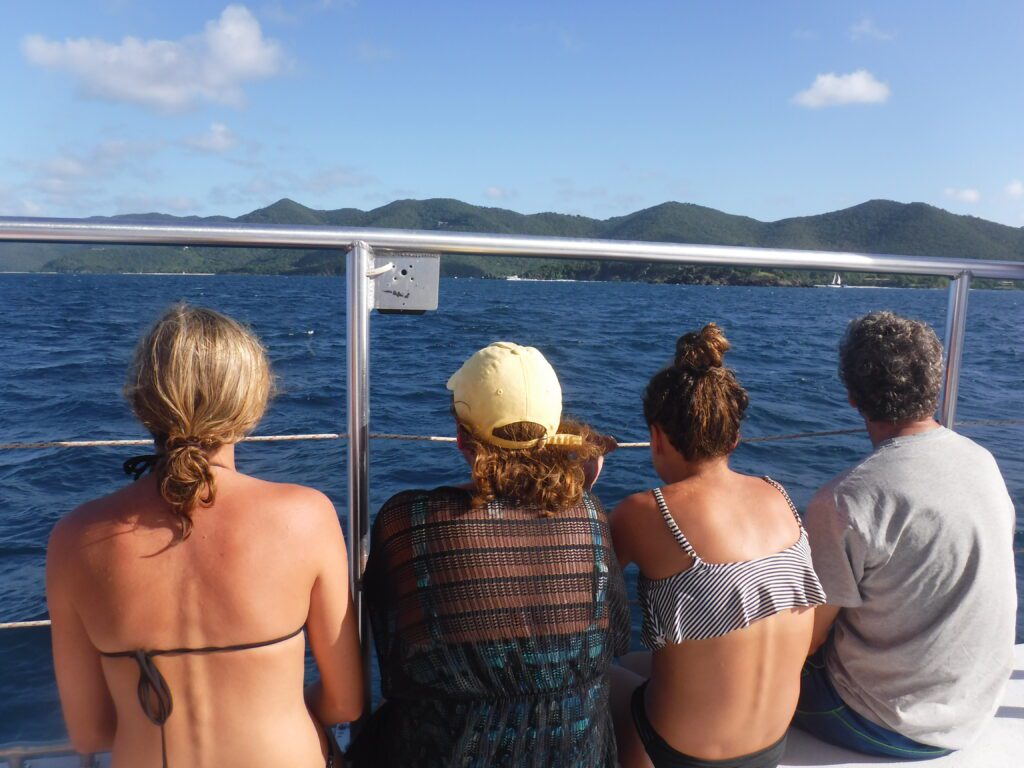 Day 9 – Maho Bay
We headed out in the morning to Maho Bay, which was arguably one of our favorite stops. If you go early, you will have no trouble parking. Best of all, the morning is a wonderful time to see the turtles feeding on the sea grass. This tiny bay should not be skipped. It is beautiful and almost everyone we spoke to said they saw turtles!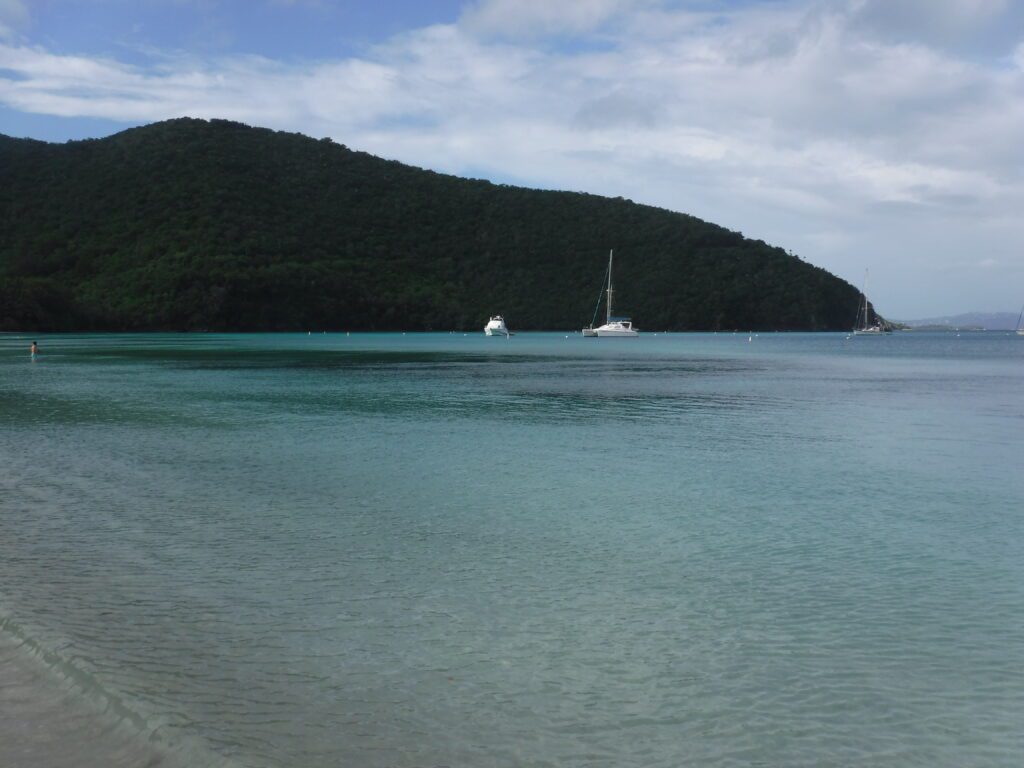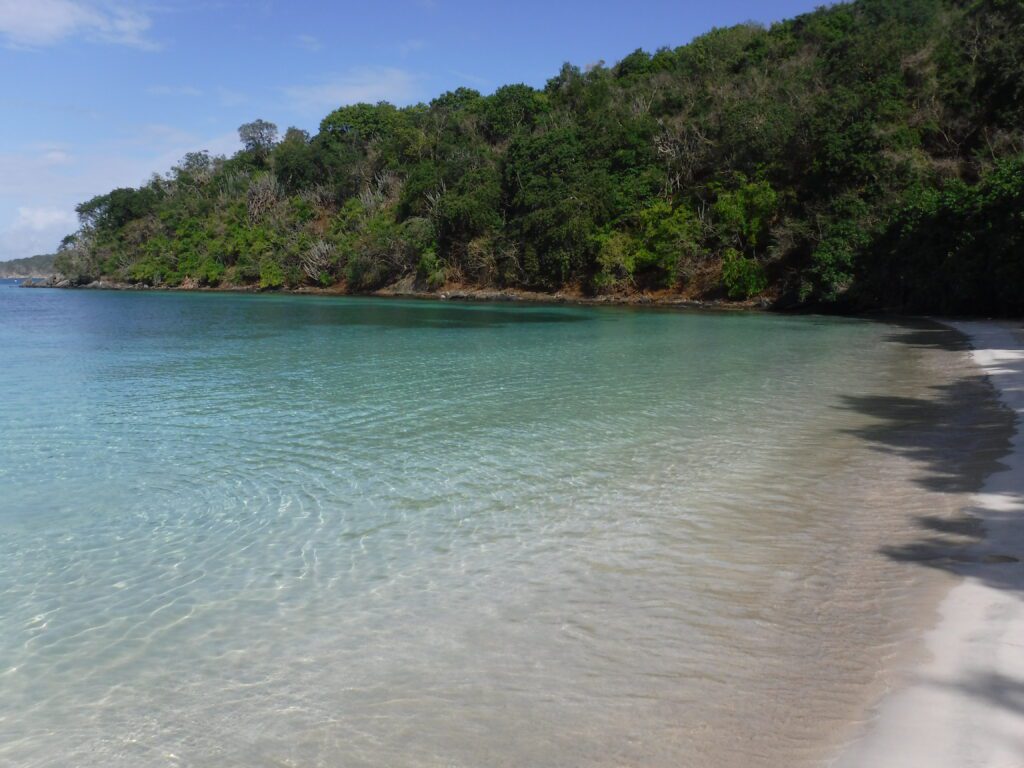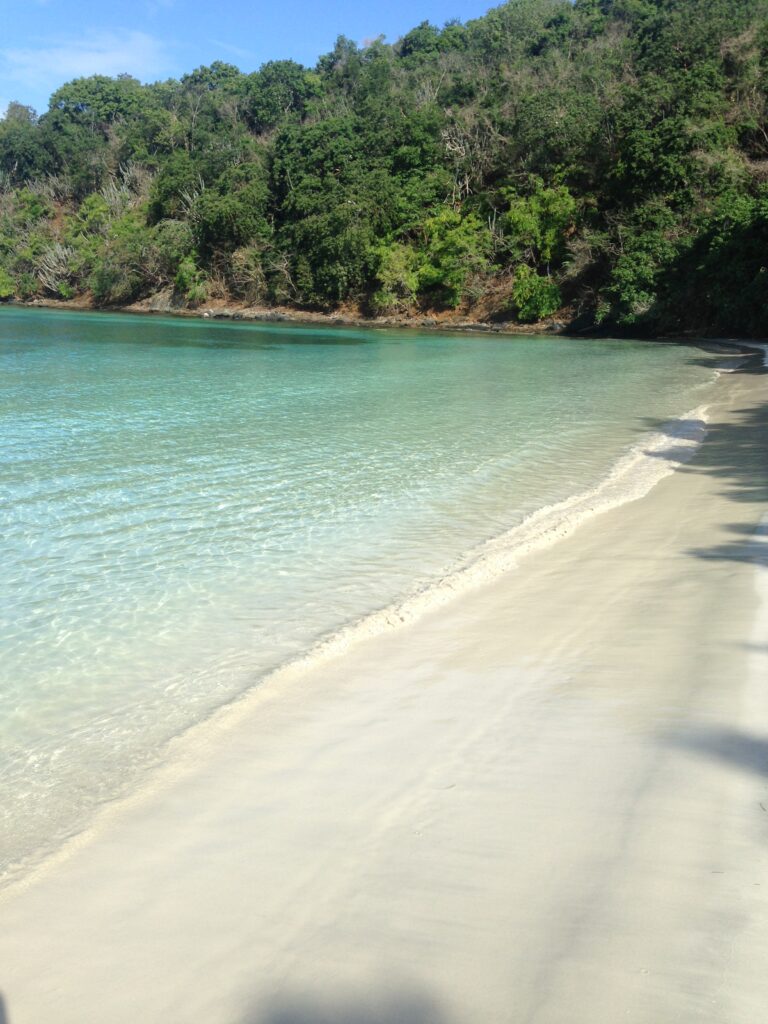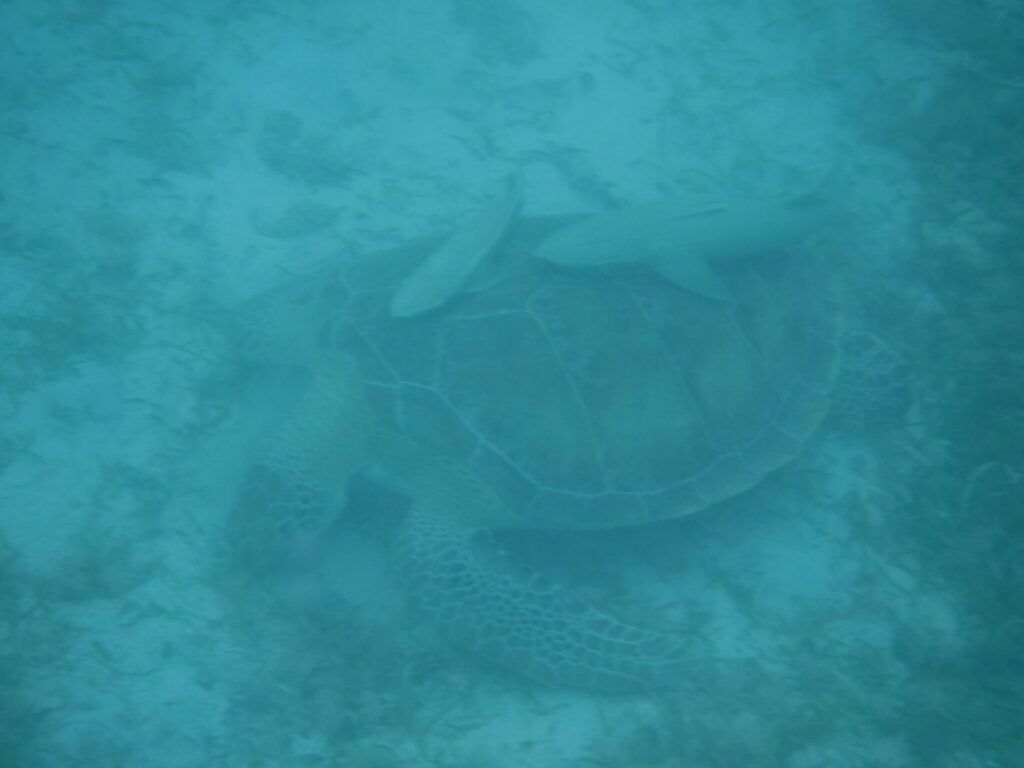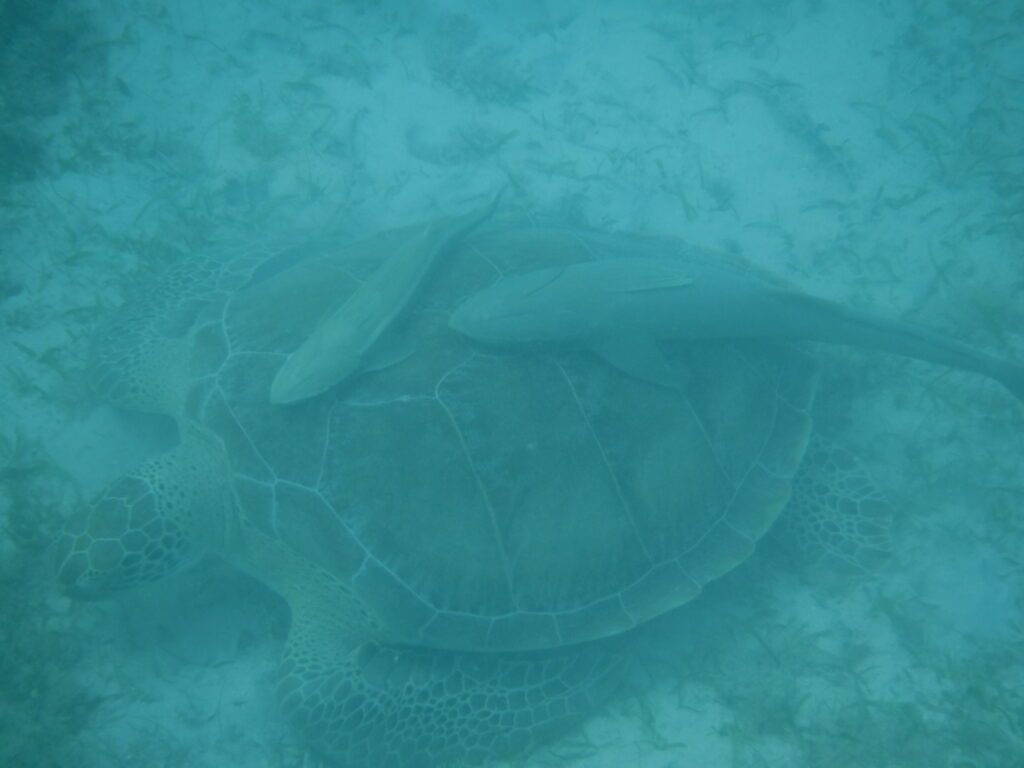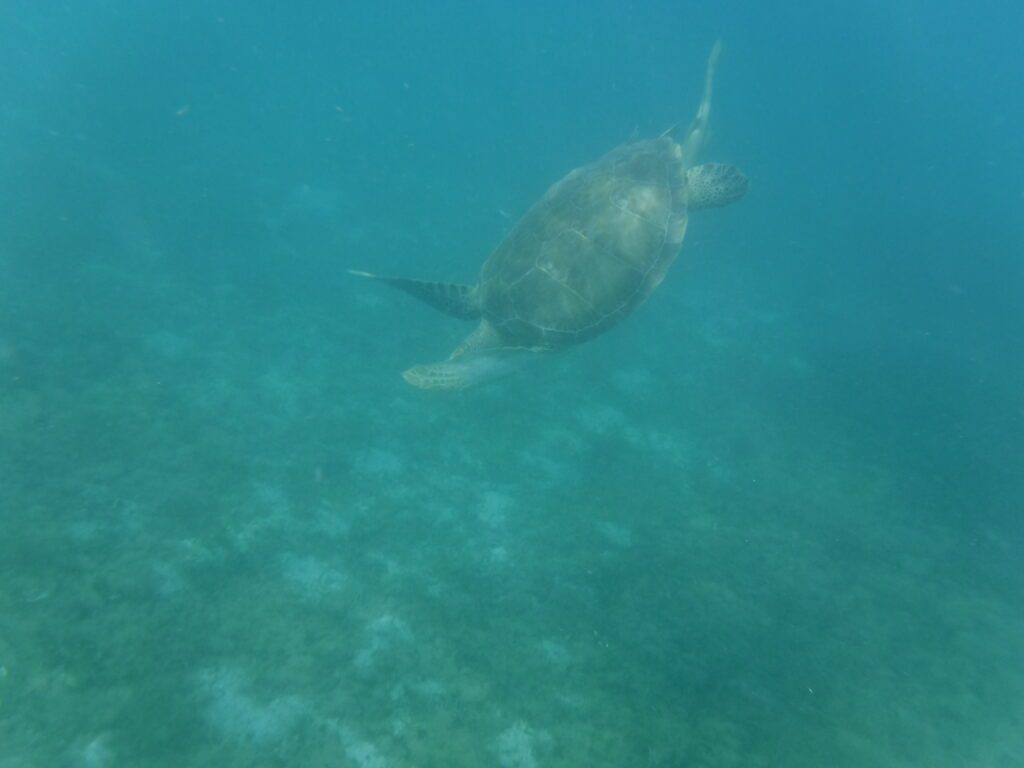 We headed back to North Shore Deli for another fantastic lunch. Our afternoon was spent reading on Hawksnest Bay again. We ate amazing Italian food at Dalivio in Cruz Bay, and then we headed home to pack!
Day 10 – Ornament Shopping and Heading Home
We checked out of our condo and walked around Cruz Bay, looking for the perfect Christmas ornament. We took the ferry back to St. Thomas and our taxi driver, Warren, picked us up. We strongly recommend booking a driver in advance. It will save you lots of time.
We traveled on JetBlue back to Boston. Due to the shortness of the runway and the mountains in St. Thomas, a four hour flight to Boston cannot take off with enough fuel to reach Boston. So, we flew for about 15 minutes and landed in Puerto Rico. We taxied to a remote fueling site and stayed on board while we took on more gas. No one was allowed off the jet. We flew on to Boston.
St. John is a wonderful, friendly place. We loved our trip to the beautiful spot!