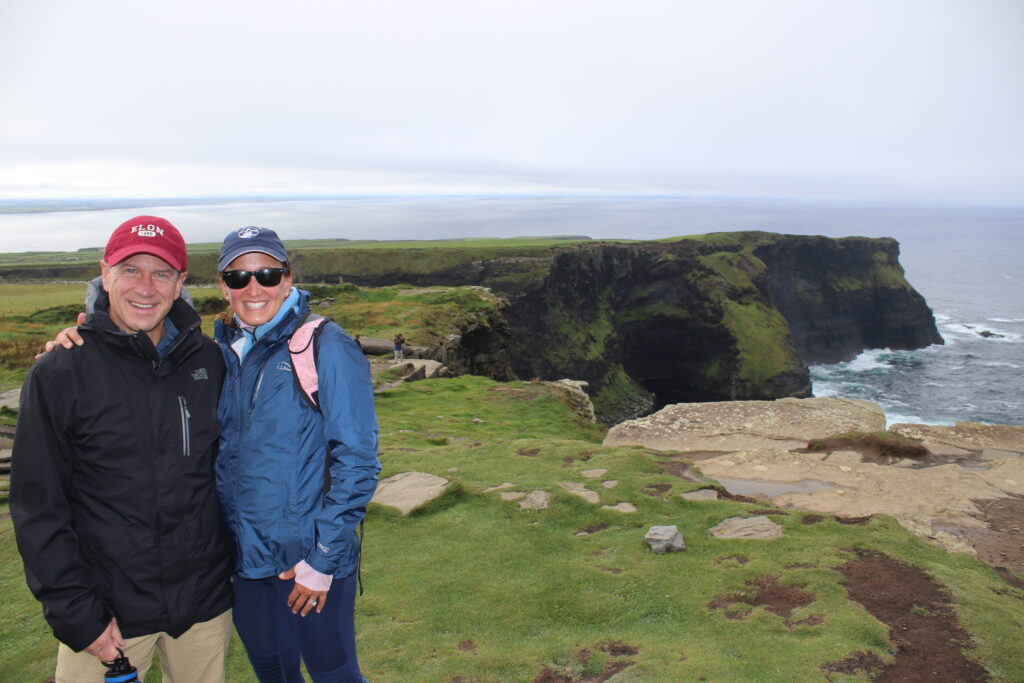 Day One – Dublin to Galway
2022 Update – Michele also upgraded her iPhone to the iPhone 13. The camera is amazing. Seriously amazing!
Jim and Michele decided to explore Ireland for their 25th Wedding Anniversary. Our children were in college, so we ventured East without them. We went from September 14-22, 2019.

We landed in a rain storm into Dublin just after 4am. It was beyond early. Aer Lingus was efficient and on time.

Hertz was yet to open, so we rested in the airport and waited for 5am for them commence business.

Ireland is made for a road trip. Yes, you have to drive on the left, but driving yourself is not difficult. Waze works very well. The roads are well-maintained. Some, are narrow and twisty, but we recommend driving yourself.

We used Waze to make our way to Bewley's on a friend's recommendation. Bewley's did not open until 9am. It was rainy, so we slept for 90 minutes in a parking garage.

Bewley's was great. The doors opened a bit before nine and breakfast was fantastic. There are many choices for food, coffee and beverages. The baked goods looked especially good. We had avocado toast and oatmeal.

We decided to head out of Dublin on a rainy Sunday morning. We drove to the charming village of Roscommon. We walked to the old castle and around town.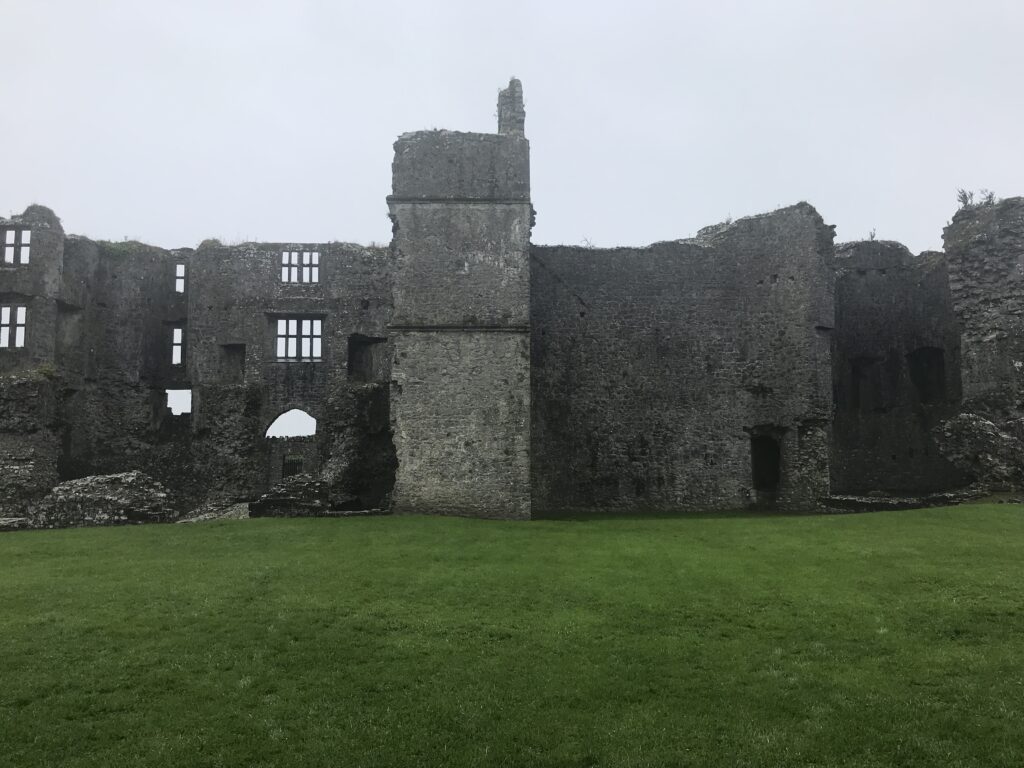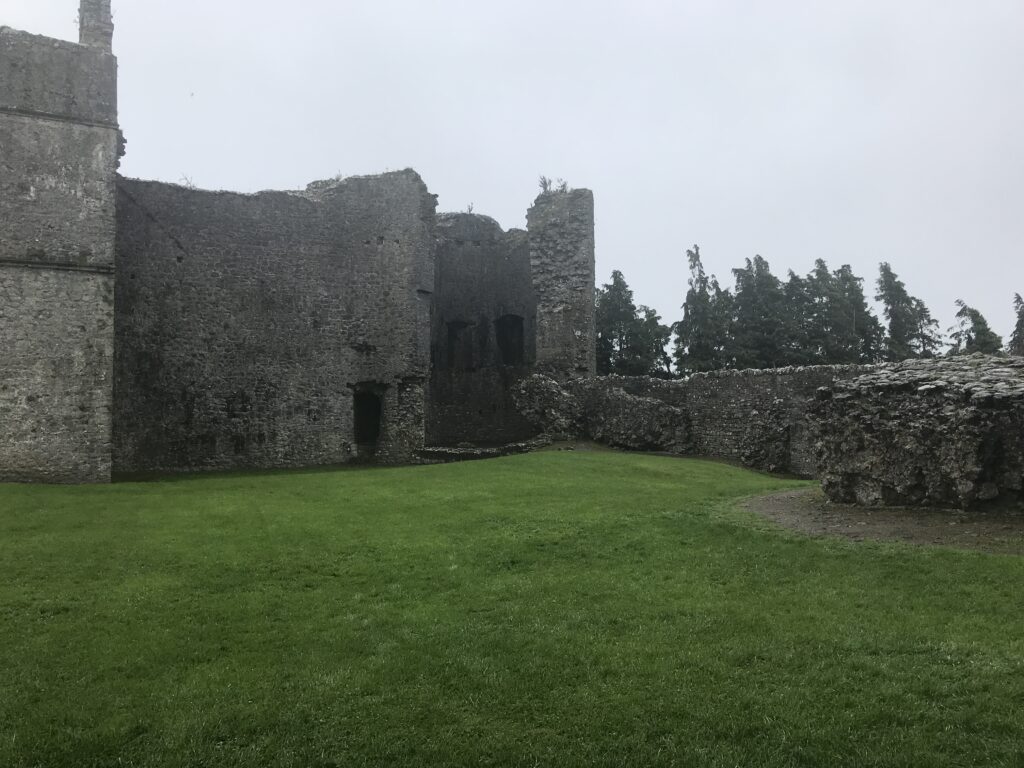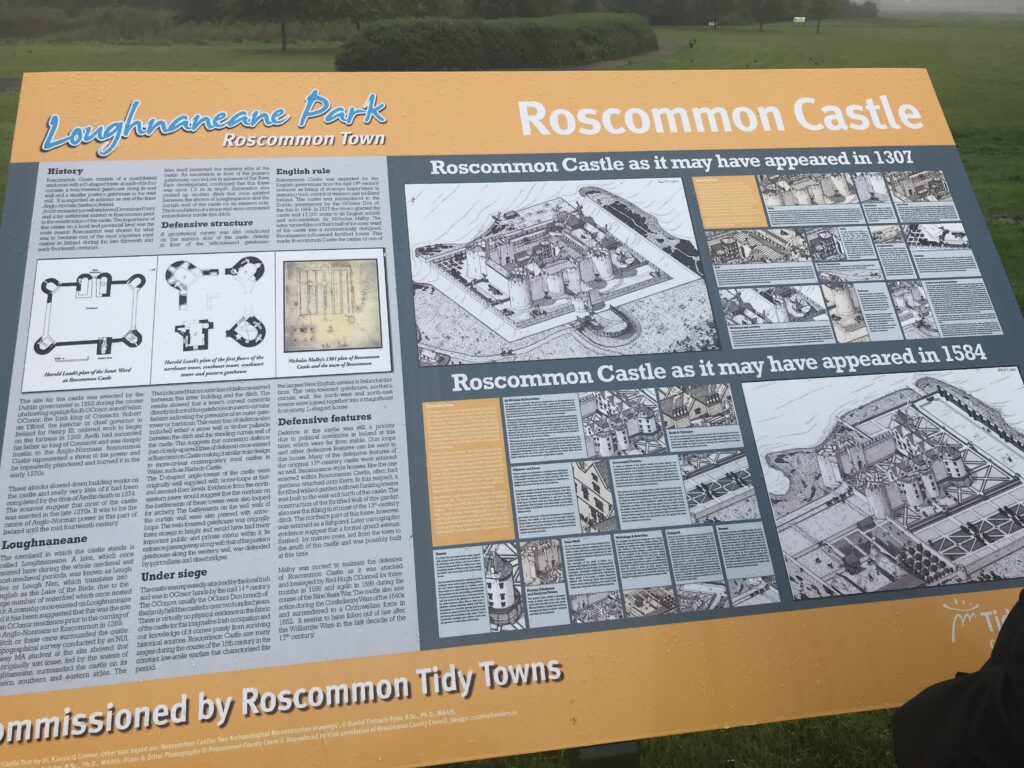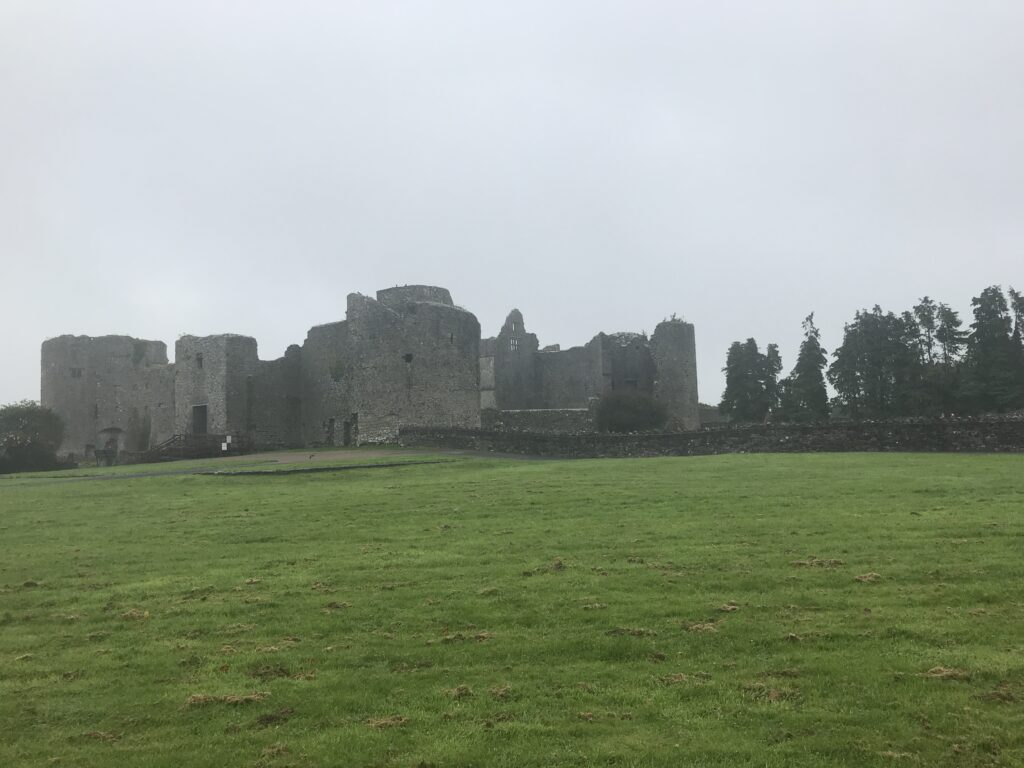 We continued on to Galway. The Waze app was very helpful in getting us there.

We stayed at The House Hotel in the Latin Quarter of Galway. Our room had a king size bed, a bathroom with shower and tub and a desk, small dresser and closet. It did not have a hair dryer, which was a common theme in all the places we stayed in Ireland.

We would recommend the The House Hotel for its excellent location near the Latin Quarter, Spanish Arch and Galway Cathedral. They discount parking at a garage about two blocks away. We could walk to bars, shopping and restaurants. Their buffet and hot breakfast which was included in the price was excellent. TripAdvisor reviews are good.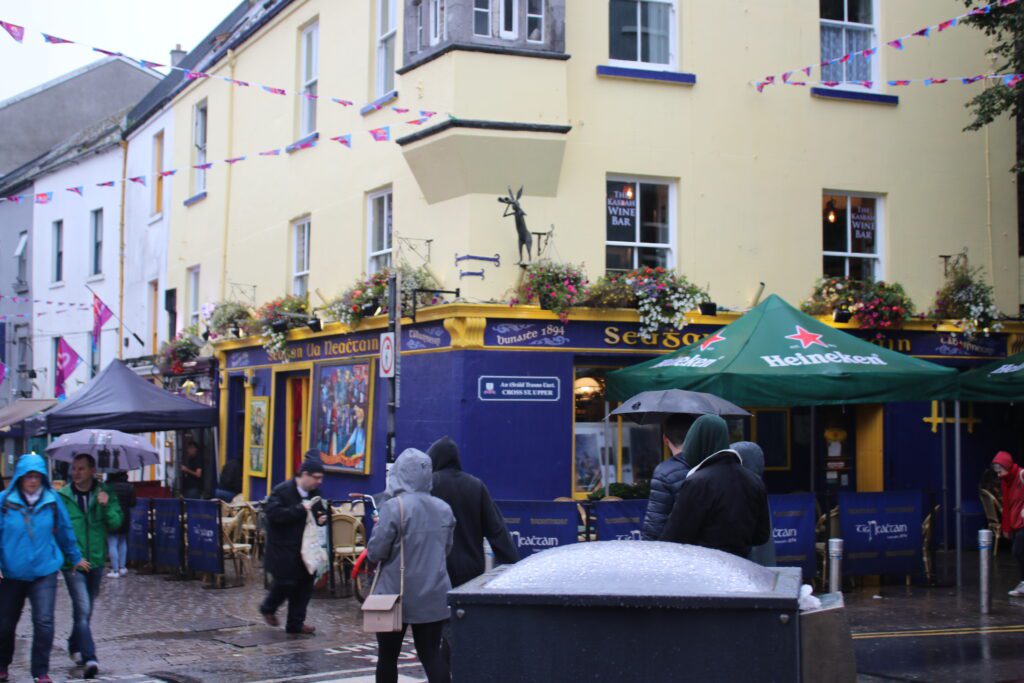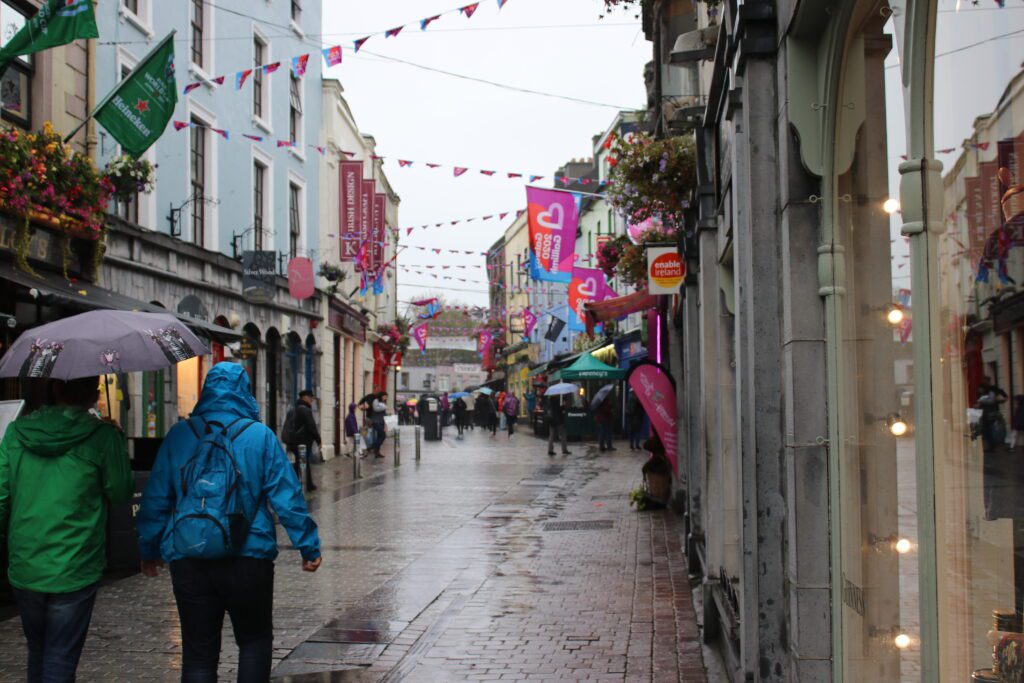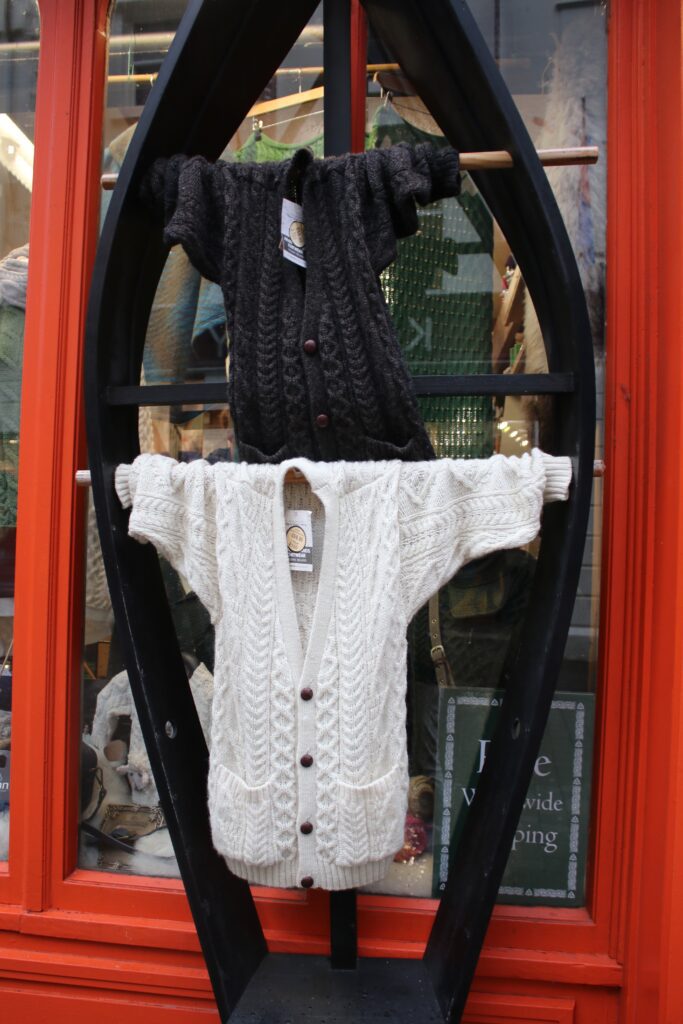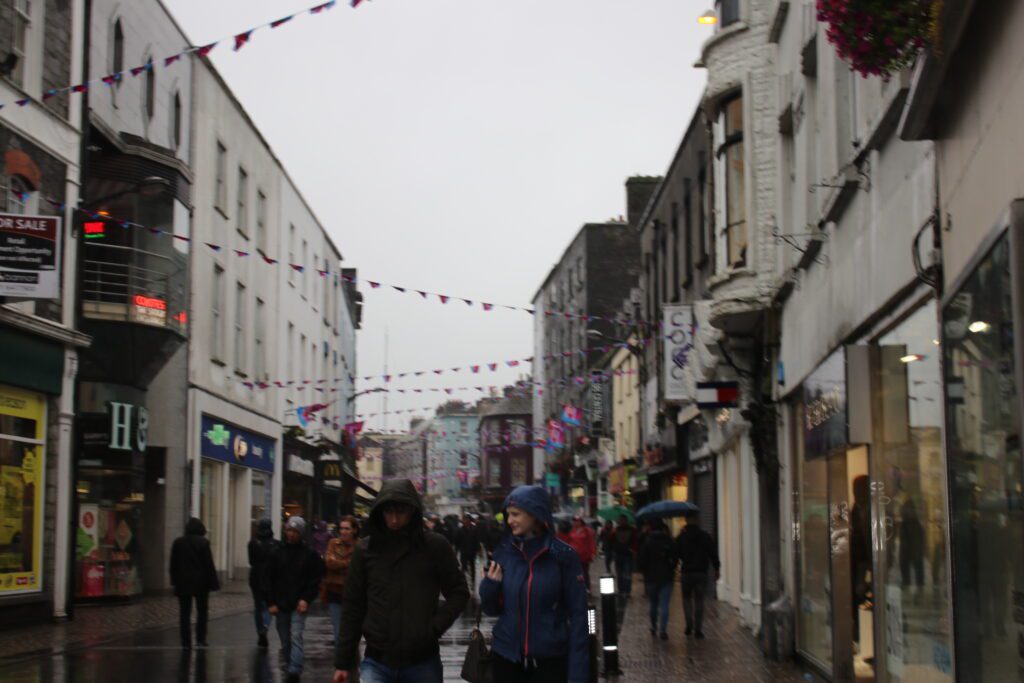 After napping off our jet lag, we headed out in the rain. Galway is a delightful city with a hip, happening vibe. The Latin Quarter is where you want to be.

We saw some great Irish music at the 1520 Pub.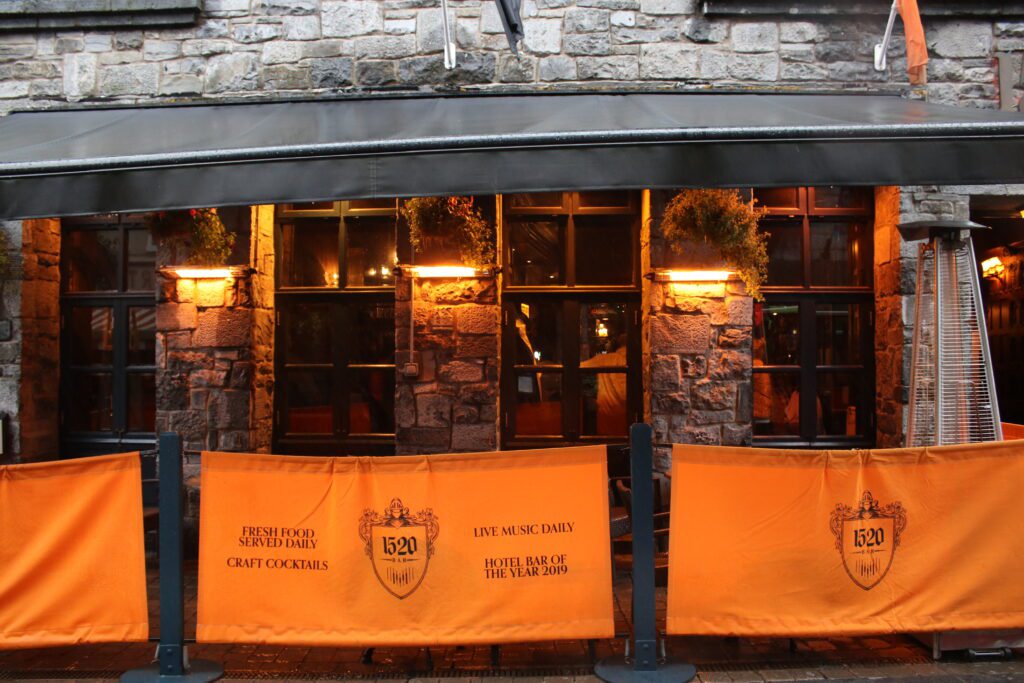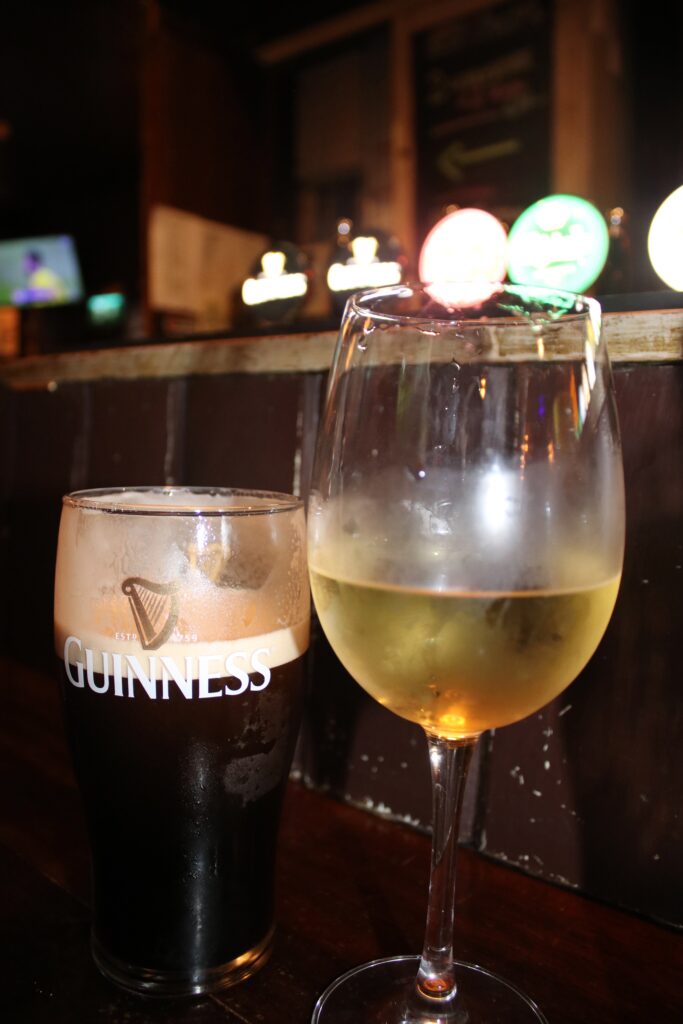 We ate at the delightful and charming and cozy Quay Street Kitchen. The food, service and ambiance was excellent. We highly recommend this restaurant. TripAdvisor reviews are excellent.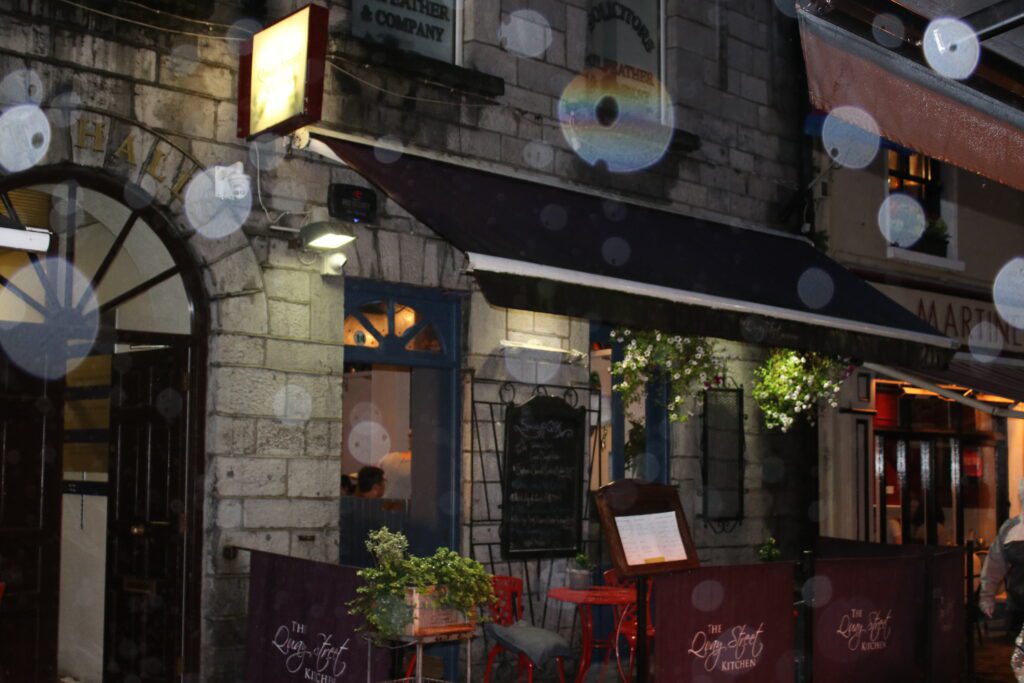 We stopped for one more drink before bed at The House Hotel's pub called The Yard. It was pretty quiet in there; however, it was a rainy Sunday evening. The bartenders were helpful with planning our Monday.
Day Two – Cliffs of Moher, Doolin, Galway
We had a delicious buffet and hot breakfast at The House Hotel. There were breads, meats, jams, fresh fruit and cheeses on the buffet. The breakfast included several choices on a hot menu. We chose omelettes. The coffee was strong. Michele enjoys seltzer water with lemon and that was also included in the breakfast at no extra charge.

Our adventure today was to hike the entire path of the Cliffs of Moher. We chose to get a move-on, early. We used Waze to get us to Doolin in County Clare. It took about 90 minutes to drive from Galway to Doolin. It was a foggy morning, but the clouds were clearing as we drove. The road is narrow, with few stopping points. I wish that the government made some "pull off the road" points to stop for photos. The drive is beautiful, through villages like Kinvarra. We saw the remains of Dunguaire Castle, but there was not a good place to stop to take a photo! We were also trying to get to Doolin in time to catch a public bus.

Upon arrival in Doolin, we parked in the public lot behind the Hotel Doolin. We took a 9:25am bus to the Kilconnel car park which is at the end of the Cliffs of Moher. The bus schedule can be a bit confusing. The bus no longer stops at the Park n Ride in Doolin. However, the website does not reflect that. The Hotel Doolin/Fitz's Cross stop should have more information about it's exact location on the website. However, we called, spoke to the driver and he told us to park at The Hotel Doolin and we made the 9:25am bus. COVID update – make sure the bus is still operational. It was not during the heights of Covid. If the bus schedule is not online, call The Hotel Doolin.

It was just us and one other couple on the bus. The other couple wanted to go to the end as well, so the bus made no other stops along the way which was nice. The bus cost 7 Euros each, and the parking was free.

For those of you who are fit and active, we highly recommend this walk in the Kilconnel to Doolin direction. There is a slight uphill walk at the drop off point in Kilconnel, and then from there is is mostly flat until you get to the very crowded Visitors' Center. From the Visitors' Center to Doolin, it is mostly downhill. It is slog if you are hiking from Doolin up to the Visitors' Center. This hike is truly gorgeous!

For those of you who want a shorter hike, take the bus to the Visitors' Center and walk back to Doolin.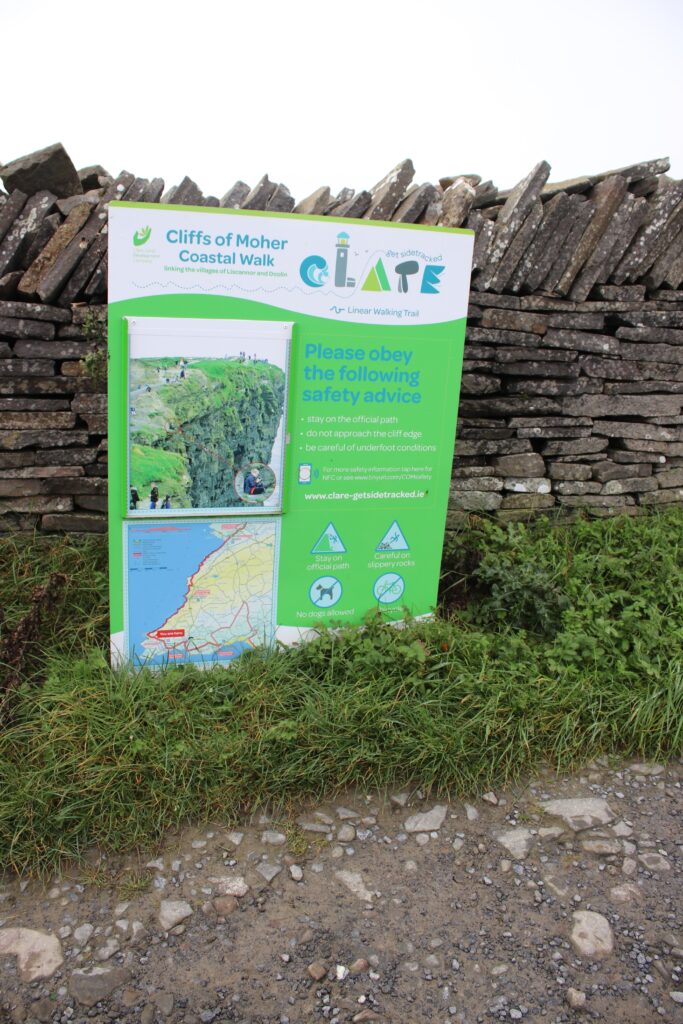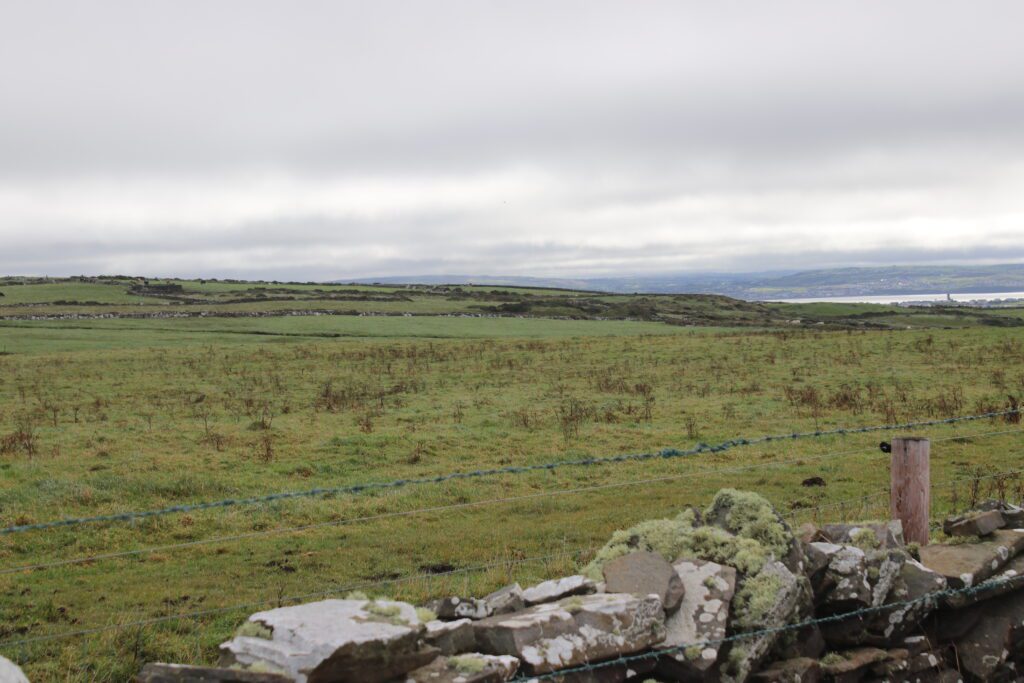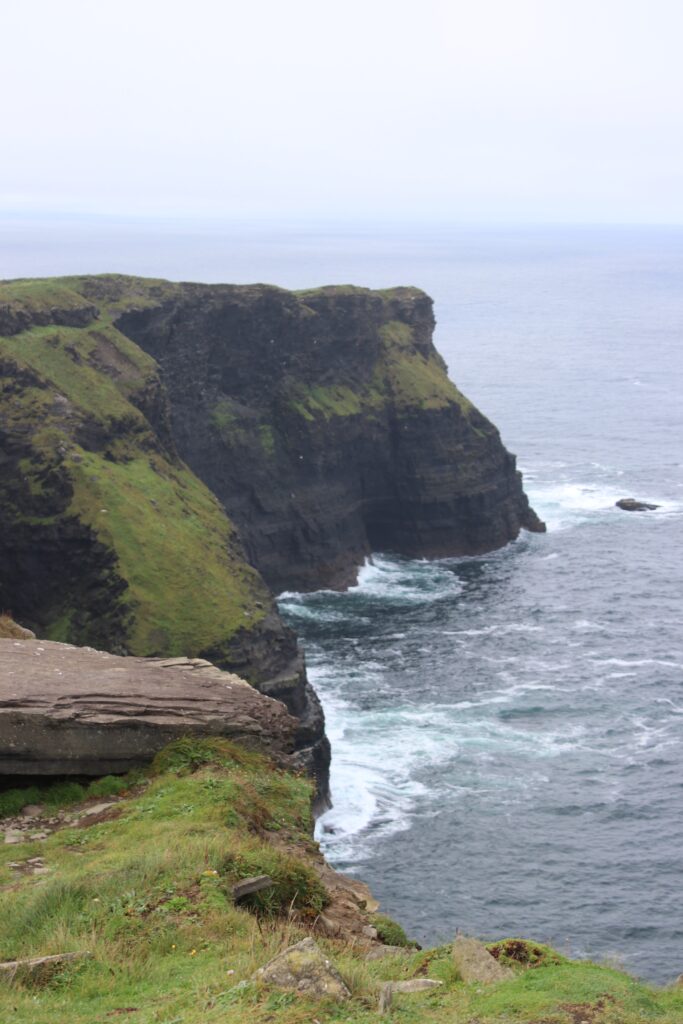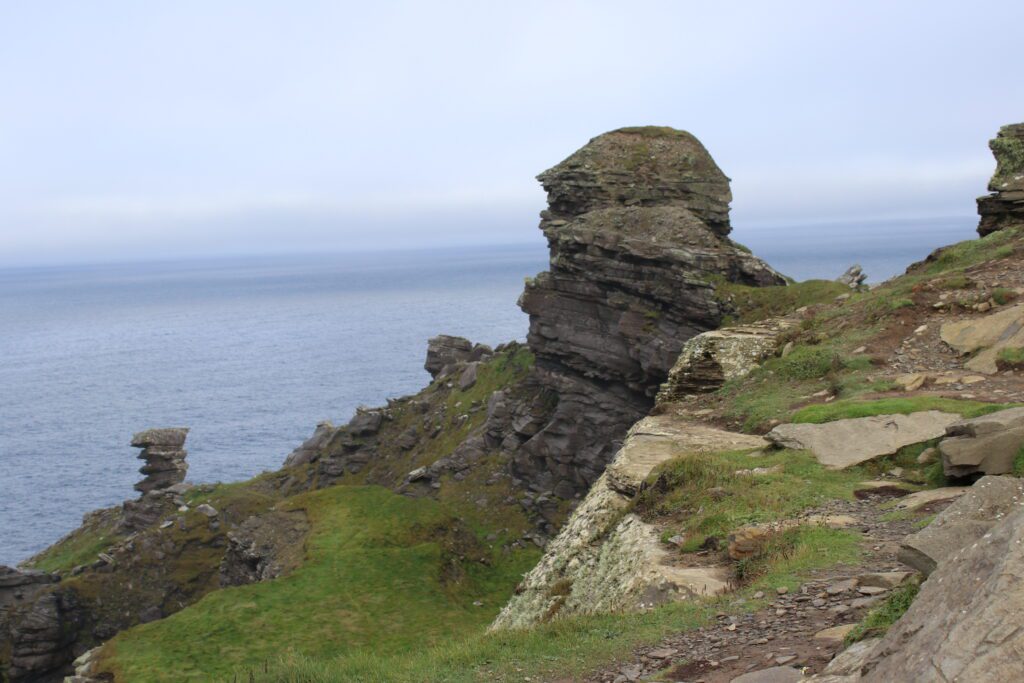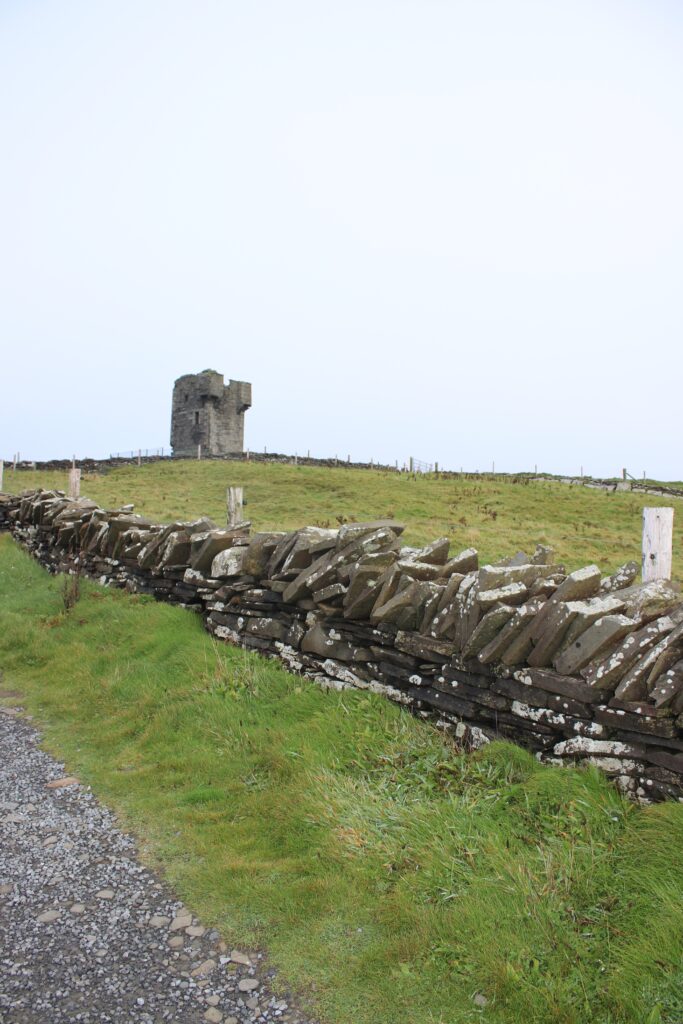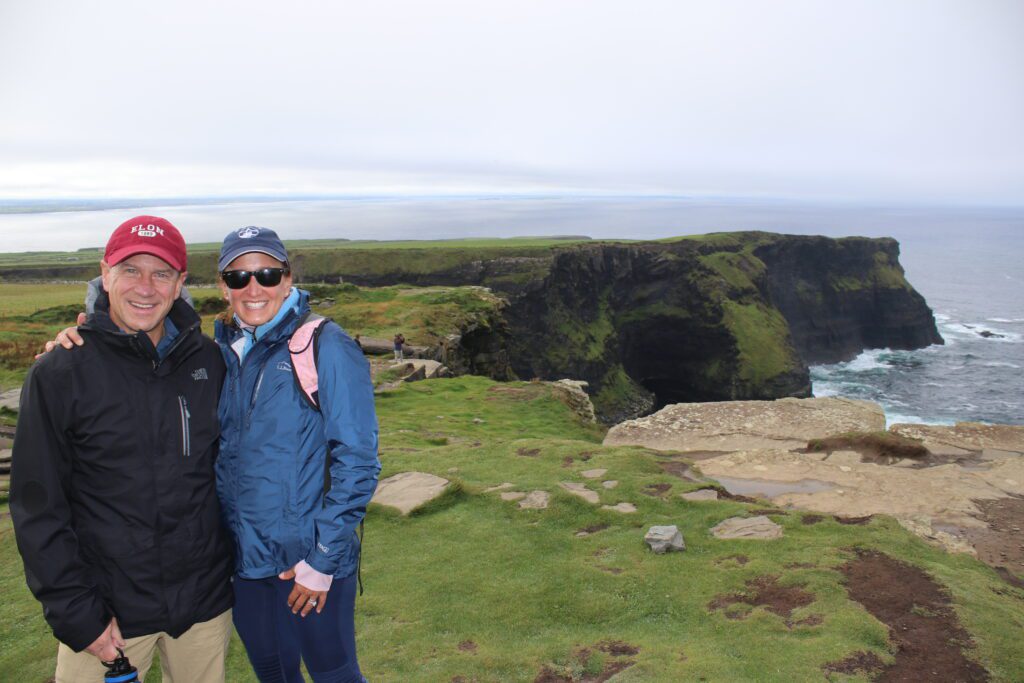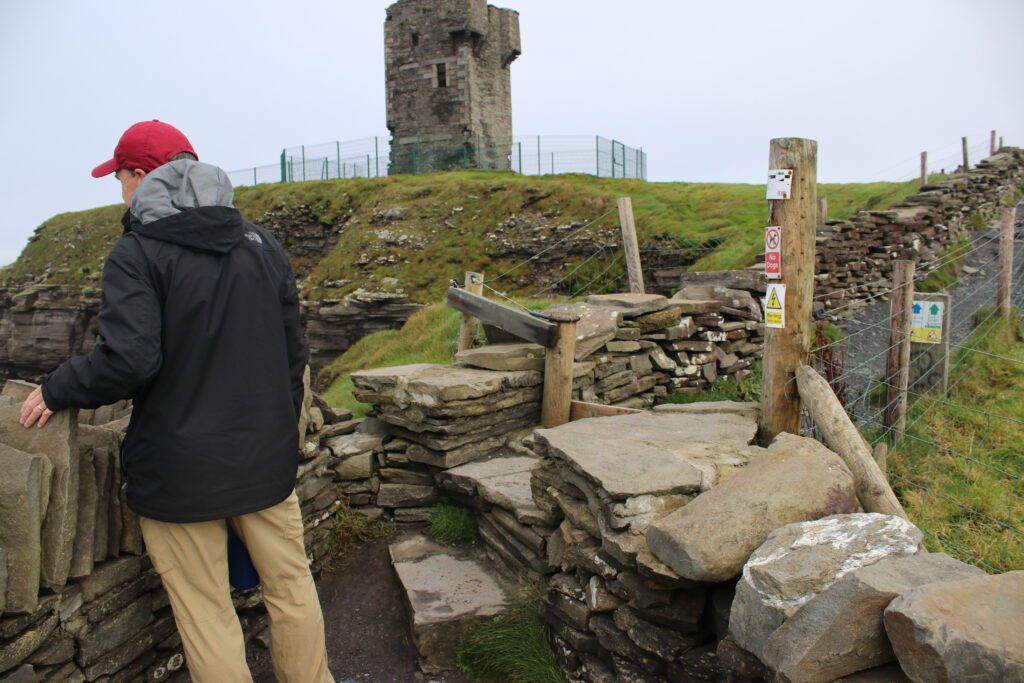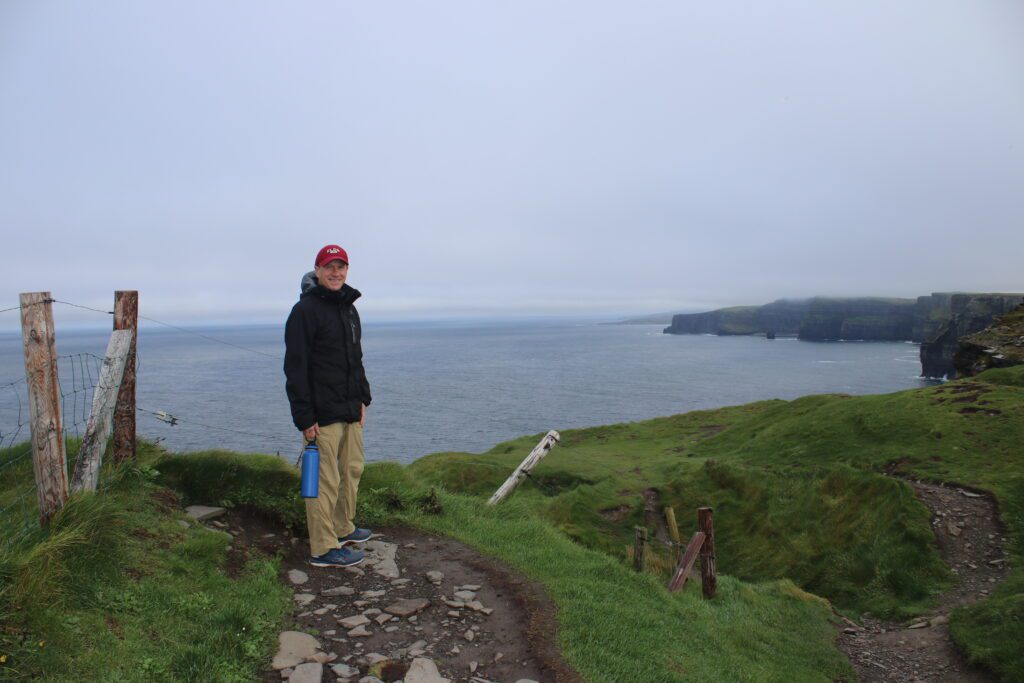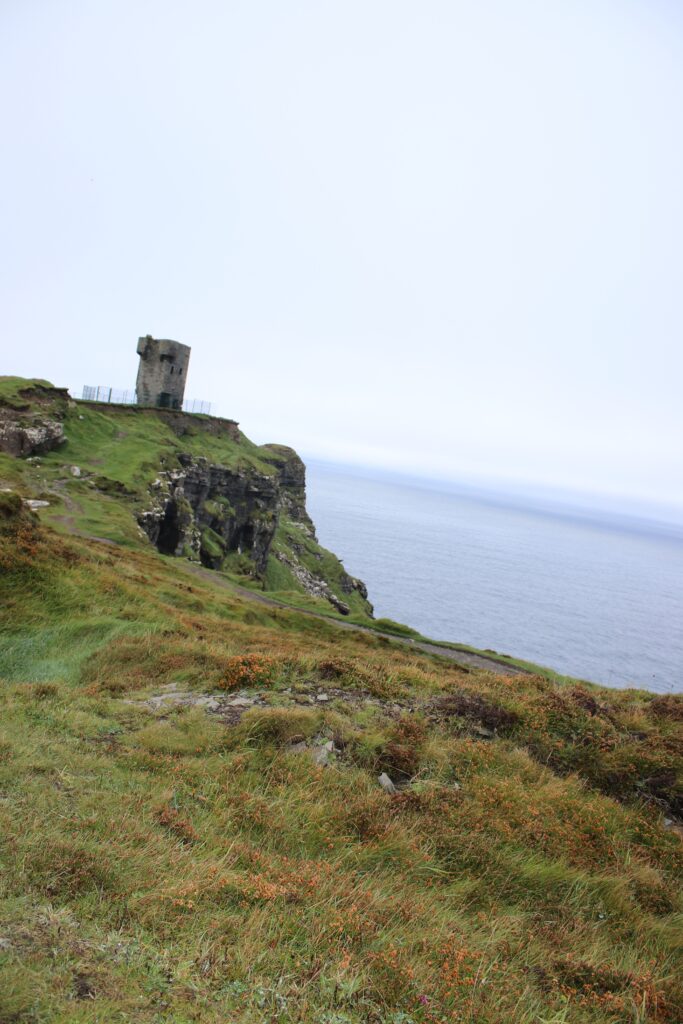 If you go with children, err on the side of caution. At many places, there are two trails. One trail that is exceedingly close to the cliffs, and one that is a safe distance. Choose the safe distance.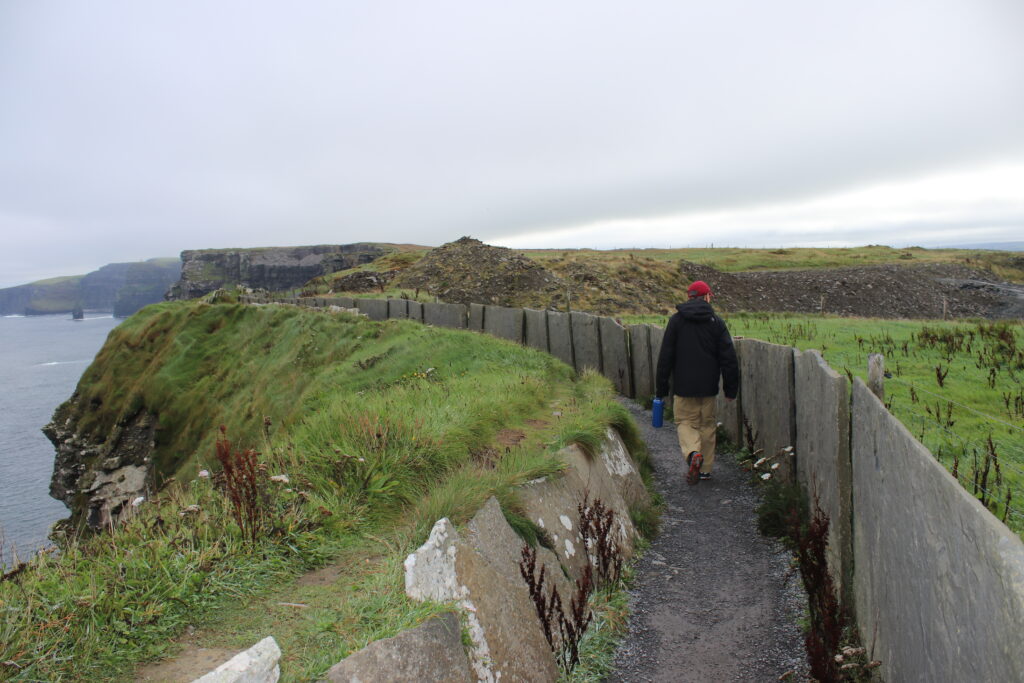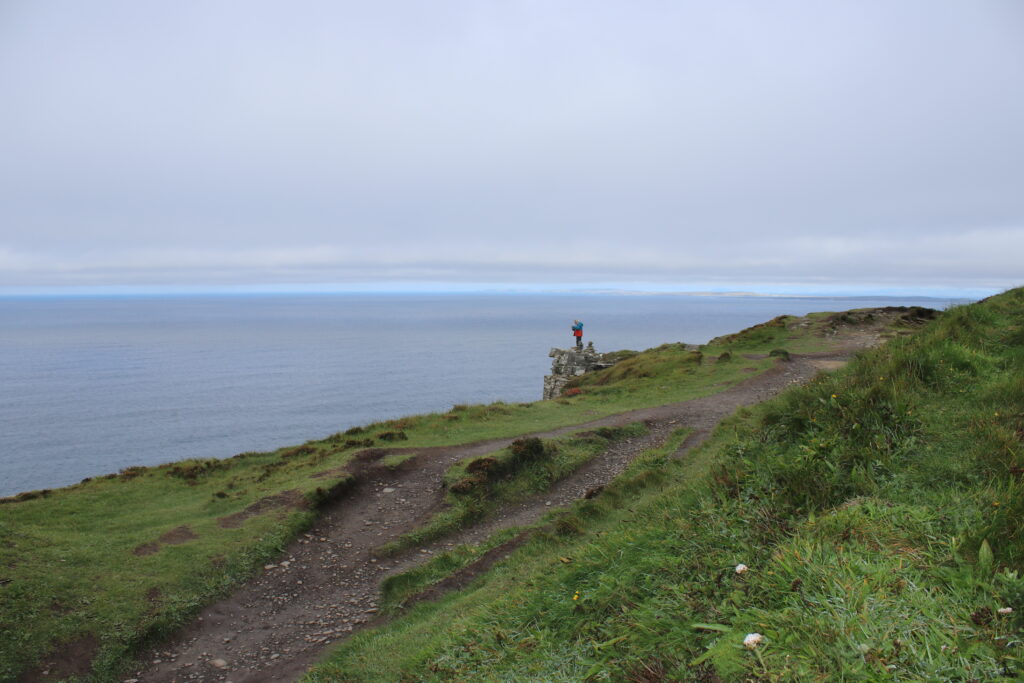 There are very few people who do the walk in this northern direction. Most people go the Visitors' Center, have a walk around and leave. Kilconnel to Doolin is the way to go to avoid crowds.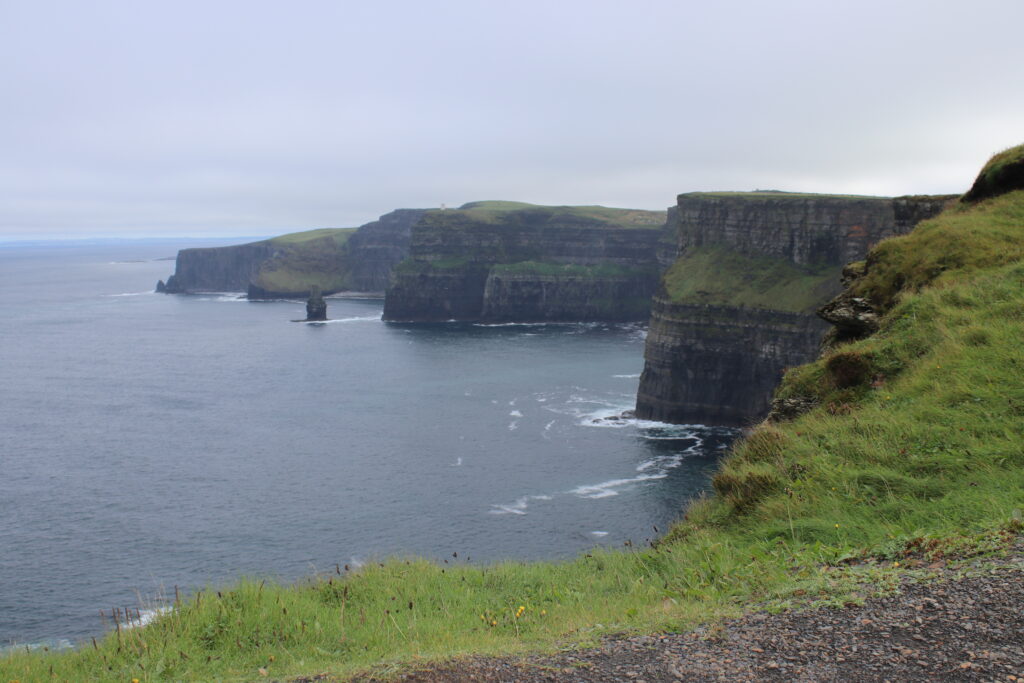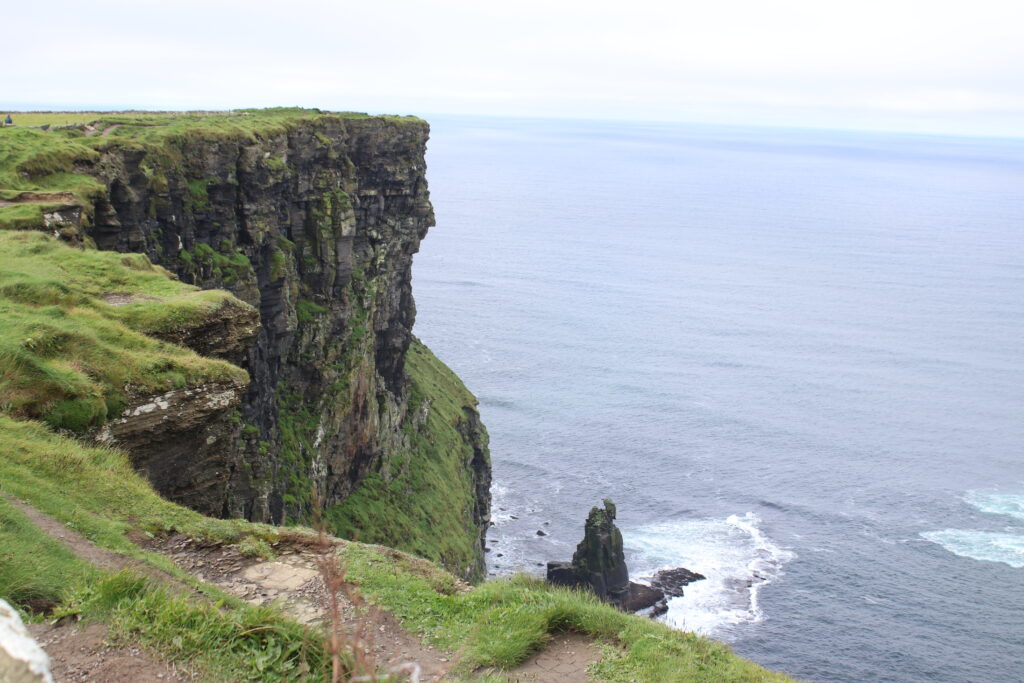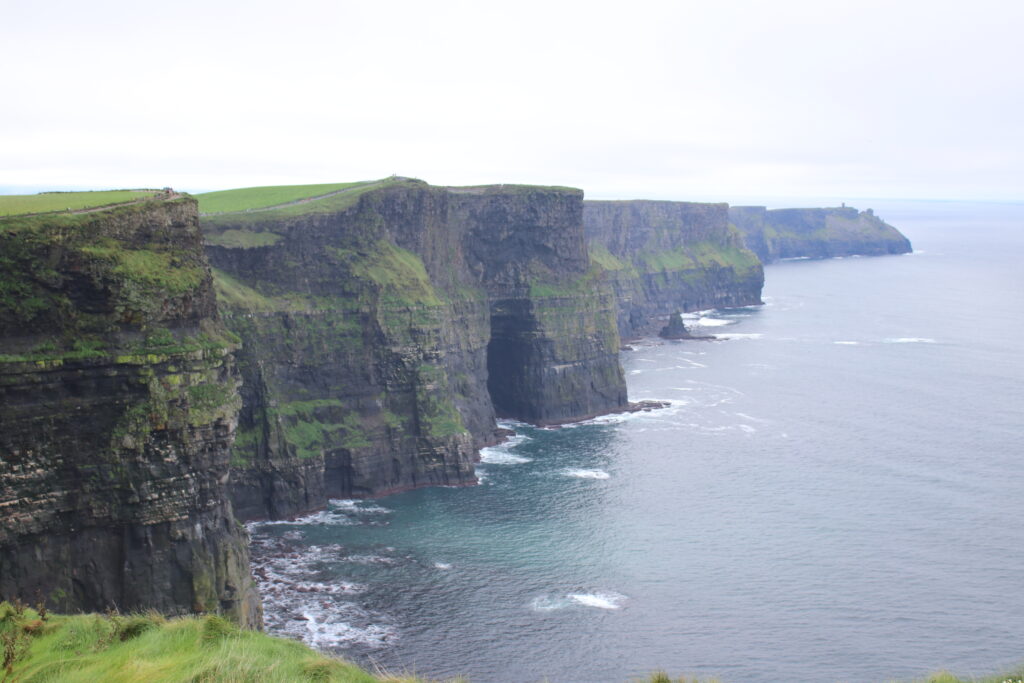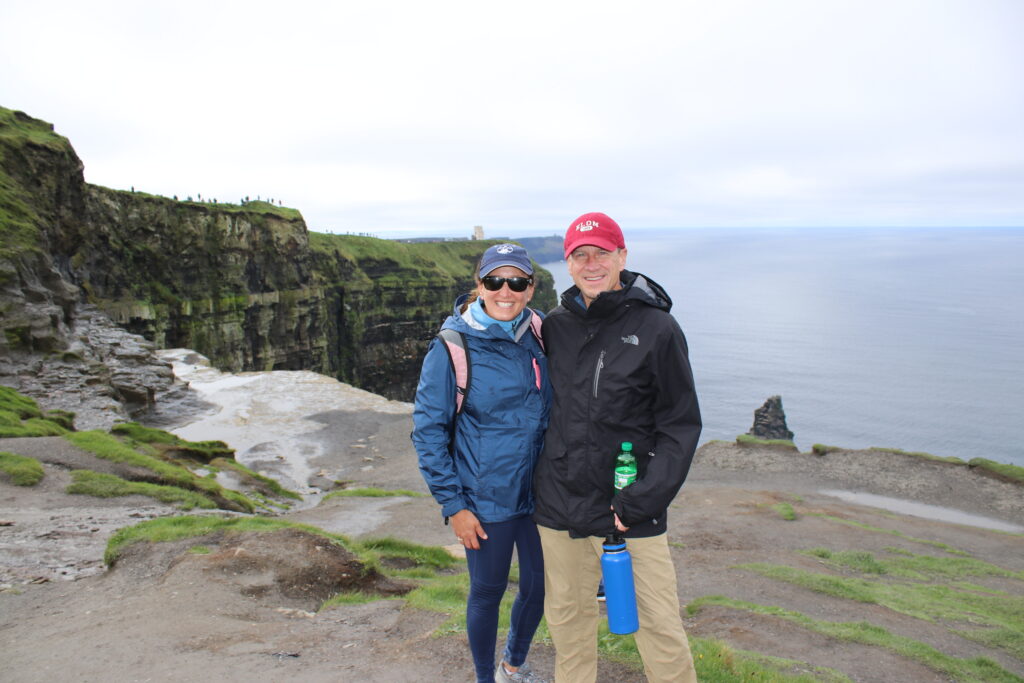 The views into Doolin are breathtaking. Here are four photos. You pass through farm land and see cows and sheep. It is all downhill. Follow the signs. You will not get lost.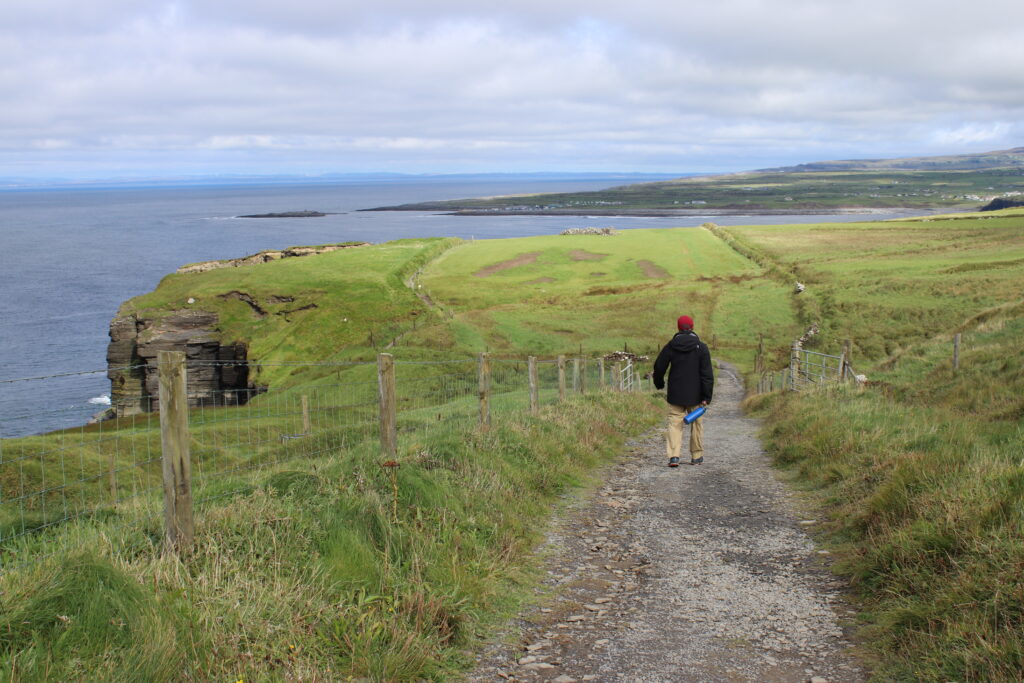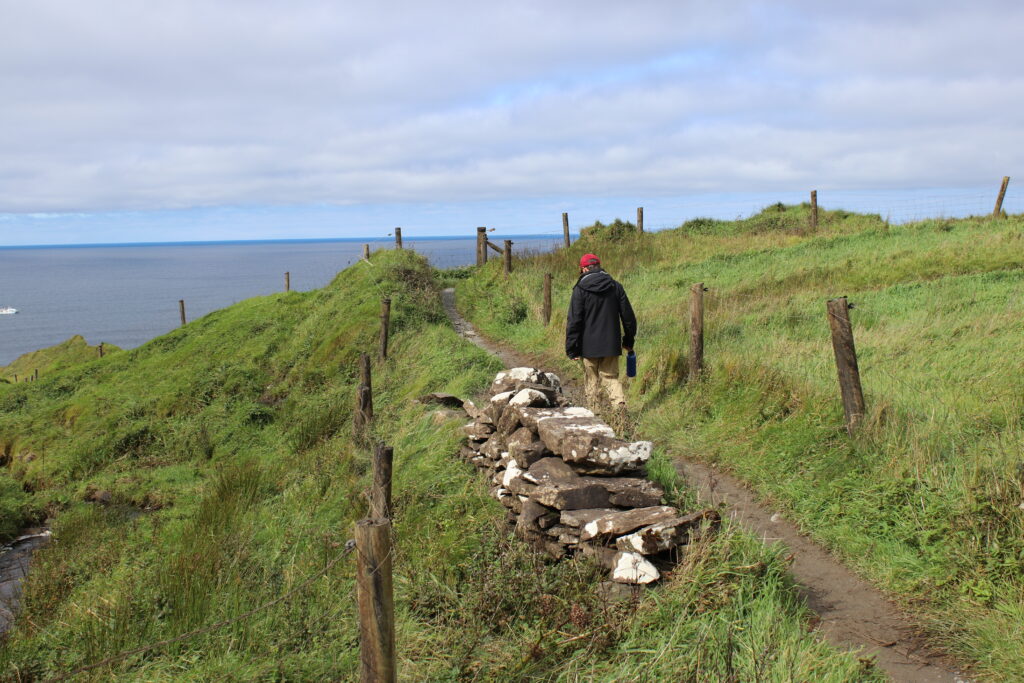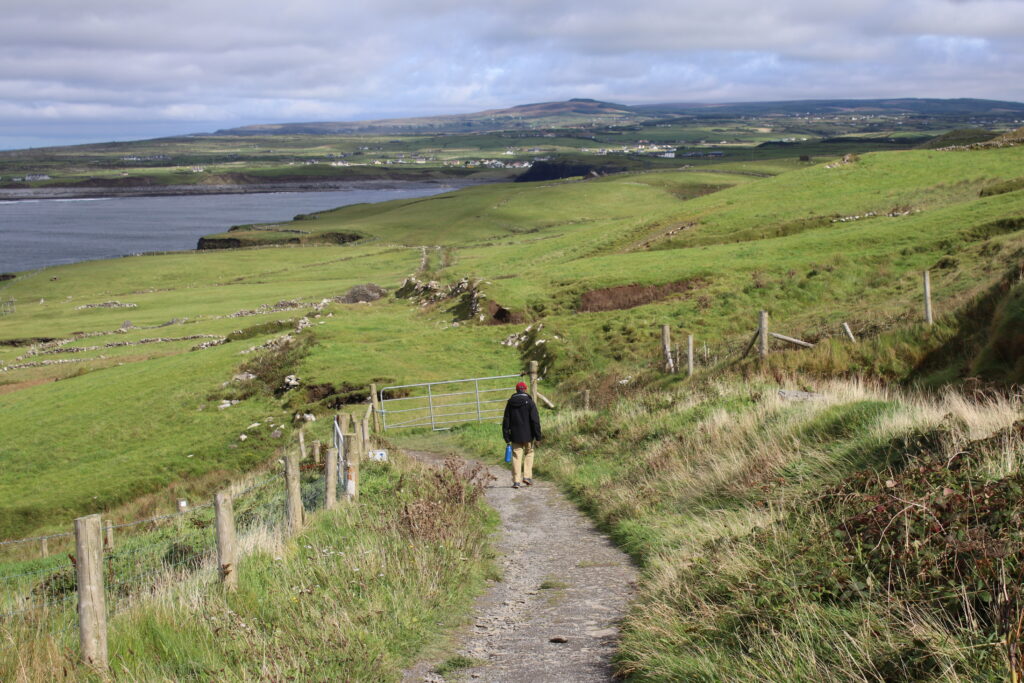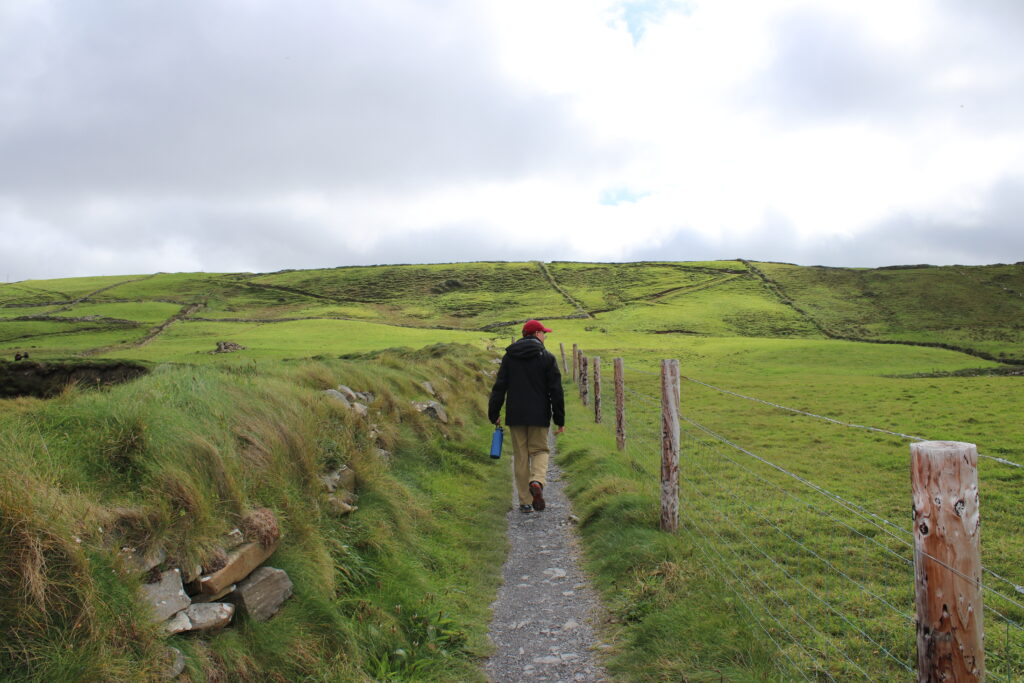 As you get closer to Doolin, there are more cliffs to see. We saw many people walking uphill from Doolin to these closer cliffs. It is a 15 minute walk from the center of Doolin to the northern most Cliffs of Moher. Here are a few views –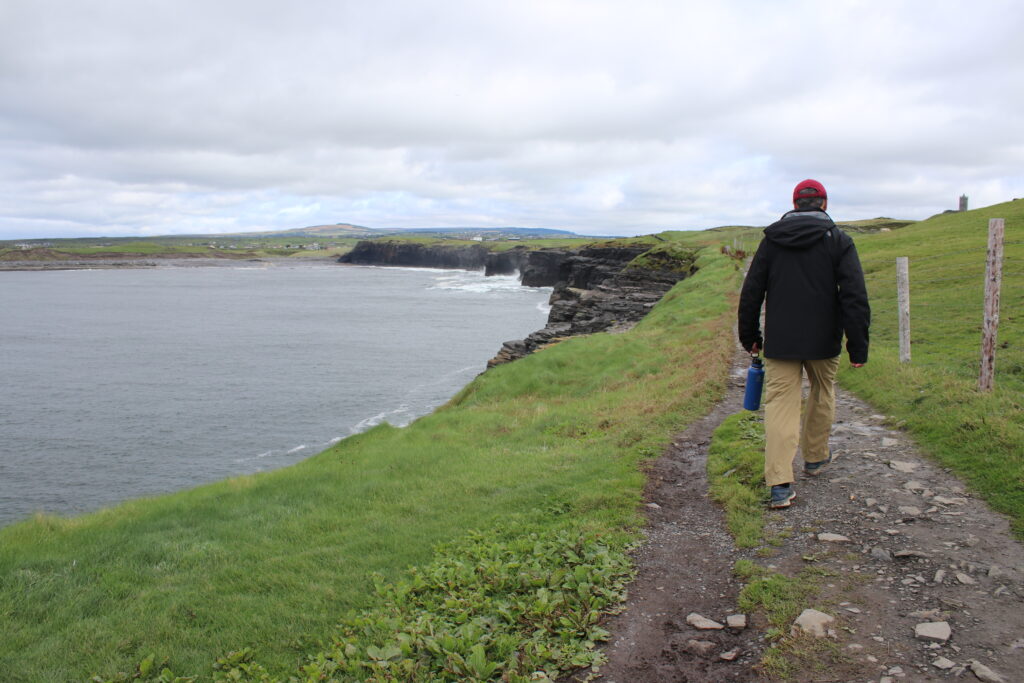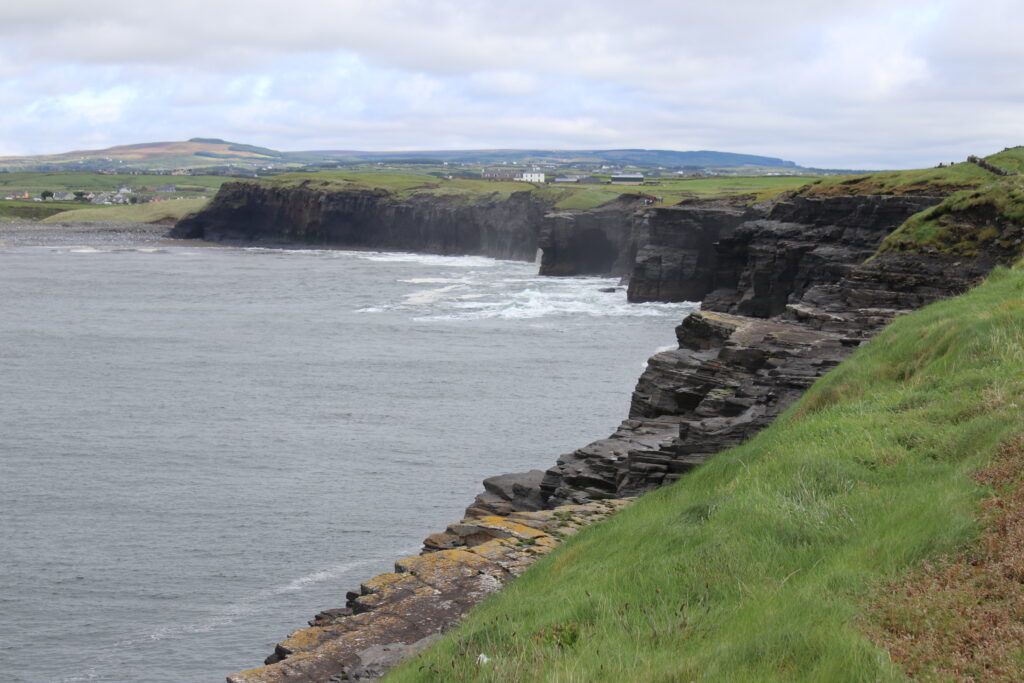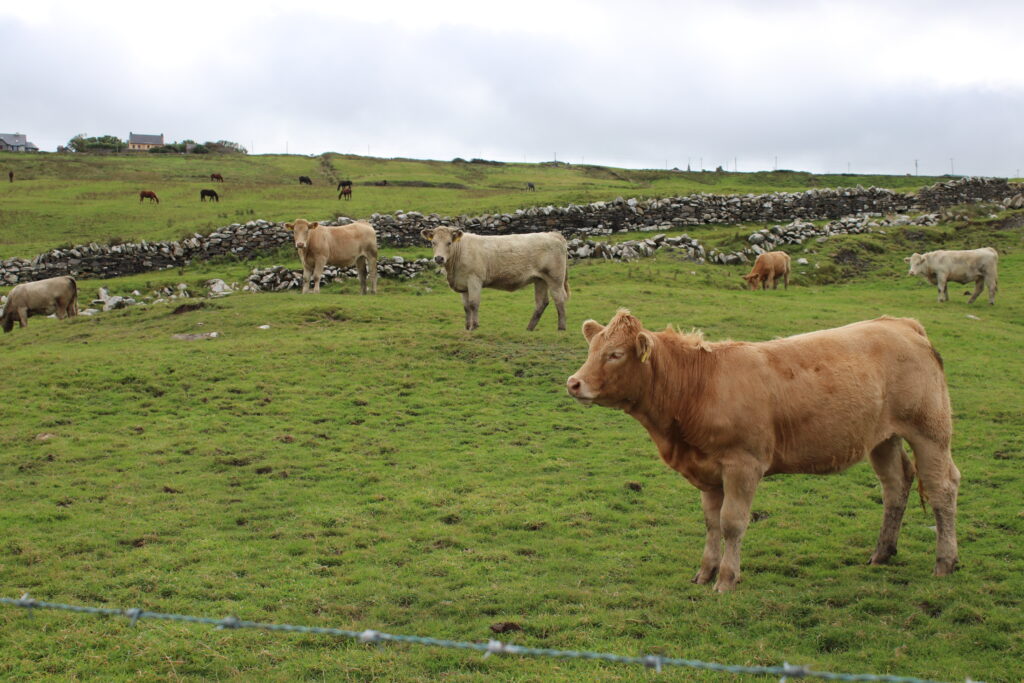 You walk downhill into Doolin! Lunch was delicious at Gus O'Connor's pub. The pub is famous for its Irish music. However, there was no music playing at 2pm on a Monday. We both had fish and chips. TripAdvisor reviews are good.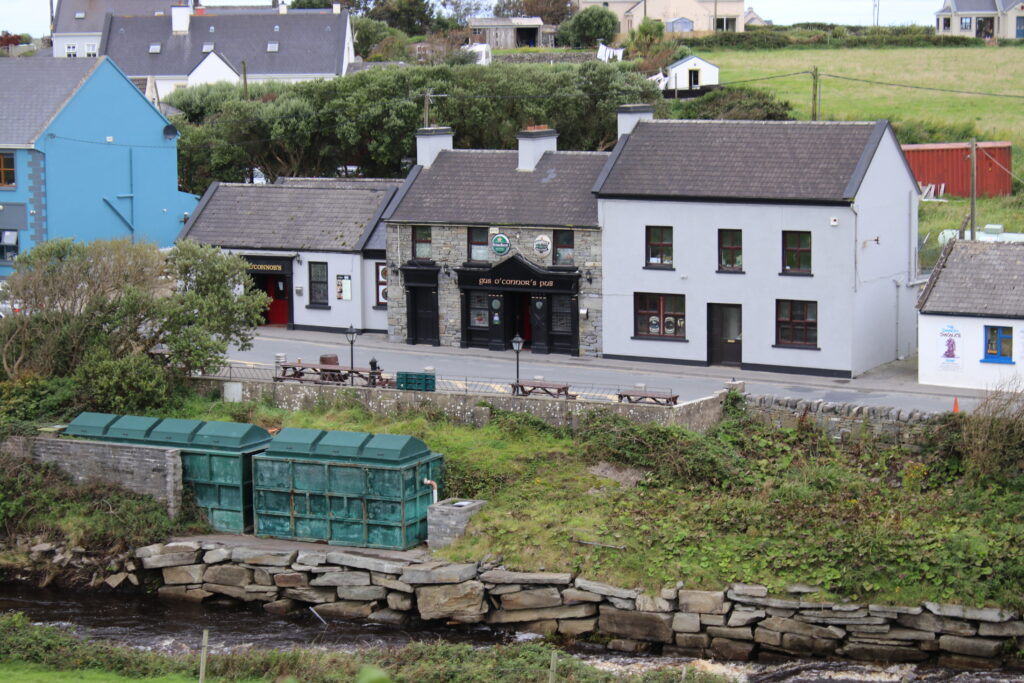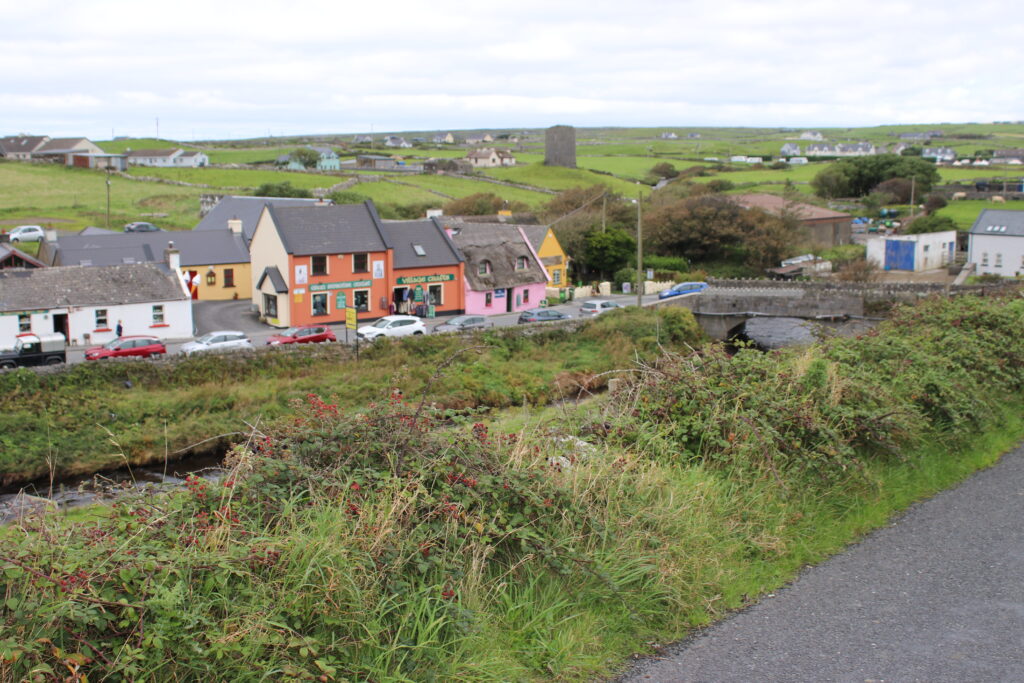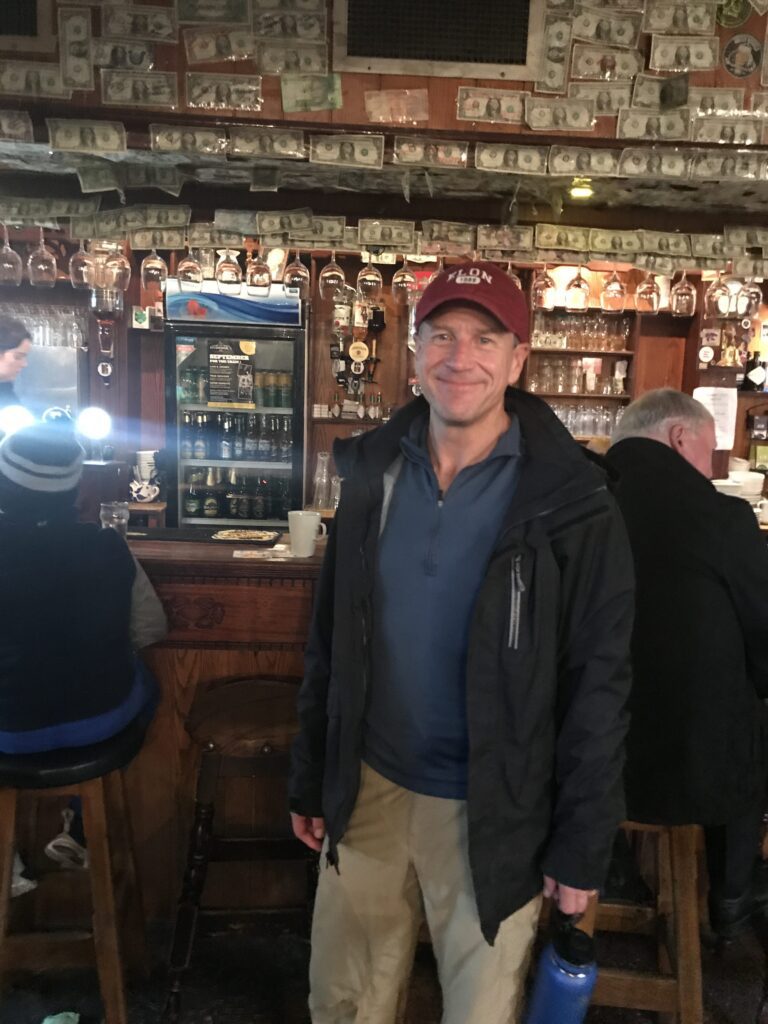 Walking back to the car from Gus O'Connor's Pub took about five minutes. We used the bathrooms at the Hotel Doolin and began our ride back to Galway.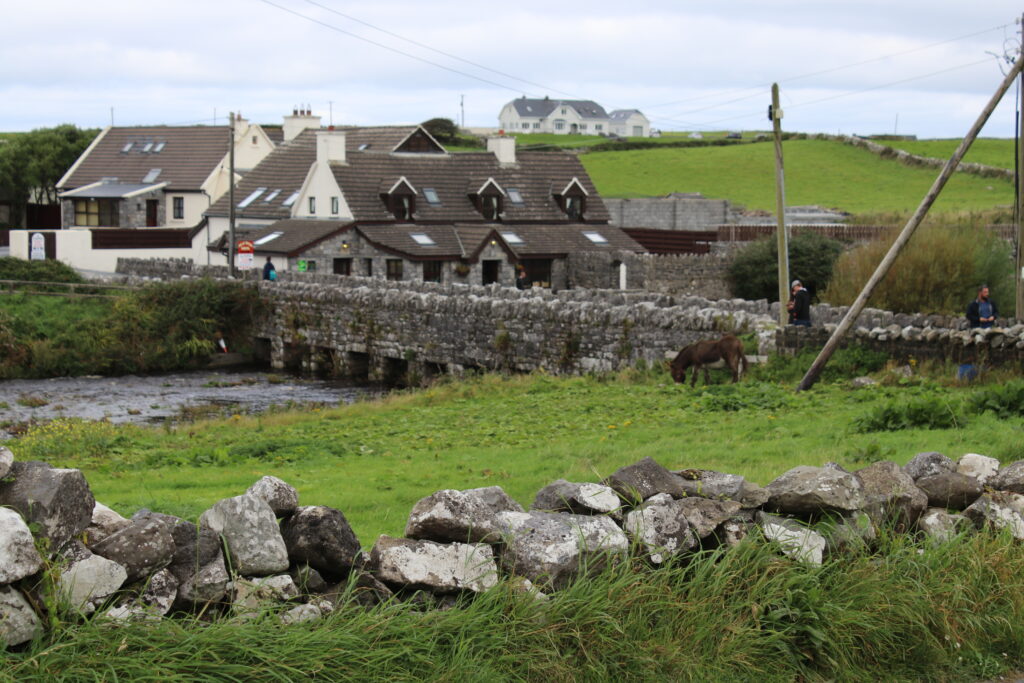 Jim is a golfer. Michele is not. So, he did not bring his clubs on this trip. He wanted to take a peek at some courses for a return visit. We drove from Doolin to the Lahinch Golf Course.
We arrived back in Galway, showered and dressed for happy hour and dinner. A few scenes from Galway on our return.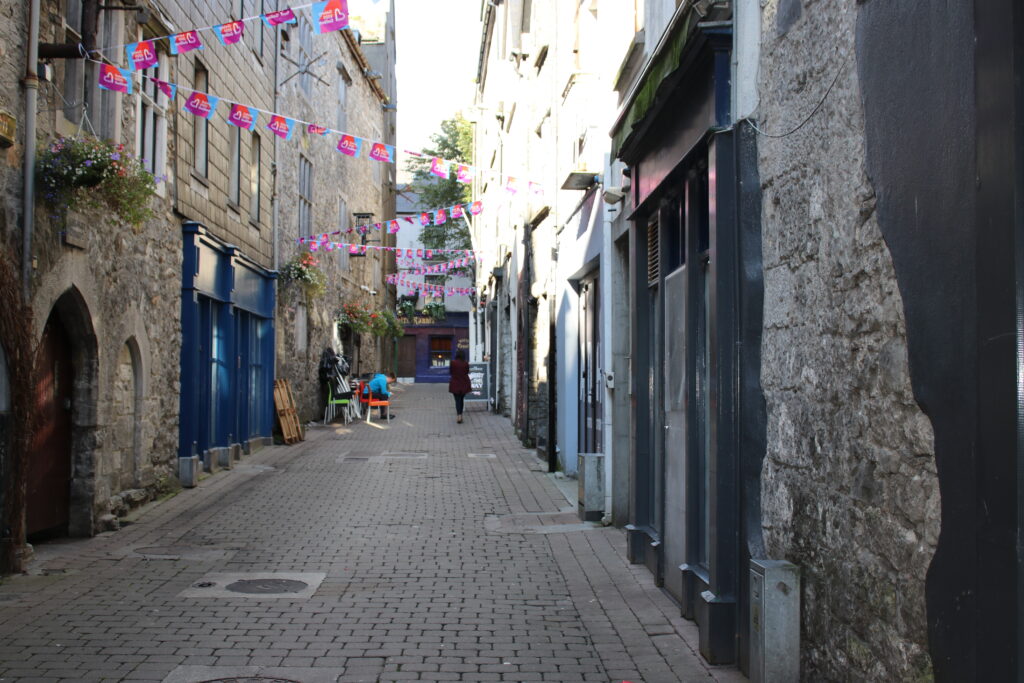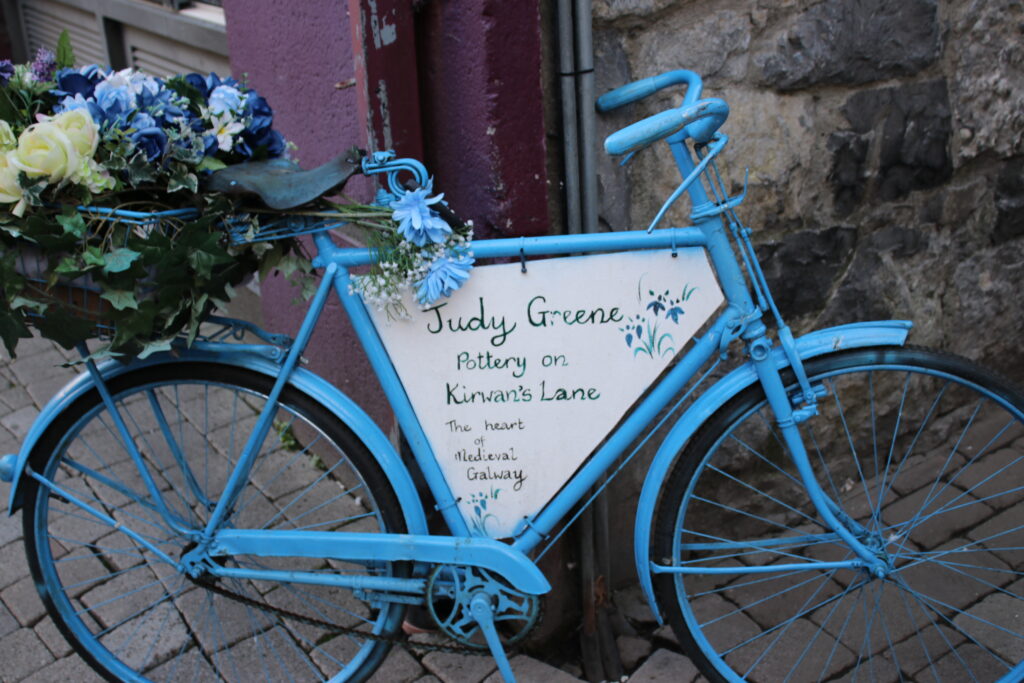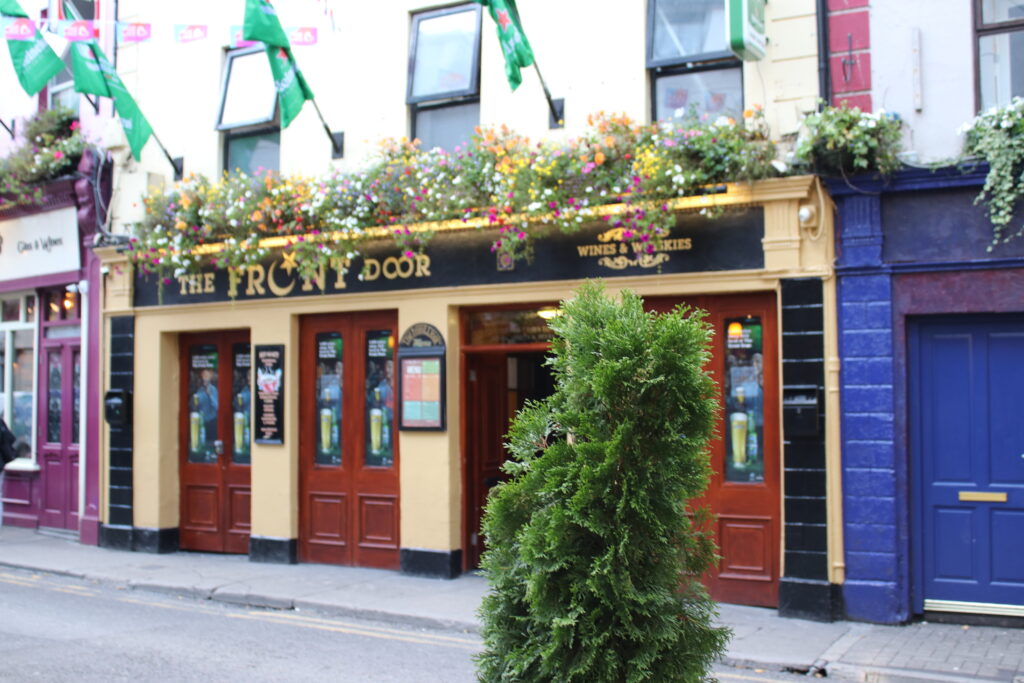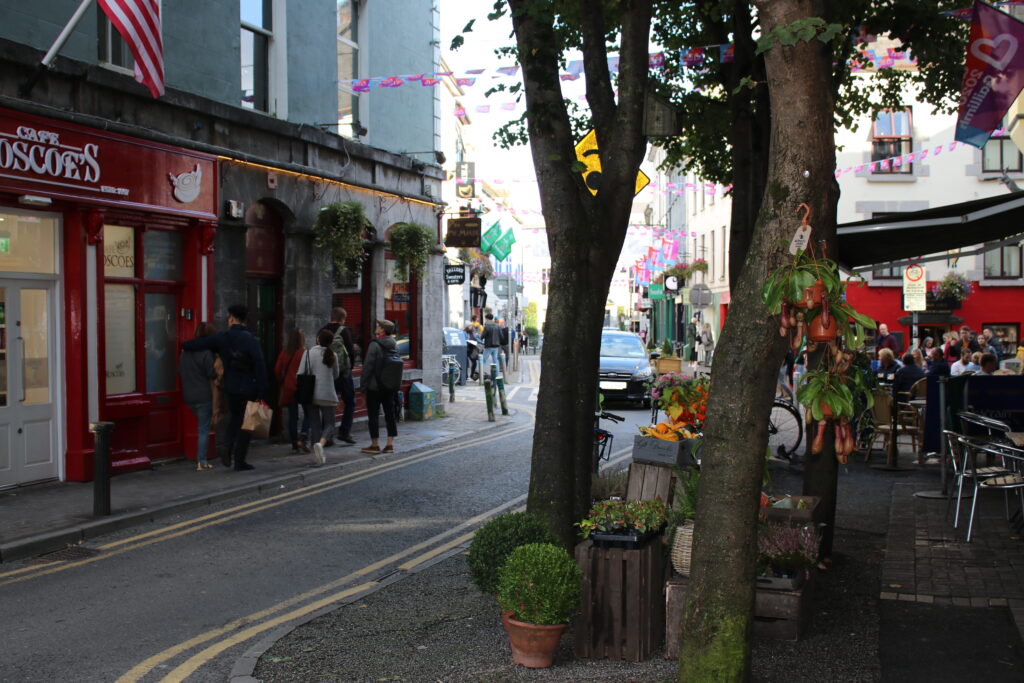 We ate at the delicious Gemelle's on Quay Street. Highly recommended. Excellent TripAdvisor reviews.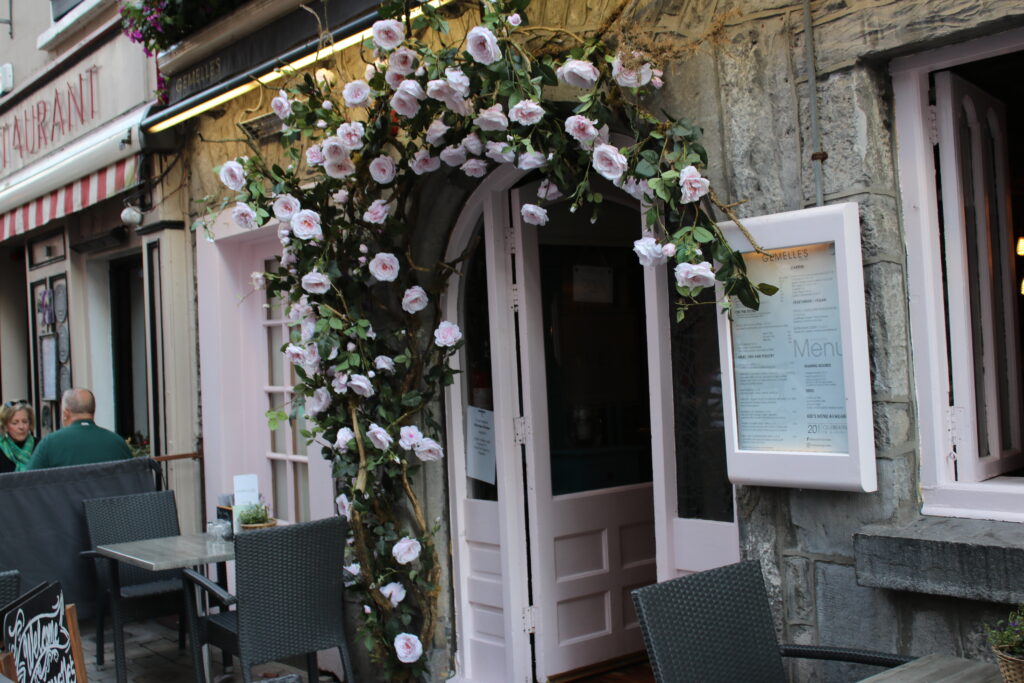 We watched singing at The King's Head. A bit touristy, but not expensive. It was a wonderful day and a great adventure today!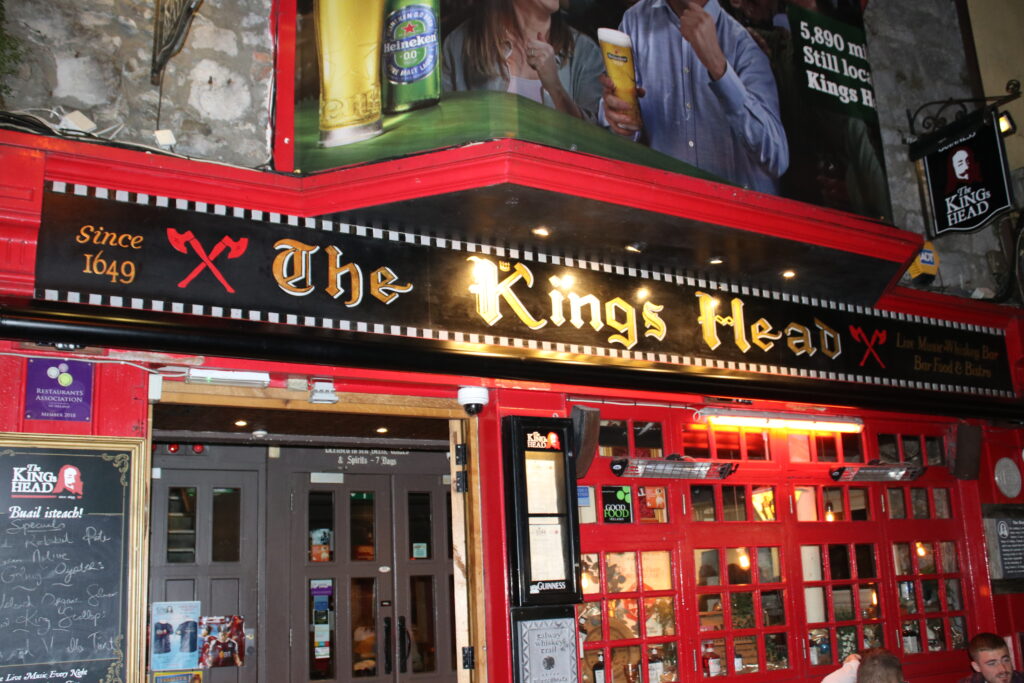 Day Three – Adare, Adare Manor, Conor Pass, Dingle
We woke to a beautiful, sunny morning on Tuesday. Jim had to catch up on some work. So, after a delicious breakfast at The House Hotel, Michele walked along the River Corrib to see the Galway Cathedral.
It was an easy, five minute walk to get there.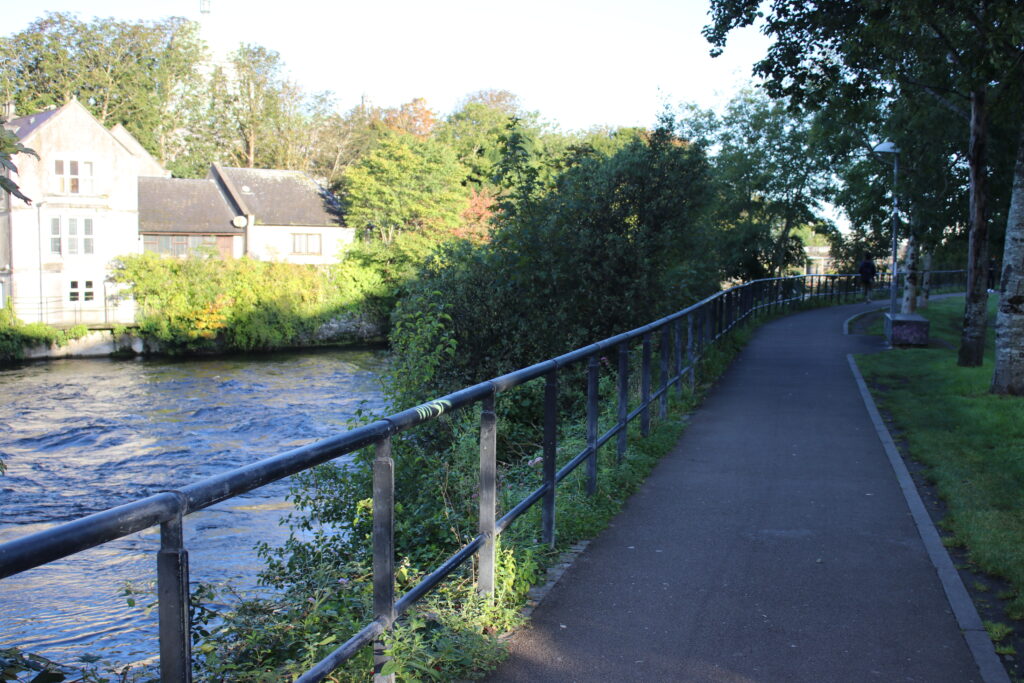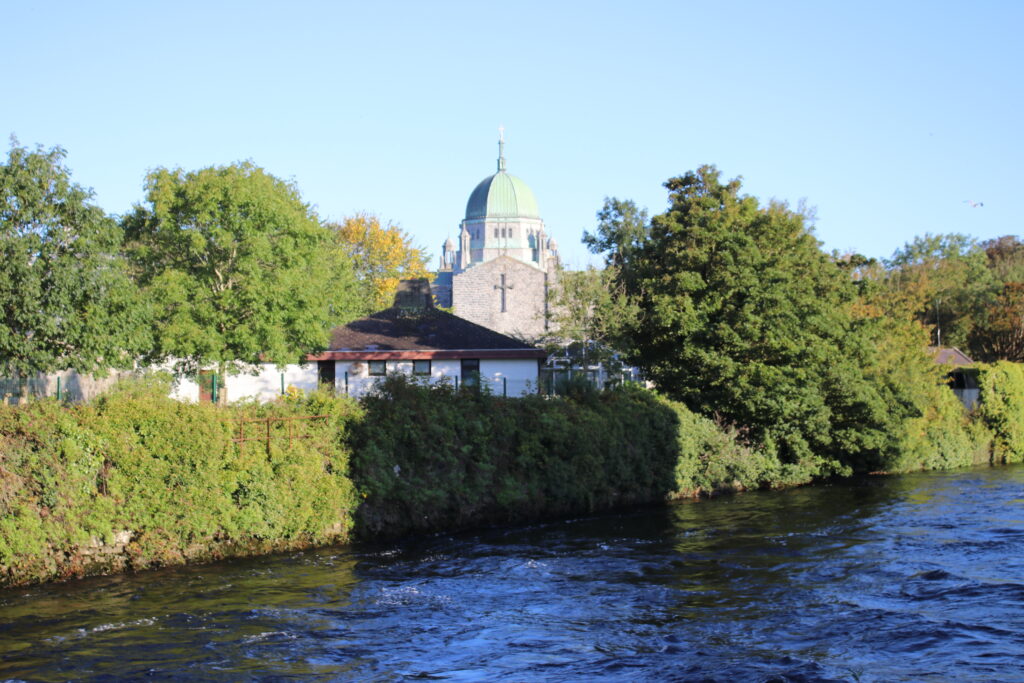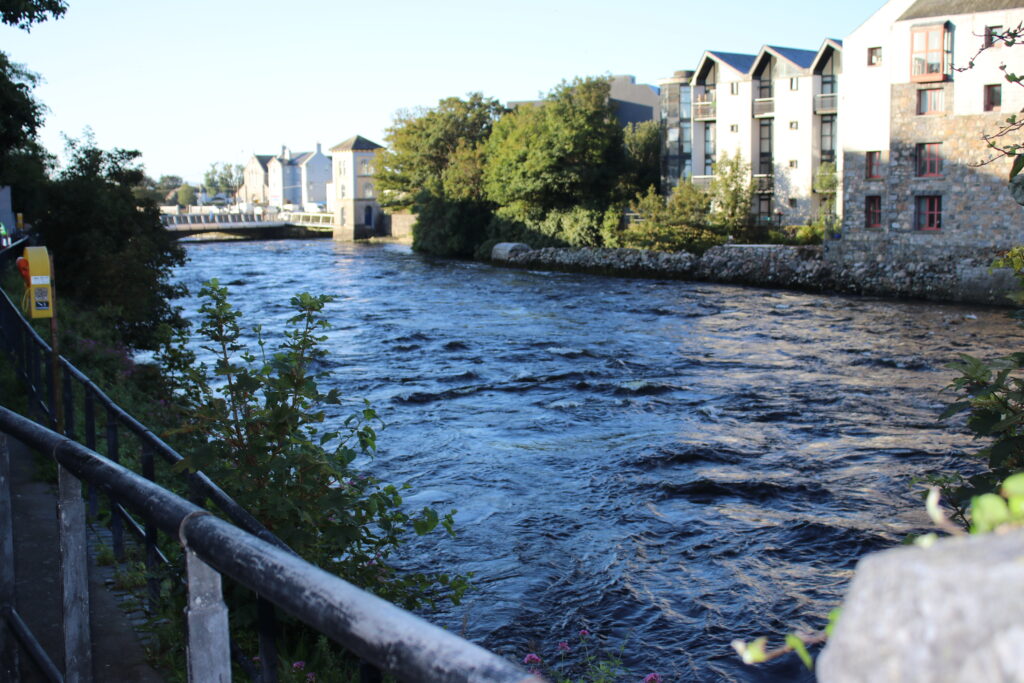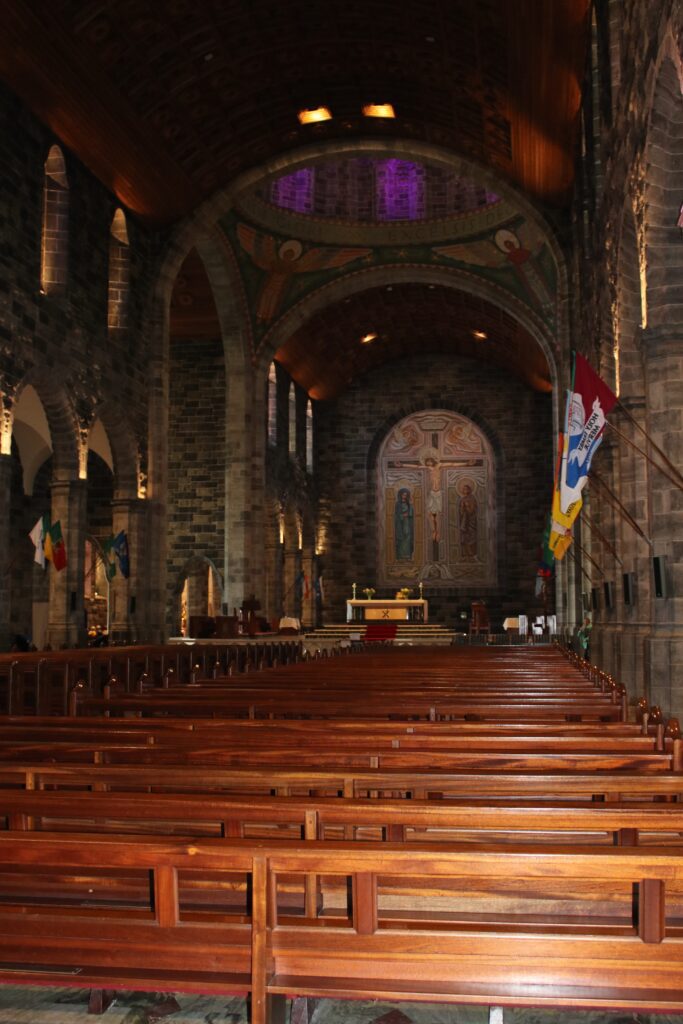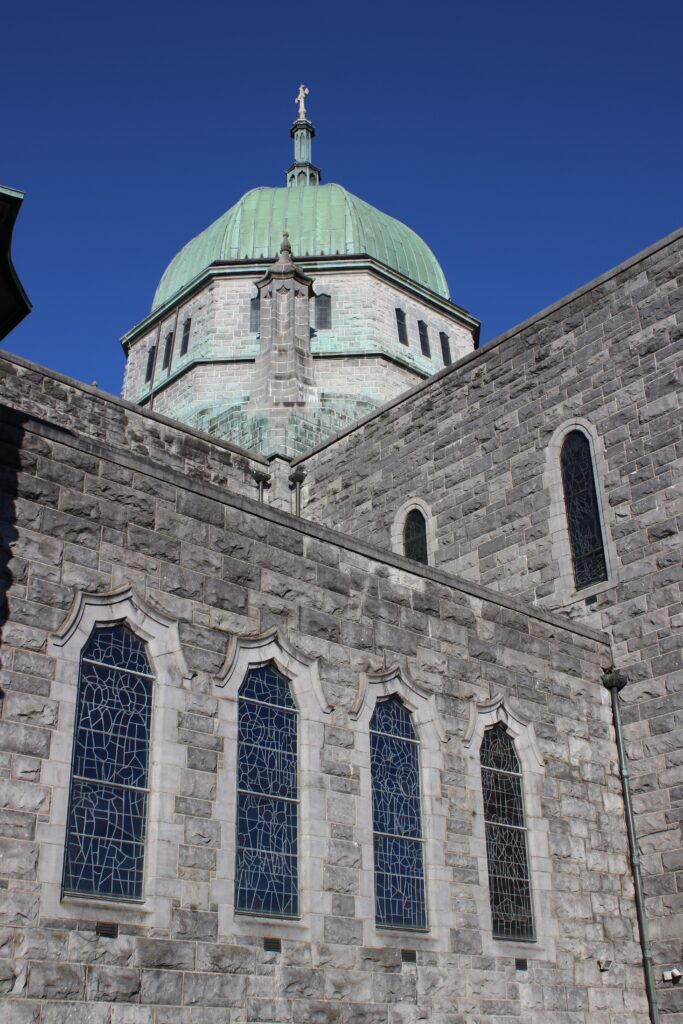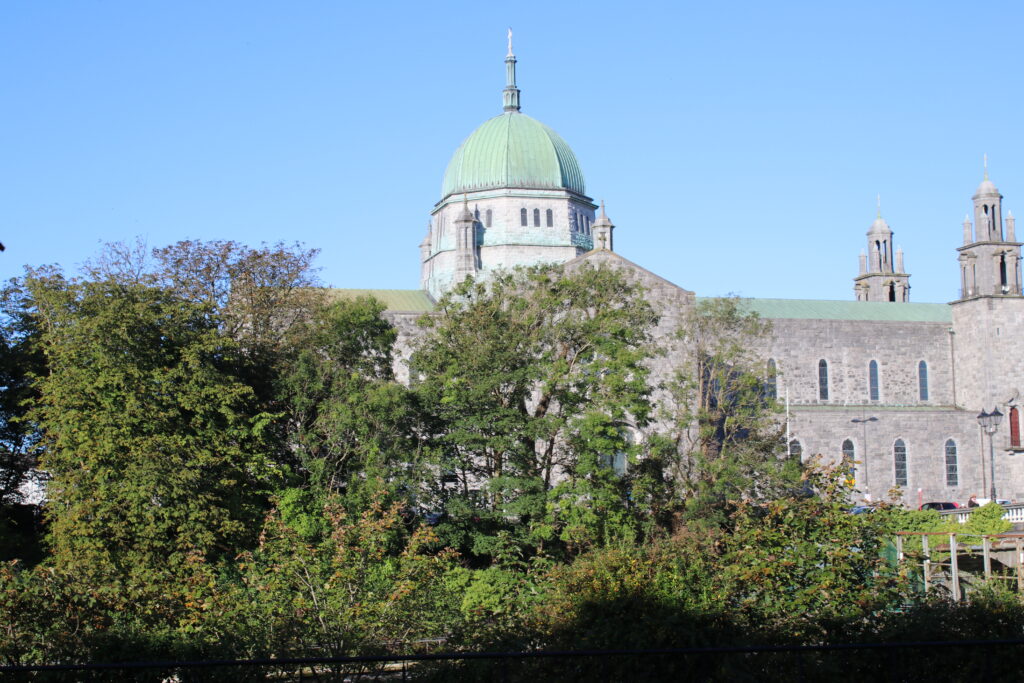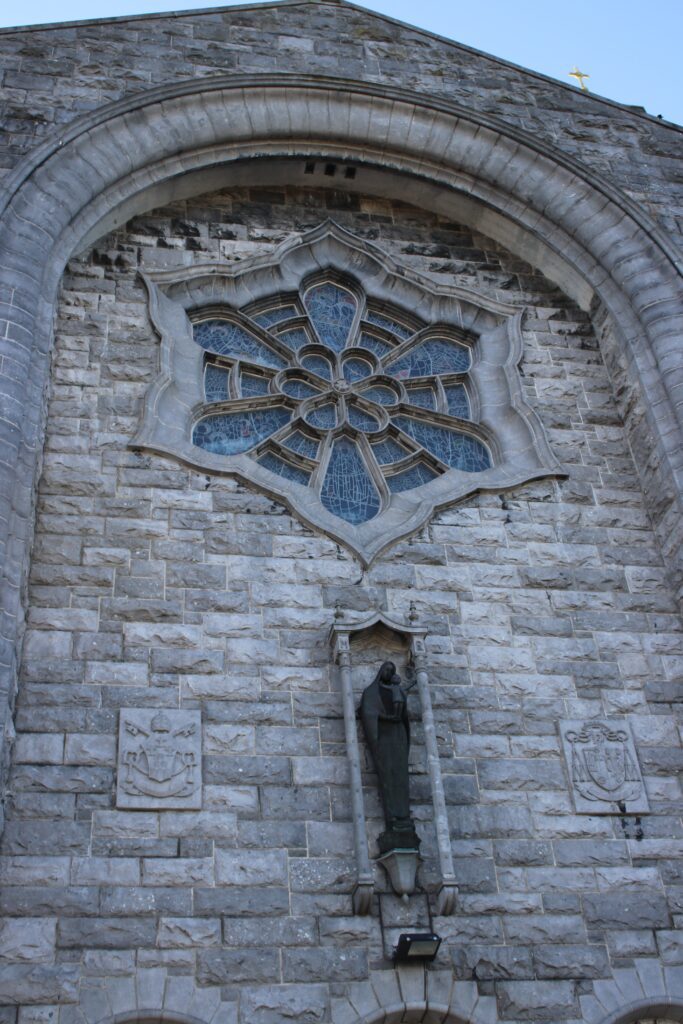 We set off for Adare. Adare is a lovely little village with an old church, thatched roofs and cute shops, pubs and restaurants. We parked in the visitors' center and had a look around.
We loved the adorable thatched cottages on the main street of Adare.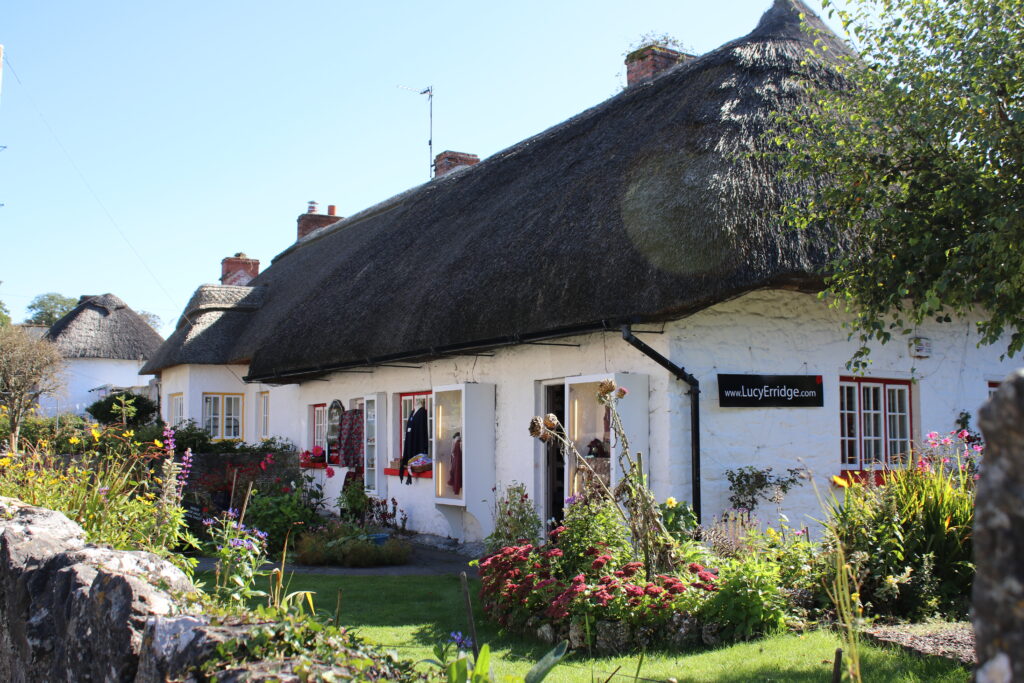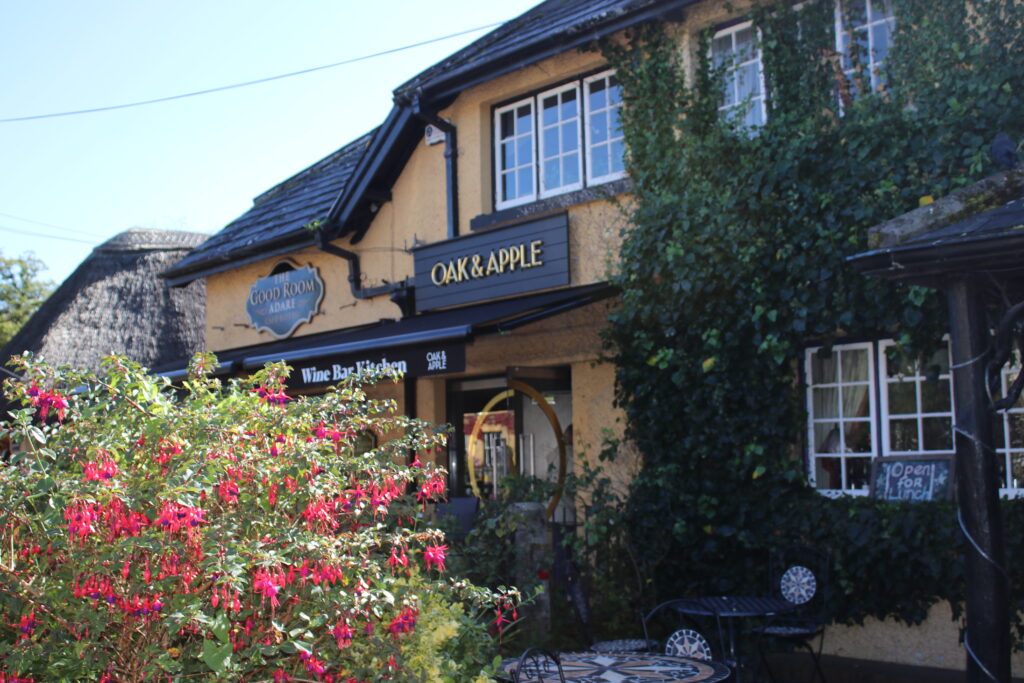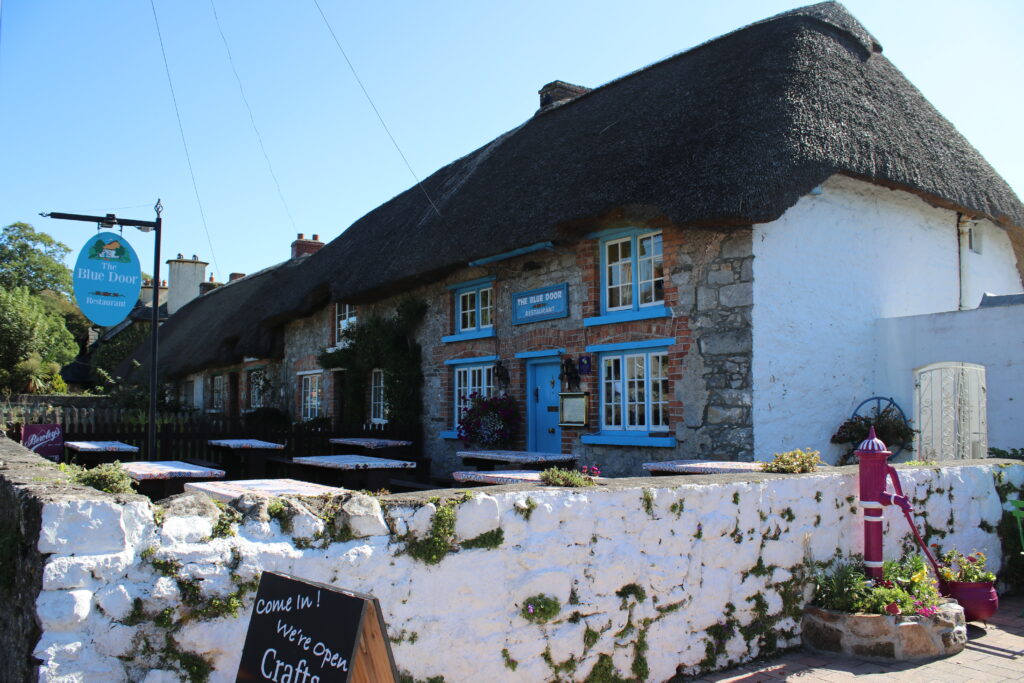 There is an old church on the main street – the Holy Trinity Abby Church, founded in 1232!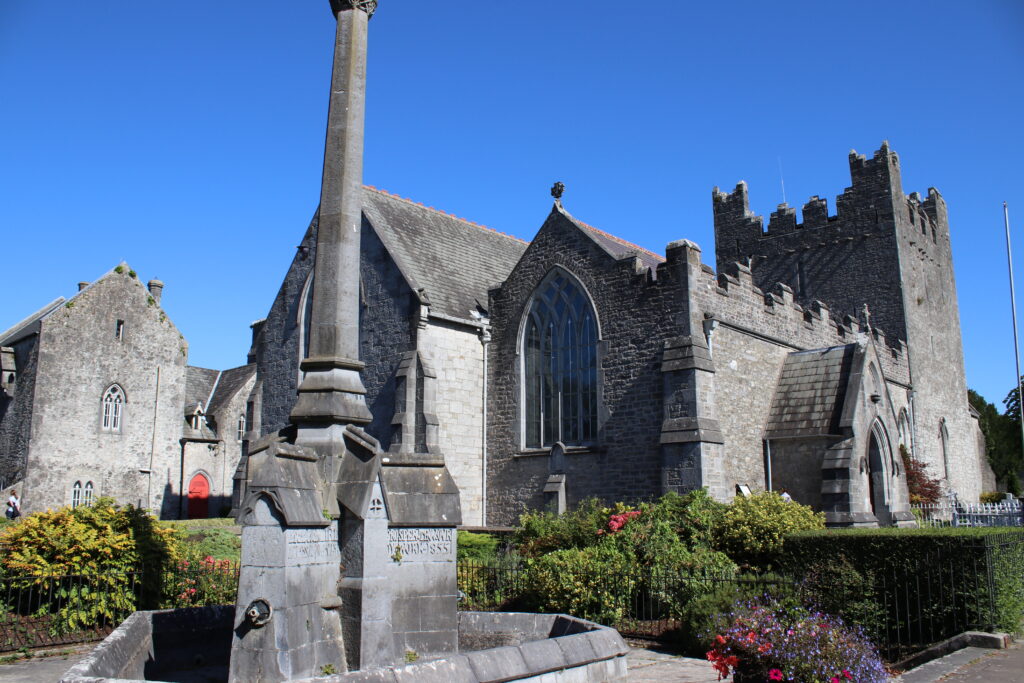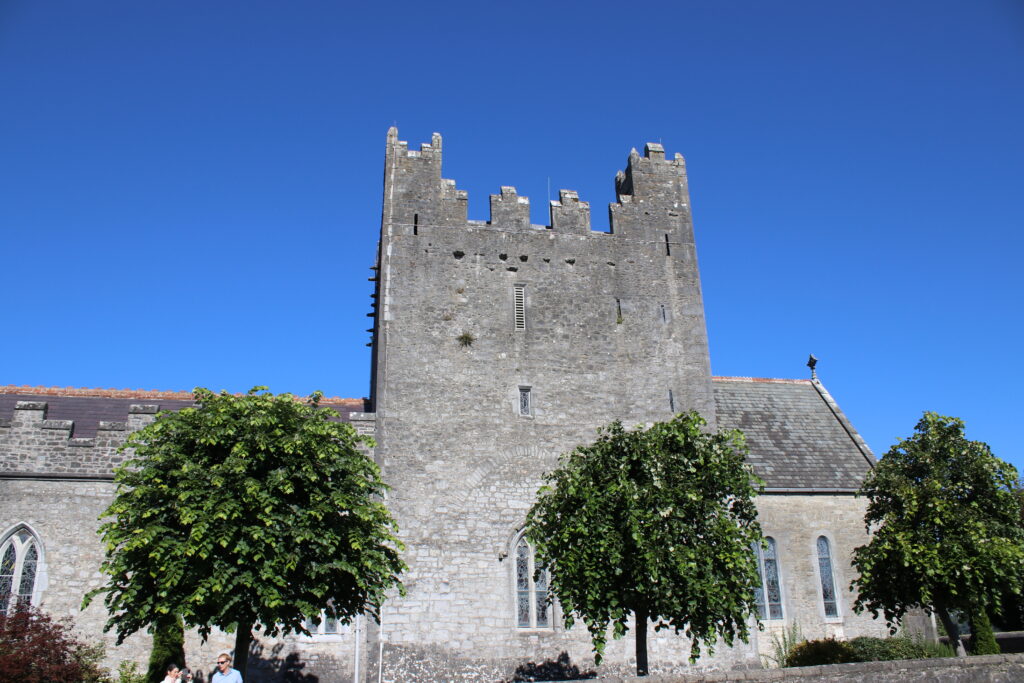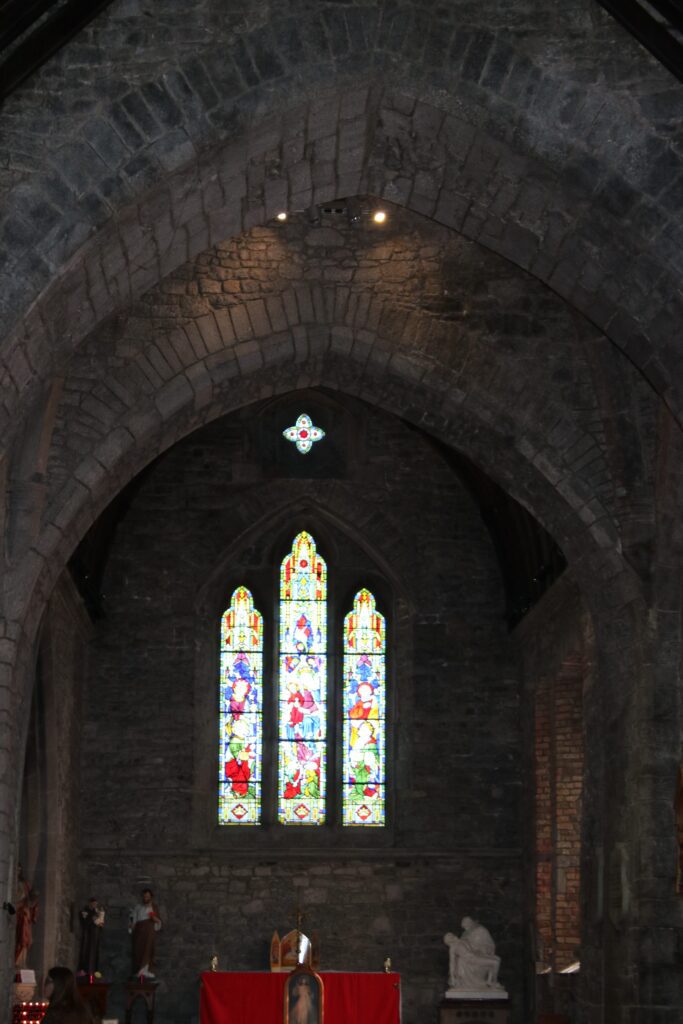 Adare is a lovely place to stop and have a look around. Pubs and colorful shops line the streets!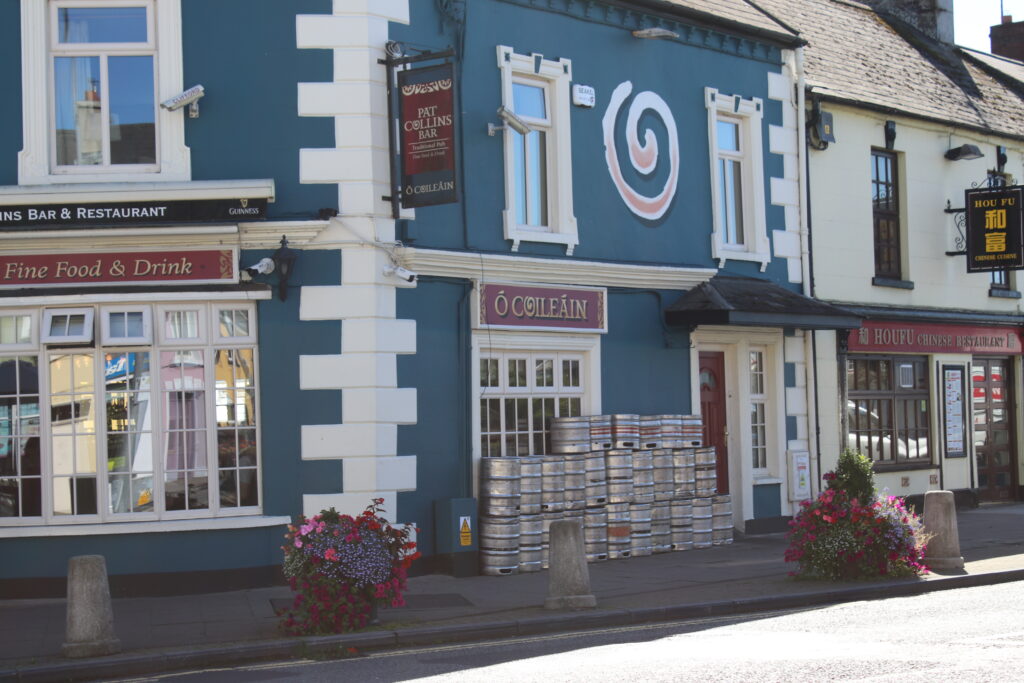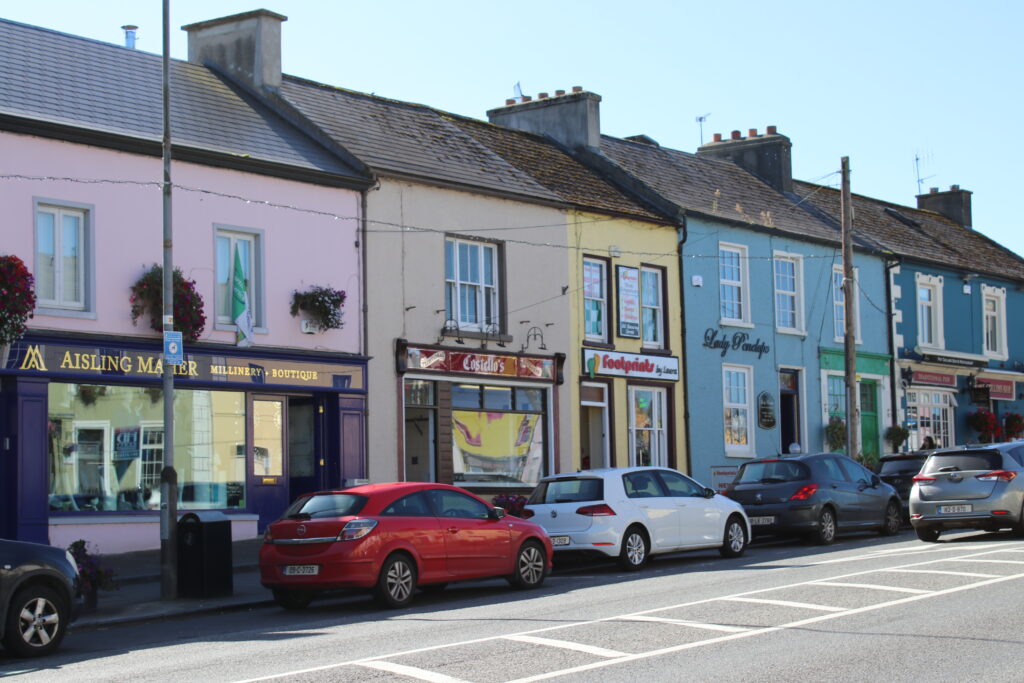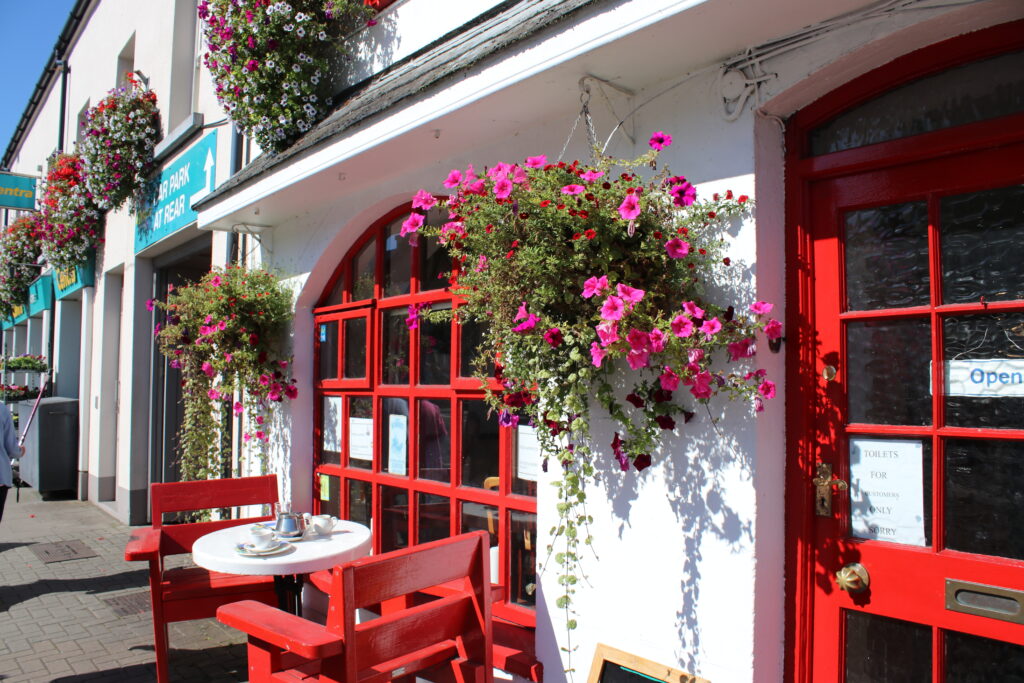 We walked by Adare Desmond Castle. It looked lovely. You can take a tour. We chose just to walk by it.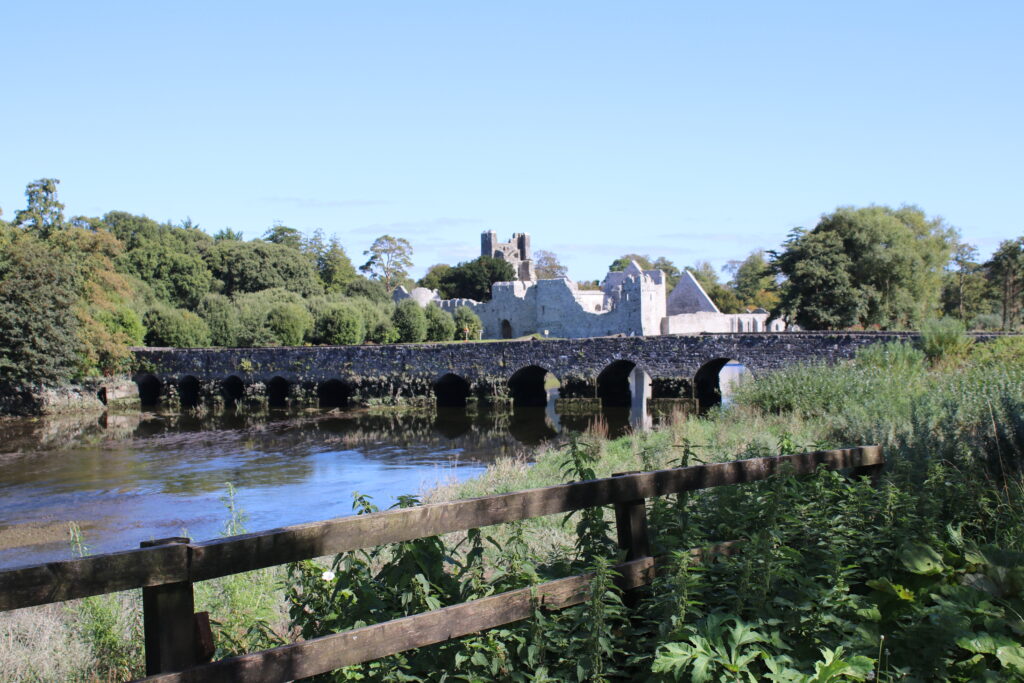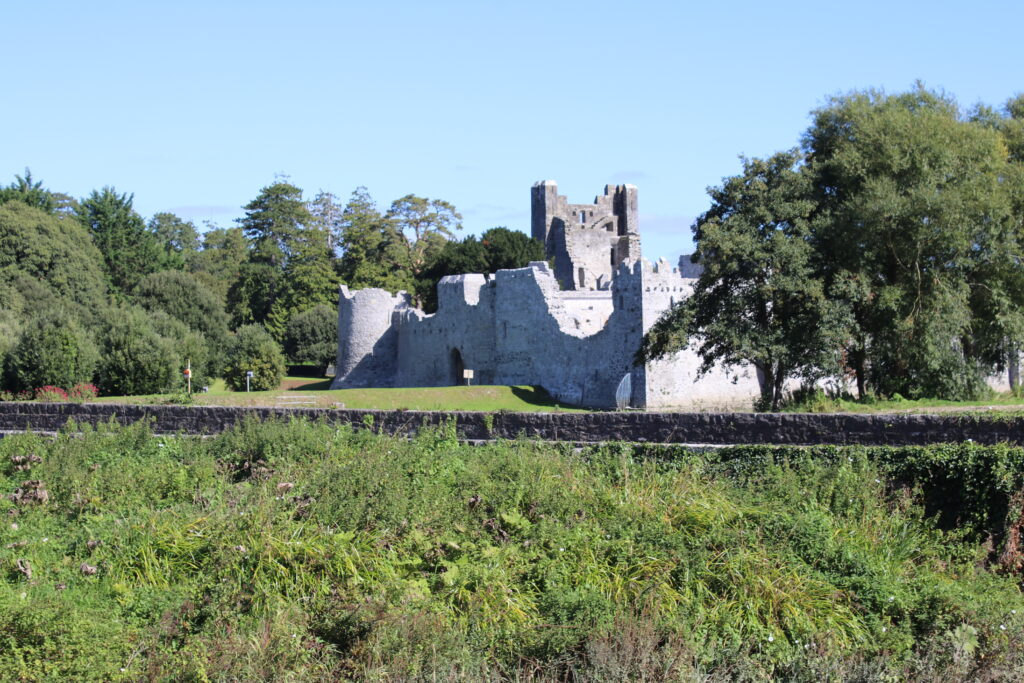 We also walked by the St. Nicholas Church of Ireland. It was an Augustinian Friary, founded in 1382.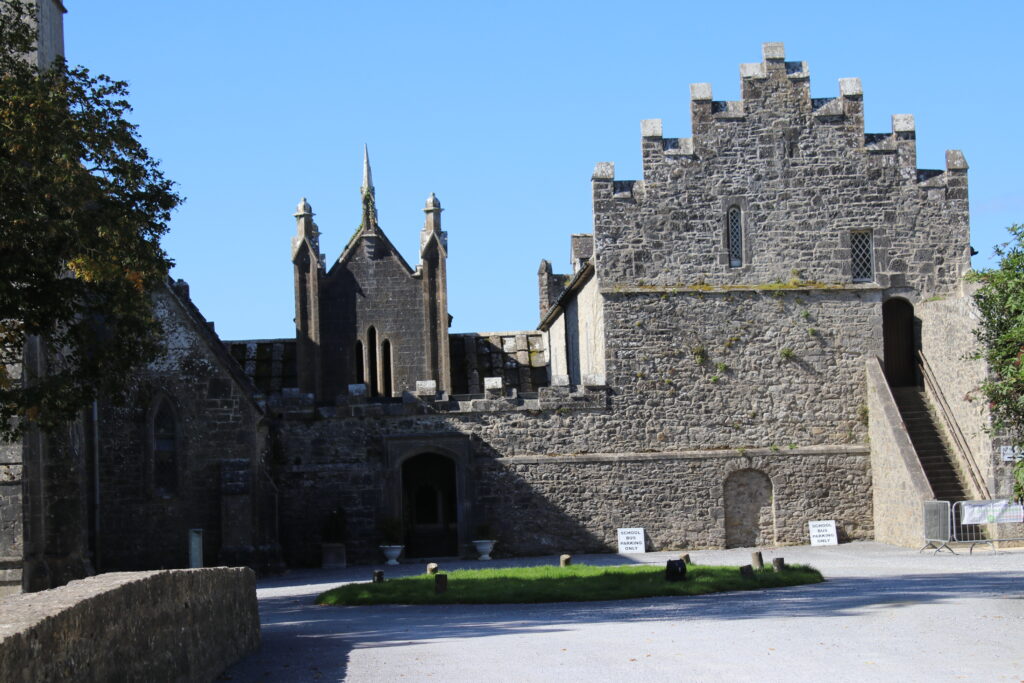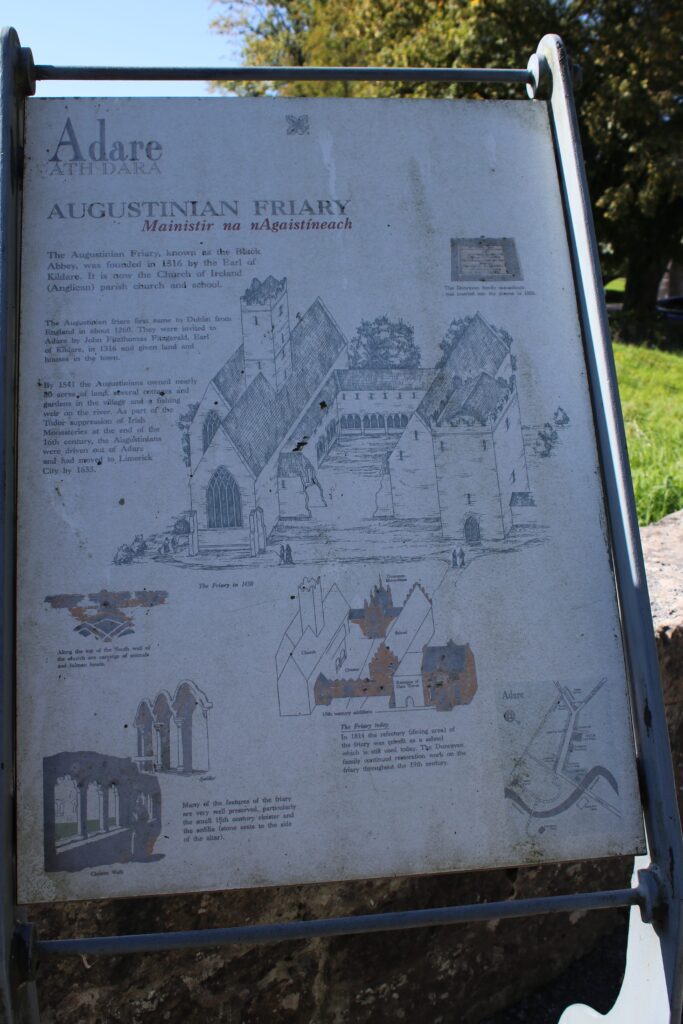 We enjoyed our walk around Adare. We recommend a visit.
We made a reservation for lunch at Adare Manor. Jim is a golf lover, and it was fun to see the home of the 2026 Ryder Cup. We made a reservation on our phone as we left Galway for the The Carriage House Terrace at Adare Manor. It was a lovely setting, overlooking the putting green and the course. The food was delicious. Michele had the Caesar and Jim had the Superfood Salad. The Manor seems like a lovely place to stay if you can afford it! TripAdvisor reviews are very good.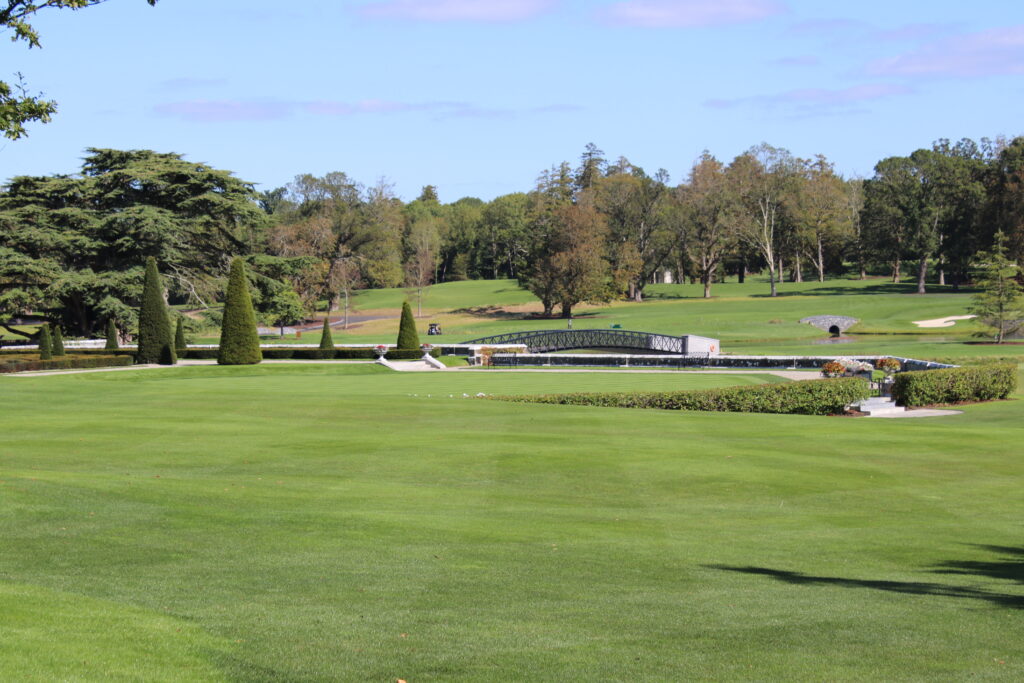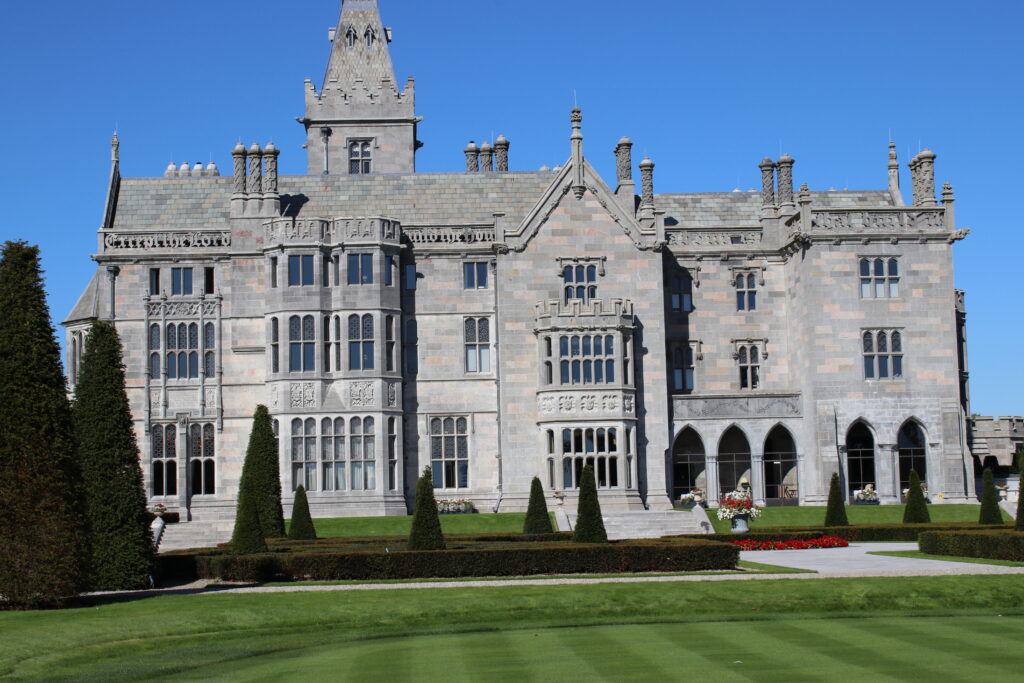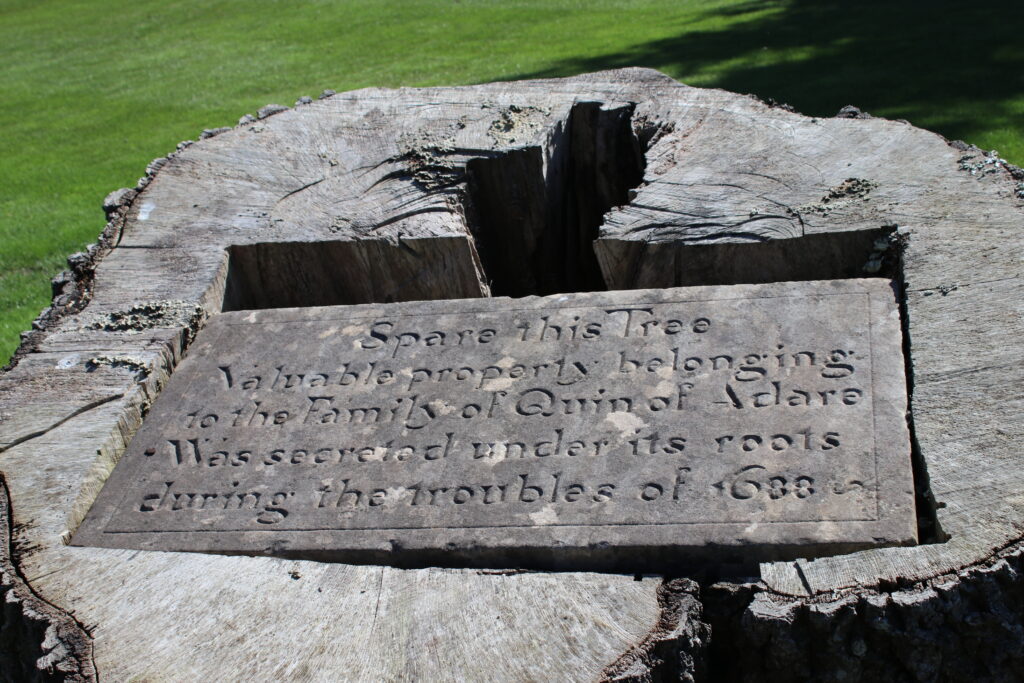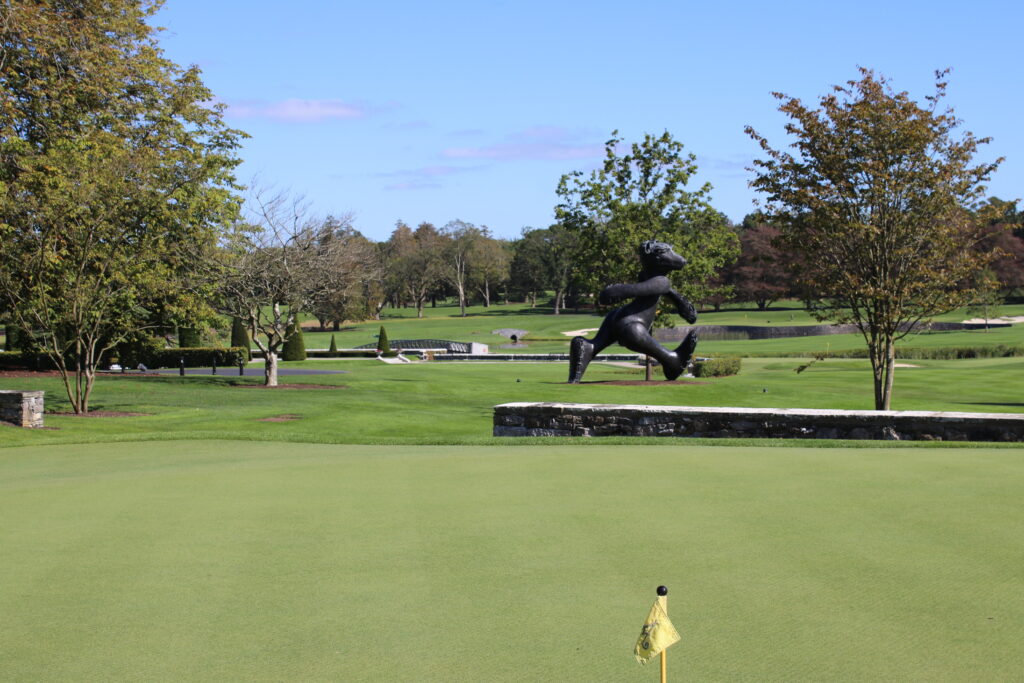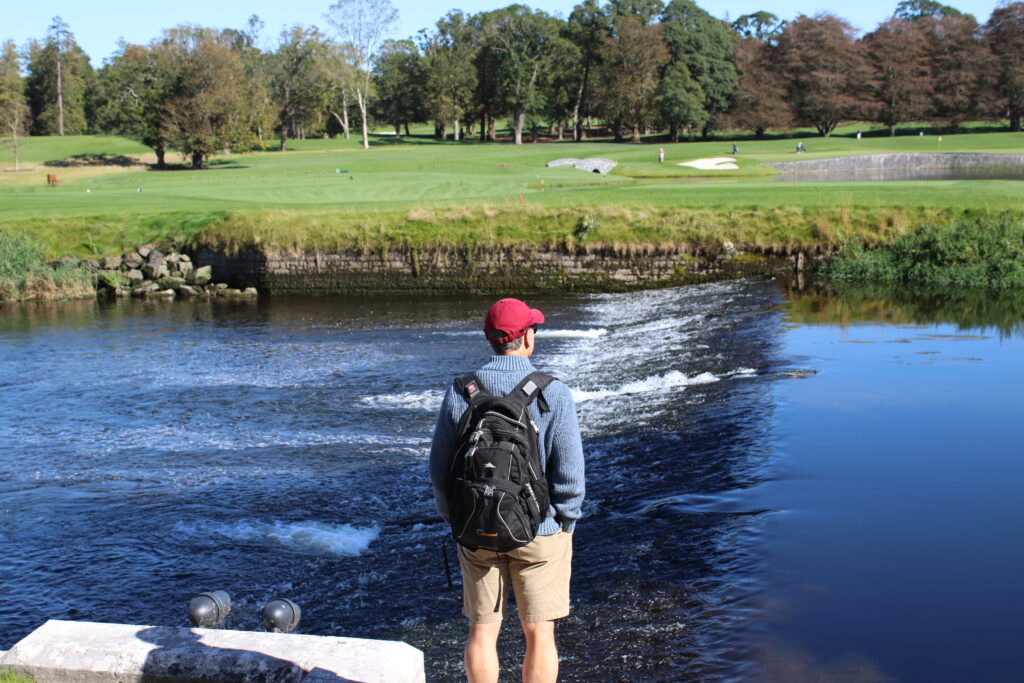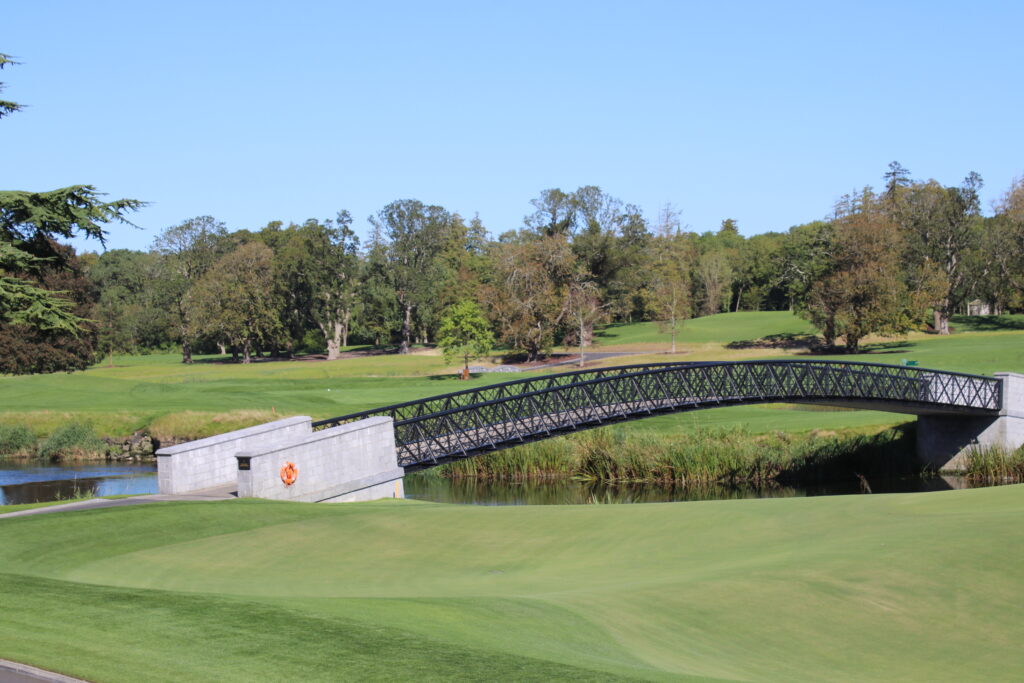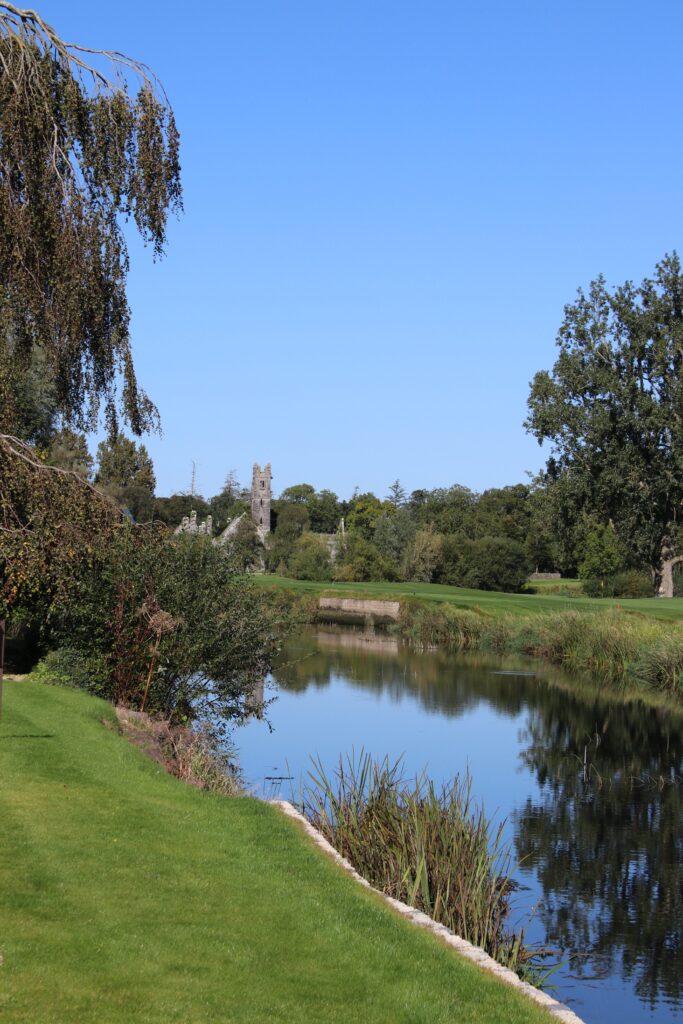 We continued on to Dingle. Waze sent us through Tralee and onto the peninsula. We stopped just before we got to Castlegregory at a horse pasture to take some photos. Gorgeous scenery.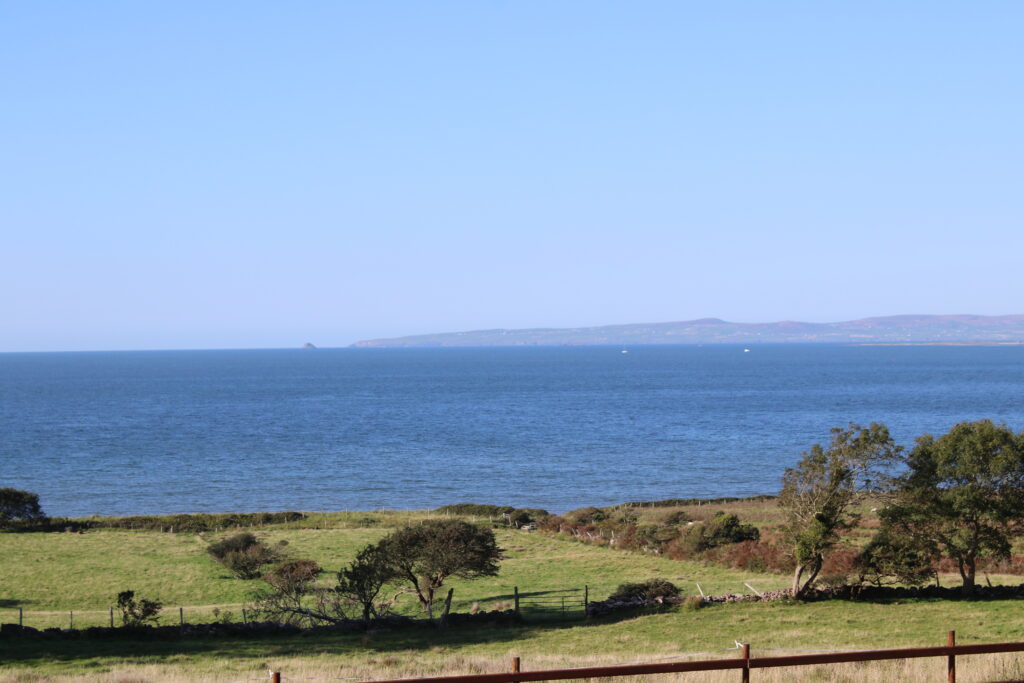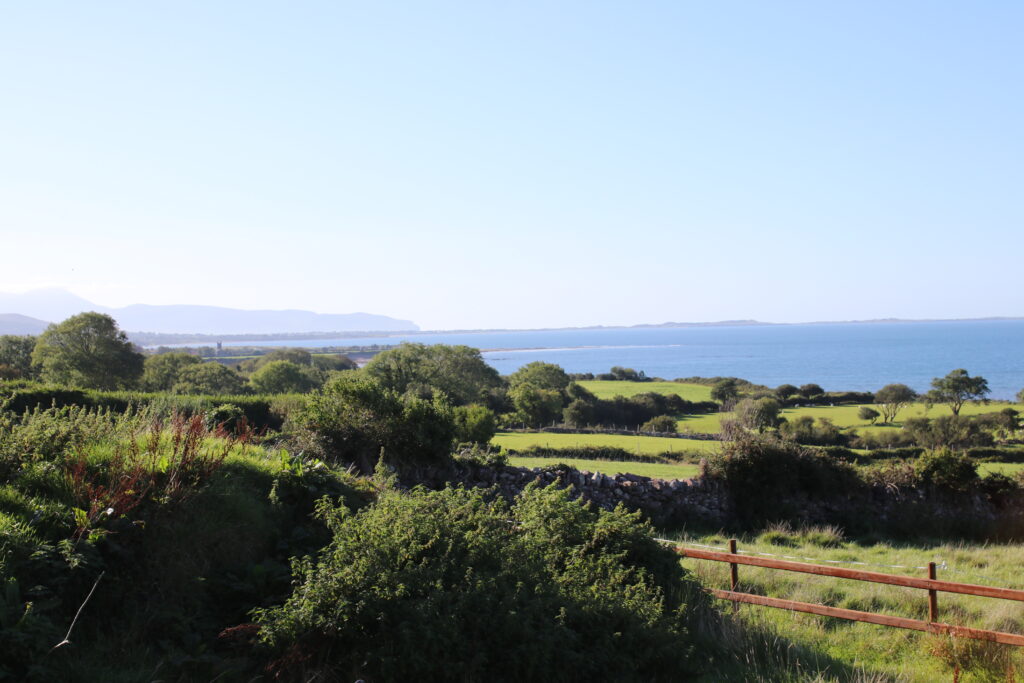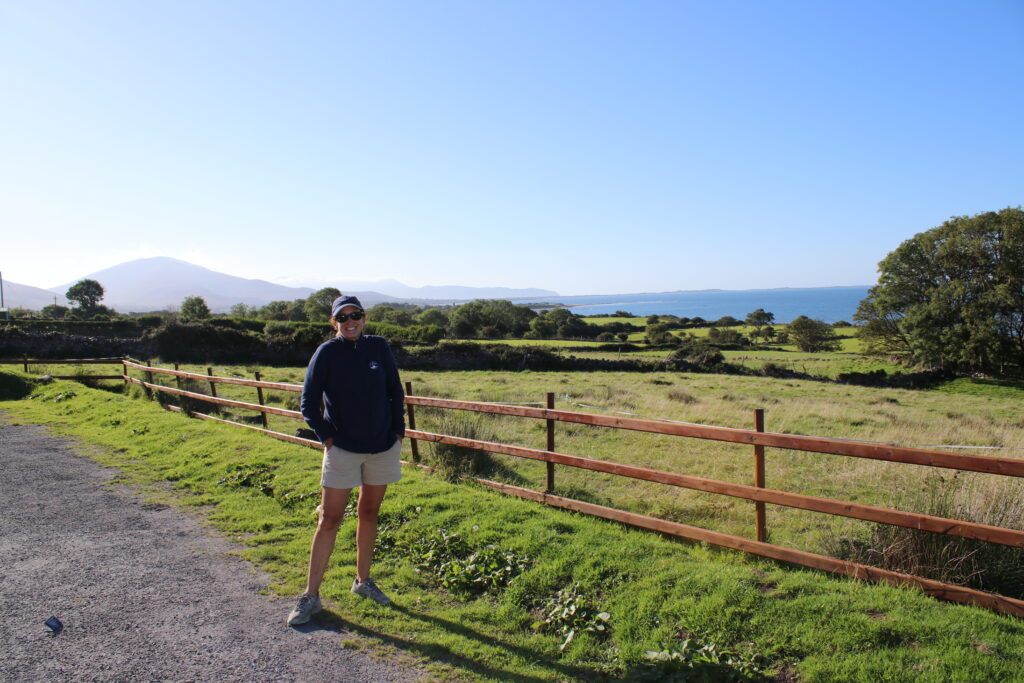 Approaching Castlegregory, we had to drive down a dirt road to get some photos of Castlegregory Beach. It was magnificent.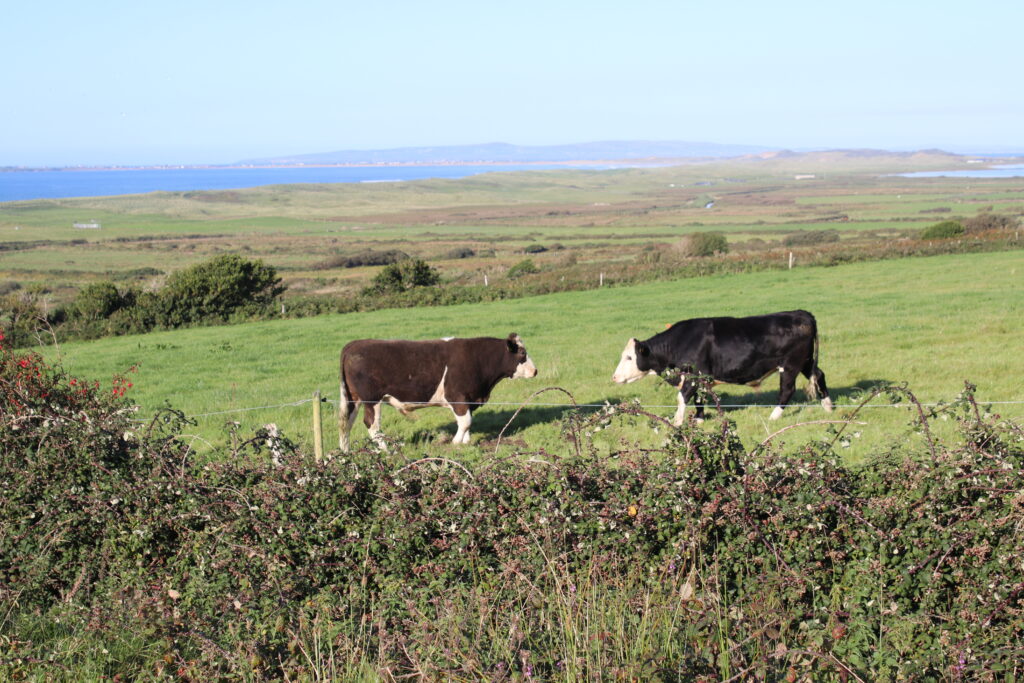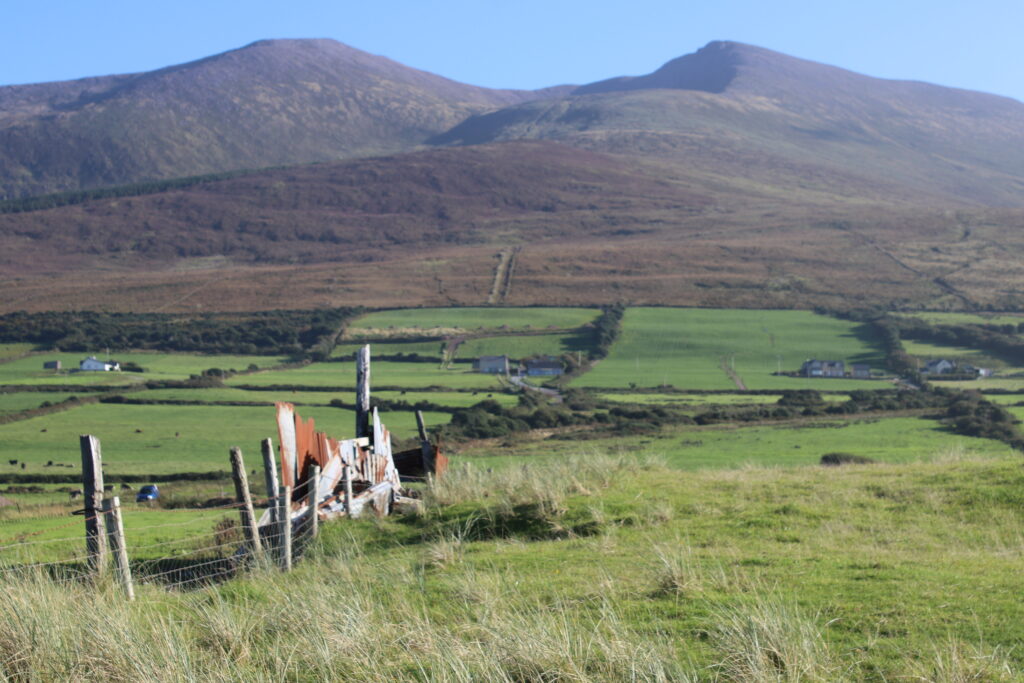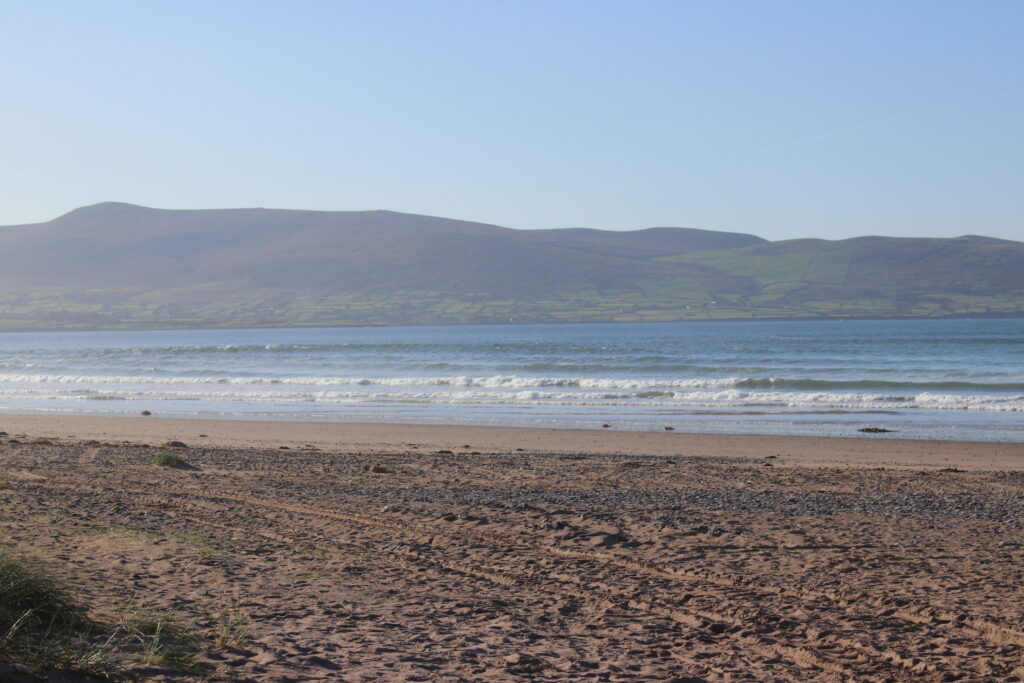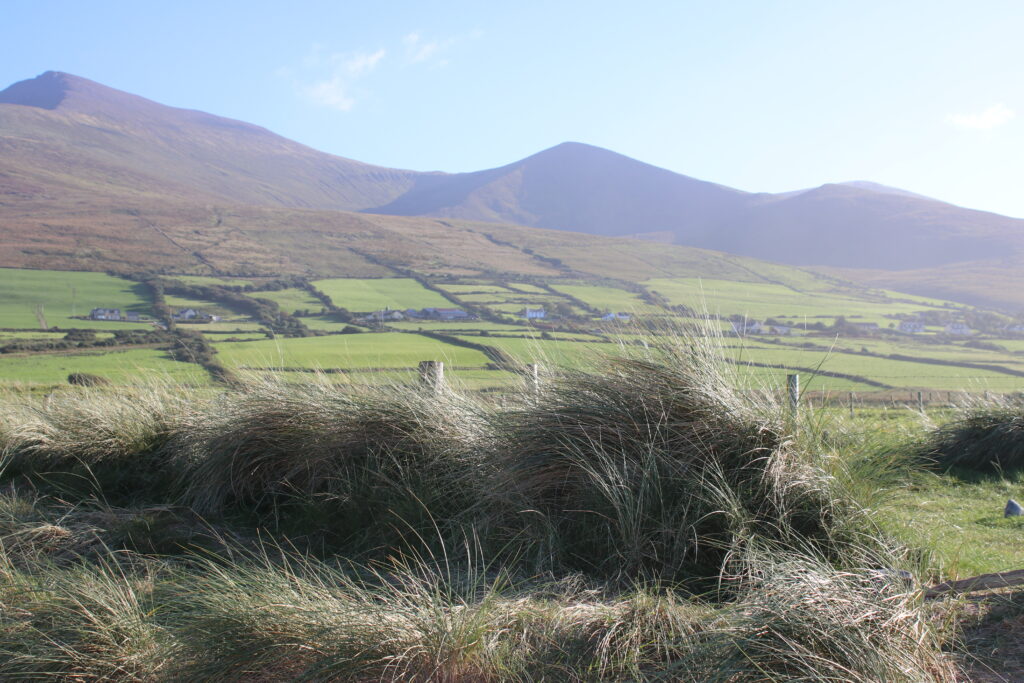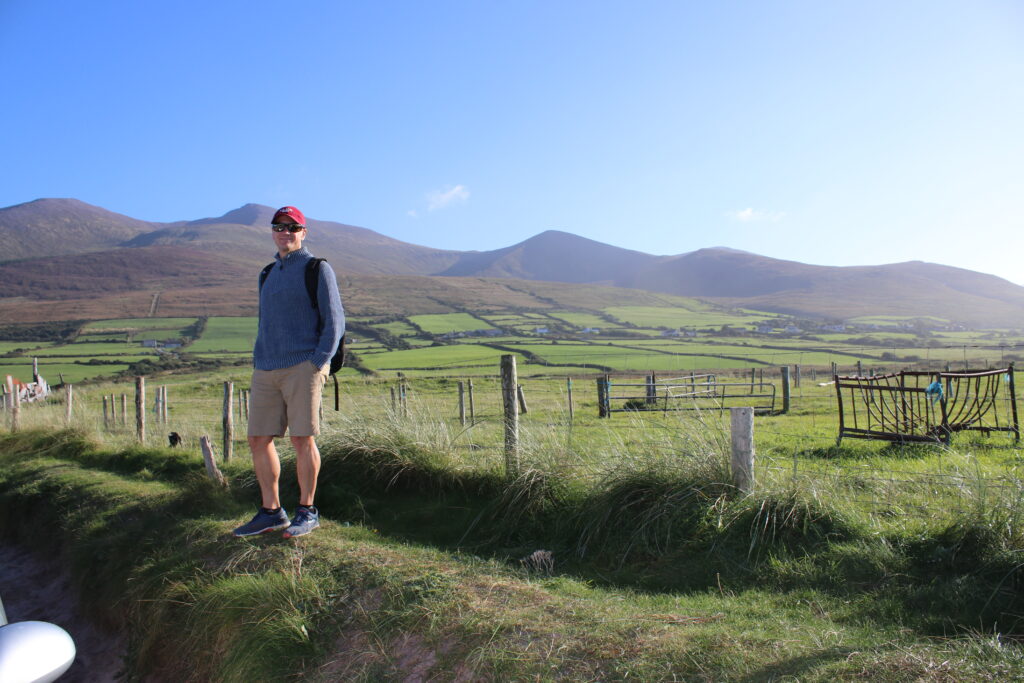 Waze sent us up Conor Pass. It was spectacular. However, you cannot be a bus, large car or trolley. The lane is one lane in some spots and sometimes, you have to back up or wait to let a car pass. The drive from Castlegregory to the top of Conor Pass is way, way, way scarier than the easy drive up and down into Dingle.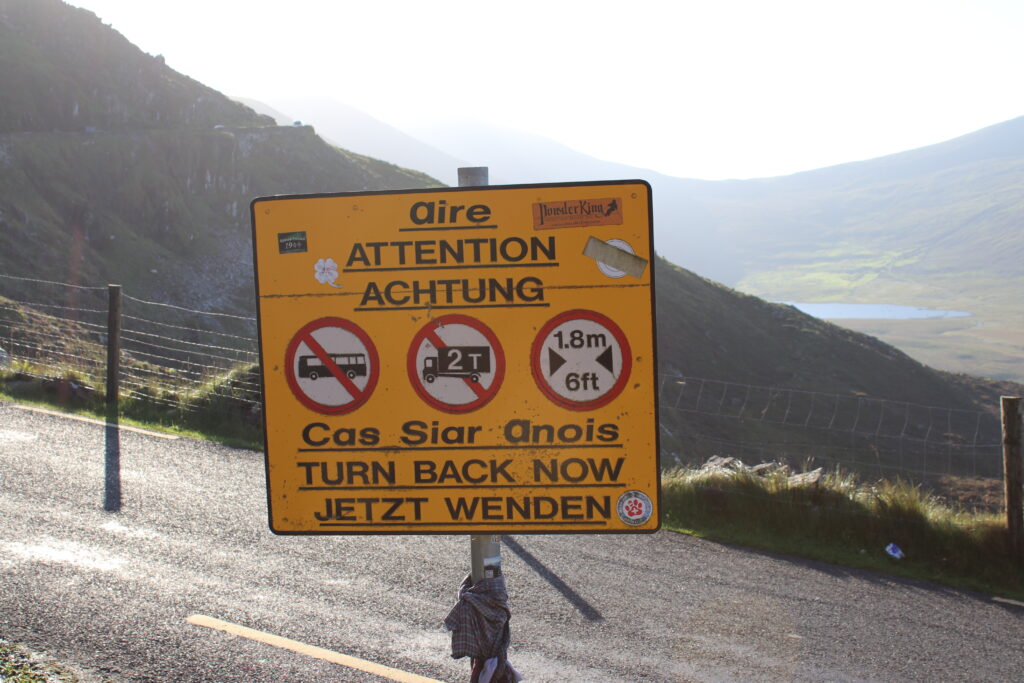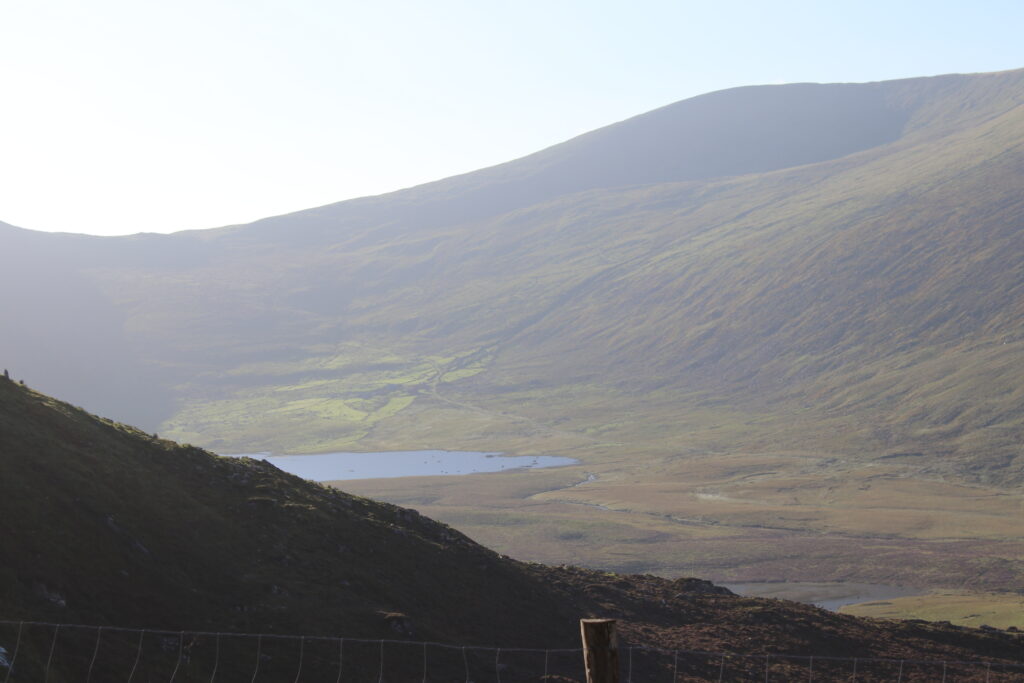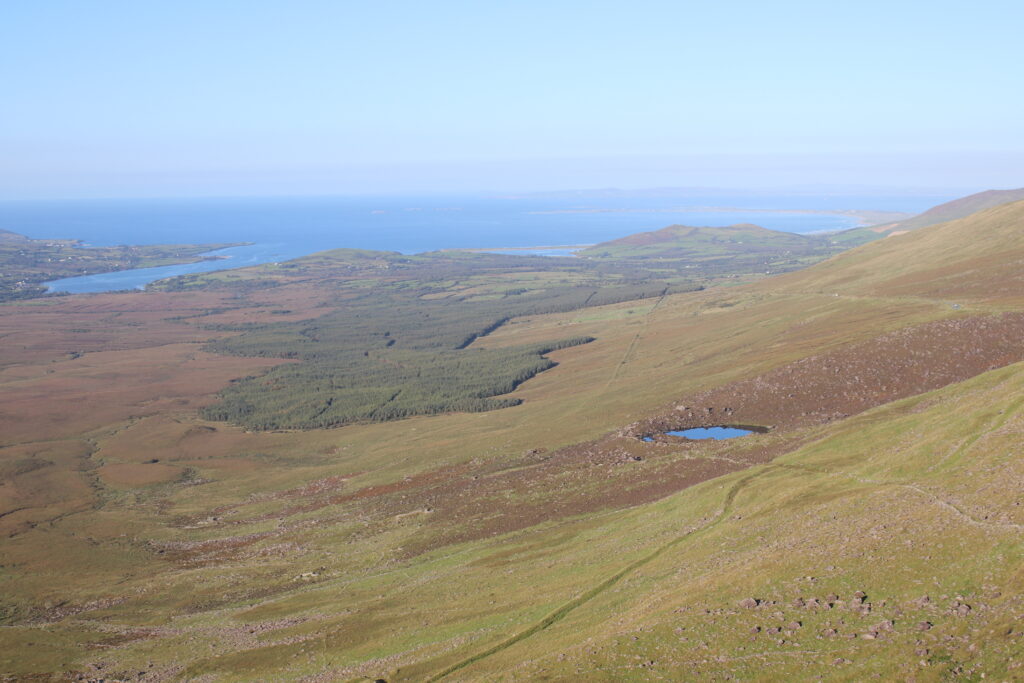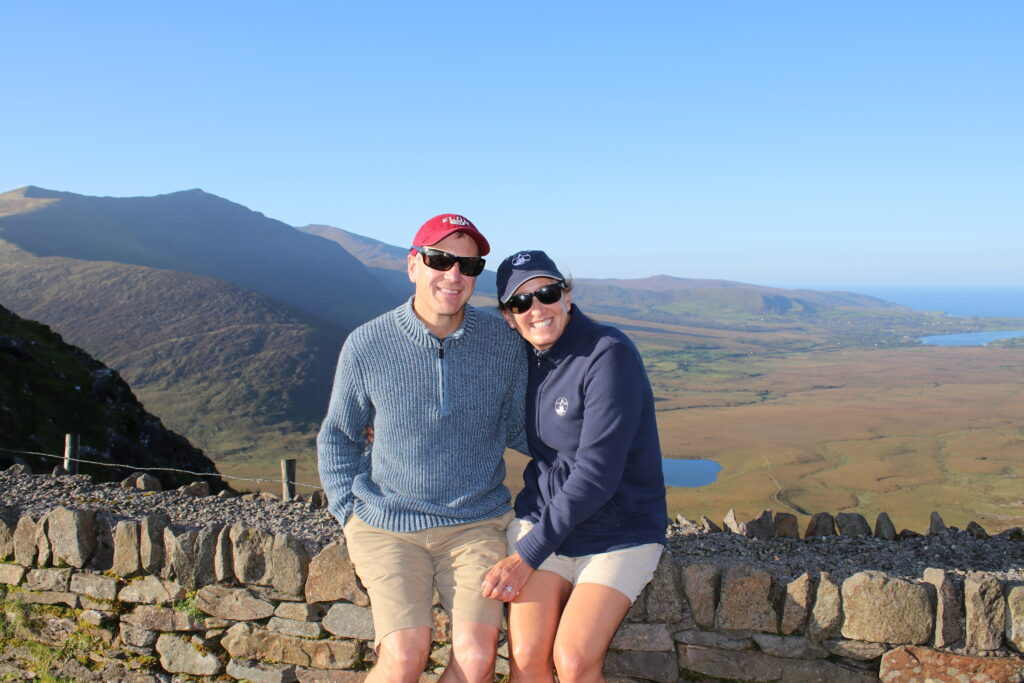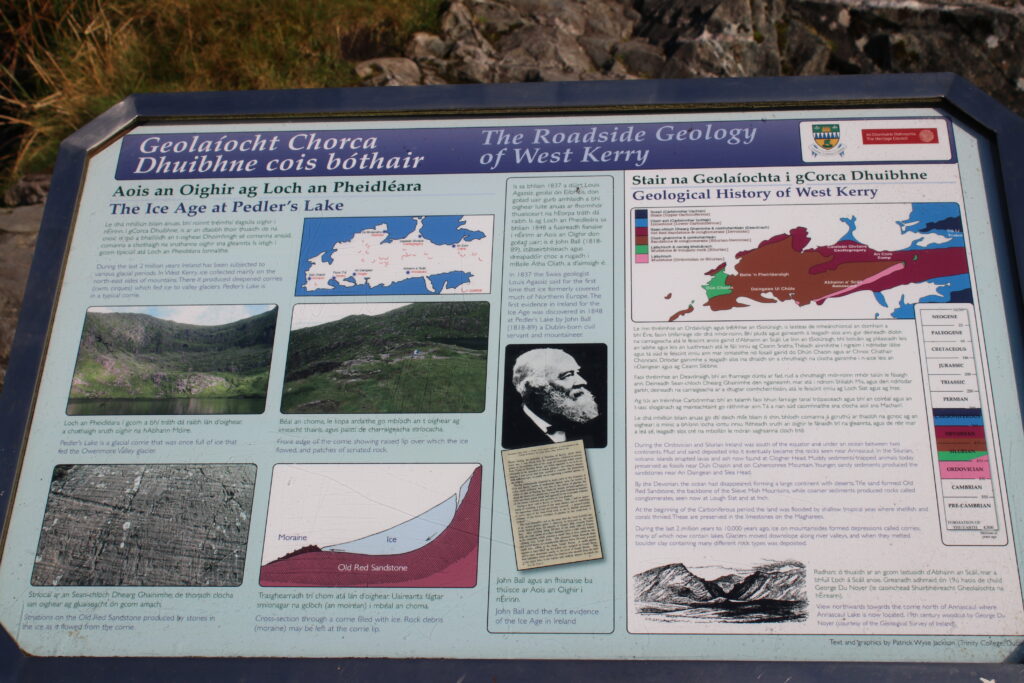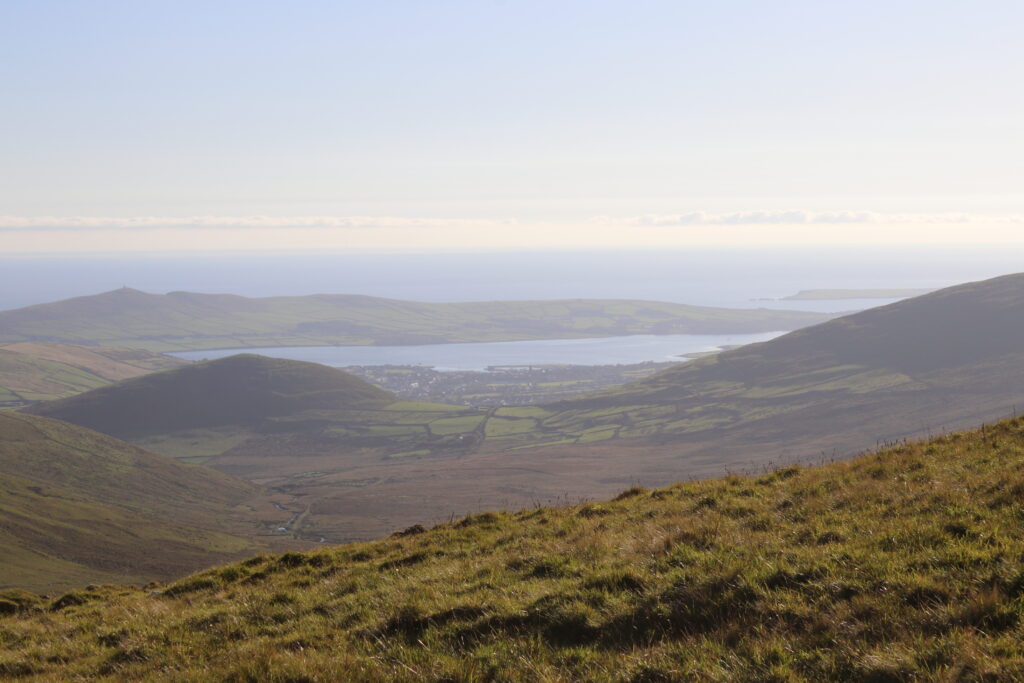 We stayed at The Dingle Bay Hotel. The location was fantastic. The hotel had complimentary parking and the rate included a breakfast buffet as well as a full hot breakfast. The hotel is not luxurious, but it was clean, convenient and the room was a nice size. TripAdvisor reviews are fine.
We ate at Paudie's Bar as we were having some car trouble and had to wait for Hertz to show up! The food was good and very well-priced. TripAdvisor reviews are fine.
Four photos from our sunset stroll around the Dingle Bay are below. It is an adorable place, and very, very pretty. We highly recommend a visit to Dingle!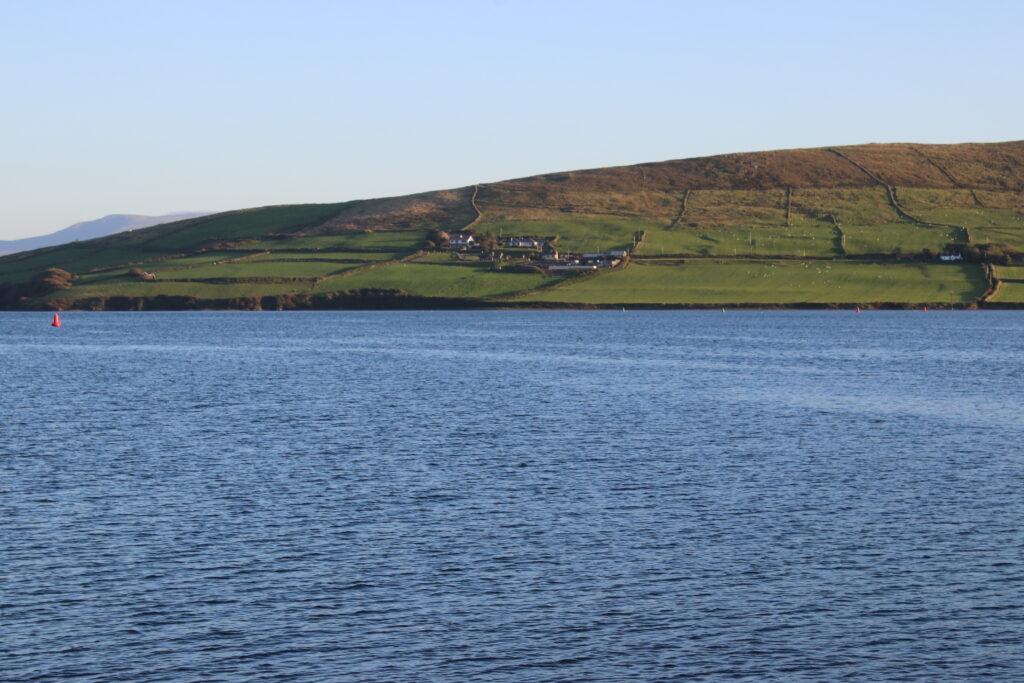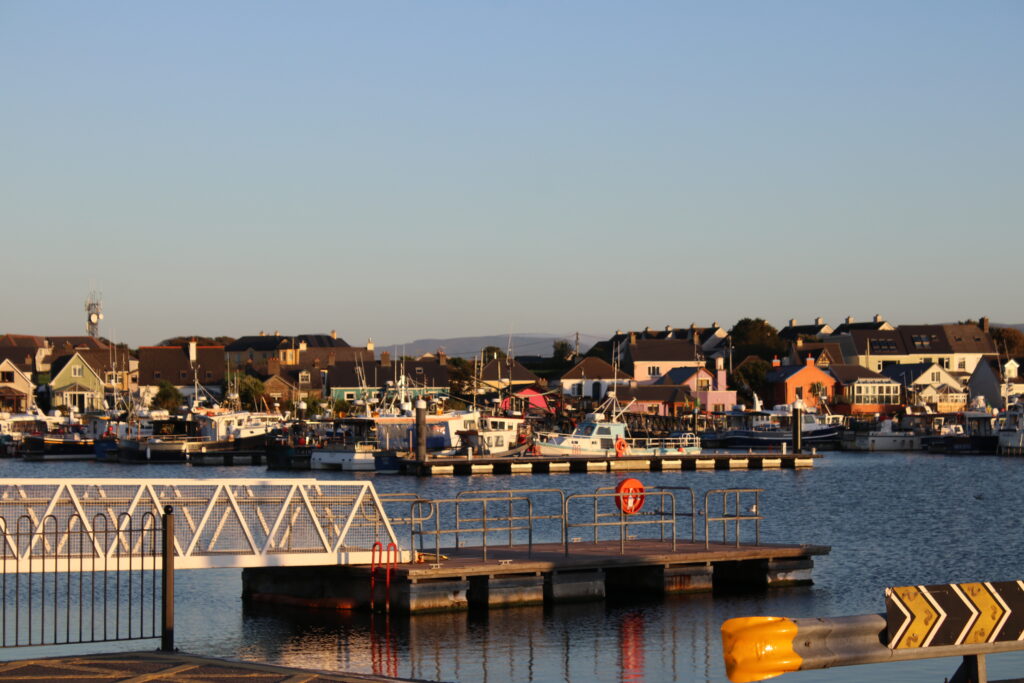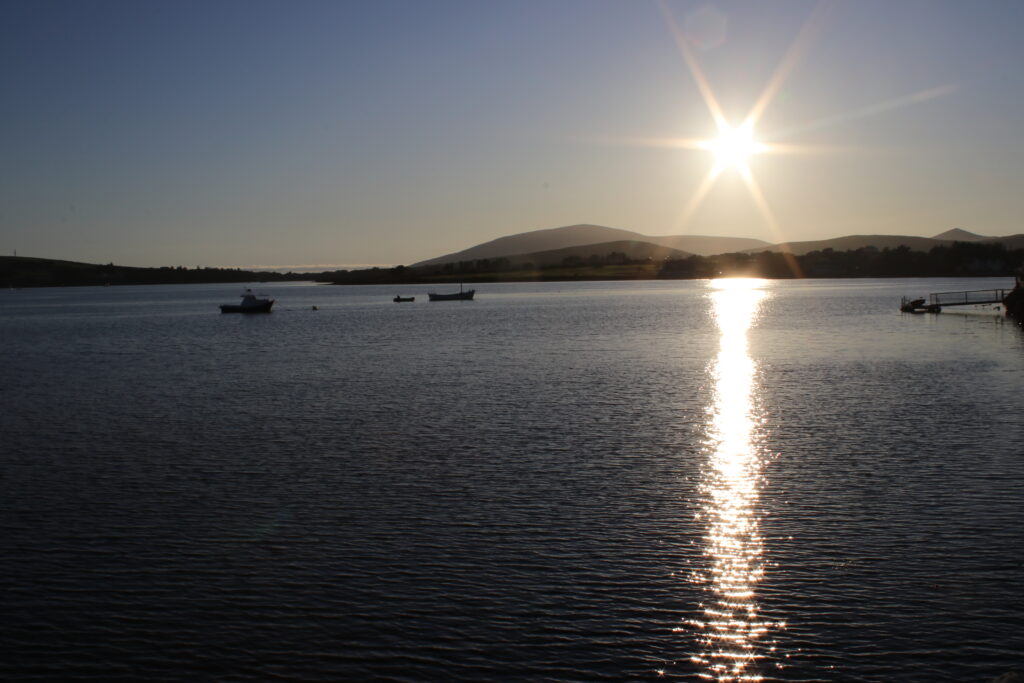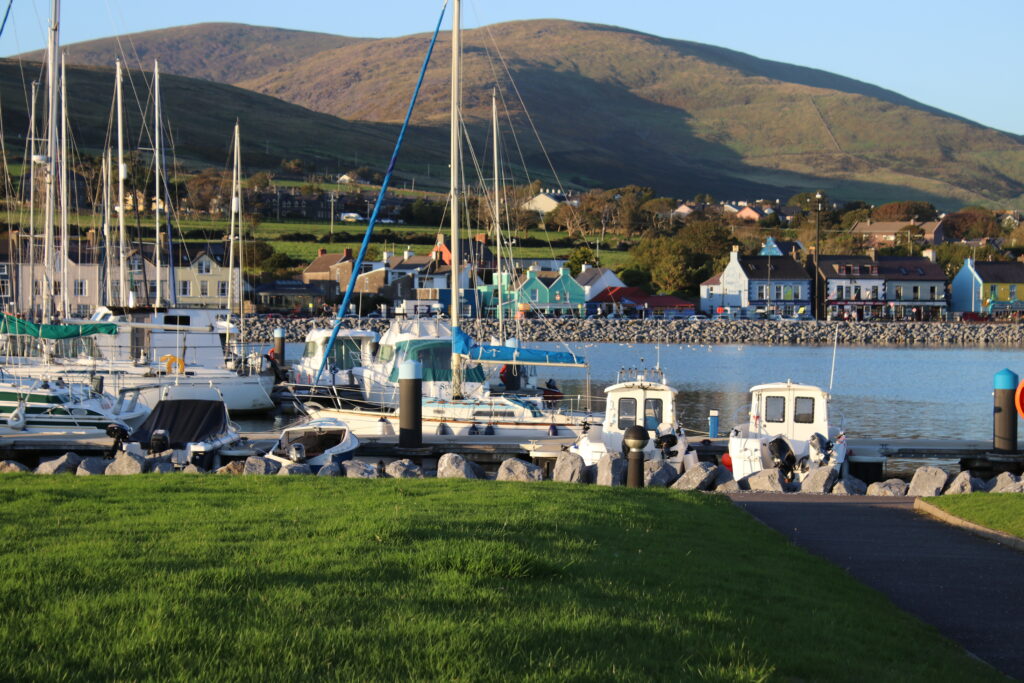 Day Four – Ring of Dingle
The breakfast at The Dingle Bay Hotel was generous. We woke to a foggy morning, but it cleared quickly. We set off for Eask Tower. It is not easy to find. Head toward Slea Head Drive. At the round about, go left onto Slea Head Drive. It about 2.6 kilometers turn left. Go straight for about 2.7 kilometers until you see the tiny parking area. You will be greeted by a lovely woman who will collect 2 Euros/person. She will allow you to wash the sheep poop off your shoes when you return. The views are tremendous. Be sure to always close and secure the gates you walk through to keep the sheep enclosed. At 9am, it was us and another couple on the trail. Waze and Google maps use "Eask Tower Trail". The hike is not long, however, it is very steep. Well worth your time!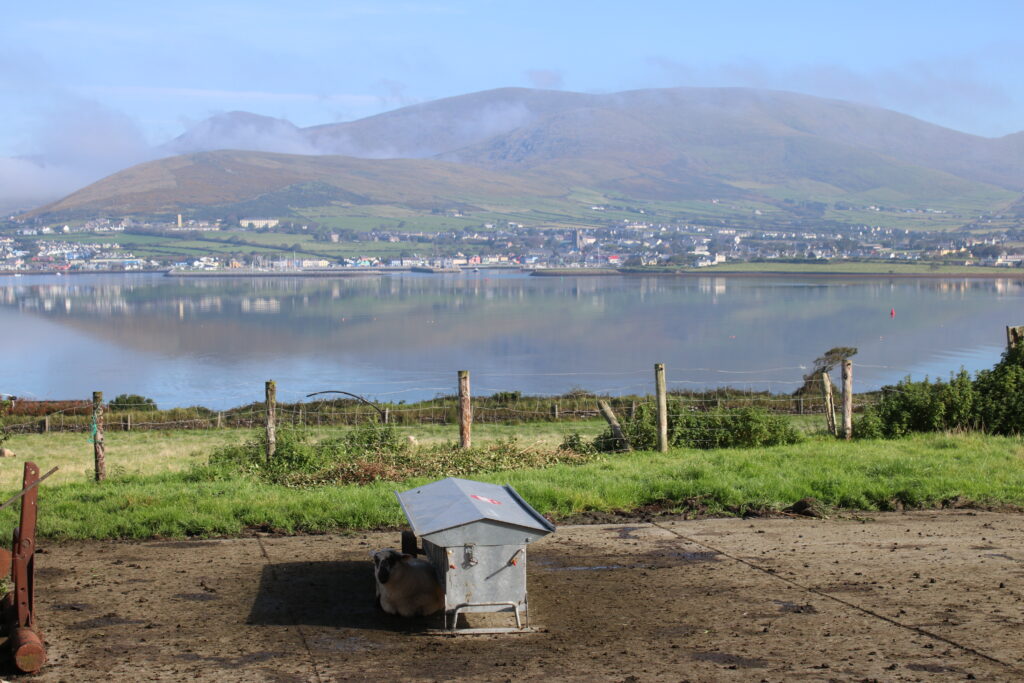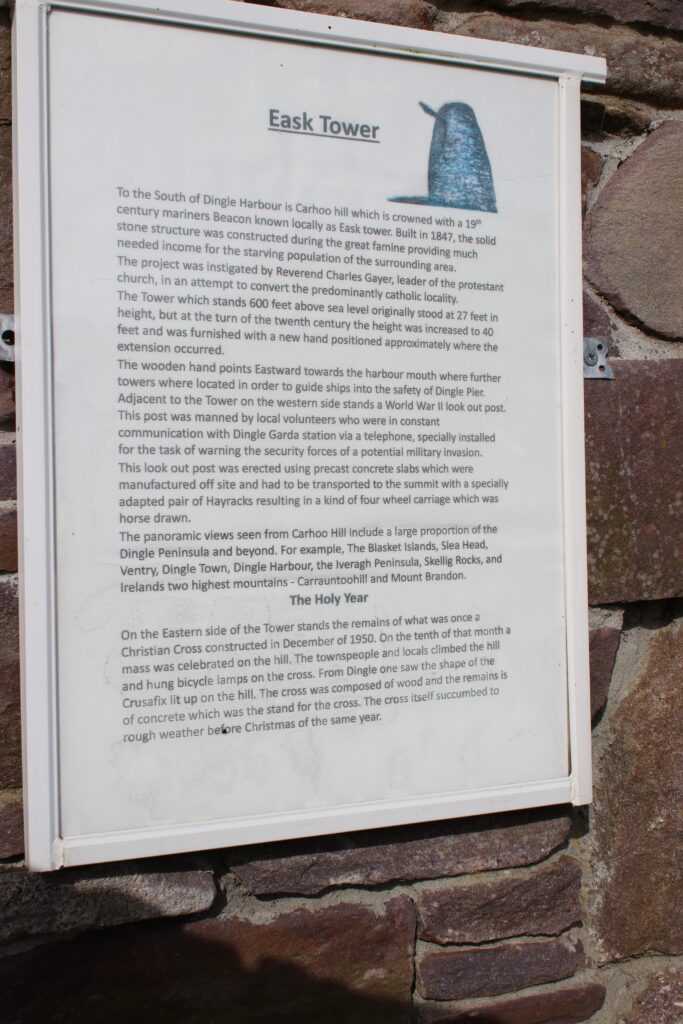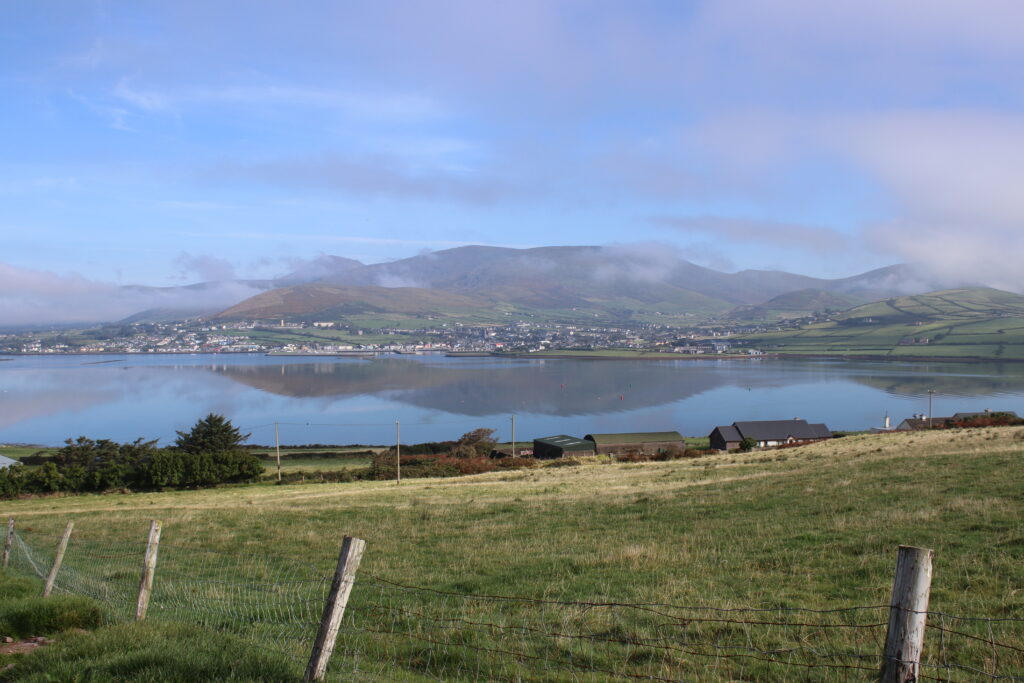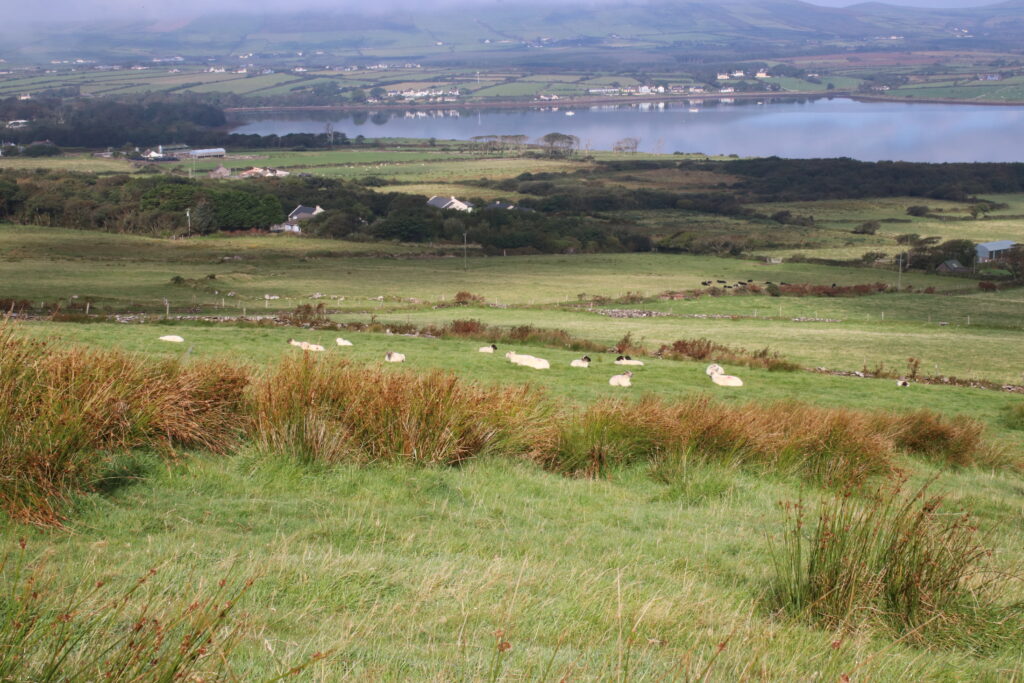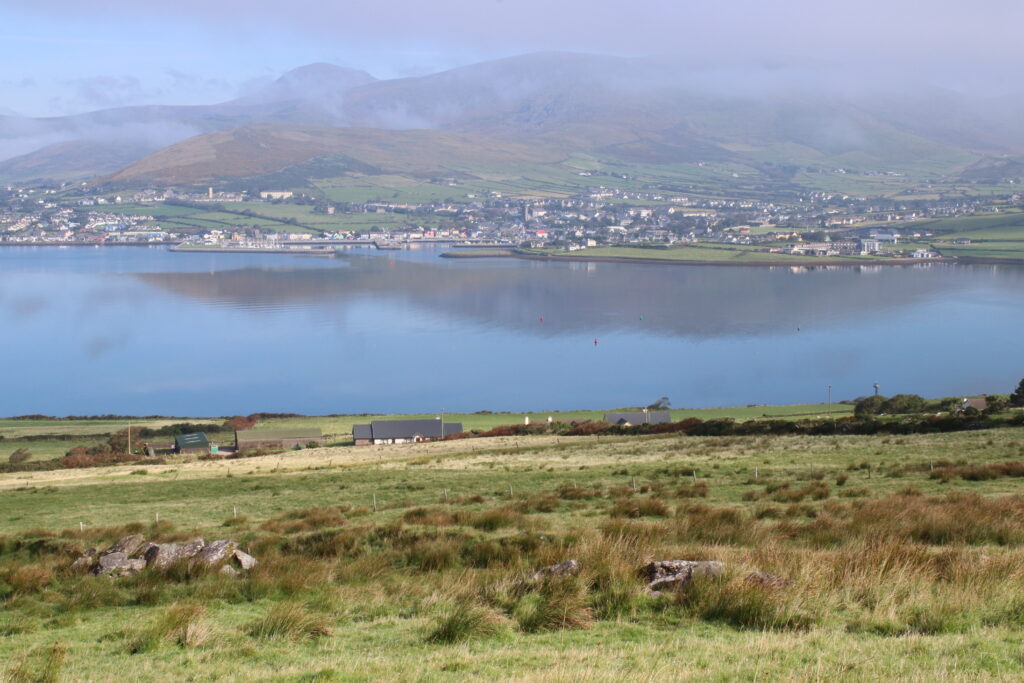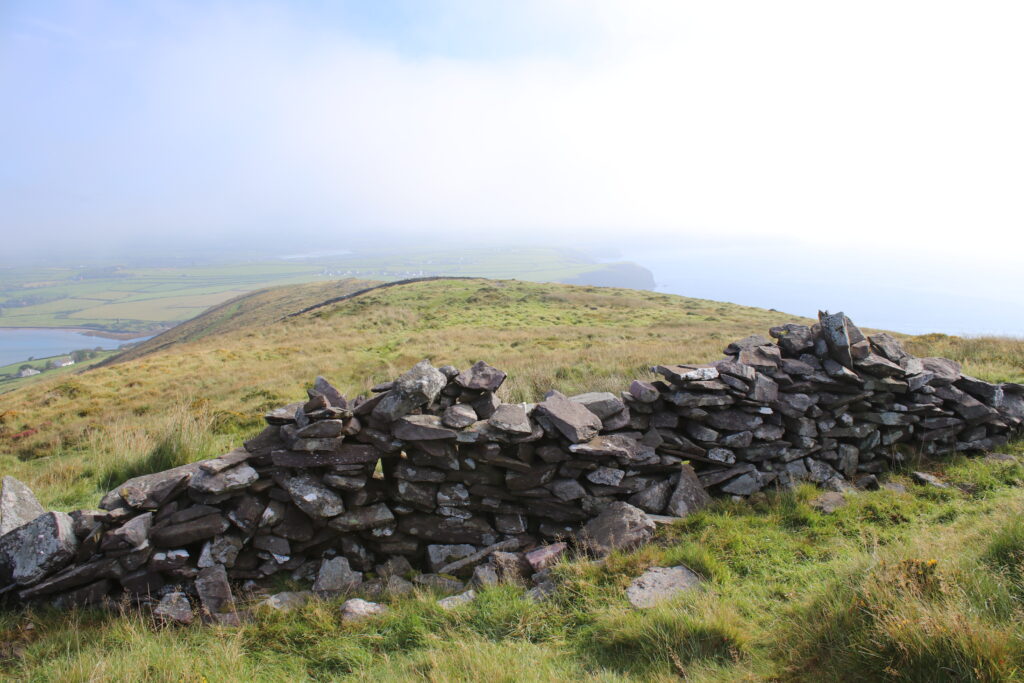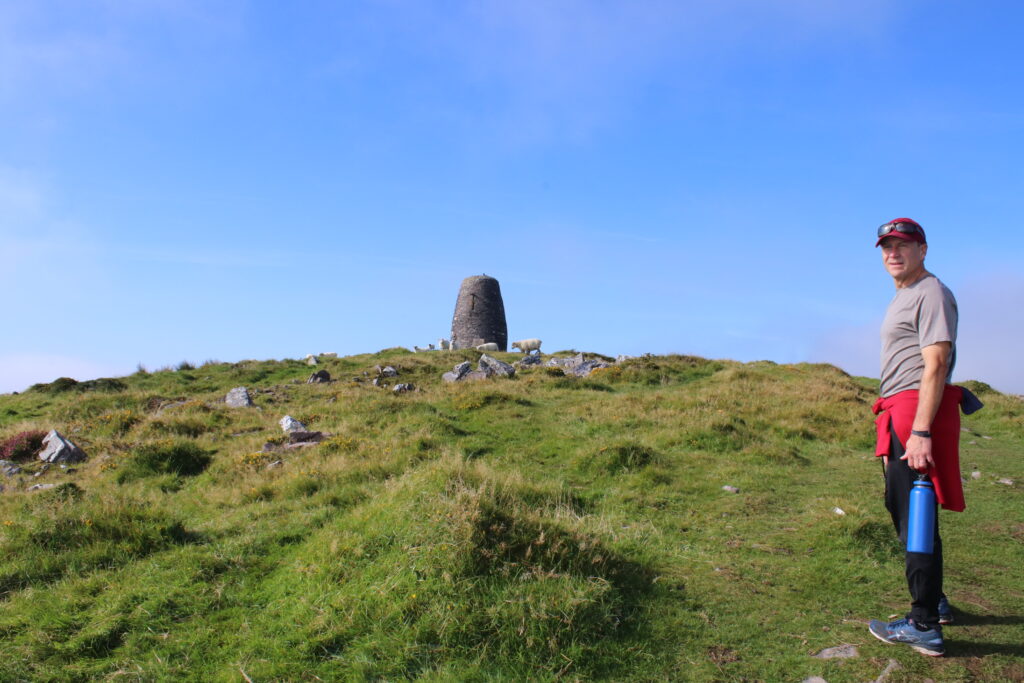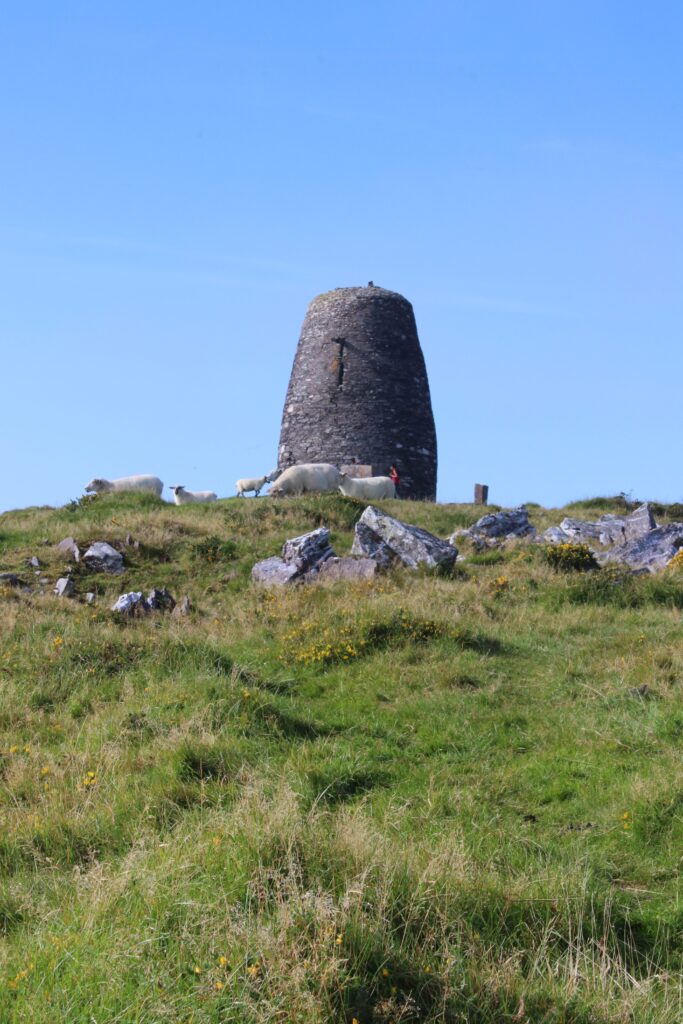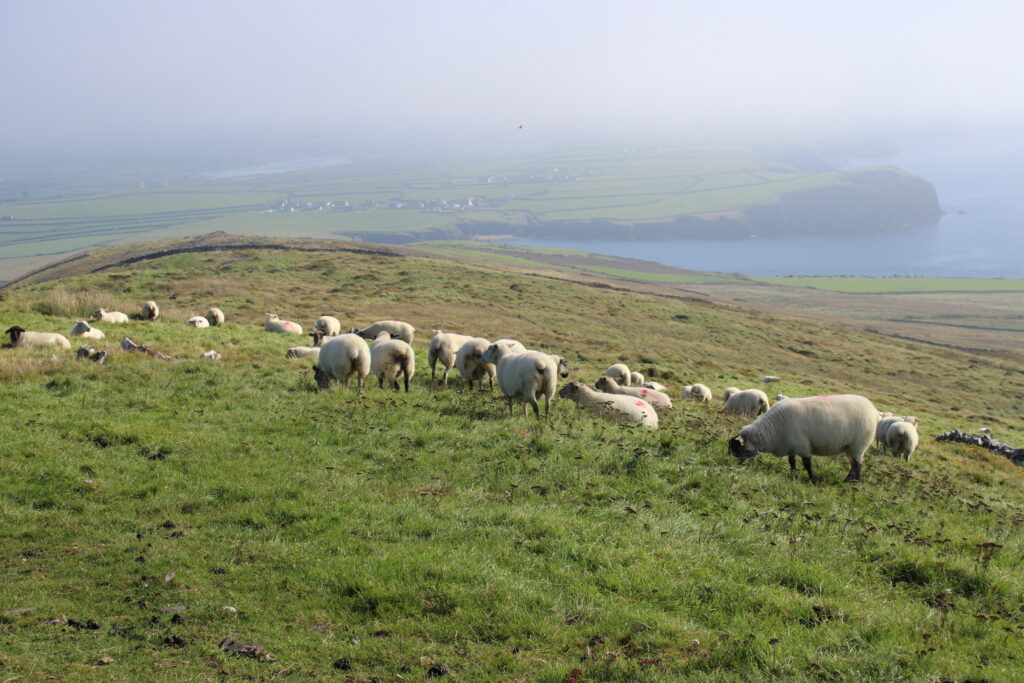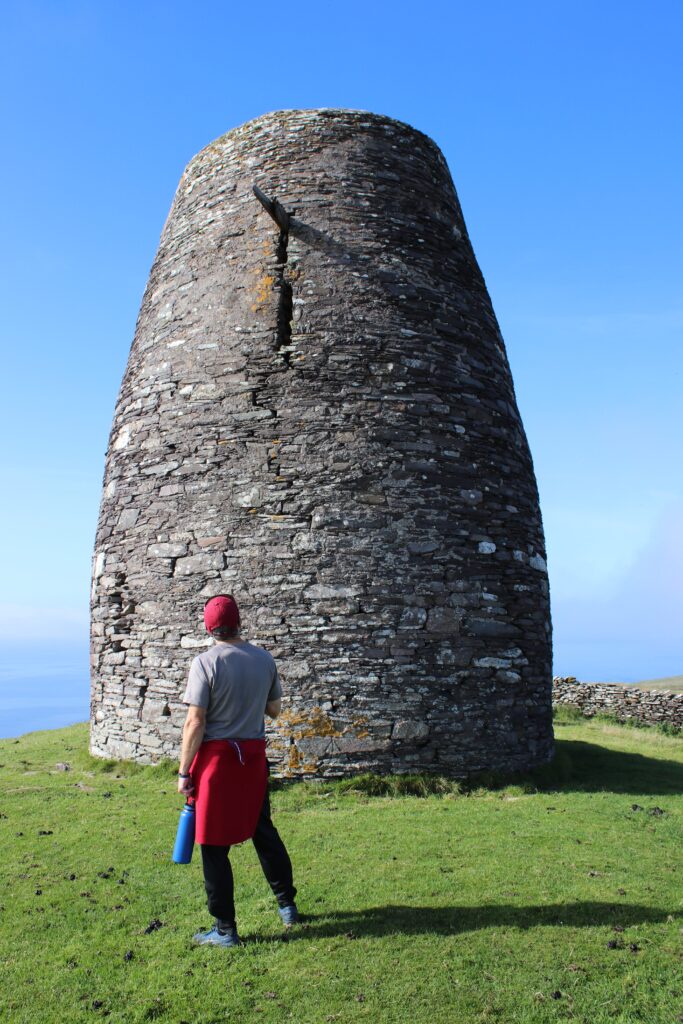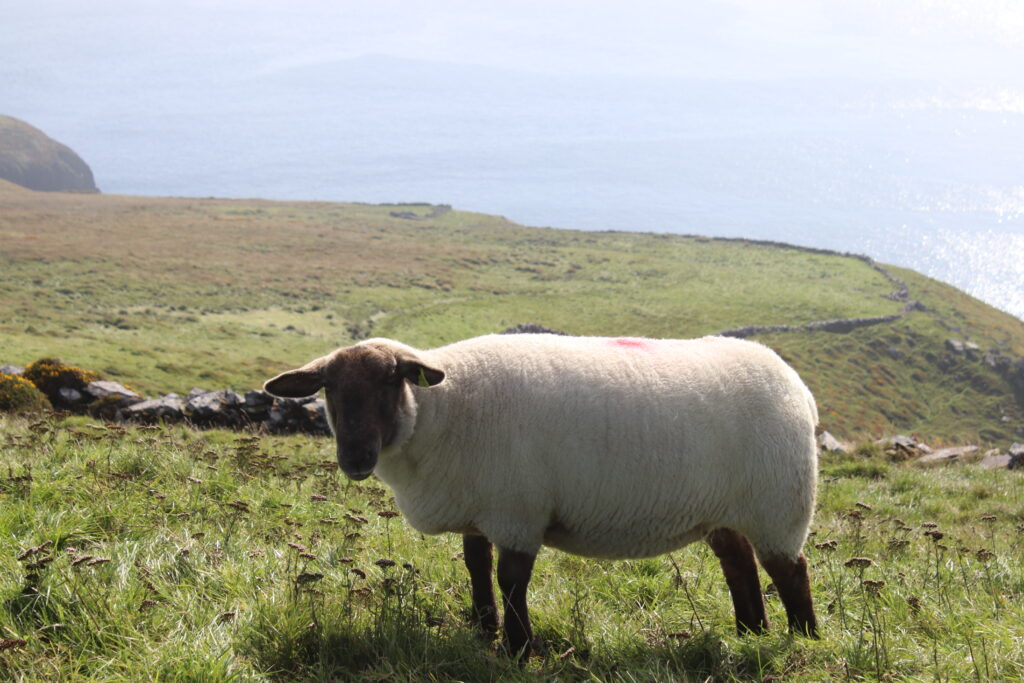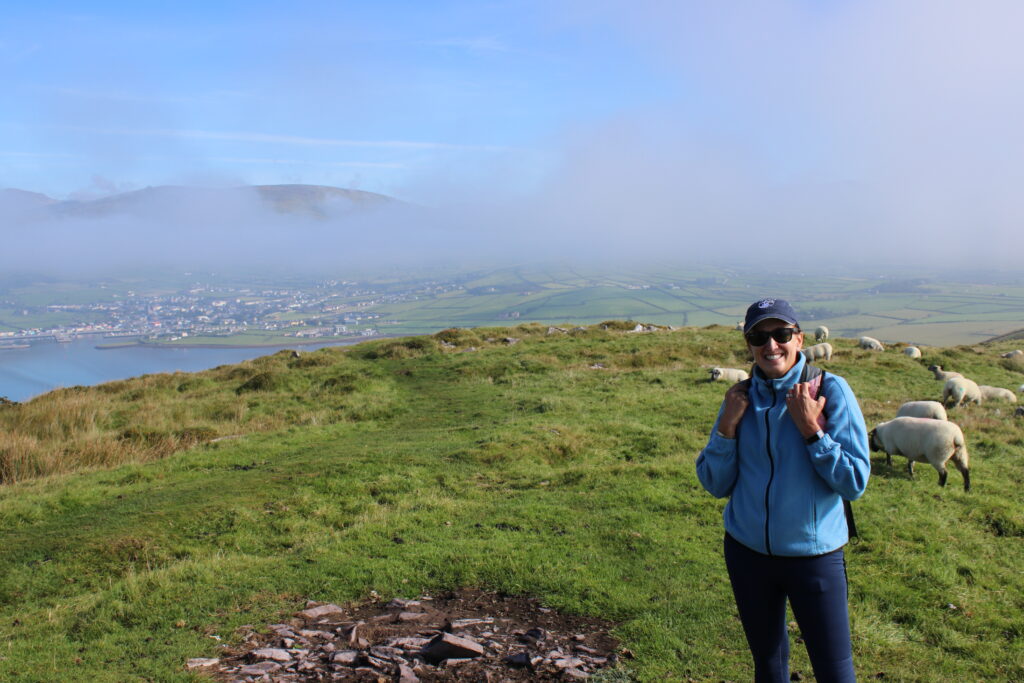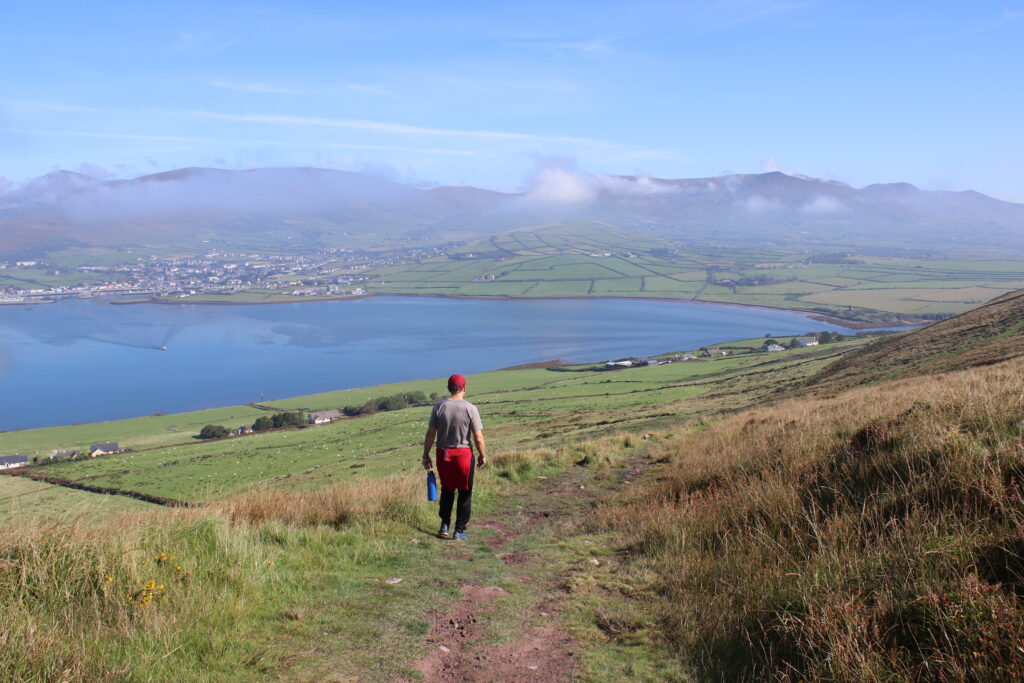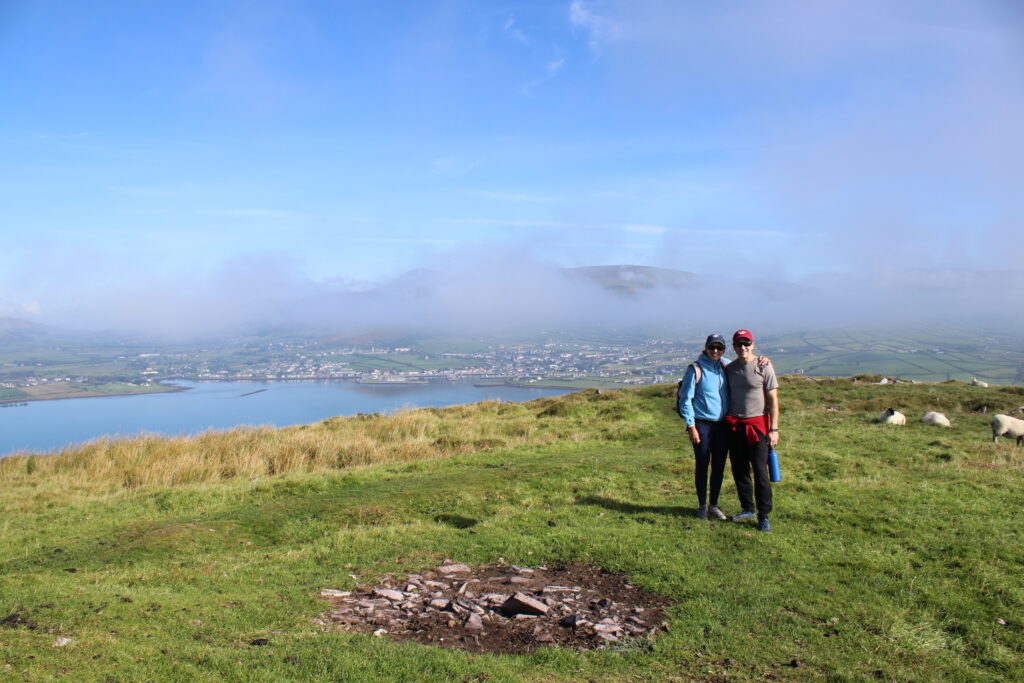 We continued onto the Ring of Dingle which is also known as Slea Head drive. We drove in a clockwise direction. Do not attempt to drive the road in the other direction. Leave Dingle and go left on Slea Head drive. Then, soak in all the sights!
You come to Ventry and Carhoo where there are some lovely beaches. We drove down a road to Cuan Pier and looked back on Ventry and Carhoo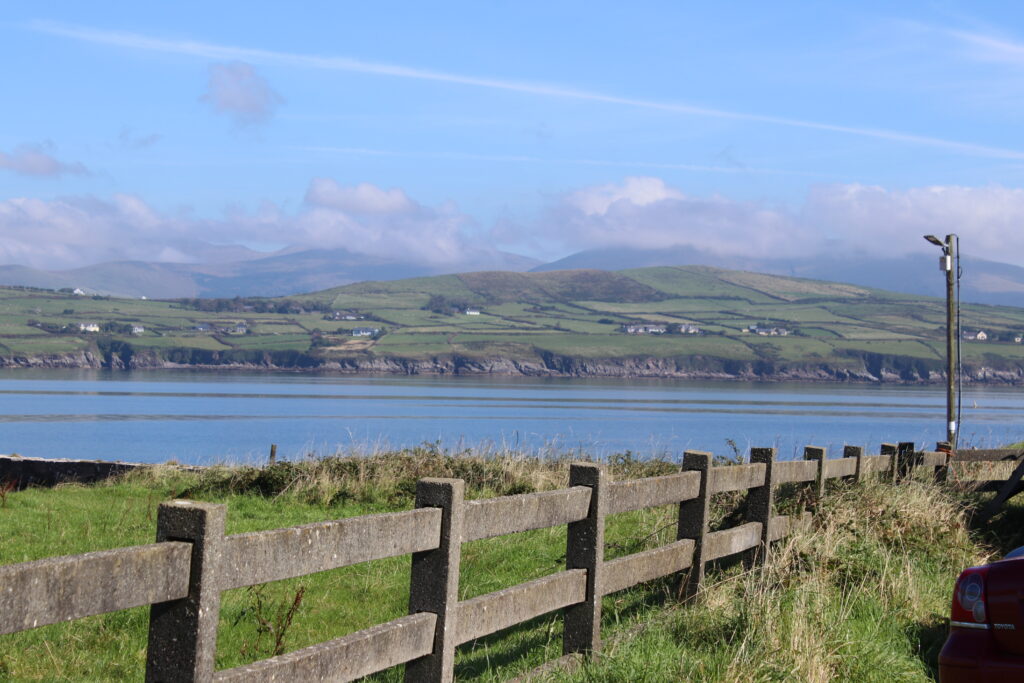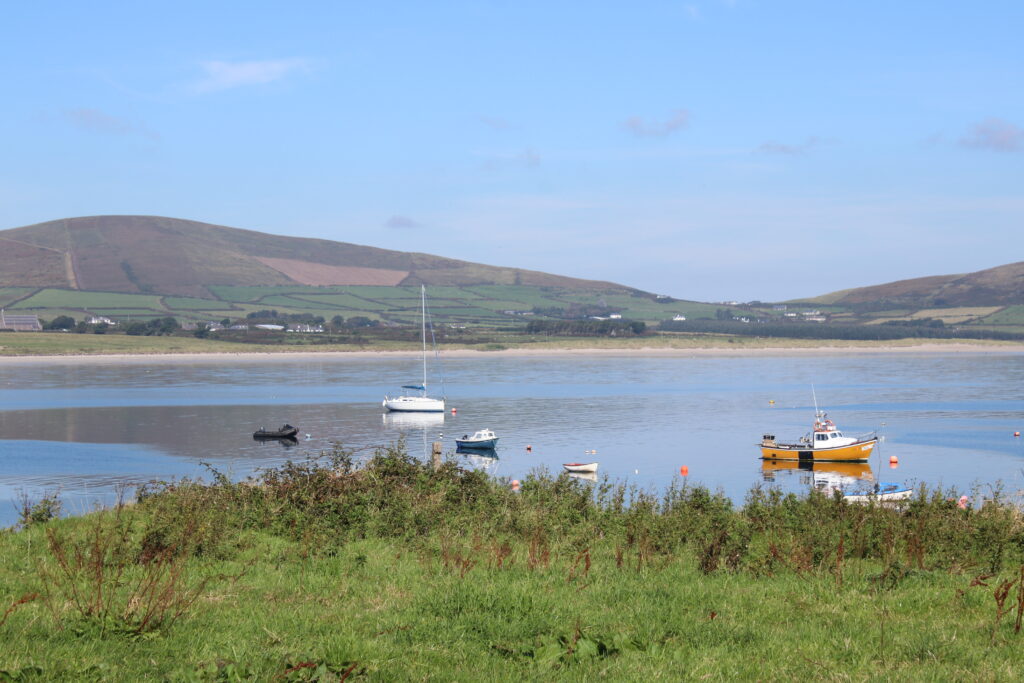 We continued on. We stopped at Dunbeg Fort and the Irish Famine Cottages. There is a huge parking lot, restaurant and bathrooms here. Lots of tour buses. We chose to take some photos, use the facilities and skip the tour.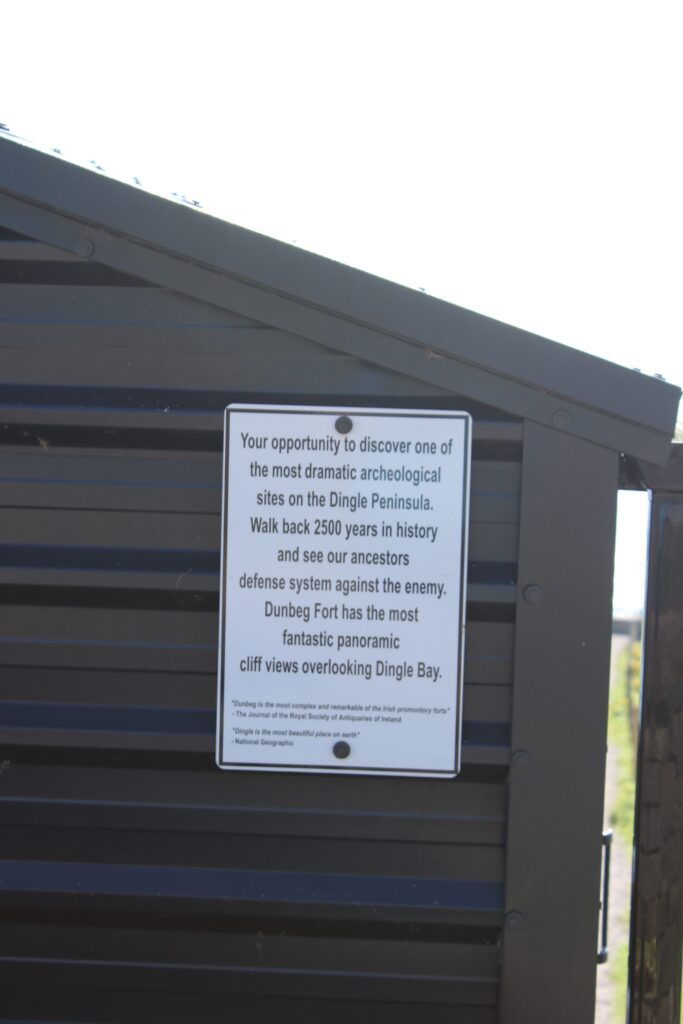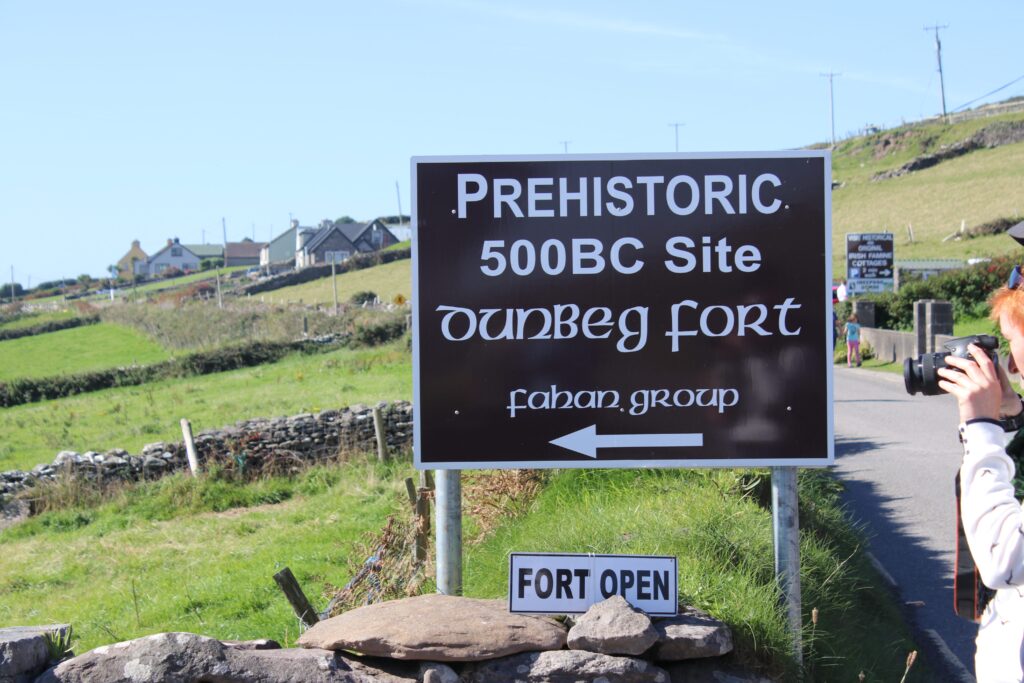 The photos below were taken around the Dunbeg Fort and Irish Famine Cottage area. It is spectacularly beautiful. In the distance, we could see the Eask Tower we had just climbed.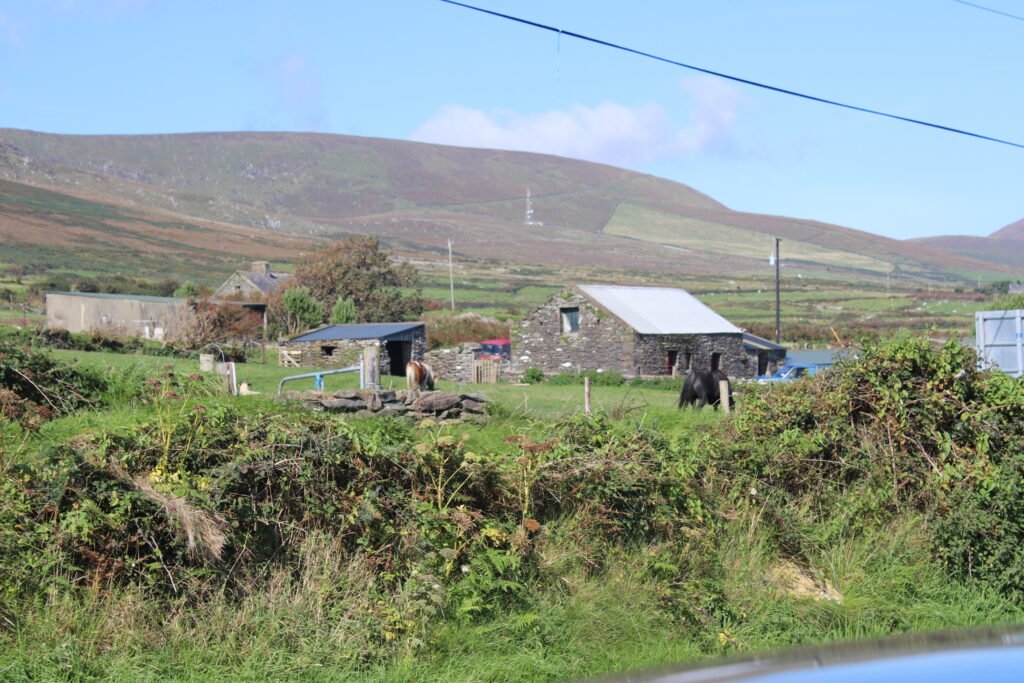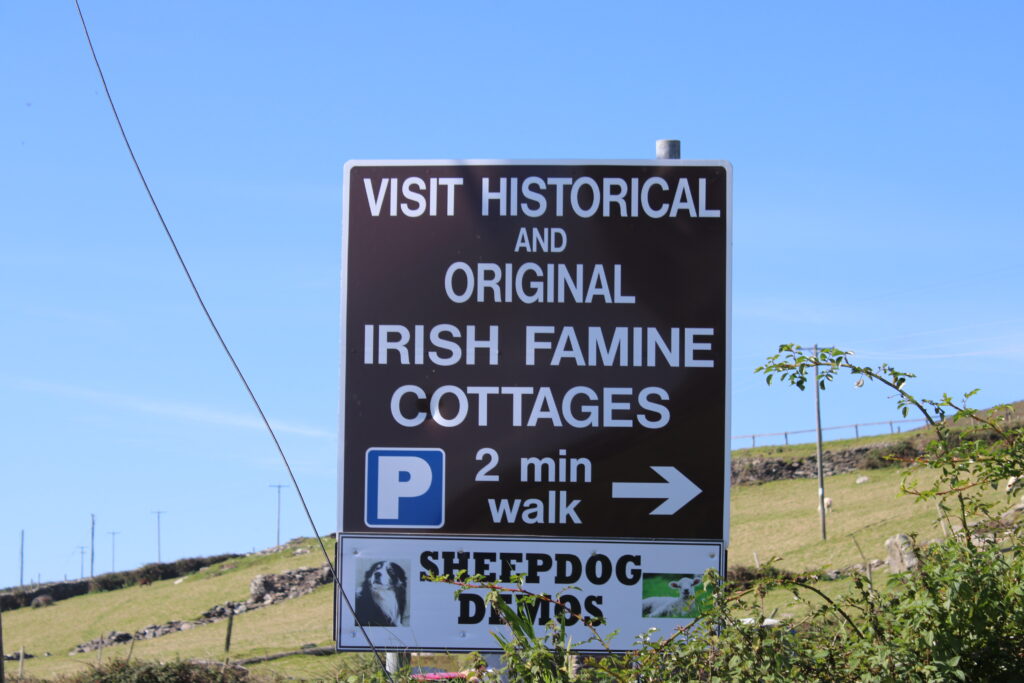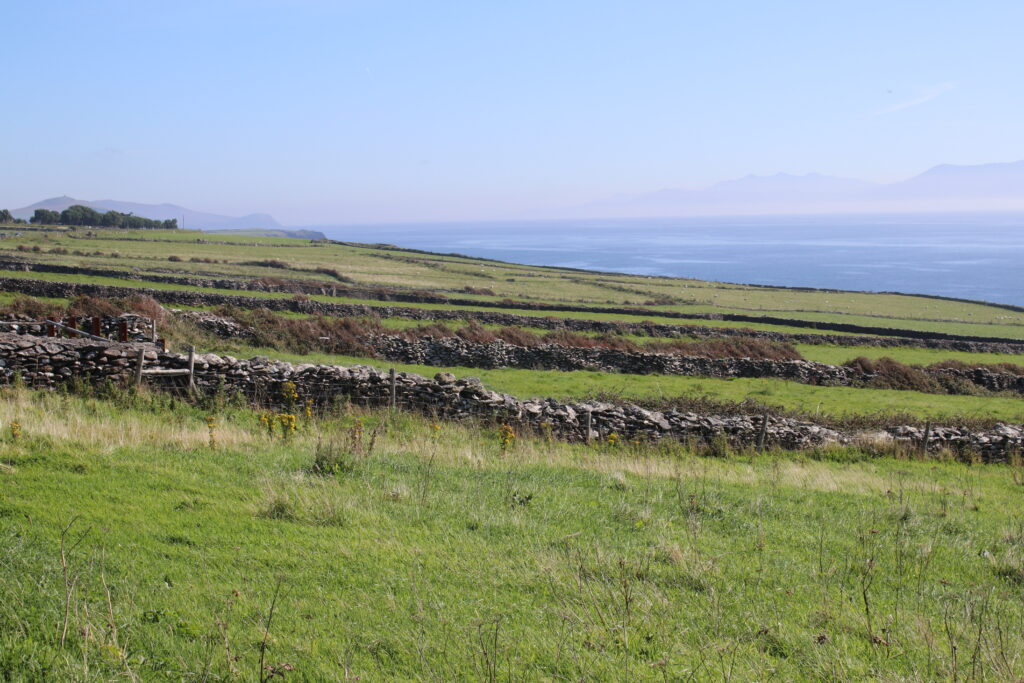 The ride was getting more and more beautiful.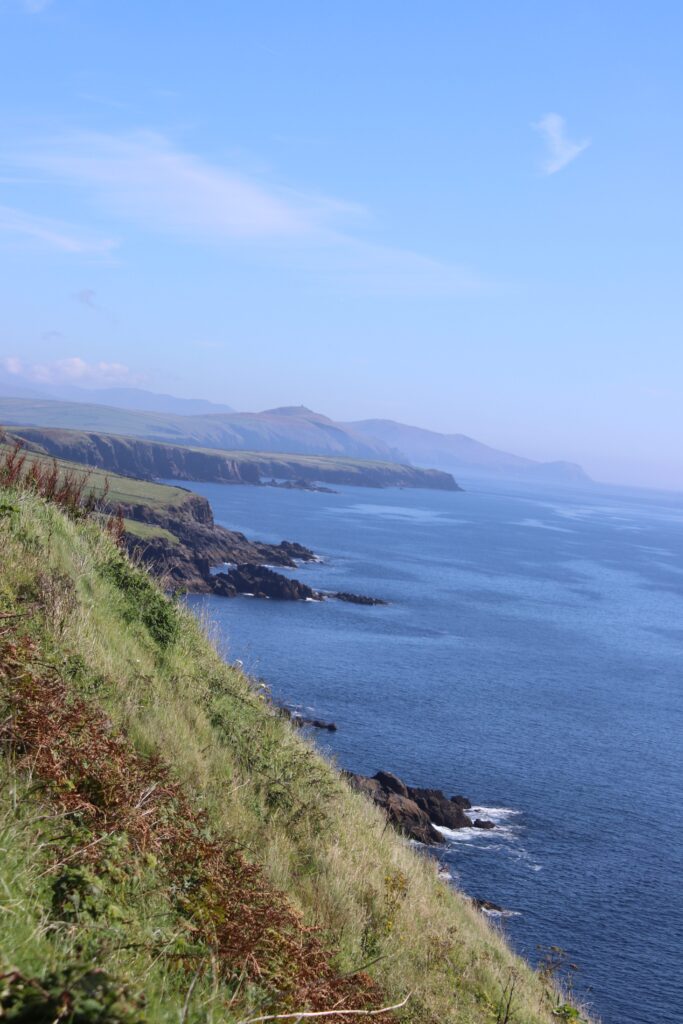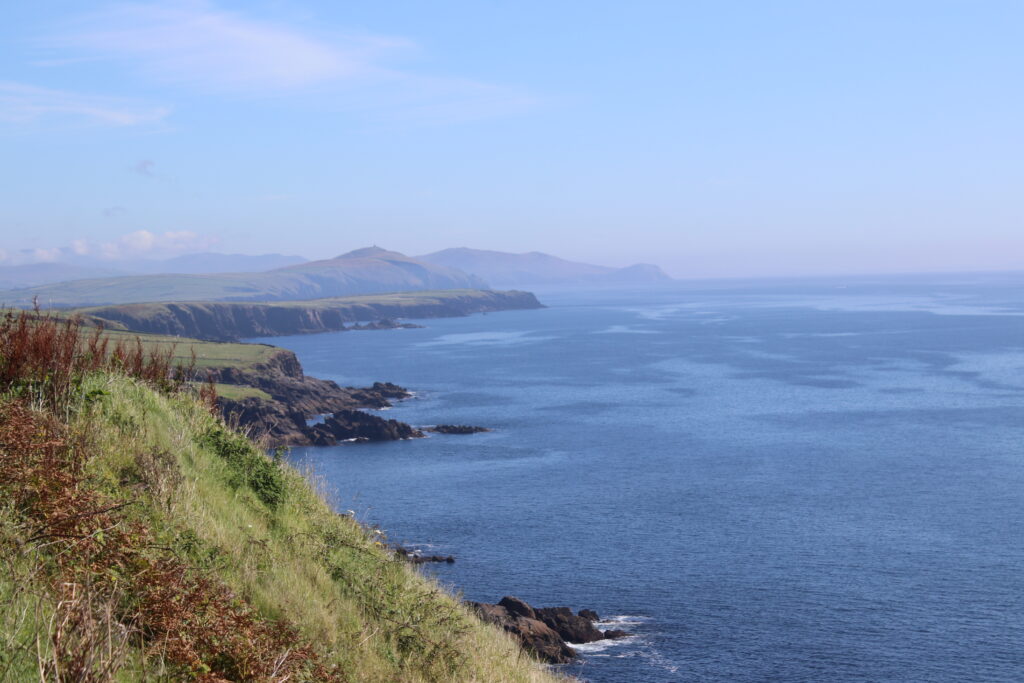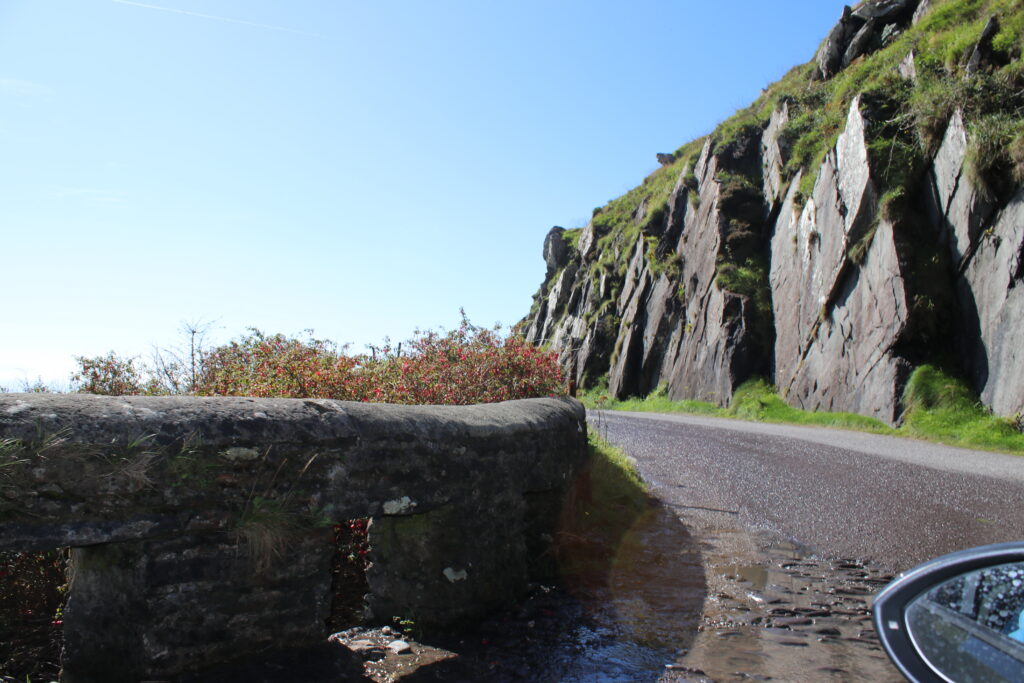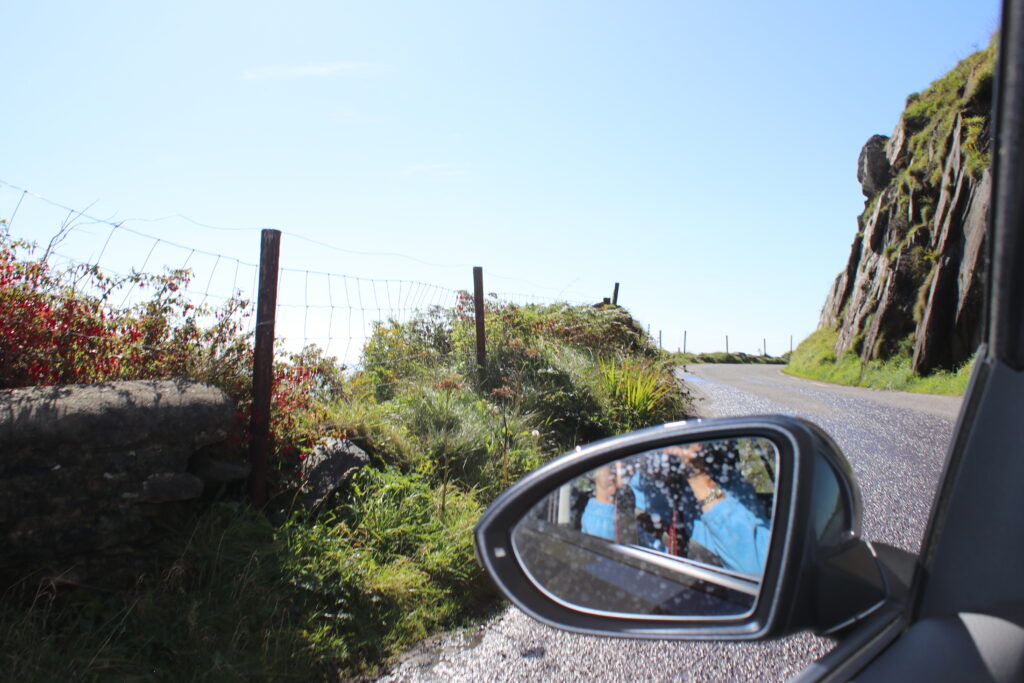 We stopped at the Beehive Huts. We did not pay to go in. We just had a look around. Three photos below were taken near the Beehive Huts.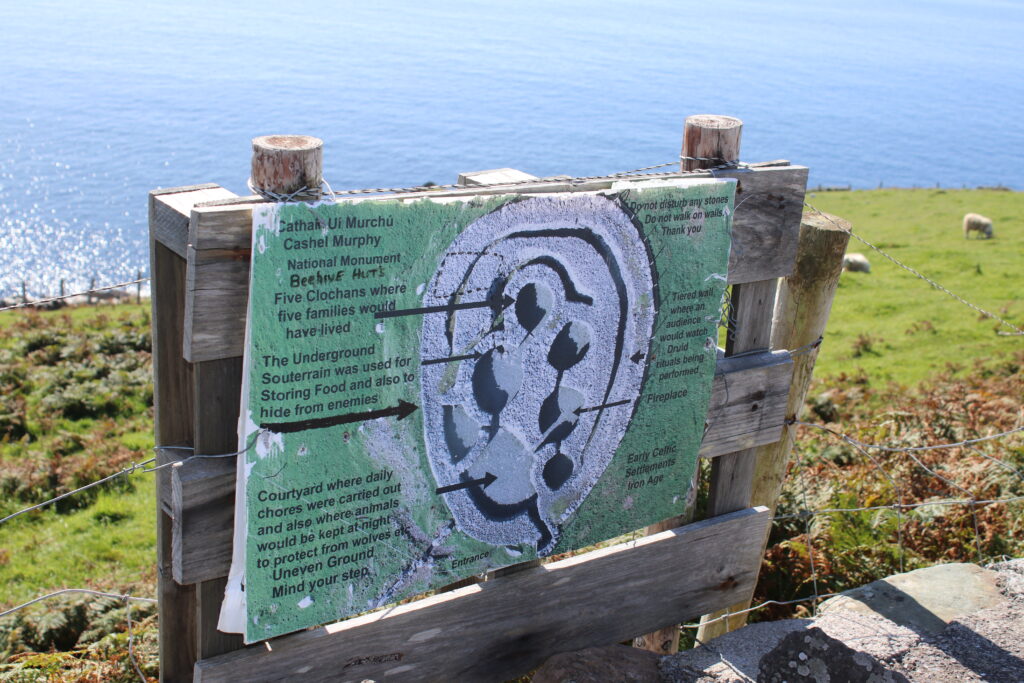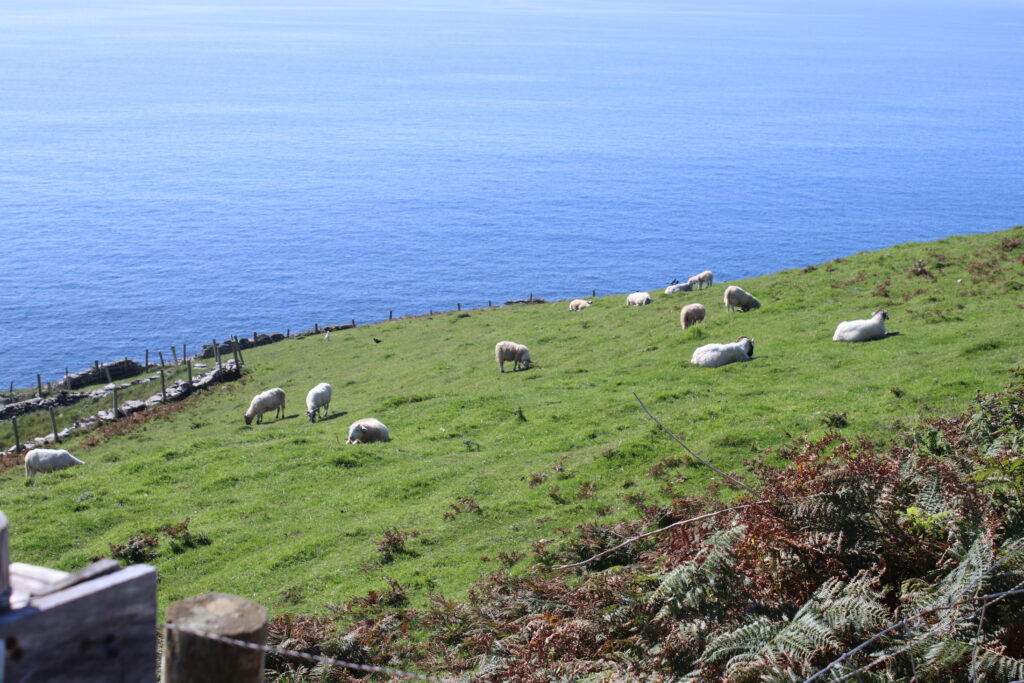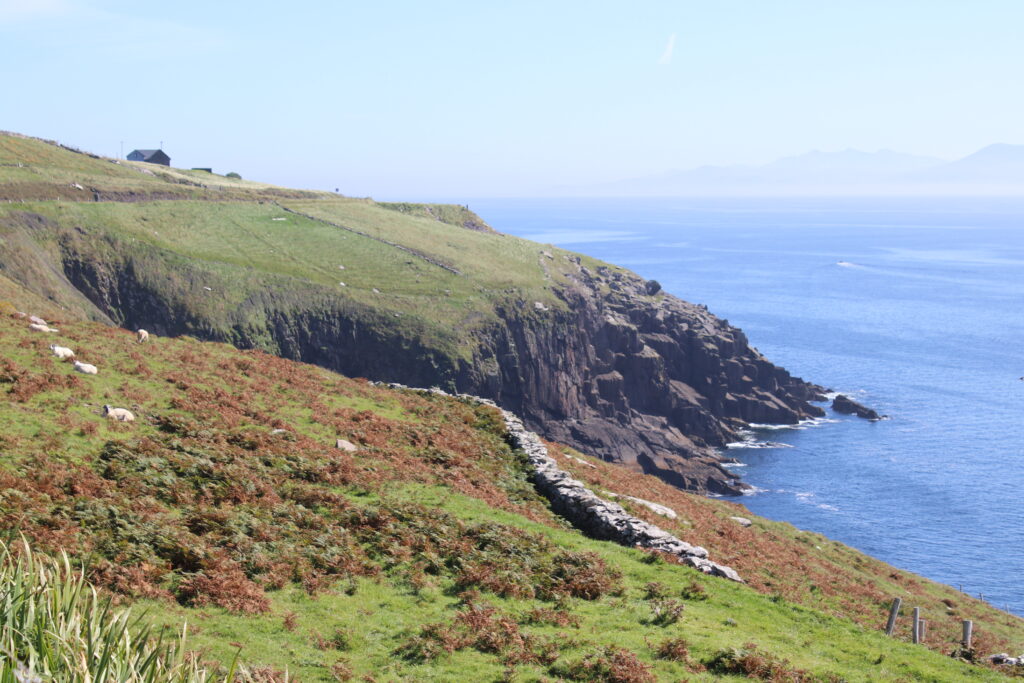 We continued on to Dun Chaoin. There is a nice pull off the road here. You can see Coumeenoole Beach and the Blasket Islands. It is a spectacularly gorgeous stop. Dun Chaoin was one of our favorite stops!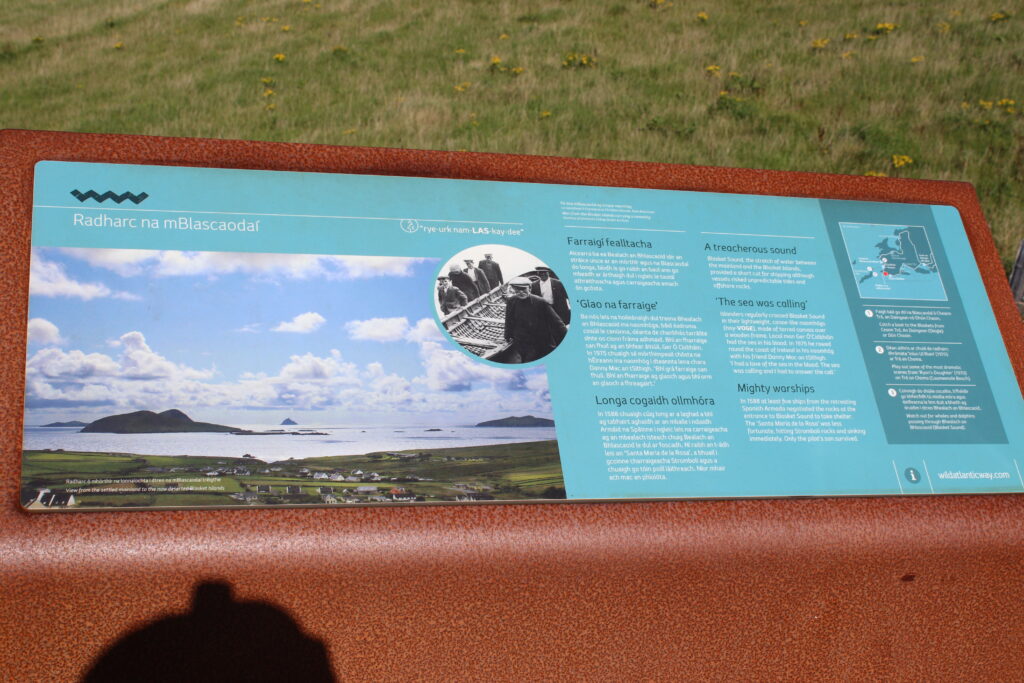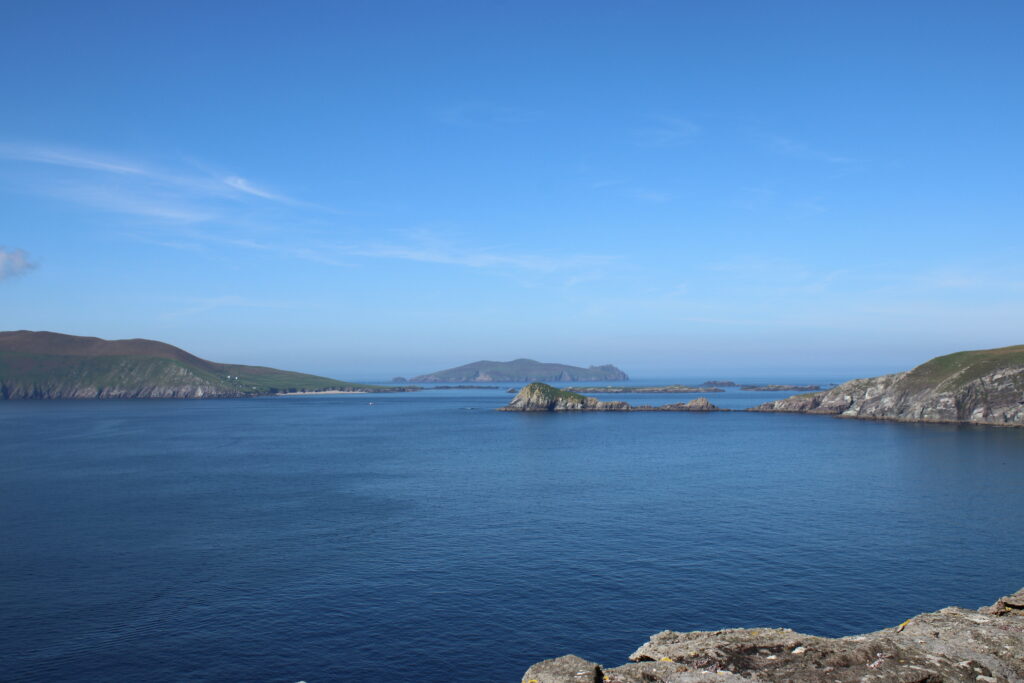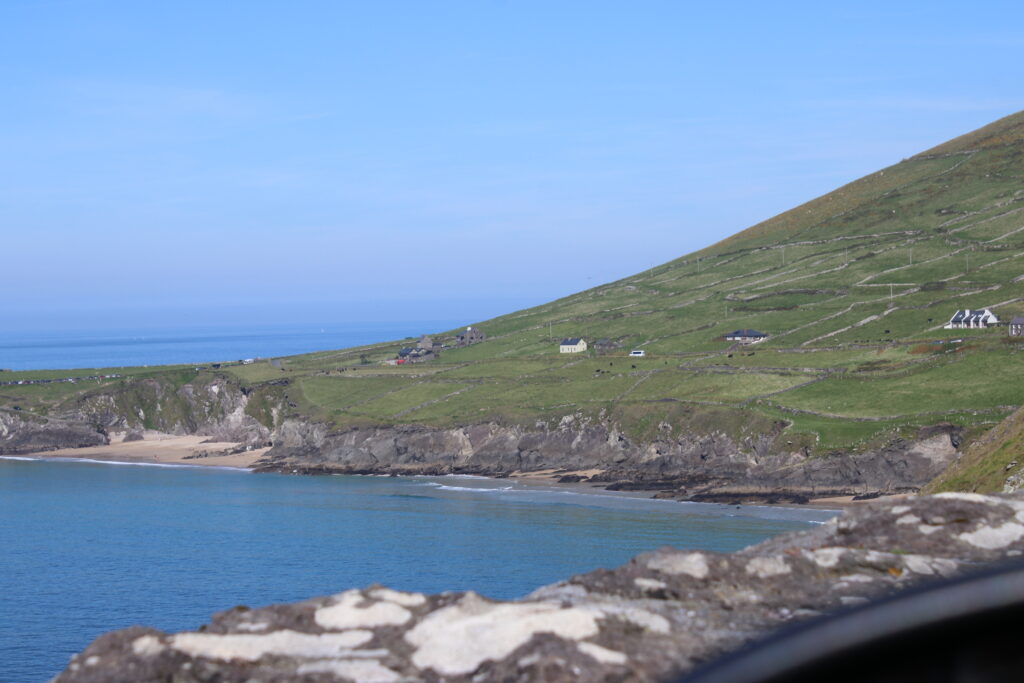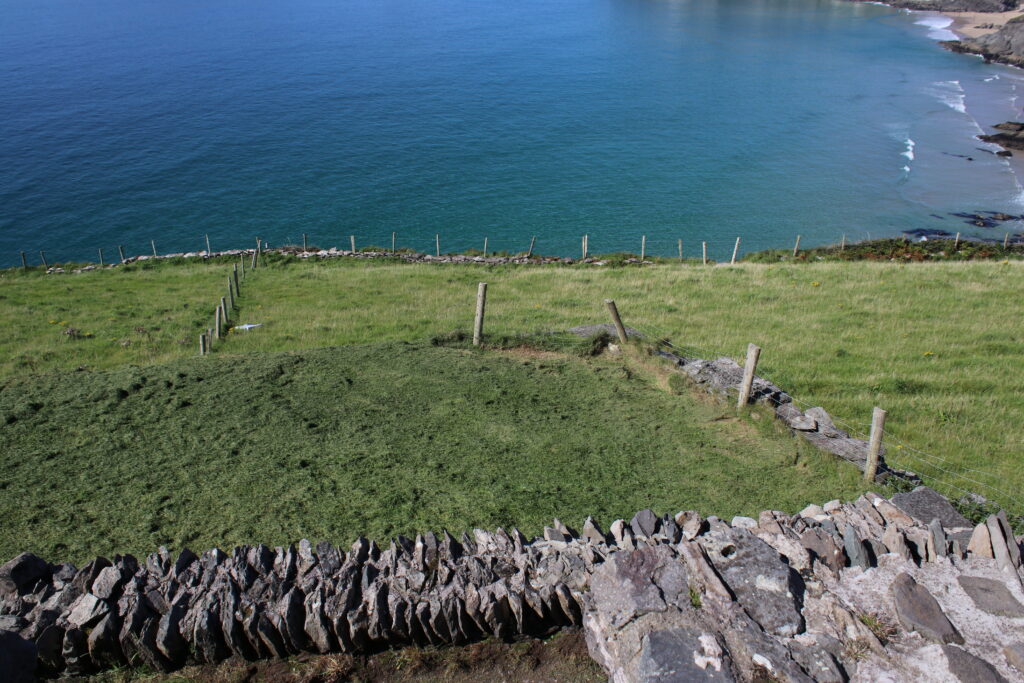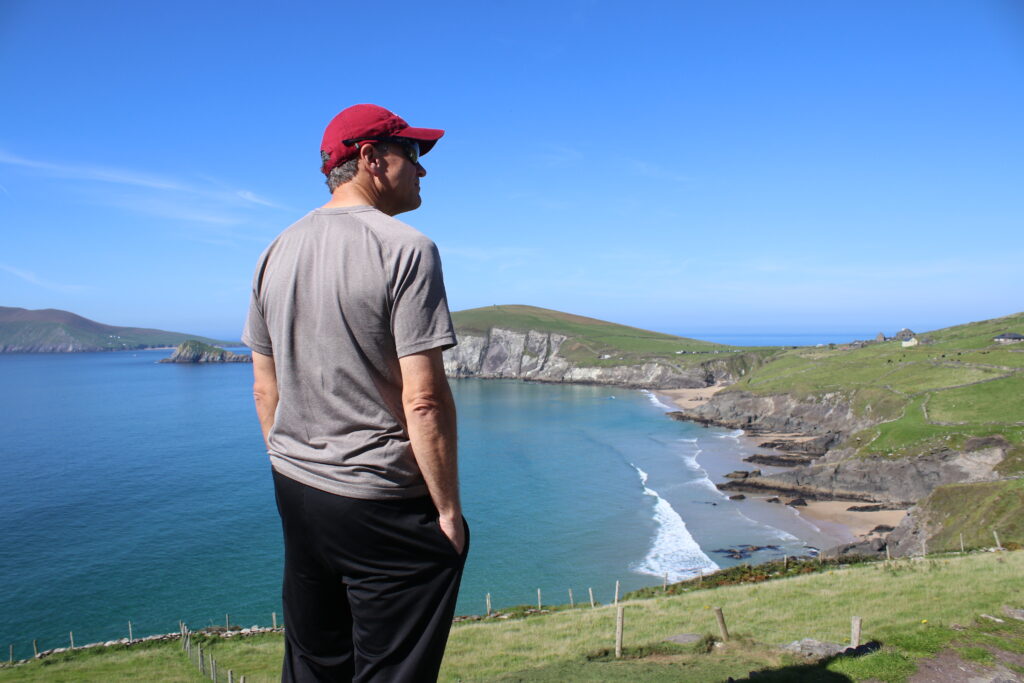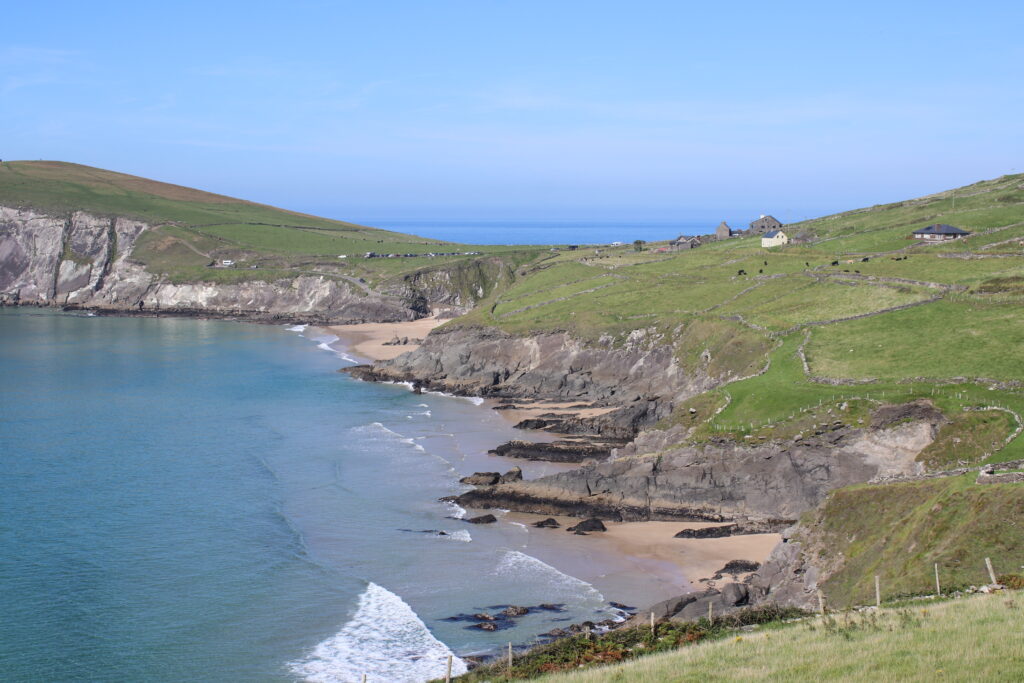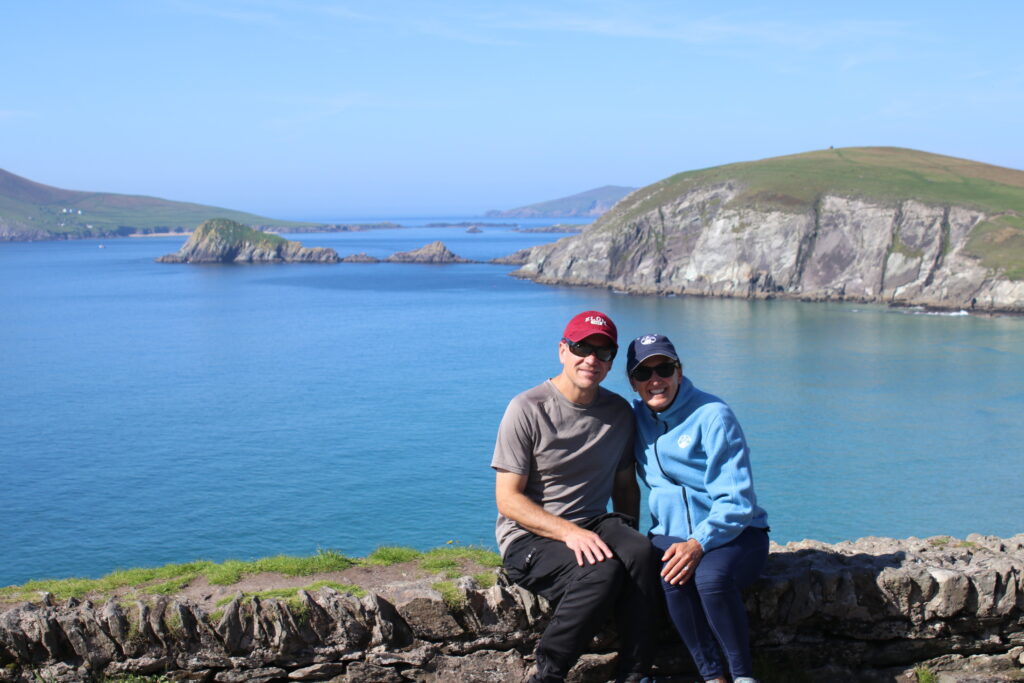 We drove to Coumeenoole Beach, parked and walked down to the water. It was spectacular.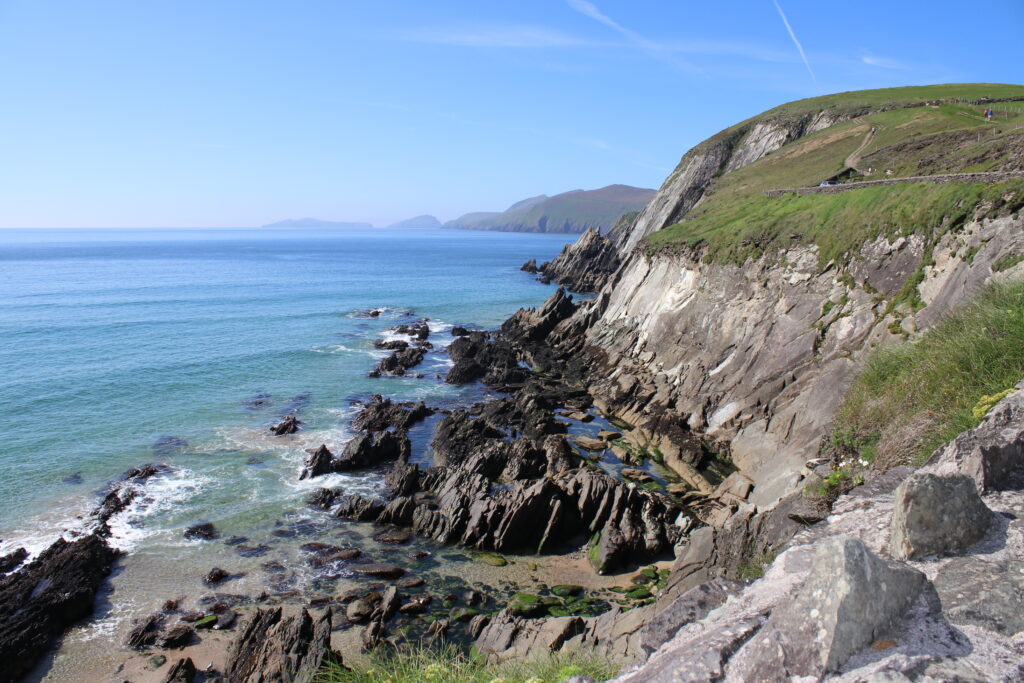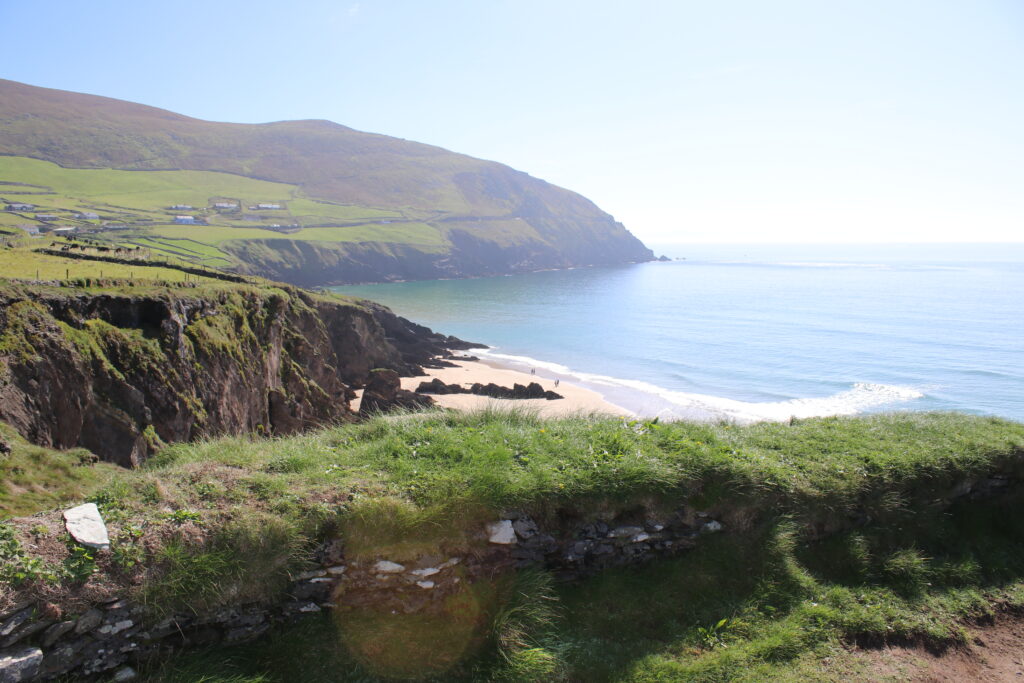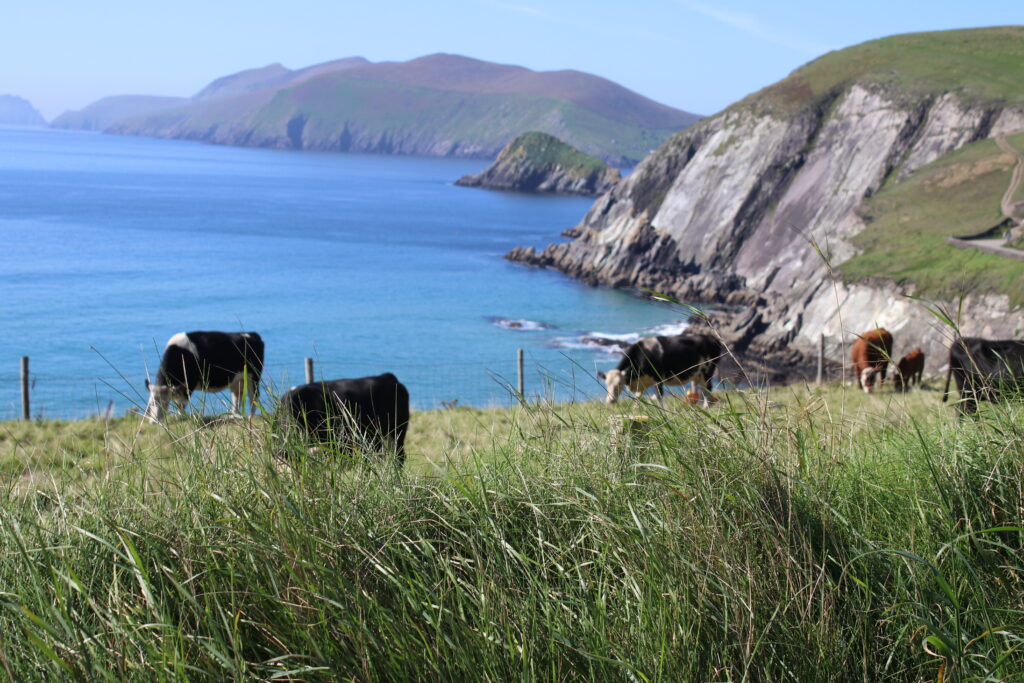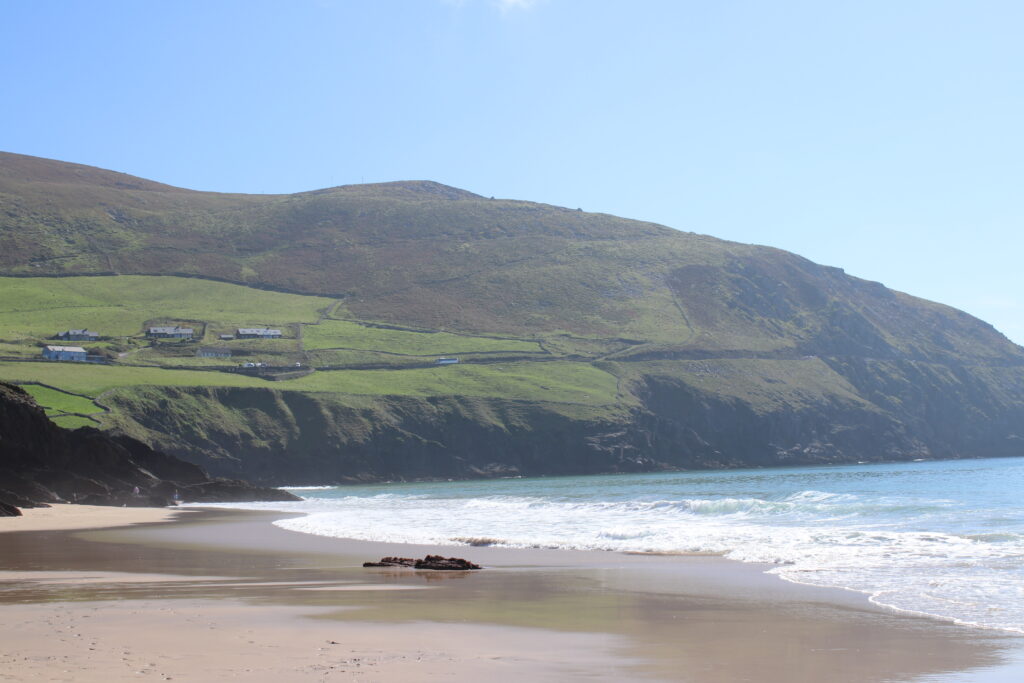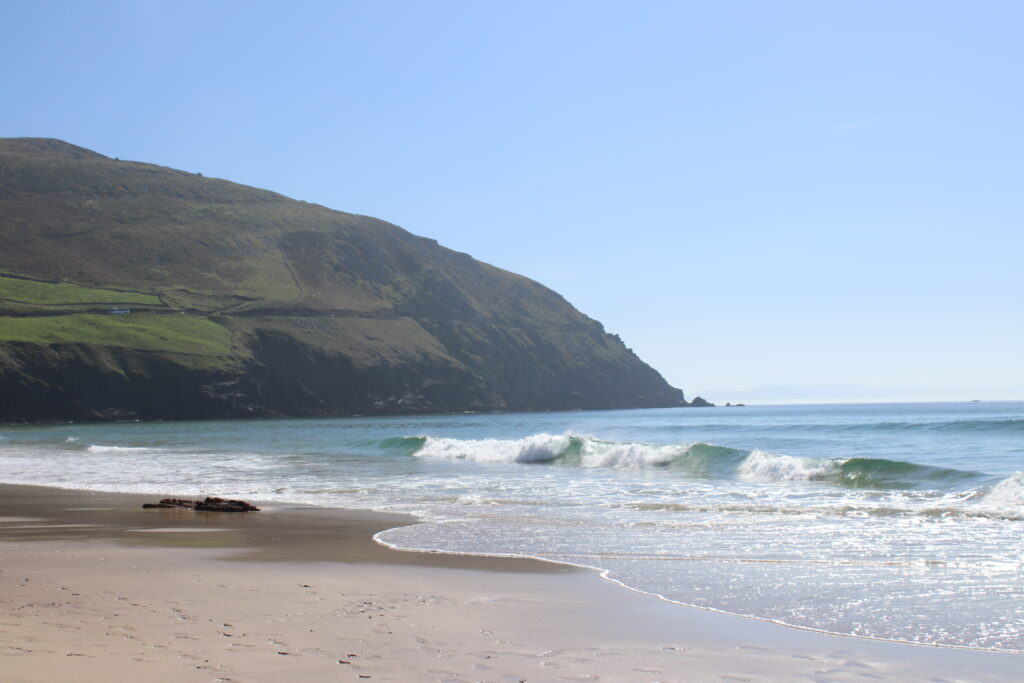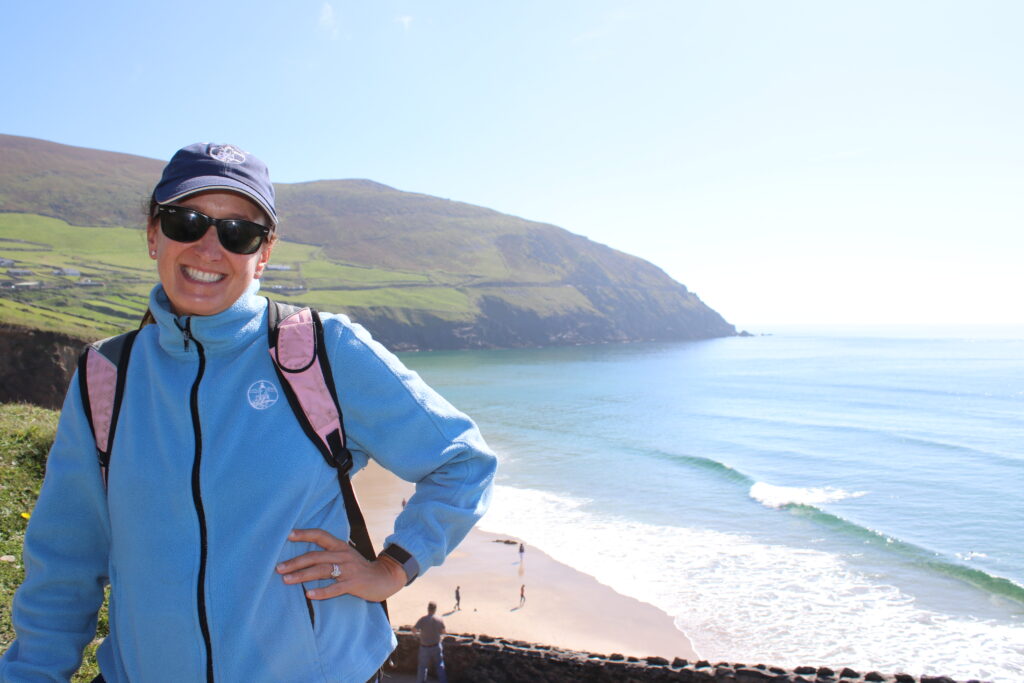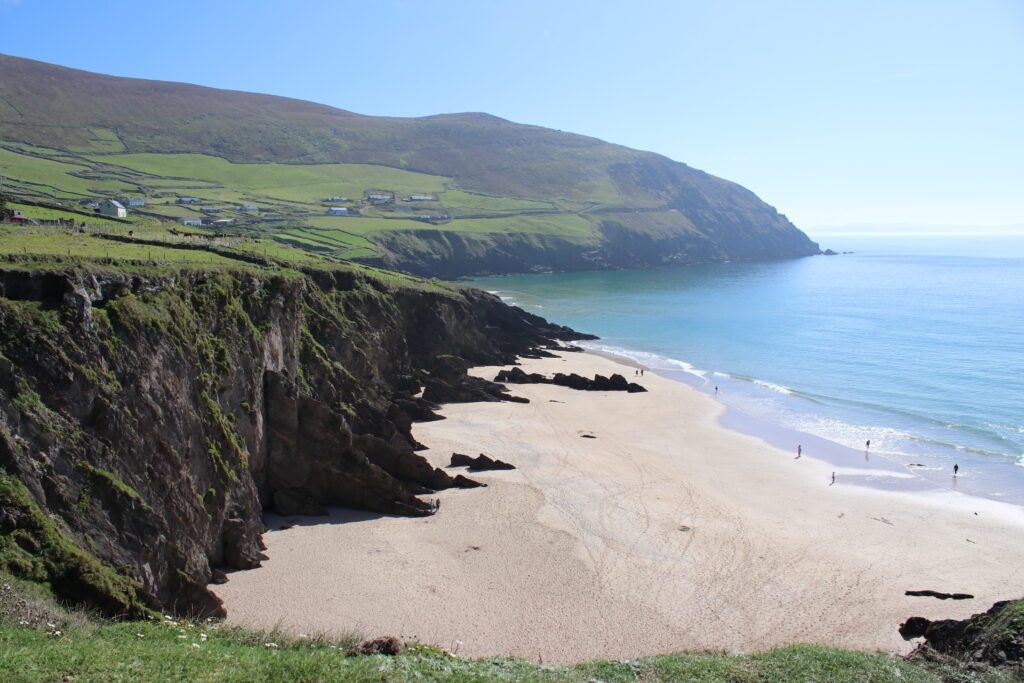 We motored a bit more down Slea Head Road until we arrived at the Blasket Islands Ferry. We took photos and enjoyed the views. If you plan to visit the Blasket Islands, you should make ferry reservations in advance.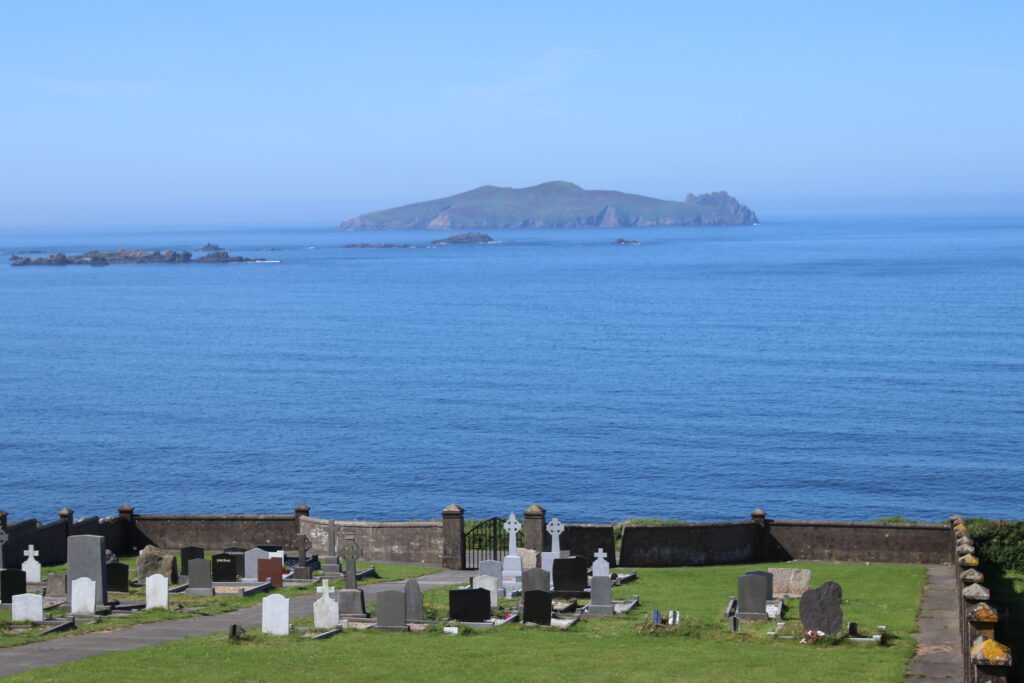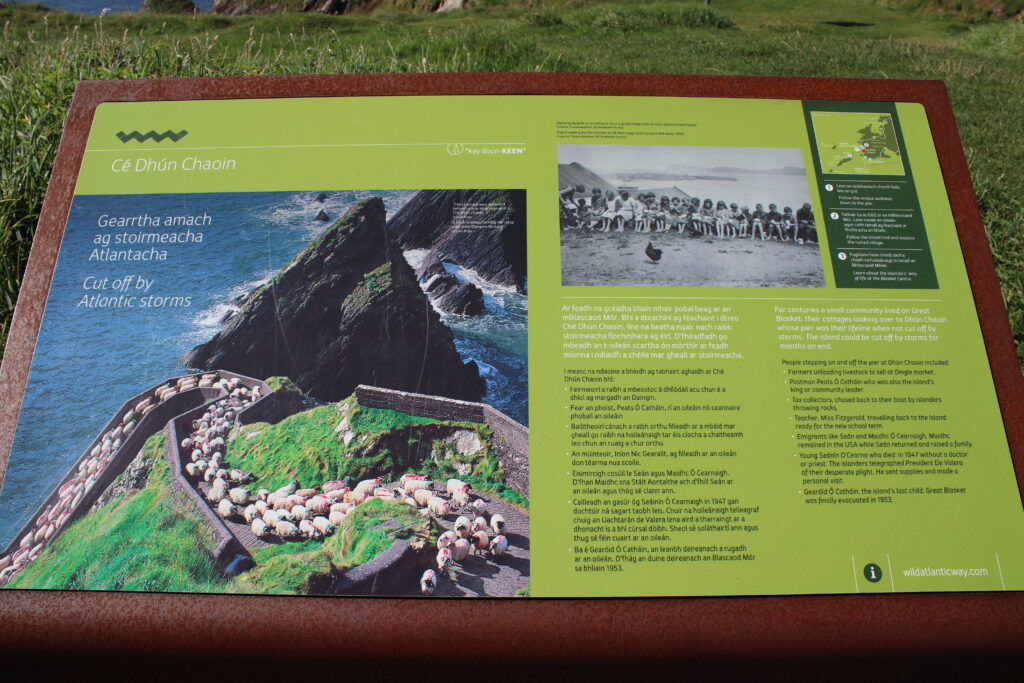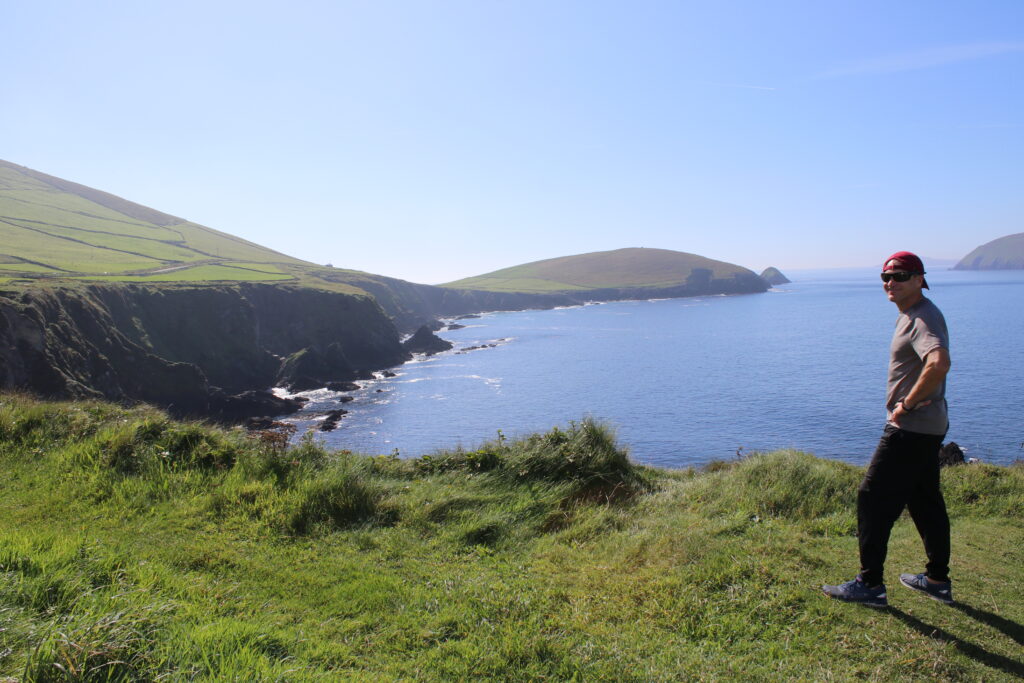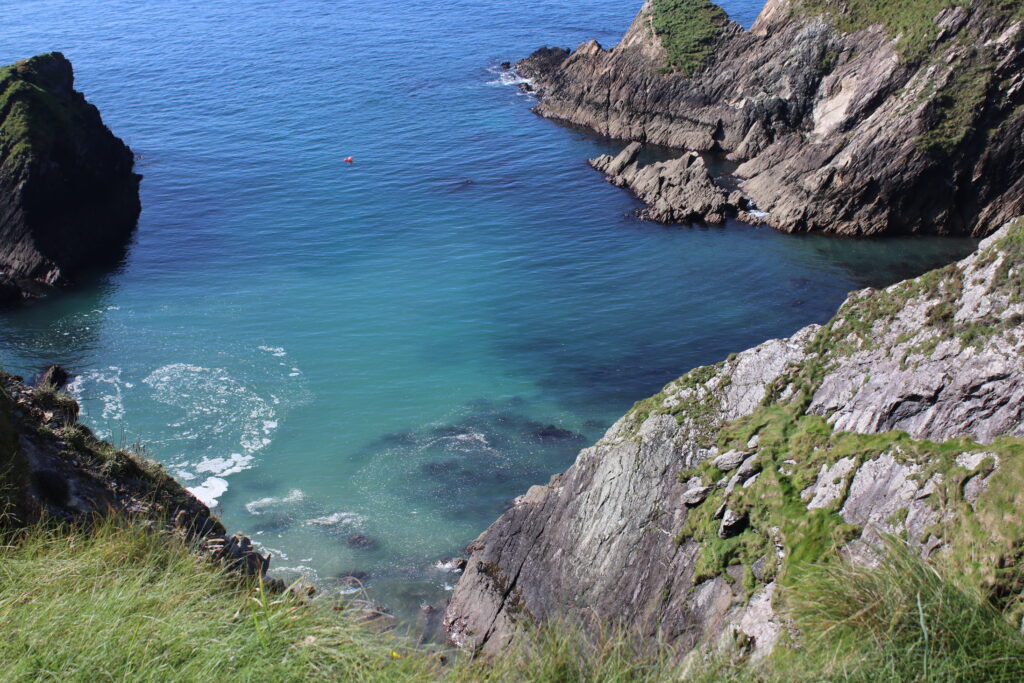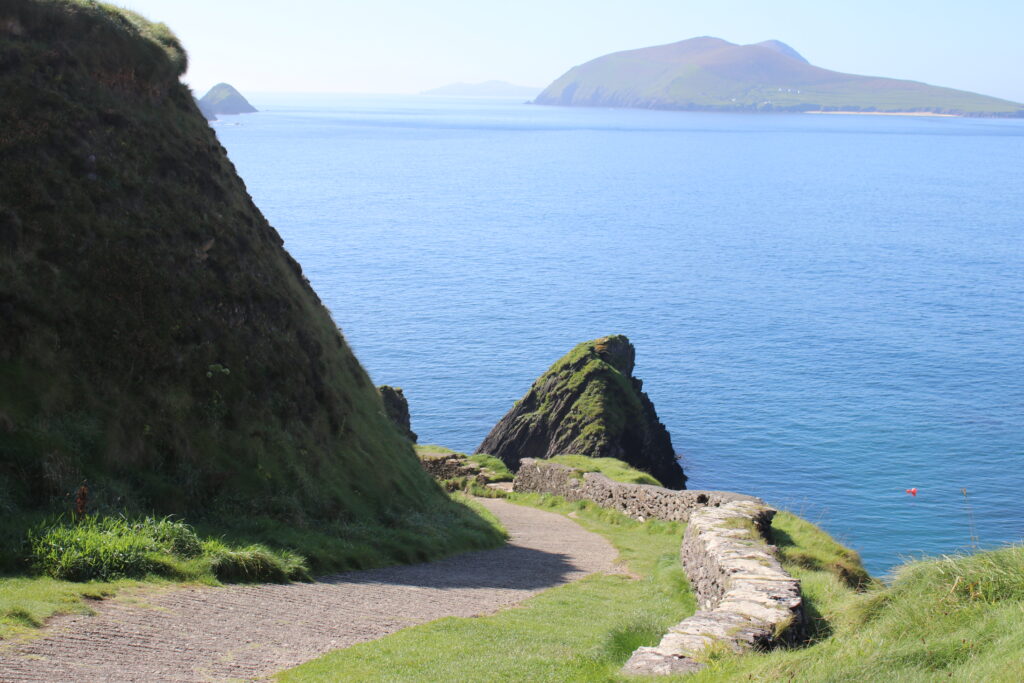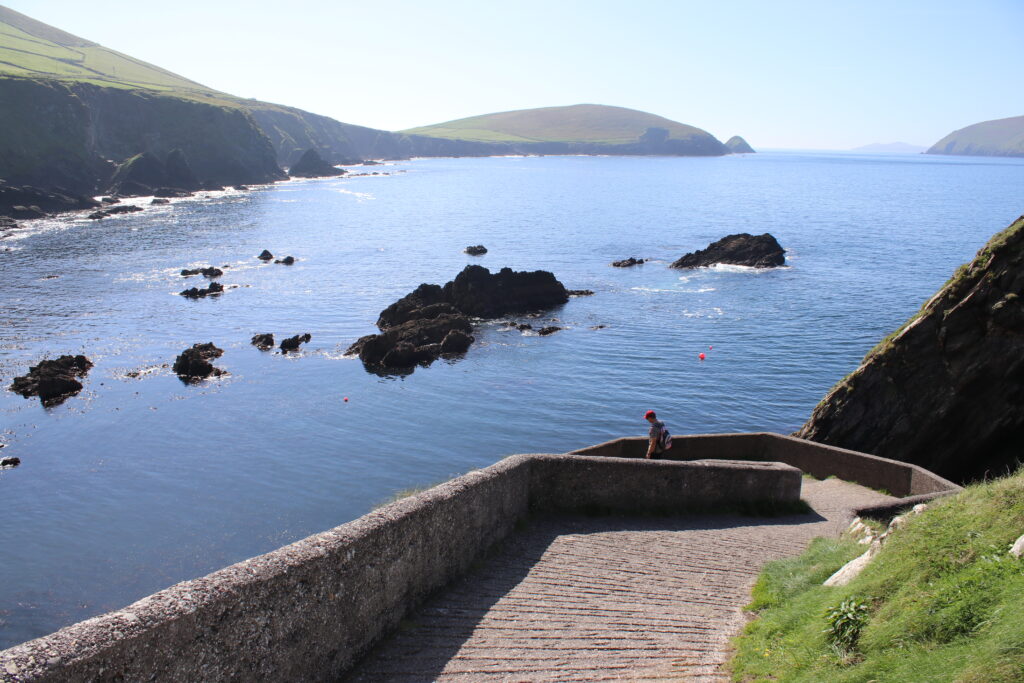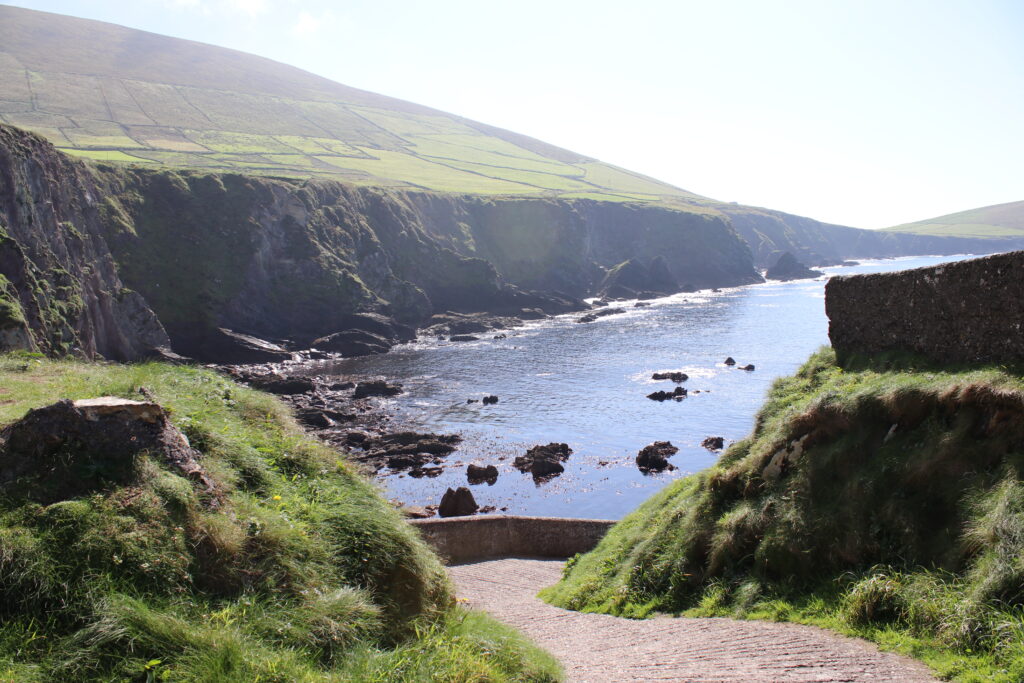 Next up was Clogher Head. We hiked to the top of the hill – it was an easy five-minute walk up. The views were tremendous.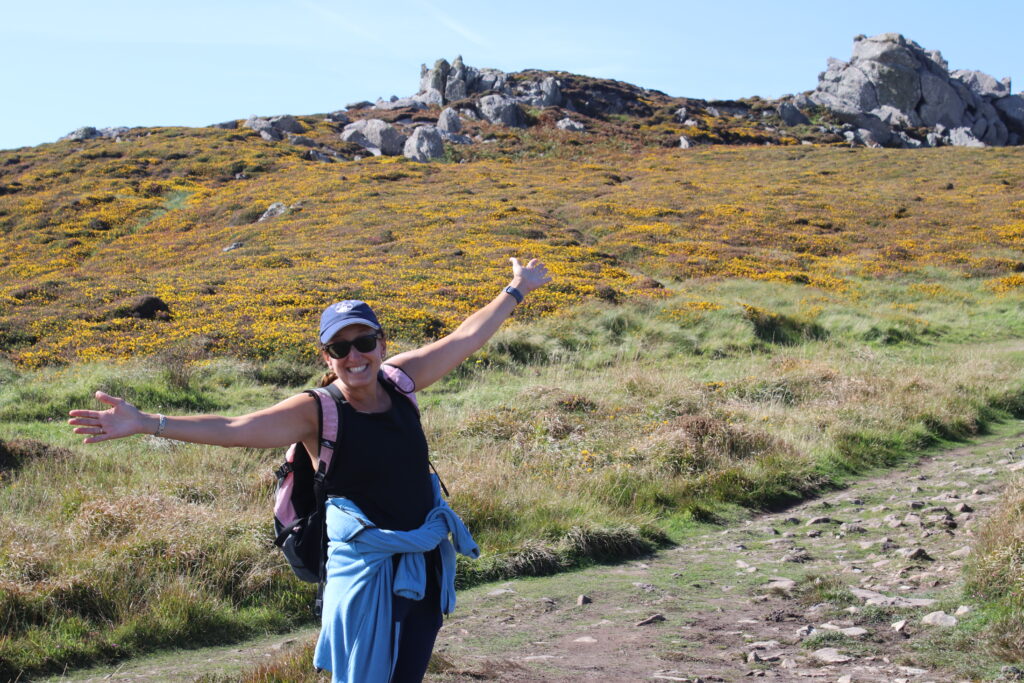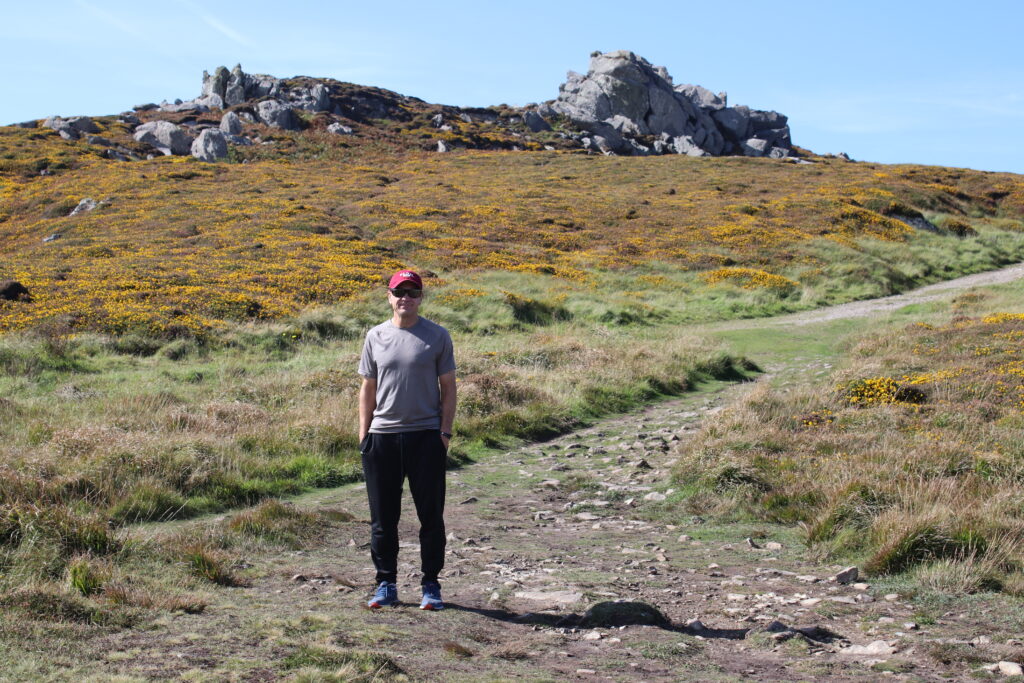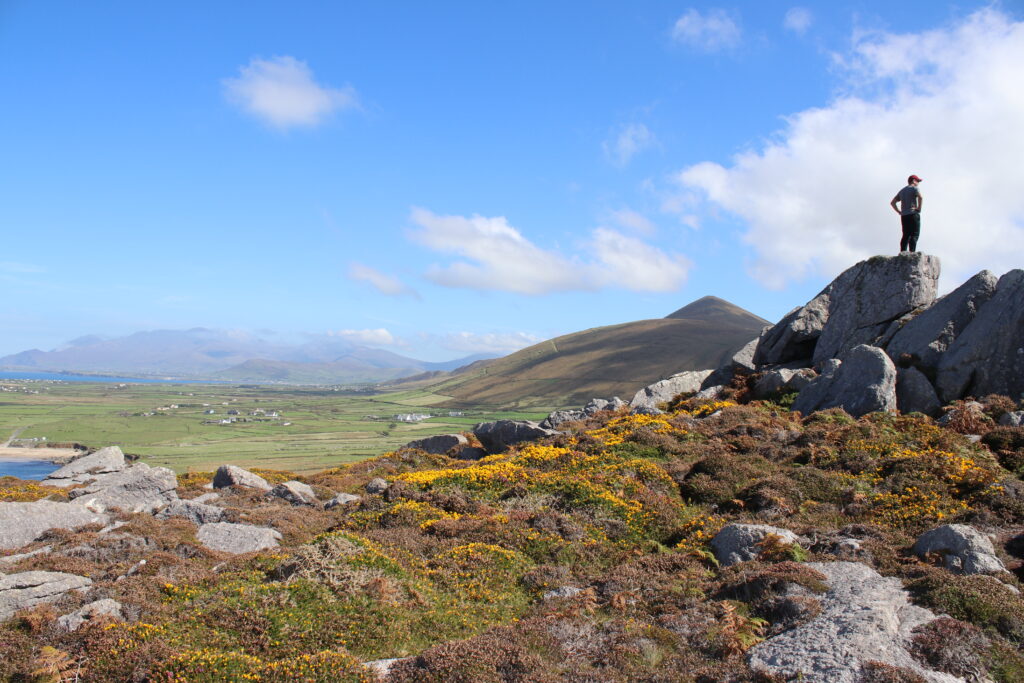 The islands are the Blasket Islands, not the Skellig Islands.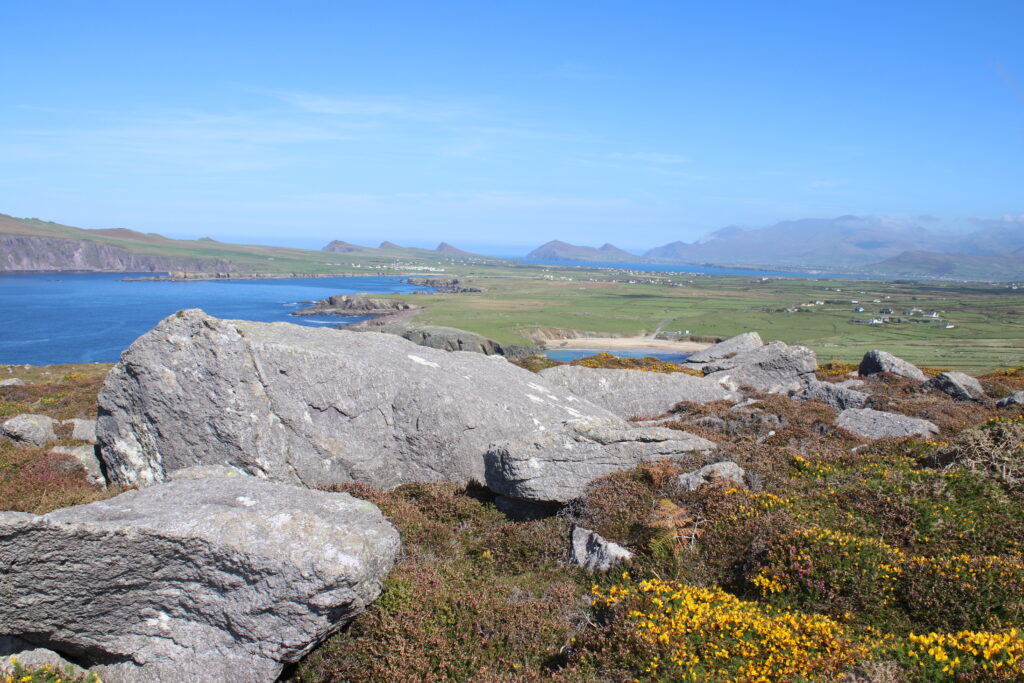 We walked down the hill. The next set of photos are also at Clogher Head, looking toward a place where they filmed a bunch of scenes in the Star Wars movies.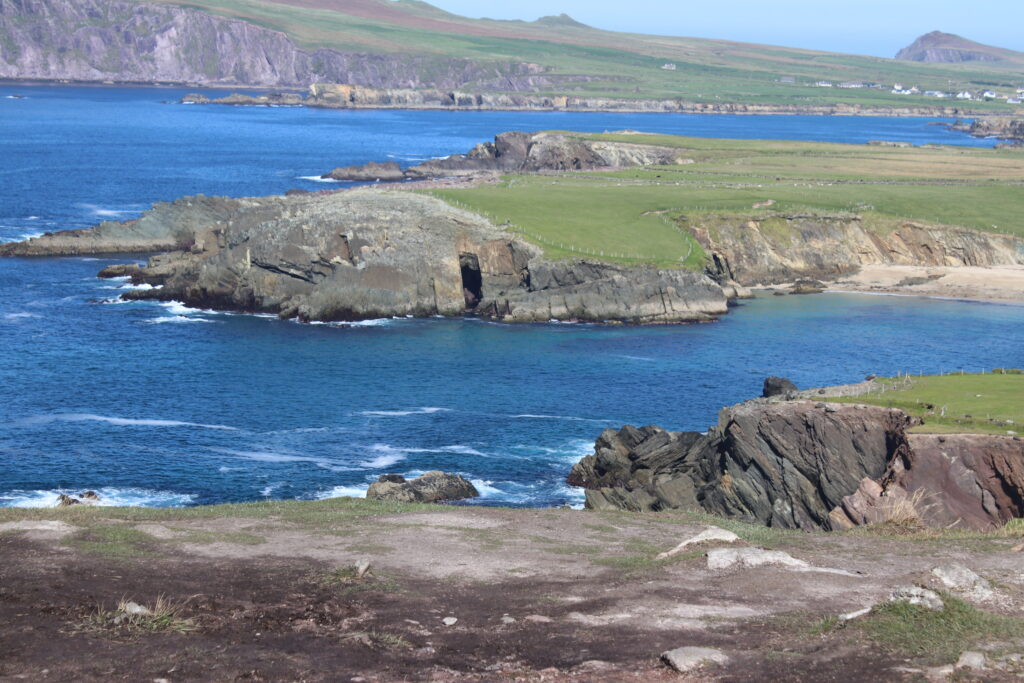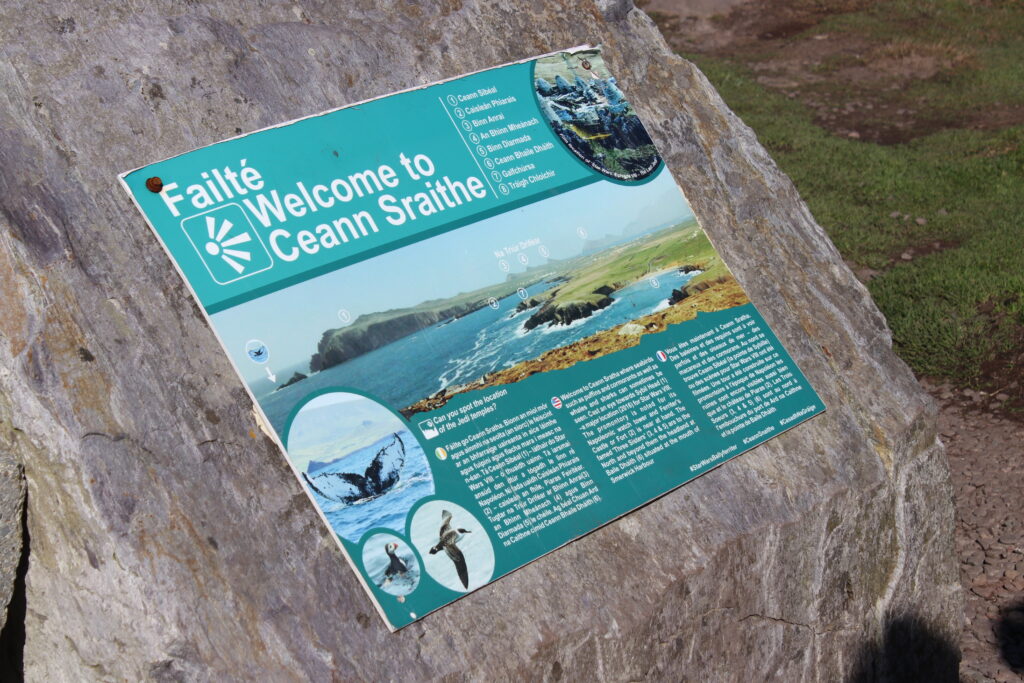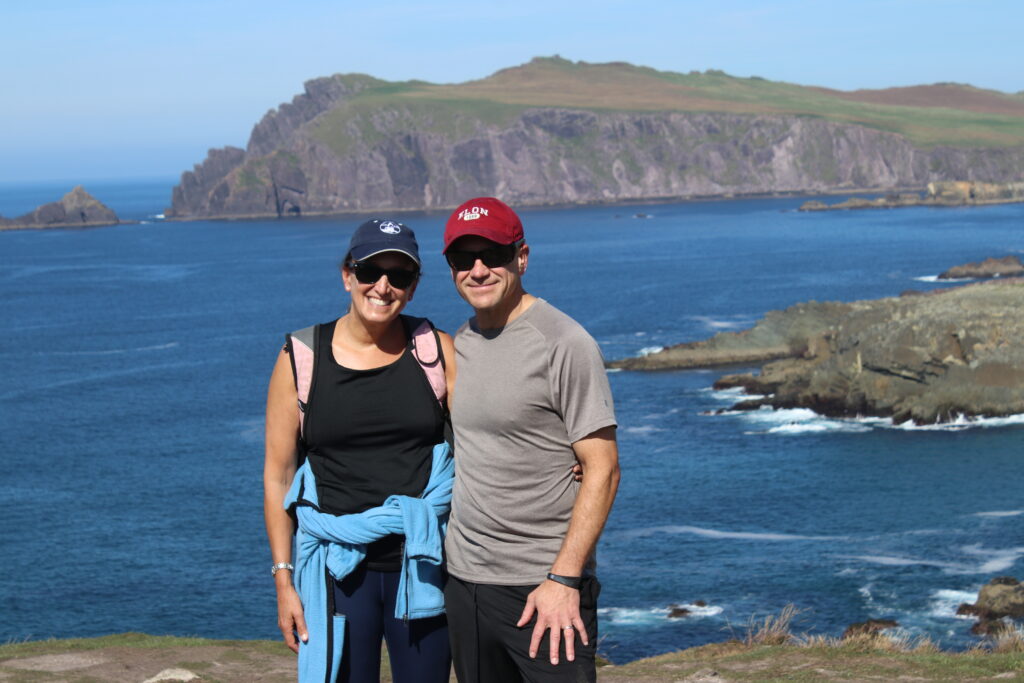 We finished the Ring of Dingle. It took about four hours. We returned to our hotel, starving. We ate delicious fish and chips at the Dingle Ahoy food truck.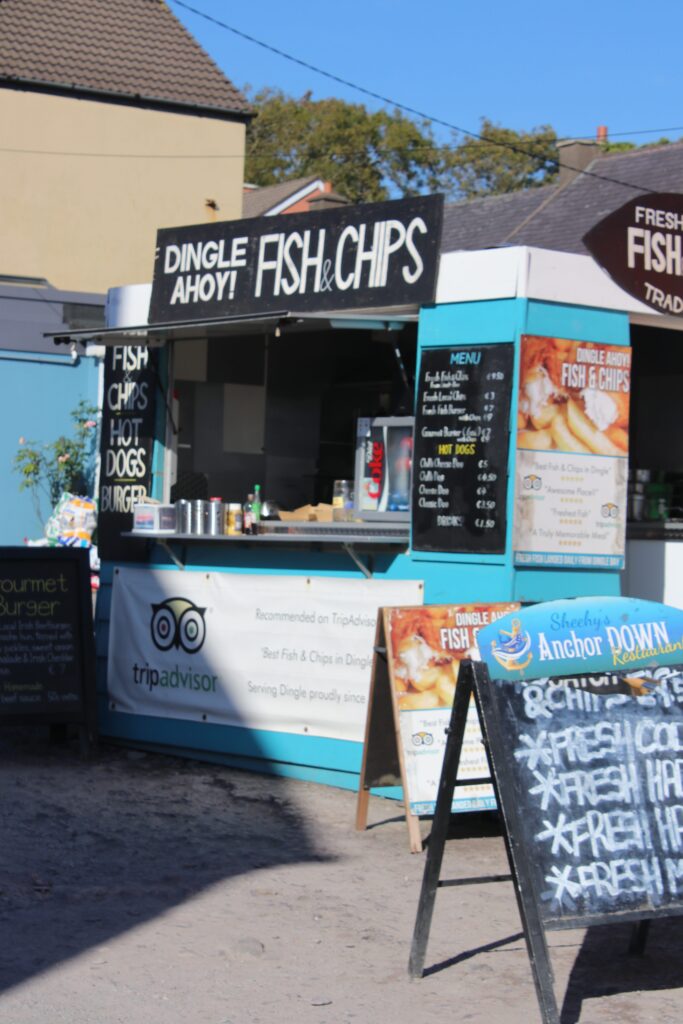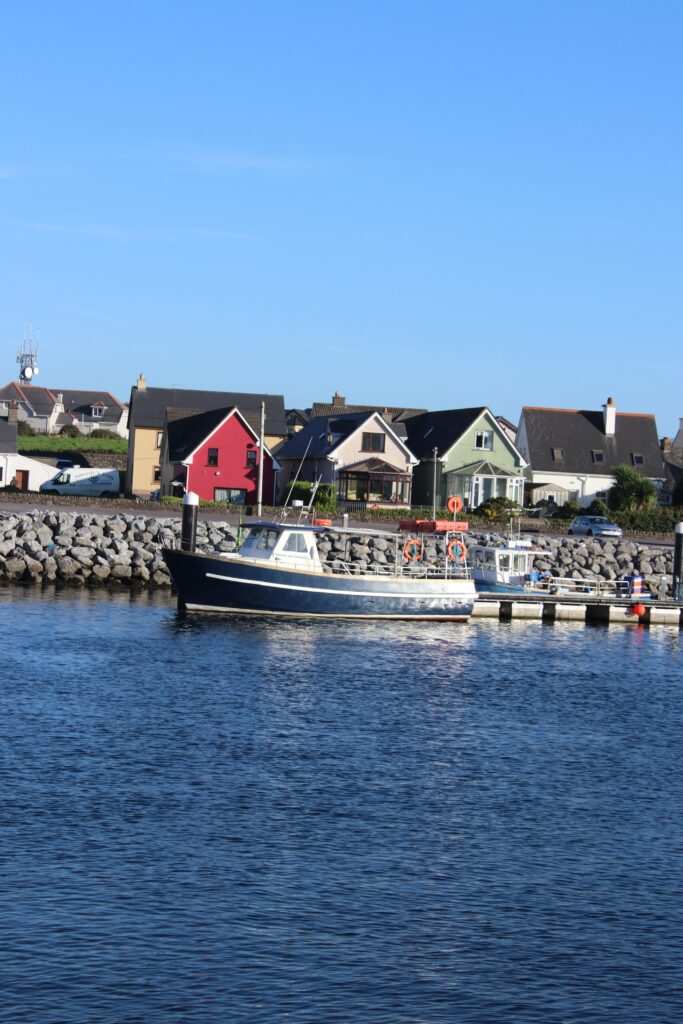 We headed to Happy Hour at Dick Mack's. It has an outdoor garden and an old, dusty, but charming interior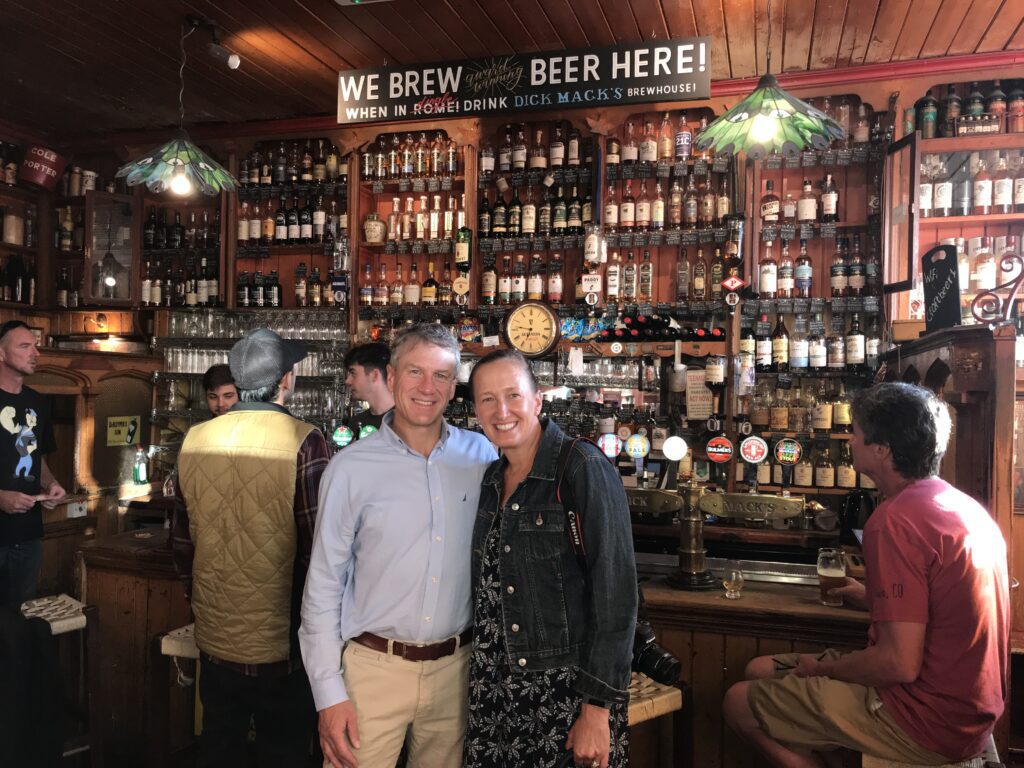 We highly recommend a stop at Ashes on Main Street in Dingle. Delightful atmosphere and good food and drinks, too. TripAdvisor reviews are excellent.
The Dingle Pub on Main Street in Dingle did not disappoint. A raucous, lively atmosphere welcomes all. David Geaney, a famous Irish step dancer is the son of the owner. When he is not traveling for his dancing, he is a waiter at the bar. Around 9pm he will dance for 15 minutes or so. Arrive early as it gets crowded. Sit at the bar for the best view. TripAdvisor reviews are good.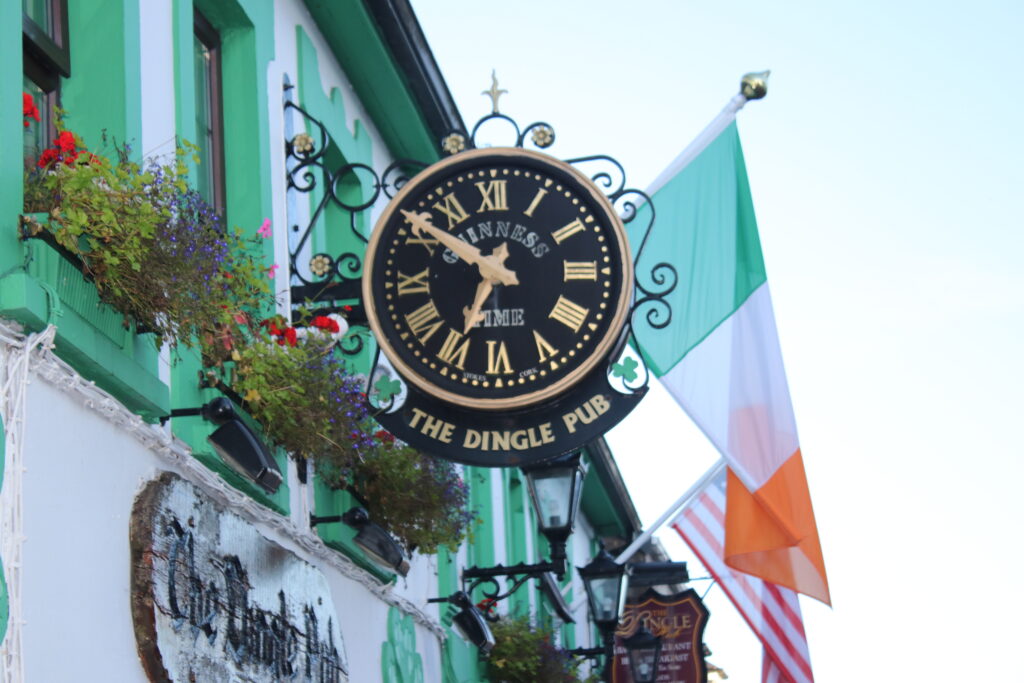 Day Five – Leave Dingle, Part of the Ring of Kerry, Kinsale
Today, we planned to leave Dingle, drive a portion of the Ring of Kerry and head for Kinsale for two nights. We left Dingle on N86. The views were amazing as you head off the peninsula. We stopped often for photos.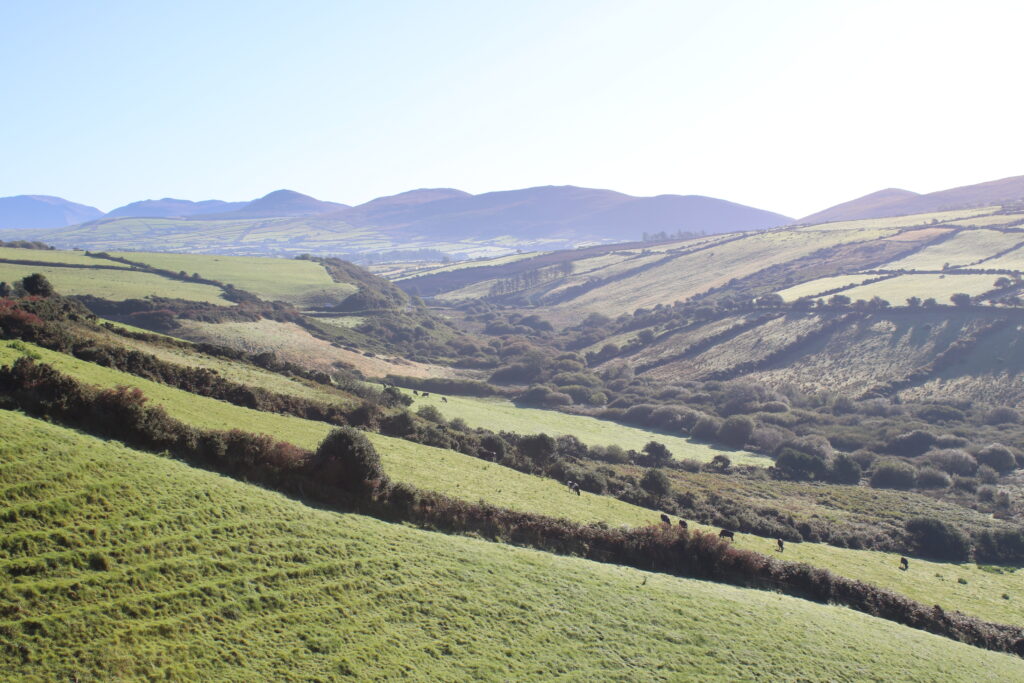 We visited Inch Beach for some photos, too.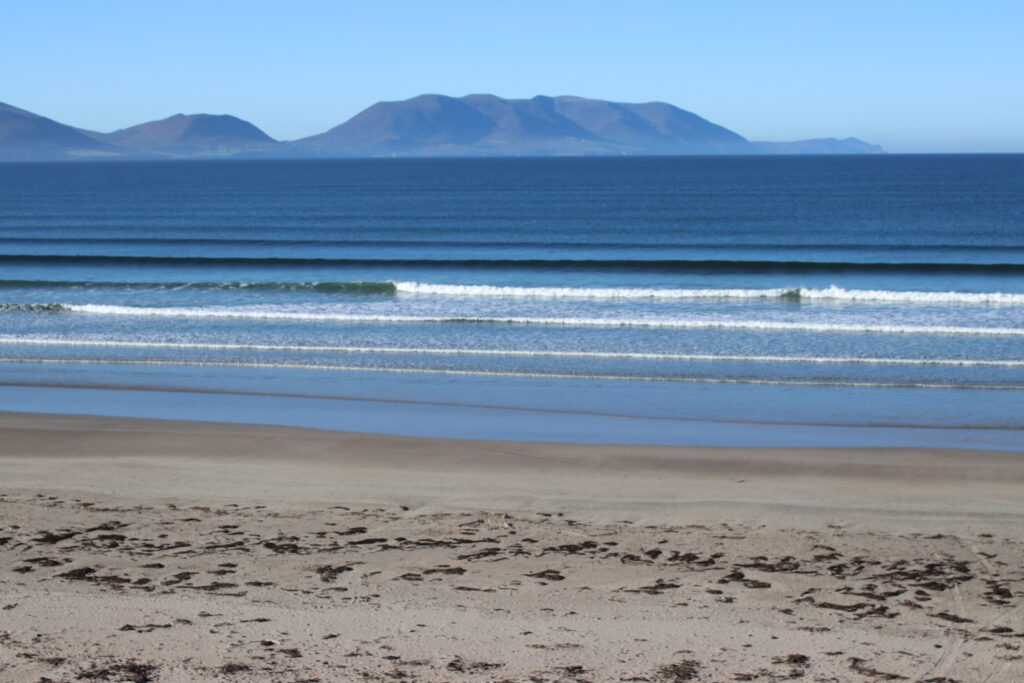 The ancient graveyard in Keel, was pretty neat.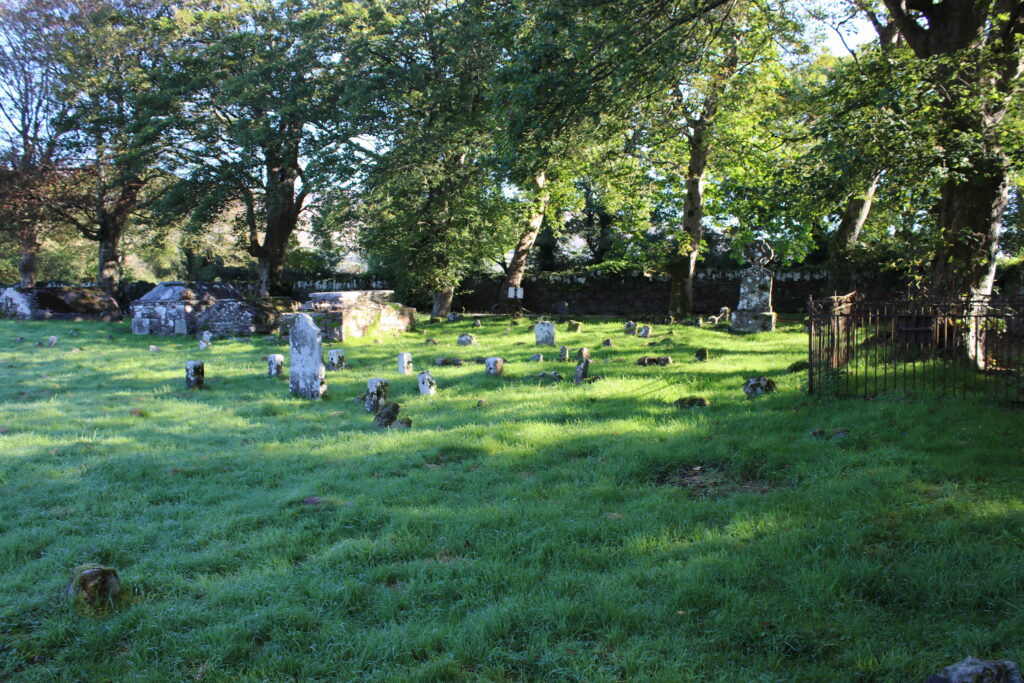 We continued on to the N70 and the Ring of Kerry. Our first stop was in Glenbeigh to a pretty little town and a cute bridge over the River Behy.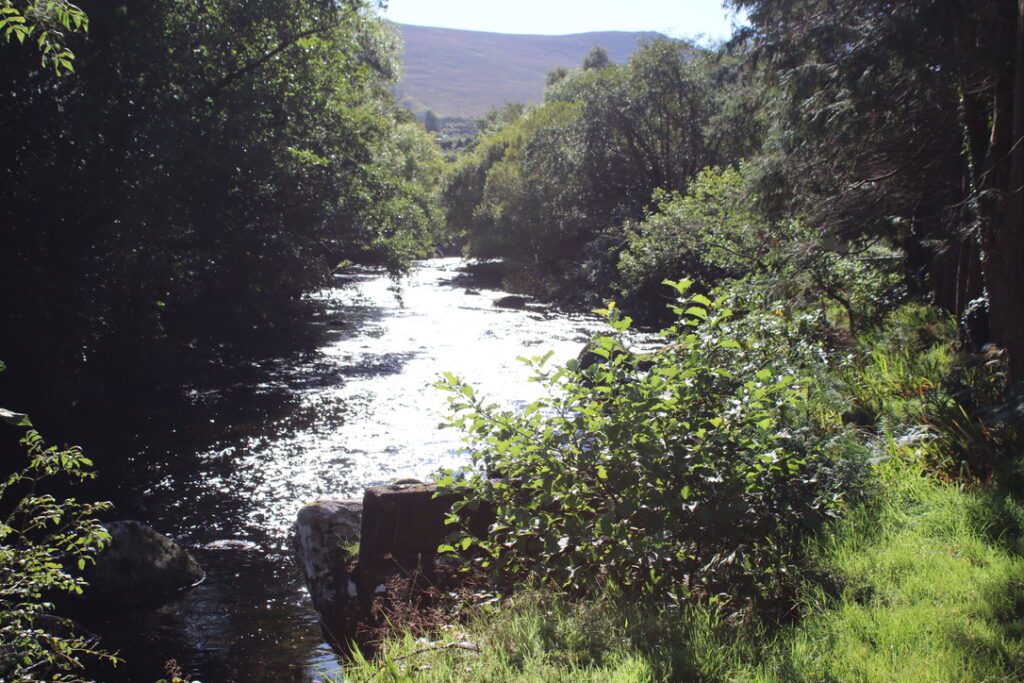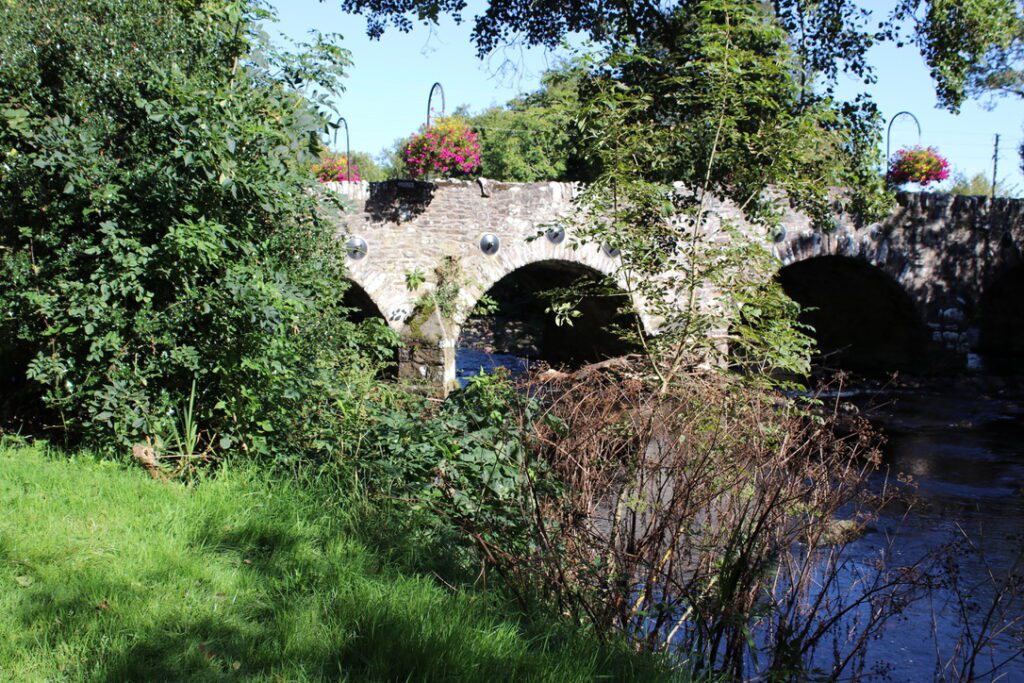 We drove down the road to the gorgeous Rossbeigh Strand. Just delightful.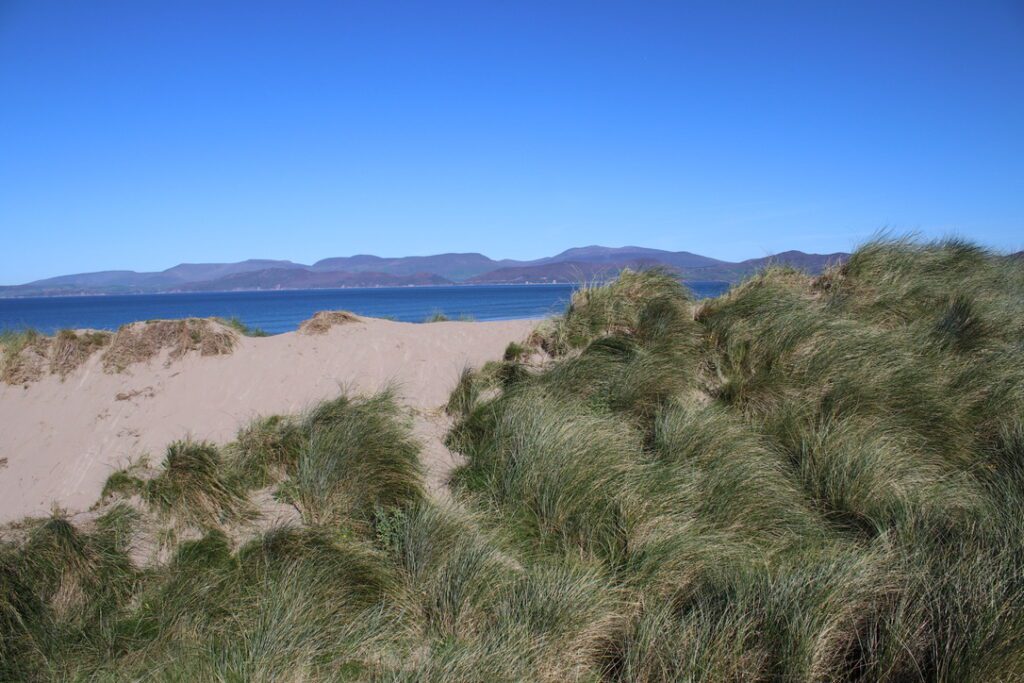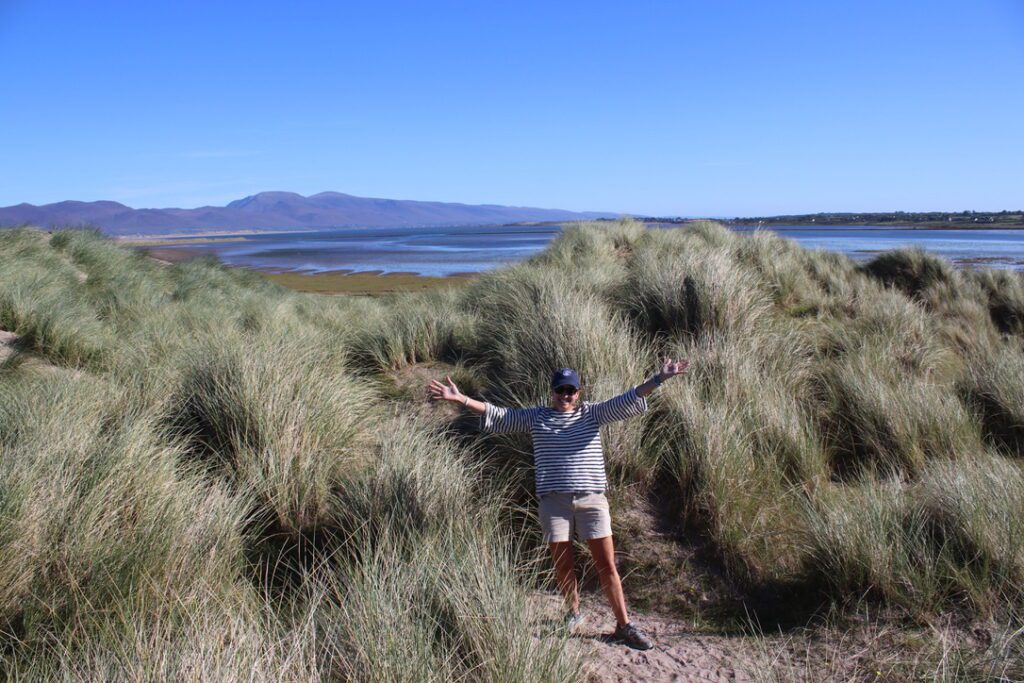 Back on the Ring of Kerry road, we stopped again in Cahersiveen. The surrounding valley was lovely We peeked around at the old Ballycarberry Castle and the Old Barracks.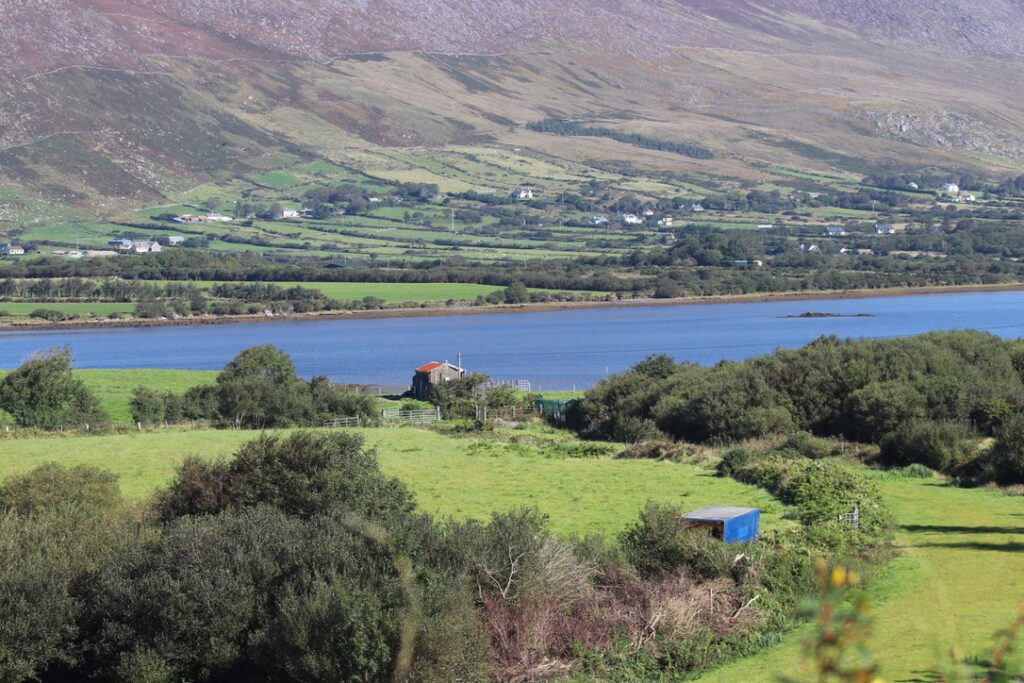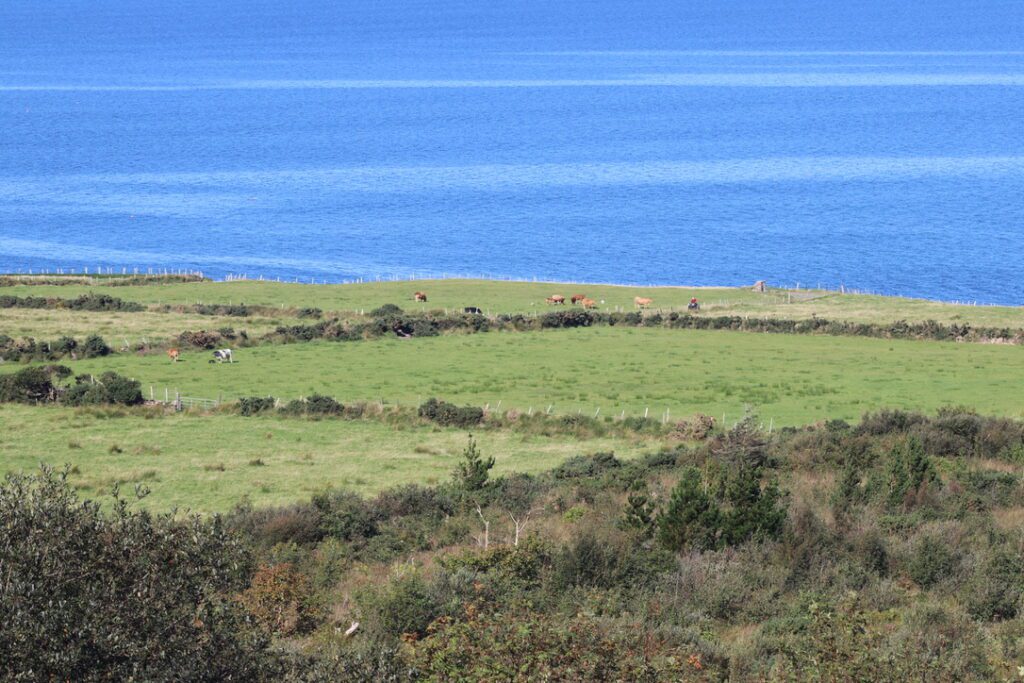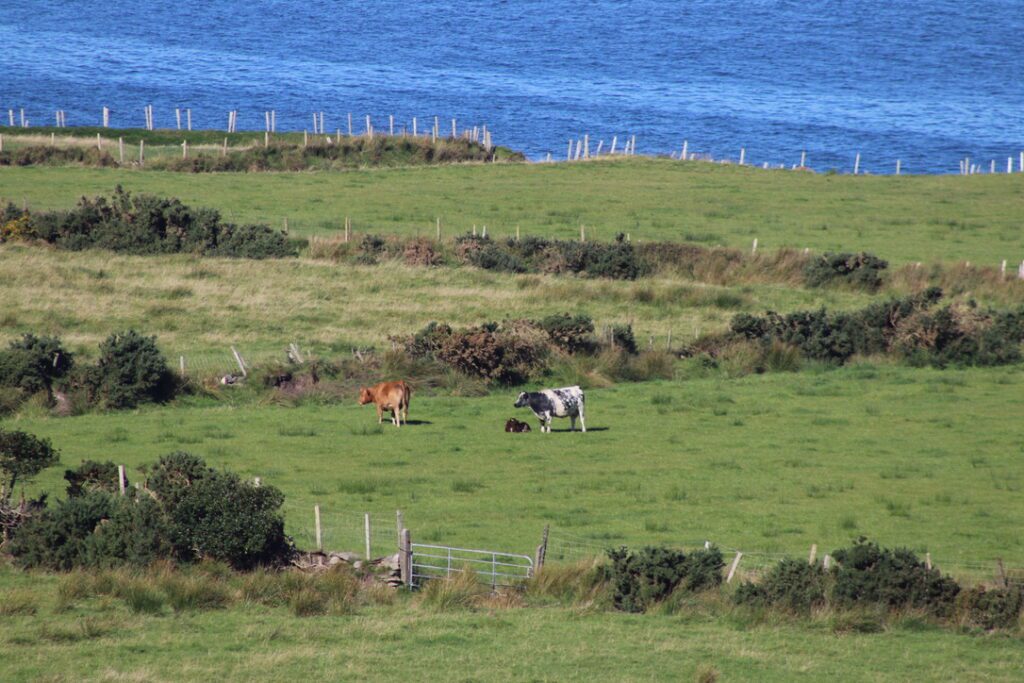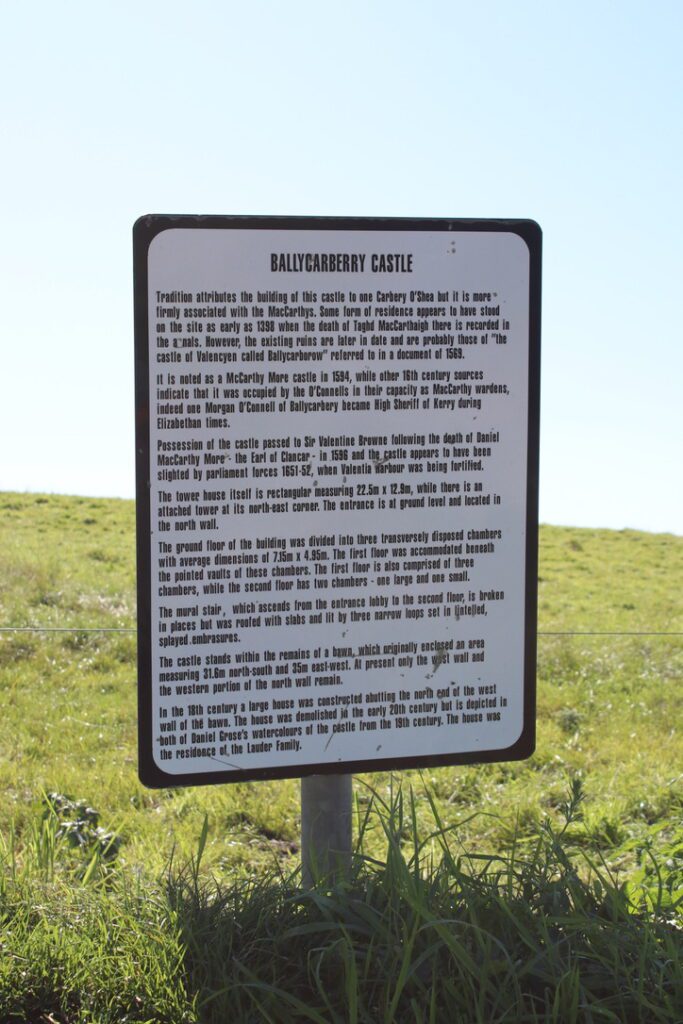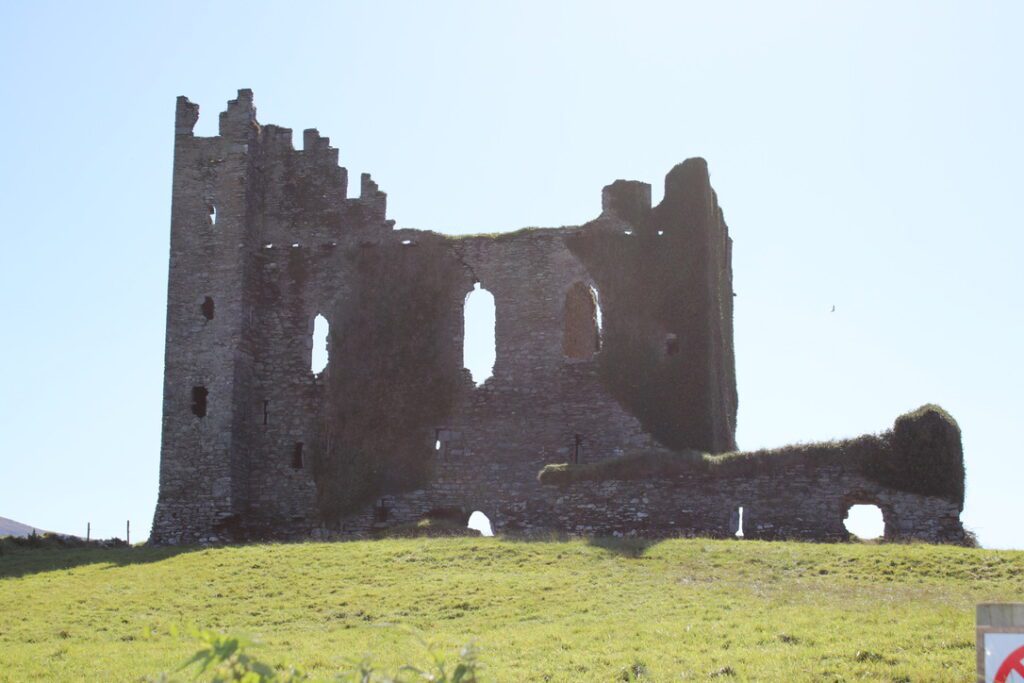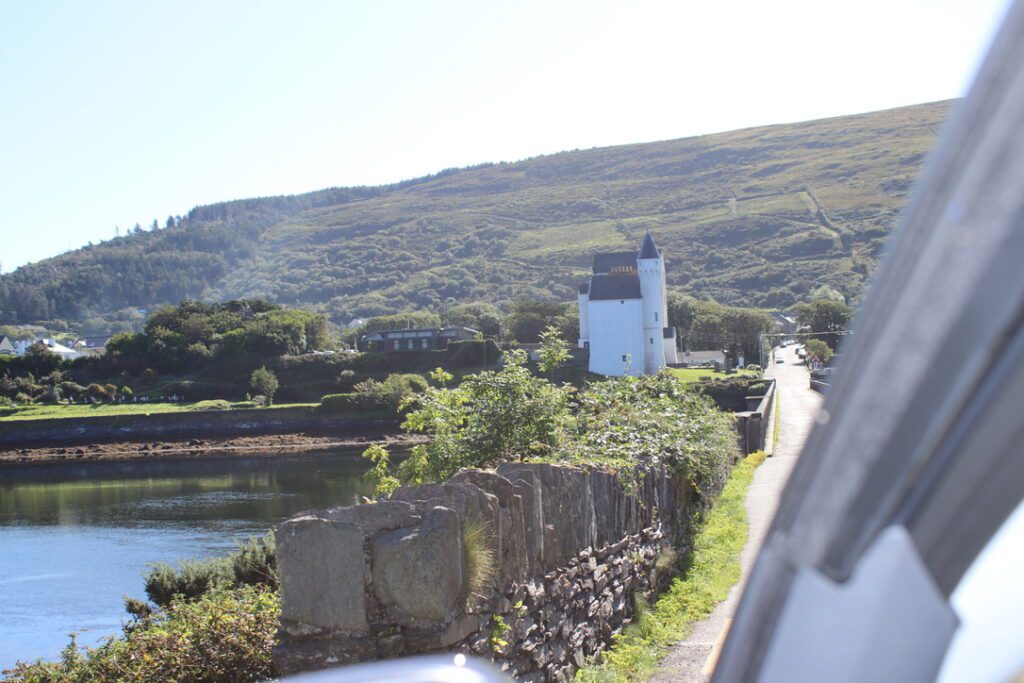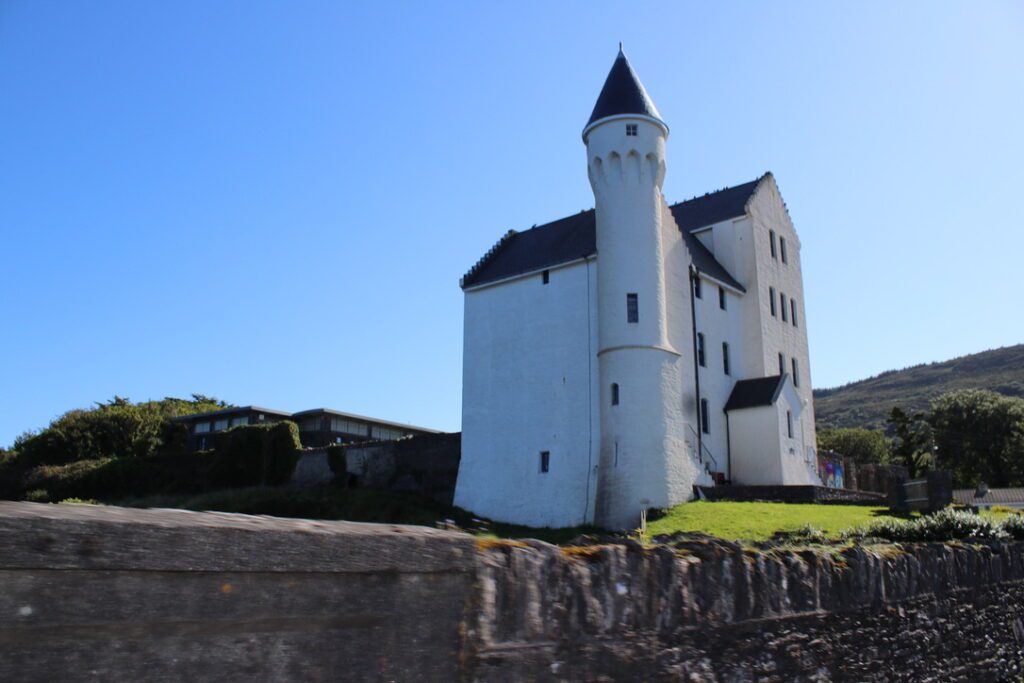 There is so much to see and do on The Ring of Kerry, that it is hard to choose! We had gorgeous September weather, so we opted for things along the coastline. We drove to the adorable town of Portmagee and visited the Kerry Cliffs. They were spectacularly beautiful.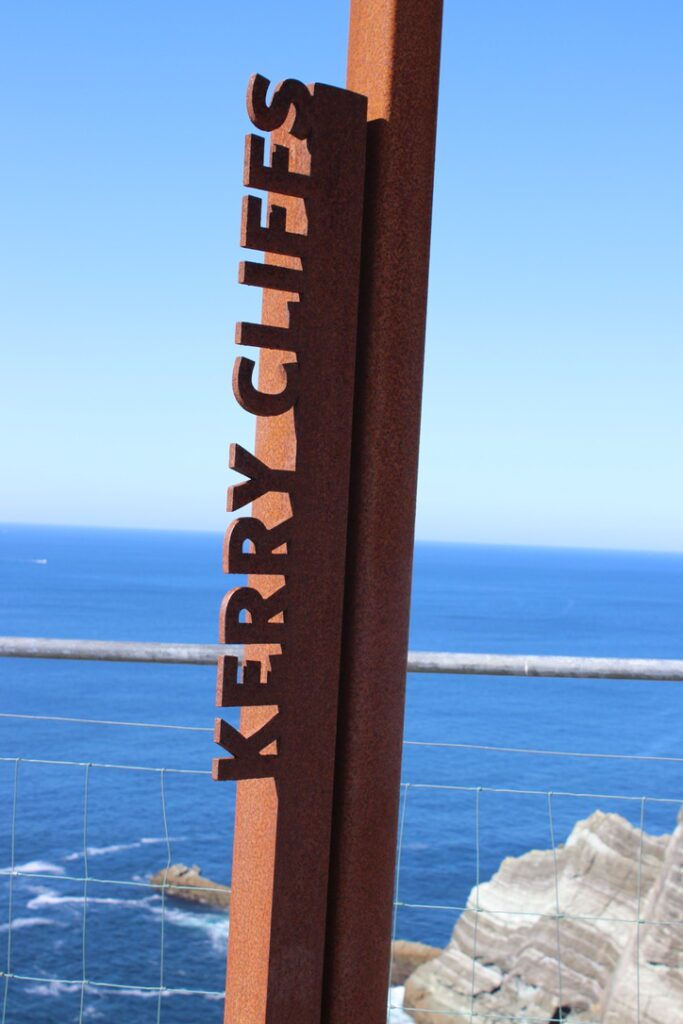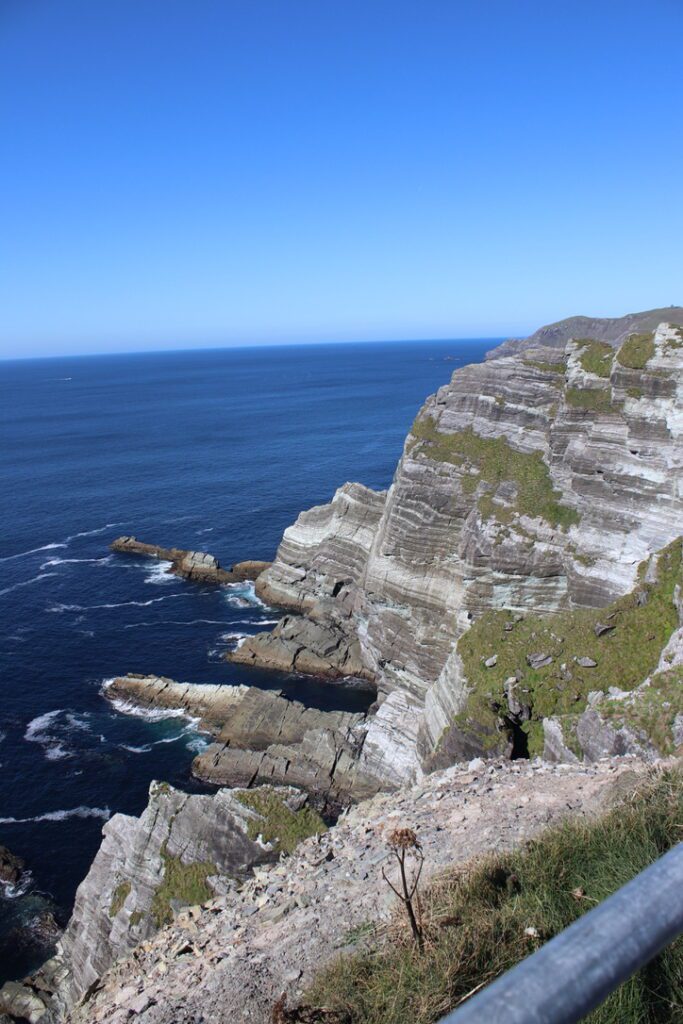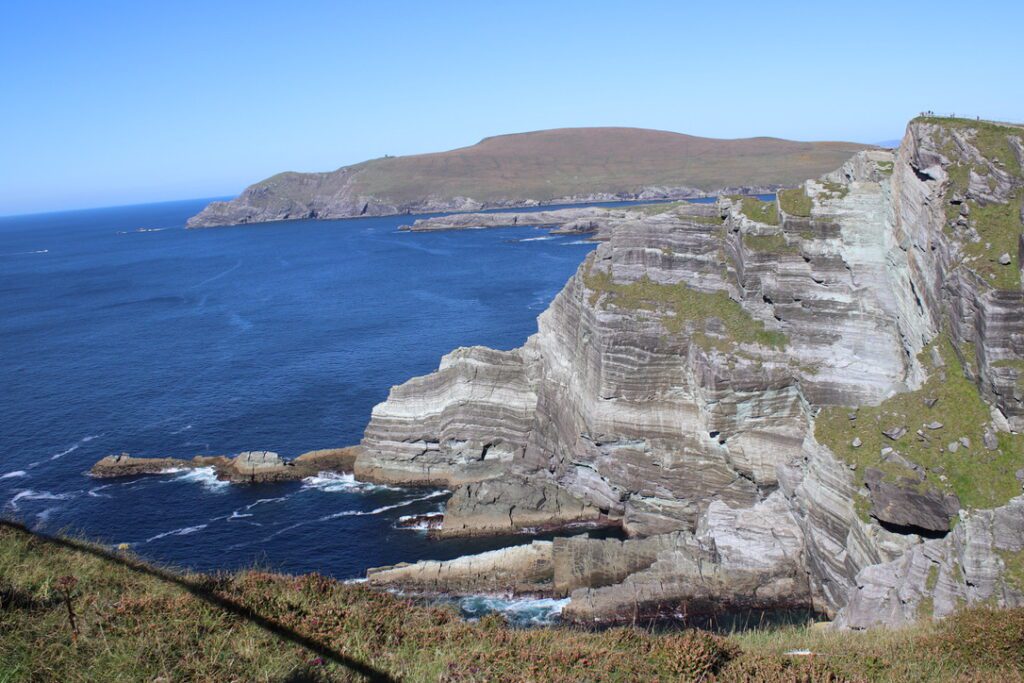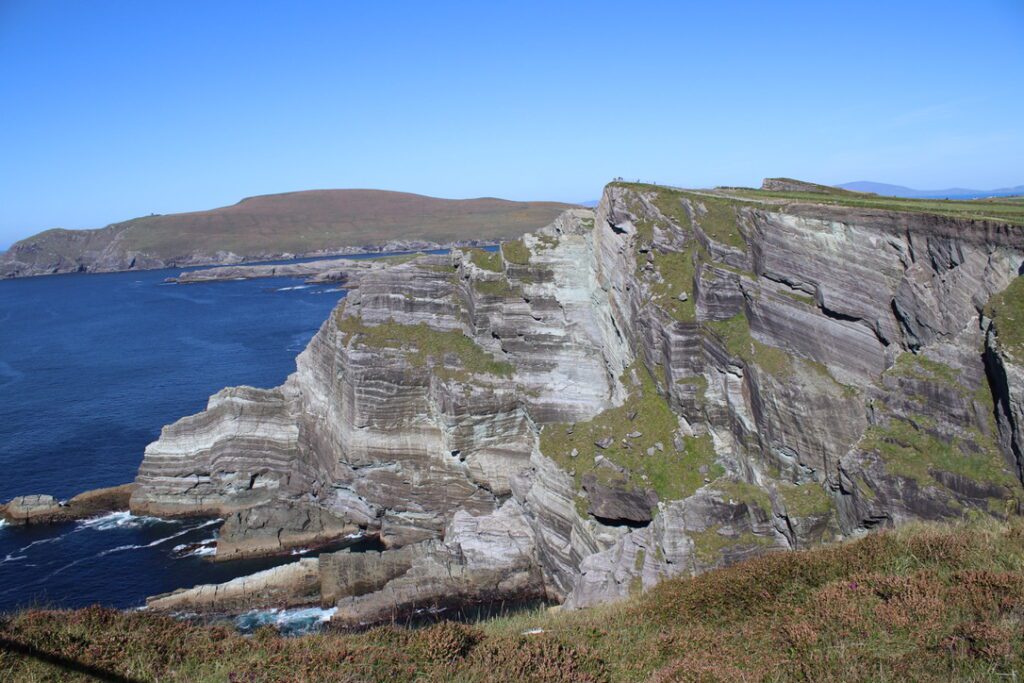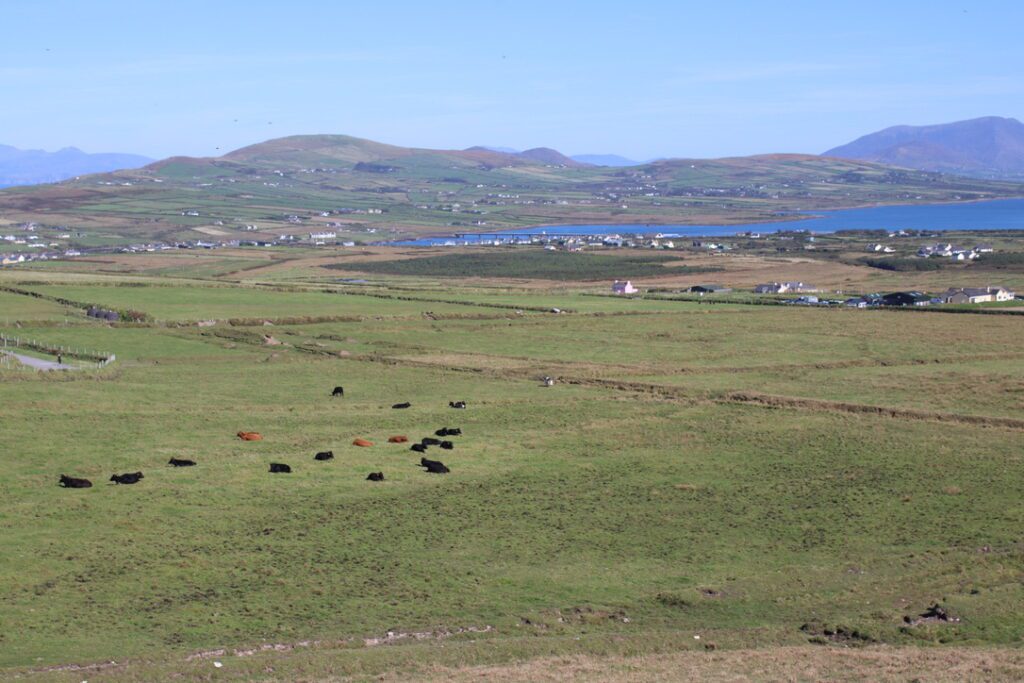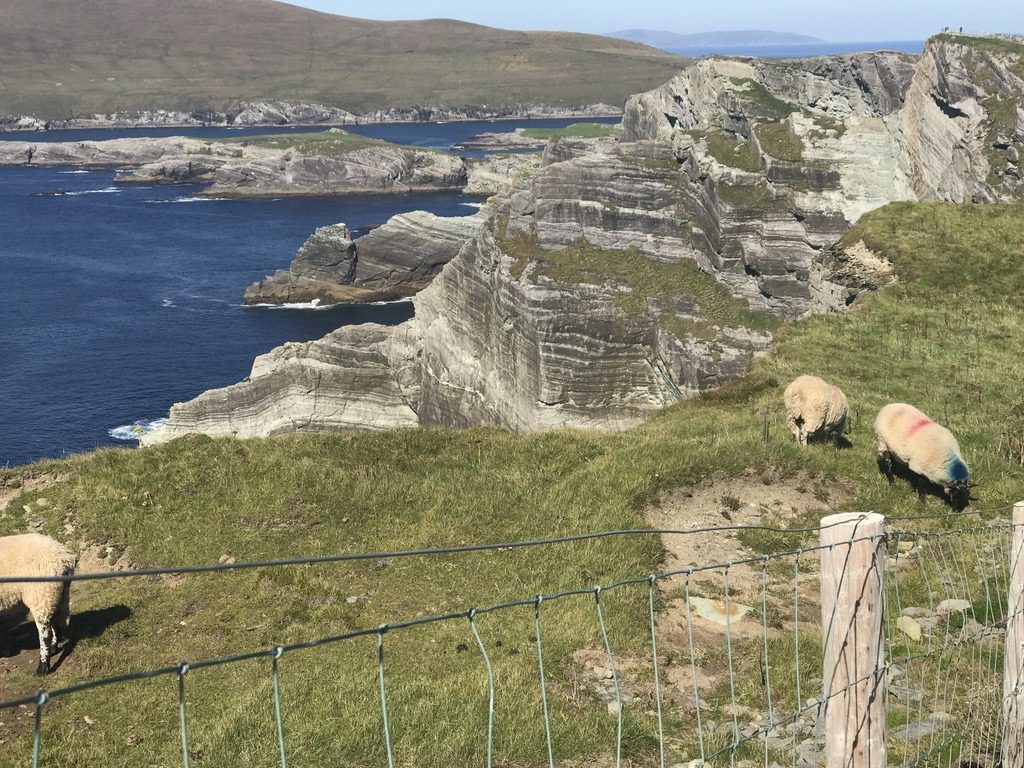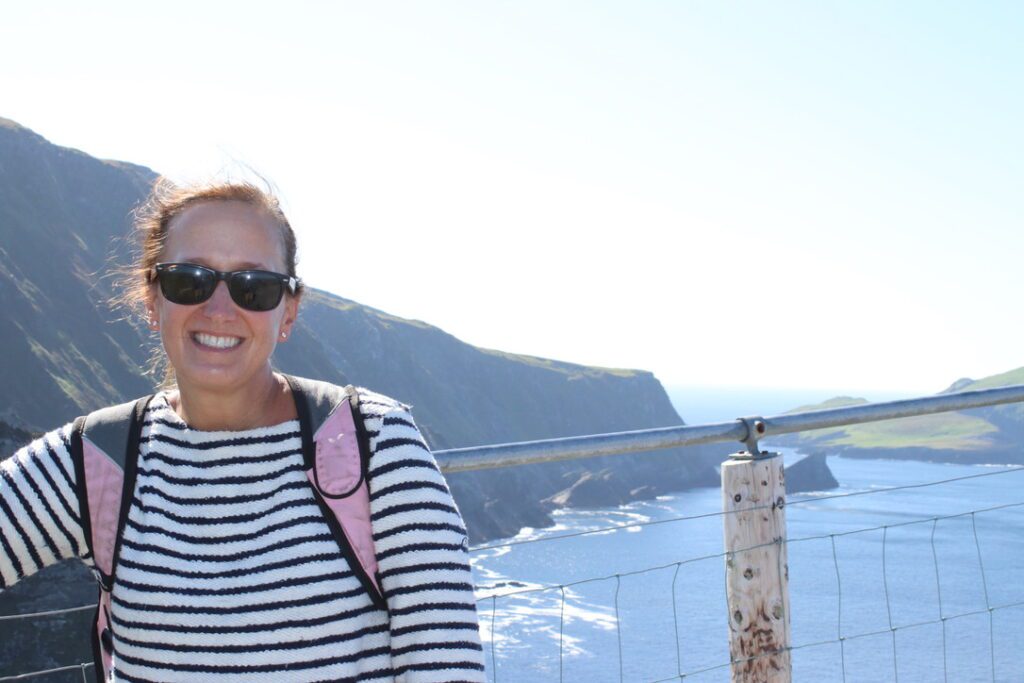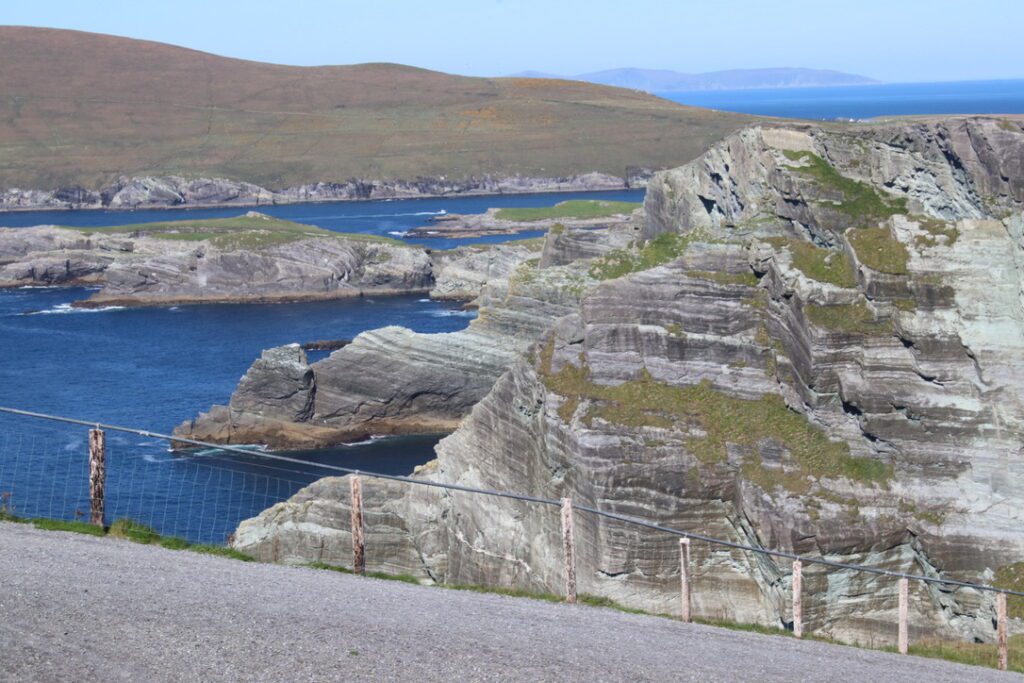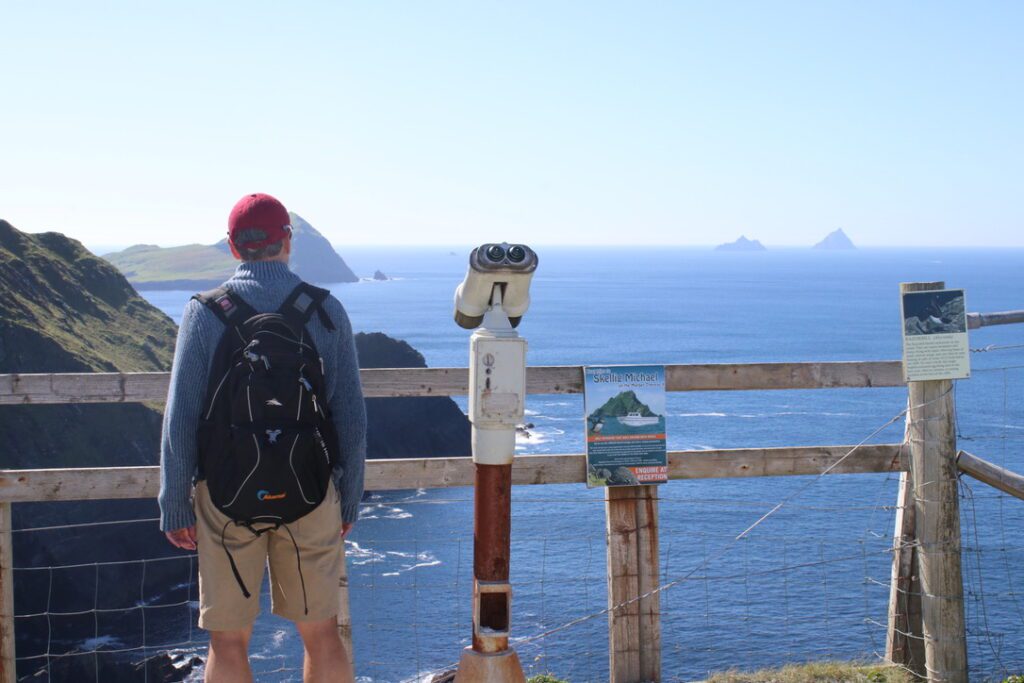 We drove across the bridge in Portmagee to Valentia Island. We wish we had more time to check out the island. Many blogs said it was lovely.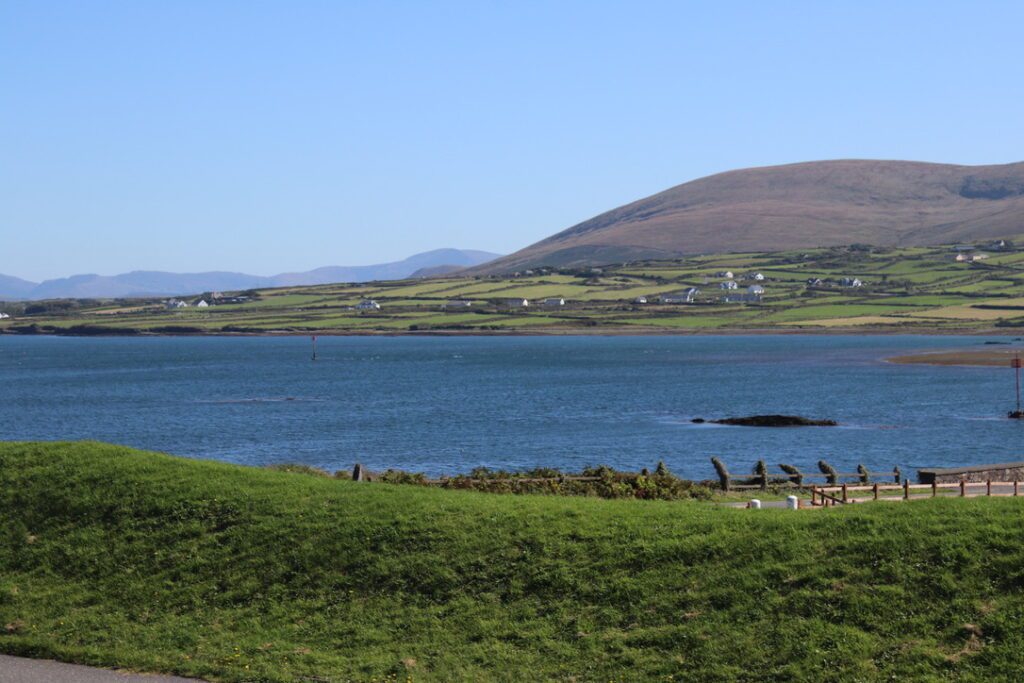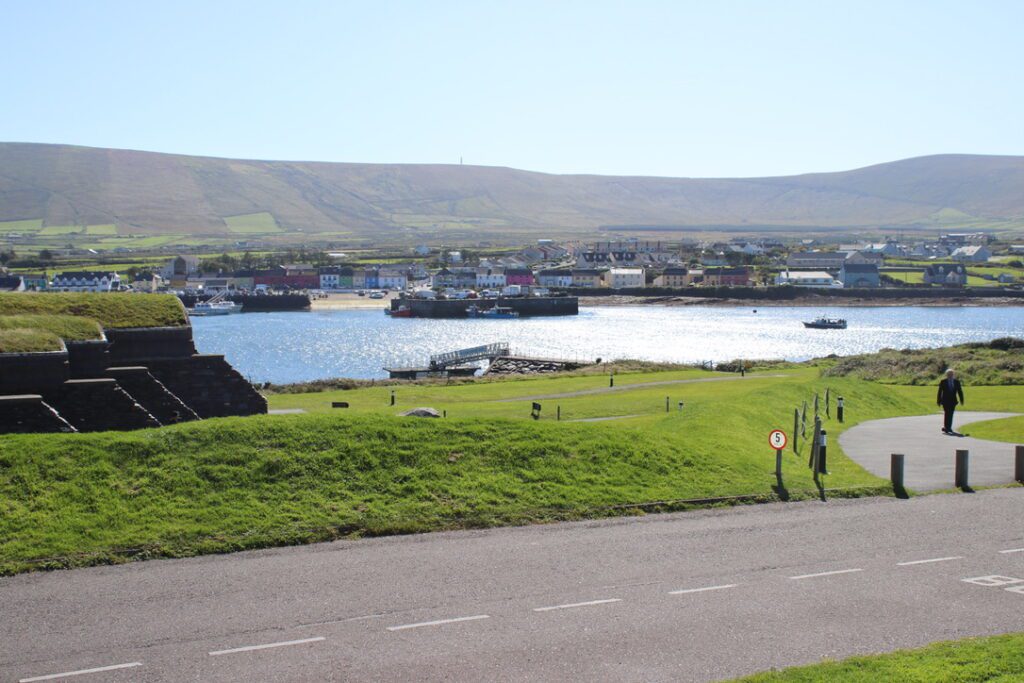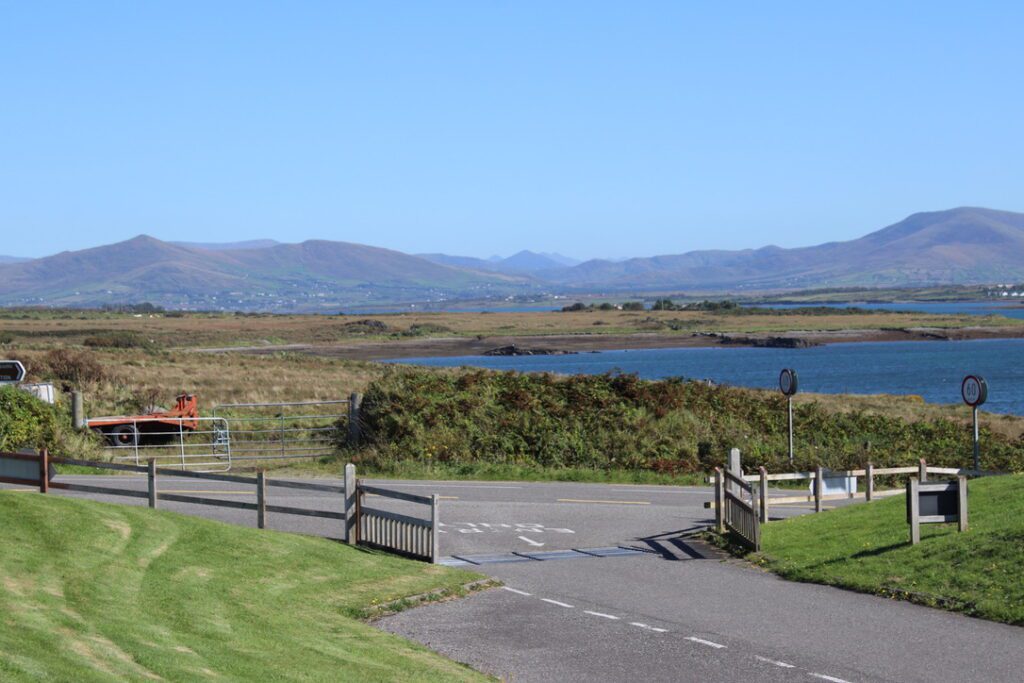 The views of valleys, the ocean, golf courses and sheep were just lovely. The highlight of the Ring of Kerry for us was Coomakista Pass. It is simply incredible.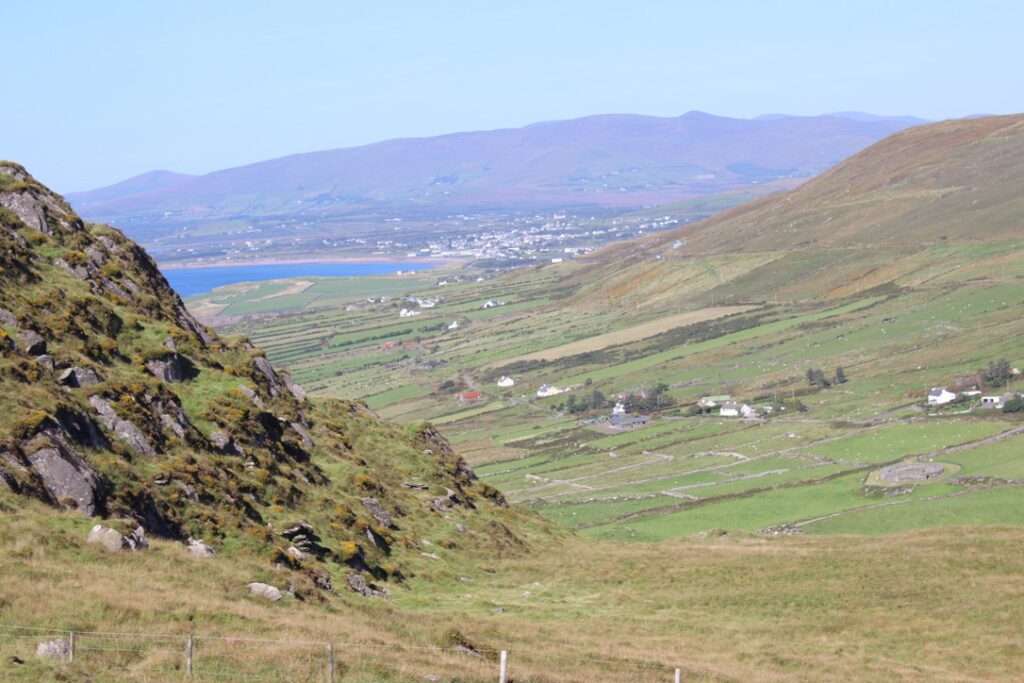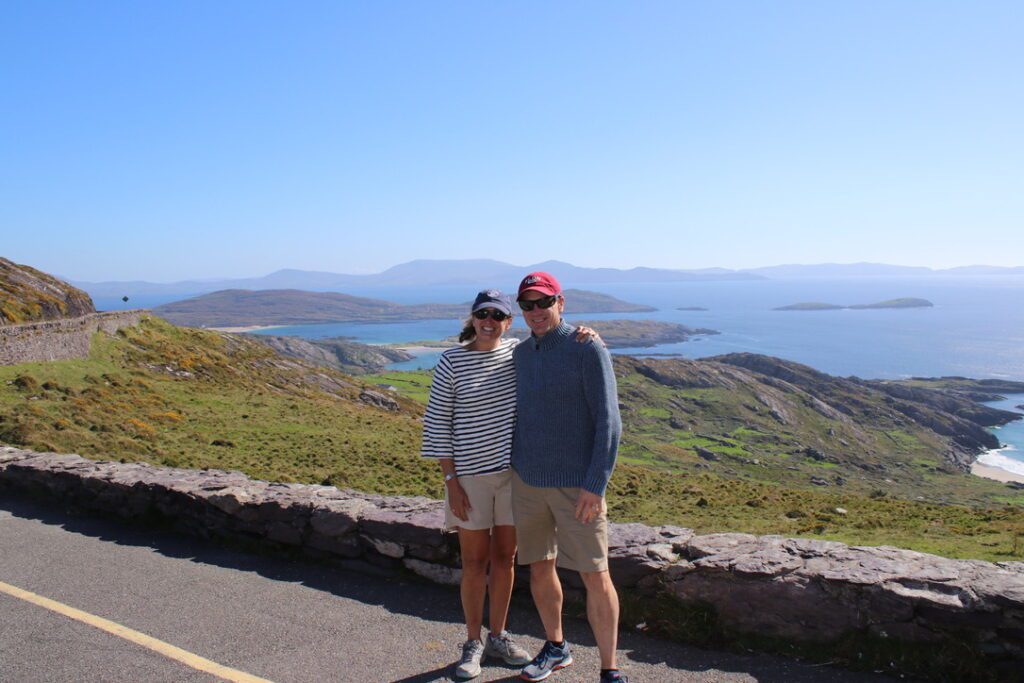 We stopped in the delightful village of Sneem. Such a cute little town with shops, restaurants and a one-lane bridge.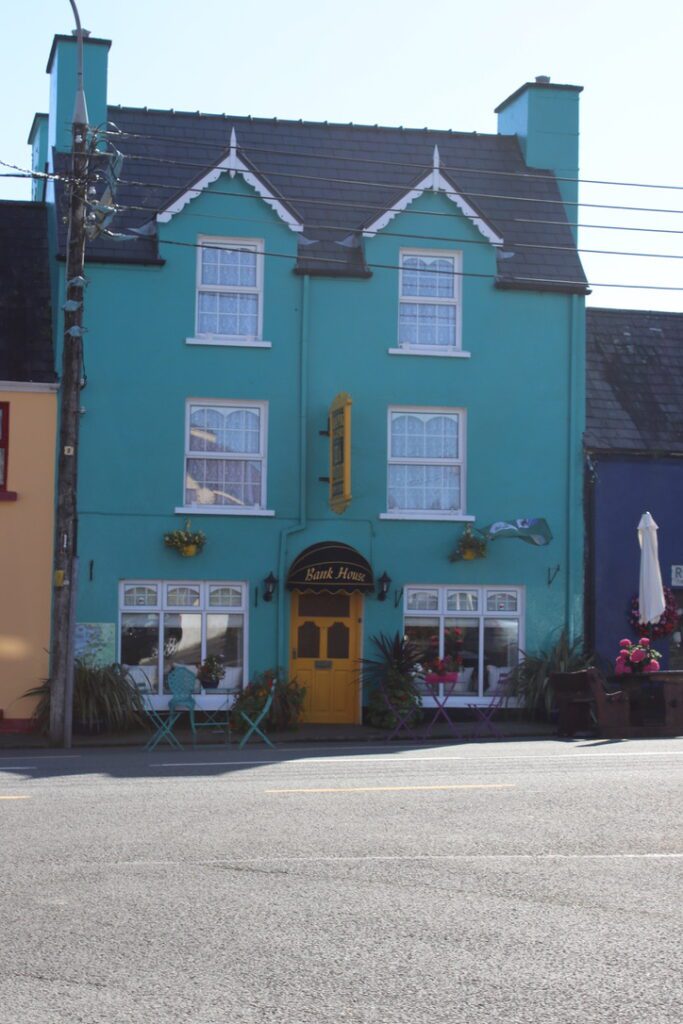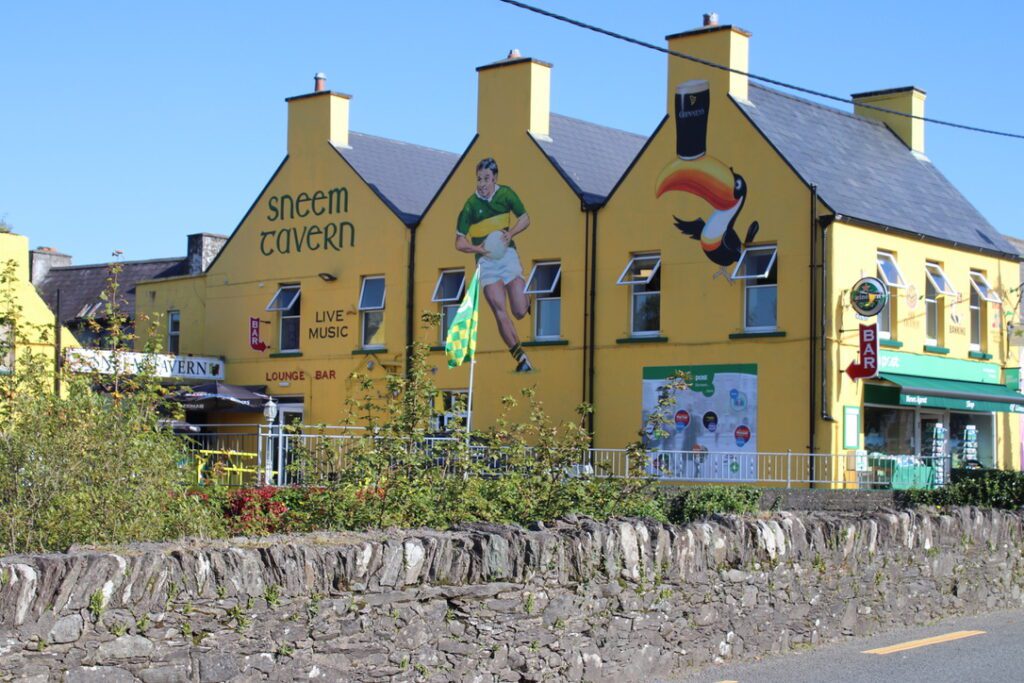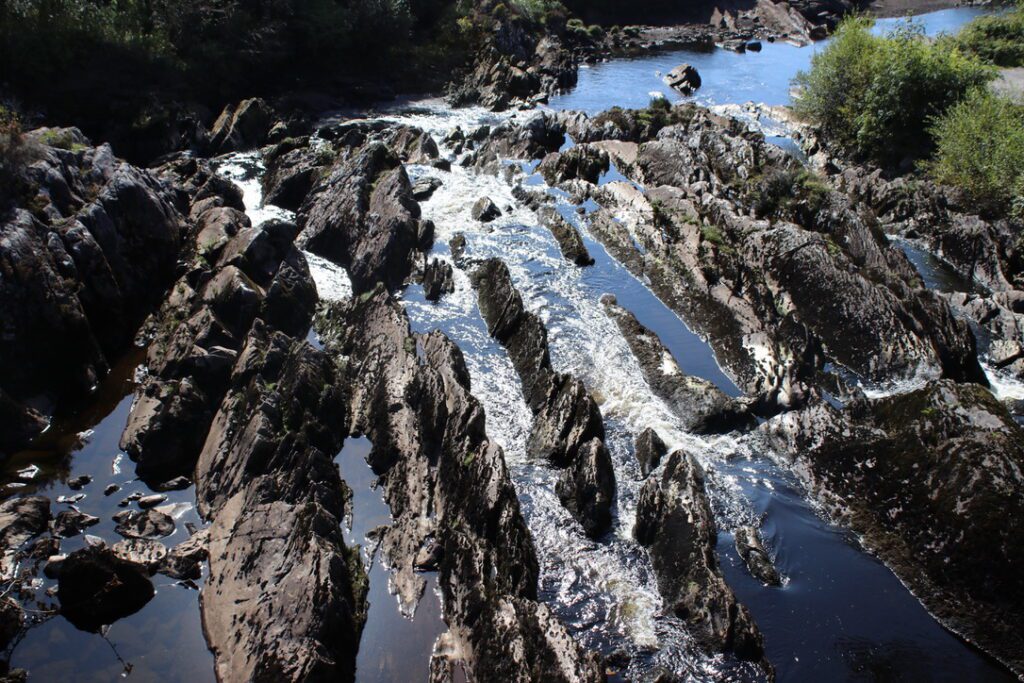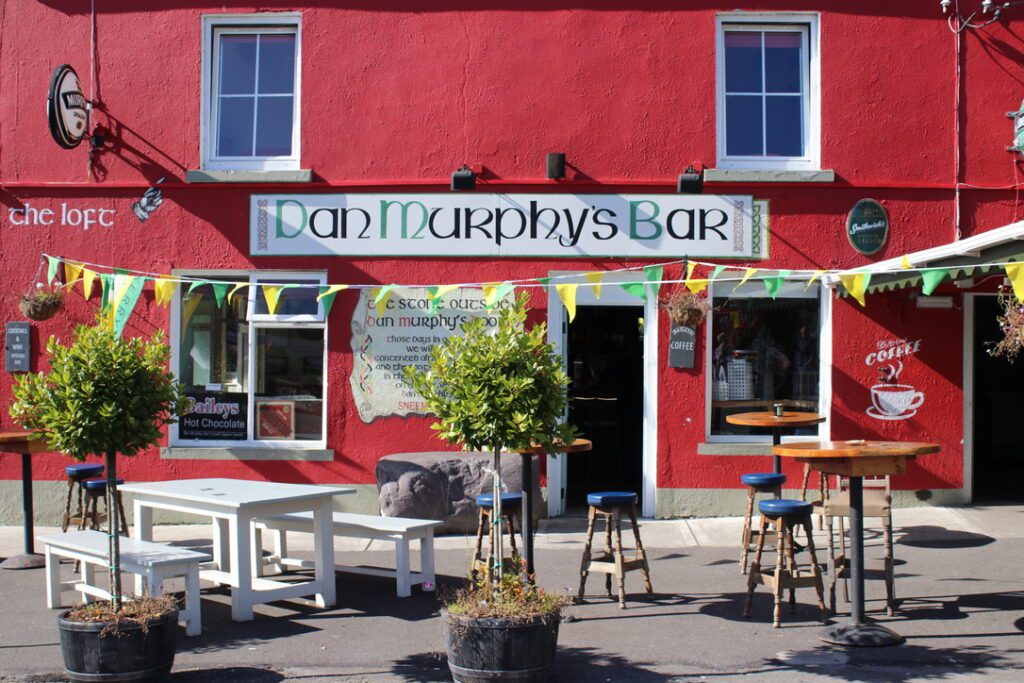 We drove on! We wish we had time to explore Kenmare. It was lovely to drive through.
We arrived in Kinsale at the lovely Landfall House Bed and Breakfast. Set above the town, the property is wonderful. The most gracious hosts, Donie and Margot are a riot. We highly recommend this property. Our room was one of the only without a view (we booked very late!); most rooms have a tremendous view of Kinsale. TripAdvisor reviews are excellent.
We walked the 12 minute downhill walk into the charming town of Kinsale. We just loved the atmosphere! We ate at the divine Black Pig Bistro on their outdoor patio. We highly recommend it! Delicious! We took a taxi uphill back to our B&B as it was too dark to walk. TripAdvisor reviews are excellent.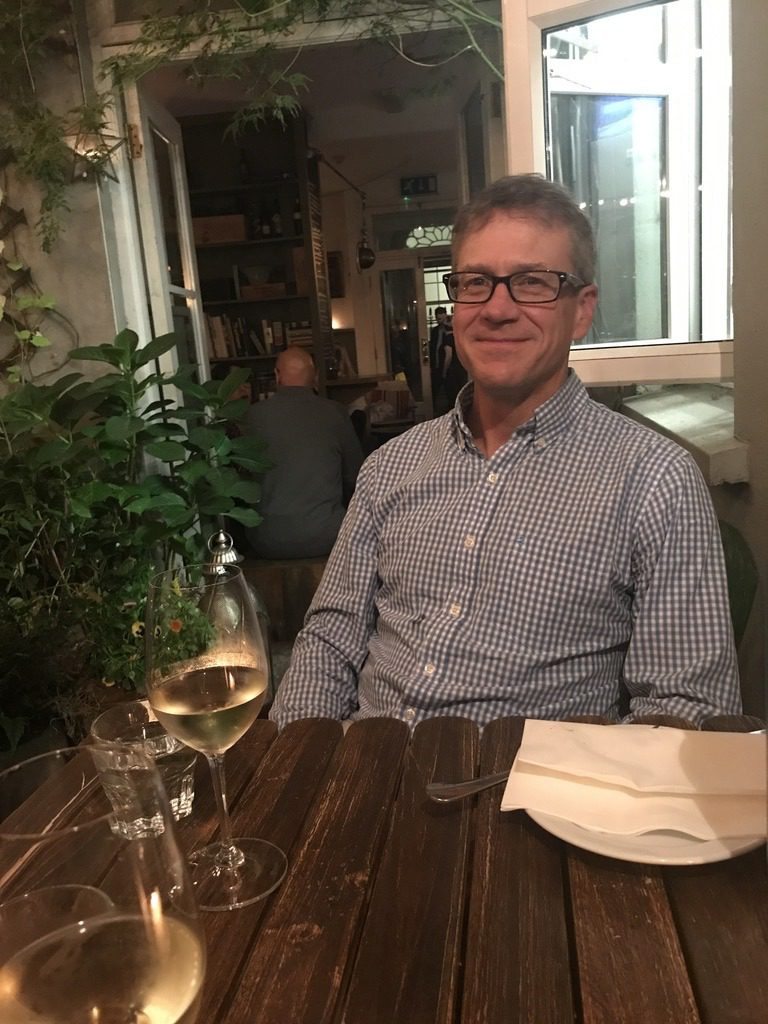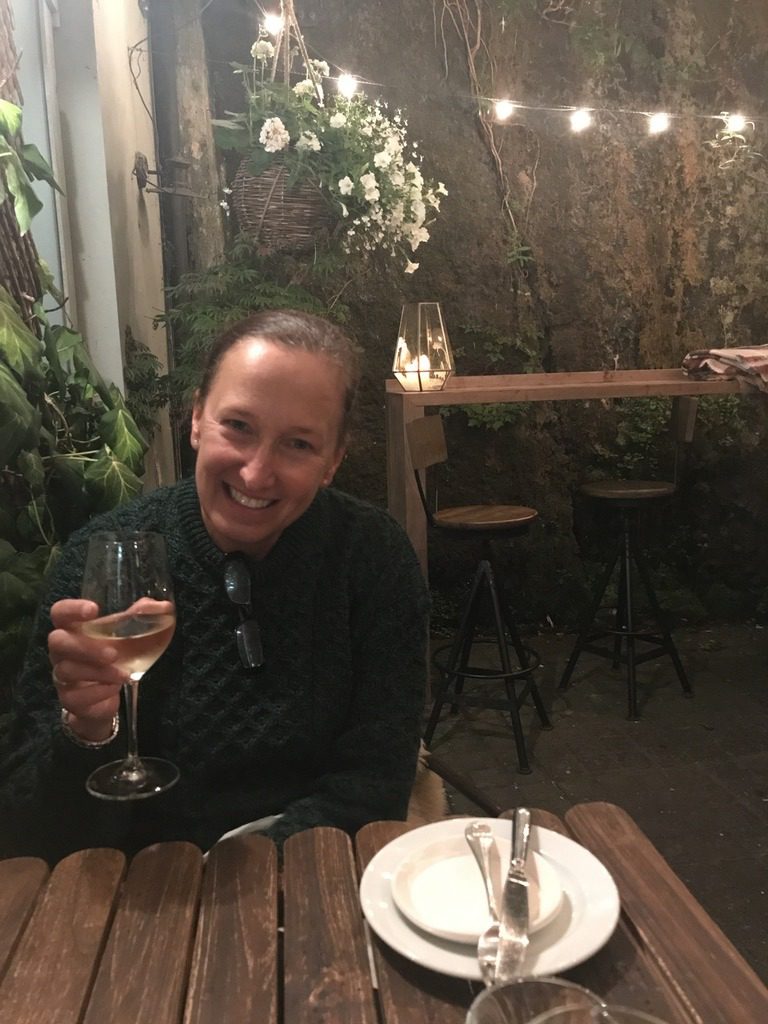 Day Six – Kinsale, Charles Fort, Old Head
We woke to great breakfast at LandFall House Bed and Breakfast. We wanted to learn more about Kinsale and its history. So, we walked into town and tour a living history tour with Dermot Ryan. It was a fantastic experience, and it cost just 5 euros! We walked all around Kinsale for an hour and learned about wars, religion and even a Tsunami. Scenes from Kinsale and the tour are below. His TripAdvisor reviews are excellent.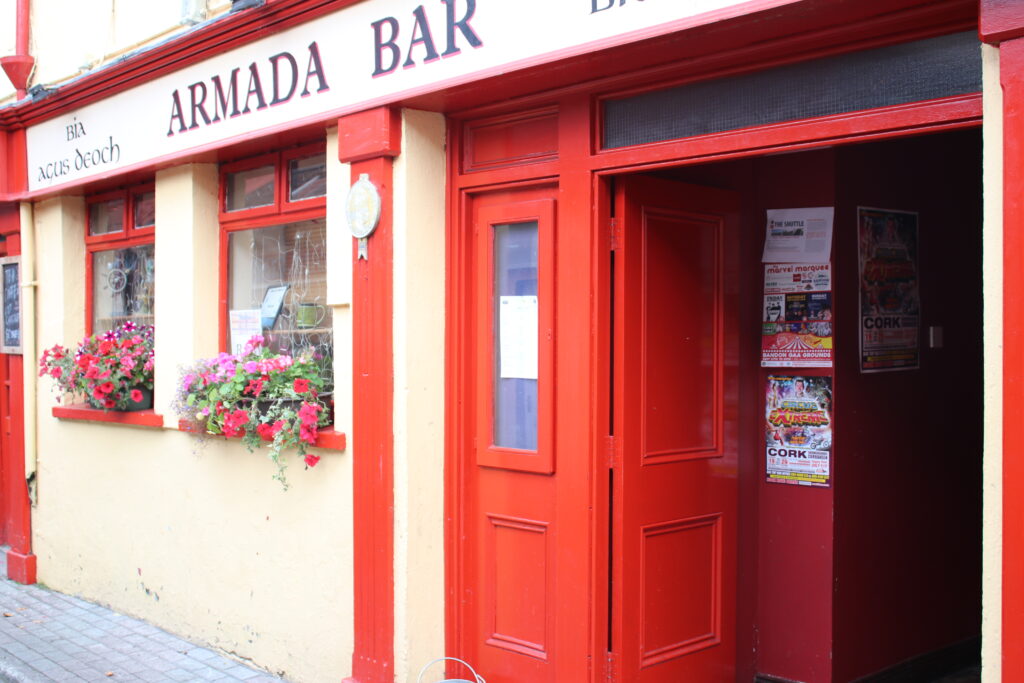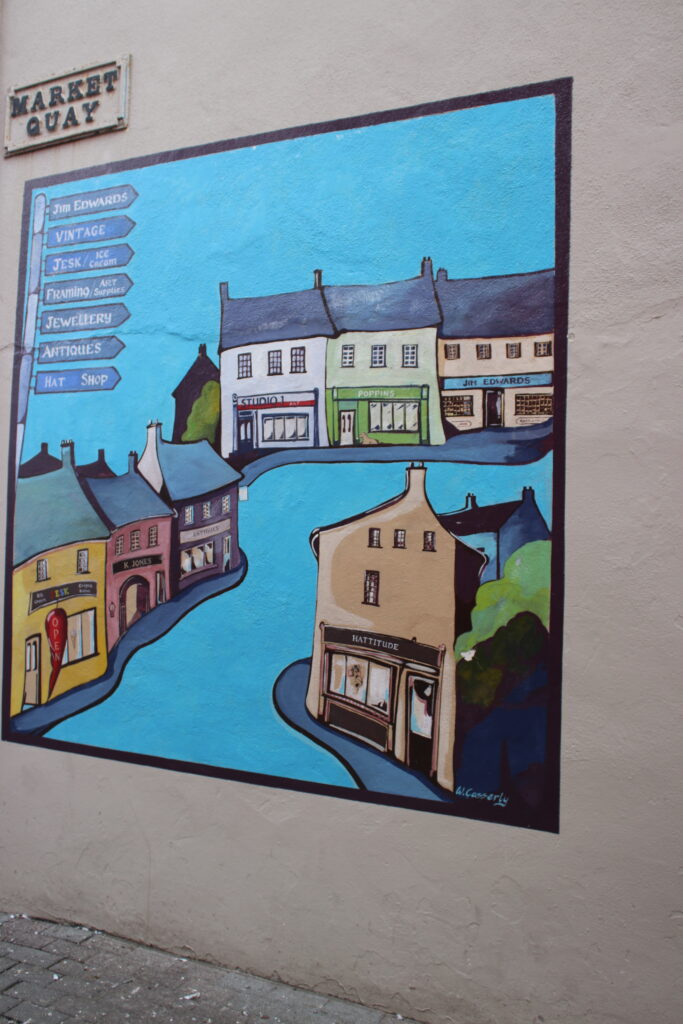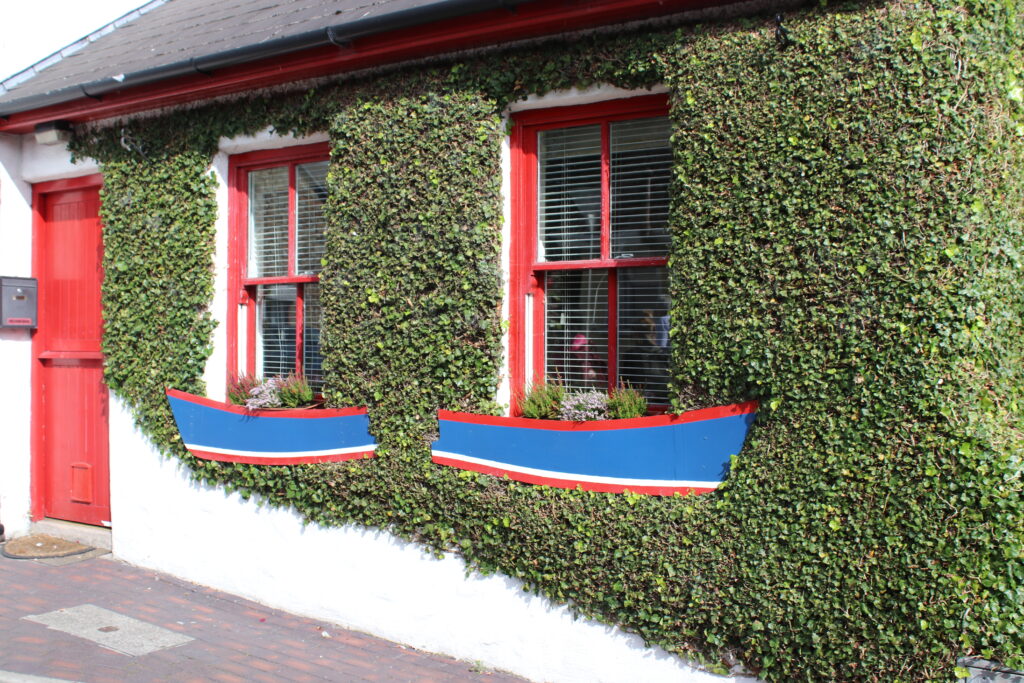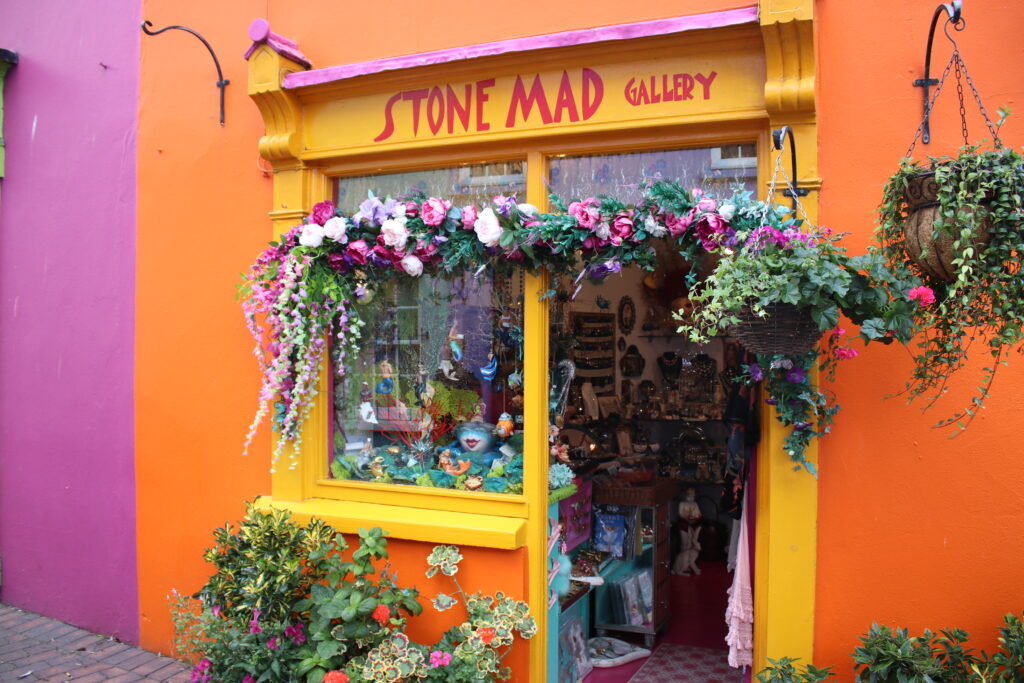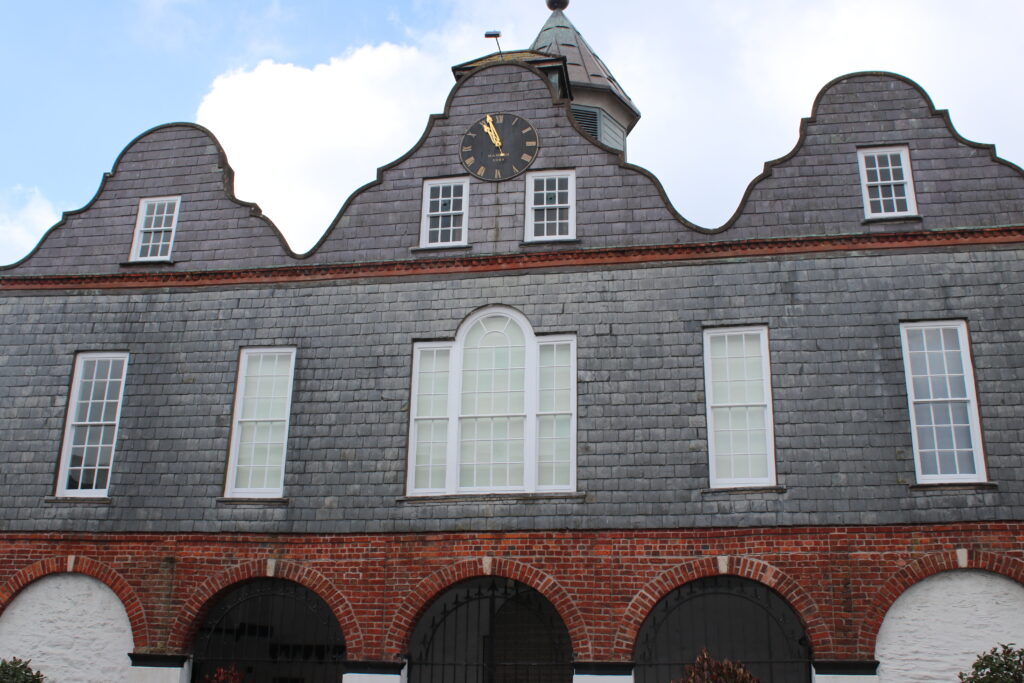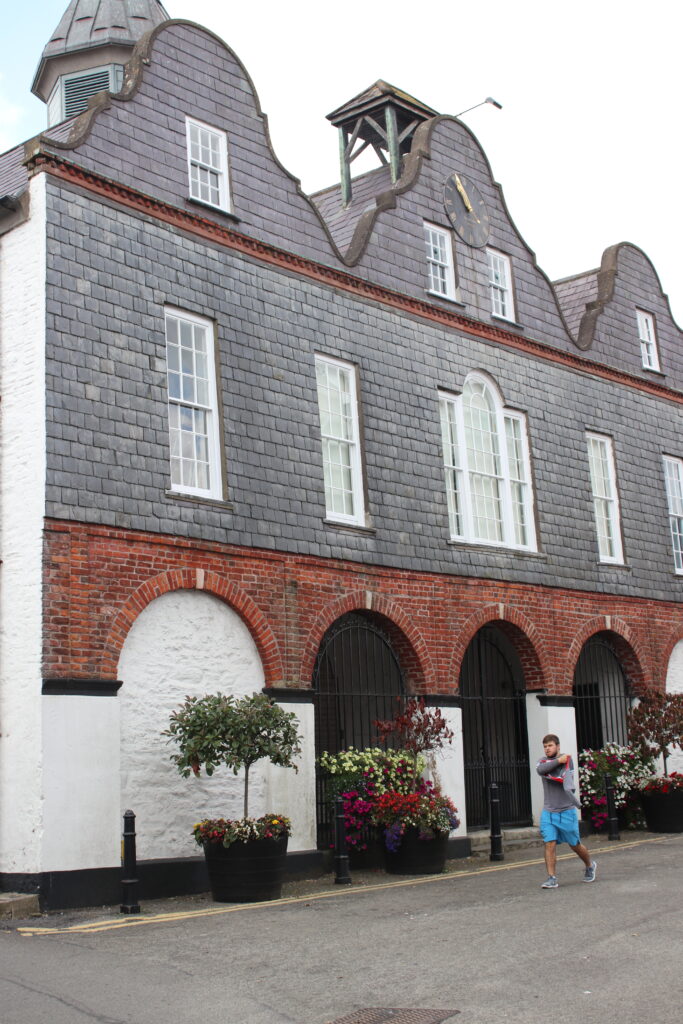 Kinsale is simply delightful! After our very interesting heritage walk, we walked all the way out to Charles Fort. Charles Fort is an old, star-shaped fort, protecting Kinsale. At The Old Bank House in Kinsale, turn right on Lower Road. It is easy to miss! HUG the water. As you approach the Spaniard Inn, stay to the right and look for the sign to the Scilly Walk. It is a much prettier walk than staying on High Road (we know, we did both). Follow the Scilly Walk (a nice walking path along the water with no cars) until it ends at High Street. Go past the orange Bulman Pub and up a steep hill to get to the fort. The Bulman looked like lots of fun. This is a delightful way to see Kinsale Harbor and the fort. We did not pay the entrance fee at the fort. You can see plenty without paying the small fee.
Four shots of our walk to Charles Fort are below.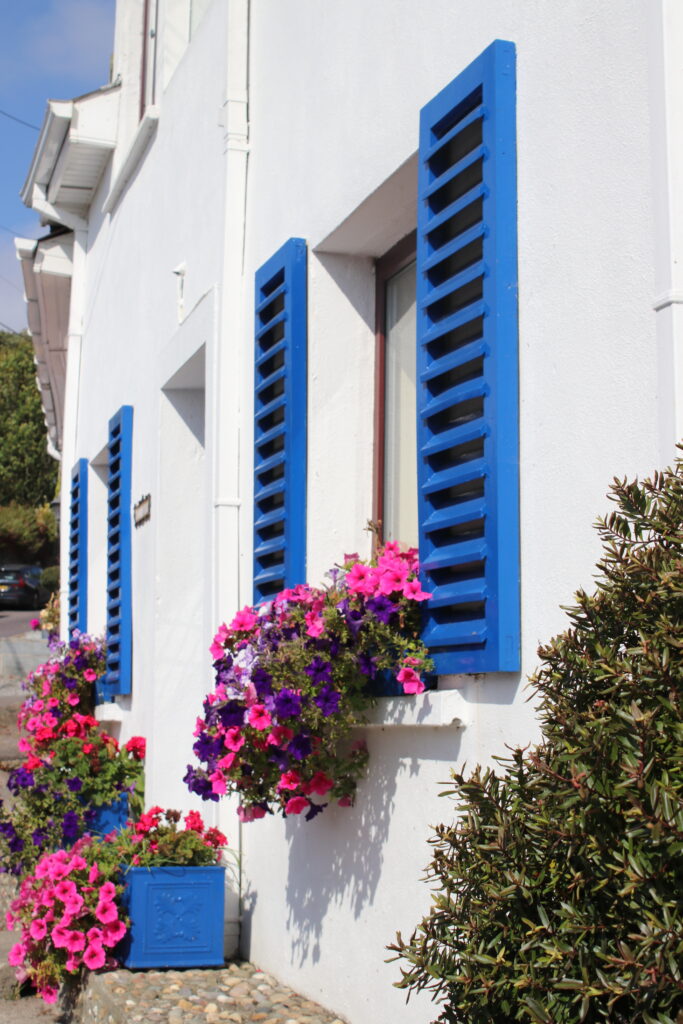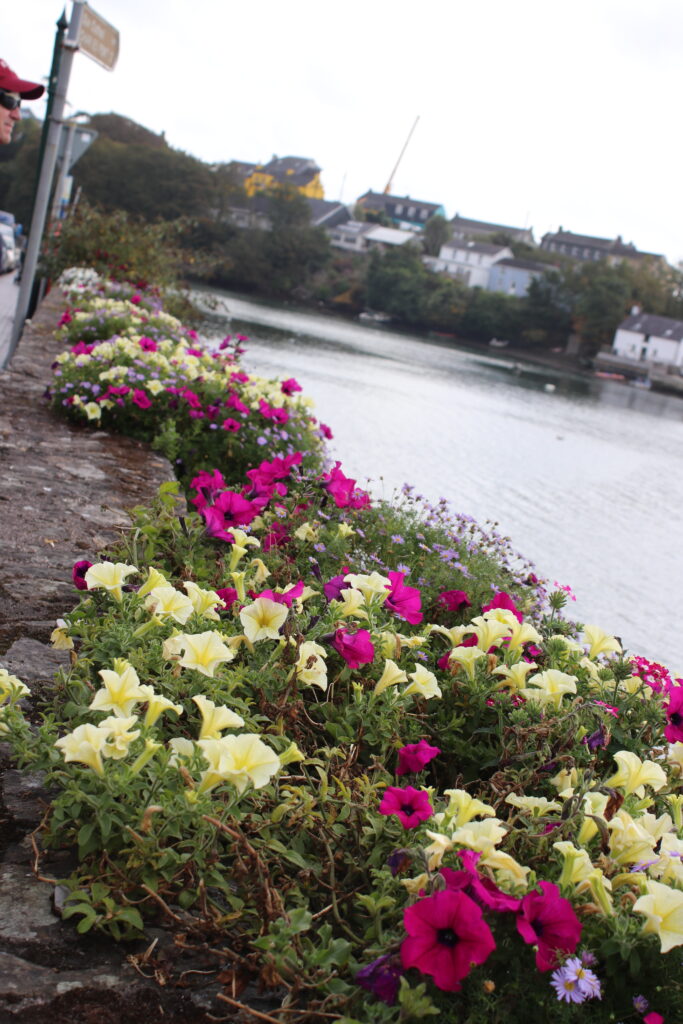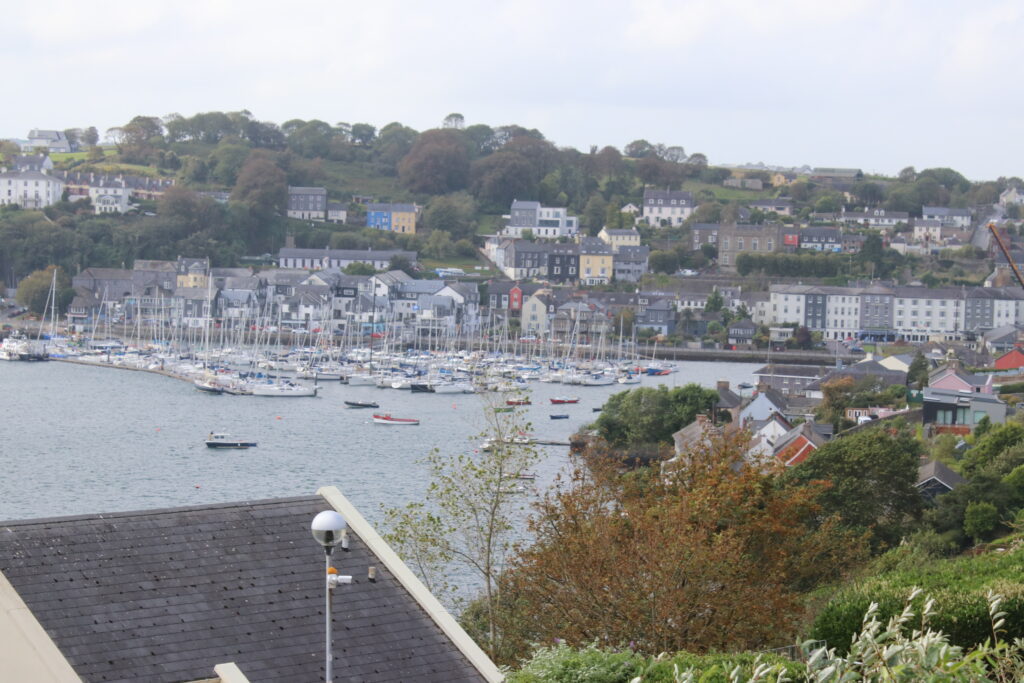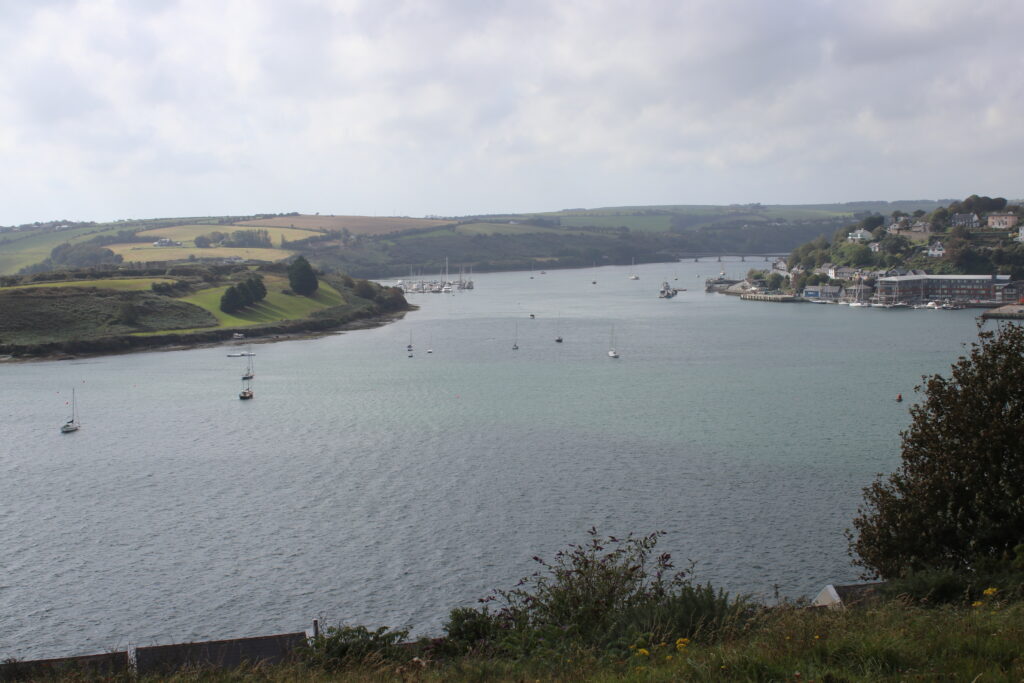 Charles Fort photos are below. It was very interesting!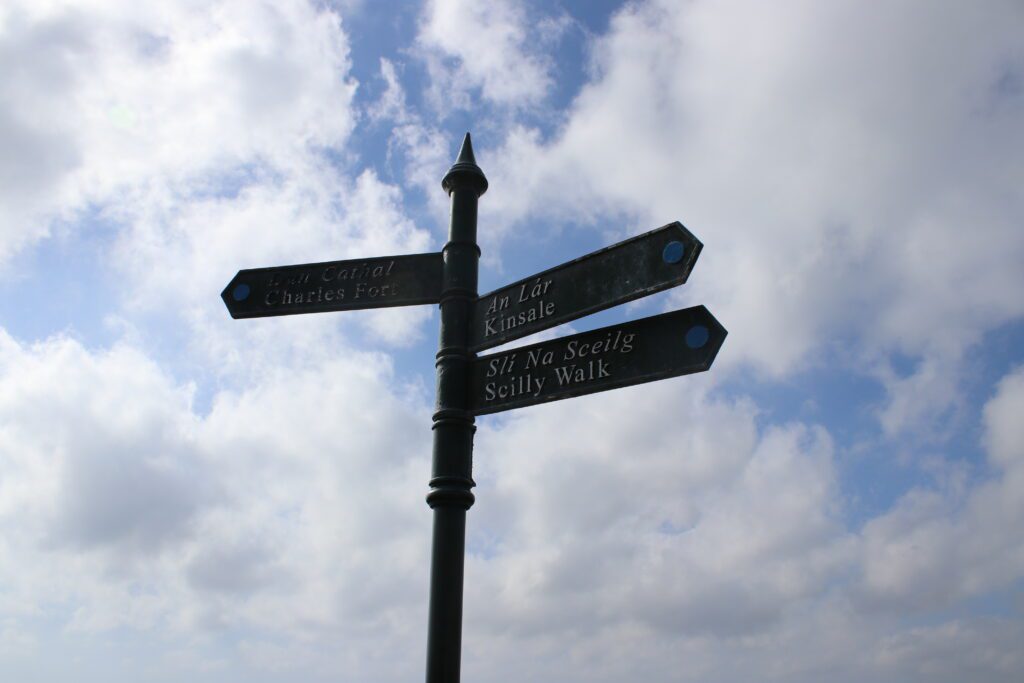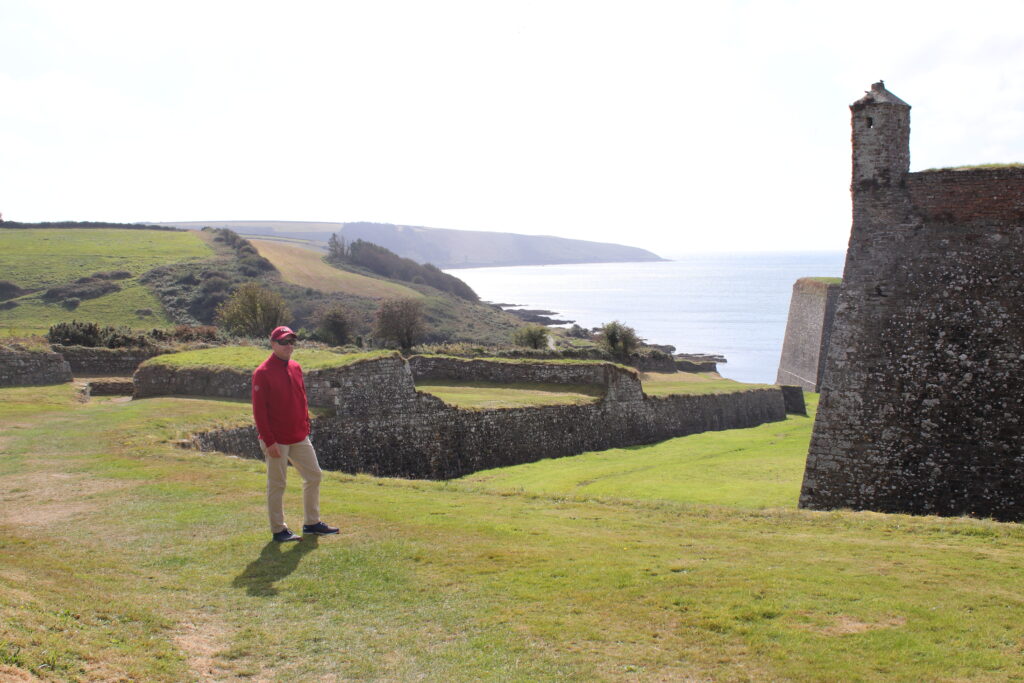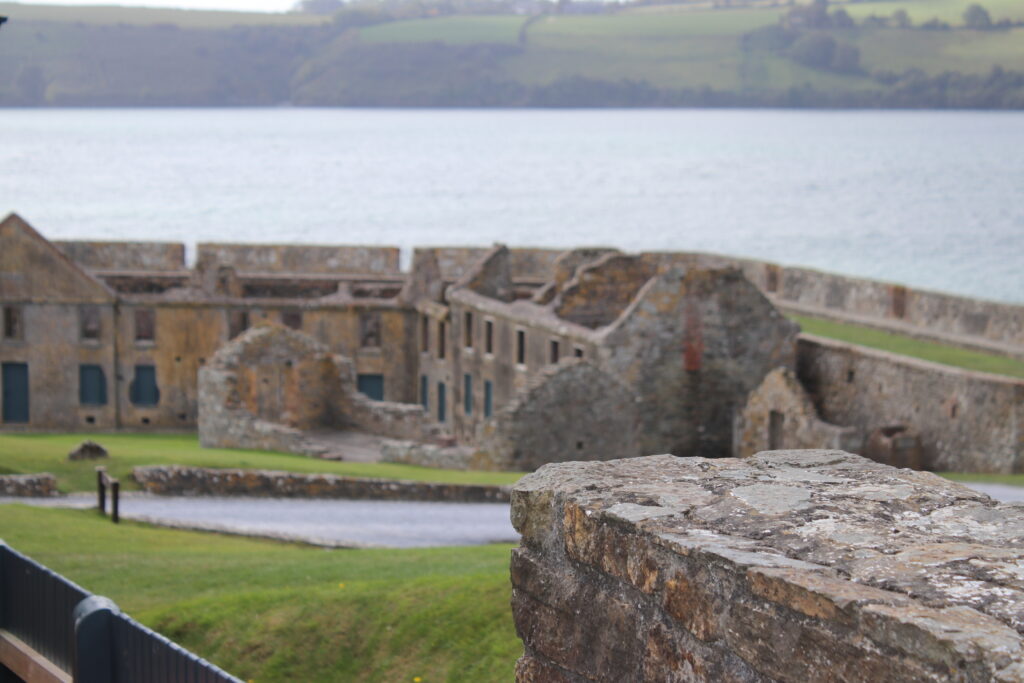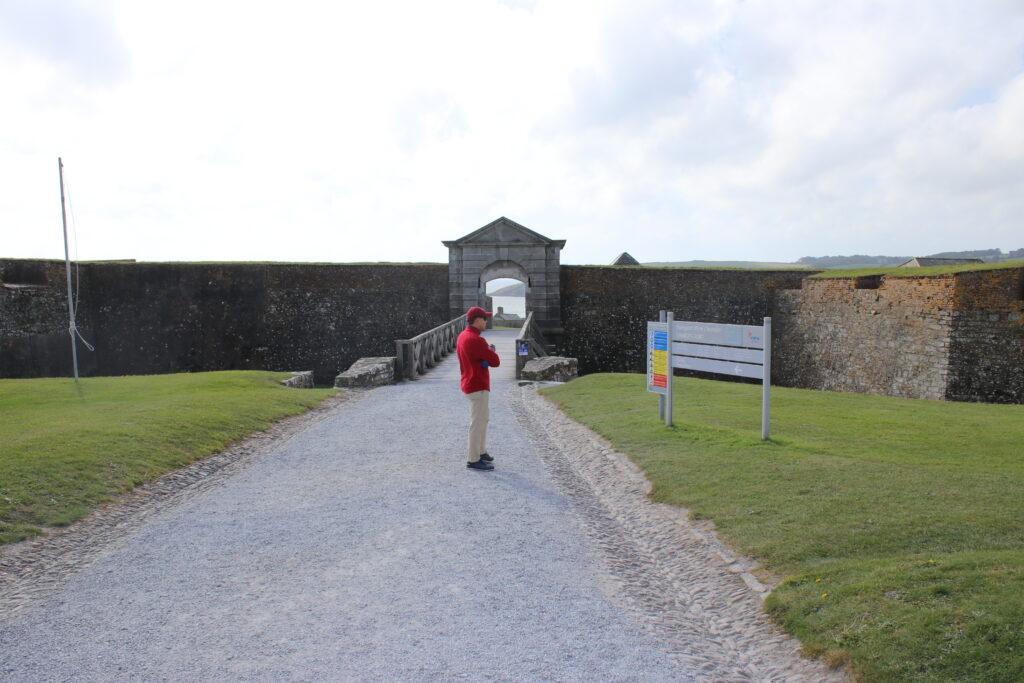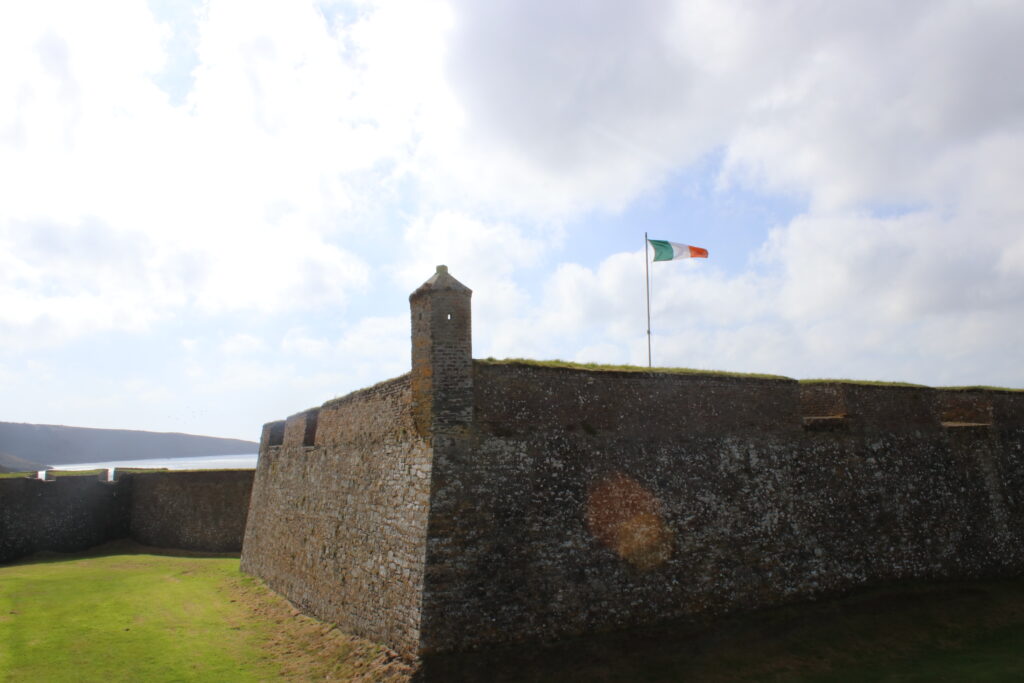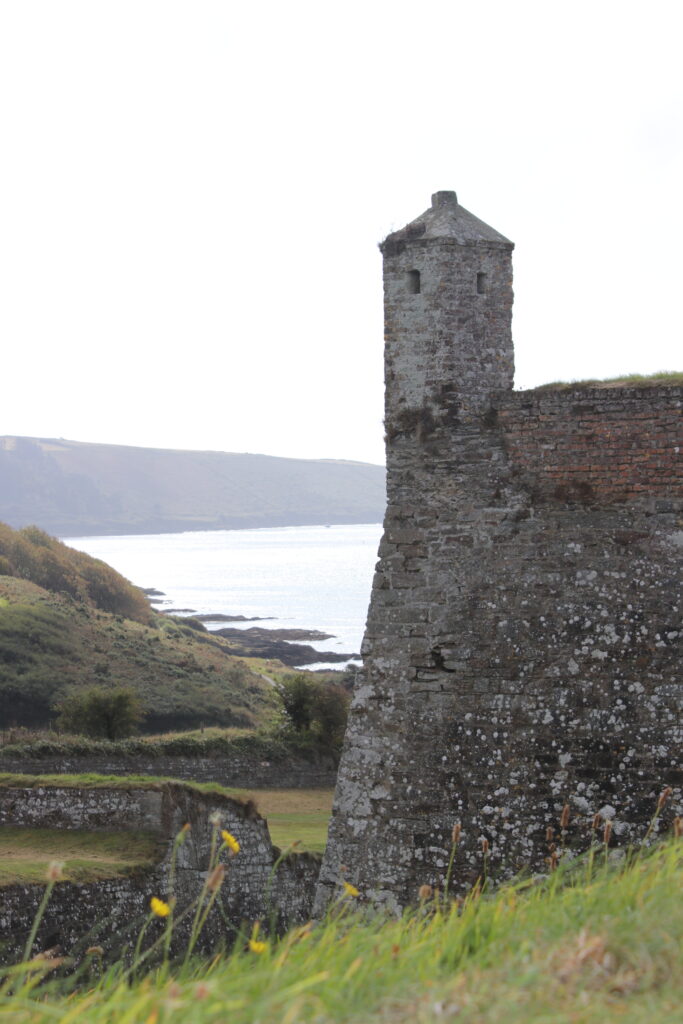 We wish we had time to stop at the Bulman. It has won awards and looked very fun.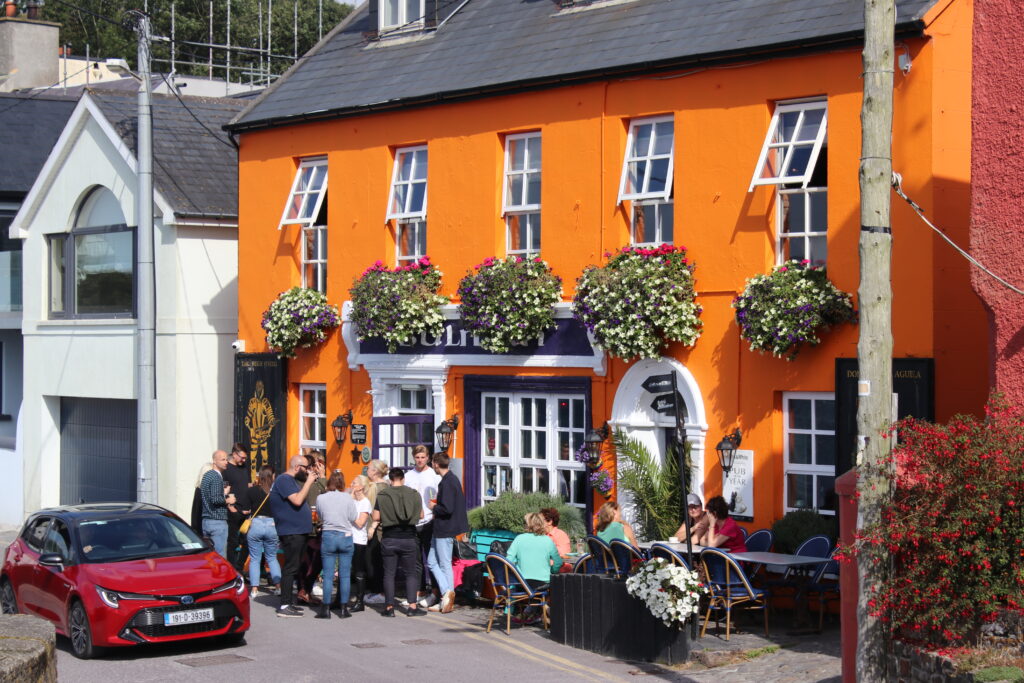 After walking back into town, we stopped for lunch at LemonLeaf Cafe. The food and atmosphere were delightful. We highly recommend it! TripAdvisor reviews are very good.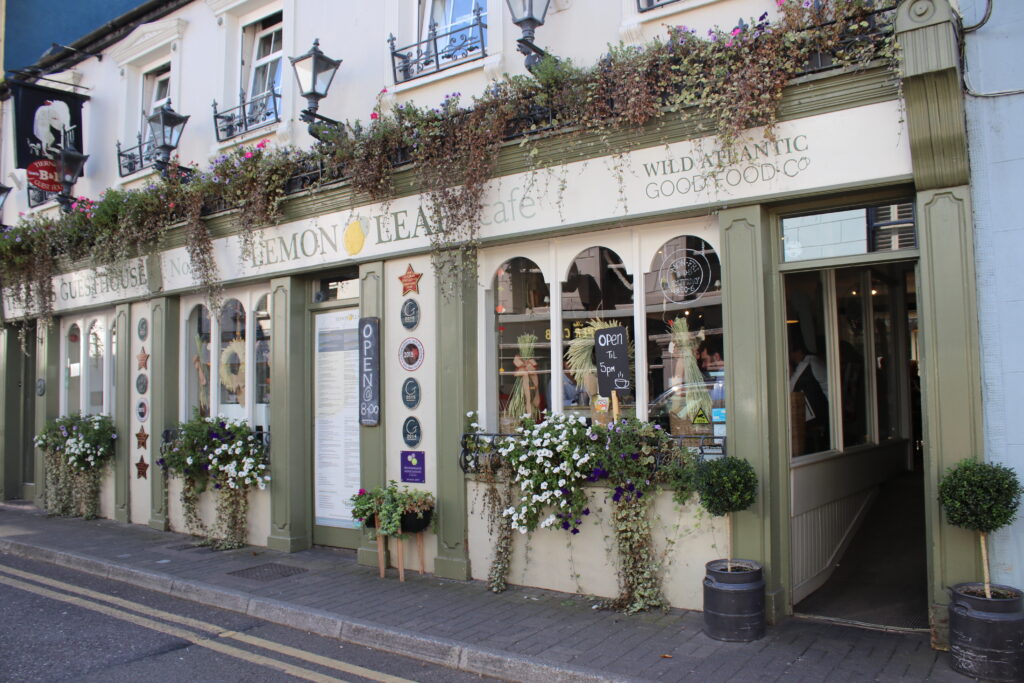 Kinsale does have another fort to which you can walk. James Fort seems to be a pleasant walk. We chose not to do it, but did take some photos of it on our walk to and from Charles Fort. A few shots of James Fort are below.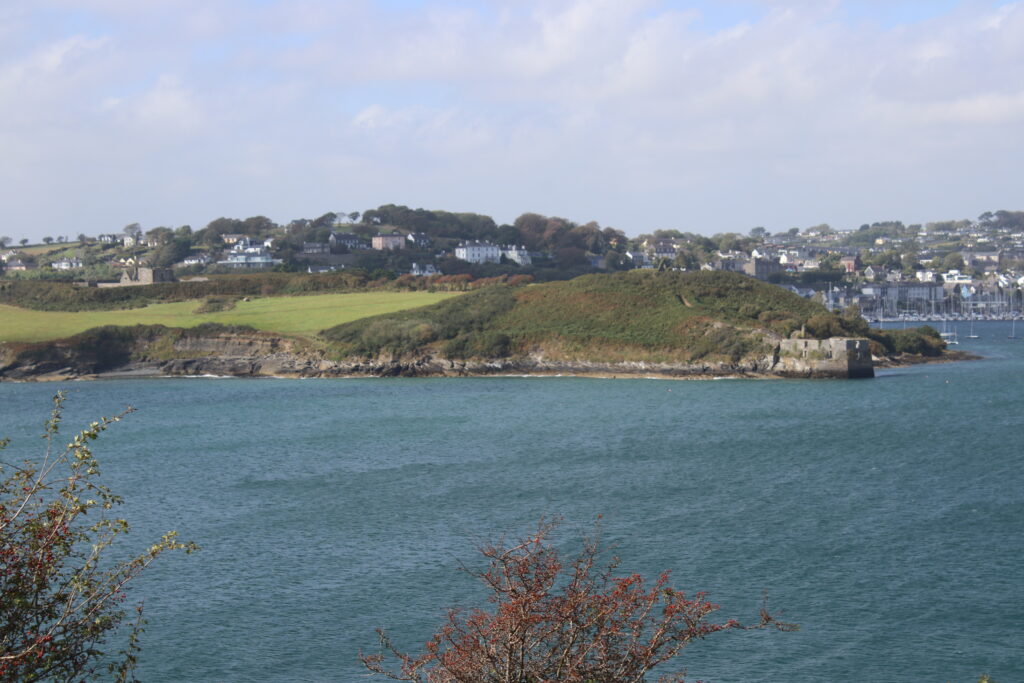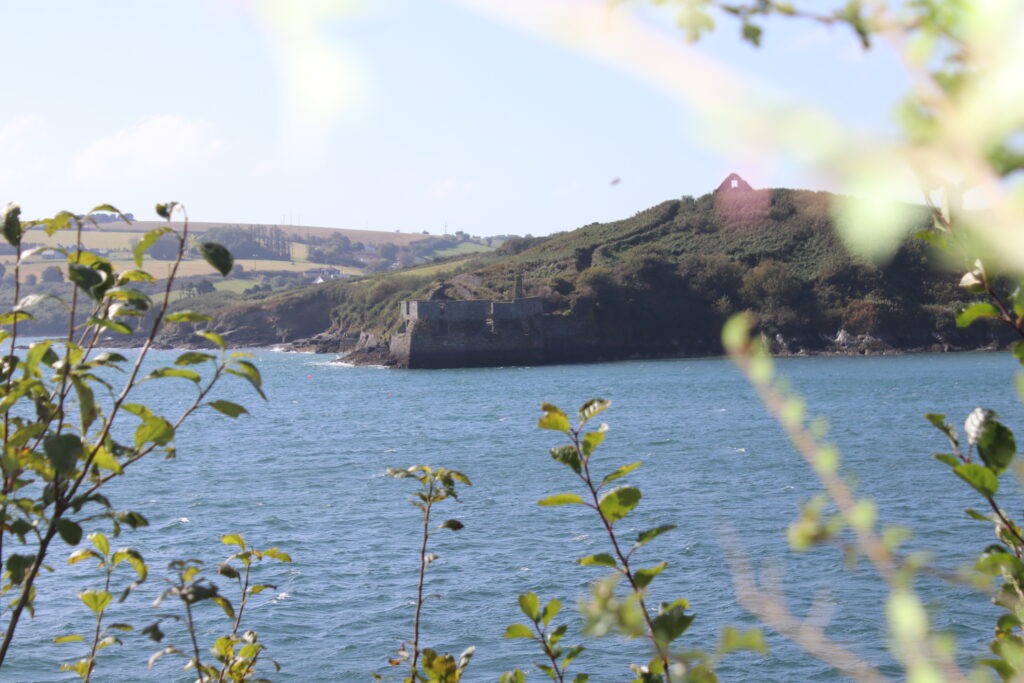 We walked back to LandFall House and popped into St. Multose Church. It was built in 1200. Very old!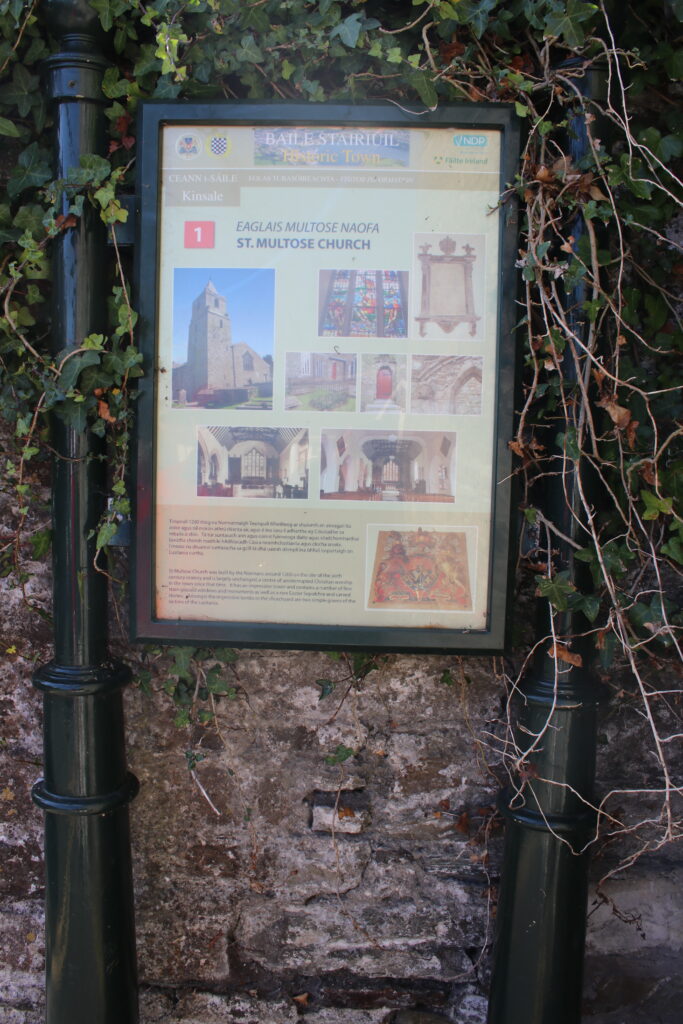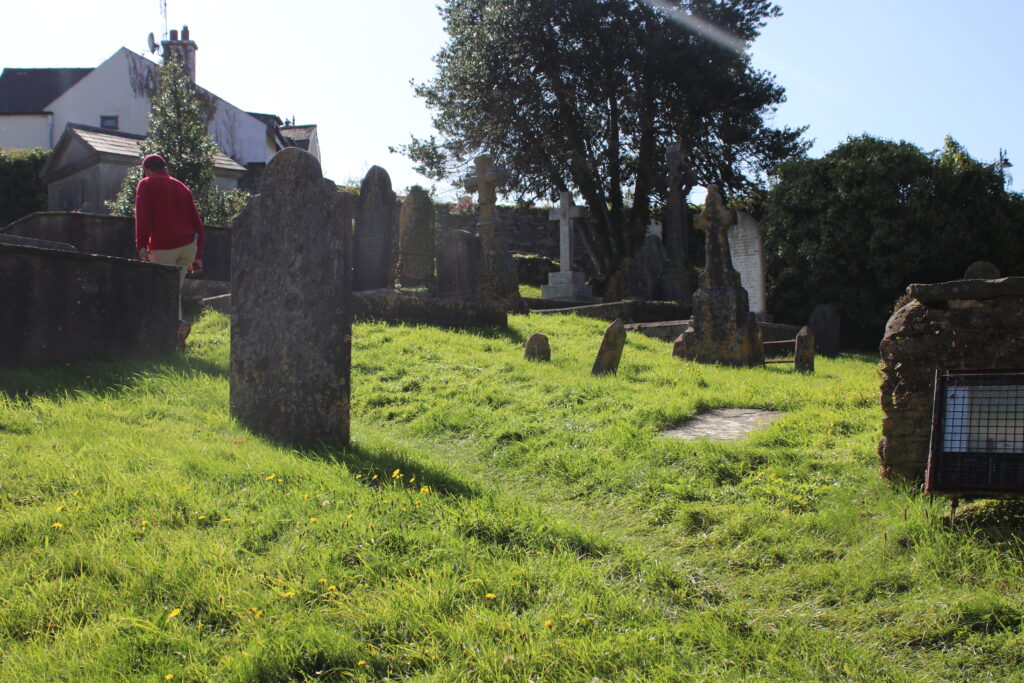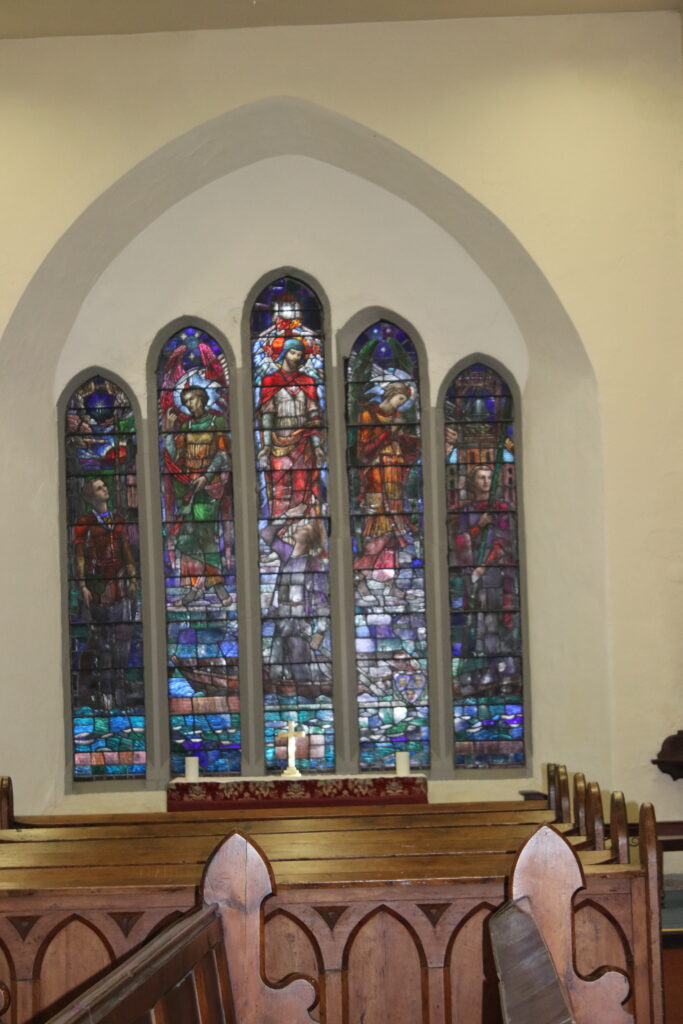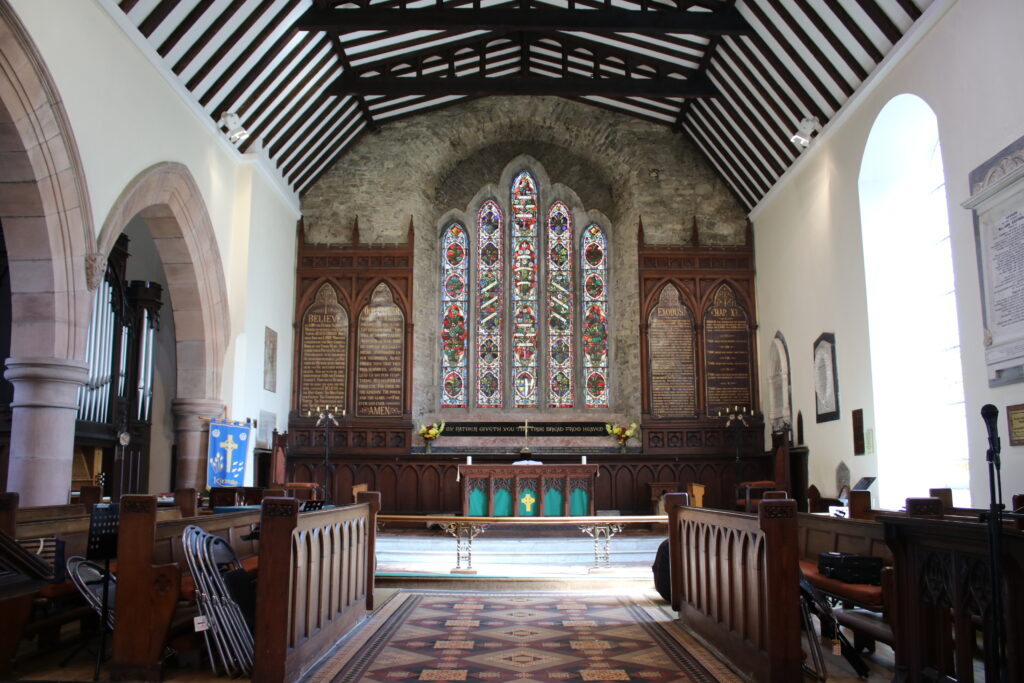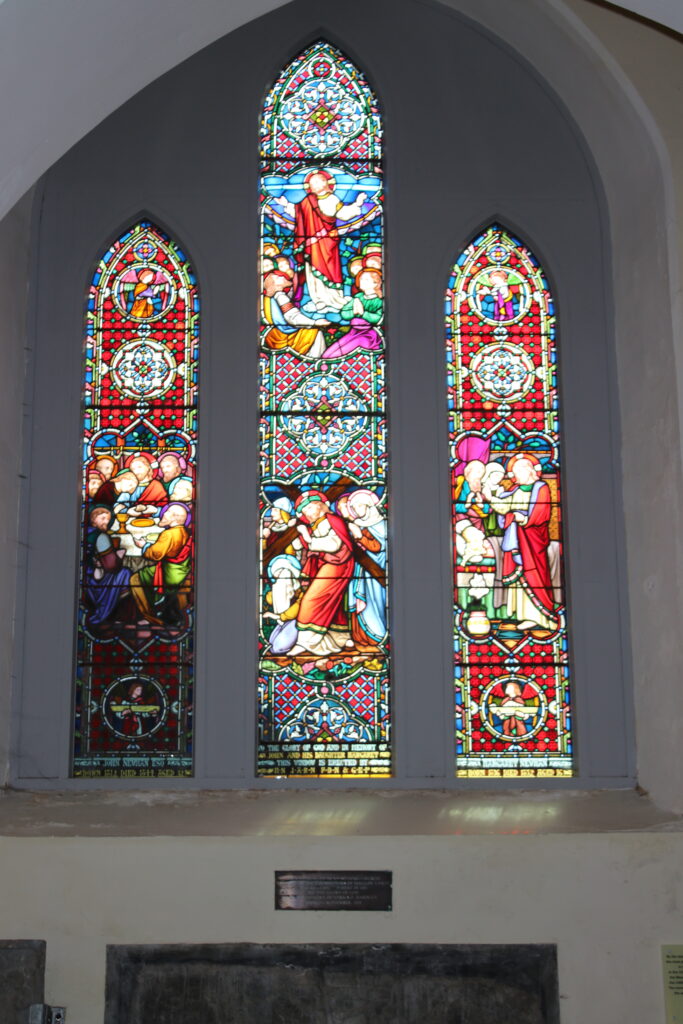 We retrieved our car and drove out to Old Head to see the golf course. The ride to the course was magnificent.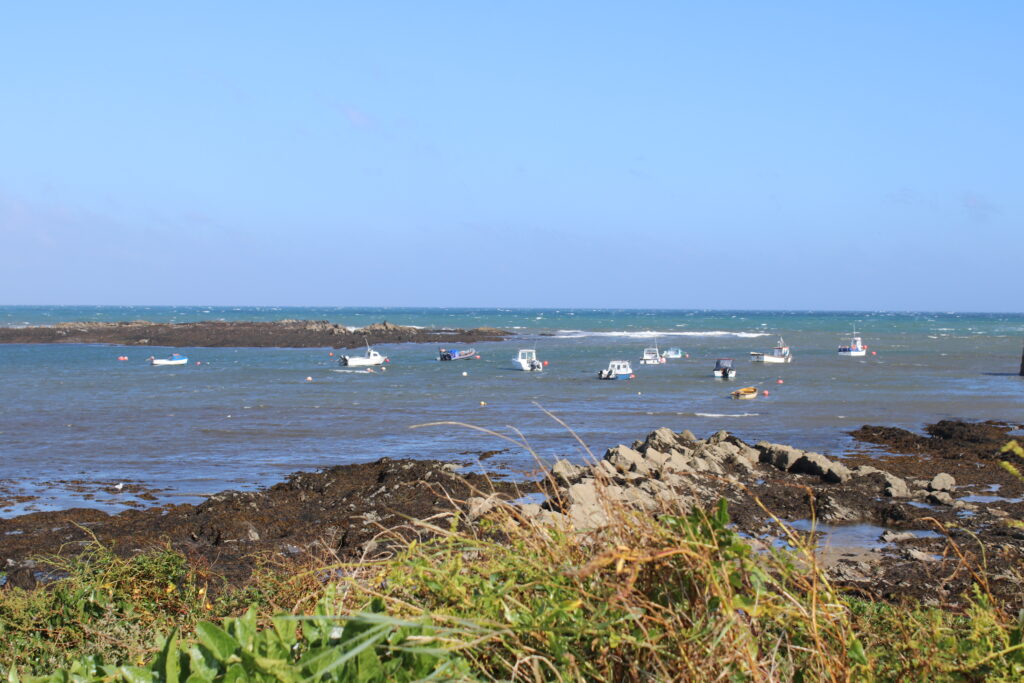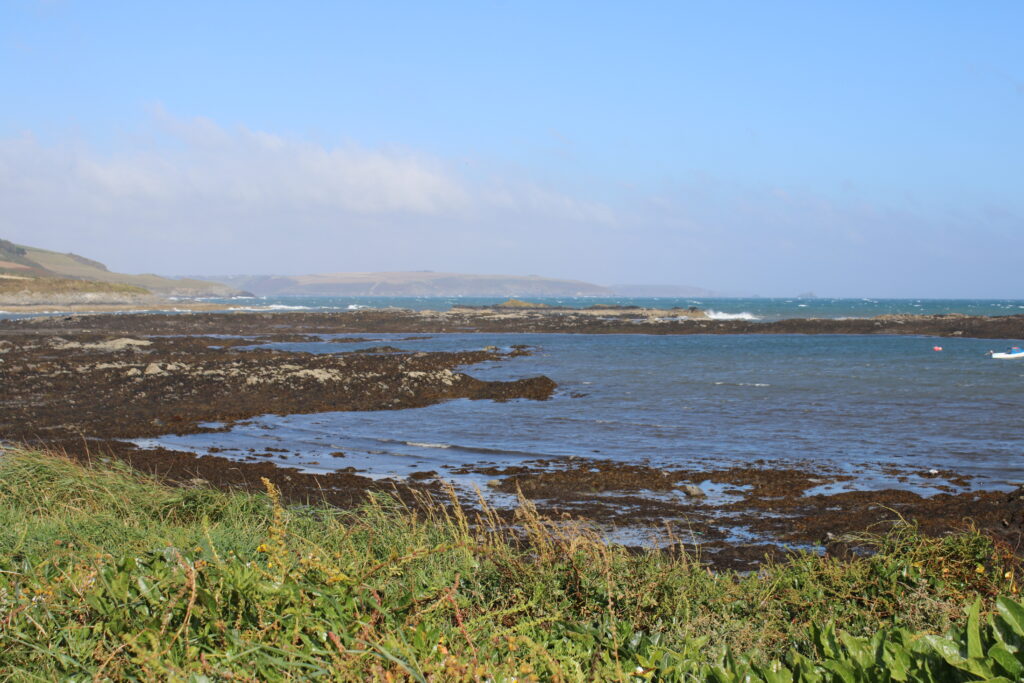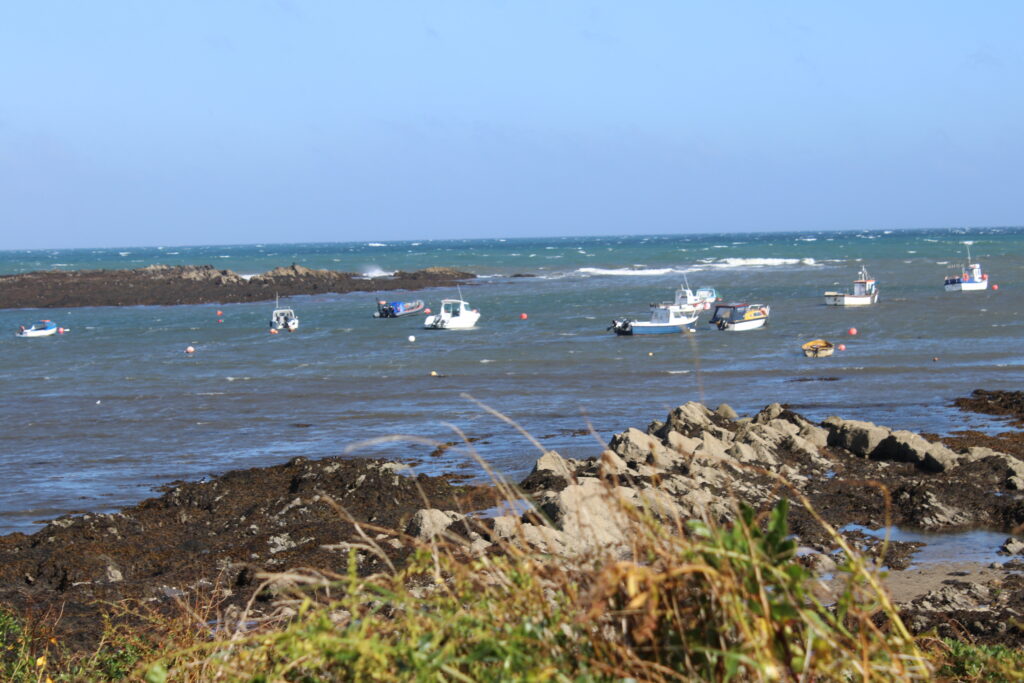 Old Head is probably the most unique golf course we have ever seen. It is perched on an outcropping into the sea. With ruins around it and a lighthouse at the end, it is simply magnificent. We did not play the course; however, we told a guard that we wanted to buy a hat at the pro shop. So, we got to see a bunch of the holes. It is a remarkable place. Simply spectacular. Here are photos of Old Head.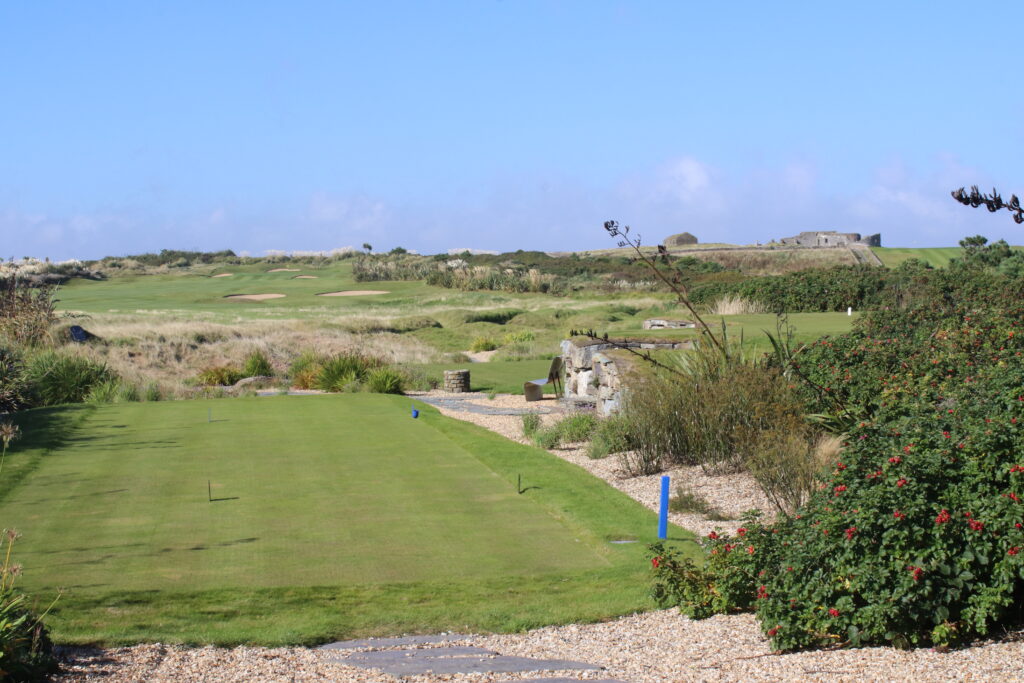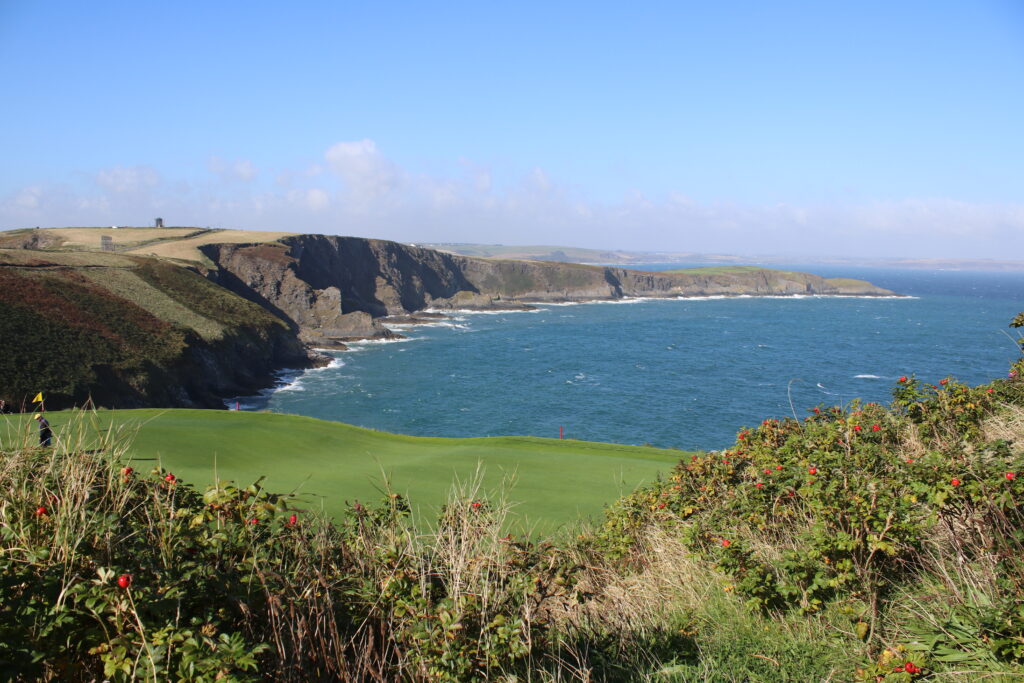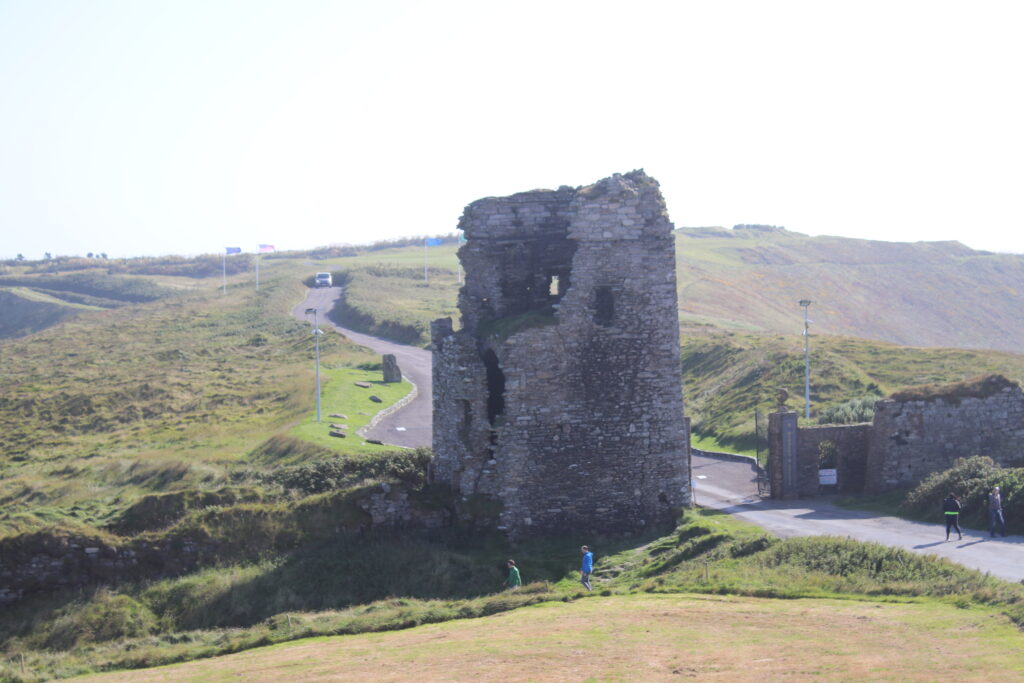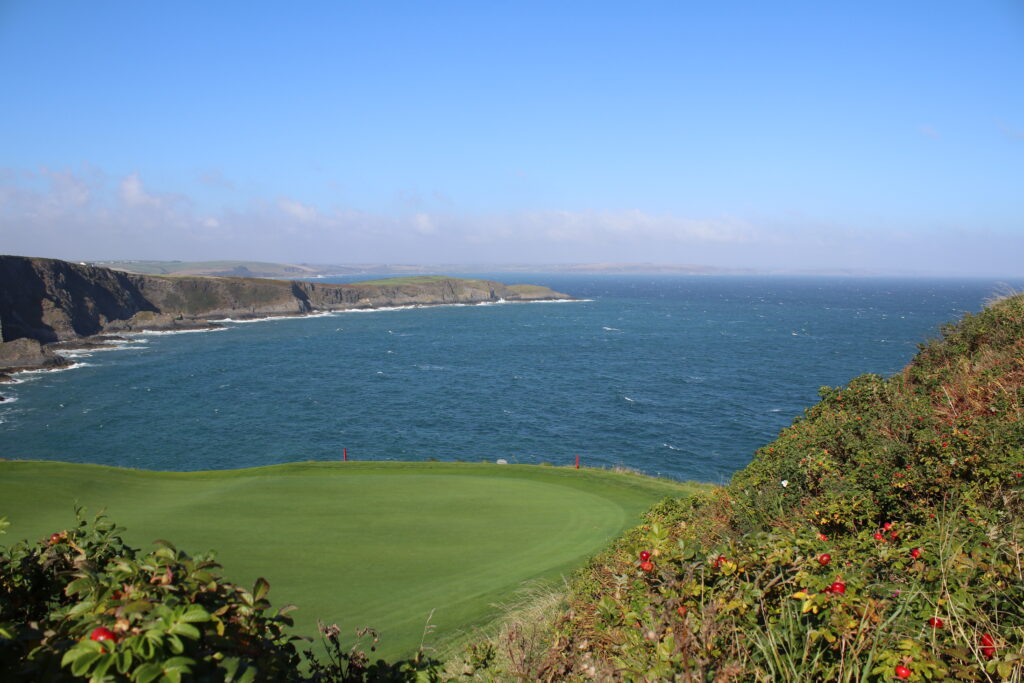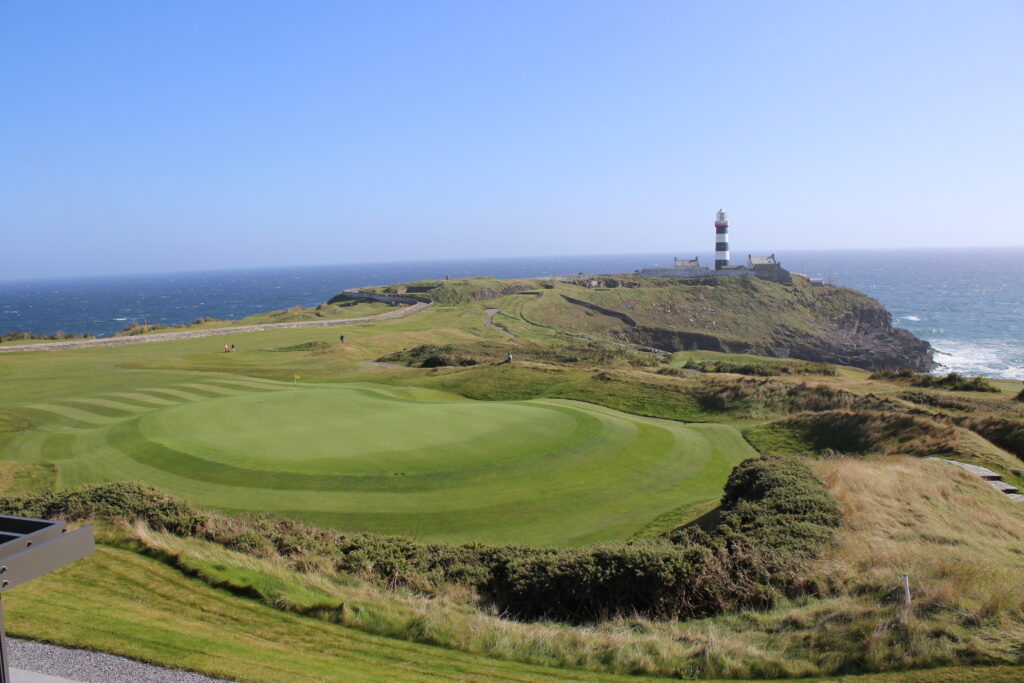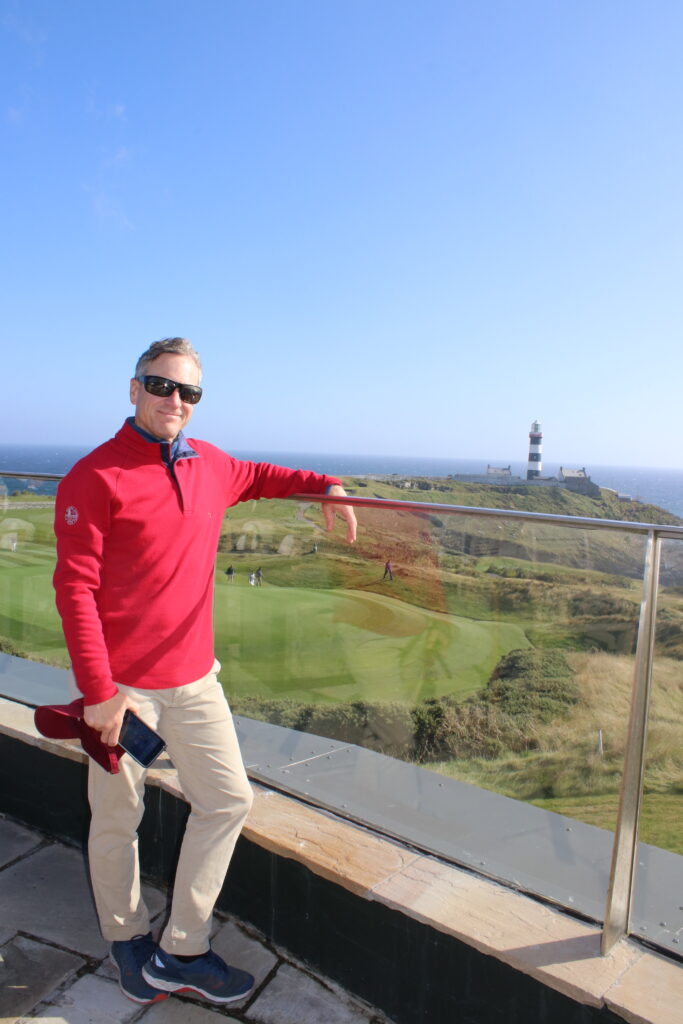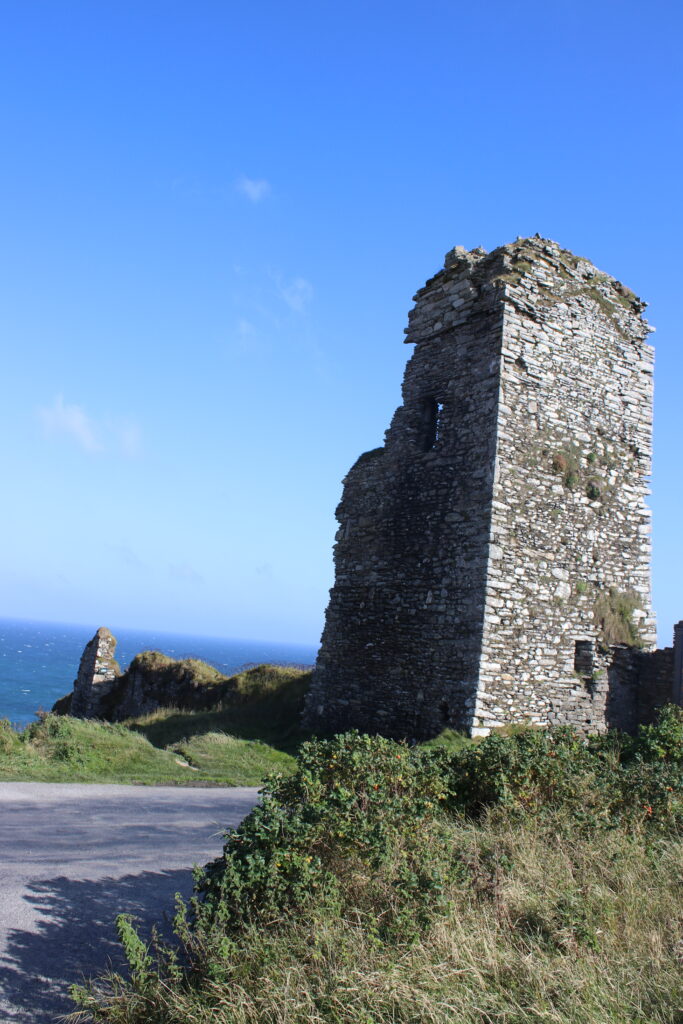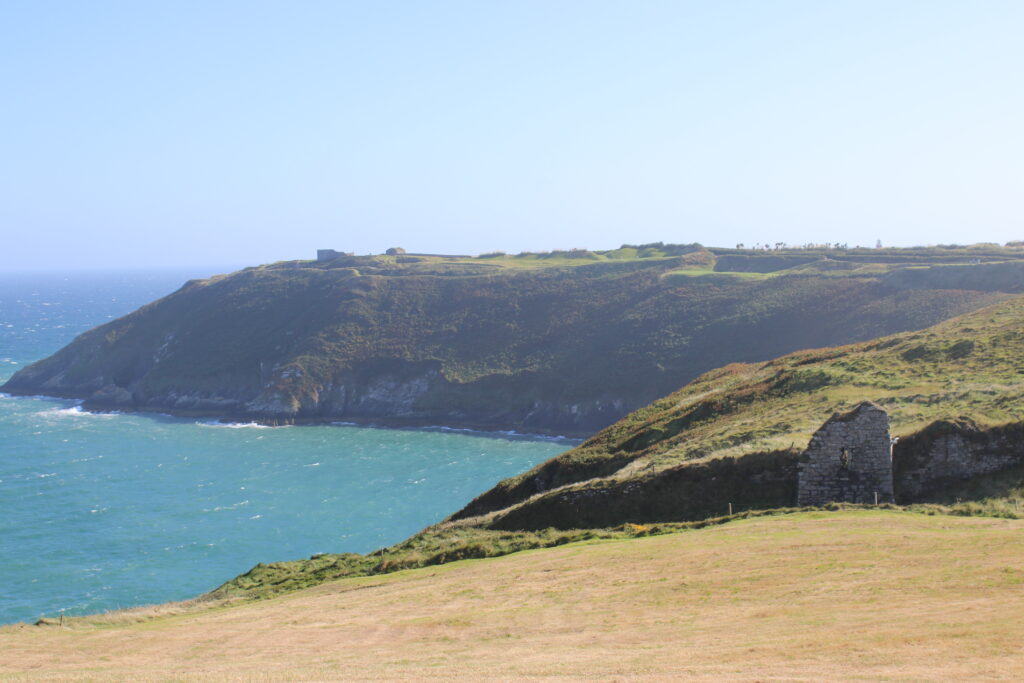 We stopped just outside the guard house to get a shot of the cliffs. If you look near my blue bracelet, you will see a woman who was on her hand and knees looking over the cliff. She was perched on a tiny little piece of rock. If she had taken a deep breath, she would have fallen. Bonkers. Old Head is worth your time. It is a beautiful part of Kinsale.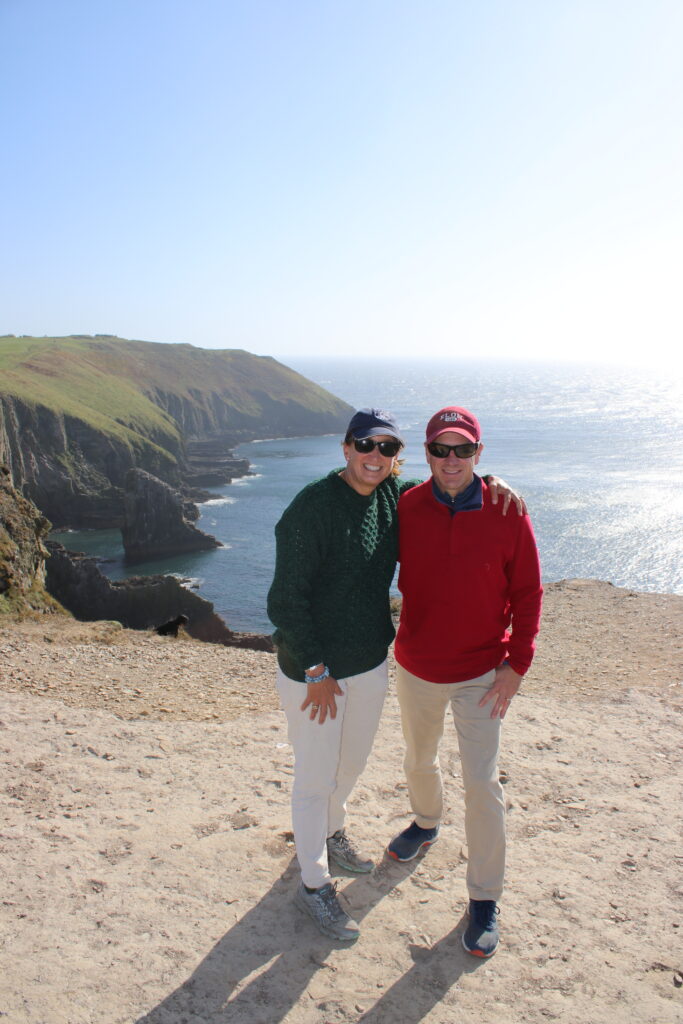 Back in Kinsale, we stopped at The White House for a few drinks and then ate at the WONDERFUL Cru. We highly recommend it. Delicious! You will need a reservation!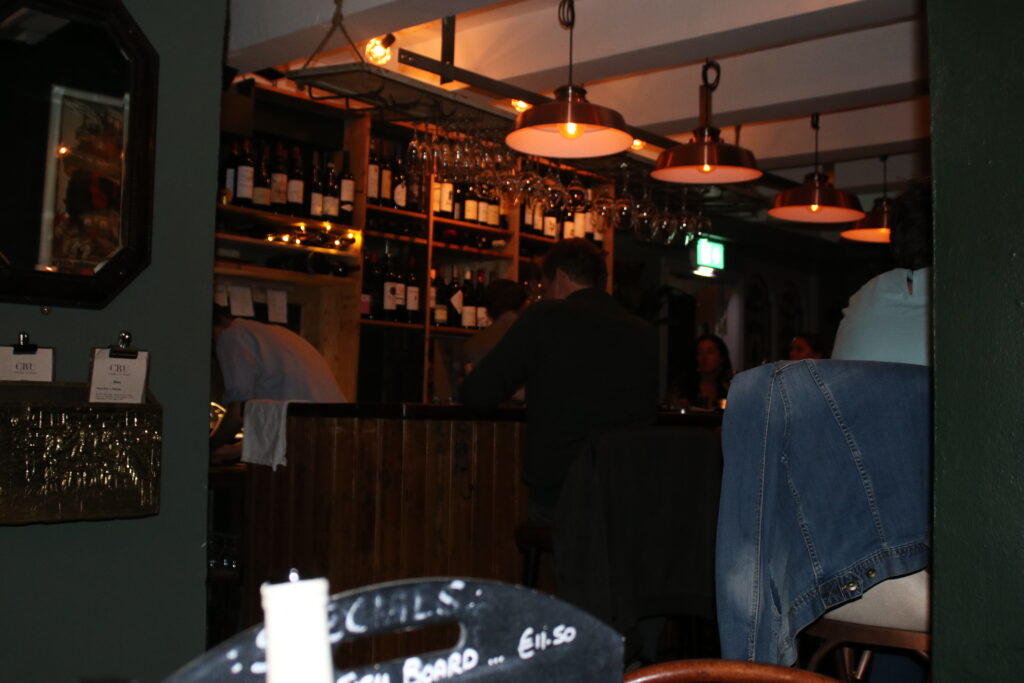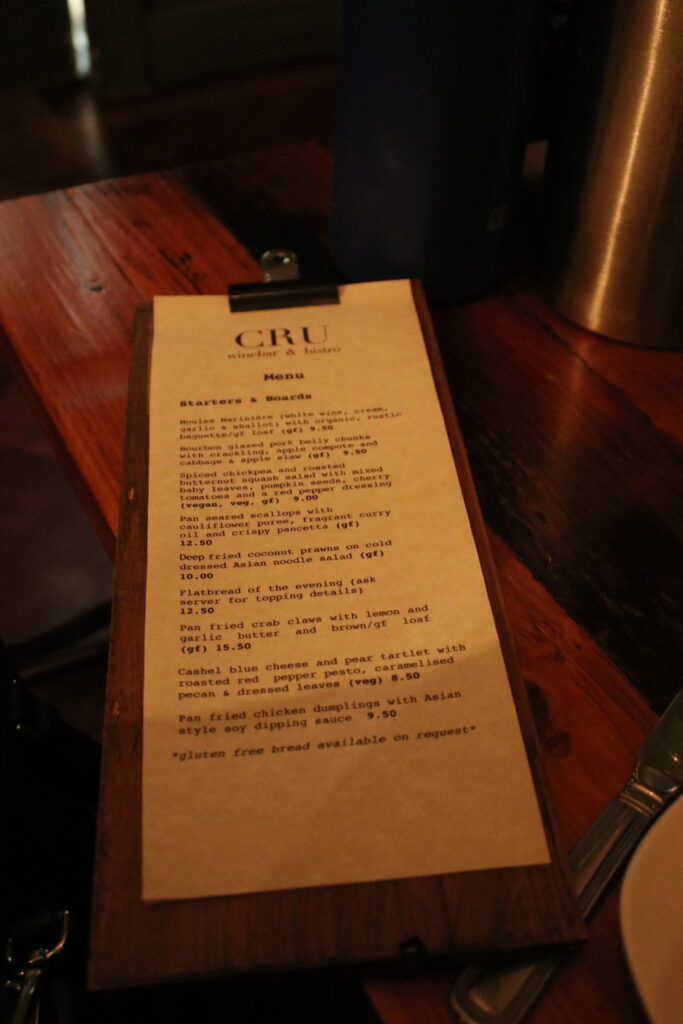 Day Seven – Cobh, Waterford, Kilkenny
On our last full day in Ireland, we woke to rain. We ate breakfast and then hit the road, again. We decided to visit Cobh, a city on the water that more than three million Irish immigrants emigrated to America from Cobh over the course of many years. Cobh was the last stop the Titanic made before heading to New York and the iceberg. There is a small Titanic Museum there. The Museum looked interesting. There is also the Cobh Heritage Center. We peeked inside at the common areas. It also looks interesting and worth a visit. We decided to stroll around the harbor and visit the church. We traveled from Kinsale to Cobh and Waze sent us to the Cork Harbor Ferry. It saved us tons of time and was just Six Euros. Takes just a few minutes!

Some scenes from around Cobh are below.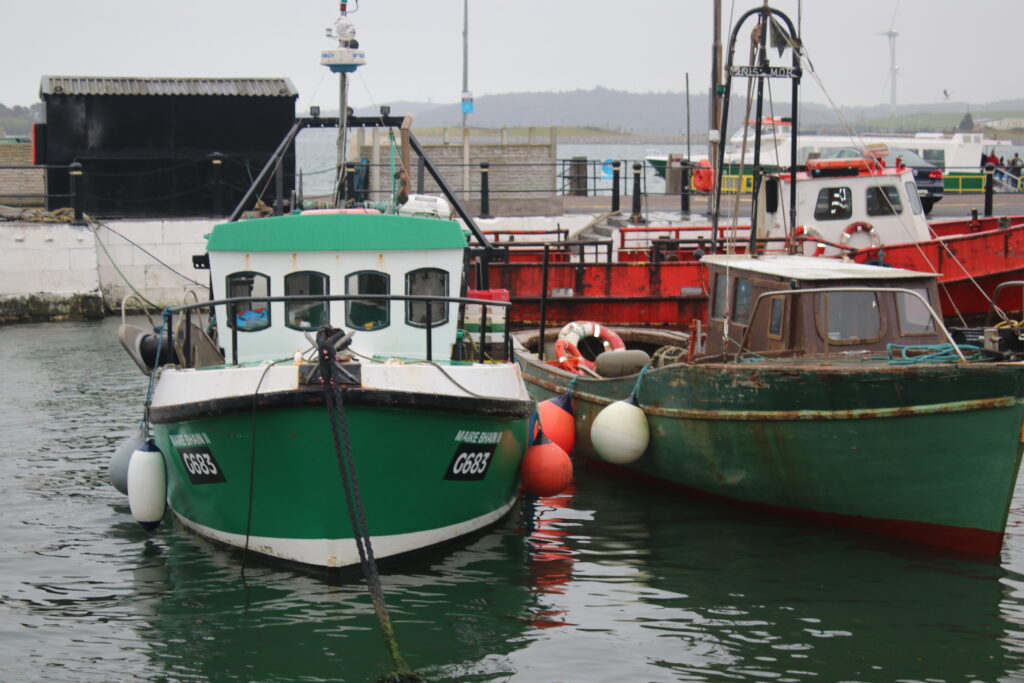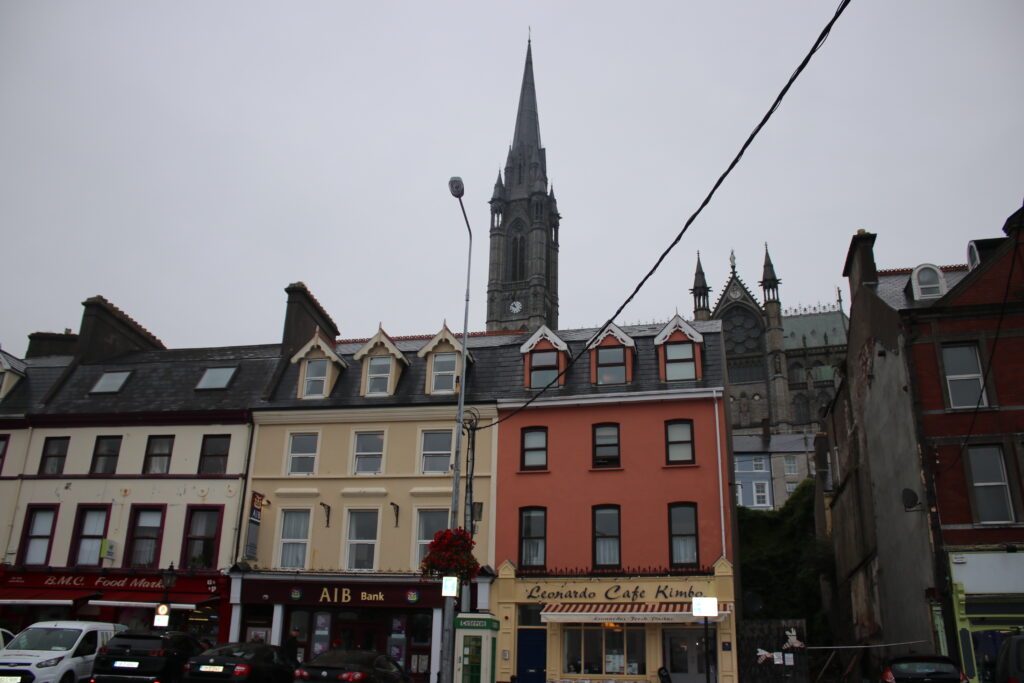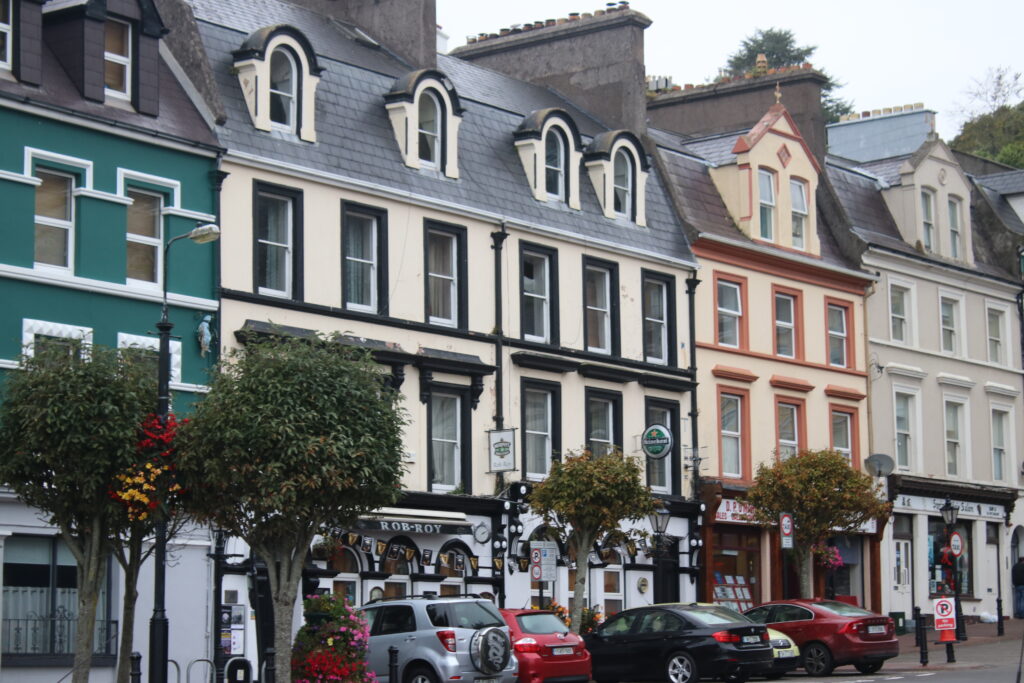 We walked uphill to St. Colman's, also knowns as Cobh Cathedral, a church in which construction began in 1868 and was not completed for 51 more years!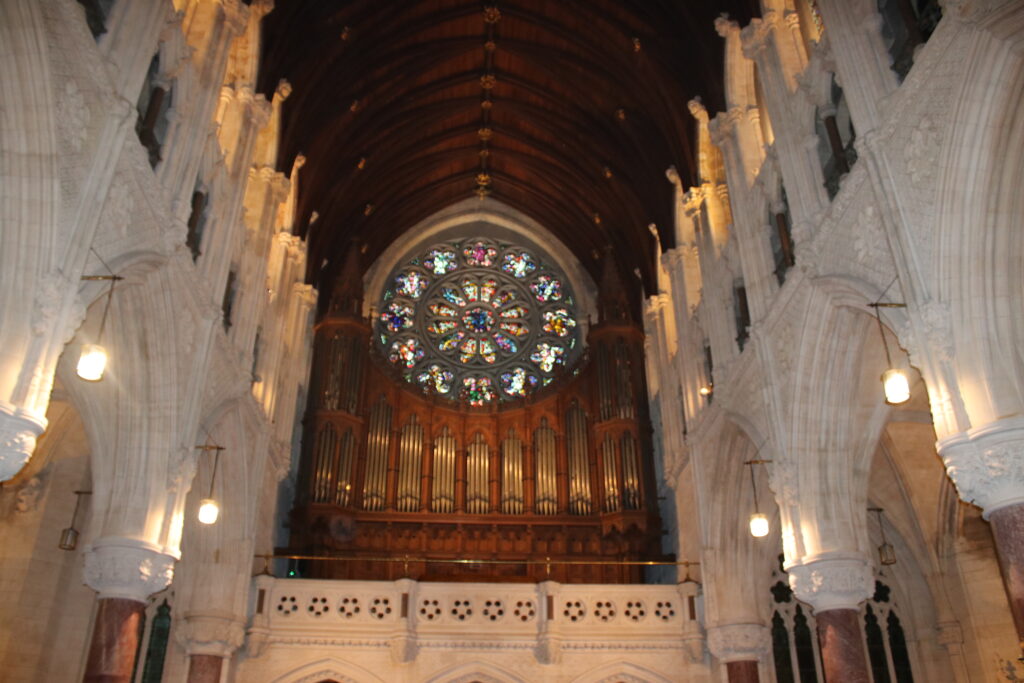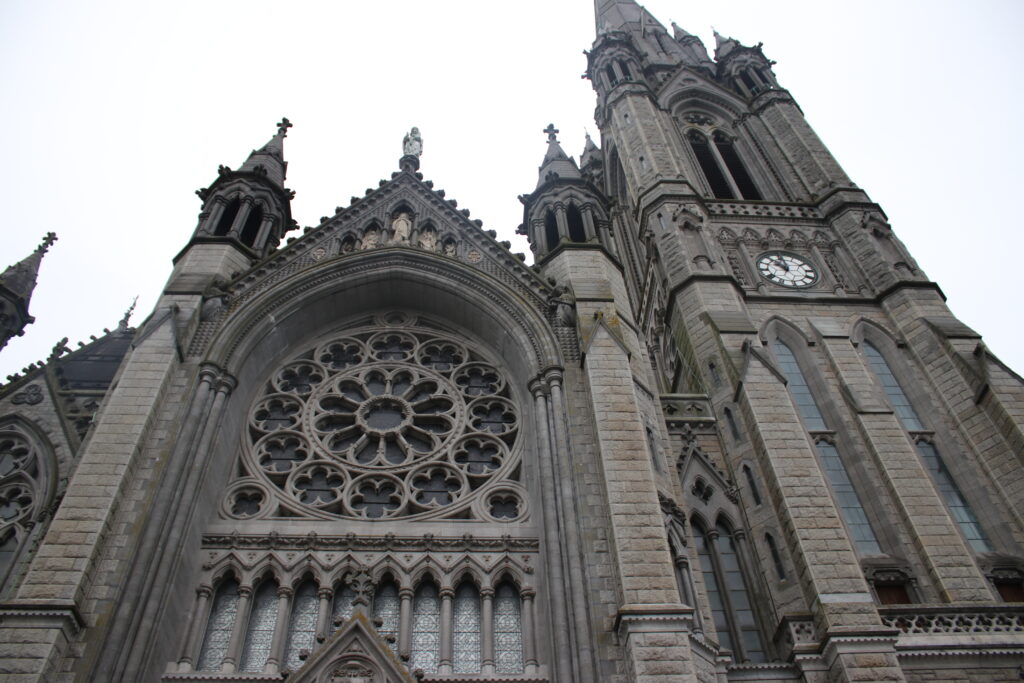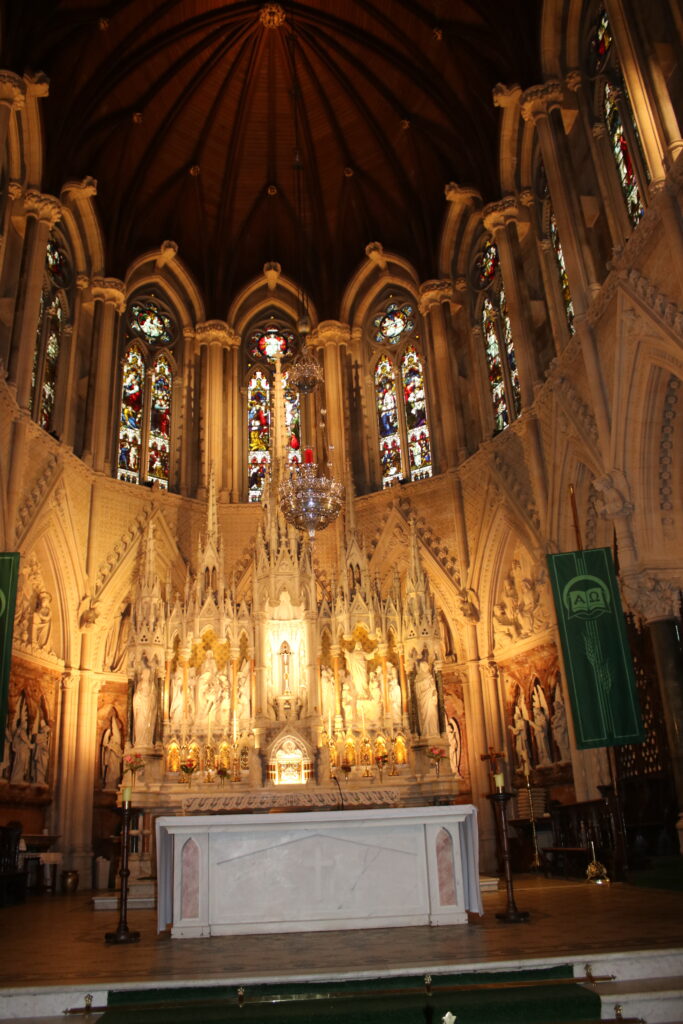 We are glad we stopped in Cobh on a rainy day. But, there were other places we liked much better. We decided to go to the Waterford Crystal Factory, so we had Waze get us there. We would have liked to have biked or walked portions of the Waterford Greenway, but it was just too rainy. Next time!

We booked tickets for the Waterford Crystal Factory tour online to save a few euros. We arrived to the factory, ate lunch at the crowded but delicious cafe and took the tour. We have Waterford Crystal, so it was fun for us. You see the artists blow, cut and etch glass. The tour is about an hour. The city of Waterford is busy. Try to beat the tour busses and go in the morning! TripAdvisor offers mostly excellent reviews.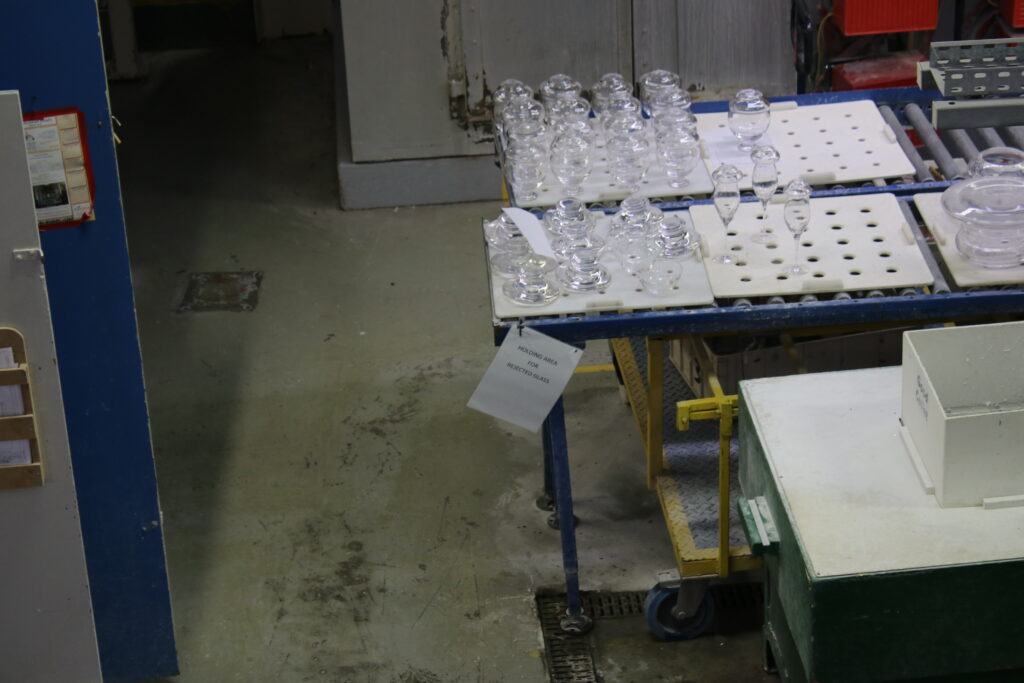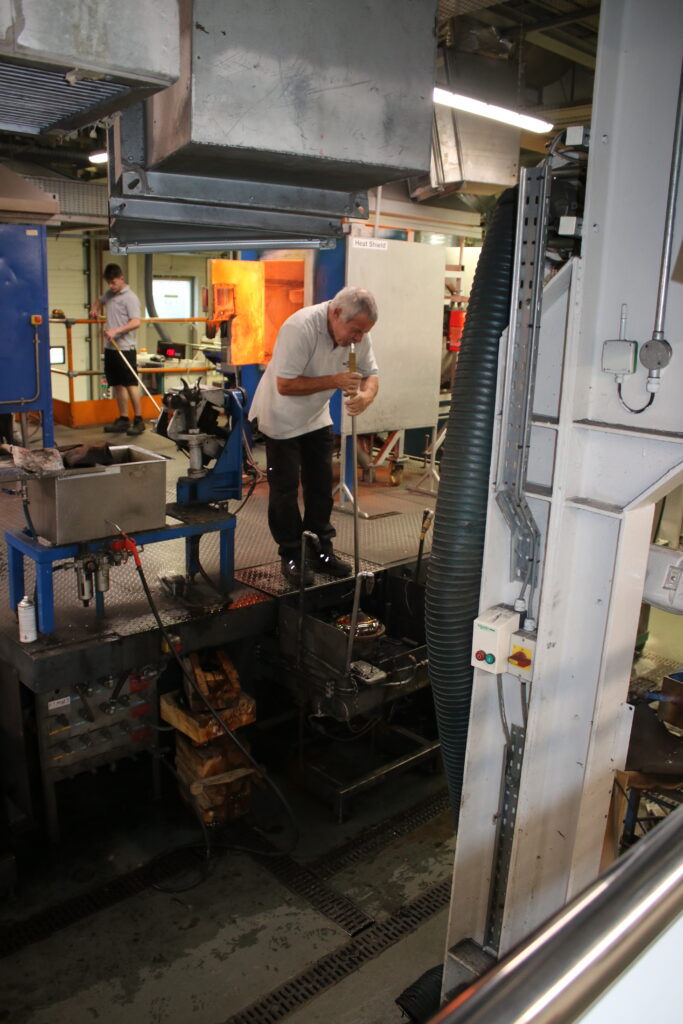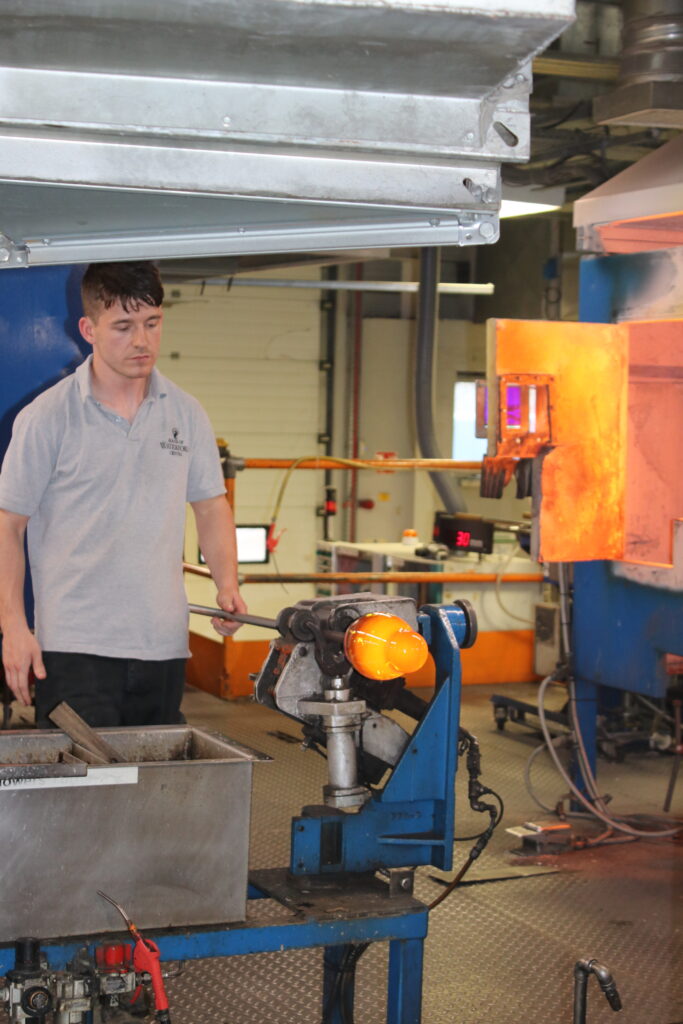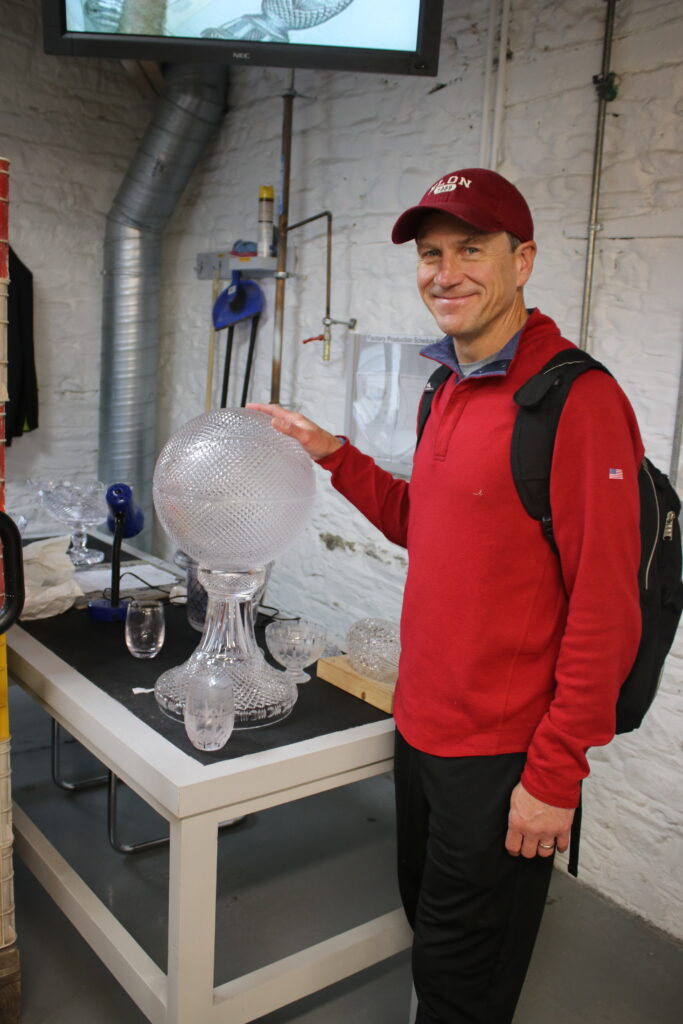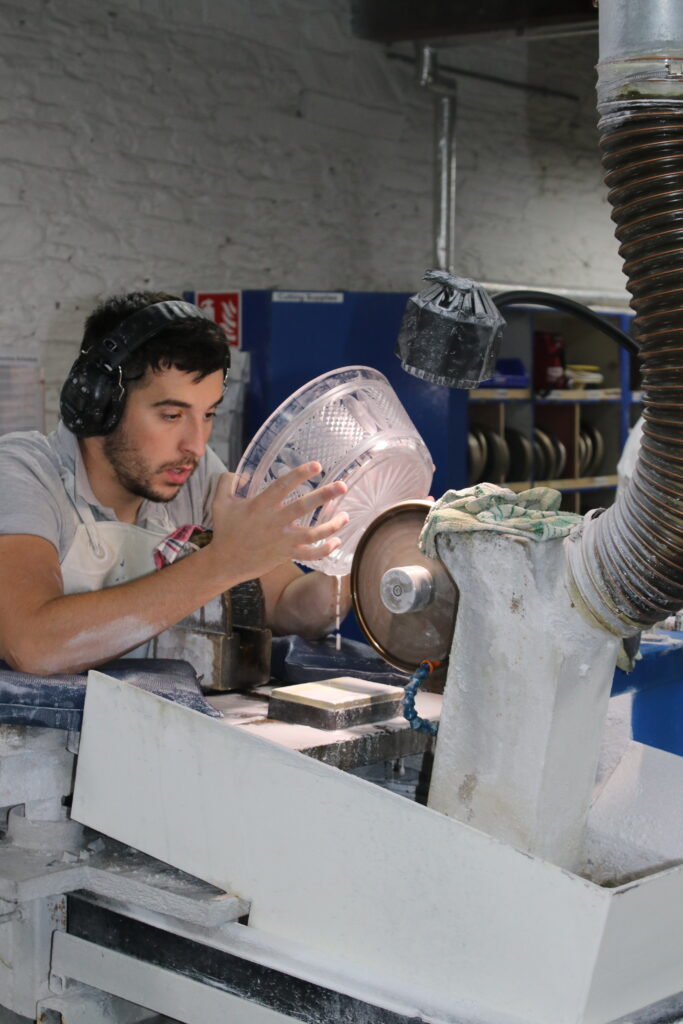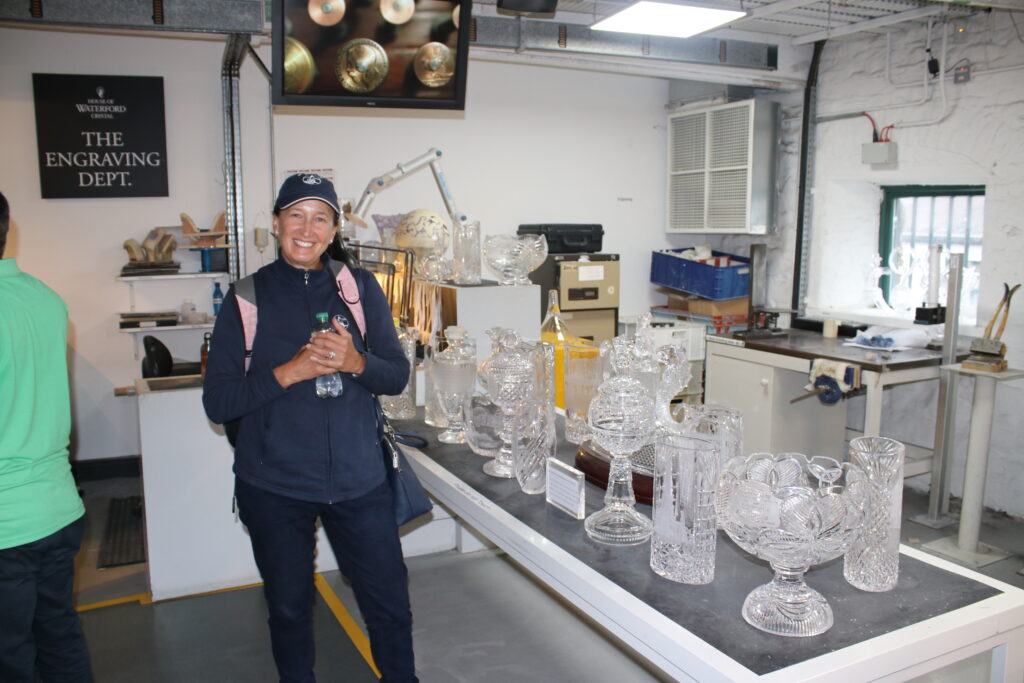 We put Kilkenny into Waze and drove for about 35 minutes to a charming medieval city. We wish we had more time to spend in Kilkenny! We were supposed to have another half a day on Sunday, but our flight times changed drastically and we had to leave Sunday morning at 6am.

We stayed at The Pembroke Kilkenny. The location was fabulous, however, the hotel was utterly charmless. It was clean, the staff was very friendly and the parking was included with the price. It just felt like a hotel on the side of the highway. But, we could walk everywhere.

We were steps from Kilkenny Castle, so we did a self-guided tour. The Castle is a mix of ancient castle and a Newport, Rhode Island mansion. It is largely a Victorian remodeling of a 13th century defensive castle. It was fascinating and very pretty.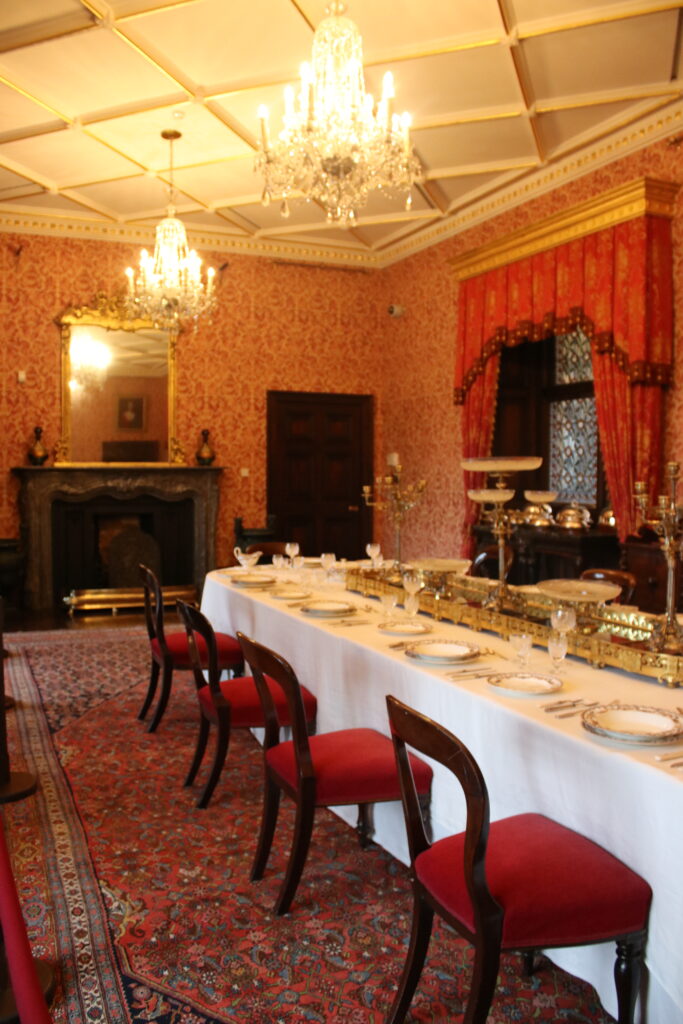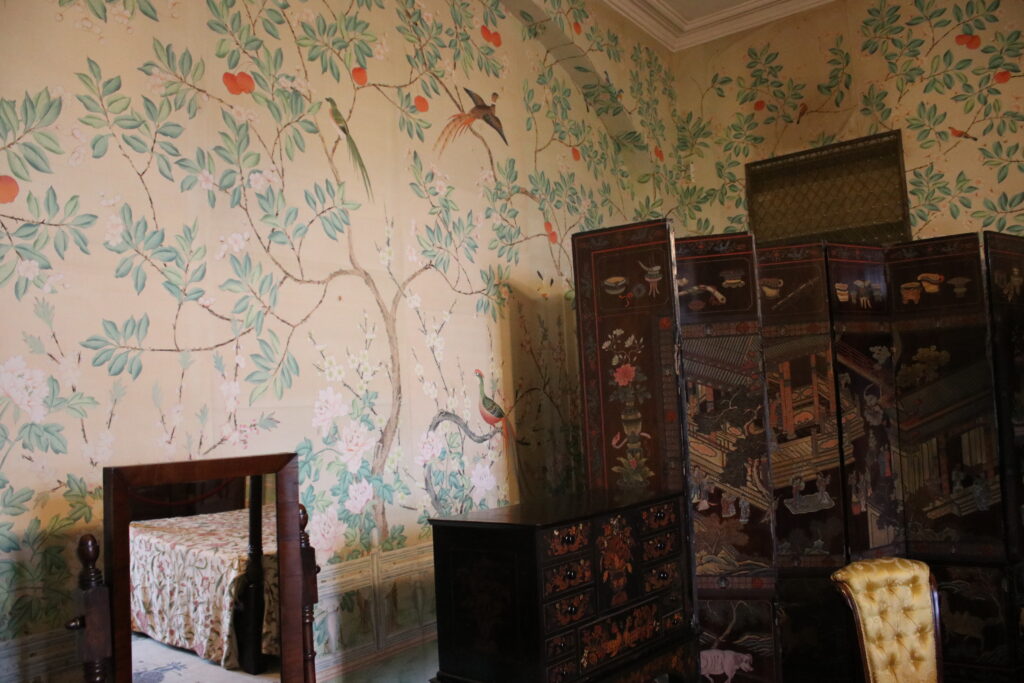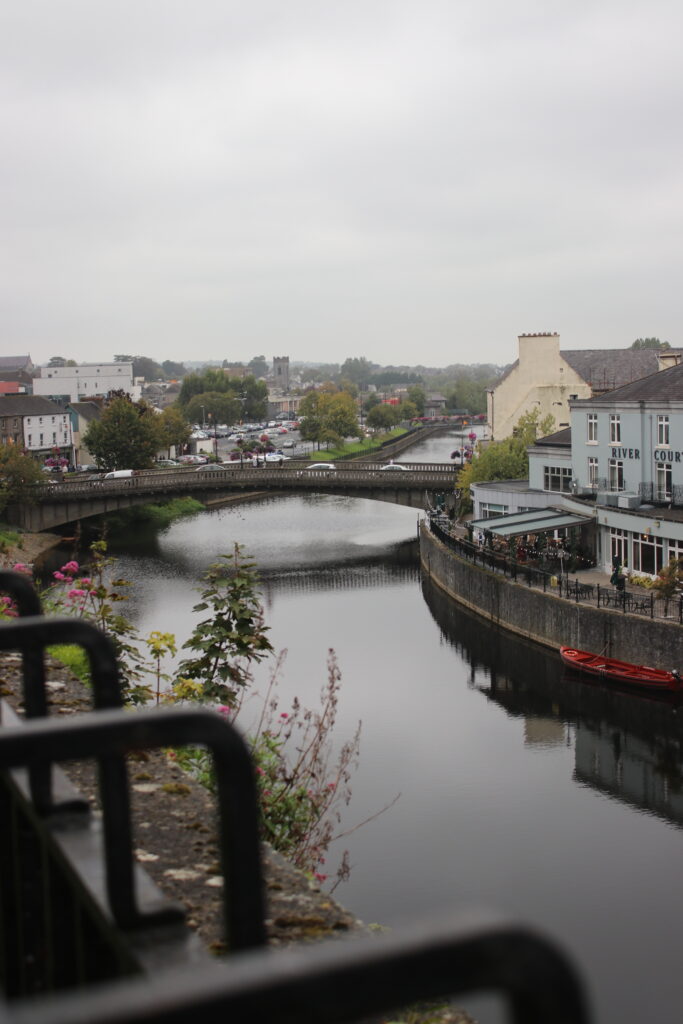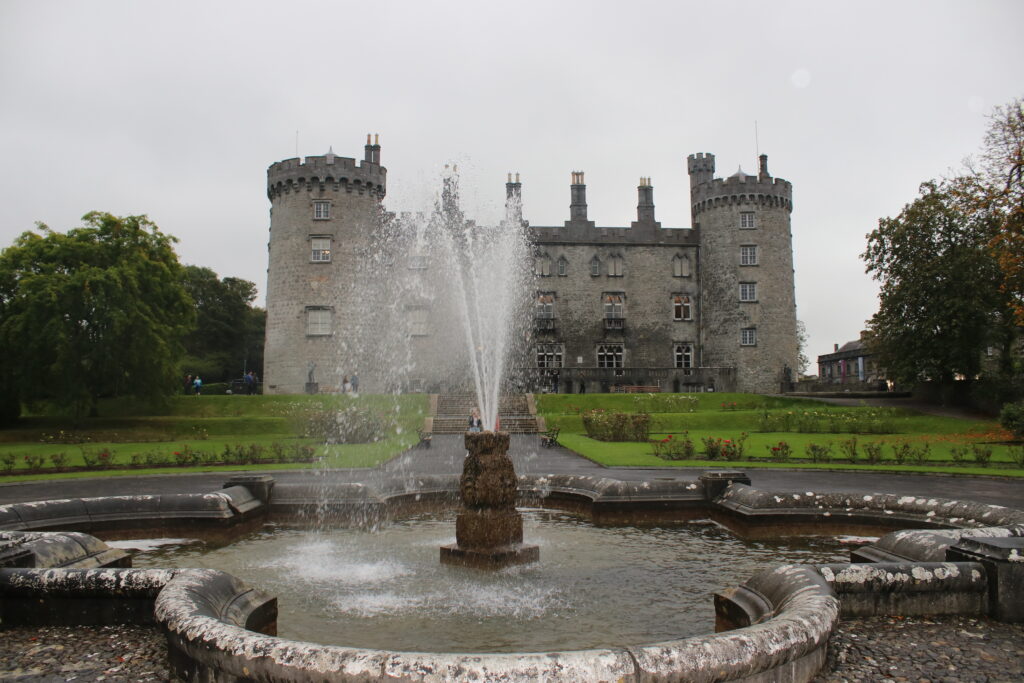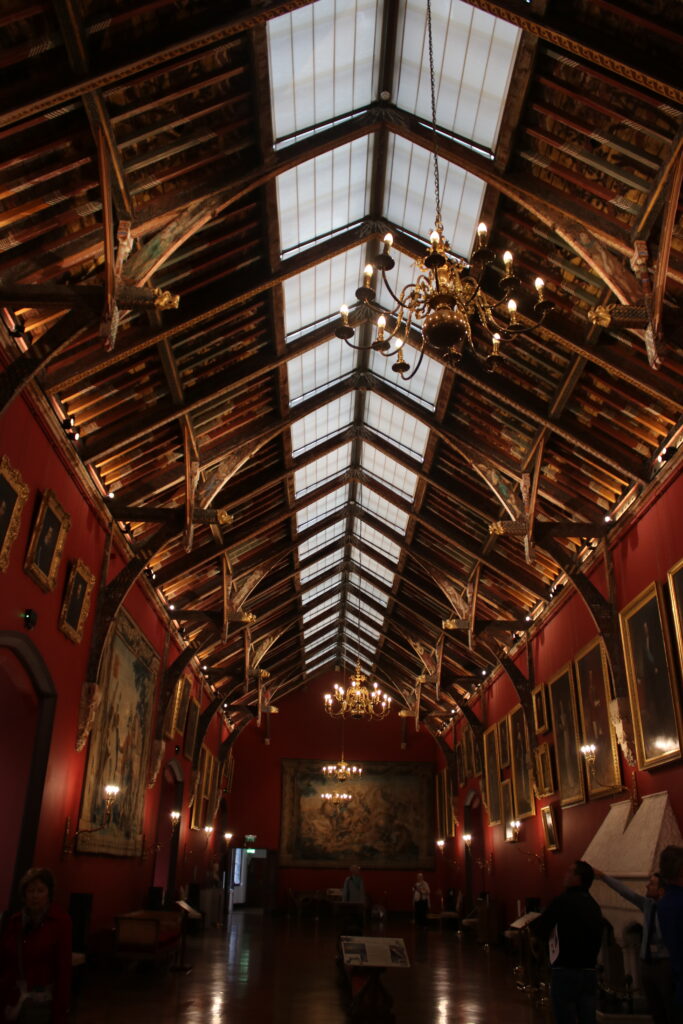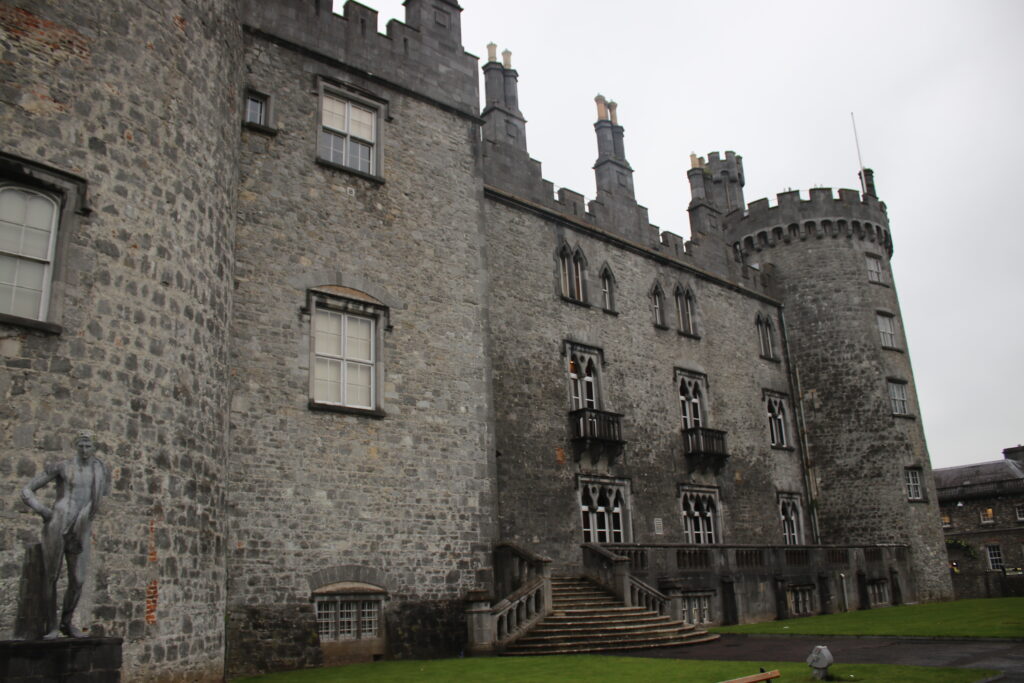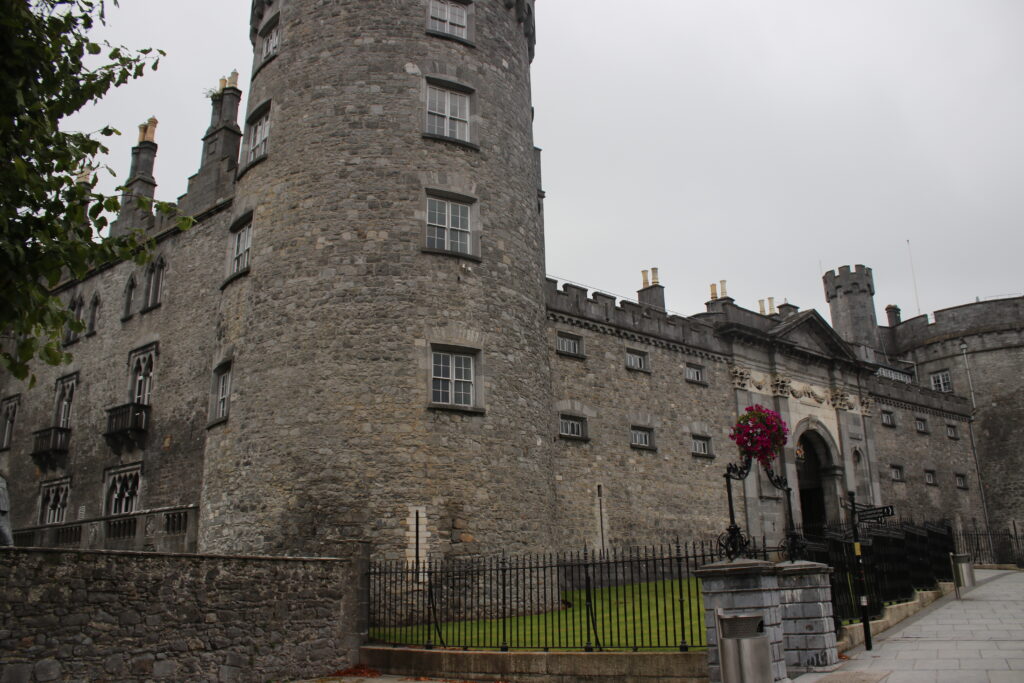 Kilkenny as a city has so much charm. It feels magical, almost like Diagon Alley from Harry Potter. Tons of shops, bars and restaurants line the streets.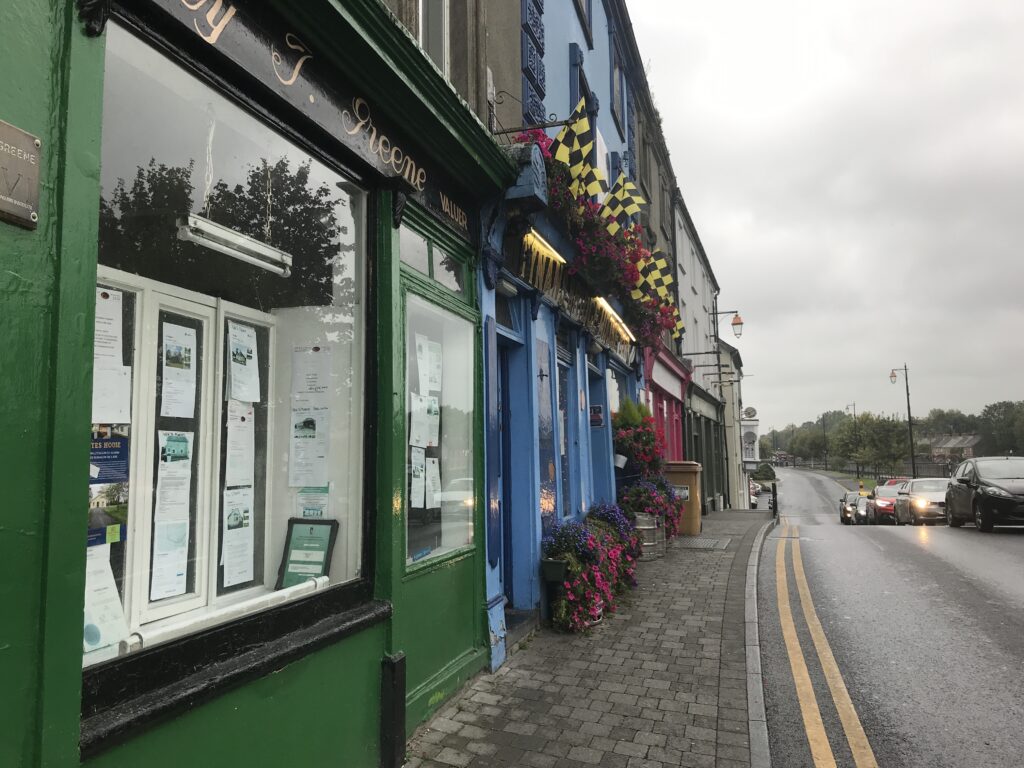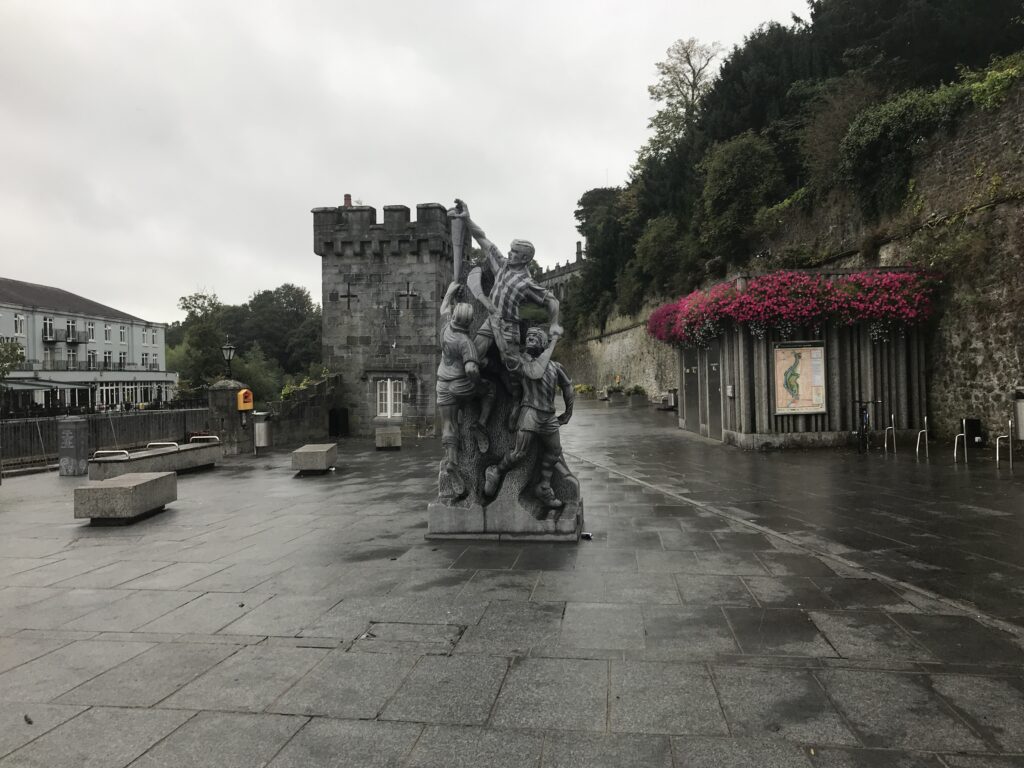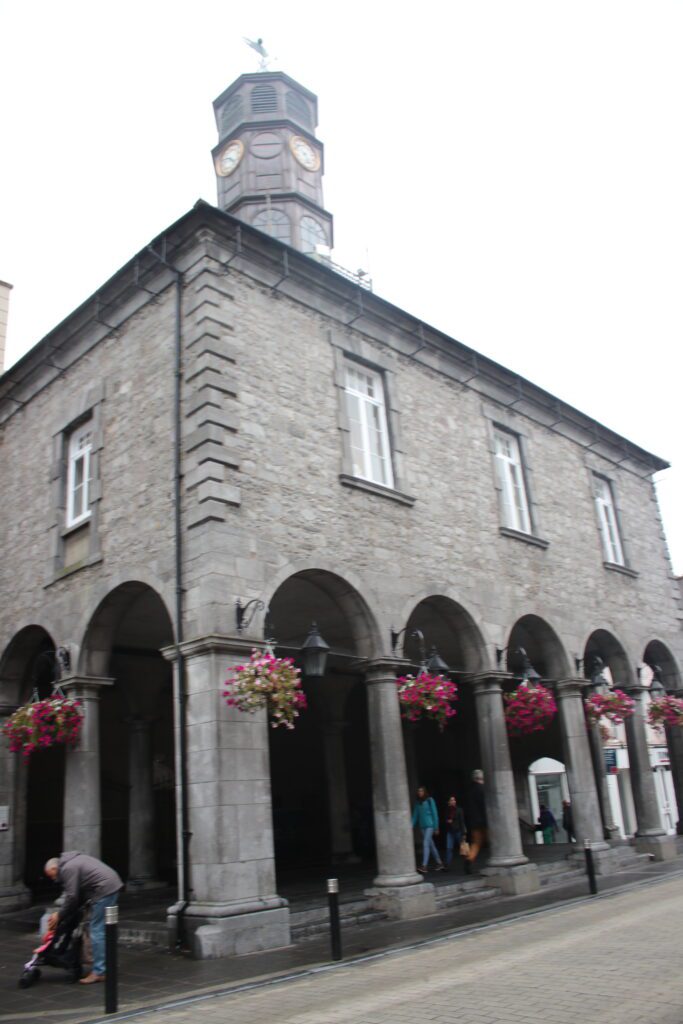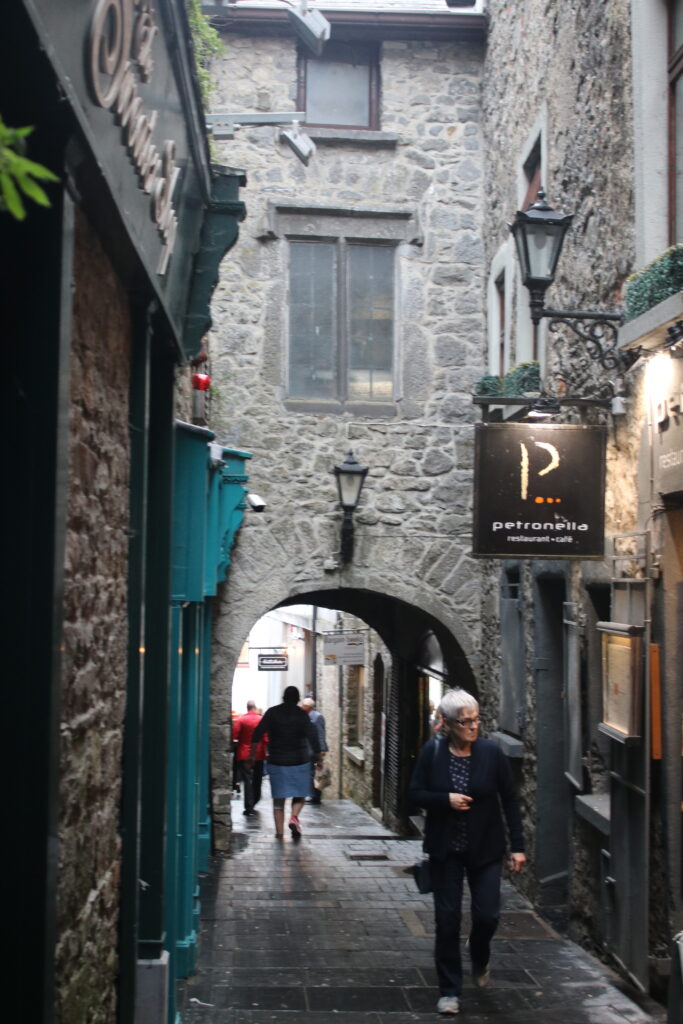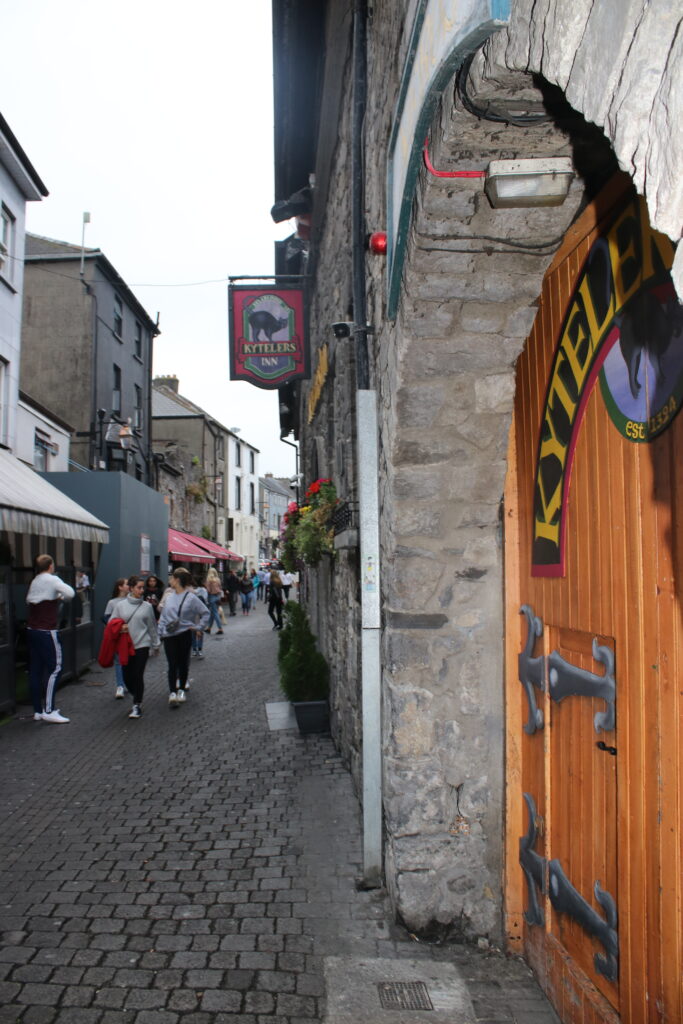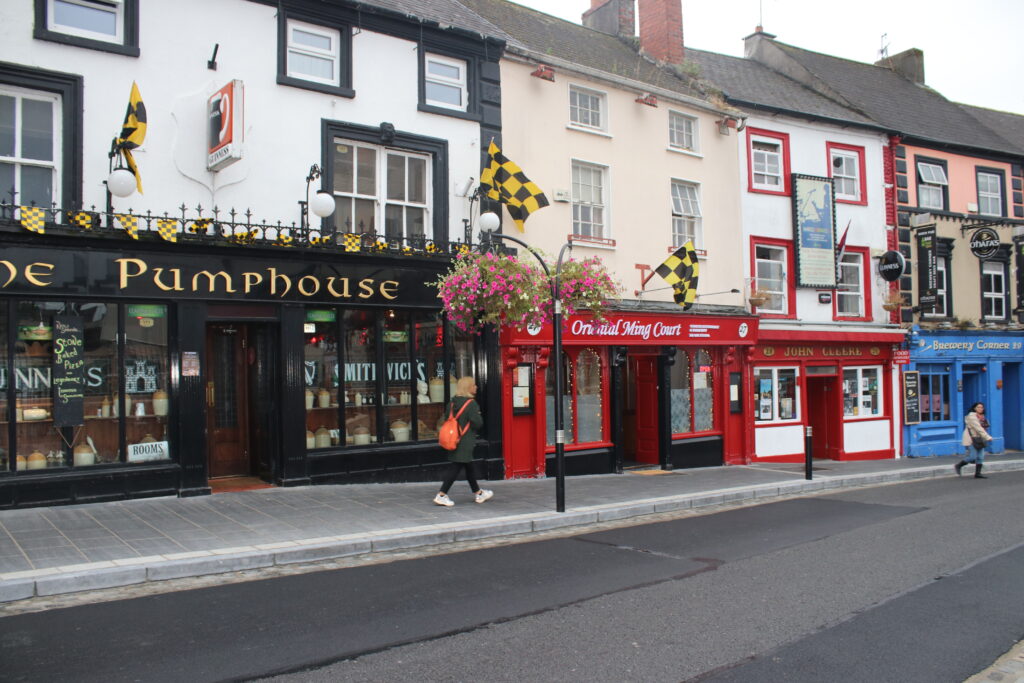 Less than a mile from the Kilkenny Castle is the ancient St. Canice's Cathedral. The round tower, which you can climb, is thought to date to the 9th century. It will give you an outstanding view of Kilkenny. We were too late to do it, and the tower was closed. The religious roots of the site date to the sixth century. It was a delightful walk through the old city.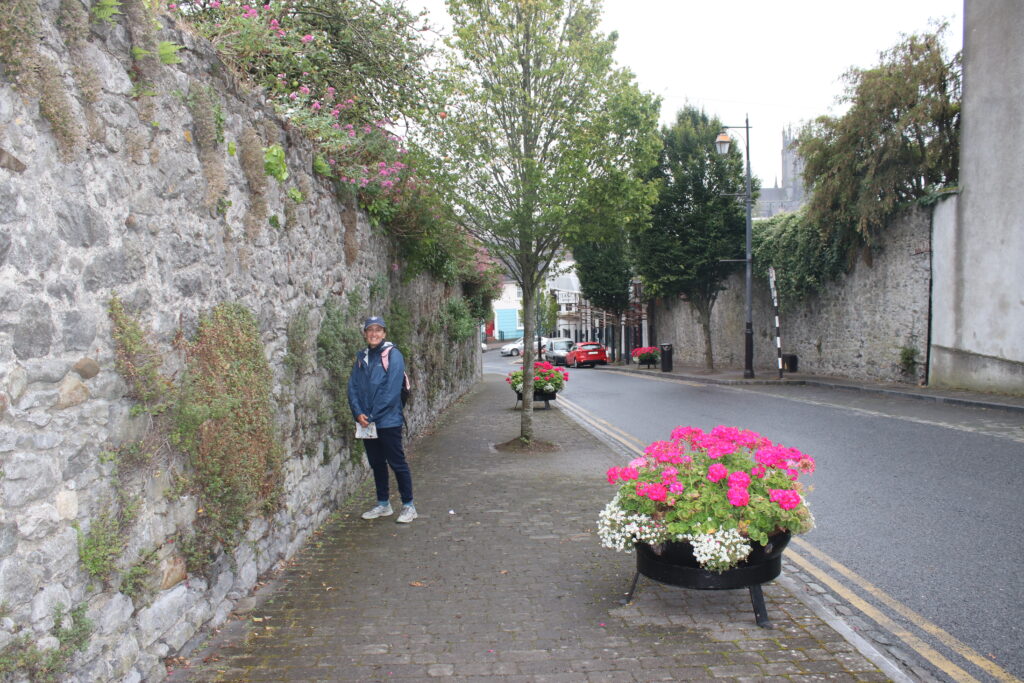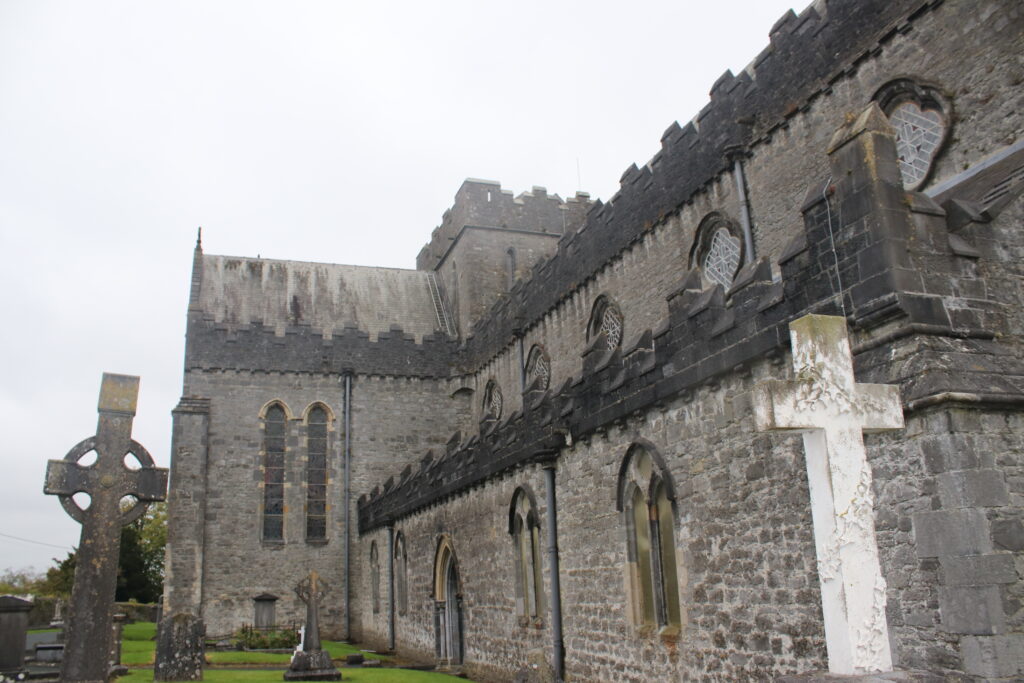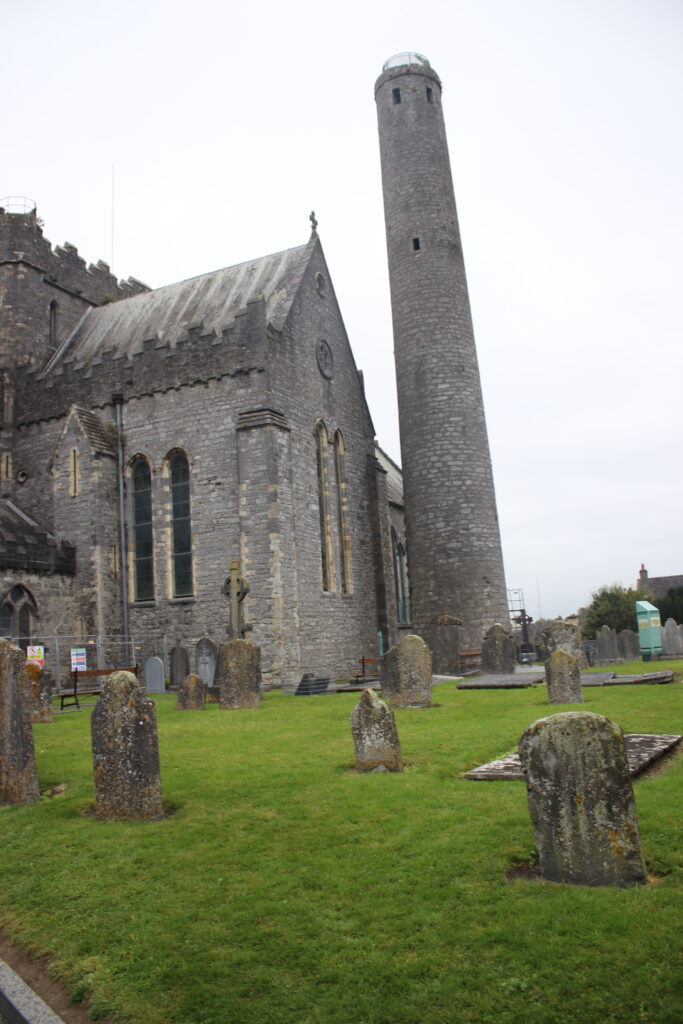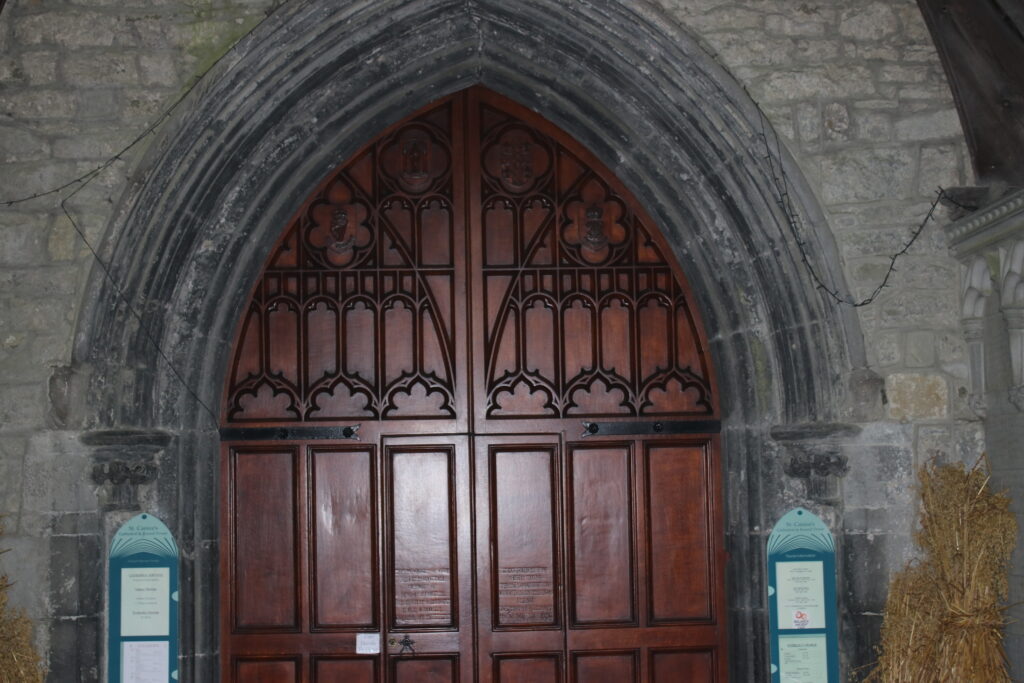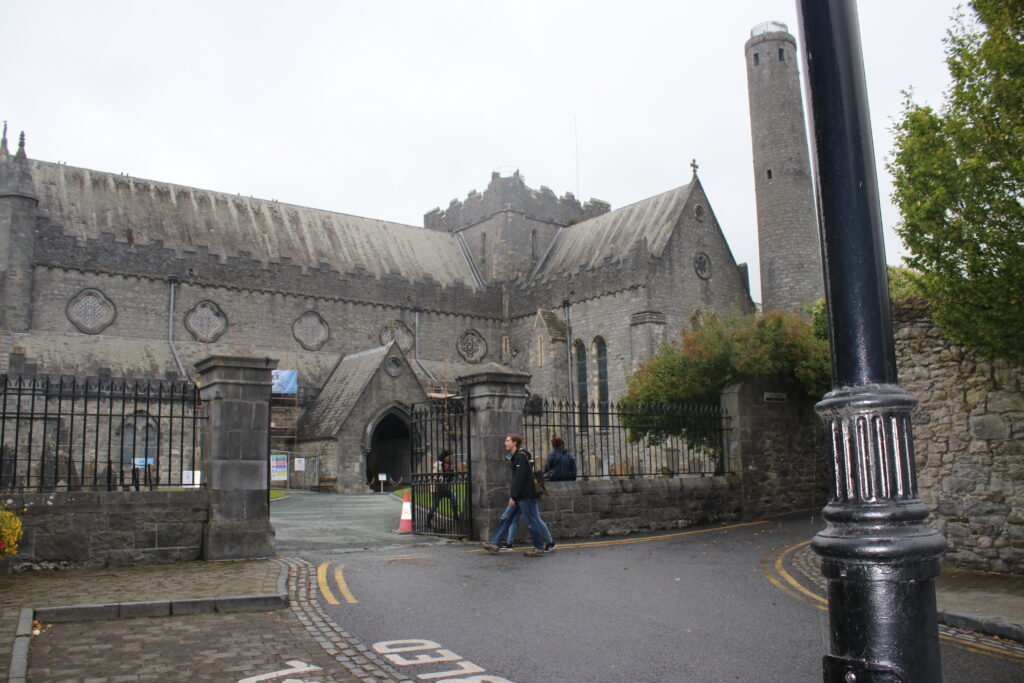 All this walking and driving made us hungry and thirsty! We stopped for drinks at the Left Bank Bar. It was awesome. Cool, hip vibe, neat artwork and lots of stools! TripAdvisor reviews are excellent.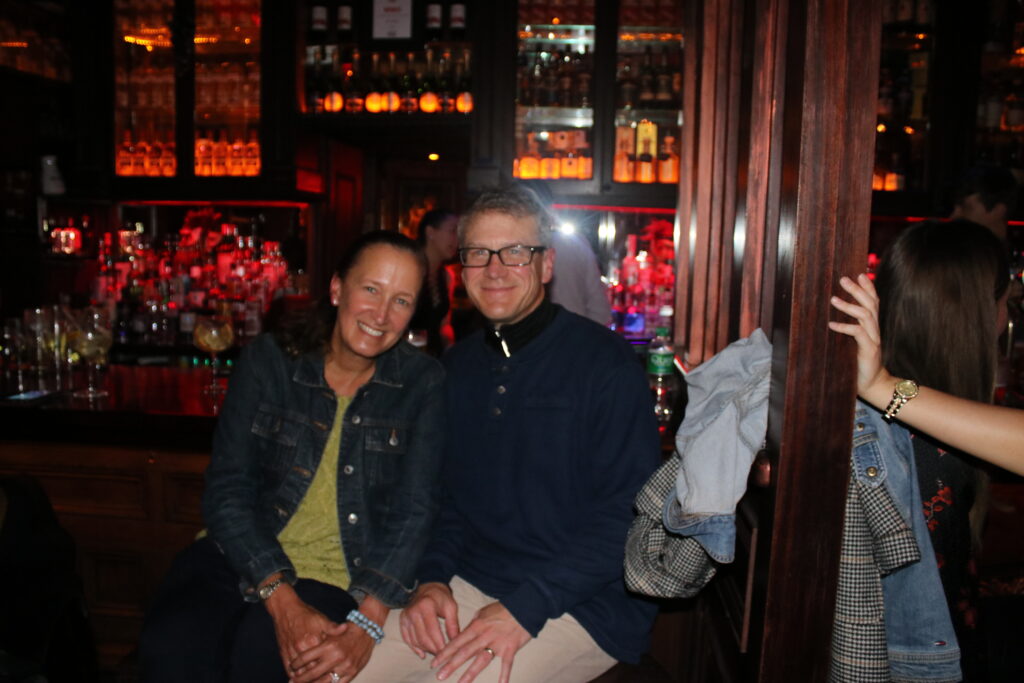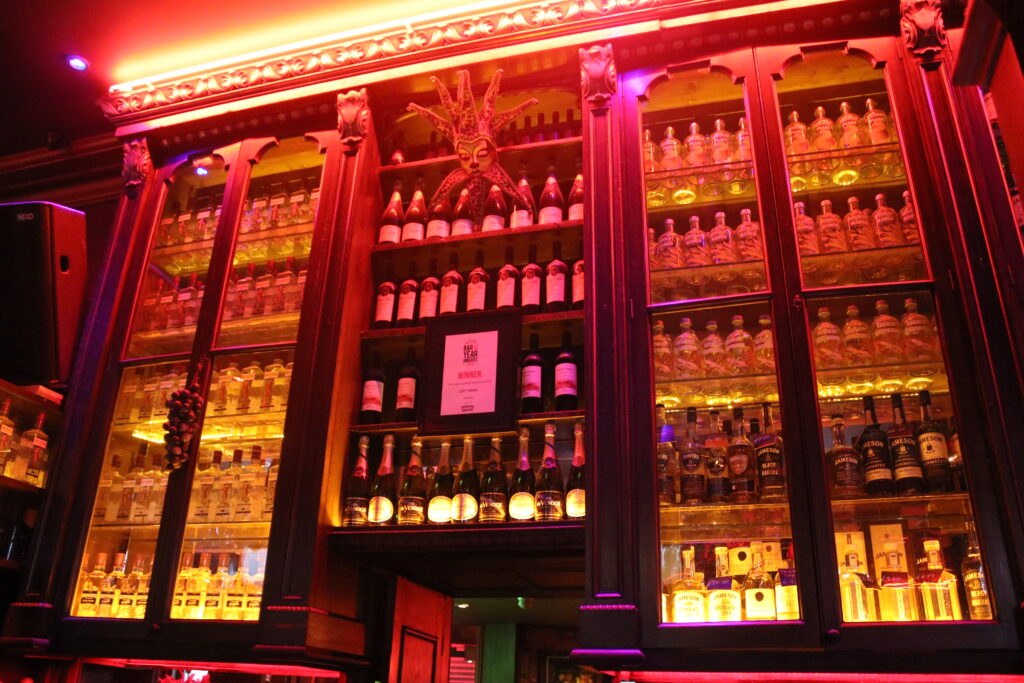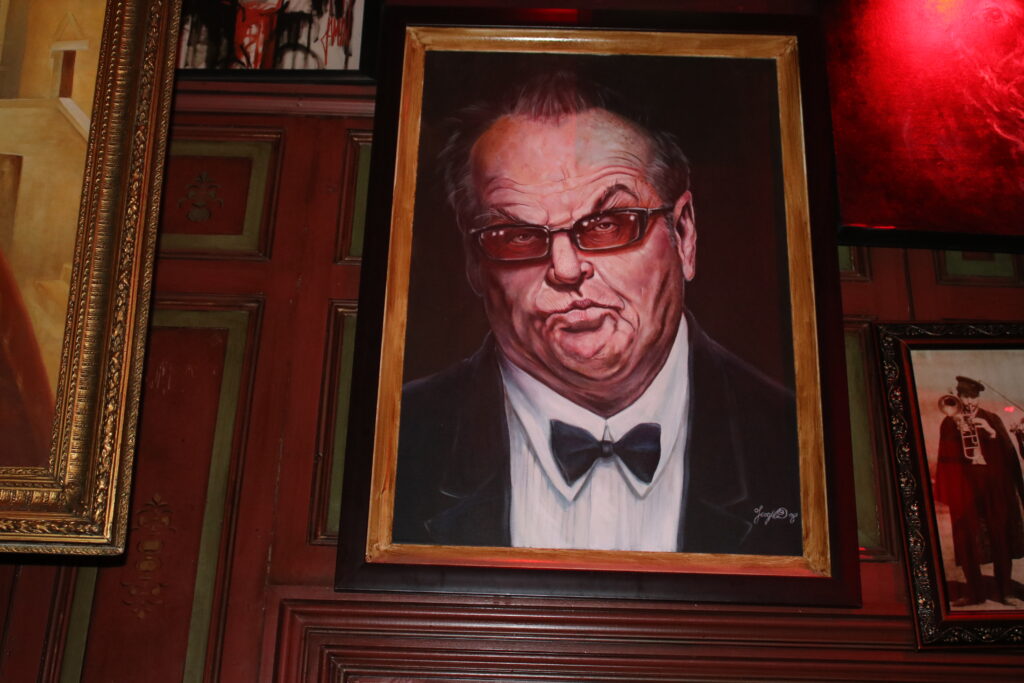 We walked next door for one of our best meals of the trip at the Rive Gauche restaurant. Make a reservation! We did have to wait a while, but the wait was worth it. The food was outstanding! TripAdvisor reviews are strong.

We had an early wake-up and a rain soaked drive back to Dublin. After going through Dublin security, we cleared Global Entry and TSA pre-check in Dublin. There were a few shops, coffee shops and a small store like Hudson News just past all the USA checkpoints. Friends warned us that there was nothing past the USA checkpoints. If you were looking for coffee, a snack or a drink you could find it along with one more duty free stop.

We highly recommend taking a Irish road trip. The site Earth Trekkers and the Irish Road Trip helped me make some important decisions!