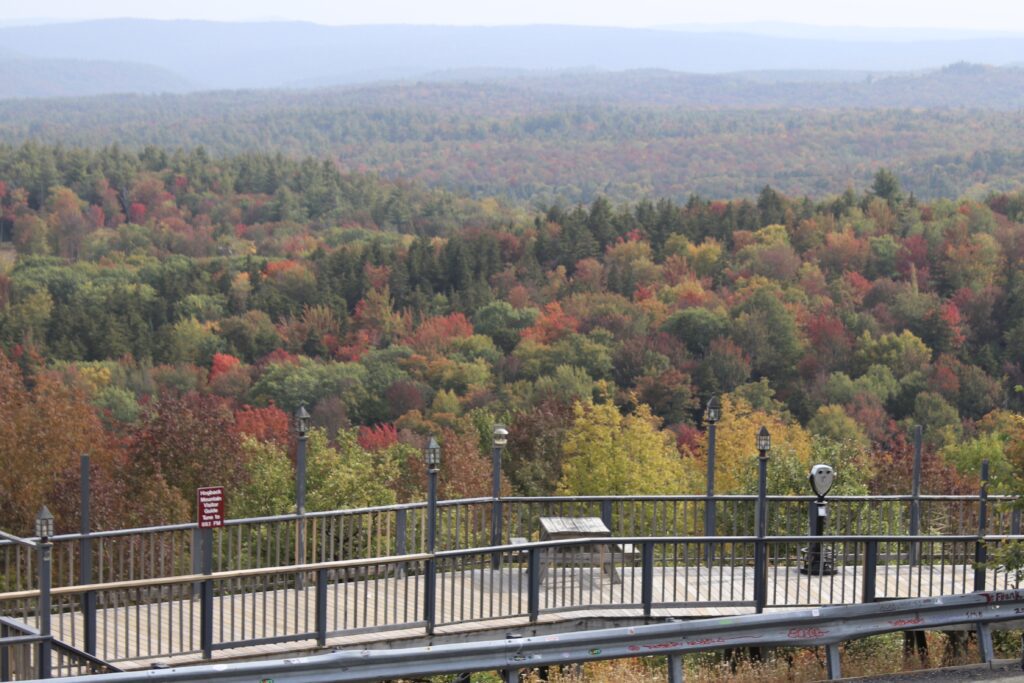 In September 2020, Michele and Jim were scheduled to spend nine days in Switzerland exploring, hiking and training around the Alps. Covid struck and upended all our plans.
We chose to go to Vermont for six days to hike and explore the Green Mountain State. We have visited Vermont multiple times as we were both raised in New England; however, almost every time we have ever visited Vermont was to ski – Killington, Okemo, Mt. Snow, Stowe and Magic Mountain were some of our haunts. We chose to go to Vermont from September 20-25 to make lemonade out of lemons and our cancelled Switzerland vacation.
Lye Brook Falls Hike, near Manchester
The plan was to spend the first two nights in Burlington, Vermont.  To break up the long drive, we planned a hike at about the halfway point.  We drove from our home in southern Rhode Island to the Lye Brook Falls trail in the Green Mountain National Forest.  The trail is just outside of the tony town of Manchester, Vermont.  Plenty of parking exists at the trail head.  We used the awesome website and app AllTrails to choose this hike and to direct us to the trailhead.  We hiked in the time of rampant Covid spread, so when alone we hiked with our masks off.  When we approached others, we masked up.
This trail has a 938 foot elevation gain and it about five miles out and back. You are mostly shaded during the entire hike, so do not choose this trail if you want gorgeous vistas. The waterfall was barely flowing due to the severe drought throughout all of New England (of course there is a drought – it is 2020, right?). We loved the scenery. We highly recommend this hike.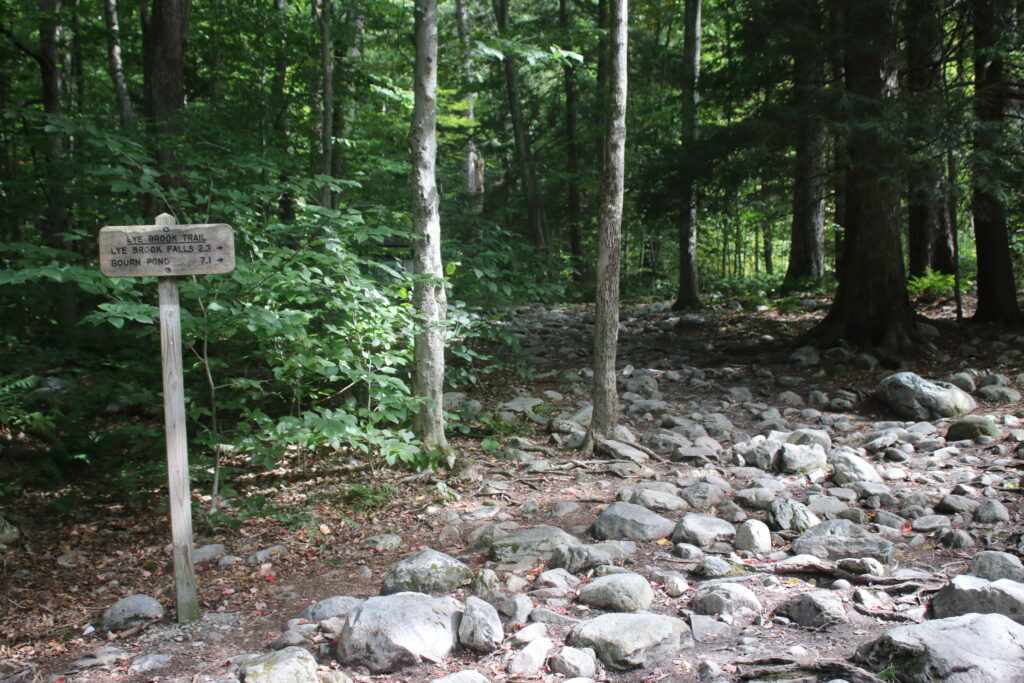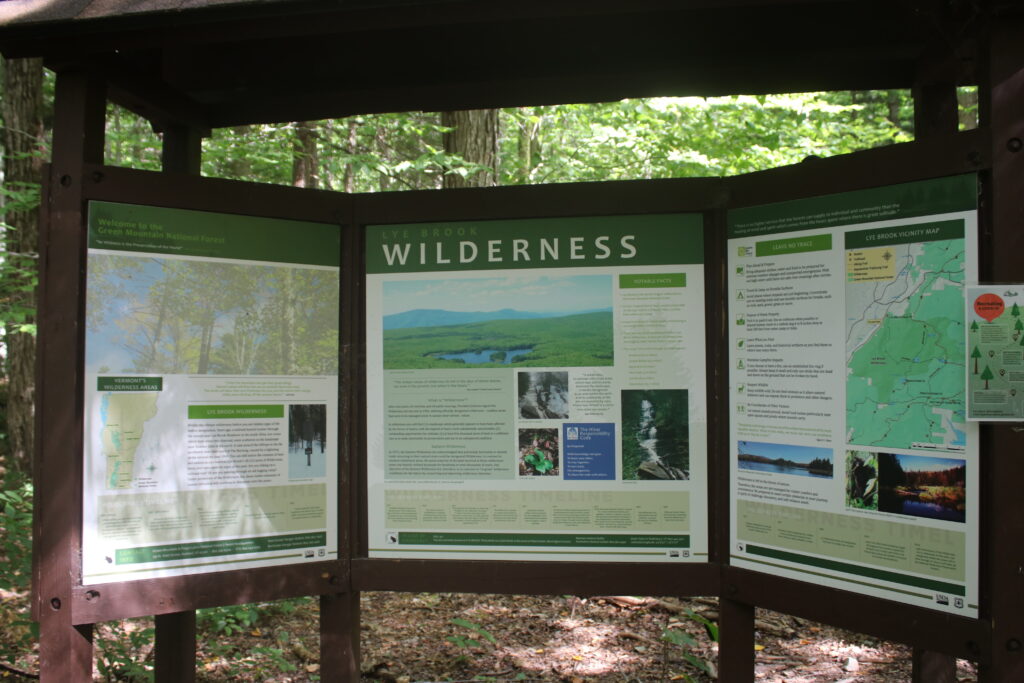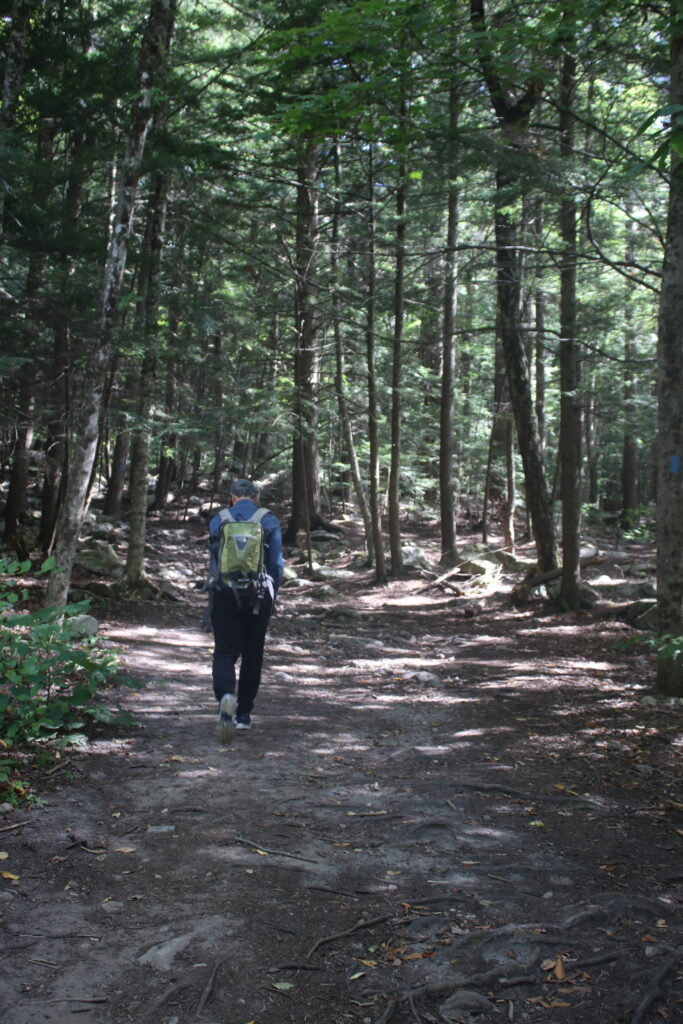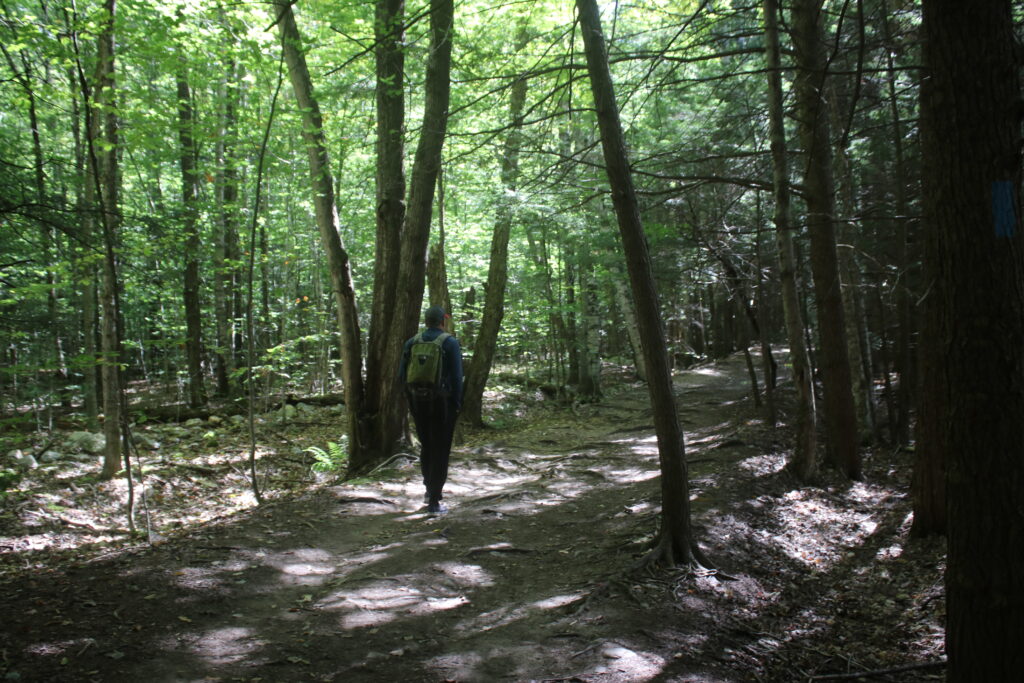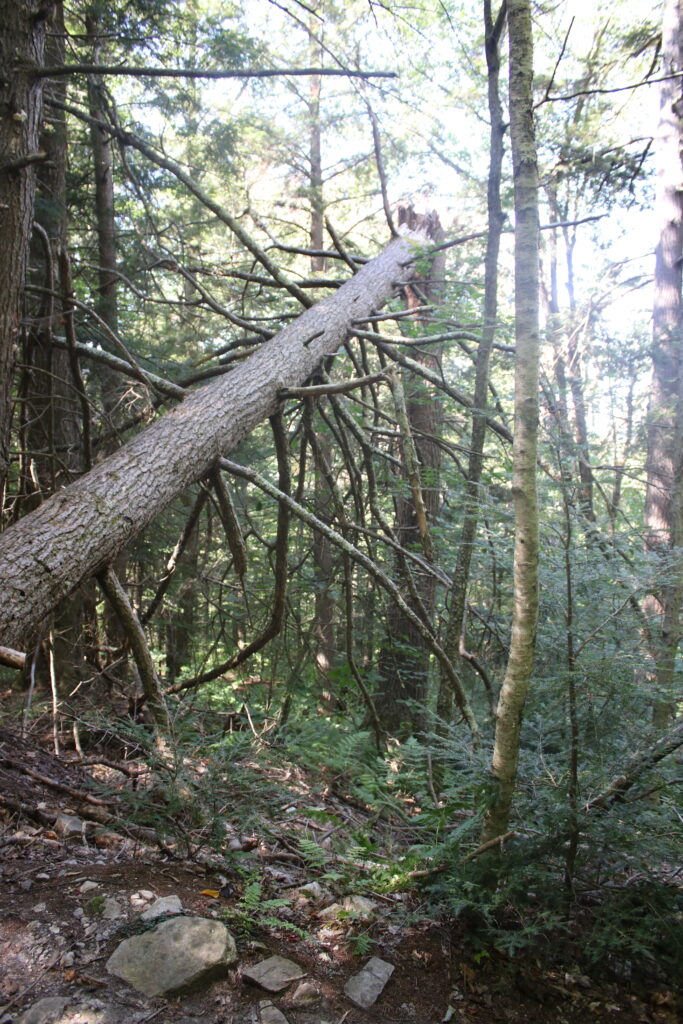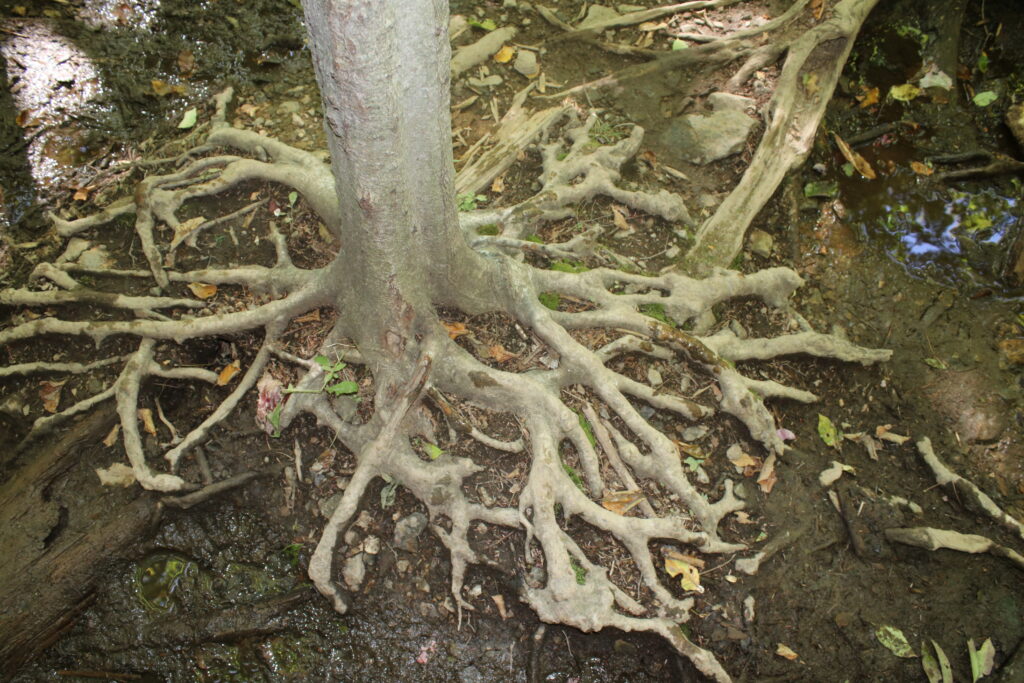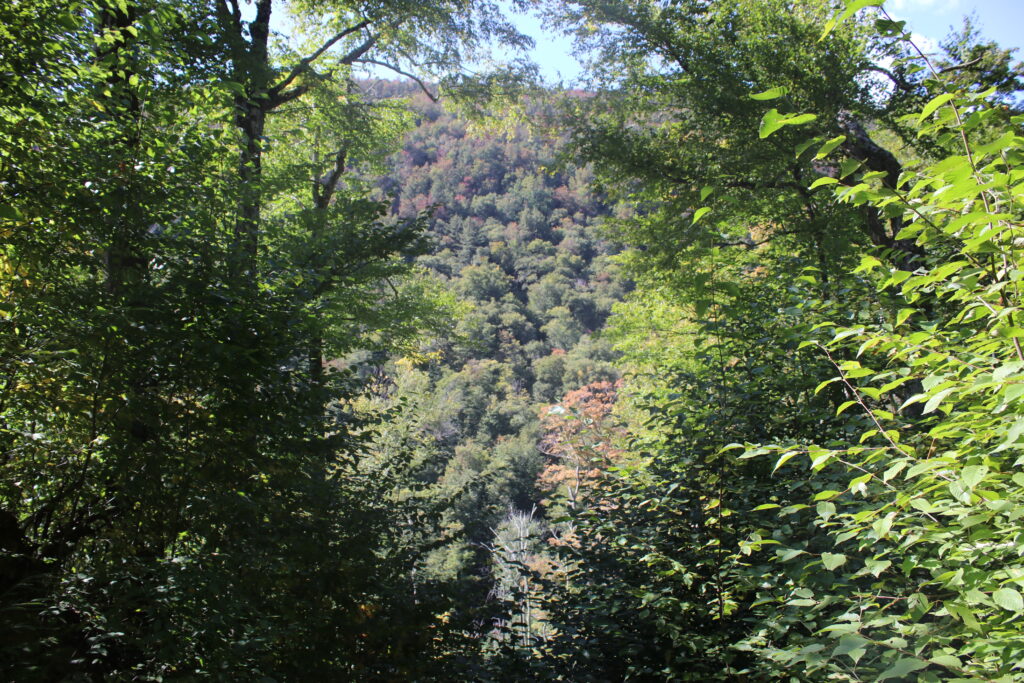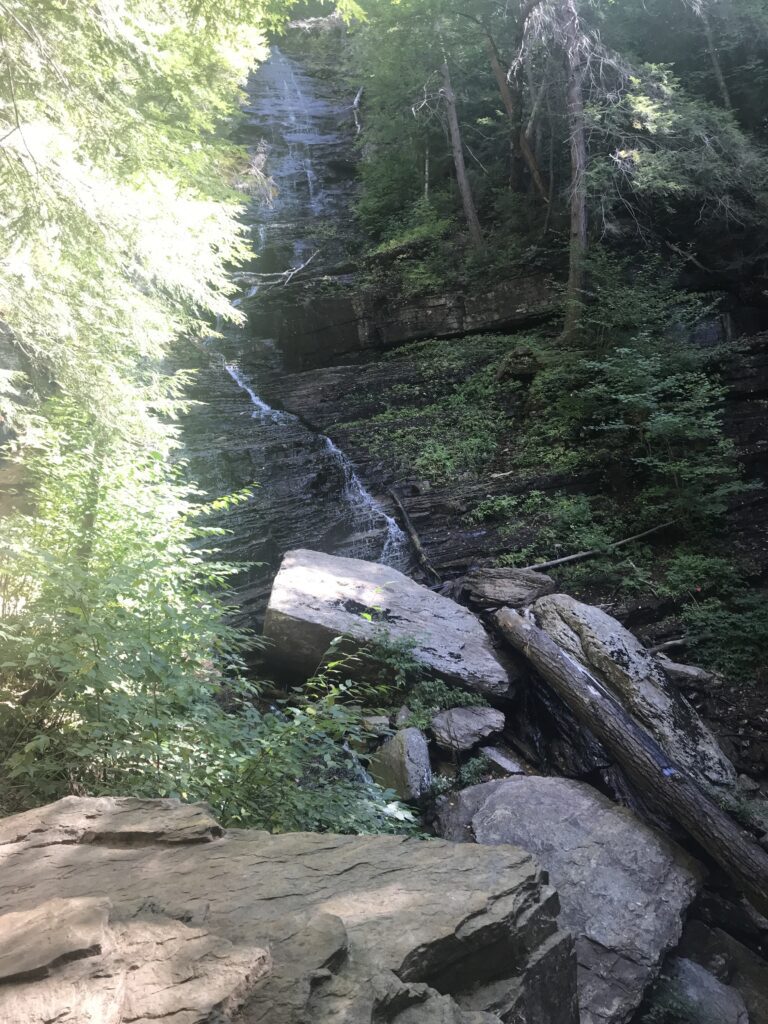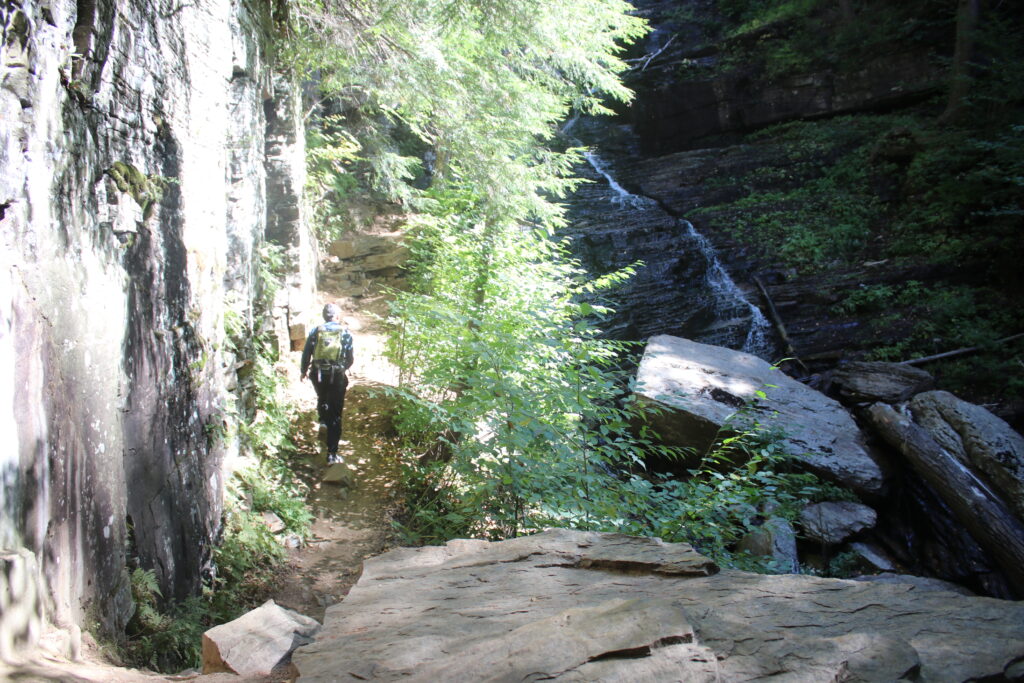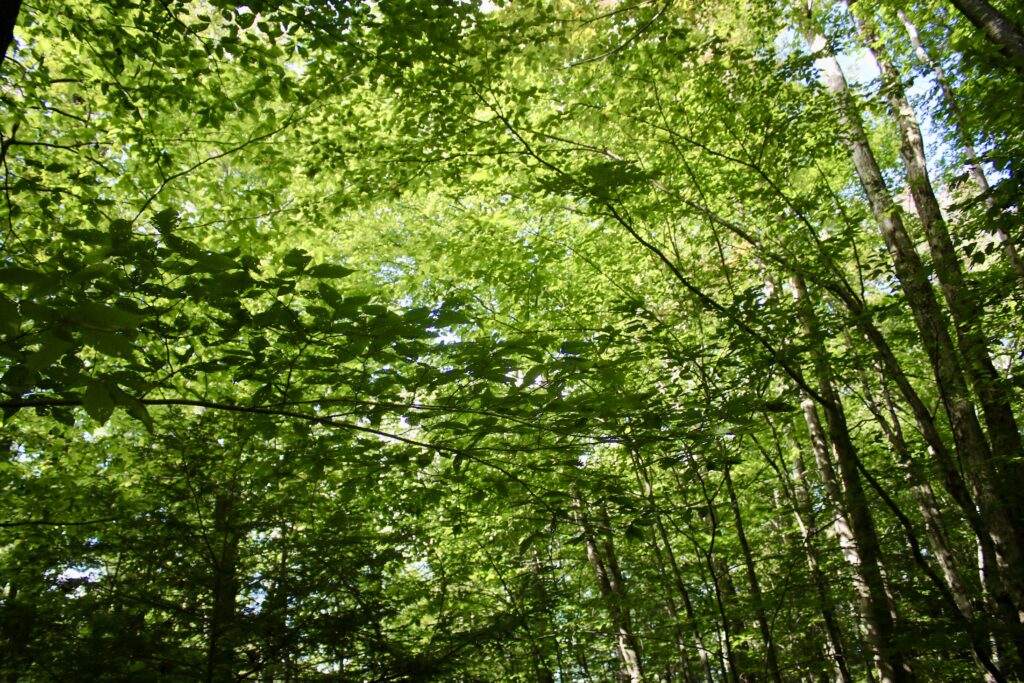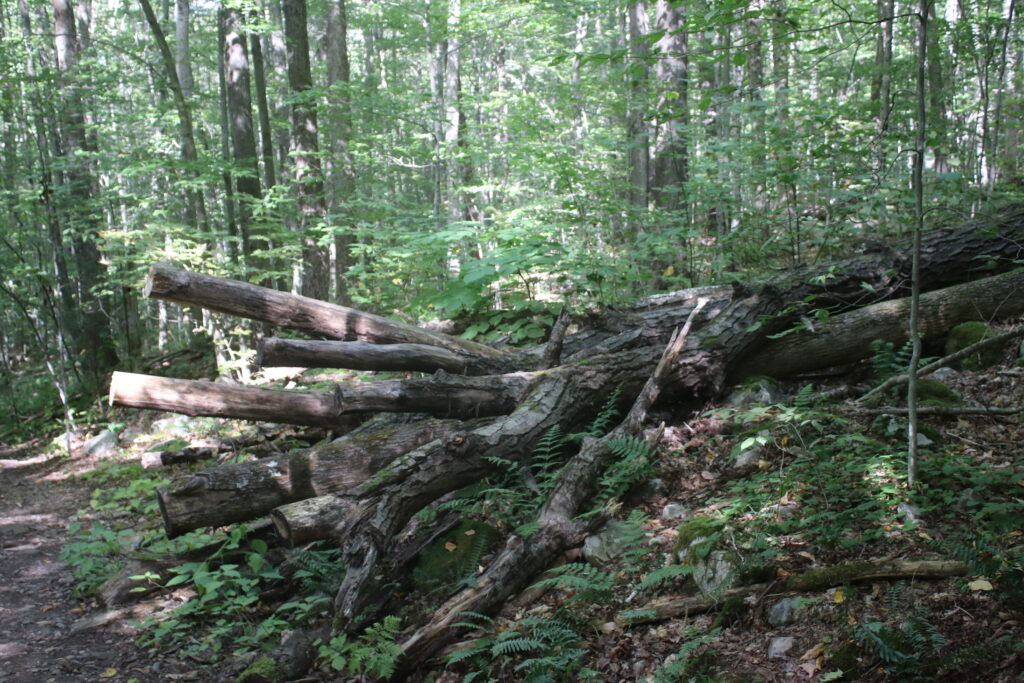 Made INN Vermont, Burlington
We chose to stay at Made INN Vermont, a four bedroom B&B adjacent to the Champlain College campus and UVM. We thought the location was fantastic. We walked to the lake, and all of our dinners. However, if you do not like walking up hill, we would recommend driving to your meals and excursions as it is a steep uphill walk from the center of town back to this inn.
This adorable inn has four large rooms with four separate baths. You are given a key to your bathroom and no one else can use it during your time at the inn. Sheets, towels, blankets and robes were luxurious. All rooms have small refrigerators. There is also a cupola that offers pretty sunset views of Lake Champlain.
The owner of the inn, Linda, is a hoot. Wildly opinionated and willing to share each and every one of those opinions, she is often entertaining. I can understand how some could find her to be a pain in the ass.
Our room was eclectic and eccentric. Vinyl records, instruments, tchotchkes and unique artwork was everywhere. Our room and bathroom were spotlessly clean. The staff was delightful and Linda offers snacks, waters, wine, champagne, coffees and treats all day and night. Breakfast was outstanding, and we chose to eat it outside on the deck. We recommend this inn.
TripAdvisor reviews are excellent.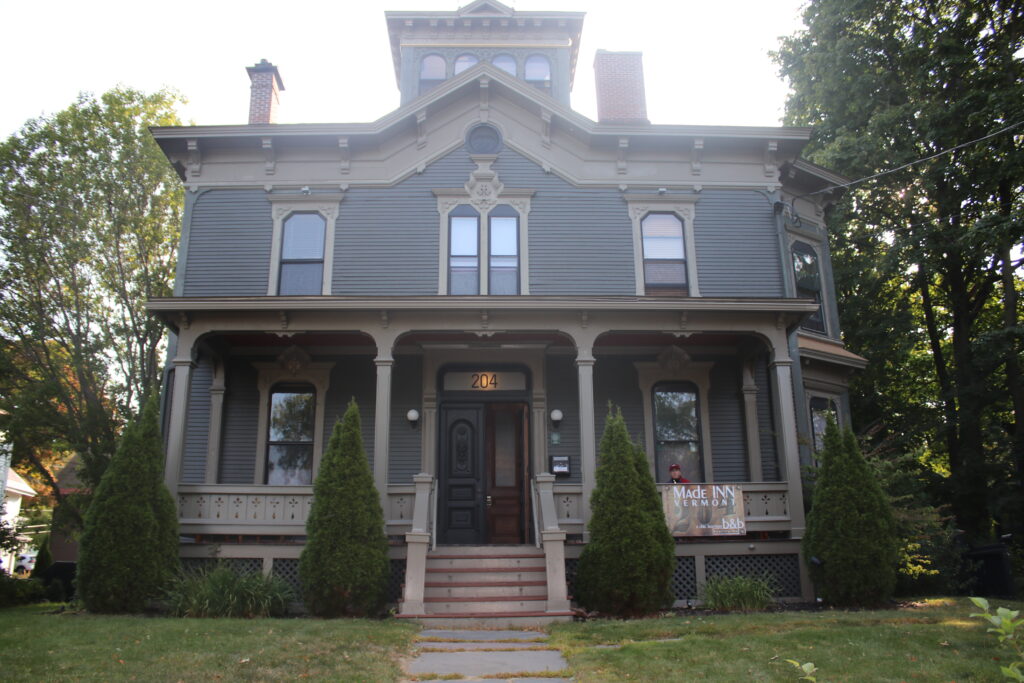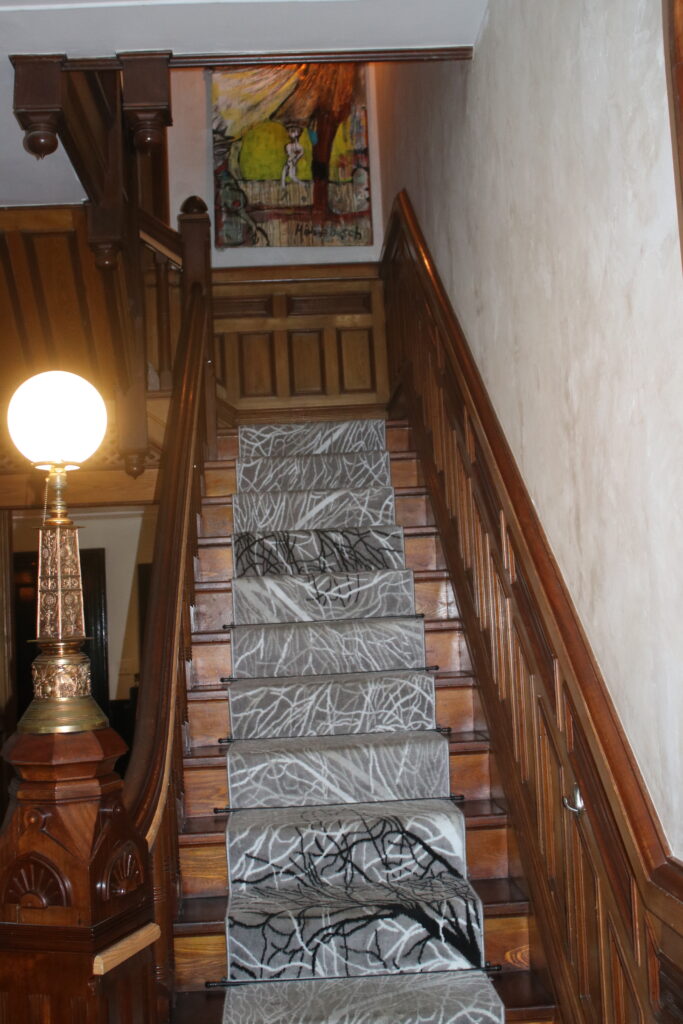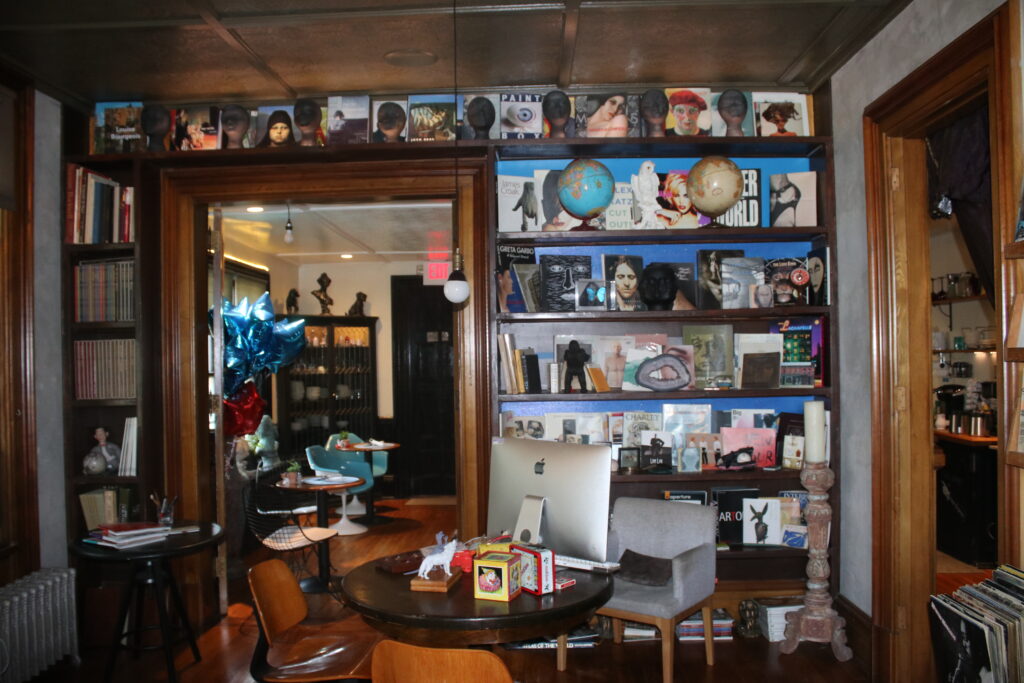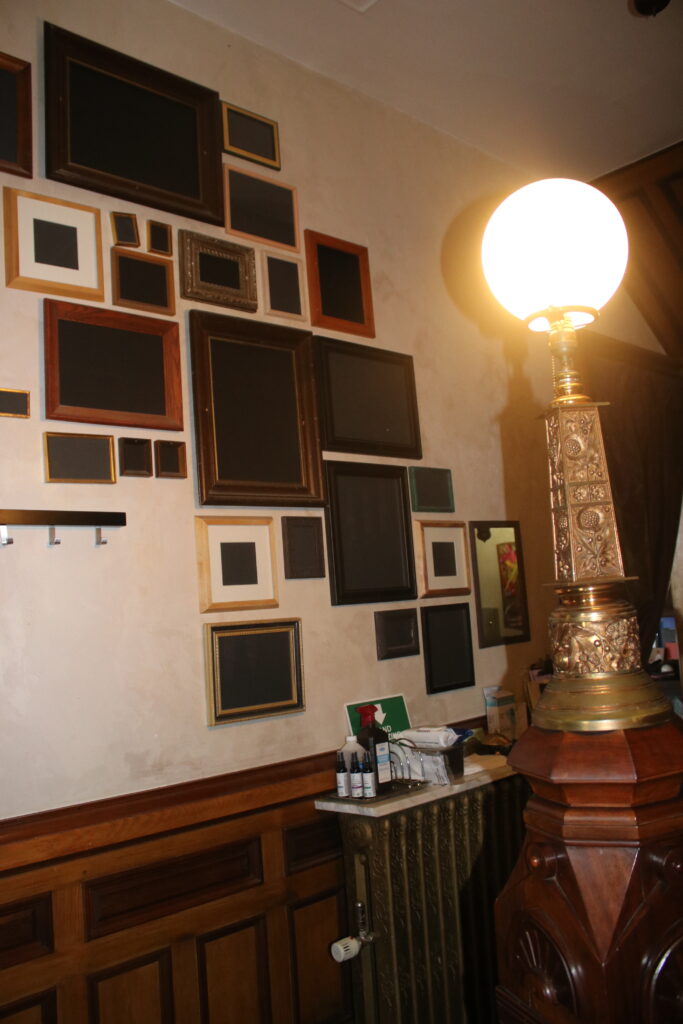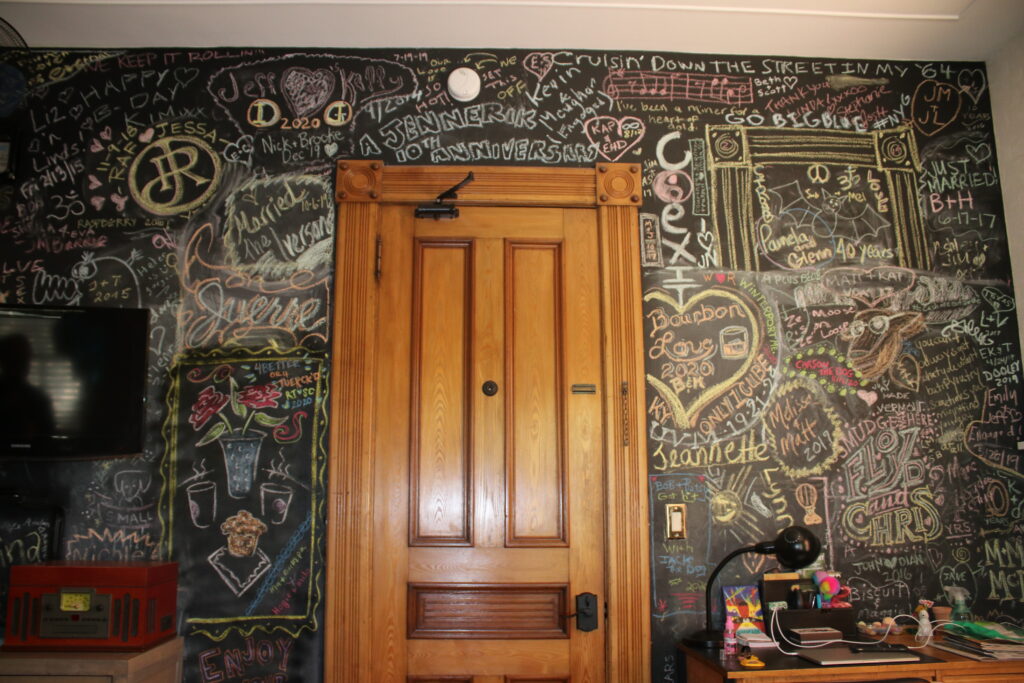 Pizza Verita, Burlington
For our first night, we made reservations (reservations were mandatory at every Vermont restaurant during the time of Covid), at Pizza Verita. It took us about 15 minutes to walk downhill to this treasure of a restaurant.
Because of Covid, all their dining is outside in a tent or on the side of the building. They were formulating plans for winter indoor dining. The food, service and setting were all excellent. We ate a delicious Antipasti alla Verita, Ceasar Salad and gluten free Margarita pizza with vegan cheese. Truly excellent choices! Trip Advisor reviews are excellent.
Burlington Greenway
Set in the center of downtown Burlington, the Greenway is a 10-mile long bike, jogging, running, rollerblading and stroller-pushing path. Offering spectacular views of Lake Champlain, the Adirondacks and the Green Mountains, the Greenway is one of the most popular things to do in Burlington.
We walked down the big hill after generous Made INN Vermont breakfast to a lovely outfit called Local Motion. The shop rents hybrid mountain bikes and offer great maps of the area. The staff was masked up and very pleasant.
We left the parking lot and headed North on the Greenway. You begin in an urban setting and then quickly approach a gorgeous beach. You will ride through neighborhoods and under bridges. You'll cross the Winooski River Bridge and take in some awesome views. After leaving a paved sidewalk, you will ride on some surface roads in a neighborhood for a few minutes. At a small old yellow "school house", go left and head to the Colchester Causeway. This old rail line goes out into Lake Champlain for a few miles. It ends at "the cut", a break in the causeway where a bridge used to be. In normal, non-Covid times, you can take the bike ferry and continue your ride onto South Hero Island. We had to turn around at the cut.
Our 20+ mile round trip was a highlight of our trip. Gorgeous nature abounds around each turn. The ride is very flat. We had some wind which added a challenge. Trip Advisor reviews are strong.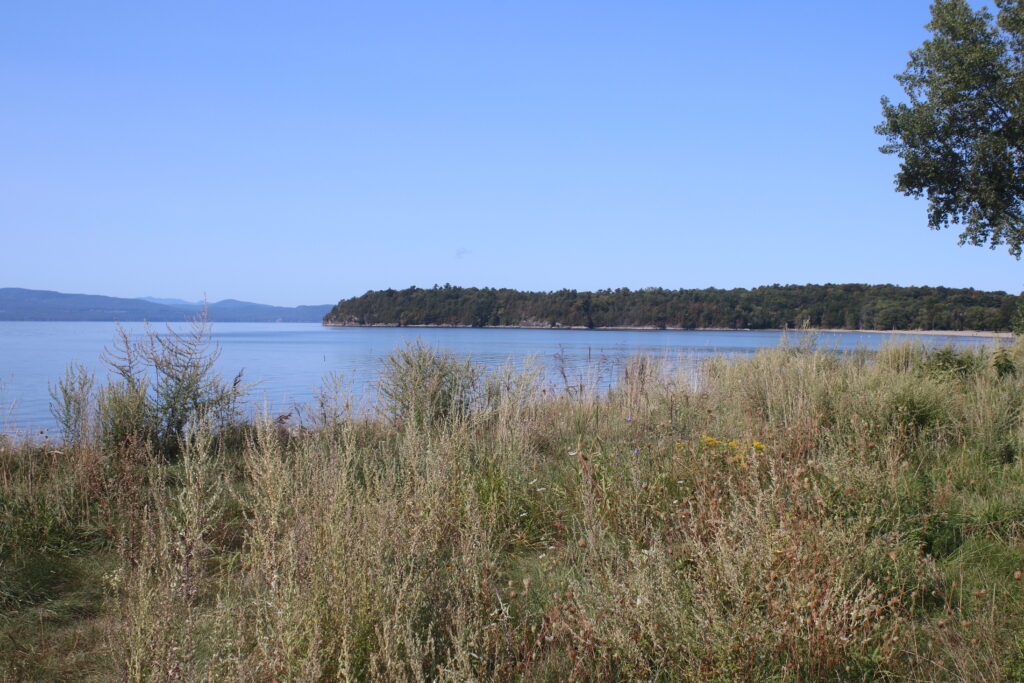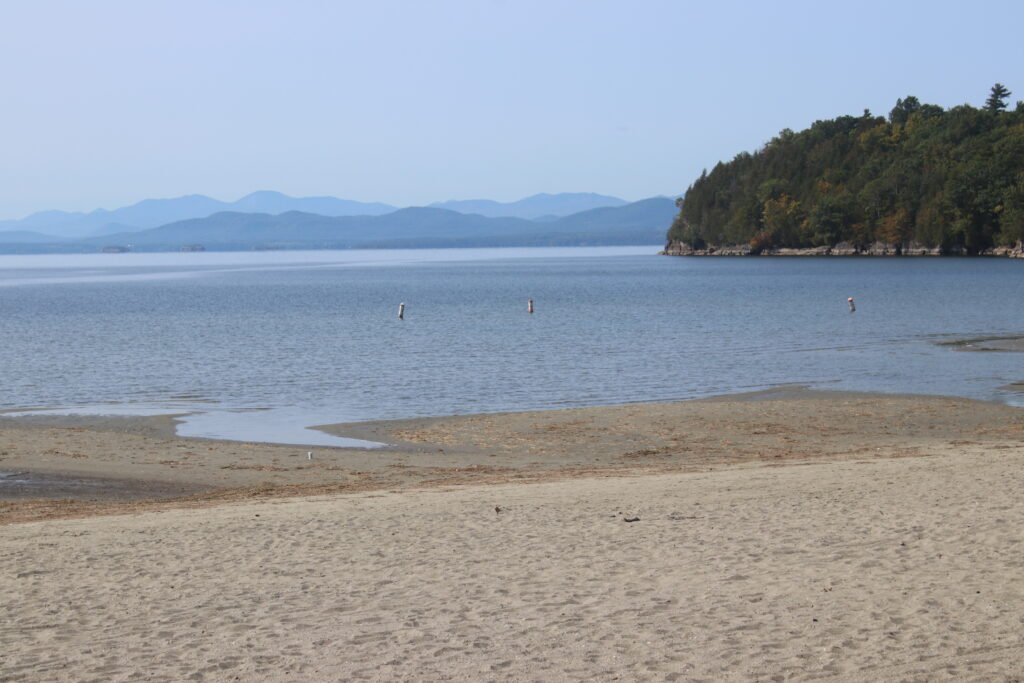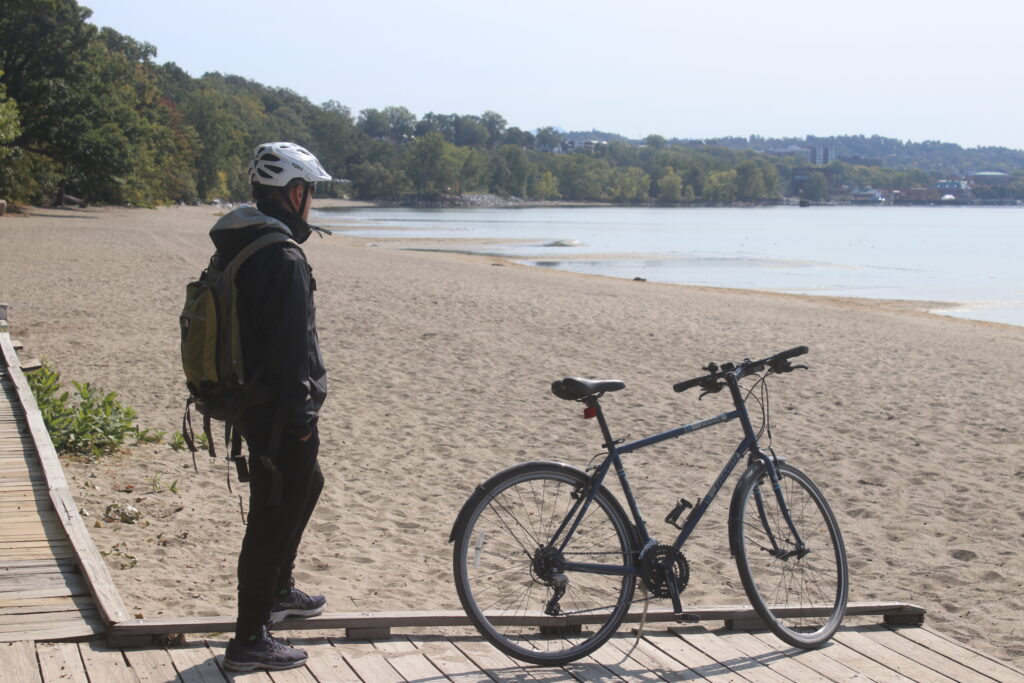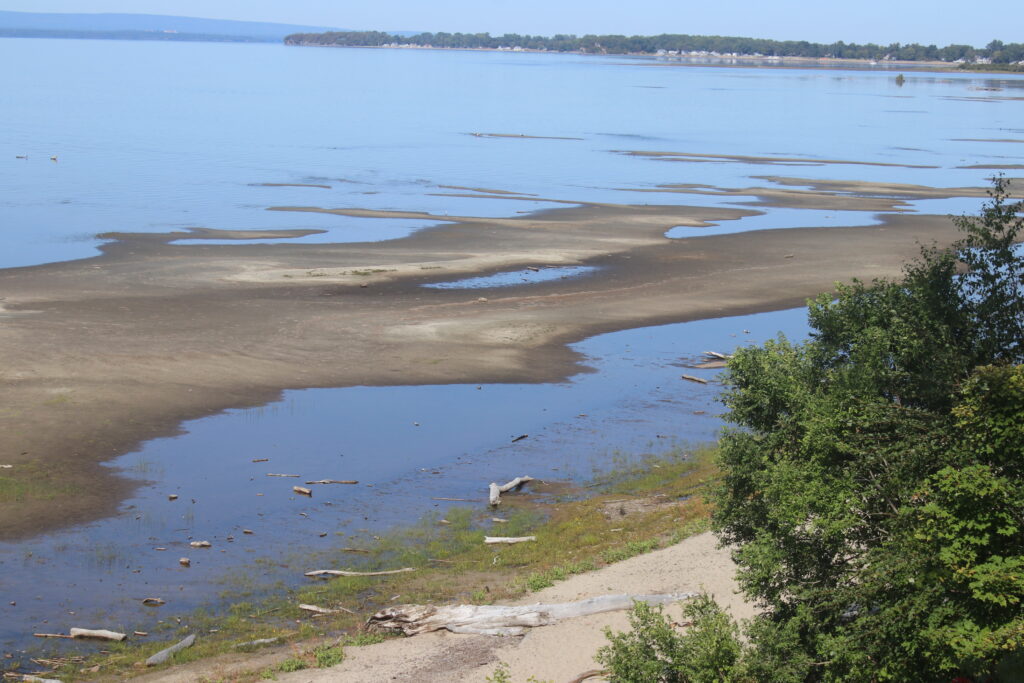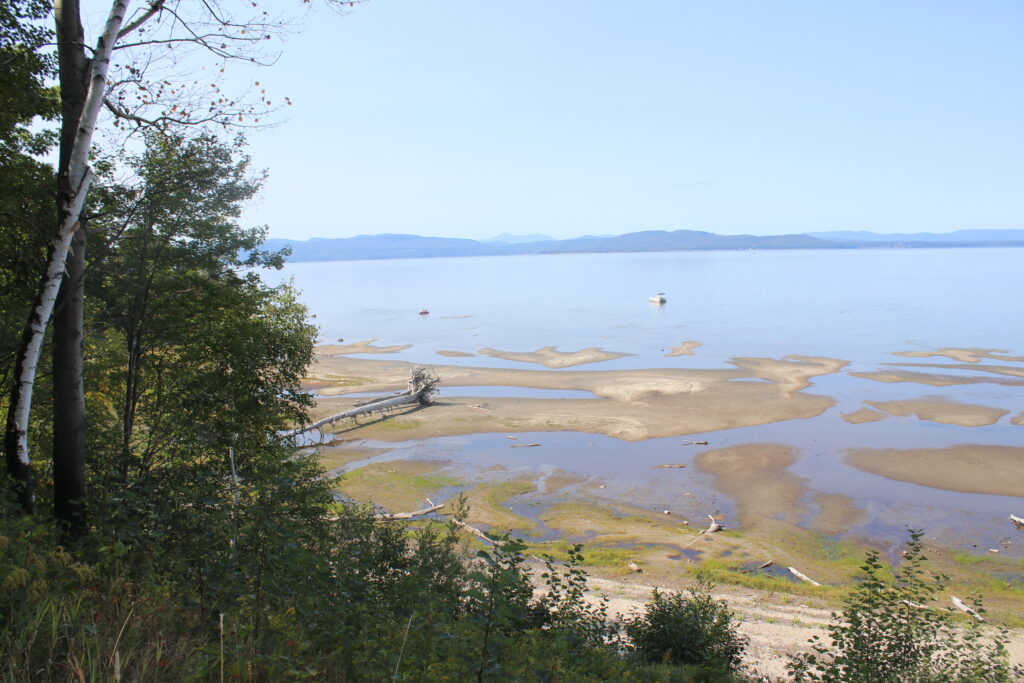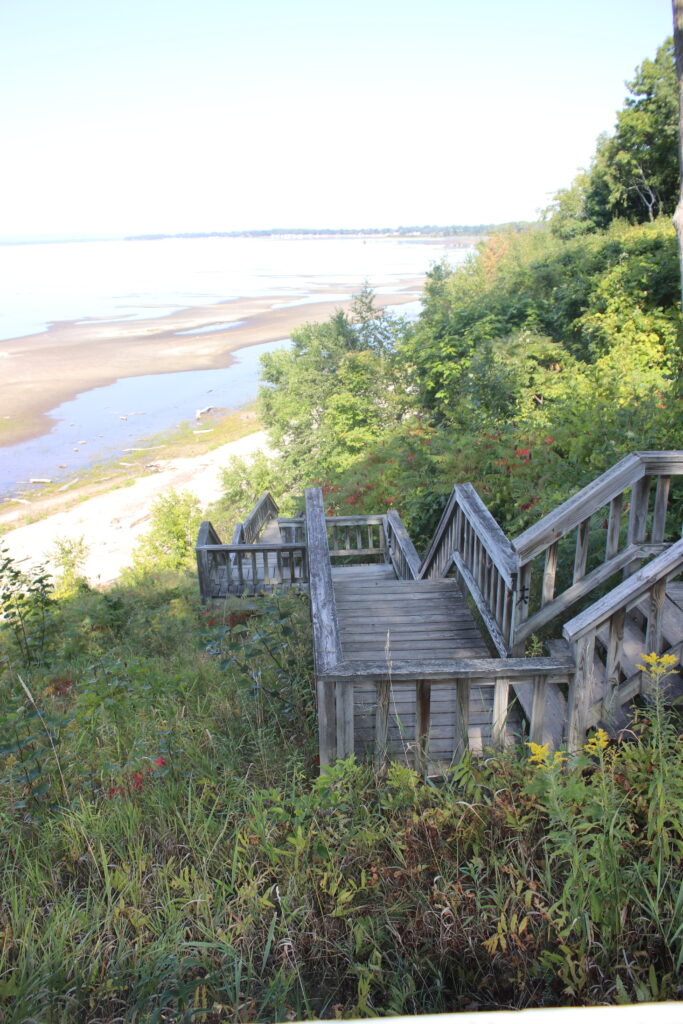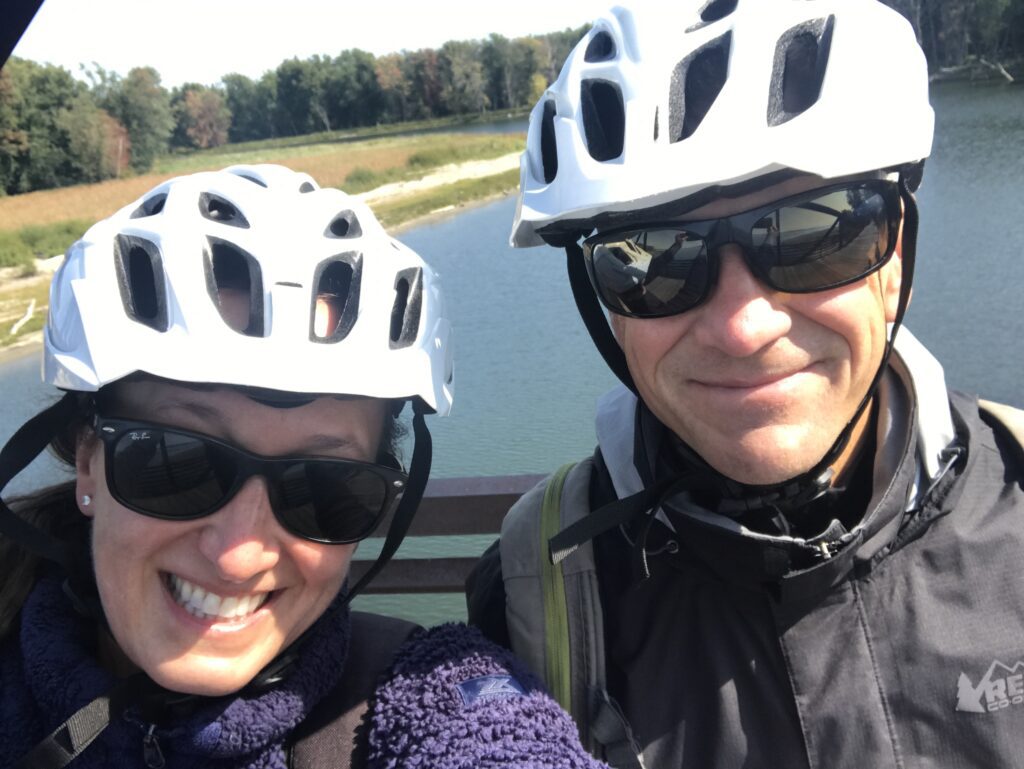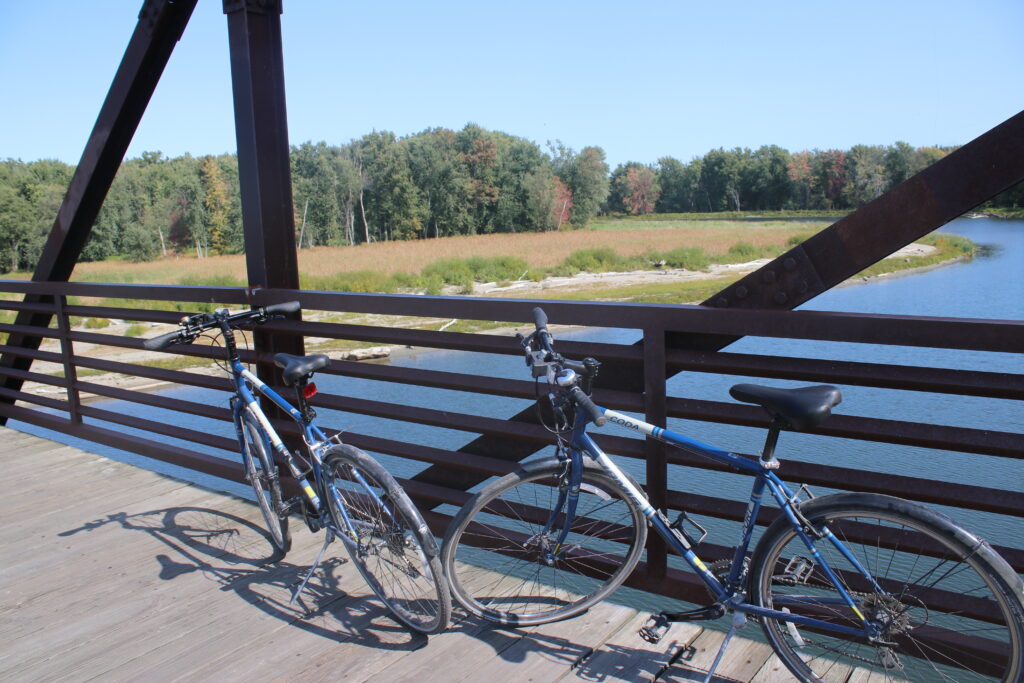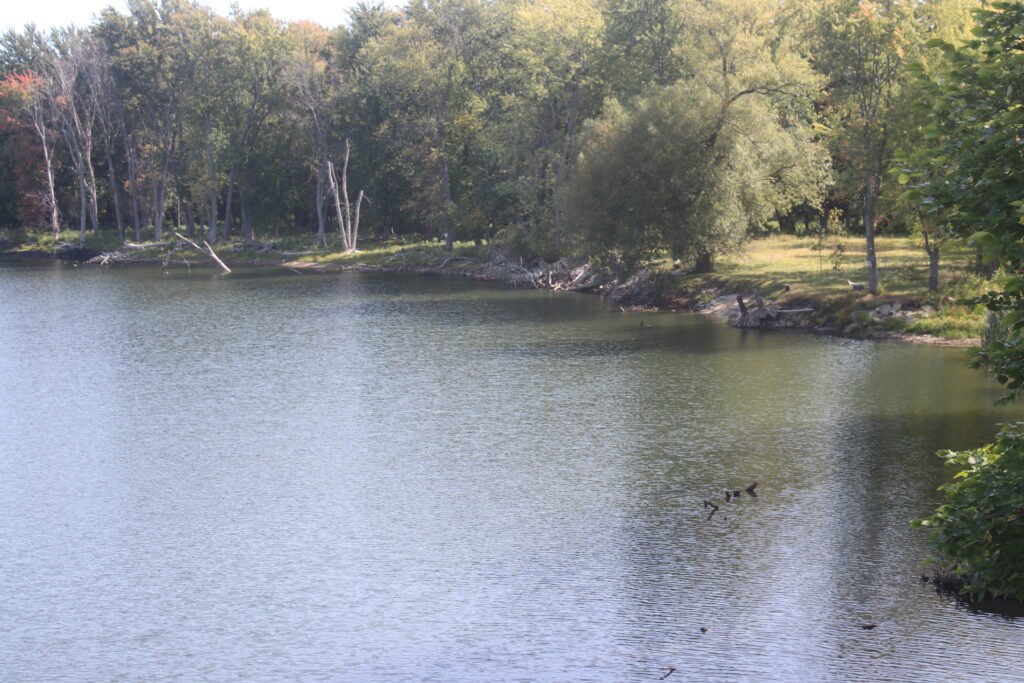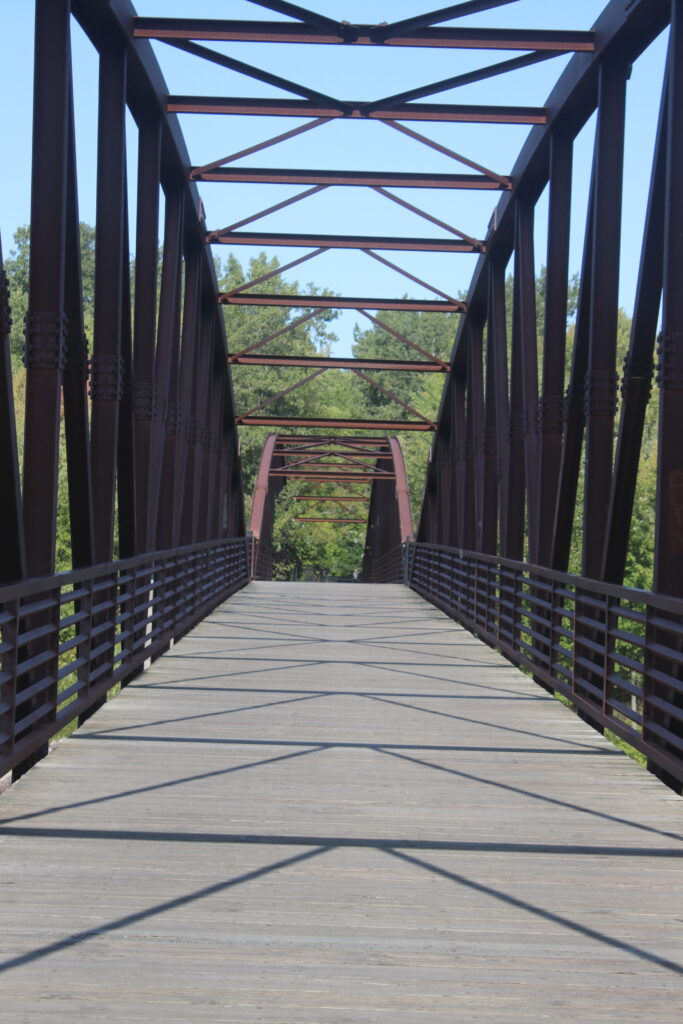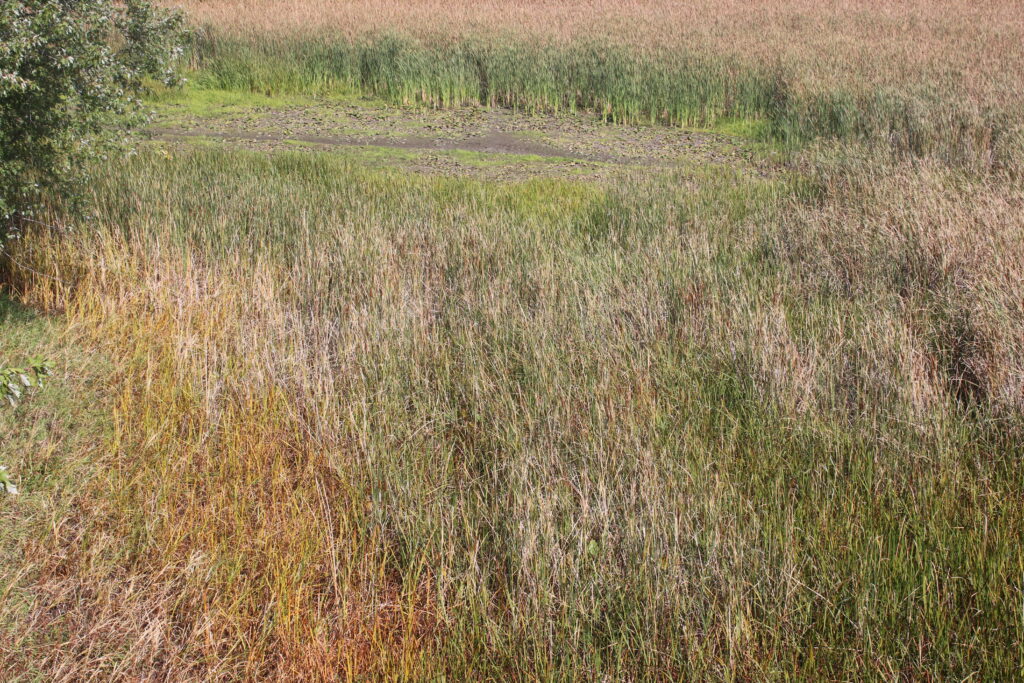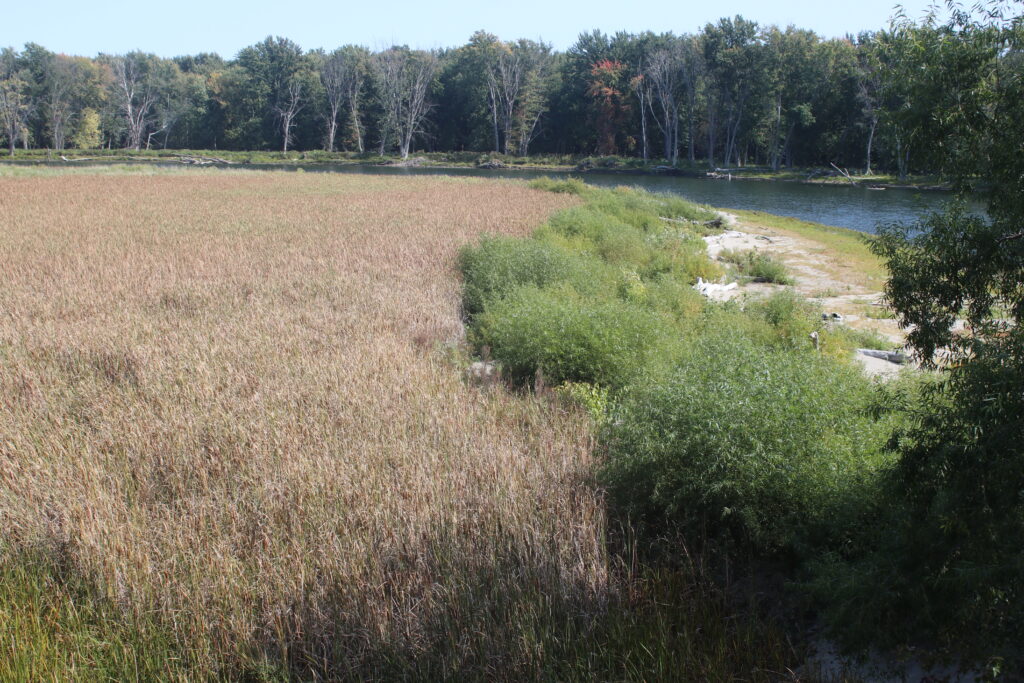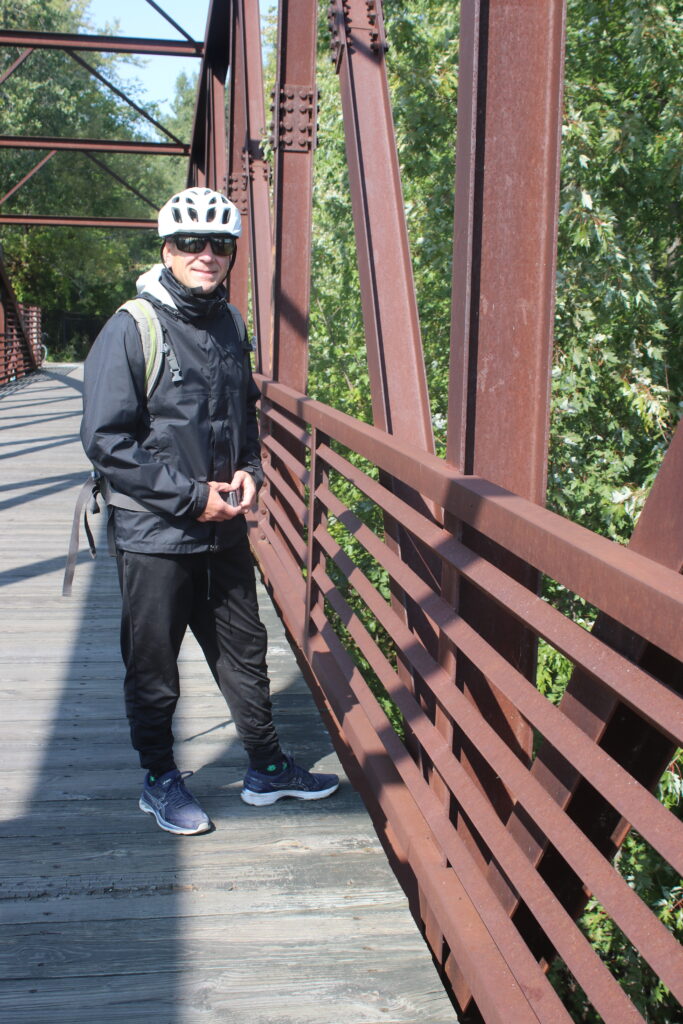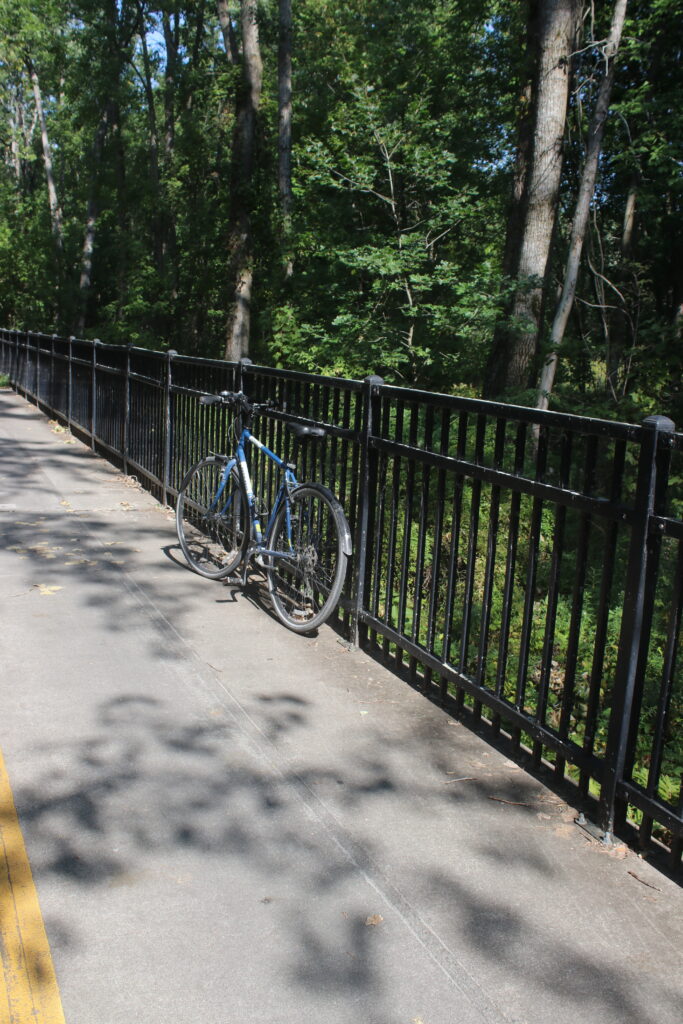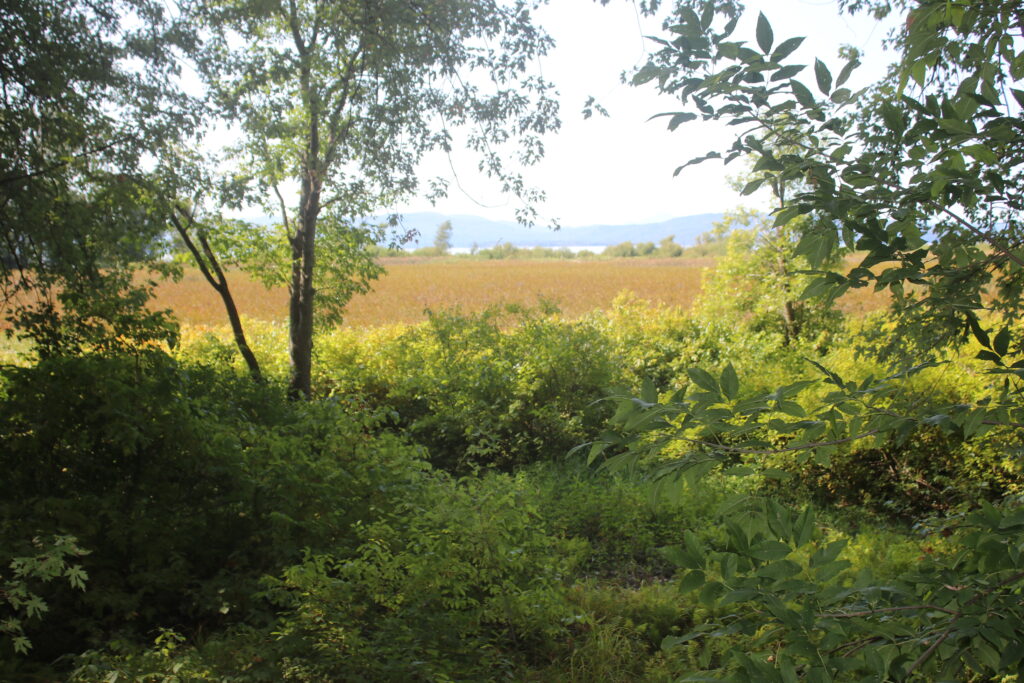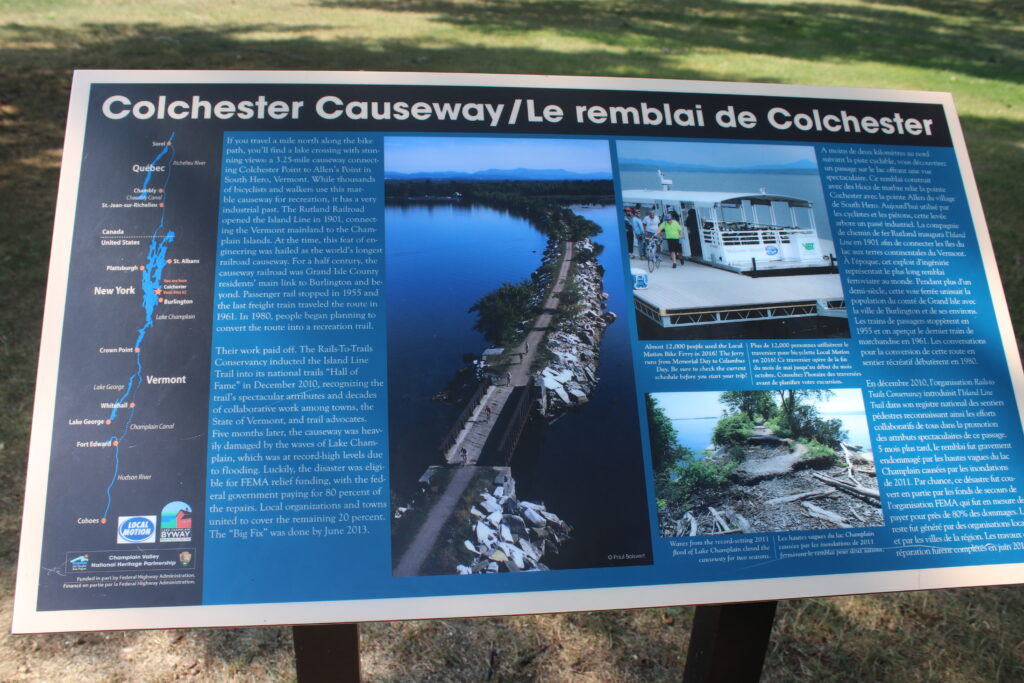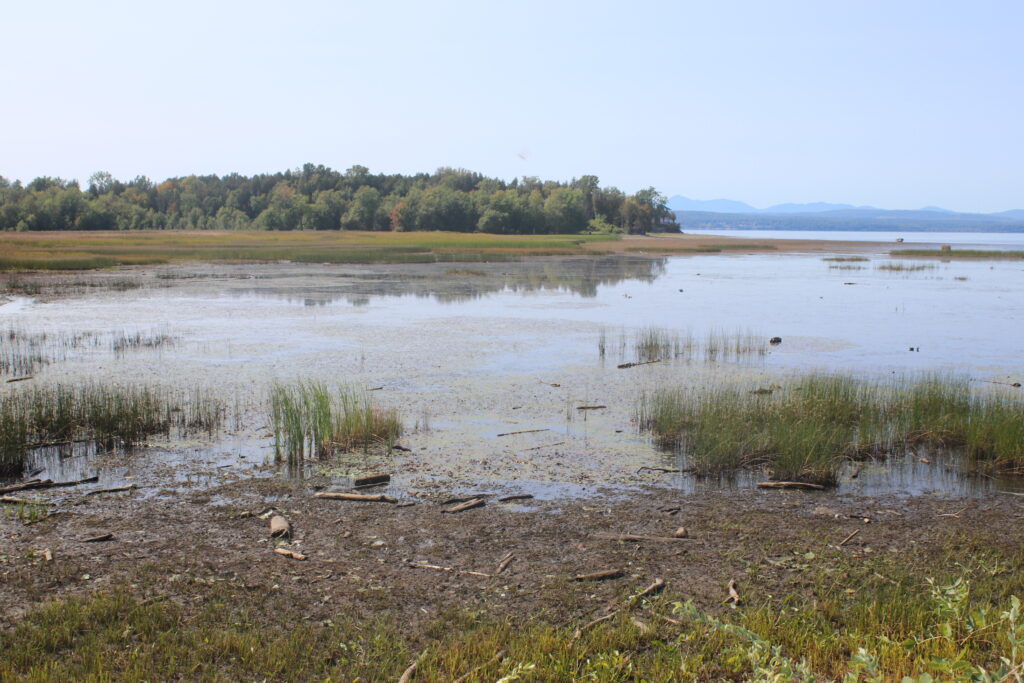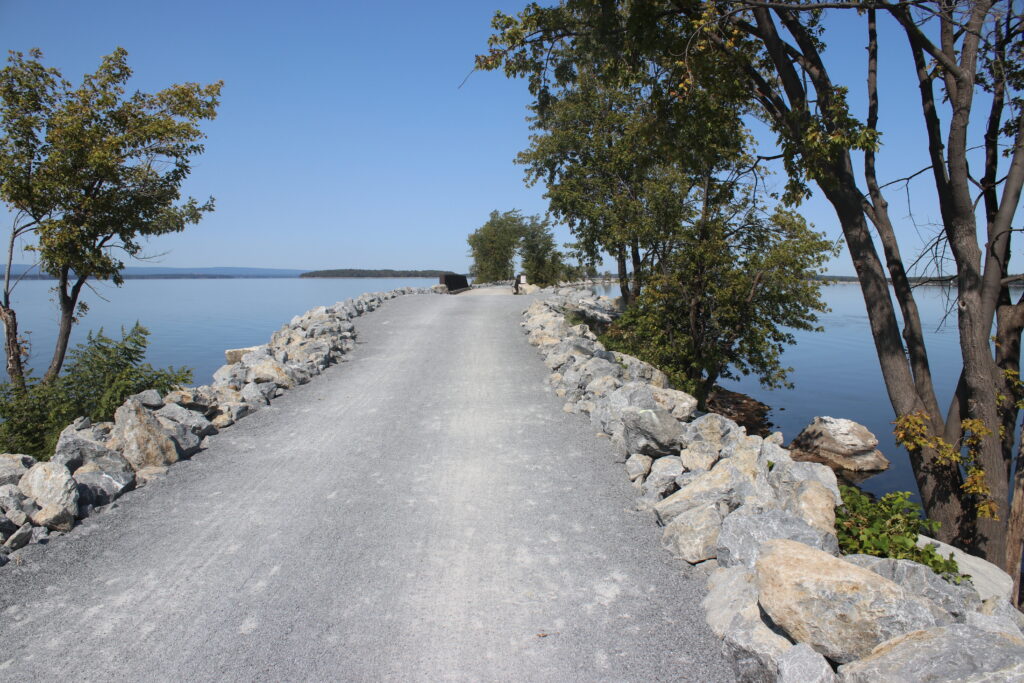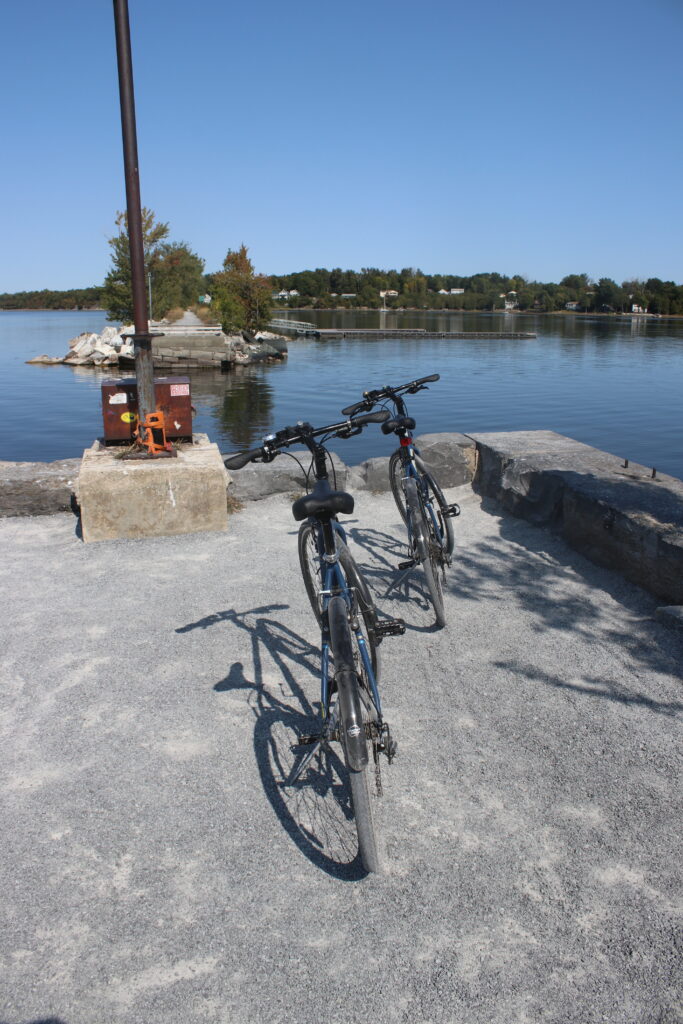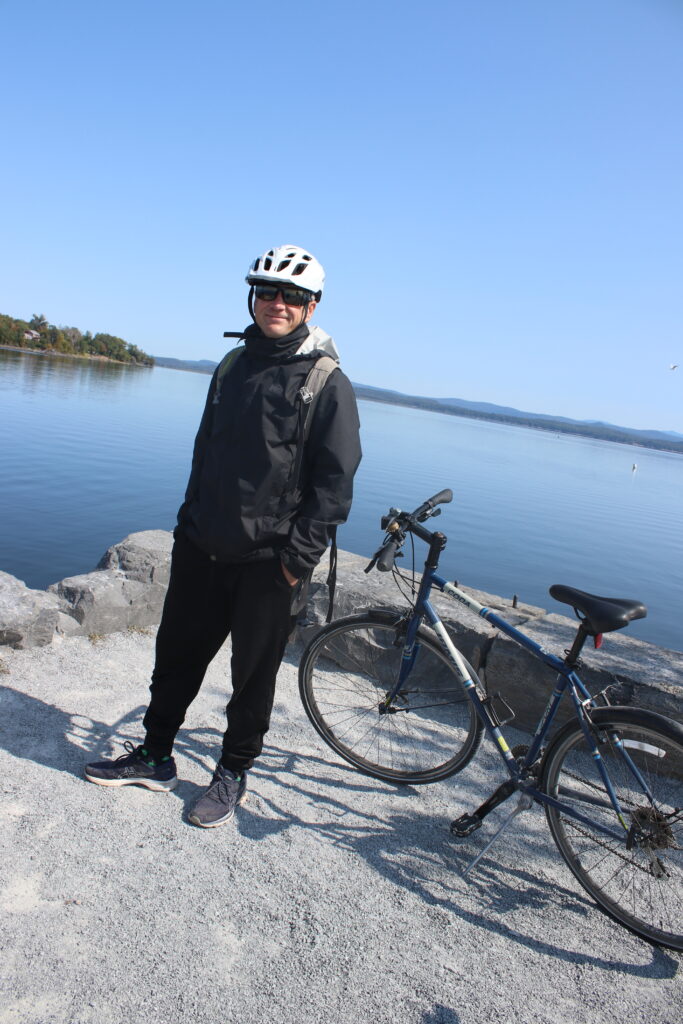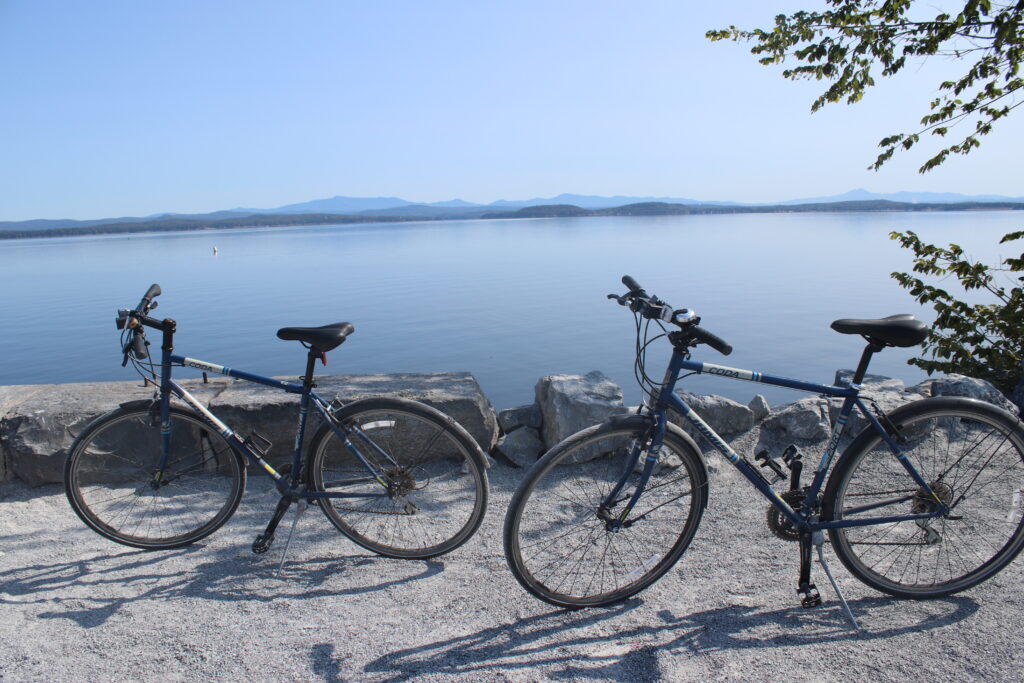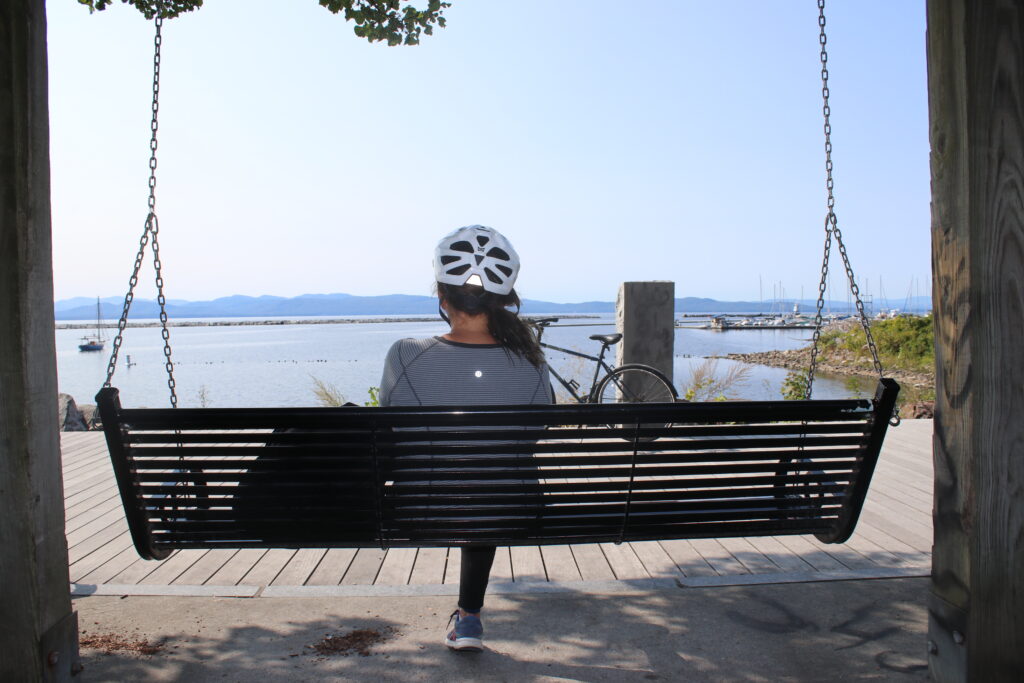 Muddy Waters, Burlington
After our bike ride, Jim was in need of coffee.  The Local Motion folks recommended Muddy Waters.  Trip Advisor recommends them, too.  We could not go inside at all due to Covid, but the coffee was excellent.  It looked like a very hip place if you could hang out.  Maybe someday once the crisis is over.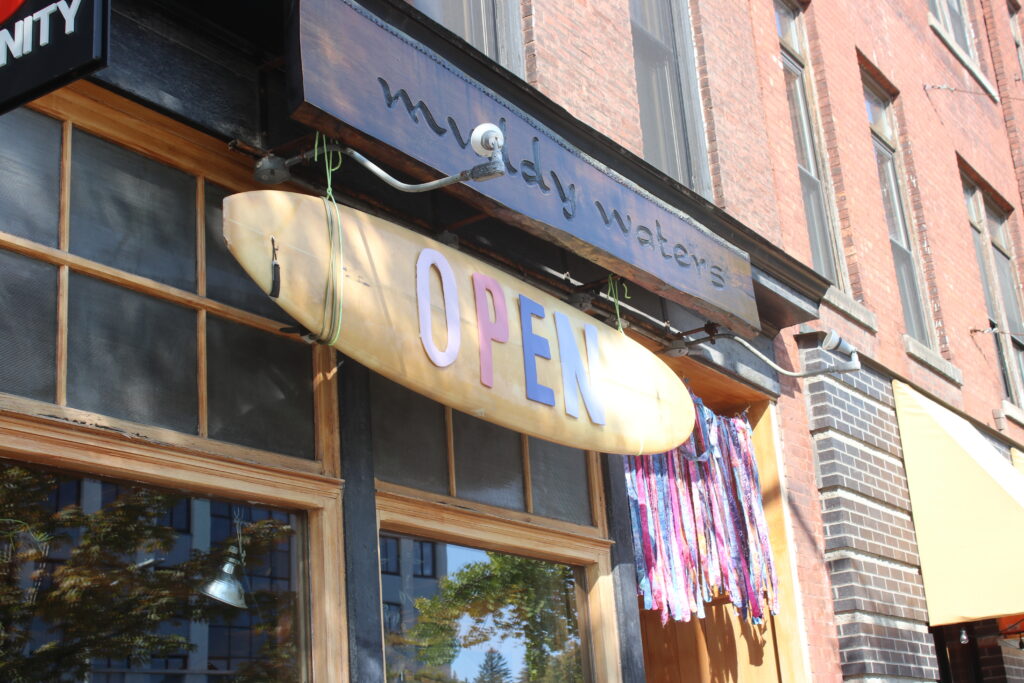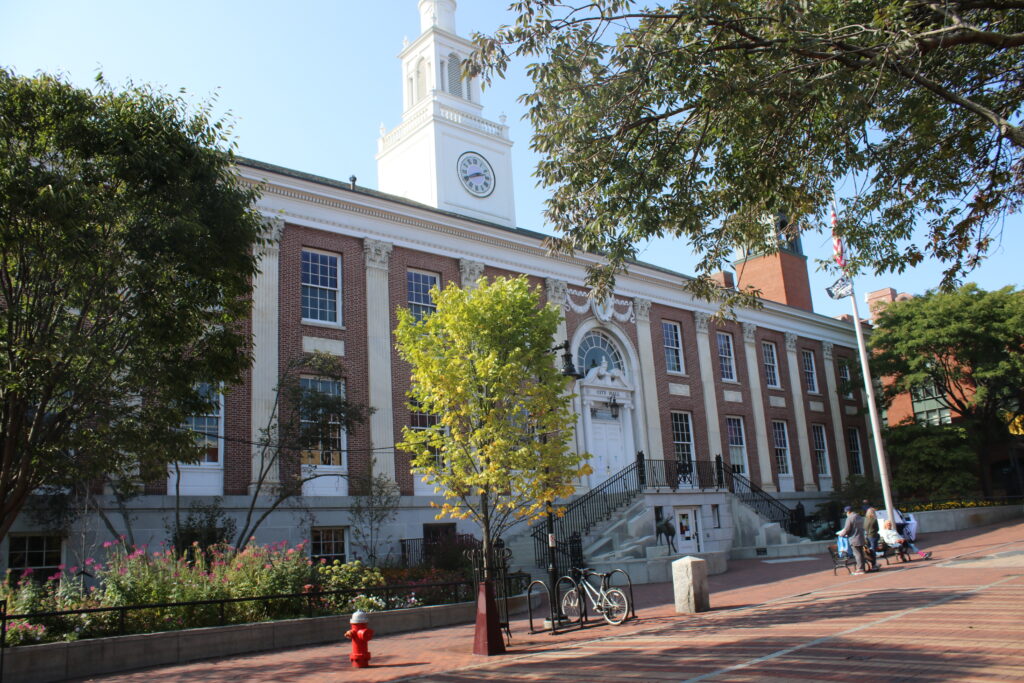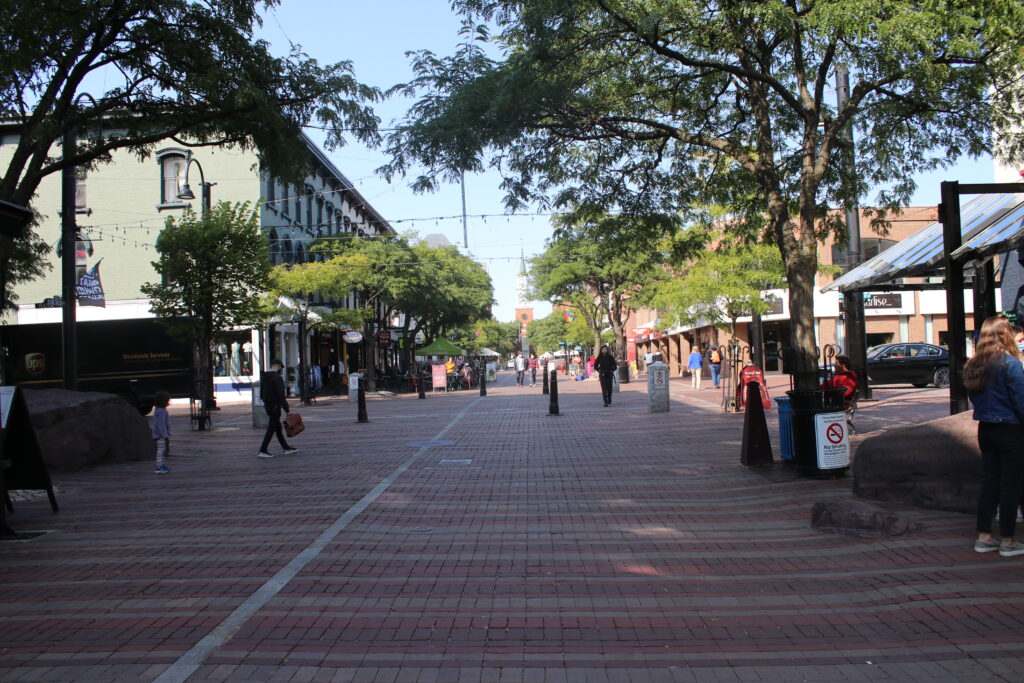 RiRa, Burlington
After cleaning up, we walked down the hill to RiRa on Church Street in Burlington for a drink.  They have lots of outdoor tables.  Jim wanted a Guiness, so we figured an Irish bar was a good place to get one.  Trip Advisor reviews are mixed.  We liked sitting on the walking promenade.  Our sunset was gorgeous.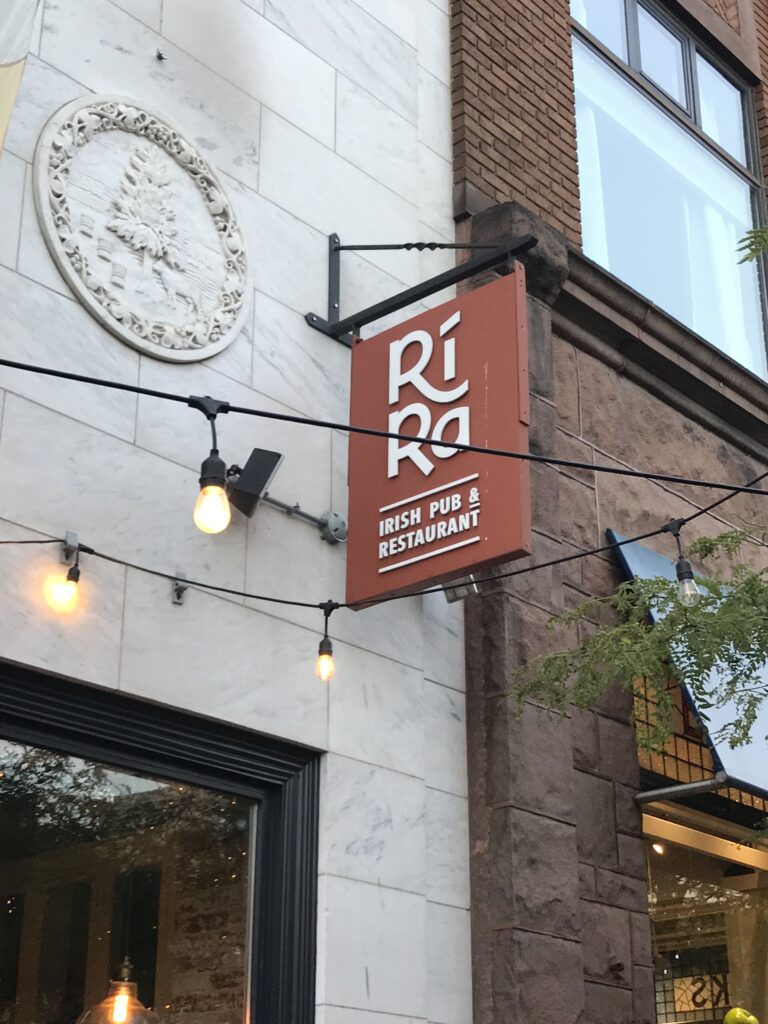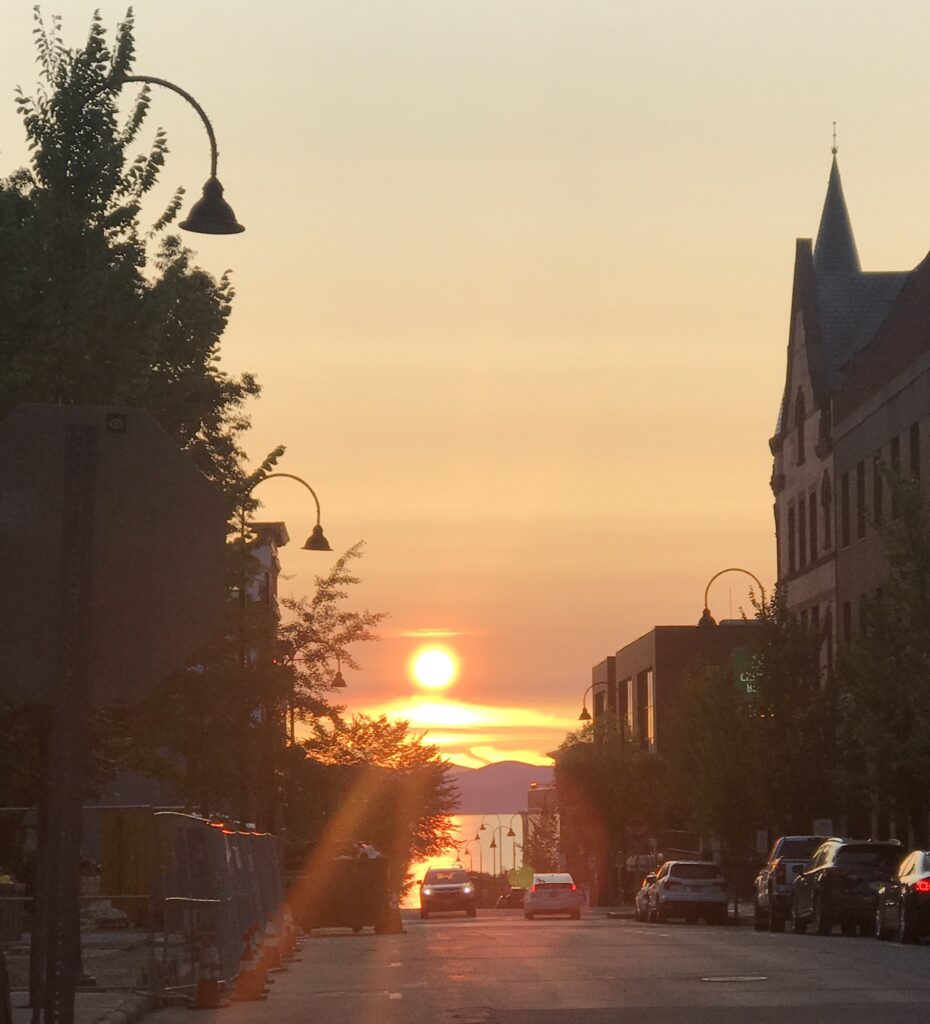 Farmhouse Tap and Grill, Burlington
We ate dinner at the Farmhouse Tap and Grill.  I made reservations and we had an excellent outdoor table, near a heater.  We both had Wagyu beef burgers that were simply excellent.  The fries were delicious, too.  Great vibe and great food here.  Trip Advisor reviews are excellent.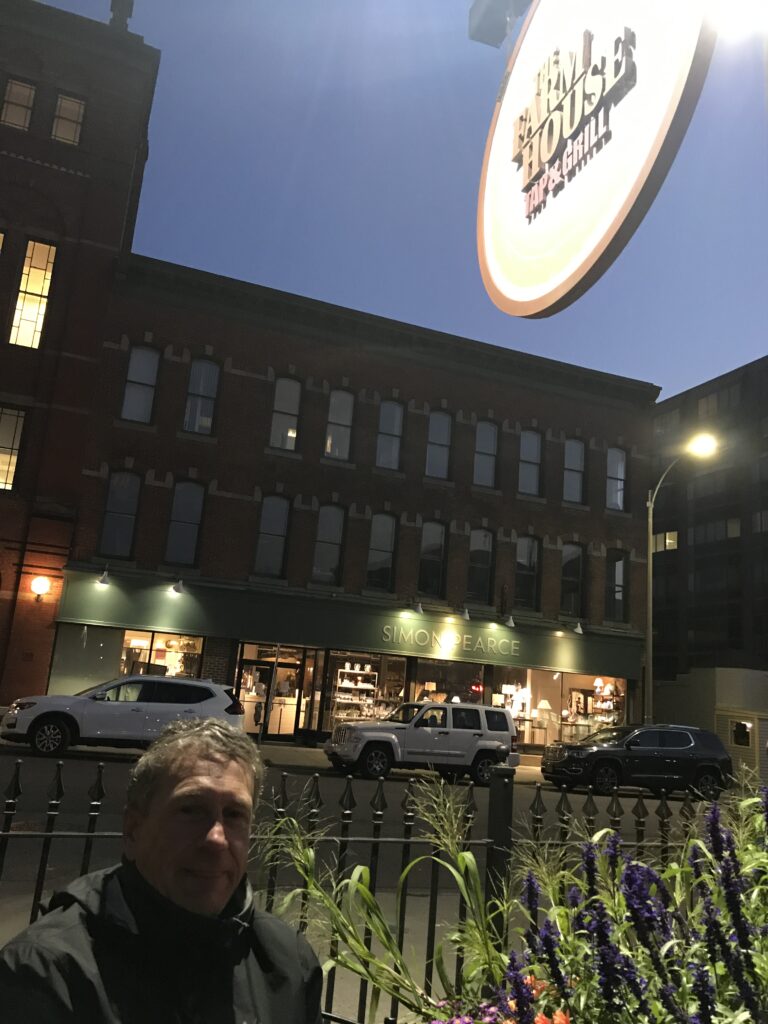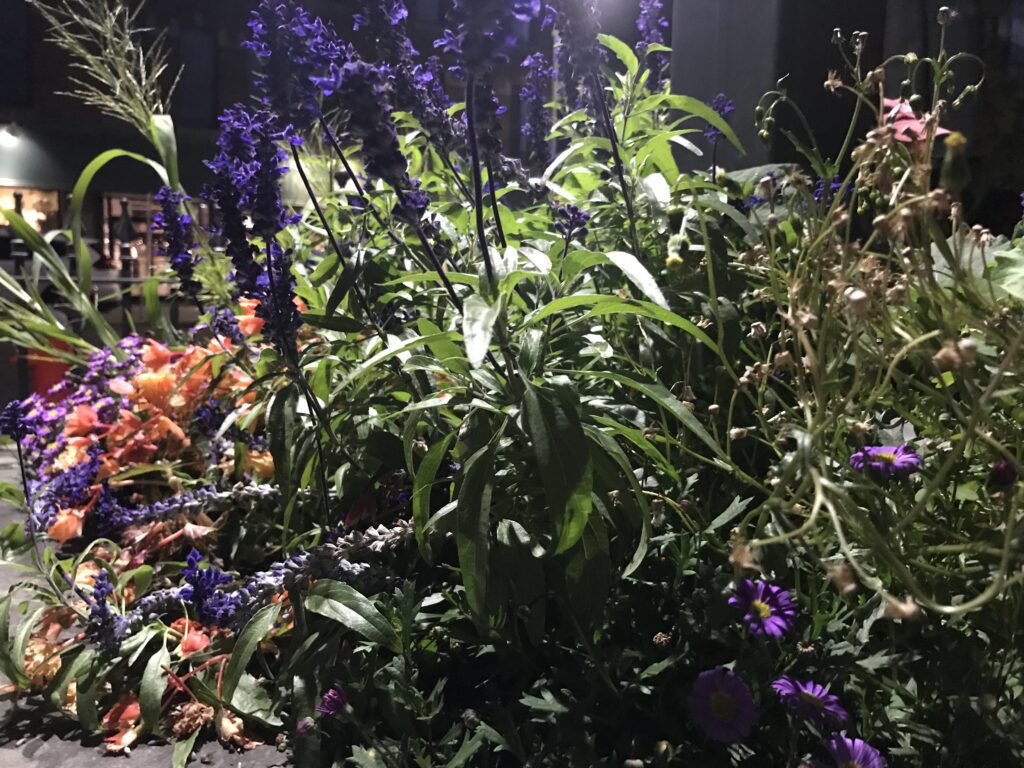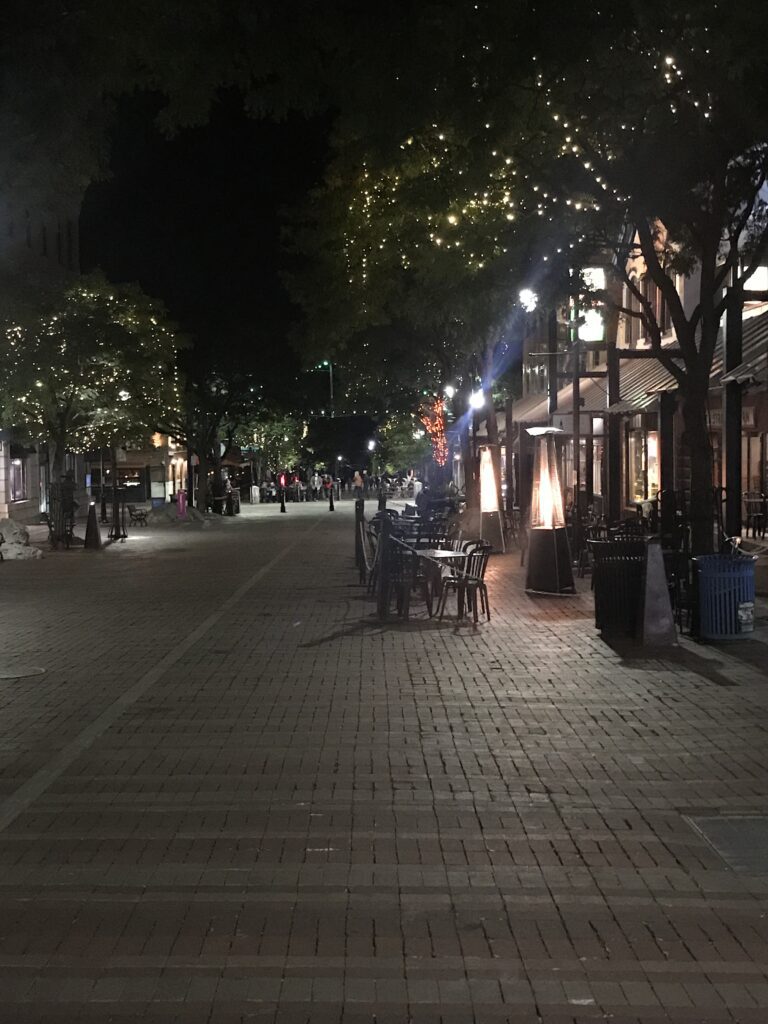 Camel's Hump Loop via Burrow's Trail, Huntington
After another delicious breakfast on the porch at Made INN Vermont, we drove about 45 minutes to the Burrow Trailhead in Camel's Hump State Park.  There is no fee to enter or to park.  We chose to hike the fourth highest peak in Vermont.  The AllTrails website and app helped us pick this fantastic hike.  Search for Camel's Hump Loop via Burrows Trail.  The trail has almost 2400 feet of elevation gain, and it took us about four and a half hours roundtrip.  We had a short stop at the summit as it was windy and we were very sweaty from the hike up.
We highly recommend you follow the instructions and go counter-clockwise – Park at the Burrows Trailhead.  Go right and walk on the Forest City Connector Trail.  Turn left and take the Forest City Trail to the Long Trail.  Go Left (North) on the Long Trail.  Summit using the Long Trail.  Descend using the Long Trail (head away from the portion of the trail you used to summit) to Burrows Trail to the Burrows Trailhead parking lot.  There is a great deal of boulder scrambling up the Long Trail when you move in a counter clockwise direction.  If you go clockwise and descend this portion of the Vermont-State-long Long Trail, you will be on your butt sliding down often.  Counter clockwise is the way to go.  Or, simply go up and back on the Burrows Trail.  The loop is an excellent challenge.
Another fantastic site for hike selection is the Hiking Project.  The Hiking Project free app is a great resource.  Their information on summiting Camel's Hump via Burrows Trail had great information, too.  Be sure to go in a counterclockwise direction!
We were at the parking lot by about 10am.  AllTrails recommends an earlier arrival on a busy weekend.  We did this hike on a Tuesday.  It was an easy drive from Burlington.  AllTrails coordinates with your smart phone to get you right to the trailhead.  We had no cell service at the trailhead or on most of the trail.
It was a cool morning, so we dressed in several layers.  There are many "stair-master" sections on this hike.  Bring water and be prepared to remove layers as your heart rate goes up!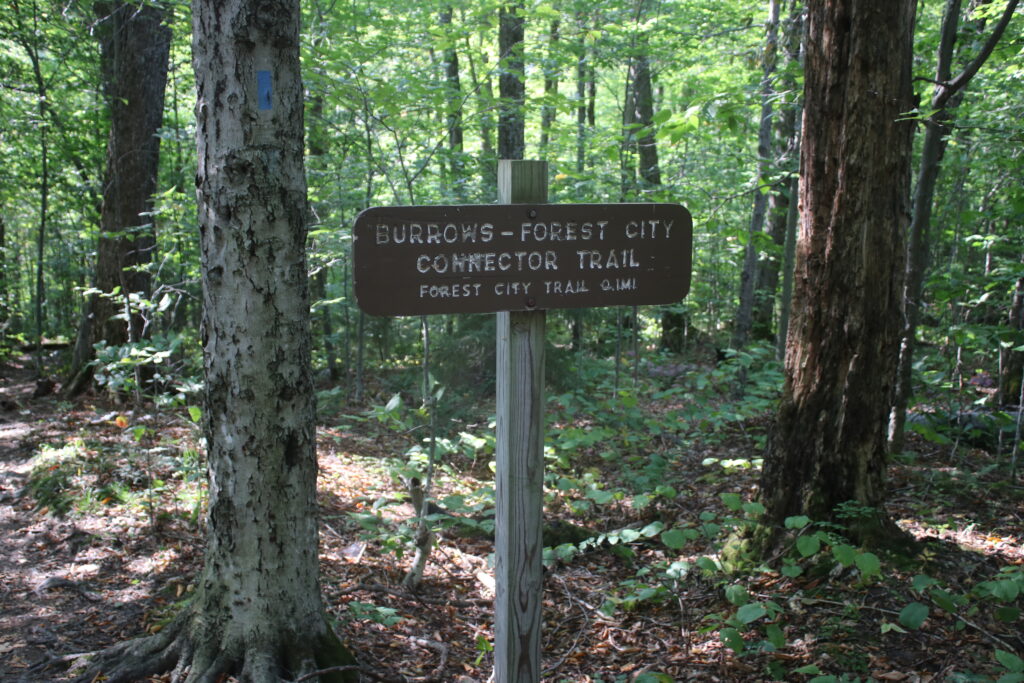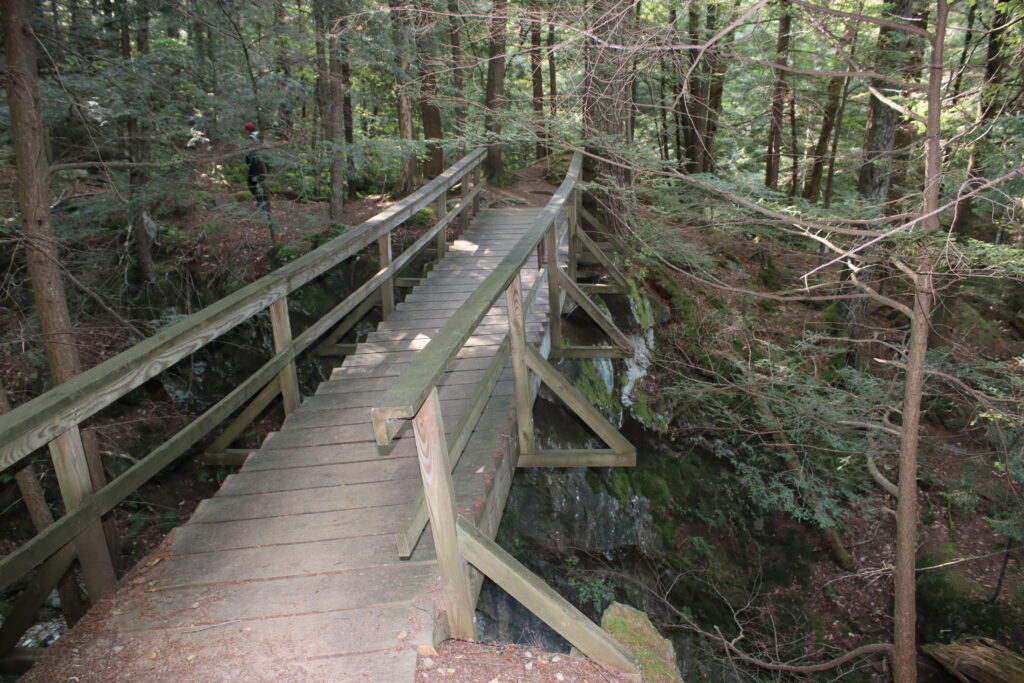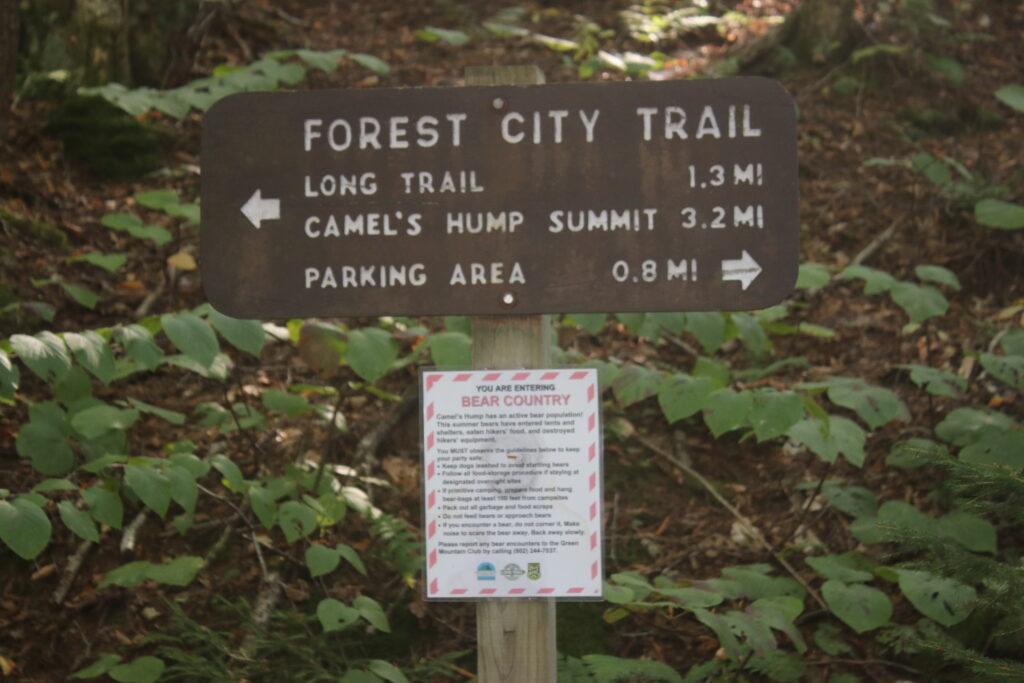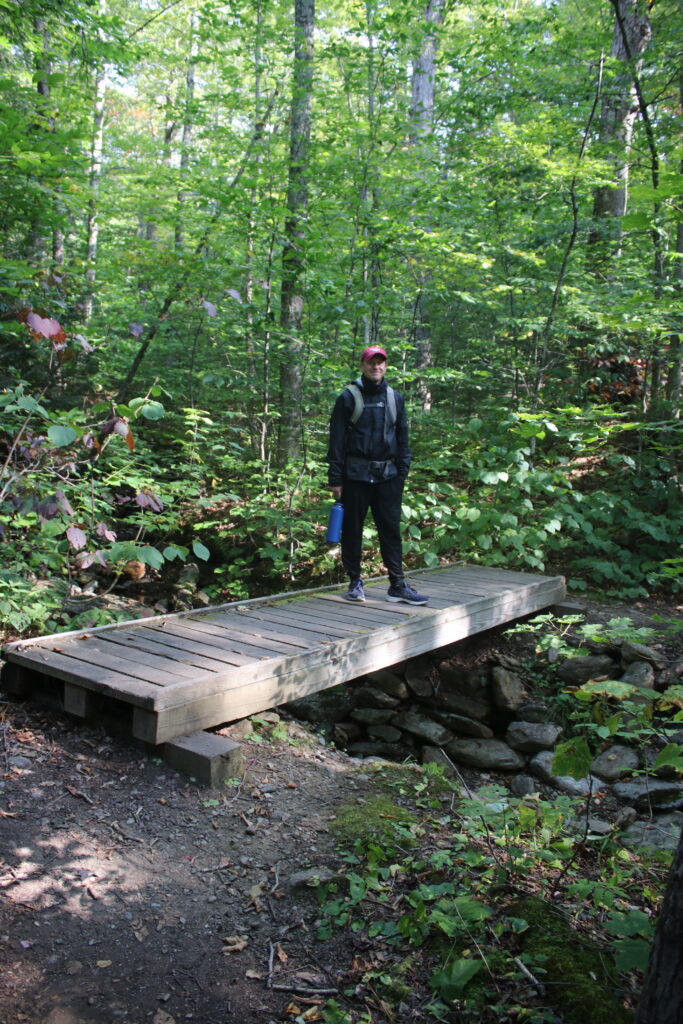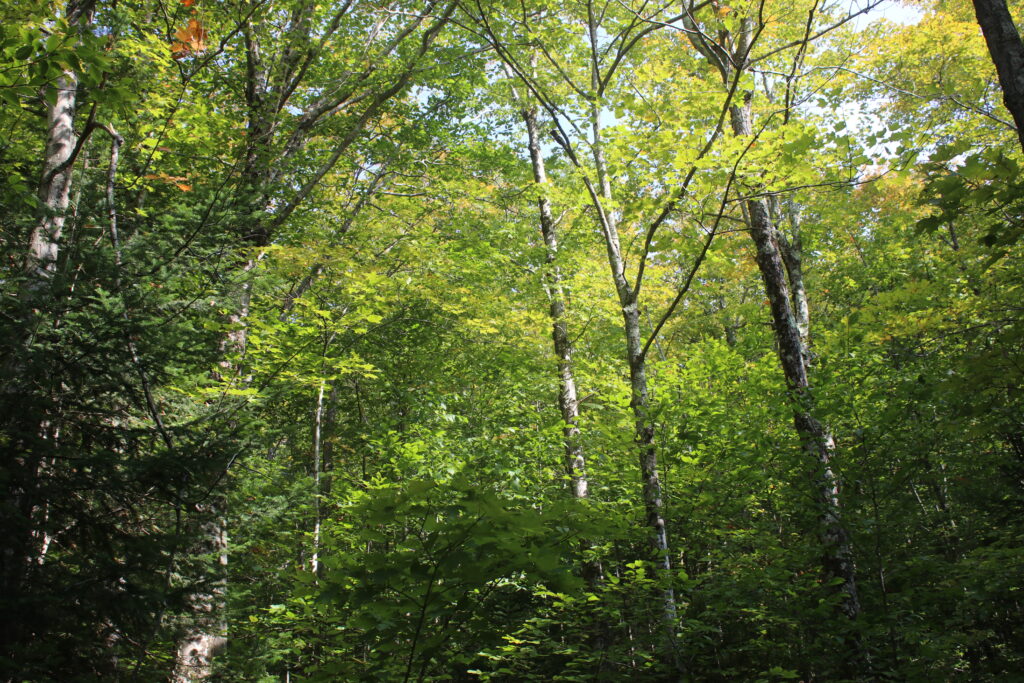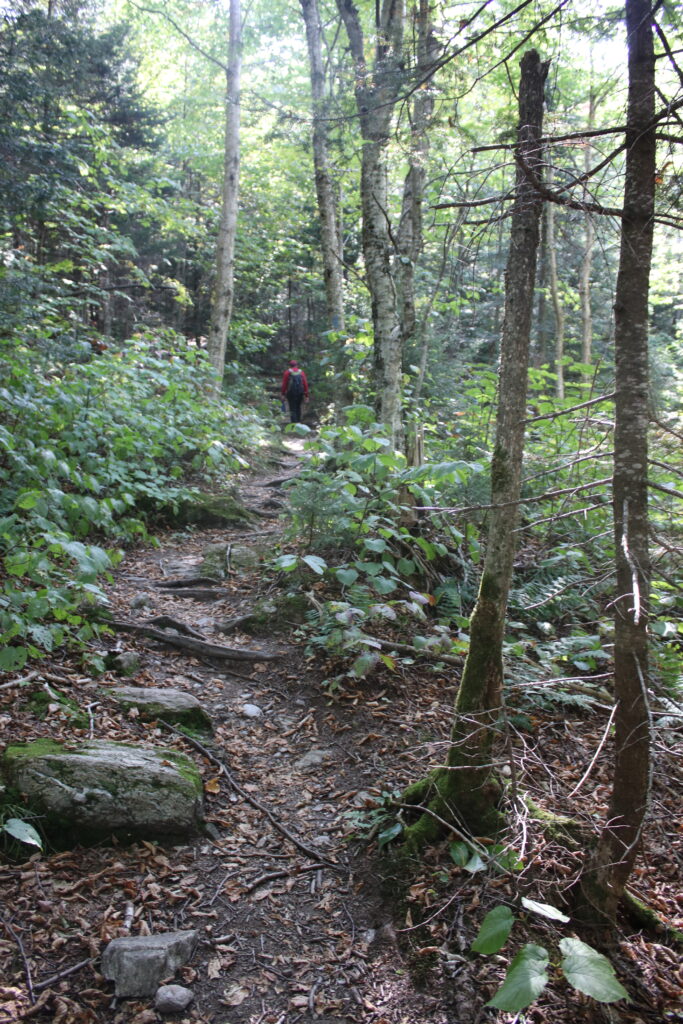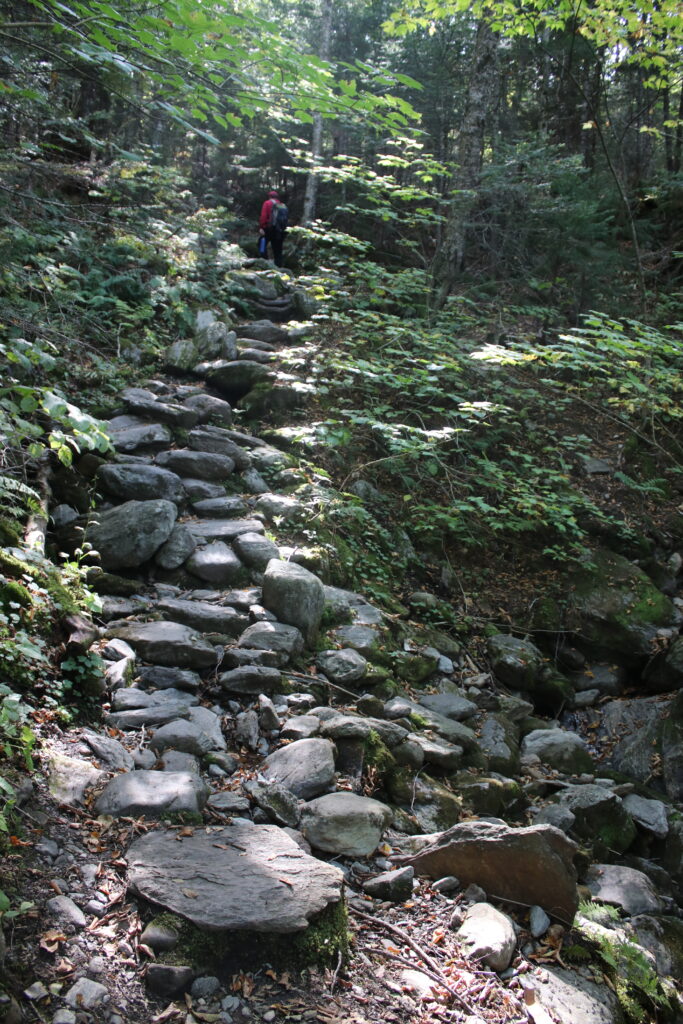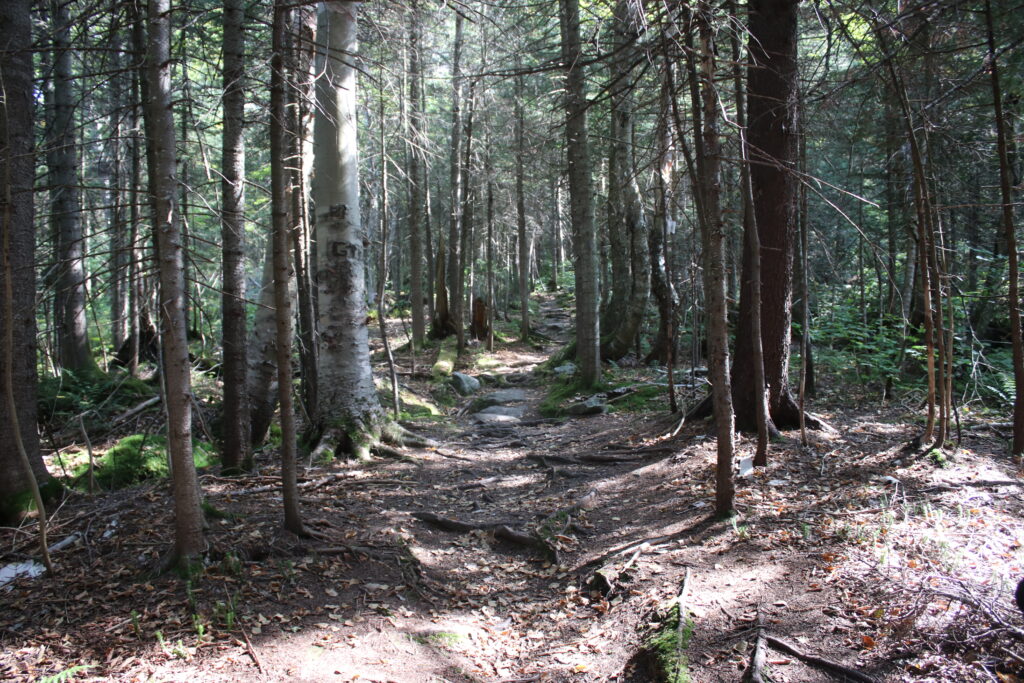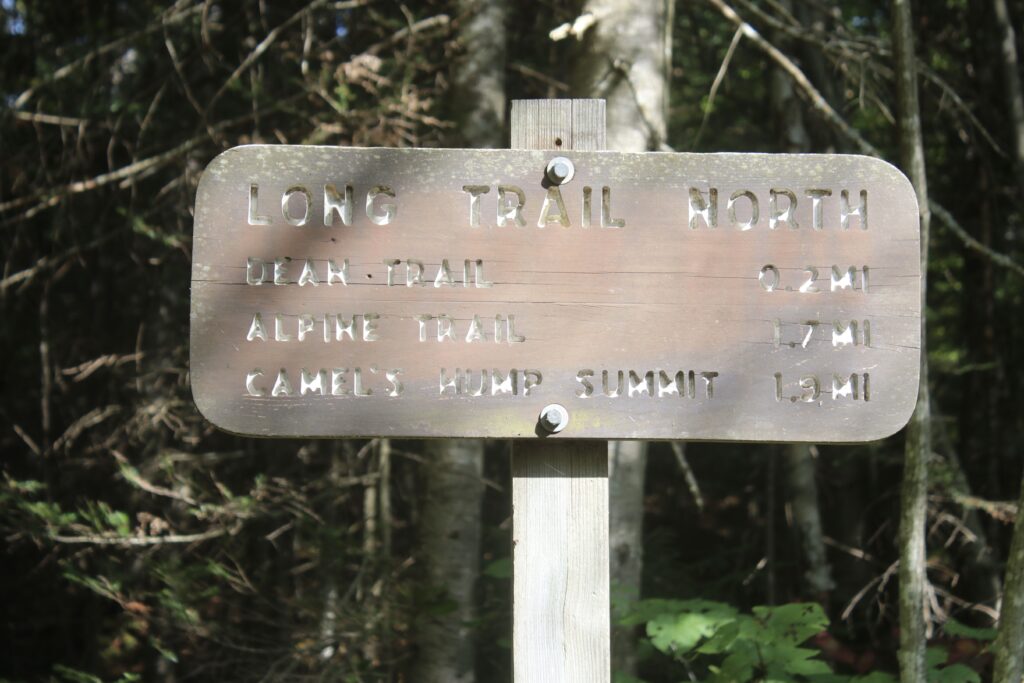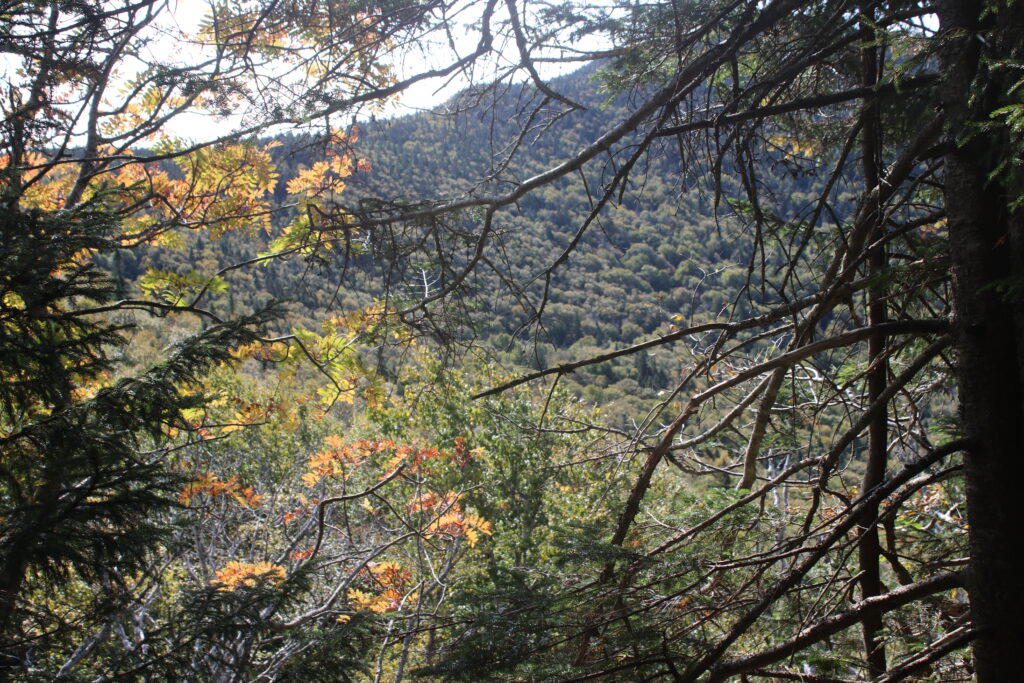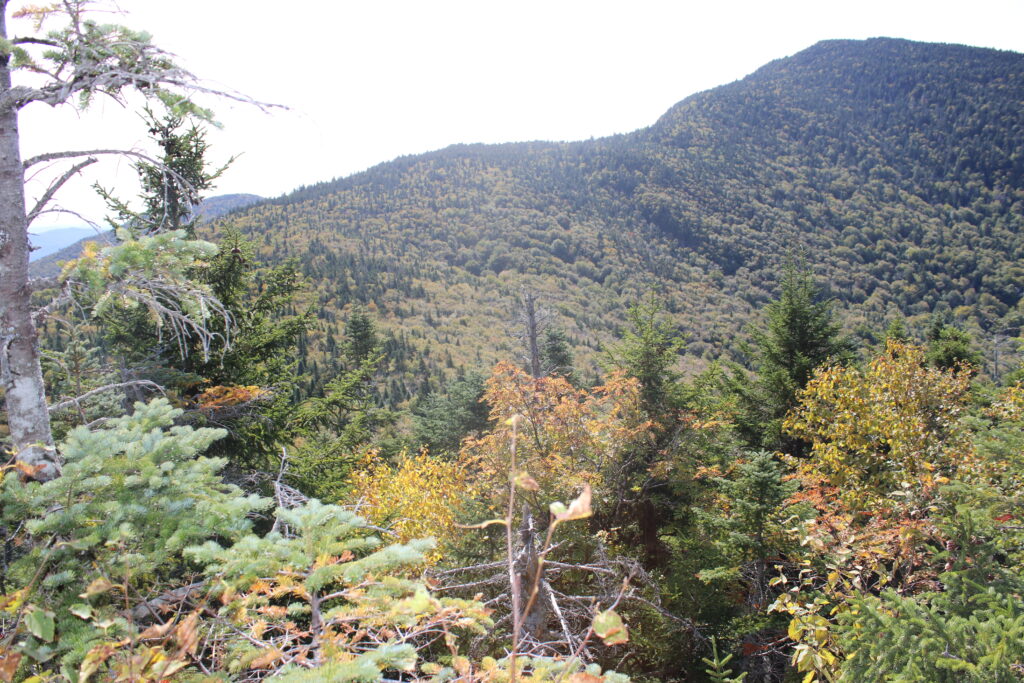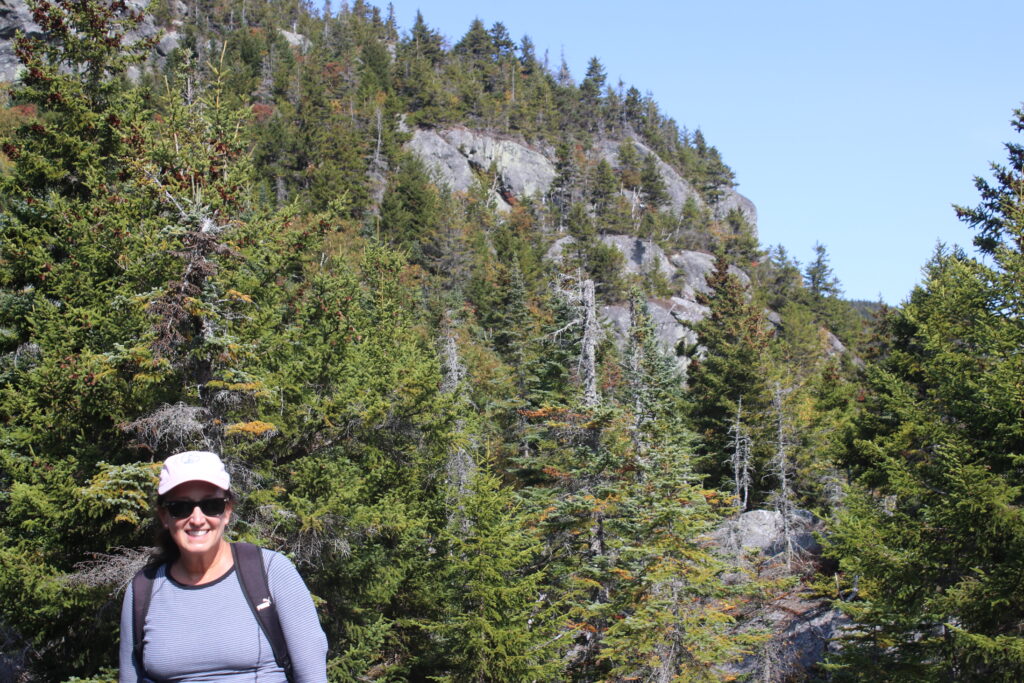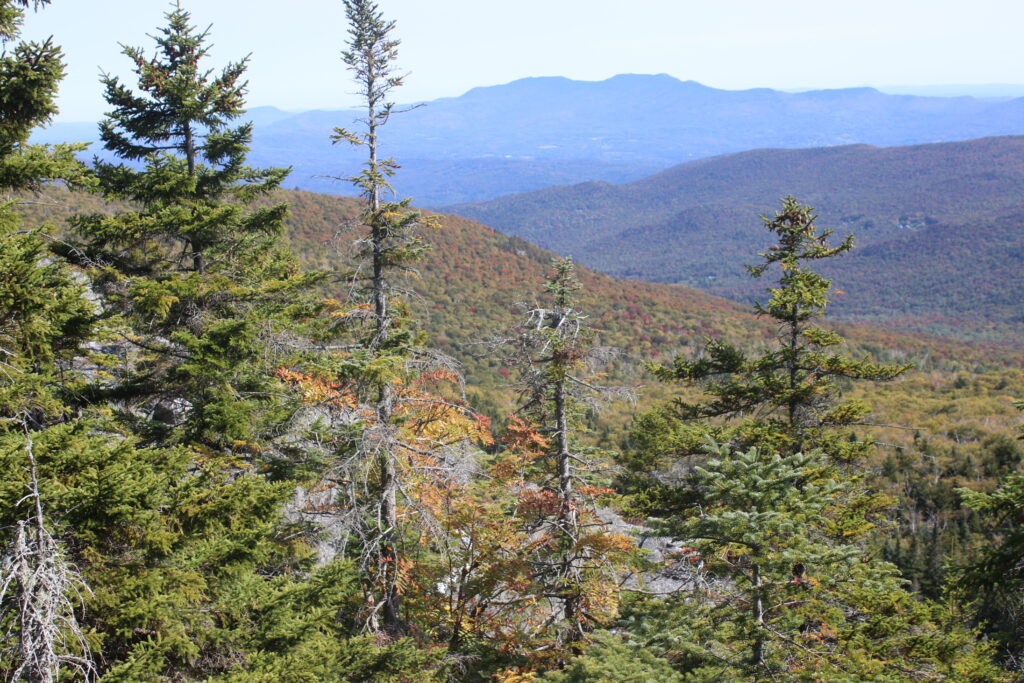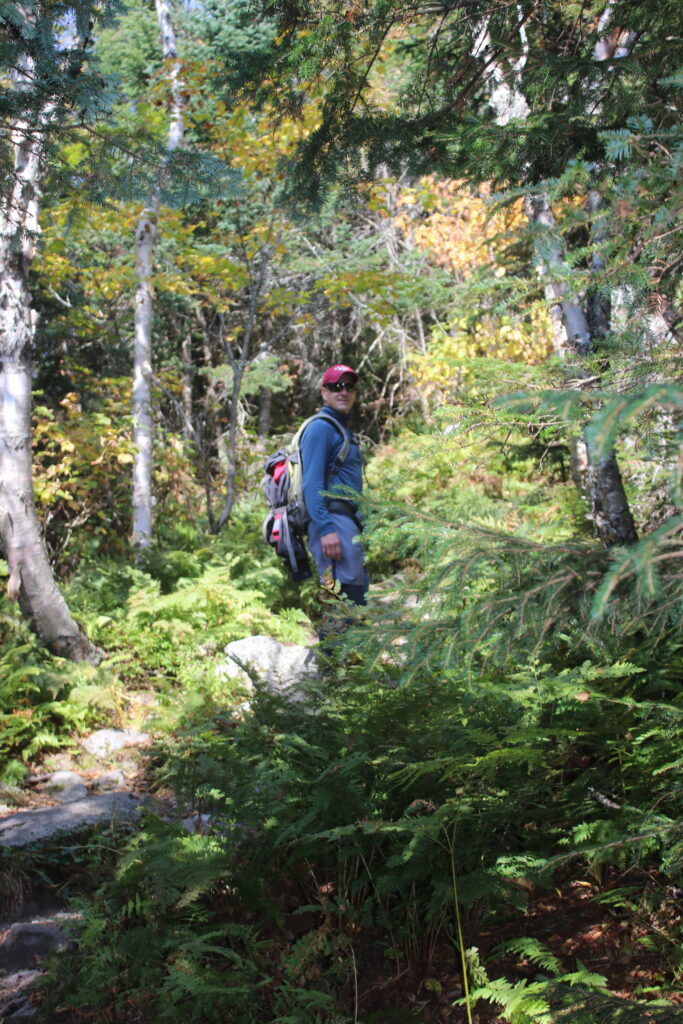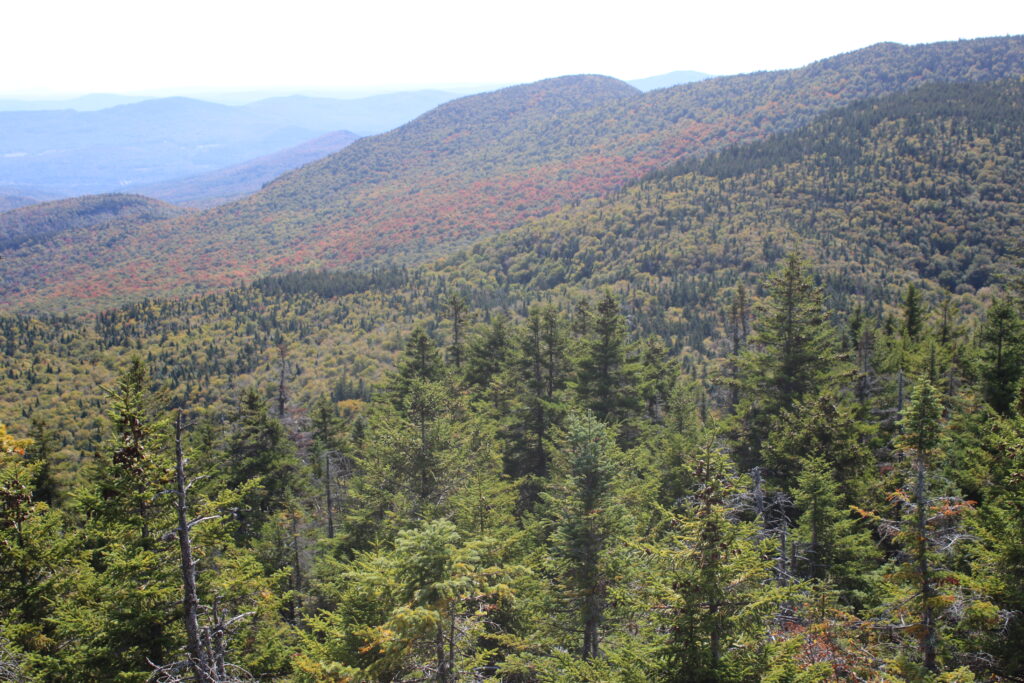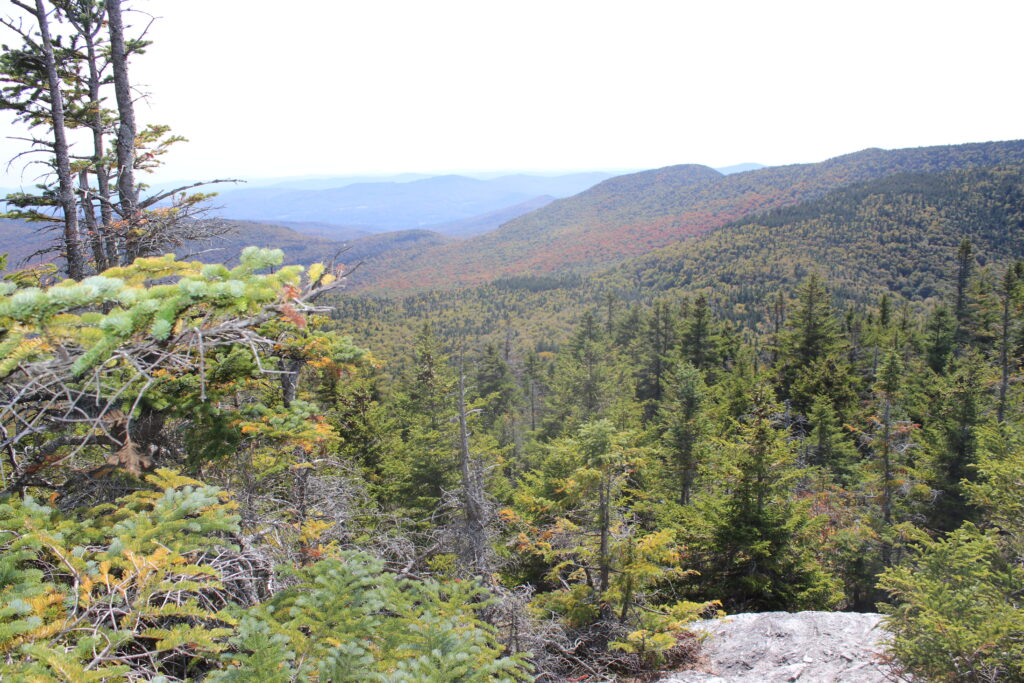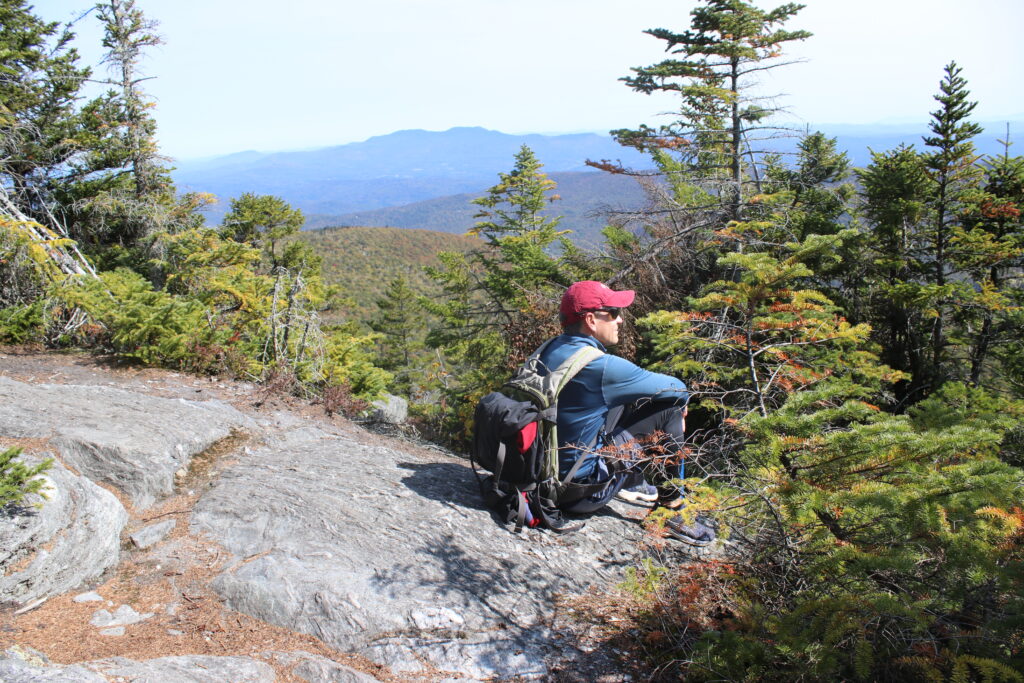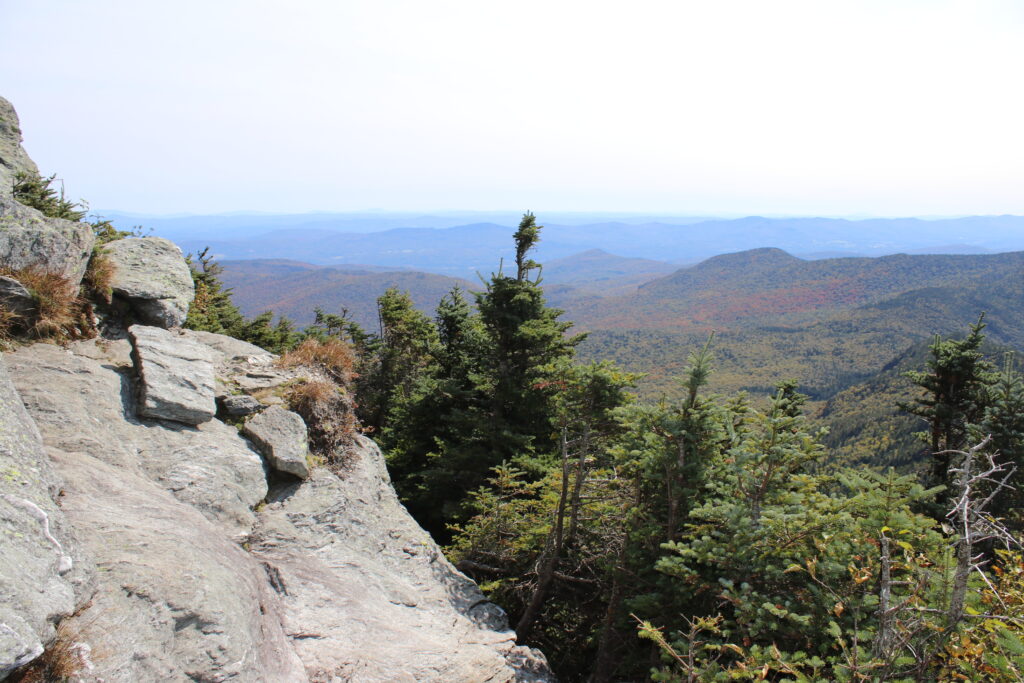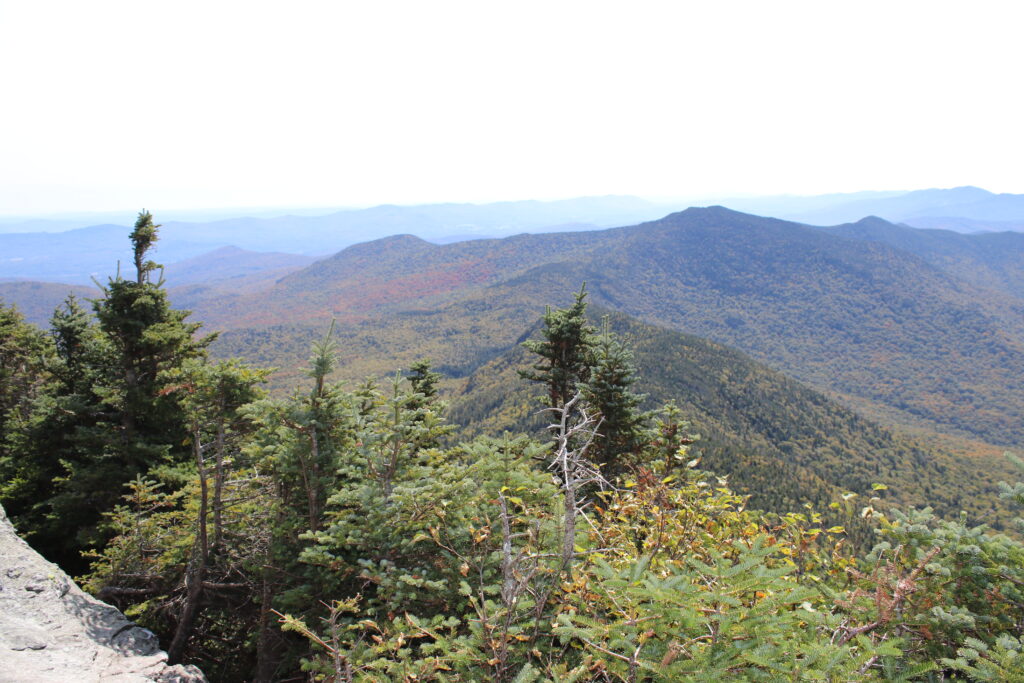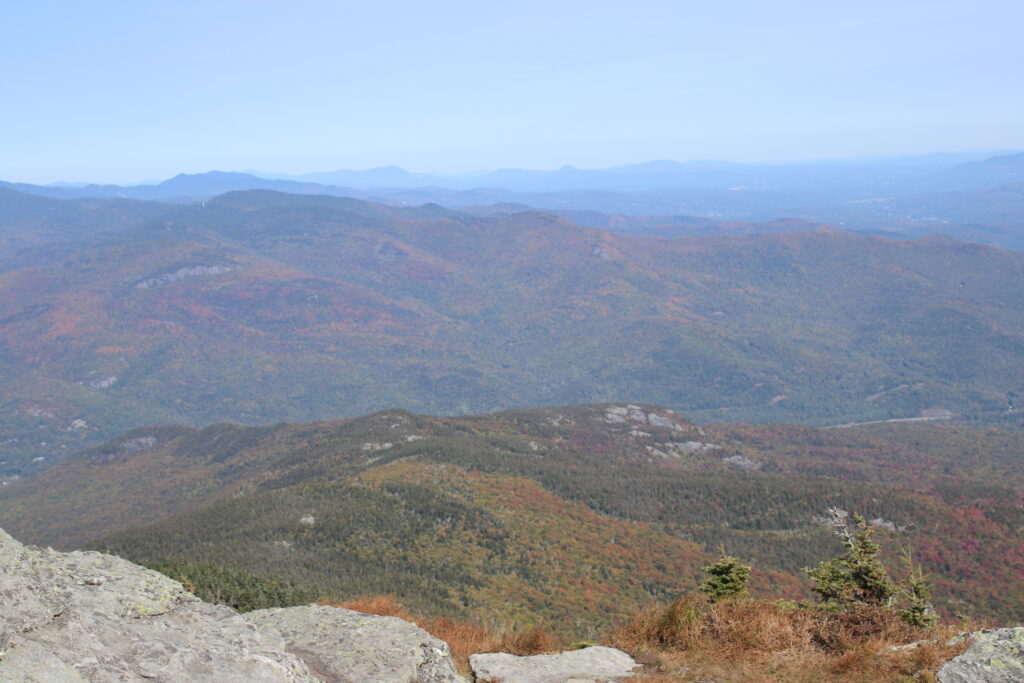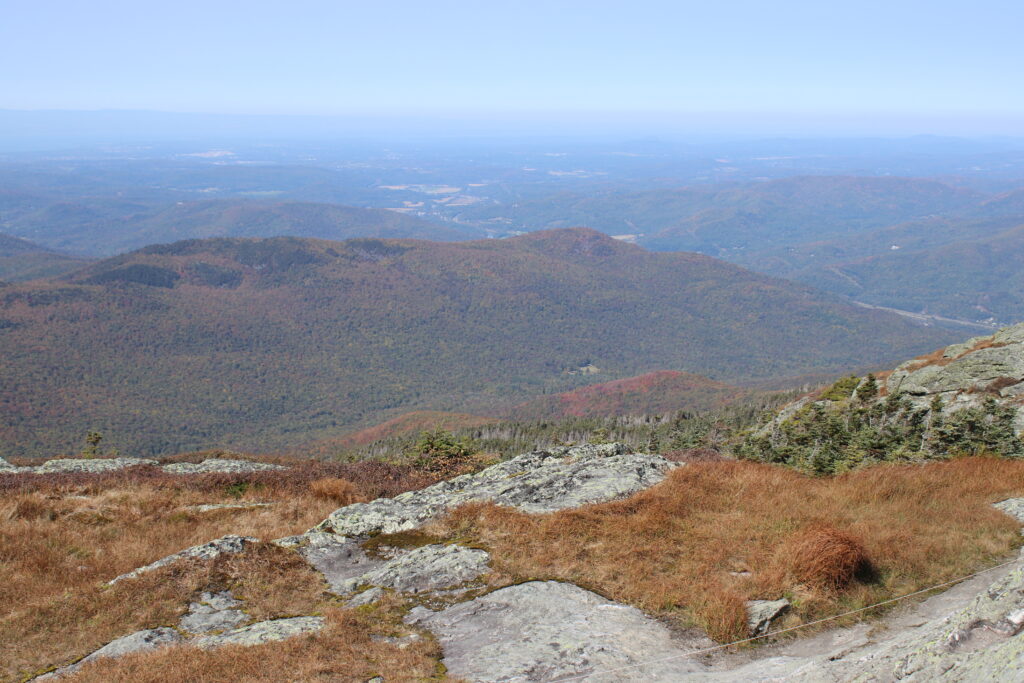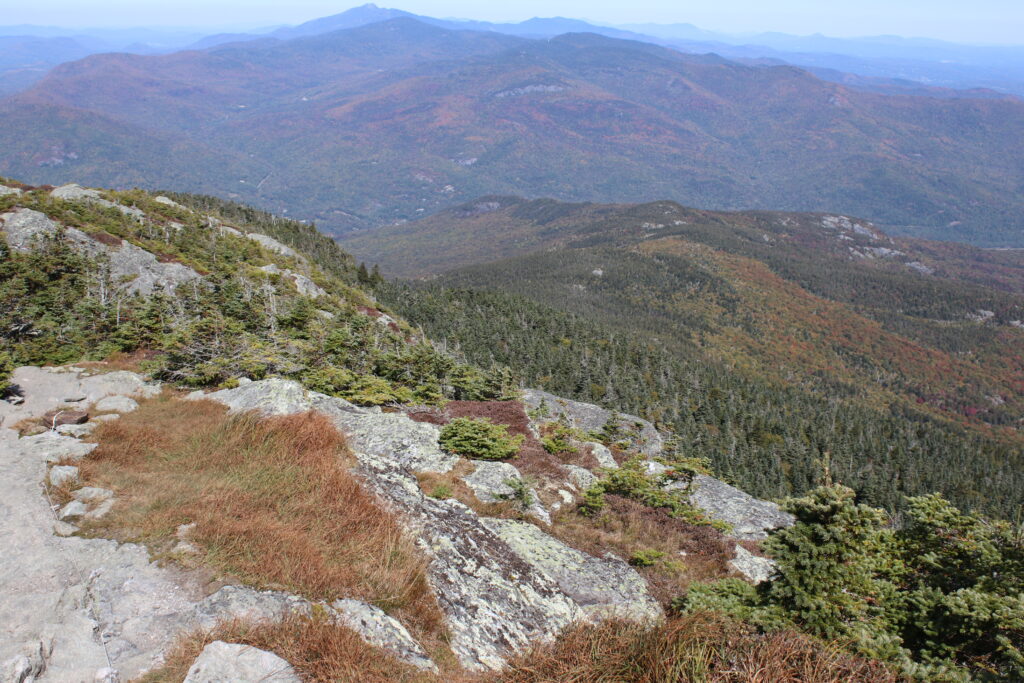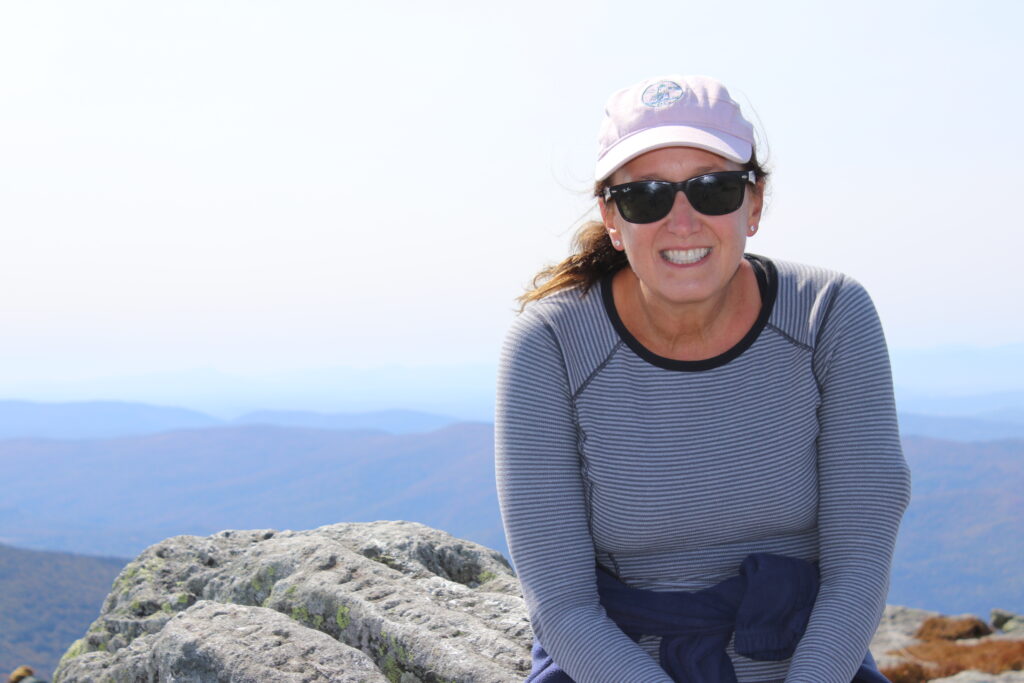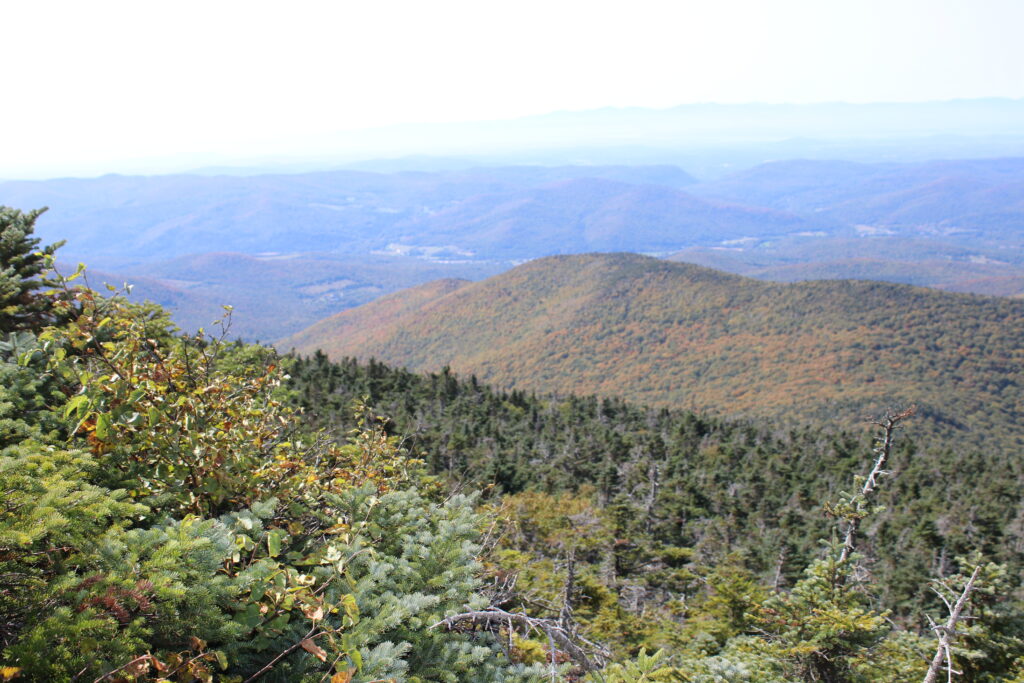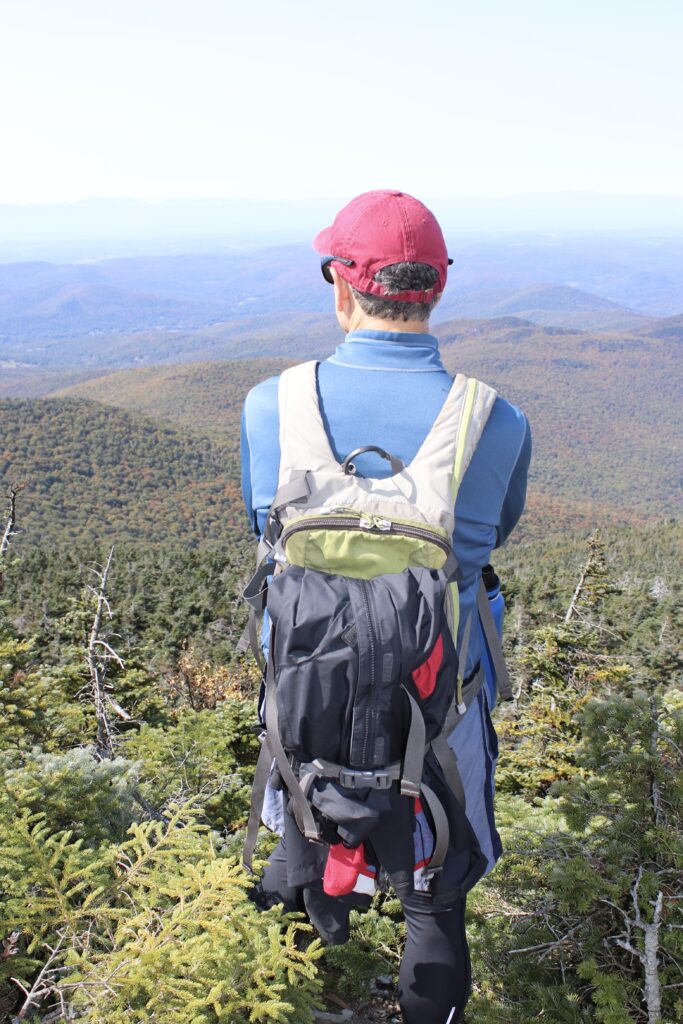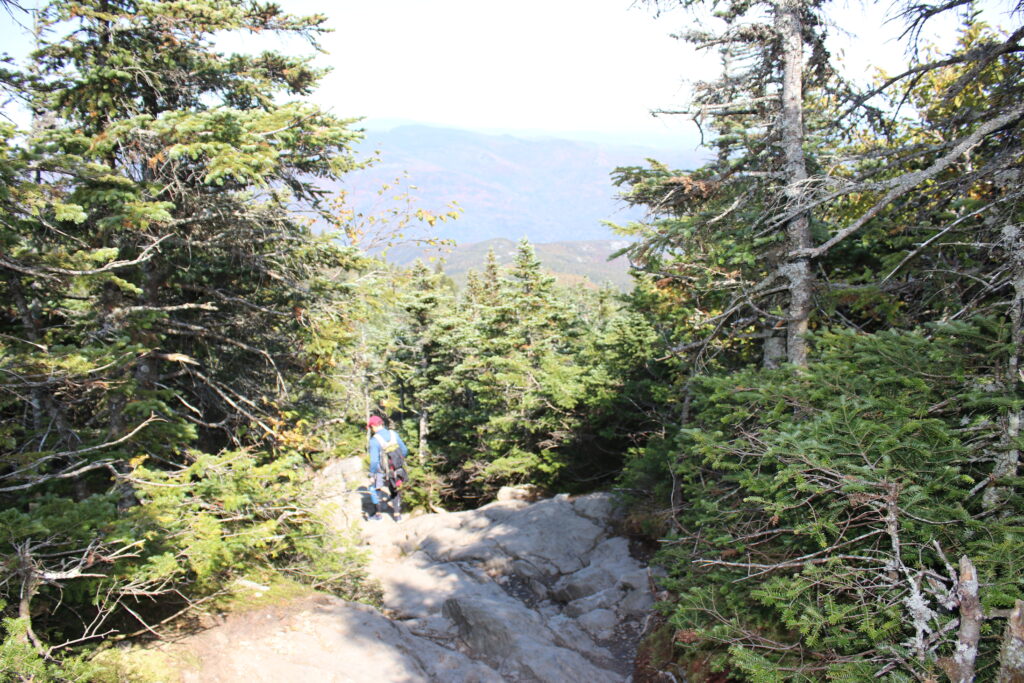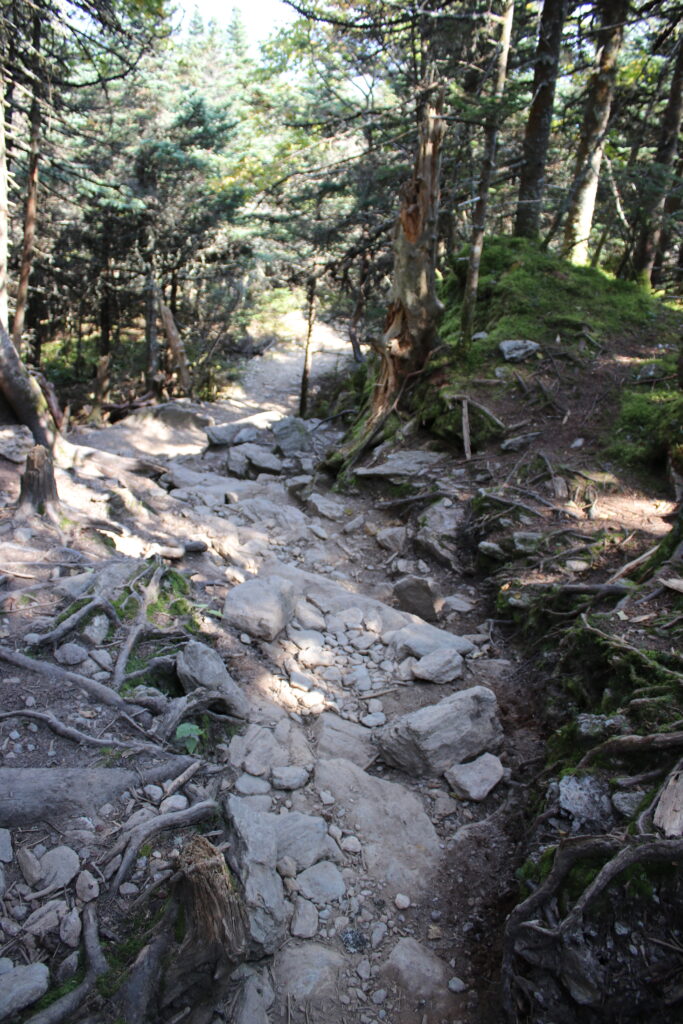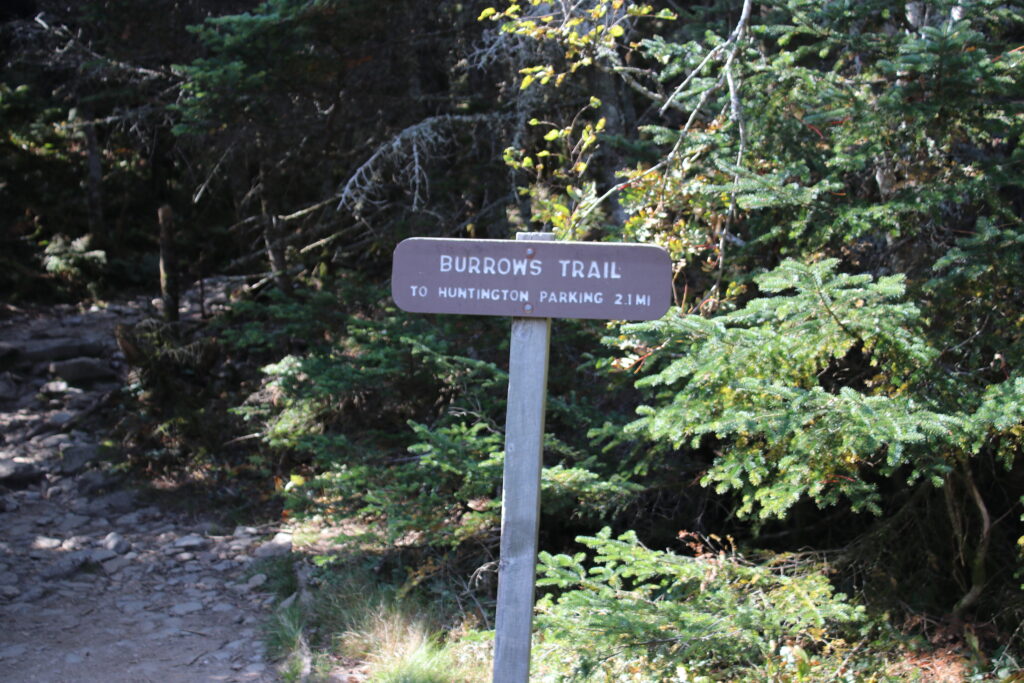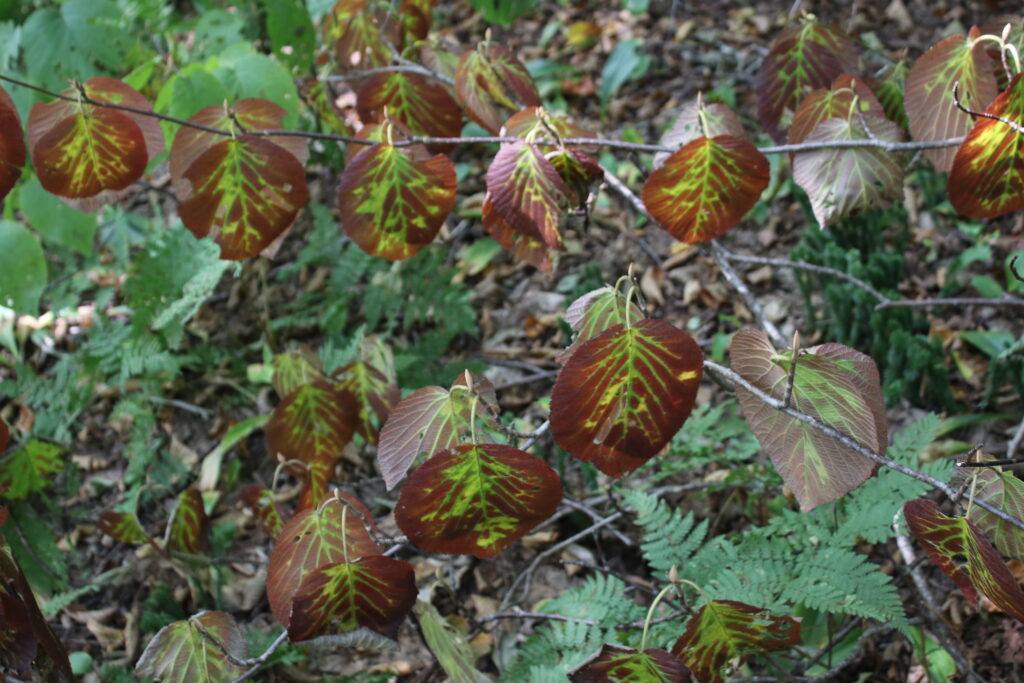 Blue Horse Inn – Woodstock
After returning to the car, we set out for the gorgeous town of Woodstock, Vermont.  It took us about an hour and 45 minutes to get to the Blue Horse Inn.  From Camel's Hump, we spent some time on a major highway, Route 91 South and some time on gorgeous local roads.  
We stayed at the incredible Blue Horse Inn.  The hosts, Jill and Tony have taken every Covid precaution.  Their inn is immaculate, warm, welcoming and highly recommended.  Located at the edge of downtown, the Blue Horse Inn oozes charm and character. Jill and Tony are welcoming hosts, catering to your every need. The Inn is immaculately clean, sparkling in fact. The rooms are quite large with comfy beds, thick towels, cozy robes and crisp sheets.
The breakfasts are delicious and expertly prepared. We sampled the steel cut oatmeal, the omelet, the quiche, the vegan parfait, bacon, and freshly prepared fruits and juices. The coffee, roasted around the corner right in Woodstock, is sublime!
The location is fantastic. You can walk everywhere. In just a few steps, we were at the covered bridge. The hiking trails up Mount Tom are only a few minutes away. We walked to all of our hikes, meals and shopping excursions.
Set along the banks of the Ottauquechee River, there is ample outdoor space to enjoy the views. Adirondack chairs, a fire pit, a summer time pool and charming deck space allow you to spend time taking in the beauty of Mother Nature.
We highly recommend The Blue Horse Inn for your next visit to Woodstock. Jill and Tony are gracious, friendly and supremely competent hosts.  My Trip Advisor review is here.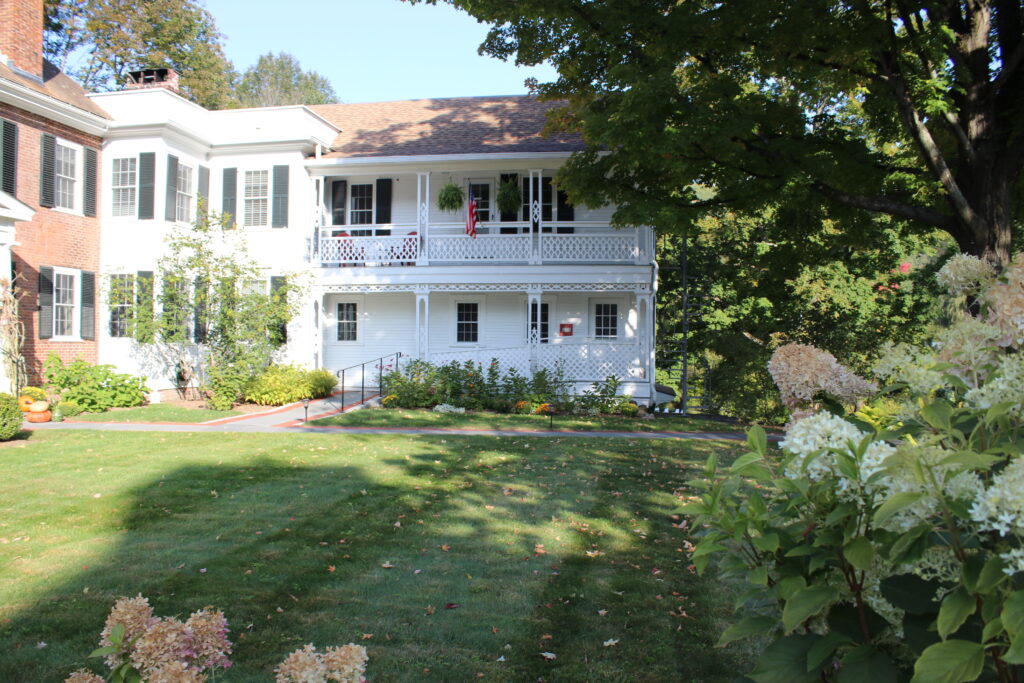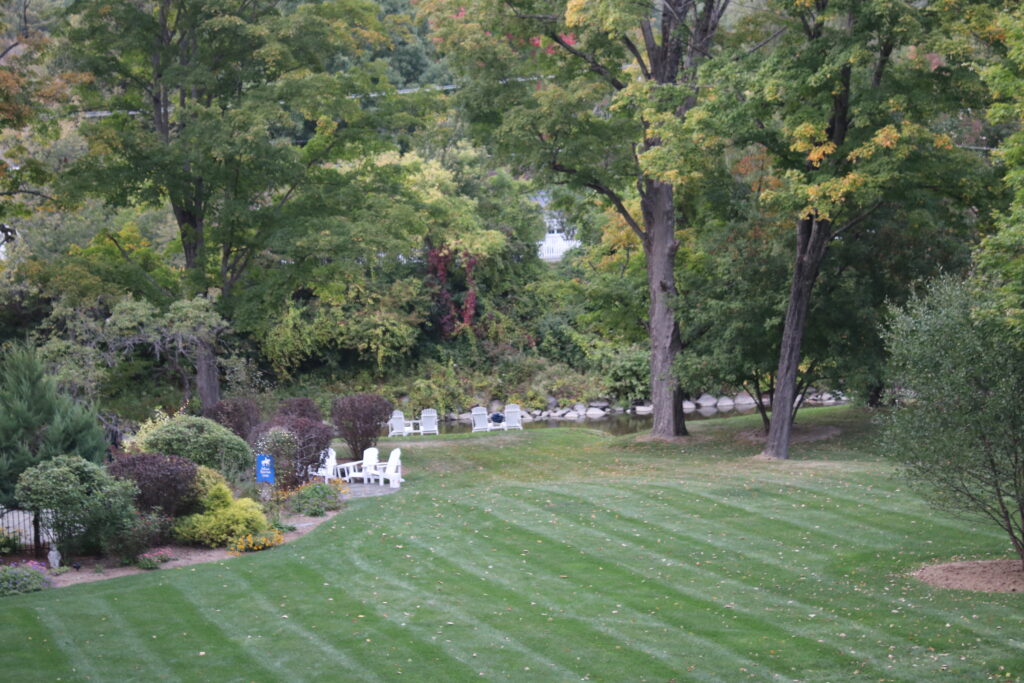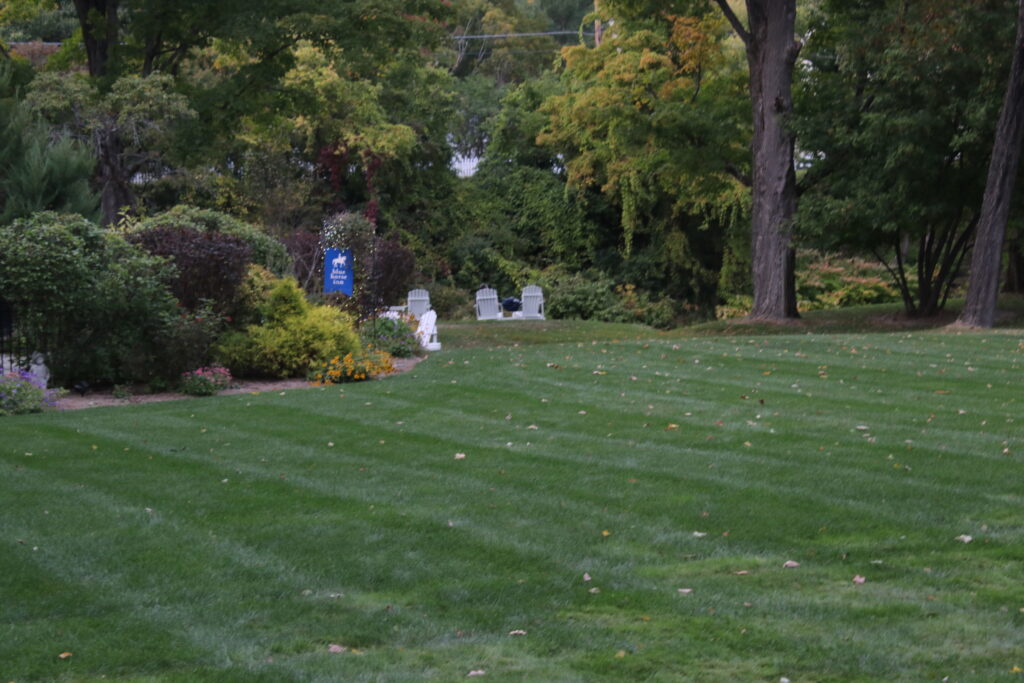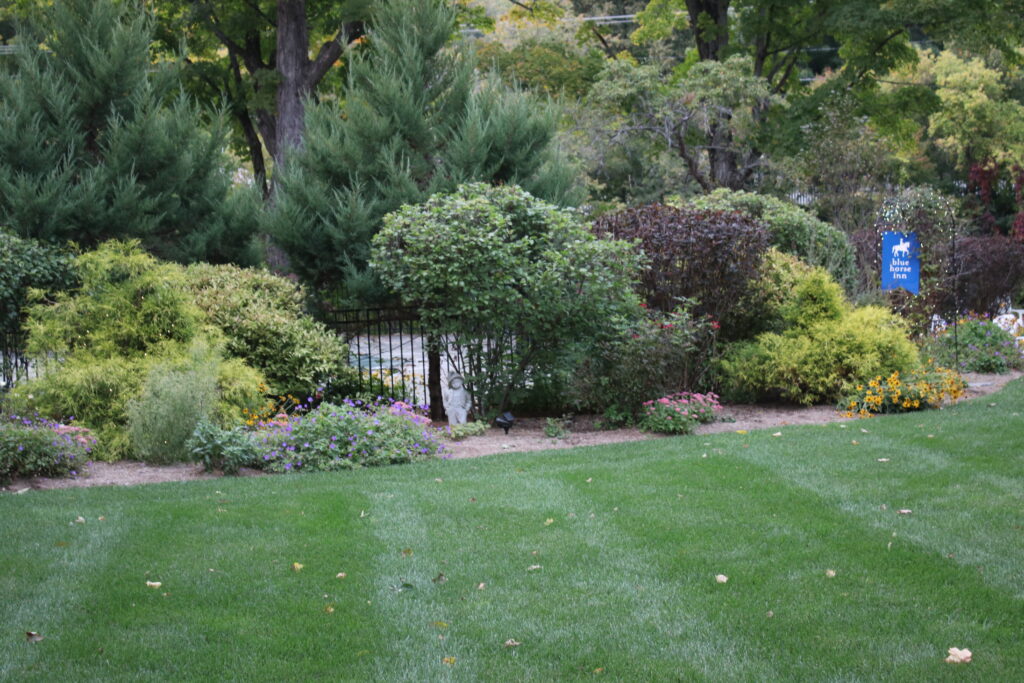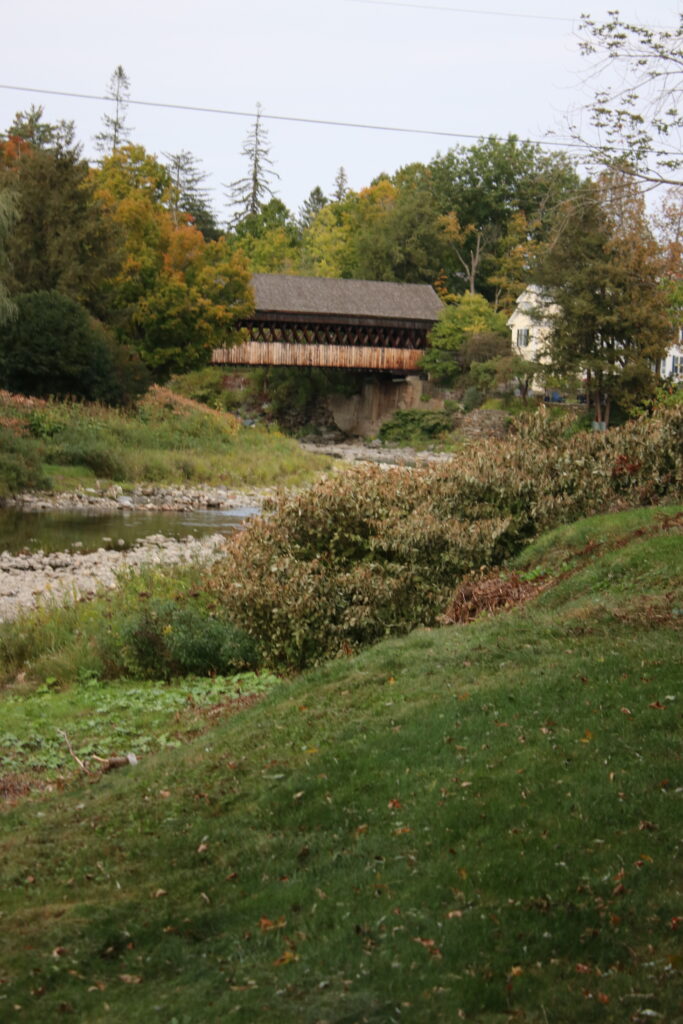 Melaza Bistro, Woodstock
After enjoying a cocktail on the banks of the river at The Blue Horse Inn, we strolled down the main street of Woodstock to Melaza Bistro.  We sat outside, as it was the time of the plague, and this lovely bistro offered us great food!
The bistro has a wide gluten free menu, heaters and delicious food.  We sat right on the sidewalk and watched the world go by.  Trip Advisor reviews are good.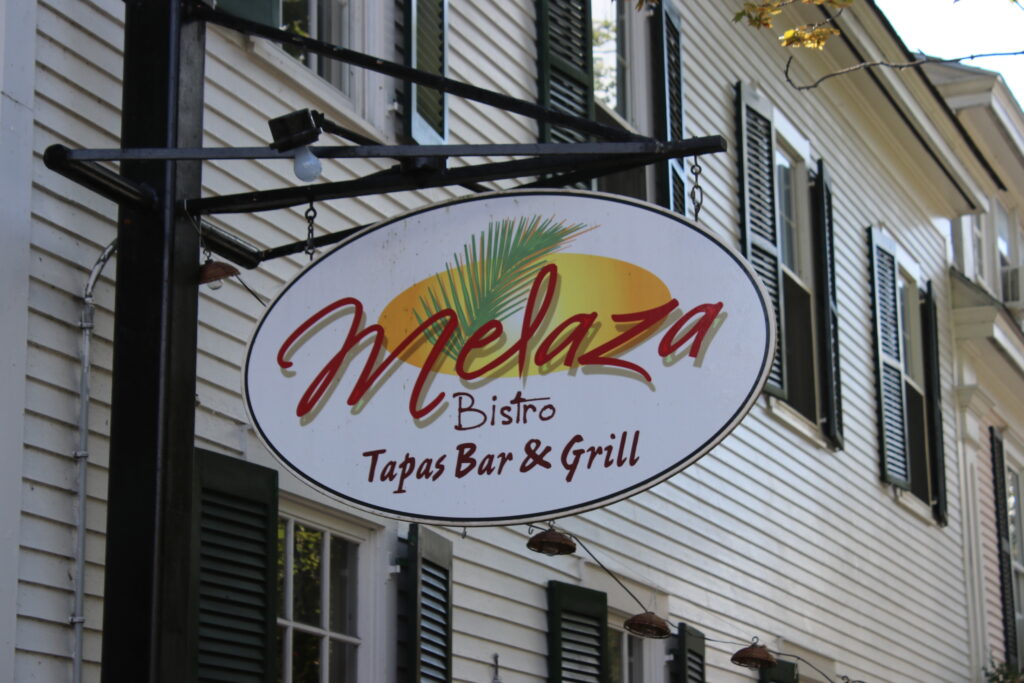 Mount Tom Hike – Pure Paradise Above Woodstock
We ate the most delicious breakfast at The Blue Horse Inn.  Tony and Jill are great cooks and even more gracious hosts.
It was a gorgeous September morning, so we walked a short distance to the covered bridge and then set off to hike to the top of Mount Tom.  
We strolled to Faulker Park and took the Faulker Trail to the South Peak summit.  We were told the South Peak summit had better less obstructed views than the North Peak summit.
From the summit, we hiked the carriage roads in the Marsh-Billings-Rockefeller National Historical Park.  We hiked and walked for about four hours and it was gorgeous and glorious.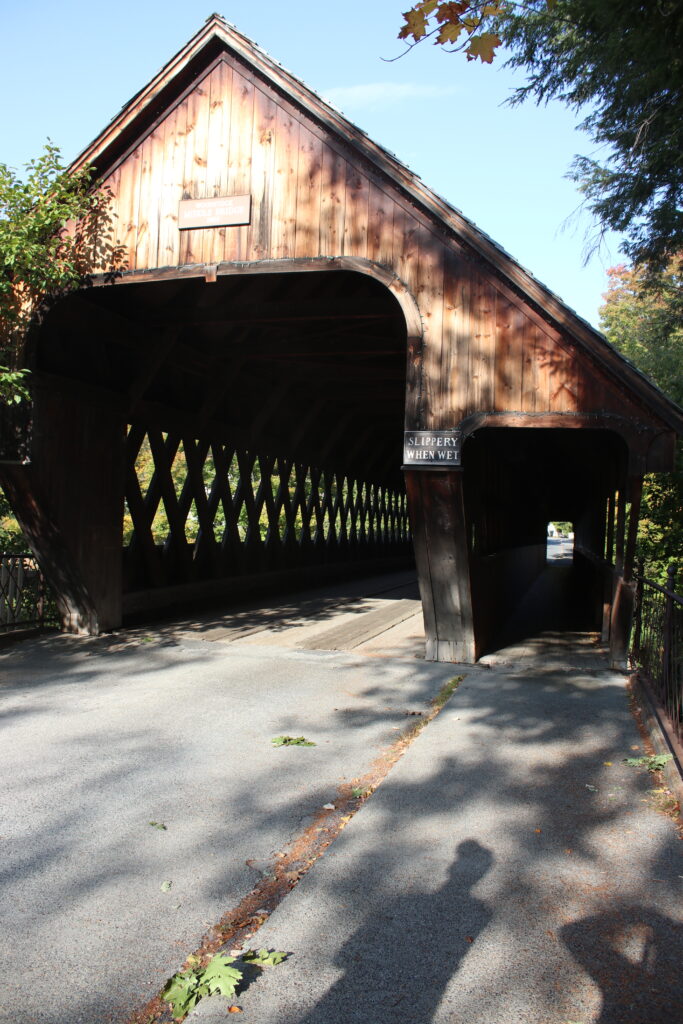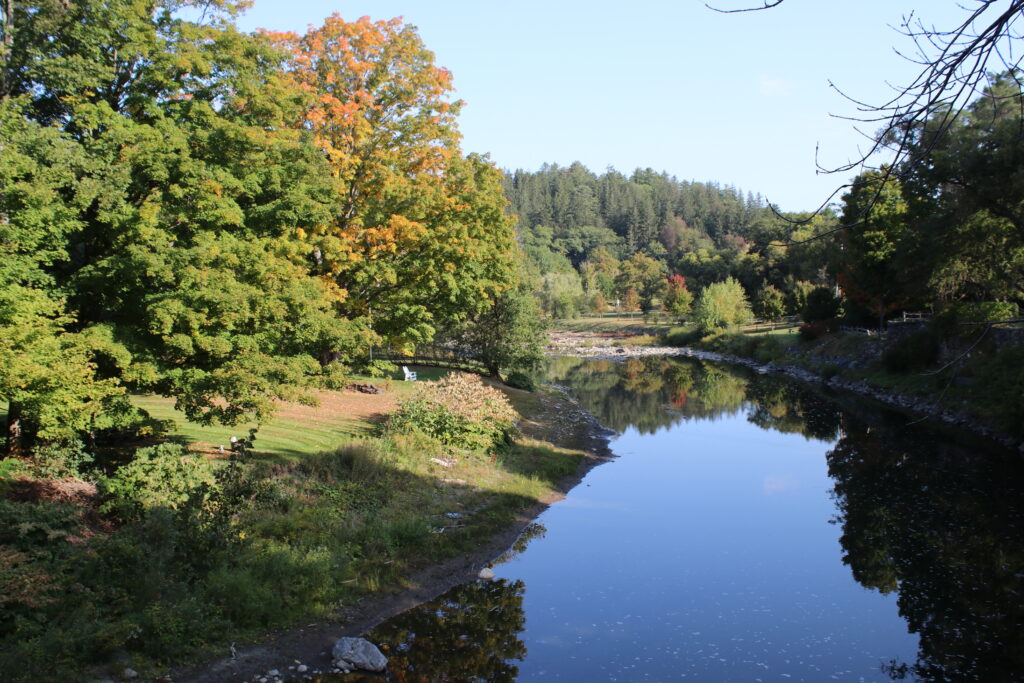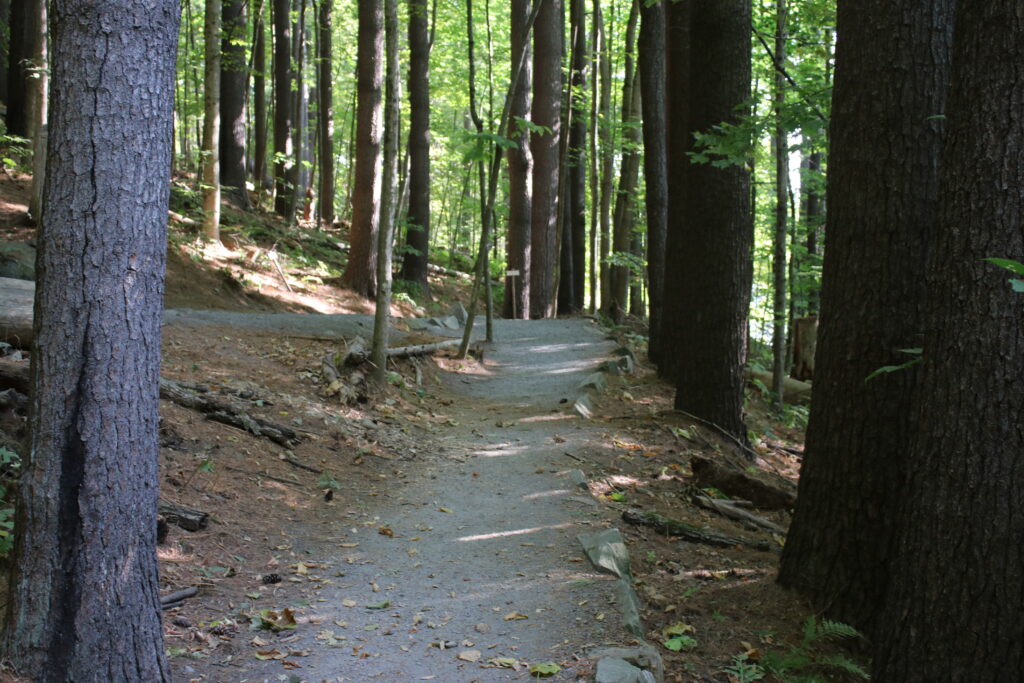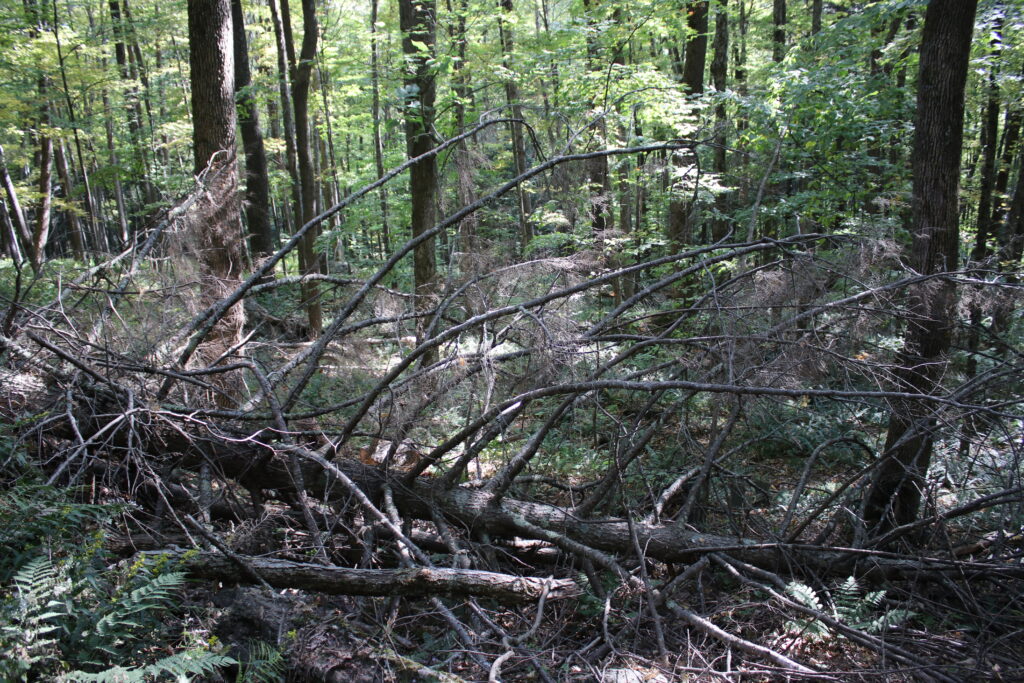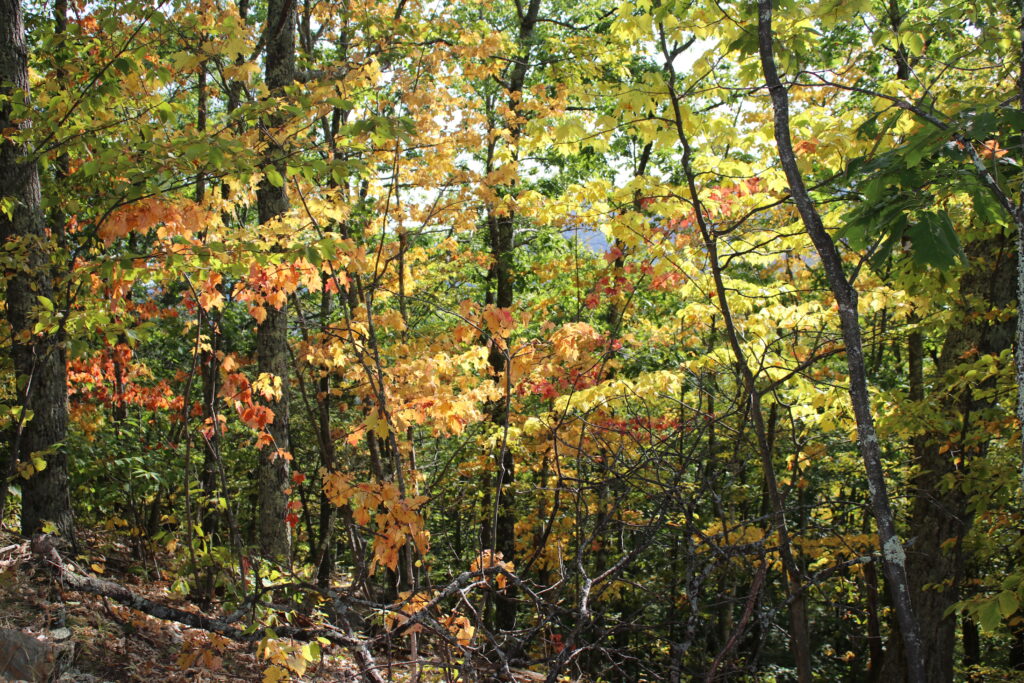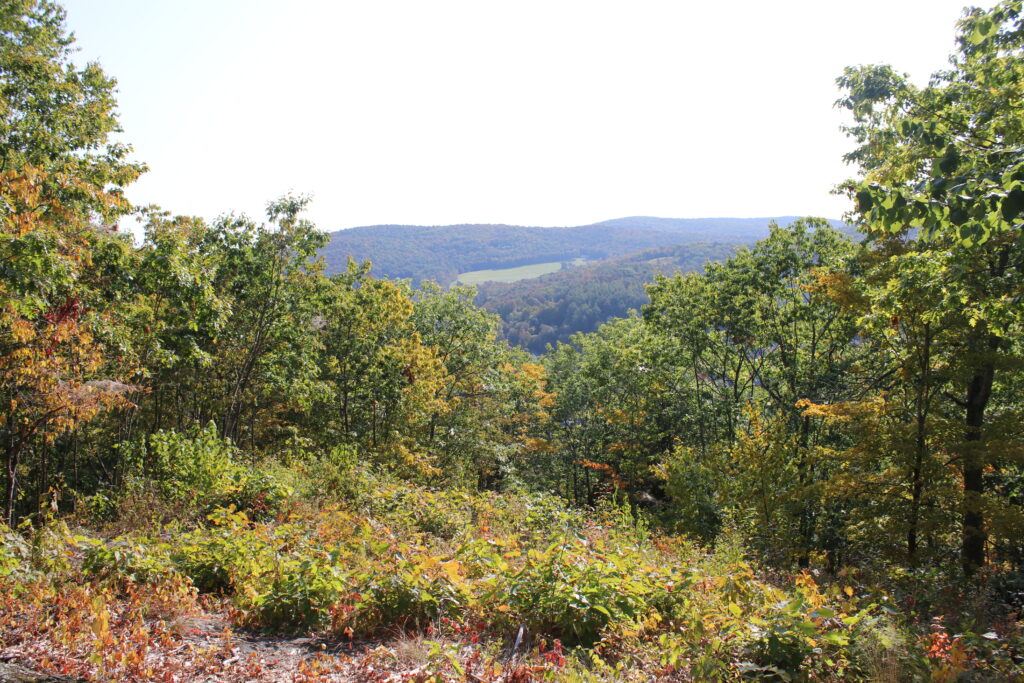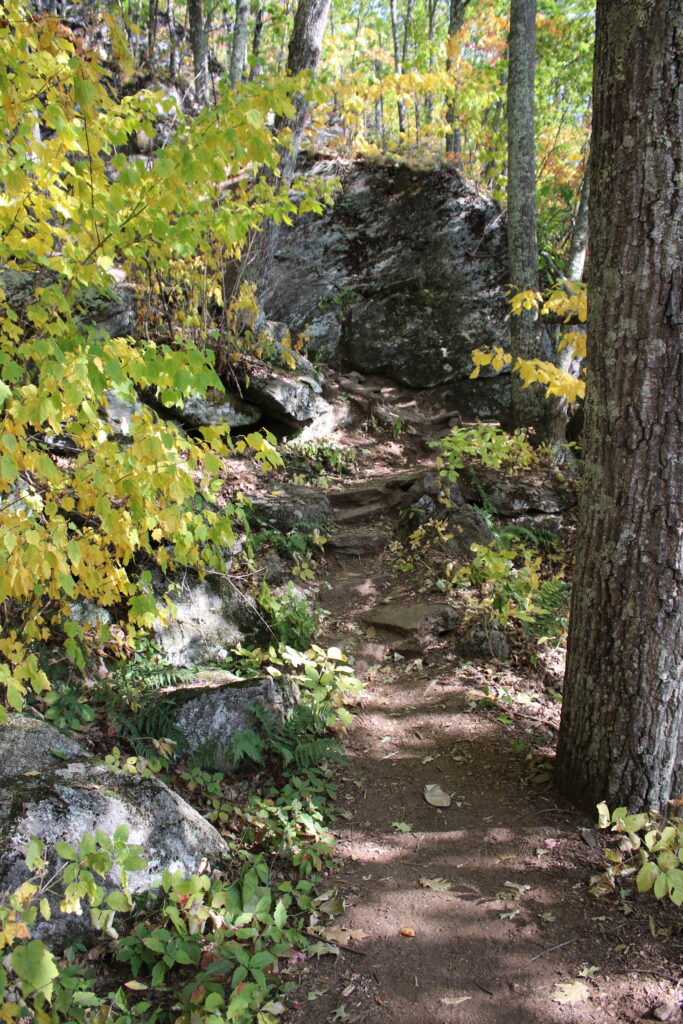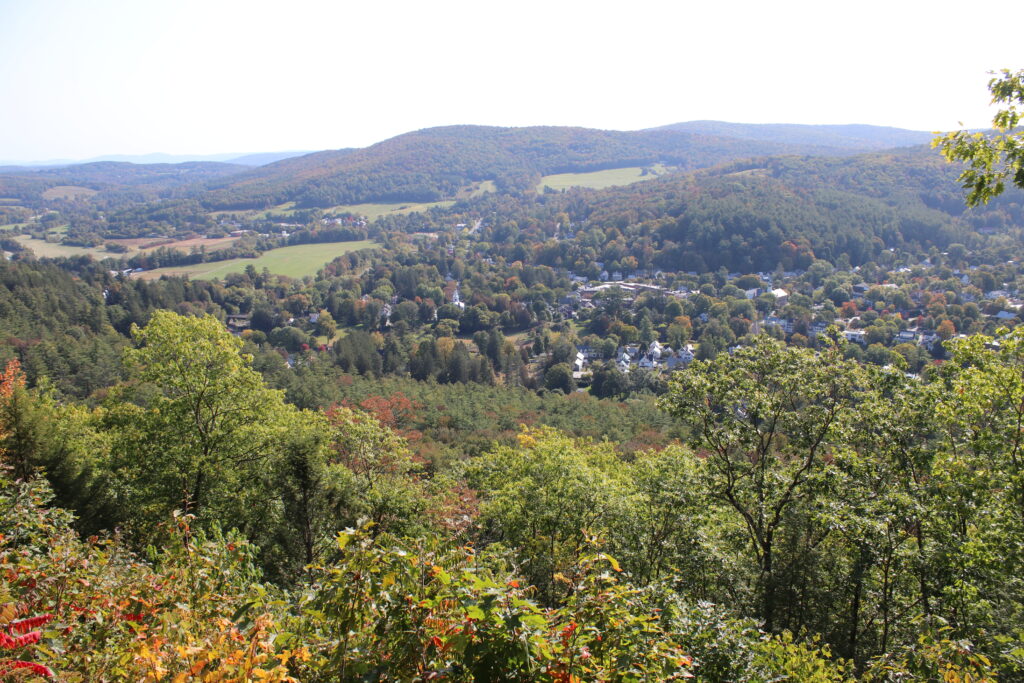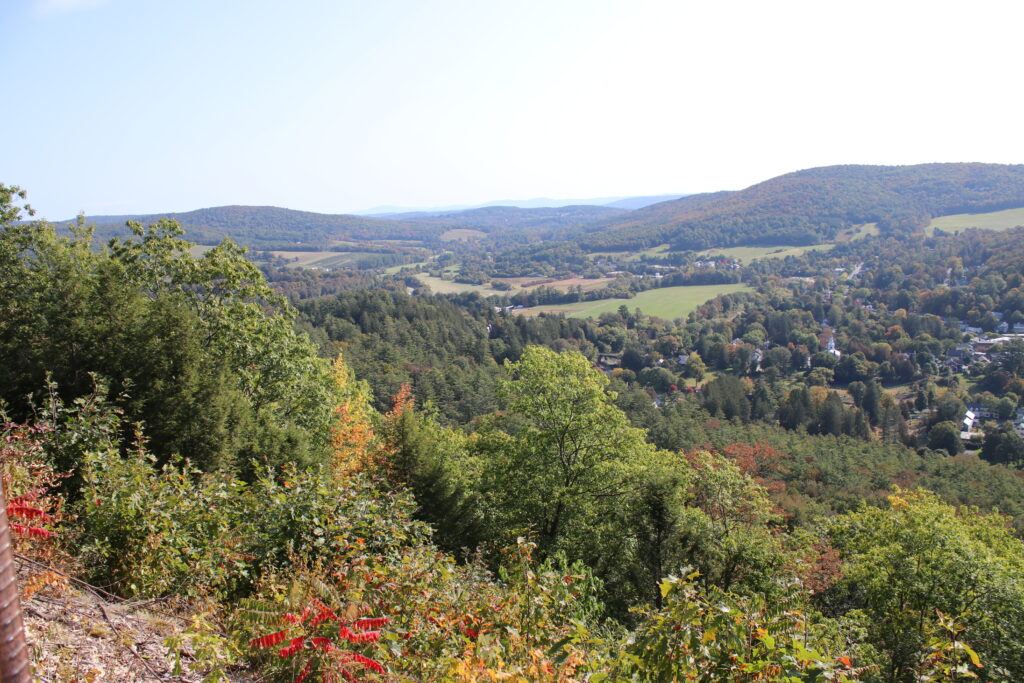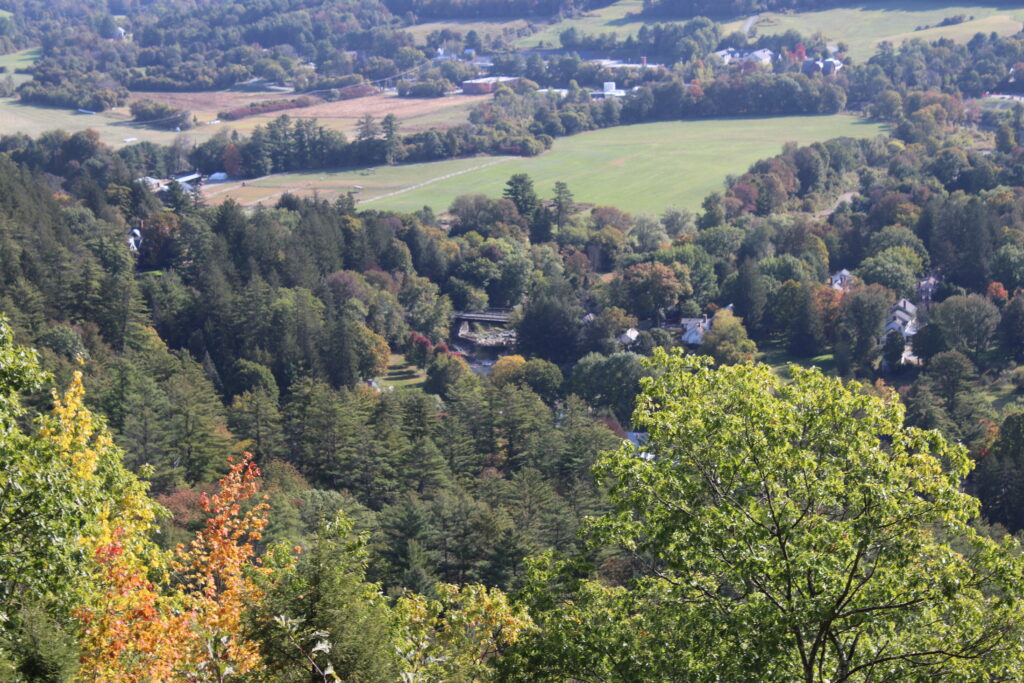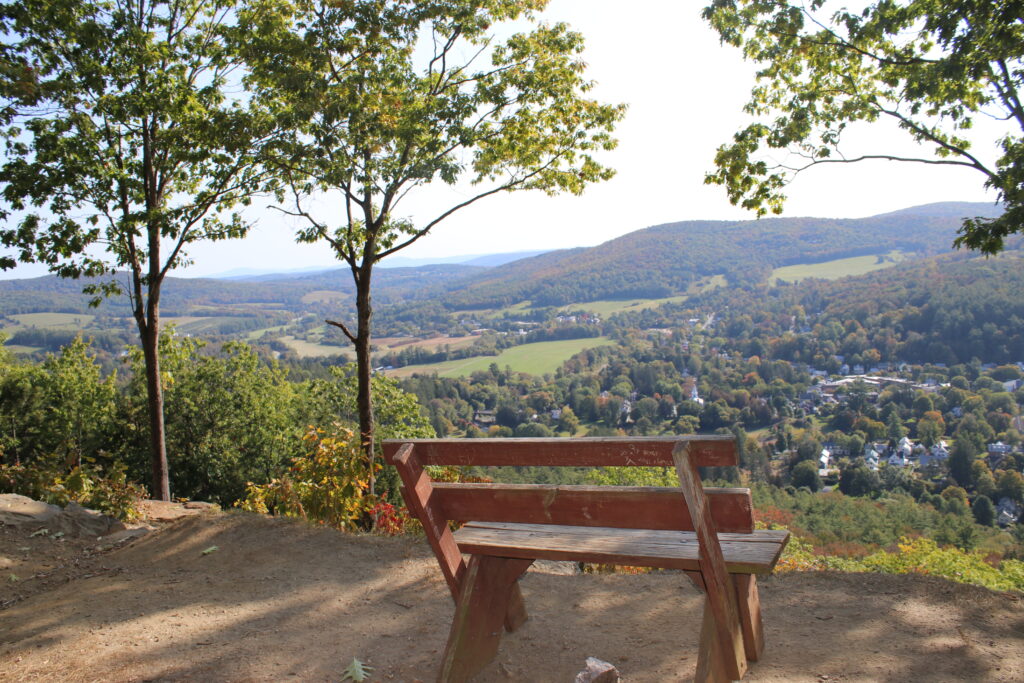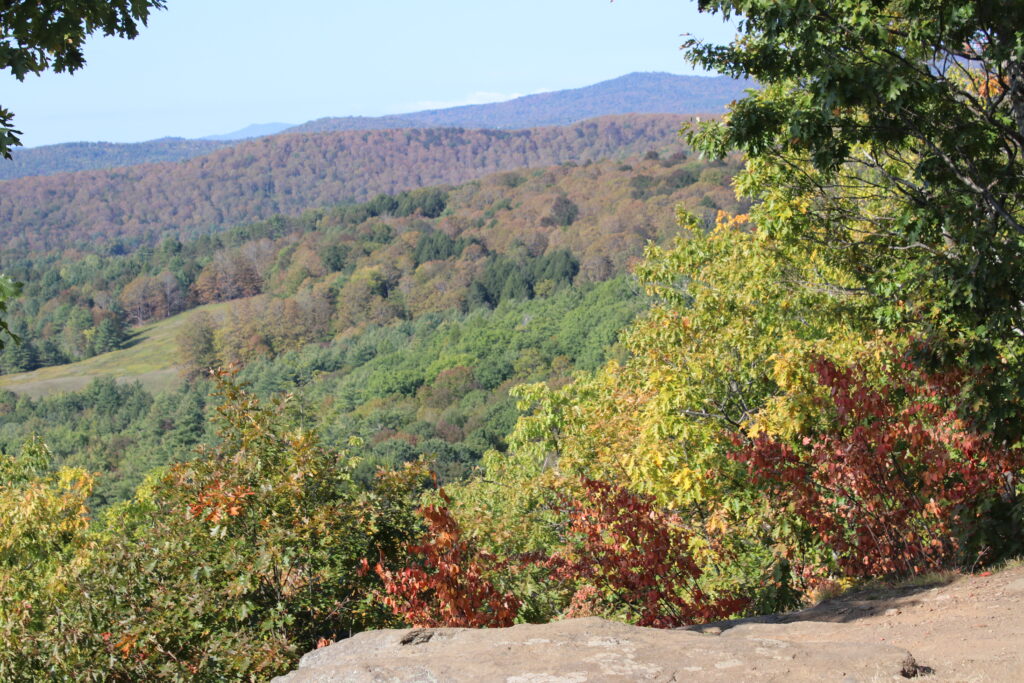 From the South Peak summit of Mount Tom, you can enter the Marsh Billings Rockefeller National Park and its amazing trails and carriage roads. There is an elaborate historic carriage road system constructed by Frederick Billings in the 1870s. The carriage roads were part of an estate plan designed by scientific farmer and landscape planner Robert Morris Copeland in 1869.
The National Park Service describes the park as –
"Nestled among the rolling hills and pastures of eastern-central Vermont, the Marsh-Billings-Rockefeller National Historical Park is the only national park to tell the story of conservation history and the evolving nature of land stewardship in America. The boyhood home of George Perkins Marsh, one of America's first conservationists, and later the home of Frederick Billings, the property was given to the American people by its most recent owners, Laurance S. and Mary F. Rockefeller. The park was created by an Act of Congress and signed into law by President George Bush on August 26, 1992. Under law, the purposes of the park are as follows:

To interpret the history and evolution of conservation stewardship in America;
To recognize and interpret the contributions and birthplace of George Perkins Marsh, pioneering environmentalist, author of Man and Nature, statesman, lawyer, and linguist;
To recognize and interpret the contributions of Frederick Billings, conservationist, pioneer in reforestation and scientific farm management, lawyer, philanthropist, and railroad builder, who extended the principles of land management introduced by Marsh;
To preserve the Marsh-Billings-Rockefeller mansion and its surrounding lands; and
To recognize the significant contributions of Julia Billings, Mary Billings French, Mary French Rockefeller, and Laurance Spelman Rockefeller in perpetuating the Marsh-Billings heritage."
Strolling around the carriage roads of Mount Tom and the national park are a delightful way to spend the day. The scenery does not disappoint.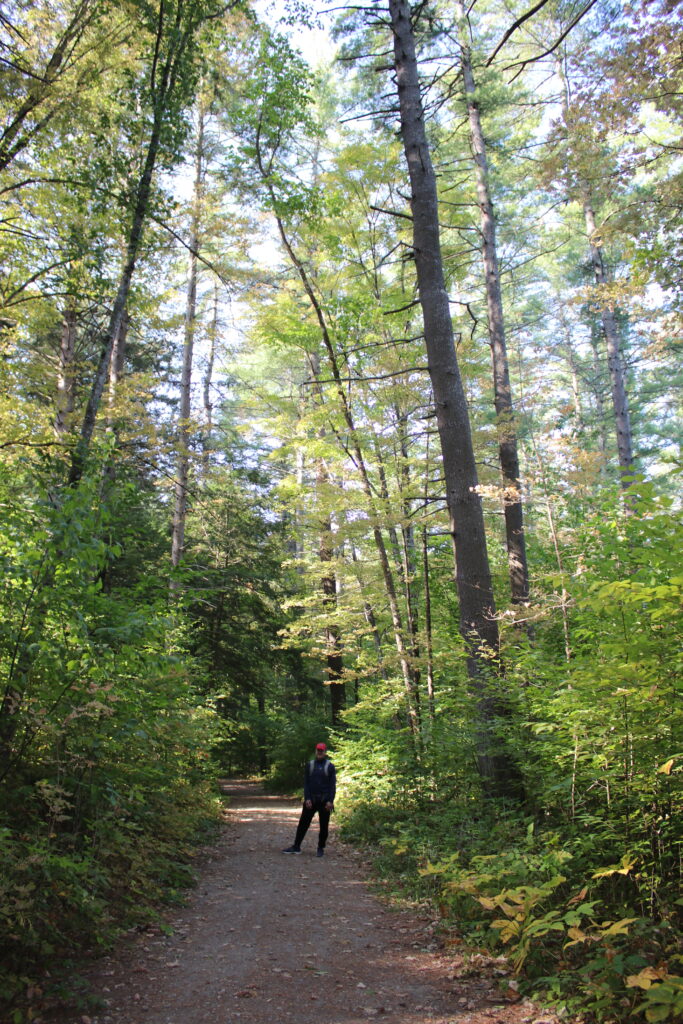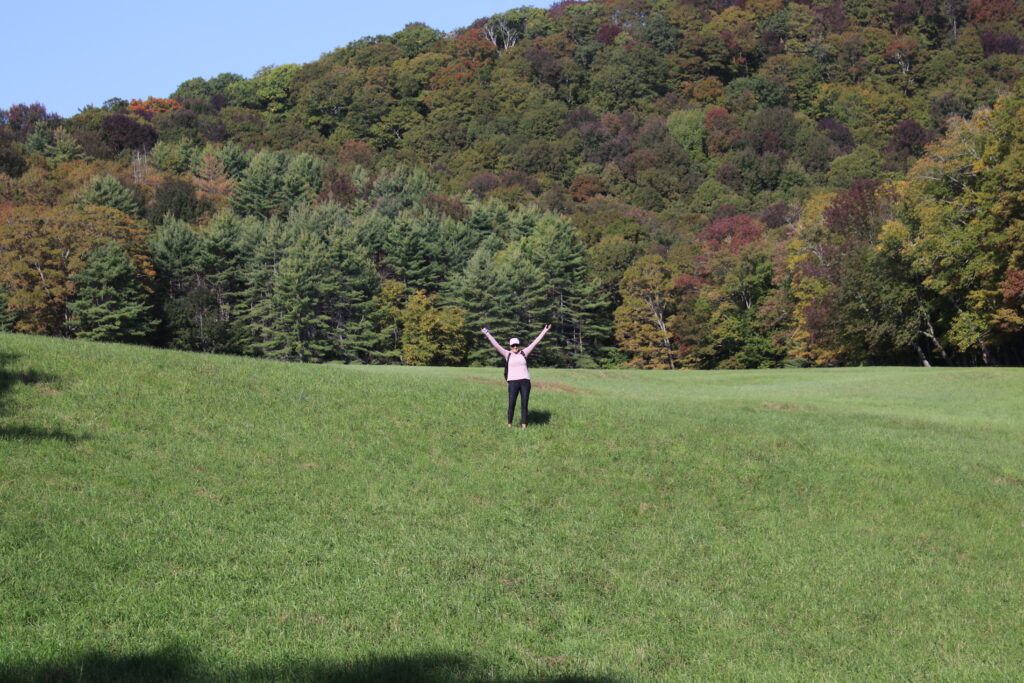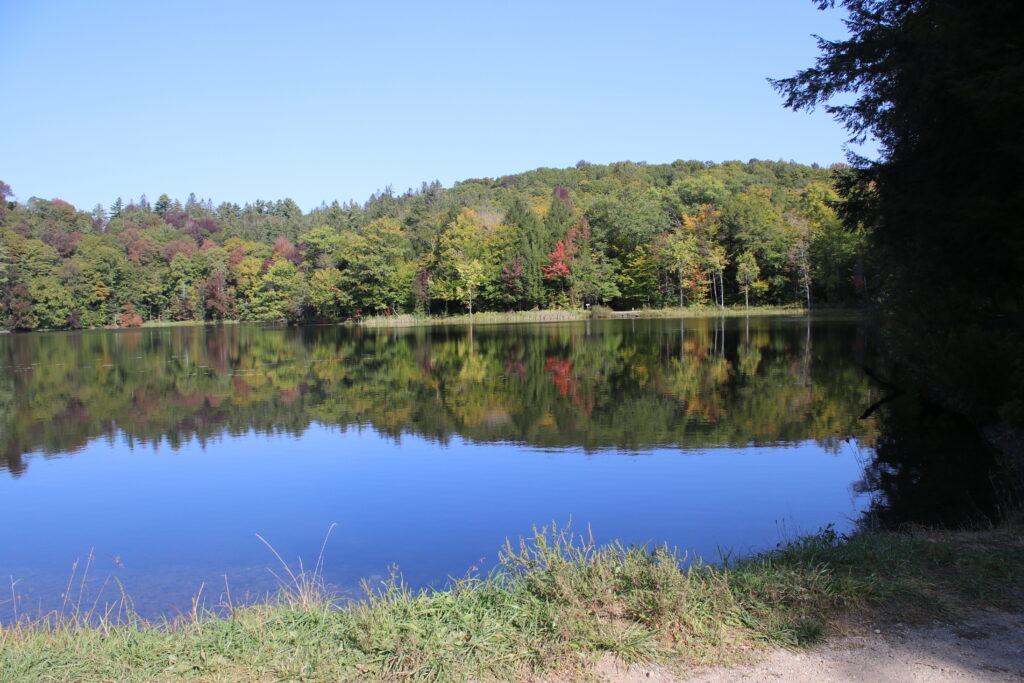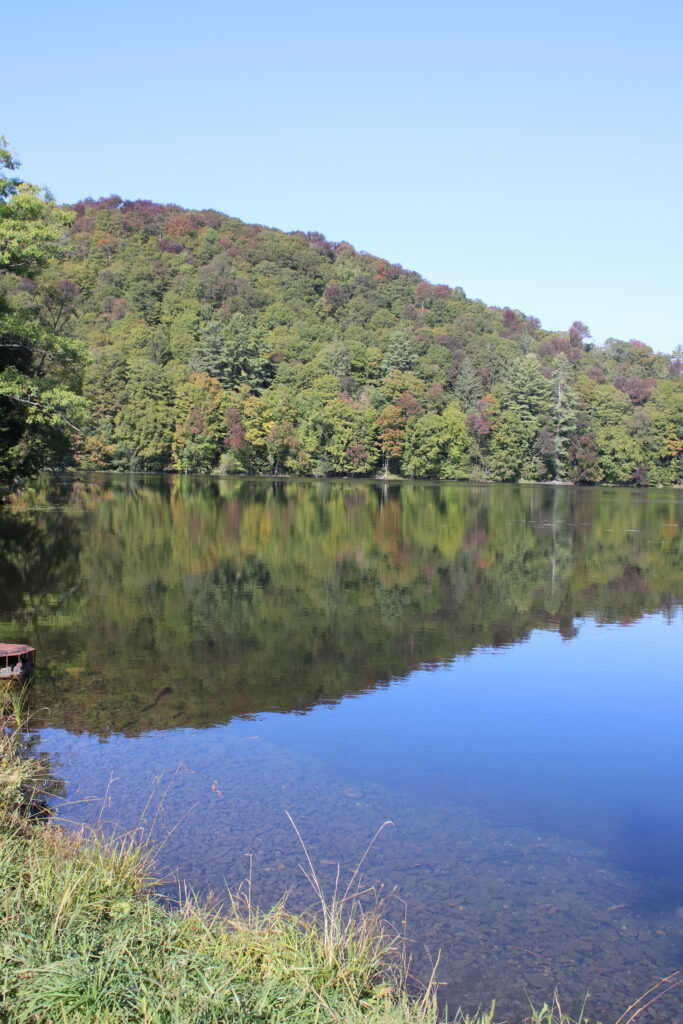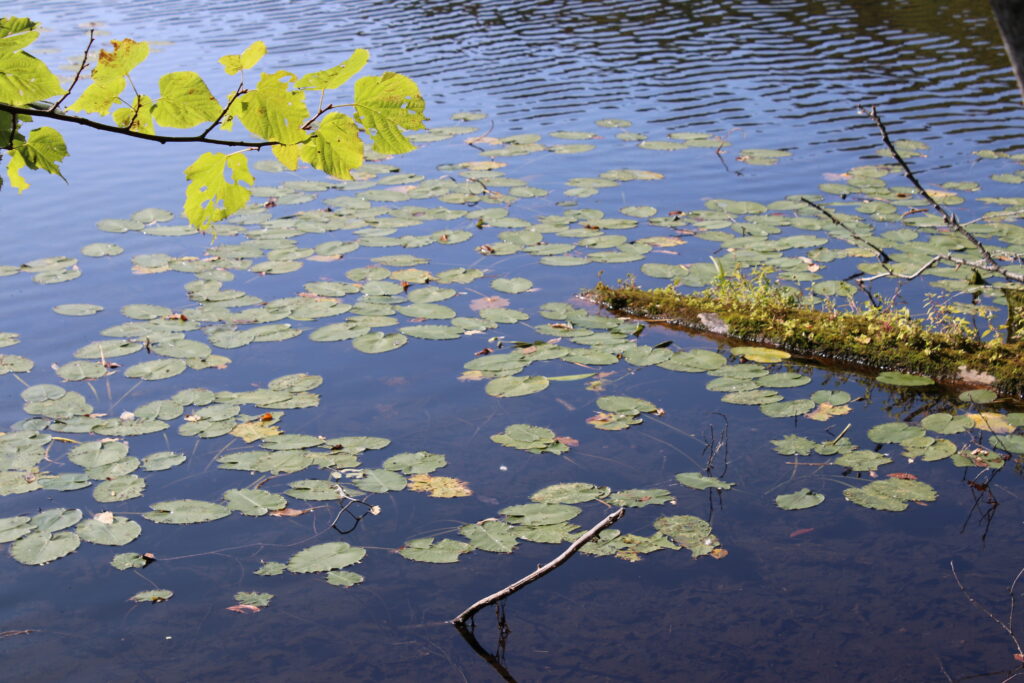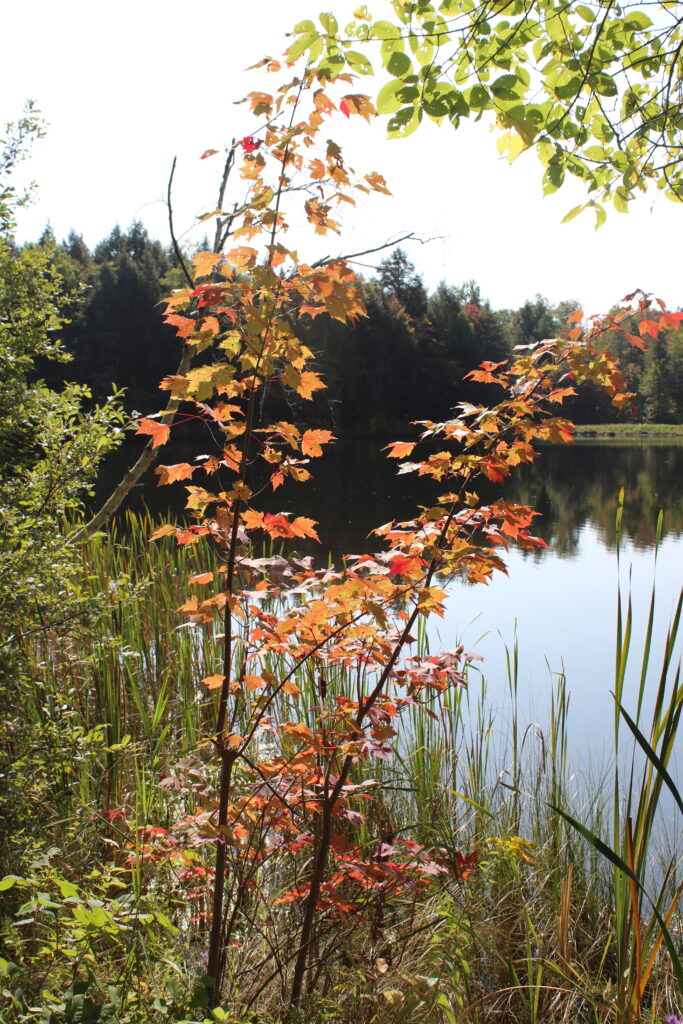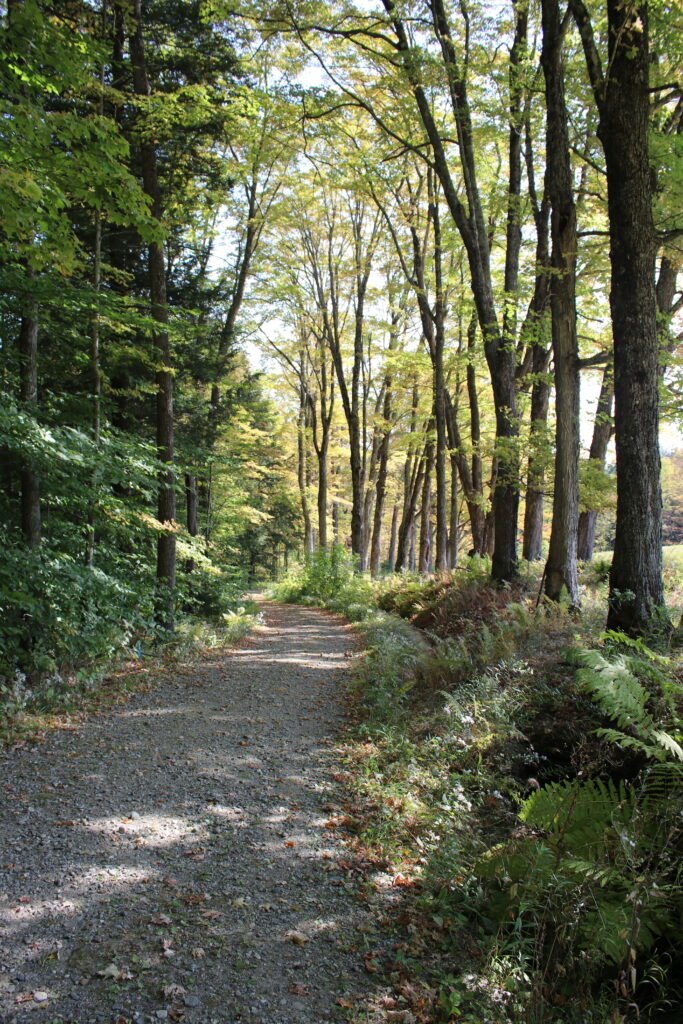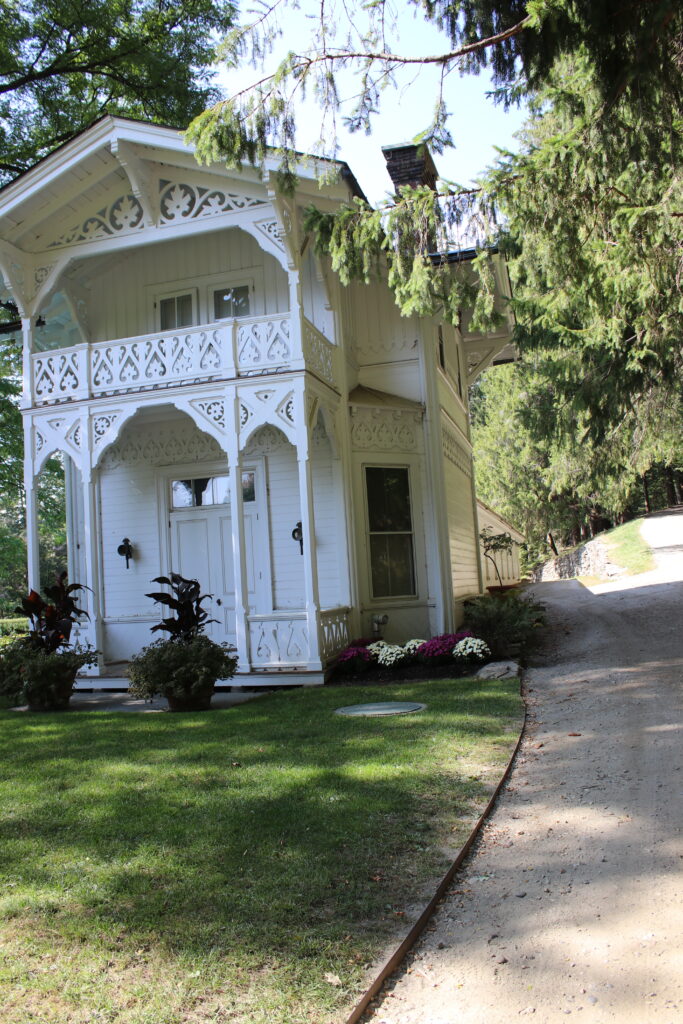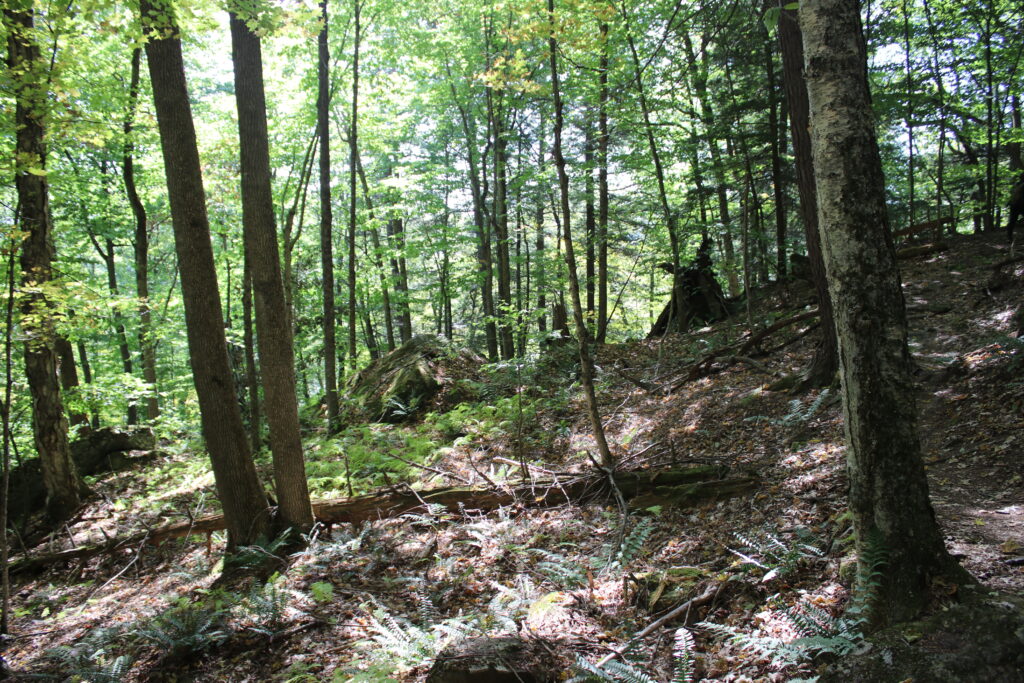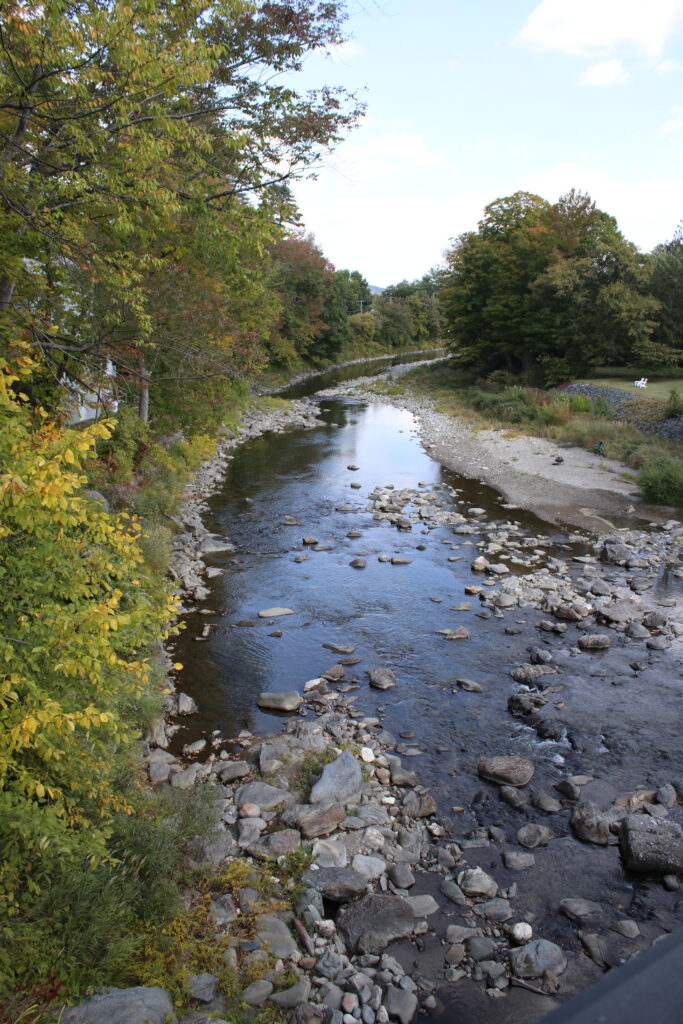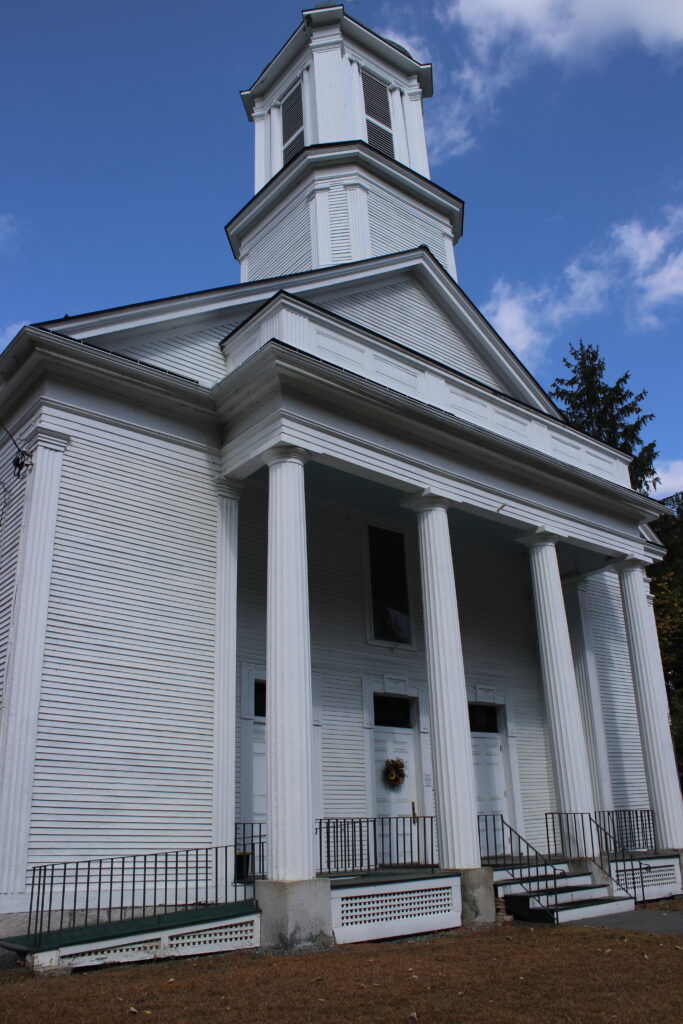 Woodstock Farmers' Market
We ended our hike with a short drive to the amazing Woodstock Farmers' Market. They practiced safe, social distancing, limited people inside and required hand washing prior to entry. Their food and sandwiches were incredible!!! This spot is great for shopping, picking up prepared food and enjoying local organic treasures from Vermont! It is a fabulous store. We ate a fantastic lunch on the porch of our inn.
Woodstock
Jim had to do a work call after lunch so Michele strolled around the quintessentially cute town of Woodstock. She popped into shops, bought her Christmas ornament (we buy one from every trip) and enjoyed the foliage. Woodstock is picture perfect 365 days a year.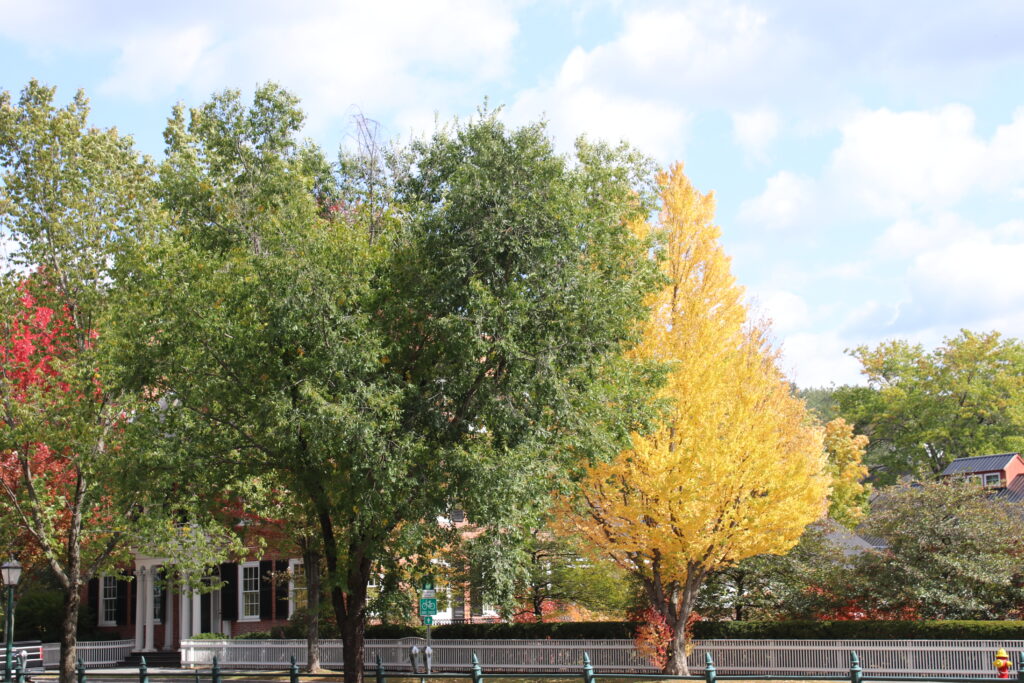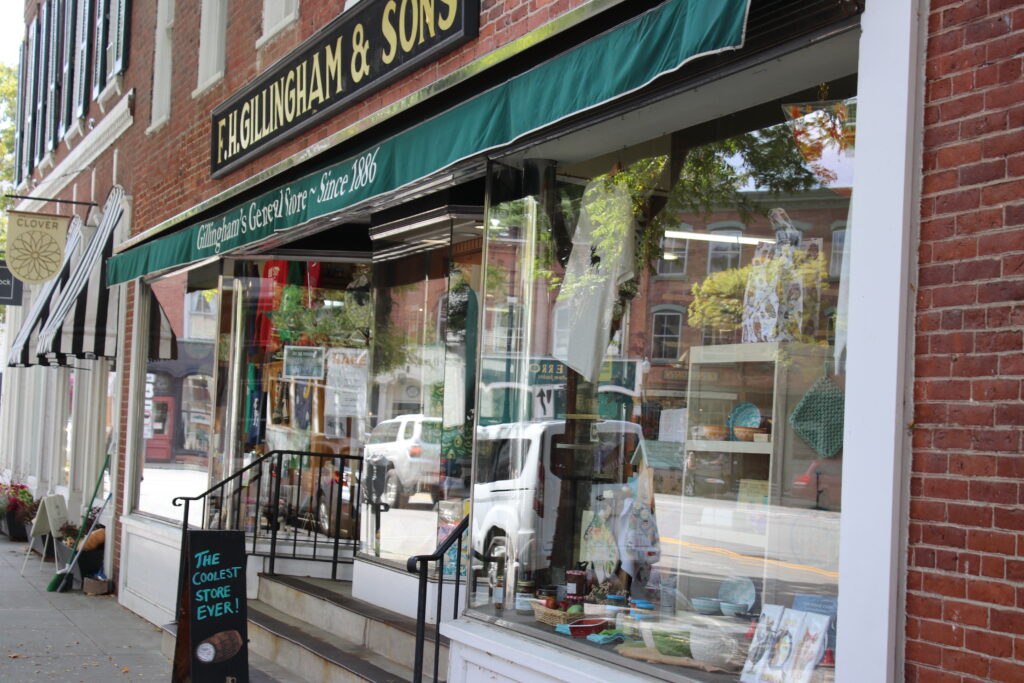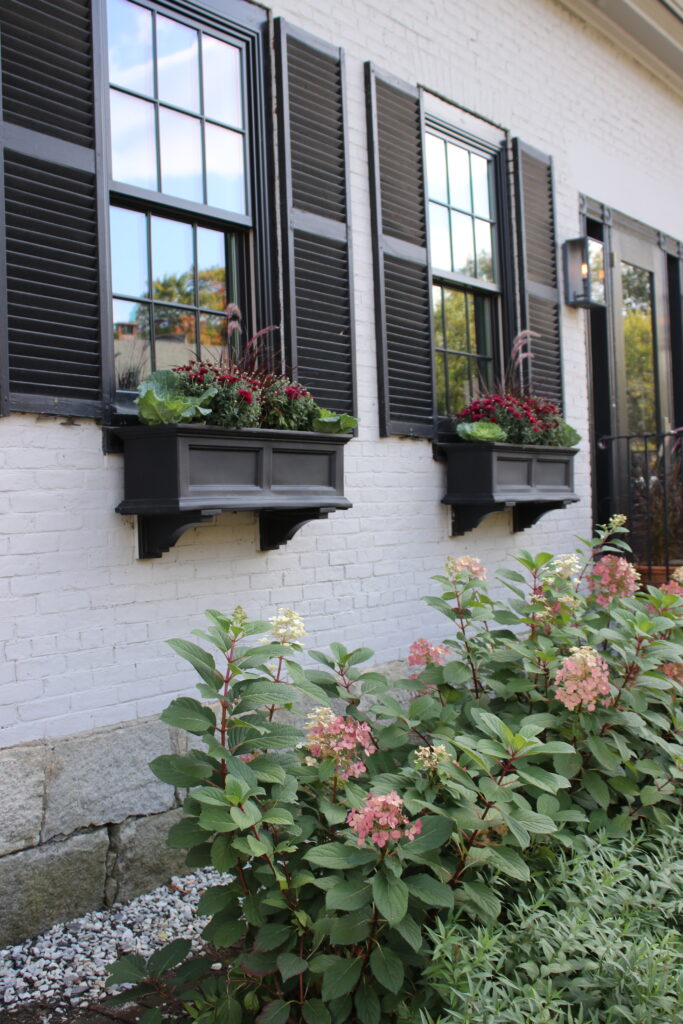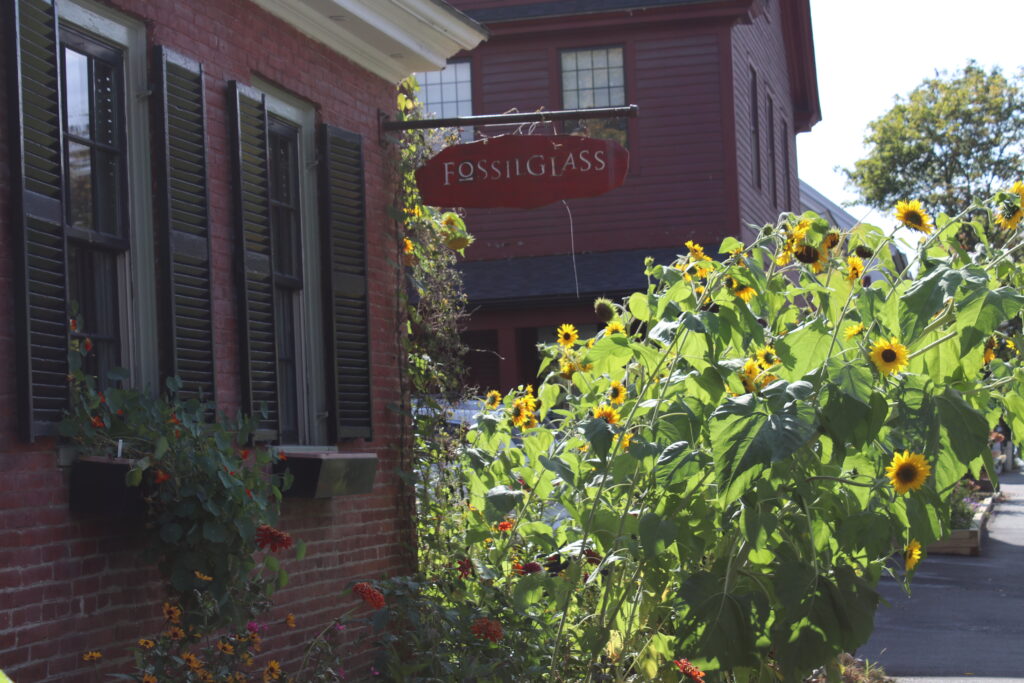 Quechee
Quechee is a few miles from Woodstock. It is not really a town. There is a gorgeous covered bridge. A large resort, pool, small ski area and golf course is close by.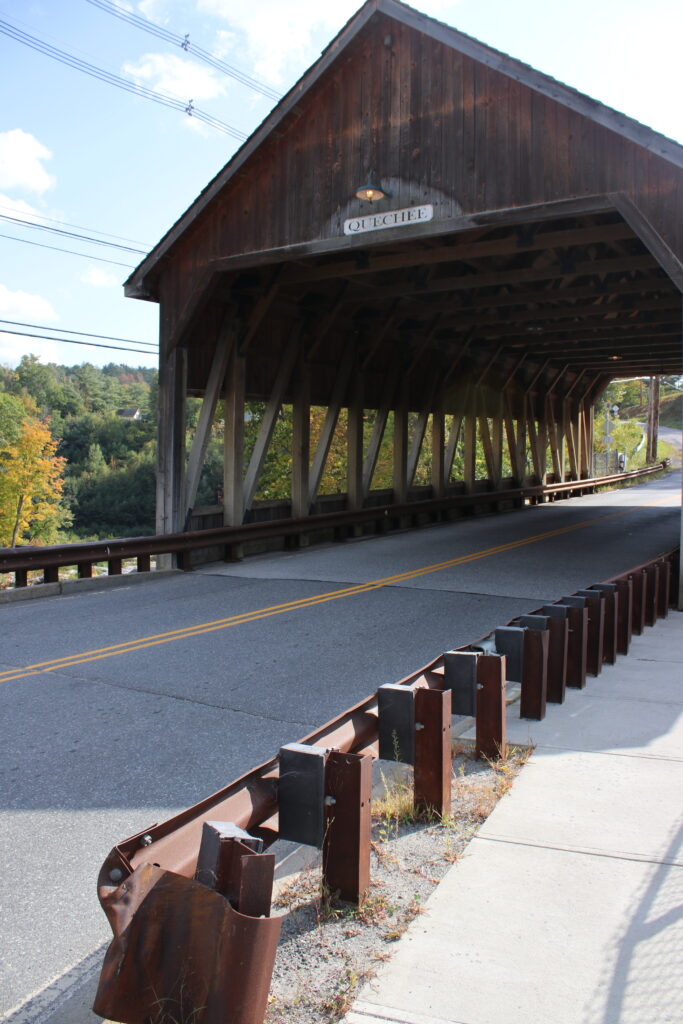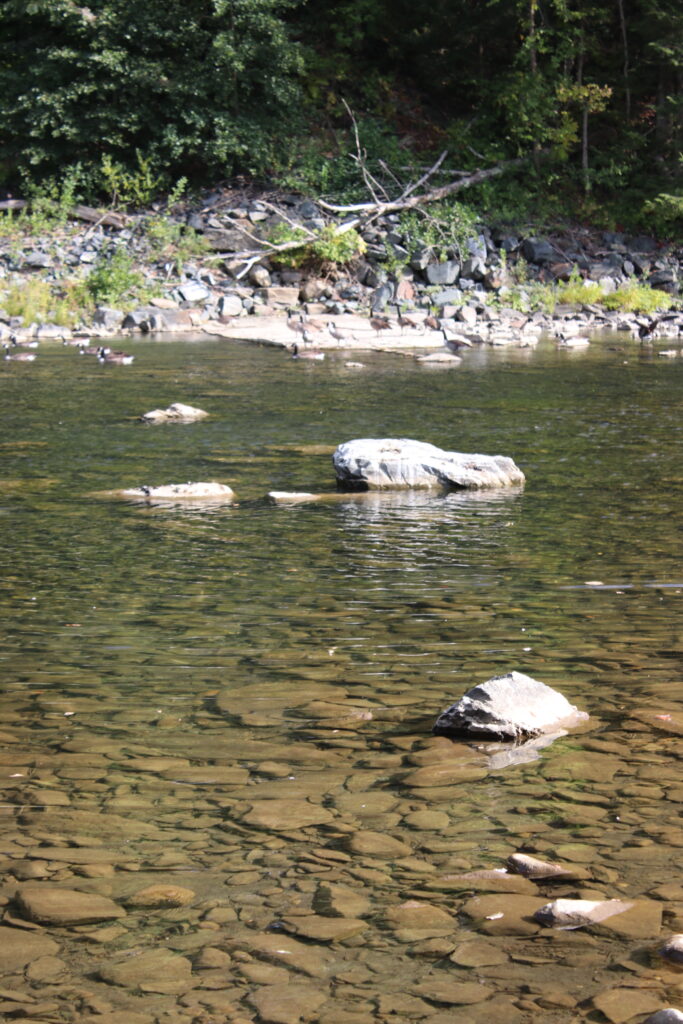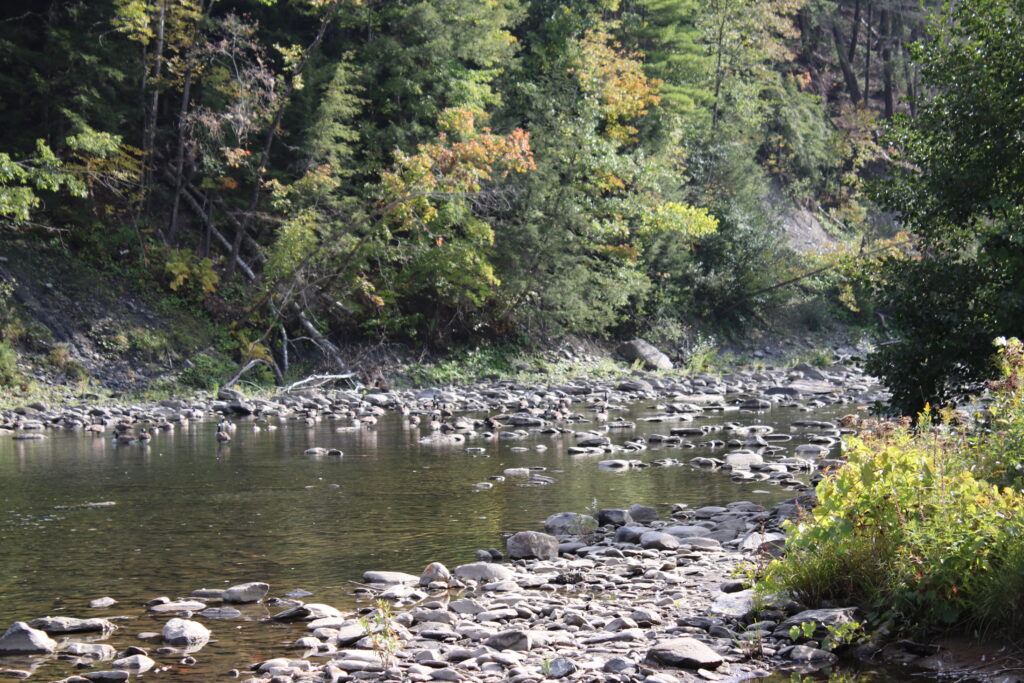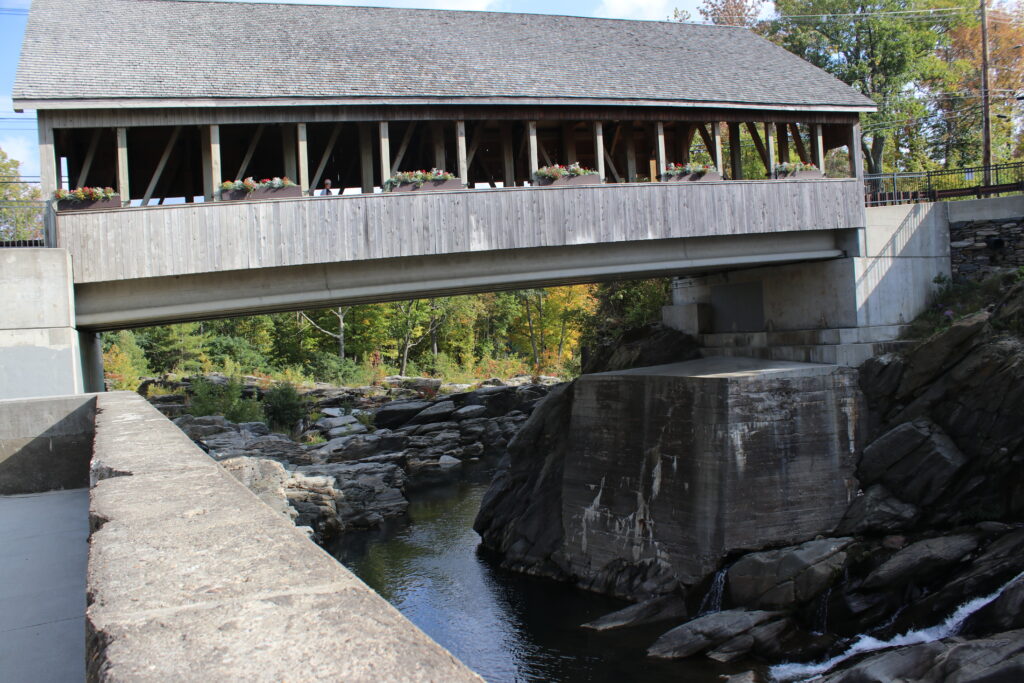 Simon Pearce, Quechee
What makes Quechee so famous is the Simon Pearce factory and restaurant. Simon Pearce is a glasswares company. In non-covid times, you can take a tour of their glass blowing operations. The tour was closed because of covid. However, we did do some shopping. Their glasswares are gorgeous, truly stunning.
The Simon Pearce restaurant is spectacular. The food is top-notch and the views of the river are gorgeous. Try to go during when you can enjoy the view. We ate an incredibly delicious dinner here. We HIGHLY recommend this spot.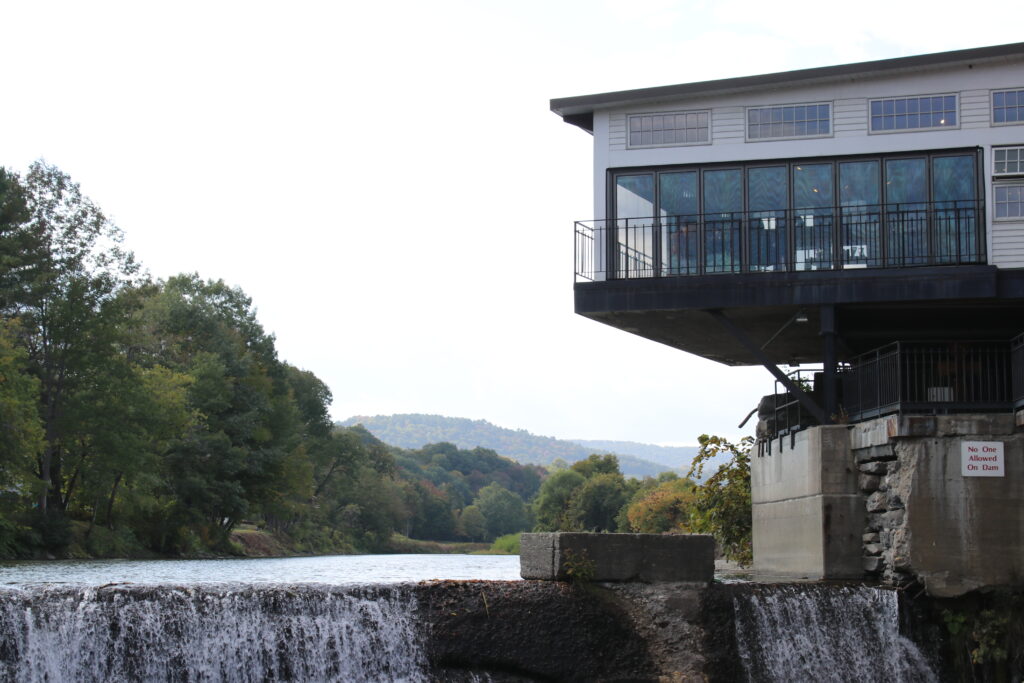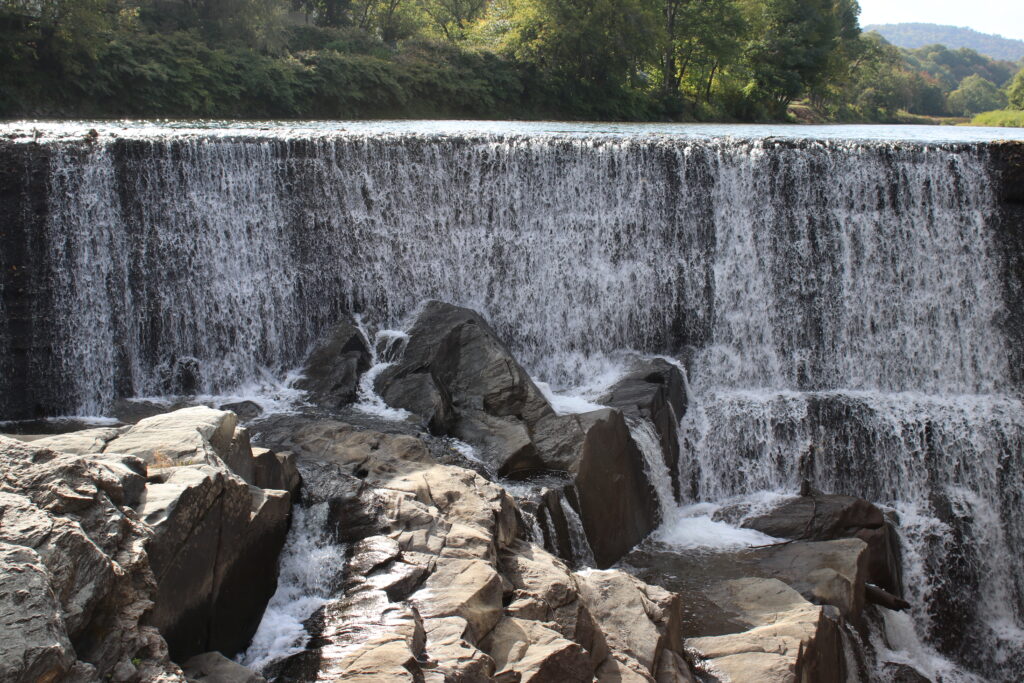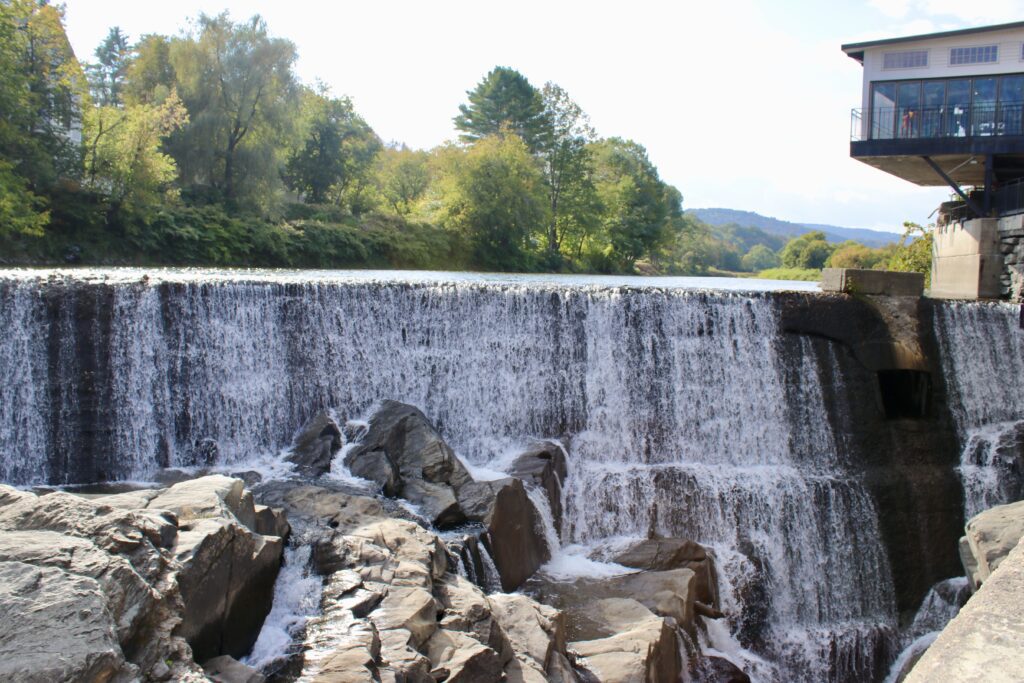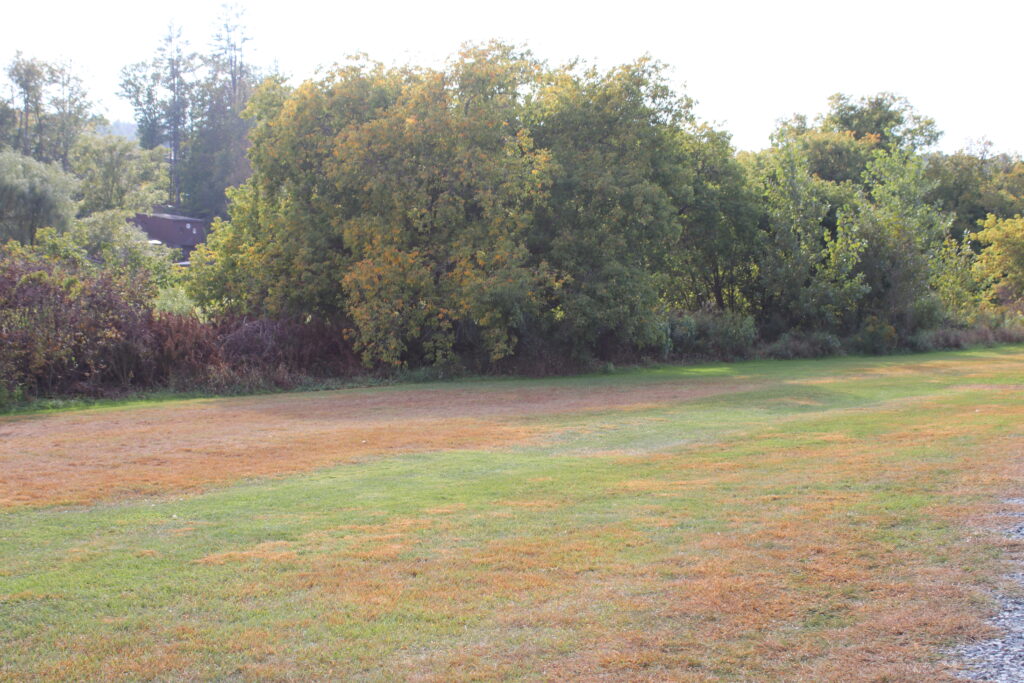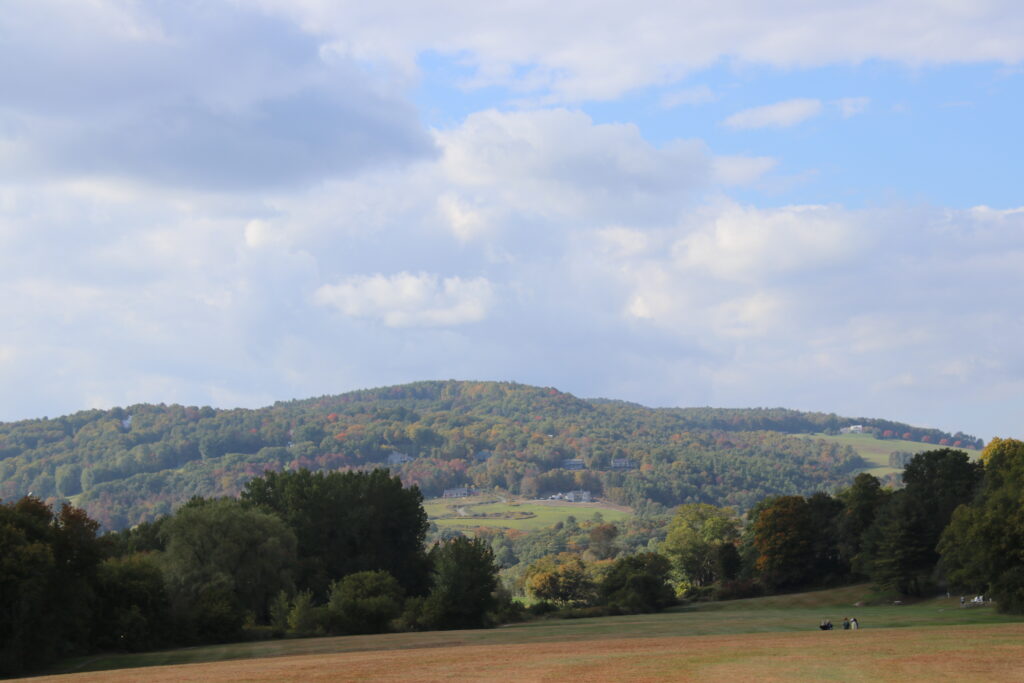 Mount Olga and Hogback Ski Area, Wilmington
After eating another sensational breakfast at The Blue Horse Inn, we drove the "long way" from Woodstock to Molly Stark State Park outside of Wilmington. We chose to do the Mount Olga loop. There is a fire tower at the top and you will see the remains of the old Hogback Ski Area. It was a moderate loop. For truly fantastic views, climb the fire tower. We were way to scared as it was creaky! We paid the $4/person admission fee at the state park, but there are other spots to park that will allow you to avoid this fee. Use AllTrails for more information. We enjoyed our hike.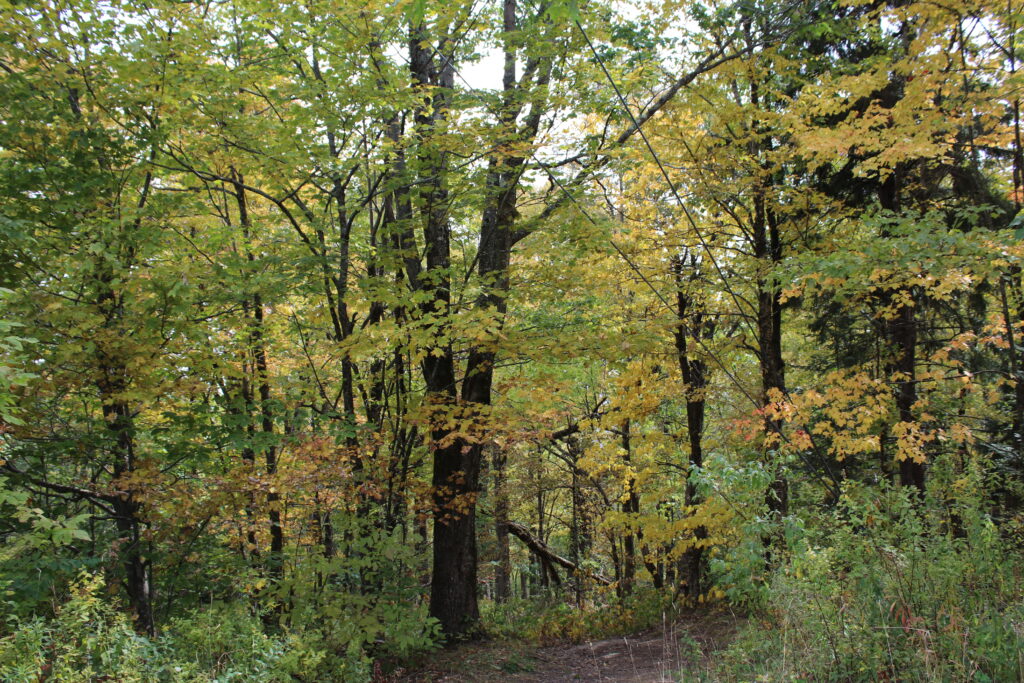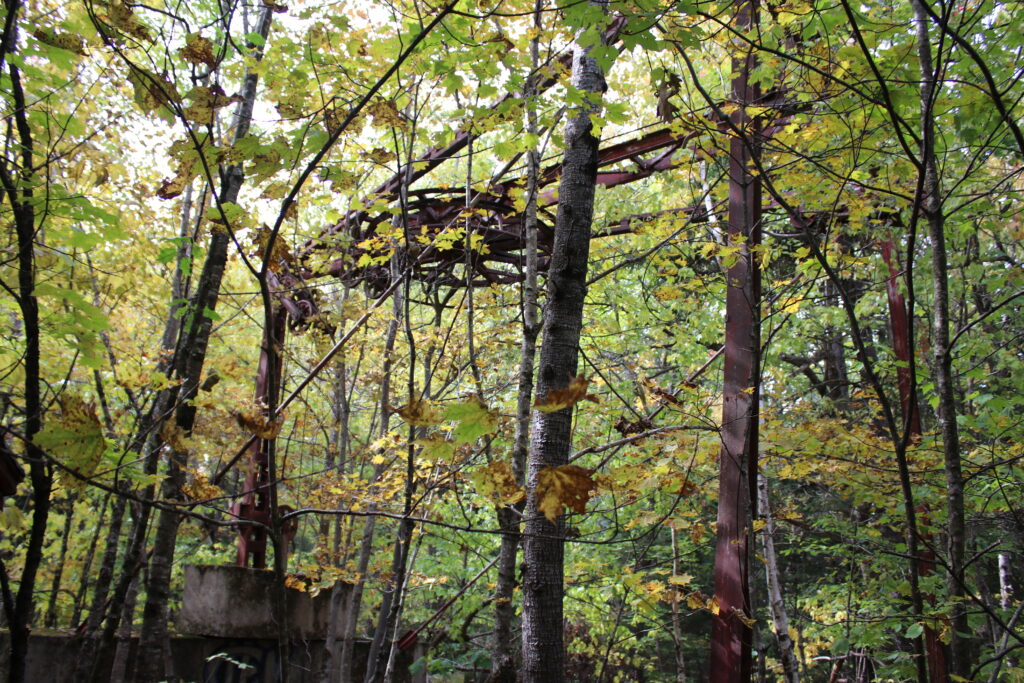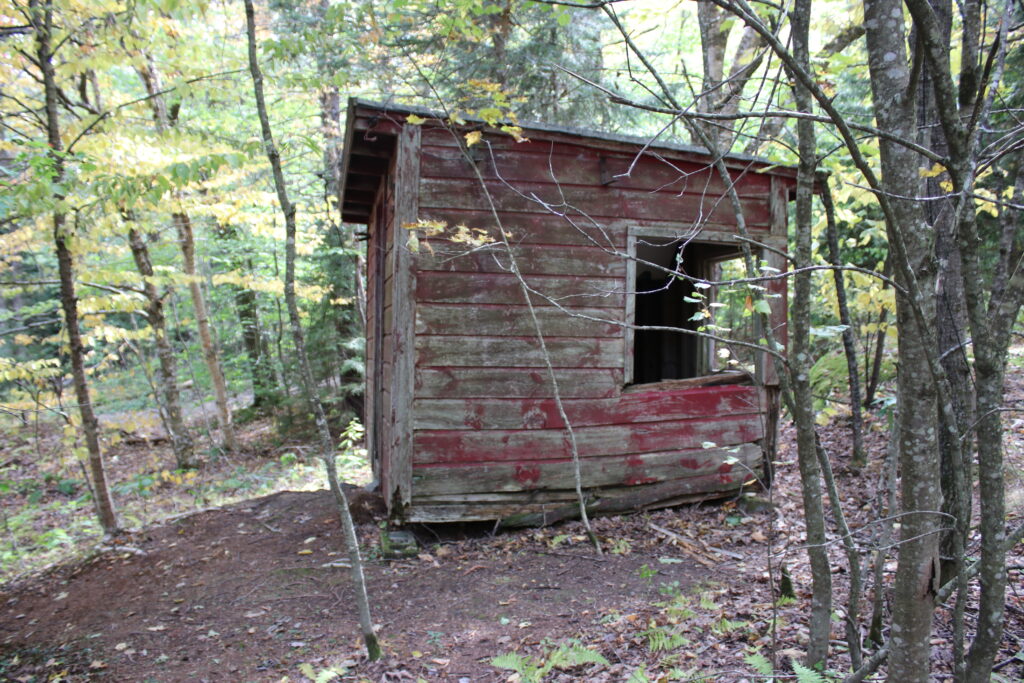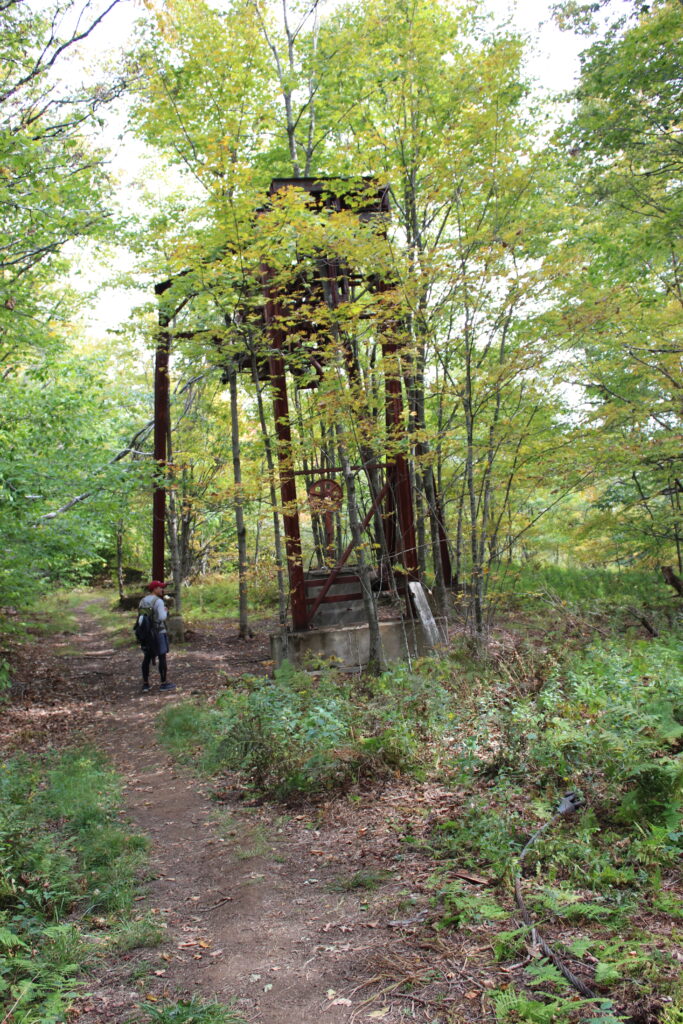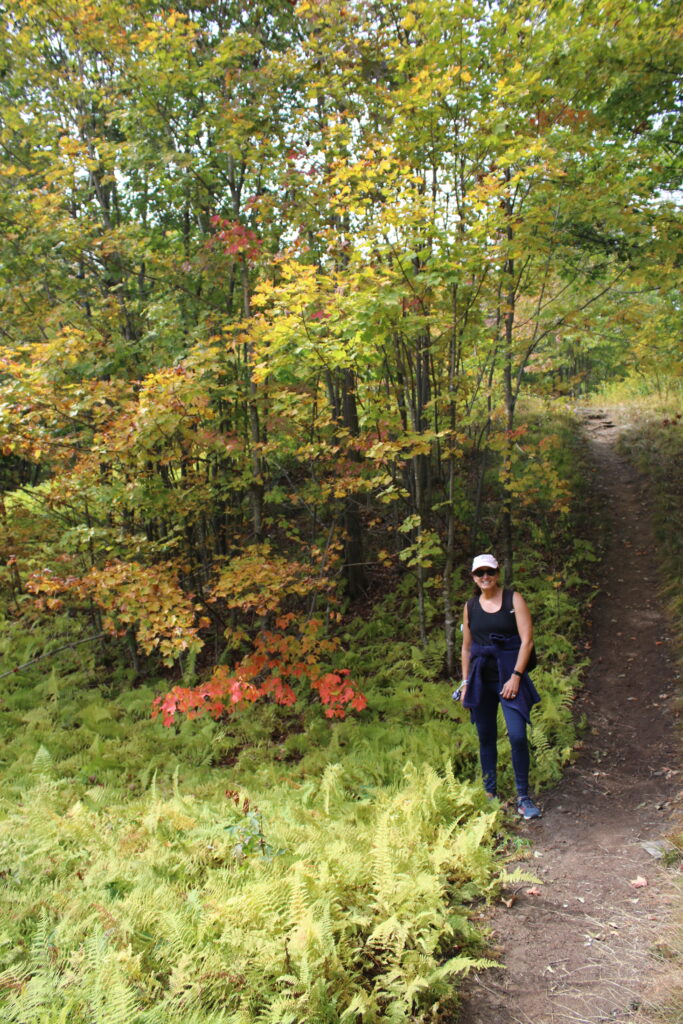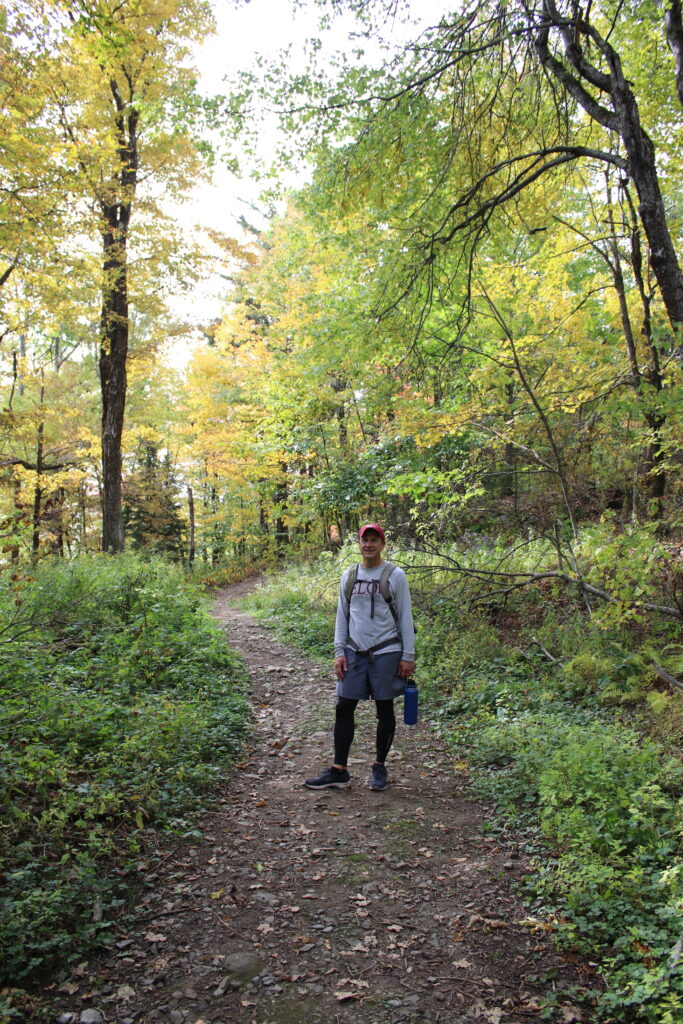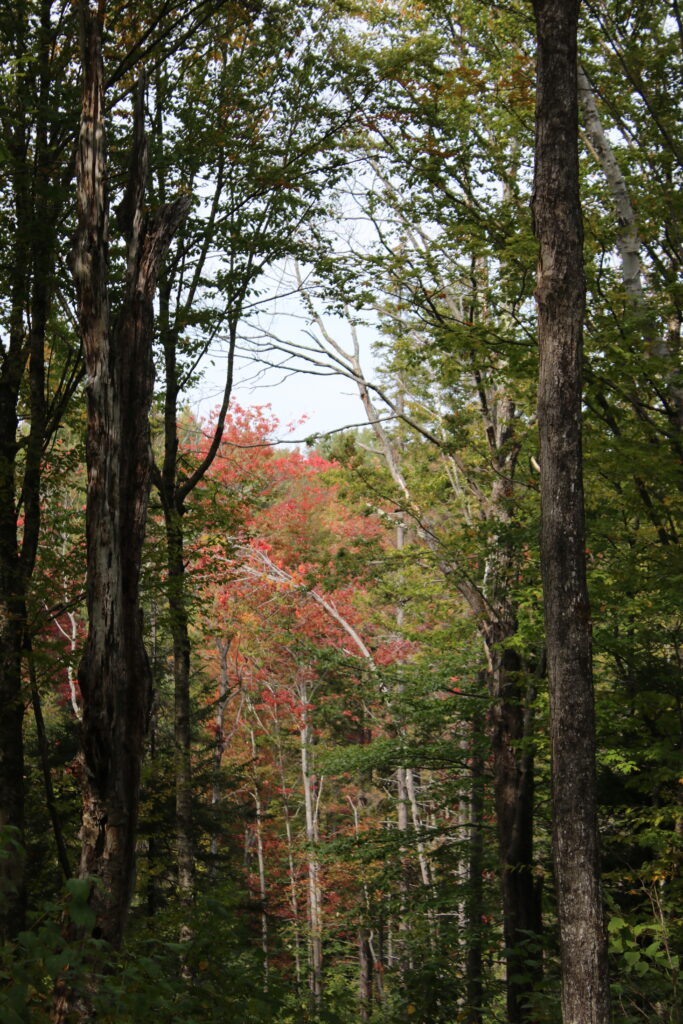 Beer Naked Brewery, Wilmington
We were thirsty after our hike, so we drove to Beer Naked Brewery. This is a must stop spot! Either stop at the Brewery or at the Hogback Mountain Country Store across the street on the top of Hogback Mountain.
We ate salads outside, had waters and beer and enjoyed the amazing fall foliage. They brewery is knows for its pizza, which looked amazing. However, we were still full from our breakfast at the inn! You can literally see for hundreds of miles on a clear day. We loved it here.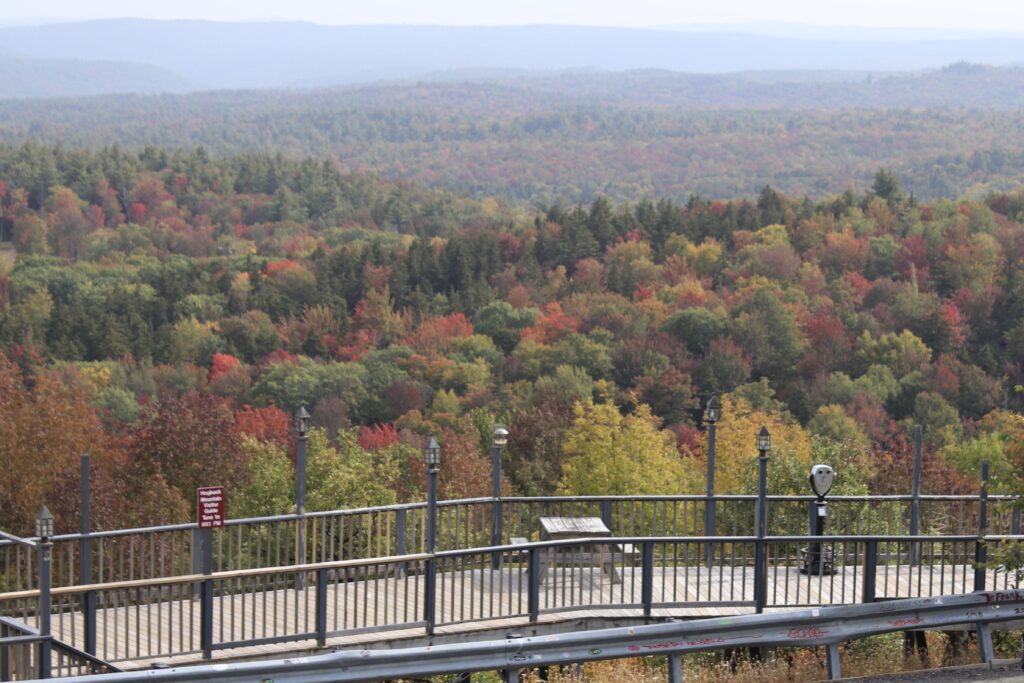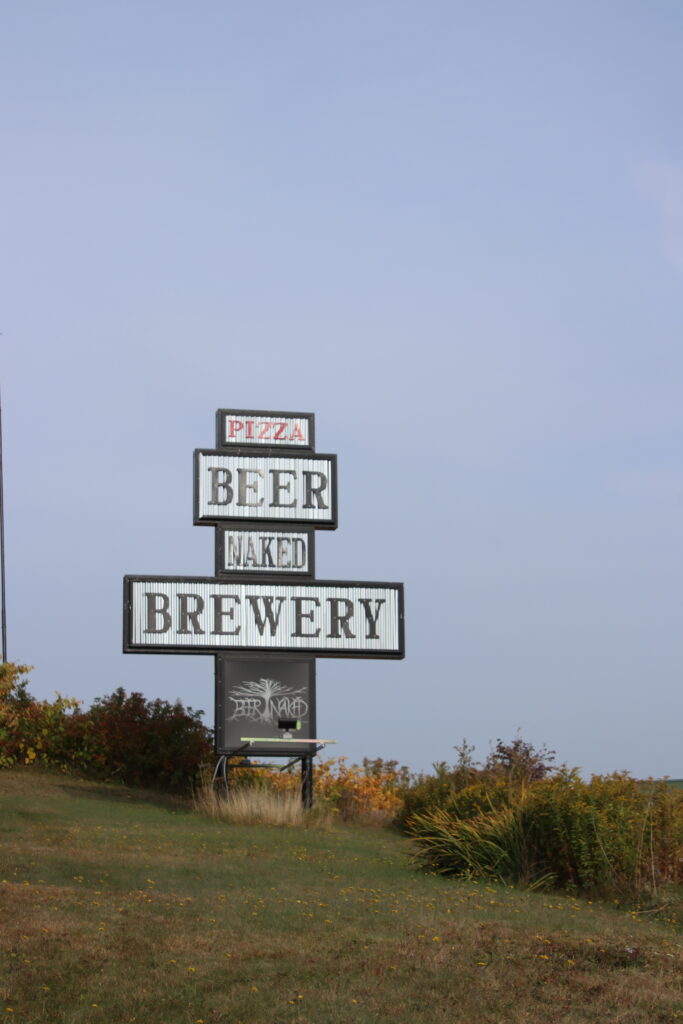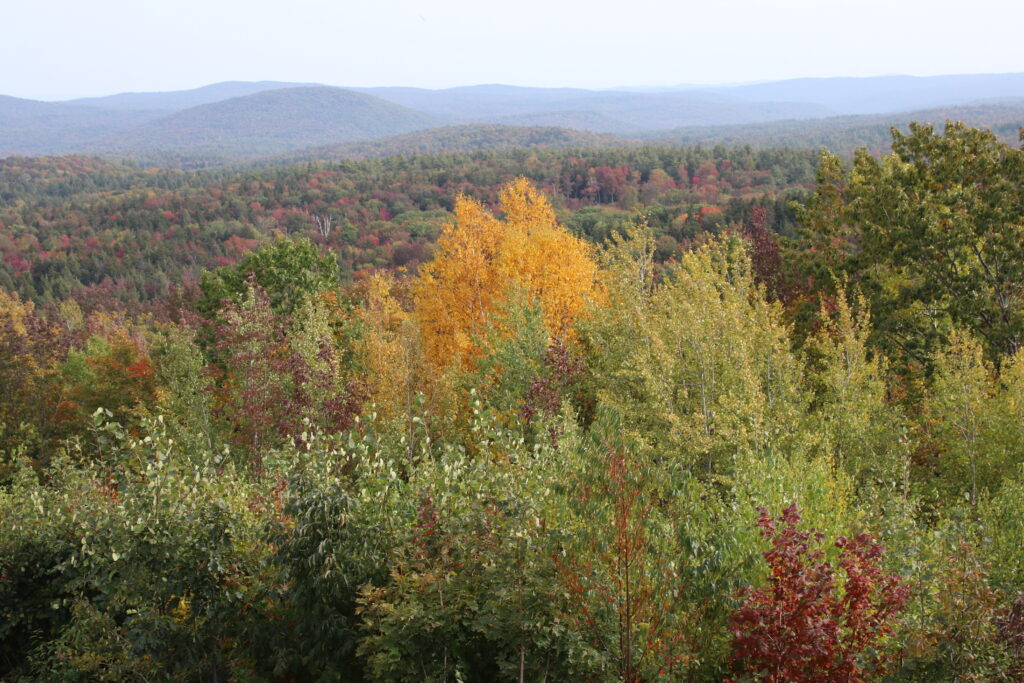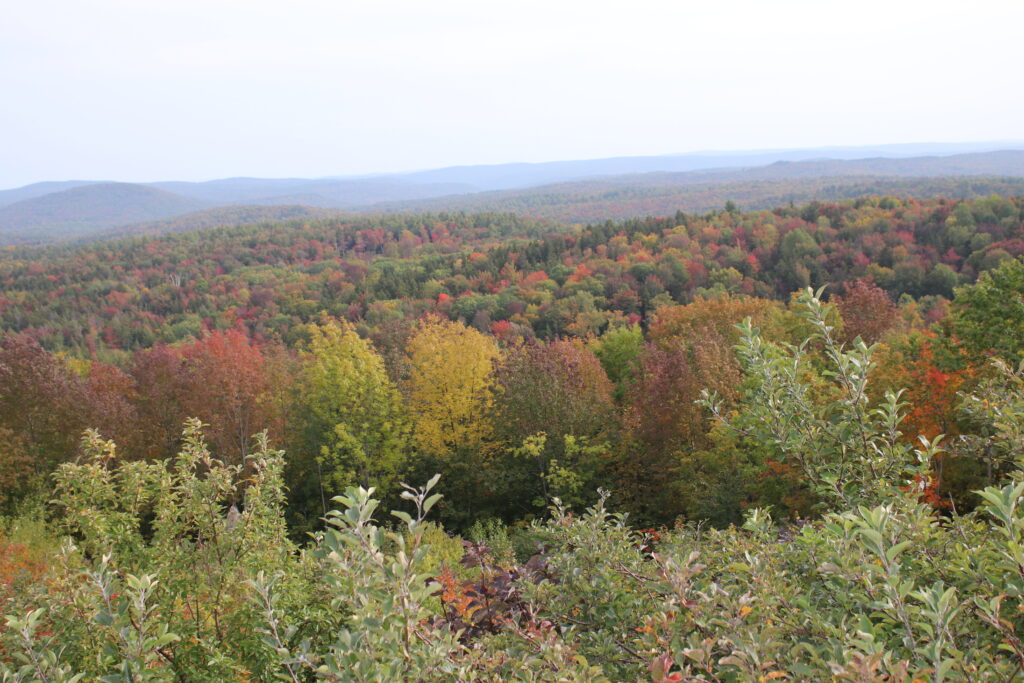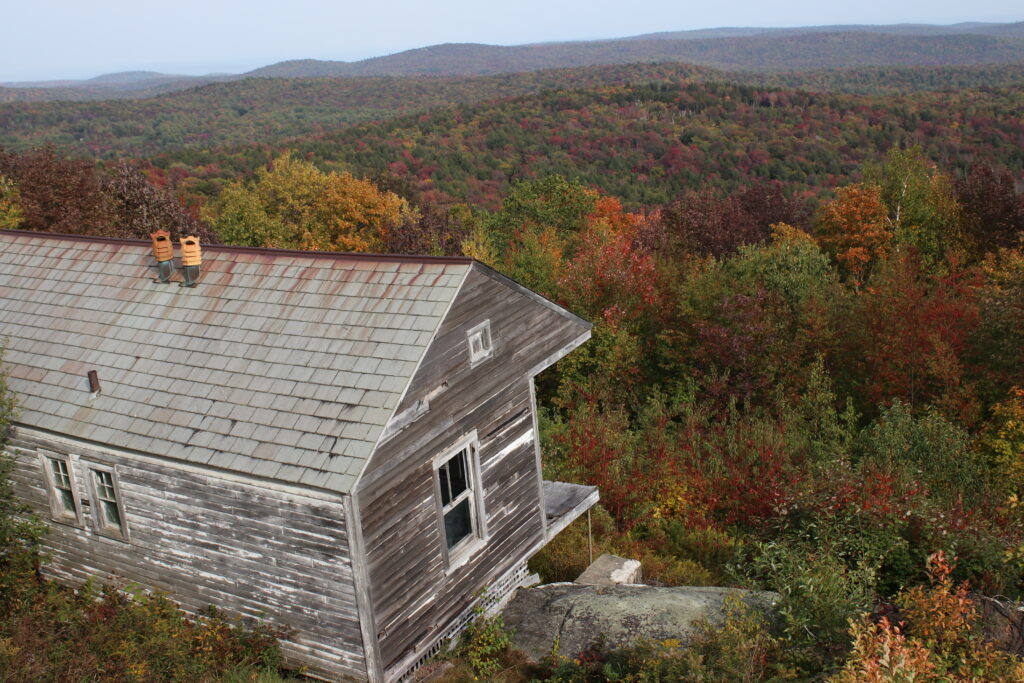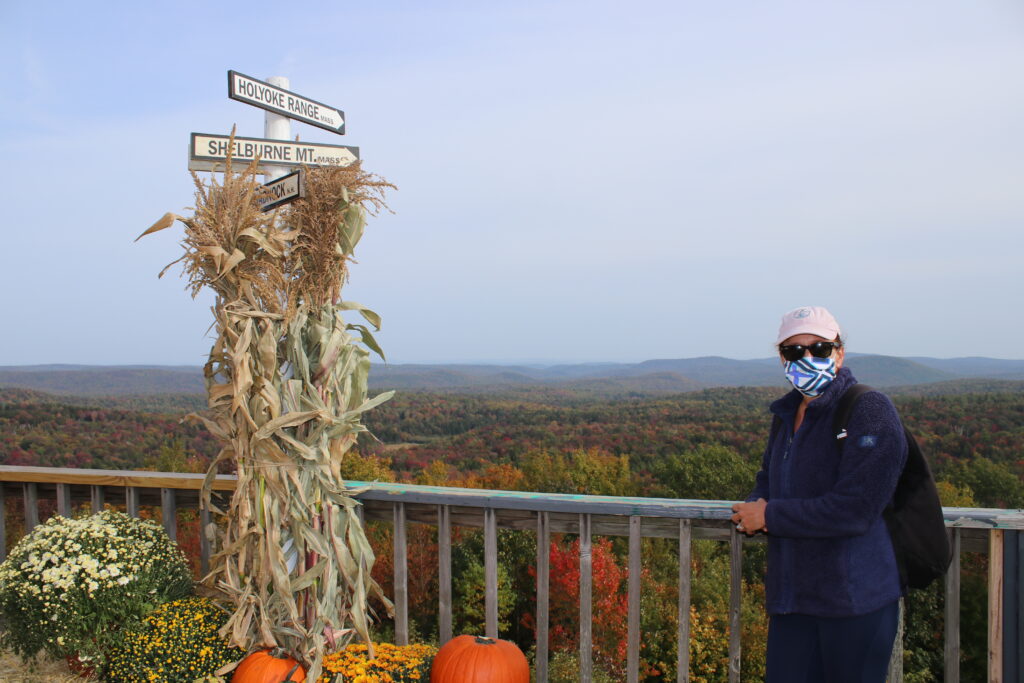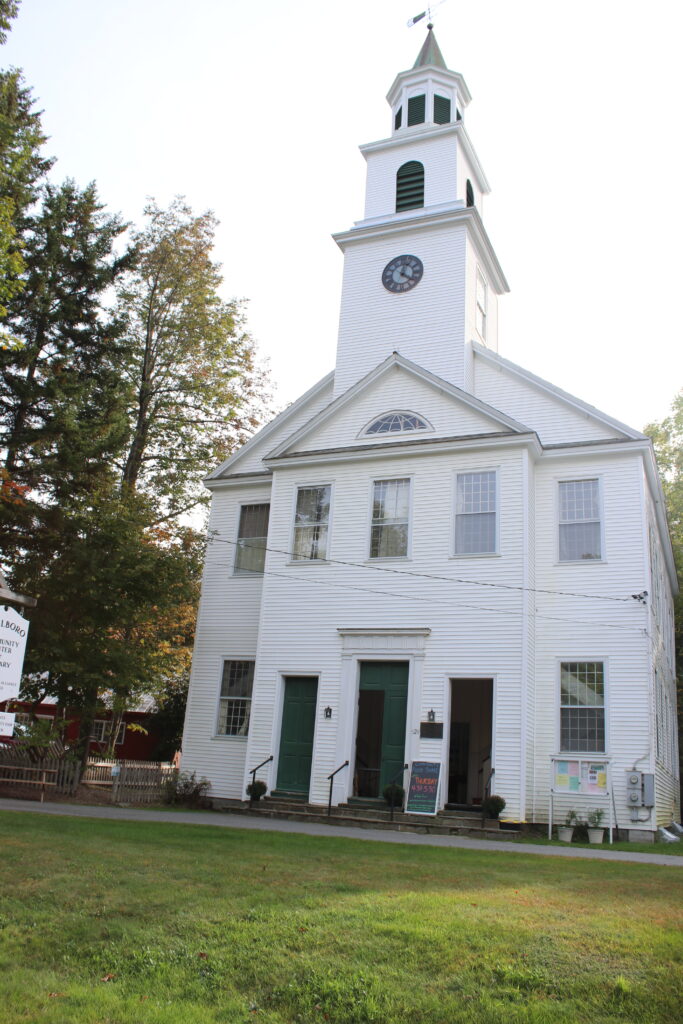 La Casita, Wilmington
We chose to stay in the cute town of Wilmington, Vermont. We checked into the Nutmeg Inn, which we do not recommend. It is in desperate need of an update. It was spotlessly clean, but it was lost in 1972. We were the only guests in the time of covid. The owner was pleasant and the packaged breakfast was good.
We ate at the delightful La Casita right in the main area of Wilmington. They had the very best carne asada we have ever had! Insanely delicious. Great vibe. We bet the vibe is even better when it is not the time of covid! Trip Advisor reviews are strong.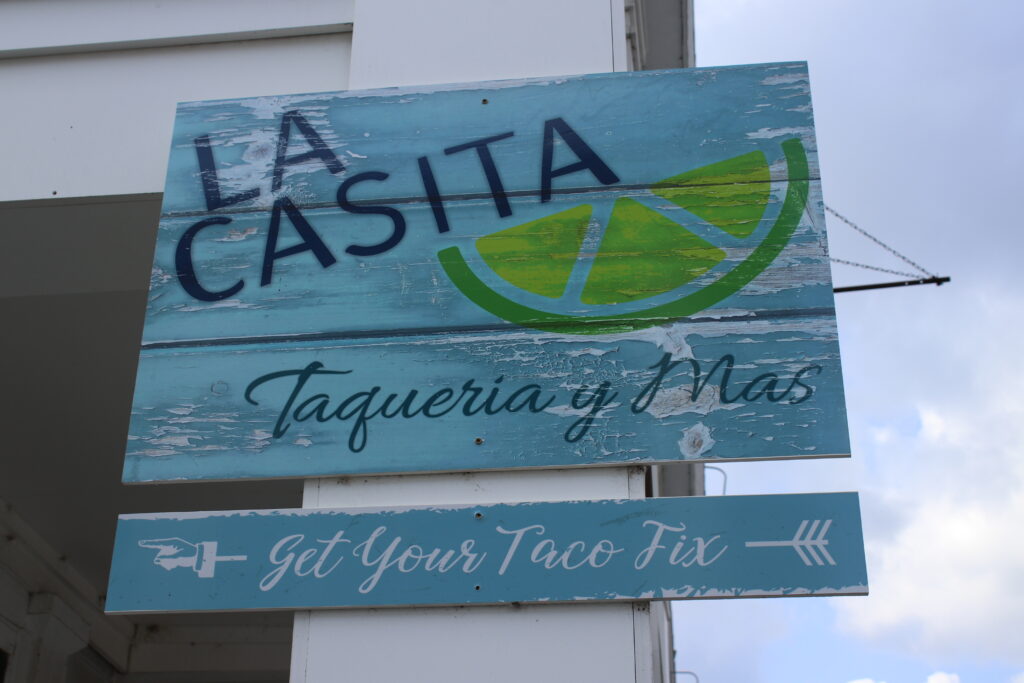 Haystack Mountain
We set out for a two hour round trip hike to the top of Haystack Mountain. It was a moderate hike with lovely views at the top. You can continue on to the top of Mount Snow, but we had to be in Boston by 5:30. This delightful hike should be on the top of your list if you visit Wilmington in the fall.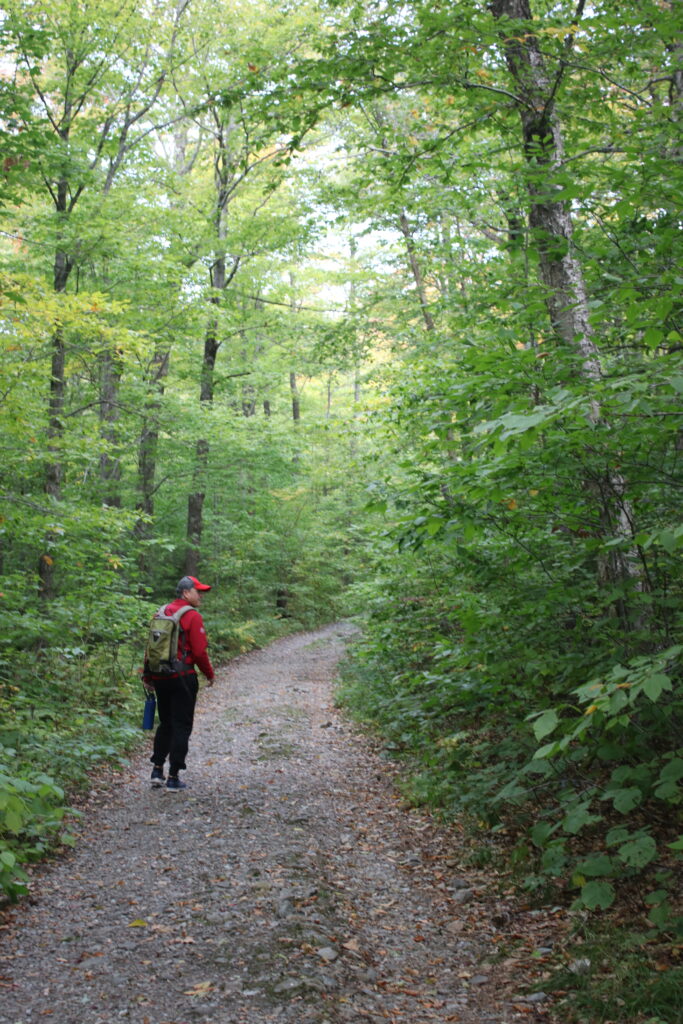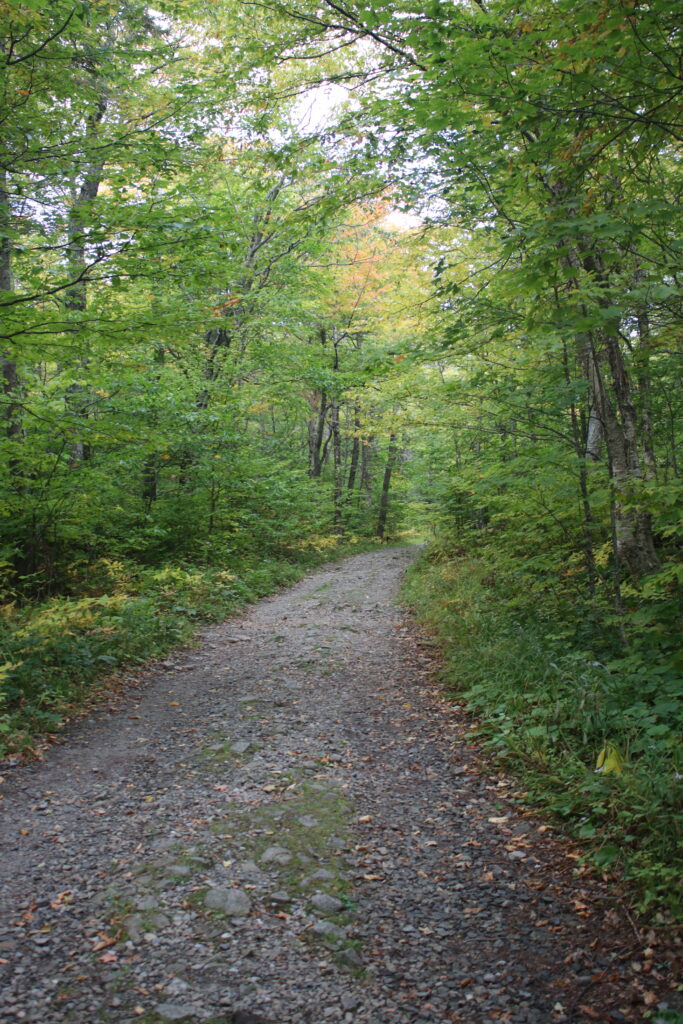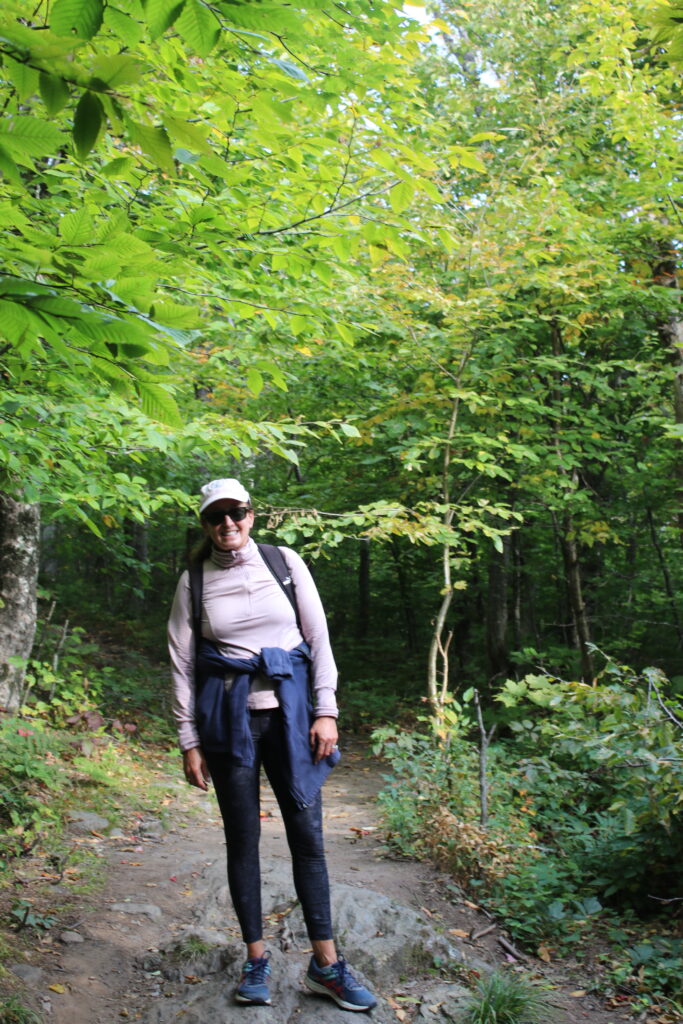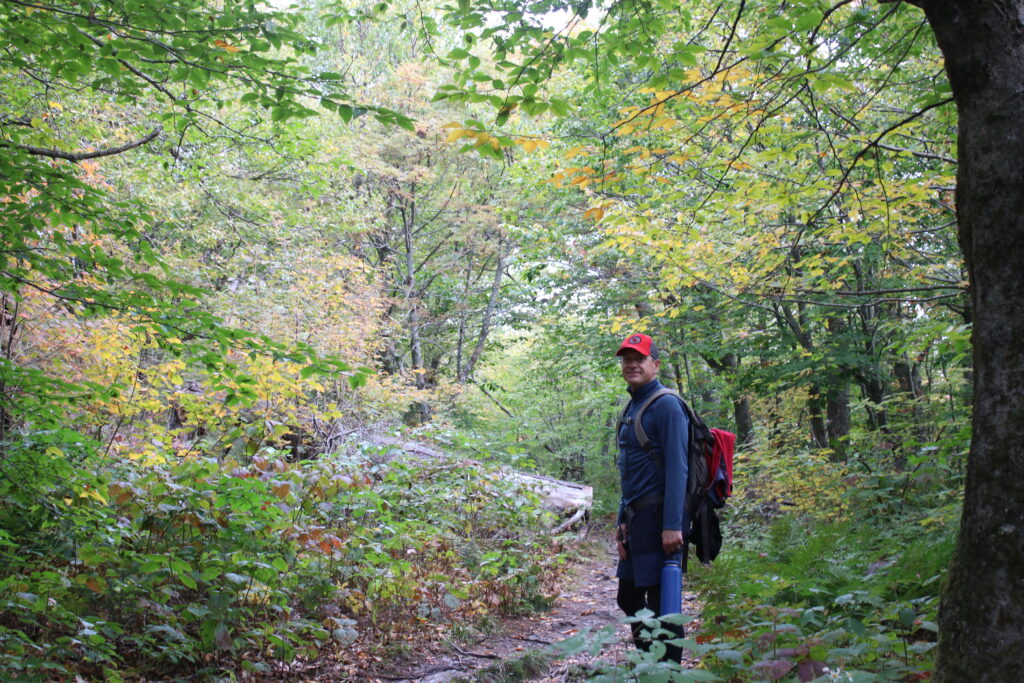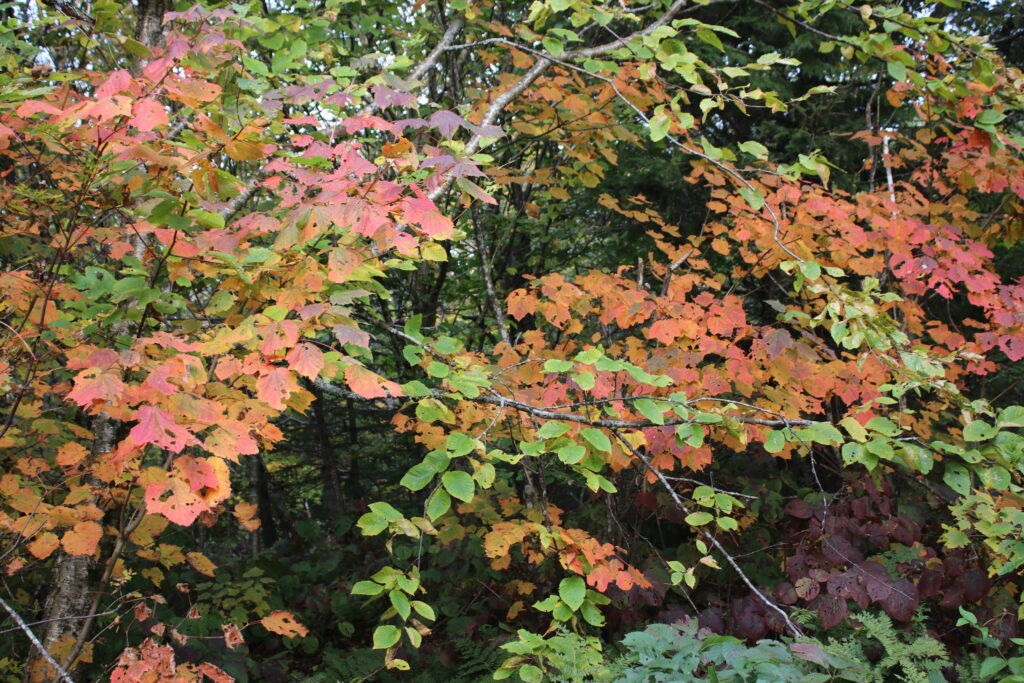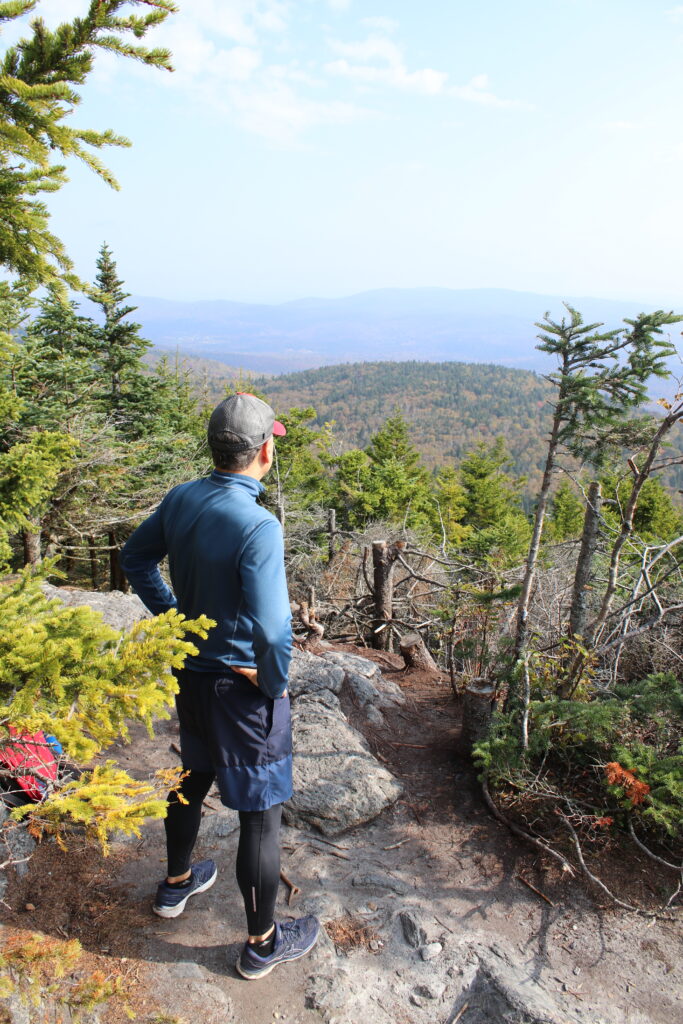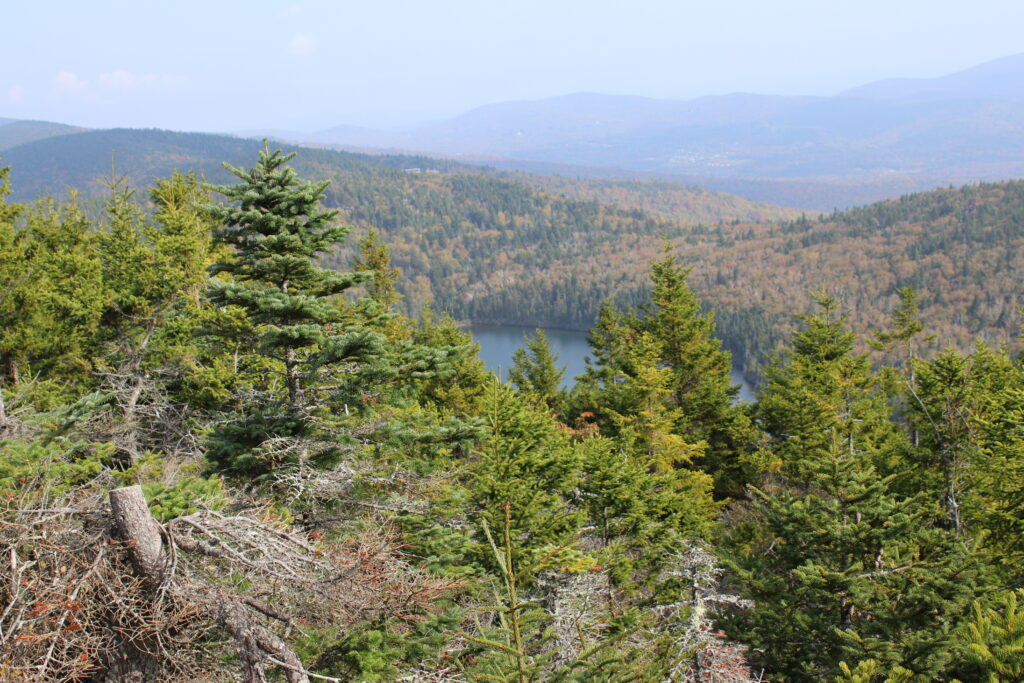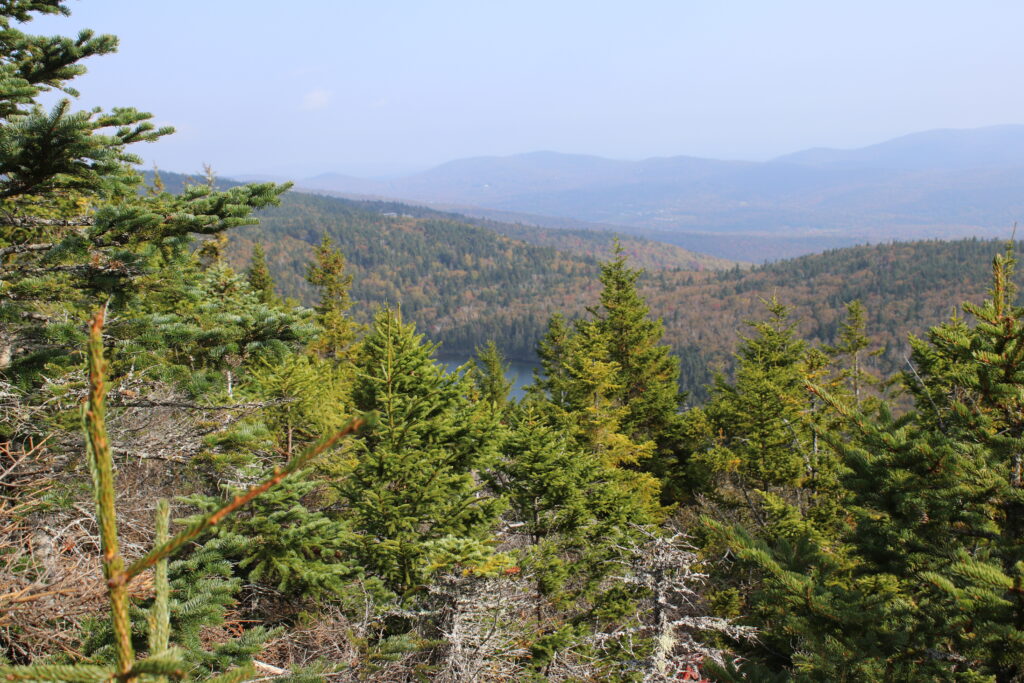 After our hike, we walked around the adorable village of Wilmington.  We thoroughly enjoyed our six days and five nights in Vermont.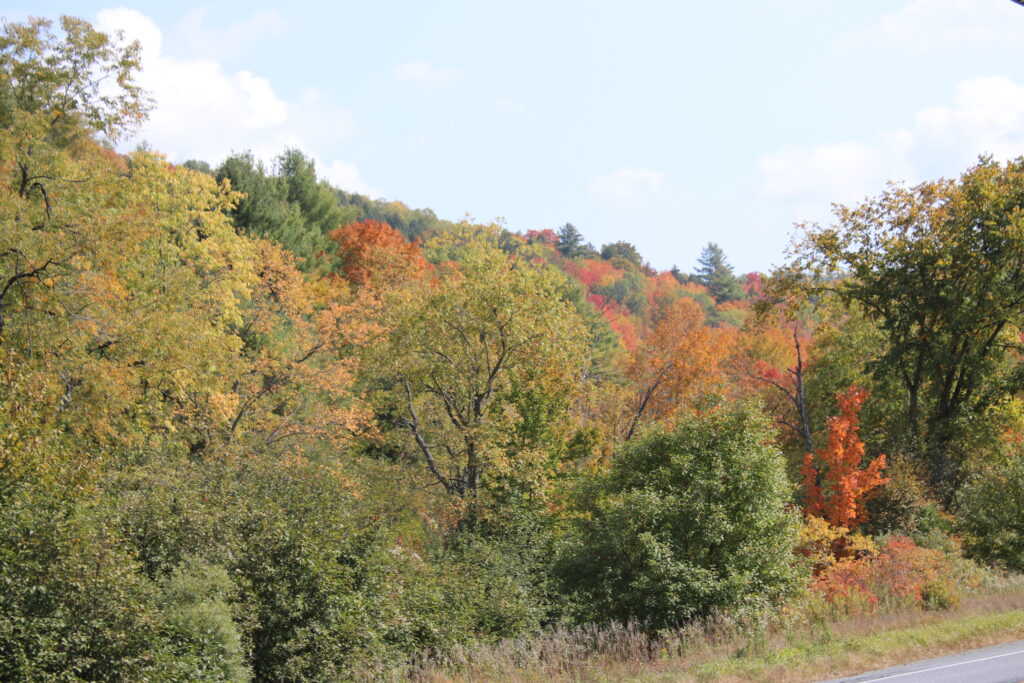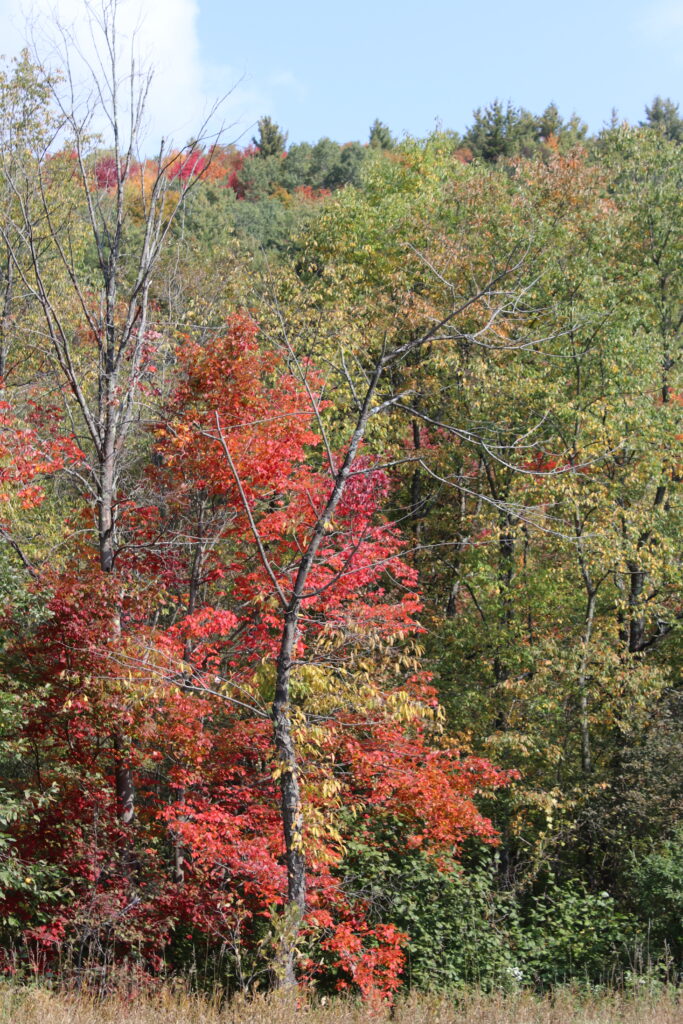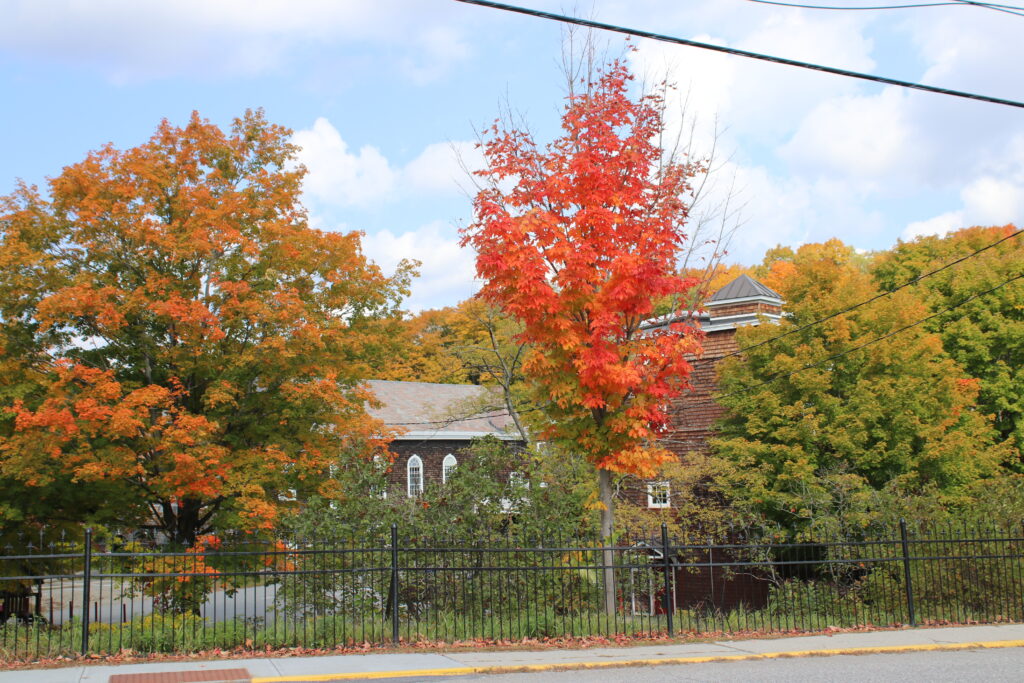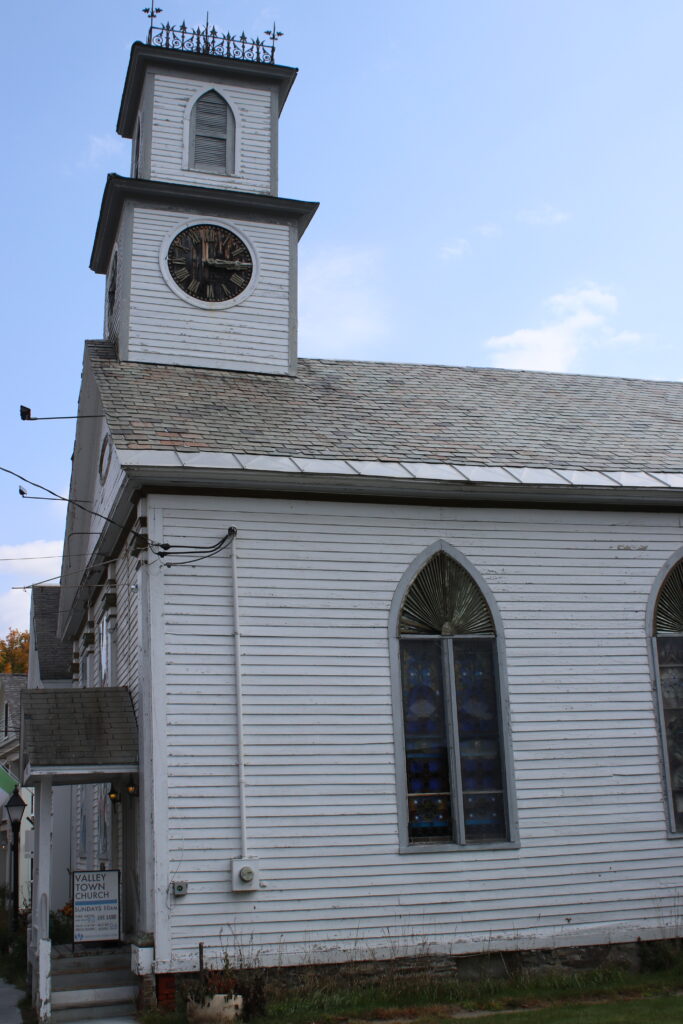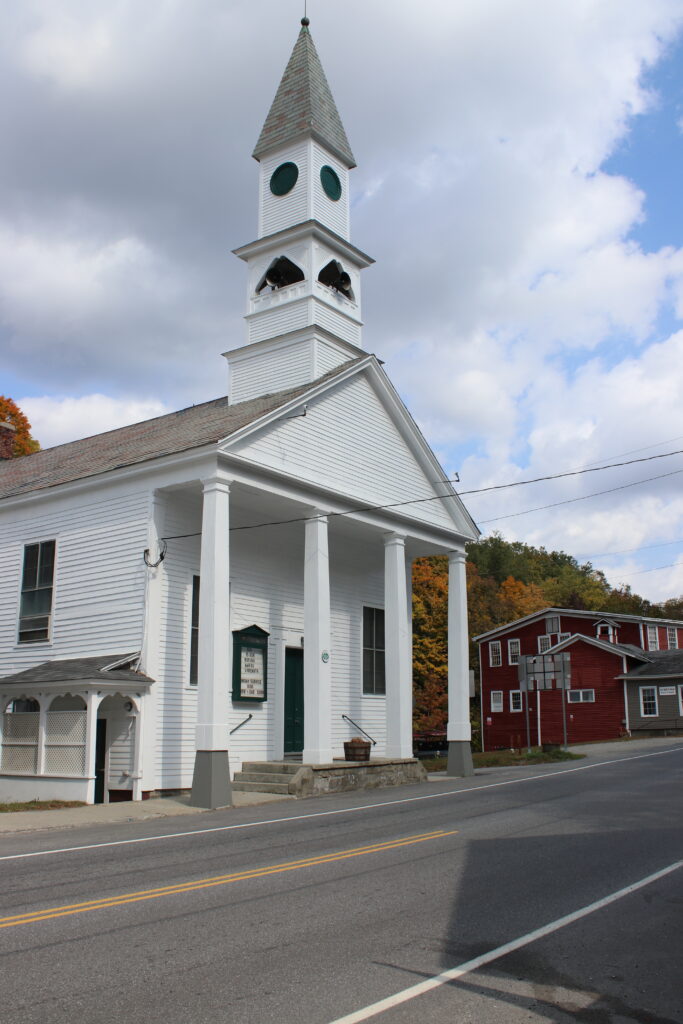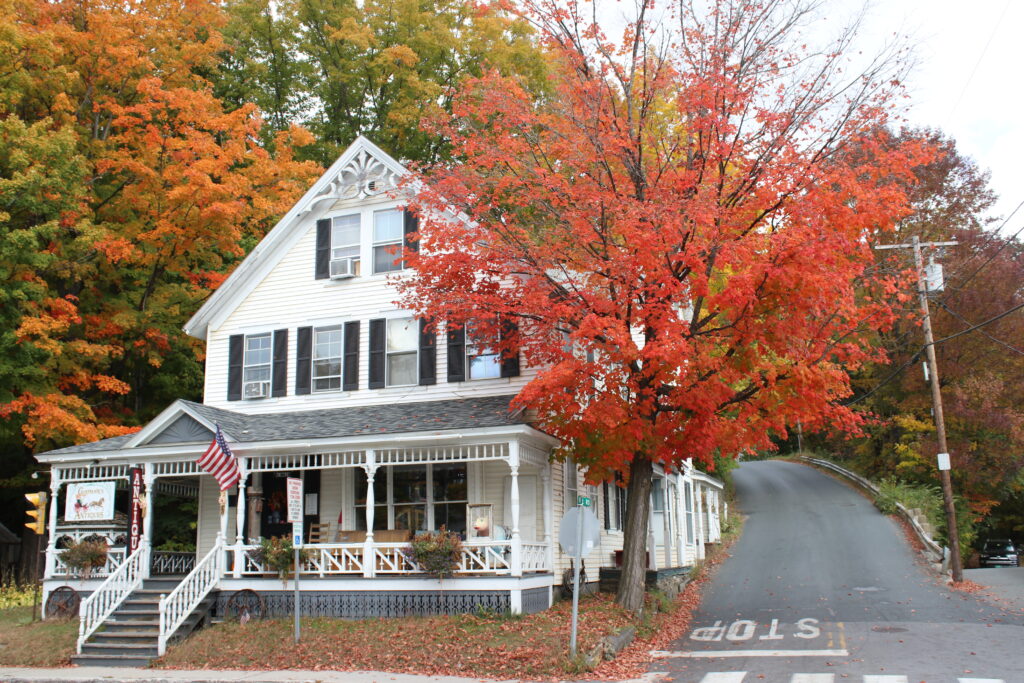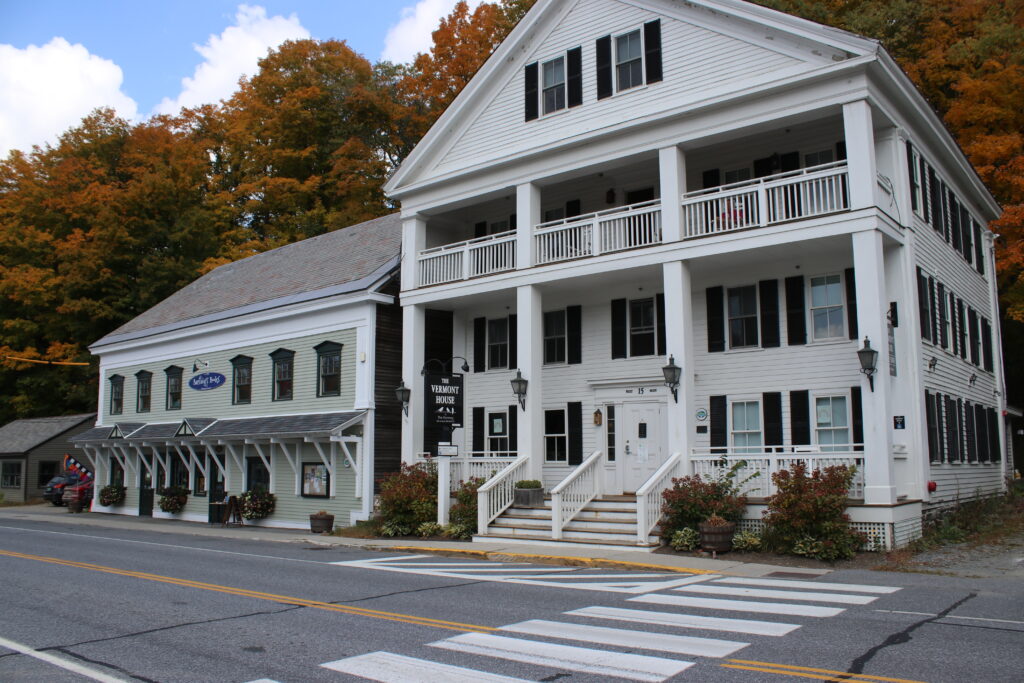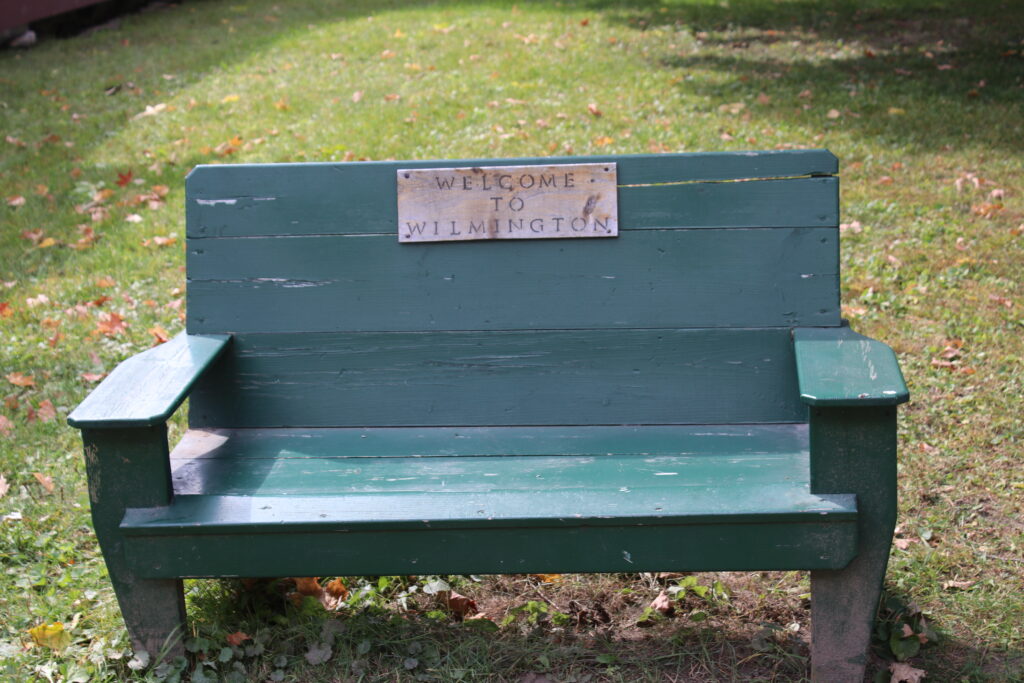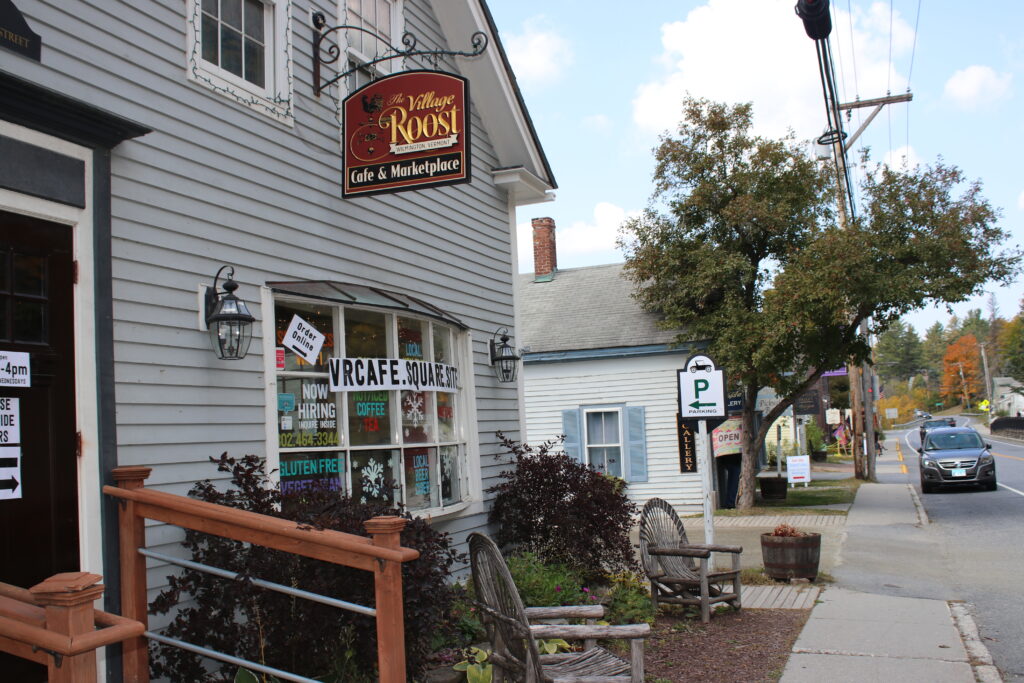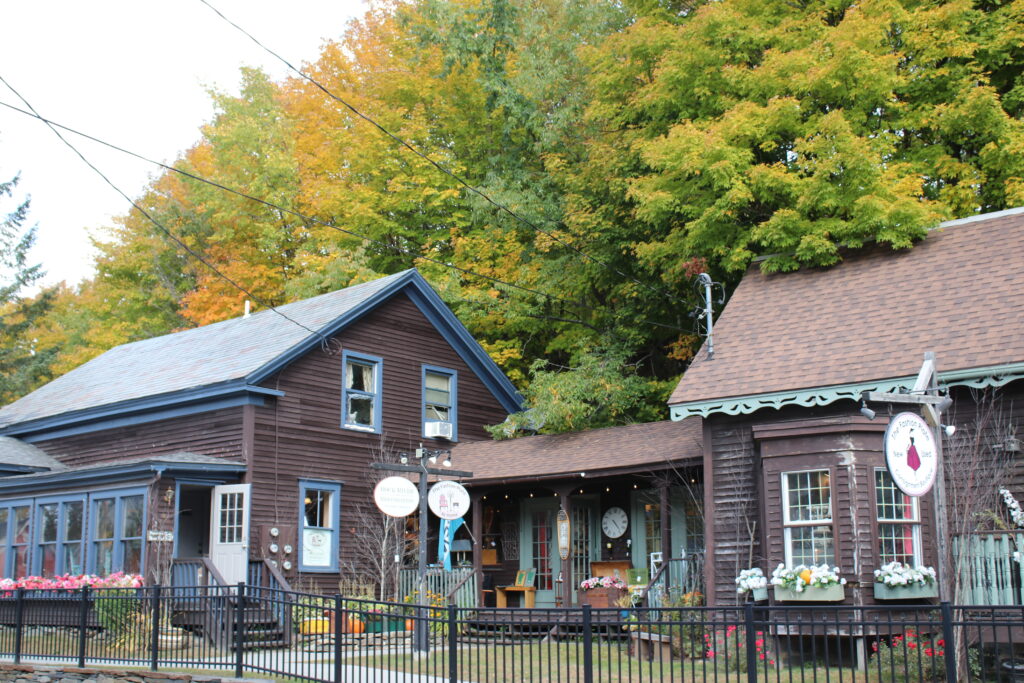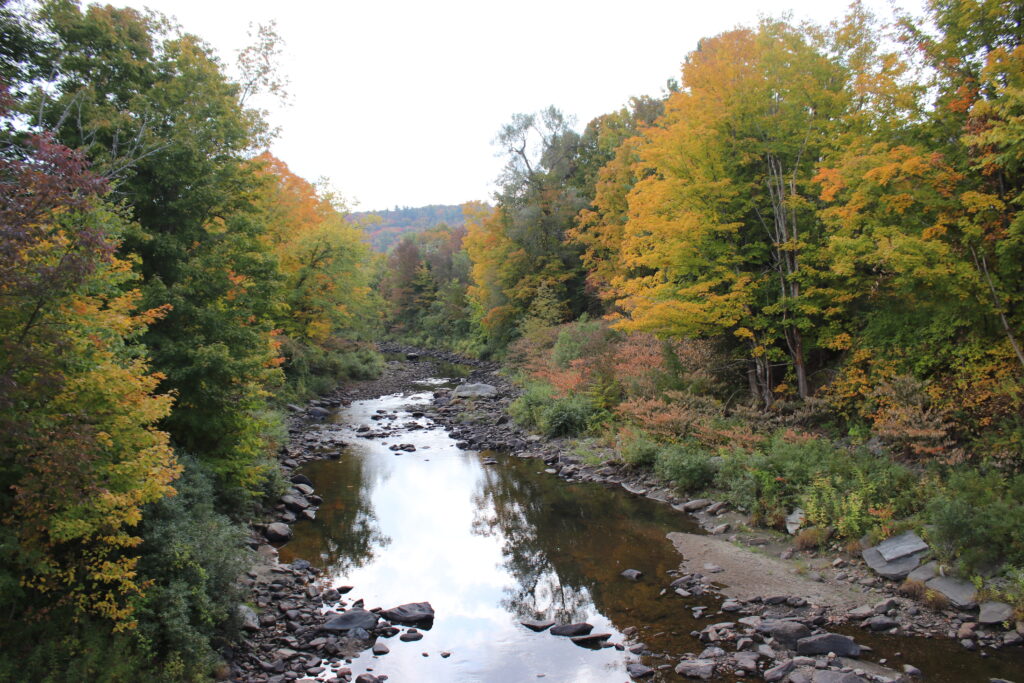 The Hoot Toot and Whistle Trail is great for kids! We walked while Jim drank his coffee and then we left town.